Art And Culture Famous Quotes & Sayings
List of top 100 famous quotes and sayings about art and culture to read and share with friends on your Facebook, Twitter, blogs.
Top 100 Quotes About Art And Culture
#1. I am going in now for interior decoration. By that I mean supplying objets d'art and giving advice regarding the decoration of their houses to wealthy persons who do not have the time, inclination, nor culture to do such work for themselves. It is nothing new. Women have done the same thing before. - Author: Elsie De Wolfe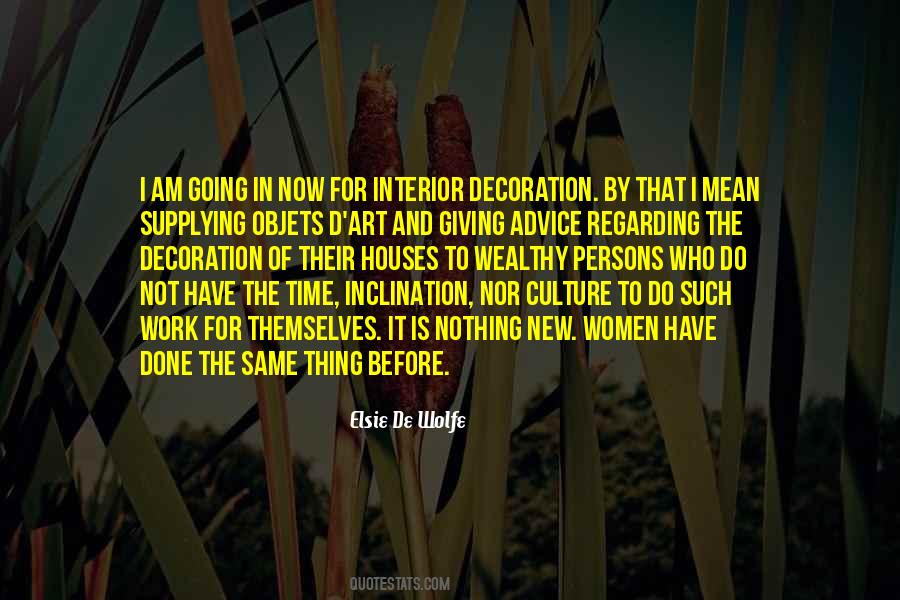 #2. Culture is defined, really, by the artists who record what the everyday experience is like and then translate it to a common piece of art that all people can respond and relate to. - Author: Rosie O'Donnell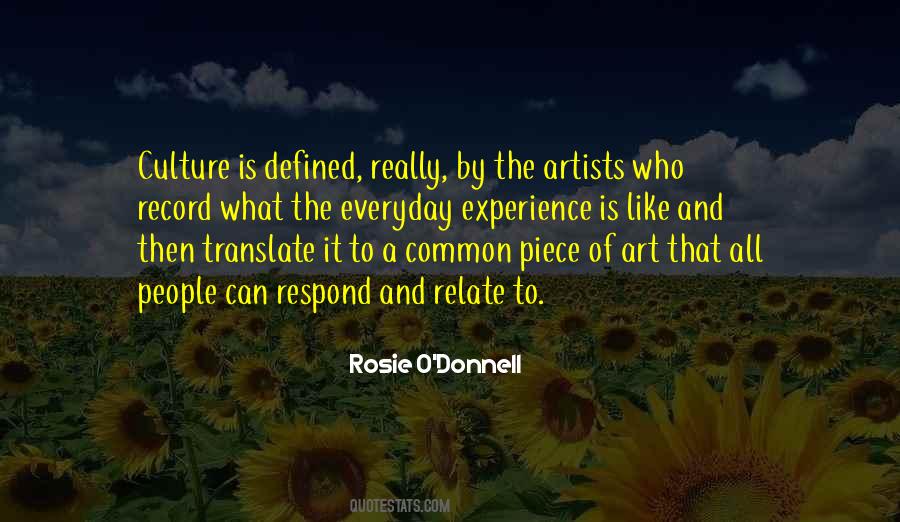 #3. Cinema is the culmination of the obsessive, mechanistic male drive in western culture. The movie projector is an Apollonian straight-shooter, demonstrating the link between aggression and art. Every pictorial framing is a ritual limitation, a barred precinct. - Author: Camille Paglia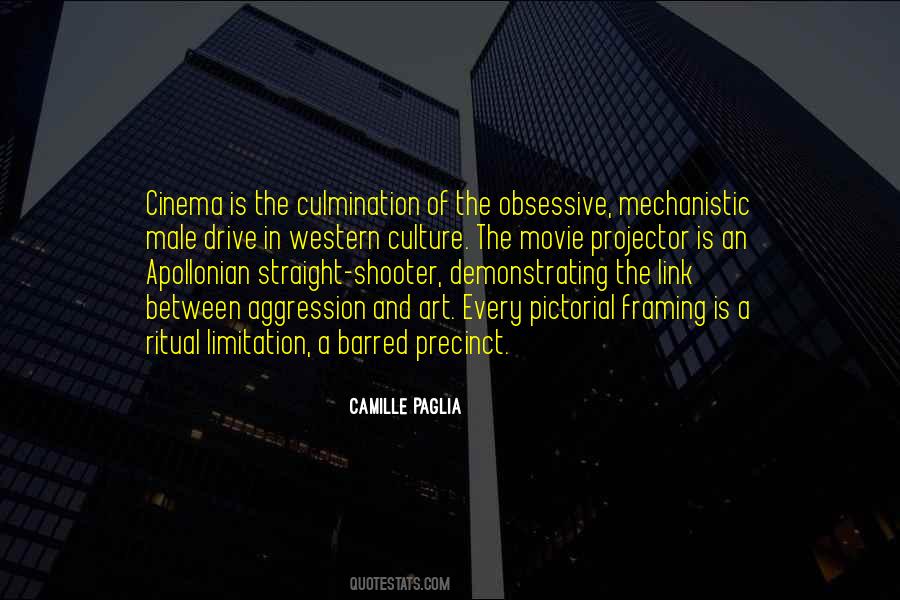 #4. Culture is the intersection between people and dealing with the journey of life itself. How to deal with life, how a people deals with life is literally manifested in its culture, in its food, in its music, in its art, in the way you dance, the way you communicate. - Author: Wendell Pierce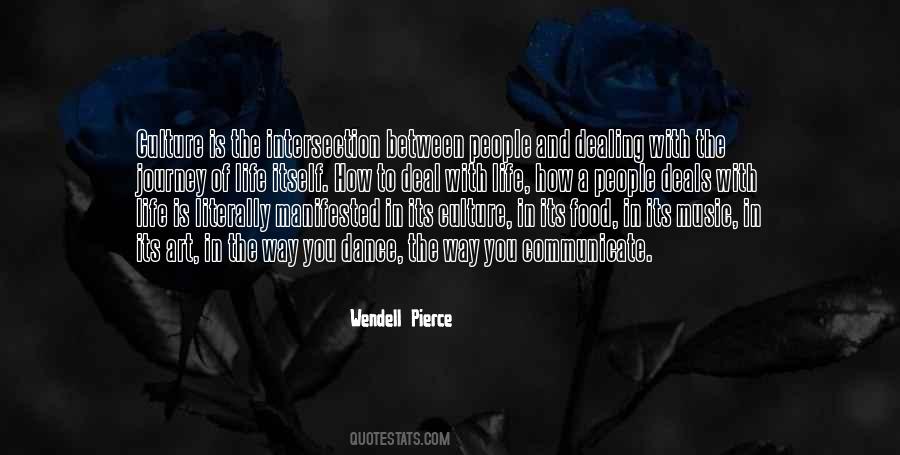 #5. It's not possible to present an accurate picture of our culture without all the voices of the people in the culture. So at the emerging level, you can't have a good survey art show without women and artists of color. - Author: Frida Kahlo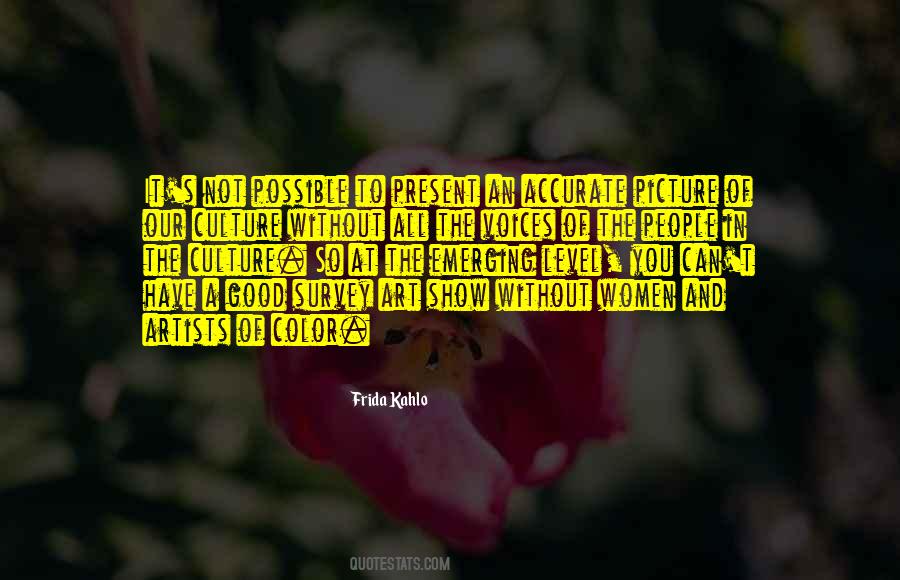 #6. There must not be a canon of orthodoxy where art is judged and measured. The culture cannot move forward with our heads turned backwards. - Author: Paul Russo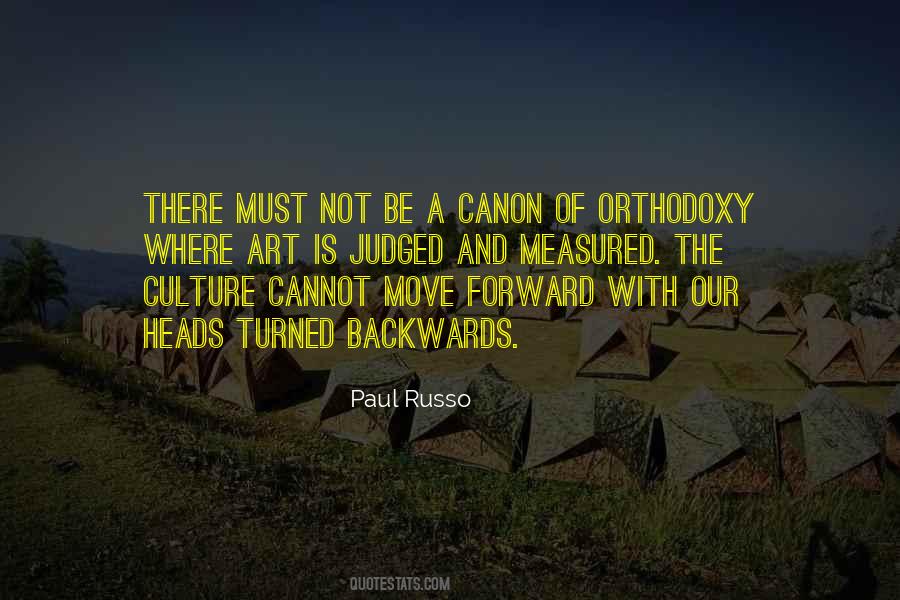 #7. I don't believe in the clash of cultures. The culture is one. The culture is a ring off the same chain. Picasso was very much influenced by the African arts, and he influenced a whole other generation of artists. So everything influences everything. - Author: Marjane Satrapi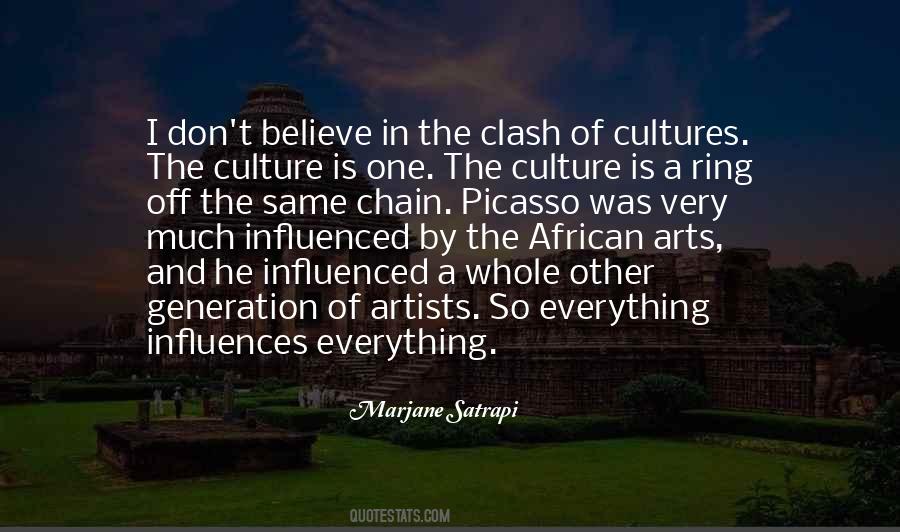 #8. All false art, all vain wisdom, lasts its time but finally destroys itself, and its highest culture is also the epoch of its decay. - Author: Immanuel Kant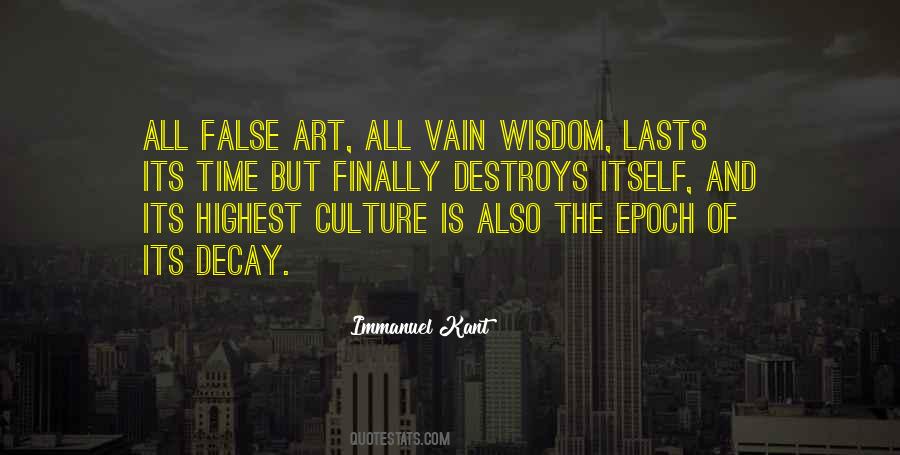 #9. I do not conceive of any manifestation of culture, of science, of art, as purposes in themselves. I think the purpose of science and culture is man. - Author: Fidel Castro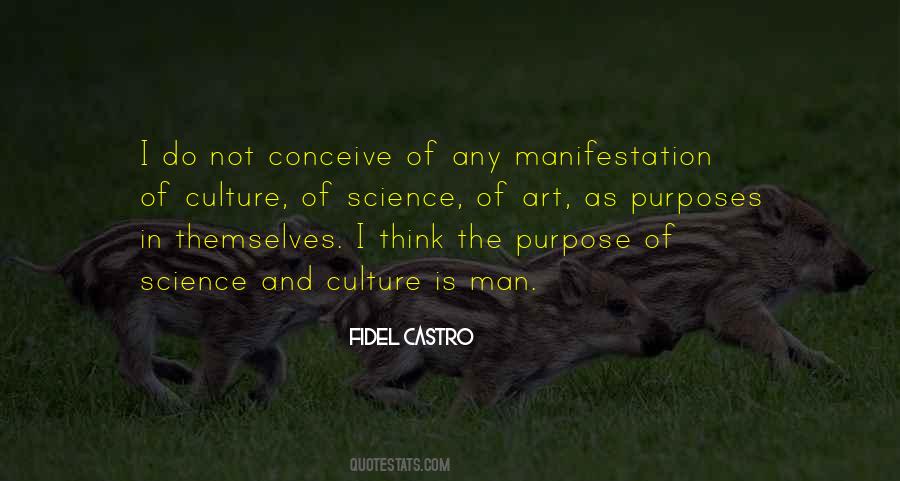 #10. You have to be at the forefront of culture to create art, which they call "product," and Hollywood is not. It's this very old business model, which I think is dying in a lot of ways. - Author: Rose McGowan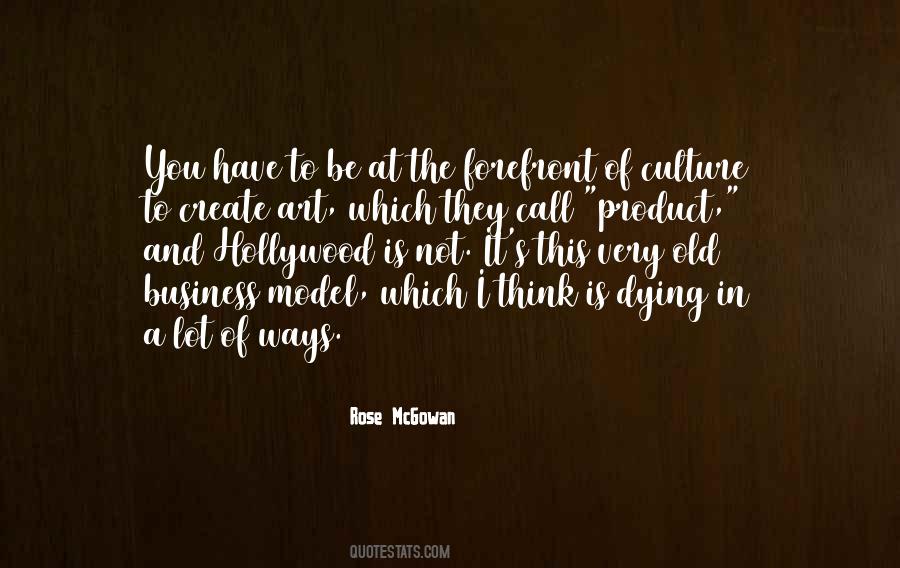 #11. I started rapping before anybody had ever bought a car from it. It was truly about the art form and the culture, more so than now, where it's a successful way to make money. Back then you had to be doing it because you liked it. - Author: Ice-T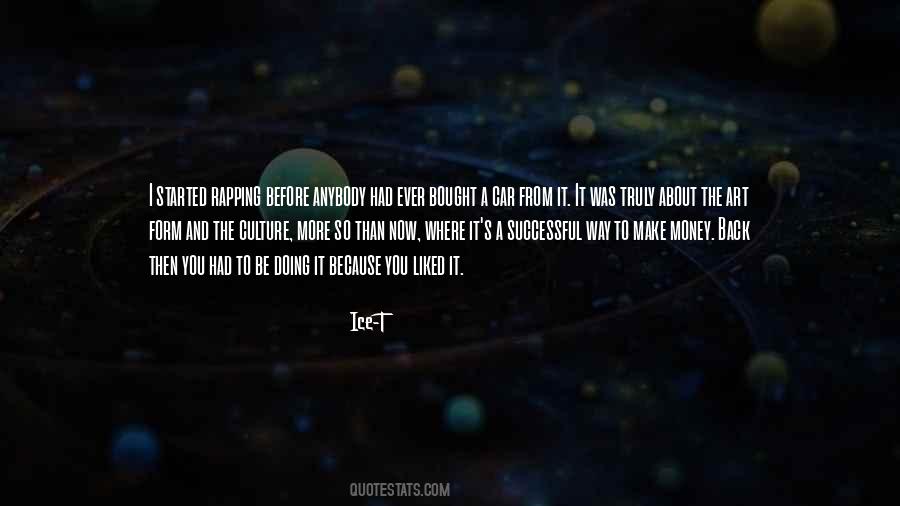 #12. Literature, art, science, and religion degenerate when polemical struggle supplants the independent creation of ideas. - Author: Semen Frank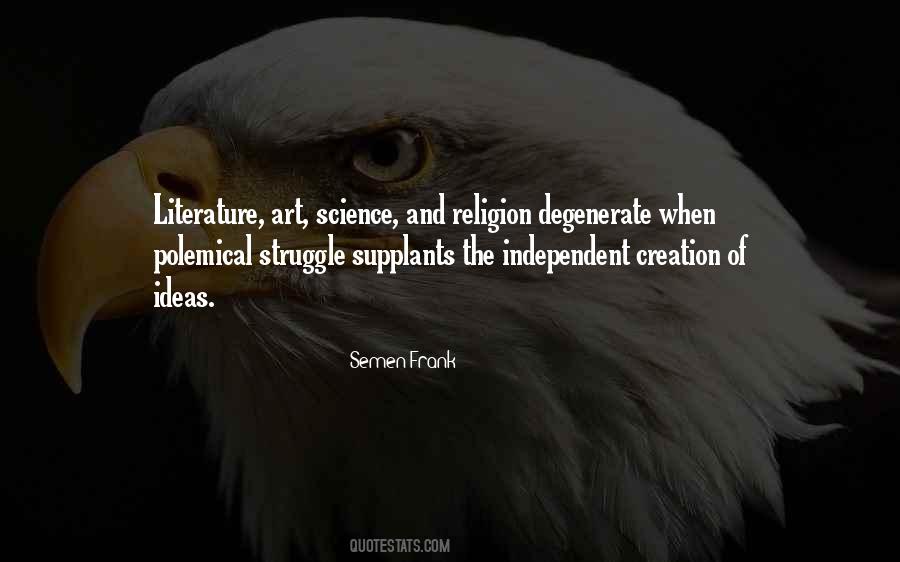 #13. The noise around us determines how we speak. And how we listen. Just as a conversation suffers in a war zone, art suffers in a culture built on noise. So does our enjoyment of it. - Author: Michael Gungor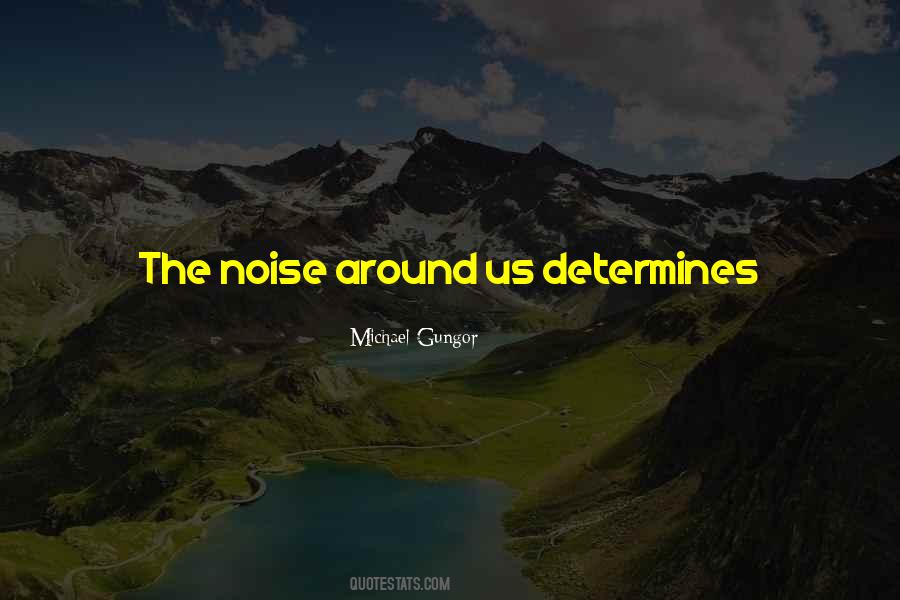 #14. The art world is now a slave of mass culture. We have a sound-bite culture and so we have sound-bite art. You look at it, you get it - it's as immediate and as superficial as that. - Author: Matthew Collings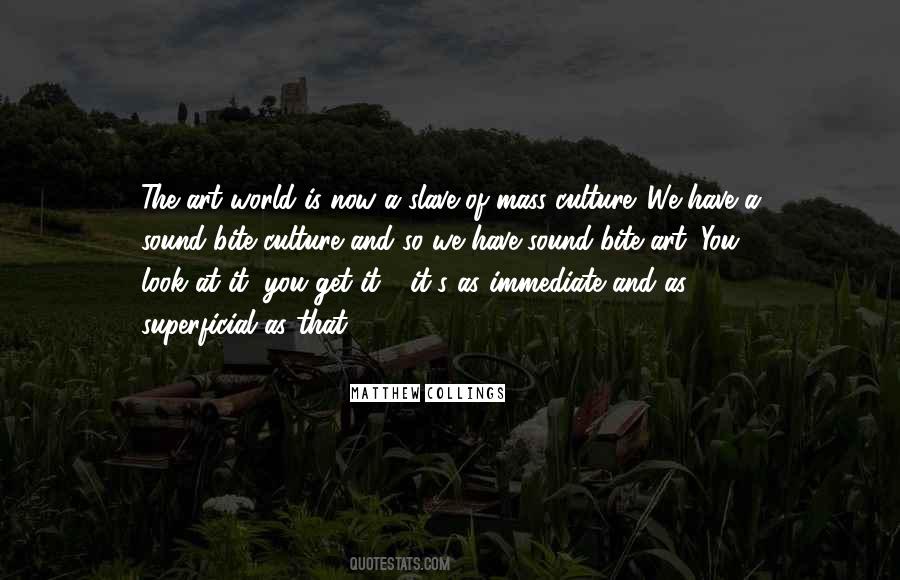 #15. Traveling to the Middle East and playing music for people on the street, for soldiers, for people in hospitals, and for people who lost their homes, and seeing people open up through the experience of music really restored my faith in music, in art, and in culture to change things. - Author: Michael Franti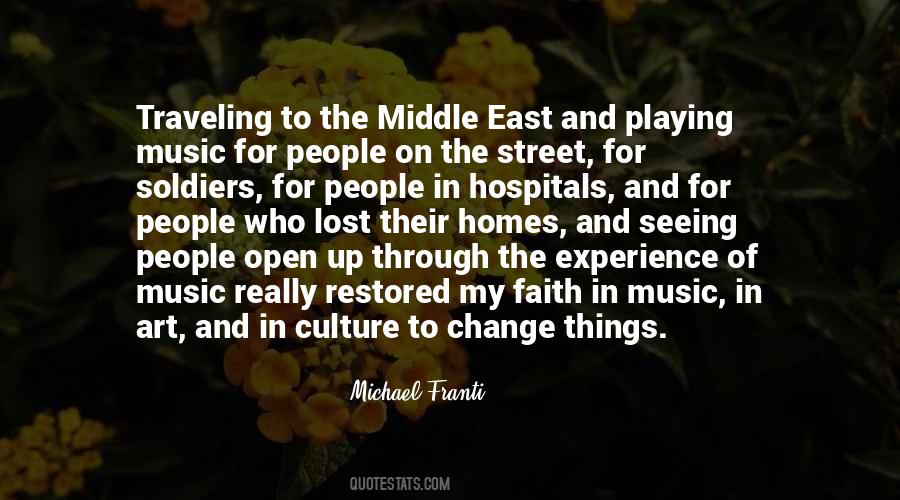 #16. Behind the criticism of fashion as an artistic medium is a highly ideological prejudice: against markets, against consumers, against the dynamism of Western commercial society. The debate is not about art but about culture and economics. - Author: Virginia Postrel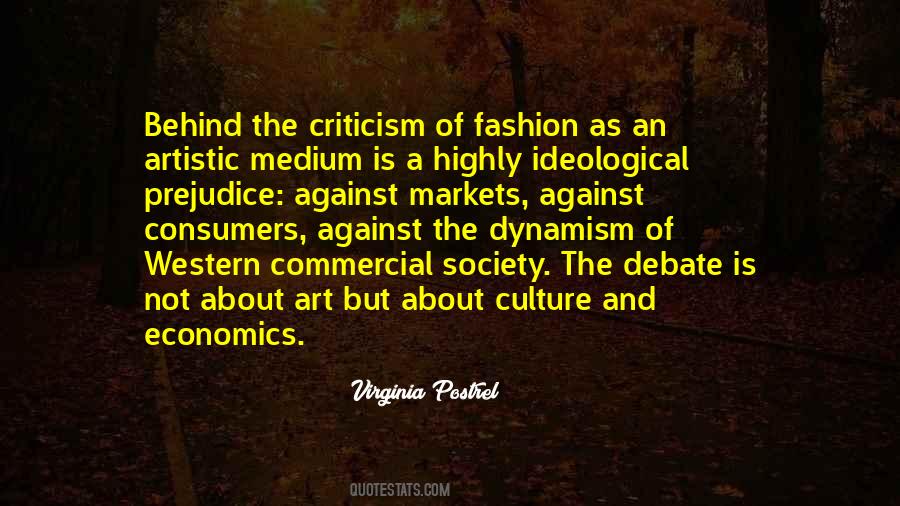 #17. I don't believe in very many things, but art is definitely one of them. And at the top of that list, film and art influence our world's culture much more than many of us understand and fully respect. - Author: Megan Ellison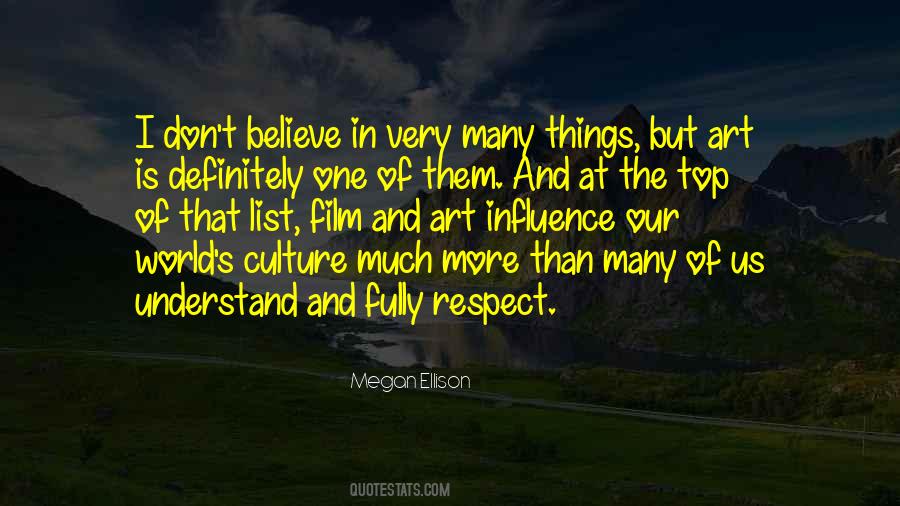 #18. The worst thing you can do is make a cult movie. That means you got three great reviews and nobody went. An art film means it got a lot of good reviews and nobody went. There is no such thing as a counter culture now. What used to be considered that is commercial now. - Author: John Waters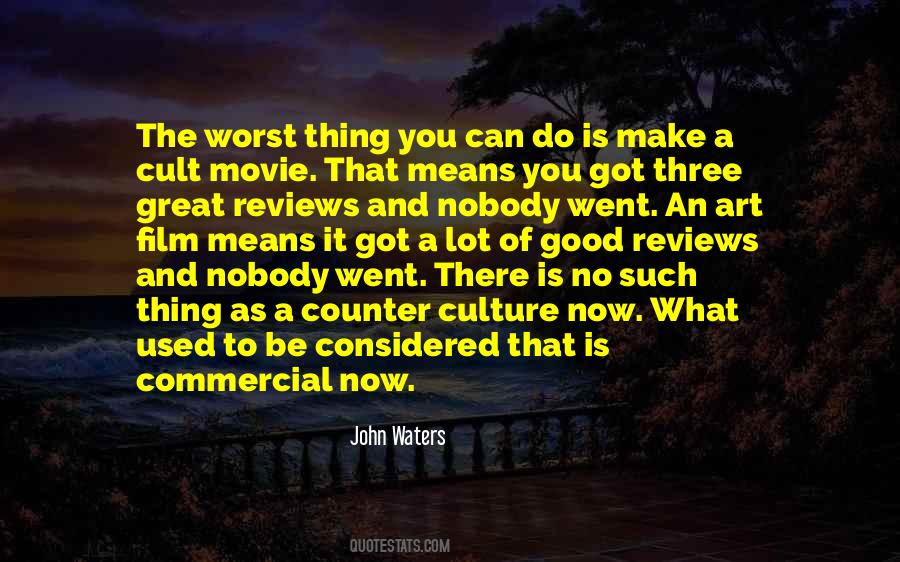 #19. The arts and humanities teach us who we are and what we can be. They lie at the very core of the culture of which we're a part. - Author: Ronald Reagan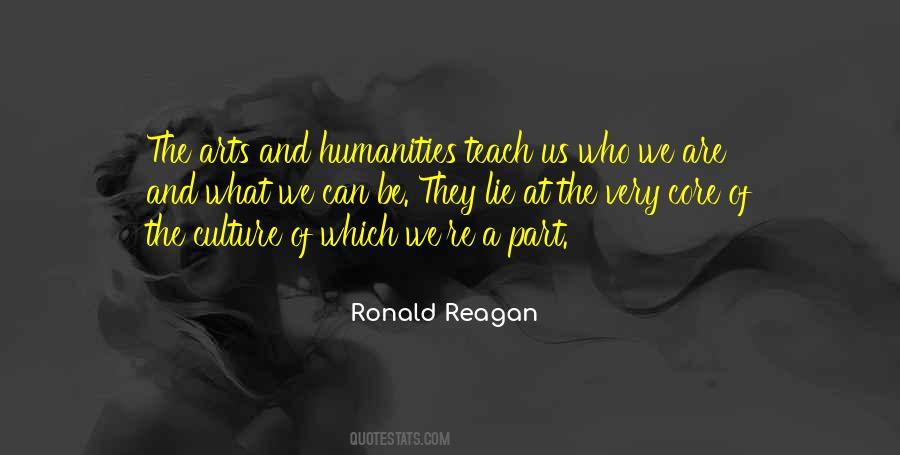 #20. There's always been an incredible amount of junk music, and junk everything. Marshall McLuhan said that a medium surrounds a previous medium, and turns the previous medium into an art form. So, what was once a junk culture, like film, television surrounded it and turned it into an art form. - Author: T Bone Burnett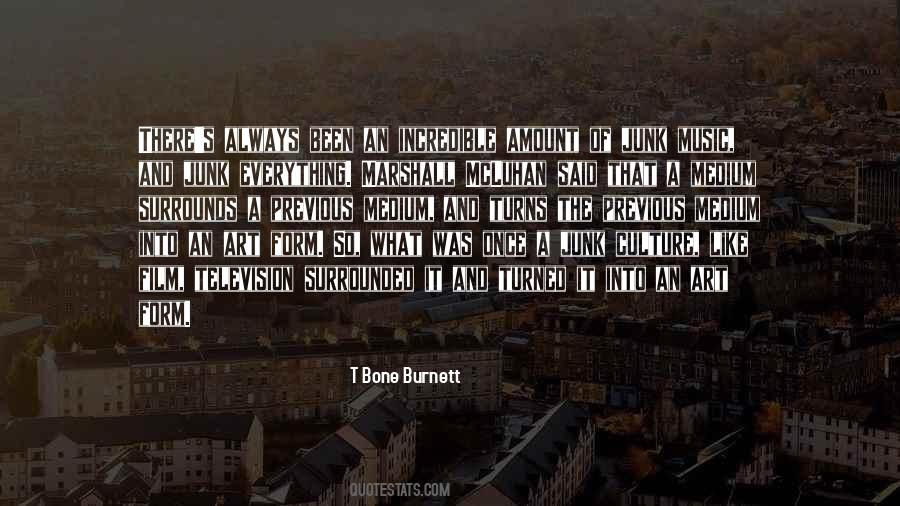 #21. The thing we often forget to talk about, or perhaps we take for granted, is our country's dazzling beauty. Our natural environment is so much a part of Australia's art, writing, music and culture, both indigenous and non indigenous. - Author: Quentin Bryce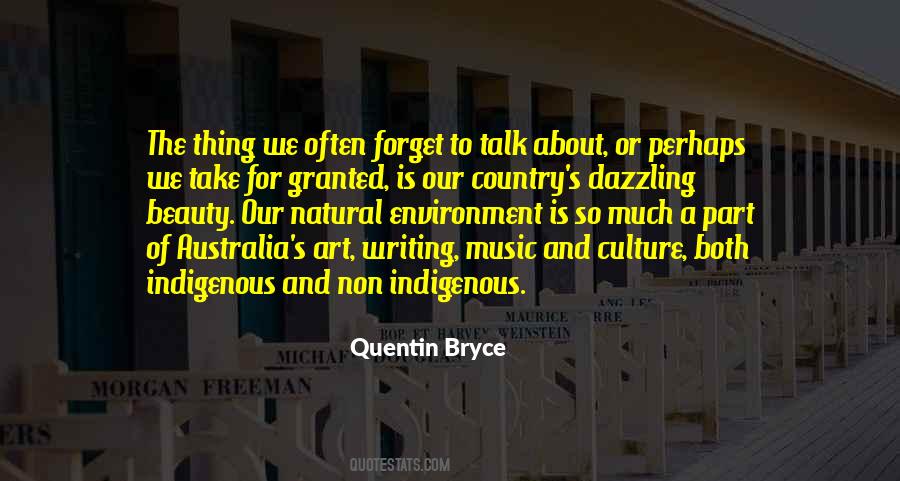 #22. At its best, cinema does retain a remarkable ability to speak to people of every age, from every background, and in ways that almost any other art form in popular culture struggles to compete with. - Author: David Puttnam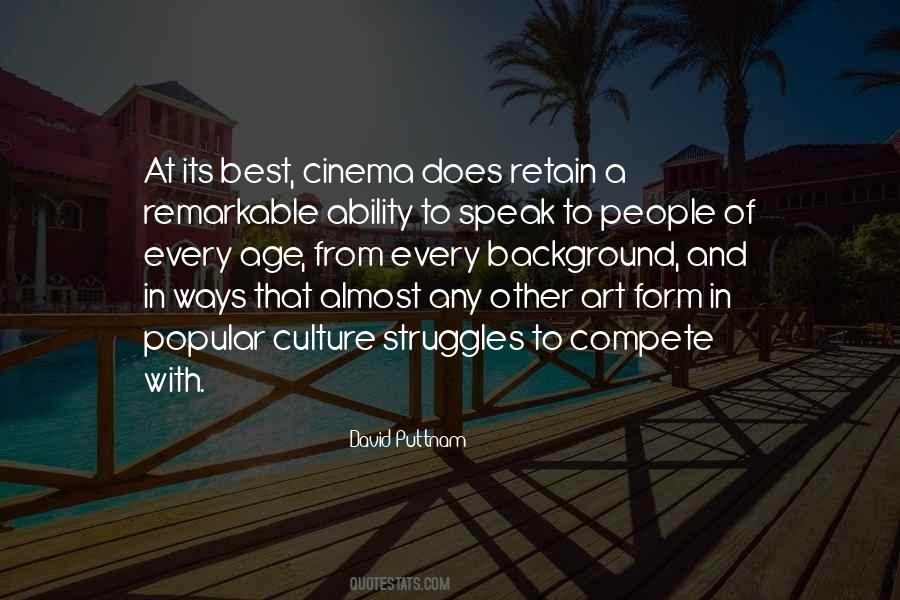 #23. Prig and philistine, Ph.D. and C.P.A., despot of English 218c and big shot of the Kiwanis Club-how much, at bottom, they both hate Art, and how hard it is to know which of them hates it the more. - Author: Louis Kronenberger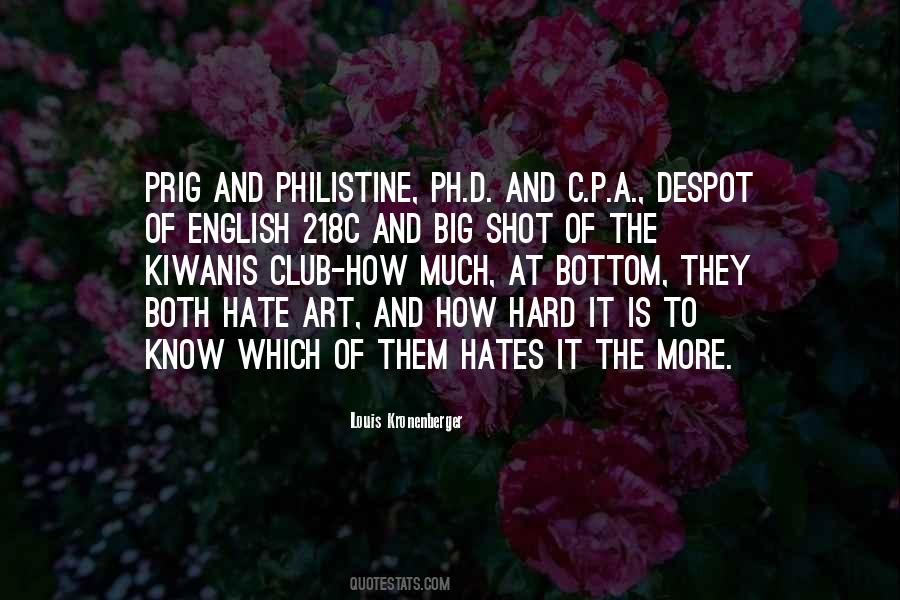 #24. I got exposed to art-house cinema and foreign films. I was from L.A., so it was a film culture that I didn't know about. - Author: Lisa Cholodenko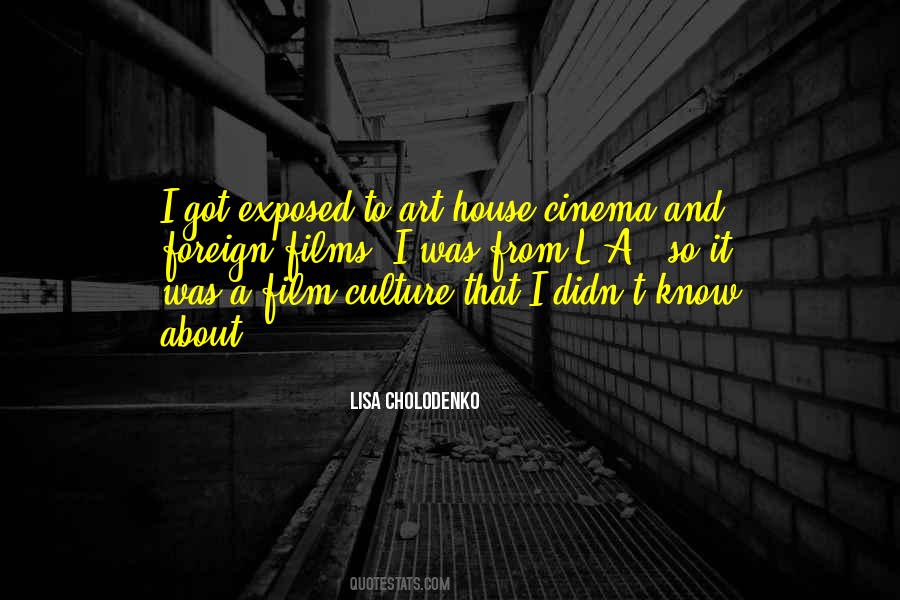 #25. The meaning of culture is nothing less than the conduct of life itself, fortified, thickened, made more crafty and subtle, by contact with books and with art. - Author: John Cowper Powys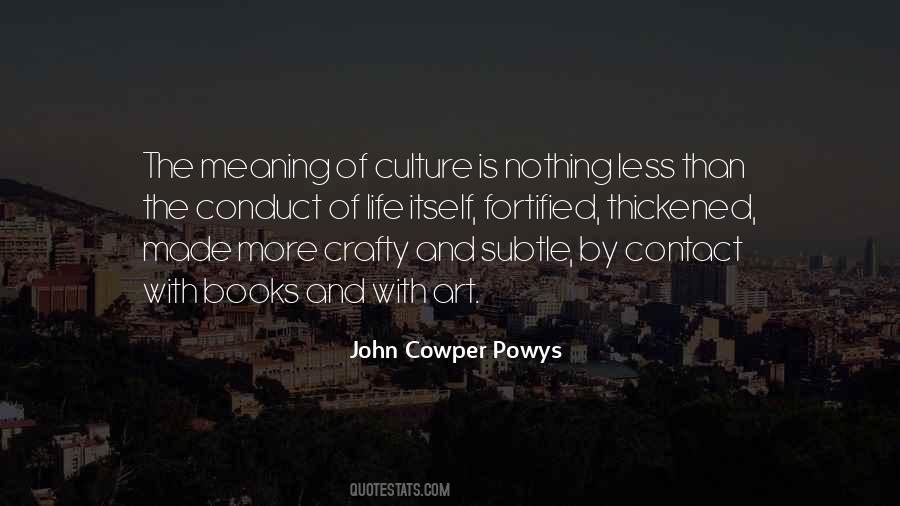 #26. You should always respect what you are and your culture because if your art is going to mean anything, that is where it comes from. - Author: Romare Bearden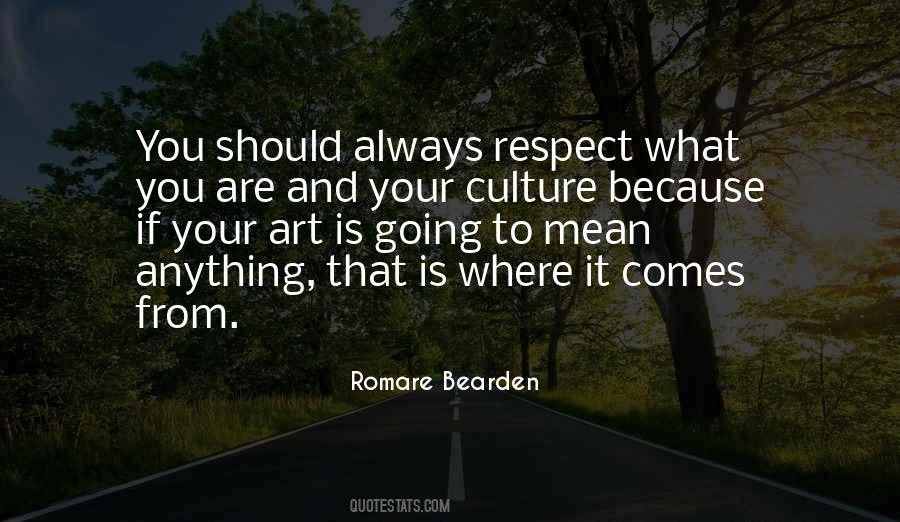 #27. A truly great work of art breaks beyond the bounds of the period and culture in which it is created, so final judgement on a current book has to be deferred until it can be seen outside this present moment. - Author: Madeleine L'Engle
#28. Originally, one of the reasons I was drawn to photography, as opposed to painting or sculpture or installation, is that of all the arts it is the most democratic, in so far as it's instantly readable and accessible to our culture. Photography is how we move information back and forth. - Author: Gregory Crewdson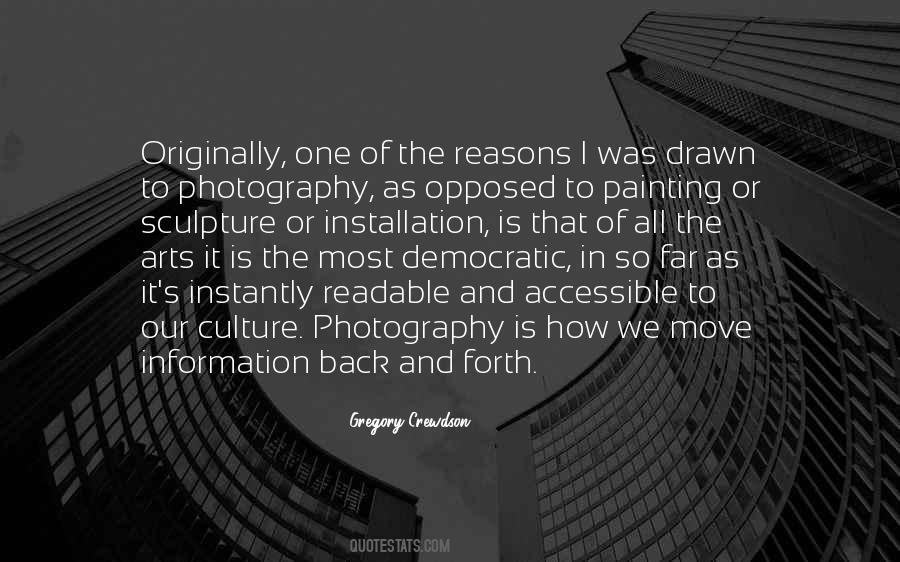 #29. I think a lot of America turned to art and culture after Sept. 11. I know the sales of bibles went shooting up, but so did the sales of poetry. I think in a crisis one looks to one's culture, partially to give validation to why one would want that culture to survive. - Author: Art Spiegelman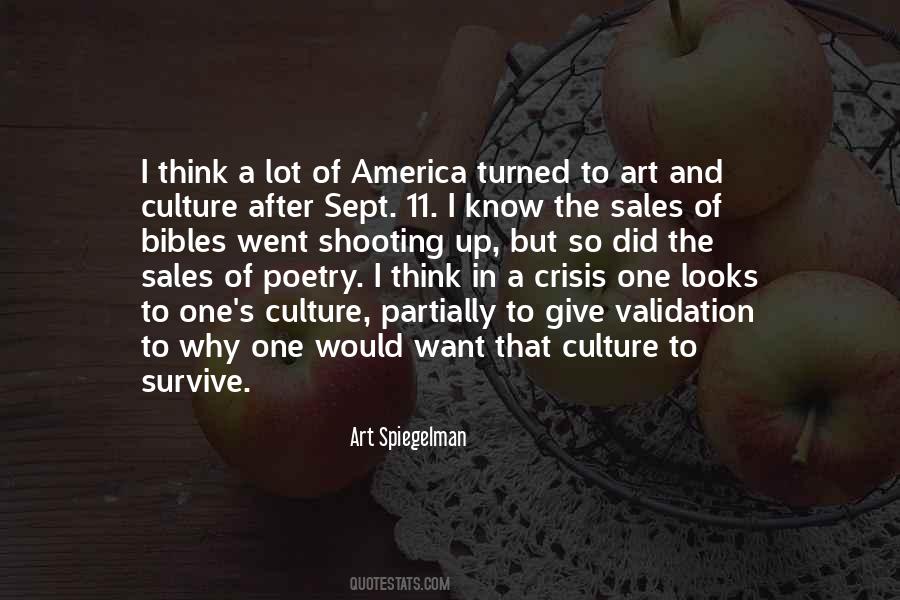 #30. There is something remarkably and peculiarly English about the passion for sitting on damp seats watching open-air drama only the English have mastered the art of being truly uncomfortable while facing up to culture. - Author: Sheridan Morley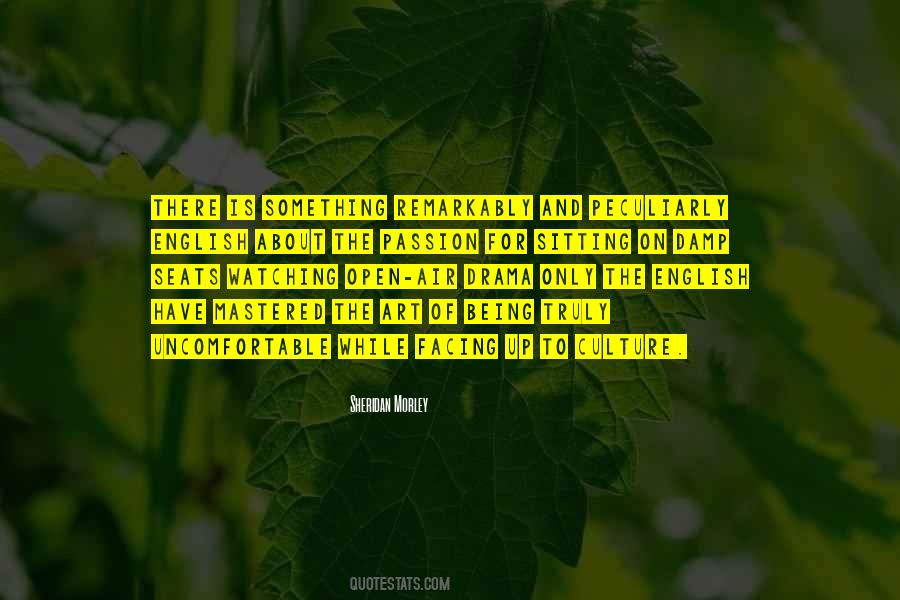 #31. Art is how a culture records its life, how it poses questions for the next generation and how it will be remembered. - Author: Marsha Norman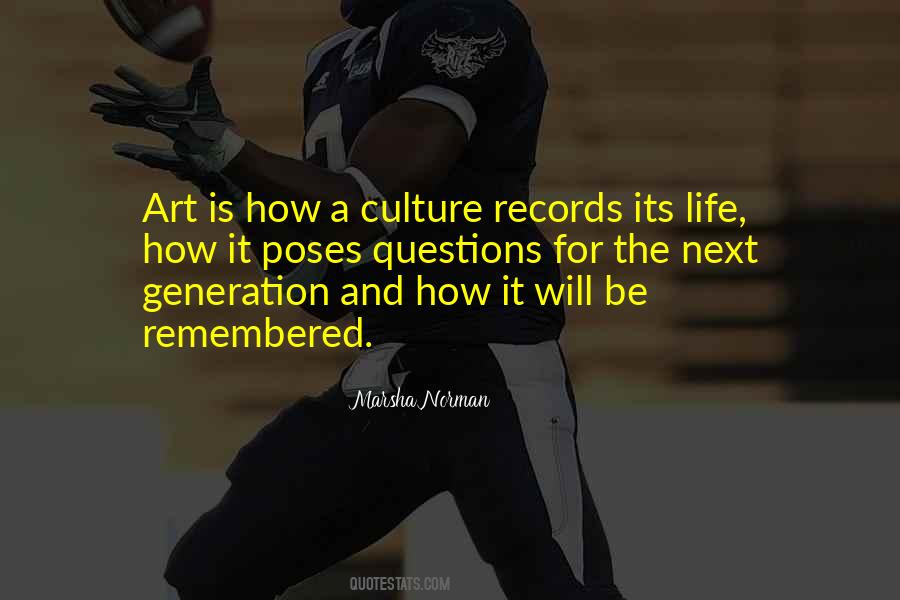 #32. You get people talking about being worried about their art, and dances ... their culture being wiped out or taken over, and yet these same people are taking advantage of their people to use them as cheap labour. - Author: Arlo Guthrie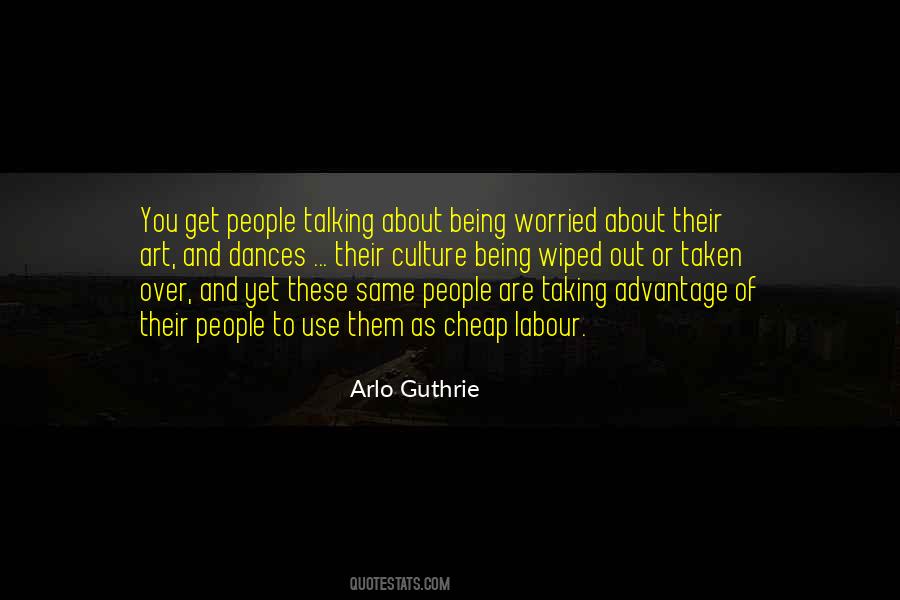 #33. When people see one of these new forms of art for the first time, often they can't make sense of it. Then, if it's around long enough, a lot of people get used to it and it becomes assimilated into culture. So there's a morphic field both for the kind of art and for the appreciation of it. - Author: Rupert Sheldrake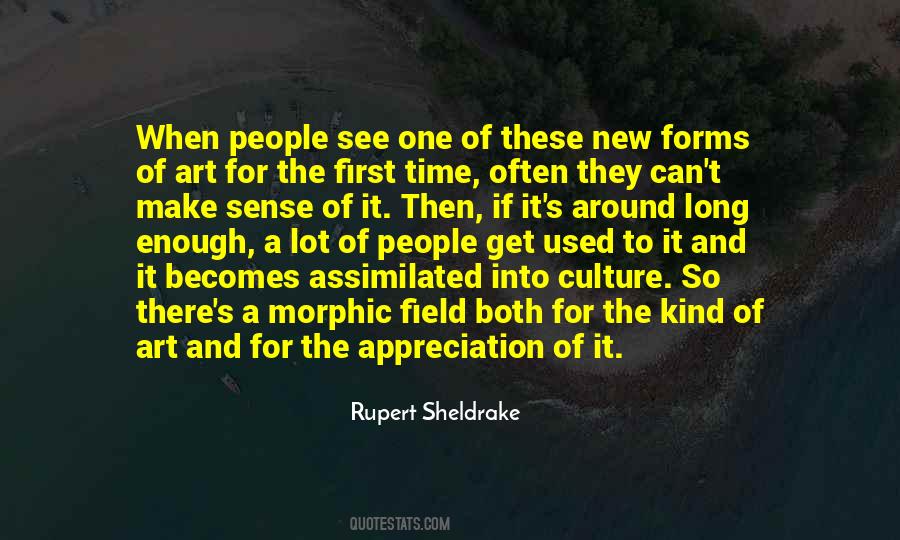 #34. I just see in pop culture, music, visual art, books, etc., a real hunger for the new and different, and I think that's amazing. Satisfying this hunger is part of the responsibility of a creative person. - Author: Porochista Khakpour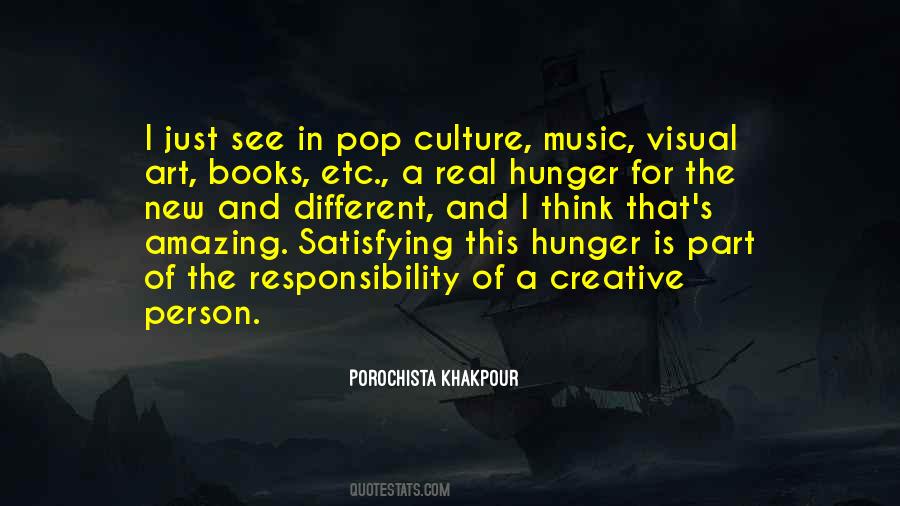 #35. The 'low' quality of many American films, and of much American popular culture, induces many art lovers to support cultural protectionism. Few people wish to see the cultural diversity of the world disappear under a wave of American market dominance. - Author: Tyler Cowen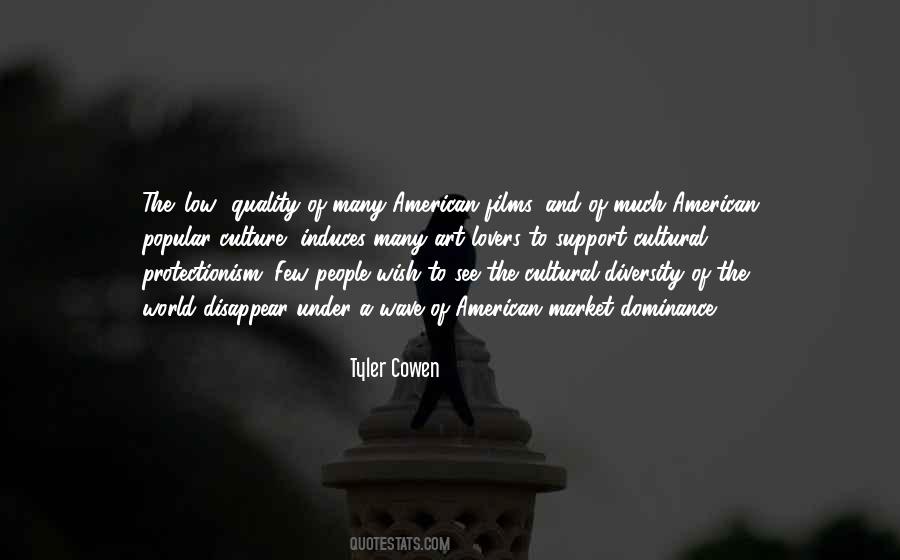 #36. Tarot is a practice rich with history and cultural knowledge. It is a science of the mind. - Author: Benebell Wen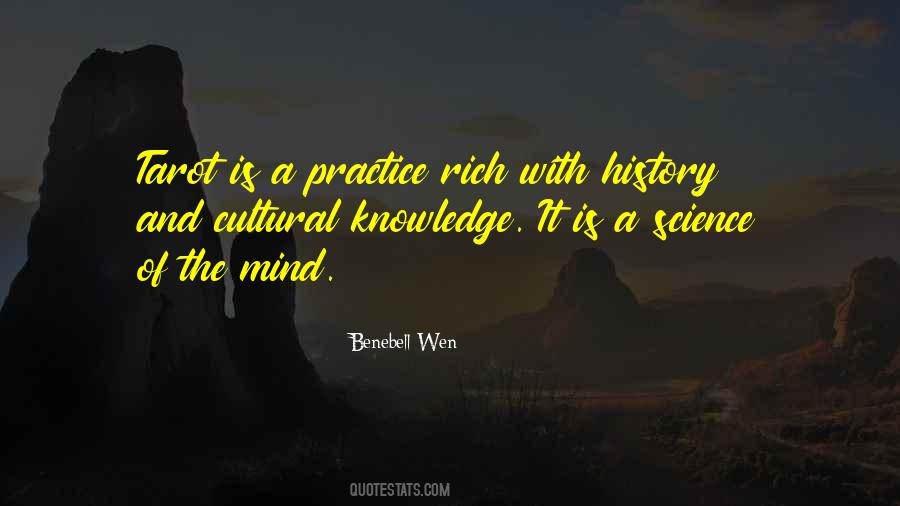 #37. The art of holding on to money is all about saying no to consumer culture. Saying no to takeout, $4 lattes, and that shiny new computer when the old one still works fine. - Author: Austin Kleon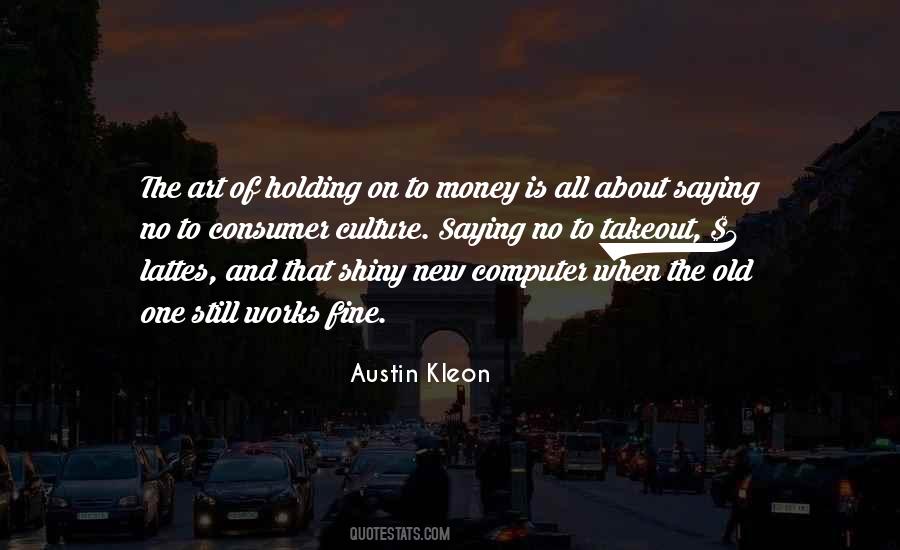 #38. The arts, as a reflection of human existence at its highest, have always and spontaneously lived up to this demand of plenitude. No mature style of art in any culture has ever been simple. - Author: Rudolf Arnheim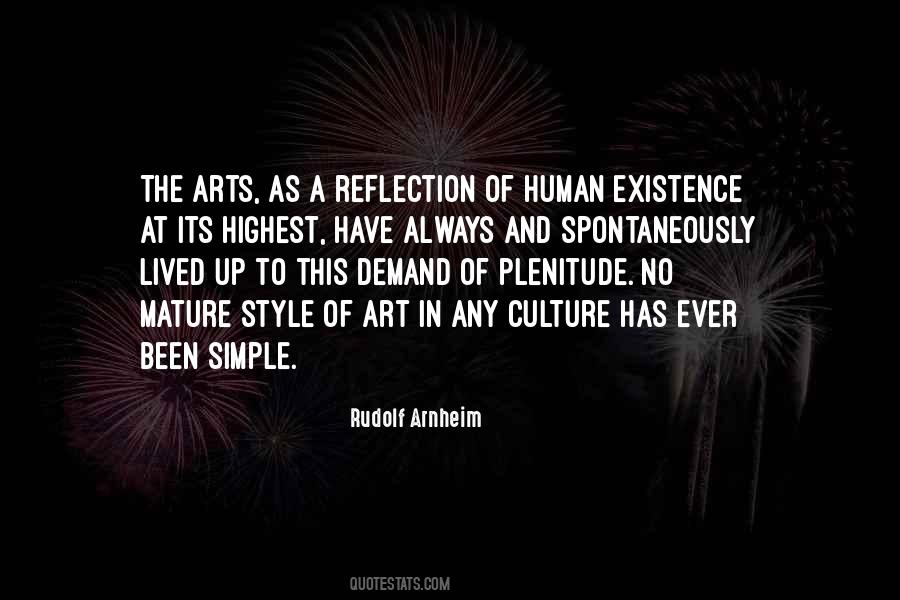 #39. I came out to Hollywood when I was just 18, and my dad, he was really into Hollywood and theater and art, and I guess growing up, he exposed me to a lot of culture, and I just started making Super-8 films in high school and decided I wanted to be a filmmaker. - Author: Bill Paxton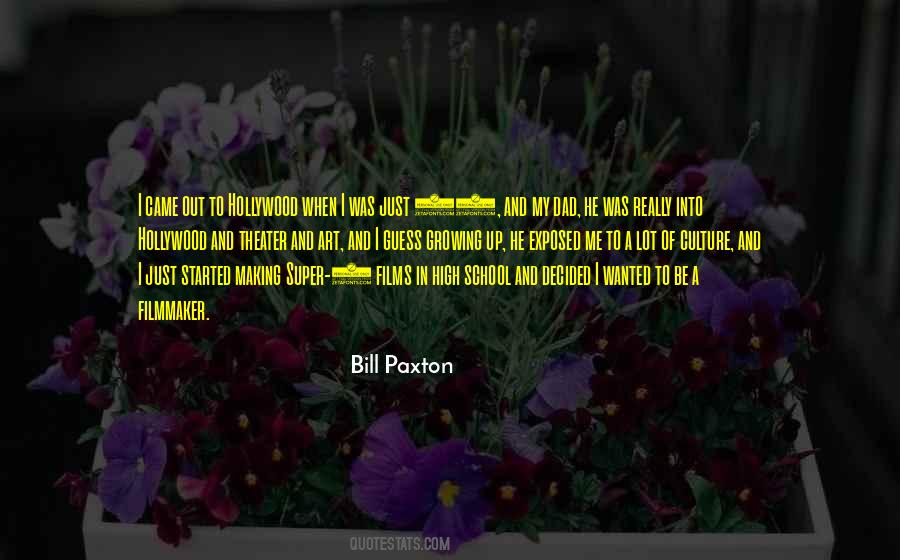 #40. The notions of hybridity, metissage, cosmopolitanism have been deployed and reworked in order to capture the polycentric and polysemic aspects of these new configurations. - Author: Okwui Enwezor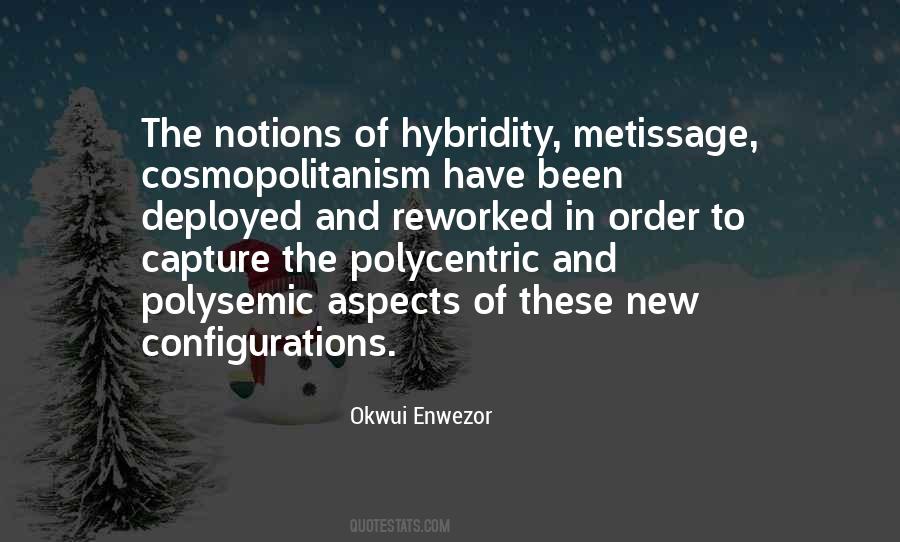 #41. From the Vedas we learn a practical art of surgery, medicine, music, house building under which mechanized art is included. They are encyclopedia of every aspect of life, culture, religion, science, ethics, law, cosmology and meteorology. - Author: William James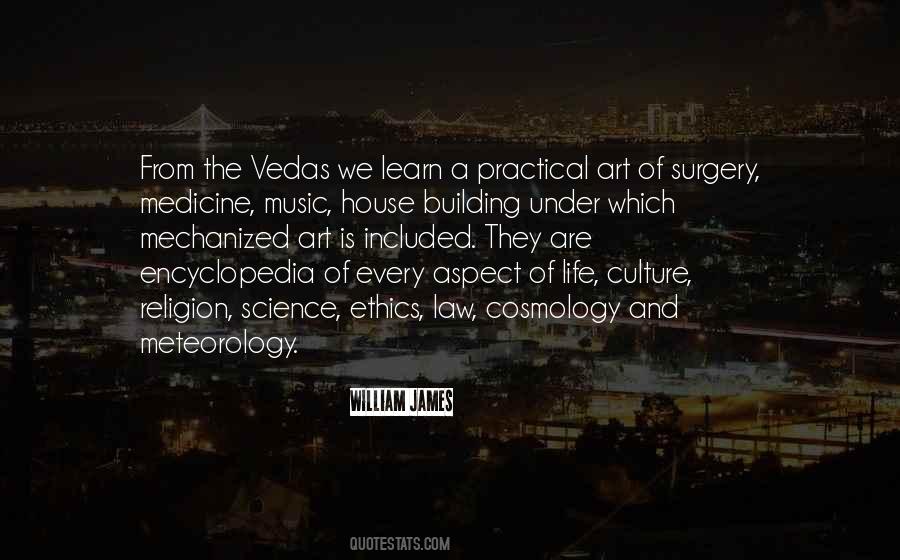 #42. Abstract art was the quivalent of poetic expression; I didn't need to use words,but colors and lines. I didn't need to belong to a language-oriented culture but to an open form of expression. - Author: Etel Adnan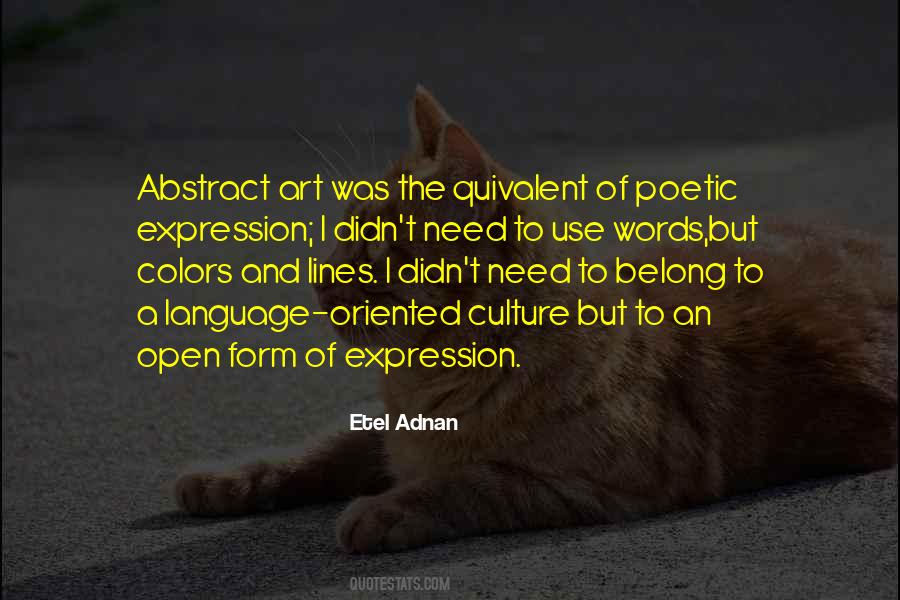 #43. The earlier days of the republic went into the acquisition of money and the provision for material things is now finding an outlet in the espousal of art. Now America has the leisure and the culture to foster beauty. - Author: Fritz Kreisler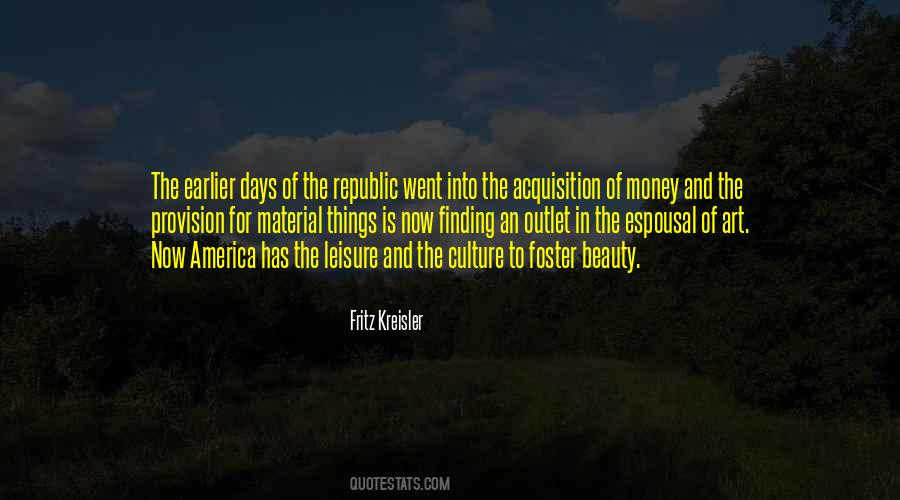 #44. Relevance is a big, big question. It's more about what's your definition of being relevant. In the music world, agism is a big issue. It's about youth and youth culture. There's no other art form that I know that requires you to be a certain age. - Author: Larry Mullen Jr.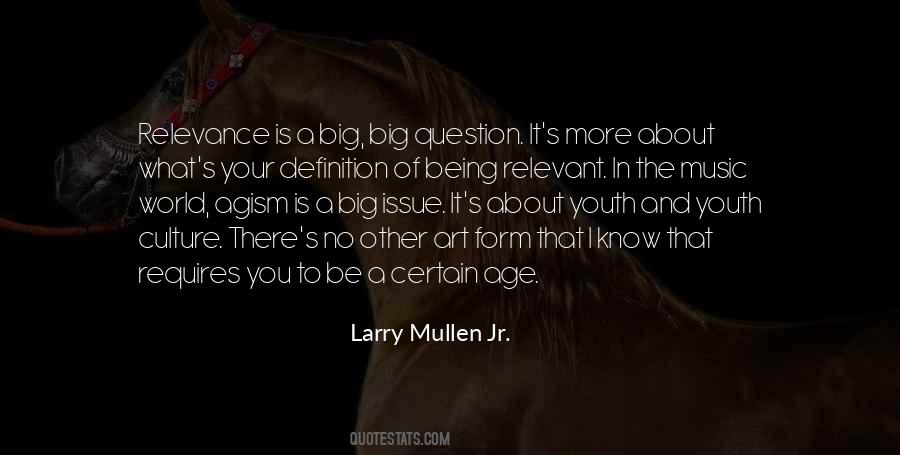 #45. My parents weren't artistic, but I was always surrounded by beautiful things. And Mexico is a country which has experienced thousands of years of art and culture. - Author: Carlos Slim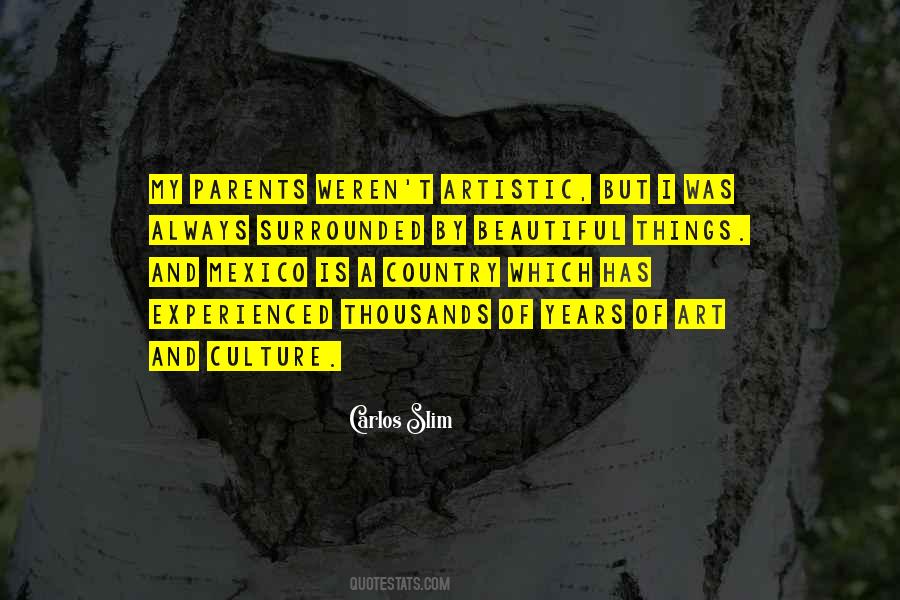 #46. I experimented with fashion as it being more like art, allowing what I wore to express what I was feeling on the inside. Androgyny, rock culture, and grunge - they definitely had an effect on the things that made me feel cool and comfortable. - Author: Ruby Rose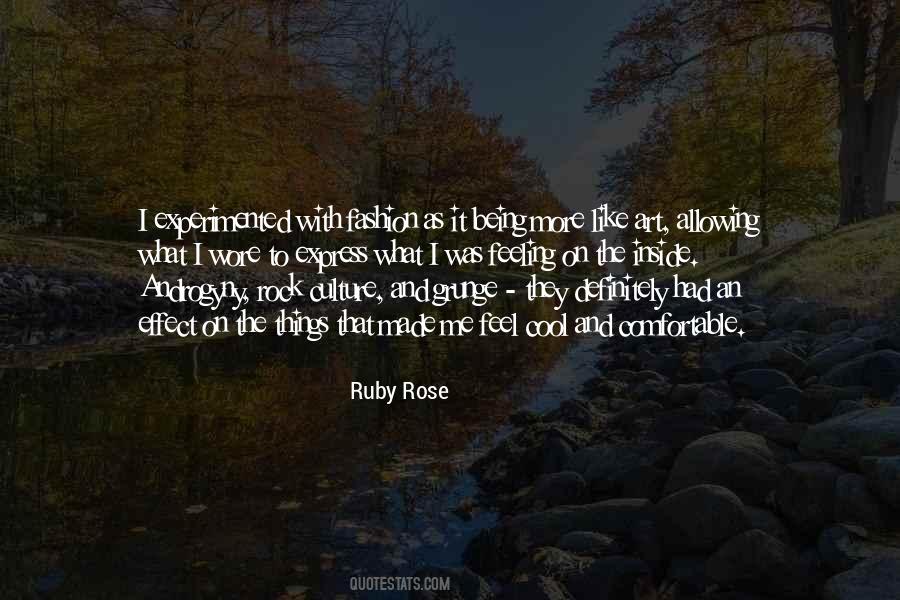 #47. Art is not like other culture because its success is not made by its audience. The public fill concert halls and cinemas every day, we read novels by the millions, and buy records by the billions. 'We the people'
affect the making and quality of most of our culture, but not our art. - Author: Banksy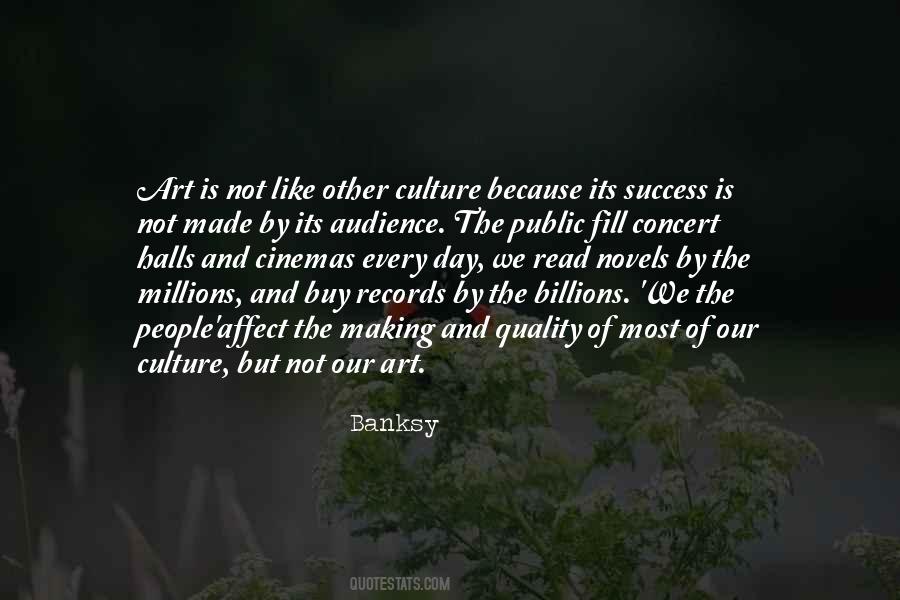 #48. To be able to translate the customs, ideas and appearance of my times as I see them - in a word, to create a living art - this has been my aim. - Author: Gustave Courbet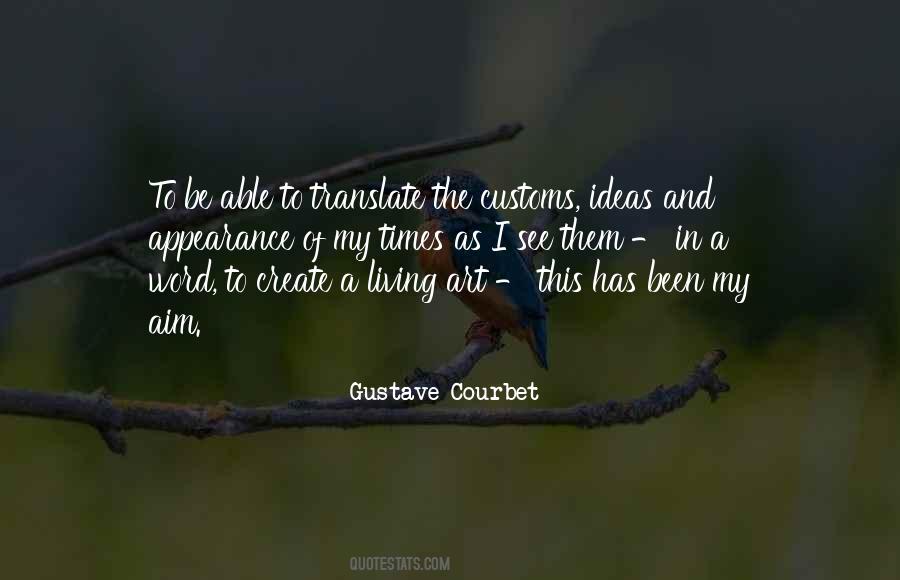 #49. The Program further aims to make the benefits of American culture and technology available to the world and to enrich American life by exposing it to the science and art of many societies. - Author: J. William Fulbright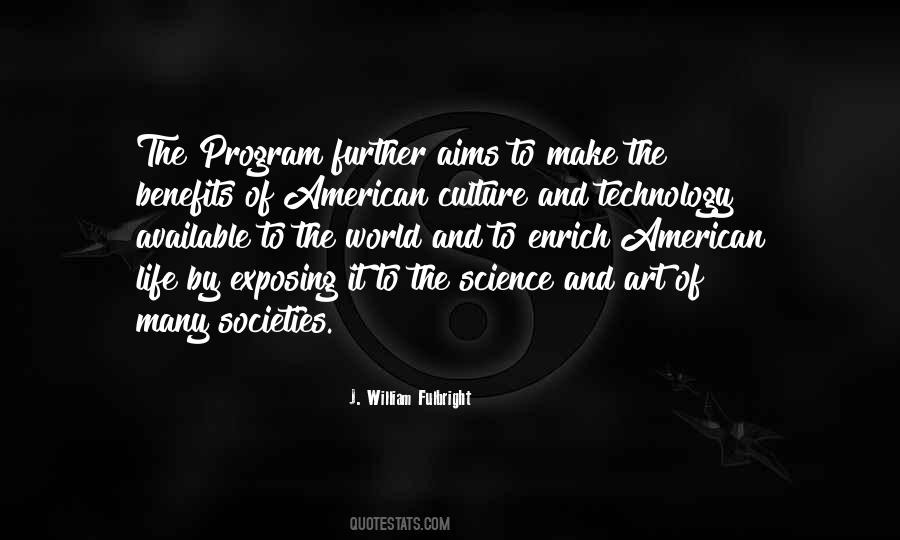 #50. Toronto may be the only city where novels are integral to high art, the alternative scene and mainstream culture all at the same time. - Author: Stephen Marche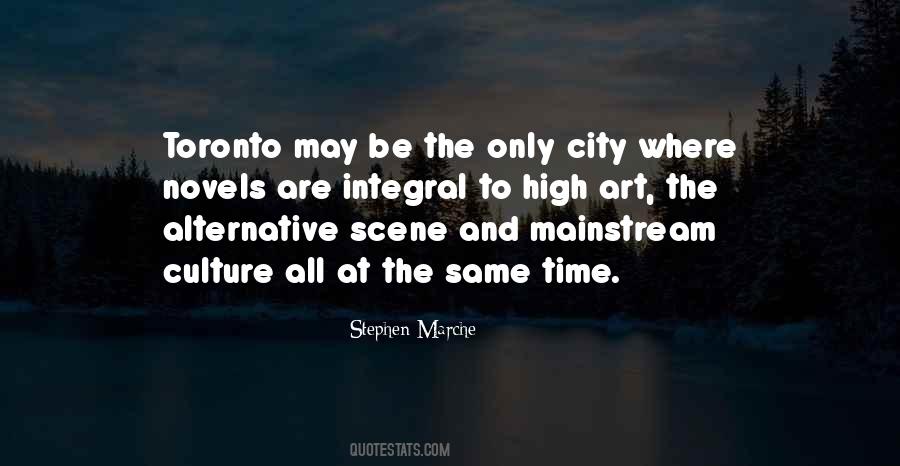 #51. When I started Dylan's Candy Bar in 2001, I wanted it to be a place that merged my love of pop culture, fashion, art and music with candy. Since then, we have been fortunate to pioneer artistic partnerships with many legends. - Author: Dylan Lauren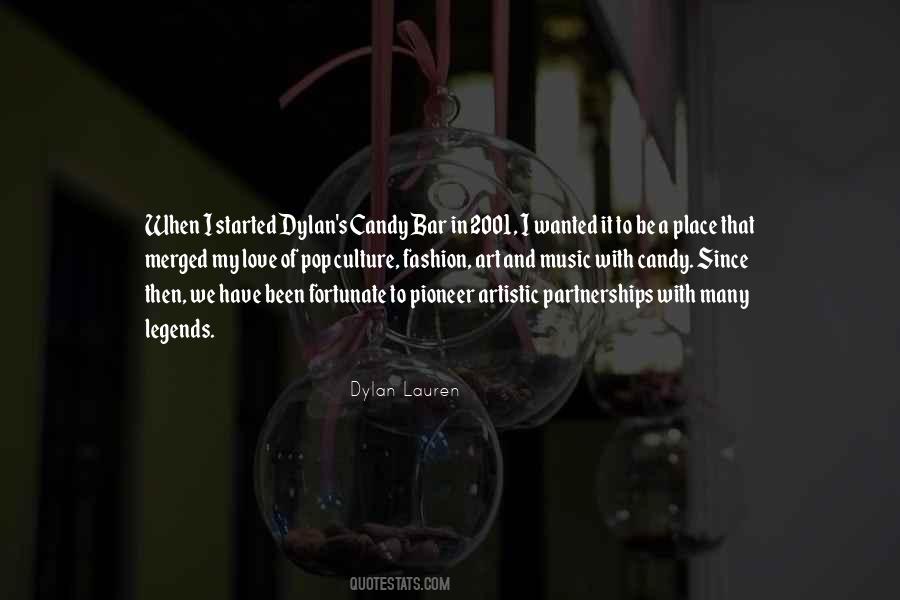 #52. Art is a universal language and through it each nation makes its own unique contribution to the culture of mankind. - Author: Dwight D. Eisenhower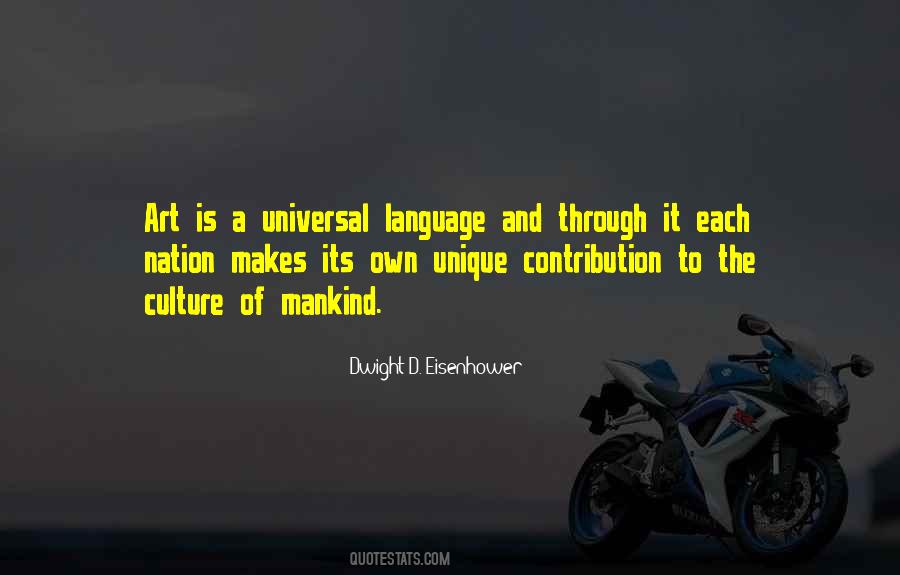 #53. In every human society of which we know - prehistoric, ancient or modern, whether hunter-gatherer, pastoral, agricultural or industrial - at least some form of art is displayed, and not only displayed, but highly regarded and willingly engaged in. - Author: Ellen Dissanayake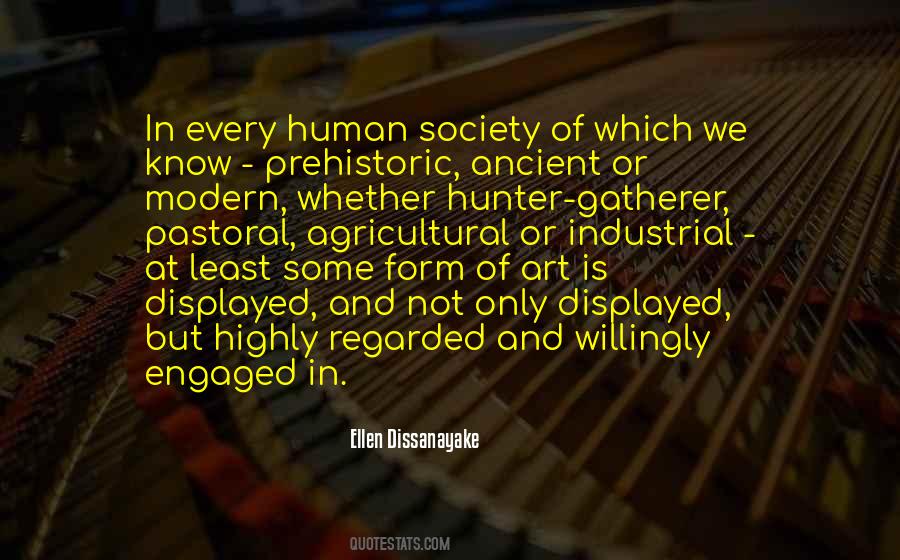 #54. Cinema is an art form that is designed to go across borders. And as a filmmaker, the only way I can direct a movie is when I feel close to my culture. - Author: Denis Villeneuve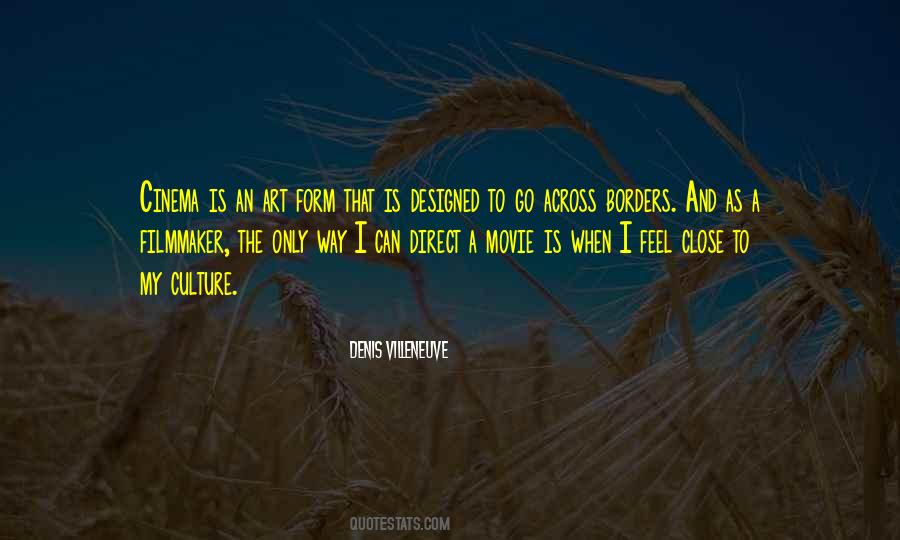 #55. Between the marketplace and government there exists all of that which makes life worth living-family life, spiritual life, the art and culture that make our spirits soar ... - Author: Hillary Clinton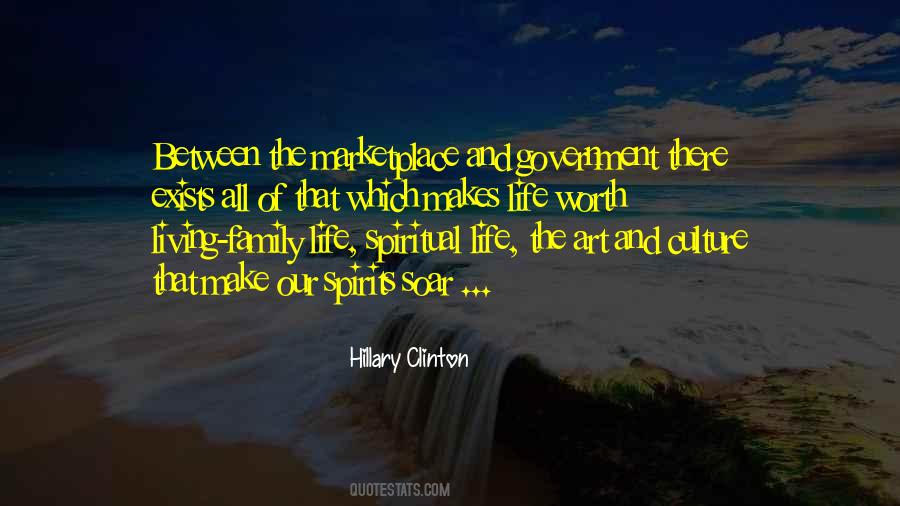 #56. I do not know when, but I know that many have come in this century to develop arts and sciences, sow the seeds of a new culture that will flourish, unexpected, sudden, just when the power is deluded into believing they have won. - Author: Giordano Bruno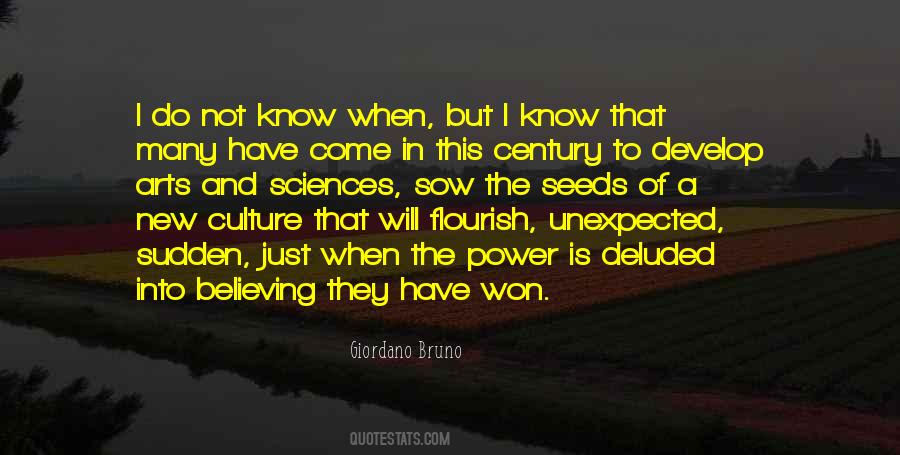 #57. When I was a kid, toe dancing and toe shoes had a meaning in our culture as a serious kind of art. - Author: Twyla Tharp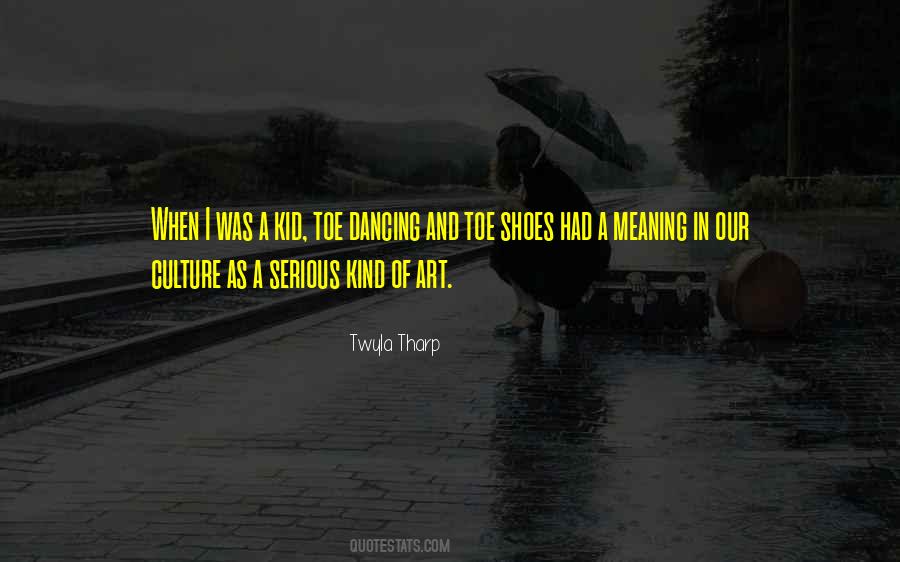 #58. Selecting the right measure and measuring things right are both art and science. And KPIs influence management behavior as well as business culture. - Author: Pearl Zhu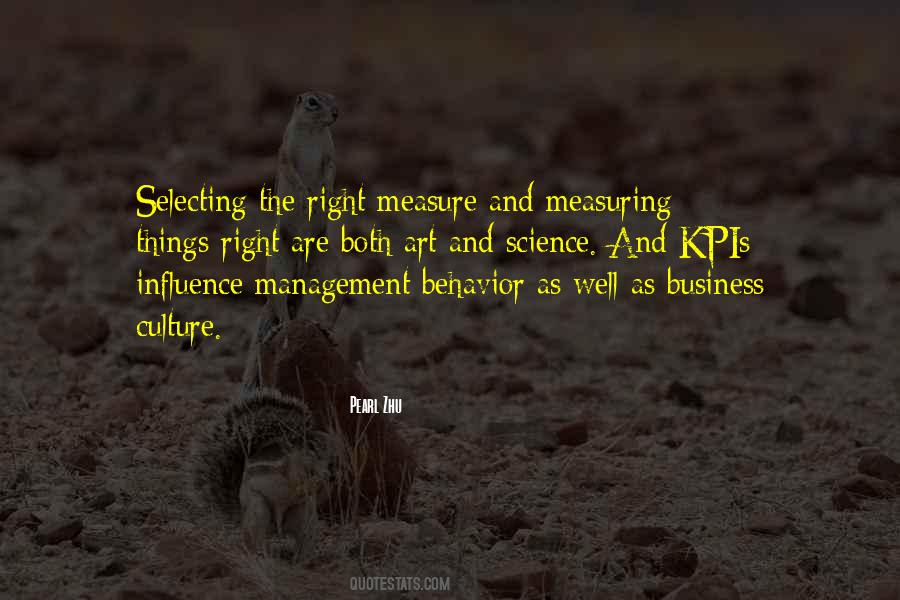 #59. Ultimately, culture, secular and otherwise, is a collection of survival strategies. The things that look like decoration - poetry, novels, music, dancing - if you strip away all the layers, are mechanisms for coping, surviving, understanding. - Author: Ben Fountain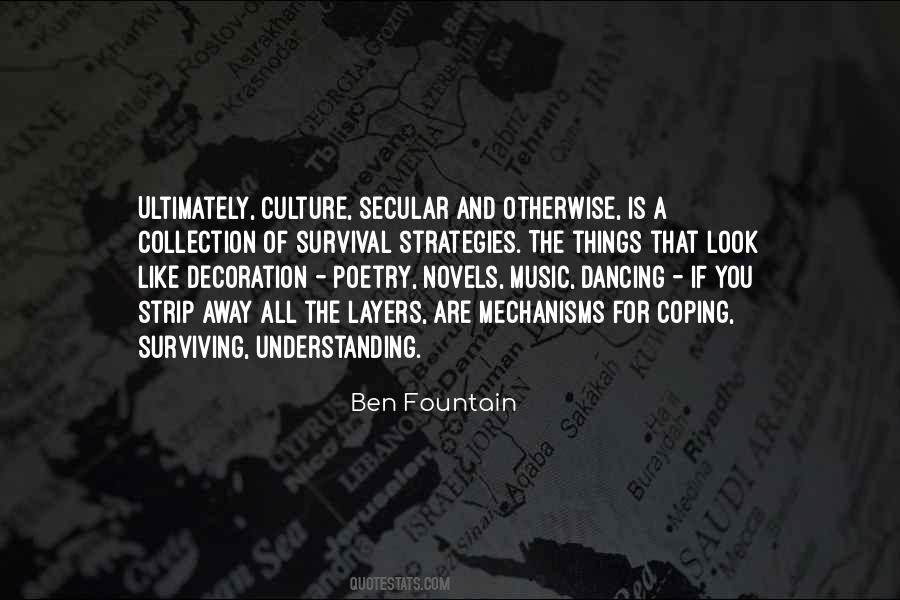 #60. Art can no longer be art today if it does not reach into the heart of our present culture and work transformatively within it that is, an art which cannot mould society - and through this naturally operate upon the core questions of our society - is not art. - Author: Joseph Beuys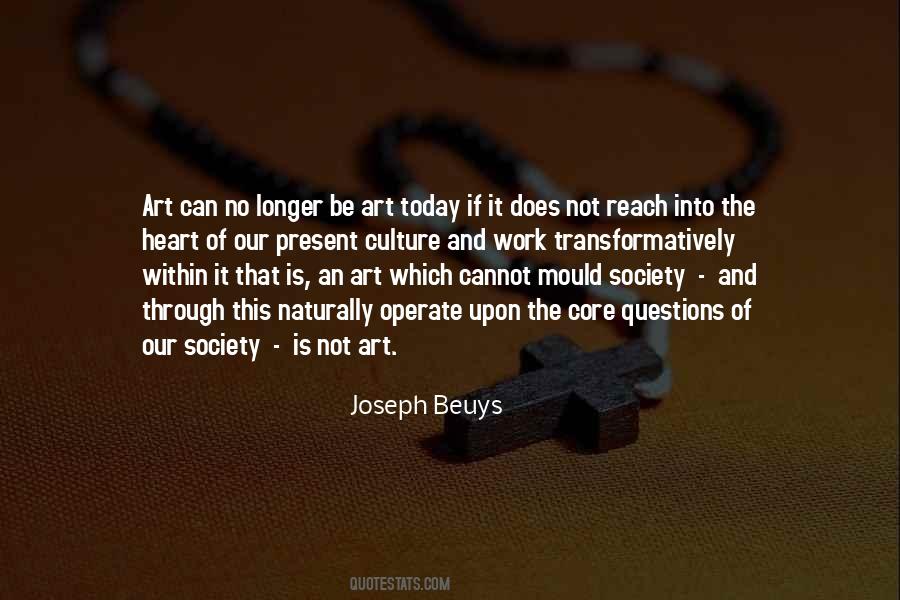 #61. There's more emphasis on art and culture in Europe than there is in the United States and I think that a lot of American directors and writers are just trying to copy other American horror films, they don't pick up much in the way that European filmmakers do. - Author: Wes Craven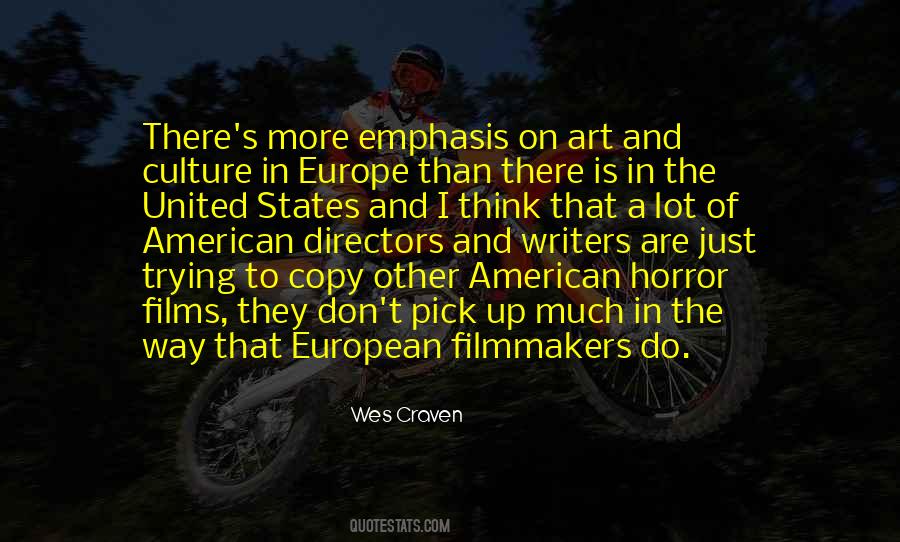 #62. It seems to me that many writers, by virtue of environments of culture, art and education, slip into writing because of their environments. - Author: Robert E. Howard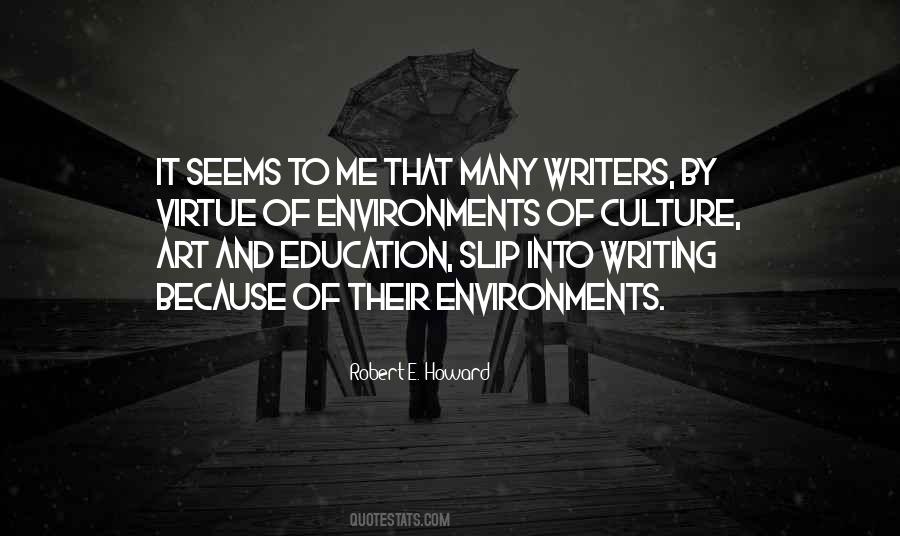 #63. a square is also an organism, not just a work of art and architecture [Michael Kimmelman, "Culture: Power of the Place"]. - Author: Catie Marron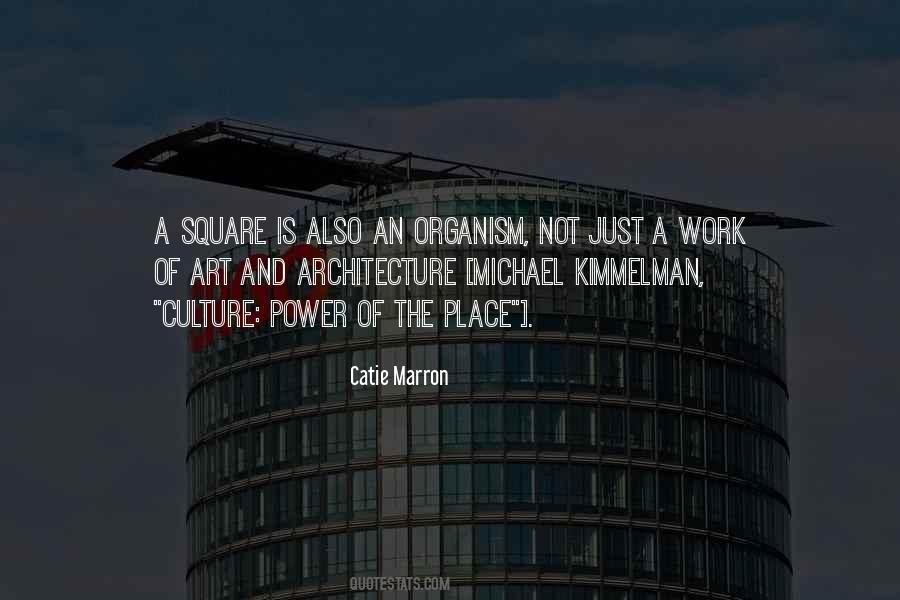 #64. The autobiographical self has prompted extended memory, reasoning, imagination, creativity and language. And out of that came the instruments of culture - religions, justice, trade, the arts, science, technology. - Author: Antonio Damasio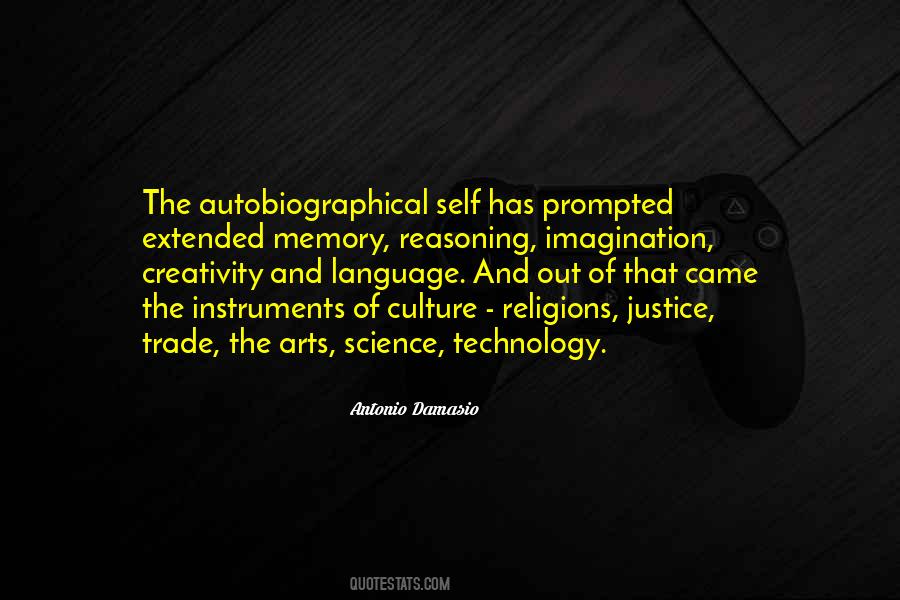 #65. Aesthetic culture is not the high-road to all the virtues, and, indeed, certain of the vices have been known to infest it. Neither, on the other hand, is there any special grace in ugliness. Art is only utterance. It must express something; and the vital question is, what does it express? - Author: Lewis Foreman Day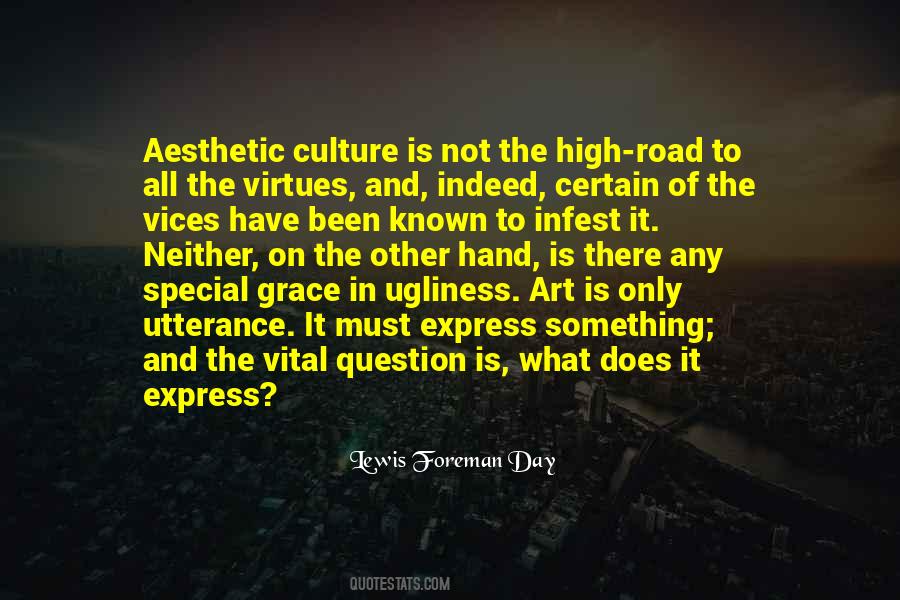 #66. We can have all the food and water we need, but without the sustenance of
real story, real art - without the wisdom, insight, and "life instruction" it brings - we will stagnate as a culture and become a swamp where quality life can no longer be sustained. So share your gifts! Share your art! - Author: Derek Rydall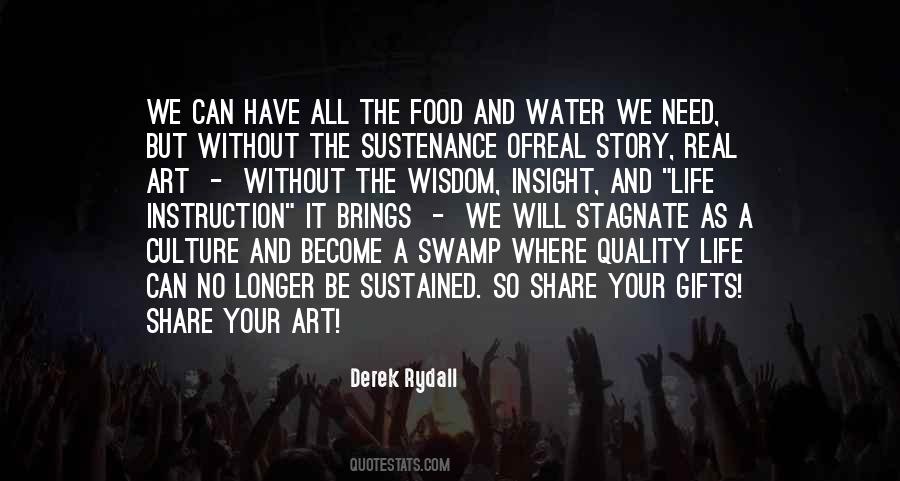 #67. My dad's side of the family had lots of artists and musicians. There's an emotional, quite sentimental quality to Slavic culture. It's very open, it loves art, it loves music, it loves literature. It's very warm, it's very up, it's very down. I would celebrate that. - Author: Nick Clegg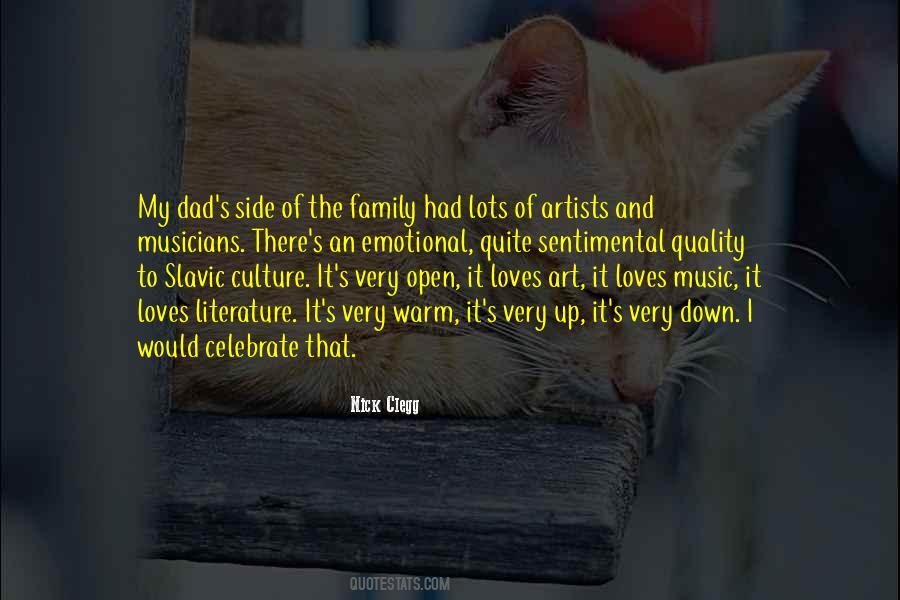 #68. The idea is that human culture as broadly defined
art, politics, technology, religion, and so on
evolves in much the way biological species evolve: new cultural traits arise and may flourish or perish, and as a result whole institutions can belief systems form and change. - Author: Robert Wright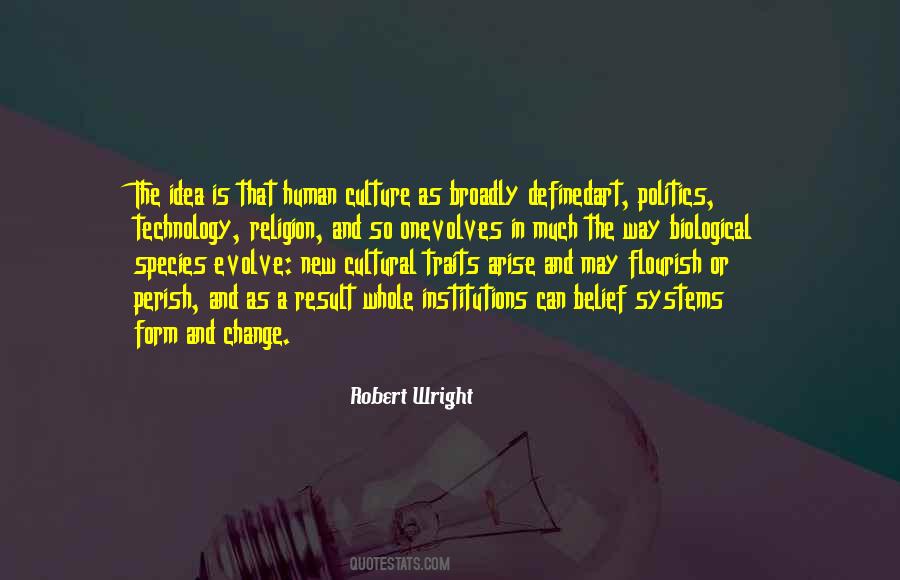 #69. God is desperately looking for those he could send to the world of art and culture, to rule the place for him. - Author: Sunday Adelaja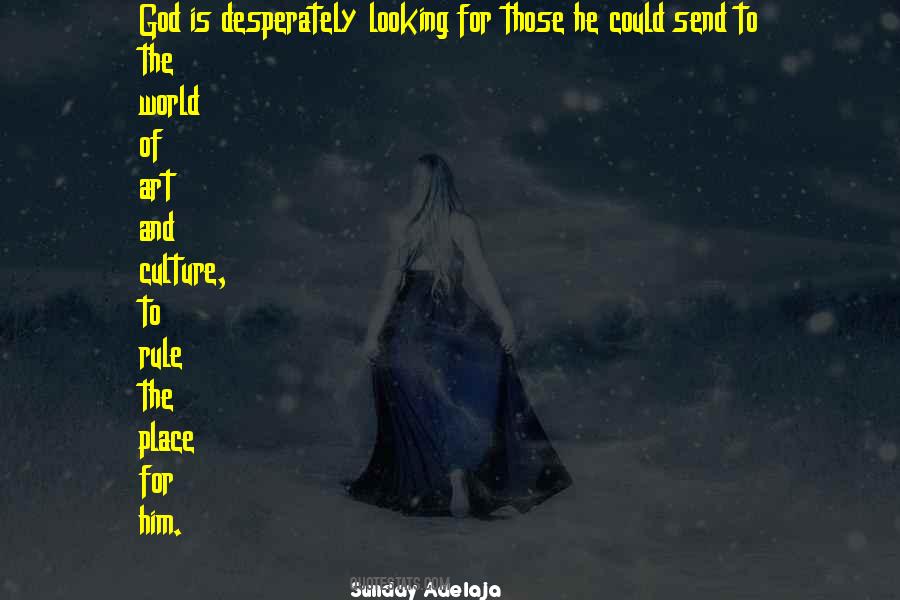 #70. Entertainment and art have power. Our culture is molded more so by entertainment than any other influence. - Author: Michael Landon Jr.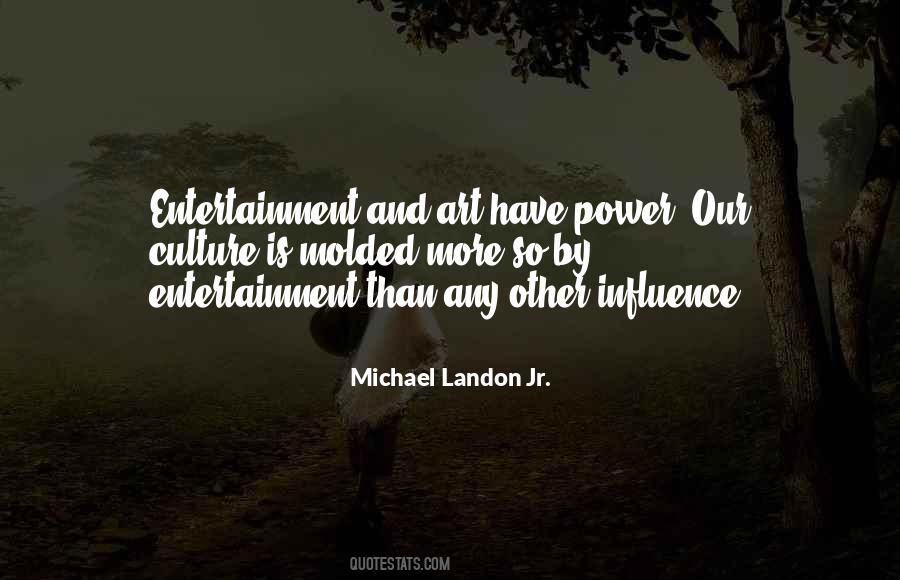 #71. Don't forget that in the midst of all your pain and heartache, you are surrounded by beauty, the wonder of creation, art, your music and culture, the sounds of laughter and love, of whispered hopes and celebrations, of new life and transformation, of reconciliation and forgiveness. - Author: Wm. Paul Young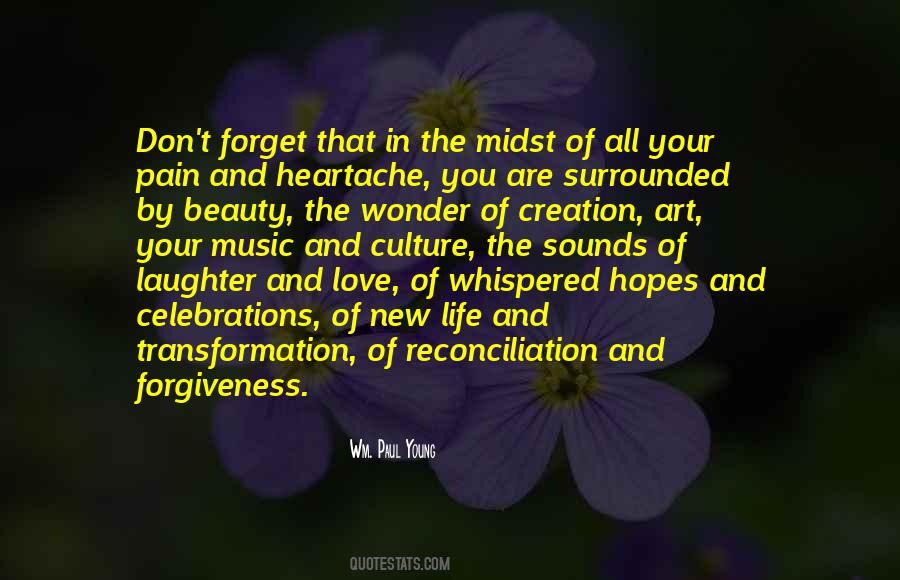 #72. The difference between extras and audience members is that audience members don't get chairs. Audience members are the daylaborers of the industry. When it's sunny, we stand in the sun. When it's cold, we stand in the cold. - Author: J. Richard Singleton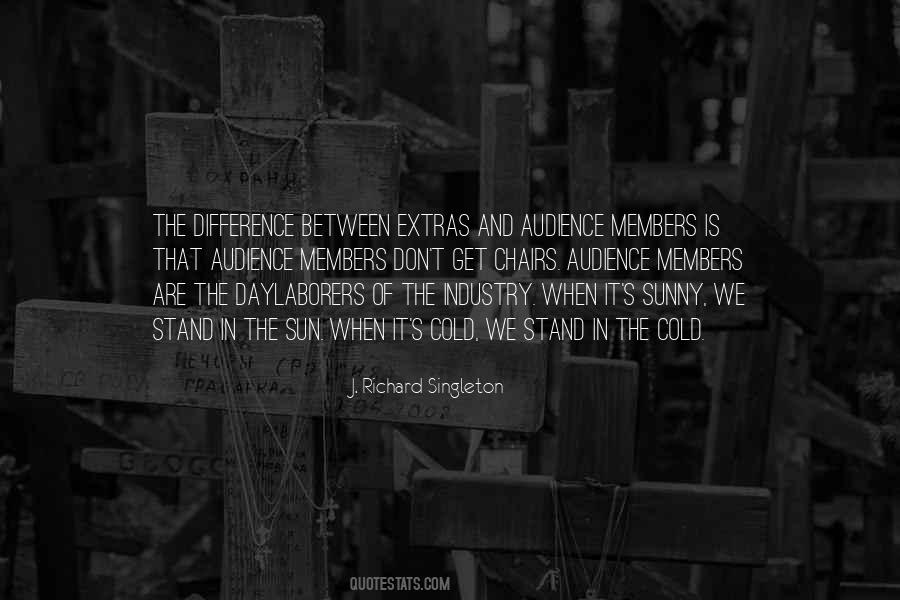 #73. I know the community mostly for its art and culture ... and of course its food, I eat at their restaurants." "They make you feel like taking off your shoes ... it feels like home. - Author: Erykah Badu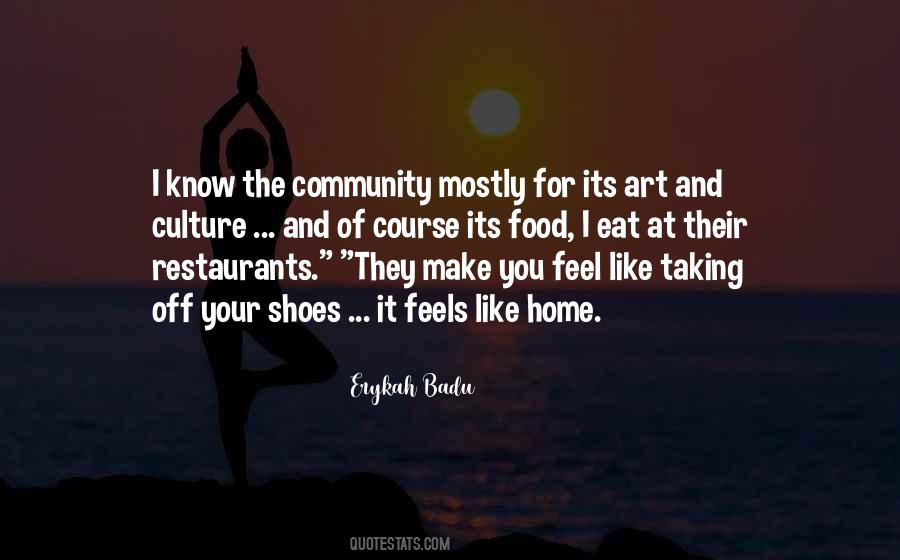 #74. If the artist reflects only his own culture, then his works will die with that culture. But if his works reflect the eternal and universal, they will revive. - Author: Madeleine L'Engle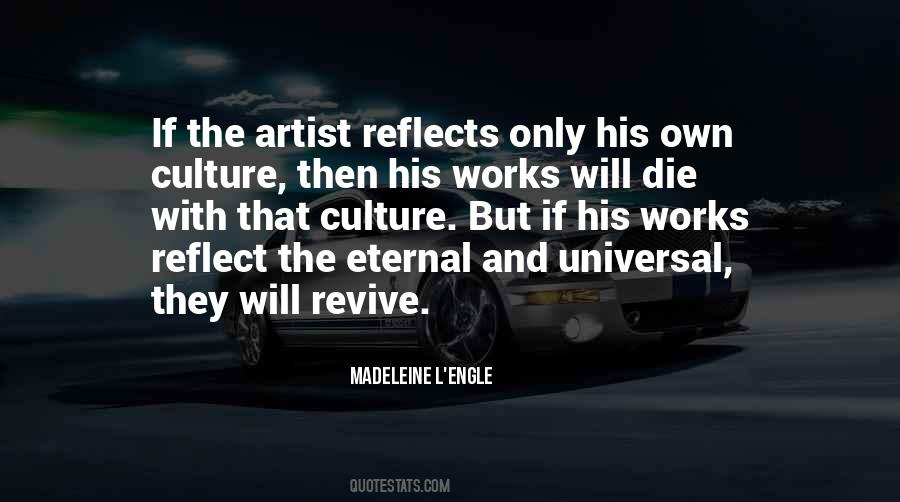 #75. As art reveals the artist more than the world, so you see yourself and what you are not in the mirror of another culture. - Author: Jennifer Stone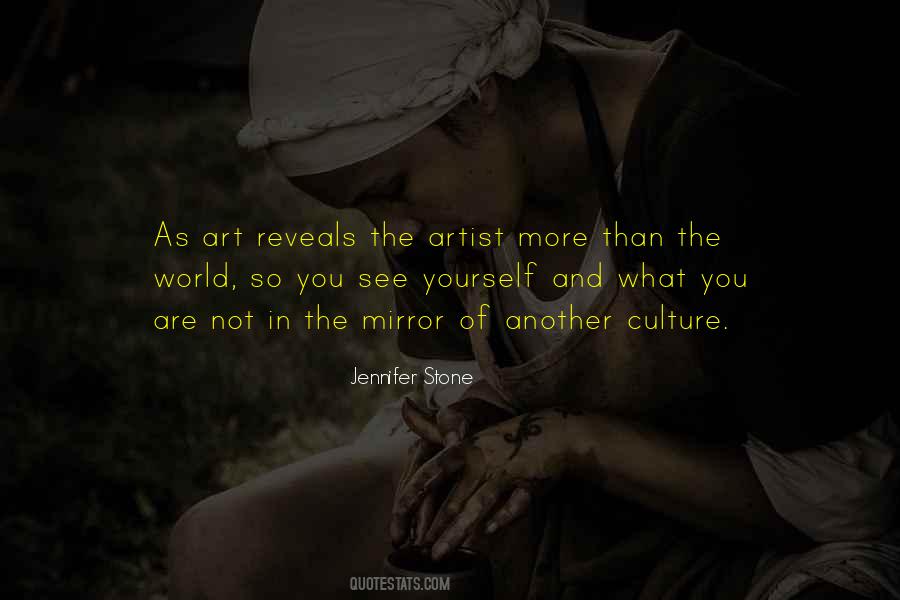 #76. We want people to experience art and think about it. The art reflects our time, it is about our culture. - Author: David Elliott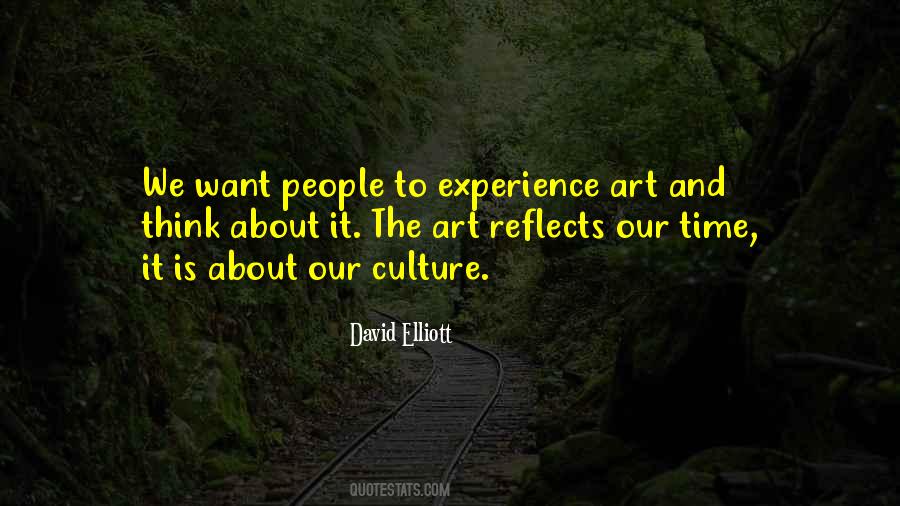 #77. The function of the artist is the mythologization of the culture and the world. In the visual arts there were two men whose work handled mythological themes in a marvelous way: Paul Klee and Pablo Picasso. - Author: Joseph Campbell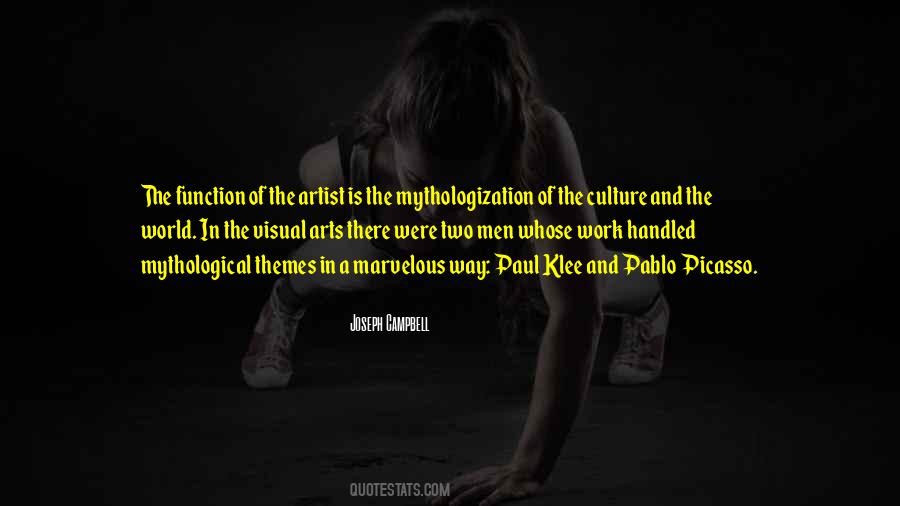 #78. A culture is not only the language and the arts of a people. It is all their history, all their hopes for the future. - Author: Robert Payne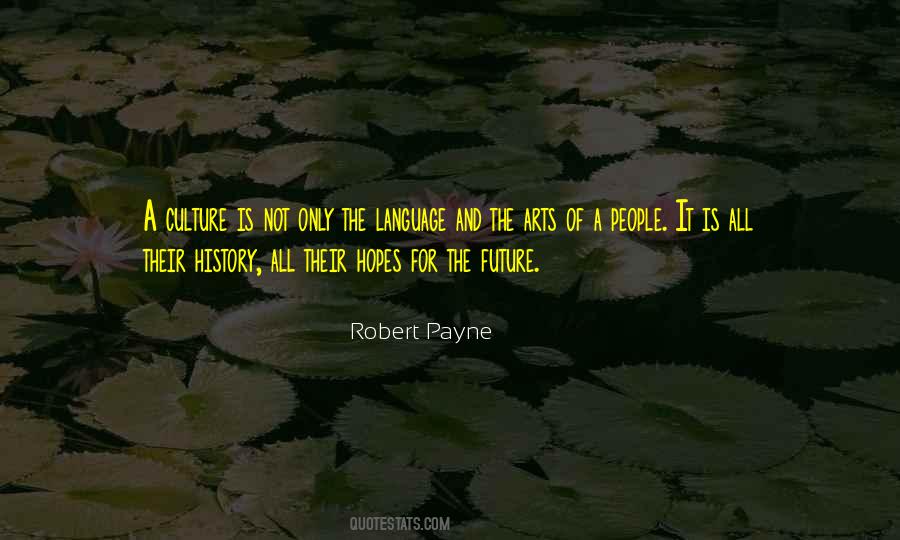 #79. In contemporary art culture, where good looks and clever strategic planning of art careers have become a feature, professional practice may be taught in art schools like a branch of public relations or political science. - Author: Michael Leunig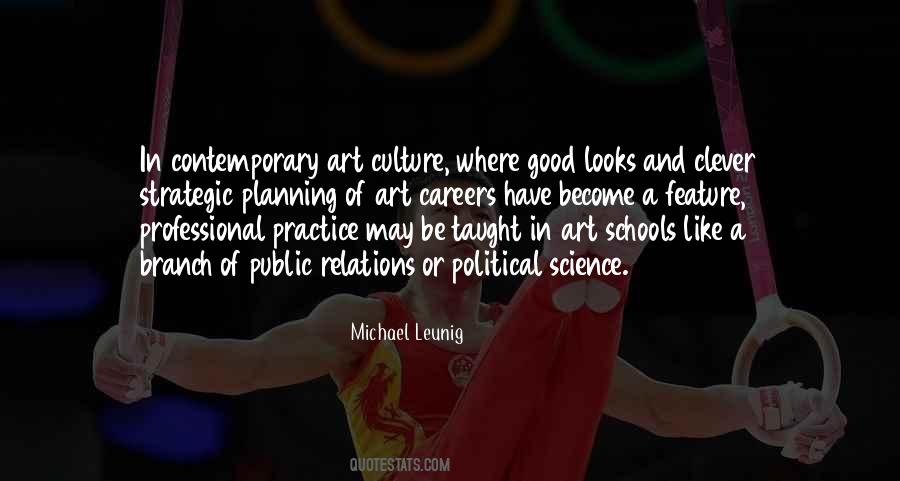 #80. I think that the job of art and culture is to jump on that time and realize that it's there and to push it just a little bit faster. - Author: Adam McKay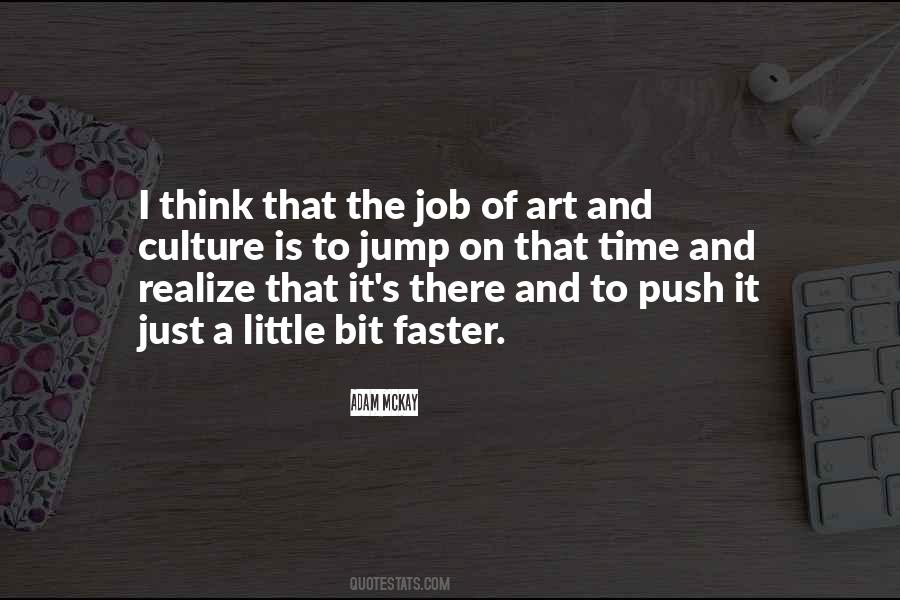 #81. Fashion is not art. Fashion isnt even culture. Fashion is advertising, and advertising is money. And for every dollar you earn, someone has to pay. - Author: Gia Carangi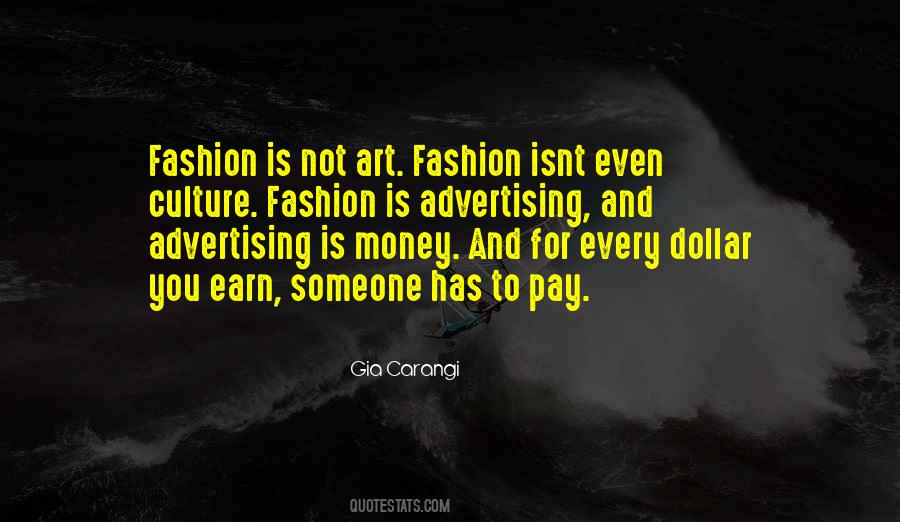 #82. If any art form can accommodate contemporary culture, it's the novel. It's so malleable - it can incorporate essays, poetry, film. Maybe the challenge for the novelist is to stretch his art and his language, to the point where it can finally describe what's happening around him. - Author: Don DeLillo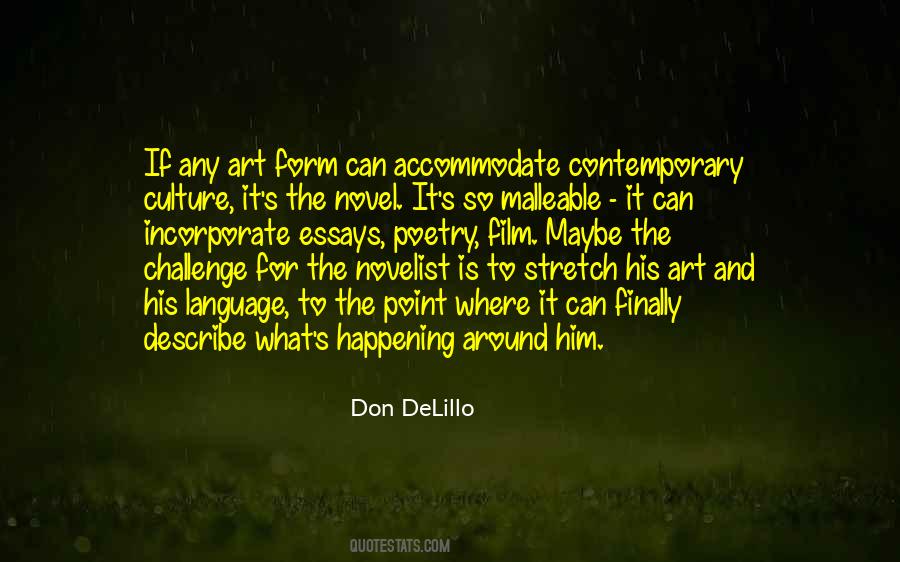 #83. In an ever-changing technological landscape, where today's platforms are not tomorrow's platforms, the key seems to be that any one of these spaces can use a dose of humanity and art and culture. - Author: Ze Frank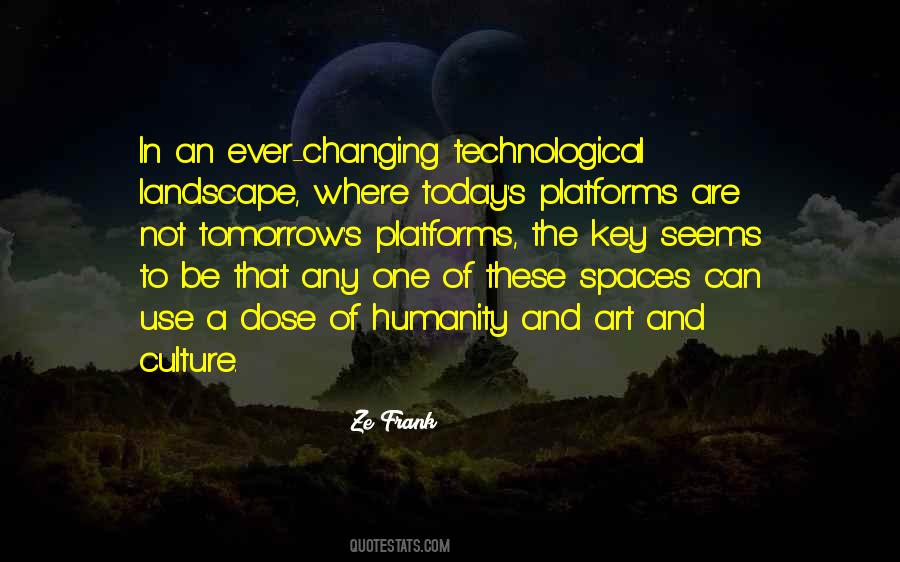 #84. Great art transcends its culture and touches on that which is eternal. - Author: Madeleine L'Engle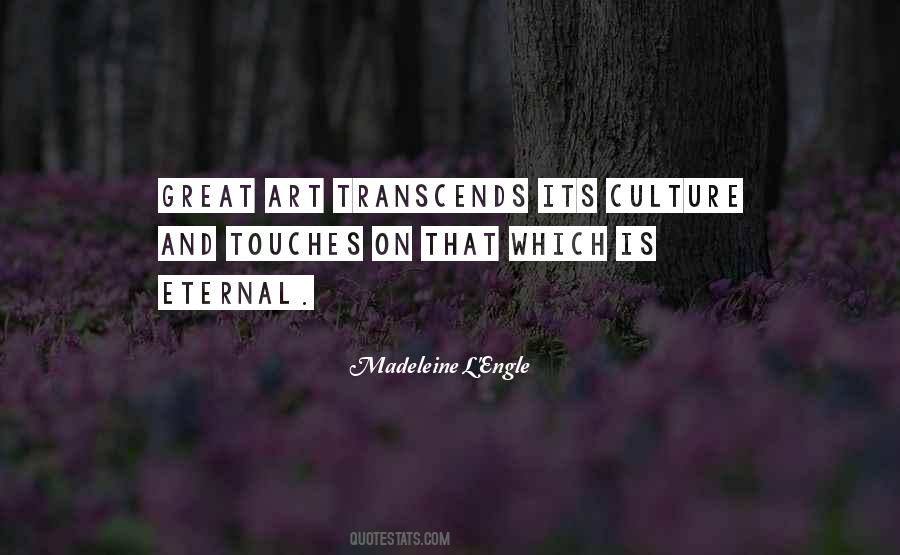 #85. Those words ... national and portrait. They were both to do with identity: the identity of a culture (place, language and history), the identity of an individual human being as an object for mimetic representation. - Author: A.S. Byatt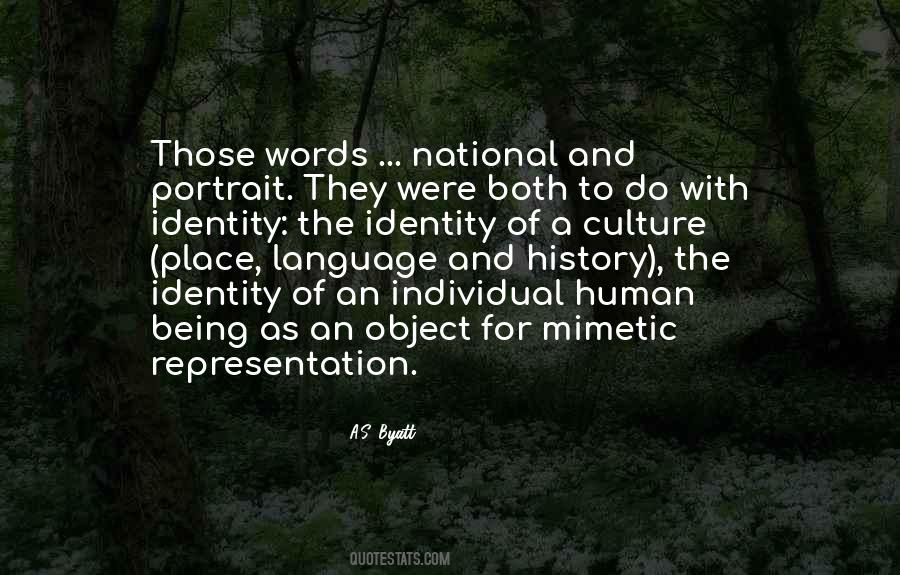 #86. It takes intelligence and training, self-discipline and fine-sensibility, to gain renewed life through leisure occupation. America now suffers spiritual poverty, and art must become more fully American life before her leisure can become culture. - Author: Hans Hofmann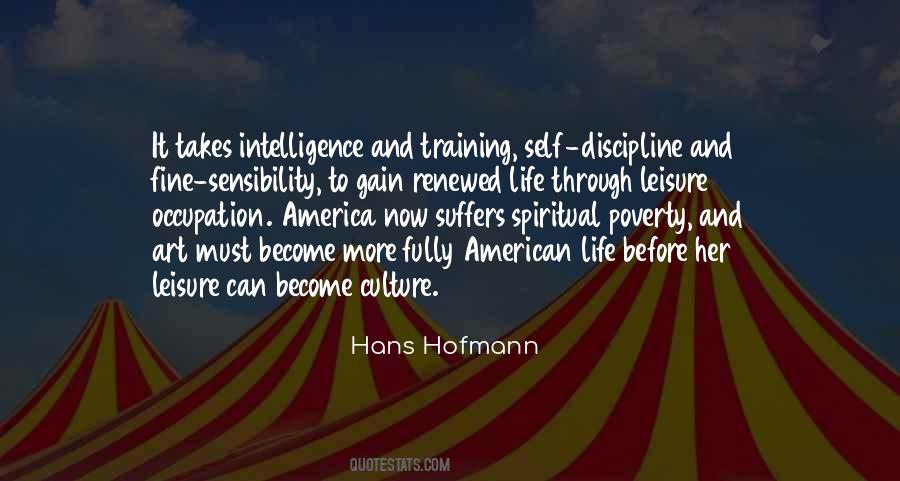 #87. In response to our fast-food culture, a 'slow food' movement appeared. Out of hurried parenthood, a move toward slow parenting could be growing. With vital government supports for state-of-the-art public child care and paid parental leave, maybe we would be ready to try slow love and marriage. - Author: Arlie Russell Hochschild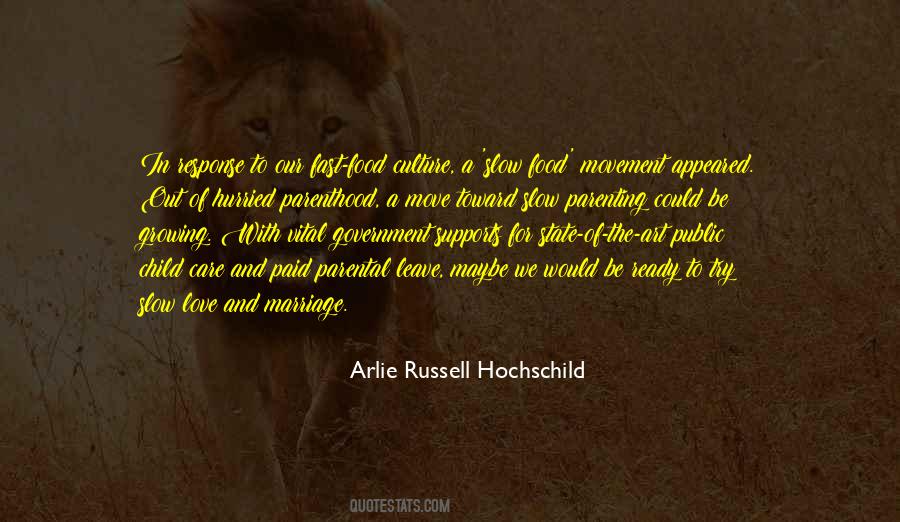 #88. Launch your boat, blessed youth, and flee at full speed from every form of culture. - Author: Epicurus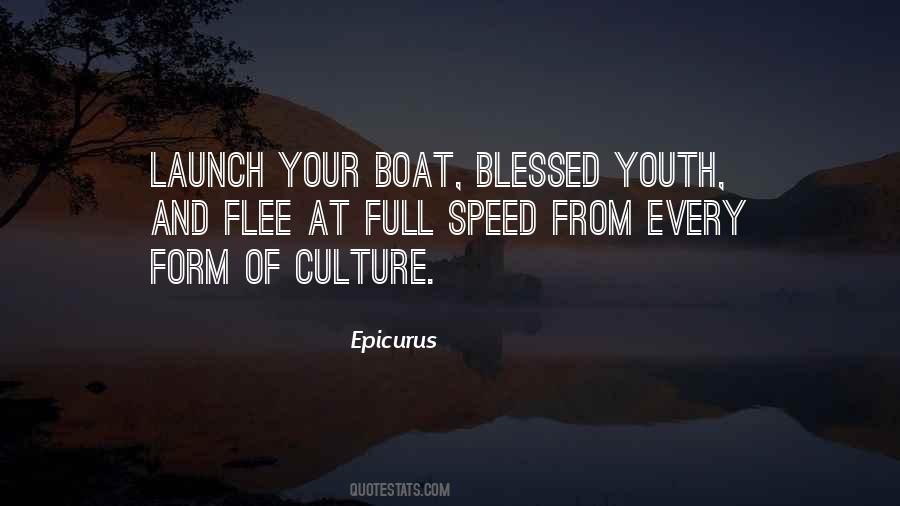 #89. Like any great art, the culture of hip-hop has changed with the times. With the state of technology, music is more accessible and freely exchanged. For hip-hop to grow while keeping a sense of integrity, the essence of the culture has to be handed down and respected like any high form of art. - Author: One9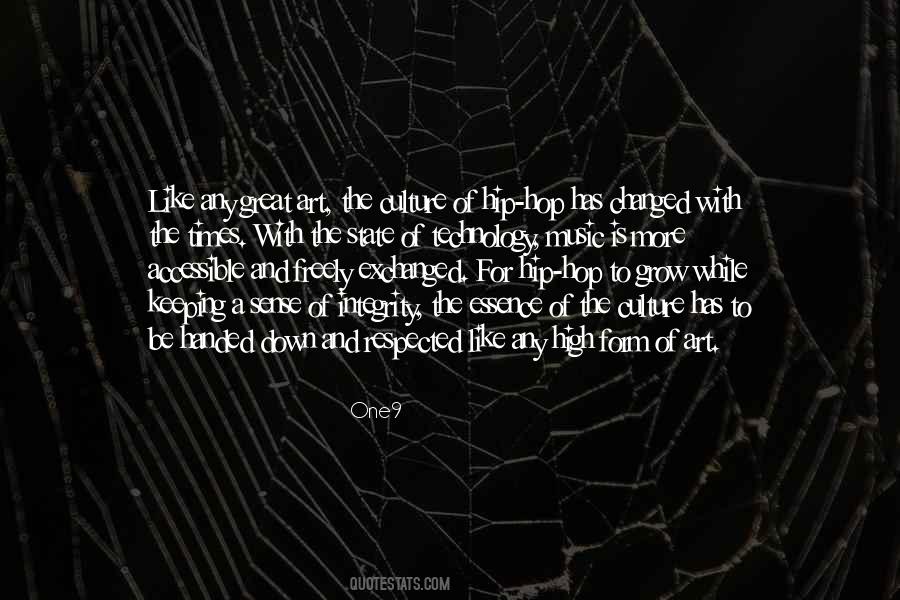 #90. Hiring people is an art, not a science, and resumes can't tell you whether someone will fit into a company's culture. - Author: Howard Schultz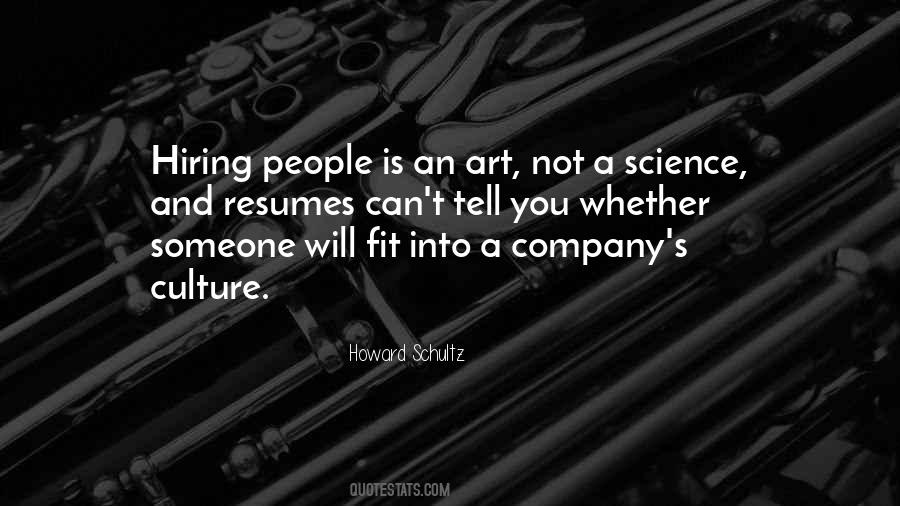 #91. The hallmark of the Renaissance was its holistic quality as all fields of art, engineering, science and culture shared the same exciting spirit and many of the same intellectual principles. - Author: Joel Garreau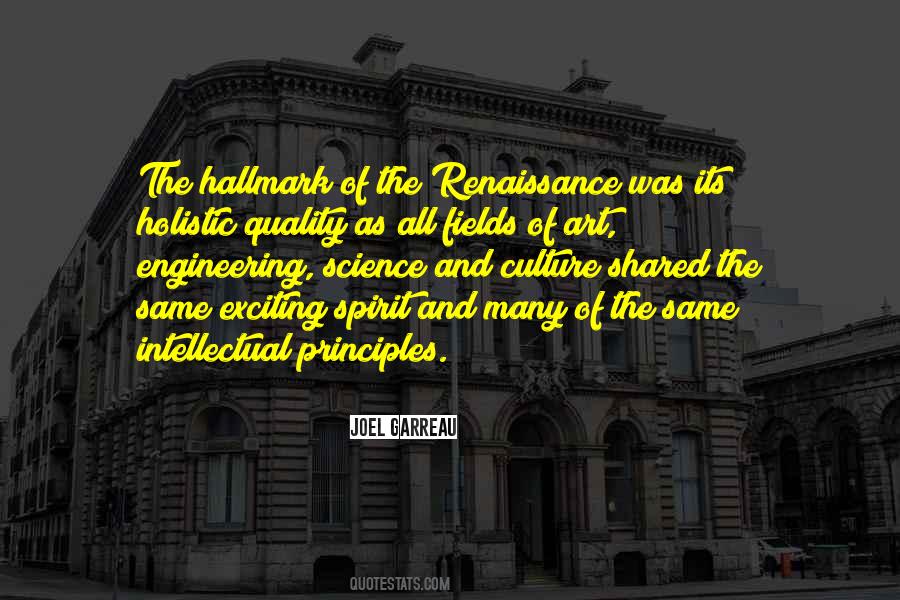 #92. In the Somme valley, the back of language broke. It could no longer carry its former meanings. World War I changed the life of words and images in art, radically and forever. It brought our culture into the age of mass-produced, industrialized death. This, at first, was indescribable. - Author: Robert Hughes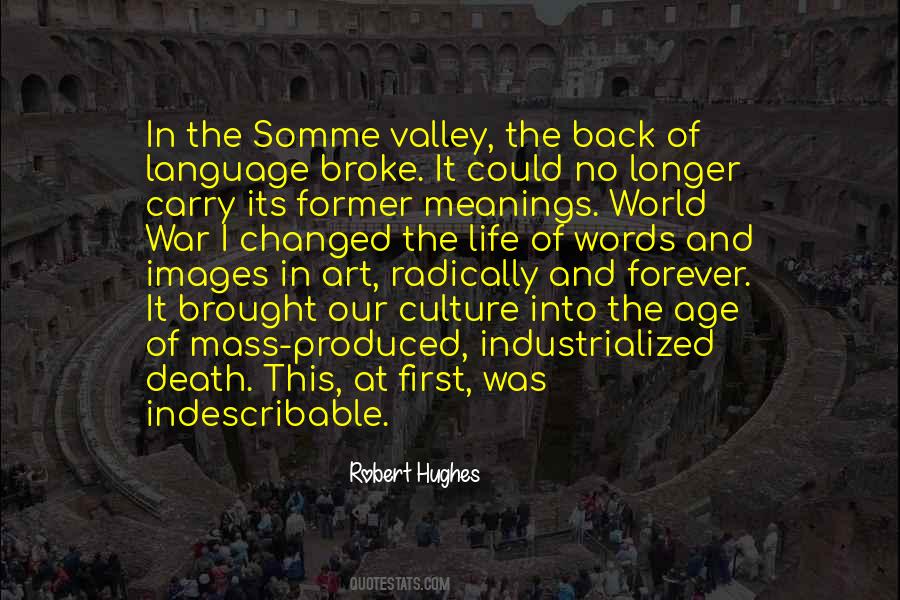 #93. Art is not entertainment. Art is not luxury goods. Art is culture. It is you and me. - Author: Paige Bradley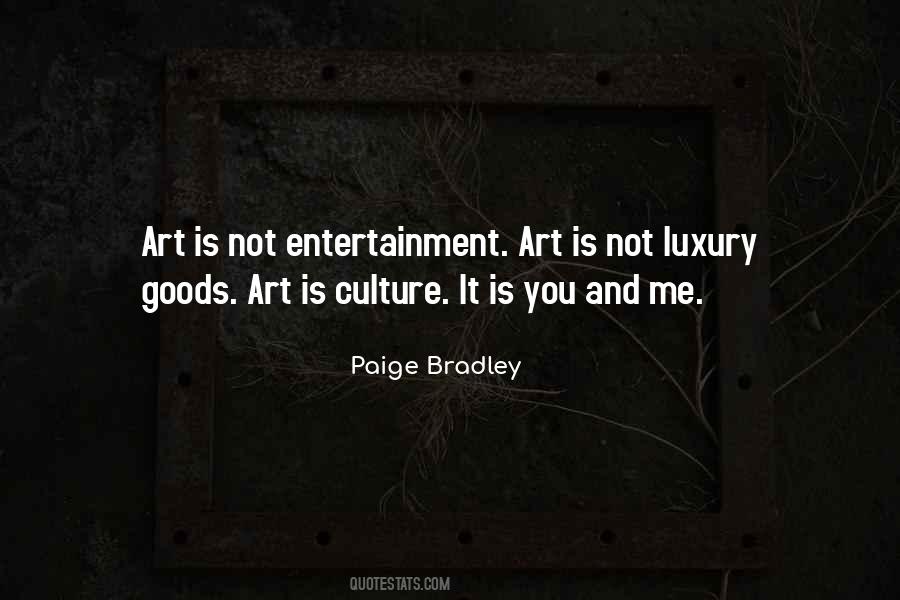 #94. At the end of the day, you want to be always the one that's one step ahead of everybody, and when it comes to hip-hop, culture and art, you want to be that signature guy. - Author: Carmelo Anthony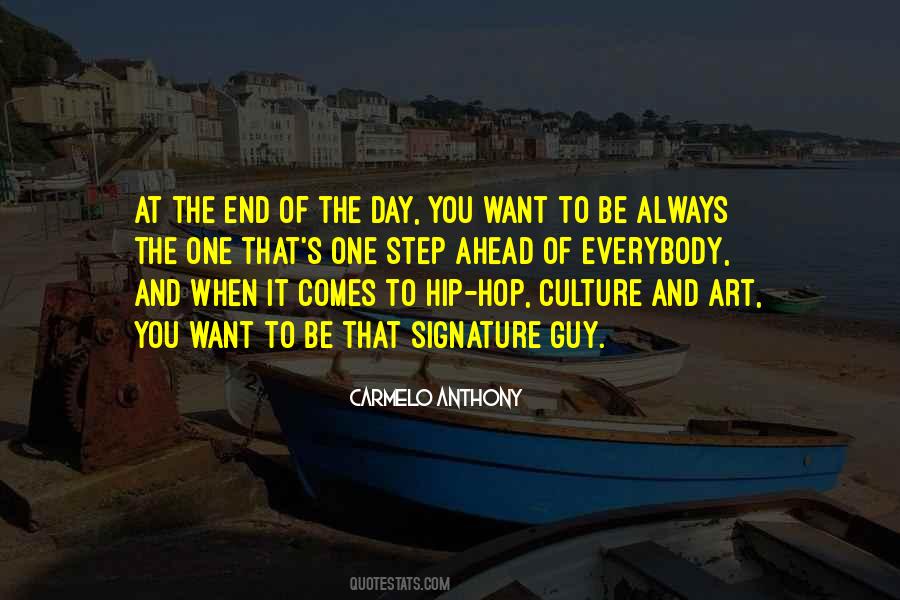 #95. When one lives in a society where people can no longer rely on the institutions to tell them the truth, the truth must come from culture and art. - Author: John Trudell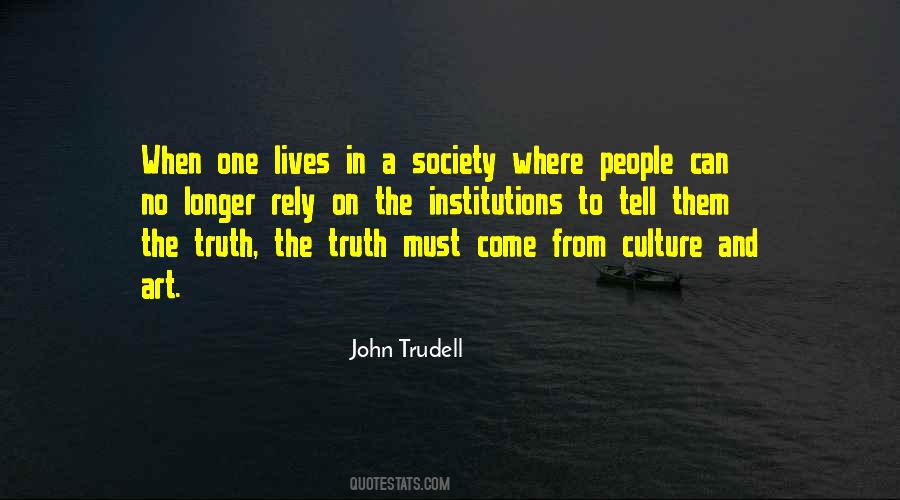 #96. The movement of abstract art ... bears within itself at almost every point the mark of the changing material and psychological conditions surrounding modern culture. - Author: Meyer Schapiro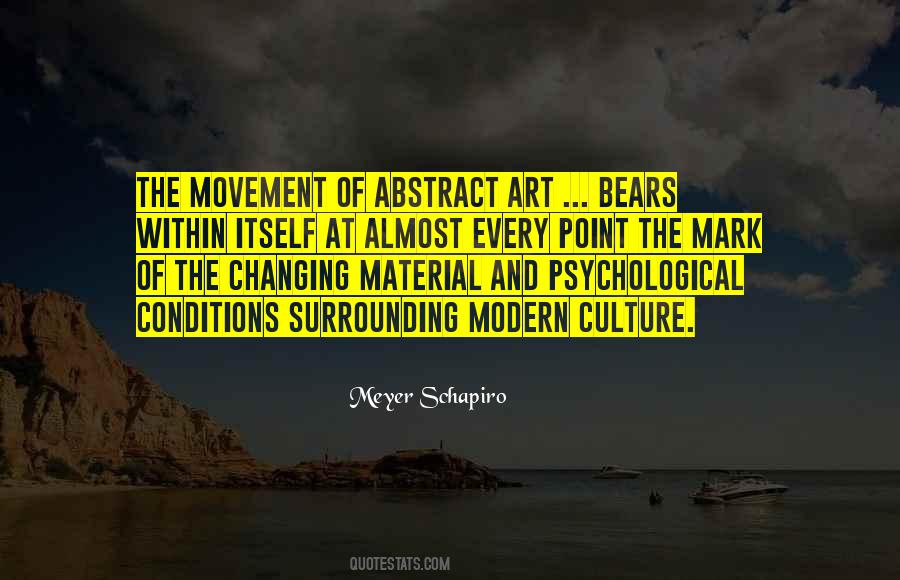 #97. Art has often been and continues to be considered transcendent. I see this as misguided and, in fact, a way of subverting the powerful voice art can be in global discussions about politics, economics, society, culture, religion and international relations. - Author: Aman Mojadidi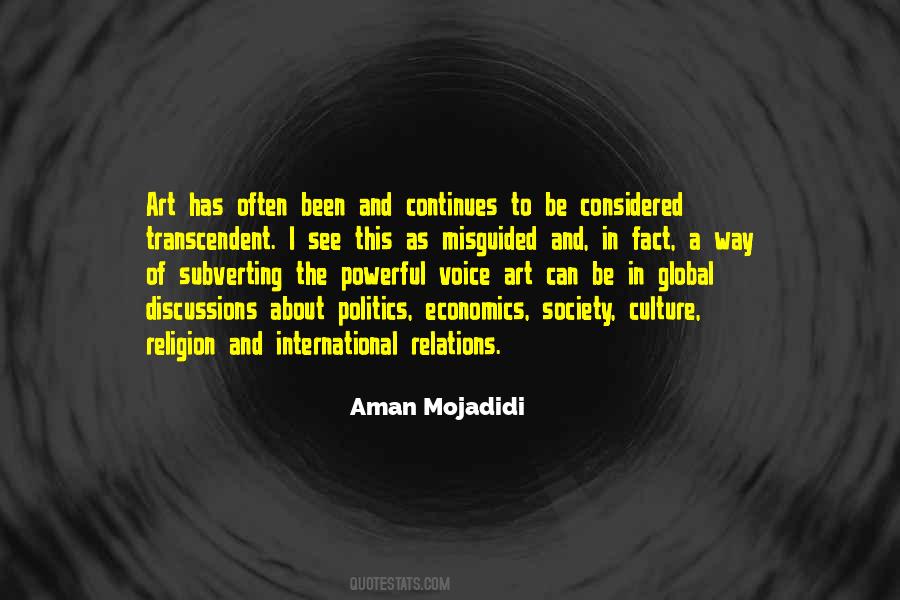 #98. It may well be, of course, that America's pop culture is on balance better than our high art. I don't think so, but you can certainly make a case that the best of it aspires to a degree of aesthetic and emotional seriousness that is directly comparable to all but the very greatest works of high art. - Author: Terry Teachout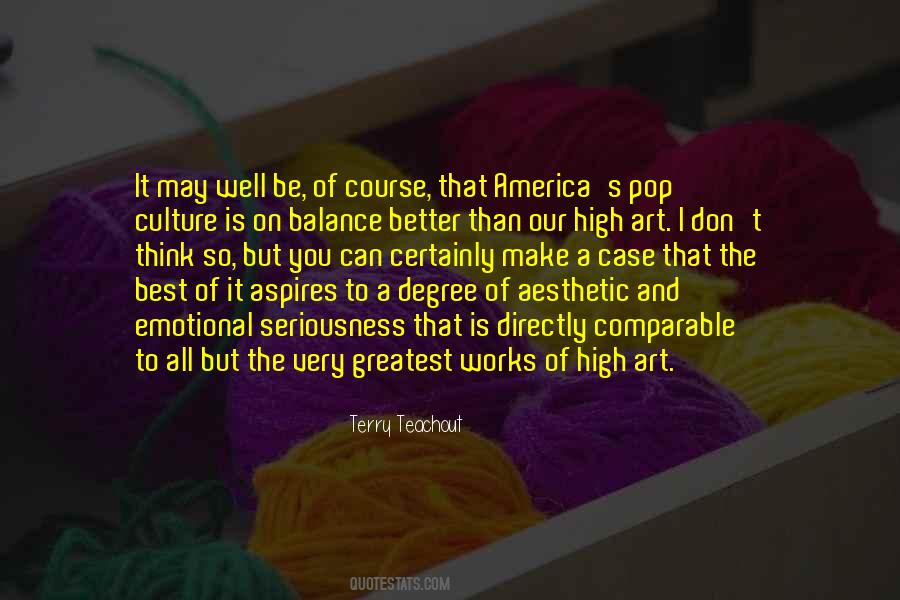 #99. Humanity is as horrified and repulsed by real nature as it is by real death. Thus, we strike back against this formidable opponent with our sharpest weapon: our imagination. From this noble tool - born of necessity and elevated to beauty - culture was born, and the war against nature begun. - Author: Anthony Marais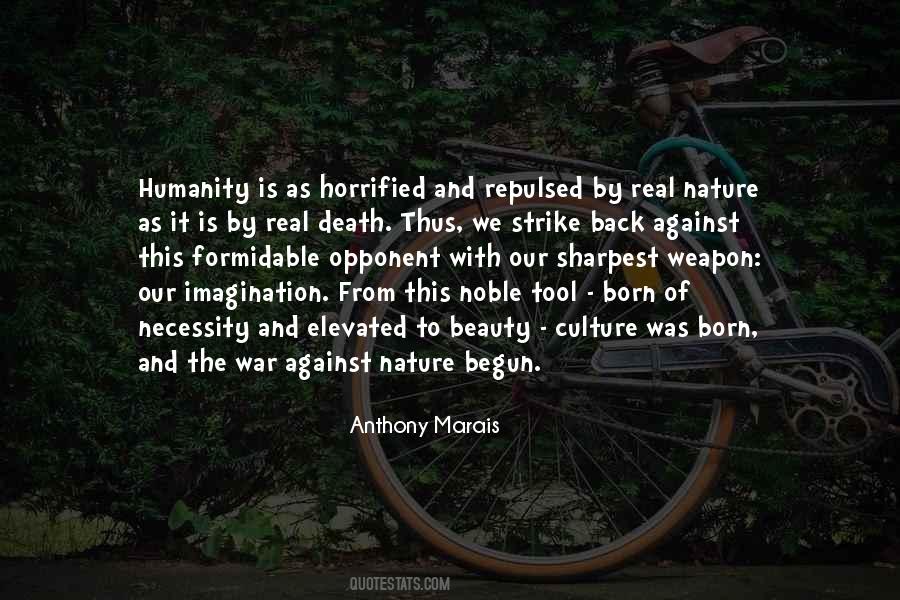 #100. Nas' Illmatic blew my mind when I first heard it. The poetry was done on such a high level that in a way, it validated our existence, our culture. He used the language of the street at the time and made it art. Art tends to be validating. - Author: Erik Parker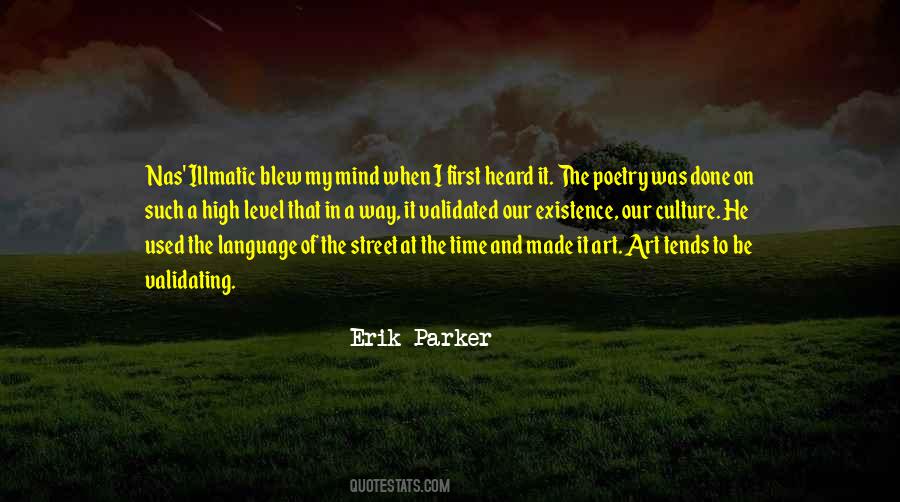 Famous Authors
Popular Topics