Ancestors And Family Famous Quotes & Sayings
List of top 41 famous quotes and sayings about ancestors and family to read and share with friends on your Facebook, Twitter, blogs.
Top 41 Quotes About Ancestors And Family
#1. They say that family is the place of safety. But sometimes this is the greatest lie; family is not sanctuary, it is not safety and succour. For some of us, it is the secret wound. Sooner or later we pay for the woundings of our ancestors. - Author: Nayomi Munaweera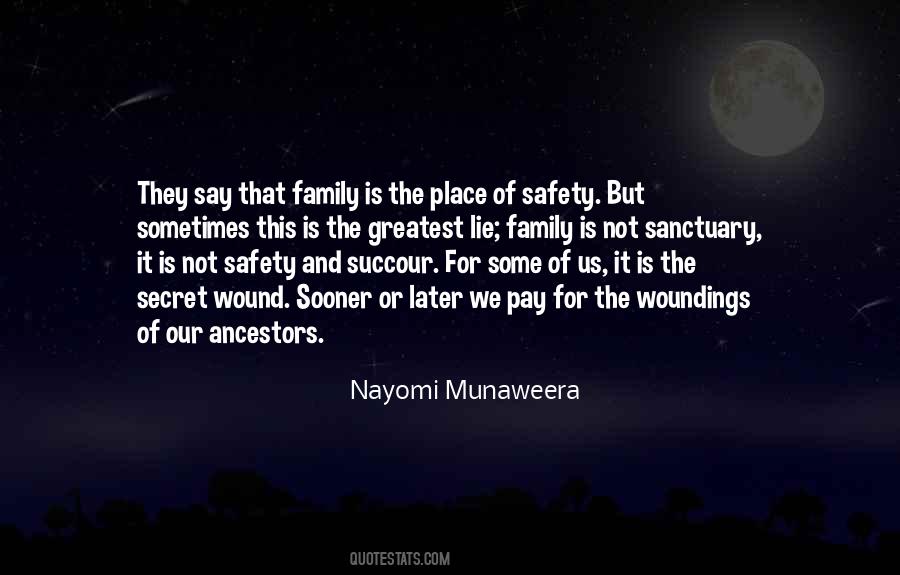 #2. I say, then, that hereditary States, accustomed to the family of their Prince, are maintained with far less difficulty than new States, since all that is required is that the Prince shall not depart from the usages of his ancestors, trusting for the rest to deal with events as they arise. - Author: Niccolo Machiavelli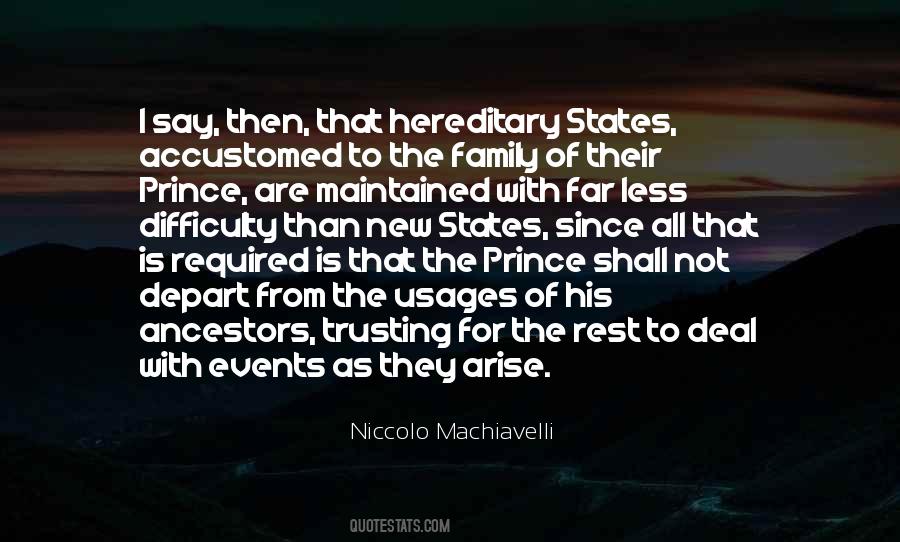 #3. This tottered ensign of my ancestors
Which swept the desert shore of that dead sea
Whereof we got the name of Mortimer,
Will I advance upon these castle-walls.
Drums, strike alarum, raise them from their sport,
And sing aloud the knell of Gaveston! - Author: Christopher Marlowe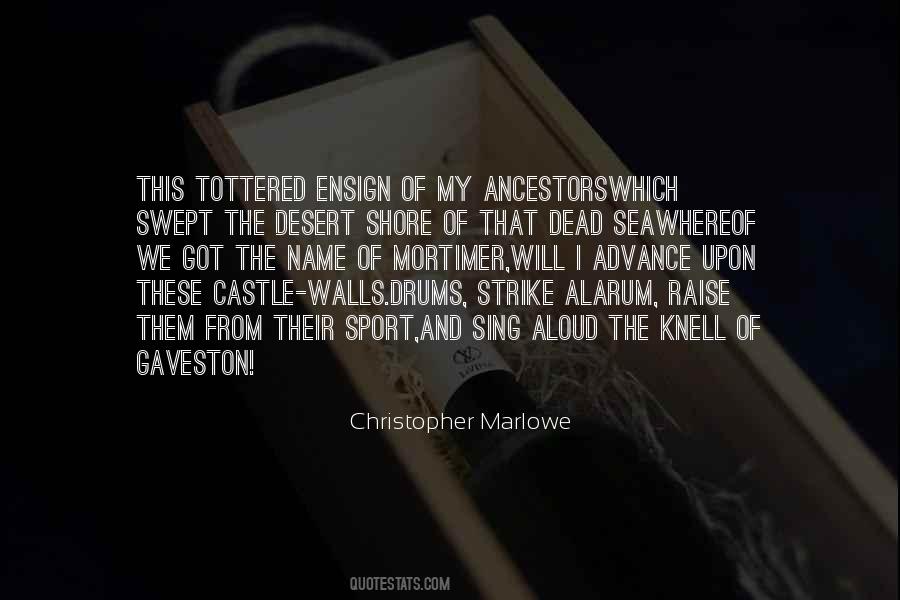 #4. There are things in life that science will never be able to see. We have to rely on what has been passed from our ancestors, generation to generation. - Author: Pawan Mishra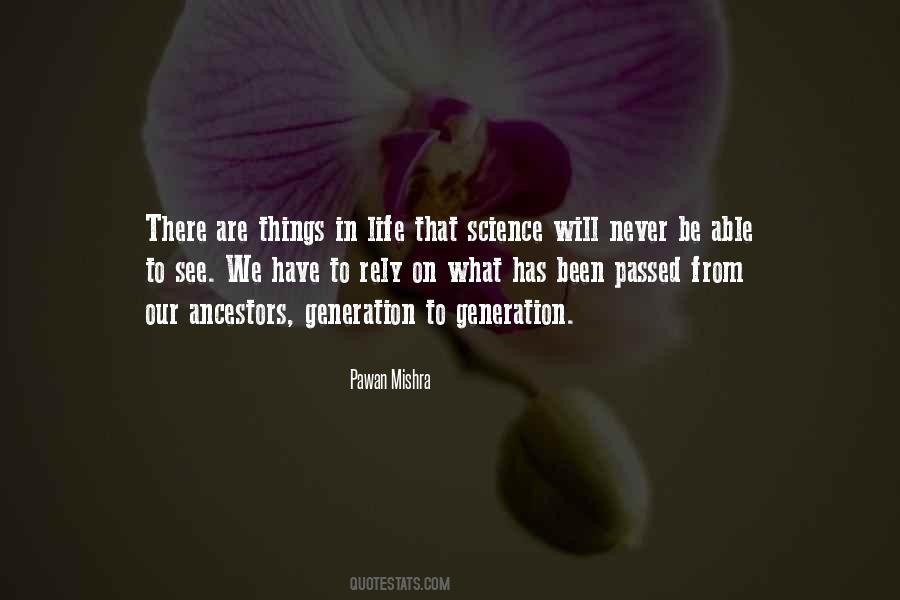 #5. But if serving the LORD seems undesirable to you, then choose for yourselves this day whom you will serve, whether the gods your ancestors served beyond the Euphrates, or the gods of the Amorites, in whose land you are living. But as for me and my household, we will serve the LORD. - Author: Joshua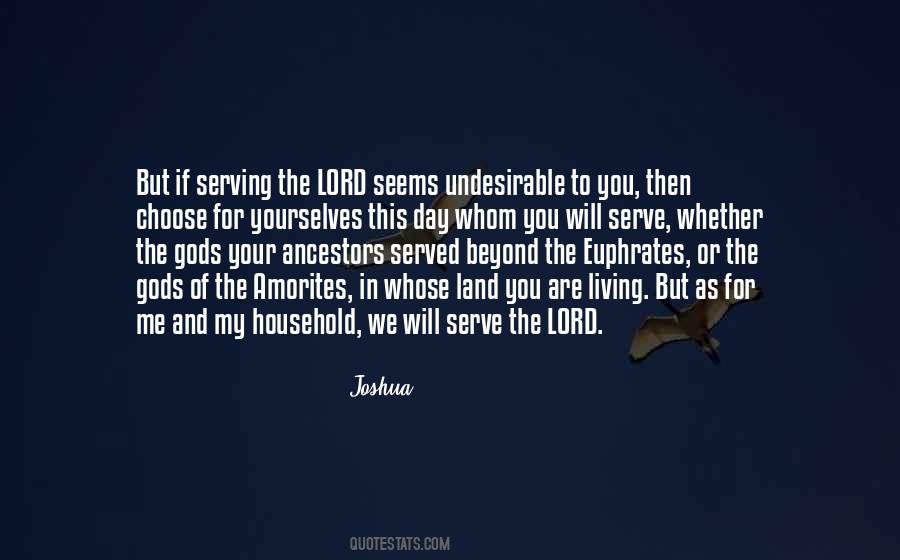 #6. Blood can help make family, but family often transcends blood. - Author: DaShanne Stokes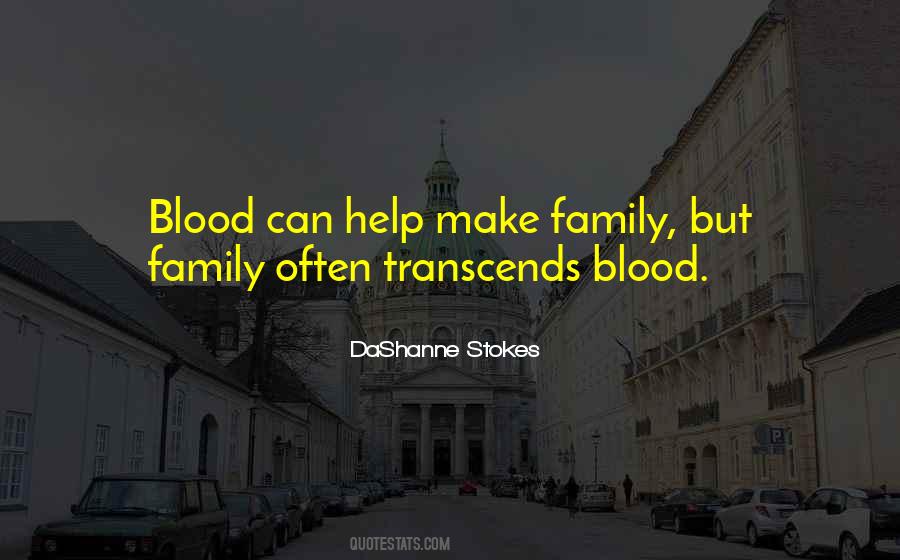 #7. I miss the days of burning your kind at the stake. For generations we have settled for financial ruin and ostracization of your whorish ancestors - but know this, I will personally gut you and put your head on a pike in my parlor. - Author: Heather McVea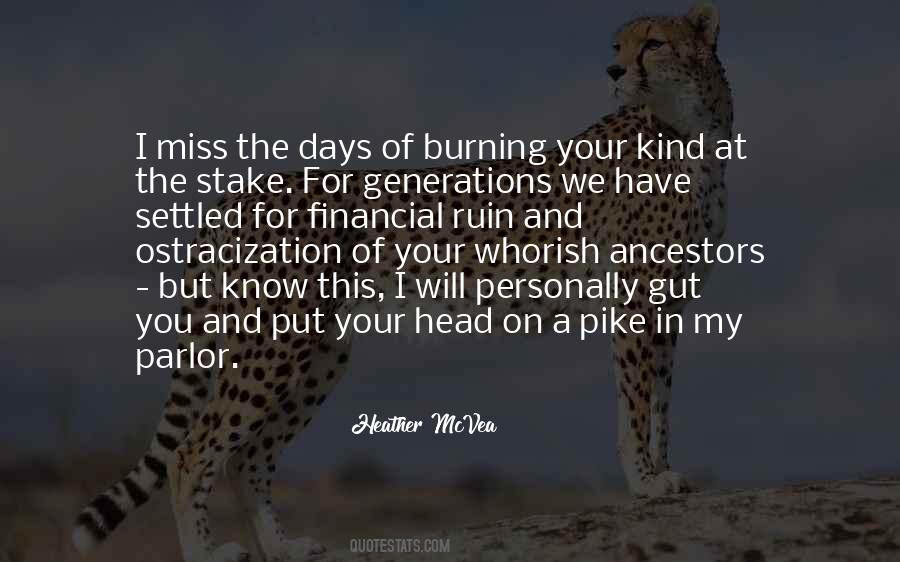 #8. My ancestors are Rajputs from Jaipur, a lineage of the royal family. - Author: Kangana Ranaut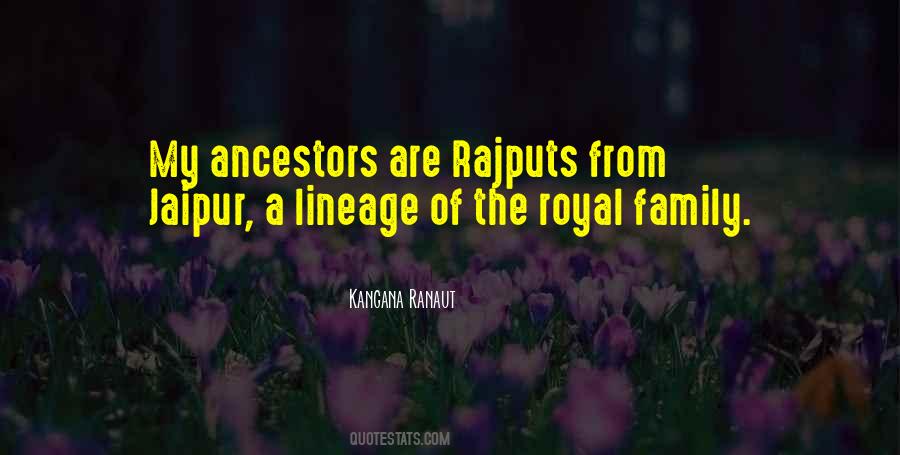 #9. We should be grateful for them because without our family - the ancestors we descend from, the cousins we see once a year, the loves our lives we see every day - life is pretty boring. - Author: Ellen DeGeneres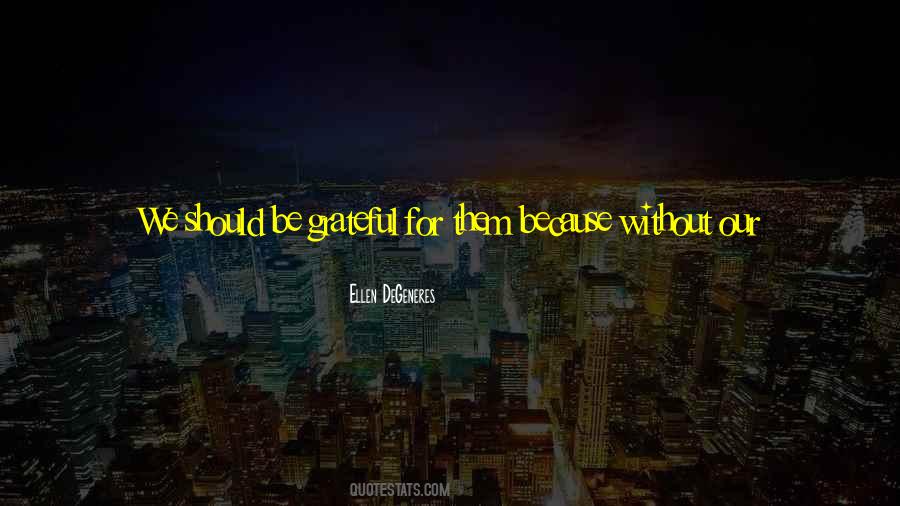 #10. A person in search of his ancestors naturally likes to believe the best of them, and the best in terms of contemporary standards. Where genealogical facts are few, and these located in the remote past, reconstruction of family history is often more imaginative than correct. - Author: James G. Leyburn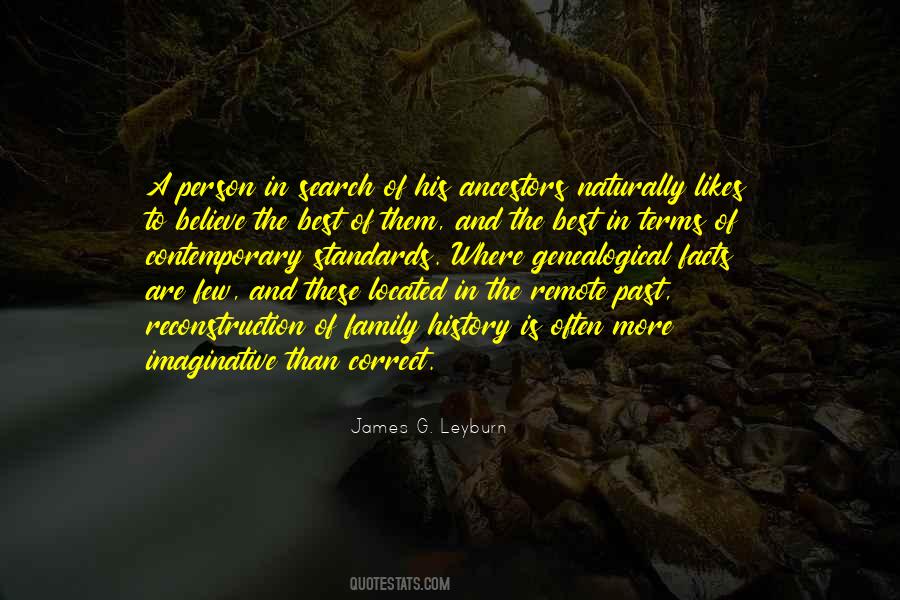 #11. Our cultural roots are the most ancient in the world. The spiritual concepts of our Ancestors gave birth to religious thought African people believe in the oneness of the African family through sacred time, which unites the past, the present and the future. Our Ancestors live with us. - Author: Marimba Ani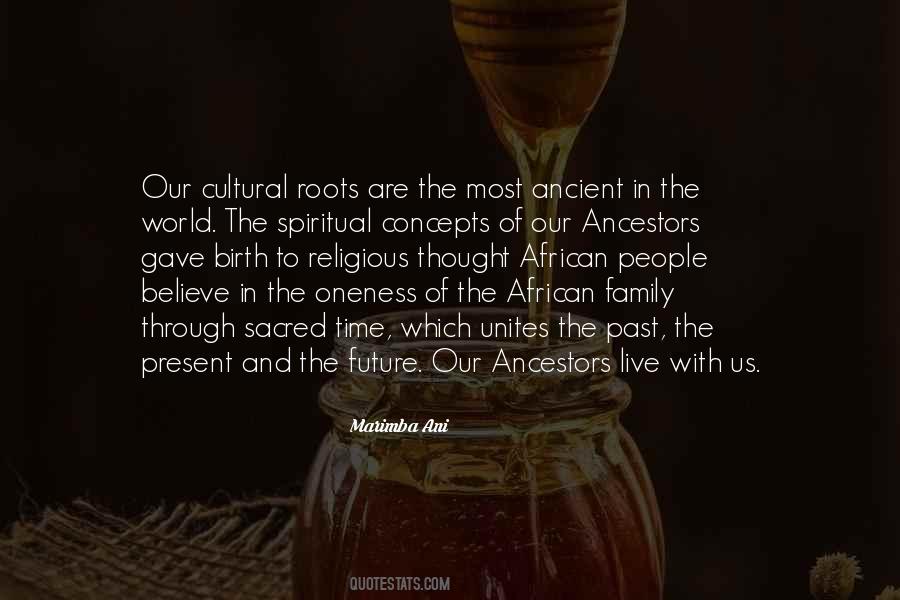 #12. The notes one of my uncles (who had the same kind of curiosity in collecting family anecdotes) once put into my hands, furnished me with several particulars relating to our ancestors. - Author: Benjamin Franklin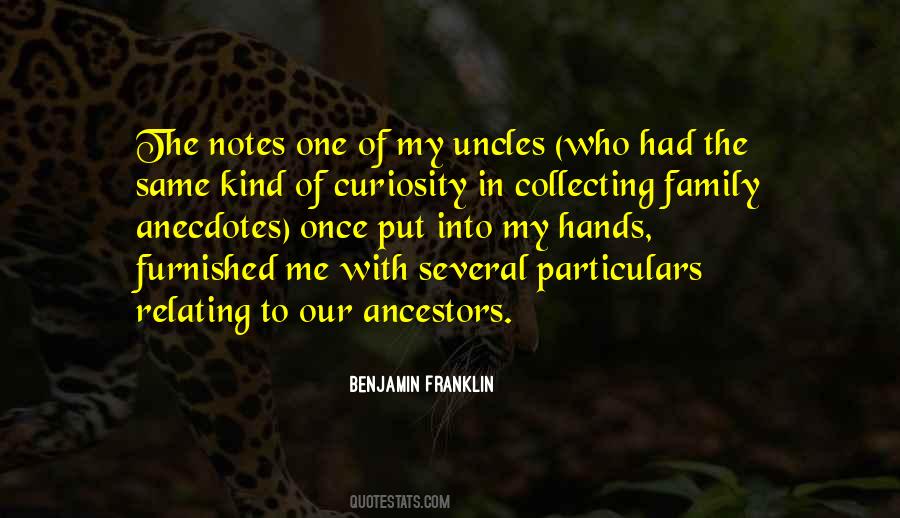 #13. The book begins and ends with the visits to give the impression of a tunnel into their ancestors and family history. I believe in going backwards into the past - I felt I was digging a tunnel back to the past. - Author: Anita Desai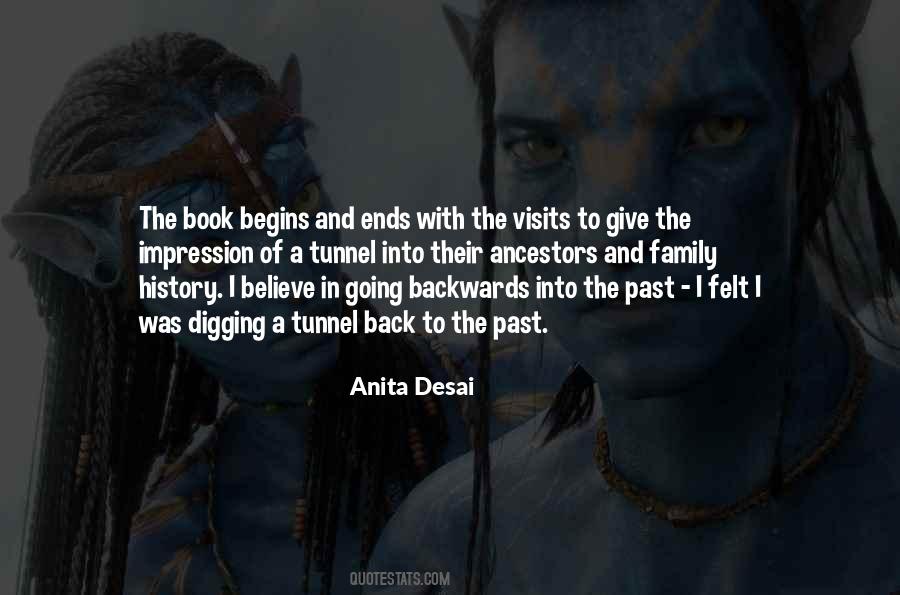 #14. I come from a family that has been here for almost 200 years. My ancestors started a very dangerous gunpowder business in 1802, and my great- grandfather and his father were both killed in gunpowder explosions. - Author: Pete Du Pont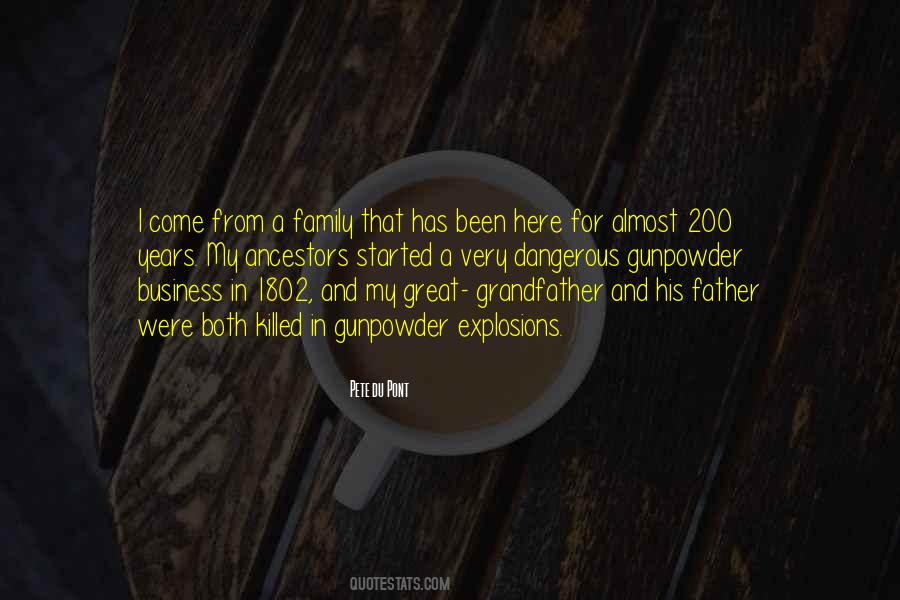 #15. The family tree of earthly ancestors was really not important; what was important was the family tree of the children of God He planted on Calvary. - Author: Fulton J. Sheen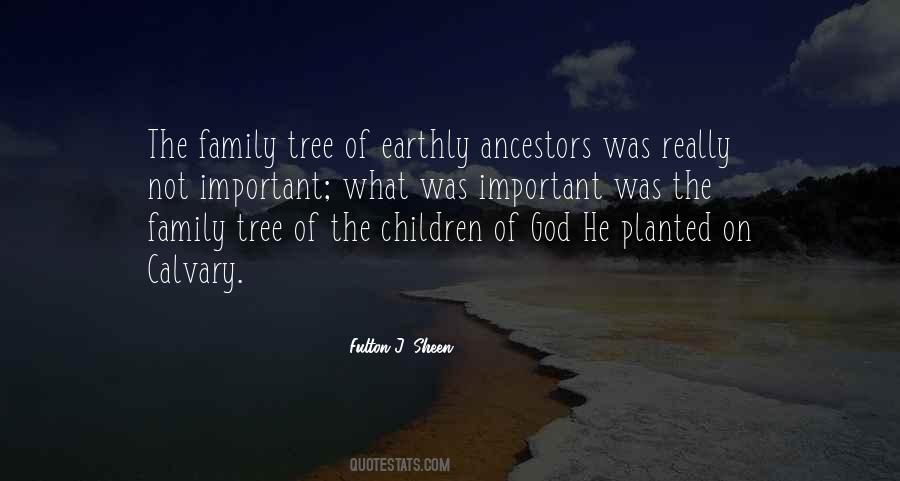 #16. He wanted her. He wanted her completely.
But his family was waiting for him at supper, and his ancestors were staring down at him from their portrait frames, and *she* - the woman in question - was watching him with a wariness that broke his heart. - Author: Julia Quinn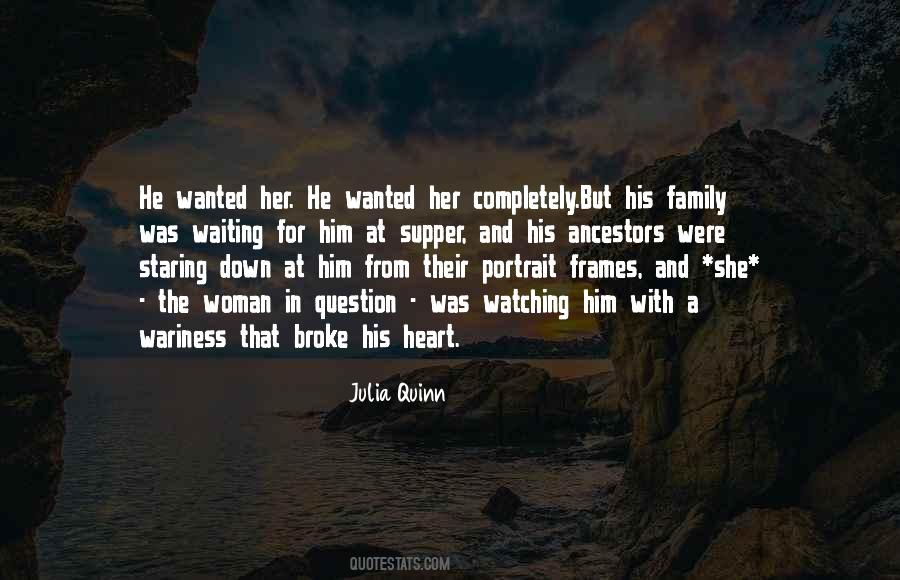 #17. I find my husband's family history fascinating, as they can trace the family lineage back to ancestors who fought, and died, in the first battle of the Revolution, as well as to many other interesting people. - Author: Kim Edwards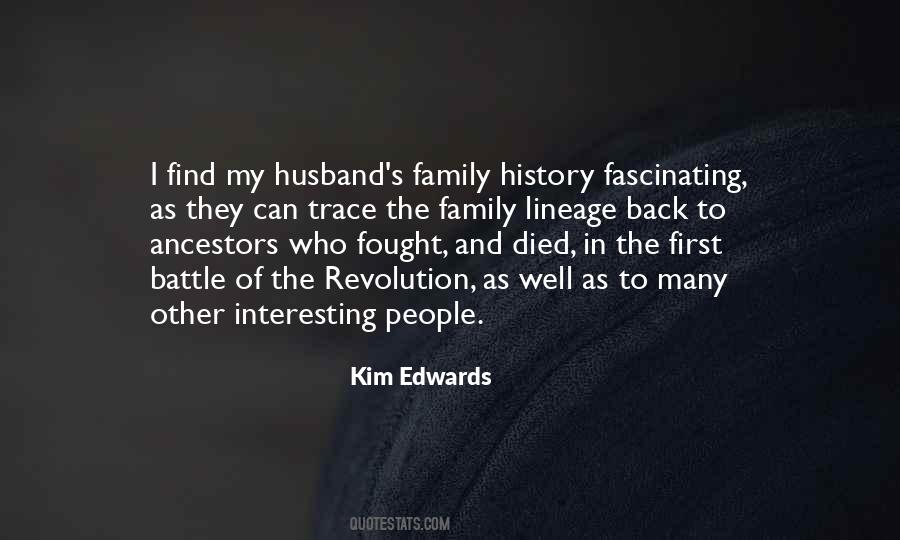 #18. Our ancestors are very good kind of folks; but they are the last people I should choose to have a visiting acquaintance with. - Author: Richard Brinsley Sheridan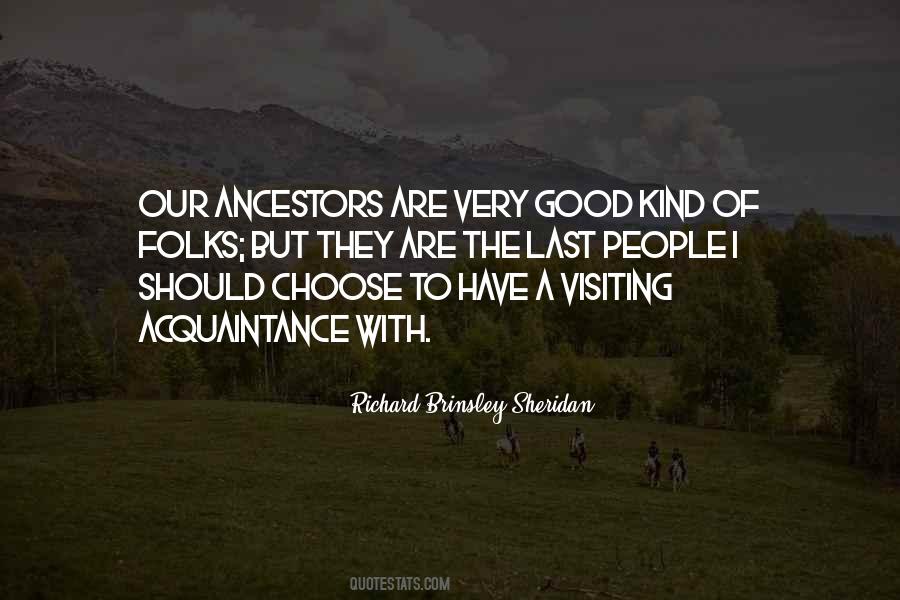 #19. My father gave me an old Olympia portable when I was in fourth grade. Our ancestors came from Ireland. Our family stories of immigration helped me understand more about my characters in 'The Lemon Orchard.' - Author: Luanne Rice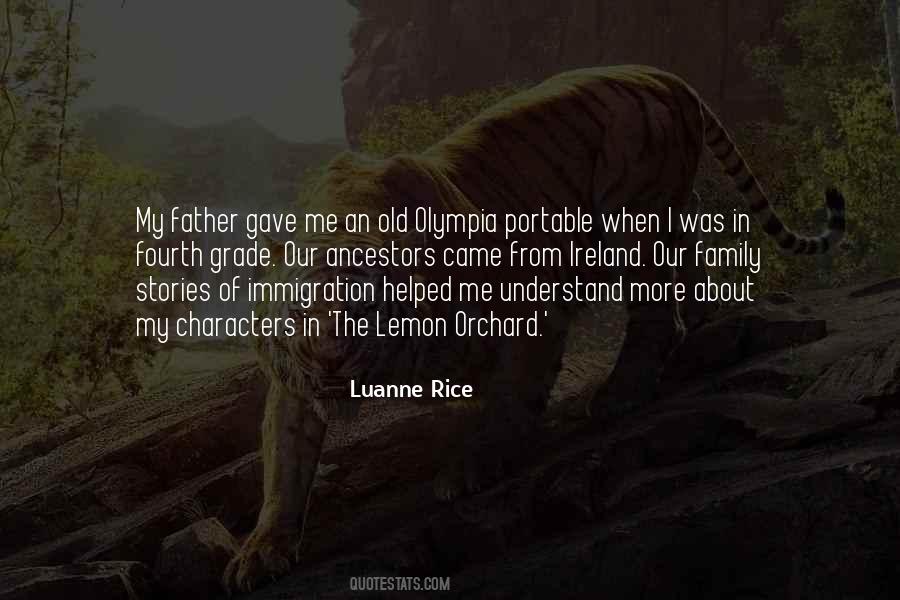 #20. Without acquainting me with the language or the literature or the oral family histories which my ancestors had loved, they volunteered to make me ignorant and rootless as proof of their patriotism. - Author: Kurt Vonnegut Jr.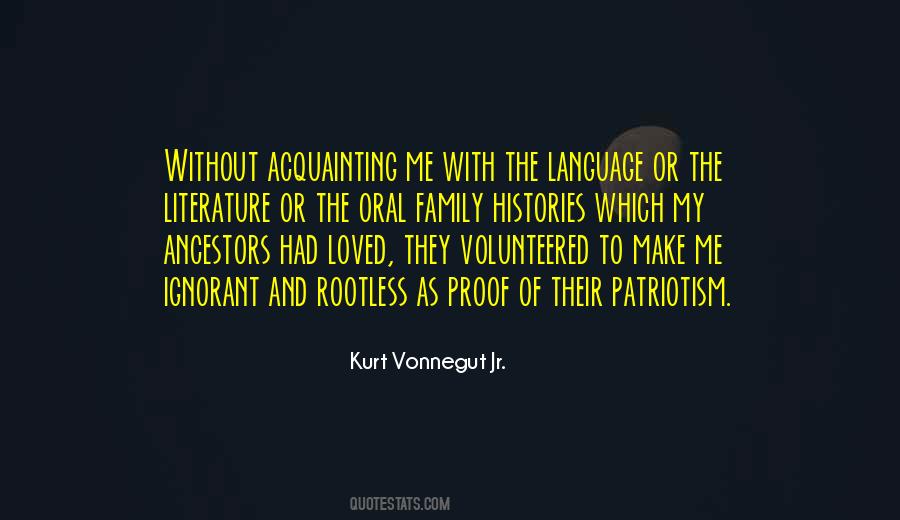 #21. People will not look forward to posterity who never look backward to their ancestors. - Author: Edmund Burke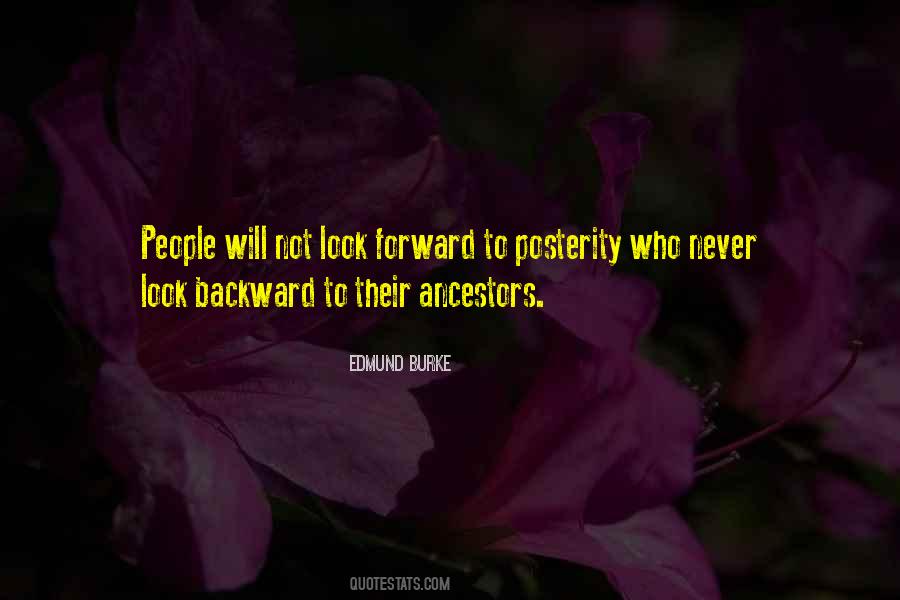 #22. It's important to teach our children their heritage. Who are your ancestors? What were their traditions? Each of us has a story to tell. If these stories are unwritten, then how are your children going to know of their parentage? - Author: Linda Weaver Clarke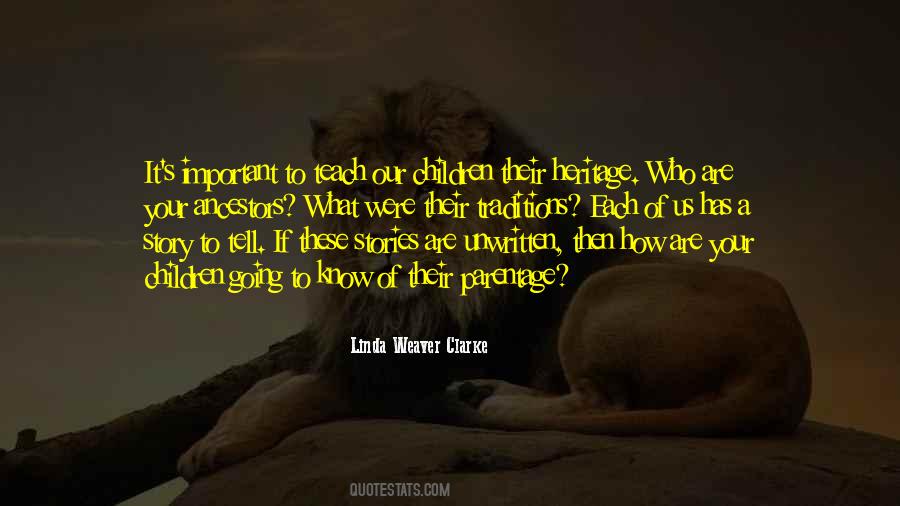 #23. I don't know much about my family history except that my father had straight black hair and his ancestors probably came from India. - Author: Trevor McDonald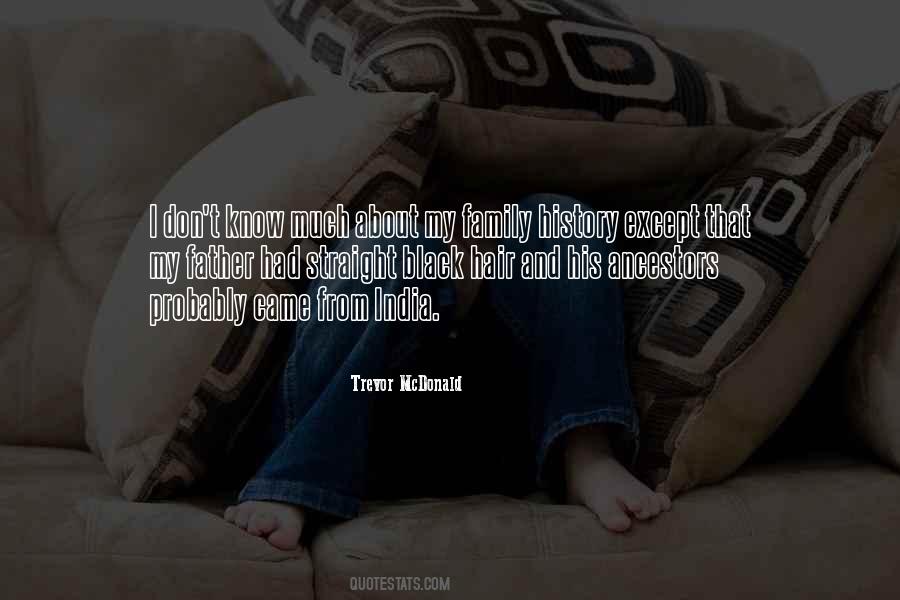 #24. All of us in the Ball family in South Carolina, from the time we're children, hear stories about our ancestors, the slave owners. - Author: Edward Ball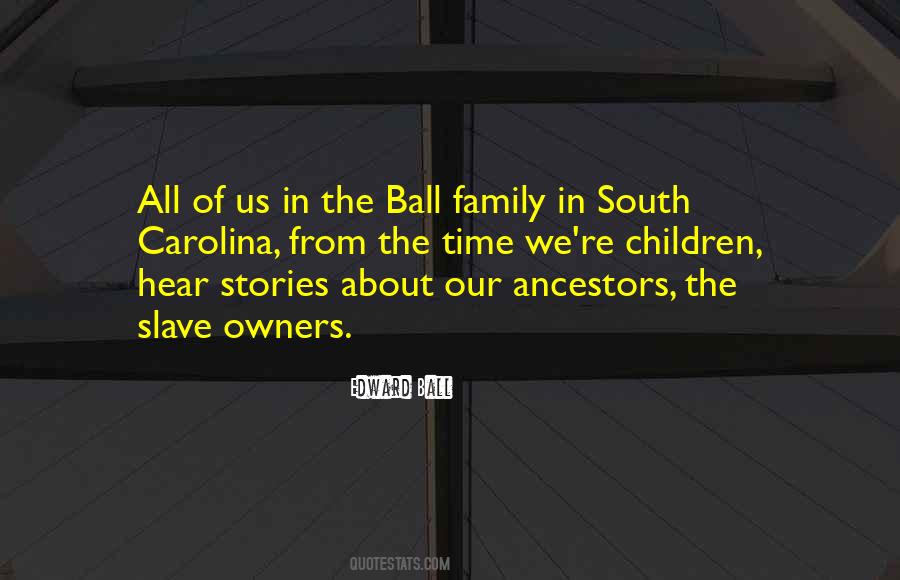 #25. Your ancestors are rooting for you. - Author: Eleanor Brownn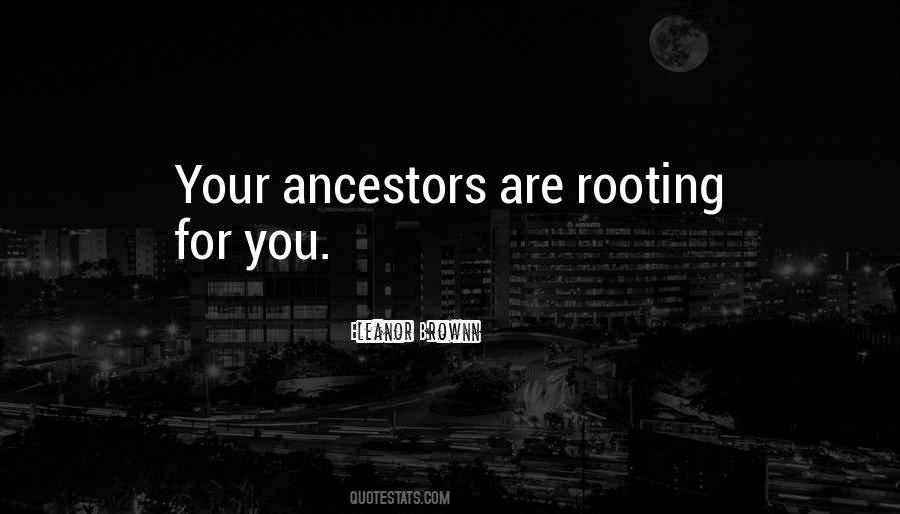 #26. When our hearts turn to our ancestors, something changes inside us. We feel part of something greater than ourselves. Our inborn yearnings for family connections are fulfilled when we are linked to our ancestors ... - Author: Russell M. Nelson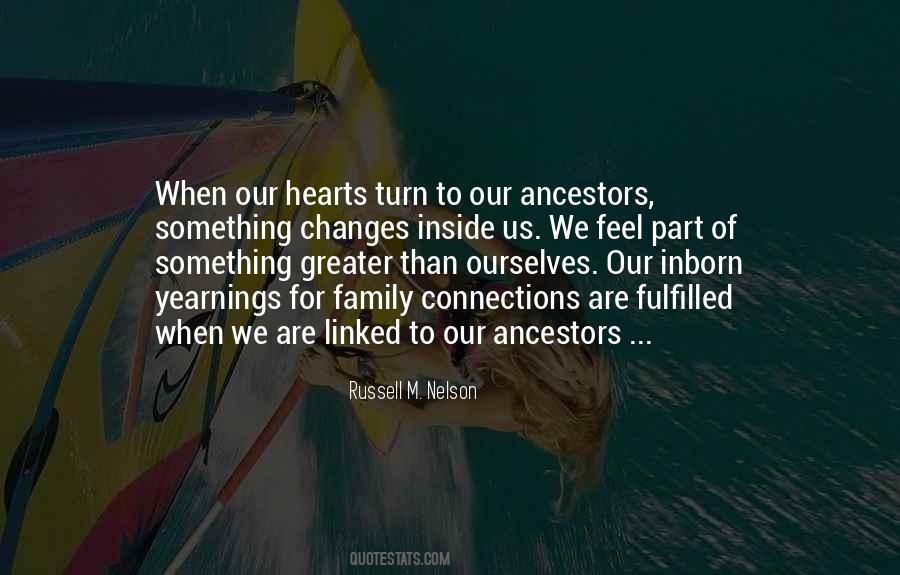 #27. Sister?" Jessie Kay scowled. "Do I really look like his sister? I clearly come from grade-A stock while his ancestors made a few poor choices along the way. - Author: Gena Showalter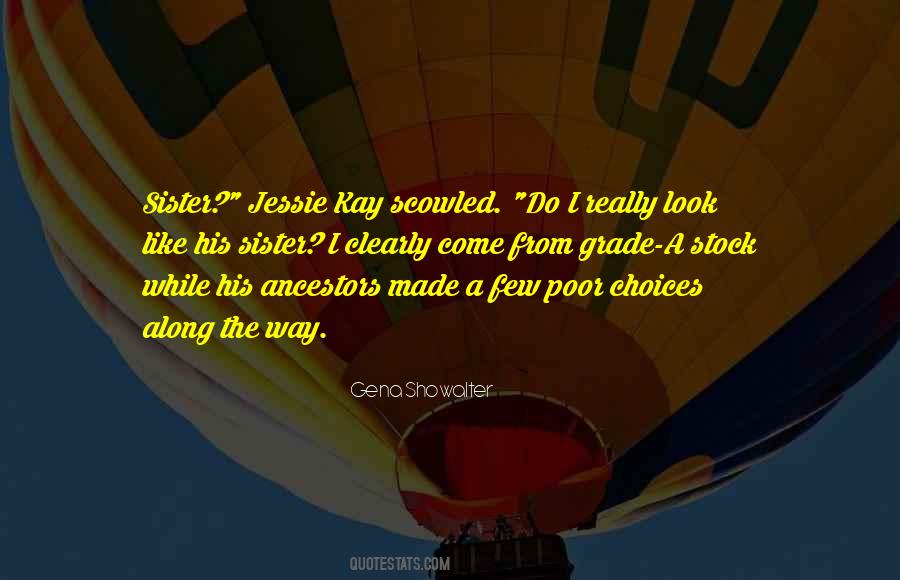 #28. To plant a family! This idea is at the bottom of most of the wrong and mischief which men do. The truth is, that, once in every half century, at longest, a family should be merged into the great, obscure mass of humanity, and forget all about its ancestors. - Author: Nathaniel Hawthorne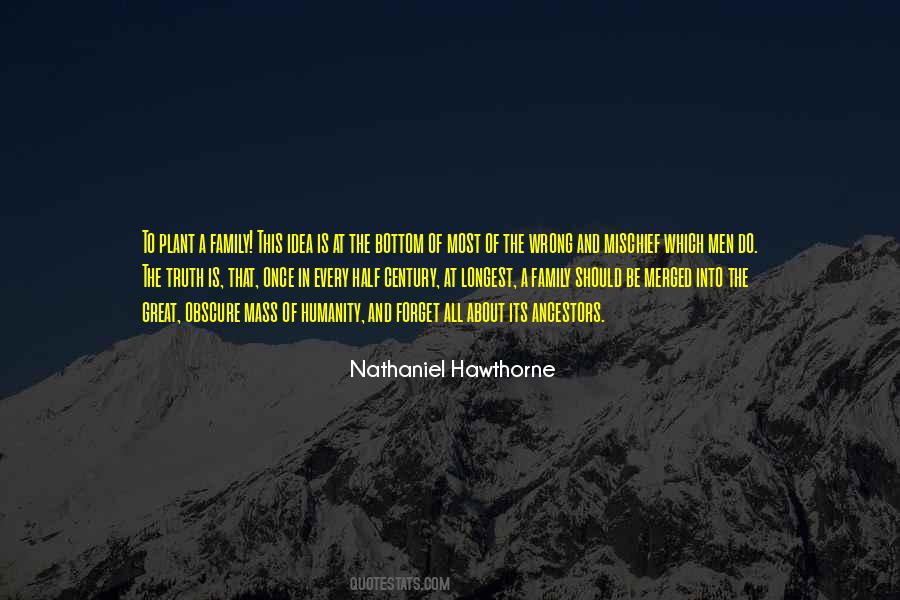 #29. Where are the blossoms of those summers!-fallen, one by one: so all of my family departed, each in his turn, to the land of the spirits. - Author: James Fenimore Cooper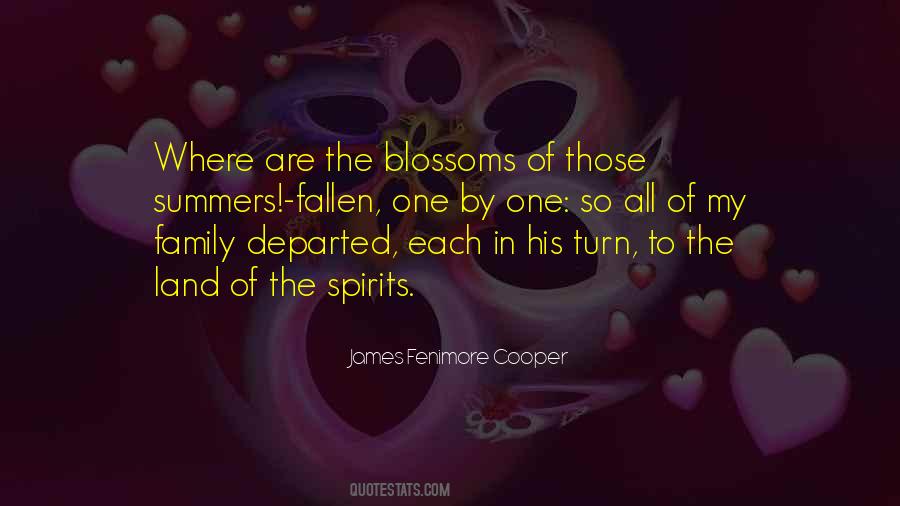 #30. Our ancestors derived less from life than we do, but they also expected much less and were less intent on controlling the future. We are of the arrogant generations who believe a lasting happiness was promised to us at birth. Promised? By whom? - Author: Amin Maalouf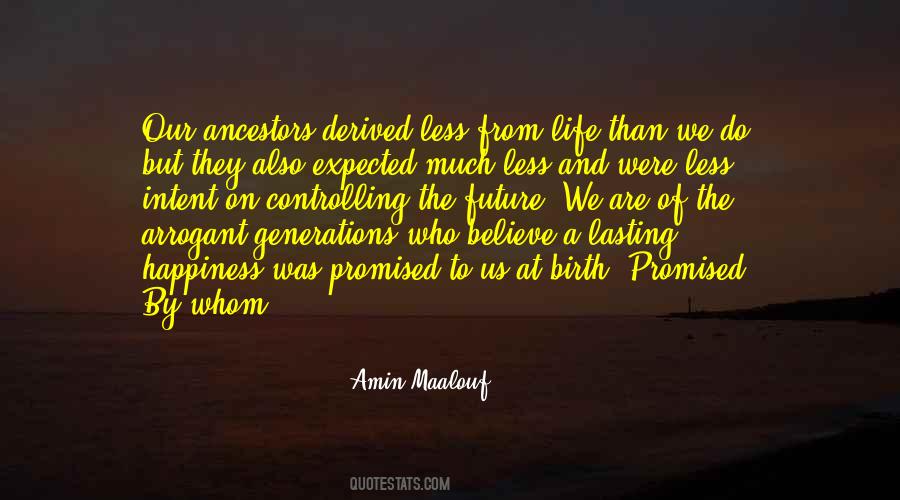 #31. You are the posterity of your family. You are either continuing the progression or regression of your ancestors. - Author: Johnnie Dent Jr.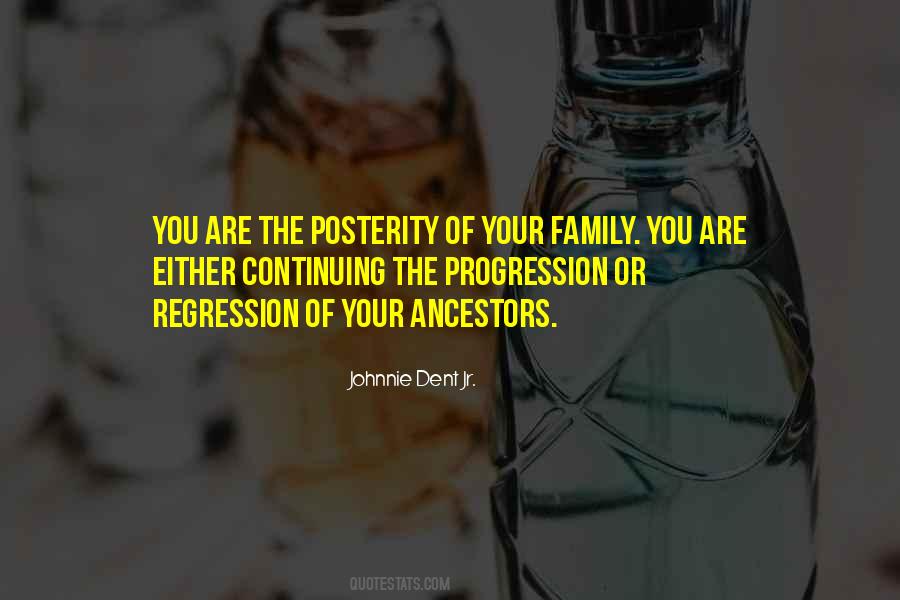 #32. To live in Portsmouth without possessing a family portrait done by Copley is like living in Boston without having an ancestor in the old Granary Burying-Ground. You can exist, but you cannot be said to flourish. - Author: Thomas Bailey Aldrich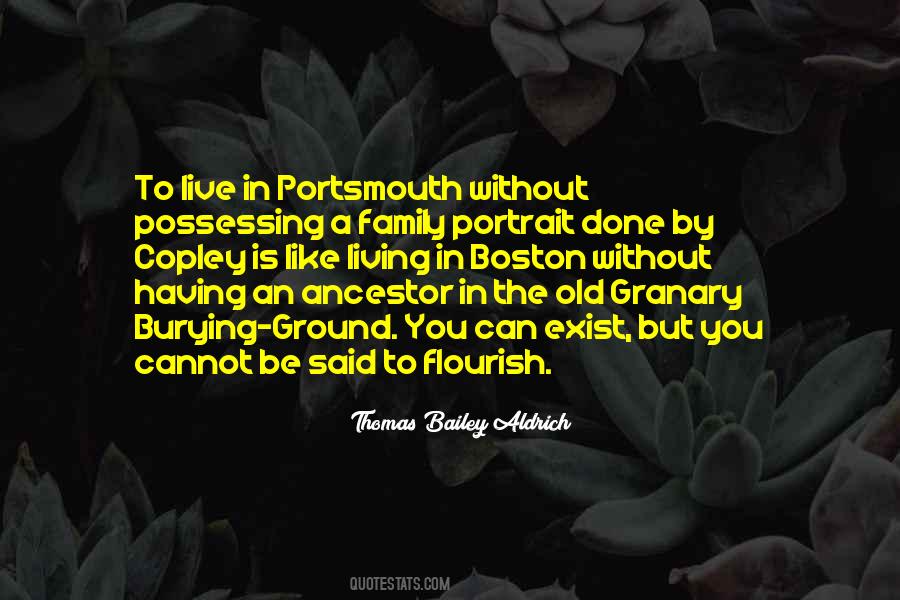 #33. If you share a common ancestor with somebody, you're related to them. It doesn't mean that you're going to invite them to the family reunion, but it means that you share DNA. I think it's fascinating. - Author: Henry Louis Gates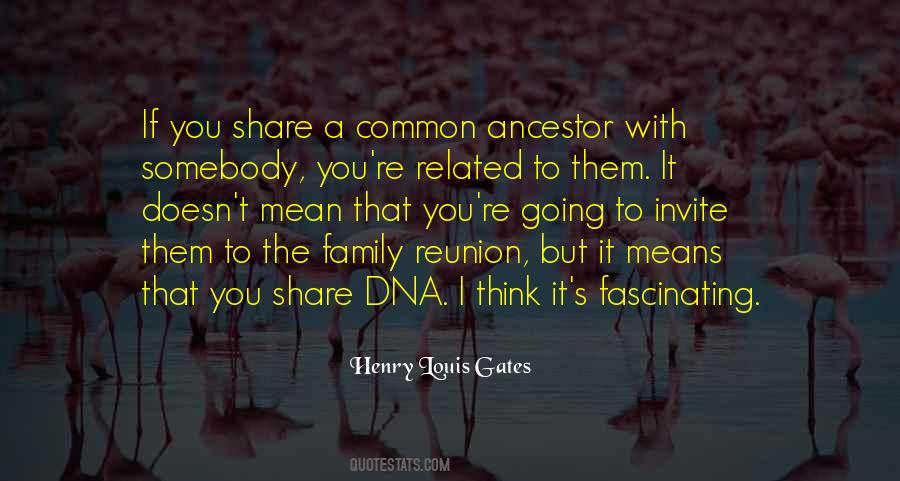 #34. I have a musical ancestry as much as I have a family ancestry. Honoring those ancestors gives you access to a greater source of appreciation and information than you would have if you were just going on your own ego system. - Author: Billy Corgan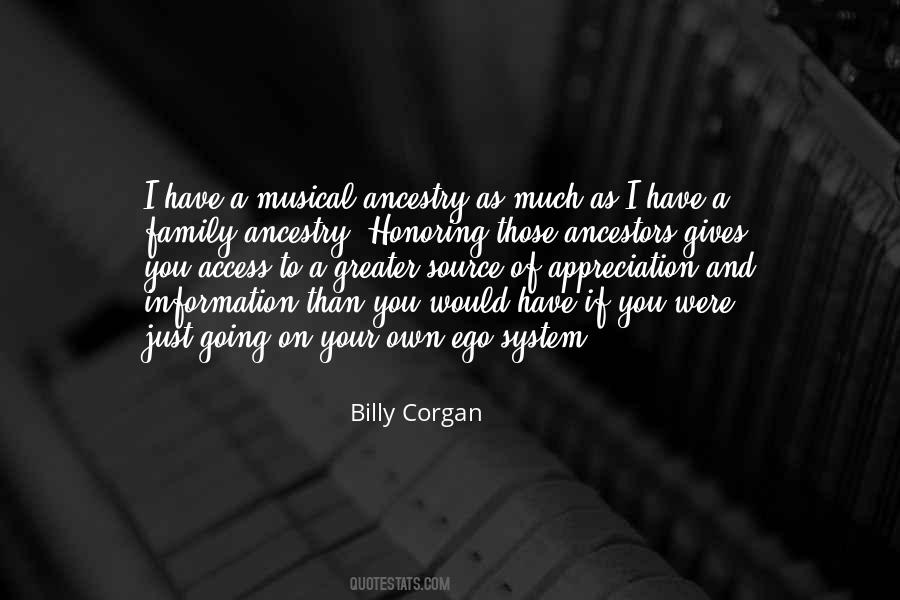 #35. Then Mattie journeyed away from her home toward freedom and her family, leaving behind the bones of generations of her ancestors and their captors - Author: Laila Ibrahim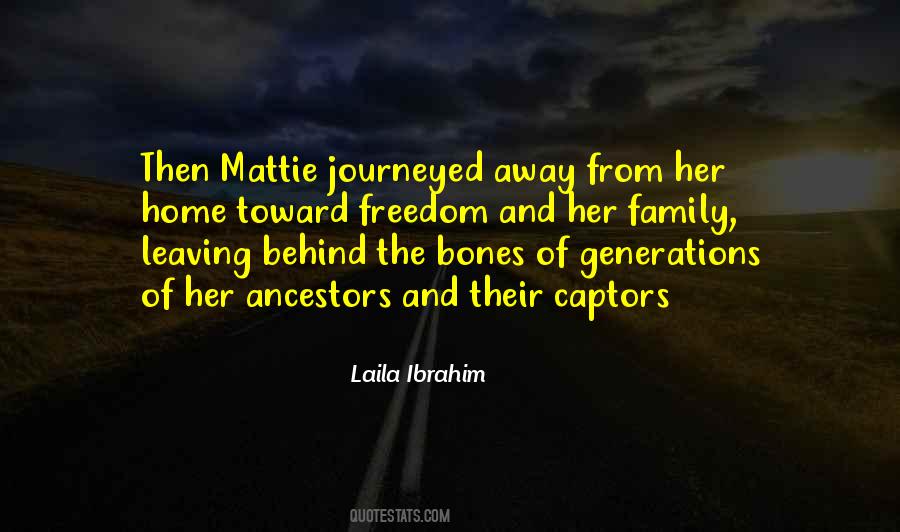 #36. One of the best things about Heaven is that we will be able to reunite with loved ones who have already passed on. It will be the greatest family reunion we've ever known, with our loved ones, relatives and ancestors all together in one place at the same time, rejoicing. All together at last! - Author: David Berg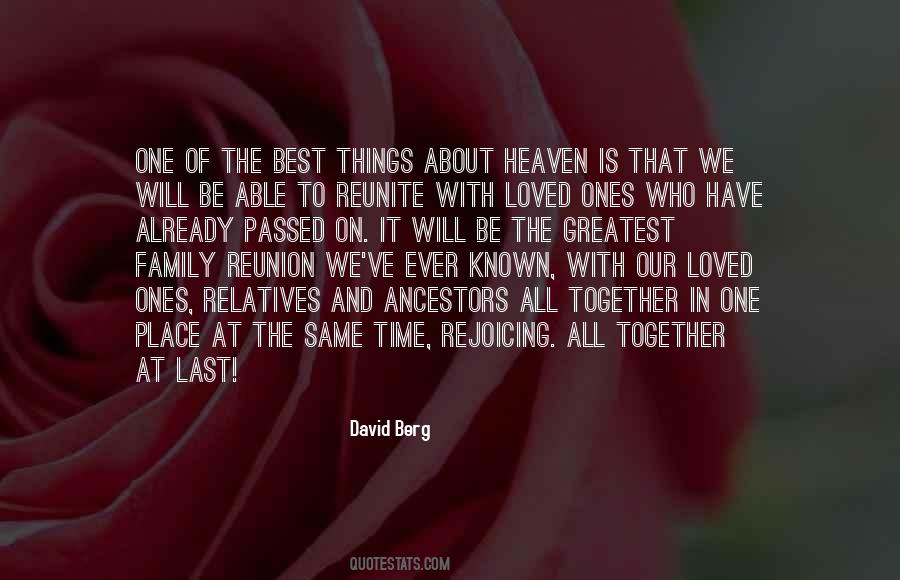 #37. Being Southerners, it was a source of shame to some members of the family that we had no recorded ancestors on either side of the Battle of Hastings. - Author: Harper Lee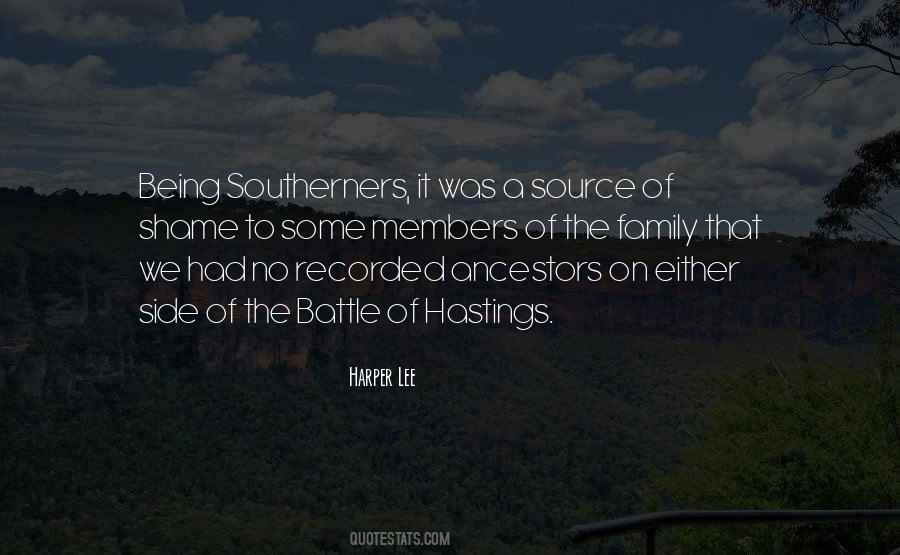 #38. She did not think that those who were late, or the ancestors themselves, would wish punishment upon us, no matter what our transgressions. It was far more likely that there would be love, falling like rain from above, changing the hearts of the wicked; transforming them - Author: Alexander McCall Smith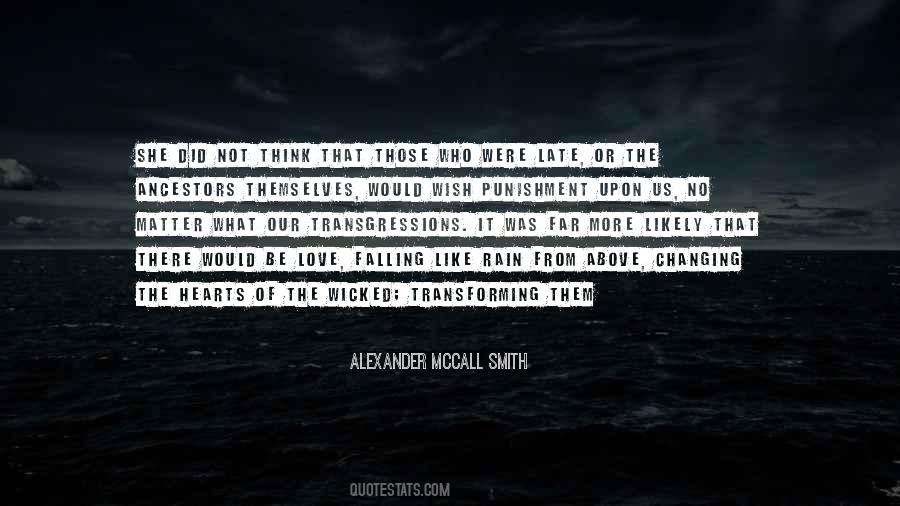 #39. The changes in the human condition are uncertain and frequent. Many, on whom fortune has bestowed her favours, may trace their family to a more unprosperous station; and many who are now in obscurity, may look back upon the affluence and exalted rank of their ancestors. - Author: Alexander Hamilton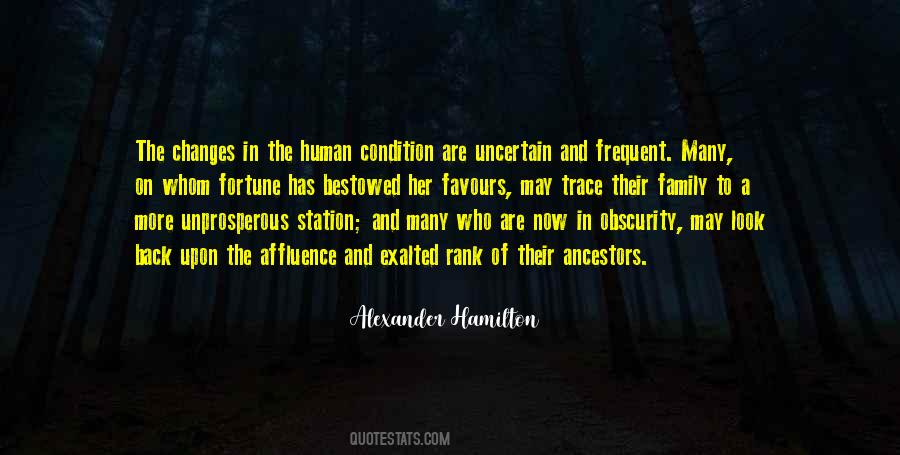 #40. Occasionally, when I lived in London, I would have sex with a girl from an aristocratic family. I always enjoyed doing to them what their ancestors did to my country. - Author: Craig Ferguson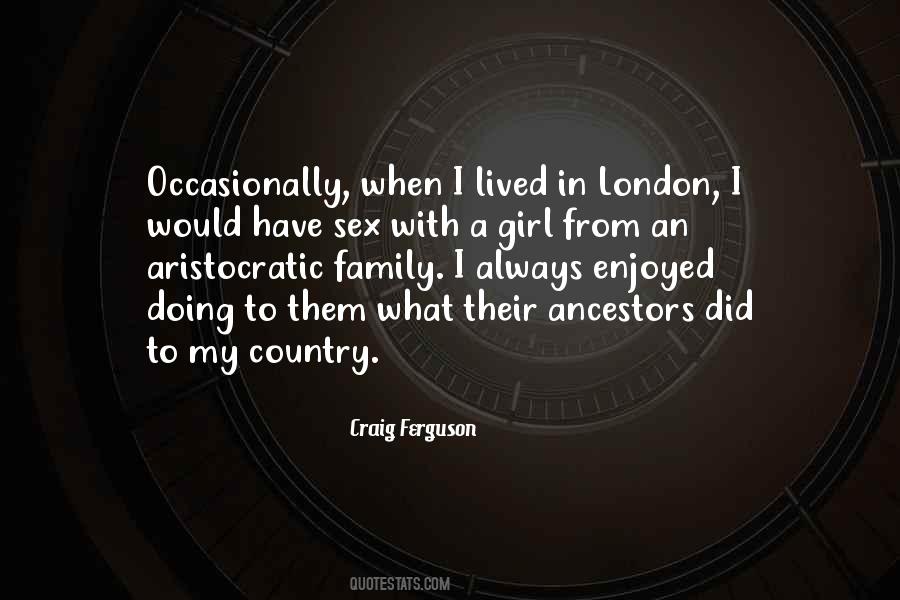 #41. We all grow up with the weight of history on us. Our ancestors dwell in the attics of our brains as they do in the spiraling chains of knowledge hidden in every cell of our bodies. - Author: Shirley Abbott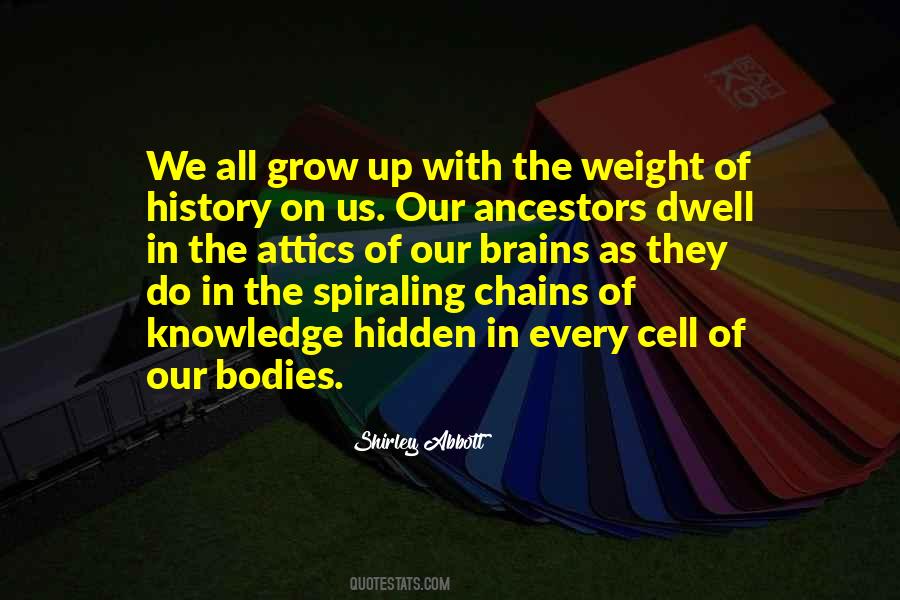 Famous Authors
Popular Topics