Acorns Famous Quotes & Sayings
List of top 51 famous quotes and sayings about acorns to read and share with friends on your Facebook, Twitter, blogs.
Top 51 Quotes About Acorns
#1. You cannot plant an acorn in the morning, and expect that afternoon to sit in the shade of an oak. - Author: Antoine De Saint-Exupery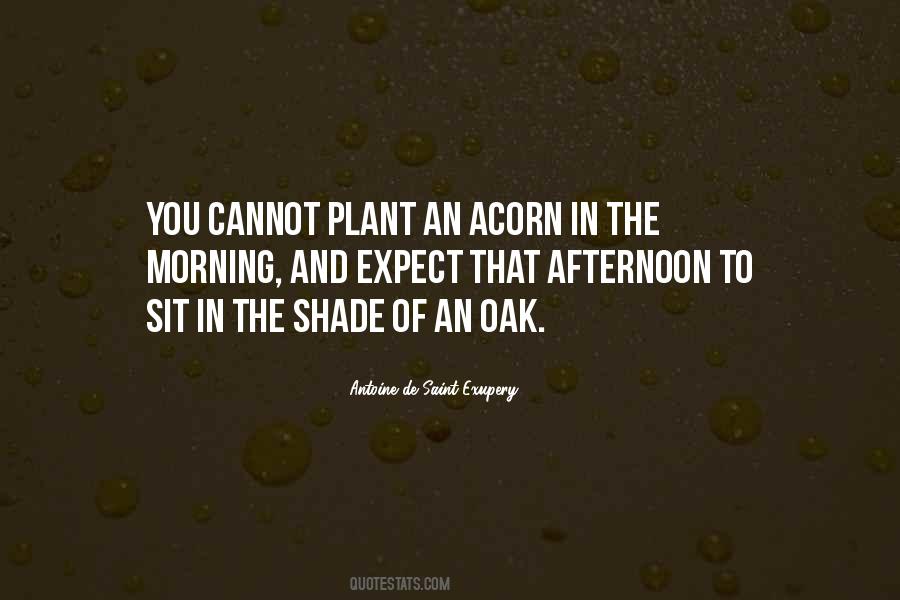 #2. This may not however elevate your stature during the years you have remaining; for fame's a weed, but repute is a slow-growing oak, and all we can do during our lifetimes is hop around like squirrels and plant acorns. - Author: Neal Stephenson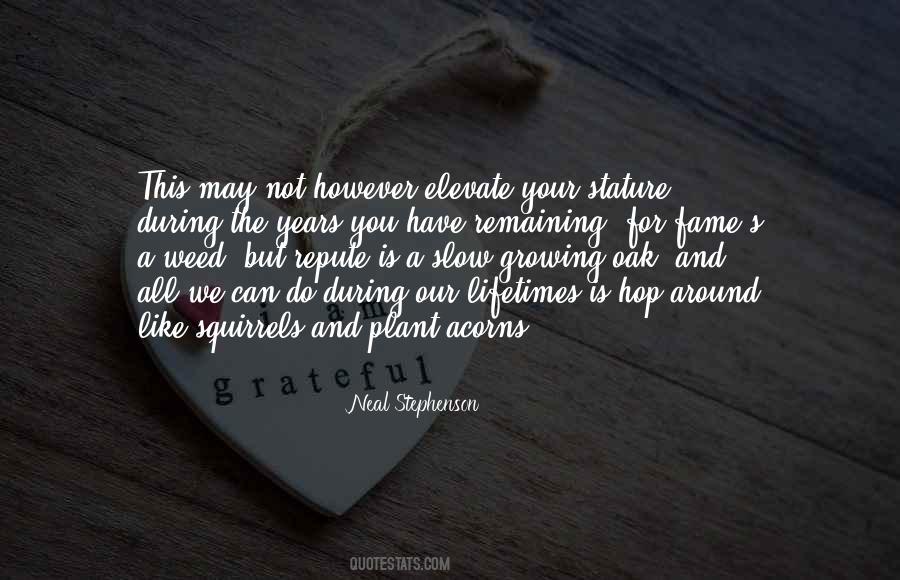 #3. An acorn would never brag about giving shade. - Author: Tim Cook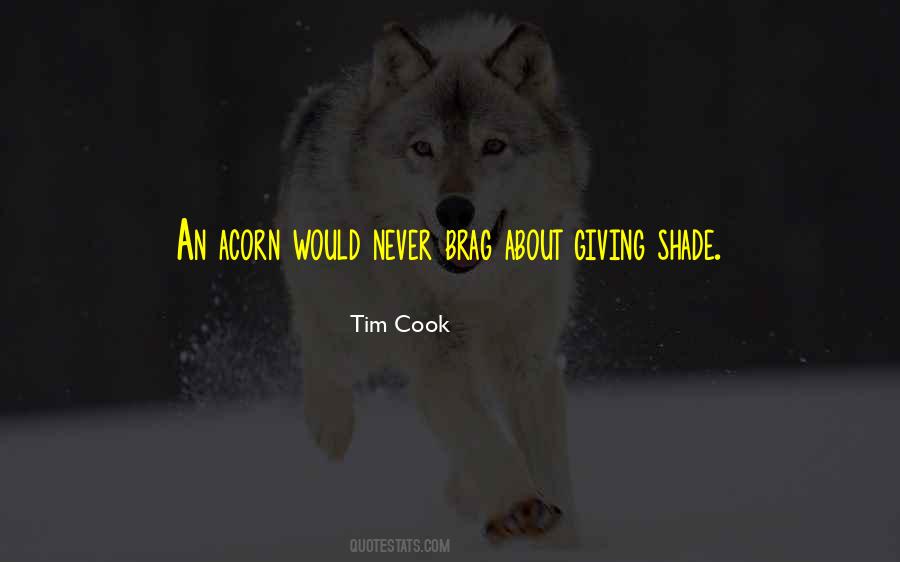 #4. Embryos turn into babies; buds turn into blossoms; acorns turn into oak trees. The same programming that exists in them exists in each of us - to manifest our highest potential. What is the difference between those things and us? That we can say no ... So today, say yes. - Author: Marianne Williamson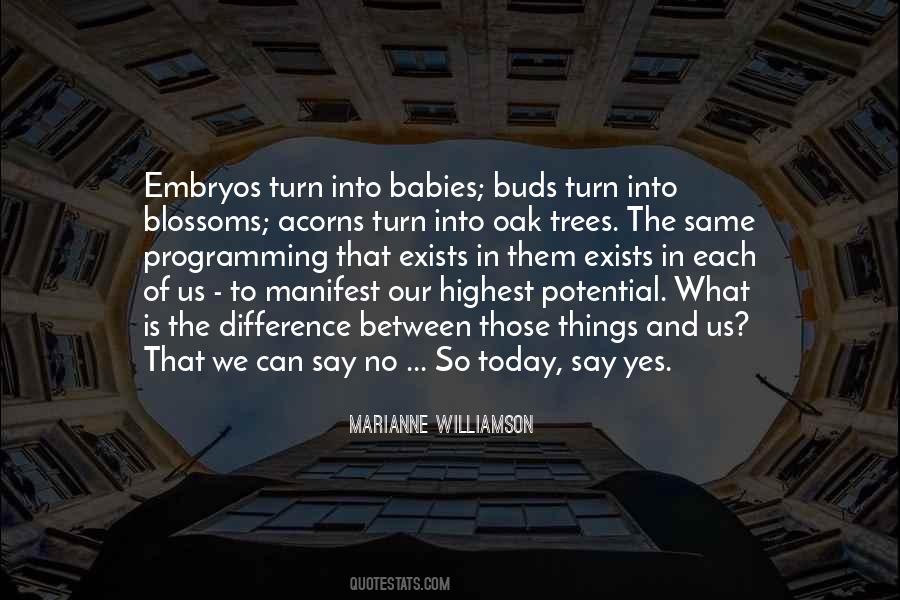 #5. I'm nineteen tree rings and mashed acorns stop up my veins when I can't clot. Oh god, you beautiful person, I'll let you lick the salt off of my tattoos as if they were wounds, wounds made of ink and stories. - Author: Taylor Rhodes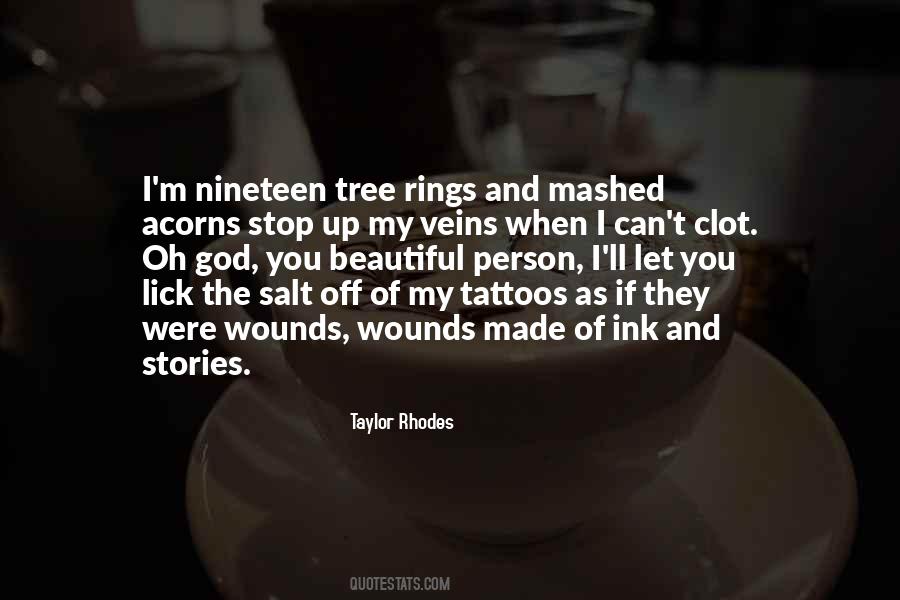 #6. Before the acorn can bring forth the oak, it must become itself a wreck. No plant ever came from any but a wrecked seed. - Author: Hannah Whitall Smith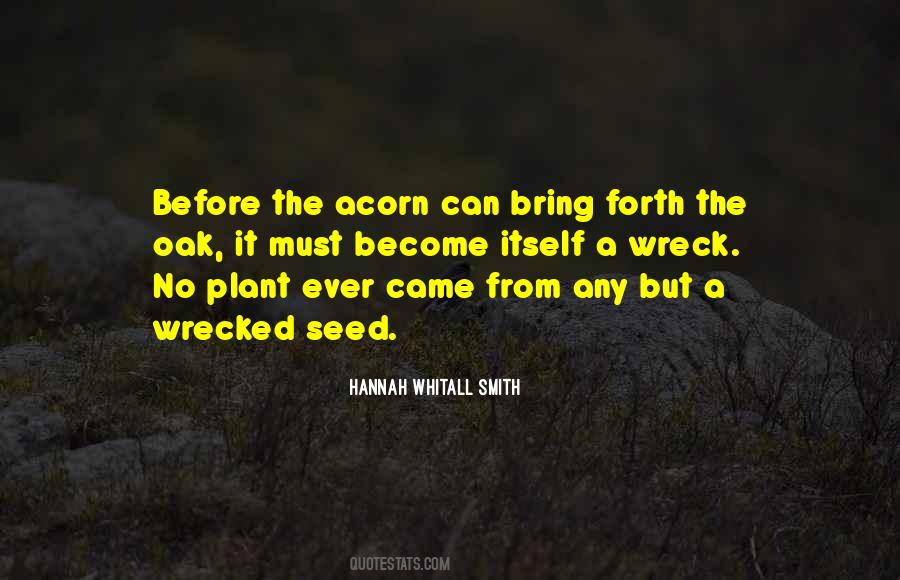 #7. Home is a room dappled with firelight: there are pictures and books. And when the rain sighs, and the acorns fall, there are patterns of leaves against the drawn curtains. Home is where I was safe. Home is what I fled from. - Author: Mervyn Peake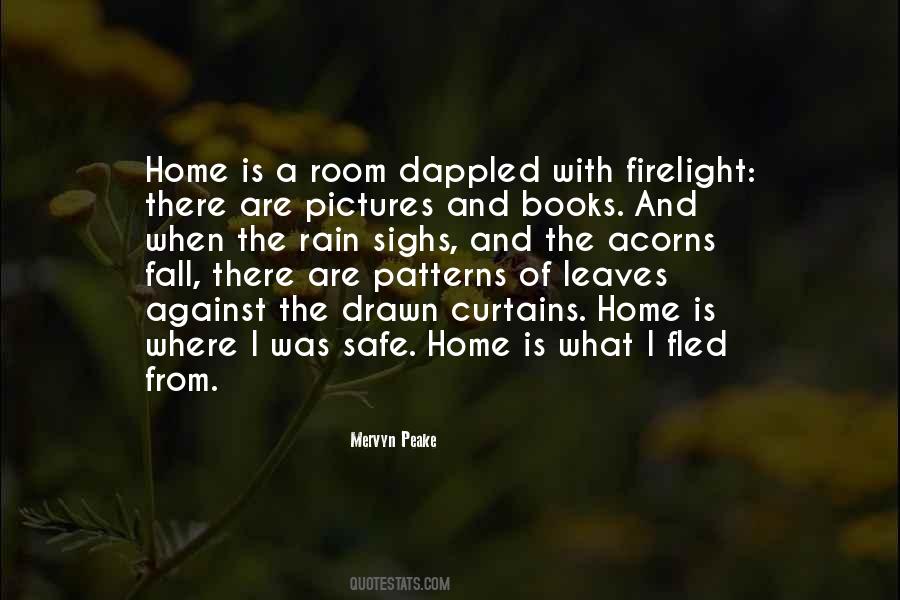 #8. Great oaks grow from little acorns. He has a green thumb. He has green fingers. He's sowing his wild oats. Here Ceres' gifts in waving prospect stand, And nodding tempt the joyful reaper's hand. - Author: Alexander Pope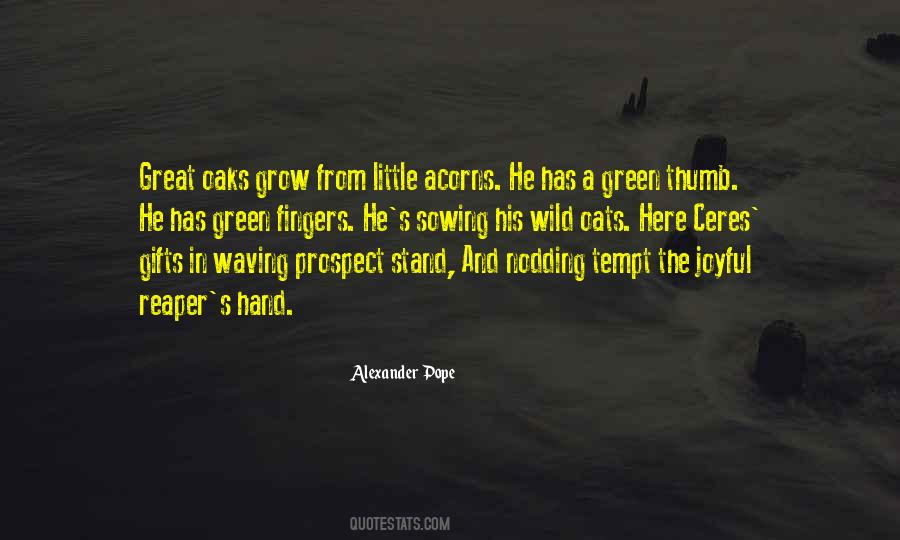 #9. How could I explain the sort of twisted fantasies I'd had to play out to Frank? Most of them I didn't even understand myself. Like being drenched in maple syrup and having acorns thrown at me by a guy wearing nothing but hiking boots. - Author: Nicole Castle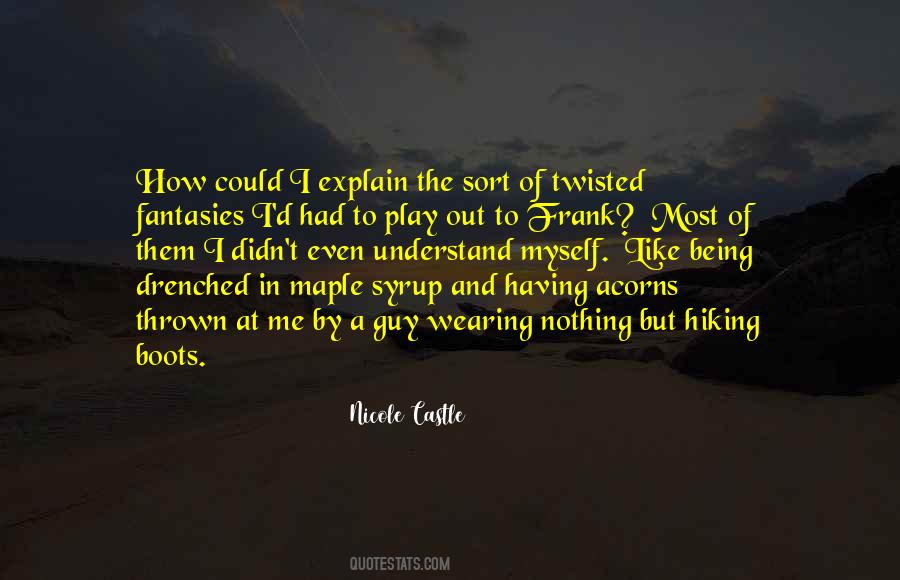 #10. Remember the acorn;
It does not devour other acorns. - Author: Edgar Lee Masters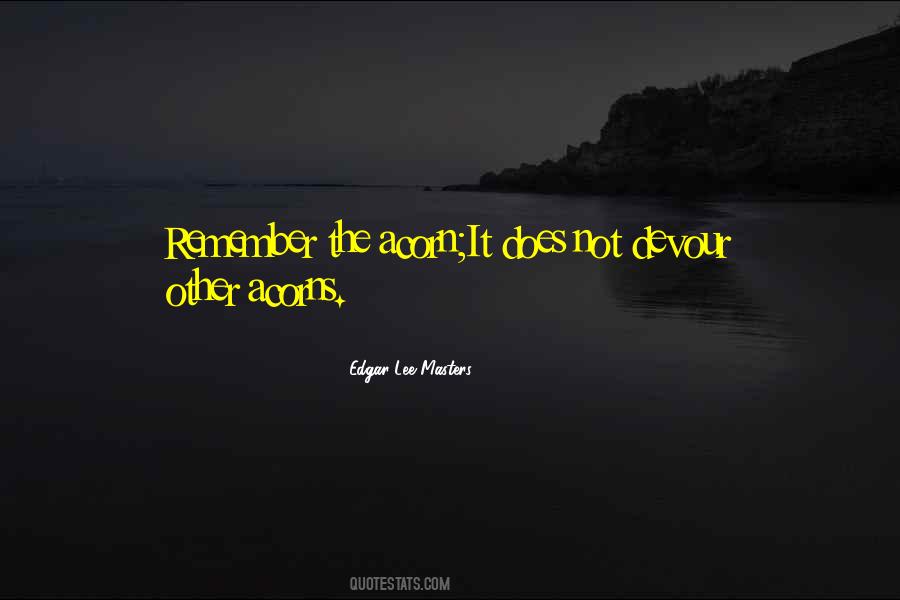 #11. Is the acorn better than the oak which is its fullness and completion? - Author: Ralph Waldo Emerson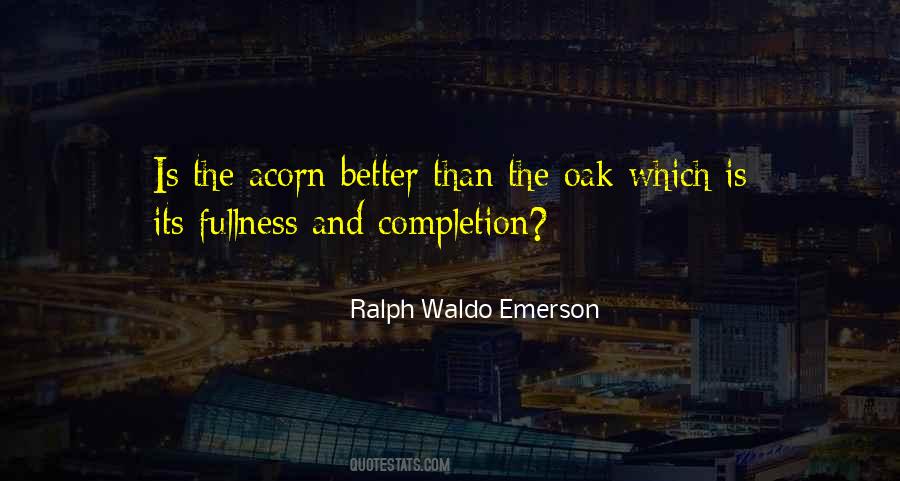 #12. No-one wants acorns, but everyone wants oaks. - Author: Steve Fowler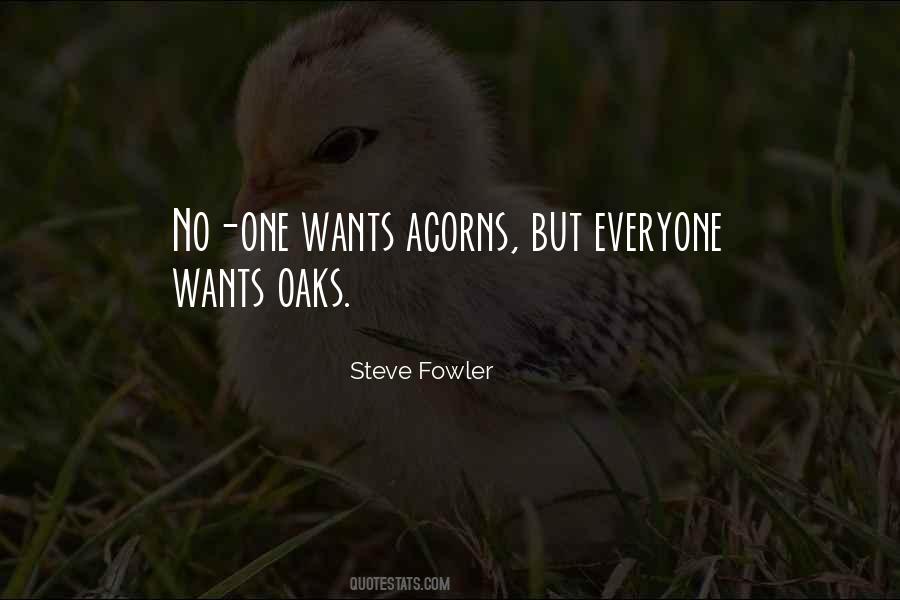 #13. If you don't have courage, you can't practice any of the other virtues. - Author: Tavis Smiley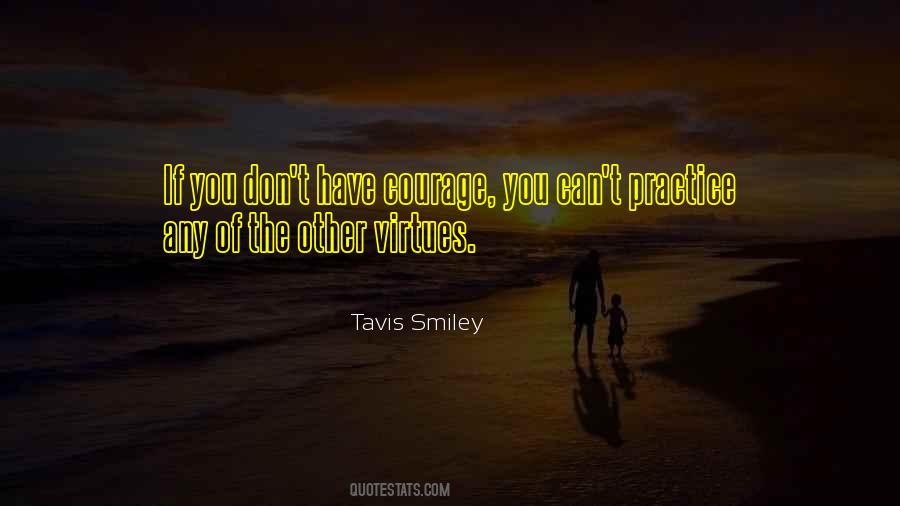 #14. It takes time for an acorn to turn into an oak, but the oak is already implied in the acorn. - Author: Alan Watts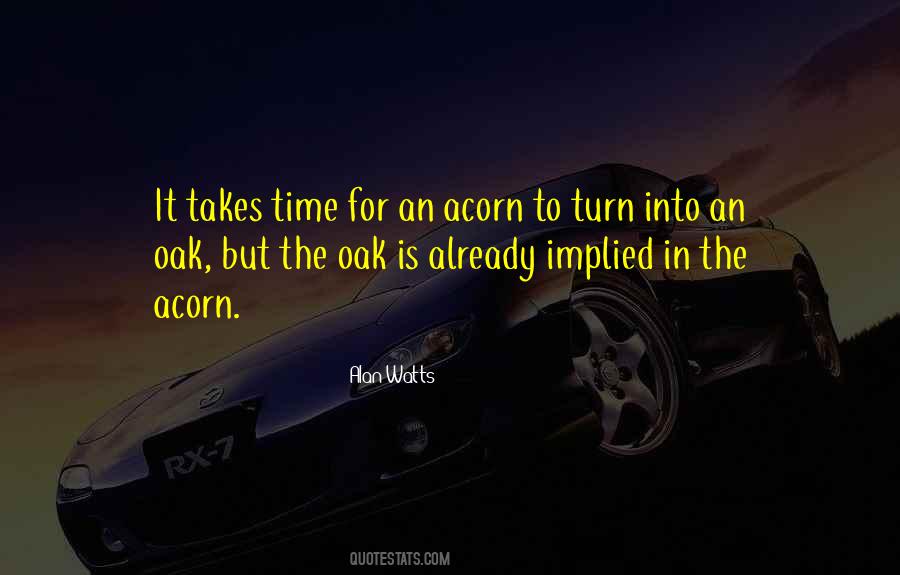 #15. Our ordinary mind always tries to persuade us that we are nothing but acorns and that our greatest happiness will be to become bigger, fatter, shinier acorns; but that is of interest only to pigs. Our faith gives us knowledge of something better: that we can become oak trees. - Author: E.F. Schumacher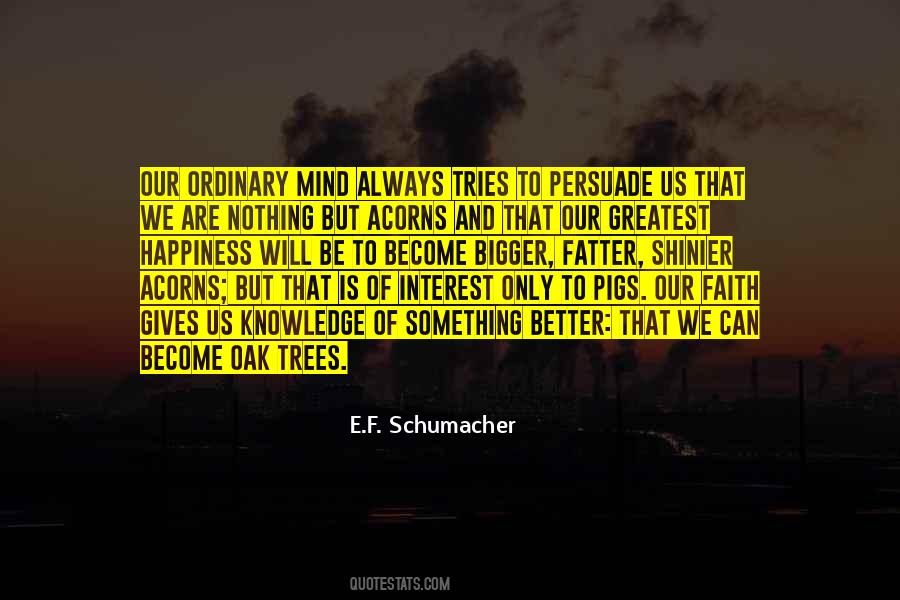 #16. Oak trees come out of acorns, no matter how unlikely that seems. An acorn is just a tree's way back into the ground. For another try. Another trip through. One life for another. - Author: Shirley Ann Grau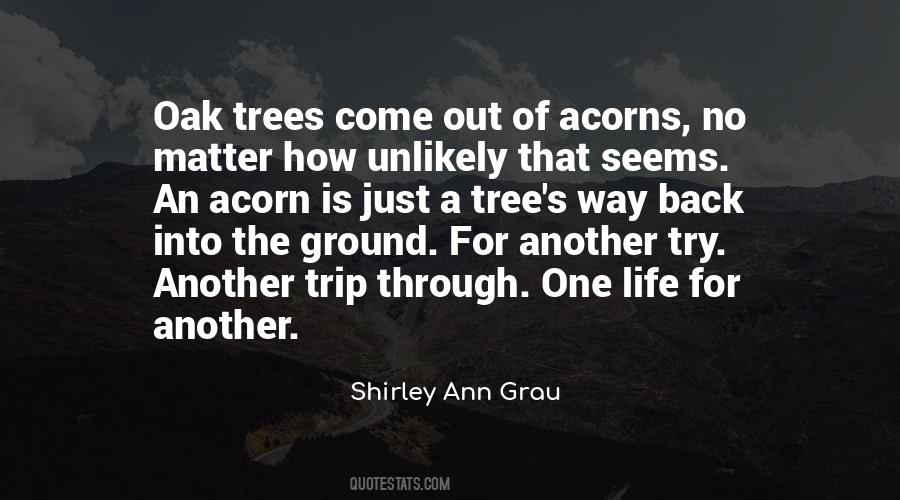 #17. Think of all the mesquite in Texas, the pinyon pines, the acorns in Appalachia, every place has the possibility of mass production. It's an infrastructural system so nestled in ecology, it's a more beautiful ecology. - Author: Joel Salatin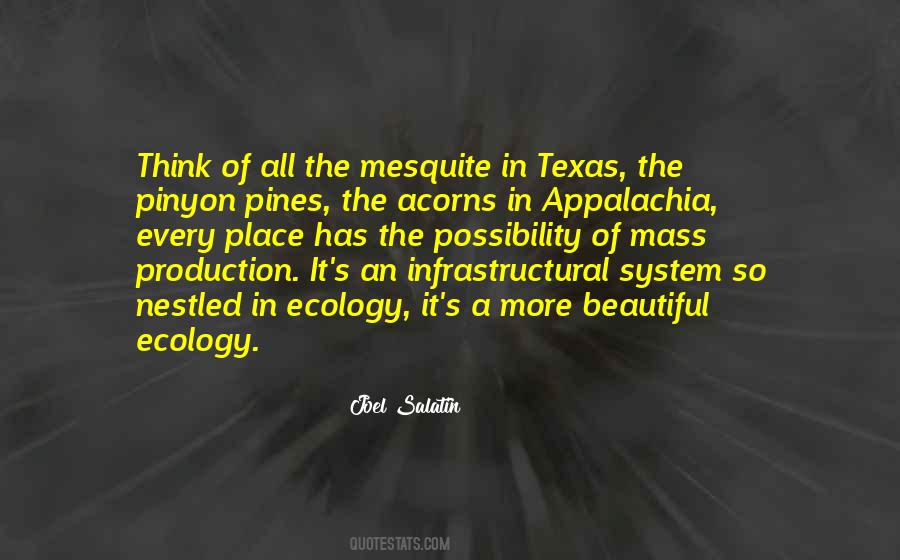 #18. Big oaks grow from small acorns, and activity is a precursor to accomplishment. You don't think yourself into success. - Author: Mark Sanborn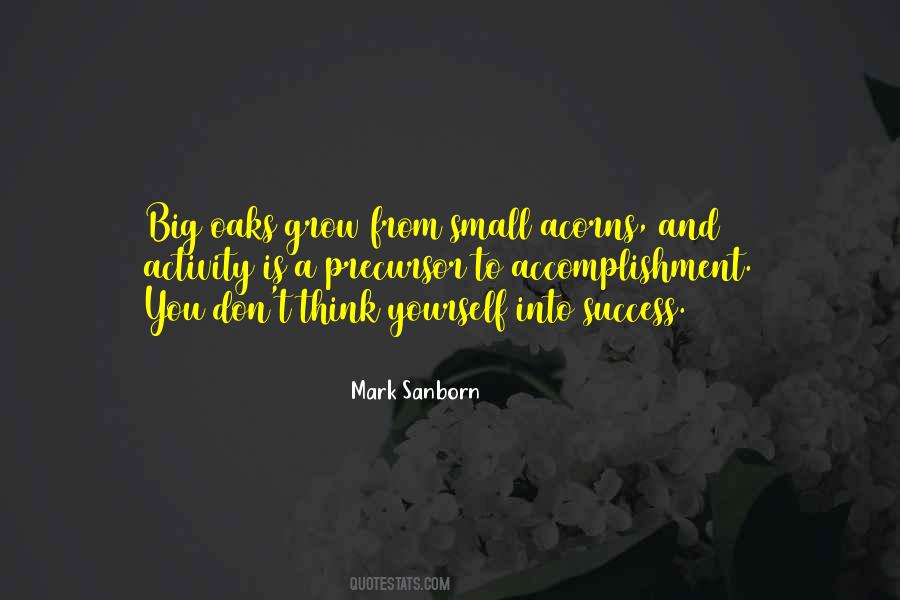 #19. Even the men most richly endowed with ability, education, and opportunity, even the giants of the race, after the completest life possible, feel, as they stand on the edge of the grave, that they are but human acorns with all their possibilities still in them, just beginning to sprout. - Author: Orison Swett Marden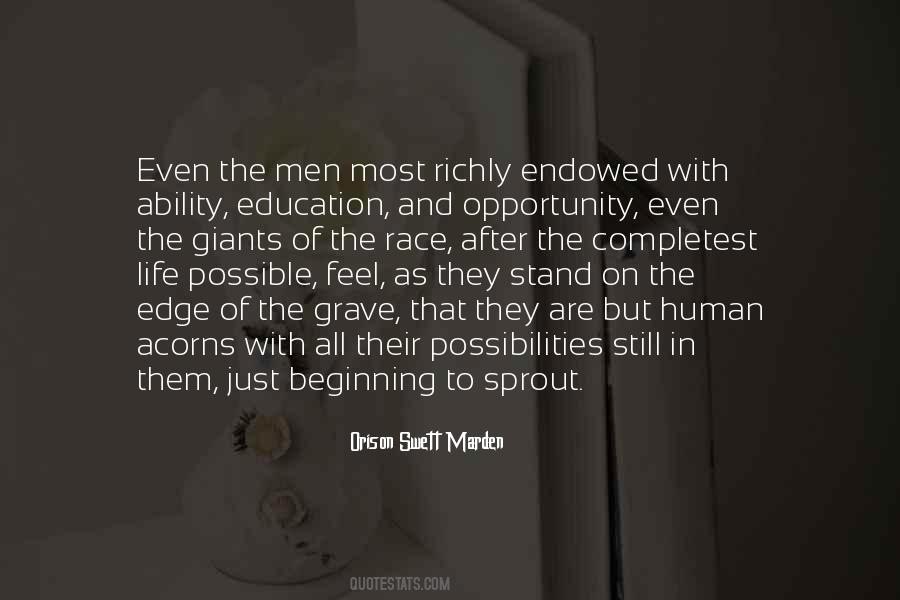 #20. An optimist is a man who plants two acorns and buys a hammock. - Author: Jean De Lattre De Tassigny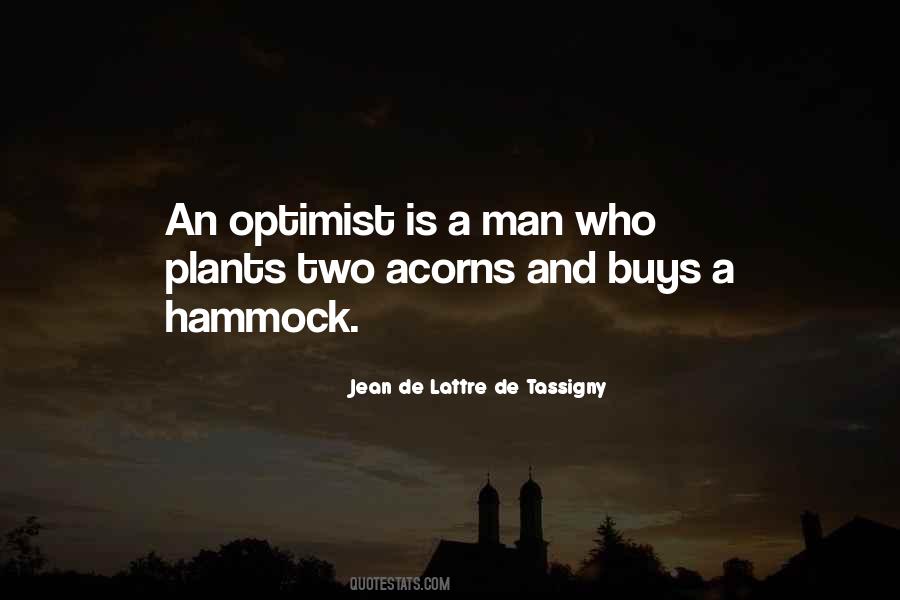 #21. The mind has grown to its present state of consciousness as an acorn grows into an oak, or as saurians developed into mammals. - Author: Carl Jung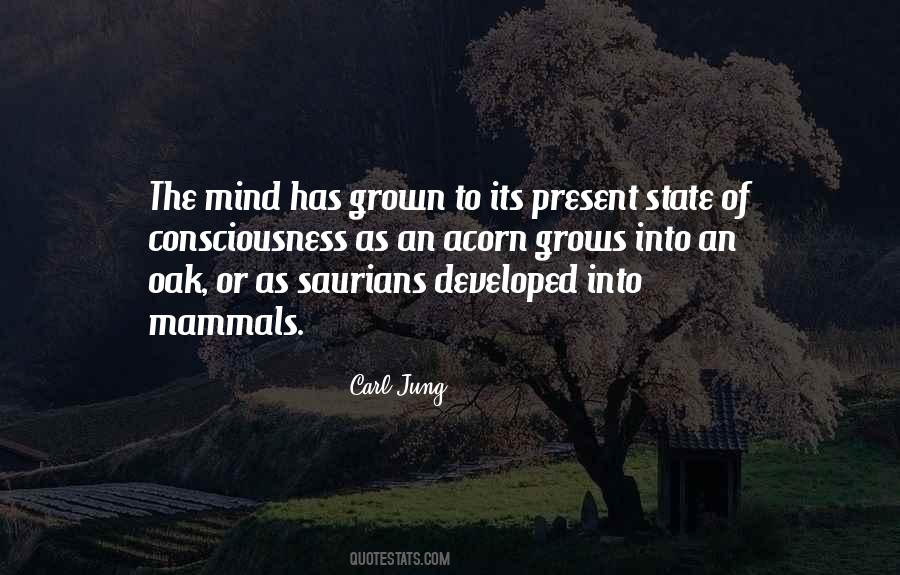 #22. You look different now. Like a proper little girl."
"I look like an oak tree, with all these stupid acorns."
"Nice, though. A nice oak tree. - Author: George R R Martin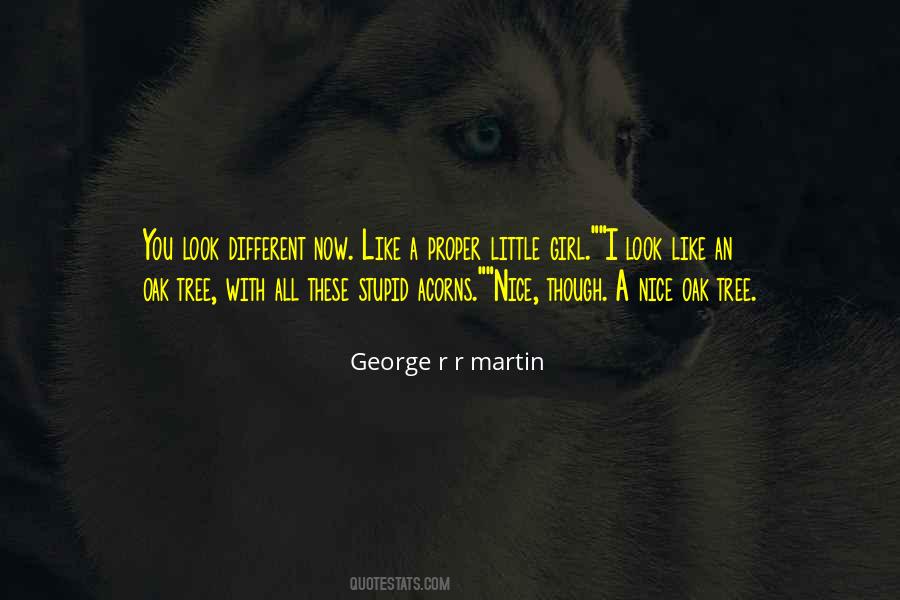 #23. In many ways a child has actually re-educated the parents upon arrival into their lives - when else do adults take the time to appreciate acorns or clouds? - Author: Ian-Anthony Finnimore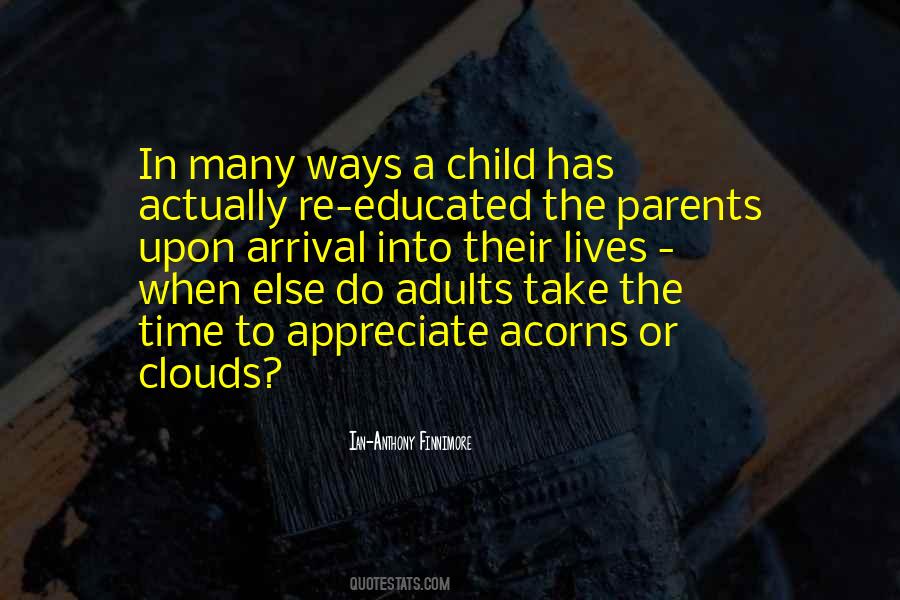 #24. Genius unexecuted is no more genius than a bushel of acorns is a forest of oaks. - Author: Orison Swett Marden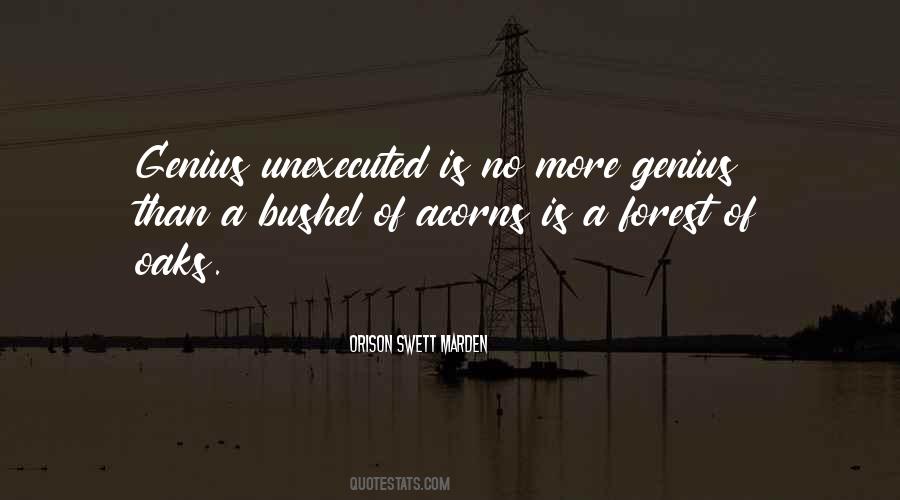 #25. I shall weave a suit of leaves. At once. With acorns for buttons. - Author: Shirley Jackson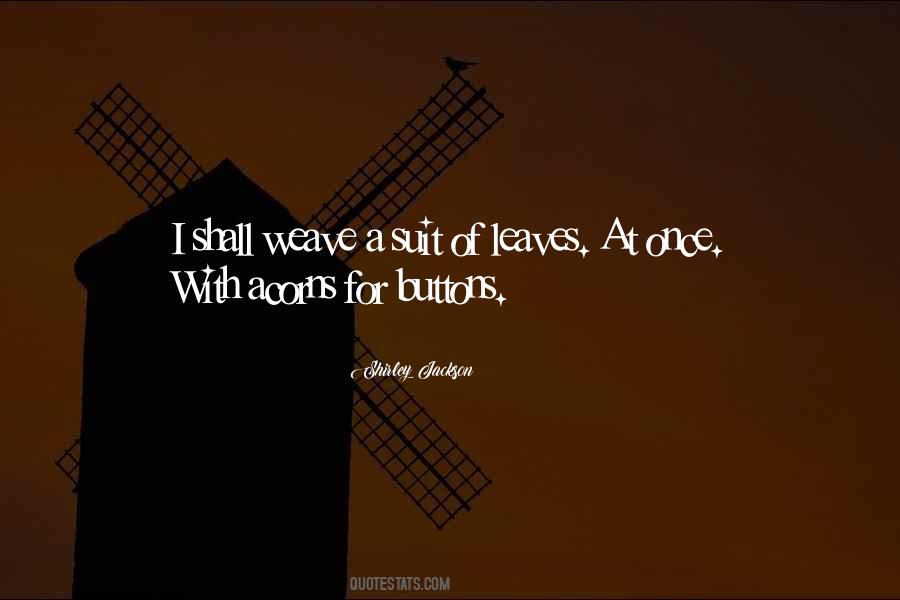 #26. There are useful herbs growing near the oak tree by the stream," Flamepaw pointed out "Littlecloud would come for these" his tail curled up in amusement "Then we could pelt Blackfoot with acorns and he'd think they came from StarClan - Author: Erin Hunter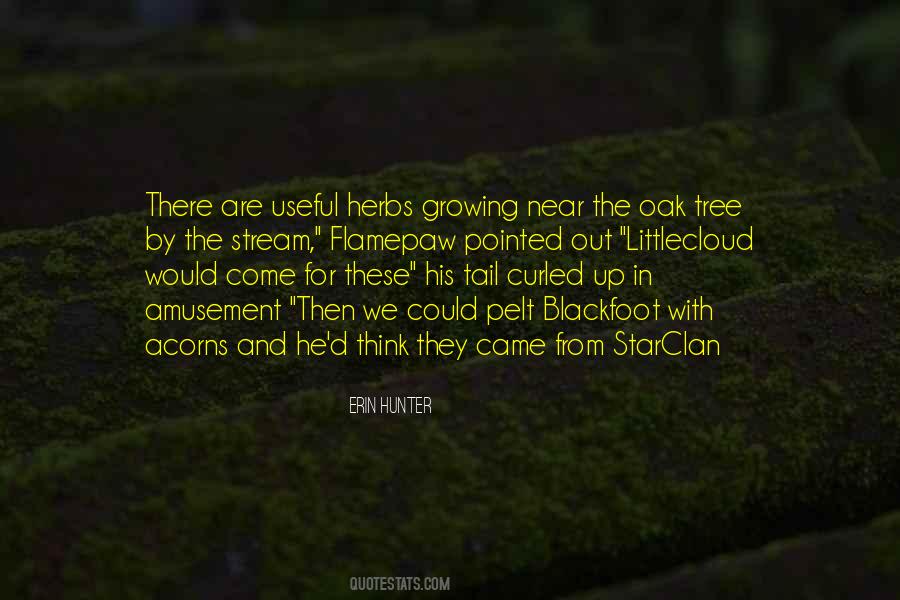 #27. There was a small knothole in one of the boards, and Coraline spent an afternoon dropping pebbles and acorns through the hole and waiting, and counting, until she heard the plop as they hit the water. - Author: Neil Gaiman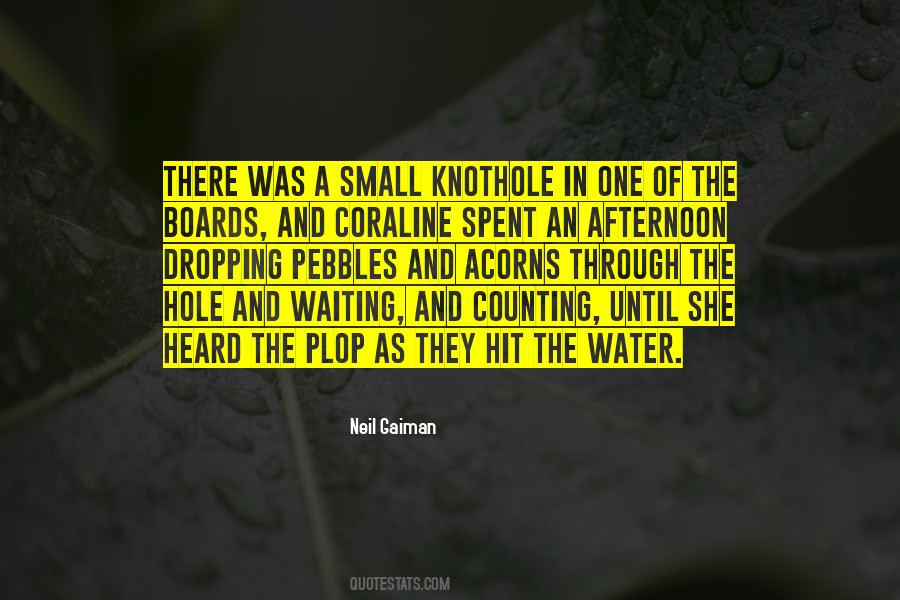 #28. When the oak is felled the whole forest echoes with its fall, but a hundred acorns are sown in silence by an unnoticed breeze. - Author: Thomas Carlyle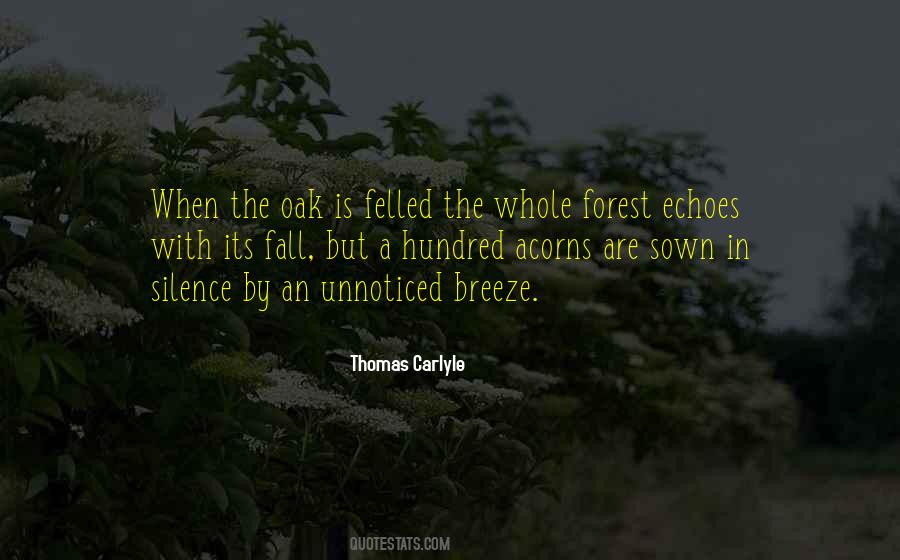 #29. All winter the acorns and red Maple leaf moldered in silence - in the same way grief is gnawing at me - slowly, imperceptibly ... consuming ... - Author: John Geddes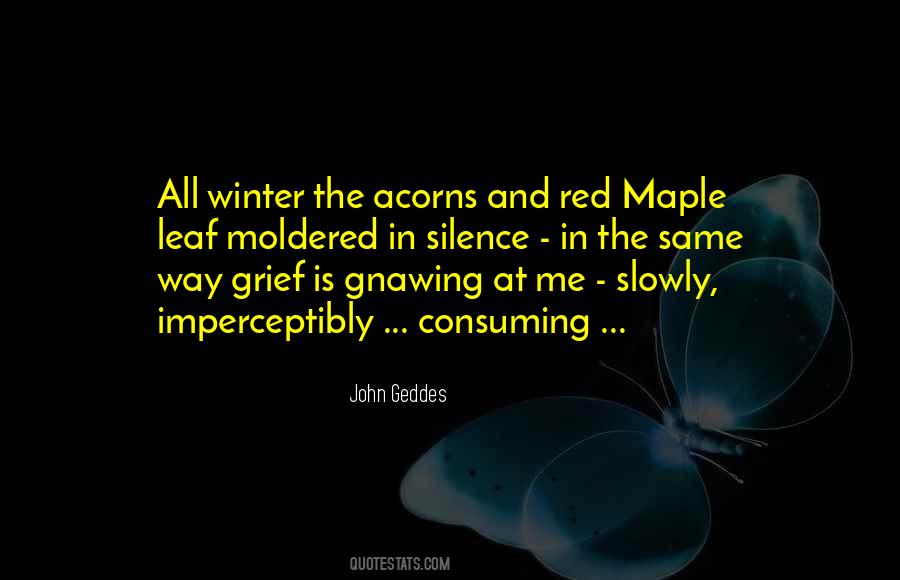 #30. The boughs of the oak are roaring inside the acorn. - Author: Charles Tomlinson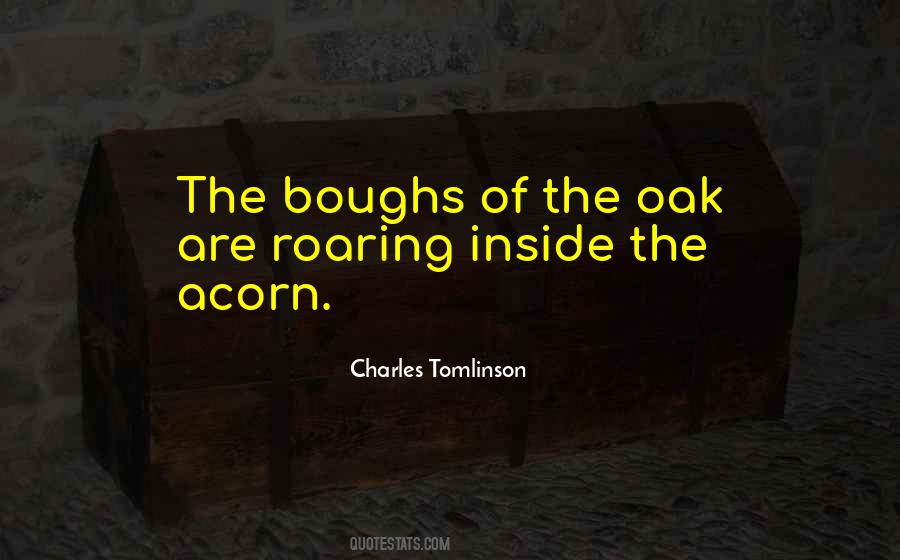 #31. Each human being is bred with a unique set of potentials that yearn to be fulfilled as surely as the acorn yearns to become the oak within it. - Author: Aristotle.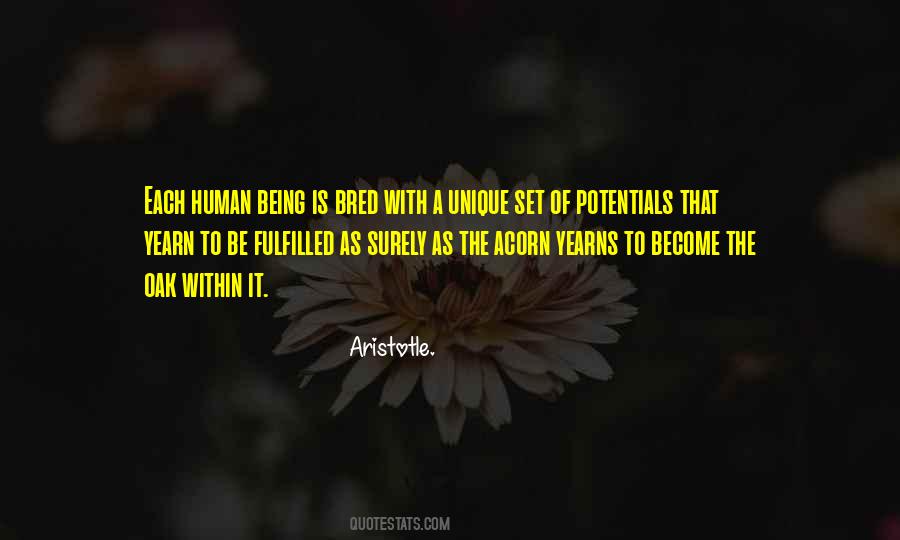 #32. Only something as insane as human beings would ever asked themselves if 'I'm good.' You don't find oak trees having existential crisis. 'I feel so rotten about myself. I don't produce as much acorns as the one next to me.' - Author: Adyashanti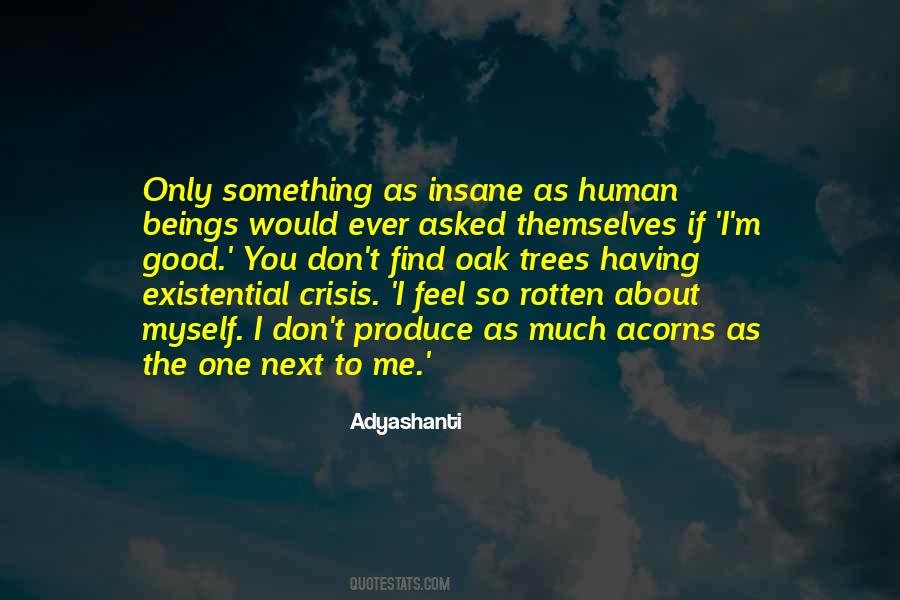 #33. Or is it this: To feed on the acorns and grass of knowledge, and for the sake of truth to suffer hunger in one's soul? - Author: Friedrich Nietzsche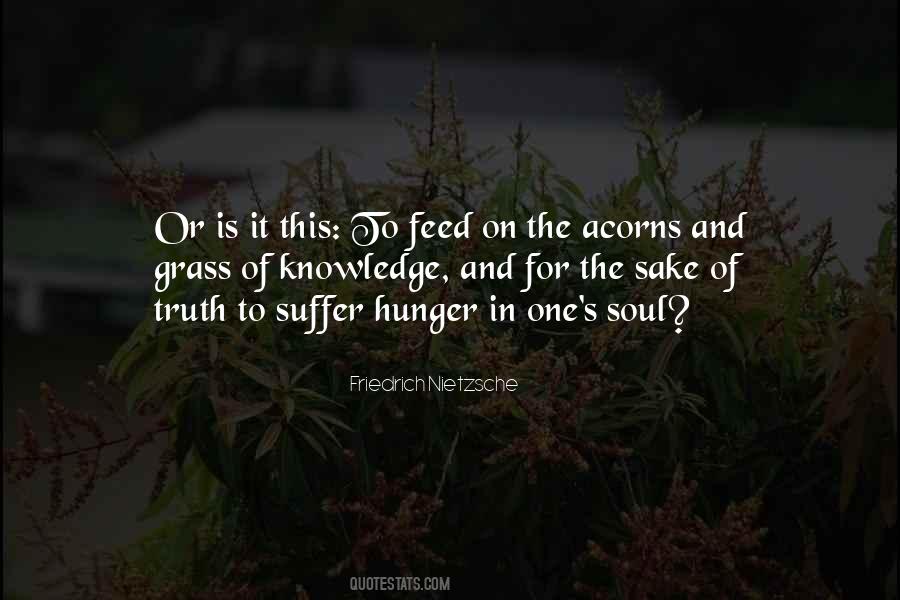 #34. It was a miracle to me, this transformation of my acorns into an oak. - Author: Betsy Lerner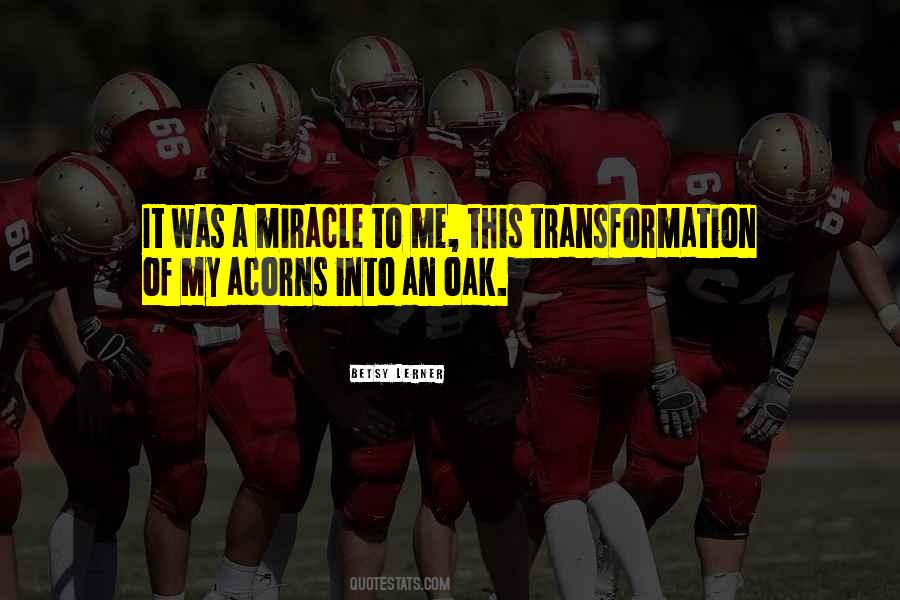 #35. It's fine if you aren't into rubbing acorns or turning in circles before you create, but the brain is nothing if not responsive to familiar stimuli. Creating - Author: Todd Brison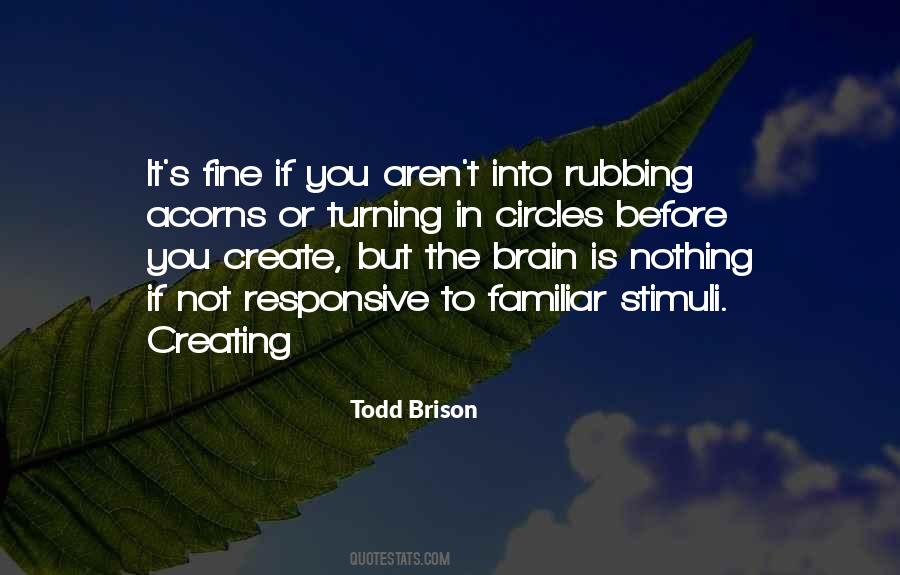 #36. If acorns start growing into theologians, or if women begin turning into pillars of salt, then we may wish to hypothesize about a supernatural influence. But until such time as nature becomes hopelessly unintelligible and unpredictable, we need look no further than nature itself for explanations. - Author: George H. Smith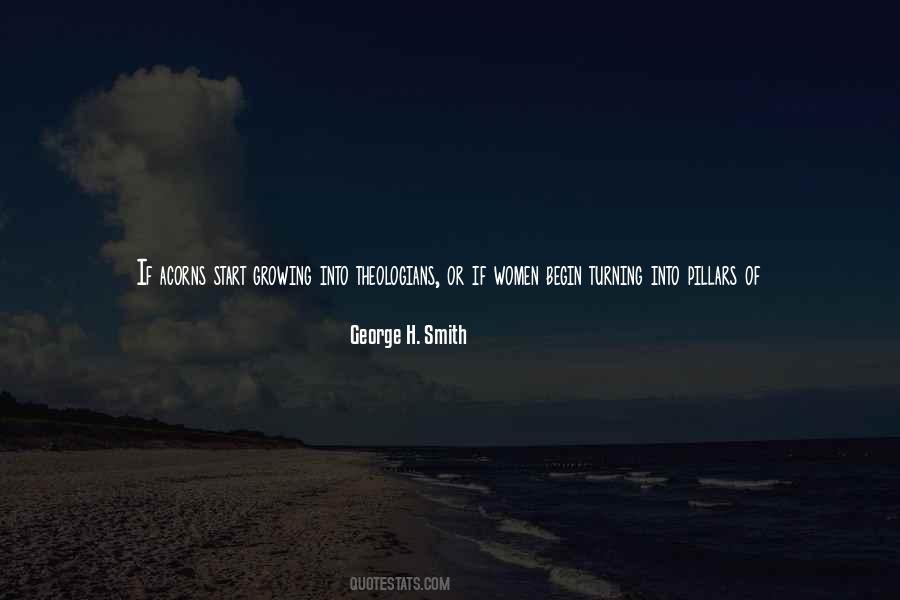 #37. After all, what is man but a hoard of ghosts? Oaks, that were acorns, that were oaks ... - Author: Walter De La Mare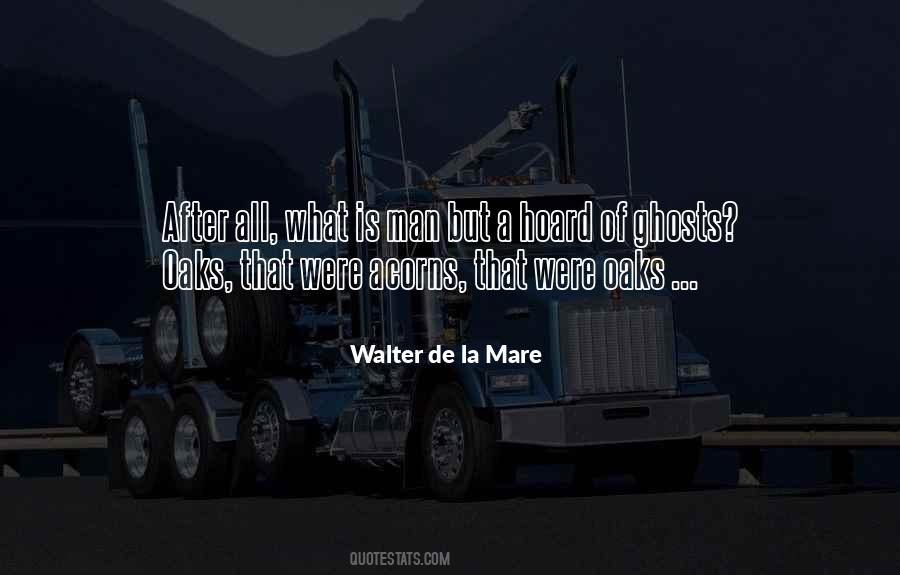 #38. The night I filled an inside straight: Even a blind hog's gonna root up an acorn once in a while. - Author: Edward Abbey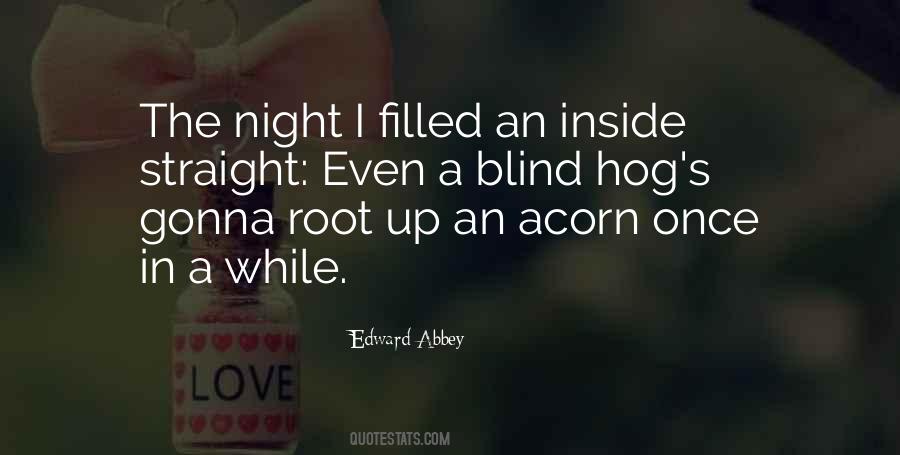 #39. Sometimes big trees grow out of acorns - I think I heard that from a squirrel. - Author: Jerry Coleman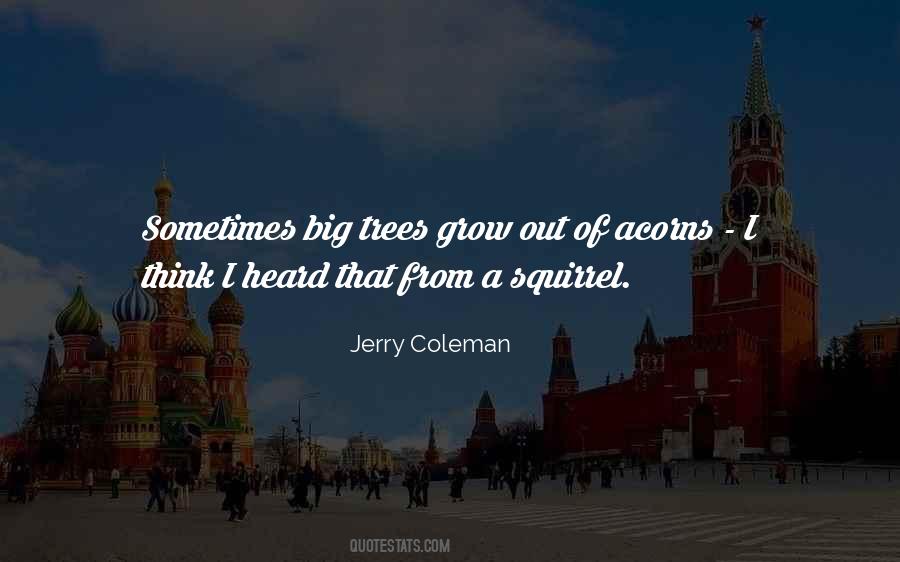 #40. October arrives in a swirl of fragrant blue leaf smoke, the sweetness of slightly frosted MacIntosh apples, and little hard acorns falling. We are in the midst of cool crisp days, purple mists, and Nature recklessly tossing her whole palette of dazzling tones through fields and woodlands. - Author: Jean Hersey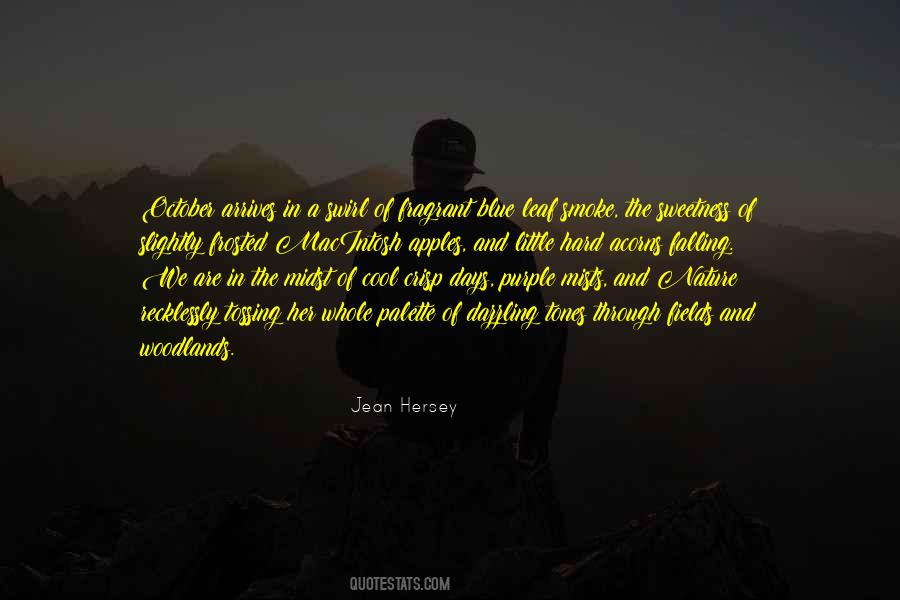 #41. I get hoes like acorns falling out of trees. - Author: Master P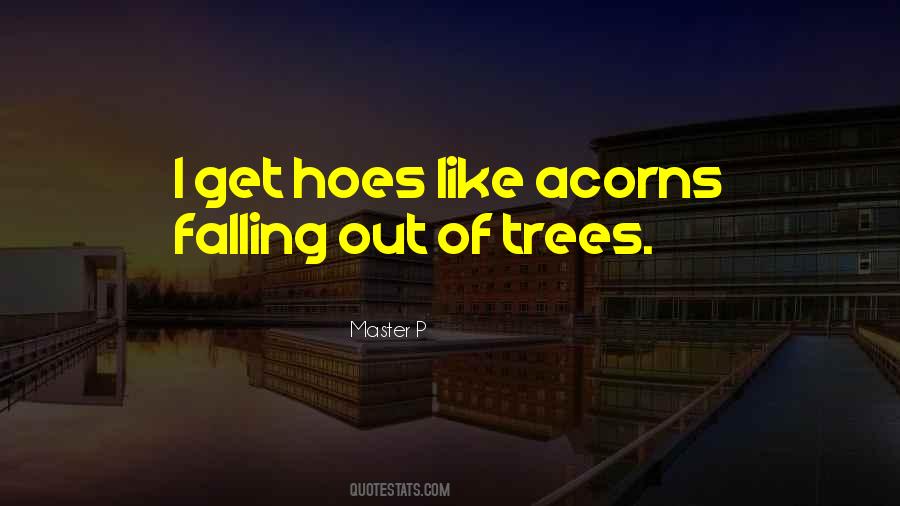 #42. All high poetry is infinite; it is as the first acorn, which contained all oaks potentially. - Author: Percy Bysshe Shelley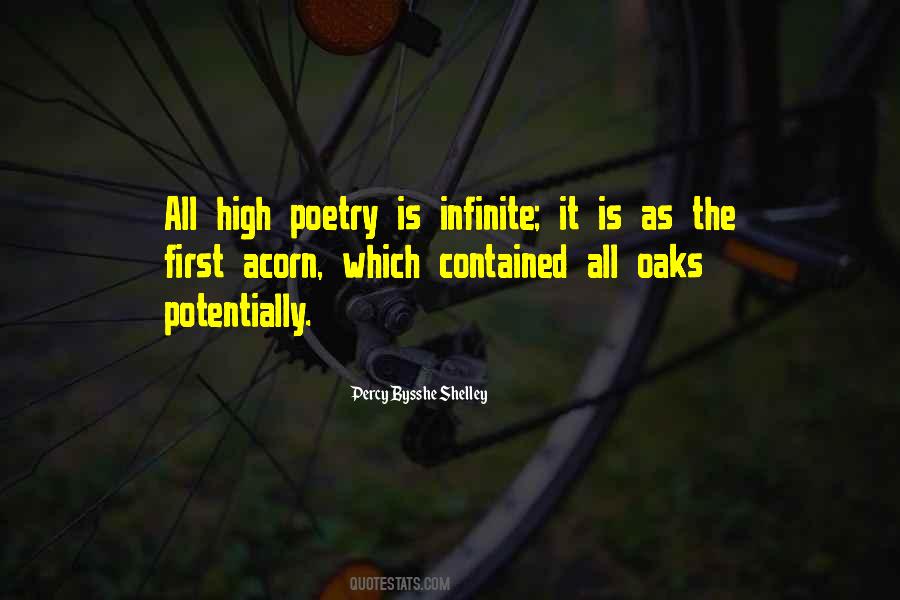 #43. Big streams from little fountains flow. Great oaks from little acorns grow; - Author: E.D.E.N. Southworth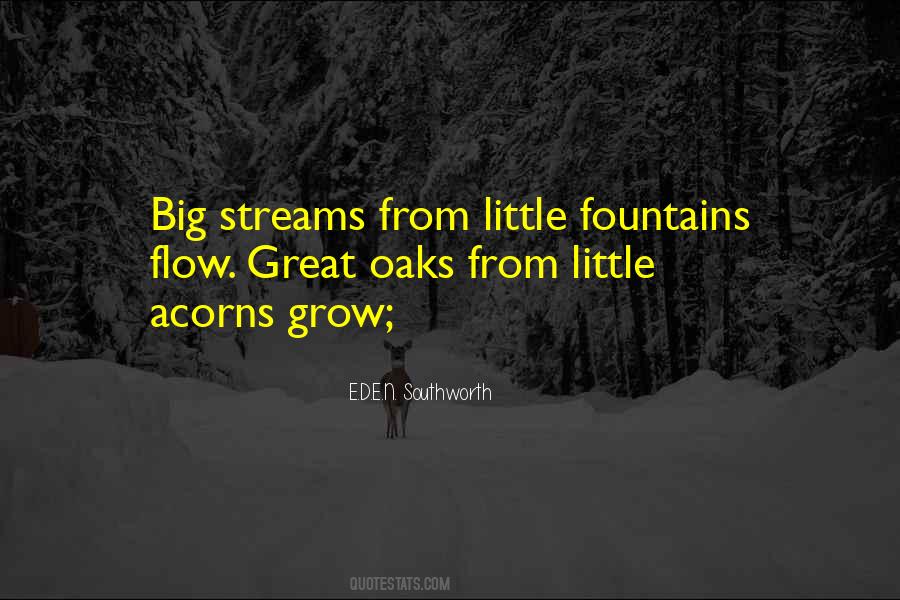 #44. Acorns are planted silently by some unnoticed breeze. - Author: Thomas Carlyle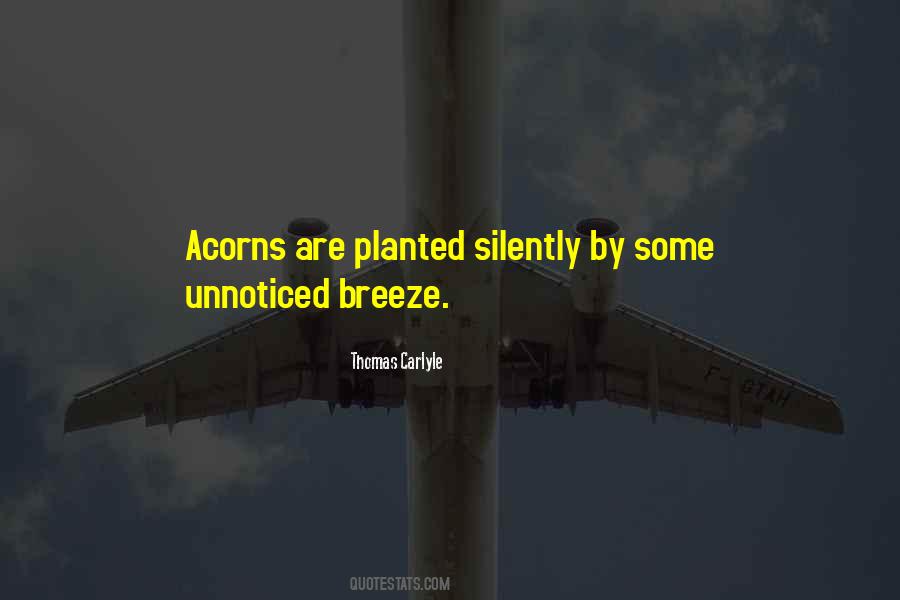 #45. As naturally as the oak bears an acorn and the vine a gourd, man bears a poem, either spoken or done. - Author: Henry David Thoreau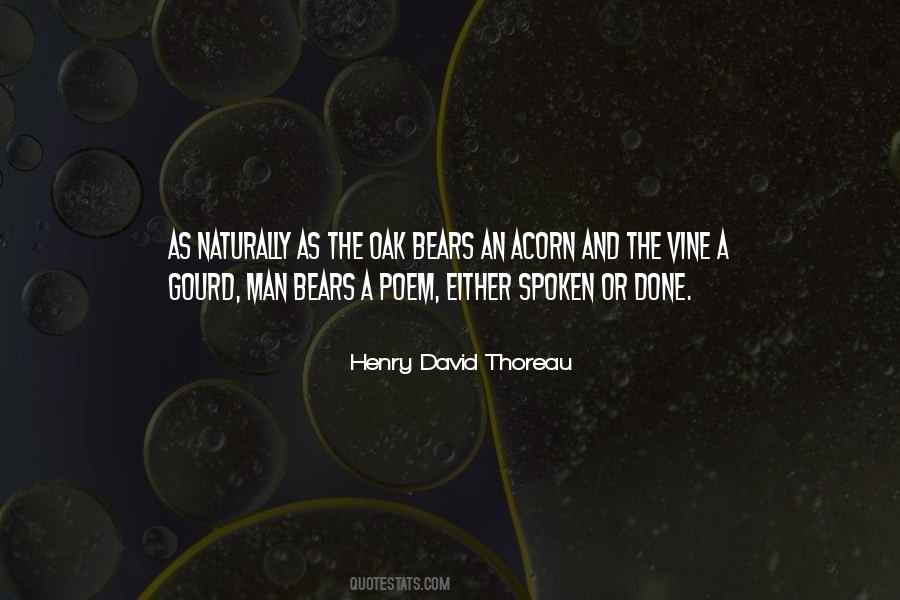 #46. You know, I never imagined there were he-dryads. Not even in an oak tree."
One of the giants grinned at him.
Druellae snorted. "Stupid! Where do you think acorns come from? - Author: Terry Pratchett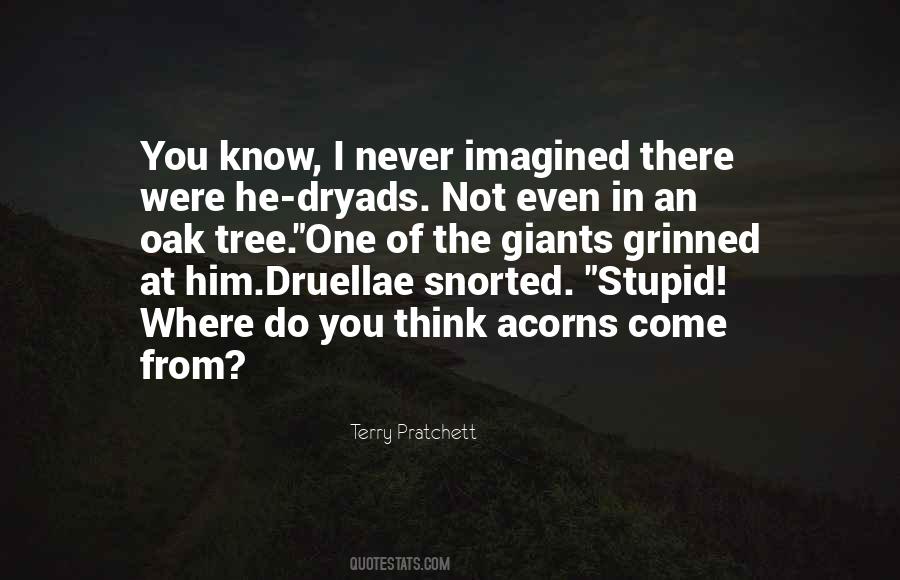 #47. Acorns were good until bread was found. - Author: Francis Bacon
#48. She felt as buoyantly patriotic as her Chechen classmates who could trace their family trees back to the acorns - Author: Anthony Marra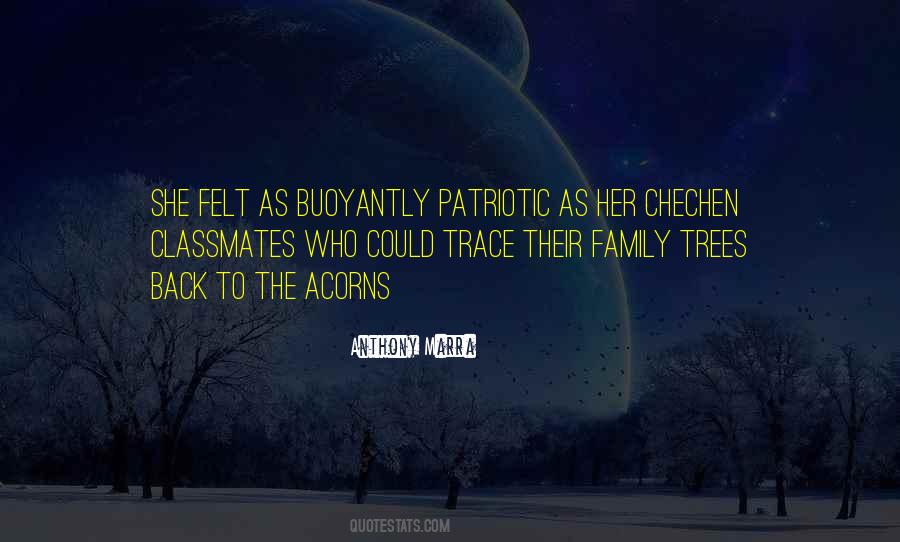 #49. Eventually, even a blind squirell will find an acorn. - Author: Jim Cornette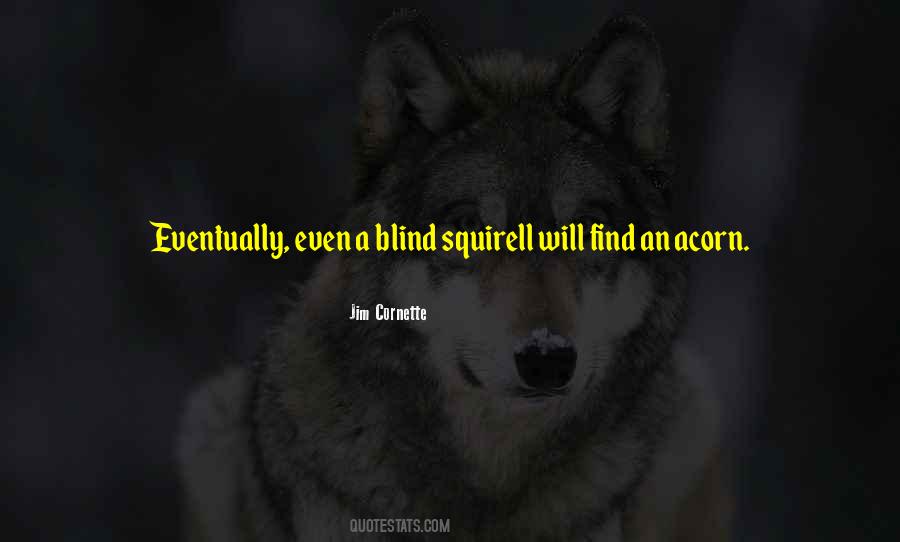 #50. The acorn of honest inquiry has often sprouted and matured into a great oak of understanding. - Author: Dieter F. Uchtdorf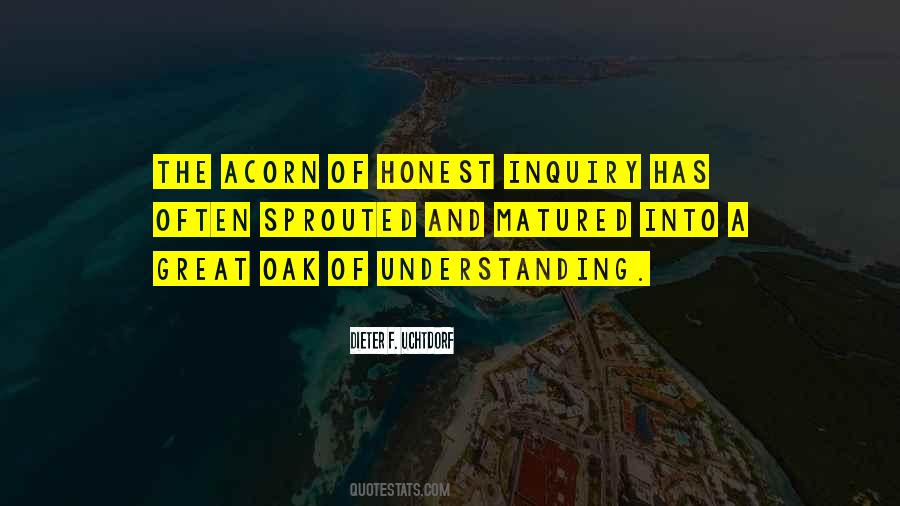 #51. An optimist is a man who plant two acorns and buy a hammock. - Author: Jean De Lattre De Tassigny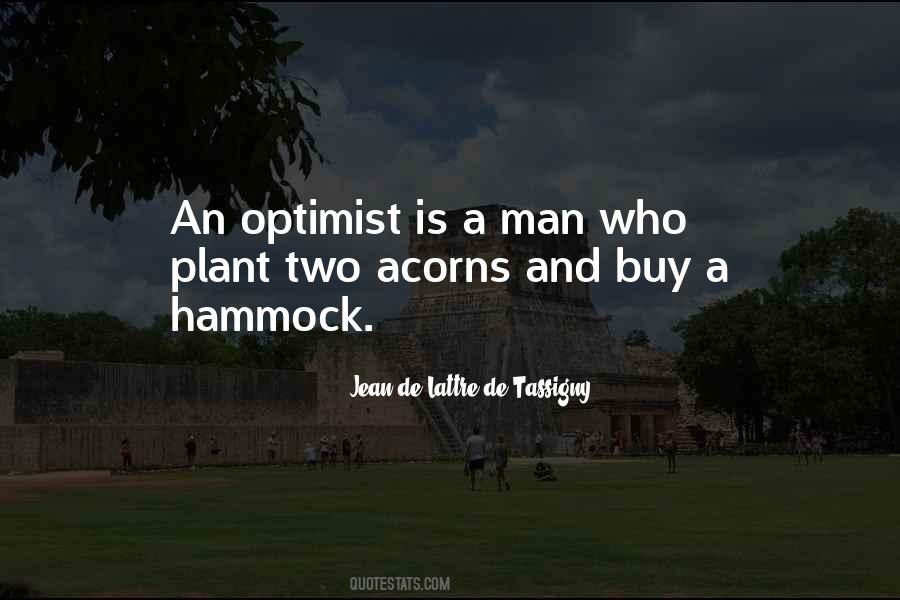 Famous Authors
Popular Topics