A Life Of Purpose Famous Quotes & Sayings
List of top 100 famous quotes and sayings about a life of purpose to read and share with friends on your Facebook, Twitter, blogs.
Top 100 Quotes About A Life Of Purpose
#1. Be a source of influence to others - Author: Sunday Adelaja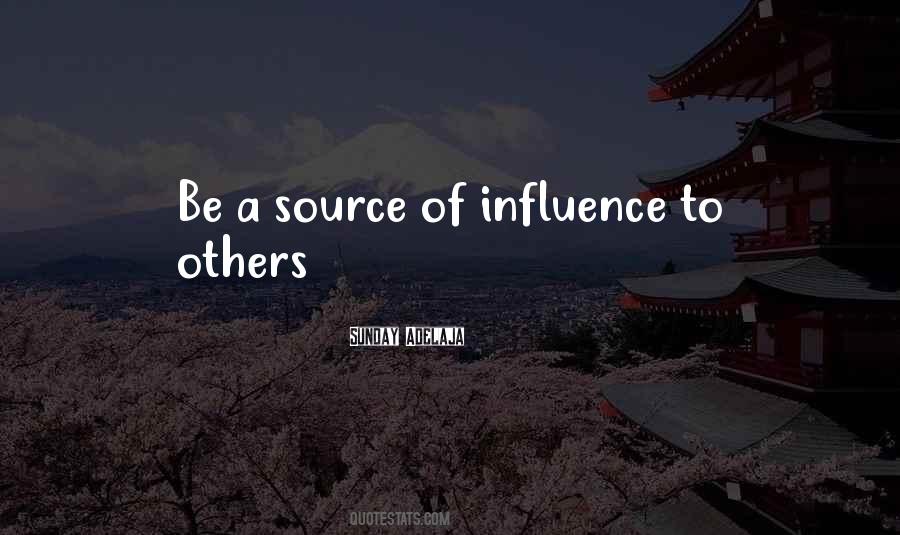 #2. The purpose of apologetics is not just to win an argument or a discussion, but that people with whom we are in contact may become Christians and then live under the Lordship of Christ in the whole spectrum of life. - Author: Francis Schaeffer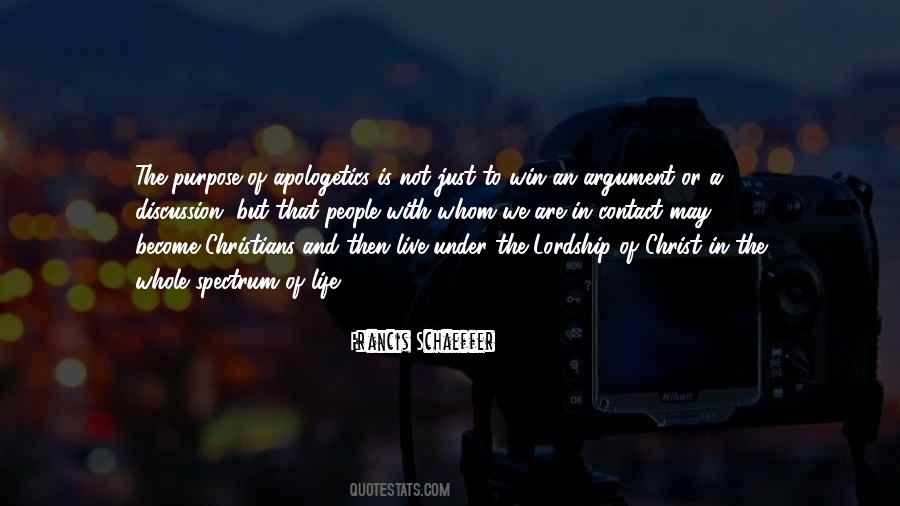 #3. People with a distinctly displayed fear of failure are prone to do their work well and with good coordination only in a case when their task require simple skills - Author: Sunday Adelaja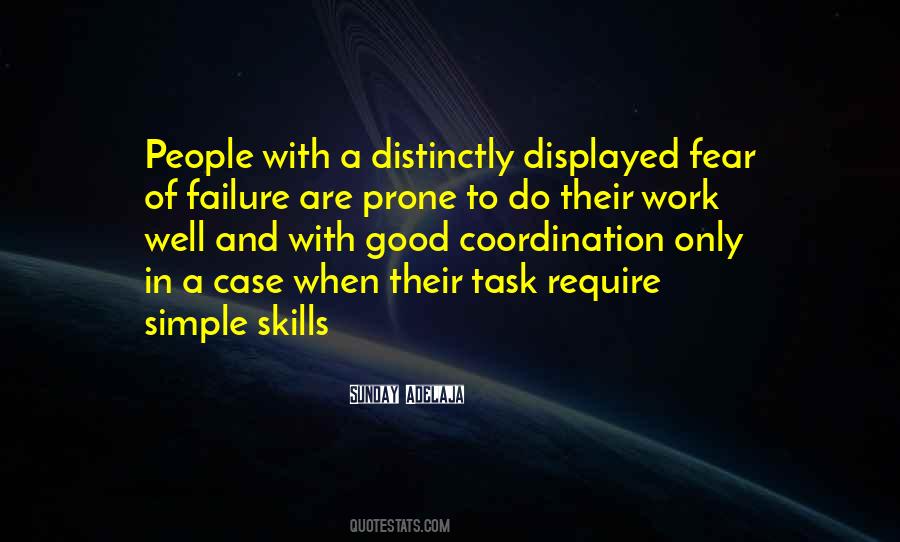 #4. Sometimes, to have fun, you've got to be willing to take a chance - and even be frightened! - Author: Mani S. Sivasubramanian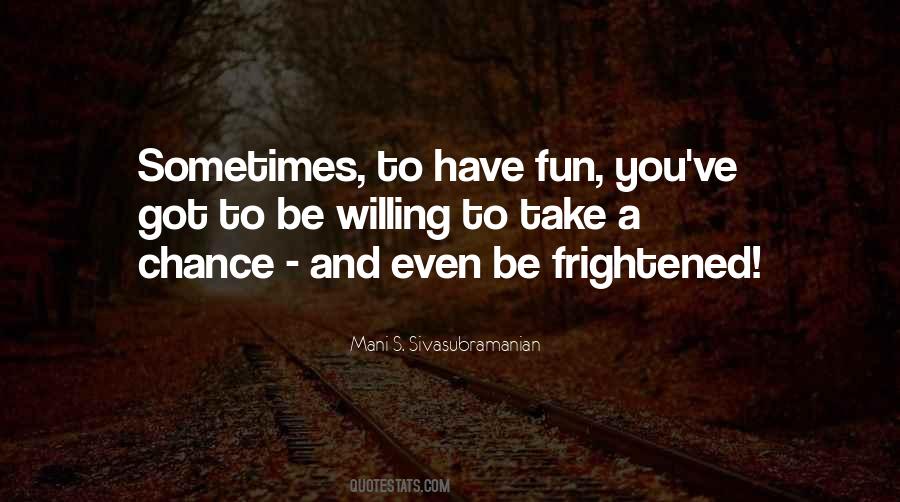 #5. If you feel stuck in your present life, if you feel no enthusiasm for anything, if you think you have no purpose or that you lost that purpose somewhere along the way, I guarantee you are living in a dungeon made of stories. And that none of those limiting stories are true. - Author: Martha Beck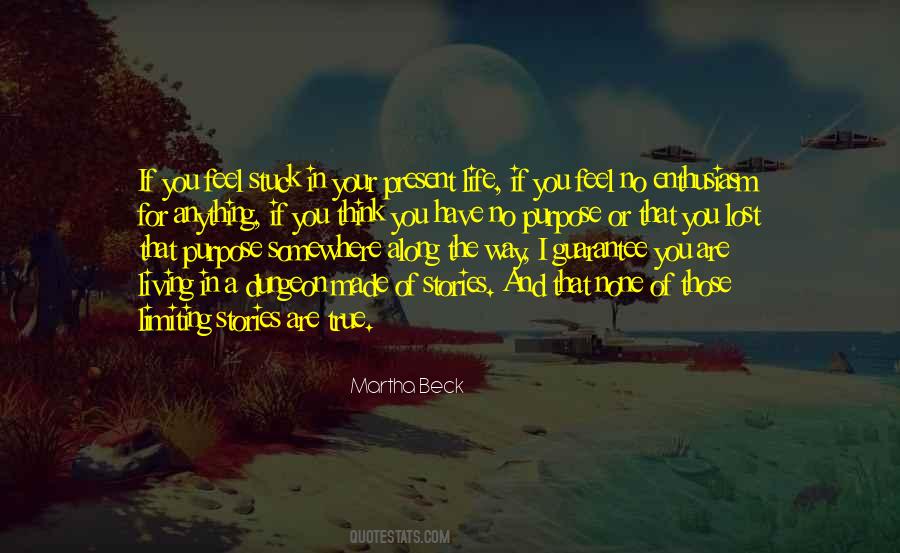 #6. Be a lamp, or a lifeboat, or a ladder. Help someone's soul heal. Walk out of your house like a shepherd. - Author: Rumi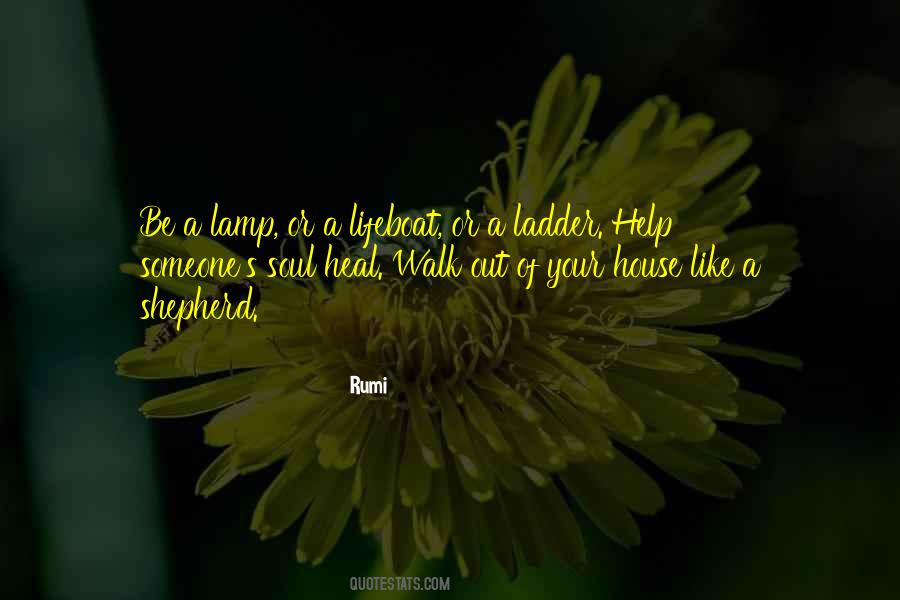 #7. Without a narrative, life has no meaning. Without meaning, learning has no purpose. Without a purpose, schools are houses of detention, not attention. - Author: Neil Postman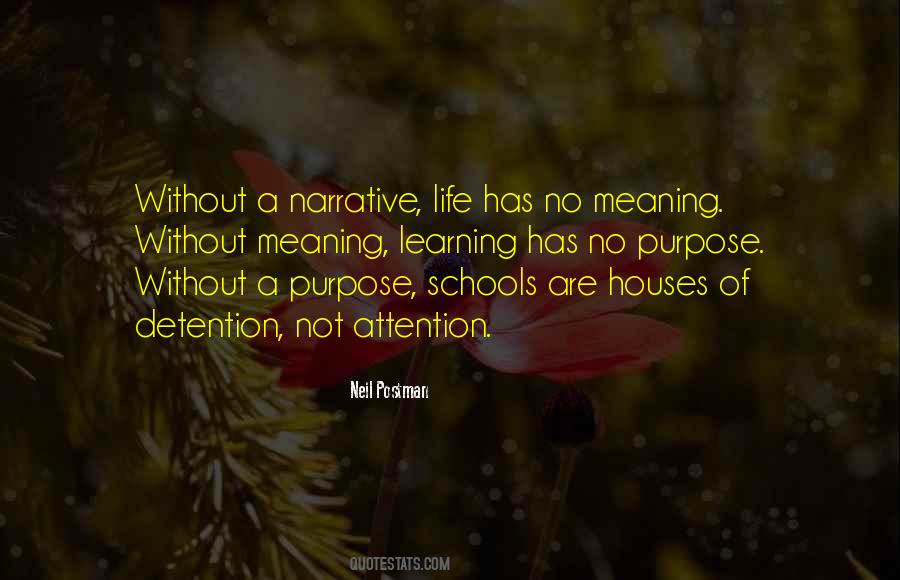 #8. Dignity is to have a dream, a strong one, which gives you a vision, a world where you have a place, where whatever it is you have to contribute makes a difference. - Author: Fatema Mernissi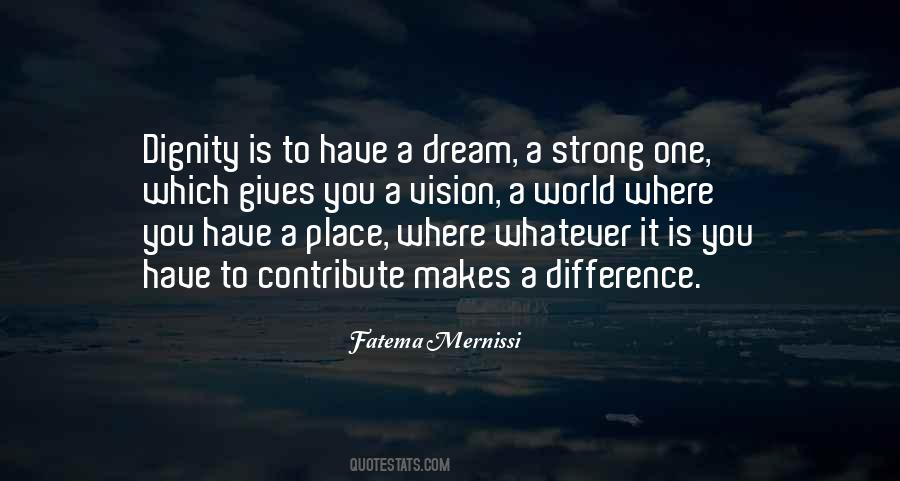 #9. Your definition of a good life does not have to look like everyone else thinks it should. Whatever feels right for you, whatever aligns your inside with your outside, that's what you should spend your time doing. - Author: G.G. Renee Hill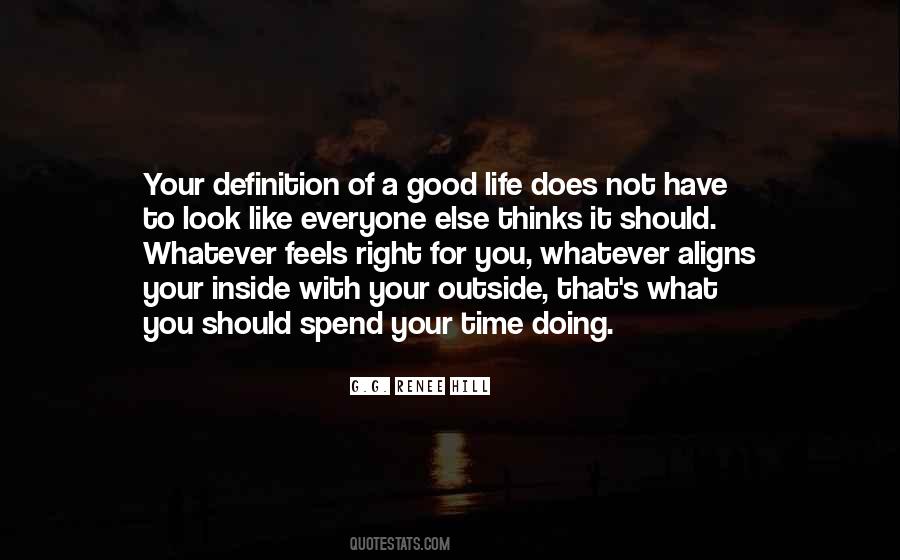 #10. My hope is that you will see this book for what it is...a conversation about the core questions that call us into humanity. Who am I? What am I? Who created me? What is my purpose? This is the story about the journey through the mysteries that make up the depths of life. - Author: Julia J. Gibbs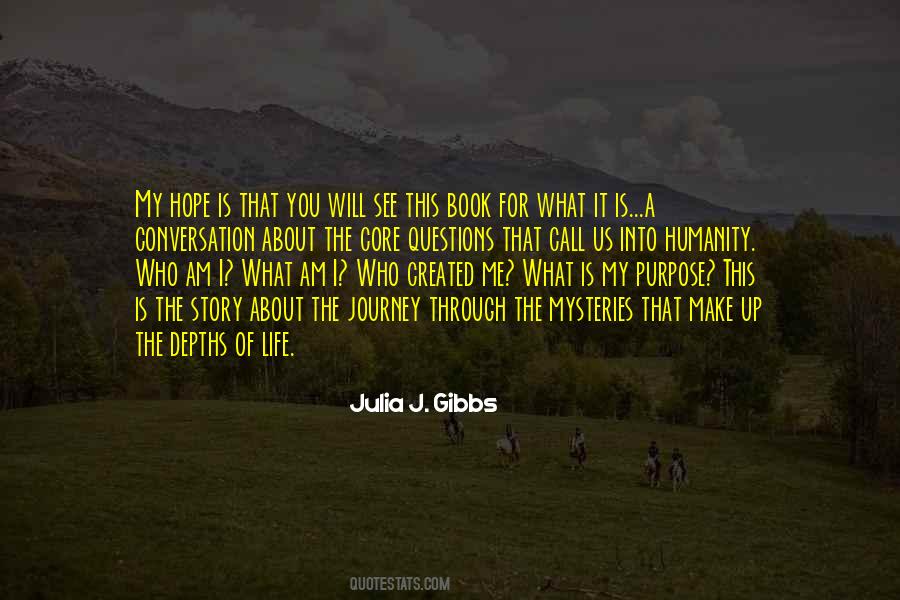 #11. The purpose of life is to find your way back to a spiritual way of thinking and living - to be able to get past the physical stuff. - Author: Wendy Higgins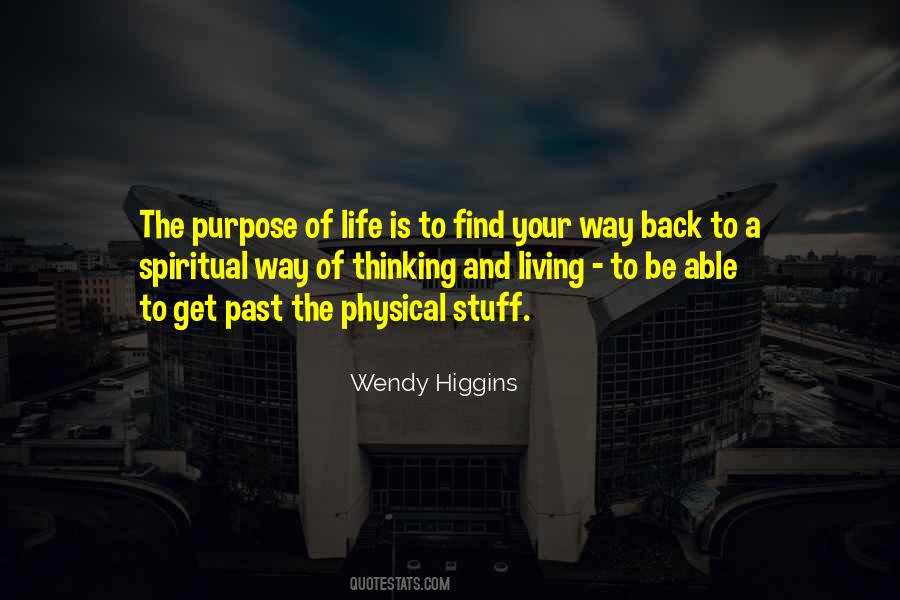 #12. the ultimate determinant of my life has got nothing to do with neither my past nor my present but my aspirations, my tenacity to dare and to do; to leave a great and an indelible positive footprints on earth - Author: Ernest Agyemang Yeboah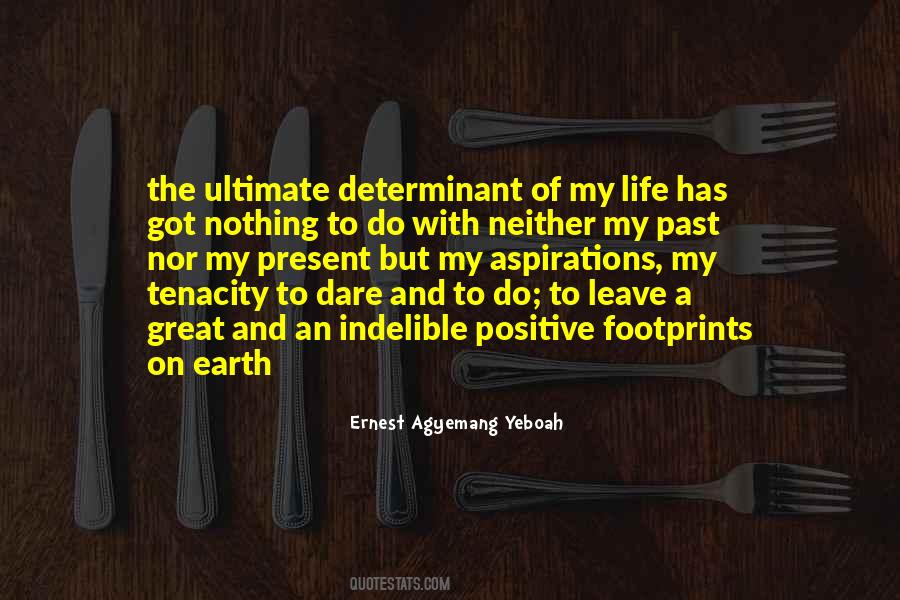 #13. - So you're a masochist.
- I know. But what's life rather than walking barefoot? - Author: Cristian Peter Marinescu-Ivan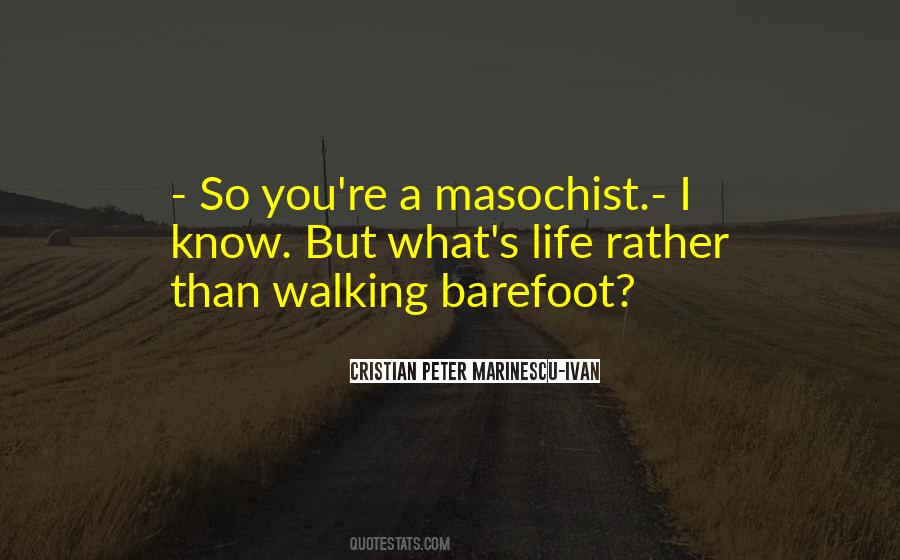 #14. We need to have a purpose in this life. I'm pleading with you, I'm begging with you to do the right thing. And do it not for the sake of how it will impact your own lives, but only for the sake of doing the right thing. - Author: James McGreevey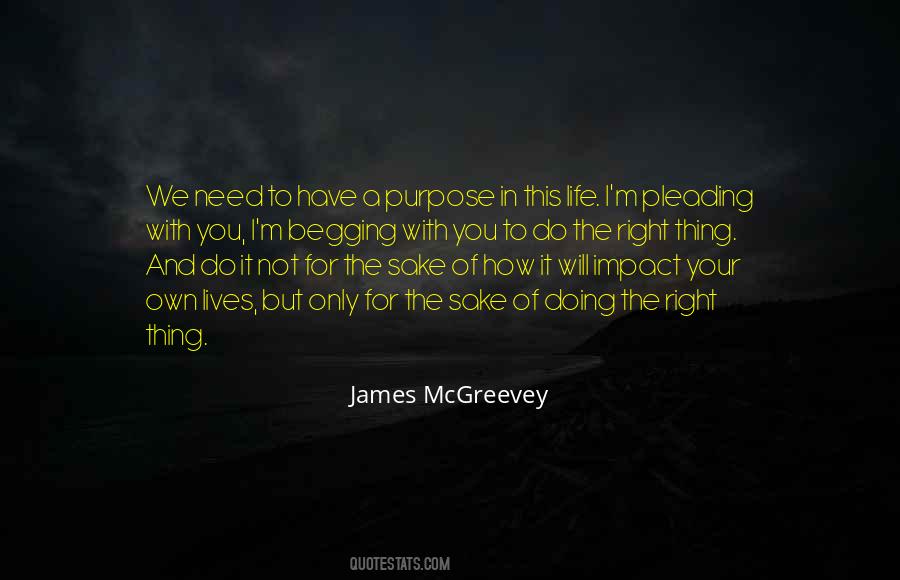 #15. The purpose of life is not to be happy. It is to be useful, to be honorable, to be compassionate, to have it make some difference that you have lived and lived well. - Author: Ralph Waldo Emerson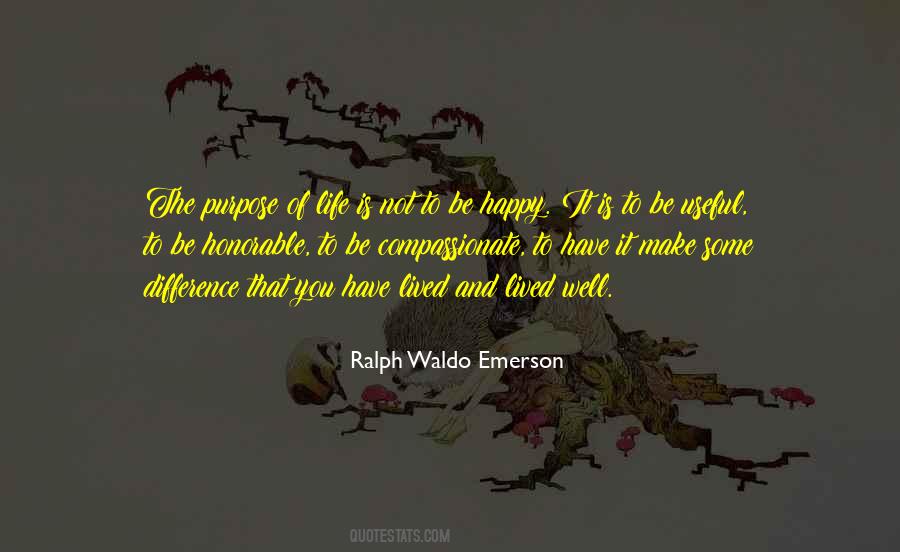 #16. Real serious waiting is done in waiting rooms, and what they all have in common is their purpose, or purposelessness, if you will; they are places for doing nothing and they have no life of their own ... their one constant is what might be called a decorative rigor mortis ... - Author: Ada Louise Huxtable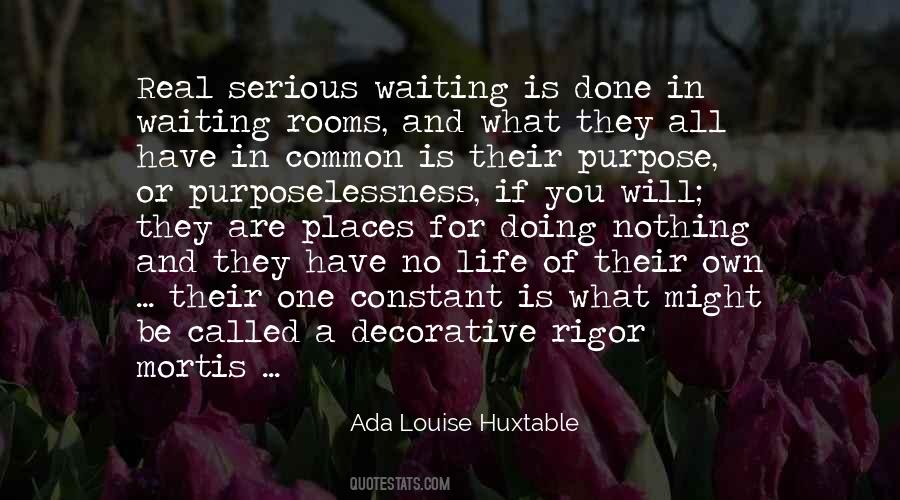 #17. We kill, kill, kill. Flesh, spirit, whatever gets in our way. It's like our whole purpose is to extinguish life. And for those who live, there's memory, like a curse. We're such a mixture of frailty and cruelty. - Author: Douglas Clegg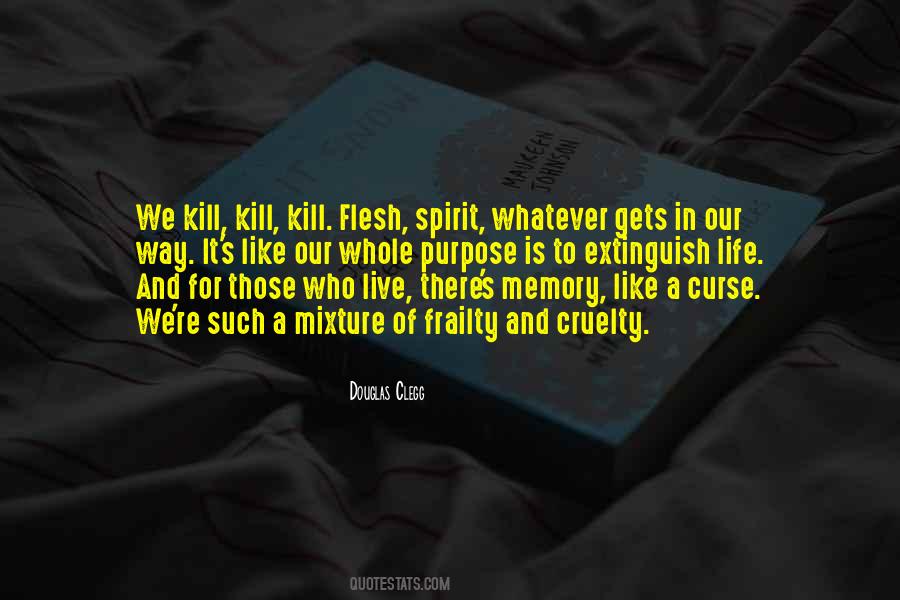 #18. I know of no realm of life that can provide more companionship in a lonely world or greater feelings of security and purpose in chaotic times than the close ties of a family. - Author: Charles R. Swindoll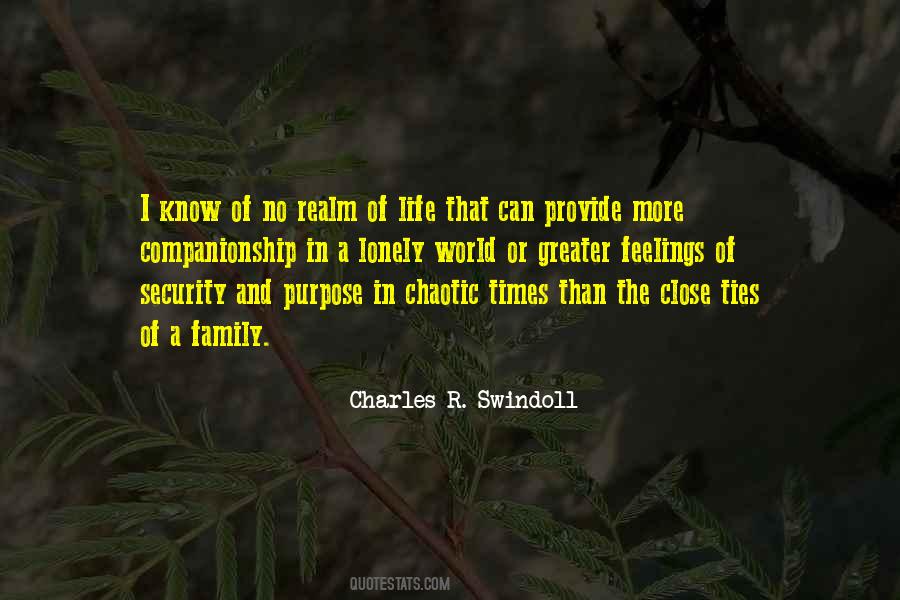 #19. It is the paradox of life that the way to miss pleasure is to seek it first. The very first condition of lasting happiness is that a life should be full of purpose, aiming at something outside self. - Author: Hugo Black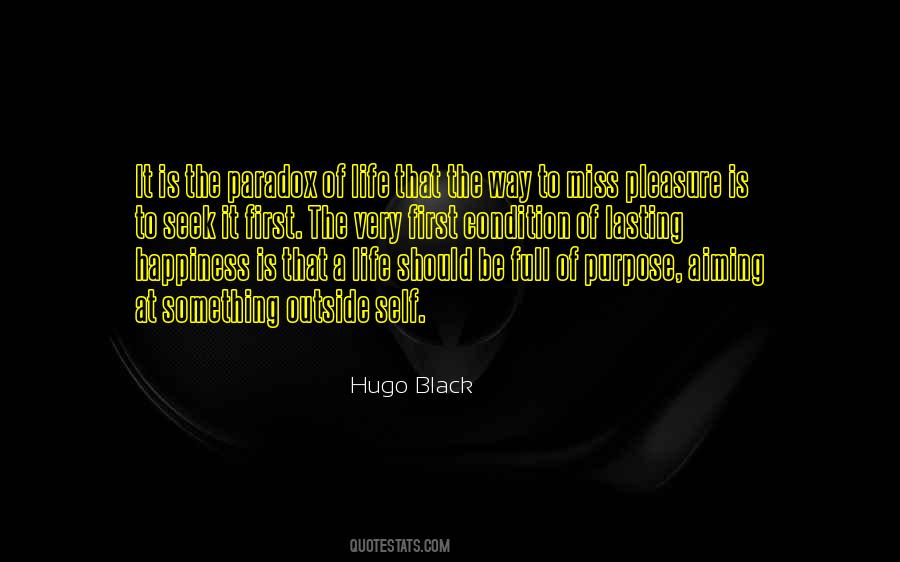 #20. Yes, a guide can help point the way to your own sense of self and your purpose in life. No, a guide can't replace your own search. When you are in your car driving through town, signposts can tell you where each road goes, but only you can turn the steering wheel. - Author: Deepak Chopra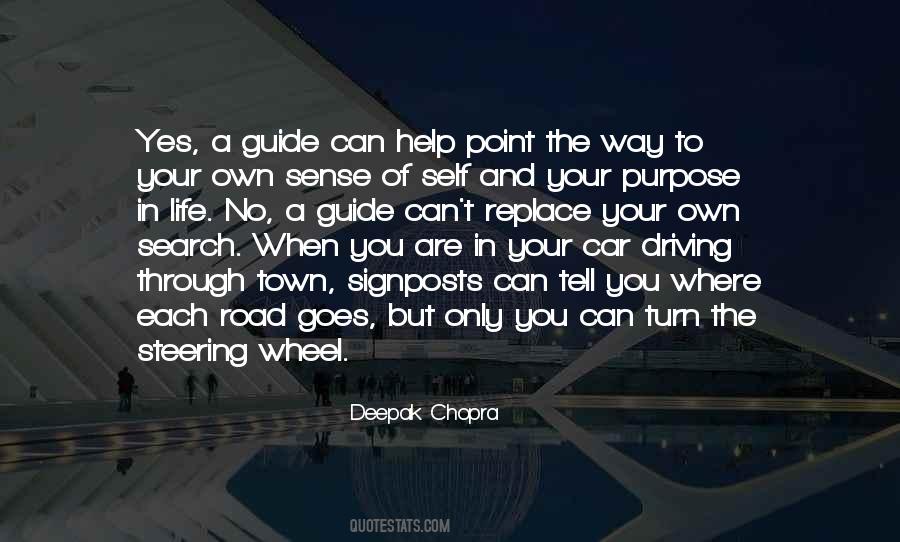 #21. The Bhagavad Gita deals essentially with the spiritual foundation of human existence. It is a call of action to meet the obligations and duties of life; yet keeping in view the spiritual nature and grander purpose of the universe. - Author: Jawaharlal Nehru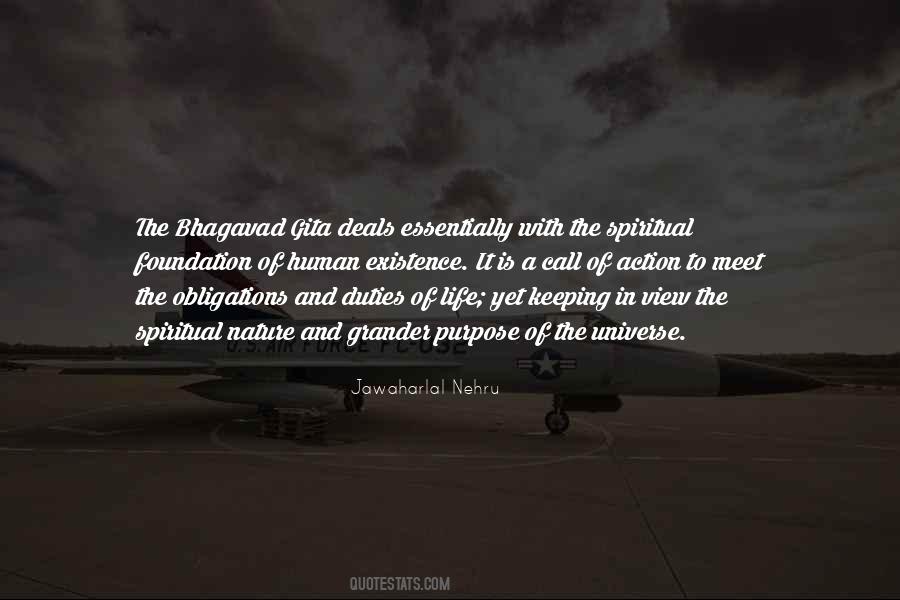 #22. Those who choose love - daring to feel to the depths of being, accepting responsibility for their actions, and seeking a purpose in life - will find that the world of significant living will unfold its cleverly concealed presence. - Author: Barbara Marciniak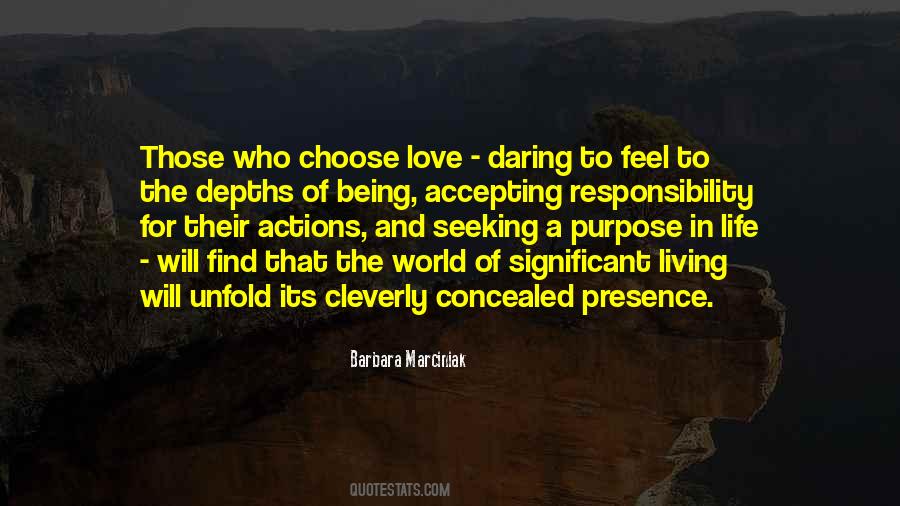 #23. As a subconscious attempt to add meaning or purpose to their life: The unemployed pray for a job; the retired pray for grandchildren. - Author: Mokokoma Mokhonoana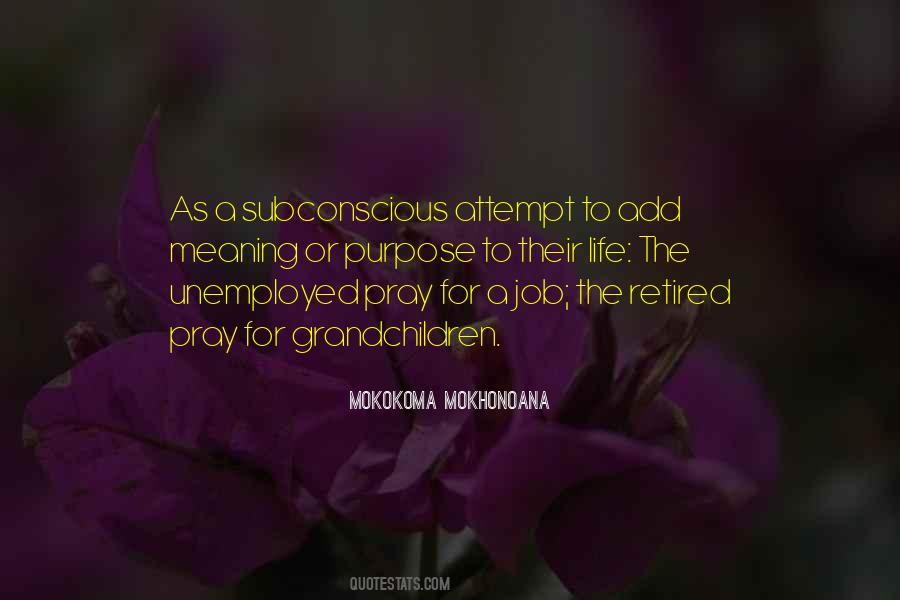 #24. Whatever change you desire for the world, create that change in your own life. You are here for a purpose. Seek it out. Hunt it down. The greatest misery is to be purposeless. The great depression of our age is not economic, but spiritual. Our spiritual poverty is rooted in our purposelessness. - Author: Matthew Kelly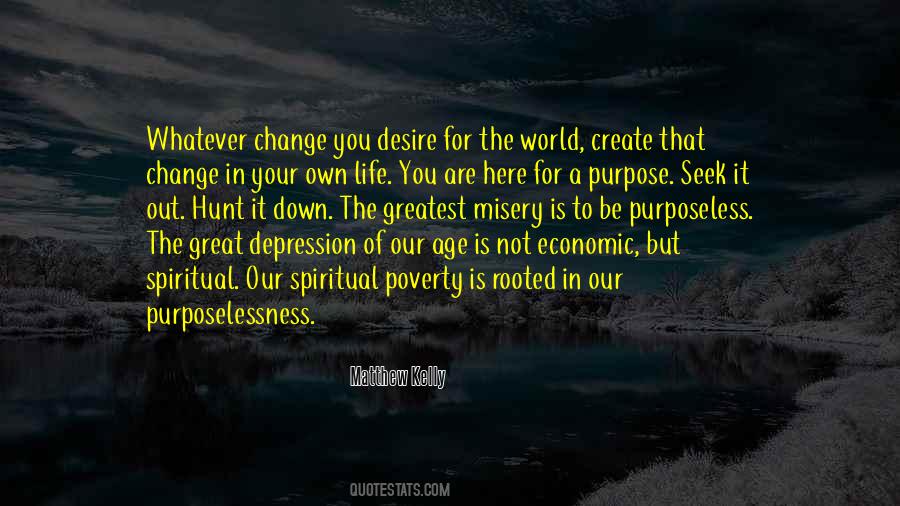 #25. When you connect to a compelling cause you feel all your inner resources has been targeted to help you achieve your cause. - Author: Deepak Burfiwala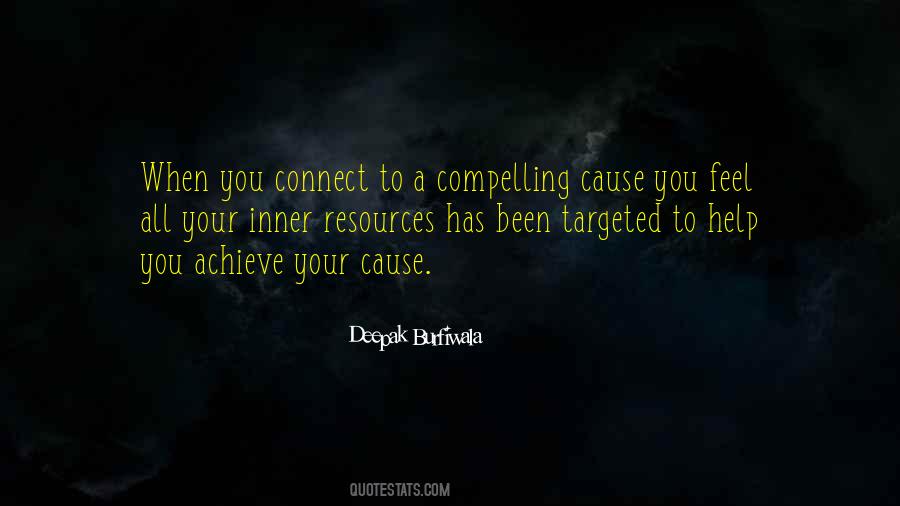 #26. When you, the lover, are ready, your SoulMate will inevitably come. The two currents of your life mission and purpose and their life mission and purpose are on a collision course. It is only a matter of time. - Author: Annette Vaillancourt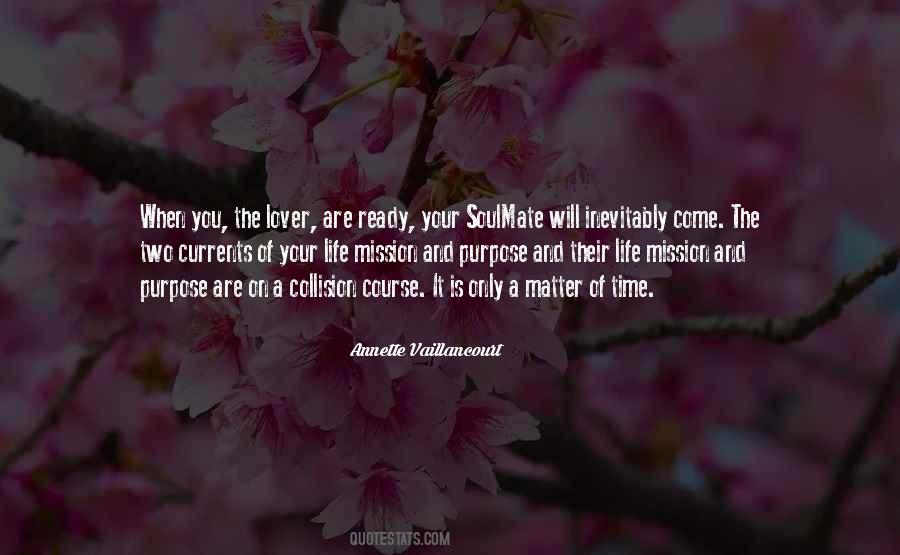 #27. God makes each one of us for the time into which we are born. He creates us for a purpose. Our job is to know Him well, discover what He created us to do, and then do it for all we're worth for the rest of our lives. Ask God to show you your purpose. He will answer. - Author: Robin Lee Hatcher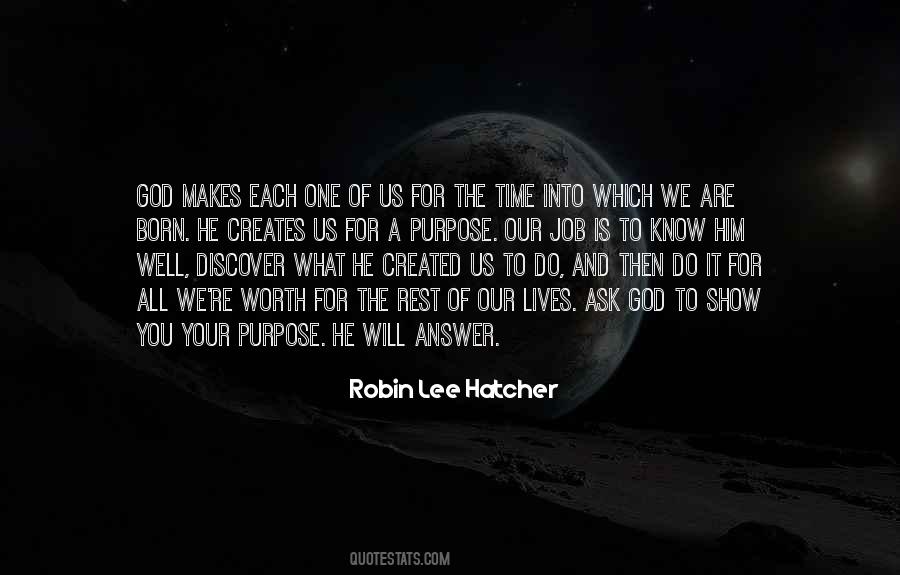 #28. Truth is...
You had a purpose before anyone had an opinion. Finish your life's mission.
Be happy and live your life
Be Somebody Great..Be You - Author: Timothy Pina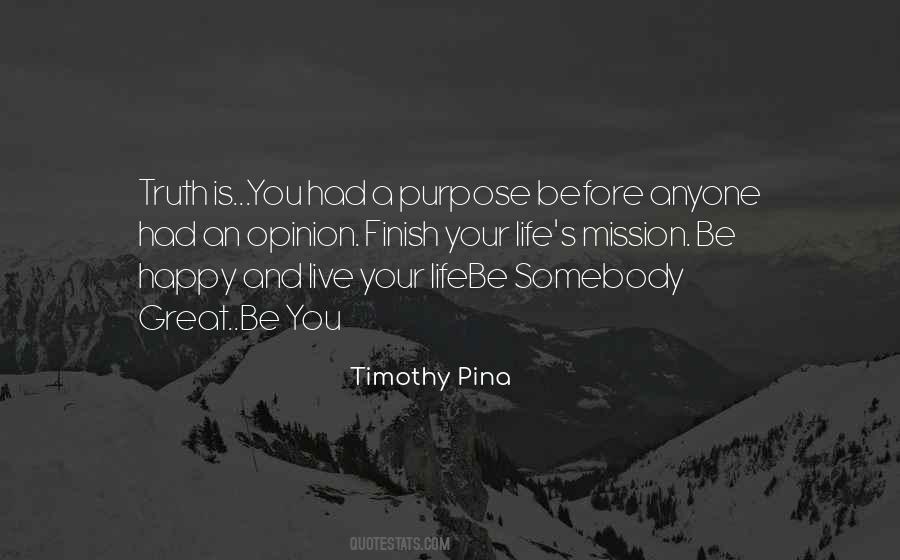 #29. Yet in this big world, even the smallest sliver of a human had purpose. - Author: Nicki Elson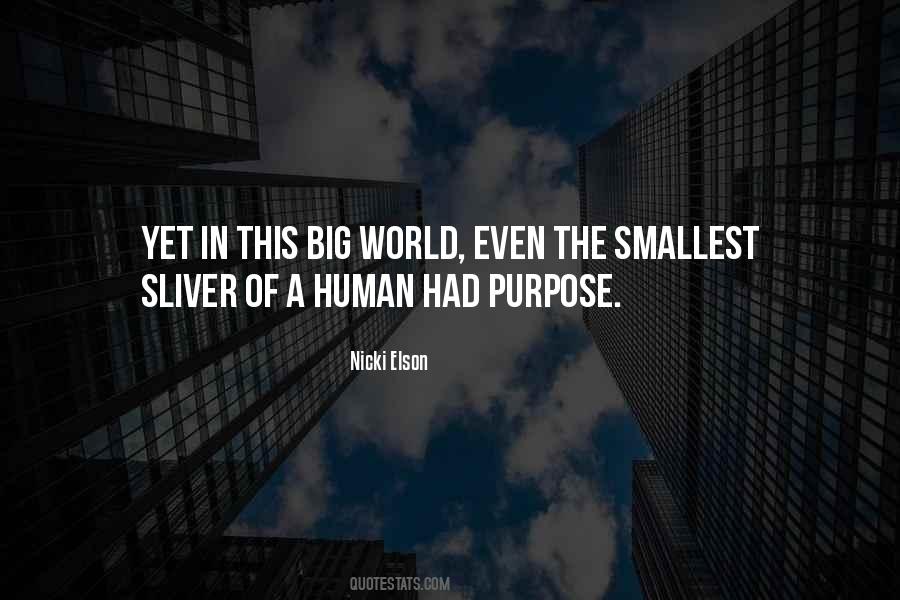 #30. Productive work is the central purpose of a rational man's life, the central value that integrates and determines the hierarchy of all his other values. Reason is the source, the precondition of his productive work, pride is the result. - Author: Ayn Rand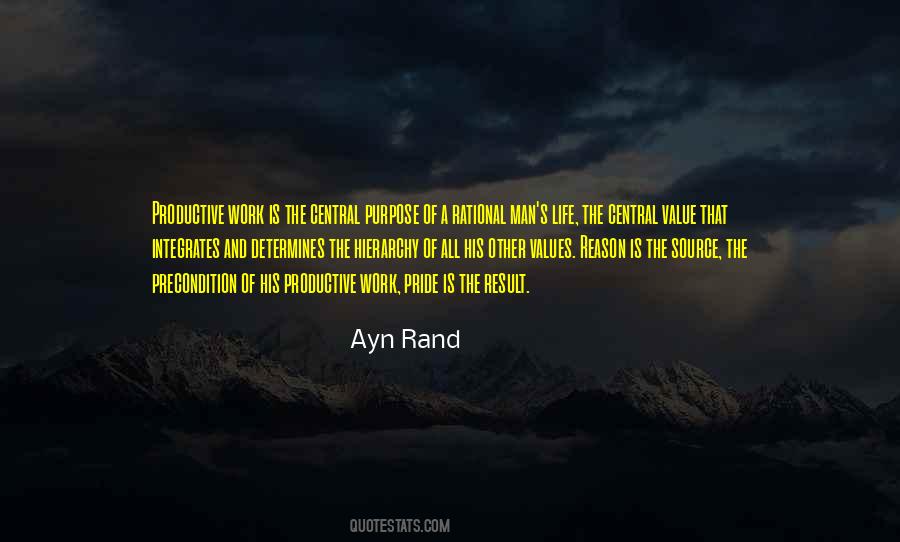 #31. I've had to create companies that I believe in 100%. These are companies I feel will make a genuine difference. Then I have to be willing to find the time myself to talk about them, promote them and market them. I don't want to spend my life doing something that I'm not proud of. - Author: Richard Branson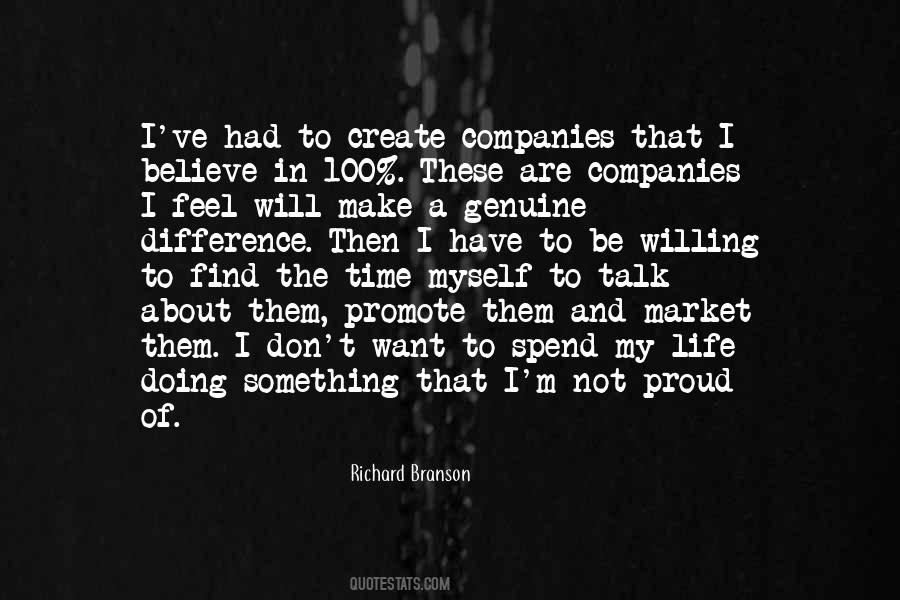 #32. In spite of her desire for a contained universe, her life felt scattered, full of many small moments, without great purpose. That is what she thought, though what is most untrustworthy about our natures and self-worth is how we differe in our own realities from the way we are seen by others. - Author: Michael Ondaatje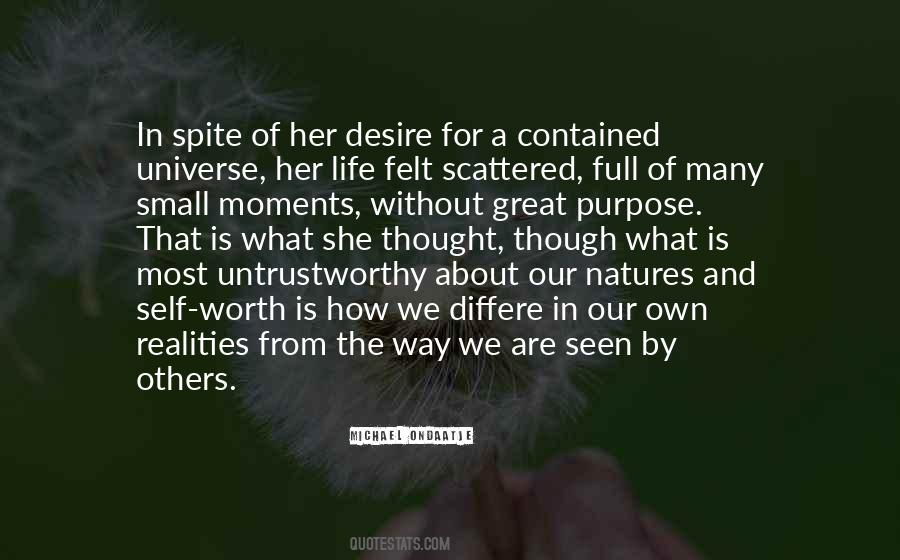 #33. Every individual's purpose in tithing is to open up his/her awareness of universal laws. Tithing opens you, to you. You are an unlimited individual, deprived of a fuller, richer life partly because of lack of the tithing experience and expression in life. - Author: Mark Victor Hansen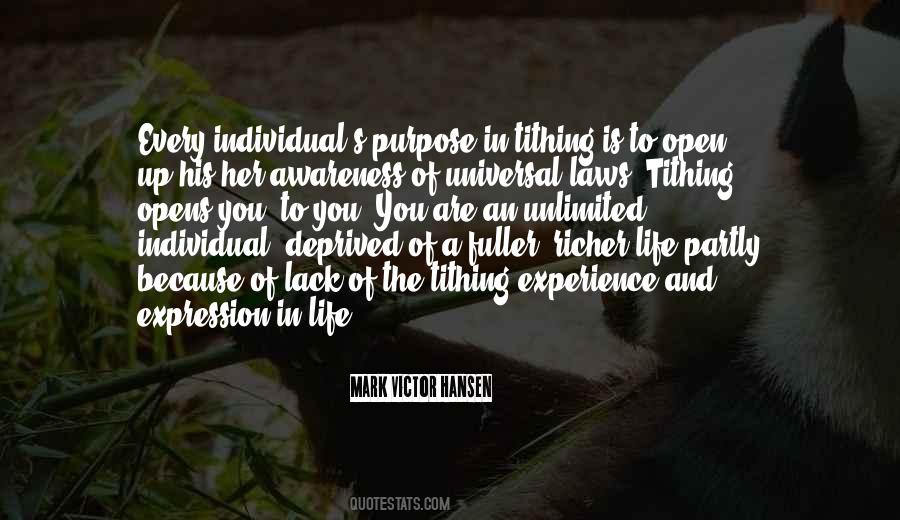 #34. To serve is beautiful, but only if it is done with joy and a whole heart and a free mind. - Author: Pearl S. Buck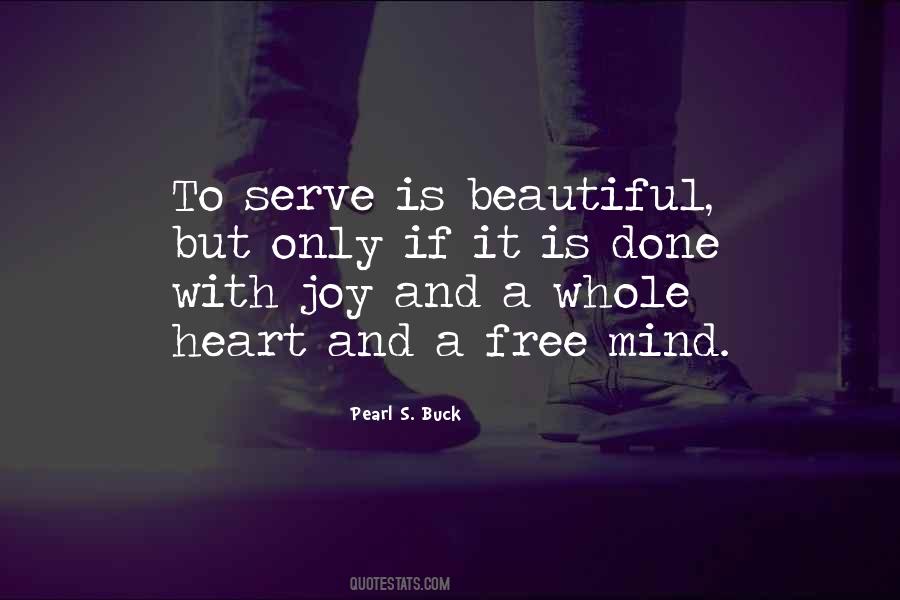 #35. Each life involves an essential errand; not simply the task of survival, but a life-mission embedded in the soul from the beginning. - Author: Michael Meade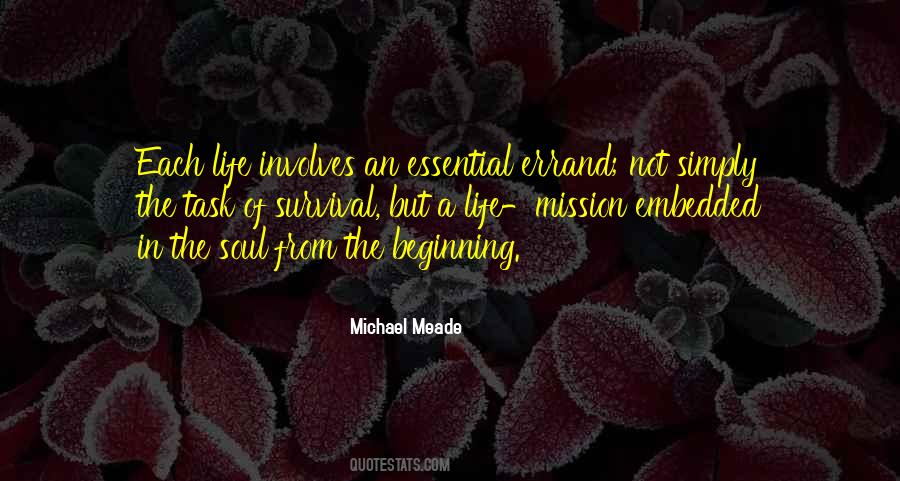 #36. Try not to be a man or woman of success, but rather a man or woman of inspiration. If you're successful, they will flock to you for money or fame, but if you're inspirational, they will flock to you because they love your soul and how you change theirs. - Author: Shannon L. Alder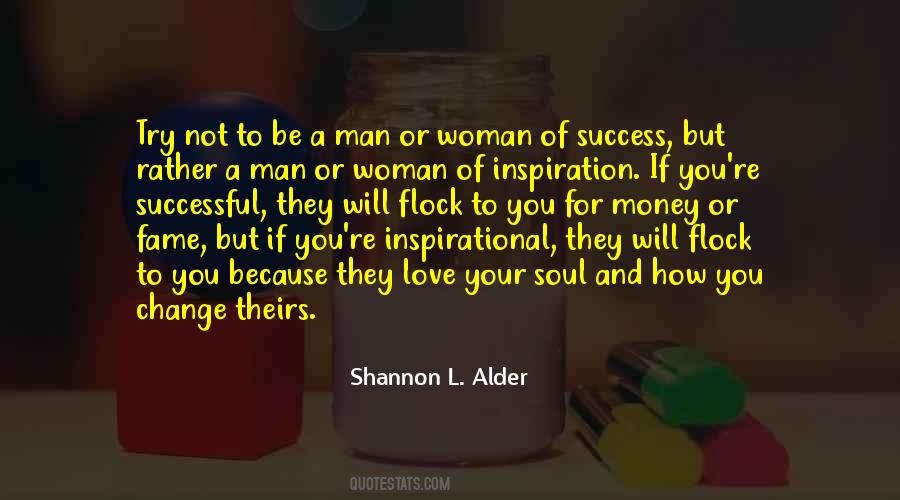 #37. Money is a product of time - Author: Sunday Adelaja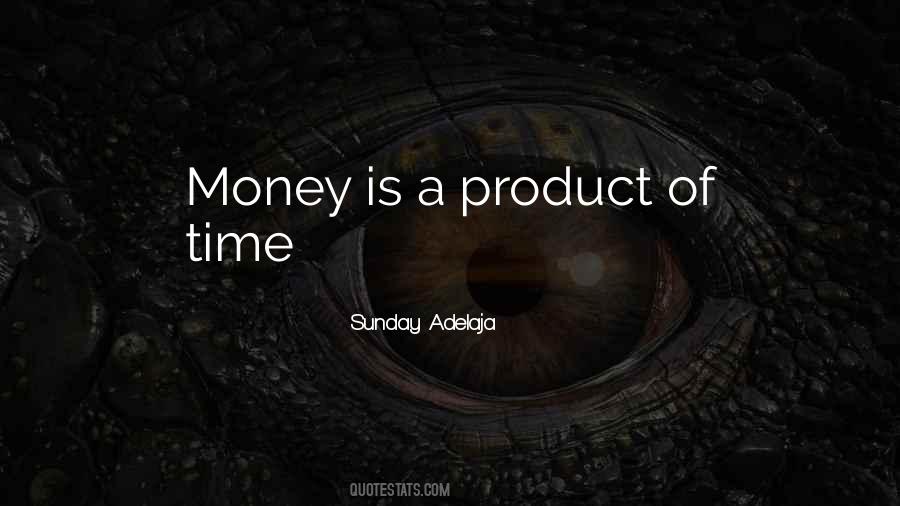 #38. Roll-up those sleeves and work until you see the fruit of your labour. It takes Passion, Resolve and a Productive Work Ethic, meeting with Opportunity, for you to succeed. - Author: Archibald Marwizi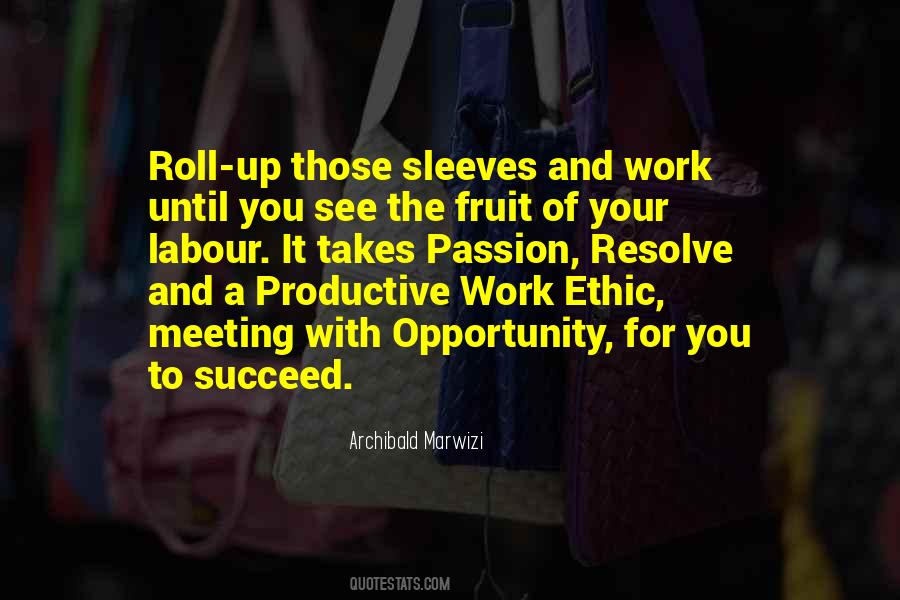 #39. a distinctive amount of a reasonable scarcity improves value greatly - Author: Ernest Agyemang Yeboah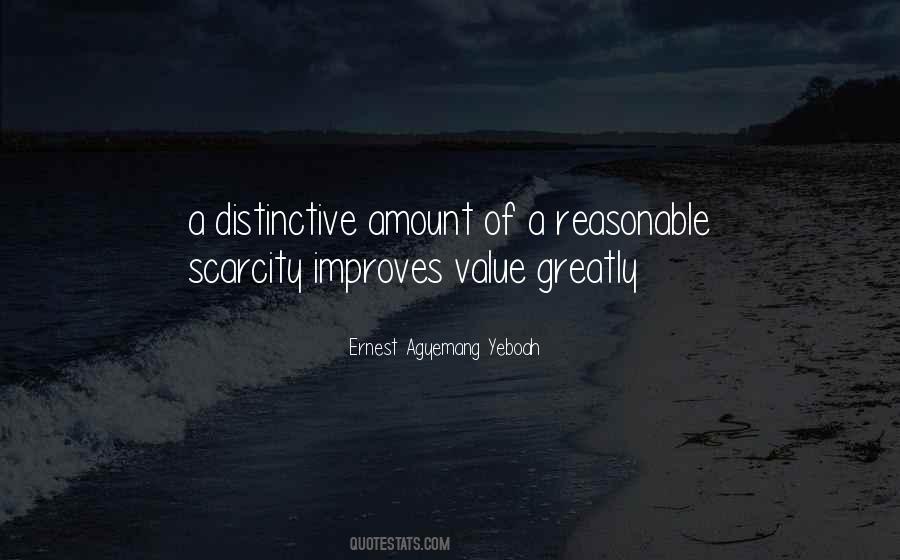 #40. The odds may be stacked against you. But I believe when you tap into your unique gifts and abilities, while combining them with a sense of purpose, passion, and perseverance you will not only defy those odds, you will help create a better life for yourself and rest of us. - Author: Charles F. Glassman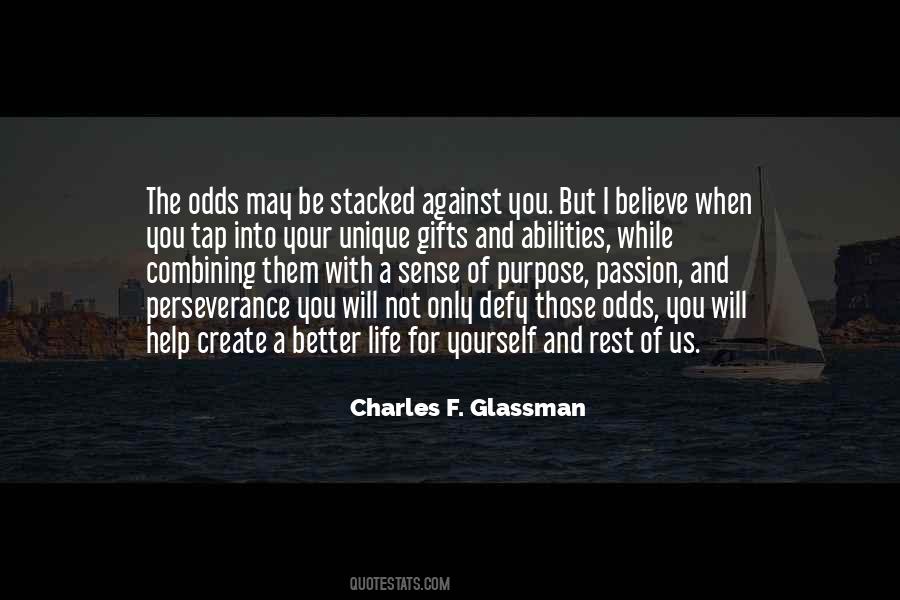 #41. Man is eminently a storyteller. His search for a purpose, a cause, an ideal, a mission and the like is largely a search for a plot and a pattern in the development of his life story - a story that is basically without meaning or pattern. - Author: Eric Hoffer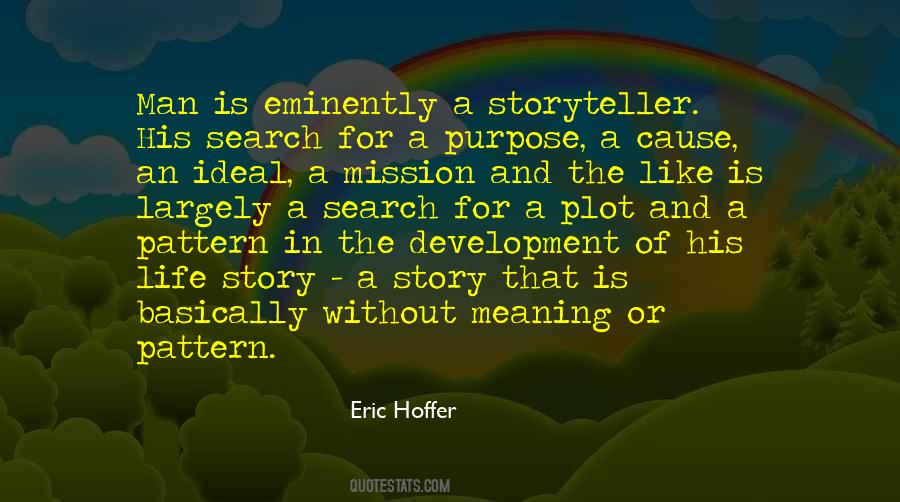 #42. Everyone's on a journey trying to find their purpose in life. That lost horizon. You'll never truly be happy ... until you find it! - Author: Timothy Pina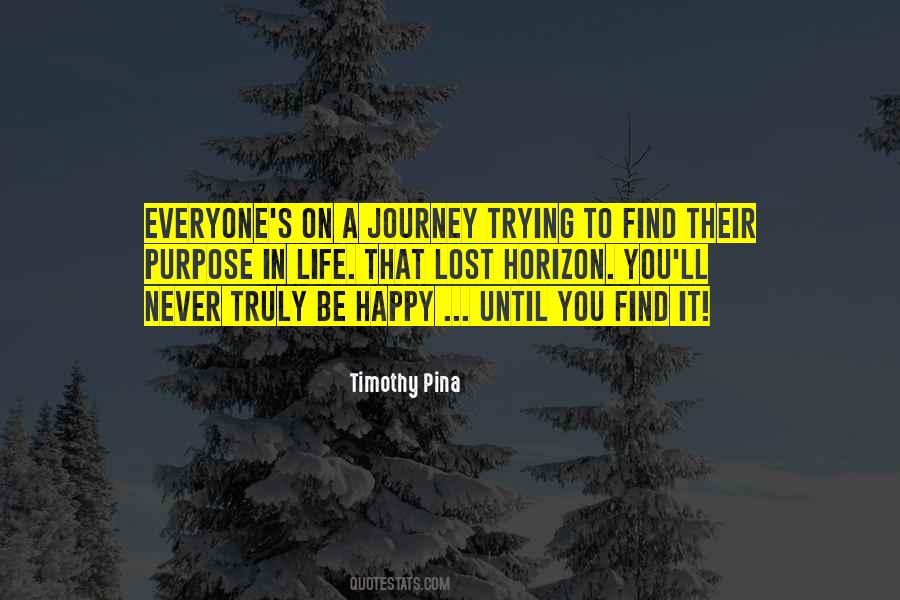 #43. Her mother, of course, would remind her that it was a woman's duty to marry and bear children. It was her only purpose in life. But then her mother had no appreciation for novels. - Author: Jayne Fresina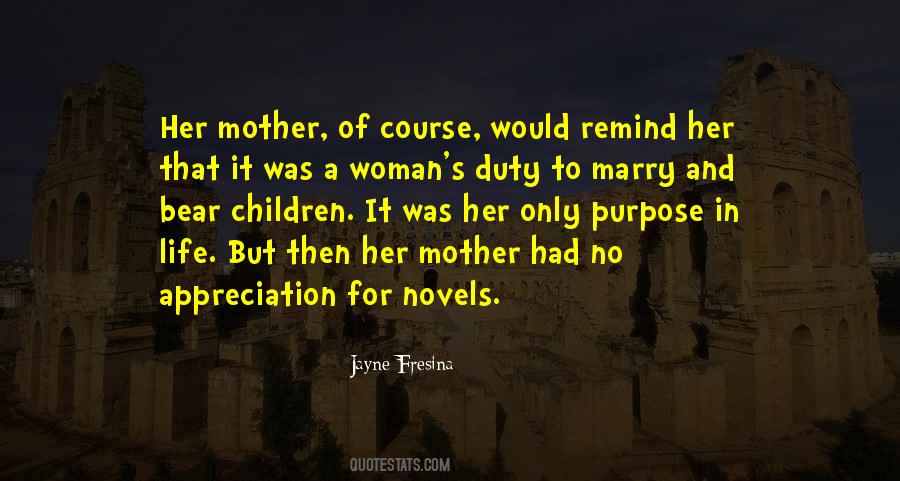 #44. We need both to aspire and accomplish. Without a vision for your life, without a sense of purpose, you will begin to die a slow death. - Author: Erwin McManus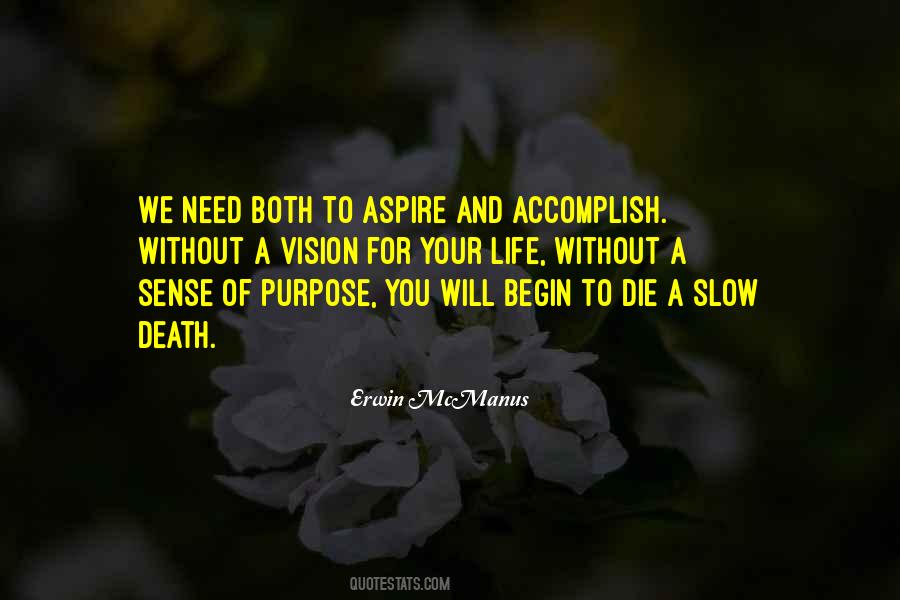 #45. I believe that if you don't derive a deep sense of purpose from what you do, if you don't come radiantly alive several times a day, if you don't feel deeply grateful at the tremendous good fortune that has been bestowed on you, then you are wasting your life. And life is too short to waste. - Author: Srikumar Rao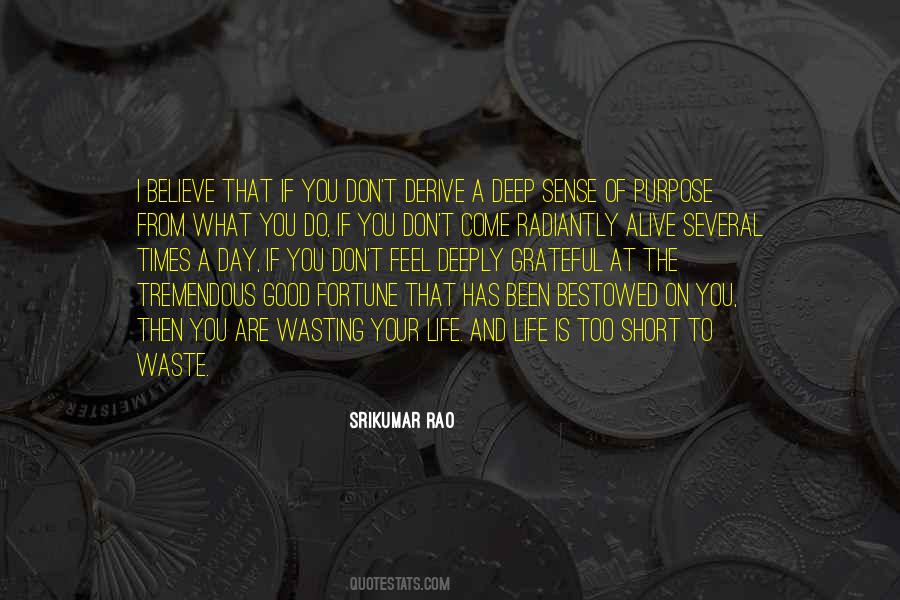 #46. It can make us stronger, more compassionate, more understanding - more like Jesus - if we allow it to. And the more clutter we get rid of in our life here - the more we will be able to enjoy heaven - when we get there. So, pain can have a purpose. - Author: Janette Oke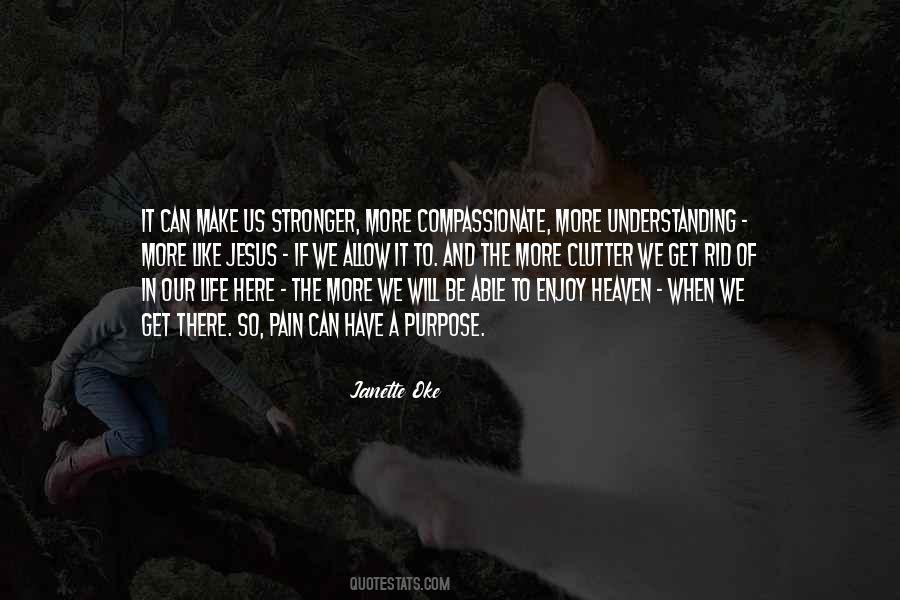 #47. Life is not a means to an end but a series of experiences. Are you creating your series 'on purpose' ? - Author: Bill Crawford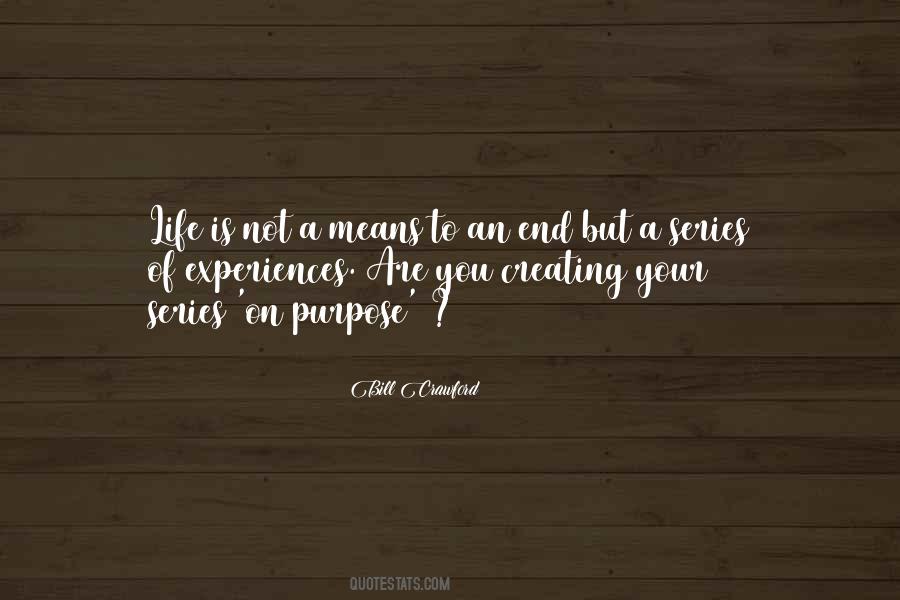 #48. There is need for a new foundation and this foundation is laid in us on the day of our salvation - Author: Sunday Adelaja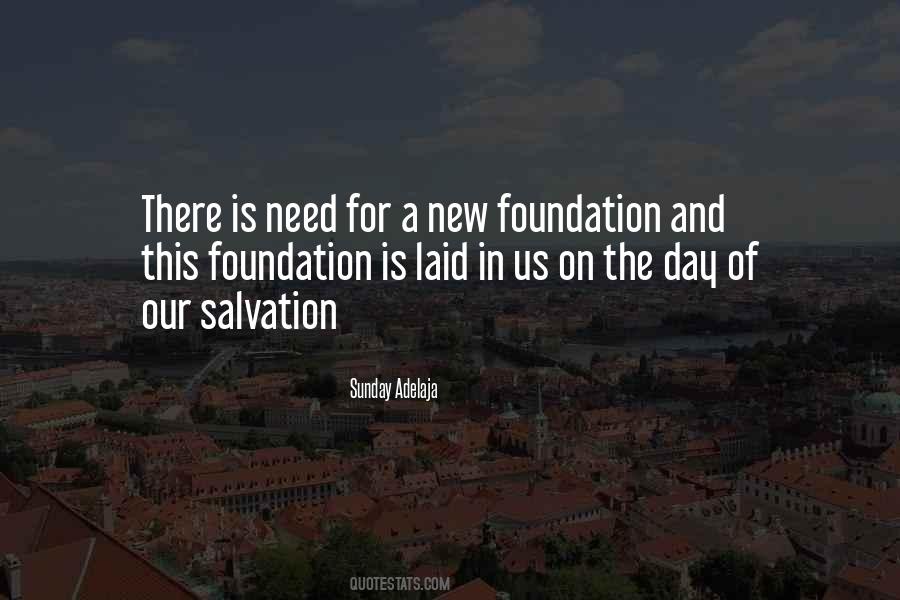 #49. The reason evolution bestows all intelligent life with a desire to climb higher is far more profound than more base needs, even though we still do not understand its real purpose. Mountains are universal and we are all standing at the feet of mountains. - Author: Liu Cixin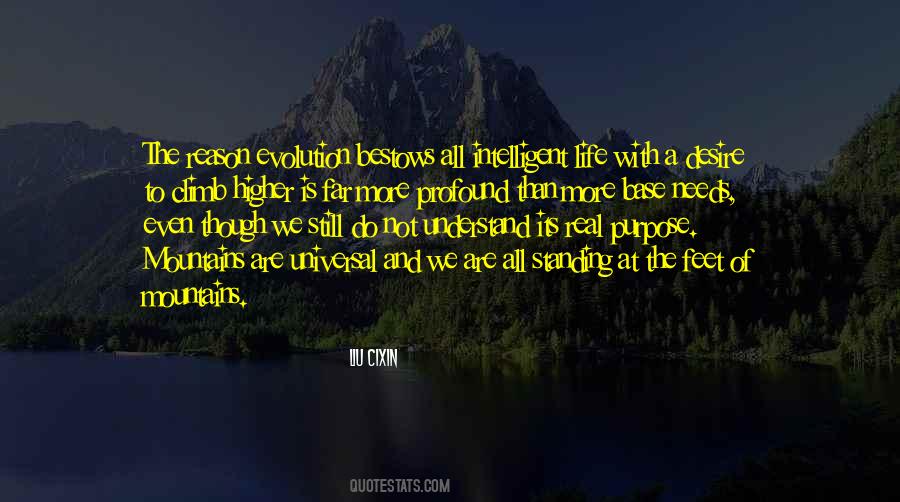 #50. In my own spiritual journey, I became a swami on the Hindu path of Bhakti. In the Hindu tradition, a swami is a monk who forgoes regular family life for the purpose of making the whole world his family and channels his full energy into spiritual practice, devotion to God and service to humanity. - Author: Radhanath Swami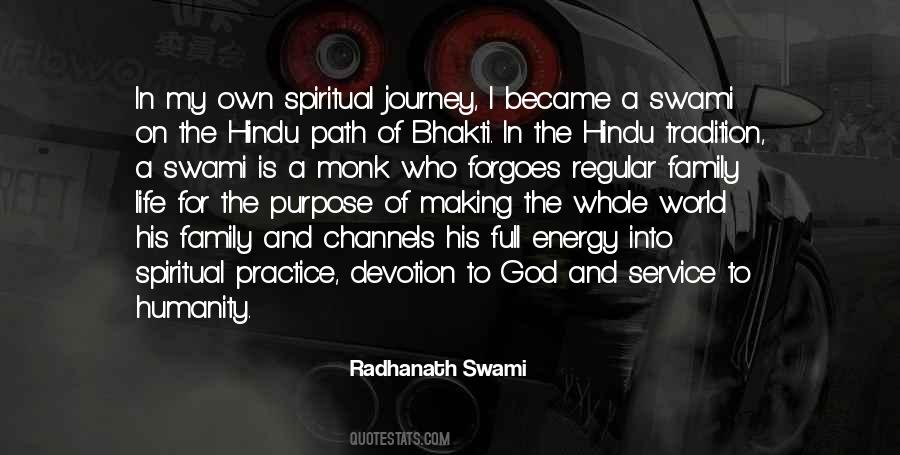 #51. When you stand at the bottom of the mountain and look up at the mountaintop, the path looks hard and stony, and the top is obscured by clouds. But when you reach the top and you look down, you realize that there are a thousand paths that could have brought you to that place. - Author: Roz Savage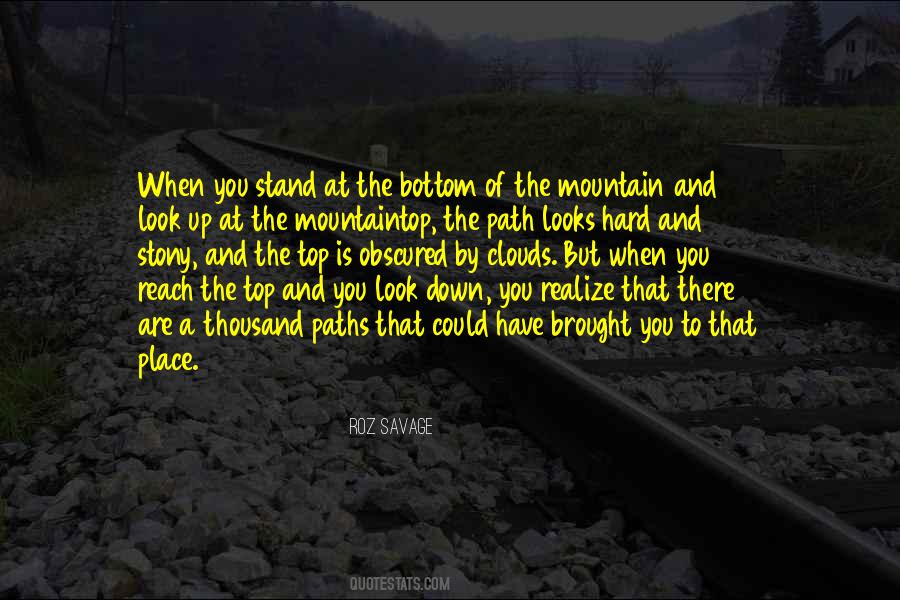 #52. We may run, walk, stumble. drive, or fly, but let us never lose sight of the reason for the journey, or miss a chance to see a rainbow on the way. - Author: Gloria Gaither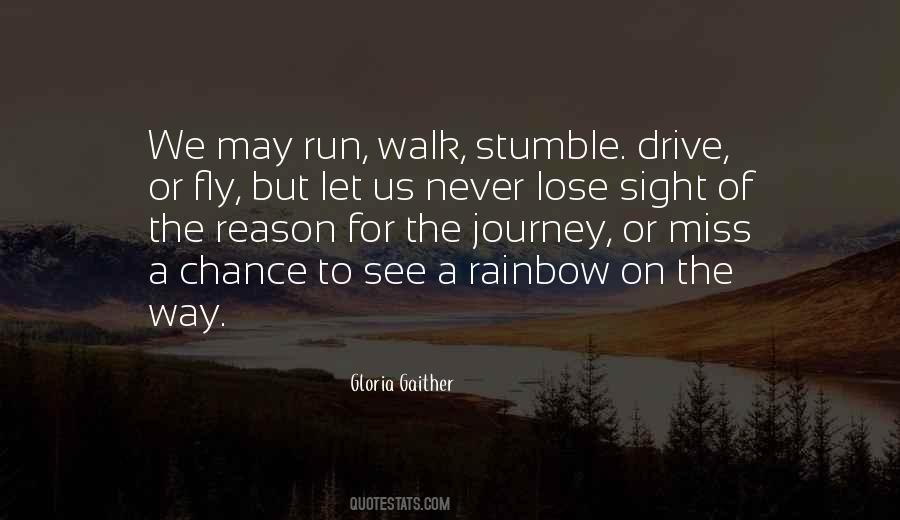 #53. There are also several practical aspects to learning more about
our eternal home. Having a better perspective on the purpose of
our lives helps us to handle difficult times better. It helps us focus
on what is truly important. It also helps us to enjoy this life more
fully. - Author: Vance C. Kessler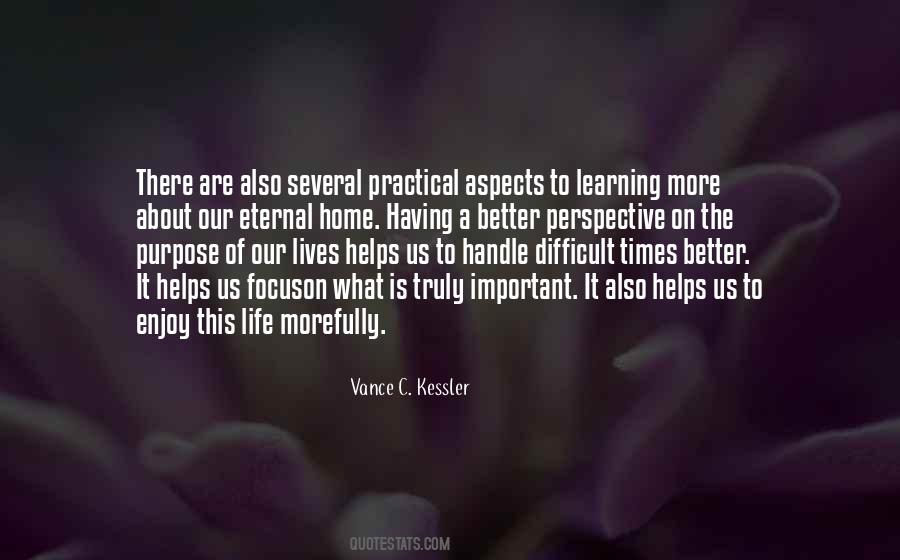 #54. Thou art but a feeble flower in the garden of the universe, yet thou hath a purpose much greater than thyself. - Author: Raneem Kayyali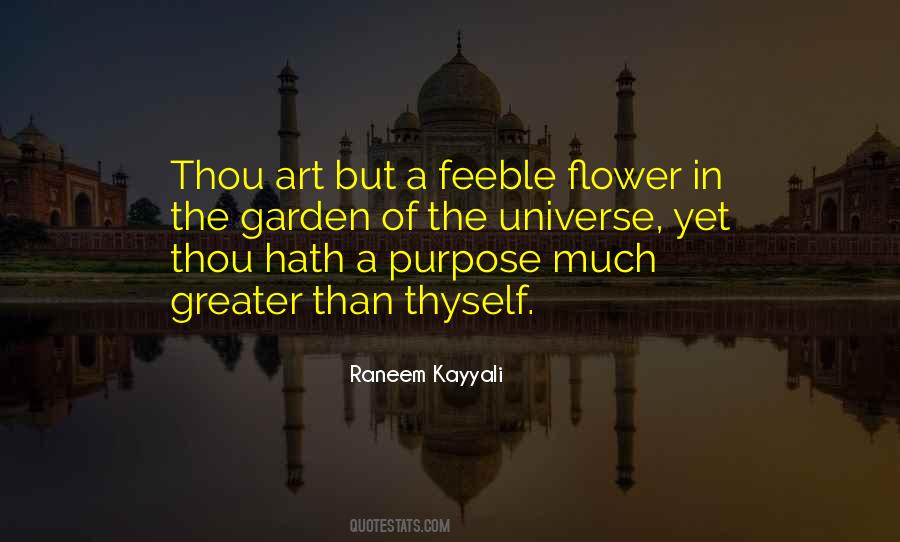 #55. I've been born into a broken world and my purpose is to make sure when I leave it, know I have left my mark of kindness on it somewhere. - Author: Nikki Rowe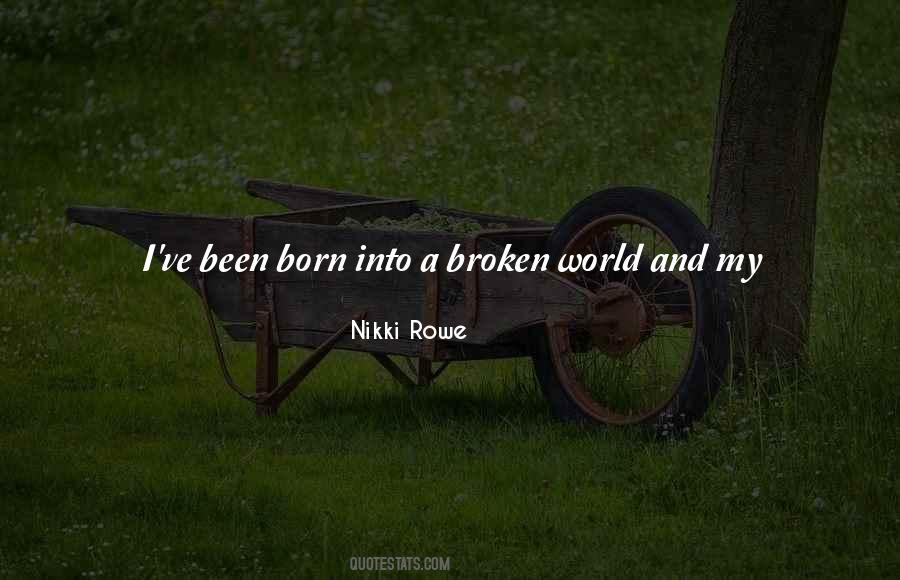 #56. There is a day coming when all of the suffering, all of the maladies of this life are destroyed, when we, in our glorified bodies, will live in heaven, on the new earth, eternally fulfilling God's ordained purpose for us. - Author: Paul P. Enns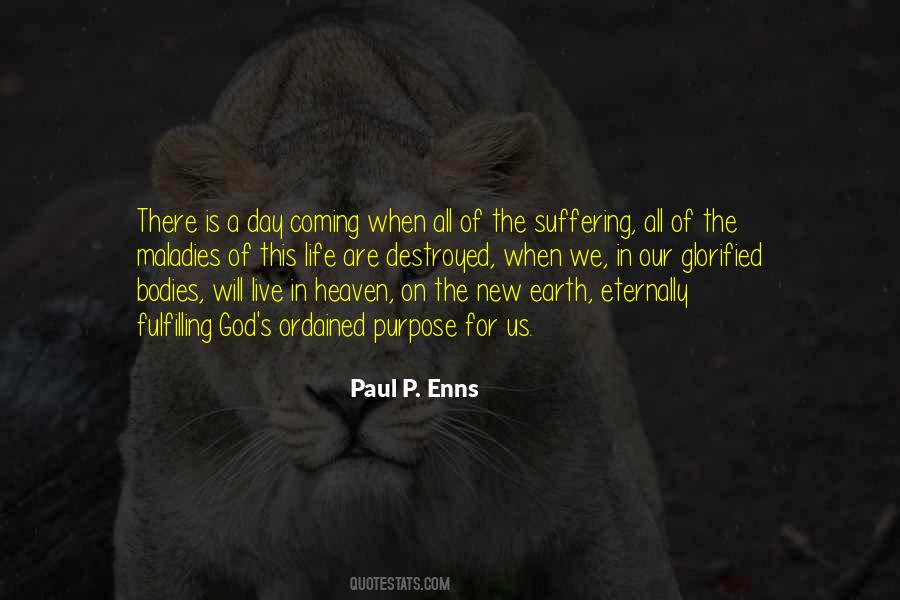 #57. I'm really, really enjoying myself, I seem to have a lot of purpose in my life. I'm enjoying what I'm doing, you know, and people are liking it. So, it's great, you know. - Author: Robbie Williams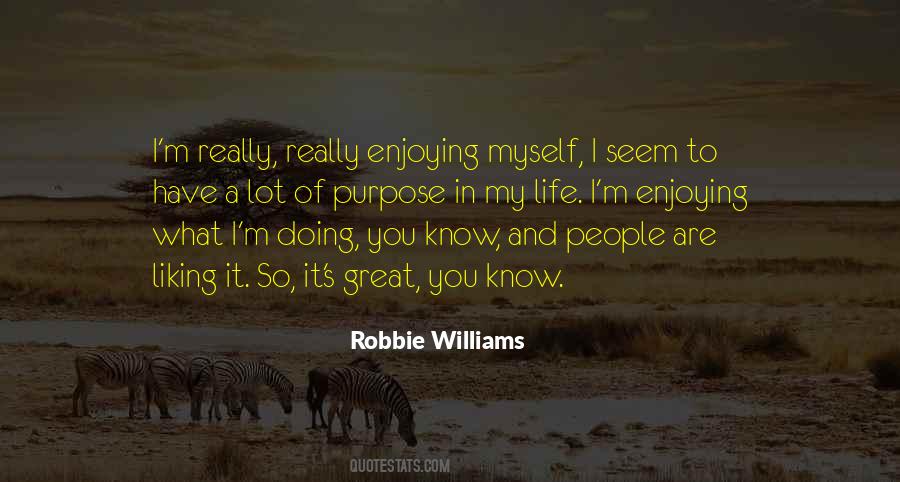 #58. A lot of my work is helping people to find their own life's purpose and then follow it. I find that when people are not working on their life's purpose there is a sense of emptiness and anxiety. - Author: Doreen Virtue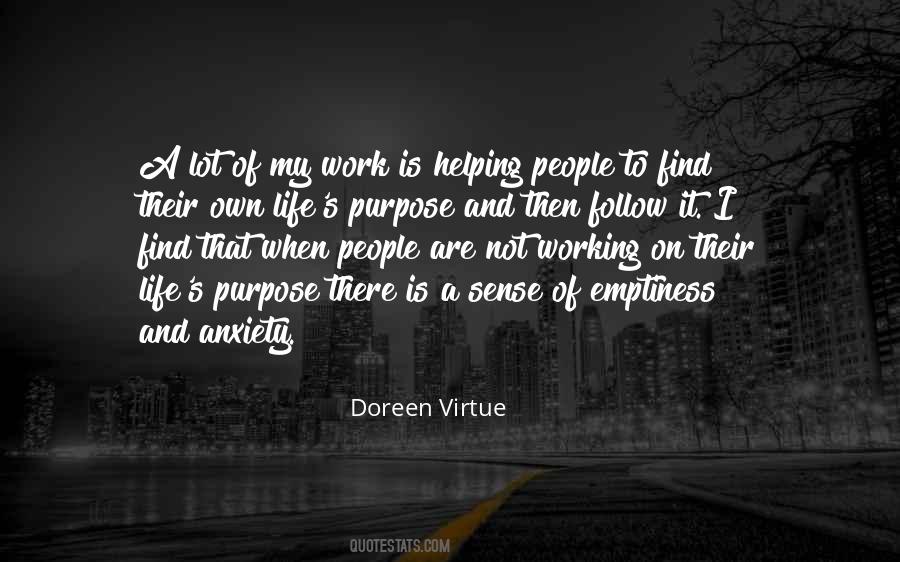 #59. I'm so despondent about everything. Everything I try goes totally wrong. There's no escape from this hole here. I feel drained. So far, I still haven't found a real purpose in life. Sometimes, I'm afraid to get out of bed in the morning. There's nothing to get up for. - Author: Joseph Goebbels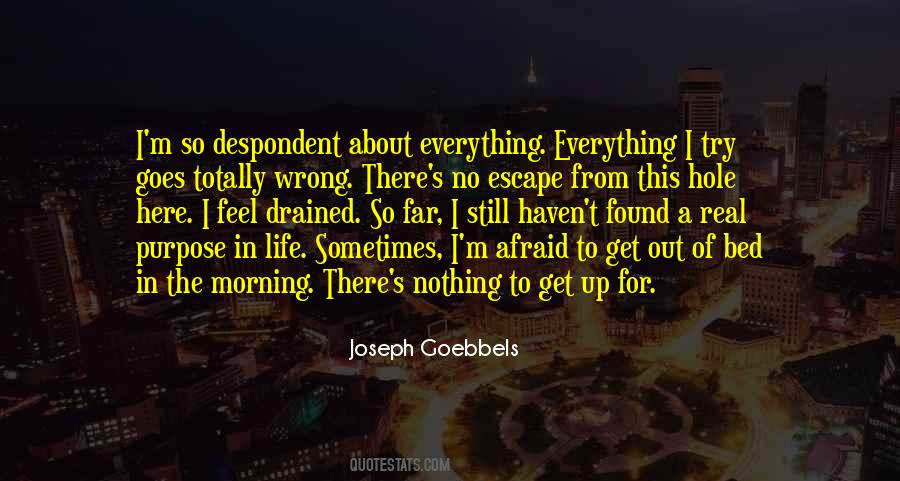 #60. I am thankful for a new day, to live, to love, to talk, to smile, to laugh to walk, to dream, to share, to write, to hope, to pray, to praise God and to fulfill my purpose of life. - Author: Lailah Gifty Akita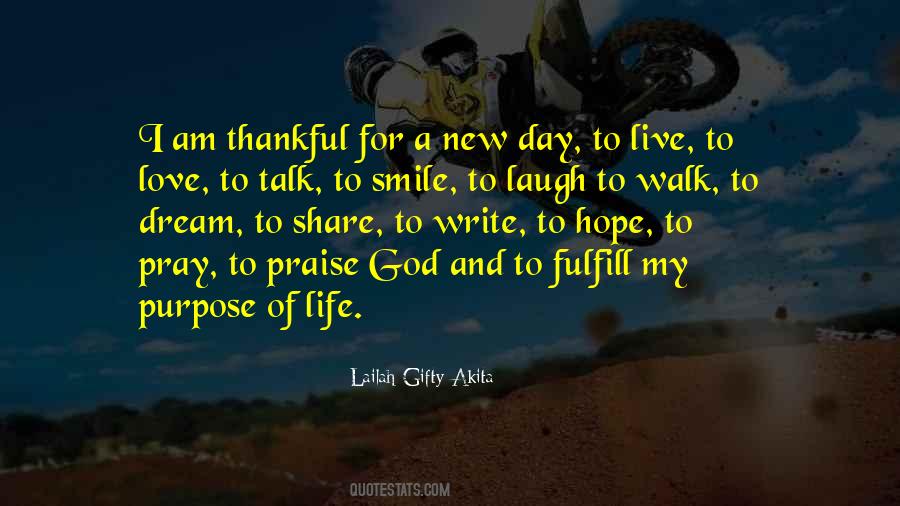 #61. The man without a purpose is a man who drifts at the mercy of random feelings or unidentified urges and is capable of any evil, because he is totally out of control of his own life. In order to be in control of your life, you have to have a purpose-a productive purpose. - Author: Ayn Rand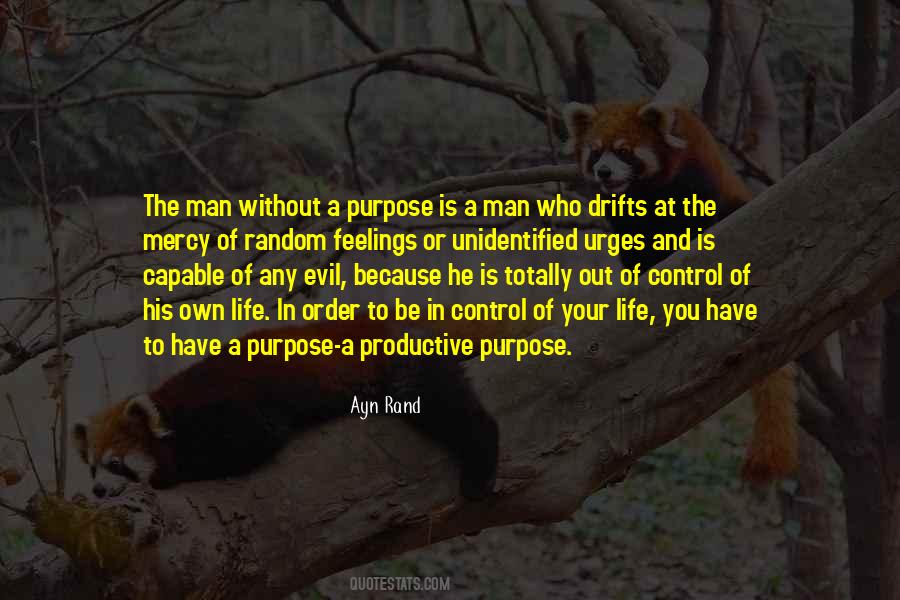 #62. The purpose of life is to live. The meaning of life is whatever you choose. The secret to life is balance in all things ... - Author: James A. Murphy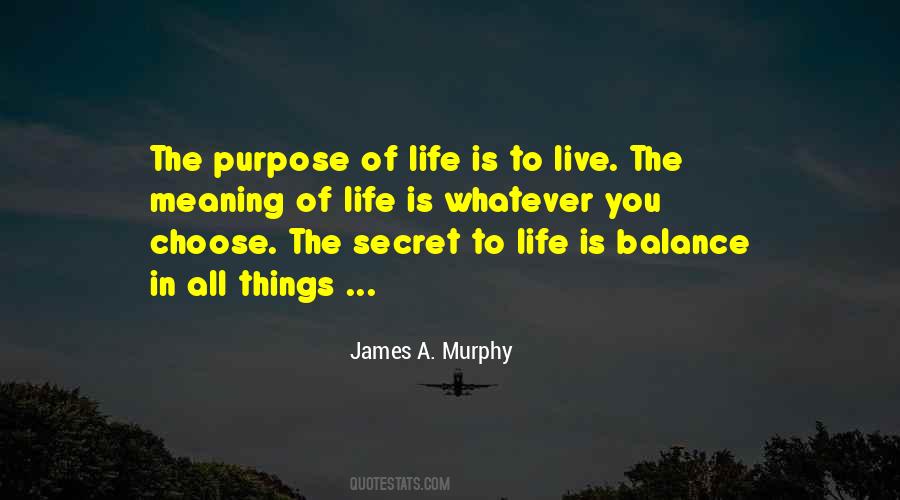 #63. The distinction between a gallery and a museum is enormous. The gallery is about looking at a thing of beauty; the purpose of the activity is an aesthetic response. The museum is actually about the object that lets you get into somebody else's life. - Author: Neil MacGregor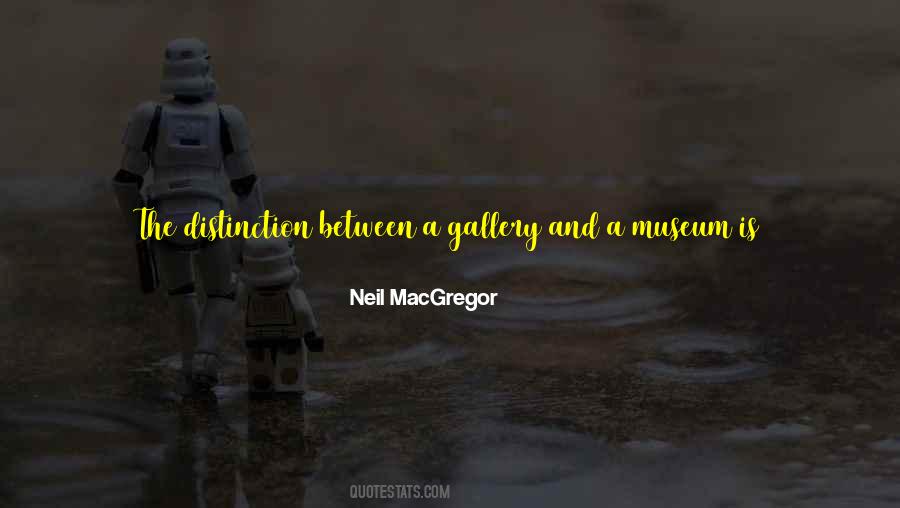 #64. God's purpose for man is to acquire a seeing eye and an understanding heart." "God gave you life and bestowed upon you his attributes; eventually you will return to him." "The rewards of life and devotion to God are love and inner rapture, and the capacity to receive the light of God. - Author: Rumi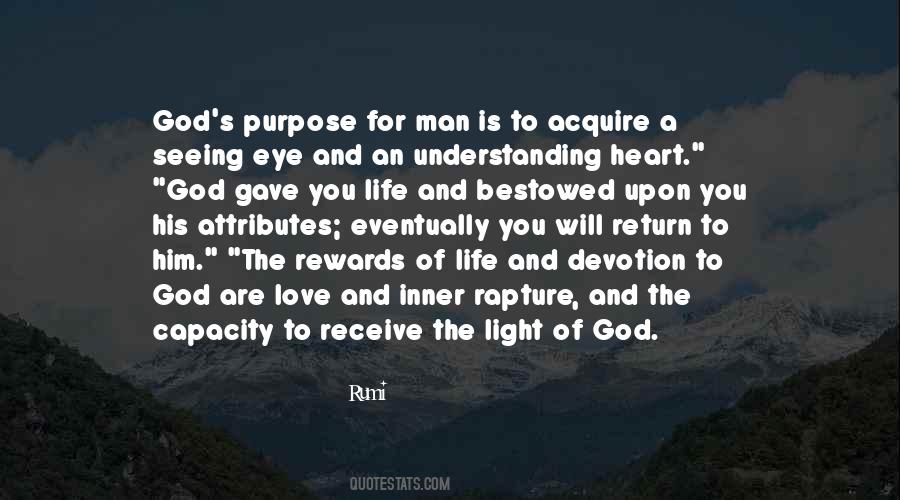 #65. Life is a frail and transitory thing, but it has been given a higher purpose and dignity through the revelation of God's Teaching to Israel, and the resulting dedication of an entire people to God's service. - Author: Joseph Hertz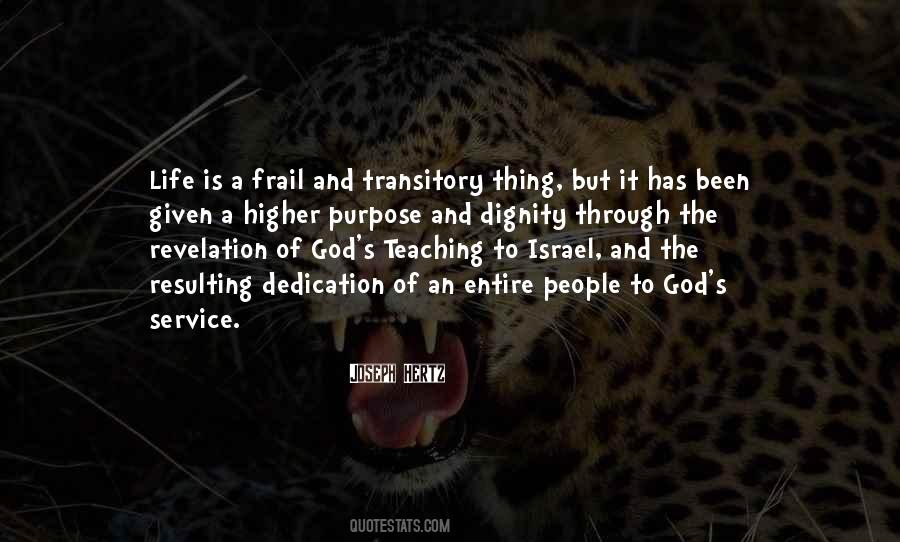 #66. The only thing that keeps us from a place of joy is an illusion, the illusion of fear. - Author: Molly Friedenfeld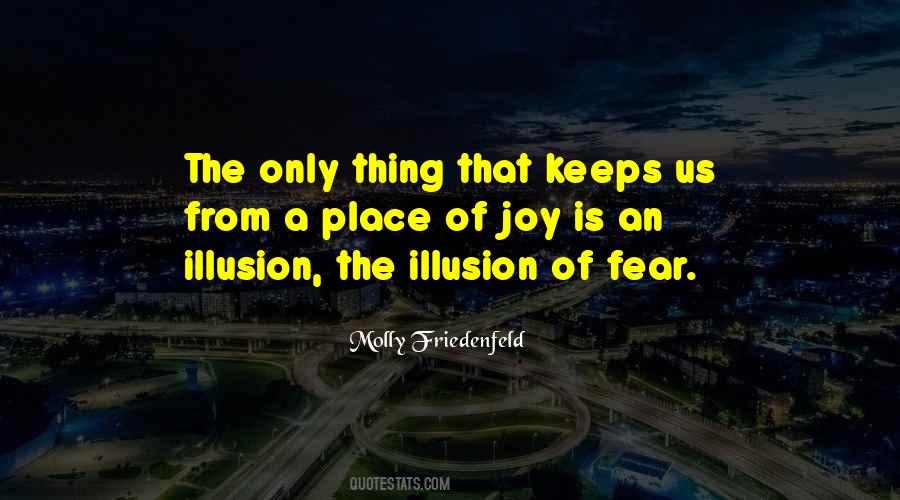 #67. Sometimes we exist long enough to lead the next generation; other times, only to plant a seed and let its resonations of our time here on Earth ripple into new waves. - Author: A.J. Darkholme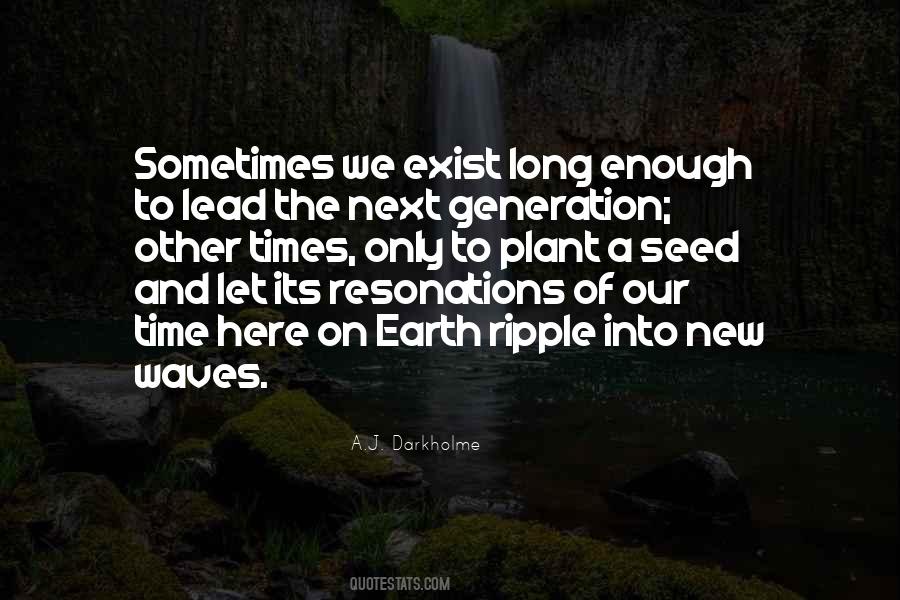 #68. Life is a product of time - Author: Sunday Adelaja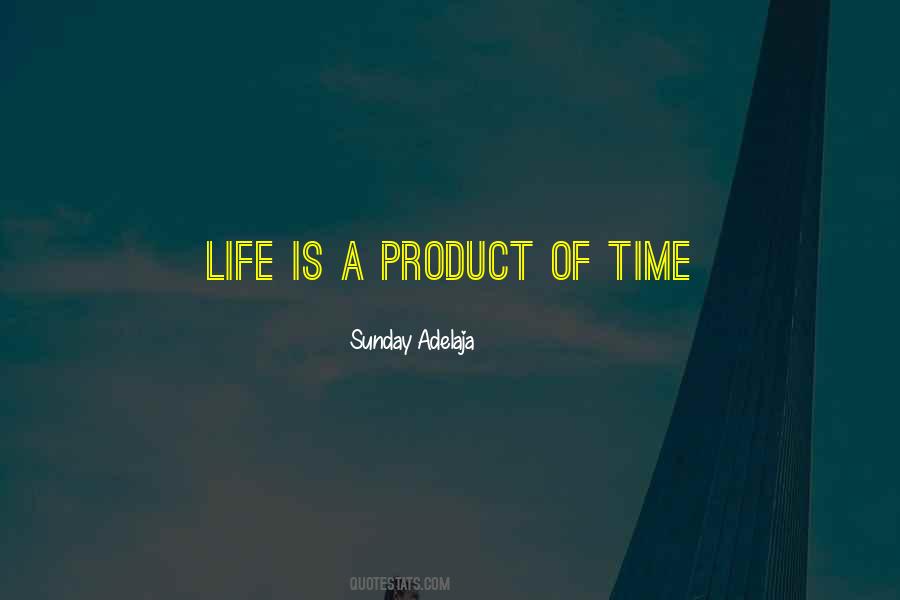 #69. You keep waiting for the moral of your life to become obvious, but it never does. Work, work, work: No moral. No plot. No eureka! Just production schedules and days. You might as well be living inside a photocopier. Your lives are all they're ever going to be. - Author: Douglas Coupland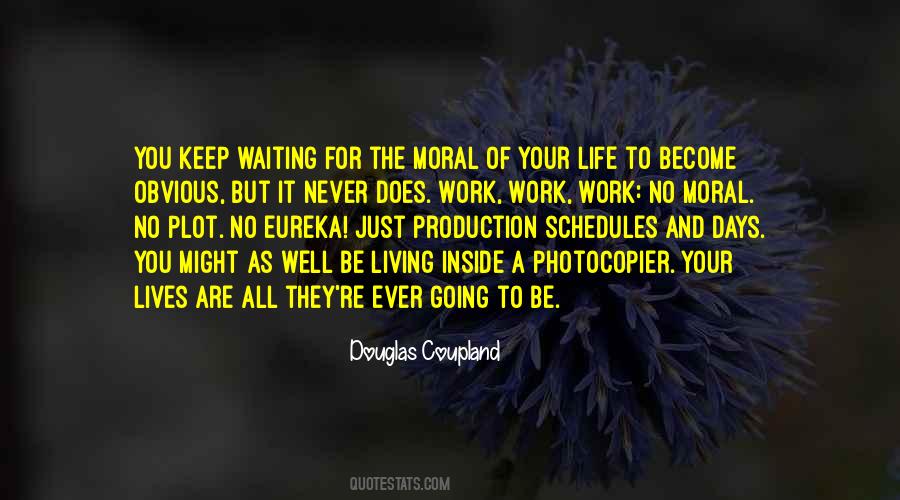 #70. Everyone comes into your life to fulfill a purpose of their life. So help them with love, kindness, and care. - Author: Debasish Mridha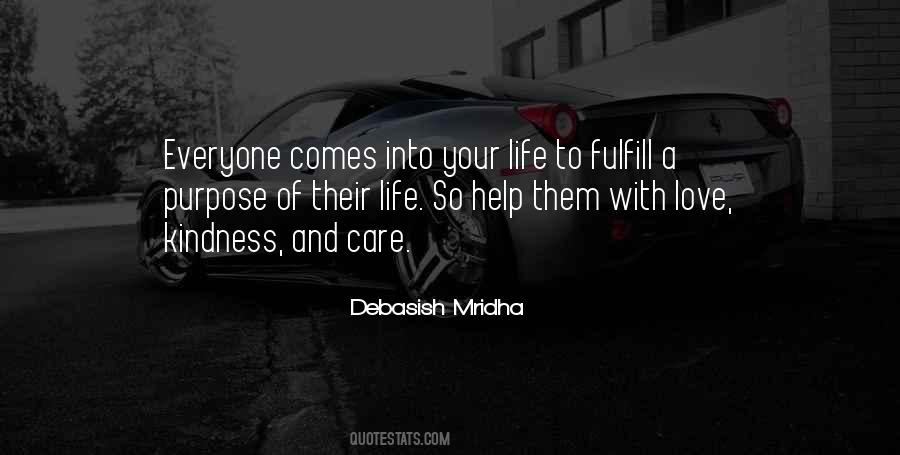 #71. What is life for? he asks himself. What is my life for? - Author: Hanya Yanagihara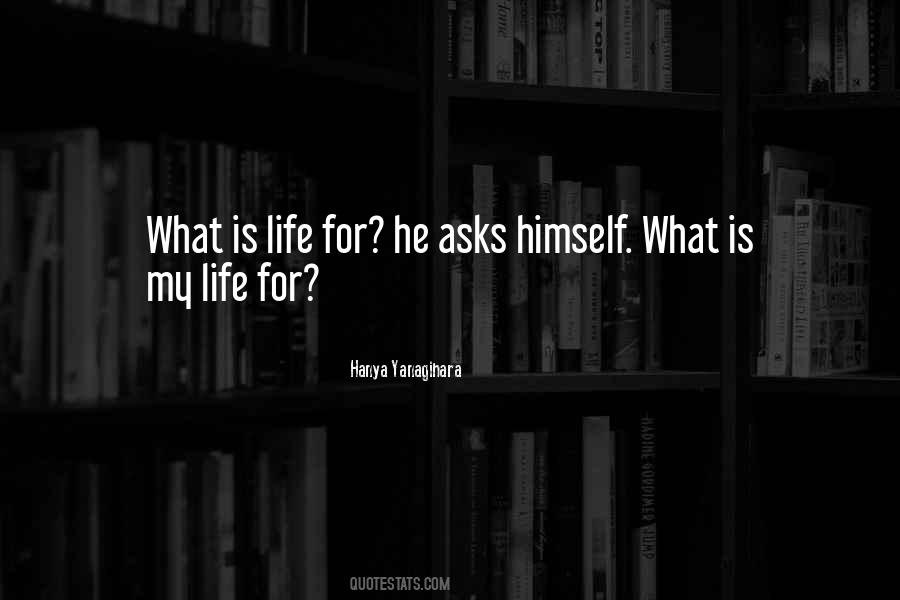 #72. You cannot truly enjoy a flower until you can see her inner beauty and feel her purpose of life. - Author: Debasish Mridha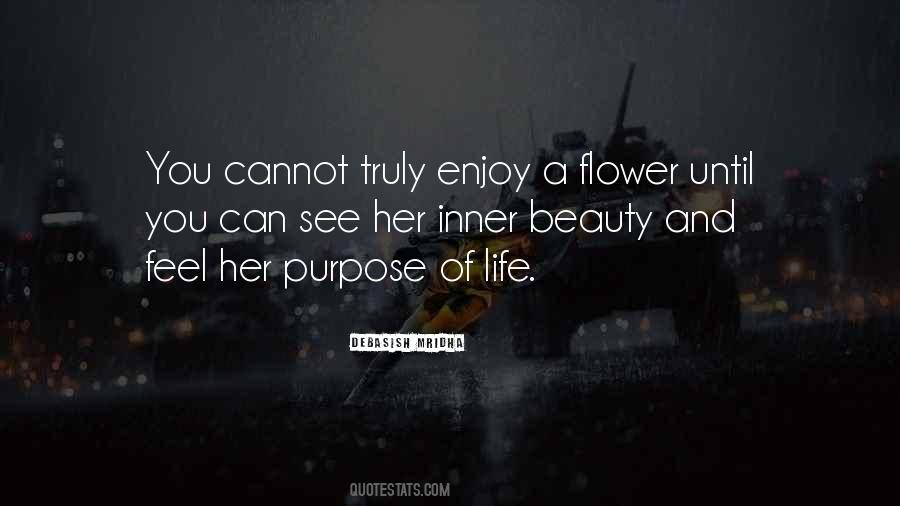 #73. Your identity should not be fully defined by what you do, by being a manager, a wife, a mother of children or a computer programmer - Author: Sunday Adelaja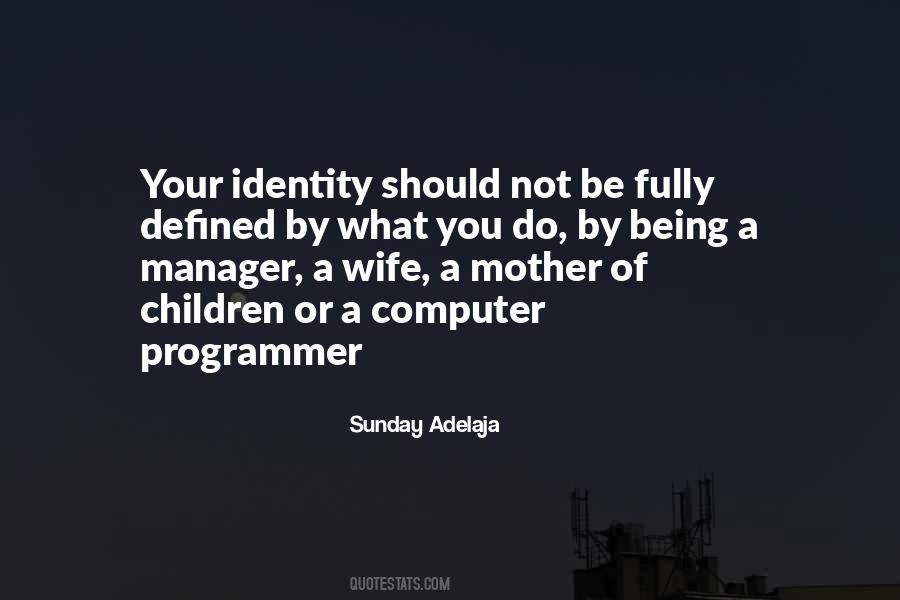 #74. Long term thinking and planing enhances short term decision making. Make sure you have a plan of your life in your hand, and that includes the financial plan and your mission. - Author: Manoj Arora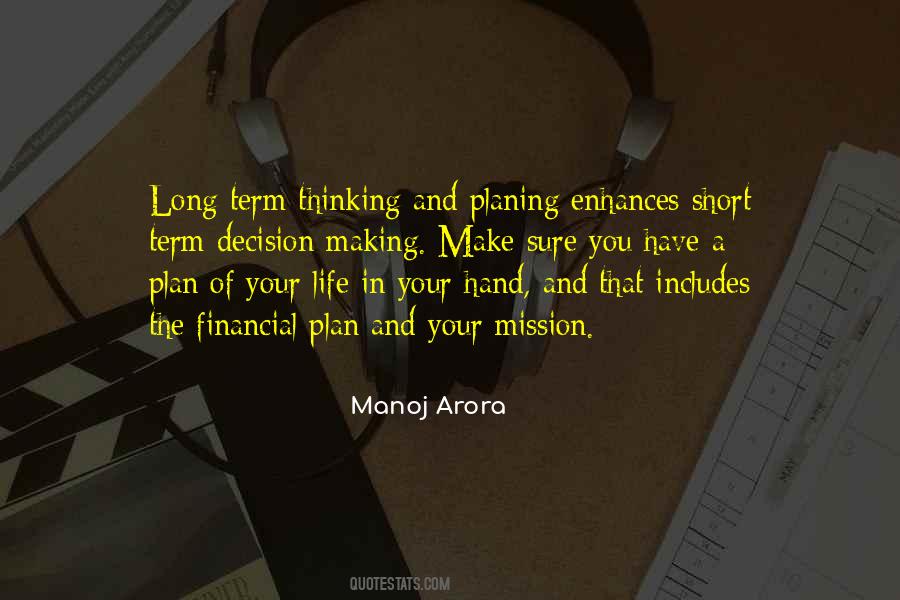 #75. A person without a philosophy for living is at the tender mercy of other people. - Author: Kilroy J. Oldster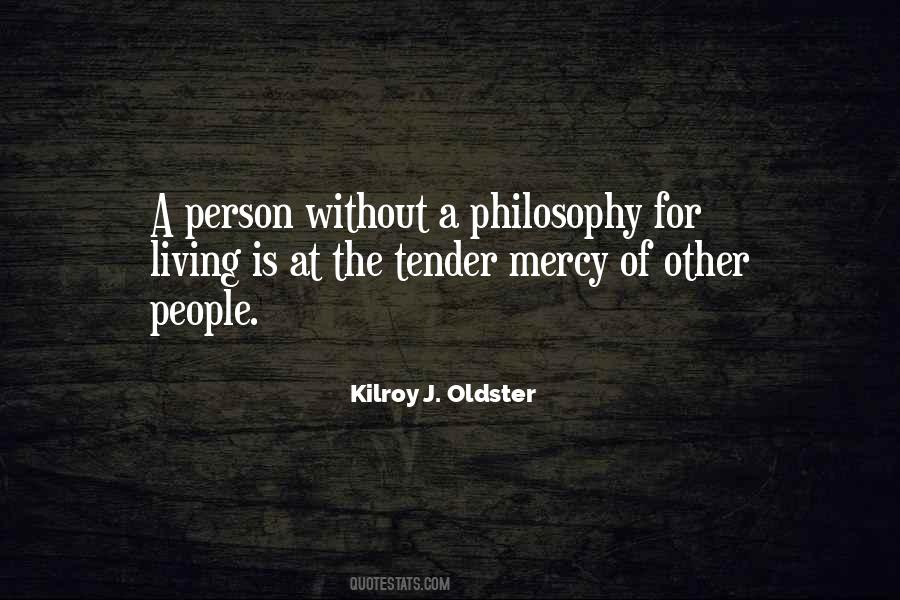 #76. Do not look for a man to learn about the purpose of your life, but look for the creator, who is your maker - Author: Sunday Adelaja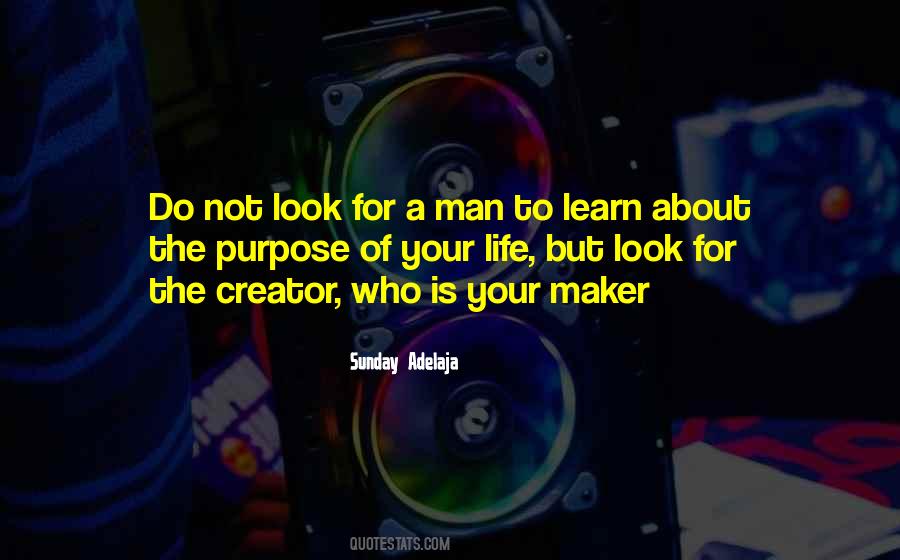 #77. Point to Ponder: If there were no God, and everything was a result of random chance, there would be no purpose to your life. It all starts with God. - Author: Rick Warren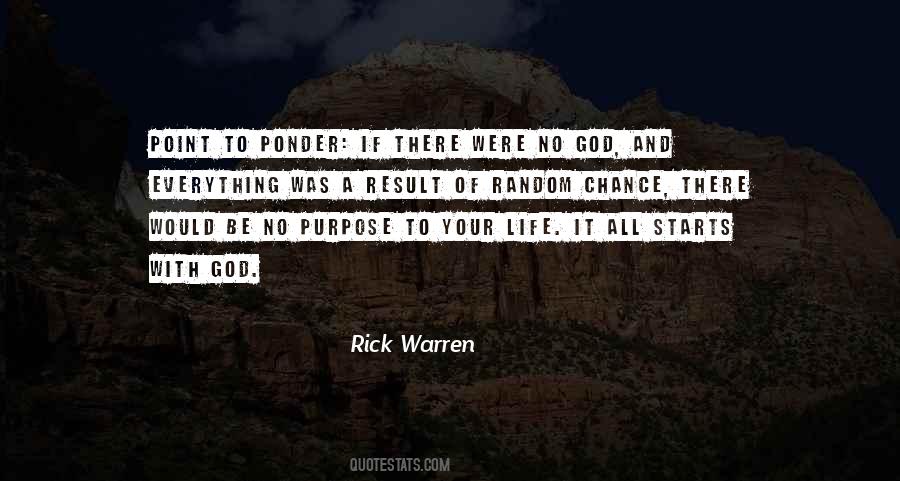 #78. When you have a purpose of life it becomes the light to show you the path toward your destination. - Author: Debasish Mridha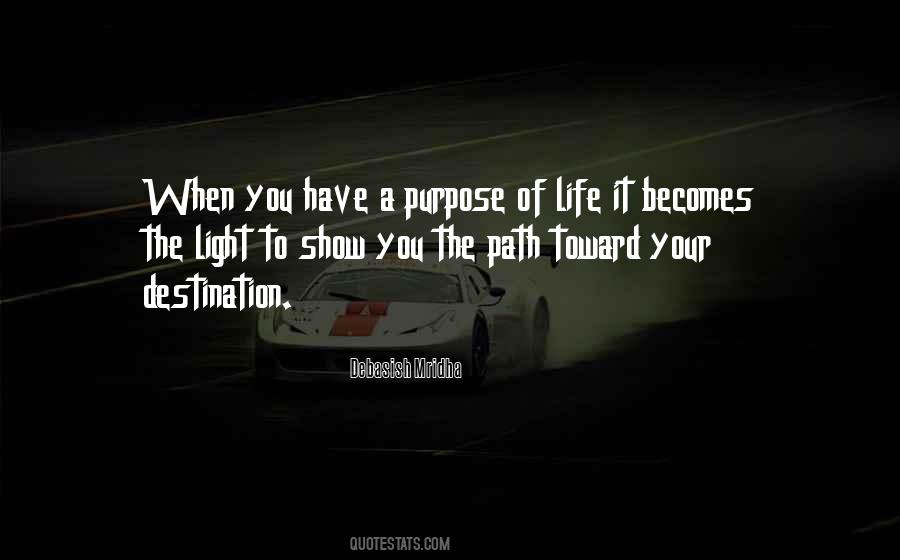 #79. A person of character seeks true happiness in living a life of purpose and meaning, placing a higher value on significance than success. - Author: Michael Josephson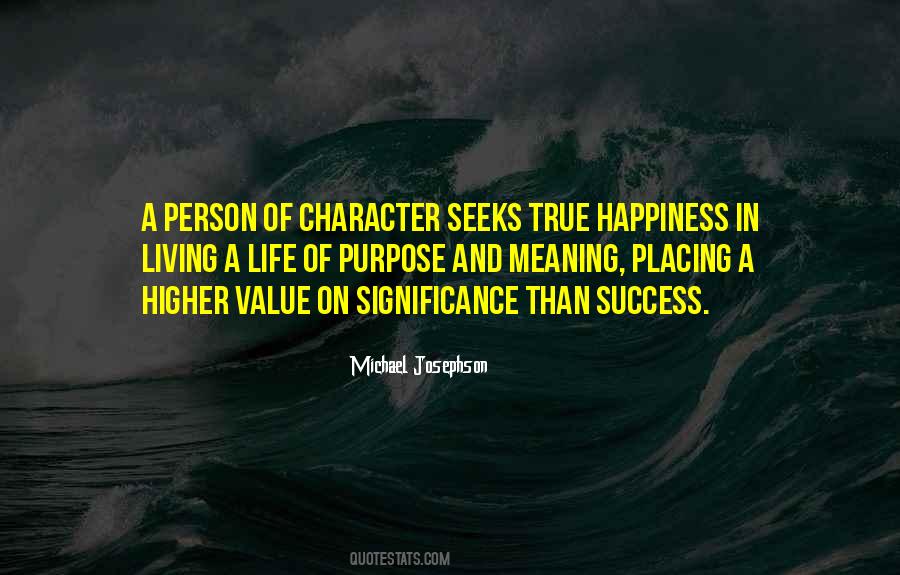 #80. The purpose of life is to be beautiful, to be bountiful, to be blissful, to be graceful and grateful. What a wonderful English word-grateful. If one is great and full, one is God. And whenever smallness faces you, you should be great, and full-full of that greatness. - Author: Harbhajan Singh Yogi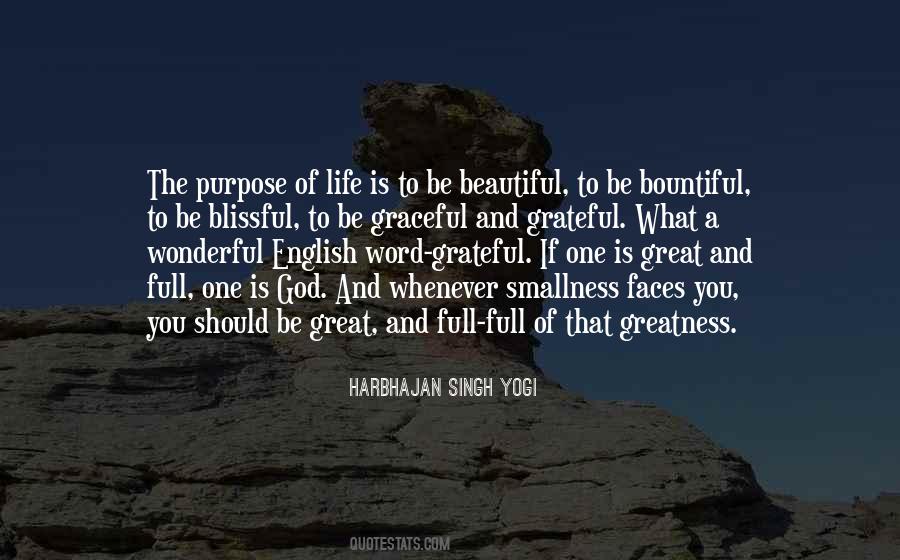 #81. I think of myself as being a relatively intelligent man who is open to a lot of different things and I think that questioning our purpose in life and the meaning of existence is something that we all go through at some point. - Author: Laurence Fishburne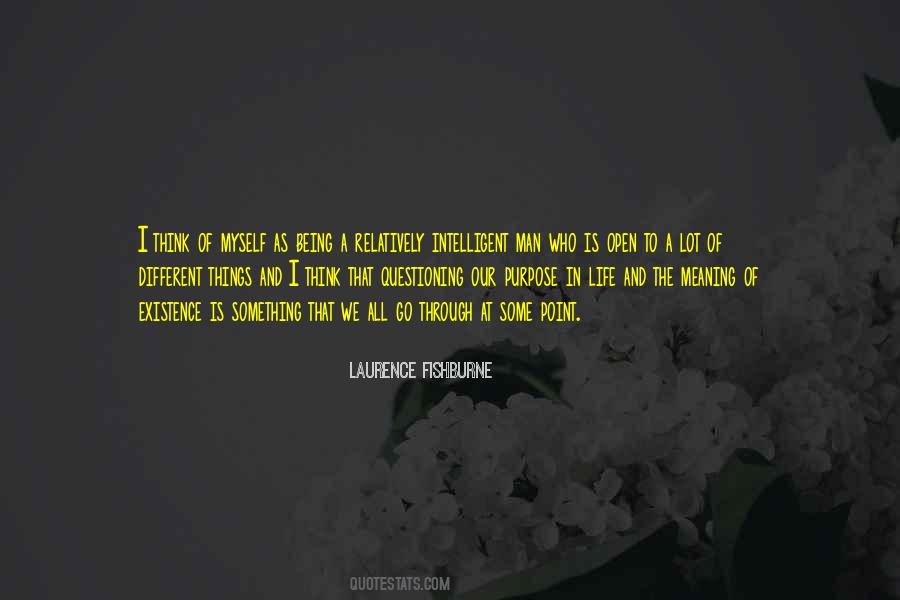 #82. In understanding and developing your true identity, you can stand on solid ground because you are a person of God's unique creation - Author: Sunday Adelaja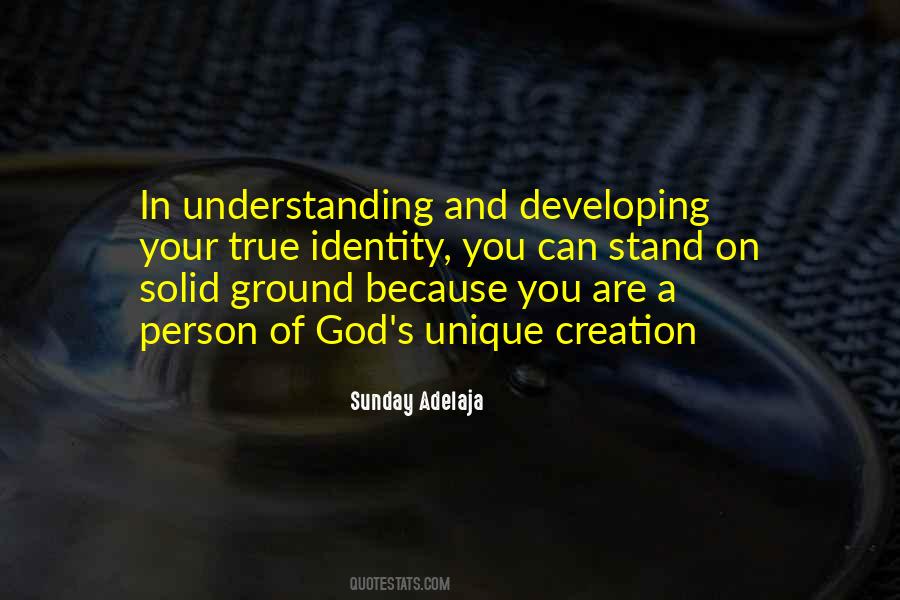 #83. Until you have a purpose and clear direction of your life (business) you would only be building a fake brand - Author: Bernard Kelvin Clive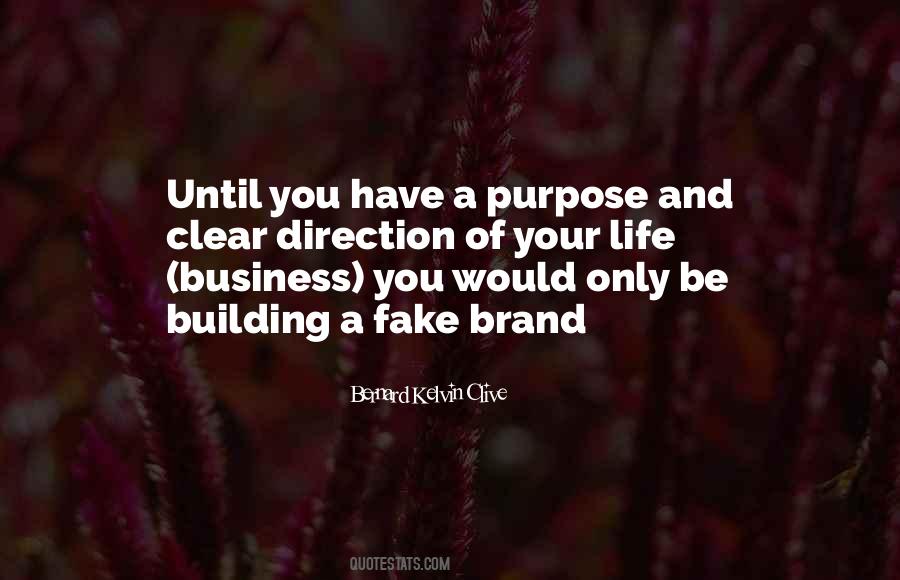 #84. Discouragement is a signal of the flesh and the tongue - Author: Sunday Adelaja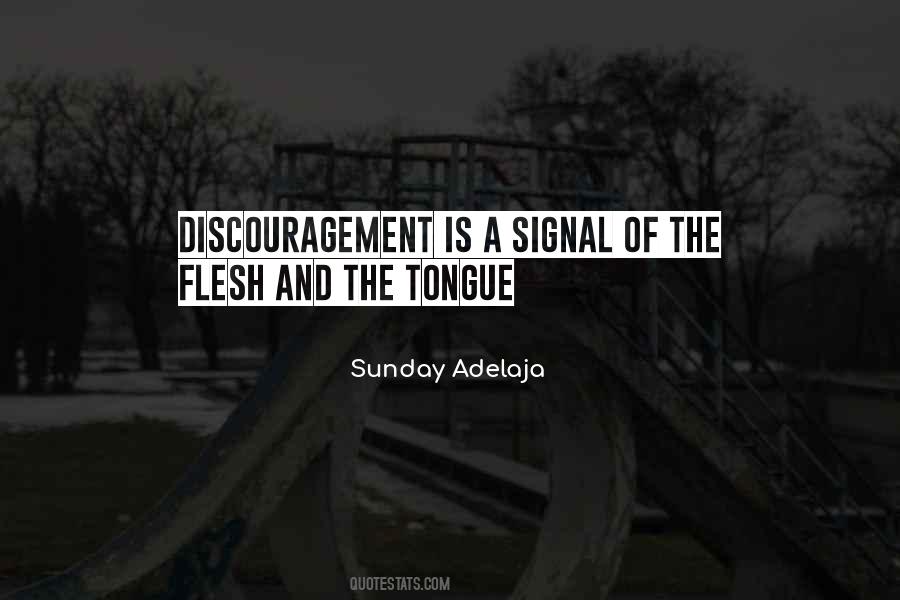 #85. After his failed political career, Lincoln often pondered the question of the purpose of the meaning of life. In 1850 [ten years before he was elected President], Lincoln told Herdon [his law partner] How hard, oh how hard it is to die and leave one's country no better than if one had never lived. - Author: Ronald C. White Jr.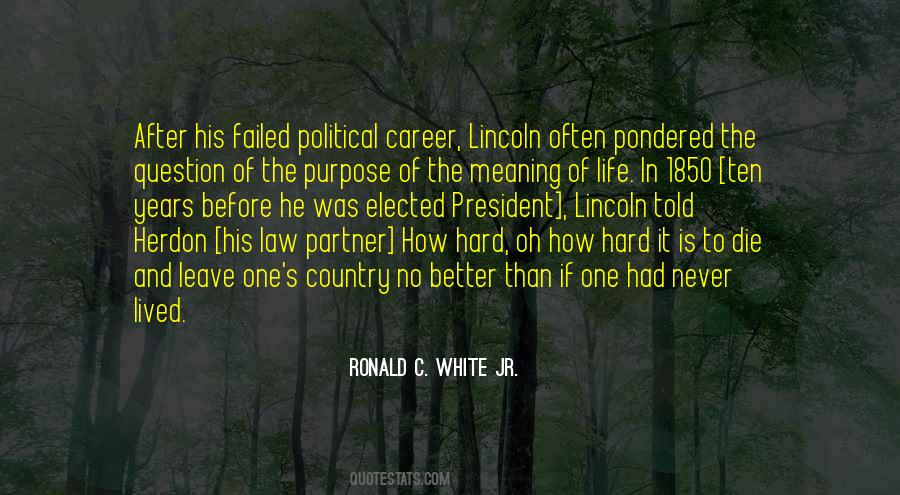 #86. To get rid of complexes and consequently, to finding a more conscious and harmonious life is to see and understand where these distortions occurs in our lives - Author: Sunday Adelaja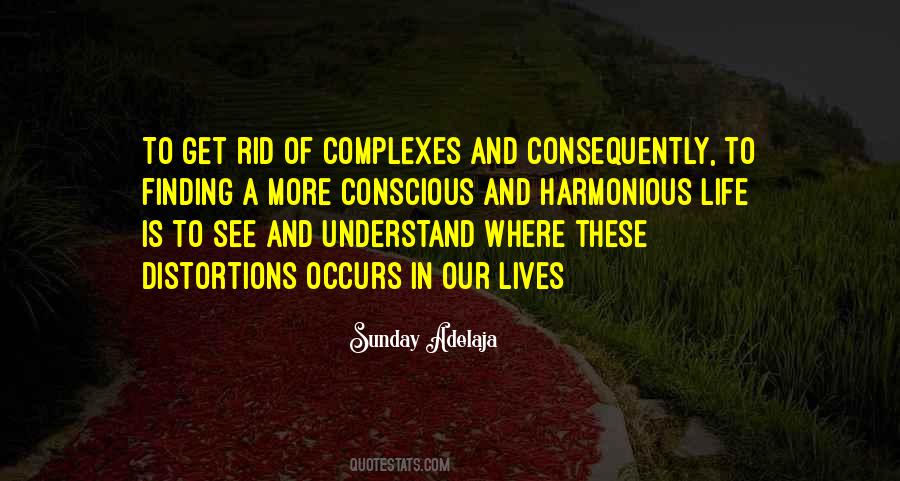 #87. Life is a beautiful journey, full of joy and pain
You never know when it will end, don't let a moment pass in vain ...
In the whole ruckus of life, nothing had I gained,
I just wanted freedom, no more did I wanted to be chained ... - Author: Mehek Bassi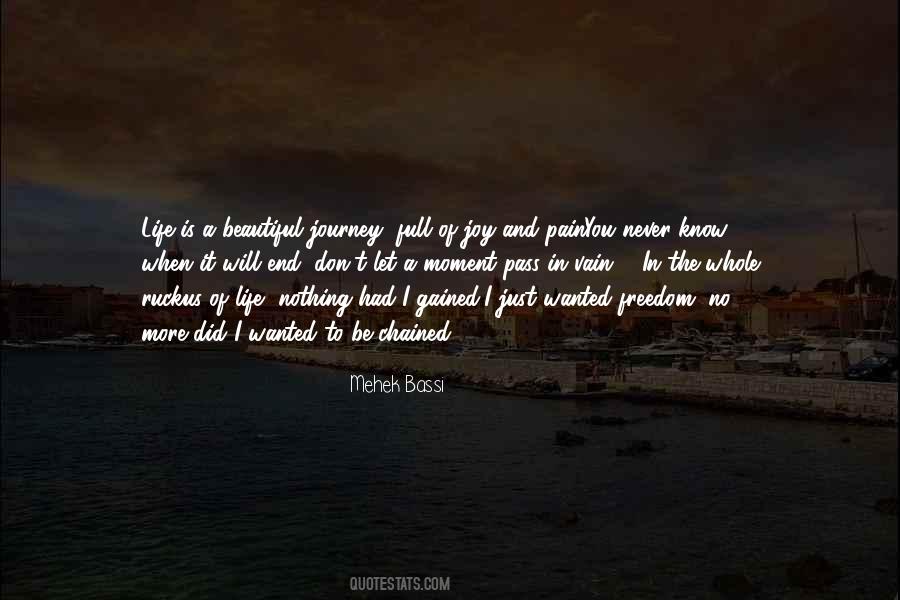 #88. Think of giving not as a privilege of having abundance in life, but as a purpose and gratitude of life. - Author: Debasish Mridha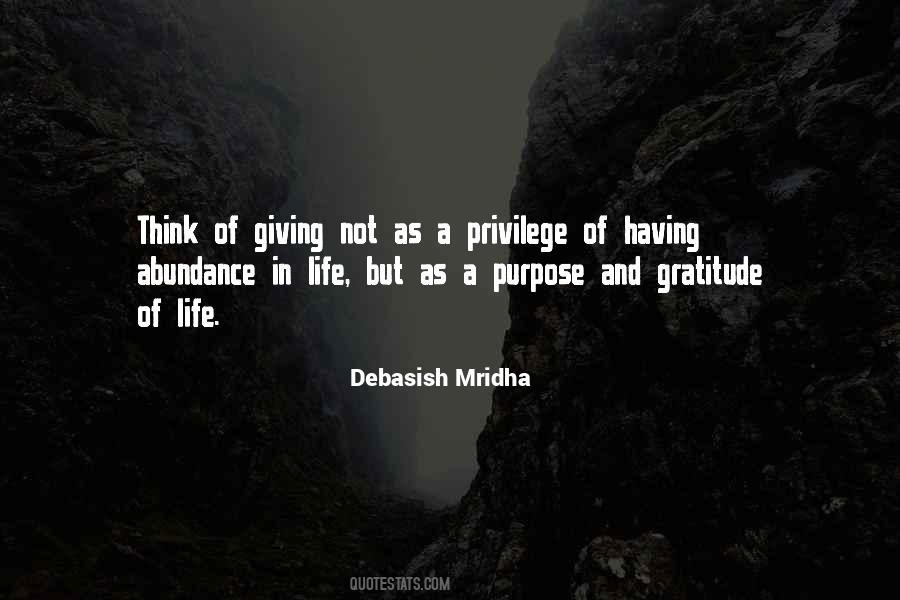 #89. It is a celebration of the fact that we were adopted for a purpose and that adoption is an experience that has the potential of teaching us some of life's richest and deepest lessons. - Author: Sherrie Eldridge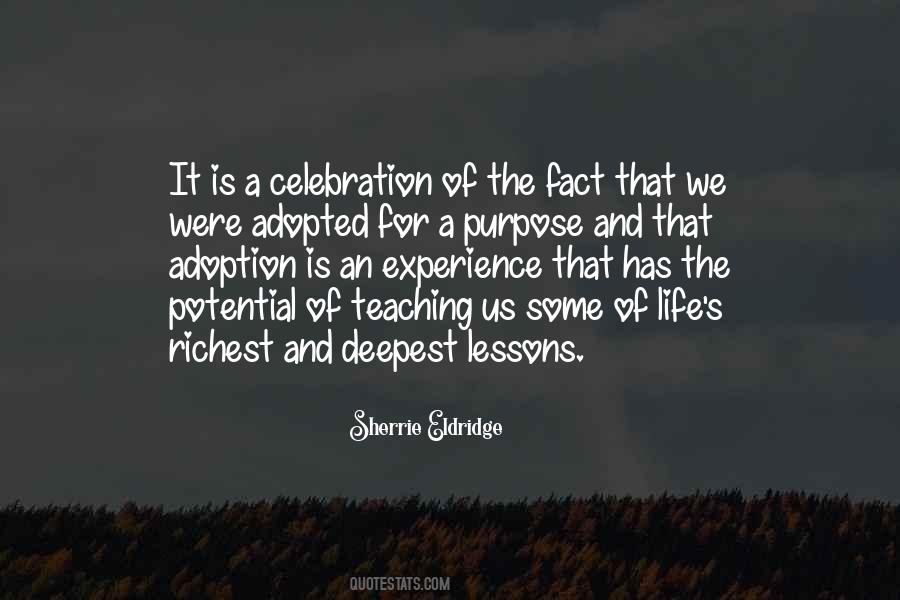 #90. We should each be a carrier of the Kingdom - Author: Sunday Adelaja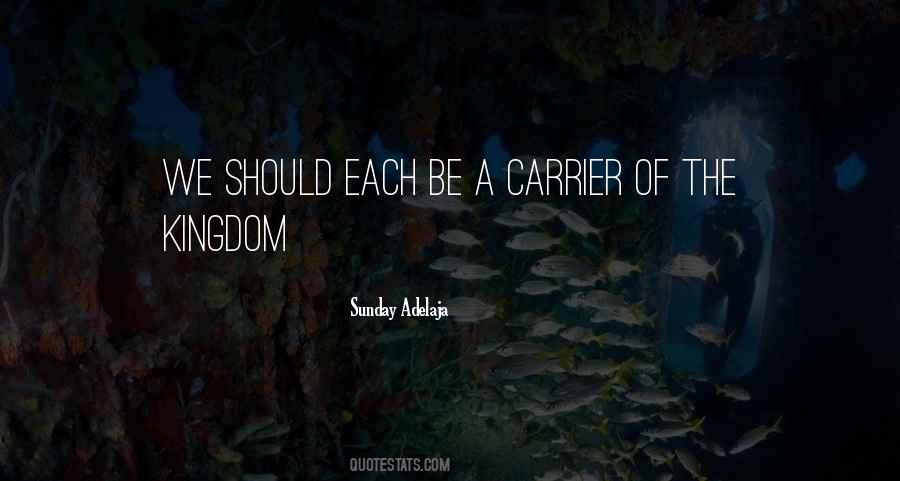 #91. Well Buddhism, 'shmoodism', I didn't go to India looking for Buddhism. I was looking for truth, or God, or a better way of life or happiness, fulfillment, meaning, purpose. And a way to become peace in the world and not just fight for peace, as we had in the 60's. - Author: Surya Das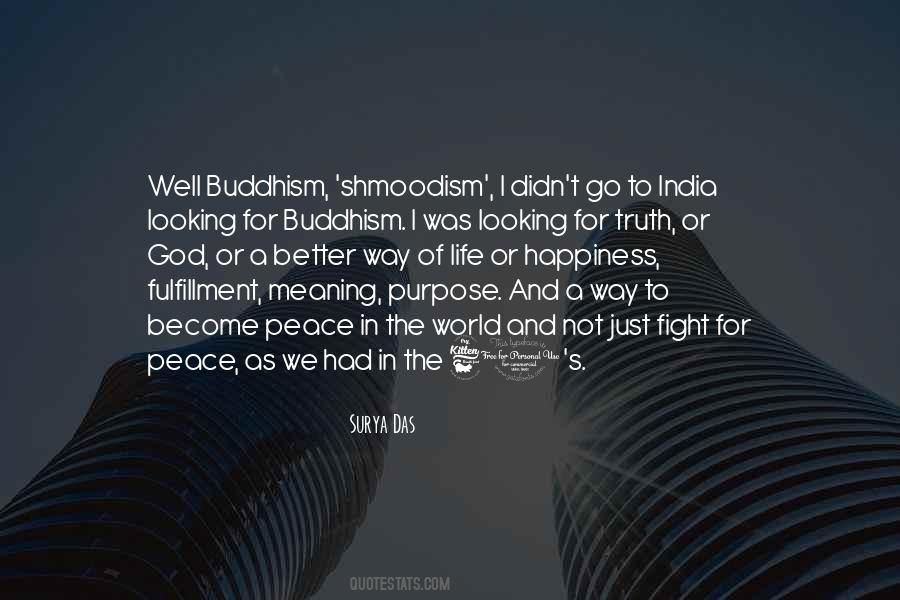 #92. Life can only be enjoyed as one acquires a true perspective of life and death and of the real purpose of life. - Author: Spiros Zodhiates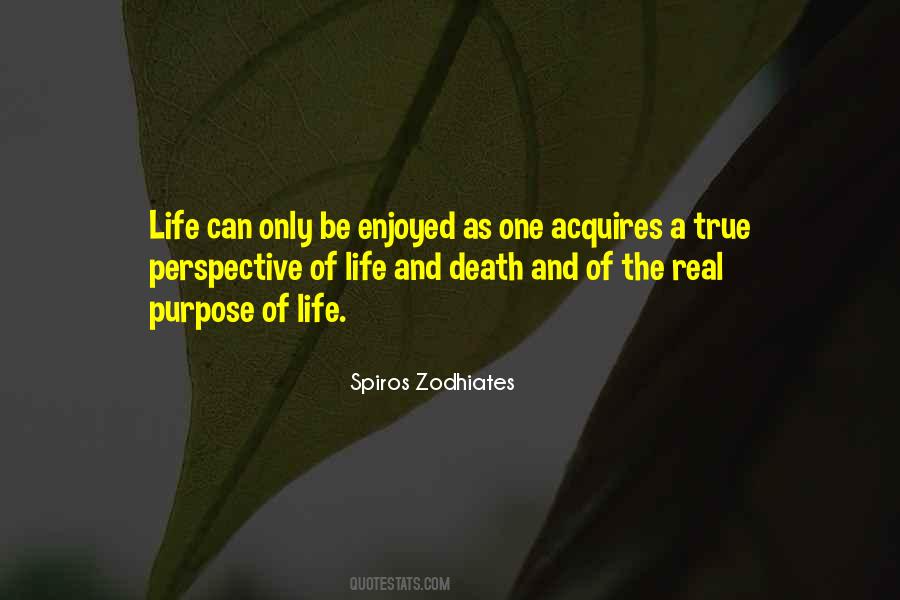 #93. At the end of my life on that day I want the Lord to look at me and say, "Well done Tonia, you lived a life of purpose and used all of the gifts and talents I bestowed upon you to bring me glory - Author: Tonia Shalel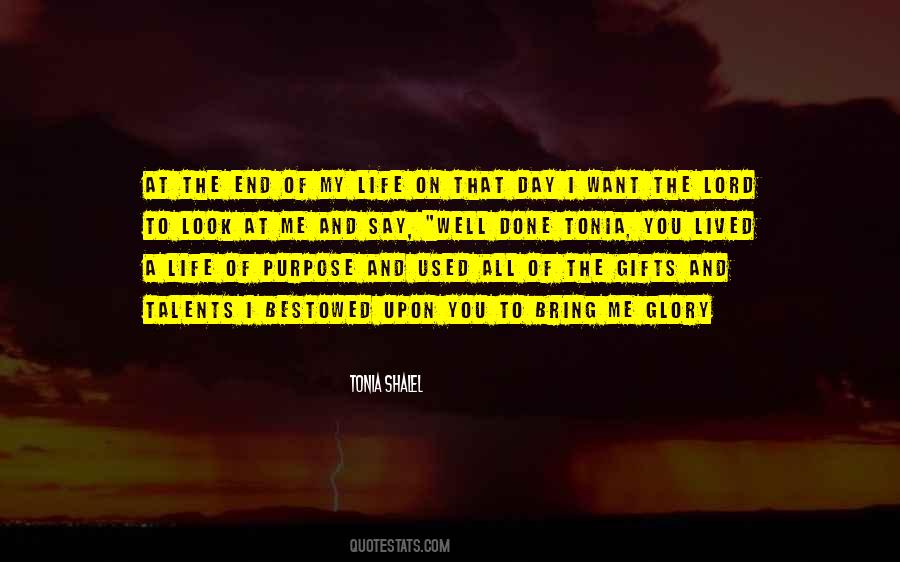 #94. On Writing About Nora Hawks
I write about a female character to try, in vain, to understand two things: the purpose of life, and women. - Author: Dennis R. Miller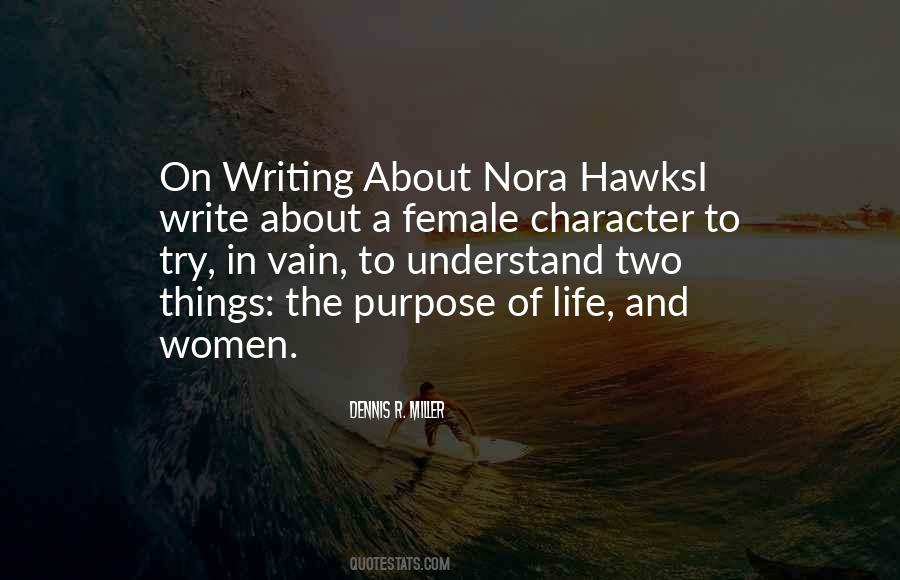 #95. Give yourself the freedom to explore the possibility of life without limits. Goals are dreams with deadlines, a means to an end but not the ultimate purpose of life. - Author: Glynis Nunn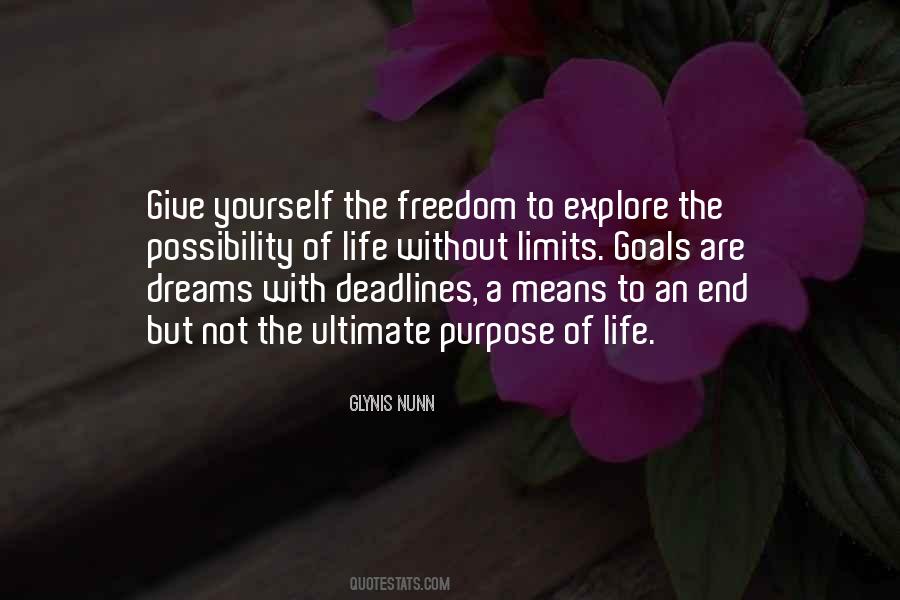 #96. If a child is loved, he feels worthy of love in the future - Author: Sunday Adelaja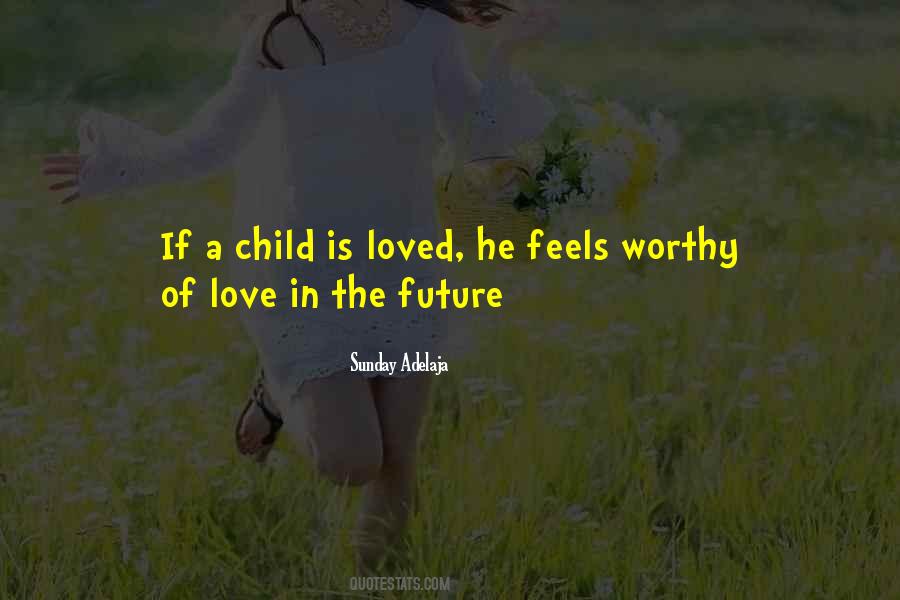 #97. A boat would seem to be an object whose one purpose is to travel, but its real purpose is not to travel but to reach harbour. We found ourselves on the high seas, with no idea of which port we should be aiming for. - Author: Fernando Pessoa
#98. If we want to grow, the way to break a pattern of negativity is to face anything negative with love. - Author: Molly Friedenfeld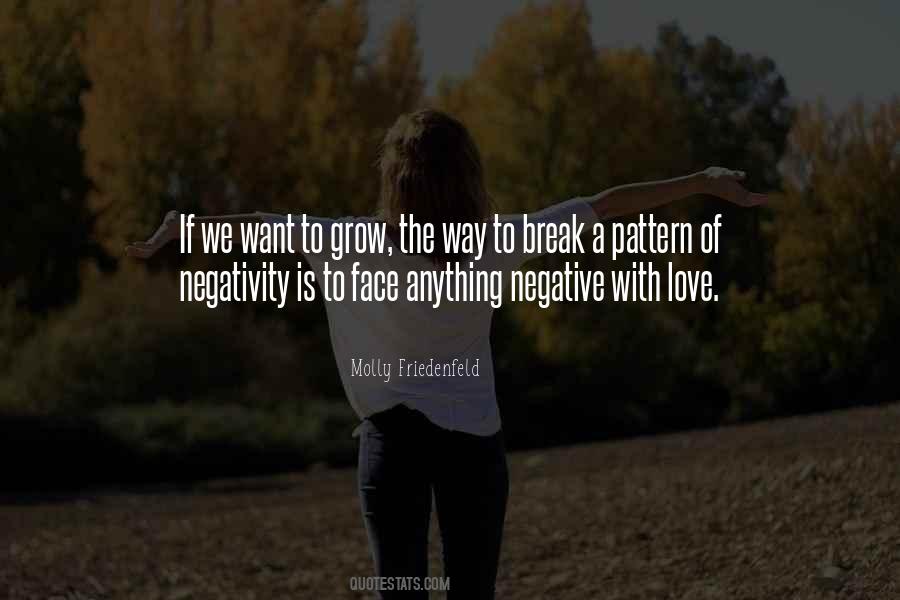 #99. The purpose of life is to find your purpose. Run a marathon, sail oceans, cross deserts, climb the highest mountain but find yours! - Author: Timothy Pina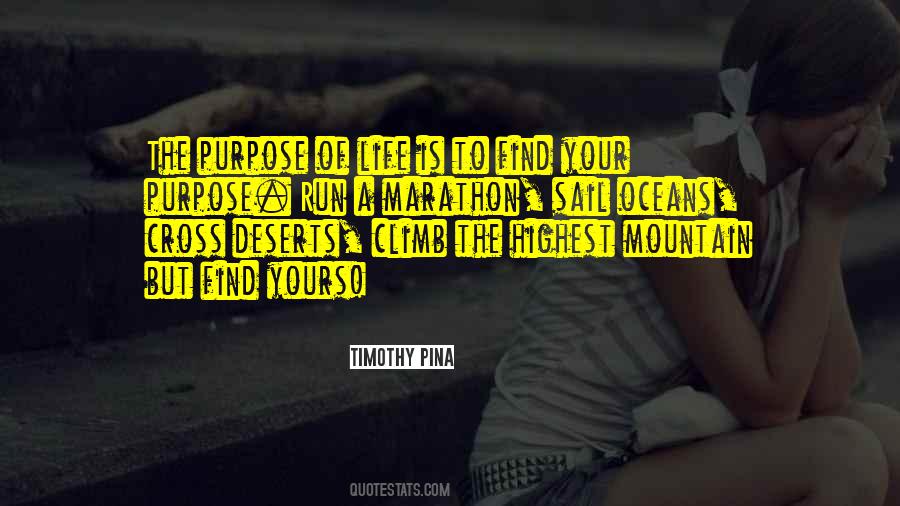 #100. To be truly happy, you need a clear sense of meaning and purpose in life. - Author: Brian Tracy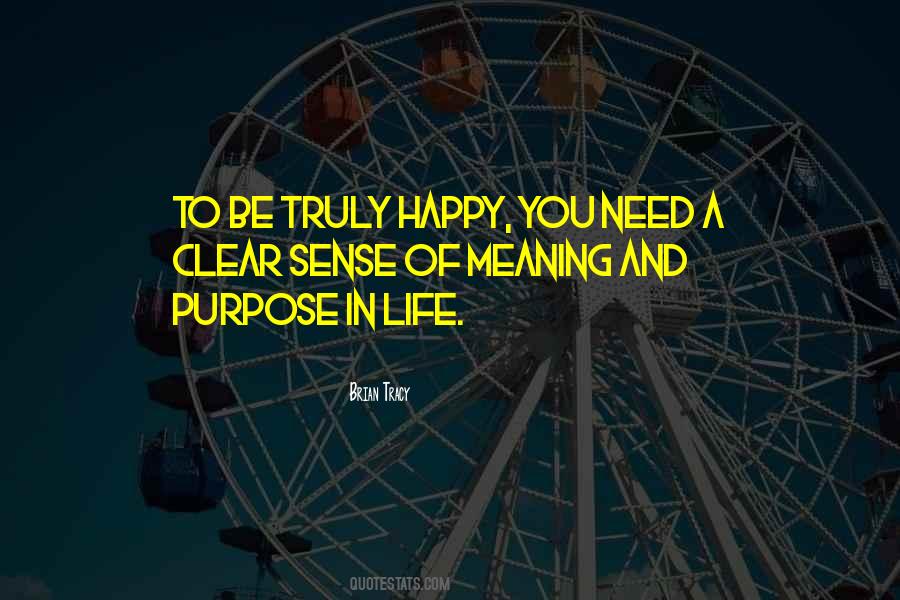 Famous Authors
Popular Topics