One's Purpose In Life Famous Quotes & Sayings
List of top 100 famous quotes and sayings about one's purpose in life to read and share with friends on your Facebook, Twitter, blogs.
Top 100 Quotes About One's Purpose In Life
#1. Everything I've taken away from my father has been significant. So, I can't say that any one lesson is the most significant. By being around him, I learned that there is a purpose in life, and that if we are inspired to help people, we should do it. - Author: Ziggy Marley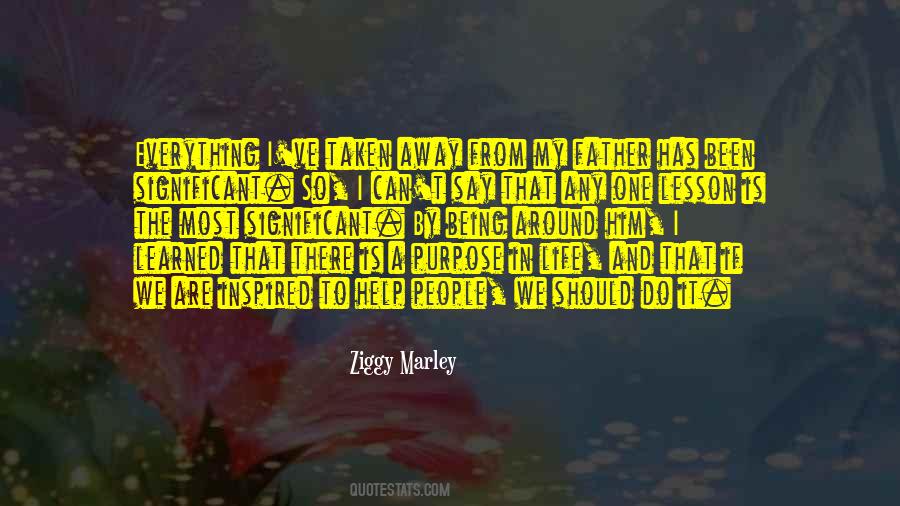 #2. When you're in love, you've found your soul mate, you think life is going one way, and suddenly it's completely apparent it's not. You have to rethink your whole purpose. - Author: Scott Weiland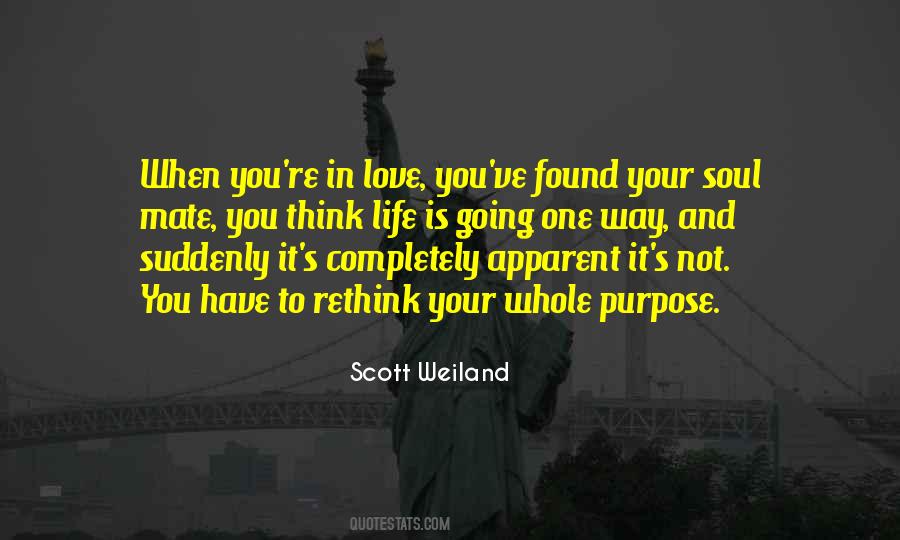 #3. After his failed political career, Lincoln often pondered the question of the purpose of the meaning of life. In 1850 [ten years before he was elected President], Lincoln told Herdon [his law partner] How hard, oh how hard it is to die and leave one's country no better than if one had never lived. - Author: Ronald C. White Jr.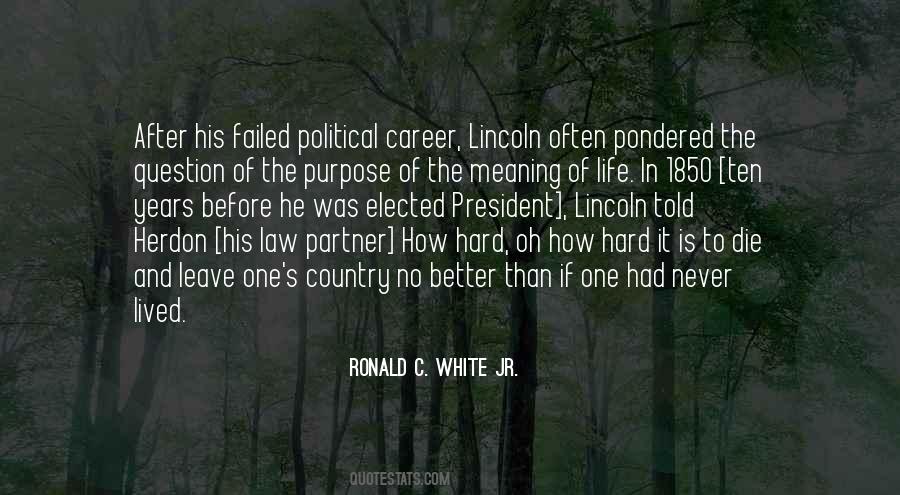 #4. The first thing to do in life is to do with purpose what one purposes to do. - Author: Pablo Casals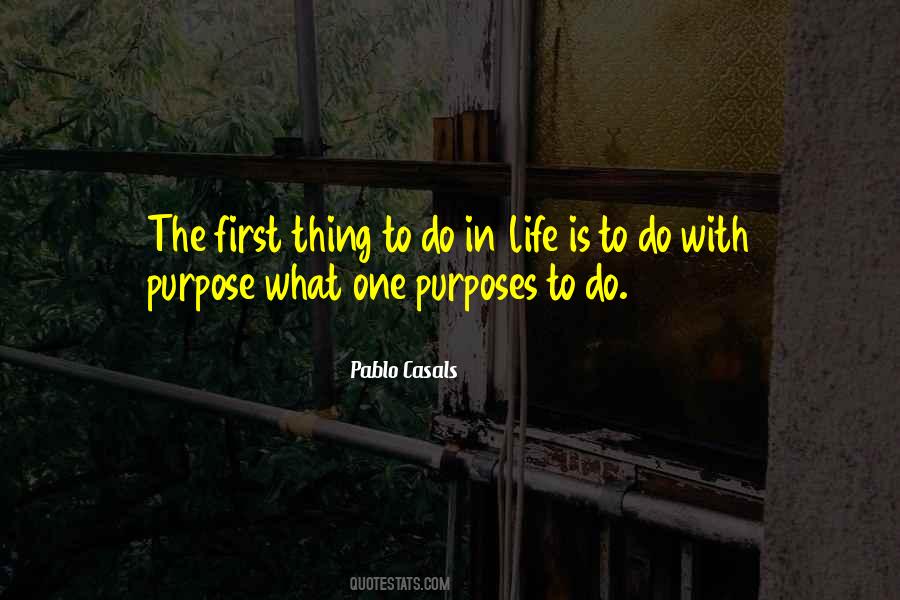 #5. Real serious waiting is done in waiting rooms, and what they all have in common is their purpose, or purposelessness, if you will; they are places for doing nothing and they have no life of their own ... their one constant is what might be called a decorative rigor mortis ... - Author: Ada Louise Huxtable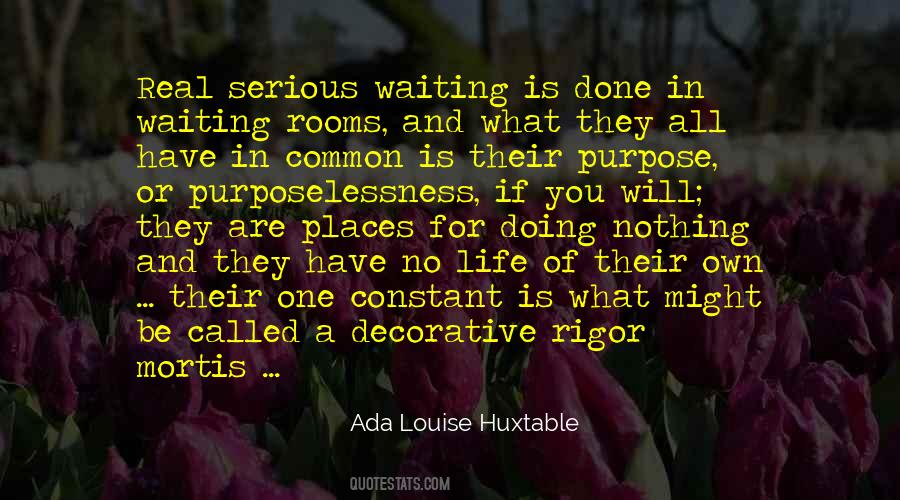 #6. No one was created in vain - Author: Sunday Adelaja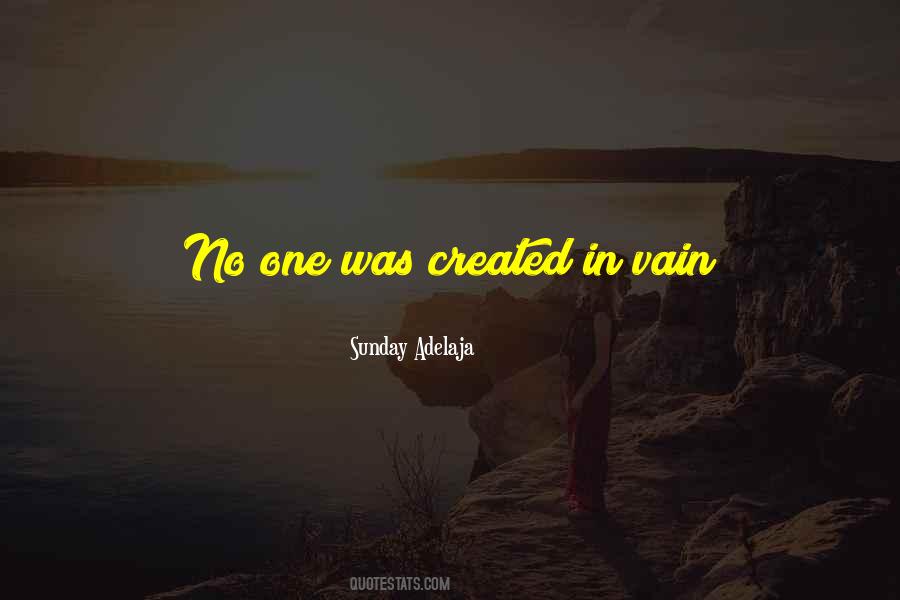 #7. Kill me now."
"Nonsense. Dead, you will provide no relief from the interminable boredom."
Everyone needed a purpose in life. Kaylin, however, wished fervently for a better one at this moment. - Author: Michelle Sagara West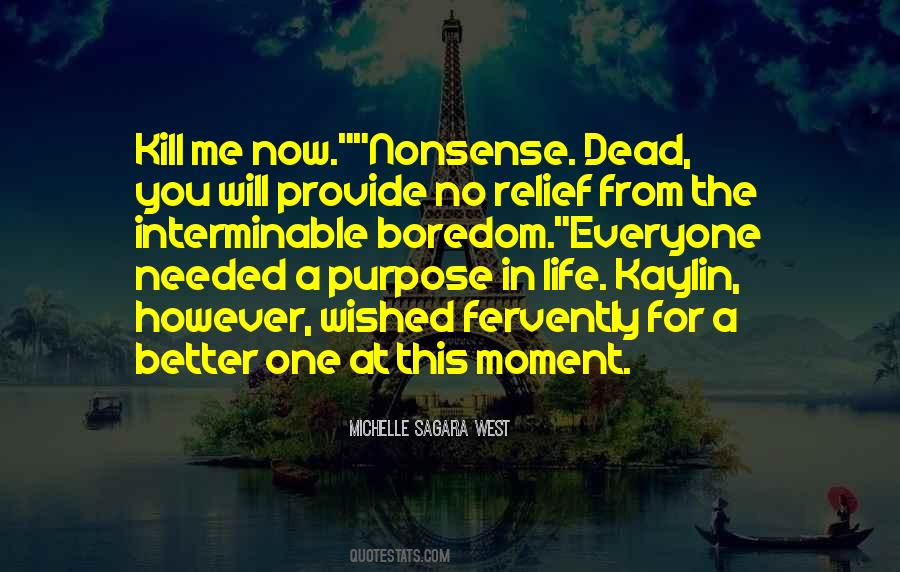 #8. Purpose is a man-made fiction. Nobody on their deathbed gets a plaque that says "he focused on only one thing for his entire life!" Those are counterfeit thoughts in a counterfeit society. - Author: James Altucher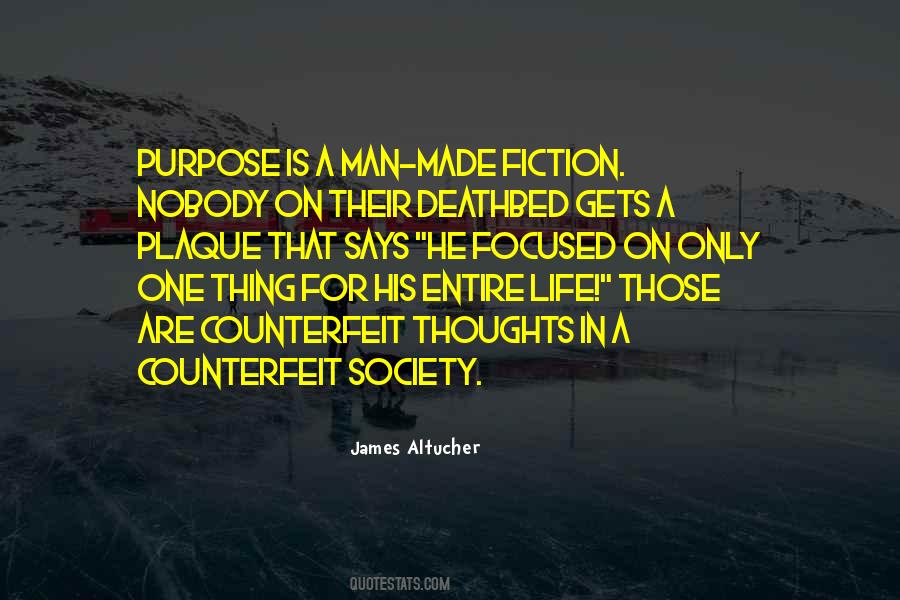 #9. Never question the power of one! Throughout history it has been the actions of only one person who has in inspired the movement of change. - Author: Steve Maraboli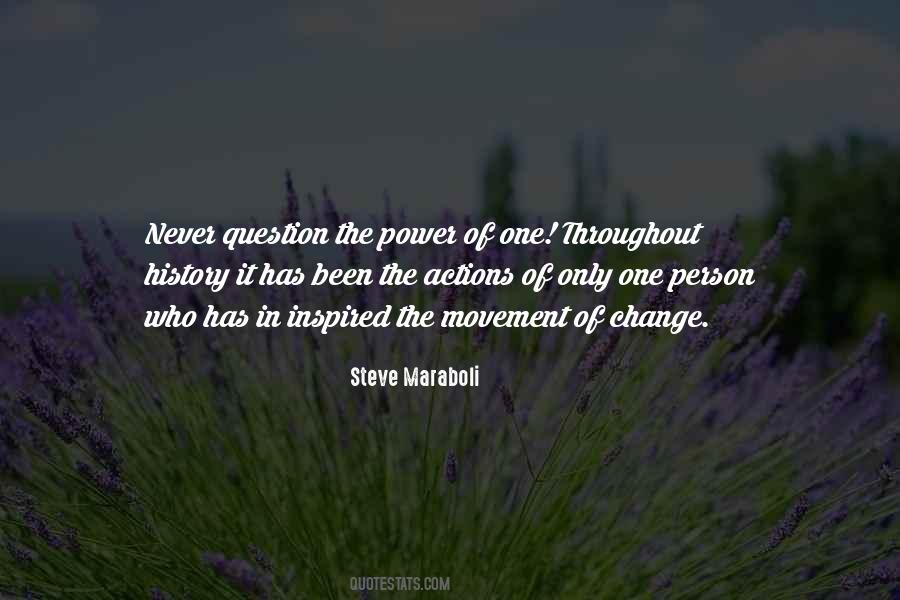 #10. In life, when one gets to the point of a deeper sense of understanding about himself and his purpose, he least explains himself much to people who fail to understand him and his purpose. That must not be interpreted as neither pride nor an uncaring attitude but a great respect for purposefulness - Author: Ernest Agyemang Yeboah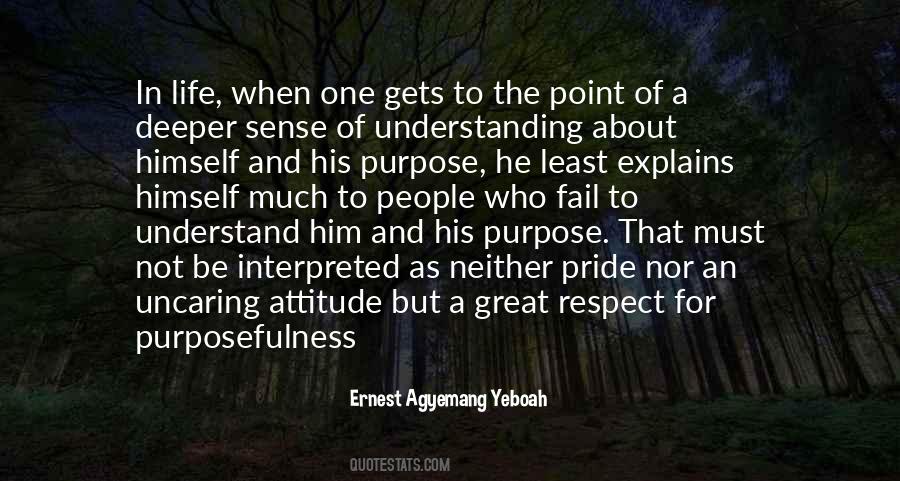 #11. When God chooses you to deliver a message, to have a purpose, no one and nothing can reverse the course of His plan. - Author: Carlos Wallace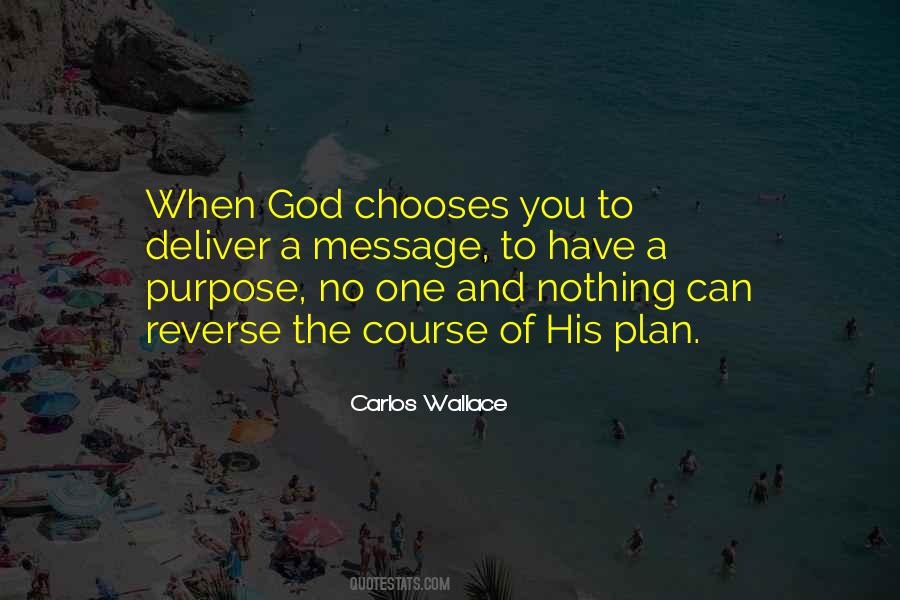 #12. We're each given one life, and it's our job to make it useful, beautiful, and fulfilling. There is no value in suffering through it, doing something we hate. There's no prize at the end for that kind of endurance. Just a spent life. - Author: Sarah Jio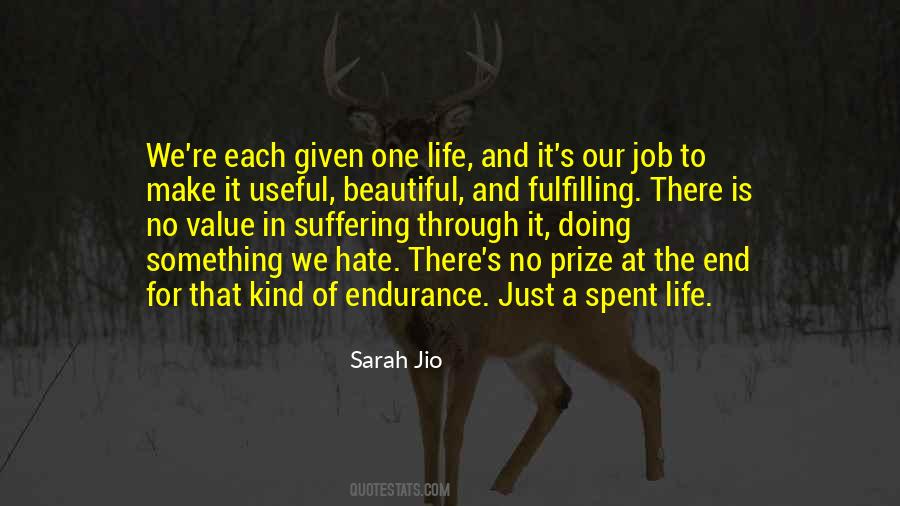 #13. When death becomes an escape, when it becomes attractive, the purpose of life is fulfilled. To teach one it's futility, it's worthlessness, that is the purpose of life. Incongruously, its value lies in having imparted that lesson.
Bhanggi - Author: Faiqa Mansab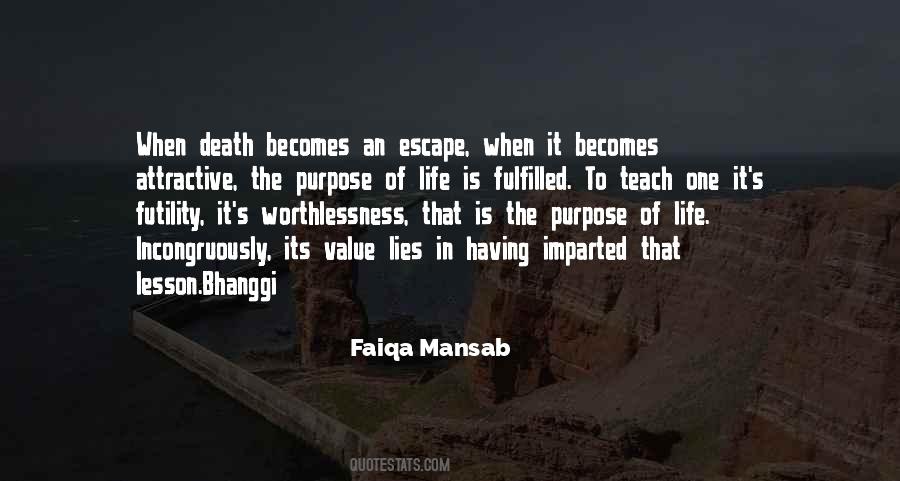 #14. Your journey is completely yours. It is unique. Others may try to steal part of it, tell it in their words or shape it to suit them. Reality is no one can live it or own it but you. Take charge of your journey, it's yours and yours alone! - Author: Kemi Sogunle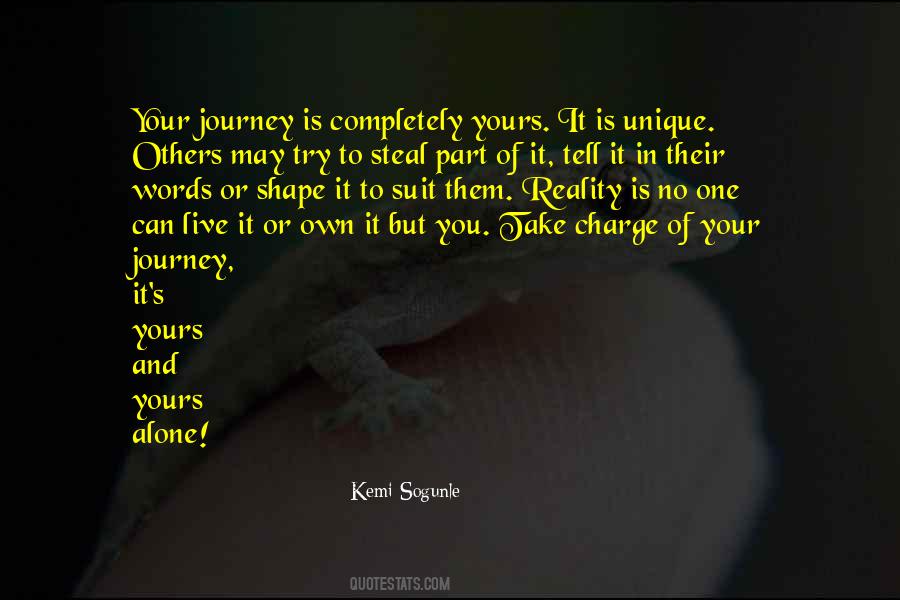 #15. We are here in the world of phenomena to explore the endless manifestations of one love. - Author: Akemi G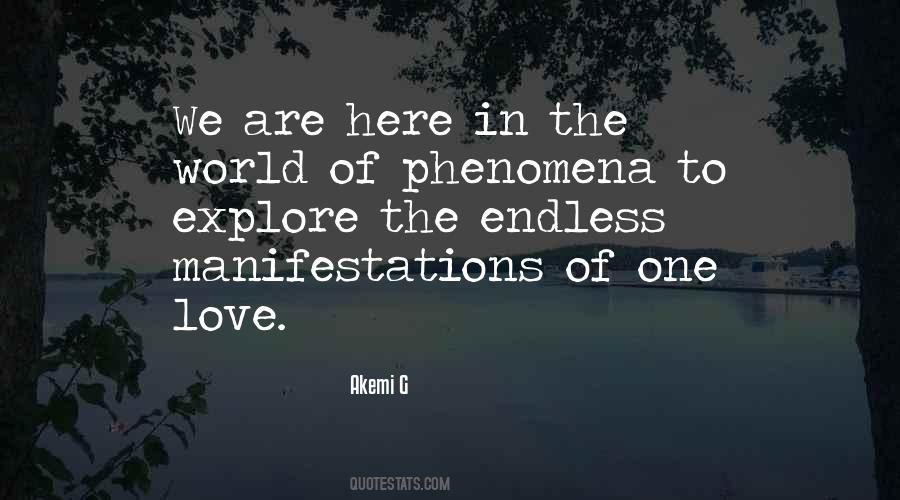 #16. Nothing is quite so beautiful as when you share it with it with someone else. There is no purpose in working unless one works for someone, for something. - Author: Louis L'Amour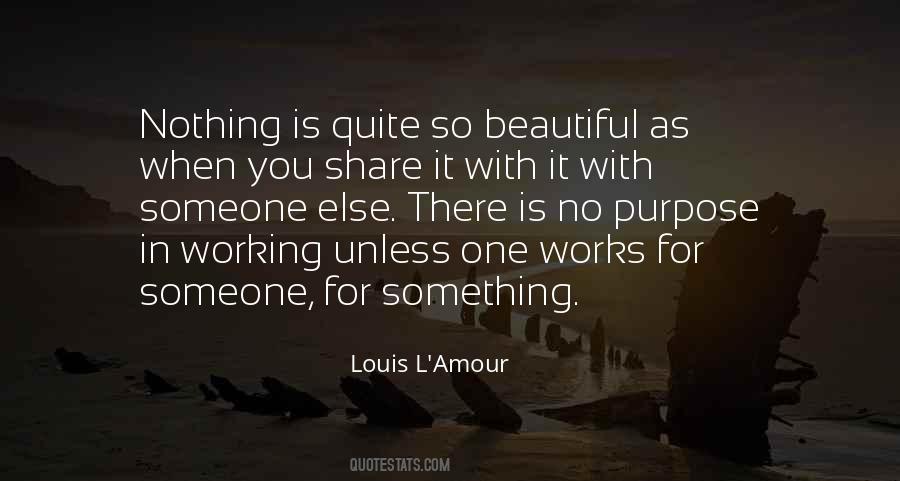 #17. My one purpose in life is to serve as a warning to others. - Author: Jamie Zawinski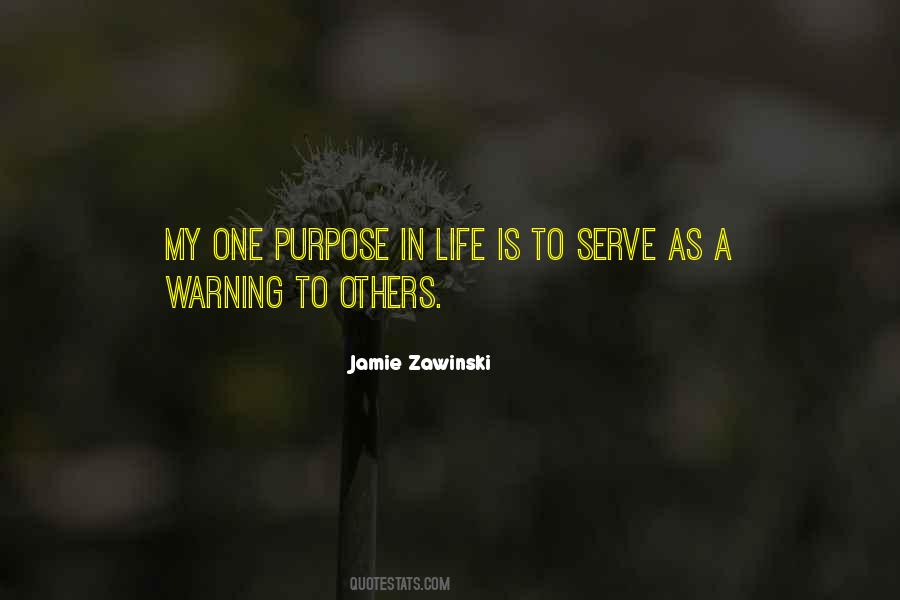 #18. God reminded me again that day that I have one purpose, in Uganda and in life, and that is to love. I could ask for no greater assignment. - Author: Katie J. Davis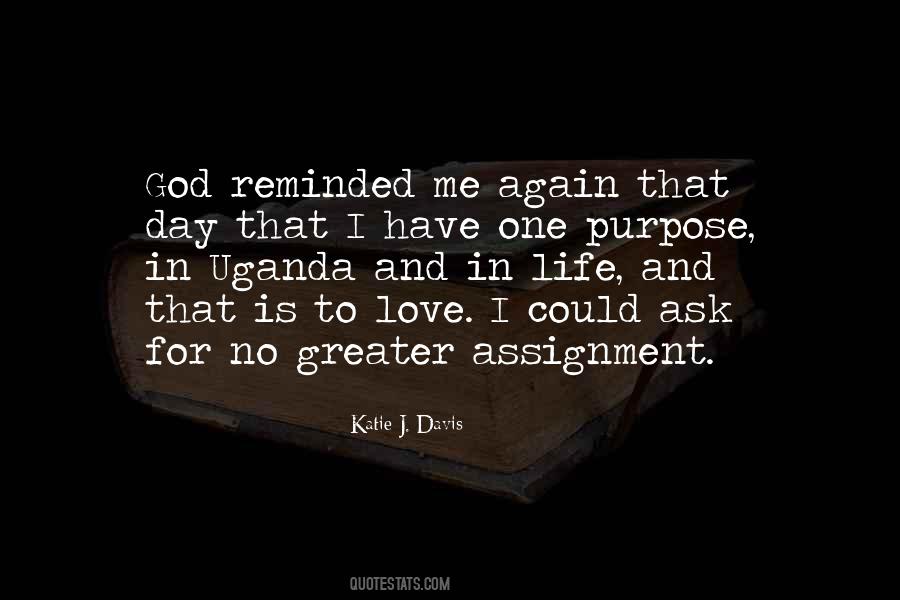 #19. But there is also purpose in that life which is almost barren of both creation and enjoyment and which admits of but one possibility of high moral behavior: namely, in man's attitude to his existence, an existence restricted by external forces. - Author: Viktor E. Frankl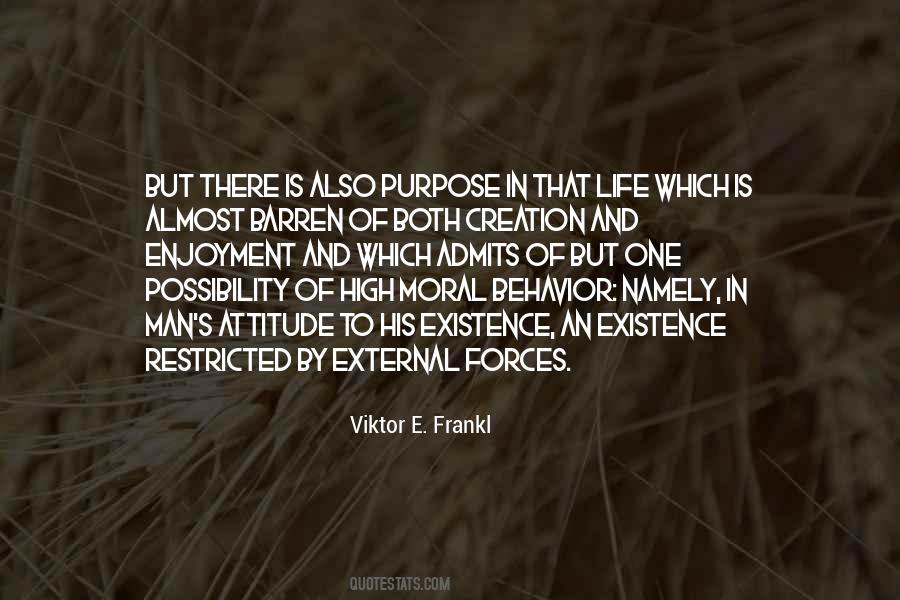 #20. Everybody tries to find the purpose for their life in hopes thst one more day is justified. But once you truly see, the very reason why you're breathing becomes so much more than getting by. - Author: MercyMe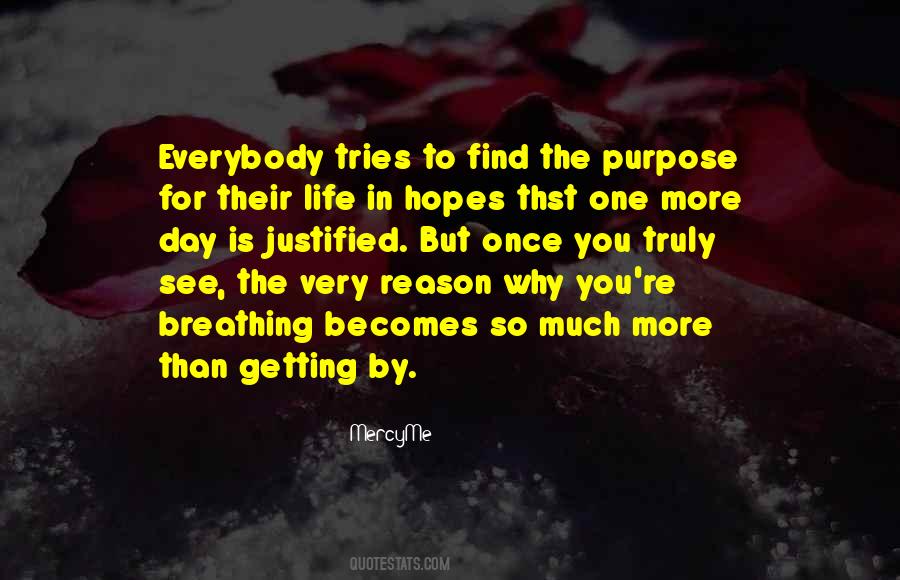 #21. Living in a way that reflects one's values is not just about what you do, it is also about how you do things. - Author: Deborah Day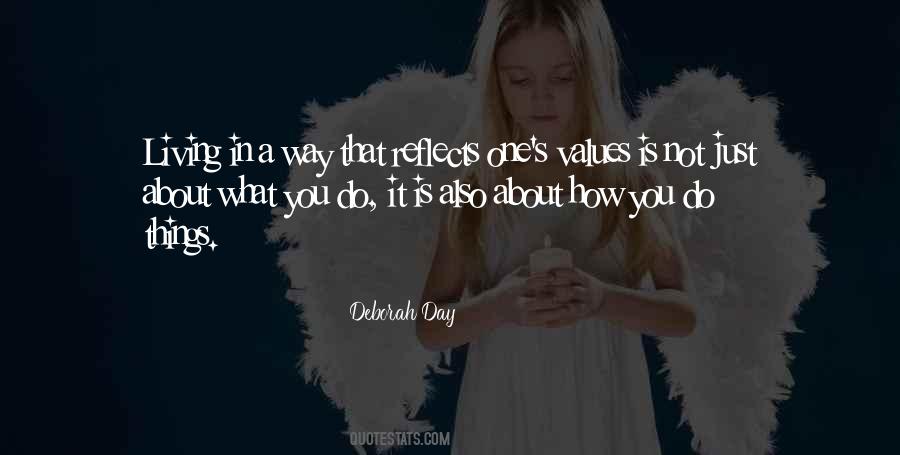 #22. They say, Find a purpose in your life and live it. But, sometimes, it is only after you have lived that you recognize your life had a purpose, and likely one you never had in mind. - Author: Khaled Hosseini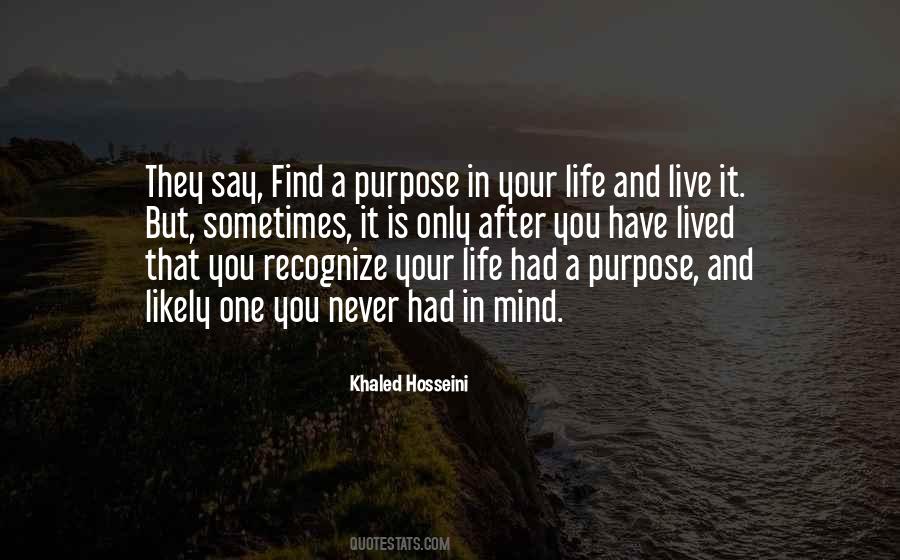 #23. Every day, I take steps to resolve all my karmic ties, live with intention, smile and laugh often, express my love, and act on what brings me fulfillment. Why wait until we have one foot in the grave to suddenly become spiritual, forgiving, and at peace with the world? - Author: Alaric Hutchinson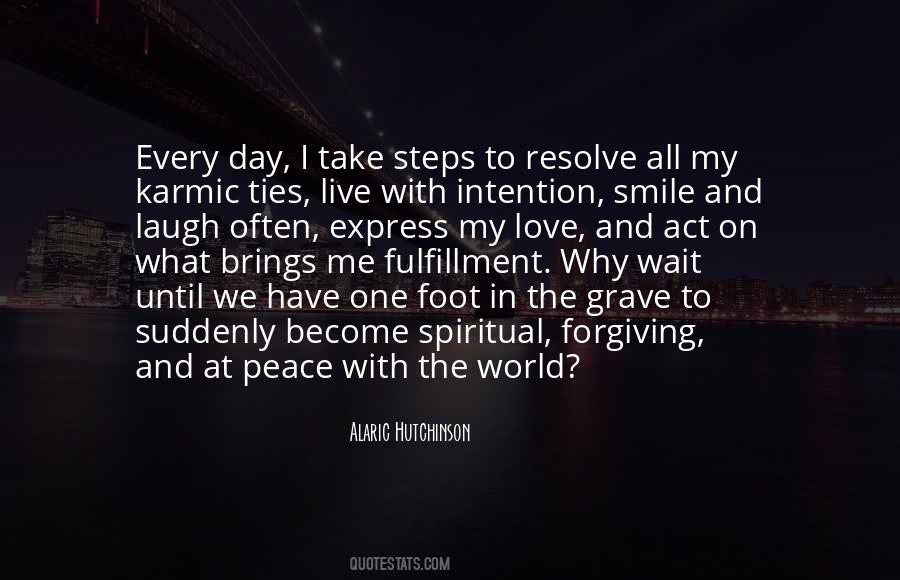 #24. One thing we cannot put a number on is the number of casualties because people were never connected to their purpose in life. - Author: Steve Southerland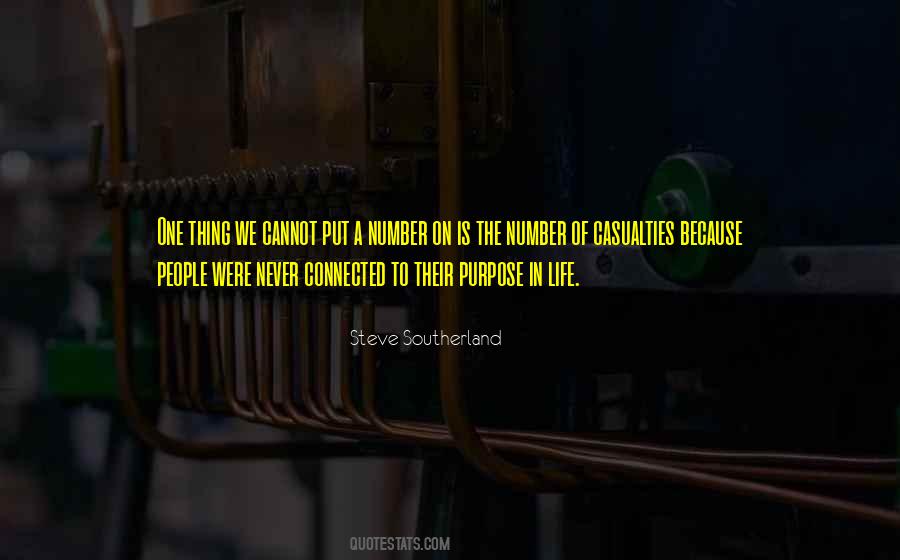 #25. A person's life purpose is nothing more than to rediscover, through the detours of art or love or passionate work, those one or two images in the presence of which his heart first opened. - Author: Albert Camus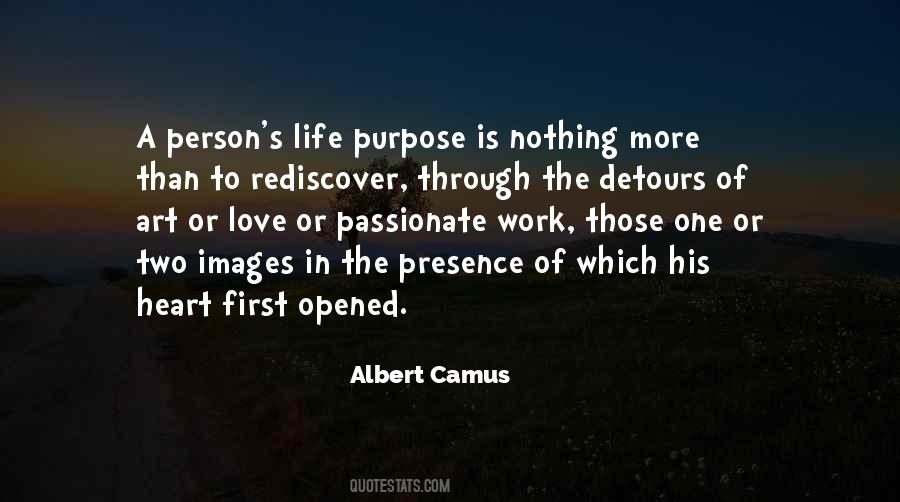 #26. The one thing to rely upon is God's favor. Do not build either on your study or on your meditation, although they both help you. But you are dependent on God, not even on your murshid. Seek Him, trust Him. In Him lies your life's purpose, and in Him is hidden the rest of your soul. - Author: Hazrat Inayat Khan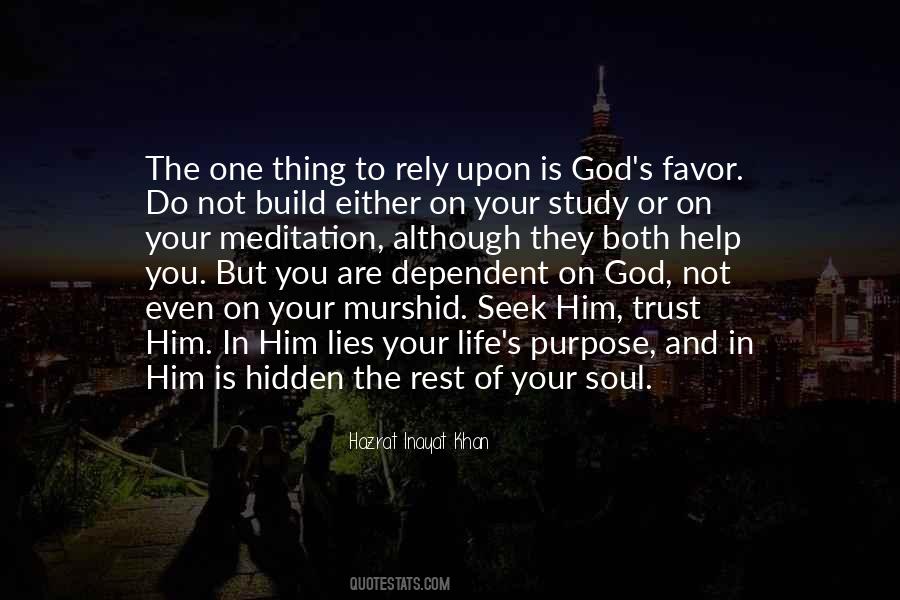 #27. one of the most painful things in life is to be considered as meaningless in an environment where you think you are truly meaningful - Author: Ernest Agyemang Yeboah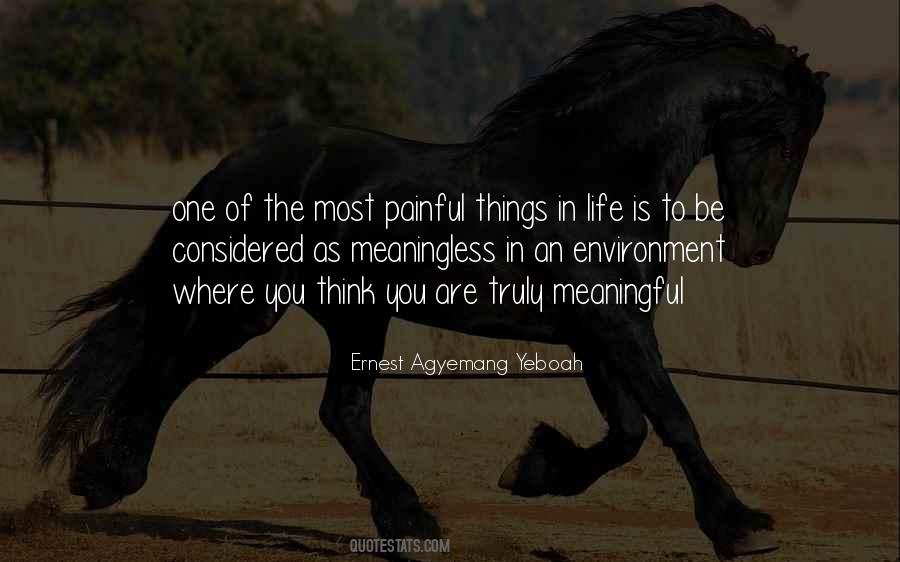 #28. You need to understand, comprehend and believe, "There is a goal in my birth. I have a mission, and there is something that no one but I can do. - Author: Sunday Adelaja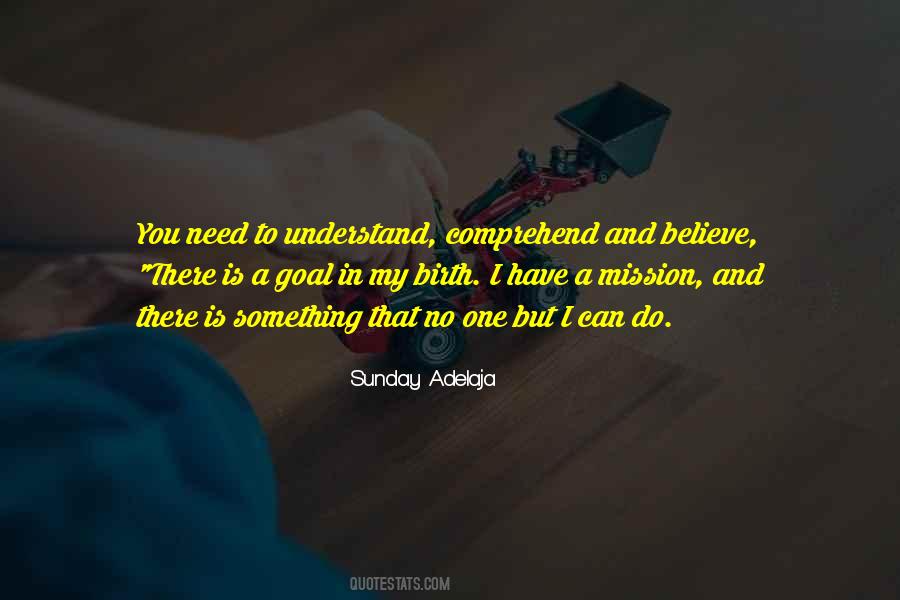 #29. There is only one true purpose in life: to wake up from the delusion that you are separate from everything else. - Author: Chuck Hillig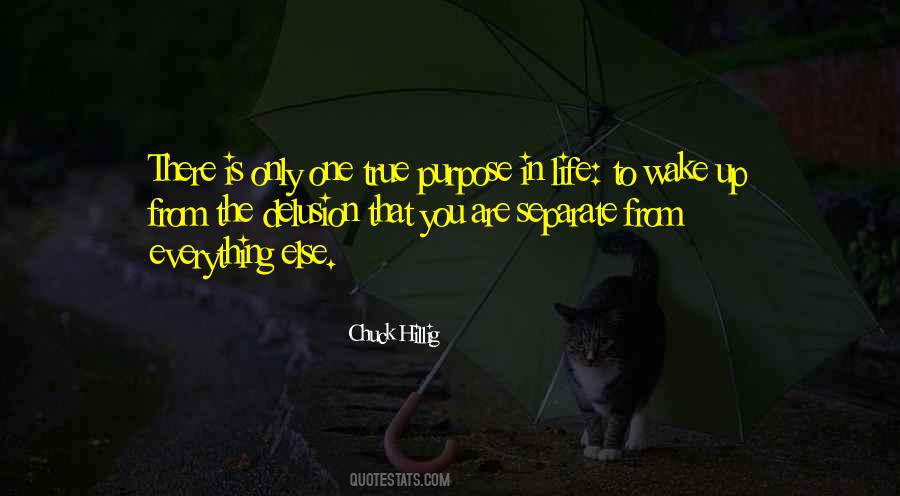 #30. The most important journey you will take in your life will usually be the one of self transformation. Often, this is the scariest because it requires the greatest changes, in your life. - Author: Shannon L. Alder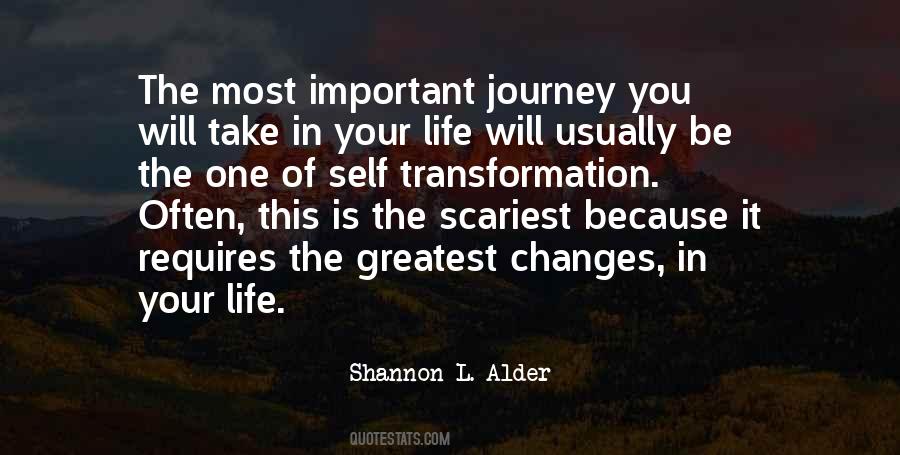 #31. I believe the very purpose of our life is to seek happiness. Whether one believes in religion or not, whether one believes in that religion or this religion, we are all seeking something better in life. So, I think, the very motion of our life is towards happiness ... - Author: Dalai Lama XIV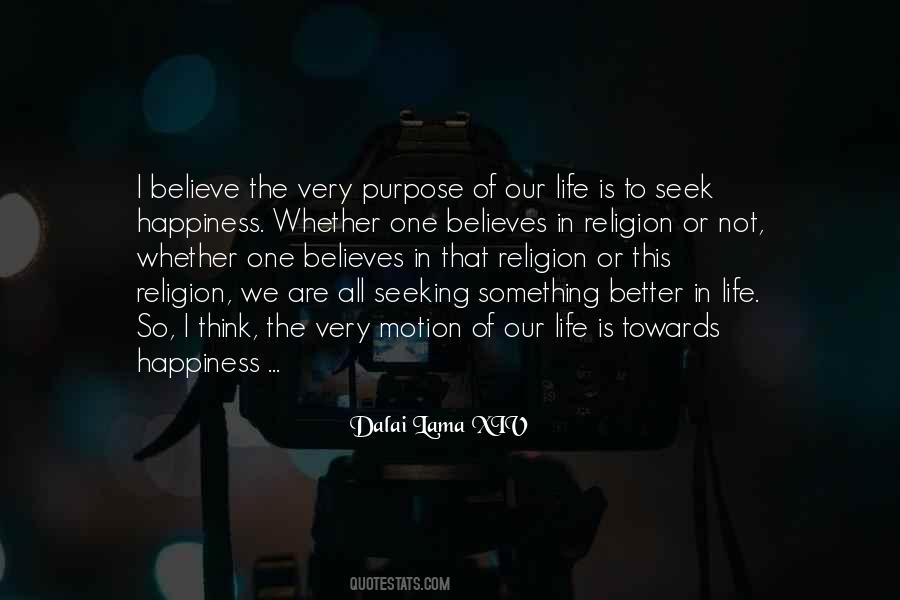 #32. Life is filled with opportunities. Be courageous and fulfill your destiny. You were created for a purpose and once you realize your potential, you become unstoppable. Let no one get in the way of you pursuing your dreams. - Author: Amaka Imani Nkosazana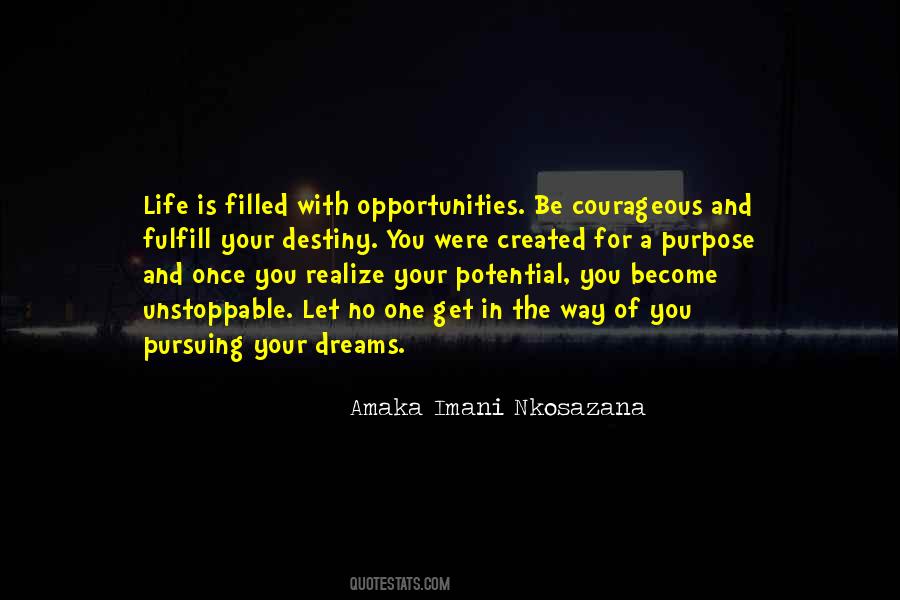 #33. My own life in India, since I came to it in 1893 to make it my home, has been devoted to one purpose, to give back to India her ancient freedom. - Author: Annie Besant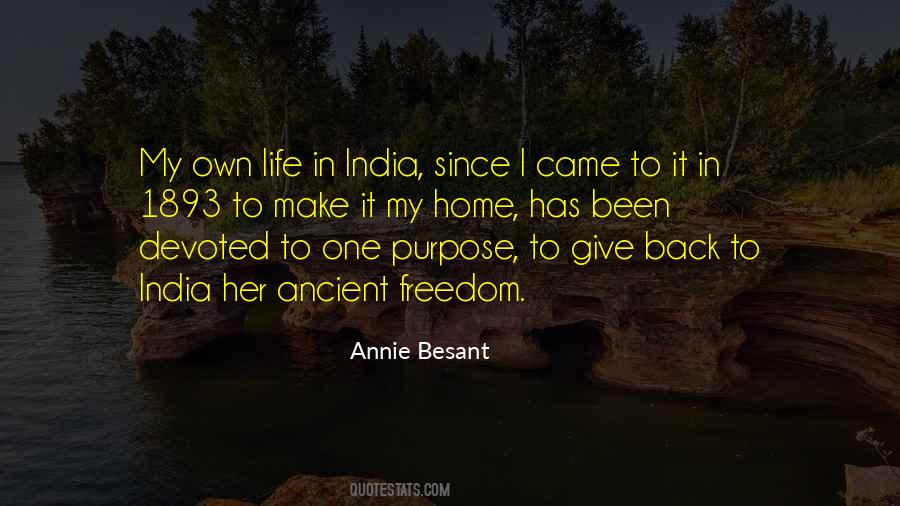 #34. Nelson Mandela was one of the most influential people in my life. He was my hero, my friend, and also a companion to me in our fight for the people and for world peace. Let us all continue his legacy with purpose and passion. - Author: Pele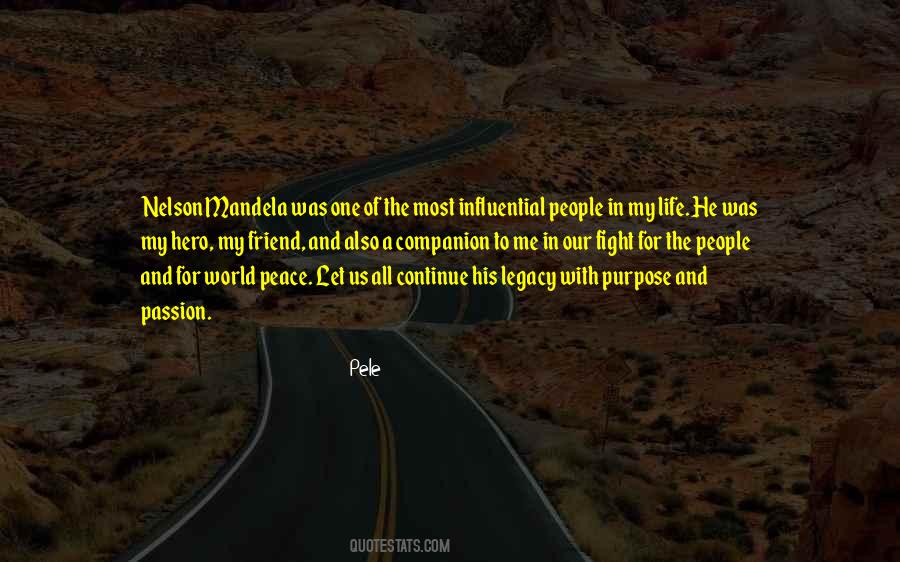 #35. He needs a purpose, even if it kills him. - Author: Jennifer Arnett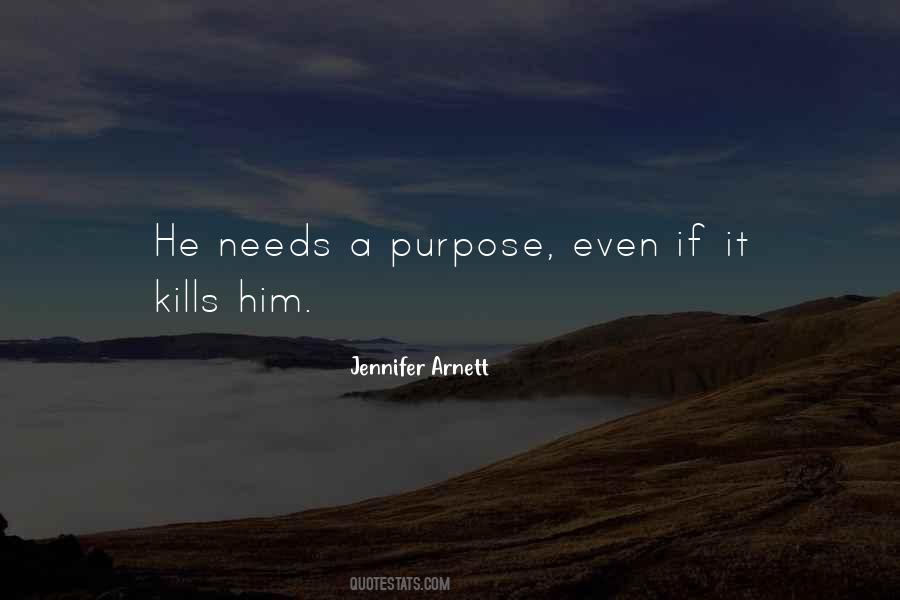 #36. If there is one thing the psychic taught me, it's that people and events are rarely who and what we think they are. They are more meaningful, more worth our attention-part of some finely choreographed, eternal dance that we would be wise to bow down before in gratitude and humility. - Author: Leslie Morgan Steiner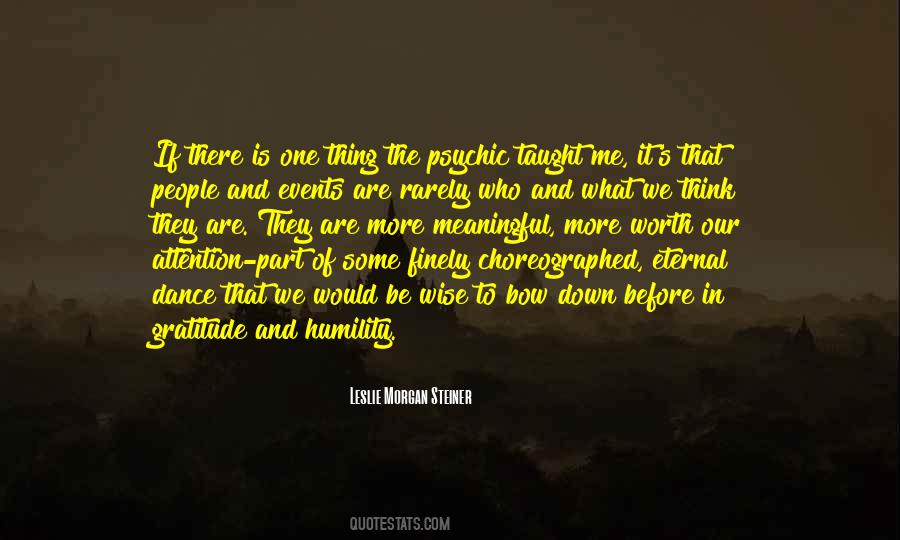 #37. There are times in life that you don't have to waste time at all, and there are times in life where delay saves time, purpose and life. In all things we do we must not forget this one thing: our lives have been timed! - Author: Ernest Agyemang Yeboah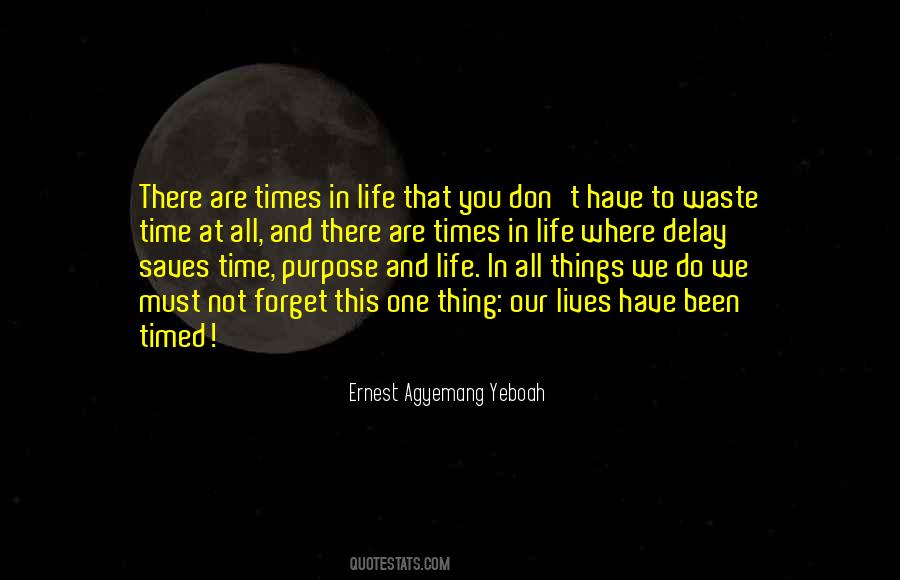 #38. Being in the present moment, one can step outside the mechanical train of life, and this is where the inner revolution begins. - Author: Belsebuub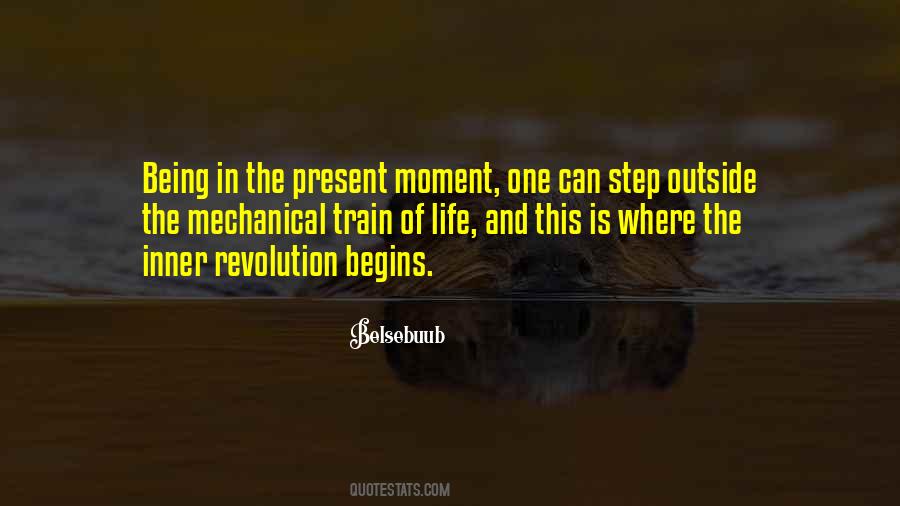 #39. May you enter into a new phase in your life. One that affirms your life's purpose. - Author: Eleesha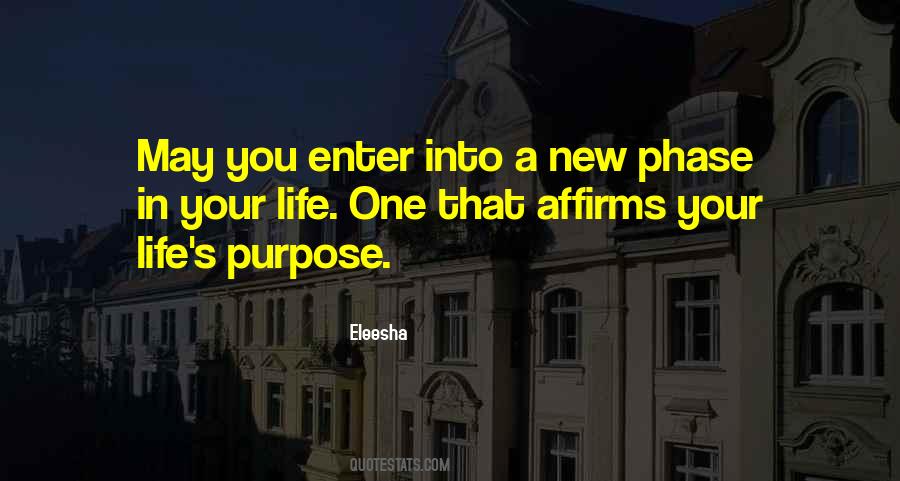 #40. I want to ask someone the truth, I think truth is what has been missing in my life. Well, it's one of the things that has been missing, along with a sense of purpose and positive self-esteem. - Author: Susan Juby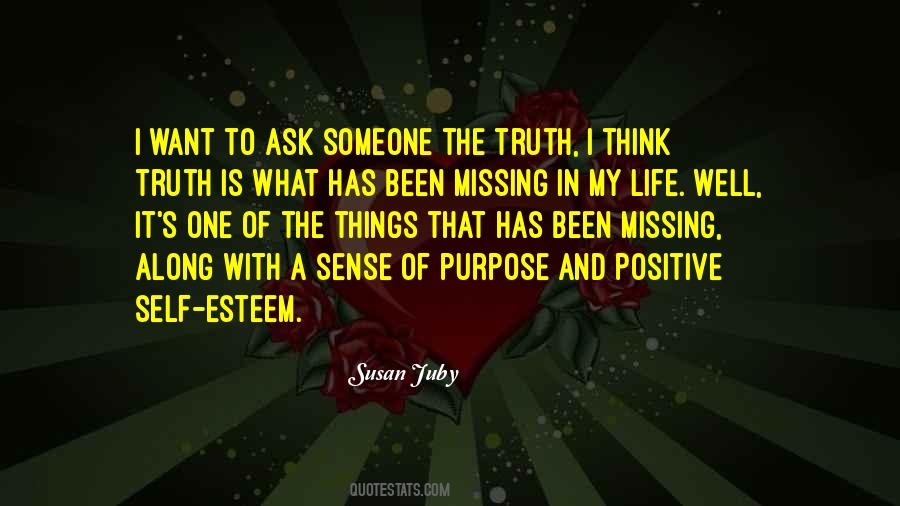 #41. One of the reasons so many singles are dissatisfied is that they're looking for a change in status to define their significance, rather than finding a purpose in life, granted by God, that gives them significance regardless of the status they're in. - Author: Tony Evans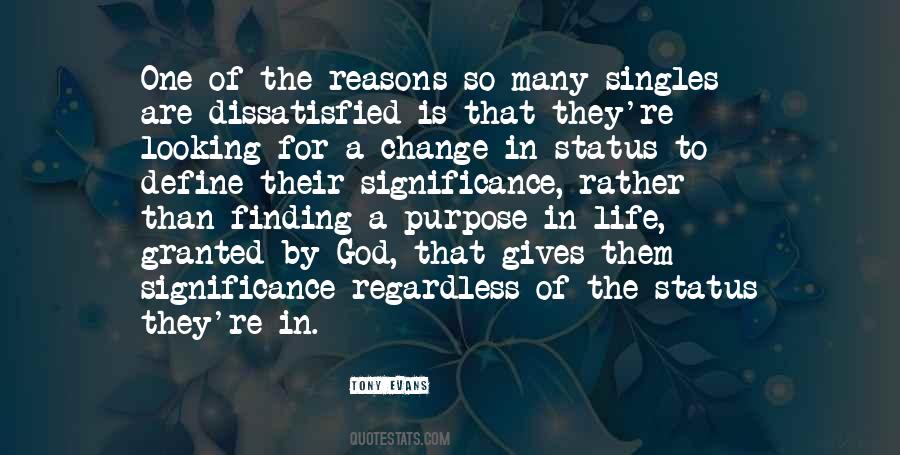 #42. God's purpose for my life was that I have a passion for God's glory and that I have a passion for my joy in that glory, and that these two are one passion. - Author: Jonathan Edwards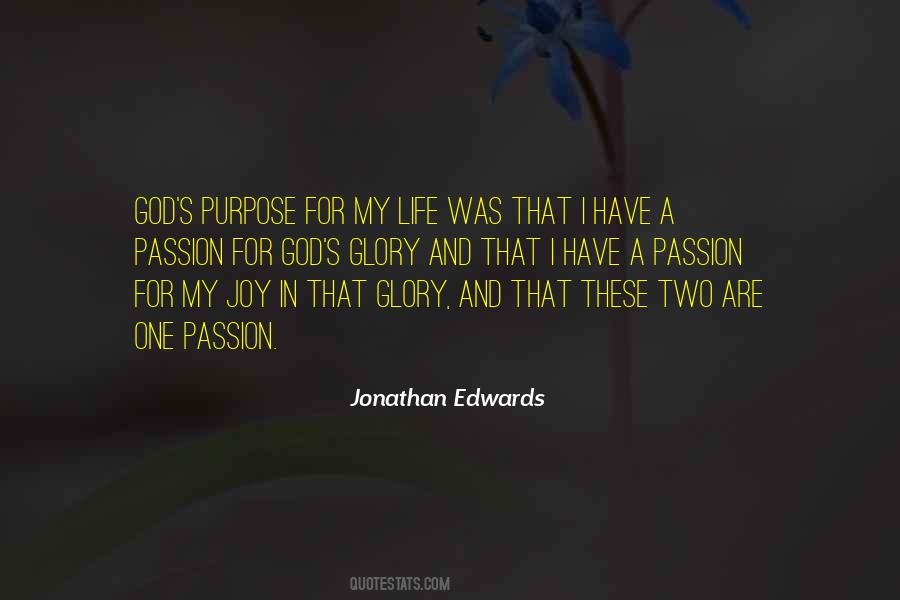 #43. To want to be what one can be is purpose in life. - Author: Cynthia Ozick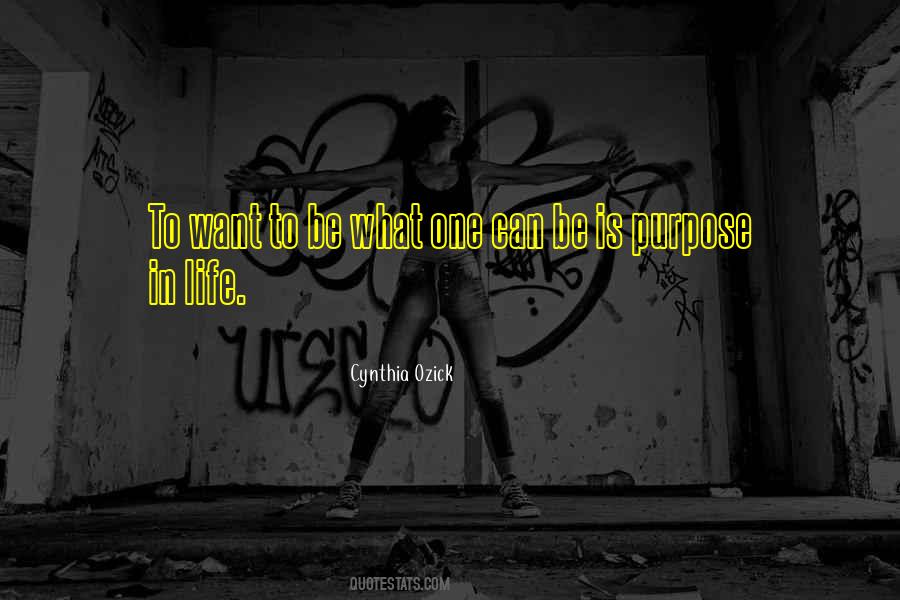 #44. All scripture points to one thing: life is about God. The process of moving from confused wandering to purpose and joy is marked by faith, by waiting on the Lord in ready obedience. - Author: Ken Wytsma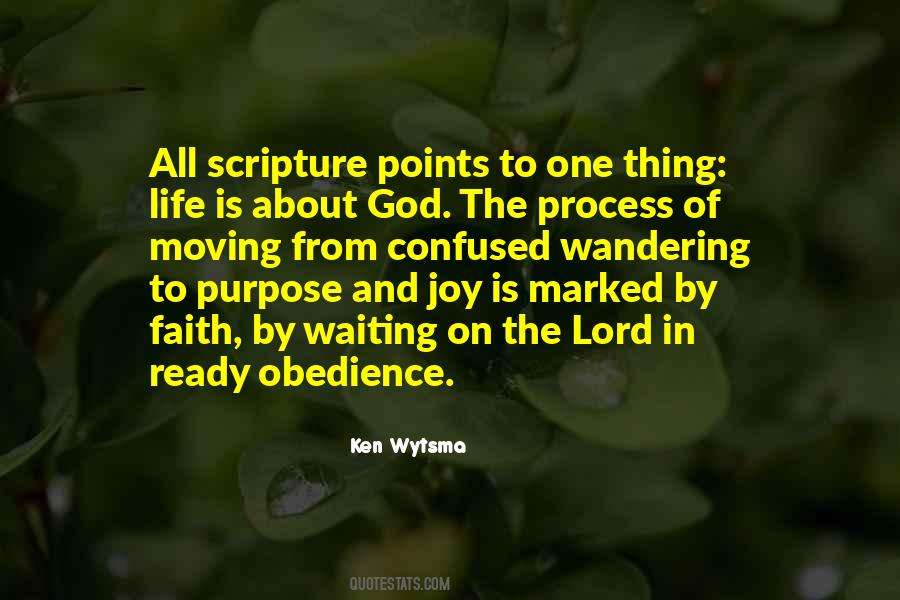 #45. In regards to climbing the ladder of success, there is a better future, with a greater purpose. One can find it, only if he or she searches for it. - Author: Ellen J. Barrier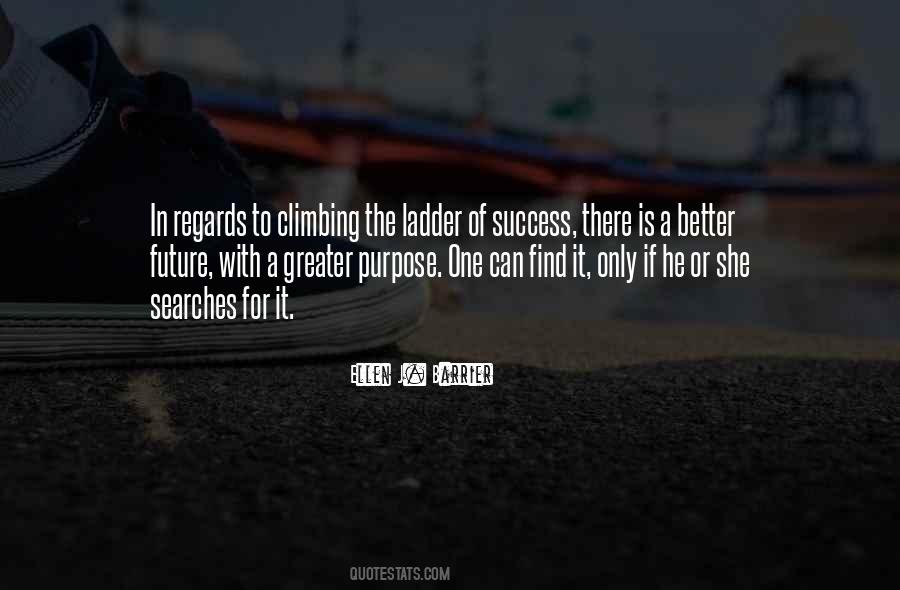 #46. This is not a universe that is advancing toward a goal; it is one that is caught in the grip of an unbreakable pattern. - Author: Sean Carroll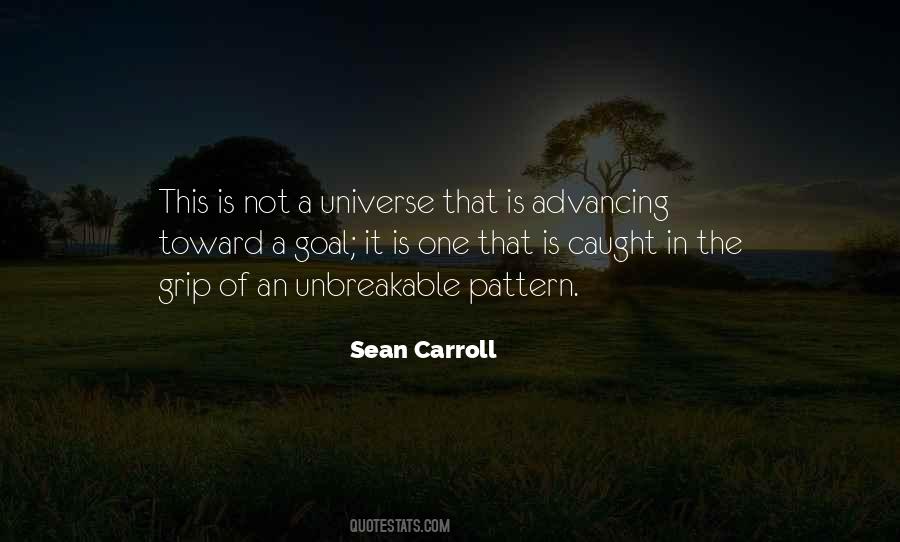 #47. The God that is nearest to you in the people around you is the real one you need - Author: Sunday Adelaja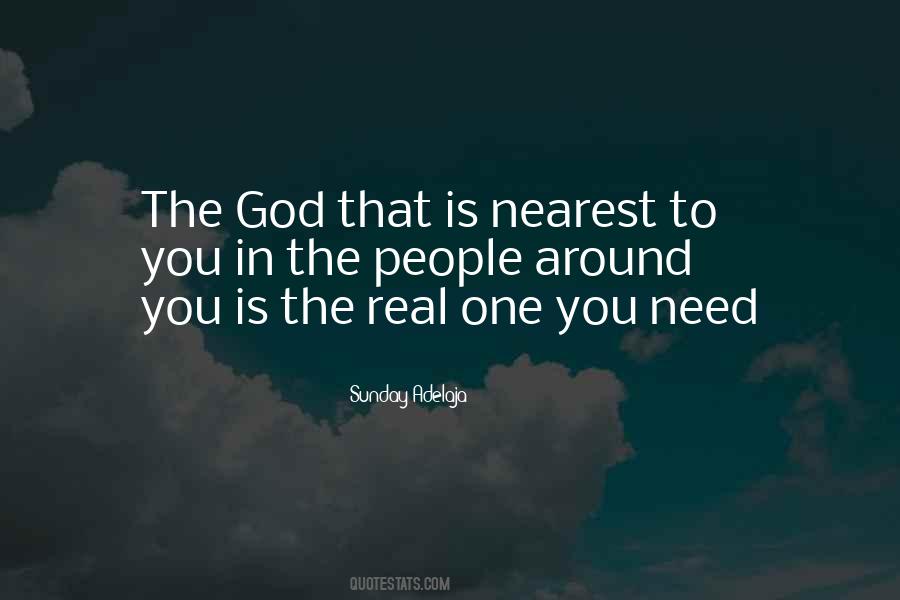 #48. Man cannot live without some knowledge of the purpose of life. If he can find no purpose in life he creates one in the inevitability of death. - Author: Chester Himes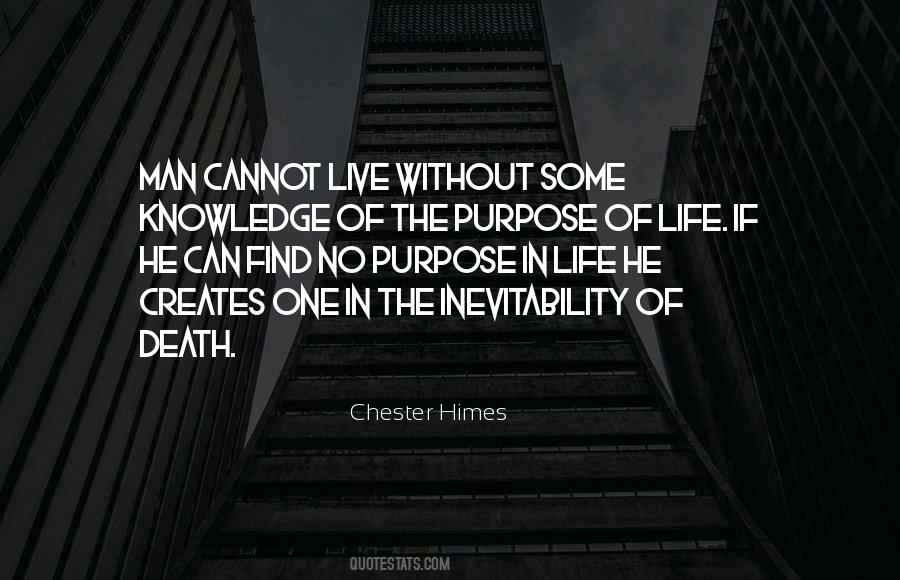 #49. Studies of older Americans find that one of the best predictors of happiness is whether a person considers his or her life to have a purpose. Without a clearly defined purpose, seven in ten individuals feel unsettled about their lives; with a purpose, almost seven in ten feel satisfied! - Author: Mark Lepper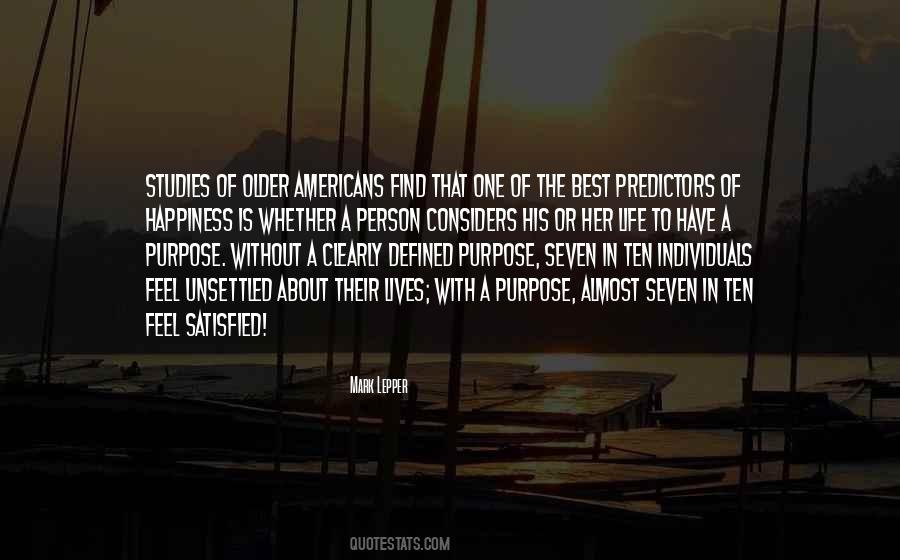 #50. Life's temptations have the purpose of putting our spiritual integrity to the test. To yield to them, however, gives one a precarious and tormented satisfaction. But the worst temptations are those we give in to without getting anything in return except for the brutal discovery of our weakness. - Author: Paolo Maurensig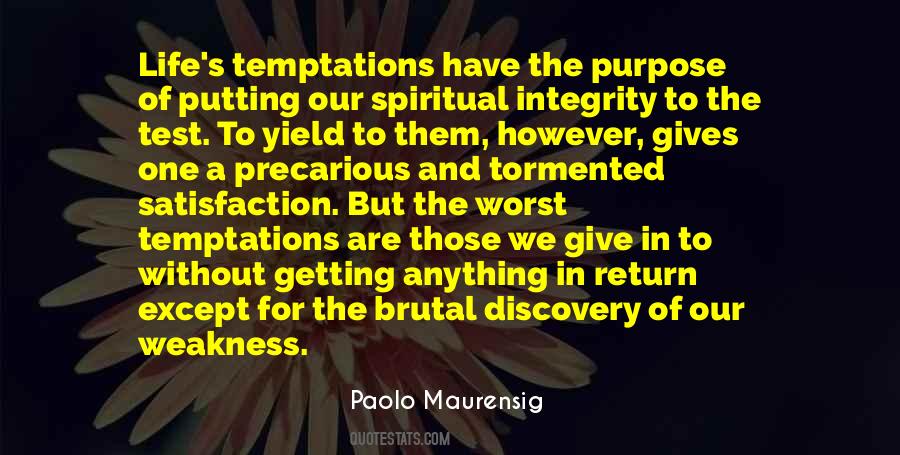 #51. Everyone has a purpose in life - even if yours is to go through it believing you don't have one! - Author: Mani S. Sivasubramanian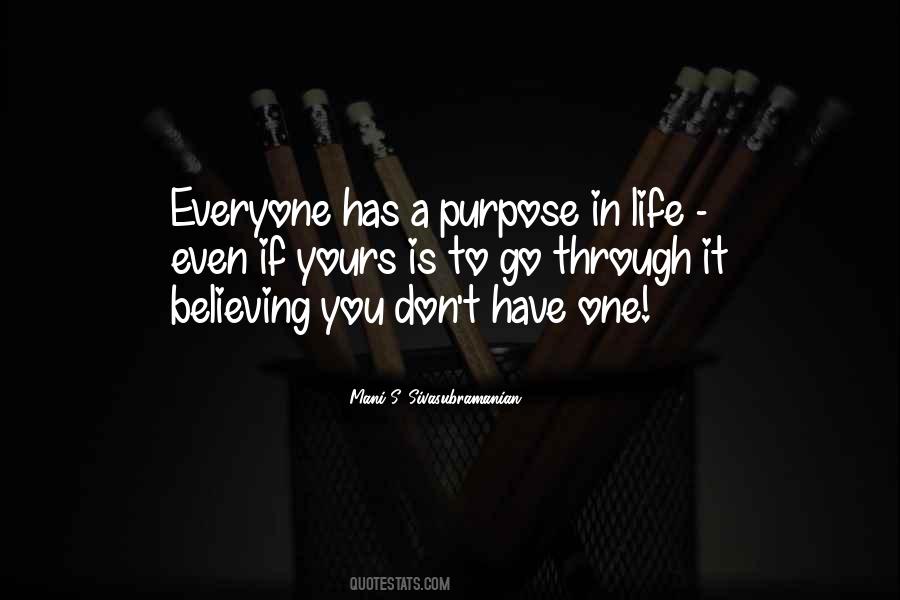 #52. The worth is in the act. Your worth halts when you surrender your will to change and experience life. But options are before you; choose one and dedicate yourself to it. The deeds will give you a new hope and purpose. - Author: Christopher Paolini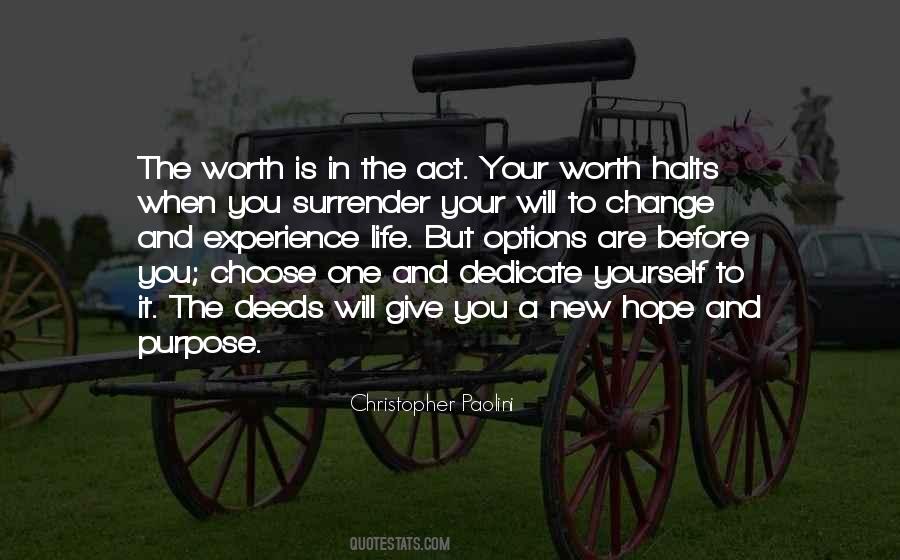 #53. If the Universe is playing a beautiful song, each one of our lives is a note in that song. - Author: Catherine Louise Birmingham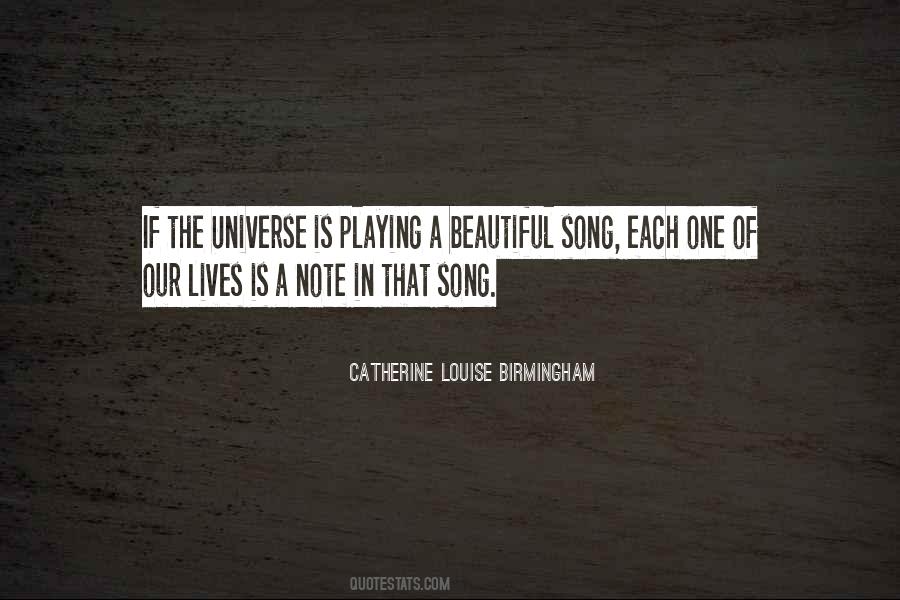 #54. If you had one goal, and that was to feel good, you would never again need to hear another word from anyone. You would live successfully and happily and in a way of fulfilling your life's purpose ever after. - Author: Abraham Hicks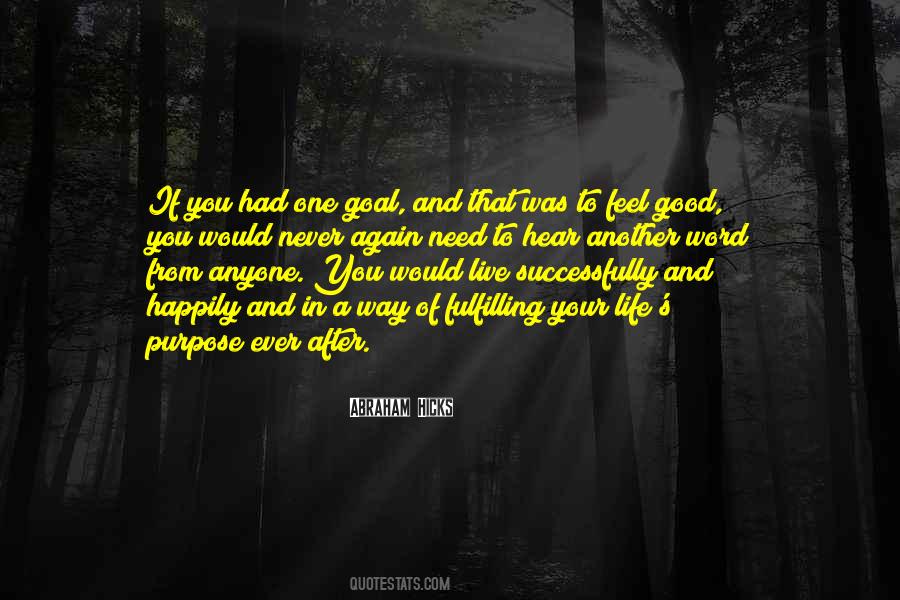 #55. Singleness of purpose is one of the chief essentials for success in life, no matter what may be one's aim. - Author: John D. Rockefeller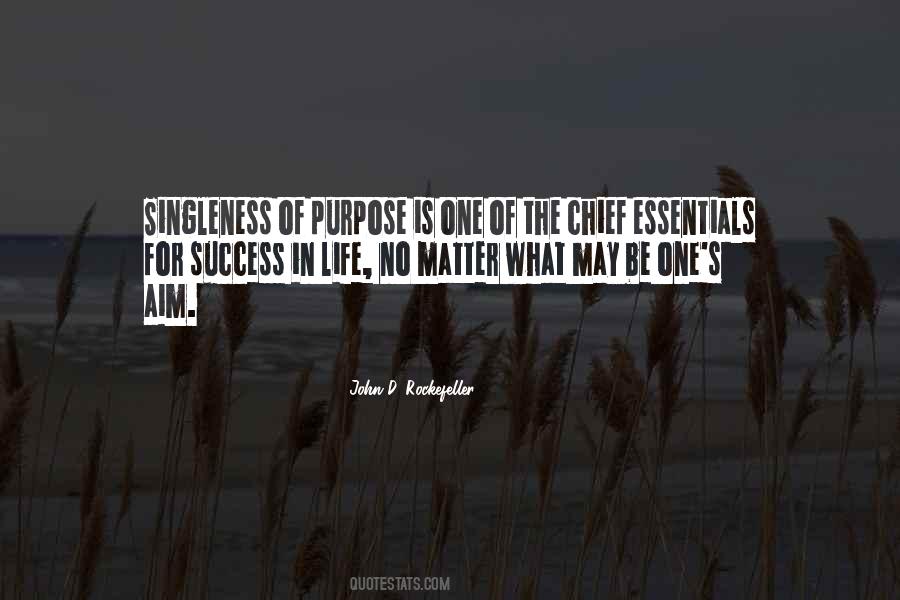 #56. In order to answer the question "Where am I going?" one needs to work for self-improvement, to possess decisiveness, to have a will to win and dedication to achieve the goal at all cost - Author: Sunday Adelaja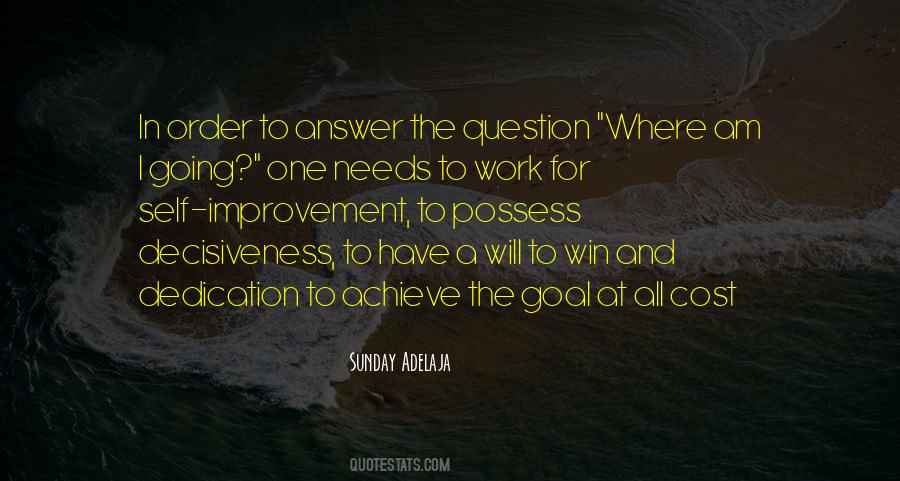 #57. I would much rather live a life of purpose than one in which I might have other things but not that, - Author: Elizabeth Holmes
#58. we must learn to see life as meaningful despite our circumstances. It emphasizes that there is an ultimate purpose to life. And in its original version, before an appendix was added, it concluded with one of the most religious sentences written in the twentieth Century: - Author: Viktor E. Frankl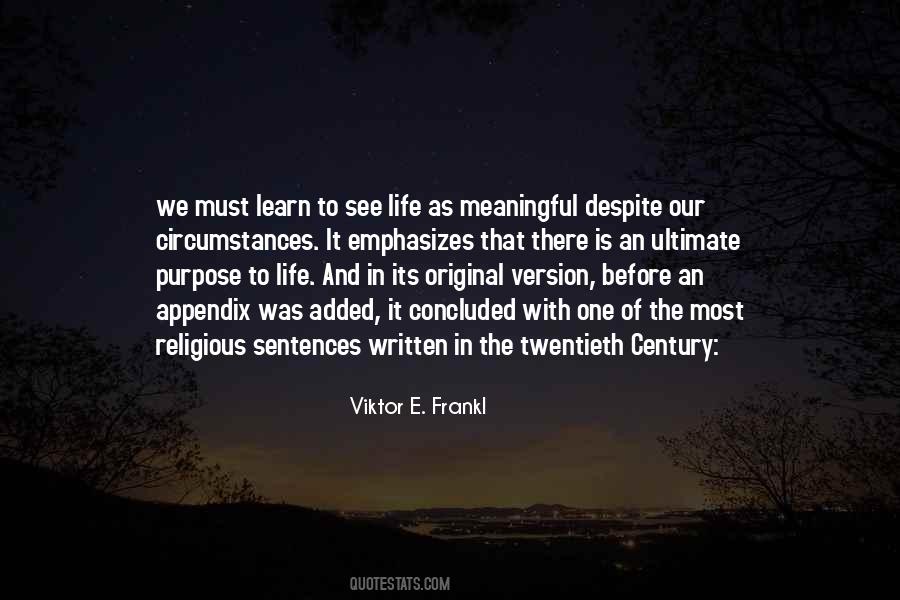 #59. We're more than just the history of our soul. More than our DNA. More than our past lives. We're the choices we've made in this life. Every one of them, giving us purpose. - Author: Megan Miranda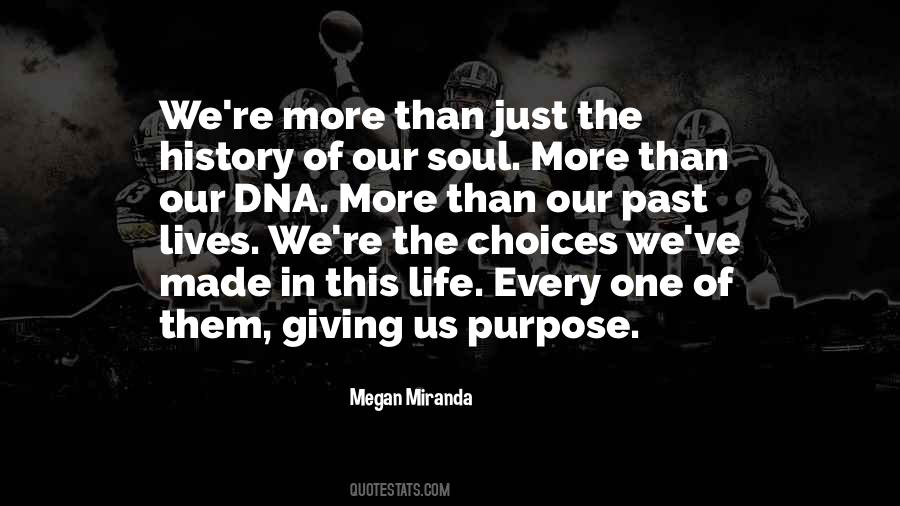 #60. All of us at one point end face up in a ditch, but only a few will choose to look up at the stars and dream. - Author: Shannon L. Alder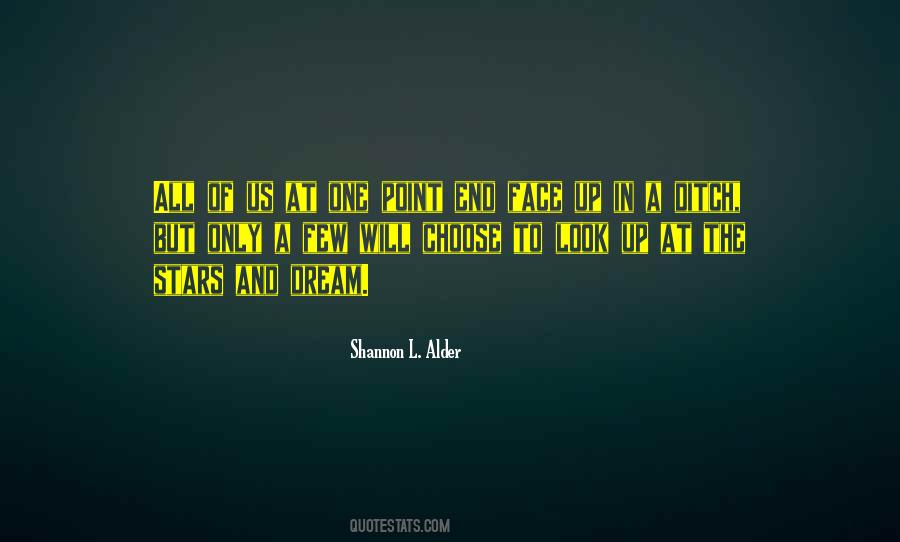 #61. Politics disappears; it vanishes. What remains constant is human life. So I try to develop a perspective in my writing where politics is just one of the pieces of furniture in this furnished world. It is not the purpose. It is not the goal. - Author: Tatyana Tolstaya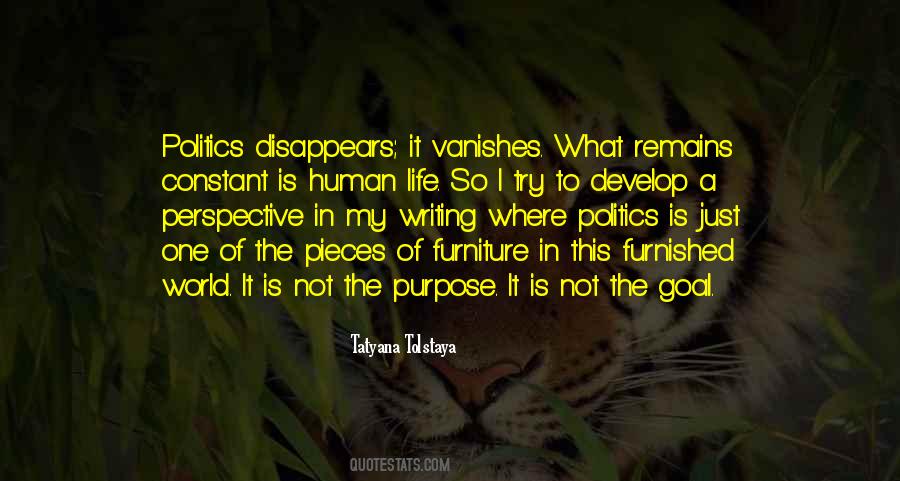 #62. I think the biggest single improvement, or change, that a person could make in one's life would be to come to a deeper understanding, a more expanded awareness of who they are, of who God is, of what God wants, of what life is really about, of the purpose of life. - Author: Neale Donald Walsch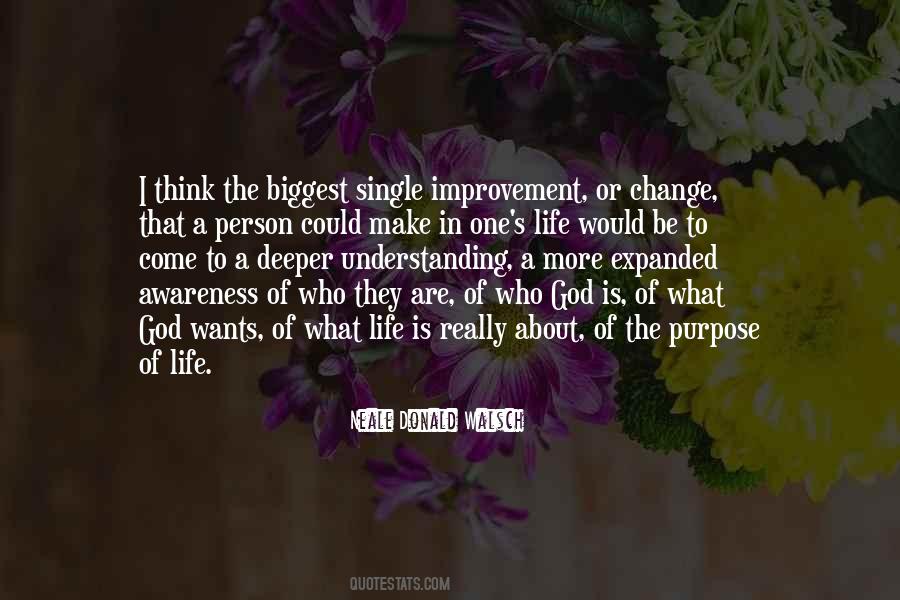 #63. Once again, only religion can answer the question of the purpose of life. One can hardly be wrong in concluding that the idea of life having a purpose stands and falls with the religious system. - Author: Sigmund Freud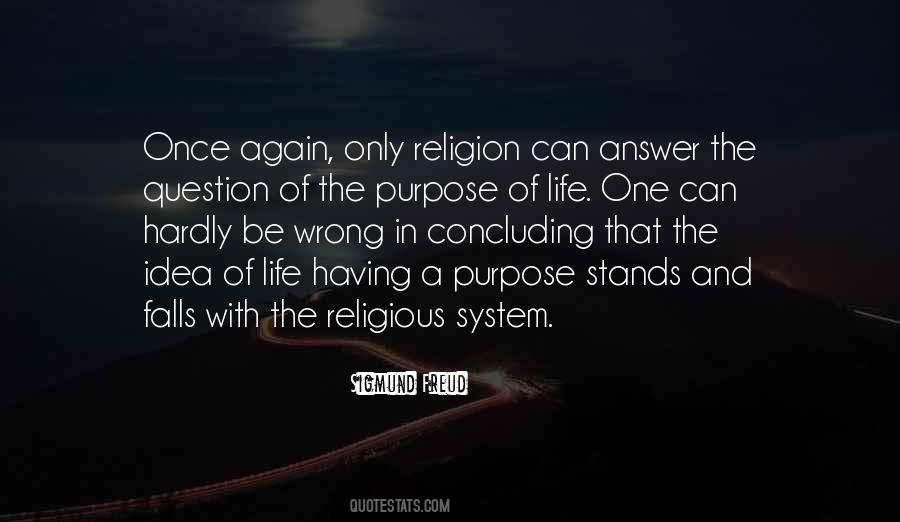 #64. All great and famous people understand that the chief priority in their life is to discover oneself, ones calling and to devote one's life to its fulfilment - Author: Sunday Adelaja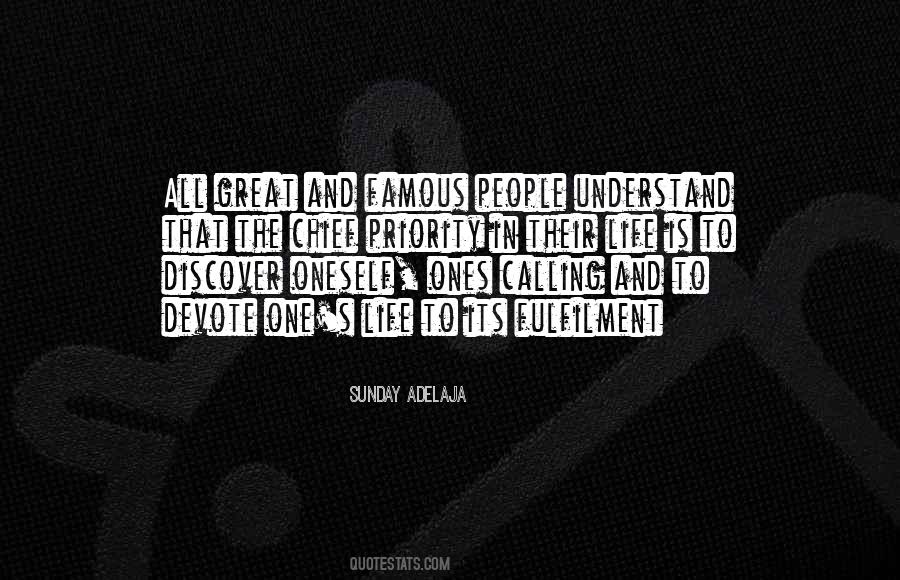 #65. You are in obscurity when you are still needed but no one cares a lot what you say or think, or even where you are working from. You have no voice or presence that makes you relevant. Grow your voice. - Author: Archibald Marwizi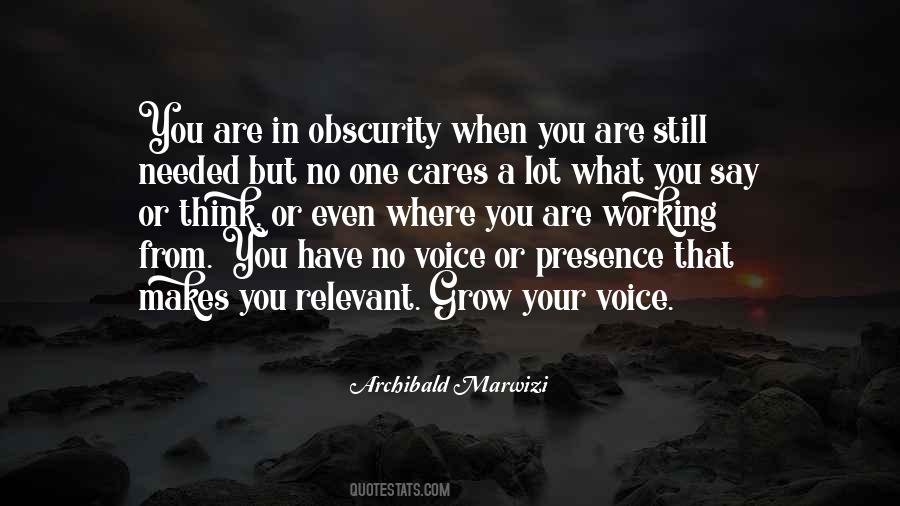 #66. The purpose of life is soul growth. We are here to become transcendent and to become one with God. There is no more to life than this.
In other words, we are here to love. - Author: Sara Wiseman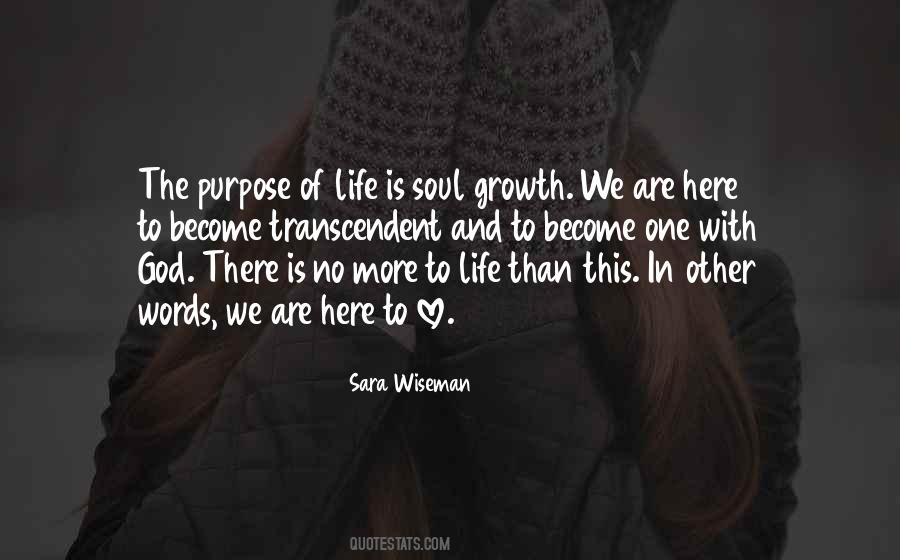 #67. Having purpose and vision during retirement is one of the most important determinants of mental, social, spiritual, and physical well-being in later life. - Author: Harold George Koenig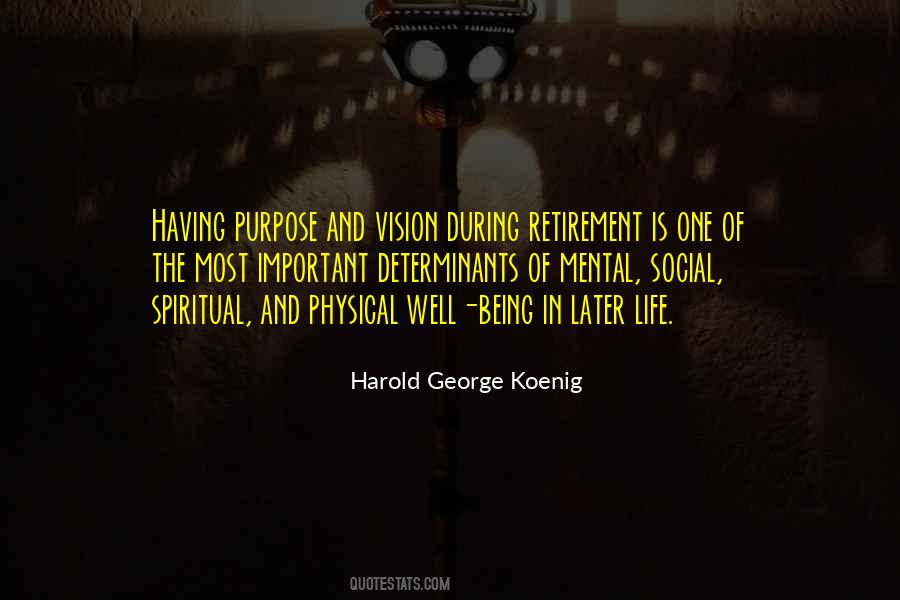 #68. Like space, the soul is not an expression of eternal constancy but of constant change, and this motion has but one purpose: to continue forward, on the narrow ledge, in the absurd hope that you can escape the Darkness. - Author: Erik Valeur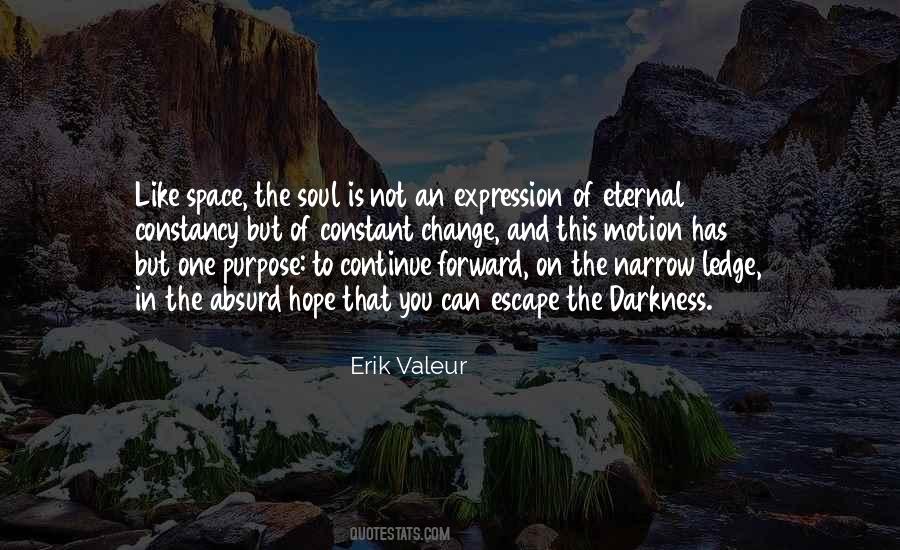 #69. No one can become successful for you. It takes personal definitions, personal decisions, personal convictions, personal actions and personal responsibility to succeed in life. - Author: Archibald Marwizi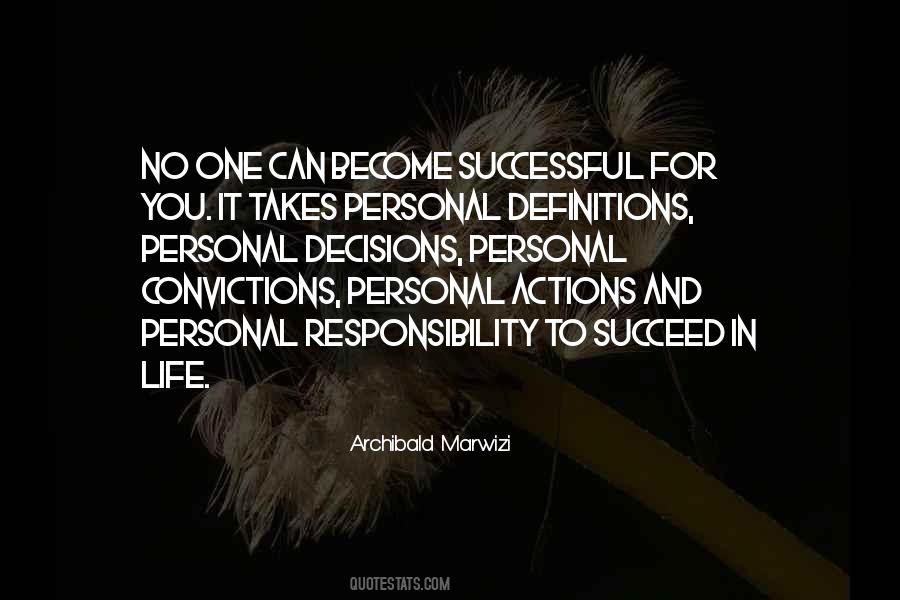 #70. I address you with neither rancor nor bitterness in the fading twilight of life, with but one purpose in mind: to serve my country. - Author: Douglas MacArthur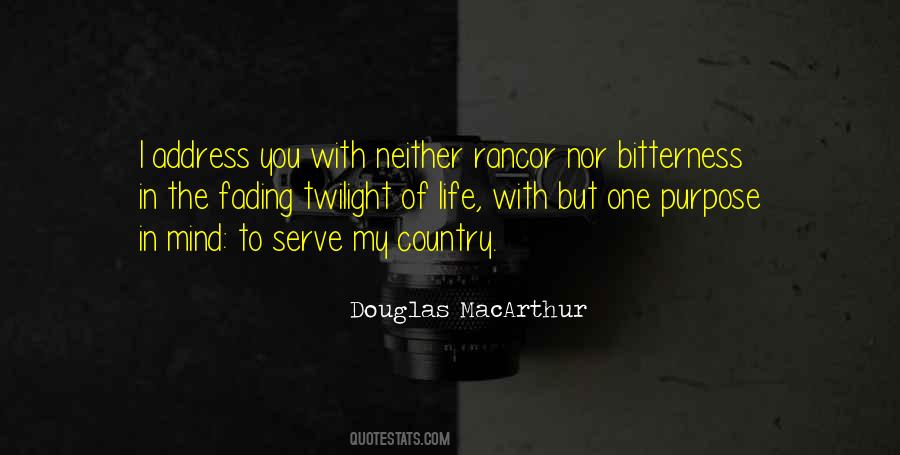 #71. I should never, perhaps, have heard even the name of the woman who has lived in all my thoughts, who has possessed herself of all my energies, who has become the one guiding influence that now directs the purpose of my life. - Author: Wilkie Collins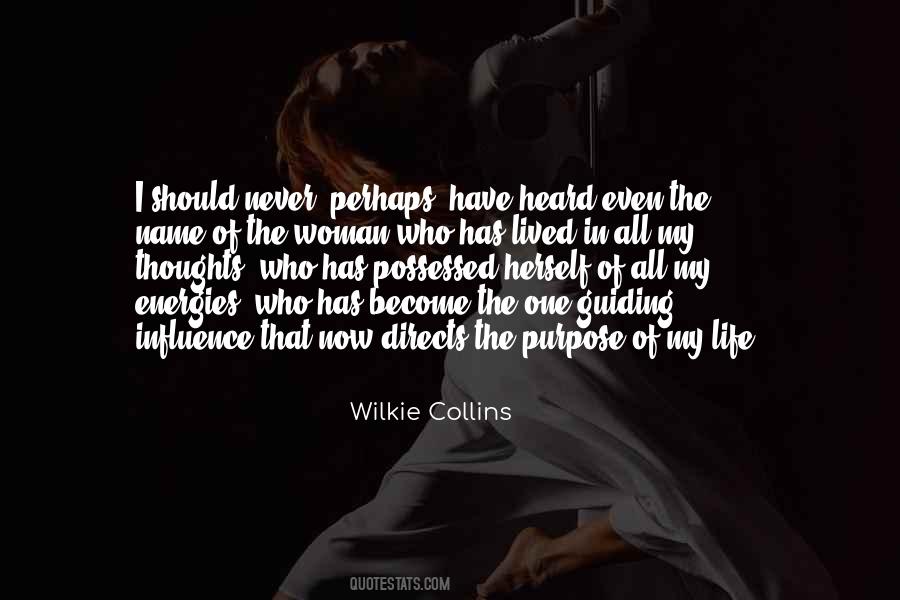 #72. One is often so busy doing life that it is easy to avoid evaluating whether you are putting your energy in the direction you value most. - Author: Deborah Day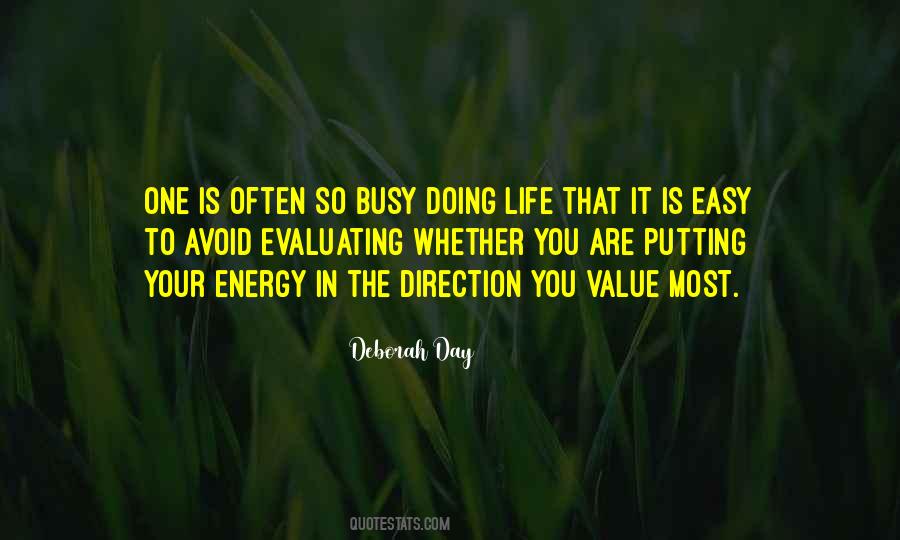 #73. To desire to be what one can be is purpose in life. There are no exterior forces. There are only interior forces. Who squanders talent praises death. - Author: Cynthia Ozick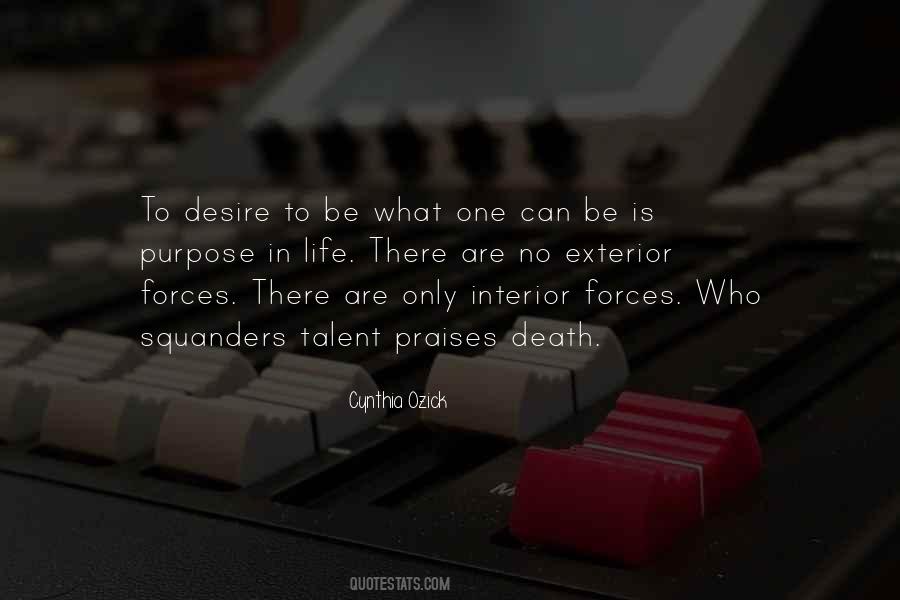 #74. There are essentially two questions in life - a spiritual question and a material question. The spiritual question is 'Who am I?' The material question is 'What am I to do with my life?' One leads to the other. - Author: Rasheed Ogunlaru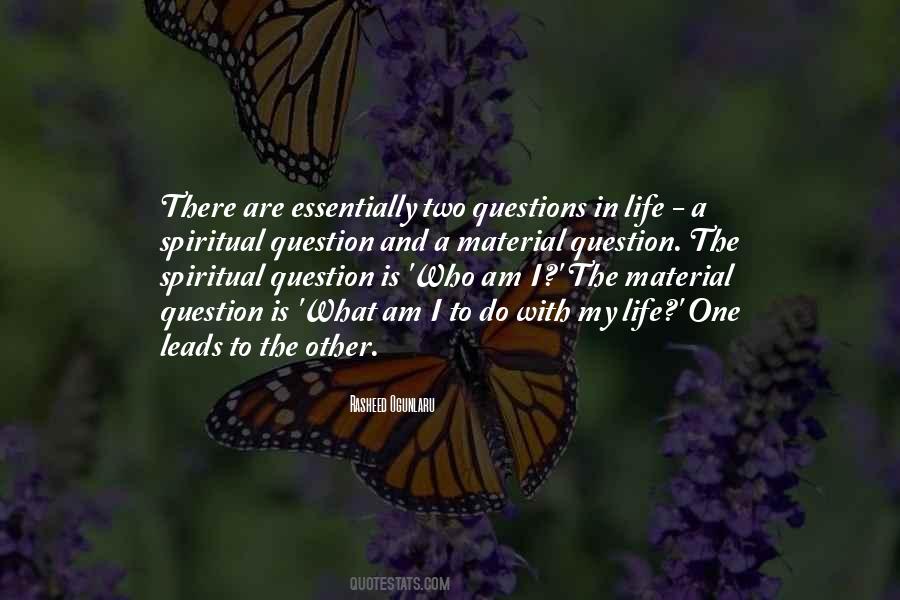 #75. It doesn't seem right or to serve any purpose at all...but, if there's one thing I've learned in my life, it's that even when nothing makes any sense to us, there's still a purpose. And as hard as it is at times, we have to believe that and let it carry us through.~Rayad - Author: Jaye L. Knight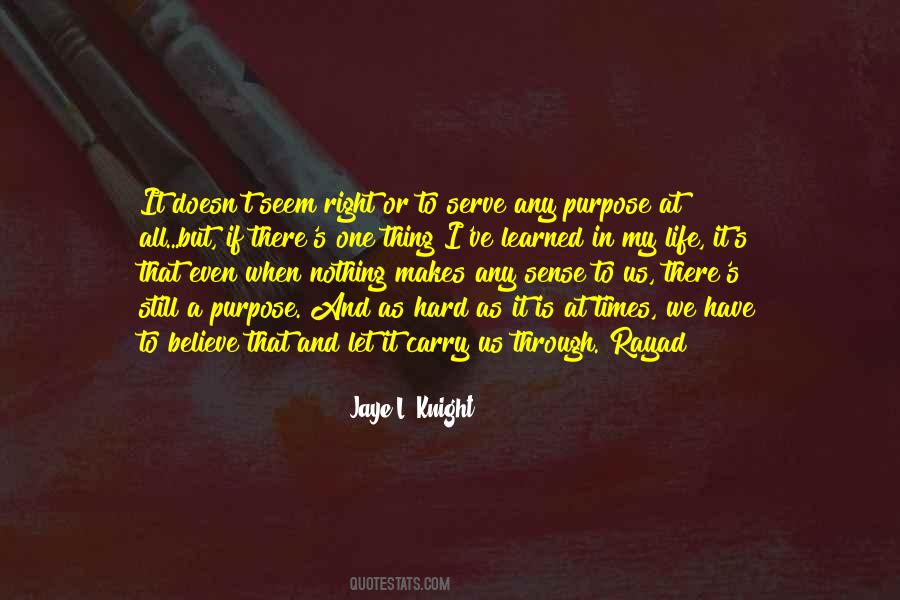 #76. In our life there is one side which is finite and another side which is infinite. I want you to think about both the sides and design the best life and stand in their true values. - Author: Amit Ray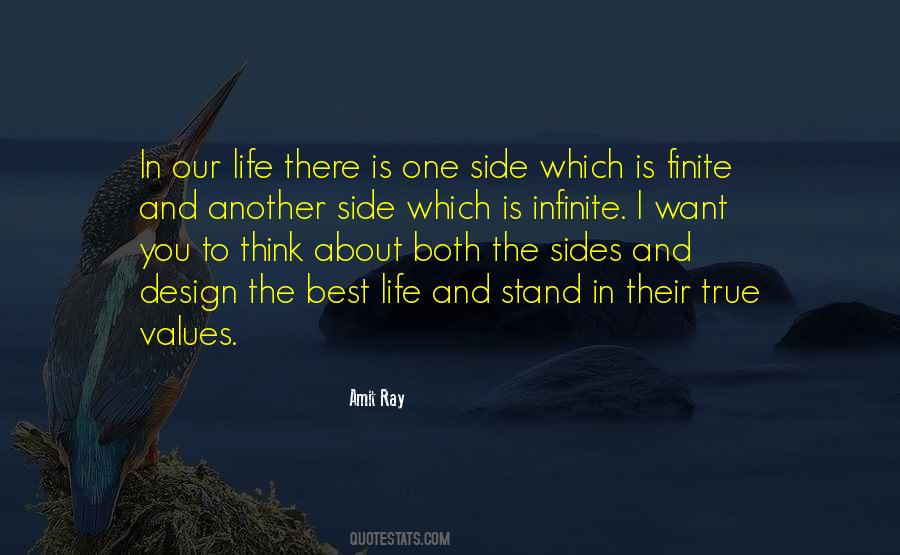 #77. I believe that people come into your life and then some go.I also think there's a purpose as to why they were in your life at all.Each one takes a piece of you when they go.Some leave pieces of themselves with you.Sometimes its's wisdom, or maybe,it's a lesson. - Author: Shey Stahl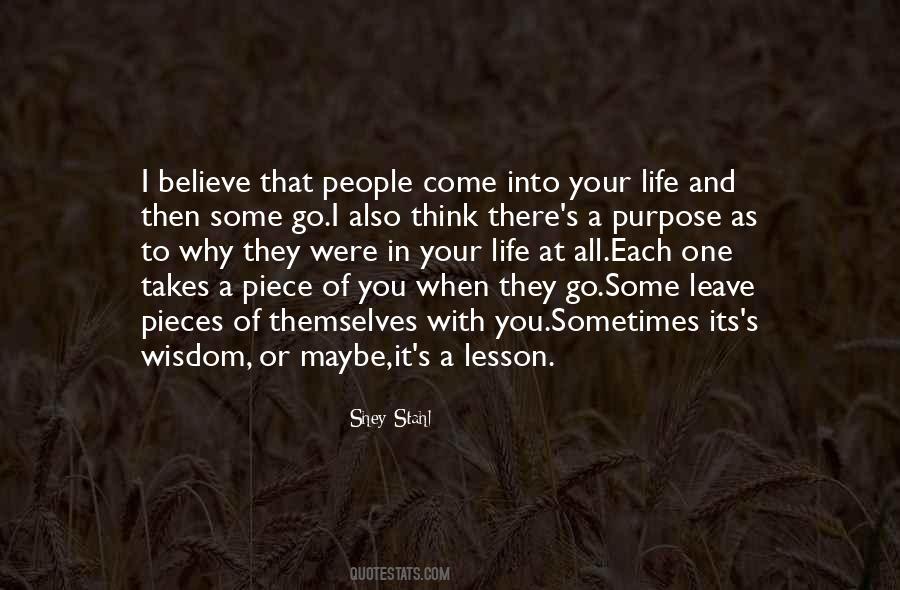 #78. The one way to get thin is to re-establish a purpose in life. - Author: Cyril Connolly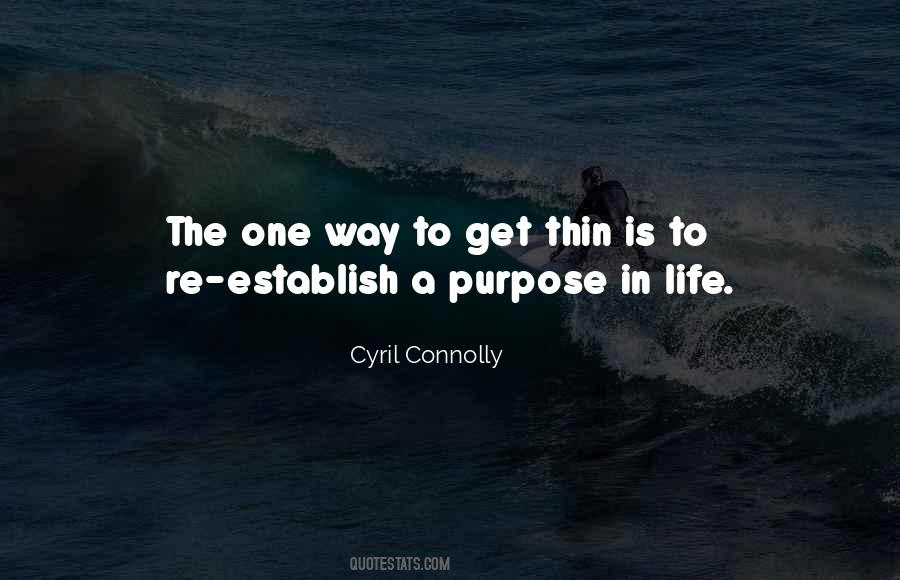 #79. The purpose of prayer and of God's call in your life isn't to make you number one in the world's eyes but to make Him number one in your life. - Author: Ravi Zacharias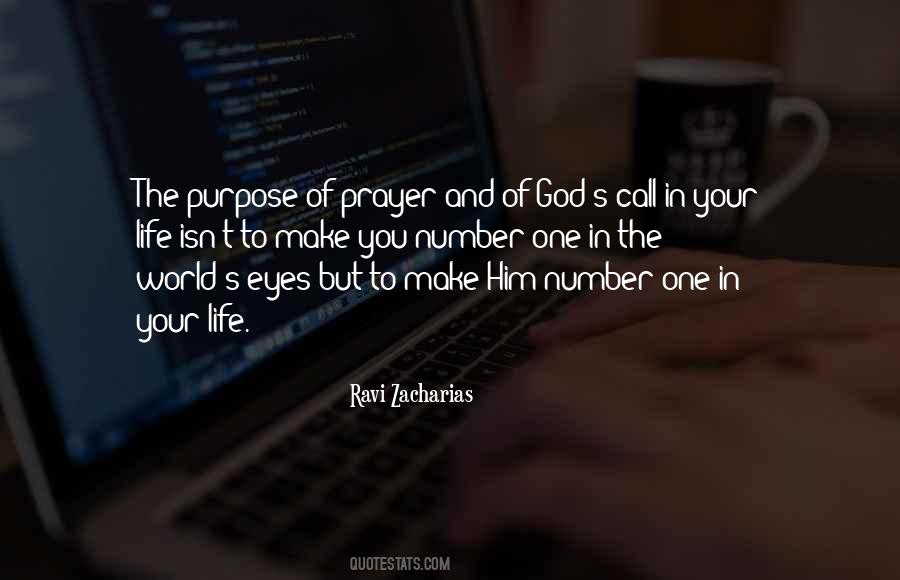 #80. Life's markers are never just for one moment in time. Every event holds a key. Each builds upon the other and becomes an indicator towards a higher purpose. - Author: Nikki Rosen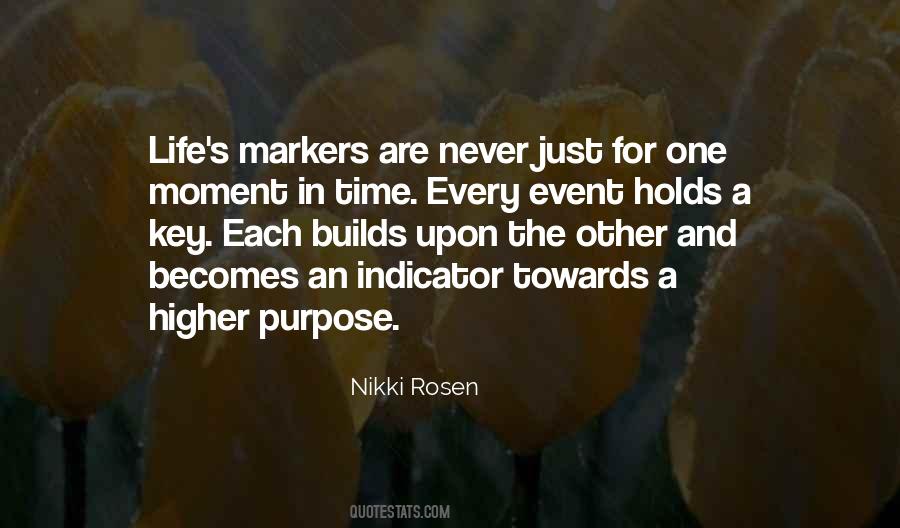 #81. But we know in the South that the real purpose of manners is to make life easier for everyone, easier both to keep to oneself and to avoid the uneasy commerce of offense and even insult. Either one shakes hands with someone or one ignores him or one kills him. What else is there? - Author: Walker Percy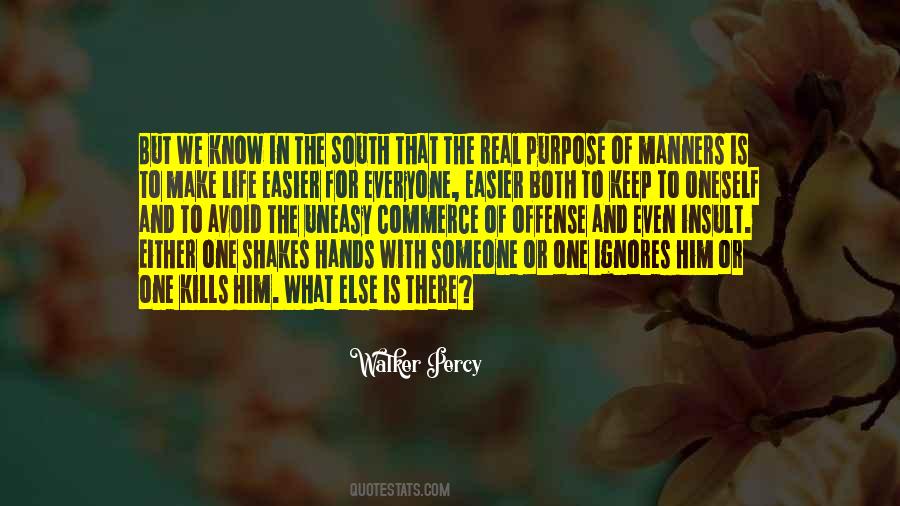 #82. Convention serves a purpose: It gives life meaning, and without it, one is in a constant existential crisis. If you don't have the imposition of family to remind you of what is at stake, something else will. - Author: Elizabeth Wurtzel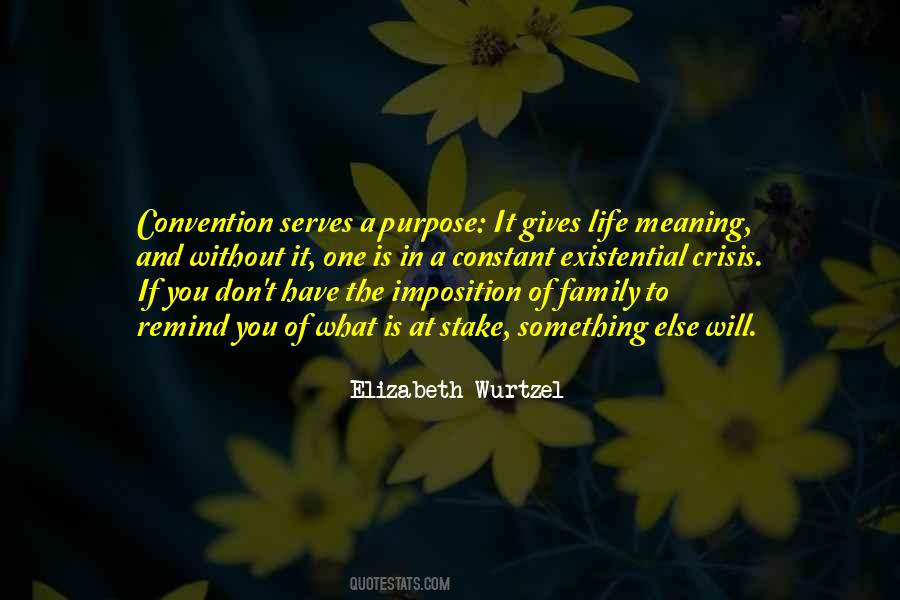 #83. A blessed life is one that understands that when God saves you, He has others in mind. I believe every Christian needs to know that they are not only saved, but are also called to live a life of purpose. - Author: Brian Houston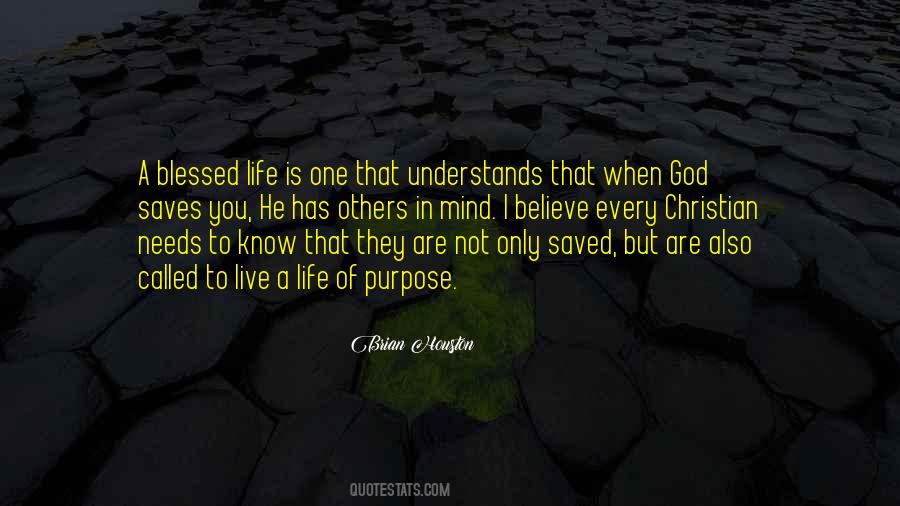 #84. That's my sole purpose in life is to sit here today and tell you that you can do this, in any life. You can do this in one of your past lives, in a future life, or right now. I prefer now. - Author: Frederick Lenz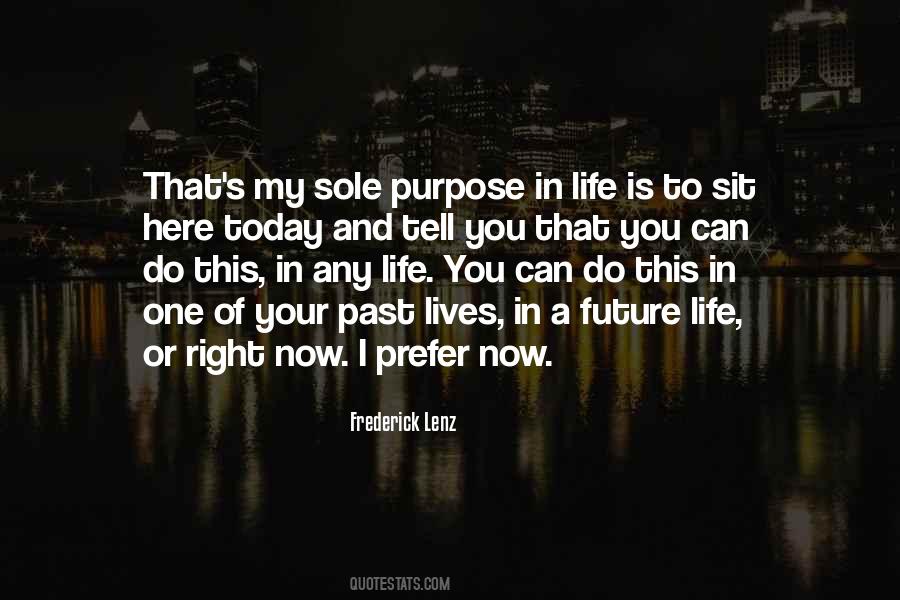 #85. Fear of failure is one of the principal fears creating obstacles in the way of successful self-actualization and achieving goals - Author: Sunday Adelaja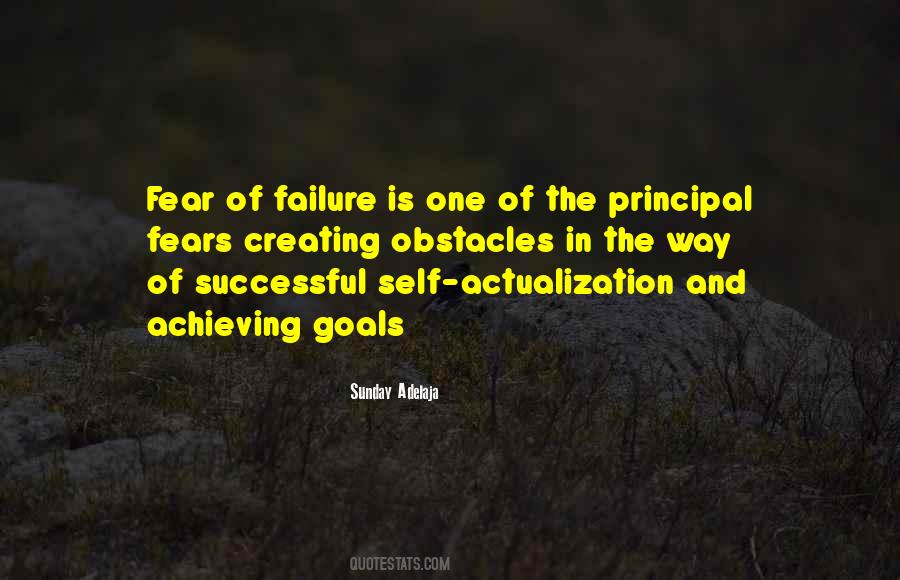 #86. Everything is going well "Day One" book up to page 137, planning som new movies to watch in the near future, close to awesome and powerful quotes. Some new and awesome events... - And that's life, that's how it must be! - Author: Deyth Banger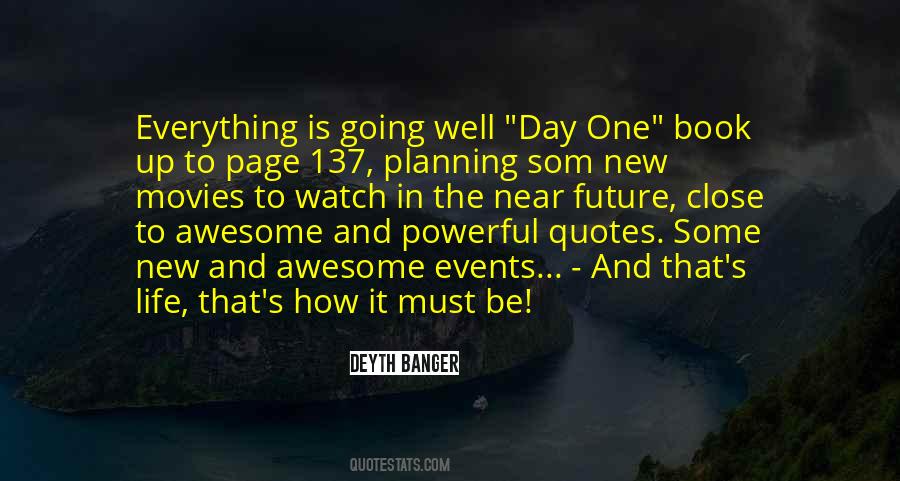 #87. I see myself living by correct principles and accomplishing worthy purposes. One of my favorite quotes is, "The greatest battles of life are fought out every day in the silent chambers of one's own soul." (David O. McKay). - Author: Stephen Covey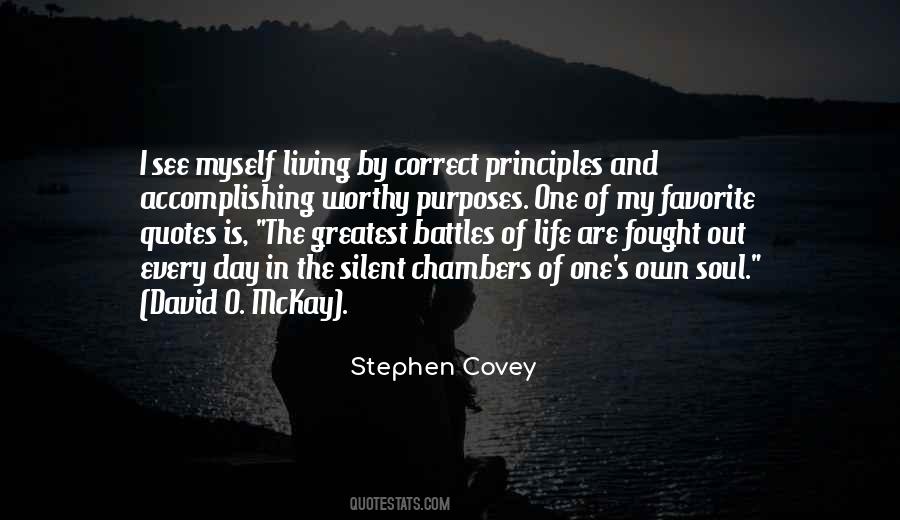 #88. To have no set purpose in one's life is the harlotry of the will. - Author: Stephen MacKenna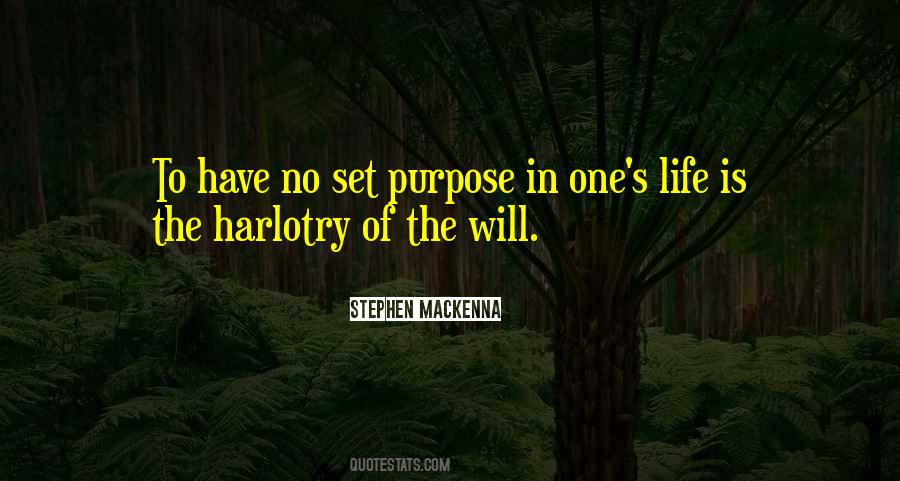 #89. During a peak experience," Maslow explained, "the individual experiences an expansion of self, a sense of unity, and meaningfulness in life. The experience lingers in one's consciousness and gives a sense of purpose, integration, self-determination and empathy. - Author: Steven Kotler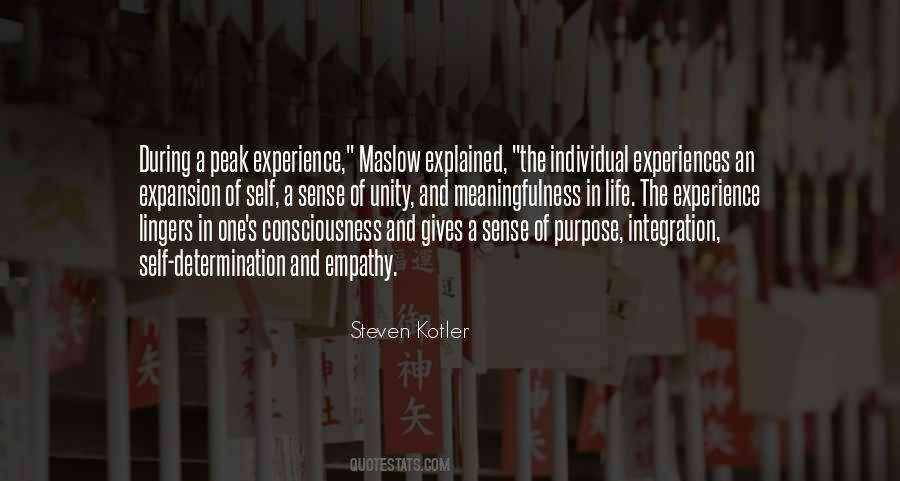 #90. The Christian life is one of faith, where we find ourselves routinely overdriving our headlights but knowing it's okay because God is in control and has a purpose behind it. - Author: Bill Hybels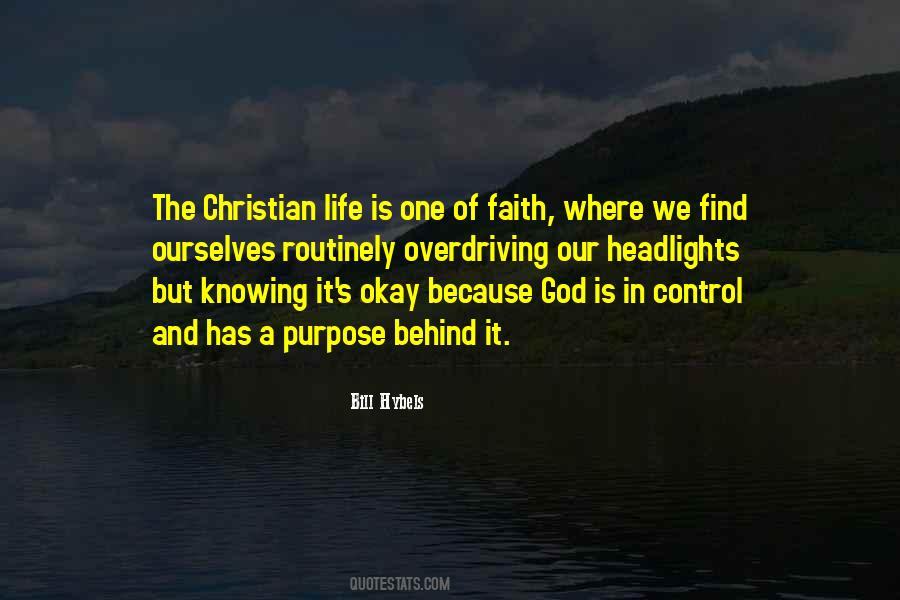 #91. One of the man's major purposes is to have dominion over the earth, in the same way as God has
dominion over the universe. - Author: Sunday Adelaja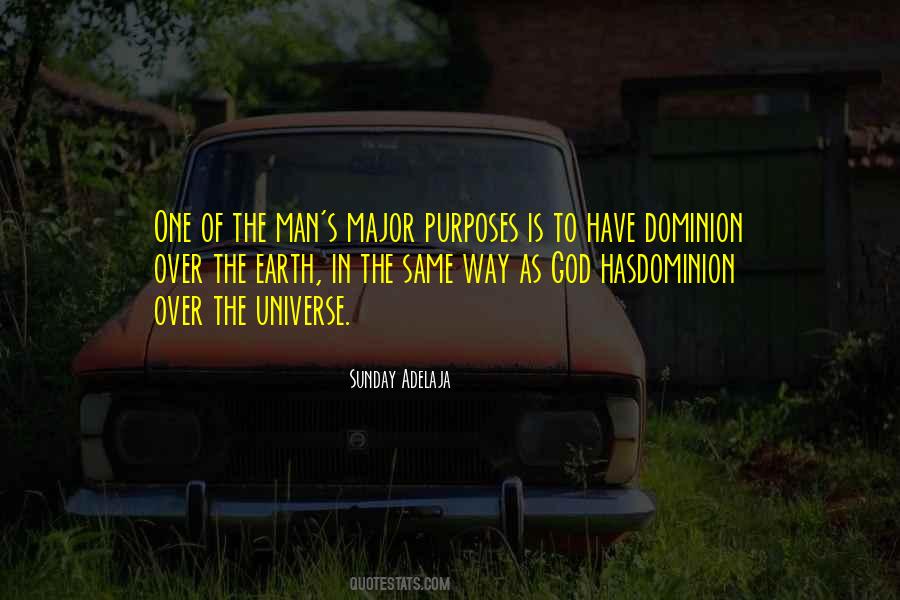 #92. To be able to accept the wonder and the marvel of one's own personality, however flawed or 'accidental,' and place it in and trust it to the hands of the One who made it, is one of the greatest achievements in life. - Author: Ravi Zacharias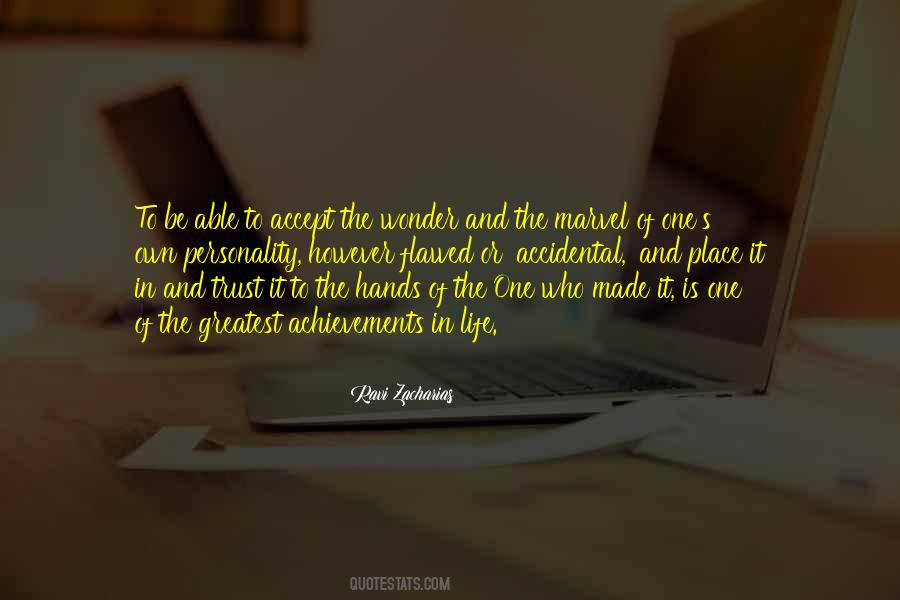 #93. I then swept the crumbs into my palm and opened one of the empty drawers and poured them in. I was working on the theory that if I collected enough crumbs, eventually I could make my own Twix. It's good to have a purpose in life. - Author: Colin Bateman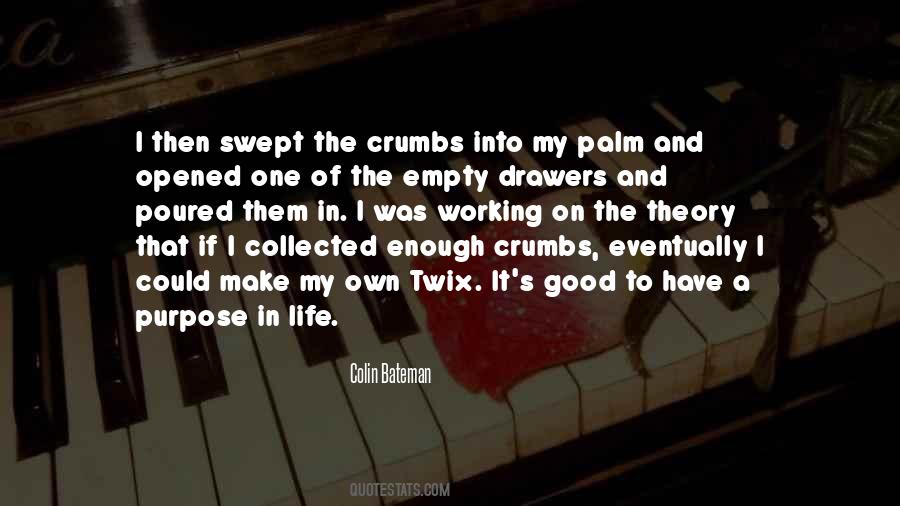 #94. The purpose that you wish to find in life, like a cure you seek, is not going to fall from the sky ... I believe purpose is something for which one is responsible; it's not just divinely assigned. - Author: Michael J. Fox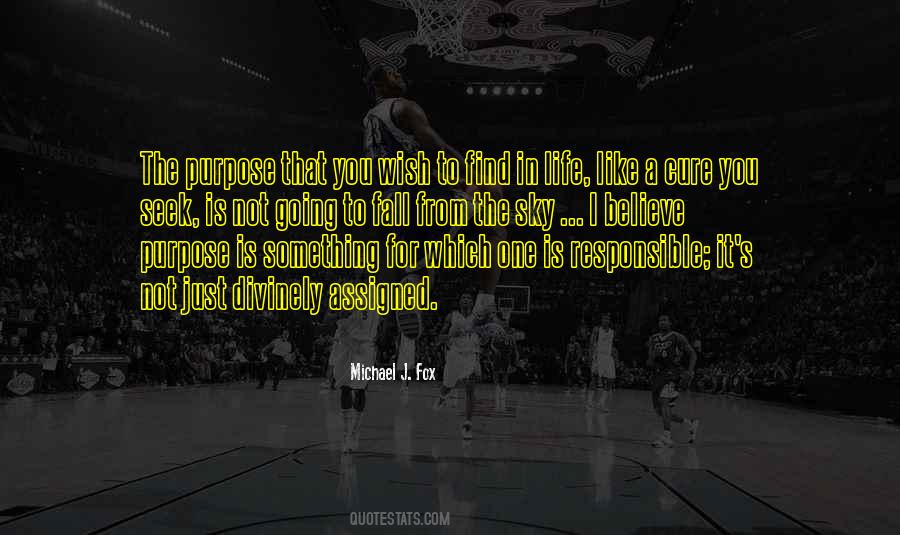 #95. It is wrong to bear children out of need, wrong to use a child to alleviate loneliness, wrong to provide purpose in life by reproducing another copy of oneself. It is wrong also to seek immortality by spewing one's germ into the future as though sperm contains your consciousness! - Author: Irvin D. Yalom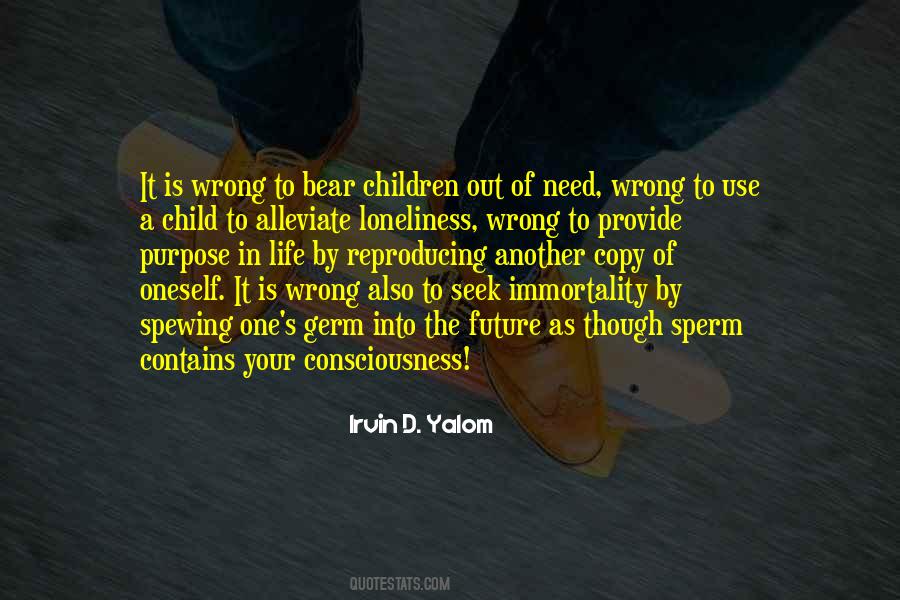 #96. To teach is to learn twice. About all some parents accomplish in life is to send a child to Harvard. The purpose of a liberal education is to make one's mind a pleasant place to spend one's leisure. - Author: Joseph Joubert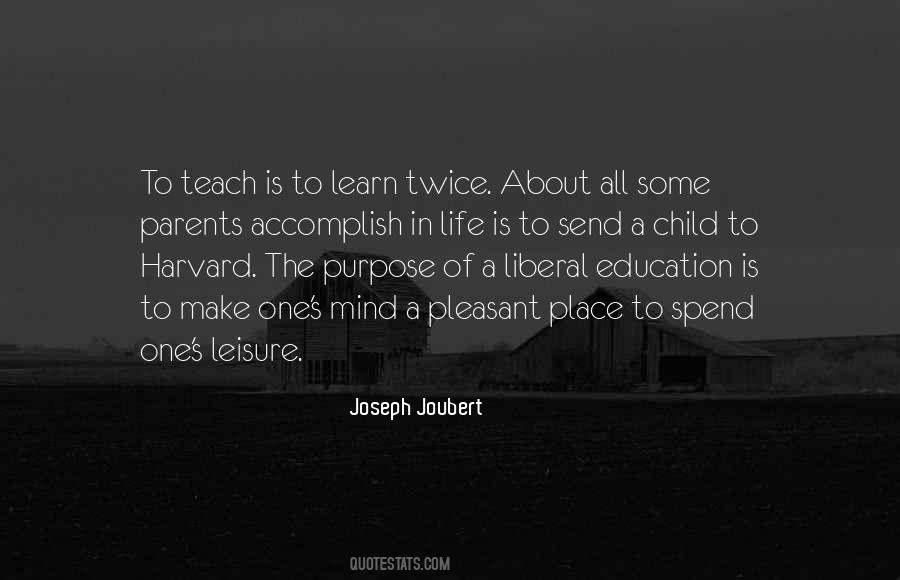 #97. The universe wants us to have fun doing more than one thing in life. That's how it learns. You don't have one purpose in life. You have maybe 500 or so. - Author: James Altucher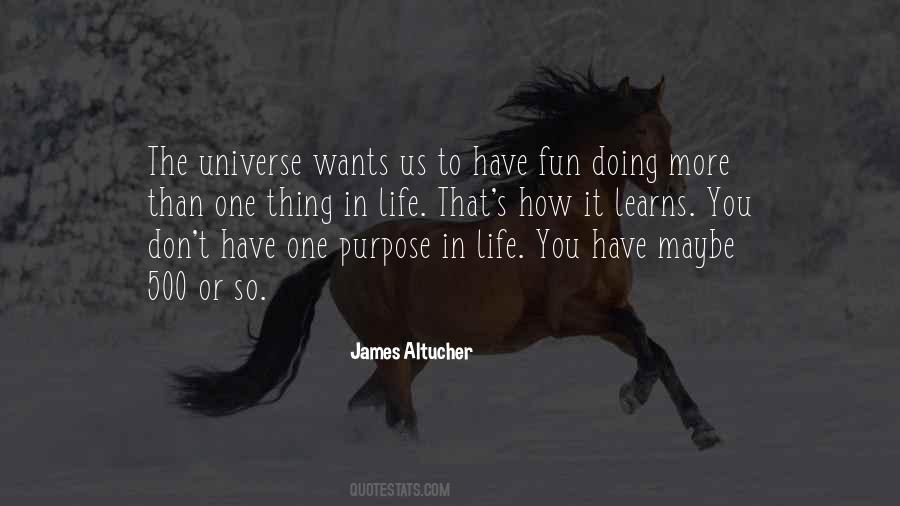 #98. One needs something to believe in, something for which one can have whole-hearted enthusiasm. One needs to feel that one's life has meaning, that one is needed in this world. - Author: Hannah Szenes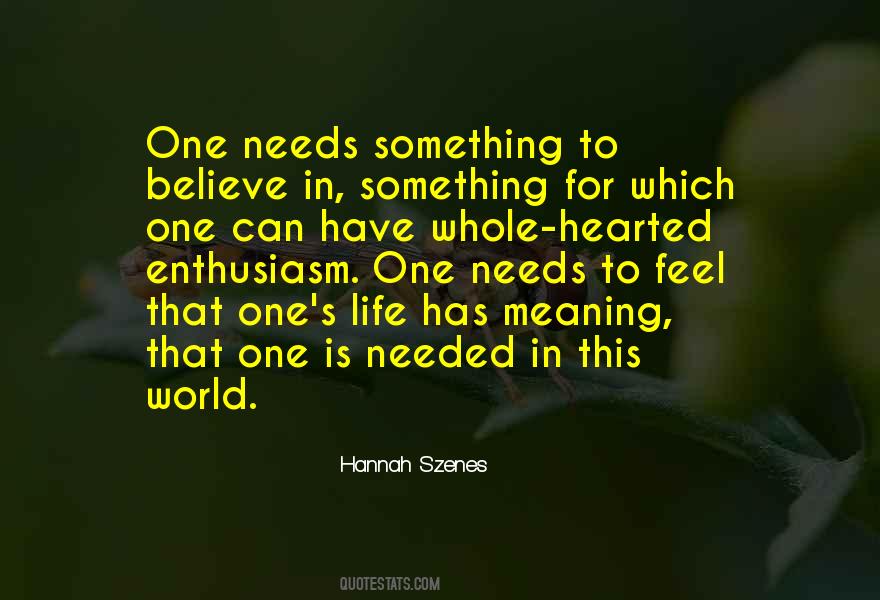 #99. If you can give the wisdom of life to a child; teach to love all regardless of what they believe in, that life is a precious gift to all, judgments of hell and heaven are manmade concept and that every one's purpose in life is to serve Humanity at large... - Author: Husam Wafaei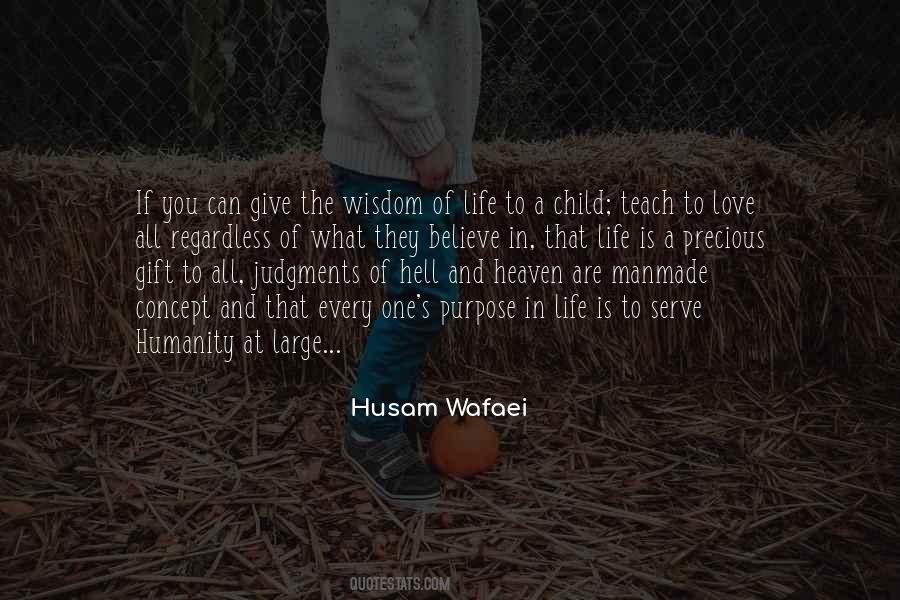 #100. When we know our values, we can easily measure whether or not our actions are in accordance with them. Values are the measuring sticks with which we determine the worthiness of our actions. To be better associated with one's own values is to remove a lot of the needless activities of daily life. - Author: Chris Matakas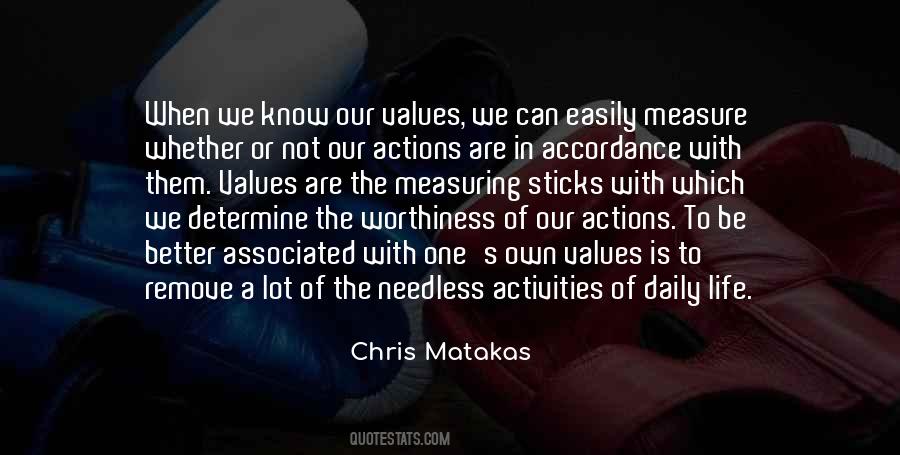 Famous Authors
Popular Topics