Punishment From God Famous Quotes & Sayings
List of top 80 famous quotes and sayings about punishment from god to read and share with friends on your Facebook, Twitter, blogs.
Top 80 Punishment From God Quotes
#1. Don't let us rejoice in punishment, even when the hand of God alone inflicts it. The best of us are but poor wretches, just saved from shipwreck. Can we feel anything but awe and pity when we see a fellow-passenger swallowed by the waves? - Author: George Eliot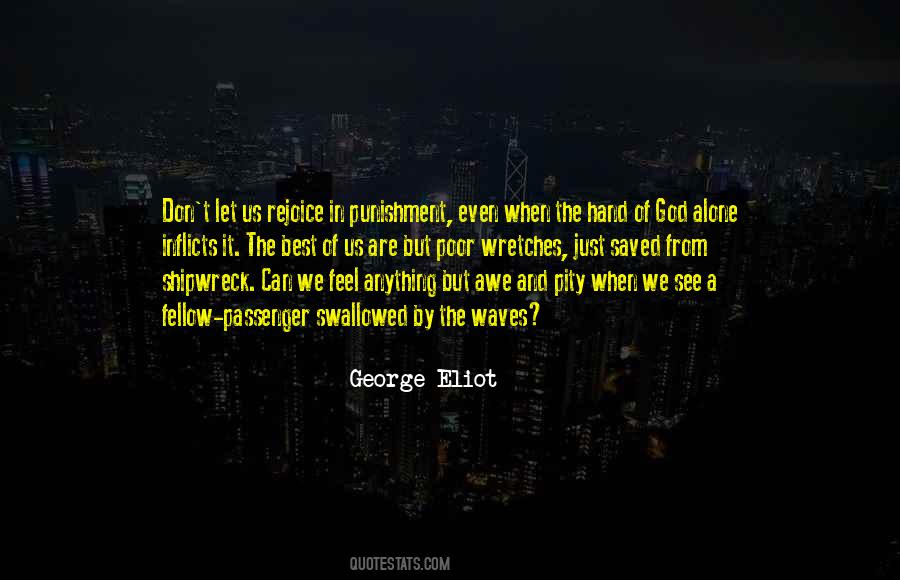 #2. The prayer does call for serious, serious punishment on people. But I didn't call for that, God did. - Author: Wiley Drake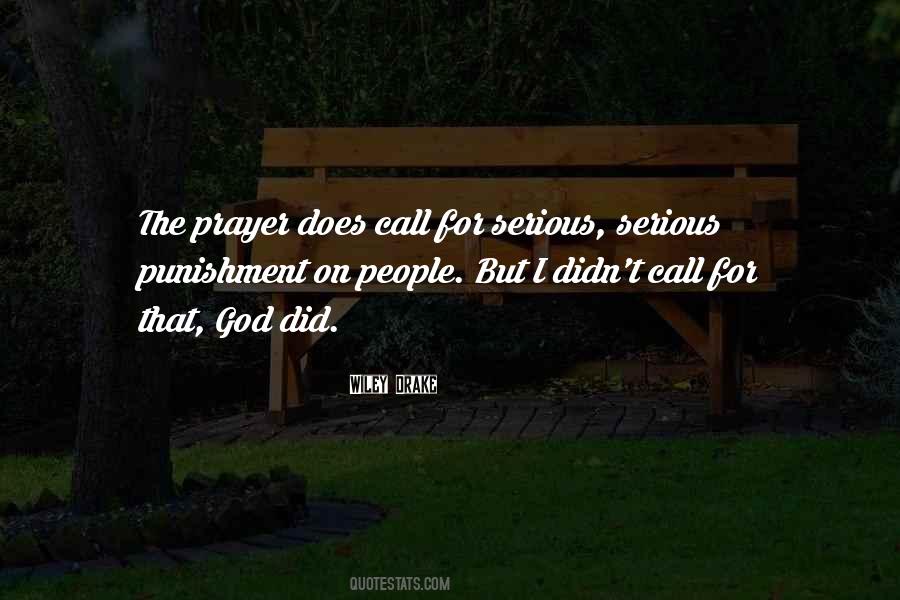 #3. The doctrine of eternal punishment is in perfect harmony with the savagery of the men who made the orthodox creeds. It is in harmony with torture, with flaying alive, and with burnings. The men who burned their fellow-men for a moment, believed that God would burn his enemies forever. - Author: Robert G. Ingersoll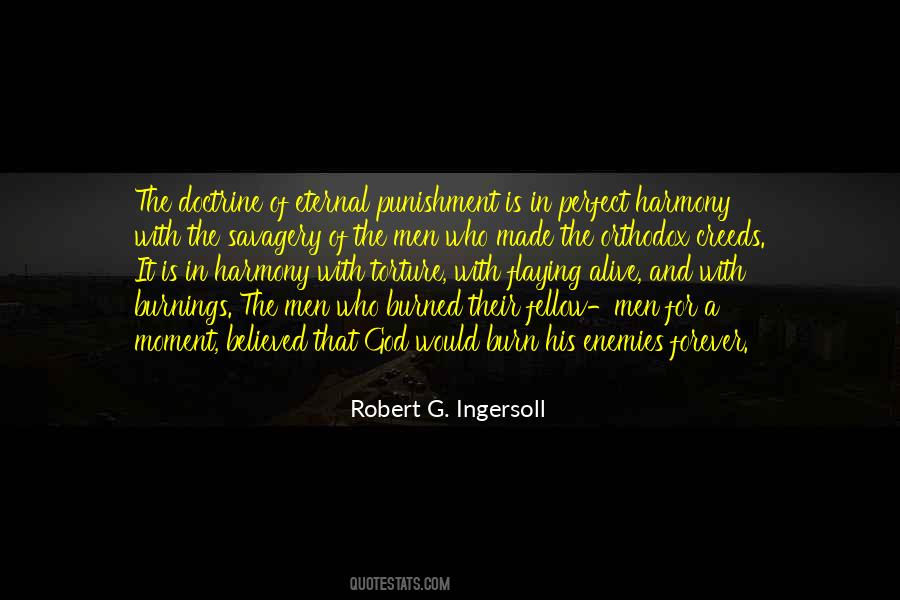 #4. We deserve punishment and get forgiveness; we deserve God's wrath and get God's love. - Author: Philip Yancey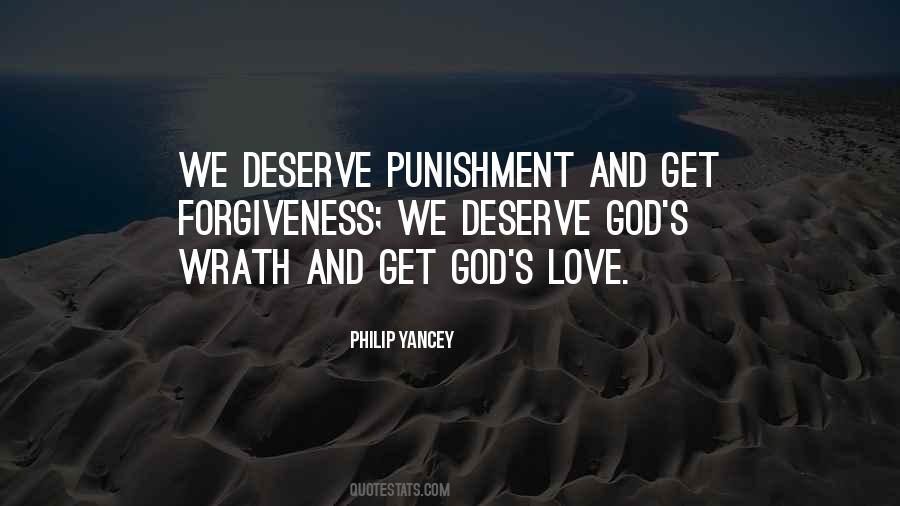 #5. Well now you're contradicting yourself. With balance there cannot be chaos. With randomness there can be no punishment. You're pleading for punishment in hopes that you'll see your God. Without punishment there is no God. If there is balance then there is your Lord. If balance then afterlife. - Author: Dave Eggers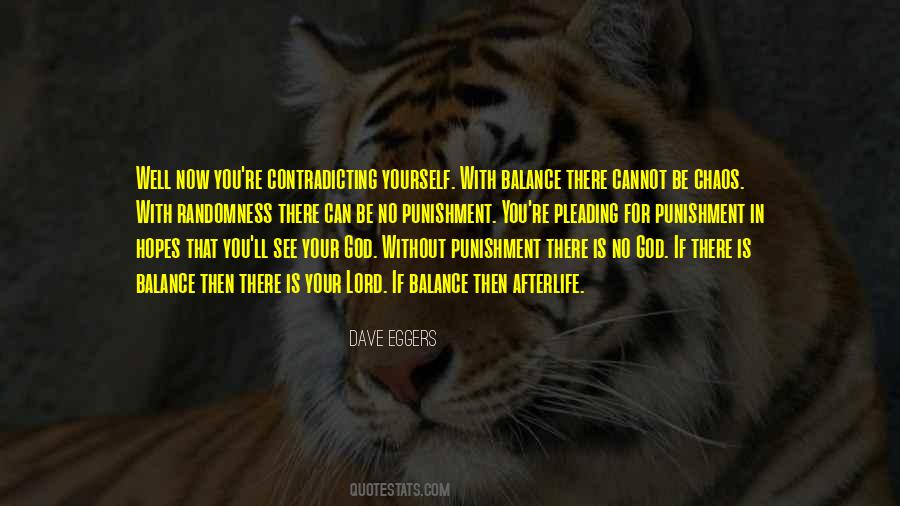 #6. Let us understand that God is a physician, and that suffering is a medicine for salvation, not a punishment for damnation. - Author: Saint Augustine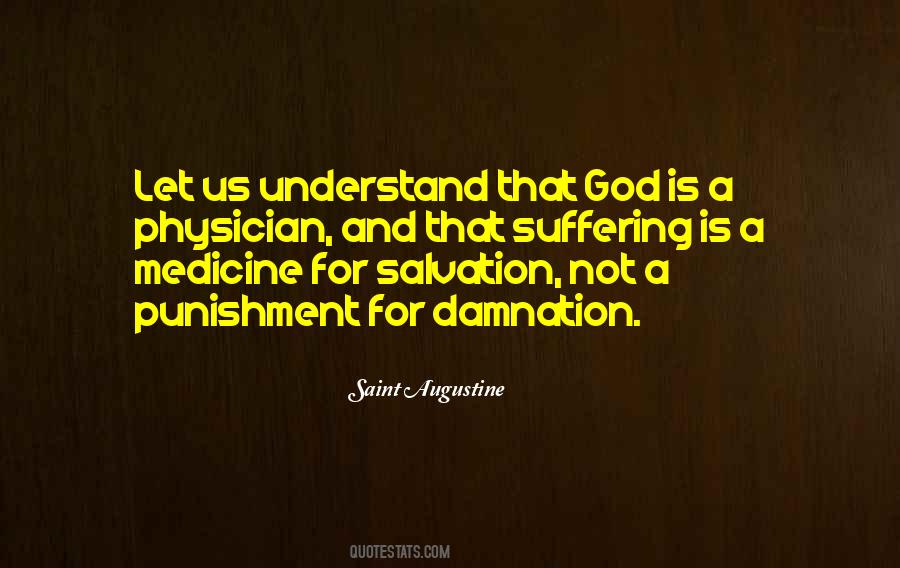 #7. Why is it that we believe God's promises of blessing but not his promises of punishment? - Author: Francis Chan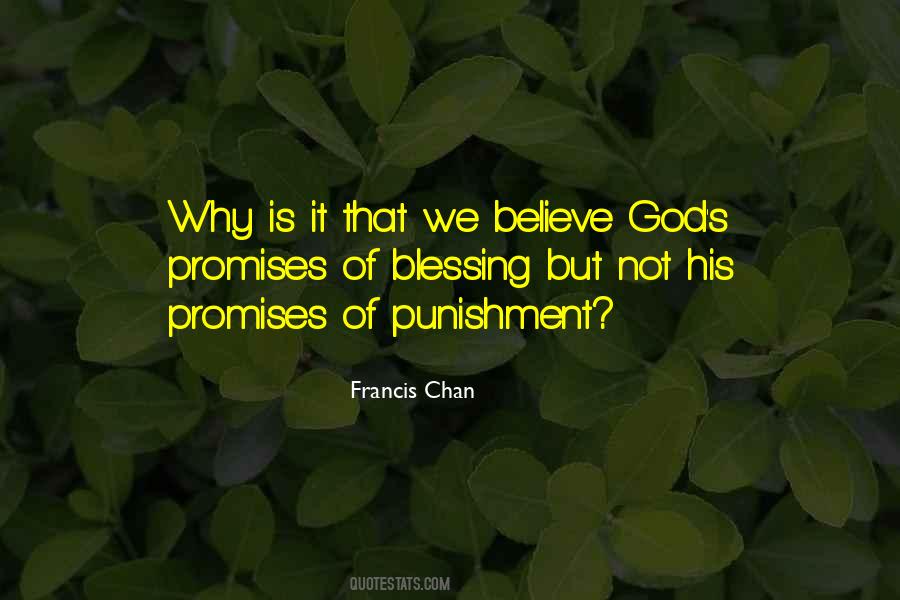 #8. I nee to reason for a plague, ... As far as I know no comets or eclipses have been forecast, and our sins are not great enough for God to be concerned with us. - Author: Gabriel Garcia Marquez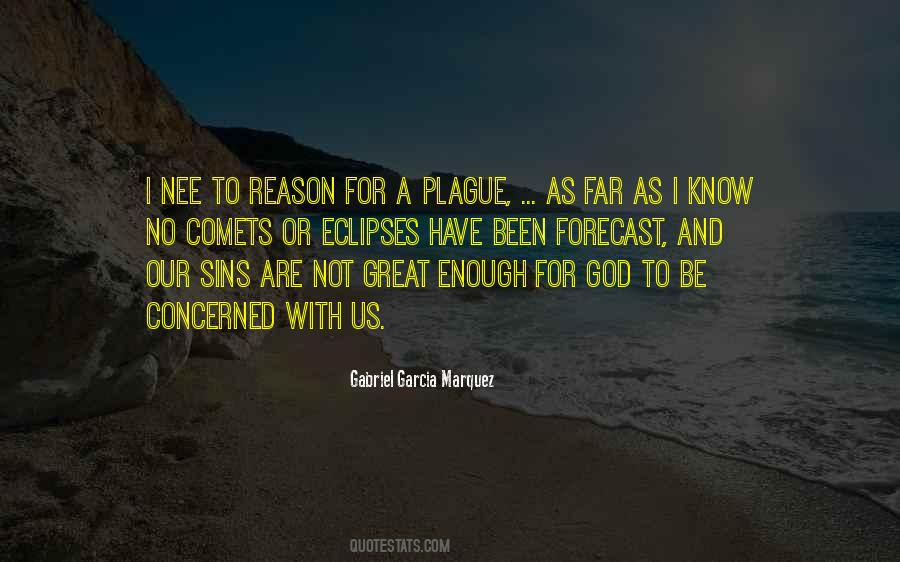 #9. What grieves me most in my past offenses, O my loving God, is not so much the punishment I have deserved, as the displeasure I have given You, Who are worthy of infinite love. - Author: Alphonsus Liguori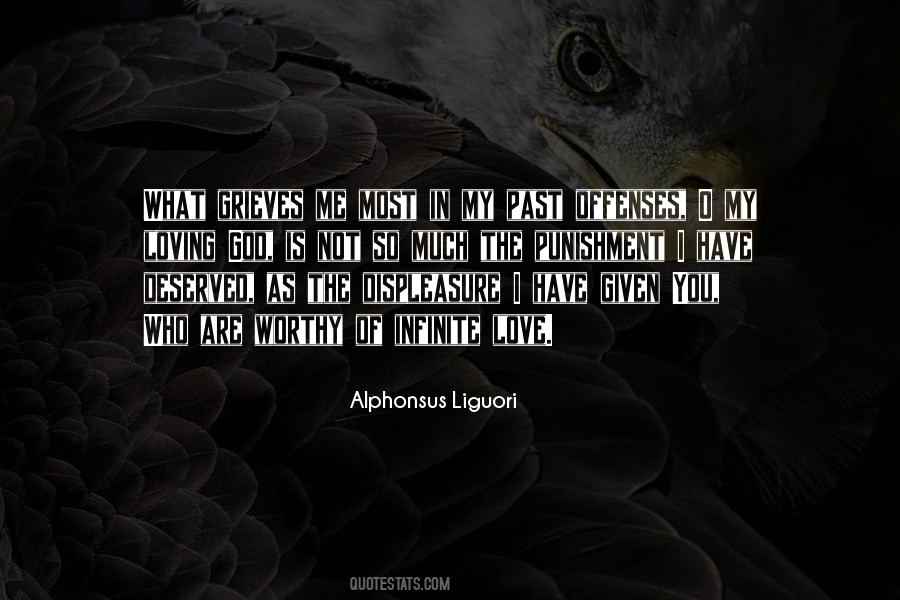 #10. God does not punish people for being nonpacifists; war alone is punishment enough. - Author: Robert Farrar Capon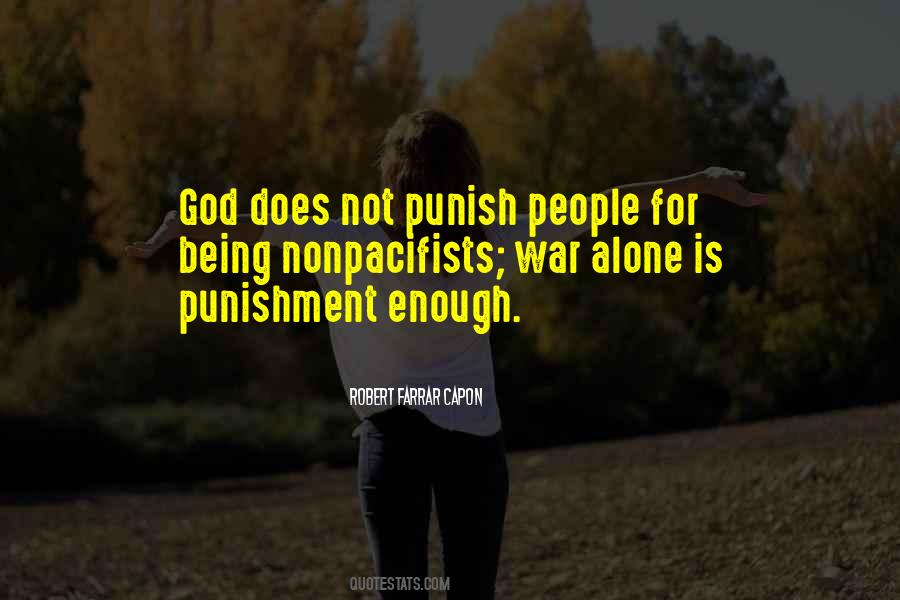 #11. To leave no interval between the sentence and the fulfillment of it doth beseem God only, the Immutable! - Author: Samuel Taylor Coleridge
#12. Immanuel, God with us in our nature, in our sorrow, in our lifework, in our punishment, in our grave, and now with us, or rather we with Him, in resurrection, ascension, triumph, and Second Advent splendor. - Author: Charles Spurgeon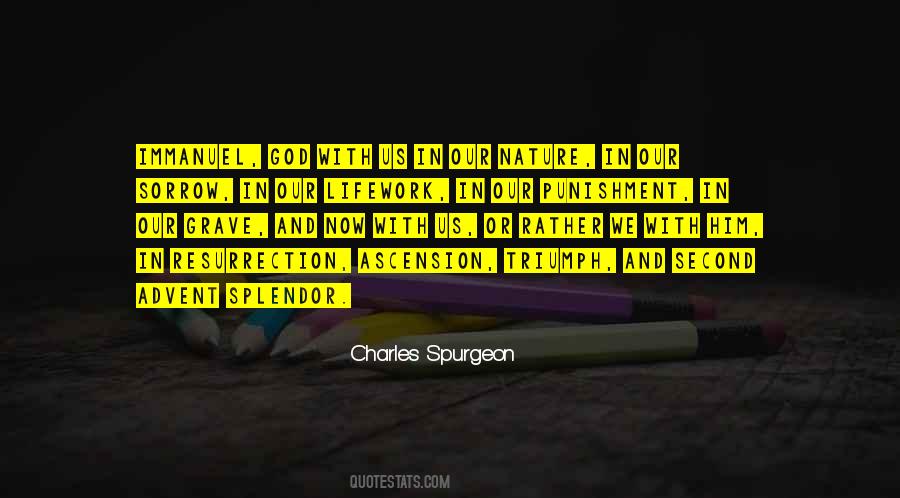 #13. Fear is actually faith in the wrong god. Fear is the manifestation of believing that something is about to go wrong. And yet, "There is no fear in love; but perfect love casts out fear, because fear involves punishment, and the one who fears is not perfected in love" (1 John 4:18). - Author: Kris Vallotton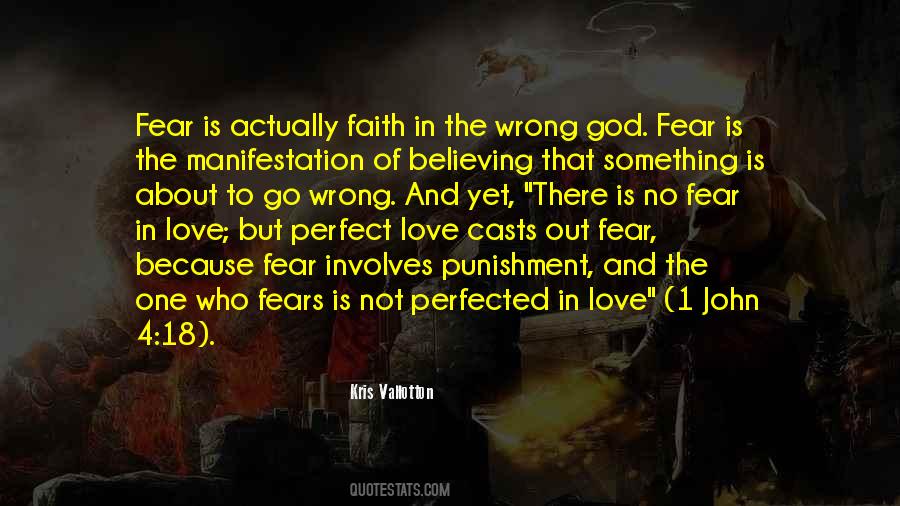 #14. God manifests himself to us in the first degree through the life of the universe, and in the second degree through the thought of man. The second manifestation is not less holy than the first. The first is named Nature, the second is named Art. - Author: Victor Hugo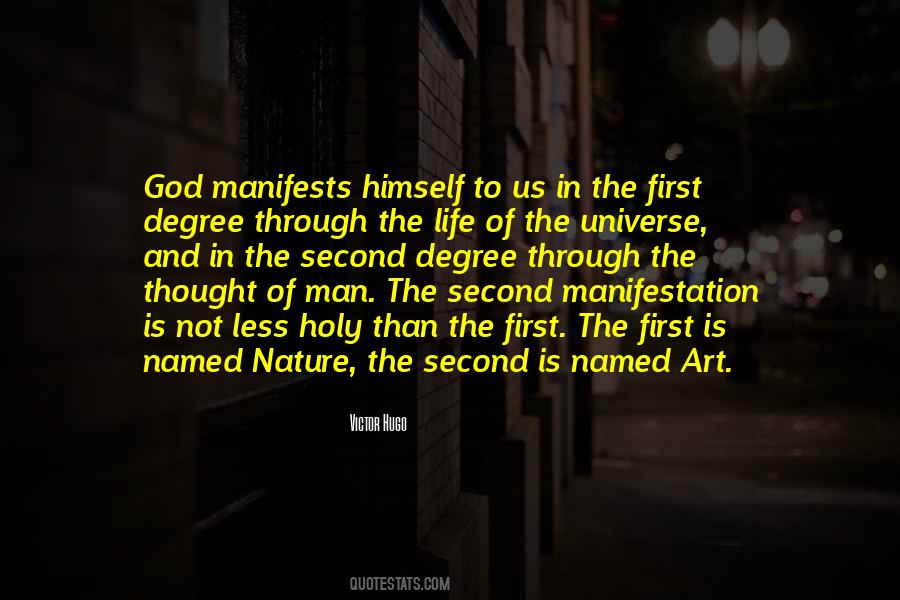 #15. God permits war in order that men may bear the consequences of their sins as punishment. How clearly this is shown time and time again in the story of the children of Israel! - Author: Martyn Lloyd-Jones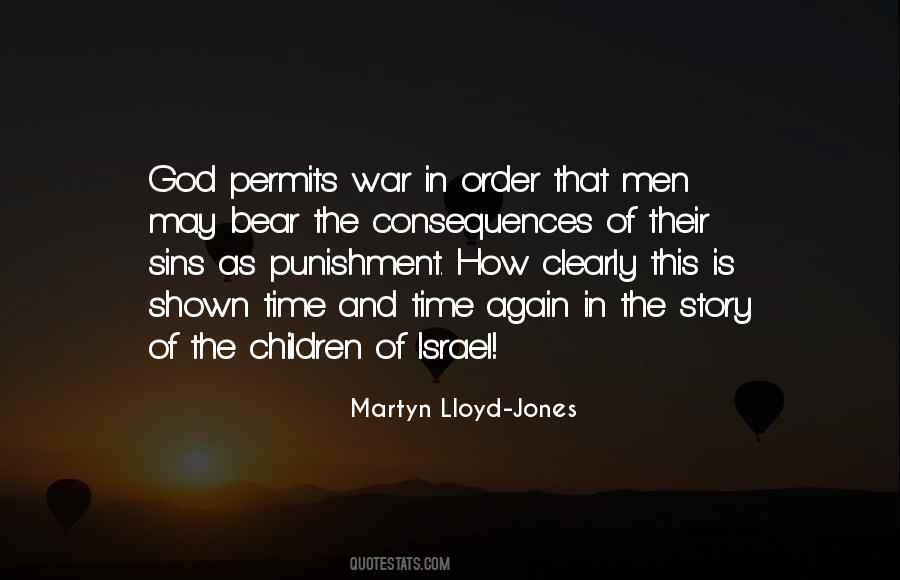 #16. I am the punishment of God ... If you had not committed great sins, God would not have sent a punishment like me upon you. - Author: Genghis Khan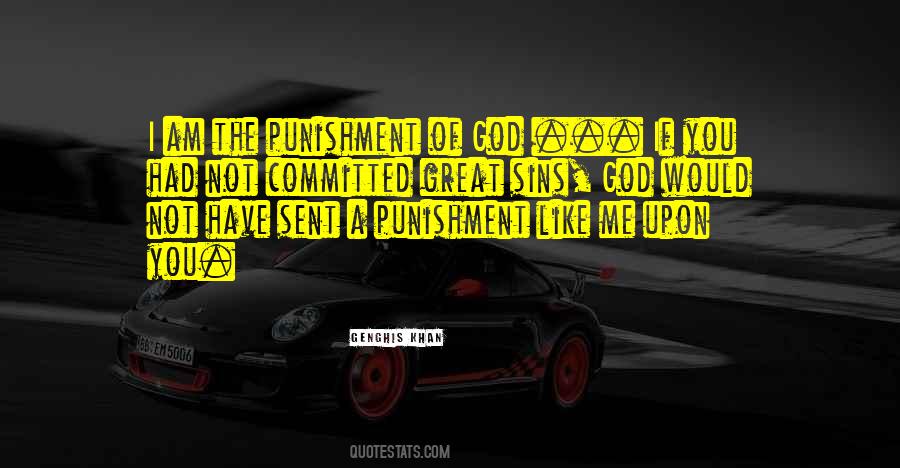 #17. Meneer, said the captain, if man takes unto himself God's right to punish, then he must also take upon himself God's promise to restore. - Author: Alan Paton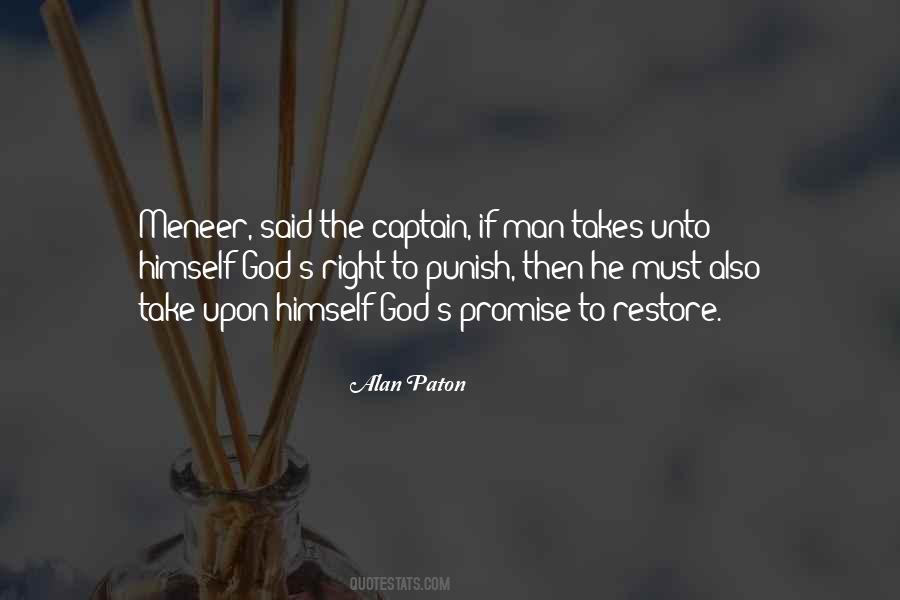 #18. God didn't overlook your sins, lest he endorse them.
He didn't punish you, lest he destroy you.
He instead found a way to punish the sin and preserve the sinner.
Jesus took your punishment, and God gave you credit for Jesus' perfection. - Author: Max Lucado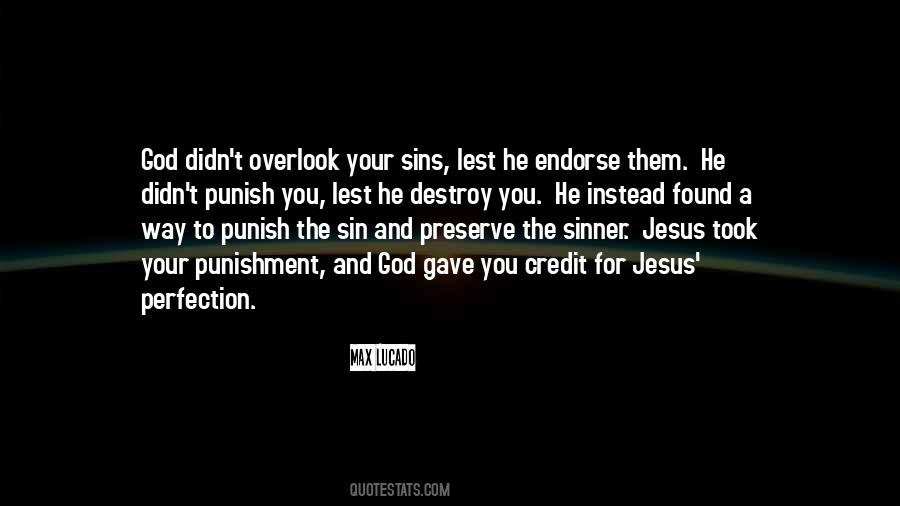 #19. God preordained, for his own glory and the display of His attributes of mercy and justice, a part of the human race, without any merit of their own, to eternal salvation, and another part, in just punishment of their sin, to eternal damnation. - Author: John Calvin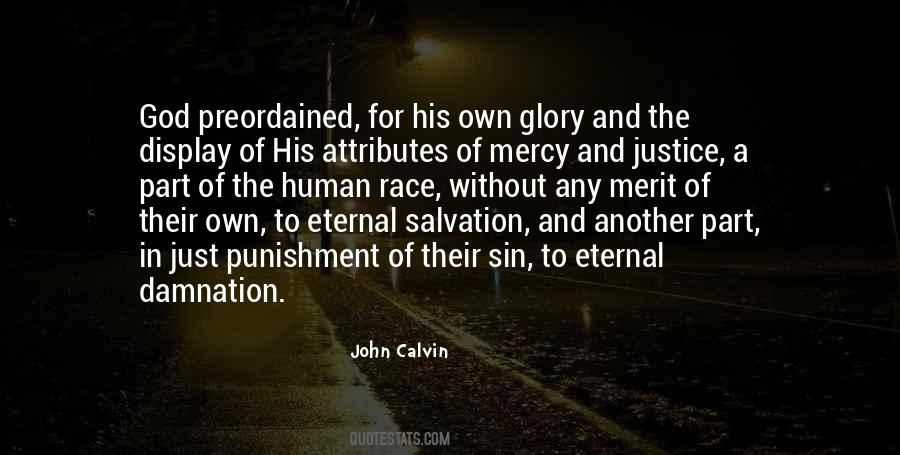 #20. This game is repeated again and again, and in it the role of the so-called 'German princes' is just as miserable as that of the Jews themselves. These lords were really God's punishment for their beloved peoples and find their parallels only in the various ministers of the present time. - Author: Adolf Hitler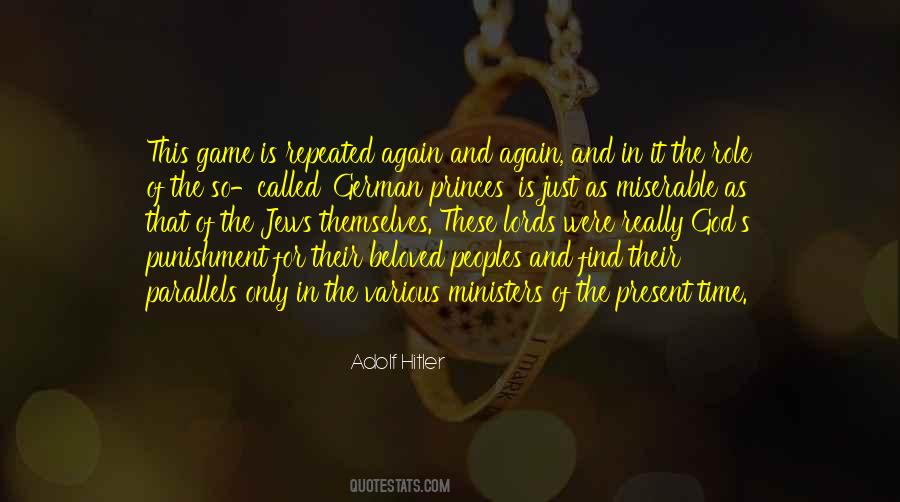 #21. Why do you persist in this belief that punishment must be meted out from either God or Satan when the most relentless, merciless punisher is that within? For we can never escape its scourges and lashes. - Author: John F.D. Taff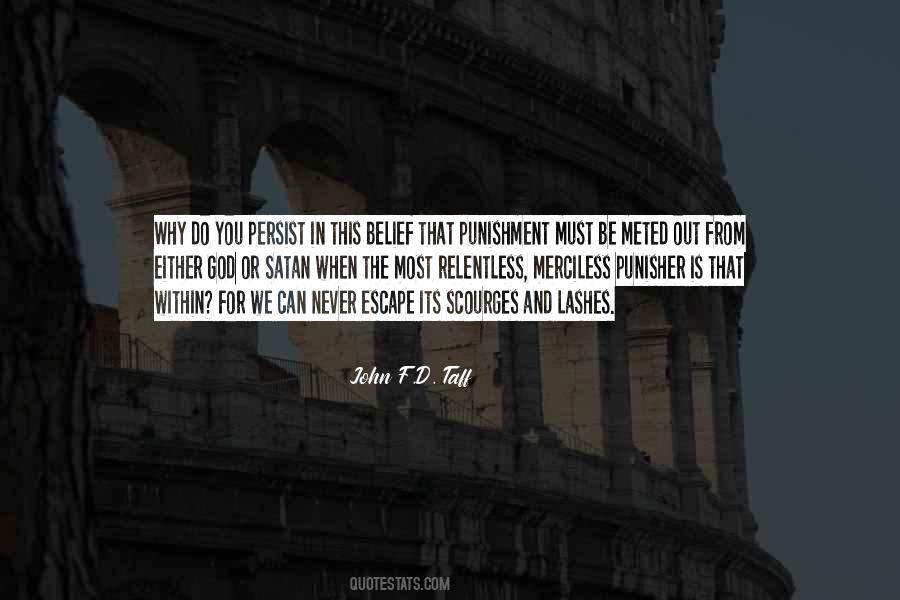 #22. All these troubles you've been having aren't a punishment from God. He wants to use them to draw you closer to himself. - Author: Lynn Austin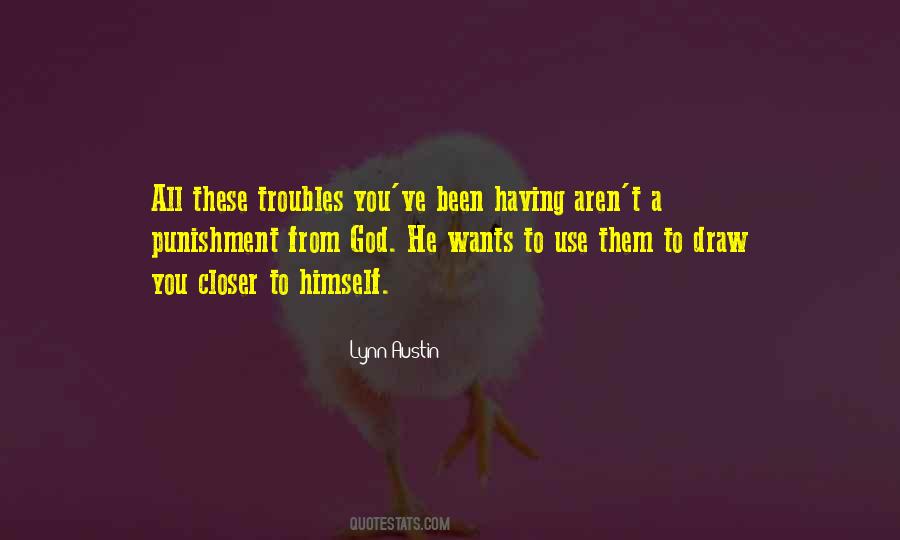 #23. For, behold, the mystery of godliness, how great is it! For, behold, I am endless, and the punishment which is given from my hand is endless punishment, for Endless is my name. Wherefore - 11 Eternal punishment is God's punishment. 12 Endless punishment is God's punishment. - Author: Joseph Smith Jr.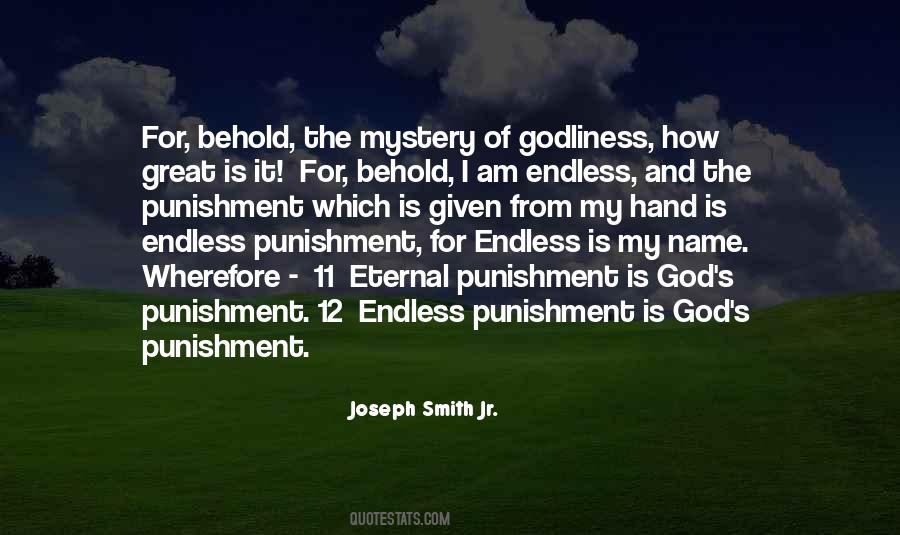 #24. Do you know what Hell is? ... No fire, no brimstone. Man in his infinite folly invented that to rob from his brothers their will. Hell is existing without Our Father. None of His love touches me. - Author: Thomm Quackenbush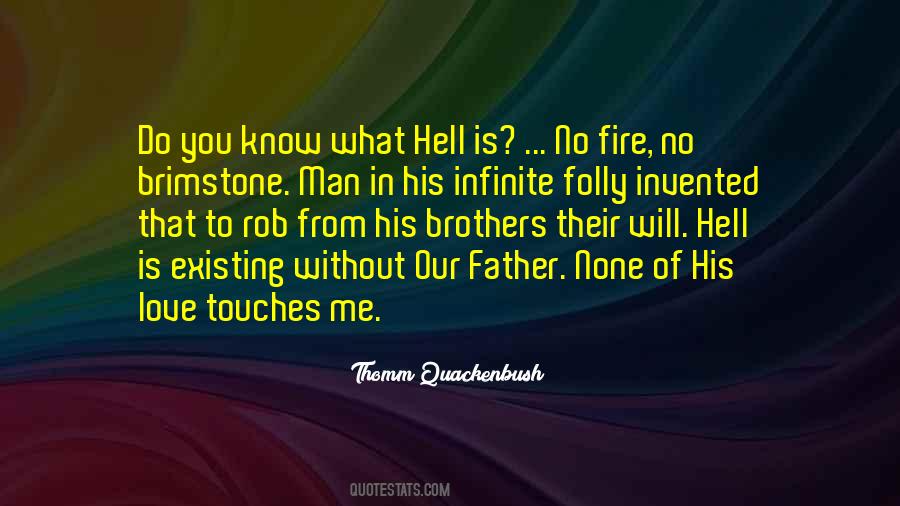 #25. Mullahs from the TNSM preached that the earthquake was a warning from God. They said it was caused by women's freedom and obscenity. If we did not mend our ways and introduce sharia or Islamic law, they shouted in their thundering voices, more severe punishment would come. - Author: Malala Yousafzai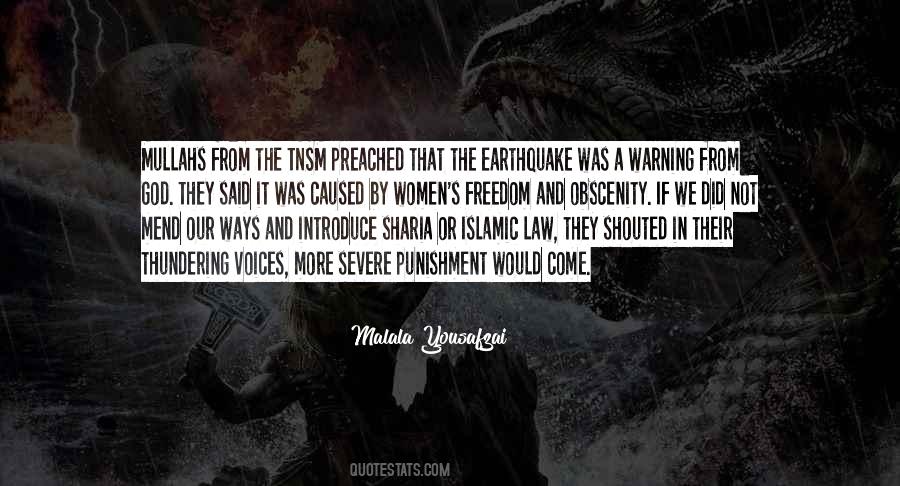 #26. To say that God is love is not to romanticize his character or soften his holiness. In fact, the love of God means very little apart from his holiness and justice. The love of God is magnified in that he loves the unholy and pours out blessings upon those deserving just punishment for sin. - Author: Joe Thorn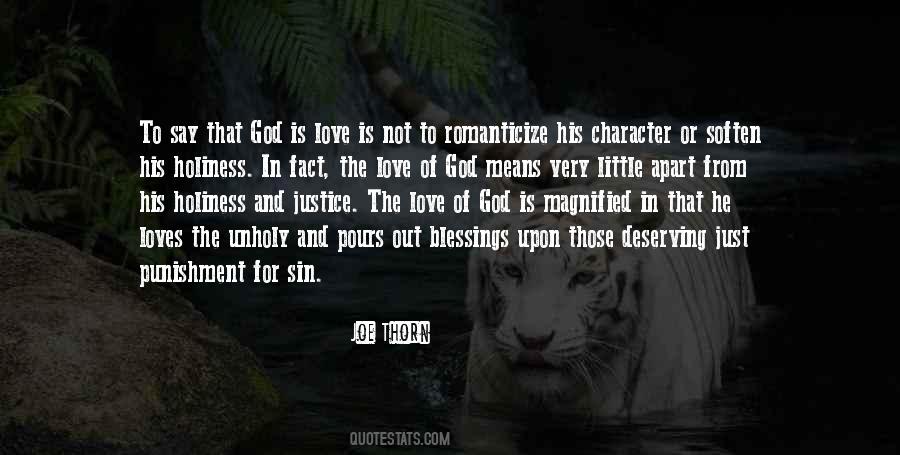 #27. It's alleged that our scourge of God and punishment from heaven, Commissar Strelnikov, is Antipov come back to life. A legend, of course. And it's not like him. - Author: Boris Pasternak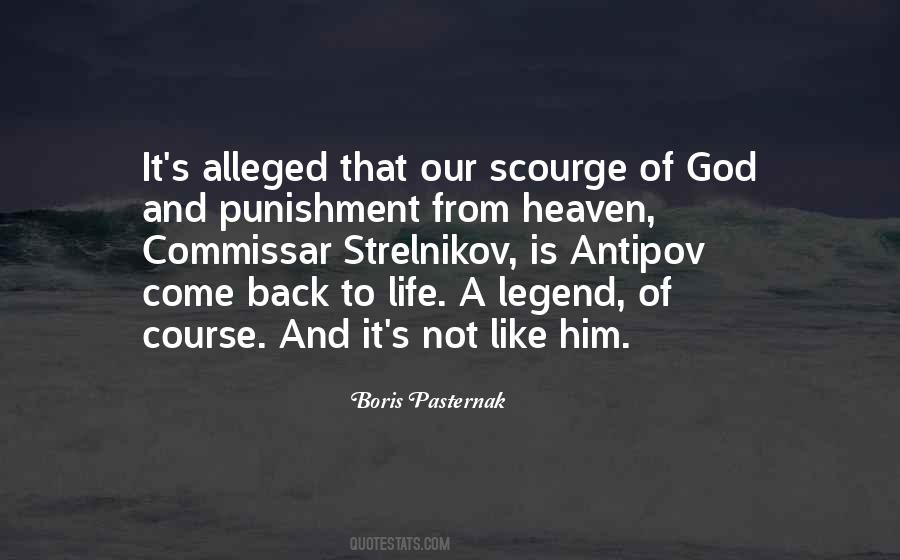 #28. It is pretty clear in the Bible story that the whale swallowing Jonah wasn't meant as a punishment from God, it was God saving him from drowning. So it was actually provision to give him a second chance. The whale itself was the start of Jonah's second chance. - Author: Phil Vischer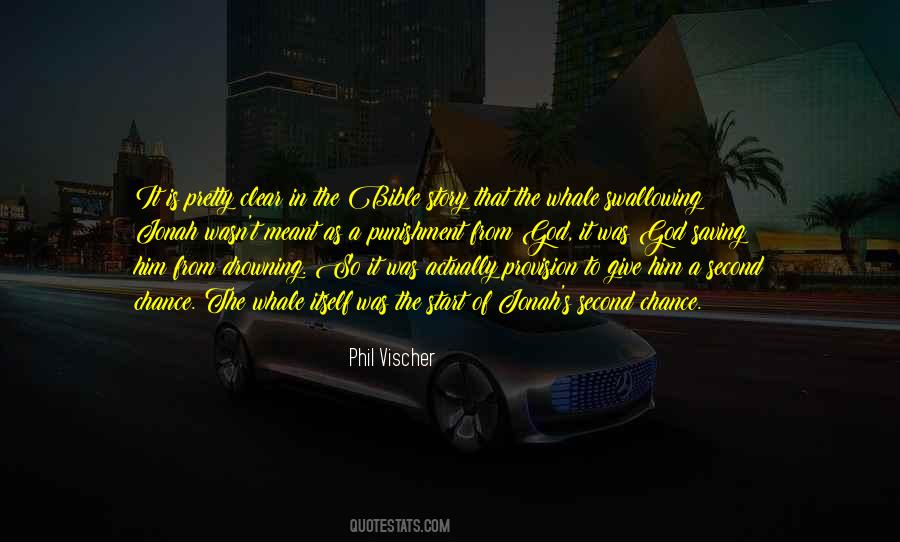 #29. I don't need to punish people for sin. Sin is its own punishment, devouring you from the inside. It's not my purpose to punish it; it's my joy to cure it. - Author: Wm. Paul Young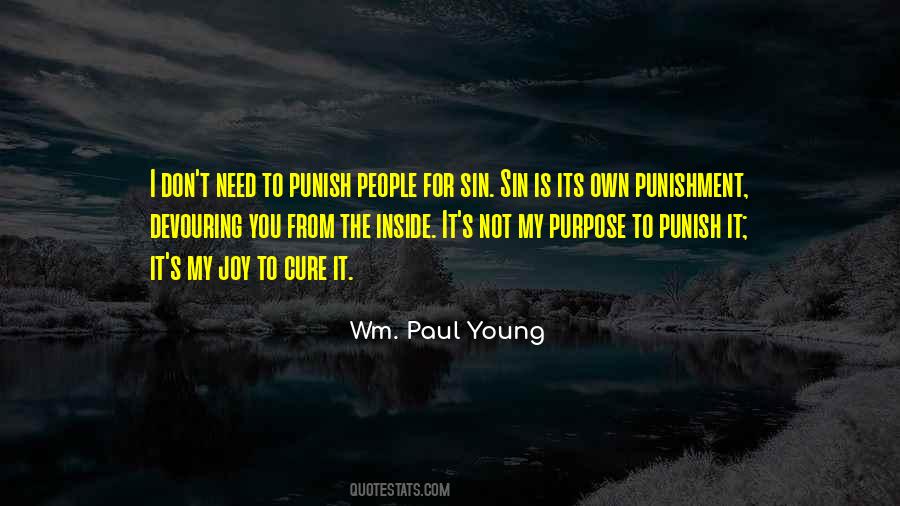 #30. Screenwriting is not an artform, it is a punishment from God. - Author: Fran Lebowitz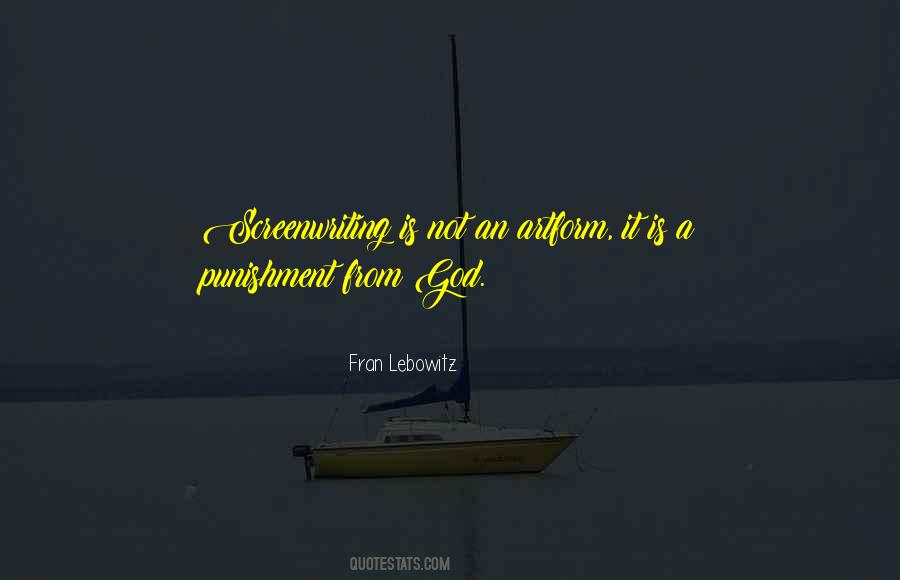 #31. soul is taken as a subject matter to receive in the future life the reward or the punishment from God for our actions in this life; but the very idea of eternal punishment is inconsistent with the boundless love of God. - Author: Kaiten Nukariya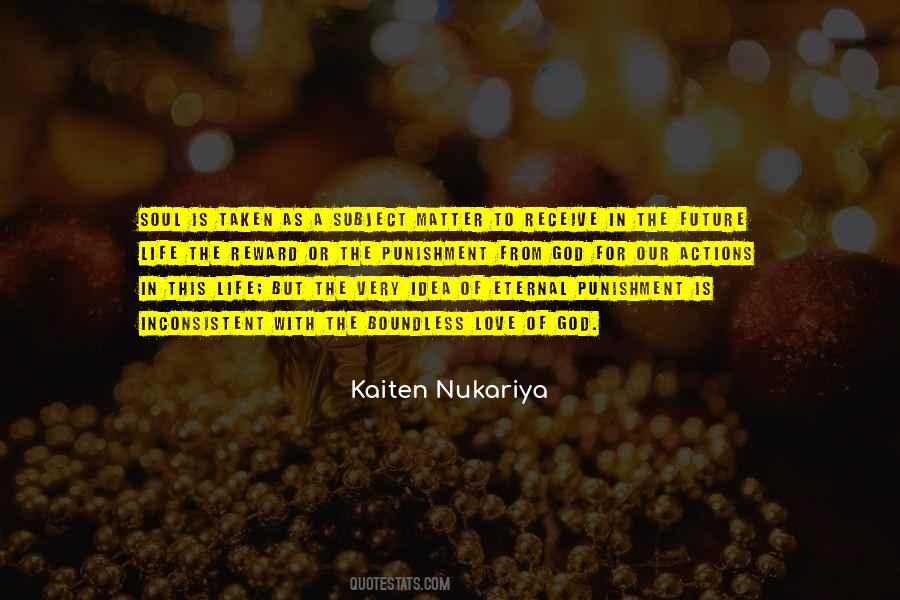 #32. Do you think that the punishment for our sins was to die on the cross? If that was the case the two thieves could have paid the price. No, the punishment was to go to hell itself and to serve time in hell separated from God. - Author: Frederick K. C. Price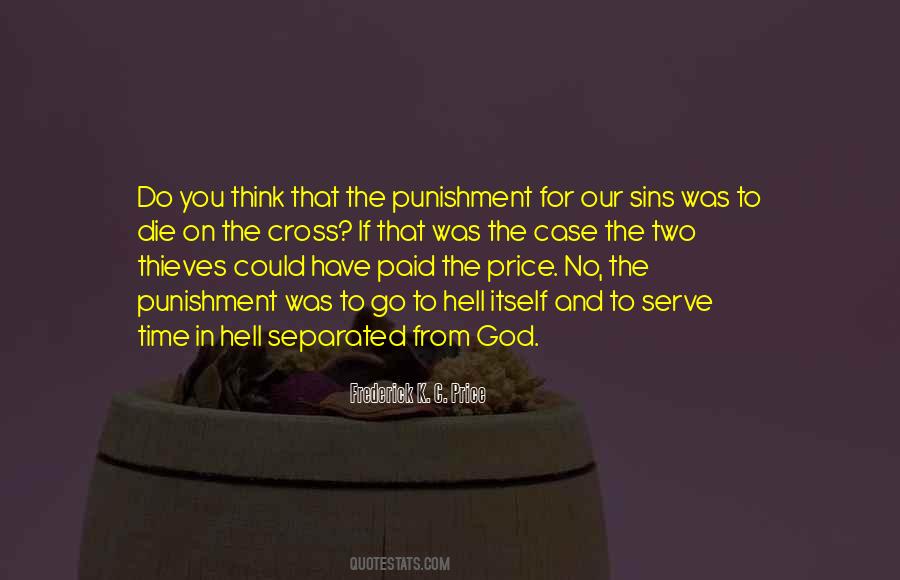 #33. Eve was blamed for the fall of man, and in return all women to come were to inheret her karmic responsibility for the so-called "fall of man". Their punishment was to experience pain in childbirth, and never be trusted by man or God again. - Author: Frederick Lenz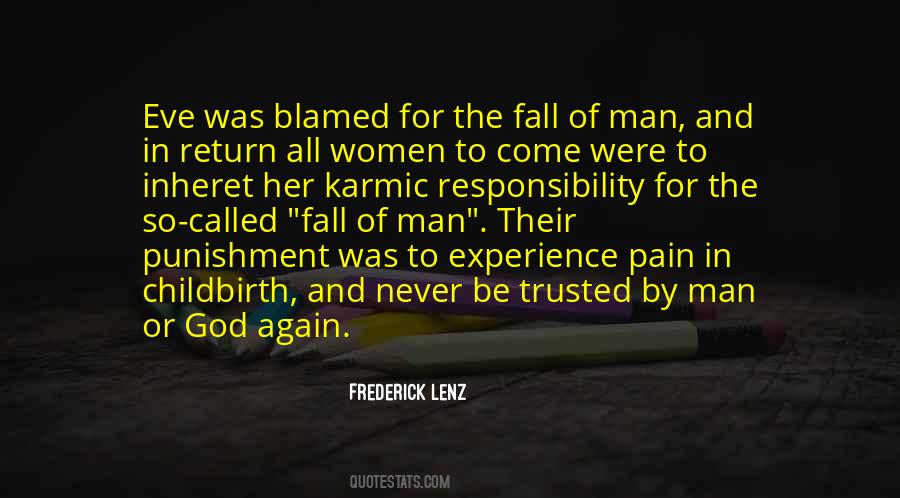 #34. A civilized society looks with horror upon the abuse and torture of children or adults. Even where capital punishment is practiced, the aim is to implement it as mercifully as possible. Are we to believe then that a holy God-our heavenly Father-is less just than the courts of men? - Author: Sidney Hatch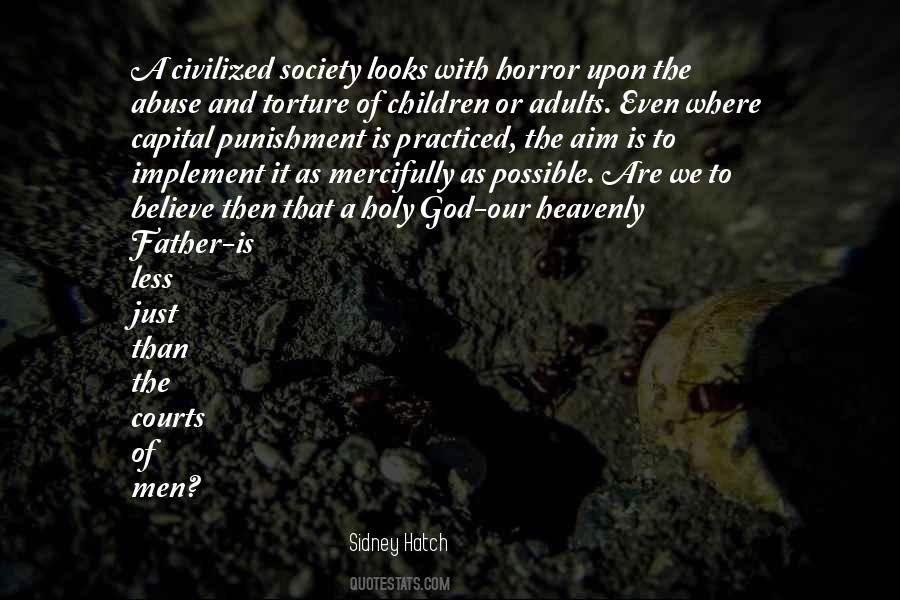 #35. God is a being who gives everything but punishment in over measure. - Author: Henry Ward Beecher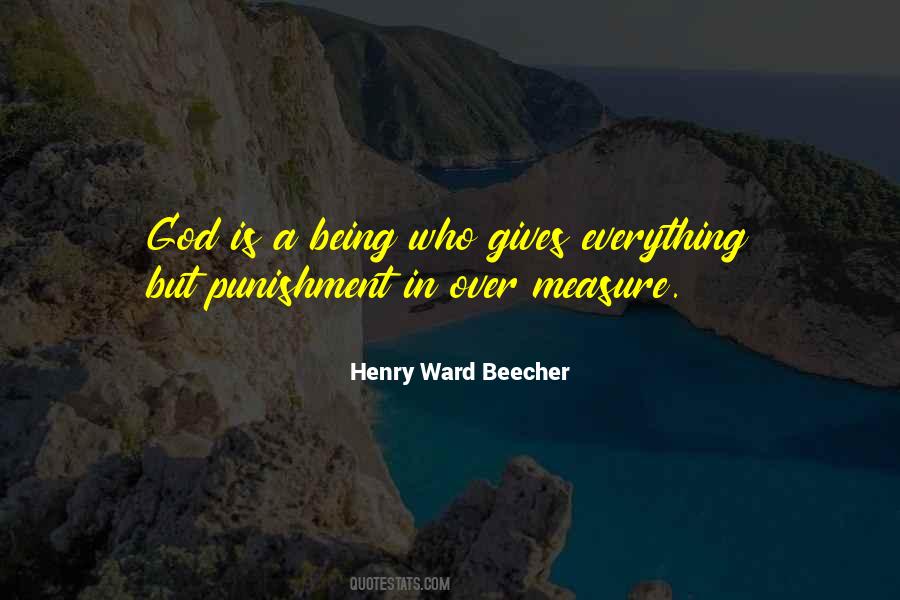 #36. Vicious habits are so great a stain to human nature, and so odious in themselves, that every person actuated by right reason would avoid them, though he were sure they would be always concealed both from God and man, and had no future punishment entailed upon them. - Author: Marcus Tullius Cicero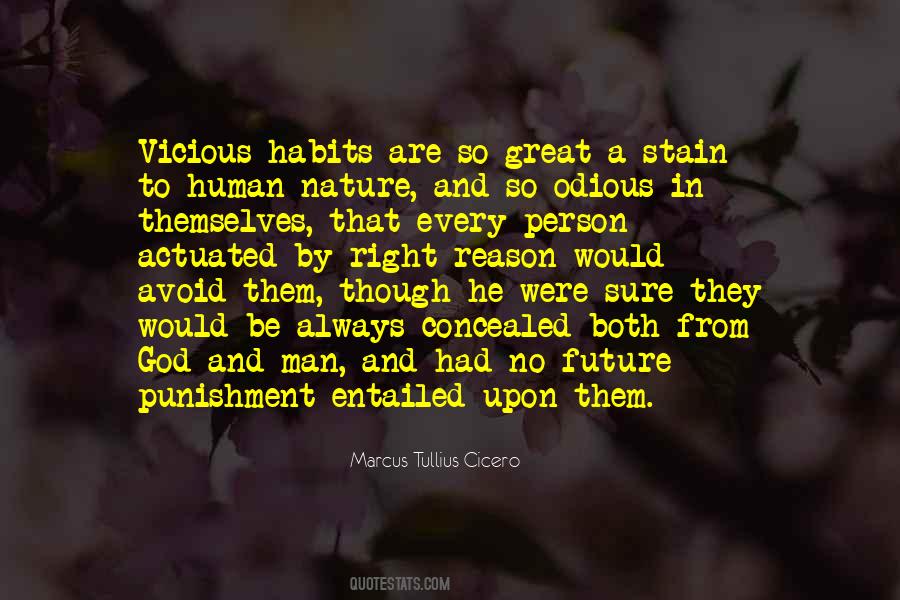 #37. The Deluge: A punishment inflicted on the human race by an all-knowing God, who, through not having foreseen the wickedness of men, repented of having made them, and drowned them once for all to make them better - an act which, as we all know, was accompanied by the greatest success. - Author: Voltaire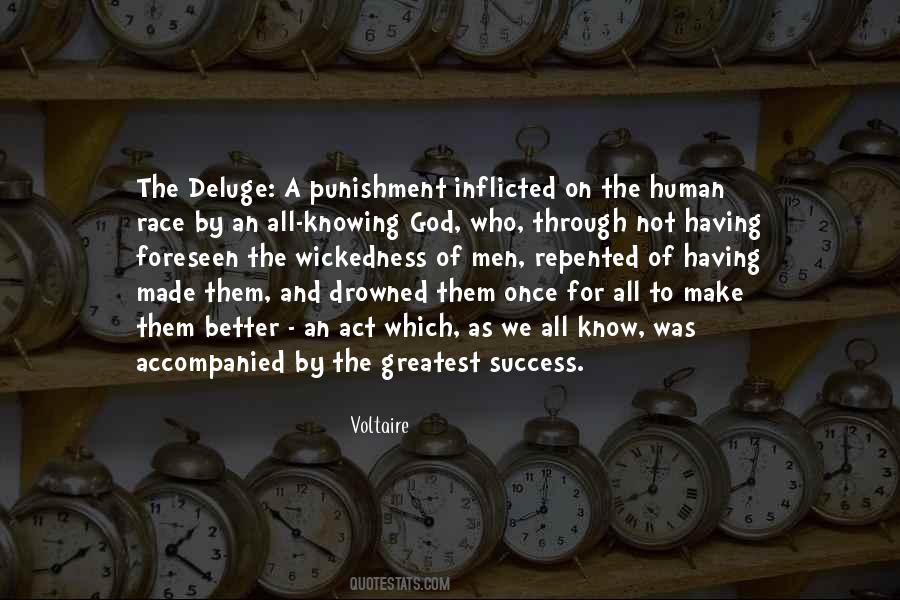 #38. It is man's duty to love and to fear God, even without hope of reward or fear of punishment. - Author: Maimonides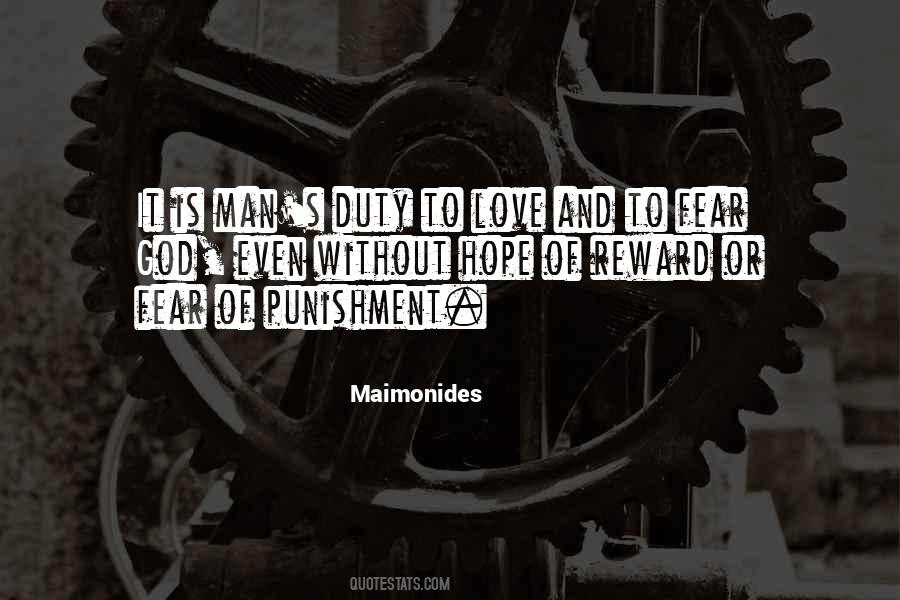 #39. But to fulfill the law means to do its work eagerly, lovingly and freely, without the constraint of the law; it means to live well and in a manner pleasing to God, as though there were no law or punishment. - Author: Martin Luther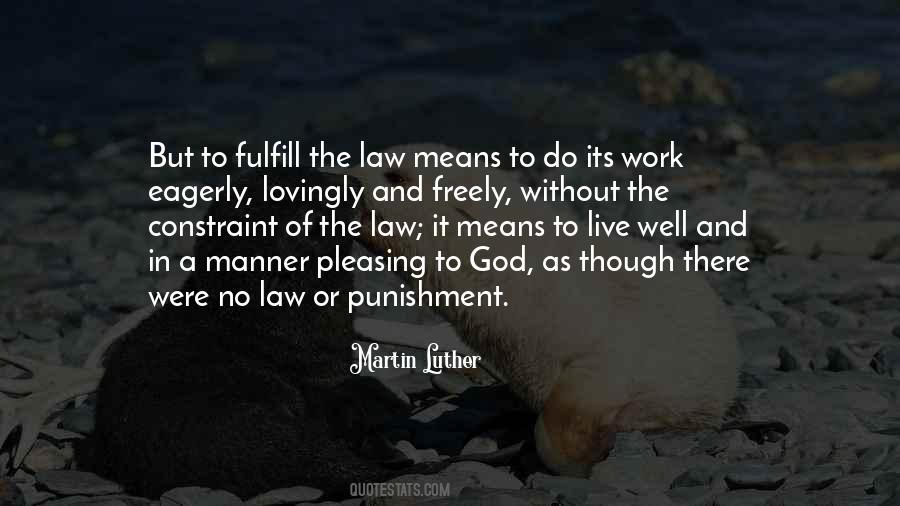 #40. Smiley was soaked to the skin and God as a punishment had removed all taxis from the face of London. - Author: John Le Carre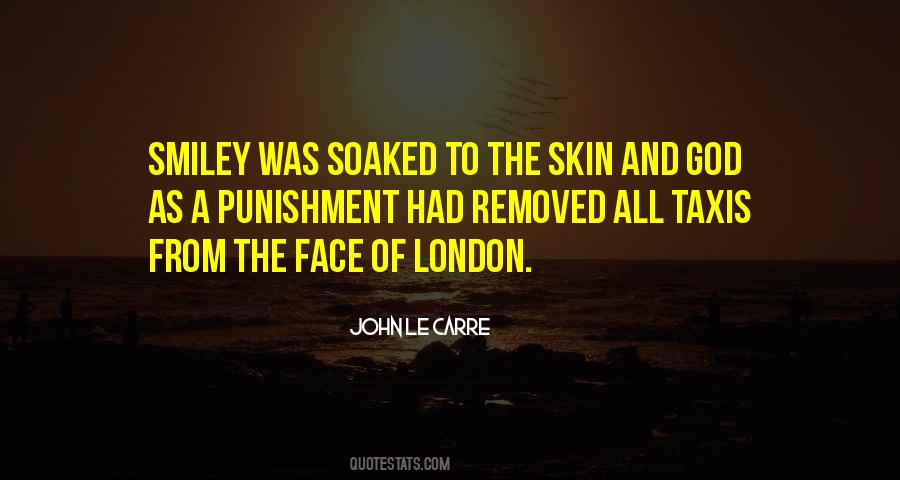 #41. We know the story of the Deluge from the Holy Scripture. Why did the first race of men come to such a tragic end? Because they had abandoned God and must die, guilty and innocent alike. They had only themselves to blame for their punishment. And it is the same today. - Author: Wilm Hosenfeld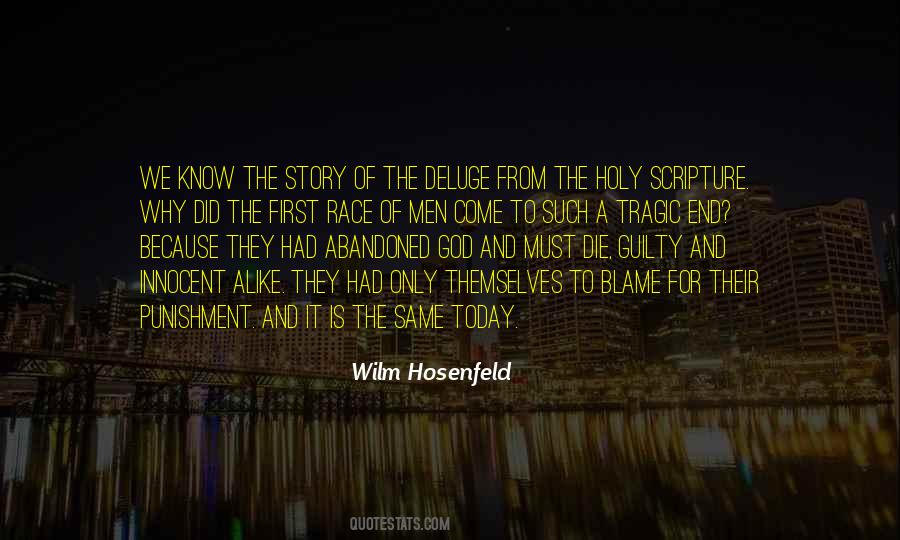 #42. The purpose of our holy and righteous God was to save his church, but their sin could not go unpunished. It was, therefore, necessary that the punishment for that sin be transferred from those who deserved it but could not bear it, to one who did not deserve it but was able to bear it. - Author: John Owen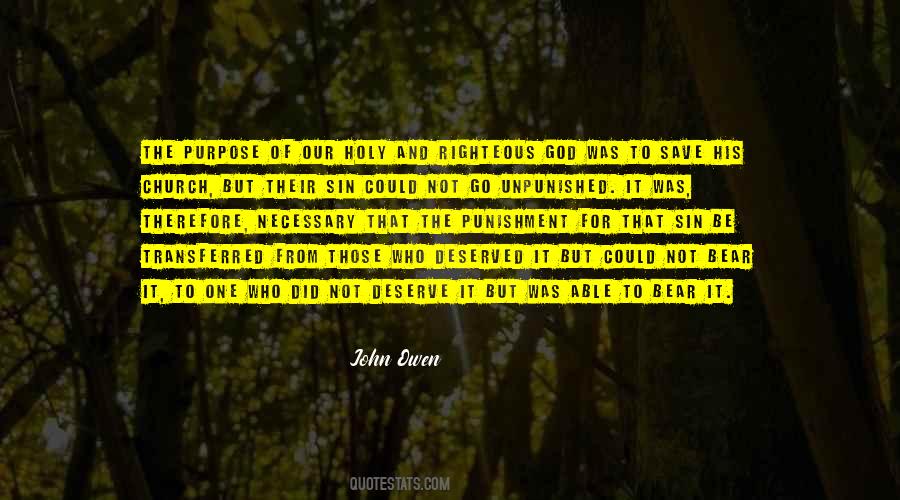 #43. The only way to avoid eternal punishment for sins we never committed from this all-loving God is to accept his son - who is actually himself - as our savior. So ... God sacrificed himself to himself to save us from himself. Barking mad! - Author: Peter Boghossian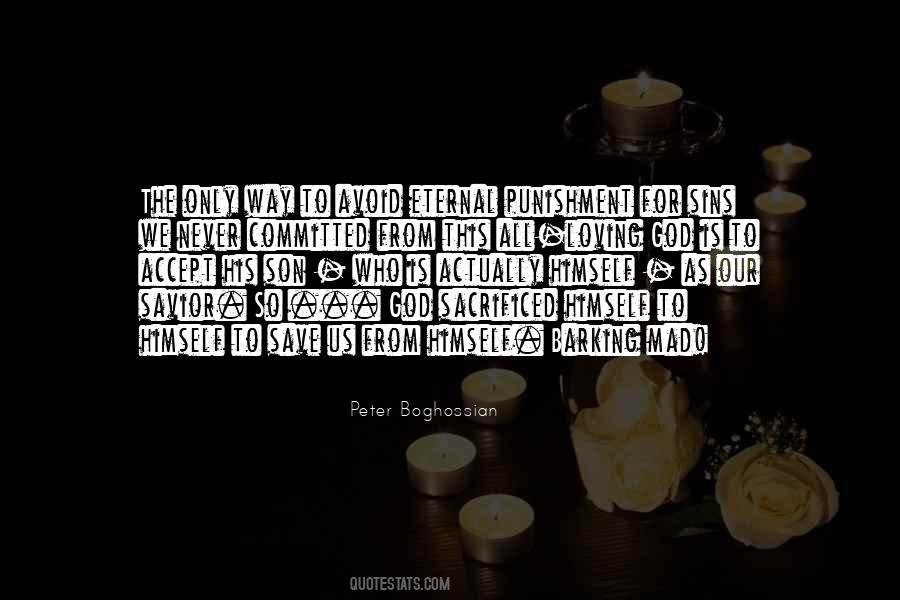 #44. It is easy enough to say, I do not believe in God. For God permits all things to be said of Him with impunity. he looks at our acts. And any breach of His Law carries with it, not its vindictive, but it purifying, compelling punishment. - Author: Mahatma Gandhi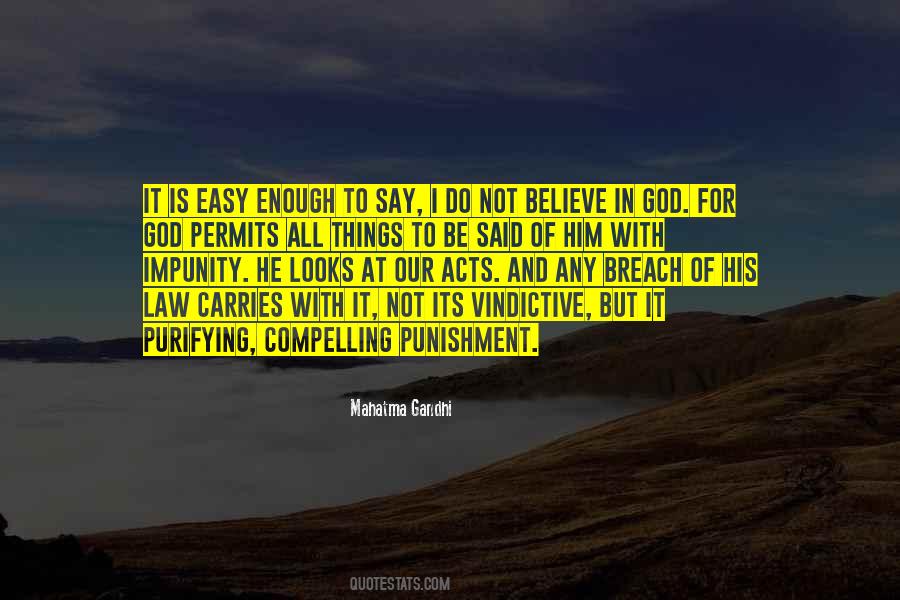 #45. And ultimately, If you sin against an infinitely holy and eternal God, you are infinitely guilty and worthy of eternal punishment. - Author: David Platt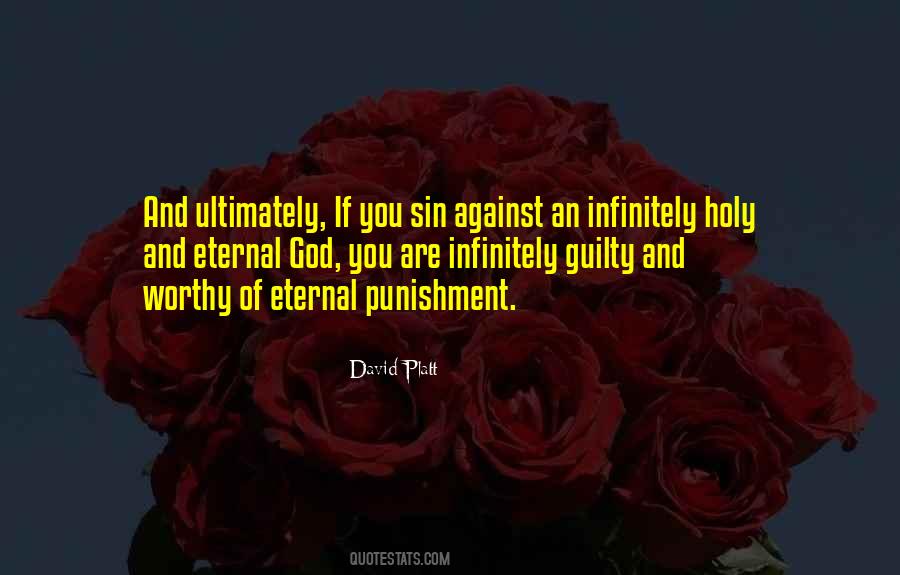 #46. There was purification in punishment. Not 'Forgive us our sins,' but 'Smite us for our iniquities' should be the prayer of a man to a most just God. - Author: Oscar Wilde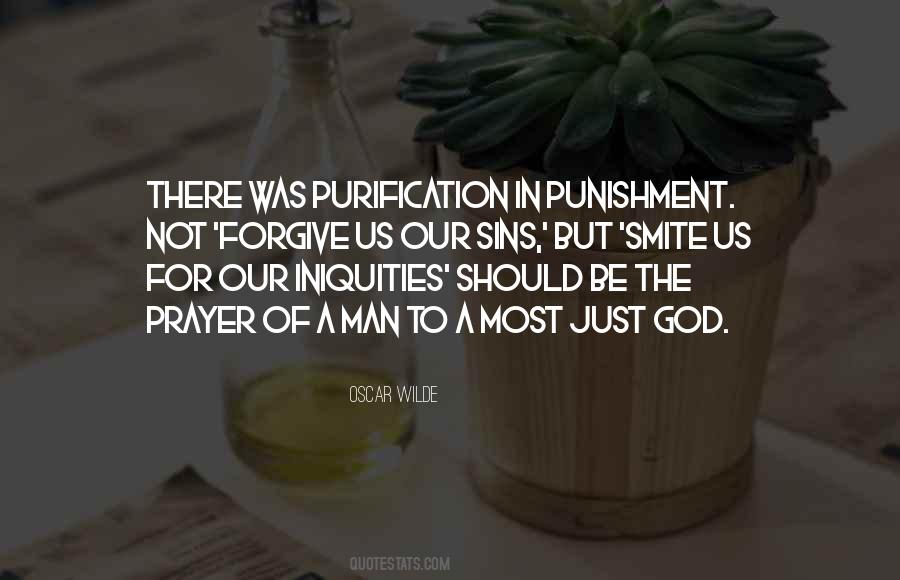 #47. He said, Heaven is not waiting for the good and pure and gentle There's no punishment eternal, there's no Hell for the ungodly Nor is God as you imagine - Saint - Author: Neil Gaiman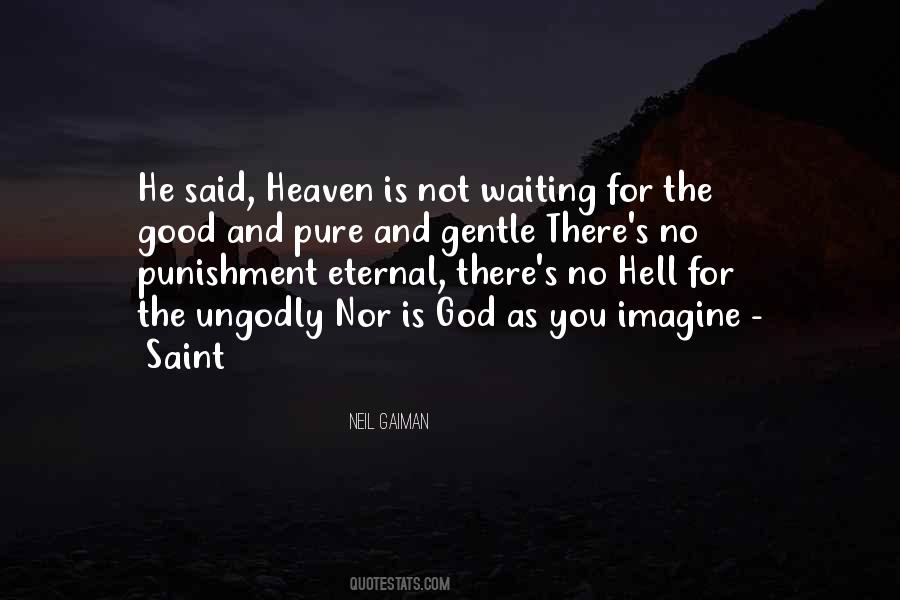 #48. What punishments of God are not gifts? - Author: J.R.R. Tolkien
#49. God will not punish you when you speak your mind, because he speaks through you if he truly lives in you. - Author: Michael Bassey Johnson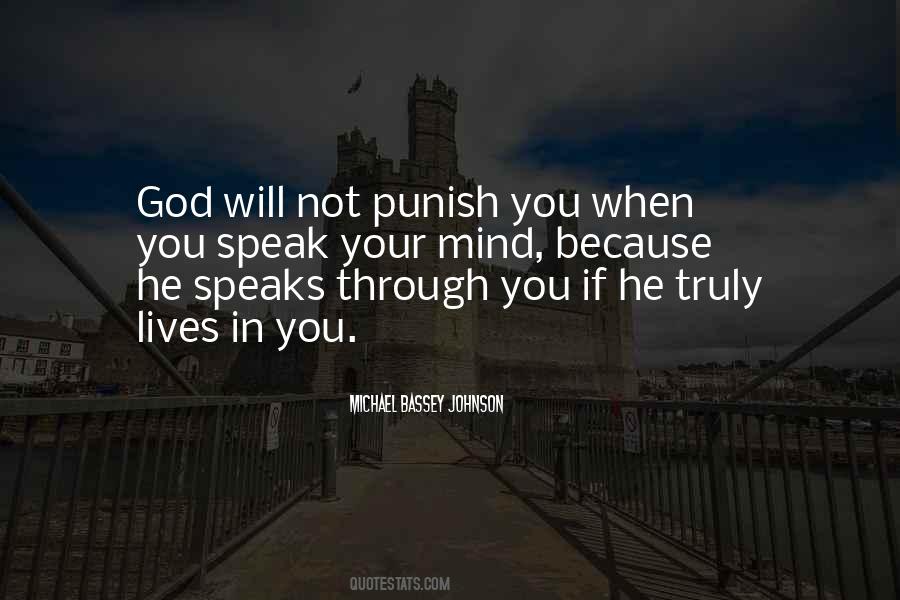 #50. I feel that the longest and worst punishment should be reserved for those who slandered God by inventing Hell. - Author: Isaac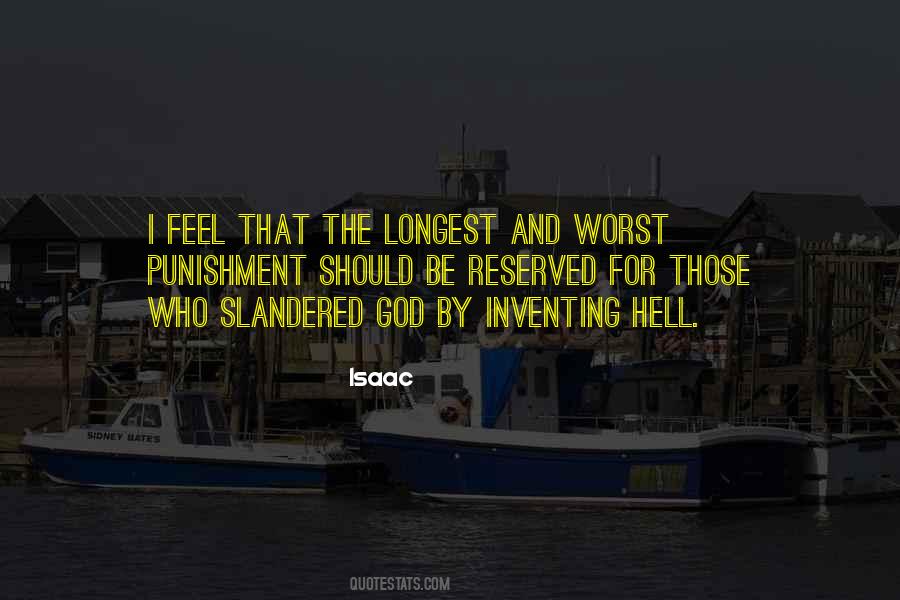 #51. Since we were restored to friendship with God by the death of his Son while we were still his enemies, we will certainly be delivered from eternal punishment by his life. ROMANS 5:10 NLT - Author: Rick Warren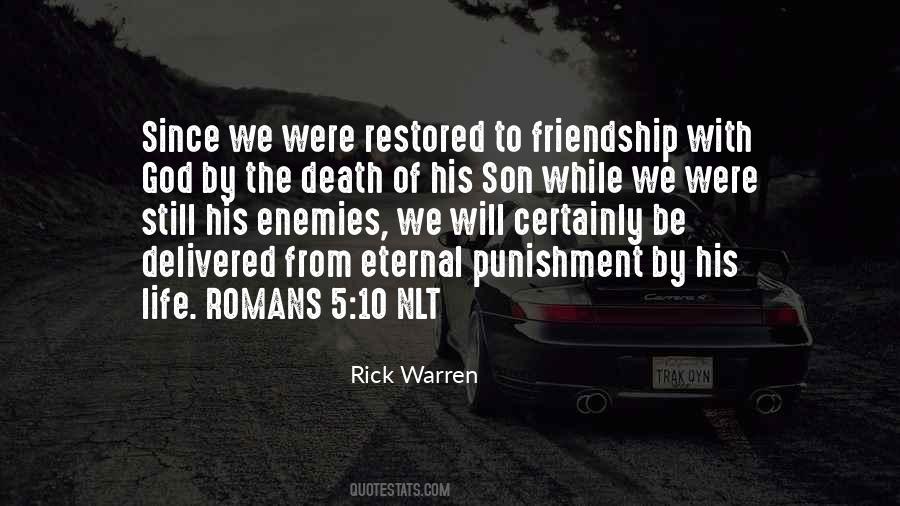 #52. A god come to earth ought to do nothing whatever but wrong: to take upon oneself, not the punishment, but the guilt - only that would be godlike. - Author: Friedrich Nietzsche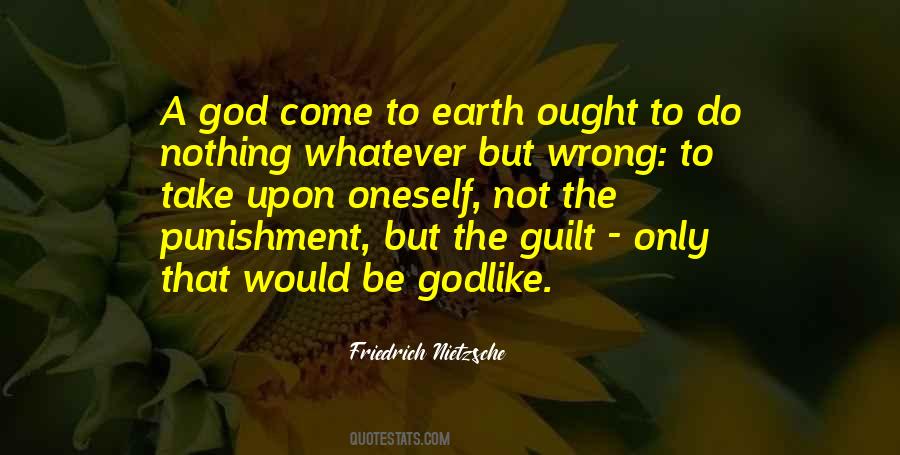 #53. I was frightened even by God. I could not believe in His love, only in His punishment. Faith. That, I felt, was the act of facing the tribunal of justice with one's head bowed to receive the scourge of God. I could believe in hell, but it was impossible for me to believe in the existence of heaven. - Author: Osamu Dazai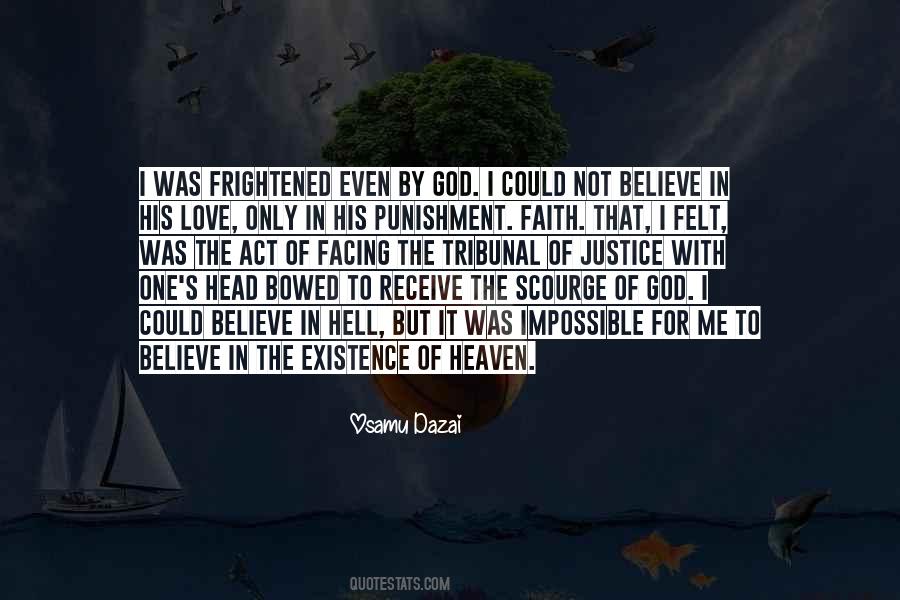 #54. I put my faith in Christ as a child. At a young age, I had a simple understanding of these basic facts: I was born a sinner; my nature is inclined toward sin. God, the Creator of all, establishes that there is punishment for sin. He will judge my sin, and I should receive His wrath. - Author: Carrie Ward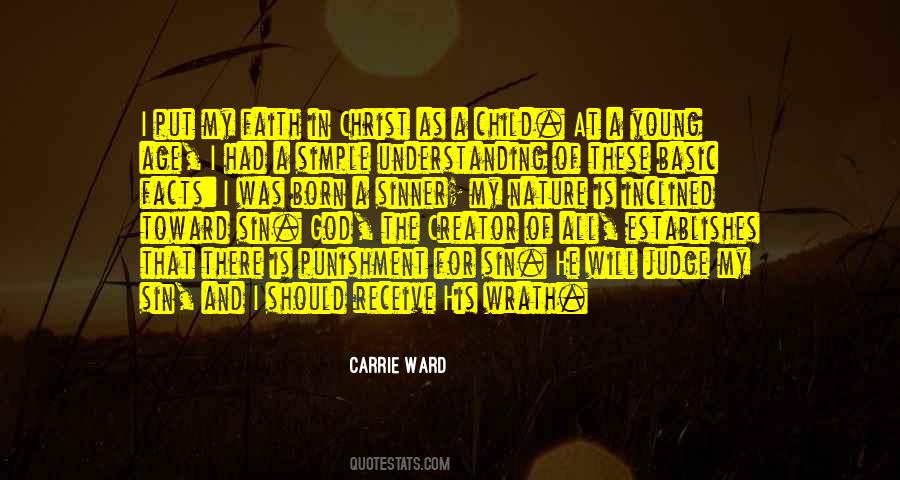 #55. To work without attachment is to work without the expectation of reward or fear of any punishment in this world or the next. Work so done is a means to the end, and God is the end. - Author: Ramakrishna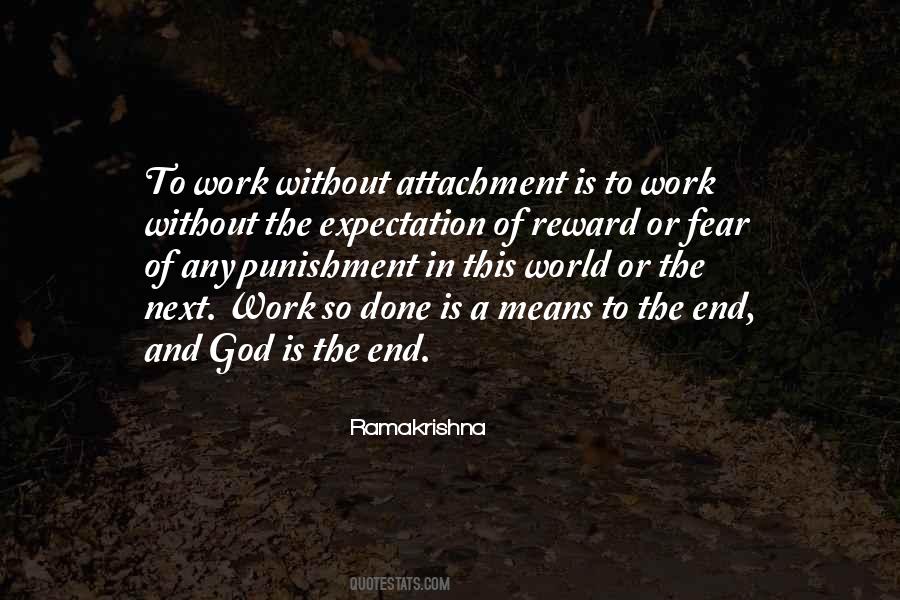 #56. I cannot conceive an intention in God that Christ should satisfy his justice for the sin of them that were in hell some thousands of years before, and yet be still resolved to continue their punishment on them to all eternity. - Author: John Owen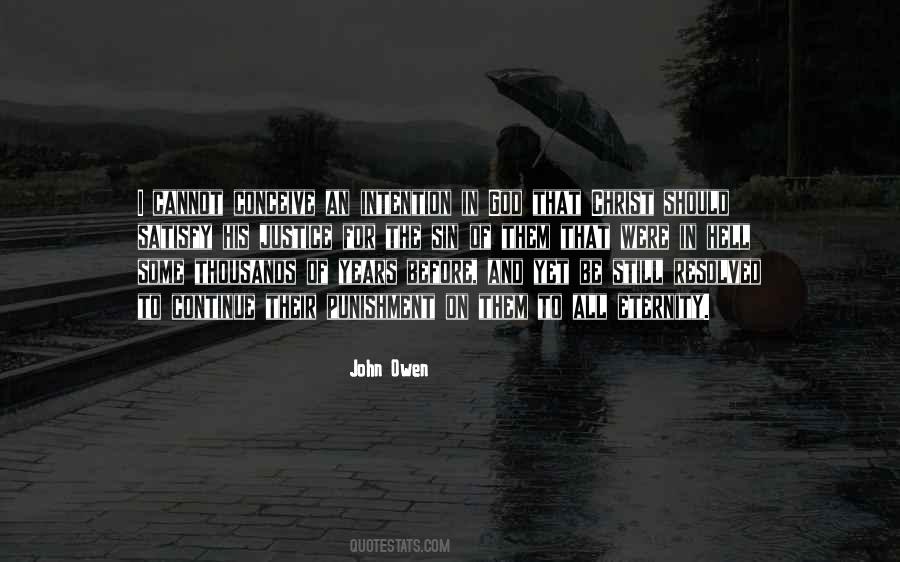 #57. There is nothing worse ... no punishment greater than to have known God and no longer to know him. - Author: Philip K. Dick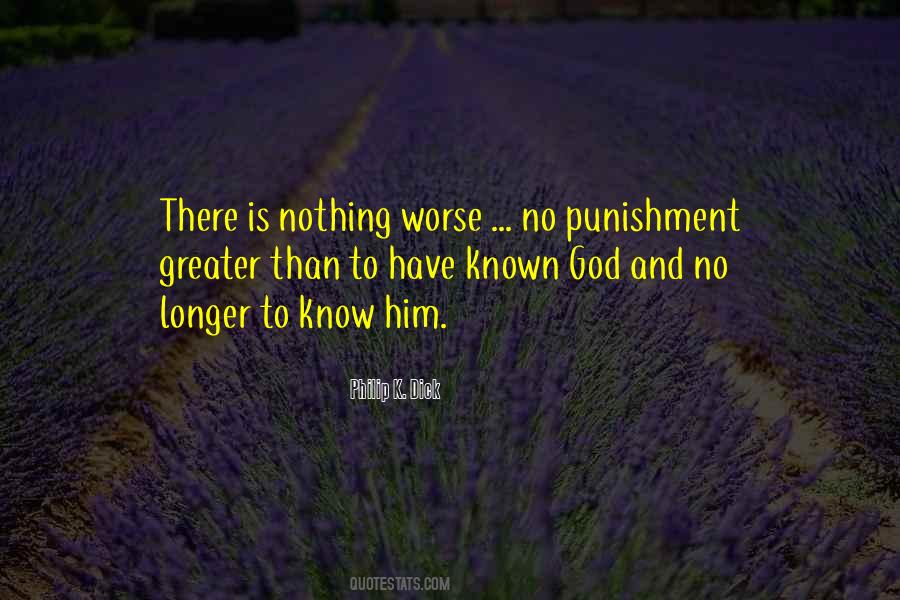 #58. I have lived to see the greatest plague on earth
the condemning of God's word, a fearful thing, surpassing all other plagues in the world; for thereupon most surely follow all manner of punishments, eternal and corporal. - Author: Martin Luther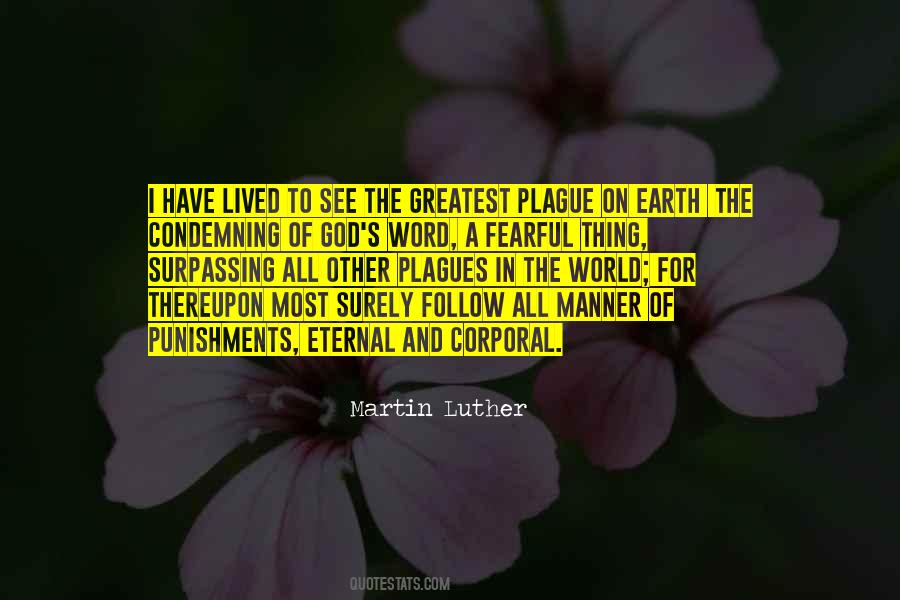 #59. I believe in something. But I don't believe that anything can hold a grudge for long enough to condemn its creation to eternal punishment. Nobody can hold a grudge that long, even God. - Author: Chuck Palahniuk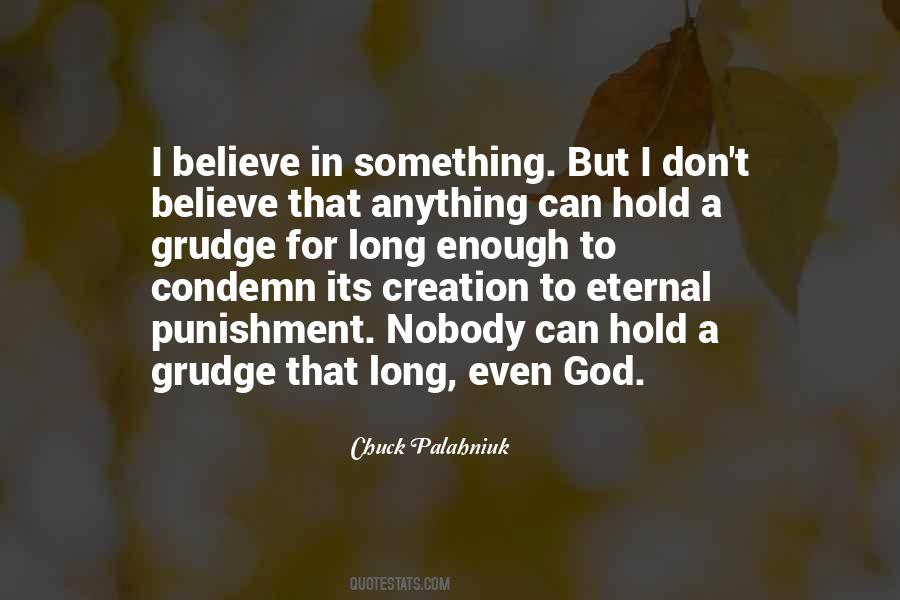 #60. God is like a lover. Sometimes he gives you so much pain that staying alive seems like a punishment but in the next moment he shows you so much love, affection and care that you forget all your pains. Yes, the wounds can't be healed completely but god compensates it with other happiness. - Author: Mayank Kashyap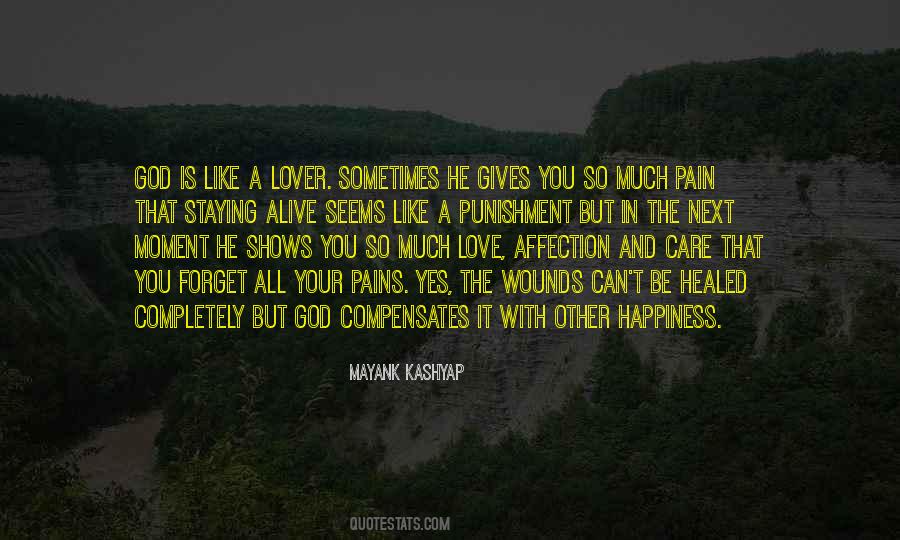 #61. This was the definition of eternity; it was the space of time devised by the Great God Om to ensure that everyone got the punishment that was due to them. - Author: Terry Pratchett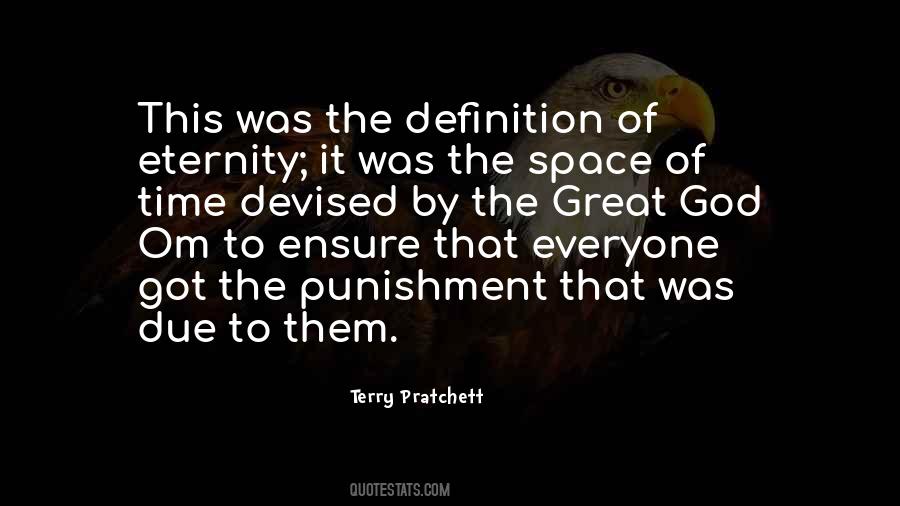 #62. Even if a person hurts you, give him love. The worst punishment is to throw someone out of your heart ... You should love everyone as God, and love each other. If you cannot love each other, you cannot achieve your goal. - Author: Neem Karoli Baba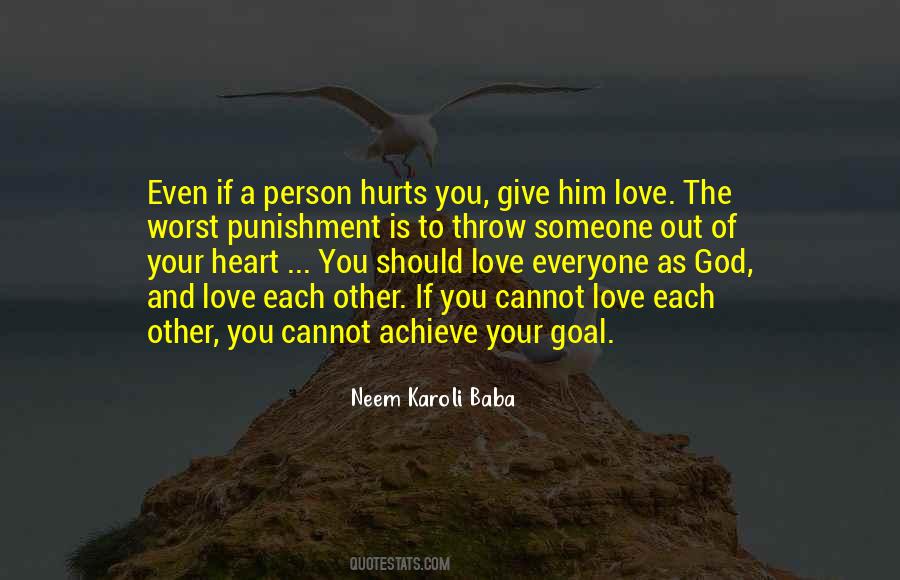 #63. Now, if any one should object, that it is unjust for the innocent to bear the punishment of another's sin, I answer, whatever gifts God had conferred upon us in the person of Adams he had the best right to take away, when Adam wickedly fell. - Author: John Calvin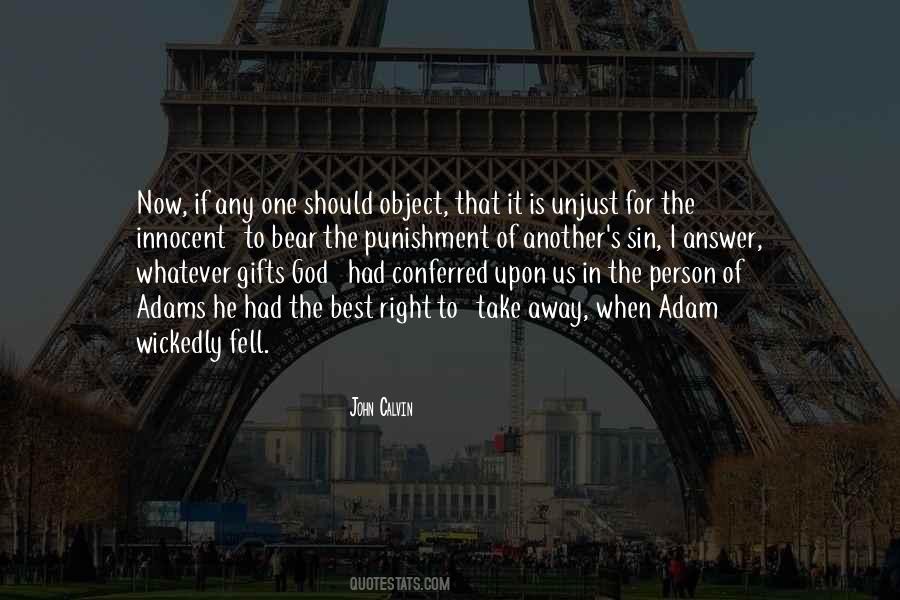 #64. Punishment is God's. He alone is the infallible Judge. - Author: Mahatma Gandhi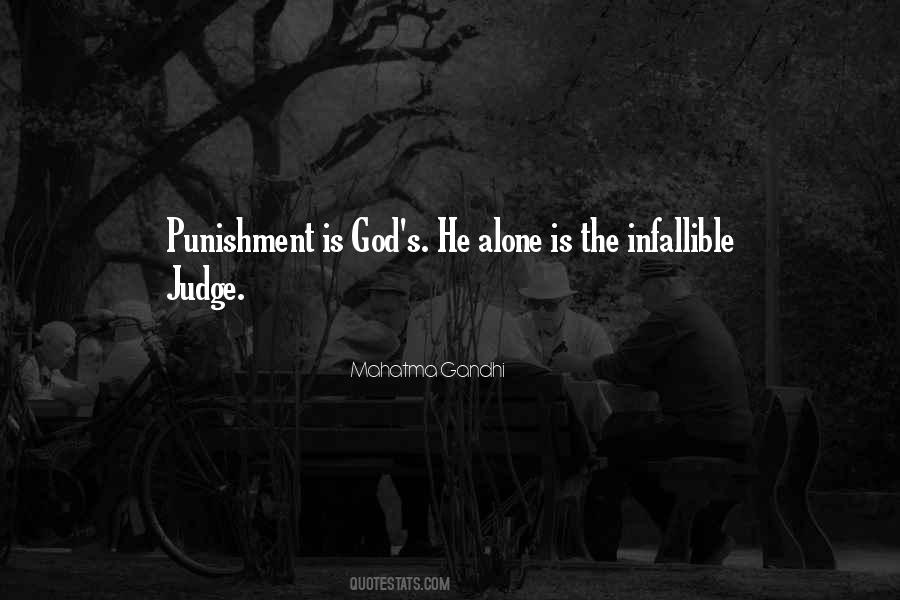 #65. But secondly you say 'society must exact vengeance, and society must punish'. Wrong on both counts. Vengeance comes from the individual and punishment from God. - Author: Victor Hugo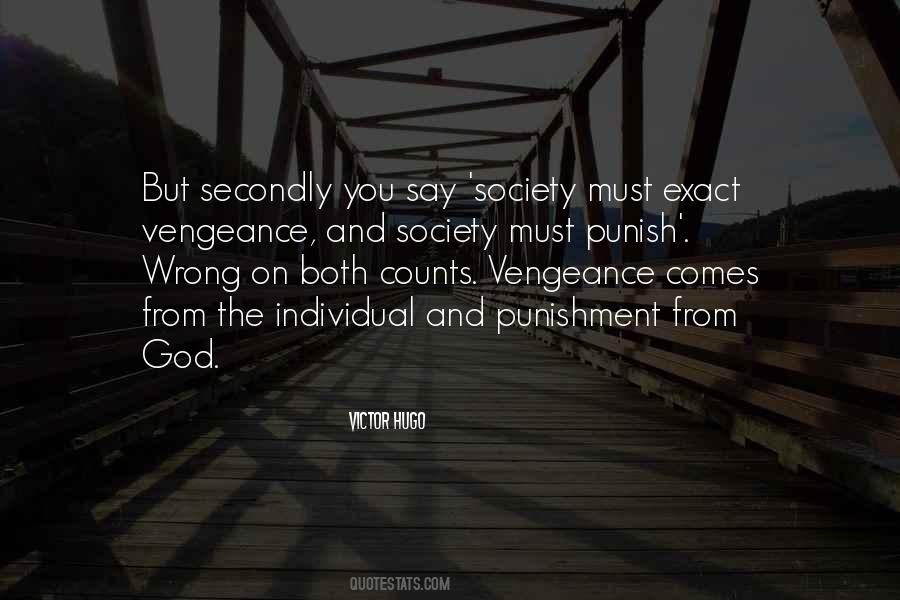 #66. I am the punishment of GOD. If you have not committed sins than GOD would'nt have sent me. - Author: Genghis Khan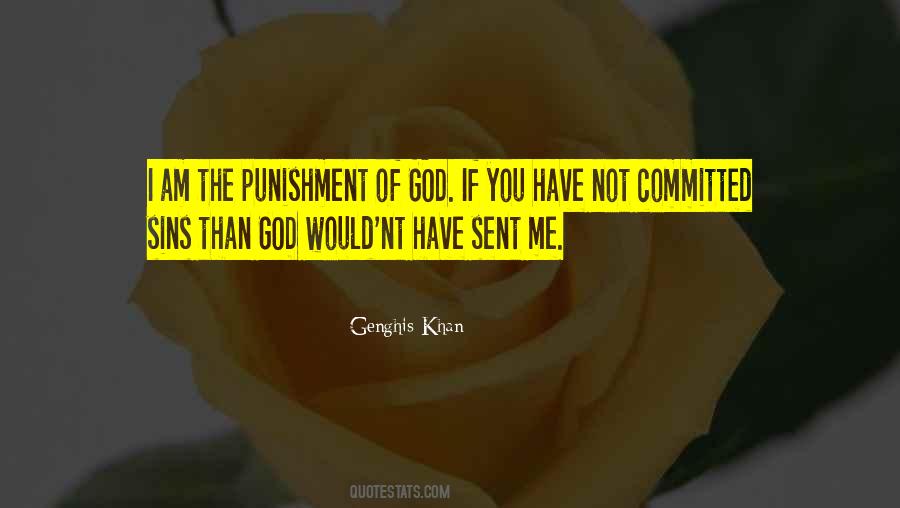 #67. The god's expression was calm and content, as if he'd just come home from a lovely evening strolling through the Fields of Punishment, enjoying the screams of the damned. - Author: Rick Riordan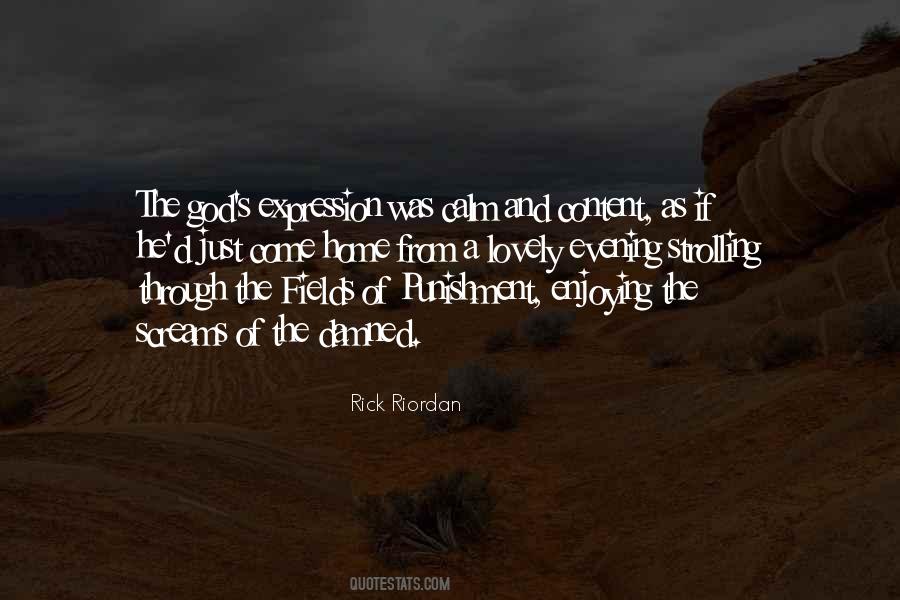 #68. I have great trouble with the people who envision AIDS as a punishment from God. - Author: Russell Johnson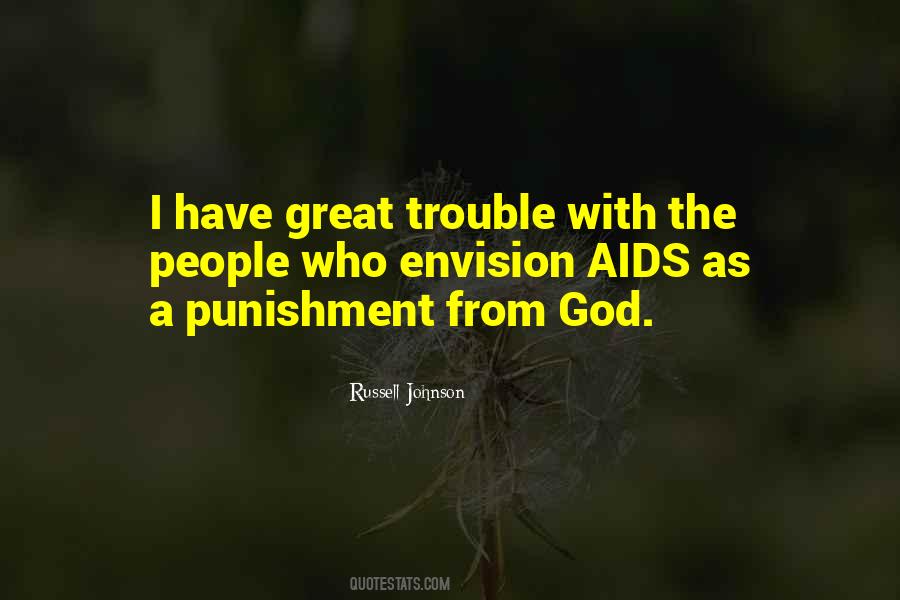 #69. Its an arrogant conceit of humans to think that they can "give" justice in whatever capacity. Karma would boomerang sooner or later and you are not required to meddle with it. Laws don't ensure justice but ensures fear of punishment in men much like religion instills fear of God. - Author: Nikhil Sharda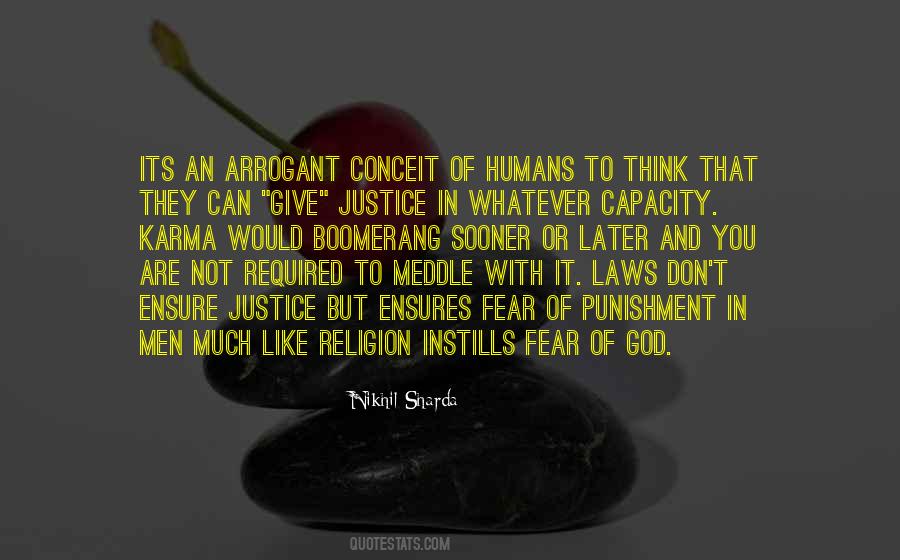 #70. Capital punishment is against the best judgment of modern criminology and, above all, against the highest expression of love in the nature of God. - Author: Martin Luther King Jr.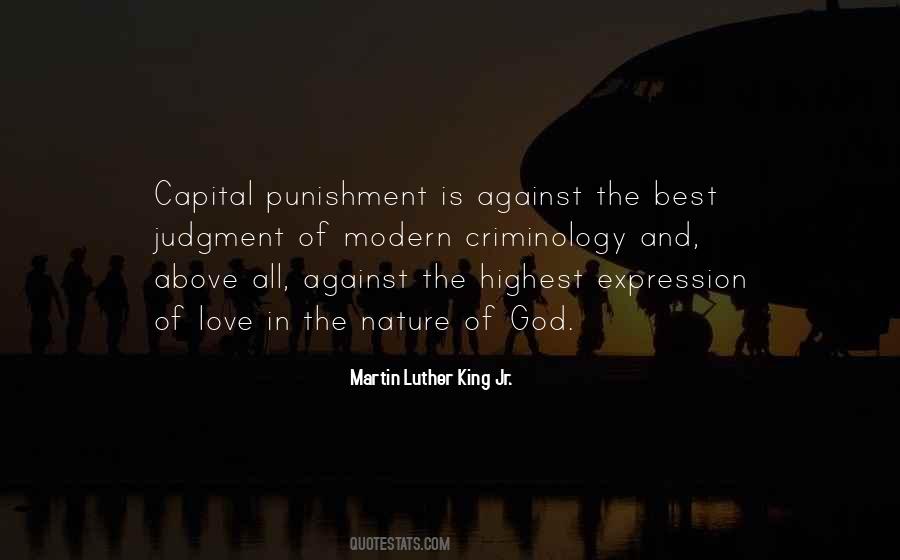 #71. AIDS is not just God's punishment for homosexuals; it is God's punishment for the society that tolerates homosexuals. - Author: Jerry Falwell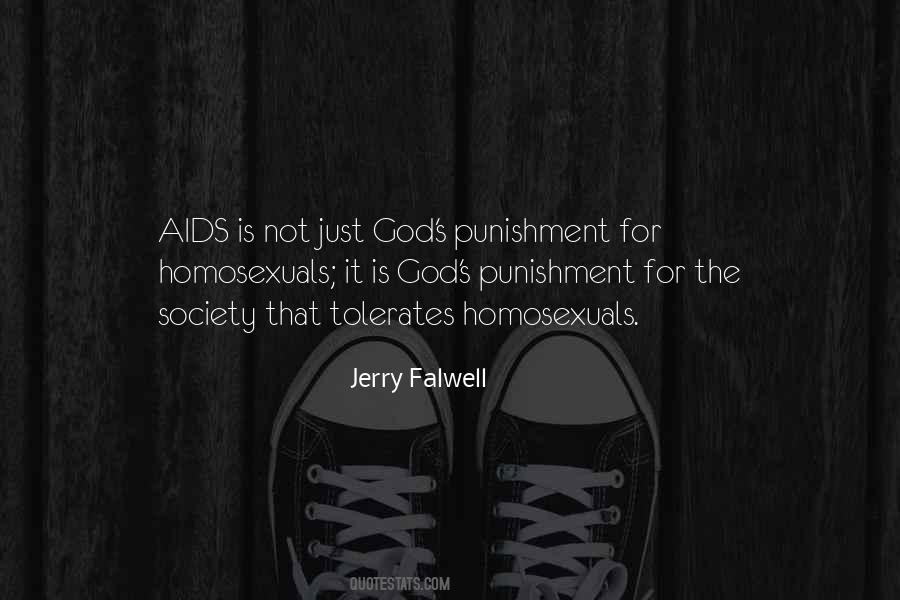 #72. They asked for Plato's assistance. He told them: "You hated wisdom and ran away from geometry, therefore God has afflicted you a punishment, for wisdom and philosophical knowledge have a high rank with God." ... The plague was lifted and they ceased to defame the branches of theoretical knowledge. - Author: Mulla Sadra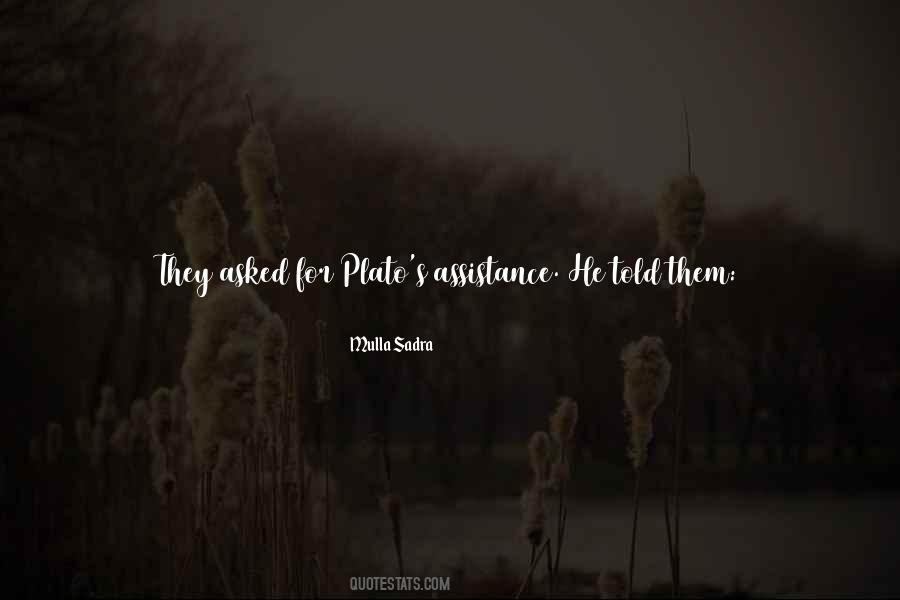 #73. Nobody ever got anything from God on the grounds that he deserved it. Haven fallen, man deserves only punishment and death. So if God answers prayer it's because God is good. From His goodness, His lovingkindness, His good-natured benevolence, God does it! That's the source of everything. - Author: Aiden Wilson Tozer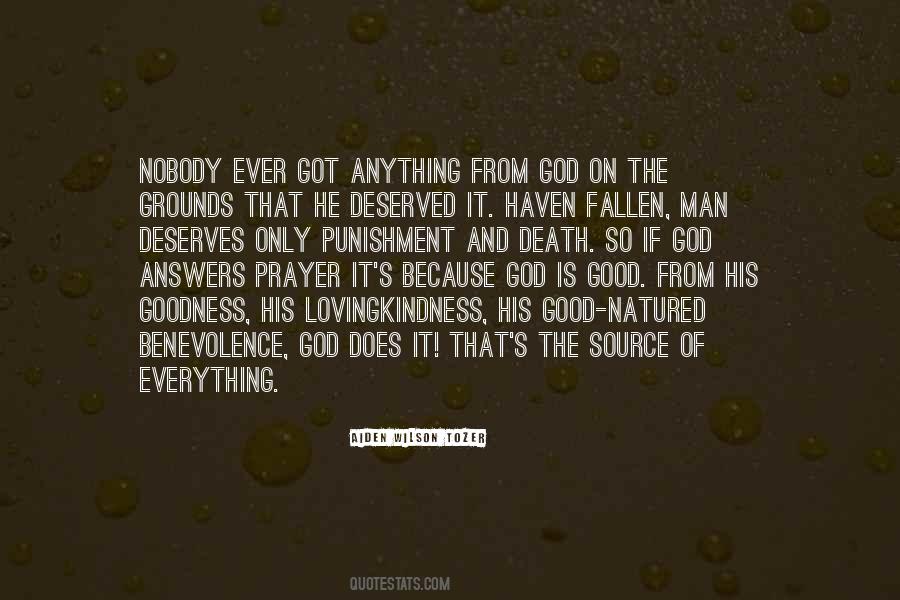 #74. God ceases to be God only for those who can admit the possibility of His non-existence, and that conception is in itself the most severe punishment they can suffer. - Author: Giacomo Casanova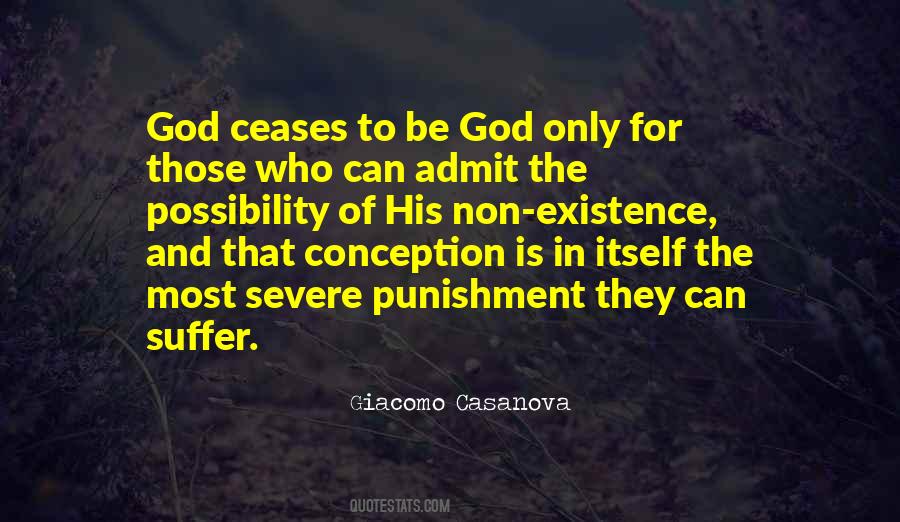 #75. I cannot believe that God wants punishment to go on interminably any more than does a loving parent. The entire purpose of loving punishment is to teach, and it lasts only as long as is
needed for the lesson. And the lesson is always love. - Author: Madeleine L'Engle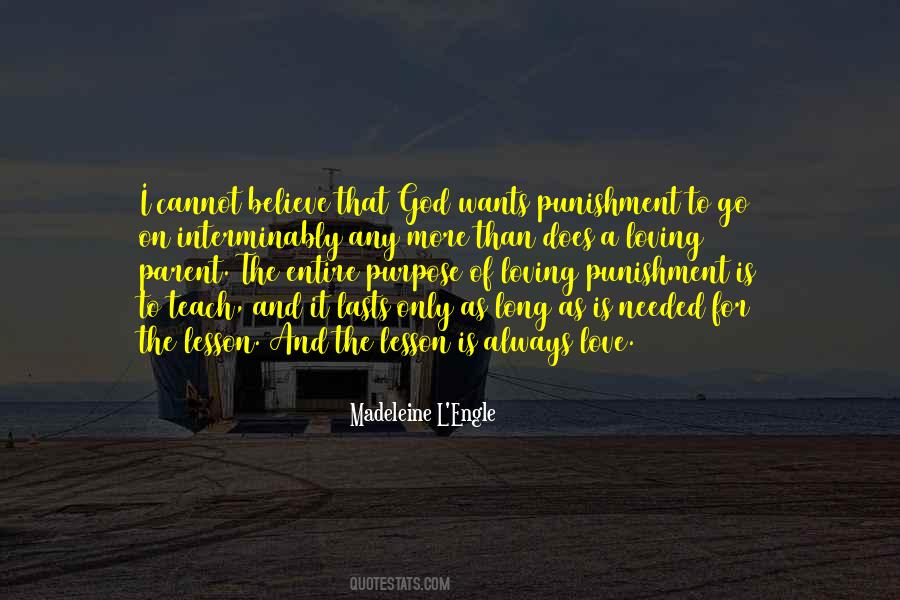 #76. People are more afraid of the laws of Man than of God, because their punishment seems to be nearest. - Author: William Penn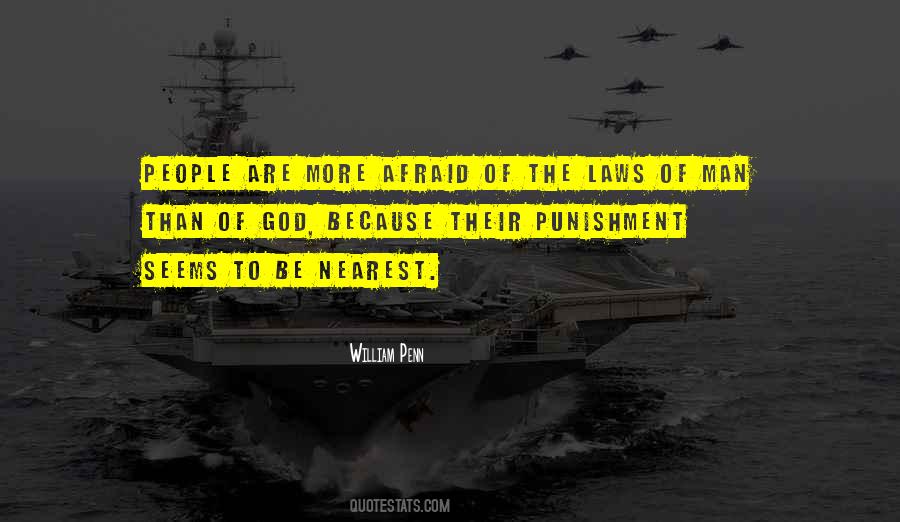 #77. The Puritans turned work into a virtue, evidently forgetting that God invented it as a punishment. - Author: Tim Kreider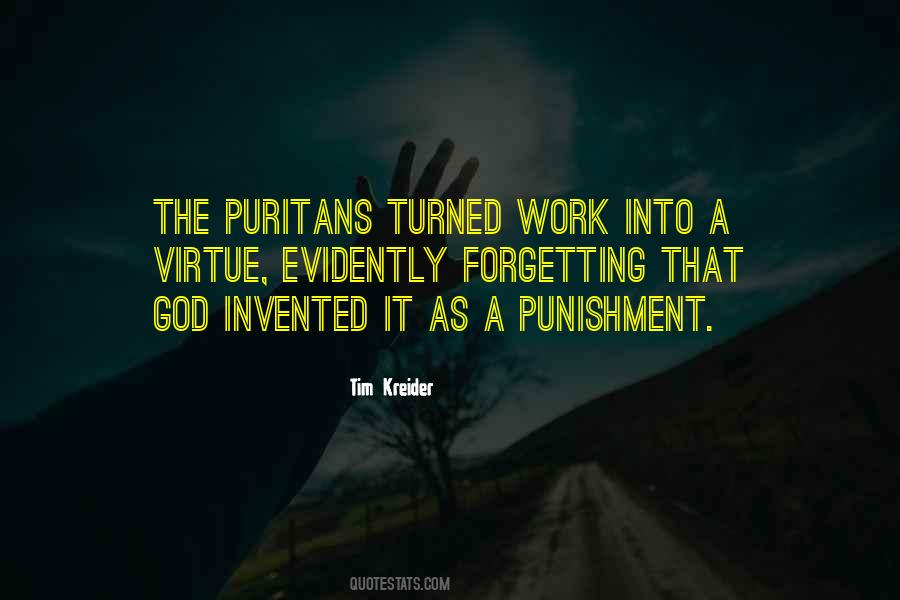 #78. Listen to the Reverend Jerry Falwell, founder of Liberty University: 'AIDS is not just God's punishment for homosexuals; it is God's punishment for the society that tolerates homosexuals.'121 - Author: Richard Dawkins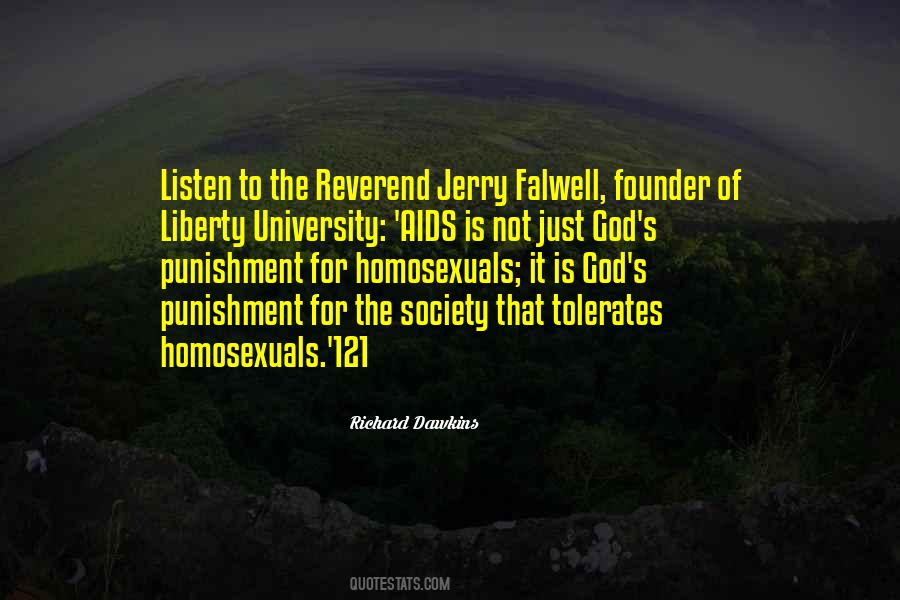 #79. Suffering often draws us closer to God. Instead of being a sign of God's punishment or distance, suffering can purify us, lead us into the heart of God, and transform our souls. - Author: Allen R. Hunt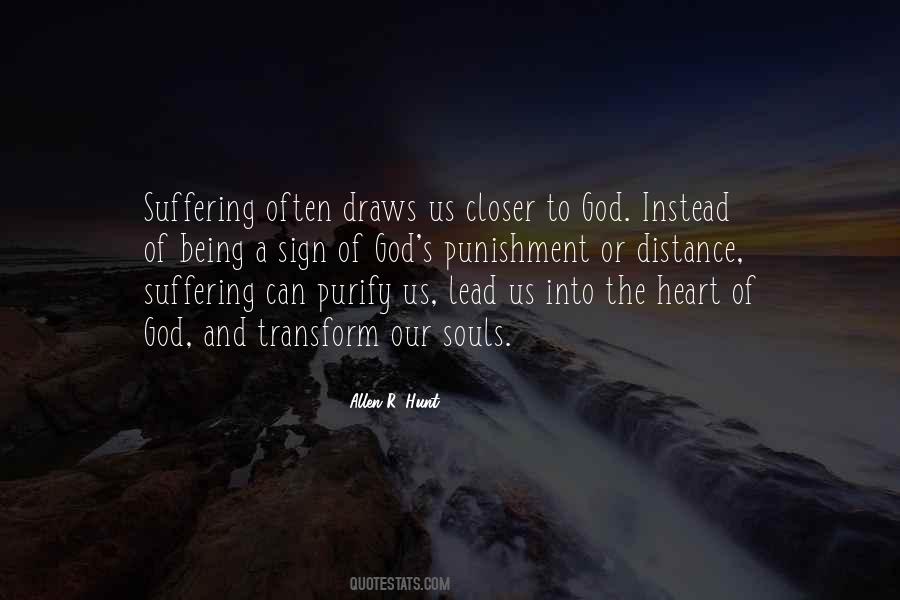 #80. Life on Earth is fleeting. It's a gift, but when God wants you, He will take you. It's not meant to be a punishment
Cricket Hunt - Author: Fisher Amelie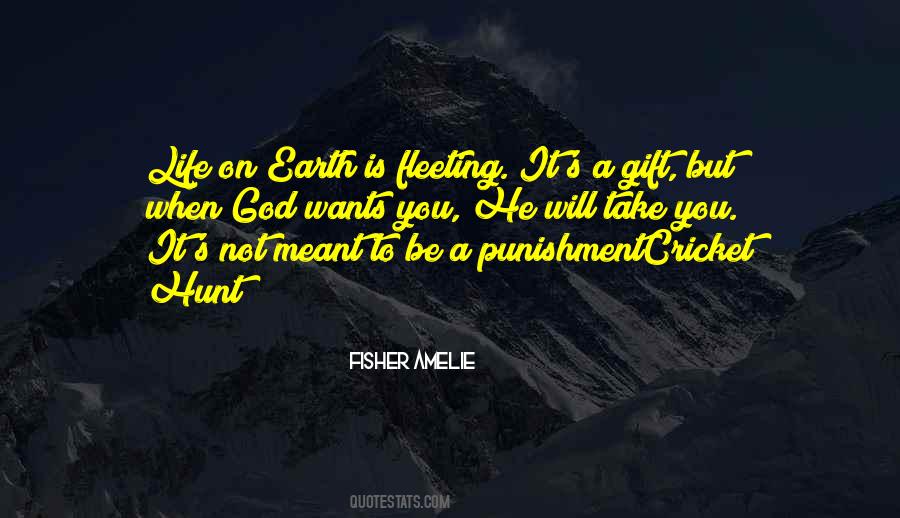 Famous Authors
Popular Topics