Power Is Knowledge Famous Quotes & Sayings
List of top 100 famous quotes and sayings about power is knowledge to read and share with friends on your Facebook, Twitter, blogs.
Top 100 Power Is Knowledge Quotes
#1. Life is meaningless until we learn to use the power of divine love and see the divine in every event and in every beauty. - Author: Debasish Mridha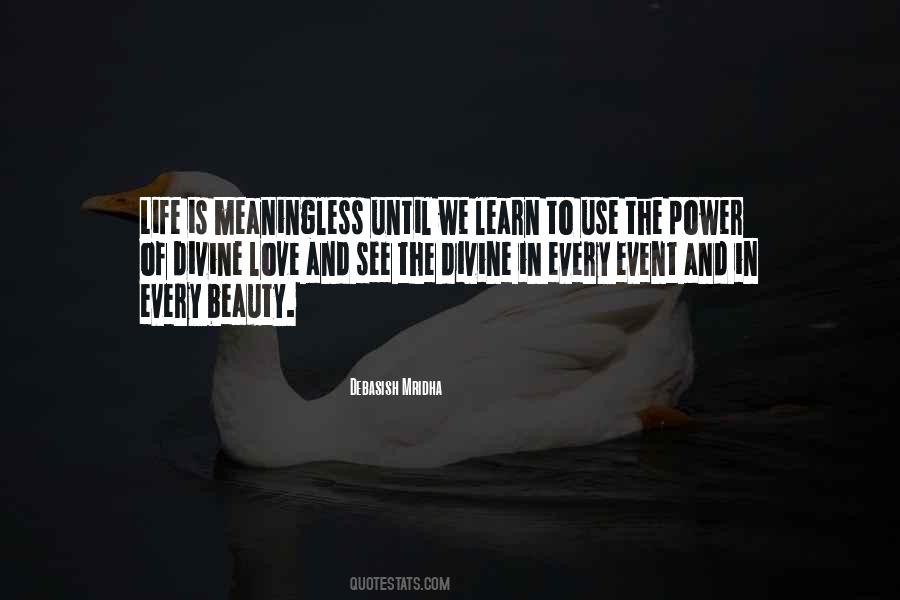 #2. A man who has the knowledge but lacks the power clearly to express it is no better off than if he never had any ideas at all. - Author: Thucydides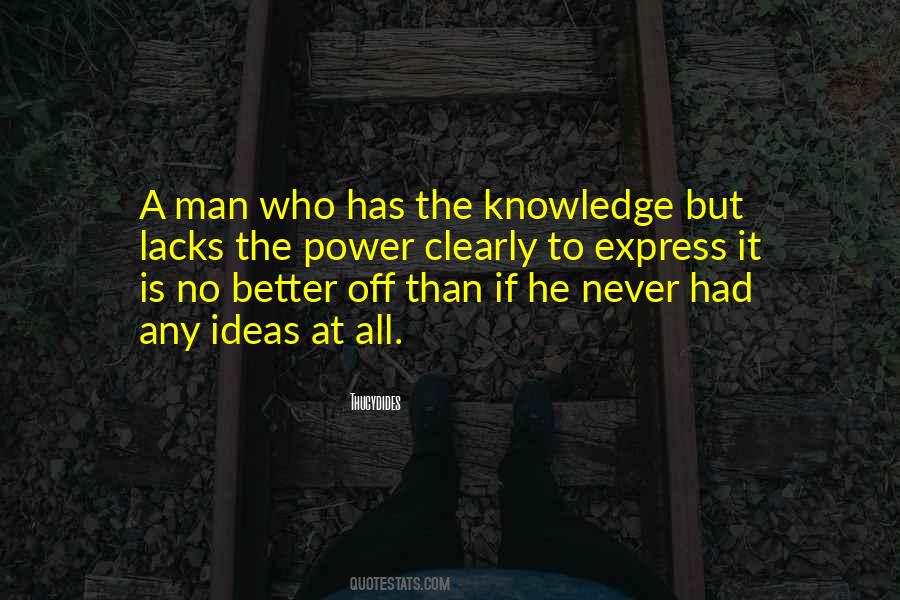 #3. There are those who seek knowledge for the sake of knowledge; that is Curiosity.
There are those who seek knowledge to be known by others; that is Vanity.
There are those who seek knowledge in order to serve; that is Love. - Author: Bernard Of Clairvaux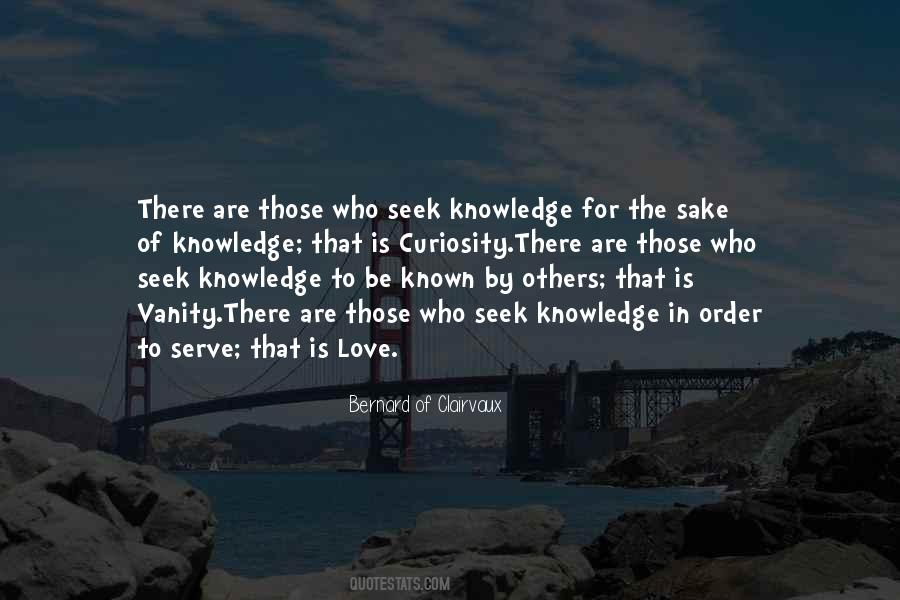 #4. There is no knowledge that is not power. - Author: Ralph Waldo Emerson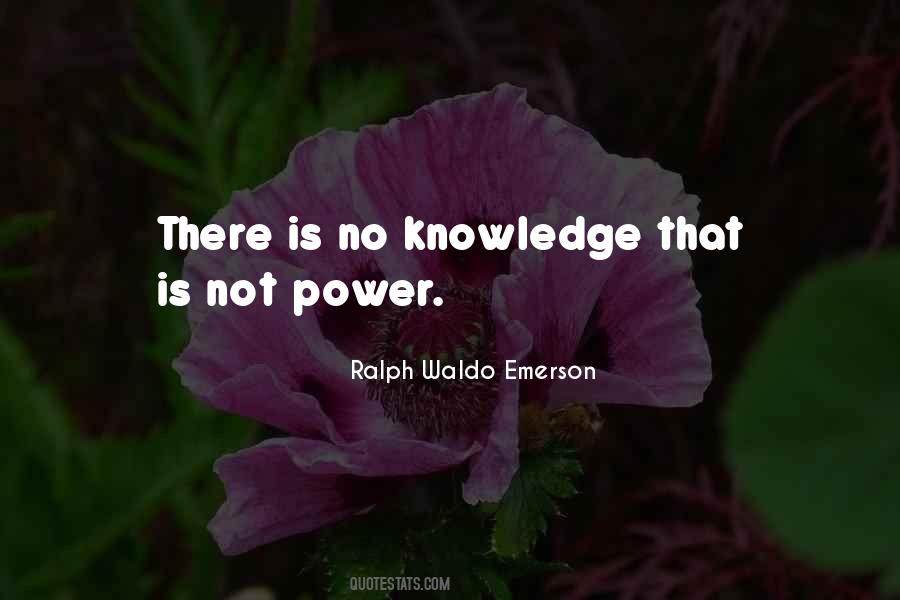 #5. Knowledge is only potential power. For the power to be manifested, it must be applied. Most people know what they should do in any given situation, or in their lives, for that matter. The problem is that they don't take daily, consistent action to apply the knowledge and realize their dreams. - Author: Robin S. Sharma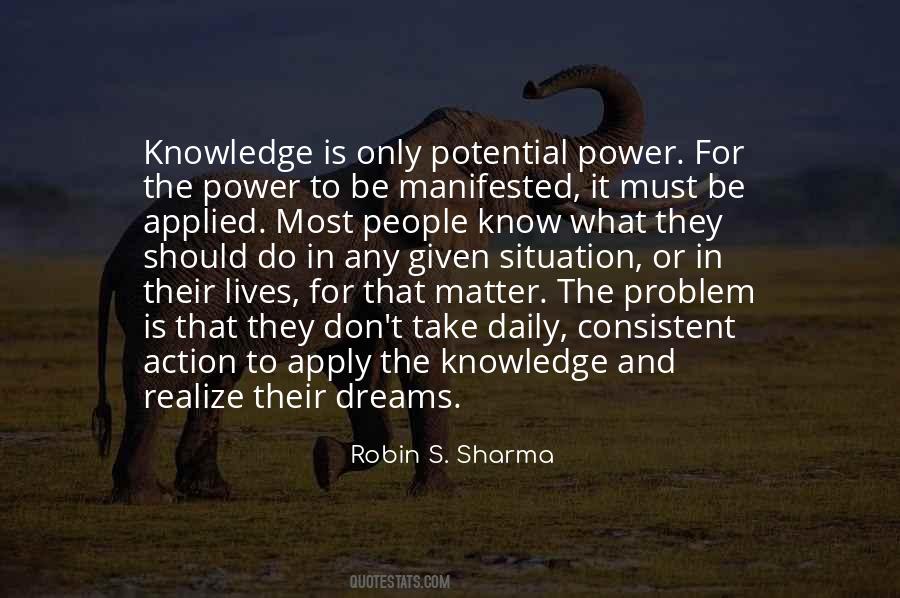 #6. It is beyond the power of the human intellect to encompass all the causes of any phenomenon. But the impulse to search into causes is inherent in man's very nature. - Author: Leo Tolstoy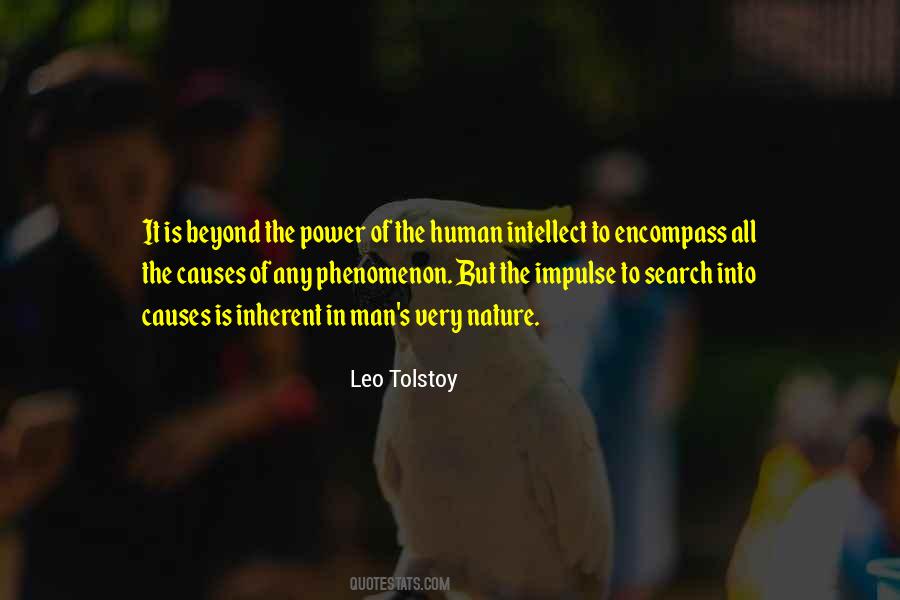 #7. Truth is not a right to be claimed, but a gift for those who are able to conquer it. - Author: Luis Marques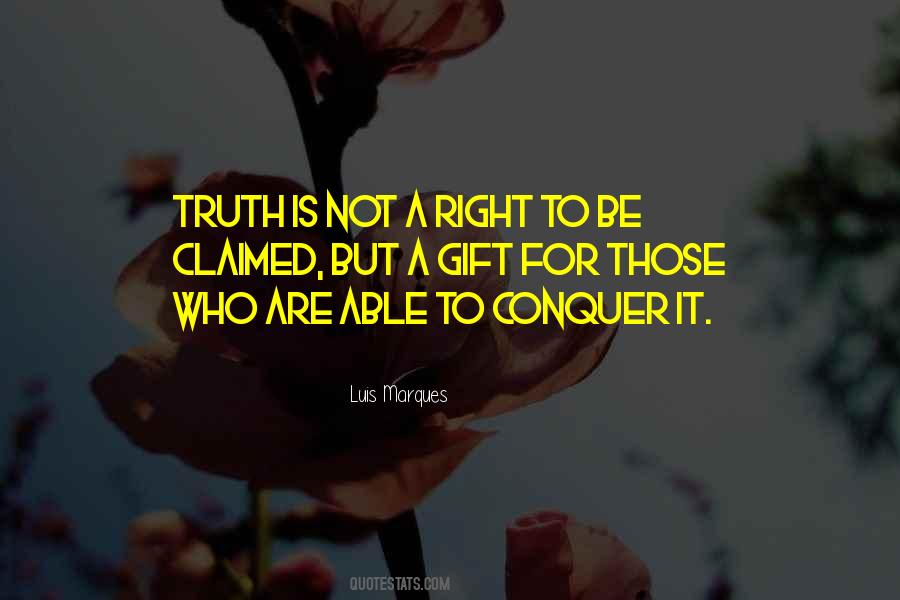 #8. But when we crave power over life - endless wealth, unassailable safety, immortality - then desire becomes greed. And if knowledge allies itself to that greed, then comes evil. Then the balance of the world is swayed, and ruin weighs heavy in the scale. - Author: Ursula K. Le Guin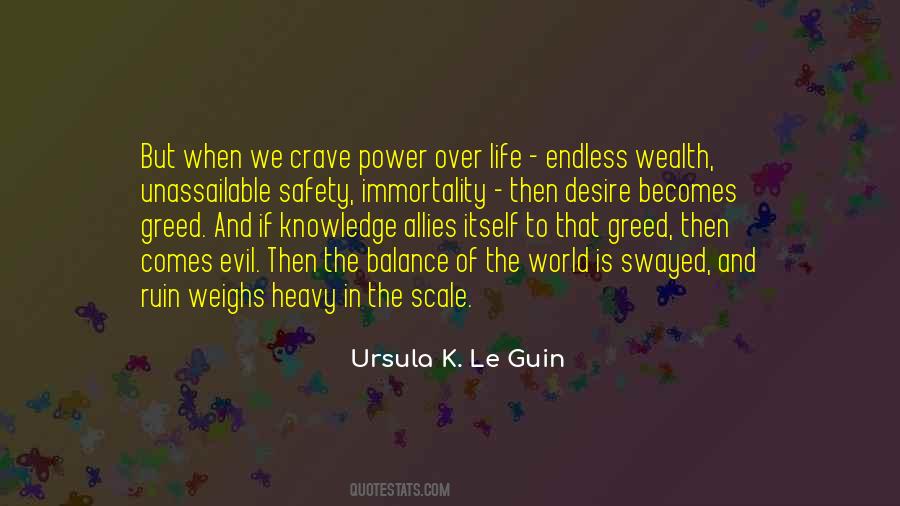 #9. If knowledge is not democratized, power can never be. - Author: Steven Rose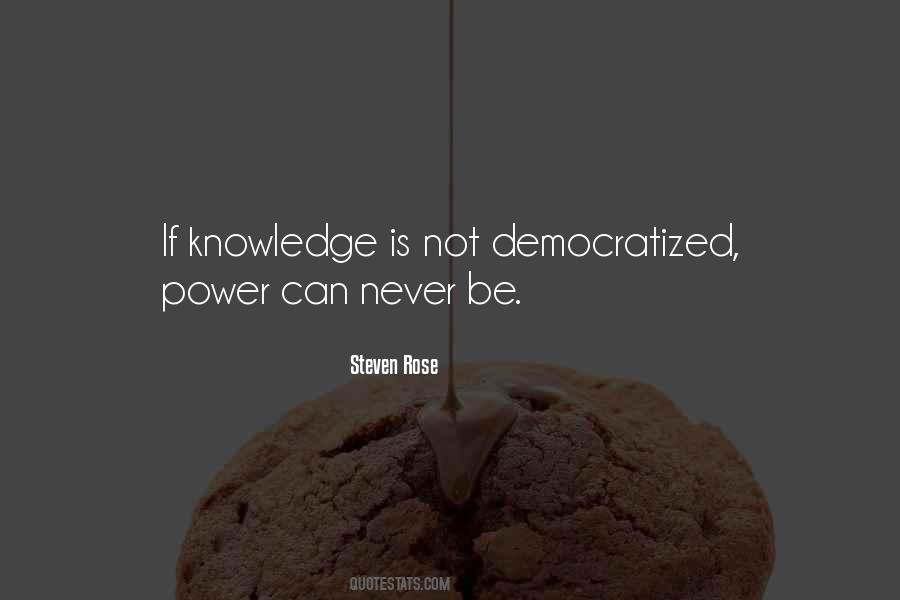 #10. Science investigates; religion interprets. Science gives man knowledge, which is power; religion gives man wisdom, which is control. Science deals mainly with facts; religion deals mainly with values. The two are not rivals. - Author: Martin Luther King Jr.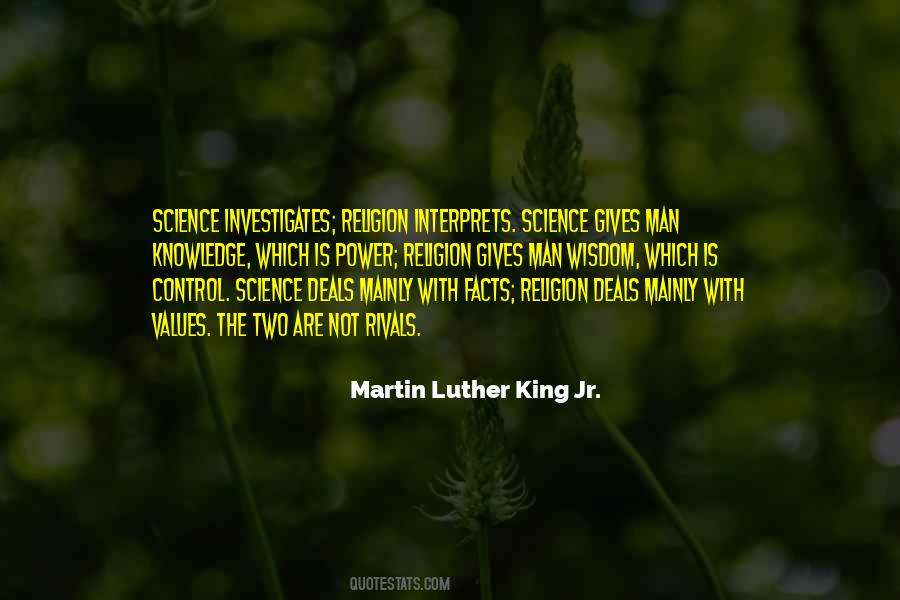 #11. The best advice I ever got was that knowledge is power and to keep reading. - Author: David Bailey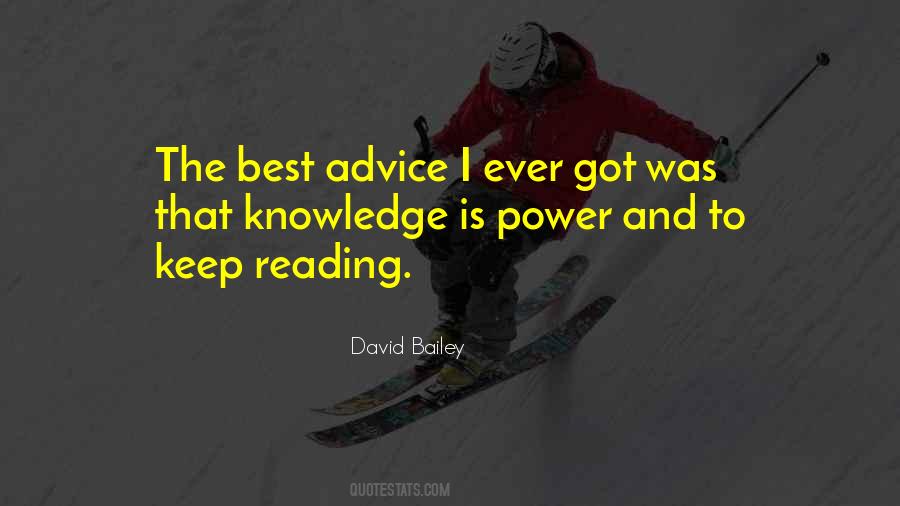 #12. The power of thought is the light of knowledge, the power of will is the energy of character, the power of heart is love. Reason, love and power of will are perfections of man. - Author: Ludwig Feuerbach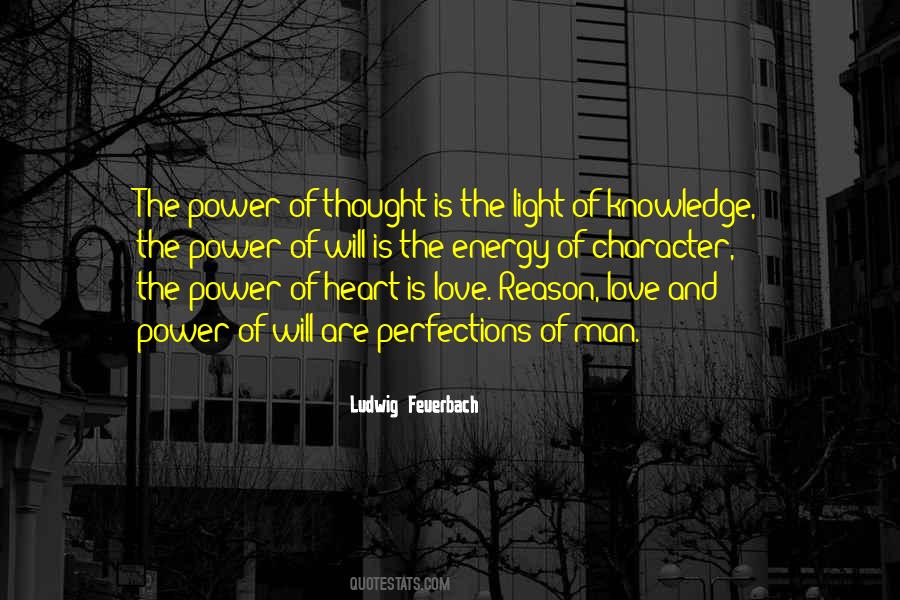 #13. Knowledge isn't power until it is applied. - Author: Dale Carnegie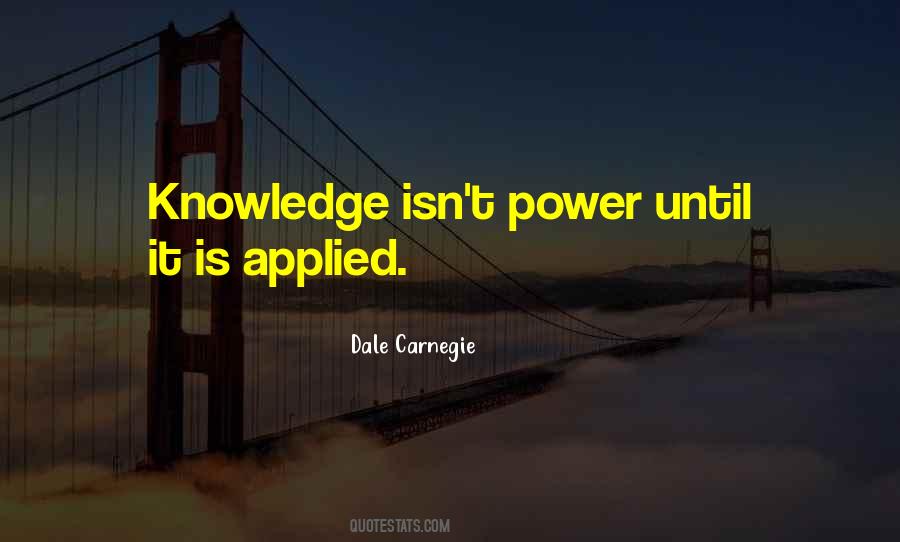 #14. They used to say that knowledge is power. I used to think so, but I know now they mean money. - Author: Lord Byron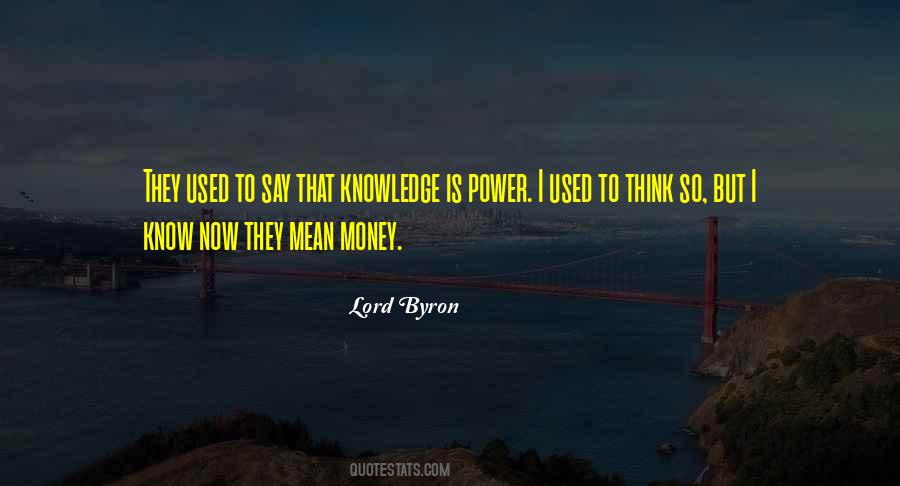 #15. We hear wonderful stories about some masters who can walk on water and do all kinds of great things. But the real power of the teacher is to transmit power and knowledge directly to an individual. - Author: Frederick Lenz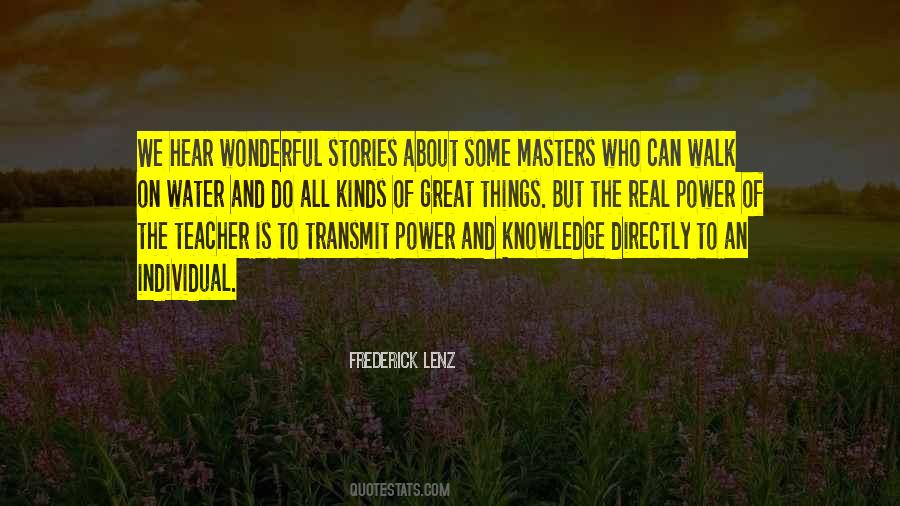 #16. Do not judge others, without first judging yourself. There is no strength without knowing thyself. - Author: Luis Marques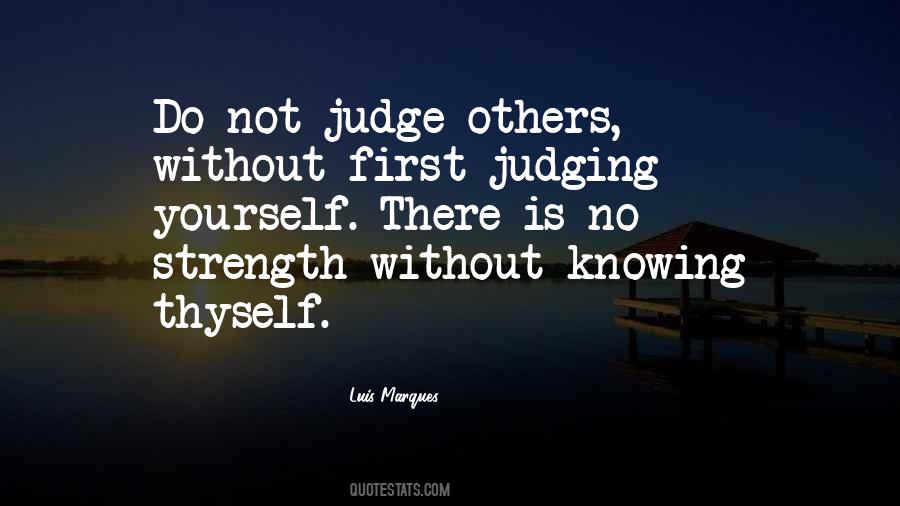 #17. Wisdom is the power to put our time and our knowledge to the proper use - Author: Thomas Watson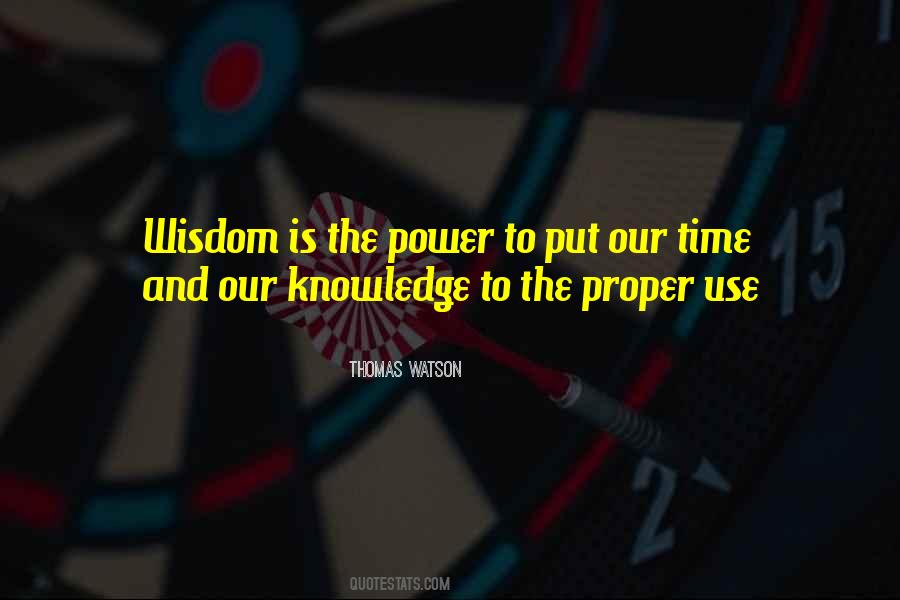 #18. Knowledge is power and you need power in this world. You need as many advantages as you can get. - Author: Ellen DeGeneres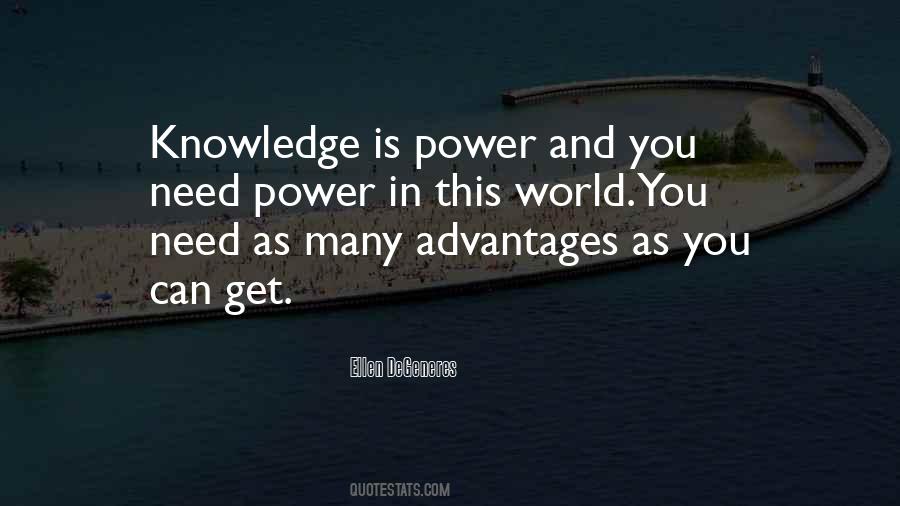 #19. The control of knowledge is the crux of tomorrow's worldwide struggle for power in every human institution. - Author: Alvin Toffler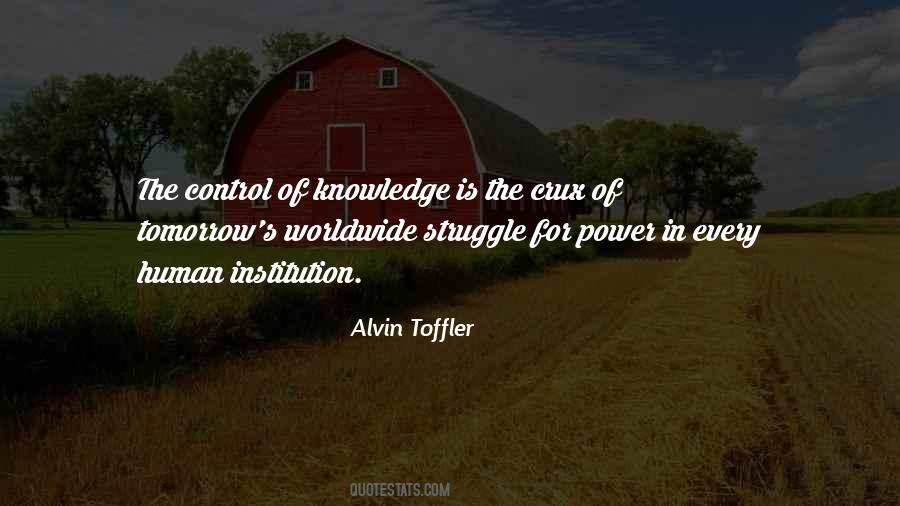 #20. Knowledge is potential power. It transforms itself into actual power the moment you decisively act on it. - Author: Robin Sharma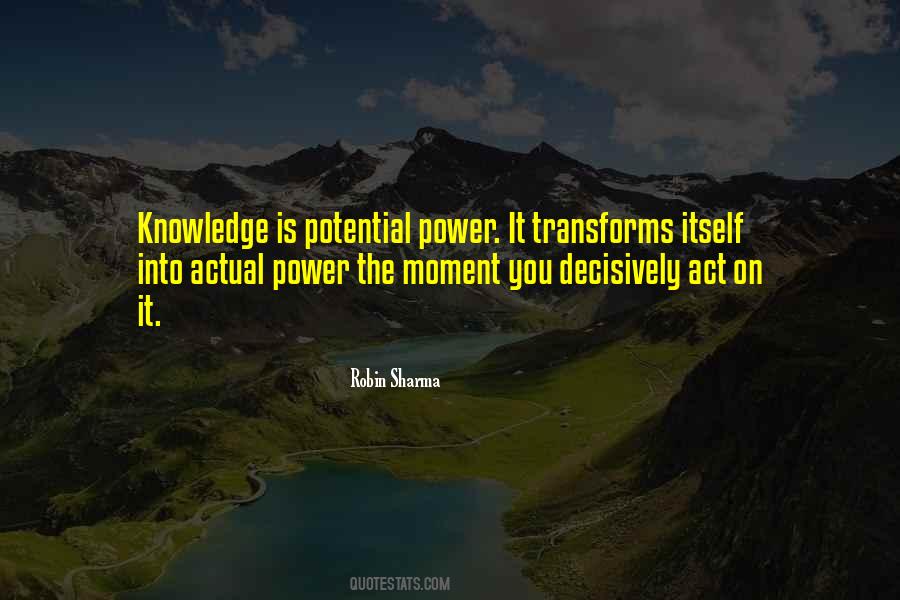 #21. Knowledge does away with darkness, suspense, and doubt; for these cannot exist where knowledge is ... In knowledge there is power. - Author: Joseph Smith Jr.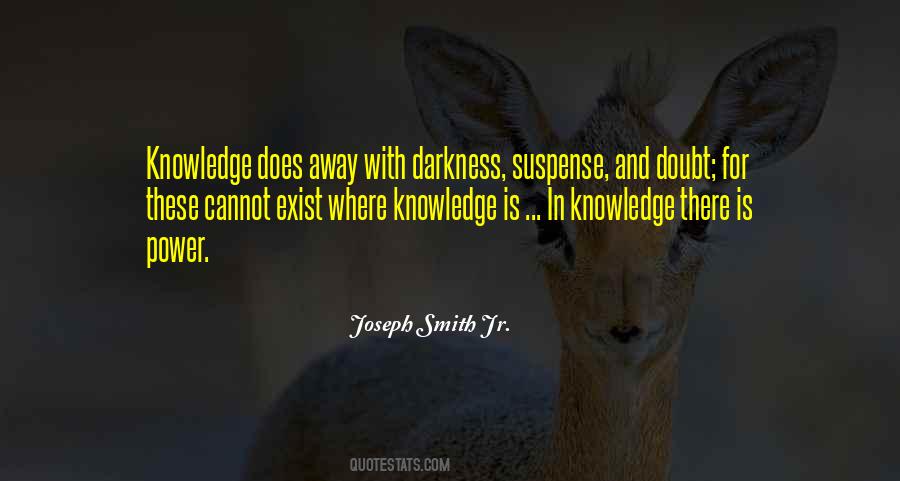 #22. Knowledge isn't power, applied knowledge is power - Author: Eric Thomas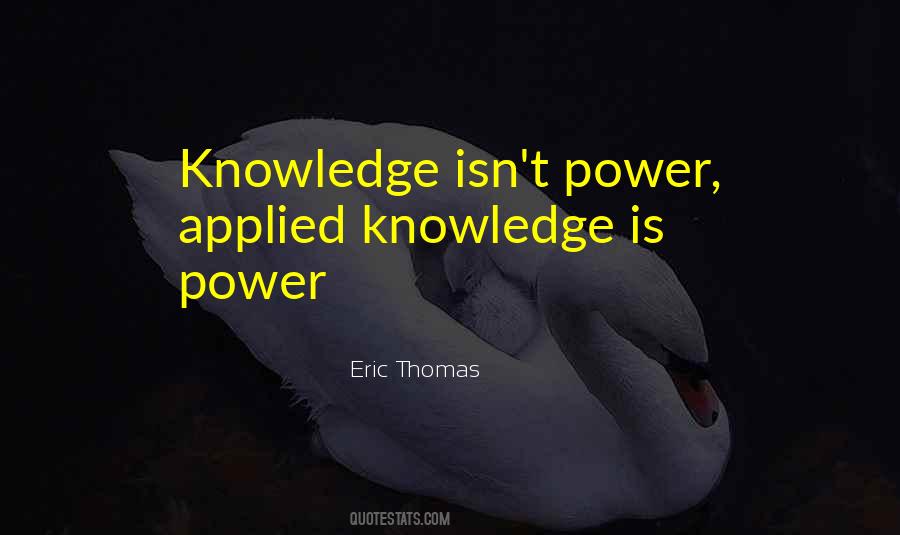 #23. For knowledge, too, is itself power. - Author: Francis Bacon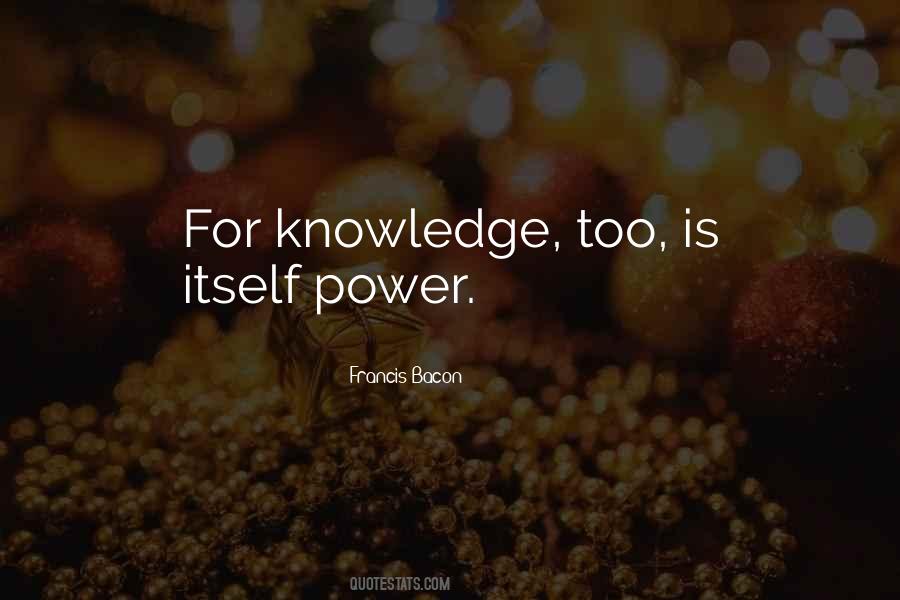 #24. Jesus also function on the earth through the power of light. Light, illumination, knowledge, insight, understanding, wisdom. That is their real power on earth. - Author: Sunday Adelaja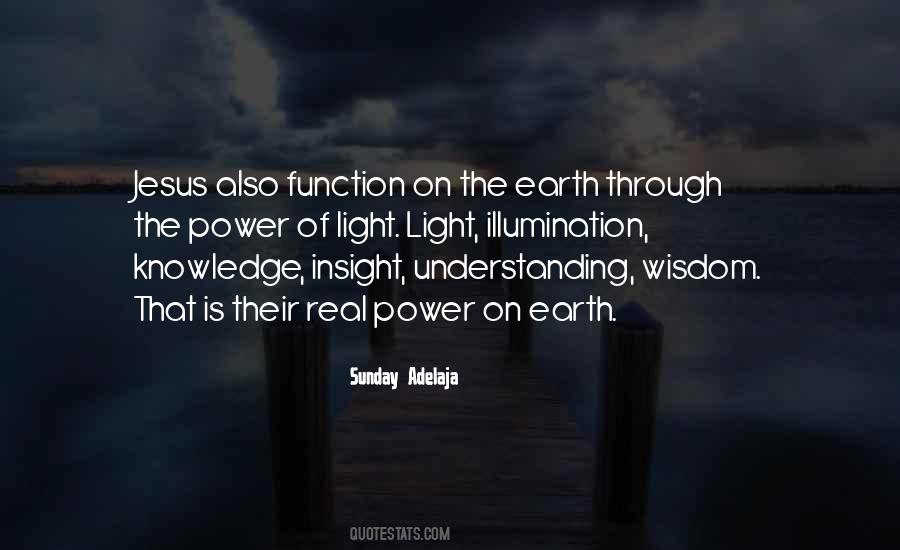 #25. Iran should not be denied the human right to knowledge ... the fear of America is Iran's attitude to Israel, and the cornerstone of America's foreign policy is the protection of Israel ... If Iran believes in Allah, and if Iran believes in the power of Allah, Iran can't be frightened by America. - Author: Louis Farrakhan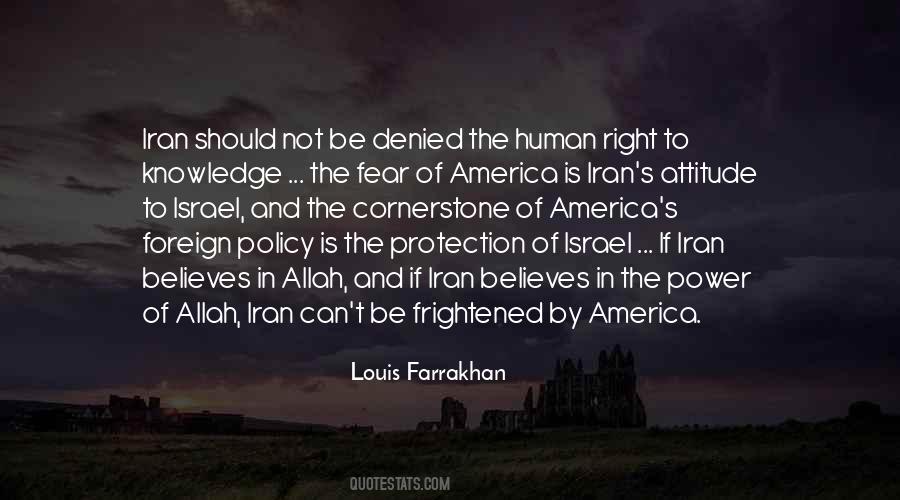 #26. And what else is it that men seek in life but power? If they want money, it is but for the power that attends it, and it is power again that they strive for in all the knowledge they acquire. Fools and sots aim at happiness, but men aim only at power. - Author: W. Somerset Maugham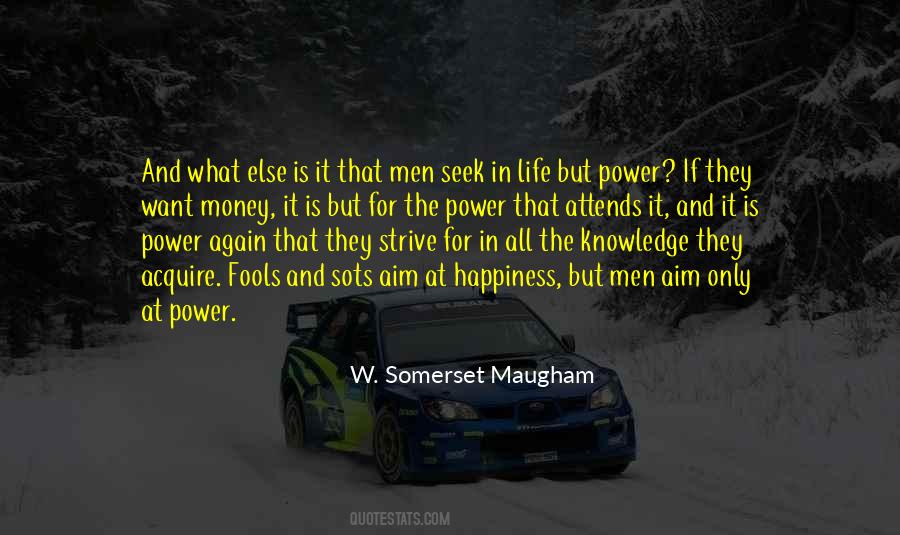 #27. The exaltation and happiness of any community, goes hand in hand with the knowledge possessed by the people, when applied to laudable ends; whereupon we can exclaim like the wise man; righteousness exalteth a nation; for righteousness embraces knowledge and knowledge is power. - Author: Joseph Smith Jr.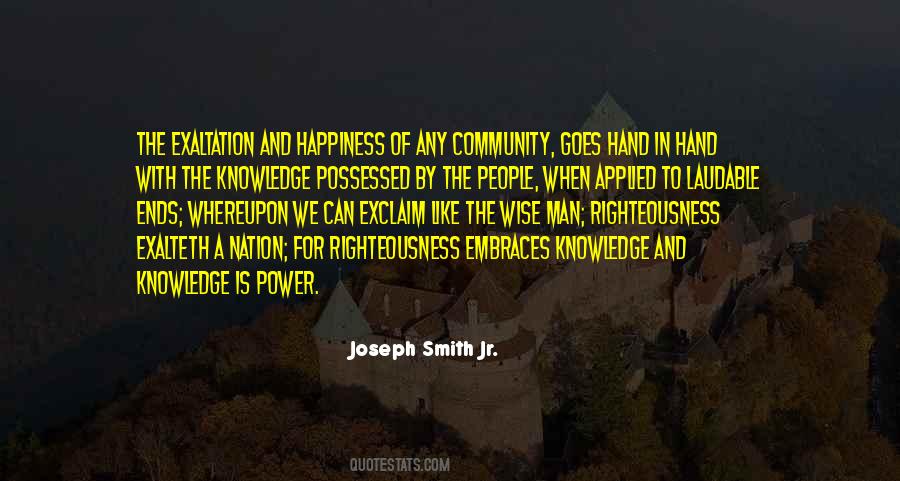 #28. For women, the need and desire to nurture each other is not pathological but redemptive, and it is within that knowledge that our real power is rediscovered. It is this real connection, which is so feared by a patriarchal world ... - Author: Audre Lorde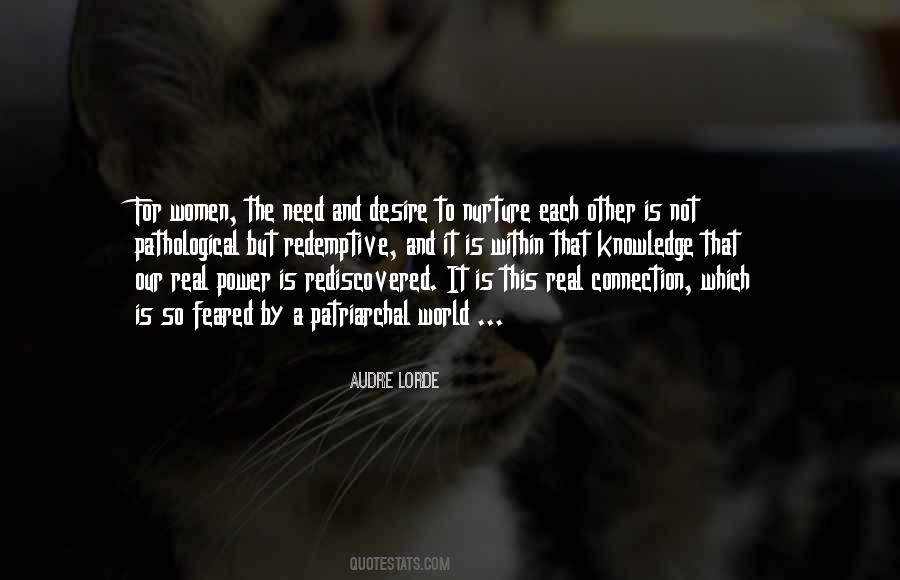 #29. The etiquette is higher consciousness, sensitivity, gentleness, gracefulness, intensity, power, and knowledge. - Author: Frederick Lenz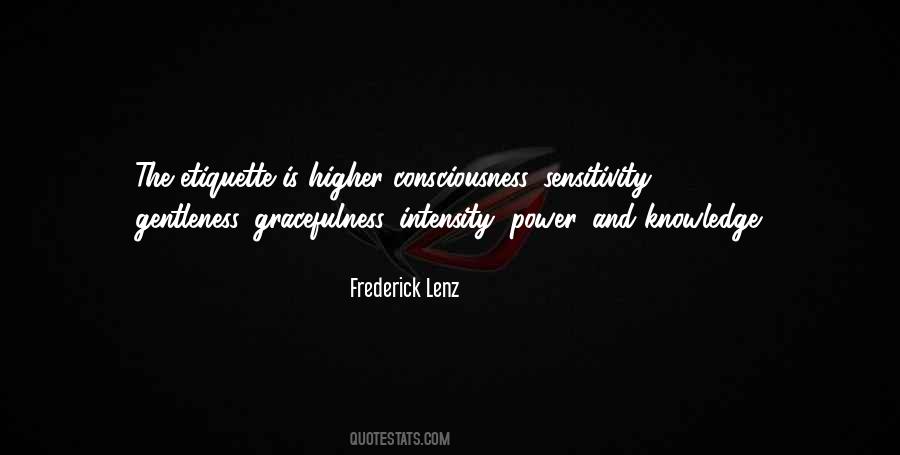 #30. And he encourages Lewis to take the same chance he is taking, to count on the "perchance." And Lewis did. For the rest of his life he was a champion of the knowledge-giving power of myth, fantasy, Faery. - Author: Alan Jacobs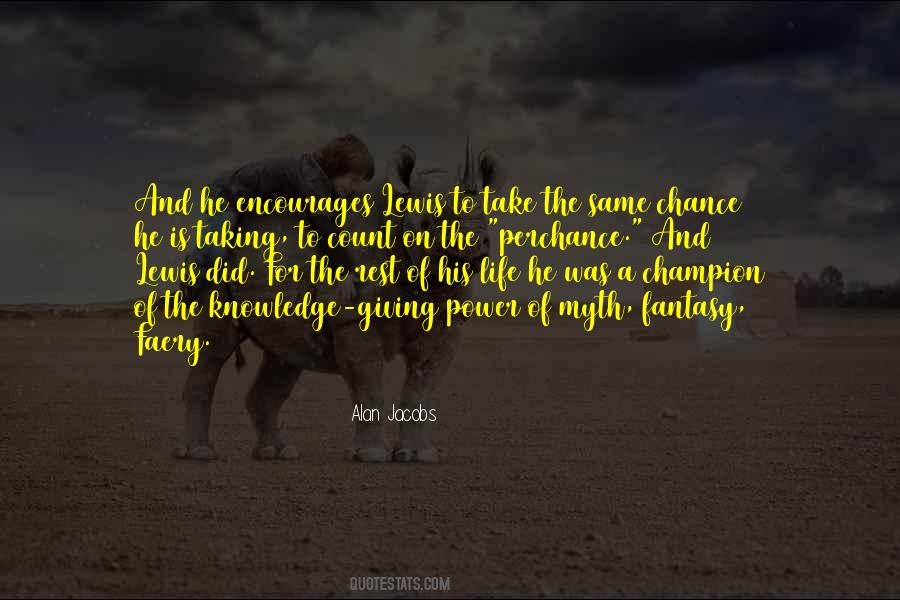 #31. Knowledge is power. It
is my hope that as we continue to do what women do best-network, guide, and
provide support for each other-POP will soon become common knowledge. - Author: Sherrie J. Palm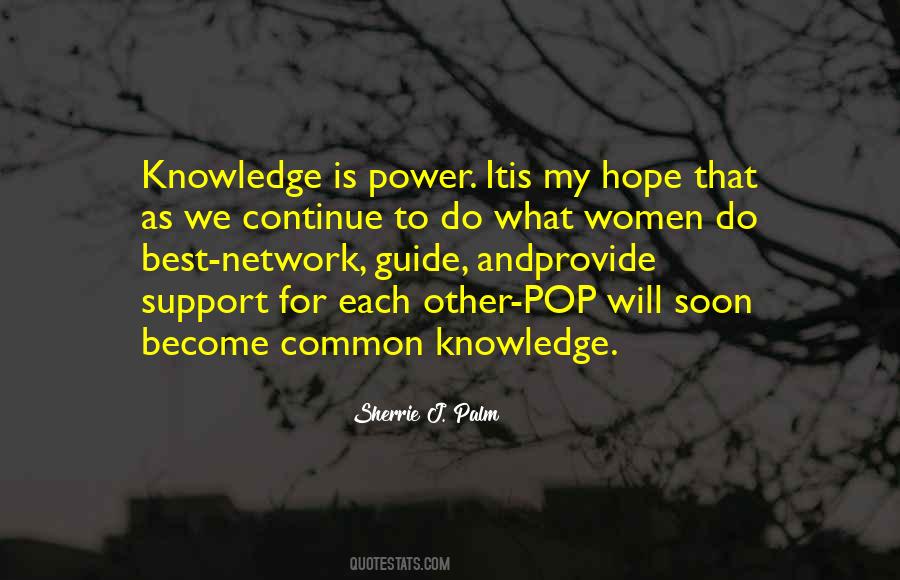 #32. Some people still think knowledge is power. - Author: Chuck Palahniuk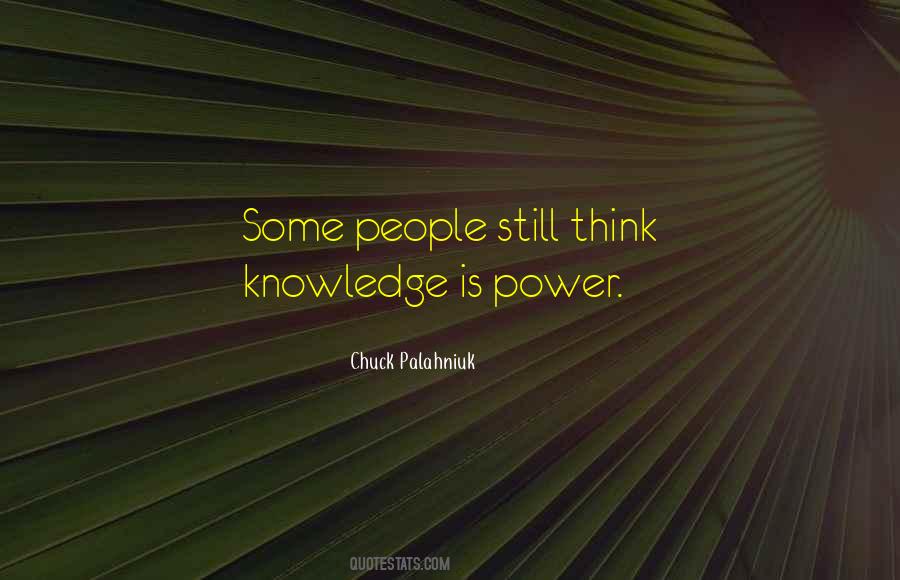 #33. Knowledge is strength, wisdom is power, and love is freedom. - Author: Matshona Dhliwayo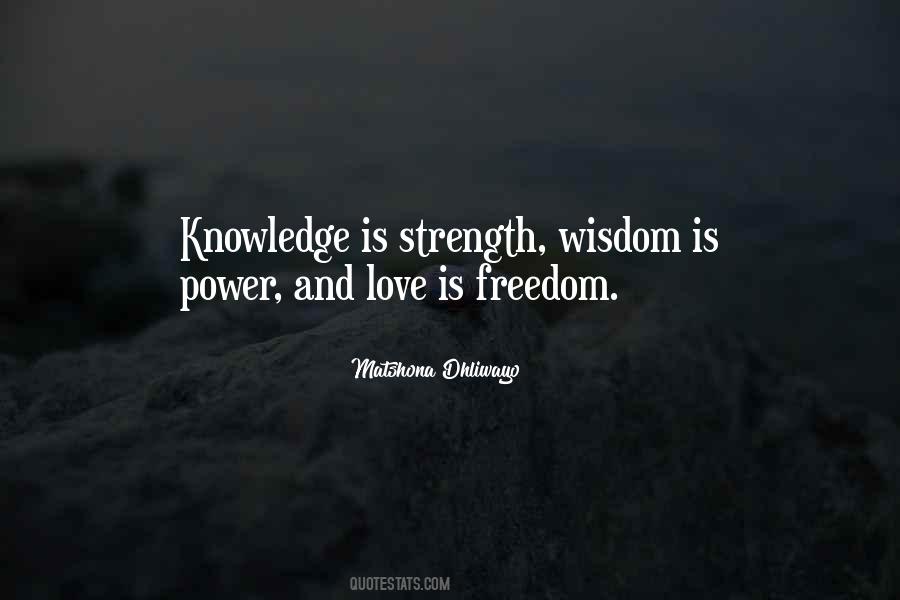 #34. The necessity of creation is the sovereign power of choice - Author: Sunday Adelaja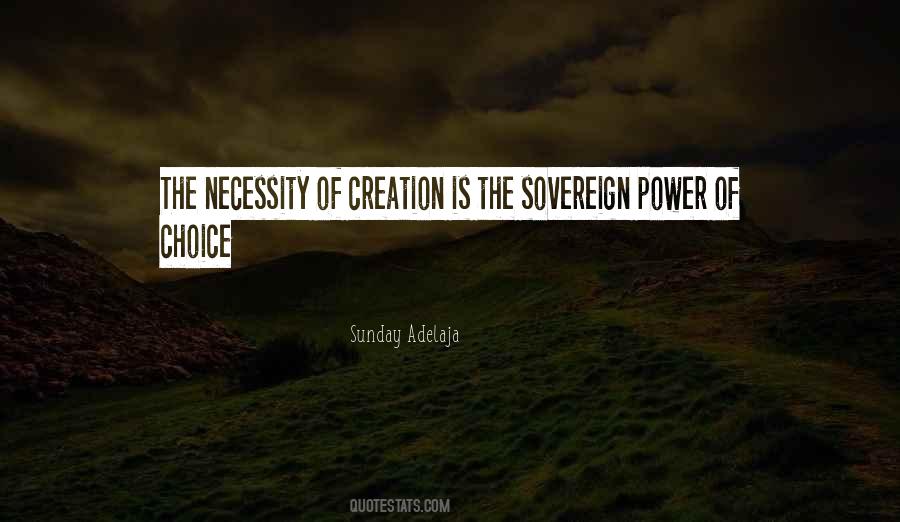 #35. Knowledge is a dangerous thing. But ignorance is no protection. - Author: Masha Du Toit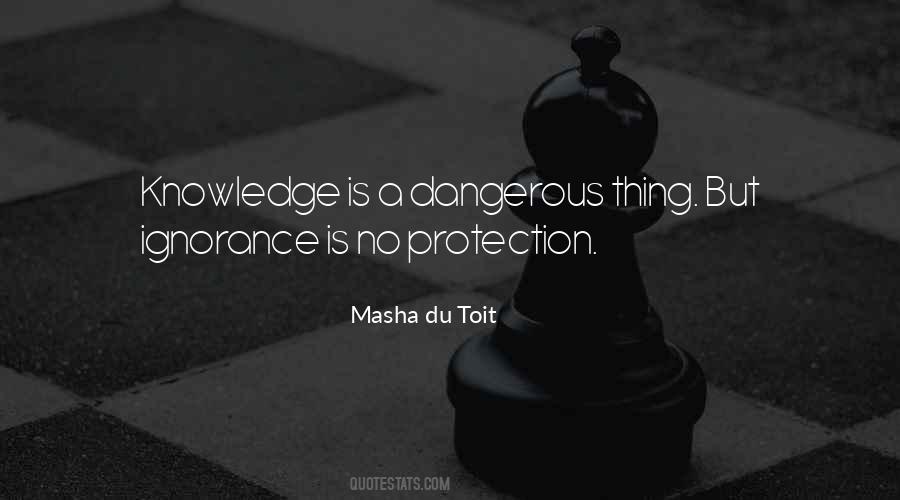 #36. Kids are smart. Knowledge is power. Let them figure things out. Don't turn into that grown-up who they won't come to. - Author: Lauren Myracle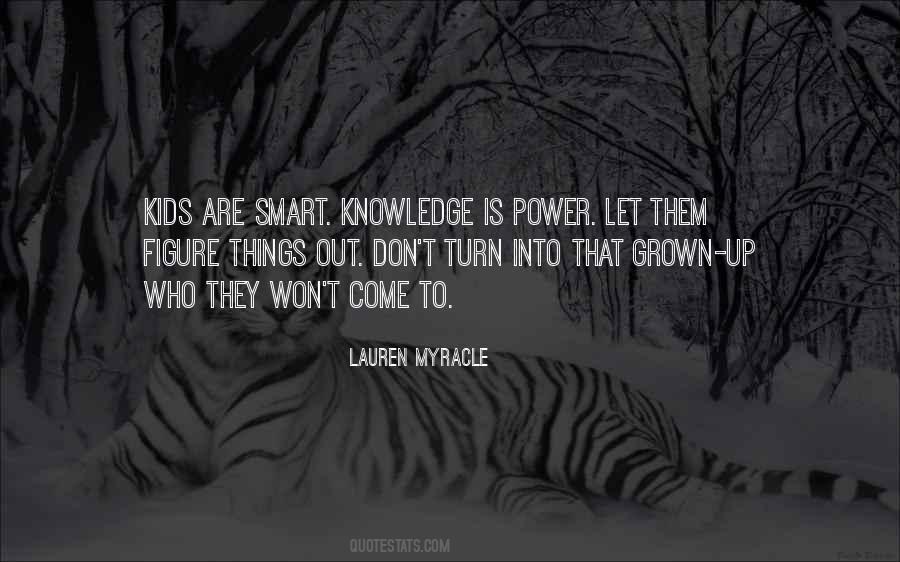 #37. You've no doubt heard the saying 'knowledge is power.' I disagree. Knowledge is only powerful if you use it, if you act on it. - Author: Brian Moran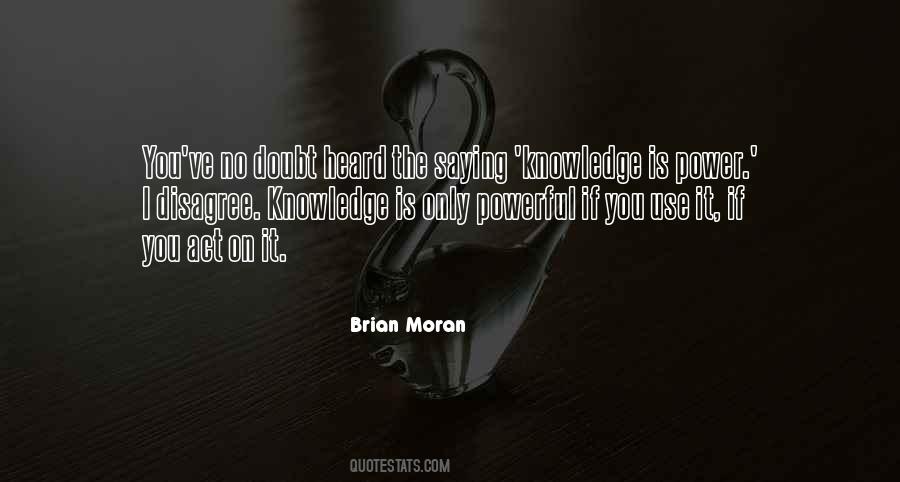 #38. An evolved and balanced Ego can be a valuable tool for the Self. But a blinding one is always among the first footsteps into Oblivion. - Author: Luis Marques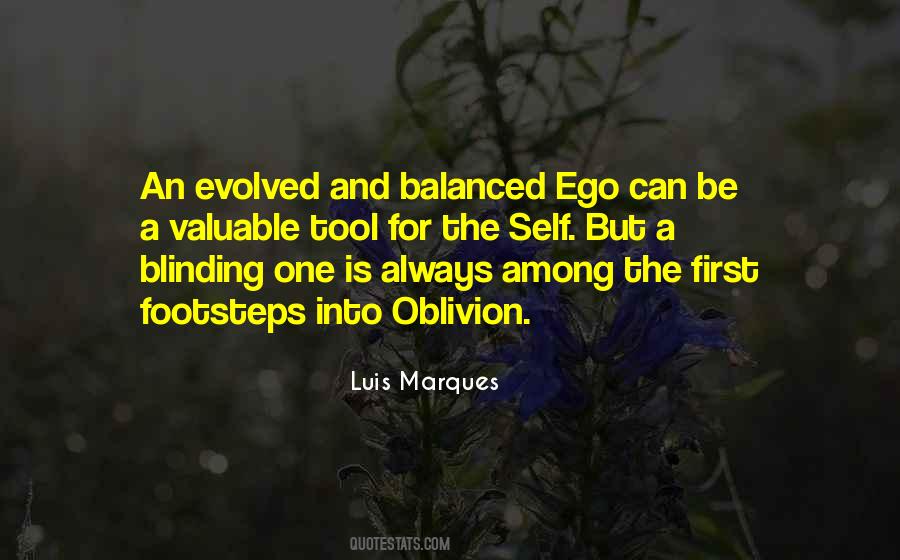 #39. THE RIGHT INFORMATION BRINGS KNOWLEDGE. AND KNOWLEDGE IS POWER. SHARING IT IS EMPOWERMENT. - Author: Seth Godin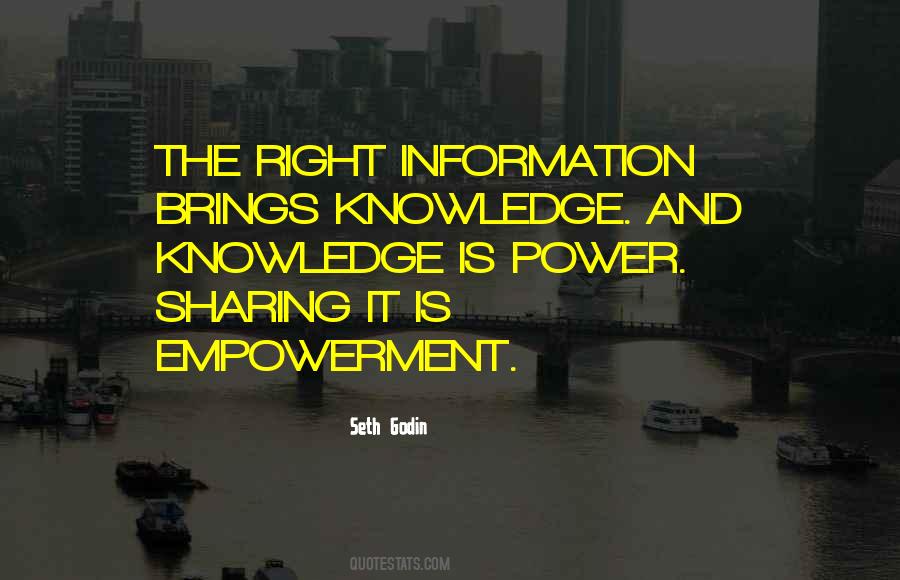 #40. Knowledge is power; power corrupts. Corruption brings shame and ruin. Ignorance may not be bliss, but it is perhaps preferable to a life lived in shame. - Author: Lauren Kate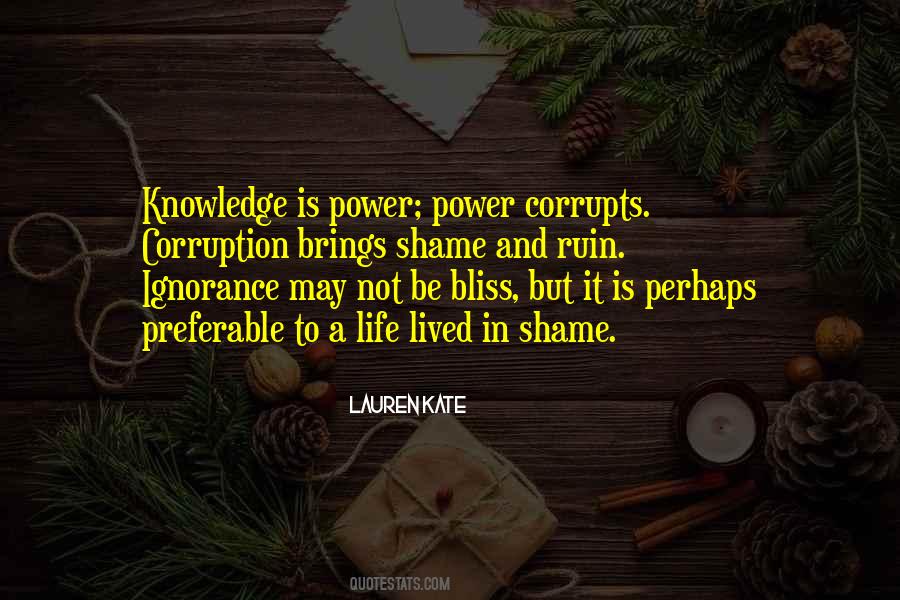 #41. Knowledge is power, but it is a terrible power when it is hoarded and hidden. - Author: Kelly Barnhill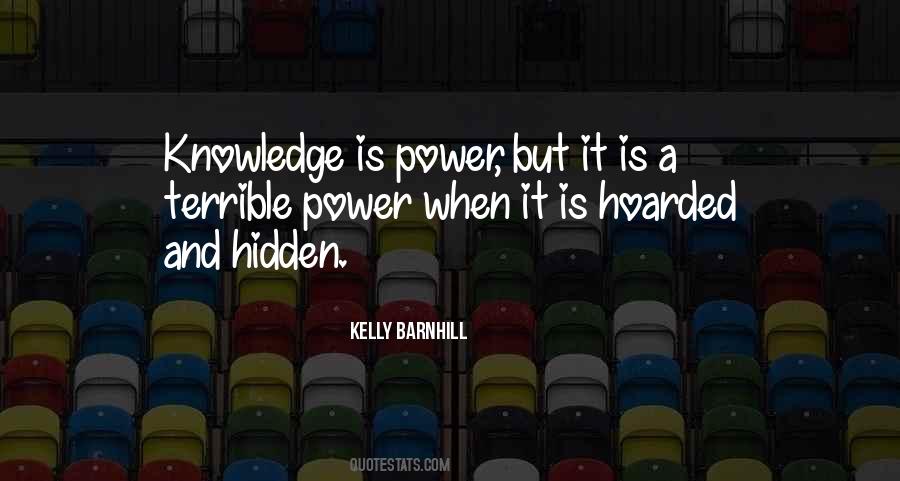 #42. It teaches that there is the soul, and inside this soul is all power. It is already there, and if we can master this body, all the power will be unfolded. All knowledge is in the soul. Why - Author: Swami Vivekananda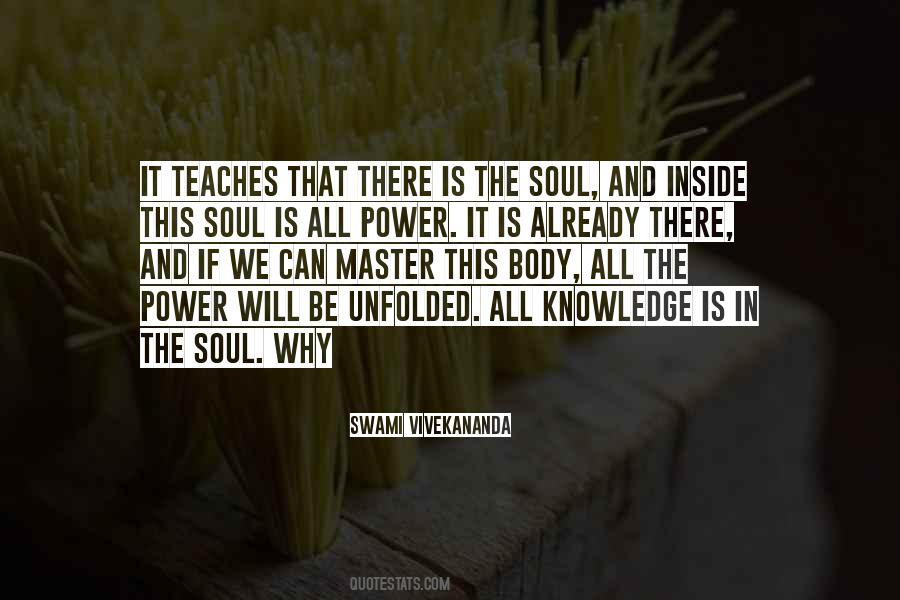 #43. Personal power is the reflection of a person of knowledge. A person of knowledge, an enlightened person, a person even close to enlightenment, has a great deal of personal power. - Author: Frederick Lenz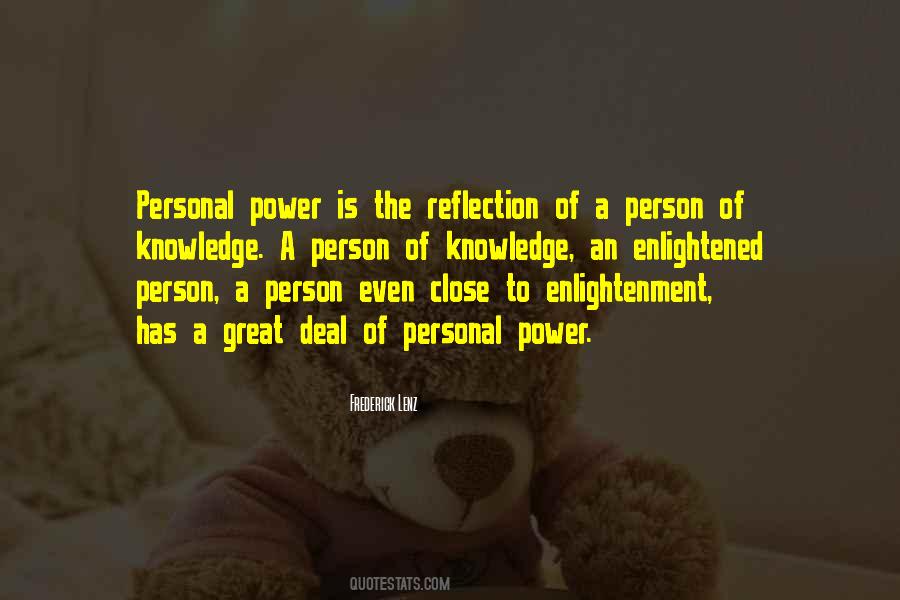 #44. The most hateful grief of all human griefs is this, to have knowledge of the truth but no power over the event. - Author: Luis Carlos Montalvan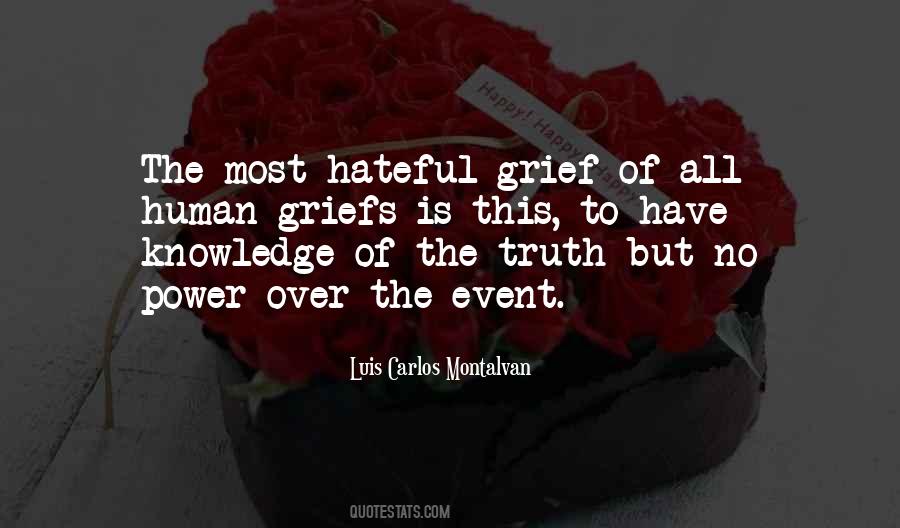 #45. Sure, knowledge is power but it doesn't hurt to also have a sword. Just in case. Heartan, Viddion marah. - Author: Taylor Grace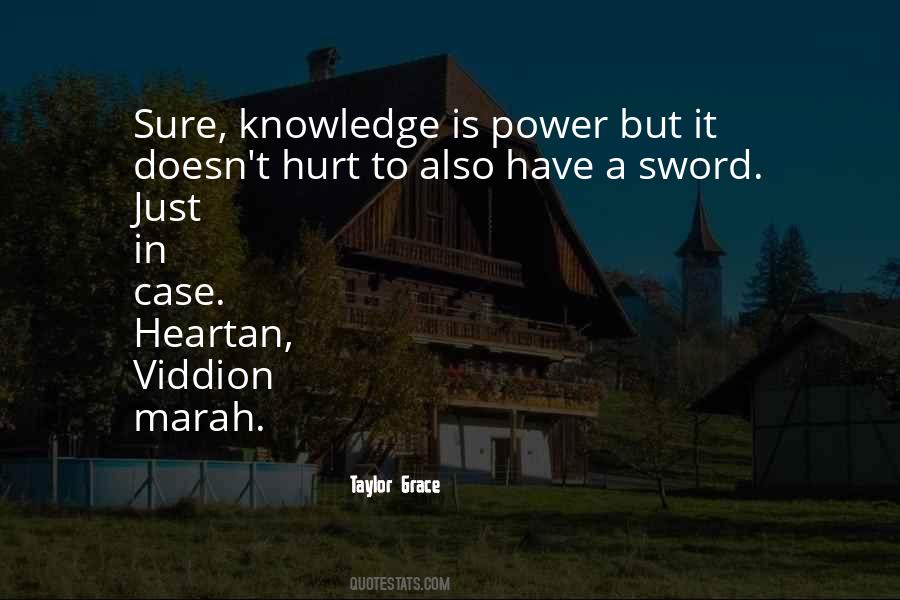 #46. Strong, proactive obedience is anything but weak or passive. It is the means by which we declare our faith in God and qualify ourselves to receive the powers of heaven. Obedience is a choice. It is a choice between our own limited knowledge and power and God's unlimited wisdom and omnipotence. - Author: L. Tom Perry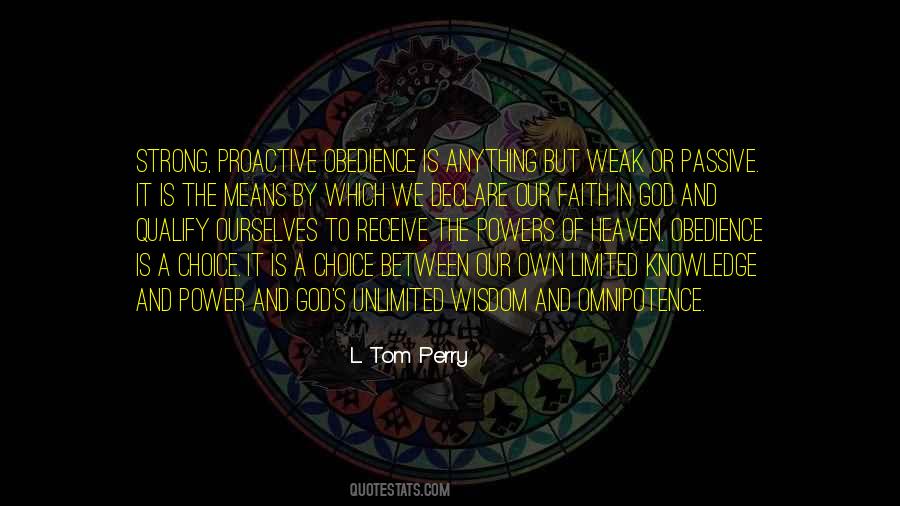 #47. Love is my inner strength and my power. - Author: Debasish Mridha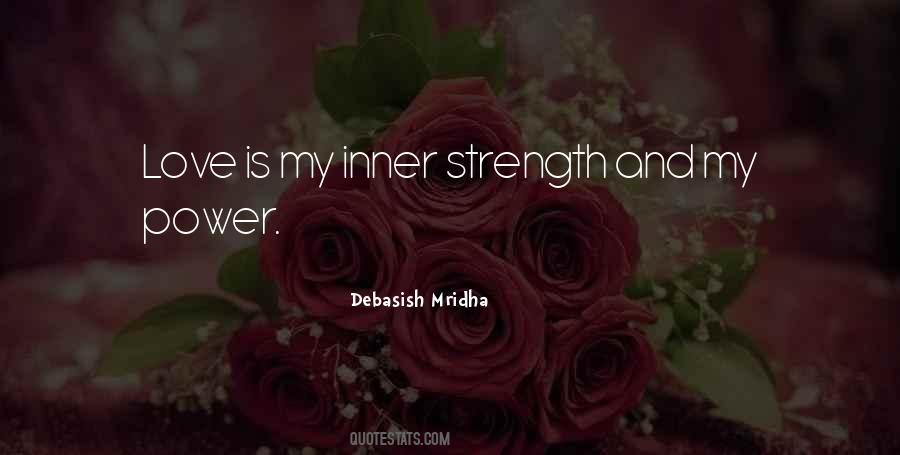 #48. God himself is increasing and progressing in knowledge, power, and dominion, and will do so, worlds without end. - Author: Brigham Young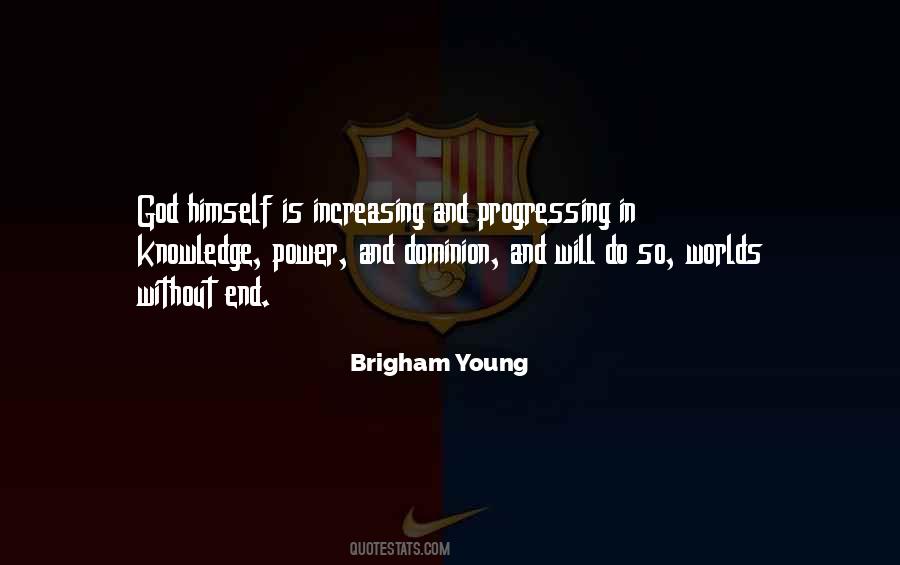 #49. Remember the art of the mind, mouth, and ear? Well the ear feeds into the mind and that leads to knowledge. That leads to power. Remember that saying: Knowledge is power? - Author: Michele Gilbert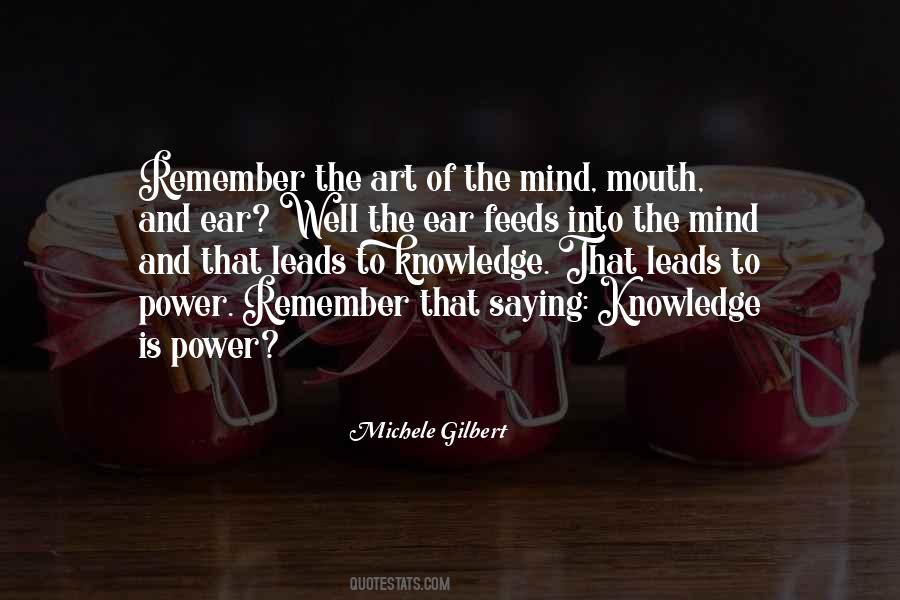 #50. Scientific knowledge is an enabling power to do either good or bad - but it does not carry instructions on how to use it. - Author: Richard P. Feynman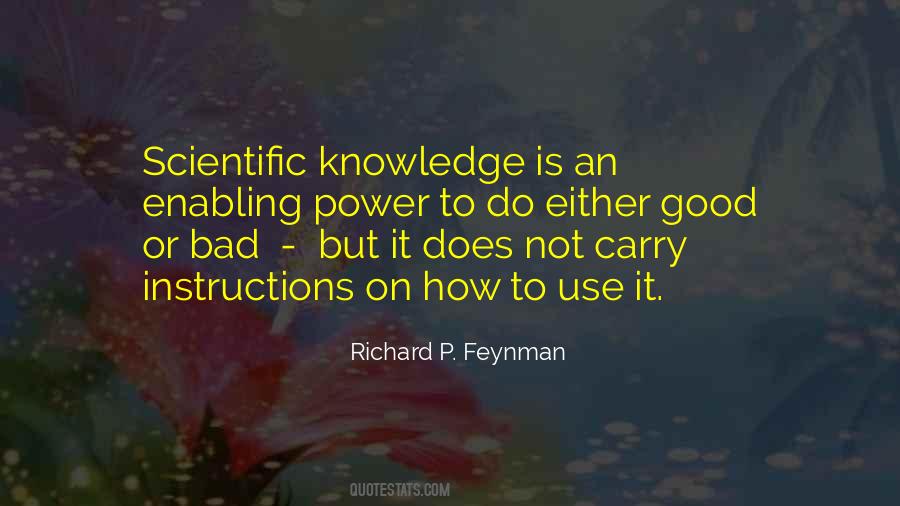 #51. Knowledge," Tara replied, turning a page as quietly as she could manage, "is power. - Author: Max Gladstone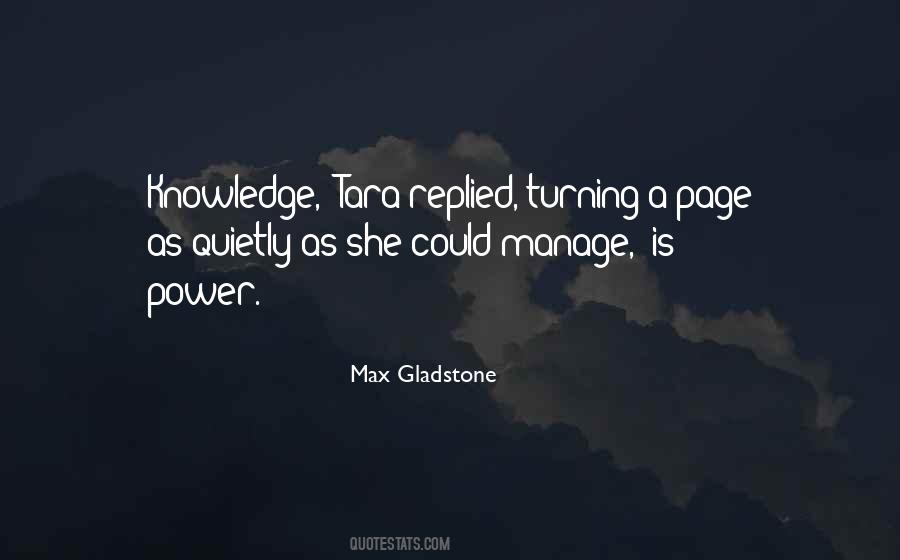 #52. An idea is like a spark to creativity, which turns to a wild conflagration of thoughts, burning every ignorance. When the fire burns, the creative power is awake, and comes out to join the ideas in your head to bring out the hidden valuables the world never knew - Author: Michael Bassey Johnson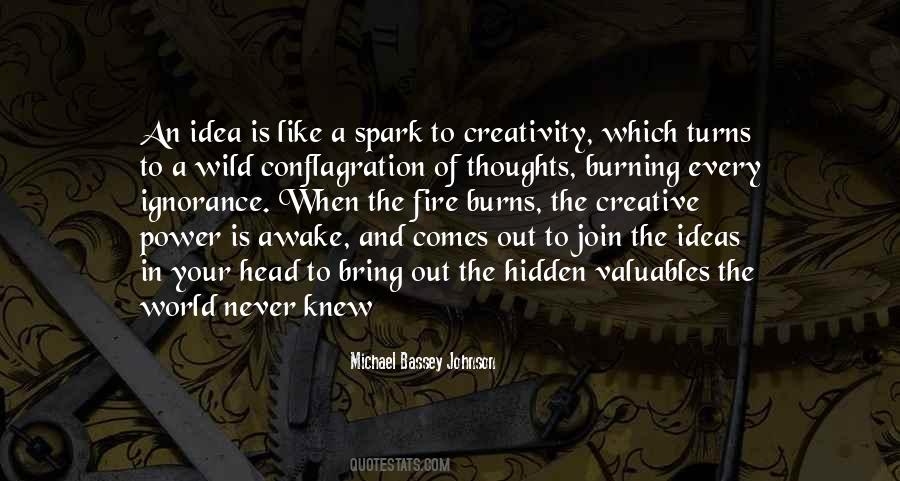 #53. The end of knowledge is power ... the scope of all speculation is the performing of some action or thing to be done. - Author: Thomas Hobbes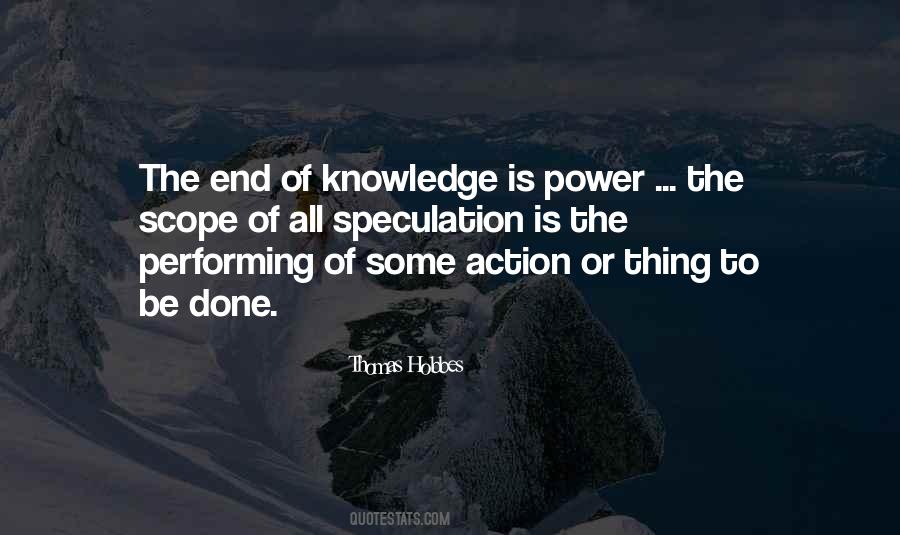 #54. I ... must continue to strive for more knowledge and more power, though the new knowledge always contradicts the old and the new power is the destruction of the fools who misuse it. - Author: George Bernard Shaw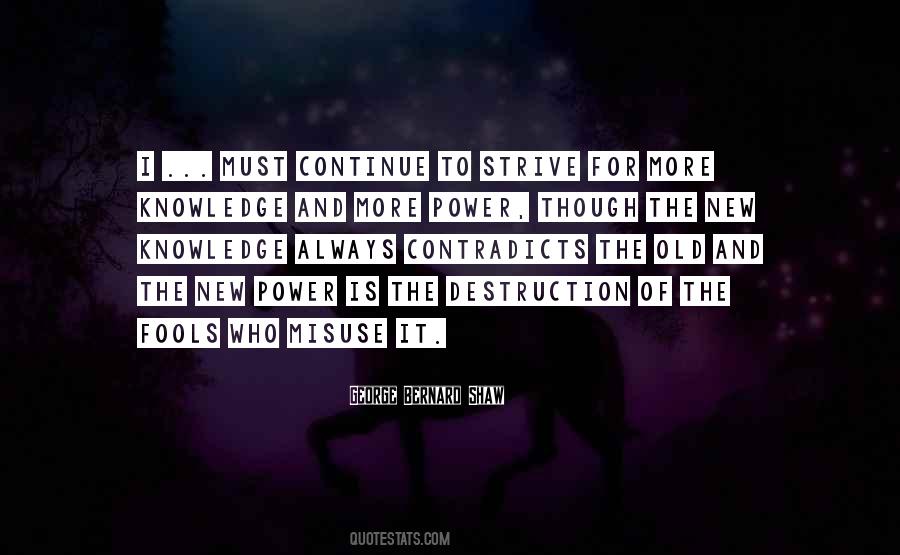 #55. Obedience is a choice. It is a choice between our own limited knowledge & power & God's unlimited wisdom & omnipotence. - Author: L. Tom Perry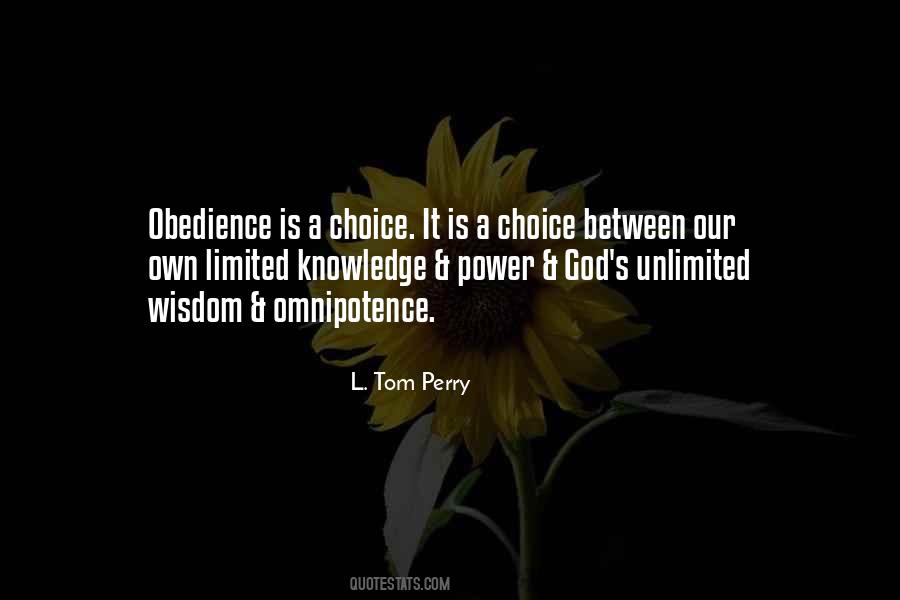 #56. Power is fleeting, Knowledge is not - Author: Adish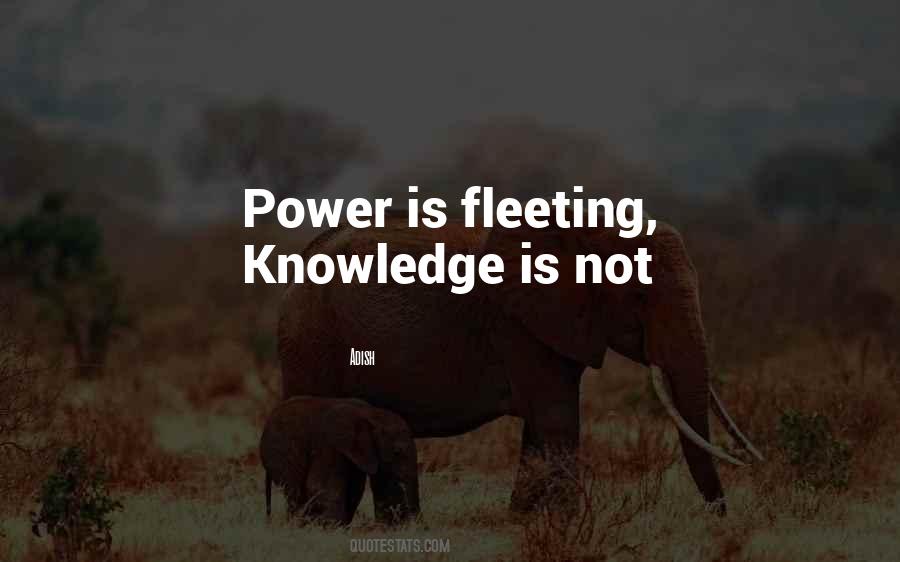 #57. If materialistic knowledge is power, it is not wisdom. It is but a blind force. - Author: Mary Baker Eddy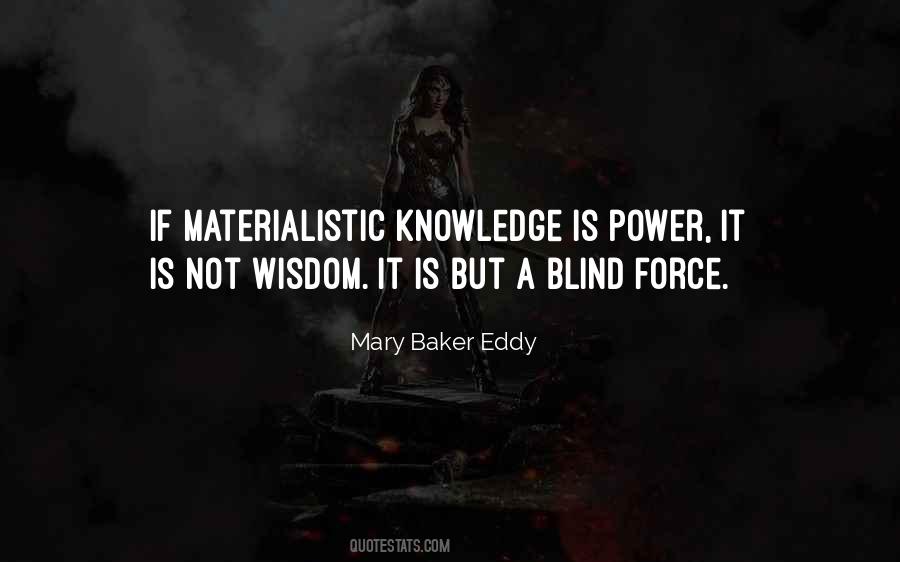 #58. Remember that knowledge alone is not power. Only knowledge plus action is power. - Author: Robert Palasciano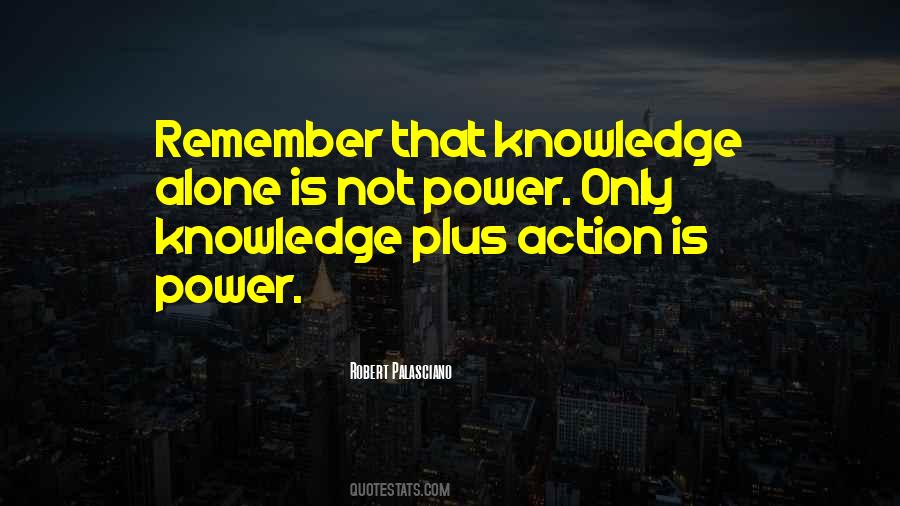 #59. I have never been able to write with anything more than the left hand of my mind; the right hand has always been engaged in something to do with personal relationships. I don't complain, because I think my left hand's power, as much as it has, is due to its knowledge of what my right hand is doing. - Author: Rebecca West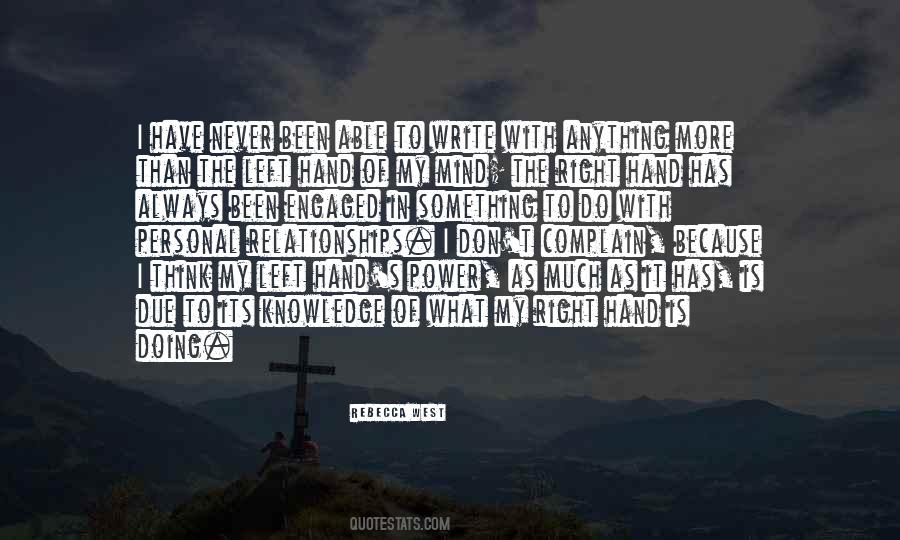 #60. The tree is only as strong as its roots, and knowledge is the root of power. - Author: Joe Abercrombie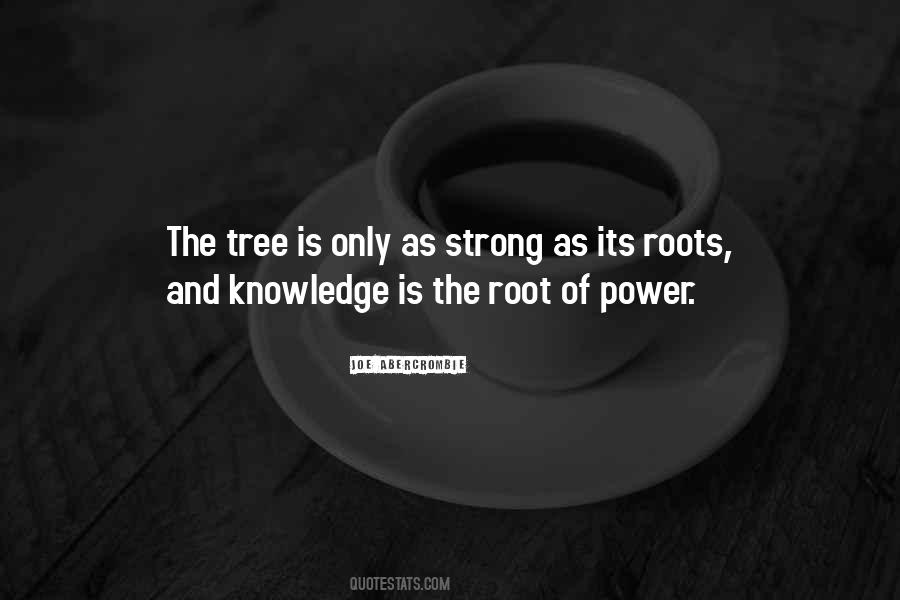 #61. A wizard's power of Changing and of Summoning can shake the balance of the world. It is dangerous, that power. It is most perilous. It must follow knowledge, and serve need. To light a candle is to cast a shadow ... - Author: Ursula K. Le Guin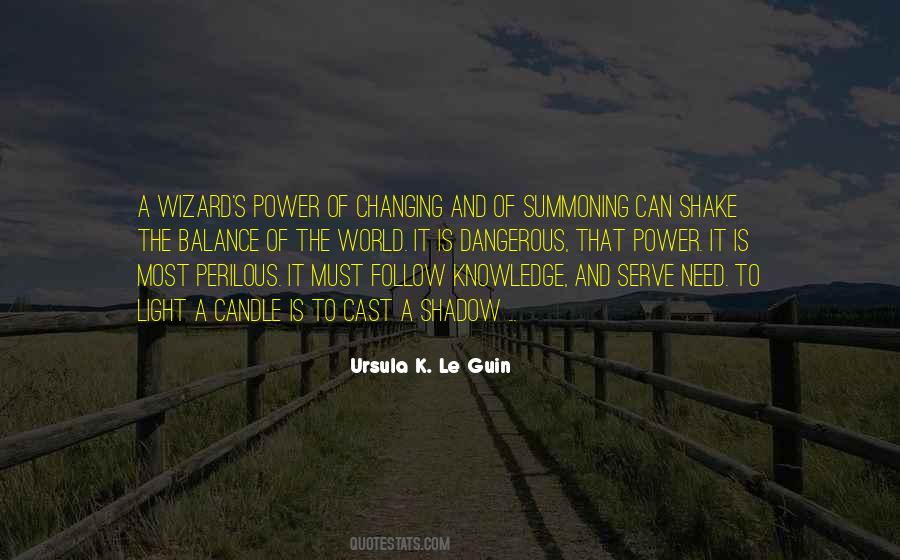 #62. Knowledge, do you say it is power? yes most mighty of all powers. - Author: Plato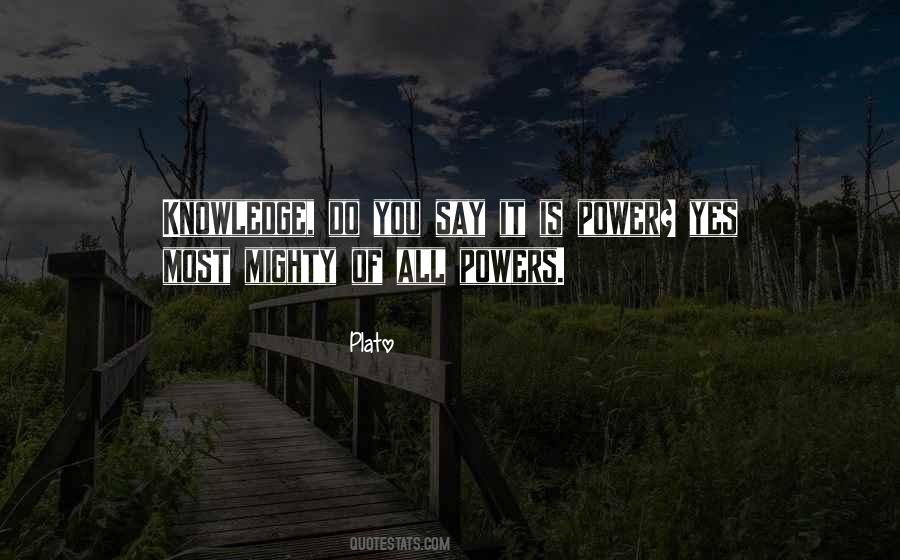 #63. If one is to rule, and to continue ruling, one must be able to dislocate the sense of reality. - Author: George Orwell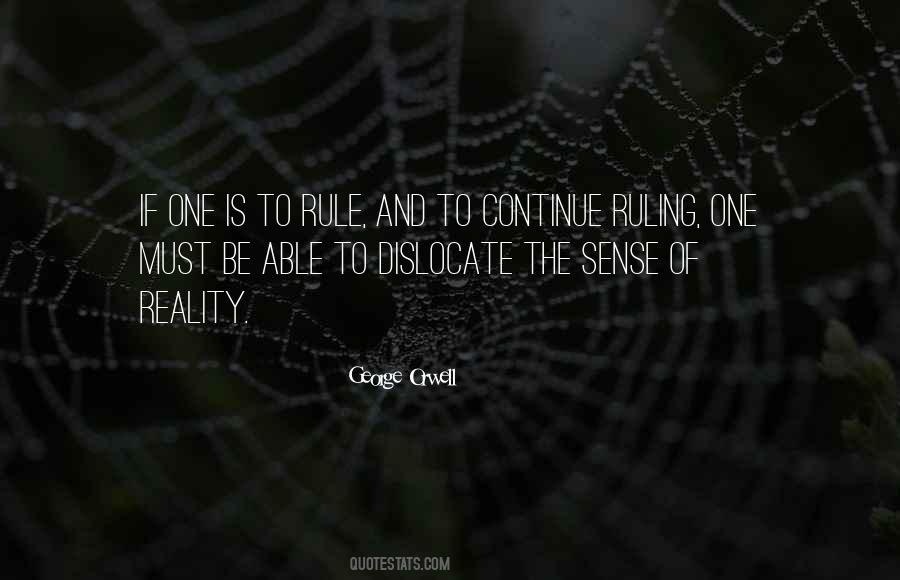 #64. Is it good, bad, or neutral to recognize thematic patterns in your own work? When it comes to recurring themes, I'm of the mind that knowledge is probably not power, at least in terms of the work. - Author: Sara Zarr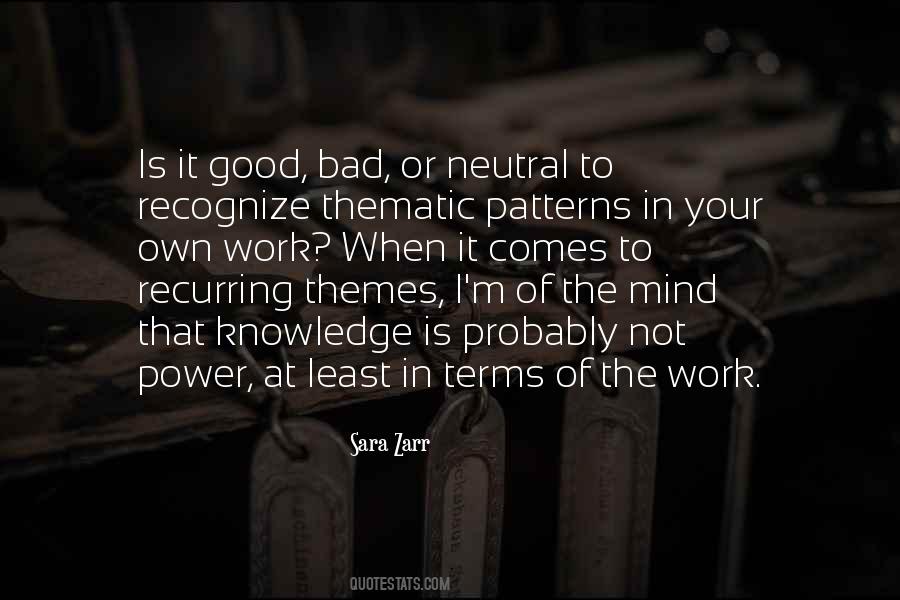 #65. Love is my love, power, strength, wealth, and purpose. - Author: Debasish Mridha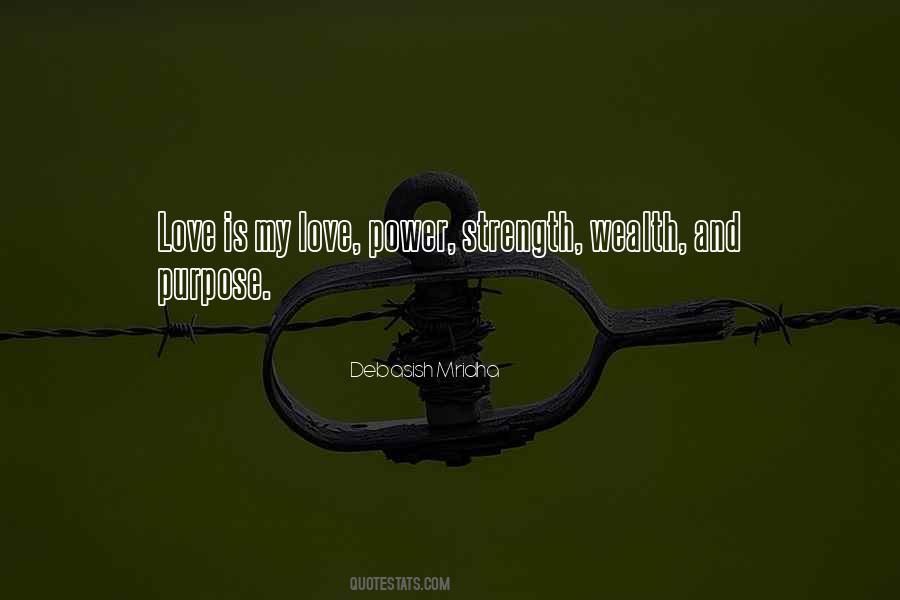 #66. The mind is the source of infinite power; to find it we have to mine it. - Author: Debasish Mridha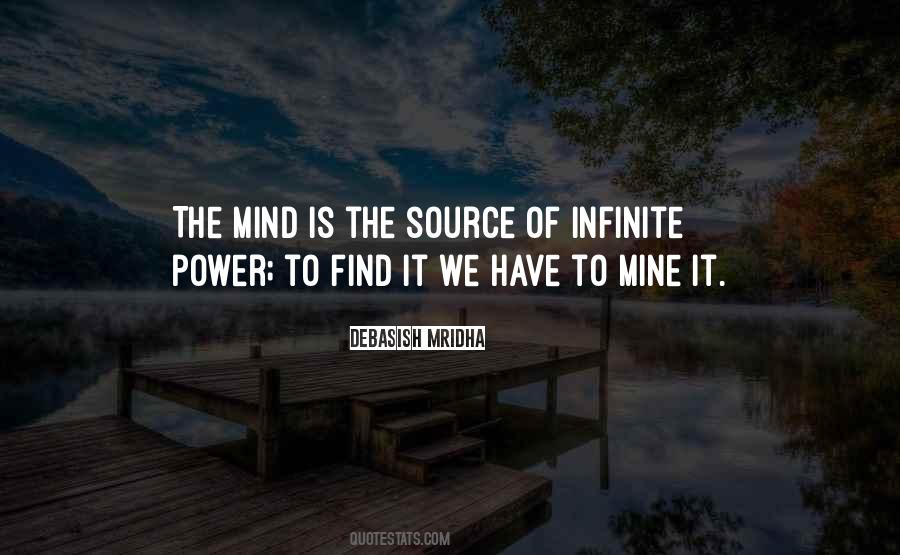 #67. Knowledge is power. You can't begin a career, for that matter even a relationship, unless you know everything there is to know about it. - Author: Randeep Hooda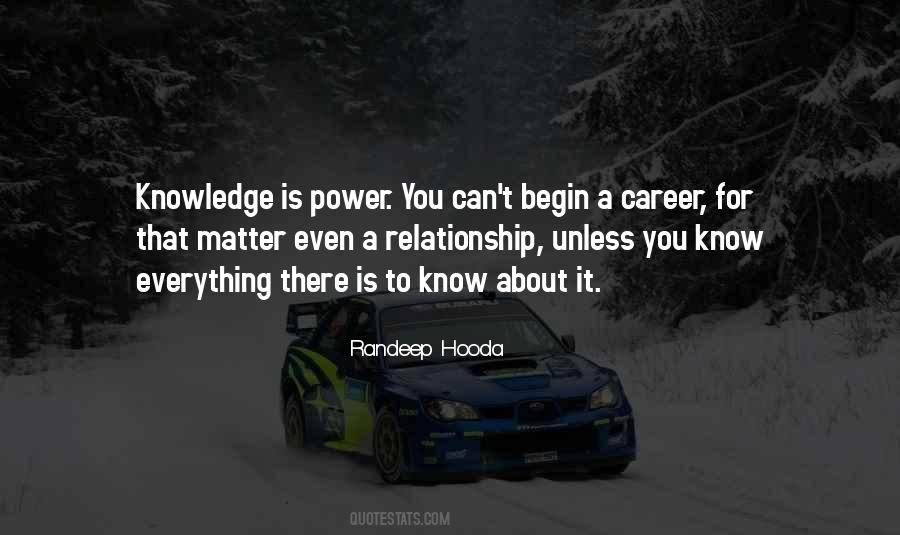 #68. Knowledge is power, if you know it about the right person. - Author: Ethel Watts Mumford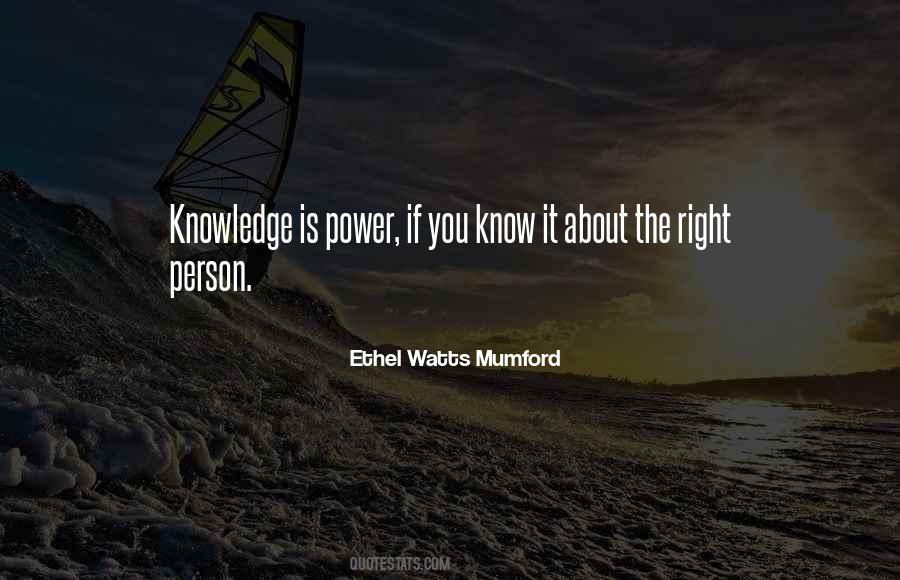 #69. The Latin motto over Poindexter's new Pentagon office reads Scientia Est Potentia - "knowledge is power." Exactly: the government's infinite knowledge about you is its power over you. - Author: William Safire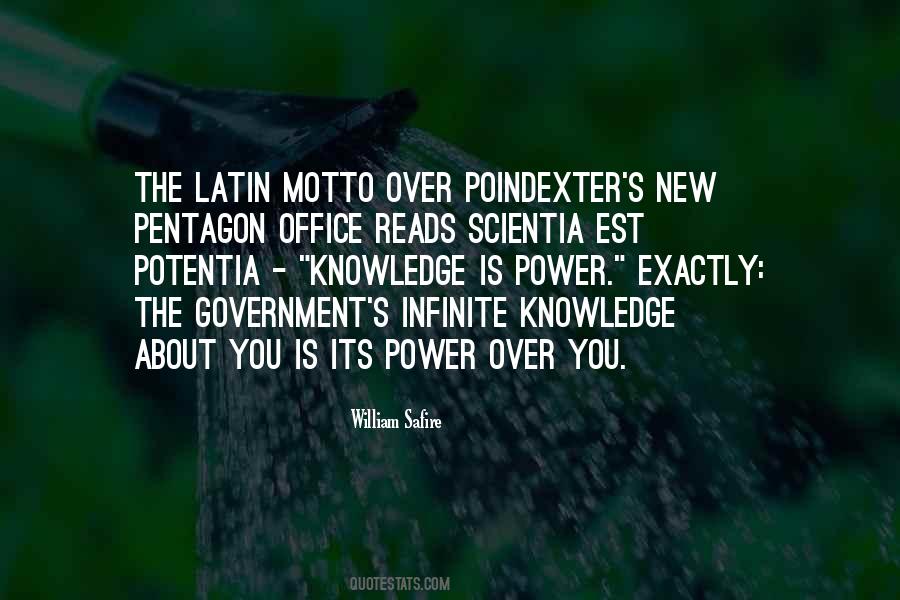 #70. The control of information is something the elite always does, particularly in a despotic form of government. Information, knowledge, is power. If you can control information, you can control people. - Author: Tom Clancy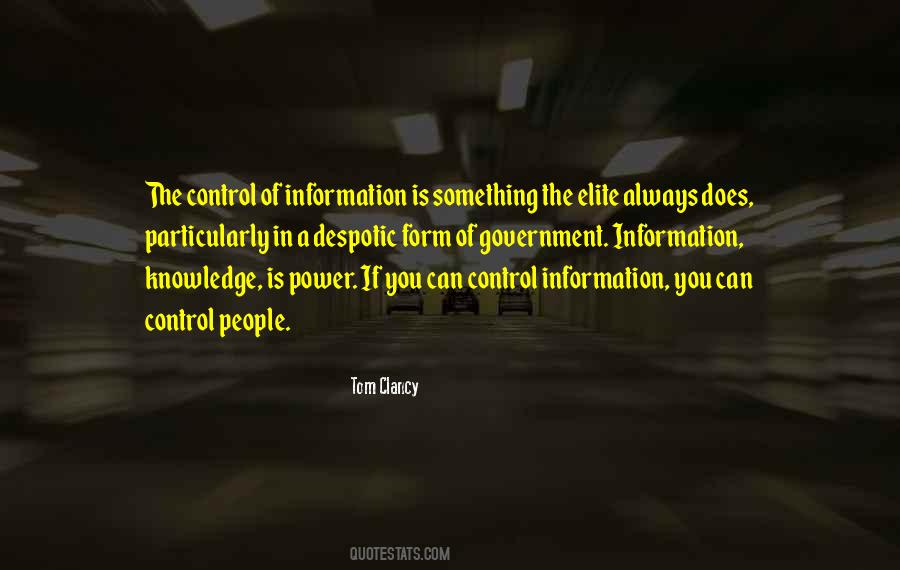 #71. A miracle is nothing more or less than this. Anyone who has come into a knowledge of his true identity, of his oneness with the all-pervading wisdom and power, this makes it possible for laws higher than the ordinary mind knows of to be revealed to him. - Author: Ralph Waldo Trine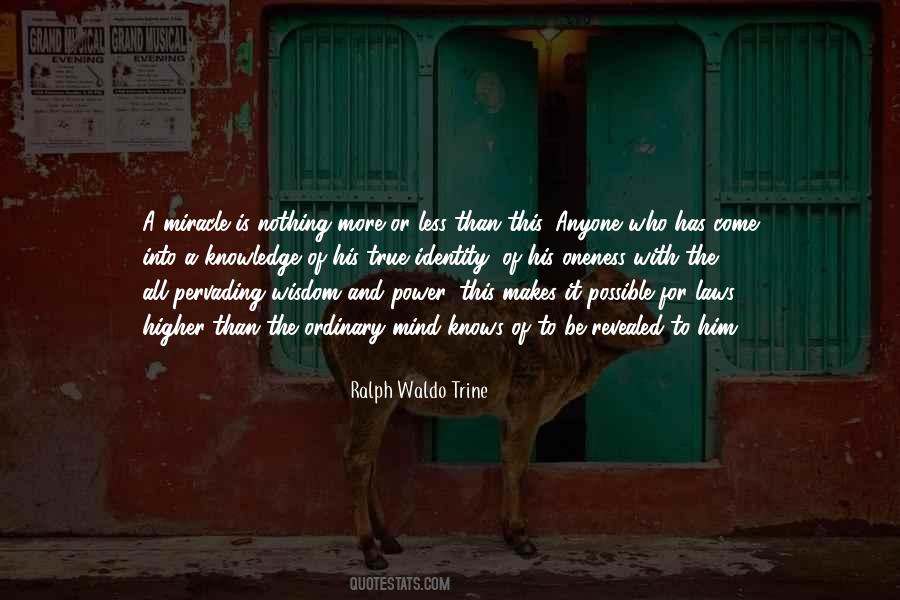 #72. Foolish men always believe that a little knowledge will give them control over the world, but it is no more than a display of their vanity. - Author: J. P. Vinluca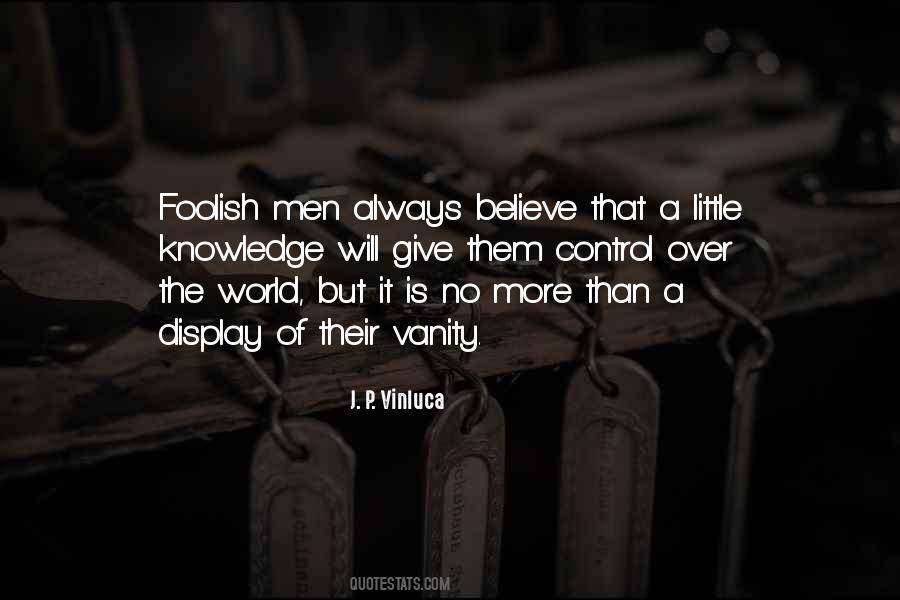 #73. Knowledge empowers people with our most powerful tool: the ability to think and decide. There is no power for change greater than a child discovering what he or she cares about. (Speech about Global Warming read on the National Mall for the 40th anniversary of Earth Day, 2010) - Author: Seymour Simon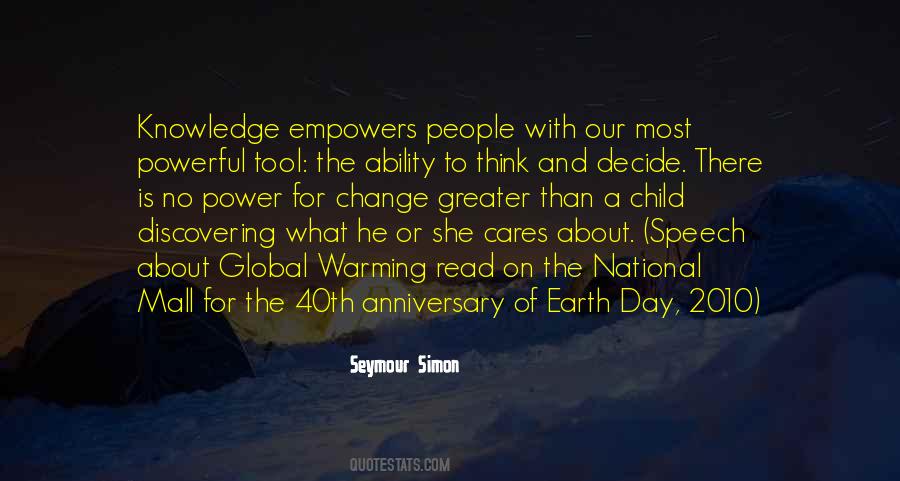 #74. Even one voice in a wilderness of ignorance is a voice that is heard by someone. - Author: Kristen Ashley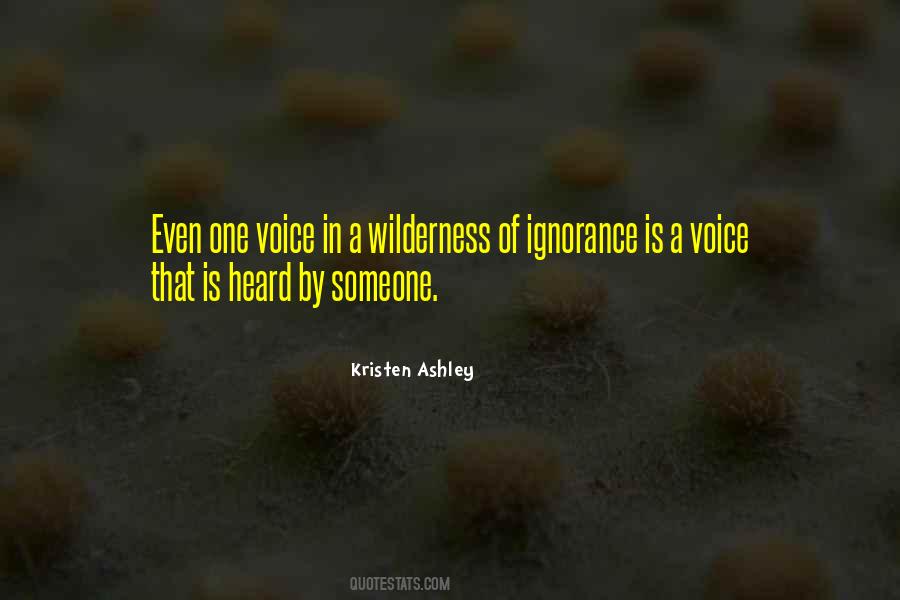 #75. Knowledge is more than power, it is freedom. - Author: Steven Cuoco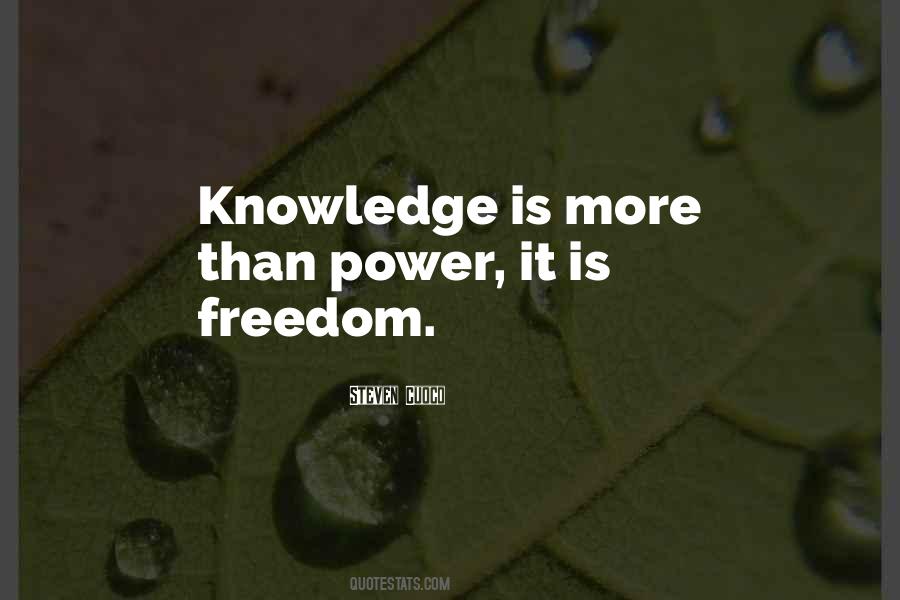 #76. Knowledge is not made for understanding; it is made for cutting. - Author: Michel Foucault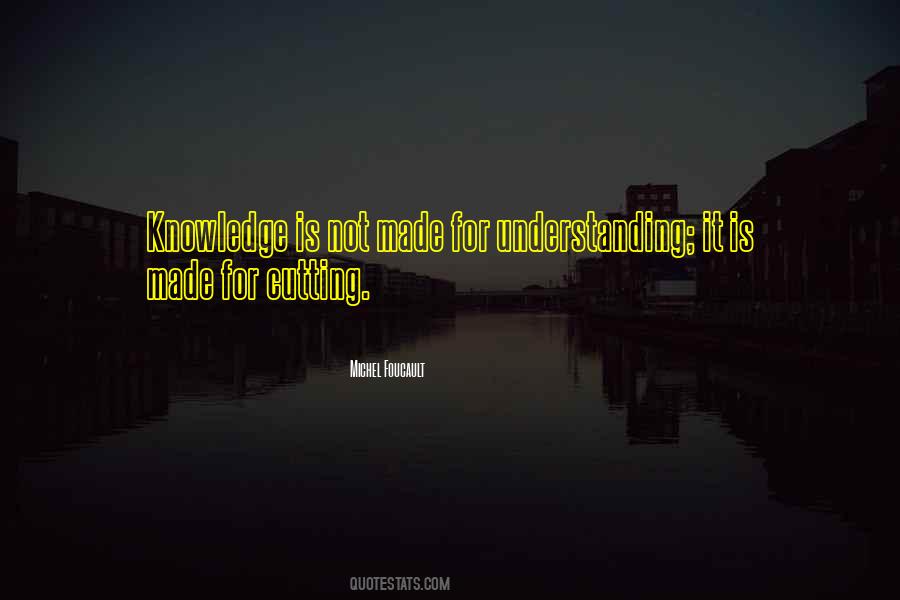 #77. The game of power is played remorselessly by men who have not the slightest knowledge of, or interest in, the way ordinary people live, and the ordinary people are too terrified to protest. - Author: Robert Payne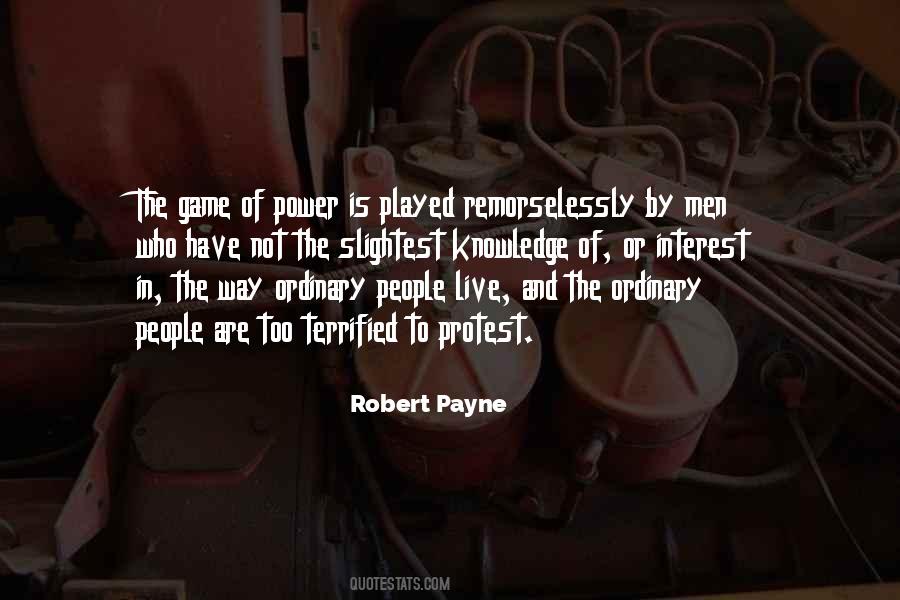 #78. Knowledge is power only if man knows what facts not to bother with. - Author: Robert Staughton Lynd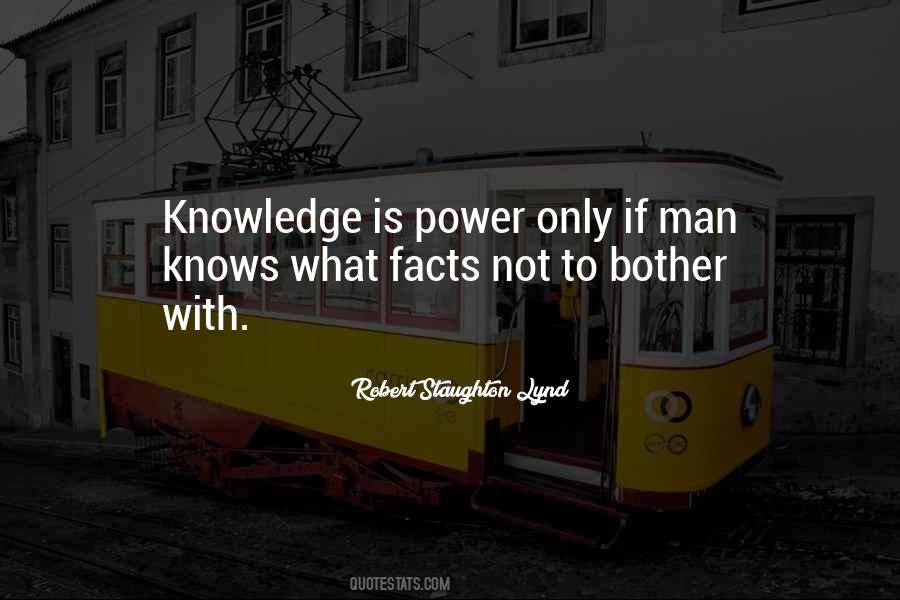 #79. Knowledge will forever govern ignorance, and a people who mean to be their own governors, must arm themselves with the power knowledge gives. A popular government without popular information or the means of acquiring it, is but a prologue to a farce or a tragedy or perhaps both - Author: James Madison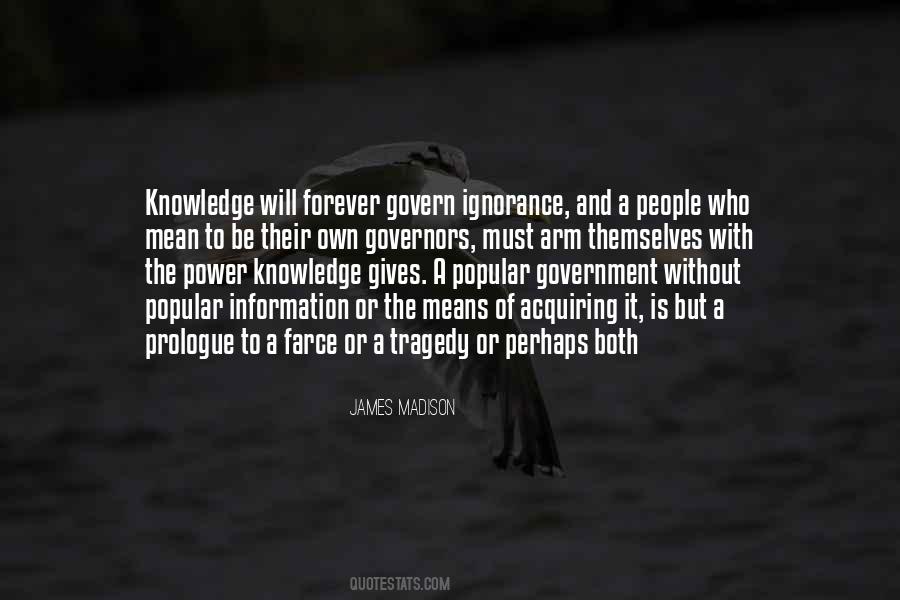 #80. Knowledge is the greatest power and it is something no one can see. It cannot be stolen or broken, No one can take it from you. - Author: John Carrick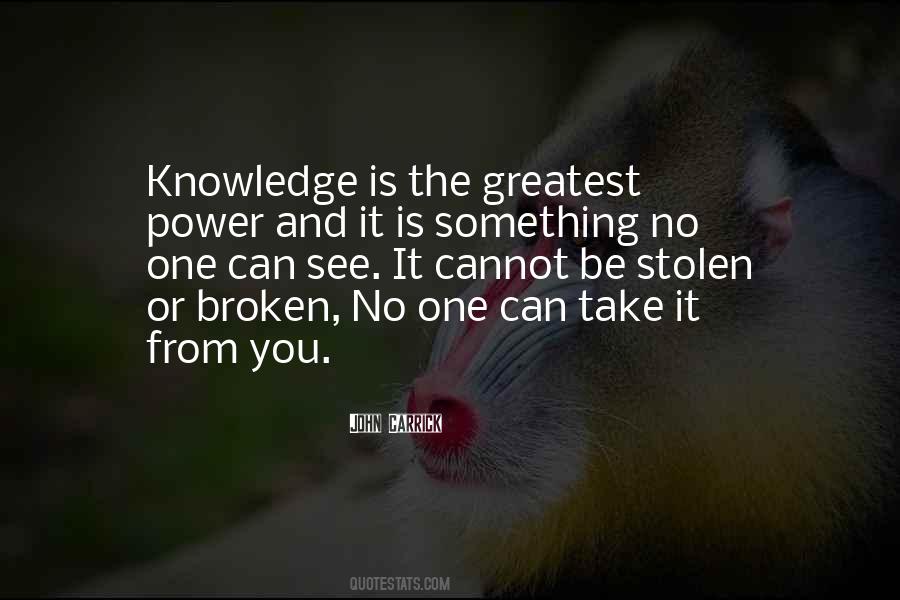 #81. Knowledge makes us stronger, but power is not supersede by it (knowledge). Vulnerable is power without knowledge. Impracticable is knowledge without power. - Author: VIRGIL PROFEANU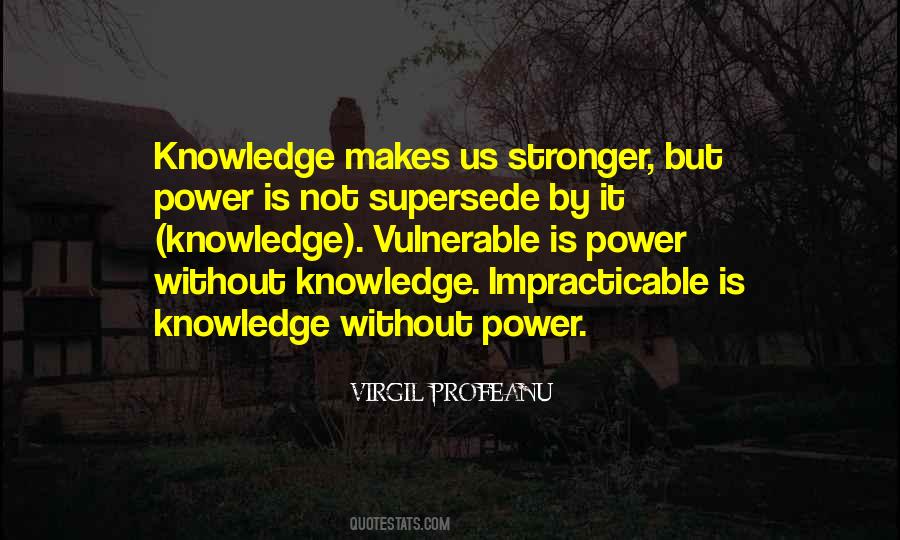 #82. Everything is rated.maintain high rating in life - Author: Ikechukwu Joseph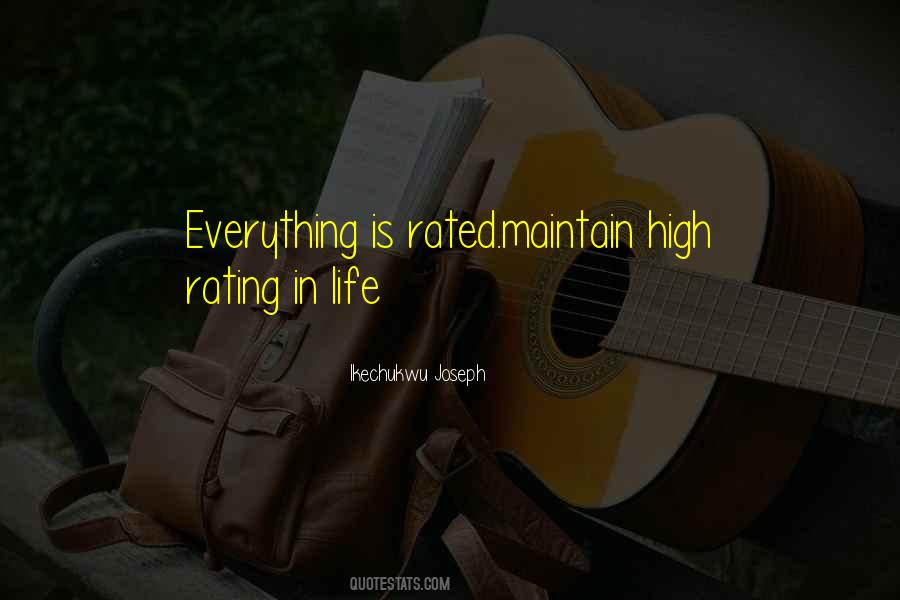 #83. Ignorance is the evil - knowledge will be the remedy. Knowledge not of what sort of beings we shall be hereafter, or what is beyond the skies, but a knowledge pertaining to terra firma, and we may have all the power, goodness and love that we have been taught belongs to God himself. - Author: Ernestine Rose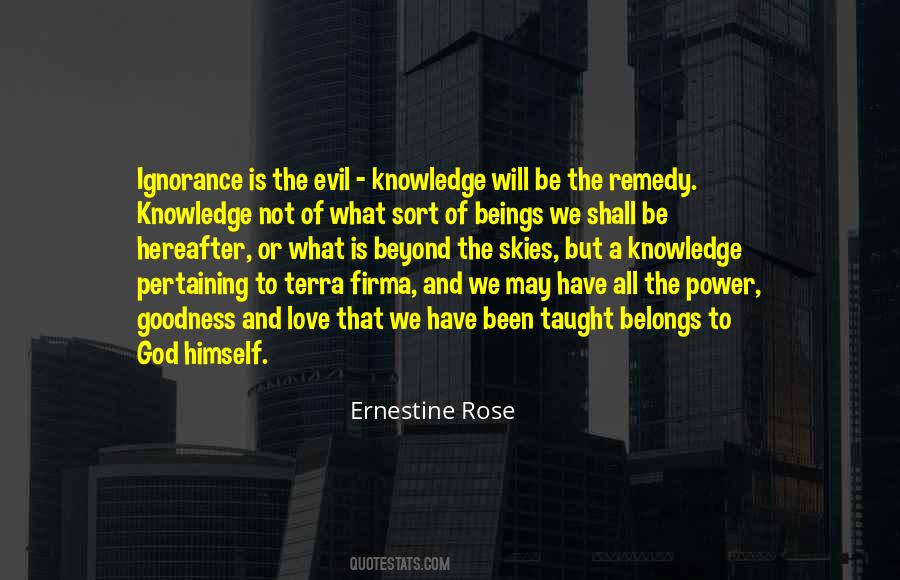 #84. Learning is knowledge and knowledge is freedom and power. He knew that. He had forgotten that, somehow. But he knew it once more. - Author: Oliver Bowden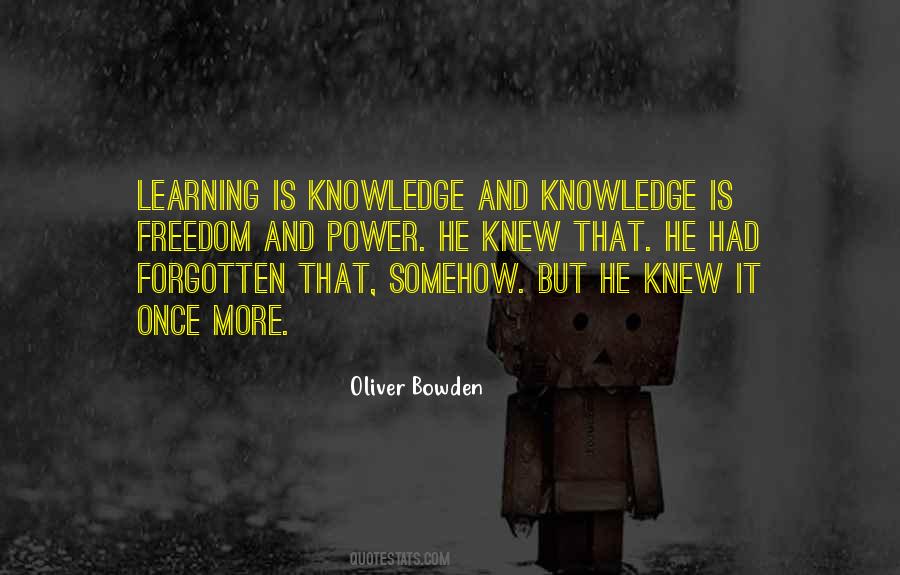 #85. In all living there is a certain narrowness of application which leads to breadth and power. We have to concent on a thing in order to master it. Then we must be broad enough not to be narrowed by our specialties. - Author: Ralph Washington Sockman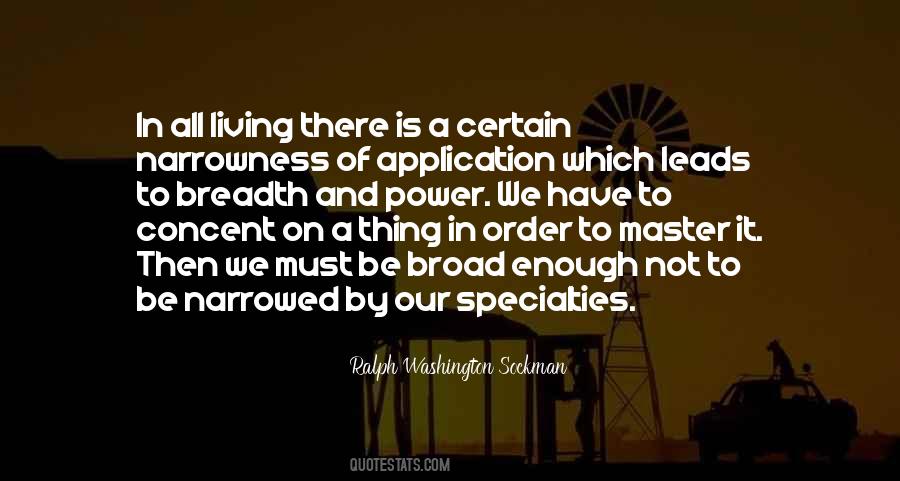 #86. Knowledge is not power; Implementation is power - Author: Garrison Wynn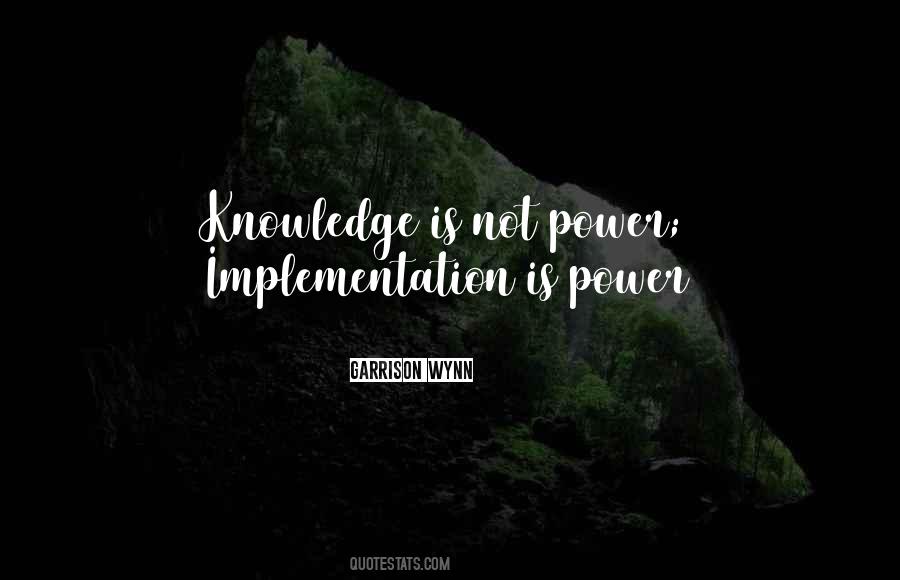 #87. But need alone is not enough to set power free: there must be knowledge. - Author: Ursula K. Le Guin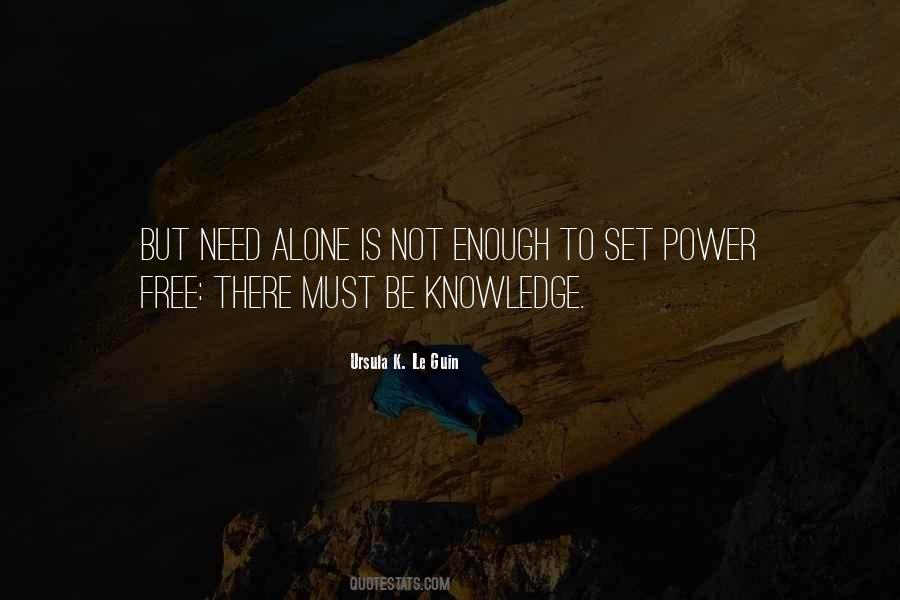 #88. Knowledge is not the power; it is the potential power. Willing is not the action, but potential action. - Author: Debasish Mridha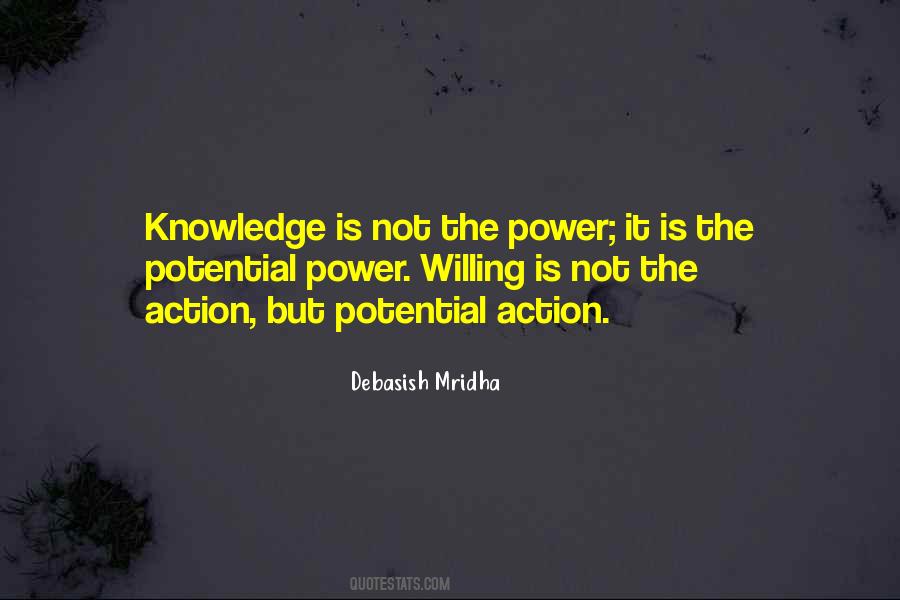 #89. How you accept a situation, is your choice and depends on your power of perception. - Author: Debasish Mridha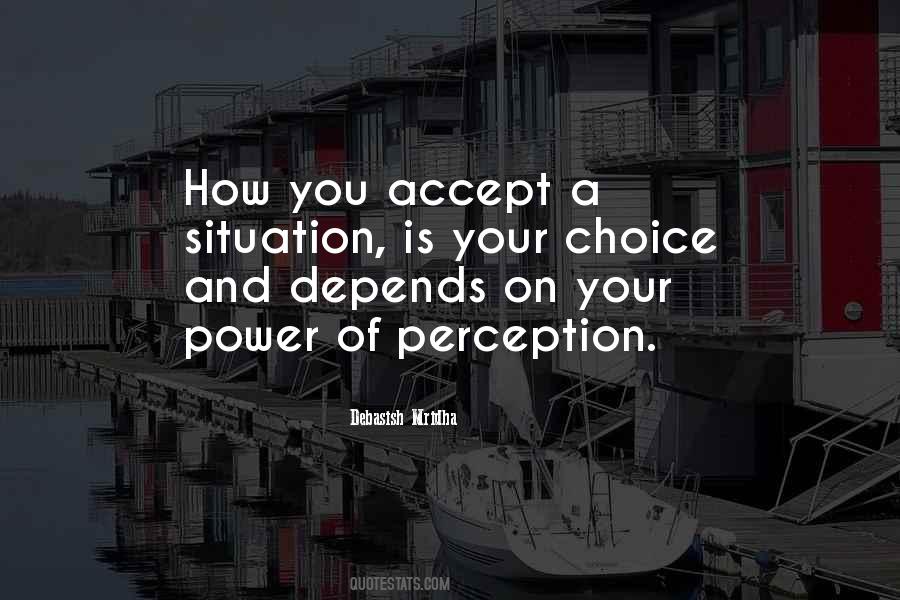 #90. Knowlede is power and Absolute Knowledge is Absolute Power or the Power of Truth, which is constantly shaping events and circumstances to reveal the errors in our beliefs. - Author: Matthew A. Petti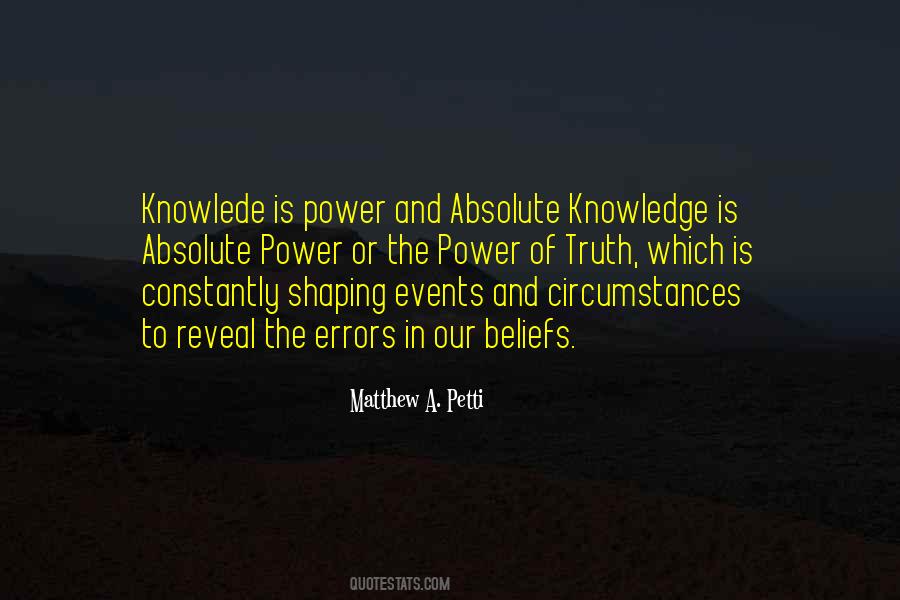 #91. Hinduism is a living organism. One and indivisible at the root, it has grown into a vast tree with innumerable branches. Knowledge is limitless and so also the application of truth. Everyday we add to our knowledge of the power of Atman (soul) and we shall keep on doing so. - Author: Mahatma Gandhi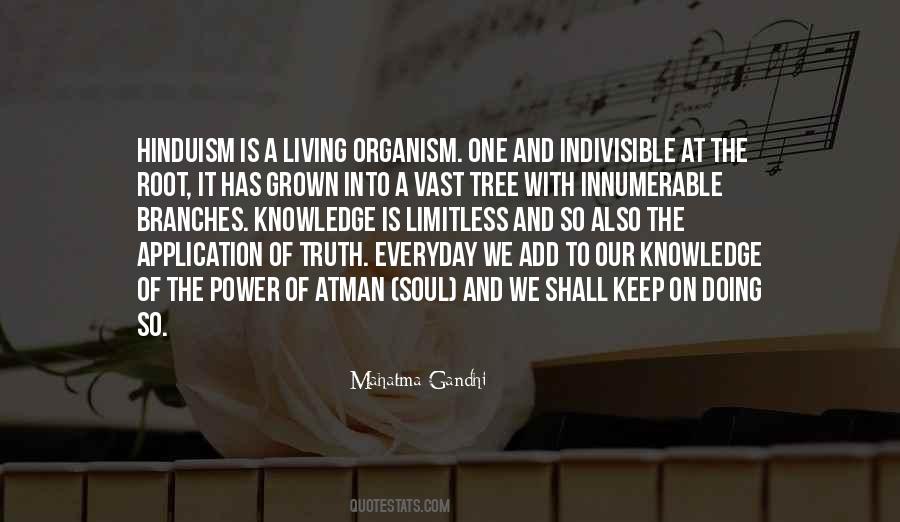 #92. Knowledge is power; and power is best shared among friends. - Author: Otis Chandler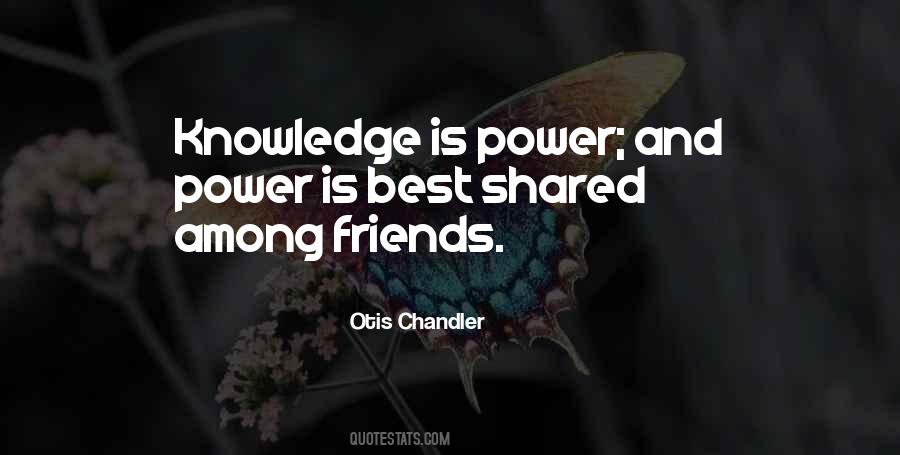 #93. Hoarding knowledge ultimately erodes your power. If you know something important, the way to get power is by sharing it. - Author: Joseph Badaracco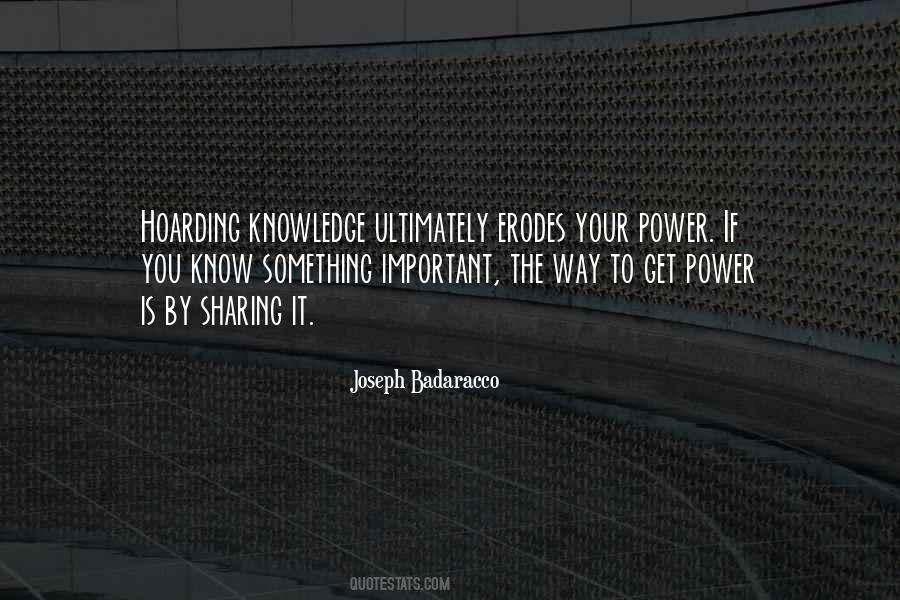 #94. Knowledge is Power. Ignorance is Bliss. But curiosity - even if it had killed the cat - is king. - Author: Kim Harrison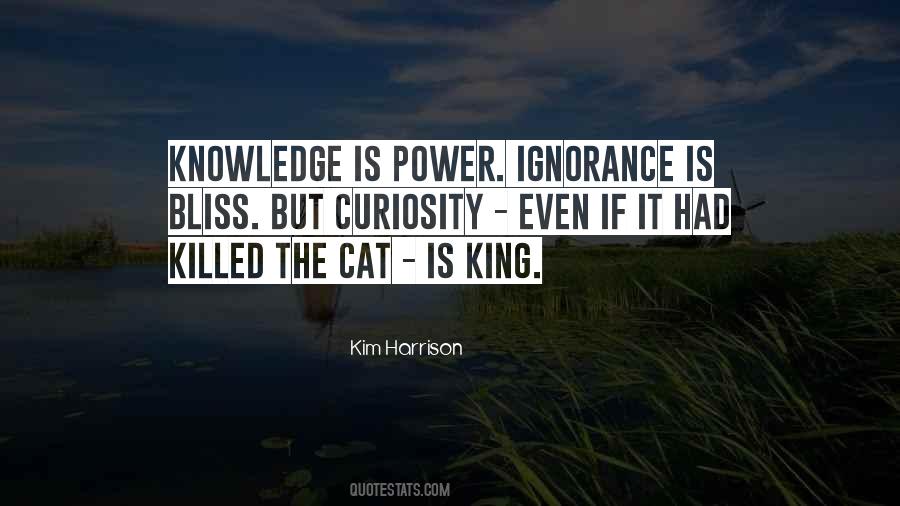 #95. It has been said that knowledge is power. We need to strengthen education systems so that young people can benefit from cultural diversity, and not be victimized by those who exploit differences. - Author: Ban Ki-moon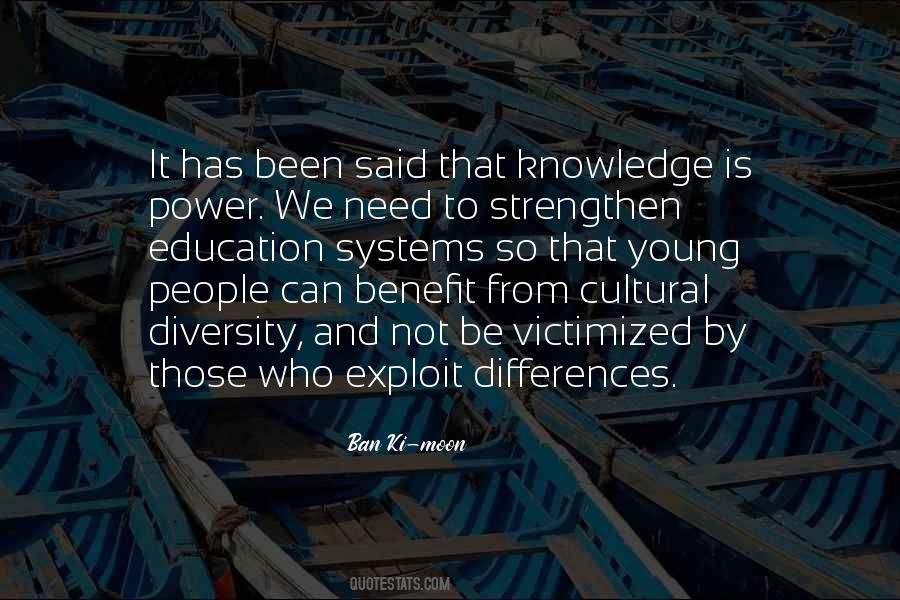 #96. Thought is the supreme power. The right question will have the right answer. - Author: Debasish Mridha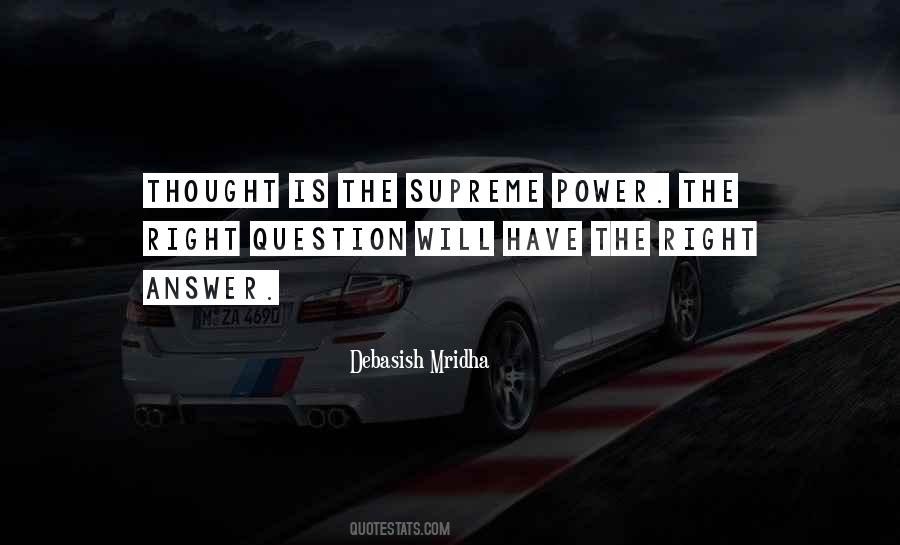 #97. Knowledge is power but only wisdom is liberty. - Author: Will Durant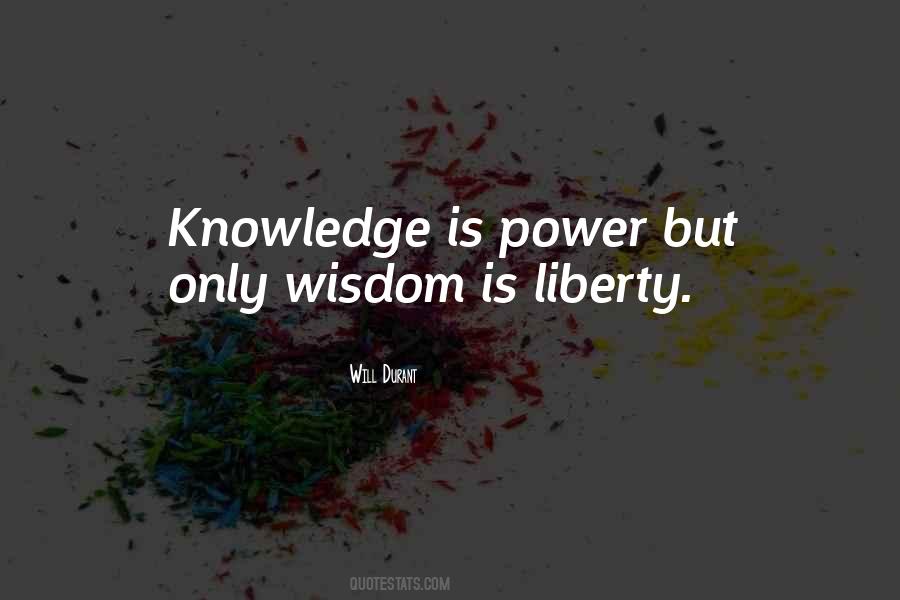 #98. Knowledge is power. Information is power. The secreting or hoarding of knowledge or information may be an act of tyranny camouflaged as humility. - Author: Robin Morgan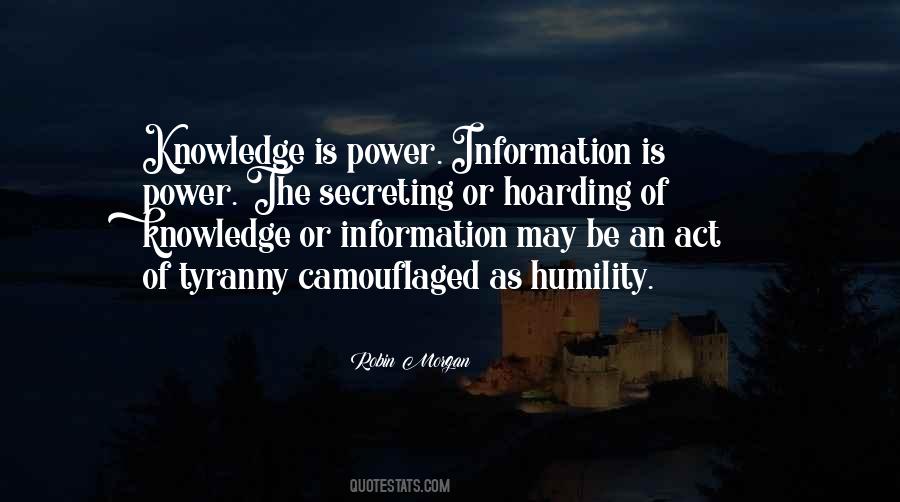 #99. The same arguments which go to show that knowledge is power, that the condition of a people is improved in proportion as the masses are educated, have their application with equal weight to the deaf ... - Author: Edward Miner Gallaudet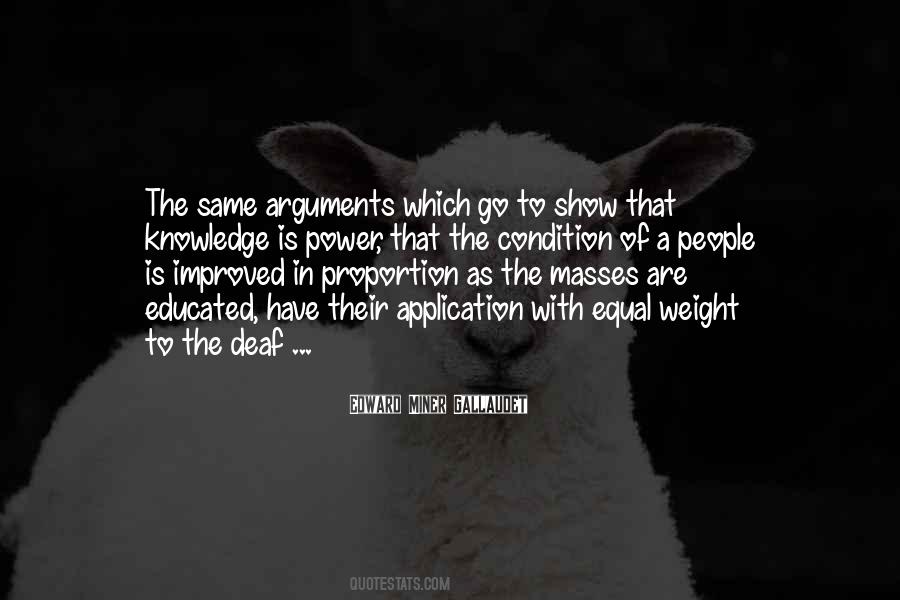 #100. Presented with a challenge to its power, an illegitimate regime will often overreact, driven by the knowledge that all they have is force. - Author: Chris Hayes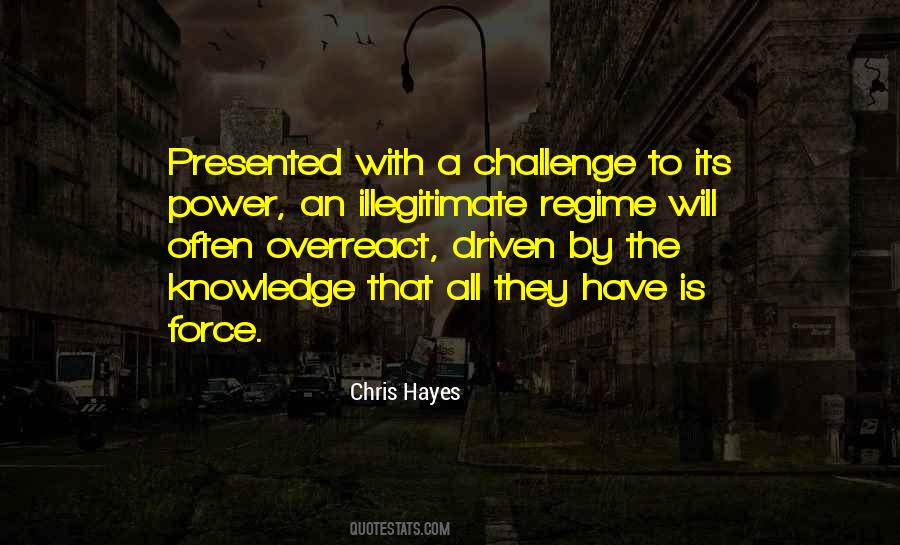 Famous Authors
Popular Topics