Percentage Famous Quotes & Sayings
List of top 100 famous quotes and sayings about percentage to read and share with friends on your Facebook, Twitter, blogs.
Top 100 Percentage Quotes
#1. Some people have the experience of being accused of lying when they do not think that they have lied. Circle a number to show what percentage of the time this happens to you.
[question from the Dissociative Experiences Scale] - Author: Frank W. Putnam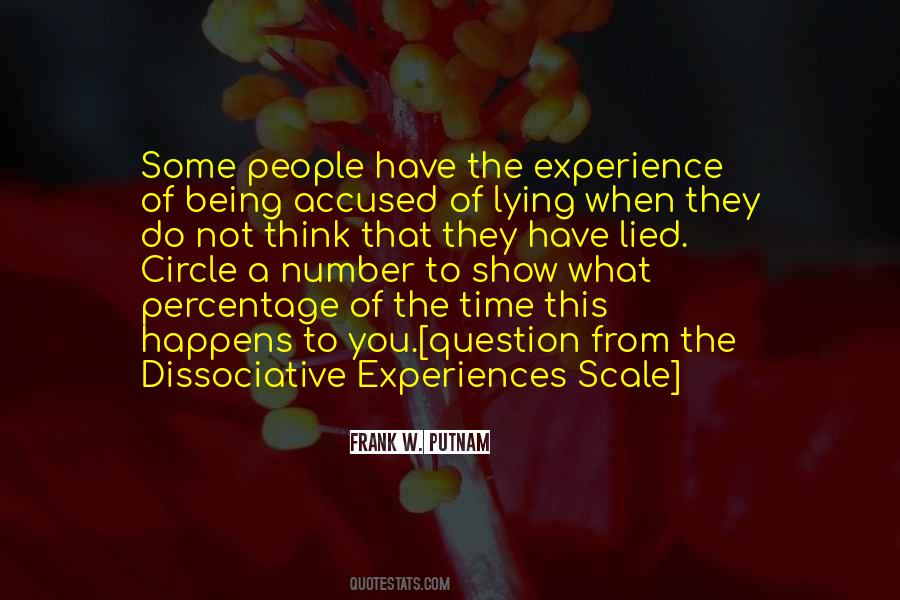 #2. Journalism, some huge percentage of it, should be devoted to putting pressure on power, on nonsense, on chicanery of all kinds and if that's going to invite a lawsuit, well, bring it on. - Author: David Remnick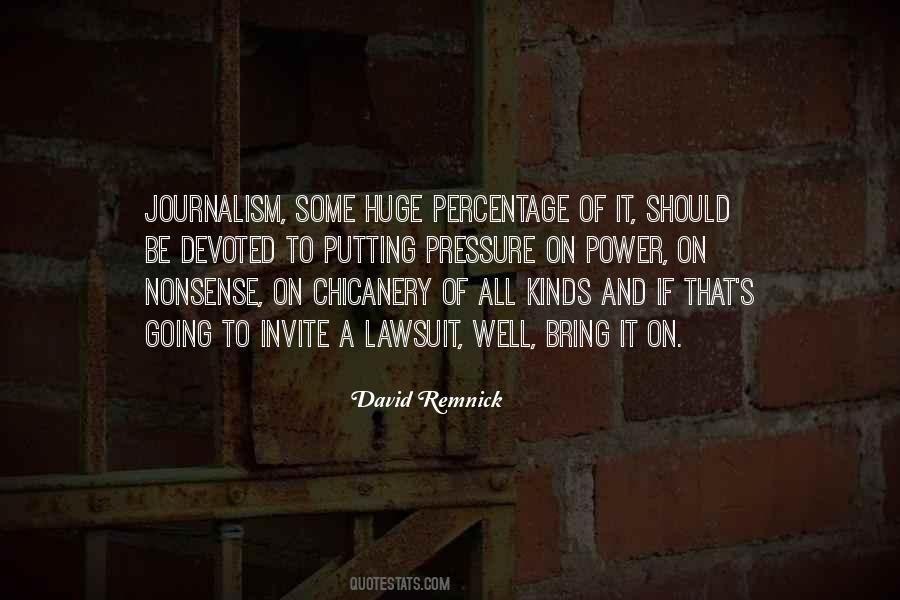 #3. India is a youthful country. A country with such a major percentage of youth has the capability to change not only its own, but the fate of the entire world. - Author: Narendra Modi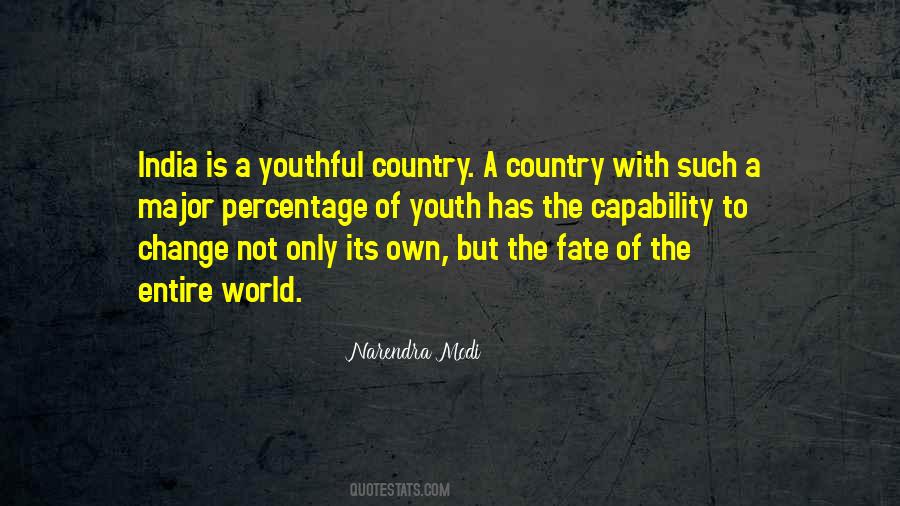 #4. The pitcher has got only a ball. I've got a bat. So the percentage in weapons is in my favor and I let the fellow with the ball do the fretting. - Author: Hank Aaron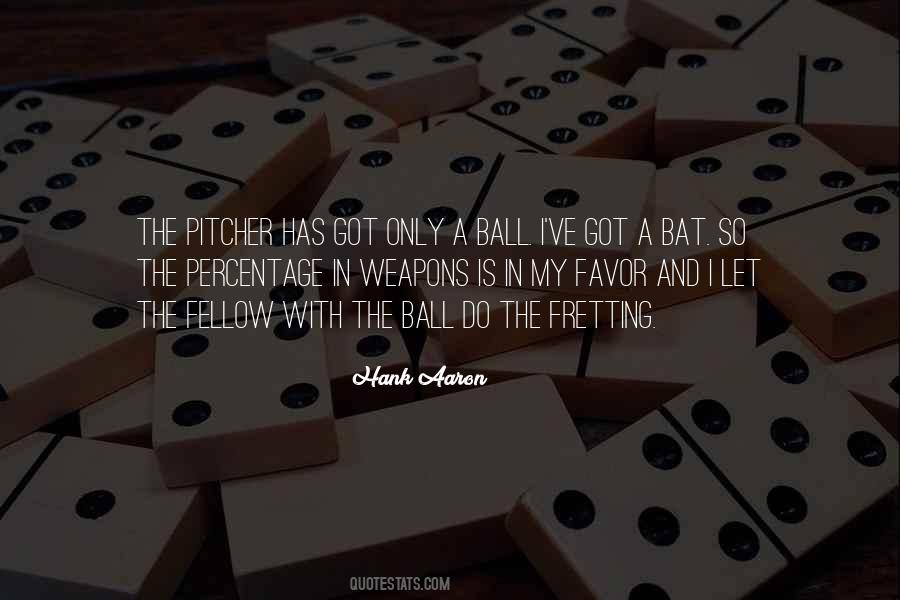 #5. I am astonished each time I come to the U.S. by the ignorance of a high percentage of the population, which knows almost nothing about Latin America or about the world. It's quite blind and deaf to anything that may happen outside the frontiers of the U.S. - Author: Eduardo Galeano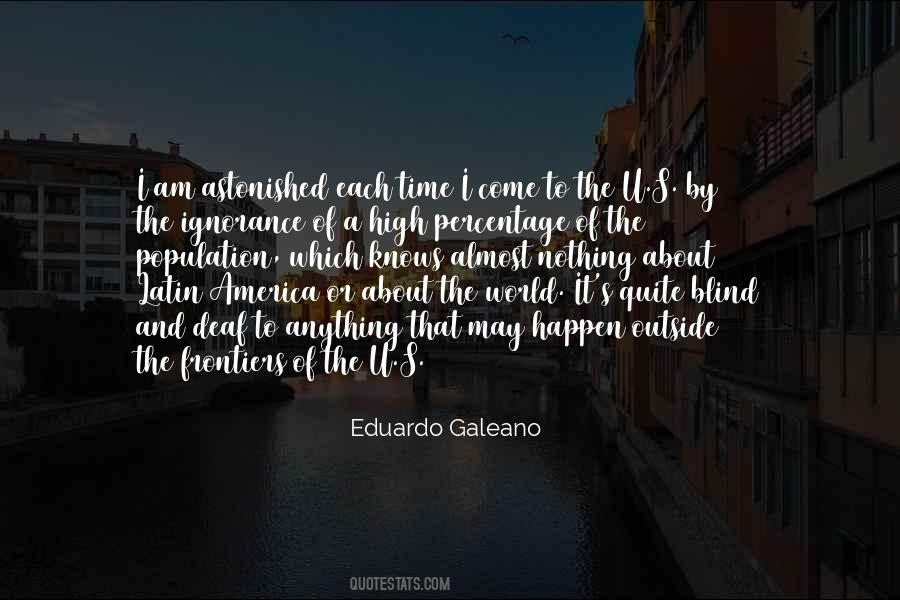 #6. The 1980s will seem like a walk in the park when compared to new global challenges, where annual productivity increases of 6% may not be enough. A combination of software, brains, and running harder will be needed to bring that percentage up to 8% or 9%. - Author: Jack Welch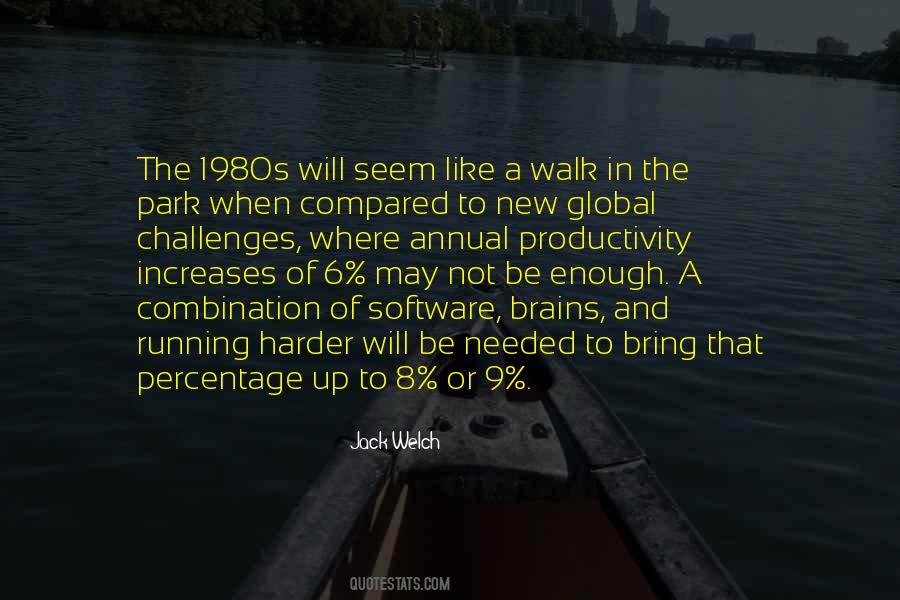 #7. Casualties many; Percentage of dead not known; Combat efficiency; we are winning. - Author: David M. Shoup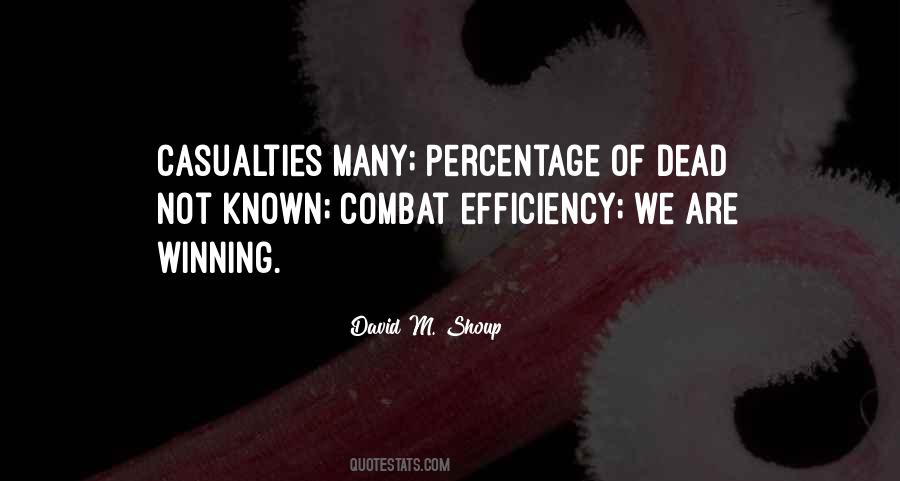 #8. If two percent of all the films made in Hollywood are really artistically worthy - and I think it's a lot more than two percent - that's a pretty big percentage of things that will outlive their own generation. - Author: Murray Horwitz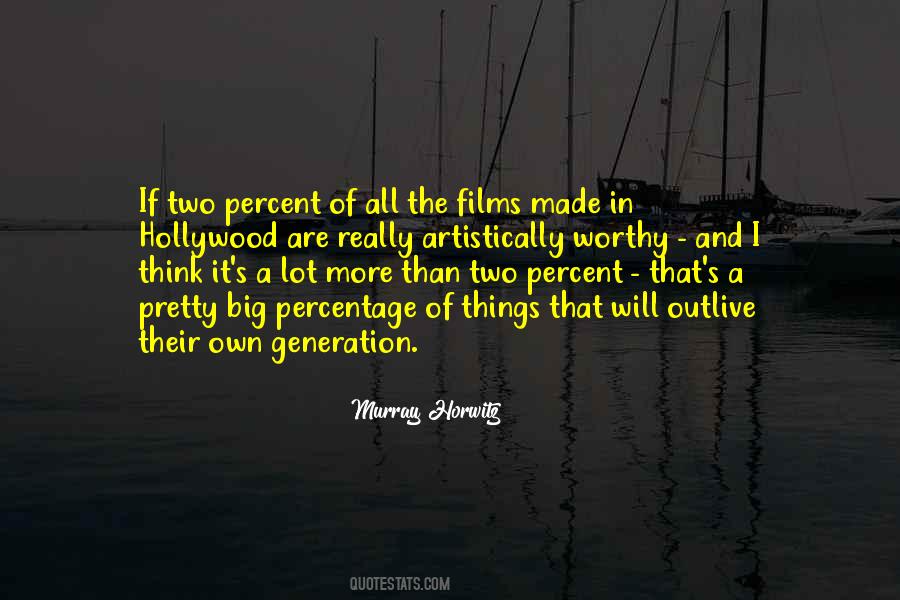 #9. Warren Buffett pays taxes on a smaller percentage of his billions in income than his cleaning lady. - Author: Eric Alterman
#10. I live on my books. on my writings, i live on my royalties: the percentage an author recieves on each sold copy. and i am proud of it. i am so even though such percentage is small or i should say irrelevant. - Author: Oriana Fallaci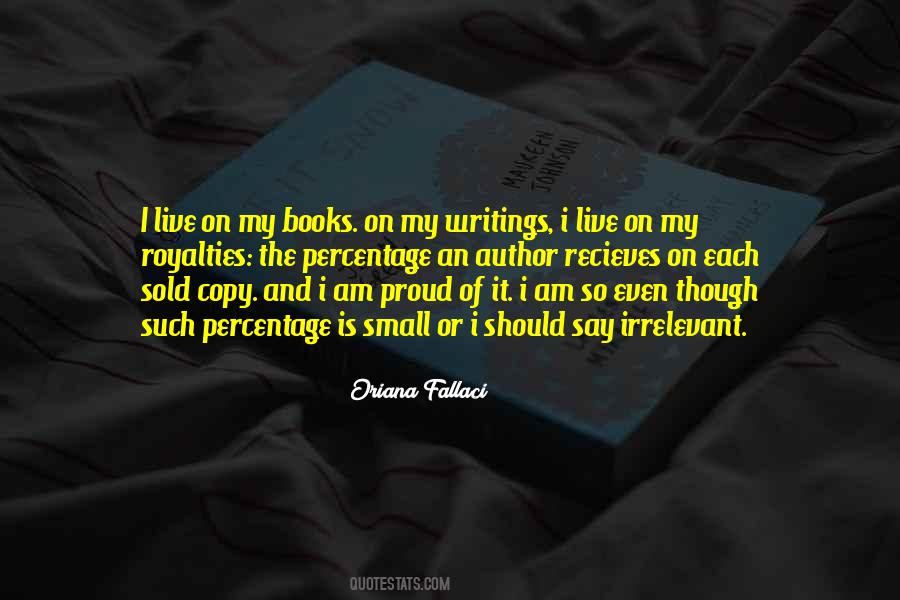 #11. Over the years I have collected so many books that, in aggregate, they can fairly be called a library.I don't know what percentage of them I have read. Increasingly I wonder how many of them I ever will read. This has done nothing to dampen my pleasure in acquiring more books. - Author: Marilynne Robinson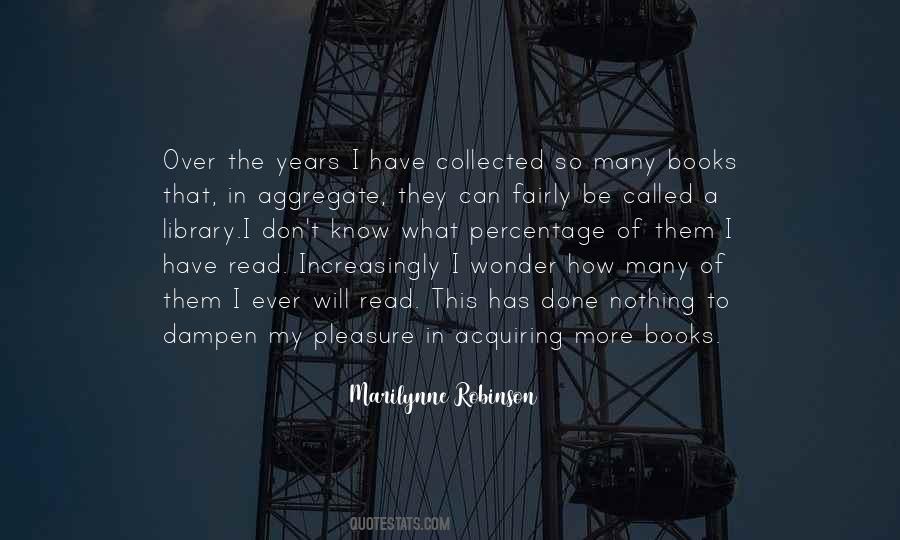 #12. If you want to go beyond that small percentage of people who are already environmentally and scientifically aware, you have to make your work somehow link with a passion, interest, or profession of someone who isn't interested in science or nature. - Author: Nalini Nadkarni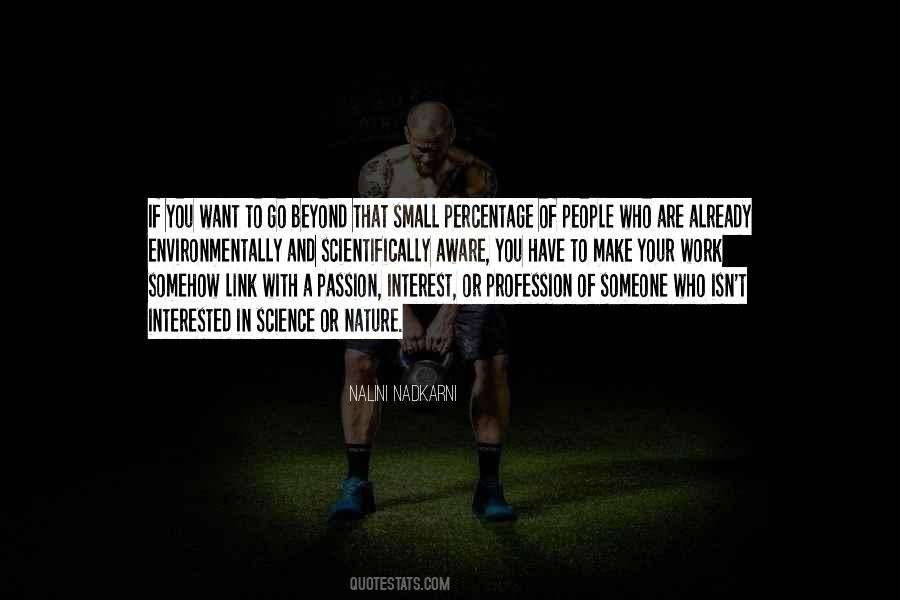 #13. Bitcoin woke us all up to a new way to pay, and culturally, I think a much larger percentage of us have become accustomed to the idea that money no longer comes with the friction it once had. - Author: John Battelle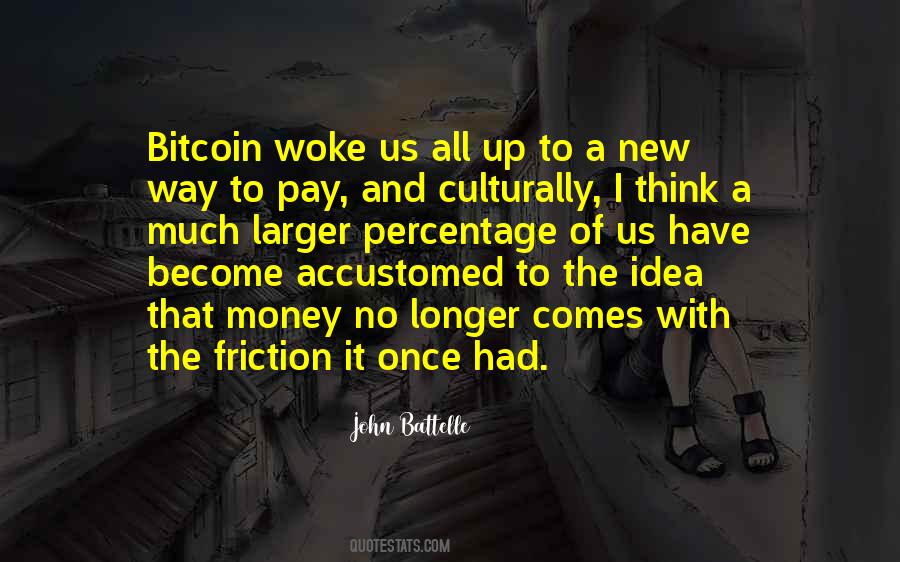 #14. The active investors will have their returns diminished by a far greater percentage than will their inactive brethren. That means that the passive group - the "know-nothings" - must win. - Author: Warren Buffett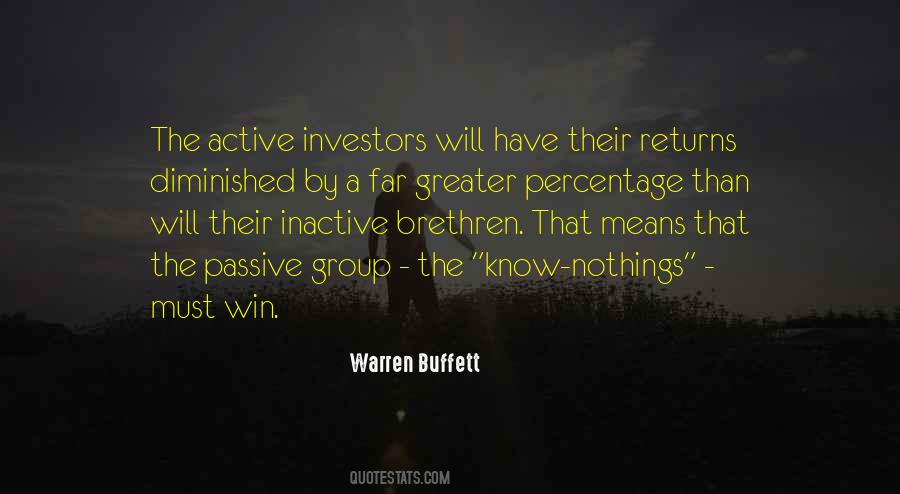 #15. In the past the great majority of minority voters, in Ohio and other places that means African American voters, cast a large percentage of their votes during the early voting process. - Author: John Lewis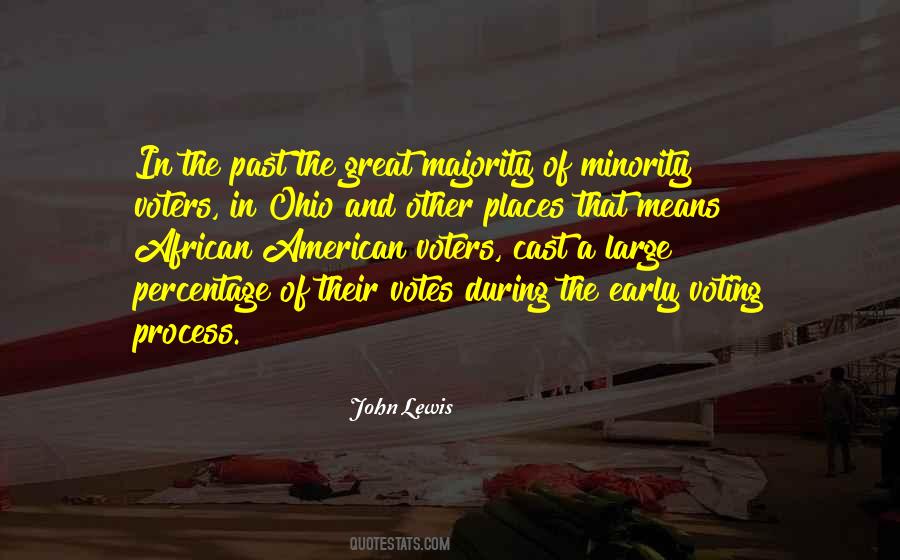 #16. The poorest Americans use three time the energy as the percentage of their income as the average American does. This is going to disproportionately hurt the poor. It may make the whole electric grid unstable, depending on how it is enforced. And it does nothing for the climate. - Author: Charles Koch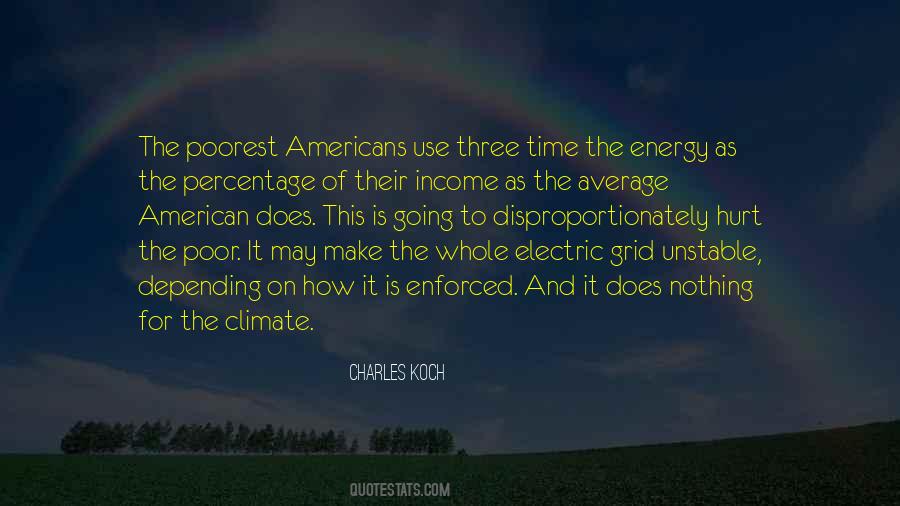 #17. The routers get involved in this and they know that on the path between this router and that router a certain percentage of the bandwidth is reserved to these things and a certain percentage of it is allowed on a first come first served basis. - Author: Jon Postel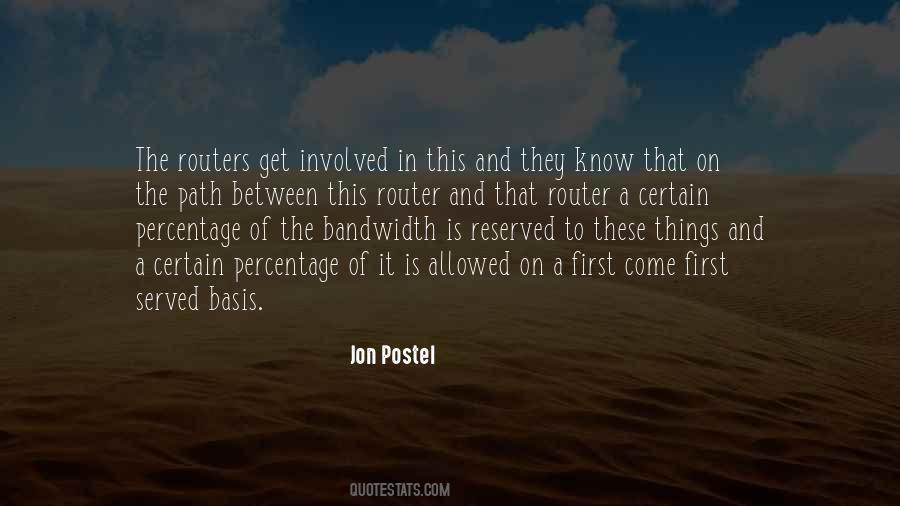 #18. Maybe some percentage that's substantially larger than 95 percent of VCs add zero value. I would bet that 70-80 percent add negative value to a startup in their advising. - Author: Vinod Khosla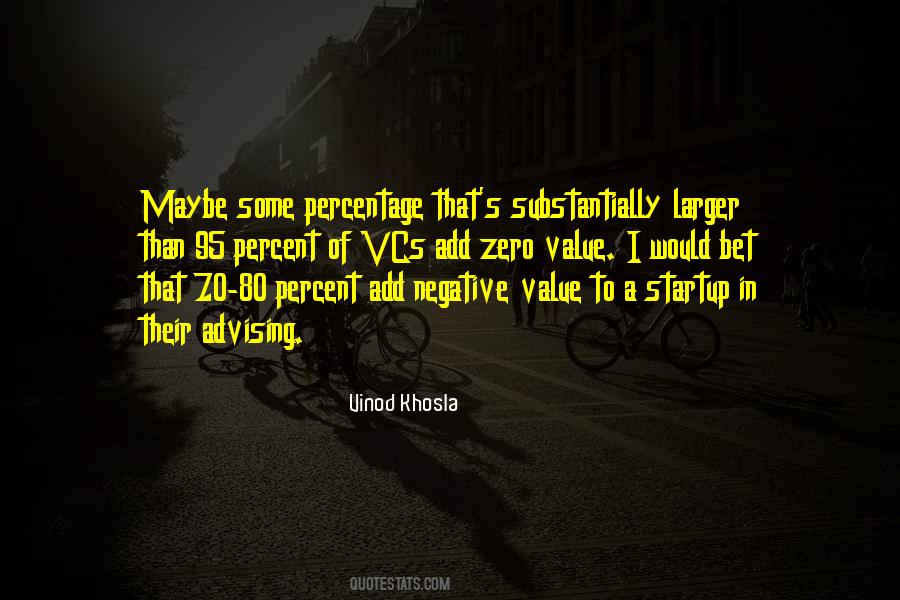 #19. I'm doing pretty well. If you don't get married, you can't get divorced. Why couldn't we learn from the devastatingly low percentage of successful marriages that our last generation went through? - Author: Adam Levine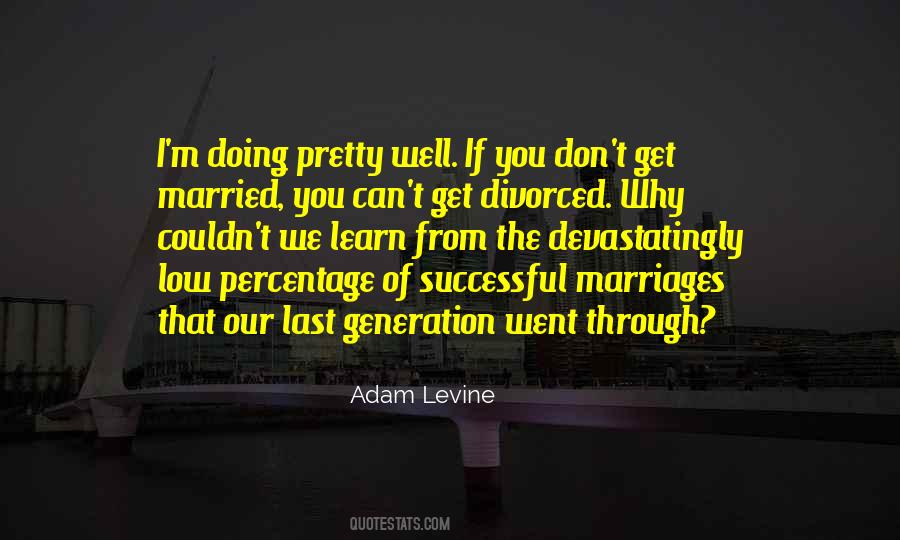 #20. can a criminal, using the knowledge of forensic science to his own advantage, reduce his percentage of detection in order to commit the perfect murder? If a criminal knew exactly what investigators were looking for at a crime scene, could they use that to avoid detection? - Author: David Elio Malocco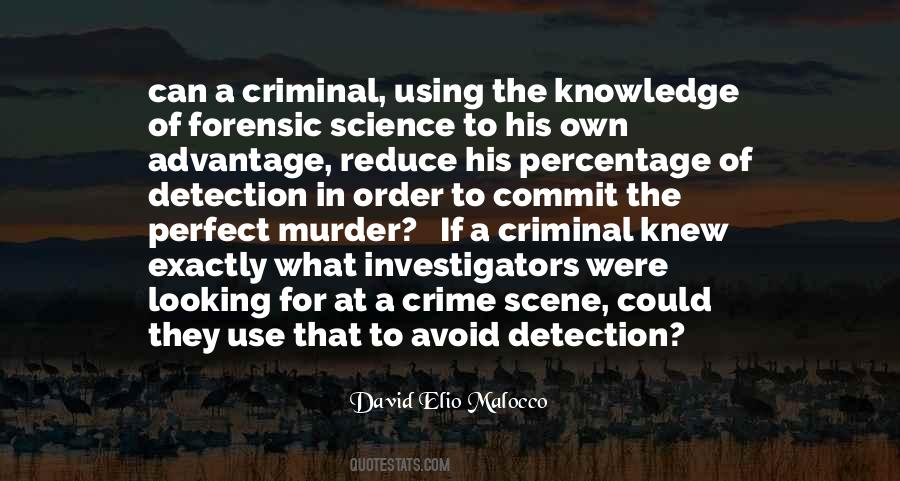 #21. The way America works, and the way L.A. works, is a very small percentage of people get what they want out of life, and a much greater percentage try very very hard and they don't. That's just the way it is. - Author: James Frey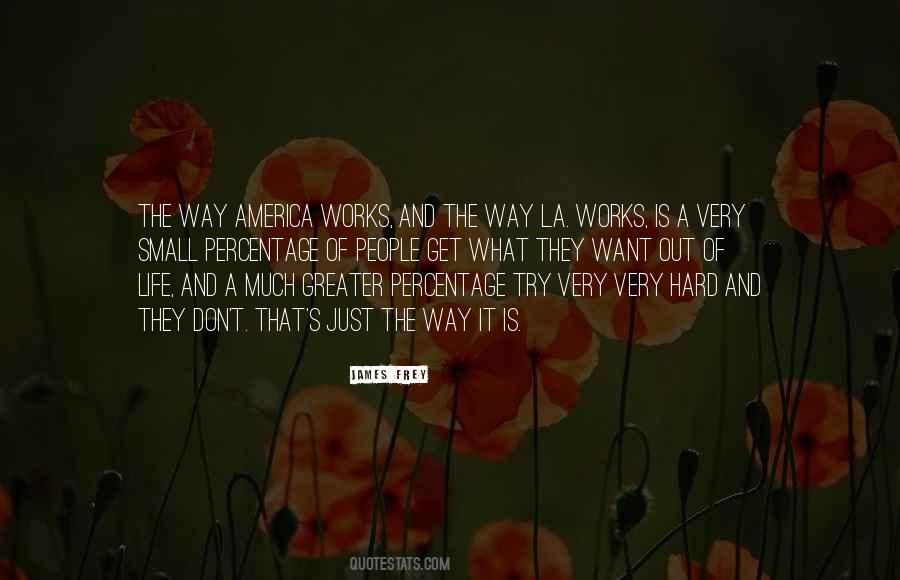 #22. I'm not sure if you can blame everything on the American way of life, but the United States are big. So, if you have a lot of people there, the percentage of stupid people is bound to be higher. - Author: Stephen Malkmus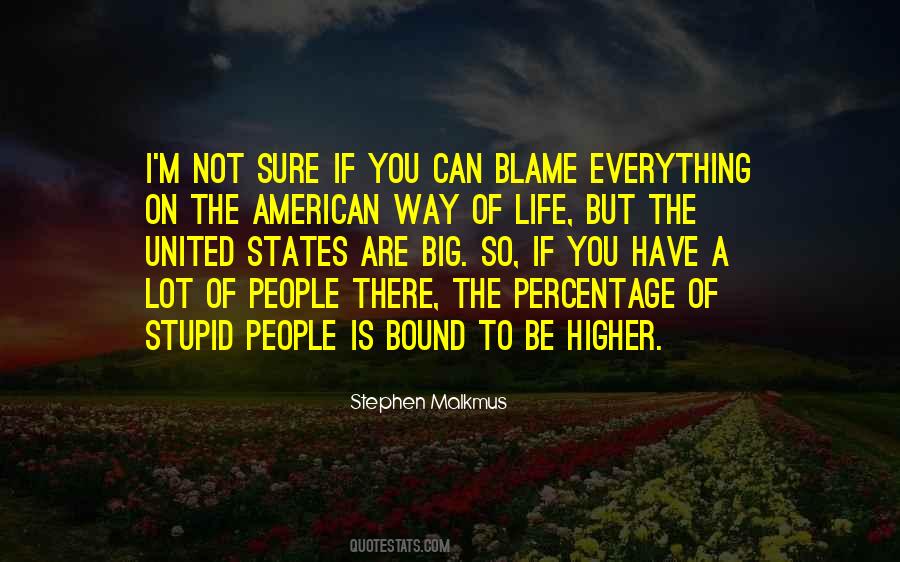 #23. If you actually are a doctor and admitted it, you'd say, 'I don't cure a huge percentage, I don't have a 50 percent cure rate .. (but) I can have a 100 percent compassion rate,'. - Author: Patch Adams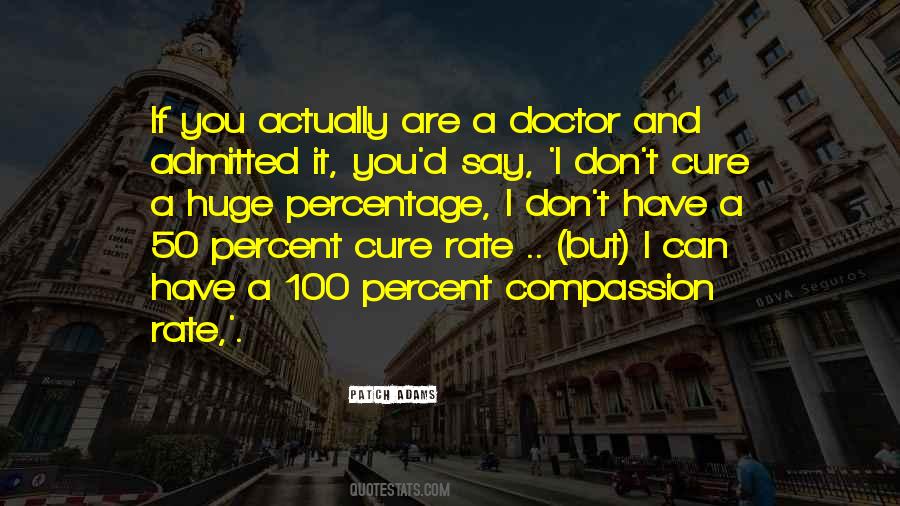 #24. It is true that raids and battles killed a tiny percentage of the numbers that die in modern warfare. But in tribal violence, the clashes are more frequent, the percentage of men in the population who fight is greater, and the rates of death per battle are higher. - Author: Steven Pinker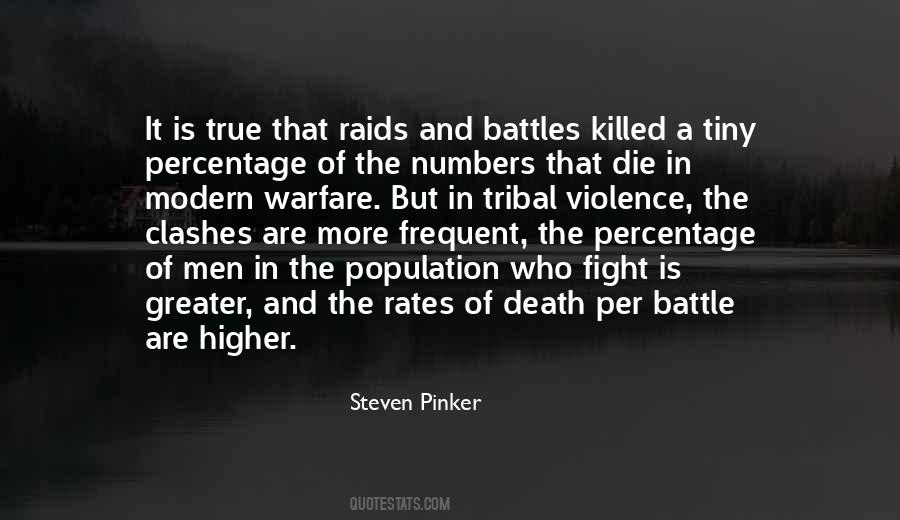 #25. This year, we must address the Colorado Paradox. We have more college degrees per capita than any state. Yet we lag the nation in the percentage of students who go on to higher education. - Author: Bill Owens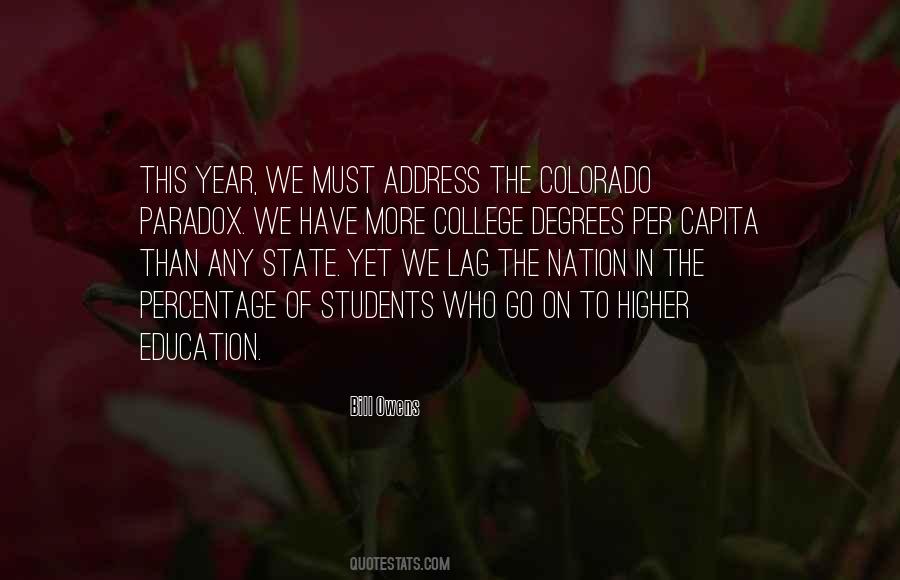 #26. I make no apology for wanting to make a profit - the more I make, the bigger percentage will go to charity. So most of the work I do now is motivated by that. - Author: John Caudwell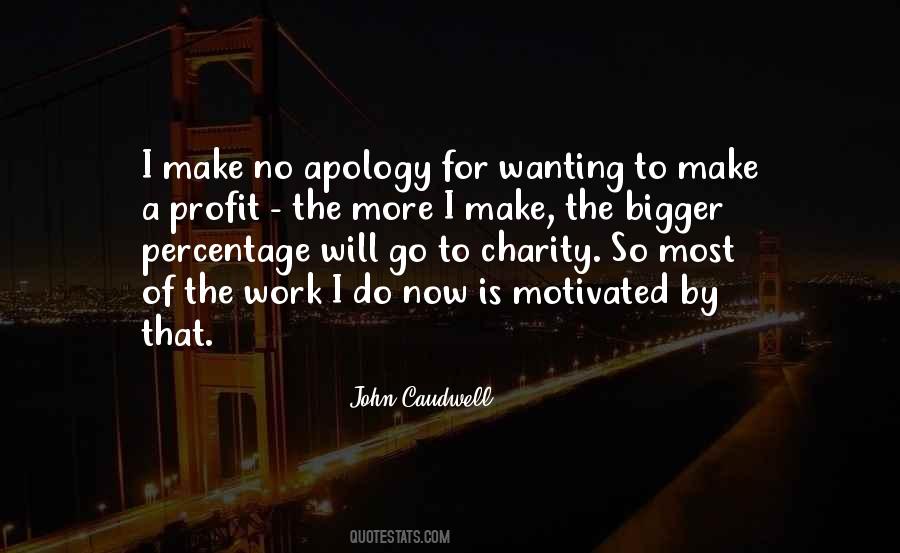 #27. That's as it should be, they tell us. A certain percentage, they tell us, must every year go, that way, to the devil, I suppose, so that the rest may remain chaste, and not be interfered with. A percentage! What splendid words they have; they are so scientific, so consolatory. - Author: Fyodor Dostoyevsky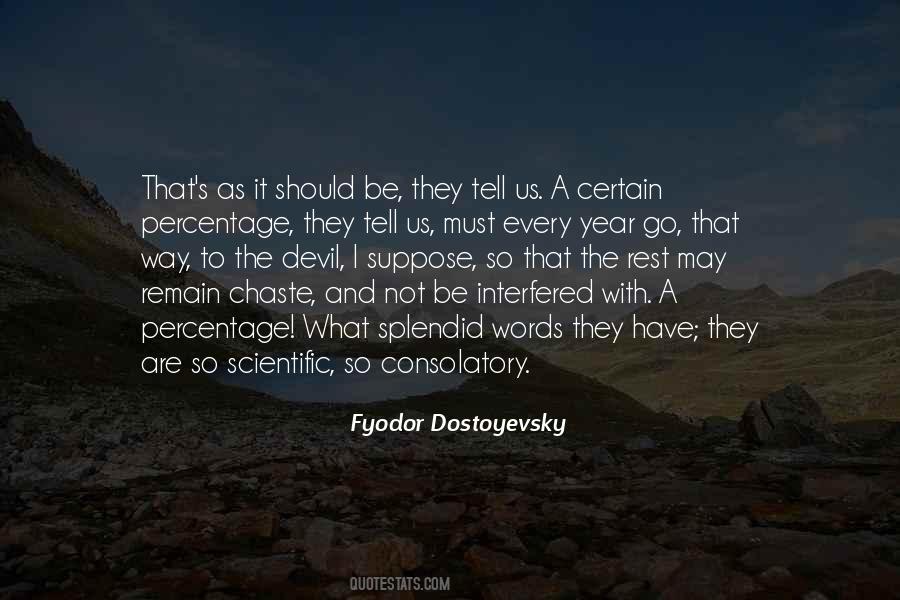 #28. There were a large number of Jews who held more favorable positions than they should have, according to their percentage of the population. Germans should have held those positions. - Author: Otto Ohlendorf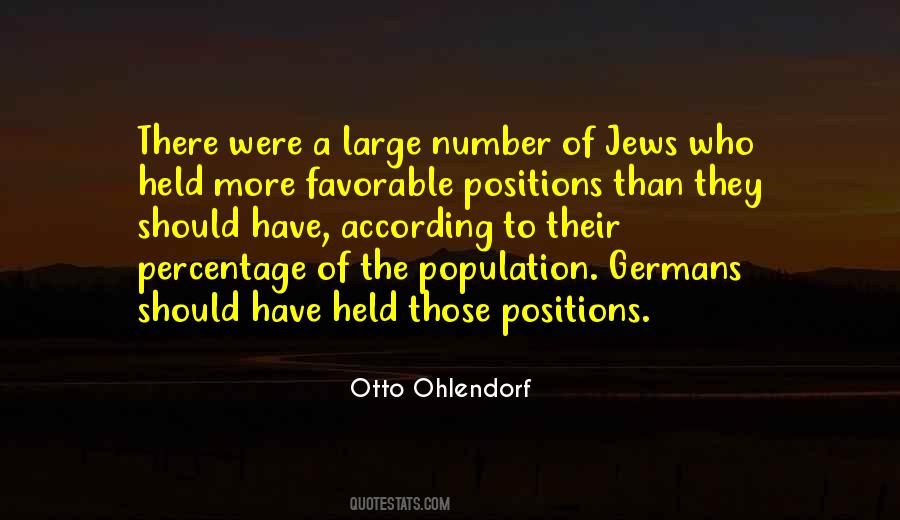 #29. When you talk about war on poverty it doesn't mean very much; but if you can show to some degree this sort of thing then you can show a great deal more of how people are living and a very great percentage of our people today. - Author: Ben Shahn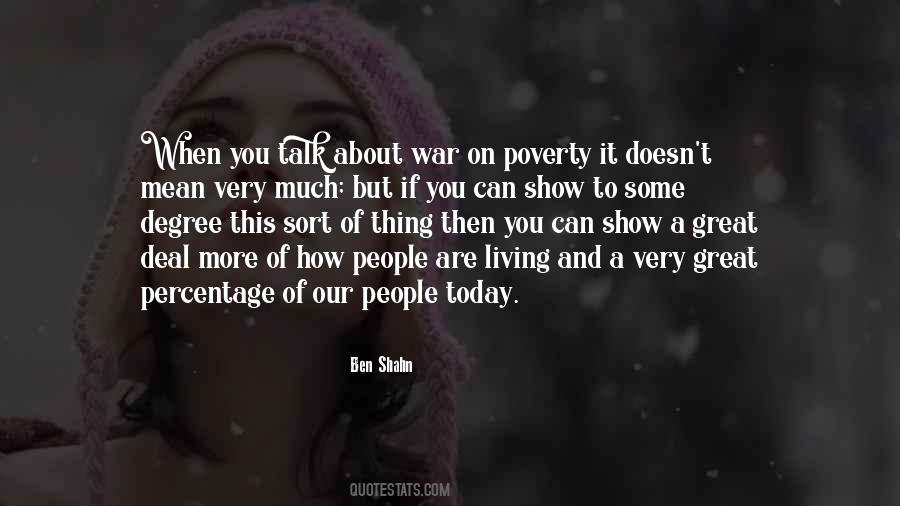 #30. There's so much free material on the Internet you can learn from, and some people are pure self-starters: they pick up computers and teach themselves everything. Certainly there are millions of people like that. But at the same time, I think it's a pretty small percentage of the population. - Author: Tyler Cowen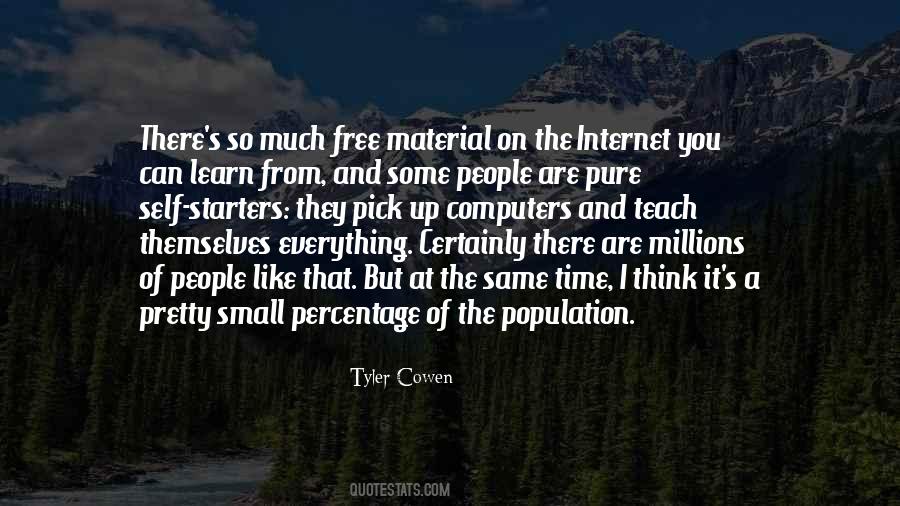 #31. Miracles have a higher percentage of being permanent than magical solutions. - Author: Nike Thaddeus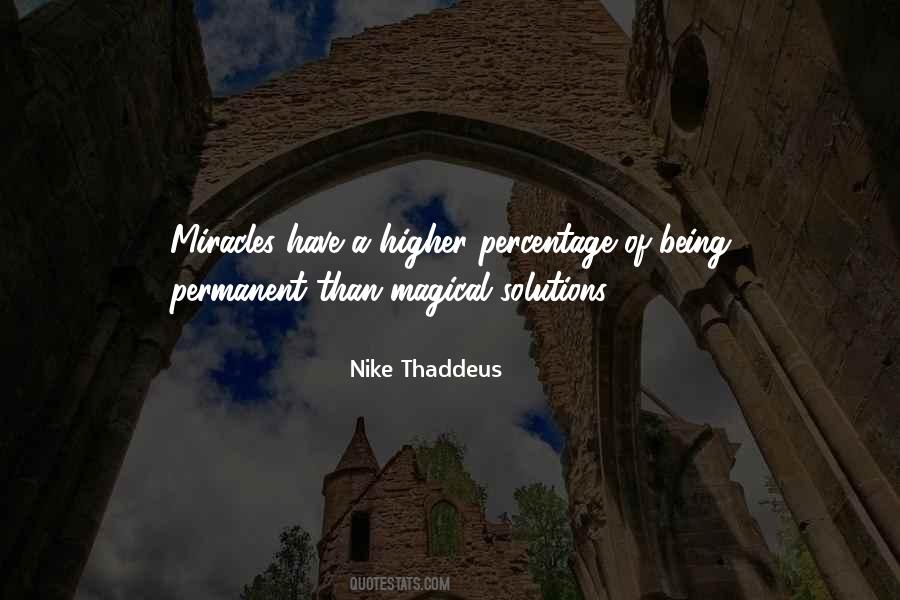 #32. People with lower incomes tend to give a greater percentage of their incomes to help others and show greater empathy and compassion - perhaps because they know they might face the same circumstances. - Author: Kavita Ramdas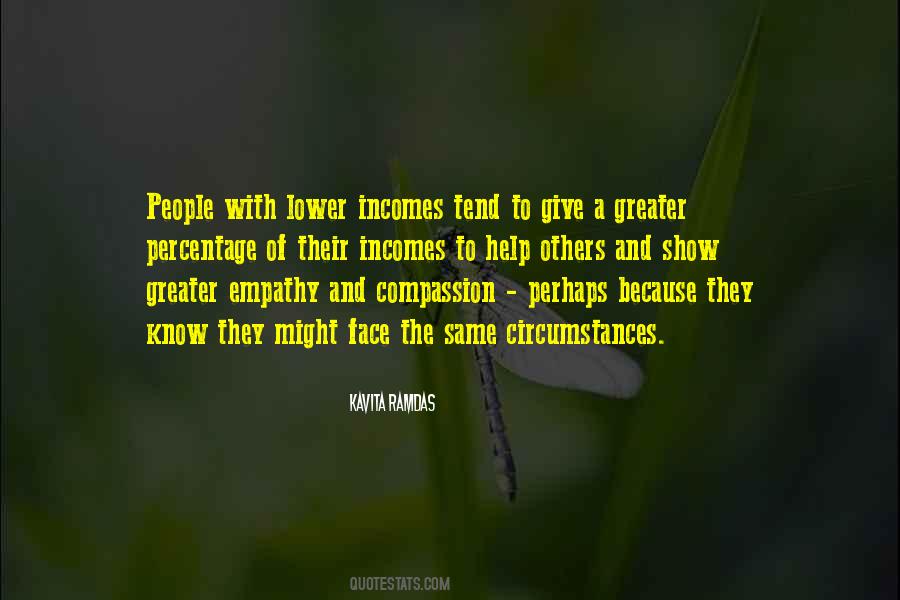 #33. Perhaps they didn't know they were at sea. Was there a certain percentage of people at sea who lacked the knowledge that they were at sea? - Author: Ben Marcus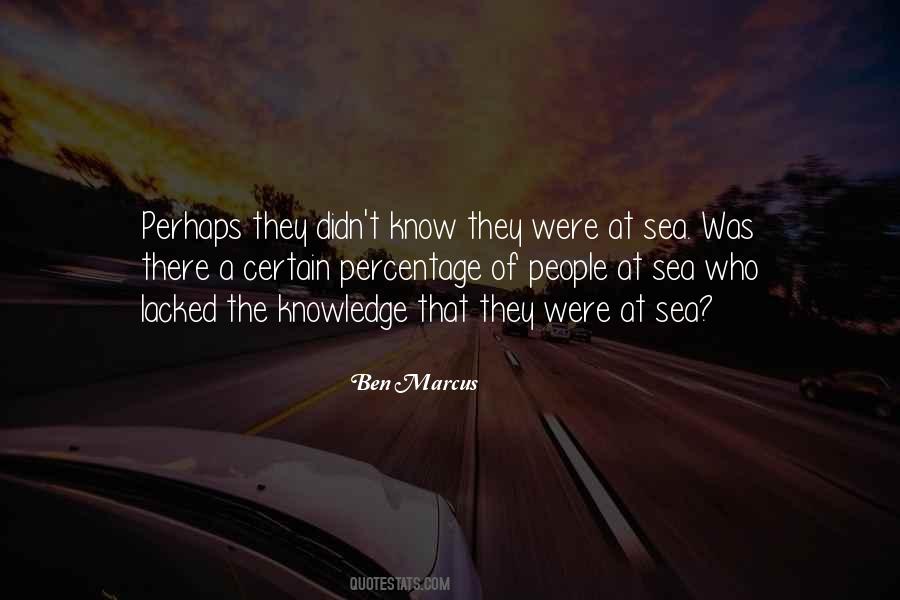 #34. But the indisputable fact is, a huge percentage of Obama's voters are basically wards of the state. There are millions of them, and they have no intention of voting for anyone who might want them to ever go out and work for a living - 'no matter what.' - Author: Howie Carr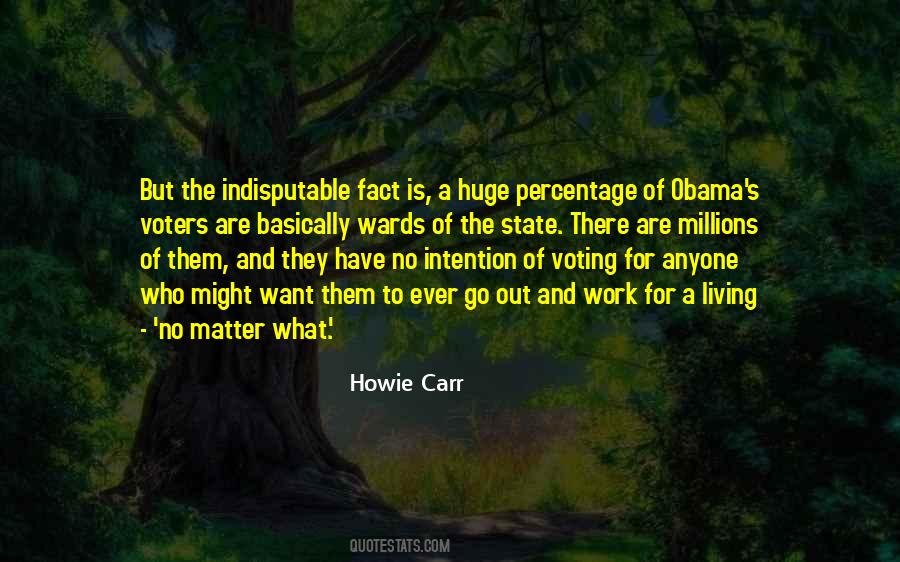 #35. The Broadway audience is made up of a greater percentage of tourists now. There's not nearly as much variety and danger and challenge in what's being offered. - Author: John Lithgow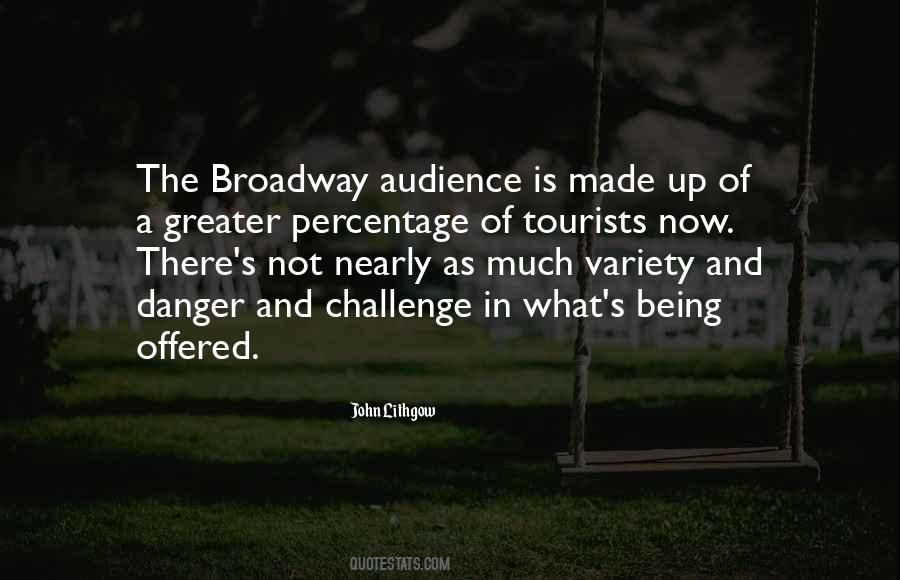 #36. [Economists' advice] is something like patent medicine - people know it is largely manufactured by quacks and that a good percentage of the time it won't work, but they continue to buy the brand whose flavor they like. - Author: Barbara Bergmann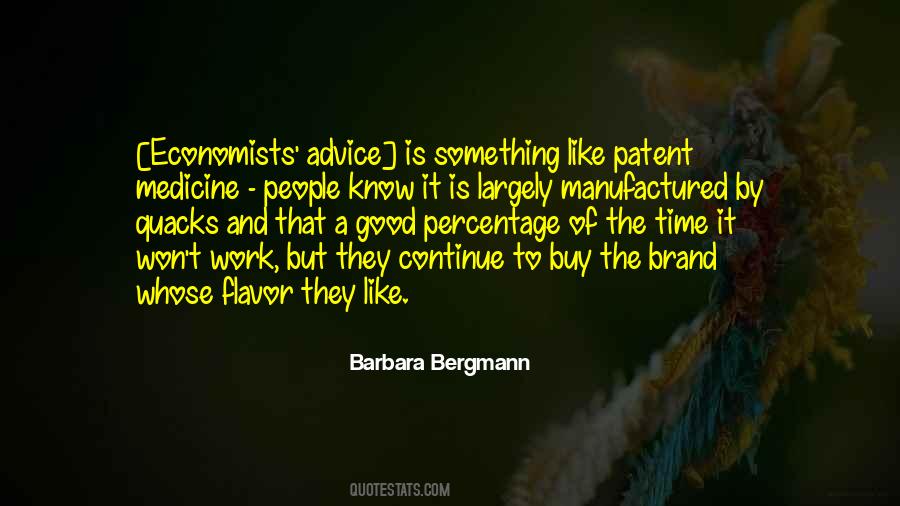 #37. A vast percentage of the human race is literally not wired neurologically to get irony. Well more than half of humanity takes life at face value, which is to me terrifying. - Author: Douglas Coupland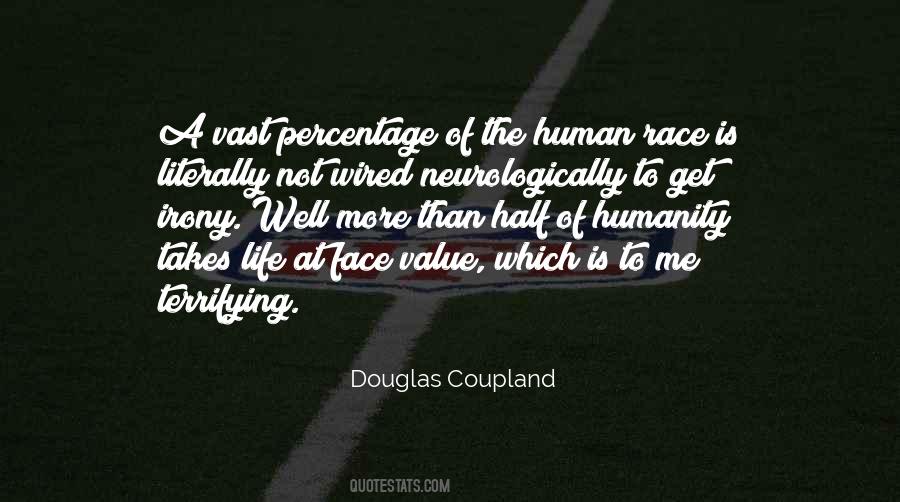 #38. I have spent a reasonable percentage of my life in libraries - I like the hush. - Author: Robin Ince
#39. An incredibly high percentage of successful entrepreneurs are dyslexic. That's one of the little-known facts. - Author: Malcolm Gladwell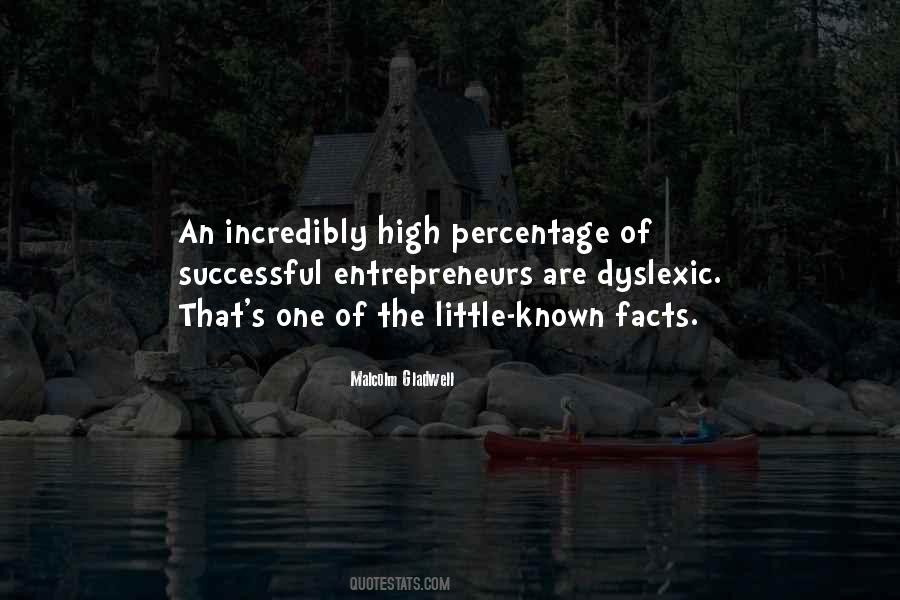 #40. The truth is that only 1% of all new words are totally new, and of those an even smaller percentage are conjured up out of thin air. The vast majority of coinages are the product of some kind of repurposing, and the result has always been a mix of tradition and innovation. - Author: Susie Dent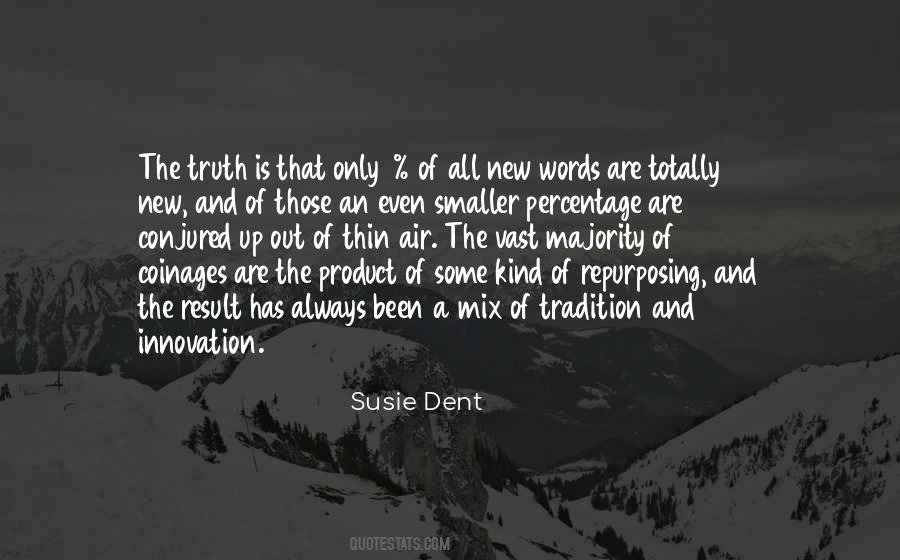 #41. From the employees' standpoint, in 1935, Social Security was a big gamble. Employees would be required to participate in the program, contributing a percentage of their income for their entire adult working life. - Author: Wayne Allard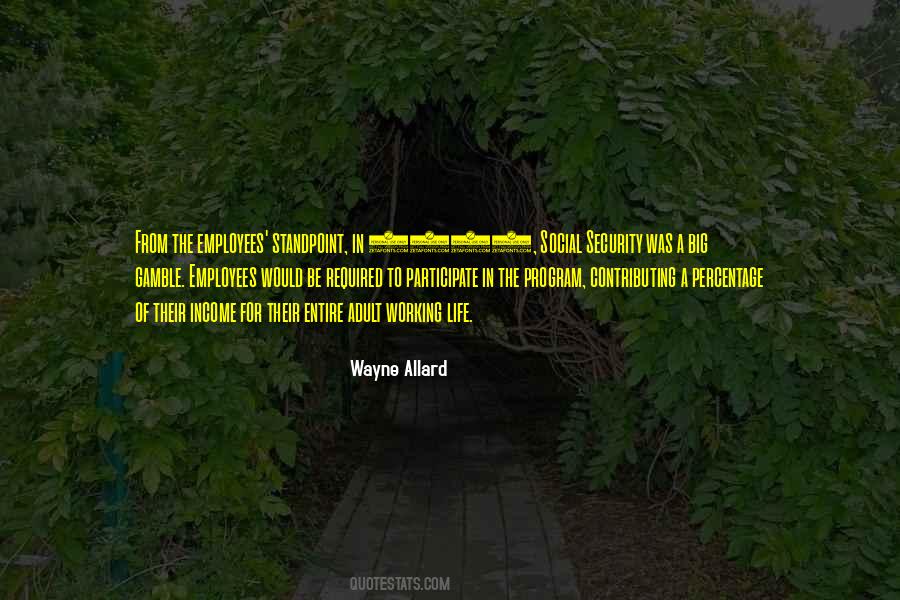 #42. China should cut heavy industries' share in gross domestic output by 9 percentage points between 2013 and 2030 to meet its pollution cuts target. - Author: Ma Jun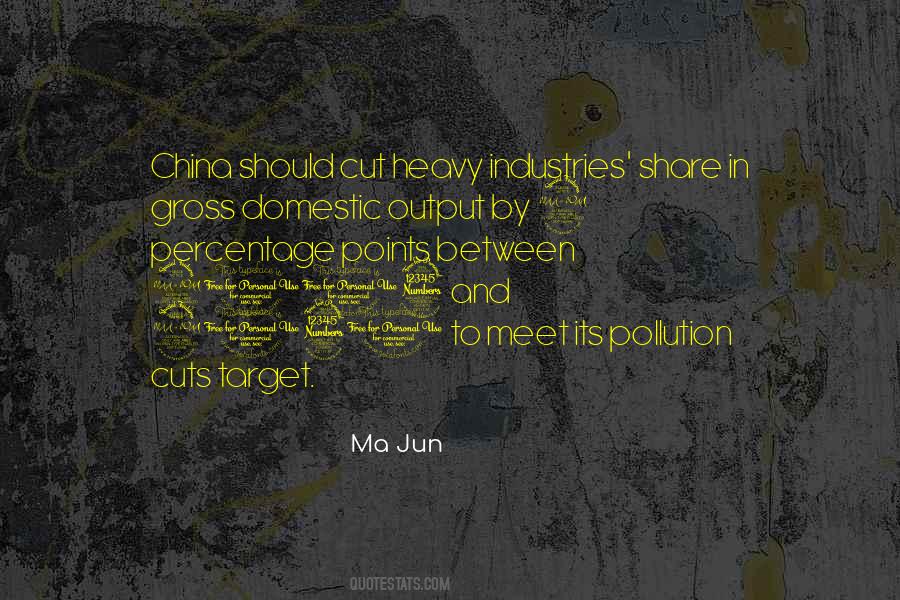 #43. If the current trend continue few percentage will be bible-believing - Author: Sunday Adelaja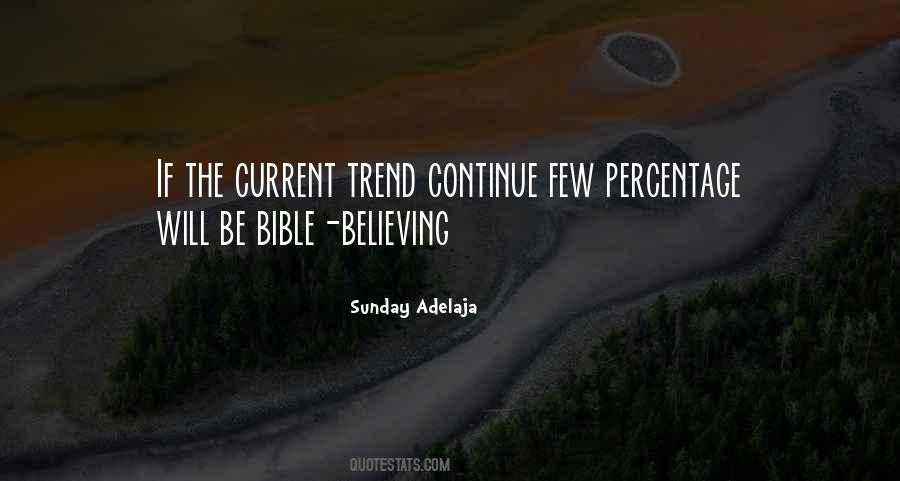 #44. There are people that very strongly identify themselves as gay and then lesbian, and then I think there are a lot of people who are kind of some percentage or some version of that. - Author: Michael Stipe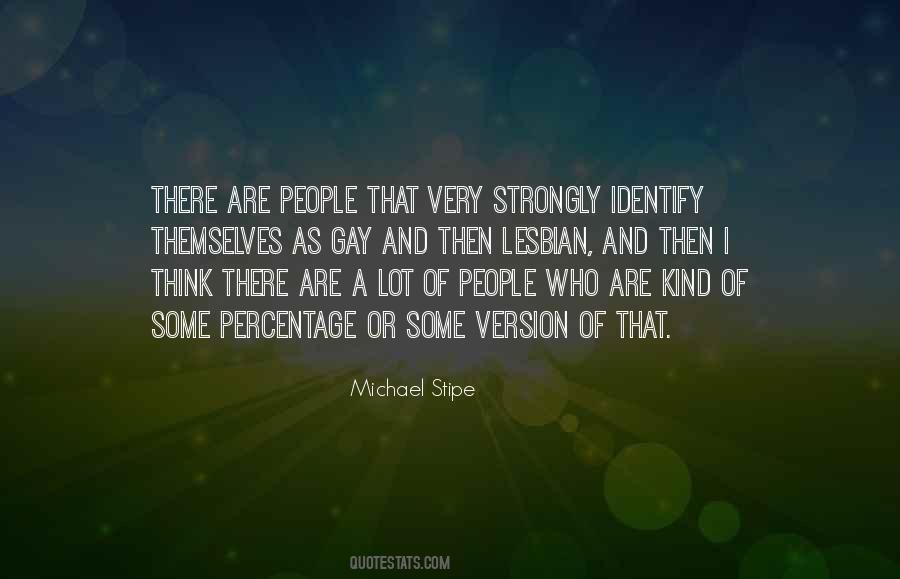 #45. We are seeing pioneers moving out to the Internet, banks that are taking transactions, retail shopping on the Internet, and although it's going to take most of a decade before most adults are turning to the Internet for a high percentage of their act - Author: Bill Gates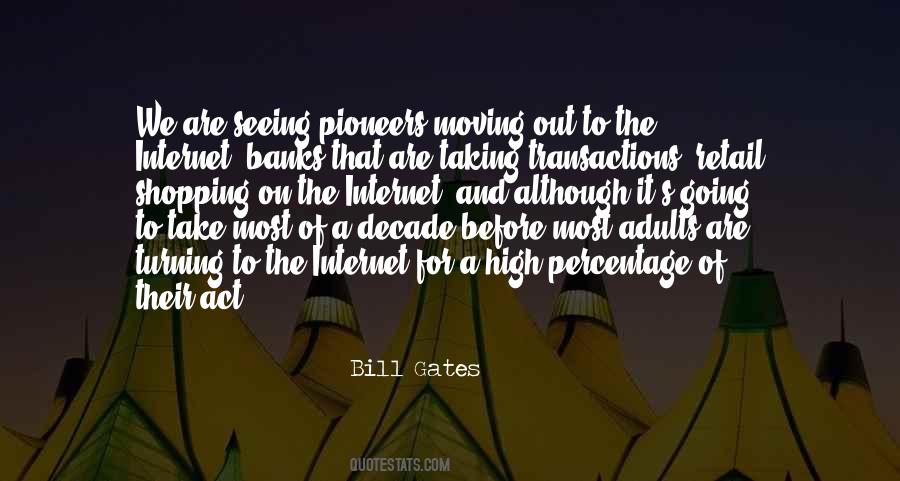 #46. The work, I suppose, is made in the editing, whereby I make literally hundreds of drawings, and then a much smaller percentage of those become the finished work. - Author: David Shrigley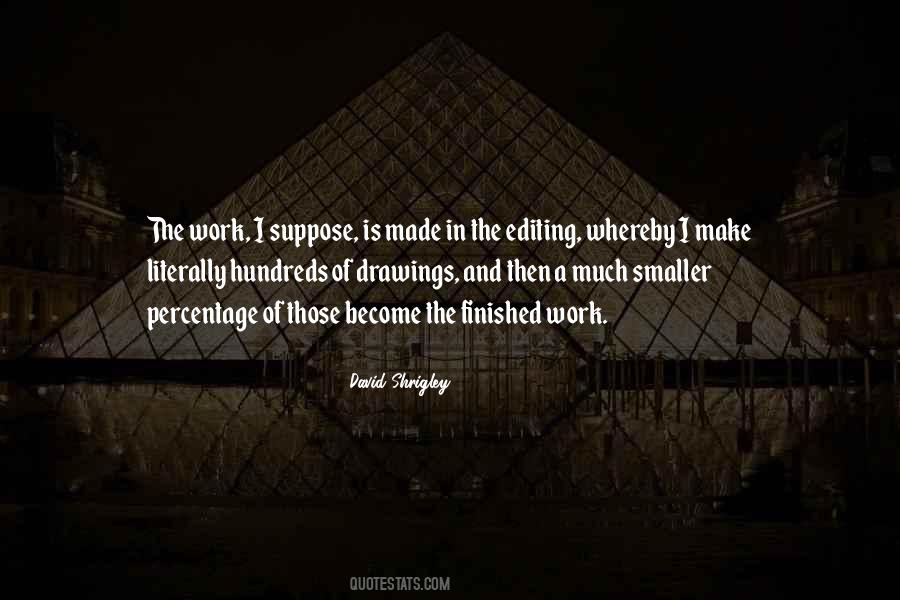 #47. I am not making spiteful assertions now but merely stating the facts-that, for instance, among Hungarian generals there is such a considerable percentage of men of German origin, who of course had, in most cases, to alter their names if they wanted to get anywhere. - Author: Heinrich Himmler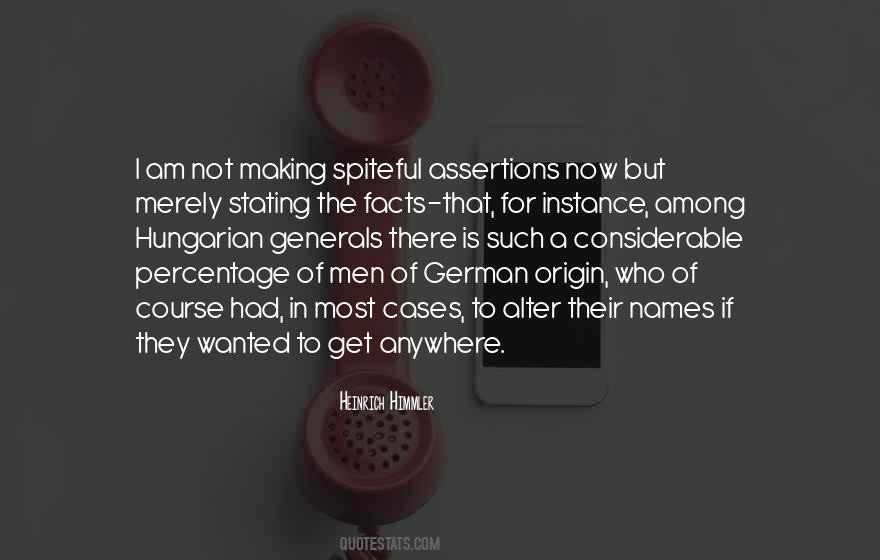 #48. When producing low-heat Portland cement the percentage of C2S is increased and that of C3S and C3A is decreased. This type of cement is of particular use in construction of dams, massive foundation, etc. to reduce the production of heat. - Author: P.C. Varghese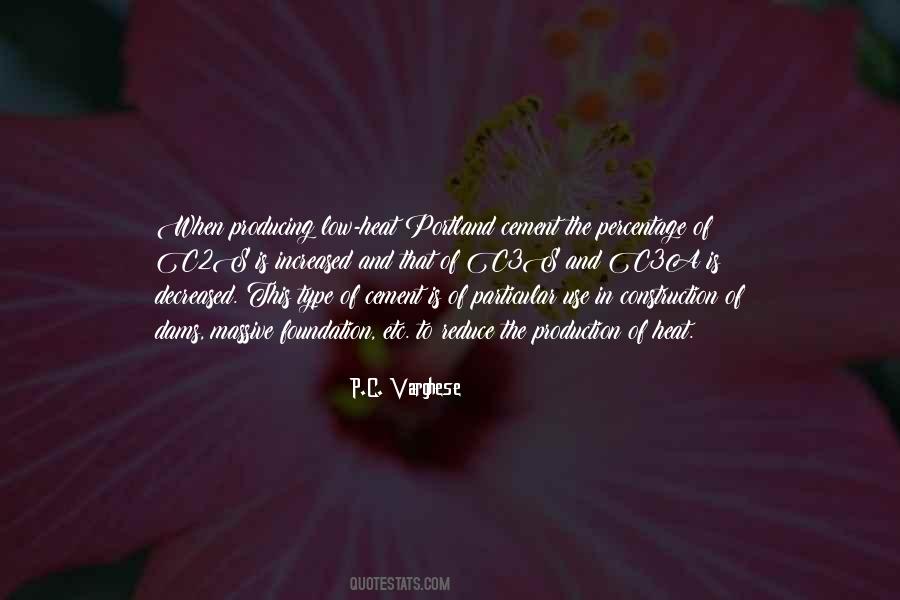 #49. I think blogging, by and large, is basically therapy. And I'm sure, and I know, that there are some terrific bloggers and some legitimate bloggers. But I think, by and large, a huge percentage of people who are blogging are doing it for self-therapy. - Author: Mike Barnicle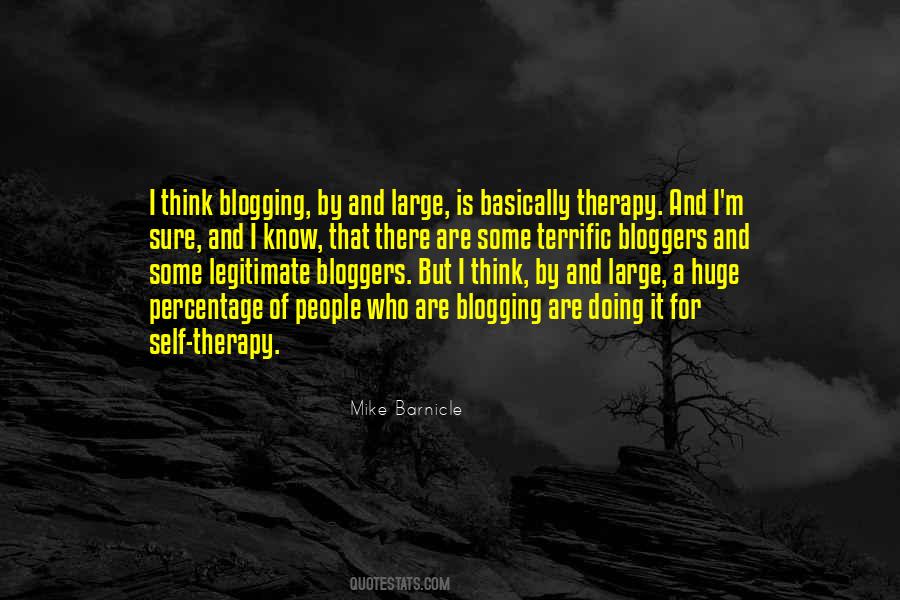 #50. The greatest percentage of poverty is found in female-headed households. Over 70 percent of female-headed households are poor. A large percentage of poor people are children (17 percent); fully 85 percent of black children living in poverty reside in a female-headed household. - Author: Walter E. Williams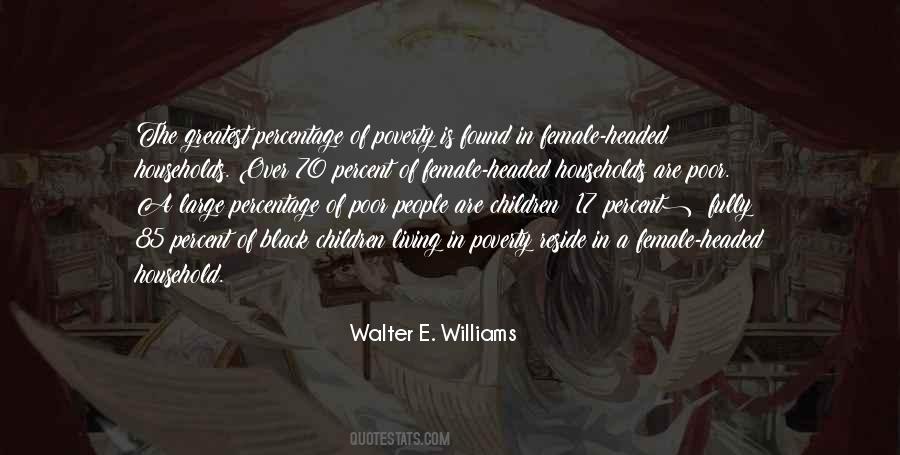 #51. The only advice I could give is to stay positive and focused in terms of what your goals are, and stick to them. If you can't attain those goals, maybe they're not realistic. At this level only a small percentage of players make it, so you've really got to strive to get what you want. - Author: Filo Tiatia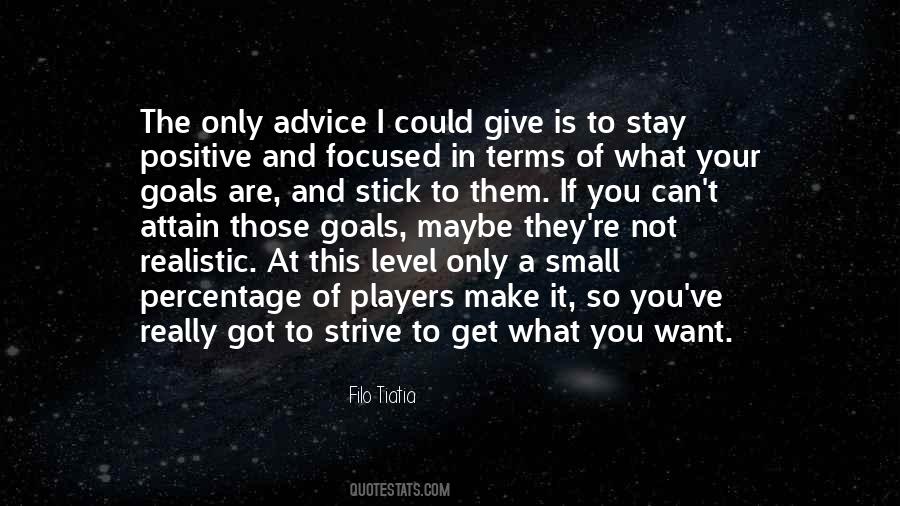 #52. What makes a good leadoff hitter? Deion Sanders had speed, but he wasn't the ideal leadoff hitter. What was his on-base percentage? The criteria shouldn't be speed, it should be getting on base. - Author: Jack McKeon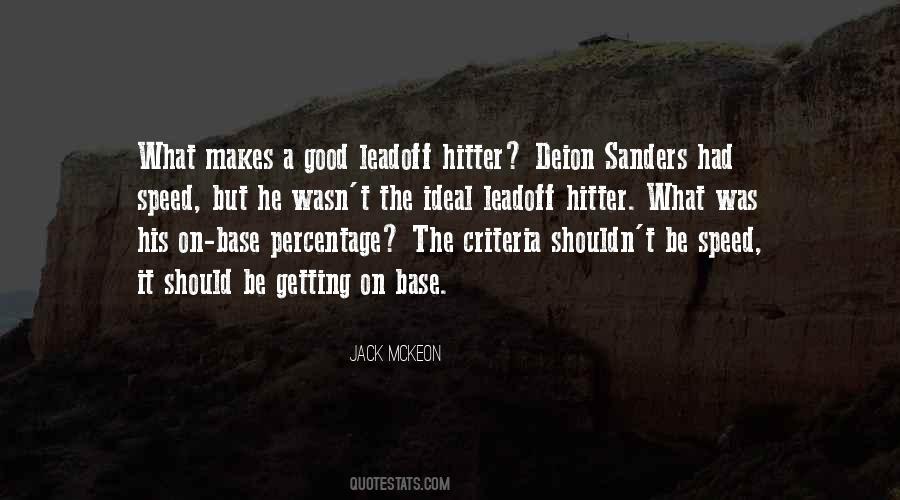 #53. Say you were standing with one foot in the oven and one foot in an ice bucket. According to the percentage people, you should be perfectly comfortable. - Author: Bobby Bragan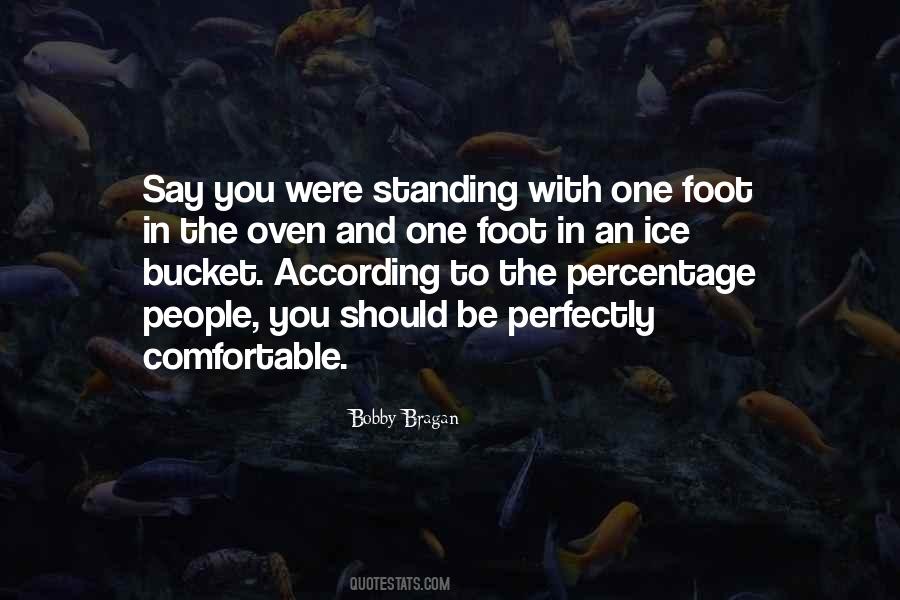 #54. Put simply, the rich pay a lot of taxes as a total percentage of taxes collected, but they don't pay a lot of taxes as a percentage of what they can afford to pay, or as a percentage of what the government needs to close the deficit gap. - Author: Ben Stein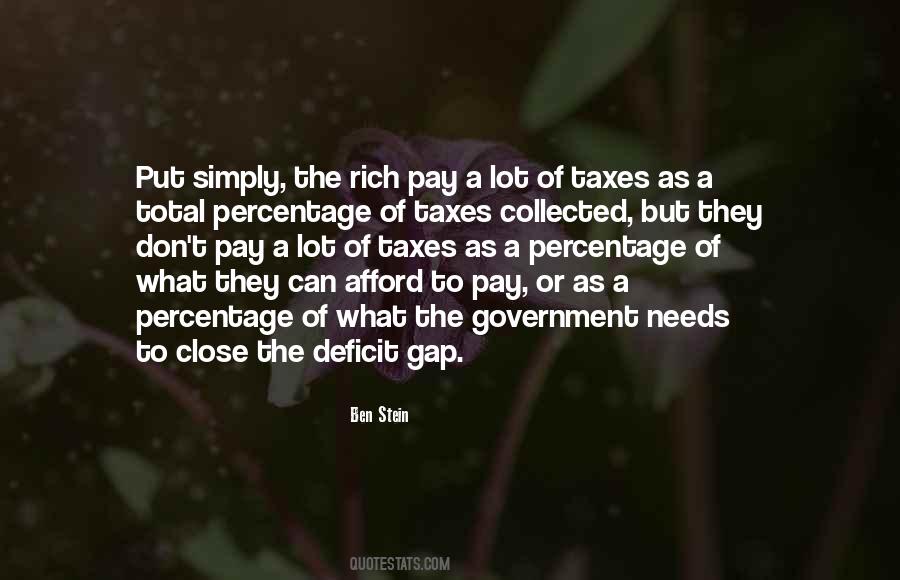 #55. There's a wealth gap that is happening, and that is all over the world, you know? The rich are getting richer and holding a higher percentage of money or wealth that's out there. - Author: Hill Harper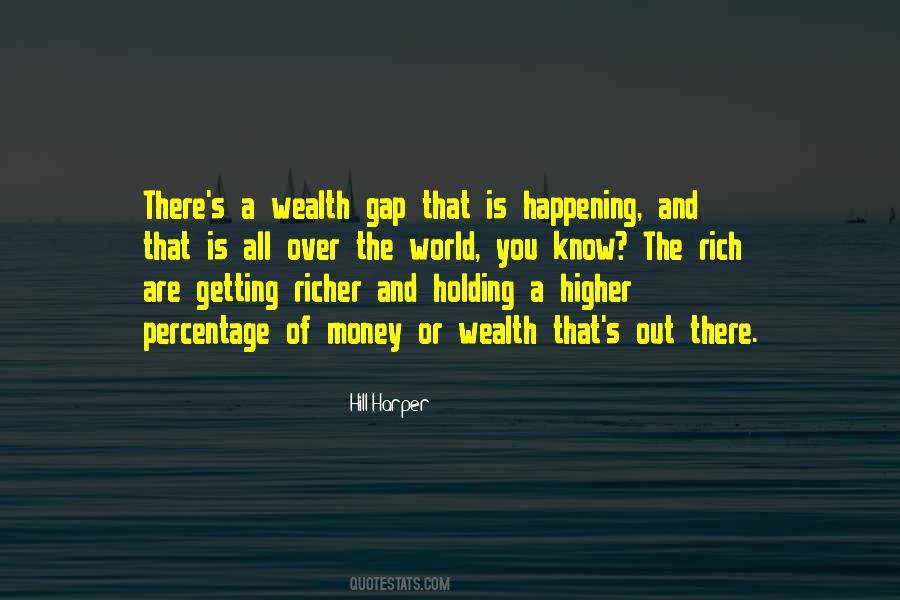 #56. The computer field is intoxicated with change. We have seen galloping growth over a period of four decades and it still does not seem to be slowing down. The field is not mature yet and already it accounts for a significant percentage of the Gross National Product. - Author: Fernando J. Corbato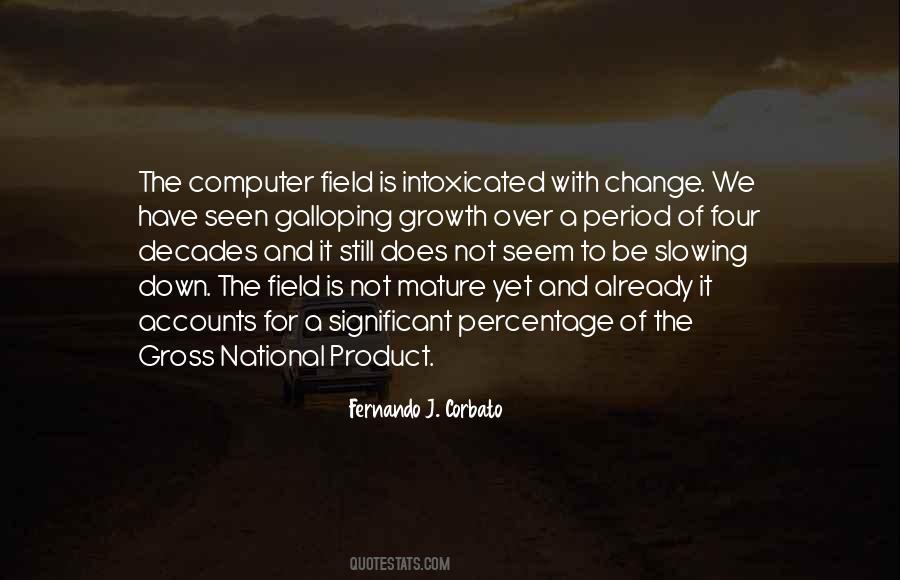 #57. Several of our players at Stanford have used the J-Glove and J-Strap with excellent results. It is a very useful training tool for the player looking to improve both their shot and their percentage. I would recommend it to anyone looking for that extra edge. - Author: Tara VanDerveer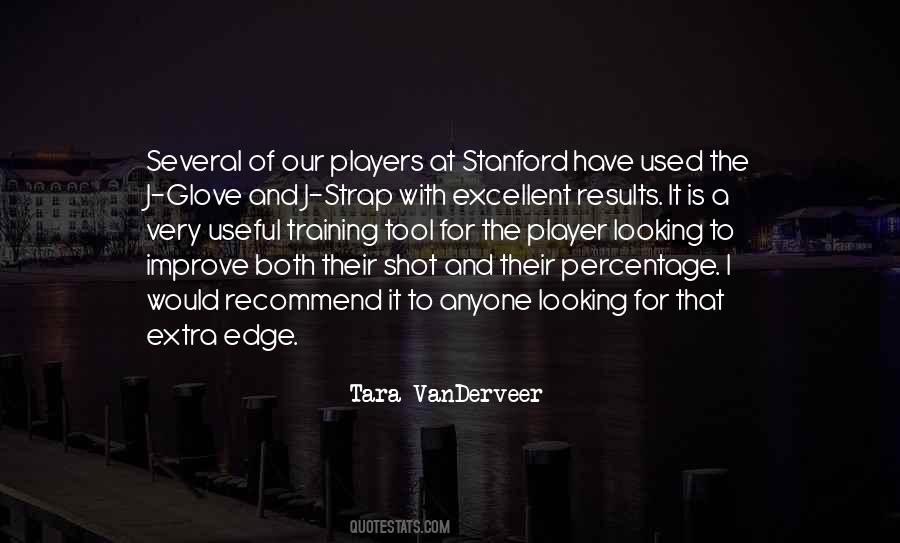 #58. I do feel we can create more jobs and opportunities for Jersey City residents, but in the spirit of free enterprise, I do not think it is right to force companies to hire a fixed percentage of local residents. - Author: Vincent Frank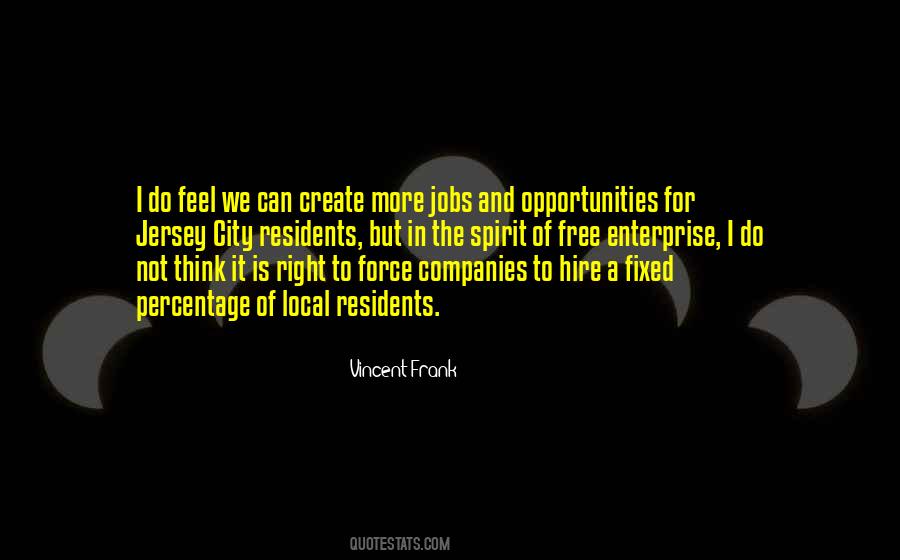 #59. The matinee audiences are different because they're mostly kids, a great percentage kids. So they respond to everything differently, but I understand what they do respond to. - Author: Rue McClanahan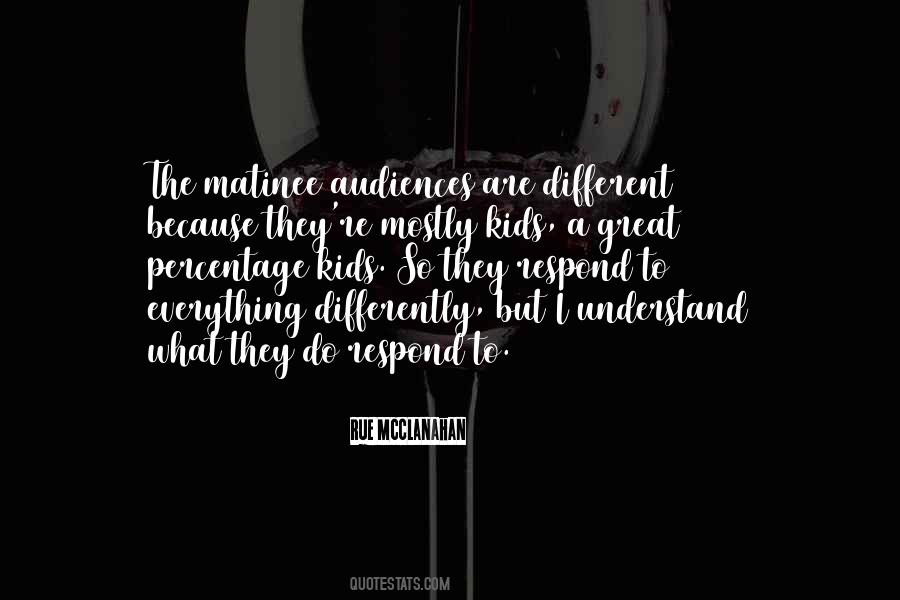 #60. The very unfortunate result of this preoccupation with order, control, safety, pleasure, and certitude is that a high percentage of people never get to the contents of their own lives! - Author: Richard Rohr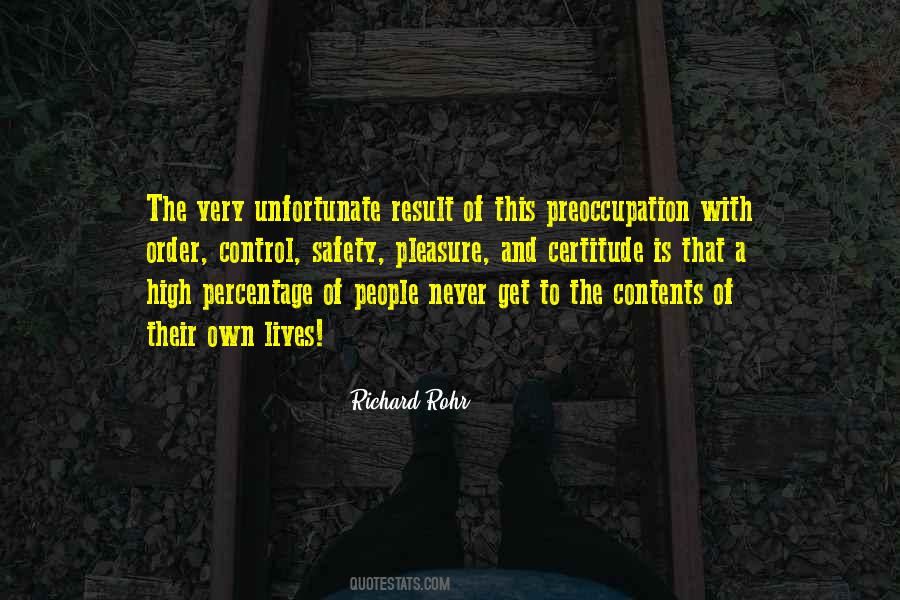 #61. The highest percentage of respondents say that biggest problem in the country is the government. The biggest problem facing our country today is that our government is terrible. Dissatisfaction with the government, problem numero uno by a mile. - Author: Rachel Maddow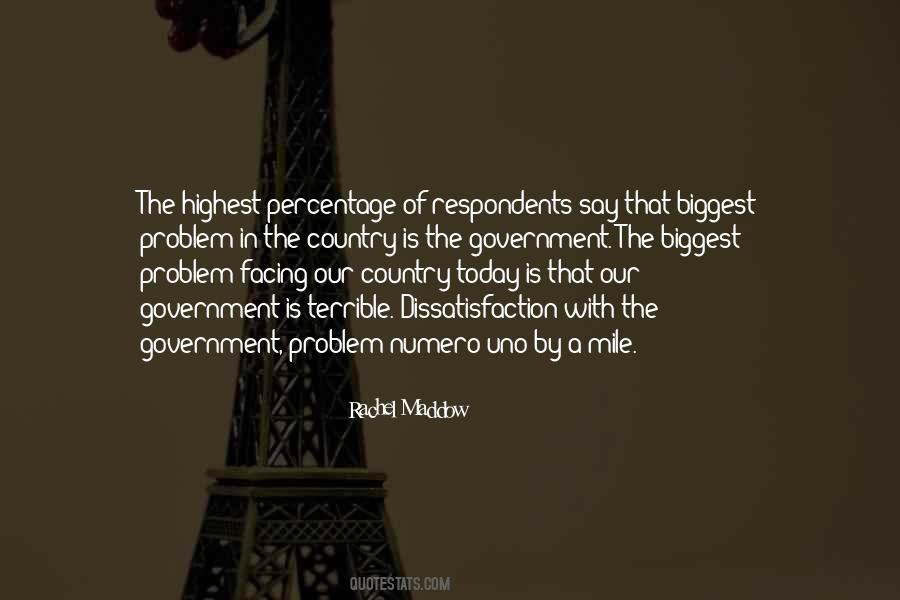 #62. According to a high percentage of novels I've read, it appears that falling in love at the beach is both easier and more satisfying than falling in love in a grocery store or mall. - Author: Erin McCahan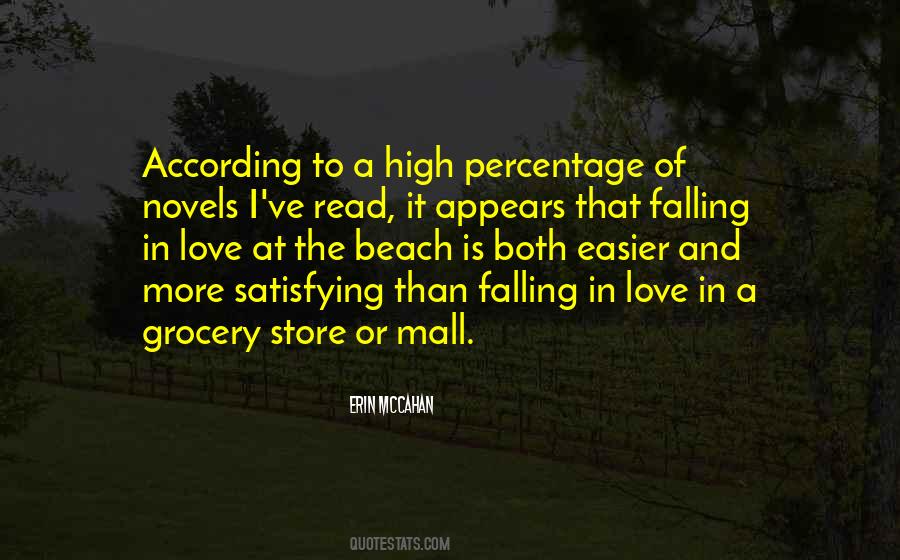 #63. Footage of people camped out at Best Buy or elsewhere is not remotely a celebration. Rather, it's a reminder of just how economically distressed a large percentage of our populace is. - Author: Barry Ritholtz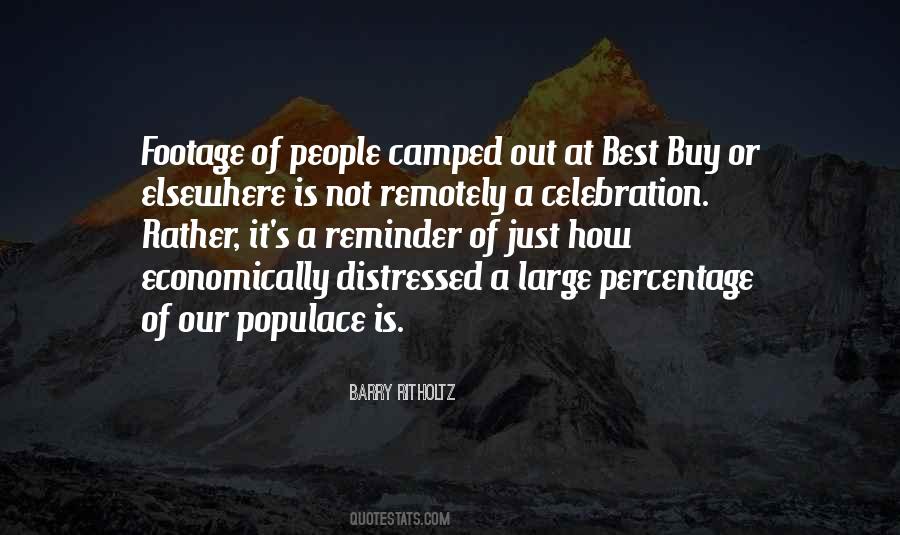 #64. In other words, they believe it's wiser to focus more on increasing sales to a smaller percentage of your existing customers than to find new ones. - Author: Seth Godin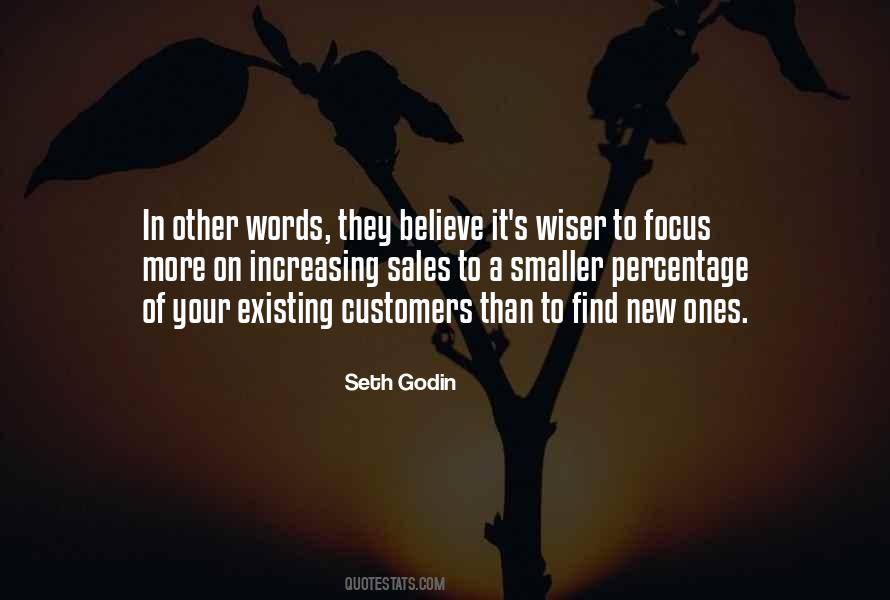 #65. We have never pushed it far enough to know, but we decided 47 percent was the right percentage. You can quote us on that. It's very mathematical. - Author: Cinco Paul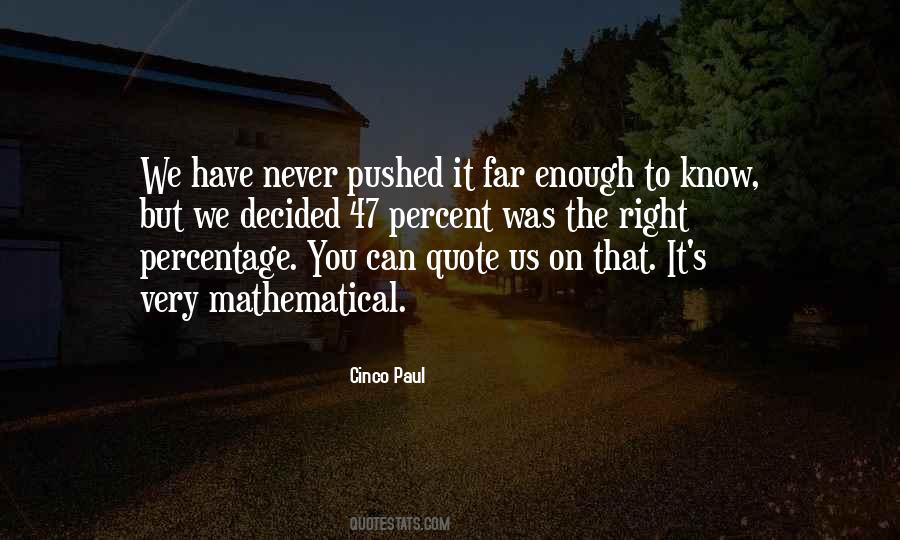 #66. I do like to keep abreast of what the hardcore vocal members of the comics-reading audience are talking about on Internet message boards, but there are so few of them, as a percentage of the buying audience, that I can't allow their opinions to dictate story direction. - Author: Grant Morrison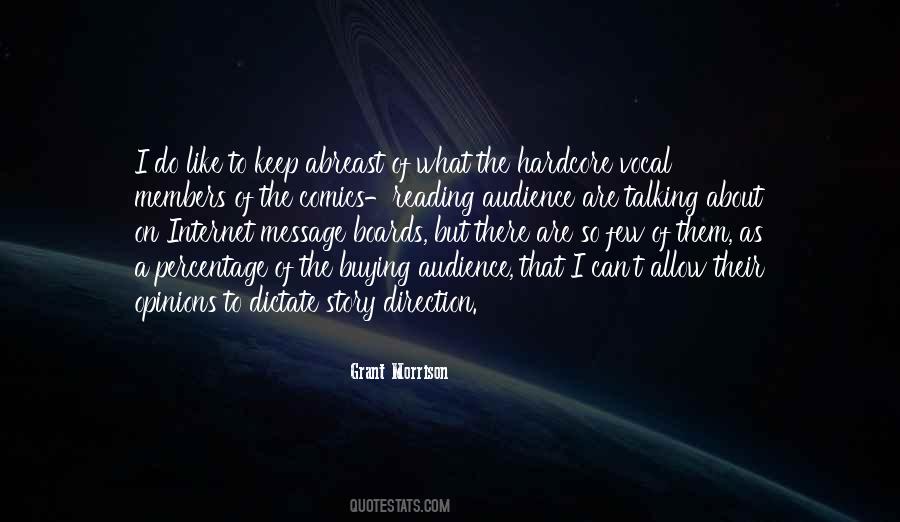 #67. But there's a small percentage who are nothing but born predators. And for them, no amount of good parenting, quality schooling, or therapy sessions will ever make a bit of difference. - Author: Marcia Clark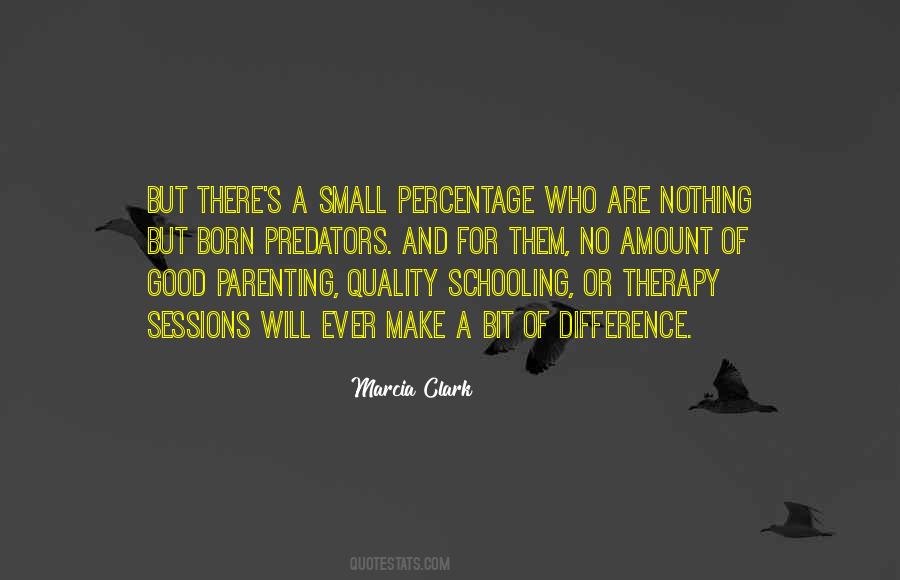 #68. The first time formal customer research is done, executives frequently are surprised by the sizeable percentage of customers who defect for service-related reasons. - Author: Leonard L. Berry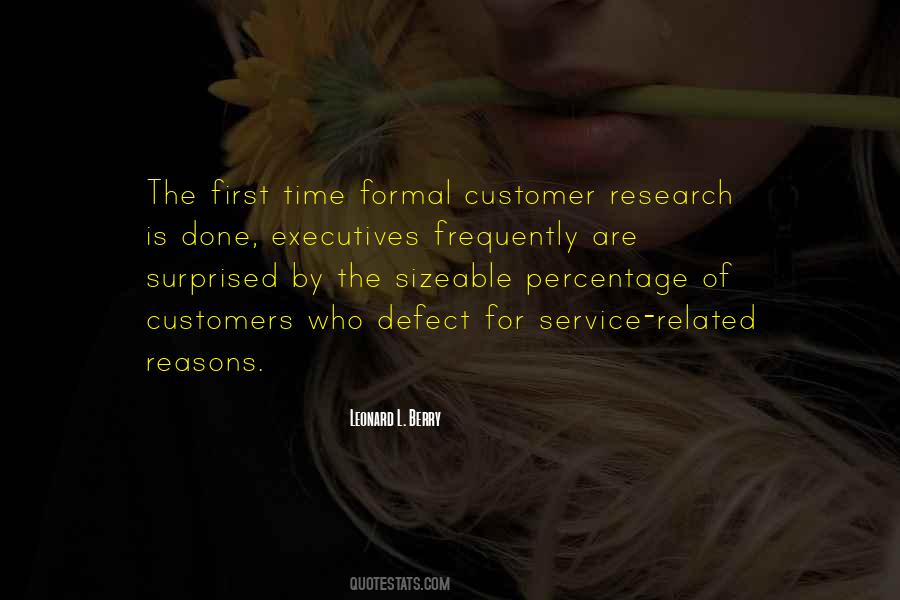 #69. sides yellowed by too many unfiltered Camels. The whole place had the feel of a neighborhood hangout for people too stupid to realize they were drinking away an enormous percentage of their - Author: Julia Kent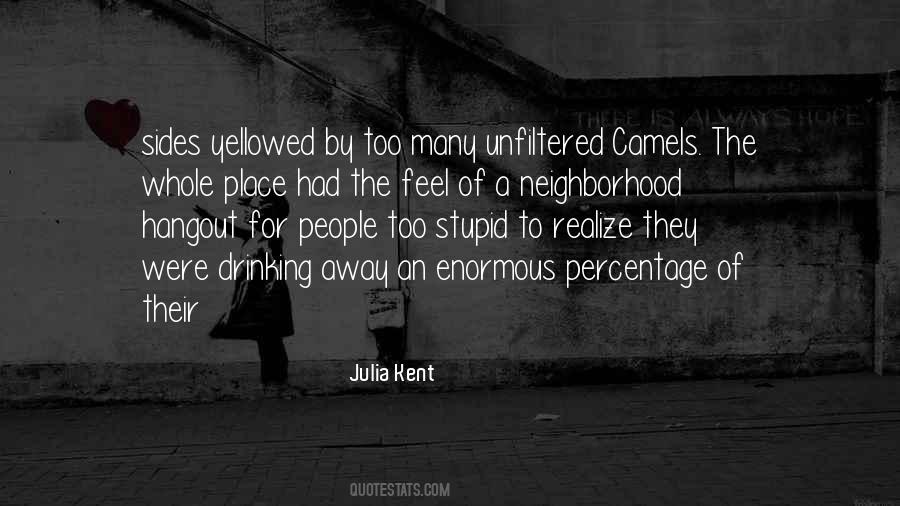 #70. Without organization and leadership toward a realistic goal, there is no chance of realizing more than a small percentage of your potential. - Author: John Wooden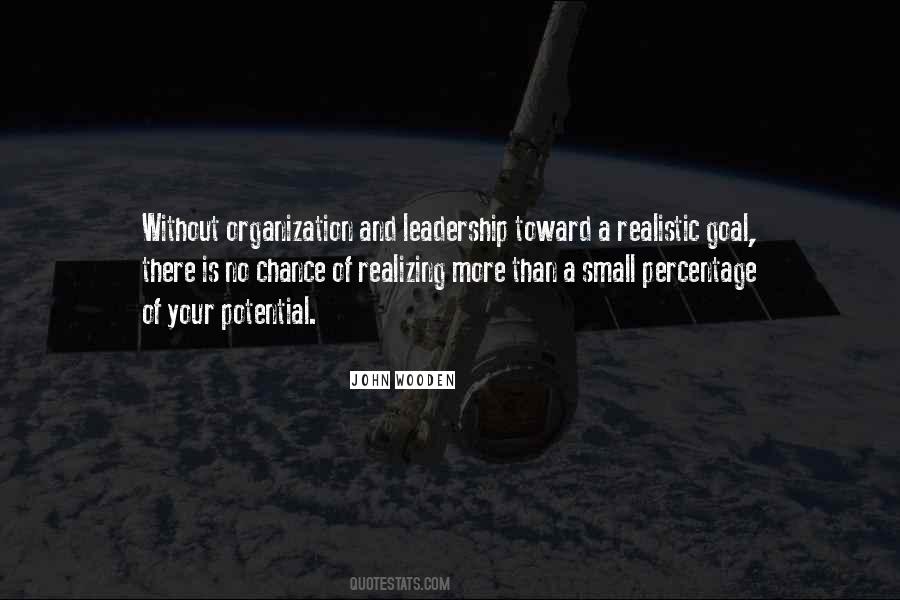 #71. Google actually relies on our users to help with our marketing. We have a very high percentage of our users who often tell others about our search engine. - Author: Sergey Brin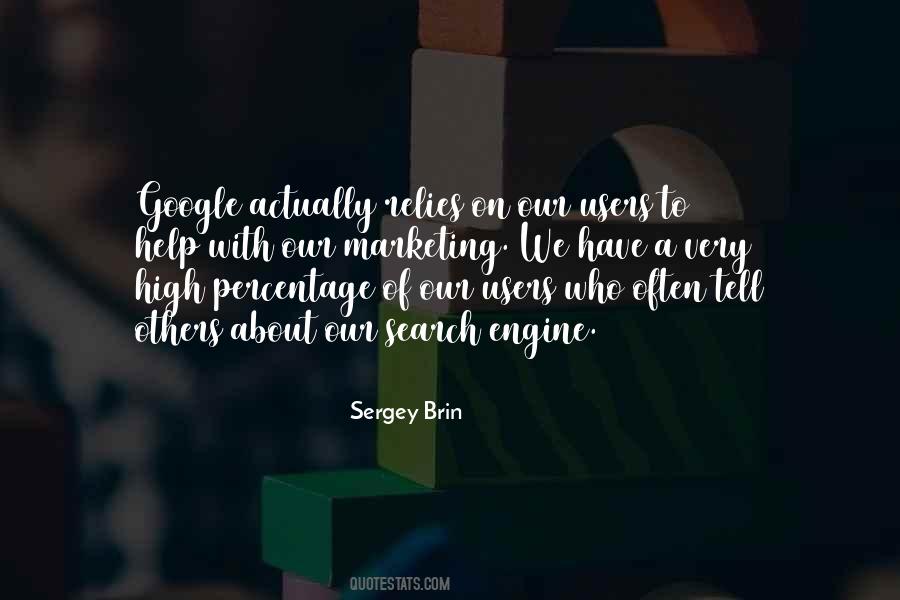 #72. A high percentage of organisations develop a military rationale, whereby only a very small number of people make all of the decisions. There is little wonder, then, that people aren't keen to get out of bed and come to work on a Monday morning. - Author: Ricardo Semler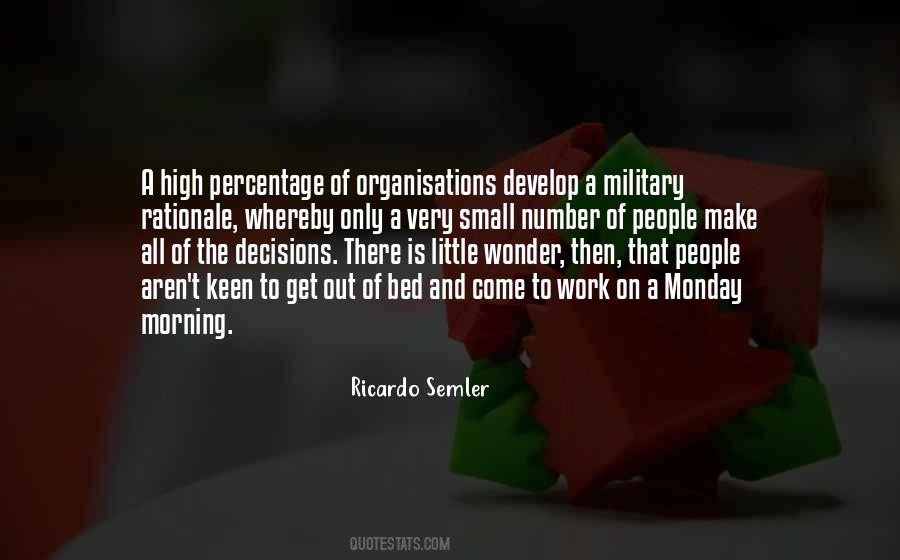 #73. It would take little more than $50 billion to raise every poor person above the official poverty line, yet the percentage of the population classified as poor hardly budges, while annual welfare spending amounts to four times that much. Where's the money going? - Author: Robert Higgs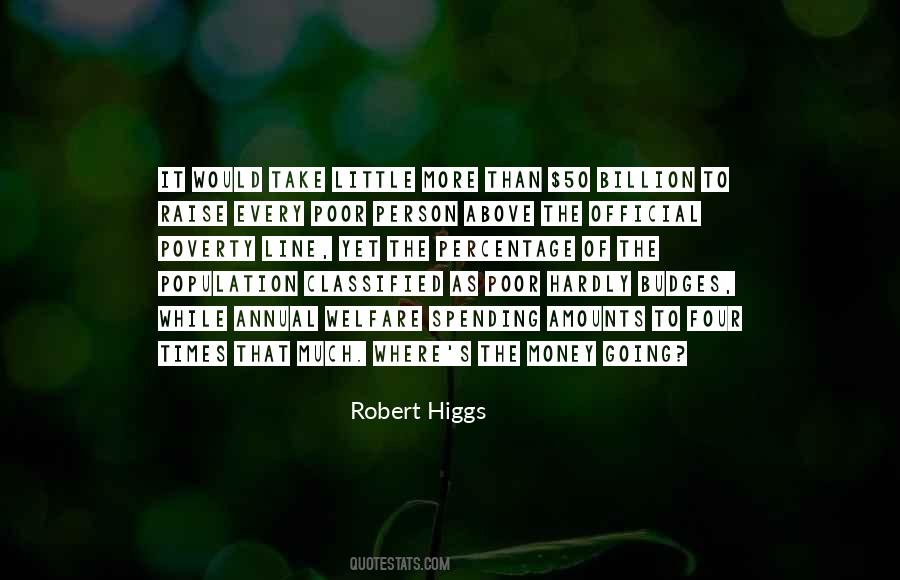 #74. The point here is ... to be just a little less arrogant. To have just a little critical awareness about myself and my certainties. Because a huge percentage of the stuff that I tend to be automatically certain of is, it turns out, totally wrong and deluded. - Author: David Foster Wallace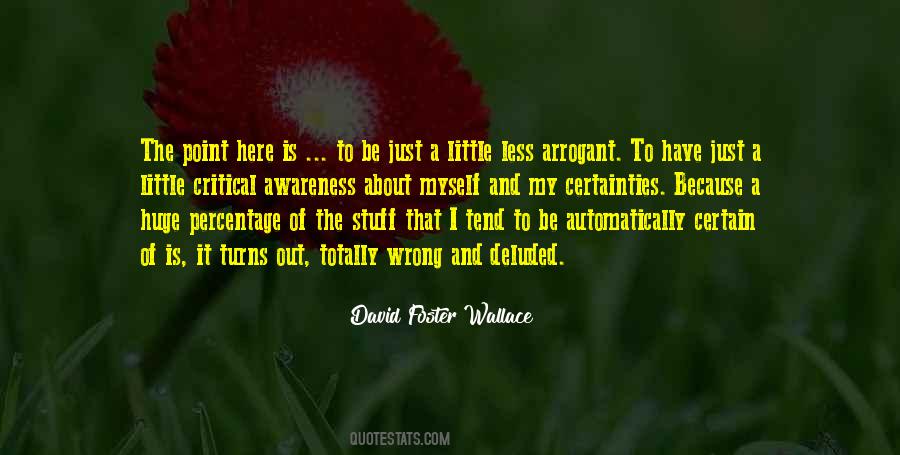 #75. Why is it fair that I should be paying a higher percentage of taxes than anyone else? - Author: Sheldon Adelson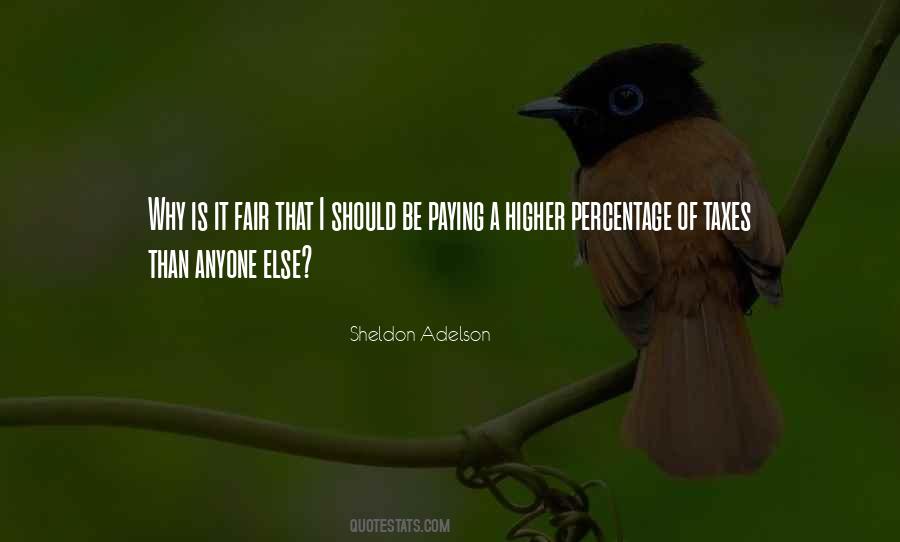 #76. The ideal ratio is one computer to every five students; we are nowhere close to that percentage in a lot of schools in America. - Author: Spencer Abraham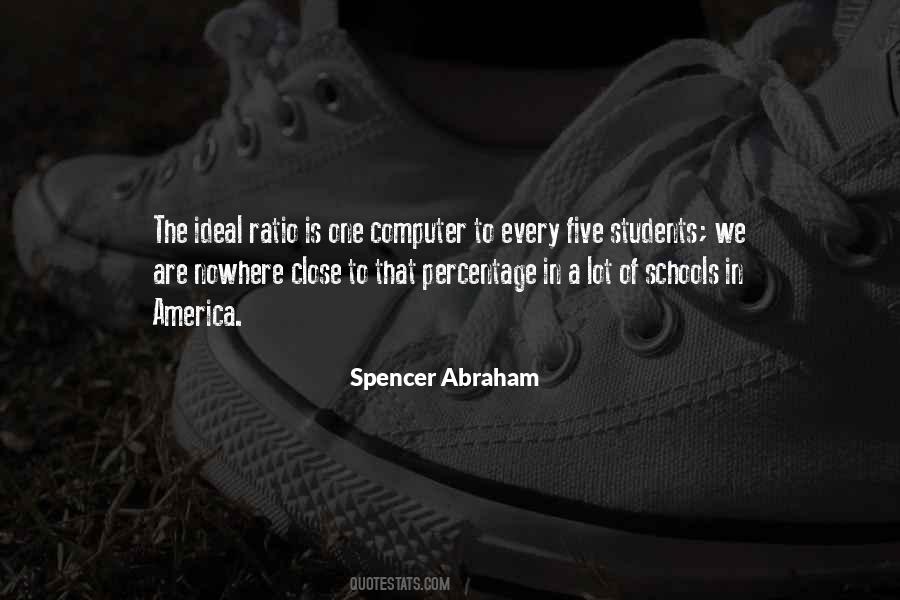 #77. A certain tiny percentage of everyone is gay. - Author: Dan Savage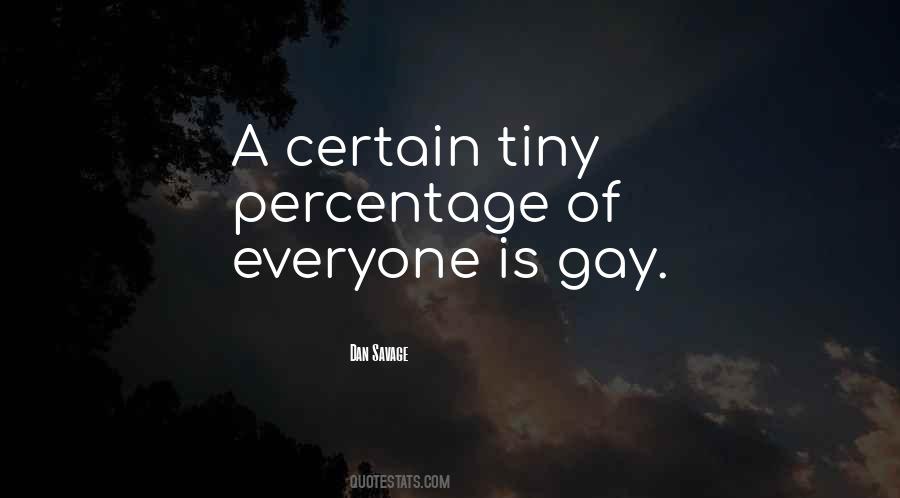 #78. Since 1994, unemployment rates are lower. Median household income is higher. A greater percentage of Americans are graduating from college. Home ownership rates are higher. And the violent crime rate has decreased. - Author: Cliff Stearns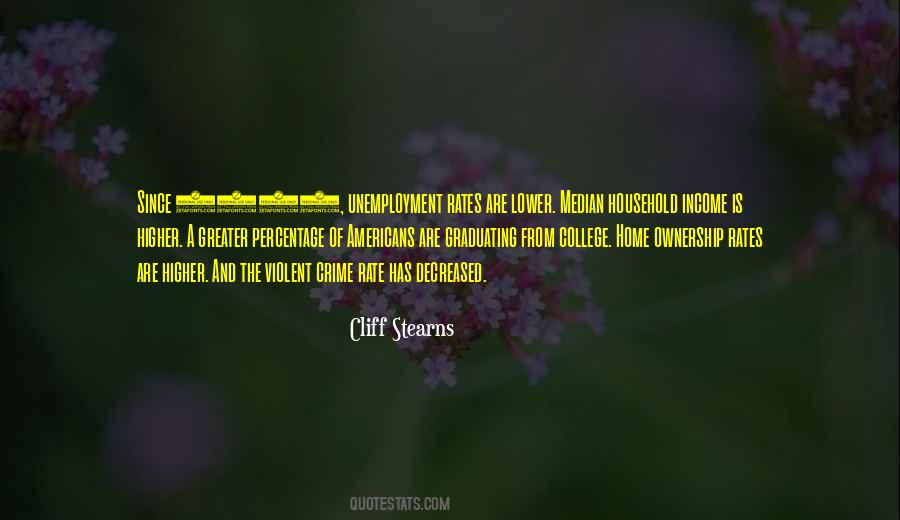 #79. I land a higher percentage of punches than any boxer in boxing. - Author: Floyd Mayweather Jr.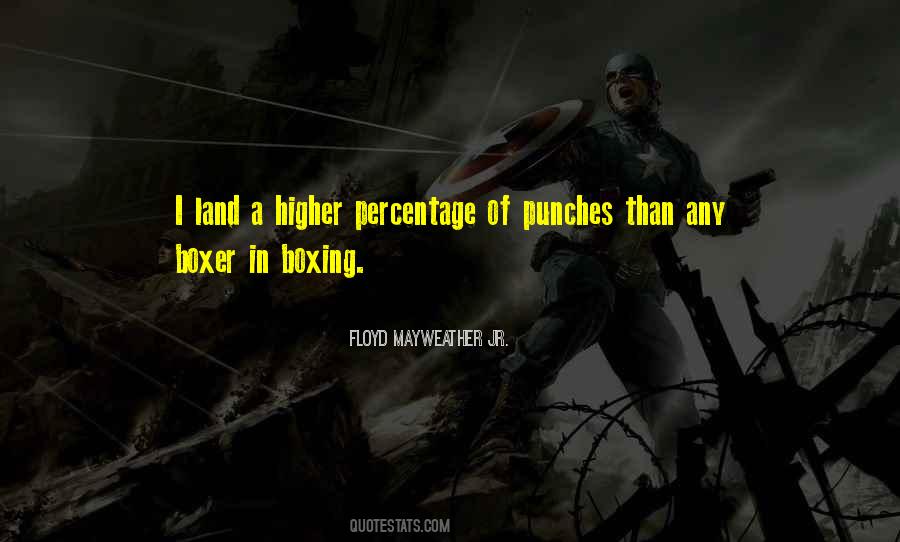 #80. A large percentage of the staff plays both online and here at the Casinos. - Author: Tim Page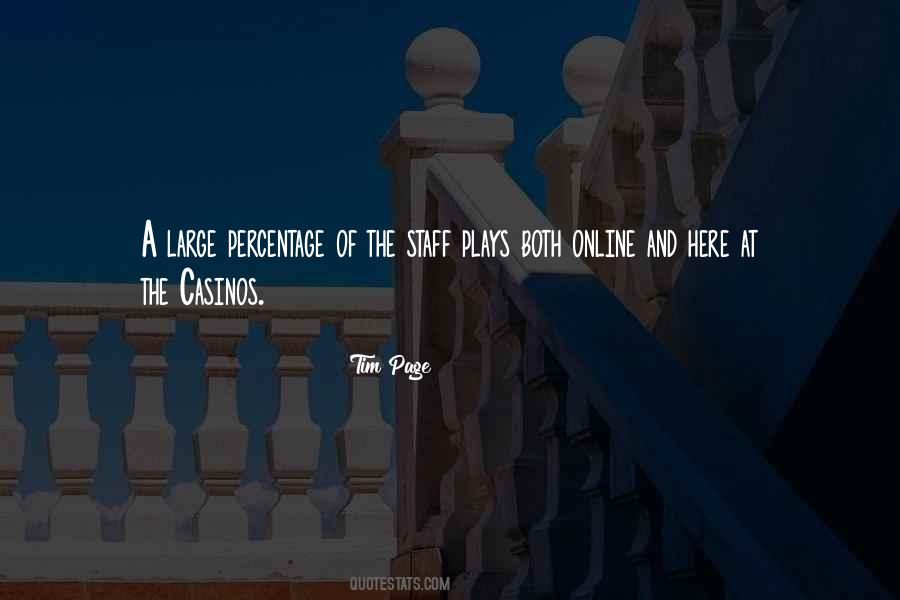 #81. As we move towards 8 or 10 billion people on the planet, there's a little less gold per capita. Each one of us will continue to be fighting over an ever smaller percentage of total resources. This is not a happy thought. - Author: Dean Kamen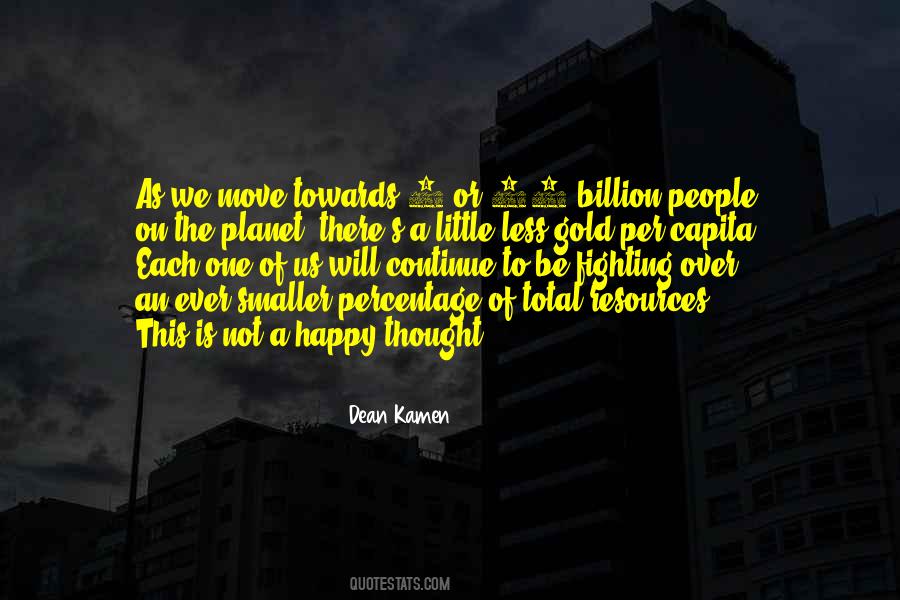 #82. The percentage of Americans who claimed membership in a church had been fairly low across the nineteenth century, though it had slowly increased from just 16 percent in 1850 to 36 percent in 1900. - Author: Kevin M. Kruse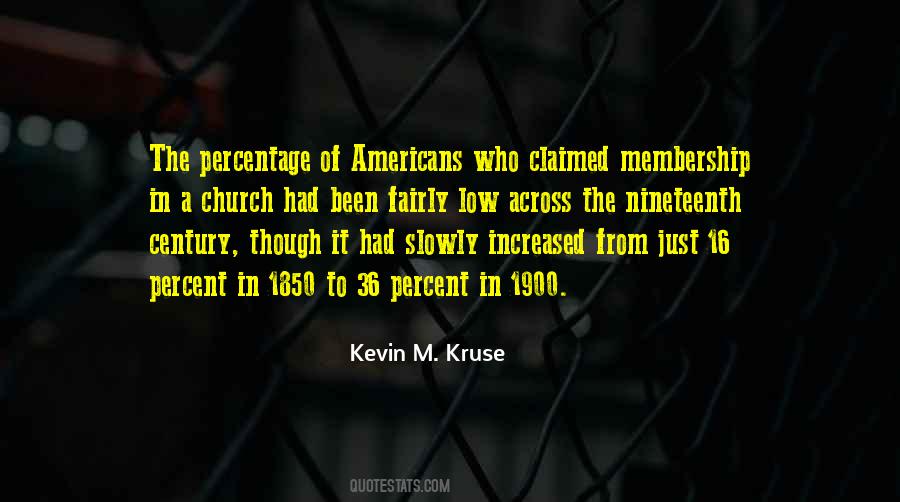 #83. Meryl [Stripe]spoke out about the low percentage of female critics on Rotten Tomatoes. Why are there 760 male critics and just 168 women? You are immediately [biased] on what kind of films you are being told to go see. What are you told are good films? Male films. - Author: Catherine Hardwicke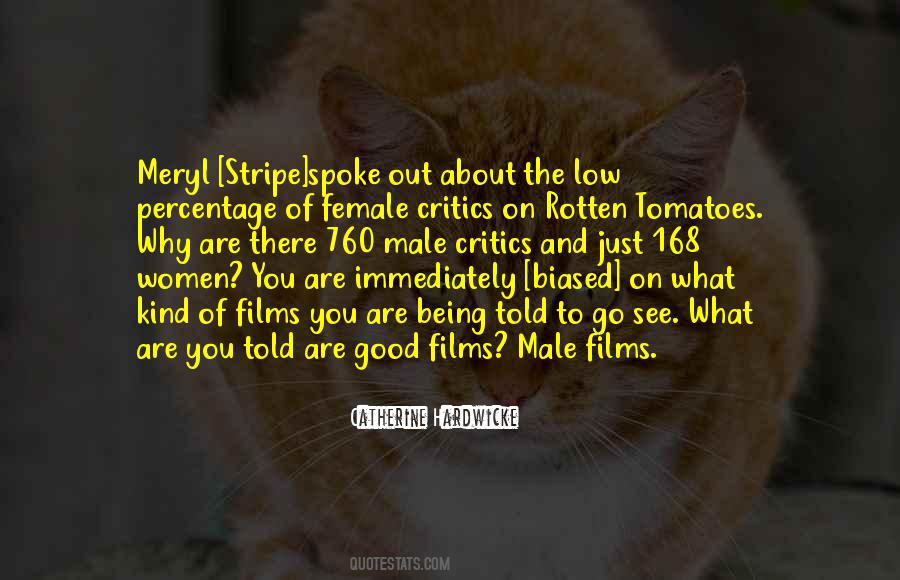 #84. We are taught to reinvent ourselves all the time. And nature is teaching us. What is necessary for us to do to create sustainability? There's a shift that has to take hold in our thinking, and it's hard to know when it's going to click for the larger percentage of us. - Author: Horst Rechelbacher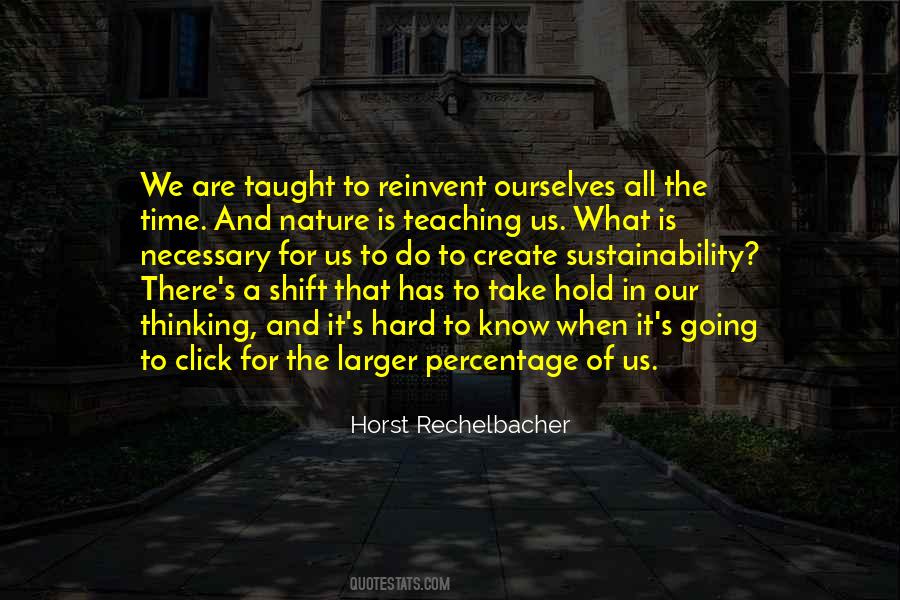 #85. An appallingly high percentage of doctors and other practitioners are still pretty much out of the loop regarding trigger points, despite their having been written about in medical journals for over sixty years. - Author: Clair Davies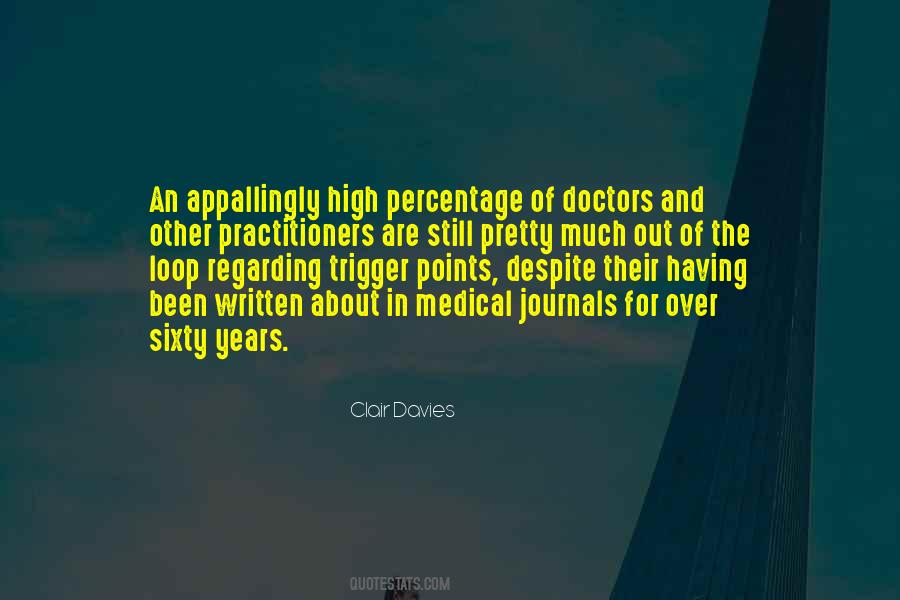 #86. An immense percentage of snobs, I believe, is to be found in every rank of this mortal life. - Author: William Makepeace Thackeray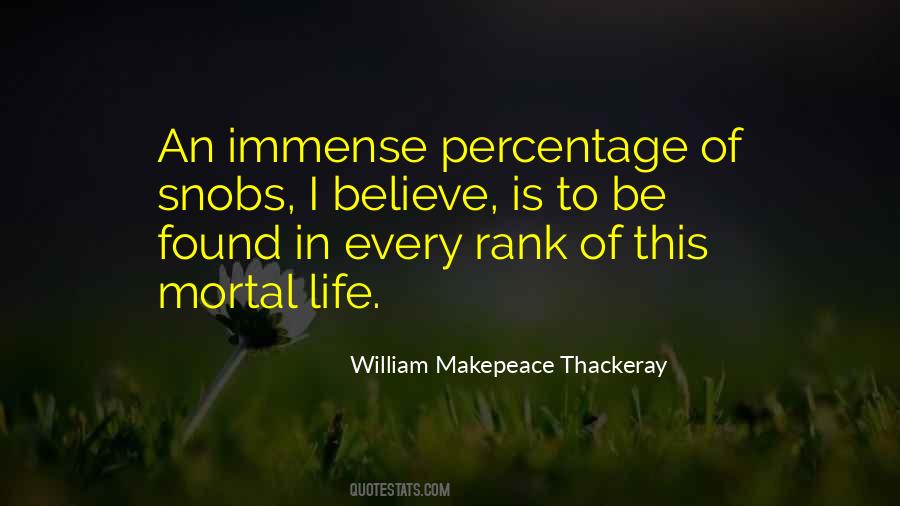 #87. What percentage should you give? I tell people to start with 10 percent because the Bible writers have a lot to say about the tithe, which means, "tenth." For some people, that's extremely uncomfortable. But so is a colonoscopy, and those save countless lives. - Author: Andy Stanley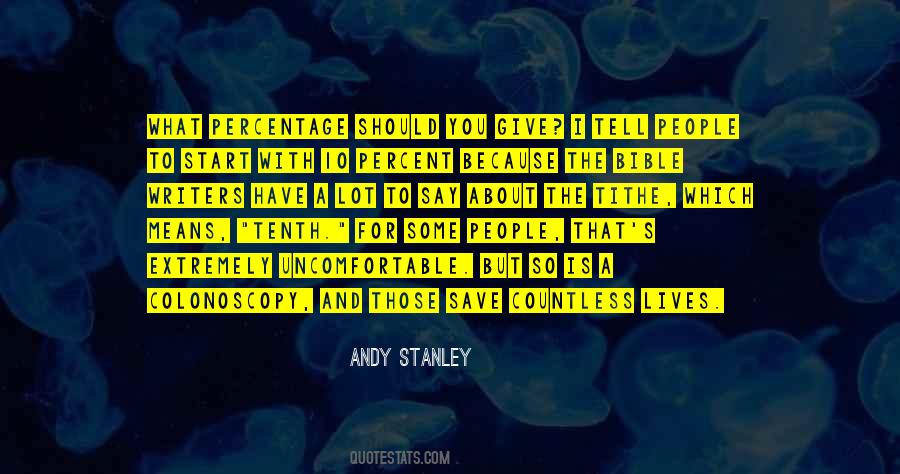 #88. In regular circumstances, 60 percent of criminal psychopaths released into the outside world go on to re-offend. What percentage of their psychopaths had? As it turned out: 80 percent. The Capsule had made the psychopaths worse. - Author: Jon Ronson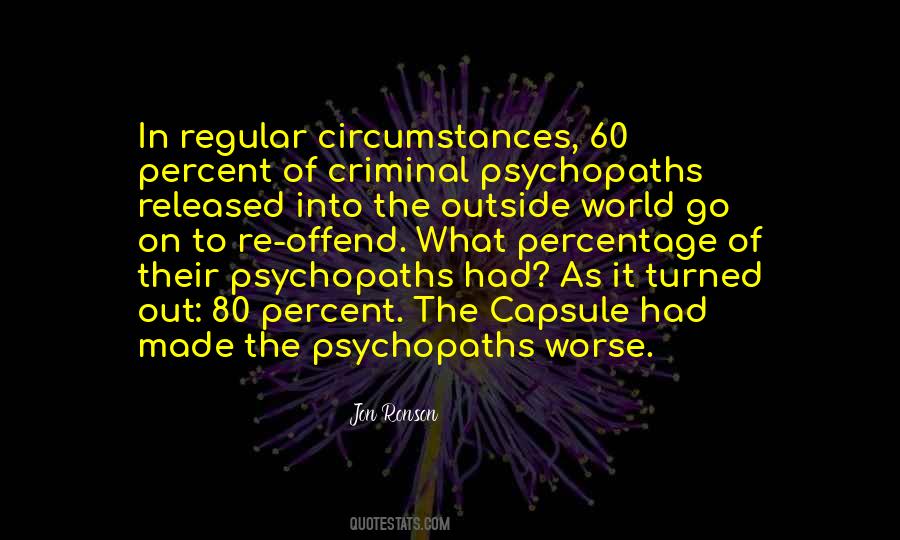 #89. I felt shame for living in a nation of unprecedented prosperity-a nation that spends a smaller percentage of income on food than any other civilization has in human history-but in the name of affordability treats the animals it eats with cruelty so extreme it would be illegal if inflicted on a dog. - Author: Jonathan Safran Foer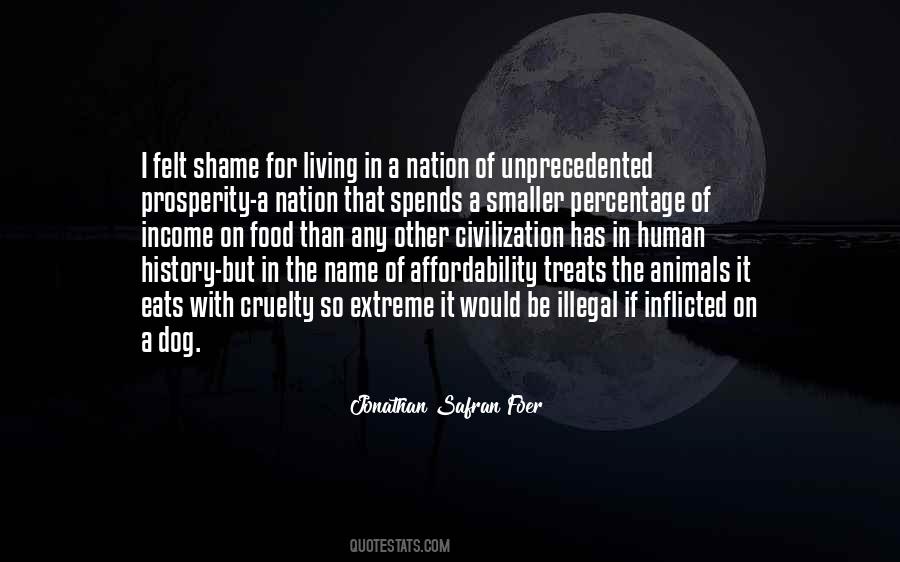 #90. It's crazy that America gives such a paltry percentage of its GNP to the starving nations. - Author: David Gilmour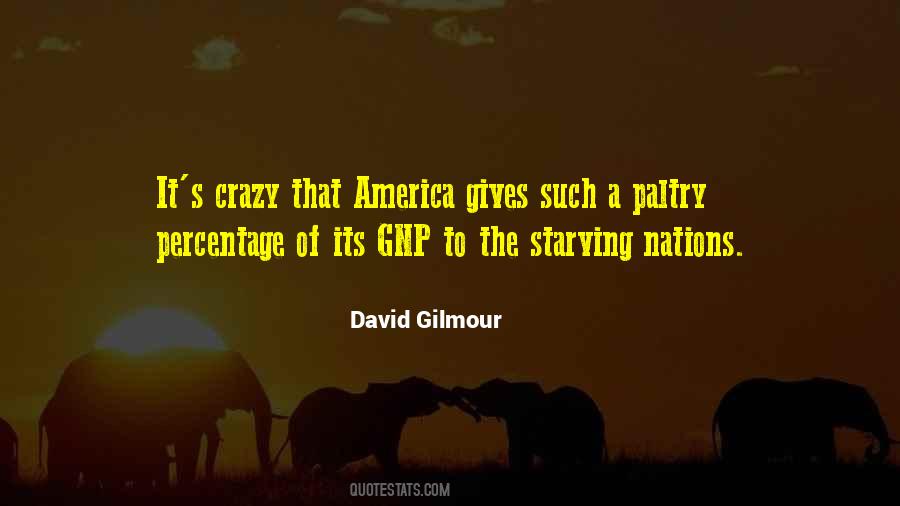 #91. There's the same percentage of genius happening in both genders, but there's less women writing scripts and out there looking for the job. - Author: Dan Harmon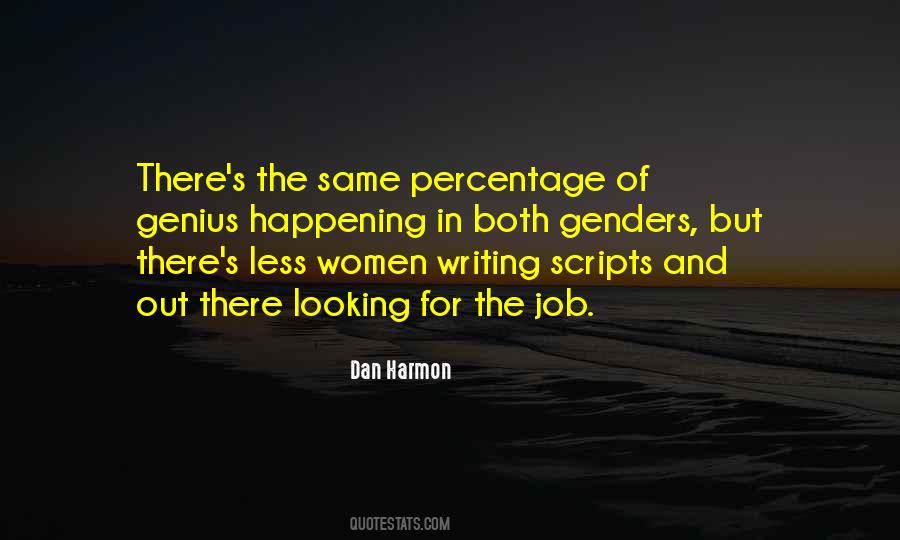 #92. If I used a higher percentage of my brain I wouldn't of had to ride on the short bus. - Author: Stanley Victor Paskavich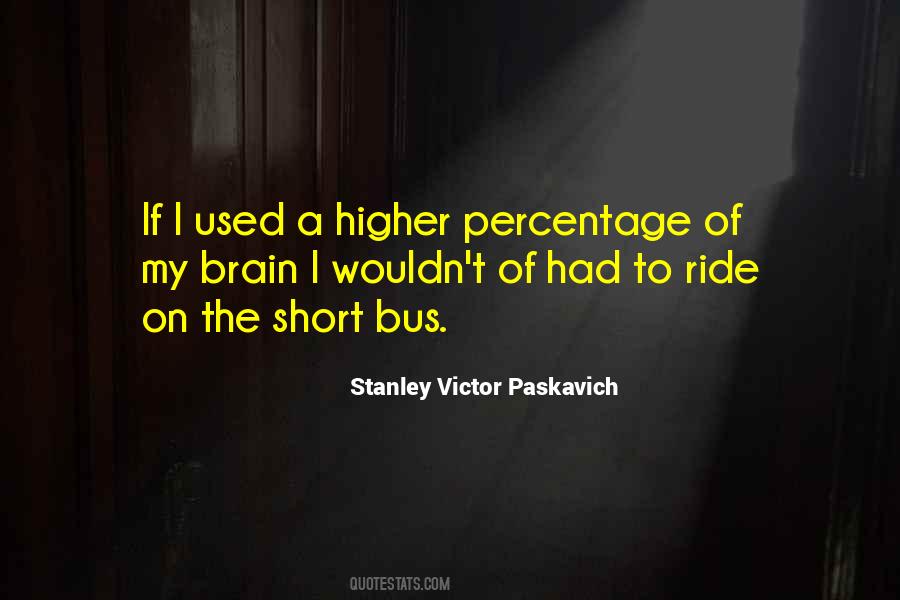 #93. On-base percentage really doesn't mean that much. - Author: Mitch Williams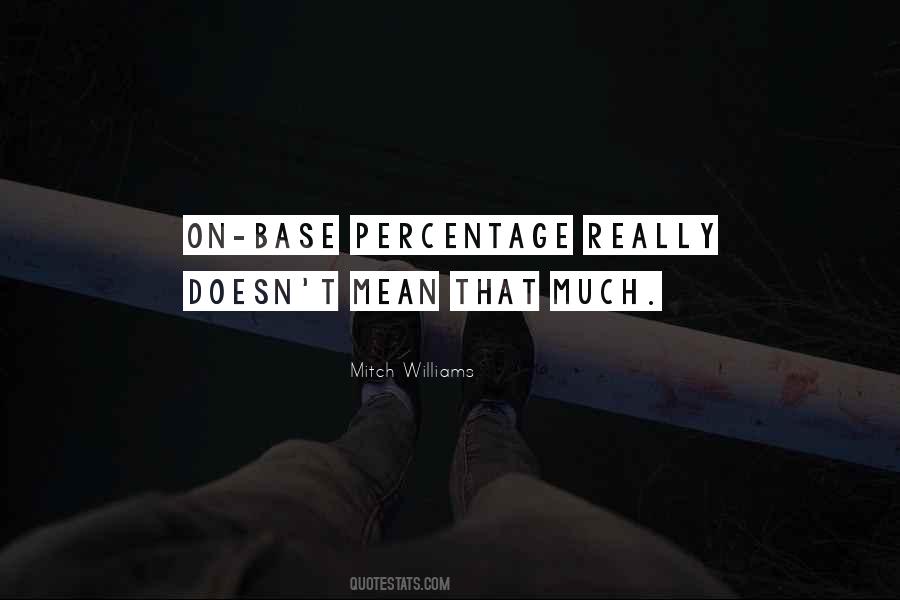 #94. And I have to say, I agree with some of the criticisms that some have made about that state program which allocates the grant money on a very rigid formula all across the country, with a certain percentage to each state. - Author: Michael Chertoff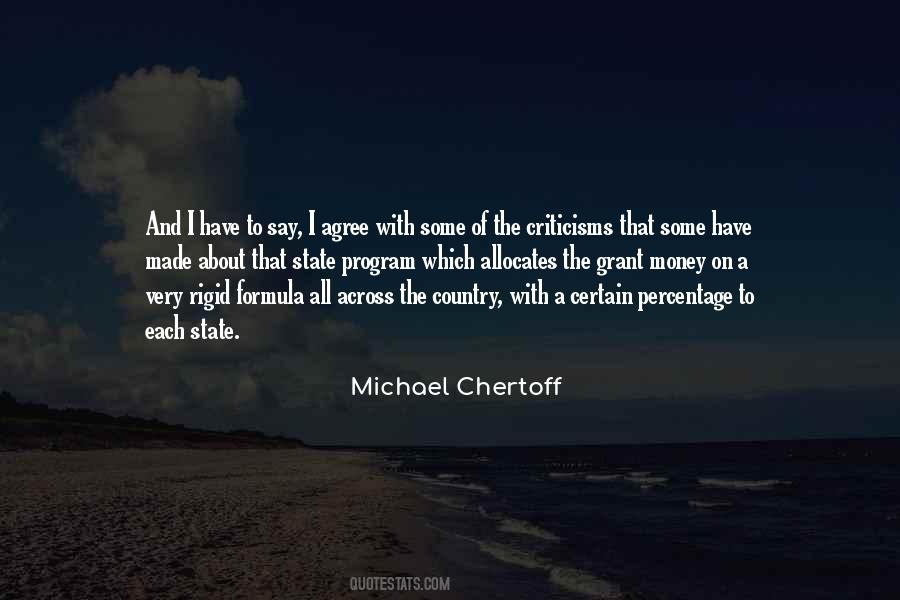 #95. At the risk of some oversimplification, if the skill composition of our work force meshed fully with the needs of our increasingly complex capital-stock, wage-skill differentials would be stable, and the percentage changes in wage rates would be the same for all job grades. - Author: Alan Greenspan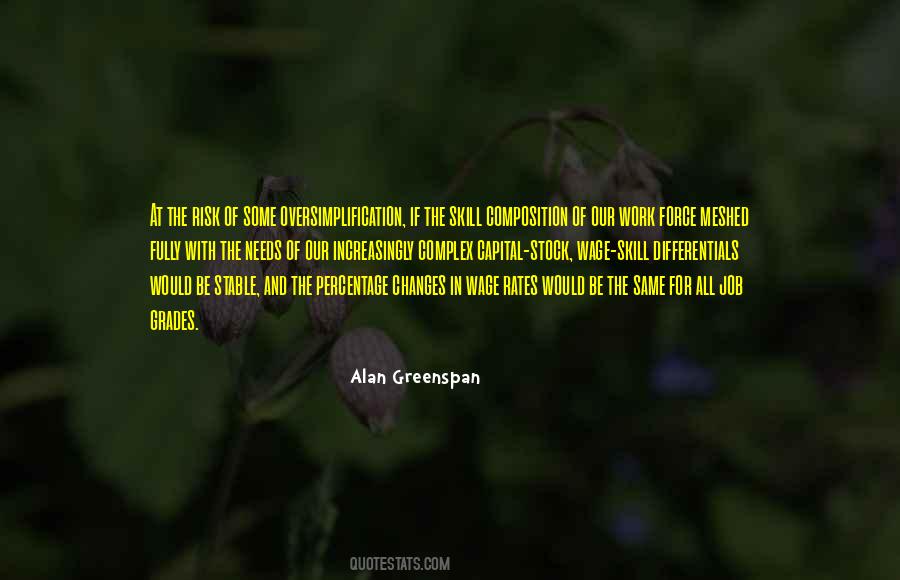 #96. My mother was a single parent, a speech therapist who worked for a company that kept a substantial percentage of the income they billed for her to teach stroke victims in convalescent hospitals to talk again. - Author: Mona Simpson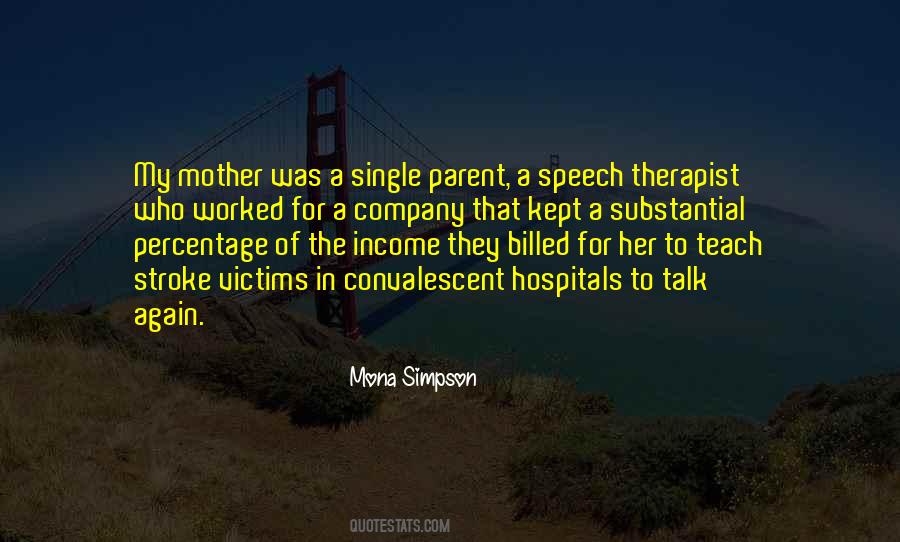 #97. A certain percentage, they tell us, must every year go... that way... to the devil, I suppose, so that the rest may remain chaste, and not be interfered with. - Author: Anton Chekhov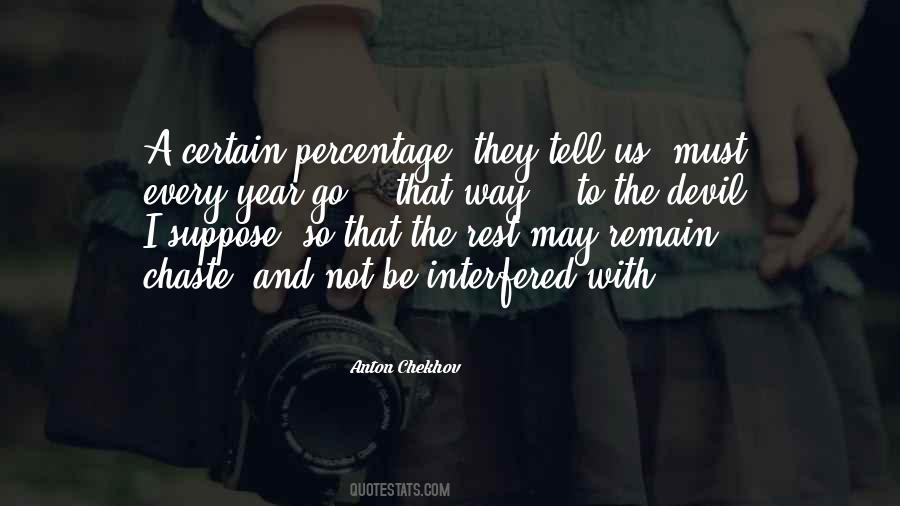 #98. Indeed, it has to be said that the percentage of old human sayings and proverbs that are actually true is very far from 100 percent. Seems it may be less important that it be true than that it rhyme, or show alliteration or the like. What goes around comes around: really? What does this mean? - Author: Kim Stanley Robinson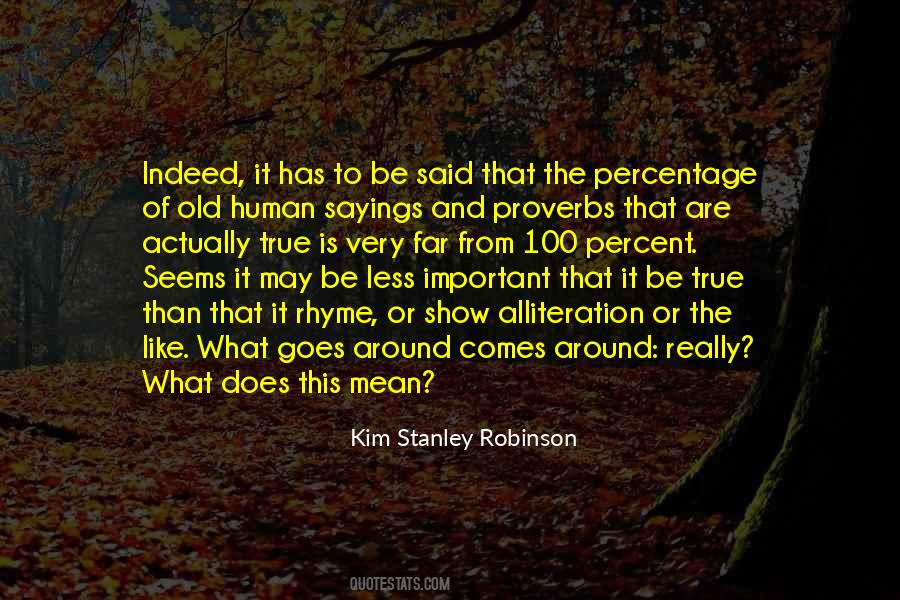 #99. Philanthropy, although it's tiny compared to the government, it's 2% of the US economy, which is the largest percentage, other than the Middle East. - Author: Bill Gates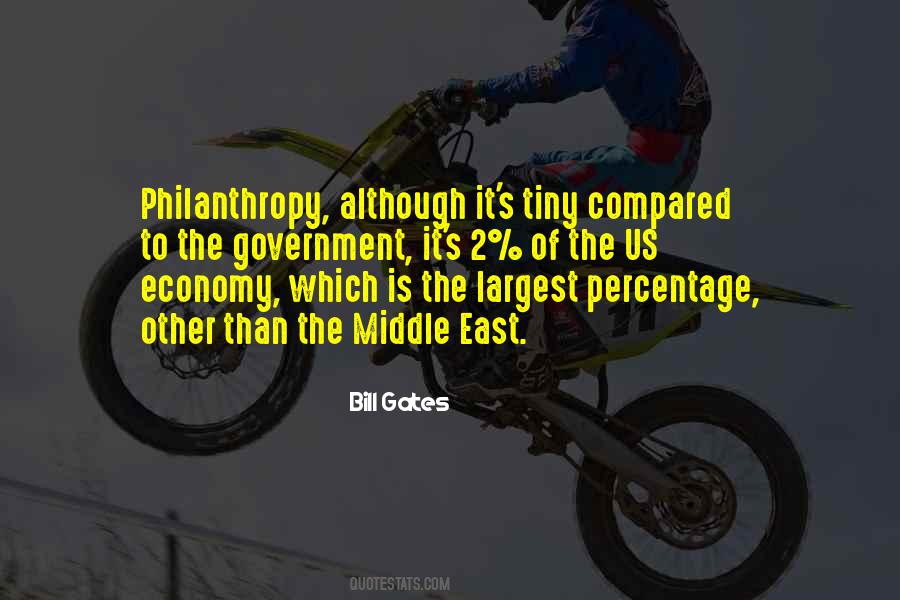 #100. Sometimes people are surprised to learn that most of the films I've made don't work. They've been released but nobody has ever seen them. Maybe 40 percent of them are very successful. That's a very high percentage; most people have maybe 10 or 15 percent of their films work. - Author: George Lucas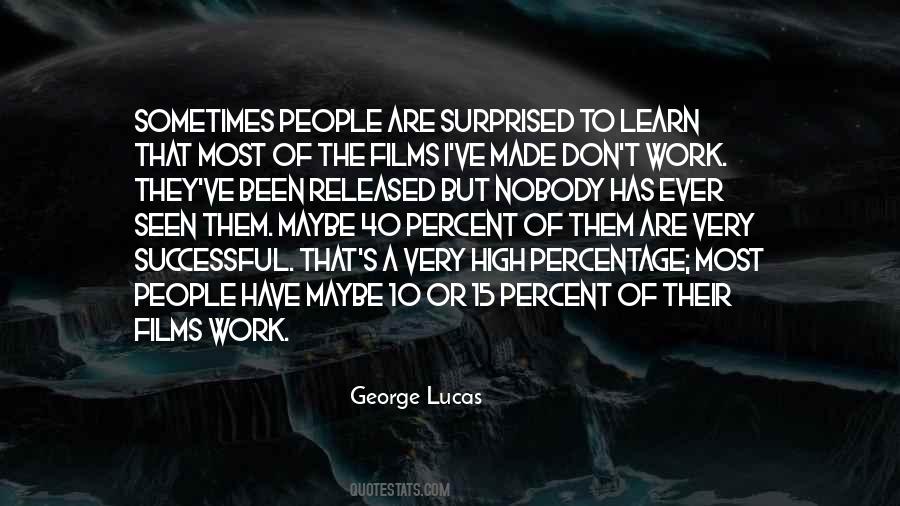 Famous Authors
Popular Topics