Our Family Famous Quotes & Sayings
List of top 100 famous quotes and sayings about our family to read and share with friends on your Facebook, Twitter, blogs.
Top 100 Our Family Quotes
#1. Radio was my life growing up. Then, I started in our family band with my uncle, my father, my aunt and my little brother. We would go to The Chicken Box and all the bars and play. - Author: Meghan Trainor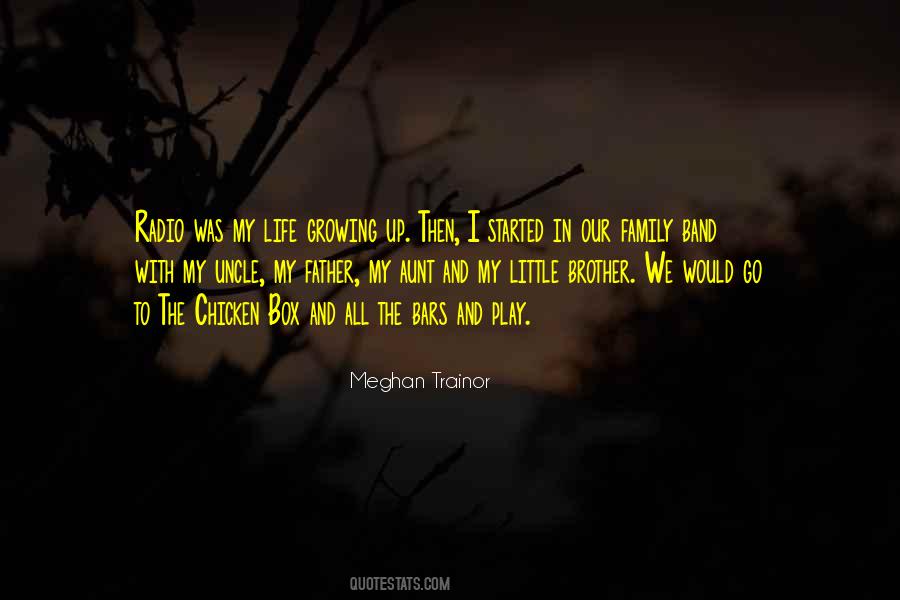 #2. It is that fundamental belief, it is that fundamental belief, I am my brother's keeper, I am my sister's keeper that makes this country work. It's what allows us to pursue our individual dreams and yet still come together as one American family. E pluribus unum. Out of many, one. - Author: Barack Obama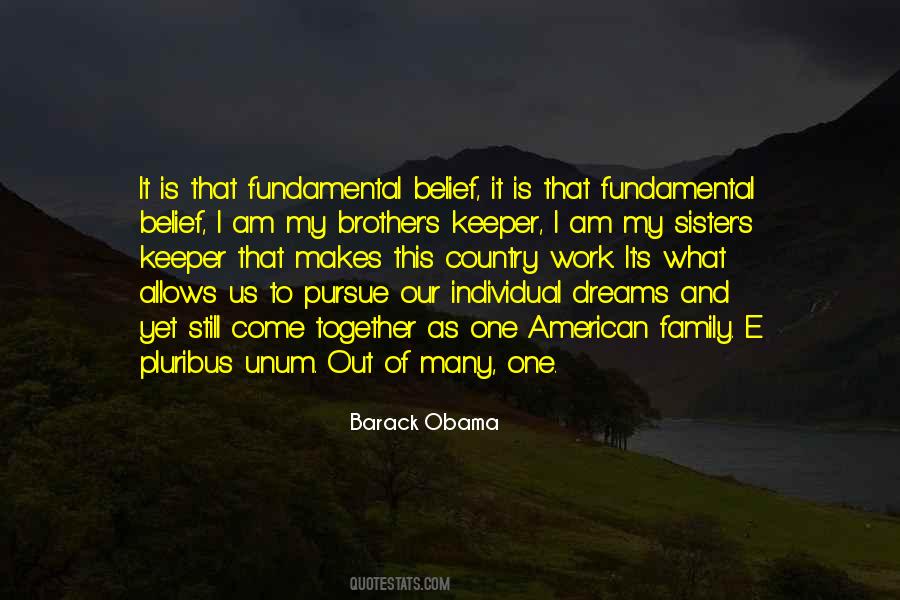 #3. Our job is, first and foremost, to make sure our family is whole. - Author: Michelle Obama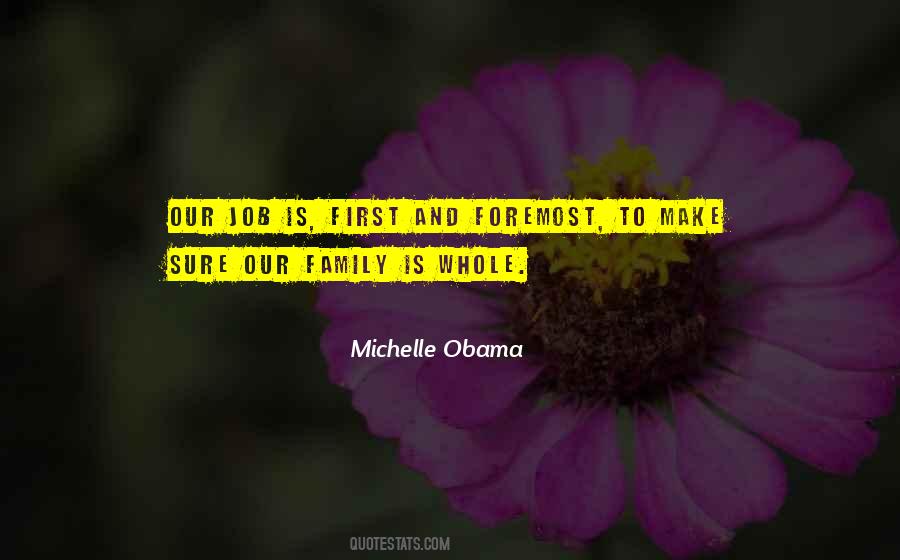 #4. It was always so important to my dad for us to understand about the Genocide and to know about our family history. - Author: Kim Kardashian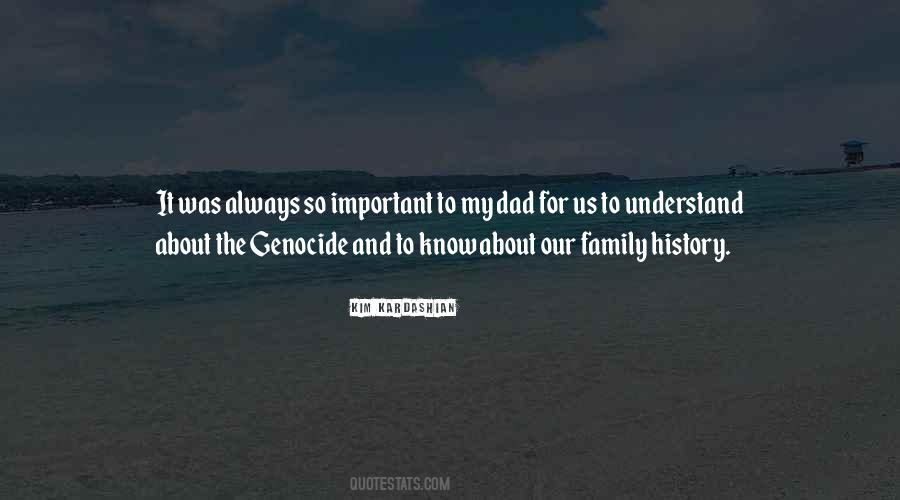 #5. Whether or not something's fair isn't the right question for us. The question is, how much is the case worth? You might not like that, but this family didn't come to our firm so we could hold their hands. They came to get money for their suffering." "Mrs. - Author: Victor Methos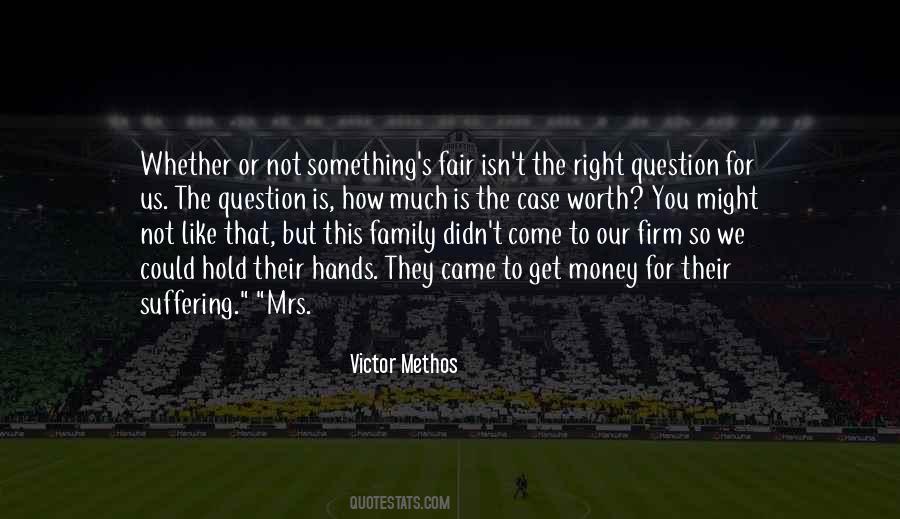 #6. Obviously, family values mirror our personal priorities. Given the gravity of current conditions, would parents be willing to give up just one outside thing, giving that time and talent instead to the family. - Author: Neal A. Maxwell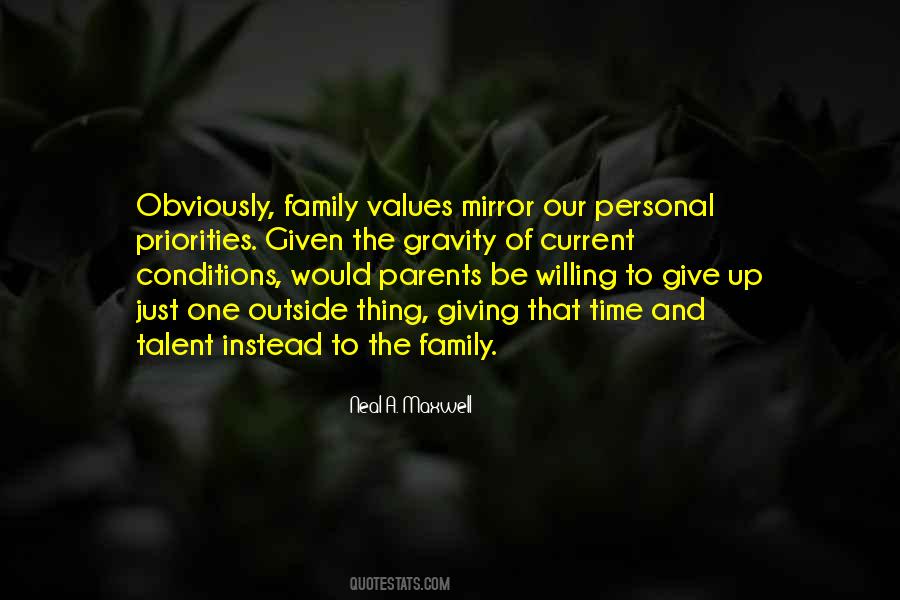 #7. Cancer runs in our family. I lost my grandmother to it. There's a saying that you meet people and instantly know them. My grandmother and I had that. The first time my heart was broken was when my grandmother passed away. I was twenty-one. - Author: Cote De Pablo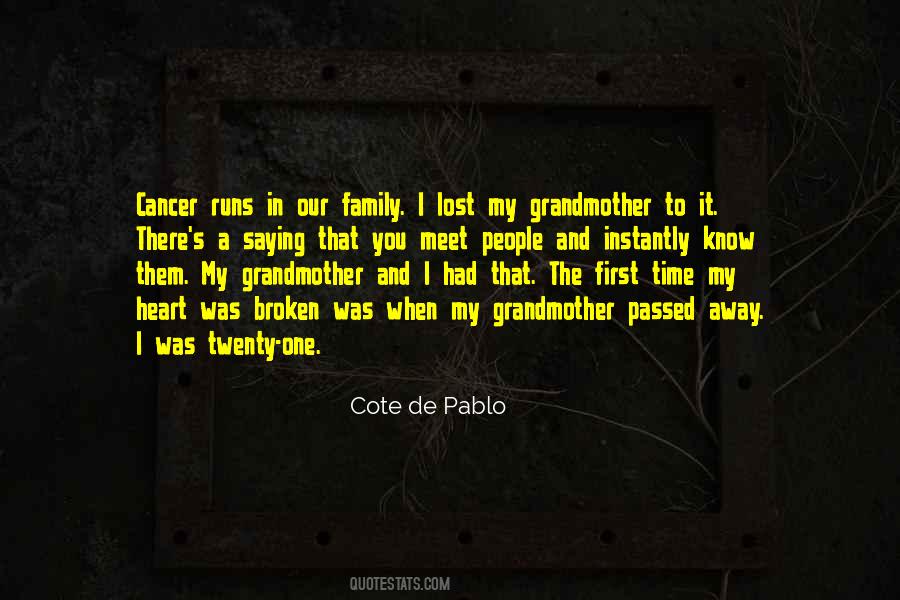 #8. But it isn't true," Orville responded emphatically, "to say we had no special advantages . . . the greatest thing in our favor was growing up in a family where there was always much encouragement to intellectual curiosity. - Author: David McCullough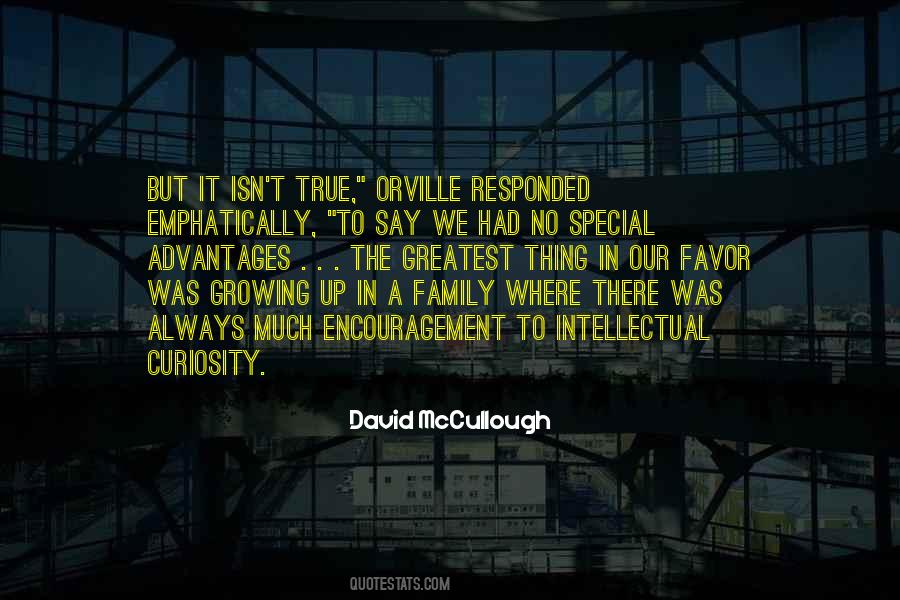 #9. In our day, a vast majority of people is dependent either on an employer or the government-or both. One way to rate your level of independence might be to measure how long you can survive, feed your family and live in your home after your employer stops paying you anything. - Author: Oliver DeMille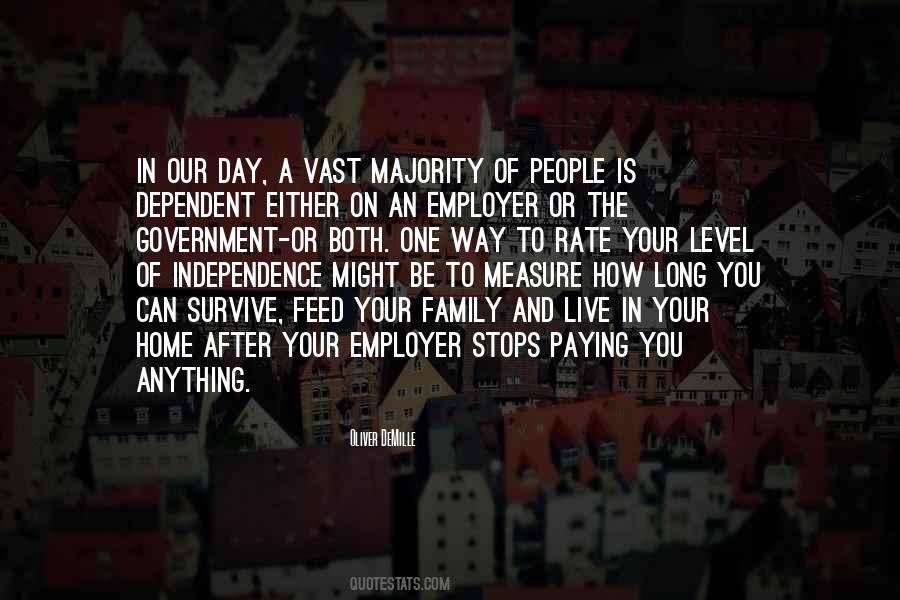 #10. For most of our young lives, my family was baffled by elementary school bake sales, to which we were told to bring in goodies to sell. While other kids arrived bearing brownies, chocolate chip cookies, and apple pies, Chinese families didn't bake. - Author: Jennifer Lee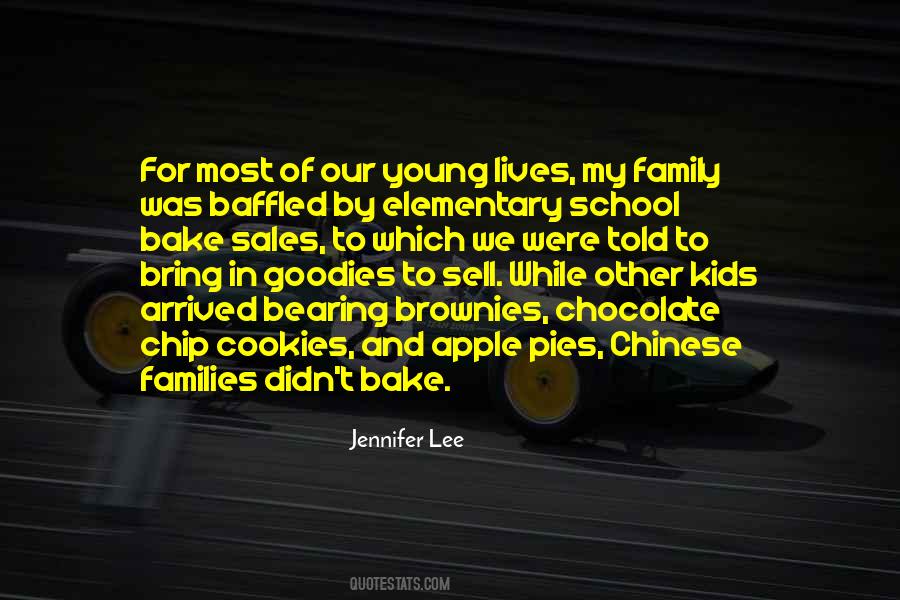 #11. Our life is all about the choices we make, and when I was looking for a mate for life, I really was looking for someone who was a family man, somebody who would embrace my girls as much as they were going to embrace me. I guess I just wasn't finished having children yet. - Author: Joan Lunden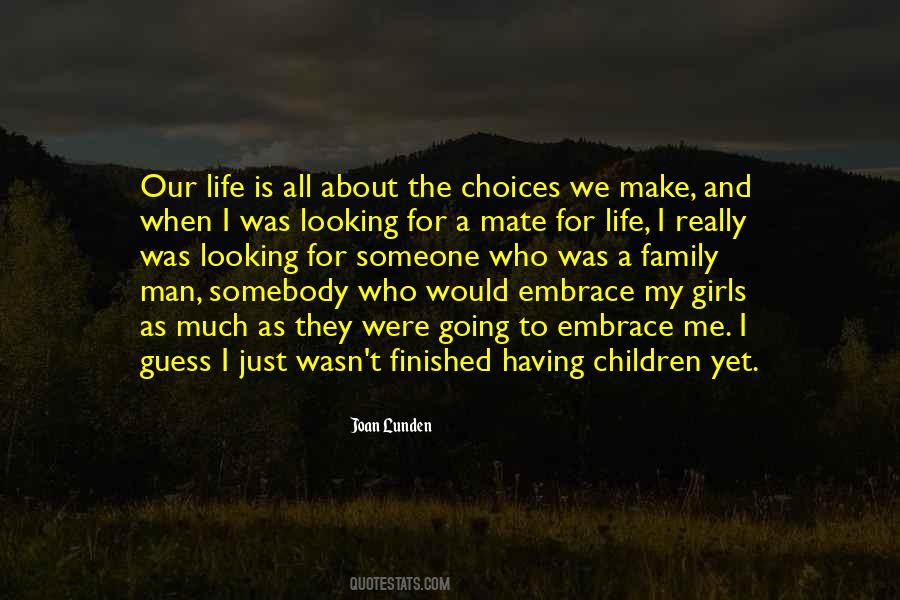 #12. Our education should be such as to improve our minds and fit us for increased usefulness; to make us of greater service to the human family. - Author: Brigham Young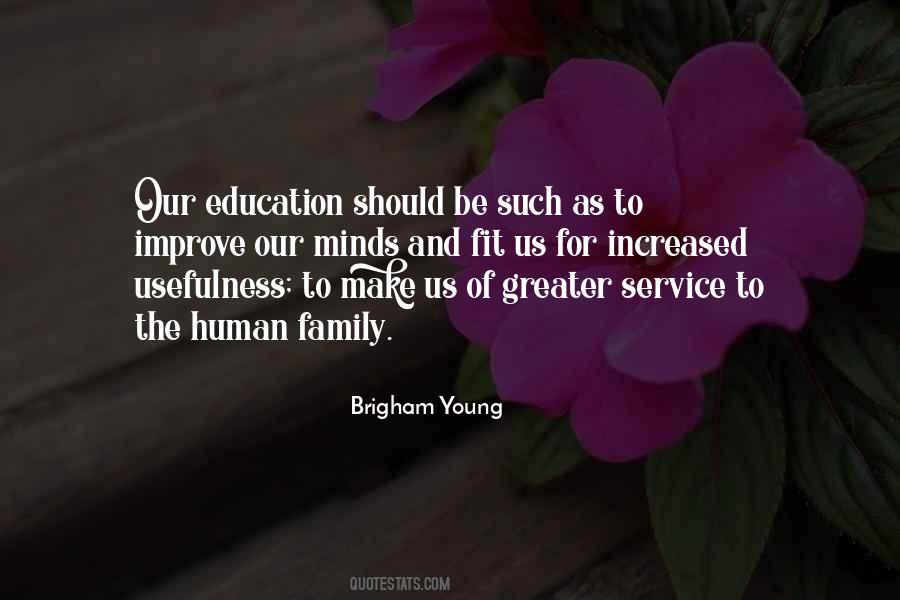 #13. Well, one of the most important things for Americans to be reminded of is that a lot of the exceptional nature of our country is founded in Judeo-Christian values that promotes individualism, personal responsibility, a strong work ethic, and a commitment to family, charity. - Author: Jim DeMint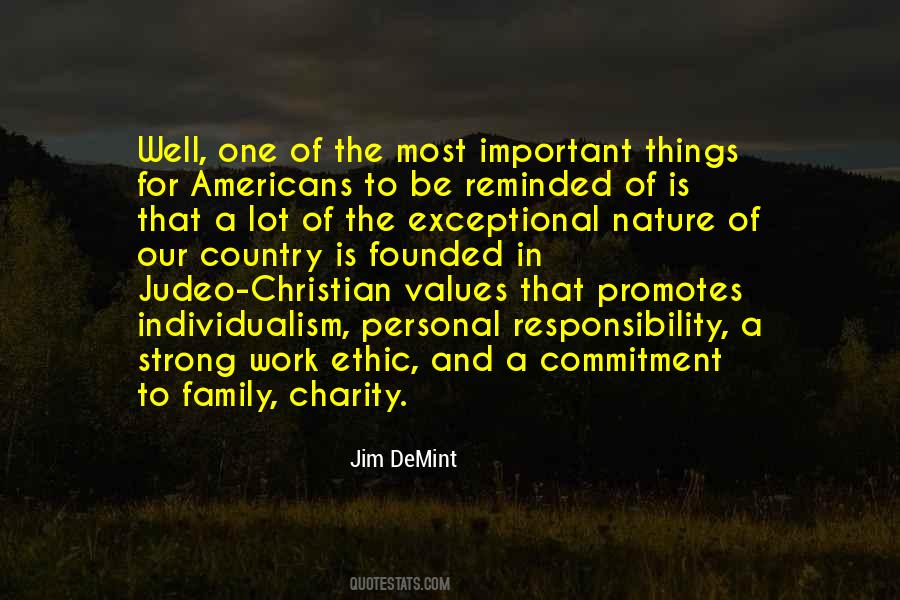 #14. We can change so many times in our lives. We're born into a family, and it's the only life we can imagine, but it changes. Buildings collapse. Fires burn. And the next second we're someplace else entirely, going through different motions and trying to keep up with this new person we've become. - Author: Lauren DeStefano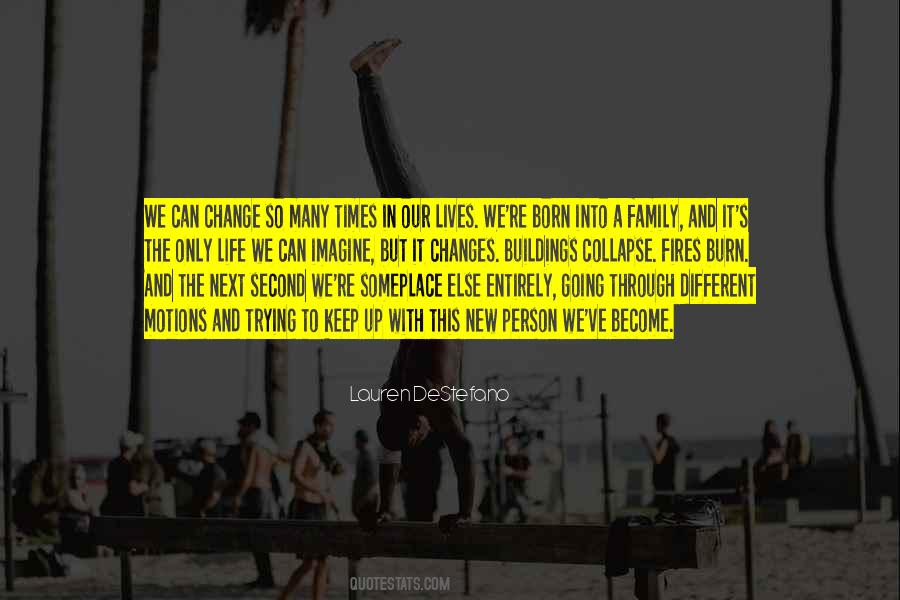 #15. My kids are the future of the Mayweather family and of the Mayweather brand. I feel our family is stronger if we stay together. - Author: Floyd Mayweather Jr.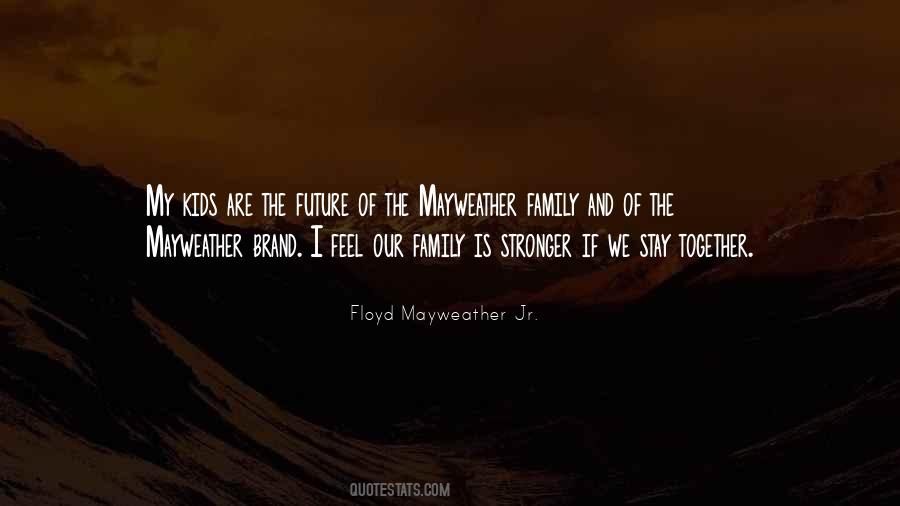 #16. Why, on my mother's birthday, am I thinking about 'Father Knows Best?' At our house, mother knew best at least as often as father did, but then the title of the old sitcom, a homogenized portrait of American family life, was meant to be slightly sardonic. - Author: Tom Shales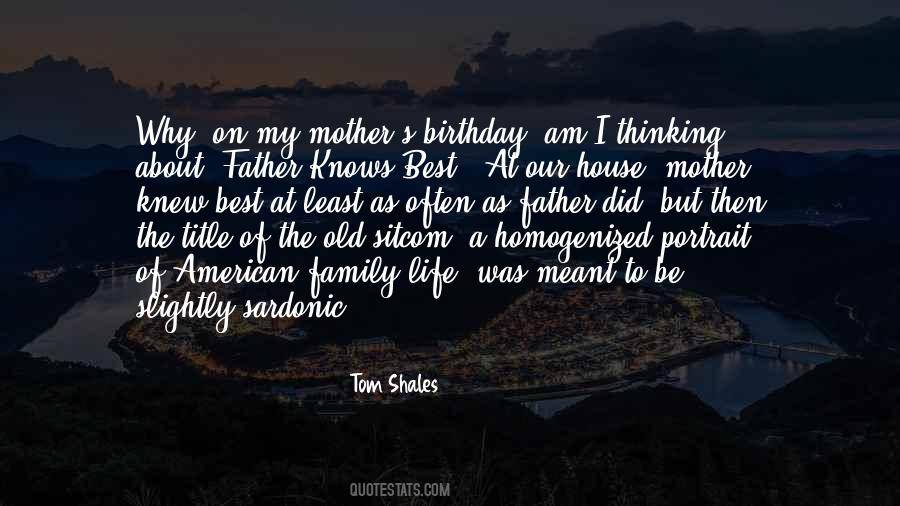 #17. Our human compassion binds us the one to the other - not in pity or patronizingly, but as human beings who have learnt how to turn our common suffering into hope for the future. -Nelson Mandela - Author: Michael Gallegos Borresen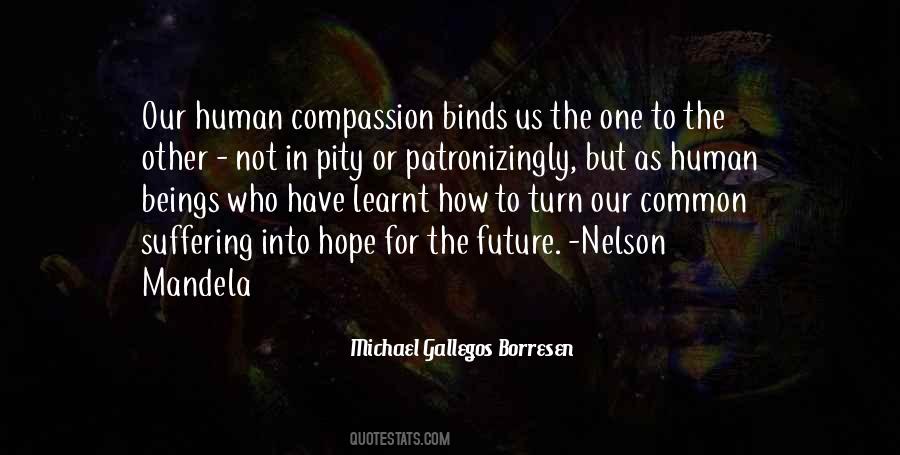 #18. But yeah, like everyone else in our family, they could go from zero to murderous in a fucking heartbeat. - Author: J.D. Vance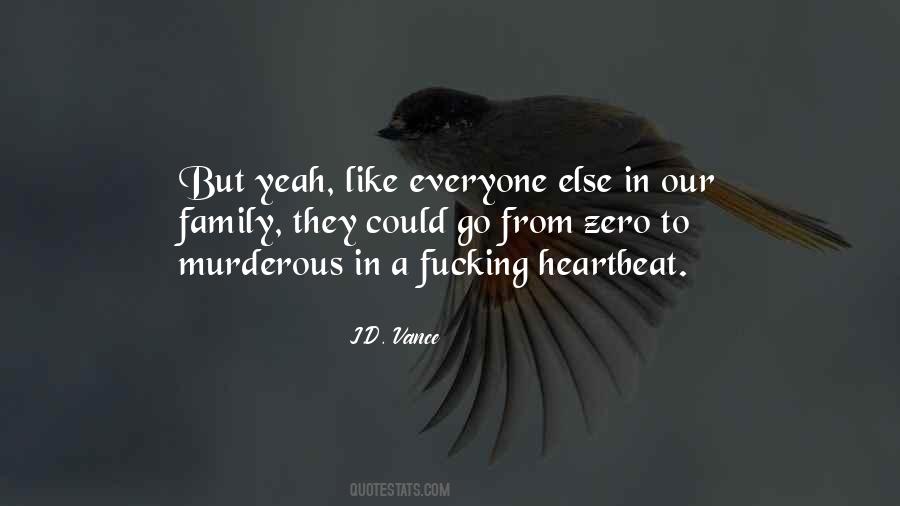 #19. In our family histories, the frontier between fact and fiction is vague, especially in the record of events that took place before we were born, or when we were too young to record them accurately; there are few maps to these remote regions, and only the occasional sign to guide the explorer. - Author: Adam Sisman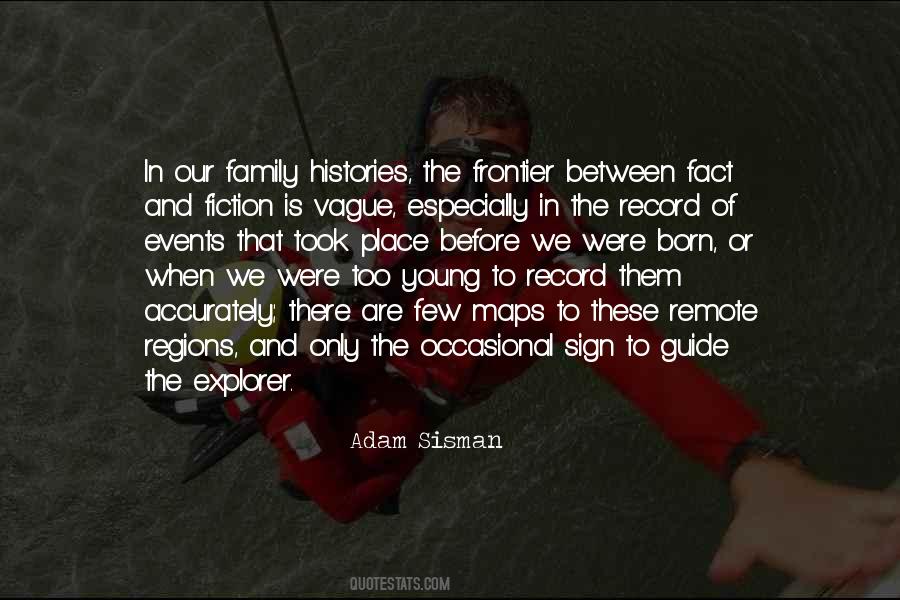 #20. I have many friends and family members who have served (or are currently serving) in our nation's Armed Forces. I have such a profound respect for what they do day in and day out. - Author: Karl Malone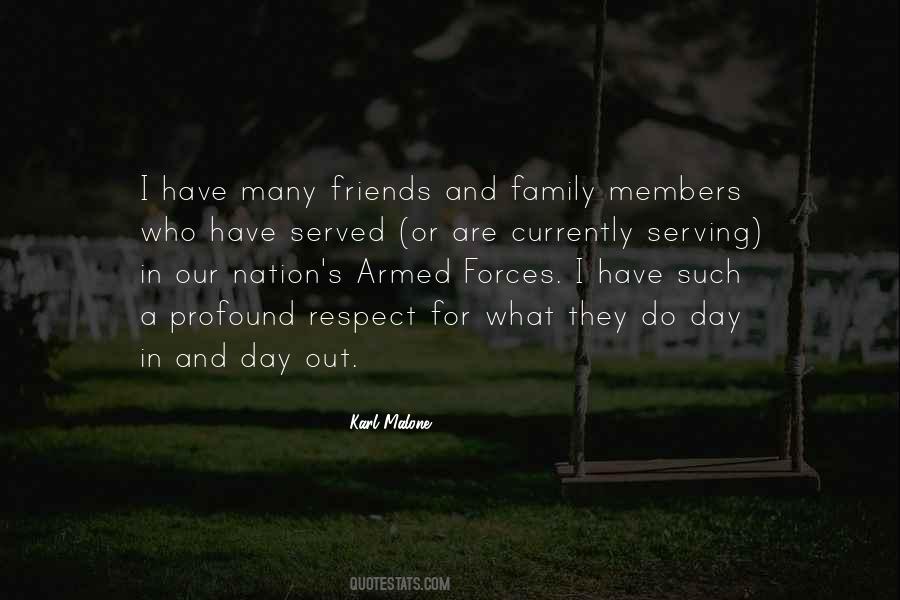 #21. The police cannot protect the citizen at this stage of our development, and they cannot even protect themselves in many cases. It is up to the private citizen to protect himself and his family, and this is not only acceptable, but mandatory. - Author: Jeff Cooper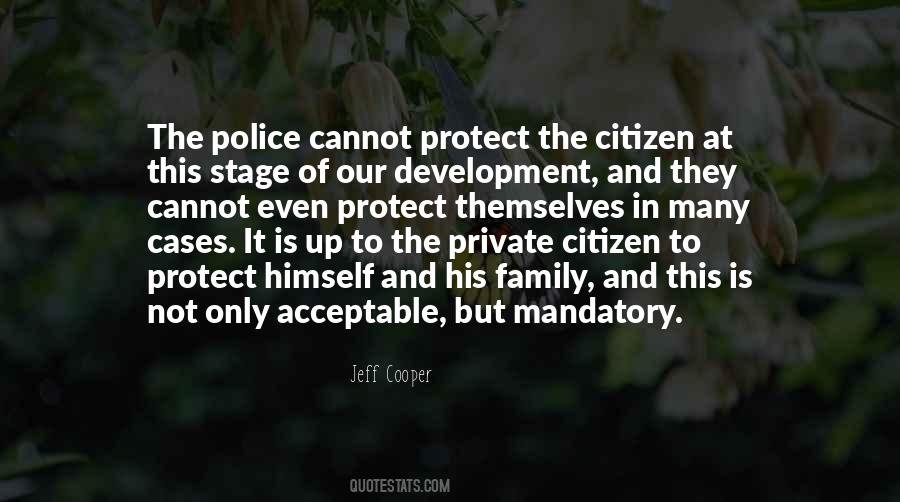 #22. Indeed, most magicians catch the bug as kids. My first audience was my family in Long Island. My first 'assistant' was my mother, whom I levitated on a broom in our living room. - Author: Criss Angel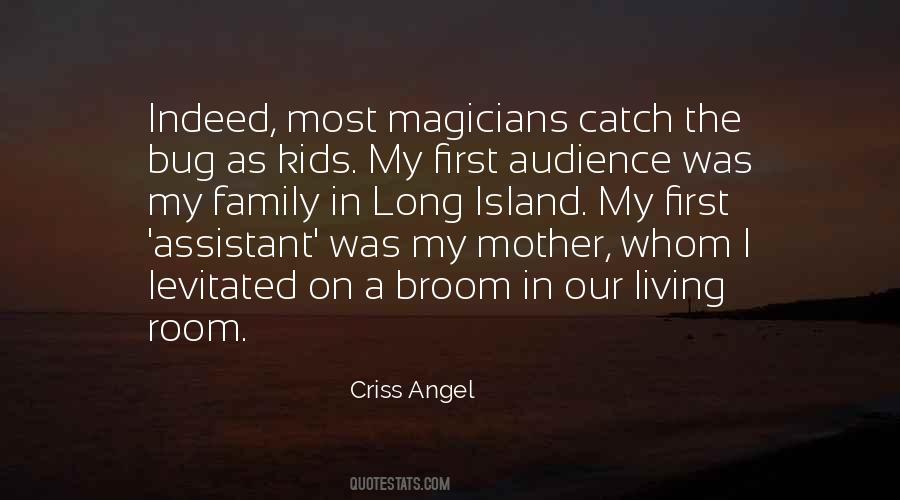 #23. In a period of less than 150 years, to progress from slavery to Pennsylvania Avenue speaks volumes about this family and our nation. Distracted by the rush of our everyday life, we might shrug it off today, but 100 years from now, historians will be discussing this precedent. - Author: Megan Smolenyak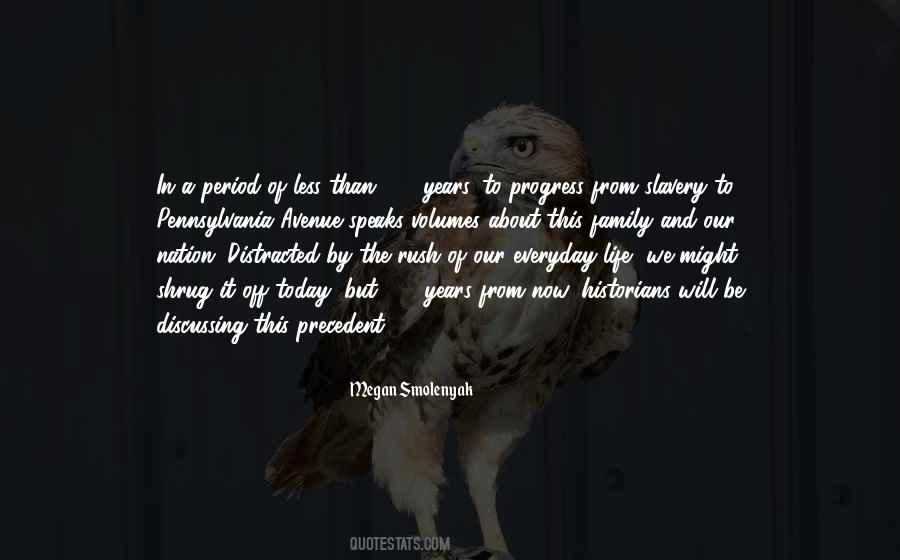 #24. It is the little act of kindness that touches our heart and blossom our life with gladness. - Author: Lailah Gifty Akita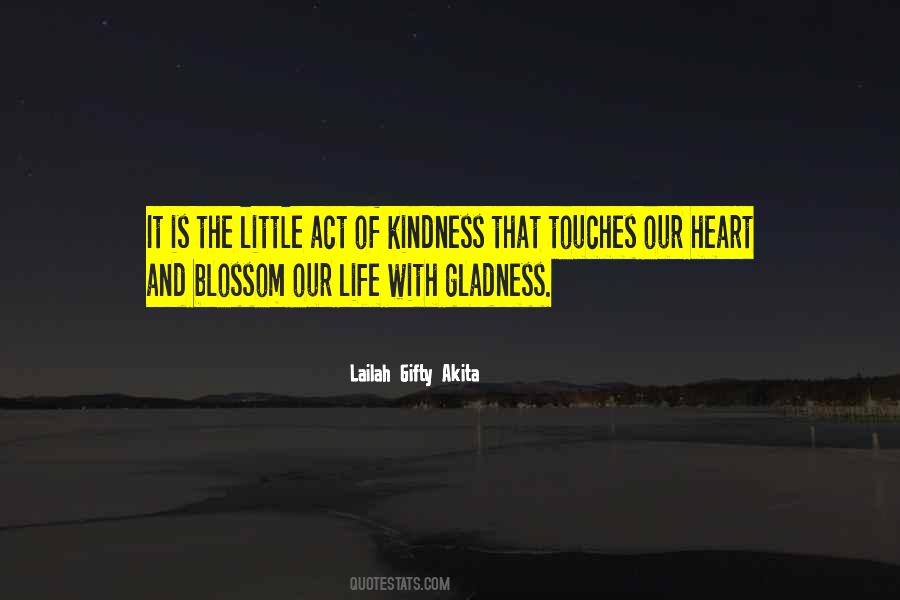 #25. Never be too absorbed by your own ambitions to encourage those of your family. - Author: Wes Fesler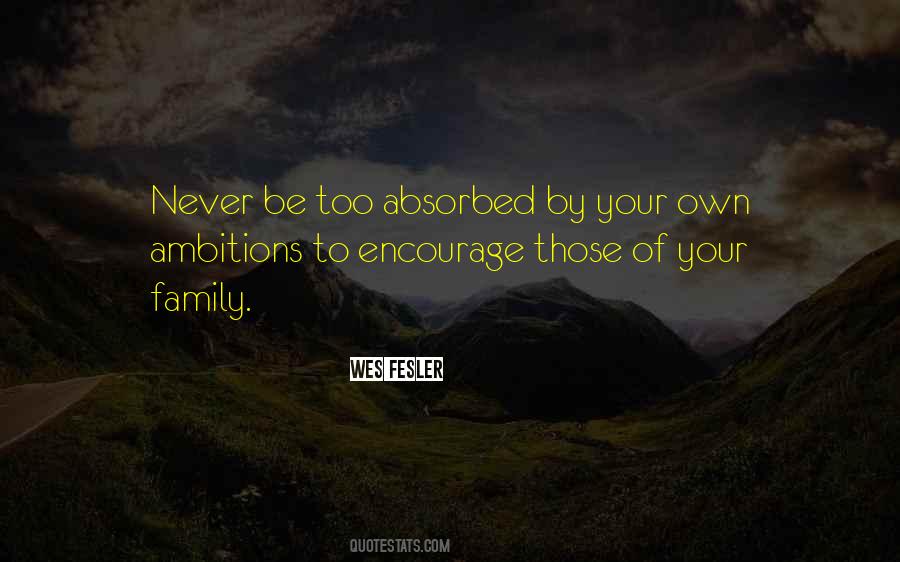 #26. It takes time to build a corporate work of art. It takes time to build a life. And it takes time to develop and grow. So give yourself, your enterprise, and your family the time they deserve and the time they require. - Author: Jim Rohn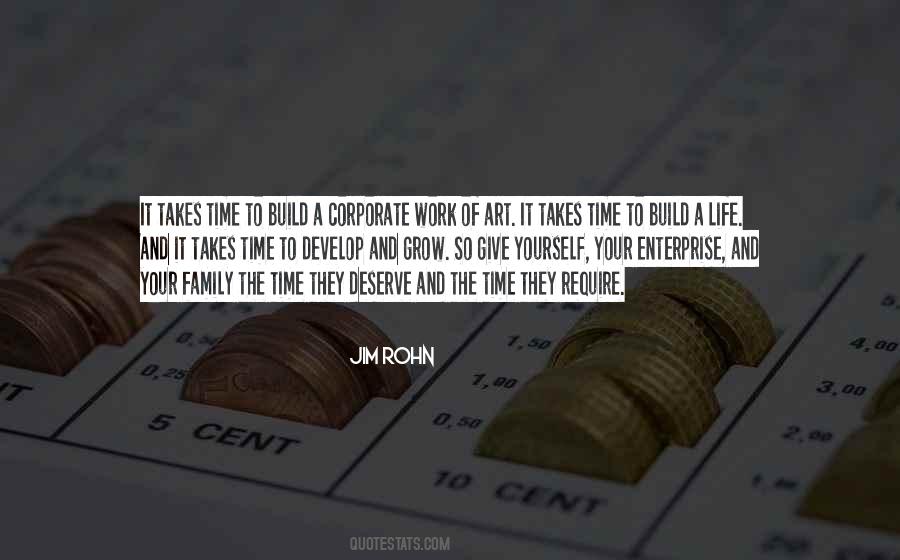 #27. God made all the creatures and them our love and out fear,
To give sign, we and they are his children, one family here. - Author: Robert Browning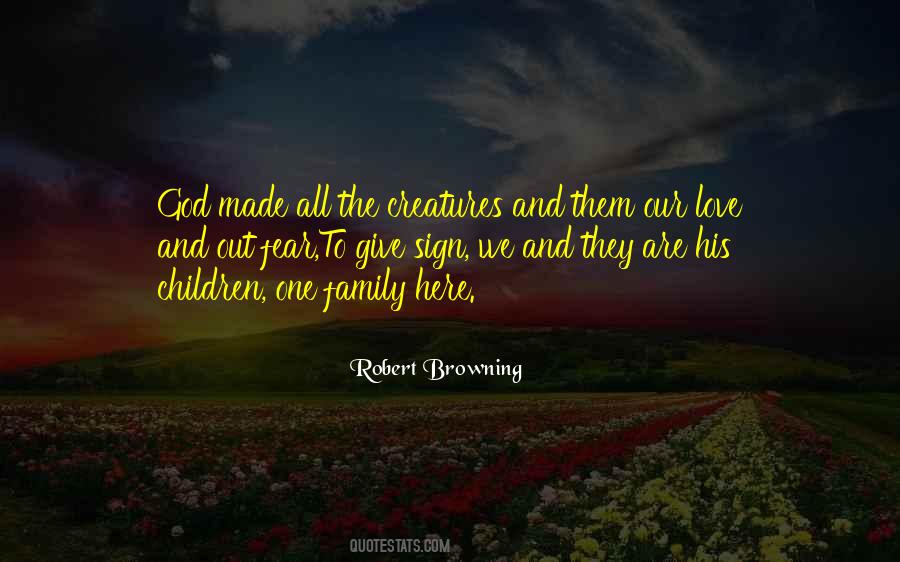 #28. Everybody in our family studied a musical instrument. My father was really big on that. Somehow I only took a year or two of piano lessons and I convinced my father to let me take dancing lessons. - Author: Madonna Ciccone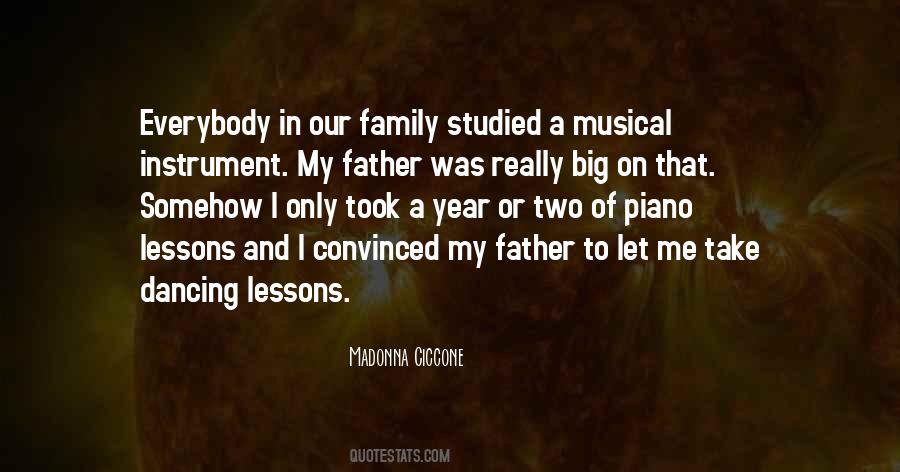 #29. Once someone is in your family orbit, there's a mutual responsibility, and whatever happens to them happens to you. - Author: Hank Azaria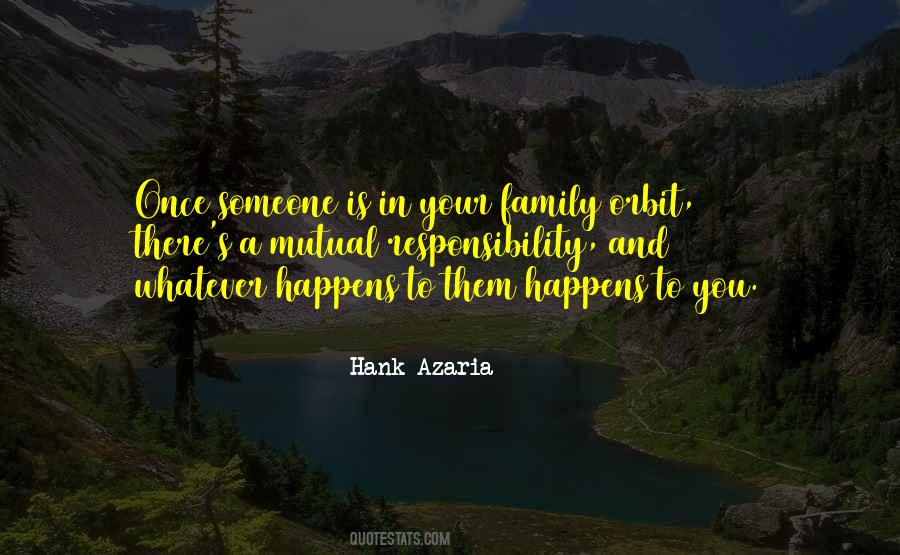 #30. What we want is to destroy our false, inorganic connections, especially those related to money, and re-establish the living organic connections, with the cosmos, the sun and earth, with mankind and nation and family. Start with the sun, and the rest will slowly, slowly happen. - Author: D.H. Lawrence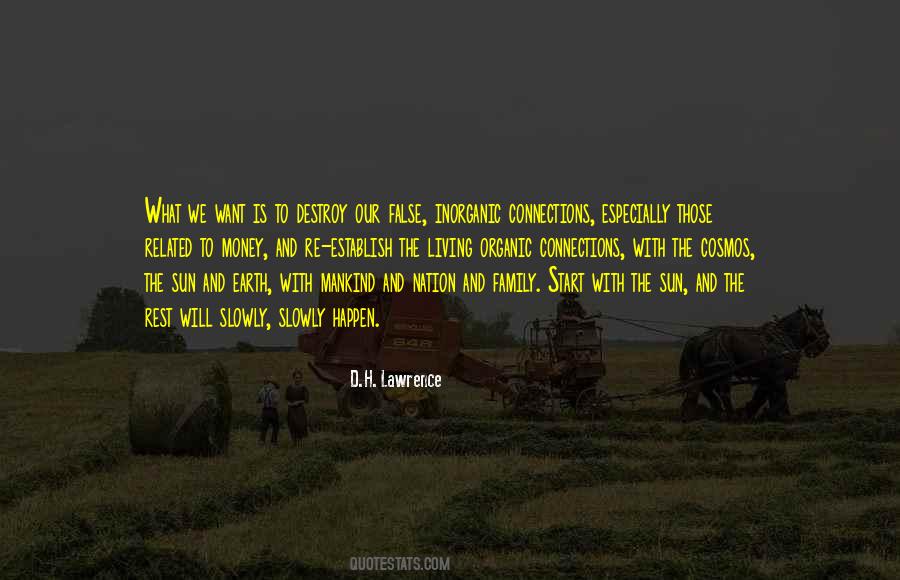 #31. My name is Kyran. You look like an honorable woman," he whispered, practicing what he would say to any prospective mate. "I have a home with my parents and my brother. There we will live and you will be part of our family. Would you like to give me many children? - Author: Michelle M. Pillow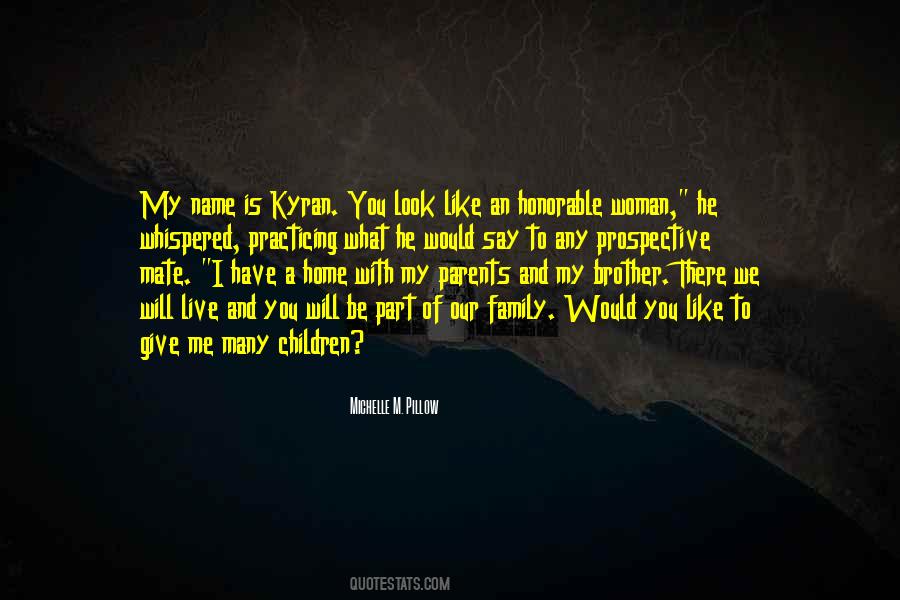 #32. The future of our fragile, beautiful planet home is in our hands. As God's family, we are stewards of God's creation. We can be wantonly irresponsible, or we can be caring and compassionate. God says, "I have set before you life and death ... Choose life." - Author: Desmond Tutu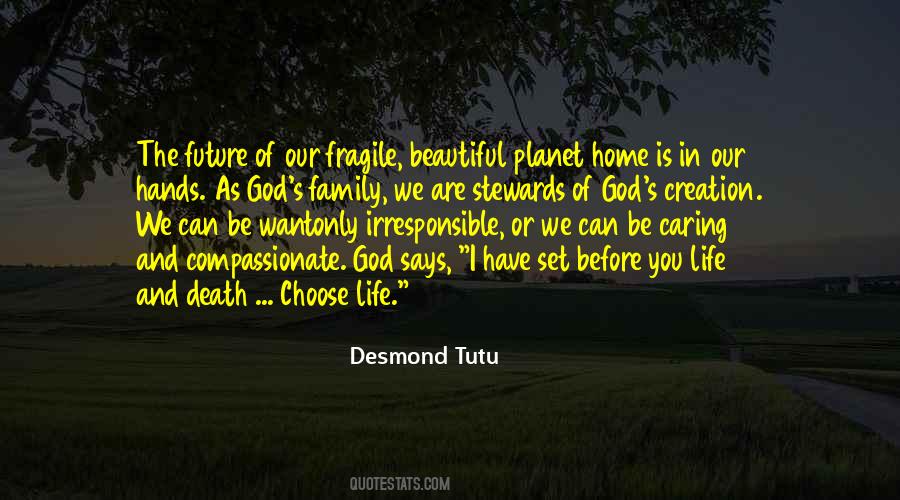 #33. Haylee shook her head as soon as they were gone. Christ, how can our family be mankind's best hope? - Author: Natasha Larry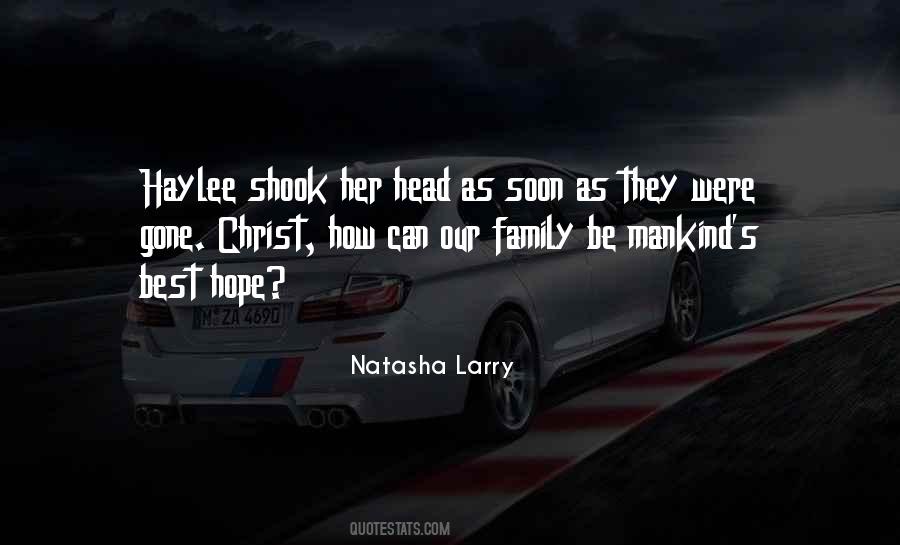 #34. We have employments assigned to us for every circumstance in life. When we are alone, we have our thoughts to watch; in the family, our tempers; and in company, our tongues. - Author: Hannah More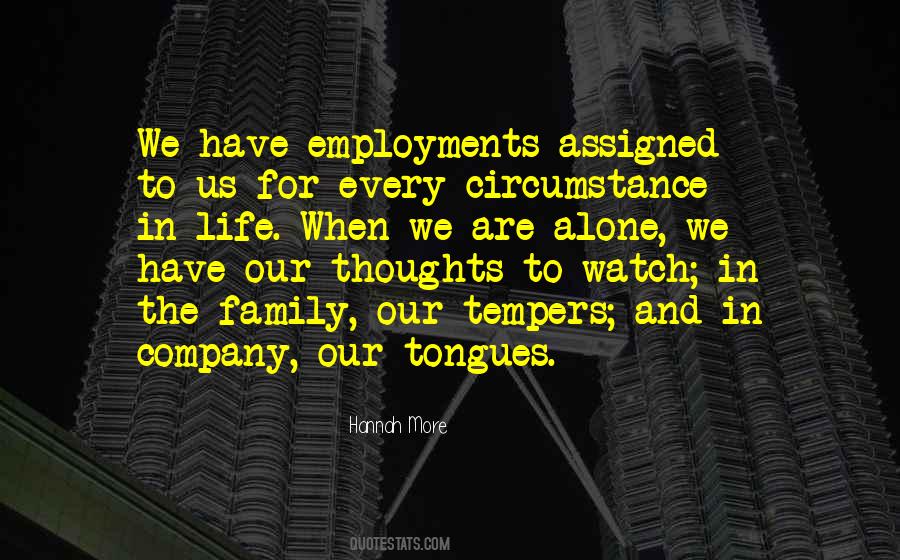 #35. Like a lot of you, I grew up in a family on the ragged edges of the middle class. My daddy sold carpeting and ended up as a maintenance man. After he had a heart attack, my mom worked the phones at Sears so we could hang on to our house. - Author: Elizabeth Warren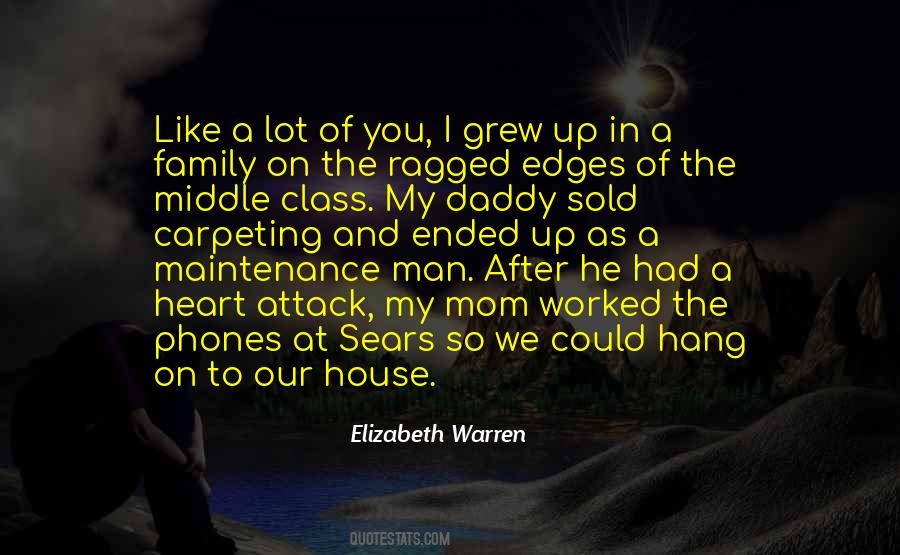 #36. Pride! In English it is a Deadly Sin. But in Urdu it is fakhr and nazish - both names that you can find more than once on our family tree. - Author: Kamila Shamsie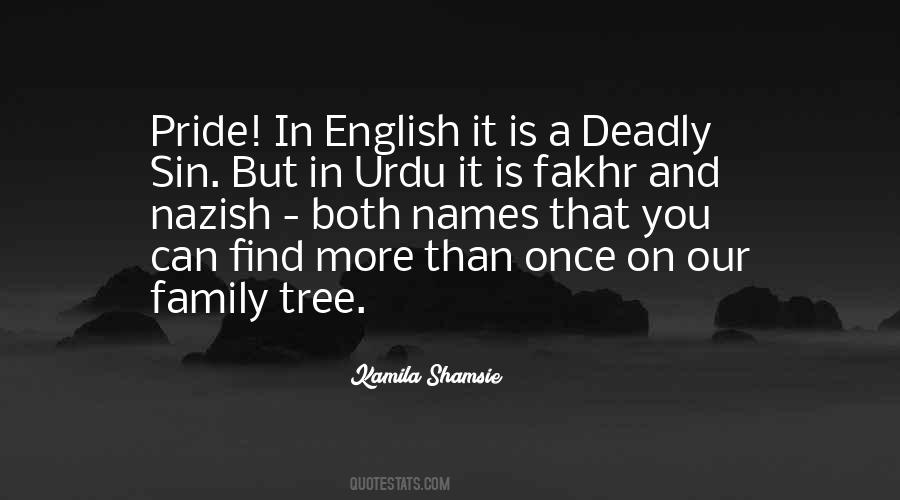 #37. We've pretended too much in our family, Luke, and hidden far too much. I think we're all going to pay a high price for our inability to face the truth. - Author: Pat Conroy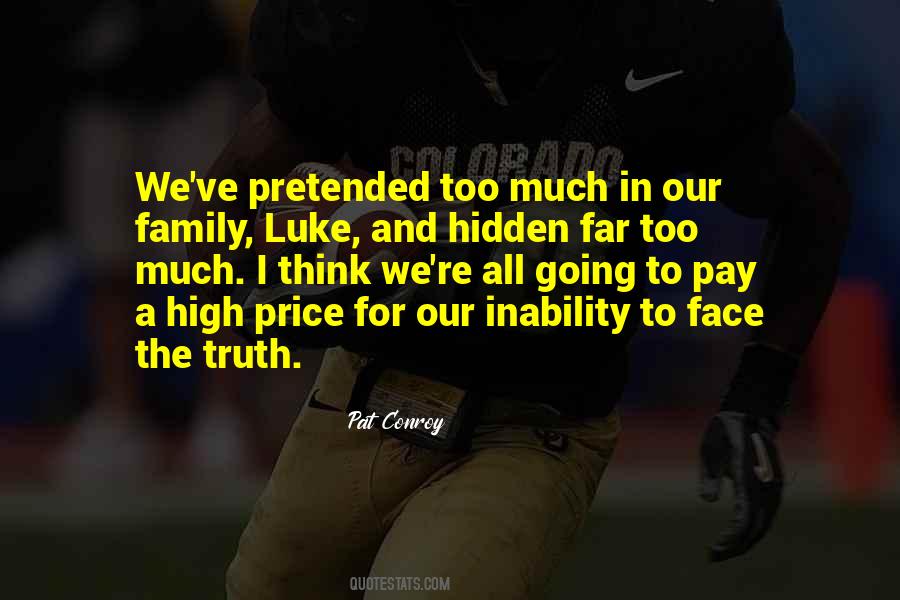 #38. What's going on?" he demanded.
"The usual, old man," I replied cheerily. "Danger, insane plans ... you know, the stuff that runs in our family. - Author: Richelle Mead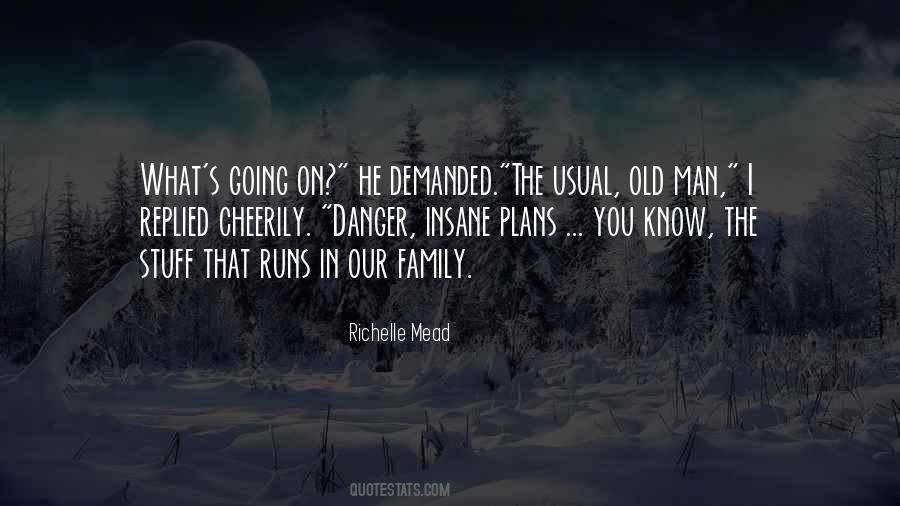 #39. We used to be so proud that our country offered far more economic opportunities than the feudal system in Great Britain, with its royal family, princesses and dukes. But social mobility in the UK is higher than in the US. Our social rift is as big as it was in the 1920s. - Author: Robert Reich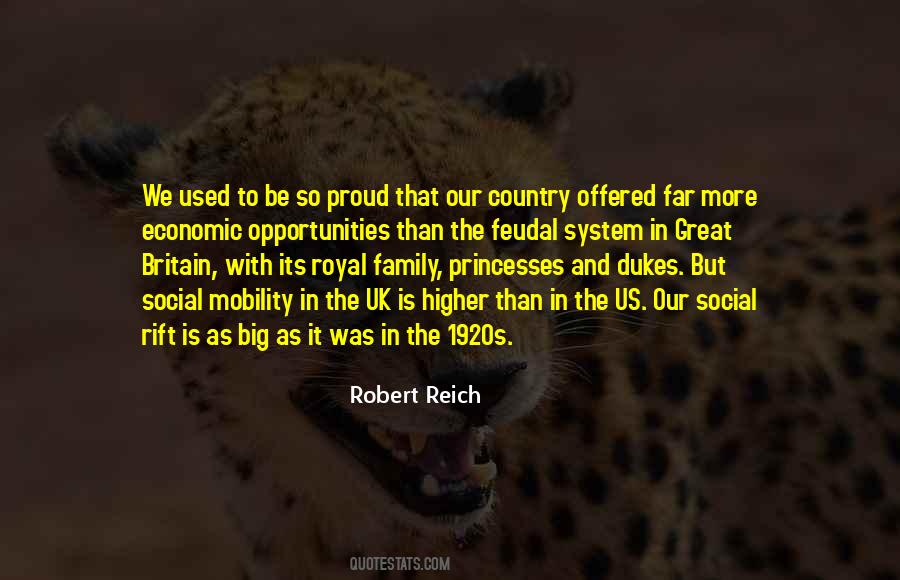 #40. Our family were outsiders, and I've always had a sense of the outsider, the underdog, and a strong sense of justice towards people who are excluded. - Author: Andy Serkis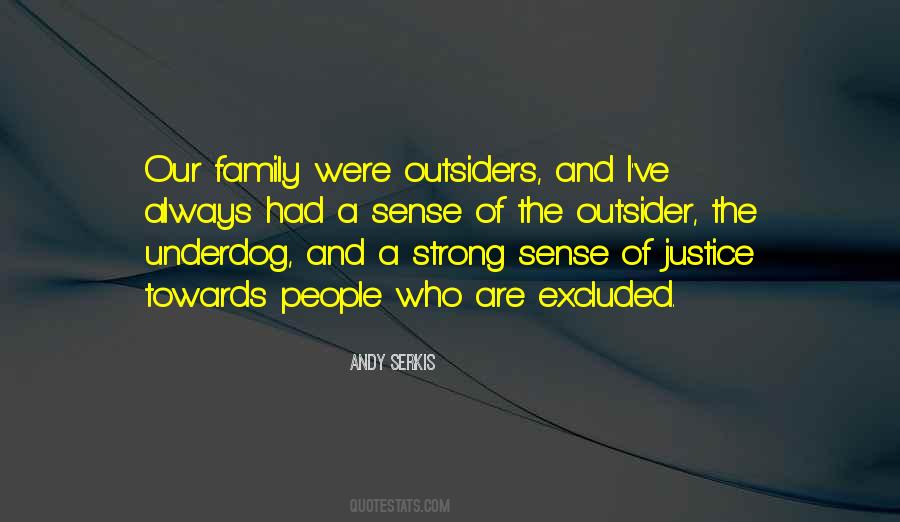 #41. Both within the family and without, our sisters hold up our mirrors: our images of who we are and of who we can dare to be. - Author: Elizabeth Fishel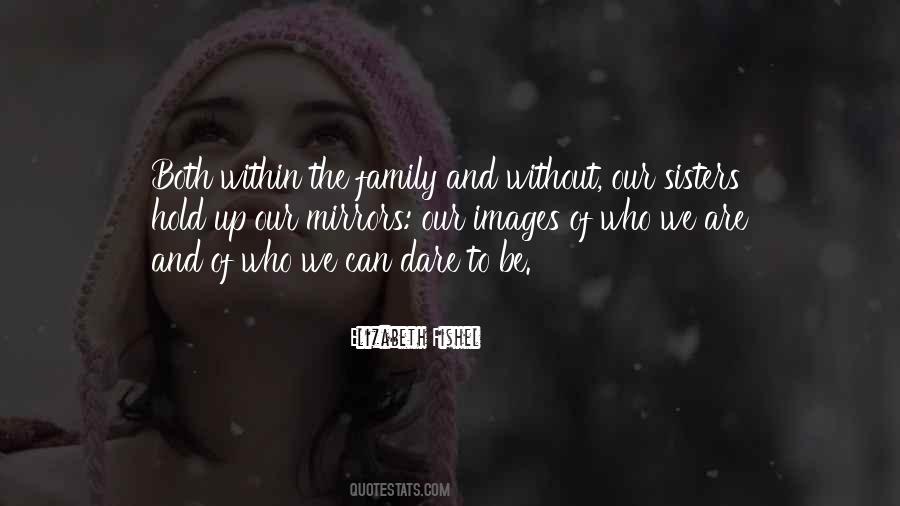 #42. Our whole family assembles in Chicago at Christmas and usually in Aspen in the summer. - Author: James Cronin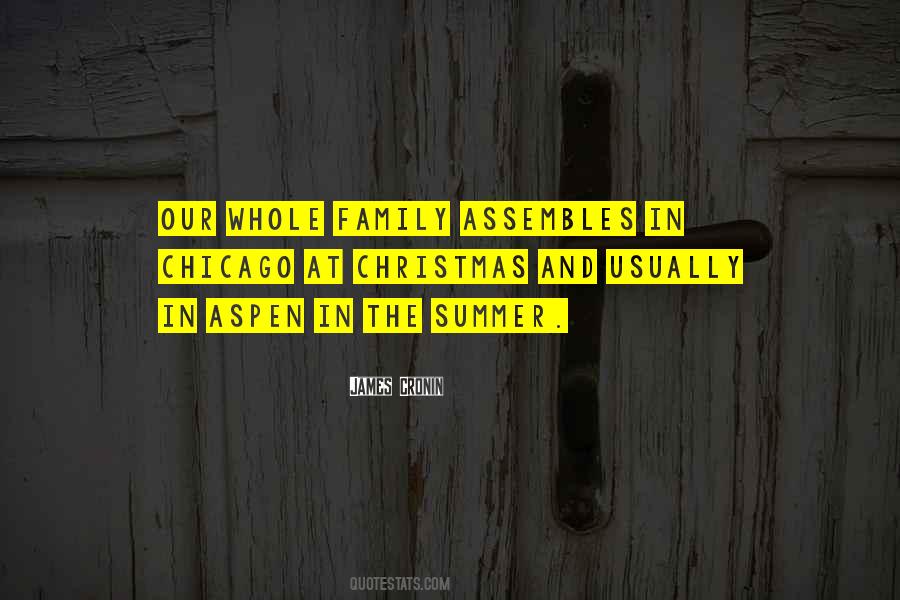 #43. Nut shrugged. Set had always been Set, for better or worse. But he is still part of our family. It is difficult to lose any member of your family ... is it not? - Author: Rick Riordan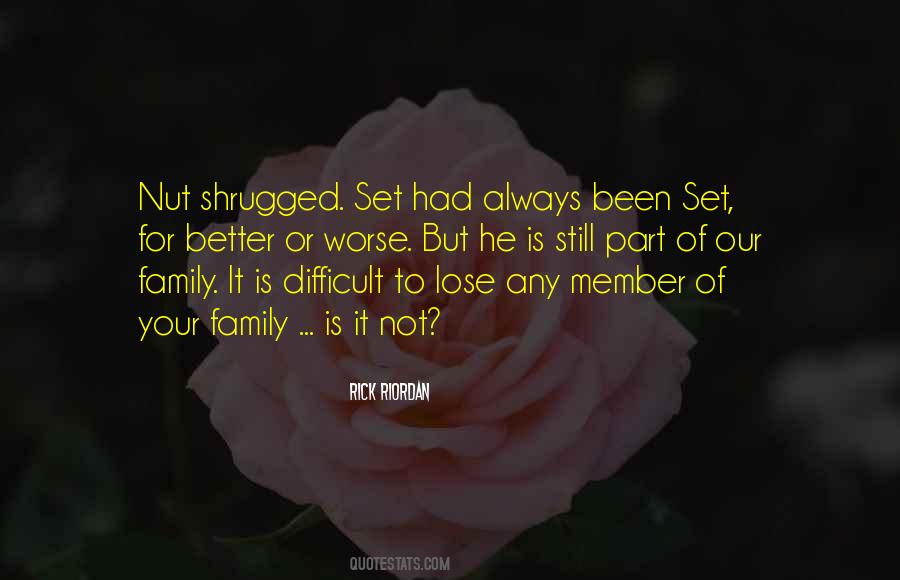 #44. None of the family had passed the 11-Plus exam, and henceforth cannot be saved, our futures doomed by an undotted i. - Author: Morrissey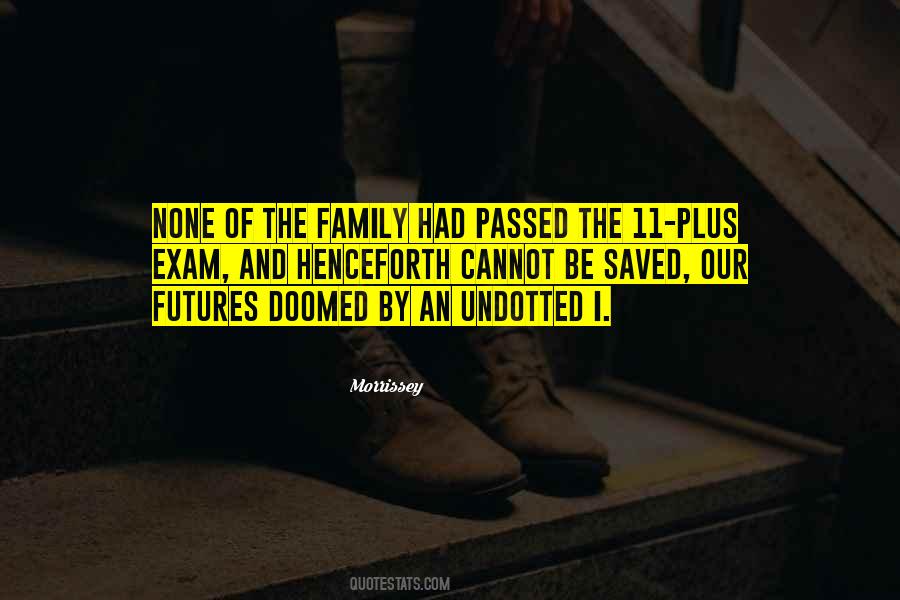 #45. I don't think there is such a definition of a perfect family, but I do think that our marriages are in crisis. Our families are in crisis. And I think the African-American family is at one of the worst stages it's been at in a very long time in this country. Fatherlessness is rampant. - Author: Leah Ward Sears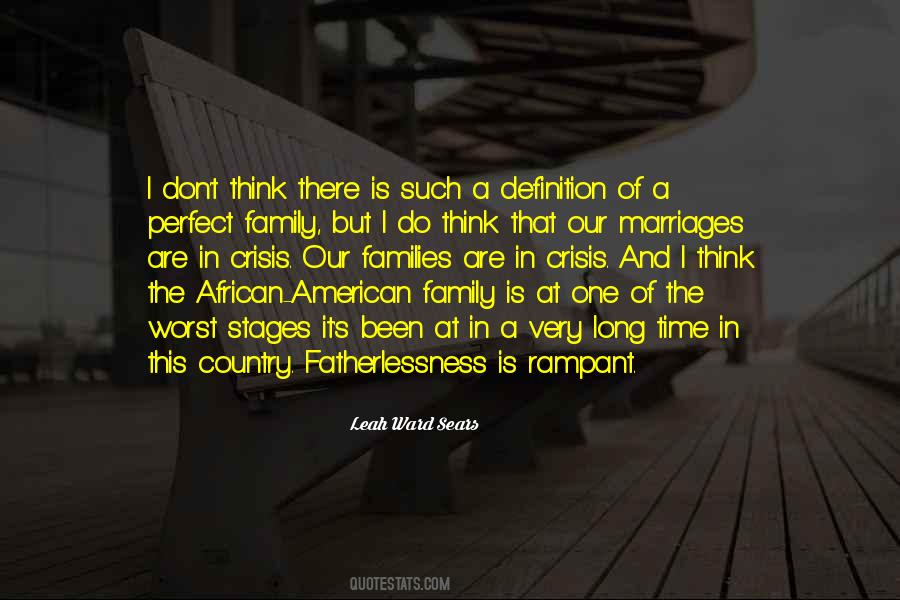 #46. There are things in life that science will never be able to see. We have to rely on what has been passed from our ancestors, generation to generation. - Author: Pawan Mishra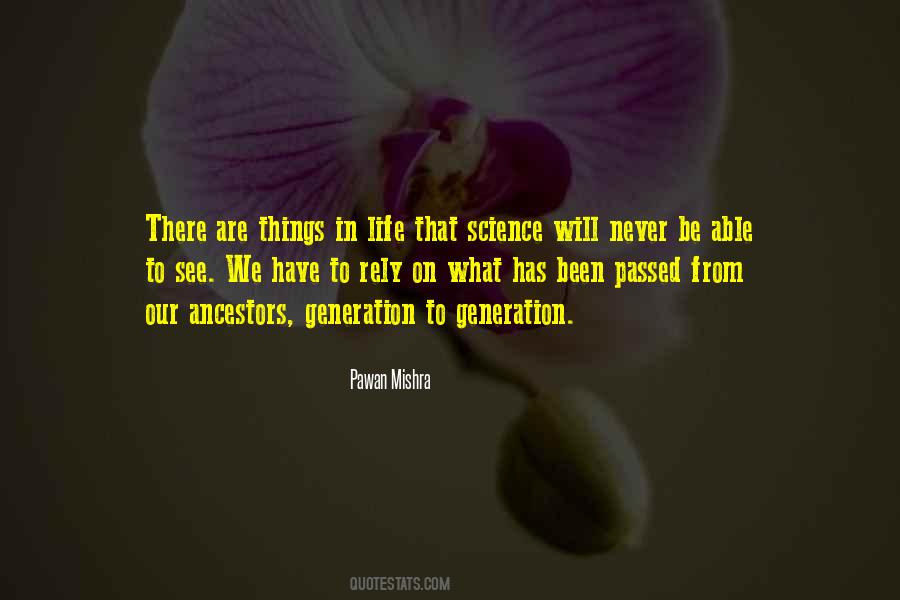 #47. My mother always tried to keep a little bit of British culture in our family. We'd drink tea all the time! - Author: Kurt Cobain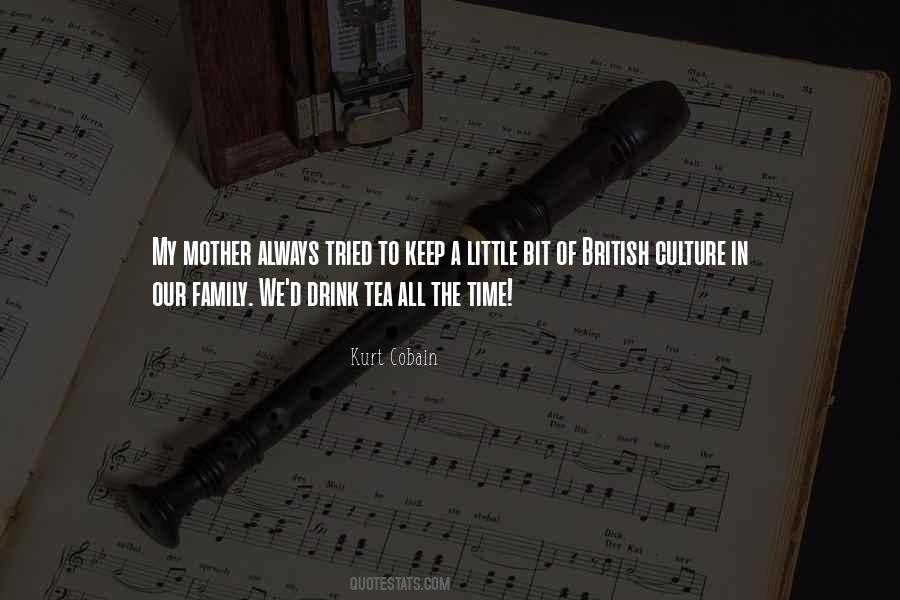 #48. As a homeschooling parent, I have often wondered who learns more in our family, the parent or the child. The topic I seem to be learning the most about is the nature of learning itself. - Author: Jan Hunt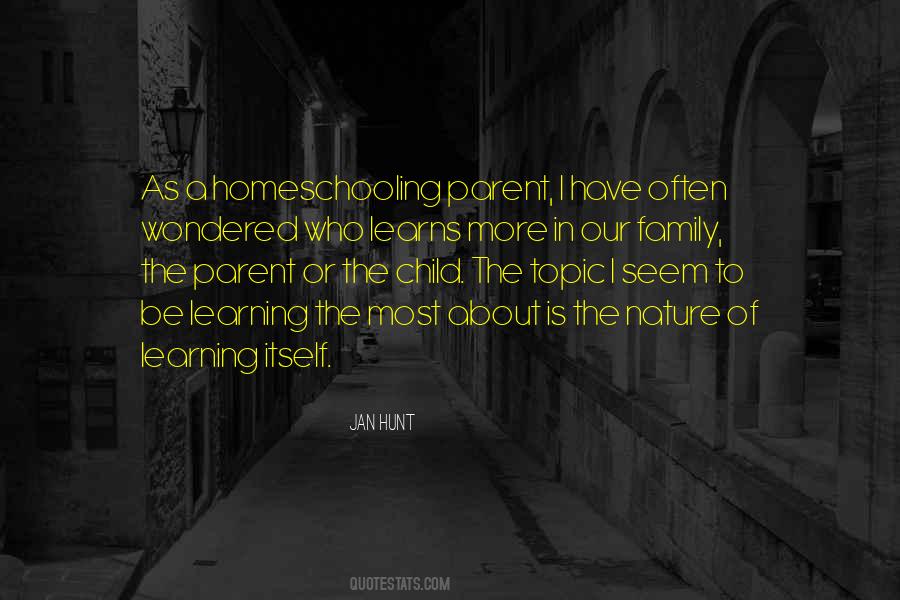 #49. If you should choose to look at those files, you will have to live with the consequences of your choices while, at the same time, being mindful that these choices will not only effect you, but will also infect, sorry, I intended to say effect, our entire family. - Author: Donna K. Childree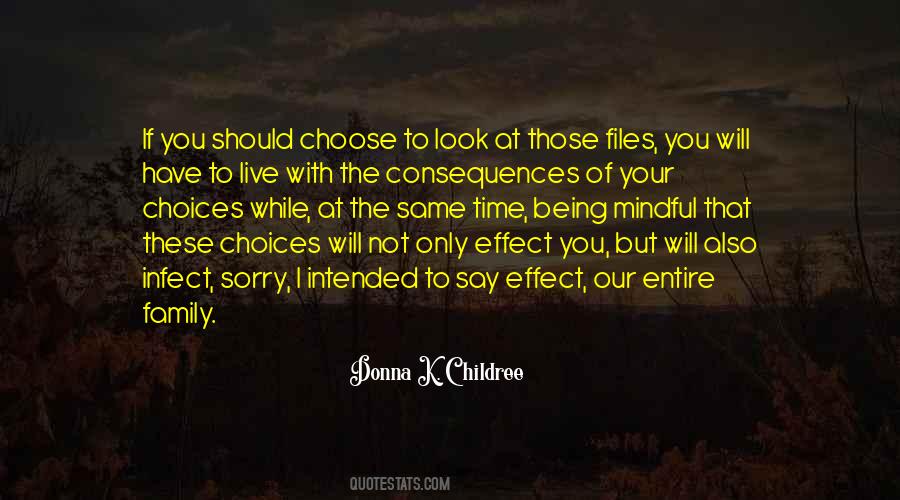 #50. The physician's duty is not to stave off death or return patients to their old lives, but to take into our arms a patient and family whose lives have disintegrated and work until they can stand back up and face, and make sense of, their own existence. - Author: Paul Kalanithi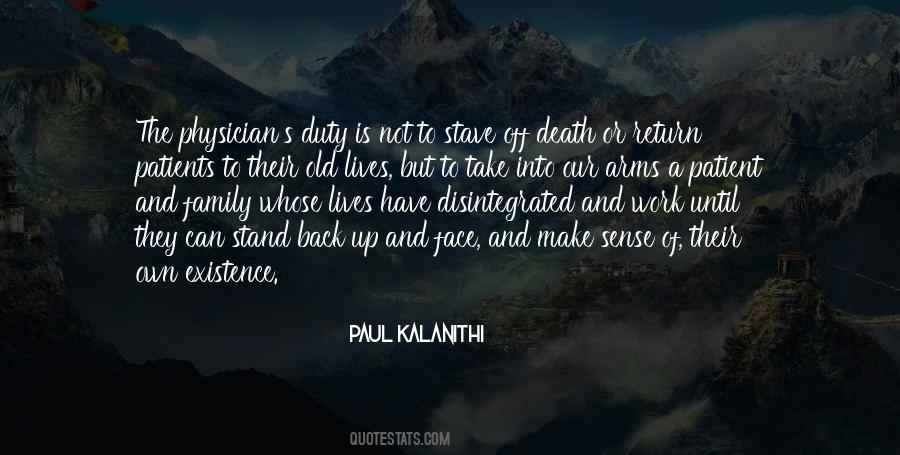 #51. Let us set apart special seasons for extraordinary prayer. For if this fire should be smothered beneath the ashes of a worldly conformity, it will dim the fire on the family altar, and lessen our influence both in the Church and in the world. - Author: Charles Haddon Spurgeon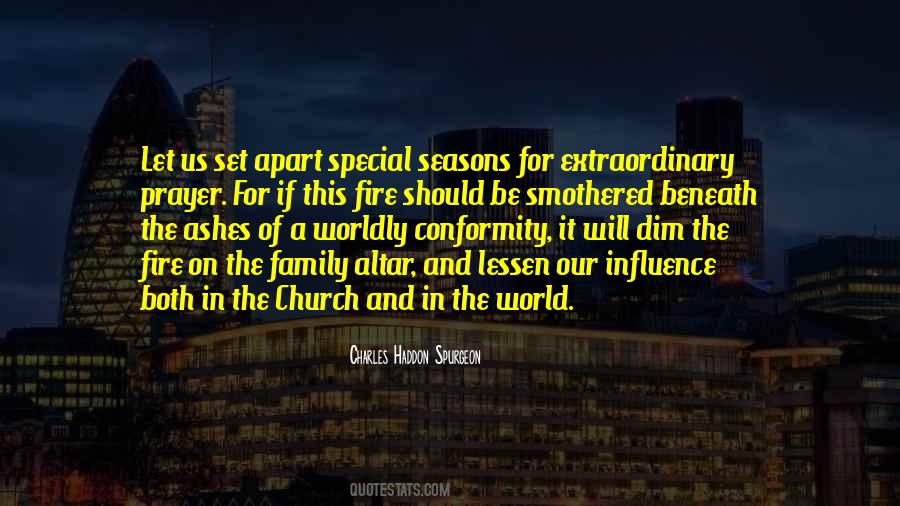 #52. Welcoming imperfection is the way to accomplish what perfectionism promises but never delivers. It gives us our best performance and genuine acceptance in the family of human
and by that I mean imperfect
beings. - Author: Martha Beck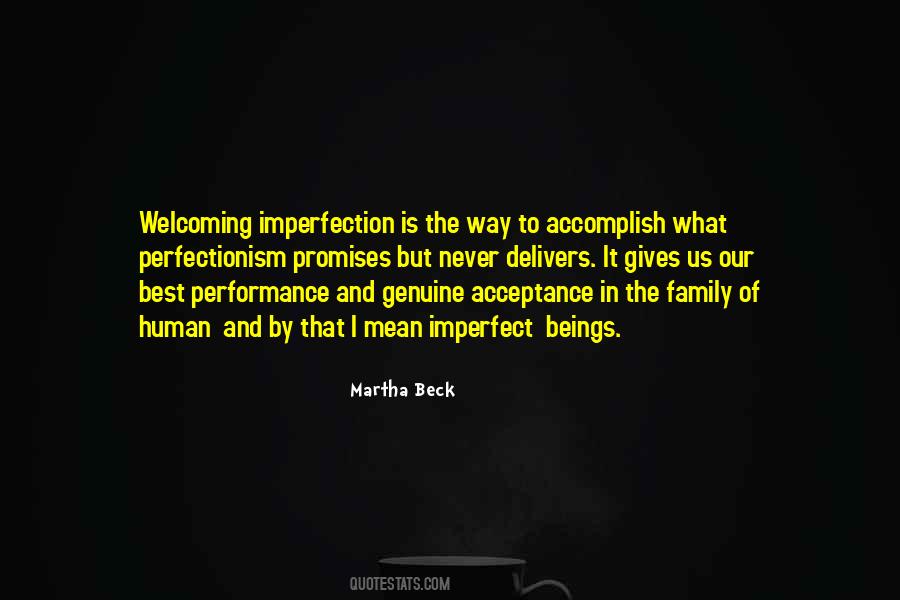 #53. If we are truly fortunate, we have employers who did not abandon us, family who stood by us, and perhaps someone who helped us find our way back, who never forget that beneath all the appalling behavior there was a human being. - Author: Elizabeth Vargas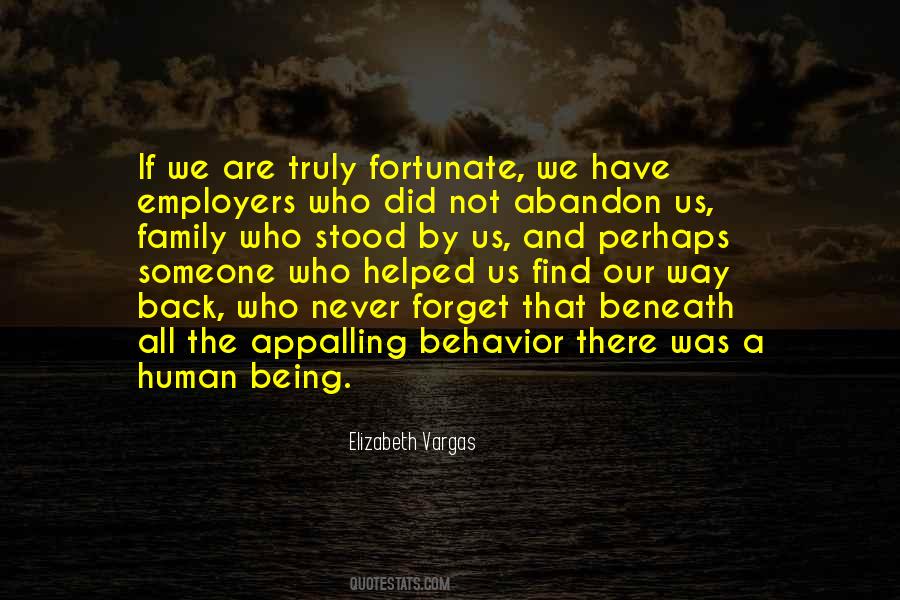 #54. New Labour needs to realise that family life and the way we raise our children are private matters. - Author: Charles Kennedy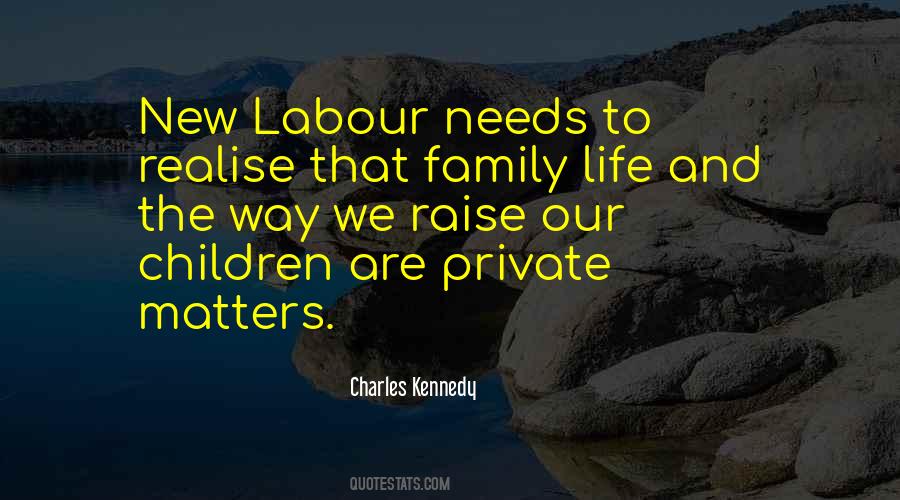 #55. And now he was mine and I said we should not let our love be threatened.
We should not let the family fall apart.
We should not accept an evil we can change.
We would stand up against it, would we not?
Yes. We should.
We would be heroes, even. - Author: E. Lockhart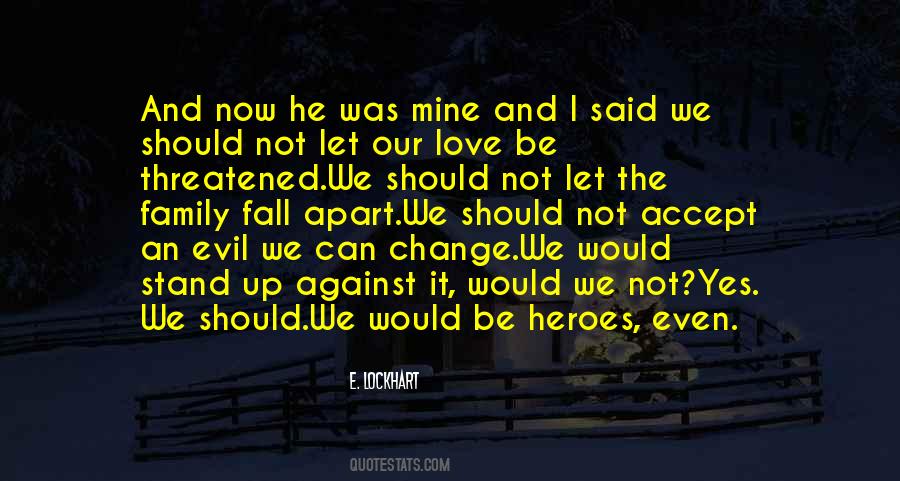 #56. We want to take care of our employees, because they take care of our family. - Author: Harold Taylor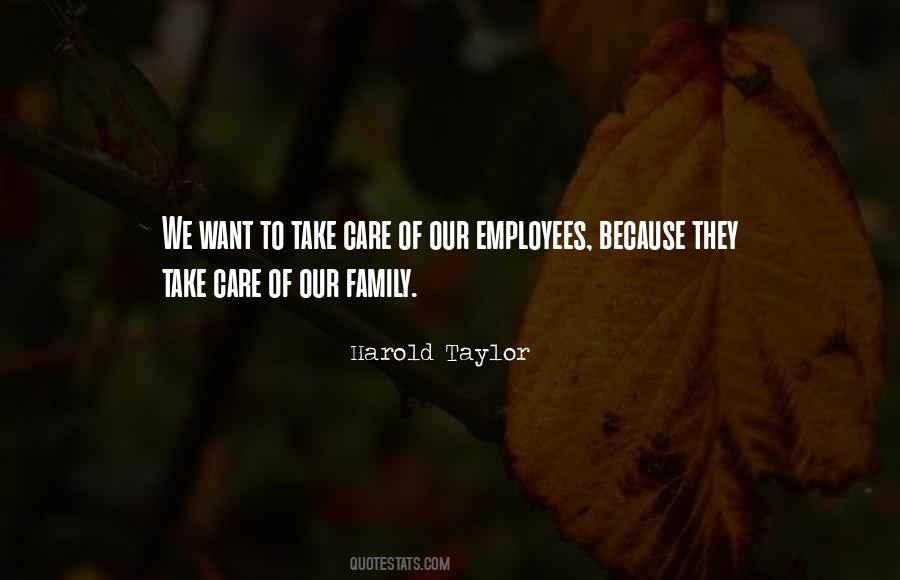 #57. You have a family," Mikhail said gently. "I am your family. Raven is your family. Our child will be, and of course you have Jacques. Someday you will have children." He sent a slight grin in Gregori's direction. "You can even claim the healer as family. We do, although he dislikes it intensely. - Author: Christine Feehan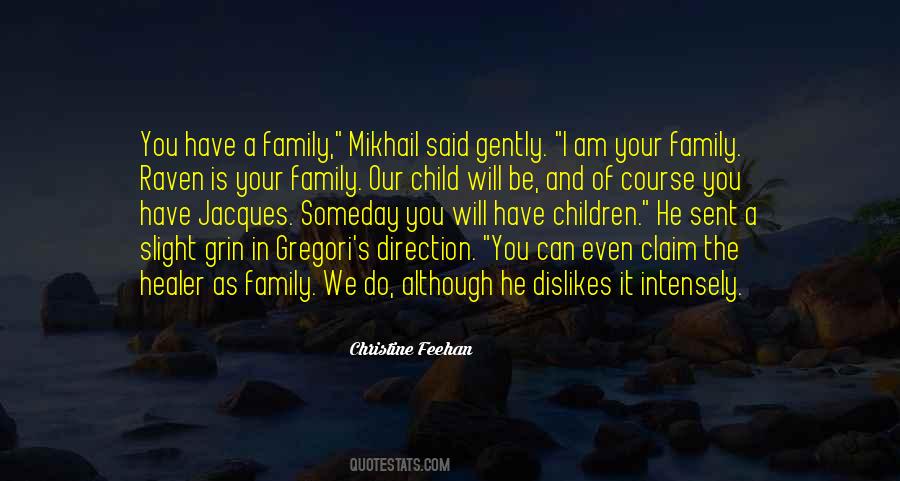 #58. As children we had been taught that no price was too high to pay for our country. But the personal price to our family had been high. - Author: Benazir Bhutto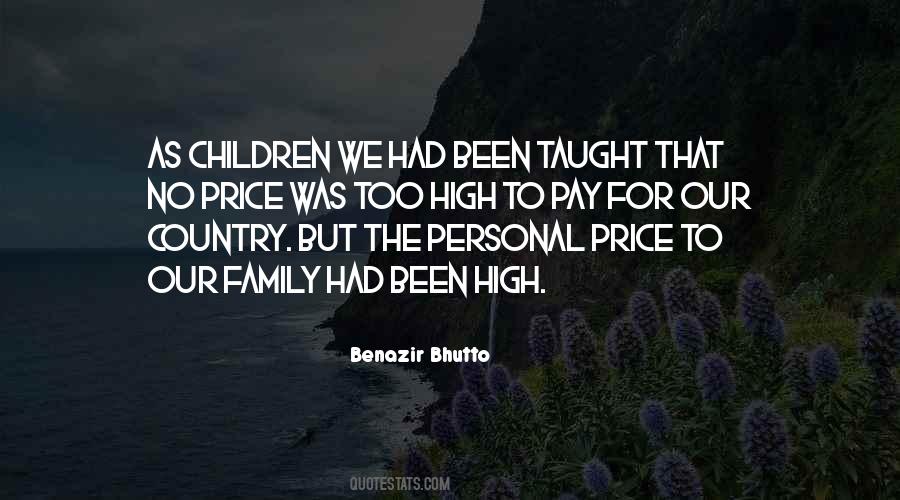 #59. Together in our house, in the firelight, we are the world made small. - Author: Jennifer Donnelly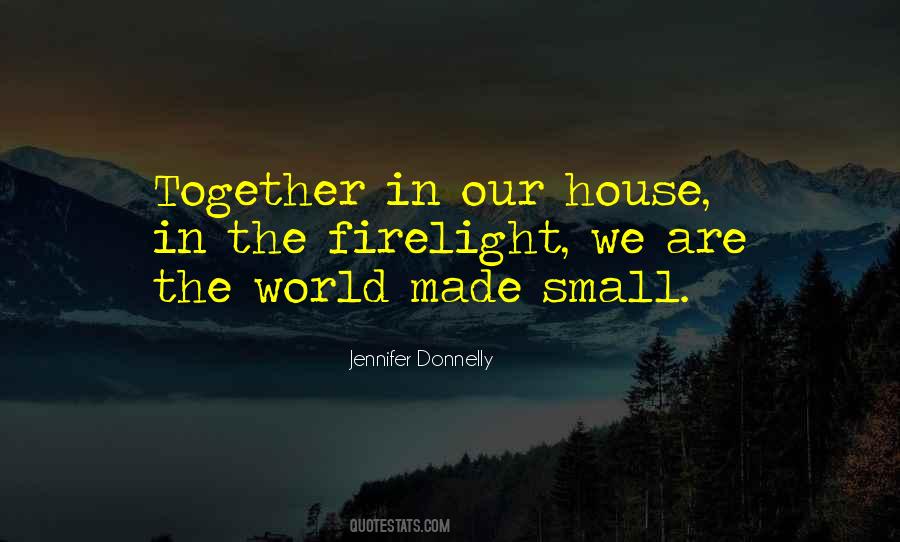 #60. Hiestand from Lead User Concepts. Thank you so much for the huge (and often humbling) insights that your and our field experimentation has provided! I am also eager to acknowledge and thank my family for the - Author: Eric Von Hippel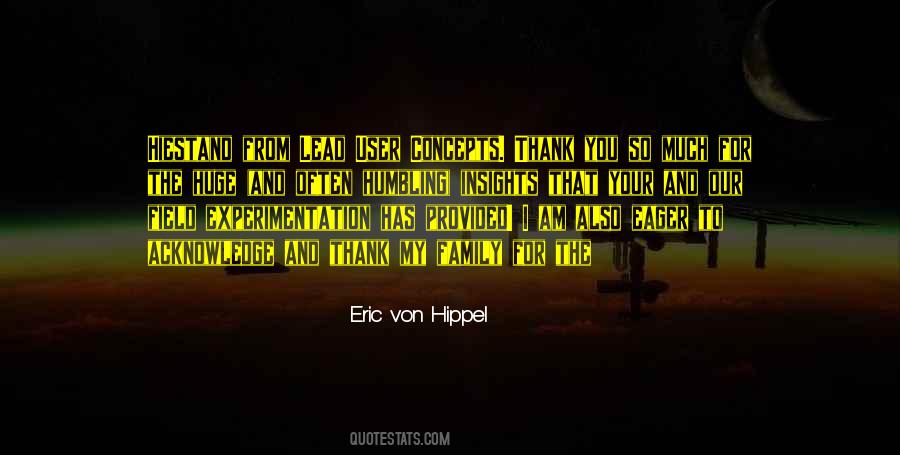 #61. Until we align our minds with our souls,
we will continue to grieve for our highest selves as individuals, a society, and as a world family. - Author: Leta B.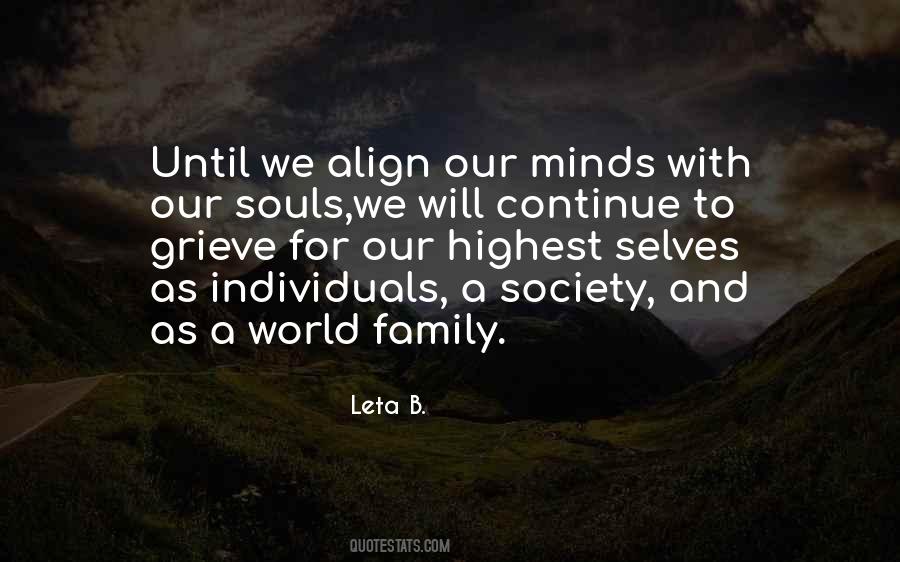 #62. Our most treasured family heirloom are our sweet family memories. The past is never dead, it is not even past. - Author: William Faulkner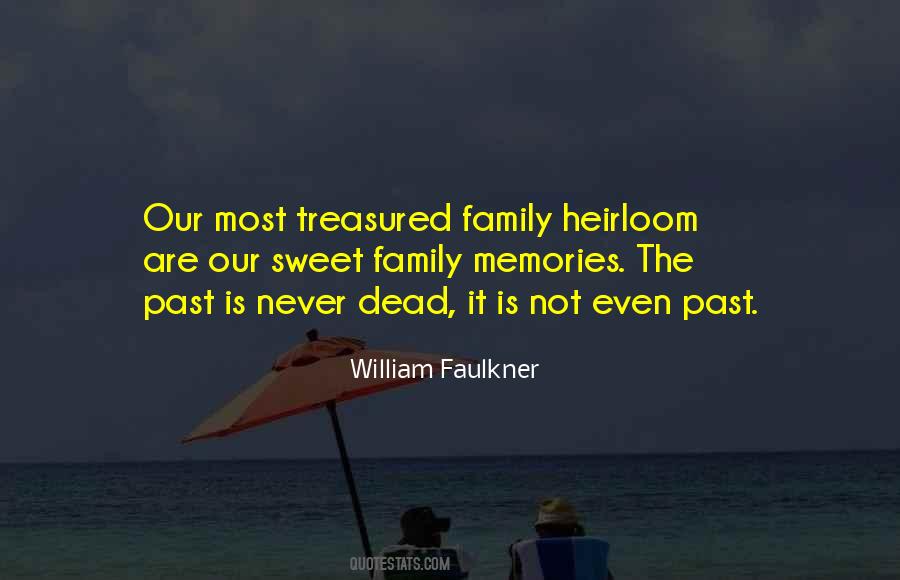 #63. I do not think we remember our family in any real sense. We live in them instead - Author: Anne Enright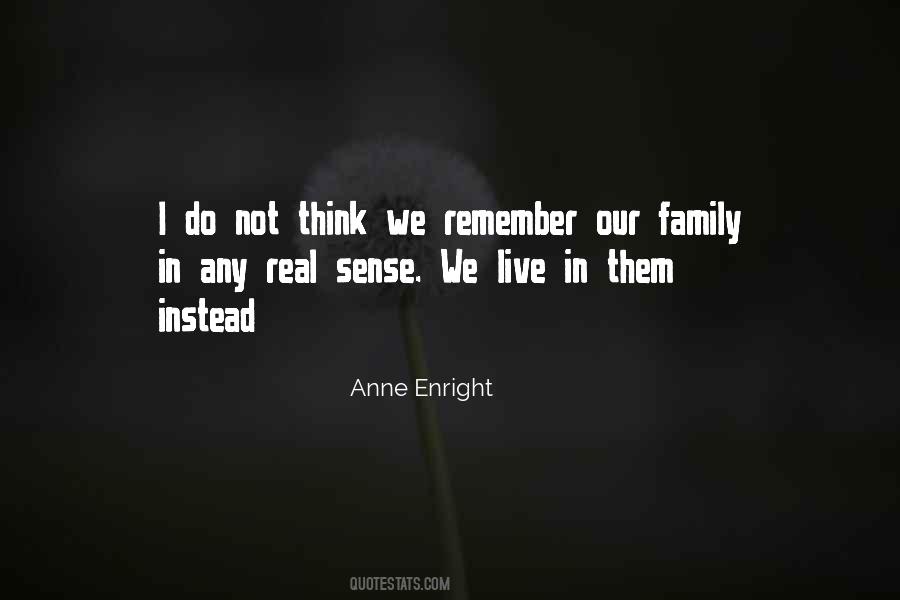 #64. Our extended family is an integral part of our daily lives and Connie and I welcome you with open arms. - Author: Frank Jordan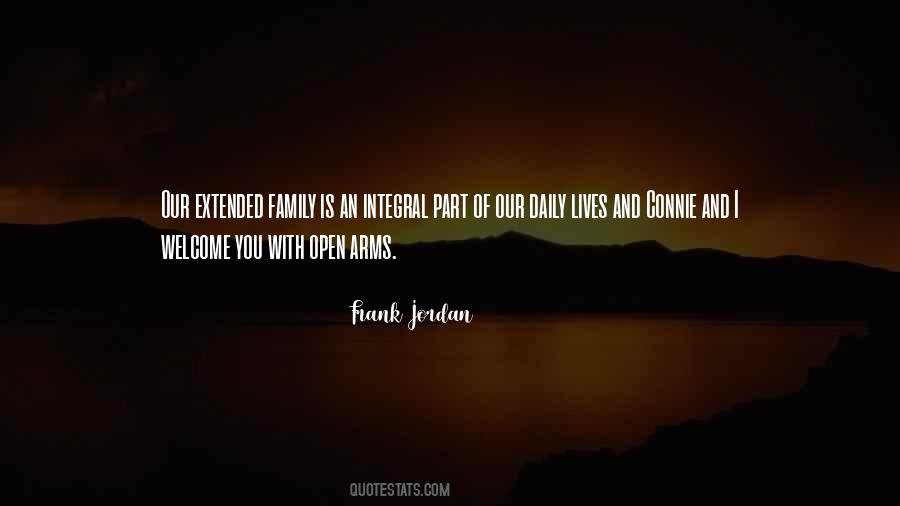 #65. Irreverence ran on both sides of our family ... my parents brought me up to think we could all change the world. - Author: Richard Branson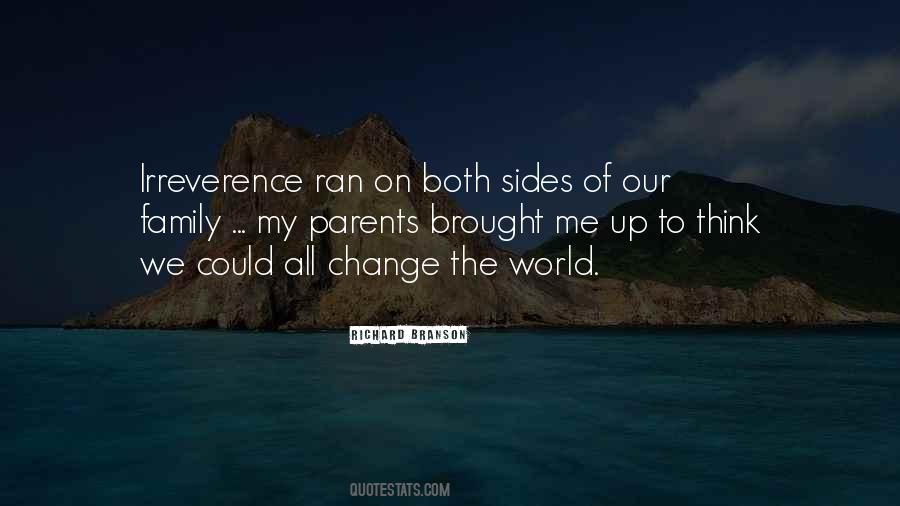 #66. When my husband Charles passed away in 2000, I took over as chair of our family's foundation. As I was mourning his loss, I also had to keep the foundation moving forward and to chart a course into what was then a very male-dominated philanthropic world. - Author: Lynn Schusterman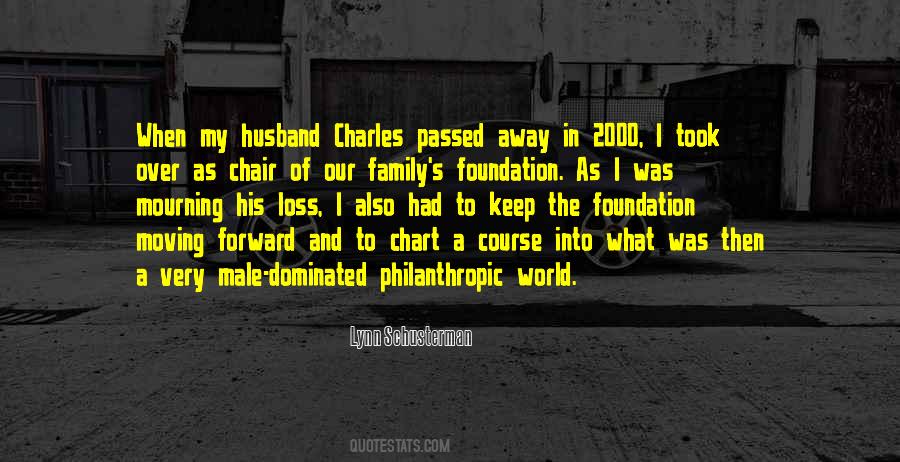 #67. The killjoys initiated automobile crash standards so rigorous that we can't buy a car that hasn't been dropped from the top of a phone pole with our whole family strapped inside. - Author: P. J. O'Rourke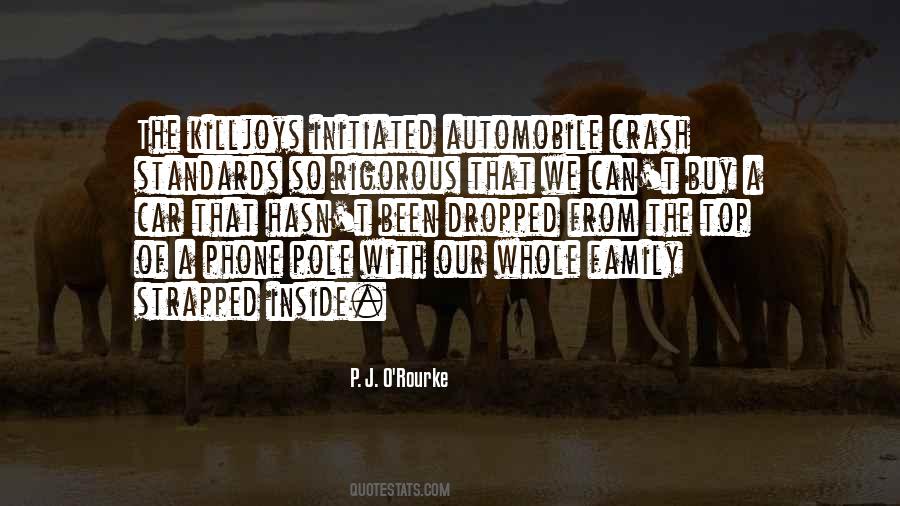 #68. When we place our faith in Christ, God becomes our Father, we become his children, other believers become our brothers and sisters, and the church becomes our spiritual family. The family of God includes all believers in the past, the present, and the future. - Author: Rick Warren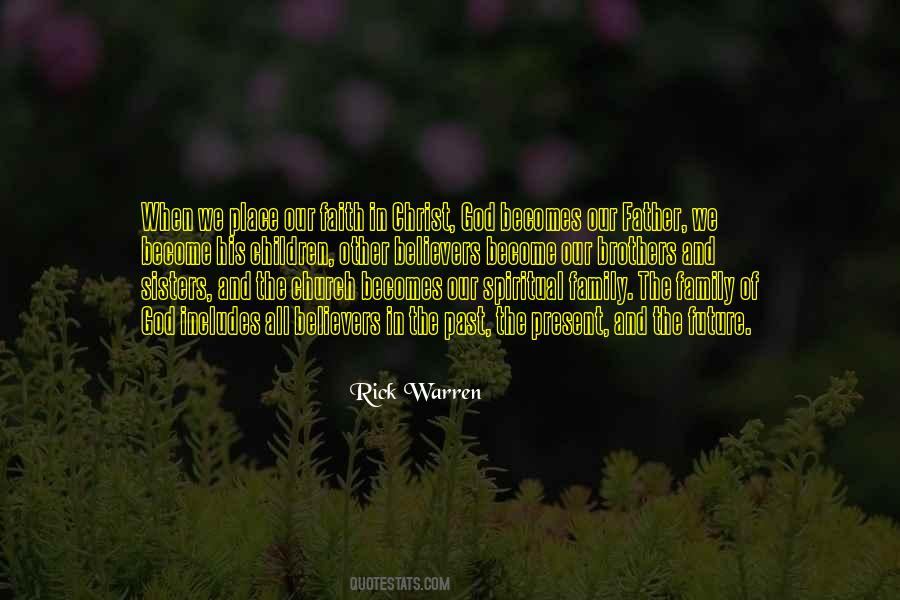 #69. My sister has decided to become an actress too. It has ruined the close-knittedness of our family life. - Author: Olivia De Havilland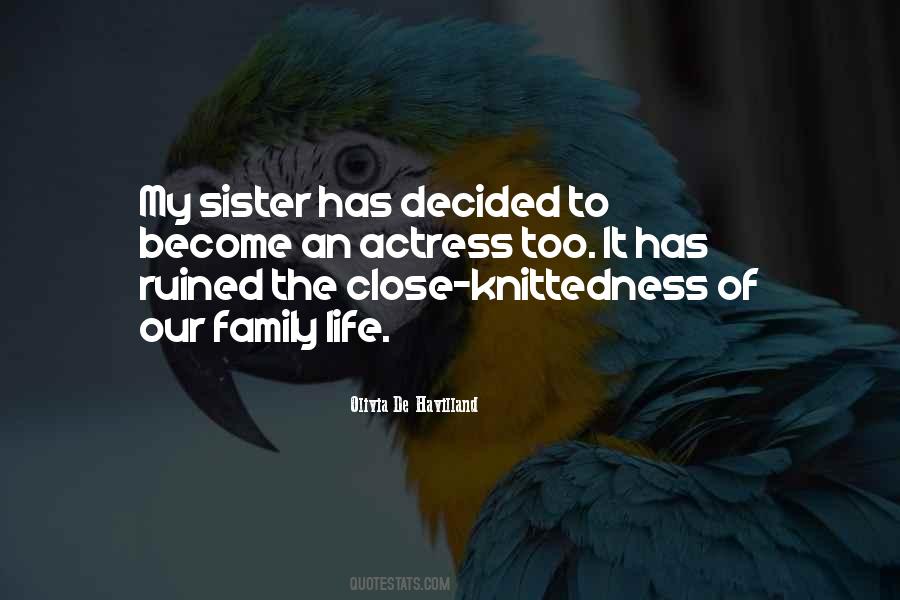 #70. Where lurk sweet echoes of the dear homevoices, Each note of which calls like a little sister, Those airs slow, slow ascending, as the smokewreaths Rise from the hearthstones of our native hamlets Cyrano Act 5. - Author: Edmond Rostand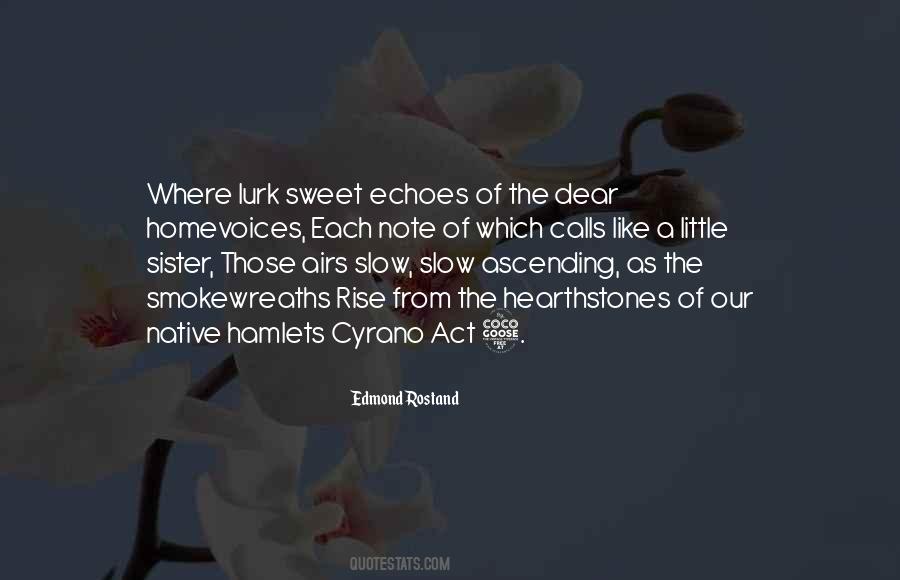 #71. When we read, even if the characters are tragic or sad or disturbing, these are our brothers and sisters in the human family. - Author: Julia Alvarez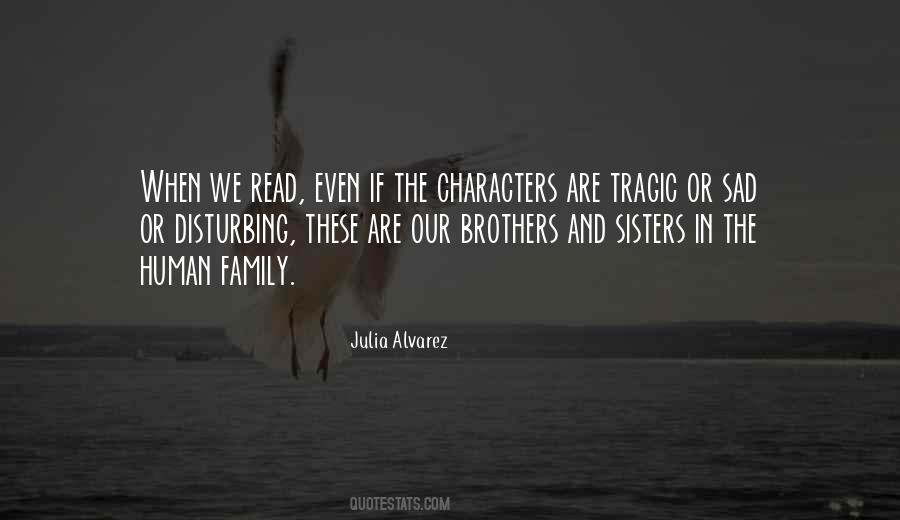 #72. We should try to achieve things for ourselves and not rely on former or past family glories with which we have no connection but the arbitrary nature of our birth. - Author: Shirley Franklin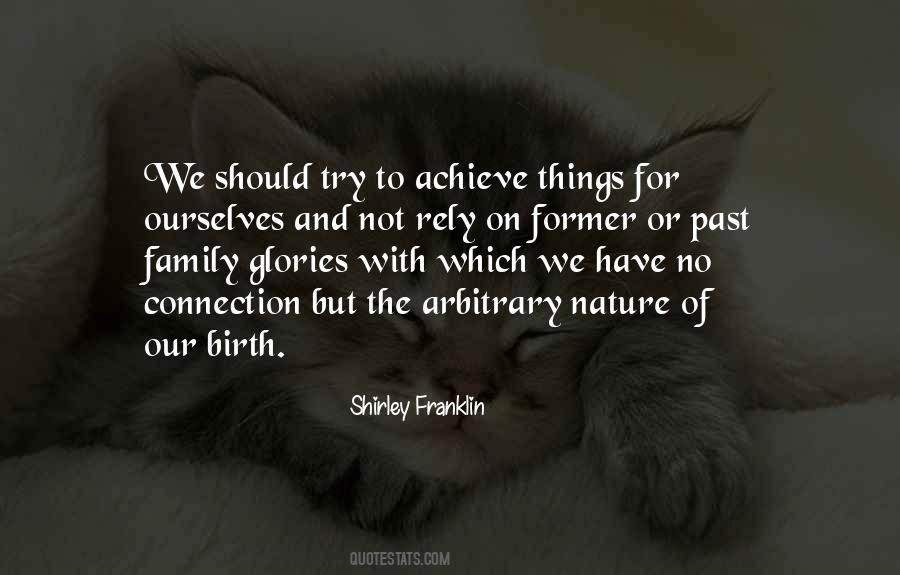 #73. I especially remember that on All Souls Day, when so many people wanted new monuments for the graves, our whole family pitched in. I did the lettering on the stones, my brother did the carving, and my sisters put the finishing touches on them, the gold leaf and all that. - Author: Ludwig Mies Van Der Rohe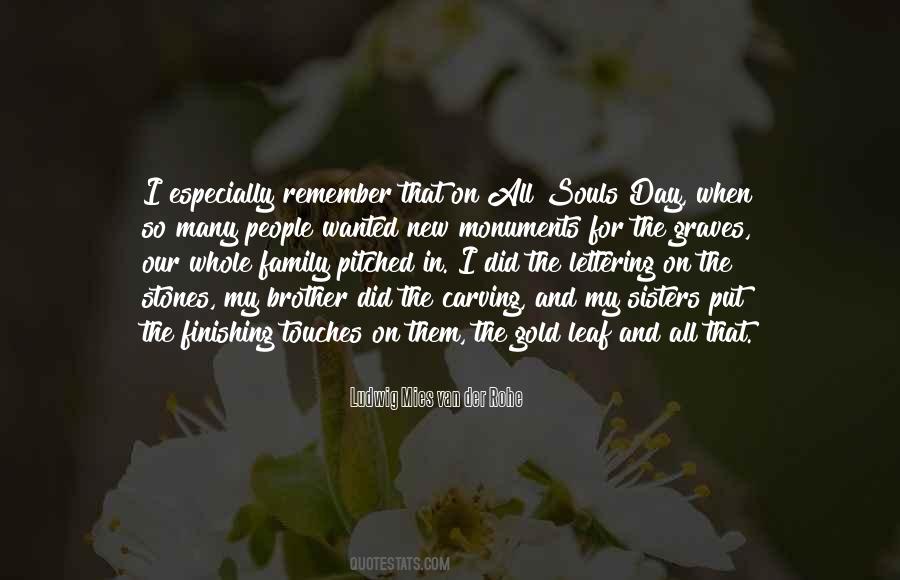 #74. The family is where most of our joy comes from. - Author: Aidan Quinn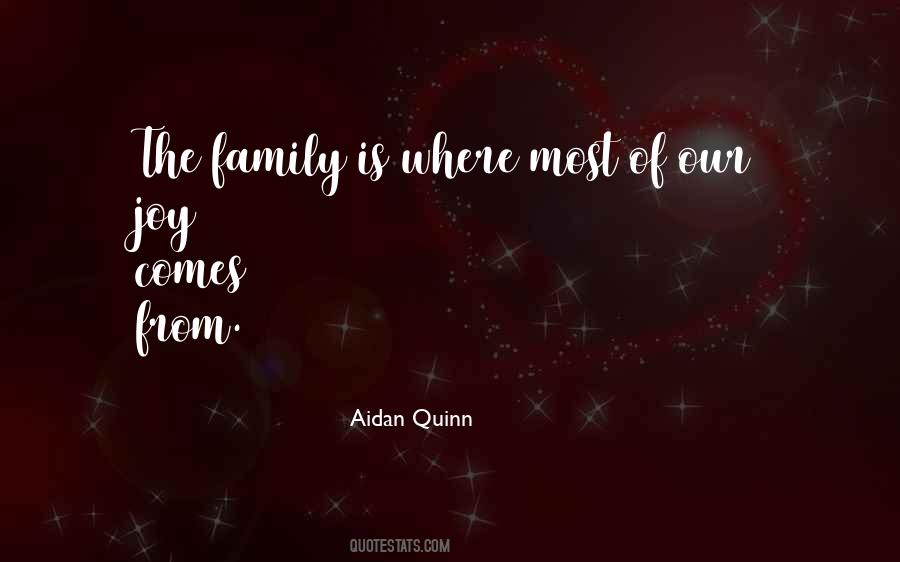 #75. They say that family is the place of safety. But sometimes this is the greatest lie; family is not sanctuary, it is not safety and succour. For some of us, it is the secret wound. Sooner or later we pay for the woundings of our ancestors. - Author: Nayomi Munaweera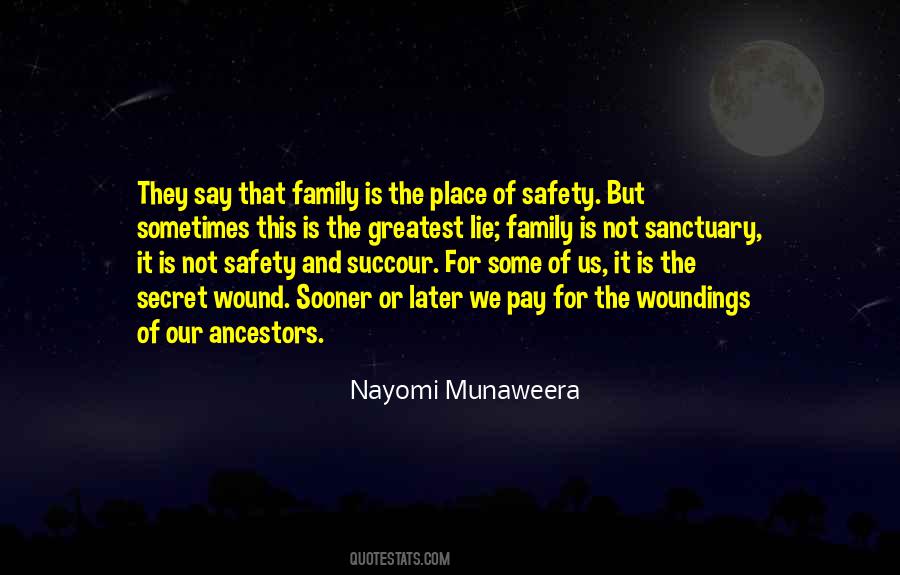 #76. If we come from good families where we have been supported well, there is a disillusionment we have to undergo in terms of the culture's values. We have to get beyond our cultural mythology to find out who we are. - Author: Sam Keen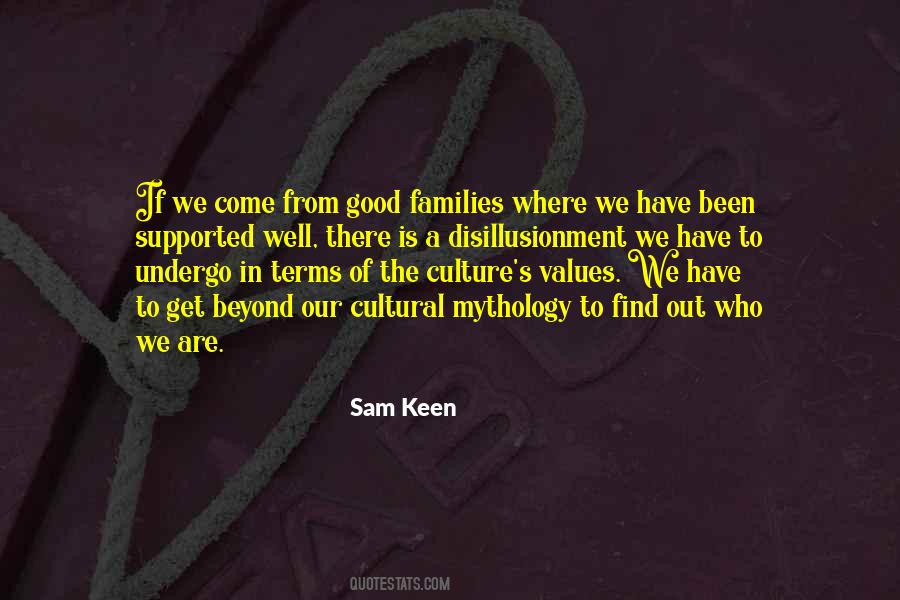 #77. never saw our friends or family. We were forced to marry." "That didn't turn out so bad," she said. Bob held his tongue as he drove through the heart of the curve. - Author: Blake Crouch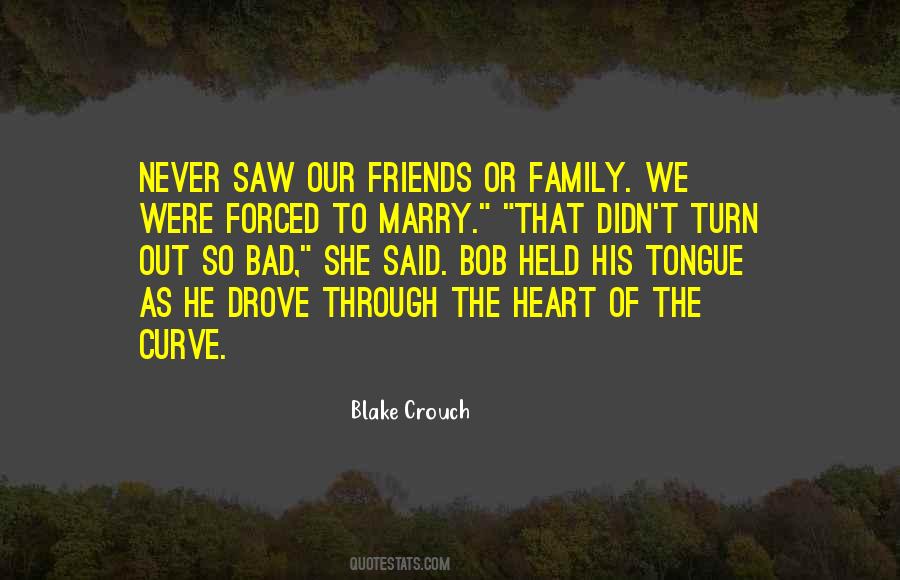 #78. I came running down the stairs that morning, like it was Christmas. My parents were already up. In my family, presents never waited; they were there upon waking. Our family has a problem with what they called delayed gratification. We want what we want when we want it, and we always want it now. - Author: Neal Shusterman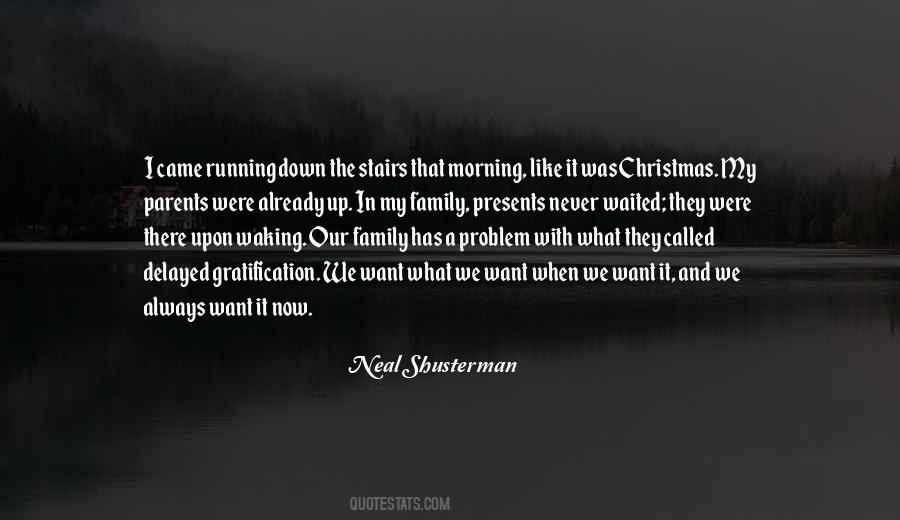 #79. Life is full of confusion. Confusion of love, passion, and romance. Confusion of family and friends. Confusion with life itself. What path we take, what turns we make. How we roll our dice. - Author: Matthew Underwood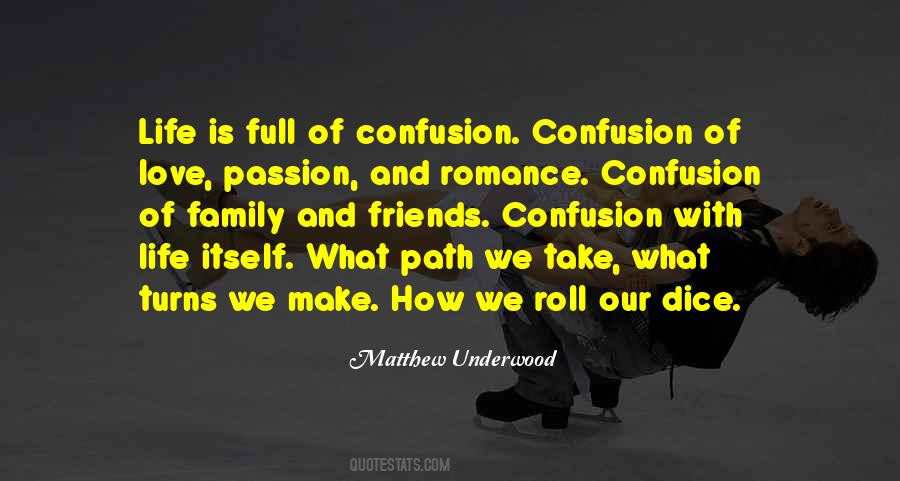 #80. My mom and dad are second-generation Greek-Americans who instilled in our middle-class family the values of hard work, self-reliance, and service, exemplified by my father's tenure as a U.S. Marine who was stationed at Camp David under President Truman. - Author: James Costos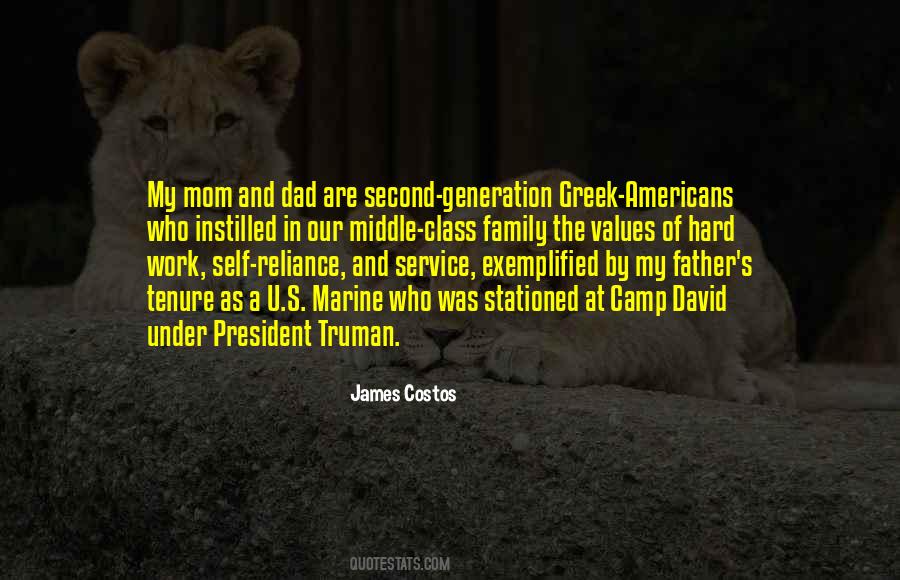 #81. My family, they're story tellers. My mom is Irish, and my dad is Italian. In my family, we weren't allowed to watch TV while we ate - we had to sit around the table and tell stories about our day. - Author: Meg Cabot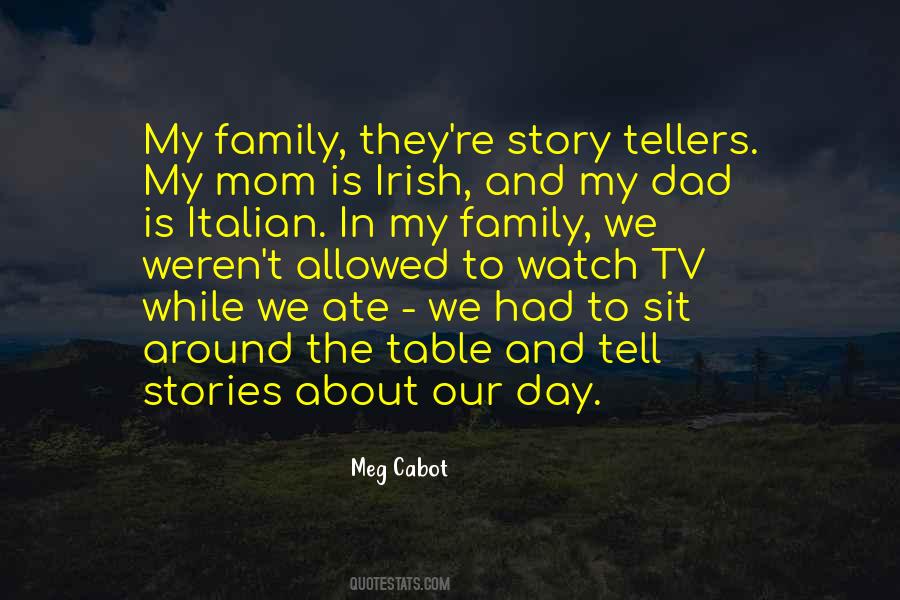 #82. The question is ... How did a girl like Annabelle manage to talk a man like you into joining our silly little family party?"
Annabelle smiled sweetly. "I promised he could tie me up afterward and spank me. - Author: Susan Elizabeth Phillips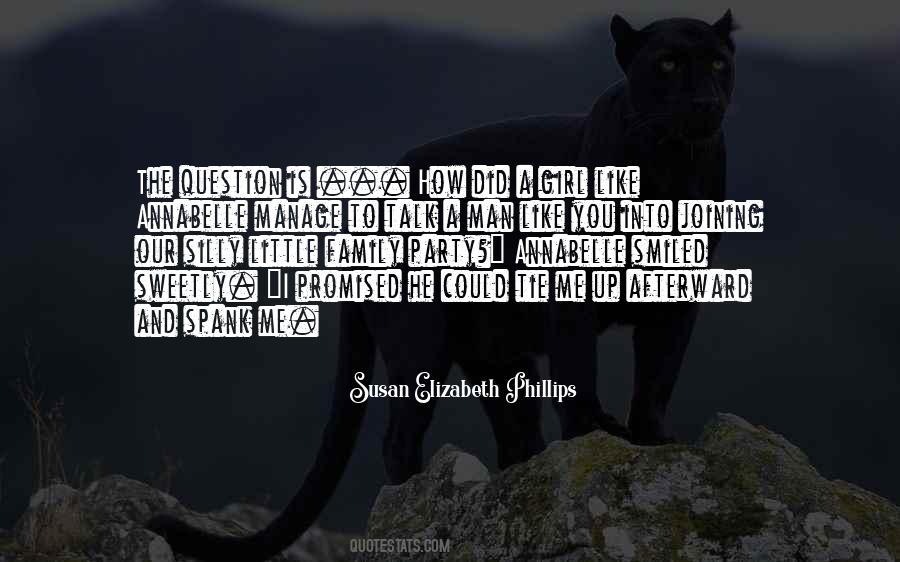 #83. You're my backbone. You're a blessing. You're a piece of my heart. You're the air I breathe. And you're the strongest person I know, and I'm so sorry for having to put you through this and having to put our family through this. - Author: Kobe Bryant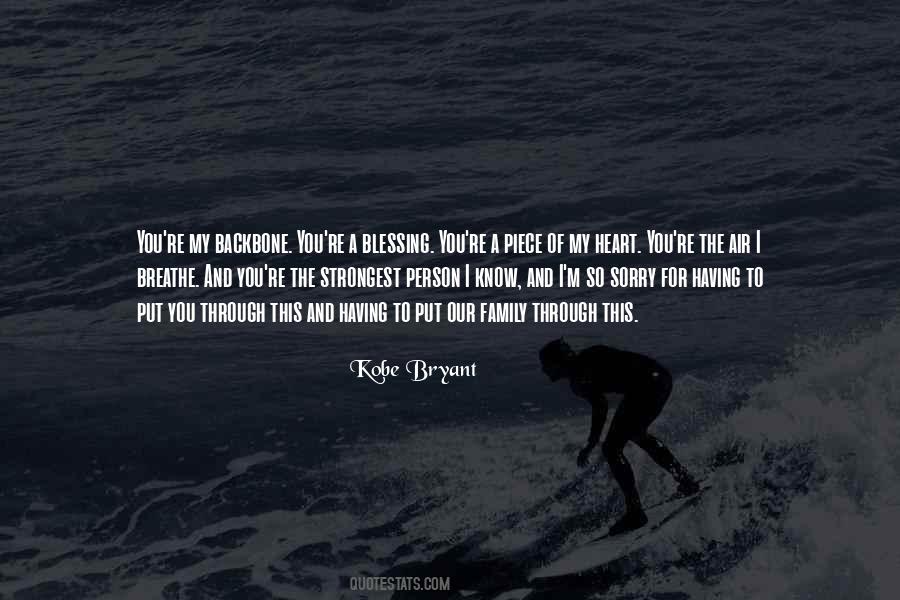 #84. Friends will keep us happy.
Our family keeps us warm.
We'll party through the good times
and hold tight through the storms. - Author: Lisa Schroeder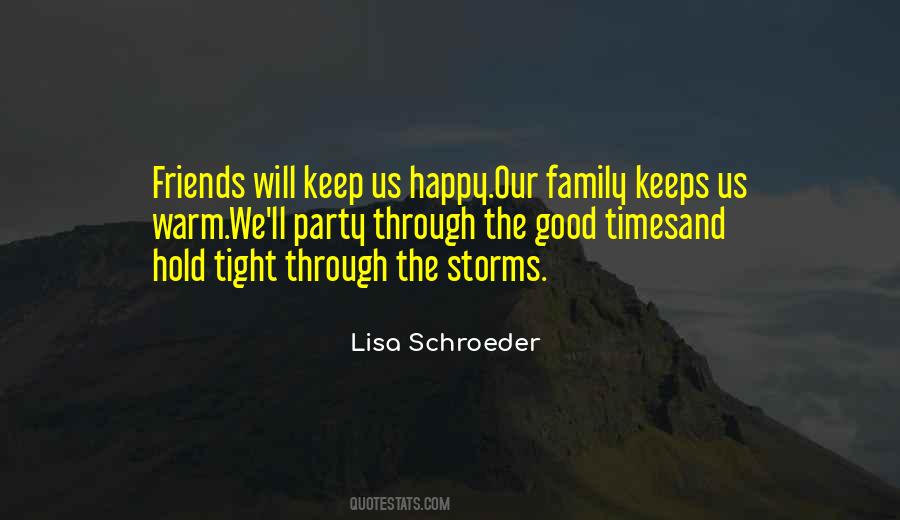 #85. My brother's researched our early family history. He found a letter from a fella who said he used to be in love with my mum. - Author: Paul McCartney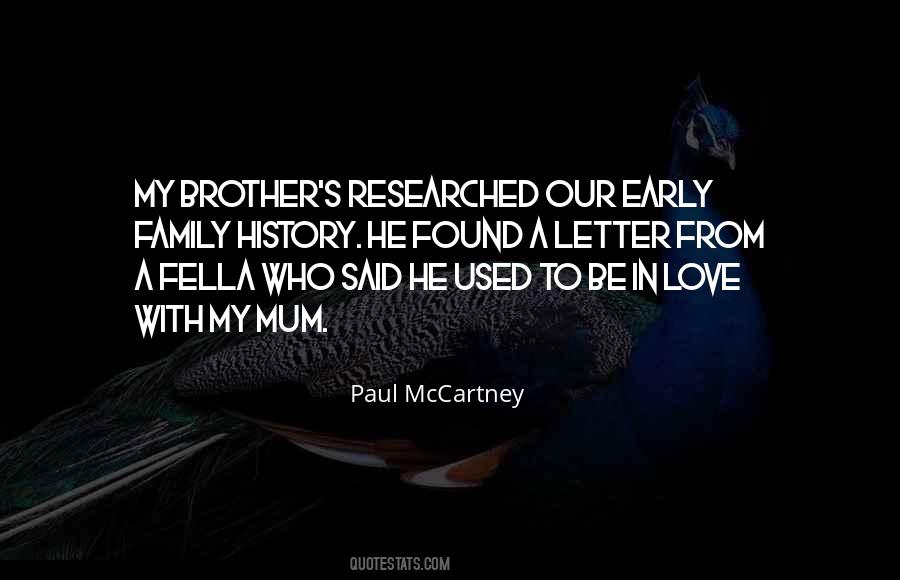 #86. It's innate in me to be a blue-dog Democrat. I'm not saying I'm right or wrong, but that's what I am. My wife and I and our family will do everything we can to support Obama. I like his ideas, I like his energy, and I like the statement he would make for our country to the world. - Author: Tim McGraw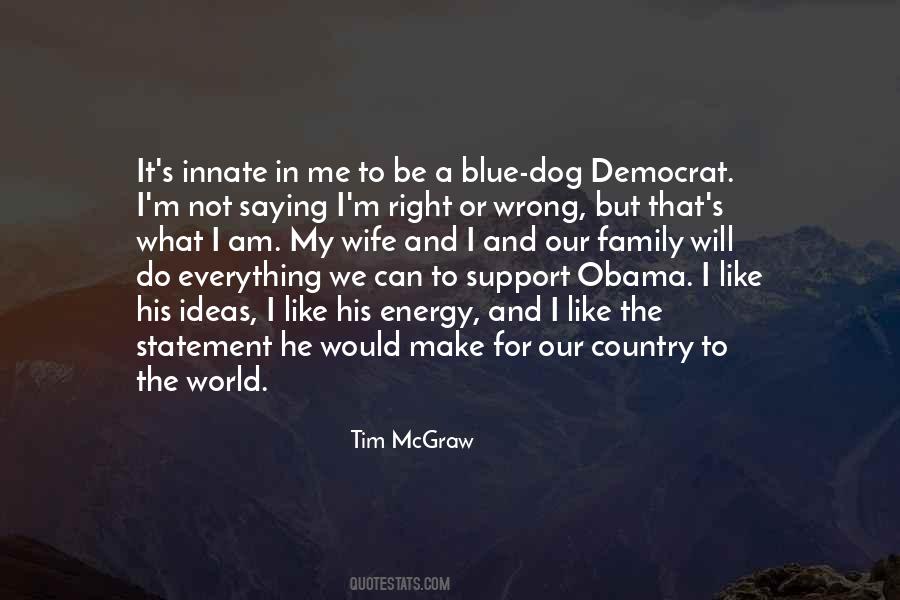 #87. We must abandon the goals of perfect obedience and untainted innocence and begin to equip our children to see their place in God's family, their need for his grace, and their opportunity to embrace his mission. - Author: Mark Matlock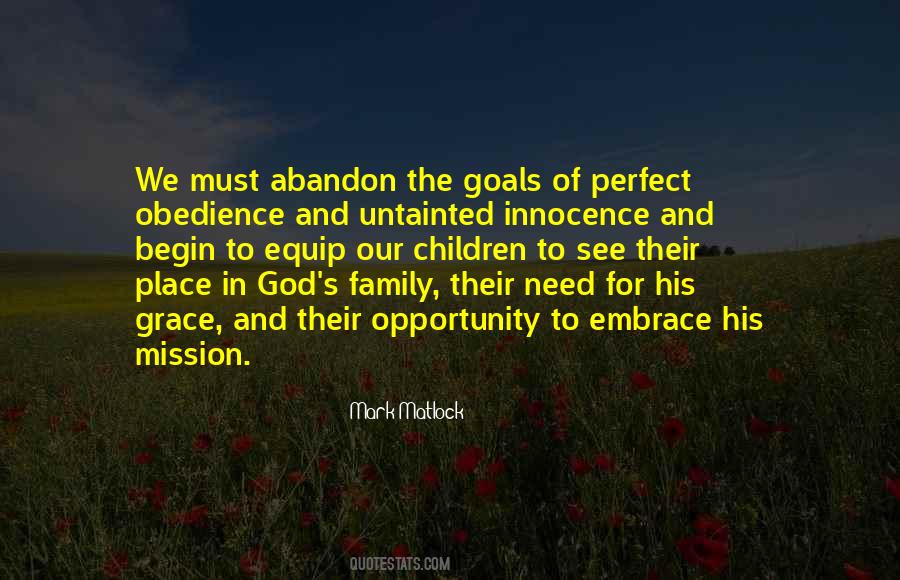 #88. The family only represents one aspect, however important an aspect, of a human being's functions and activities. A life is beautiful and ideal or the reverse, only when we have taken into our consideration the social as well as the family relationship. - Author: Havelock Ellis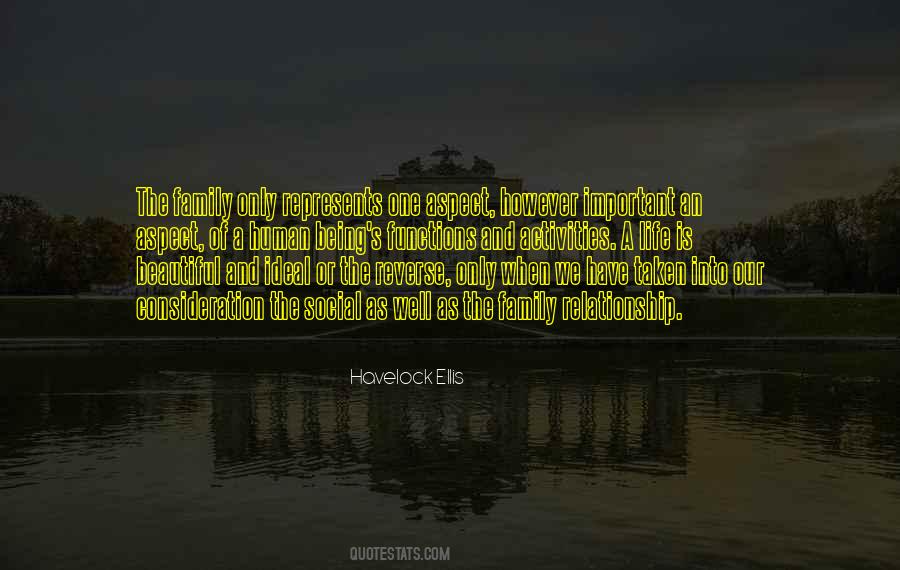 #89. She says screens are the cigarettes of our age. They're toxic, and we're only going to realize the damage they're doing when it's too late. - Author: Sophie Kinsella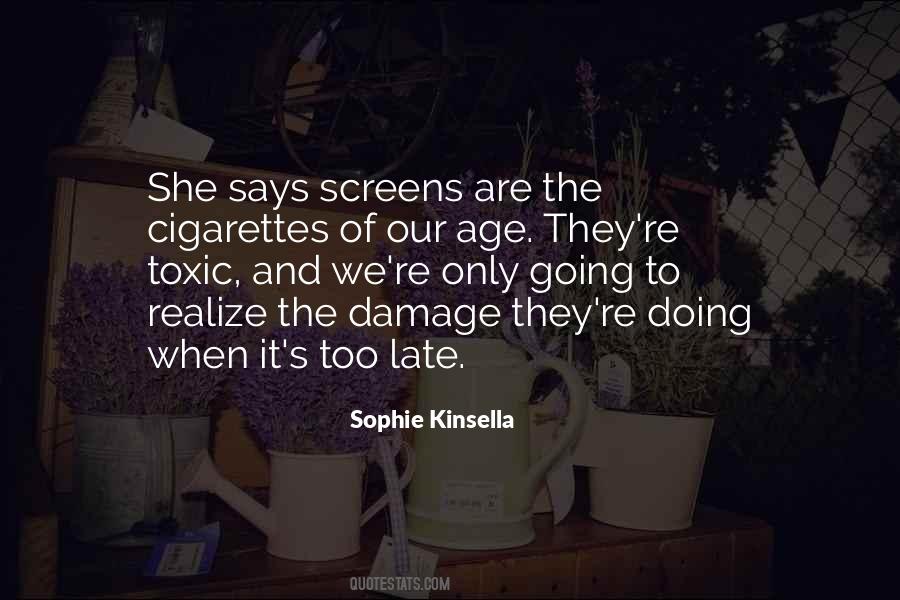 #90. Sooner or later, we all learn that our immortality is rooted not in our professional involvements and achievements, but in our families. In time, all of our wins and losses in the workplace will be forgotten. If our memories endure, it will be because of the people we have known and touched. - Author: Harold S. Kushner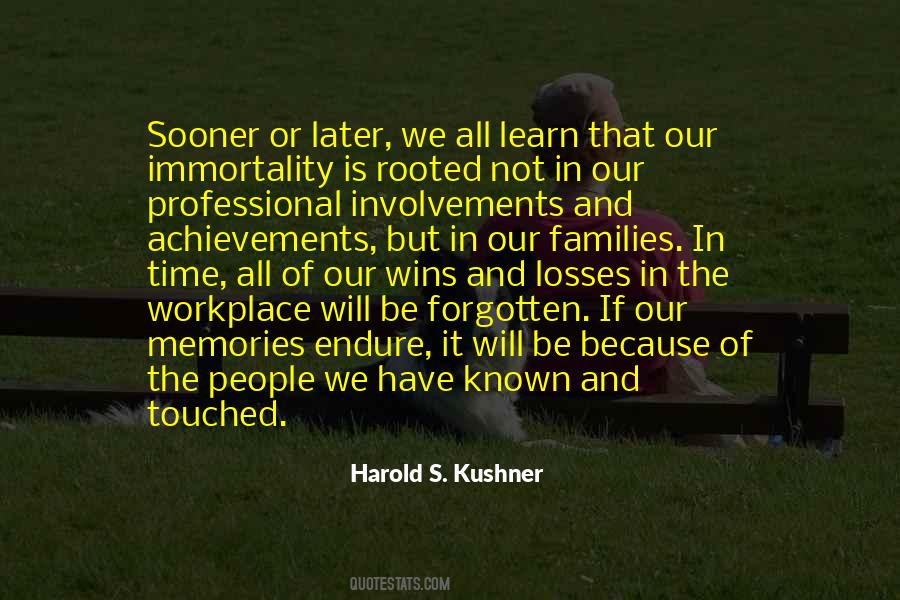 #91. My family was made of good people who did good things with what they were given. What fairness does life show in a time like this? But life is not fair and that is nothing new, so I bottled the pain and loss, and released them through a single tear rolling down my cheek. - Author: B.M. Tolbert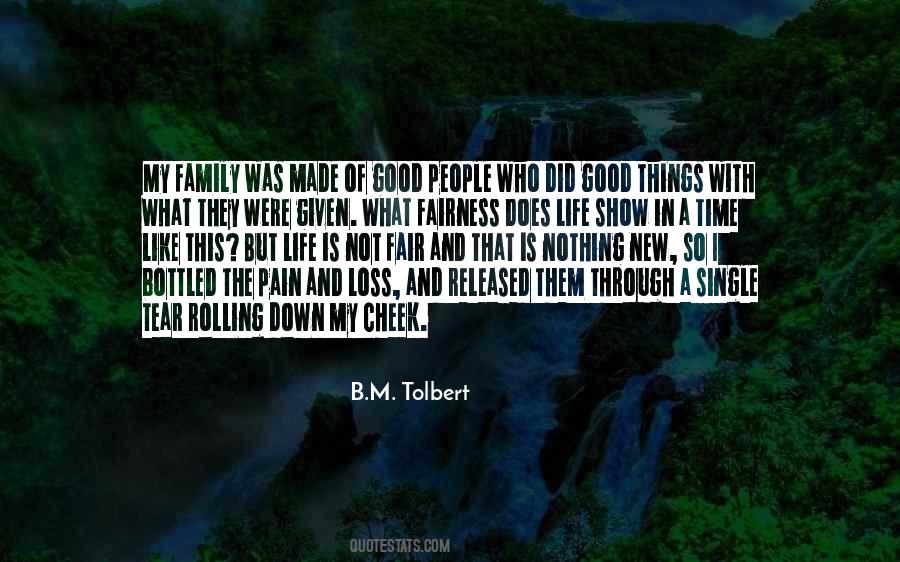 #92. It's so easy to focus on the anguish and the misery; it's harder, somehow, to acknowledge the positive, maybe for fear of jinxing it, bringing the nightmare back down on our heads. - Author: Harriet Brown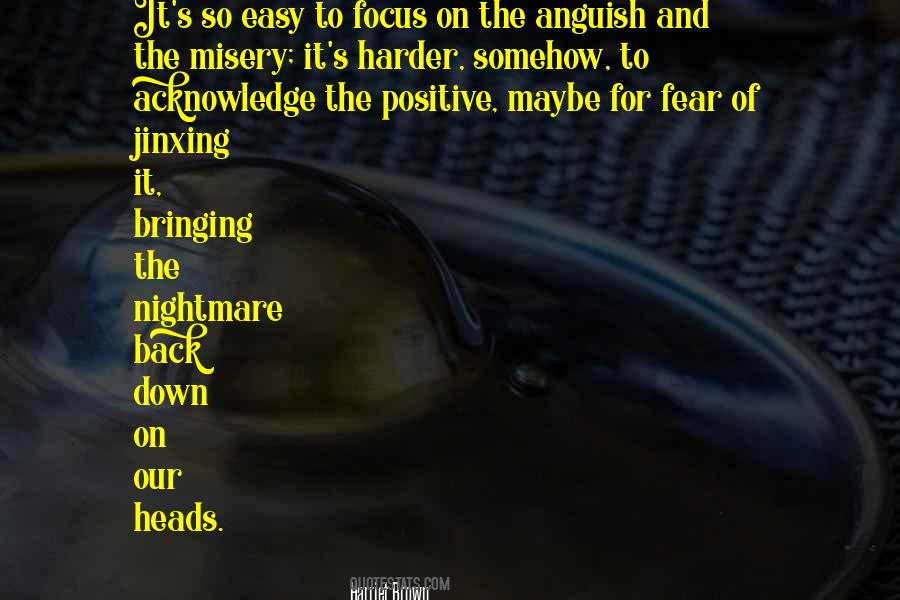 #93. We live our entire lives thinking we know those closest to us. But do we ever really? - Author: Hilary Grossman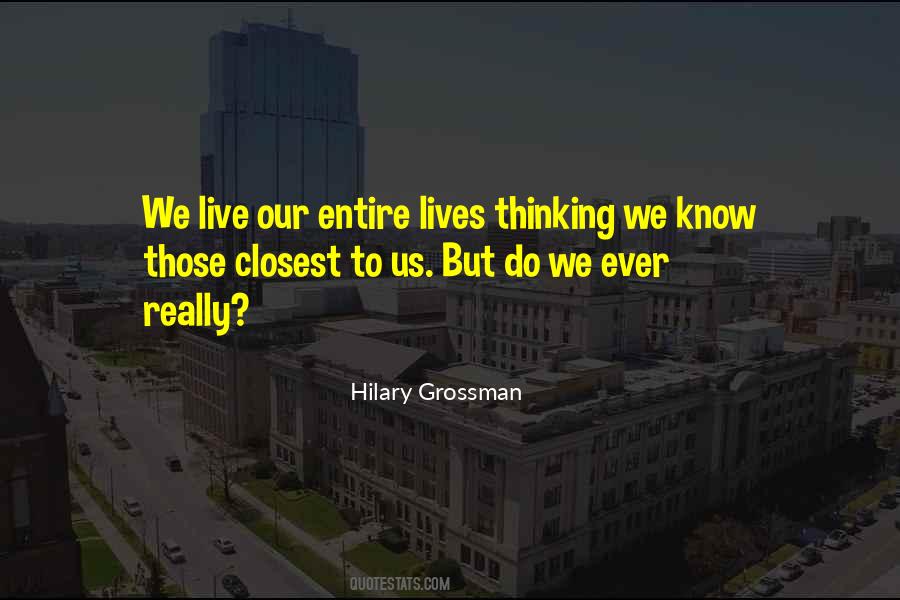 #94. Adoption has the dimension of connection - not only to your own tribe, but beyond, widening the scope of what constitutes love, ties and family. It is a larger embrace. By adopting, we stretch past our immediate circles and, by reaching out, find an unexpected sense of belonging with others. - Author: Isabella Rossellini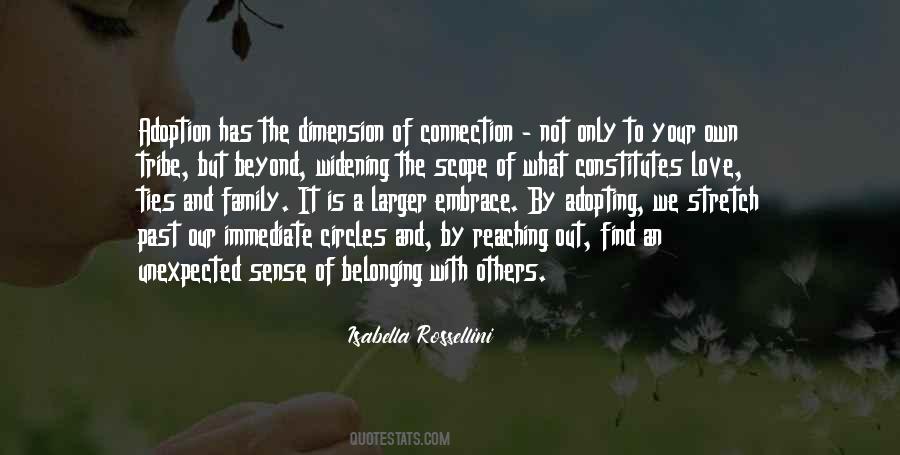 #95. Grandmothers died. It was to be expected. You weren't even allowed to be that upset about it. Please don't let Frannie have died. Please don't let anyone have died. Nobody else in our family will - Author: Liane Moriarty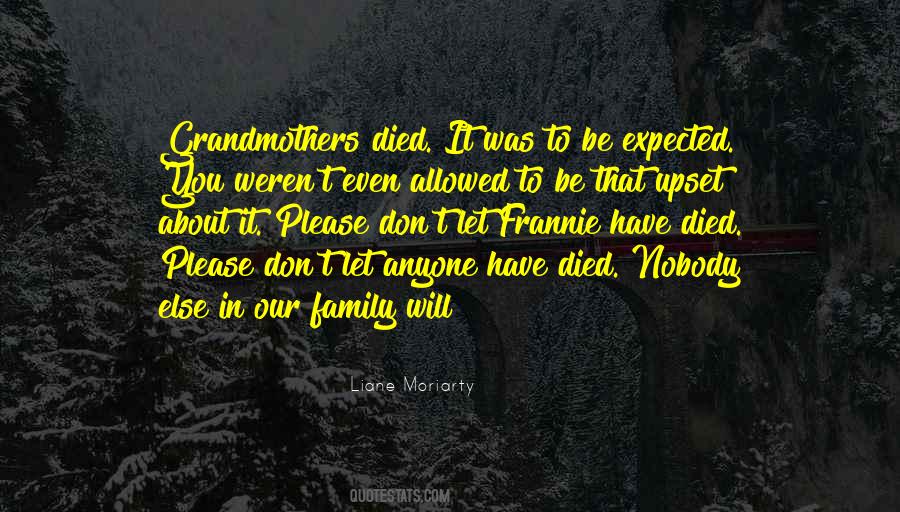 #96. In community we are called to care for each member of the community. We can. Choose our friends but we do not choose our brothers and sisters' they are given to us, whether in family or in community." Jean - Author: Jean Vanier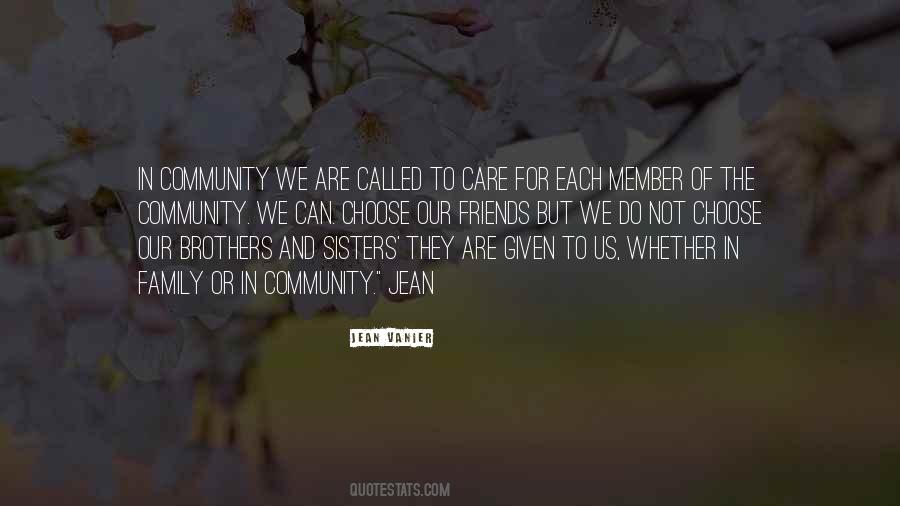 #97. Even now, my husband Jerry, our son Matthew and I live only five minutes away from my parents home, and my brothers live about ten minutes away. It's been great having such a supportive family. - Author: Nancy Kerrigan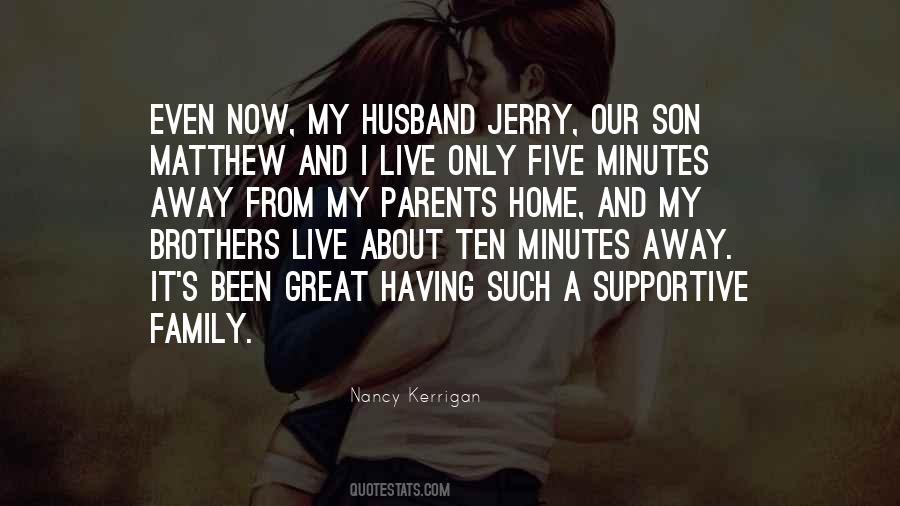 #98. I believe the family is the foundation of America
and that we must fight to protect and strengthen it. I believe in the sanctity of human life. I believe that people and their elected representatives should make our laws, not unelected judges. - Author: Mitt Romney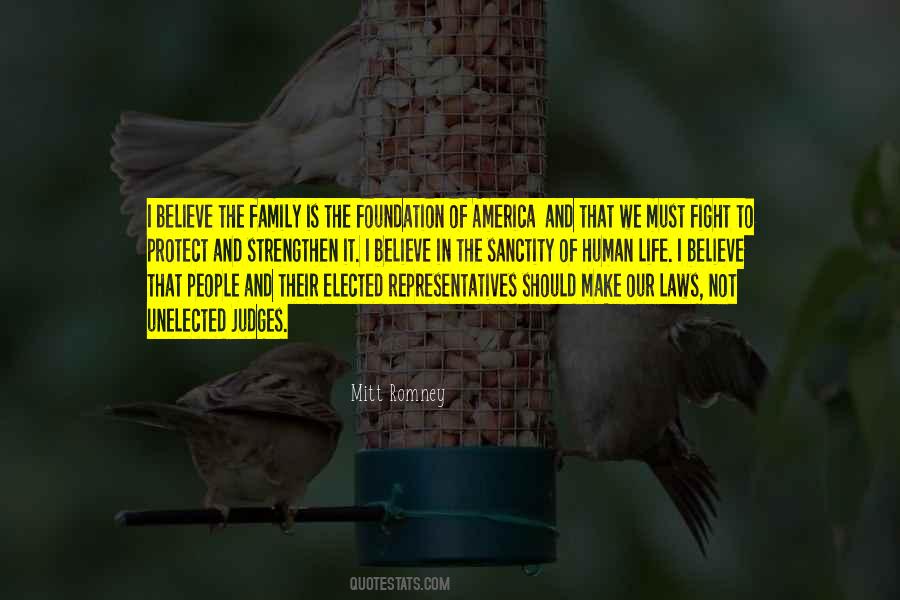 #99. Why do I get the feeling that if you give me a hard time, I'll tell all of our year-mates your family nickname is Meathead? - Author: Tamora Pierce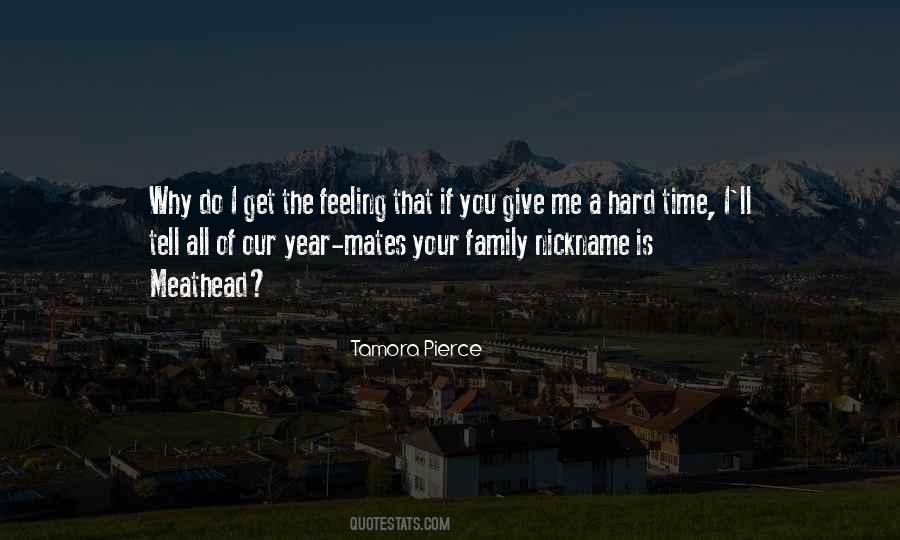 #100. None of our family businesses were focused on technology. It was '93 when I came out of law school, and the Internet was taking hold. So I started New World Ventures. - Author: J. B. Pritzker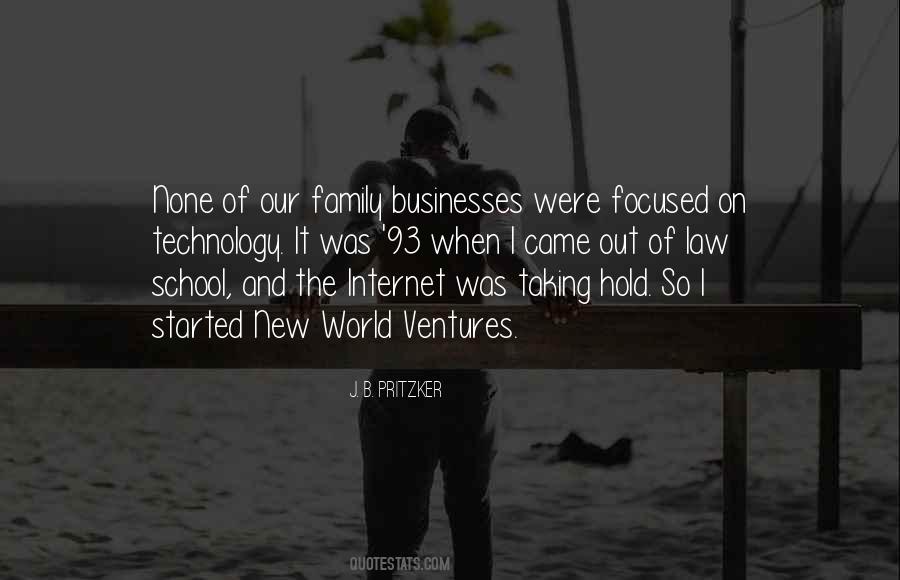 Famous Authors
Popular Topics