One Destiny Famous Quotes & Sayings
List of top 100 famous quotes and sayings about one destiny to read and share with friends on your Facebook, Twitter, blogs.
Top 100 One Destiny Quotes
#1. The figure knew that the coming events would begin with this night. The truth of the prophecy would lay a destiny far greater than any known to Dagmarth. A destiny for one child to embrace. It would bring change to this war and Dagmarth. - Author: Joseph J. Miccolis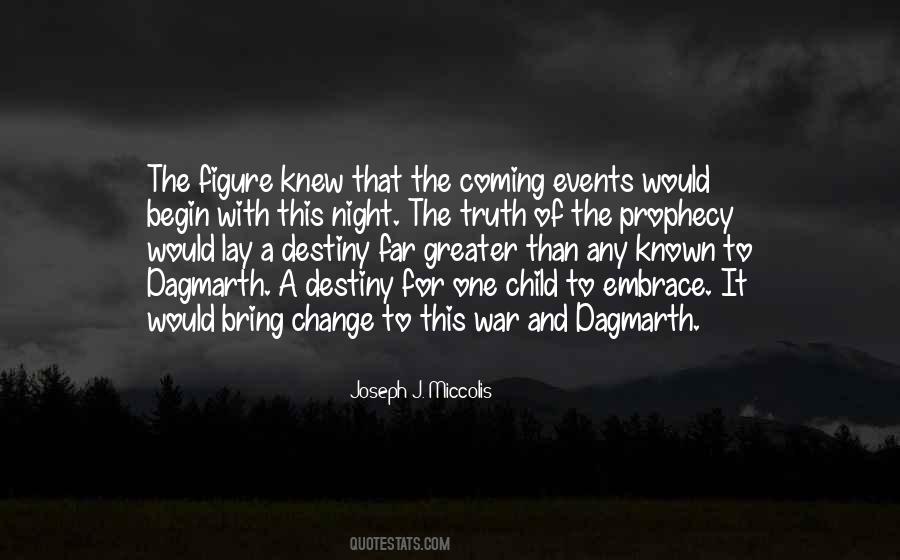 #2. Mere hope isn't enough to change destiny. One must act. - Author: Ogwo David Emenike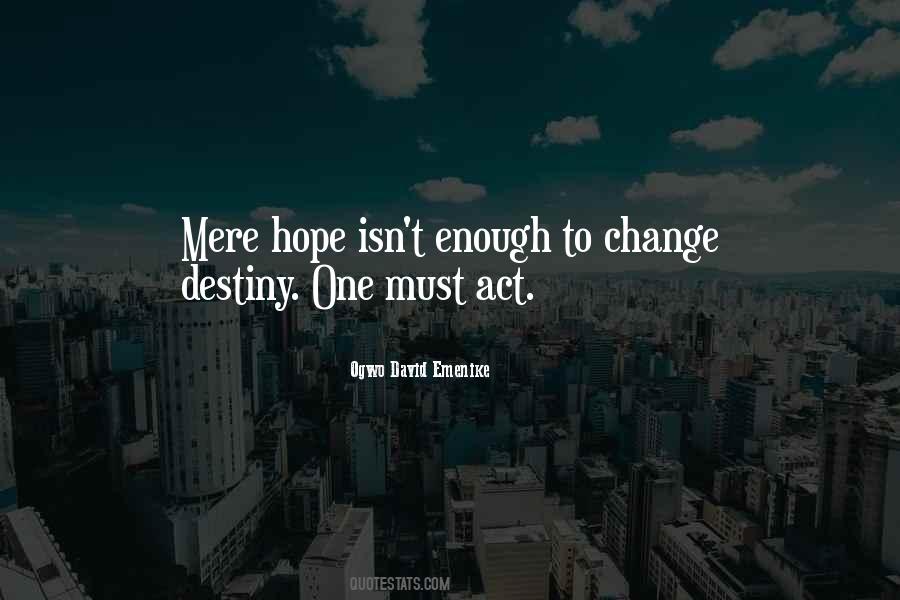 #3. Freedom and destiny are solemnly promised to one another and linked together in meaning. - Author: Martin Buber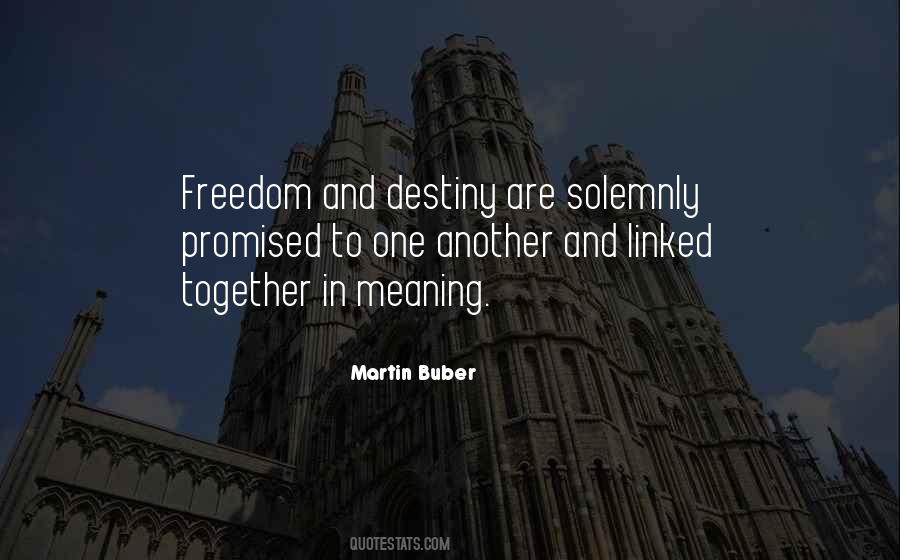 #4. Destiny commands ... and imposes a sacred obligation to show up in the face of one's desire for a normal, casual life ... there are other forces afoot of which consciousness has only the dimmest of understandings ... - Author: James Hollis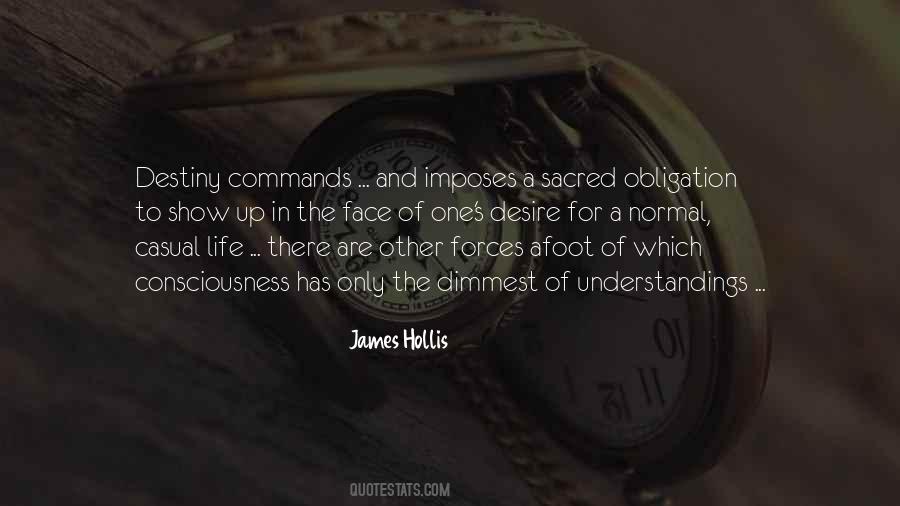 #5. I don't think you can prevent an artist from being and I don't think you can cause one to be. No one knows what makes an artist. - Author: Robert Engman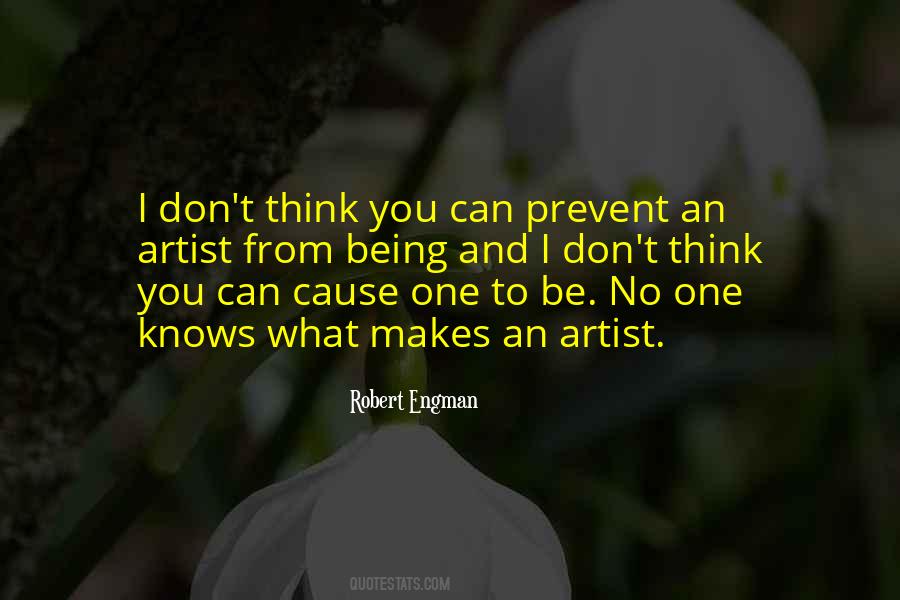 #6. I miss him for all the things he forgot to see in himself & if im lucky fate will help us rekindle a flame that never got set alight in the first place. - Author: Nikki Rowe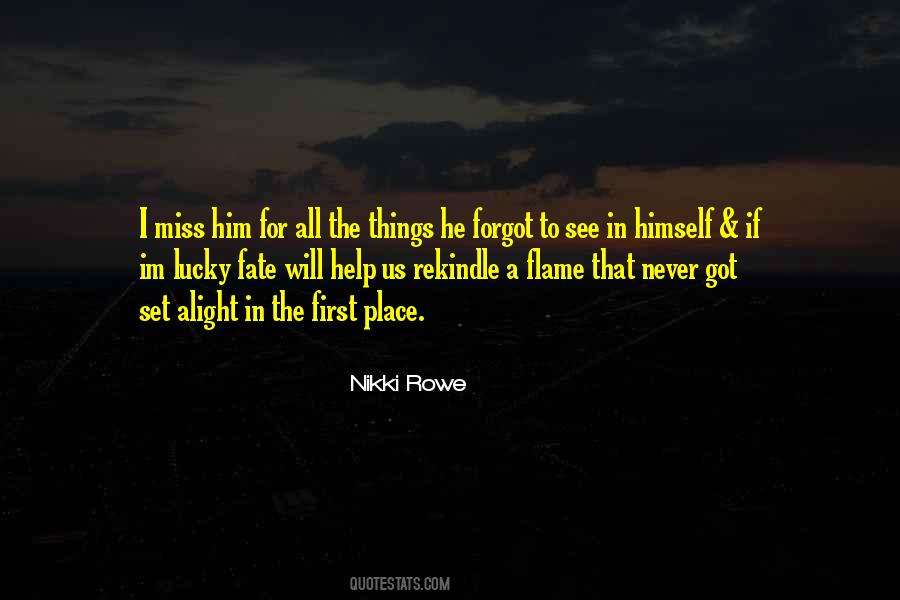 #7. The decision to serve a mission will shape the spiritual destiny of the missionary, his or her spouse, and their posterity for generations to come. A desire to serve is a natural outcome of one's conversion, worthiness, and preparation. - Author: Russell M. Nelson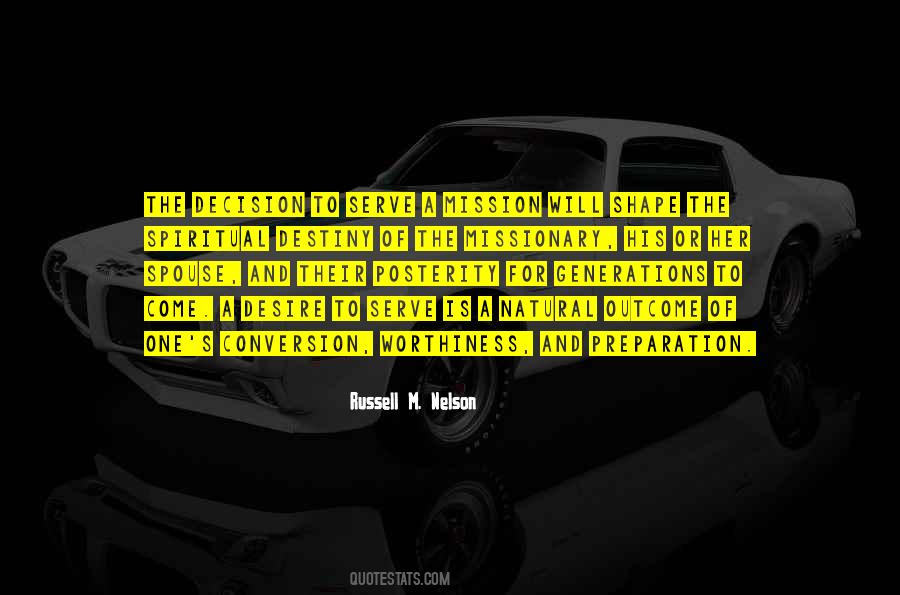 #8. Destiny's Gate is filled with darkness and light. If you identify with the darkness, this is a good sign as we all have to embrace the darkness within us in order to heal and be brought into the Light as One. - Author: Lee Bice-Matheson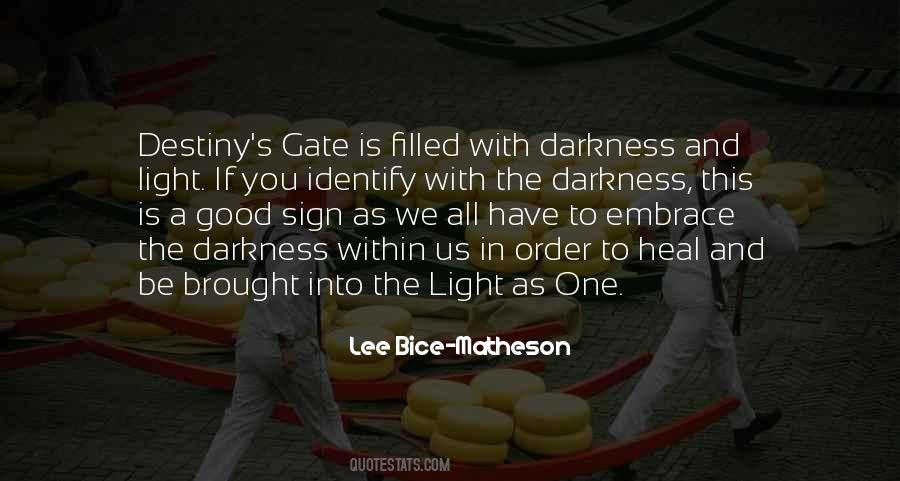 #9. Men believe death's elections to be a thing inscrutable yet every act invites the act which follows and to the extent that men put one foot before the other they are accomplices in their own deaths as in all such facts of destiny. - Author: Cormac McCarthy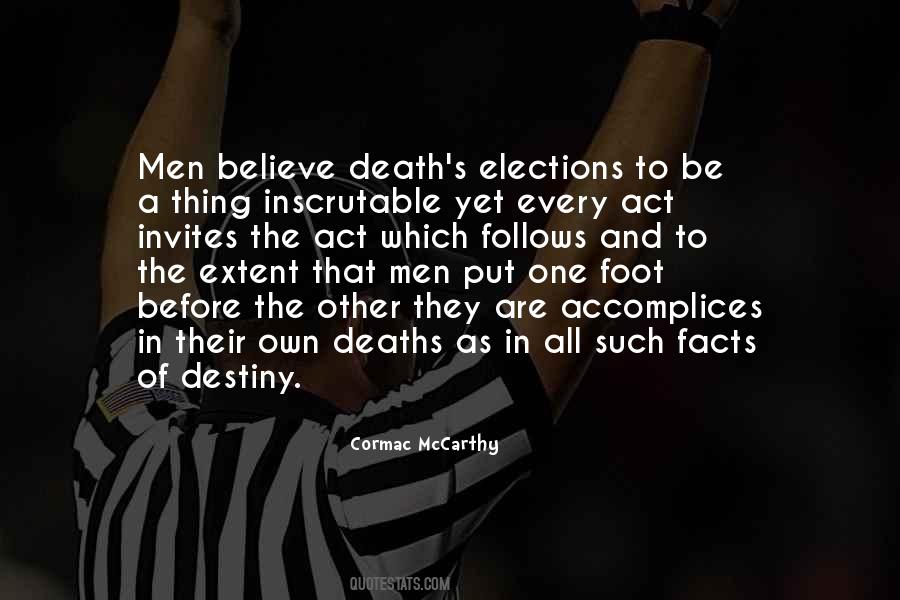 #10. [Death] is a safety-device because, once Man has fallen, natural immortality would be the one utterly hopeless destiny for him. - Author: C.S. Lewis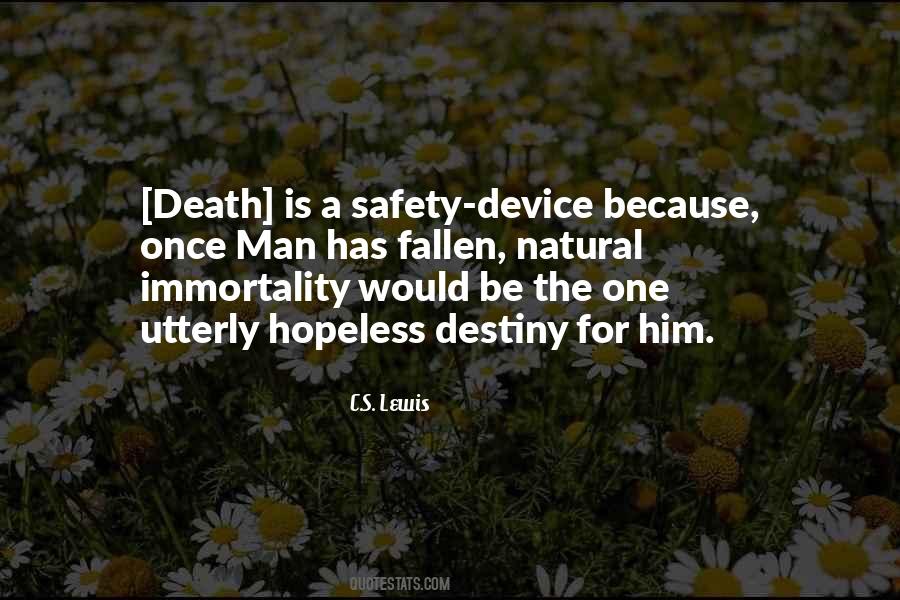 #11. It seemed to him that there was a scarlet thread running through the fabric of life, one that joined events across the years, piercing human hearts and plunging underground, only to reemerge without warning, a thread connecting lives and sometimes dates. - Author: Douglas Wynne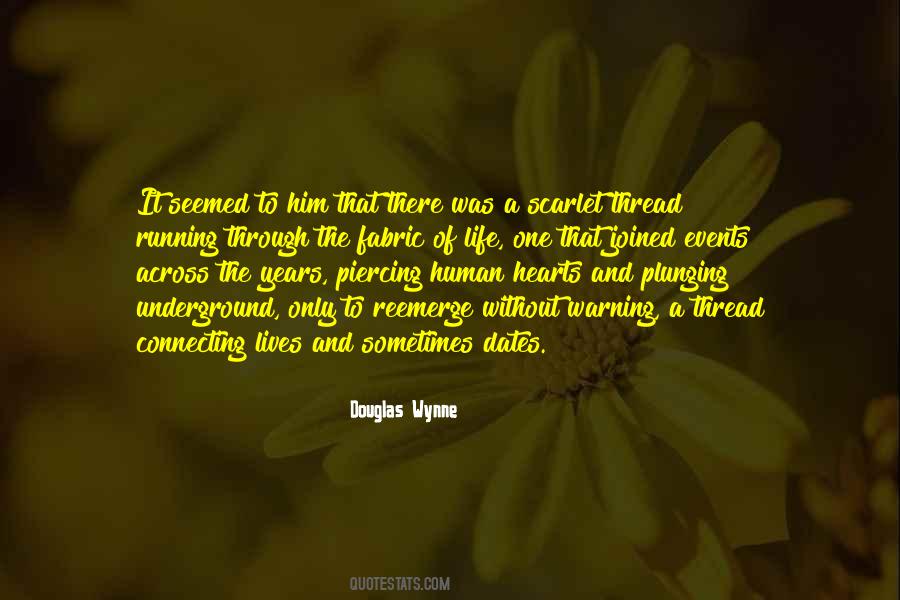 #12. It's odd to think we might have been Sun, moon and stars unto each other; Only I turned down one little street As you went up another. - Author: Fannie Heaslip Lea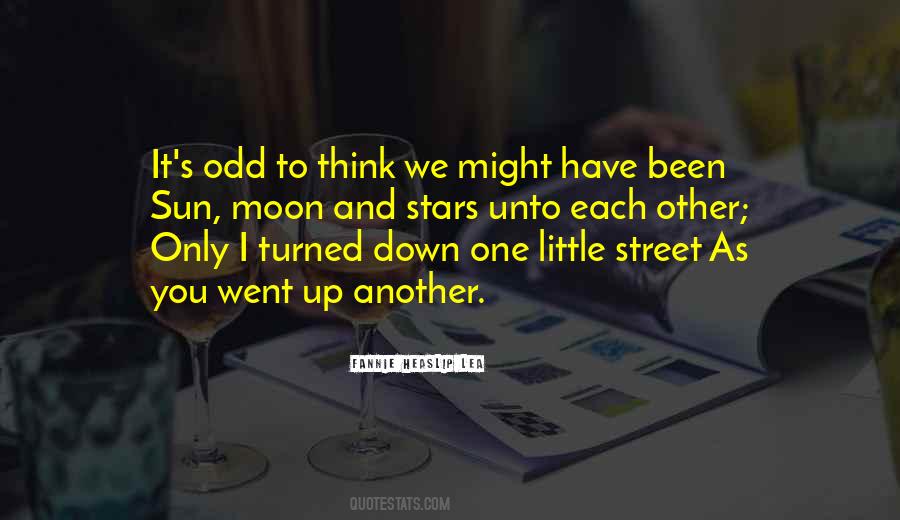 #13. Do not wait for vulnerability to be thrust upon you by your company or the marketplace. That is when you lost control of your own destiny. Choose to disrupt yourself. Seek vulnerability on your terms, no one else's. - Author: Bill Jensen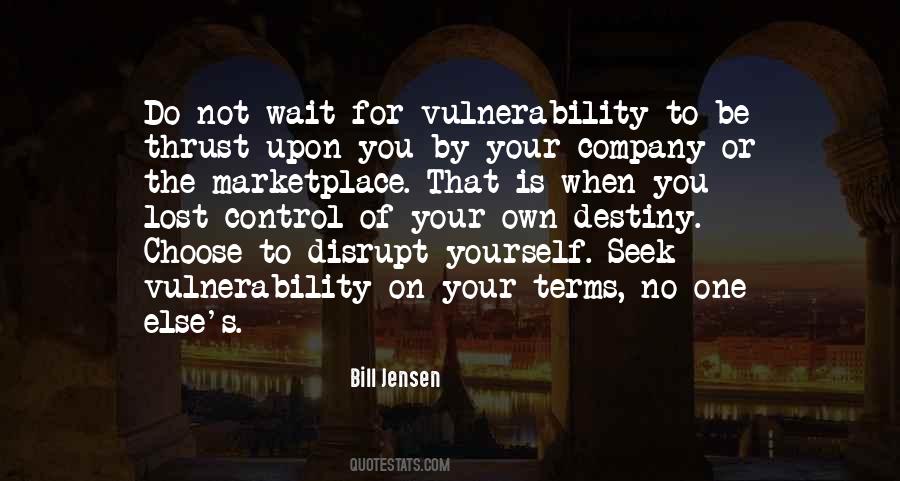 #14. Oneself, indeed, is one's own protector.
One does, indeed [make] one's own destiny.
Therefore, control yourself
As a merchant does a fine horse. - Author: Gautama Buddha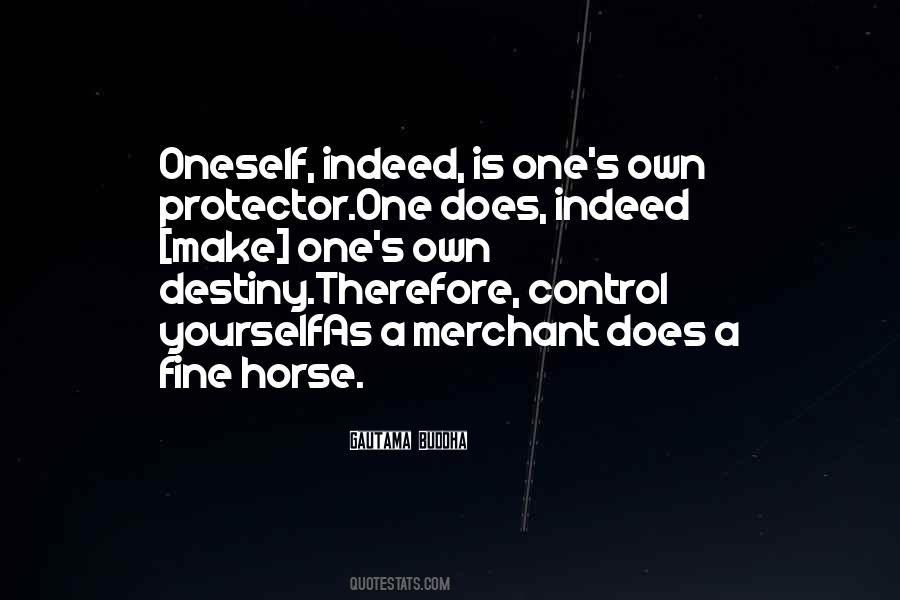 #15. They have stopped my destiny,
as I have lost one that I love,
I must say it: I will die
because I have nobody now.
But what is done is done,
and you cannot change that. - Author: Emma Iadanza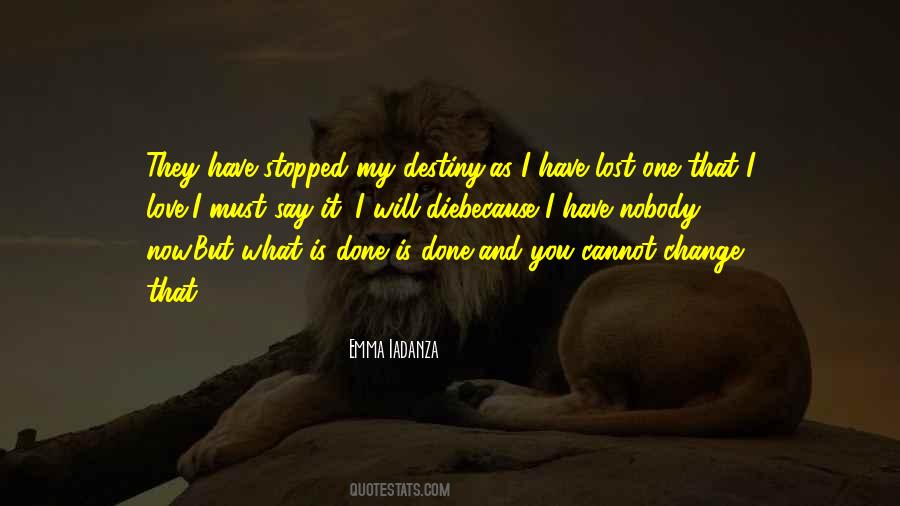 #16. I thought about one of my favorite Sufi poems, which says that God long ago drew a circle in the sand exactly around the spot where you are standing right now. I was never not coming here. This was never not going to happen. - Author: Elizabeth Gilbert
#17. Premature success gives one an almost mystical conception of destiny as opposed to will power-at its worst the Napoleonic delusion. - Author: F Scott Fitzgerald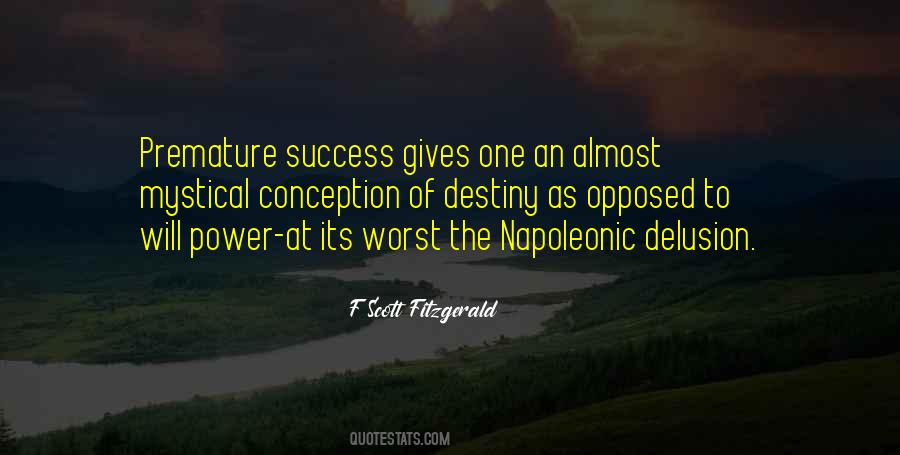 #18. This is what Sweden is - quiet people leaning over the newspapers and coffee cups, each one with his own thoughts and destiny. - Author: Henning Mankell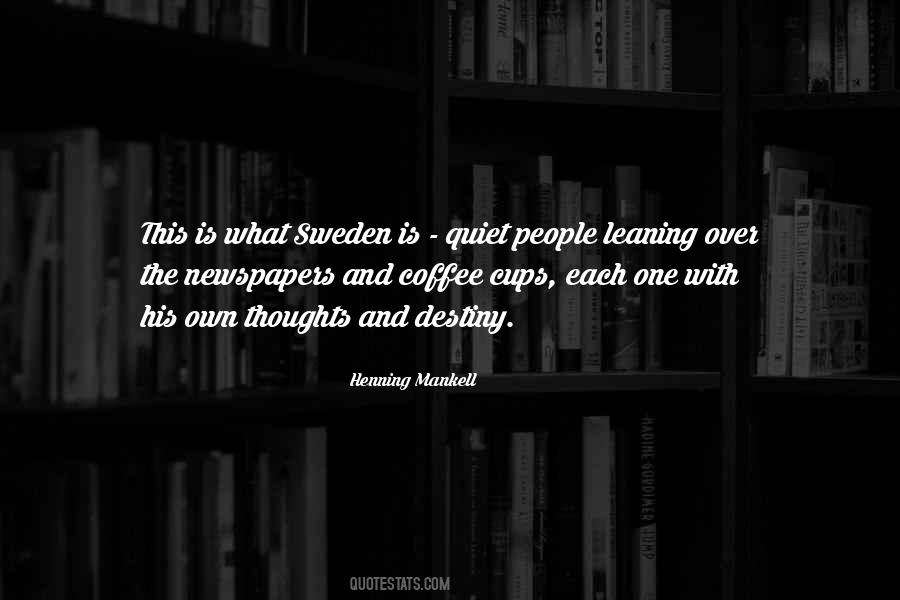 #19. Perhaps one can see one's destiny accomplished before one's very eyes and still feel hungry. - Author: Joseph Roth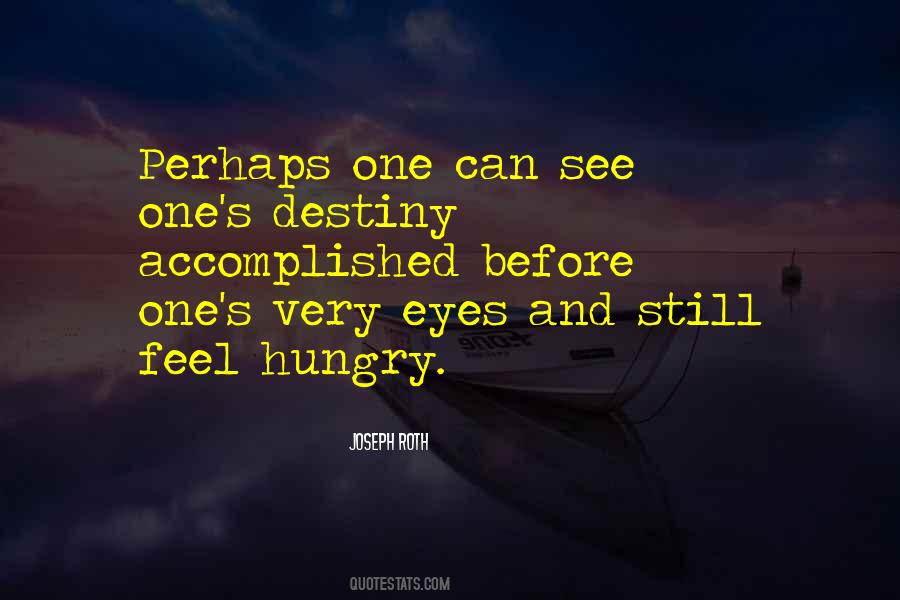 #20. You have a great destiny before you. This is your moment! I truly believe that one virtuous young woman, led by the Spirit, can change the world. - Author: Elaine S. Dalton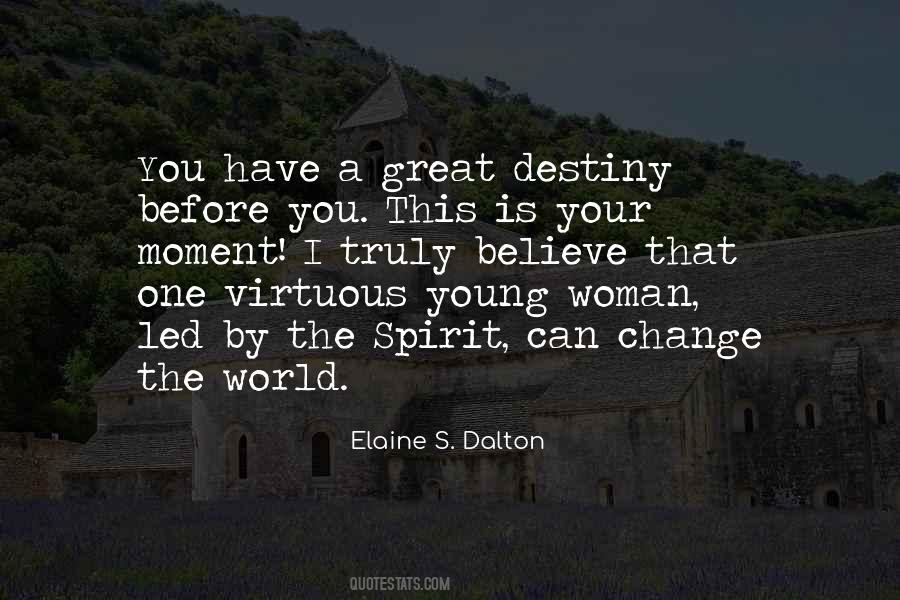 #21. Who am I?
What do I believe?
Never lose sight of what I believe in. Never, no matter what happens.
What one person does affects all of us.
We're all bound together. We're all threads in a single garment of destiny.
I make my destiny myself.
By the choices I make. - Author: Moira Young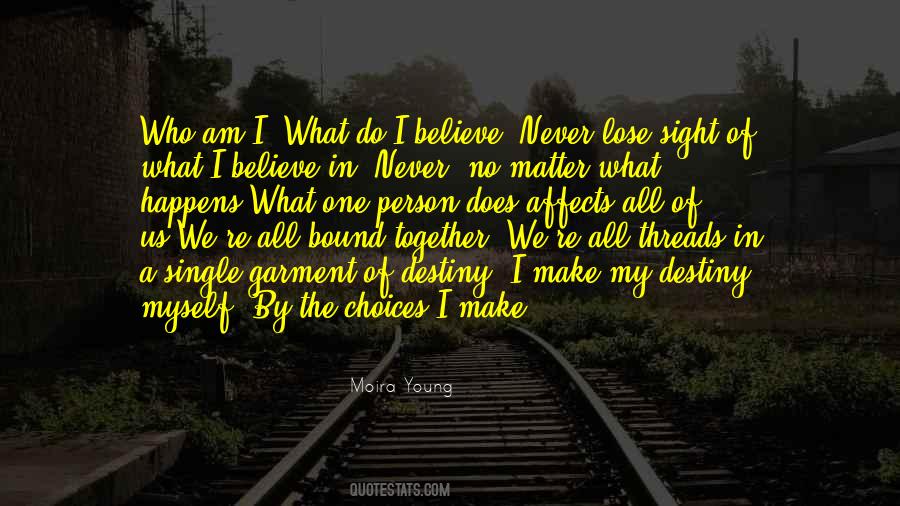 #22. The torment of precautions often exceeds the dangers to be avoided. It is sometimes better to abandon one's self to destiny. - Author: Napoleon Bonaparte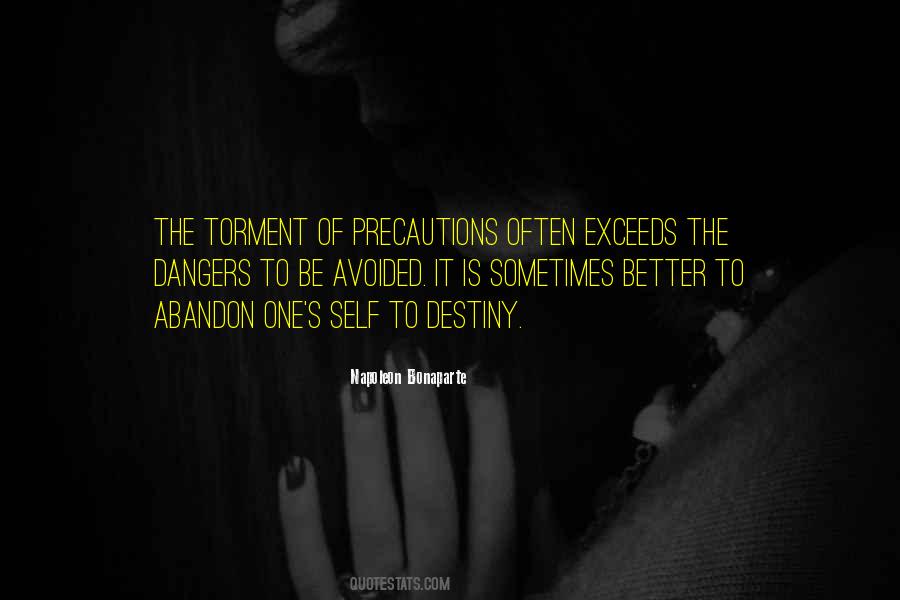 #23. The first evil choice or act is linked to the second; and each one to the one that follows, both by the tendency of our evil nature and by the power of habit, which holds us as by a destiny - Author: Tryon Edwards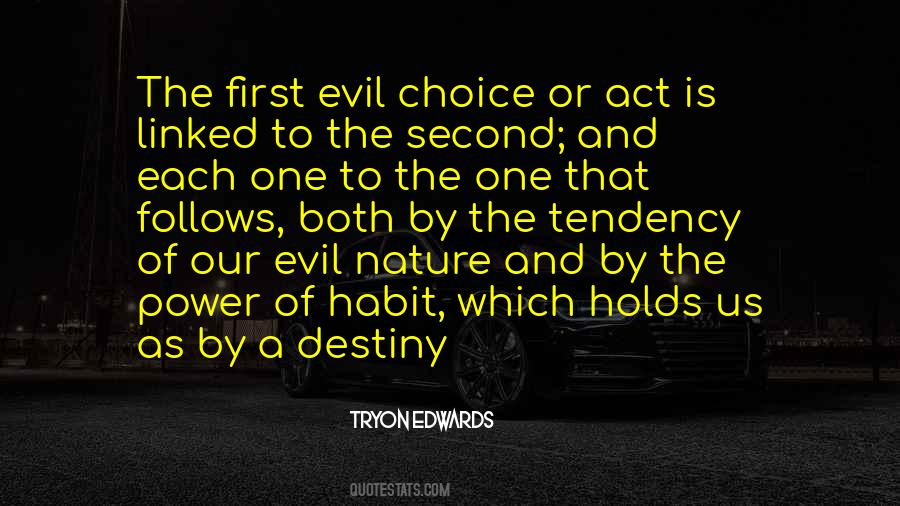 #24. I do not choose the roads to travel;my destination does, apparently it is always the one less traveled. - Author: Pushpa Rana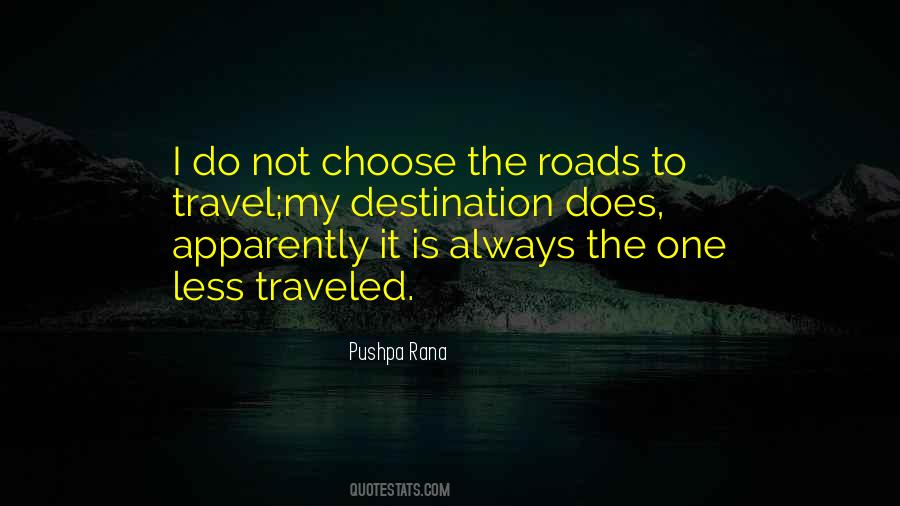 #25. Once we repossess a sense of our own holiness, we will recover the sense of the holiness of the world ... Only in this way will we once again become aware that our destiny and the destiny of nature are one and the same. - Author: Philip Sherrard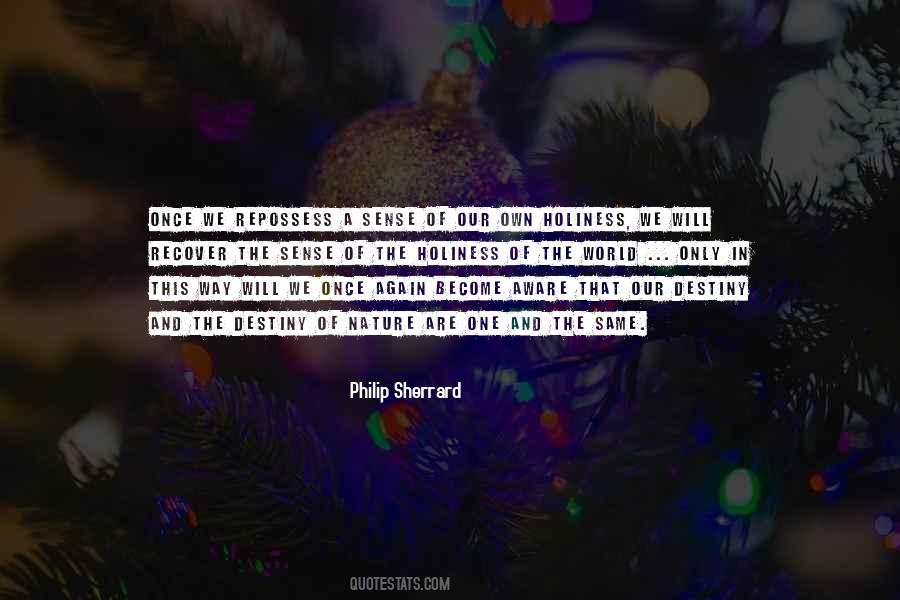 #26. Man has wanted to look beyond, wanted to expand himself; and all that we call progress, evolution, has been always measured by that one search, the search for human destiny, the search for God. - Author: Swami Vivekananda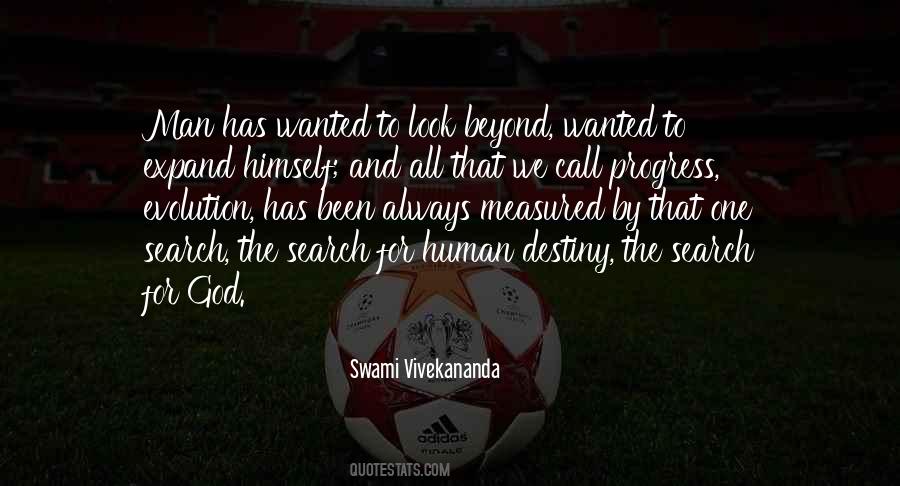 #27. One body, one breath, one love, united against any force that would tear them apart. Defiant in the face of time, fate, death, destiny. - Author: Shelly Thacker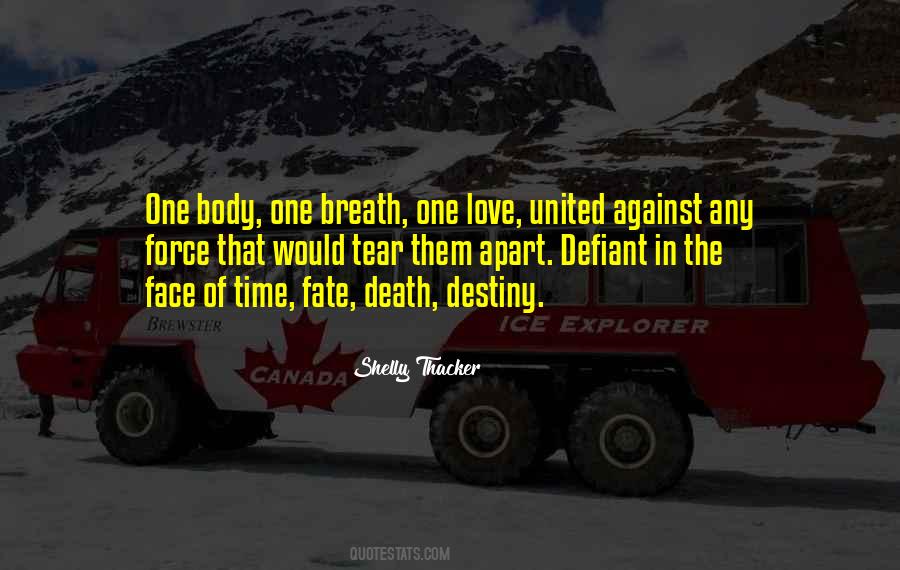 #28. Reading is only a pretext for our bodies to stick together, like a sculpture, fused in a way that when trying to separate one from other, or the work remains intact or is completely lost - Author: Ben Oliveira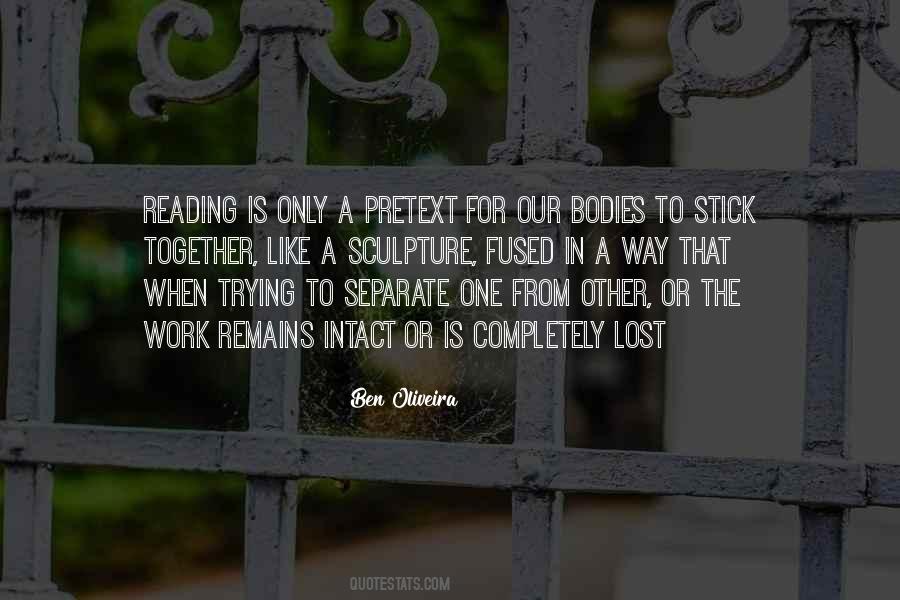 #29. If the love object is divine perfection, then one's own self is elevated by joining one's destiny to it ... All our guilt, fear, and even our mortality itself can be purged in a perfect consummation with perfection itself. - Author: Ernest Becker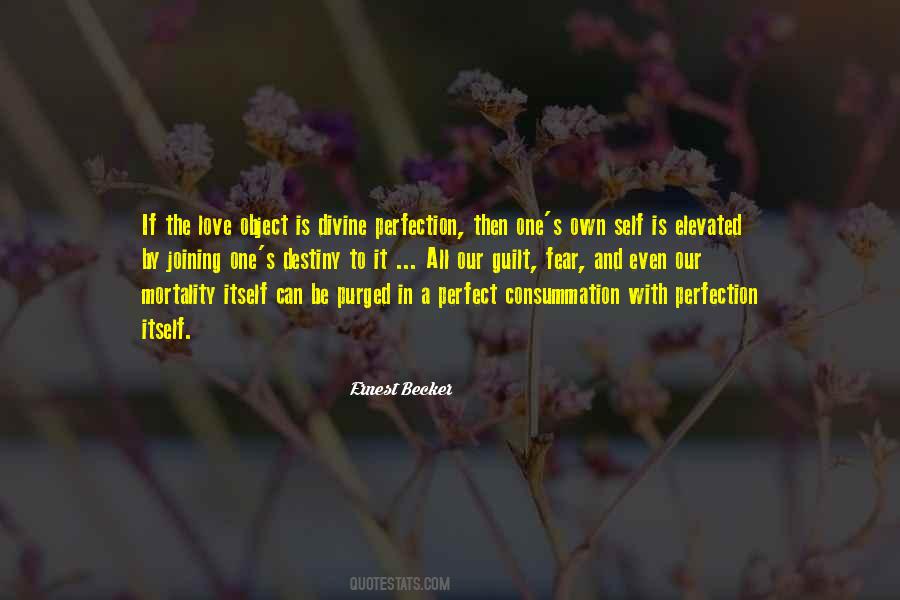 #30. We cannot see how our lives will unfold. What is destiny and What is accident? And how can one ever be certain? - Author: Cathy Ostlere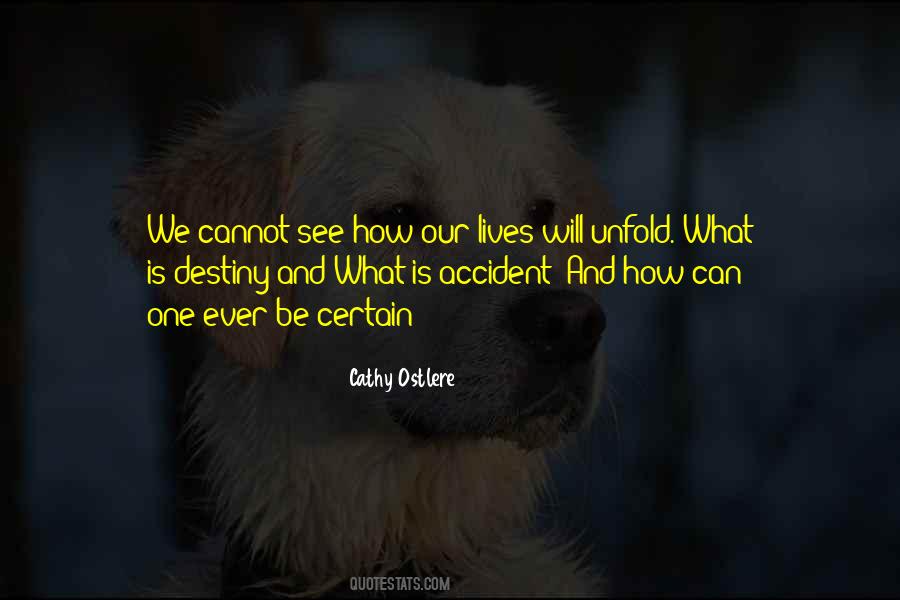 #31. One of the most foolish of all human philosophies, is to believe that we all have an unavoidable destiny. - Author: Dennis E. Adonis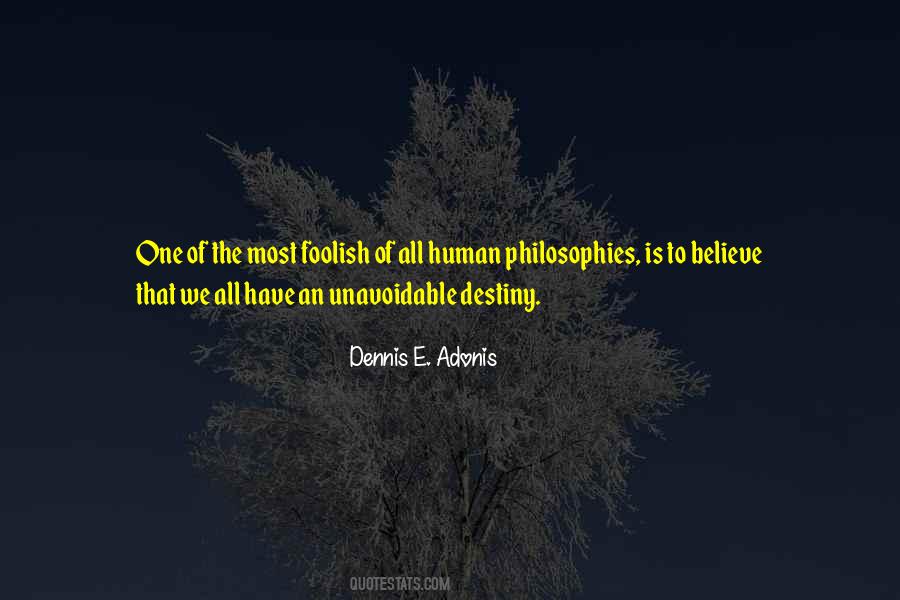 #32. I am the One, the all and the only. I live in the Pendleton as surely as I live everywhere. I am the Pendleton's history and its destiny. The building is my place of conception, my monument, my killing ground. - Author: Dean Koontz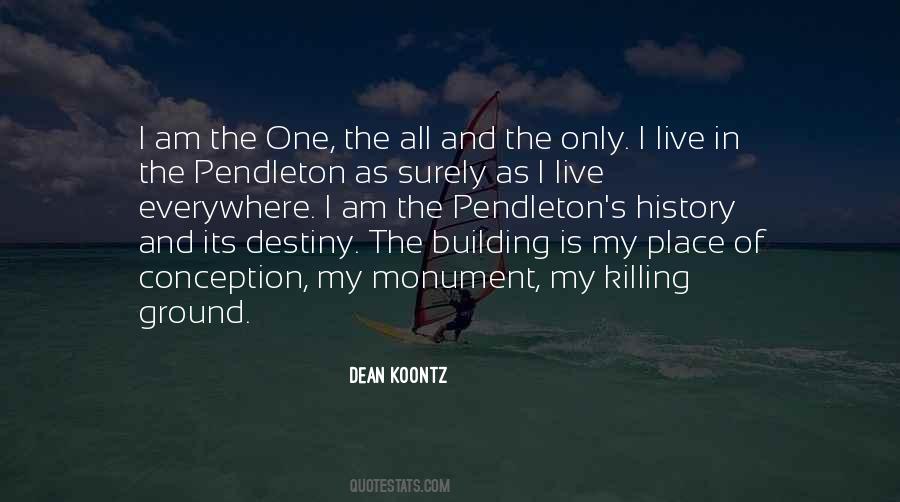 #33. I am the master of my destiny, the leader of my actions,
the dictator of my world for the power lives in me and no
one else. - Author: Christina OW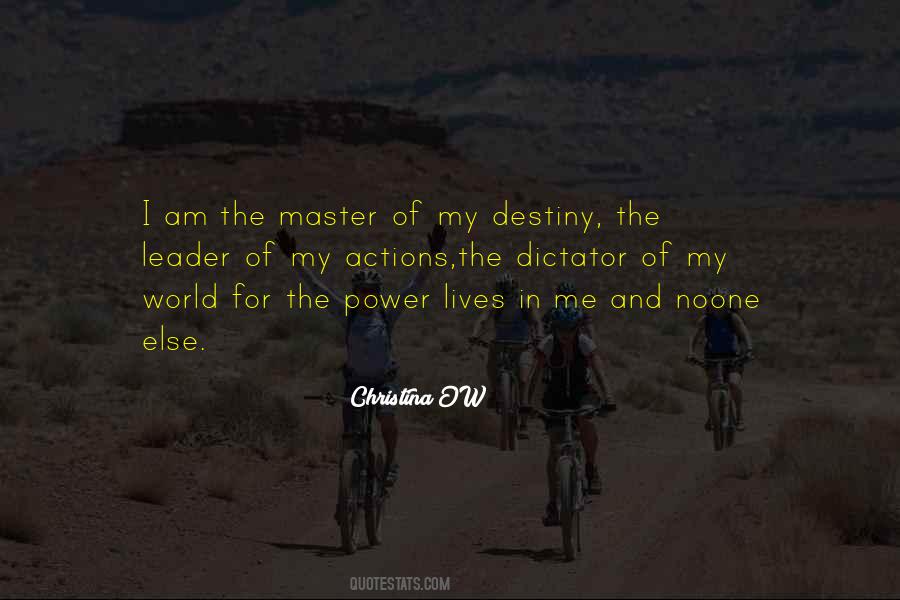 #34. Now I see it clearly. My whole life has pointed in one direction. I see that now. There never has been any choice for me. - Author: Paul Schrader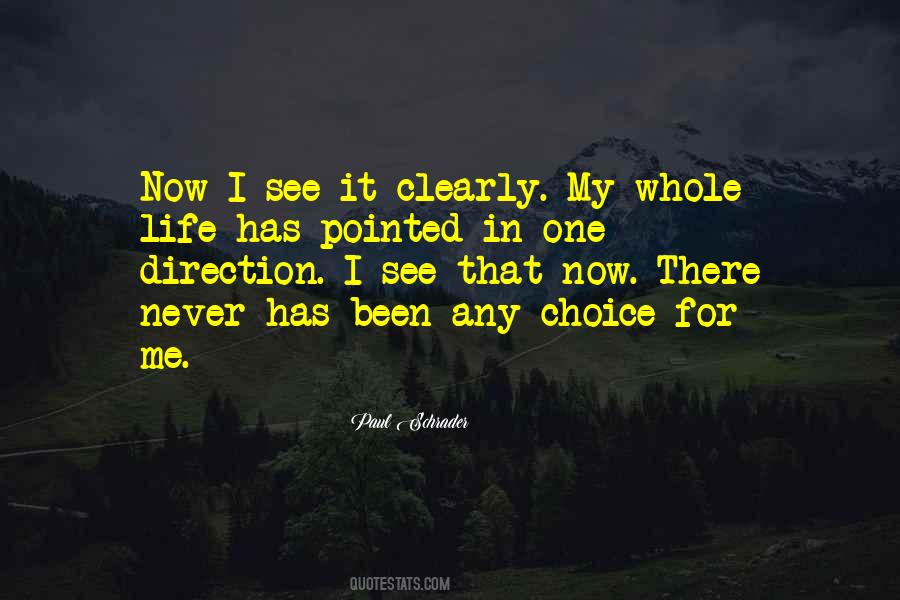 #35. Remember this: Nothing is written in the stars. Not these stars, nor any others. No one controls your destiny. - Author: Gregory Maguire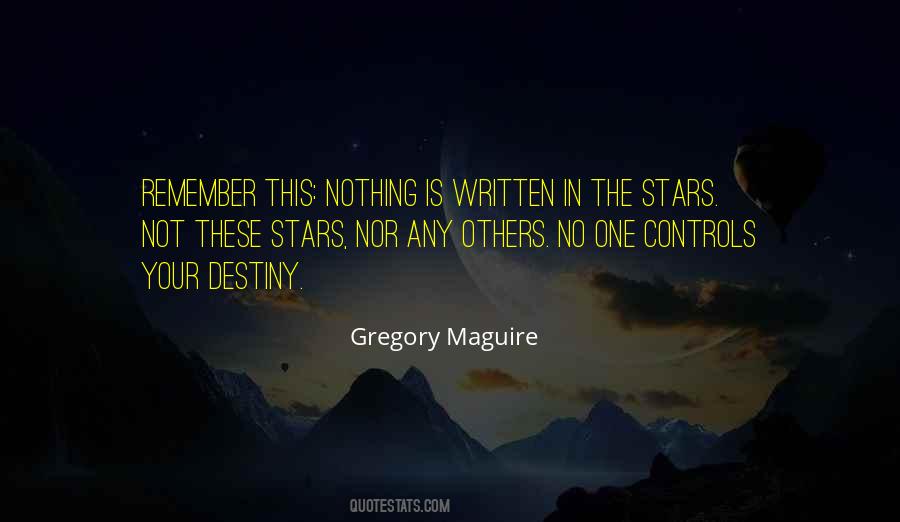 #36. Past and future is determined by what is now ... right now! This is why the present is a gift; the only one that ultimately matters most. - Author: T.F. Hodge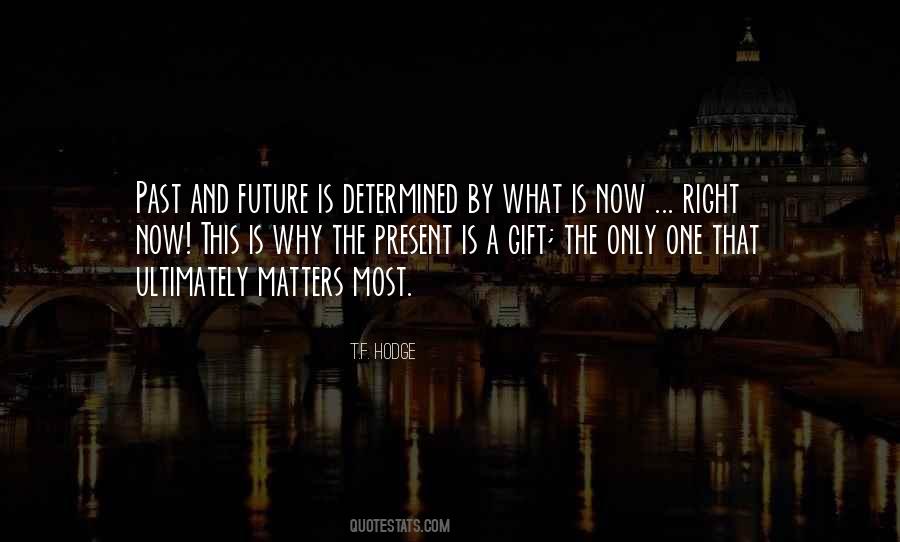 #37. There are winds of destiny that blow when we least expect them. Sometimes they gust with the fury of a hurricane, sometimes they barely fan one's cheek. But the winds cannot be denied, bringing as they often do a future that is impossible to ignore. - Author: Nicholas Sparks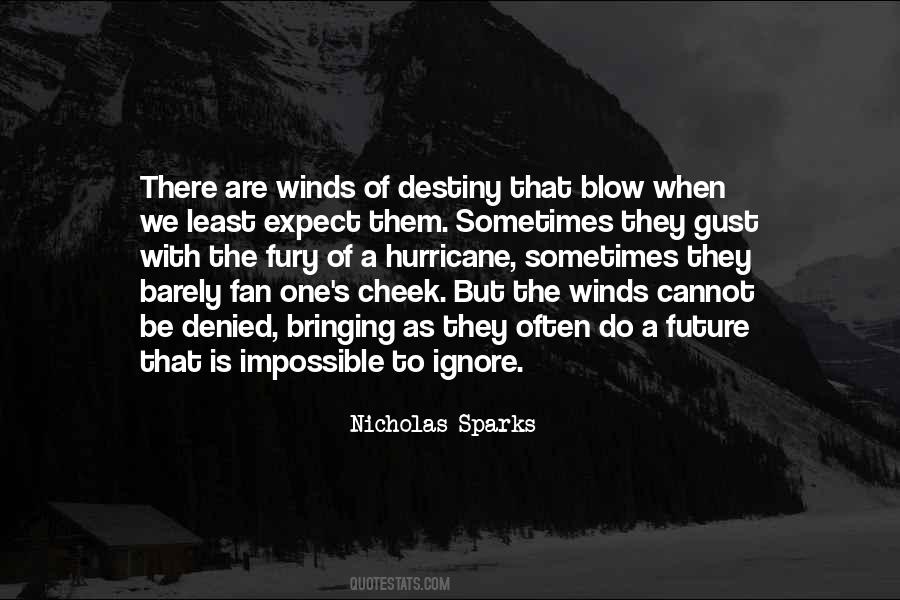 #38. Its not easy to steer life without errors; at times forced by propensity; at times by Karma; at times negligence pushes one to make mistakes ... - Author: Dinesh Kumar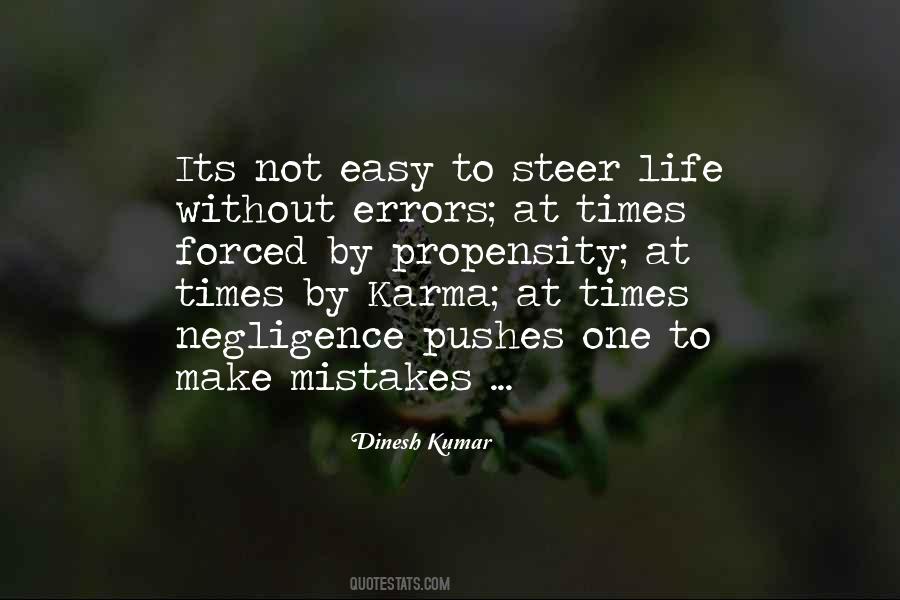 #39. One discovers that destiny can be diverted, that one does not have to remain in bondage to the first wax imprint made on childhood sensibilities. Once the deforming mirror has been smashed, there is a possibility of wholeness. There is a possibility of joy. - Author: Anais Nin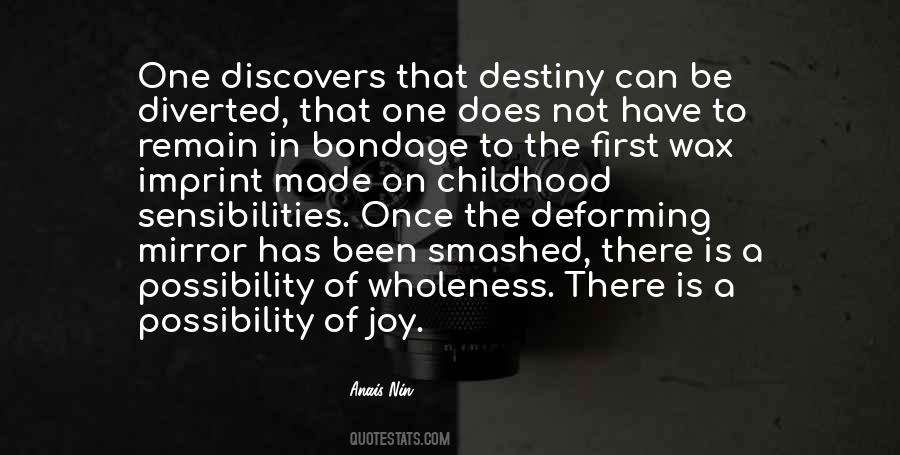 #40. Only when it is seen that what decides each individual's destiny is whether or not God decides to save him from his sins, and that this is a decision that God need not make in any individual case, can one begin to grasp the biblical view of grace. - Author: J.I. Packer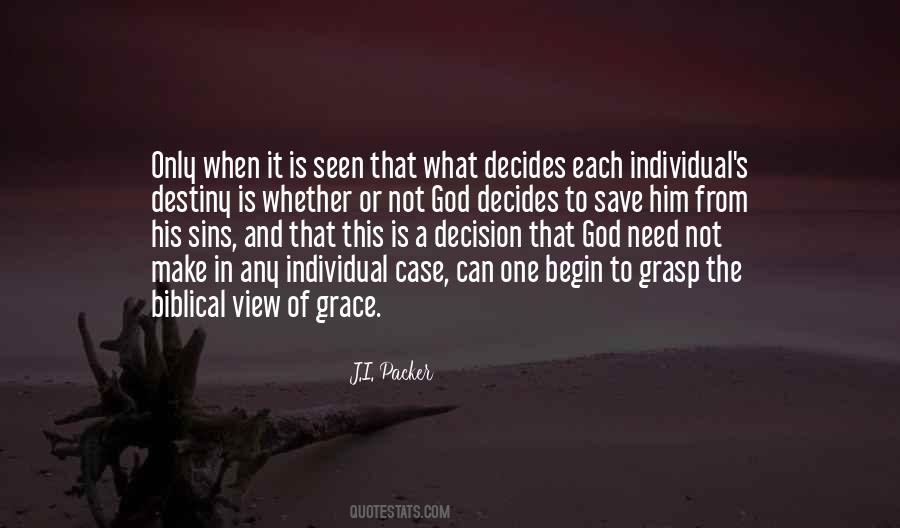 #41. One of the great barriers to peace in the Middle East is that both sides, both Israel and the Palestinians, do not understand that they share a collective destiny. - Author: Paddy Ashdown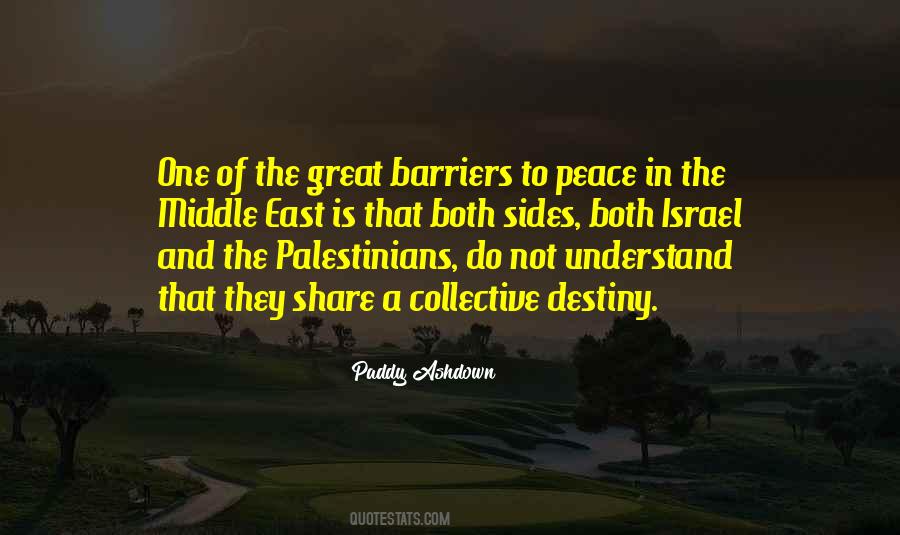 #42. One must understand the difference between a fear-ridden vision of destiny and the vision that enables us to seek the enemy of fulfilment within ourselves. I - Author: A. P. J. Abdul Kalam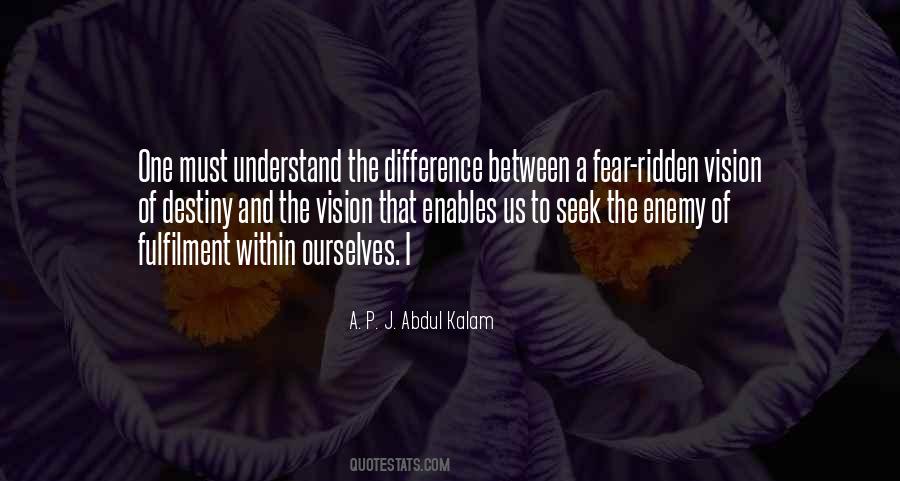 #43. In the 16th century,parks and gardens were models of the cosmos and also tools for altering one's consciousness, possibly for changing one's destiny. - Author: Linda Lappin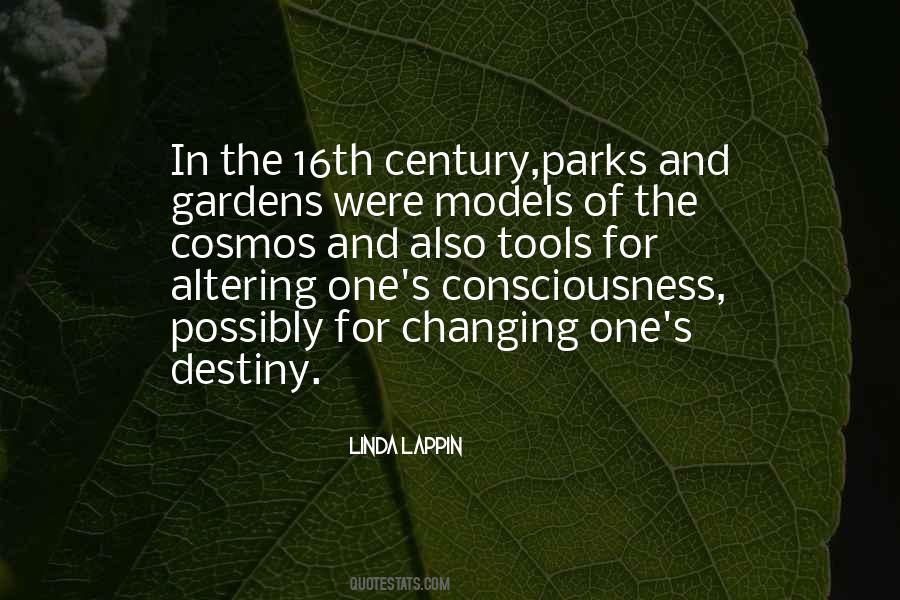 #44. To realise one's destiny is a person's only real obligation. - Author: Paulo Coelho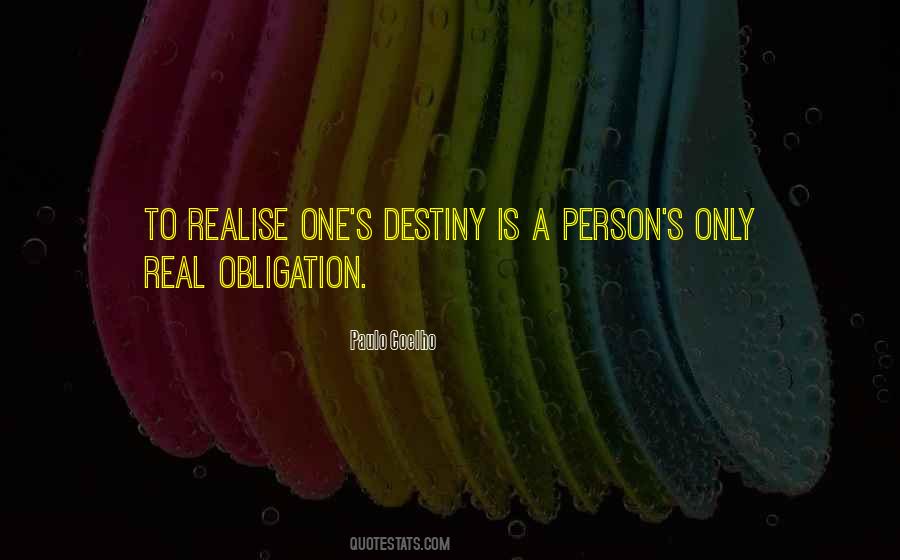 #45. I don't like the darkness but I want to live in it, I don't want to have pains but I always have it, I want to live in good way, happy and very normal life but I just can't. Because it's not that thing which some one gave me and I didn't took from anybody or anything that's just my destiny. - Author: Shayne Azad
#46. War, for most women, is about the destiny of one person. For me, it became three - the one I feared was dead, and the two of you who now are. - Author: Phyllis Edgerly Ring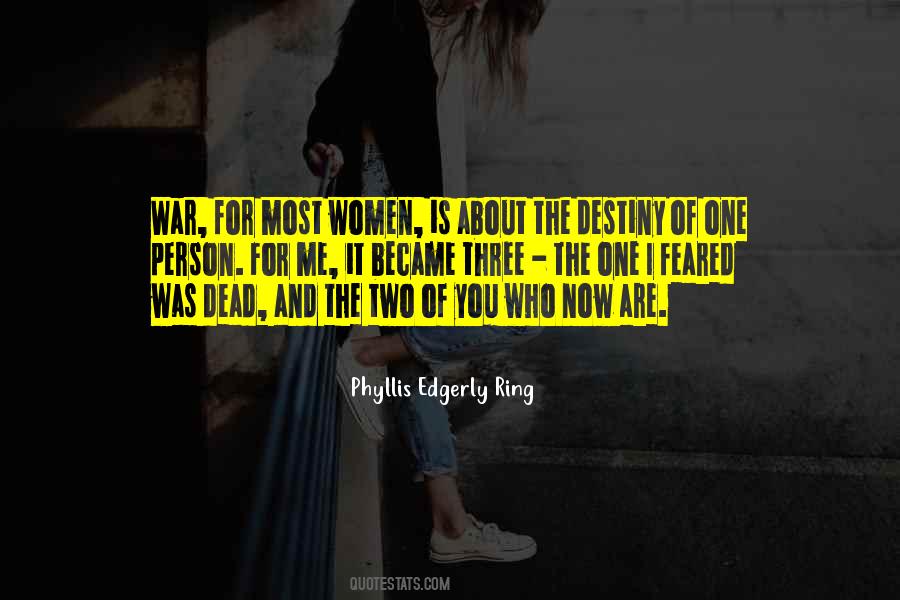 #47. My position at the Palace is our one opportunity. Have confidence in my destiny. Do not weep. - Author: Shan Sa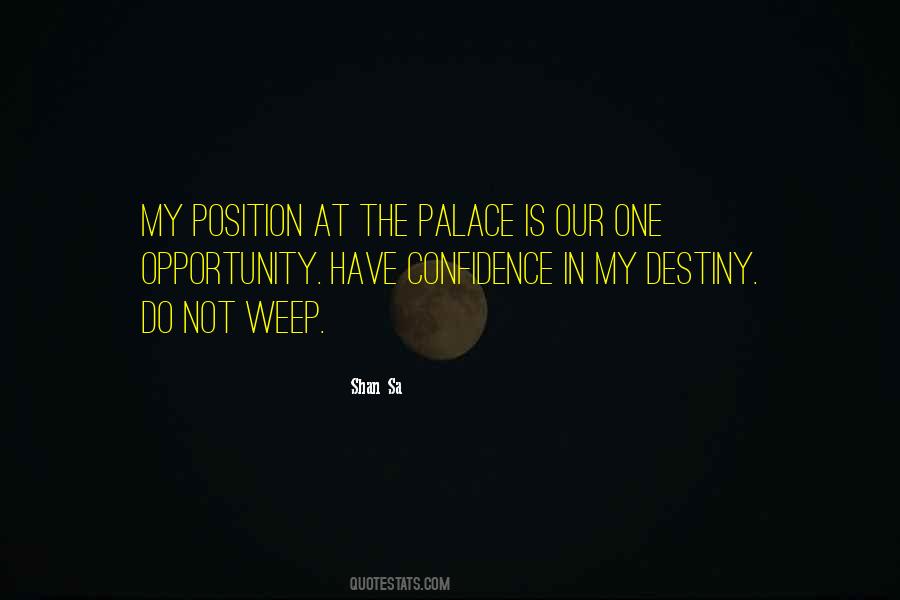 #48. A life without increase, production and multiplication is a wasted one - Author: Sunday Adelaja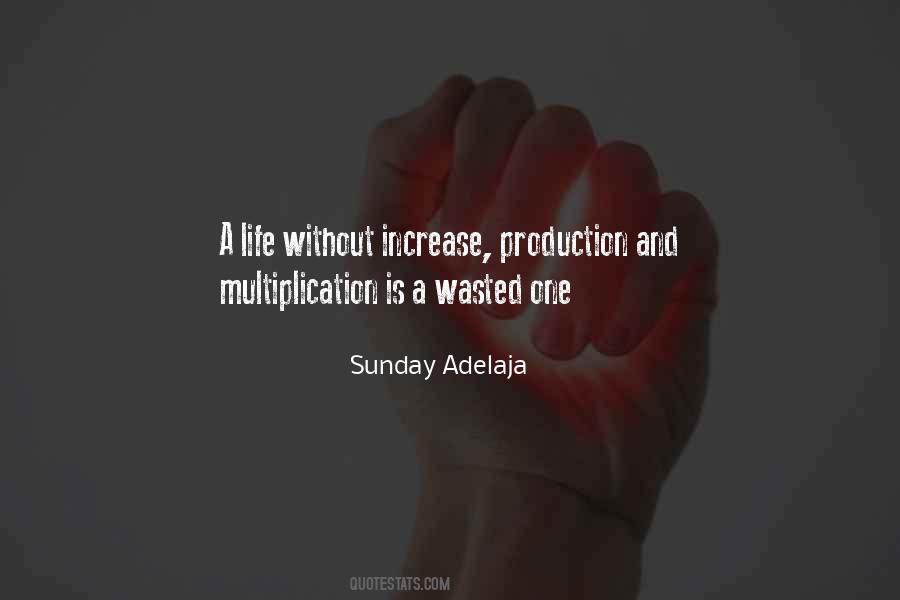 #49. Most worshippers of God are intent on the advancement of their own destiny, not on His worship. In India, no one has ever claimed to be a prophet. The reason is that claims to divinity are customary. - Author: Akbar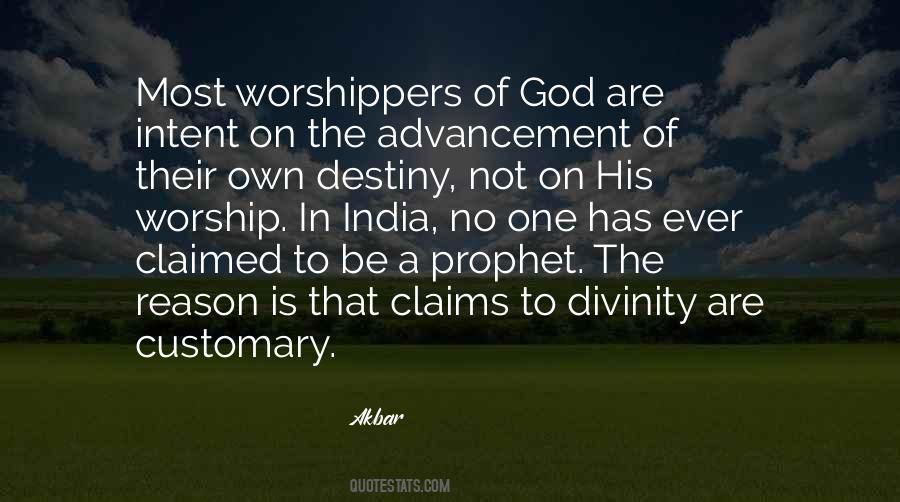 #50. I don't want to do that," Aomame said. "What I want is for the two of us to meet somewhere by chance one day, like, passing on the street, or getting on the same bus." "Destiny. A chance encounter." "More or less," Aomame said, taking a sip of wine. "That's when I'll open up - Author: Haruki Murakami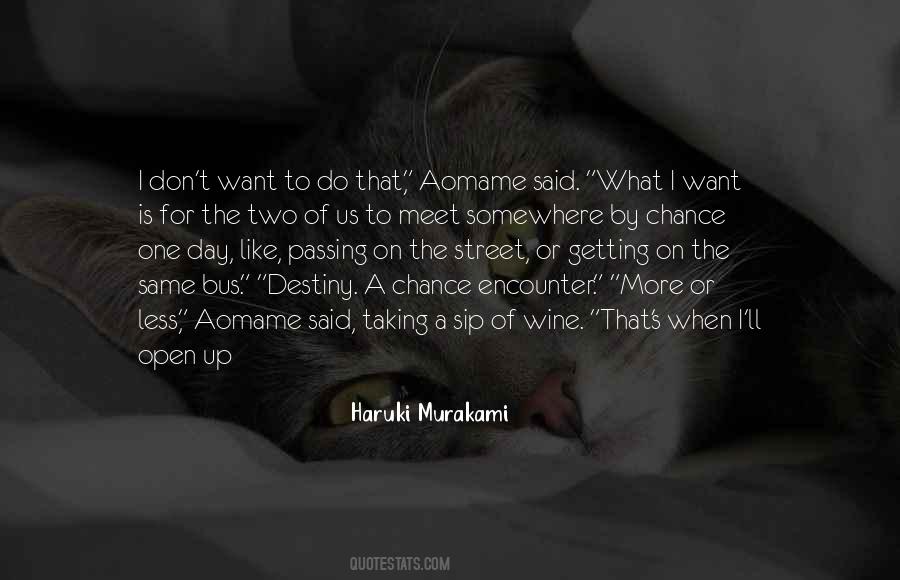 #51. Blind to all fault, destiny can be ruthless at one's slightest distraction. - Author: Jorge Luis Borges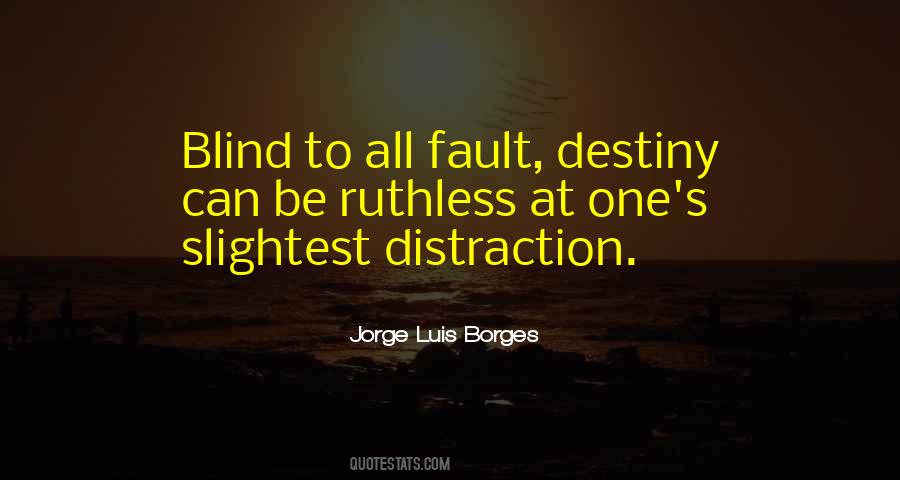 #52. When you're soulmates, it hits you like lightning, and you know that's the one person in the world you were meant to be with. You don't think you're soulmates; you just know it's your destiny whether you like it or not. - Author: L.J.Smith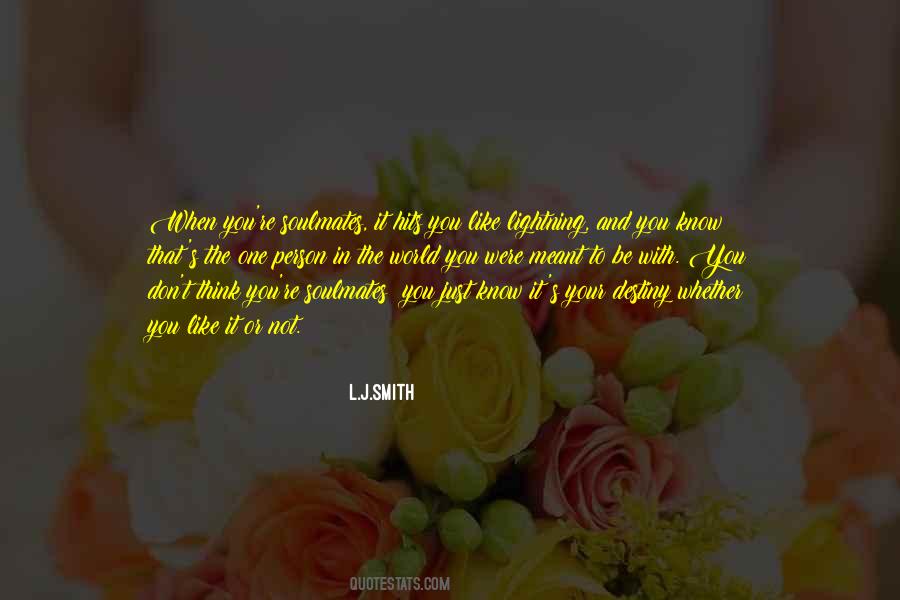 #53. I do believe that one way to have a destiny is to choose one. - Author: Melinda McGraw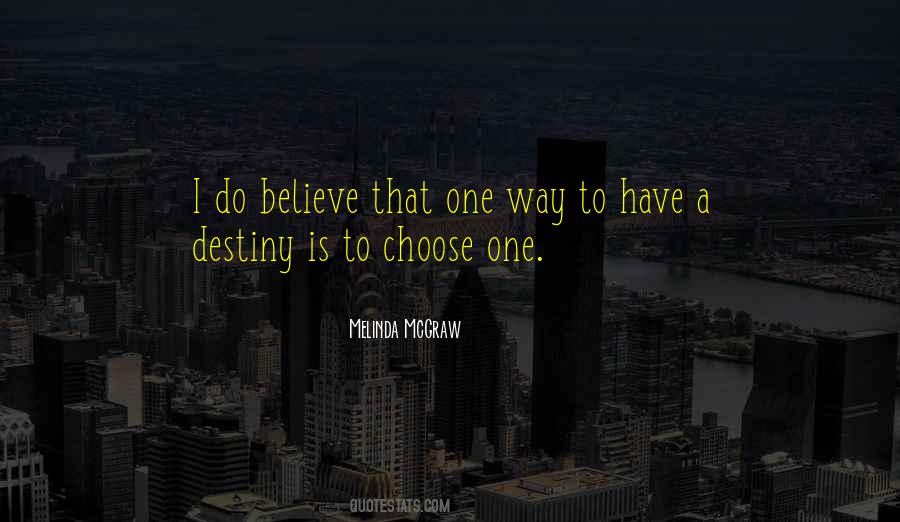 #54. I wanted to be that,
The one which was vast,
The one which laughed,
The one which surpassed,
Yes, which also collapsed.
True, it was abstract.
I wanted to be that.
I still, want to be that! - Author: Jasleen Kaur Gumber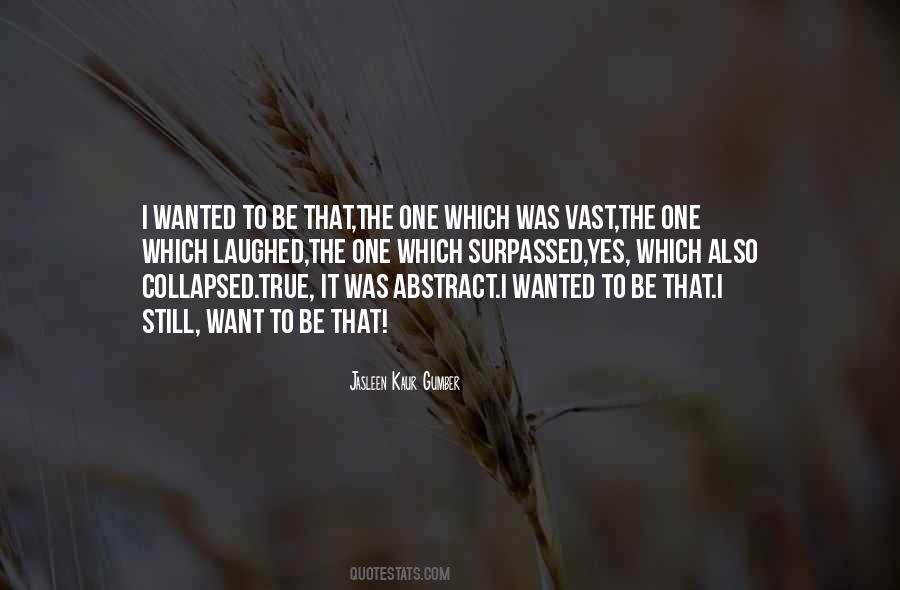 #55. If humans are to fully attain their destinies, so far as earthly development permits this; if they are to become truly whole, unbroken units, they must feel and know themselves to be one, not only with God and humanity, but also with nature. - Author: Friedrich Frobel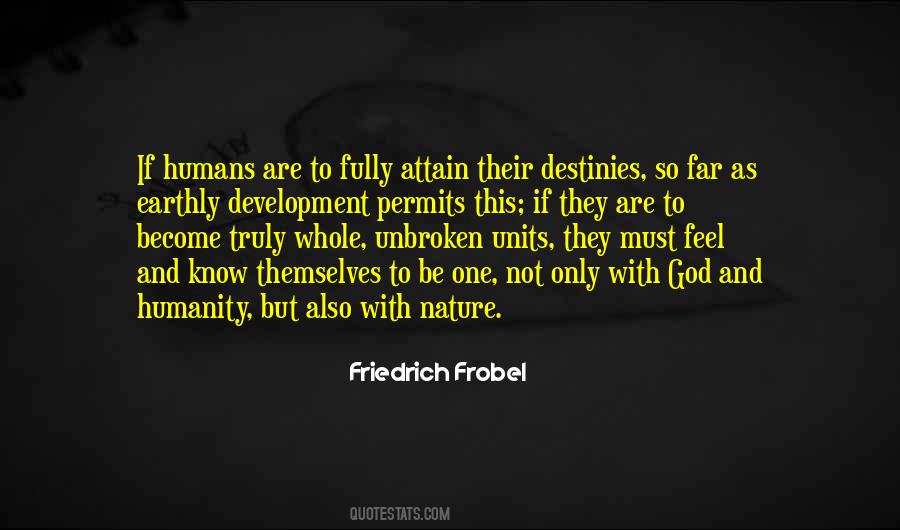 #56. It may look like the difficulty is going to defeat you. But you need to keep telling yourself, "This sickness can't take my life." "This cancer can't defeat me." "No bad break, no disappointment, no accident can shorten one second of my divine destiny." - Author: Joel Osteen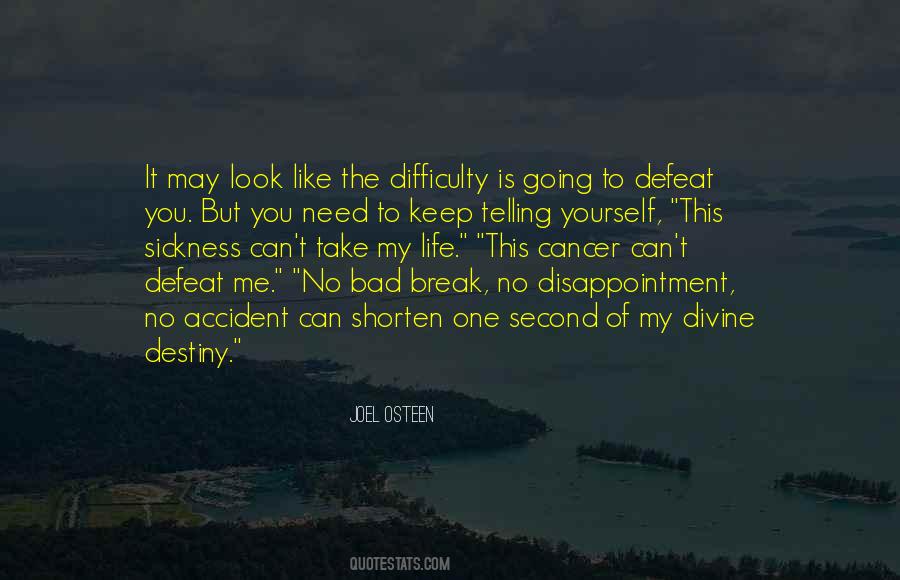 #57. There are only two lives we might live: our dream or our destiny. Sometimes they are one in the same, and sometimes they're not. Often our dreams are just a path to our destinies. - Author: Glennon Doyle Melton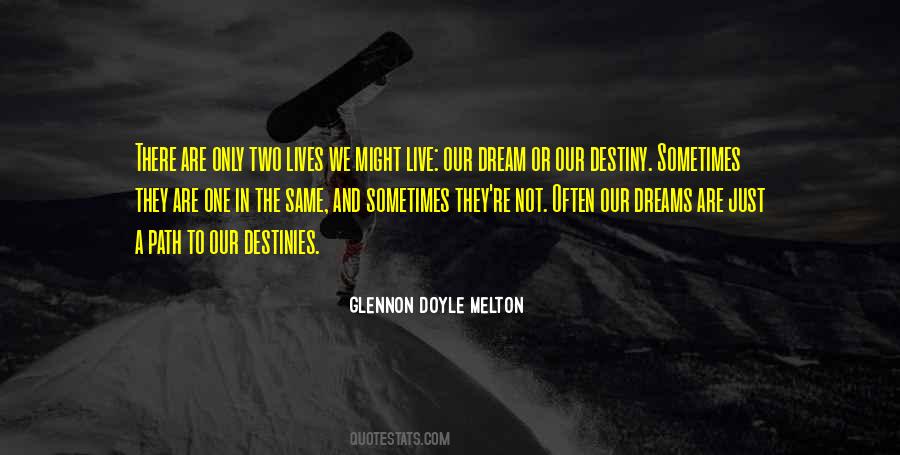 #58. There is a theory that if you yearn sincerely enough for a Guru, you will find one. The universe will shift, destiny's molecules will get themselves organized and your path will soon intersect with the path of the master you need. - Author: Elizabeth Gilbert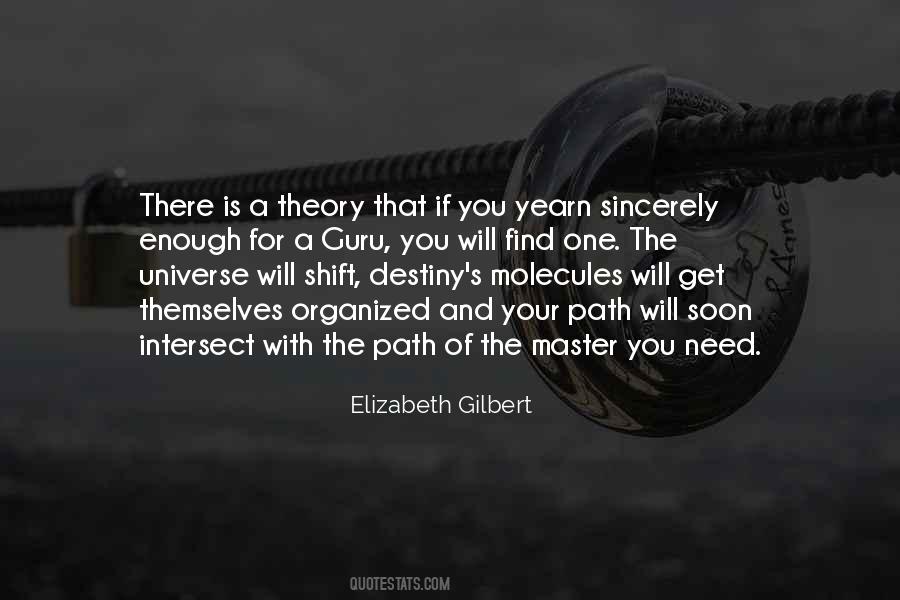 #59. An invisible fire scorched the bottoms of her hands, the feel reminding her of raw energy and stealth, and she tried to jerk away, unable to do so because the man held her in place. He would surely kill her now. No one touched a lion and lived to tell about it. - Author: Destiny Booze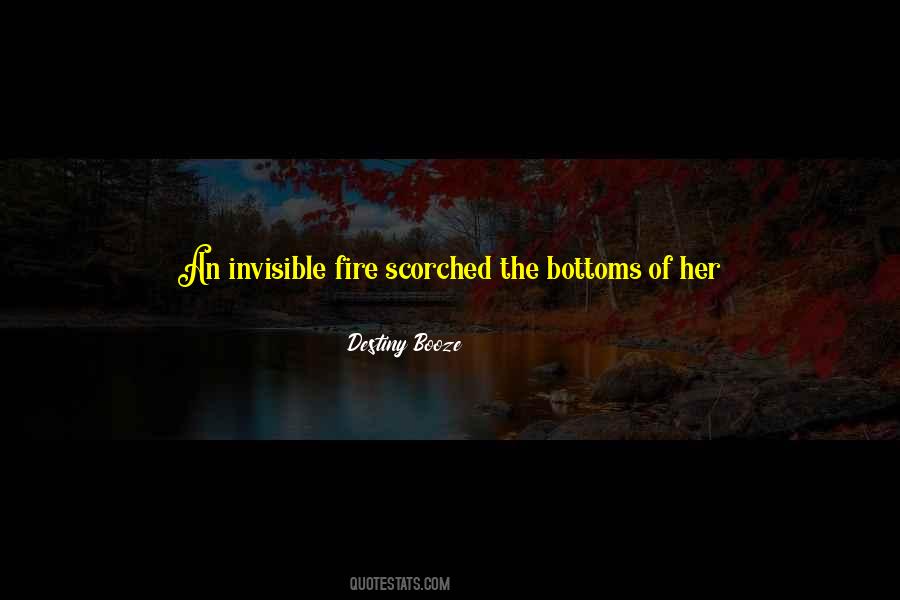 #60. Remember one thing only: that it's you-nobody else-who determines your destiny and decides your fate. Nobody else can be alive for you; nor can you be alive for anybody else. - Author: E. E. Cummings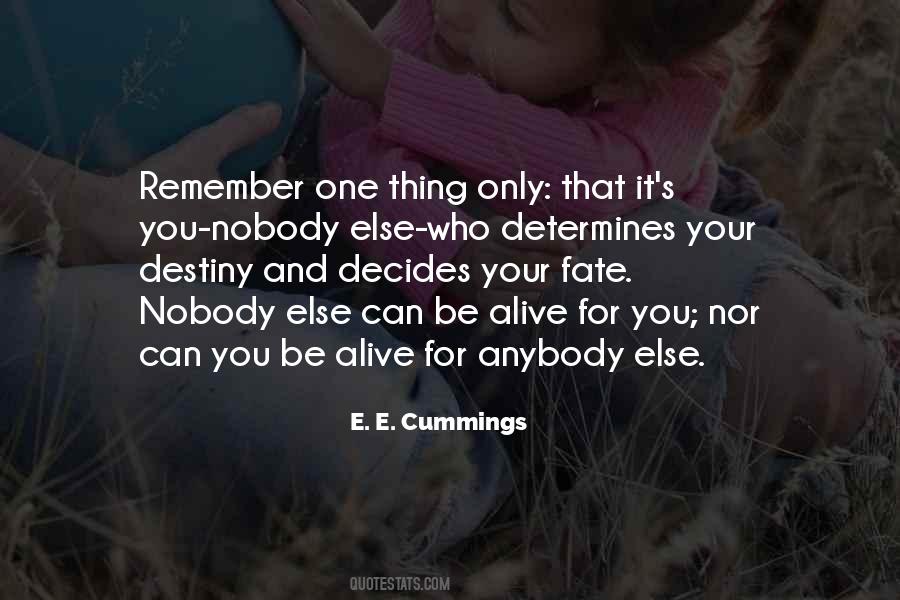 #61. Because not everyone can take charge of his or her destiny, those who do rise to positions of authority have a responsibility to those whose daily work keeps the enterprise running, not only to steer the correct course but to make sure no one is left behind. - Author: Howard Schultz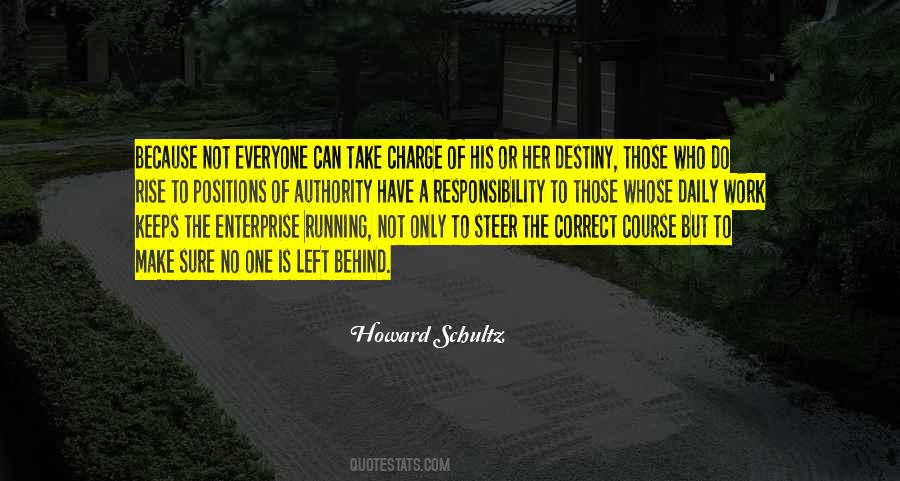 #62. Define the life you want.
Never allow yourself to be bullied.
No one knows your destiny. - Author: Lailah Gifty Akita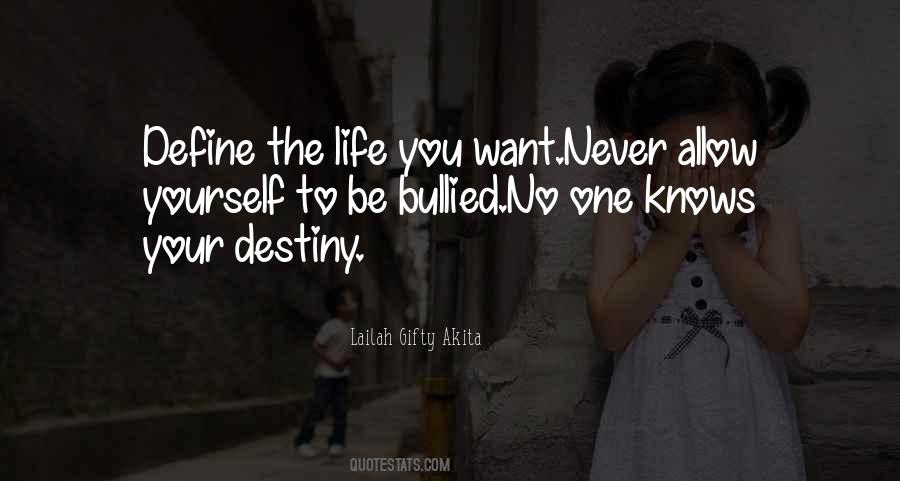 #63. In a world of prophecy and war, where so much of my life followed a path laid out by duty and destiny,Tristan had enough strength to give me what no one else could. The one precious thing I needed the most. A choice. - Author: Emma Raveling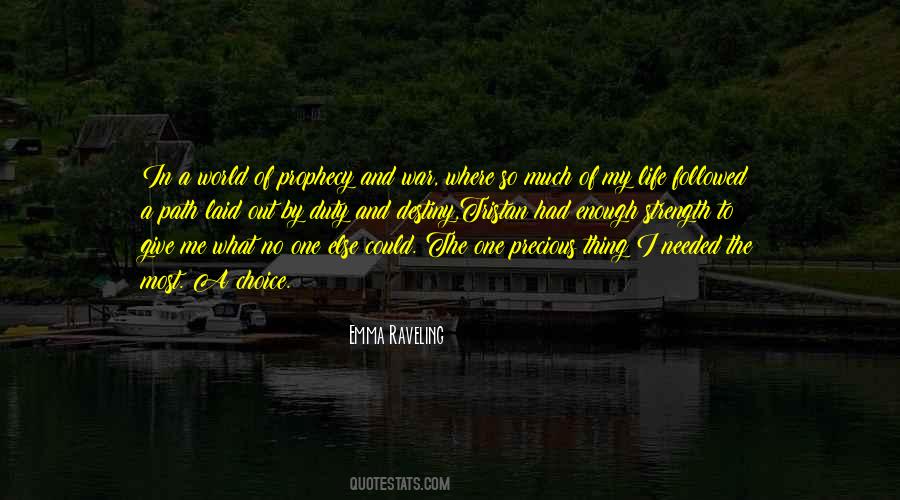 #64. Kings don't beg, they decree. They have only one destiny and that's to reign. God has made you king. Reign and rule, refuse to beg! - Author: Chris Oyakhilome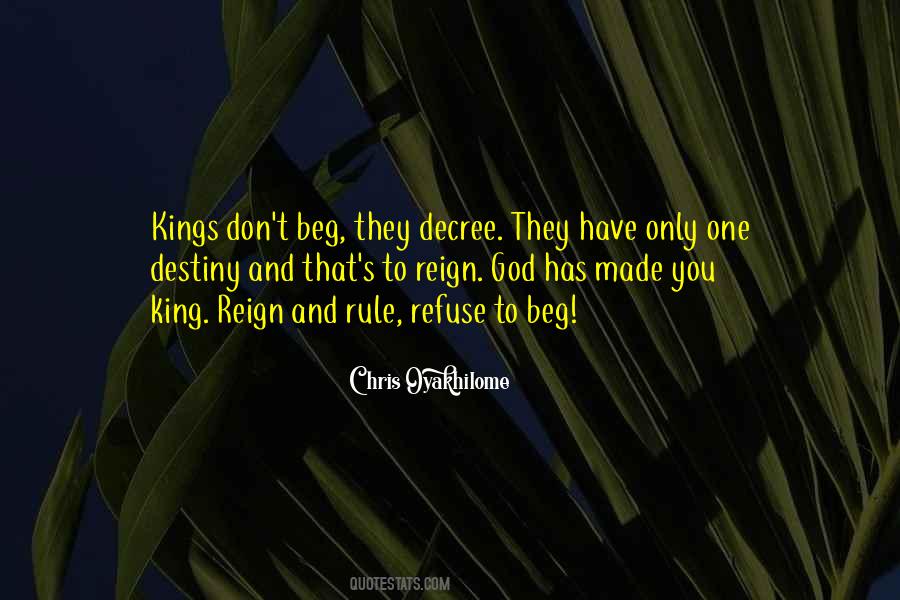 #65. Someone had tried to warn me of the kind of catastrophe that is likely to occur when you involve yourself too closely in one of those destinies that is ringed around by the transient tinsel of human applause. - Author: Mary Deasy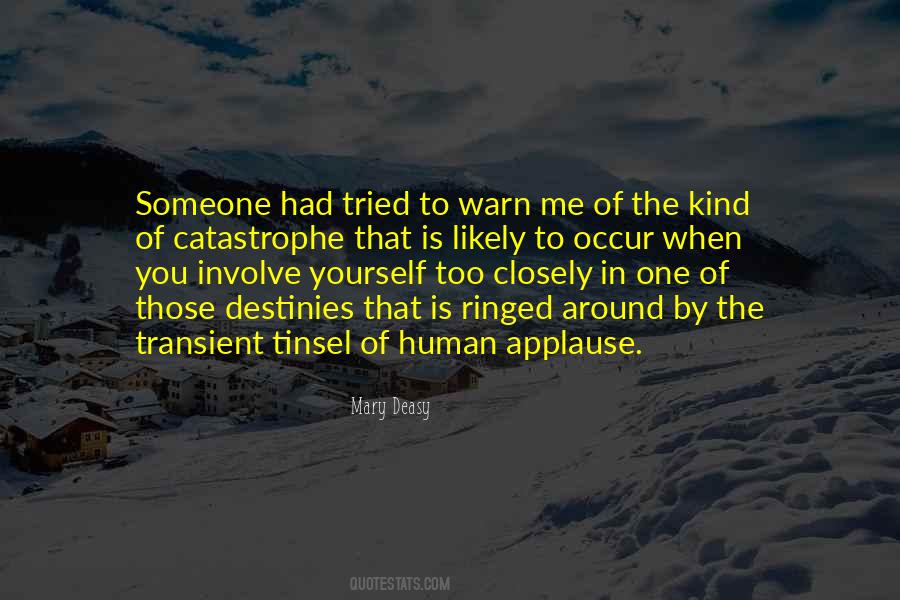 #66. You got no soul, Cap'n," he said. "When a stranger comes into the city under the thrall of the dragon and challenges it with a glittery sword, weeell, there's only one outcome, ain't there? It's probably destiny. - Author: Terry Pratchett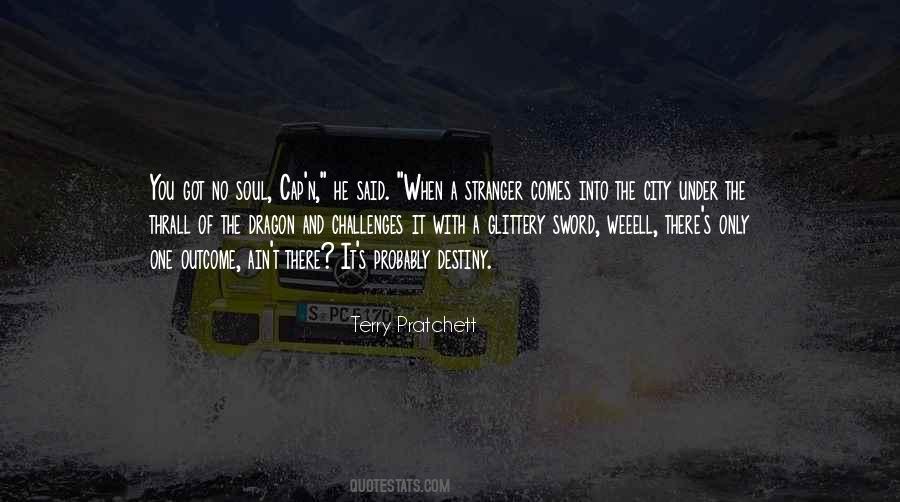 #67. Pandora's Box could not be unopened, no one could return to Eden. - Author: Selena Kitt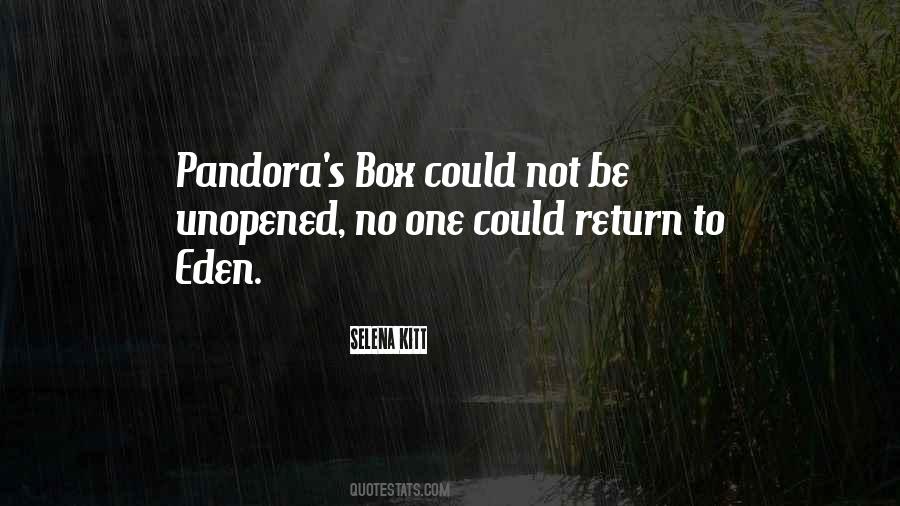 #68. It really boils down to this: that all life is interrelated. We are all caught in an inescapable network of mutuality, tired into a single garment of destiny. Whatever affects one destiny, affects all indirectly. - Author: Martin Luther King Jr.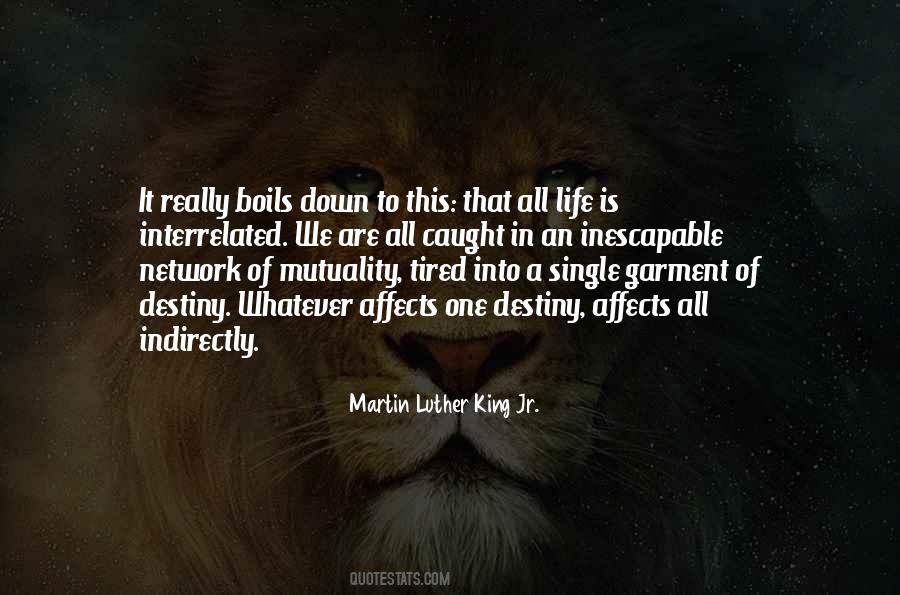 #69. To live in a spiritual dimension is to be connected to one's eternal destiny - Author: Sunday Adelaja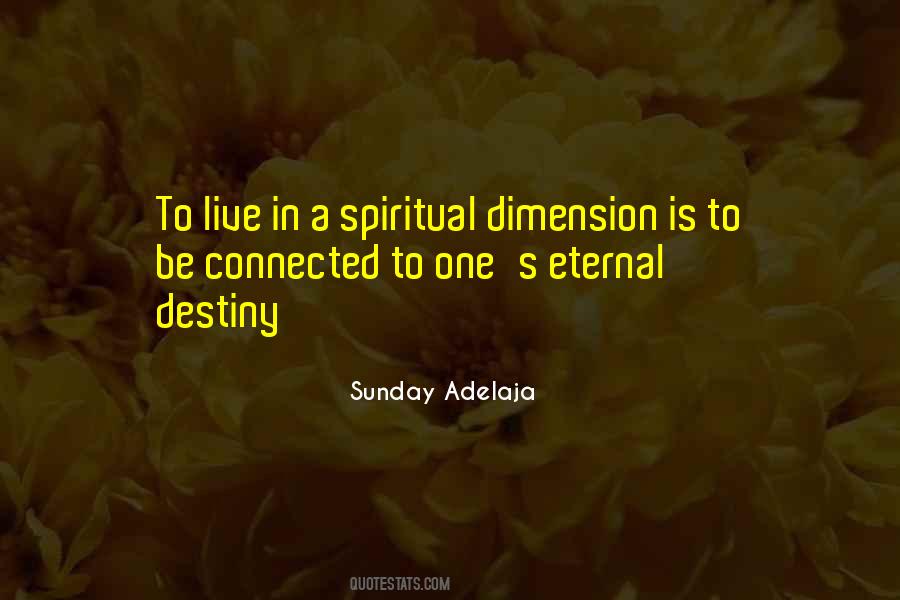 #70. Working harder is not a sustainable solution and it's not how people meet their destiny. It's time to get more creative. Instead of choosing one thing we love over something else we love, we must ask, 'how can I do both?' And, then, we can find solutions. - Author: Maynard Webb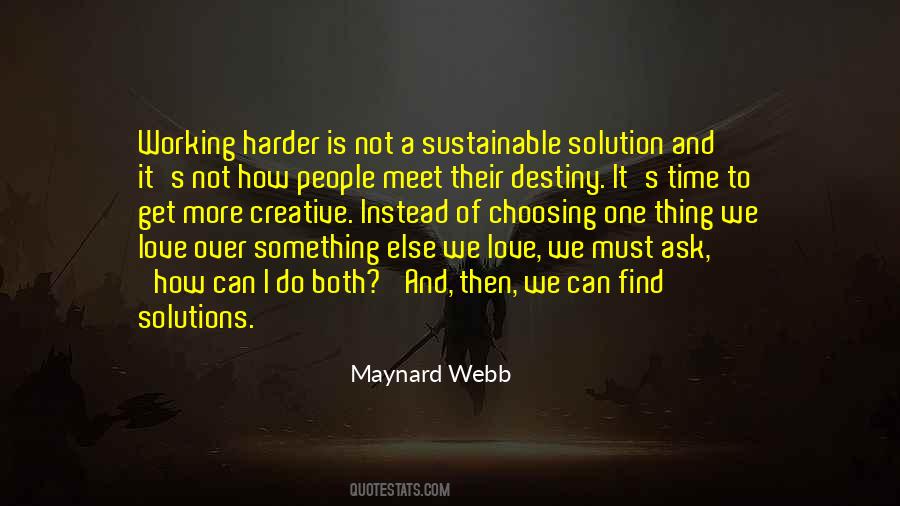 #71. But destiny will be accomplished, and the best man will hold his ground while the undeserving one will vanish into his back-alley for ever - his filthy back-alley, his beloved back-alley, where he is at home and where he will sink in filth and stench at his own free will with enjoyment. - Author: Fyodor Dostoyevsky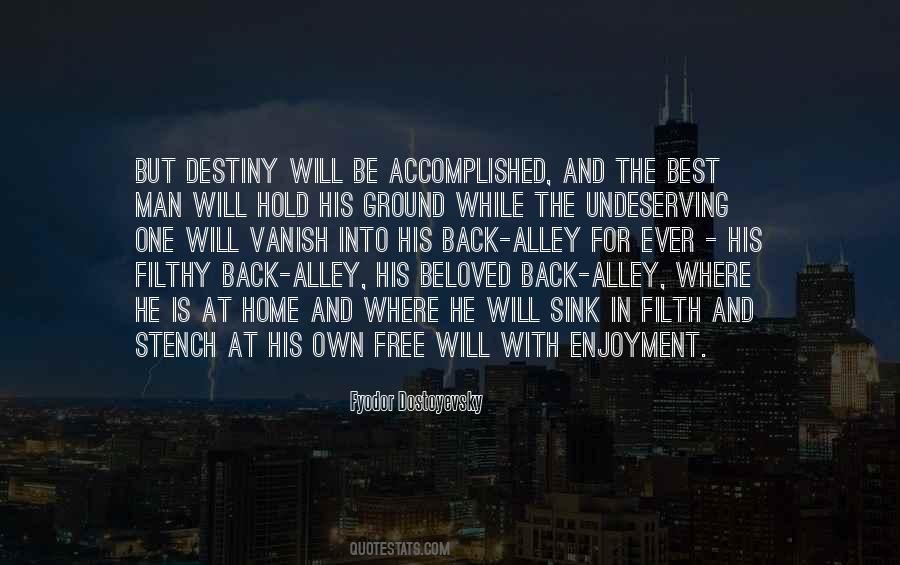 #72. The dance had distilled her and she had become one with the essence of all that is. - Author: Holly Lynn Payne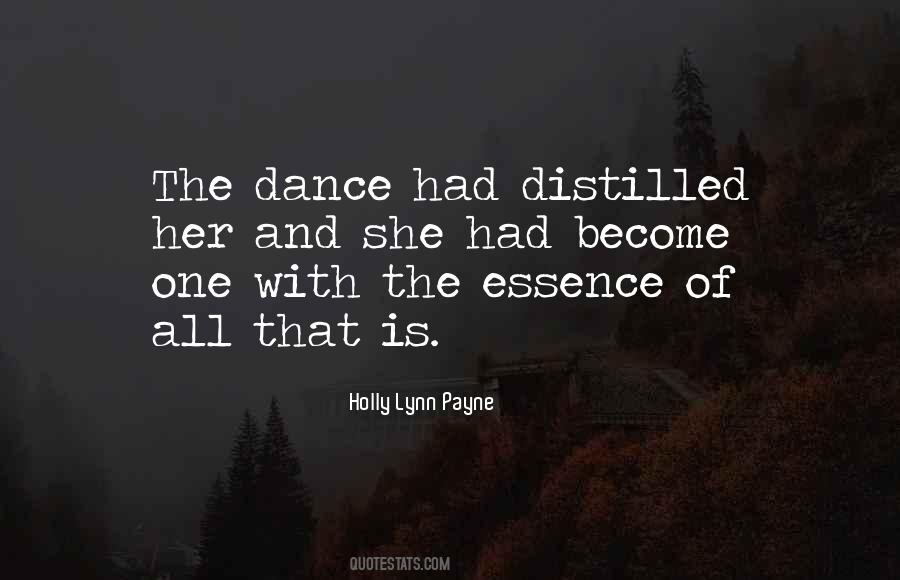 #73. The point is that if the love object is divine perfection, then one's own self is elevated by joining one's destiny to it. - Author: Ernest Becker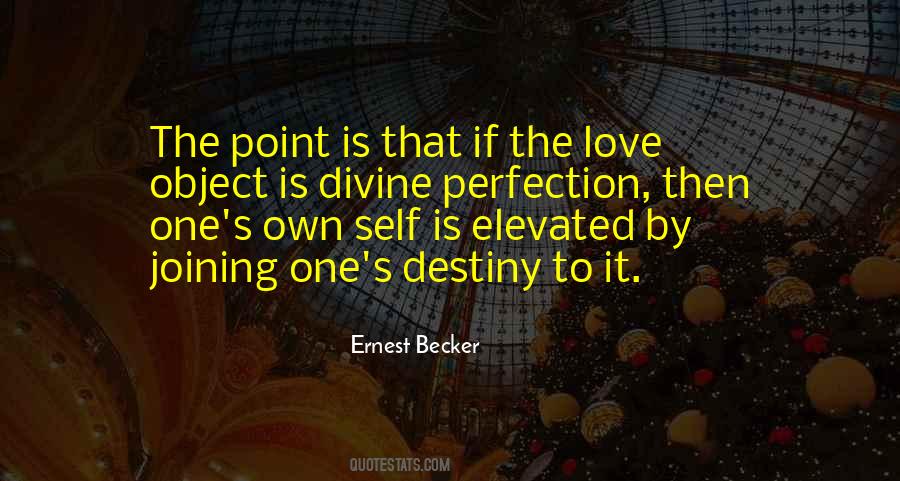 #74. He knew her, and she knew him. He had no idea if the images he saw came from past or future, or both, but he knew her. Their souls were bound, had always been bound, and always would be. They were two with one soul between them, perfectly joined, perfectly fitted. - Author: Ann Marston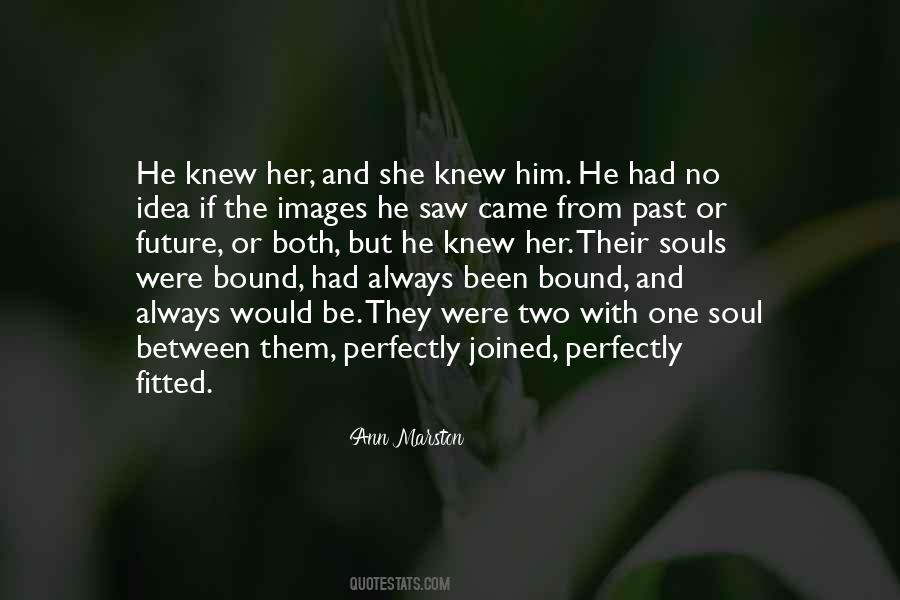 #75. Every curse has a blessing and every blessing has a curse. When you stand face to face with your destiny, will you be able to tell one from the other? - Author: J.K. Ensley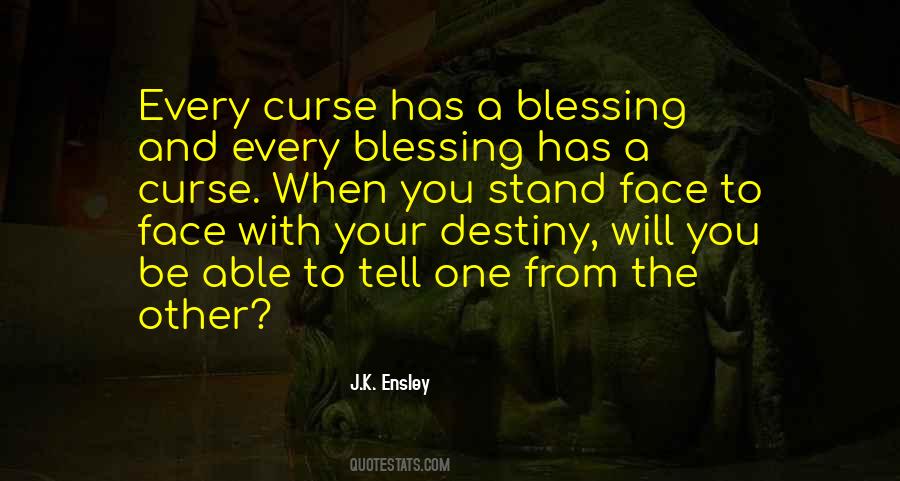 #76. Aster was eager for any kind of
Chance. She had only wanted a chance. A way out, a greater story than the one that had been written for her, just like I had wanted. Tell my bapa I tried, Miz. A chance to control her own destiny. But for her, escape was impossible. - Author: Mary E. Pearson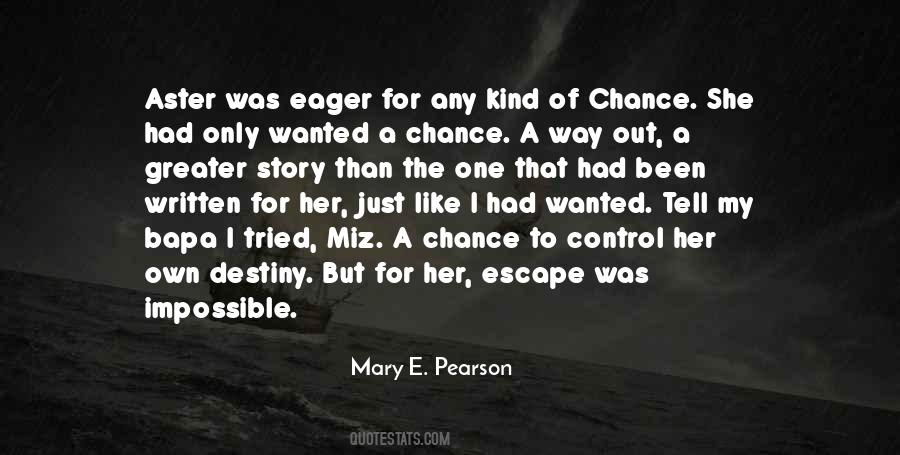 #77. Forget the oracle. You don't like your destiny? Write a new one. - Author: Rick Riordan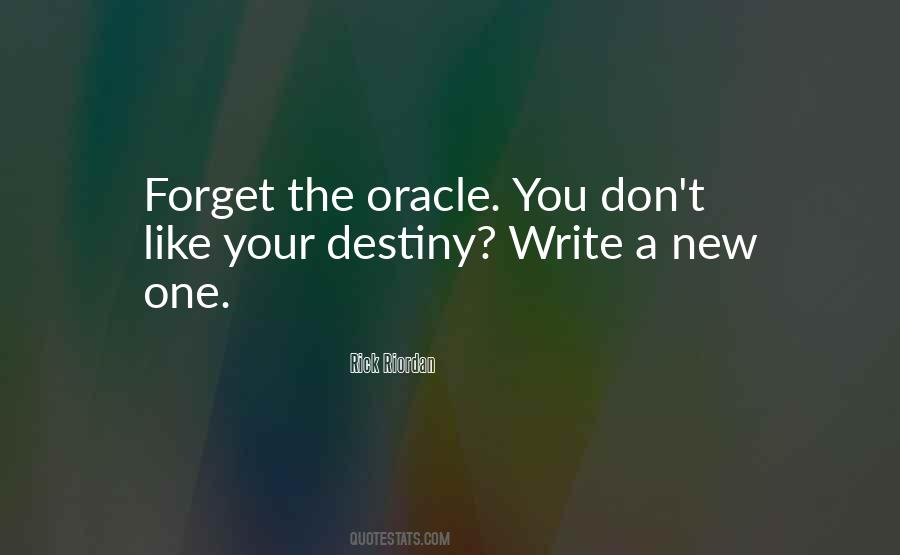 #78. Depend on no one else to give you what you want - Author: Destiny's Child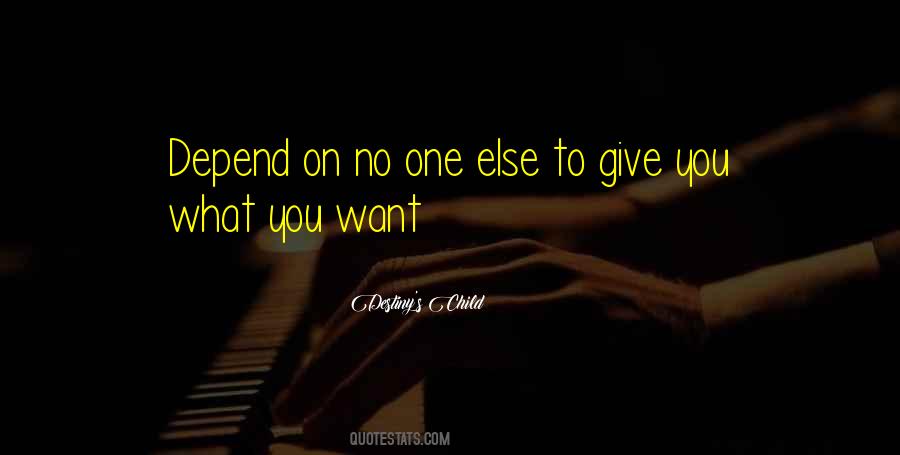 #79. Write your own part. It is the only way I've gotten anywhere. It is much harder work, but sometimes you have to take destiny into your own hands. It forces you to think about what your strengths really are, and once you find them, you can showcase them, and no one can stop you. - Author: Mindy Kaling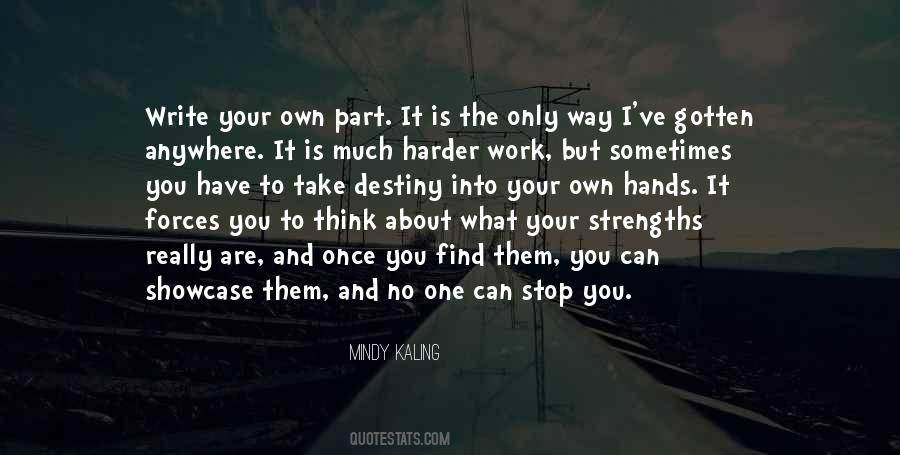 #80. One's course in life often pivots on small incidents. - Author: Sidney Huntington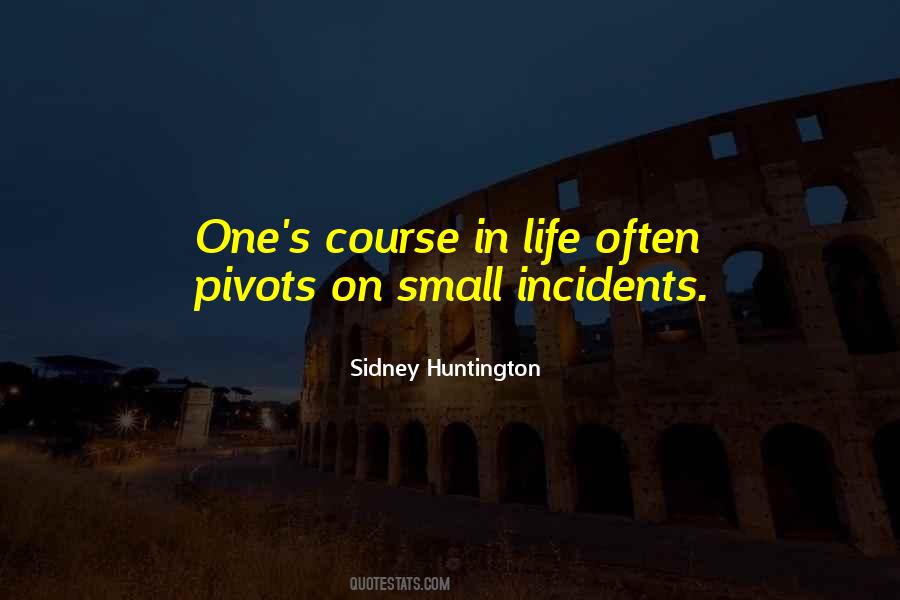 #81. Even a good family can become a trap for one's destiny when the family becomes your aim - Author: Sunday Adelaja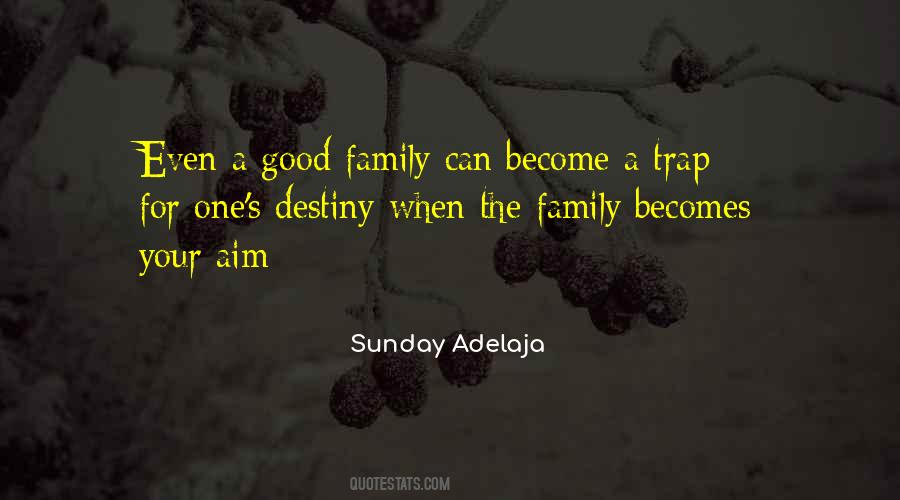 #82. Okay then. The destiny didn't work with the Chosen One. So I'll do it instead. - Author: Deeba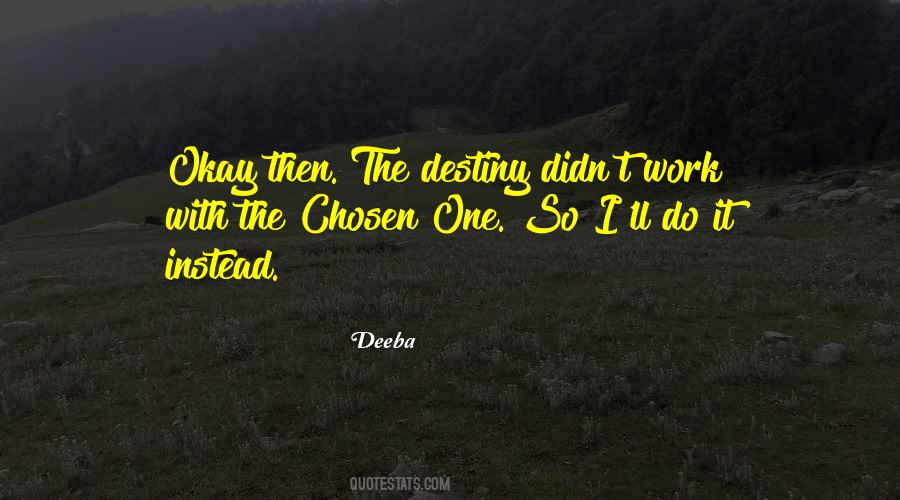 #83. There is one type of ideal woman very seldom described in poetry - the old maid, the woman whom sorrow or misfortune prevents from fulfilling her natural destiny. - Author: Lafcadio Hearn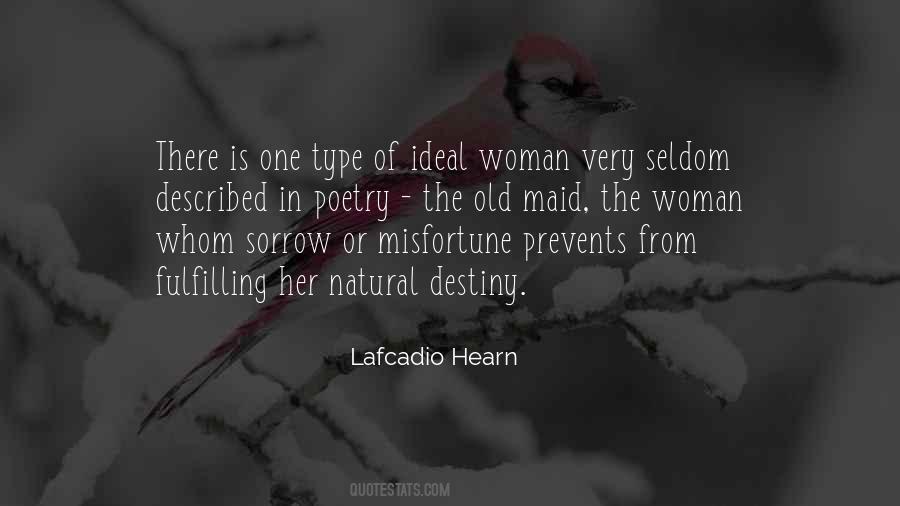 #84. Synchronicity is an inexplicable and profoundly meaningful coincidence that stirs the soul and offers a glimpse of one's destiny. - Author: Phil Cousineau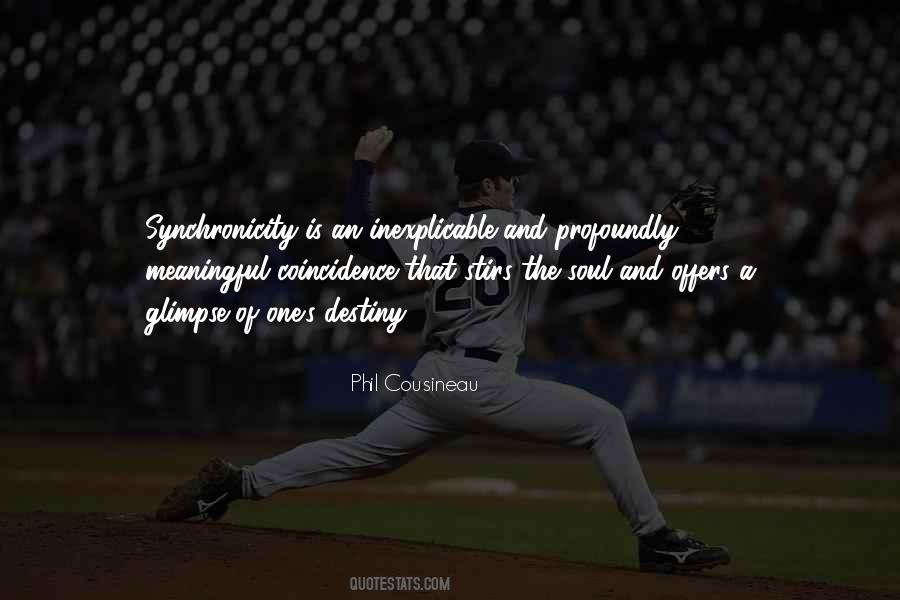 #85. The whole secret of a successful life is to find out what is one's destiny to do, and then do it. - Author: Henry Ford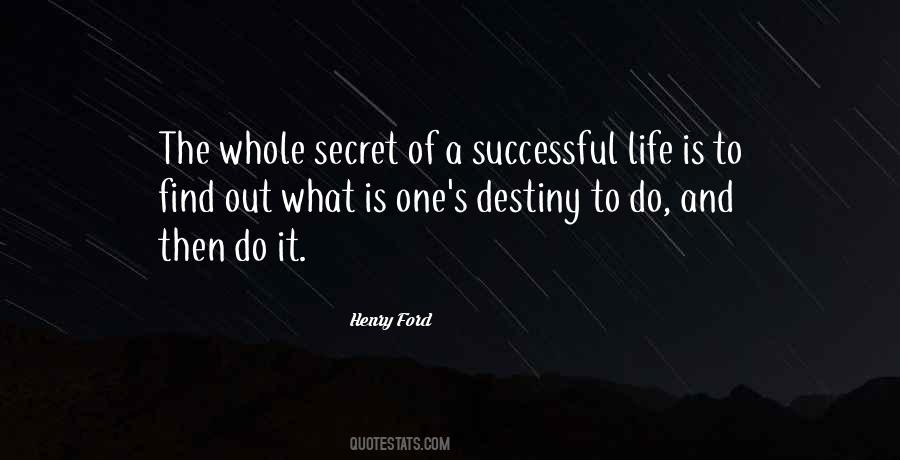 #86. You have to stop thinking about Billystorm in that way, right now! You have a different destiny, one that involves the future of the whole Clan. And it is a path that you must walk alone. - Author: Erin Hunter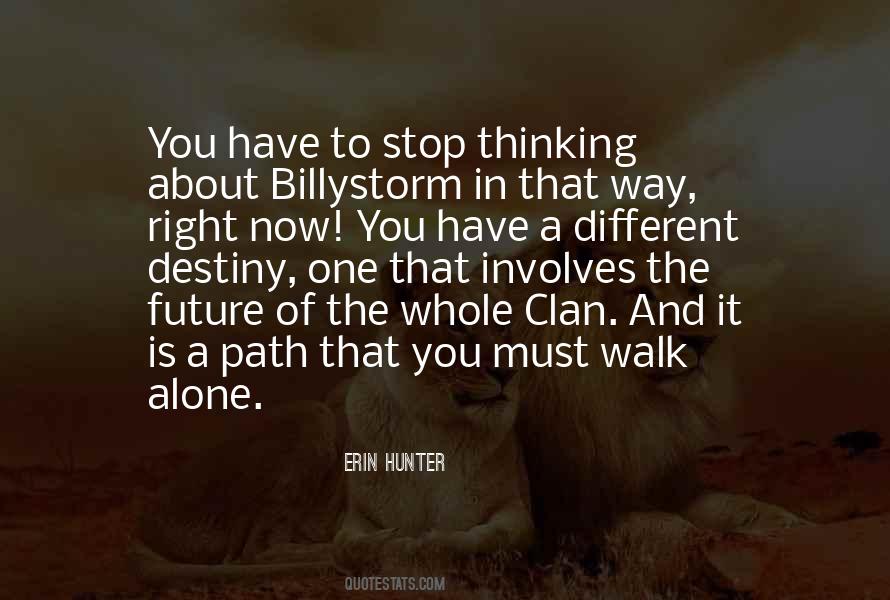 #87. that a lot of what happens in our lives is predetermined and that the only way forward is to accept what has happened and to move on. Who knew, perhaps what destiny had in store would be better than what one is grieving over now. - Author: A. P. J. Abdul Kalam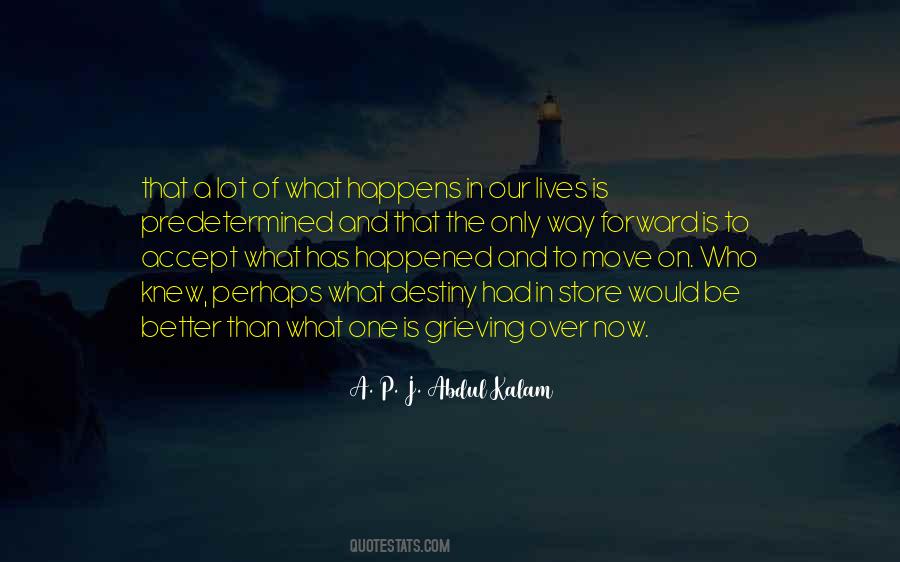 #88. To control one's own destiny takes a mastermind. To execute the plans takes a fool. - Author: Daniel Keyes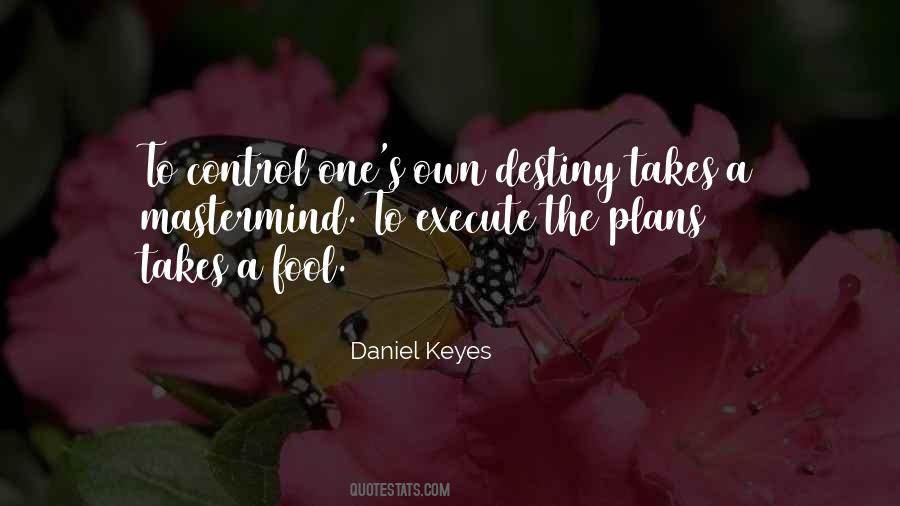 #89. He was one of those men who like to be observers at their own lives ... such people observe their destiny much as most people tend to observe a rainy day. - Author: Alessandro Baricco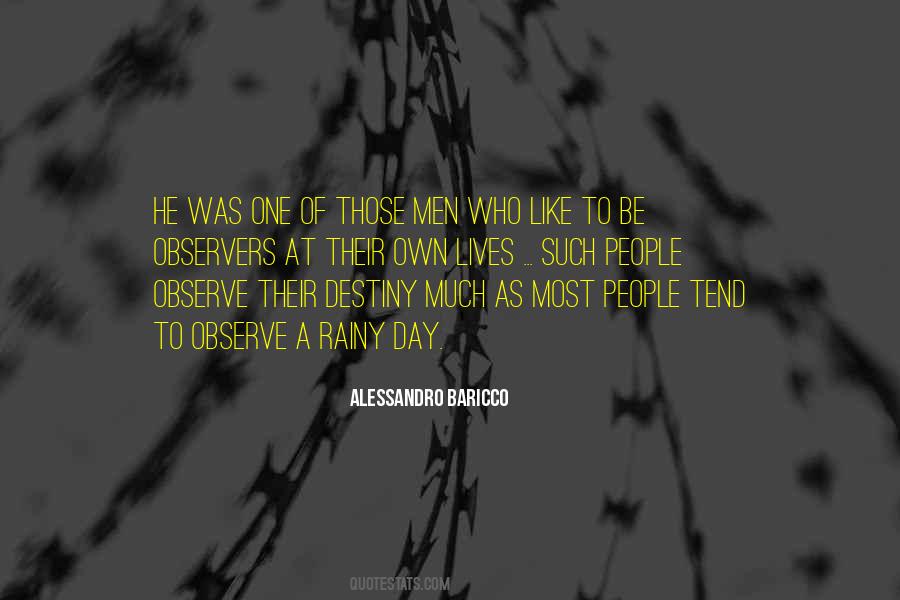 #90. No one takes whats mine. fate has gifted me this female. Destiny does not allow exchanges - Author: Marata Eros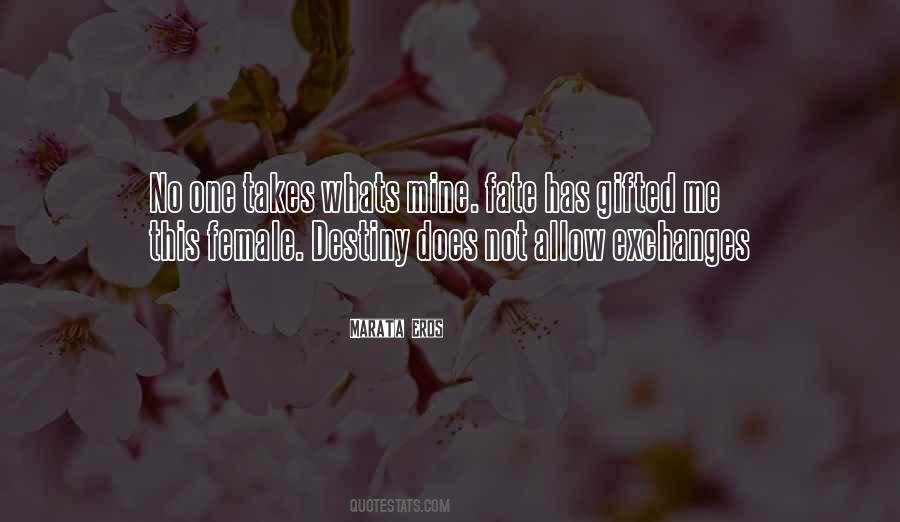 #91. Nobody knows anything ... Not one person in the entire motion picture field knows for a certainty what's going to work. Every time out it's a guess and, if you're lucky, an educated one. - Author: William Goldman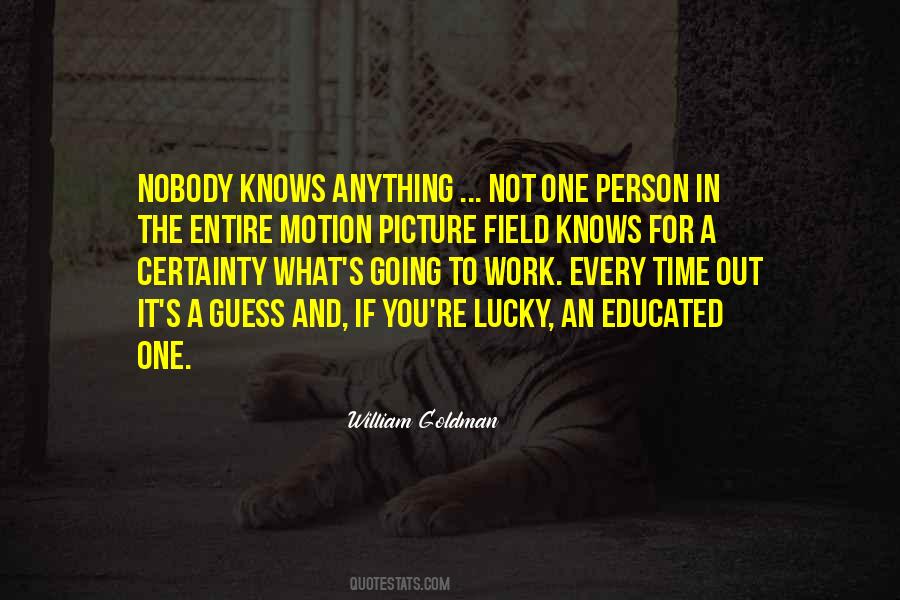 #92. If I were of a philosophical frame of mind I might wonder to what extent any one of us is in control of our own destiny, or if indeed we can ever predict the far-reaching consequences of actions which, at the time, may seem entirely trivial. - Author: Anthony Horowitz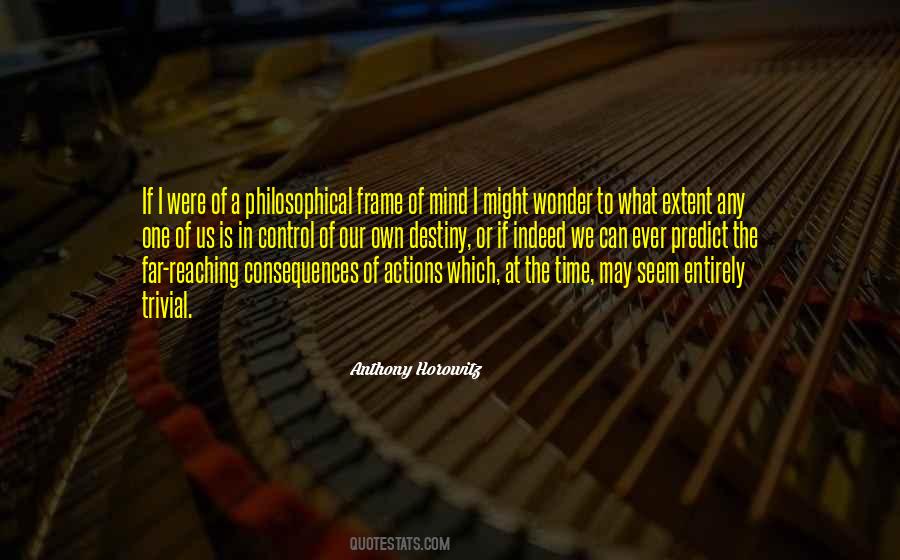 #93. The act of living one's own destiny includes a series of stages that are far beyond our understanding, whose objective is always to ... make us learn the lessons necessary to fulfill our own destiny. - Author: Paulo Coelho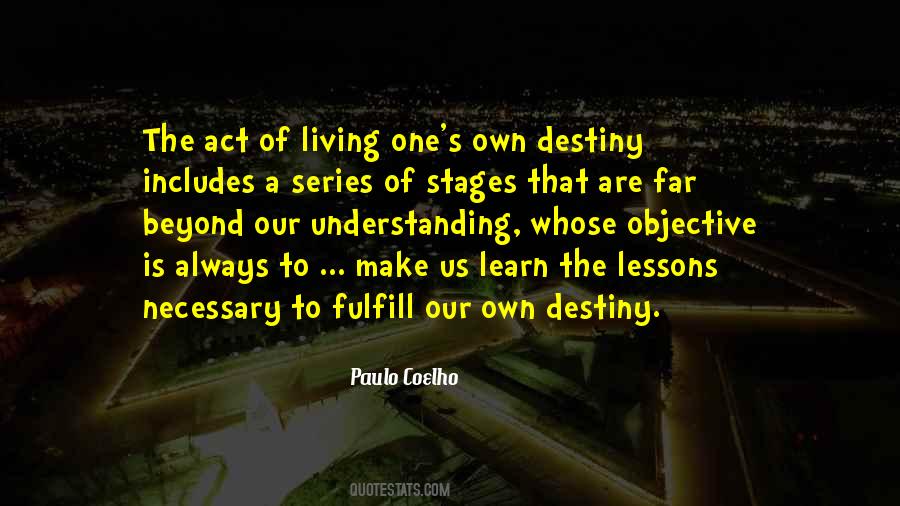 #94. One knows less about one's own destiny than about anything else on earth. - Author: Gabrielle Roy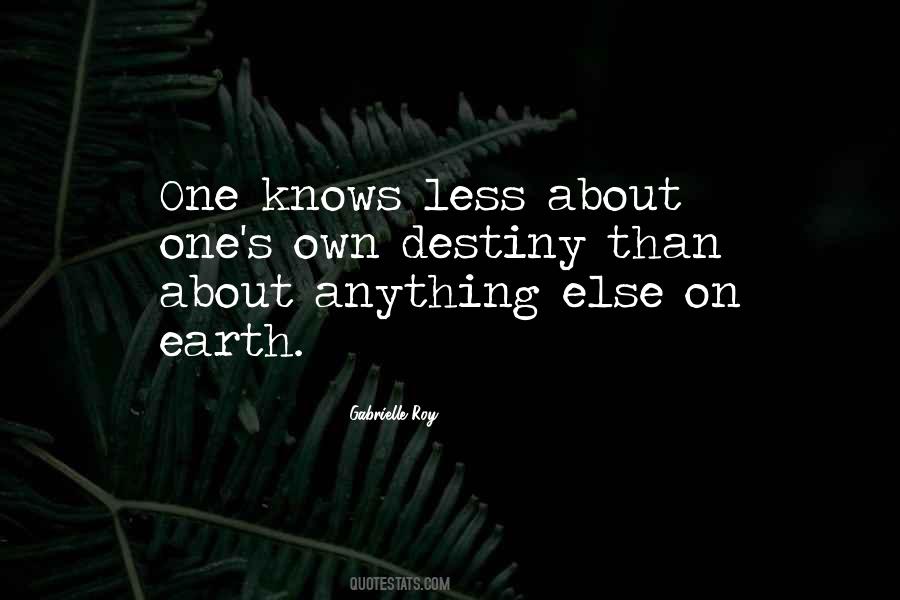 #95. I looked up towards the immensity of the labyrinth.
"How does one choose a single book among so many?"
Isaac shrugged his shoulders.
'Some like to believe it's the book that chooses the person ... destiny, in other words. - Author: Carlos Ruiz Zafon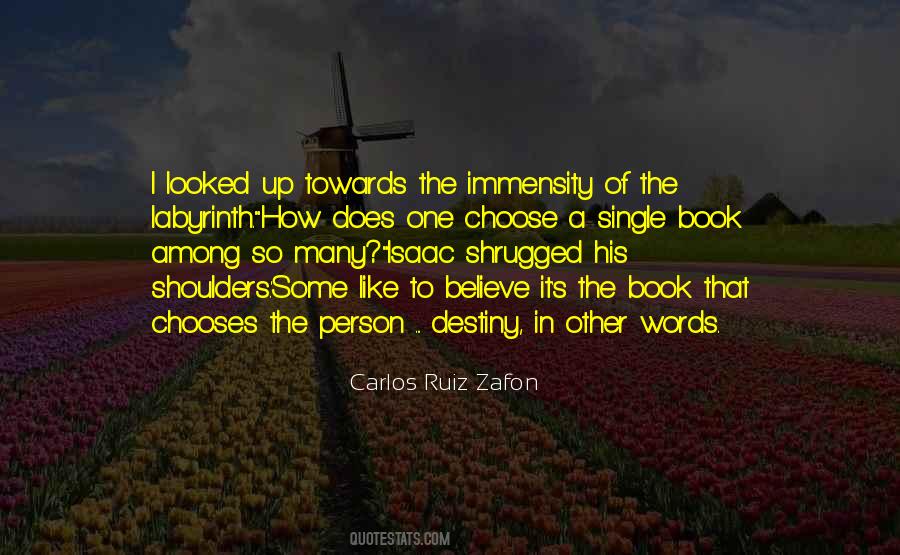 #96. Perhaps this was one of the tragedies life plots for us: it is our destiny to become in old age what in youth we would have most despised. - Author: Julian Barnes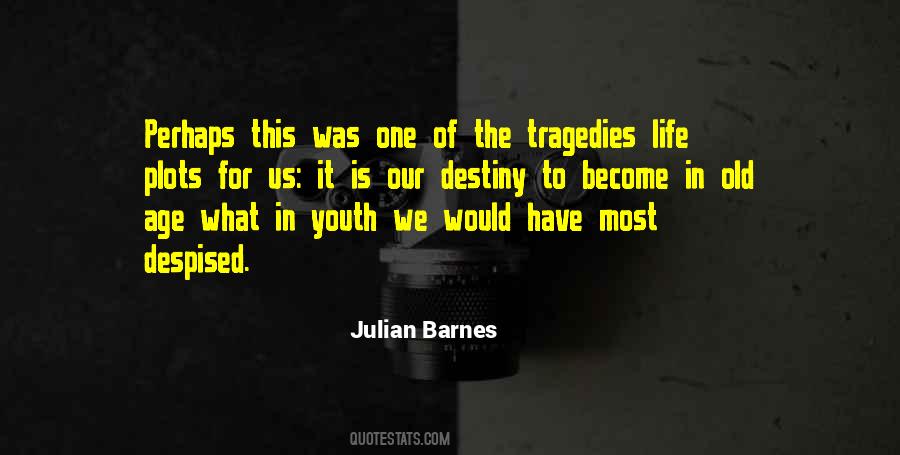 #97. My last name should be "Why," because it is my destiny to question everything, including how to change my last name to one of the shortest questions and the question of all questions. - Author: Jarod Kintz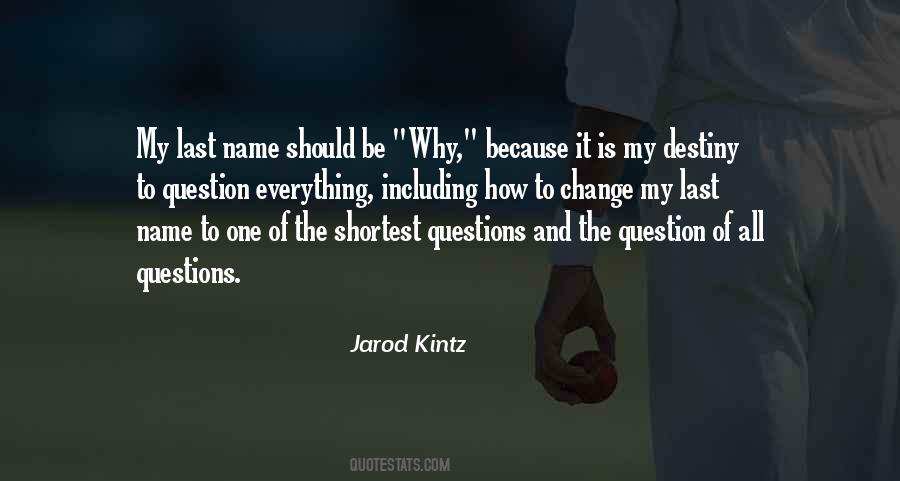 #98. One of the problems he will seek to solve is how to make his wife both a servant and a companion; his attitude will evolve throughout the centuries, and this will also entail an evolution in woman's destiny.11 - Author: Simone De Beauvoir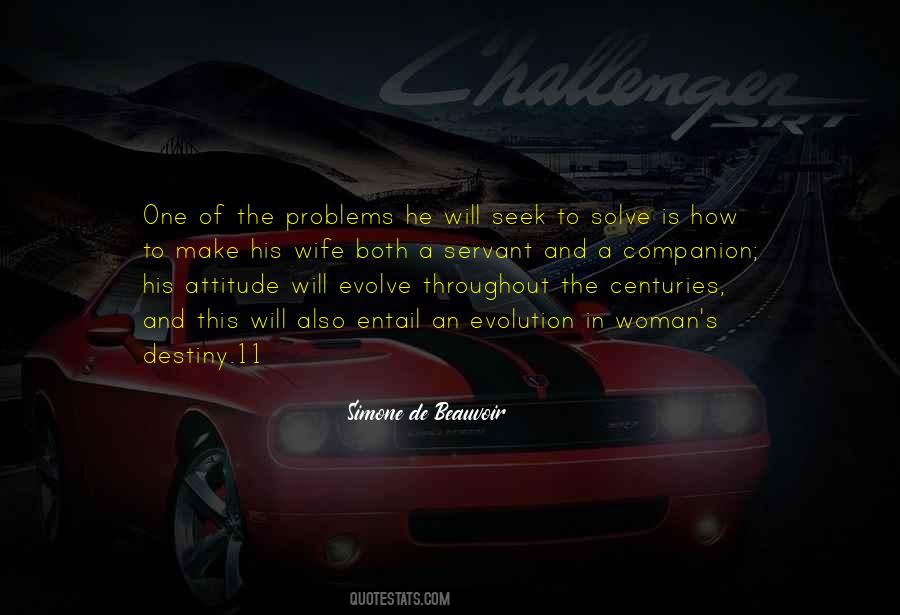 #99. If there was one thing Brenda Dyerson was good at, she knew it, was cooking up the scraps destiny had laid out on its plates for her. - Author: Tiffany Baker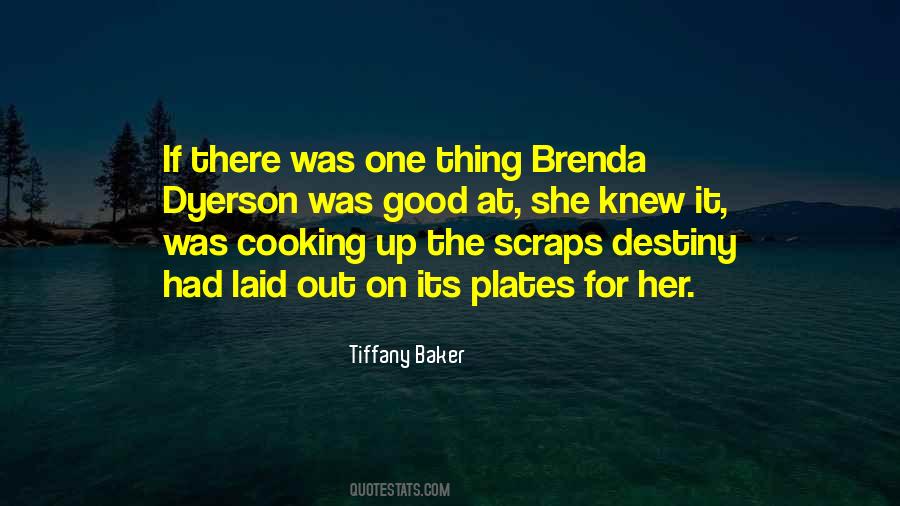 #100. The sword of destiny has two edges. You are one of them. - Author: Andrzej Sapkowski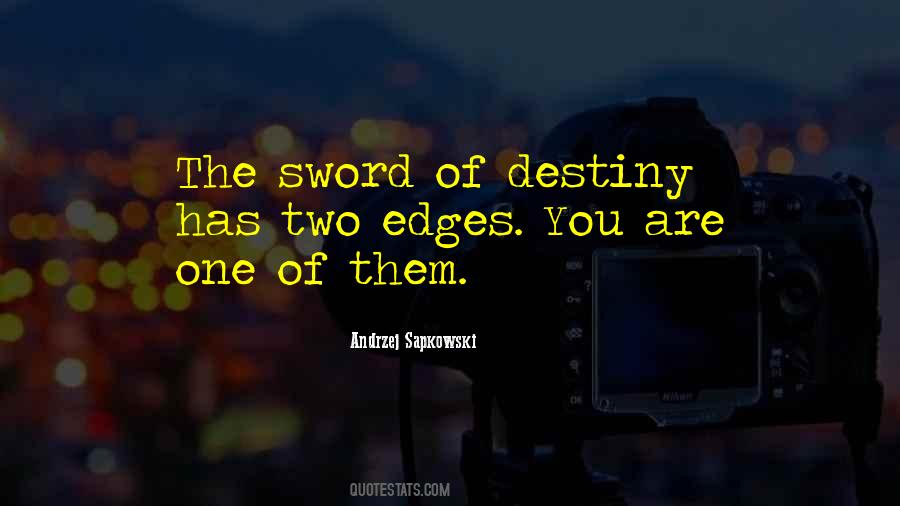 Famous Authors
Popular Topics