List of top 67 famous quotes and sayings about often mistaken to read and share with friends on your Facebook, Twitter, blogs.
Top 67 Often Mistaken Quotes
#1. It's often mistaken for good advice, but wisdom cannot be imparted to someone. Wisdom can only be earned; it's a by-product of experience, not necessarily knowledge, otherwise I would be stalking Oprah right now, begging for a transfusion.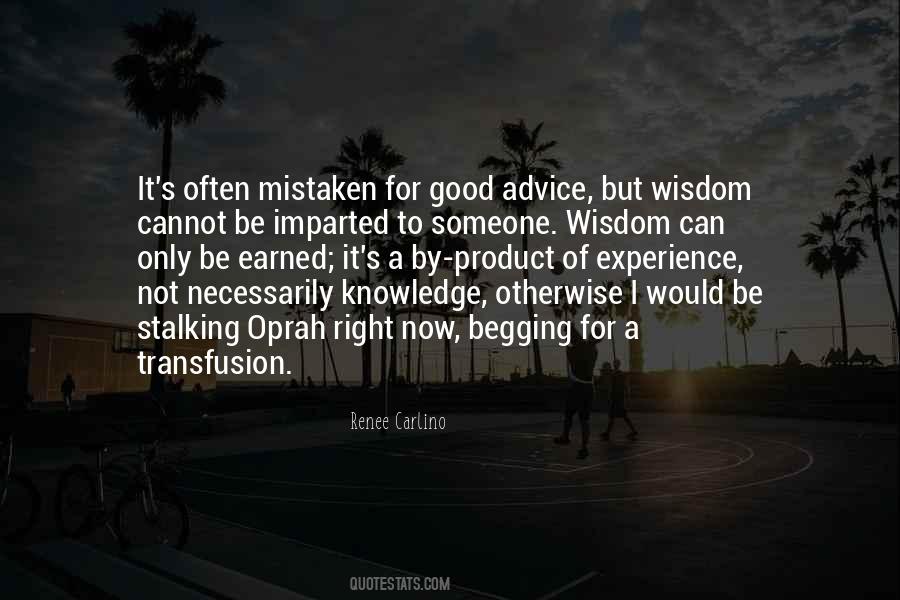 #2. Curiosity is often mistaken as Love,
Since they both have the common elements of
Interest and Passion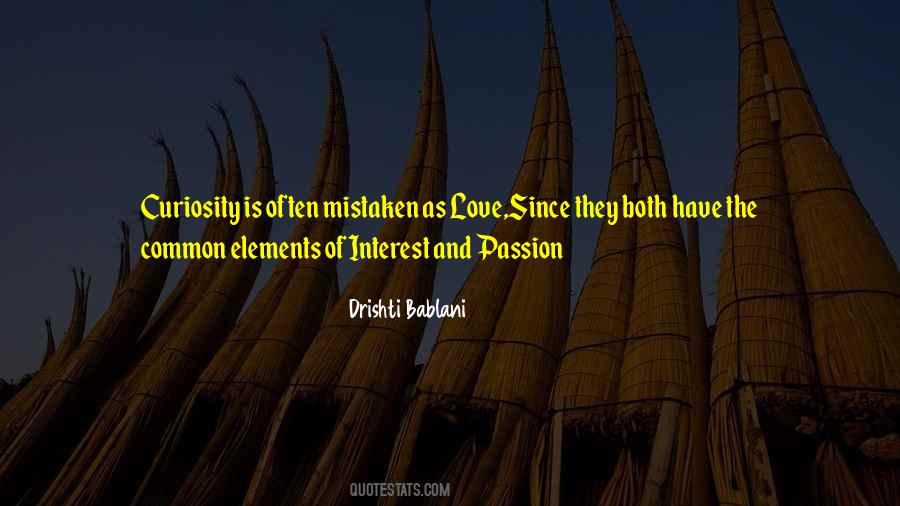 #3. Conversation is the wall we build between ourselves and other people, too often with tired words like used and broken bottles which, catching the sunlight as they lie embedded in the wall, are mistaken for jewels.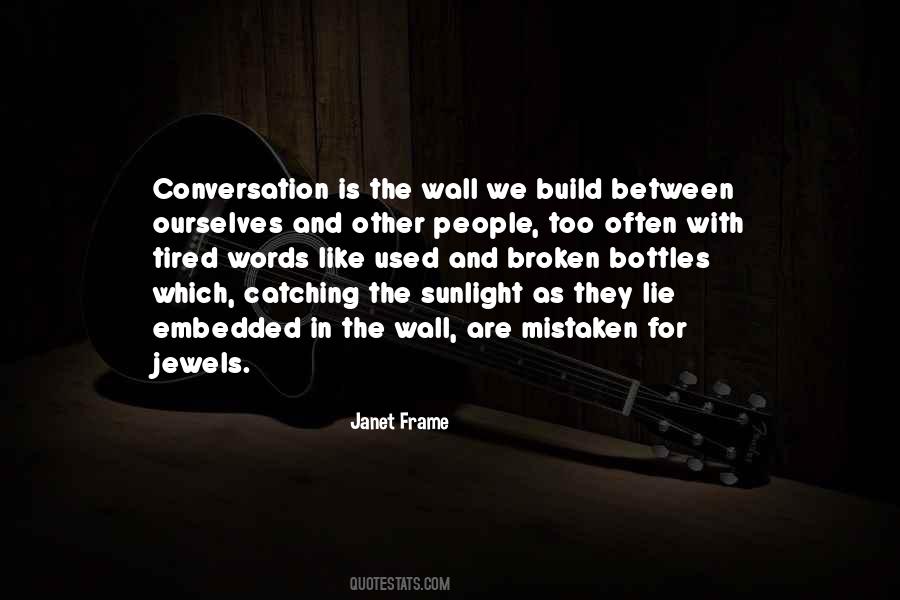 #4. Dreamers have a hidden strength that is often mistaken for meekness by those who have power." The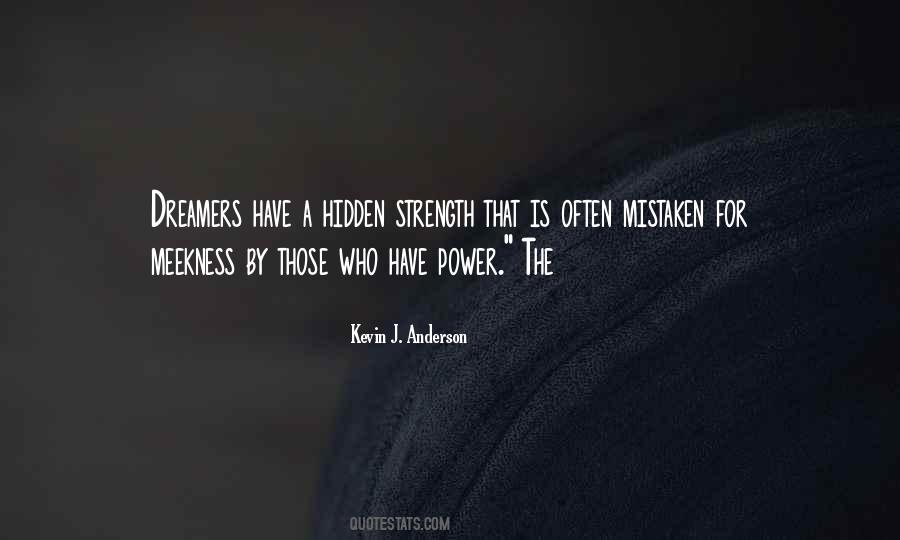 #5. I'm often mistaken for Spanish or Latin descent.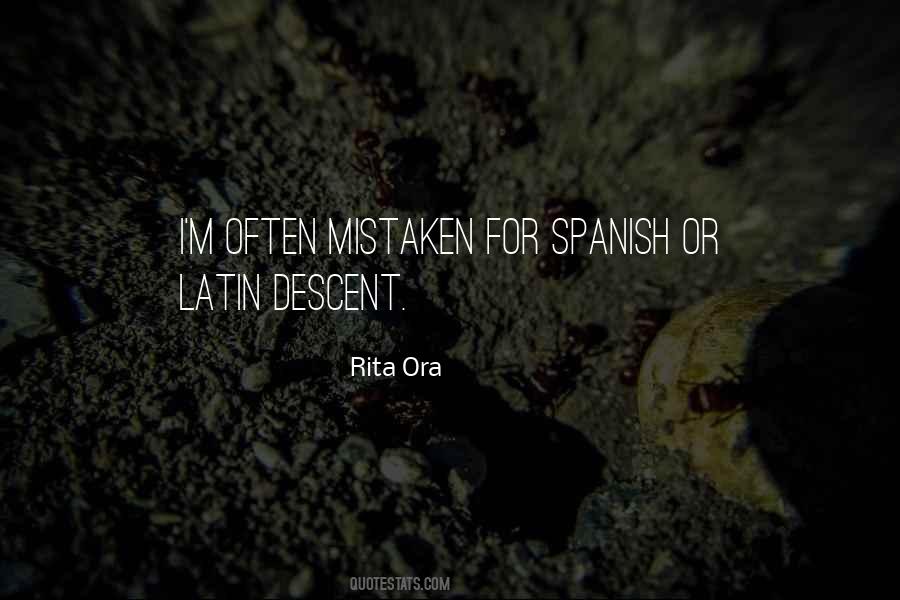 #6. On the contrary, anyone speaking or writing about concentration camps is still regarded as suspect; and if the speaker has resolutely returned to the world of the living, he himself is often assailed by doubts with regard to his own truthfulness, as though he had mistaken a nightmare for reality.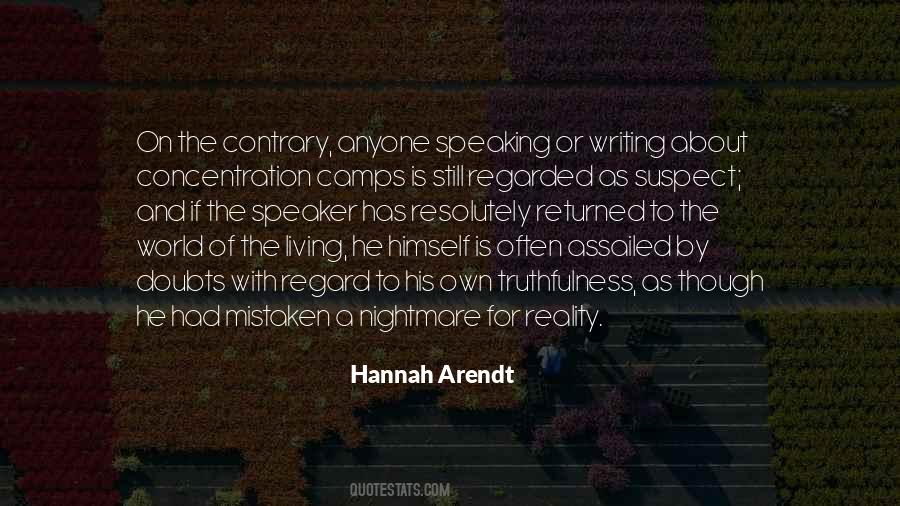 #7. Humility with energy is often mistaken for pride.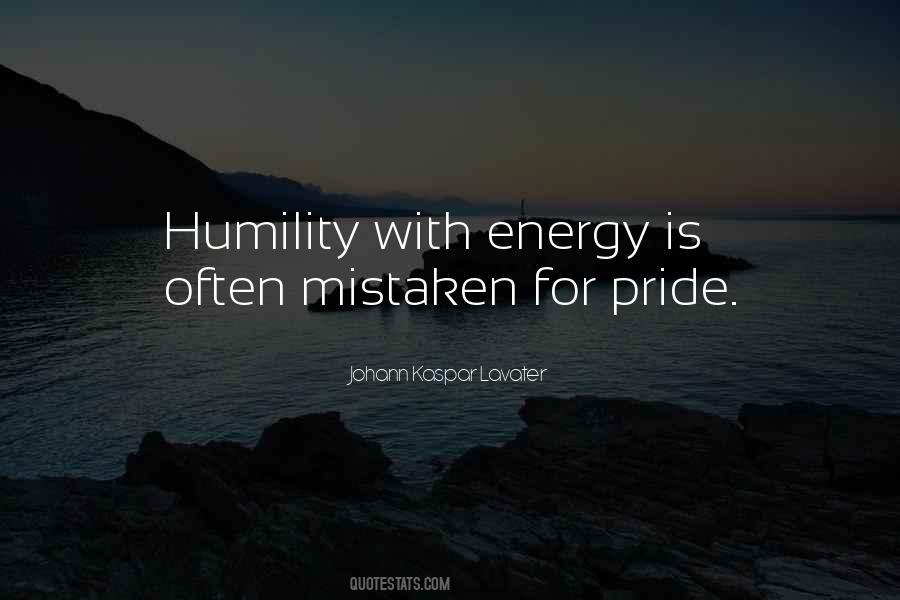 #8. When we scream and shout inside our heart, deep silence prevails outside and often we are mistaken to be snobbish.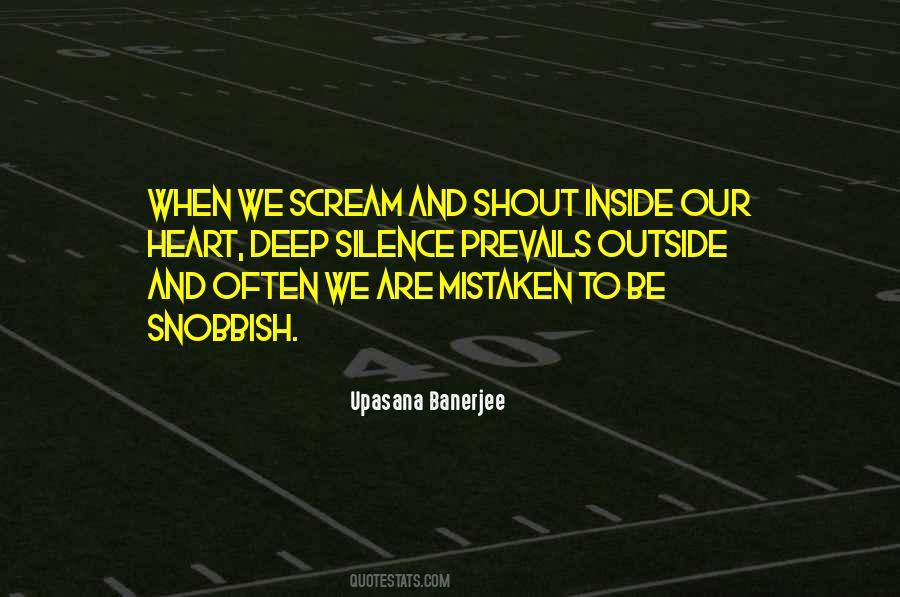 #9. so often, we focus our analytical efforts in the wrong direction and miss something vital. So it's crucial to be open to the possibility that we might be mistaken. During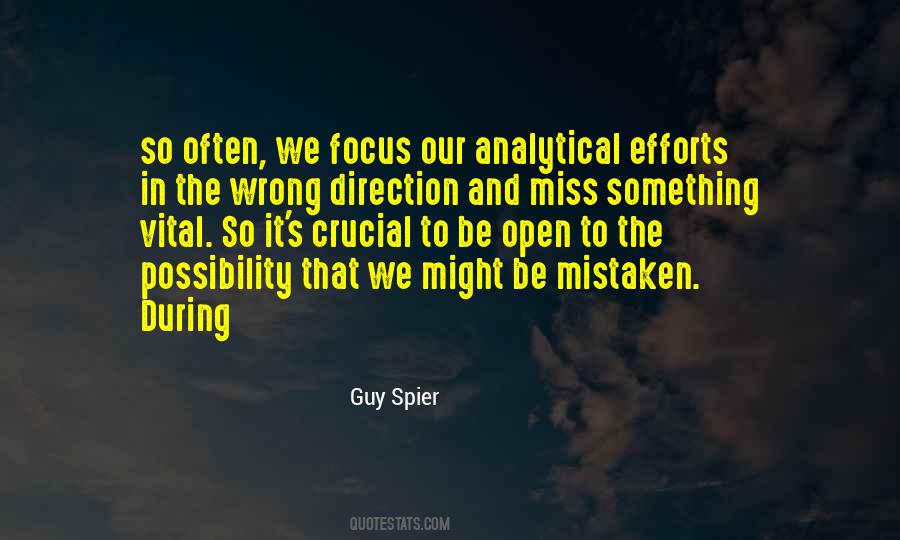 #10. How often is immense sadness mistaken for courage?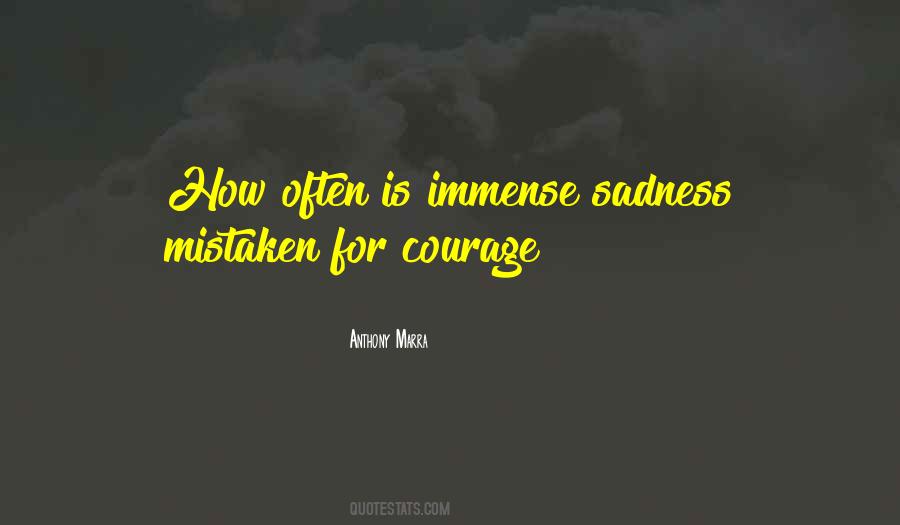 #11. Even the incorruptible are corruptible if they cannot accept the possibility of being mistaken.
Infallibility is a sin in any man.
All laws can be broken and are.
Often.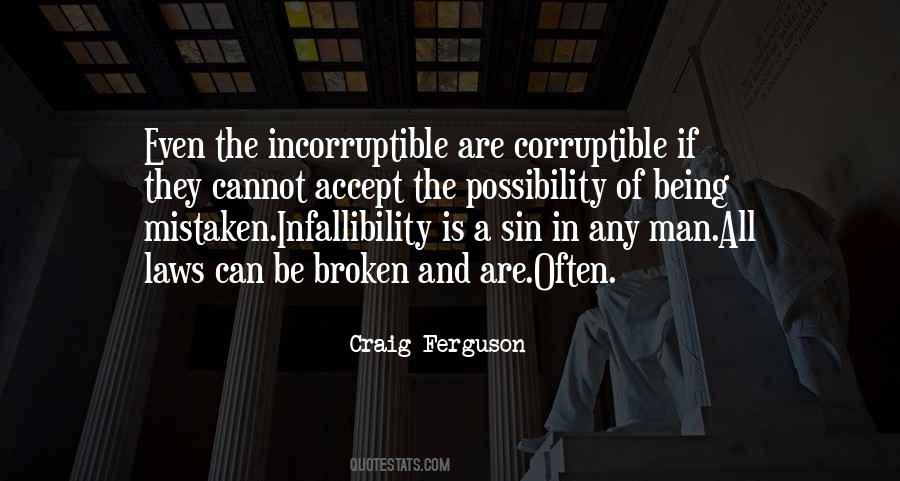 #12. Humans are very seldom either totally sincere or totally hypocritical. Their moods change, their motives are mixed, and they are often quite mistaken as to what their motives are.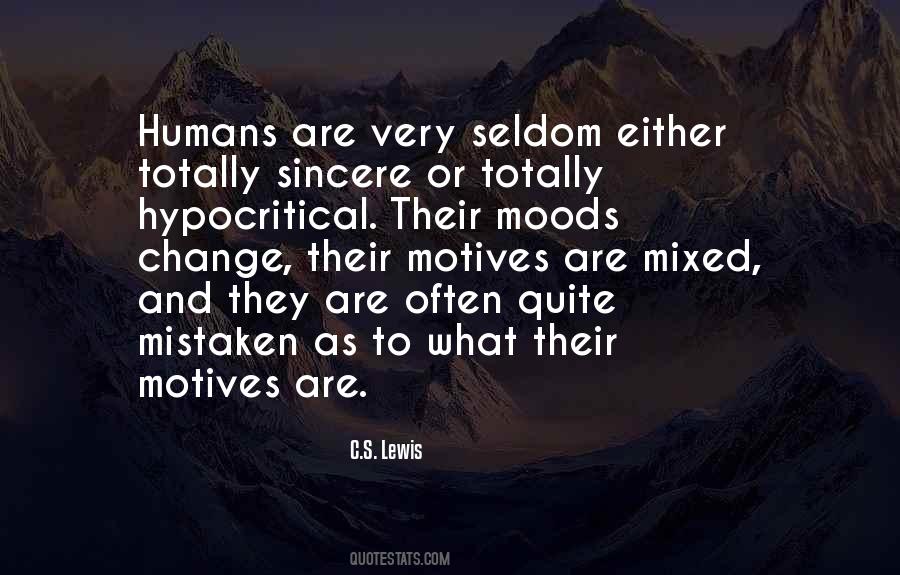 #13. I think when people talk about lighter drama, they tend to use that term, not derogatorily, but 'lighter' means sort of less to a degree, but if you're an actor, light drama is often mistaken for easier drama.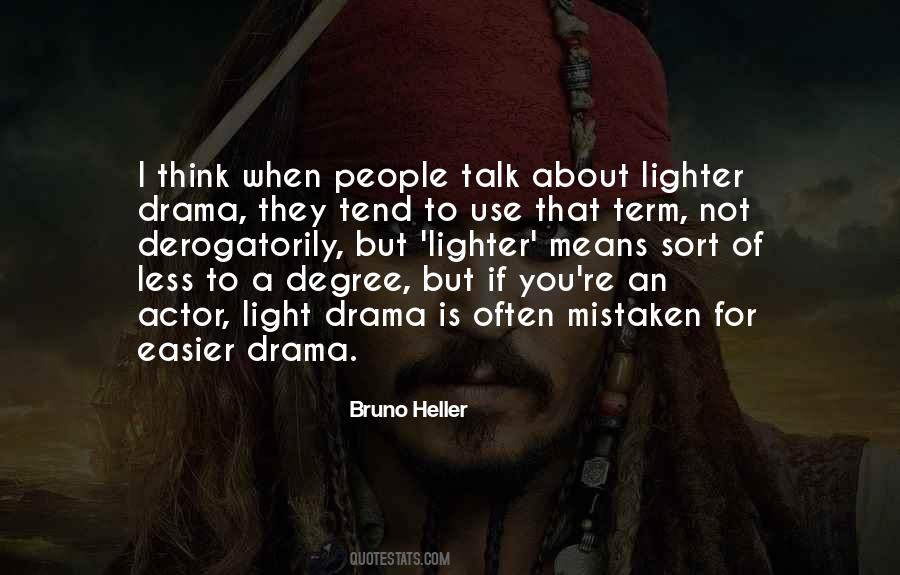 #14. Intuition is often mistaken, but not altogether.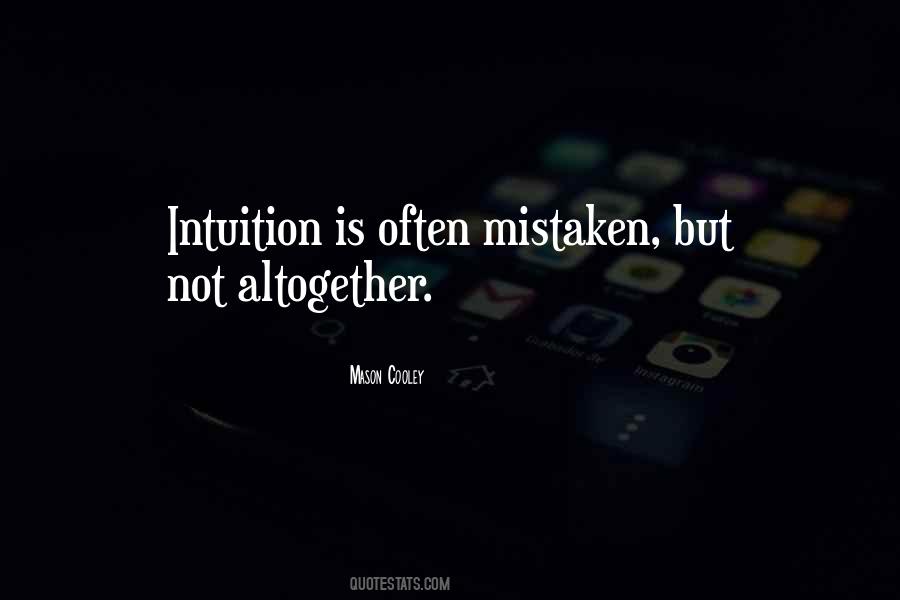 #15. Why should I expect to be exempt from censure; the unfailing lot of an elevated station? My Heart tells me it has been my unremitted aim to do the best circumstances would permit; yet, I may have been very often mistaken in my judgment of the means.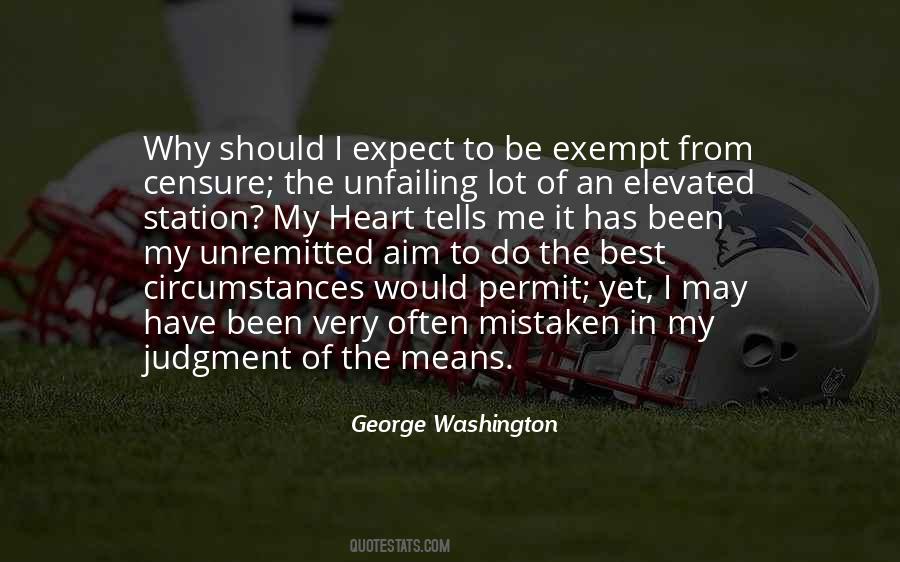 #16. Yes, I know most of you can tell the difference between the truth and a lie, but a lie repeated often enough is easily mistaken for the truth. A falsehood left unrefuted in time becomes a fact. I tell you, the tongue is mightier than the sharpest talon.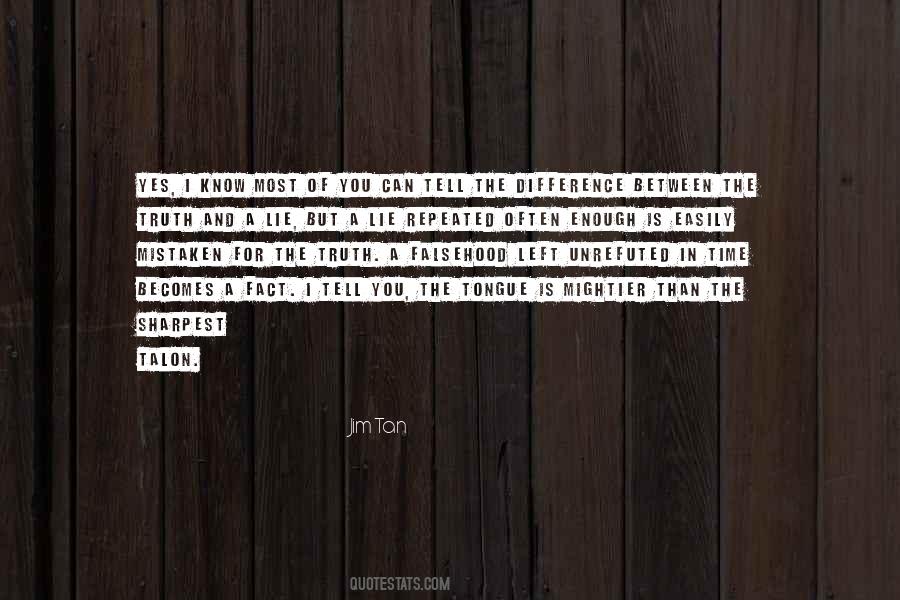 #17. The infirmities of genius are often mistaken for its privileges.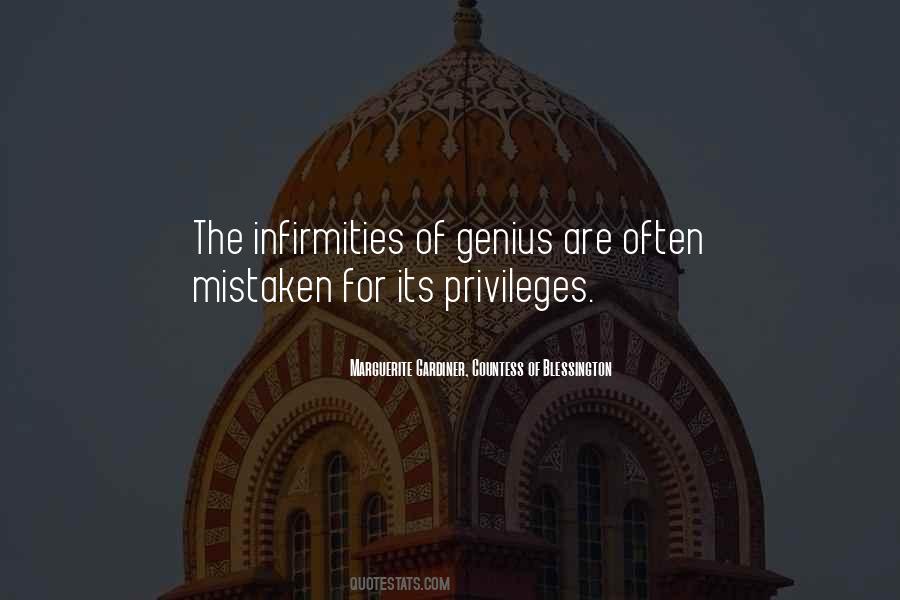 #18. I think attraction and affection are often mistaken for love. For most people, recognizing true love is difficult. Realizing it exists within us, however, is quite simple. All we have to do is walk away. True love tugs at our heart until we return.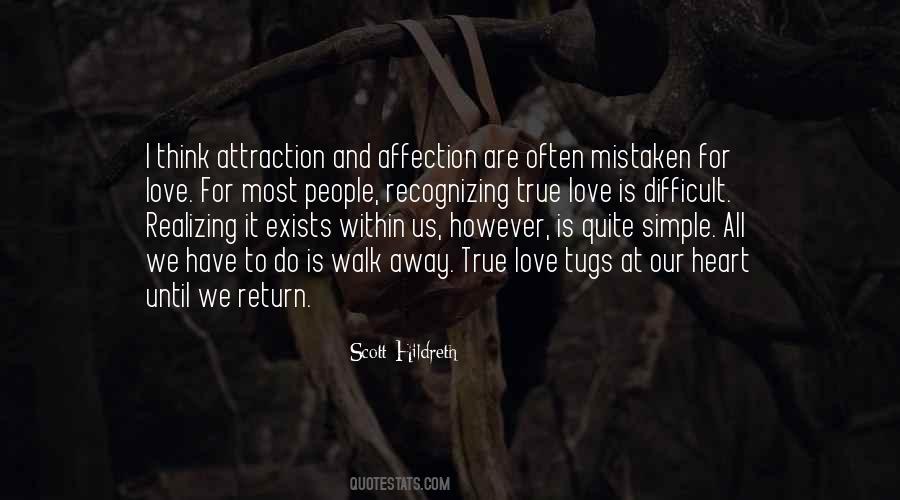 #19. There is a logical explanation for everything, often mistaken for the reason it happened.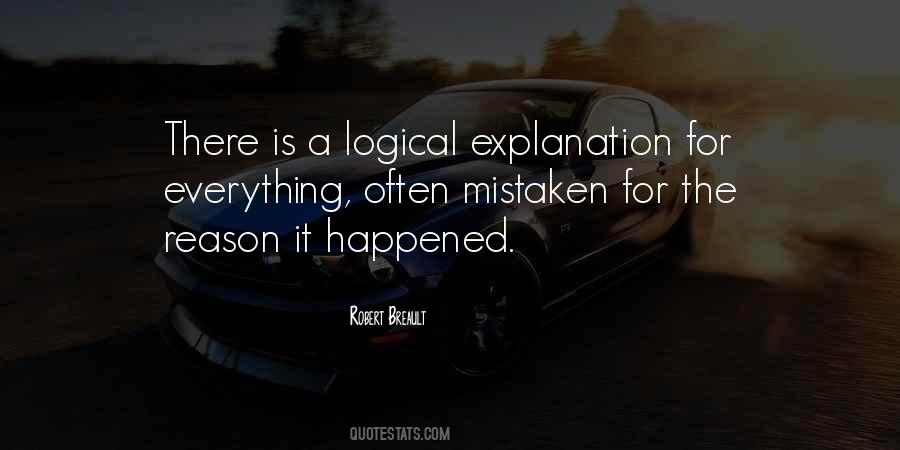 #20. Size and elaboration were often mistaken for importance.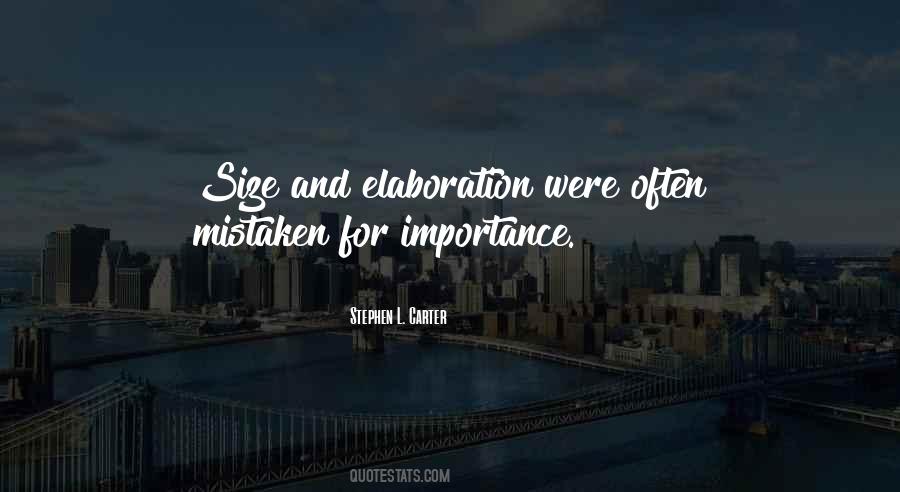 #21. Hold your beliefs lightly.' Certainty is not necessarily a friend of sanity, although it is often mistaken for it.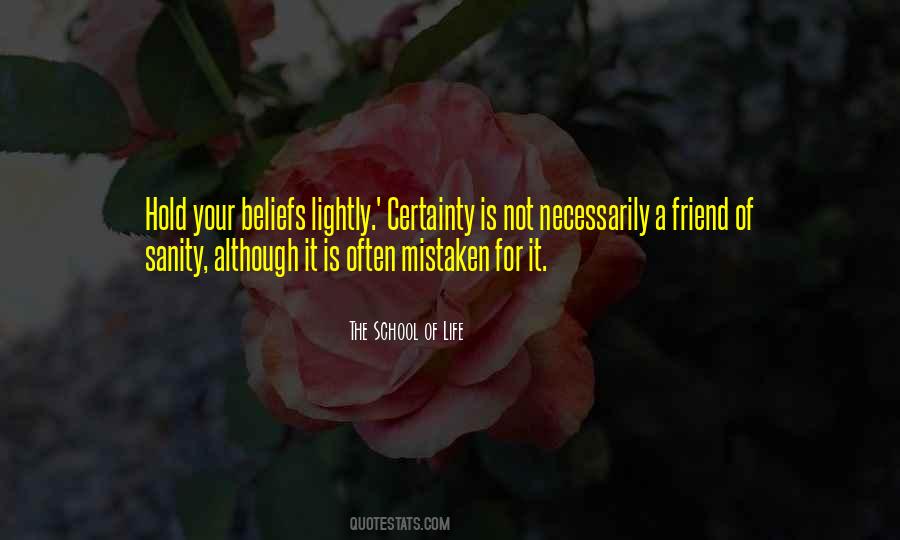 #22. When Ballesteros triumphed at the British Open in 1979, for his first major win, he hit so few fairways off the tee that he was often mistaken for a gallery marshall.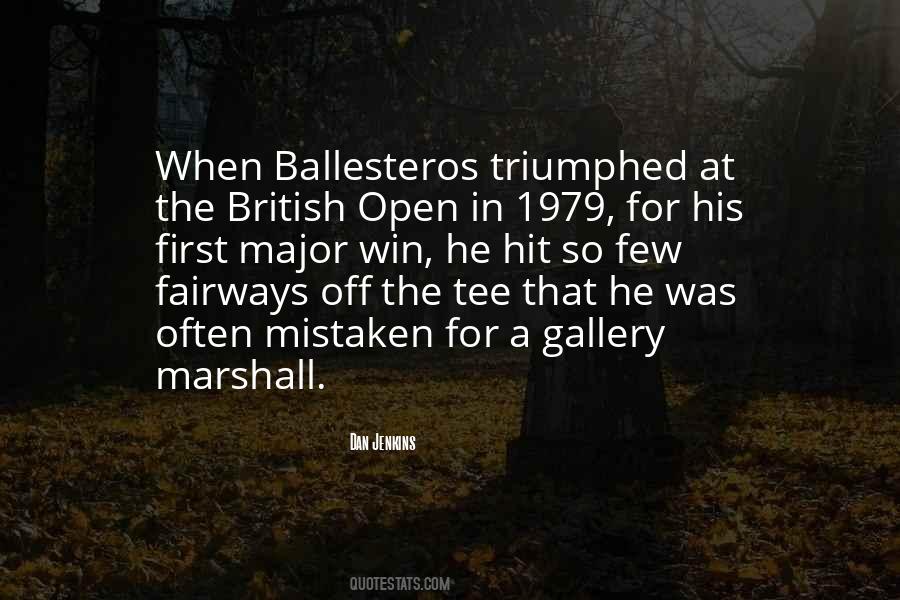 #23. Twenty-four years ago I was strangely handsome; in San Francisco in the rainy season I was often mistaken for fair weather.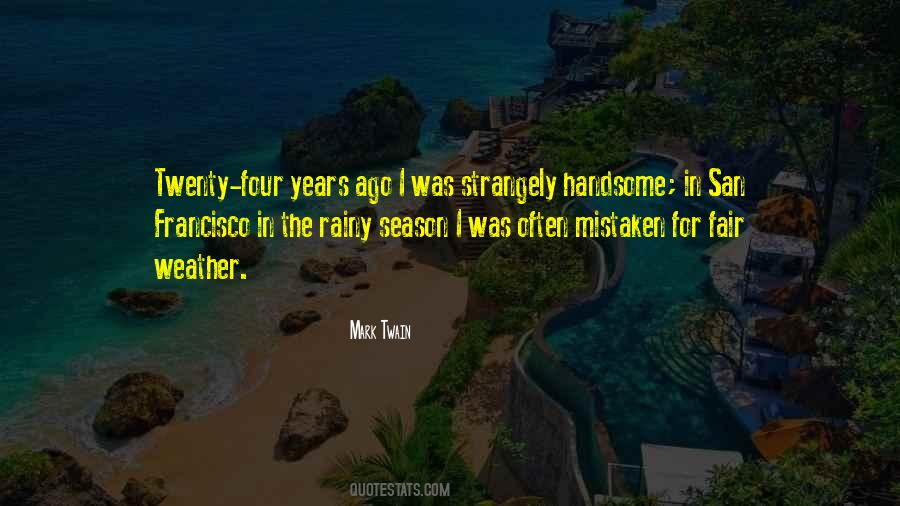 #24. Inertia is often mistaken for patience.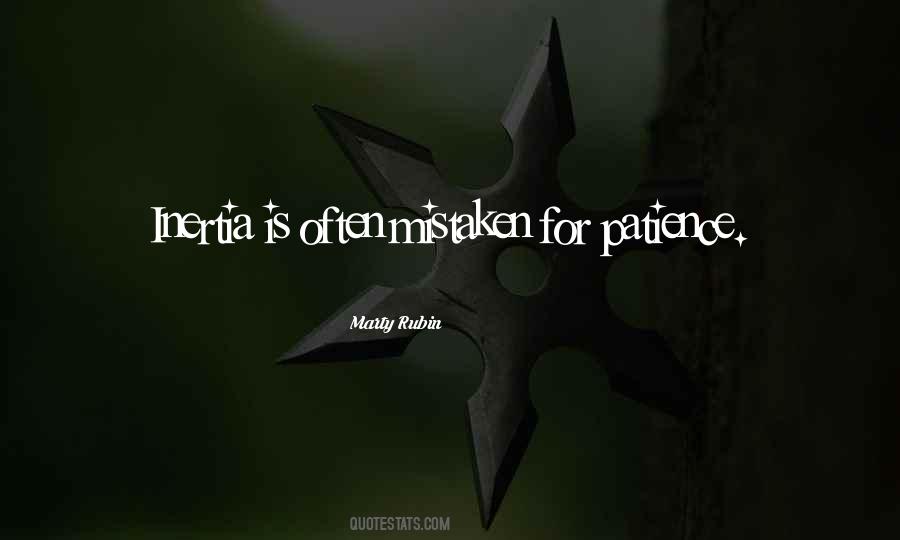 #25. I speak French with timidity, and not flowingly
except when excited. When using that language I have often noticed that I have hardly ever been mistaken for a Frenchman, except, perhaps, by horses; never, I believe, by people.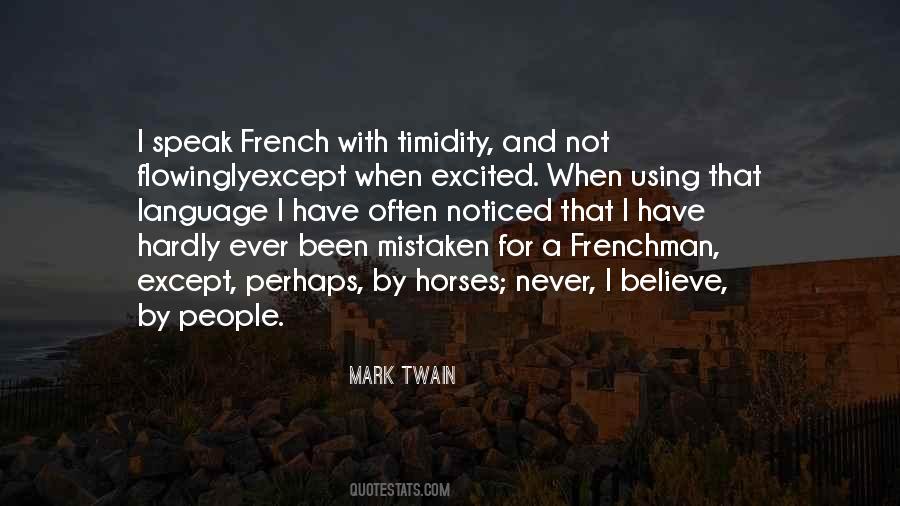 #26. I'm often mistaken for a man.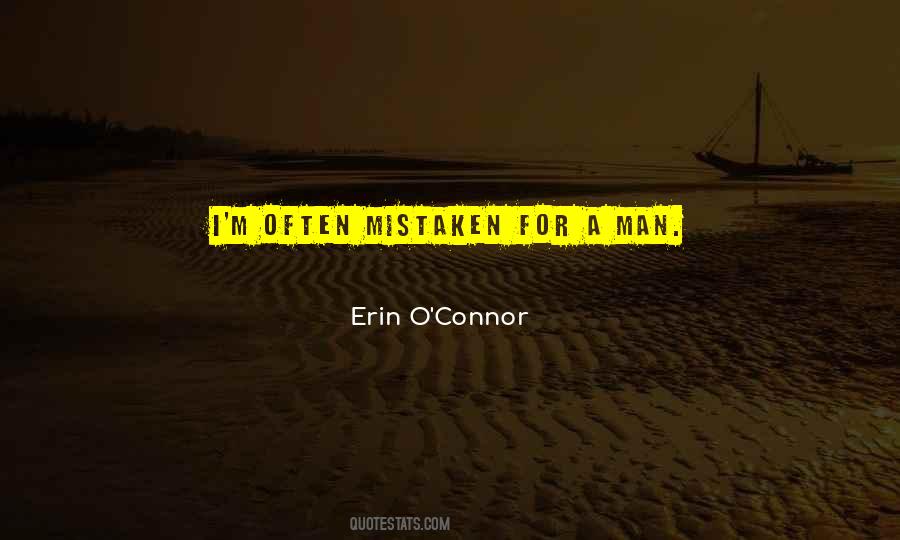 #27. I still think that the greater part of the world is mistaken about many things. Surely one may be sane and yet think so, since the greater part of the world has often had to come round from its opinion.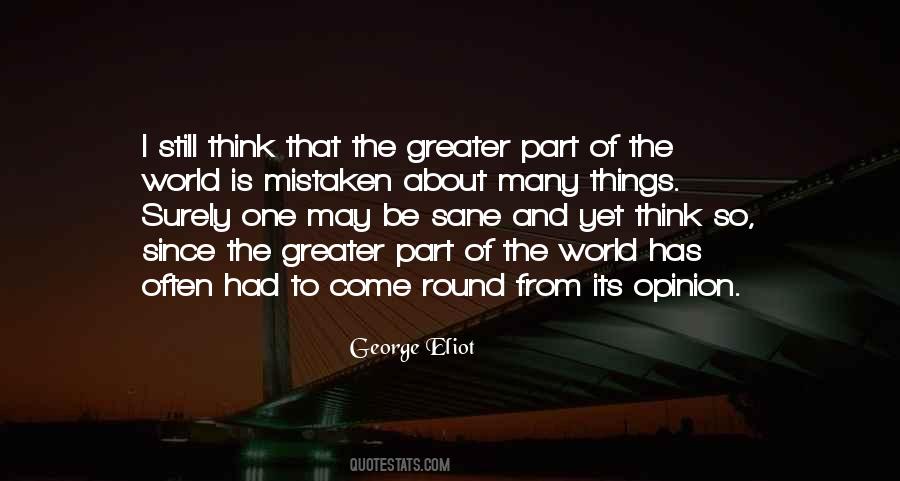 #28. If we notice a few errors in the work of a proven master, we may and even will often be correct; if we believe, however, that he is completely and utterly mistaken, we are in danger of missing his entire concept.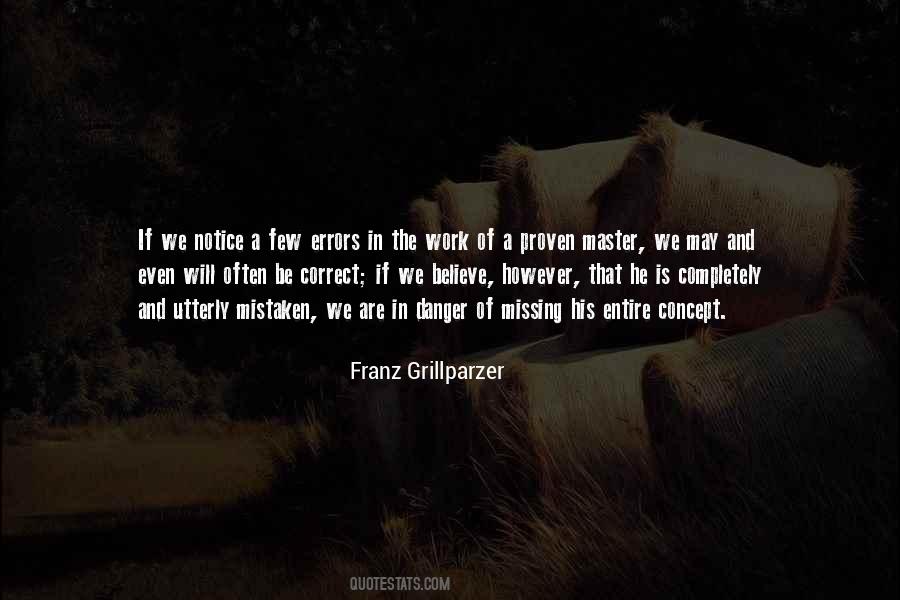 #29. But, my wolf, compassion is often mistaken for weakness when the fact is, there is very little that is more powerful than the courage it takes to give it. The one thing I know that's even more powerful is the courage it takes to forge your own path, make your own mark and in doing so, make change.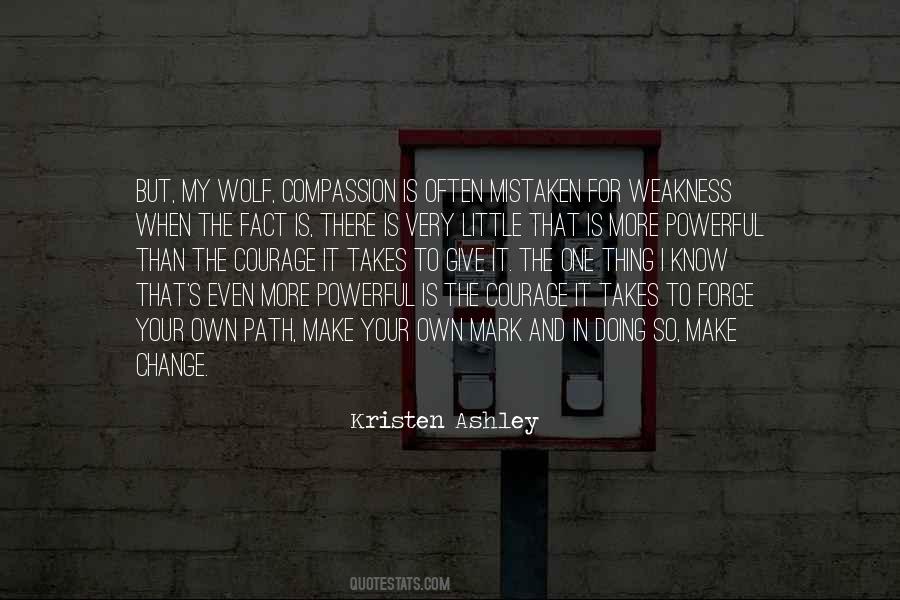 #30. Judge yourself and beware of passing judgement on others. In judging others we expend our energy to no purpose; we are often mistaken and easily sin. But if we judge ourselves our labour is always to our profit.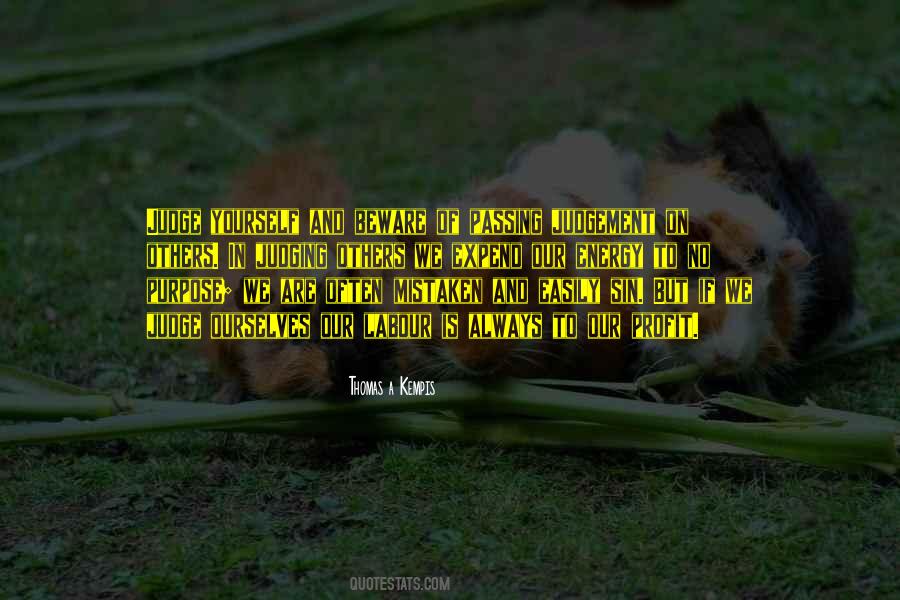 #31. We are often infinitely mistaken, and take the falsest measures, when we envy the happiness of rich and great men; we know not the inward canker that eats out all their joy and delight, and makes them really much more miserable than ourselves.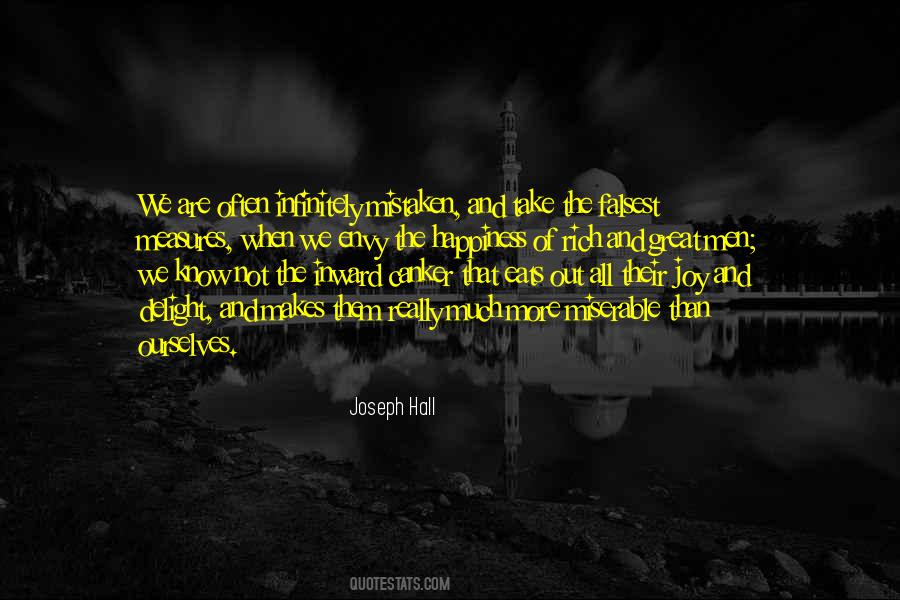 #32. When great assurance accompanies a bad undertaking, such is often mistaken for confiding sincerity by the world at large.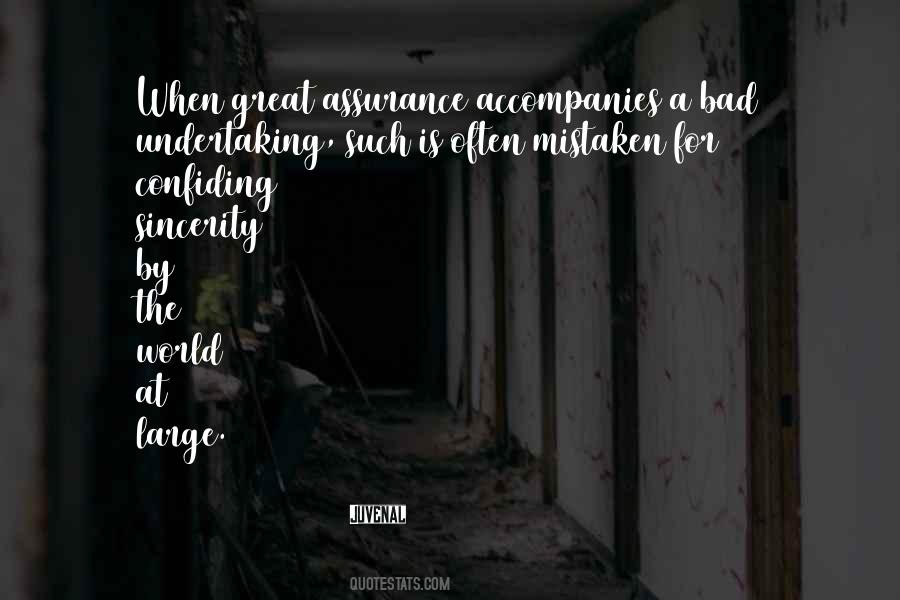 #33. I have so often been mistaken that I no longer blush for it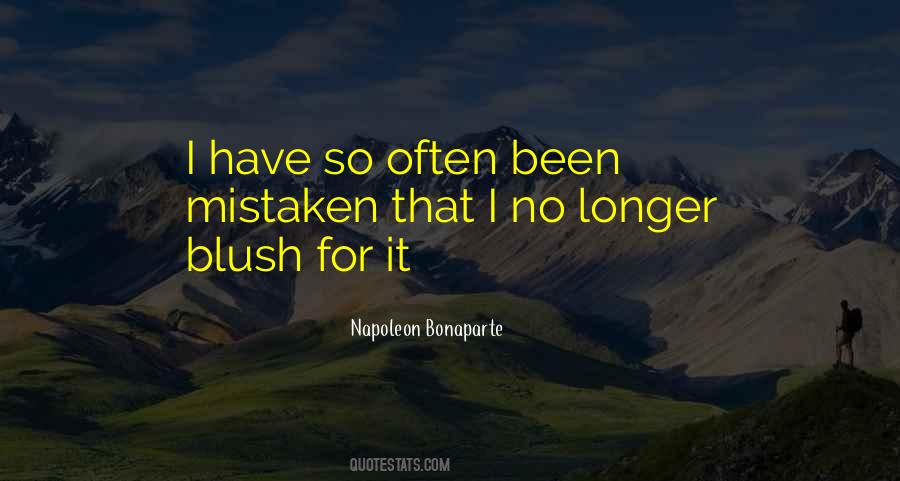 #34. The belief may be too often mistaken, but the illusion of coming into direct contact with the past is intoxicating and persuasive, and can result in an interpretation that carries conviction. Sometimes confidence is all that's needed.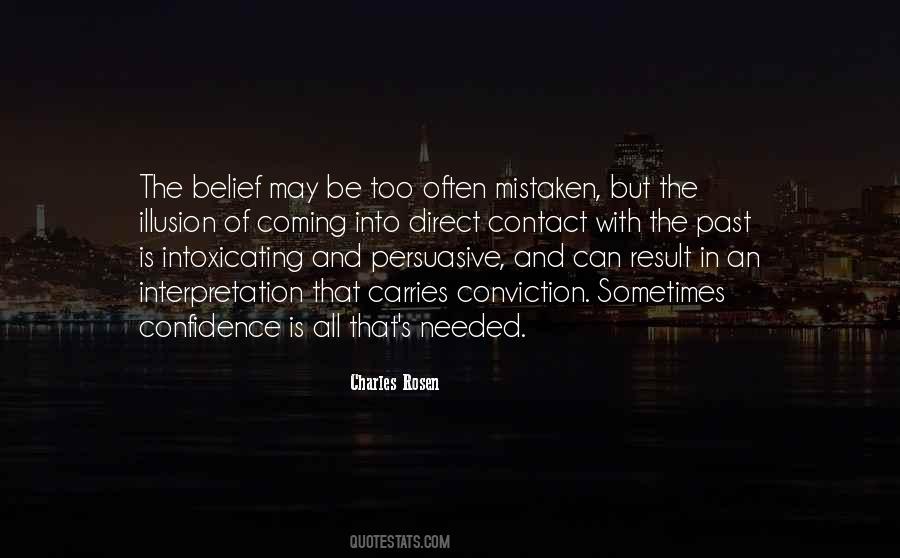 #35. Difficult" and "impossible" are cousins often mistaken for one another, with very little in common.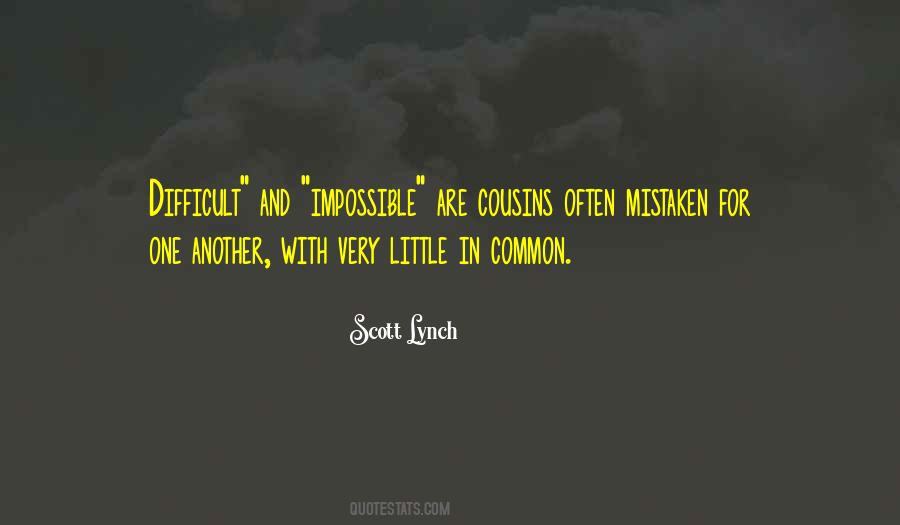 #36. You're mistaken in thinking I'm unhappy. T have a great deal too much to do to think of you very often.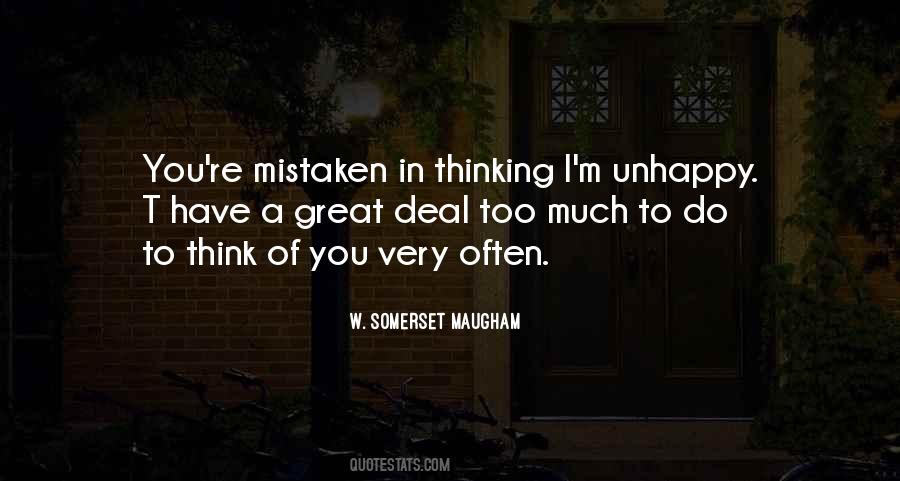 #37. Men and women with freed minds may often be mistaken, but they are seldom fooled. They may be influenced, but they cannot be intimidated. They may be perplexed, but they will never be lost.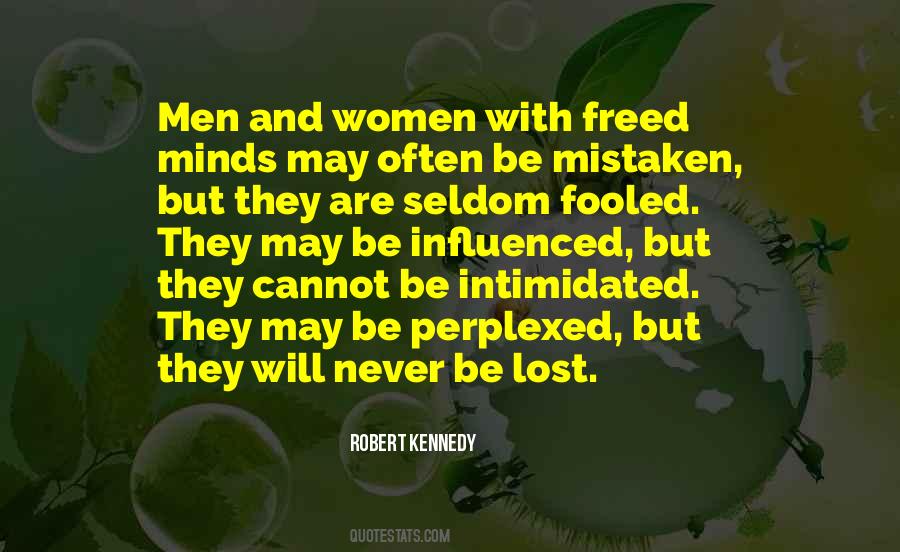 #38. Idleness, ennui, noise, mischief, riot, and a nameless train of mistaken notions of pleasure, are often classed, in a young man's mind, under the general head of liberty.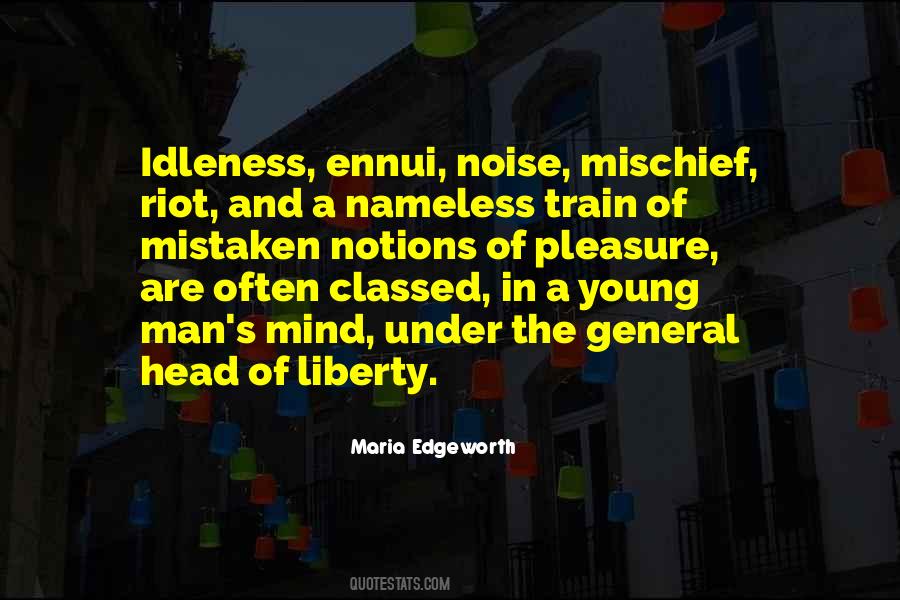 #39. Our work for human dignity is often lonely, and almost always an uphill climb. At times, our efforts are misunderstood, and we are mistaken for the enemy. There has been a clear erosion of respect for U.N. blue and our impartiality.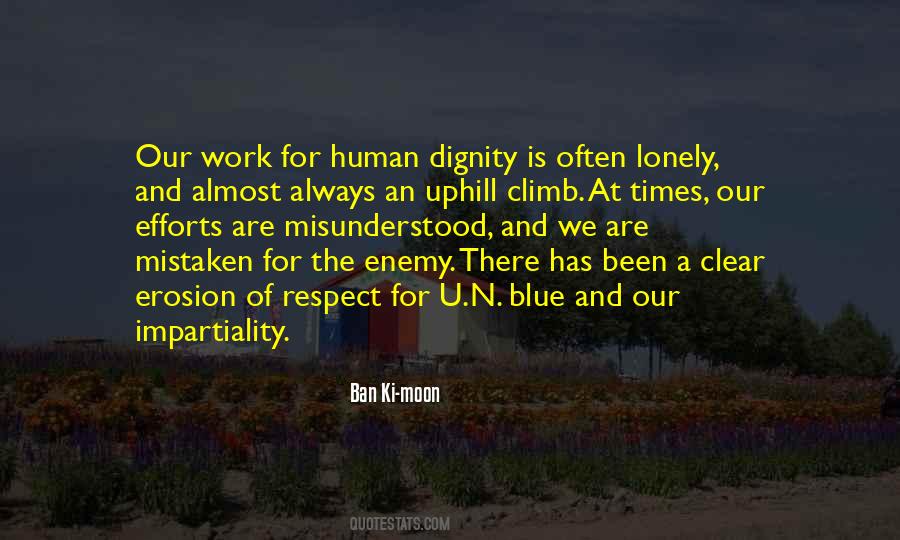 #40. Habit: Often mistaken for love.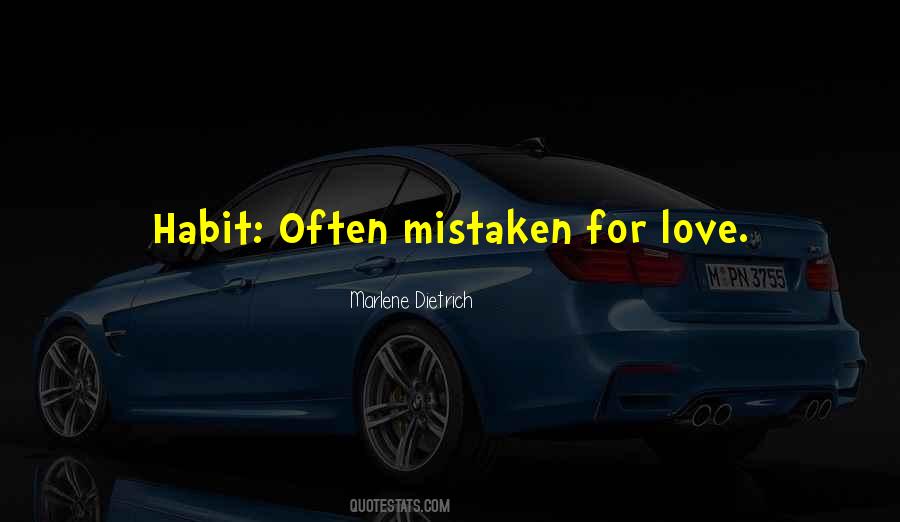 #41. Stay away from 'it-can't-be-done-people' because they are often mistaken! All you need is to have 'it-can-be-done-people' around you!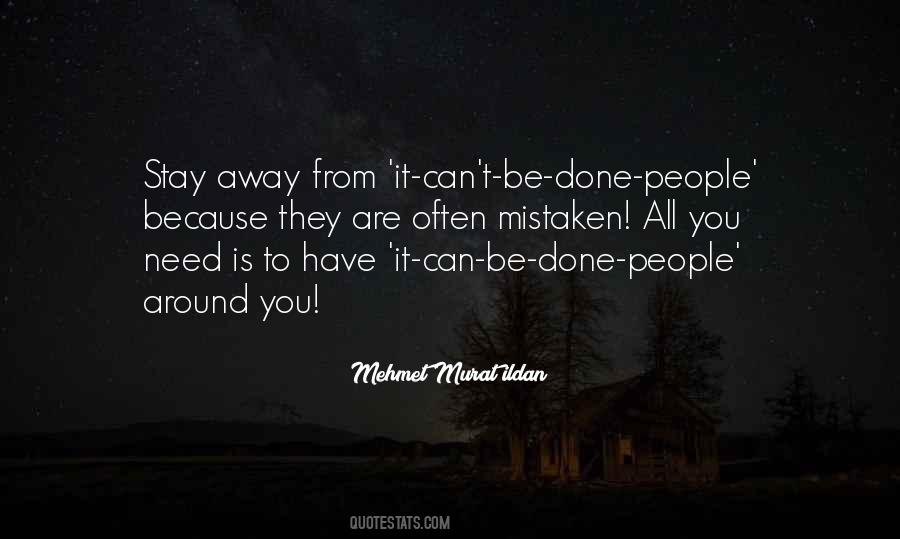 #42. Those who say 'I am ready to learn', or 'I am not ready to learn' are as often mistaken as they are correct in their surmise.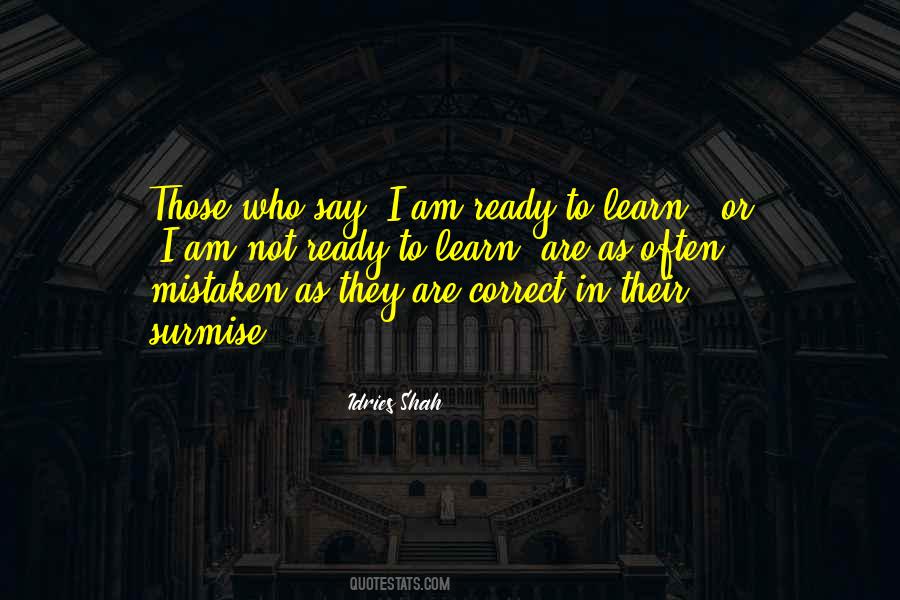 #43. Lack of pep is often mistaken for patience.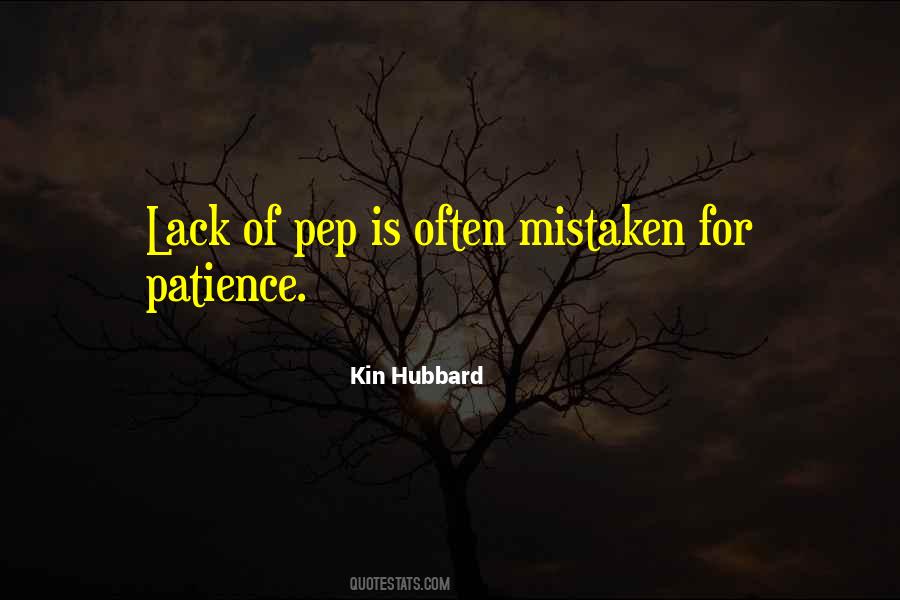 #44. Thought that is silenced is always rebellious. Majorities, of course, are often mistaken. This is why the silencing of minorities is necessarily dangerous. Criticism and dissent are the indispensable antidote to major delusions.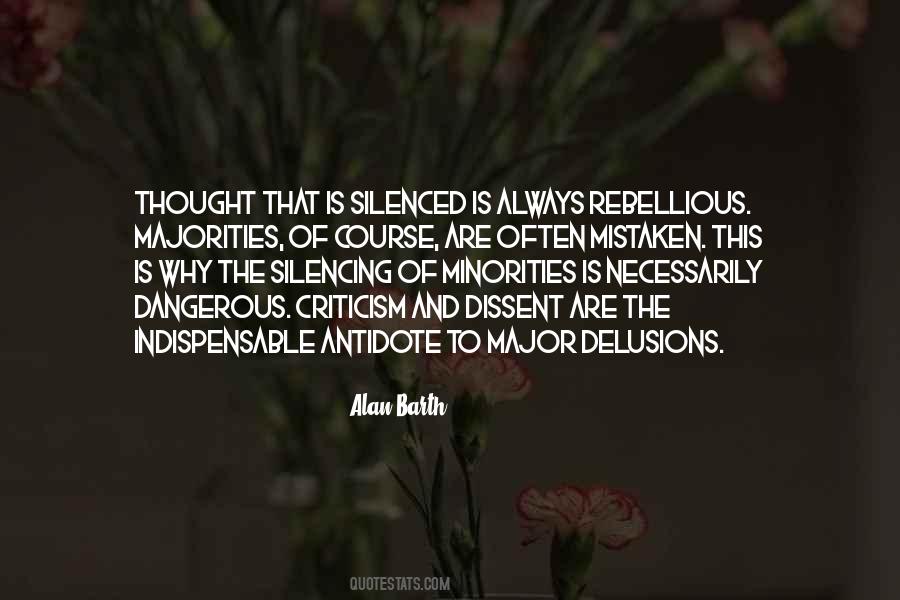 #45. Wisdom is not the same as information; it's something entirely different. It's often mistaken for good advice, but wisdom cannot be imparted to someone. Wisdom can only be earned.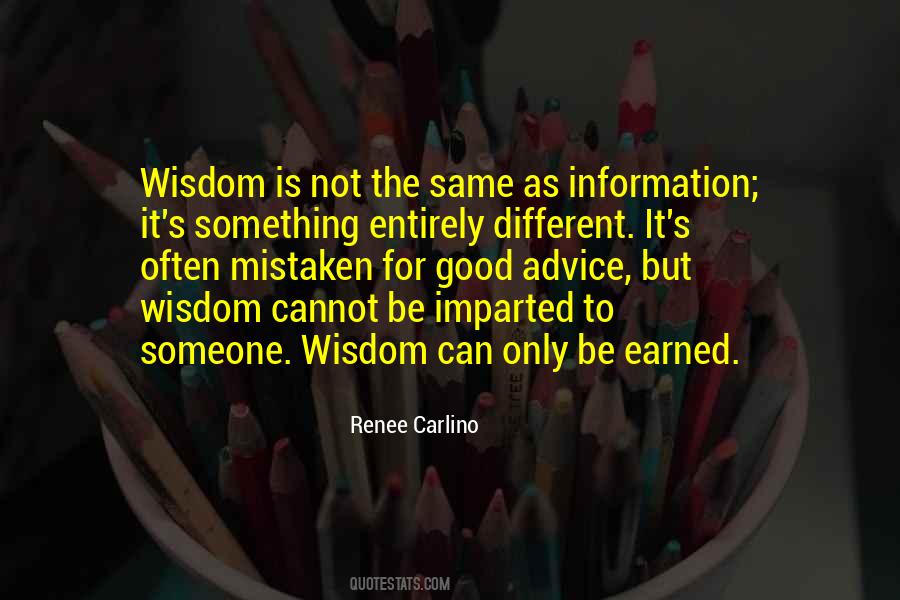 #46. Cunning is only the mimic of discretion, and may pass upon weak men in the same manner as vivacity is often mistaken for wit, and gravity for wisdom.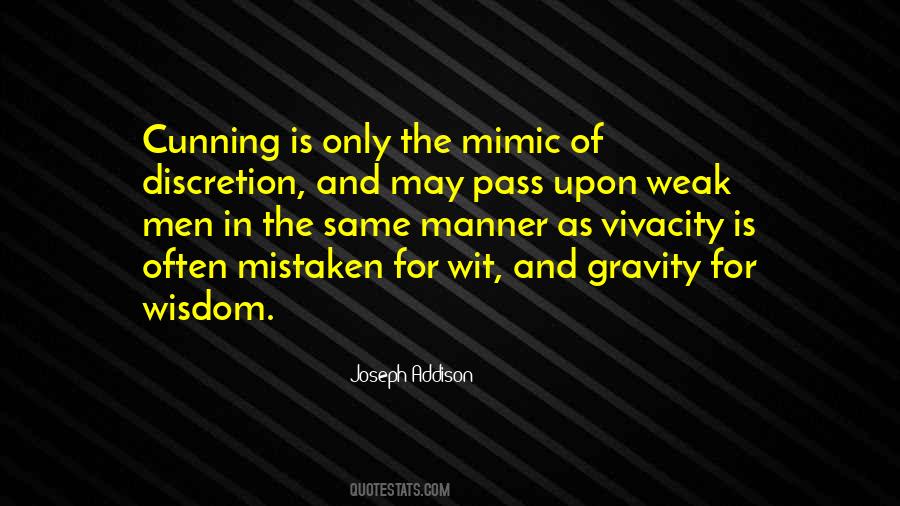 #47. Rather than ask yourself if you are correct, it is far more realistic to think about how you are mistaken. Most humans have not been designed to be right very often.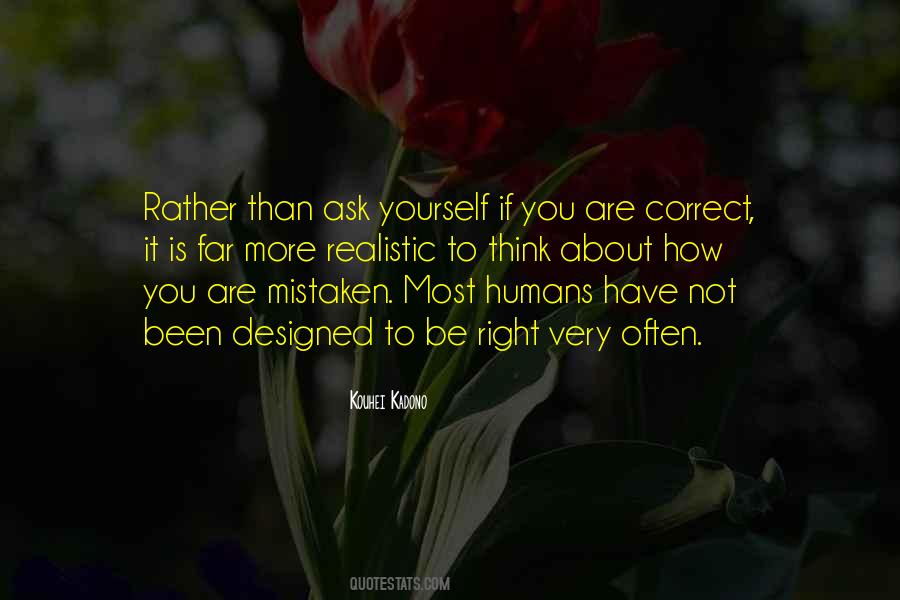 #48. Justice consists in seeing that no harm is done to men. Whenever a man cries inwardly: 'Why am I being hurt?' harm is being done to him. He is often mistaken when he tries to define the harm, and why and by whom it is being inflicted on him. But the cry itself is infallible.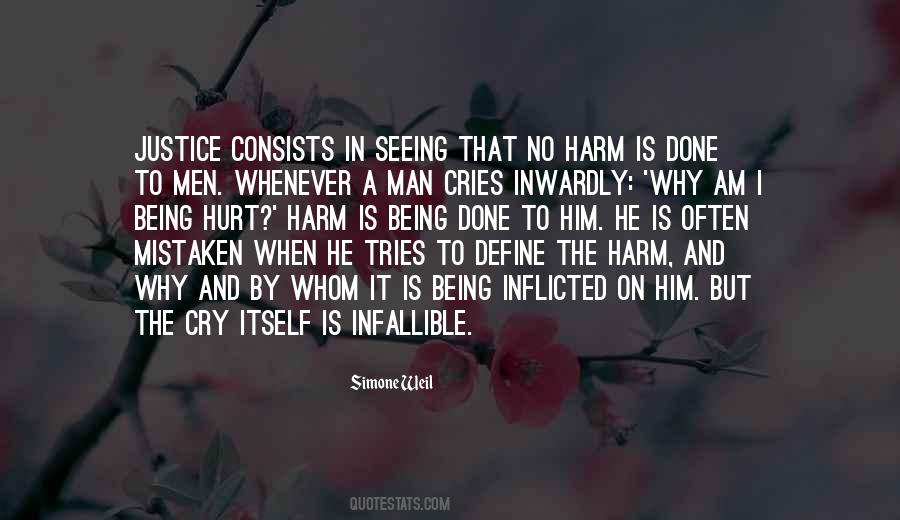 #49. Human greatness is a rather difficult thing to account for, and more often than not one is mistaken in one's hunches about somebody one has met.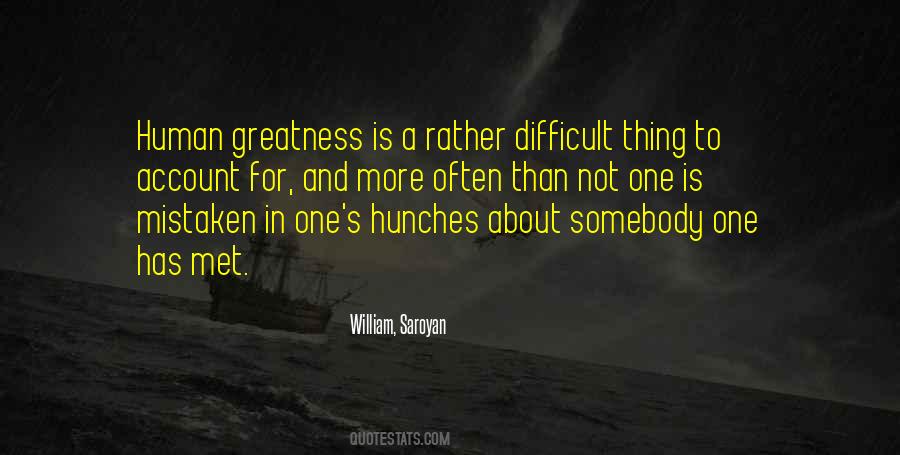 #50. In my life so far, I have discovered that there are really only two kinds of people: those who are for you, and those who are against you. Learn to recognize them, for they are often and easily mistaken for each other.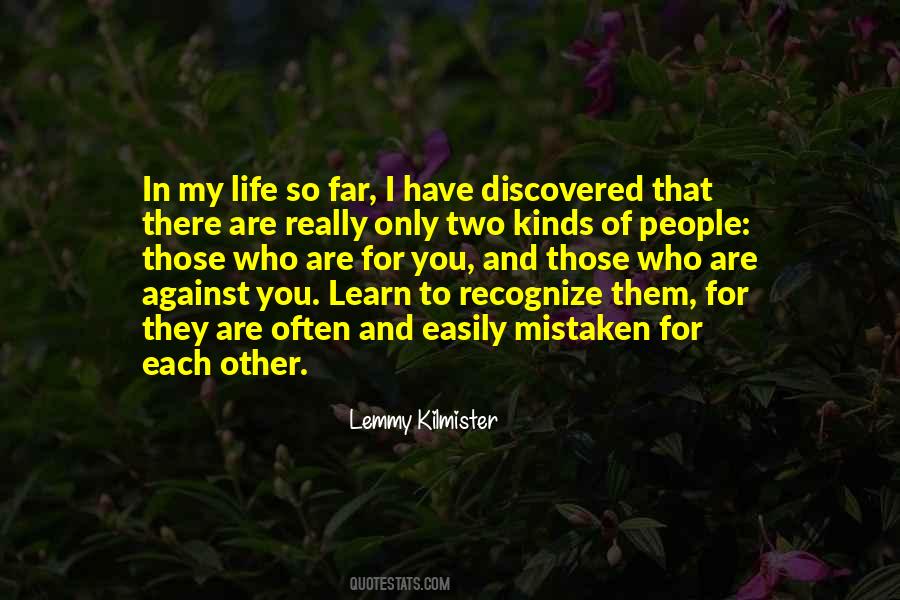 #51. Friend: Someone who will tell you the truth, often mistaken for an enemy.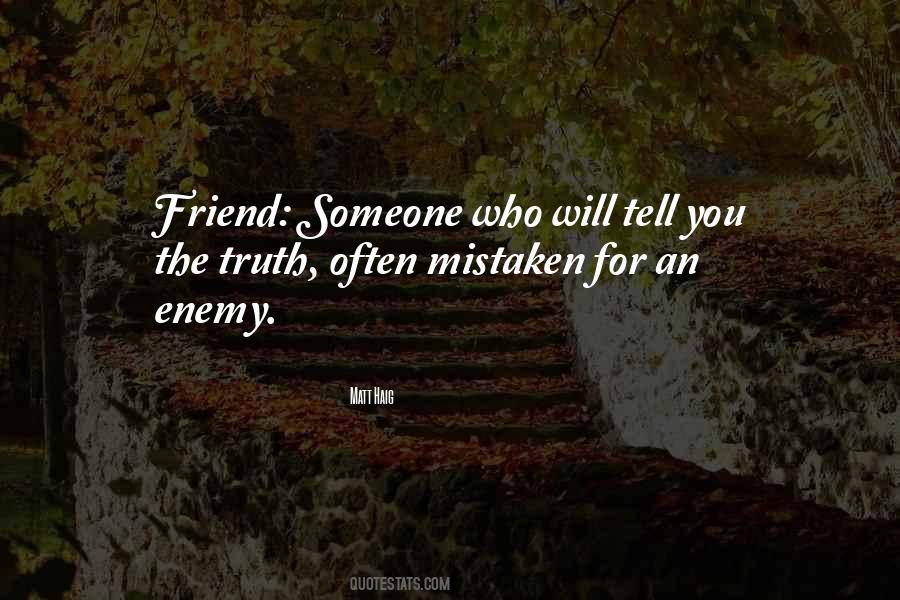 #52. The call of the yellow-billed cuckoo of North America is often mistaken for a bloodhound drinking a bowl of milk. He goes coulp coulp coulp.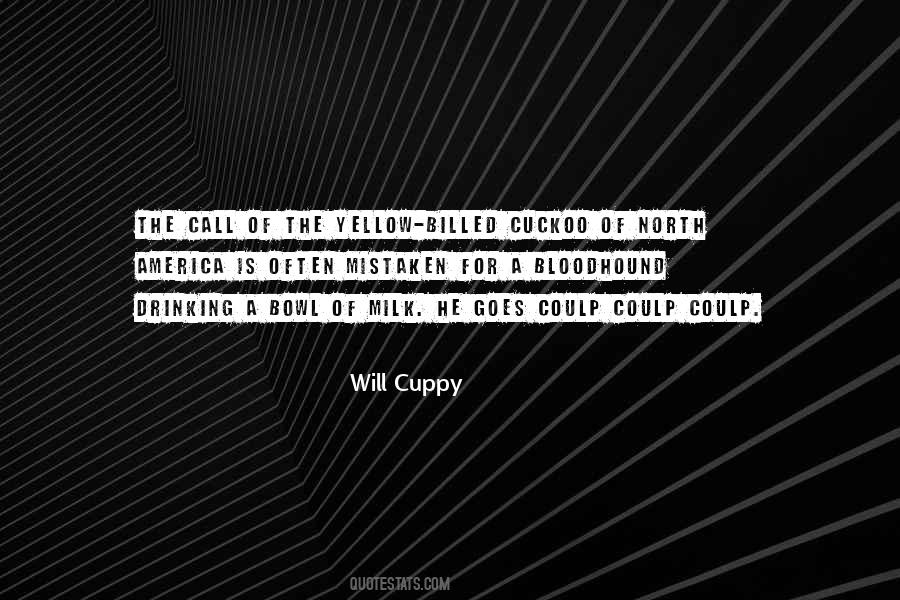 #53. I was a tomboy as a kid - I was skinny and had cropped hair and was often mistaken for a boy - and up until I was about six, I had my own very fluid ideas of gender in that I believed that, somehow, an individual could choose whether or not s/he wanted to be a boy or a girl.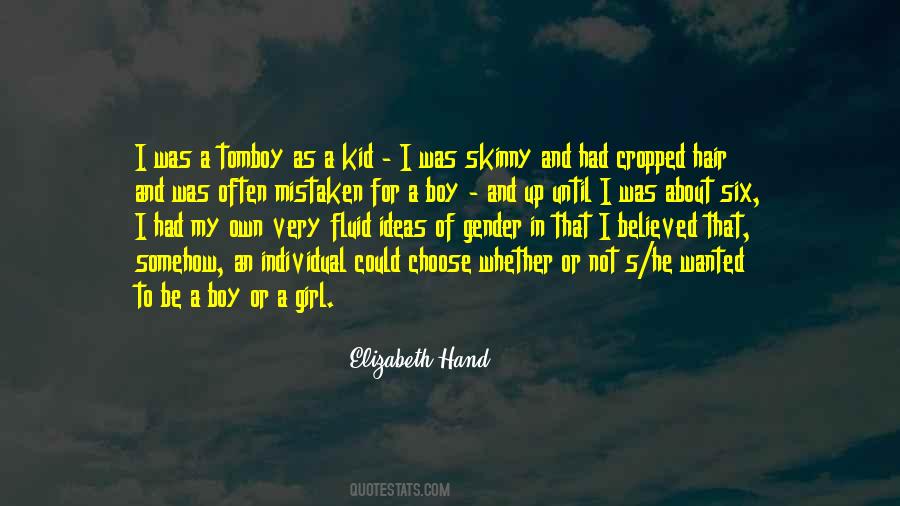 #54. Charley was twenty-six, with that faint musk of weakness hanging about him that is often mistaken for the scent of evil.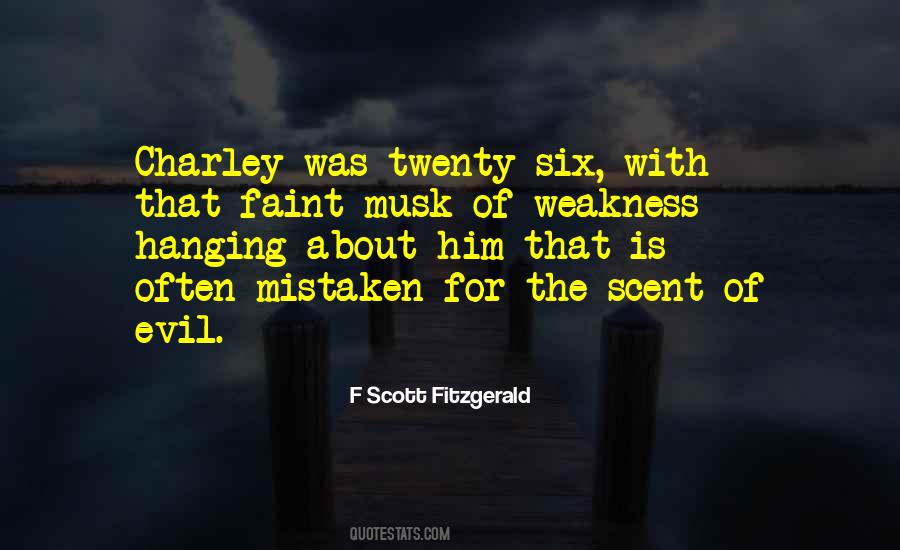 #55. My Shyness Is Often Mistaken As My Rudeness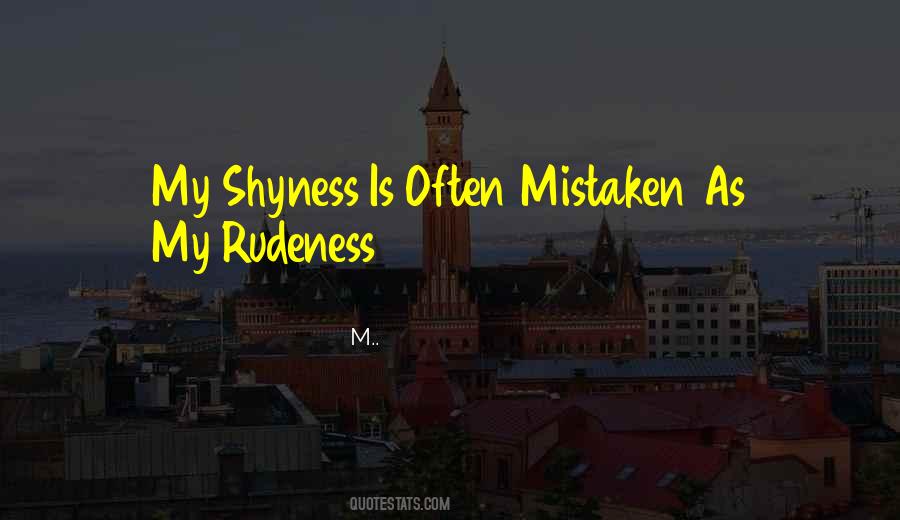 #56. Madness is not enlightenment, but the search for enlightenment is often mistaken for madness.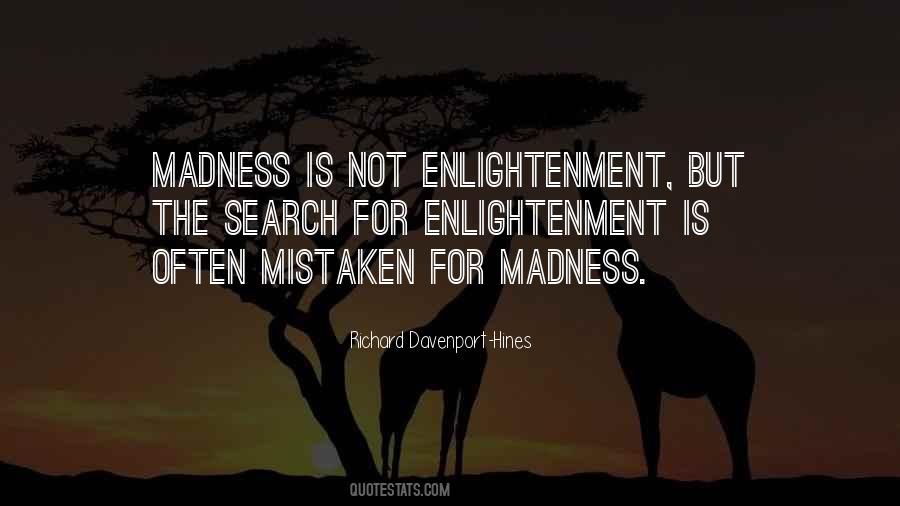 #57. The Saint is a medicine because he is an antidote. Indeed that is why the saint is often a martyr; he is mistaken for a poison because he is an antidote.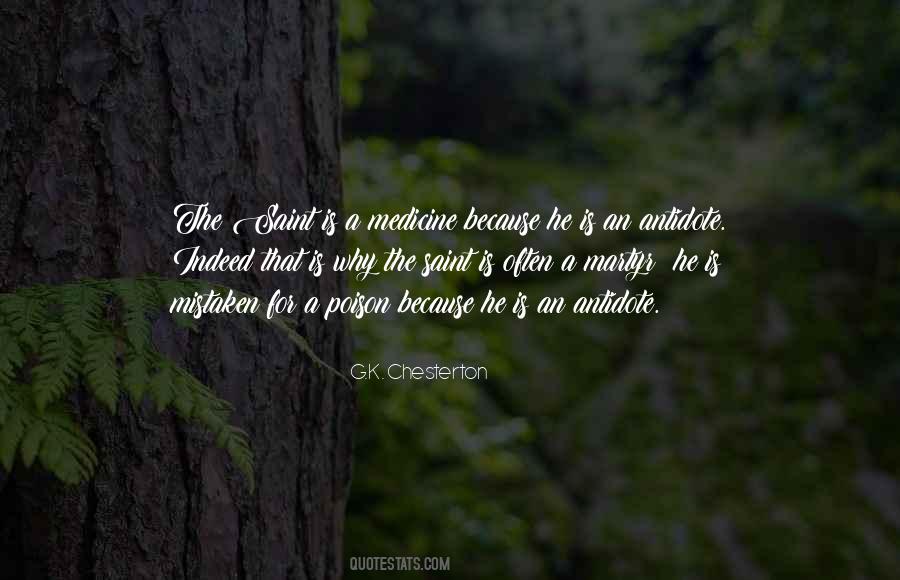 #58. Inquire often, but judge rarely, and thou wilt not often be mistaken.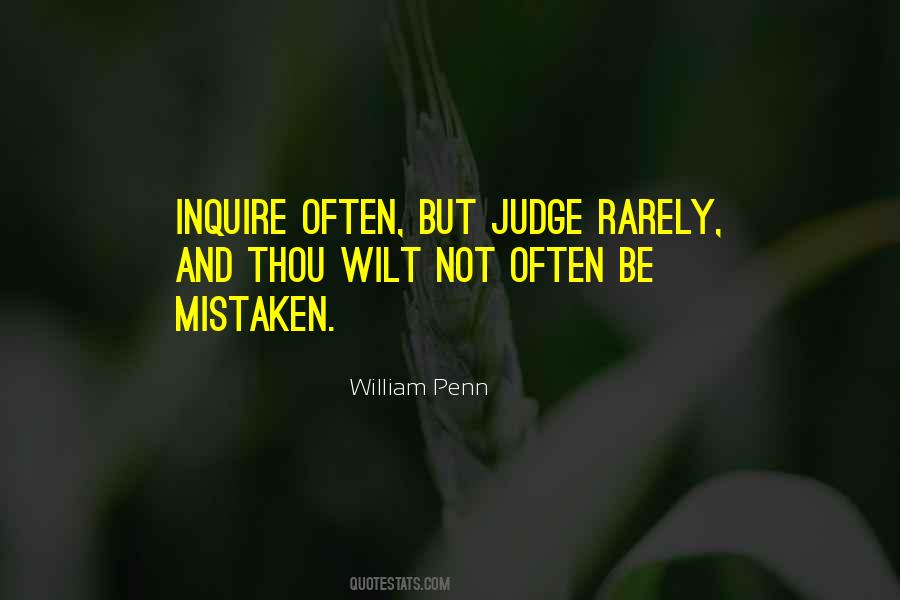 #59. Compassion is often mistaken for weakness, when the fact is, there is very little that is more powerful than the courage it takes to give it.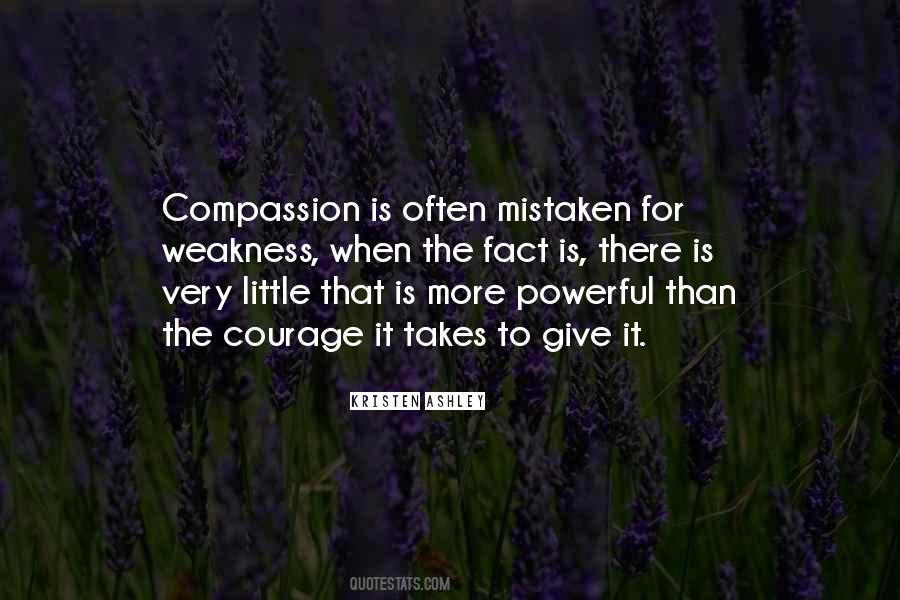 #60. Bravery and Stupidity can often be mistaken for the other.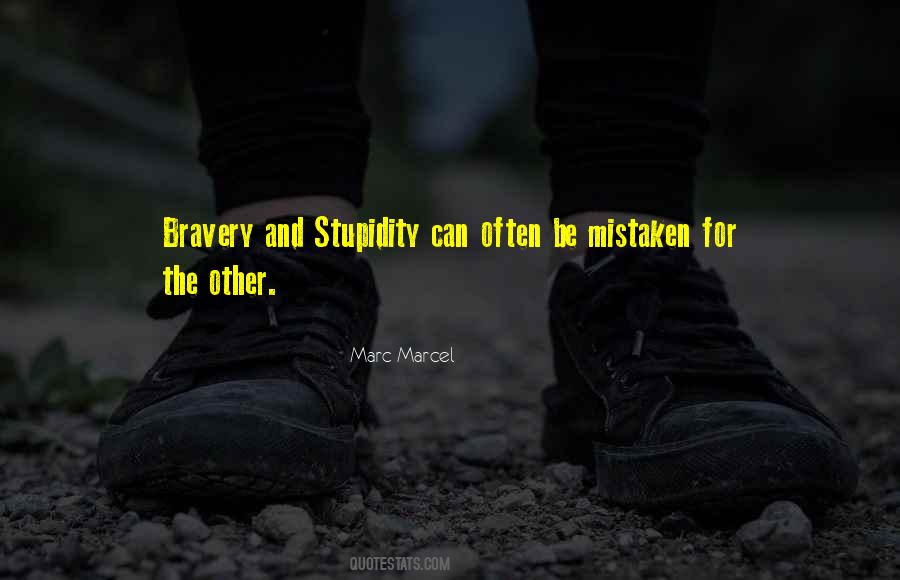 #61. There are seasons in every country when noise and impudence pass current for worth; and in popular commotions especially, the clamors of interested and factious men are often mistaken for patriotism.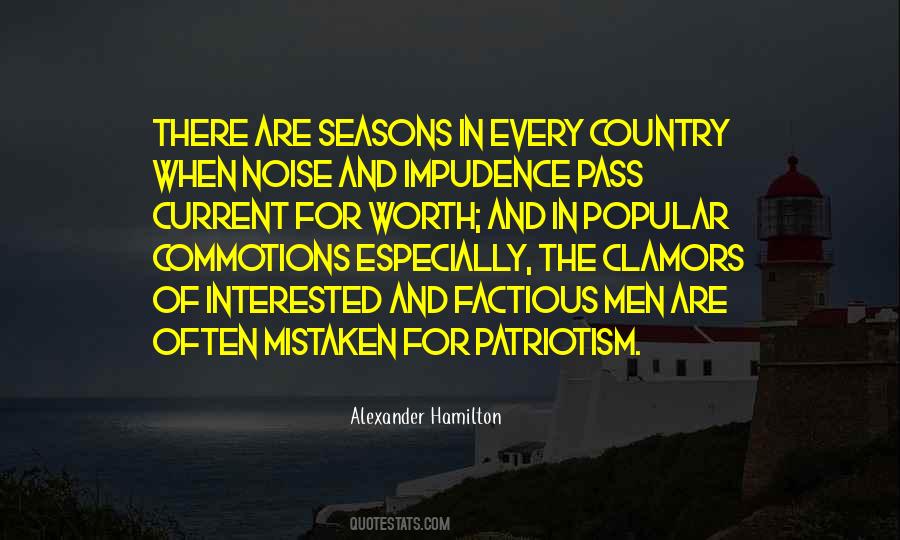 #62. Genius is often mistaken for idiocy, when perception is blurred by conformity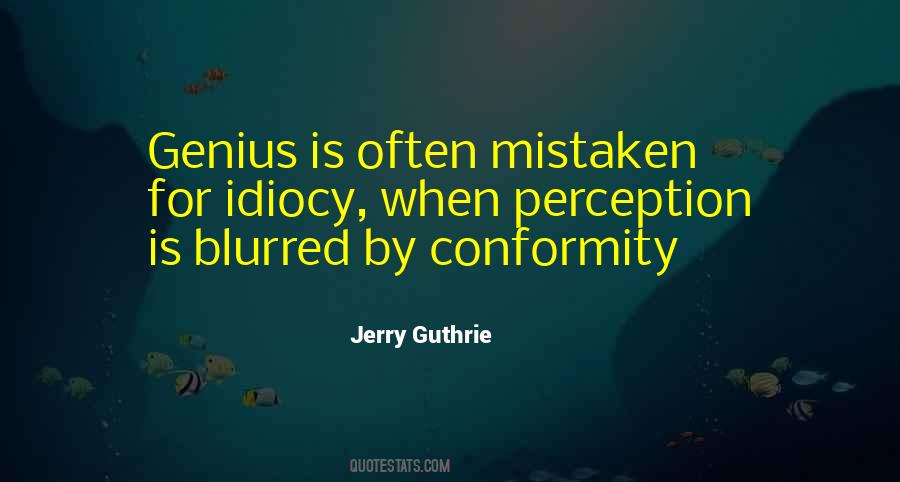 #63. I often get mistaken for Dumbledore. One wizard is very much like another.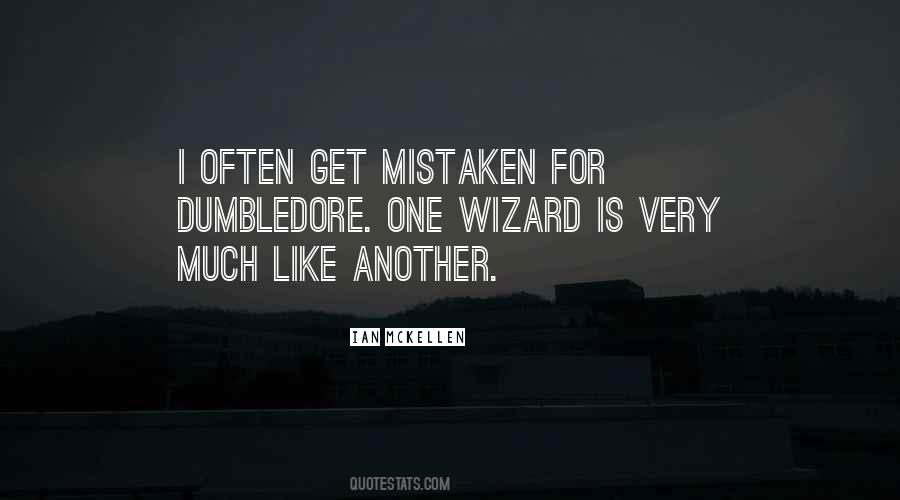 #64. Universal opinions are often mistaken for universal principles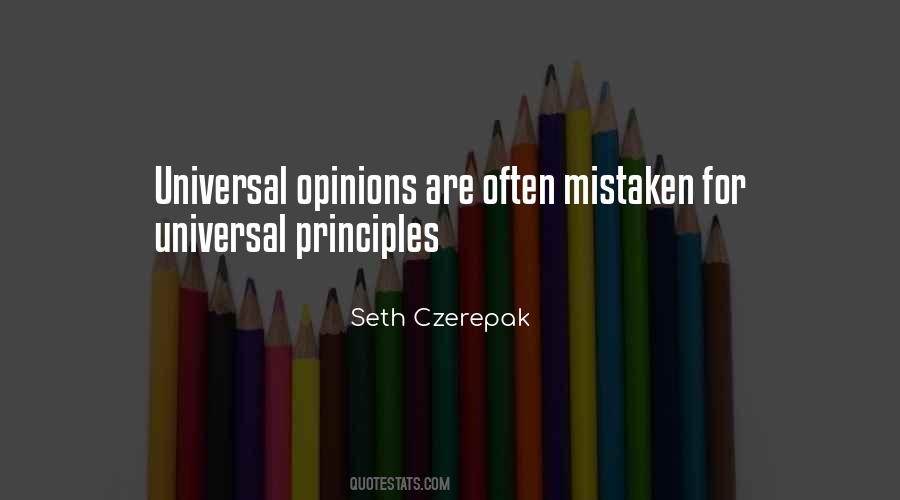 #65. We seldom make logical mistakes, but often have mistaken logics.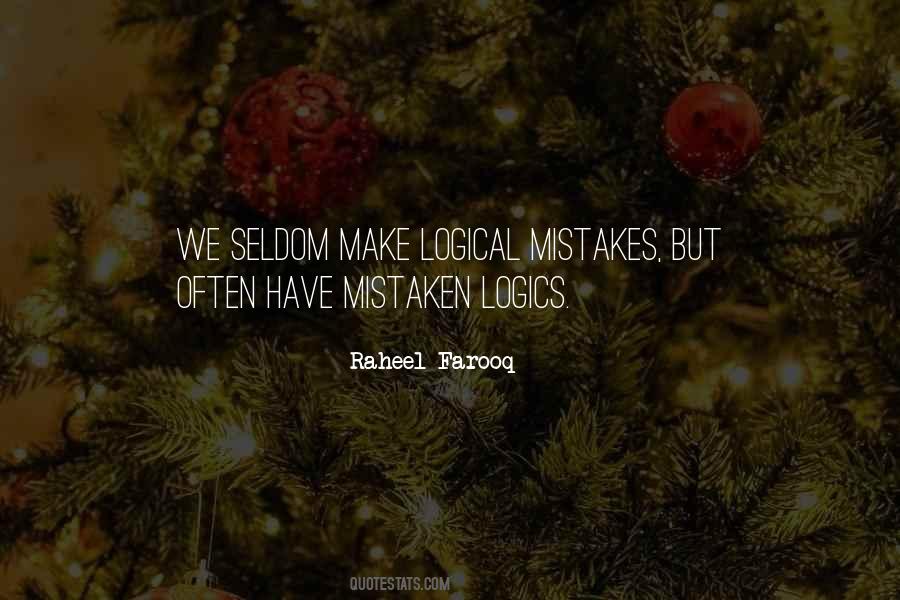 #66. I think that cynicism can often be mistaken for wisdom.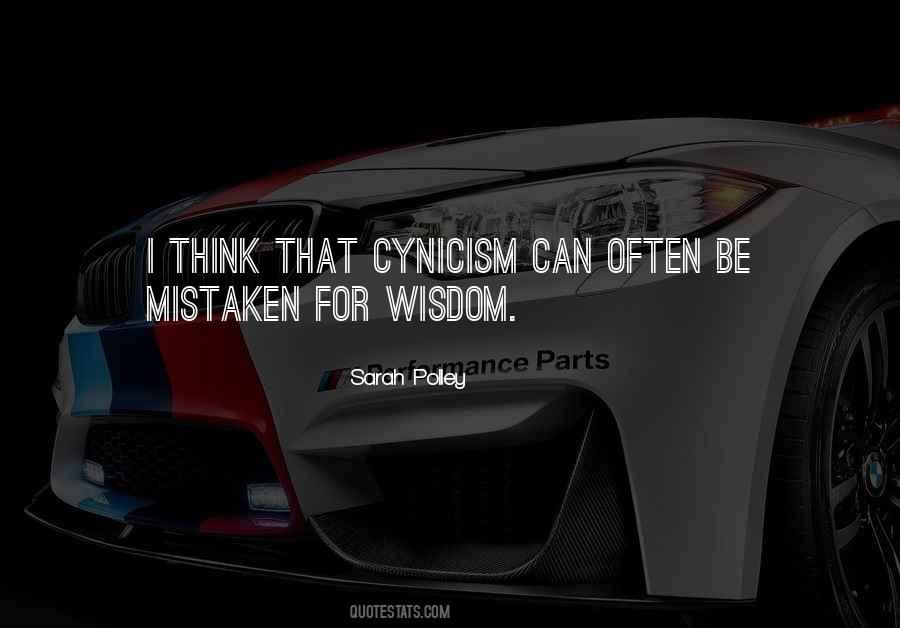 #67. I've often been mistaken for Meryl Streep, although never on Oscar night.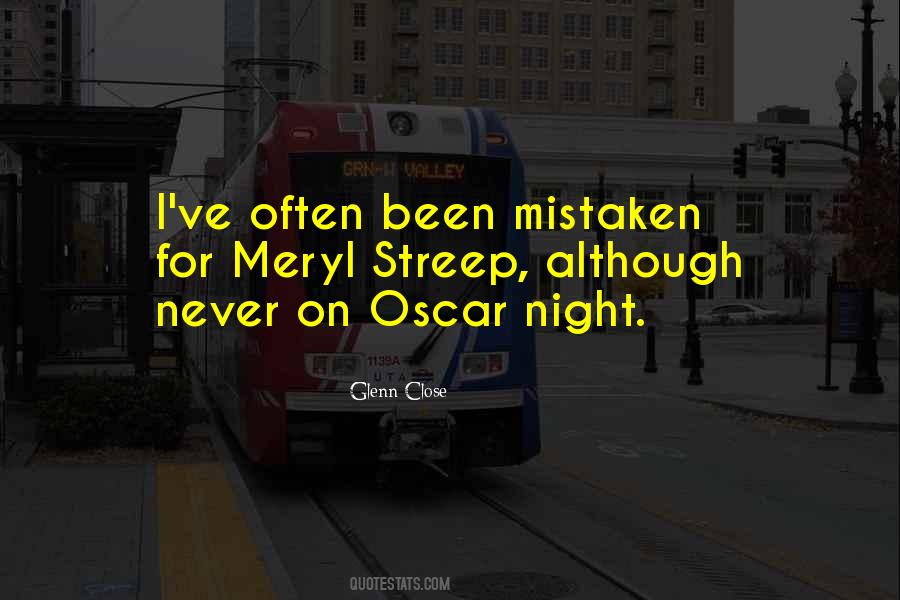 Famous Authors
Popular Topics