Offstage Famous Quotes & Sayings
List of top 58 famous quotes and sayings about offstage to read and share with friends on your Facebook, Twitter, blogs.
Top 58 Offstage Quotes
#1. The word obscene can be thought of as meaning "out of the scene" or "offstage."7 - Author: Gene Edward Veith Jr.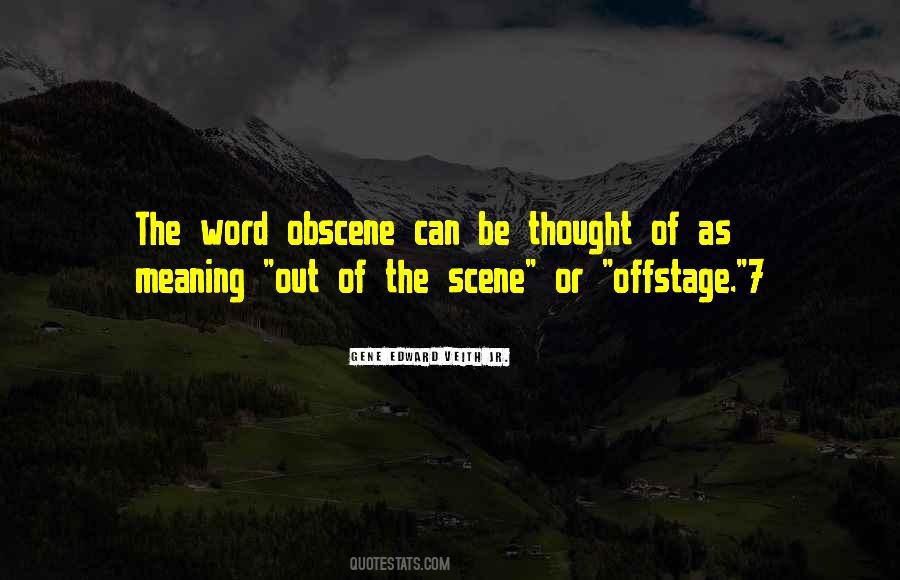 #2. I always had one ear offstage, listening for the call from the bookie. - Author: Walter Matthau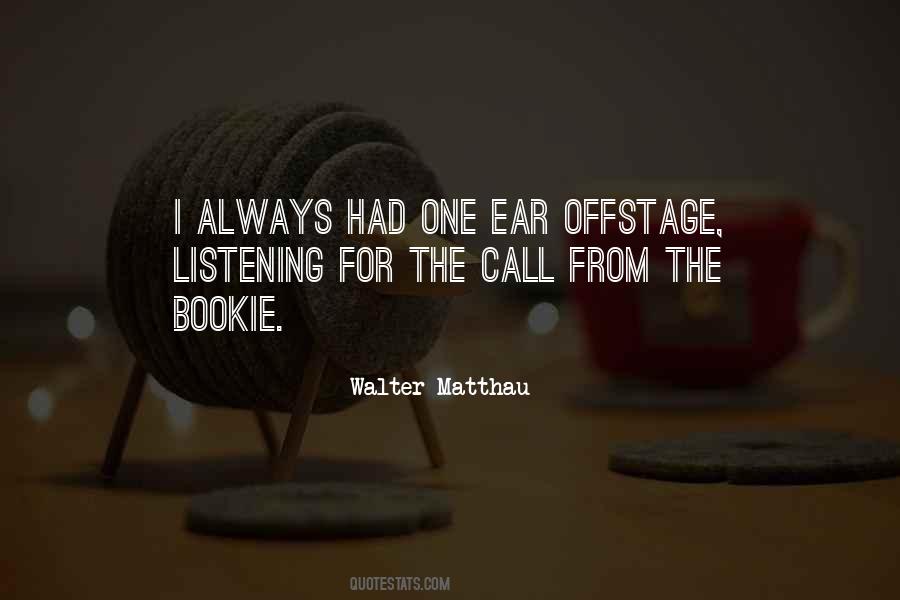 #3. The stuff I do and say onstage I can do easily. As a performer, that comes easily. But being social offstage, it's not easy for me. - Author: Margaret Cho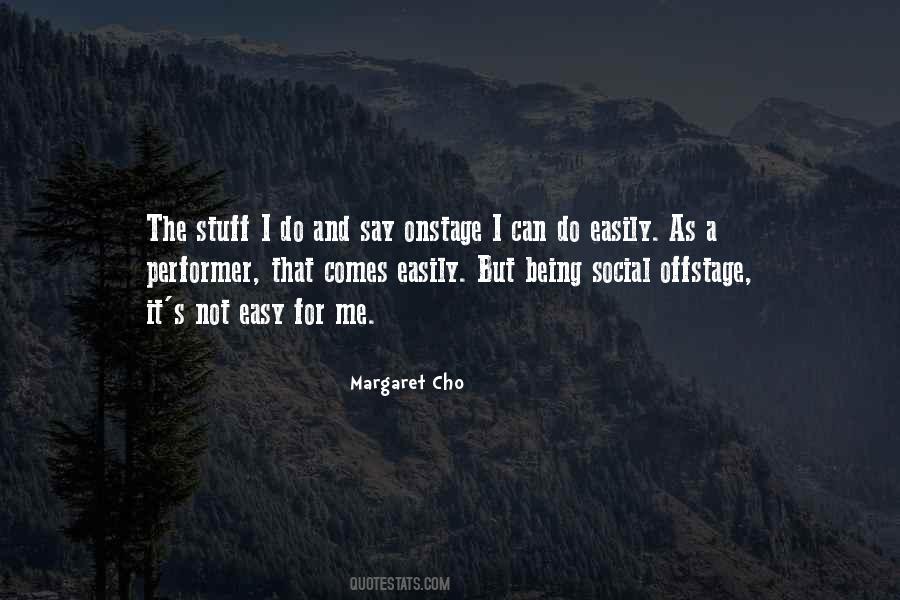 #4. Rarely offstage, rarely on hiatus, Fiddler on the Roof has already been back on Broadway for four revivals, played London's West End four times, and remains among Broadway's longest-running shows ever. - Author: Barbara Isenberg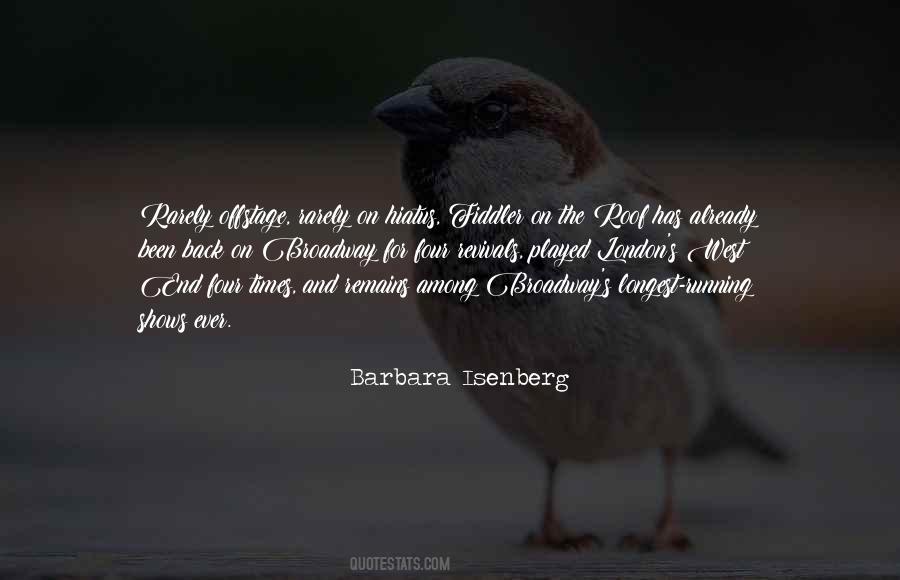 #5. Her smile steps offstage for a moment, then does an encore, all while I'm dealing with my blushing face. - Author: Haruki Murakami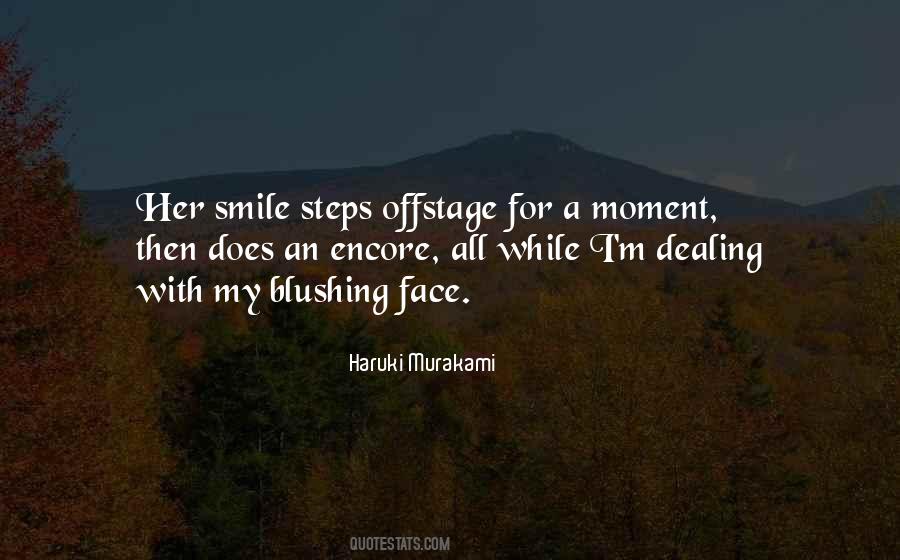 #6. Sometimes the most heroic action you can take looks a lot like inaction to the rest of the world. Sometimes the hardest, longest walk is the one the white-hat takes offstage. - Author: Karen Marie Moning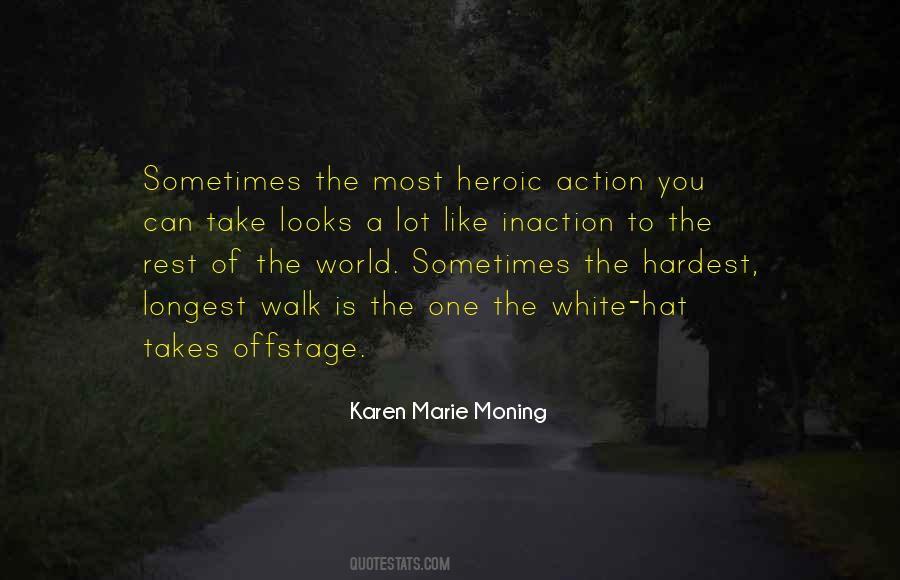 #7. I would like to be called an inspiration to people, not a role model - because I make mistakes like everybody else. When I'm offstage, I'm just like everybody else. - Author: Britney Spears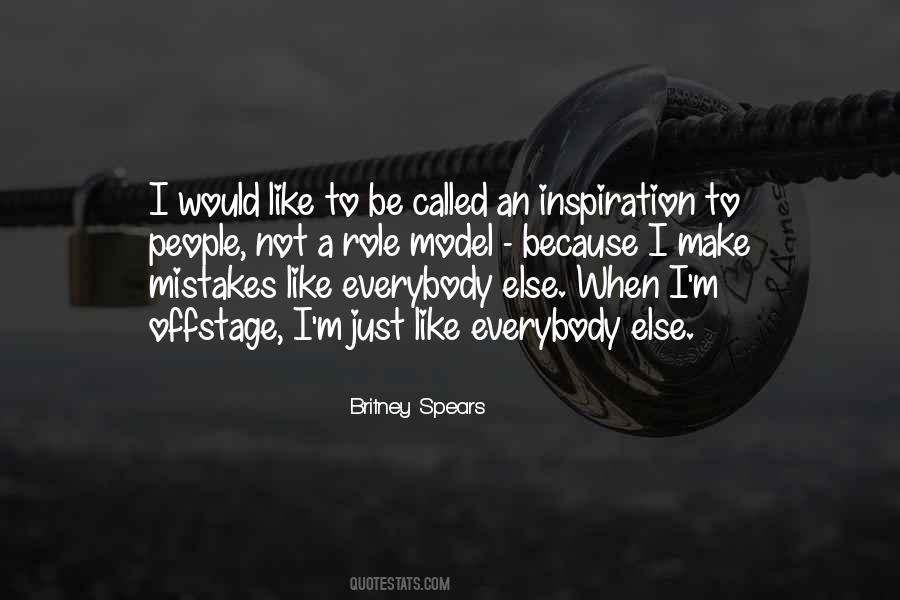 #8. Voice-cry. Agony
the spoken "word" exploded, blown to bits by suffering and anger, demolishing discourse: this is how she has always been heard before, ever since the time when masculine society began to push her offstage, expulsing her, plundering her. Ever since Medea, ever since Electra. - Author: Helene Cixous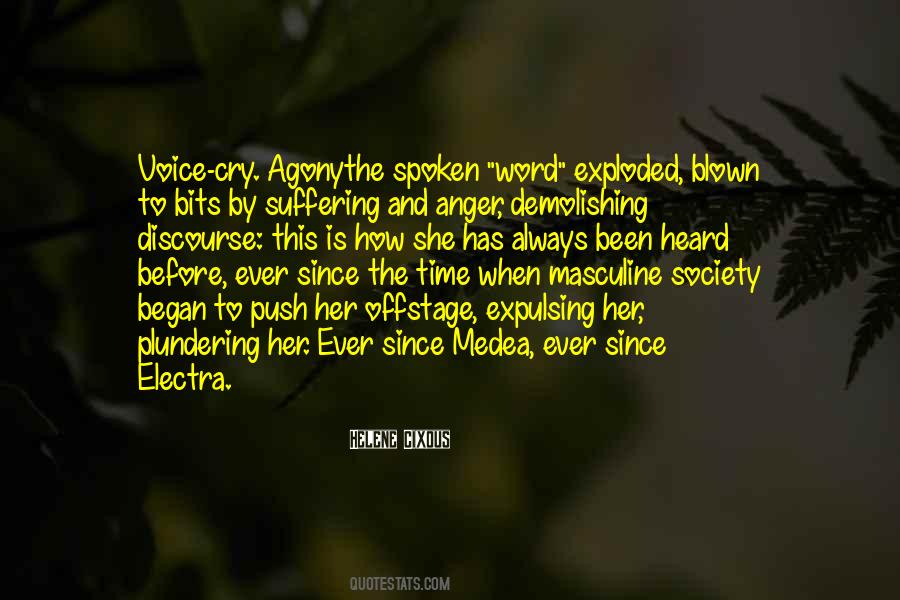 #9. I try to inhabit each of the characters as fully as I can, however short-lived they are. But most of my show happens offstage. - Author: Jefferson Mays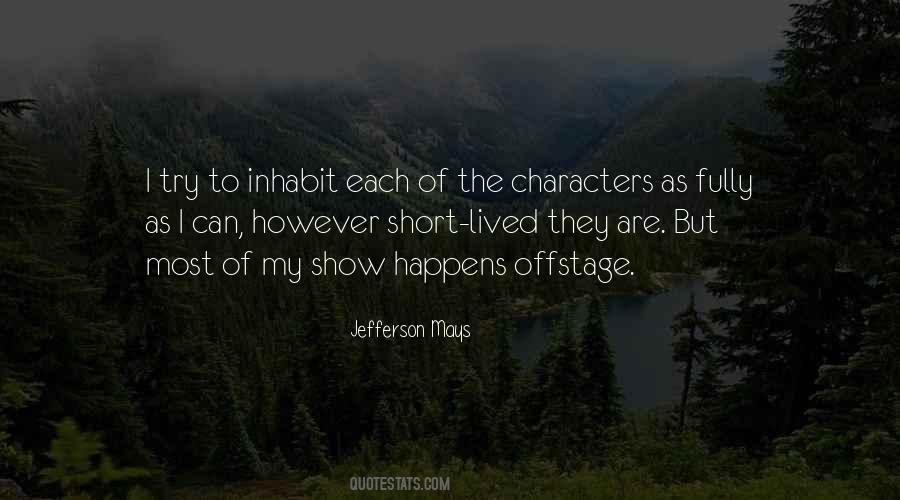 #10. I am quite short, but that never comes across when I'm onstage in front of people. When I get offstage and greet an audience afterwards, their first reaction is to comment on my height because it seems like a very drastic difference. - Author: Kaki King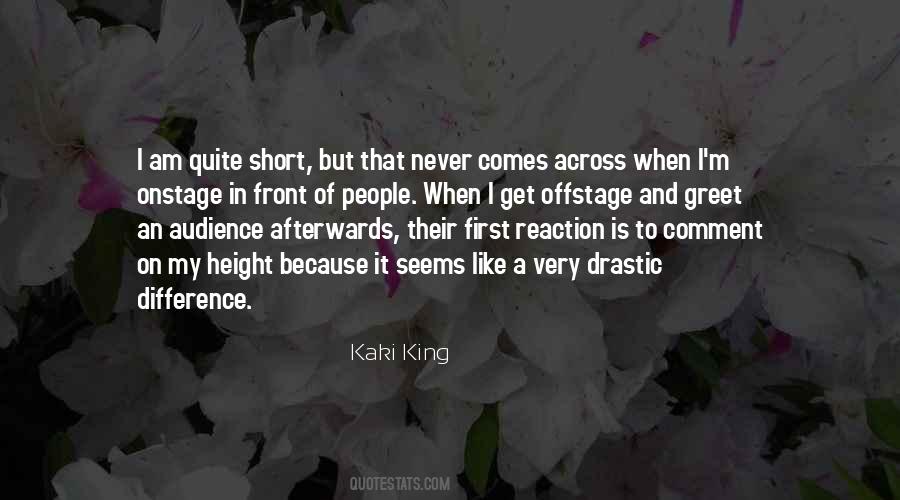 #11. From offstage until the moment I walk onstage, I constantly tweak my talk show and 'Top Model', but at the same time, I often leave my private life by the wayside. - Author: Tyra Banks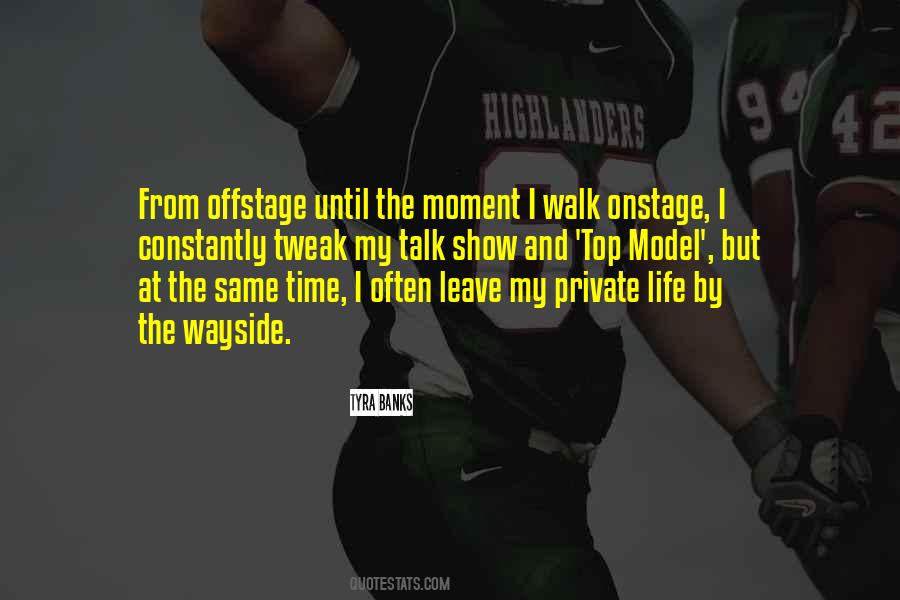 #12. Offstage, I couldn't put things into words, and that was the one thing I'd always been able to rely on. Putting my feelings into words and praying they wouldn't be able to get out again. - Author: Carrie Fisher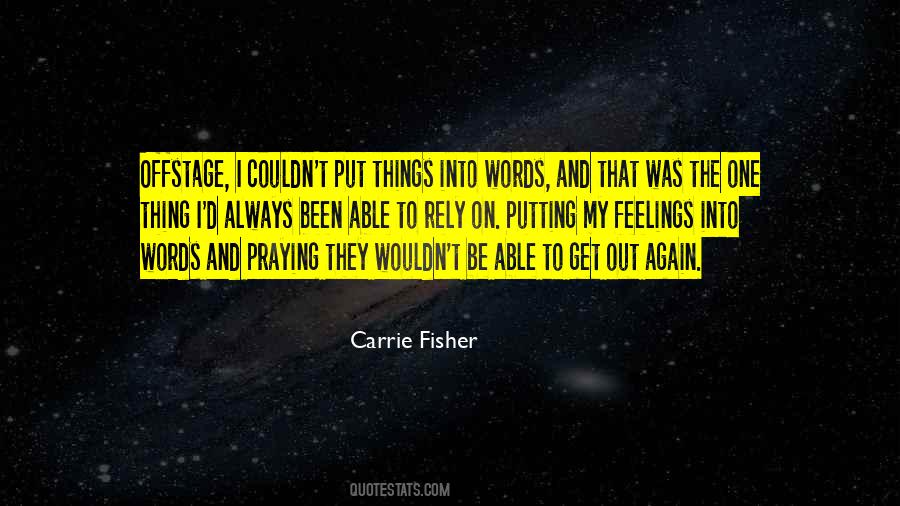 #13. He wished he could be with her longer, spend more time with her, have a good, leisurely talk. But she had her own life, most of which occurred offstage, in a place he didn't yet know about, doing things that had nothing to do with him. - Author: Haruki Murakami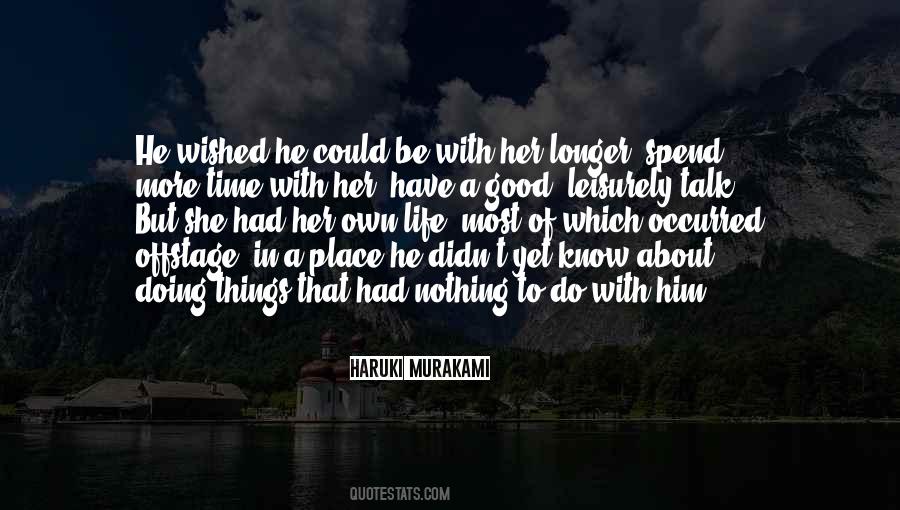 #14. Forty years later, people still swear they can hear his offstage scream. - Author: Robert Brustein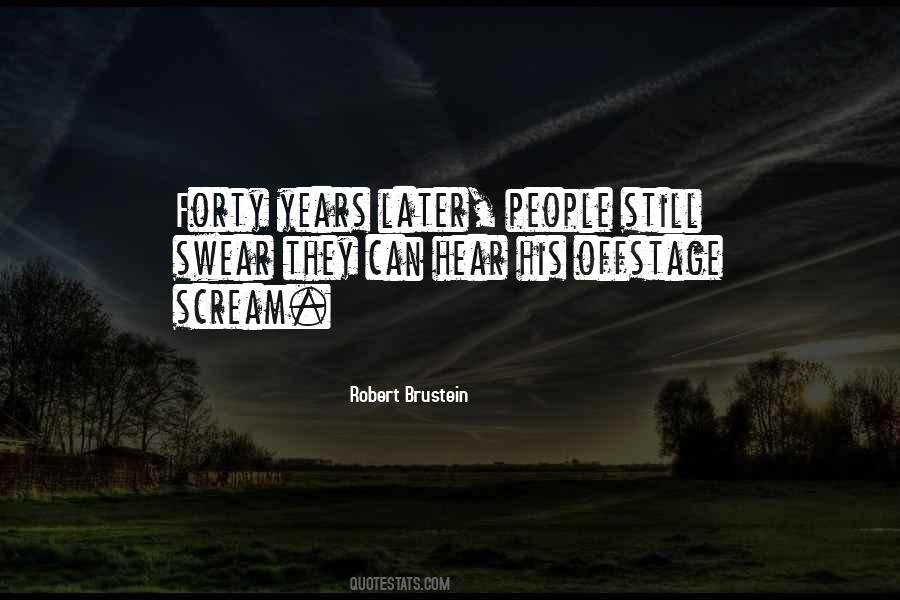 #15. You know, people always ask, 'What are you like offstage?' And I always say, 'Well, I'm completely normal and mellow.' - Author: Florence Welch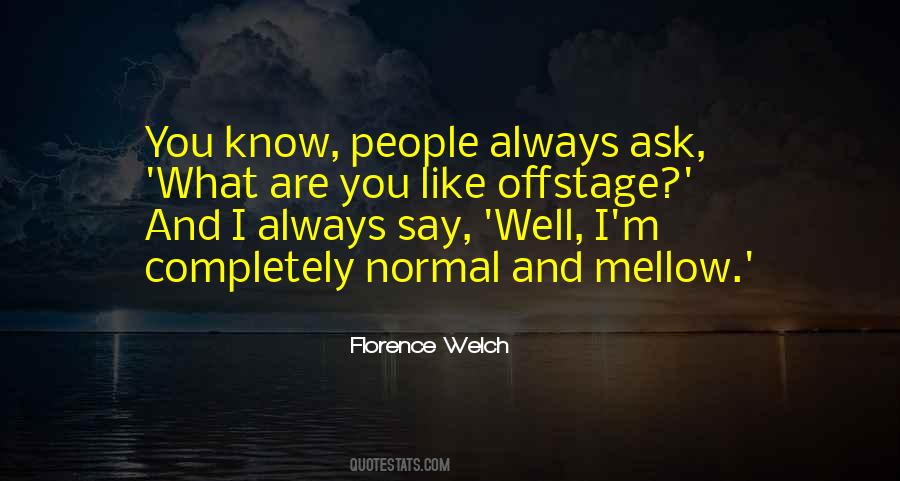 #16. I just always found it easier to be the same guy onstage as you are offstage. - Author: J. B. Smoove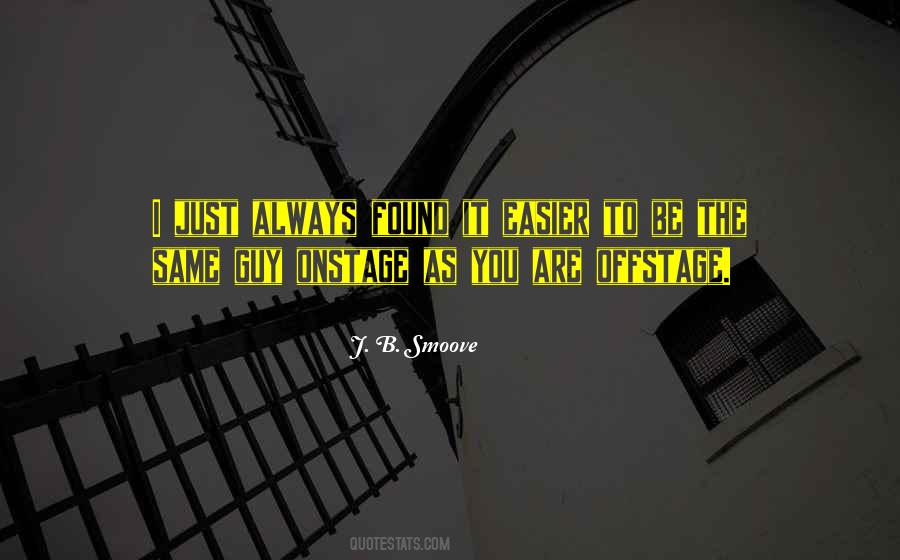 #17. I don't even know if I exist offstage. - Author: Morrissey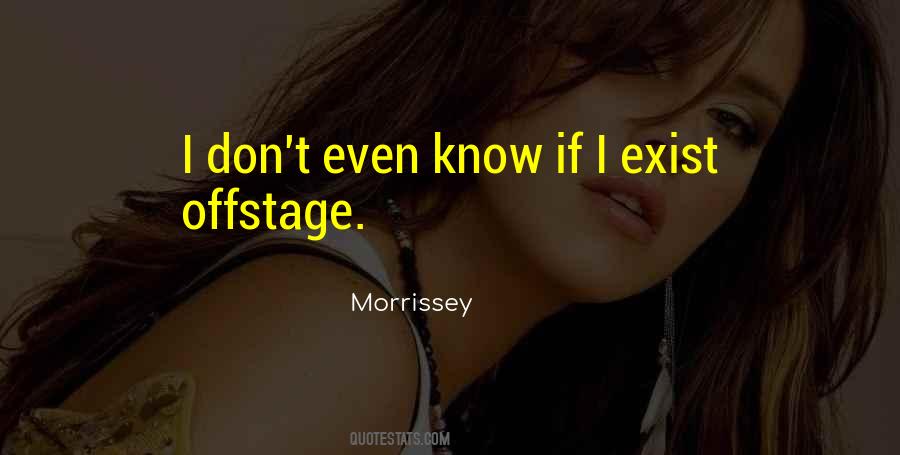 #18. Offstage I worry and sweat. Onstage I am calm as a windless winter night. - Author: Patrick Rothfuss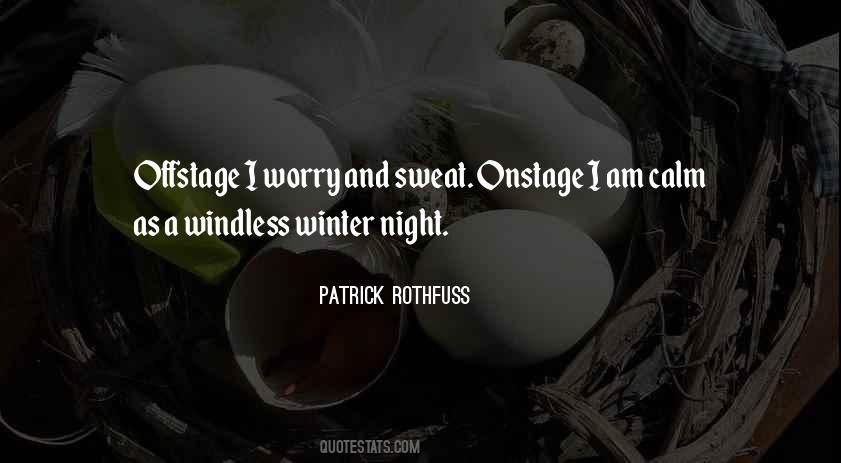 #19. In the theatrical works we love and admire the most, the ending of the drama generally takes place offstage. - Author: Gustav Mahler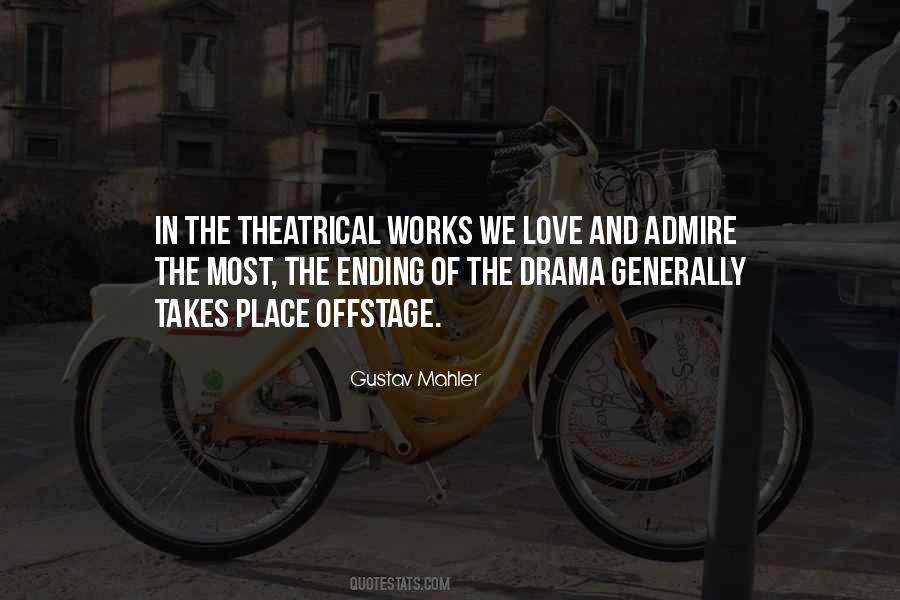 #20. Since the departure of good old-fashioned entertainers the re-emergence of somebody who wants to be an entertainer has unfortunately become a synonym for camp. I don't think I'm camper than any other person who felt at home on stage, and felt more at home on stage than he did offstage. - Author: David Bowie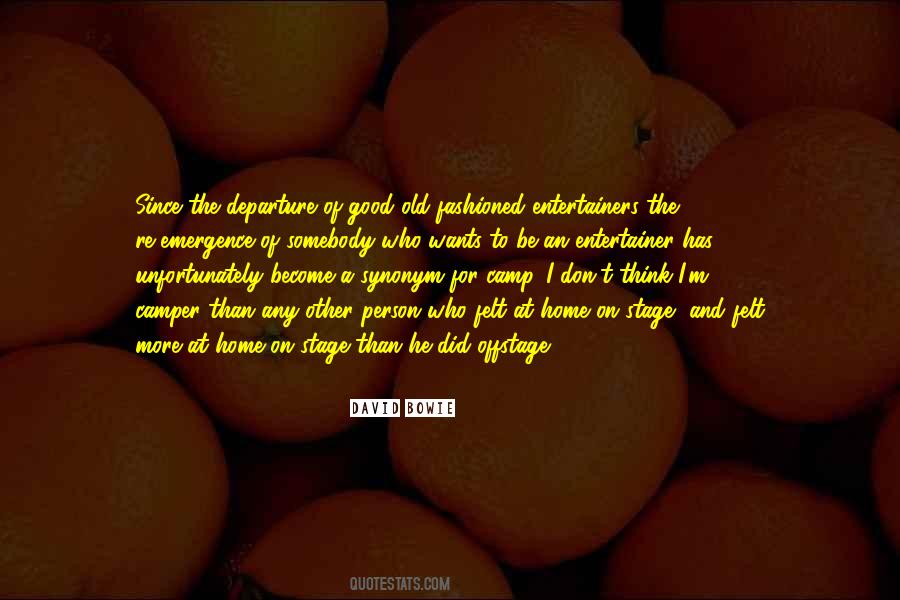 #21. For me the most important thing is being a really good person, and that doesn't depend on what you do on stage, that depends on how you treat people when you're offstage. - Author: Miley Cyrus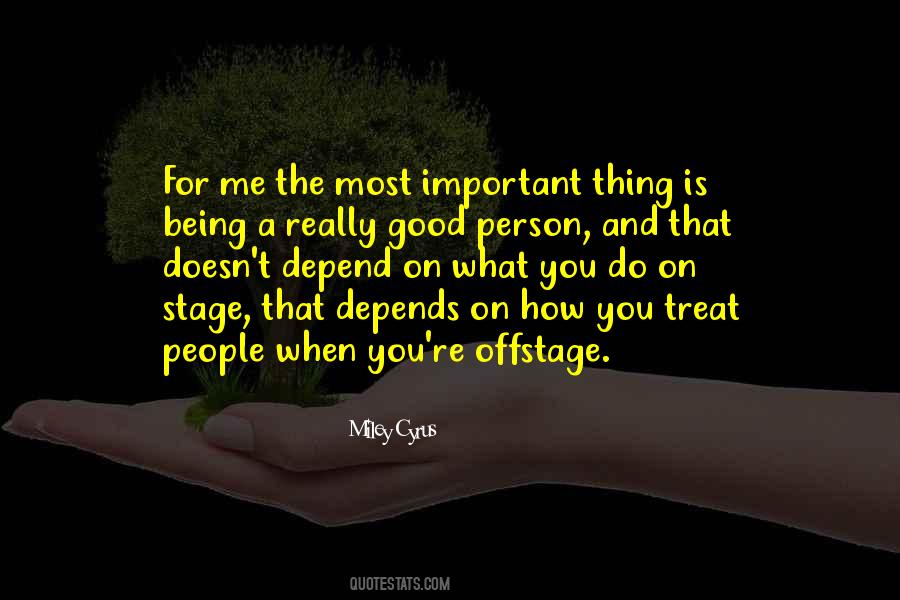 #22. In the beginning, the media was calling me a bad boy all the time because of the way I act and feel onstage. None of them have ever taken the time to get to know me when I climb offstage. - Author: Bobby Brown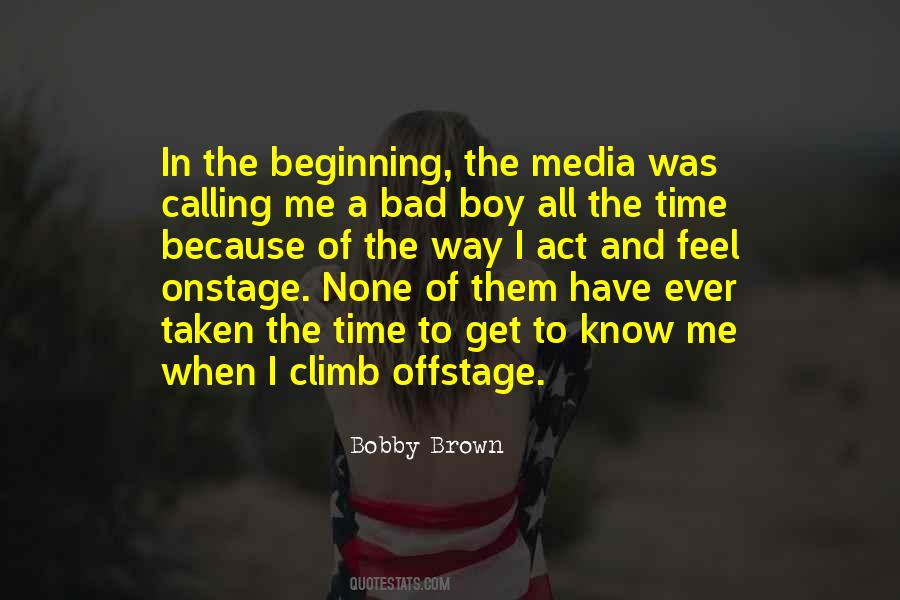 #23. My goal is to be exactly how I am offstage - although I realize I'm supposed to punctuate it with jokes. - Author: Andy Kindler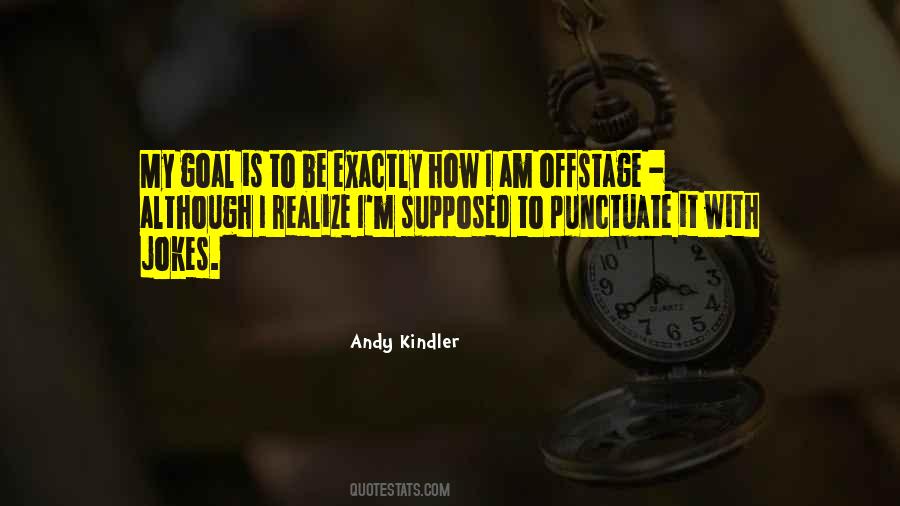 #24. I can be a real pessimist. You know that when you win an Oscar, and you walk offstage, and your first thought is: 'Oh God, I've peaked.' - Author: Cate Blanchett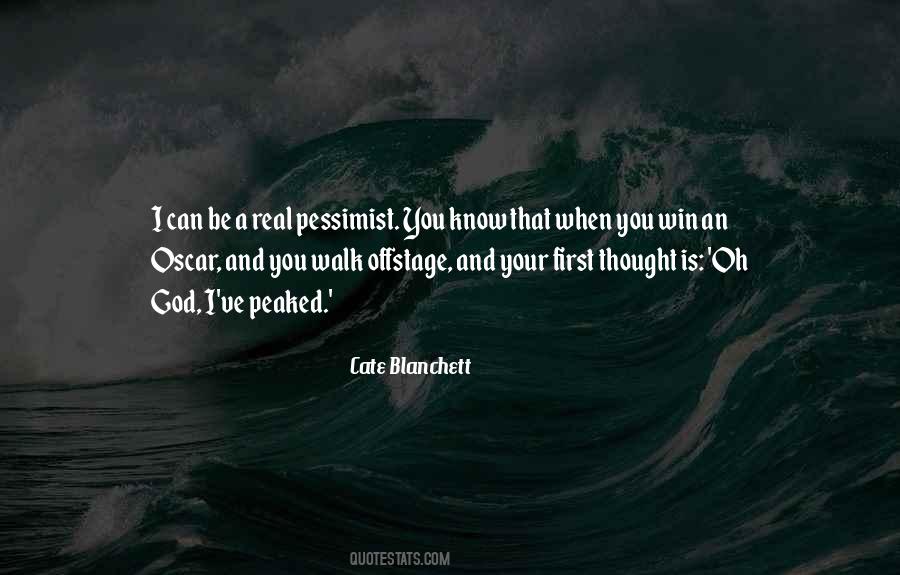 #25. Well, it wasn't like I was going to run out and score heroin and score an ounce of coke - but incidentally, on the road, I would usually get tanked up and as stoned as I possibly could to go on stage. And offstage, it would be a demon that would come up about twice a week. - Author: Iggy Pop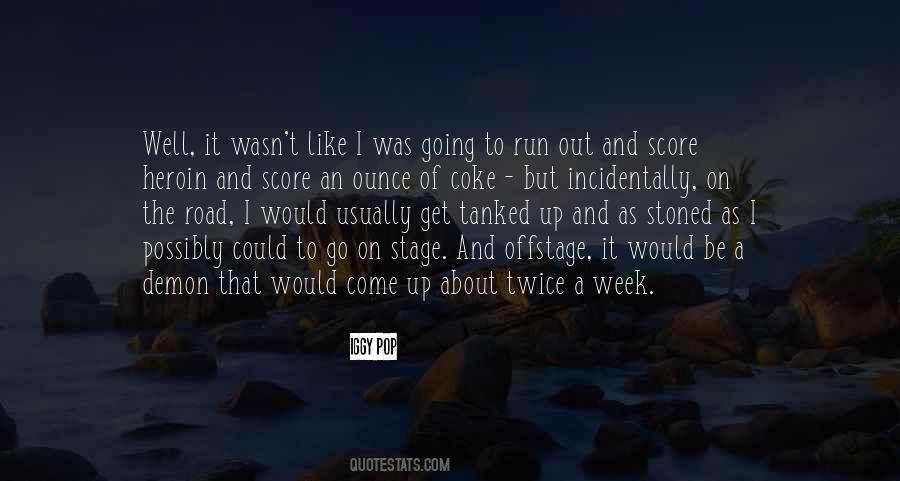 #26. You can't be a human and a guy and not connect with Pippin ... I often feel like Pippin. I come offstage sometimes like 'Oh my God, I've got to do this next time! I've gotta go there. I'm going to make this choice.' - Author: Matthew James Thomas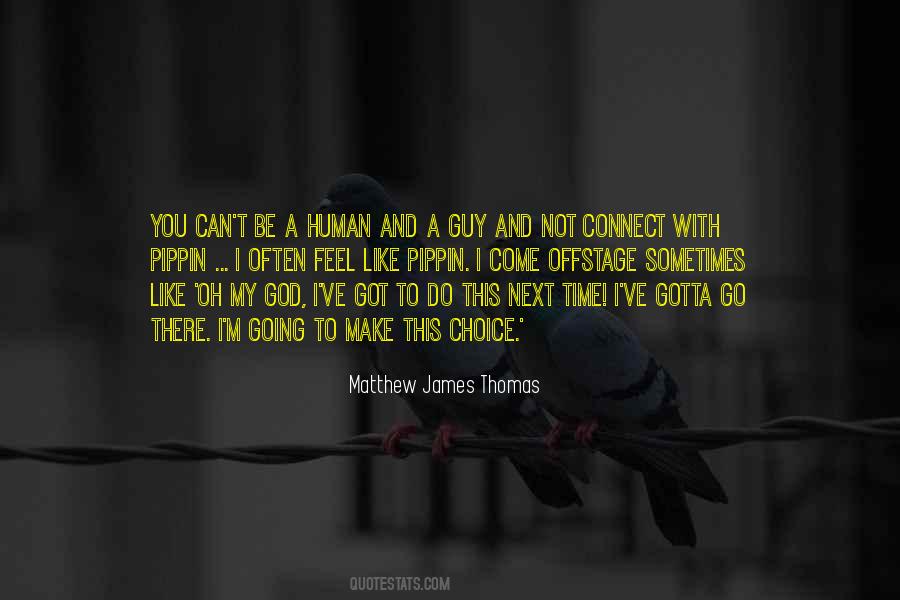 #27. When I come offstage, if I've done a bad show or had a bad night, the fact that everybody was standing at the end or three or four times during the show means nothing to me. I know I could have done a better show. - Author: Wayne Newton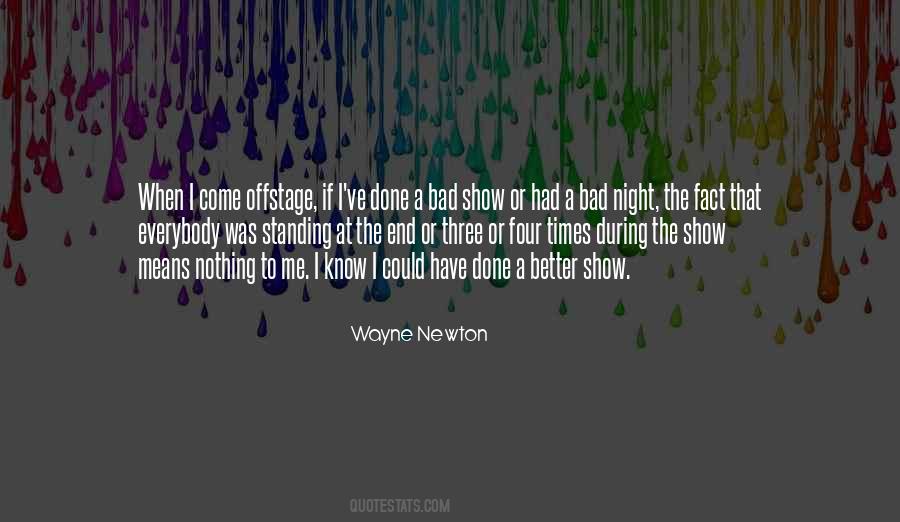 #28. When you're offstage, that's the footprint. That's the man God's gonna judge. - Author: Bernie Mac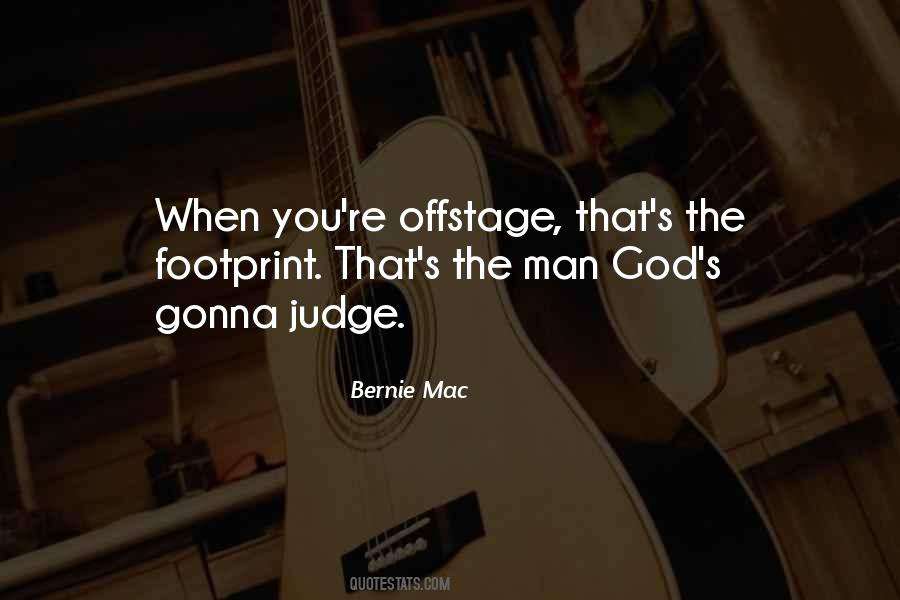 #29. It's Shakespearean, Bill; lots of the important stuff in Shakespeare happens offstage - you just hear about it. - Author: John Irving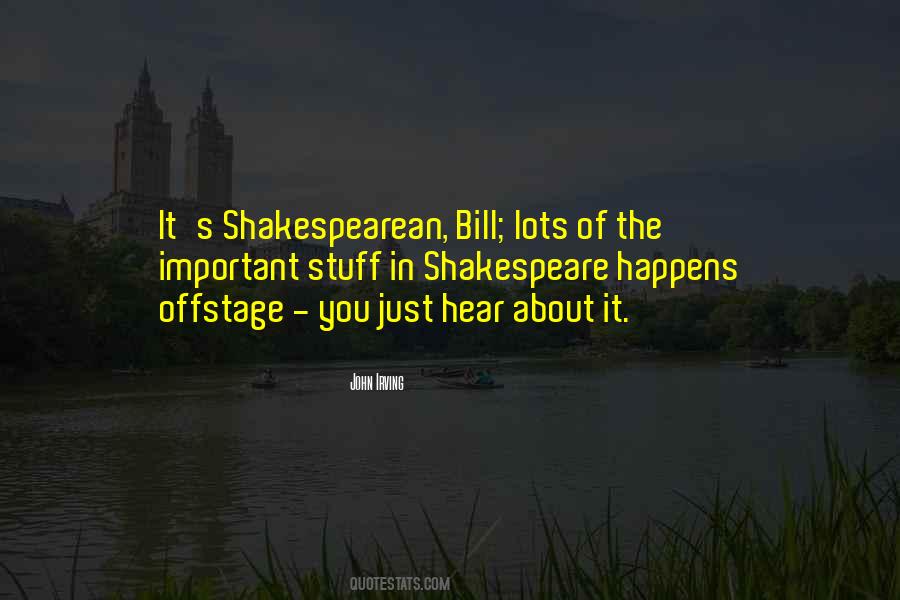 #30. Pass the popcorn, please. Life is a film, theatre, a theatre of the soul. We play different roles on different stages. At death, we walk offstage. At birth, we walk onstage. - Author: Frederick Lenz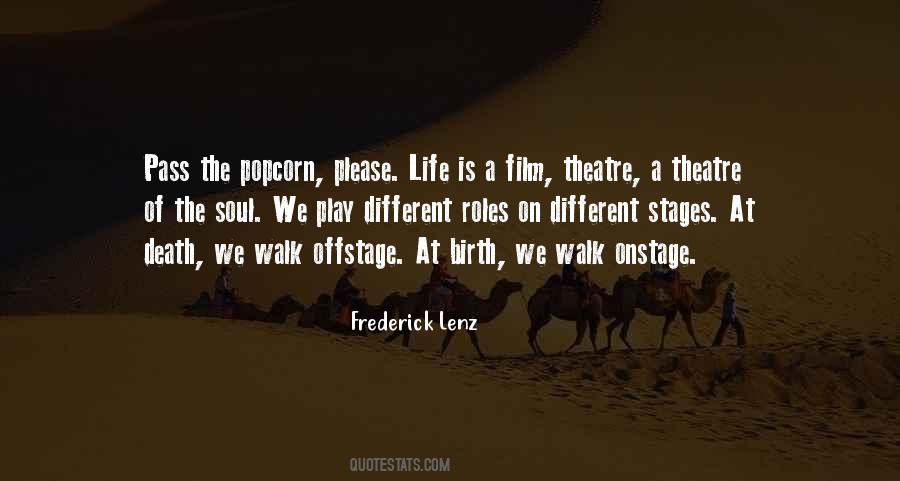 #31. I have a lot of problems understanding connections between people and how to negotiate that. It makes everything hard offstage. - Author: Adam Duritz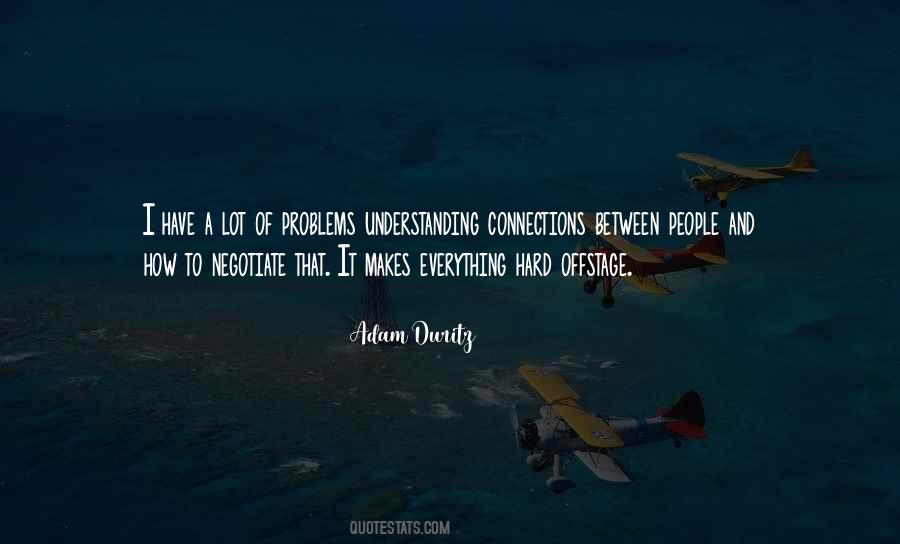 #32. I mean, you still can't jump offstage and go read a book. But I'm getting better at it. It is something you can manage. You can still give everything you have to the audience onstage, and have something for yourself. - Author: Andrew Bird
#33. Life offstage has sometimes been a wilderness of unpredictables in an unchoreographed world. - Author: Margot Fonteyn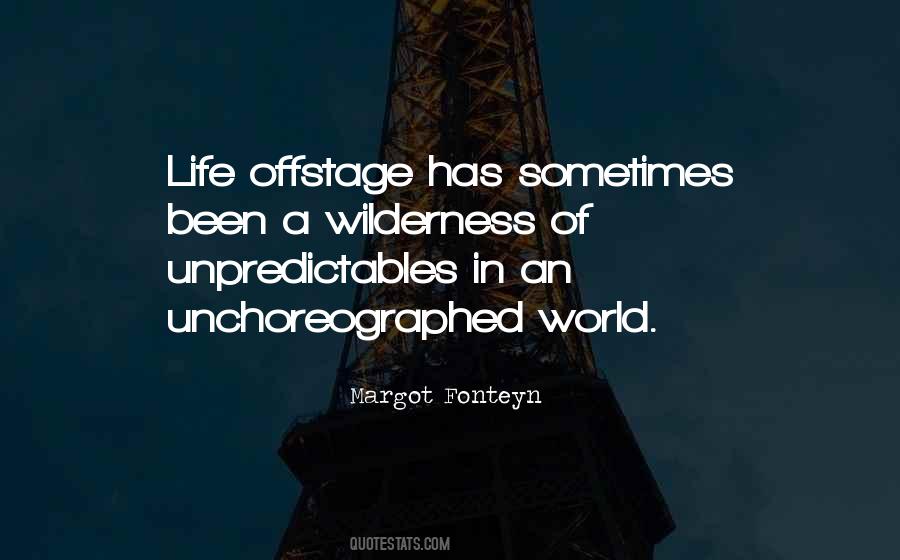 #34. I don't inflict horrors on readers. In my research, I've uncovered truly terrible documentations of cruelty and torture, but I leave that offstage. I always pull back and let the reader imagine the details. We all know to one degree or another the horrors of war. - Author: Alan Furst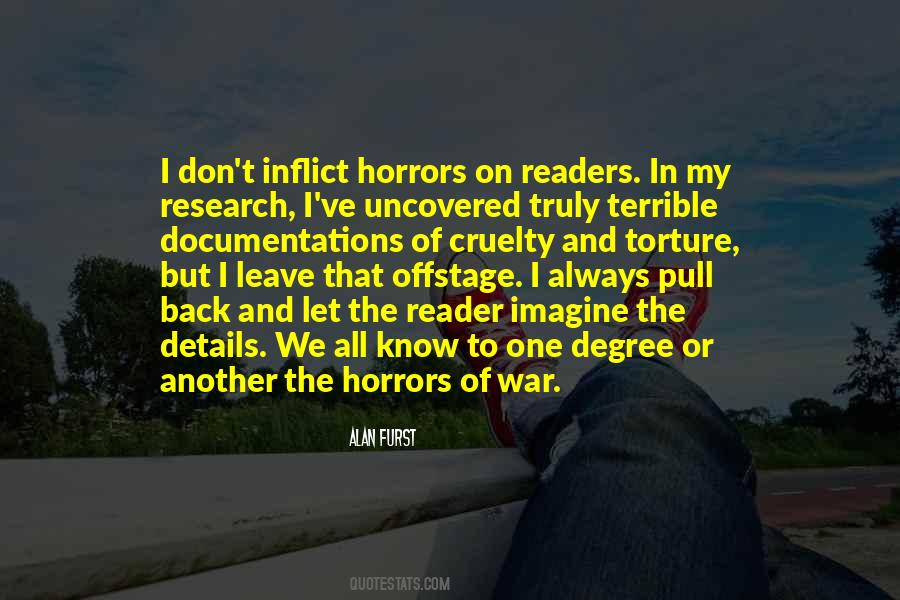 #35. I'm the most mellow person offstage. I think it's just, going onstage lets me get out some frustration that I'm too shy to do in real life. Instead of doing it in private, I'd rather do it in front of 1,000 people who've paid $25 to see me lose my mind. - Author: Zach Galifianakis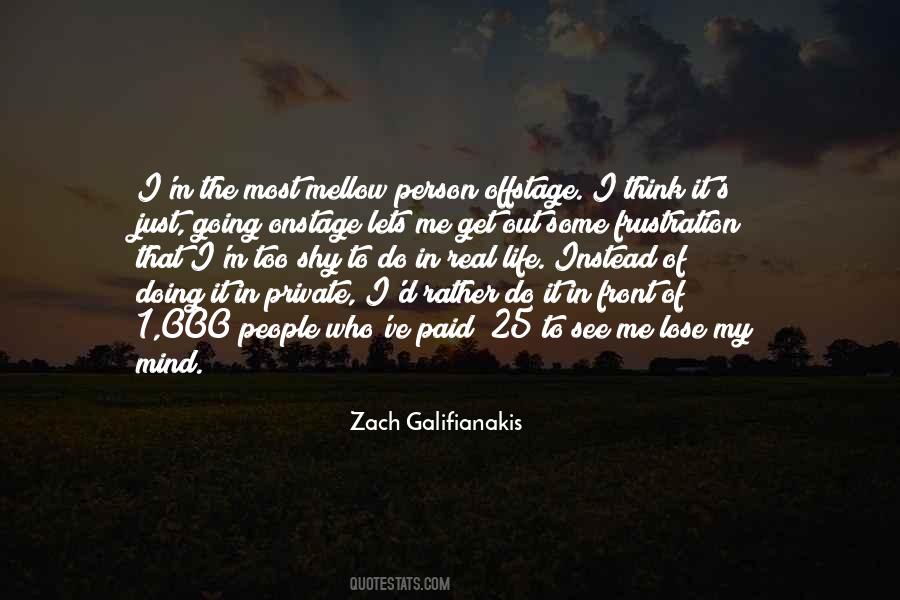 #36. If I wasn't going through a thing where I was also being my characters offstage, uh, I'm much happier just wearing the most low-profile things that I can come up with just so I can get down the street ... - Author: David Bowie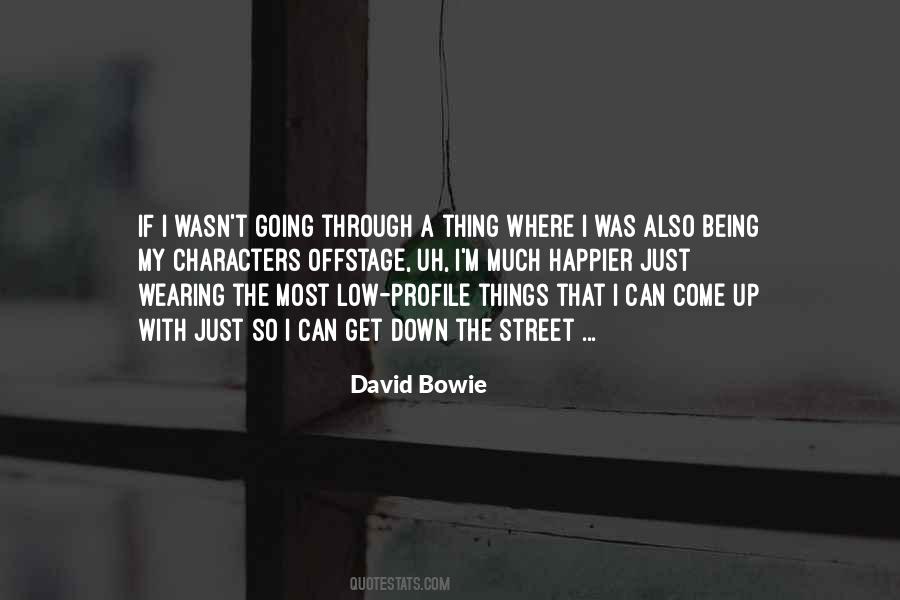 #37. Once you get offstage you're just like everyone else, and everyone else can get into a fight. - Author: Dave Attell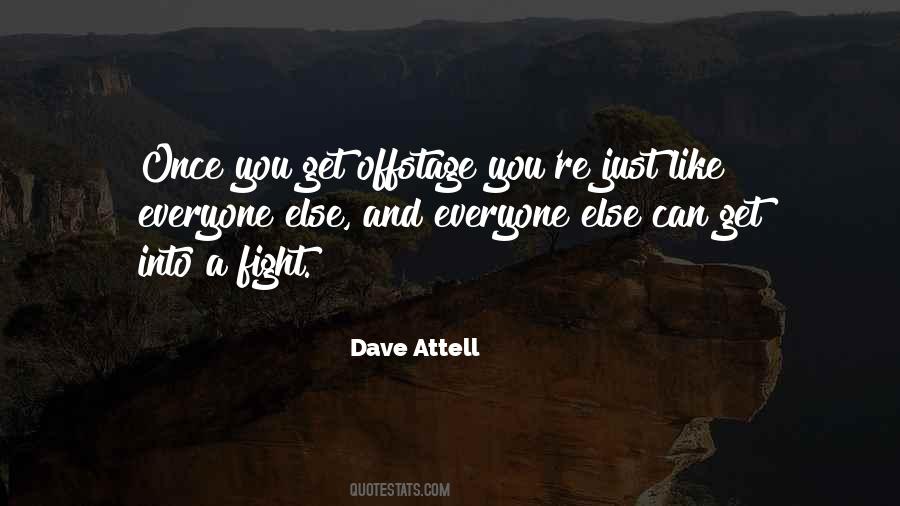 #38. We are all on stage, my dear. Sometimes we forget our lines, but luckily an offstage helper can whisper our lines to us until we get back on track. - Author: Maria La Serra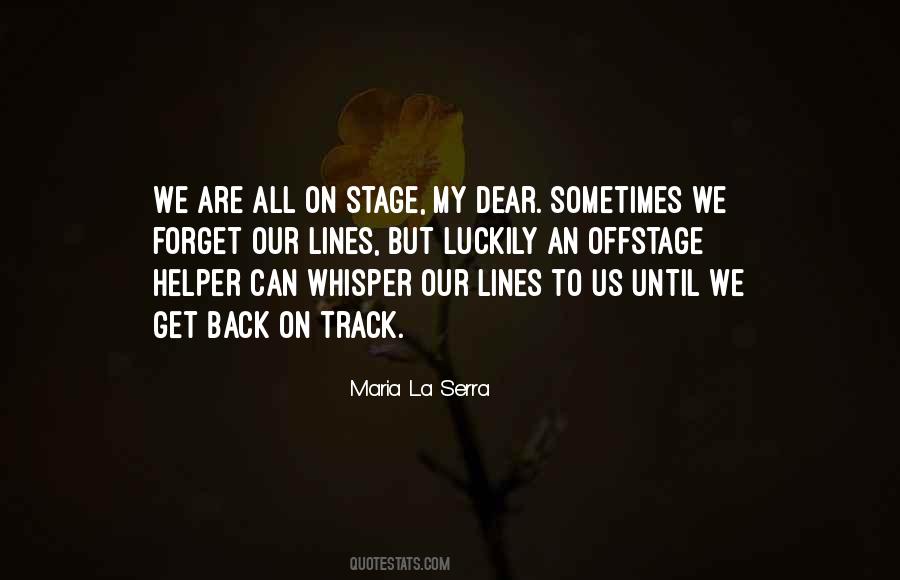 #39. The music is key. It has the power to transport you. I go from being a slightly insecure, shy kind of a person offstage, to this super-confident, motivated, entity onstage. - Author: Neil Diamond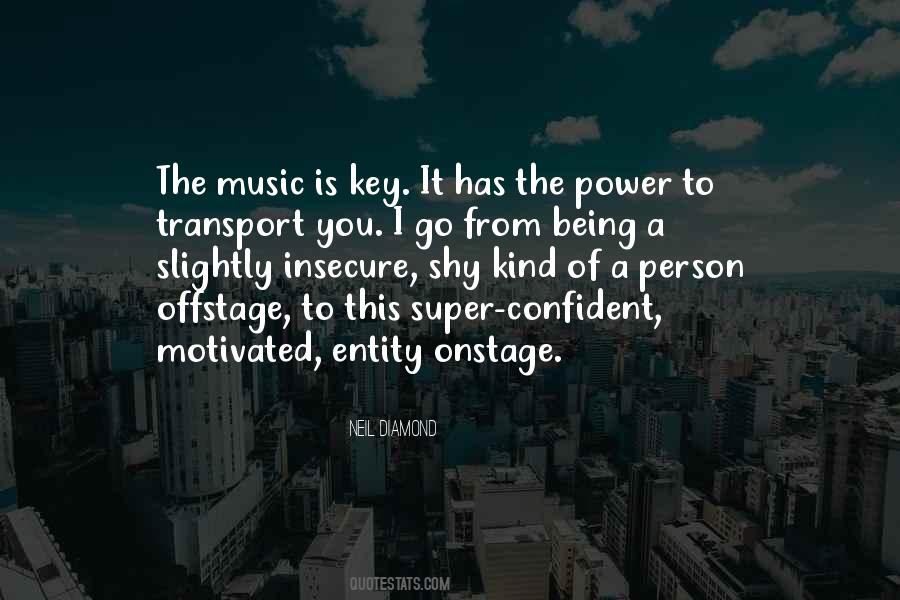 #40. I first felt successful when I was 13 and in a show called Seesaw. I came offstage and heard the applause of the theater audience and felt a sense of accomplishment. Around that time my role model for success was Burt Lancaster. He was one of the first ac. - Author: Giancarlo Esposito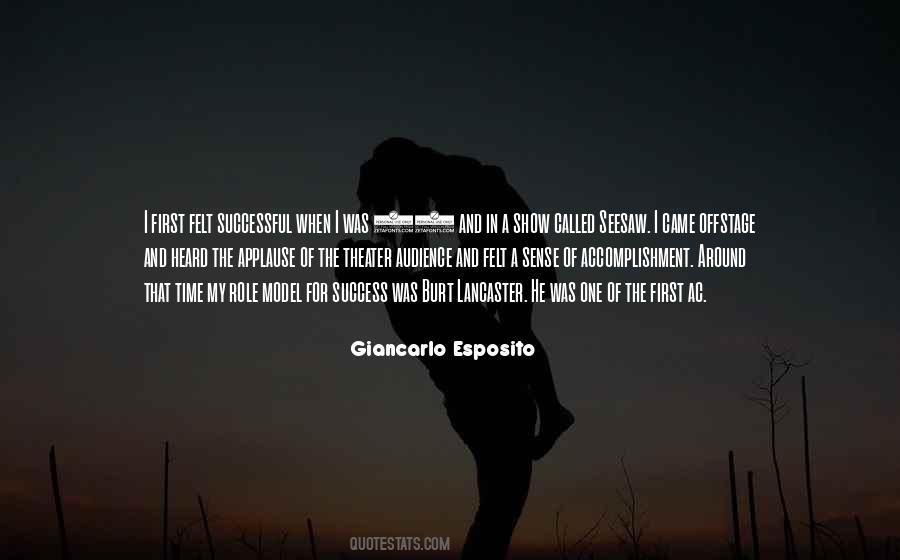 #41. In normal life people say, 'You're so different than on stage!' Offstage I'm down to earth, simple and a very goofy girl ... I like to make goofy faces, be dorky and not take things too seriously. I just love to laugh. - Author: Nicole Scherzinger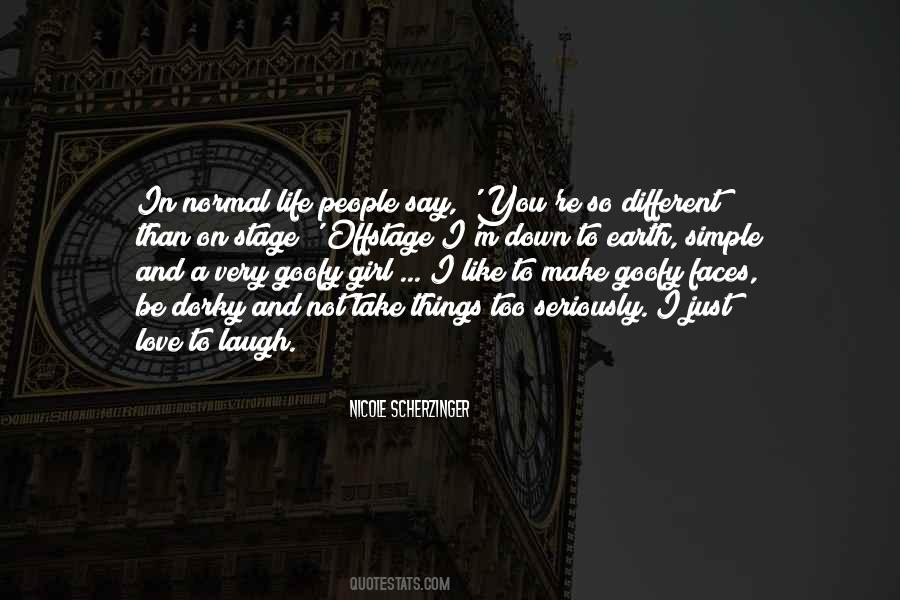 #42. I do know many a band out there, because believe me, we've played with most of them, who are together because they have to be. They might not talk to each other offstage, but they realize they can earn a living by going out and keeping that music alive. - Author: Gerry Beckley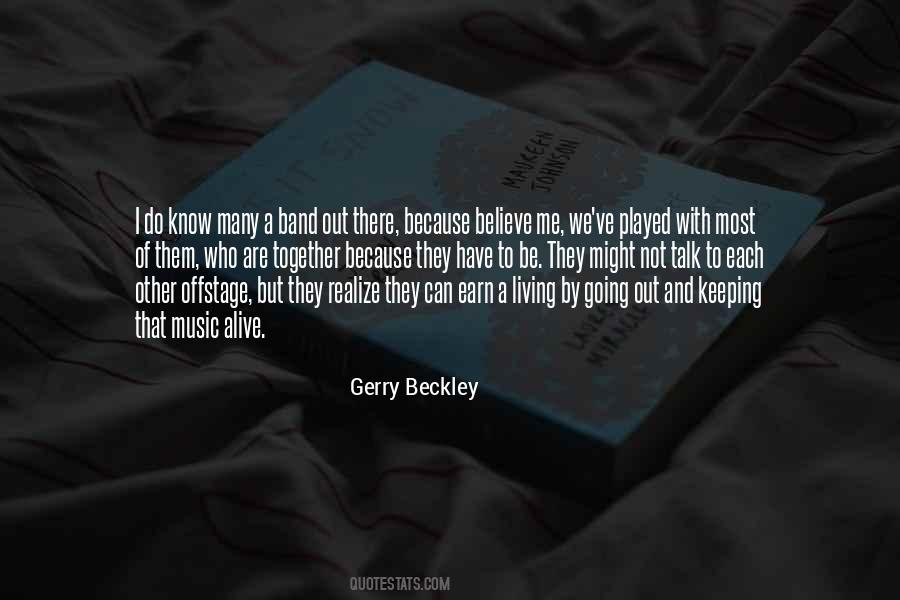 #43. Phil Hartman was brilliant, and Dave Foley is a really funny guy. Phil Hartman was actually even funnier offstage than he was onstage because he would say nasty things. Dave Foley's very funny, very witty guy, very quick. - Author: Joe Rogan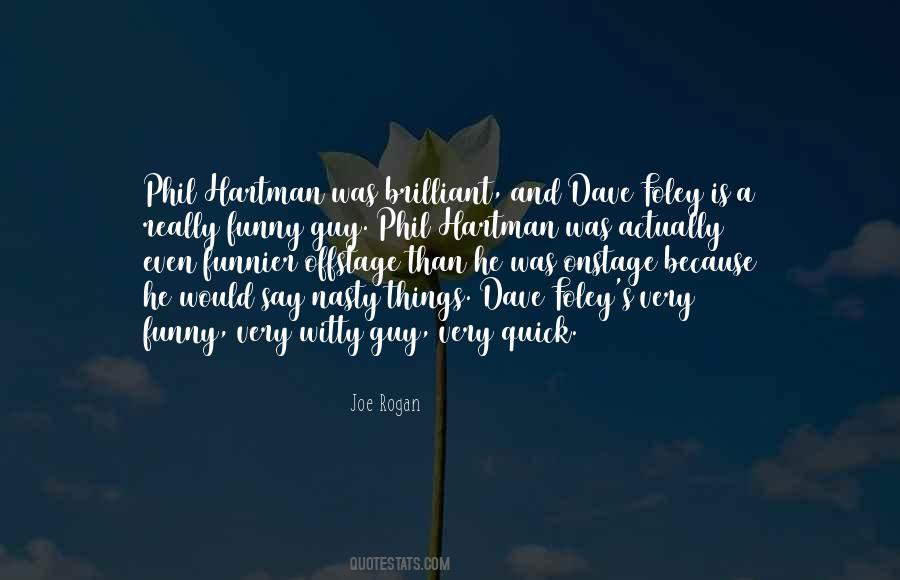 #44. I always found it really funny when actors would come offstage, smoking cigarettes and swearing at each other. - Author: Jason Gann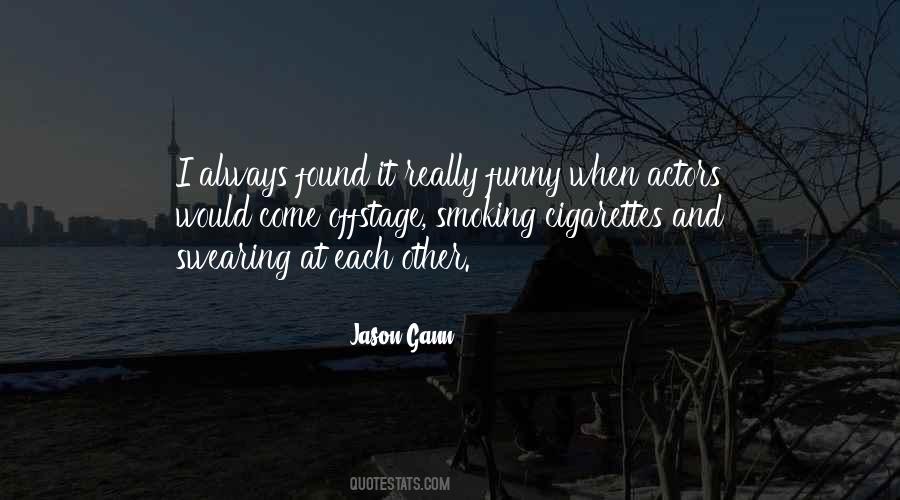 #45. When most artists walk offstage, they go to a lonely hotel room. I went home to my family. They were there before the show, during and after. It's been great. I never would have done it any other way. I wasn't gonna miss raising my kids. There was no way that was gonna happen. - Author: Gloria Estefan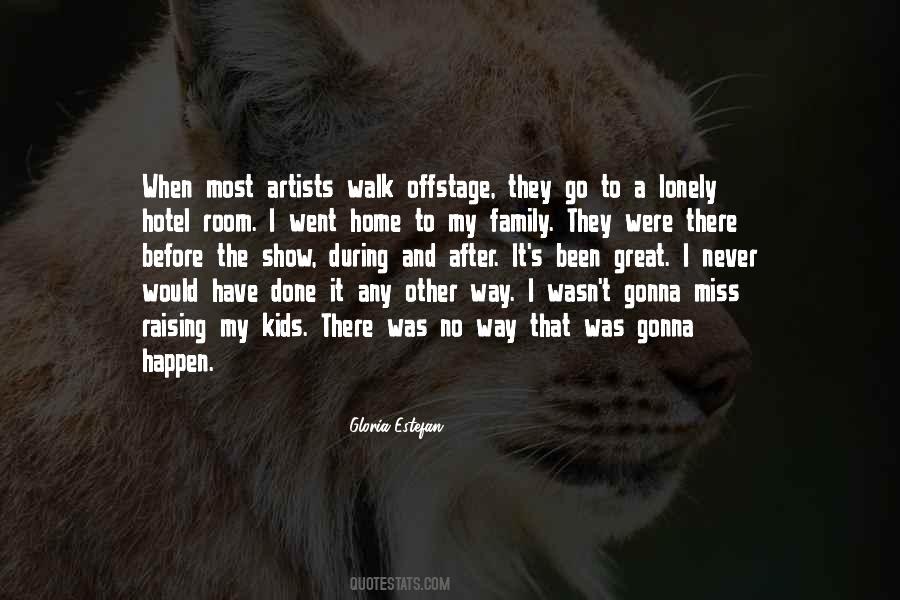 #46. You know, I think whatever a comic talks about onstage is all they talk about offstage. - Author: Sarah Silverman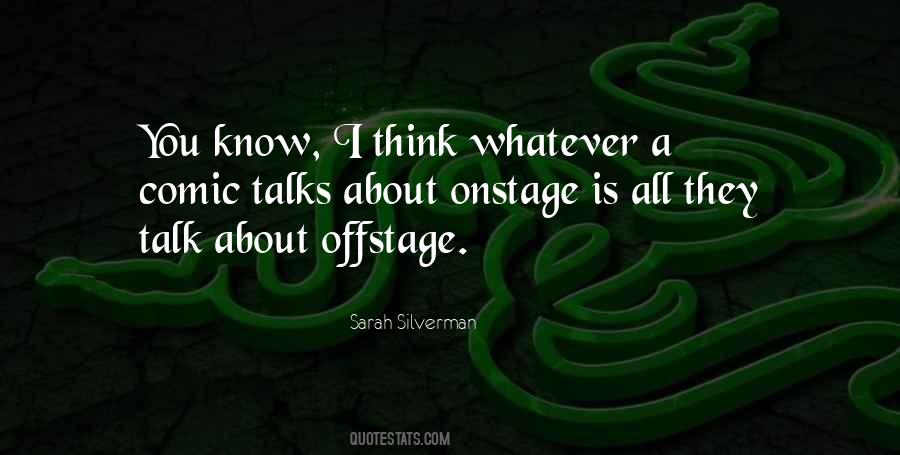 #47. You don't know being a performer what kind of performance you're going to give. You know you can give a certain quality of performance, but as I grow older I'm much more content in my own skin because when I come offstage, I have a balance in my life. - Author: Elton John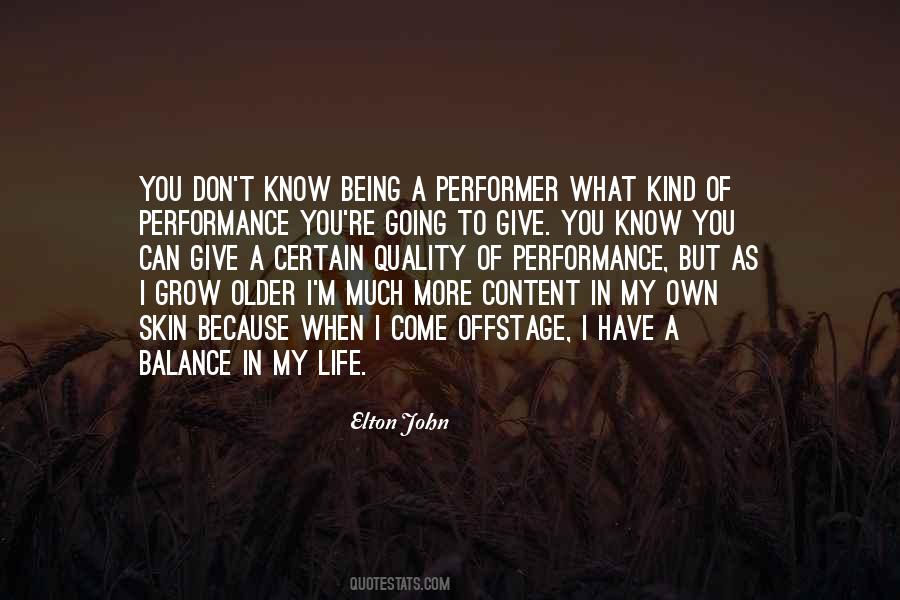 #48. When I'm coming offstage after my show, I'm thinking about what's on my TiVo. - Author: Tyra Banks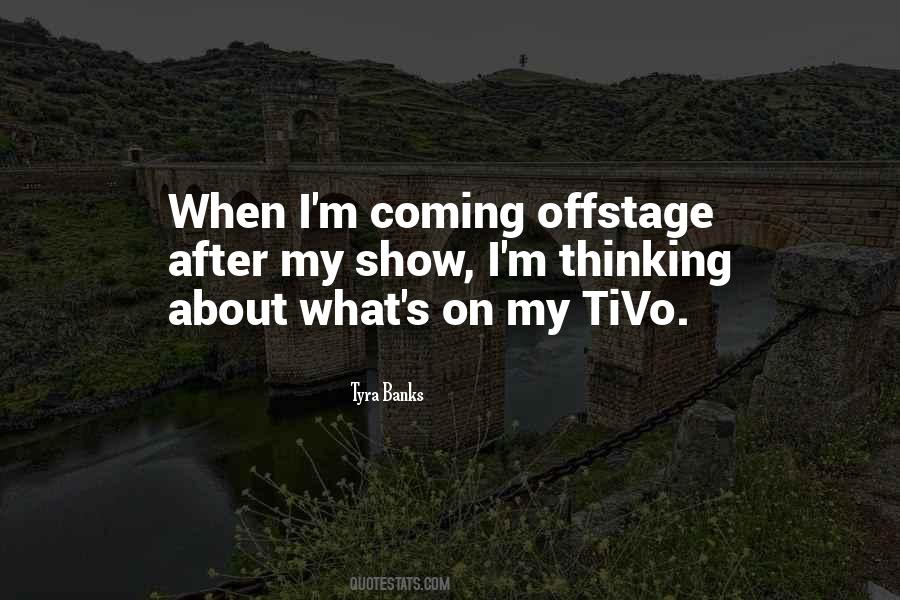 #49. I'm now learning how to distinguish when I'm acting and when I'm not acting - offstage as well as onstage. - Author: Micky Dolenz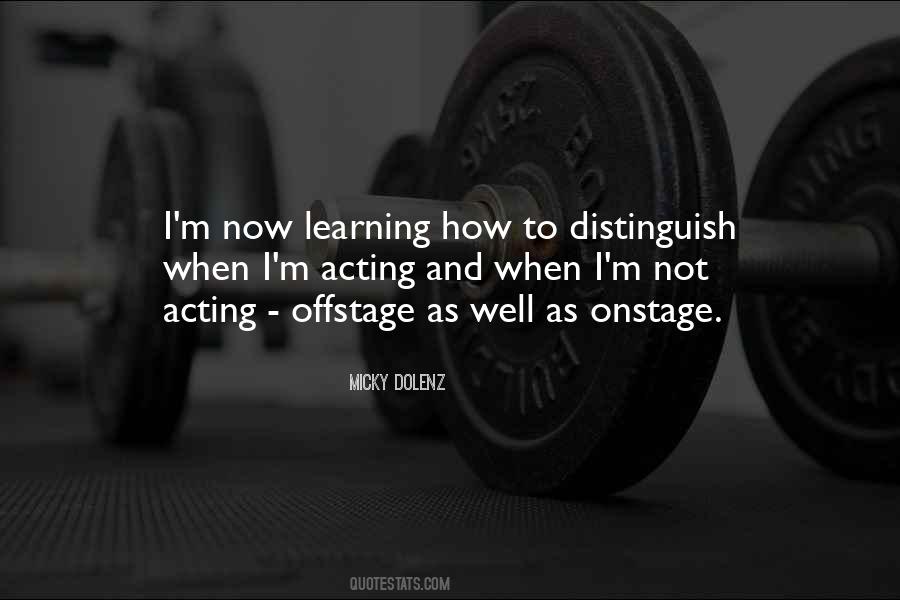 #50. With comics it's very close, like, "I don't want to say anything onstage that I wouldn't say offstage." Or vice versa. I say "faggot" in my special and in the joke I am the faggot, if that makes sense. - Author: Neal Brennan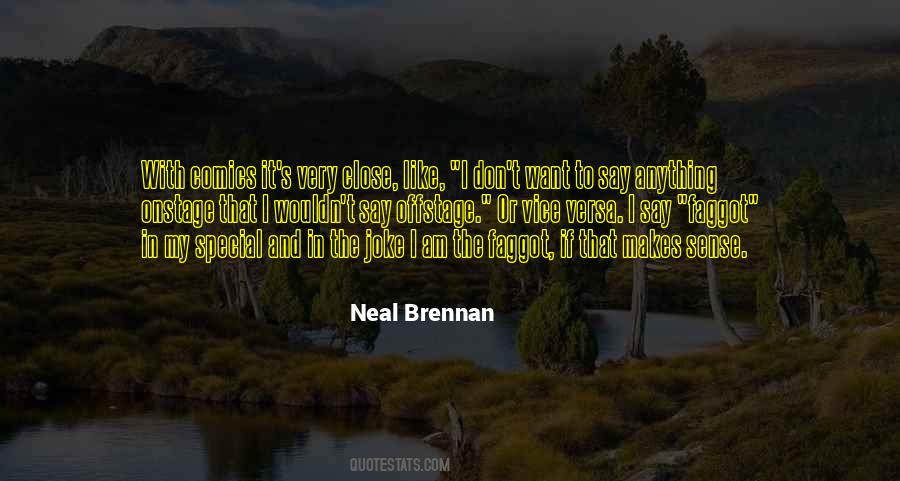 #51. You get paid like a really good call girl. Walking offstage is like the walk of shame. - Author: Billy Joel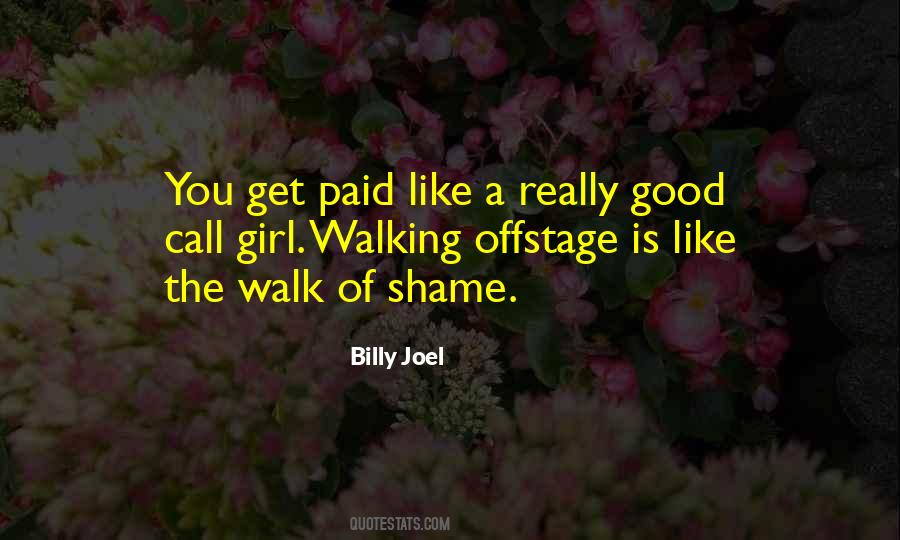 #52. Under (Lyndon) Johnson, the Senate functions like a Greek tragedy. All the action takes place offstage, before the play begins. Nothing is left for the participants but the enactment of their prescribed roles. - Author: Bobby Baker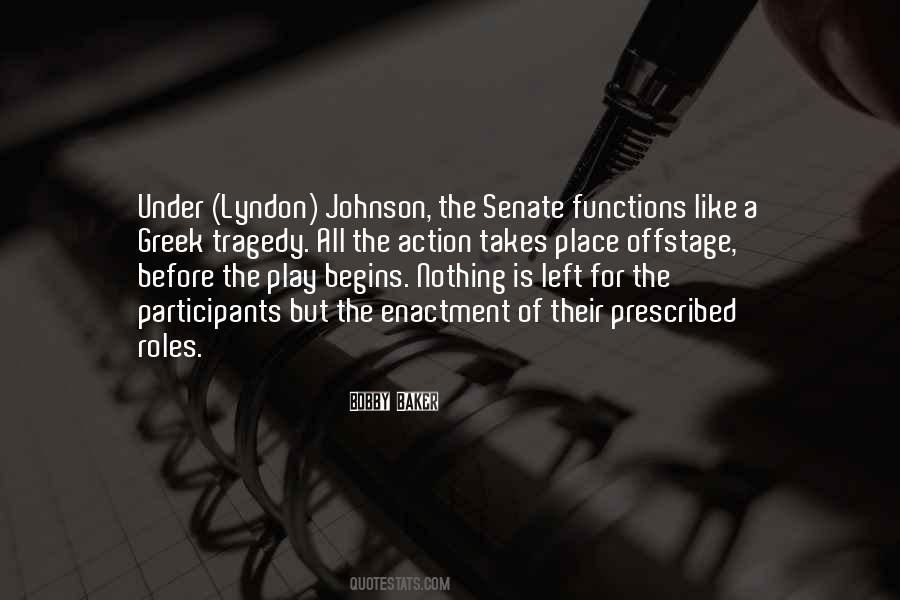 #53. I got offstage and was just looking at my hands, and they were shaking. I was like, 'I wanna kill someone! What's happening?' - Author: Annie E. Clark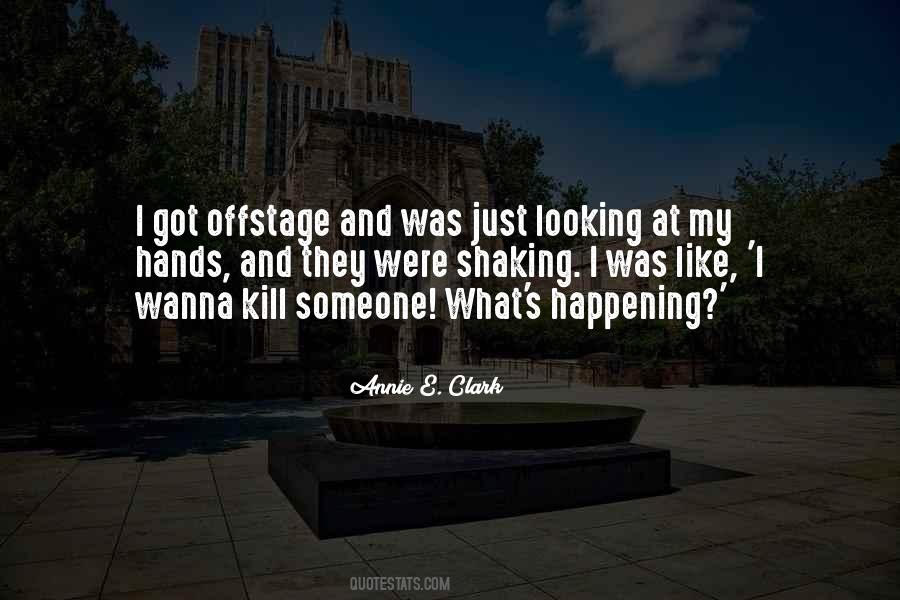 #54. Both the Obama and Romney campaigns said they pulled all their political ads today in observance of the September 11th anniversary. But politics wasn't very far offstage. The Obama campaign sees foreign policy as an advantage this year. - Author: Mara Liasson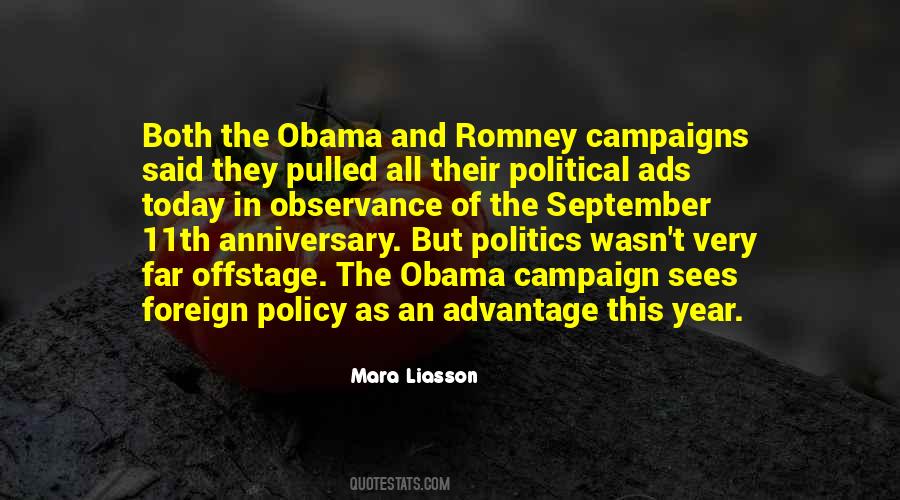 #55. You can poke fun at some pretty difficult circumstances, and it's just a way to pop the bubble. I don't do that thing onstage usually, but offstage sometimes I might. - Author: Brian Regan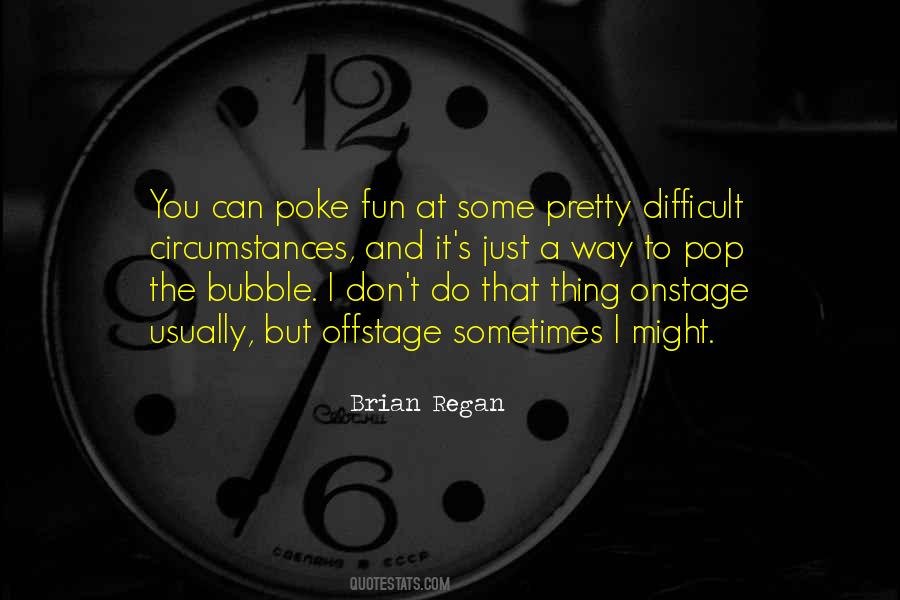 #56. I think you need to be able to see a lot of negative in things in order to extract material, so there's probably something to that. A lot of the people I used to work with were very, very, very unfunny offstage, so that's a pretty common thing. - Author: Eric Bana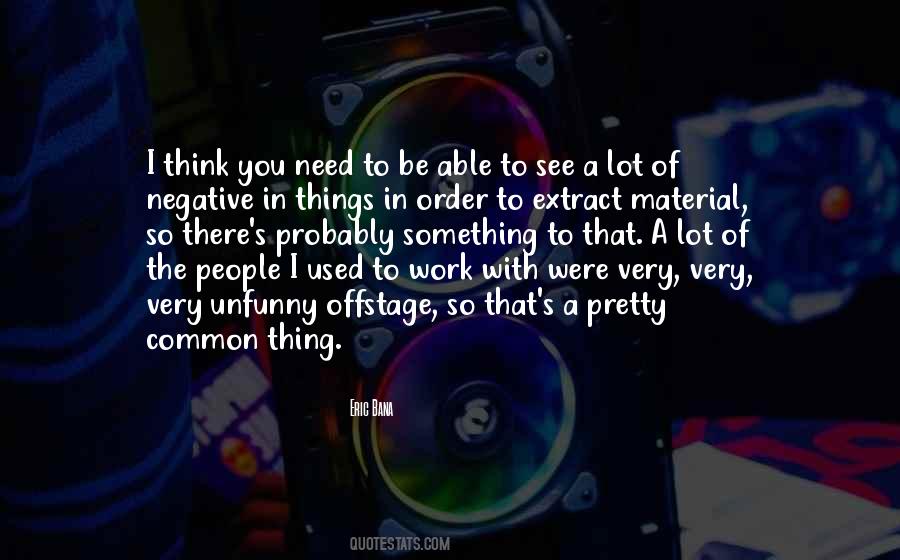 #57. Even on TV appearances or big shows, I don't know if I've ever been as nervous as I was my first time doing stand-up. I just remember getting offstage and sitting down, and my right knee was just shaking from the adrenaline. - Author: Hannibal Buress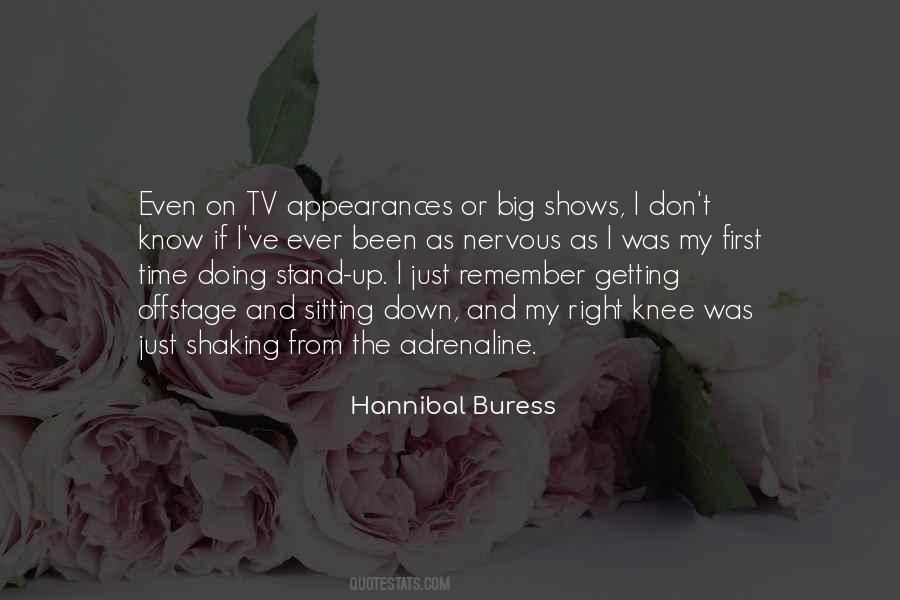 #58. I drew no line between life and art. I was the same on- as offstage. - Author: Patti Smith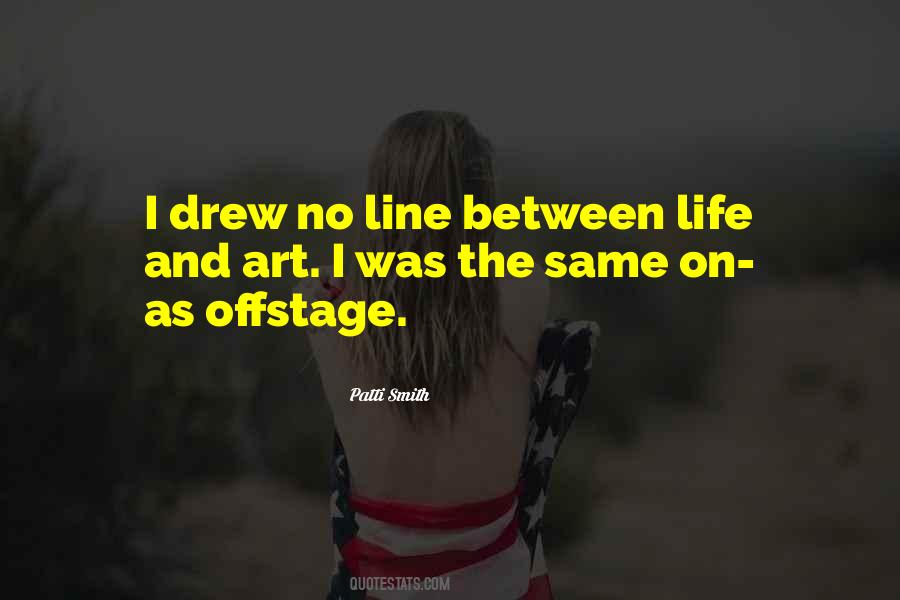 Famous Authors
Popular Topics