Not So Nice Famous Quotes & Sayings
List of top 100 famous quotes and sayings about not so nice to read and share with friends on your Facebook, Twitter, blogs.
Top 100 Not So Nice Quotes
#1. Look at you lot, you're all so vacant, is it nice not being me it must be so relaxing. - Author: Benedict Cumberbatch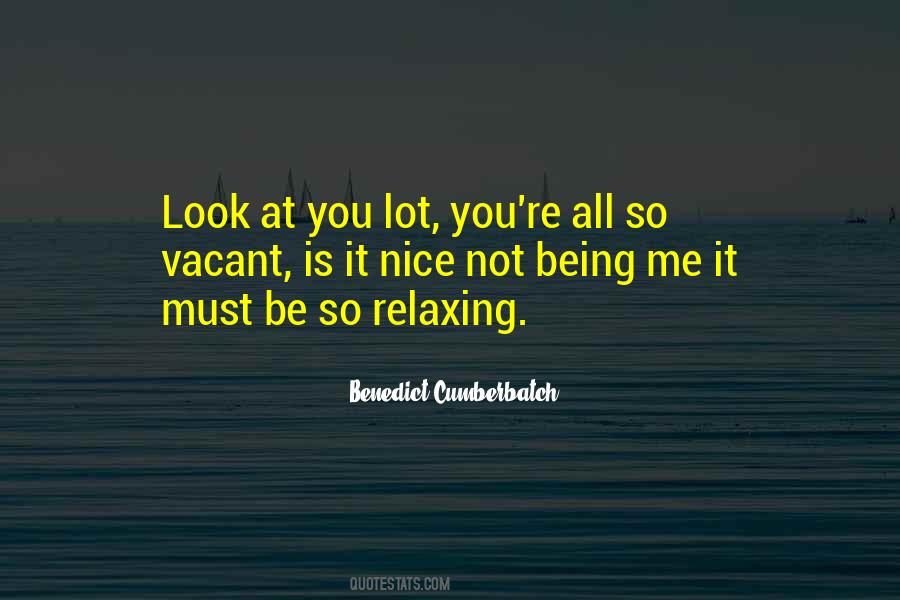 #2. The nice thing about working for a label like Domino is that there's no pressure: They've got a roster of 40 active bands, and they can bang out an album or single in a week, so it's not the end of the world to not have a Max Tundra album in 2005. - Author: Max Tundra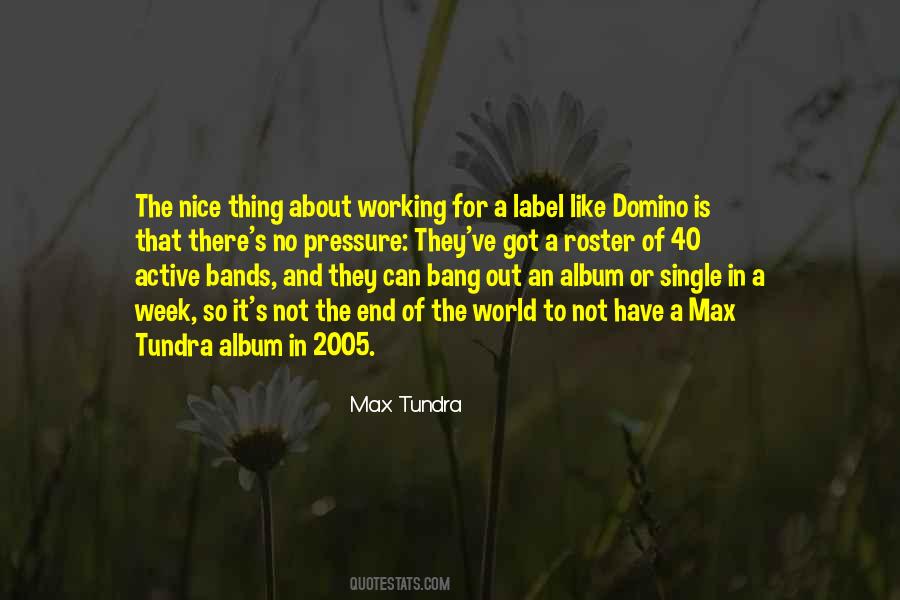 #3. There's Catholic guilt about things, then there's the guilt of being the youngest of 10, so when nice things happen to you, you're not really allowed to enjoy them. - Author: Jack White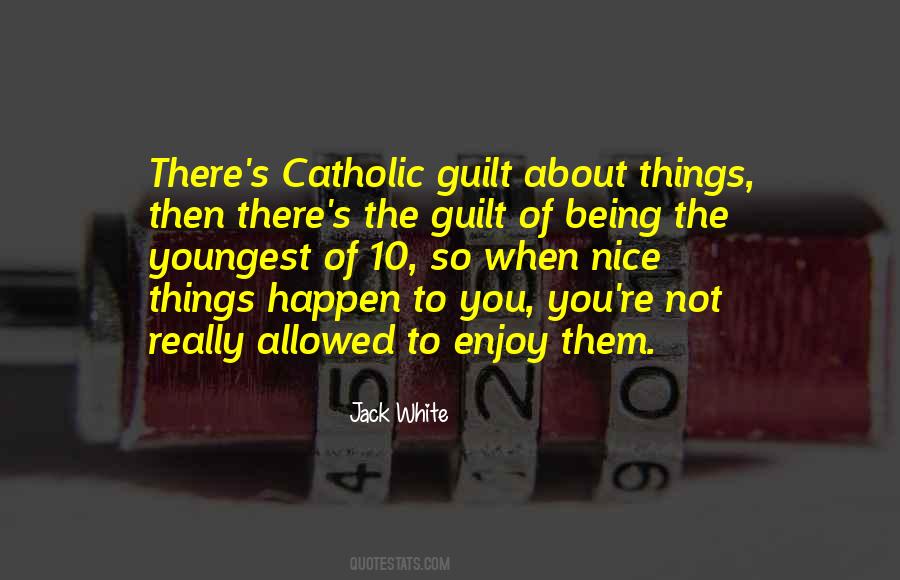 #4. King Kofi Kingston, that does have a nice ring to it. But not so much the initials, though. - Author: CM Punk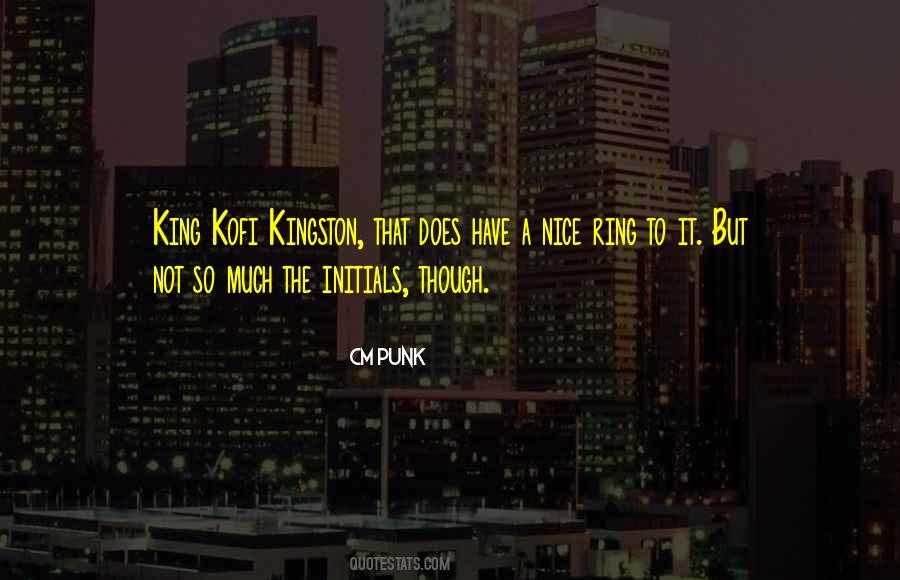 #5. If looks could kill ... well, Dick was already dead, so nothing would happen. But Gabriel was not laughing.
"See Dick," Dick said, pointing at his chest. He then swept his hand dangerously close to mind. "Jane. Dick and Jane. Come on, you humorless jackass. That's funny. - Author: Molly Harper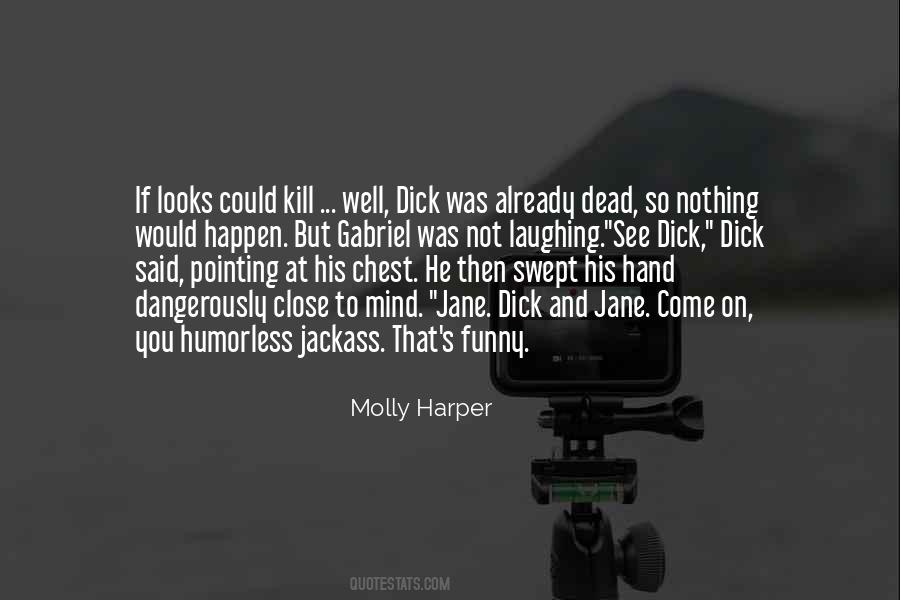 #6. On Furnishing One's Home
Pick your furniture like you pick a wife; it should make you feel comfortable and look nice, but not so nice that if someone walks past it they want to steal it. - Author: Justin Halpern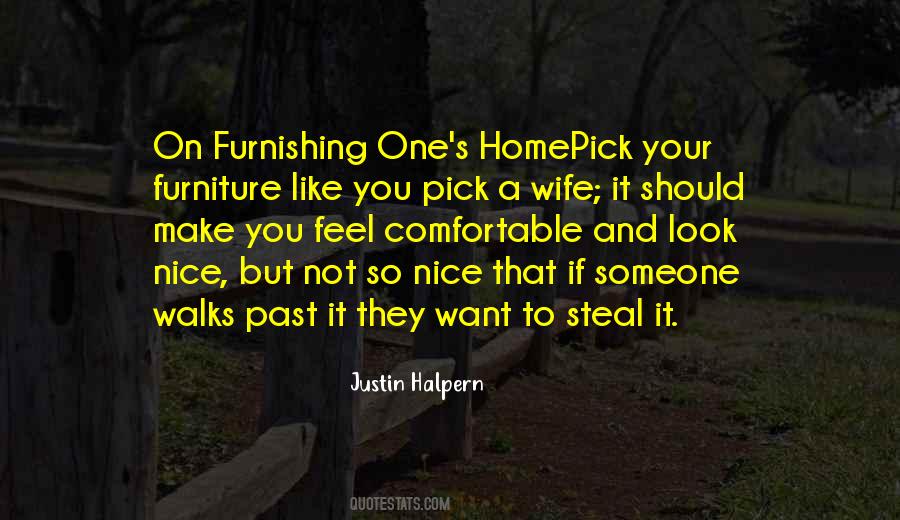 #7. When cleaning I do it the way people go to church - not so much to discover anything new, although I'm alert for new things, but mainly to reacquaint myself with the familiar. It's nice to go over familiar paths. - Author: Robert M. Pirsig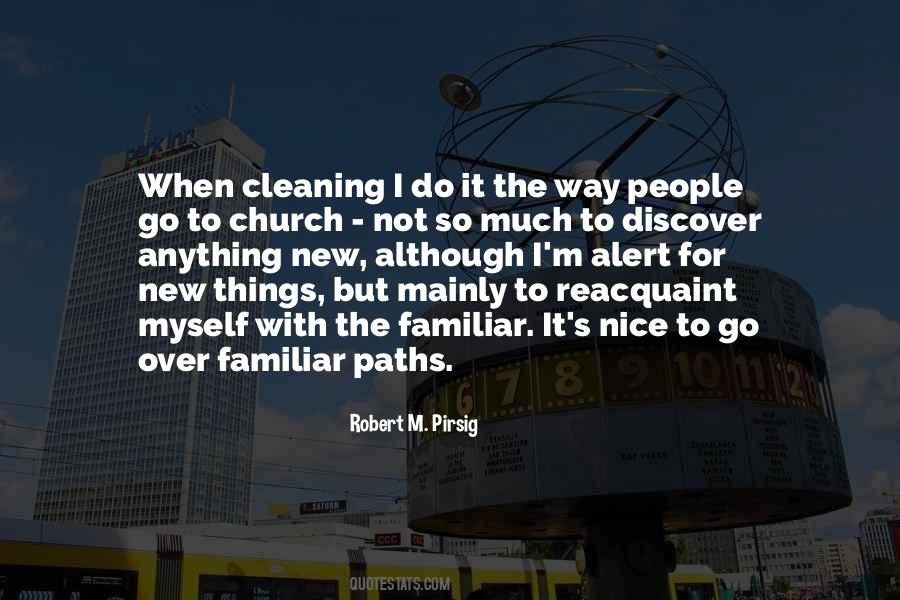 #8. You hear terrible stories because there'll be a story about some terrible kid, but most of the kids I work with are terrific kids. They're poor, maybe their families are broken, so they're not coming home to a mom and dad and a nice dinner every night. But these kids are capable. - Author: Rafe Esquith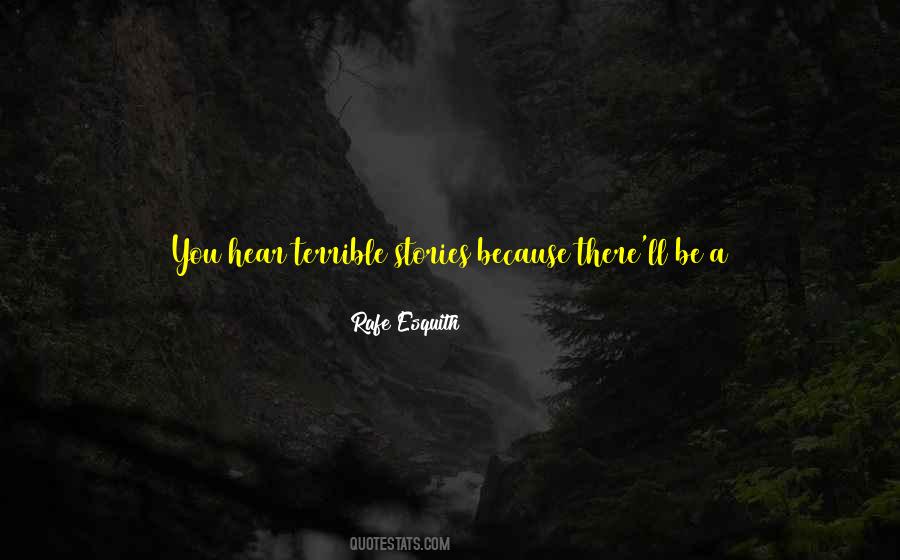 #9. I like muddling things up; and if a herb looks nice in a border, then why not grow it there? Why not grow anything anywhere so long as it looks right where it is? That is, surely, the art of gardening. - Author: Vita Sackville-West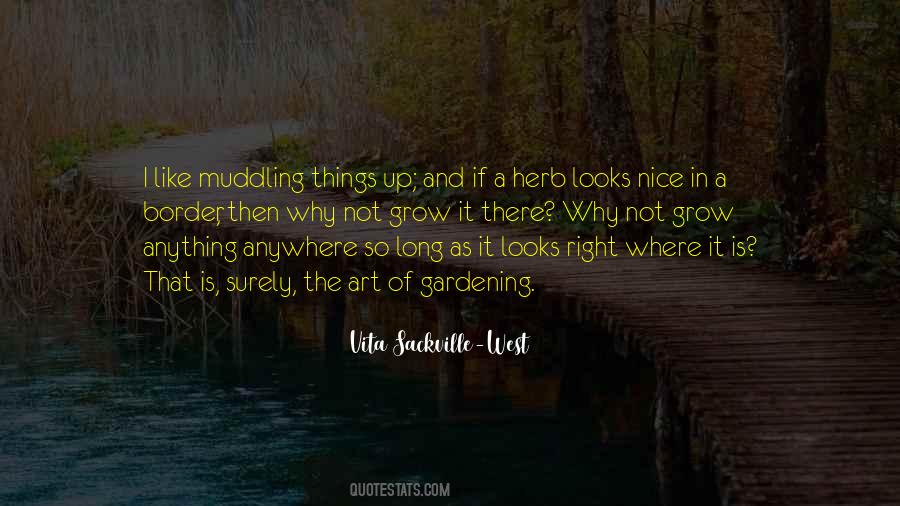 #10. I love so much what I do that I spend so much time thinking about it, and then I go home, and then I'm thinking about it, so it's nice sometimes when a movie is over, and then the niggling feelings about whether you've did it right or not start to ebb away. - Author: Joel Edgerton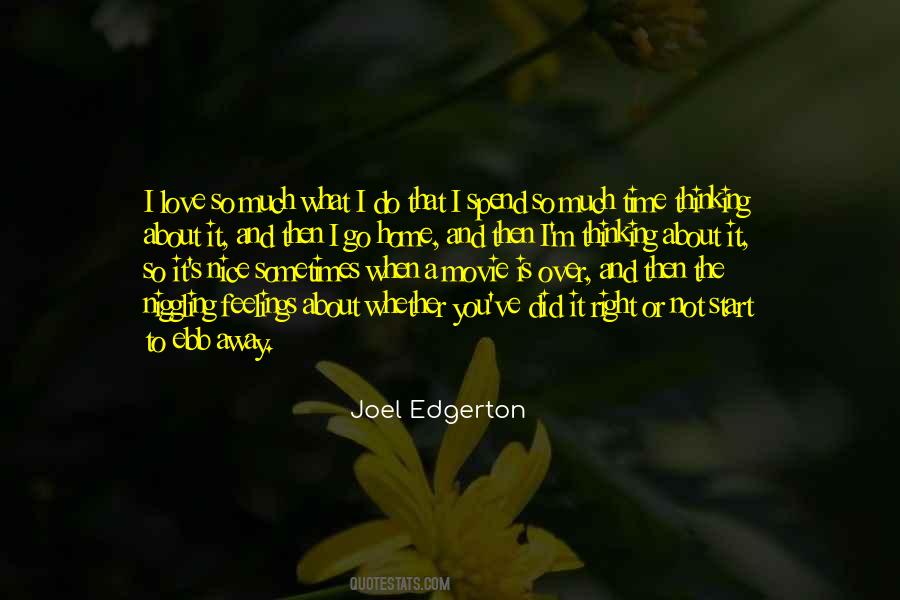 #11. Every Christmas people are so nice to me, they think I am Little Tim from A Christmas Story. But I'm not. *smiles* - Author: Thom Yorke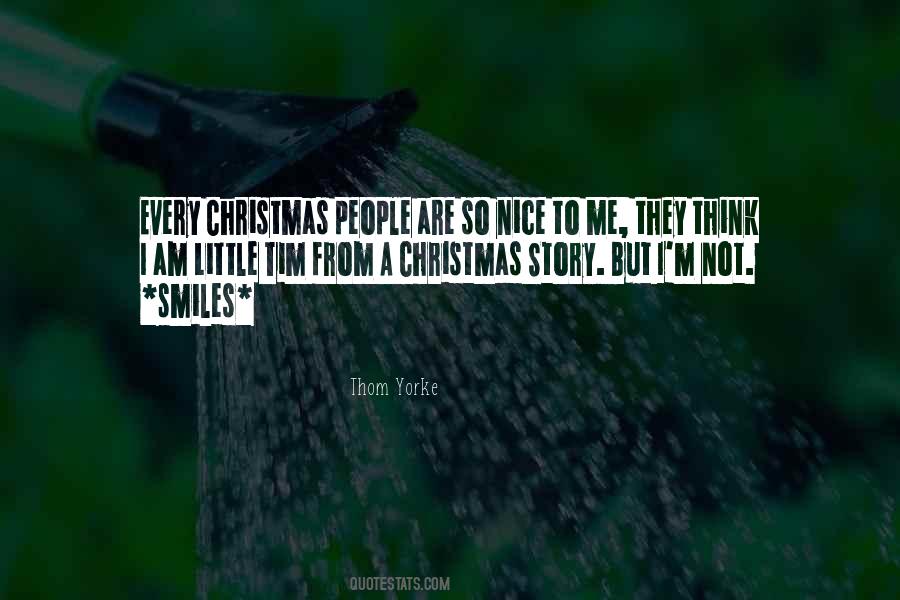 #12. I don't want easy. I want the impossible. I want love so thick, I drown in it; it's the only thing worth having and, I'm sorry Kona, you're a nice guy when you're not acting like an entitled jackass, but I really don't think you're capable of being anything more than that. - Author: Eden Butler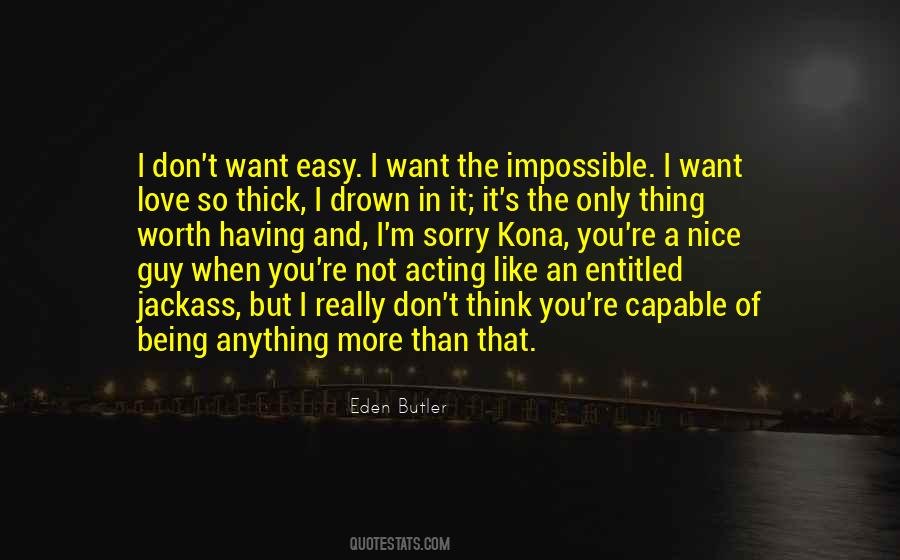 #13. At that moment, I knew she was the girl for me. Of course, we'd already been going out for a few weeks, so I wasn't, like, shocked or anything. But still, it's never not nice to to keep realizing. - Author: Rob Sheffield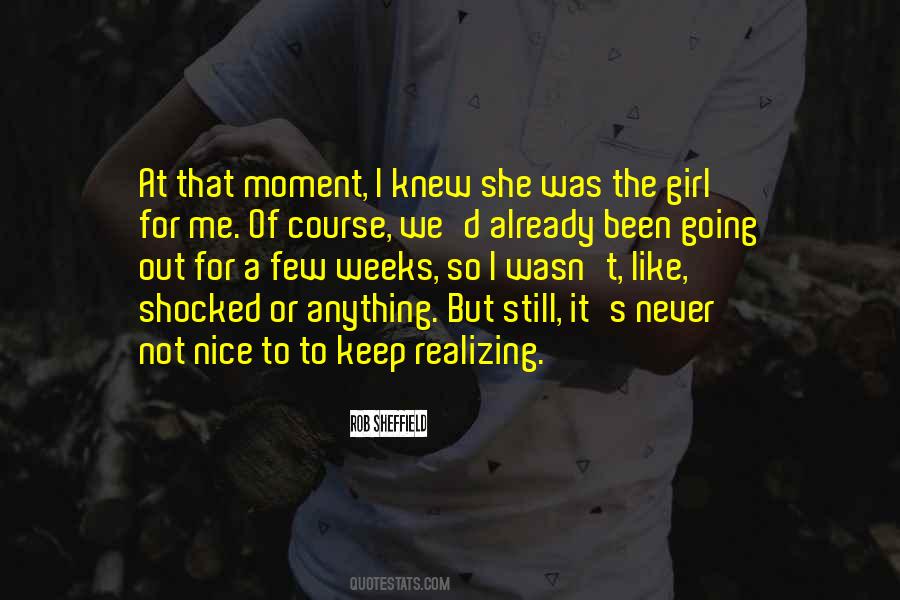 #14. I feel that there is a decision people make to either engage in a legitimately ridiculous process to get your kid into school, or choose not to engage in that so much, and end up finding a nice local school that fits. - Author: John Hodgman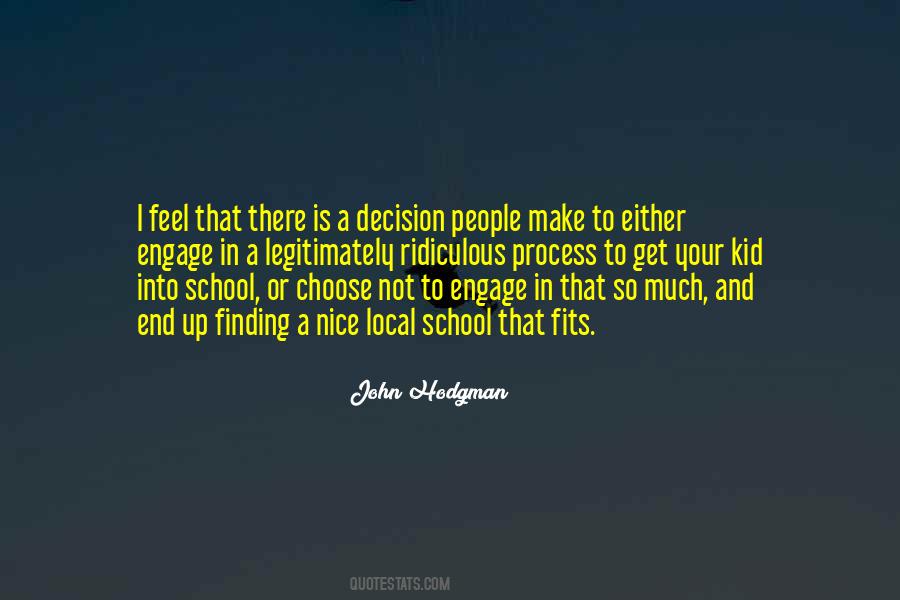 #15. I love getting to be in 'The Avengers.' You just breathe a little bit. It's not all about you. It's so nice to have other people bearing the burden of responsibility. - Author: Chris Evans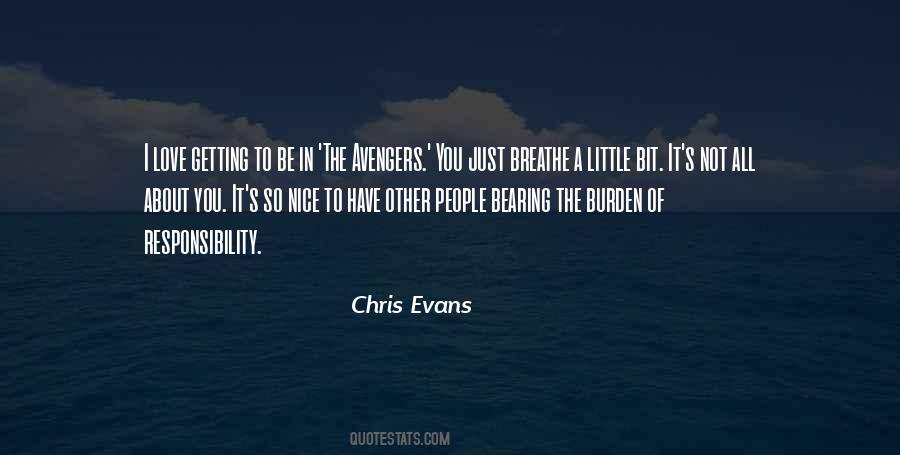 #16. You don't want to seem too eager, too romantic - otherwise, it just looks a bit try-hard. But I do think that a first date should be intimate. So I'd choose a nice dinner somewhere cozy, not too crowded, with good wine. - Author: Kit Harington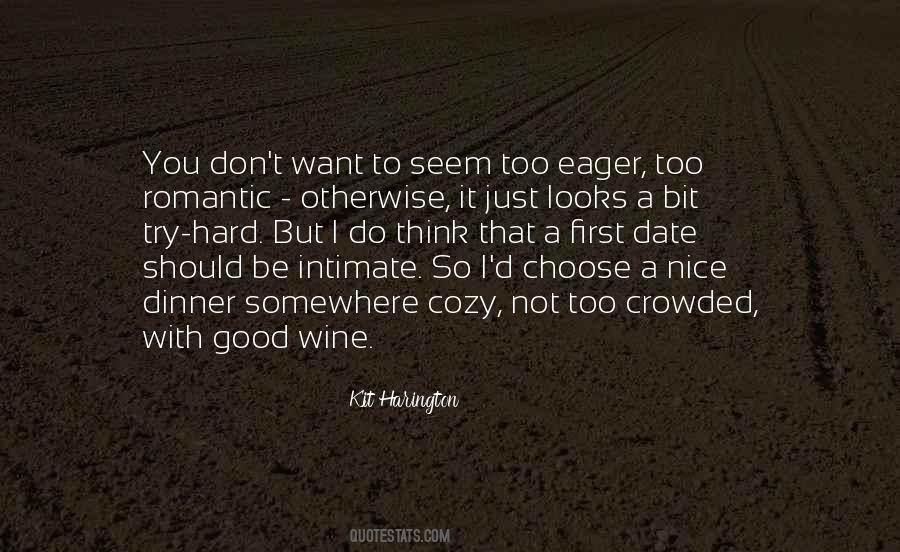 #17. The more people that learn sign language, the better. This is part of my life, but it's not part of everybody's life, so it's nice to expose this to the world. - Author: Sean Berdy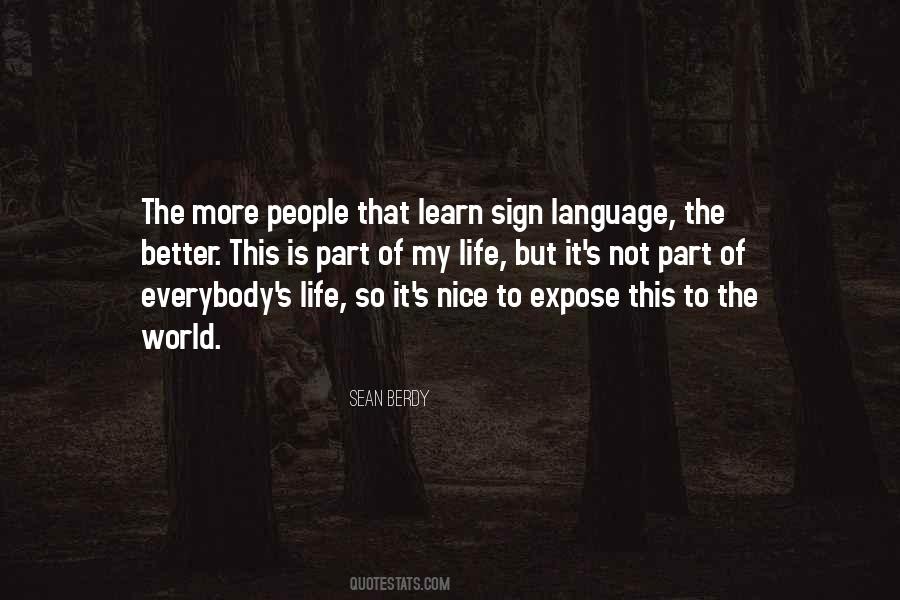 #18. It was a nice face, a face you get to like. Pretty, but not so pretty that you would have to wear brass knuckles every time you took it out. - Author: Raymond Chandler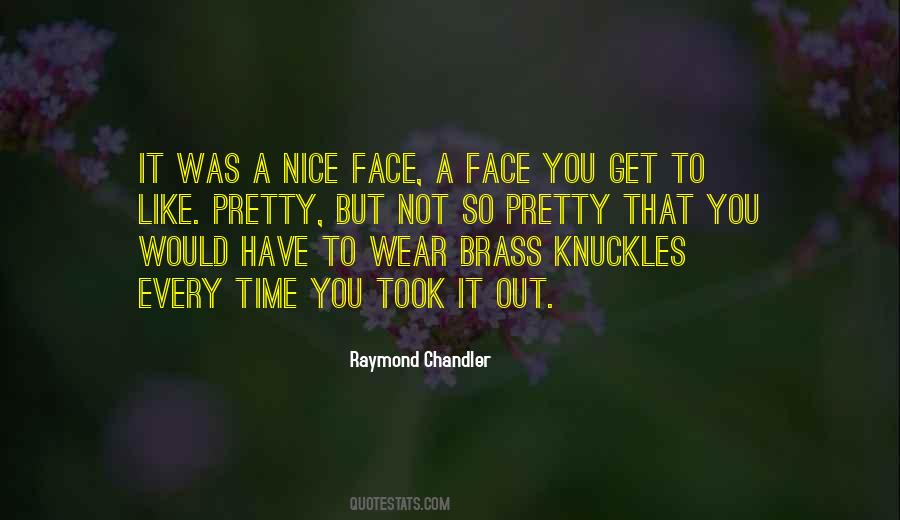 #19. They will always assume that this guy - an upcoming actor, what if he becomes a star tomorrow? He would not work with me then ... so I might as well choose to be nice. But women are not treated with the same attitude. Women they treat really badly. - Author: Kangana Ranaut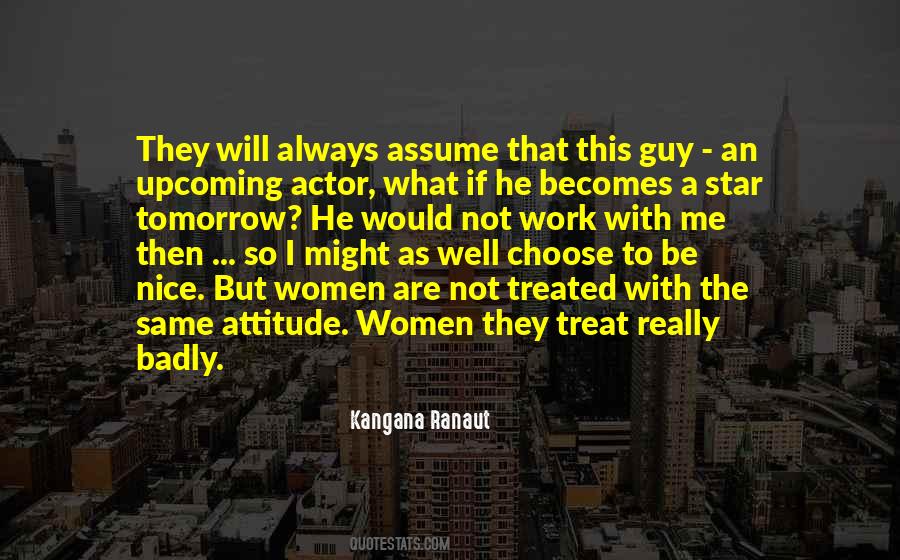 #20. I've always heard that it's not nice to talk about the dead. But it seems to me that's the best time to talk about them. So I hope you'll reserve your opinion of me for a few more years.
Shelley Fraser Mickle - Author: Shelley Mickle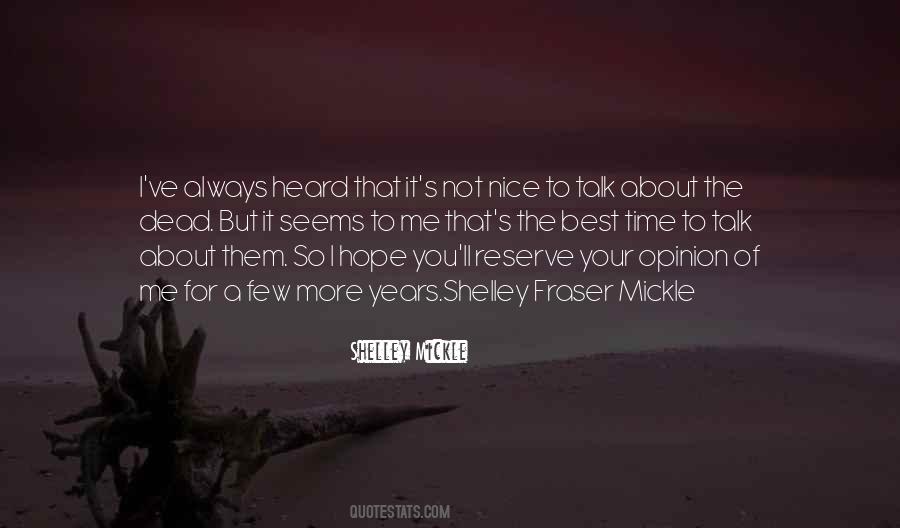 #21. You're not a bad person," she told him, knowing where his thoughts had taken him. "I'm not saying you're perfect. You're cocky and a know-it-all and you're addicted to working. But you've got a nice big dick and great bedroom skills, so I'm willing to overlook all that. - Author: Suzanne Wright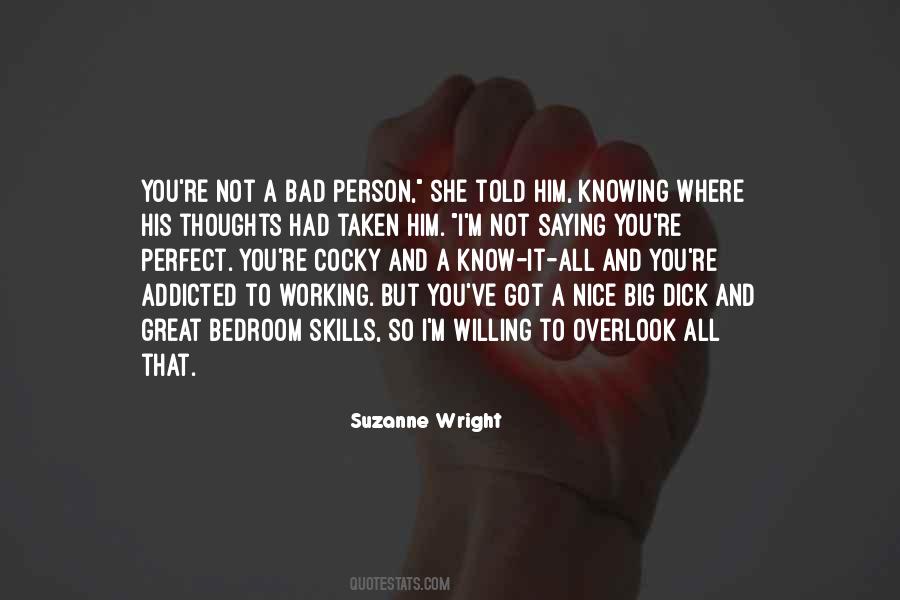 #22. The people who support me are so great! They all say such nice things that make me feel really great. I love it when people compliment me on the way I act, because it is not an easy thing, and there is so much criticism out there. - Author: Austin Butler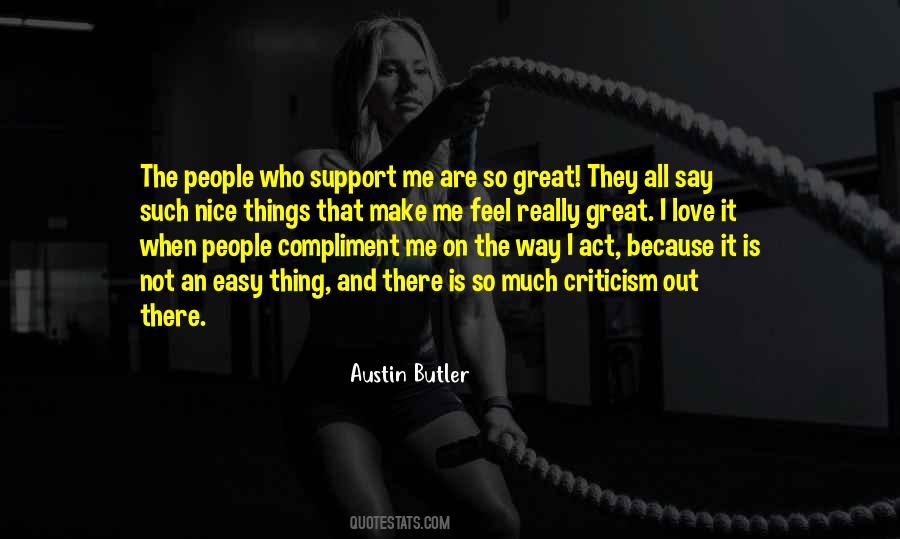 #23. I've learned that if I only put my mind to one thing that I can get tunnel vision. Then I may not be as open to other opportunities because I'm so focused on one thing. I think what's worked better for me personally is I have three goals every day: be nice, work hard, and make friends. - Author: Gigi Hadid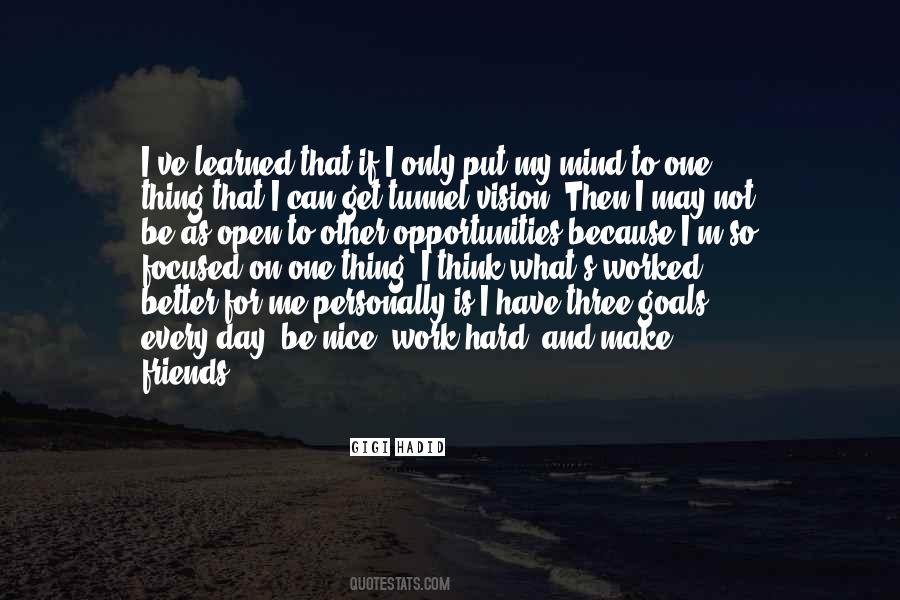 #24. My father told me once not to expect anything from anybody so I wouldn't be disappointed. If somebody was nice and did nice things for me, I should be overjoyed, but I shouldn't go through life expecting it, which is very good advice. - Author: Iris Apfel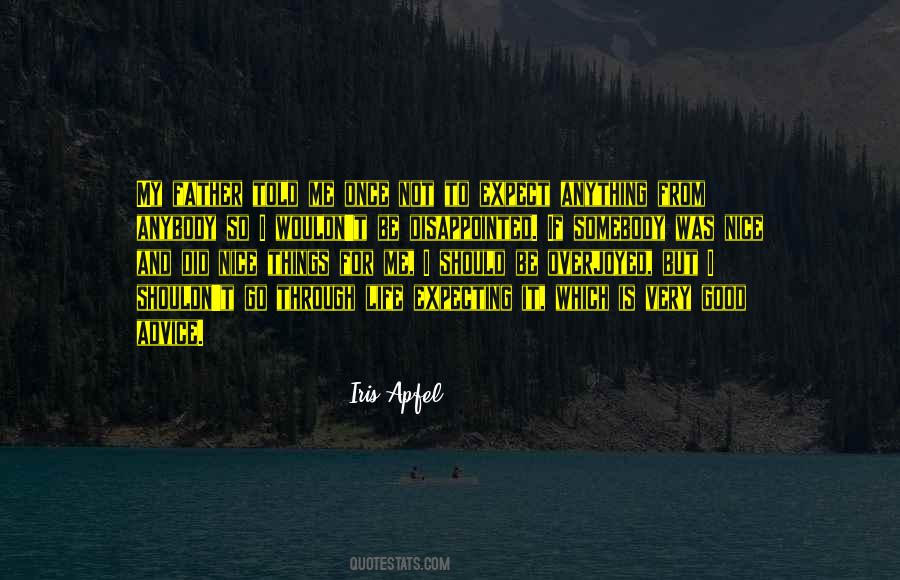 #25. This isn't a nice story, and this isn't an easy story. But it is a story about fairies, so feel free to think of it as a fairy story. It's not like you'd believe it anyway. - Author: Jo Walton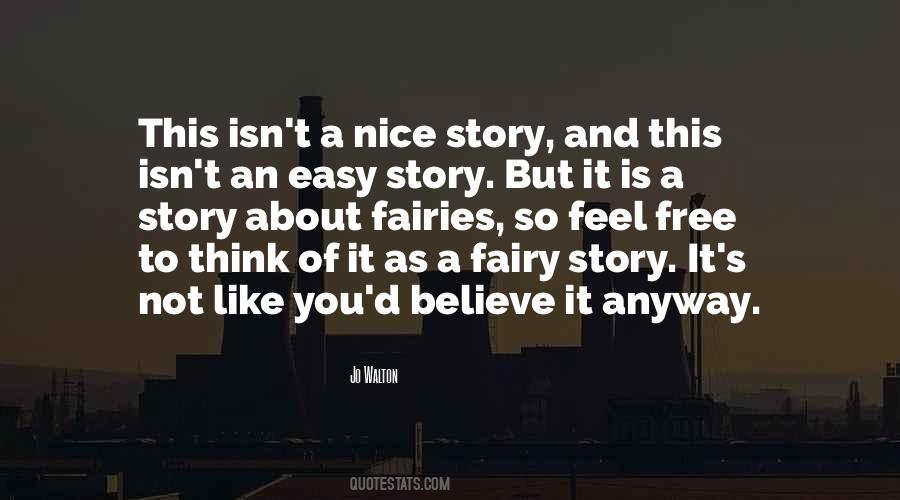 #26. I wondered for a second why I cared so much, but I knew I did. I wanted to be more like the Upper-Cs. Not snobby or mean, but just a bit more. It was hard to explain, I just liked the thought of being dolled up and having a few nice things. - Author: Y.A. Marks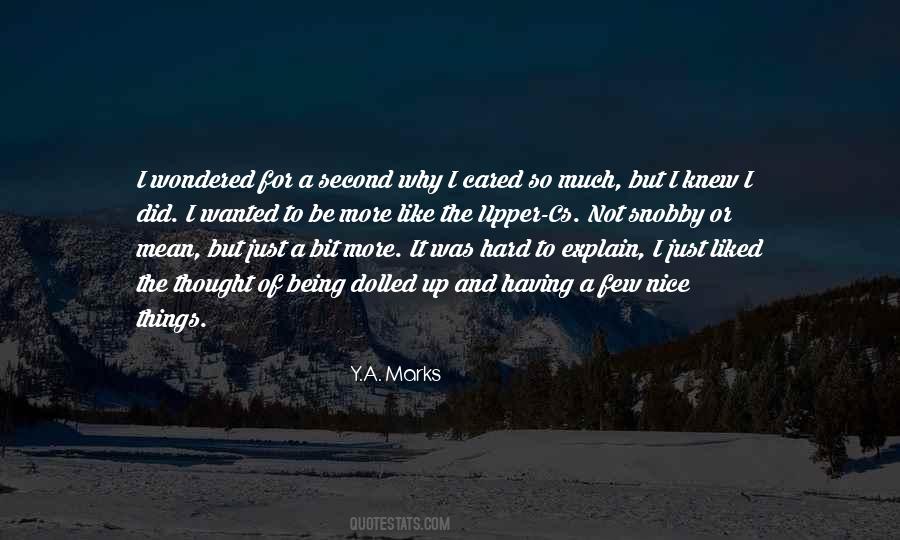 #27. Love is not necessarily about grand gestures. It can be the little things, like someone knows you like a certain food so they pick it up for you. Stuff like that is sweet. It's little things that are nice and thoughtful that you can do every day. - Author: Emma Roberts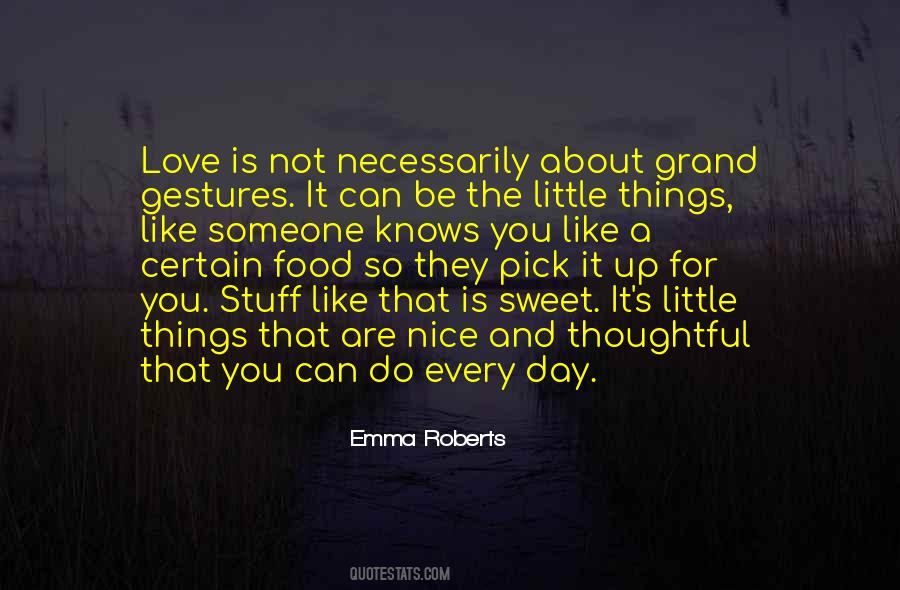 #28. I tend to have to just get away from it all, so it is nice when touring to be able to come home for a week or two and close the door and not really see anybody. - Author: Adam Young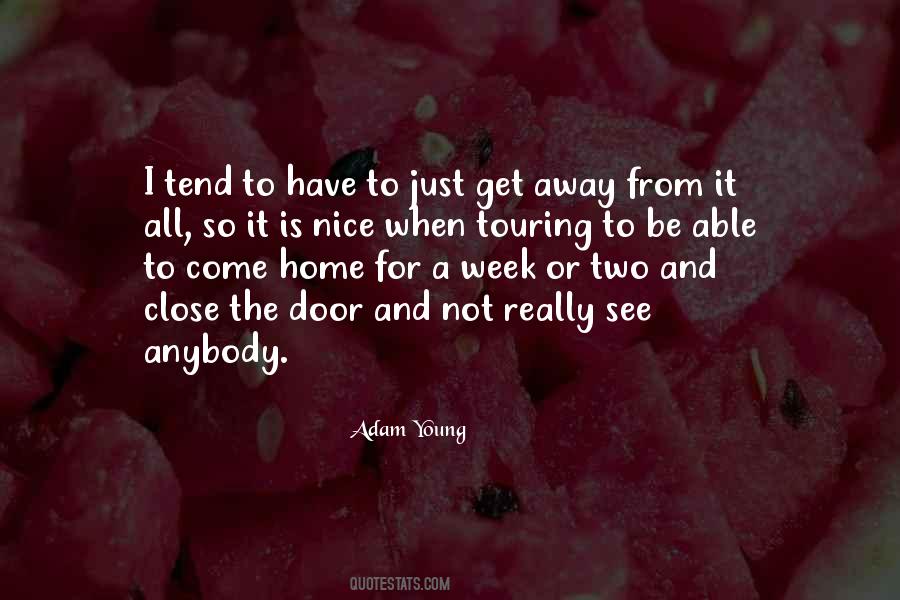 #29. It's easy to scare women. It's even profitable to scare women ... But it's not nice, so let's stop it. - Author: Ina May Gaskin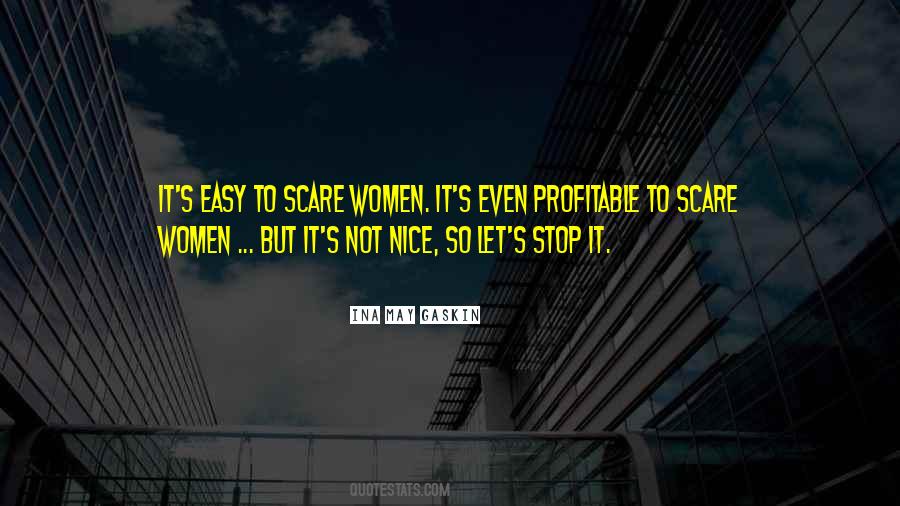 #30. It's nice to always have a job and not be floating out in the ether waiting for whatever the next big thing is. So, in that way I hope there's no a shelf-life for great shows. On the other hand, you don't want to be working on something that's reached its peak and become irrelevant. - Author: Mary Elizabeth Ellis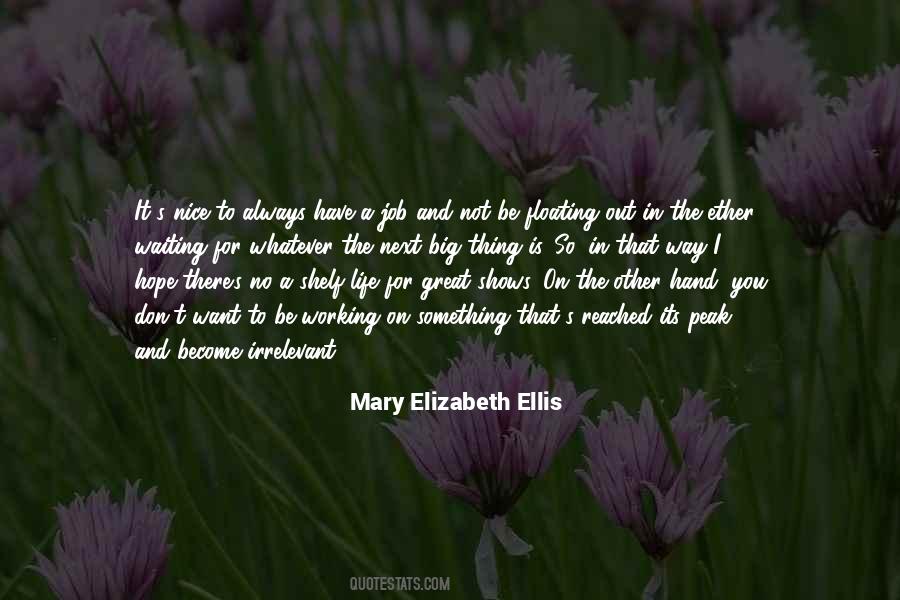 #31. Because I had already resolved that if you're afraid of love, your heart will break anyway, only in not half so nice a fashion as it does when you let somebody love you. - Author: Ann Rinaldi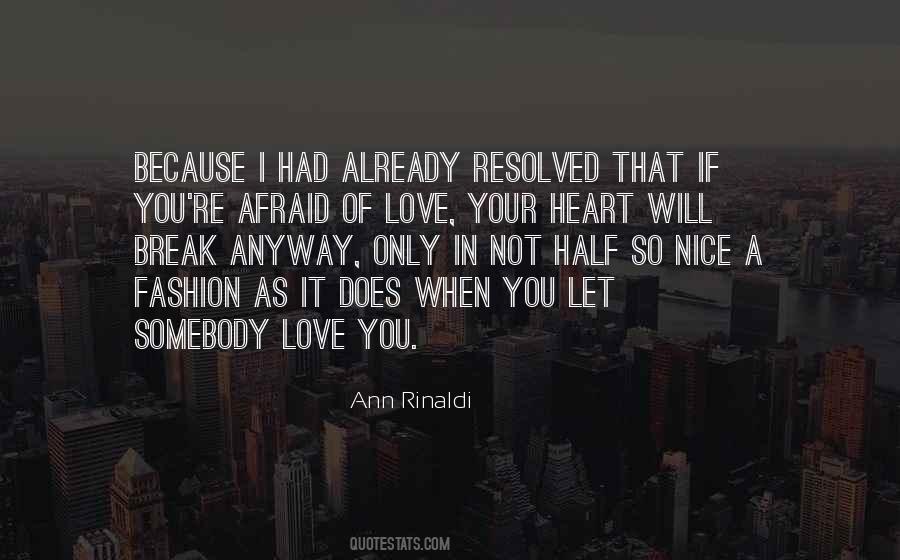 #32. Tris," he says. "What did they do to you? You're acting like a lunatic."
"That's not very nice of you to say," I say. "They put me in a good mood, that's all. And now I really want to kiss you, so if you could just relax- - Author: Veronica Roth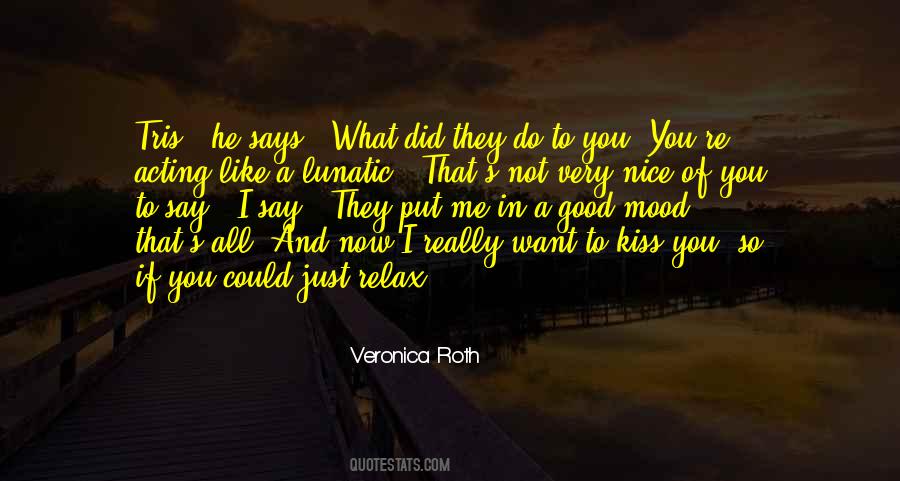 #33. So you want a knife, a nice sharp knife. You hone that blade to its limits. It even cuts through stone when you want it to. It saves your life. And then you're outraged when it cuts you accidentally. You see, knives don't switch off. And neither do people, not when you hone them to a fine edge. - Author: Karen Traviss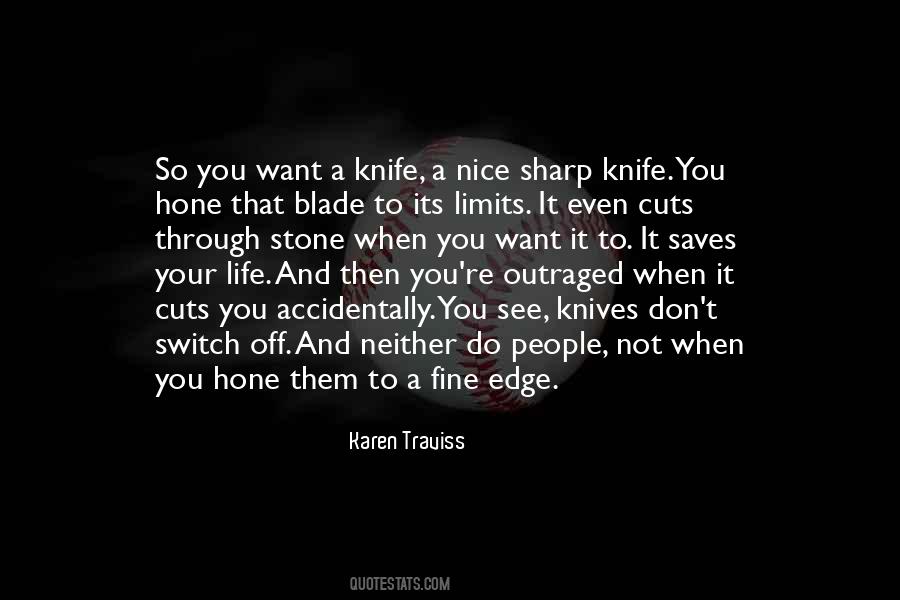 #34. I look at Liv Tyler and think 'It's not fair', because I can't find a flaw on her. And on top of that she seems nice, so it's really not fair. - Author: Tori Spelling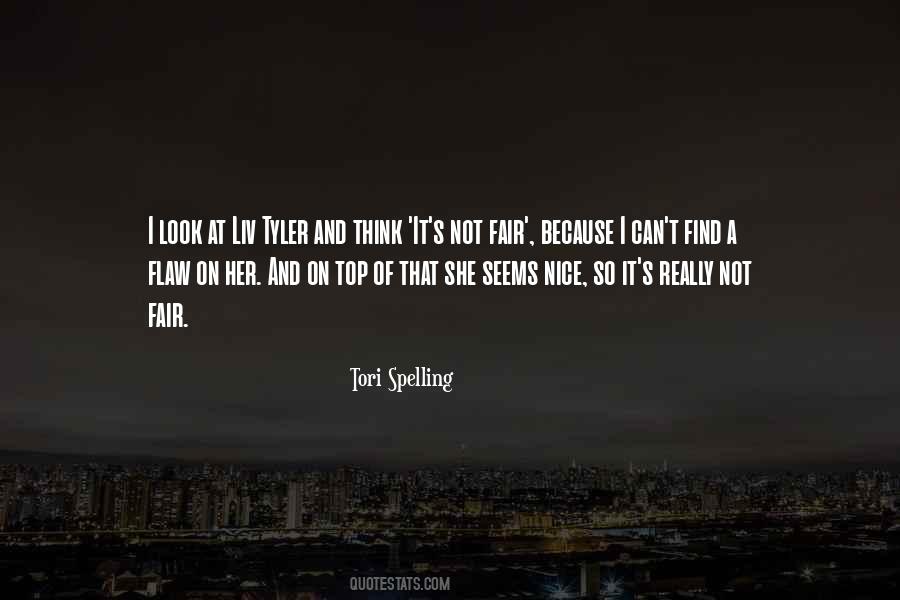 #35. One of the nice things - or not so nice things, depending on your perspective - about not having a cell phone is that you have to know people's phone numbers. Additionally, it keeps you from making meaningless acquaintances. - Author: Penny Reid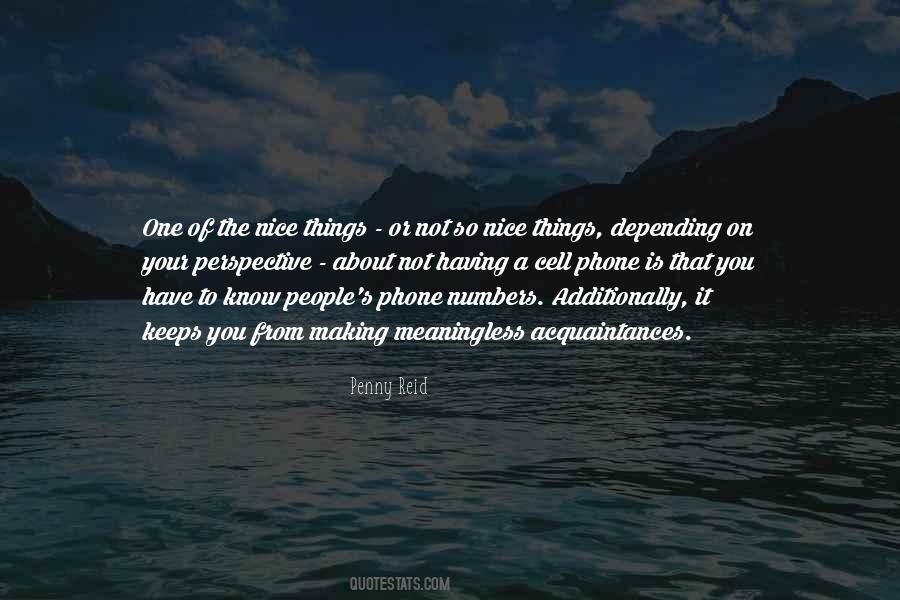 #36. Jesus isn't lettin' you off the hook. The Scriptures don't let you off the hook so easily ... When people say, you know, 'Good teacher', 'Prophet', 'Really nice guy' ... this is not how Jesus thought of Himself. - Author: Bono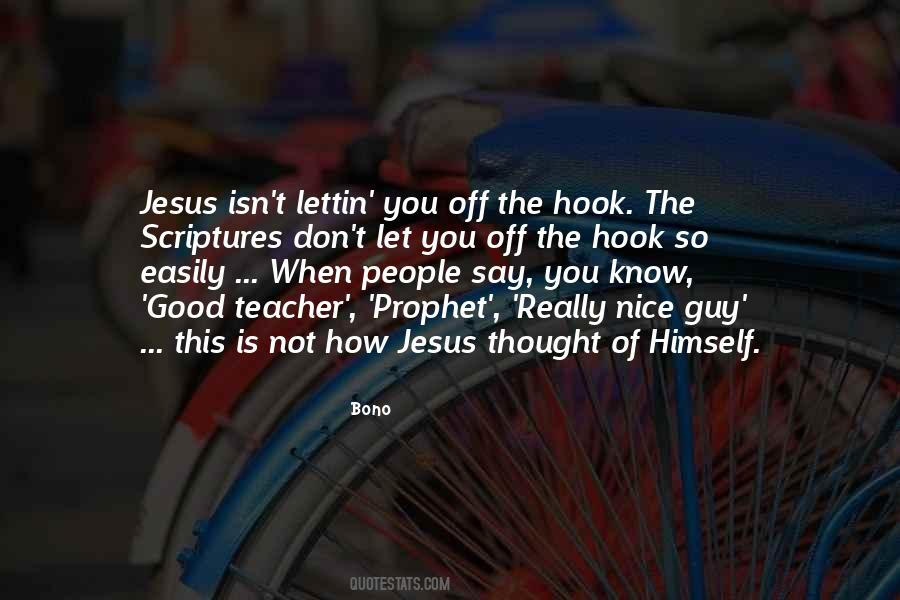 #37. You're so nice. You're not good, you're not bad, You're just nice. I'm not good, I'm not nice, I'm just right. I'm the witch. You're the world. - Author: Stephen Sondheim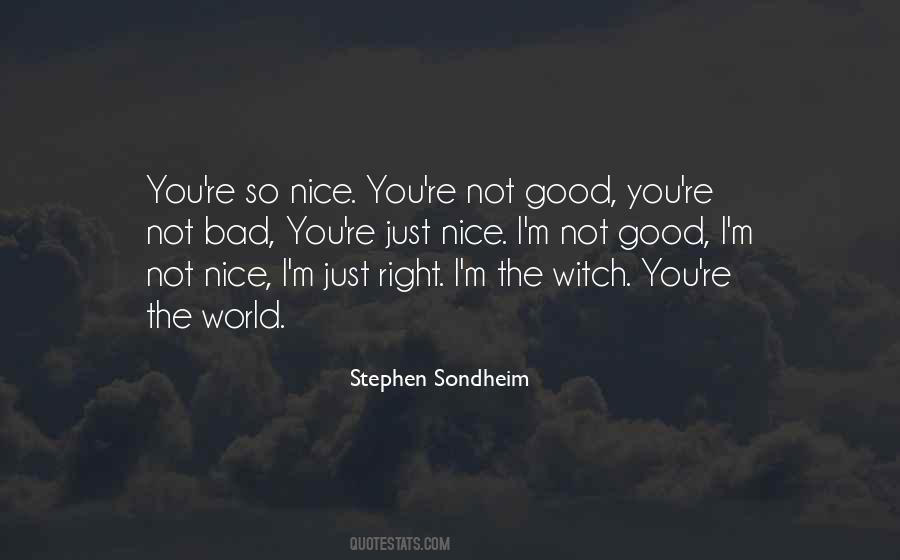 #38. I was born not too far from Minneapolis, so it's nice to come back and visit. - Author: Marion Ross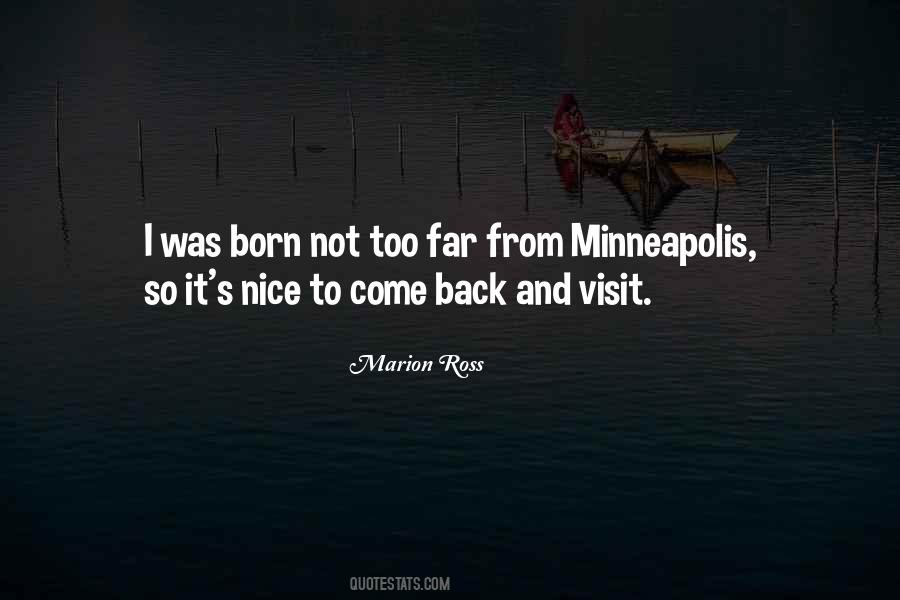 #39. The nice thing about programming at the RDF level is that you can just say, I'll ask for all the books. You can ask for all the shelves. You can ask for a given shelf whether a book was on it. And you're not worrying so much about the underlying syntax. - Author: Tim Berners-Lee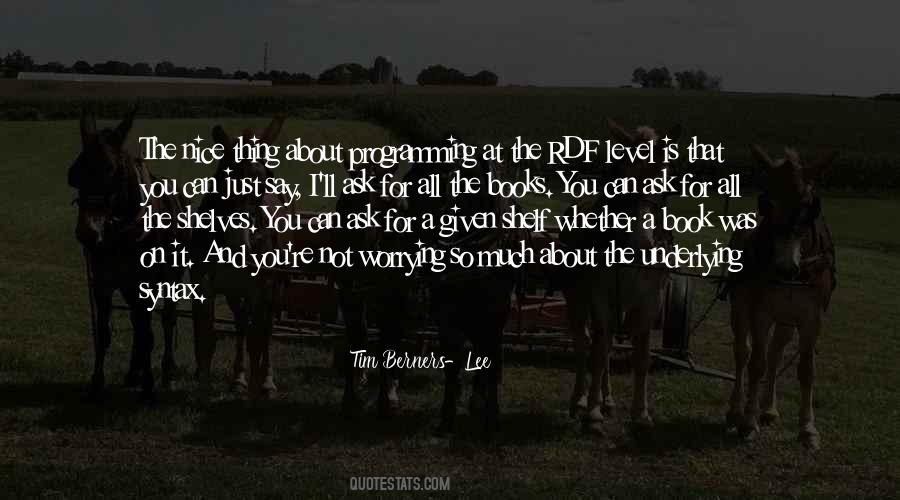 #40. I've had letters from people who have read my articles and said, 'I'm a guy, I'm 18, and I've not come out to my mom and dad yet, but it was so nice to hear your story, and you know, I wish your article would have been longer, because you gave me hope for the future.' - Author: Luke Evans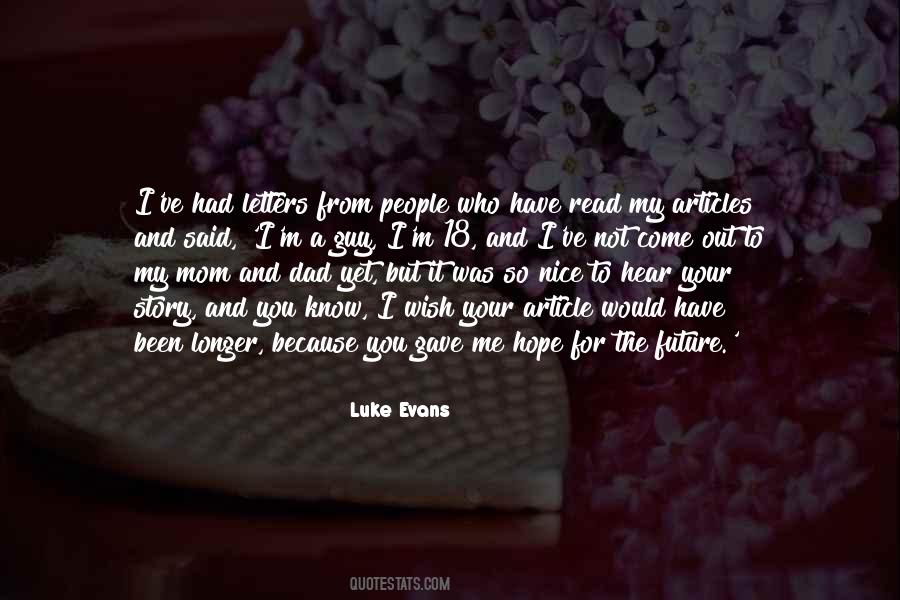 #41. Gypsy aren't only poor, but they are brutal and not so nice people. World has smashed them, that they start making revenge by behaving bad to dogs, like "Hey, I'm the boss". But nobody stand up and do something about that! - Author: Deyth Banger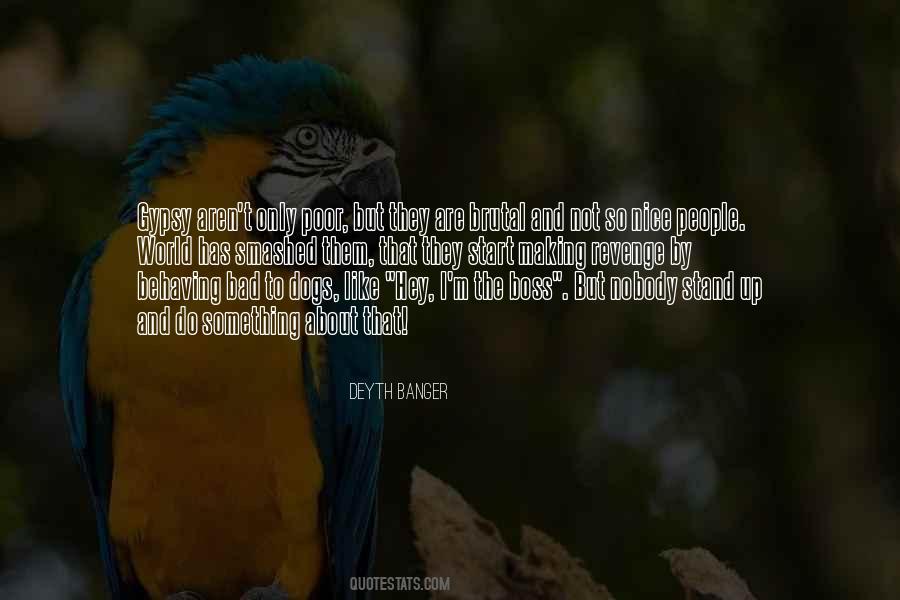 #42. Acting is so much about waiting ... waiting for an audition, waiting for the right part to come along. It's nice to write your own thing, write about what you're feeling and then go out and perform them. It's a nice thing to have and not get bored. - Author: Emily Kinney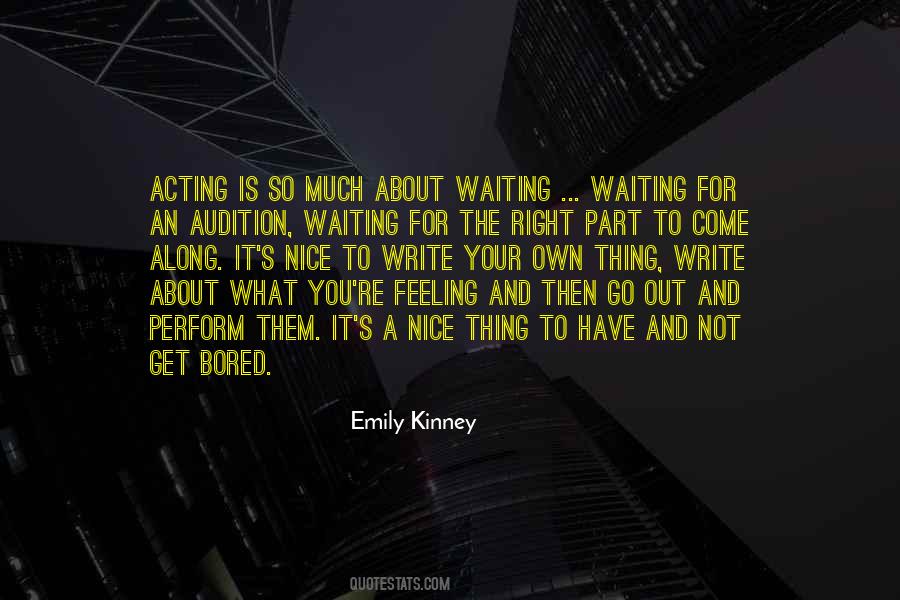 #43. I come from New York originally, but Californians have been wonderful about animals. These animals are so nice and so good and so sweet and intelligent. It's a crime not to help them. - Author: Dick Van Patten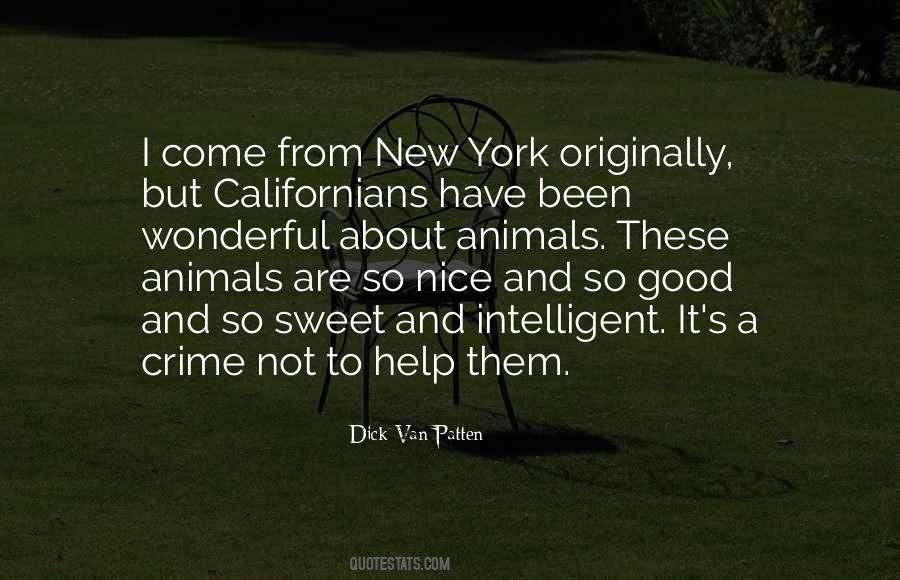 #44. And think about the precise meaning of that term: a Narcissus is not proud. A proud man has disdain for other people, he undervalues them. The Narcissus overvalues them, because in every person's eyes he sees his own image, and wants to embellish it. So he takes nice care of all his mirrors. - Author: Milan Kundera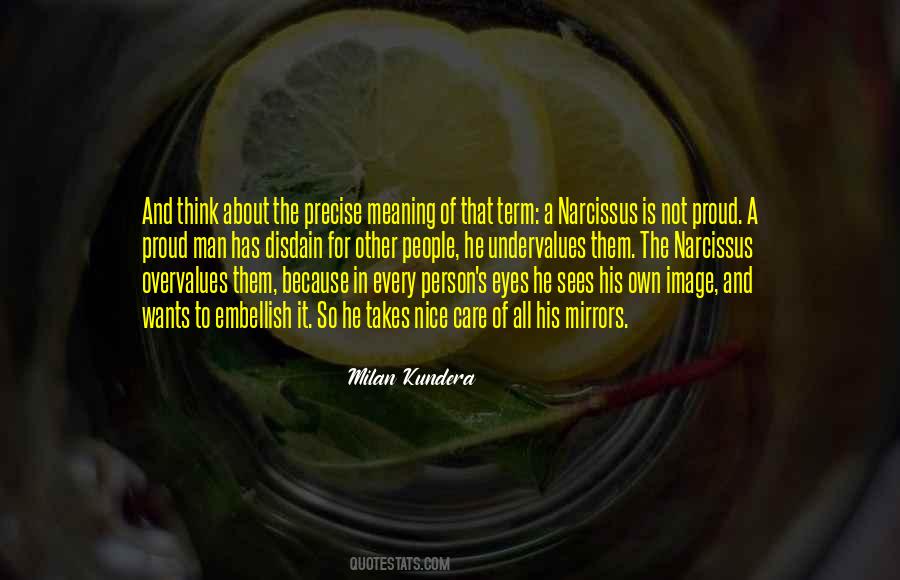 #45. It's not often that I read about actors that I'm going to be meeting. I get to read articles about actors who were going to come in, so I get to see someone and say, "Oh, I read that I was going to see you. It's very nice to see you." - Author: J.J. Abrams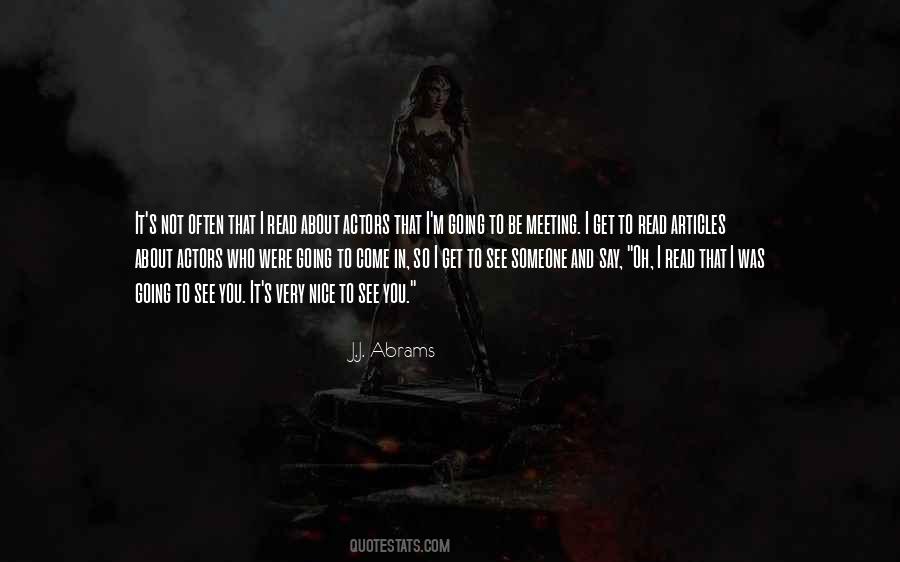 #46. I Googled myself, and I saw some nice things and some not-so-nice things. I've learned that that stuff isn't real, and it doesn't exist unless you look at it. - Author: Lily James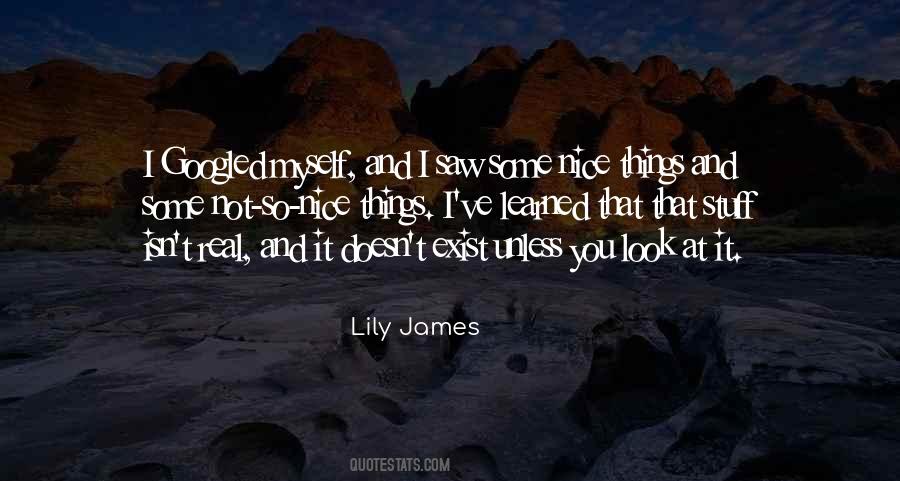 #47. Being comfortable is nice, but there is a price to pay. We only get to live this life once, so why not make it count? - Author: Andrew Griffiths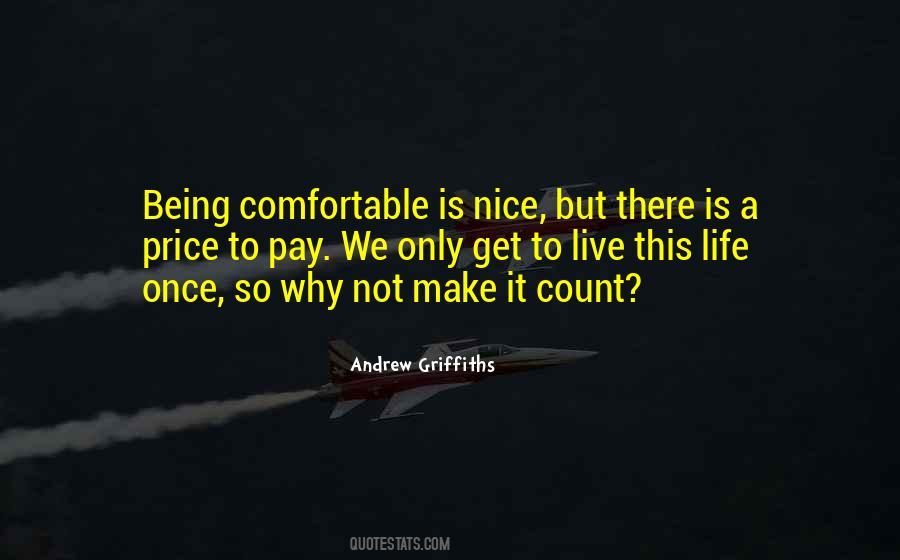 #48. Seeing the transformation in Aaron made me wonder how it would feel to have someone-even a not-so-nice guy like Aaron- look at me the way he looked at Anjali. - Author: Polly Shulman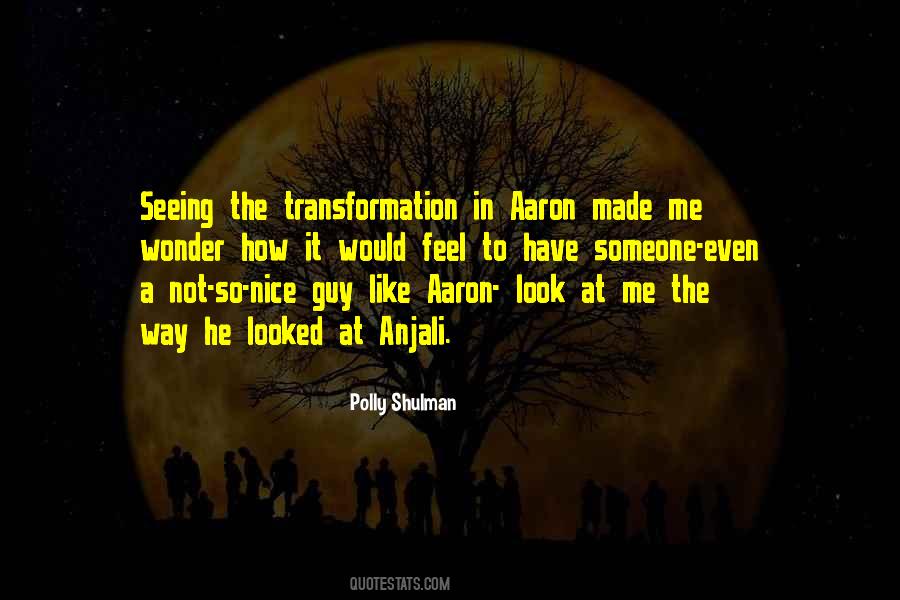 #49. People always need hope." "Not always. Too much hope makes for a life full of loose ends. It's not nice to wake up every morning with a life full of loose ends." "So - Author: David Machado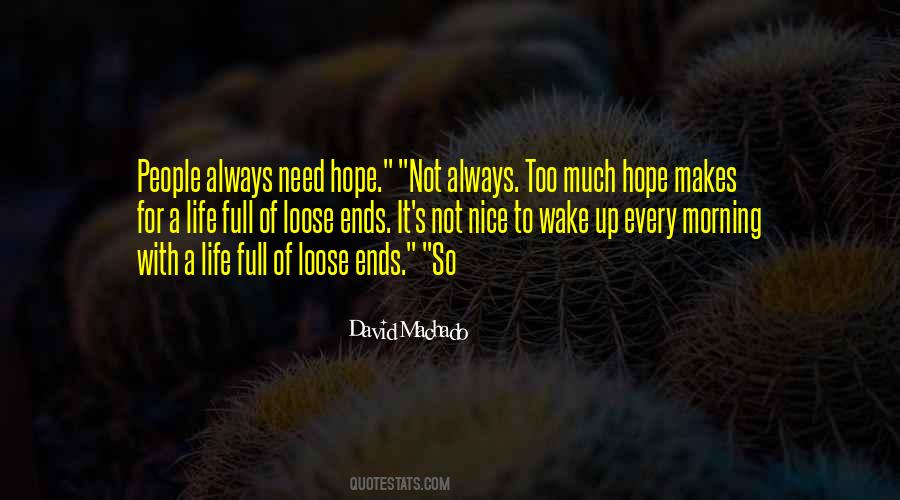 #50. I think the only universal thing is one individual. If you talk about a country or a nation or a culture, it's so vague. I mean what is a nation? A nation is full of nice and bad and long and tall and short and thin people. It's not like everybody is the same. - Author: Marjane Satrapi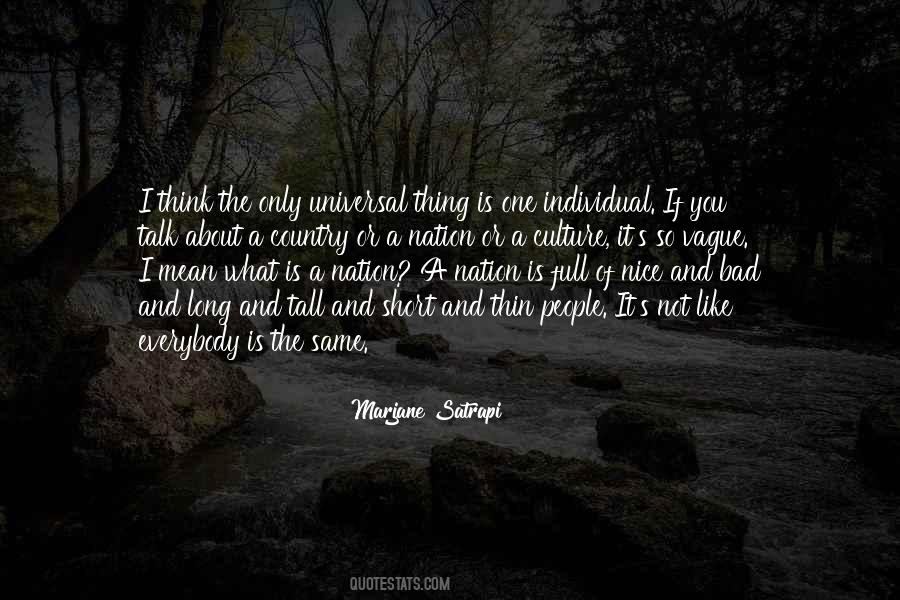 #51. You know, last season I didn't do anything on the show, so I was frustrated. I mean, don't get me wrong: It's nice to get a paycheck. But if you don't really do anything it's not very satisfying. - Author: Lorraine Bracco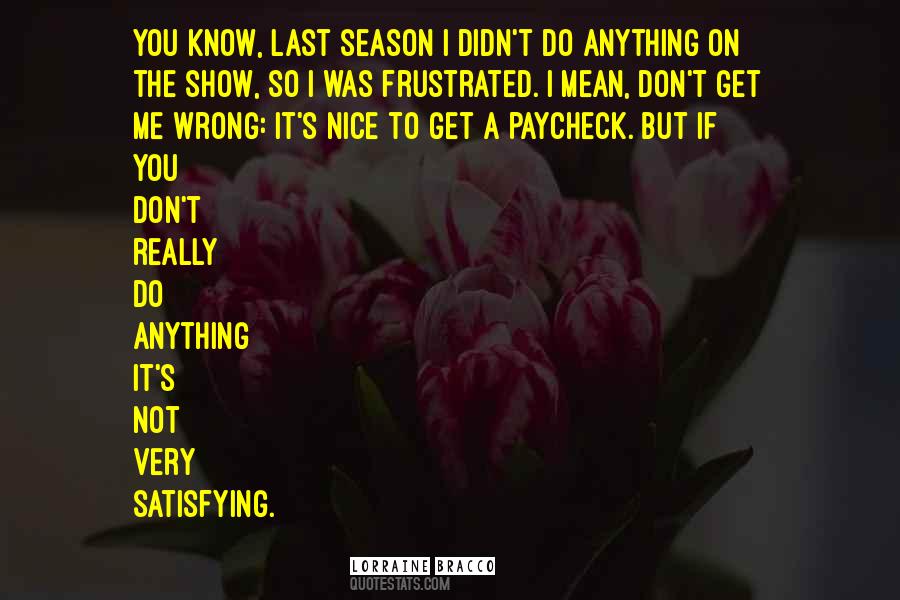 #52. Make 2012 the year that you were nice.. because people don't like not nice people.. so be nice.. all the time! - Author: Harry Styles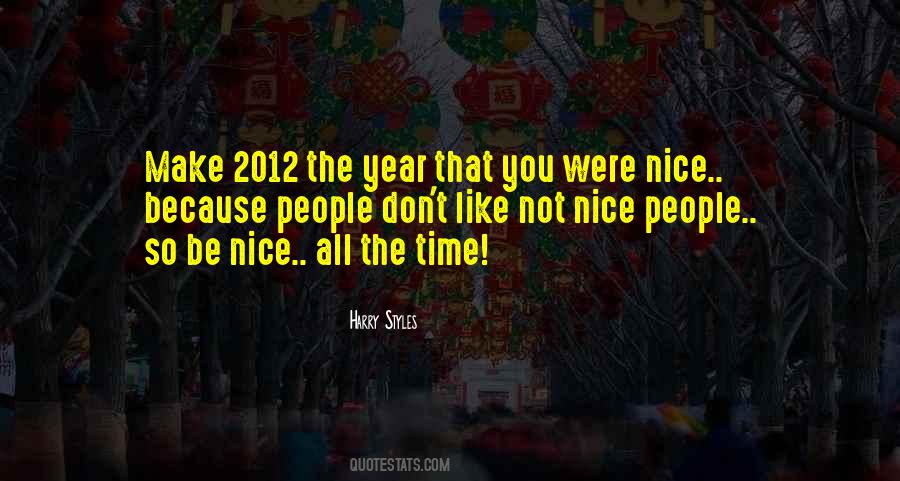 #53. Fine," he said. "You're right. We're not normal. We're the most fucked-up, star-crossed lovers in history. So let's not play nice. - Author: Larissa Ione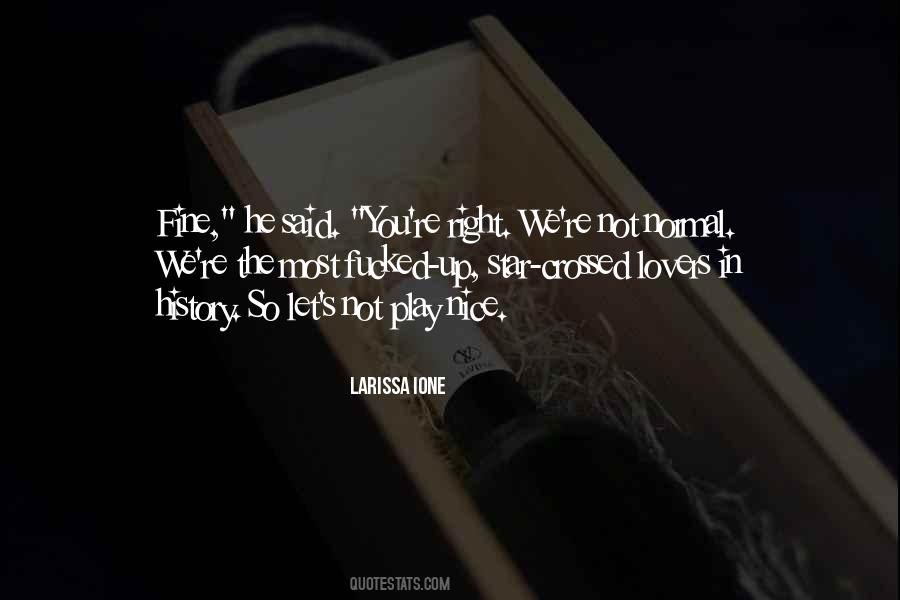 #54. I'm not kind, darling. I'm only nice to people when I'm planning to take advantage of them." Lillian responded with a carefree grin, daring to ask, "Am I in danger from you, my lord?" Though his expression remained relaxed with good humor, his eyes were disturbingly intent. "I'm afraid so. - Author: Lisa Kleypas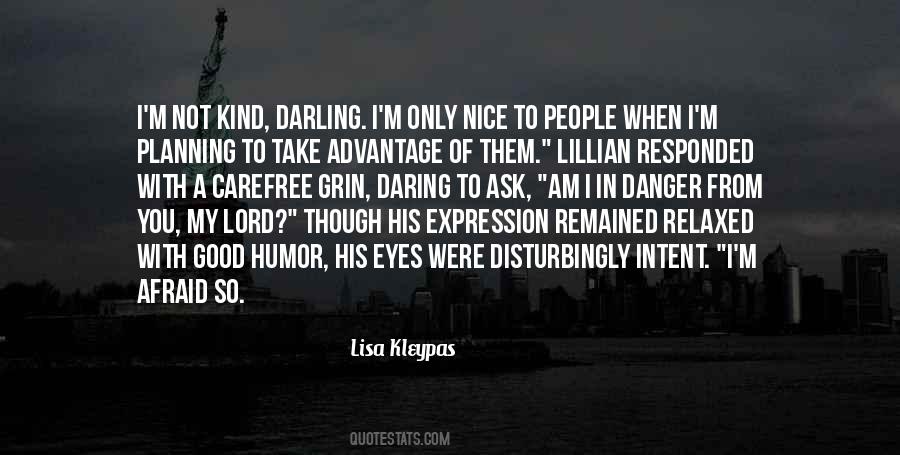 #55. I have,' Georgina said. 'I go home once a year to see my mam. It's a lot of suffering for a week. By the time I've recovered I have to go back. But I love seeing them all. We're not getting any younger, any of us, so it's nice to spend a week together. - Author: Colm Toibin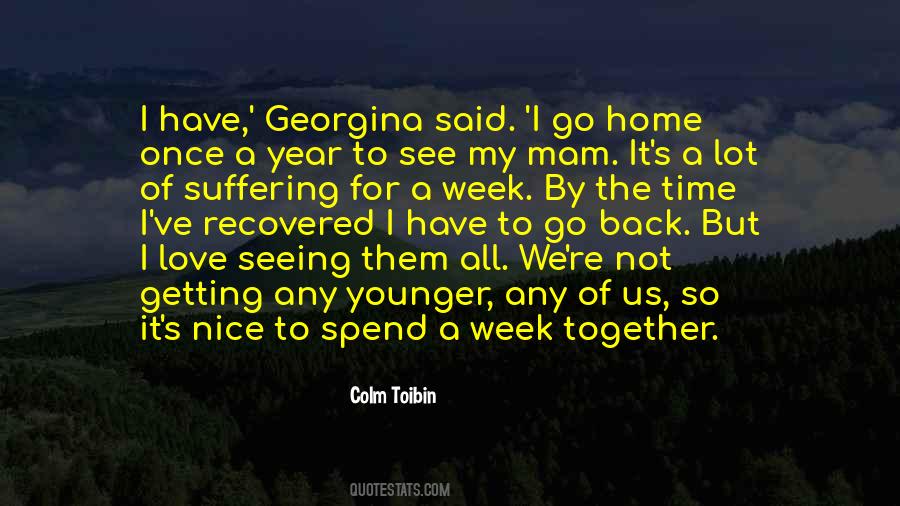 #56. I've had lots of people saying very nice things about the work. But I genuinely feel in the course of a writing career you're going to have people say very nice things and some not-so-nice things, and if at all possible you should try to ignore both. - Author: Kevin Barry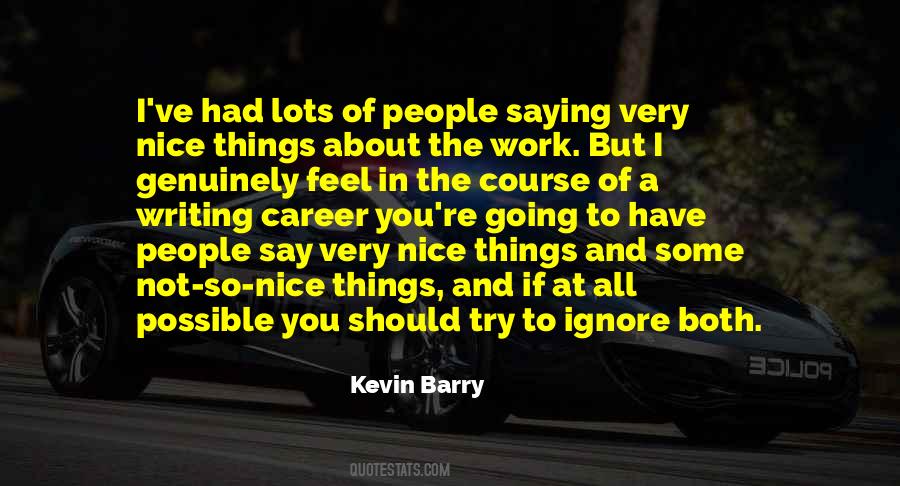 #57. Sometimes friends grow apart. You tell each other everything and you're sure this is a person you'll know the rest of your life but then she stops writing or calling, or you realize she's really not so nice, or she turns into a right-winger. - Author: Anita Diamant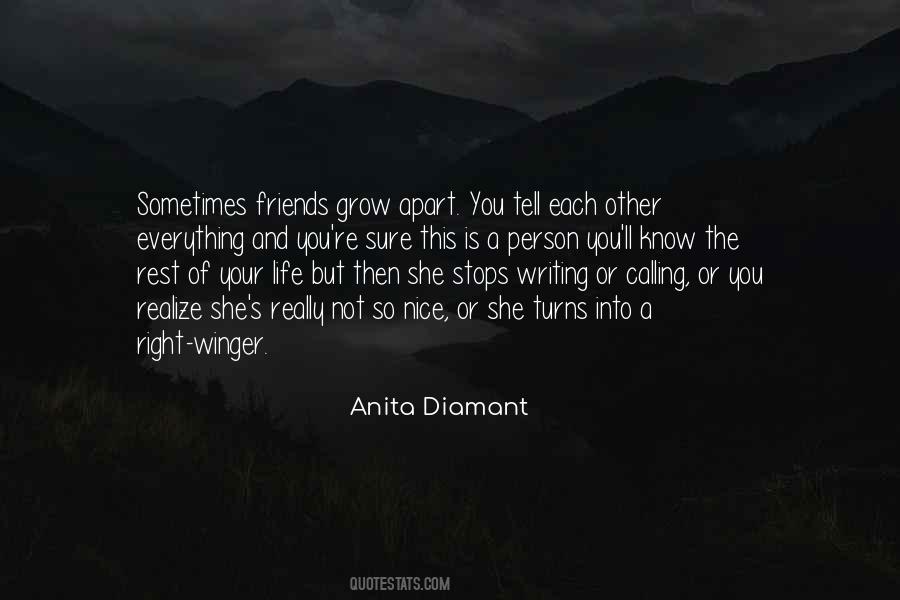 #58. Okay, so we're in Georgia. I can do this. I'm not just the new girl. I'm a vampire. I don't have to be afraid of mean girls and gossip anymore. I could snap their necks in half - er, not that I will or anything, but it's nice to know that I can. - Author: Tamara Summers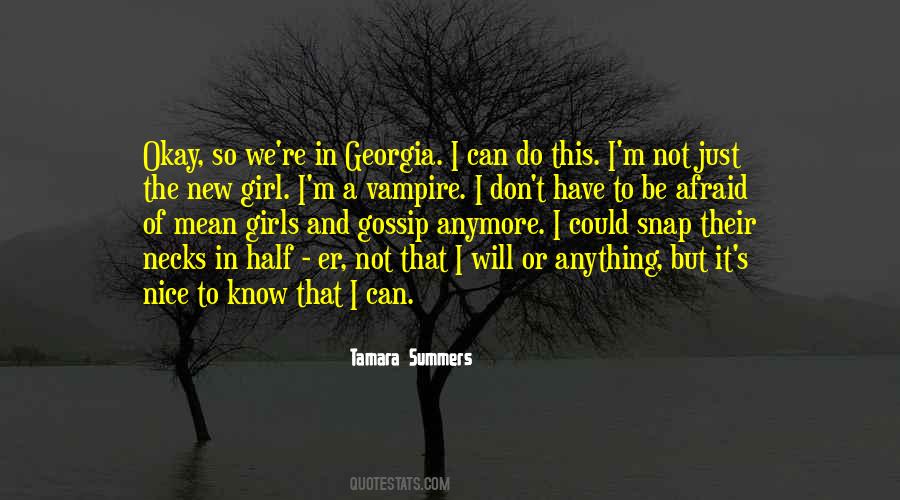 #59. I try not to read best-dressed lists or anything like that. For every good thing, there will often be a not-so-nice thing people would say. - Author: Nina Dobrev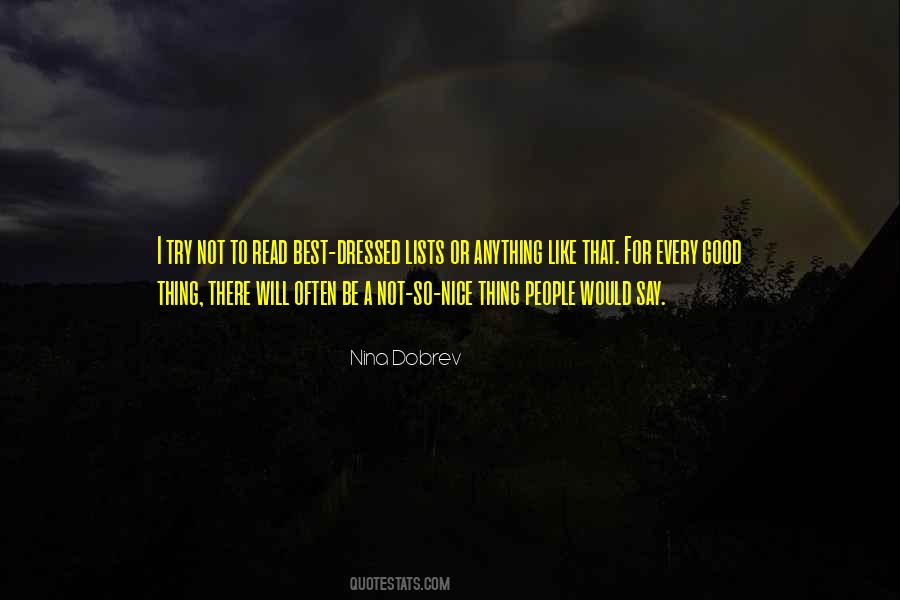 #60. The fans have been very nice to me and I might say that all those fans that Frank said went away is not so. - Author: Jimmy Carl Black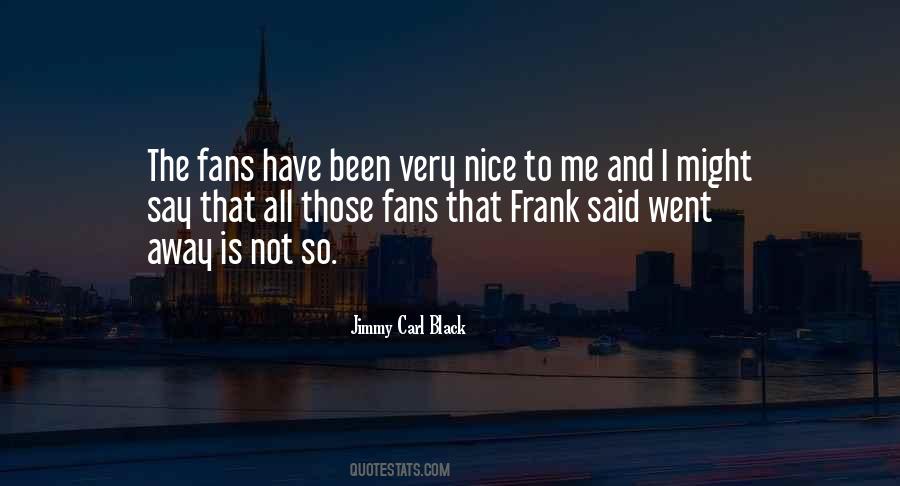 #61. Switchblade," I said. "Nice. I could use one of those."
"That's not enough?" He whispered, pointing at my gun.
"It does the job, if the job us to kill. I need a backup that's not always so lethal."
"You could try getting yourself into fewer situations where you need a weapon. - Author: Kelley Armstrong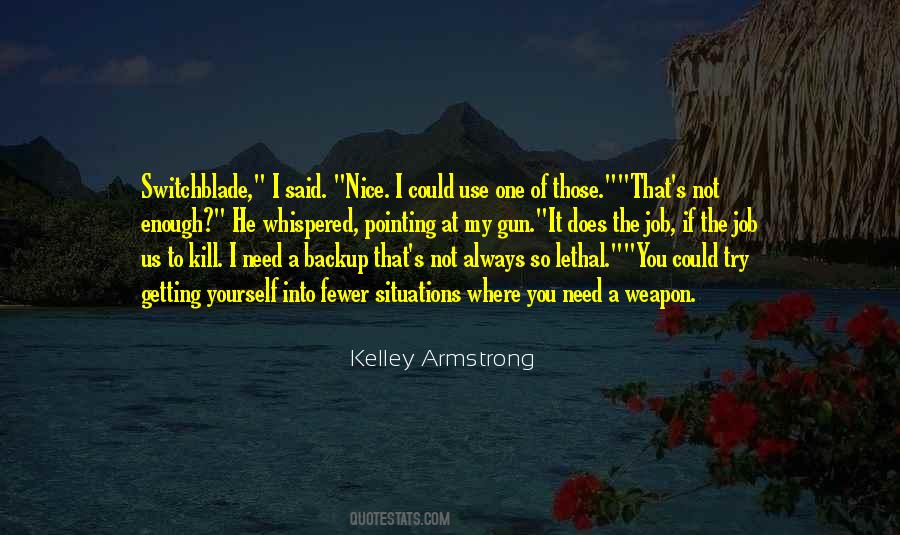 #62. I mean, I'm in a band, we're reasonably successful, I've got a very nice suit - I'm not even a bad person- so why can't I get a shag? - Author: Colin Greenwood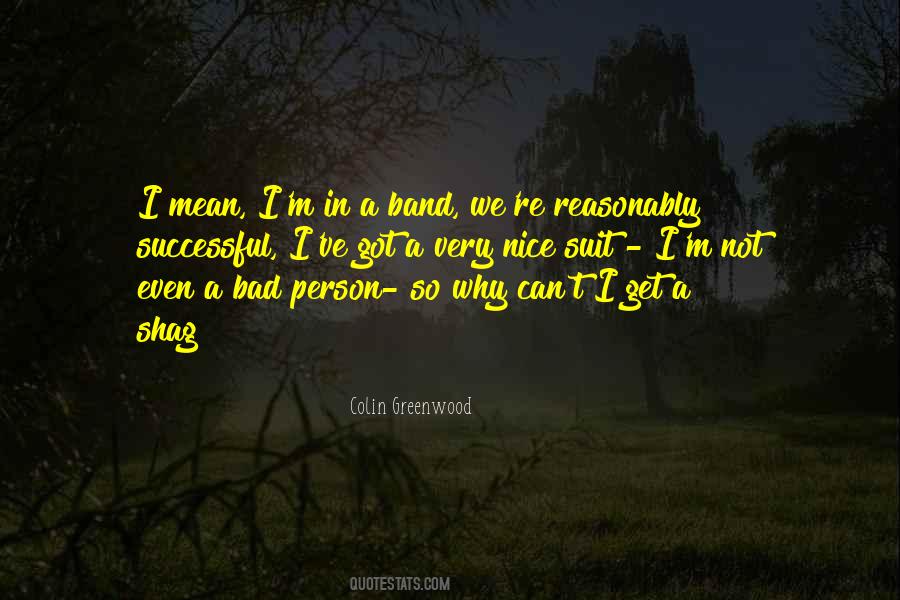 #63. I love hiking in the hills not far from my house. I'm invested in my hikes. Sometimes kids go up there and spray-paint over the signs; I've found a biodegradable paint cleaner, and I'll scrub the signs so they're nice and clean. - Author: Nathan Fillion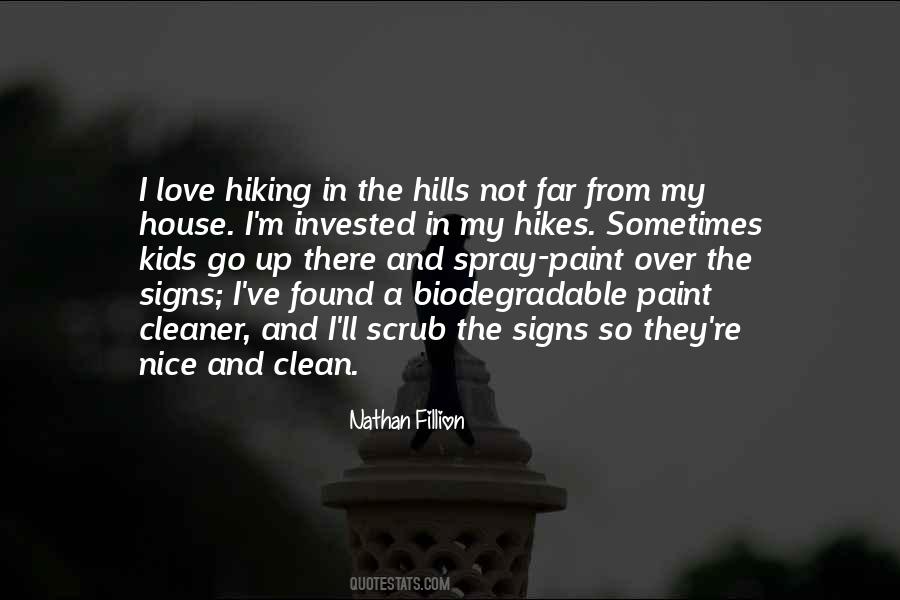 #64. I am so useful. I am not alone. And neither is he. "It must be nice," said Aubergine suddenly, "to have a friend like that, and like things so much." Yes. - Author: Catherynne M Valente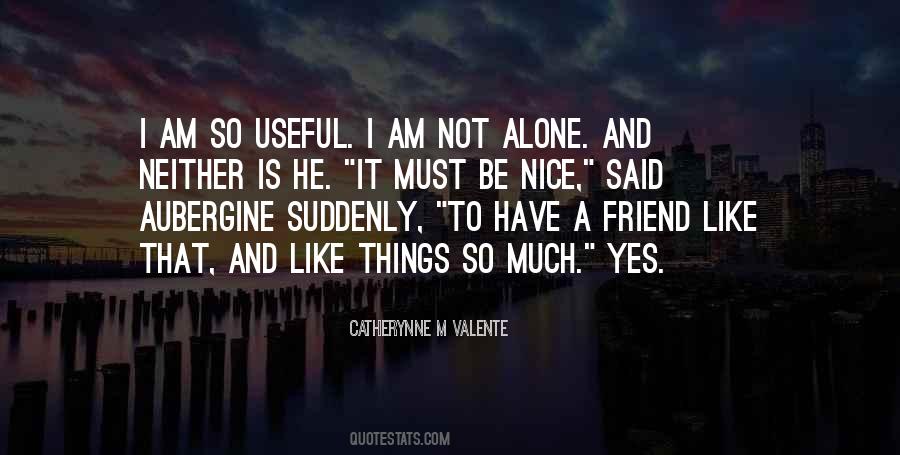 #65. I don't have to ask anyone's permission to do anything. It's nice not have to get decisions out of three, sometimes four people, which can be like pulling teeth. So the amount of control that I have over what I'm doing is better for me as a solo artist. - Author: Graham Nash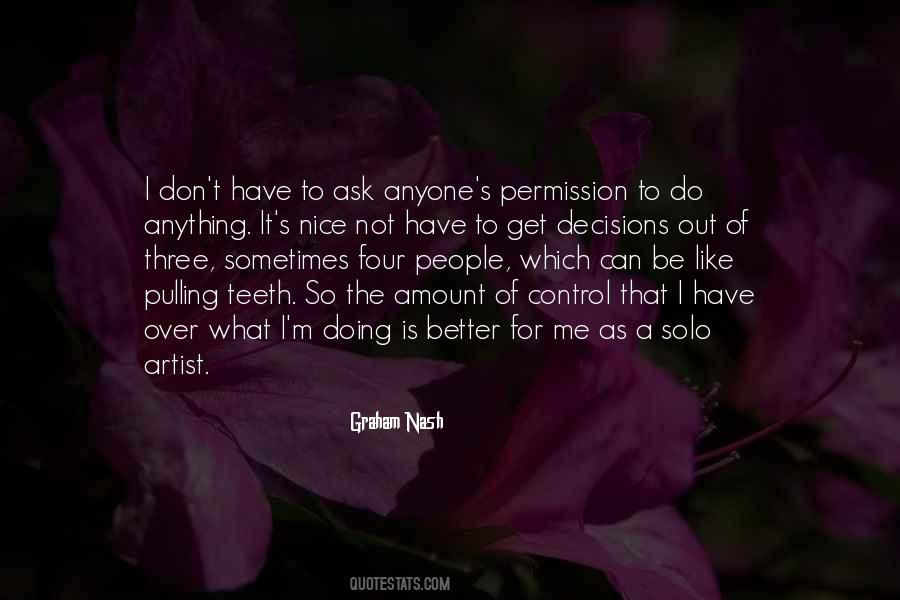 #66. It's not about how big or expensive a present is, it's the thought that is so nice. - Author: Dionne Bromfield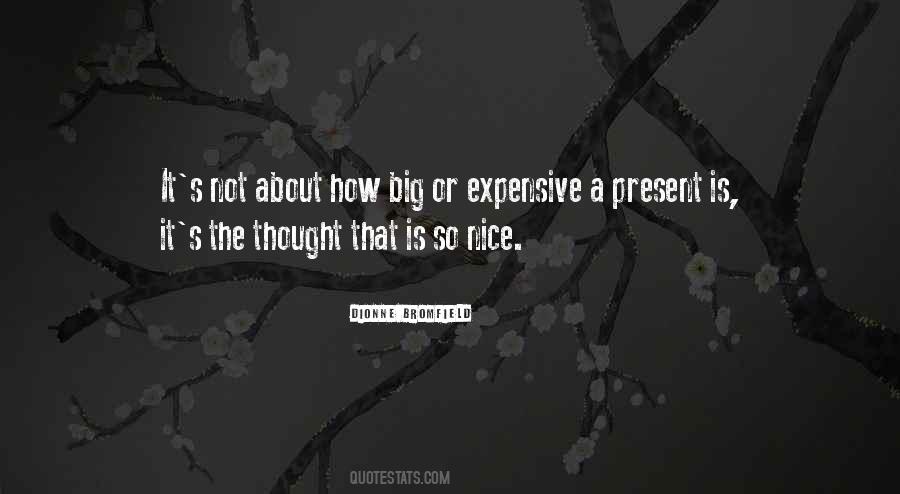 #67. Minks are mean little critters. Vicous, horrible little animals who eat their own. They're not beavers. I wouldn't wear beavers. I'd rather have a mink coat made of mean little critters that are killed in a very nice way and treated nicely for their short, mean lives so that I could keep warm. - Author: Valerie Perrine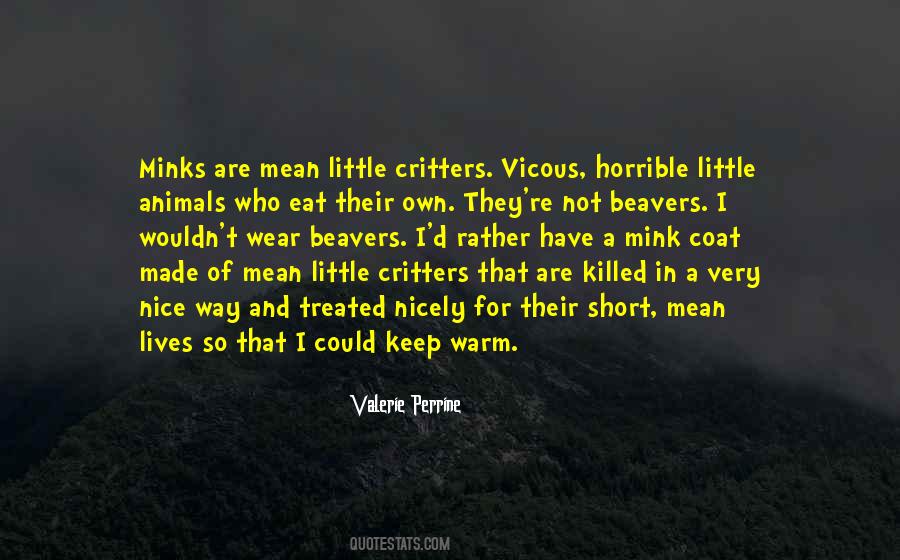 #68. I think being nice and being safe is unfair to yourself when you have big dreams as a woman. I think you have to prepare yourself that not everyone in this world has the same personality ... The one thing I've chosen to be great at in my life is singing - so why not be proud that I'm great at it? - Author: Jessie J.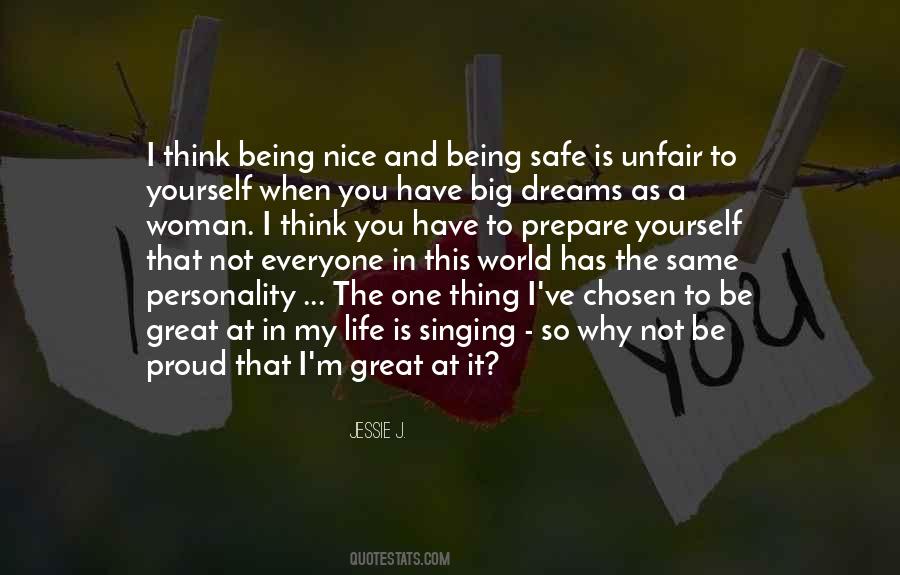 #69. So are you and Marcus finally getting along?" he asked.
"She threatened to castrate me," Marcus said.
I nodded. "Sure did."
Will blinked and stiffened uncomfortably. "Oh."
"That's not nice, Ell," Kate scolded. "Boys need those. - Author: Courtney Allison Moulton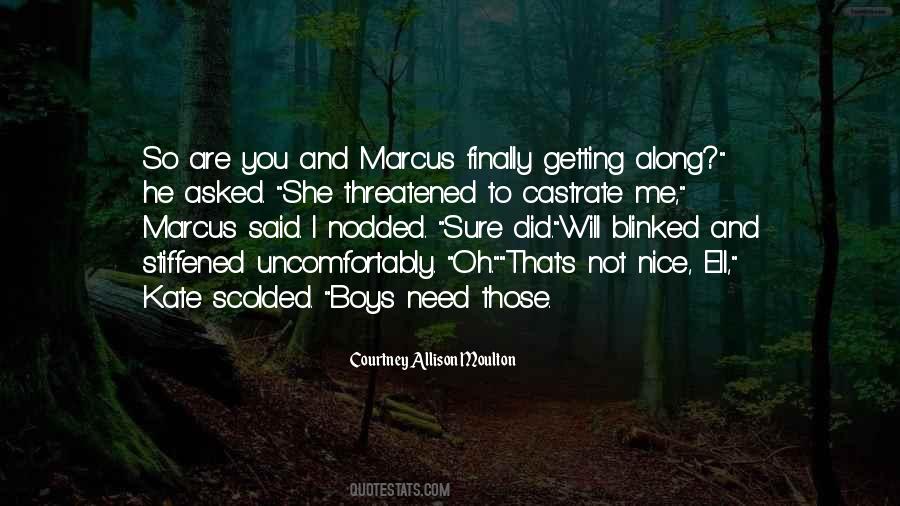 #70. It is so nice when you can sit with someone and not have to talk. - Author: Harry Burns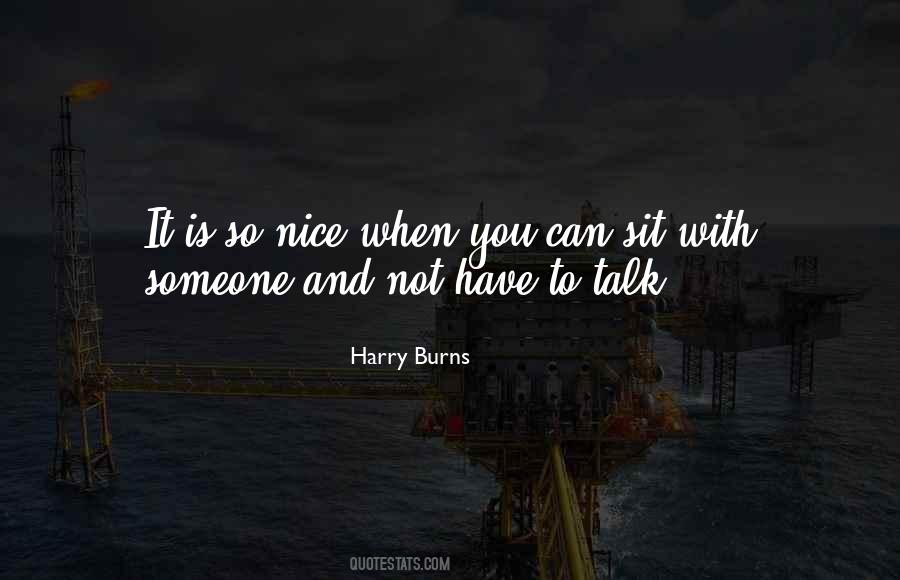 #71. I don't need the audience, but sometimes it's nice to have a gauge - not so I know how I feel, but so I get what is or isn't working for moviegoers. - Author: Wesley Morris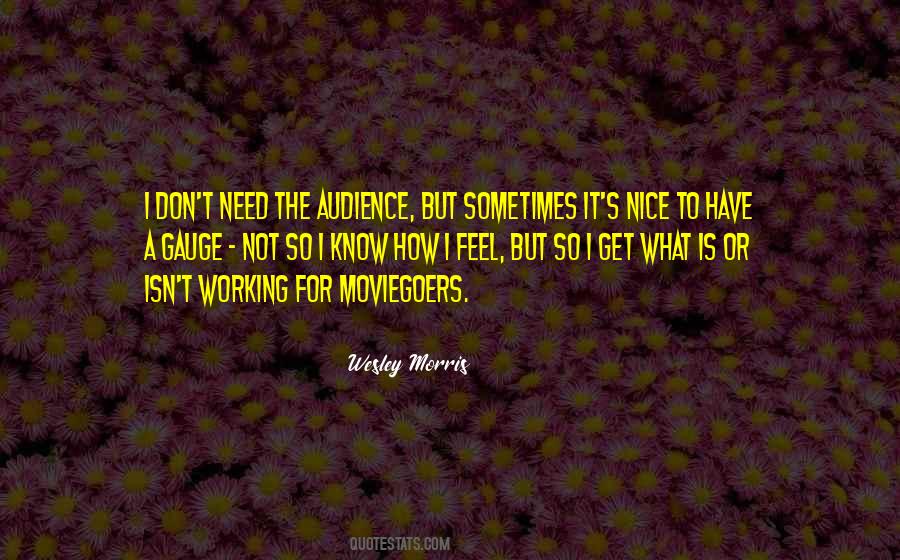 #72. That was a nice save," Harlin says, sounding amused. "So detailed. Like a nurse."

"Shut up, Harlin," I say, trying not to smile. "I didn't hear you offer anything better."

"You sure you didn't want to tell him we were playing doctor? That might have sounded more believable. - Author: Suzanne Young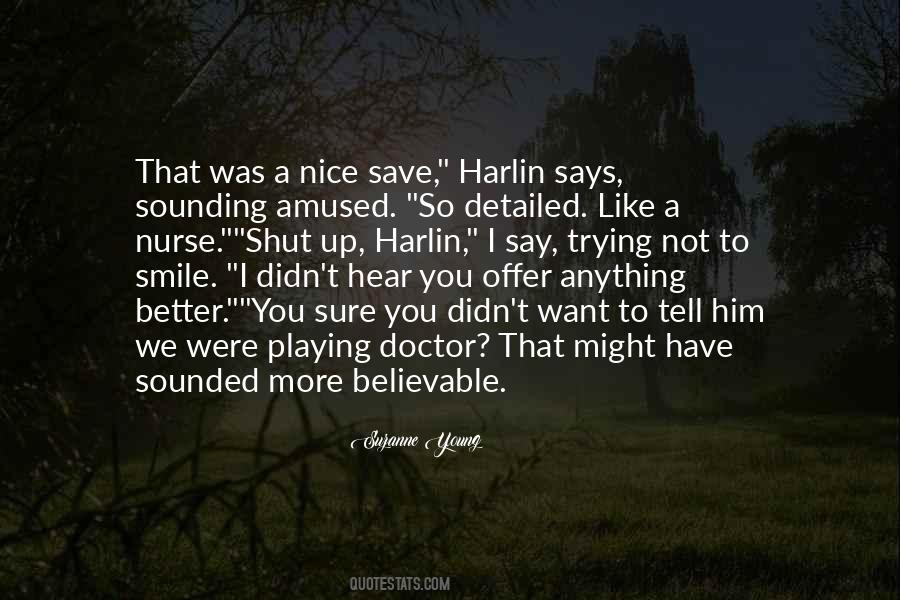 #73. It's so hard for women - even nice women - to realize that their bodies are not irresistible. - Author: Raymond Chandler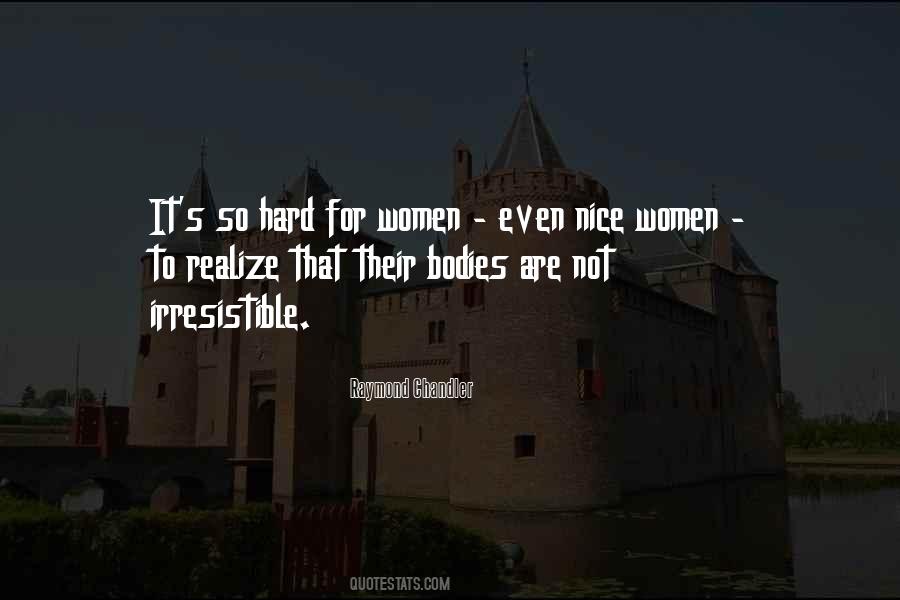 #74. So nice to see you, human," a voice purred from an overhead branch. Grimalkin sniffed, looking from me to Keirran, and smiled. "How amusing that you are both here. The queen is not at all happy with either of you. - Author: Julie Kagawa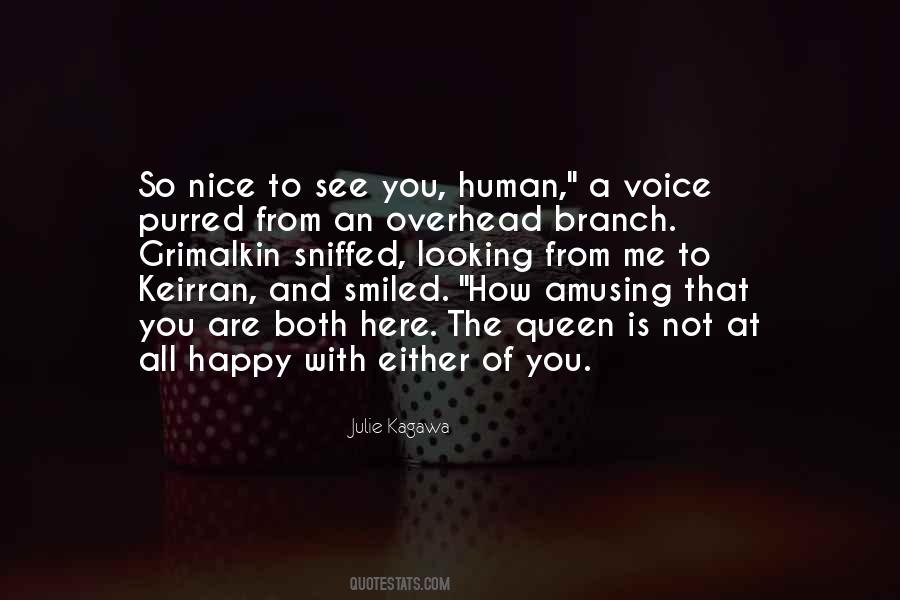 #75. Horror writers shouldn't play nice. Disturb & unnerve your reader. Make them uncomfortable, but not so much they stop reading. - Author: Pamela Morris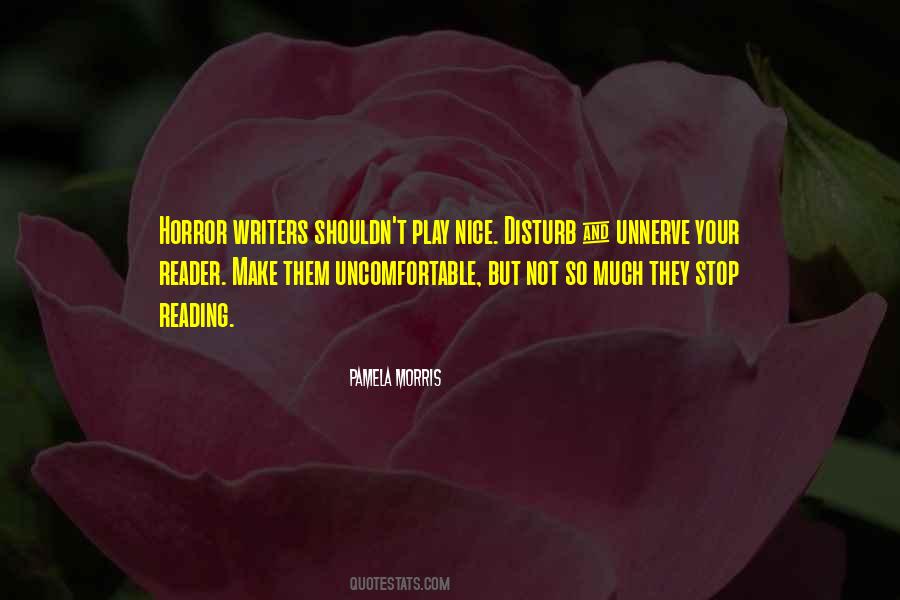 #76. I quite like being removed from the industry stuff so that when we're not on tour and we're writing, we're in a small room and you can't get out physically. I like that mental checking-out aspect - I think it's quite nice. - Author: Lauren Mayberry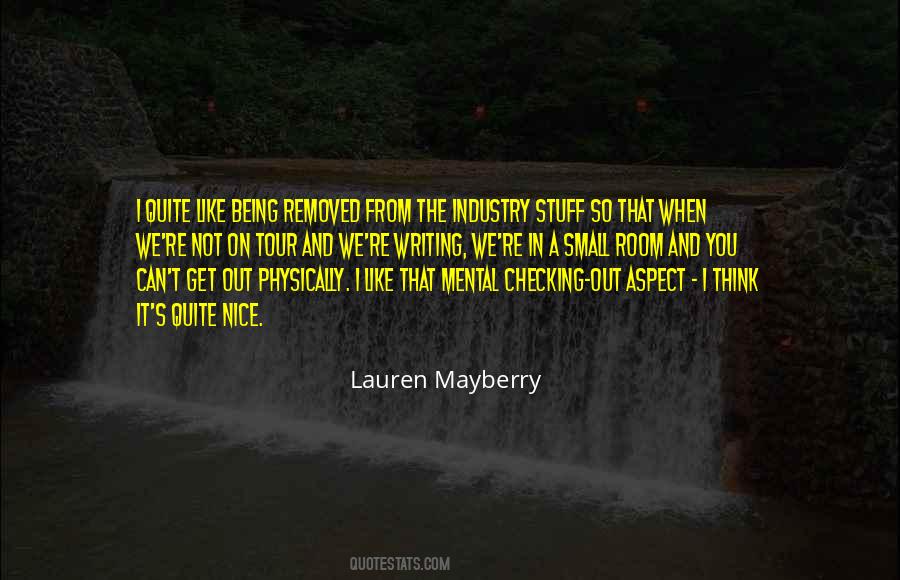 #77. It's my mother's engagement ring so I thought it was quite nice because obviously she's not going to be around to share any of the fun and excitement of it all - this was my way of keeping her close to it all. - Author: Prince William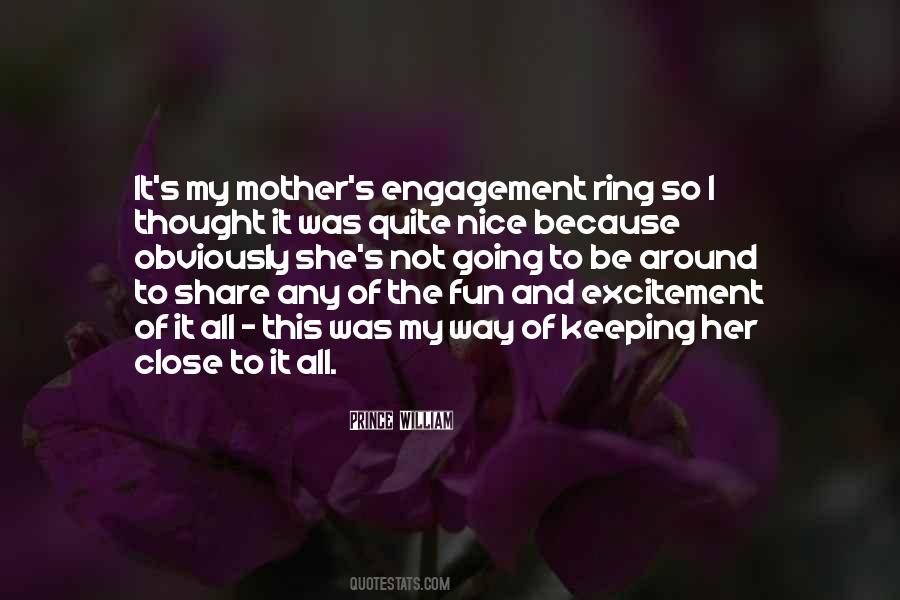 #78. People were talking while I was playing, so I got up and left the stage. I've gotten to the point where I'm not really very patient with patrons rapping during the show. And the people were all nice and quiet when I cam back. - Author: Bruce Hornsby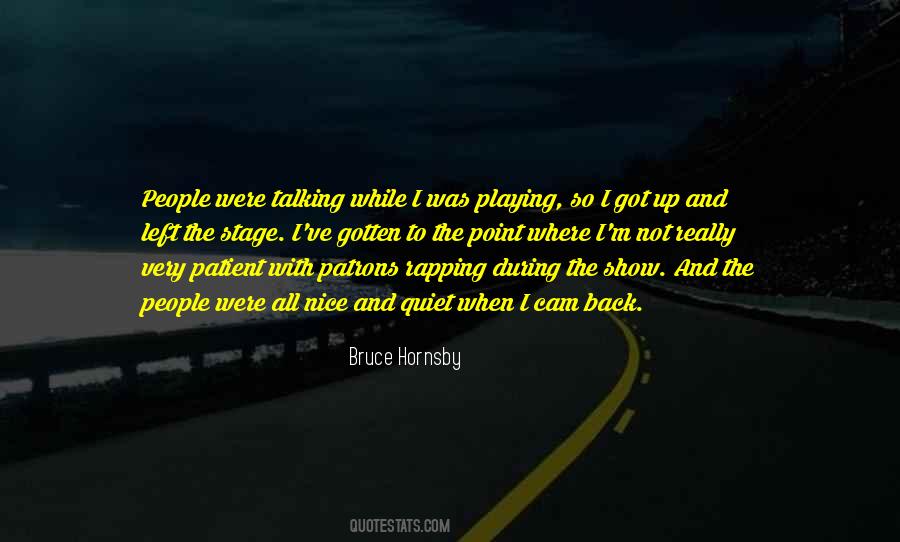 #79. Why is it there are so many nice guys interested in baseball? Not me, I was a real bastard when I played. - Author: Burleigh Grimes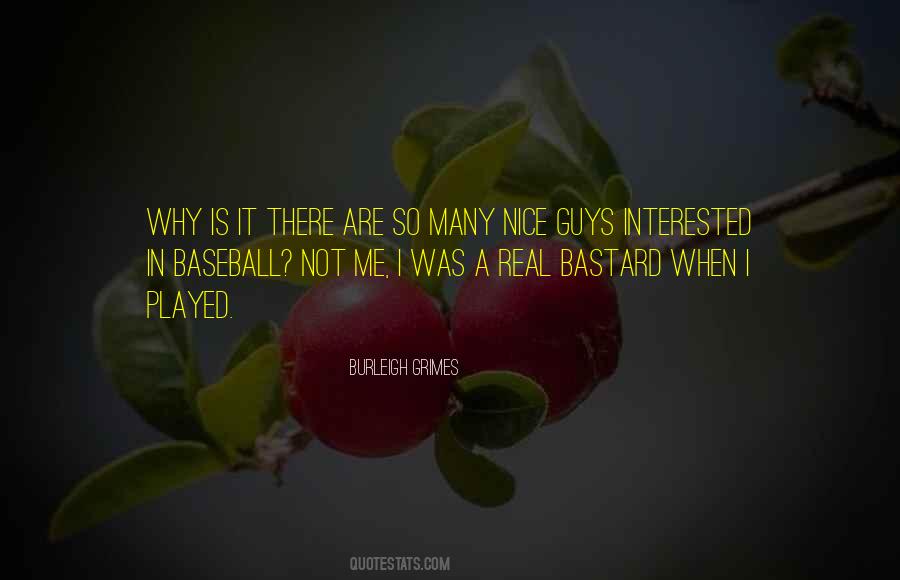 #80. It's so silly not to be nice. - Author: Aaron Spelling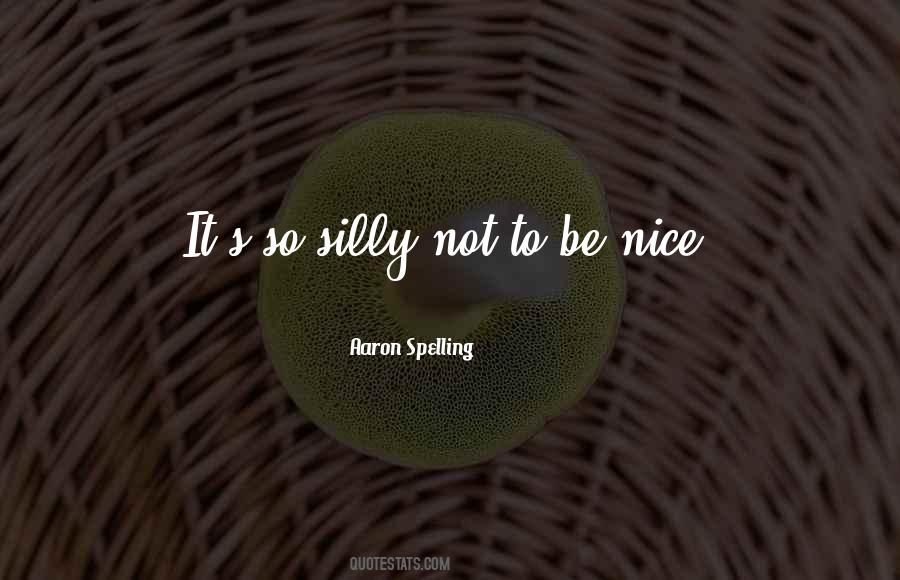 #81. The challenge of manners is not so much to be nice to someone whose favor and/or person you covet (although more people need to be reminded of that necessity than one would suppose) as to be exposed to the bad manners of others without imitating them. - Author: Judith Martin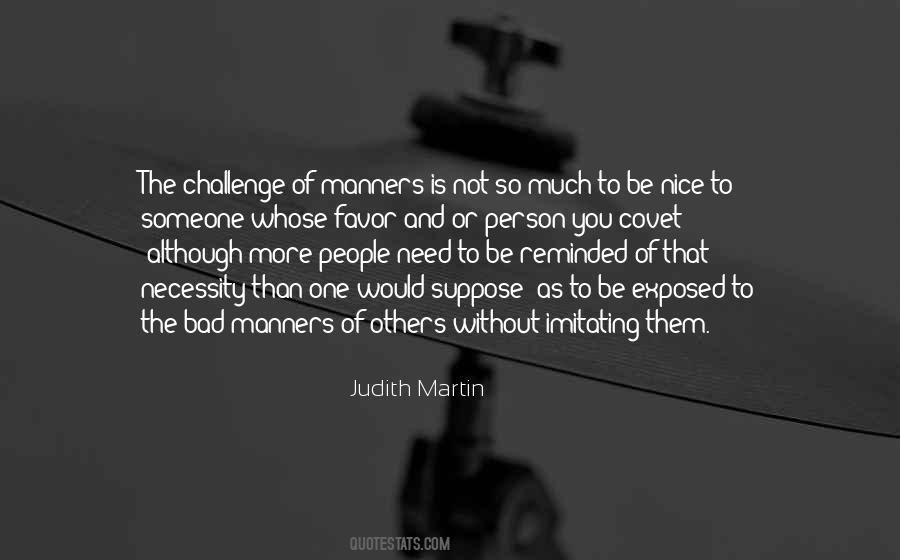 #82. I try to avoid wearing black because sometimes it's the easy option. But I'm young, so it's nice to be able to play with color and not just wear black all the time. I can save that for when I'm older. - Author: Emma Watson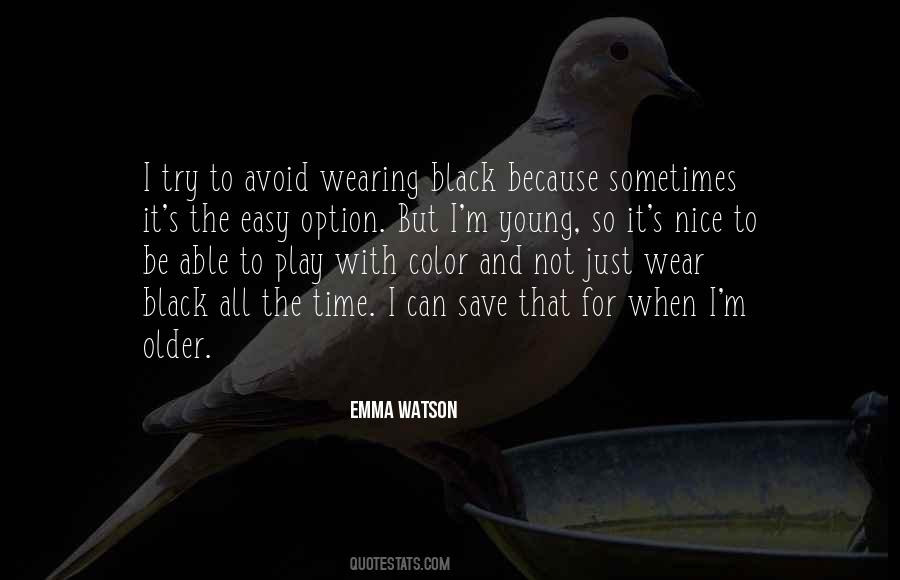 #83. Love Poem
It's so nice
to wake up in the morning
all alone
and not have to tell somebody
you love them
when you don't love them
any more. - Author: Richard Brautigan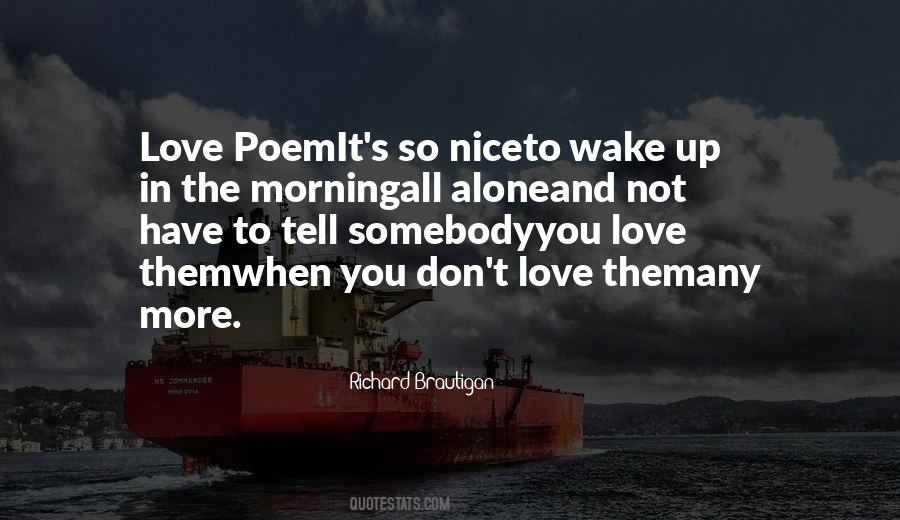 #84. So we rode in silence. It was nice just being near her. You wouldn't think a girl in bandages with a blackened eye could be beautiful, but Denna was. Lovely as the moon: not flawless, perhaps, but perfect. - Author: Patrick Rothfuss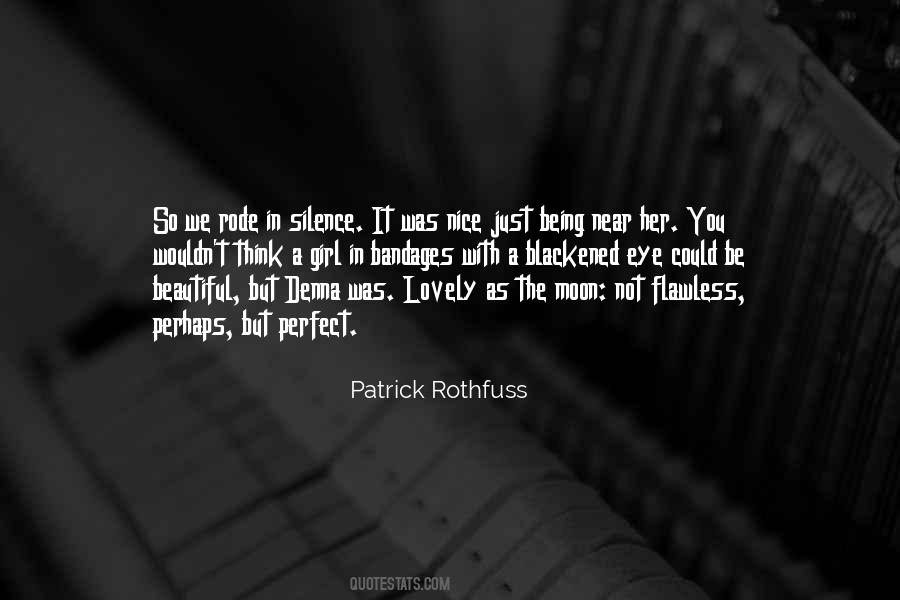 #85. I do become a recluse once in a while. It's so nice to just be at home and to not have to deal with the outside world. - Author: Kourtney Kardashian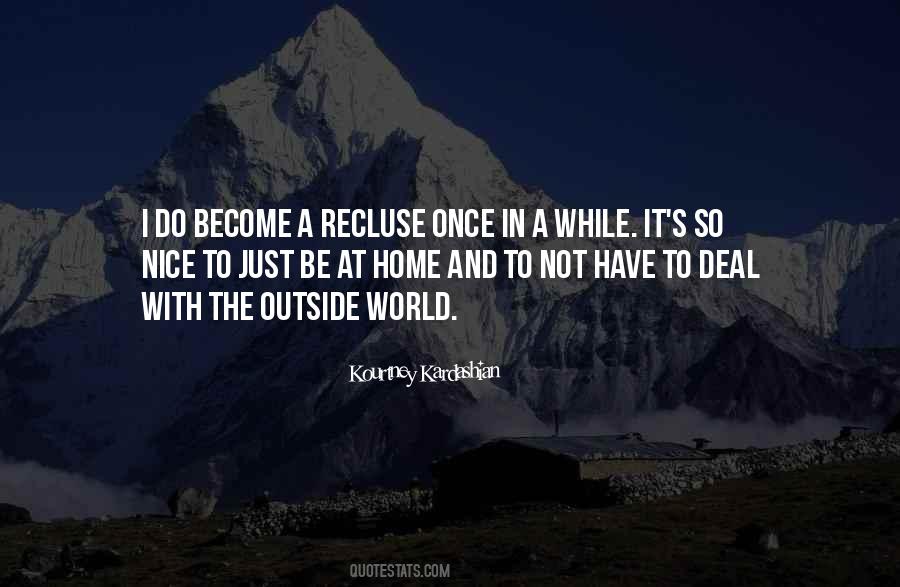 #86. I pout my lower lip for a second, but then I grin as the pieces come together.
"That's why you like me!" I exclaim. "Because you're not very nice either! It makes so much more sense now. - Author: Veronica Roth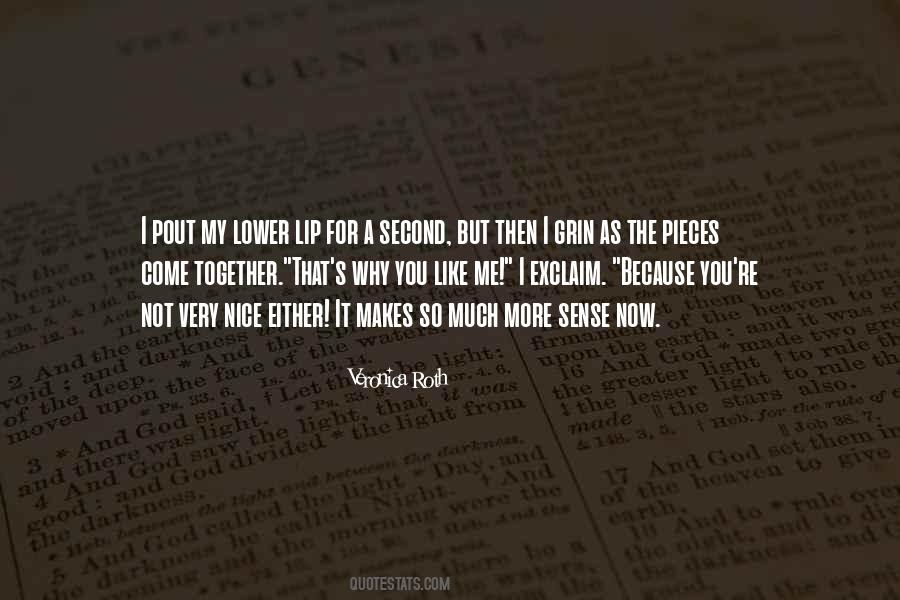 #87. I just look at her and she creeps me out. She looks like she would eat a baby. Not that she's fat. She just looks hungry in some dangerous way that can't be explained. She's always so nice and friendly. Exactly the disposition of a baby killer. - Author: Augusten Burroughs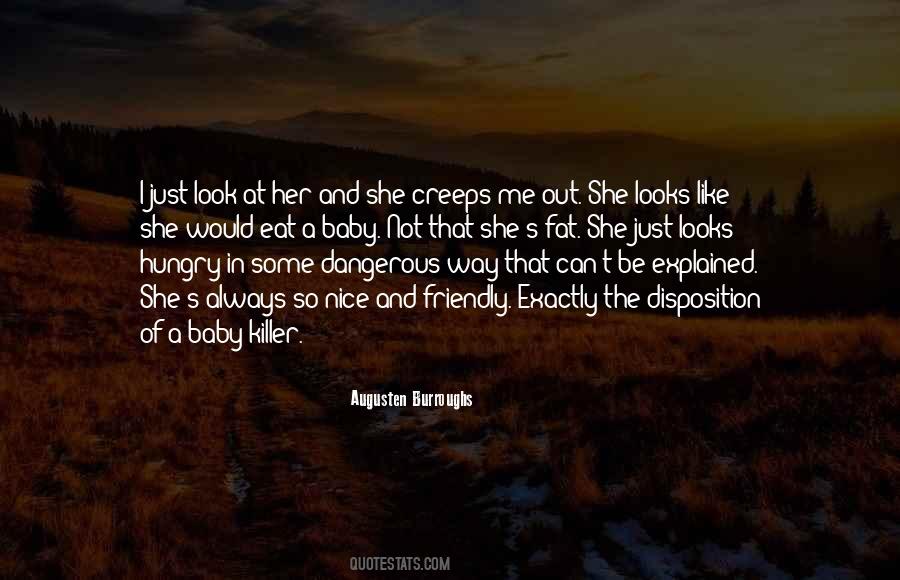 #88. One of the nice things about the world of filmmaking is that you make friends in the business. Sometimes directors feel a script needs something, but they're not sure what it is, so they show it to a friend; if the friend is a writer, he ends up kicking around with that script for a while. - Author: Tom Stoppard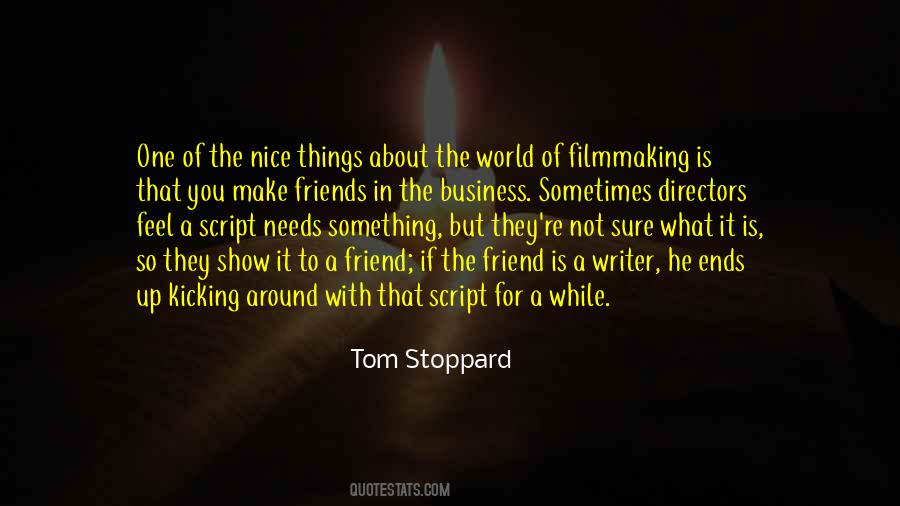 #89. Growing up, I was picked on a bit; I was pretty heavy-set, and then I was a theater kid. I just felt unpopular and uncool, so I think in my mind I had this idea of fame and being popular and how nice that would be. The reality of it is sometimes it's not nice. - Author: Jack Falahee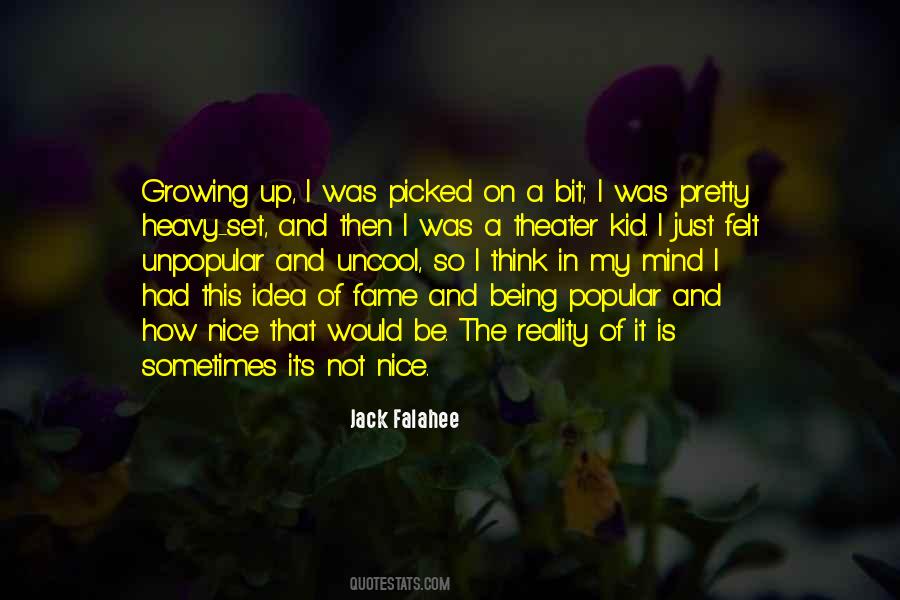 #90. I don't know, I think that if I could just accept the fact that my life is supposed to be difficult. You know, that's what to be expected, then I might not get so pissed-off about it and I'll just be glad when something nice happens. - Author: Jesse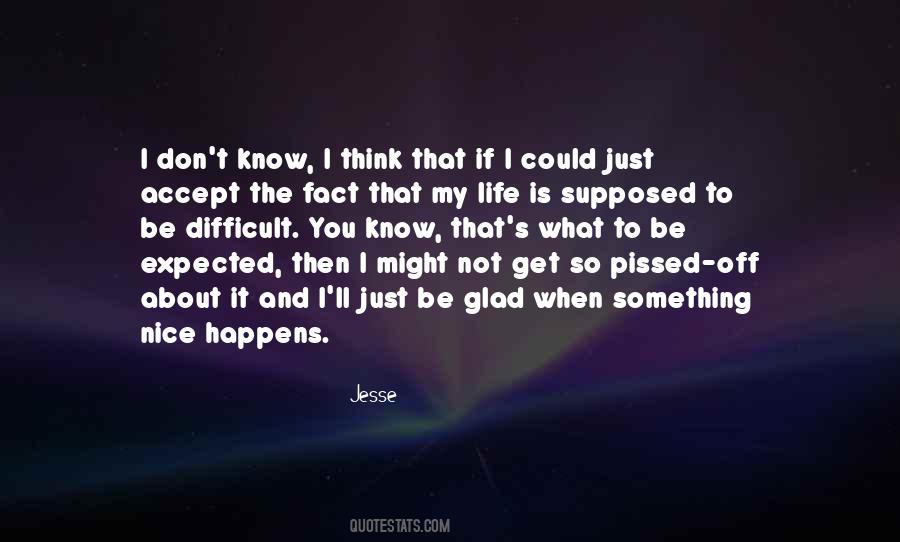 #91. You don't scare me," he added.
"Oh, but I should."
"I'll never be scared by a girl."
"Oh so now you're not only a complete jerk, but your sexist too. Real nice, Radder."
"Thank you," he said, "your offenses mean nothing. - Author: Ellie A. Gray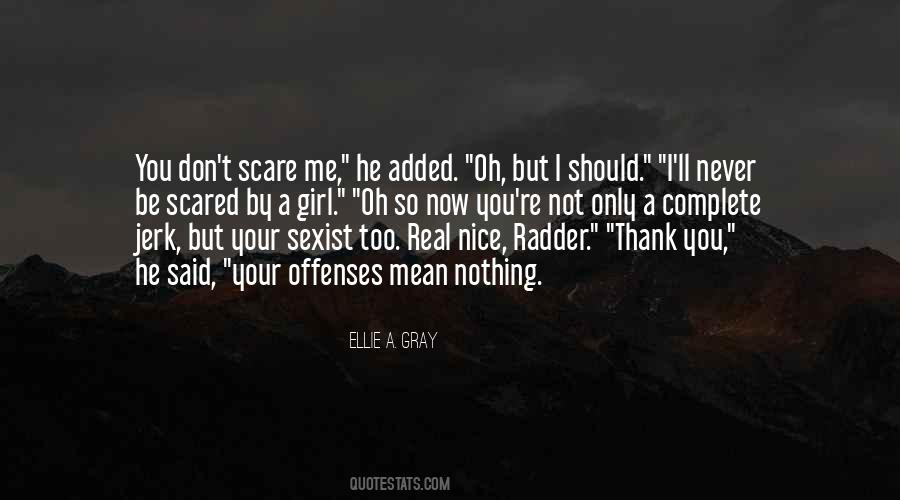 #92. My favorite designer is Christian Lacroix, not just because his clothes are amazing and I love them, but because he's so nice. When I did his fashion show, he was the first one to arrive there and he helped everyone. - Author: Adriana Lima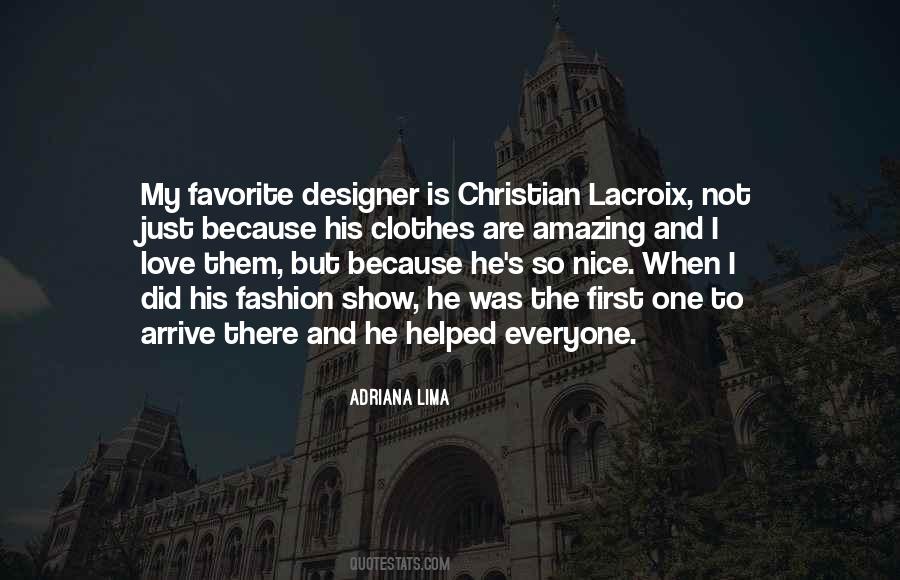 #93. Fun fact: You may hug koalas in the Australian state of New South Wales, but not in Queensland. So ... if you didn't hug your koala nice and tight before you got here to Sydney, you're going to be shit out of luck until we go back to Surfer's Paradise. - Author: Elle Lothlorien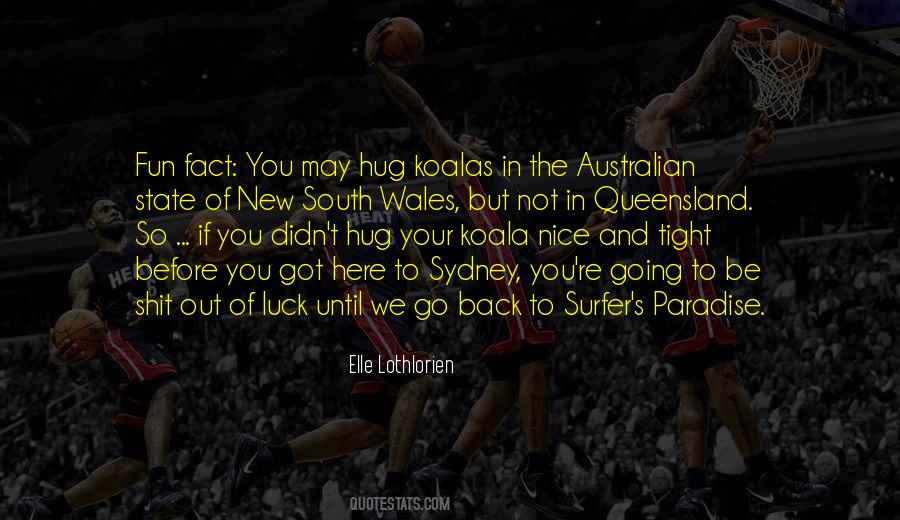 #94. I really want to meet and work with JJ Abrams. Everyone talks about what a nice director he is, and he has kids and stuff, so he sounds really awesome, not to mention he makes awesome movies. - Author: Ty Simpkins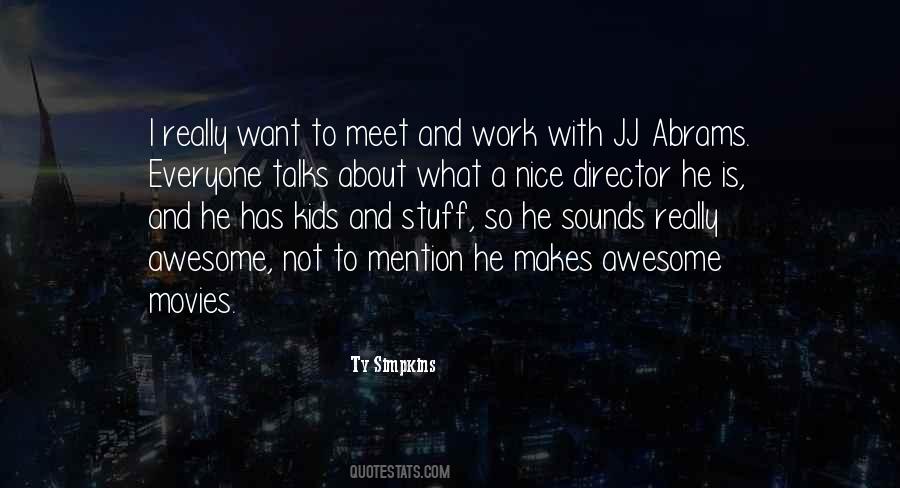 #95. Don't try to see ahead to the nice bits. Don't try to see ahead to the end. Stay with the present, even if it is not so good. And consider how far you've already come. - Author: Rachel Joyce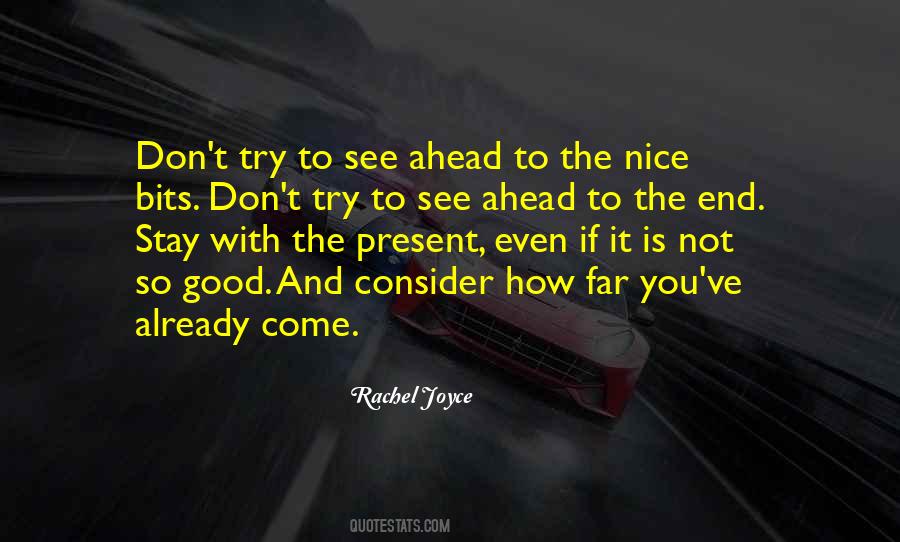 #96. [Henry] James is much more complex than Jane Austen. That's why it's not so easy to adapt him. People expect a nice period piece, but that's not always the case. There's a deep human mystery in his work. - Author: Agnieszka Holland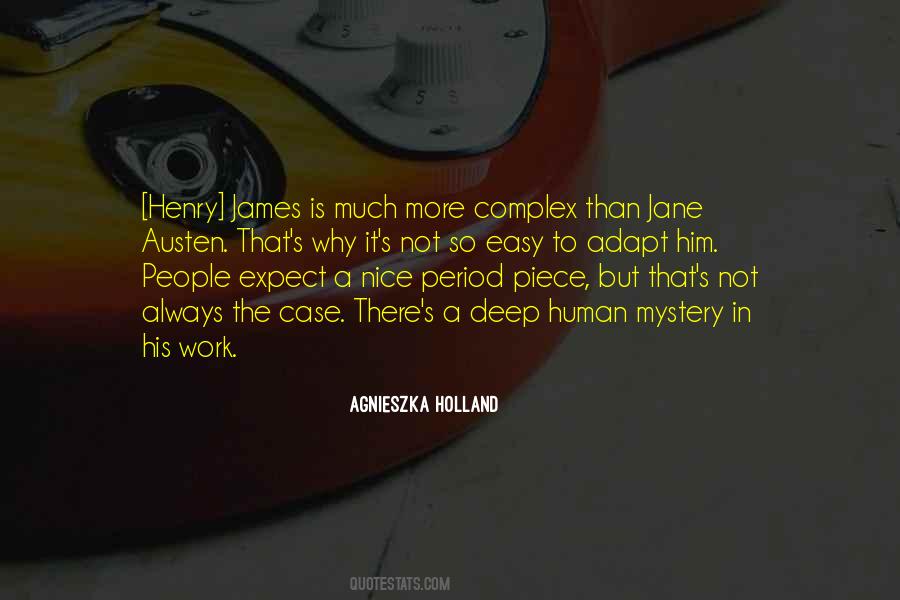 #97. Be careful to not haul around in our lives so many nice but unnecessary things that we are distracted and diverted from the things that truly matter most. - Author: David A. Bednar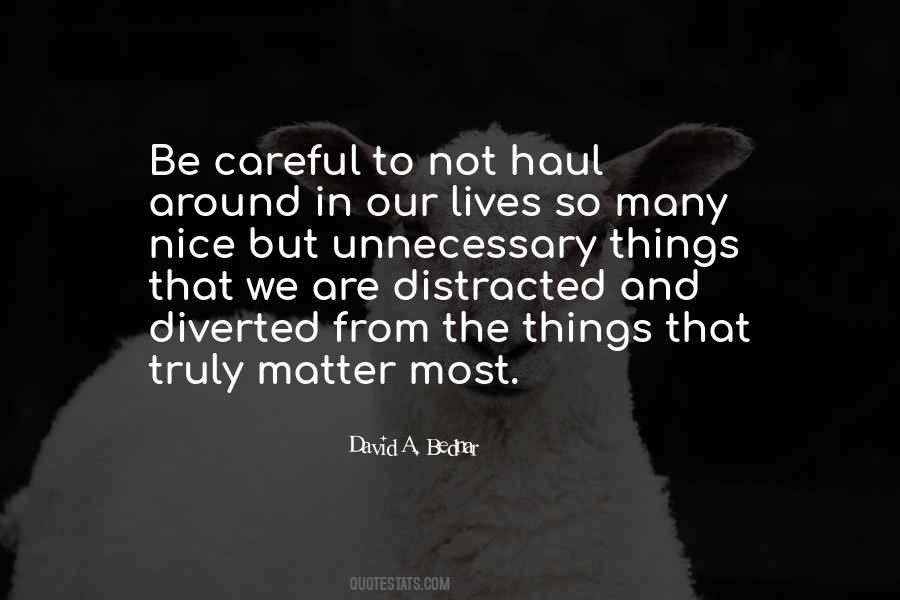 #98. Old fashions please me best; I am not so nice
To change true rules for odd inventions. - Author: William Shakespeare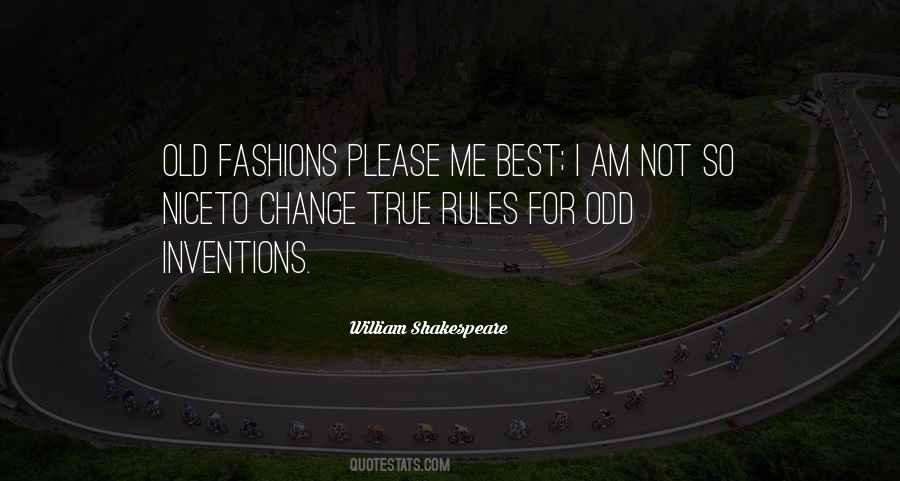 #99. People said that he was very nice, but I confess that his utter grotesqueness made me uneasy; perhaps in the same way that the sight of monkeys eating their own excrement turns some people's stomachs. They might not mind so much if monkeys did not- so grotesquely- resemble human beings. - Author: James Baldwin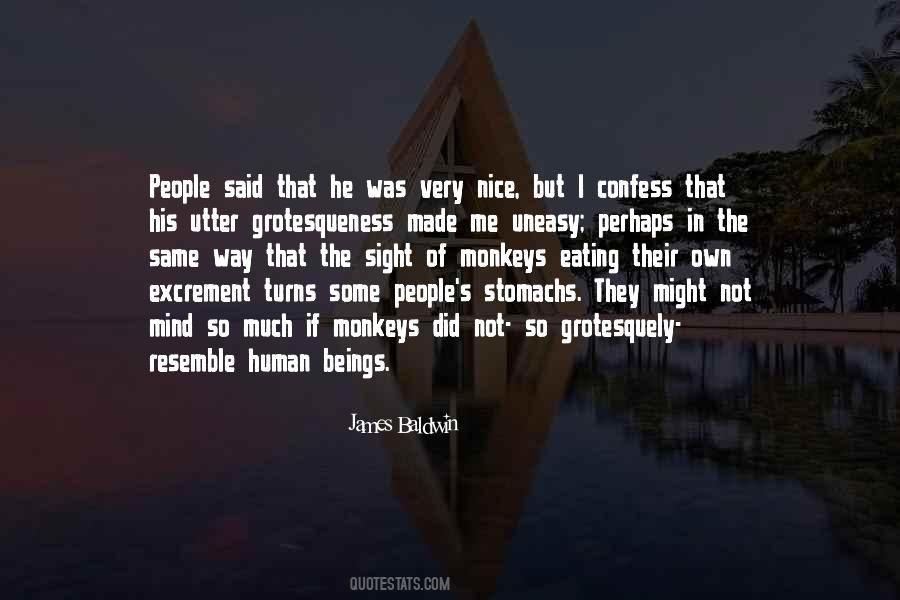 #100. For me, whatever the outcome, it's nice to sit back to something and say, Man, I'm really proud of that. I'm real proud of the experience that I had, I'm proud to be a part of something so iconic whether anyone watches it or not. They can't take away the experience that I had. - Author: Mike Vogel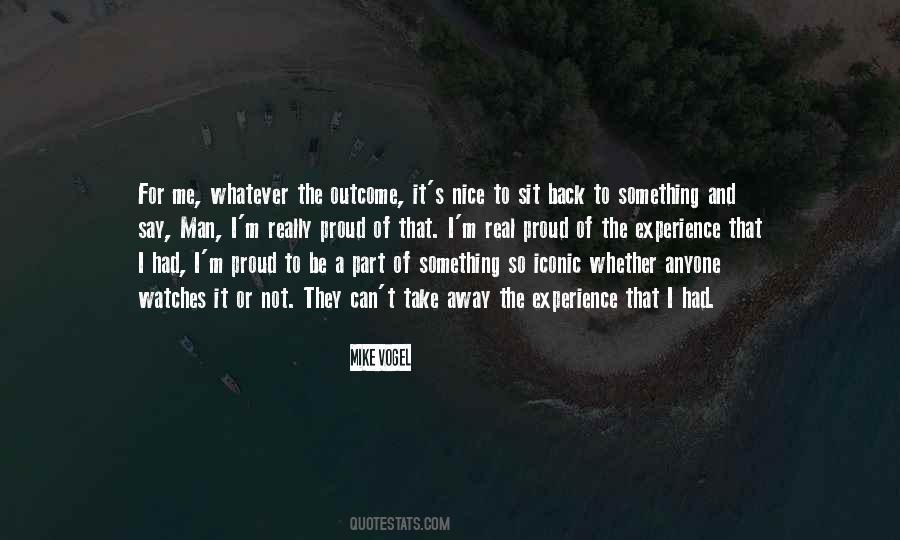 Famous Authors
Popular Topics