Nobody's Better Than You Famous Quotes & Sayings
List of top 34 famous quotes and sayings about nobody's better than you to read and share with friends on your Facebook, Twitter, blogs.
Top 34 Nobody's Better Than You Quotes
#1. There are no second-place finishers - you don't take silver, you simply lose gold. Second place is nothing but the best loser - nobody lost better than the guy in second place. But on the battlefield that guy usually winds up dead. - Author: Jamie Smith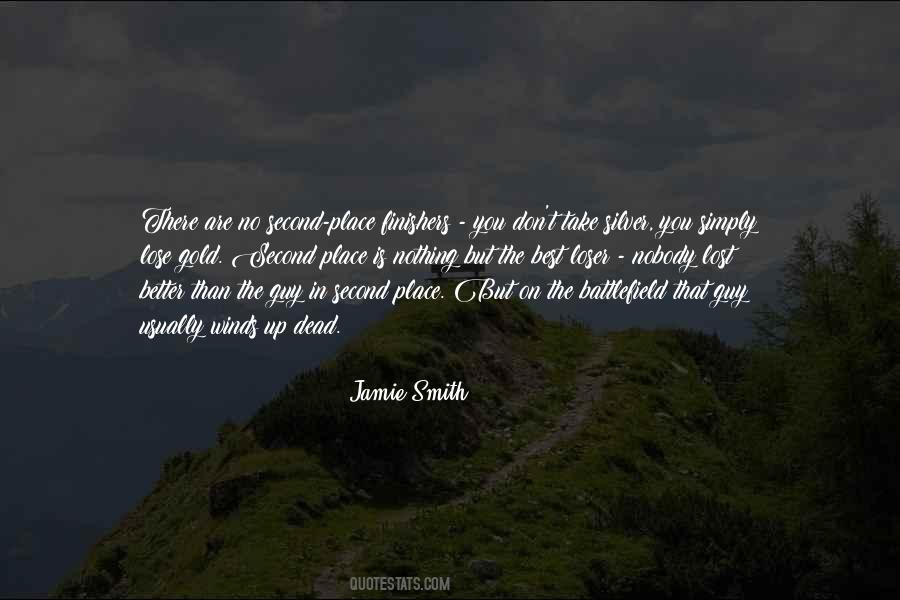 #2. You would be better off having nobody than the wrong somebody. (On marrying for the wrong reasons.) - Author: Joyce Meyer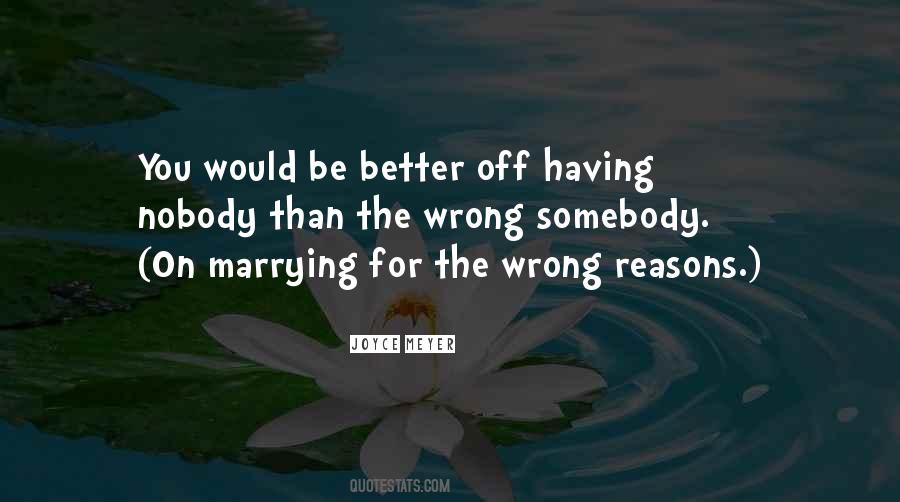 #3. Woody Allen - nobody has been a better joke teller than him - and even in his great films, it's always coming out of the character. If you don't have that, jokes are just empty and I think that people rely too much on jokes. - Author: Brett Gelman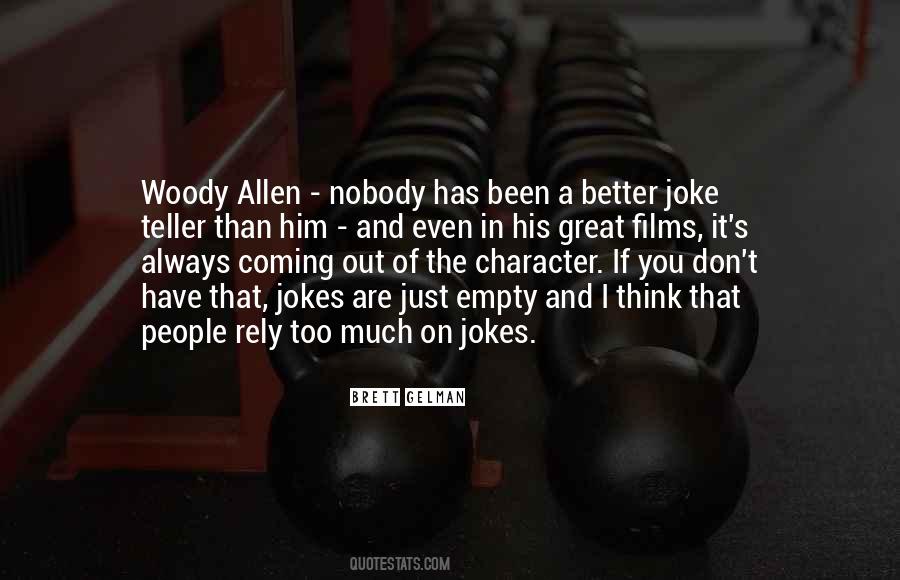 #4. Nobody will press your buttons
or reflect your asshole to you better than your woman. She will point
out your weaknesses better than a boot camp drill sergeant. - Author: David Deida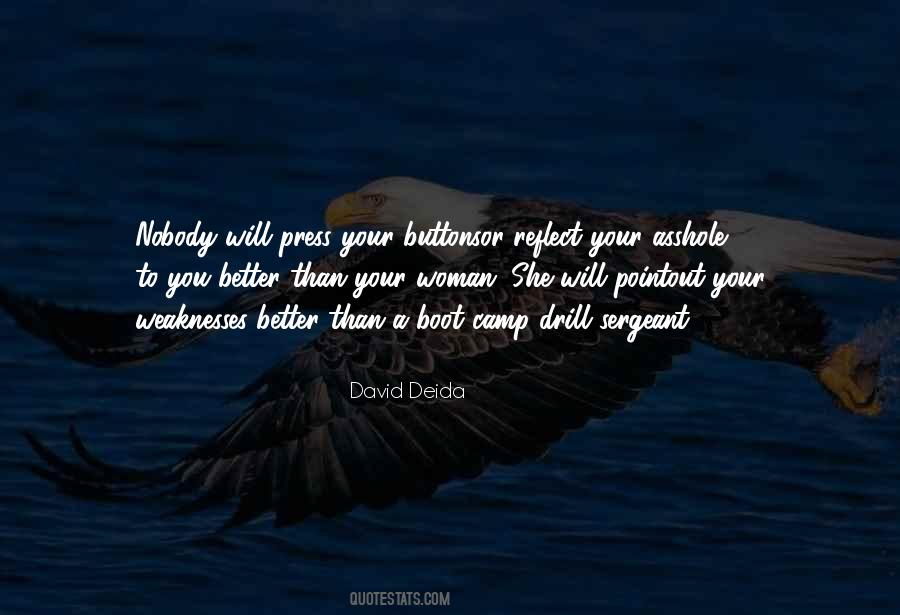 #5. It is far better to endure patiently a smart which nobody feels but yourself,
than to commit a hasty action whose evil consequences will extend to all
connected with you. - Author: Charlotte Bronte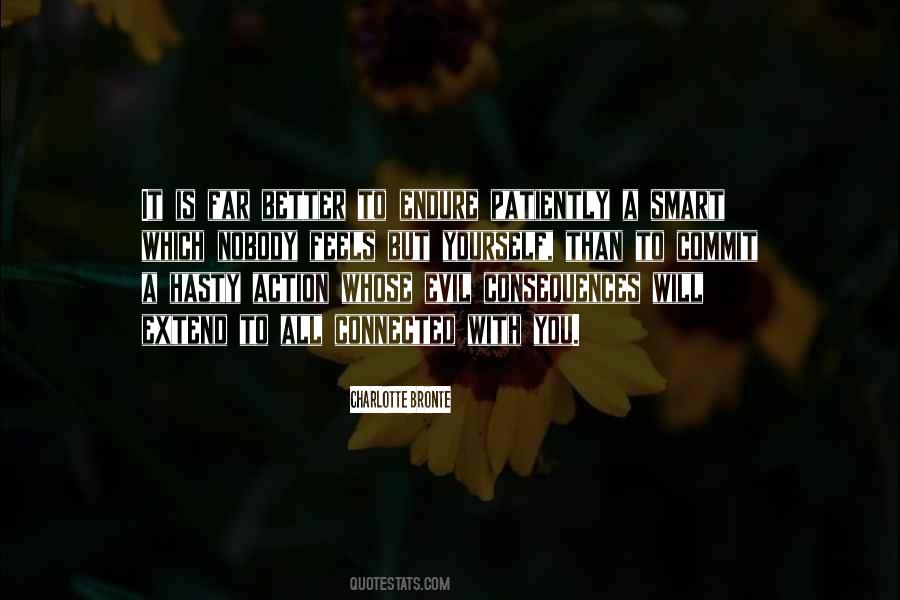 #6. A woman's intuition is better than a man's. Nobody knows anything, really, you know, and a woman can guess a good deal nearer than a man. - Author: Mark Twain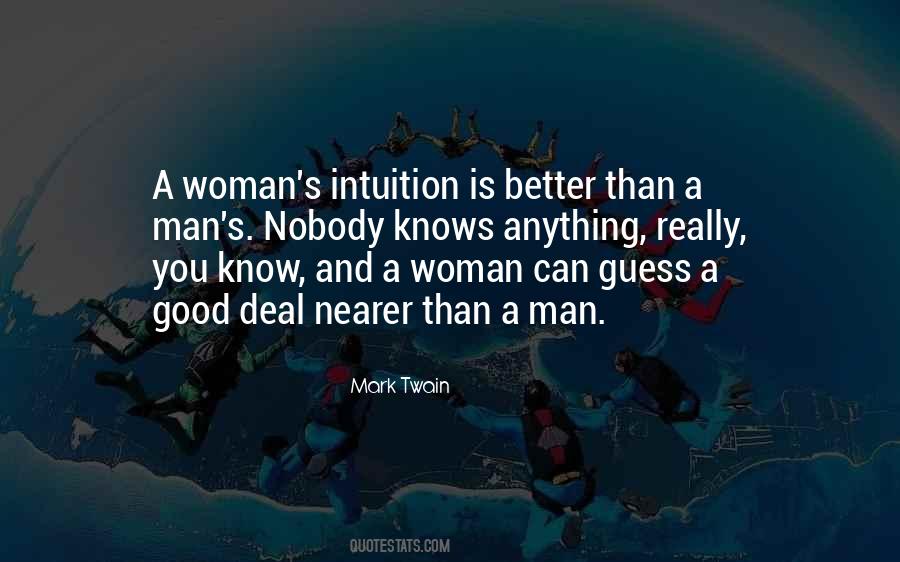 #7. I'm here to say there is a choice. If you want to stick to the status quo, pick the Republicans or Democrats, but don't complain. Nobody can do a better job than I can. - Author: Scott Ashjian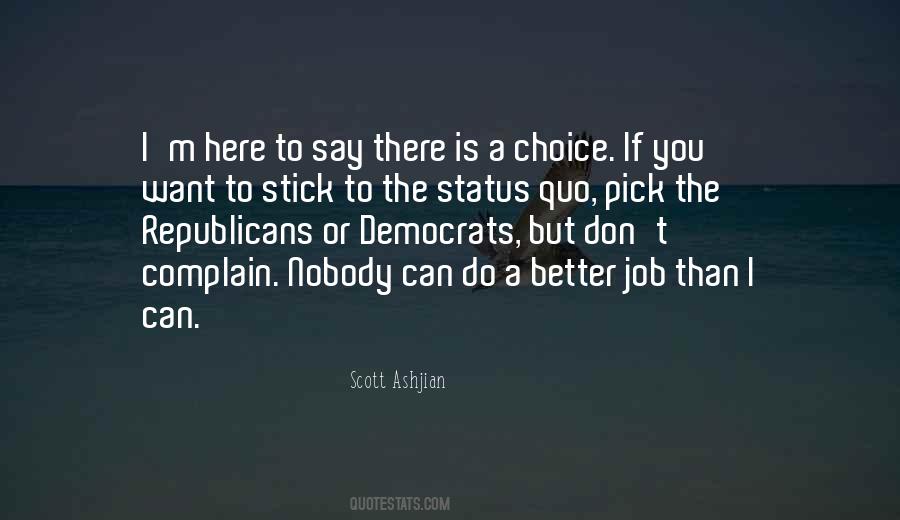 #8. The expression 'Those who can't do, teach' is a curious one, because if you look at the world , you'll see that teachers aren't particularly worse at doing things than anyone else, so perhaps the expression might be better worded as 'nobody can do anything - Author: Lemony Snicket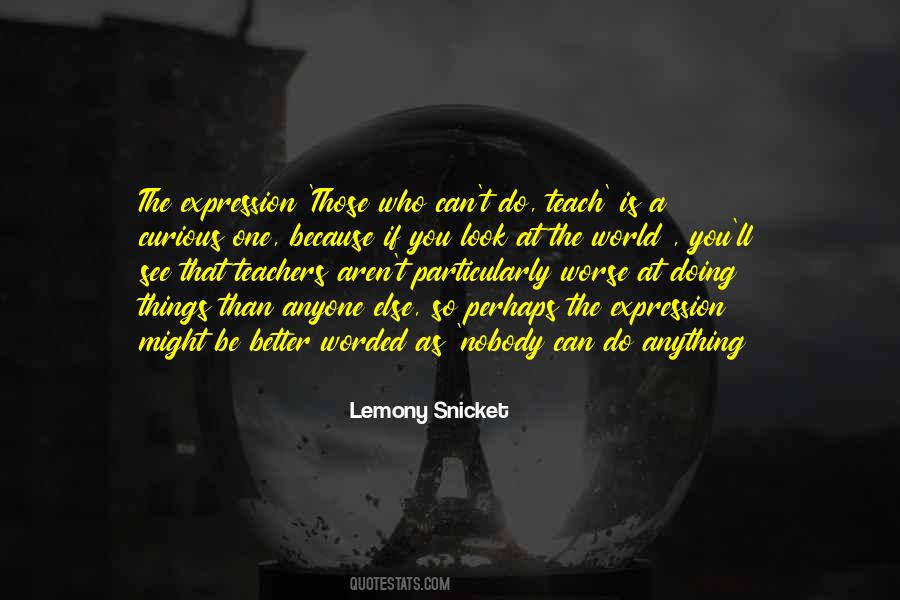 #9. I think nobody can get me out. I've got a pretty good idea of what I want to hit. If I get my pitch, I'm going to get a hack in. And if I don't get you this time, I'll get you next time. I'm not saying I'm better than anybody, but I am saying that nobody is better than me. - Author: Carlos Delgado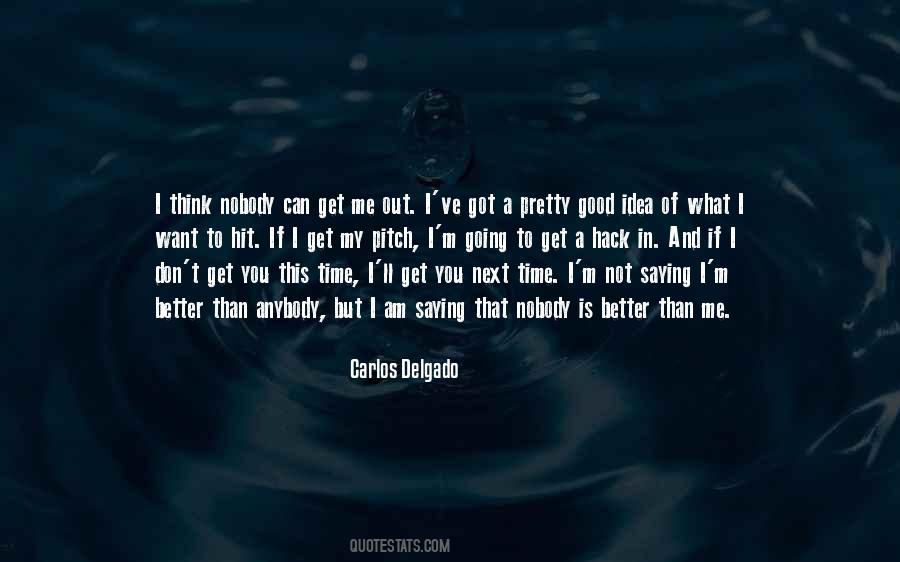 #10. One thing nobody can do better than you is be you. - Author: Elizabeth Moon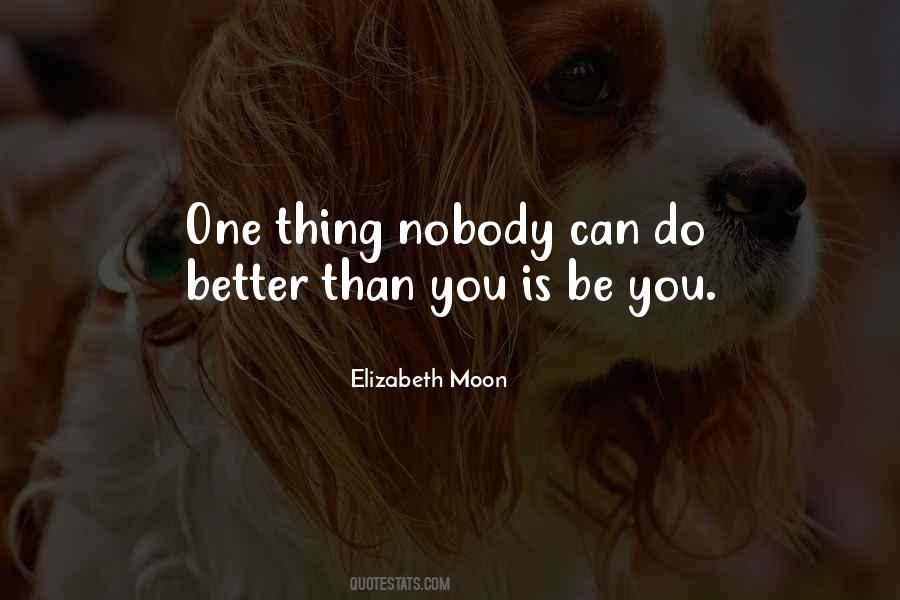 #11. Nobody understands you better than yourself, but if someone tries to do it is because he loves you. - Author: Jim Morrison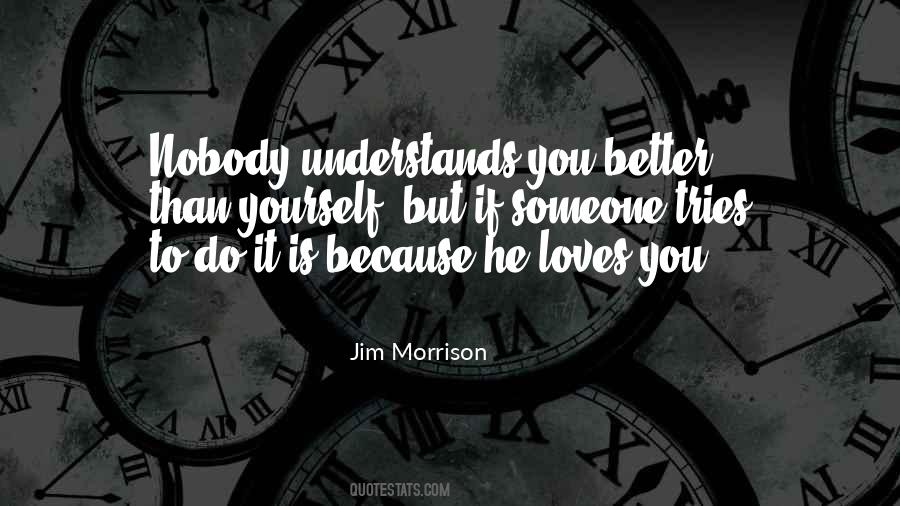 #12. Nobody was my support. You have to support yourself, and I think that is the beauty of being a woman. You can handle anything and be ten times better than men. - Author: Kangana Ranaut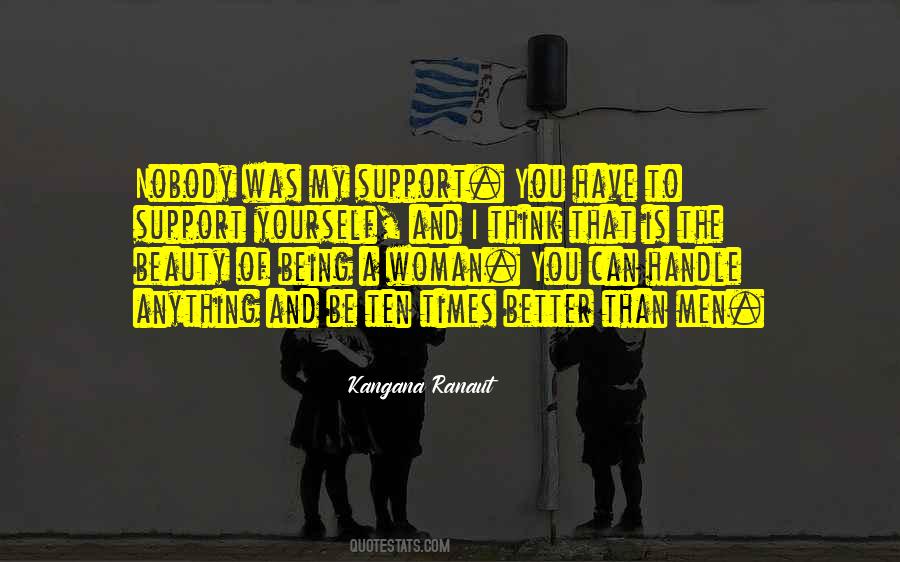 #13. Now listen,' said George angrily, 'I've been in a newspaper office all evening and I know better than you what's going on.'

'Nonsense. If there's one place in the world where nobody knows what's going on, it's a newspaper office. - Author: Jack Iams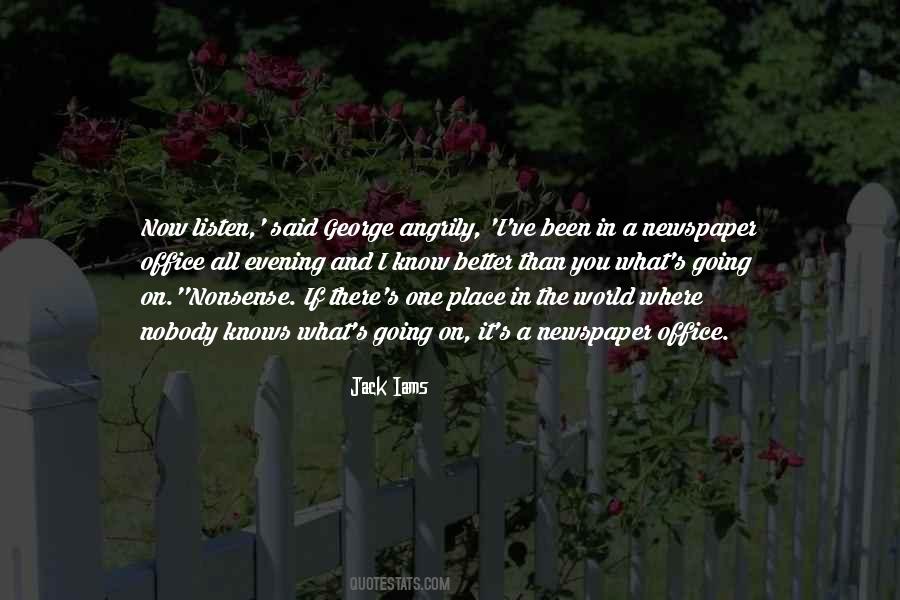 #14. In my heart I believe that biology is the beginning and the end of everything. It's the biggest source of ideas, the biggest source of invention. Nobody can invent better than nature and so if you like nature is my biggest source of inspiration. - Author: Ken Yeang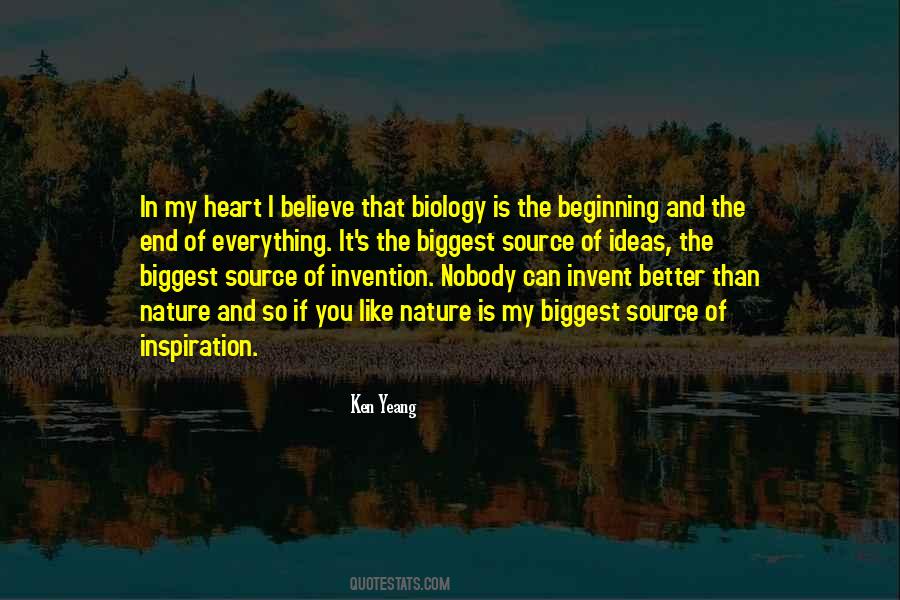 #15. Picture the person who intimidates you most. Now picture them crouched like a dog, pooping on the sidewalk, looking up at you, all vulnerable. We all poop. Maybe not on the sidewalk, but nobody is better than you and don't let them think they are for a minute. - Author: Caprice Crane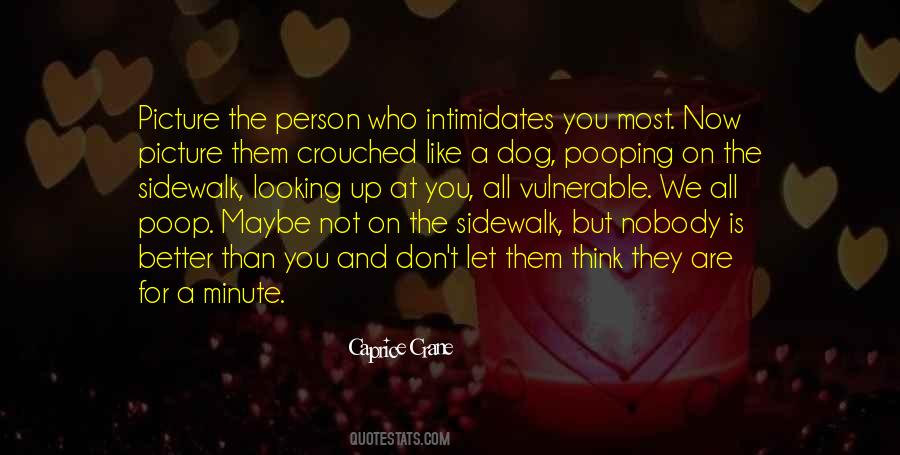 #16. Do not let anyone tell you what you can be. Do not let anyone tell you that you are not good enough or smart enough. Remember that nobody is better than you. Everybody puts on their pants one leg at a time. - Author: Farrah Gray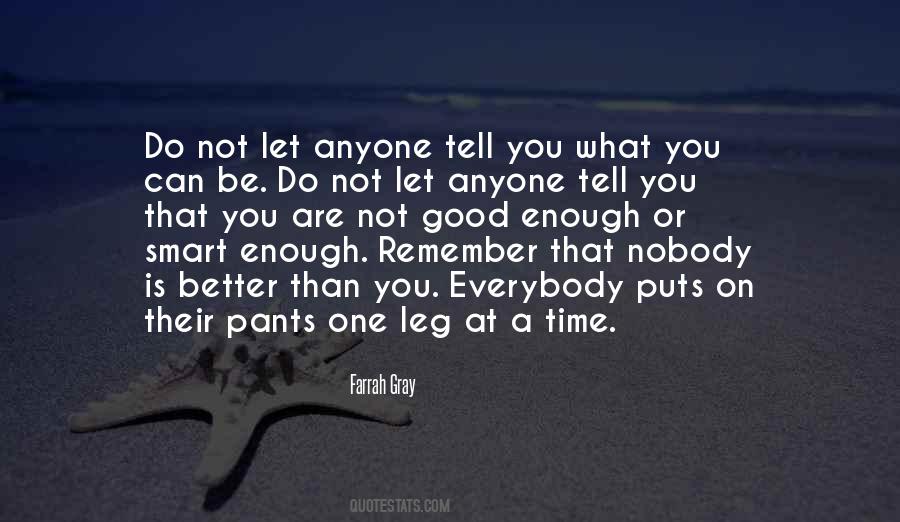 #17. There's nobody who cares more about you than you, and there's nobody better equipped to take care of you than you. - Author: Rush Limbaugh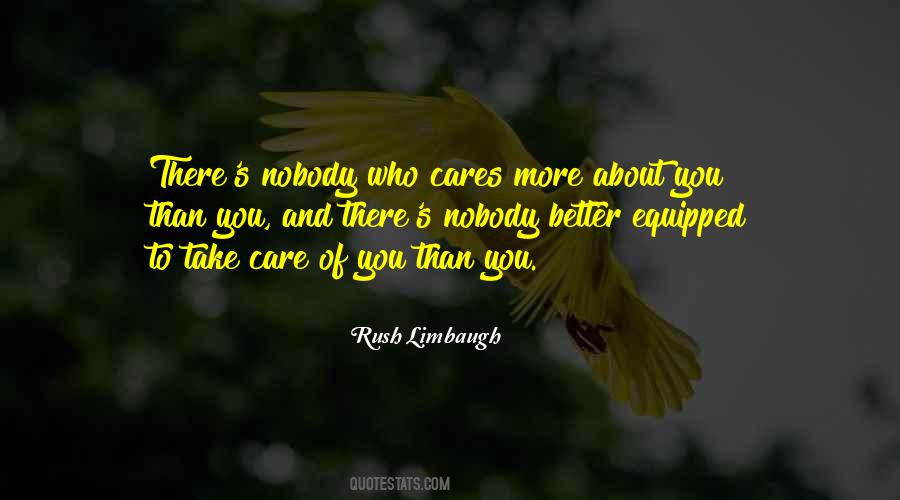 #18. Publishers were ever eager for authors to do their own publicity because nobody else was willing to do it for nothing. But then it became clear that if you want somebody to champion the story, there's nobody better than the person who made it all up. - Author: Dave Morris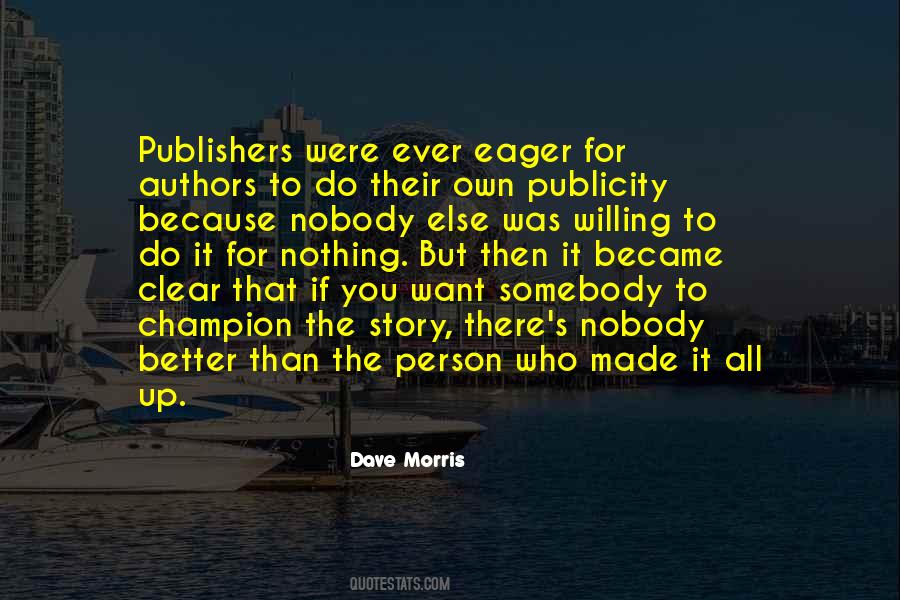 #19. You're gonna be your best salesman. If you don't sell yourself, nobody else is gonna have a better time with it than you. You've gotta get up for it, every day. - Author: T.I.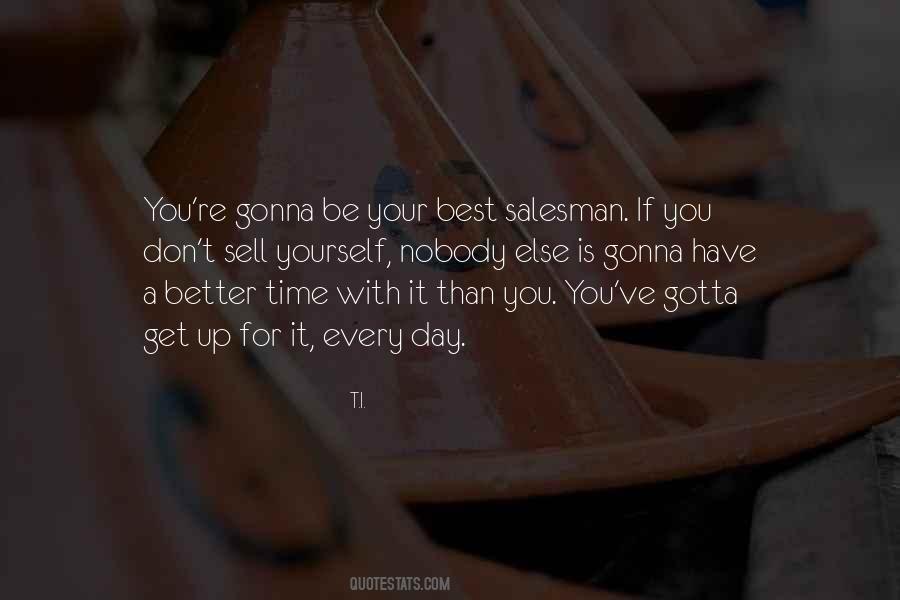 #20. Nobody's better than you and you're no better than anybody. - Author: Mary Mihalic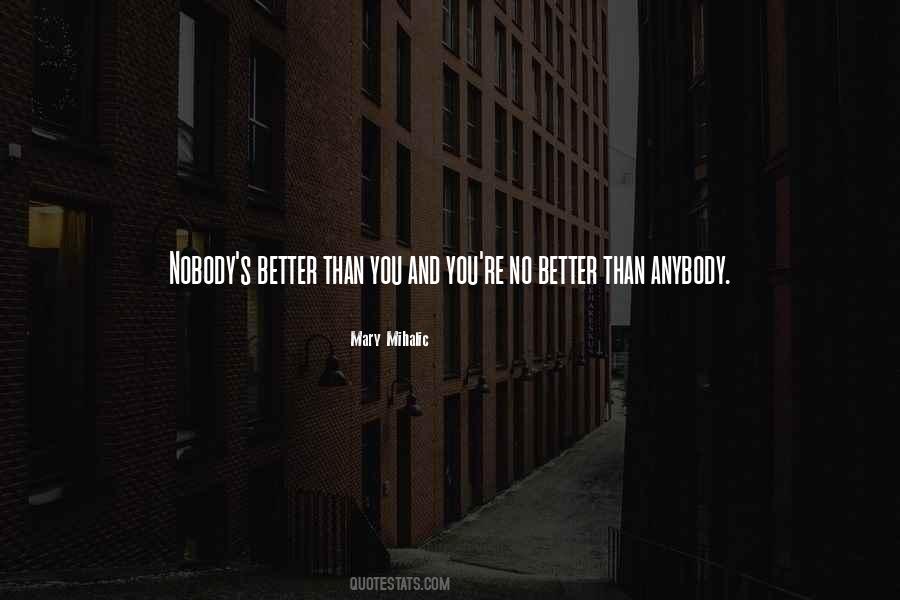 #21. As I became a filmmaker and realized that I had a voice, who better to speak for than kids that are bullied? It's such a place where you feel like nobody is listening and you can't communicate what's happening. - Author: Lee Hirsch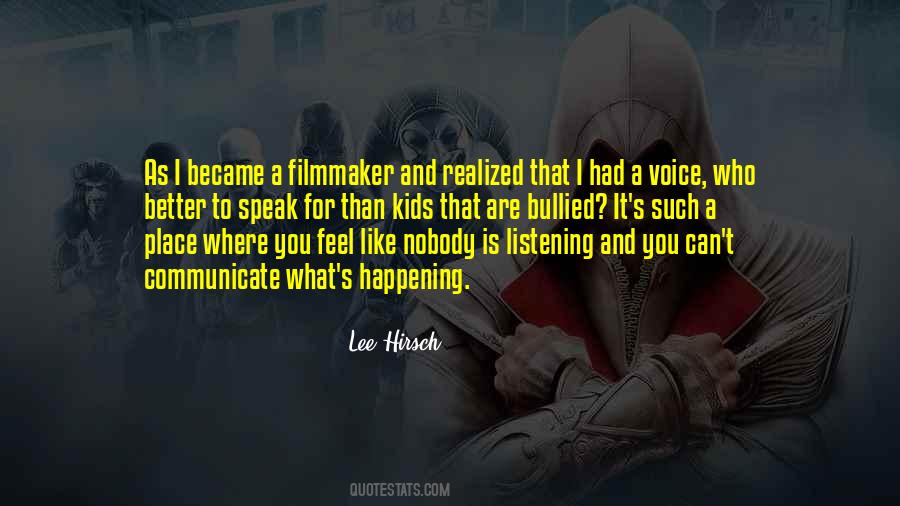 #22. A big part of who I am is just the way I was raised. Nobody is better than anyone else, and if you really work hard, you might get lucky and get what you want. - Author: Martina Mcbride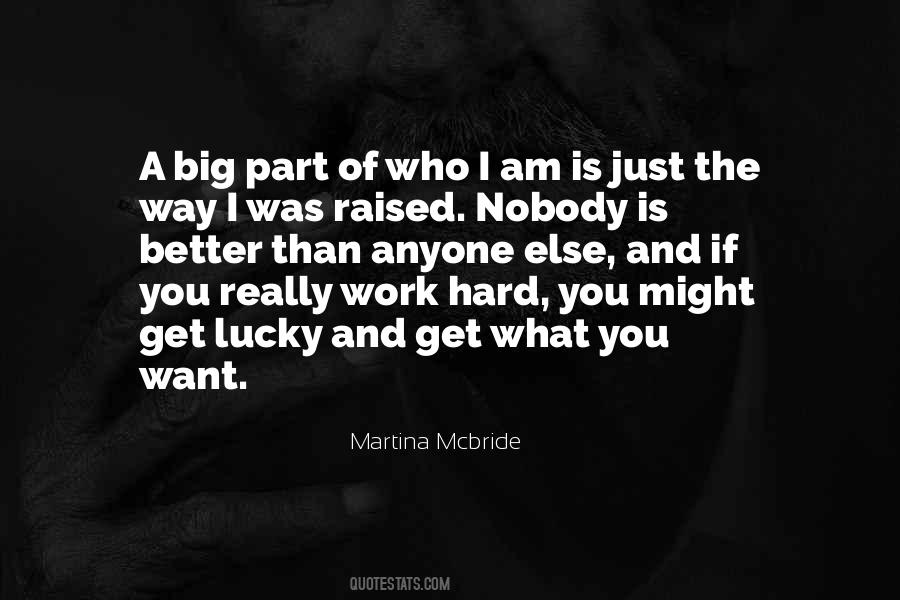 #23. Because nobody knows you better than somebody who knew you way back then. - Author: Claire Cook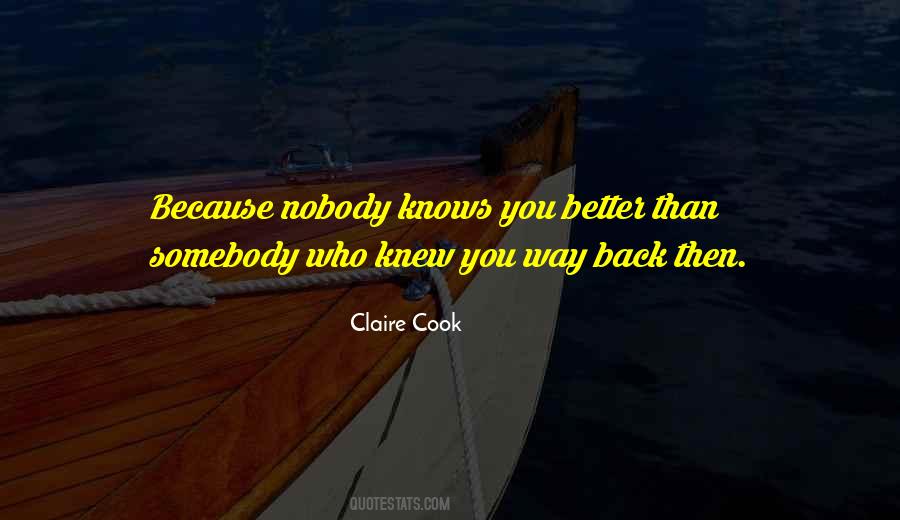 #24. ...Be what you like'
'Some people, sir,' remarked Lamps, 'are sometimes what they don't like.'
'Nobody knows that better than I do,' sighed the other. 'I have been what I don't like, all my life. - Author: Charles Dickens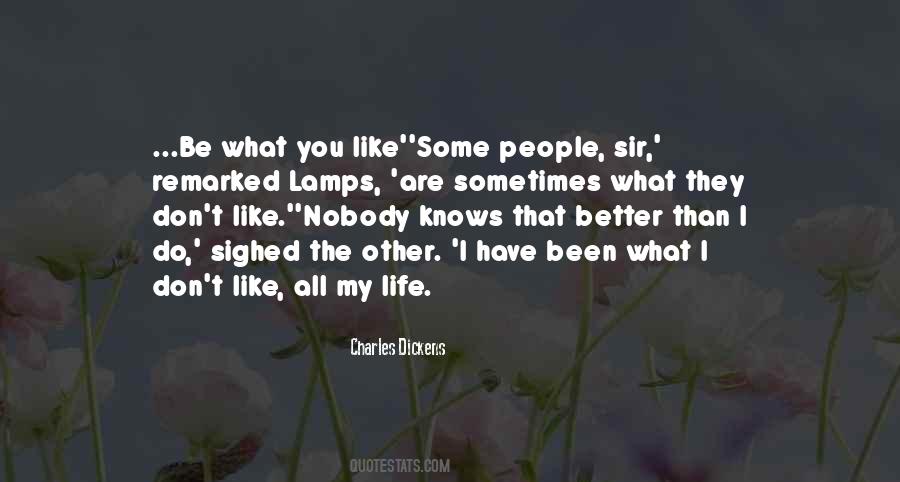 #25. Nobody asks you to love the whole world, only to be honest, ehrlich. Don't have a loud mouth. The more you love people the more they'll mix you up. A child loves, a person respects. Respect is better than love. - Author: Saul Bellow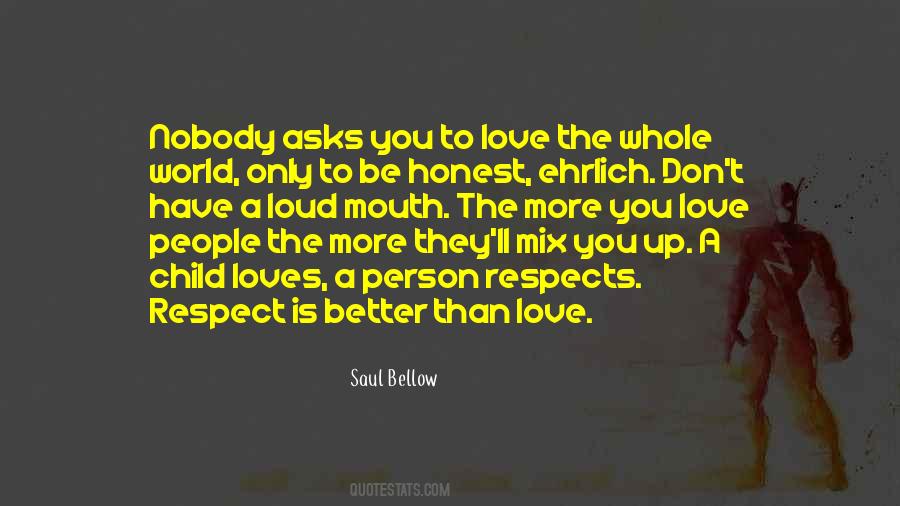 #26. Nobody is better than you and remember, you are better than nobody. Thomas Jefferson - Author: Thomas Jefferson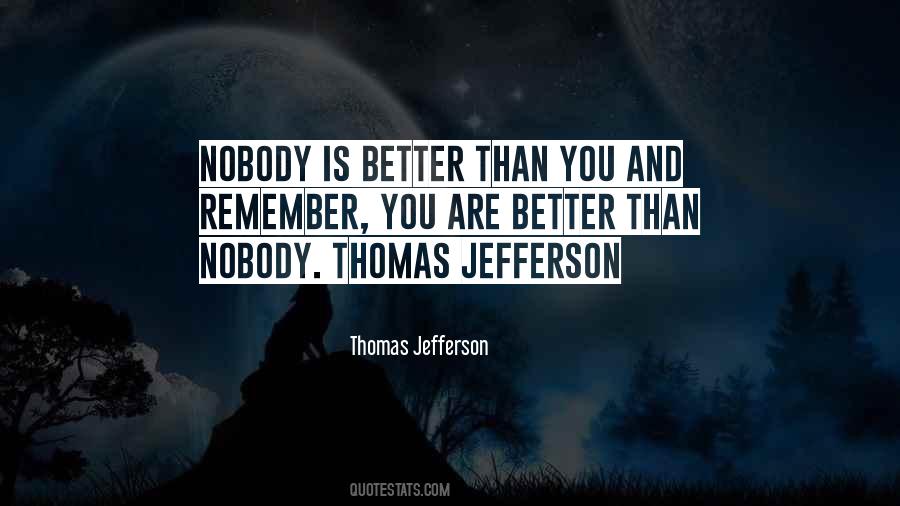 #27. The better the actor, the less you know about his life. I mean, nobody's better than De Niro and you don't know anything about him, right? - Author: Matt Damon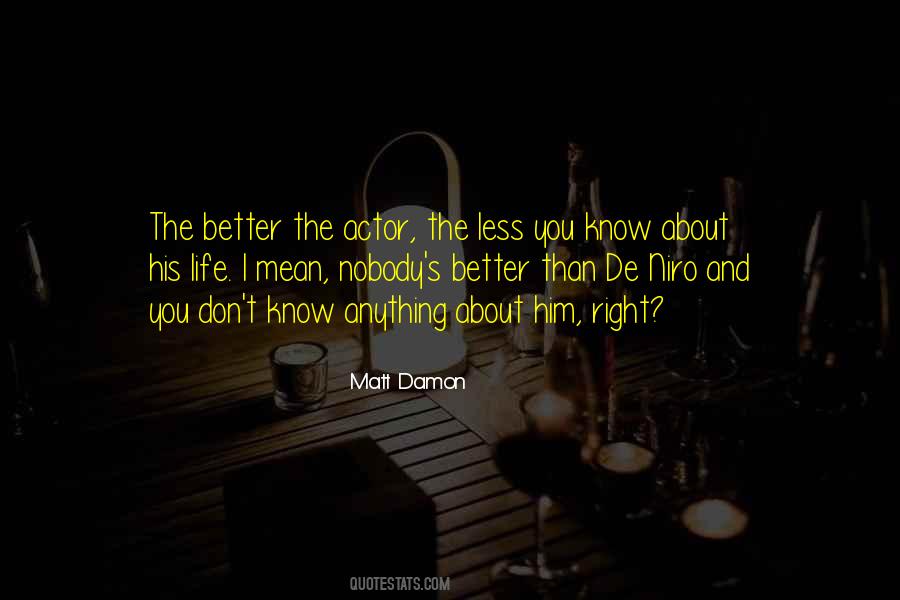 #28. The only real treasure is in your head. Memories are better than diamonds and nobody can steal them from you - Author: Rodman Philbrick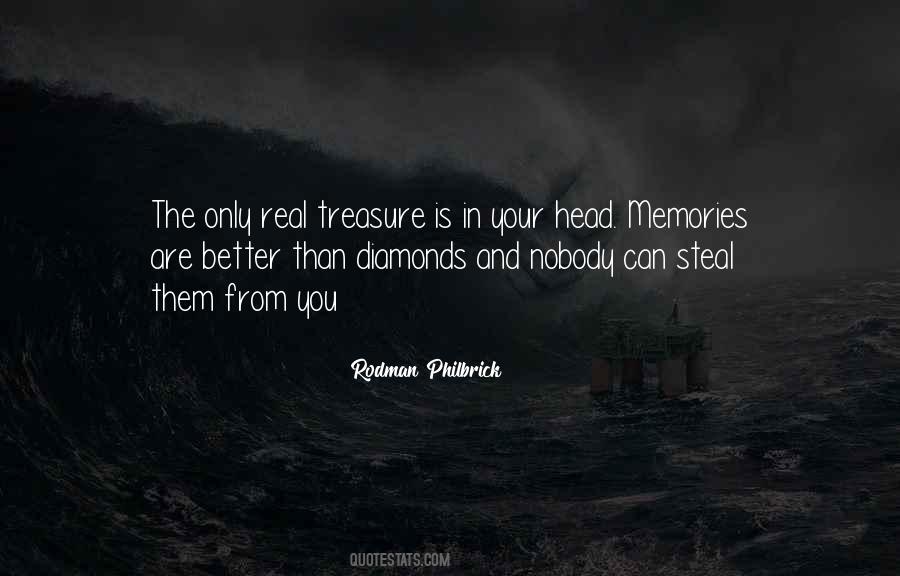 #29. If you're good, and you know you're good, and you know you're better than those people getting paid to do it, you still have to have an open ear ... .Nobody's music is the enemy of your music ... The idea that someone else has made it when they shouldn't have made it is toxic thinking. - Author: John Mayer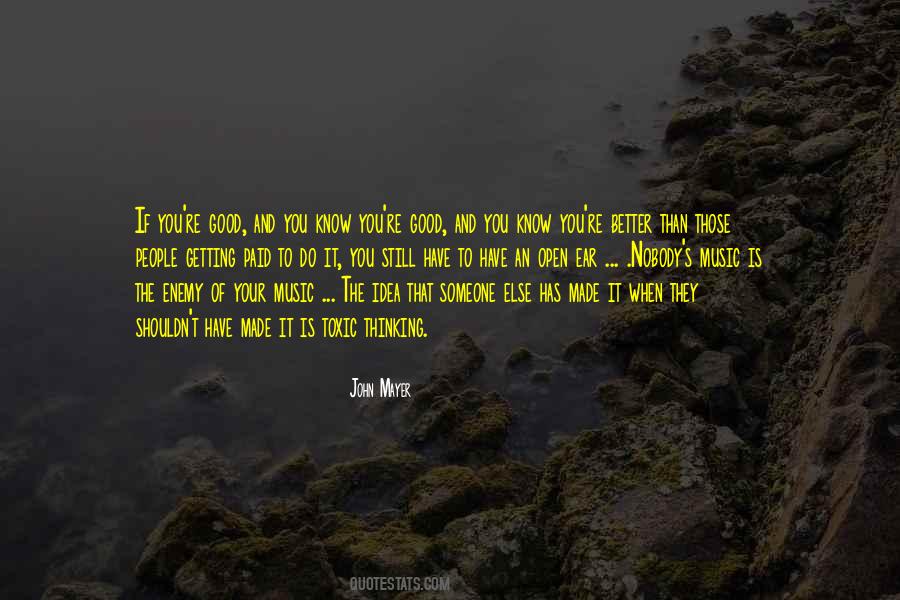 #30. Your grasp of the language is startling," Wax said, "considering how you so frequently brutalize it." "Ain't nobody what knows the cow better than the butcher, Wax. - Author: Brandon Sanderson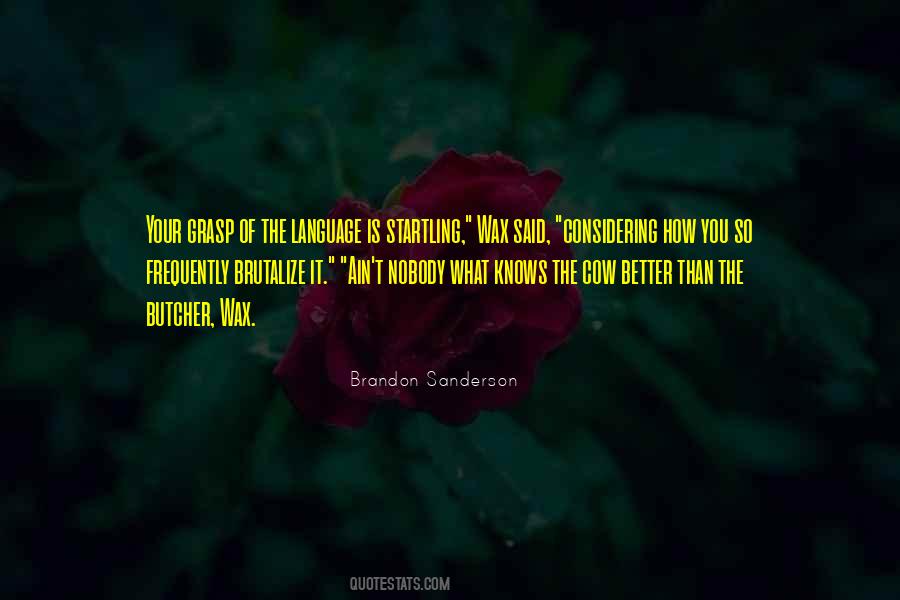 #31. Nobody knows you better than you do. - Author: Robert Cheeke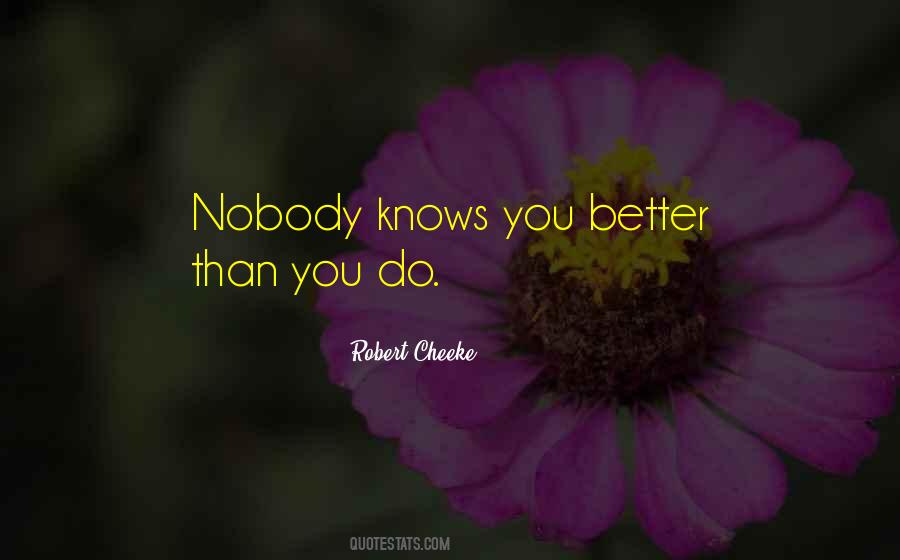 #32. FOR I CAN SEE THE BALANCE AND YOU HAVE LEFT THE WORLD MUCH BETTER THAN YOU FOUND IT, AND IF YOU ASK ME, said Death, NOBODY COULD DO ANY BETTER THAN THAT ... - Author: Terry Pratchett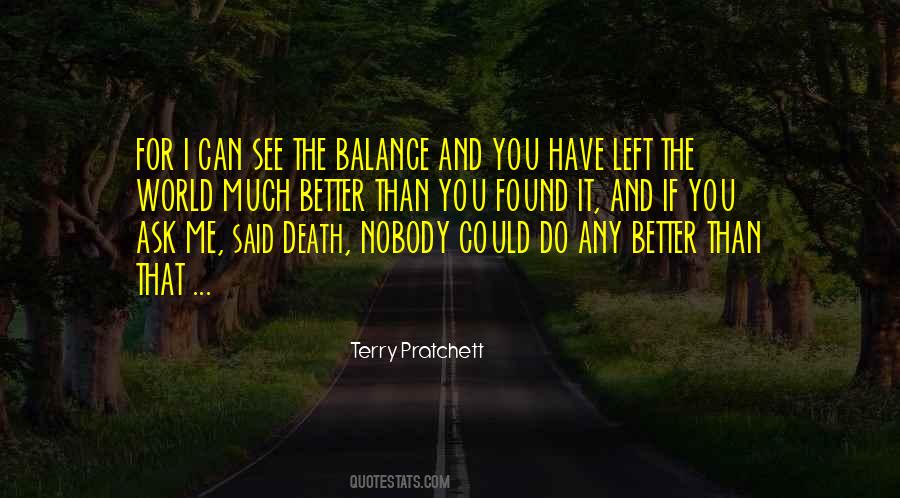 #33. Don't let nobody take care of your business better than you. - Author: James Brown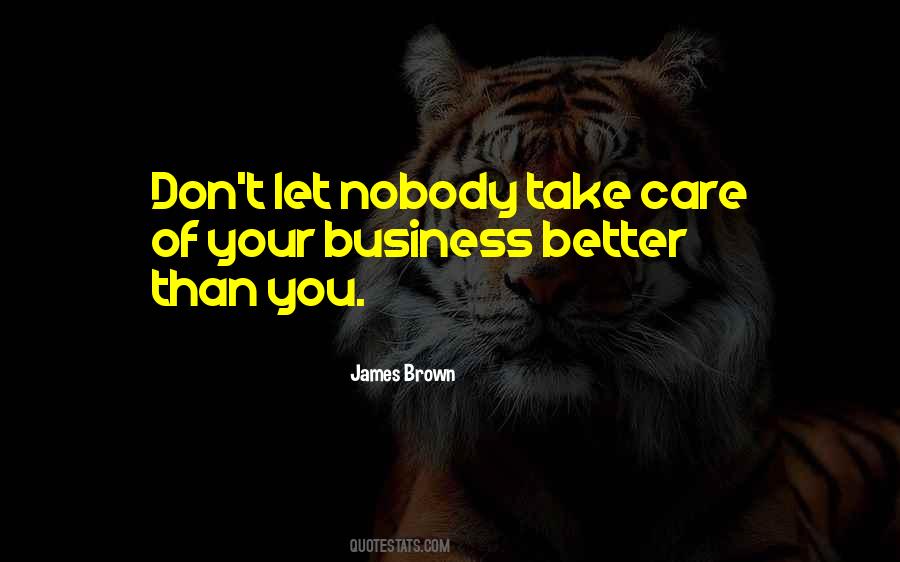 #34. Damn Dap and damn you too, sir, I know what I'm doing." "Do you?" "Better than anyone else." "Oh, that is obvious, since nobody else has the faintest idea what you're doing. - Author: Orson Scott Card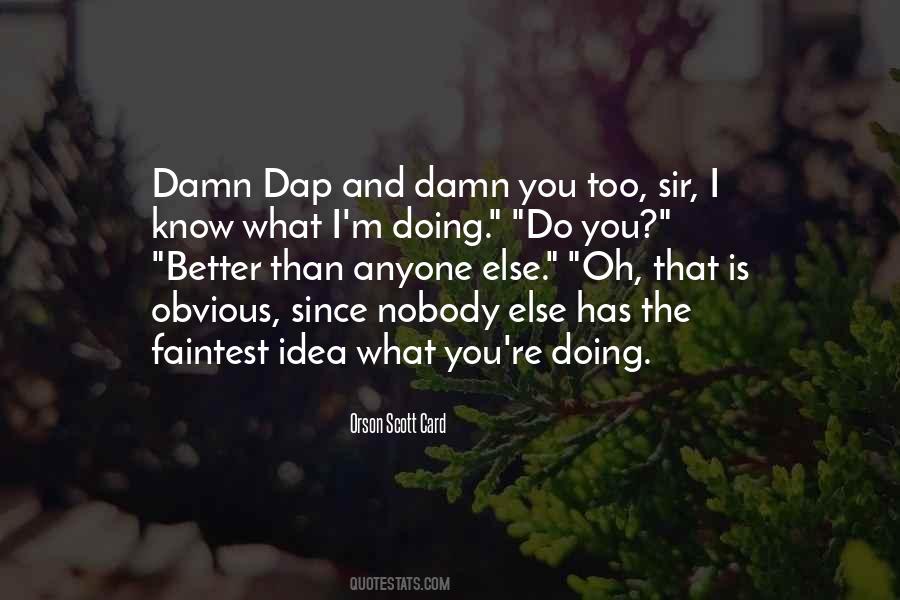 Famous Authors
Popular Topics