Never Lost Famous Quotes & Sayings
List of top 100 famous quotes and sayings about never lost to read and share with friends on your Facebook, Twitter, blogs.
Top 100 Never Lost Quotes
#1. I've never felt so bereft and panicky. What do I do without my phone? How do I function? My hand keeps automatically reaching for my phone in its usual place in my pocket. Every instinct in me wants to text someone, 'OMG, I've lost my phone! ' but how can do that without a bloody phone? - Author: Sophie Kinsella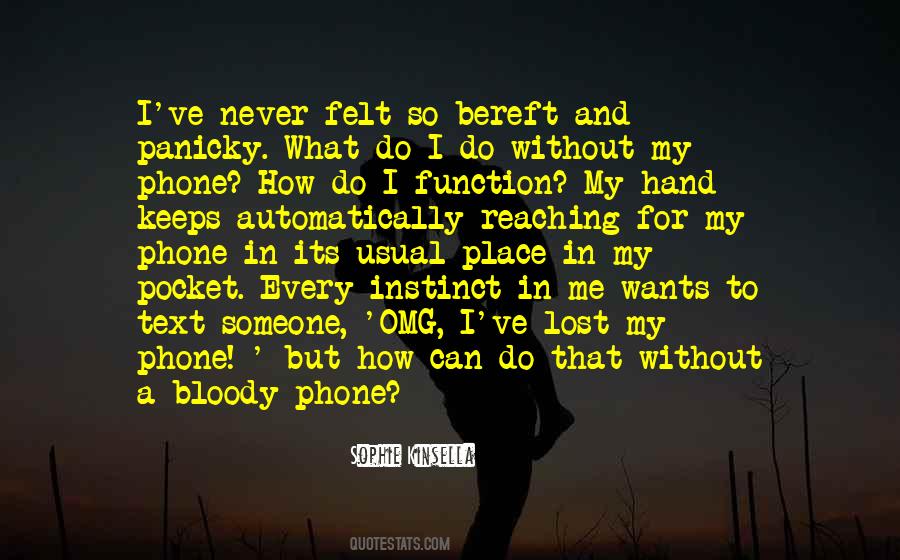 #2. A religion which has lost its basic conviction about the interconnection of men with men in their common struggles for the human, will never command belief in the realm of the superhuman. - Author: Max Lerner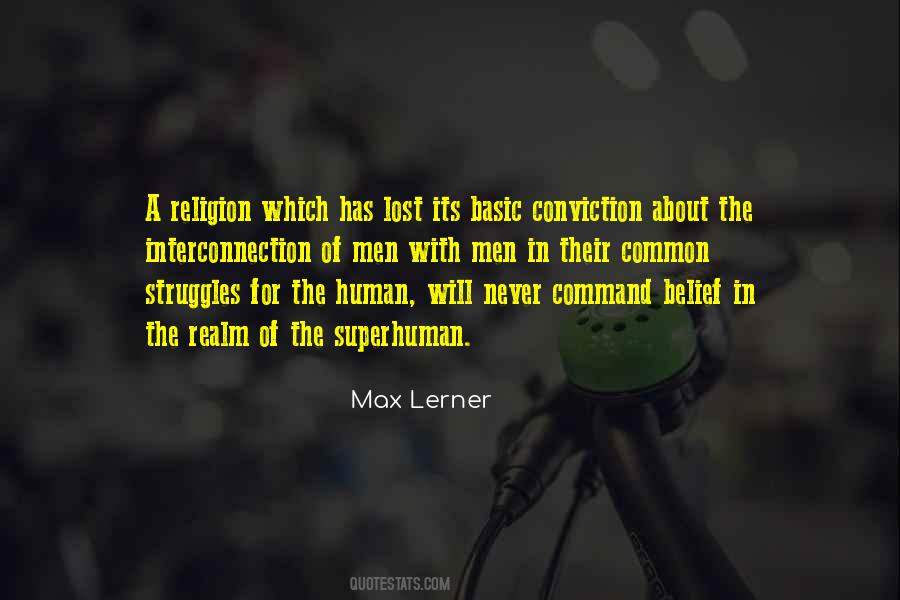 #3. But later that day, the streets of Kweilin were strewn with newspapers reporting great Kuomintang victories, and on top of these papers, like fresh fish from a butcher, lay rows of people - men, women and children who had never lost hope, but had lost their lives instead. - Author: Amy Tan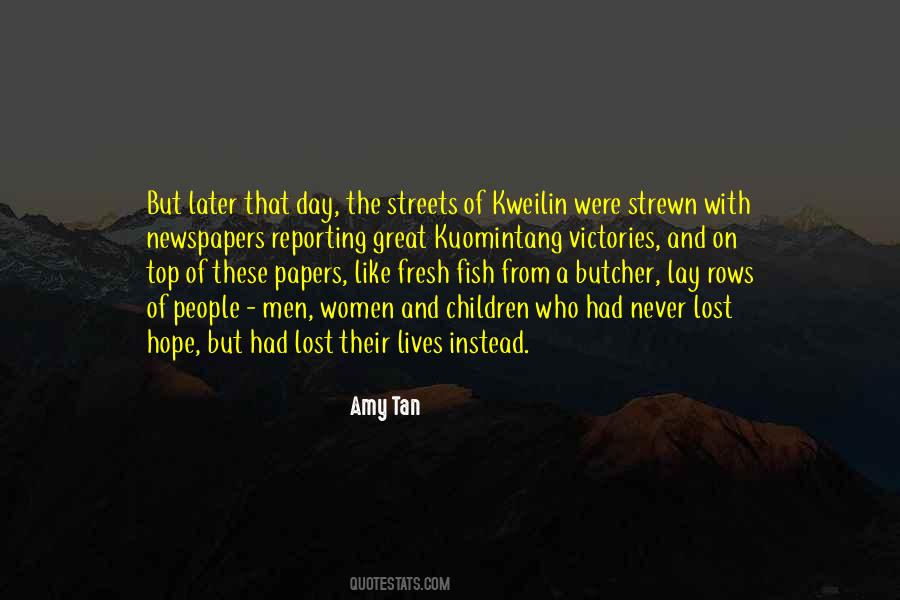 #4. You can never be lost when you learn to get lost into the blue of the sea.. - Author: Munia Khan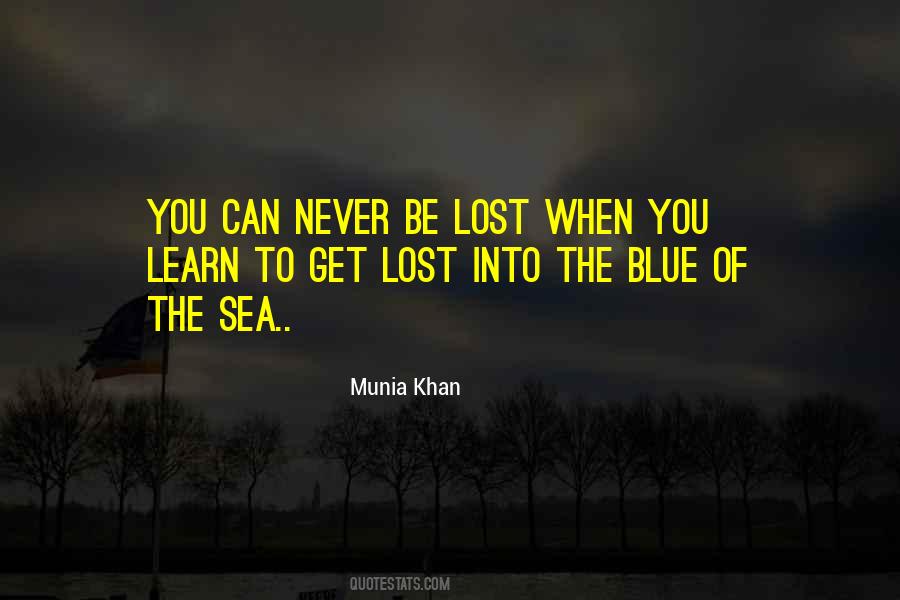 #5. I never knew I was lost until I found myself - Author: Sonya Davis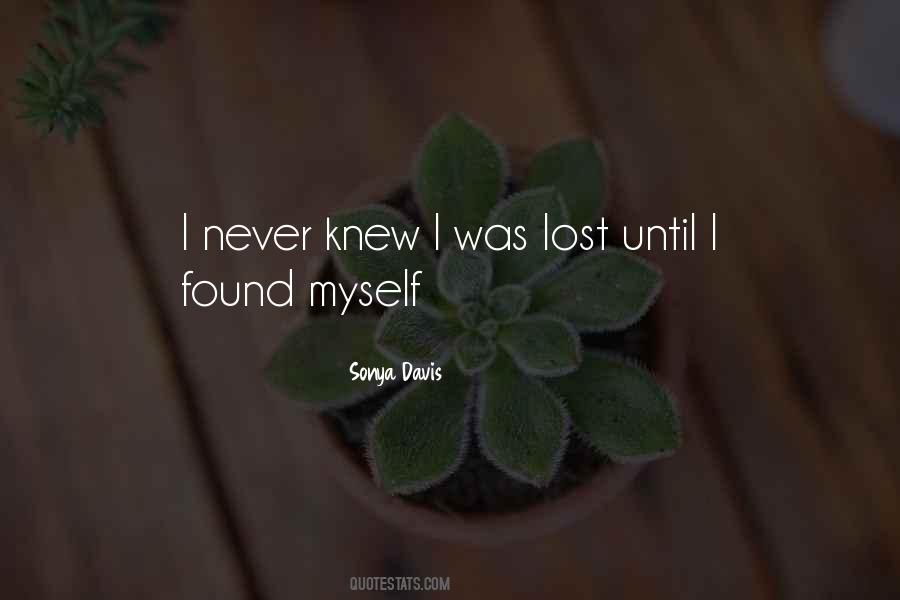 #6. Give thy love freely, do not count the cost: So beautiful a thing was never lost. - Author: Ella Wheeler Wilcox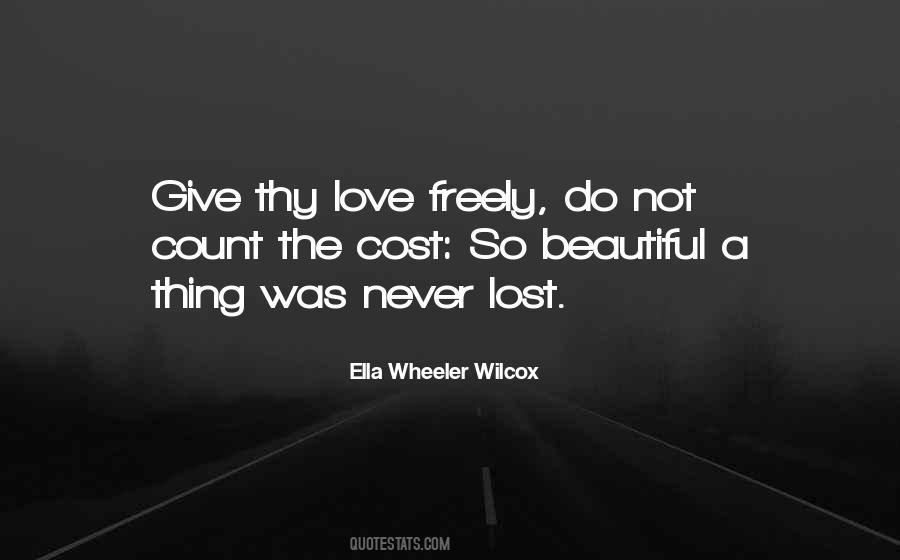 #7. I have never regretted Paradise Lost since I discovered that it contained no eggs-and-bacon. - Author: Dorothy L. Sayers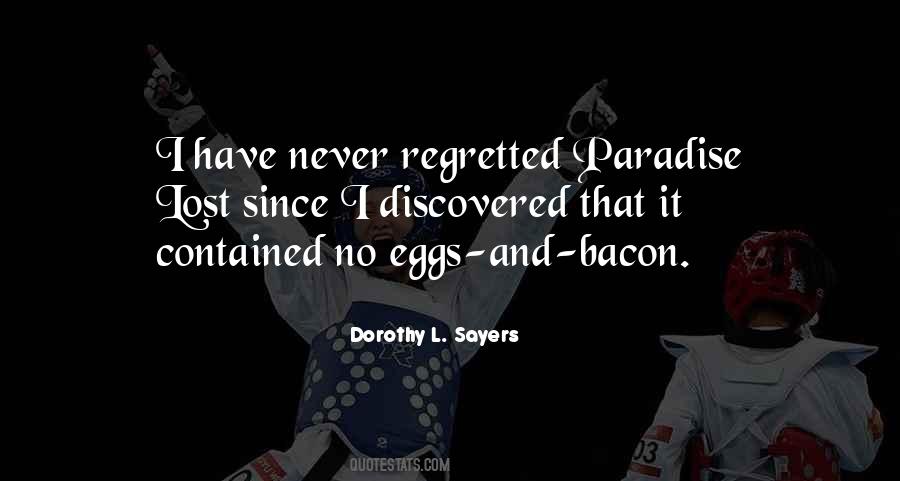 #8. Money can always be gained; lost time can never be recovered. - Author: Matshona Dhliwayo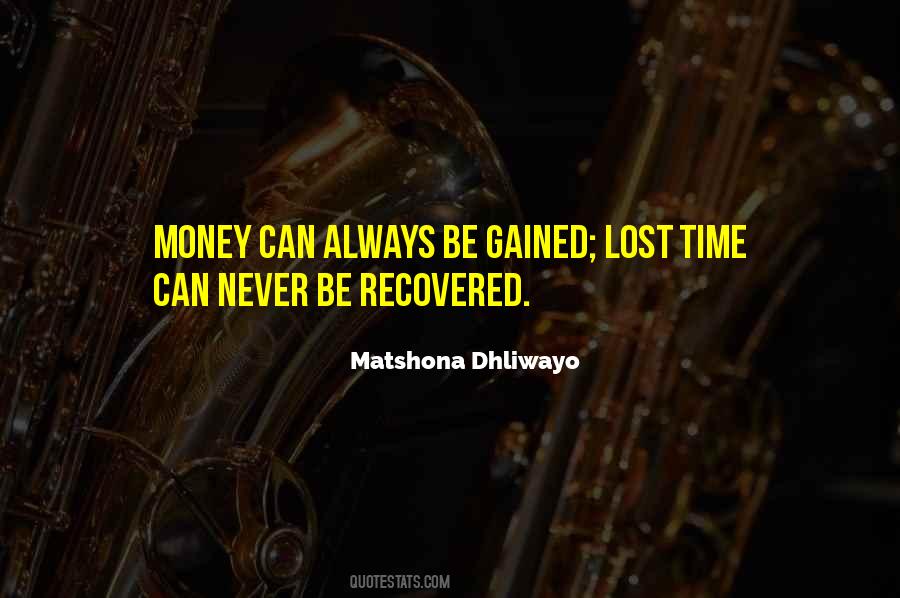 #9. Better to have loved and lost than never to have loved at all? How about this: I lost without the love. I've lost things I've never even had. A whole life. - Author: Ben Marcus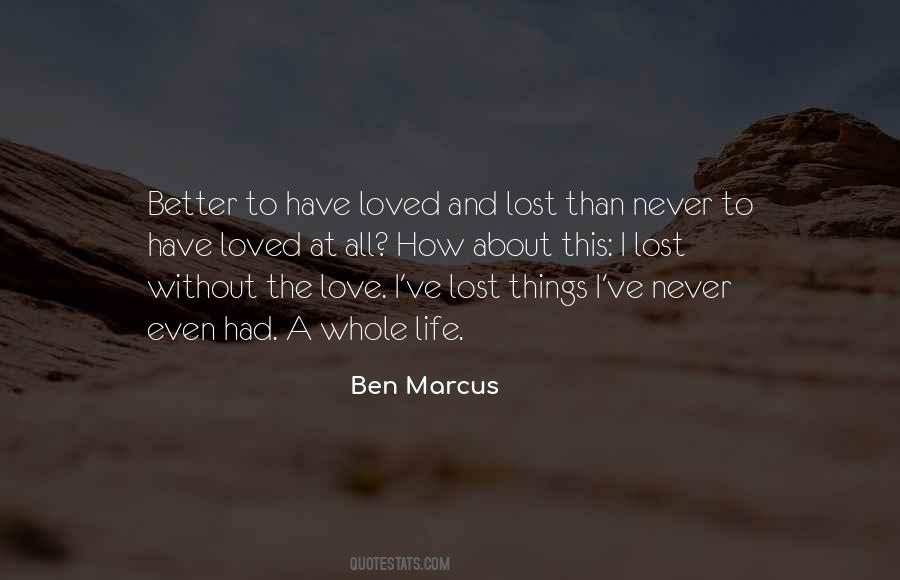 #10. It didn't occur to either of them that lives would be lost, that the world they were to defend would shift under their feet and never be the same again. They only dreamed of the adventure. A - Author: Adriana Trigiani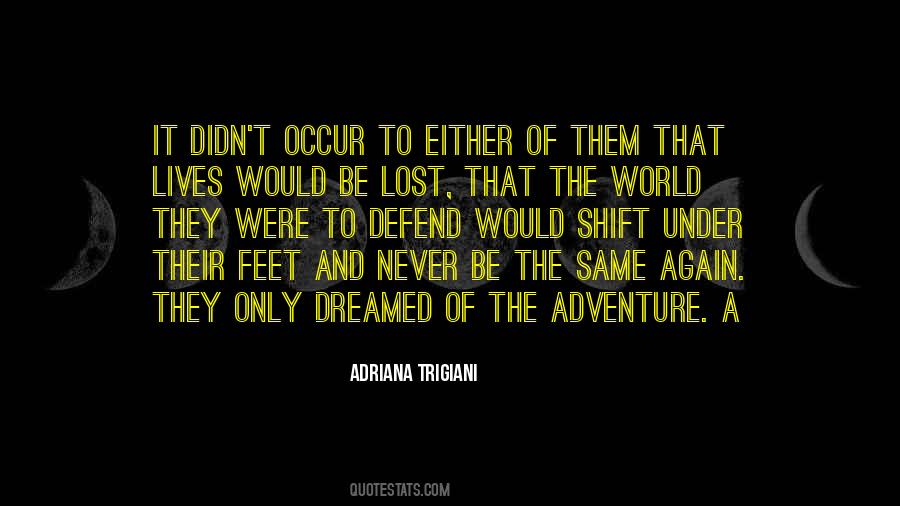 #11. Far beneath the rusty Baltimore dawn, stirrings in the maximum security ward. Down where it is never dark the tormented sense beginning day as oysters in a barrel open to their lost tide. God's creatures who cried themselves to sleep stirred to cry again and the ravers cleared their throats. - Author: Thomas Harris
#12. I didn't have a teen age at all. I didn't even look at boys, never mind ... then suddenly it was like, 'Oh my god!' So I made up for a lot of lost time very quickly. It was kind of bonkers. Working hard, partying hard - but also experiencing life, you know. - Author: Anne-Marie Duff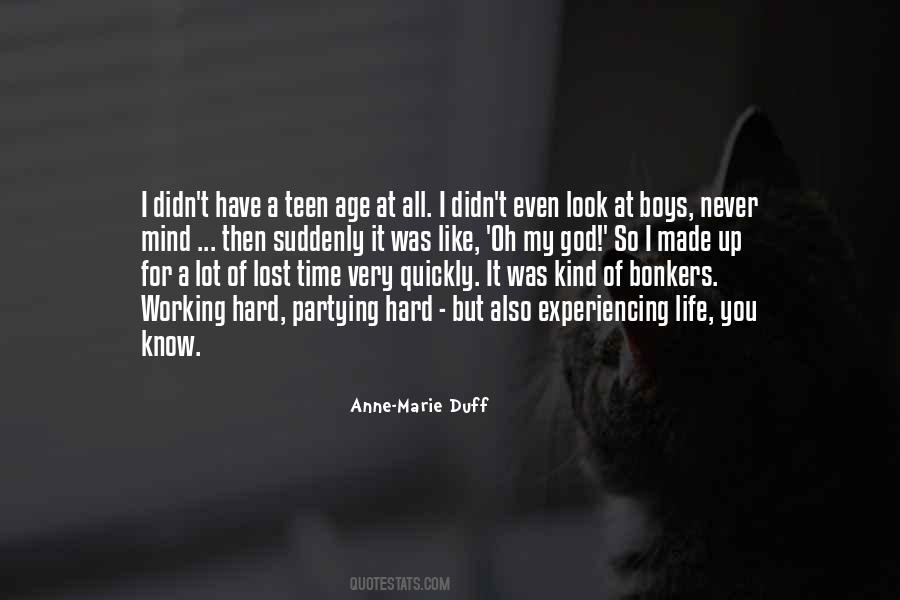 #13. They call me the Angel of Death.
That's because I ain't never lost a fight. - Author: Moira Young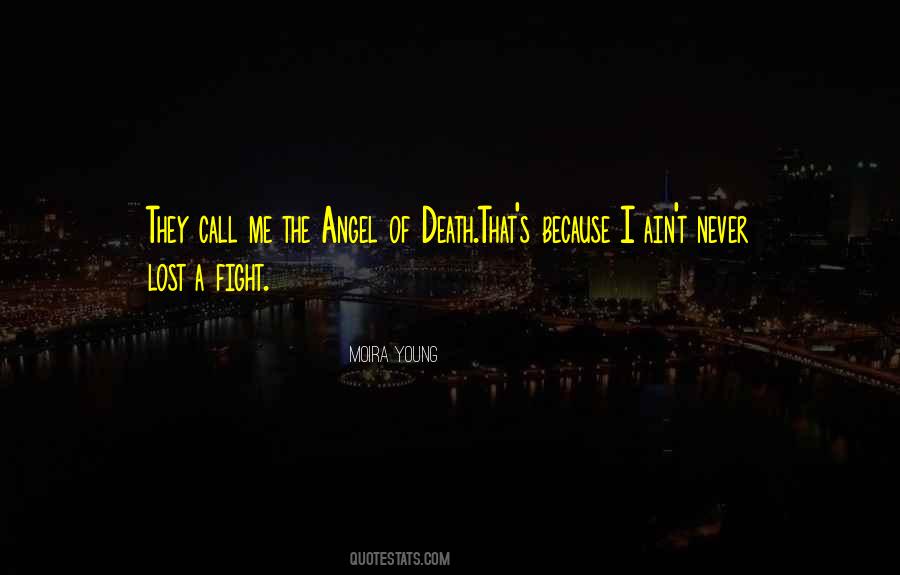 #14. Freedom that is not fought for, that is not gained by personal sacrifice is freedom that will never last, because in the heart of the one set free, it will have little value. A treasure that costs nothing is a treasure that is easily neglected and lost. - Author: Bryan Davis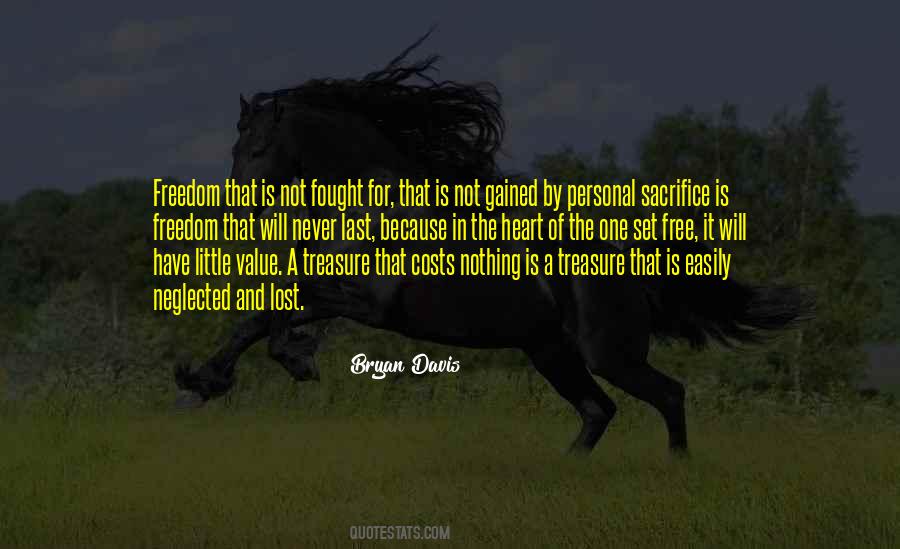 #15. Just to see you smile I'd do anything that you wanted me to. When all is said and done I'd never count the cost, cause it's worth all that's lost just to see you smile. - Author: Tim McGraw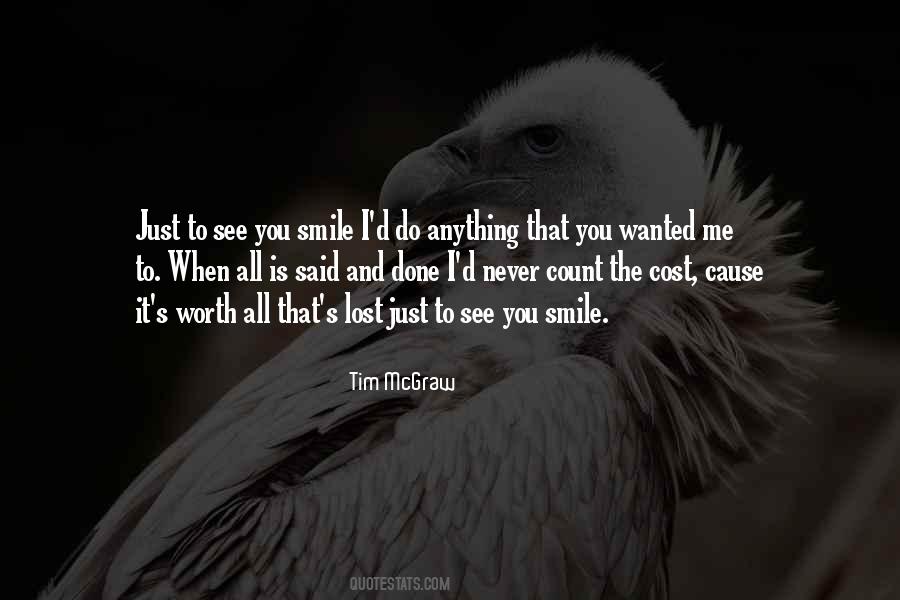 #16. When people say that nothing happens in their lives I believe them. But you must understand that everything happens to an artist; time is always redeemed, nothing is lost and wonders never cease. - Author: Muriel Spark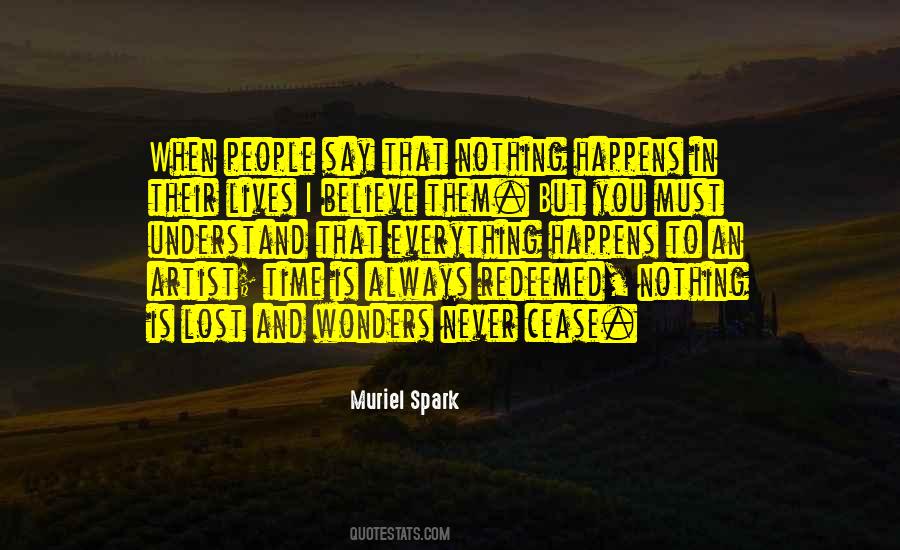 #17. In Naples, there were kids who were just lost. You knew they were never going to get back to what they'd been, or have a normal life. And then there were other ones who you though, maybe they will. What I'm saying is, we're the survivors. Not everyone is. But we are. Okay? - Author: Jennifer Egan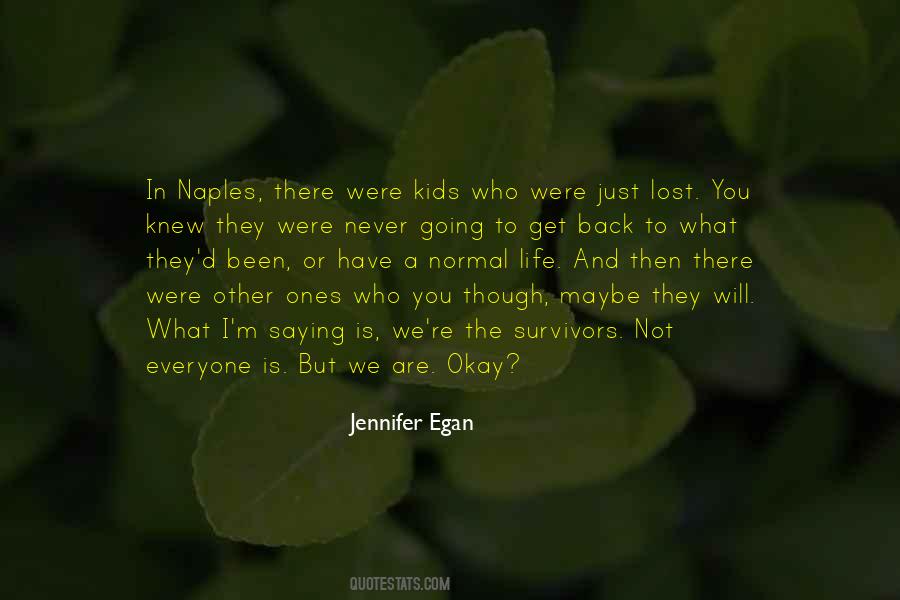 #18. I've spoken to Sid," she admits. "He says he's never seen Charlie so bad. He won't eat, he's lost weight and he looks terrible. Sid says it's the first time he's ever been so bored by him that he's considered smothering him. - Author: Lily Morton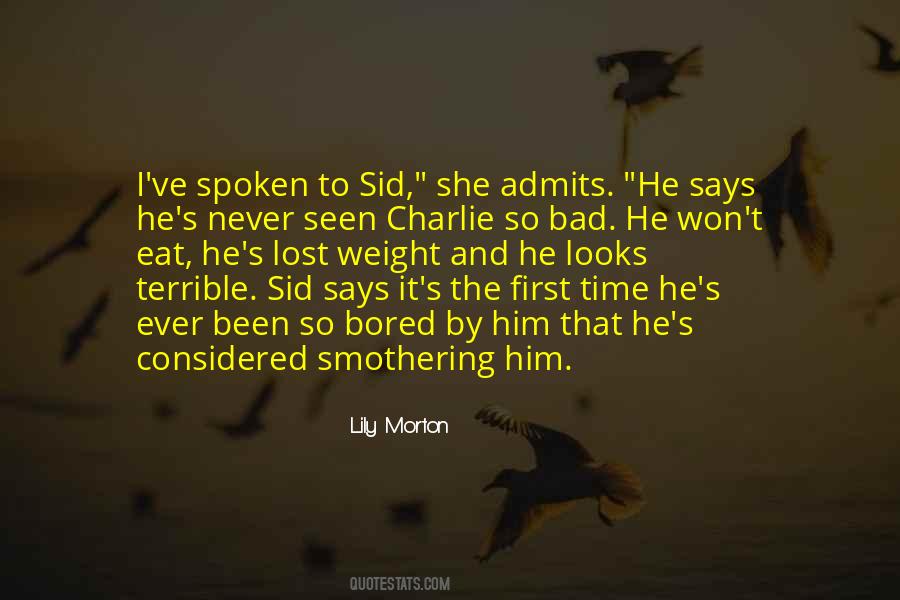 #19. I do not agree with a big way of doing things. What matters is the individual. If we wait till we get numbers, then we will be lost in the numbers and we will never be able to show that love and respect for the person. - Author: Mother Teresa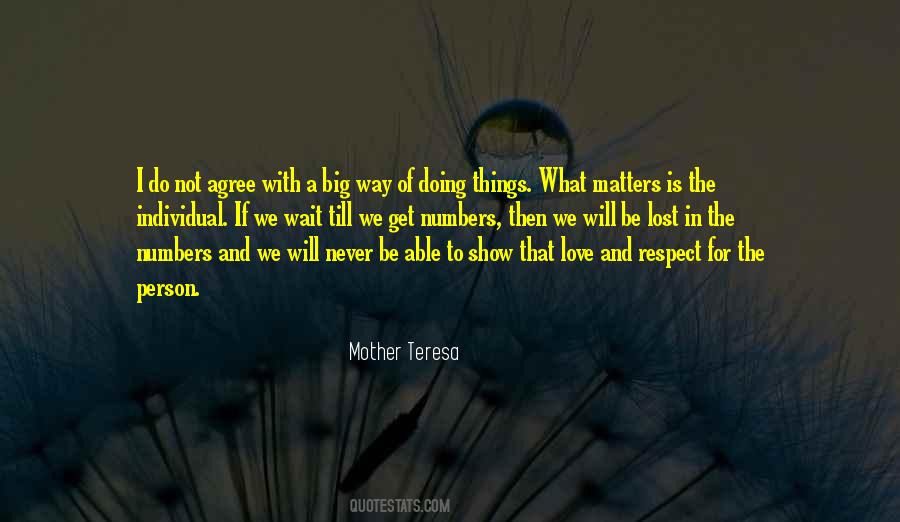 #20. She is never alone when she has Her Books. Books, to her, are Friends. Give her Shakespeare or Jane Austen, Meredith or Hardy, and she is Lost - lost in a world of her own. She sleeps so little that most of her nights are spent reading. - Author: E.M. Delafield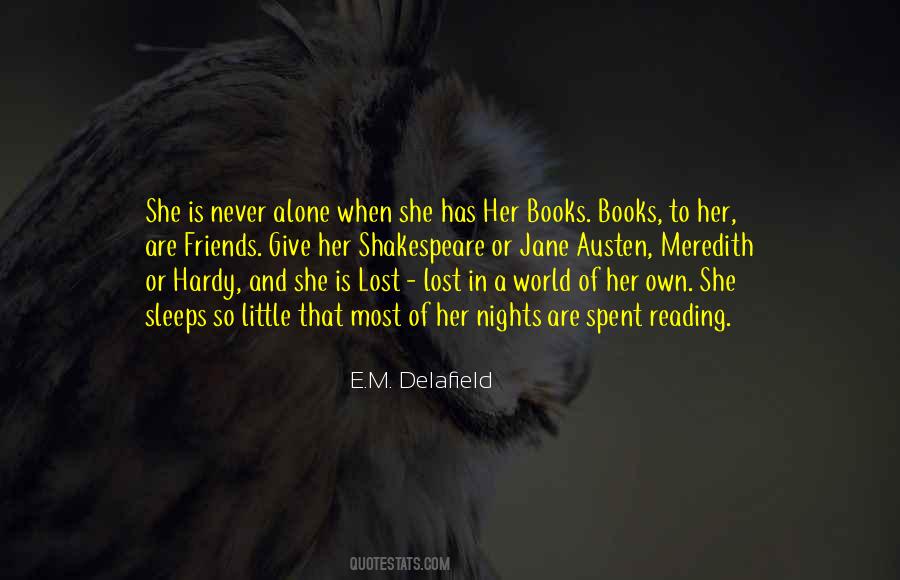 #21. Nobody can stay with you forever; somebody will leave you soon or somebody very late but you must be left one day. so, don't get lost. Be with yourself. Life will never pain you. - Author: Raj Singh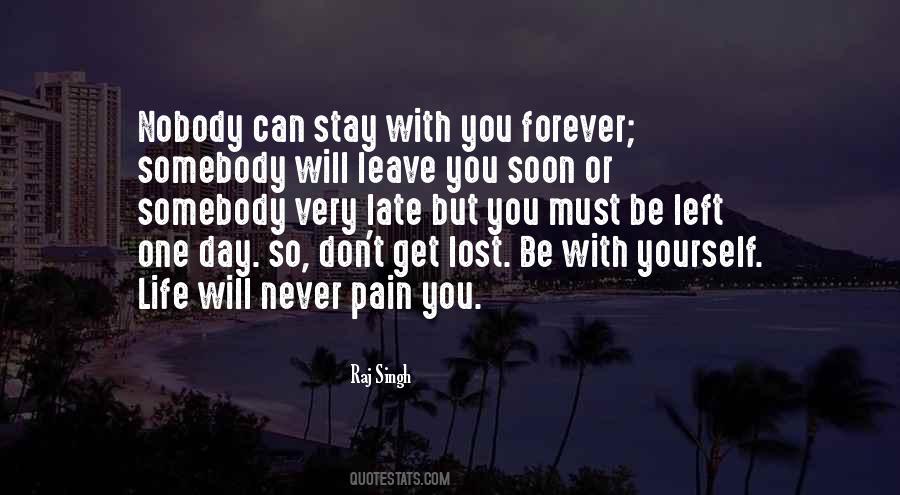 #22. The heart will find solace after a lost love, but once the soul is betrayed and broken it will always bleed and the wounds will never really heal,,,, - Author: Camelia C.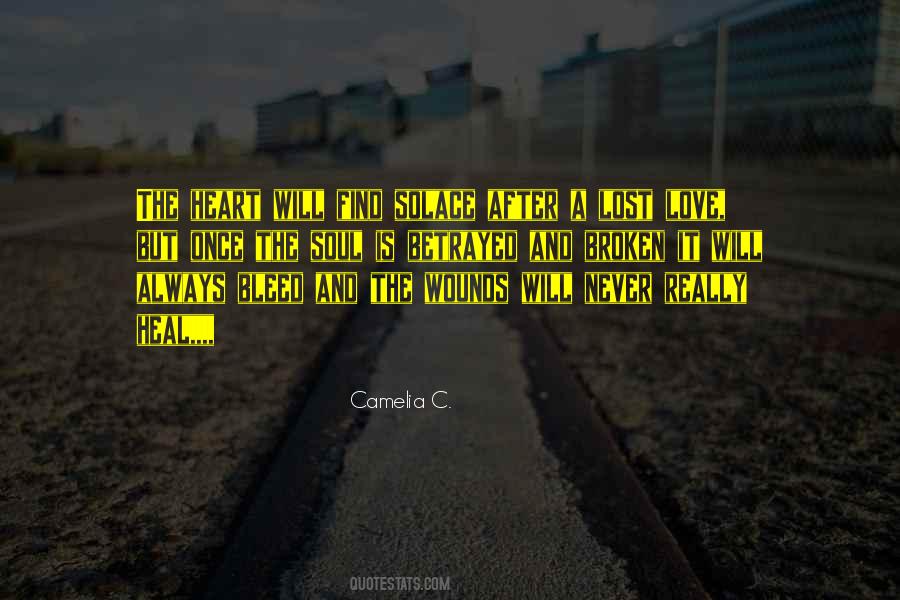 #23. My home will never be a place, but a state of mind, which I find through my music. - Author: Charlotte Eriksson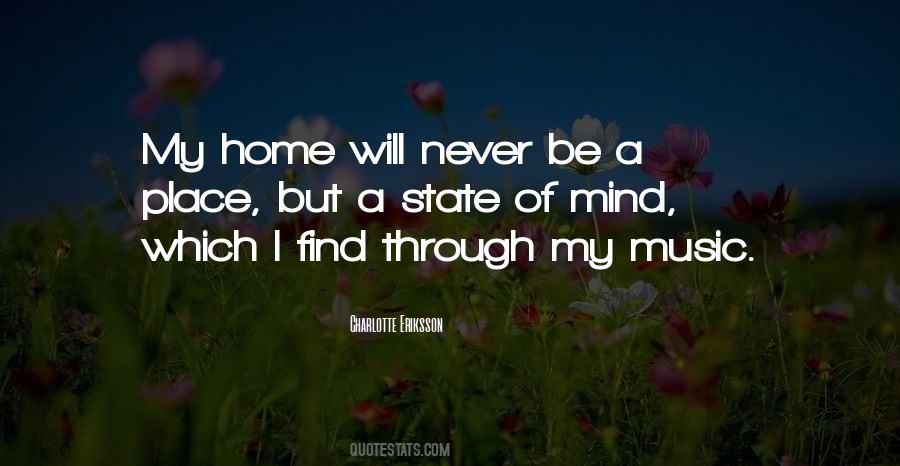 #24. Even when I feared and detested Christianity, I was struck by its essential unity, which, in spite of its divisions, it has never lost. I trembled on recognizing the same unmistakable aroma coming from the writings of Dante and Bunyan, Thomas Aquinas and William Law. - Author: C.S. Lewis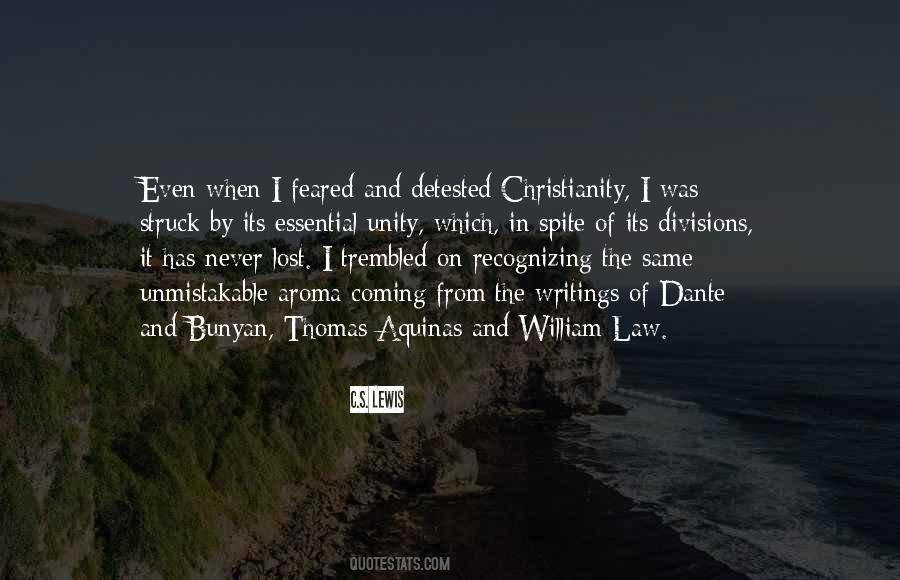 #25. Wolves never look more funny than when they have lost the scent and scrabble to find it again: they hop in the air; they run in circles, they plow up the ground with their noses ... - Author: Clarissa Pinkola Estes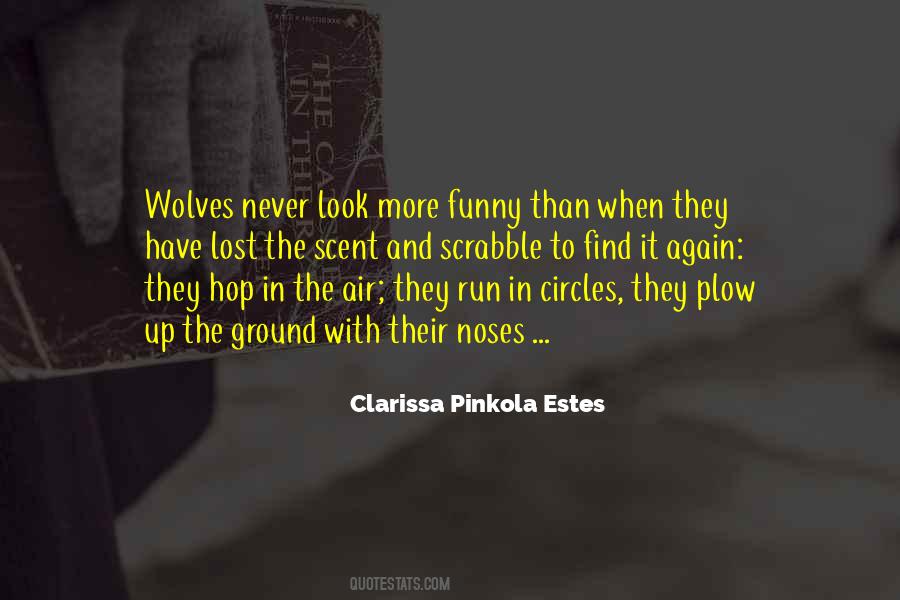 #26. No, I never did get lost, but I was bewildered for three days once. - Author: Daniel Boone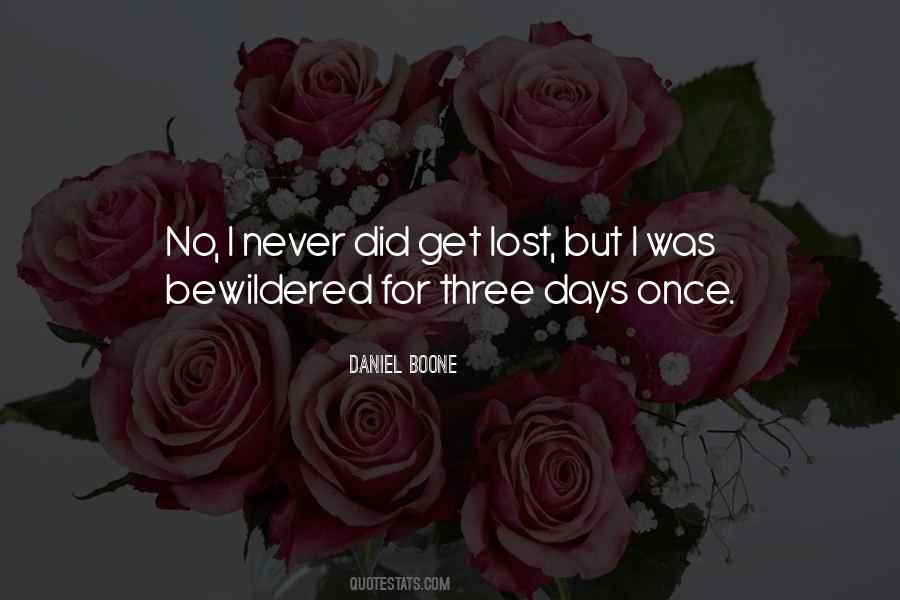 #27. There is stability in walking an uncertain path, because you never allow yourself to be misled by what you think you know. - Author: A.J. Darkholme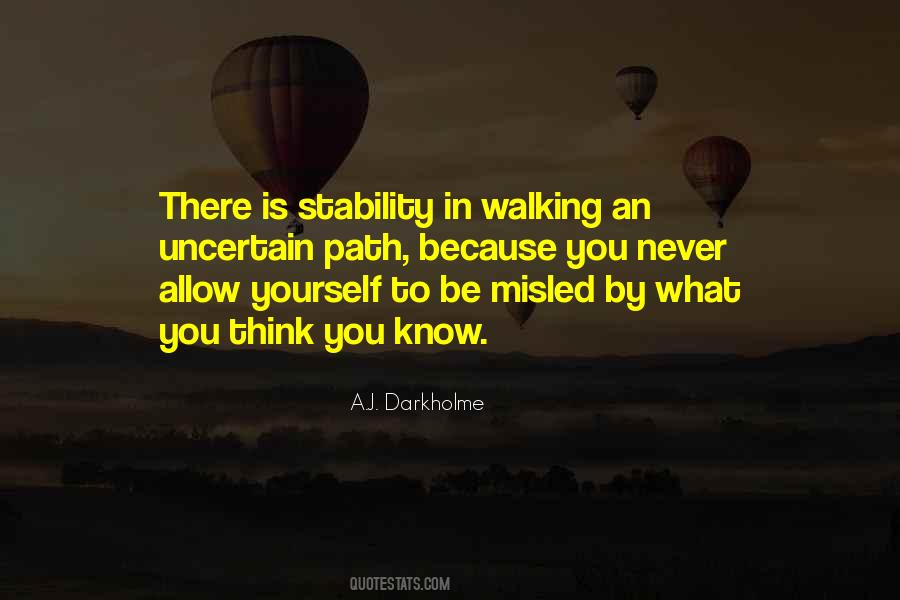 #28. ...Past joys and achievements give us the outlines of how to get to a state of happiness again. That memory is a treasure that can never be taken away. At least we know where we were, what we have lost, what we miss and what more to add to our experiences. - Author: Janvier Chouteu-Chando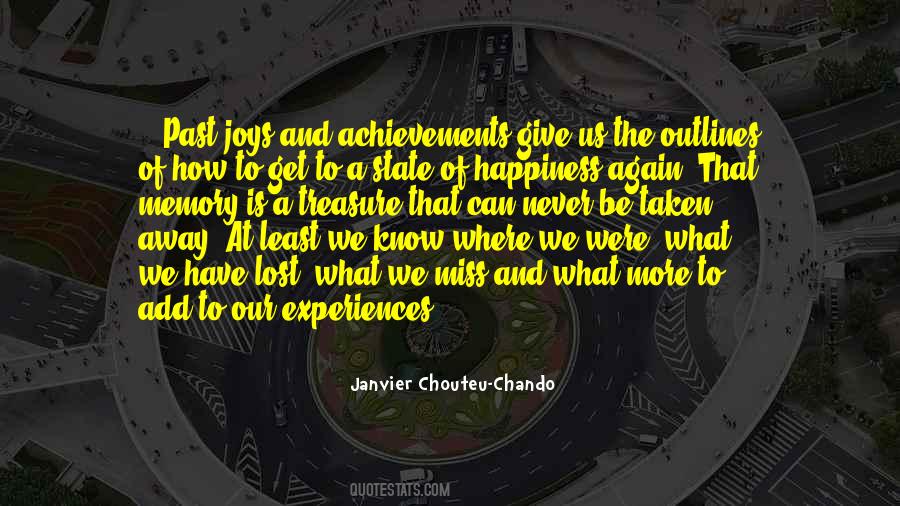 #29. Let me be your anchor. I'll never let you be lost again. - Author: Karen Marie Moning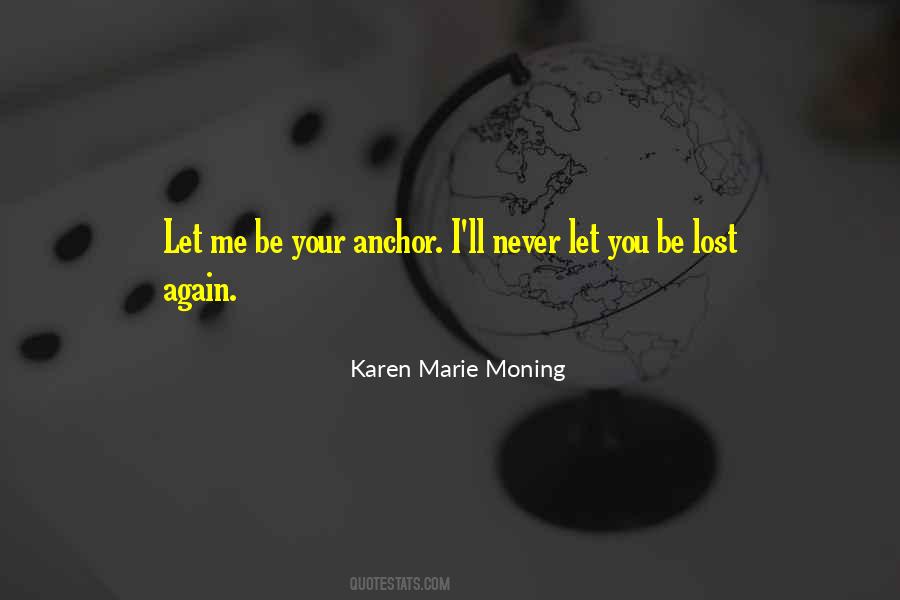 #30. It is that we are never so defenseless against suffering as when we love, never no helplessly unhappy as when we have lost our loved object of its love. - Author: Sigmund Freud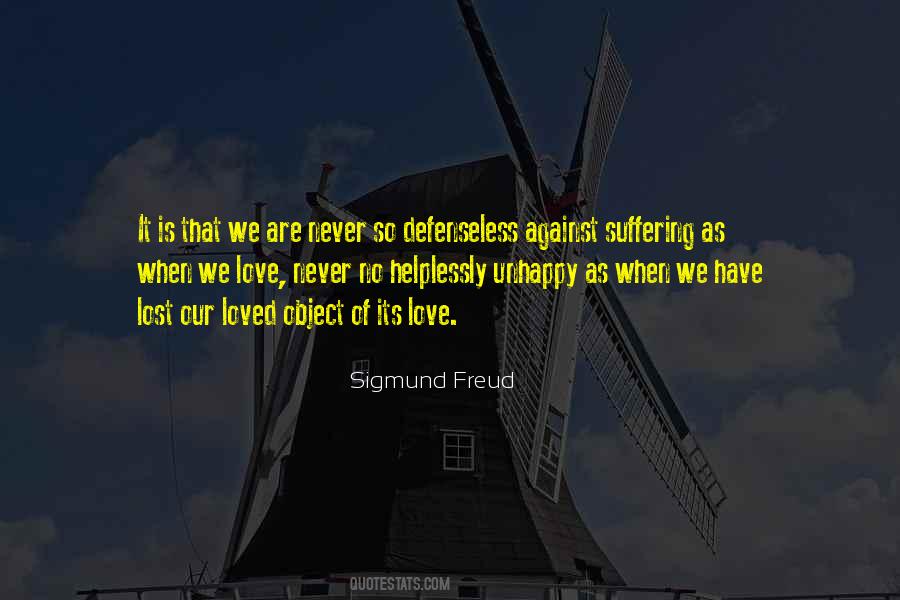 #31. You're not going to lose me again," aku berjanji. "You've never lost me in the first place anyway."
Dapat kurasakan dirinya tersenyum dalam rangkulanku. "And you've never lost me either. - Author: Winna Efendi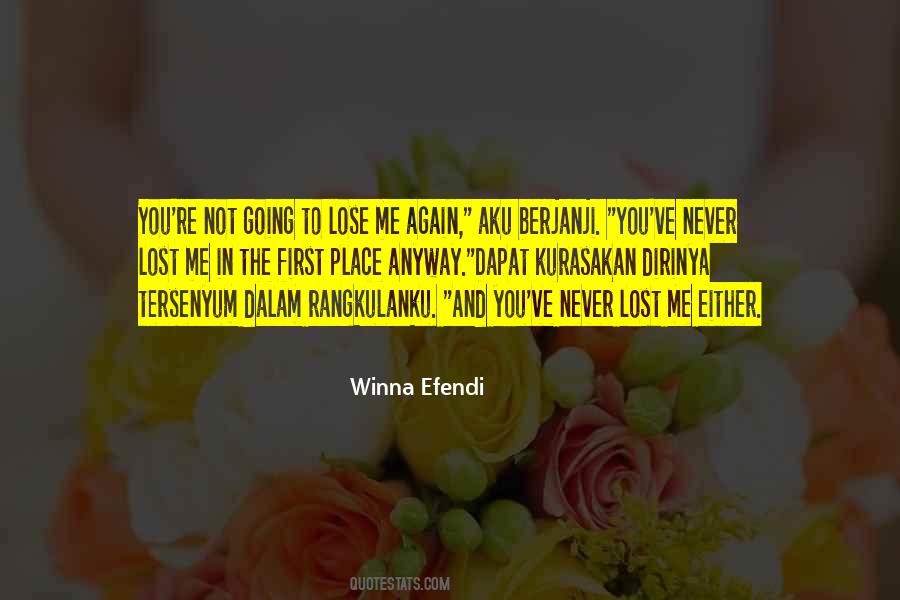 #32. I never lost my belief, in the midst of setbacks which were not spared me during my period of struggle. Providence has had the last word and brought me success. - Author: Adolf Hitler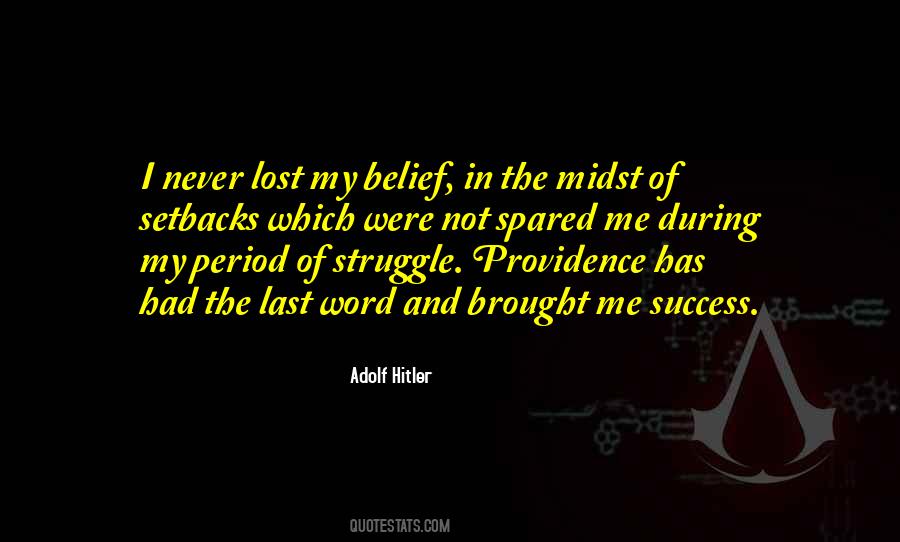 #33. First I lost Jax, whom I never really had to begin with, and now I was going to lose my friend, the guy who always made me laugh when I needed it the most. - Author: Abbi Glines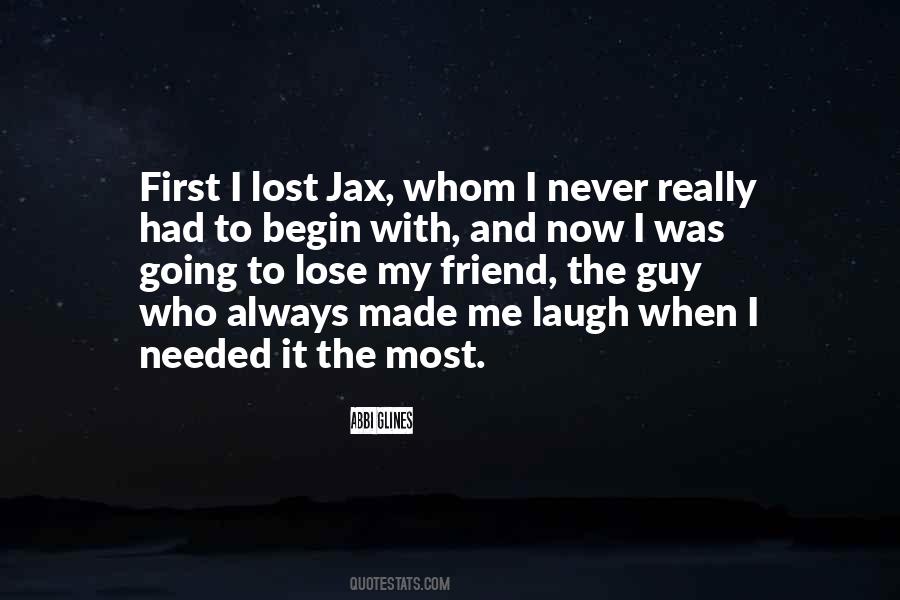 #34. After all with me & Marshall, it had never been about words or conversation, where there was too much to be risked or lost. Here, though, in the quiet pressed against each other, this felt familiar to me. And it was nice to let someone get close again, even if it was just for a little while. - Author: Sarah Dessen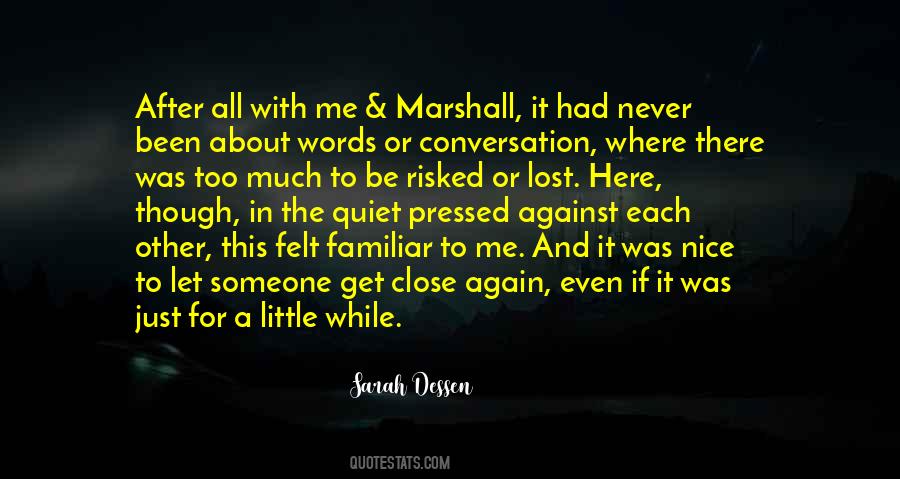 #35. Bottom line, if people don't say what they believe, those ideas and feelings get lost. If they are lost often enough, those ideas and feelings never return. - Author: David Wojnarowicz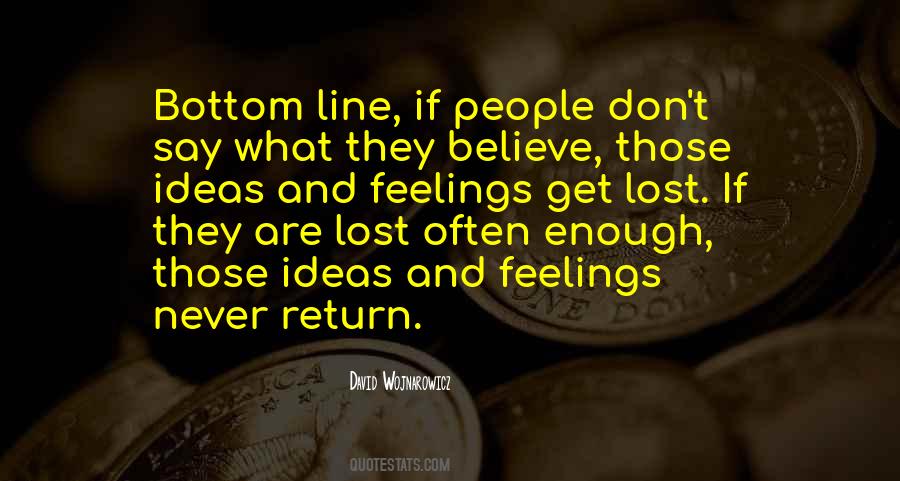 #36. Sasha snorted. "I have never in my extremely long life seen anyone take so long to answer a question. It's like you went into your brain and got lost. you need a bread crumb, buddy?" He made a noise like he was calling his pet. "Here Lassie, here. Come back girl. - Author: Sherrilyn Kenyon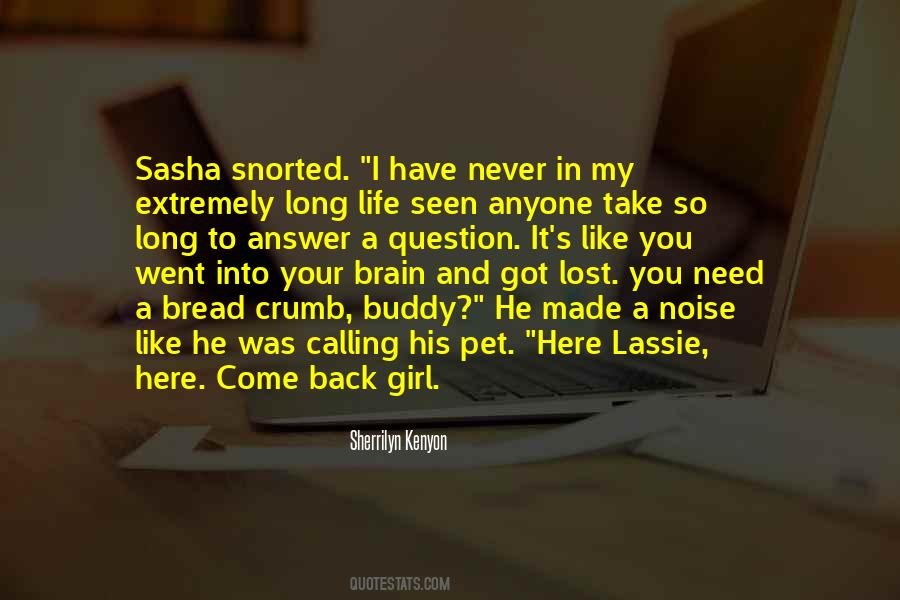 #37. I was the conductor of the Underground Railroad for eight years, and I can say what most conductors can't say; I never ran my train off the track and I never lost a passenger. - Author: Harriet Tubman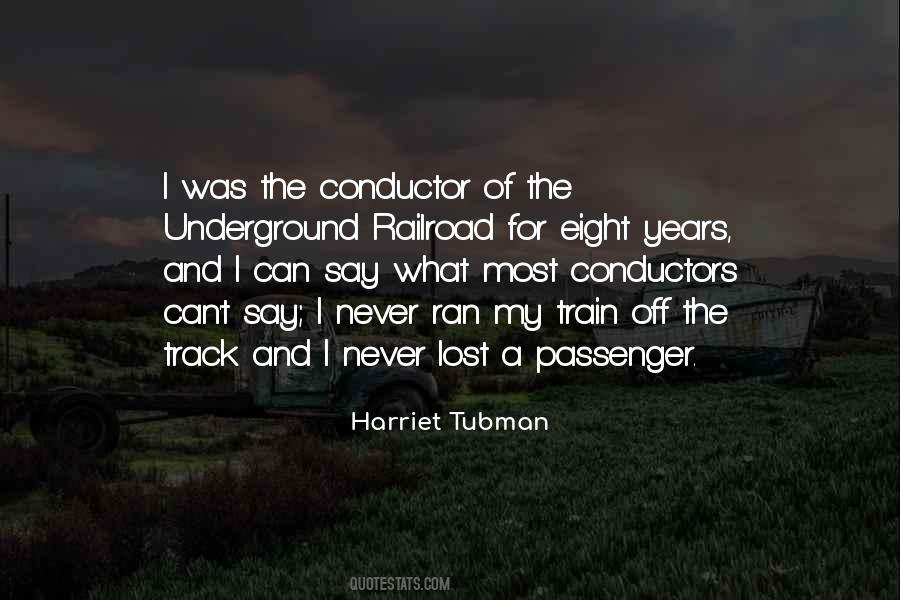 #38. People search for love as if it were a city lost beneath the desert dunes, where pleasure is the law, the streets are lined with brocade cushions, and the sun never sets. - Author: Diane Ackerman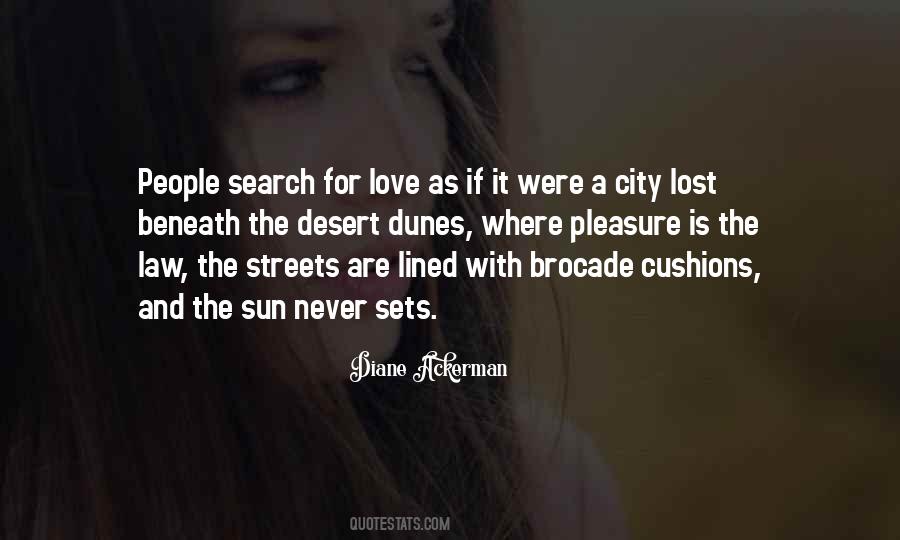 #39. You saved me, Nick. Sooner or later I would have lost my mind. I had to know, or I would have always felt like an outsider. You made me feel like I was part of something, part of a lot of things actually. I'll never be able to repay you for that. - Author: Samantha Shannon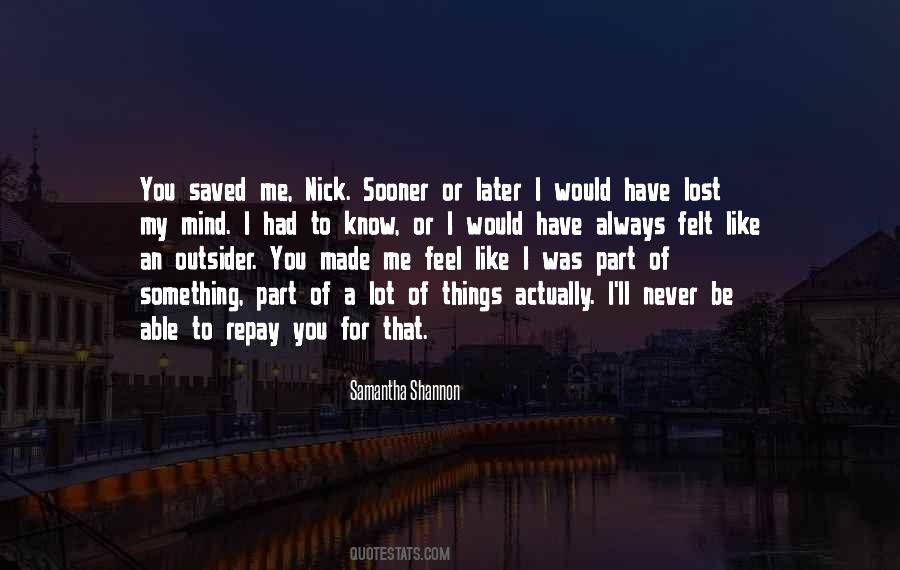 #40. Nostalgia for what we have lost is more bearable than nostalgia for what we have never had - Author: Mignon McLaughlin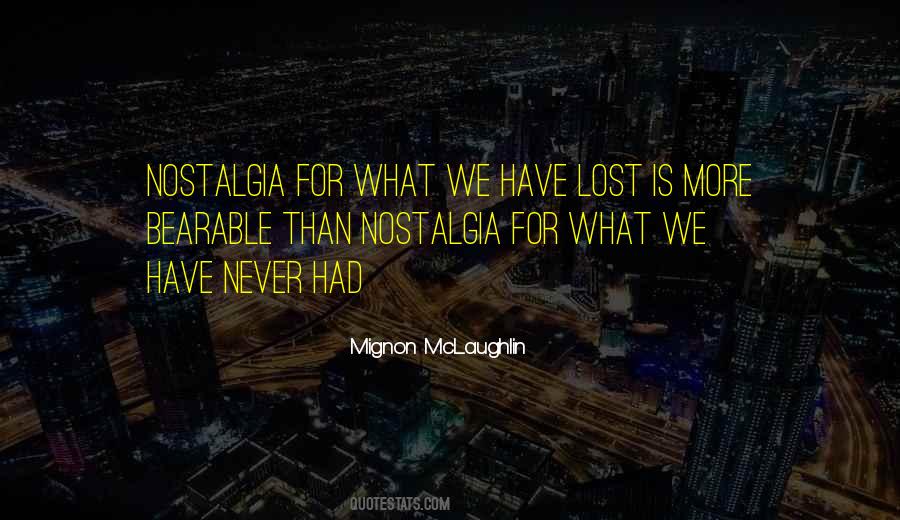 #41. NEVERLAND:The imaginary island home of Peter Pan and the lost boys. A place where you never grow up. Michael Jackson's former retreat. An accurate description of the 21st century. - Author: Daniel Prokop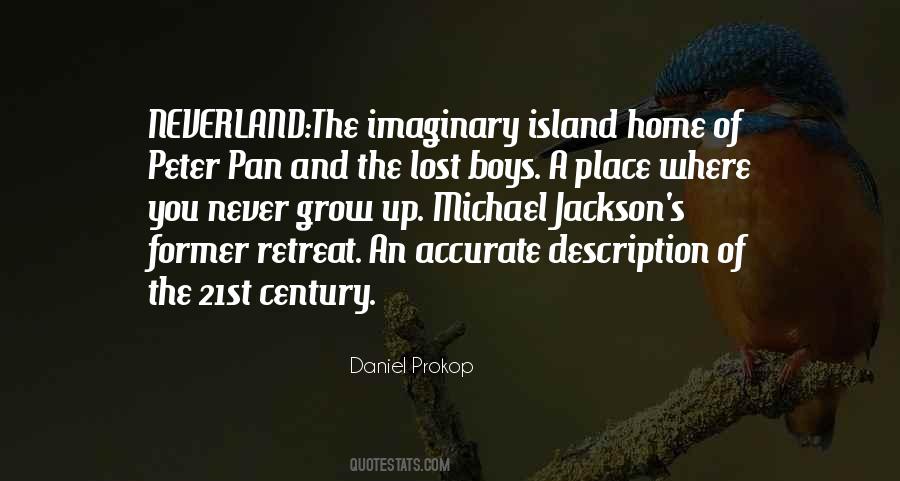 #42. I know I will never wear sandals now anywhere. I got in a fight in the back of a grocery store when I was really young, like 14 or something. And I remember my feet were so torn up afterwards because I lost my sandals in the middle of the fight. My toenail was missing. It just sucked. - Author: Channing Tatum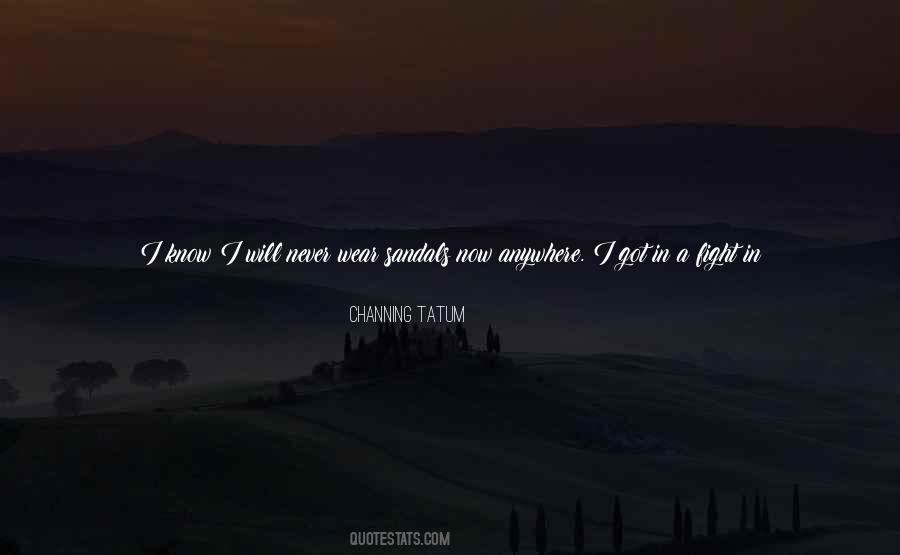 #43. But her mother was one of those weakest of women who can never forget the beauty they once possessed, or quite believe they have lost it, remaining, even after the very traces of it have vanished, as greedy as ever of admiration. - Author: George MacDonald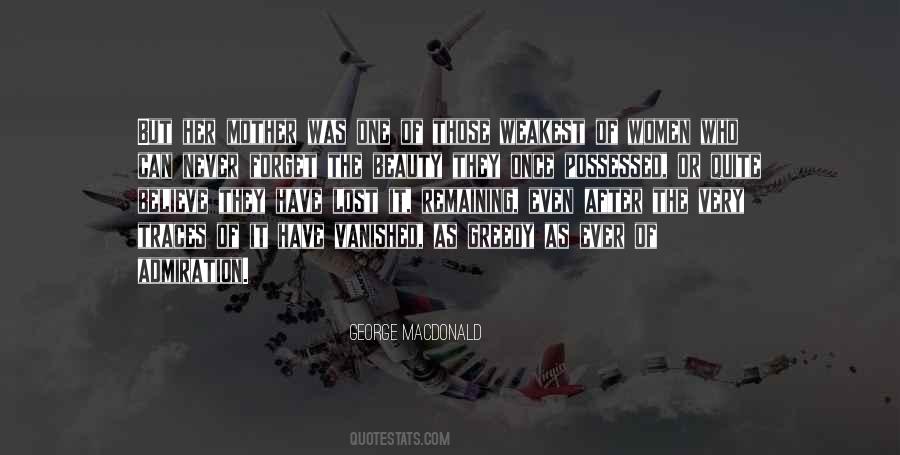 #44. I lost my sense of trust, honesty and compassion. I crashed down and became what I consider an emotional mess. I've never been so miserable in my whole life. I just wanted to go to bed and never get up. - Author: Shania Twain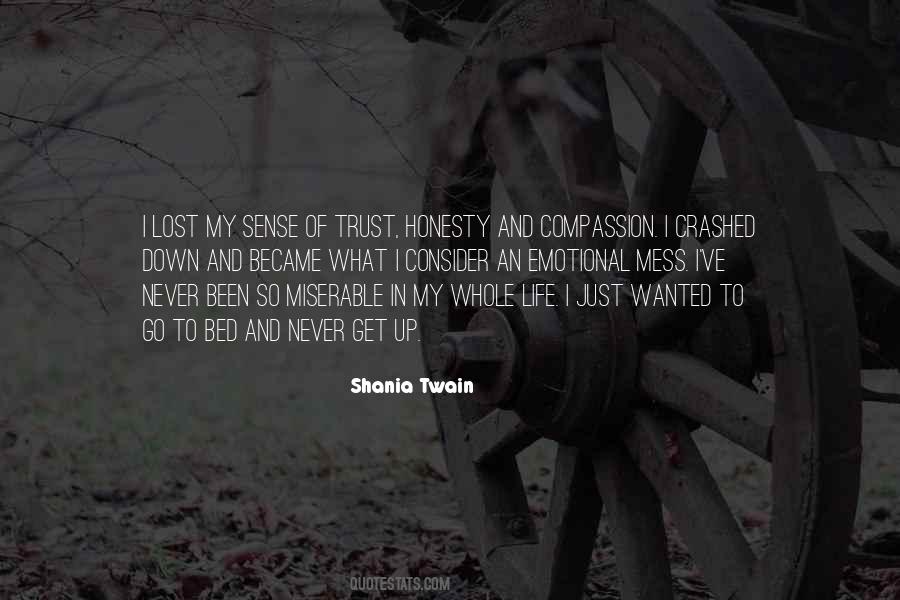 #45. I love to perform. I've never lost the urge. I've never once been on stage when I didn't want to be. - Author: Mark McGrath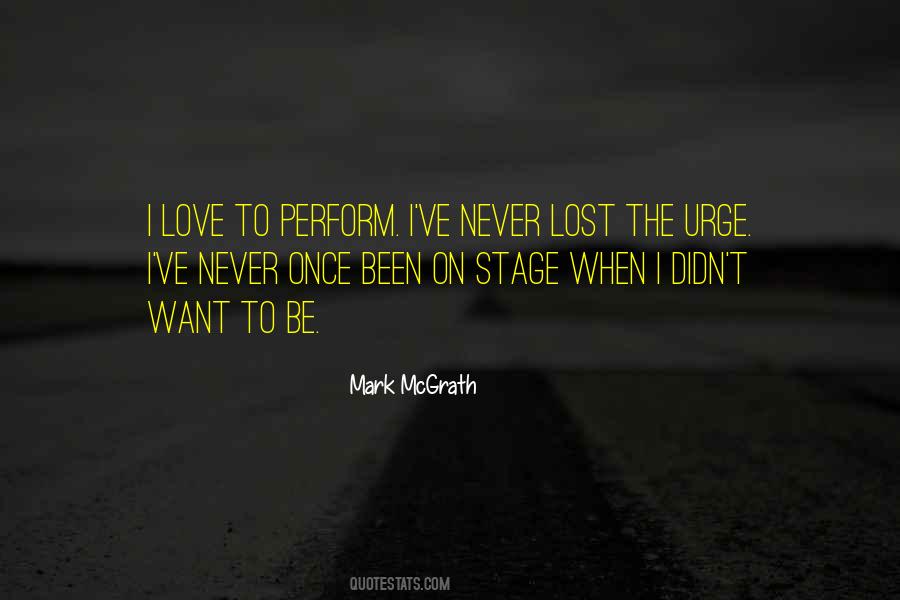 #46. It hurts almost more than I can bear. Tears sting my eyes again; I wipe them away impatiently. I am so tired of crying, so tired of feeling like half a person, but I don't know how to change things... (I have never felt so lost and alone.) - Author: Kristin Hannah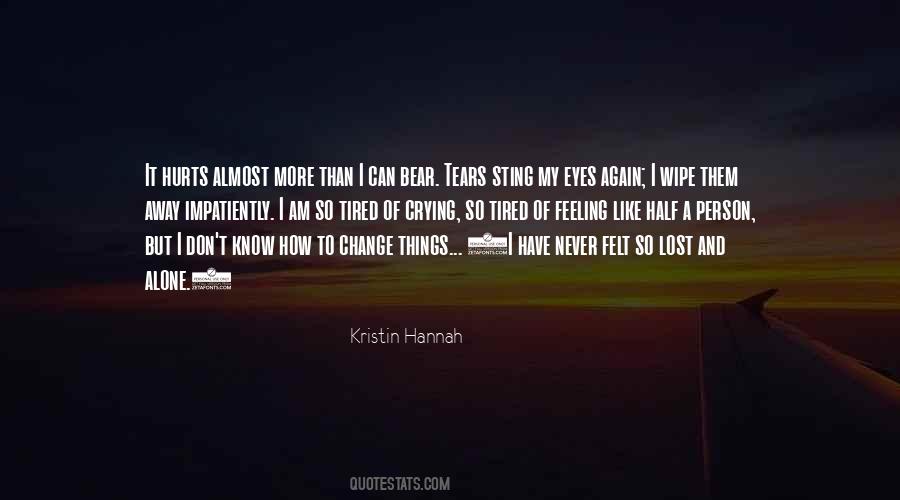 #47. Money lost, something lost. Honor lost, much lost. Courage lost, everything lost-better you were never born - Author: Johann Wolfgang Von Goethe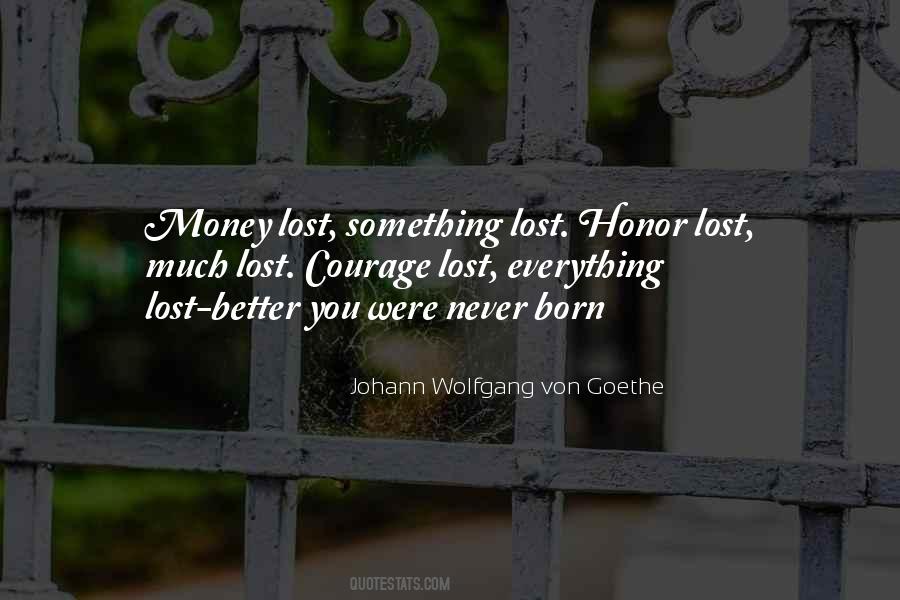 #48. What's given to dunya is lost forever. What's
given to Allah is never lost. If you give what
you love, for the sake of what He loves, you'll
have what you love forever. - Author: Yasmin Mogahed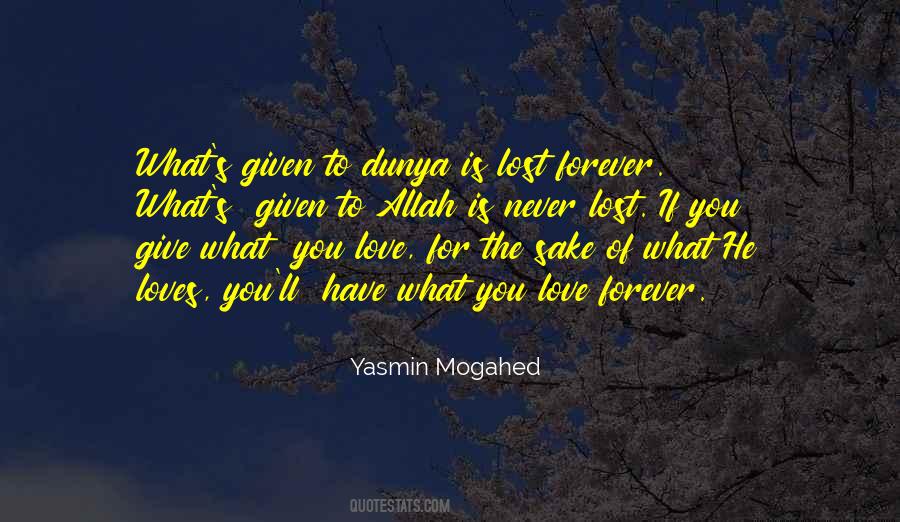 #49. I've never lost my appetite for acting; it's innovative and challenging. - Author: Eli Wallach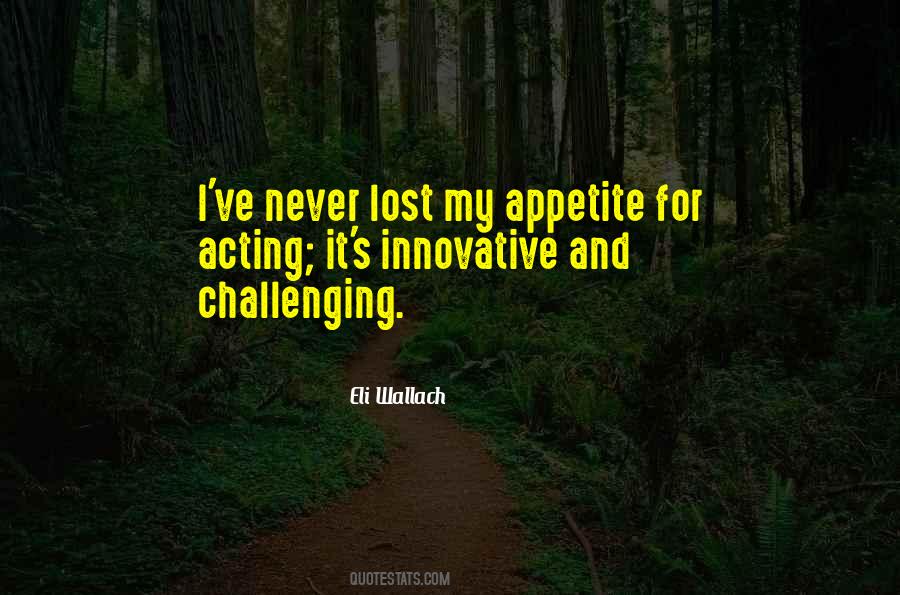 #50. What though the field be lost?
All is not Lost; the unconquerable will,
And study of revenge, immortal hate,
And the courage never to submit or yeild. - Author: John Milton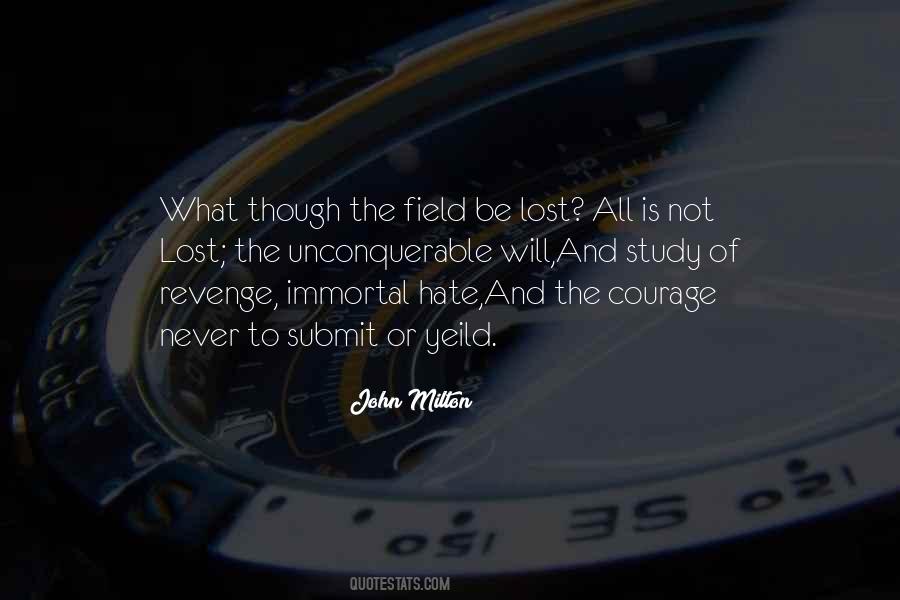 #51. How frustrating to think you can be lost to yourself. And yet how often it is that a stranger stares back at you from the mirror. Maybe in truth we never see ourselves as clearly as the thousands of eyes that daily take us in. - Author: Richelle E. Goodrich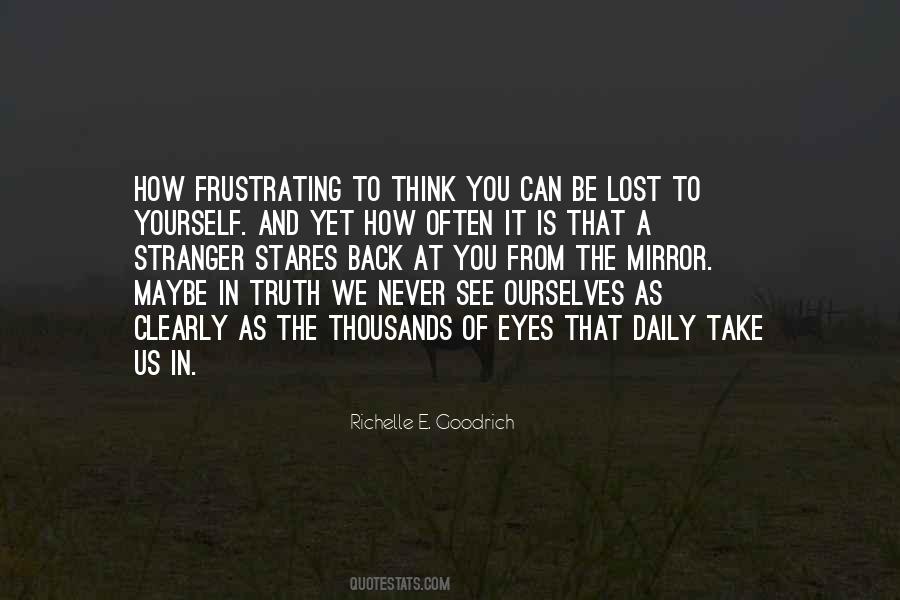 #52. Those who have lost an infant are never, in a way, without an infant. - Author: Leigh Hunt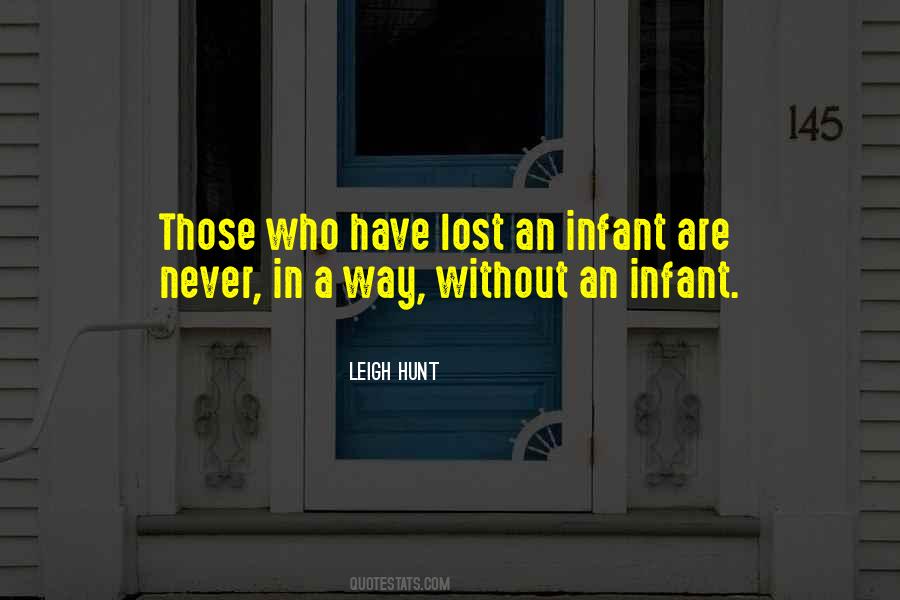 #53. Never give up the search to have back what was lost too soon. - Author: Alice Steinbach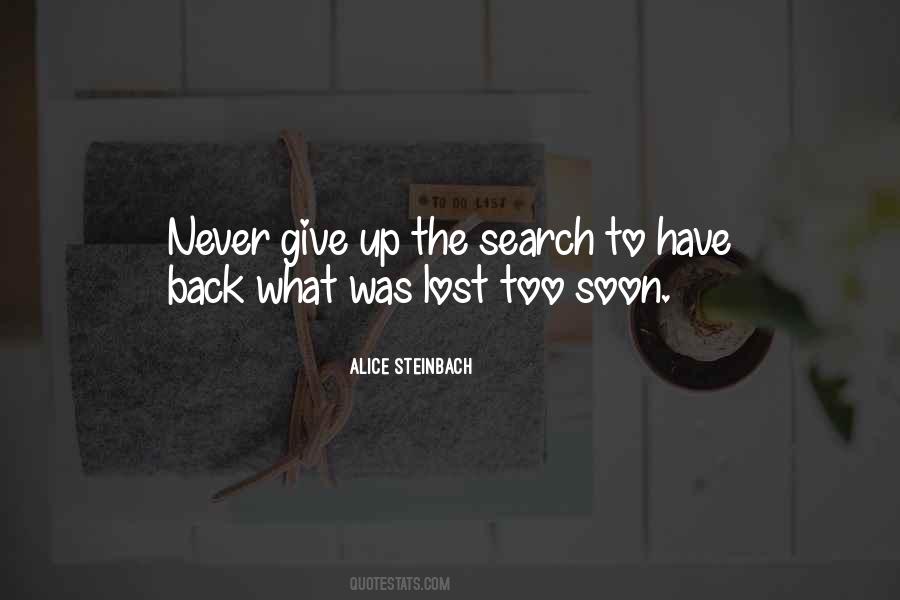 #54. I have never seen a man lost who was on a straight path. - Author: Saadi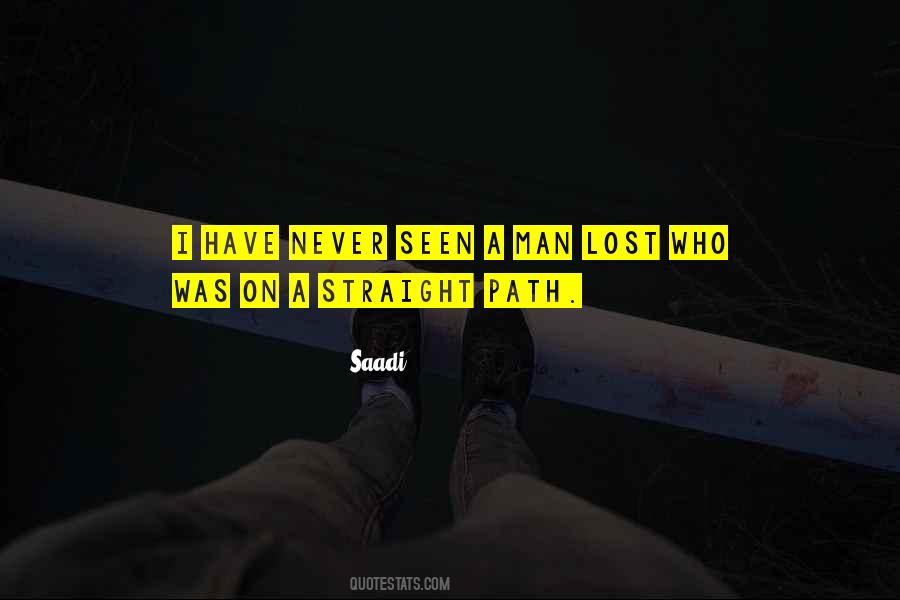 #55. Never had the opportunity in her first lost childhood; and in the intervening years her desire for it had doubled over and doubled over like a katana being forged until finally it was sharper than the truth. - Author: Junot Diaz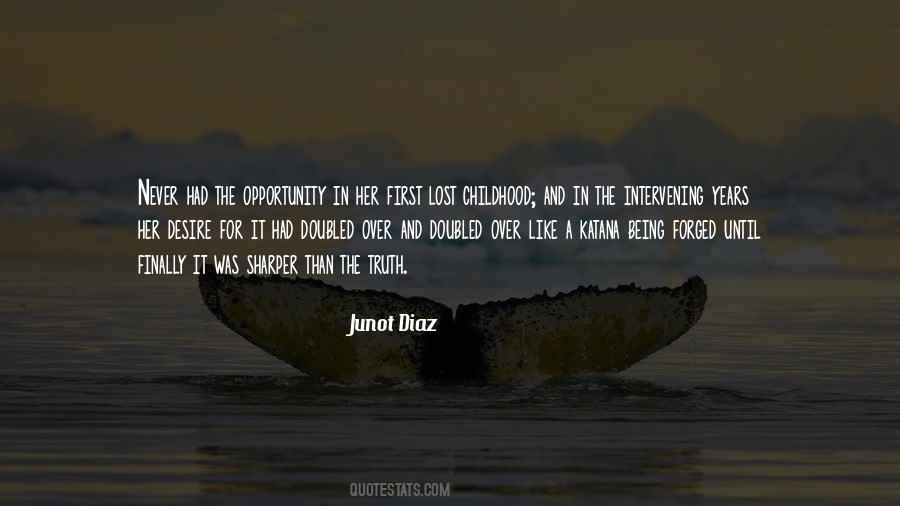 #56. It's as if loosening that knot I'd never noticed before had slackened my interest along with it. At the same time that I'd lost something, something new had also taken root deep within me. - Author: Haruki Murakami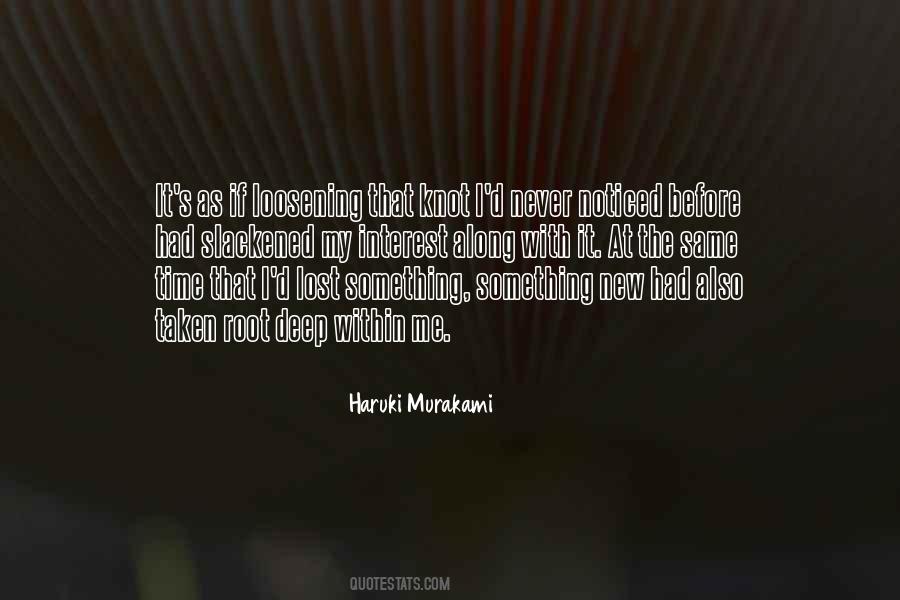 #57. I've never lost a grown-up child, but I have known loss. - Author: Penelope Wilton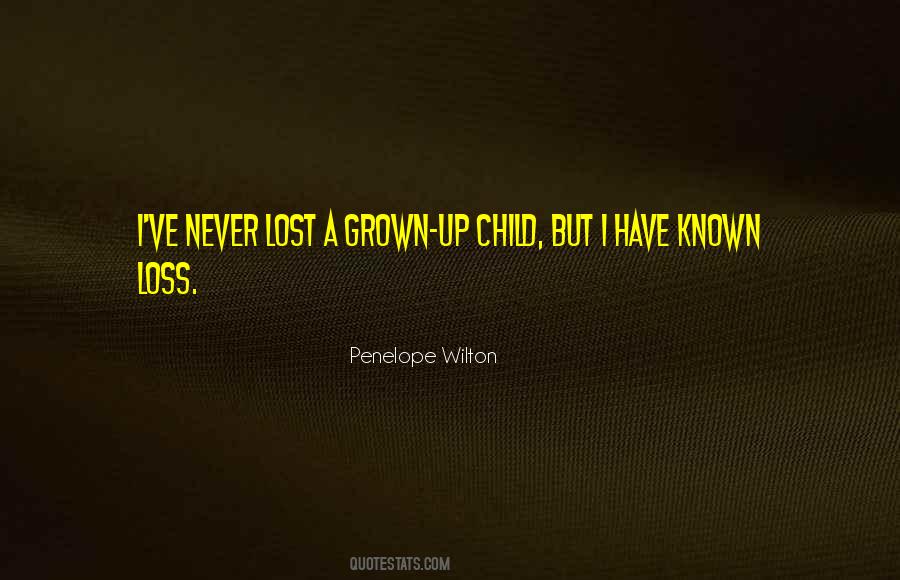 #58. Did you ever notice they never take any fat hostages? You never see a guy coming out of Lebanon going: I was held hostage for seven months and I lost 175 pounds, I feel good and I look good and I learned self-discipline. That's the important thing. - Author: Denis Leary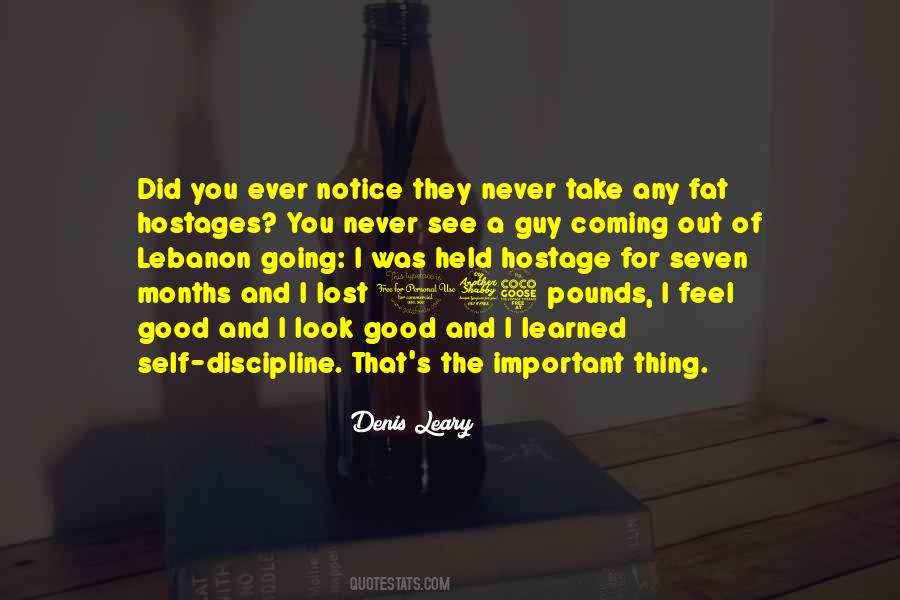 #59. I had a dream about you. You were lost in a daydream, when I walked in and you began screaming. But I know that could never actually happen. In real life I only enter people's nightmares. - Author: Bauvard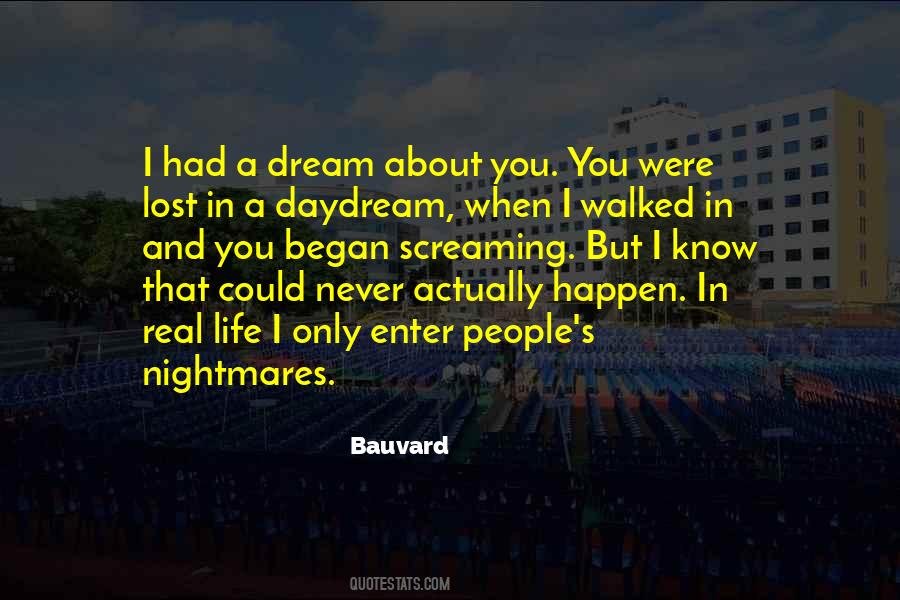 #60. beneath the stars that drift; she sighed and said
"Every tale of a love
can only be a tale of ghosts that linger
in these spaces we
can never hold," - as the wind
gave echo - Author: John Daniel Thieme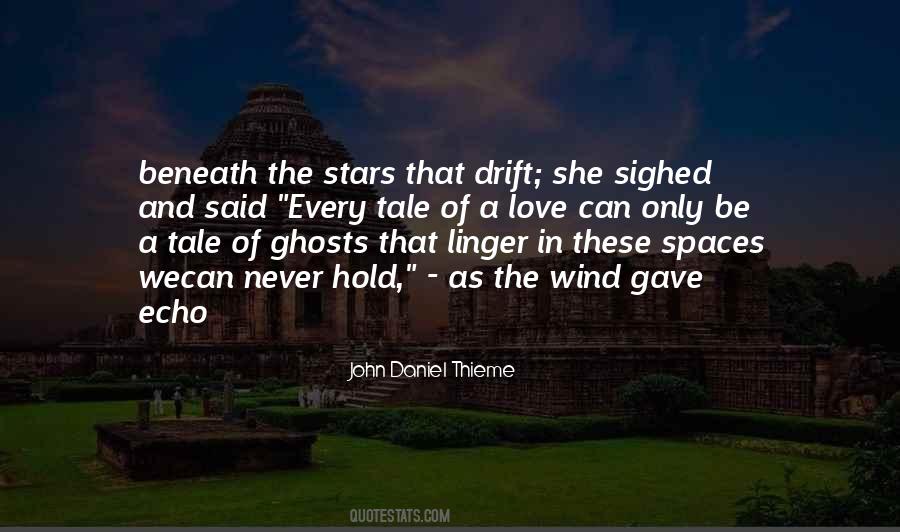 #61. The best thing about the iPhone is this that tells me where I am all the time. There's never a need to feel lost anymore. - Author: Gary Shteyngart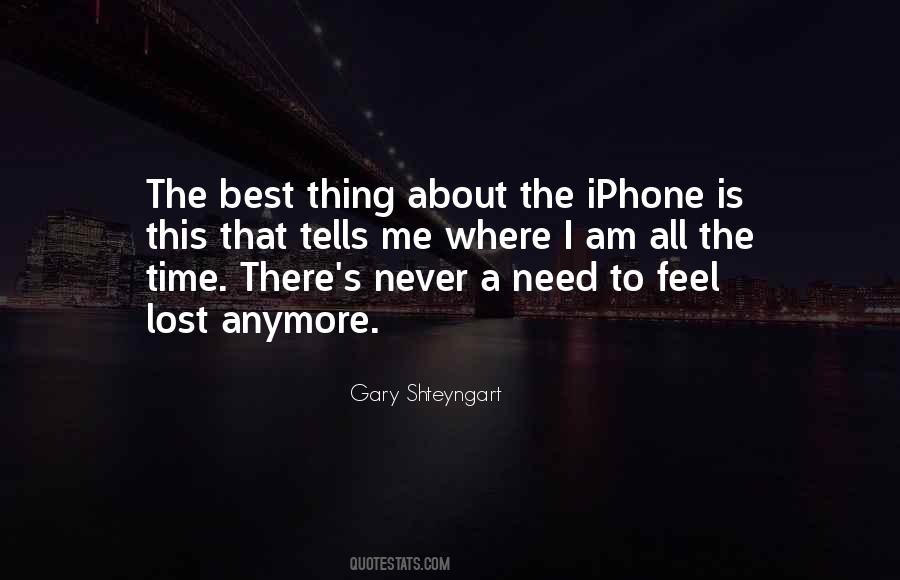 #62. If it seems like I've been lost in 'lets remember', If it seems I'm gettin' older and missin' my younger days, well you shoulda known me much better, cause the past is something that never got in my way. - Author: Billy Joel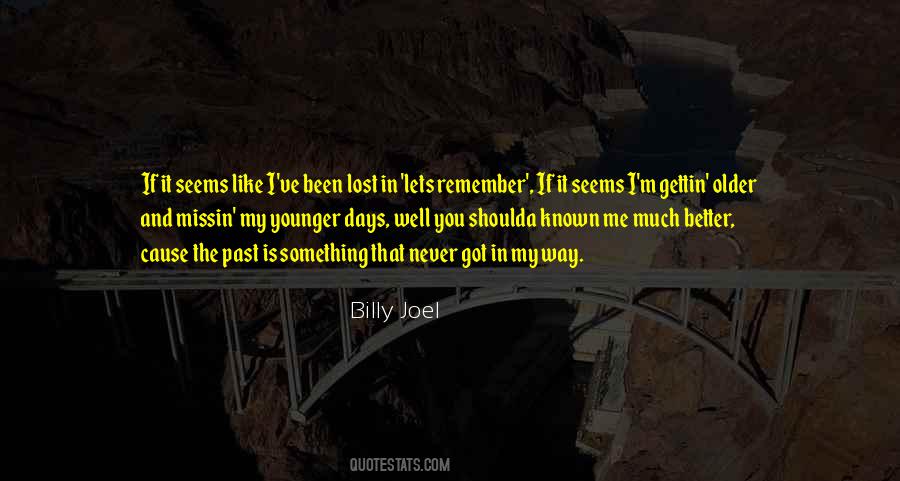 #63. How rarely do our emotions meet the object they seem to deserve? How hopelessly we signal; how dark the sky; how big the waves. We are all lost at sea, washed between hope and despair, hailing something that may never come to rescue us. - Author: Julian Barnes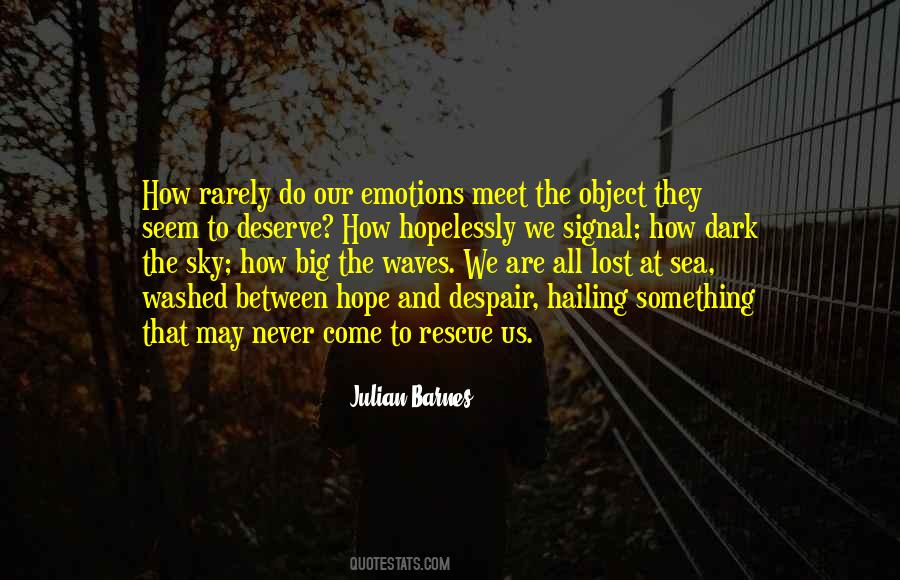 #64. Something that is loved is never lost. - Author: Toni Morrison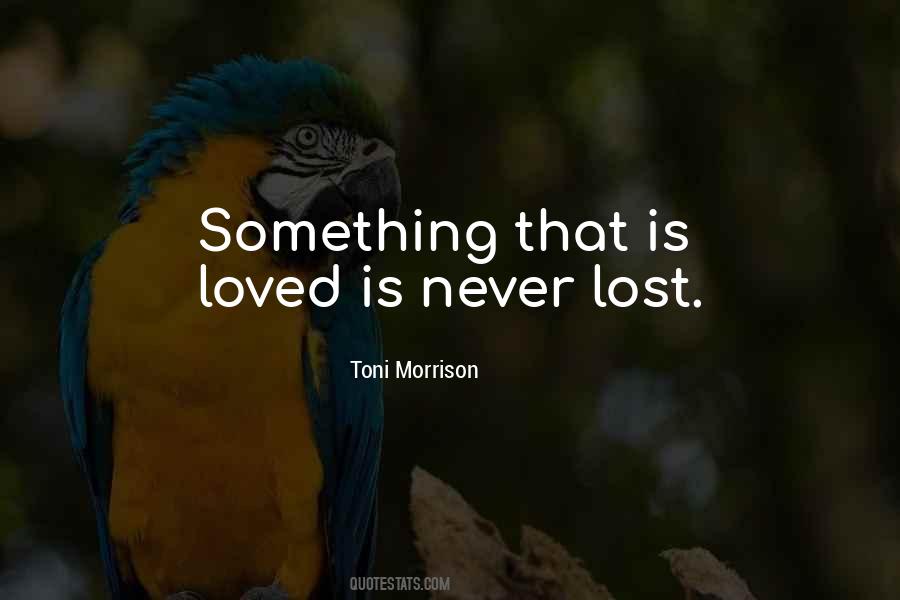 #65. The sure path to tomorrow was plotted in a manger and paved on a cross. And although this sturdy byway is mine for the taking, I have incessantly chosen lesser paths. And maybe it is time to realize that Christmas is a promise that I can walk through the world and never get lost in the woods. - Author: Craig D. Lounsbrough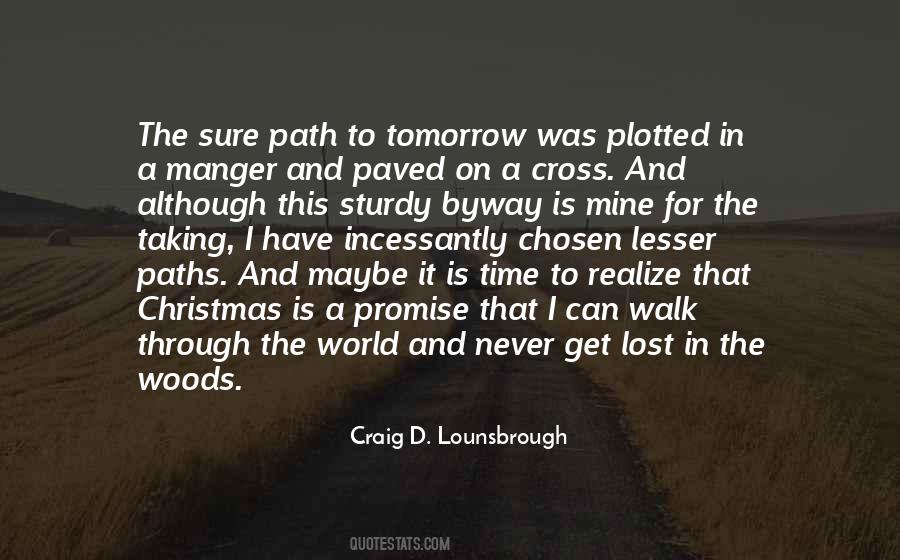 #66. The goddess has never been lost. It is just that some of us have forgotten how to find her. - Author: Patricia Monaghan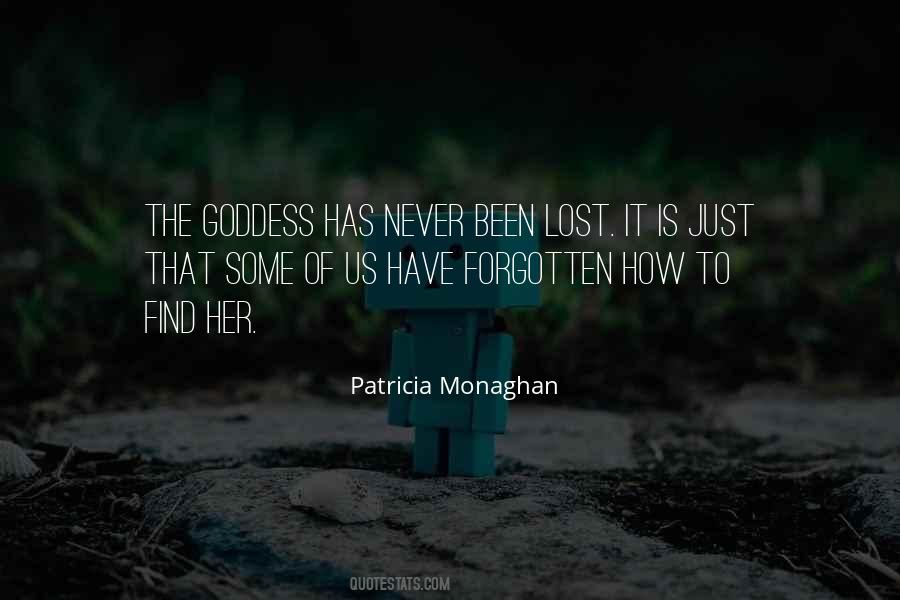 #67. My characters are never heroic. They are mostly lost and trying to find the right door to open and they end up opening the wrong doors. - Author: Gaspar Noe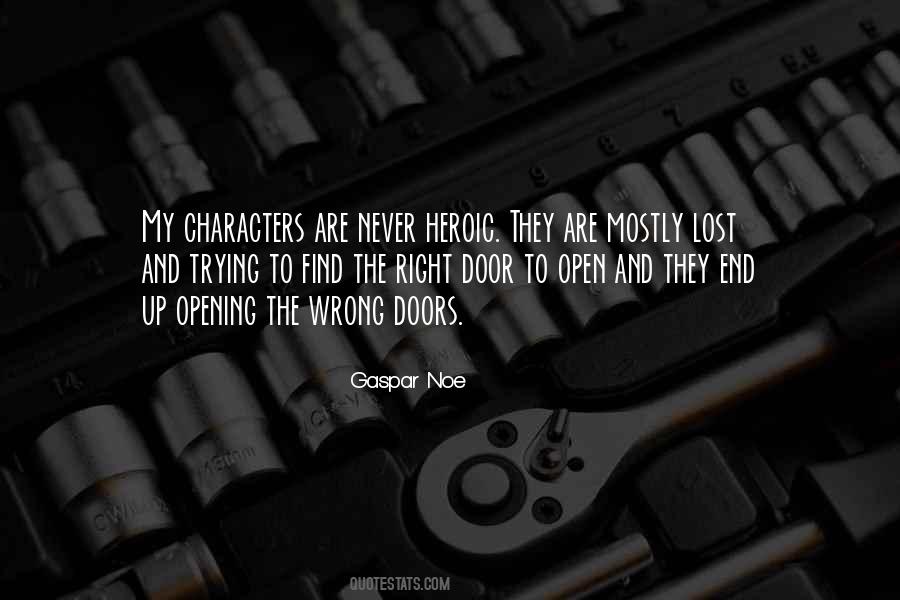 #68. Just as it is impossible to explain childbirth to a woman who has never given birth, it is impossible to explain child loss to a person who has never lost a child. - Author: Lynda Cheldelin Fell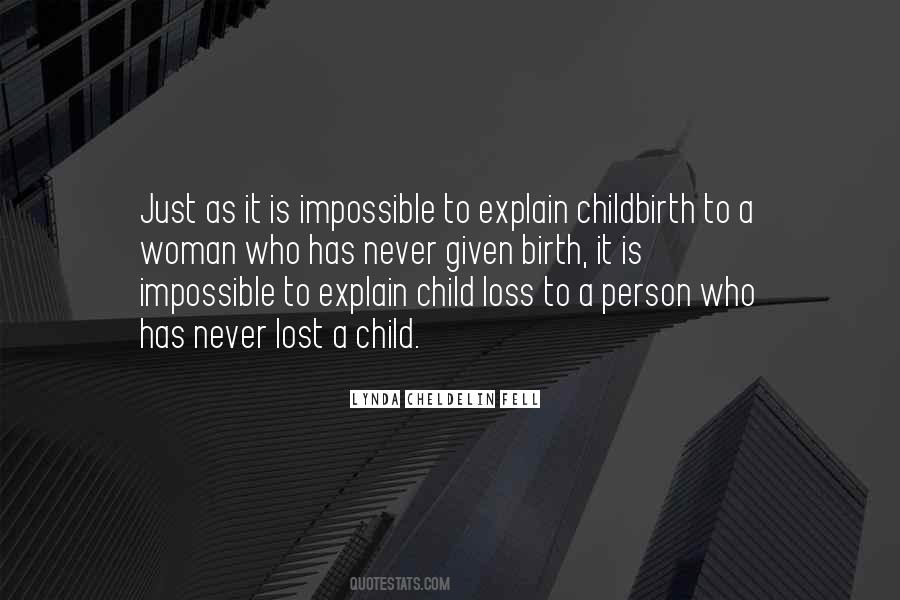 #69. I could forget everything I'd lost, because I'd never had it. - Author: Ursula K. Le Guin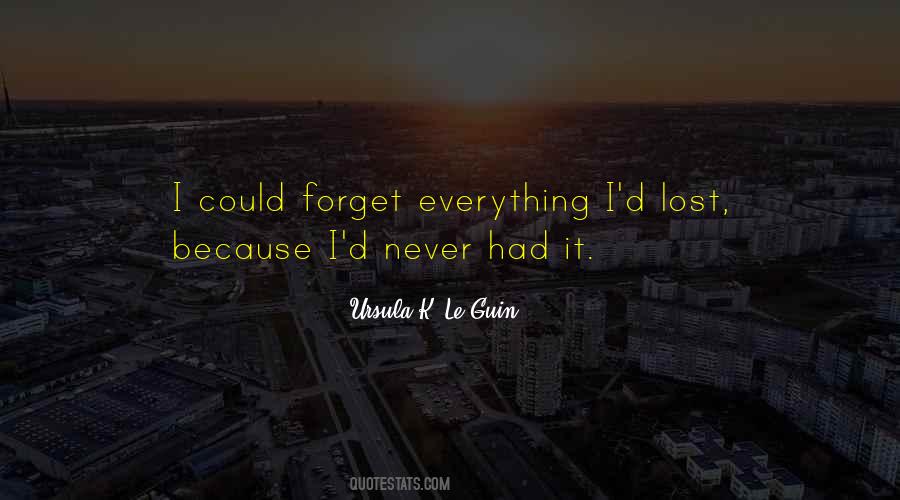 #70. The Net
I made you many and many a song,
Yet never one told all you are
It was as though a net of words
Were flung to catch a star;
It was as though I curved my hand
And dipped sea-water eagerly,
Only to find it lost the blue
Dark splendor of the sea. - Author: Sara Teasdale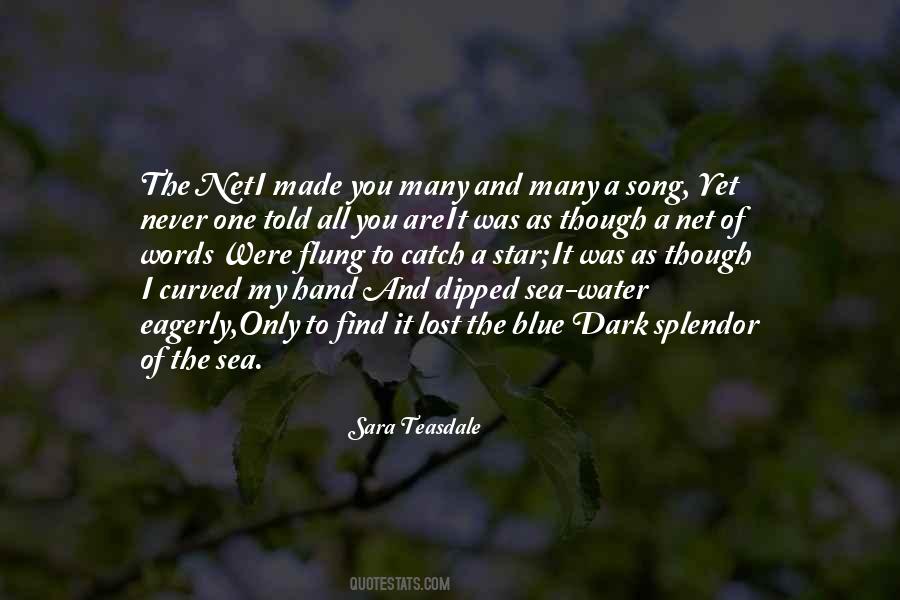 #71. As confusing, unpredictable and stressful as life may be, always remember, it is never incorrect to be kind. When lost, just do nice things. - Author: Sean Plott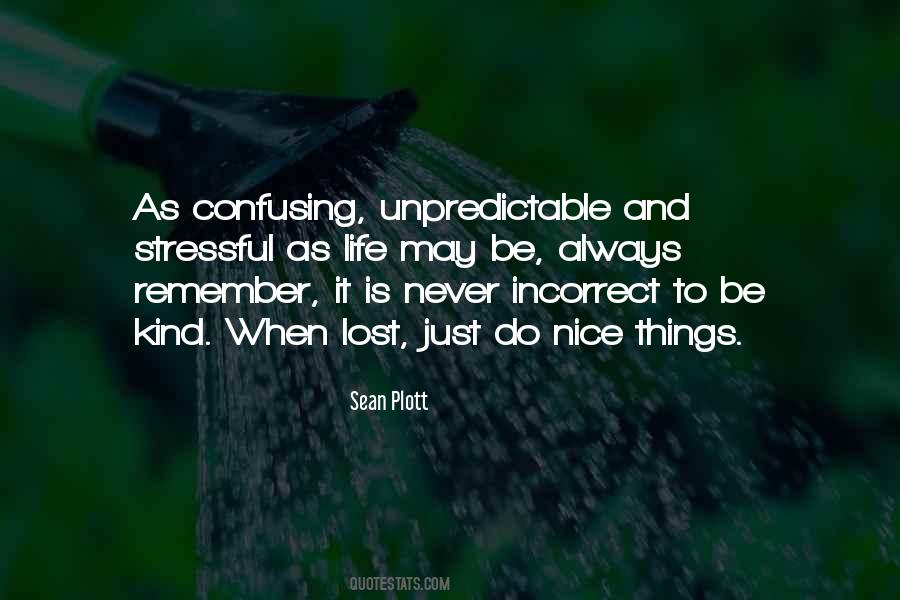 #72. And there, in that phrase, the bitterness leaks again out of my pen. What a dull lifeless quality this bitterness is. If I could I would write with love, but if I could write with love I would be another man; I would never have lost love. - Author: Graham Greene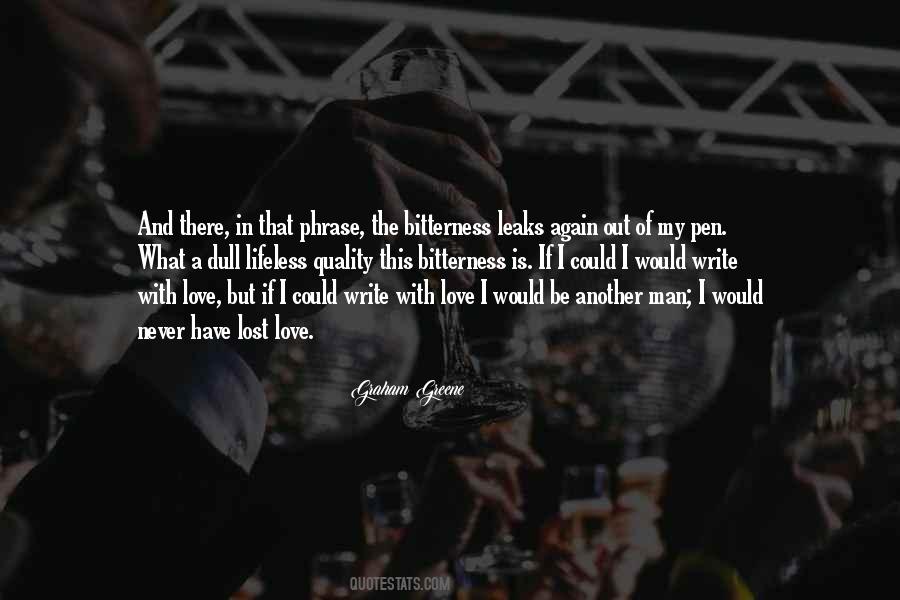 #73. At the dawn of history India started on her unending quest, and trackless centuries are filled with her striving and the grandeur of her success and her failures. Through good and ill fortune alike she has never lost sight of that quest or forgotten the ideals which gave her strength. - Author: Jawaharlal Nehru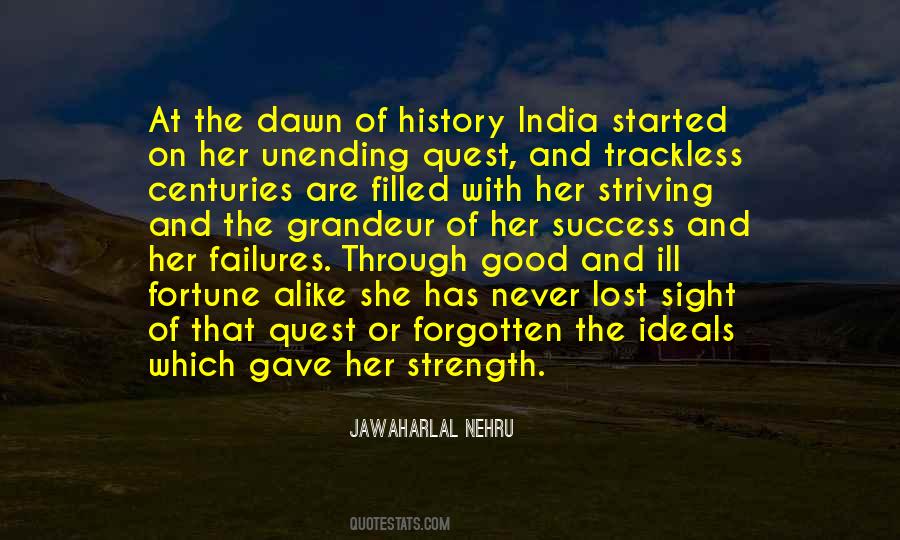 #74. Don't put your wand there, boy! What if it ignited? Better wizards than you have lost buttocks, you know."
"Who d'you know who's lost a buttock?"
"Never you mind ... - Author: J.K. Rowling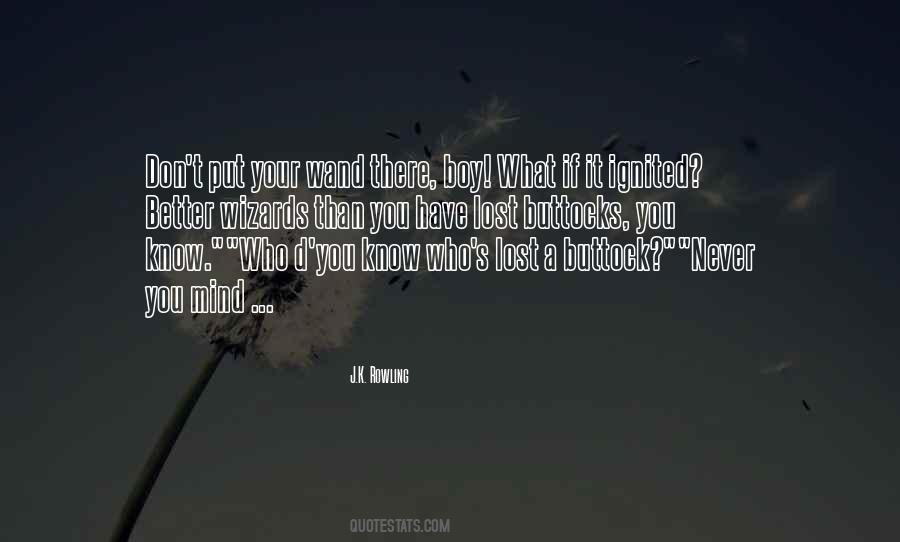 #75. And then it all came rushing back; that's when I realized I'll never stop having a thing for you. - Author: Ahmed Mostafa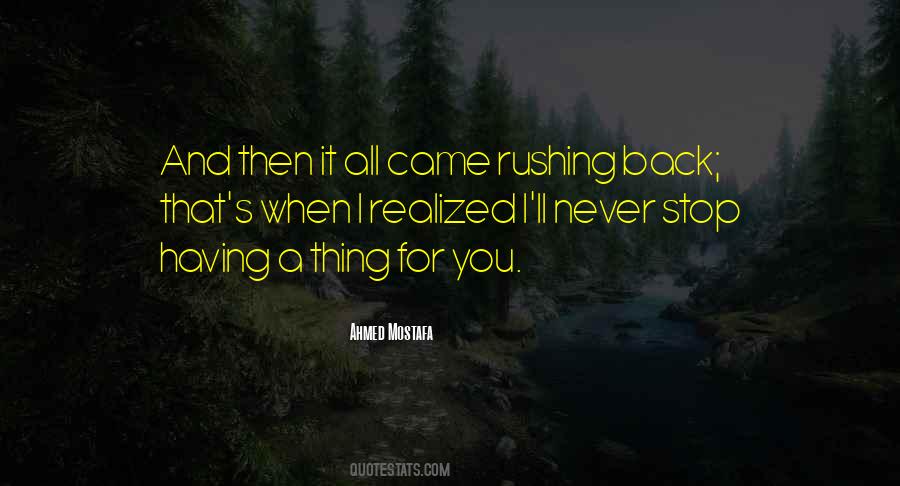 #76. There are ways in which we're so alike. We're reckless. We don't think before we act. We'll do anything for people we love. And I never thought how scary that was for the people who loved me until I saw - Author: Cassandra Clare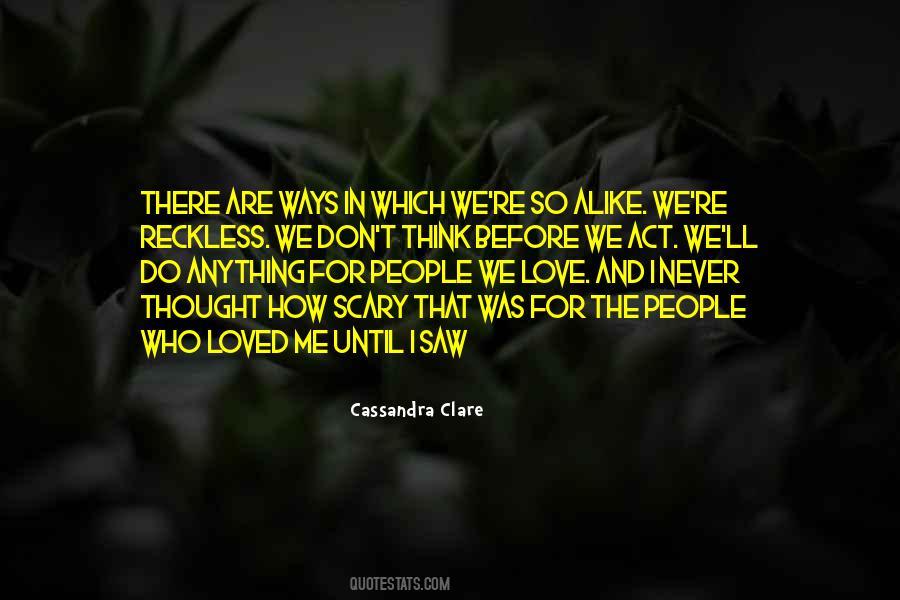 #77. She discovered, despite what people may imagine, having nothing to lost is a lot like having nothing. (But there was something to lose, even at this point, something huge to lose, and that was why this unknown, homeless state never resembled freedom.) - Author: Dana Spiotta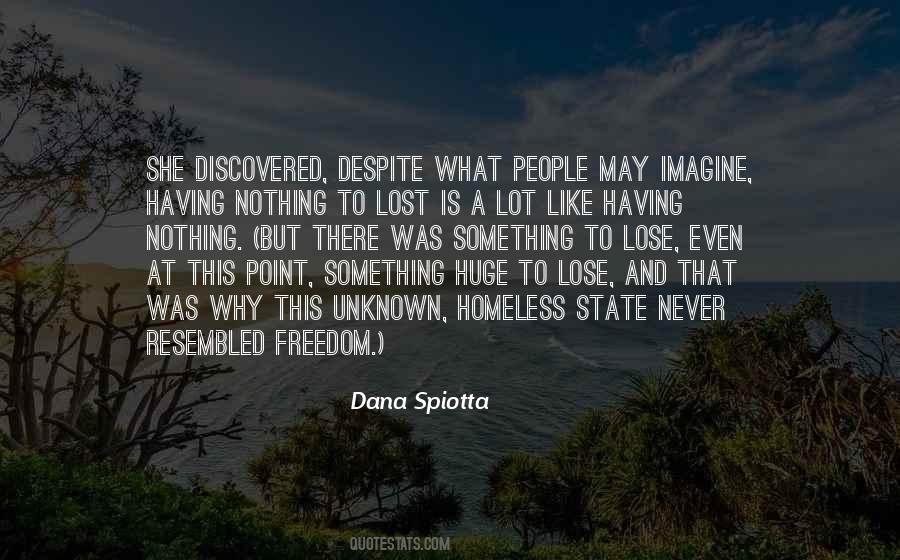 #78. I guess the magic of being someone else is lost when you can never quite shed your own skin. - Author: Julie Murphy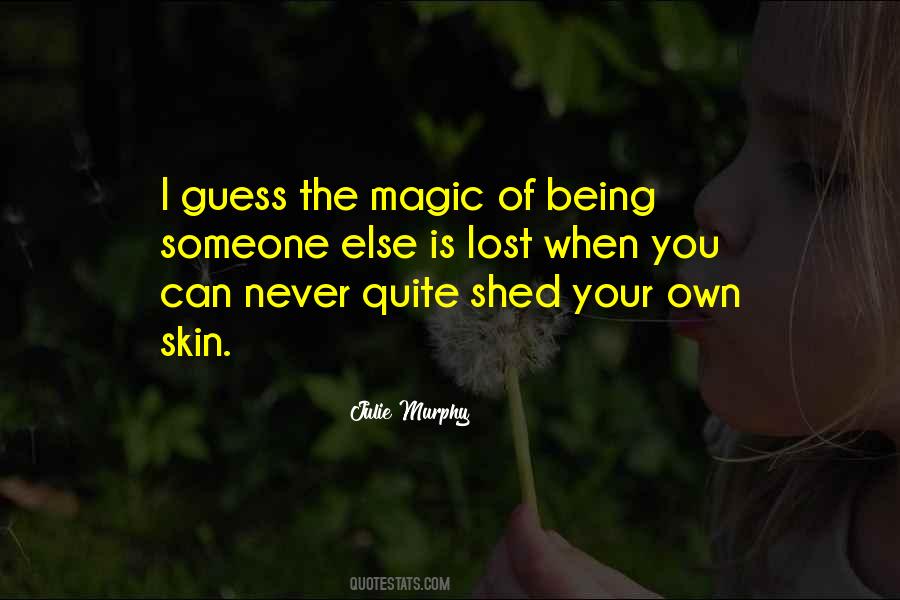 #79. You'll never be able to let him go. You'll always feel wrong about being with me. - Author: Suzanne Collins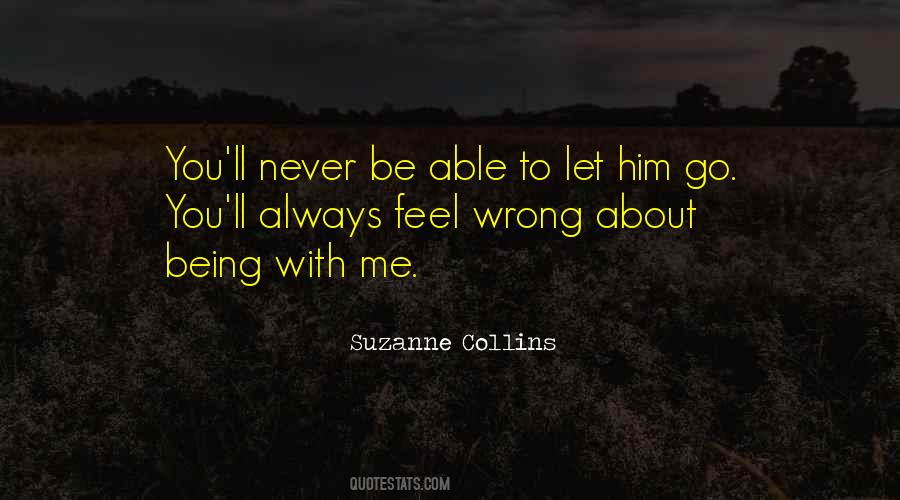 #80. I had a funny feeling as I saw the house disappear, as though I had written a poem and it was very good and I had lost it and would never remember it again. - Author: Raymond Chandler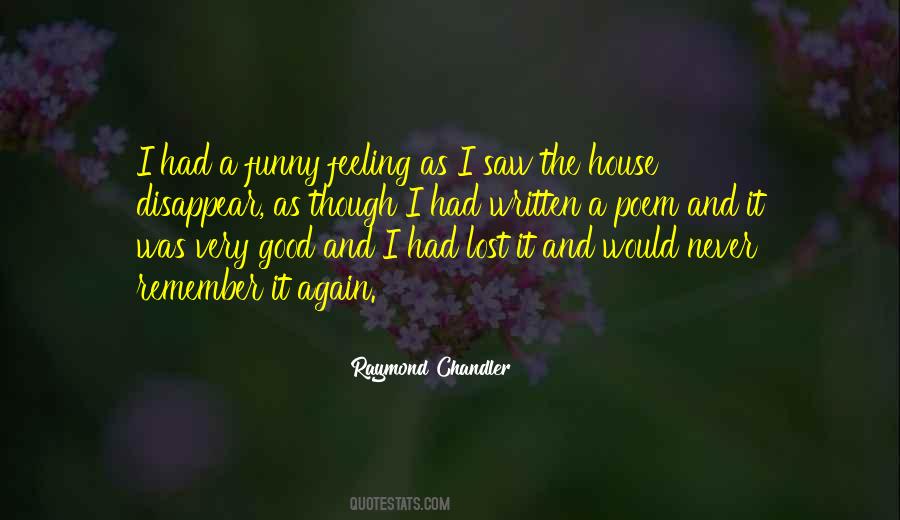 #81. I forced myself to open my eyes. I was a Puckett, damn it. And Pucketts didn't lose our nerve. We schemed, we interjected, we occasionally drank too much and told someone what we really thought of them at a Christmas party, but we never lost our nerve. - Author: Molly Harper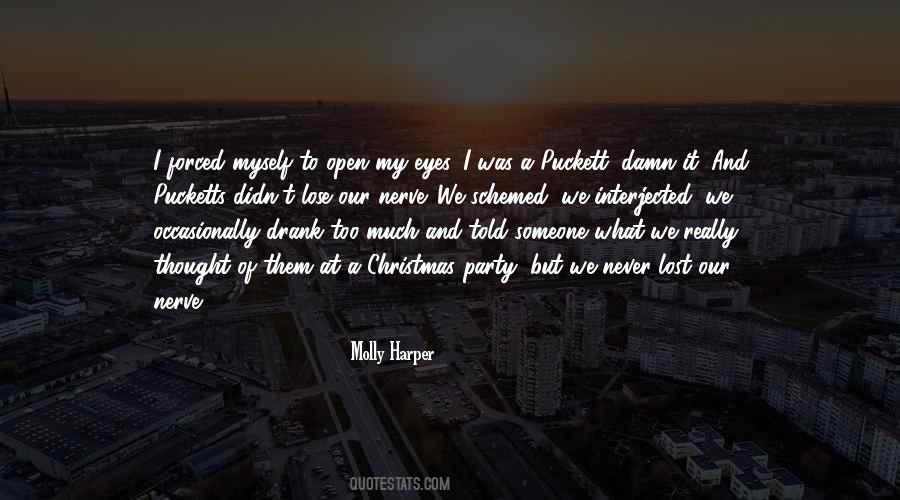 #82. No matter how good your memory is, you can never recollect the day your heart lost its virginity. - Author: Subhasis Das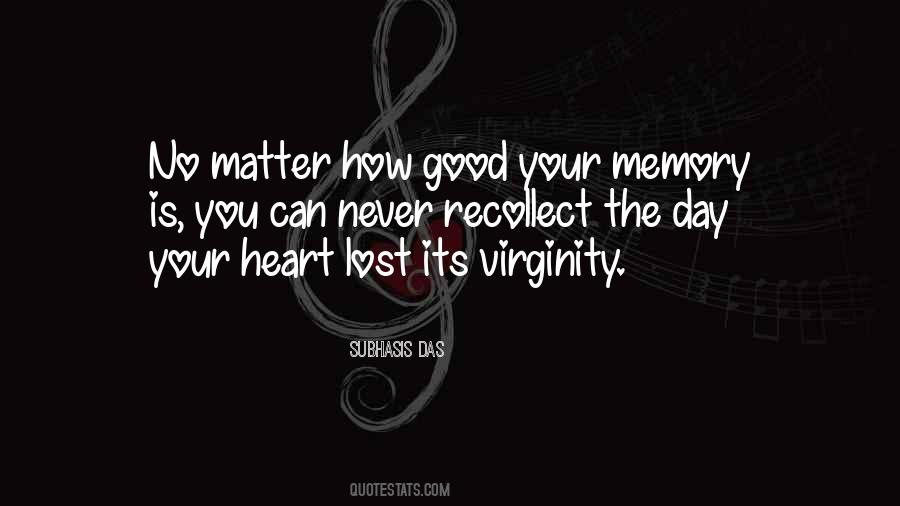 #83. Forgiveness has its comforts, but it can never give you back what you've lost. - Author: Jonathan Tropper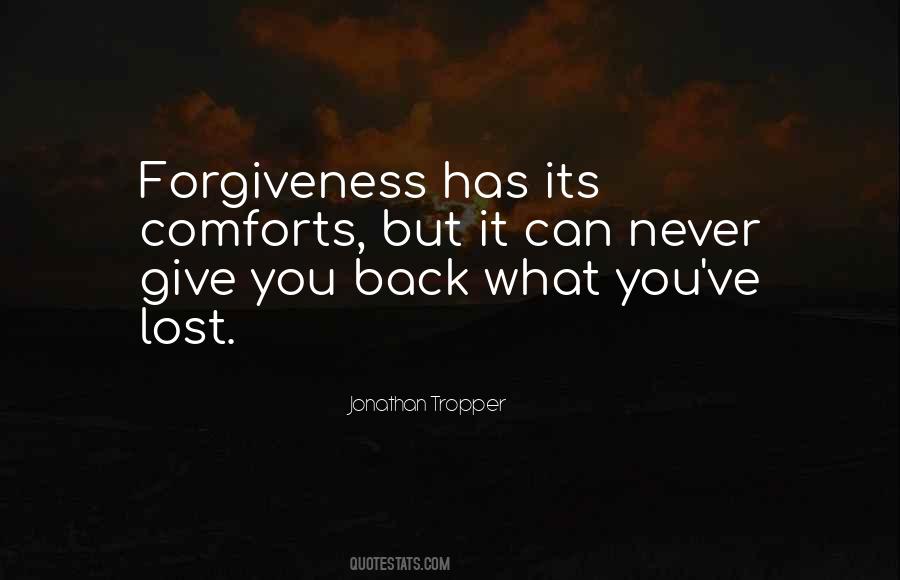 #84. This is worth an eternity of torture," he whispered. "I'm quite certain I love you more than anyone I've ever loved, in any life. I may have lost my soul when I was turned, but it's been replaced by you, Cassandra. I'll never let you go. - Author: L.J. Kentowski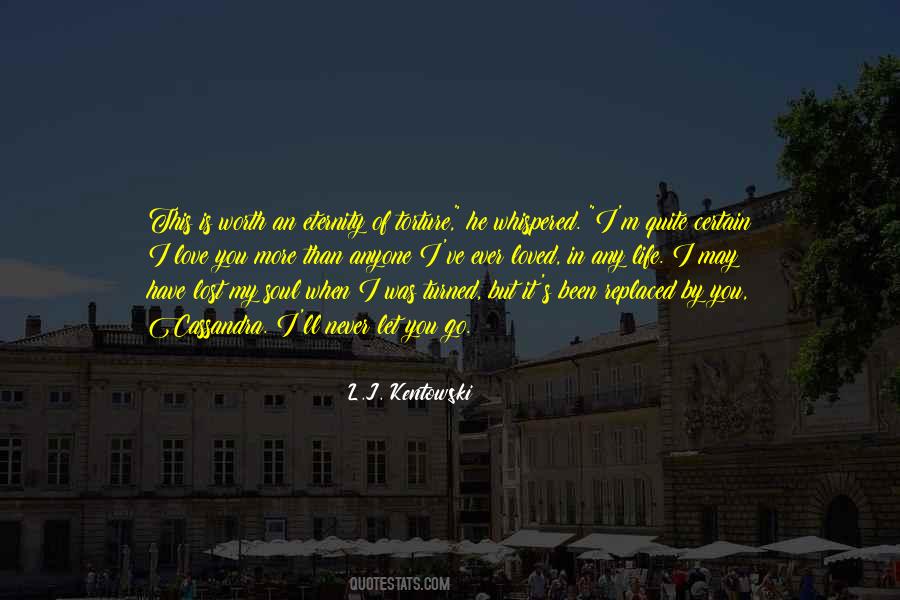 #85. It's not possible to be close to God without thinking about the lost. They never leave His mind. - Author: Christine Caine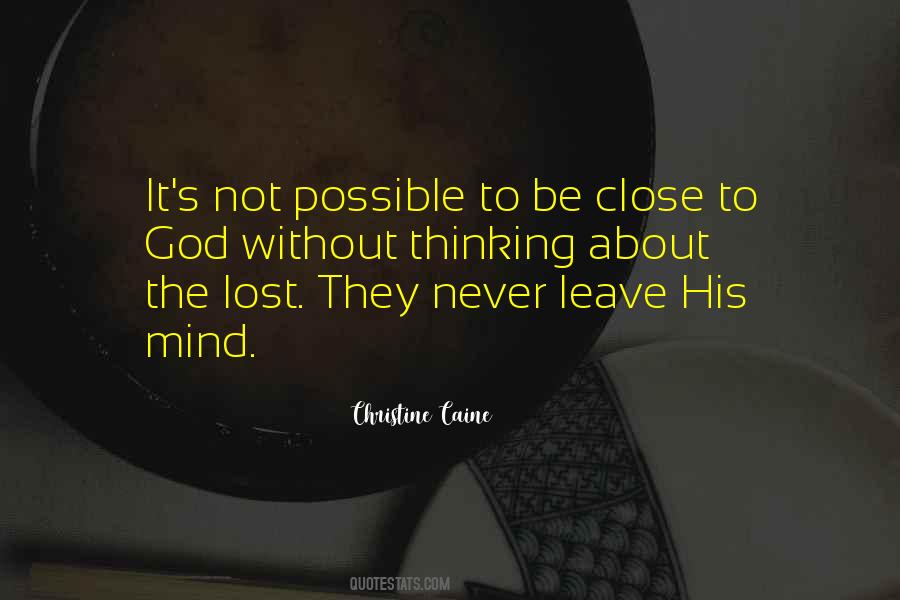 #86. Every one of us is losing something precious to us. Lost opportunities, lost possibilities, feelings we can never get back again. That's part of what it means to be alive. - Author: Haruki Murakami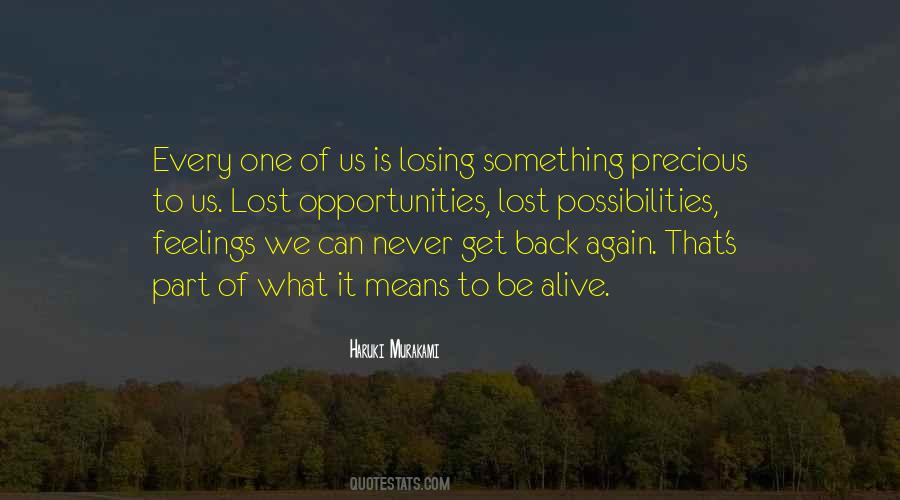 #87. Tears never yet saved a soul. Hell is full of weepers weeping over lost opportunities, perhaps over the rejection of an offered Saviour. Your Bible does not say " Weep, and be saved." It says, "Believe, and be saved." Faith is better than feeling. - Author: Theodore L. Cuyler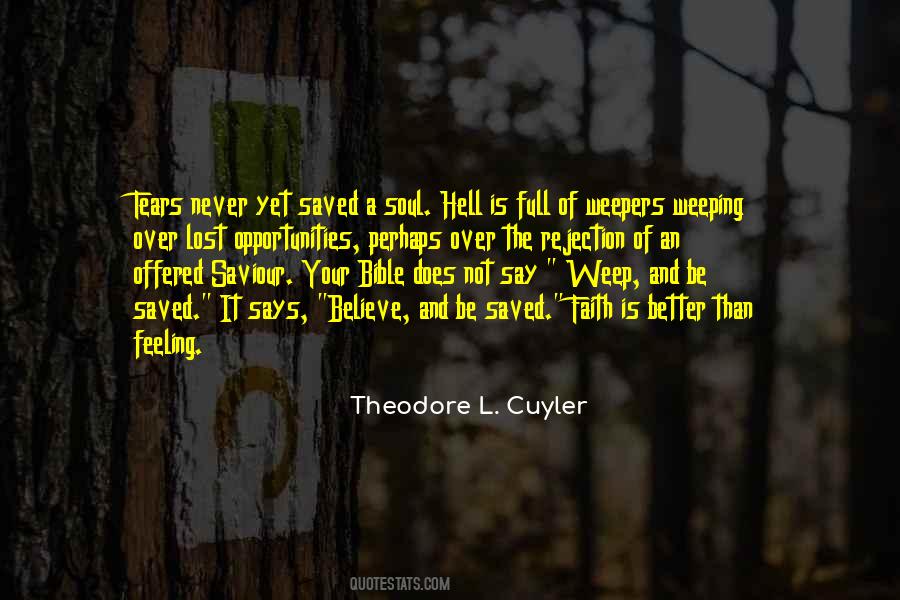 #88. A tree which has lost its head will never recover it again, and will survive only as a monument of the ignorance and folly of its Tormentor. - Author: George William Curtis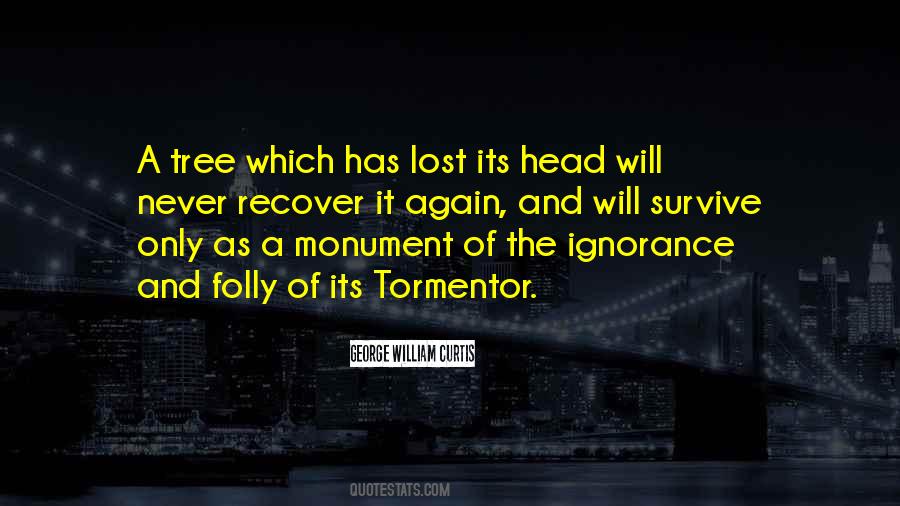 #89. I've lost loved ones in my life who never knew how much I loved them. Now I live with the regret that my true feelings for them never were revealed. - Author: Garth Brooks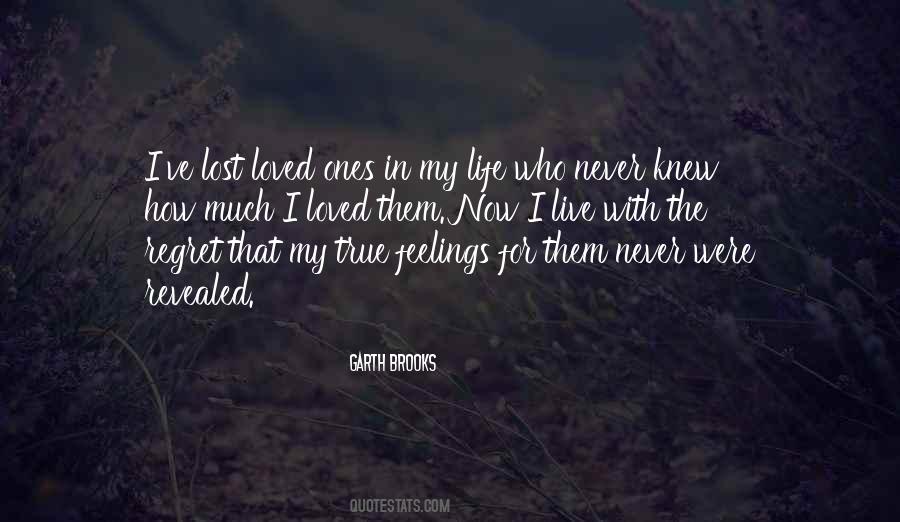 #90. The strong aroma of meat, fried onion, cumin, and baked dough soaked into my skin so deeply that I have never lost it. I will die smelling like an empanada. - Author: Isabel Allende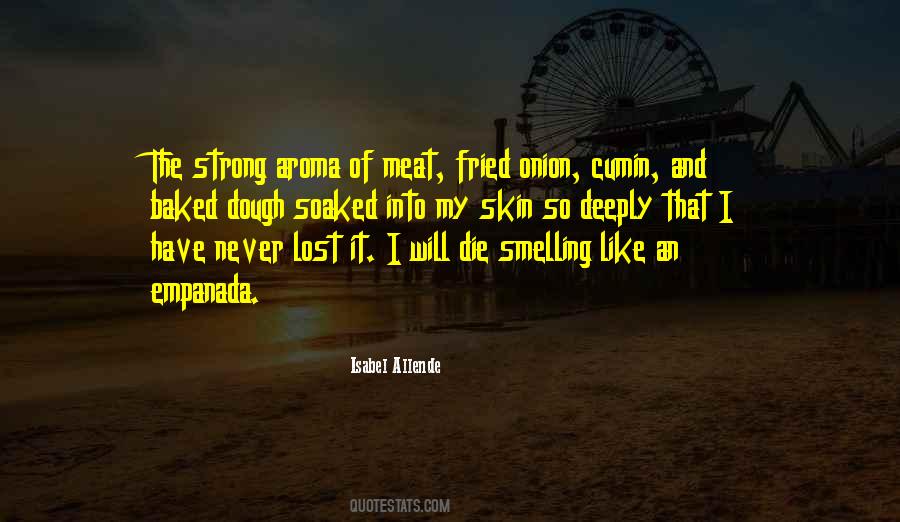 #91. I say to you that the price of liberty is and always has been blood, human blood, and if our liberties are lost, we shall never regain them except at the price of blood. They must not be lost. - Author: J. Reuben Clark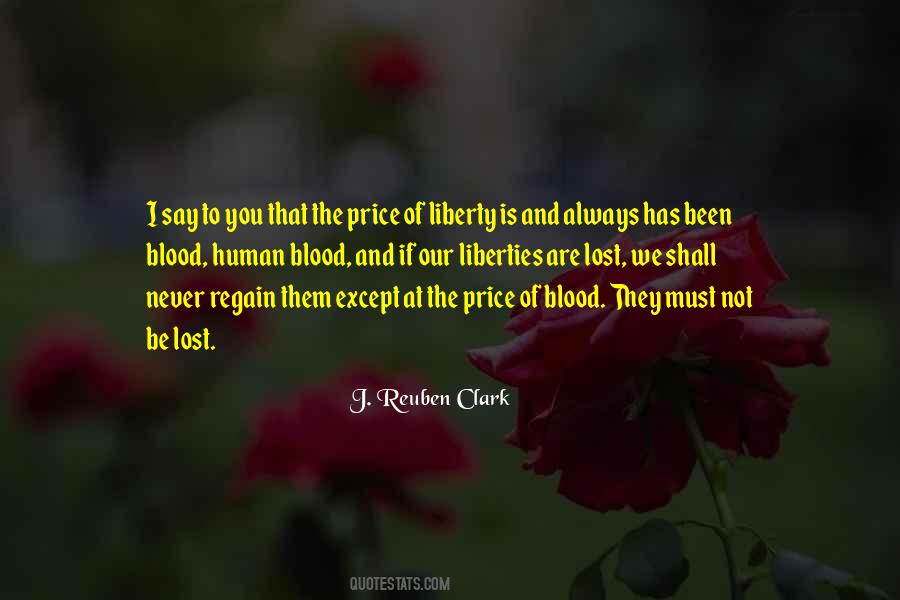 #92. The seriousness of being part of Operation Desert Storm-the first major foreign crisis for the United States after the end of the Cold War- was never lost upon us. - Author: Carlos Wallace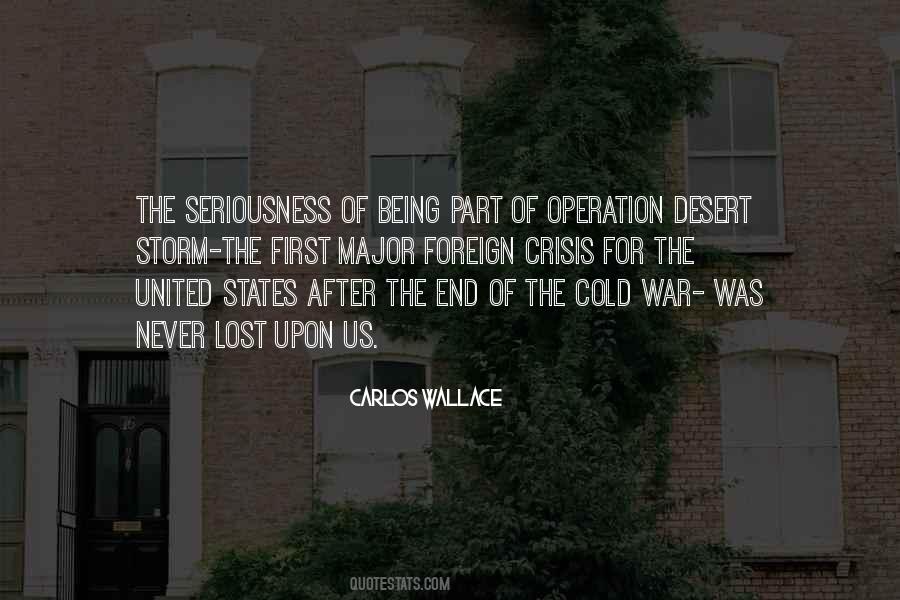 #93. Gowdy had a love affair with the microphone and the fans had a love affair with him. American sports fans truly lost an icon, a legend who never felt he was bigger than anyone else. He had that humility that made him special, and he made everyone feel like they were so important. - Author: Dick Vitale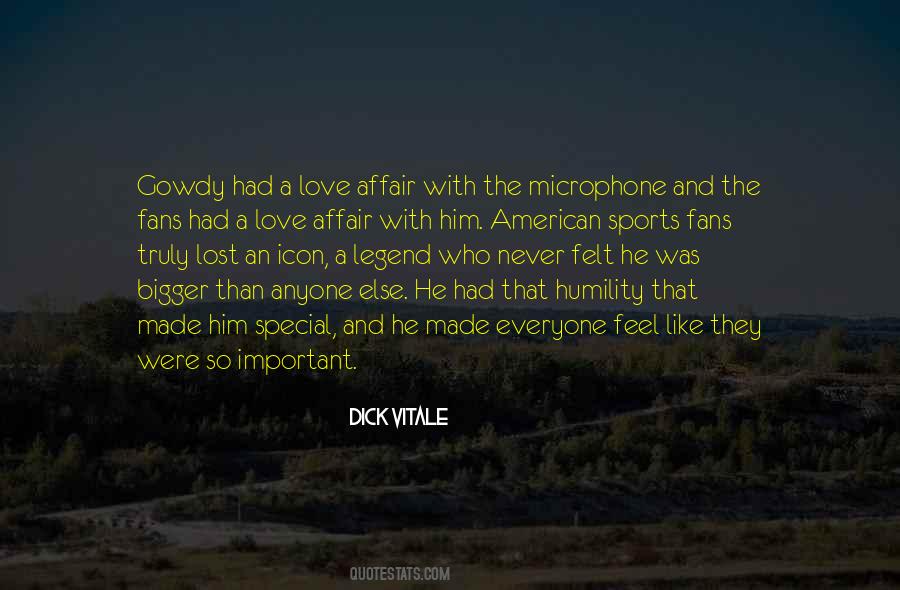 #94. My ancestors further back than the first Roman were Hebrews." "The stubborn pride of thy race is not lost in thee," said Arrius, observing a flush upon the rower's face. "Pride is never so loud as when in chains." "What cause hast thou for pride?" "That I am a Jew." Arrius smiled. - Author: Lew Wallace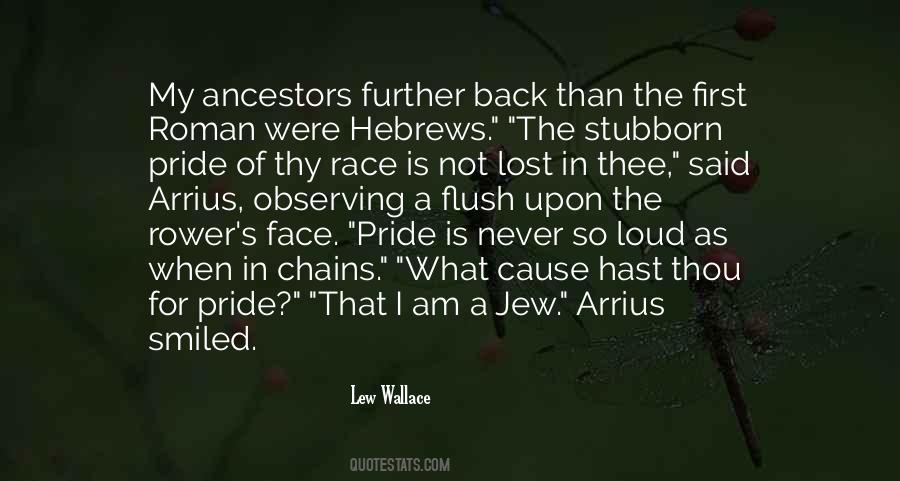 #95. I never lost any of my titles. I moved up in weight a few times. At the end of my career, the guys that beat me didn't beat the Jeff Fenech that I know. - Author: Jeff Fenech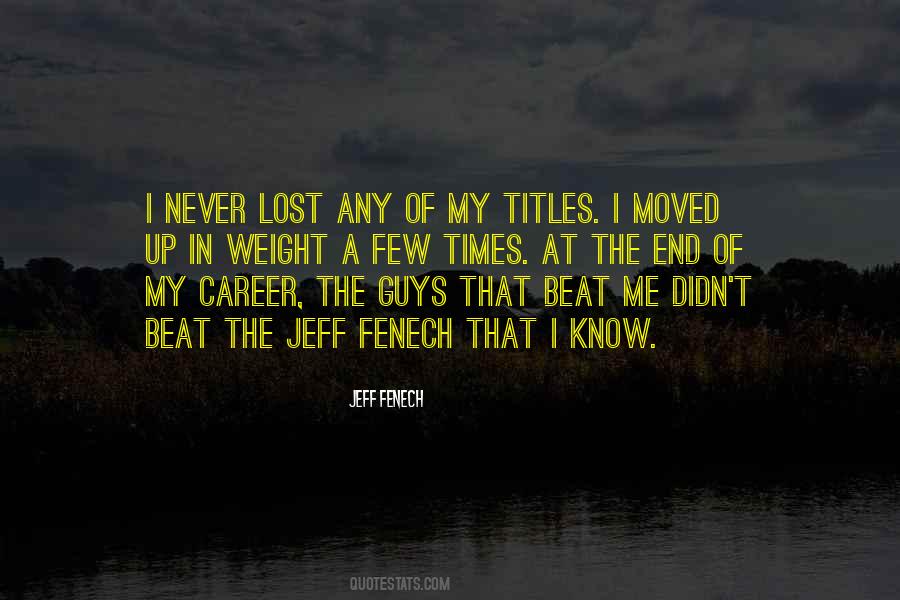 #96. You may in time of trouble think that you are not worth saving because you have made mistakes, big or little, and you think you are now lost. That is never true! Only repentance can heal what hurts. But repentancecan heal what hurts, no matter what it is. - Author: Boyd K. Packer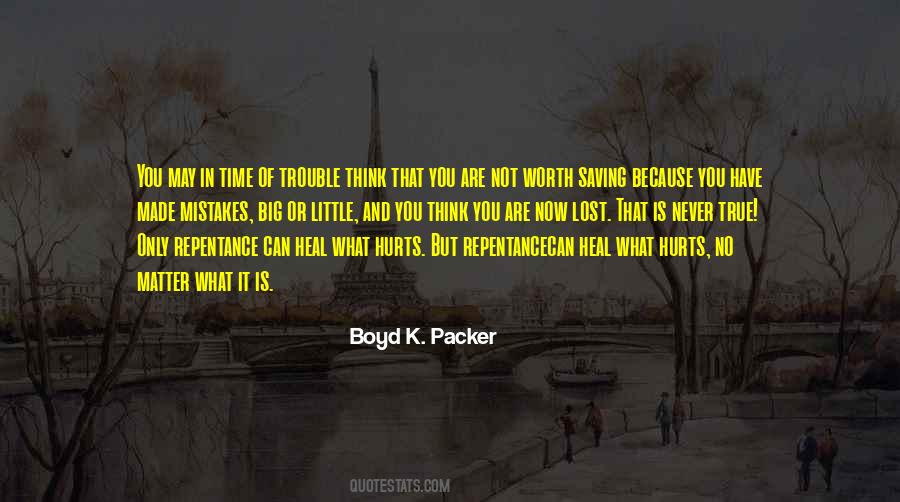 #97. You cannot miss what you never had, but you can miss forever the man you loved and lost. - Author: Laurell K. Hamilton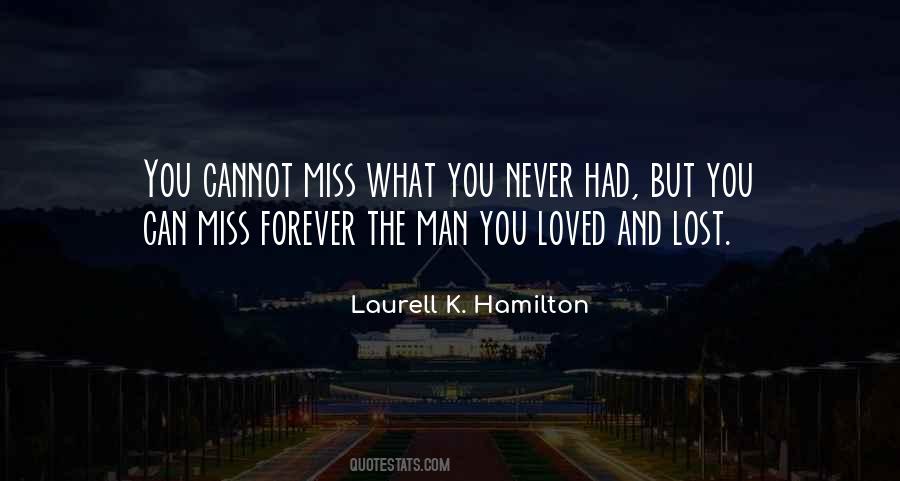 #98. It has been forever that people aspire towards liberty and rejoiced averytime they lost it. The mortals never loved with passion except those who handcuffed them . And whom they turn into myth? The executioners of their freedom - Author: Cioran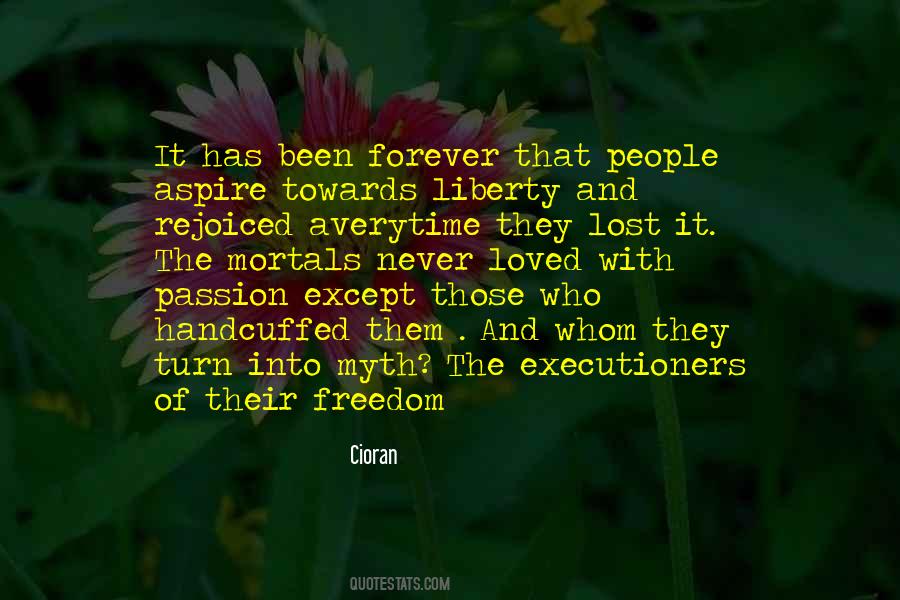 #99. Innocence, Once Lost, Can Never Be Regained. Darkness, Once Gazed Upon, Can Never Be Lost. - Author: John Milton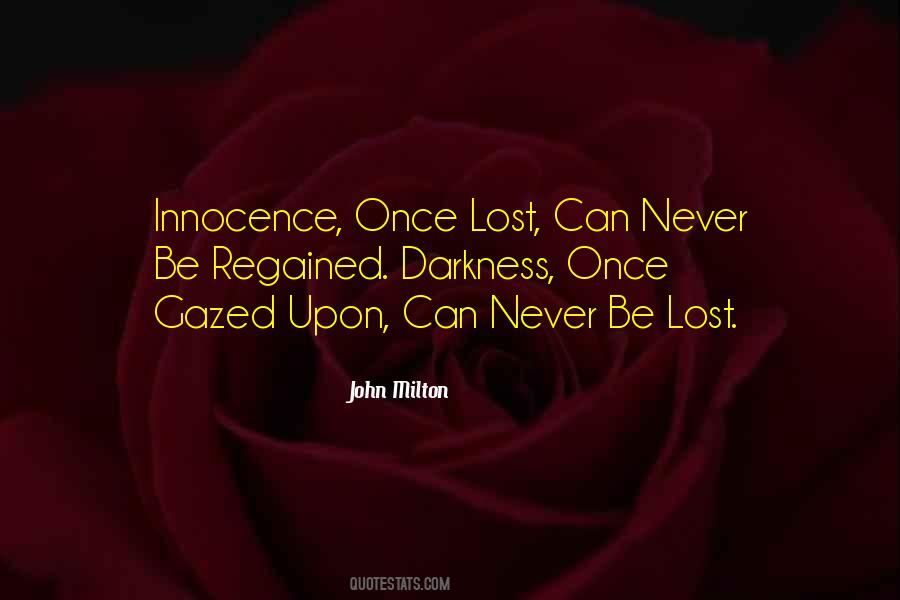 #100. Sometimes I worry that I've lost the plot My twitching muscles tease my flippant thoughts I never really dreamed of heaven much Until we put him in the ground. There is nothing as lucky, as easy, or free - Author: Conor Oberst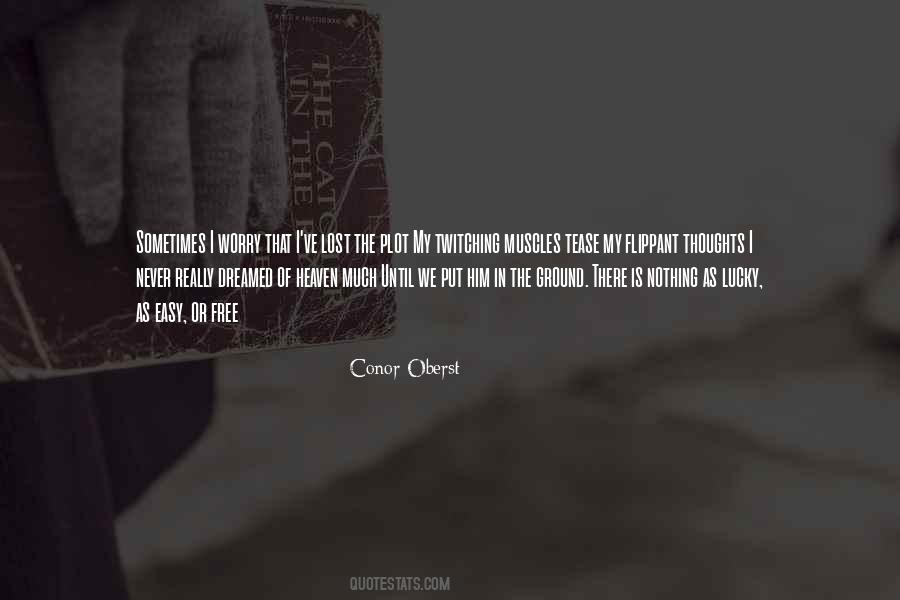 Famous Authors
Popular Topics