Nature Is Art Famous Quotes & Sayings
List of top 100 famous quotes and sayings about nature is art to read and share with friends on your Facebook, Twitter, blogs.
Top 100 Nature Is Art Quotes
#1. From the physician, as emphatically the student of Nature, is expected not only an inquiry into cause, but an investigation of the whole empire of Nature and a determination of the applicability of every species of knowledge to the improvement of his art. - Author: John Gorrie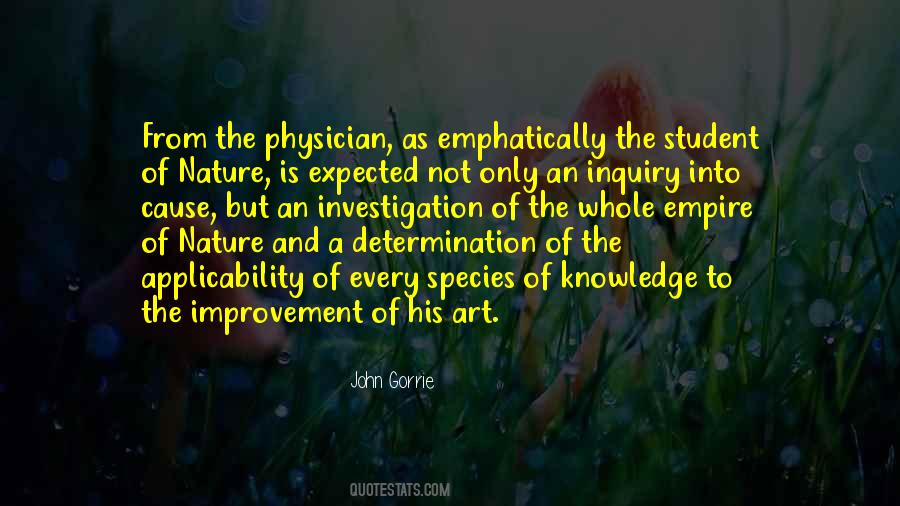 #2. Poetry is emotion put into measure. The emotion must come by nature, but the measure can be acquired by art. - Author: Thomas Hardy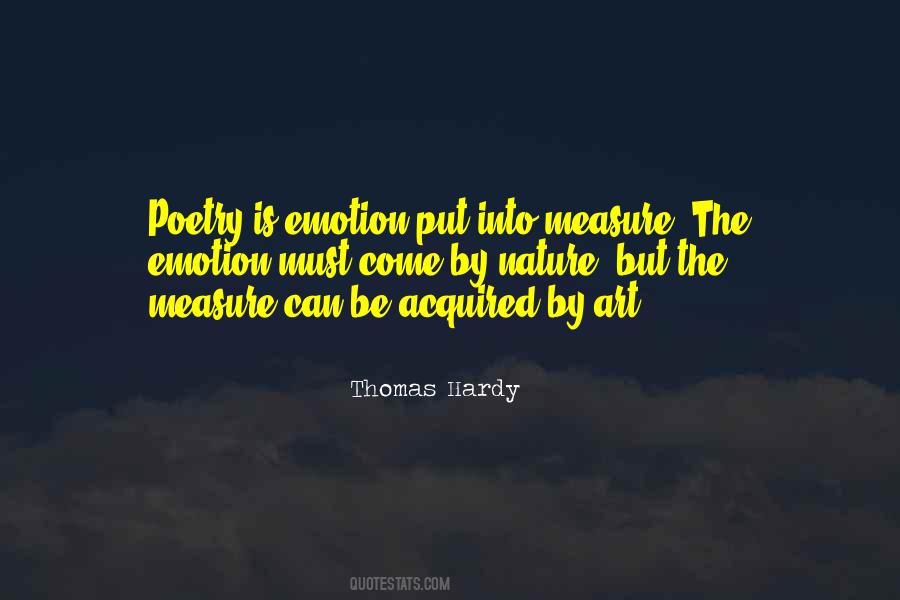 #3. Painting is the only universal language. All nature is creation's picture book. Painting alone can describe every thing which can be seen, and suggest every emotion which can be felt. Art reaches back into the babyhood of time, and is man's only lasting monument. - Author: William Morris Hunt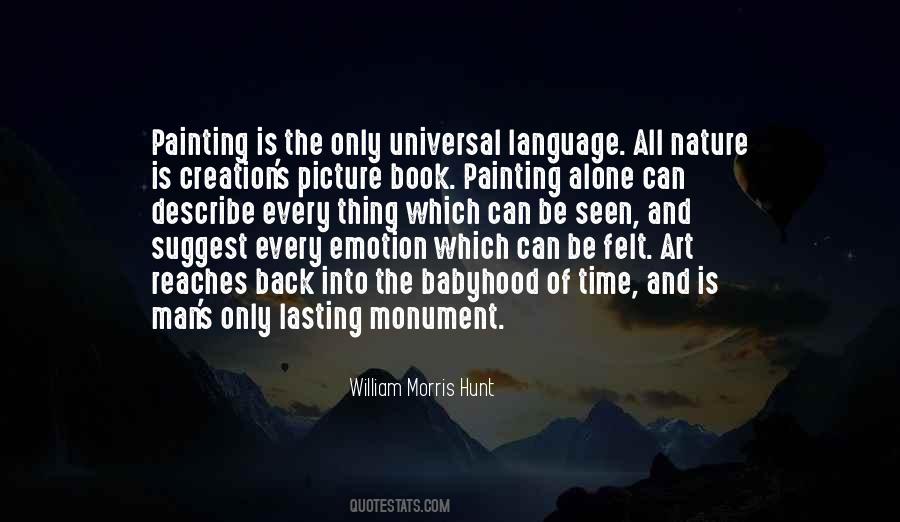 #4. Engineering is the art of directing the great sources of power in nature for the use and convenience of man. - Author: Thomas Tredgold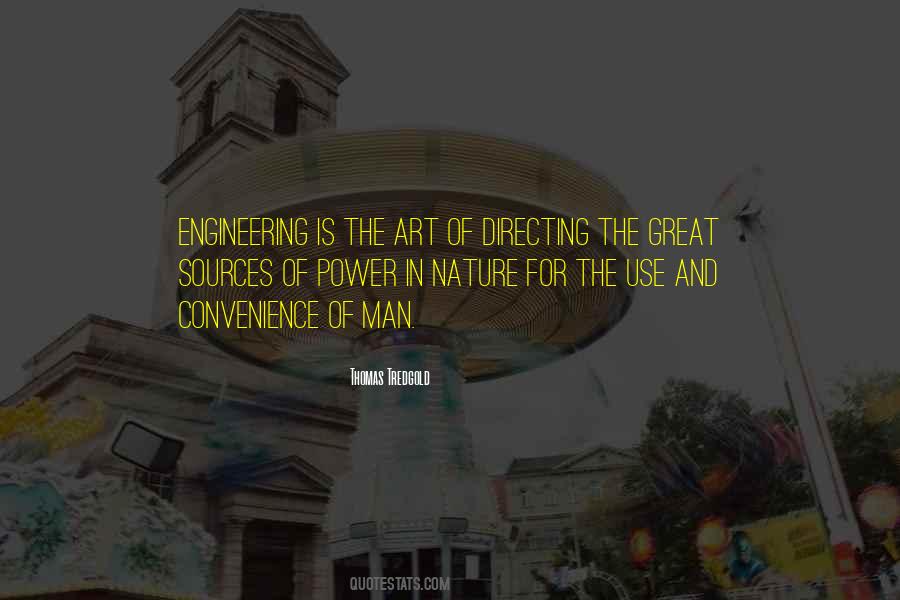 #5. Art is unquestionably one of the purest and highest elements in human happiness. It trains the mind through the eye, and the eye through the mind. As the sun colors flowers, so does art color life. - Author: John Lubbock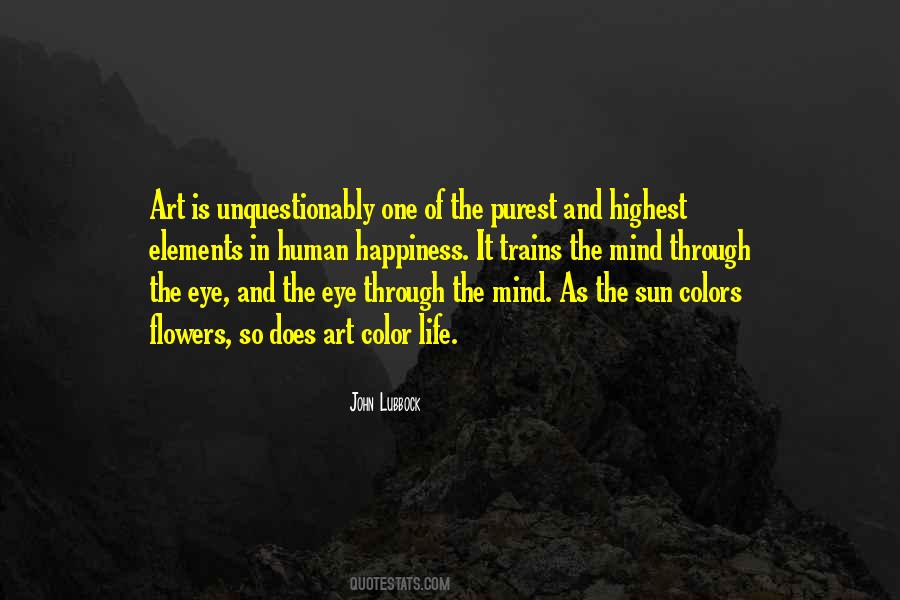 #6. Photography, when used as a representational art, is not a mere copy of nature. This is proved by the rarity of the 'good' photograph. - Author: Laszlo Moholy-Nagy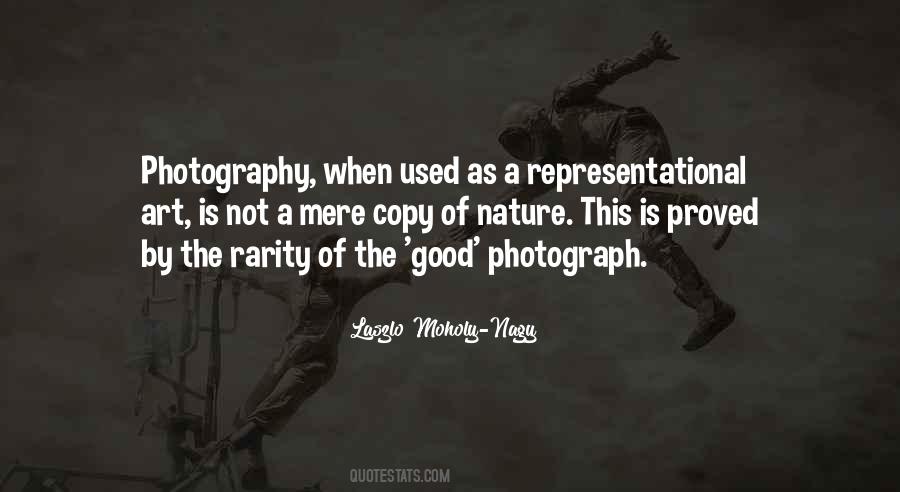 #7. I know Shakespeare said art is holding up a mirror to nature- but you're actually bending and refracting it through your interior dialogue ... - Author: John Geddes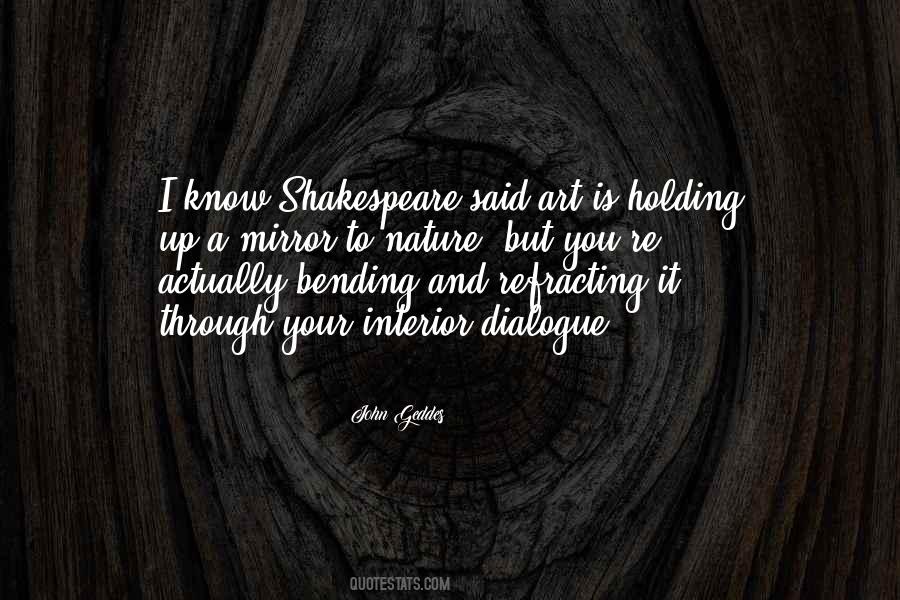 #8. A really well-made buttonhole is the only link between Art and Nature. - Author: Oscar Wilde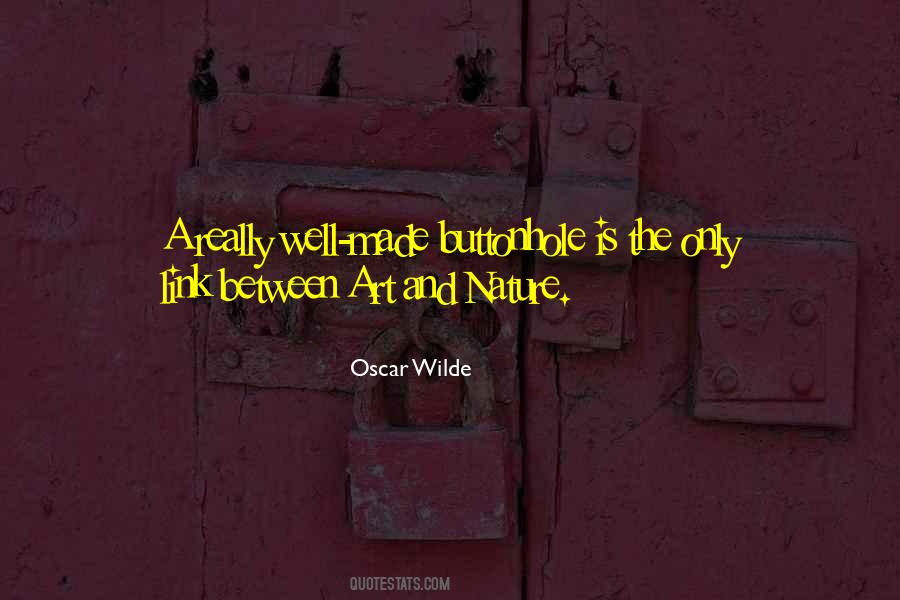 #9. Color which, like music, is a matter of vibrations, reaches what is most general and therefore most indefinable in nature: its inner power. - Author: Paul Gauguin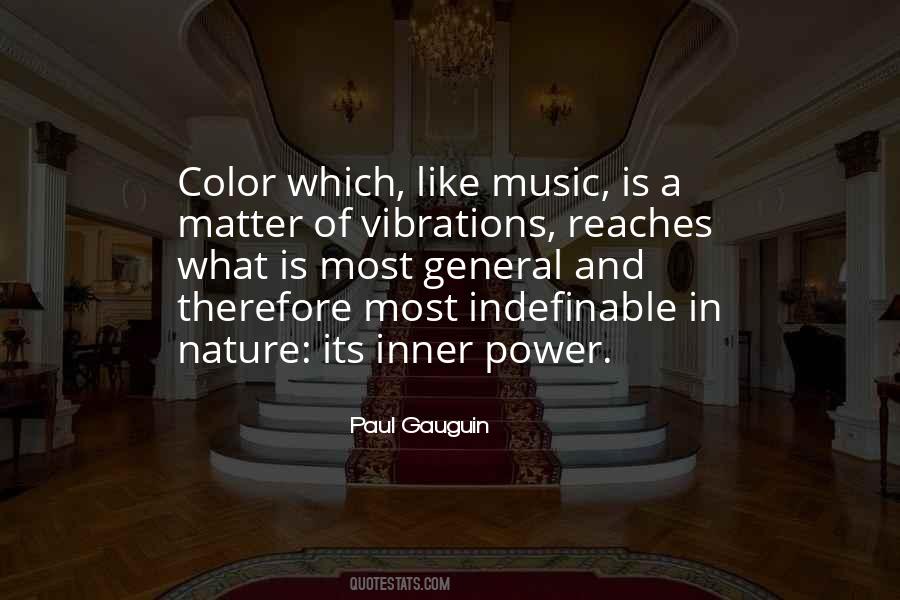 #10. To select, combine and concentrate that which is beautiful in nature and admirable in art is as much the business of the landscape painter in his line as in the other departments of art. - Author: J. M. W. Turner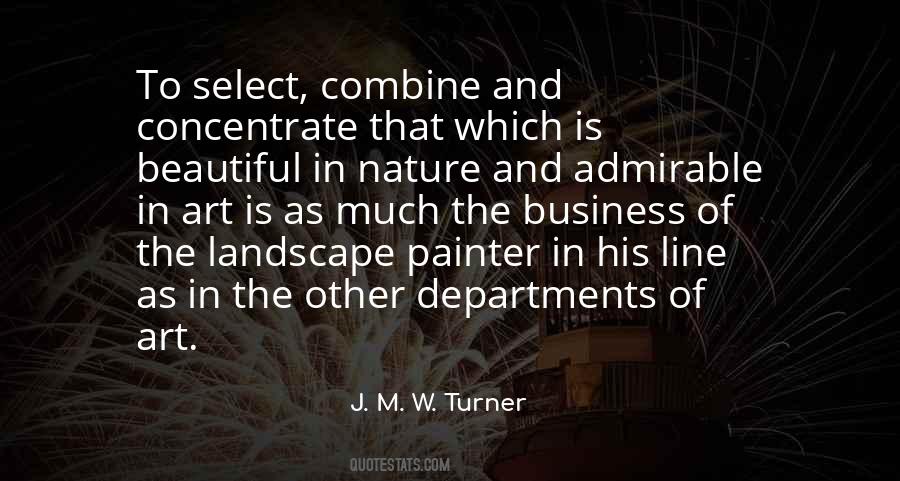 #11. Art does not lie in copying nature.- Nature furnishes the material by means of which is to express a beauty still unexpressed in nature.-The artist beholds in nature more than she herself is conscious of. - Author: Henry James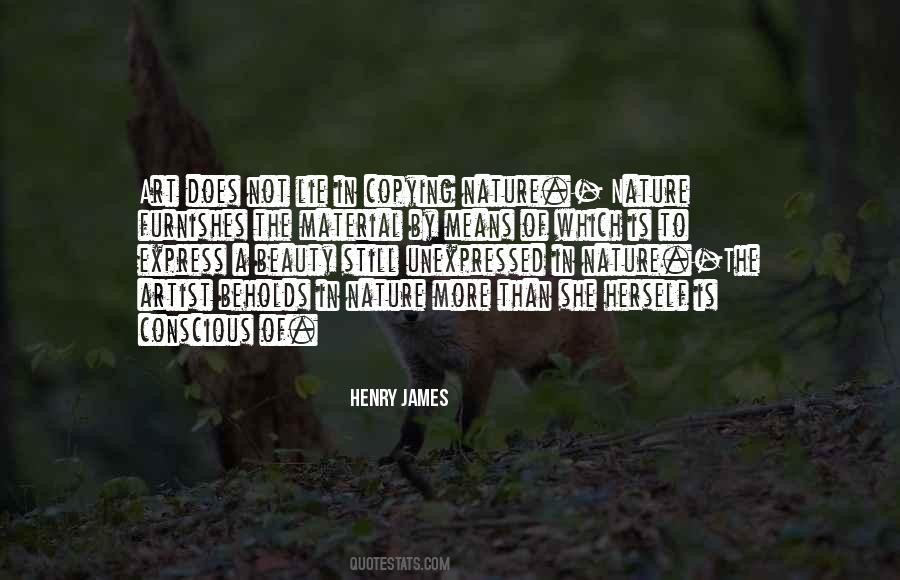 #12. The creation of a work of art must of necessity, as a result of entering into the specific dimensions of pictorial art, be accompanied by distortion of the natural form. For, therein is nature reborn. - Author: Paul Klee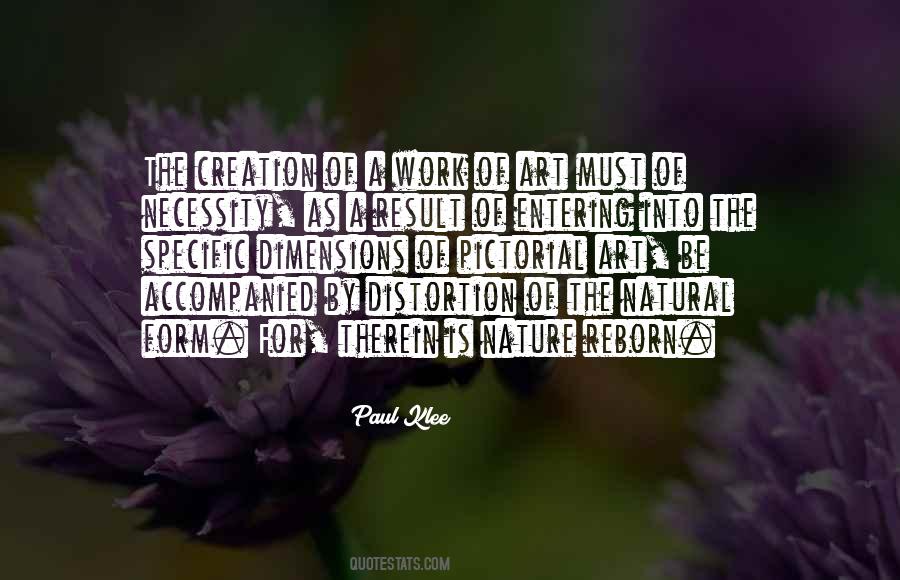 #13. Magic is the art and science of forcing things to behave in ways that are not in their nature. - Author: Joe Abercrombie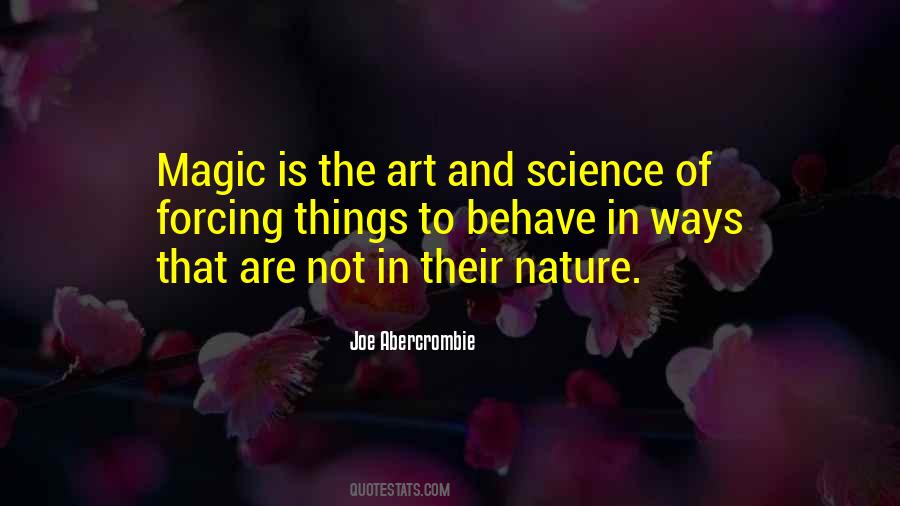 #14. Wanted, a man "who, no stunted ascetic, is full of life and fire, but whose passions are trained to heed a strong will, the servant of a tender conscience; who has learned to love all beauty, whether of nature or of art, to hate all vileness, and to respect others as himself. - Author: Brett McKay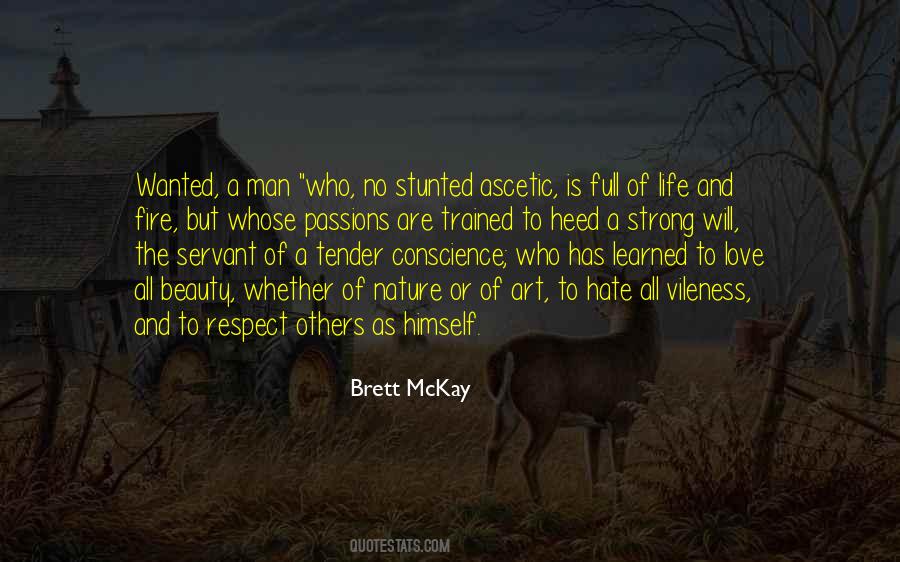 #15. You must in all Airs follow the strength, spirit, and disposition of the horse, and do nothing against nature; for art is but to set nature in order, and nothing else. - Author: William Cavendish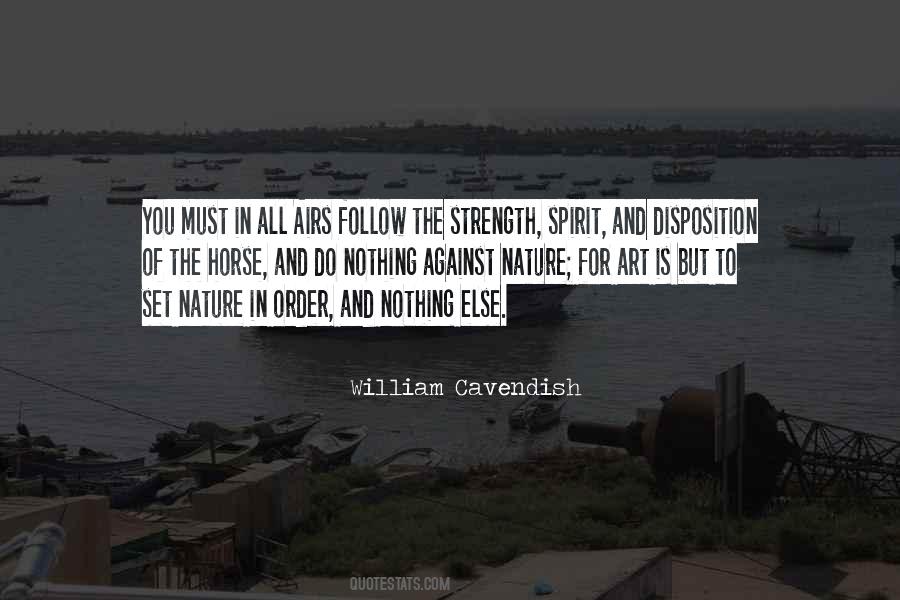 #16. Art is contemplation. It is the pleasure of the mind which searches into nature and which there divines the spirit of which nature herself is animated. - Author: Auguste Rodin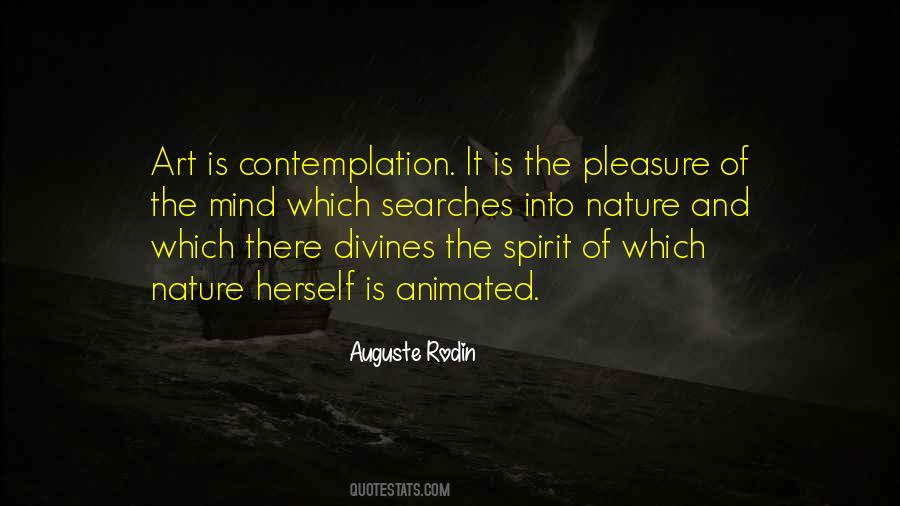 #17. Nature is beautiful because it looks like Art; and Art can only be called beautiful if we are conscious of it as Art while yet it looks like Nature. - Author: Immanuel Kant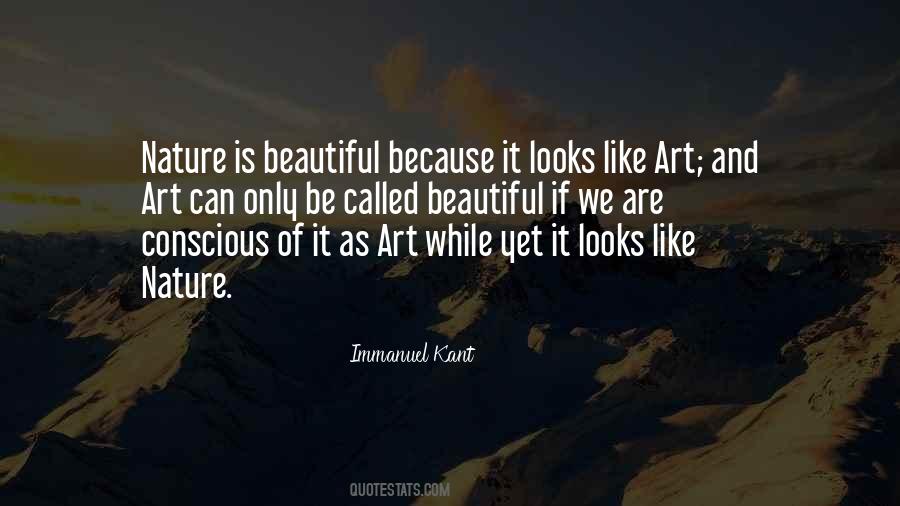 #18. We do not wish to imitate nature, we do not wish to reproduce. We want to produce. We want to produce the way a plant produces its fruit, not depict. We want to produce directly, not indirectly. Since there is not a trace of abstraction in this art we call it concrete art. - Author: Hans Arp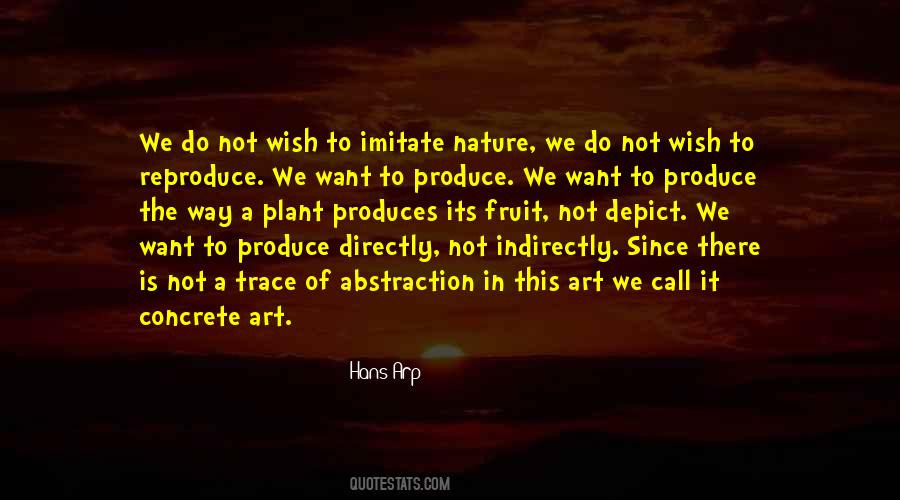 #19. We all do things in a certain individual way, according to our temperaments.
Every human act - no matter how large or how small - is a direct expression of
a man's personality, and bears the inevitable impress of his nature. - Author: S. S. Van Dine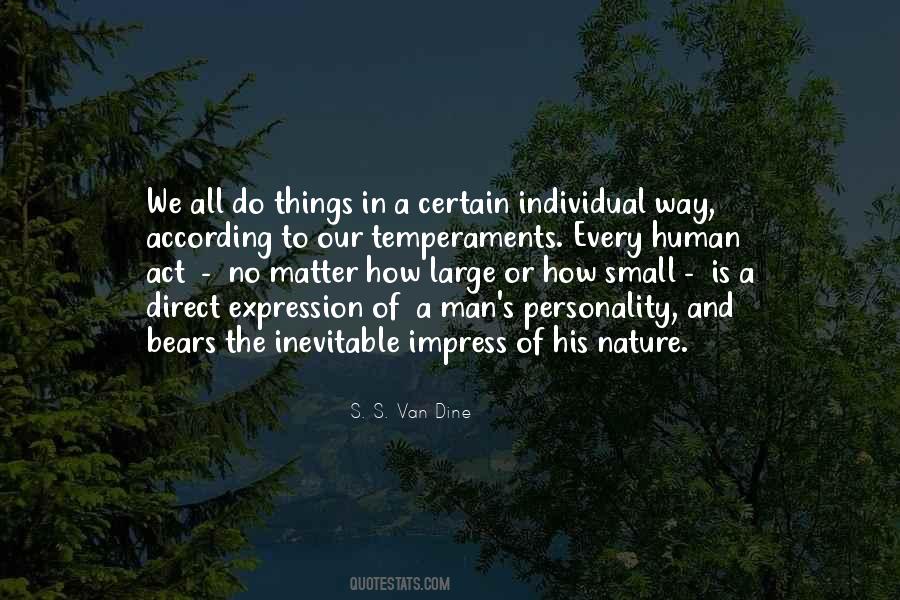 #20. While I recommend studying the art from artists, Nature is and must be the fountain which alone is inexhaustible, and from which all excellences must originally flow. - Author: Joshua Reynolds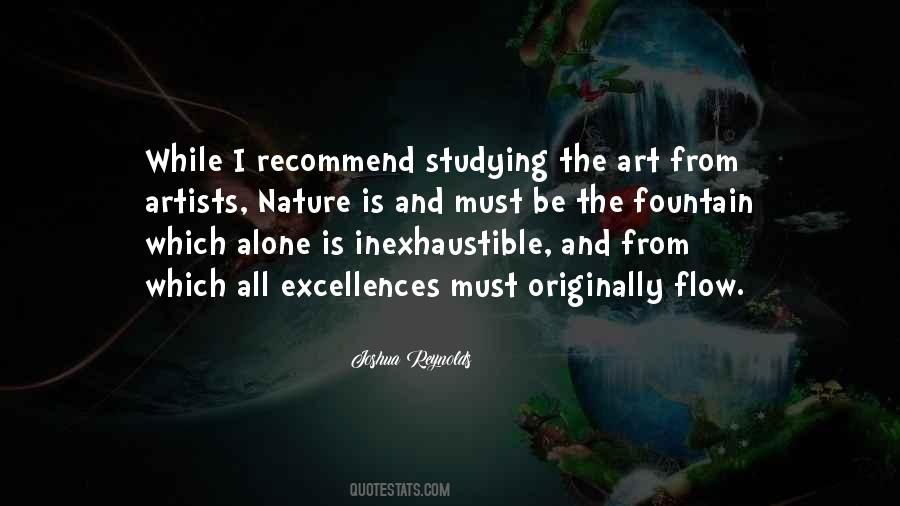 #21. Keep your love of nature, for that is the true way to understand art more and more. - Author: Vincent Van Gogh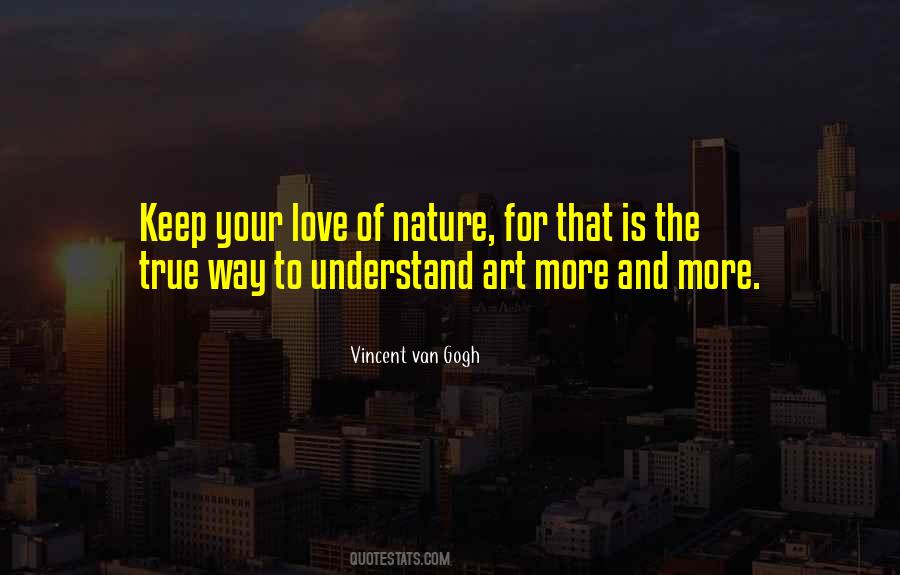 #22. But Natural Selection, as we shall hereafter see, is a power incessantly ready for action, and is immeasurably superior to man's feeble efforts, as the works of Nature are to those of Art. - Author: Charles Darwin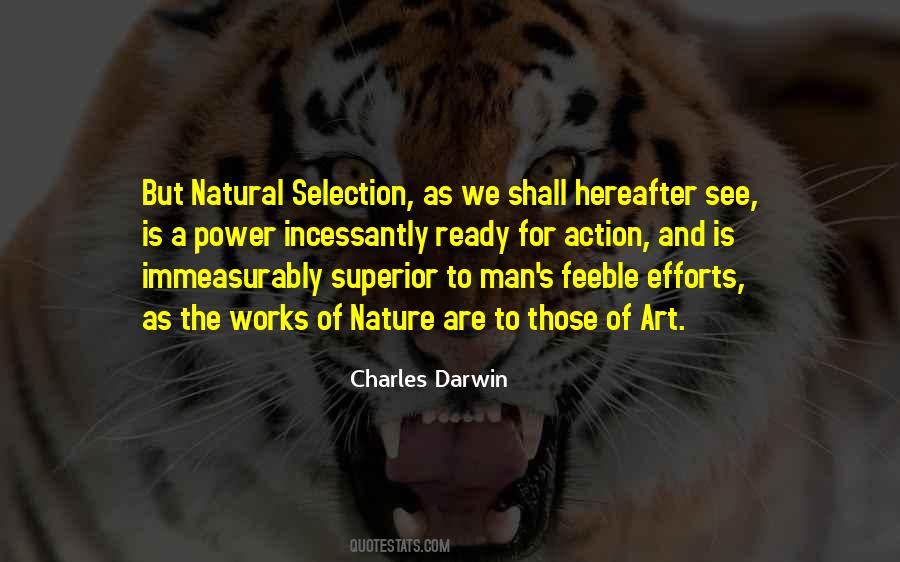 #23. Humanity is as horrified and repulsed by real nature as it is by real death. Thus, we strike back against this formidable opponent with our sharpest weapon: our imagination. From this noble tool - born of necessity and elevated to beauty - culture was born, and the war against nature begun. - Author: Anthony Marais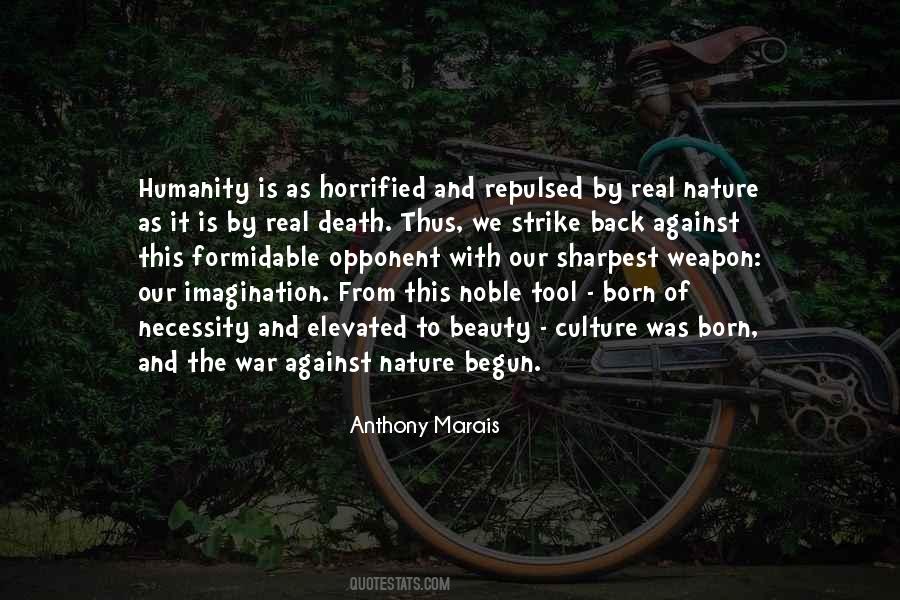 #24. Art, to me, is the interpretation of the impression which nature makes upon the eye and brain. - Author: Childe Hassam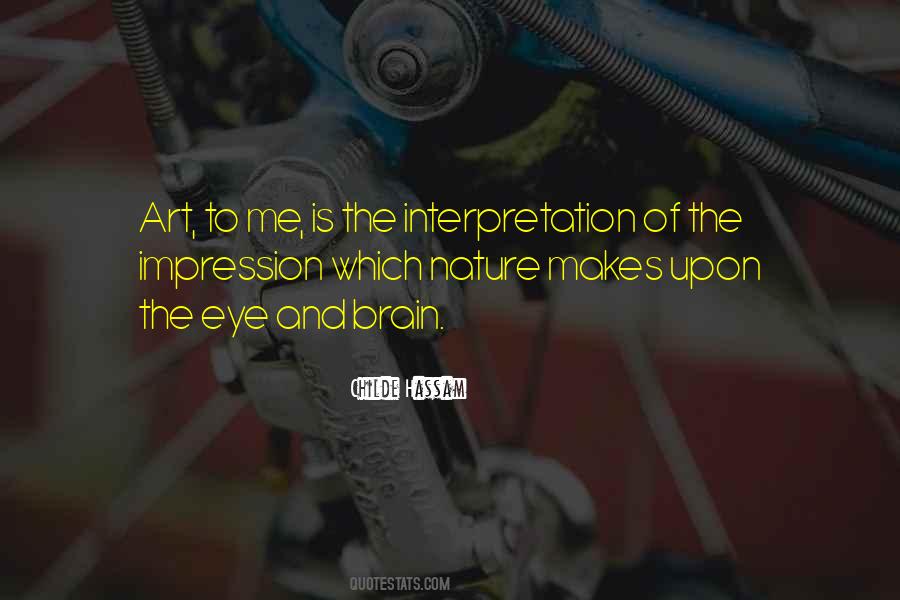 #25. All art is but imitation of nature. - Author: Lucius Annaeus Seneca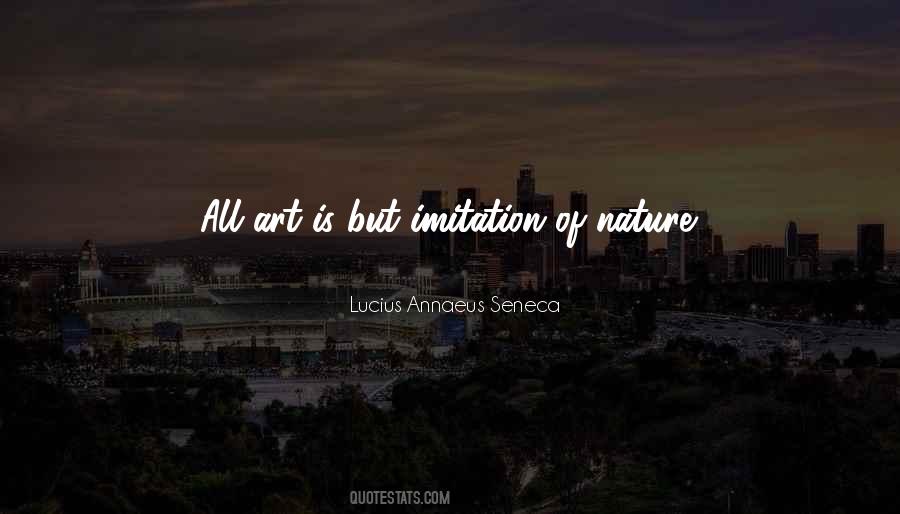 #26. In the vaunted works of Art, The master-stroke is Nature's part. - Author: Ralph Waldo Emerson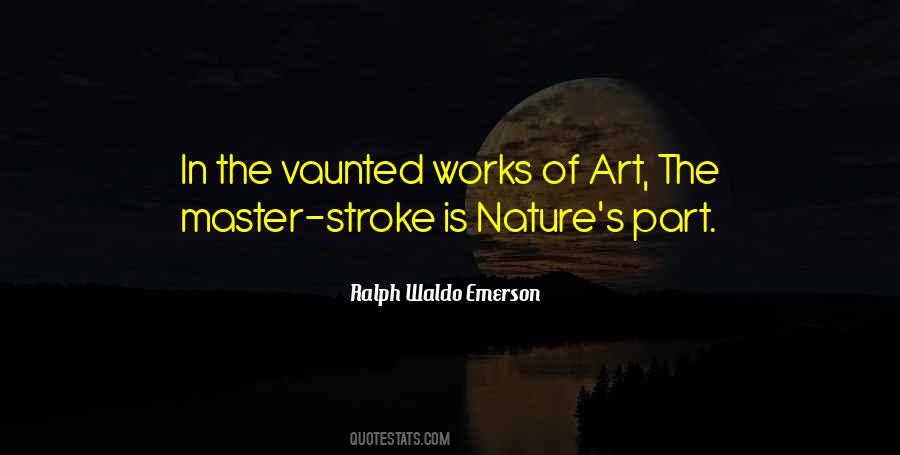 #27. The counterfeit and counterpart of Nature is reproduced in art. - Author: Henry Wadsworth Longfellow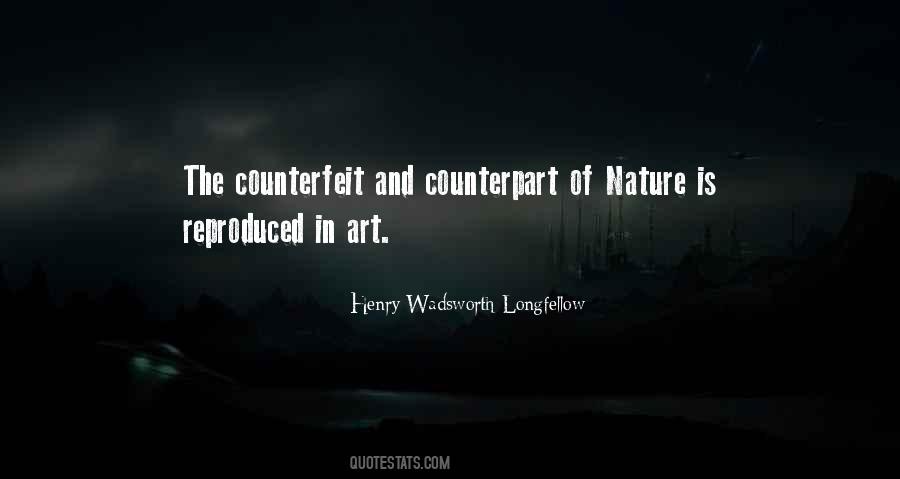 #28. What is nature? Art thou not the living government of God? O Heaven, is it in very deed He then that ever speaks through thee, that lives and loves in thee, that lives and loves in me? - Author: Thomas Carlyle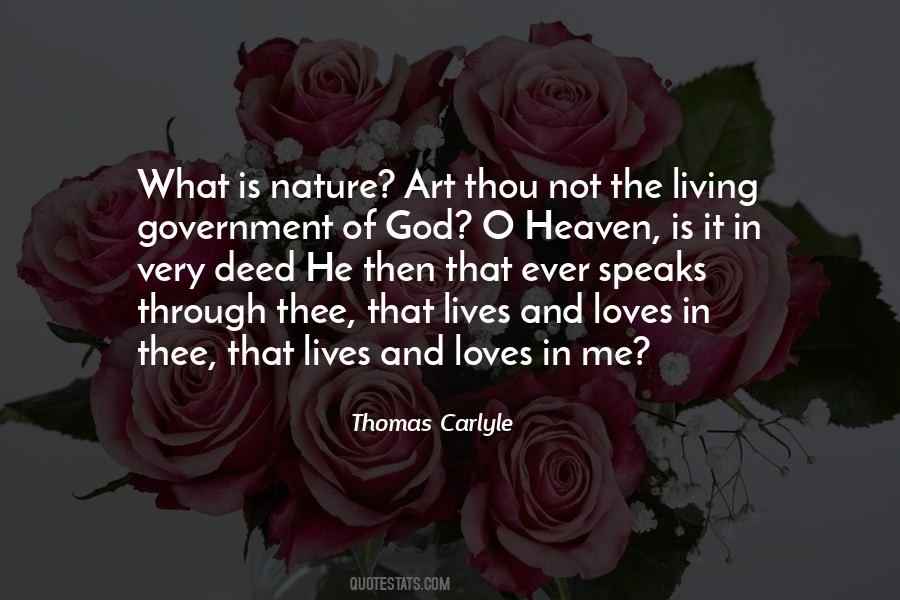 #29. The world is wide; no two days are alike, nor even two hours; neither were there ever two leaves of a tree alike since the creation of the world; and the genuine productions of art, like those of nature, are all distinct from one another. - Author: John Constable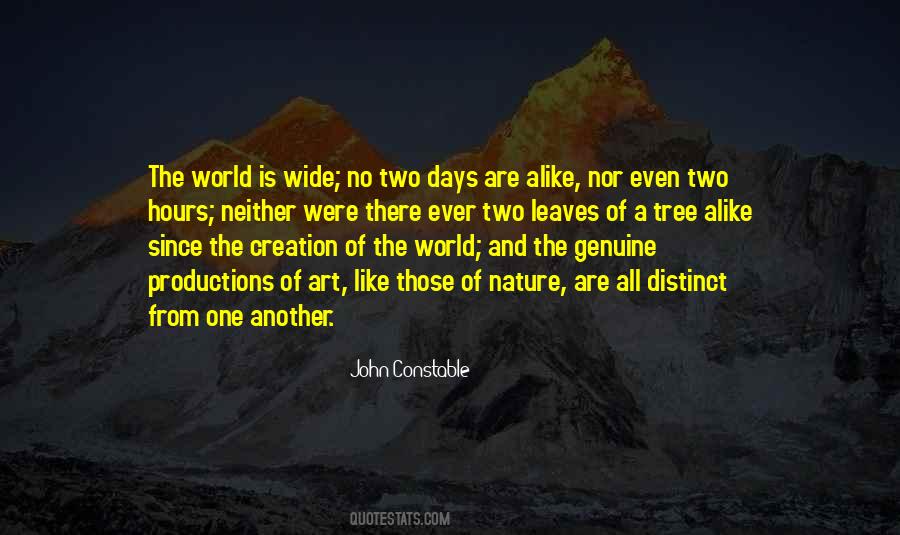 #30. REALISM, n. The art of depicting nature as it is seem by toads. The charm suffusing a landscape painted by a mole, or a story written by a measuring-worm. - Author: Ambrose Bierce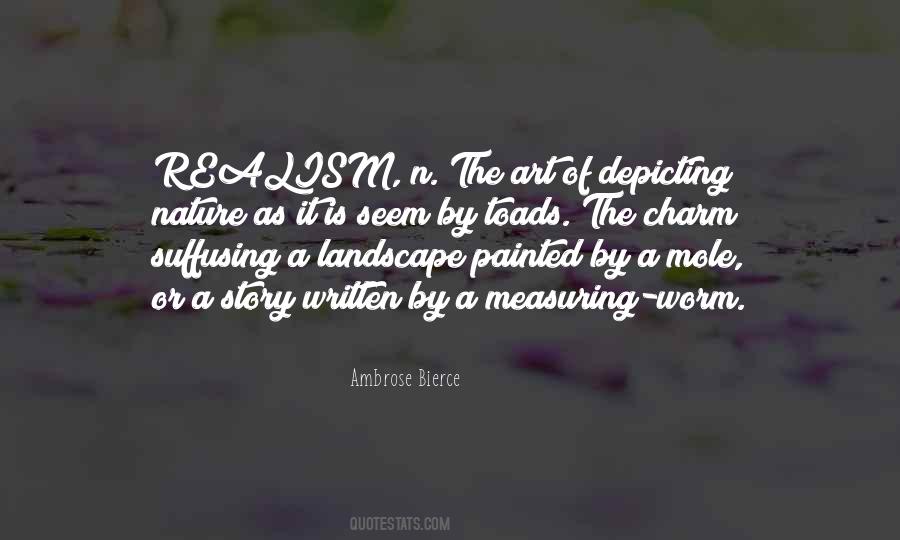 #31. I just think Barack [Obama], he doesn't dig being asked at all. He's got a bit of an imperious nature about him. I guess nobody has told him that nobody reads newspapers anymore. That is a dying art form. - Author: Bill O'Reilly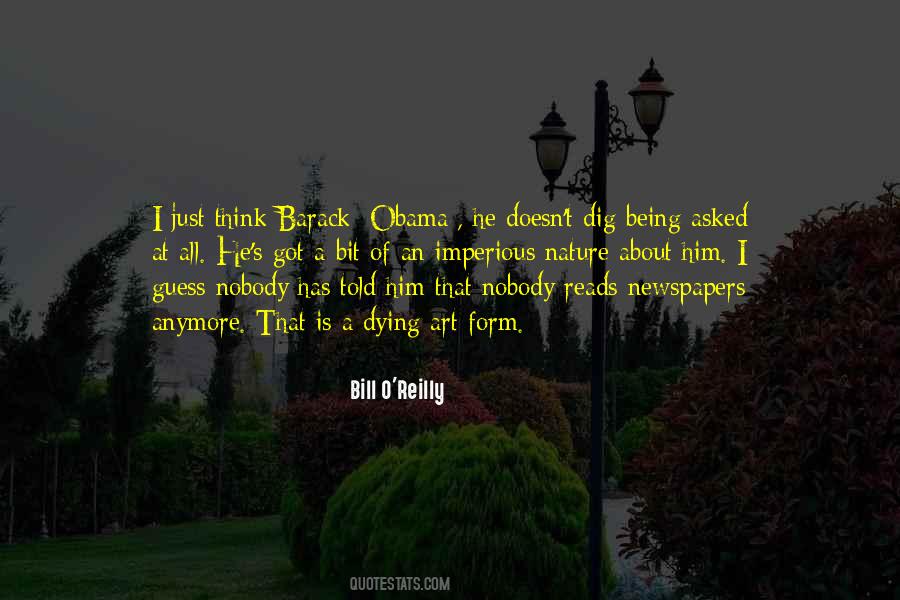 #32. But here we are; and, if we tarry a little, we may come to learn that here is best. See to it, only, that thyself is here;-and art and nature, hope and fate, friends, angels, and the Supreme Being, shall not be absent from the chamber which thou sittest. - Author: Ralph Waldo Emerson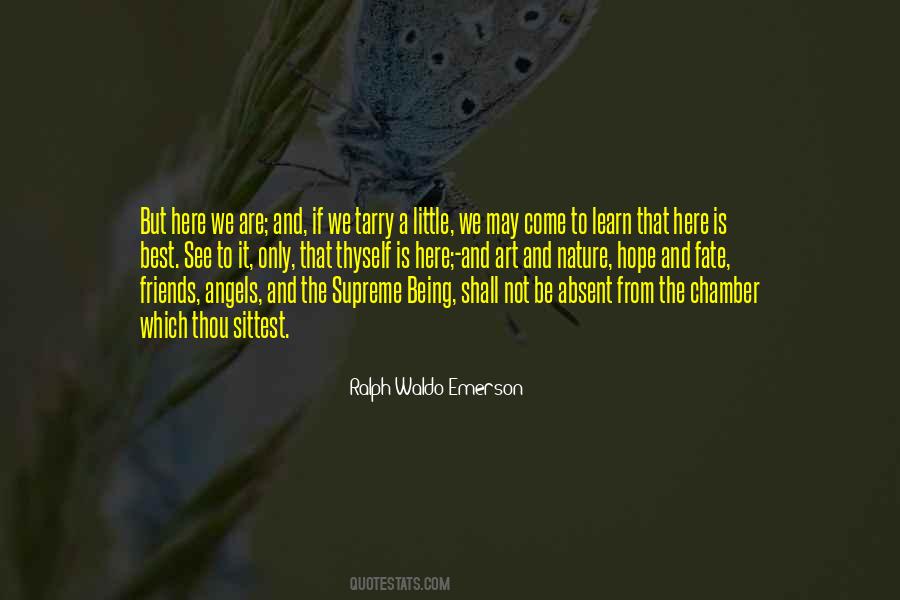 #33. Poets like painters, thus unskilled to trace The naked nature and the living grace, With gold and jewels cover ev'ry part, And hide with ornaments their want of art. True wit is Nature to advantage dressed, What oft was thought, but ne'er so well expressed. - Author: Alexander Pope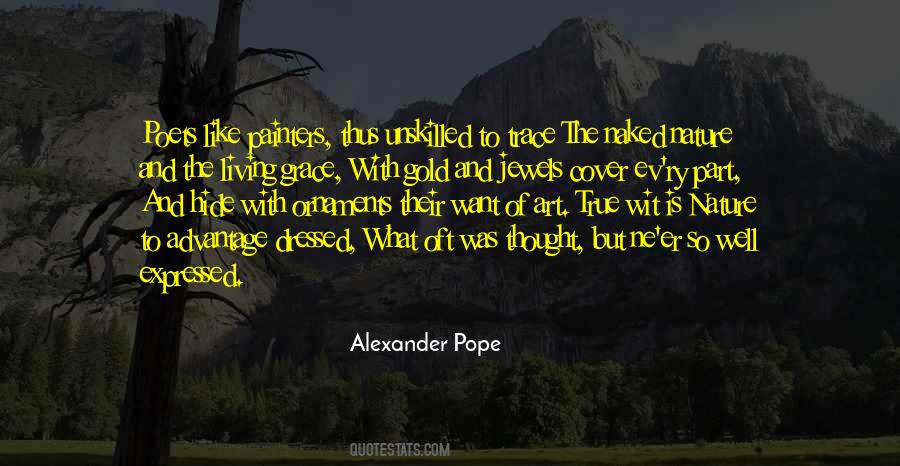 #34. Everything in art is but a copy of nature. - Author: Seneca The Younger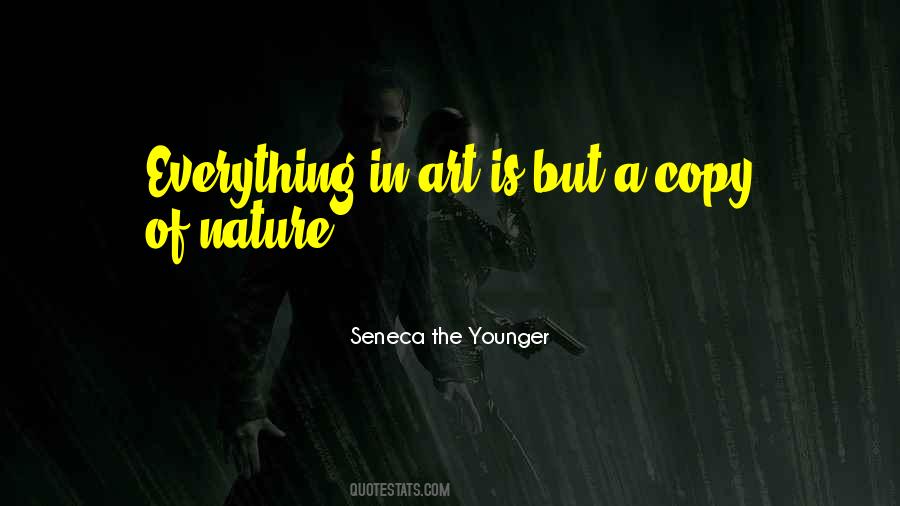 #35. That beauty which is meant by art is no mere accident of human life which people can take or leave, but a positive necessity of life if we are to live as nature meant us to, that is to say unless we are content to be less than men. - Author: Oscar Wilde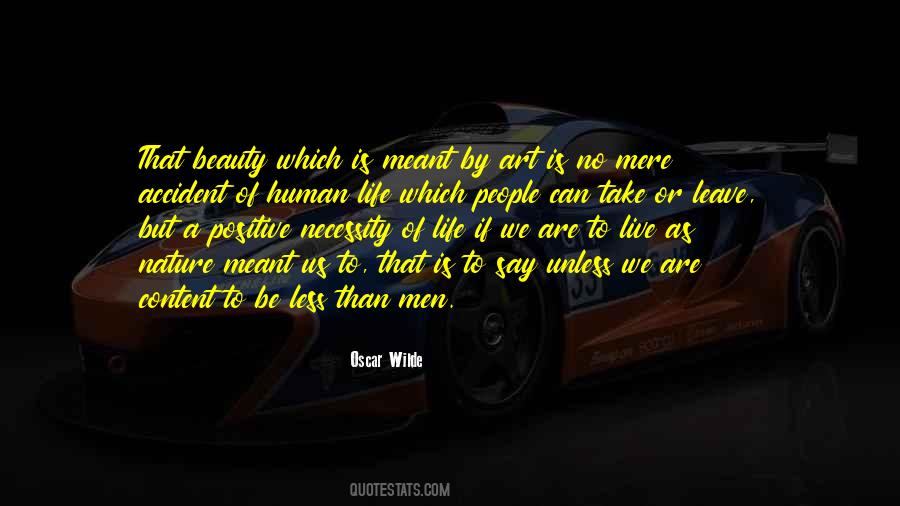 #36. There is no excuse for anyone to write fiction for public consumption unless he has been called to do so by the presence of a gift. It is the nature of fiction not to be good for much unless it is good in itself. - Author: Flannery O'Connor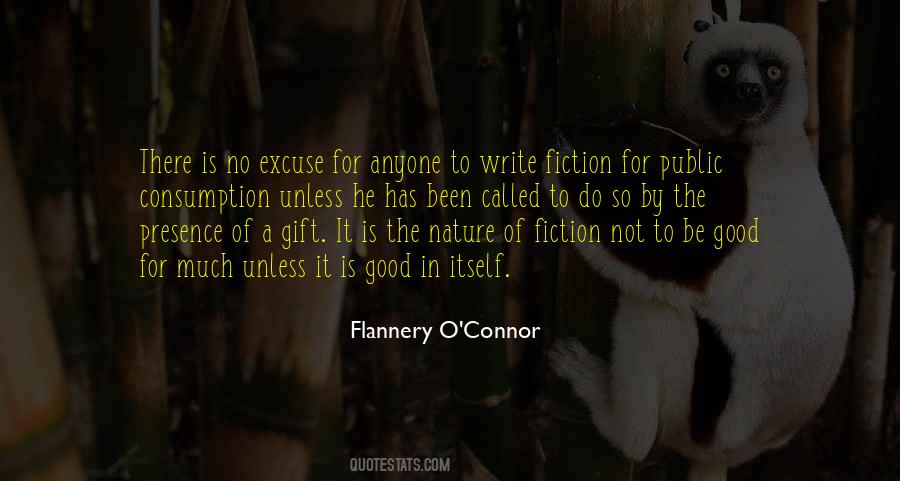 #37. A beautiful lady is an accident of nature. A beautiful old lady is a work of art. - Author: Louis Nizer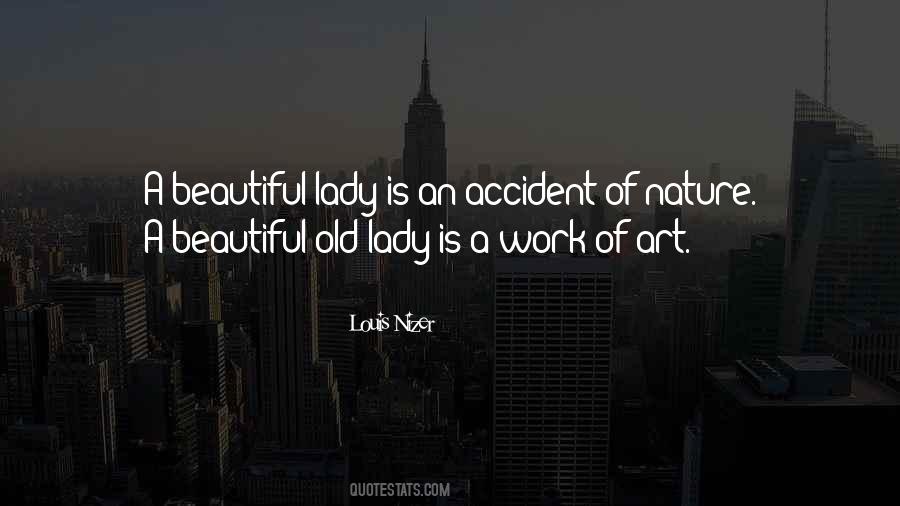 #38. And then, I have nature and art and poetry, and if that is not enough, what is enough? - Author: Vincent Van Gogh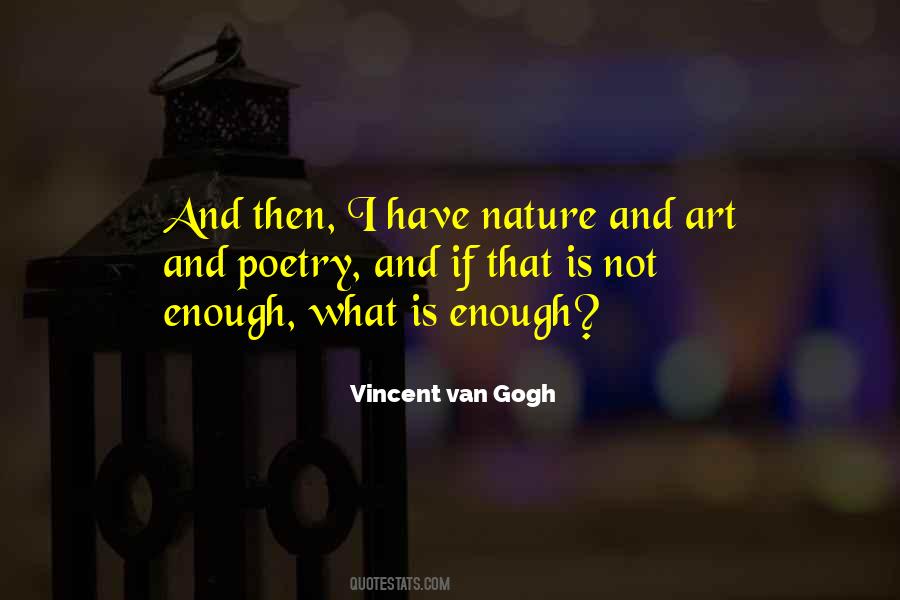 #39. Then the imitative poet who aims at being popular is not by nature made, nor is his art intended, to please or to affect the rational principle in the soul; but he will prefer the passionate and fitful temper, which is easily imitated? Clearly. And - Author: Plato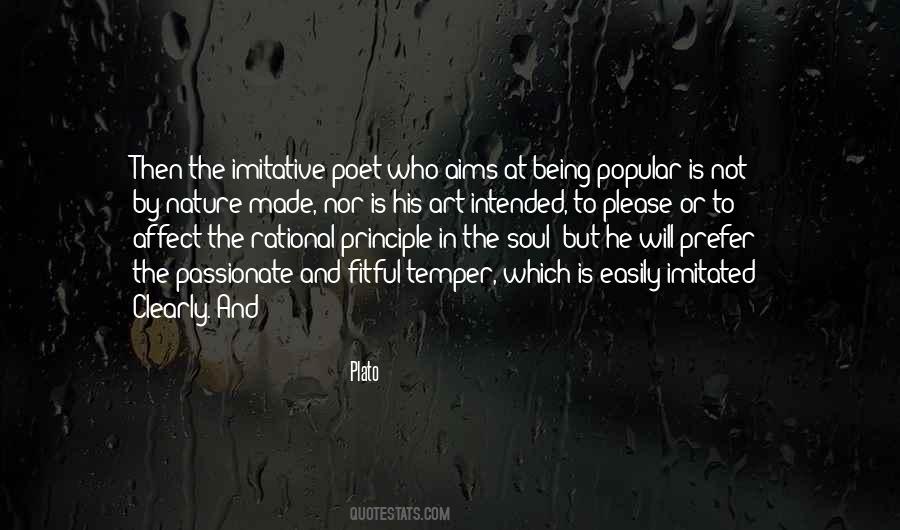 #40. Beauty puts a face on God. When we gaze at nature, at a loved one, at a work of art, our soul immediately recognizes it and is drawn to the face of God. - Author: Margaret Brownley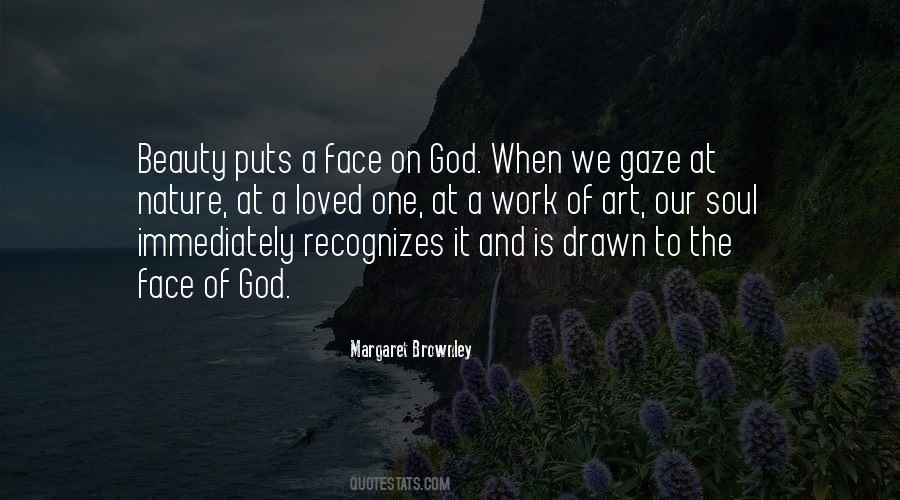 #41. The dynamic inter-linkage of art forms in orature is thus seen as reflecting a Weltanschauung that assumes the normality of the connection between nature, nurture, supernatural, and supernurtural. I - Author: Ngugi Wa Thiong'o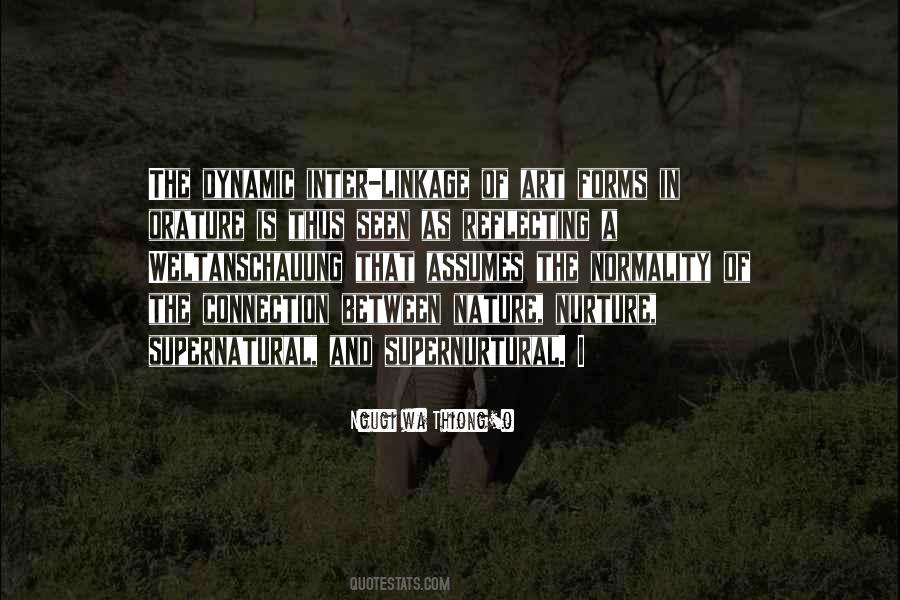 #42. The art of nature is all in the direction of concealment. - Author: John Burroughs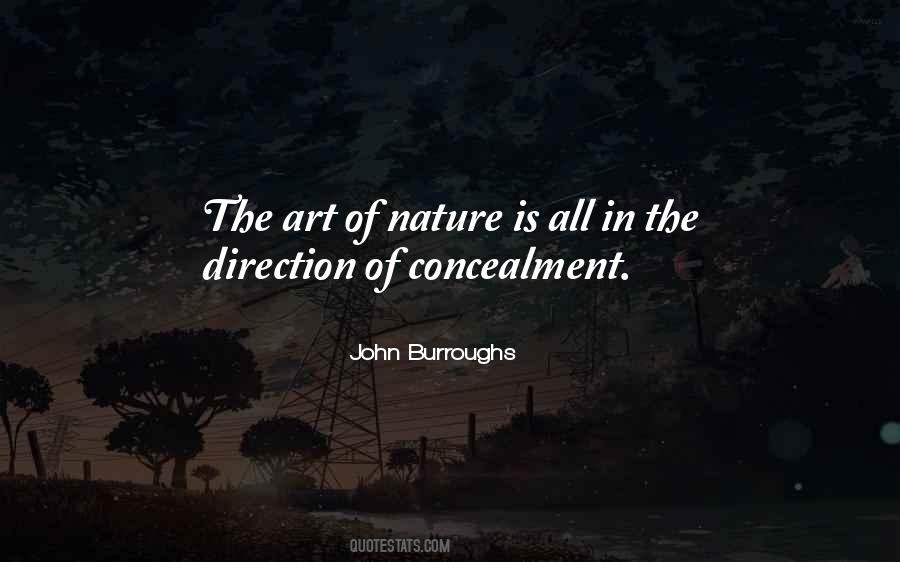 #43. That which lies before the human race is a constant struggle to maintain and improve, in opposition to State of Nature, the State of Art of an organized polity; in which, and by which, man may develop a worthy civilization - Author: Thomas Huxley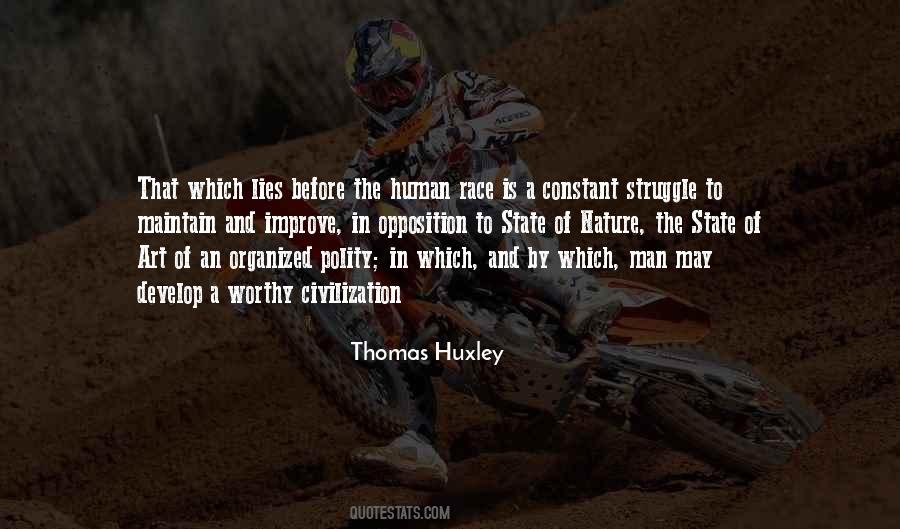 #44. In any case, perhaps the quest for data to support our actions gets overemphasized. After all, our emotions distinguish us. Art and poetry and music are from and to the human heart, as is, for many, our relationship with the land.' ~ Randy Morgenson - Author: Eric Blehm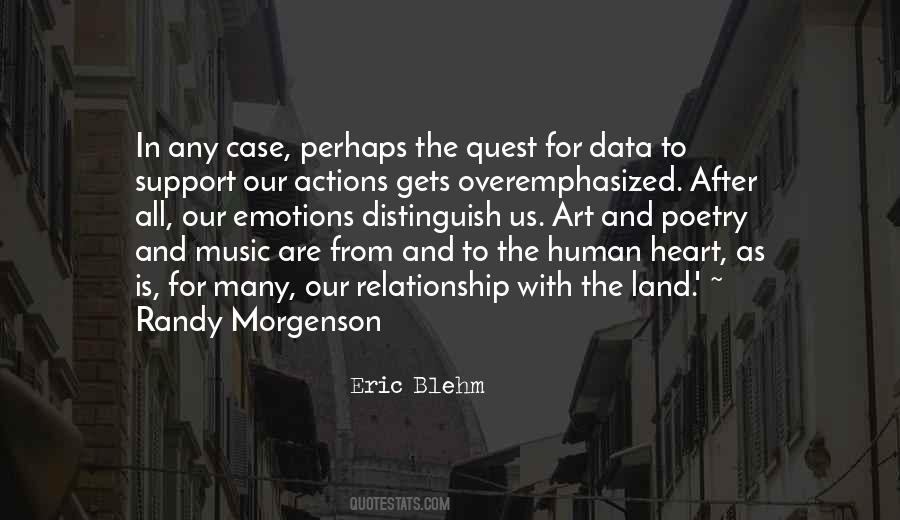 #45. The two World Wars came in part, like much modern literature and art, because men, whose nature is to tire of everything in turn ... tired of common sense and civilization. - Author: F.L. Lucas
#46. Art is not nature ... There was a lot more to be got out of color. - Author: Pierre Bonnard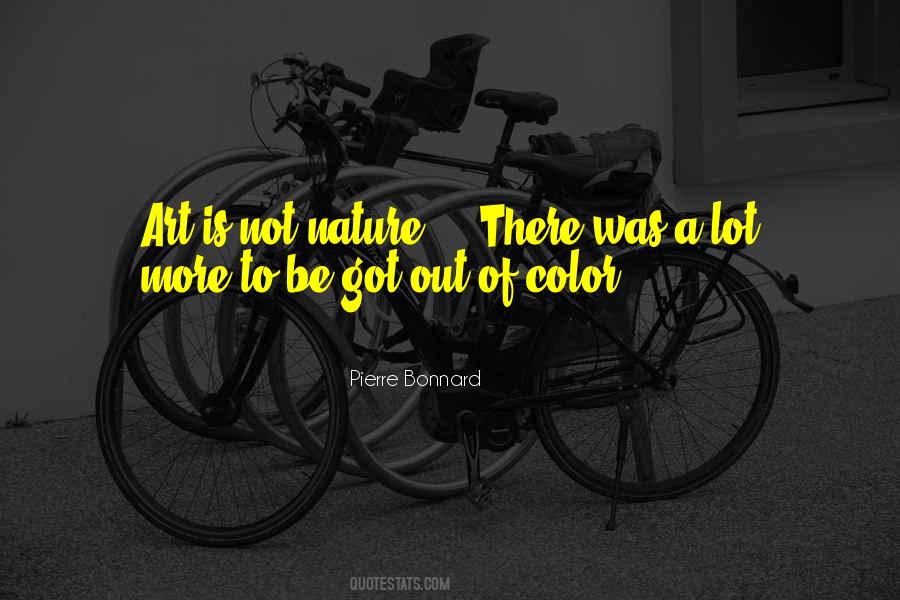 #47. Mathematics, as much as music or any other art, is one of the means by which we rise to a complete self-consciousness. The significance of mathematics resides precisely in the fact that it is an art; by informing us of the nature of our own minds it informs us of much that depends on our minds. - Author: Antoine Thomson D'Abbadie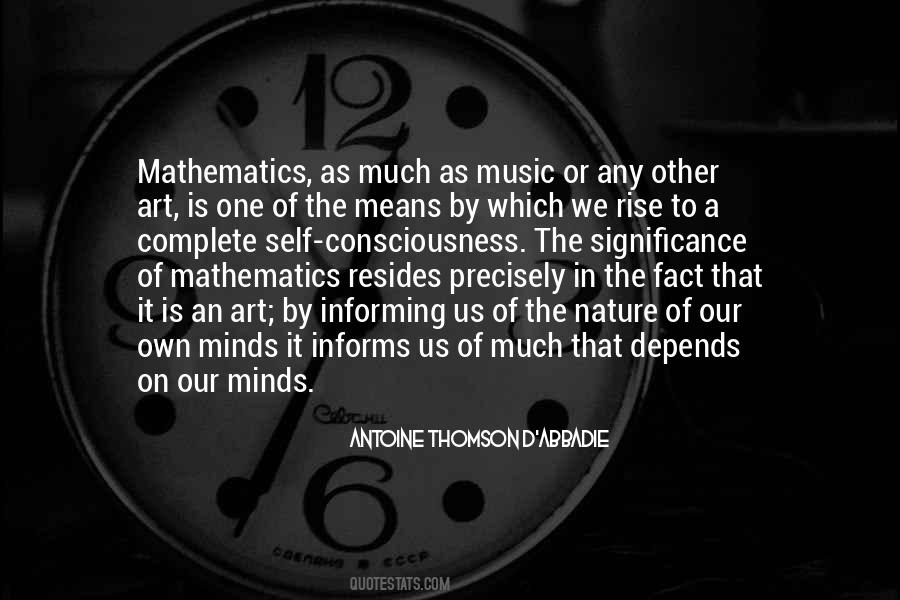 #48. There is no point where art so nearly touches nature as when it appears in the form of words. - Author: J.G. Holland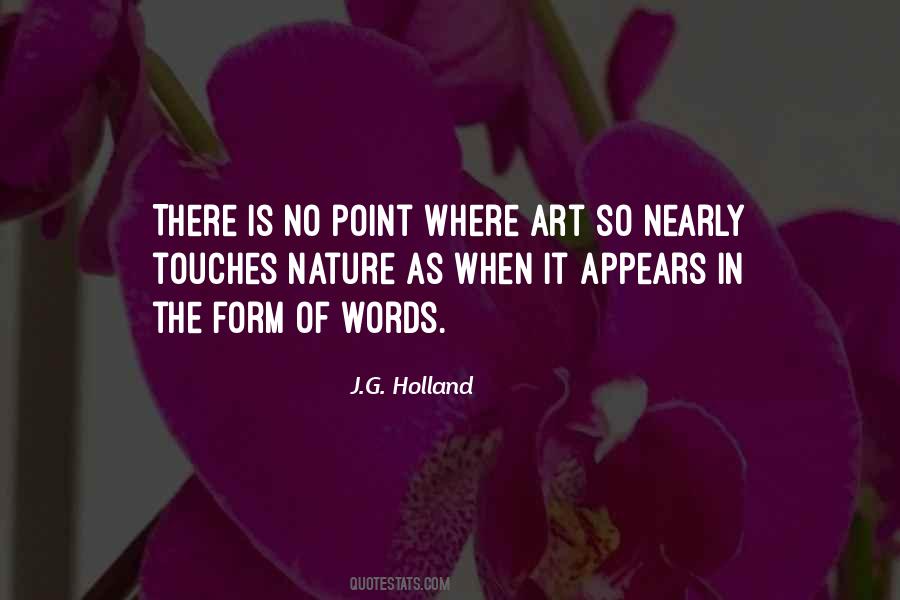 #49. Art' is the same word as 'artifice,' that is to say, something deceitful. It must succeed in giving the impression of nature by false means. - Author: Edgar Degas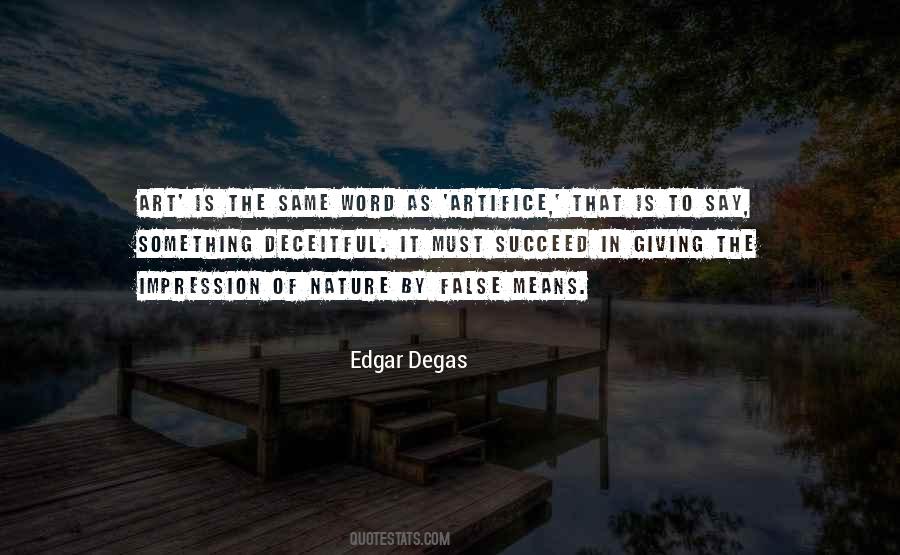 #50. All Nature is but Art, unknown to thee; All Chance, Direction, which thou canst not see; All Discord, Harmony not understood All partial Evil, universal Good. - ALEXANDER POPE, An Essay on Man - Author: Thomas H. Cook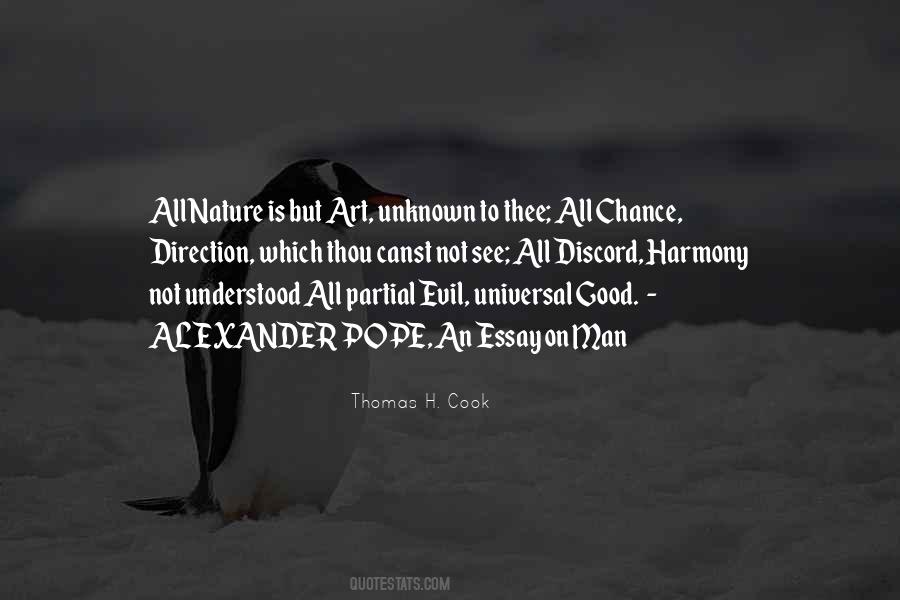 #51. Do not copy nature. Art is an abstraction. Rather, bring your art forth by dreaming in front of her and think more of creation. - Author: Paul Gauguin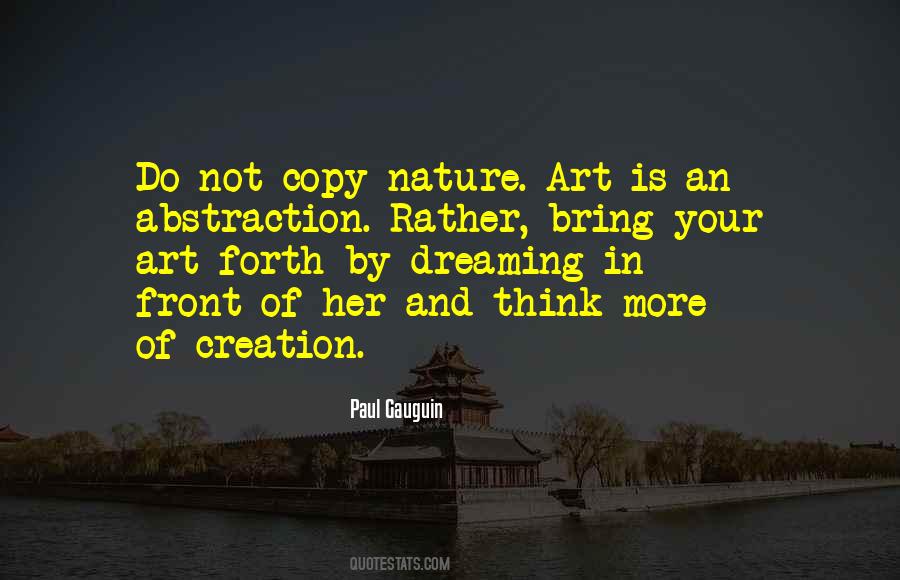 #52. Now a work of art is a work of nature, but it is a work of human nature. It is a work of the mind: and it's a work of the mind in circumstances for an occasion which, to which, for which, and which it may be supremely natural and simple and effective.
"The Nature of Art" December 19, 1954 - Author: Frank Lloyd Wright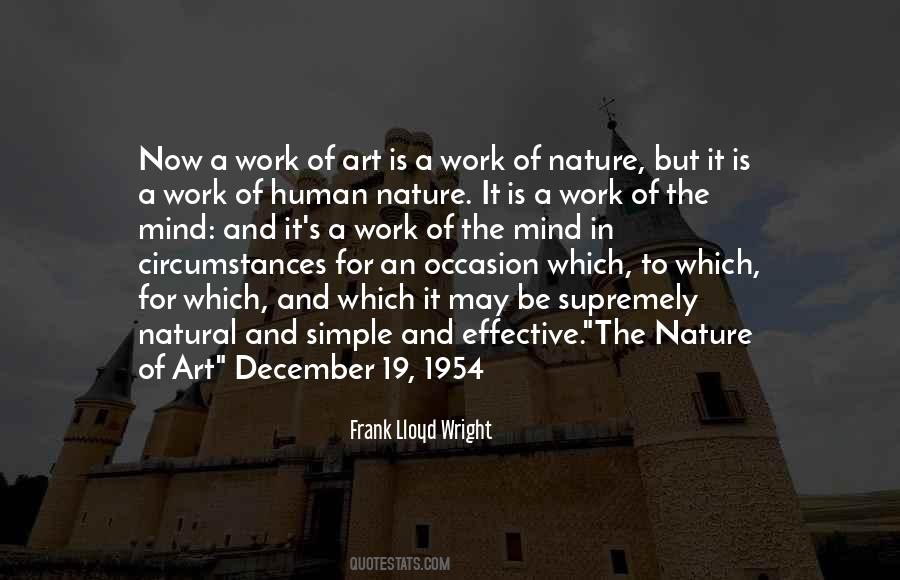 #53. It seems an odd idea to my students that poetry, like all art, leads us away from itself, back to the world in which we live. It furnishes the vision. It shows with intense clarity what is already there. - Author: Helen Bevington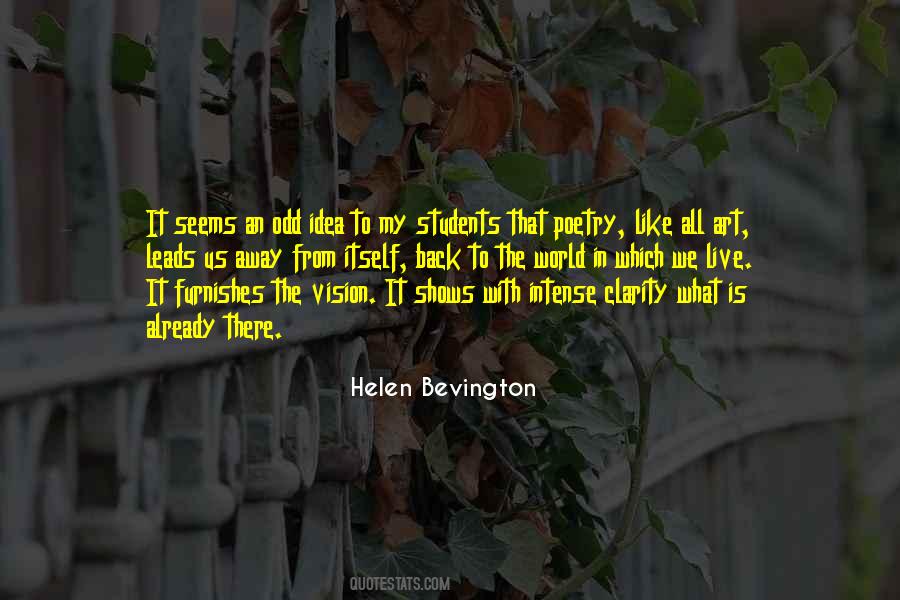 #54. Try to walk as much as you can, and keep your love for nature, for that is the true way to learn to understand art more and more. Painters understand nature and love her and teach us to see her. If one really loves nature, one can find beauty everywhere. - Author: Vincent Van Gogh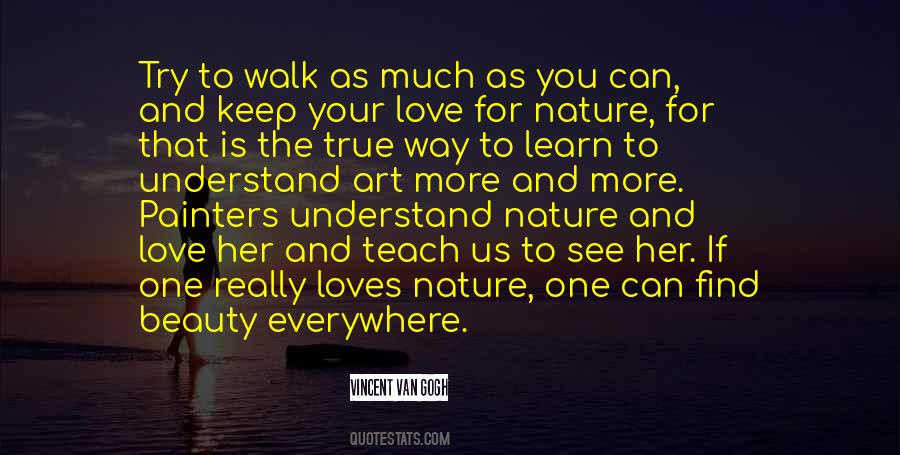 #55. As all Nature's thousands changes But one changeless God proclaim; So in Art's wide kingdom ranges One sole meaning still the same: This is Truth, eternal Reason, Which from Beauty takes its dress, And serene through time and season Stands aye in loveliness. - Author: Johann Wolfgang Von Goethe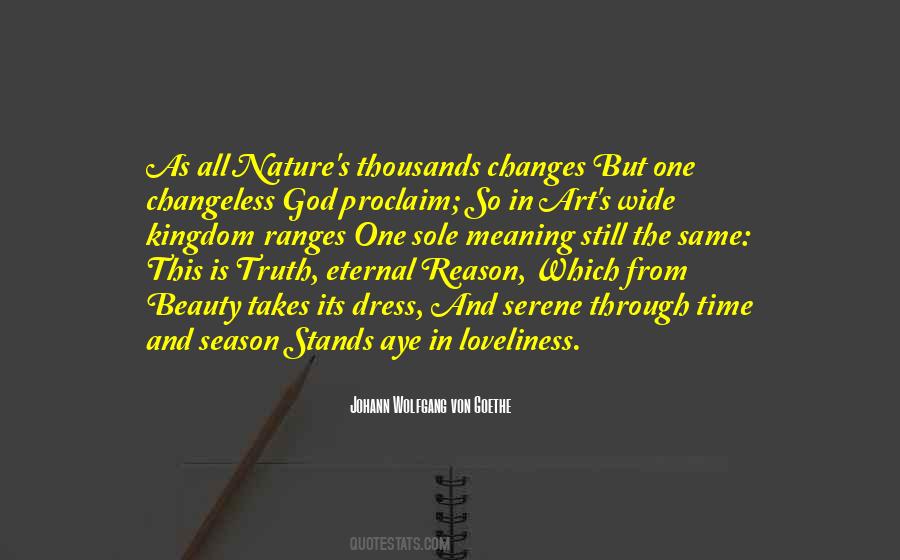 #56. It is a law woven into the nature of man, attested by history, by science, by literature and art, and by dally experience, that strength of mind and force of character are the supreme rulers of human affairs. - Author: Lucius Quintus Cincinnatus Lamar II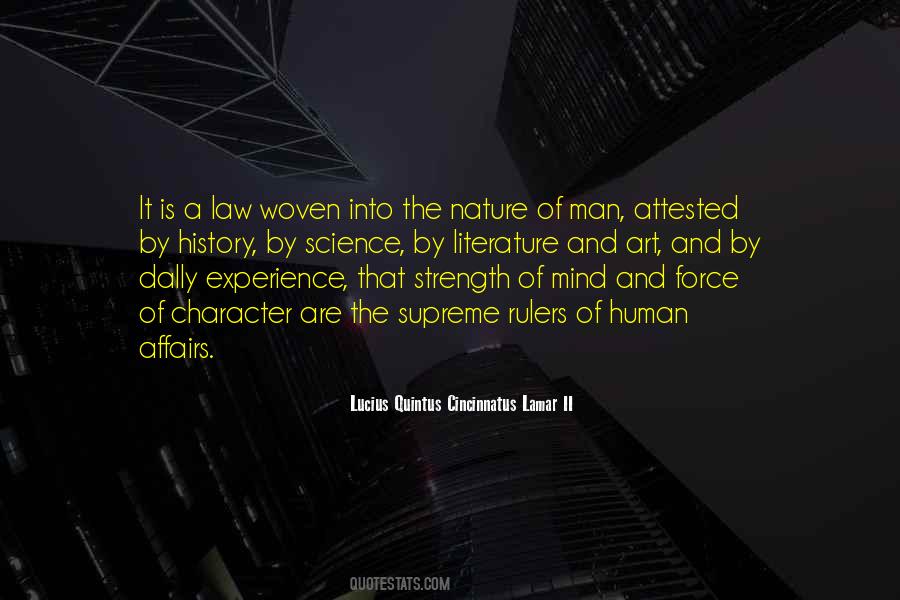 #57. Nothing is lost and nothing is created in the operations of art as those of nature. - Author: Louis Pasteur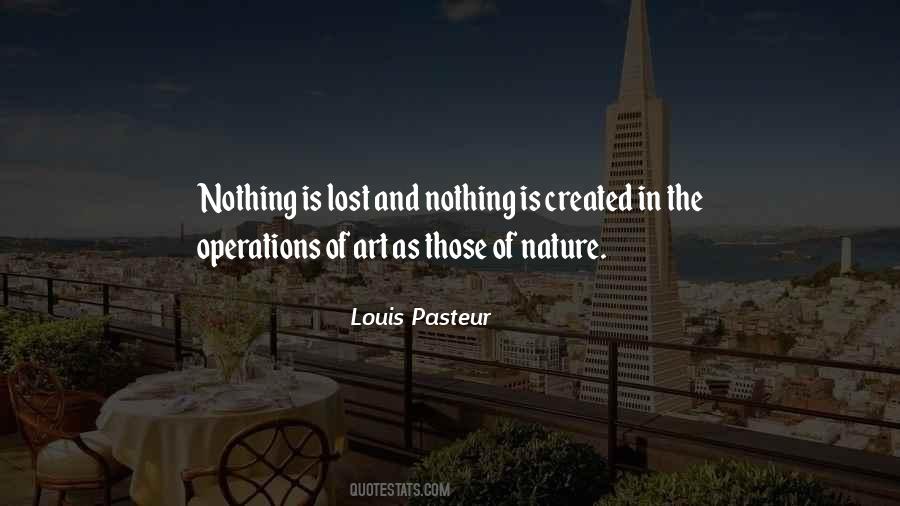 #58. Science, like art, is not a copy of nature but a re-creation of her. - Author: Jacob Bronowski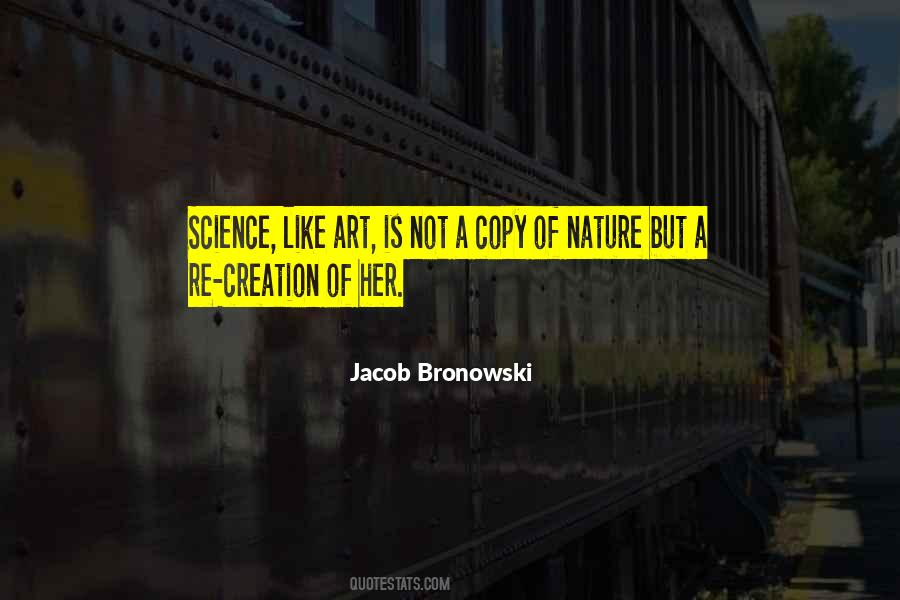 #59. It seems to me that a spiritual sensibility is built into human nature. Formal religion may or may not disappear but art, love and a desire to find beauty will remain. - Author: Frank Schaeffer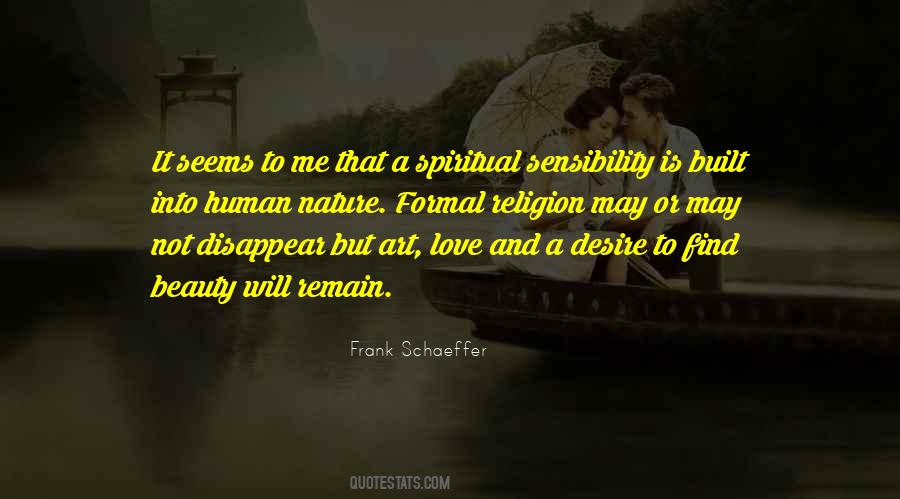 #60. Art is the need to create; but in its essence, immense and universal, it is impatient of working with lame or tied hands, and of making cripples and monsters, such as all pictures and statues are. Nothing less than the creation of man and nature is its end. - Author: Ralph Waldo Emerson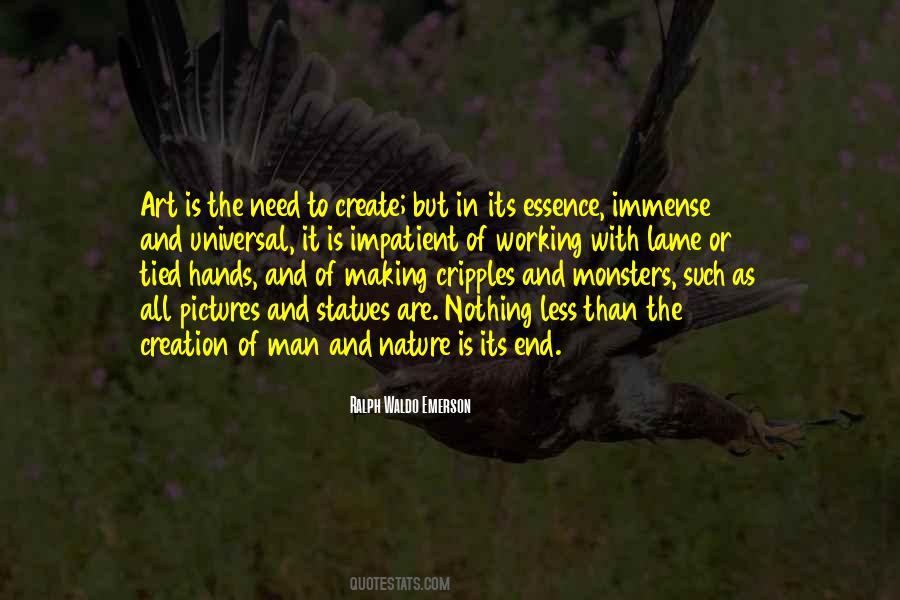 #61. Divinity is accident of nature, magic is the work of an art. - Author: Amit Kalantri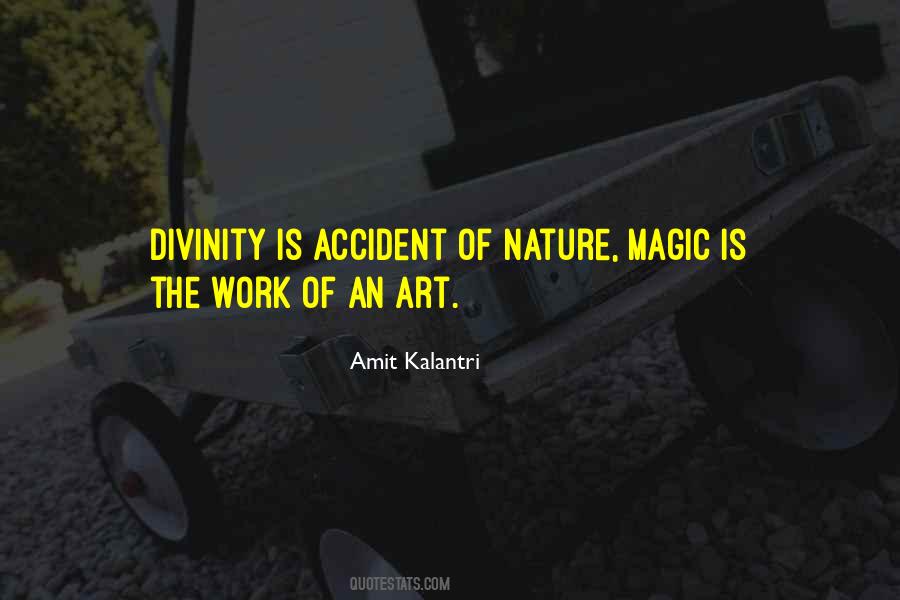 #62. Praying is the same to the new creature as crying is to the natural. The child is not learned by art or example to cry, but instructed by nature; it comes into the world crying. Praying is not a lesson got by forms and rules of art, but flowing from principles of new life itself. - Author: William Gurnall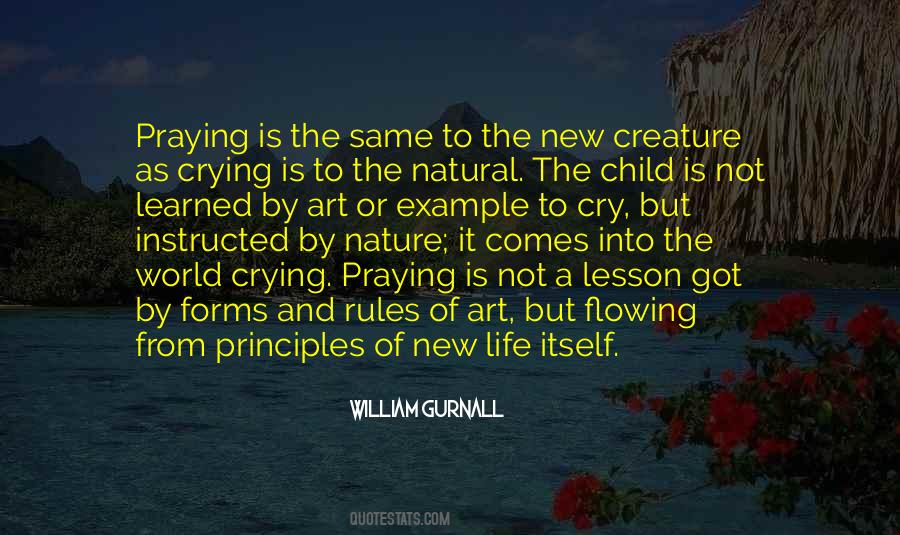 #63. Nature is a revelation of God; Art a revelation of man. - Author: Henry Wadsworth Longfellow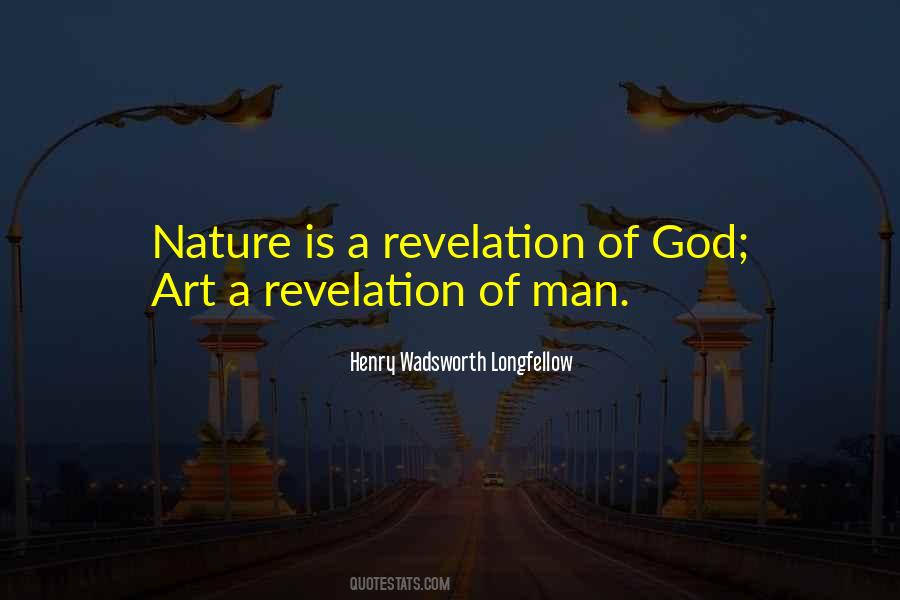 #64. First of all a natural talent is required; for when Nature opposes, everything else is in vain; but when Nature leads the way to what is most excellent, instruction in the art takes place ... - Author: Hippocrates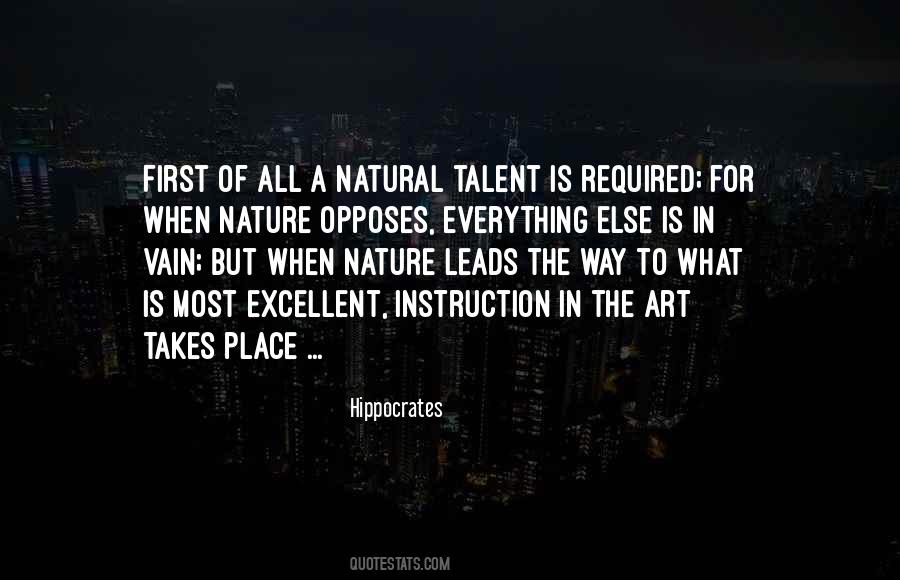 #65. Art in Nature is rhythmic and has a horror of constraint. - Author: Robert Delaunay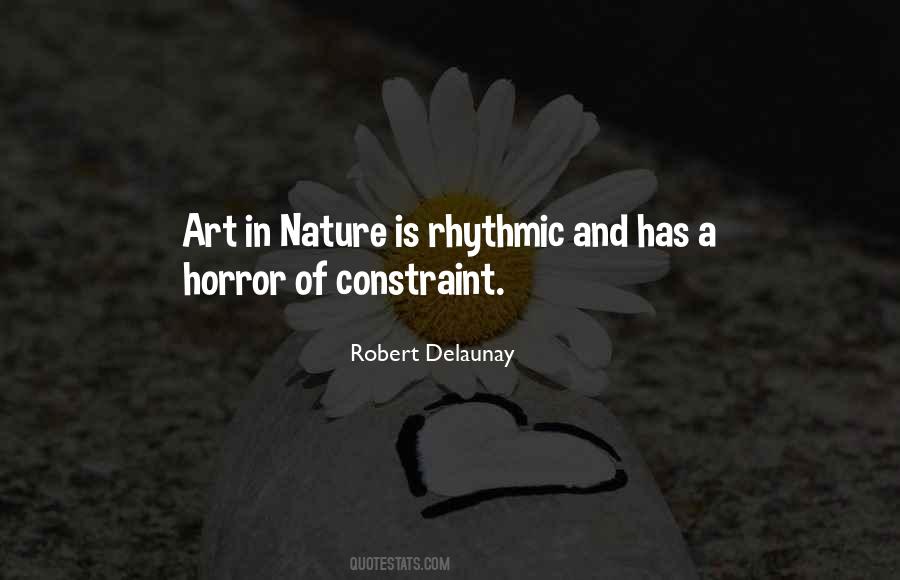 #66. The city is a fact in nature, like a cave, a run of mackerel or an ant-heap. But it is also a conscious work of art, and it holds within its communal framework many simpler and more personal forms of art. Mind takes form in the city; and in turn, urban forms condition mind. - Author: Lewis Mumford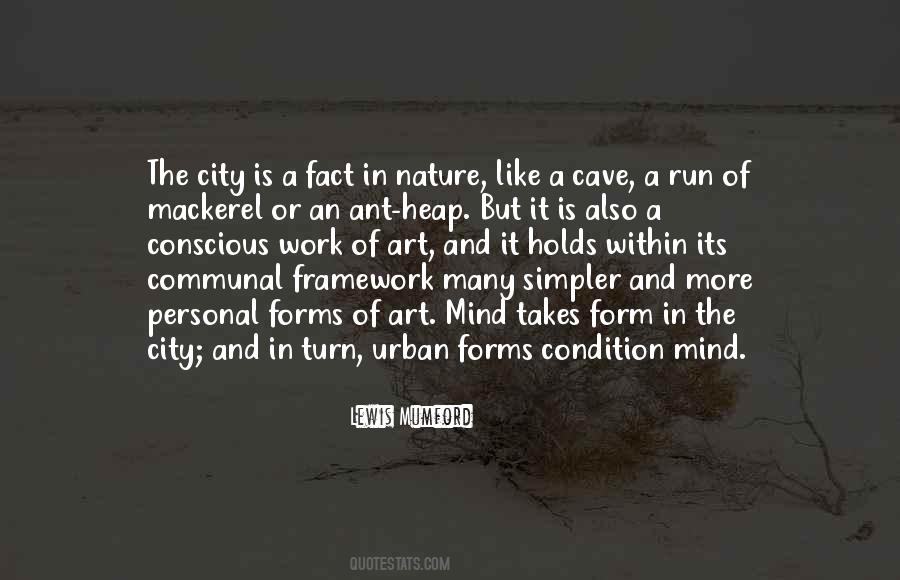 #67. The nature of the beast is, art needs finance. That's how this industry works. - Author: Nathan Fillion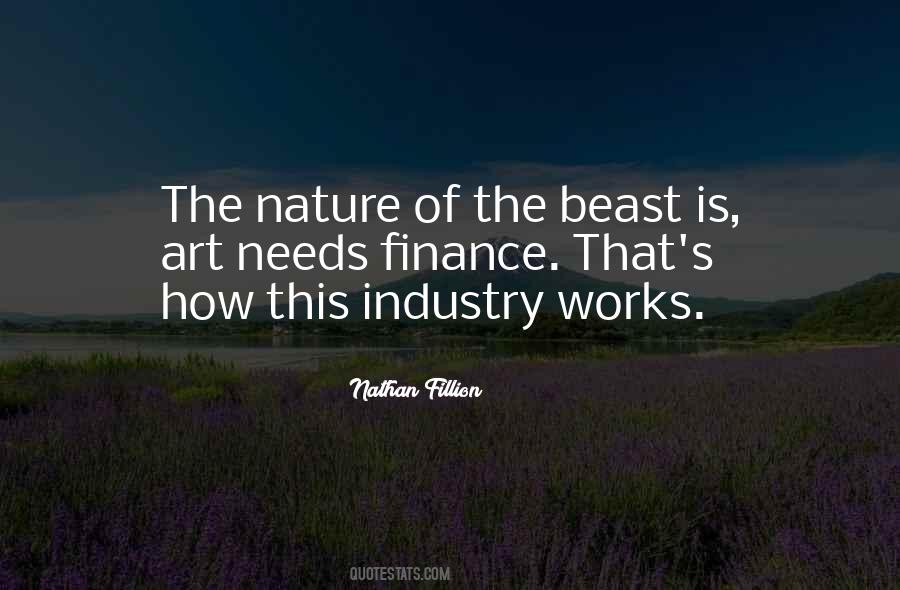 #68. All art (after Duchamp) is conceptual (in nature) because art only exists conceptually. - Author: Joseph Kosuth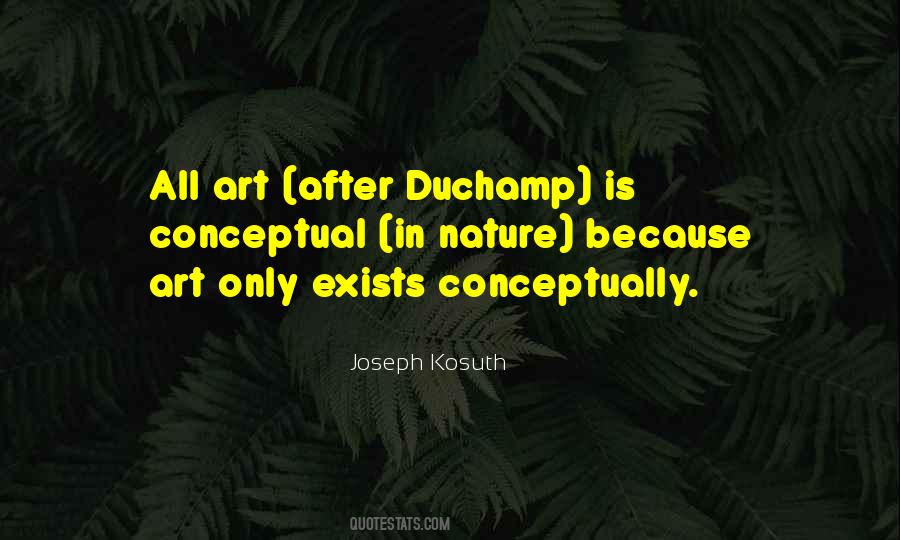 #69. A hint - don't paint too much direct from nature. Art is an abstraction! study nature then brood on it and treasure the creation which will result, which is the only way to ascend towards God - to create like our Divine Master. - Author: Paul Gauguin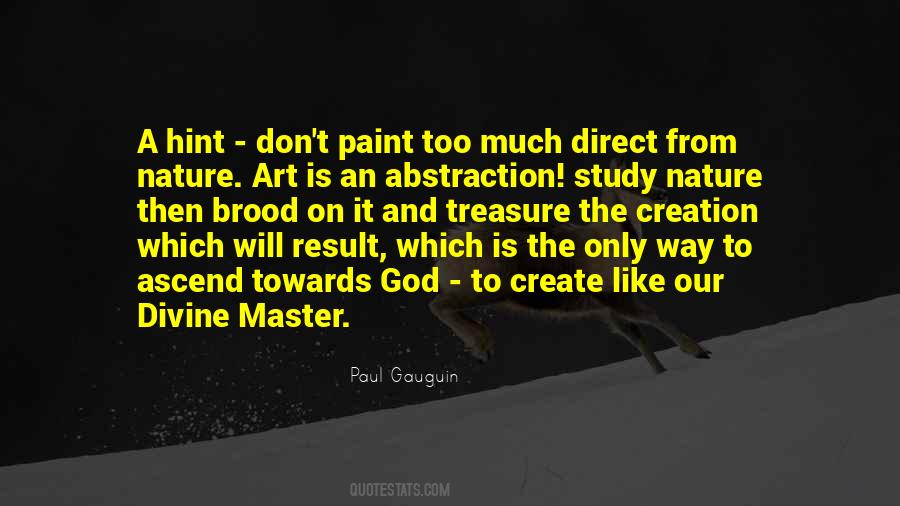 #70. The nature of light is a subject of no material importance to the concerns of life or to the practice of the arts, but it is in many other respects extremely interesting. - Author: Thomas Young
#71. I always think of my films within the context of where aesthetics meet economics. That's the nature of making art - not being naive about what is possible and getting what you need to tell the story you want to tell. - Author: Ira Sachs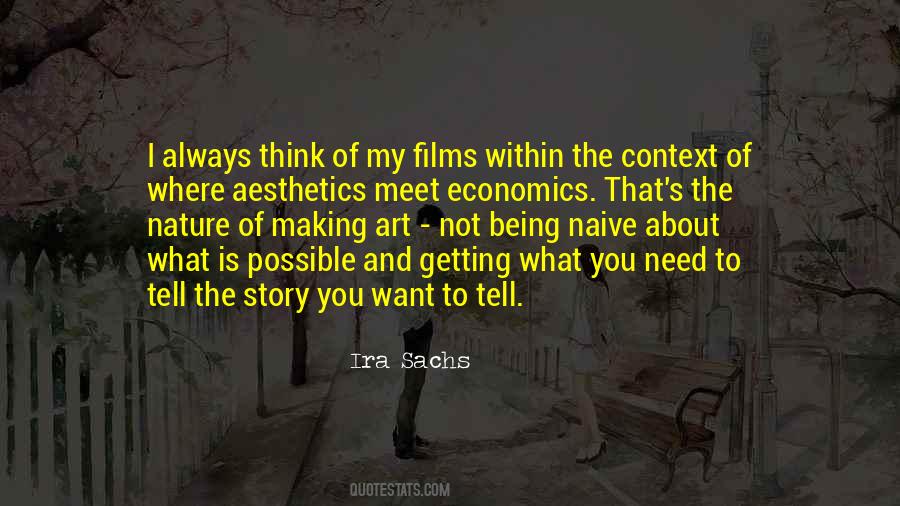 #72. Art does not, like science, set forth a permanent order of nature, the enduring skeleton of law. Two factors primarily determine its works: one is the idea in the mind of the artist, the other is his power of expression; and both these factors are extremely variable. - Author: George Edward Woodberry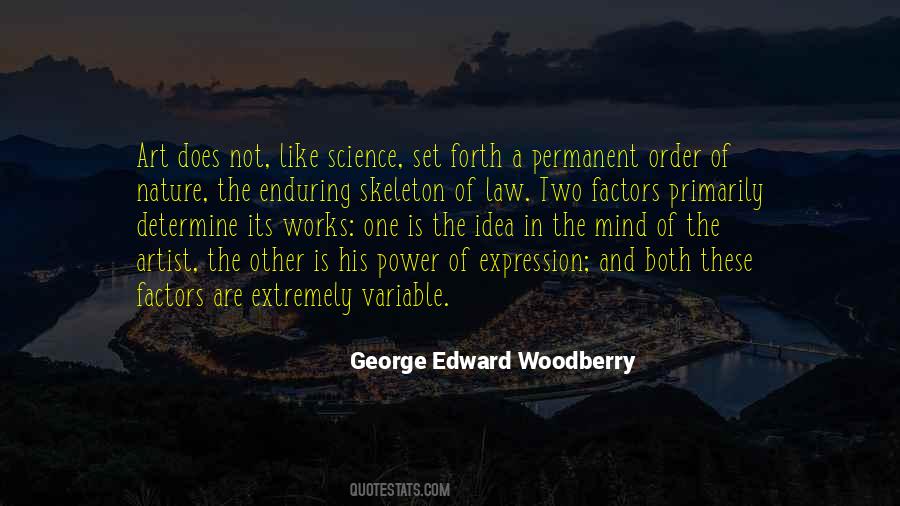 #73. Ah! What avails the classic bent
And what the cultured word,
Against the undoctored incident
That actually occurred?
And what is Art whereto we press
Through paint and prose and rhyme-
When Nature in her nakedness
Defeats us every time? - Author: Rudyard Kipling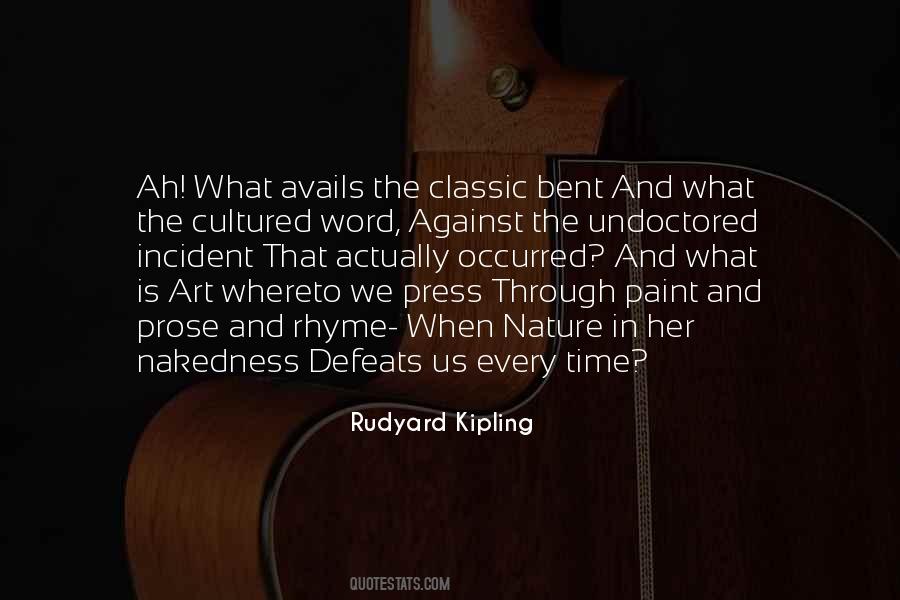 #74. What I strive most to achieve in art is to make you forget the material. The sculptor must ... communicate whatever struck his sensibility, so that a person beholding his work may experience in its entirety the emotion felt by the artist while he observed nature. - Author: Medardo Rosso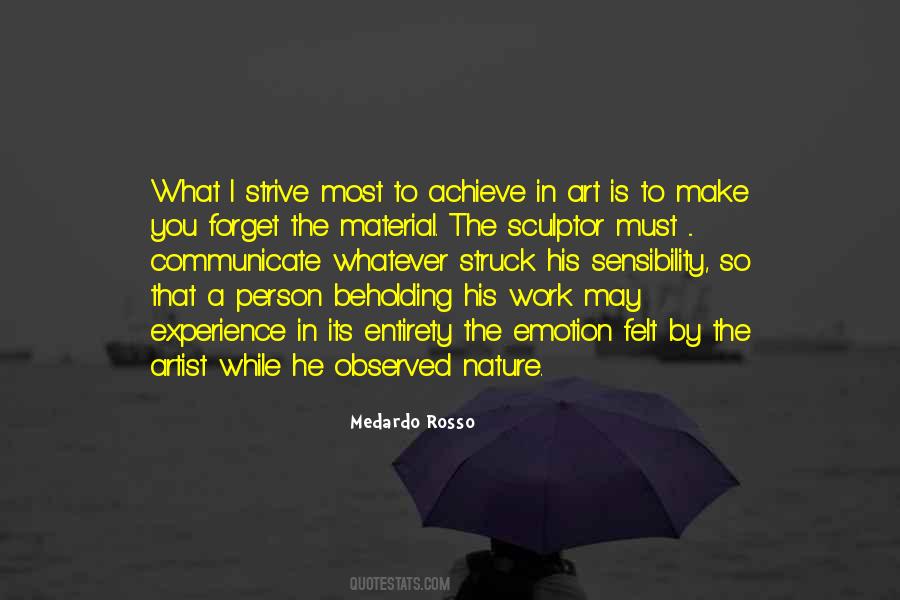 #75. It is not reasonable that art should win the place of honor over our great and powerful mother Nature. We have so overloaded the beauty and richness of her works by our inventions that we have quite smothered her. - Author: Michel De Montaigne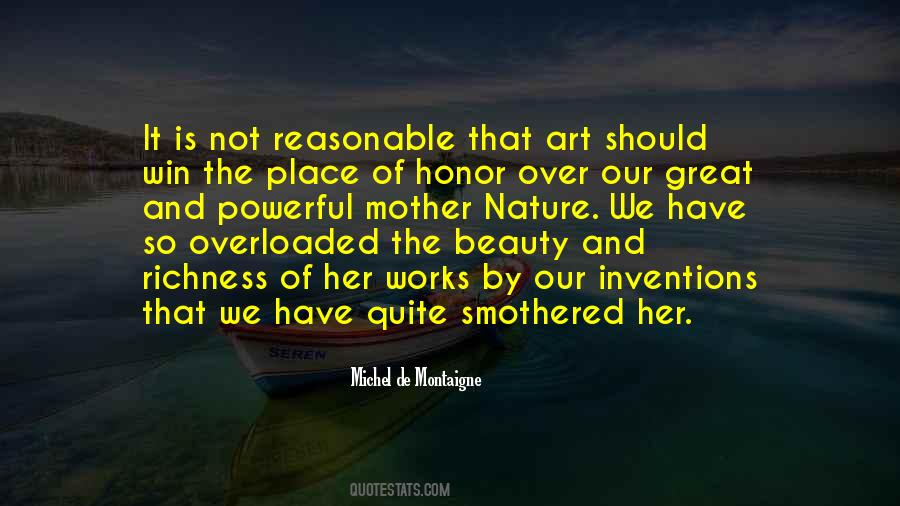 #76. There is no need to express art in terms of nature. It can perfectly well be expressed in terms of geometry and the exact sciences. - Author: Georges Vantongerloo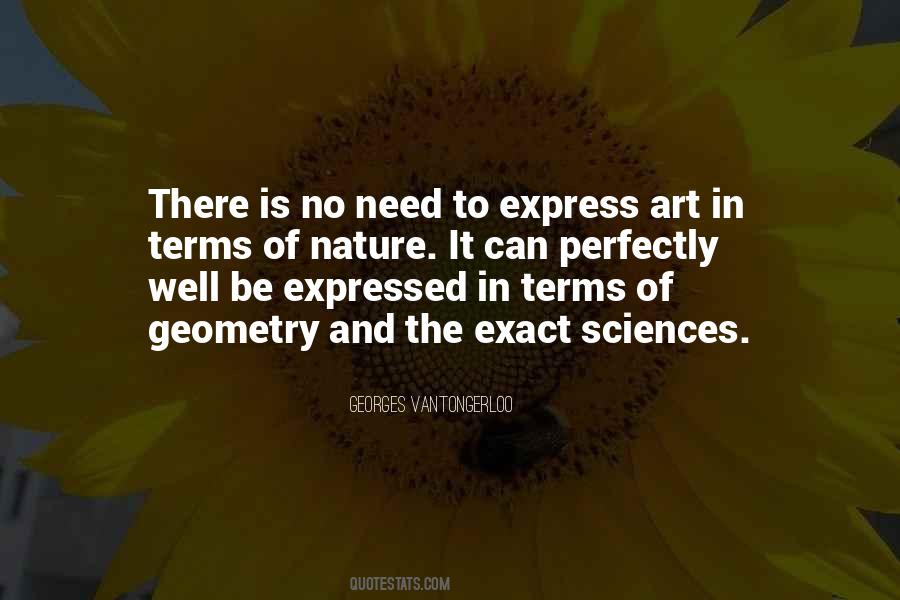 #77. Painting is the grandchild of nature. It is related to God. - Author: Rembrandt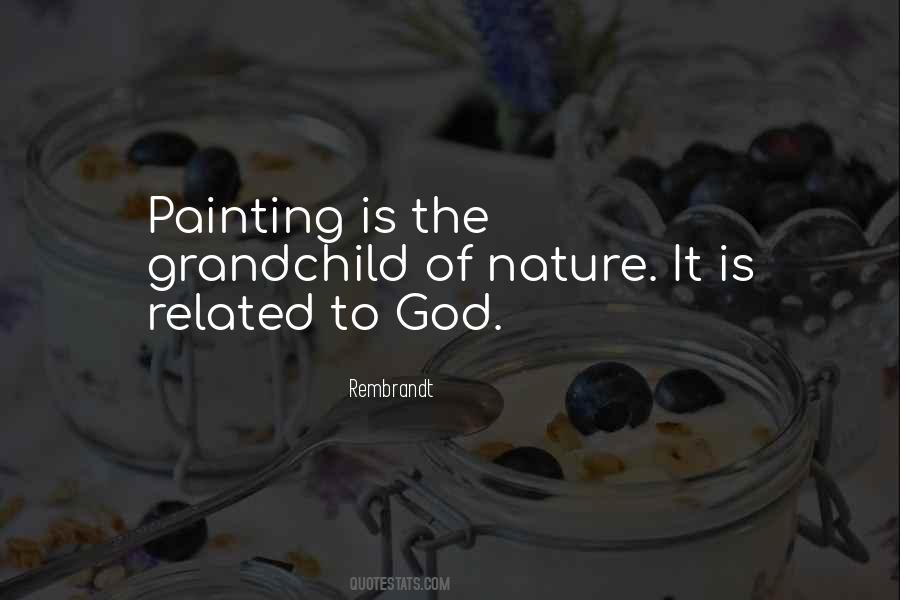 #78. I wish to be of service to the artists of our own day, by showing them how a small beginning leads to the highest elevation, and how from so noble a situation it is possible to fall to utmost ruin, and consequently, how these arts resemble nature as shown in our human bodies. - Author: Giorgio Vasari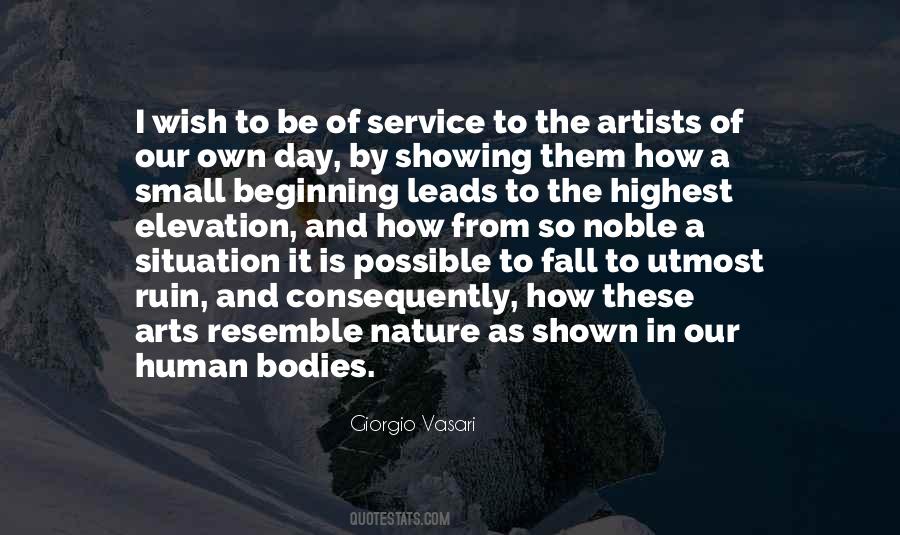 #79. The poet must be alike polished by an intercourse with the world as with the studies of taste; one to whom labour is negligence, refinement a science, and art a nature. - Author: Isaac D'Israeli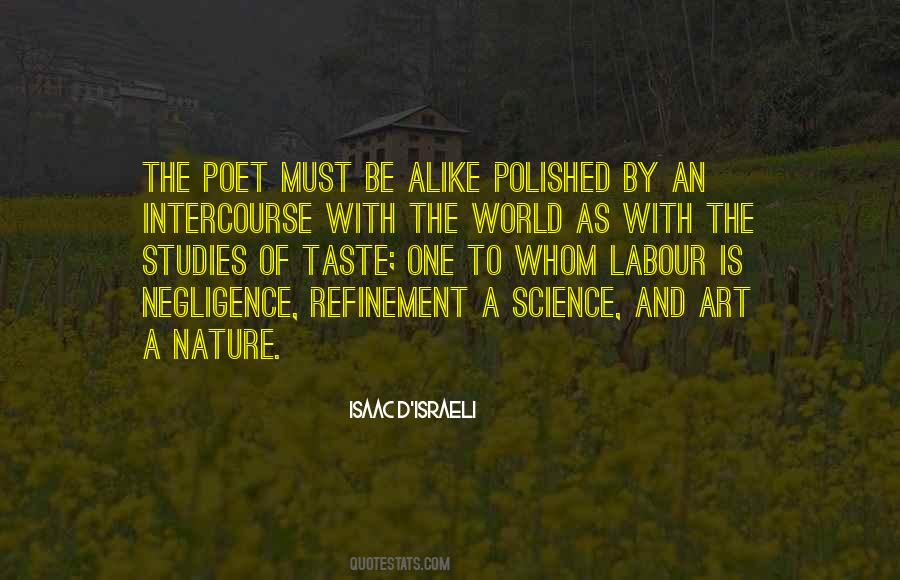 #80. My art is an attempt to reach beyond the surface appearance. I want to see growth in wood, time in stone, nature in a city, and I do not mean its parks but a deeper understanding that a city is nature too-the ground upon which it is built, the stone with which it is made. - Author: Andy Goldsworthy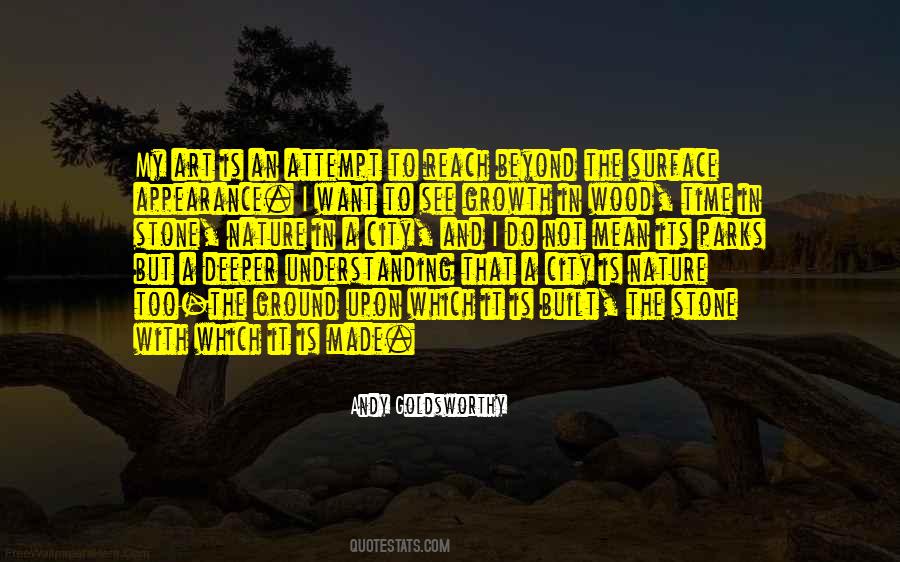 #81. Wrap thyself in the decent veil that the arts or the graces weave for thee, O human nature! It is only the statue of marble whose nakedness the eye can behold without shame and offence! - Author: Edward Bulwer-Lytton, 1st Baron Lytton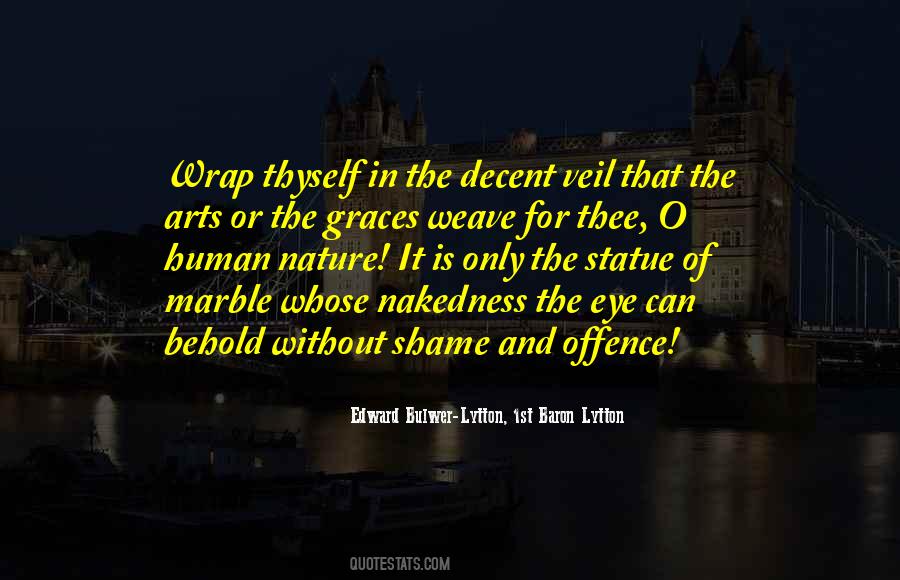 #82. True art is but the anti-type of nature; the embodiment of discovered beauty in utility. - Author: James A. Garfield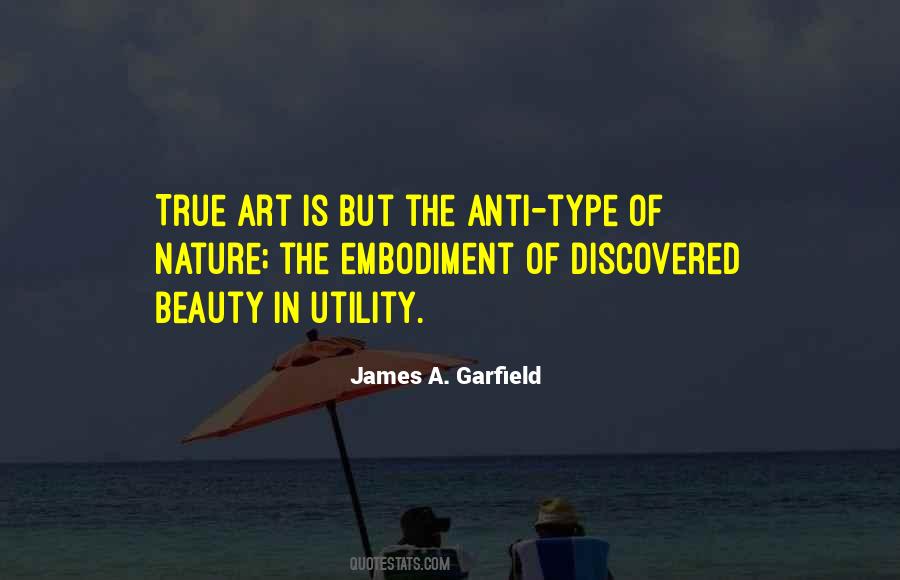 #83. All art is concerned with coming into being; for it is concerned neither with things that are, or come into being by necessity, nor with things that do so in accordance with nature. - Author: Aristotle.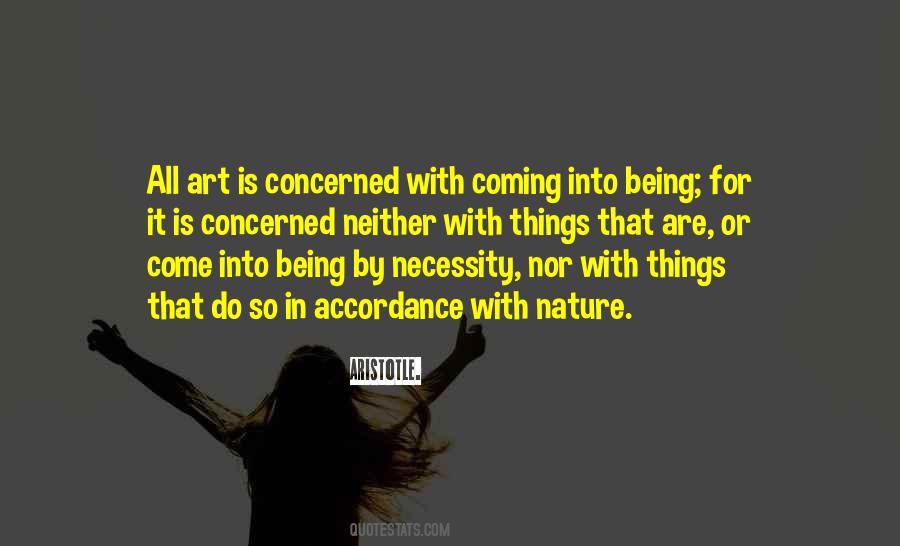 #84. The Ilan-Lael Foundation is an arts education foundation celebrating nature and the aesthetic of the built environment for its ability to help us see ourselves and our world in new ways. - Author: James T. Hubbell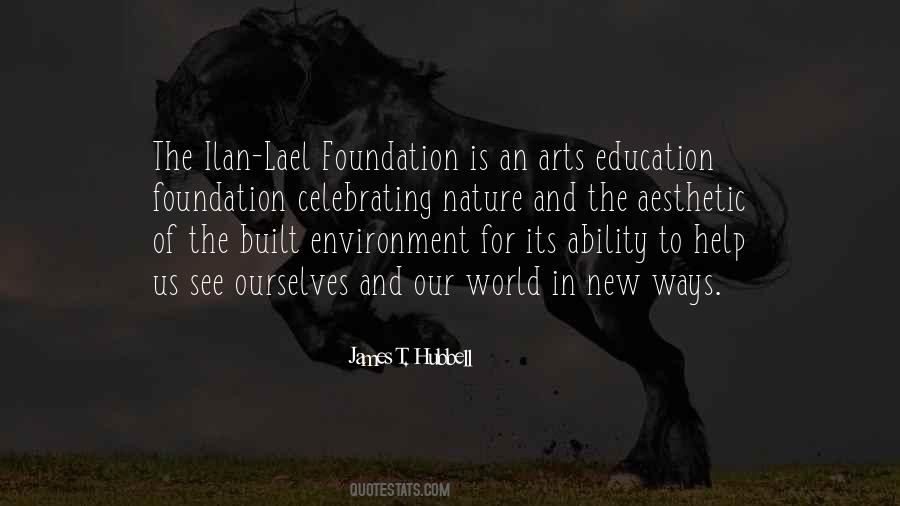 #85. Art must anchor in nature, or it is the sport of every breath of folly. - Author: William Hazlitt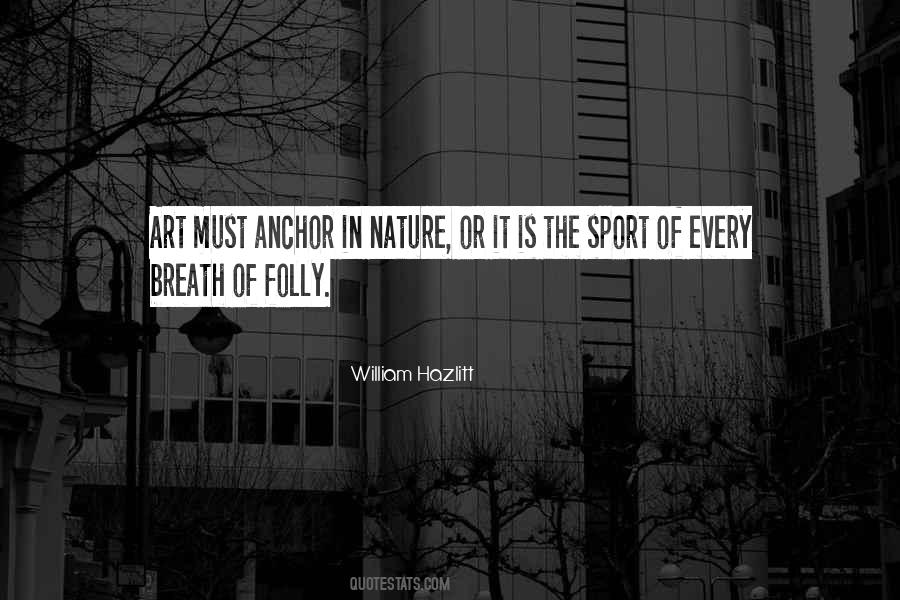 #86. All art is an imitation of nature. - Author: Seneca The Elder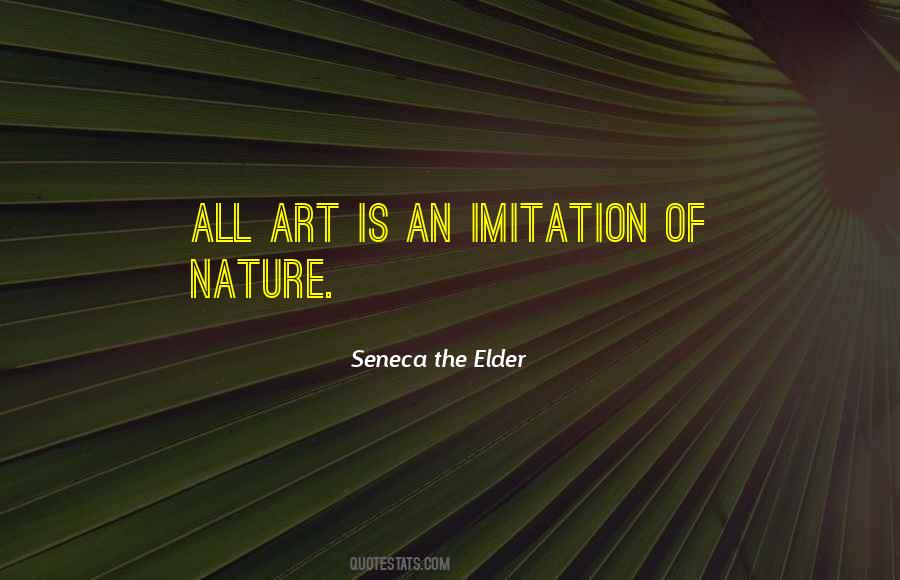 #87. It is because of the servility of photography that I am fundamentally contemptuous of this chance invention which will never be an art but which plagiarizes nature by means of optics. (1848) - Author: Alphonse De Lamartine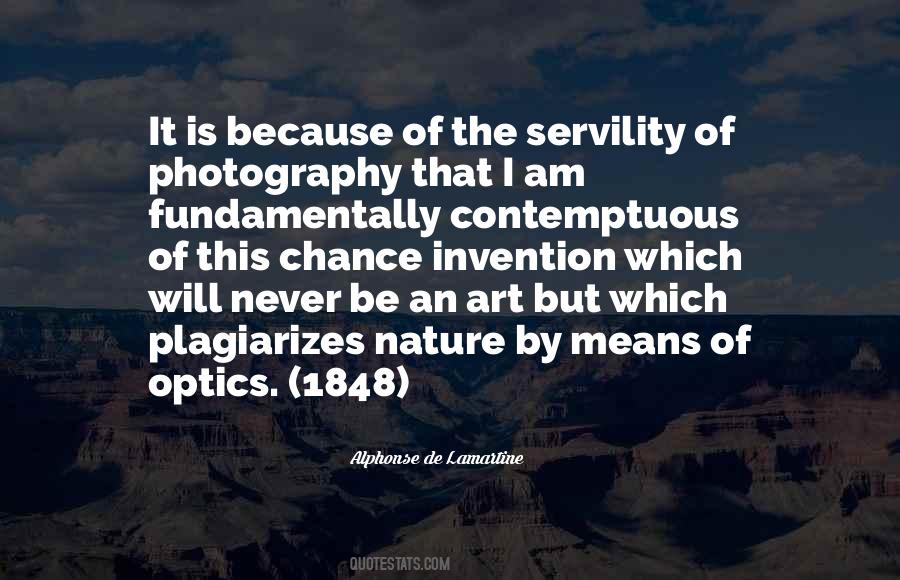 #88. All praise of Civilization, or Art, or Contrivance, is so much dispraise of Nature ; an admission of imperfection, which it is man's business, and merit, to be always endeavouring to correct or mitigate. - Author: John Stuart Mill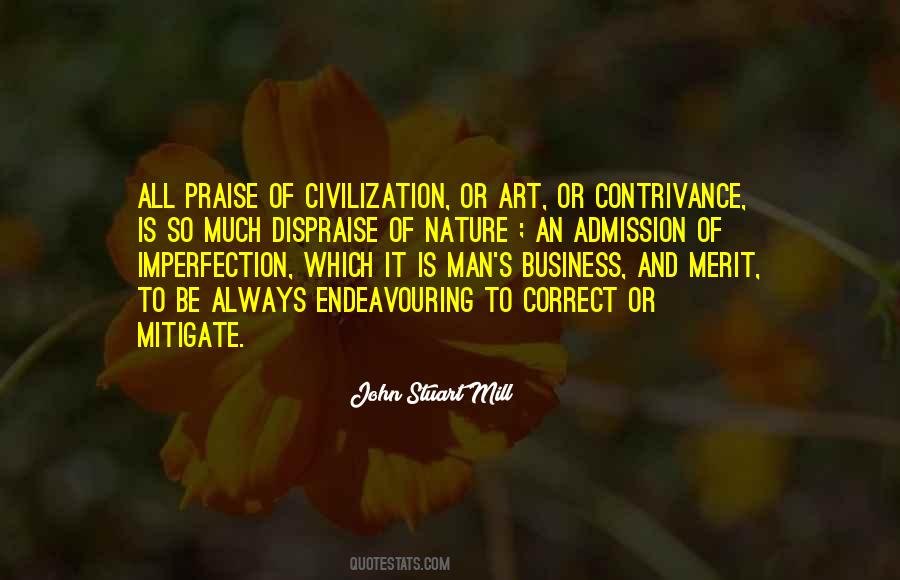 #89. Art itself, in all its methods, is the child of religion. The highest and best works in architecture, sculpture and painting, poetry and music, have been born out of the religion of Nature. - Author: James Freeman Clarke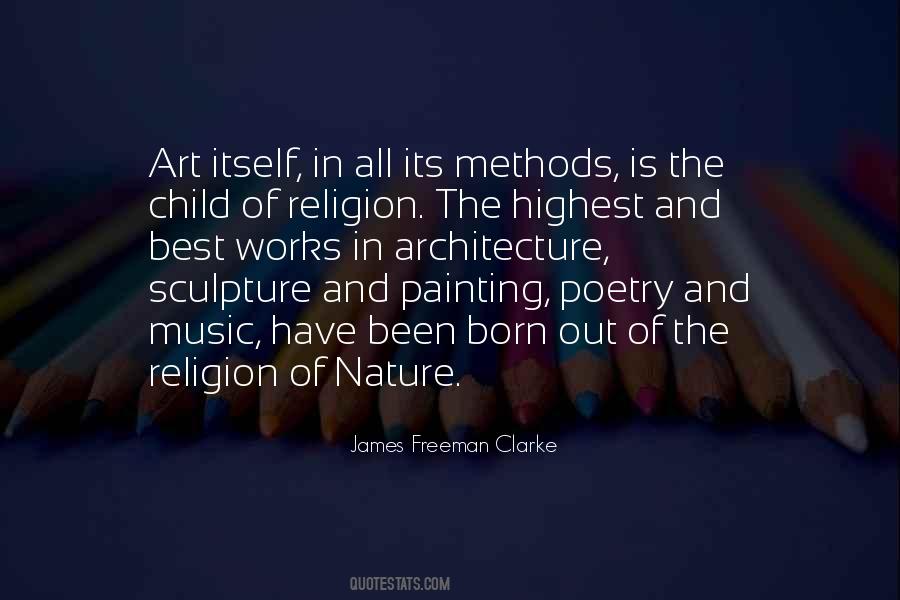 #90. First follow Nature, and your judgment frame
By her just standard, which is still the same:
Unerring nature, still divinely bright,
One clear, unchanged, and universal light,
Life, force, and beauty must to all impart,
At once the source, and end, and test of art. - Author: Alexander Pope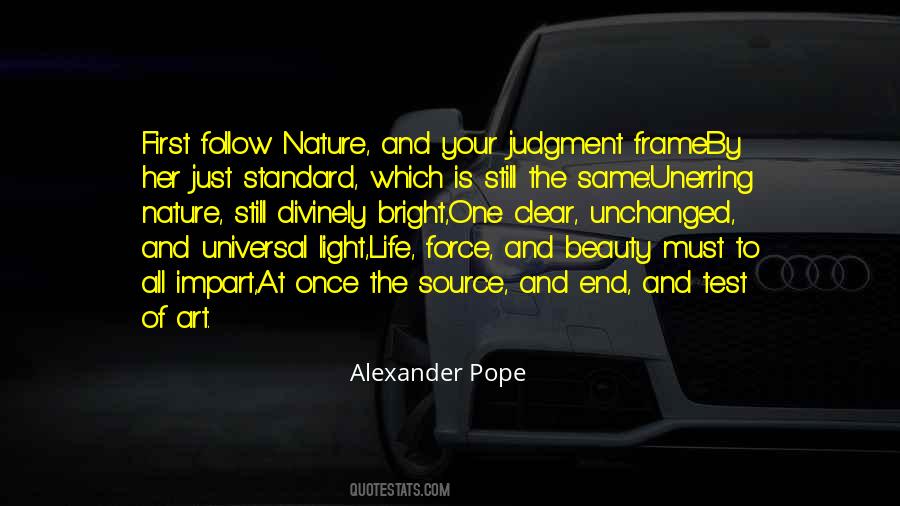 #91. The most beautiful landscape cannot hold my fascinated attention as much as nature by the seaside and all that is connected with water. - Author: Lyonel Feininger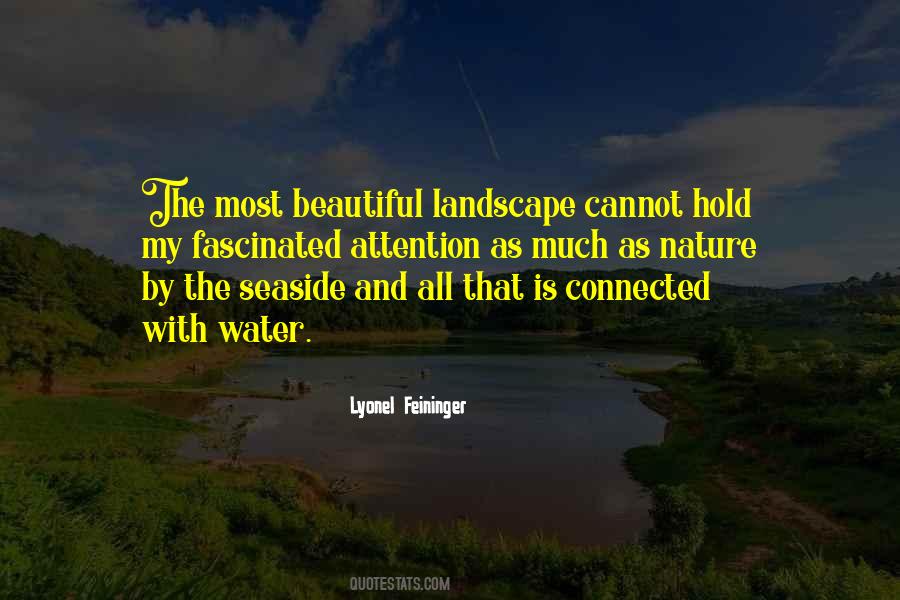 #92. Art is the child of nature in whom we trace the features of the mothers face. - Author: Henry Wadsworth Longfellow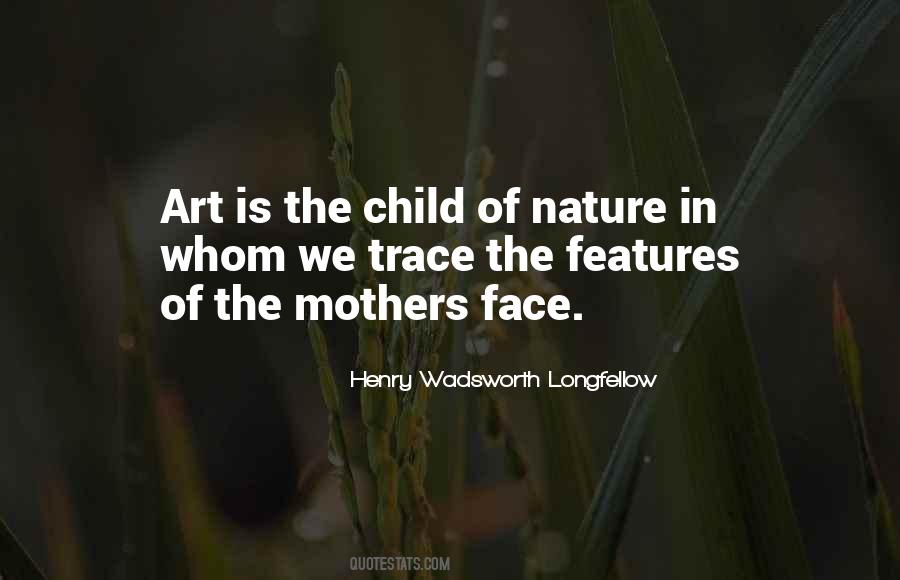 #93. Some believe that art is the imitation of nature; in fact, nature is so sublime that it cannot be imitated. However noble it may be, art cannot perform a single one of the miracles of nature. And besides, why imitate nature when it can be perceived by all those endowed with senses? - Author: Kahlil Gibran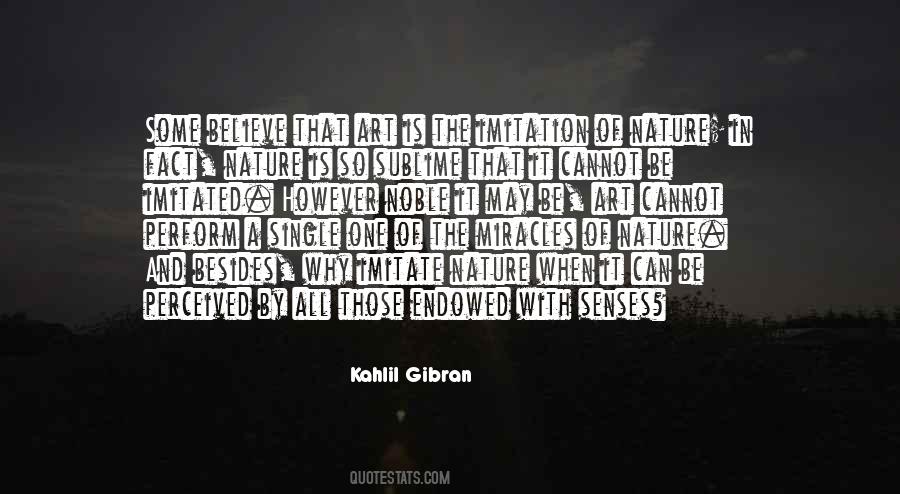 #94. In art, as long as you have ideas and think, you are bound to deform nature. Art is deformation. - Author: Fernando Botero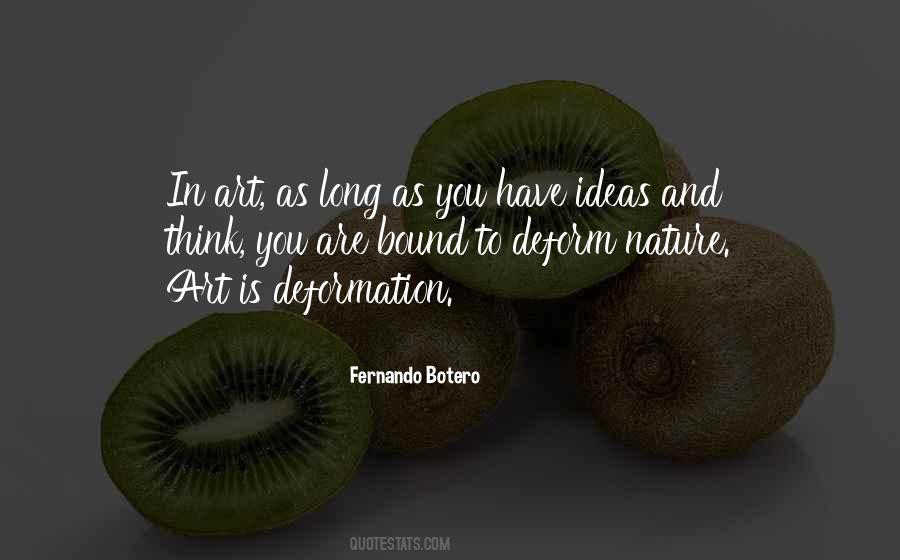 #95. I think the dilemma exists because art, among all the other tidy categories, most closely resembles what it is like to be human. To be alive. It is our nature to be imperfect. To have uncategorized feelings and emotions. To make or do things that don't sometimes necessarily make sense. - Author: Brene Brown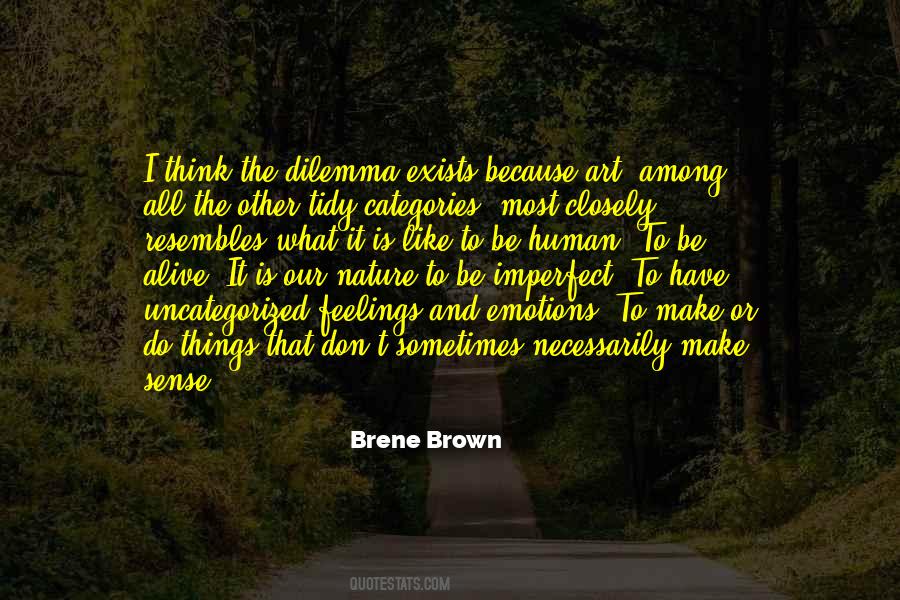 #96. I have heard it said
There is an art which in their piedness shares
With great creating nature. - Author: William Shakespeare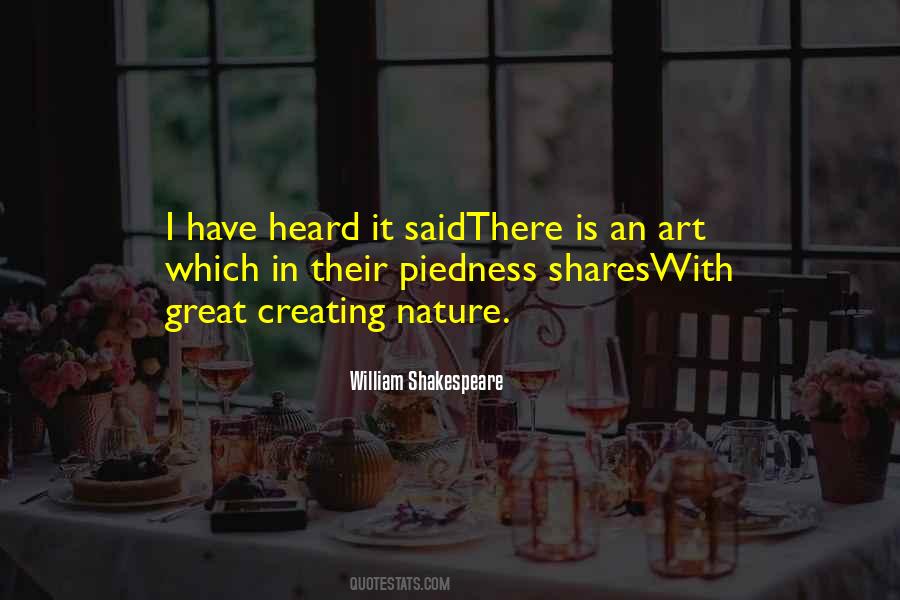 #97. There's a therapeutic aspect to all making, but the nature of working is to compress, condense, and shape stuff, not to just expunge it. It's not just an exorcism. - Author: Art Spiegelman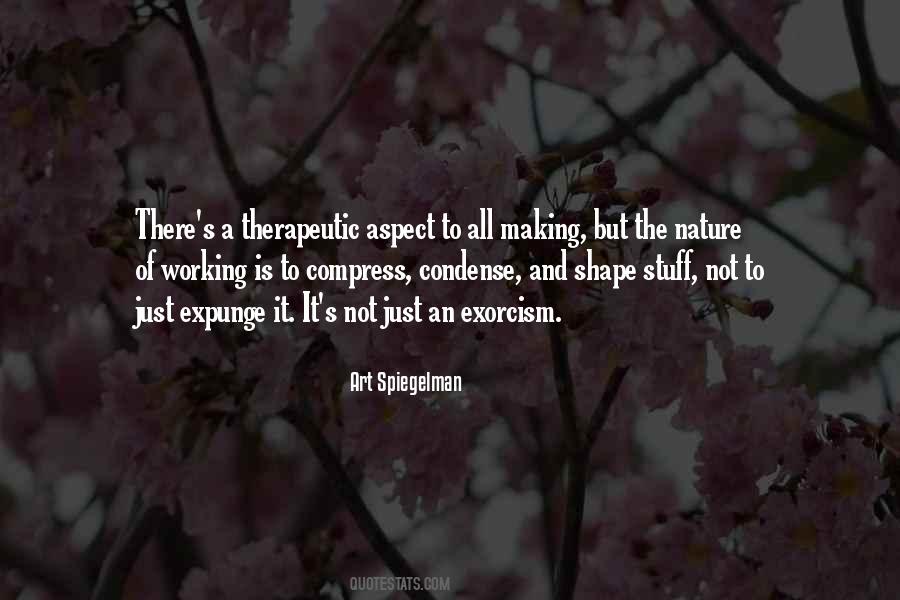 #98. What strip mining is to nature the art market has become to culture. - Author: Robert Hughes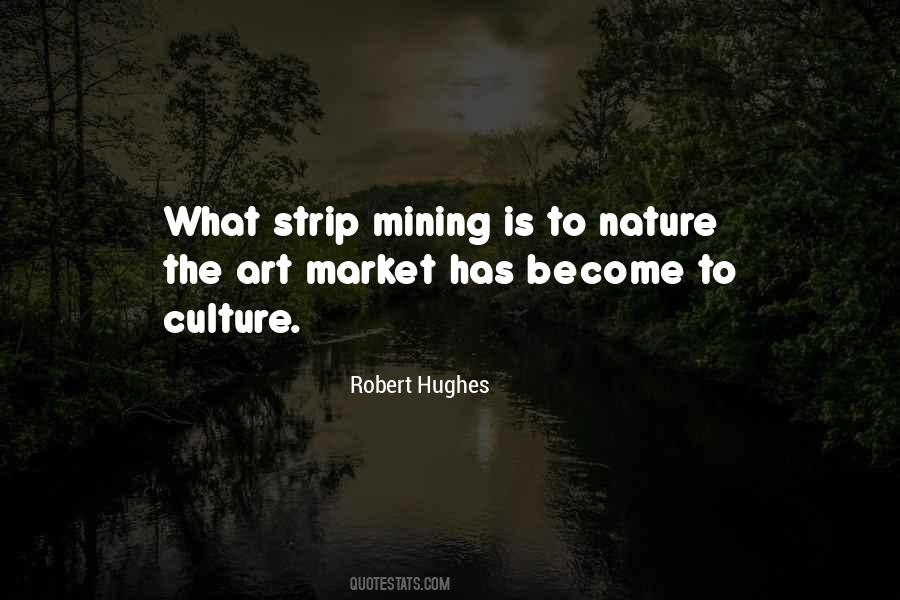 #99. The more we study Art, the less we care for Nature. What Art really reveals to us is Nature's lack of design, her curious crudities, her extraordinary monotony, her absolutely unfinished condition. - Author: Oscar Wilde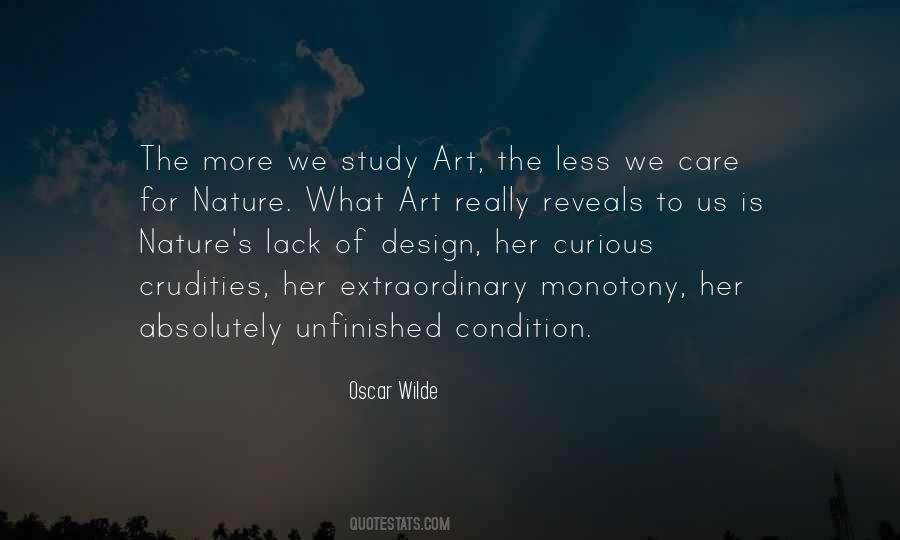 #100. Remember, however, that thou art formed by nature to bear everything, with respect to which it depends on thy own opinion to make it endurable and tolerable, by thinking that it is either thy interest or thy duty to do this. - Author: Marcus Aurelius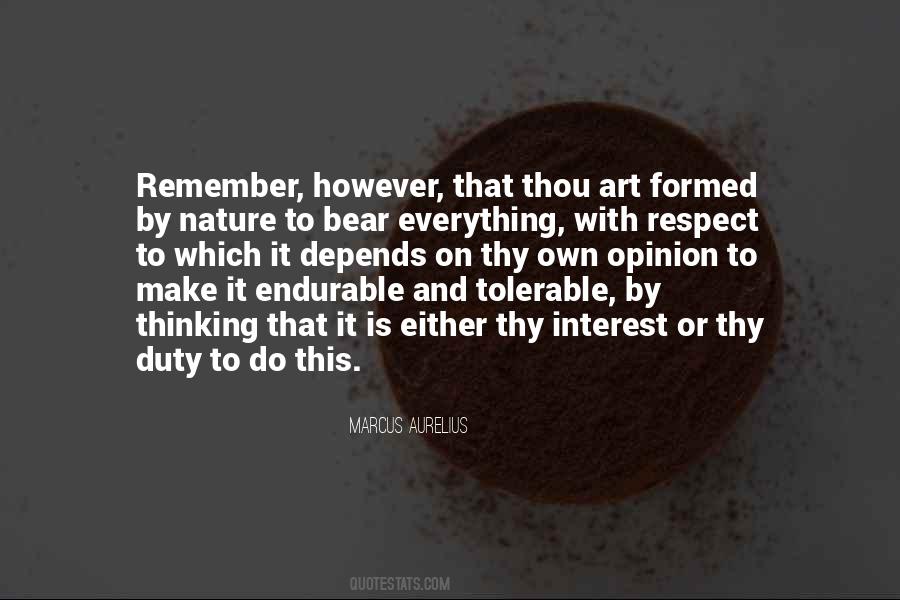 Famous Authors
Popular Topics