Nature Death Famous Quotes & Sayings
List of top 100 famous quotes and sayings about nature death to read and share with friends on your Facebook, Twitter, blogs.
Top 100 Nature Death Quotes
#1. what death is, and the fact that, if a man looks at it in itself, and by the abstractive power of reflection resolves into their parts all the things which present themselves to the imagination in it, he will then consider it to be nothing else than an operation of nature; - Author: Marcus Aurelius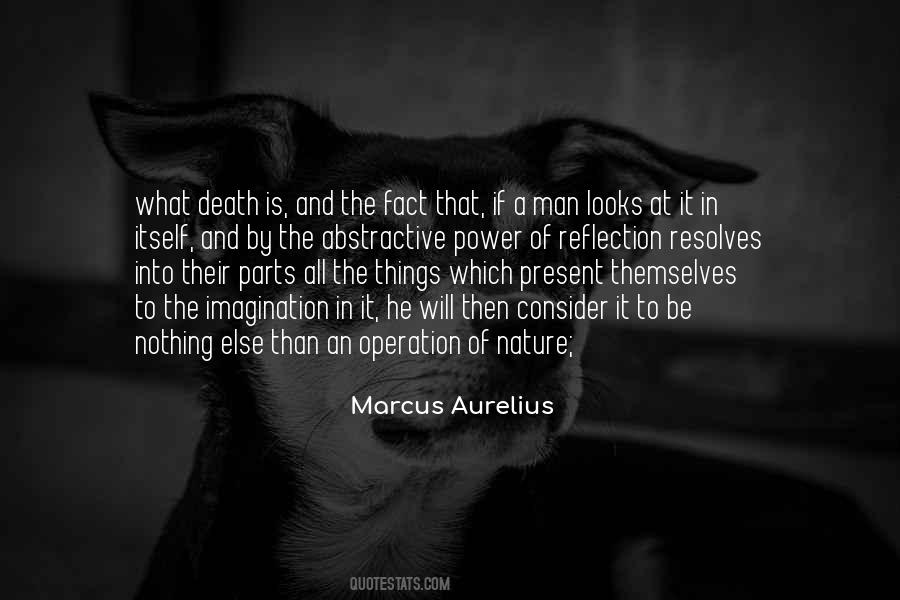 #2. Faith itself has no merit; in fact, by its nature it is self-emptying. It involves our complete renunciation of any confidence in our own righteousness and a relying entirely on the perfect righteousness and death of Christ. - Author: Jerry Bridges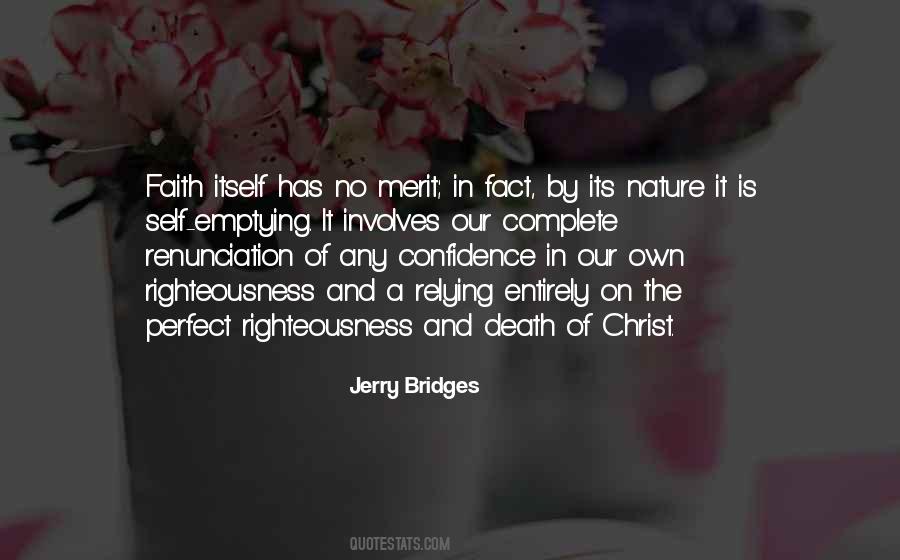 #3. But undying memories stood like sentinels in her breast. When the notes of doves, calling to each other, fell on her ear, her eyes sought the sky, and she heard a voice saying, Majella! - Author: Helen Hunt Jackson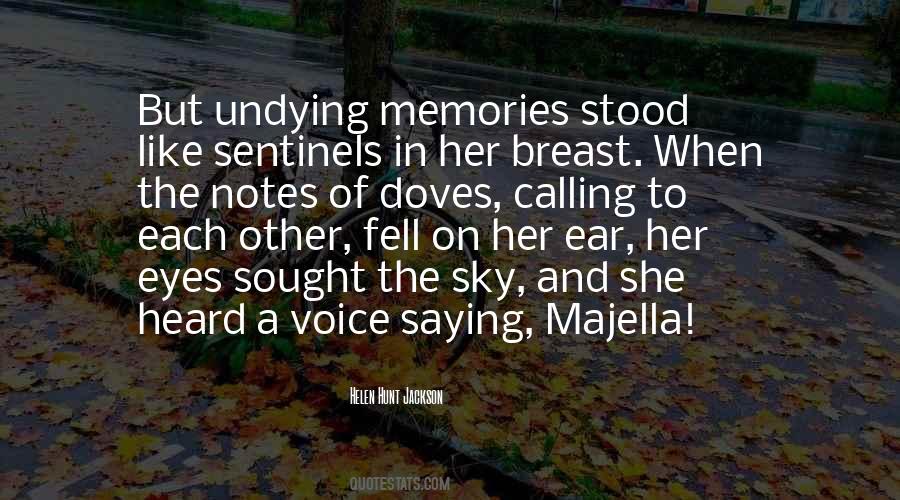 #4. I sat up in the strange bed fearing it had been a dream, afraid I would never see her again. Not because I wanted anything from her, only her presence. The disappearance of the presence of beauty is the most despairing of events on this time-wheel of ours that rolls onward towards death. - Author: Roman Payne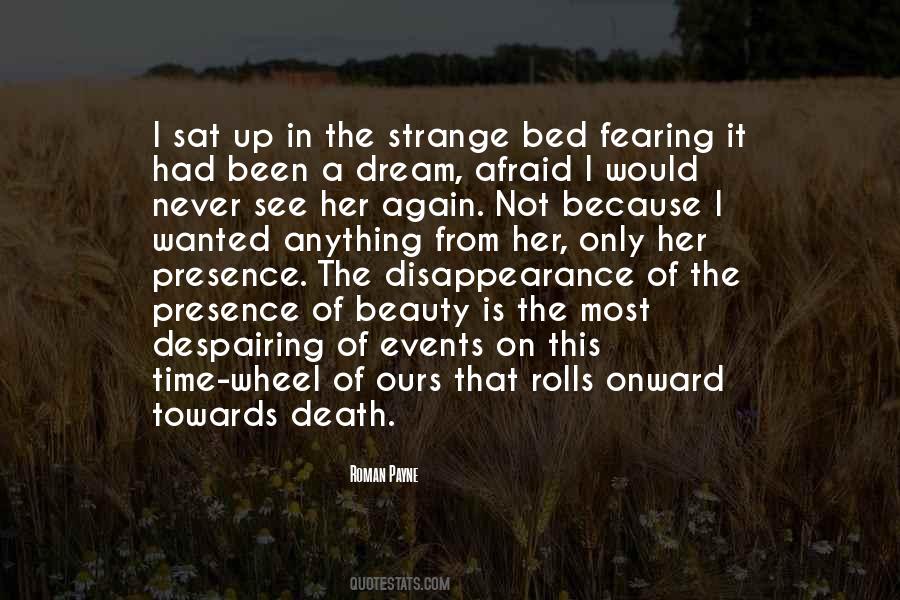 #5. Anyone whose major concern is the sanctity of human life is in effect, by leaving population growth unchecked, ensuring death by famine. Nature is pitiless, and if humans will not themselves limit population then they will have it done for them. - Author: Christopher Hitchens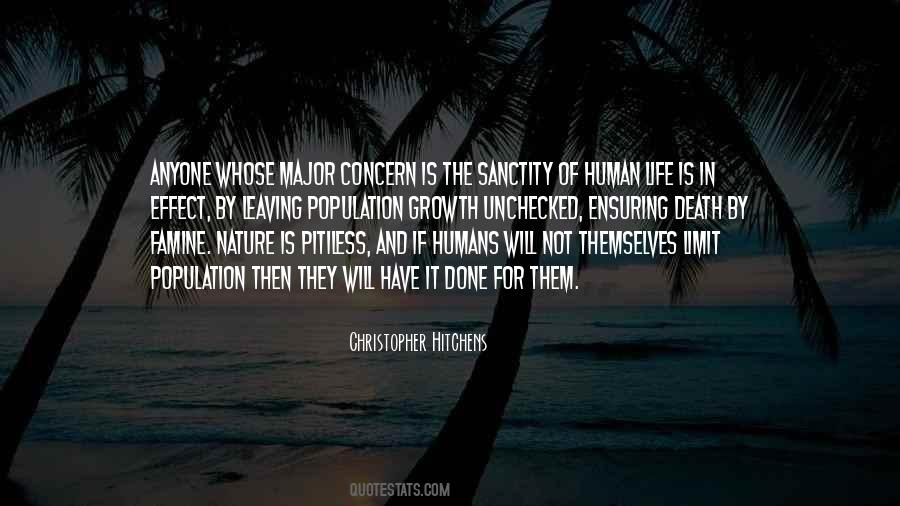 #6. Because Christianity is a religion of death, it could be treated with the utmost realism, and it could have its orgies, just likethe old religion of nature and life. - Author: Karl Wilhelm Friedrich Schlegel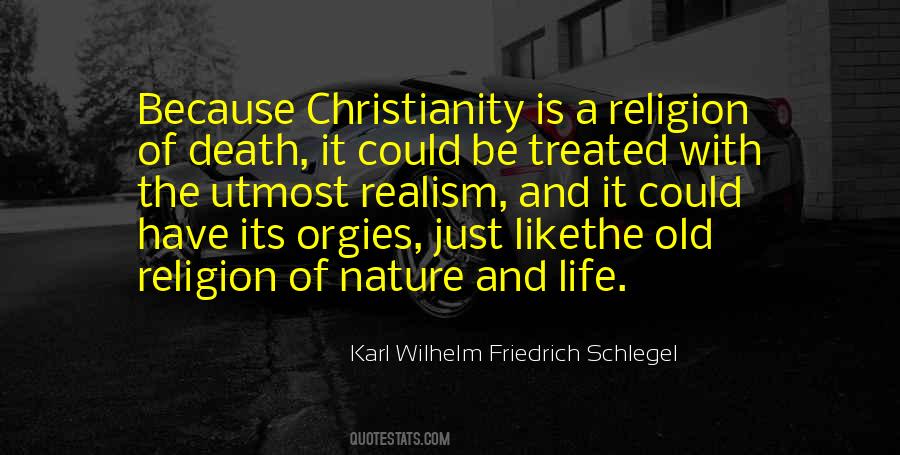 #7. The true return to nature is the definitive return to the elements-death. - Author: Andre Gide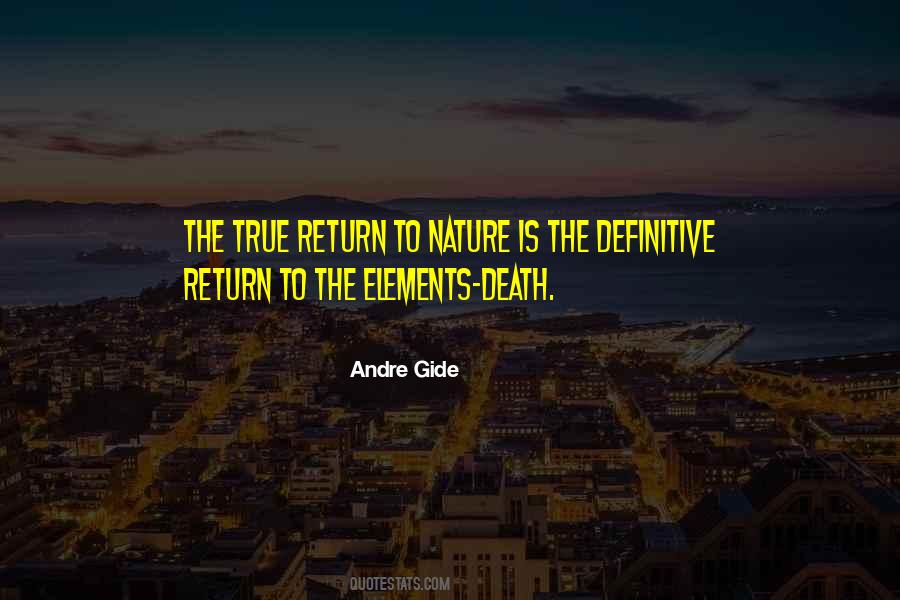 #8. Death and life are the same thing. This is the immutable law of nature. - Author: James Clavell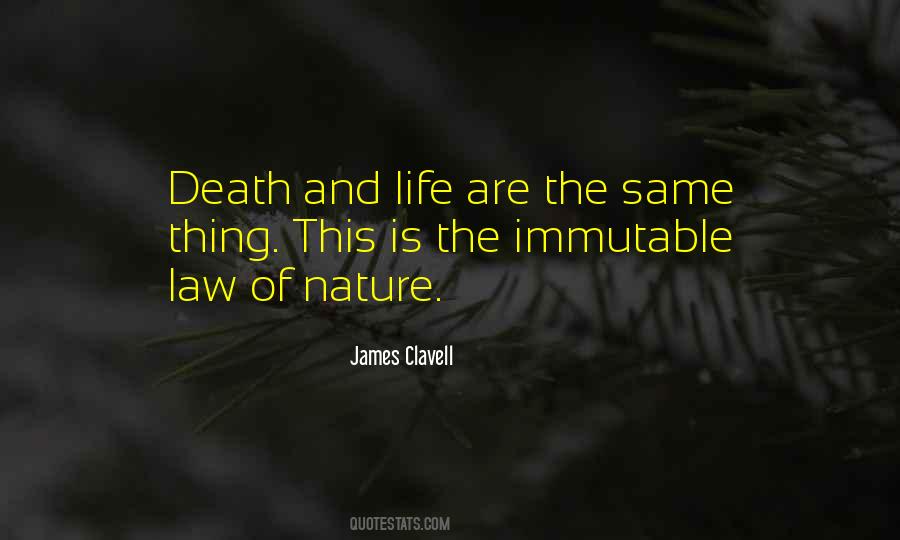 #9. Weep not for me. Rather let your tears flow for the sorrows of the multitude. My work is done. Like a ripe fruit I admit the gathering. Death has no terrors for it is a wise law of nature. I am ready whenever the summons may come. - Author: Lucretia Mott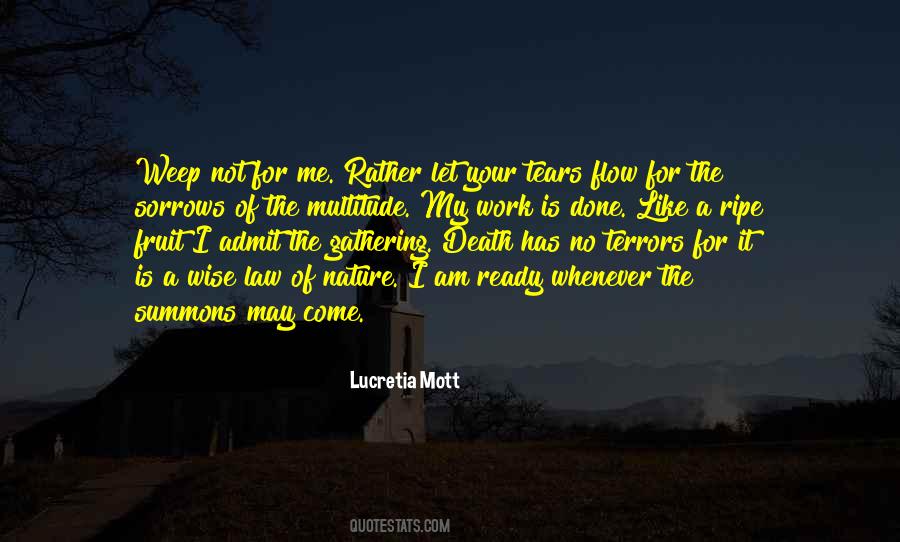 #10. Be assured that any hurt to your spirit will pass in time. It is the nature of Death to take, but the nature of Life to give. - Author: Garth Nix
#11. When I die my death will be caused by indignation at the stupidity of human nature ... - Author: Marie Bashkirtseff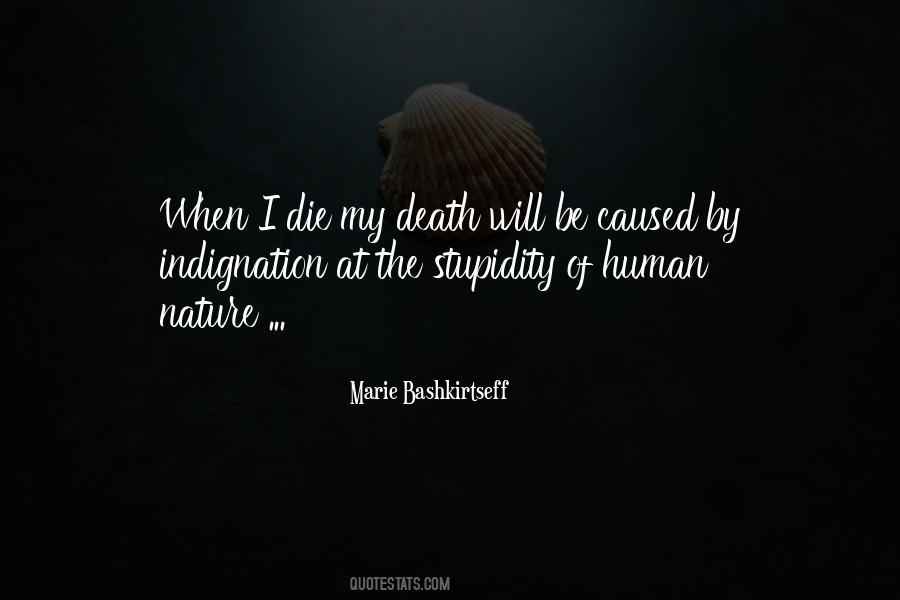 #12. The Goddess of Old Europe and Ancient Crete represented the unity of life in nature, delight in the diversity of form, the powers of birth, death and regeneration. - Author: Carol P. Christ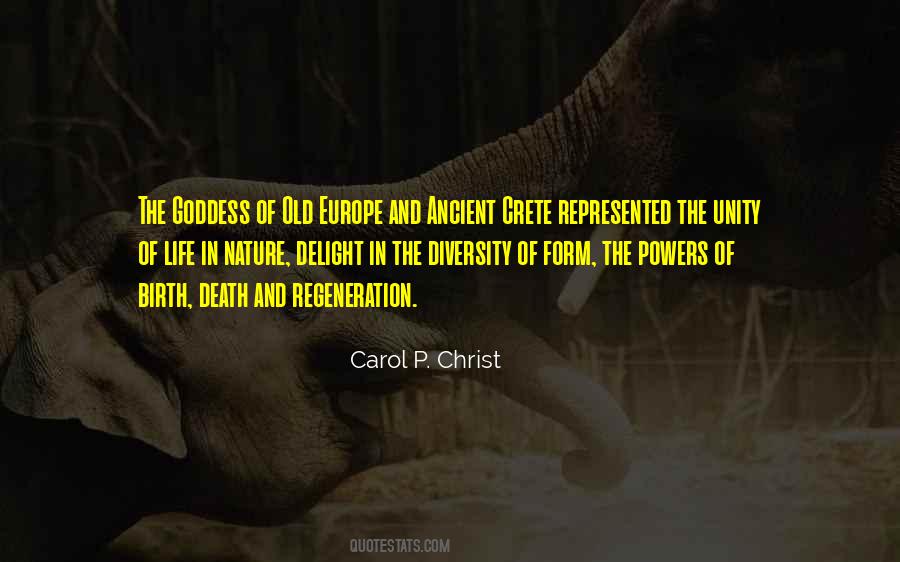 #13. Death and ruin is man's preferred ecosystem. - Author: Joe Hill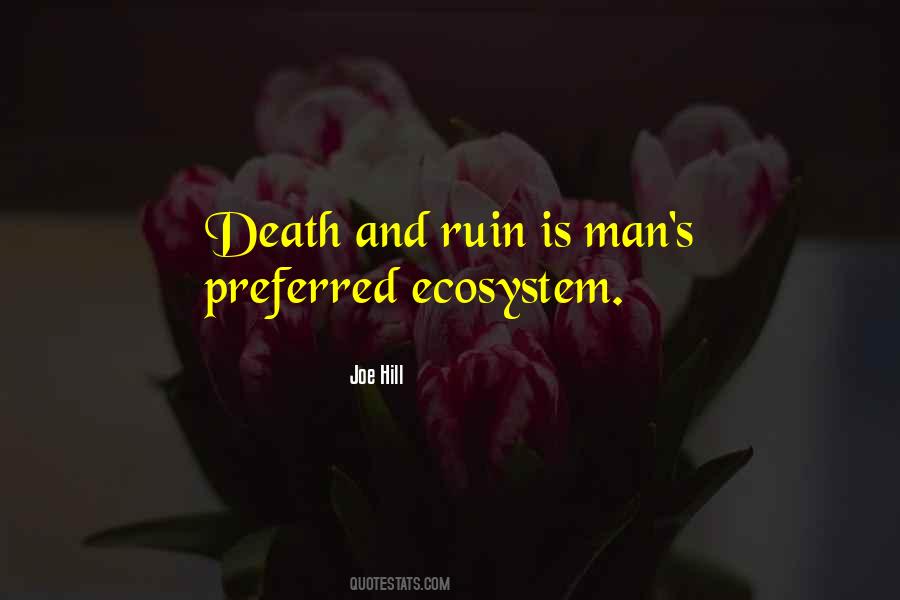 #14. Human nature is always interesting ... And it's curious to see how certain types always tend to act in exactly the same way. - Miss Marple, The Herb of Death, Pg. 167 - Author: Agatha Christie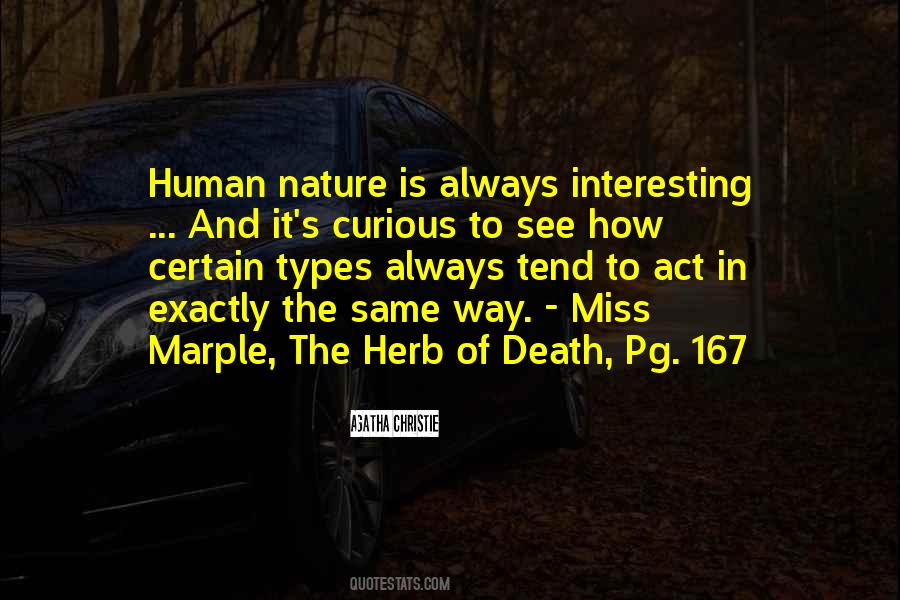 #15. Nature loves death: she will not punish it. - Author: Guy De Maupassant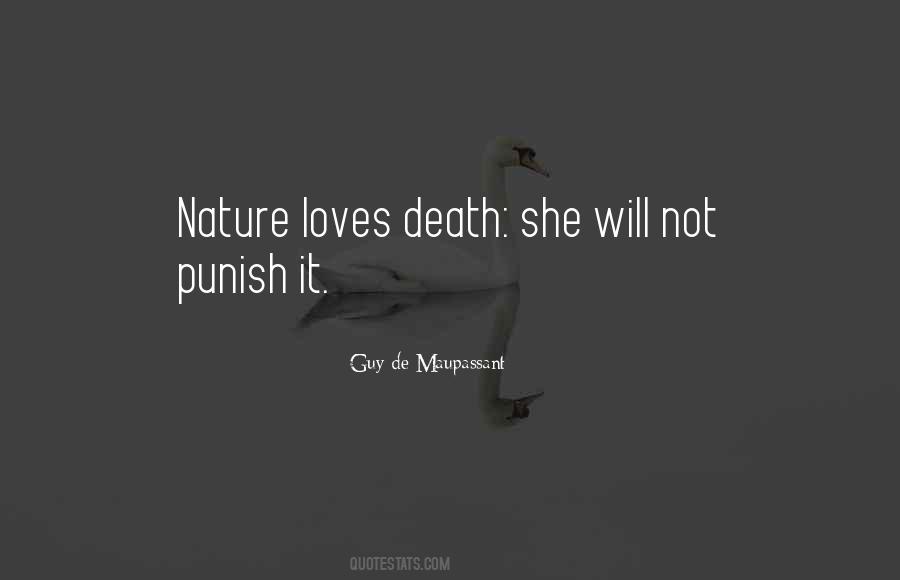 #16. I cheerfully quit from life as if it were an inn, not a home; for Nature has given us a hostelry in which to sojourn, not to abide. - Author: Marcus Tullius Cicero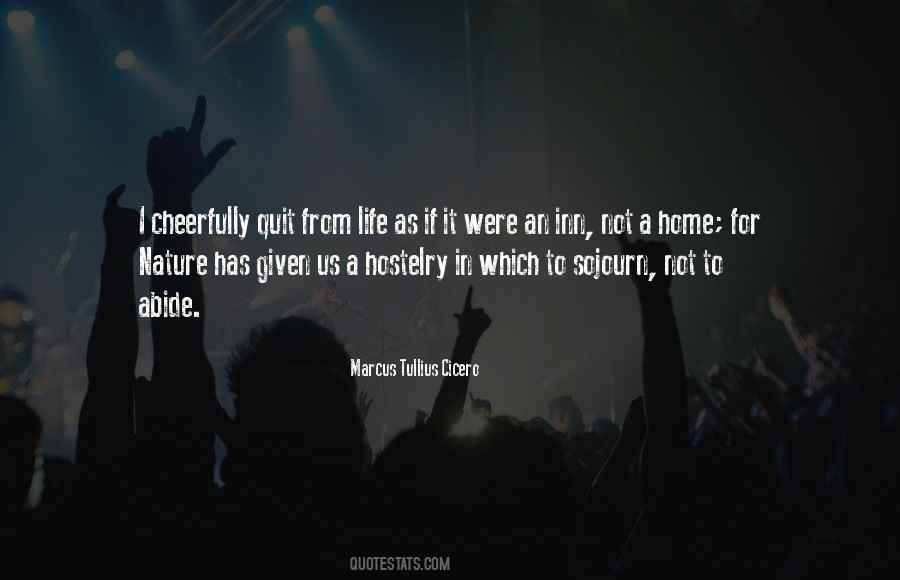 #17. There are souls, he thought, whose umbilicus has never been cut. They never got weaned from the universe. They do not understand death as an enemy; they look forward to rotting and turning into humus. - Author: Ursula K. Le Guin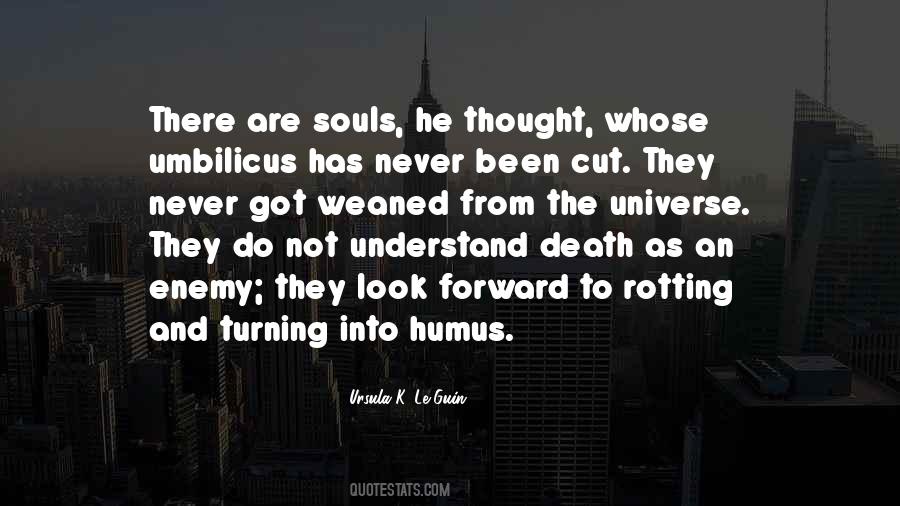 #18. That nature does not care, one way or the other, is the true abyss. That only man cares, in his finitude facing nothing but death, alone with his contingency and the objective meaninglessness of his projecting meanings, is a truly unprecedented situation. - Author: Hans Jonas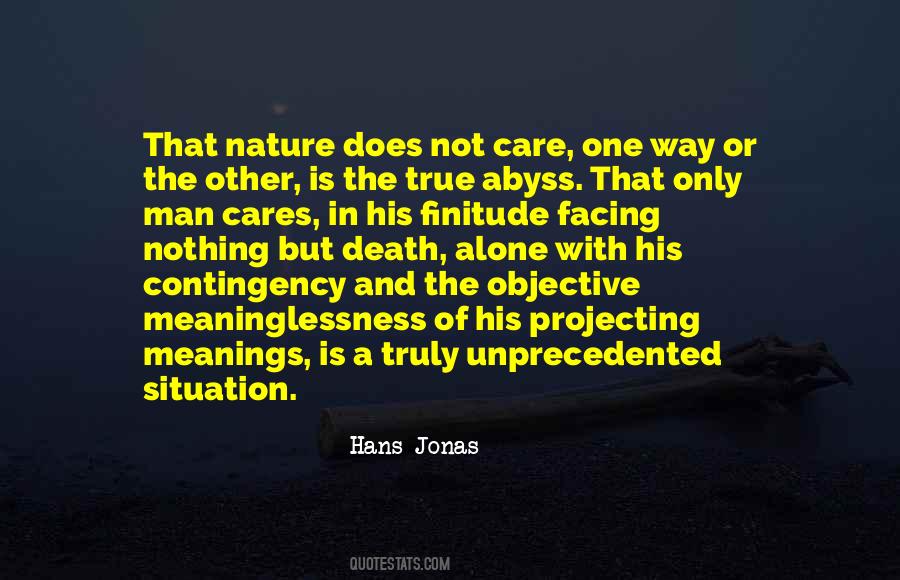 #19. In absolute and general perfection lies stifling monotony and death. Nature must have contrasts; she must have shadows as well as highlights; sorrow with happiness; both wrong and right; and sin as well as virtue. - Author: Edgar Rice Burroughs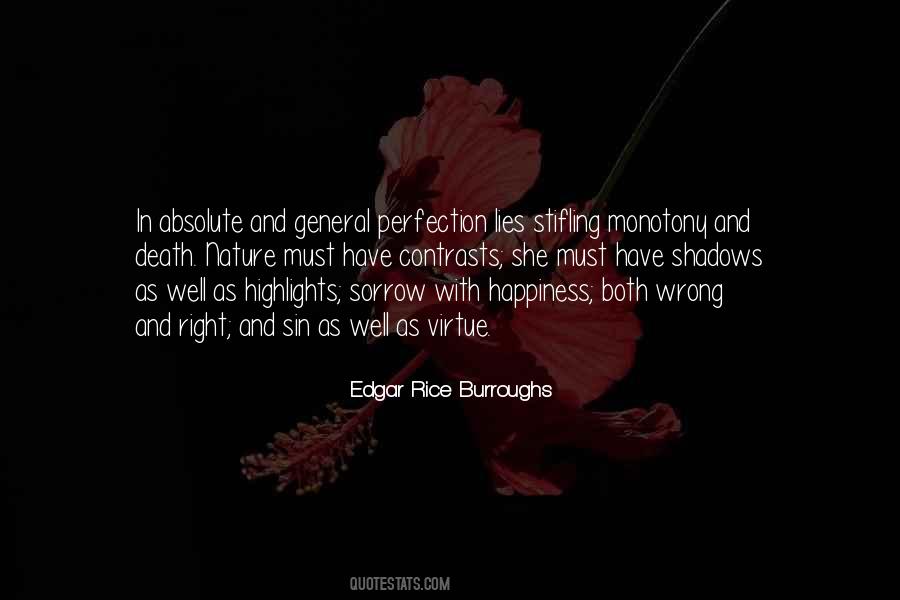 #20. His absence seemed a solid thing, a burden I must carry in addition to my grief ... Yet I knew I would continue to live. Sometimes that knowledge seemed the worst part of my loss. - Author: Robin Hobb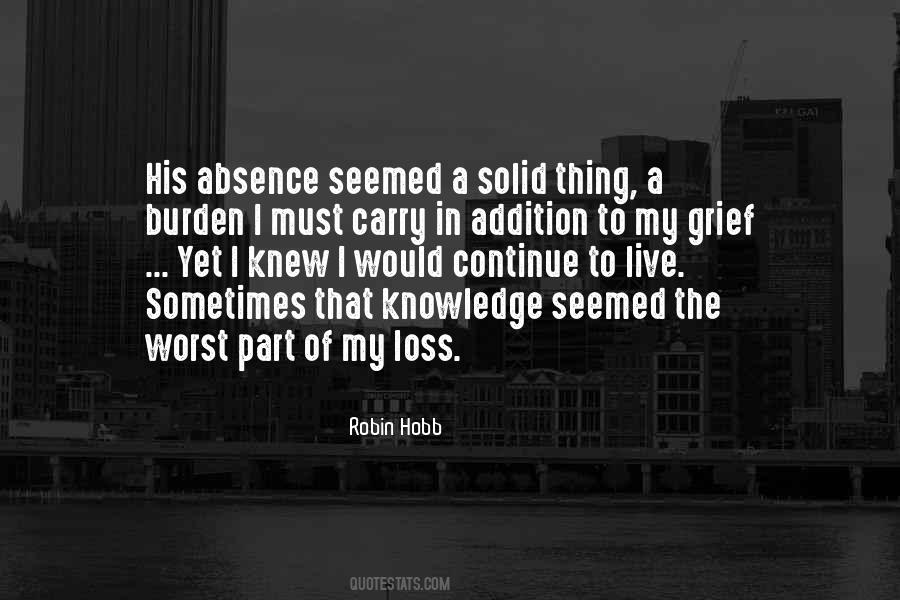 #21. Nature taking its course - hunter and prey, the endless circle of life and death. - Author: Stephenie Meyer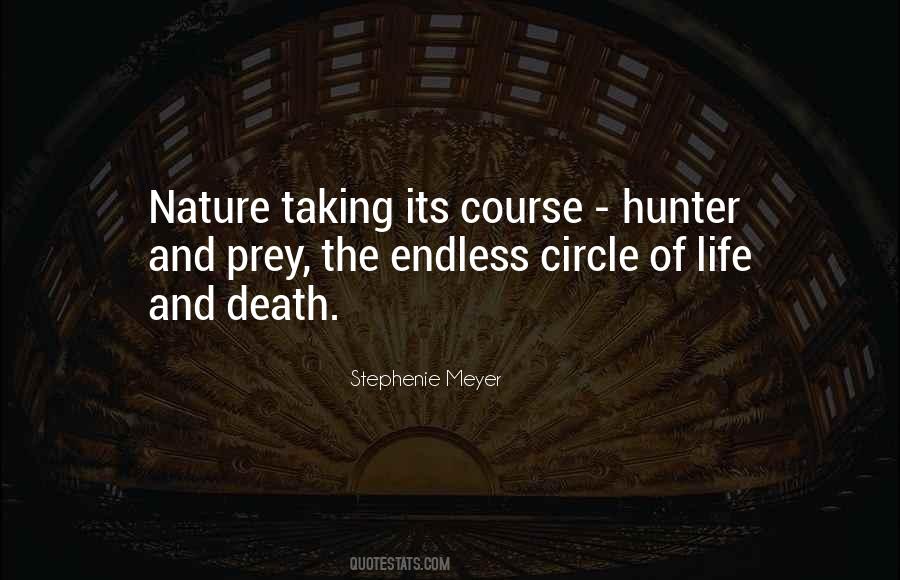 #22. The gods retain their threefold task: they must exorcize the terrors of nature, they must reconcile men to the cruelty of Fate, particularly as it is shown in death, and they must compensate them for the sufferings and privations which a civilized life in common has imposed on them. - Author: Sigmund Freud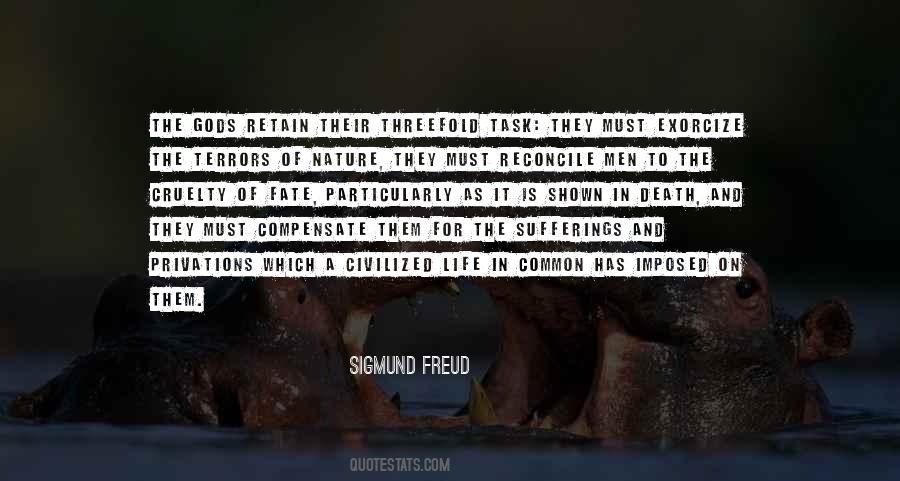 #23. I believe that we are arks of the covenant and our true nature is not rage or deceit or terror or logic or craft or even sorrow. It is longing. - Author: Cormac McCarthy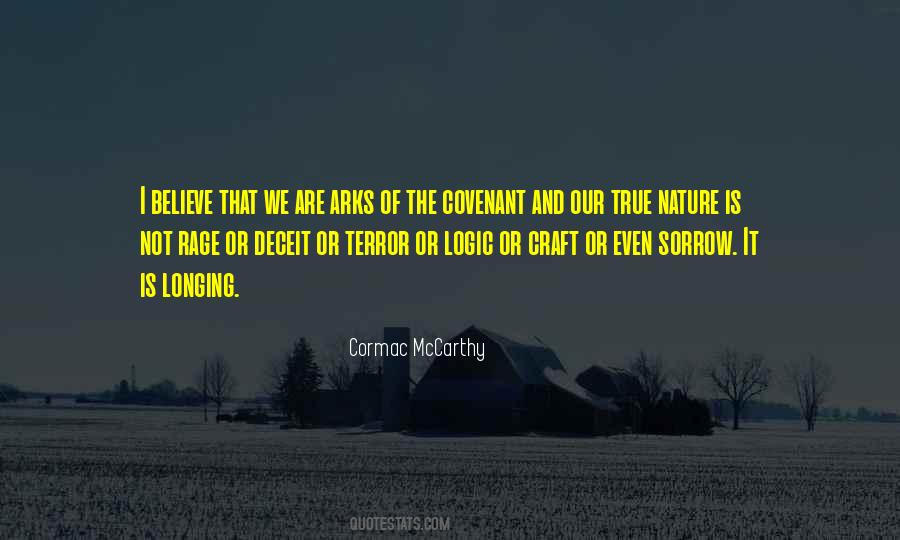 #24. It was cold. Space, the air we breathed, the yellow rocks, were deadly cold. There was something ultimate, passionless, and eternal in this cold. It came to us as a single constant note from the depths of space. We stood on the very boundary of life and death. - Author: Frank Smythe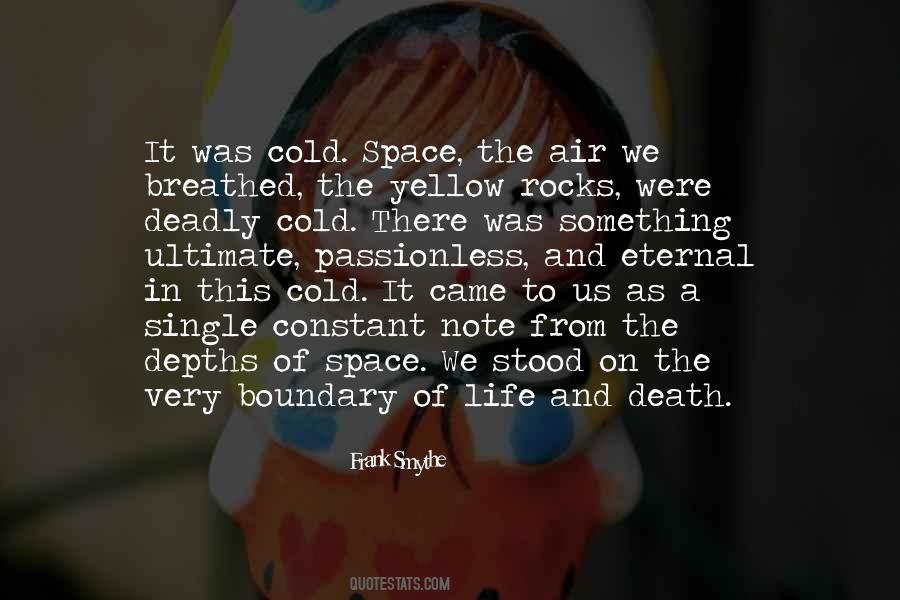 #25. Aeduan didn't contradict her. She was what she was, and fighting one's nature only brought pain. Sometimes death too. - Author: Susan Dennard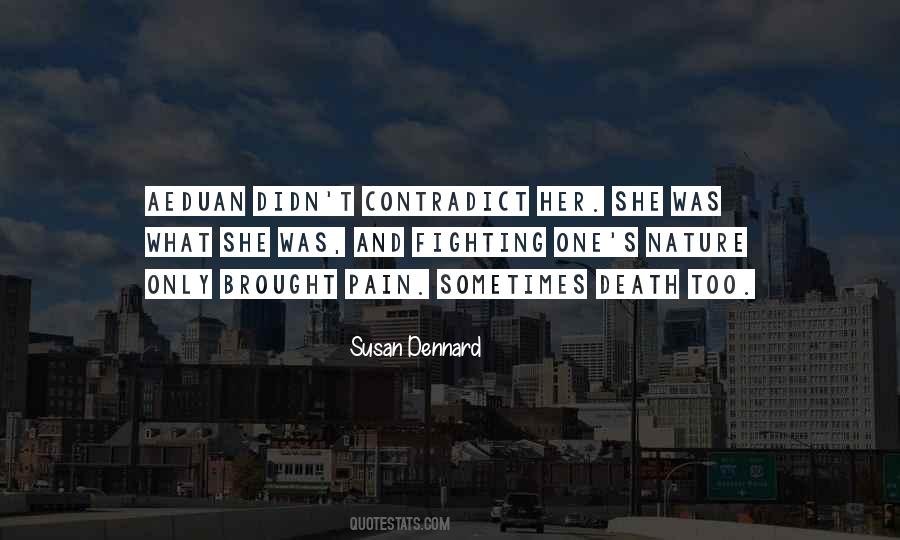 #26. Sexual ecstasy is like death. It is one of the secrets of nature's wisdom. - Author: Marcus Aurelius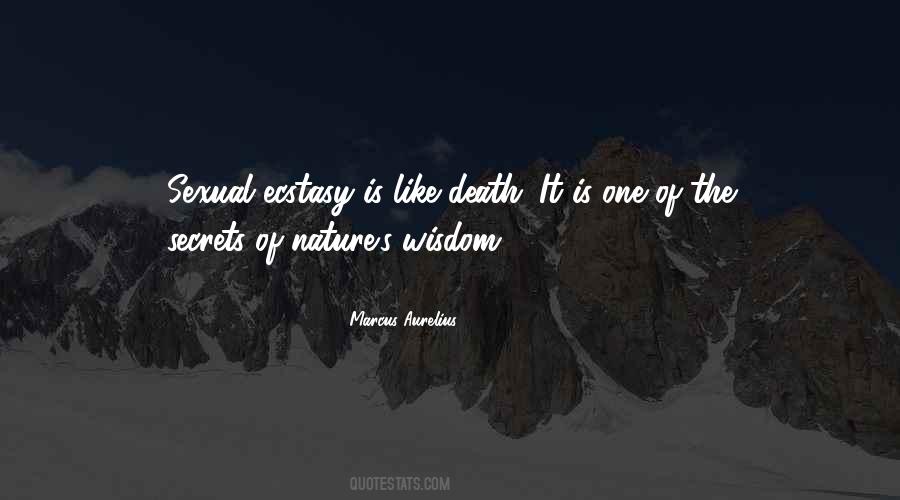 #27. If you don't know how to die, don't worry; Nature will tell you what to do on the spot, fully and adequately. She will do this job perfectly for you; don't bother your head about it. - Author: Michel De Montaigne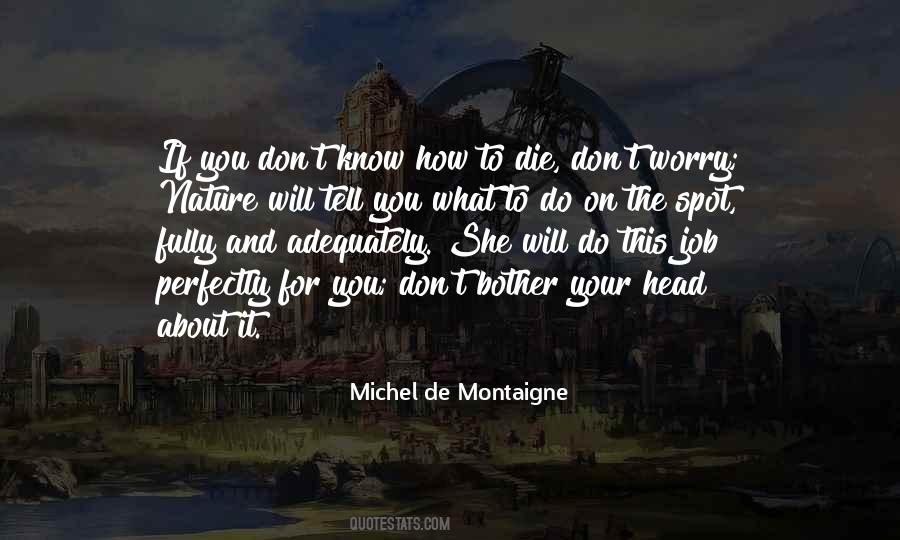 #28. He gets away with it because he's strong.'
'This is the story of mankind.'
'I thought you were going to be a priest at one point.'
'Yes. But then I read the newspaper. - Author: Christopher Buehlman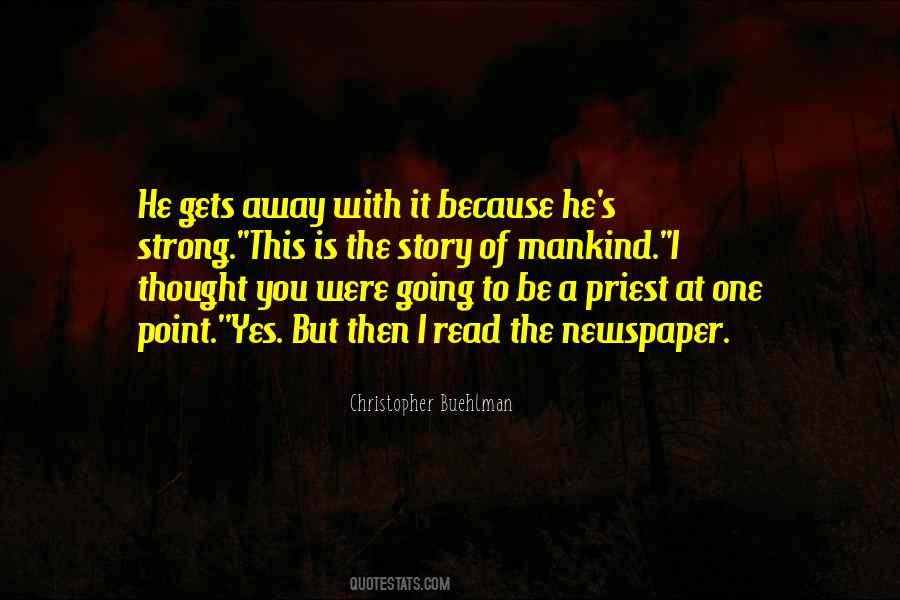 #29. Planning to play: that's what saving for retirement is today - and it is antithetical to the nature of play, fully within the definition of work, and blissfully ignorant of the reality of death. - Author: John Thorn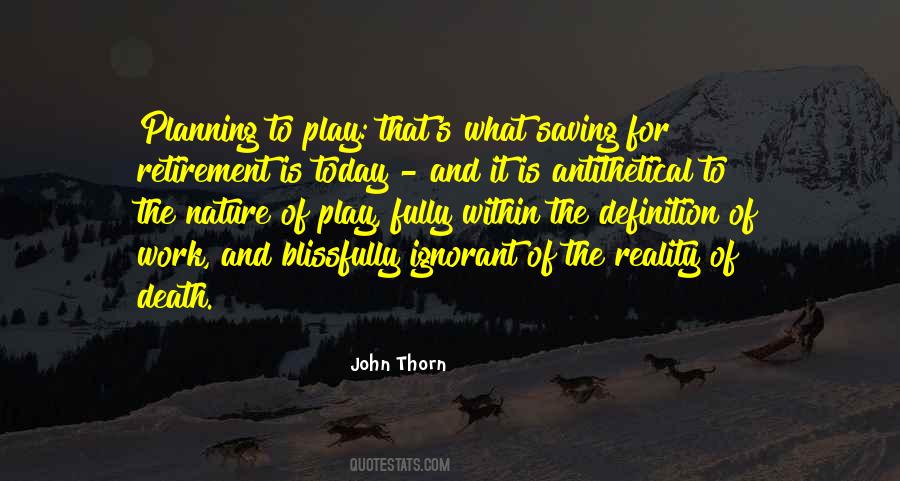 #30. I was standing in our dining-room thinking of nothing in particular, when a cablegram was put into my hand. It said, 'Susy was peacefully released today.'
It is one of the mysteries of our nature that a man, all unprepared, can receive a thunder-stroke like that and live. - Author: Mark Twain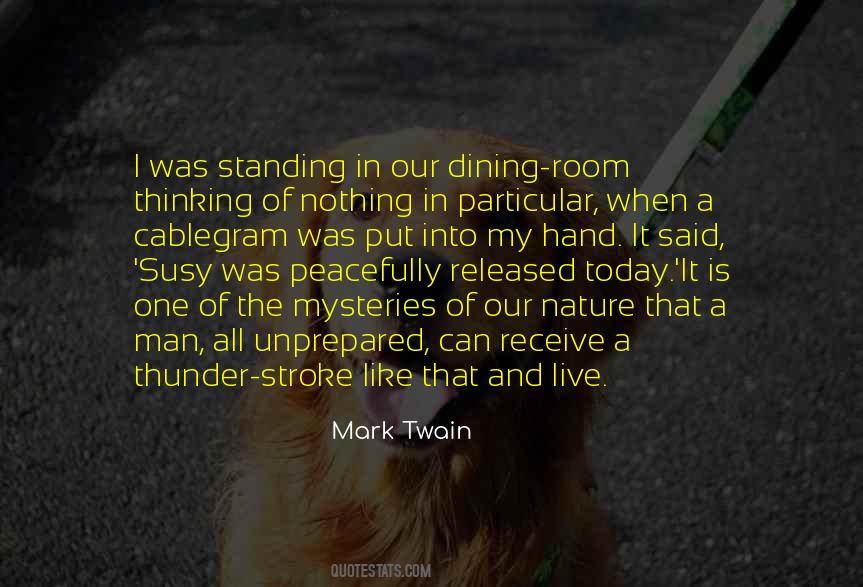 #31. Man makes a death which Nature never made. And feels a thousand deaths in fearing one. - Author: Edward Young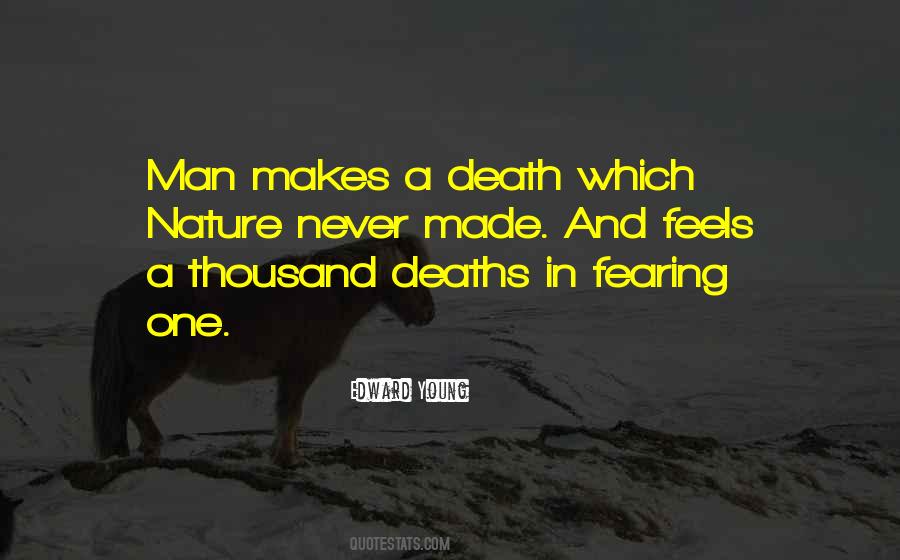 #32. The essential elements of a person come to light only when we must regard him as lost to us, when everything he has done seems to have been a taking leave of us. Suddenly the true nature of everything about him that was merely preparation for his ultimate death becomes truly visible. - Author: Thomas Bernhard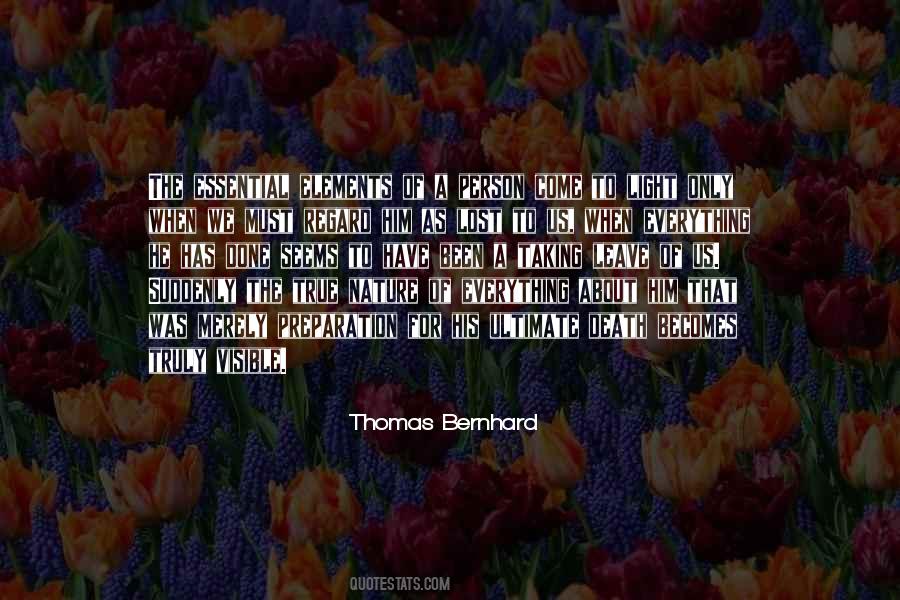 #33. God has created too few unmixed evils to warrant the belief that death is one of them. In all things else in nature, goodness so abounds that we are authorized to infer that it does not stop even at the grave. It is only that her footprints have become invisible. - Author: Christian Nestell Bovee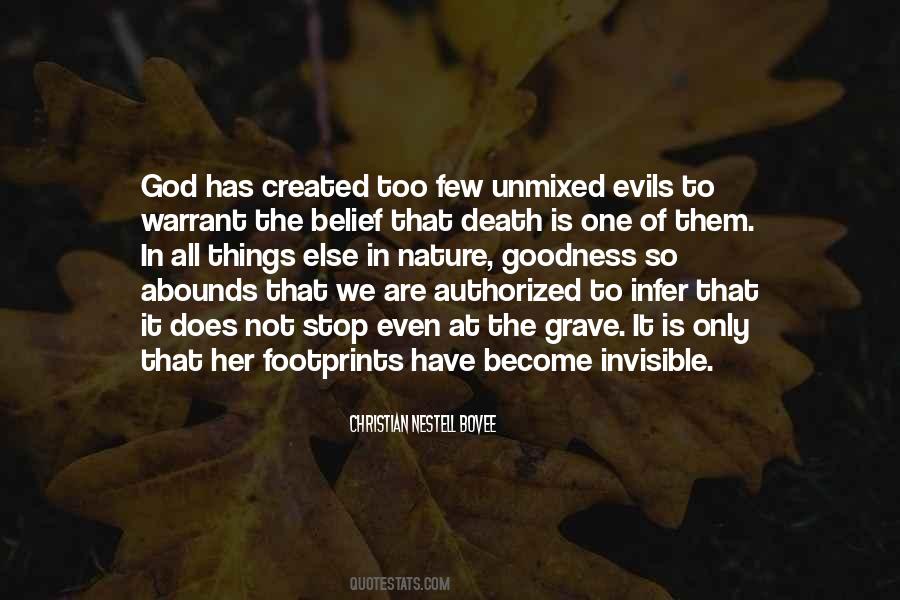 #34. Unsustainable energy consumption has humanity locked into a death spiral with nature. - Author: Steven Magee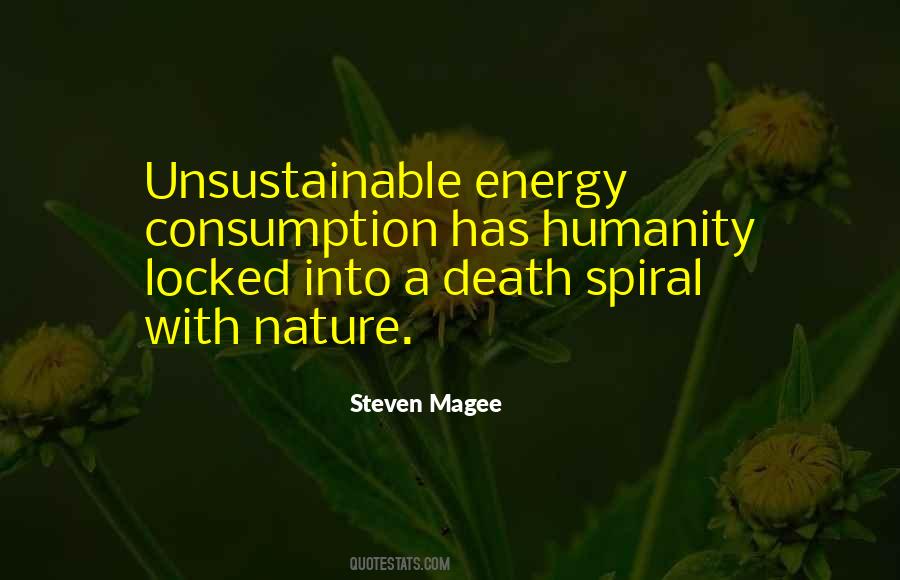 #35. Perhaps what most of us perceive as the centers of ourselves are simply no longer needed. And we both know that the absence of function, in nature, means death. There is nothing superfluous in nature. - Author: David Foster Wallace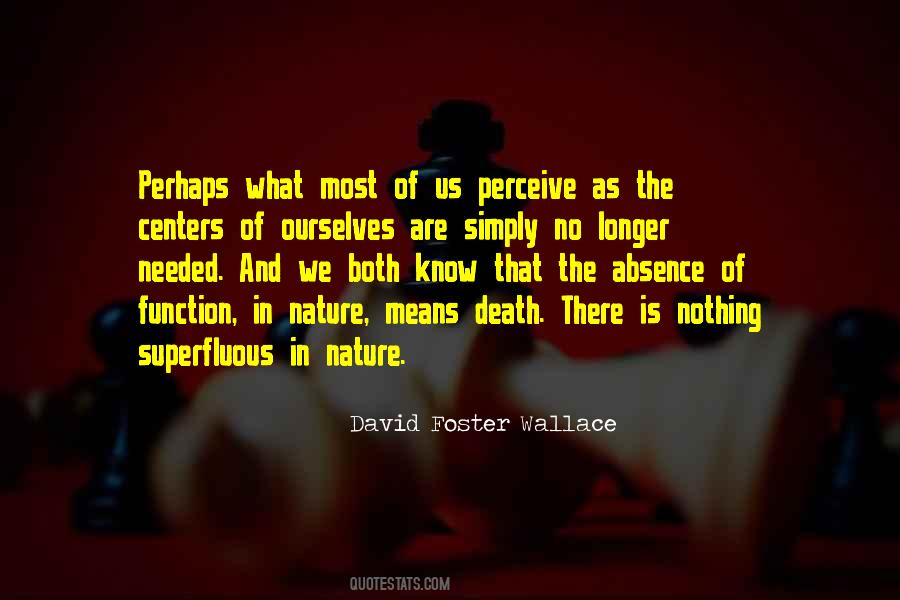 #36. Pain is nature's way of telling you to slow down. Death is nature's way of telling you to stop. - Author: Jim Fixx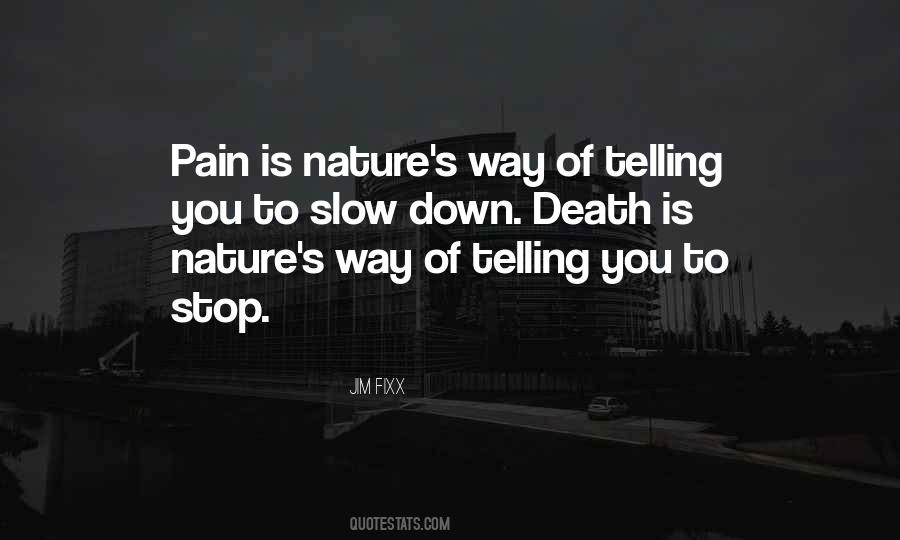 #37. Through Christ's satisfaction for sin, the very nature of afflictions changed with regard to believers. As death, which was, at first, the wages of sin, is now become a bed of rest (Is. 57:2); so afflictions are not the rod of God's anger, but the gentle medicine of a tender father. - Author: Tobias Crisp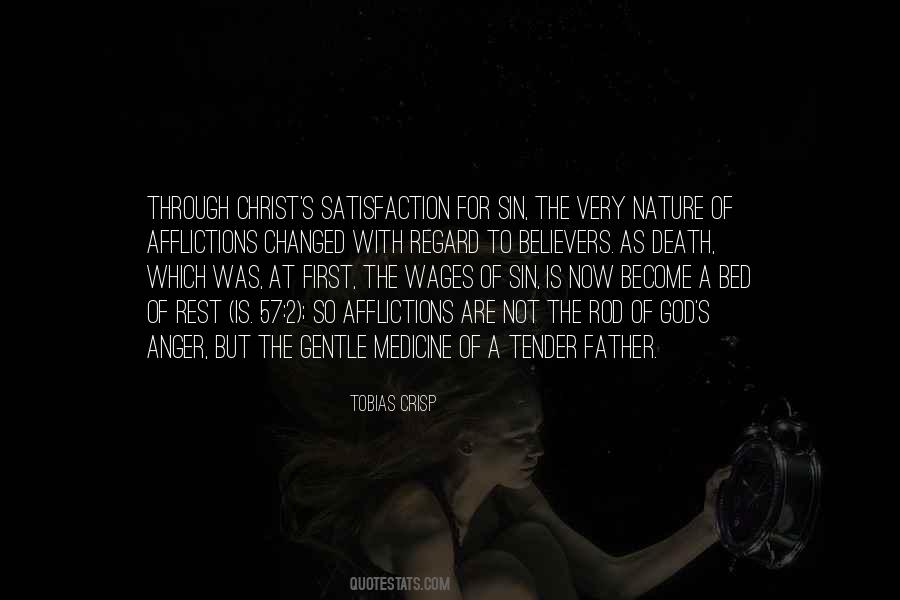 #38. Think not disdainfully of death, but look on it with favor; for even death is one of the things that Nature wills. - Author: Marcus Aurelius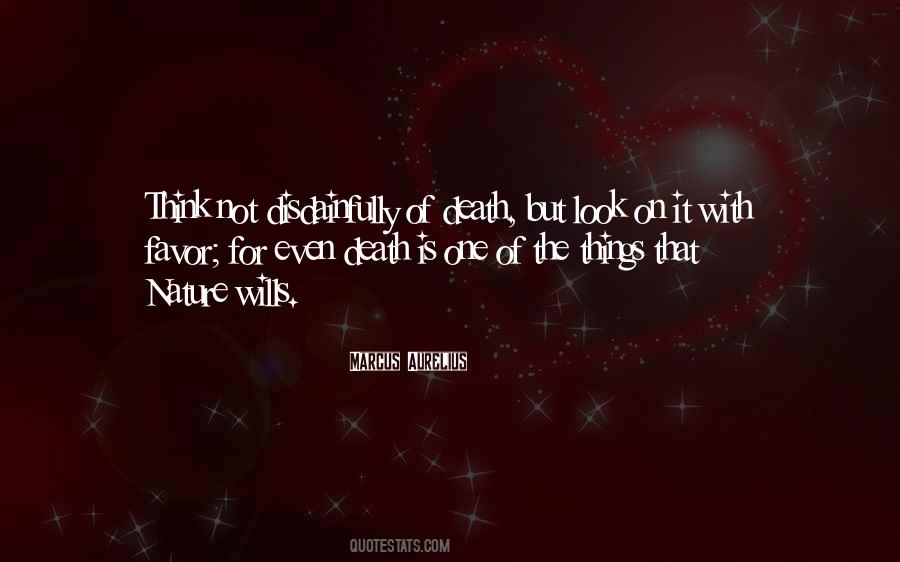 #39. There is no such thing as death. In nature nothing dies. From each sad remnant of decay, some forms of life arise so shall his life be taken away before he knoweth that he hath it. - Author: Charles Mackay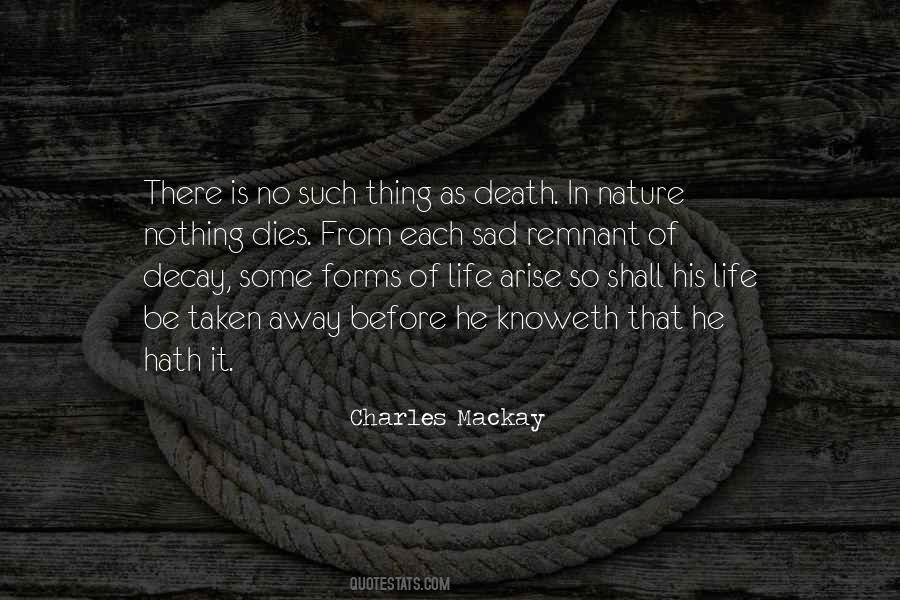 #40. Capital punishment is against the best judgment of modern criminology and, above all, against the highest expression of love in the nature of God. - Author: Martin Luther King Jr.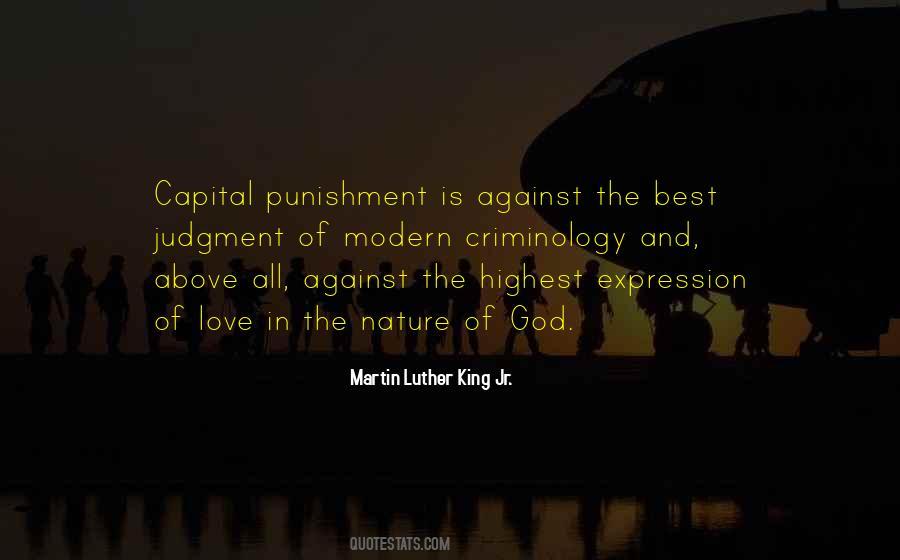 #41. Death is natural and necessary, but not just. It is a random force of nature; survival is equally accidental. Each loss is an occasion to remember that survival is a gift. - Author: Harriet McBryde Johnson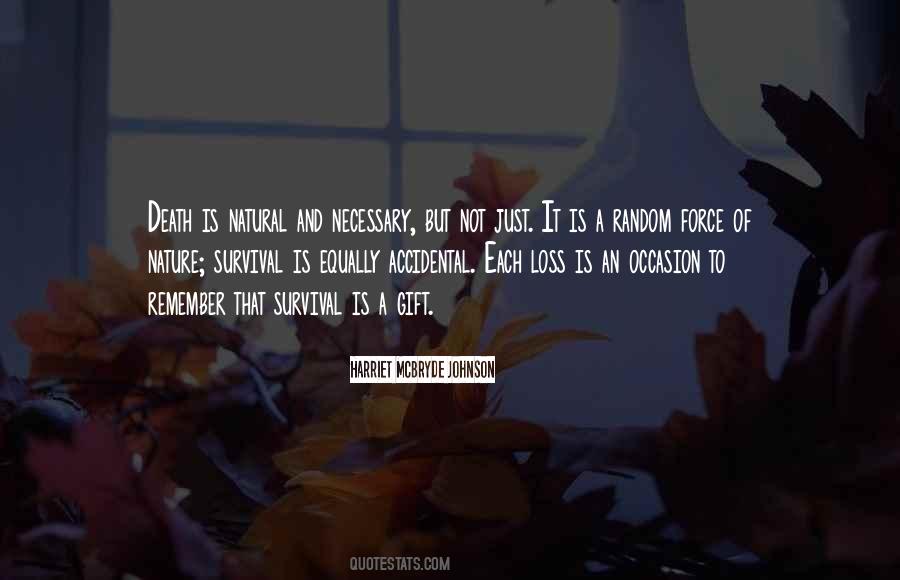 #42. After a day of heat and hunger, one is weak and listless. But a certain stuport, an internal numbness, has its benefits: man could not survive here without it, for otherwise the biological, animal part of his nature would bite to death everything that is still human in him. - Author: Ryszard Kapuscinski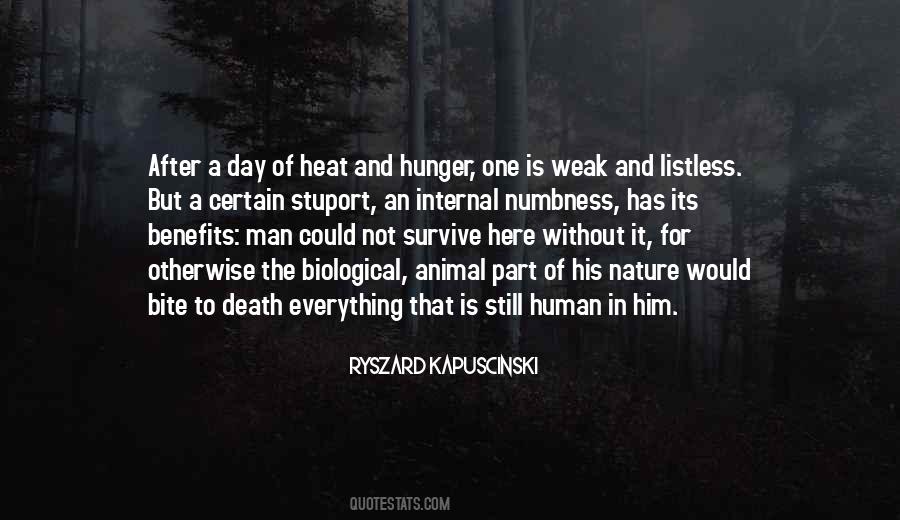 #43. The nearer she came to death, the more, by some perversity of nature, did she enjoy living. - Author: Ellen Glasgow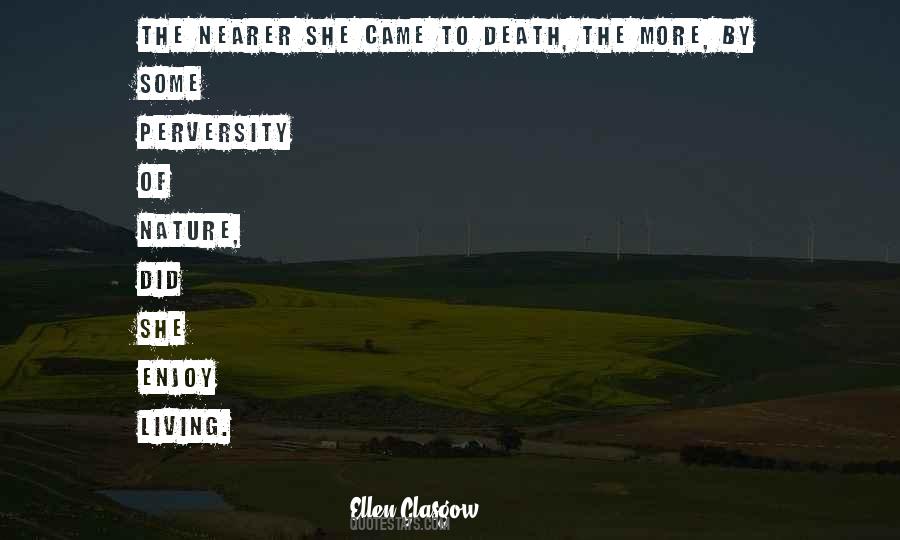 #44. Death is just nature's way of making room for the less experienced. - Author: Peter James West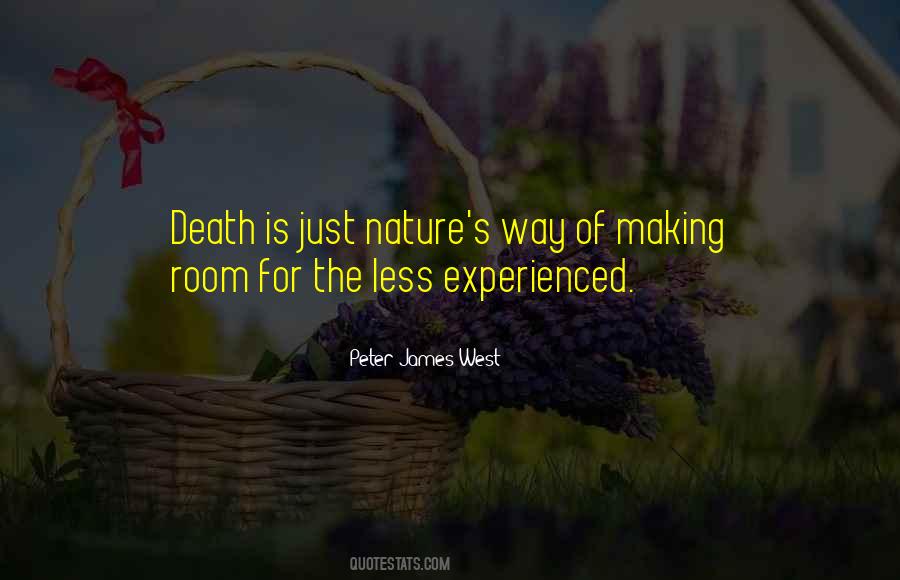 #45. People talk as if the act of death made a complete change in the nature, as well as in the condition of man. Death is the vehicle to another state of being, but possesses no power to qualify us for that state. In conveying us to a new world it does not give us a new heart. - Author: Hannah More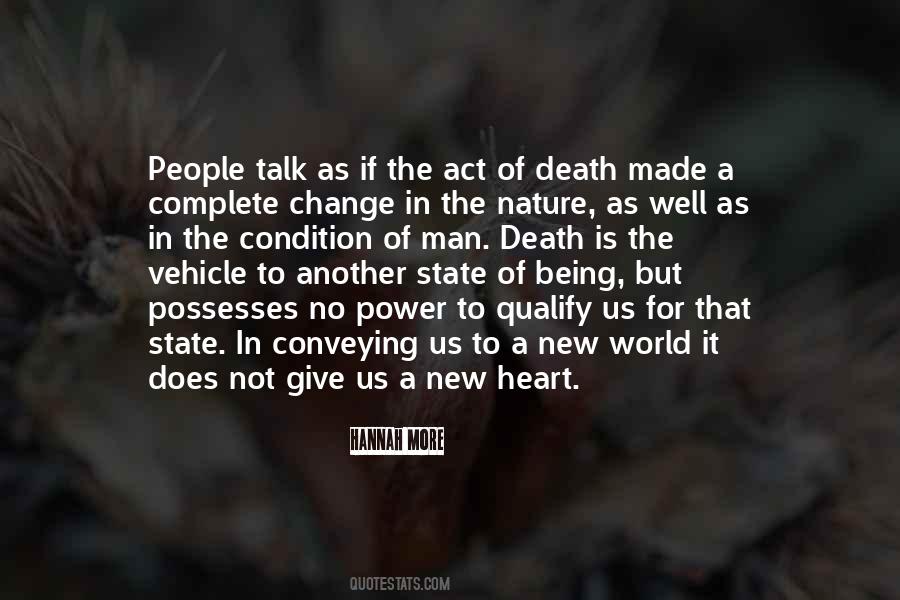 #46. Did the dead still want things? Or was death simply a letting go of all that is held so tightly in life - an understanding of the temporal and shallow nature of the human matters of possession, greed, desire, justice? - Author: Lisa Wingate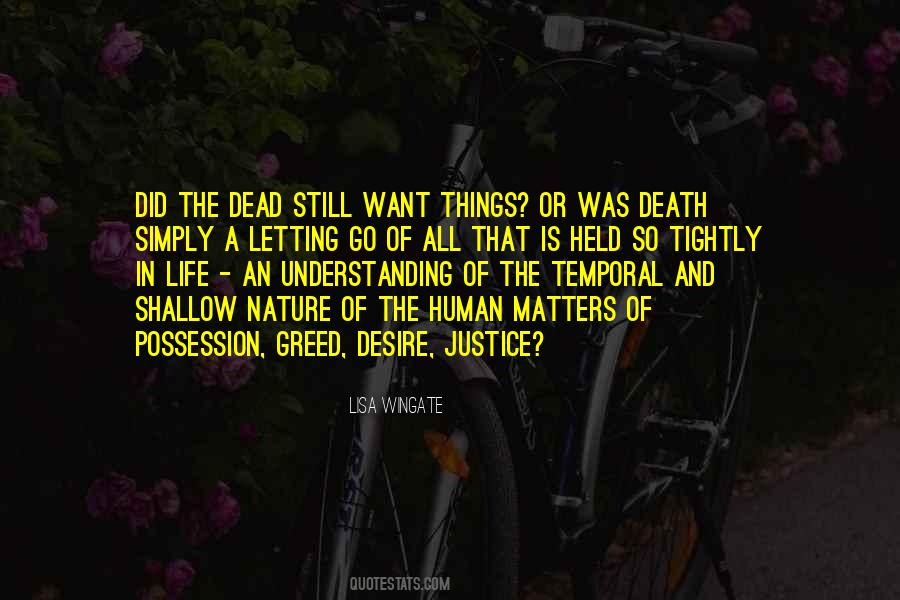 #47. The setting sun threatened to consume me - it could have, you know. It would have been a beautiful death with an honorable eulogy: slain by a magnificent slice of piercing orange energy. I simply turned and walked away; I would live another day. - Author: Chila Woychik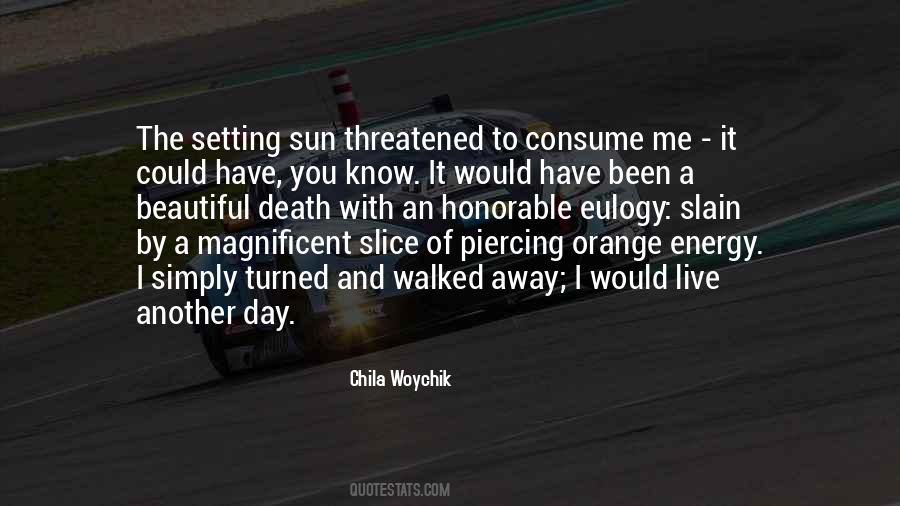 #48. A dislike of death is no proof of the want of religion. The instincts of nature shrink from it, for no creature can like its own dissolution. But though death is not desired, the result of it may be, for dying to the Christian is the way to life eternal. - Author: William Jay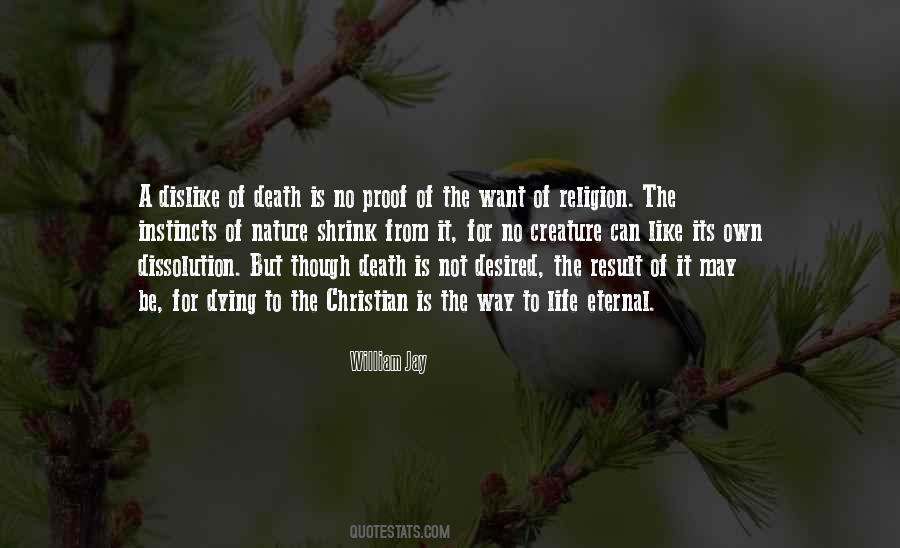 #49. Only humans think death is evil. But it is nature. Evil exist's only in life. There is much good and evil alloted to each life. - Author: Isobelle Carmody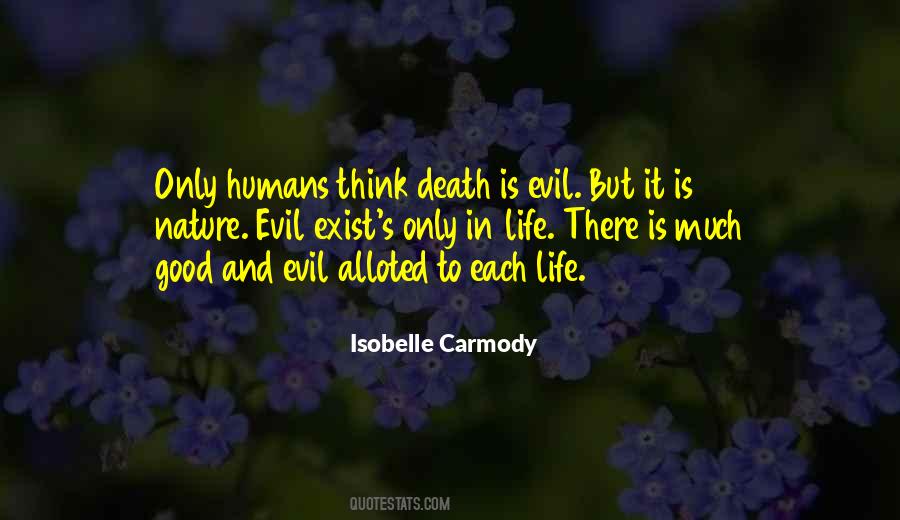 #50. Christ died for our sins. Jesus Christ, the eternal Son of God, took upon Himself a human nature and died a horrible death on our behalf. That is the reason for the cross. He suffered what we should have suffered. He died in our place to pay the penalty for our sins. - Author: Jerry Bridges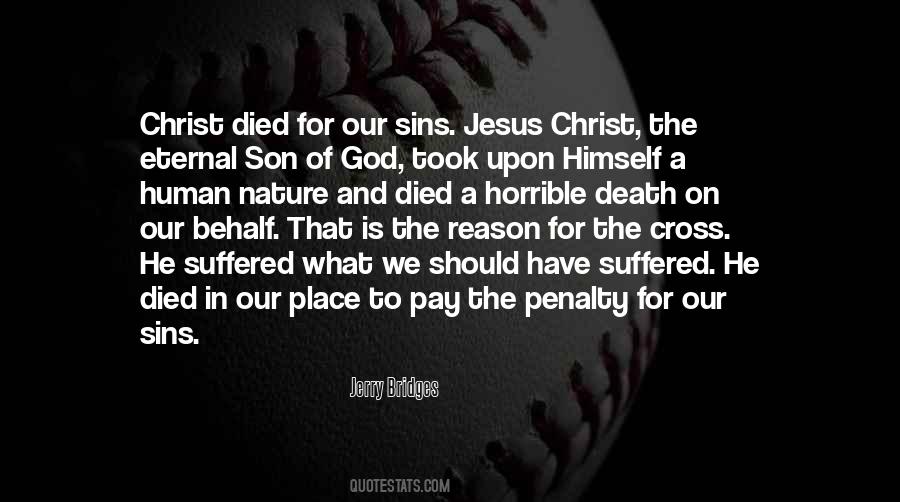 #51. People fail to realize that horror isn't just monsters and death. Sometimes, it's learning to accept the darkness of human nature. - Author: Kayla Krantz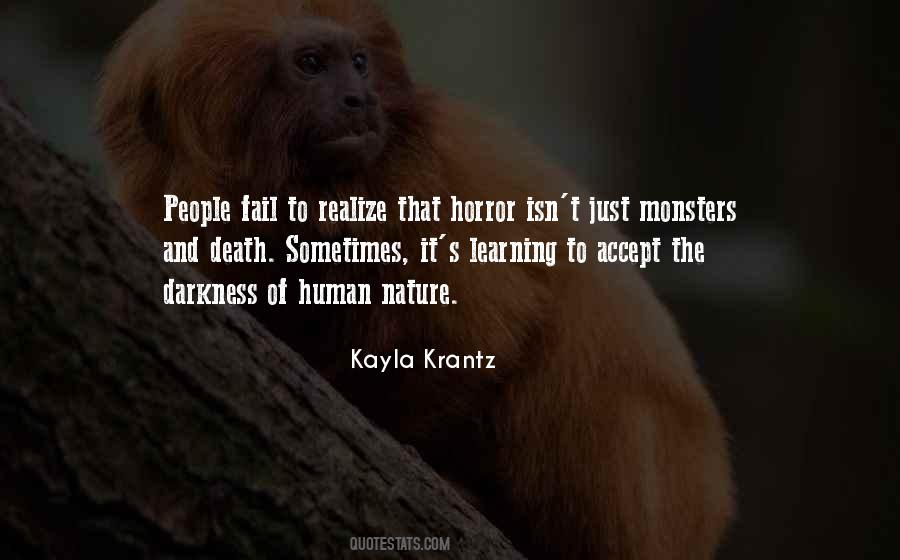 #52. I have read of the great wars of ages past, and men slaughtered by the tens of thousands. And we give but fleeting consideration to their deaths, for it is our nature to banish such thoughts. - Author: Seth Grahame-Smith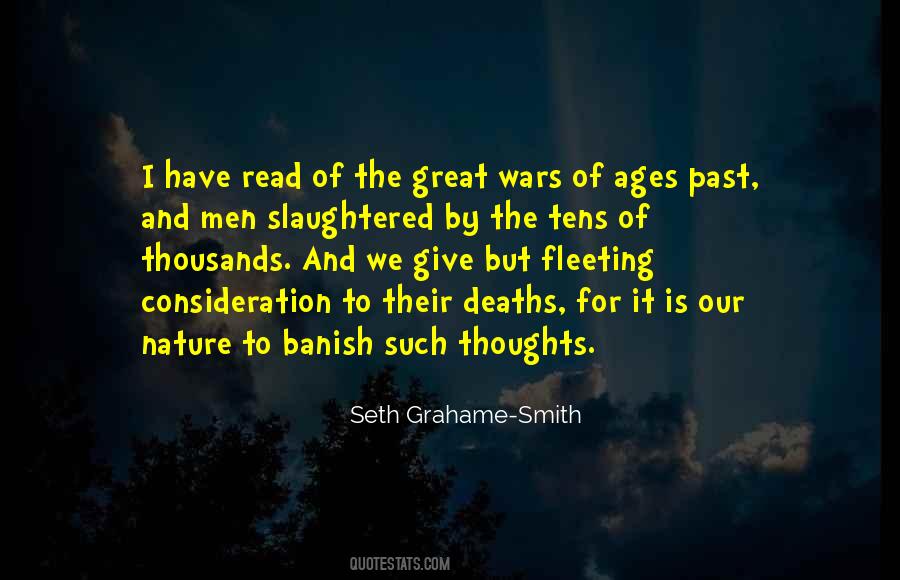 #53. The nature of the love between a parent and child really is literally stronger than death. As long as either person in that relationship is alive, that relationship is still alive. - Author: John Green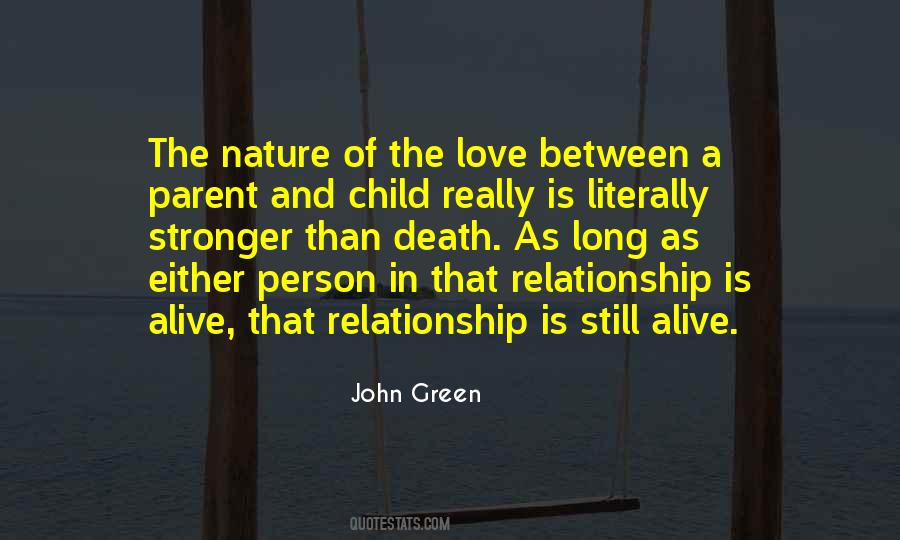 #54. With respect to pain, then, and pleasure, or death and life, or honour and dishonour, which the universal nature employs equally, whoever is not equally affected is manifestly acting impiously. - Author: Marcus Aurelius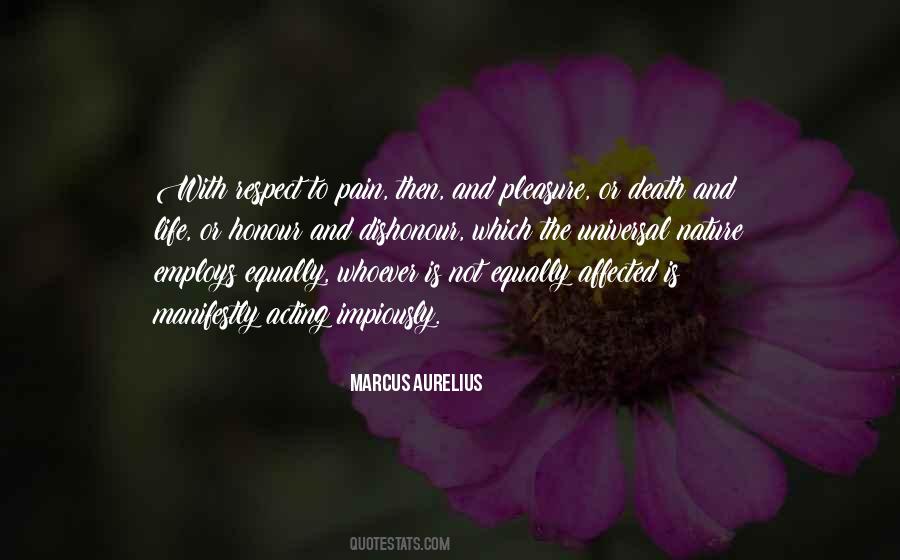 #55. We tell the dead to rest in peace, when we should worry about the living to live in peace. - Author: Anthony Liccione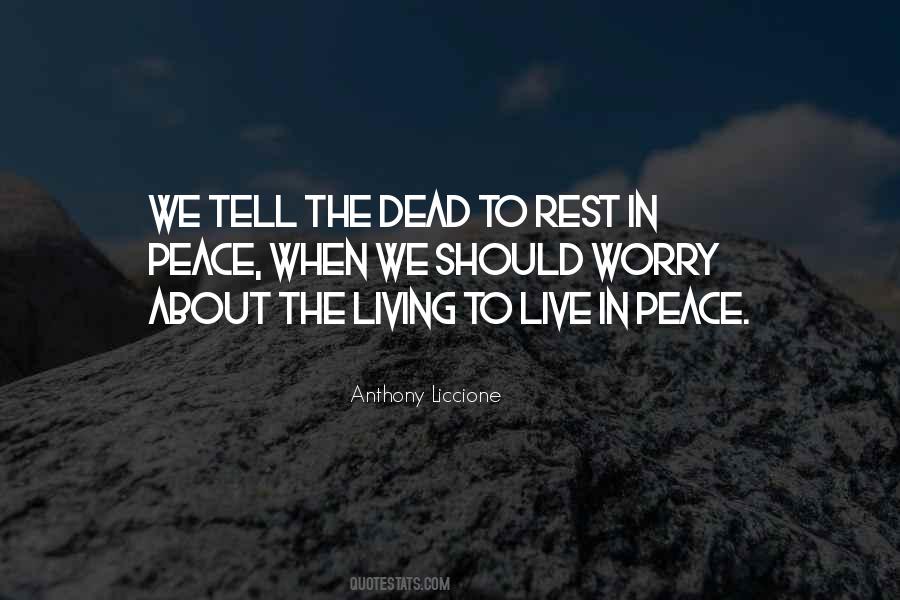 #56. Death is nothing to us, it matters not one jot, since the nature of the mind is understood to be mortal. - Author: Lucretius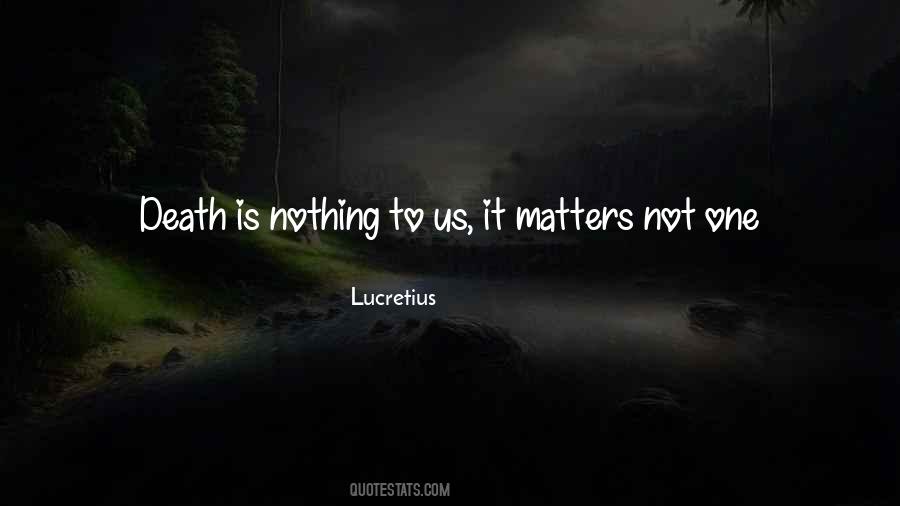 #57. And you know once a man has fished, or watched the thrushes hovering in flocks over the village in the bright, cool, autumn days, he can never really be a townsman, and to the day of his death he will be drawn to the country. - Author: Anton Chekhov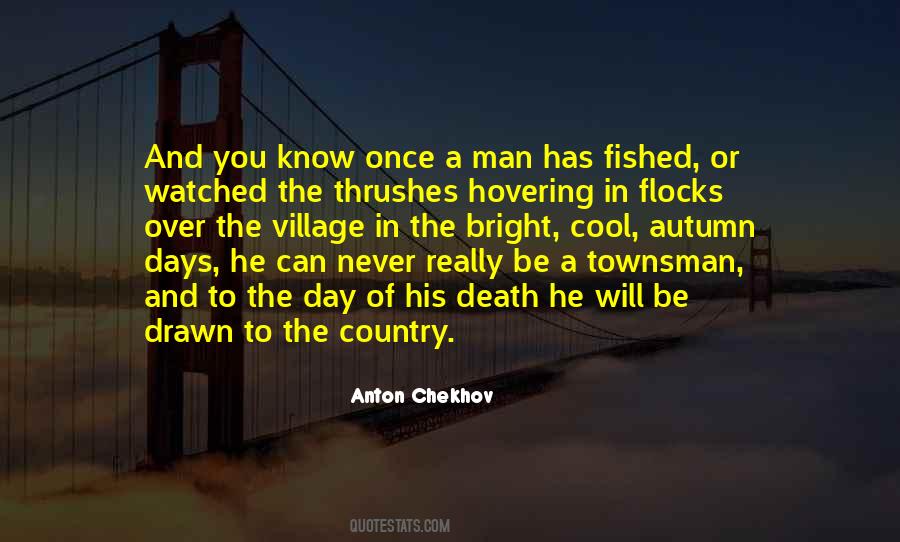 #58. Reflect on death as in Jesus Christ, not as without Jesus Christ. Without Jesus Christ it is dreadful, it is alarming, it is the terror of nature. In Jesus Christ it is fair and lovely, it is good and holy, it is the joy of saints. - Author: Blaise Pascal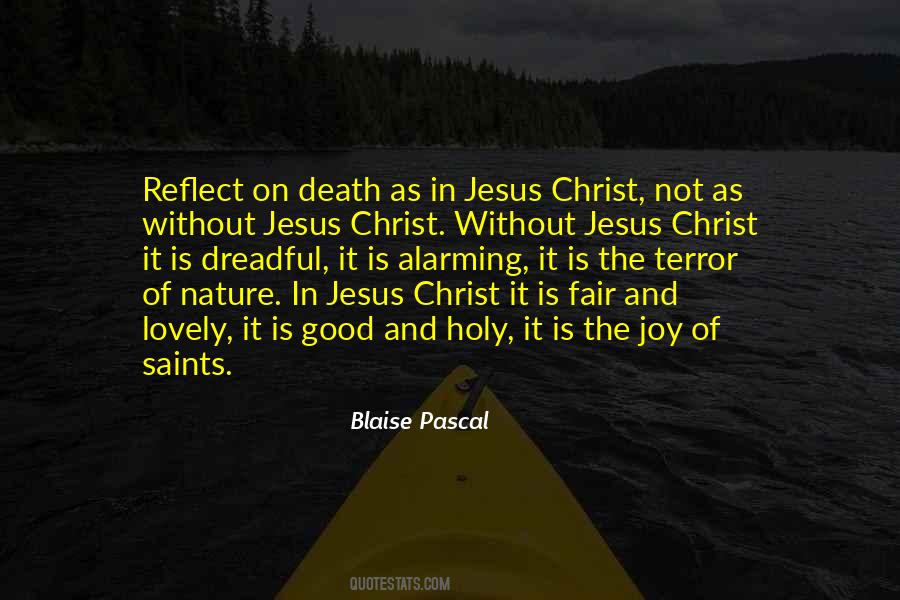 #59. I moved up beside Jamie."I have to go."
She frowned at me. "Where?"
I pressed a hand to the bottom of my belly. "My bladder.It-"
Ah." She gave a small laugh. "We interrupt this life-or-death situation for a pregnancy pee break. Don't see that in the movies, do you? - Author: Kelley Armstrong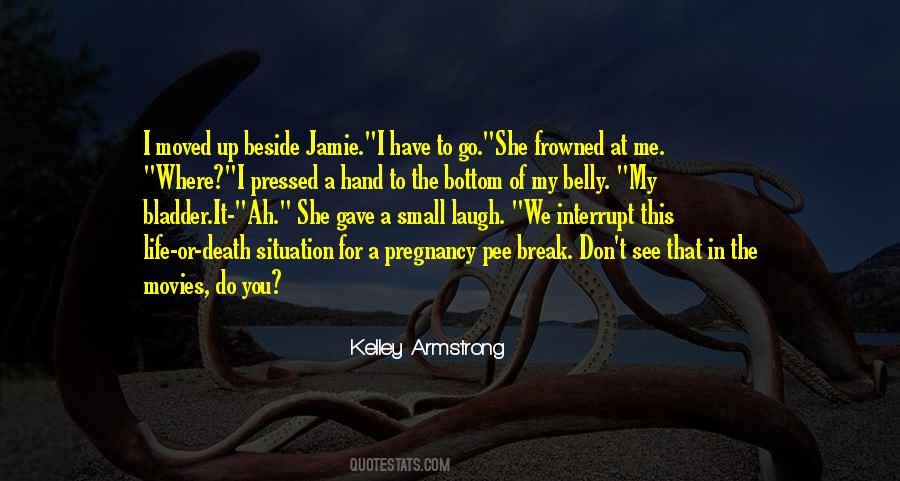 #60. We must learn to accept ourselves in the painful experiment of living. We must embrace the spiritual adventure of becoming human, moving through the many stages that lie between birth and death. - Author: Johann Baptist Metz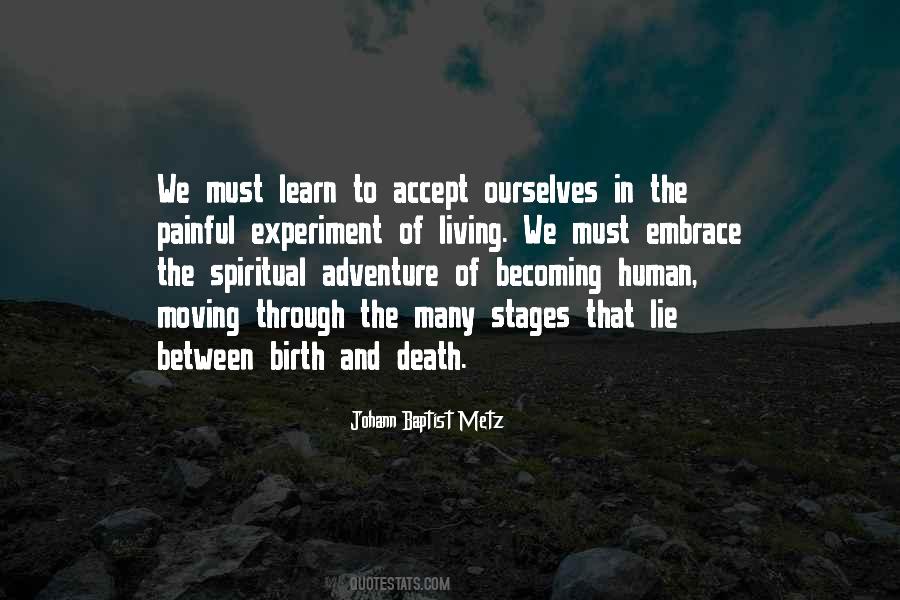 #61. Call me a nature nut. I love nature. I like to walk in nature, I use natural remedies, and I practice natural medicine as a naturopathic doctor in Los Angeles. - Willow McQuade, ND star of Death Drops: A Natural Remedies Mystery. - Author: Chrystle Fiedler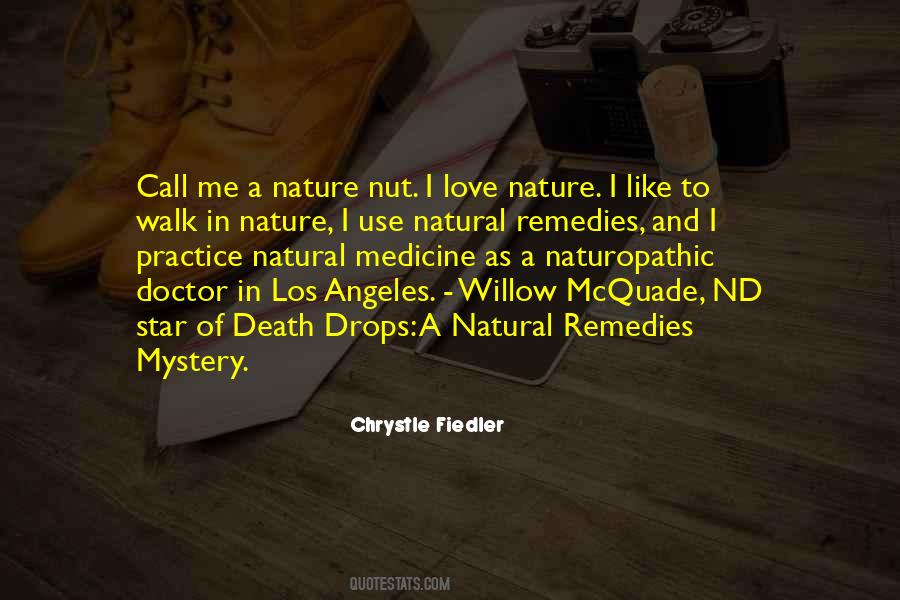 #62. Peter was struck by the scar's essential nature: it was not a disfigurement, it was a miracle. All the scars ever suffered by anyone in the whole of human history were not suffering but triumph: triumph against decay, triumph against death. - Author: Michel Faber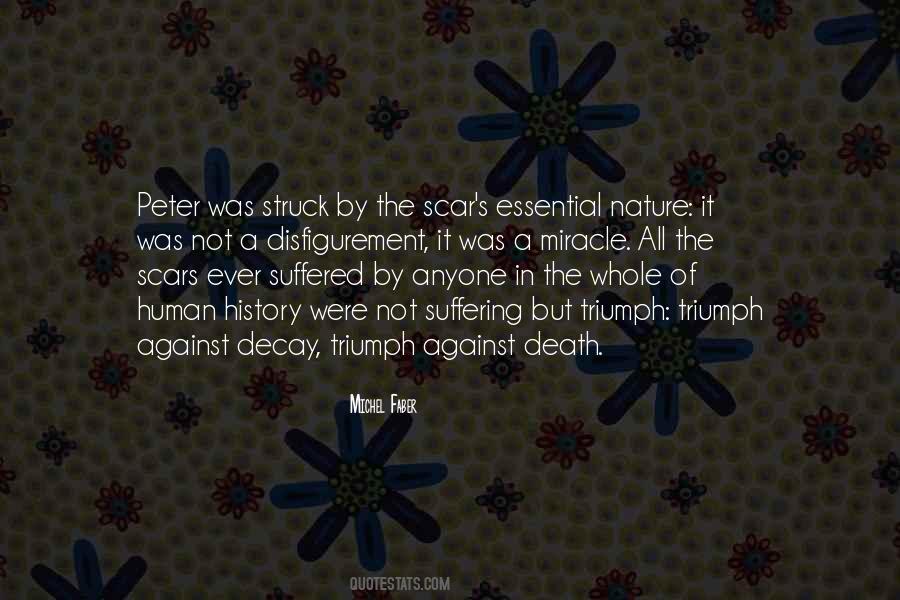 #63. Hiding your true nature is a kind of voluntary death. - Author: John Michael Curlovich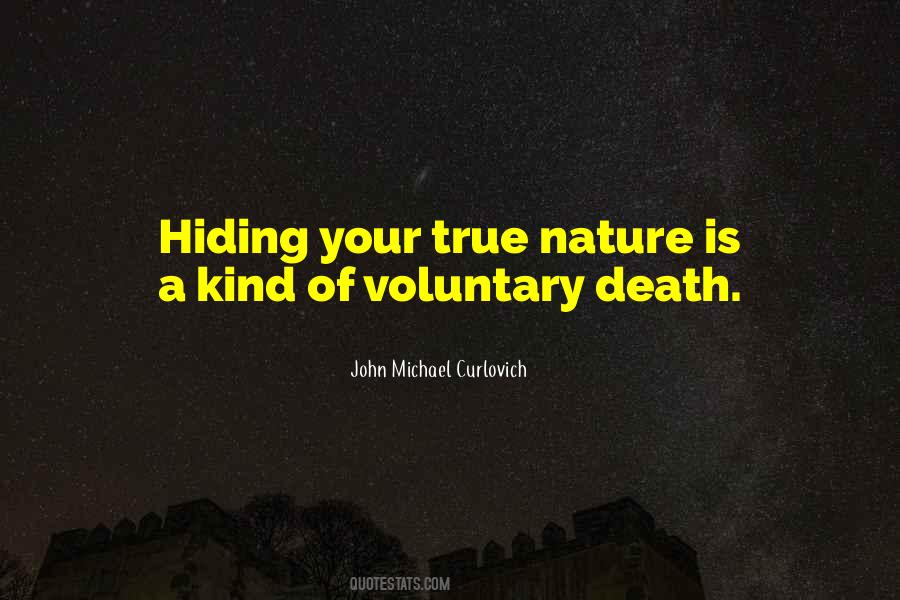 #64. There is nothing in nature which approximates to the idea of a hospice. - Author: Jim Crumley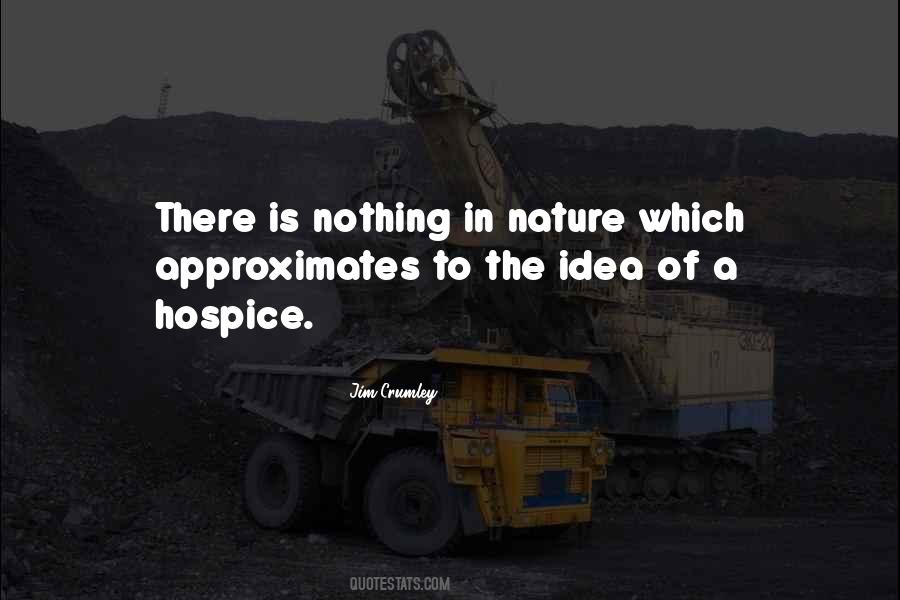 #65. I am satisfied
with my aggressive nature
as I tickle death
under the
armpits. - Author: Charles Bukowski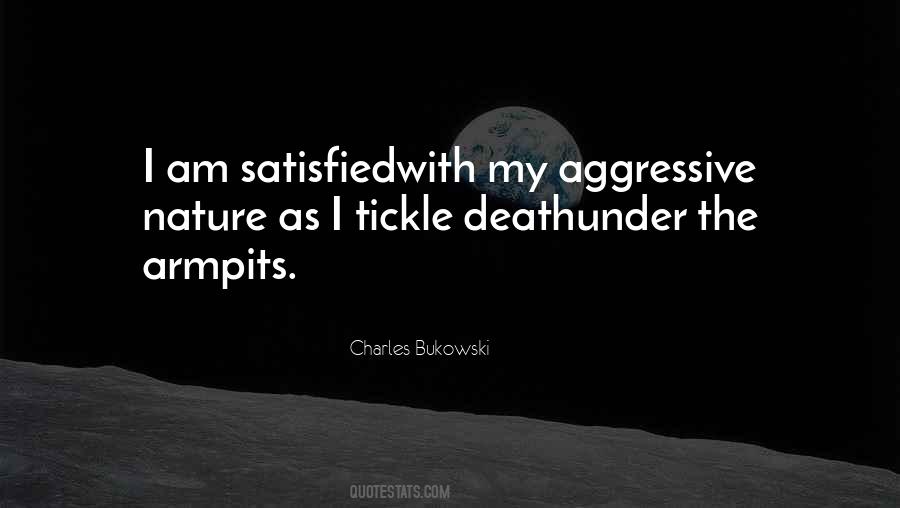 #66. If you wish to make a man look noble, your best course is to kill him. What superiority he may have inherited from his race, what superiority nature may have personally gifted him with, comes out in death. - Author: Alexander Smith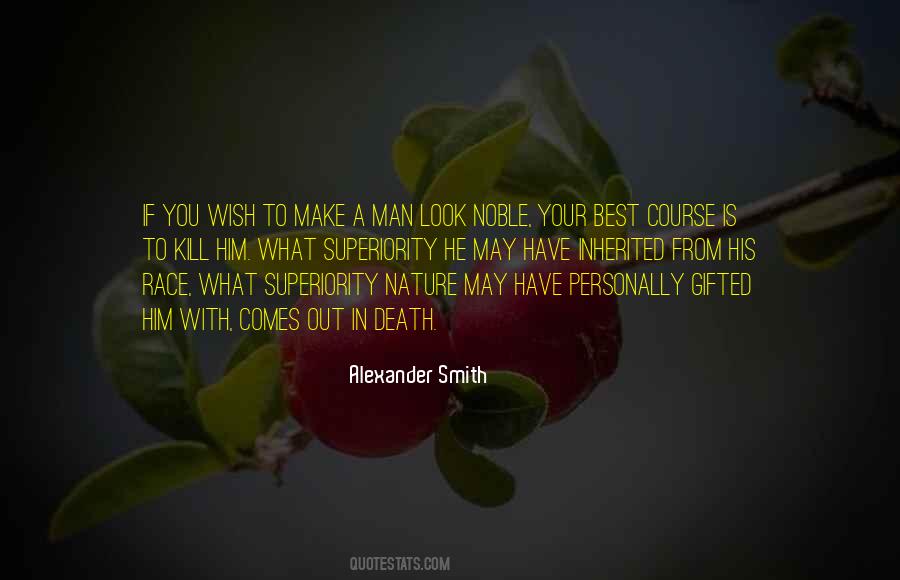 #67. Do not be discouraged by the resistance you will encounter from your human nature; you must go against your human inclinations. Often, in the beginning, you will think that you are wasting time, but you must go on, be determined and persevere in it until death, despite all the difficulties. - Author: Brother Lawrence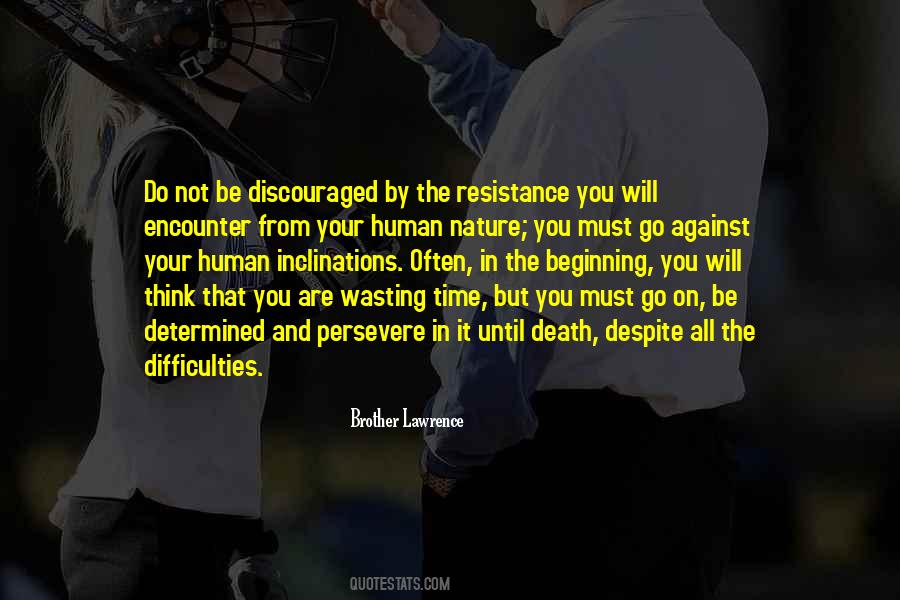 #68. In nature nothing is at standstill, everything pulsates, appears and disappears. Heart, breath, digestion, sleep and waking - birth and death - everything comes and goes in waves. Rhythm, periodicity, harmonious alternation of extremes is the rule. No use rebelling against the very pattern of life. - Author: Sri Nisargadatta Maharaj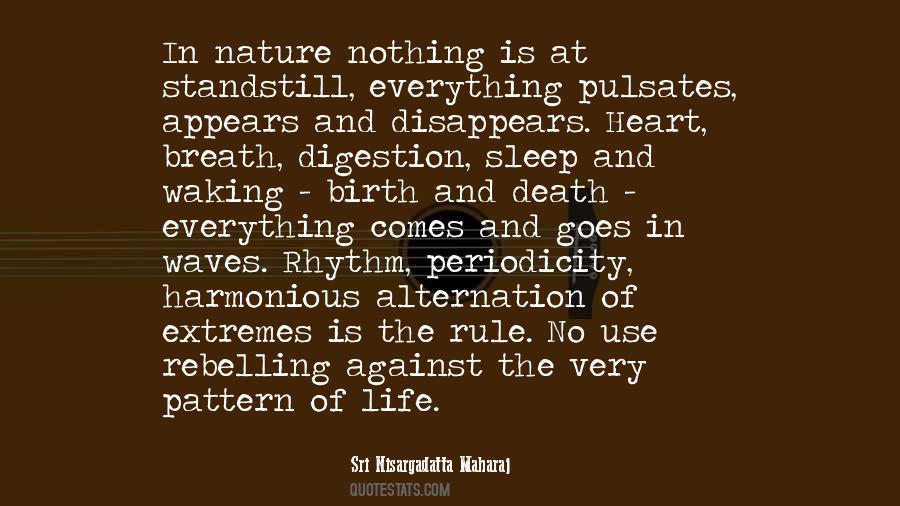 #69. The nature of a coward is to avoid death. If such a man courts peril there can be only two reasons. Either he is not a coward at all or there is no danger. - Author: David Gemmell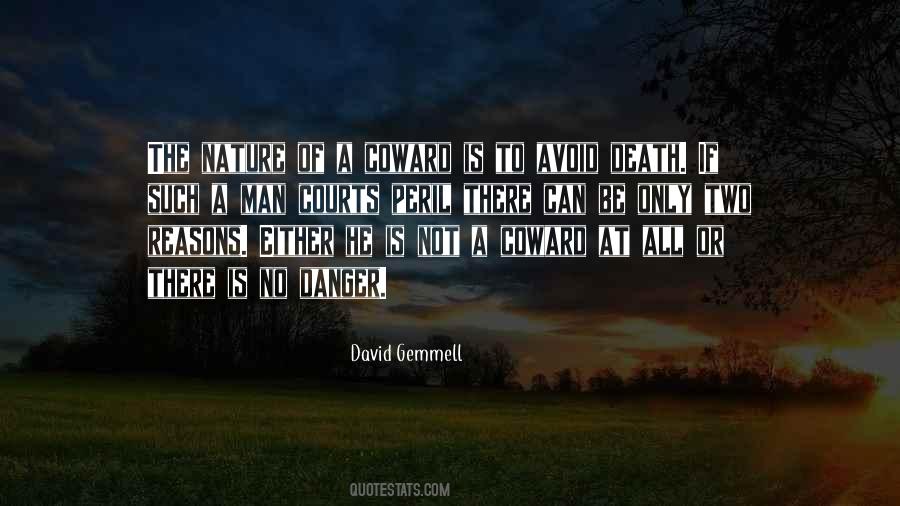 #70. The trees are a thousand times taller than me, and hundreds of years older, and the rocks and leaves and plants and animals never do anything silly like kill each other or fall in love or grow up. - Author: Ben Stephenson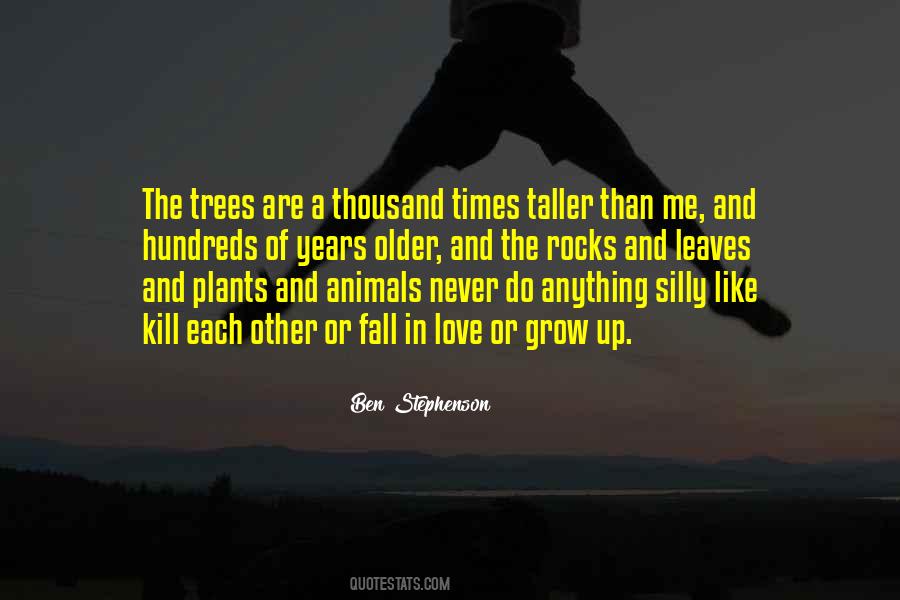 #71. Mankind is immortal
in the comic perspective not by virtue of man's subjugation of nature
but by virtue of man's subjection to it. The "fall" in tragedy ends in
death; the fall in comedy ends in bed, where, by natures's arithmetic,
one and one make a brand new one. - Author: Rose A. Zimbardo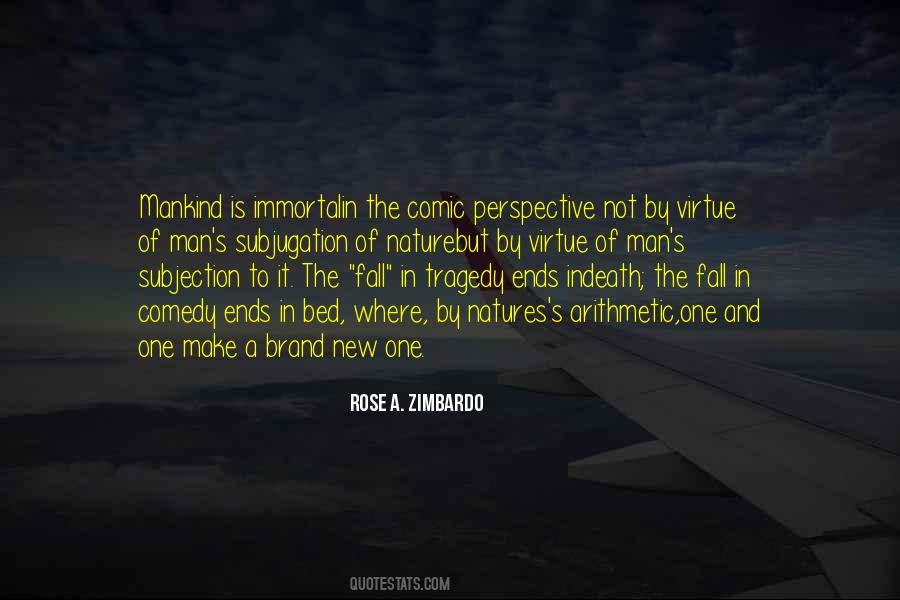 #72. It is that something in the soul which says, - Rage on, whirl on, I tread master here and everywhere; master of the spasms of the sky and of the shatter of the sea, master of nature and passion and death, and of all terror and all pain. - Author: Walt Whitman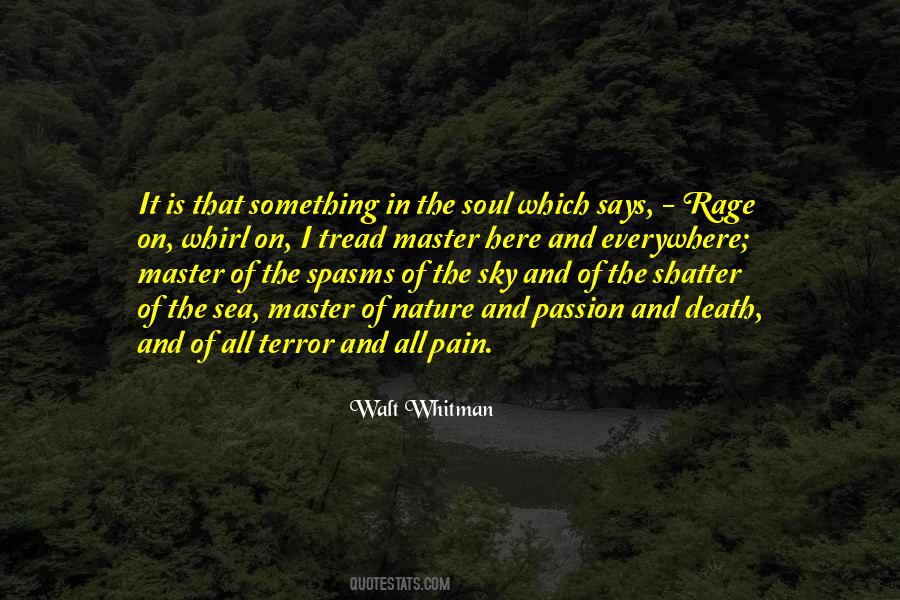 #73. Death is a debt to Nature due
Which we have paid and so must you. - Author: Tombstone Epitaph In Tatamagouche Nova Scotia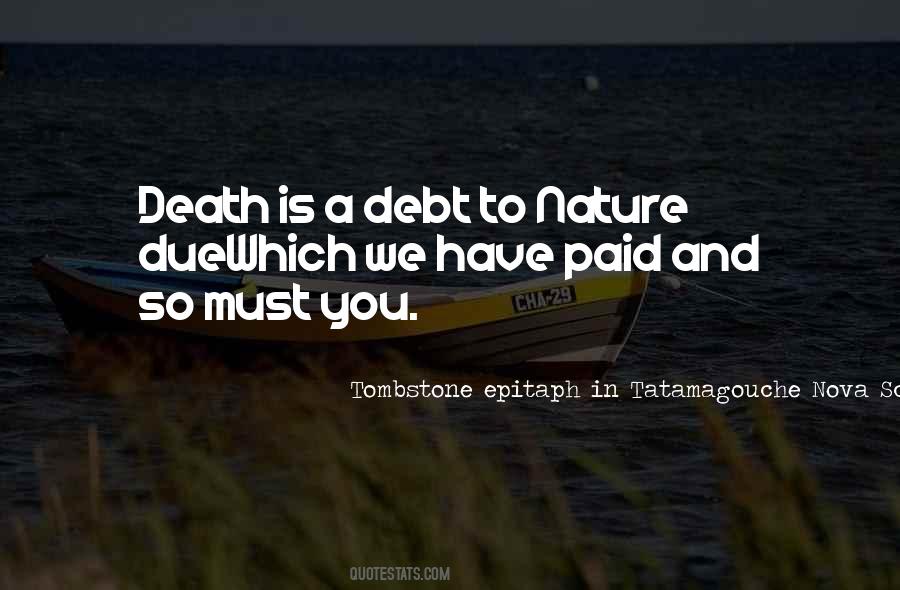 #74. And the will therein lieth, which dieth not. Who knoweth the mysteries of the will, with its vigor? For God is but a great will pervading all things by nature of its intentness, Man doth not yield himself to the angels, nor unto death utterly, save only through the weakness of his feeble will. - Author: Joseph Glanvill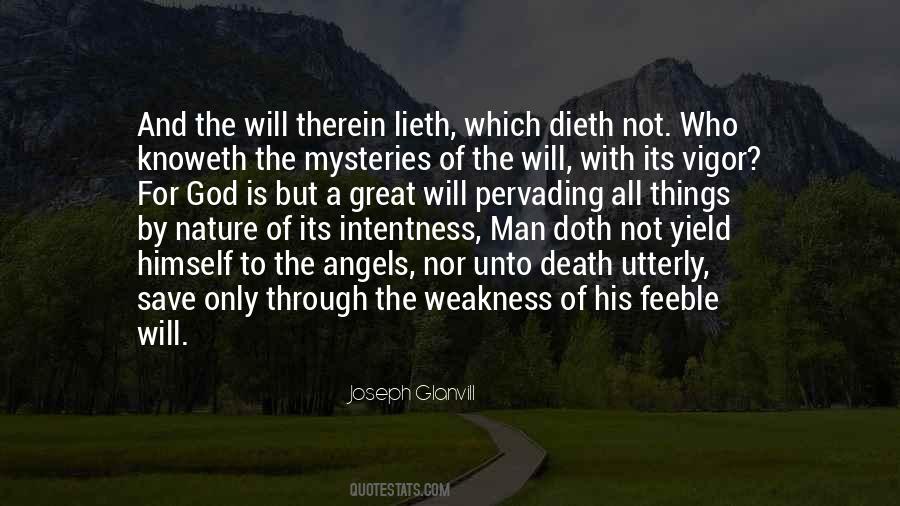 #75. Surely there is a knowing behind it all. There is a teacher, an expresser, a creator, an artist perhaps, a poet certainly that has designed and presented all of the clues that we need to navigate life with some degree of grace, and perhaps with a greater degree of happiness than we now have. - Author: Jeffrey R. Anderson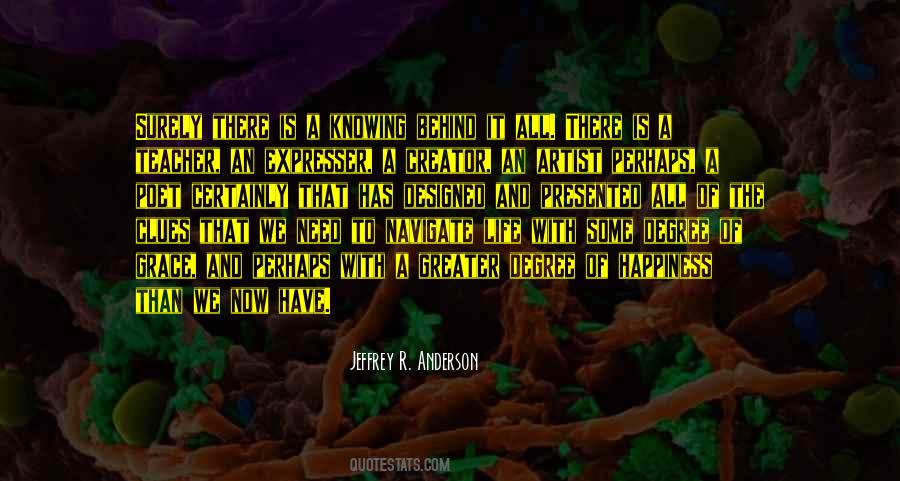 #76. Humanity is as horrified and repulsed by real nature as it is by real death. Thus, we strike back against this formidable opponent with our sharpest weapon: our imagination. From this noble tool - born of necessity and elevated to beauty - culture was born, and the war against nature begun. - Author: Anthony Marais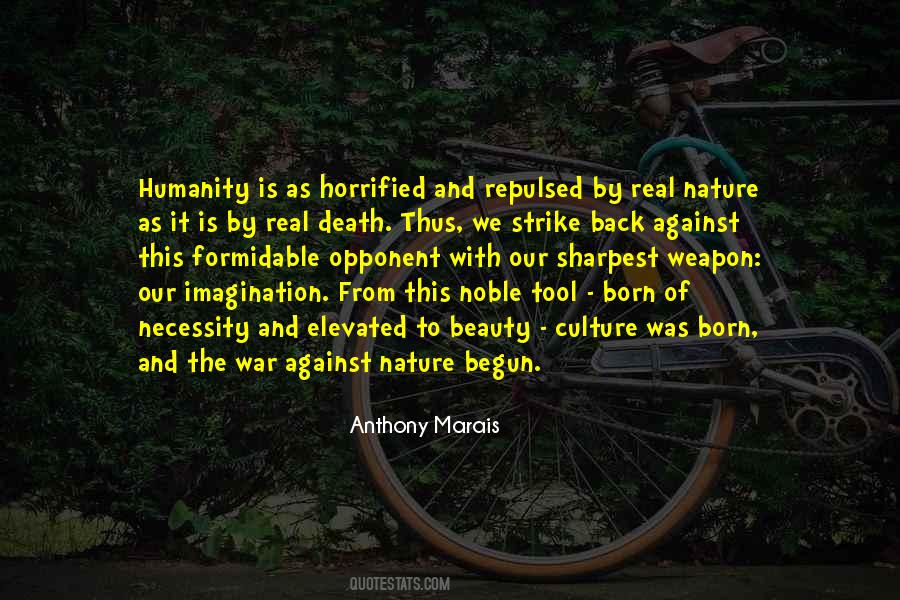 #77. Life and death lived inside each other. That's what occured to me. Death was inside all of us, waiting for warmer nights, a compromised system, a beetle, as in the now dying black timber on the mountains. - Author: Peter Heller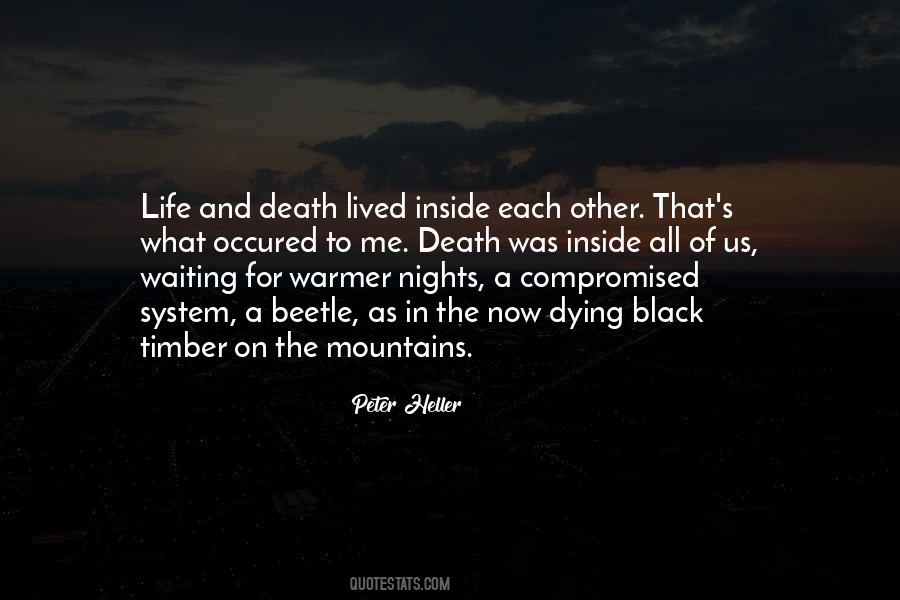 #78. Everything in ... nature, is descended out that which is eternal, and stands as a..visible outbirth of it, so when we know how to separate out the grossness, death, and darkness..from it, we find..it in its eternal state. - Author: William Law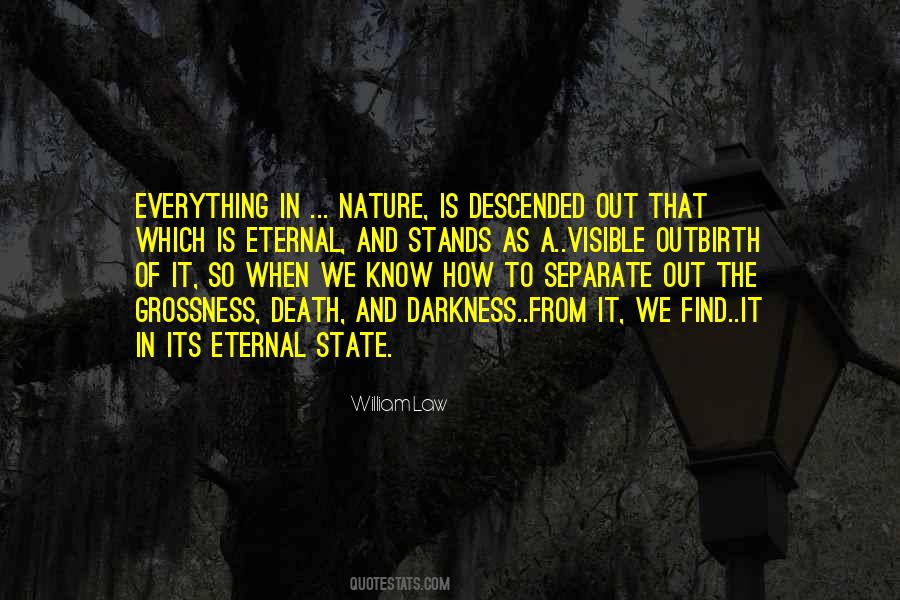 #79. On Kwajalein, Louie and Phil leared a dark truth known to the doomed in Hitler's death camps, the slaves of the American South, and a hundred other generations of betrayed people. Dignity is as essential to human life as water, food, and oxygen. - Author: Laura Hillenbrand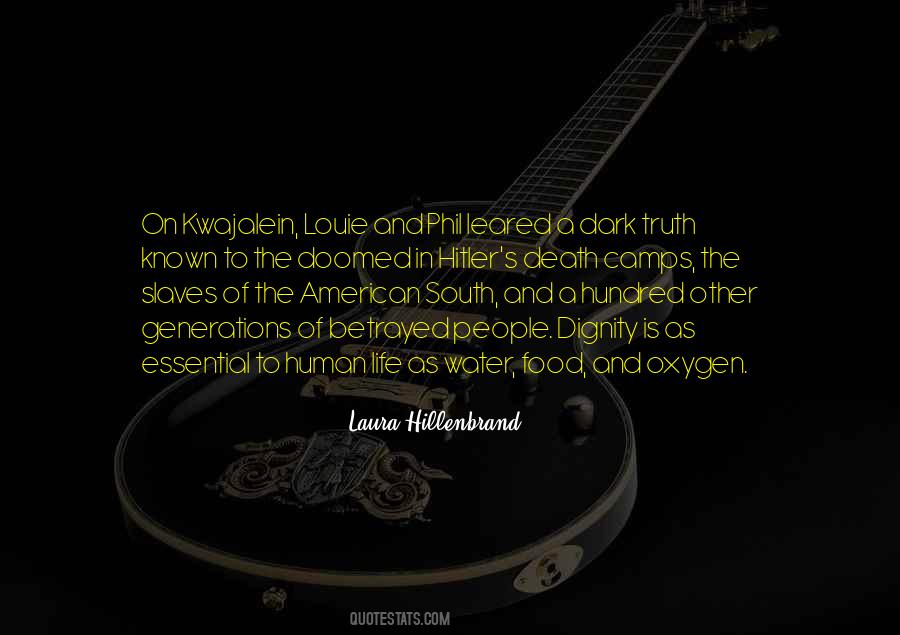 #80. Nature is bent on new beginning
and death has not a chance of winning ... - Author: Rosy Cole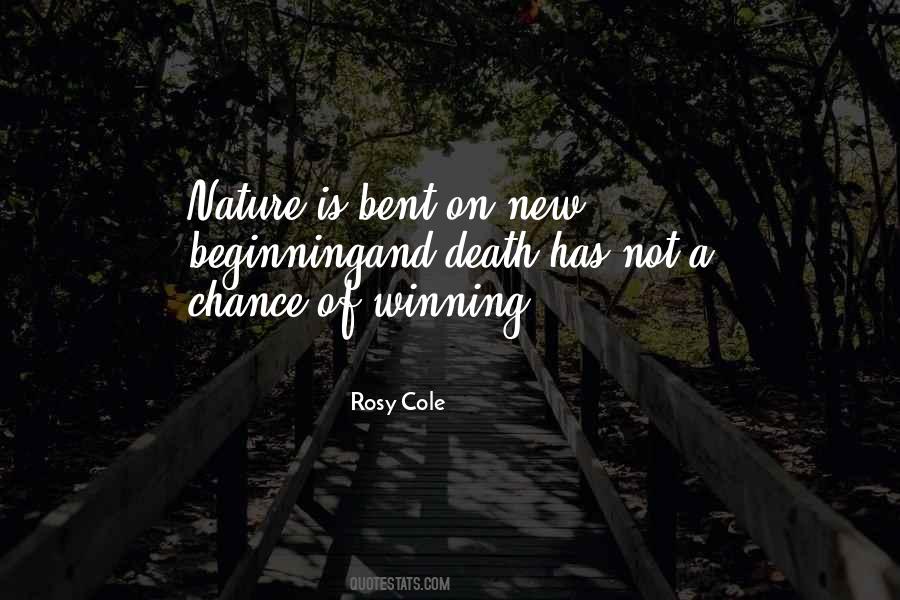 #81. At the end of our lives, when our bodies are about to be laid in Mother Earth, we will know for ourselves whether we are a Two-Legged being full of light or a Two-Legged being full of darkness. - Author: Anasazi Foundation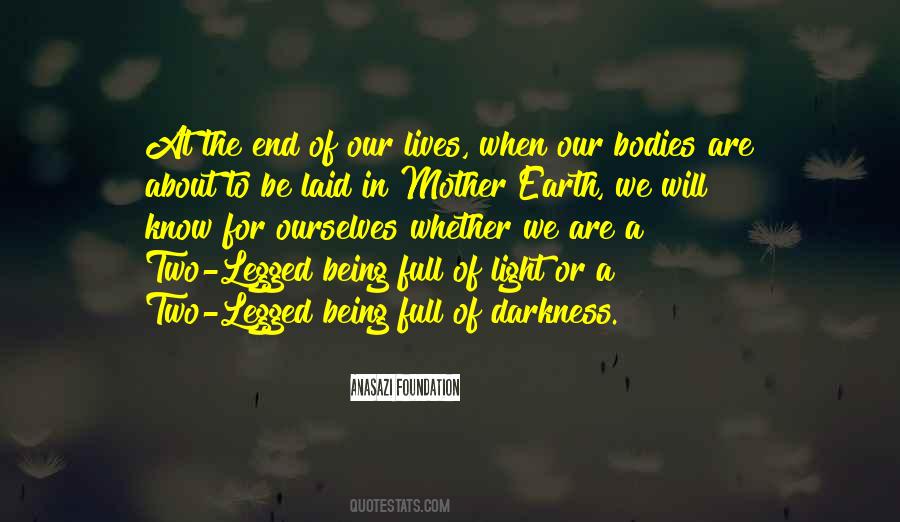 #82. For centuries after Christ, the church and other religions that use cruciform symbols have misrepresented the physical nature of Christ's death with a satanic symbol (cross), and a pagan idol (corpus). This secret has been concealed by the church for centuries after Christ. - Author: Nwaocha Ogechukwu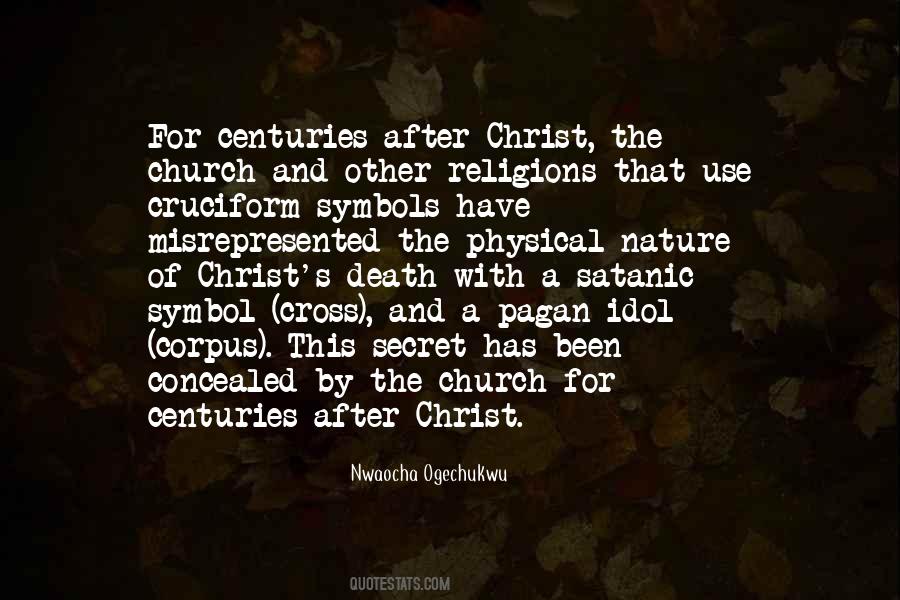 #83. The wind and the rain, gives this place a gleam that just isn't natural. And the ground, alive with crawling things, crawling death. - Author: Ed Wood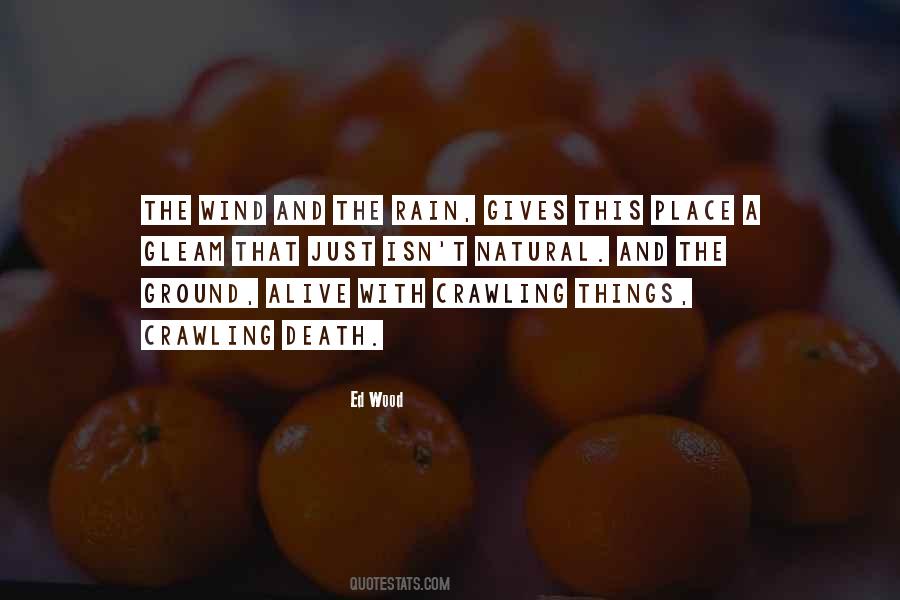 #84. Thus all things are subject to death, sorrow and suffering. I became aware that I too was of the same nature, the nature of beginning and end. What if I searched for that which underlies all creation, that which is nirvana, the perfect freedom from unconditioned existence? - Author: Gautama Buddha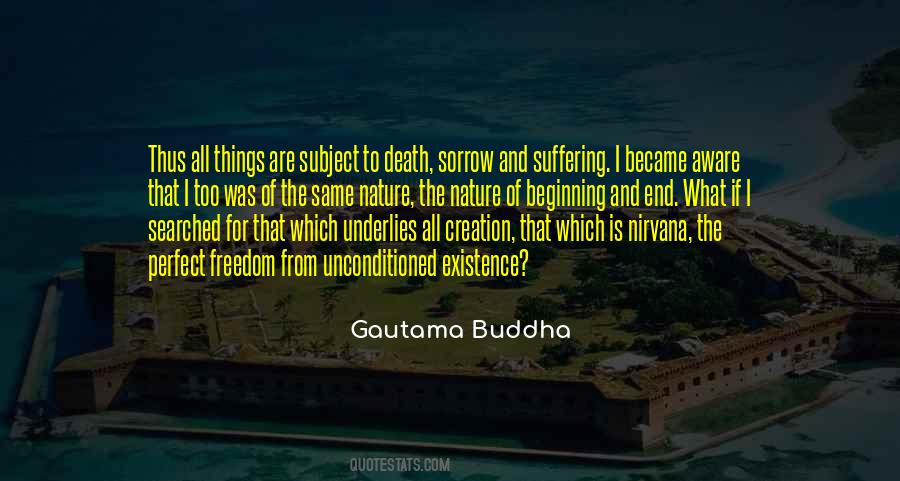 #85. Order always weighs on the individual. Disorder makes him wish for the police or for death. These are two extreme circumstances in which human nature is not at ease. - Author: Paul Valery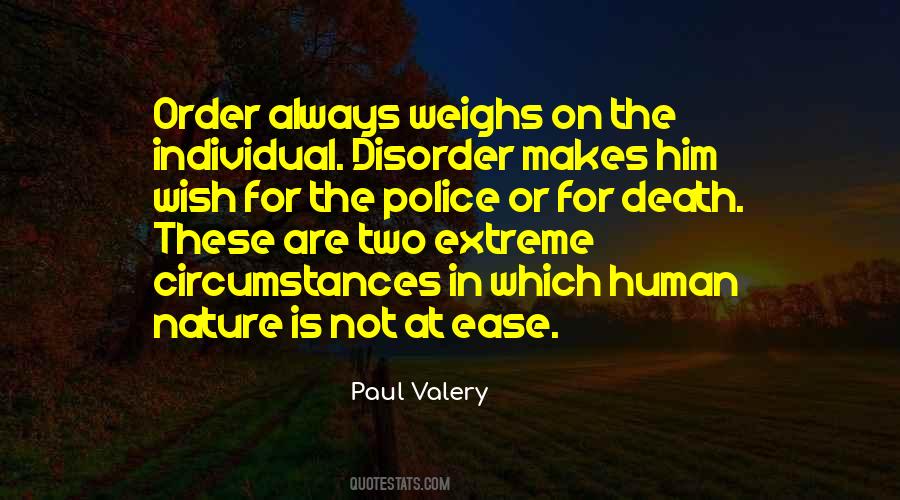 #86. Loss taught me about the frailty and transient nature of man. It taught me humility. It taught me about the urgency of service, of touching lives, of mentoring, of legacy. Of making hay while there is still sunshine and life. - Author: Nana Awere Damoah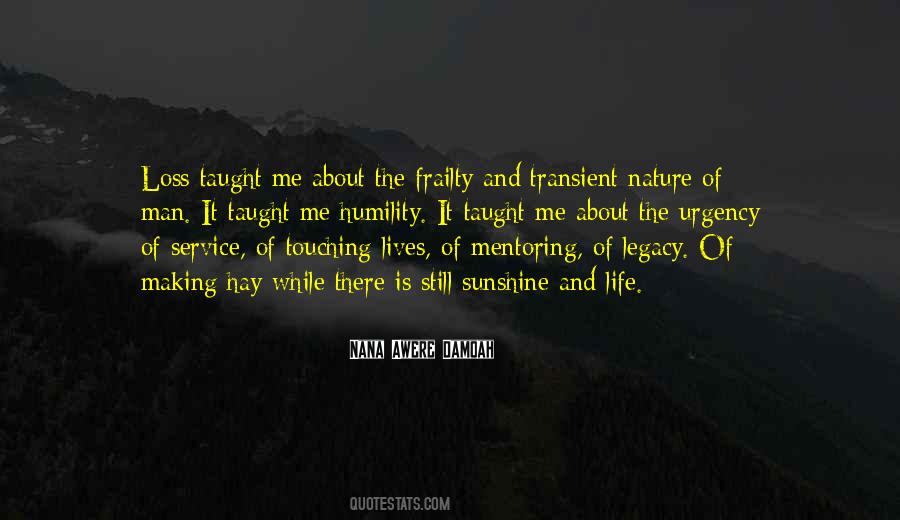 #87. The elephant goad represents Yama, the god of death and bondage. Ganesha thus acknowledges the life-giving aspect of nature as well as the life-taking aspect of nature. - Author: Devdutt Pattanaik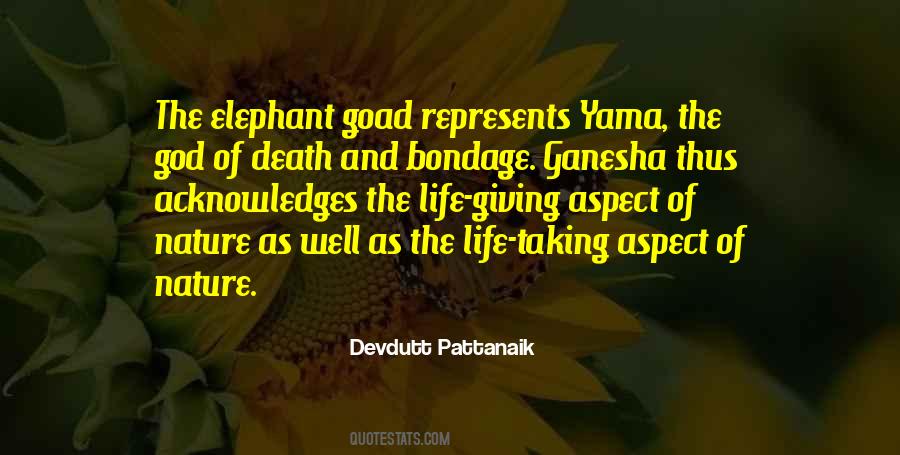 #88. Our nature consists in motion; complete rest is death. - Author: Blaise Pascal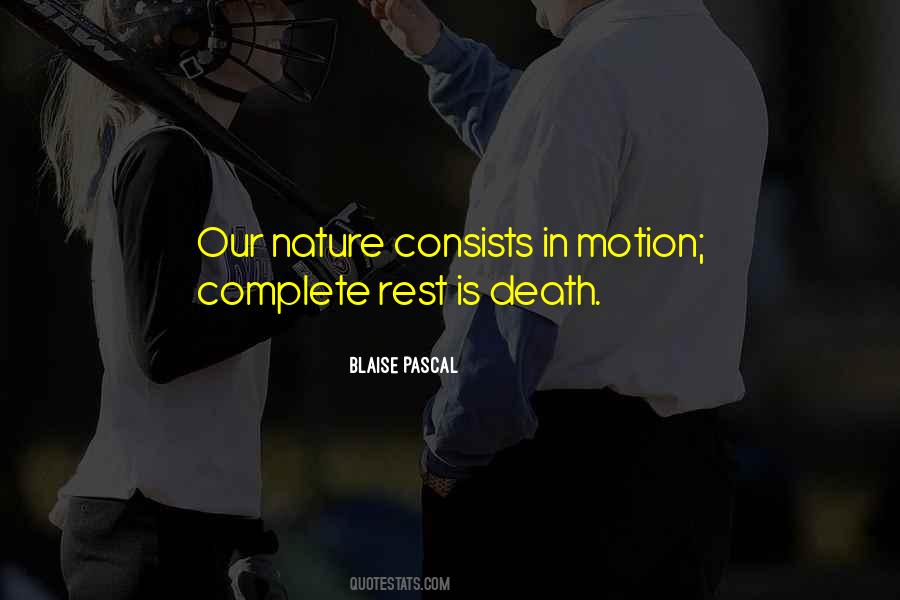 #89. A person gets built and stands for a few years and then nature's demolition team comes in. - Author: Dan Groat
#90. To have thought that, with the right tests and the right lectures, I could be made into a cold-blooded, heartless killer. To have thought that I could ignore the beating of my own heart long enough to stop the beating of another's. - Author: Jessica Khoury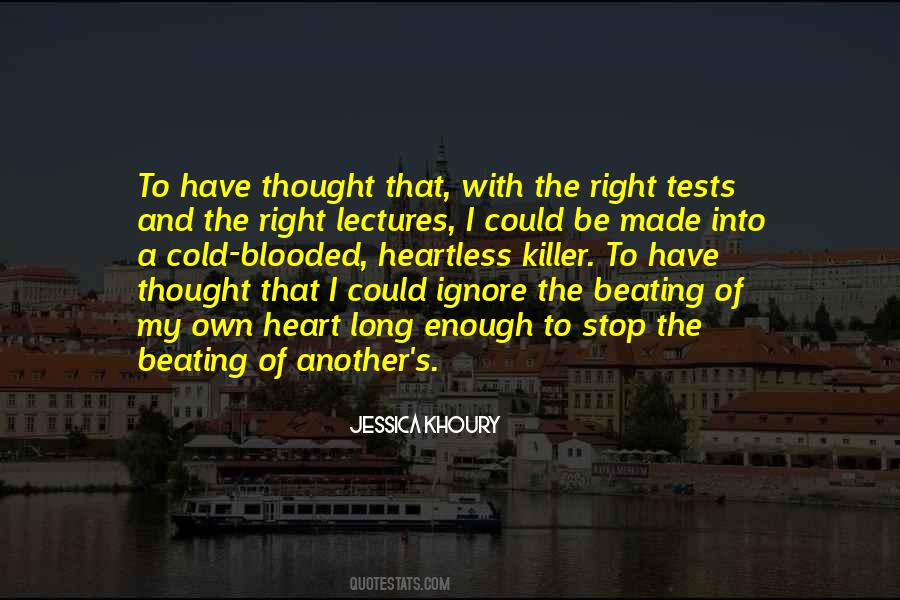 #91. How may paintings have preserved the image of a divine beauty which in its natural manifestation has been rapidly overtaken by time or death. Thus, the work of the painter is nobler than that of nature, its mistress. - Author: Leonardo Da Vinci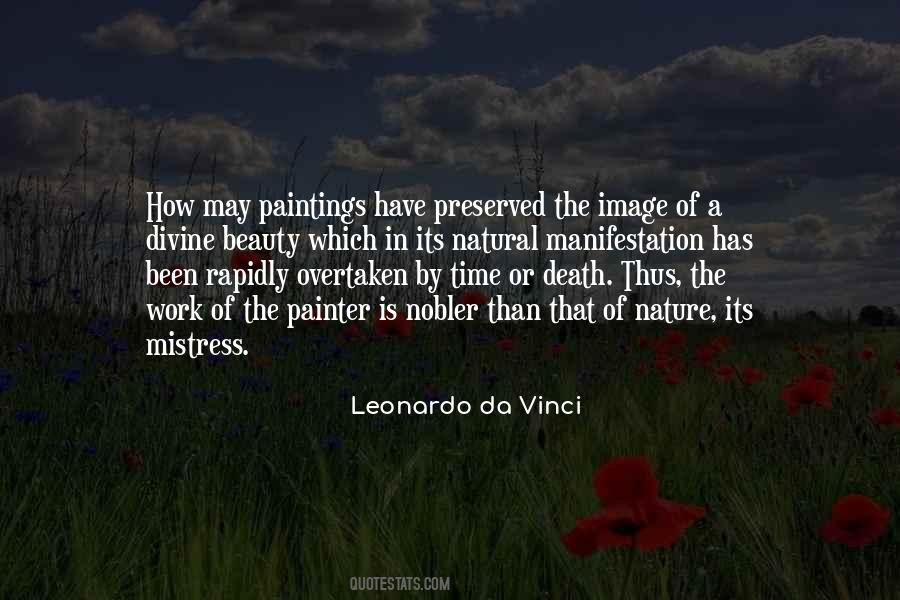 #92. Nature intends that, at fixed periods, men should succeed each other by the instrumentality of death. We shall never outwit Nature; we shall die as usual. - Author: Bernard Le Bovier De Fontenelle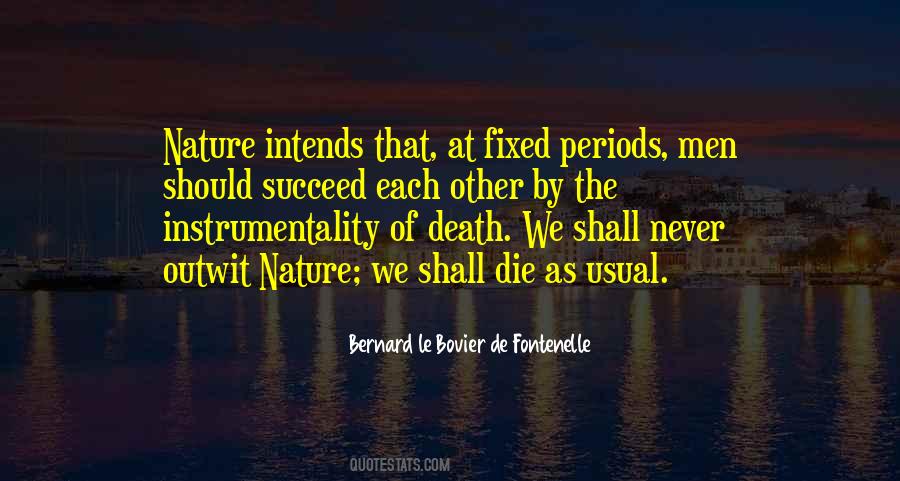 #93. He is embraced by nature, which is waiting, ultimately, to receive him, to re-organize his atoms into another shape. - Author: M. L. Stedman - The Light Between Oceans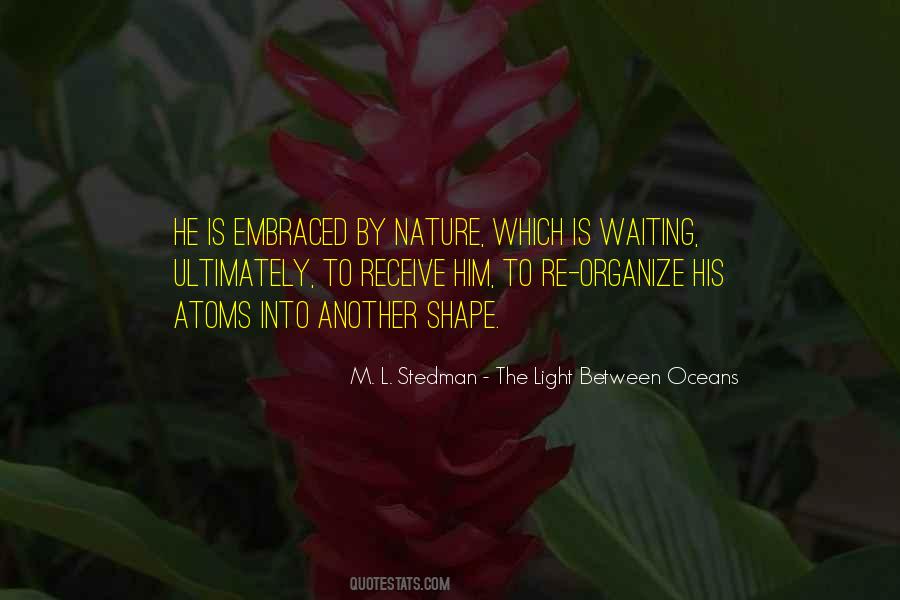 #94. Death is a debt to nature due, Which I have paid, and so must you. - Author: Thomas Pynchon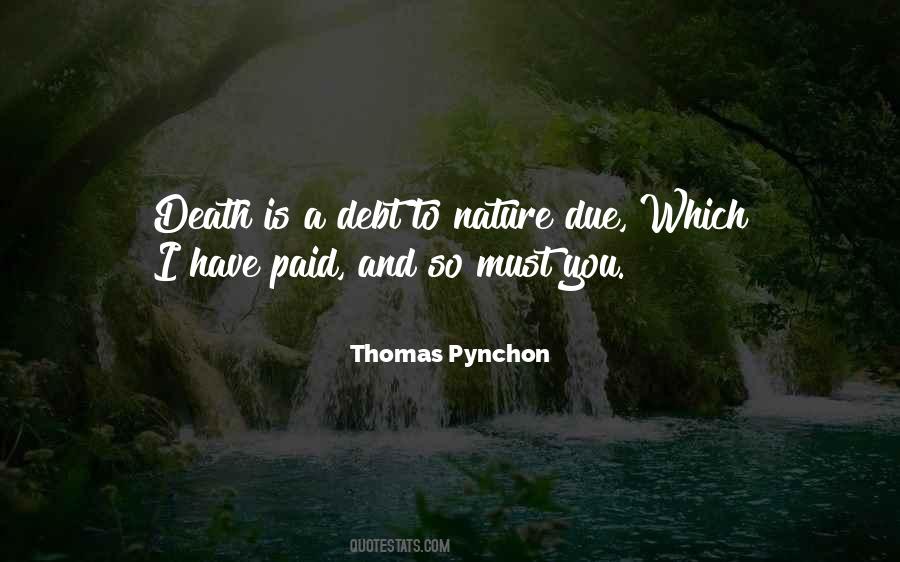 #95. Ah, Death, the spectre which sate at all feasts! How often, Monos, did we lose ourselves in speculations upon its nature! How mysteriously did it act as a check to human bliss - saying unto it thus far, and no farther! - Author: Edgar Allan Poe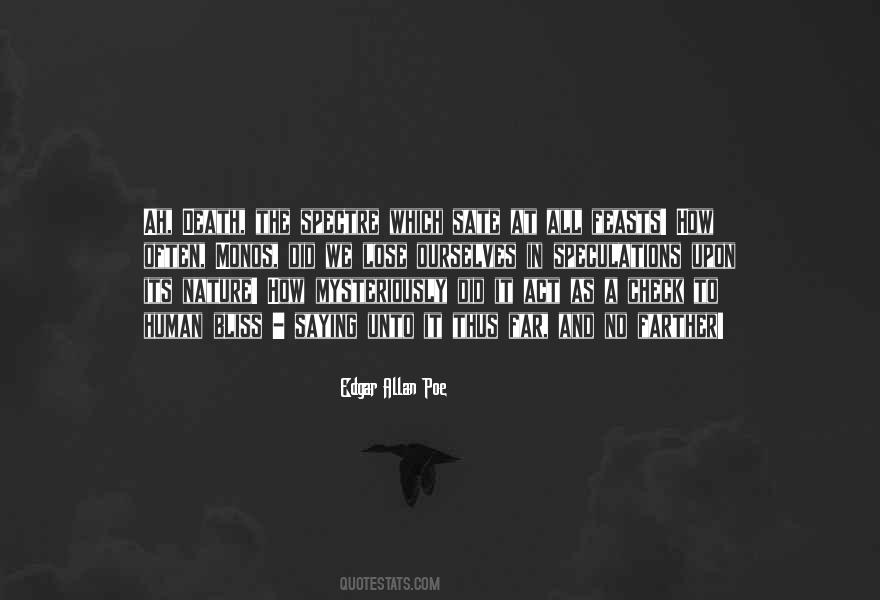 #96. Man is a creature adapted for life under circumstances which are very narrowly limited. A few degrees of temperature more or less, a slight variation in the composition of air, the precise suitability of food, makes all the difference between health and sickness; between life and death. - Author: Robert Stawell Ball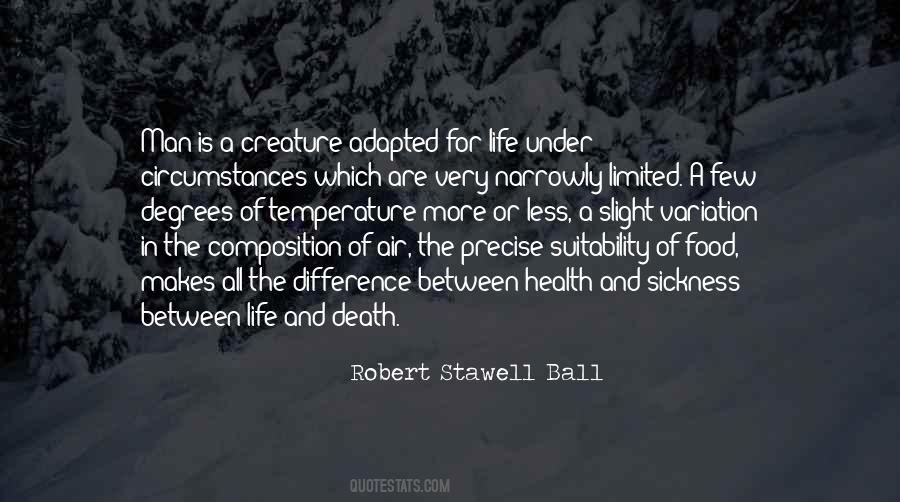 #97. Ideas, like individuals, live and die. They flourish, according to their nature, in one soil or climate and droop in another. They are the vegetation of the mental world. - Author: William Macneile Dixon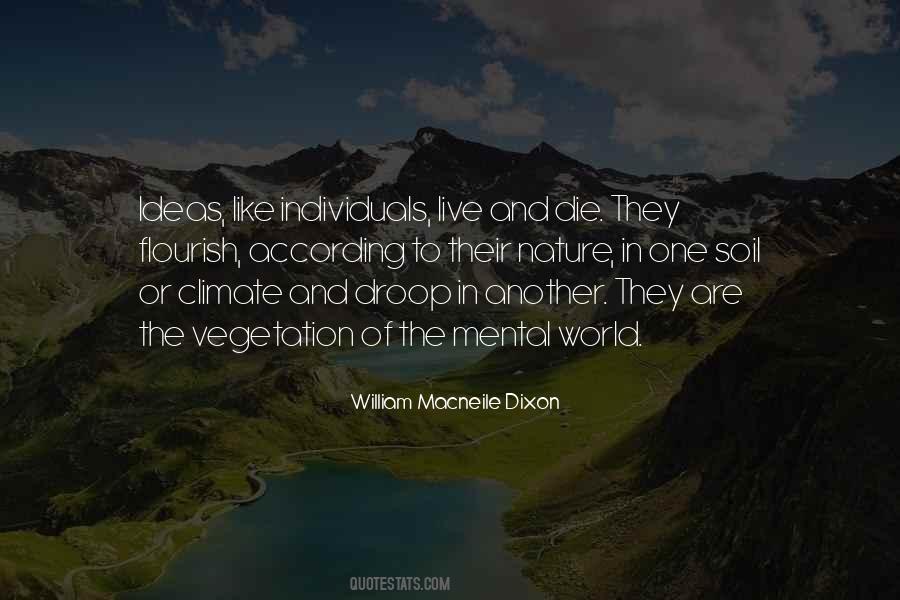 #98. And now the birds were singing overhead, and there was a soft rustling in the undergrowth, and all the sounds of the forest that showed that life was still being lived blended with the souls of the dead in a woodland requiem.
The whole forest now sang for Granny Weatherwax. - Author: Terry Pratchett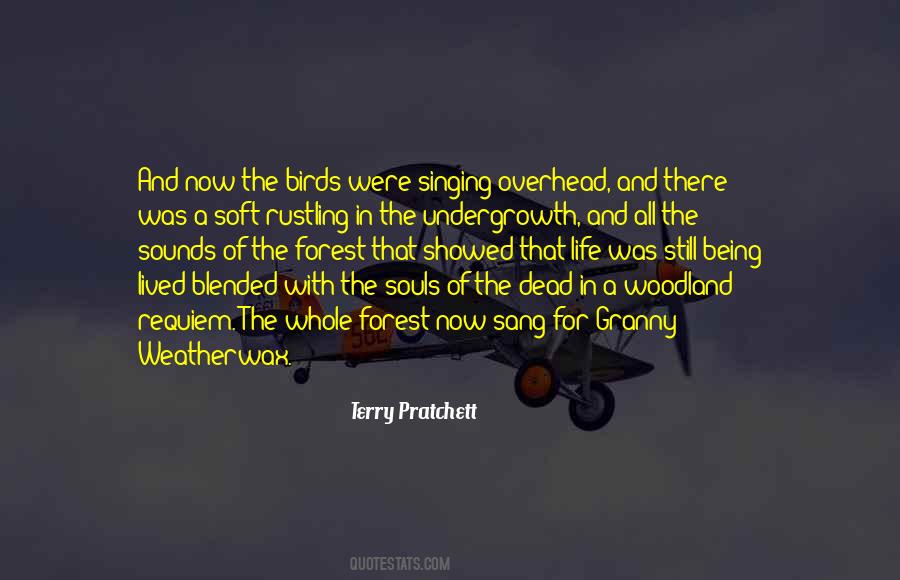 #99. All of life is relationship. We relate to people, things, and ideas, and our actions reflect the tone and substance of each relationship. How we relate to money, to the ideal of love, to nature, to our concept of death, and to our spouse reveals, in the moment, the truth of ourselves. - Author: John McAfee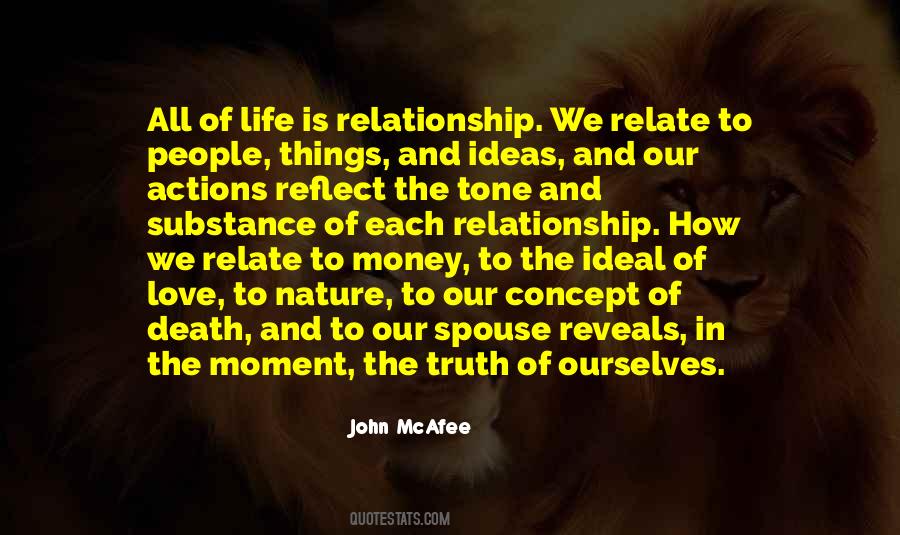 #100. Sometimes I Wonder Where Those Spirits Go After Departing From The Bodies, Then I Realize, They Are All Around Us, In The Nature, Full of Spirits In Different Forms ... - Author: Muhammad Imran Hasan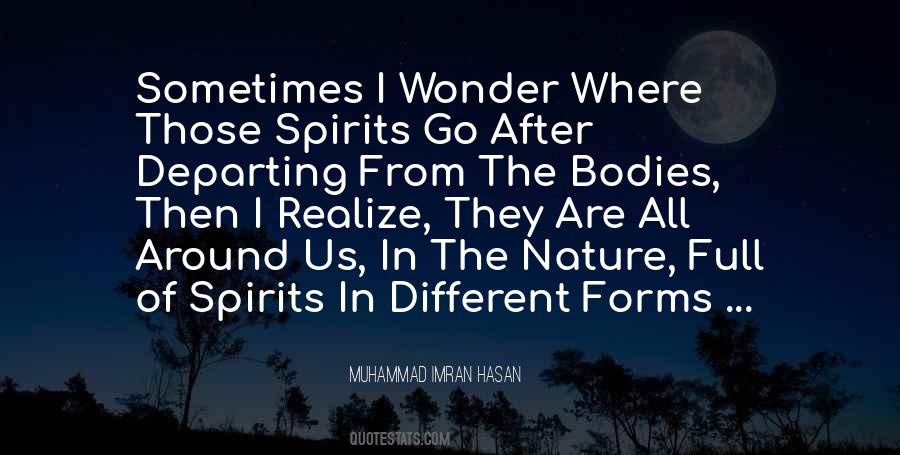 Famous Authors
Popular Topics