My Schedule Famous Quotes & Sayings
List of top 100 famous quotes and sayings about my schedule to read and share with friends on your Facebook, Twitter, blogs.
Top 100 My Schedule Quotes
#1. I like to be very consistent with workouts and getting a good amount of sleep. I've really been enjoying Pilates lately. It's actually really tough to fit in my schedule, but if I can get in a workout three times a week while we're shooting, that feels right. Any more seems to deplete my energy. - Author: Darby Stanchfield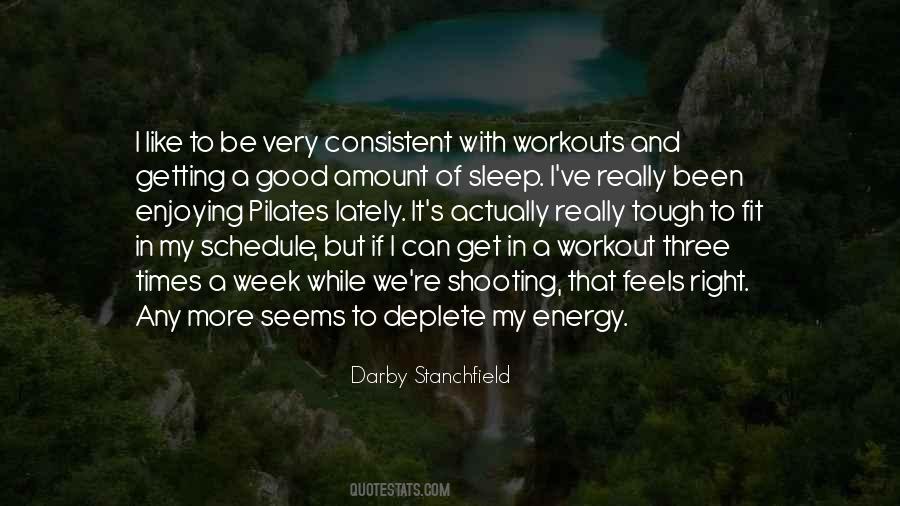 #2. I've been an athlete most of my life and on a disciplined schedule. Working out for me is just part of my every day. - Author: Apolo Ohno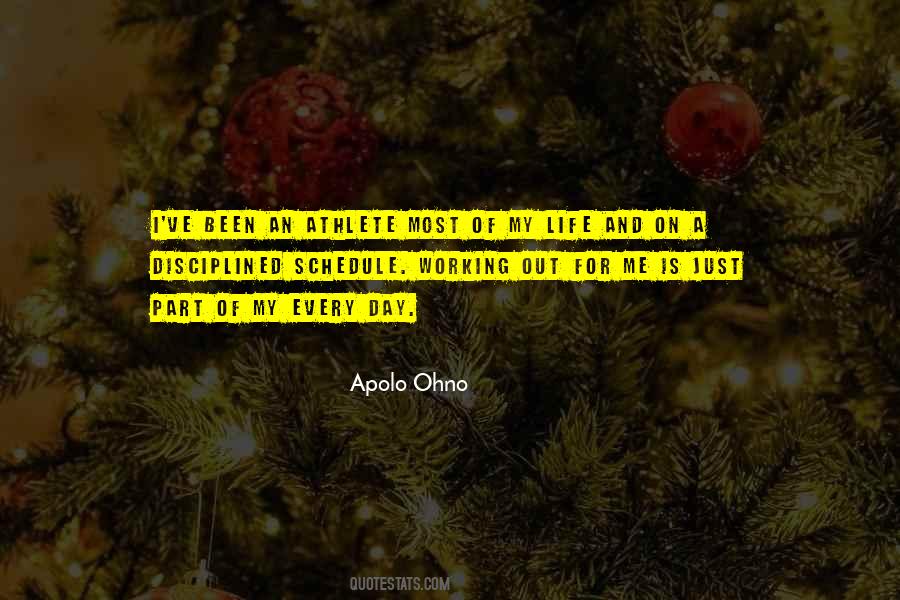 #3. My crazy training-and-competition schedule leaves very little time to focus on my hair. - Author: Lindsey Vonn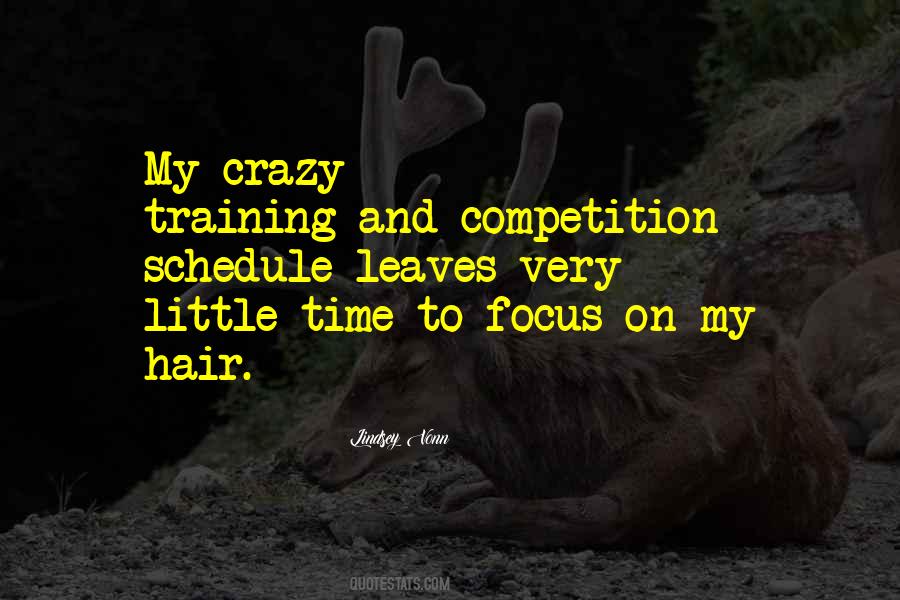 #4. I am taking a risk with my claycourt schedule. It is pretty heavy from now up until Roland Garros. I am scheduled to have one week off before Paris. Playing here is not as tiring as competing abroad. I wanted to see this tournament happen and now that we have the event, I want to see it grow. - Author: Juan Carlos Ferrero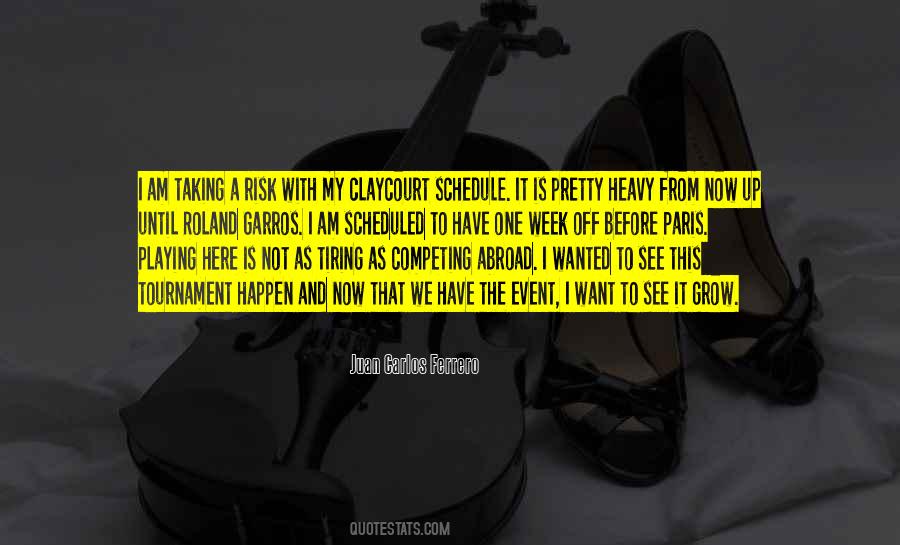 #5. My hectic work schedule does not often permit me time to visit temples, but my conversations with God don't depend on idol worship. Inside my heart, I have developed and sustained a direct communication with Him. - Author: Emraan Hashmi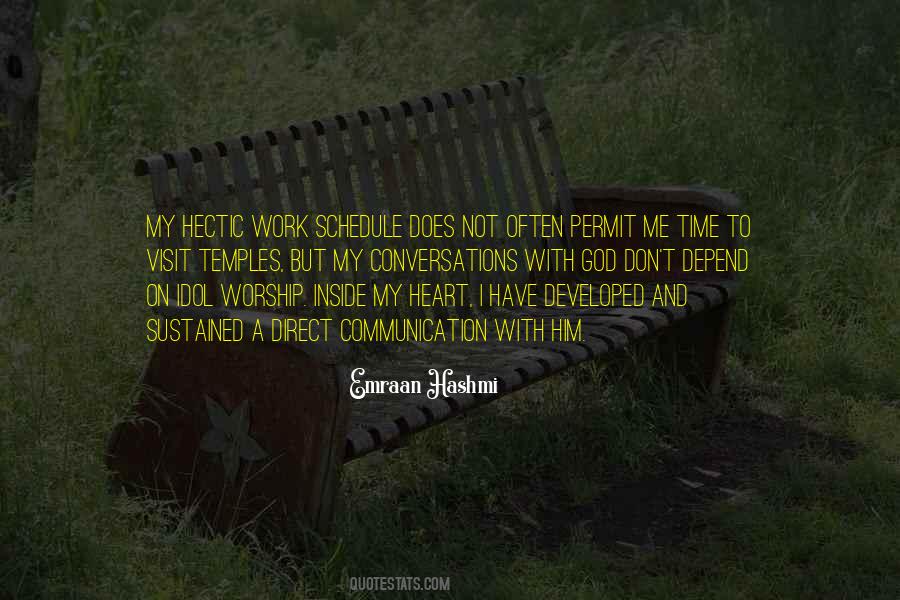 #6. I write a lot in my head. The revision goes on internally. It's not spontaneous and it doesn't have a schedule. - Author: Jamaica Kincaid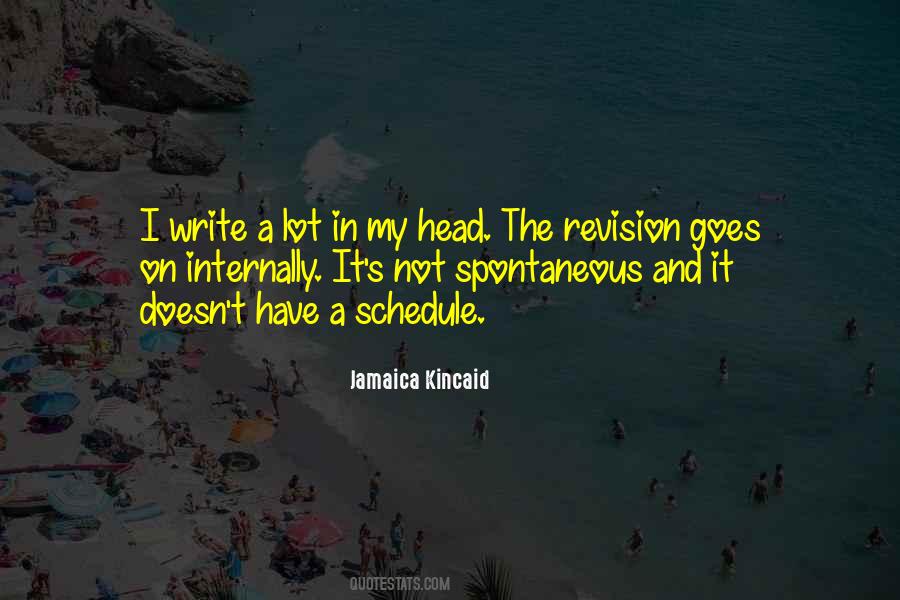 #7. I have always had a very busy life. The difference is that a lot more people are helping advise me what to do, and a lot more people are observing what I do. But in terms of time and working schedule, it is not that different from my normal working week. - Author: Jeremy Corbyn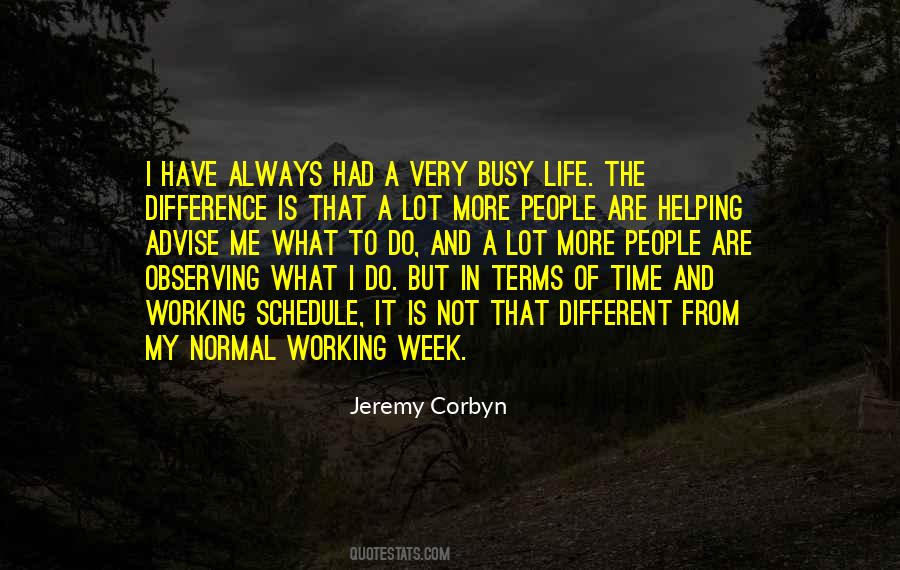 #8. [Referring to rape] It already is bigger than everything else. It lives in front of me, behind me, next to me, inside me every single day. My schedule is dictated by it, my habits by it, my music by it. - Author: Daisy Whitney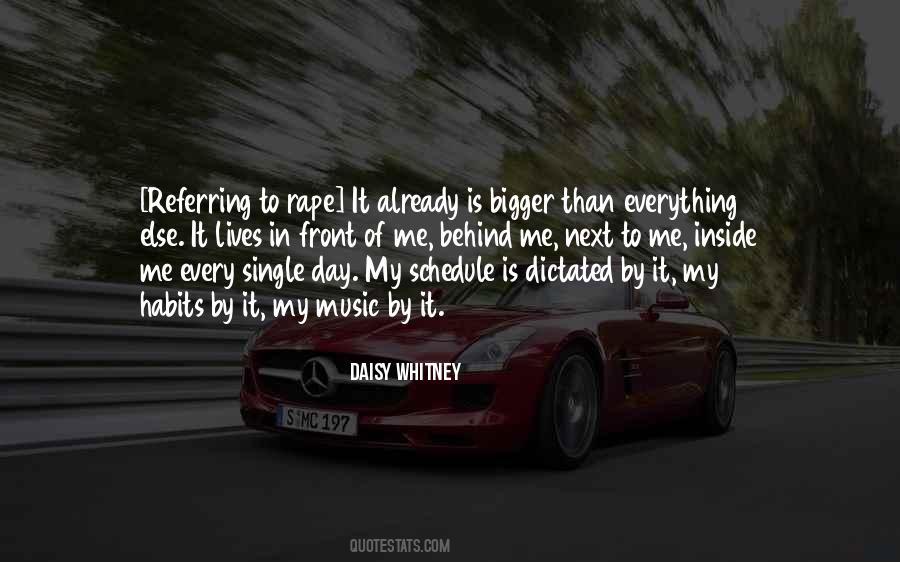 #9. Those who say that Serena isn't serious about tennis; she wants to go Hollywood. That's true, about Hollywood. I would love to get a lot of acting gigs. But you wouldn't believe the stuff I've turned down because of my tournament schedule ... I would do well beside (comedian) Chris Tucker. - Author: Serena Williams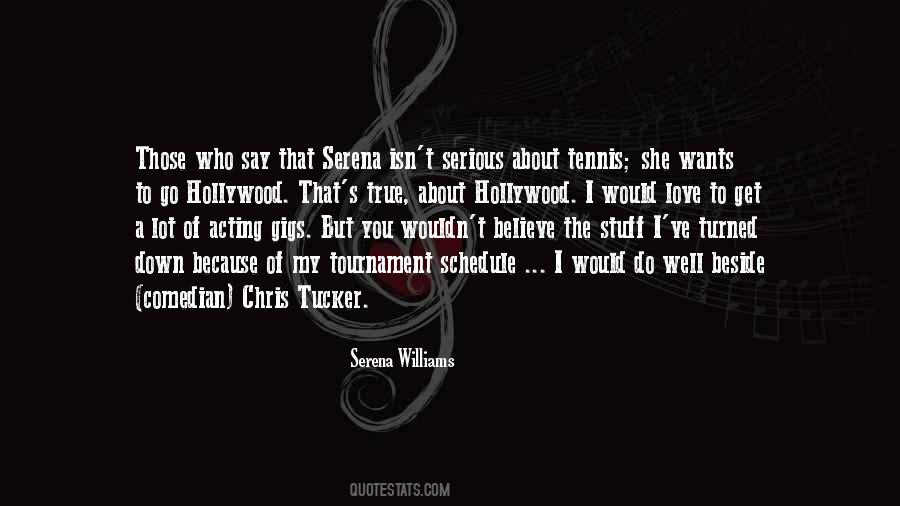 #10. When I have a full schedule like that, I don't see myself sitting there for a couple of months, doing the research, going through a painful process, it's just not my thing anymore. - Author: Ang Lee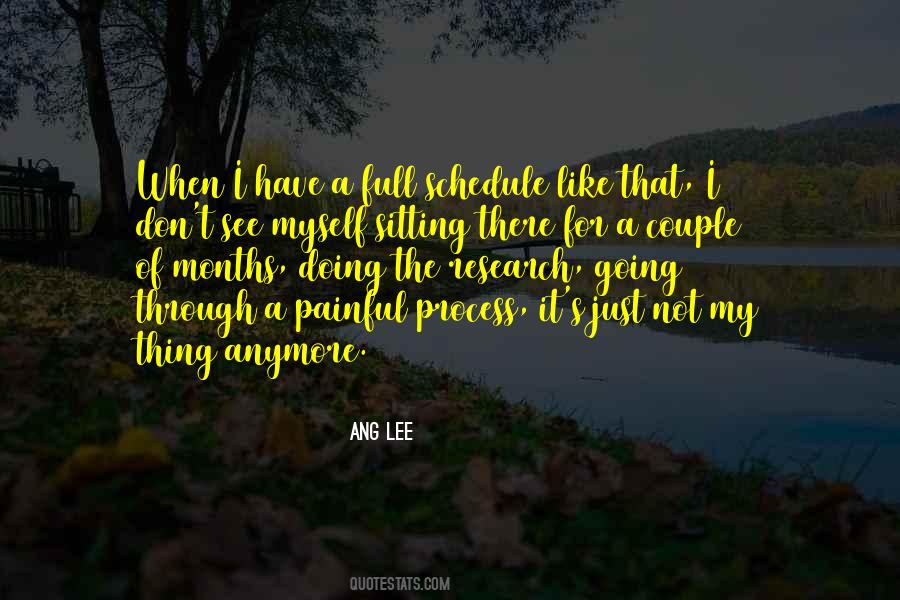 #11. As an artist you're on a journey of discovery and sometimes that journey takes a long time, doesn't subscribe to [a] train schedule, to the punch-clock. And I need to read a lot to make my pages happen. - Author: Junot Diaz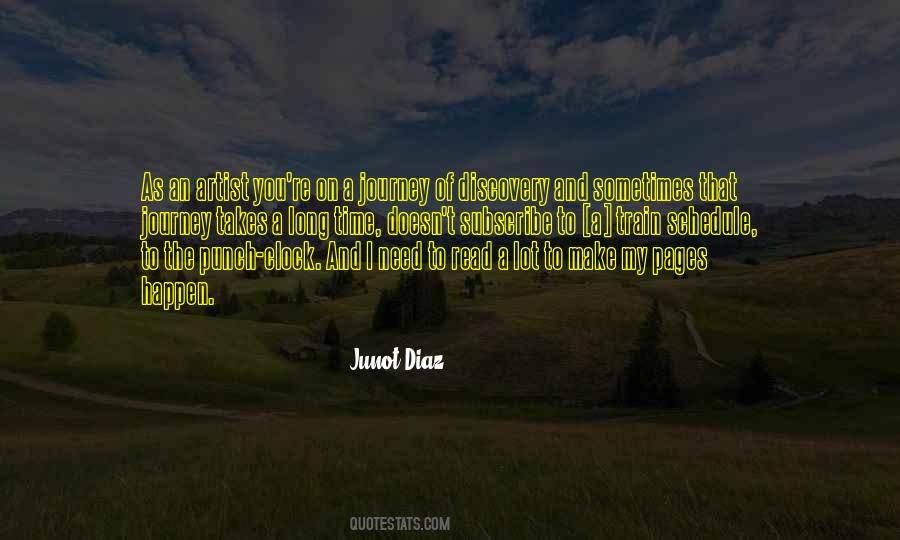 #12. I felt fine after 24 hours and asked the state commission to prolong my stay in space to three days. And I carried out the entire schedule. Could I have done that if I had been half-dead? - Author: Valentina Tereshkova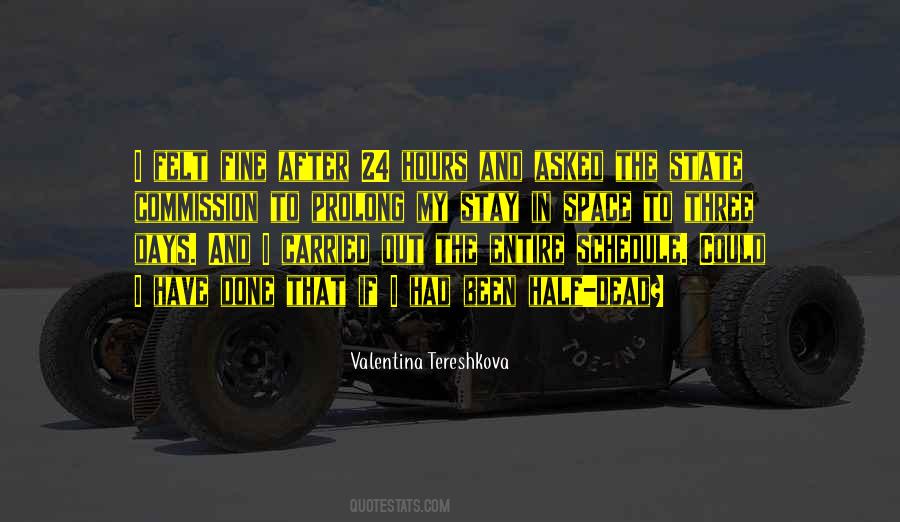 #13. Because of my crazy work schedule, I have become something of a master at changing my clothes while driving. The men driving next to me love it. - Author: Vanessa Marcil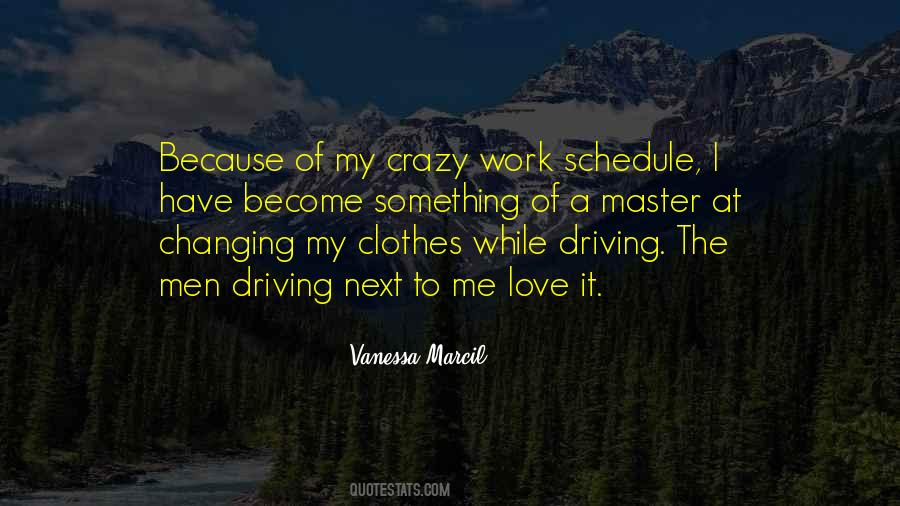 #14. Its true. Im a simple person. Some people tend to live from trauma to trauma, and that energizes them. I have a hectic schedule, but my mind seeks simplicity - like being in nature, a long bike ride, or sitting on the back porch. - Author: Amy Grant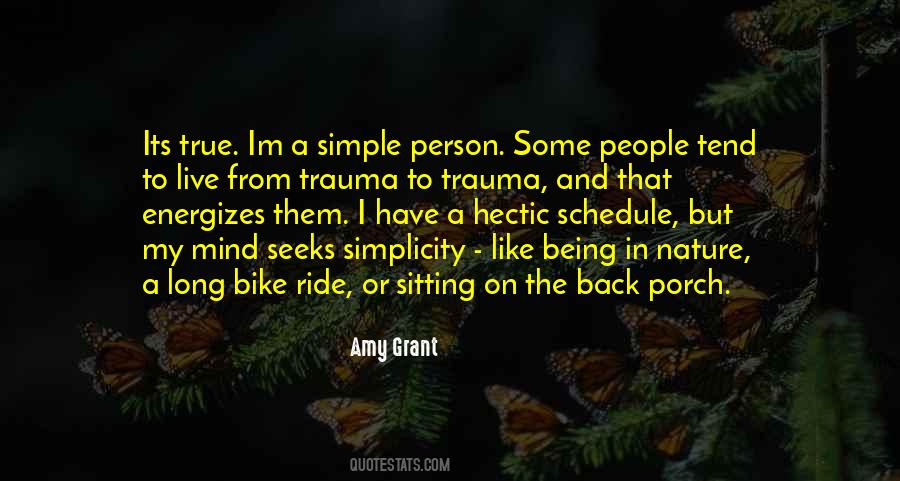 #15. Any job I choose has to work with my schedule with my kids. I don't want to miss any of my time with them. - Author: Josie Bissett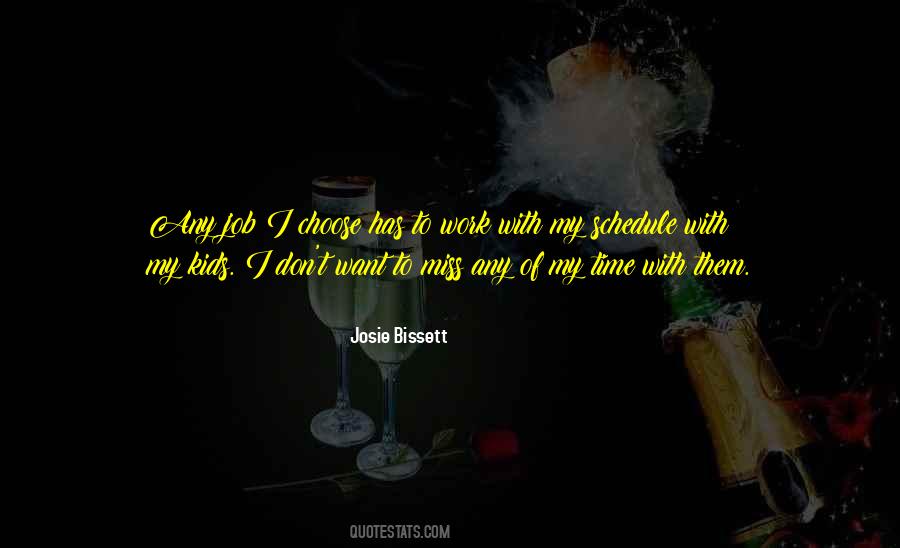 #16. If you'd see my schedule, you'd know I have no time to slow down. - Author: Tommy Lasorda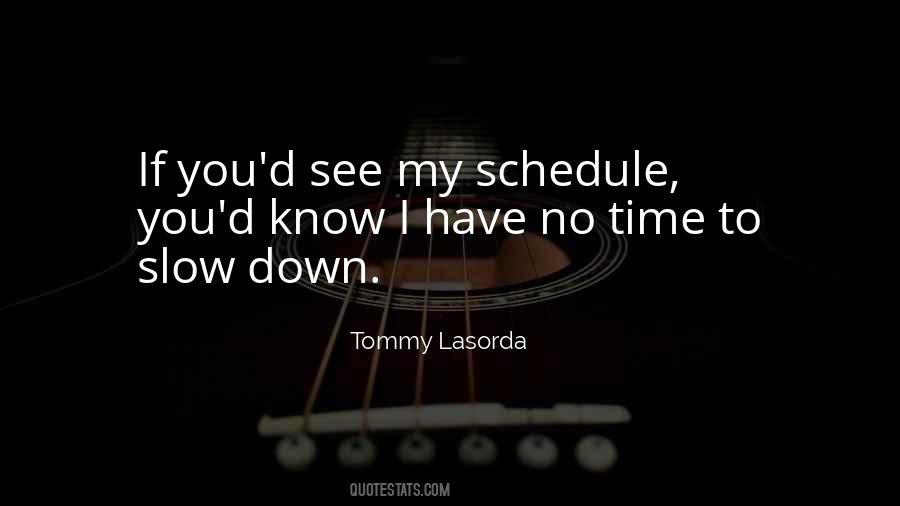 #17. Suddenly I was writing a lot of screenplays, and I was no long in New York, so I stopped acting in plays, and it just became too tricky to find a part to play, either in a play or a film that coincided with my schedule writing and or directing. - Author: Michael Cristofer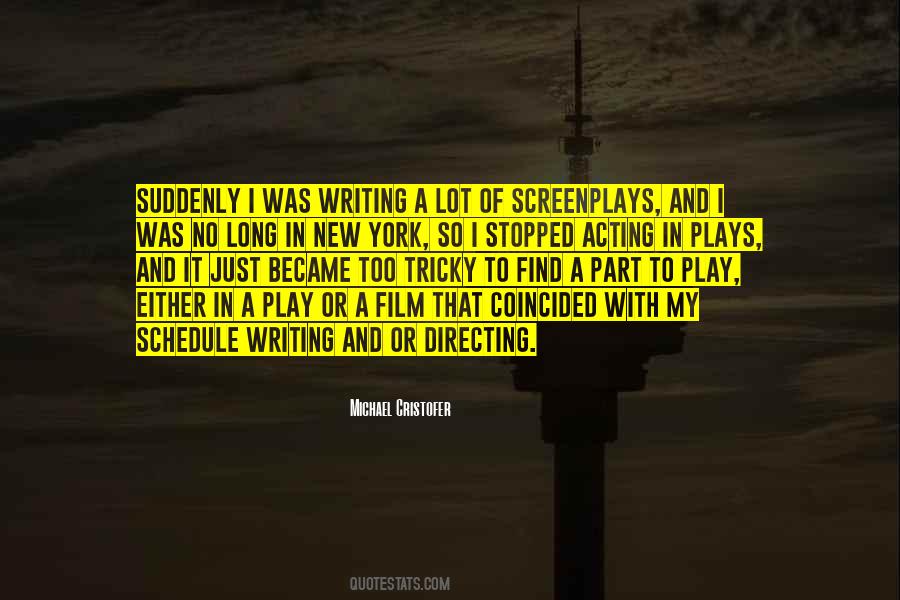 #18. If I didn't have my little schedule book, I wouldn't get out of bed in the morning. - Author: Robert Osborne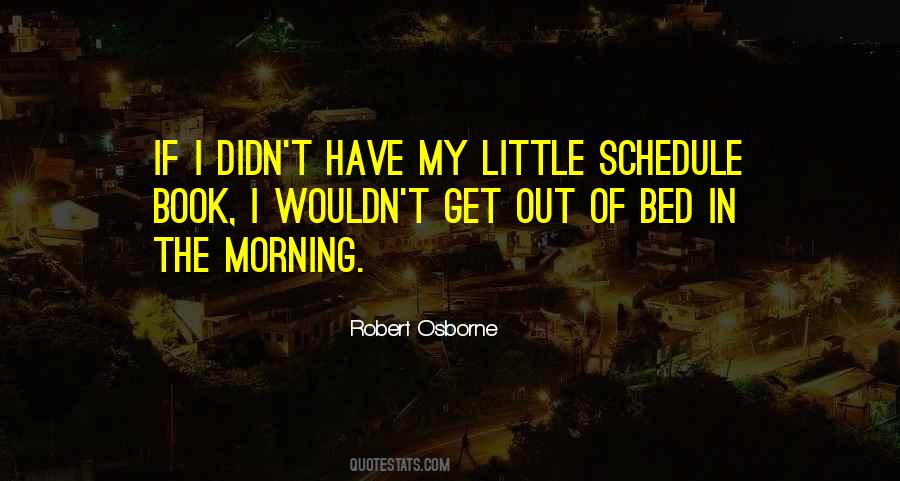 #19. After a couple hours with a difficult and noncompliant patient, I sometimes felt a buzzing in my ear. Was my job sucking the life out of me? How did this person get on my schedule? - Author: Adele Levine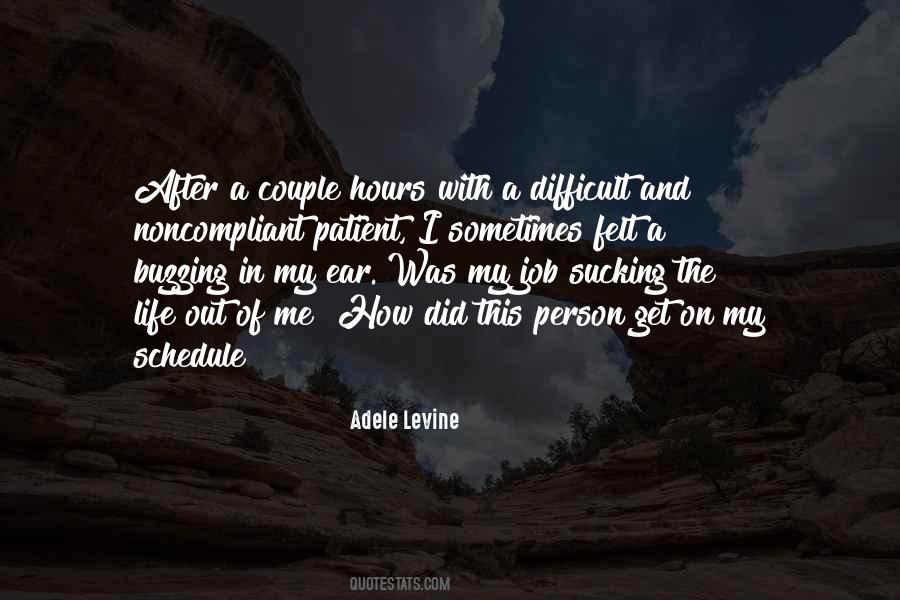 #20. My daily schedule is quite hectic, but I have to put my health first in order to be the best mom and wife I can be. - Author: Ellen Pompeo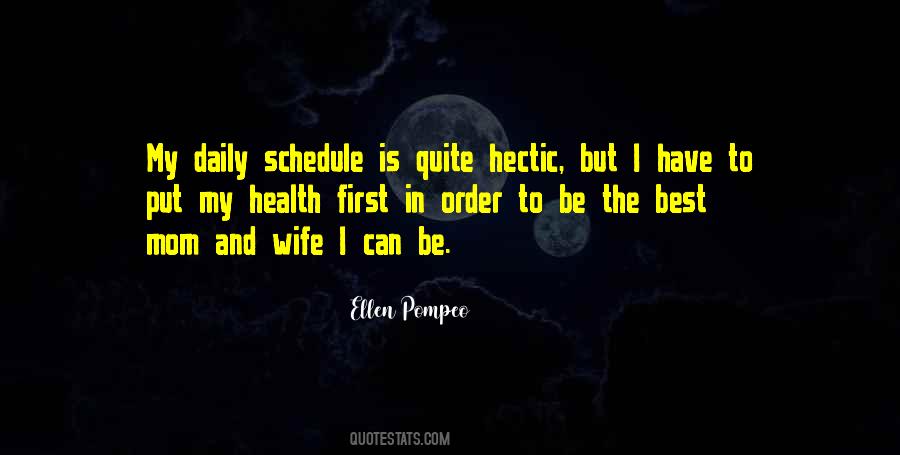 #21. I was taking piano lessons with a very good piano instructor in Toronto, and I'm afraid due to my schedule and discipline, it kind of fell apart. One thing lead to another and I was unable to practice as much as I wanted to. - Author: Geddy Lee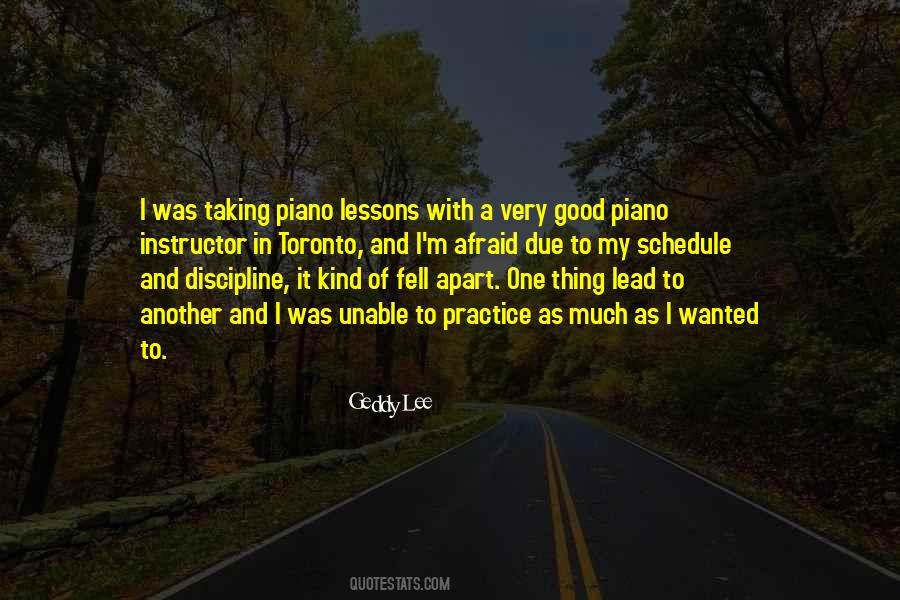 #22. I'm never without my personalised Anya Hindmarch diary - I keep my schedule online, too, but my diary is always in my bag. It's crammed Post-its. - Author: Aerin Lauder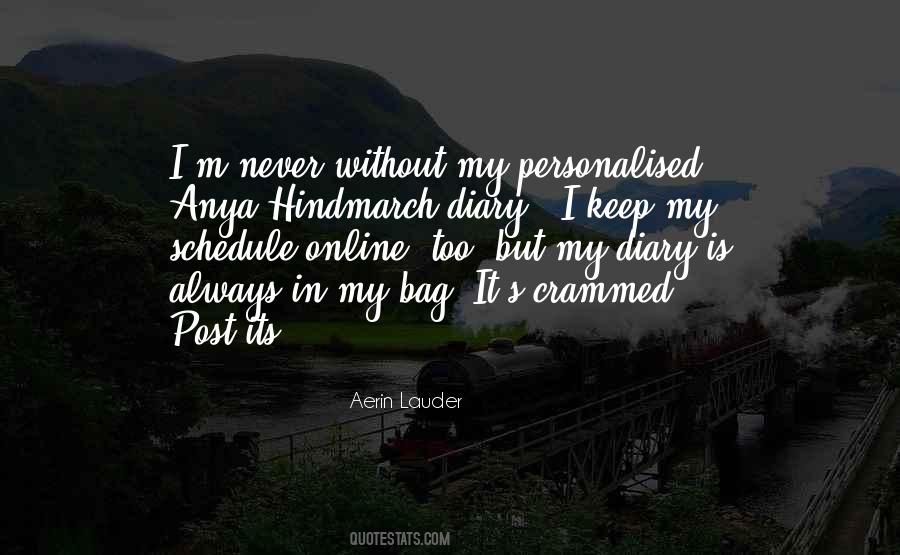 #23. When I do Pilates, or when I do work out, I feel better all day. Yet I still struggle to keep it on my schedule. - Author: Maria Bello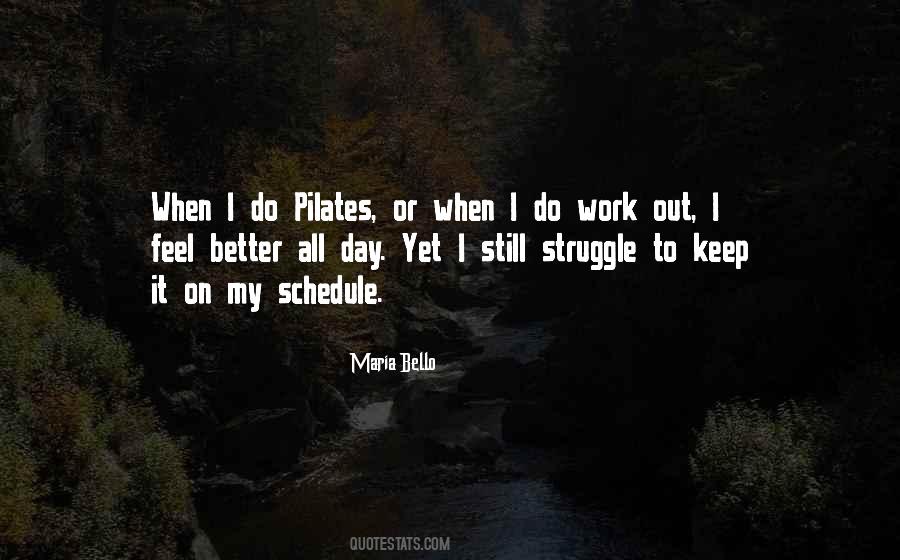 #24. As a lady of clocklike precision yourself, you may appreciate my schedule. I have kept strictly to it every day for the past decade. From eight in the morning to eight in the evening, I devote myself to my duties. Then from eight in the evening to eight in the morning, I . . . do . . . not. - Author: Erica Ridley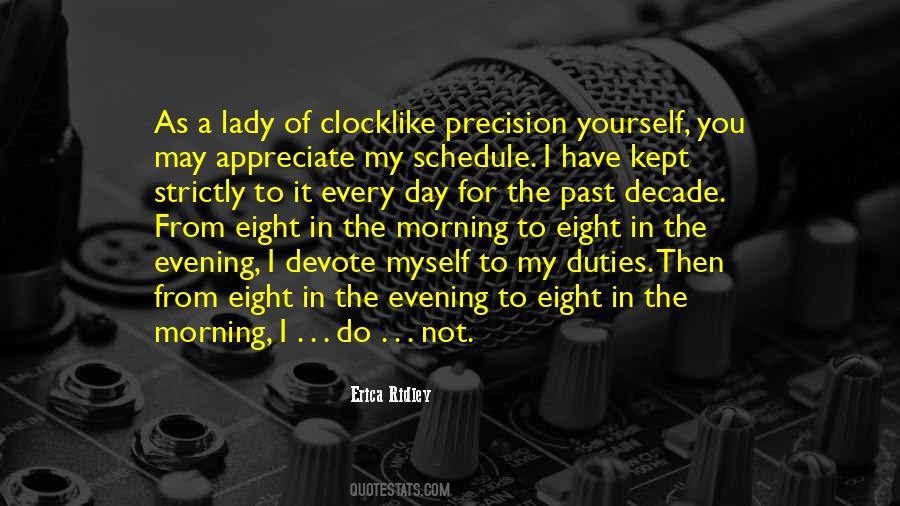 #25. When I'm writing a novel or doing other serious writing work, I do it on a schedule that dictates writing either 2,000 words a day or writing until noon. After I hit whichever mark comes first, then I can give my attention to everything else I have to do. - Author: John Scalzi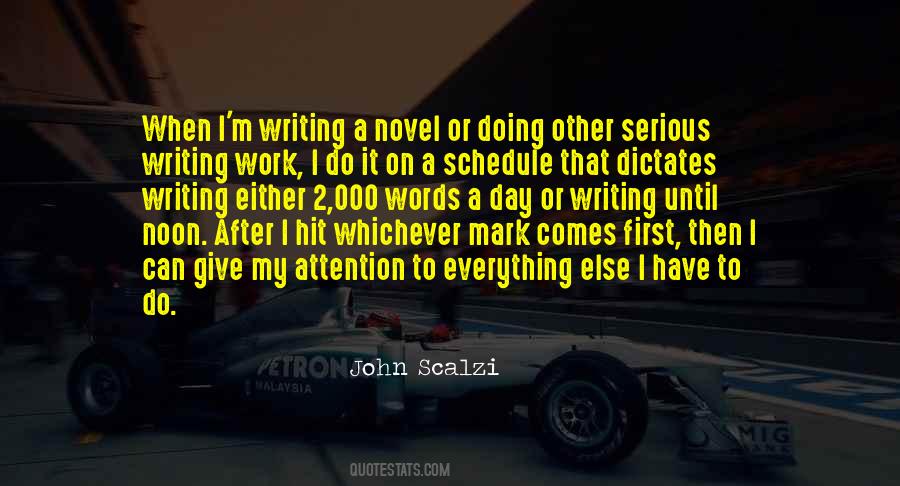 #26. It's my responsibility to make the movie work with the schedule and money we have. It's my job to get the best movie we can do in the time we have. - Author: George Tillman Jr.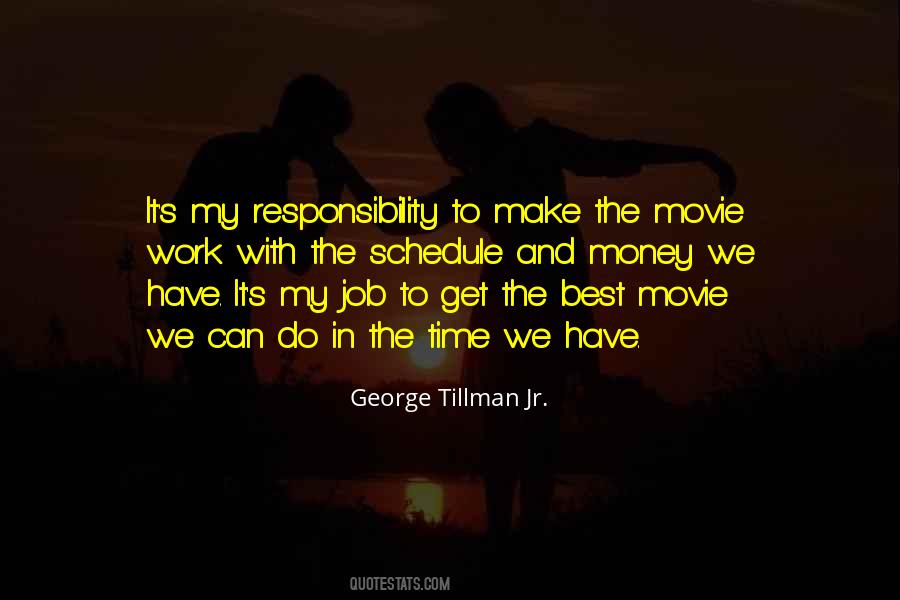 #27. My schedule for today lists a six-hour self-accusatory depression. - Author: Philip K. Dick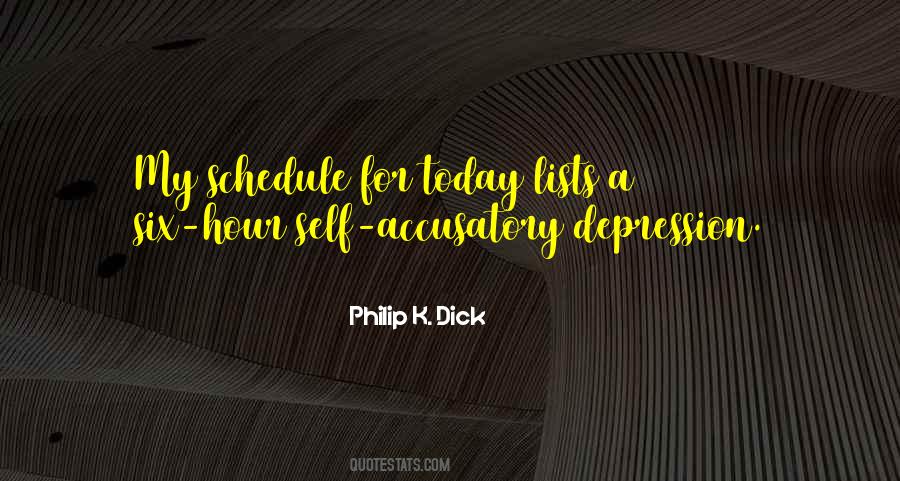 #28. My son is fully vaccinated, but there is one immunization on the standard schedule that he did not receive on time. This was meant to be his very first shot, the hep B administered to most babies immediately after birth. - Author: Eula Biss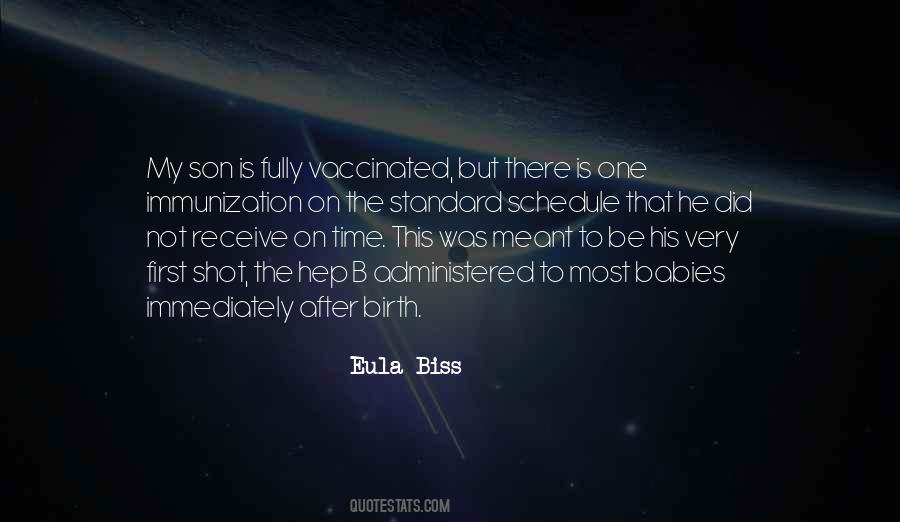 #29. My downtime tends to resemble my uptime. Weekends are workdays, but toned down. Over the whole weekend, I may have five meetings, as opposed to six on a weekday. I used to play piano for 30 minutes at night, but I had to pull that out of my schedule. I don't have time for nonwork stuff. - Author: Aaron Levie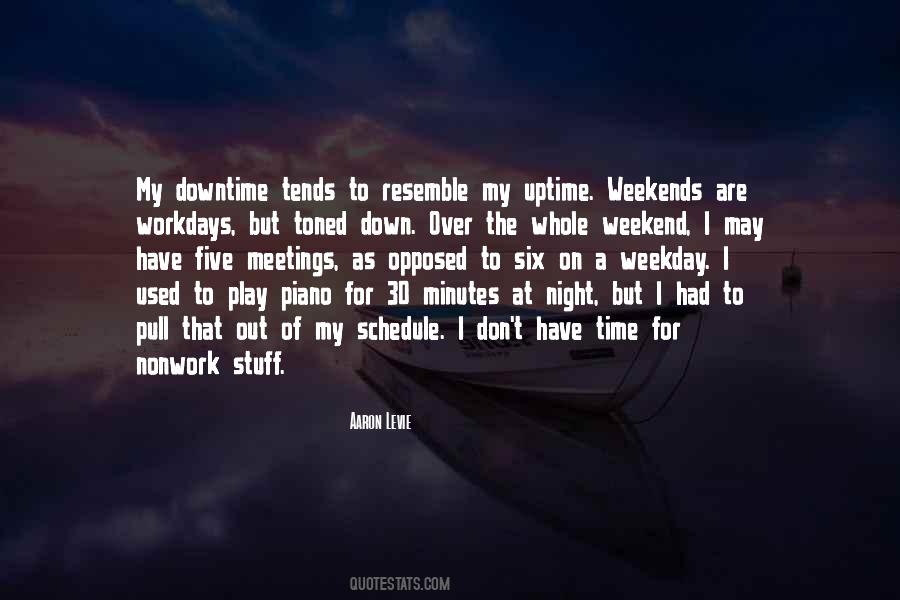 #30. With my schedule being so crazy, I can't call every day or hang out with my friends like I used to and that's definitely sad. - Author: Jordin Sparks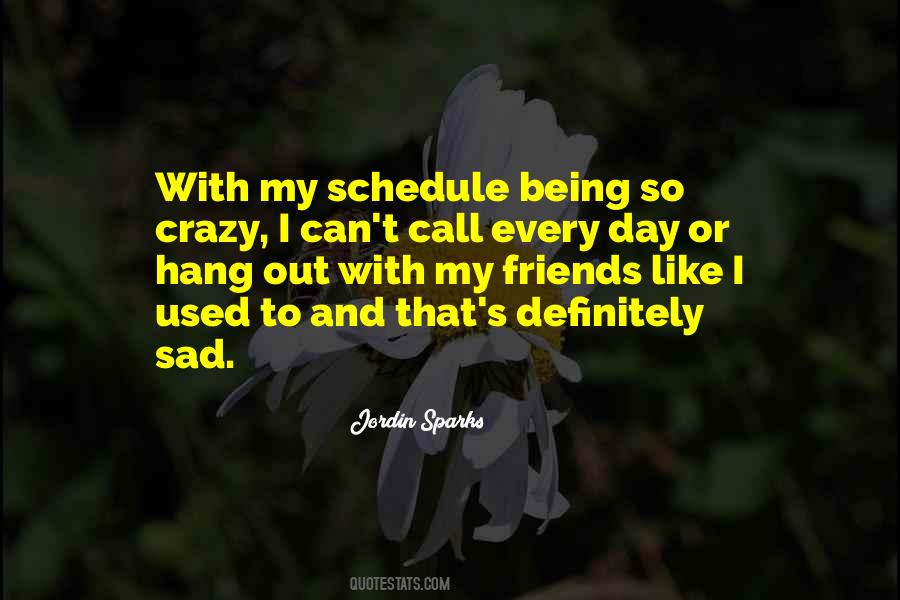 #31. I stayed attached to baseball through the kids and through minor league baseball, and I'm very satisfied with the schedule it allows me to have, which means I'm home until my kids go off to college. I value that time. - Author: Cal Ripken Jr.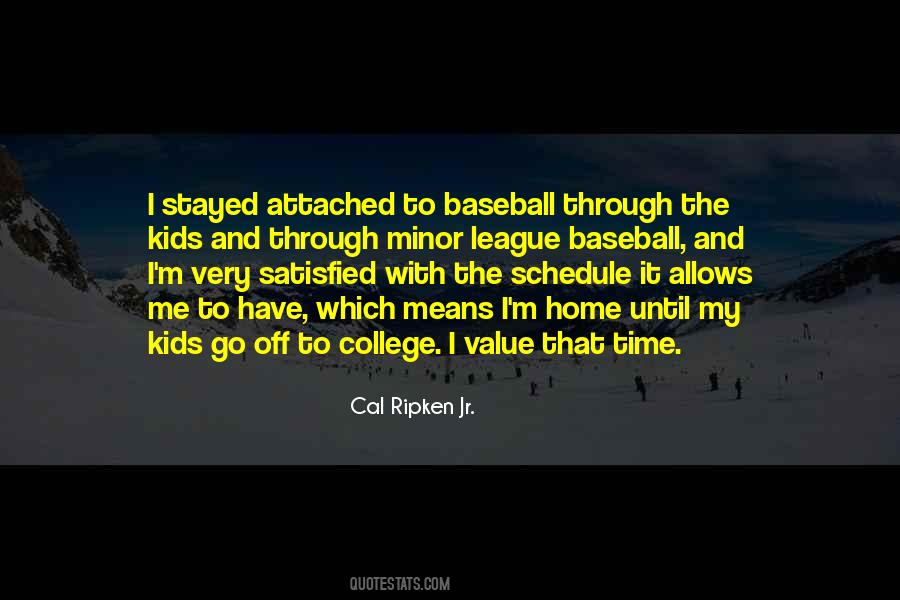 #32. I don't see myself playing or adjusting my schedule for senior tournament golf. - Author: Greg Norman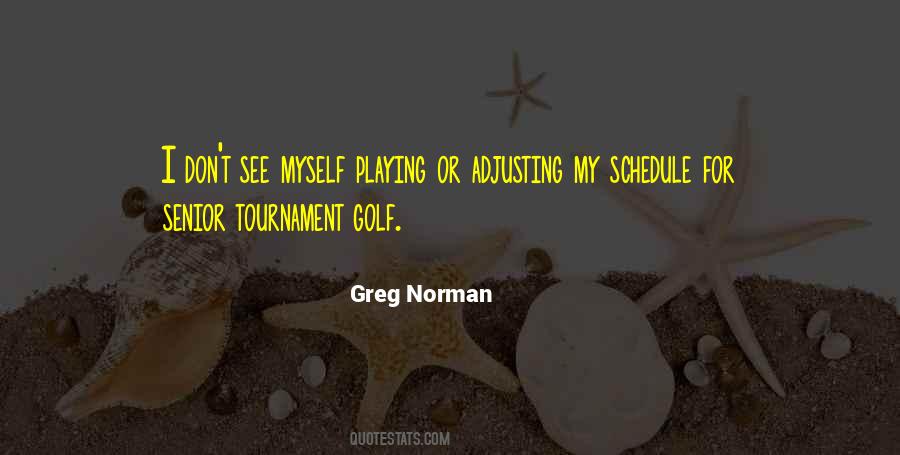 #33. I'm not big on regret. It's not on my schedule. - Author: Joss Whedon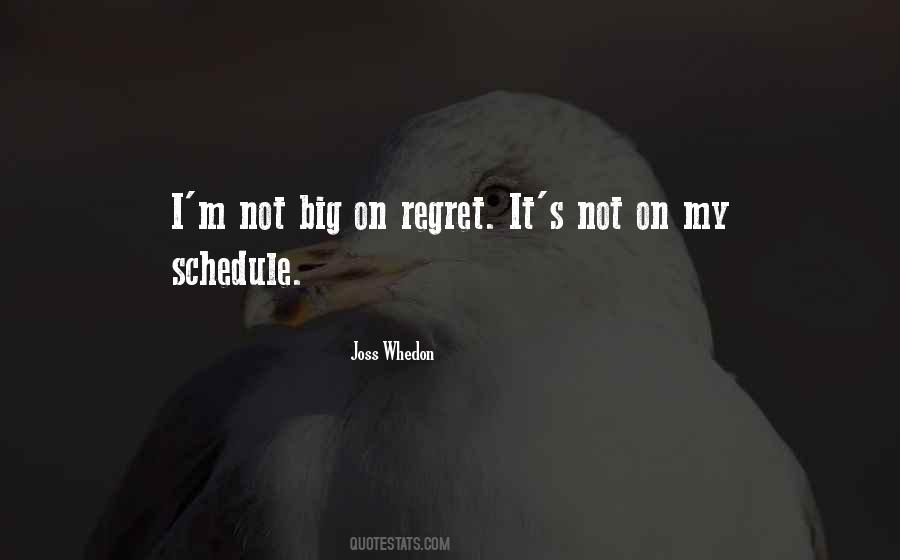 #34. It's strange, people have asked me what my schedule is and what is my process like, and I can't even answer it. - Author: Adam Rapp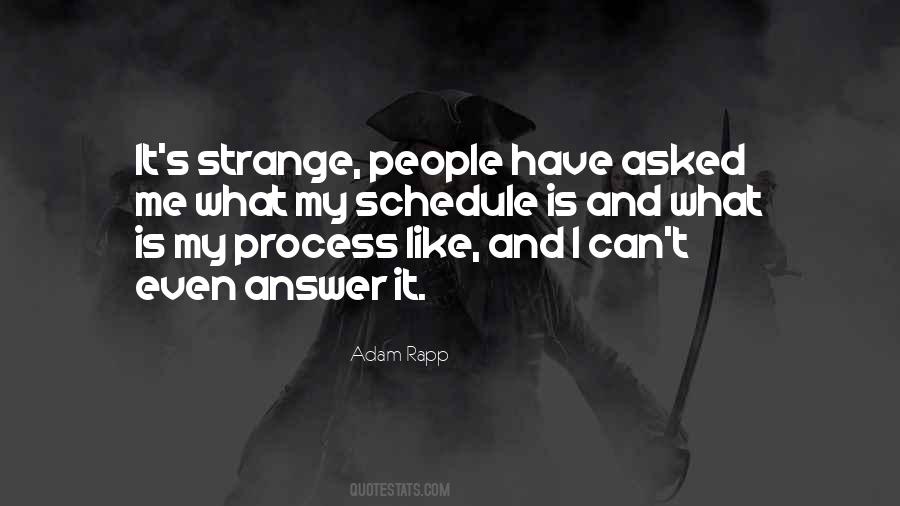 #35. I was working, like, 14-hour days on 'Fargo,' and now if I schedule more than two things in a day, I'm like, 'Whoa, you guys. That's two train rides, and I have to plan for an hour-and-a-half lunch with my cat.' - Author: Allison Tolman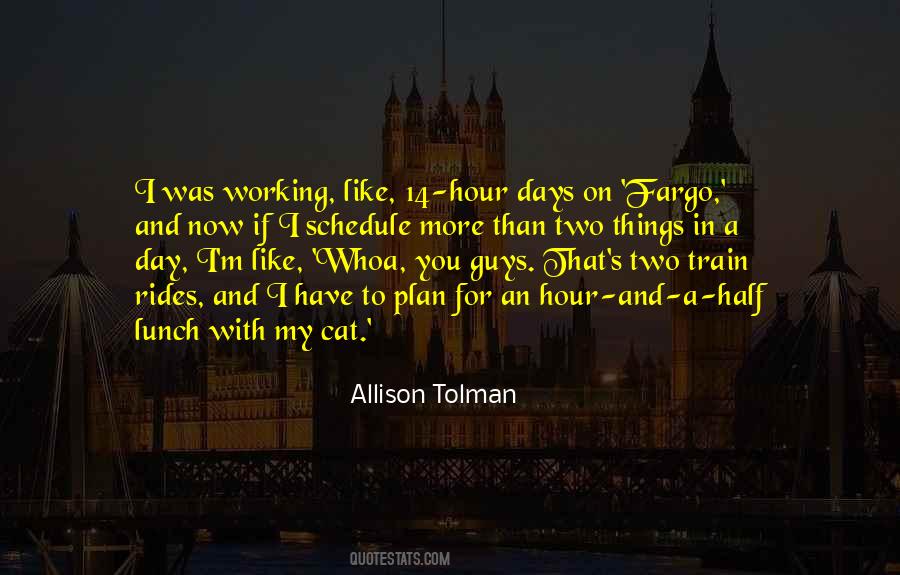 #36. The fall couture presentations in Paris are usually my favorite moment on the fashion calendar: beautiful weather, a busy rather than manic schedule, and, let's face it, seeing the artistry, the embroidery, and handmade magnificence that goes into every dress. - Author: Elisabeth Von Thurn Und Taxis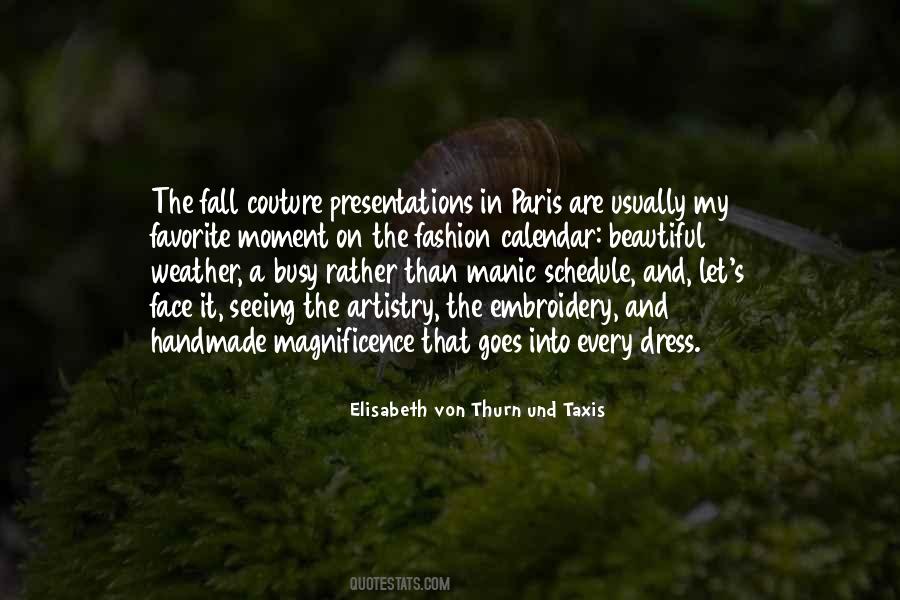 #37. I have a unique workout schedule. I concentrate on balancing with my core and my legs. Then, like any other surfer, I try to read the ocean. It's always changing and moving - doing its own thing - so you need to learn how it works and how to position yourself. - Author: Bethany Hamilton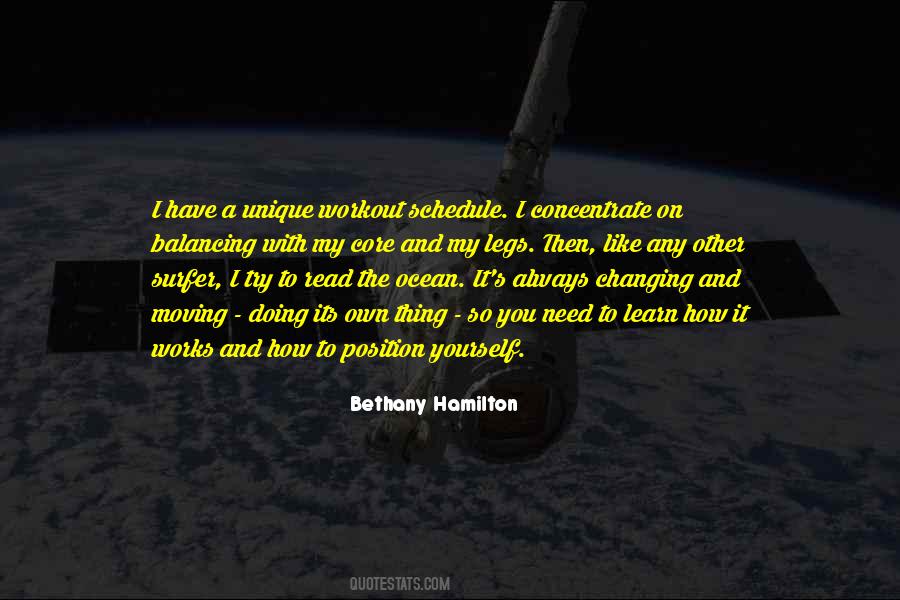 #38. These stories about my intellectual capacity really get under my skin. You know, for a while I even thought my staff believed it. There on my schedule first thing every morning it said, 'Intelligence Briefing.' - Author: George W. Bush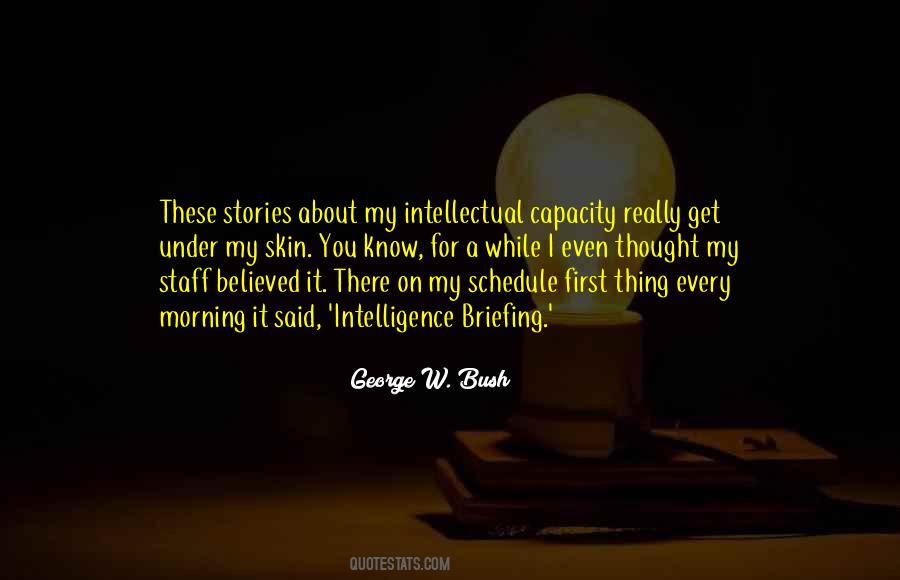 #39. A busy schedule can be difficult, but I have the best husband on the planet. He supports my endeavors, and we work as a team. - Author: Jane Leeves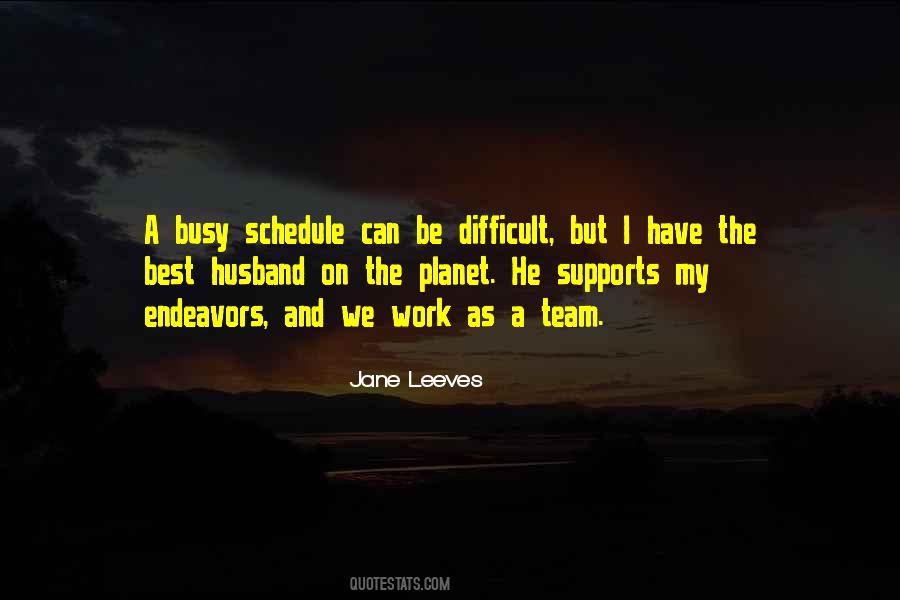 #40. I don't follow other players or the tournaments they play. I have my own schedule and do my own thing. I never really think, 'Oh, I want to be or play like so-and-so.' I just like being myself. - Author: Maria Sharapova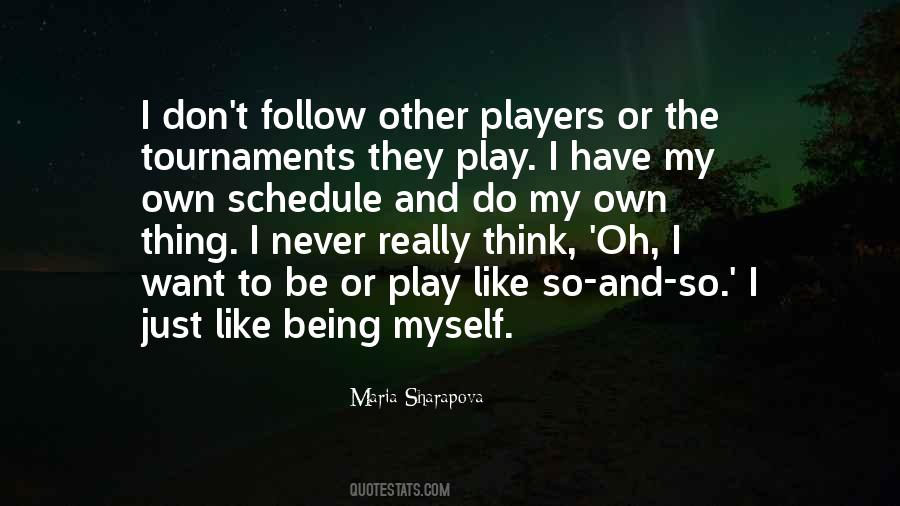 #41. When I see a short schedule, my question to the director is, are you really comfortable with this, or are you doing it to be a good boy? At the end, you only win the medal if the film is good, you don't win a medal if the movie is on time. - Author: Guillermo Del Toro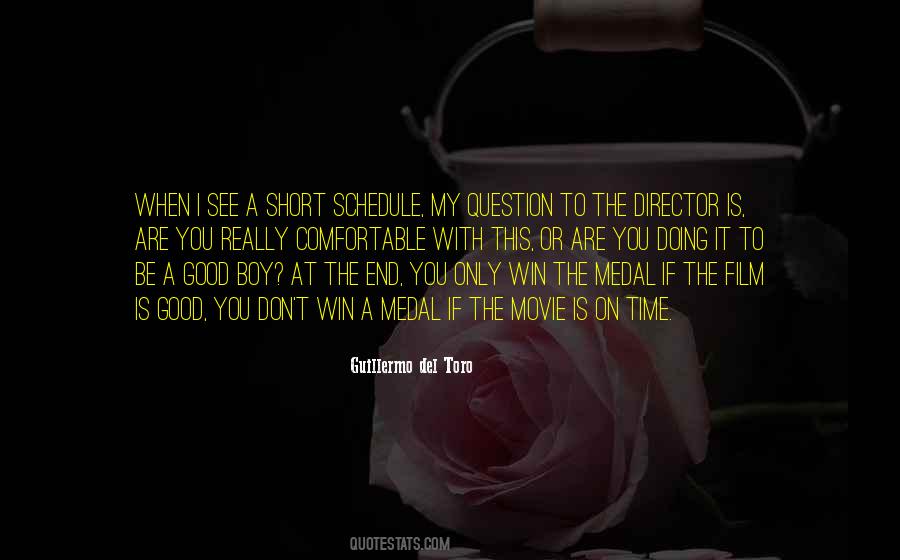 #42. With my busy schedule, it's impossible to have a set fitness routine. So instead I like to try and incorporate exercise into my daily life whenever I can - which requires some creativity. - Author: Heidi Klum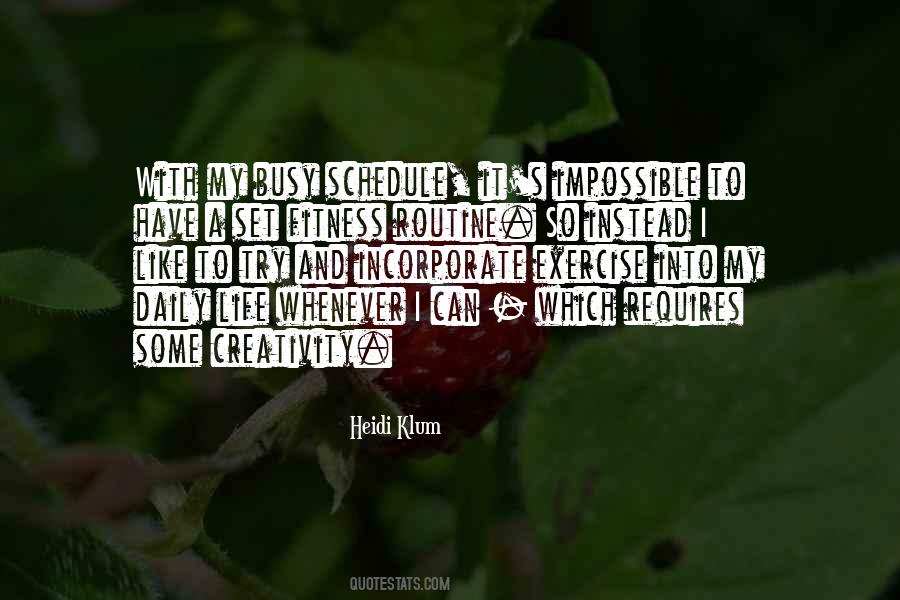 #43. I see a lot of actors for whom life becomes one big schedule. I guess I try to be more sensitive to my private life - to take a breath of fresh air and be in the countryside or on a golf course. - Author: Gerard Butler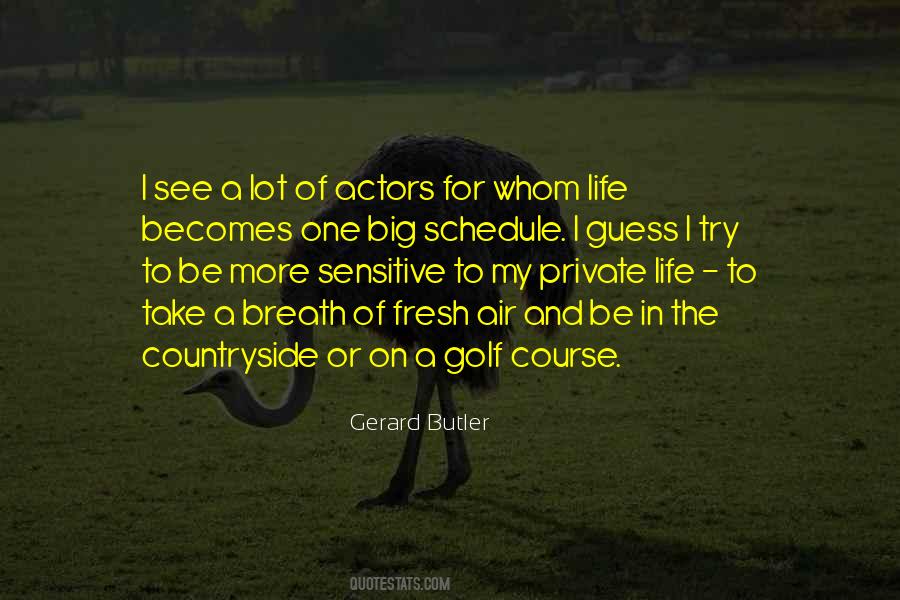 #44. I am at home with my kids from 6 to 8. If I have a work dinner, I'll schedule to have dinner after 8. But we're working at night. You'll get plenty of emails from me post-8 P.M. when my kids go to bed. - Author: Dave Goldberg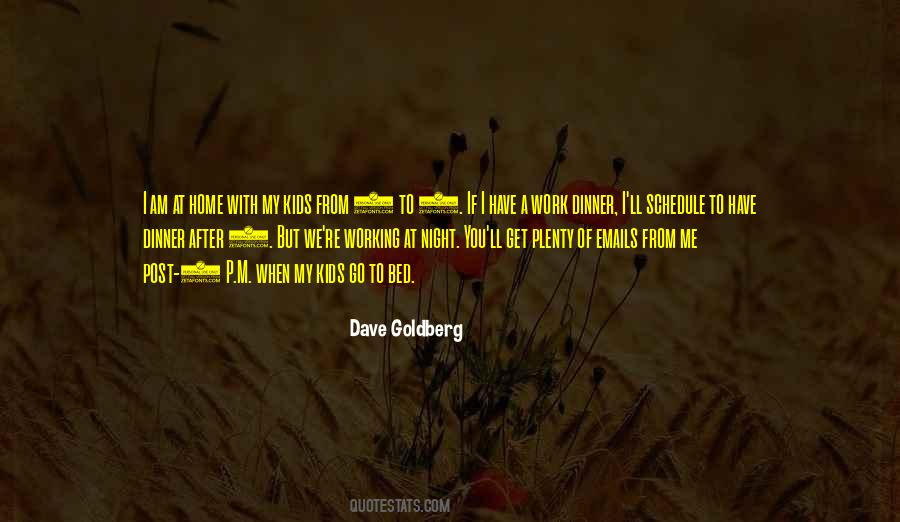 #45. I try to train as much as I can, as much as my schedule allows it. - Author: Candice Swanepoel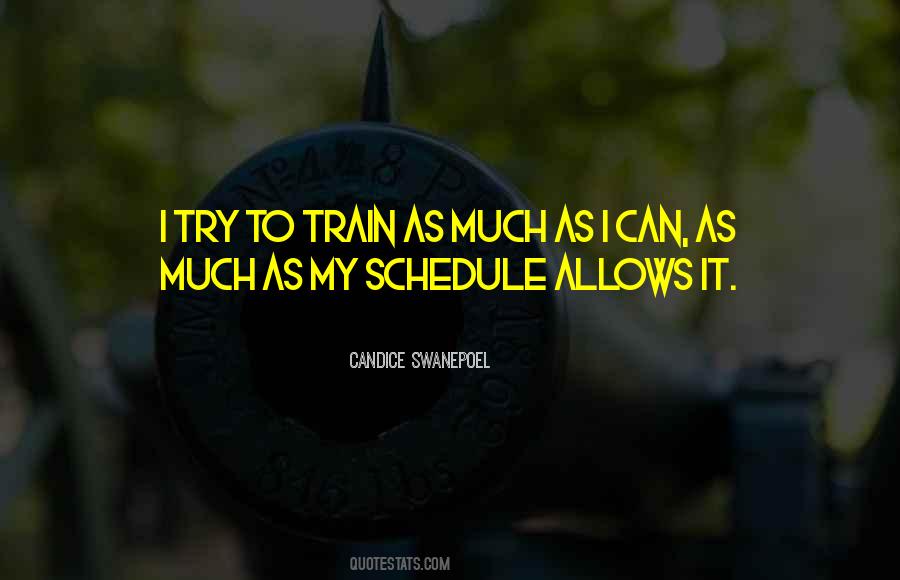 #46. I don't really have a schedule of when I want to show my children my movies. - Author: Steven Spielberg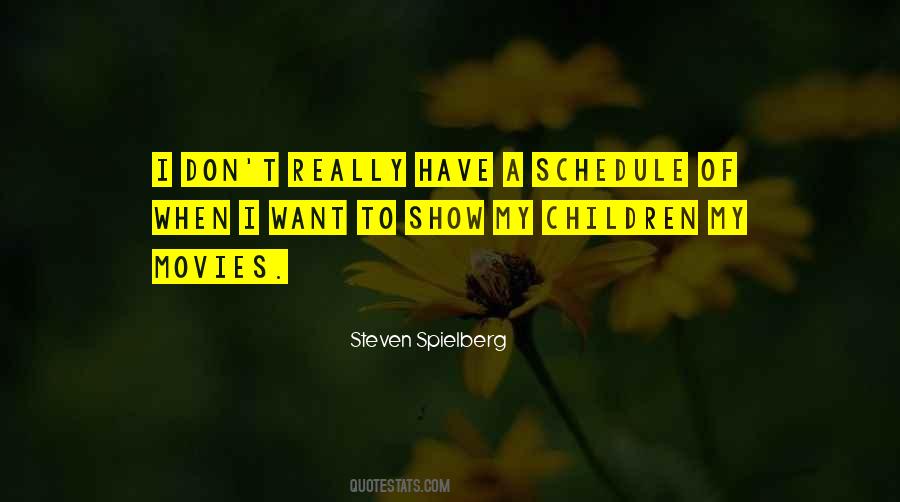 #47. I try not to look at my schedule for the week because I'll get so overwhelmed. Every day, there are multiple things to be done and 10 things I don't end up accomplishing. - Author: Hilary Duff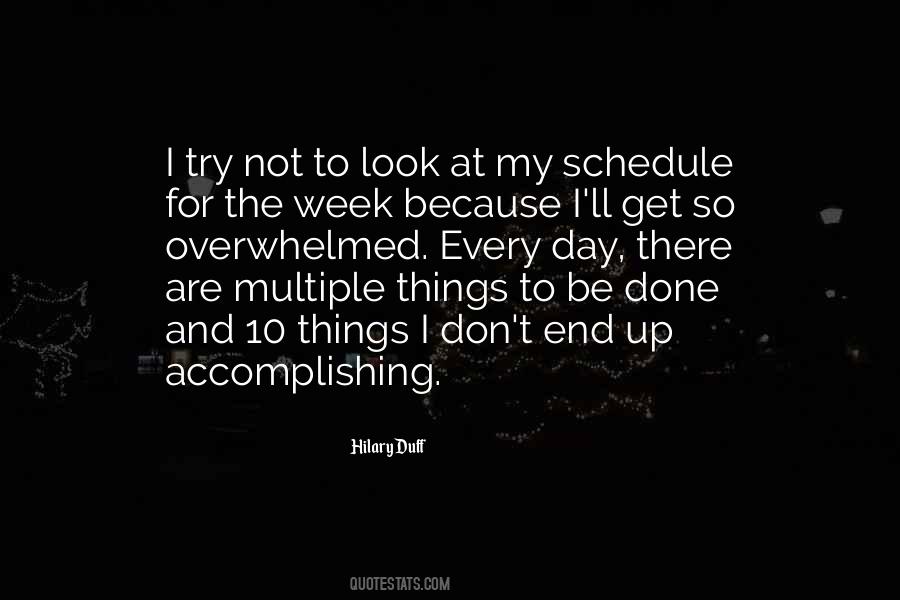 #48. My breath slipped from me, almost a groan. Trent Kalamack. The obscenely successful, smiling businessman, ruthless bio- and street-drug lord, elf in hiding, and pain-in-my-ass-extraordinaire Trent Kalamack. Right on schedule. Why is it you show up only when I need money? - Author: Kim Harrison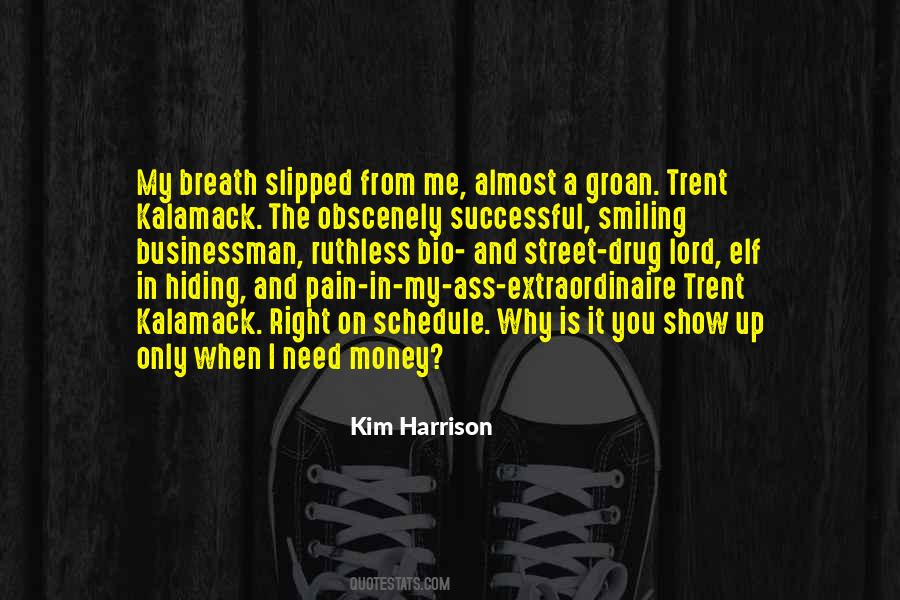 #49. After I bought my new cell phone, new, nicer sheets were on the schedule. - Author: Kristen Ashley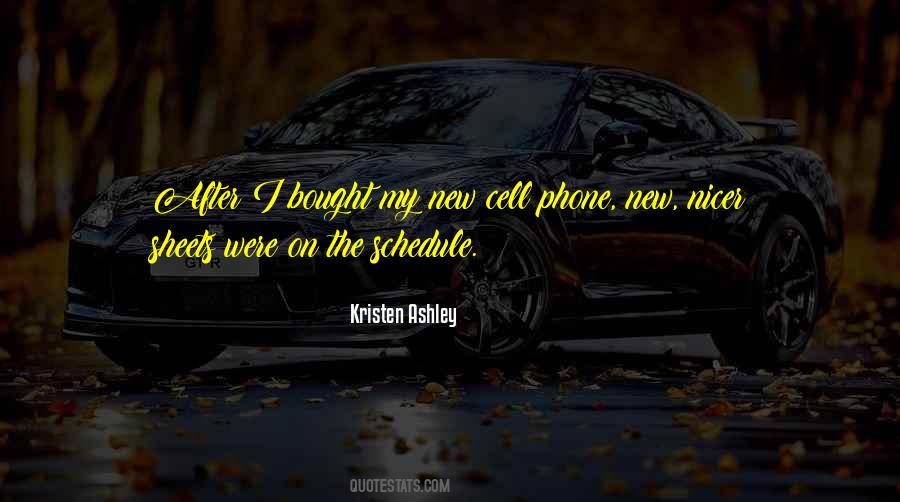 #50. I'm manic about my schedule. - Author: Elizabeth Hurley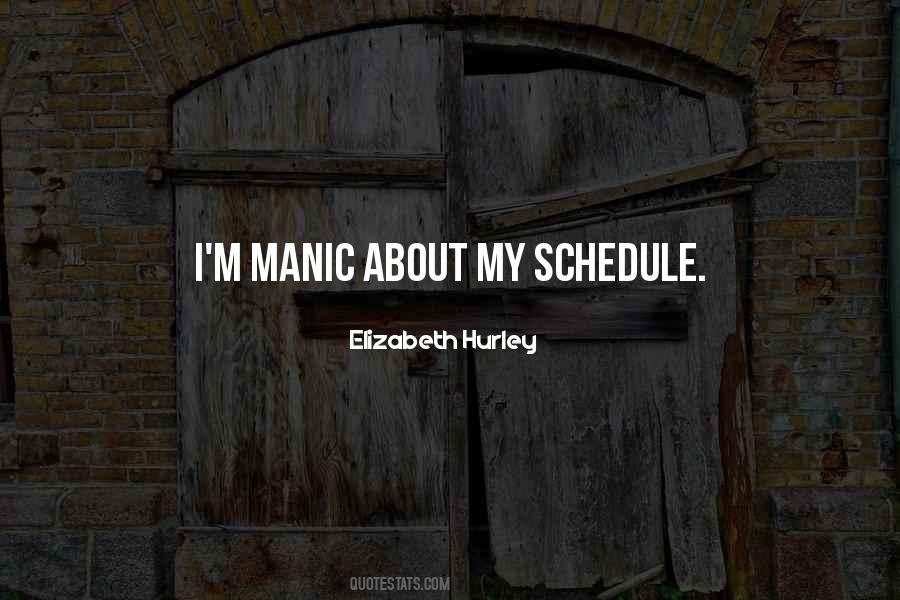 #51. Right. Like I have any plans of hanging out with Vampire Boy ever again. Schedule it in right after my lunch date with Lord Voldemort. - Author: Lindsey Leavitt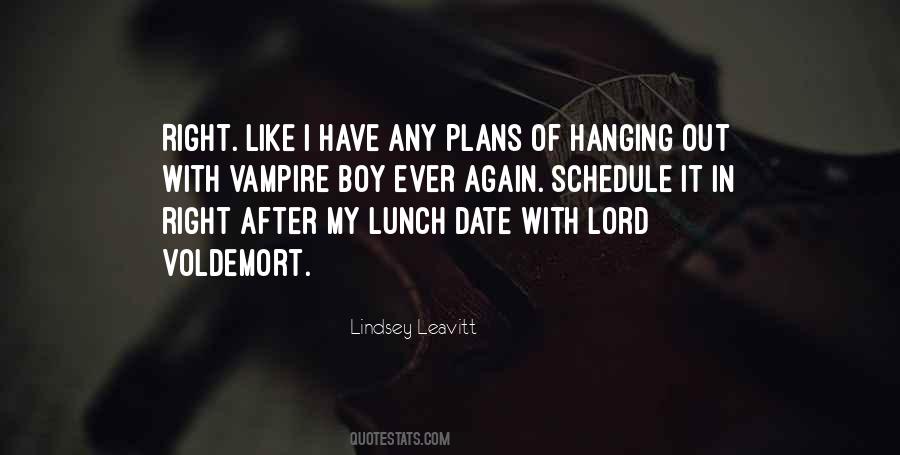 #52. I think Operation Smile is in more than 22 countries, mostly Third World. It just happened that my schedule opened up at the time they were heading to Vietnam. - Author: Roma Downey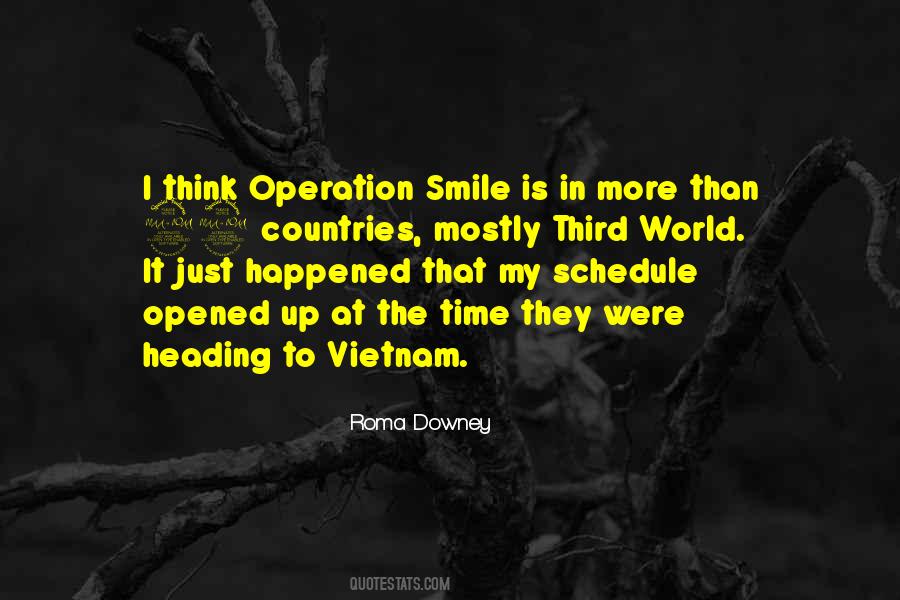 #53. The idea that I'm a homosexual thrill killer, that I stroll down the streets and stalk young boys and slaughter them ... Hell, if you could see my schedule, my work schedule, you knew damn well that I was never out there. - Author: John Wayne Gacy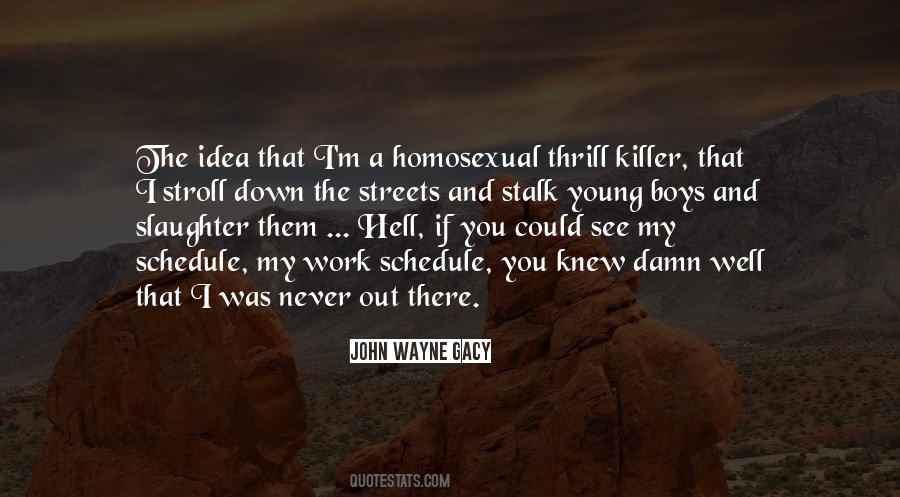 #54. My schedule can be hectic, so I'm always trying to find time to see my friends and family. - Author: Jessica Szohr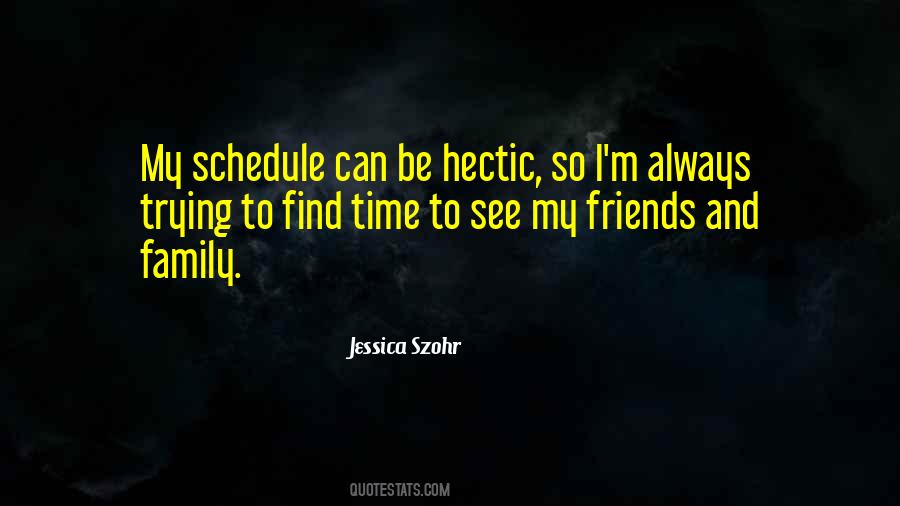 #55. If I could split myself into five people, I would still be behind on my writing schedule. I see now why James Patterson cloned himself so many times. - Author: Peter James West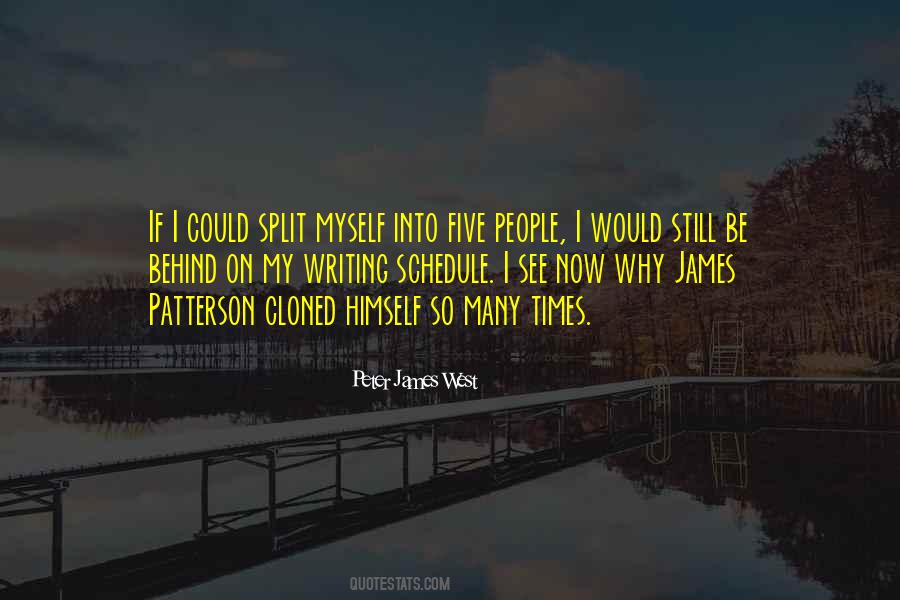 #56. There's nothing regular about my life at all, really. I don't keep a regular schedule and every day is different. It's all rather chaotic. - Author: Wallace Shawn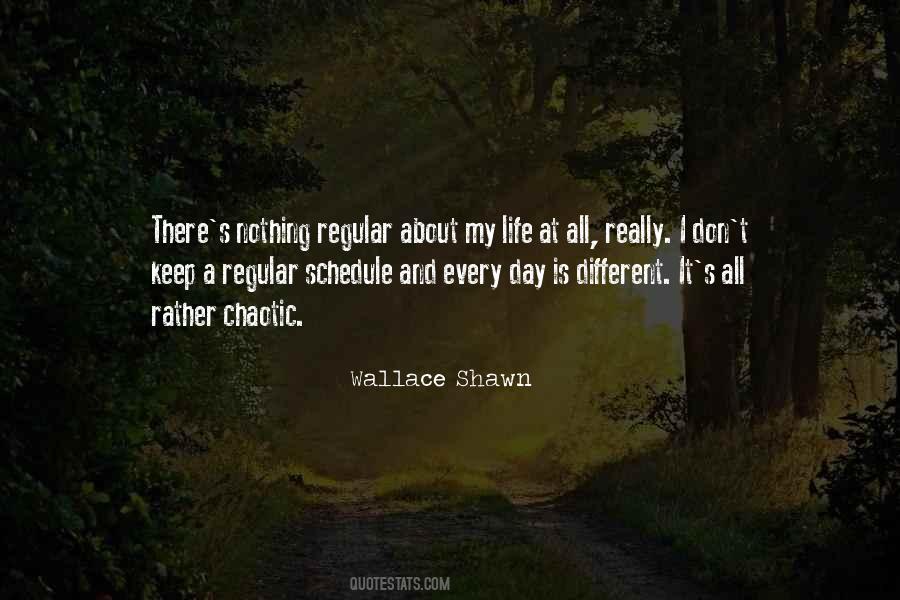 #57. Parker: When can you start? Rainie: I can start tomorrow if you'd like. My schedule is pretty much open. All I have to keep me at home is Thomas. Parker: Ah. It figures that there'd be a man in the picture. You're too lovely to be unattached. Rainie: Thomas is a cat. - Author: Catherine Anderson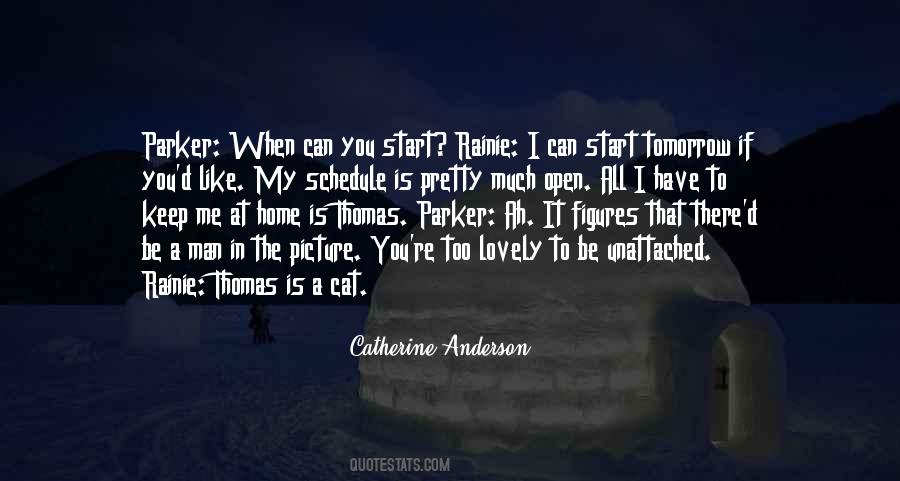 #58. I don't make my own schedule - it's constructed around my sons' school schedules. - Author: Jane Haddam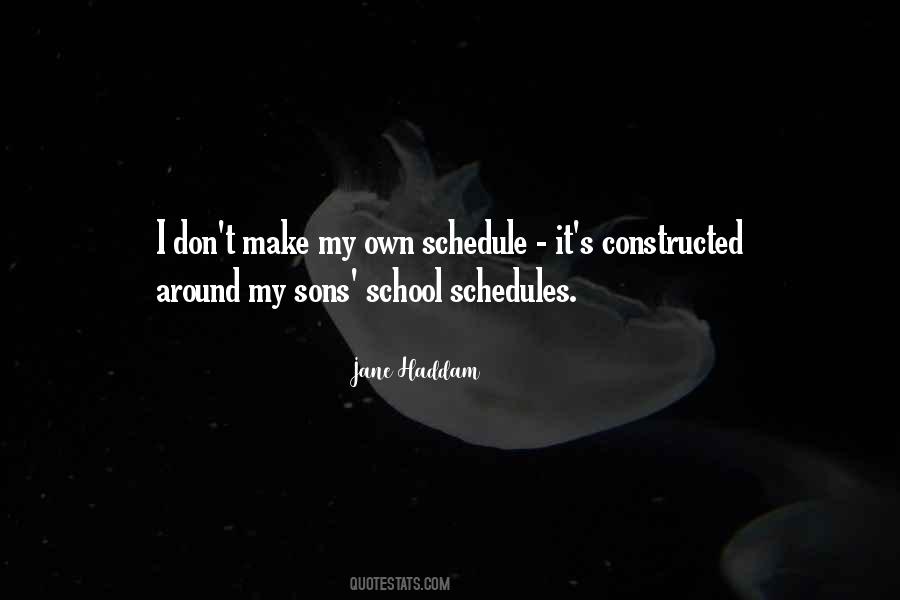 #59. My schedule is usually pretty busy, so when I wake up in the morning, first thing I usually do is turn on the TV and watch shows from the night before. I eat breakfast and watch TV and try to wake up. - Author: Nolan Gould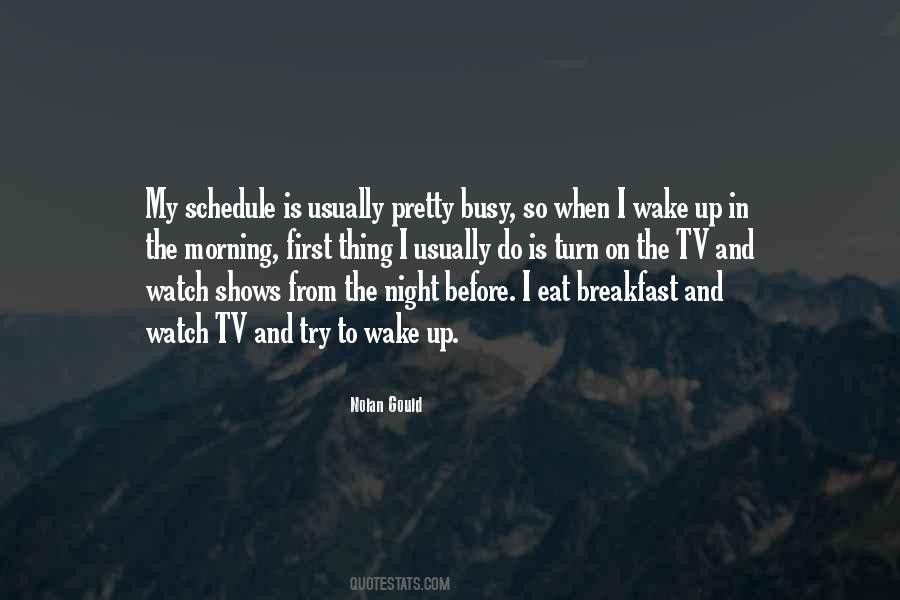 #60. Being the first Olympic medallist of my country means that I have some obligations and it was a very tough job for me to resume a proper training schedule due to the (new) status I have in my country. - Author: Benjamin Boukpeti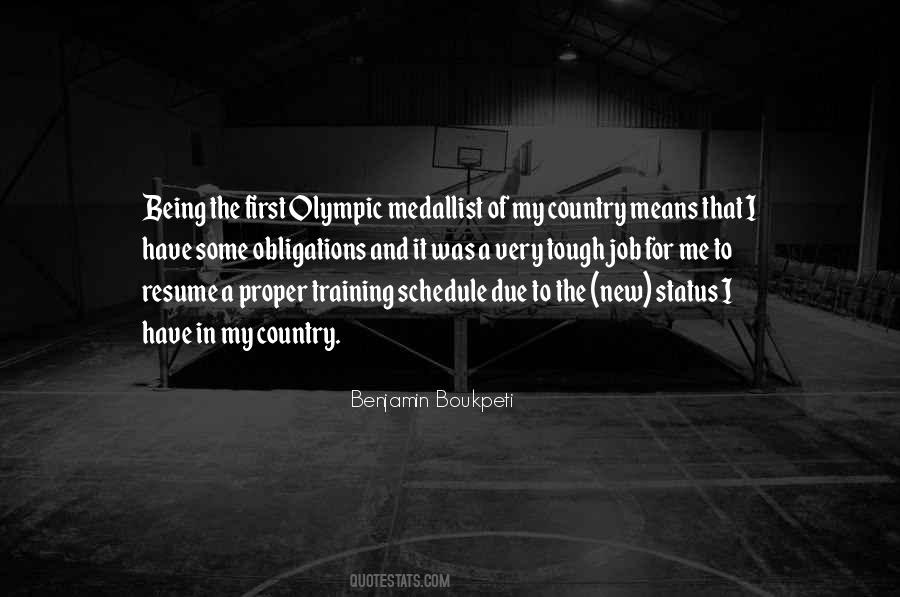 #61. So ... what's the typical schedule with the whole dating thing? How long before one gets to the actual fucking?"
"Three dates," they all answer simultaneously.
My eyebrows raise. "Three dates? Seriously? Are you guys, like ... more religious than I ever knew? - Author: Emma Chase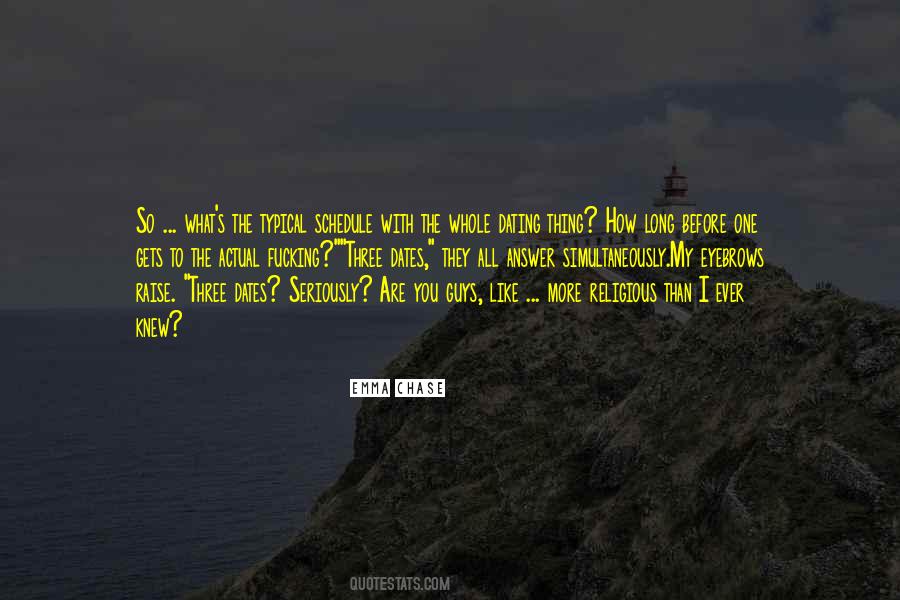 #62. You know, like I said, I'm not going to adjust my Senior Tour schedule. - Author: Greg Norman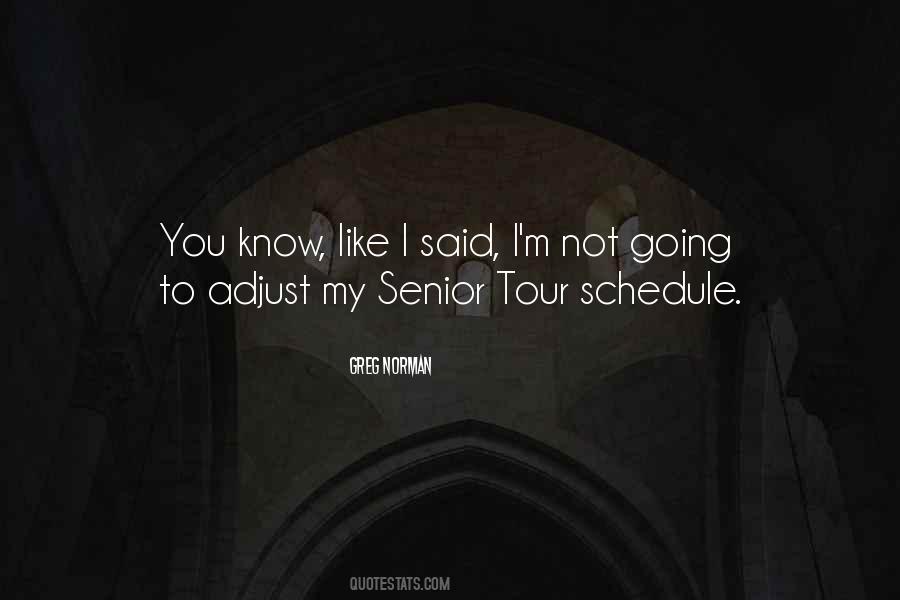 #63. Although my life is far from perfect, the irony is that in a divorced parent's custody schedule - with days on and days off - instead of like it was before, when I felt ragged and still oddly guilty all the time, now I feel guilty but not ragged. - Author: Sandra Tsing Loh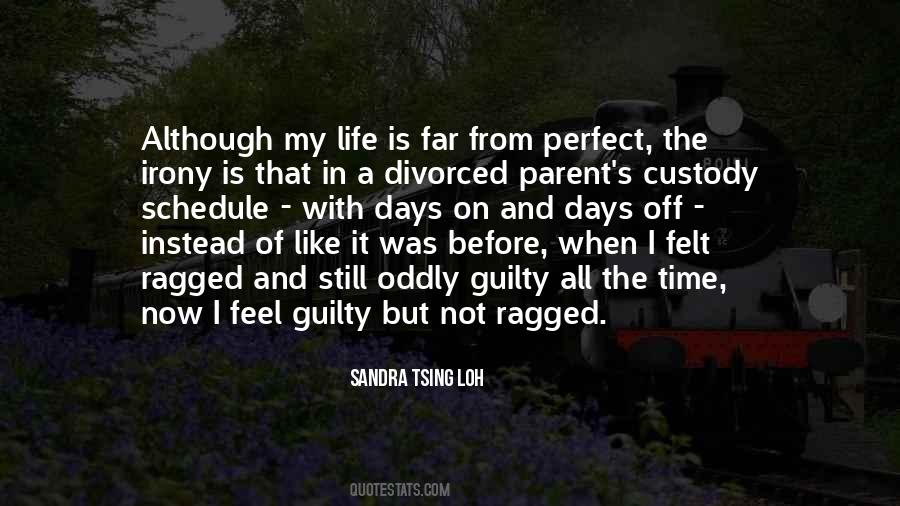 #64. My Sister Rosa was bumped from the schedule. None of my books has ever been bumped before. It freaked me out. - Author: Justine Larbalestier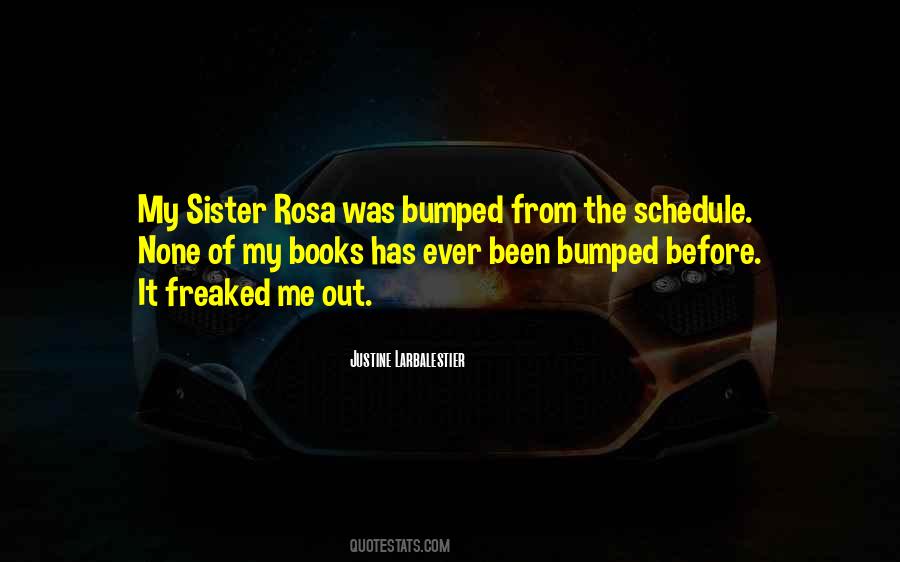 #65. I've got a hectic schedule, but I wouldn't have my life any other way. - Author: Dominic Monaghan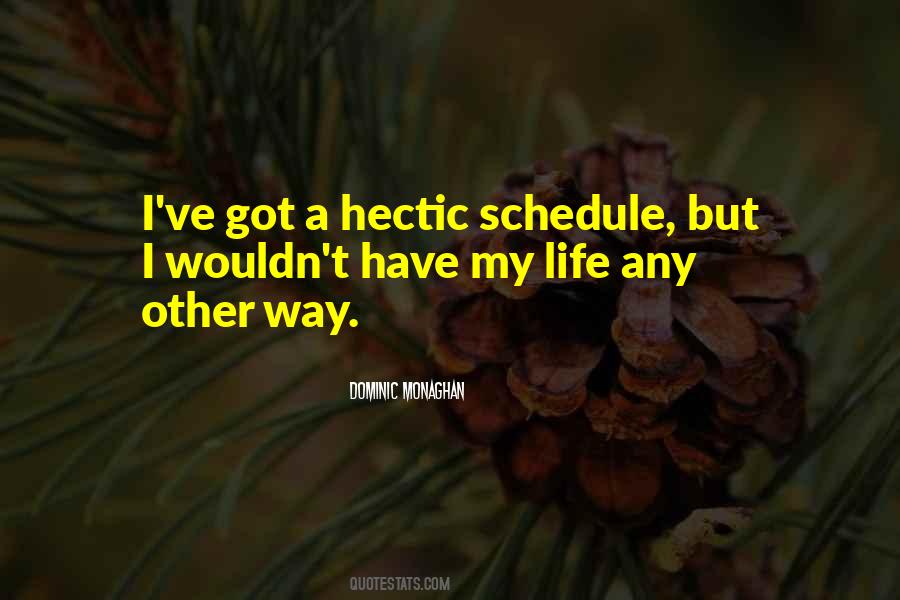 #66. My academic schedule is lighter this year because it's an Olympic year. - Author: Sasha Cohen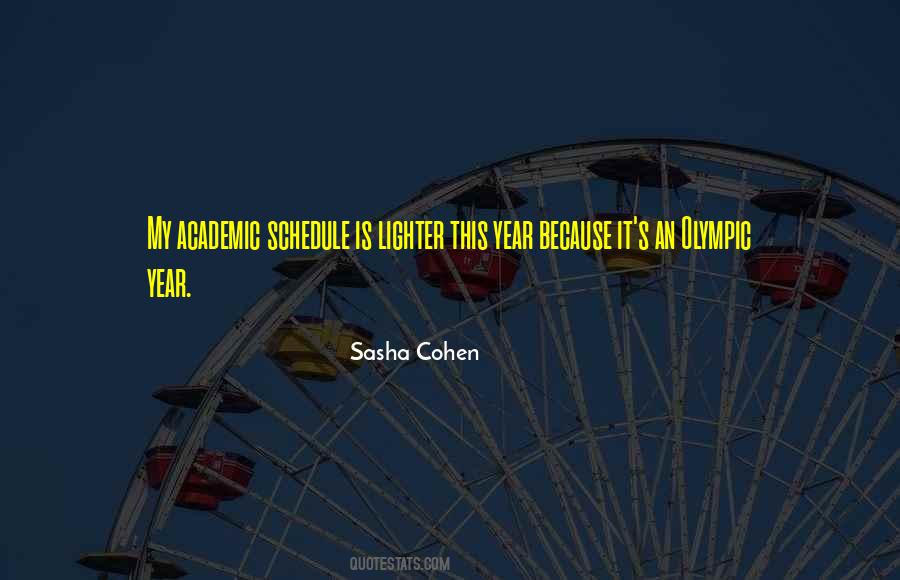 #67. At the end of the day, I want to spend time with my daughter, and this schedule enables me to do that while still having fun hosting '106 & Park.' I'm not really eager to get back into music just yet; I'm really eager to get into another movie before I put out an album. - Author: Bow Wow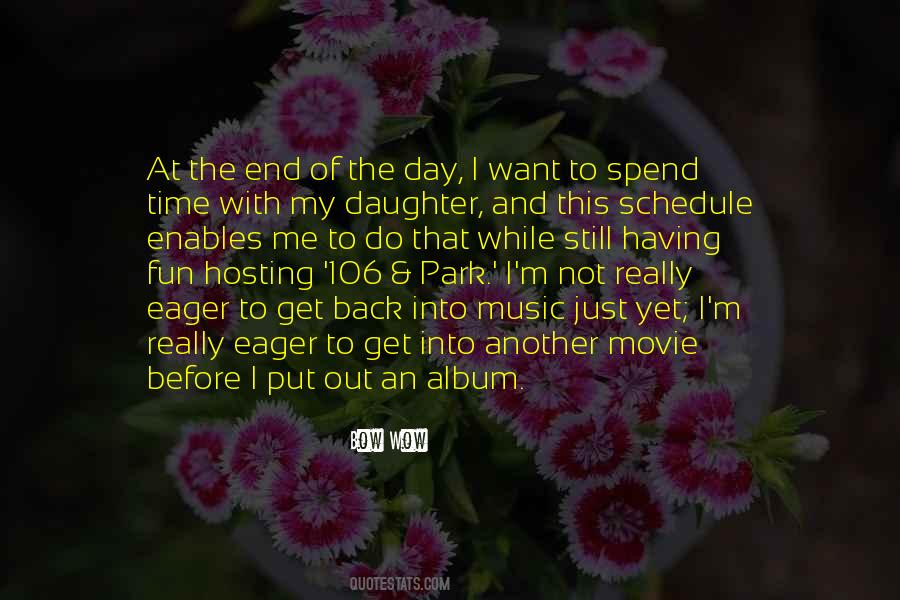 #68. I really love working. It makes me feel like an even better person when I work. I function much better if I have a really rigid schedule. When I'm left to my own devices, I can just be all over the place. - Author: Melanie Griffith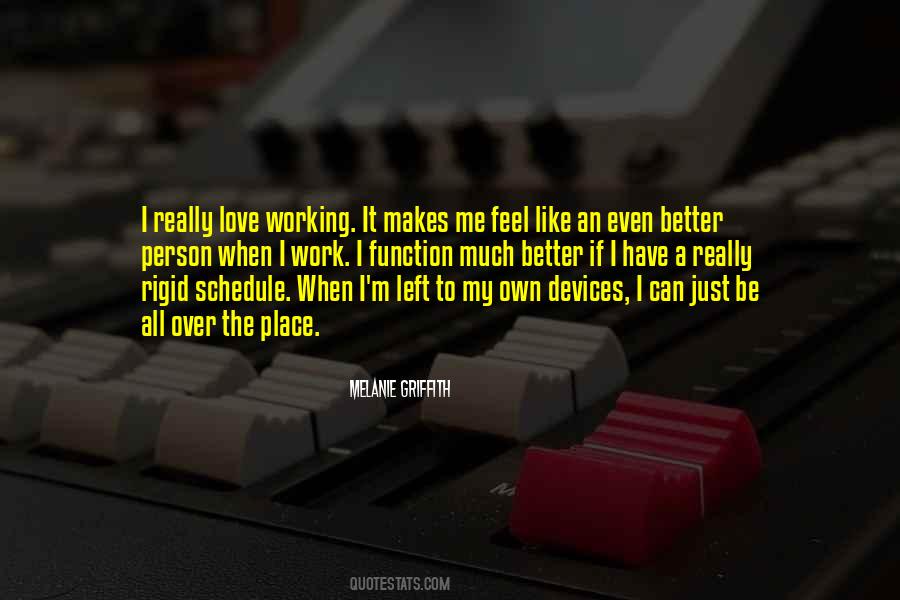 #69. My songs emerge from my life, or wherever they do, unbidden and unplanned and completely on a schedule of their own. - Author: David Crosby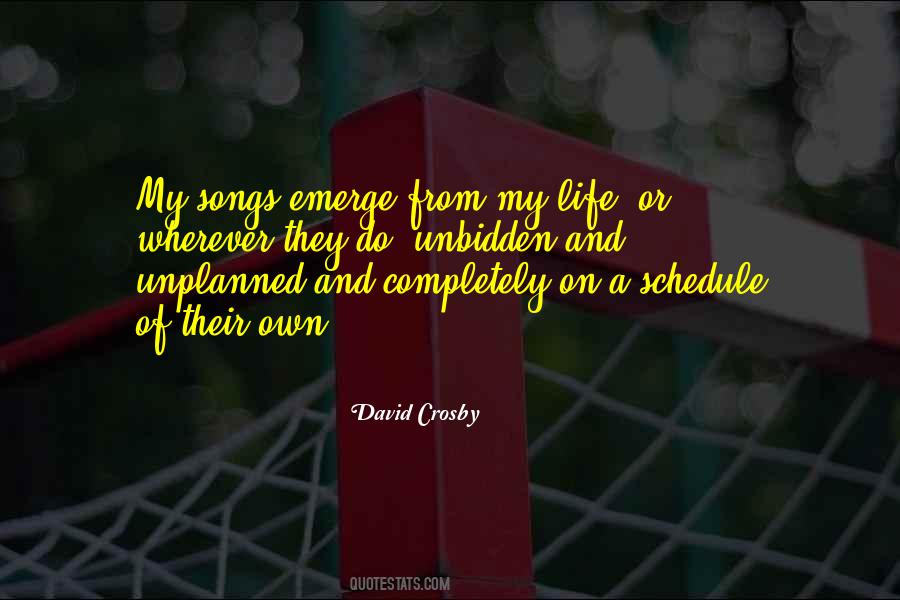 #70. I know first-hand the challenges that come with being an on-the-go mom, and I am constantly looking for great products that fit into my busy schedule. I've tried every goop and elixir known to man. - Author: Eva LaRue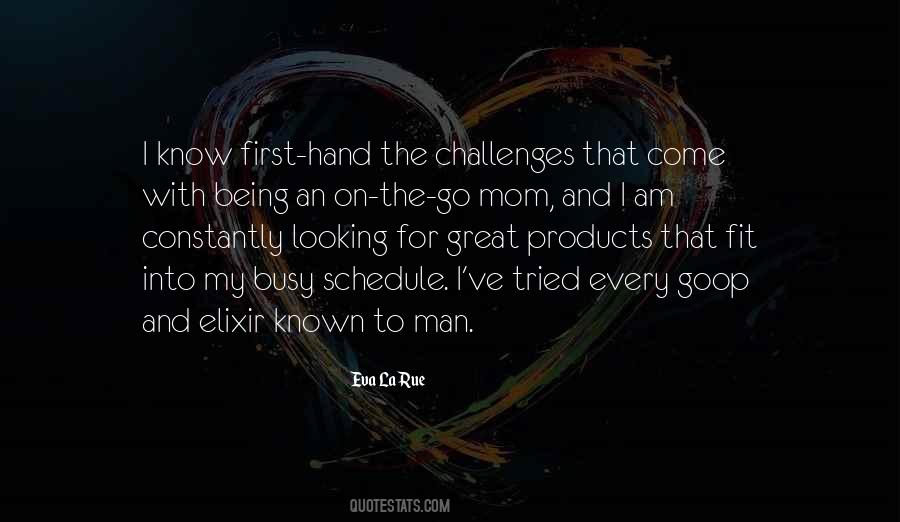 #71. There can't be a crisis next week, my schedule is already full. - Author: Henry Kissinger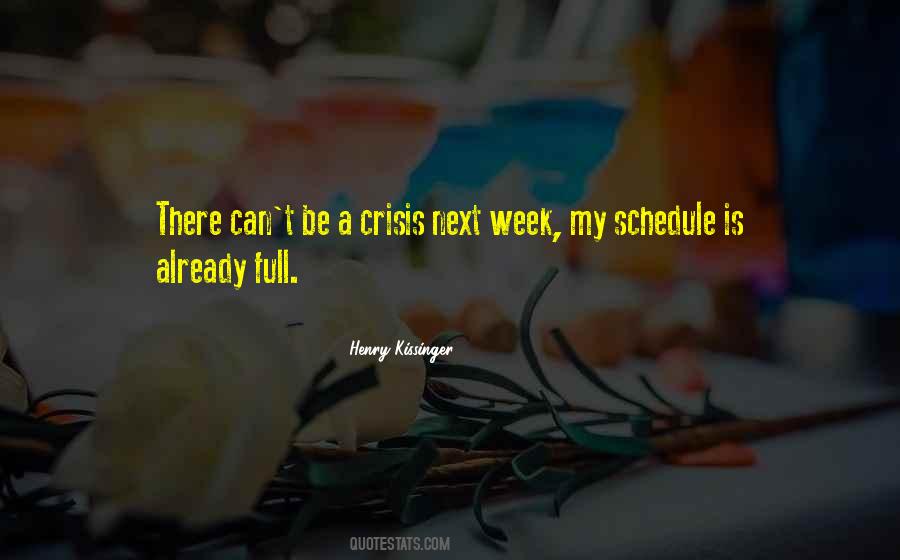 #72. When you make the schedule, you're not planning on playing deep into every single week, or at least I haven't in the past. I'm not physically or mentally ready to pick up my bags and go to Monte Carlo. I definitely have to look at what's best for my chances at (at the French Open). - Author: Andy Roddick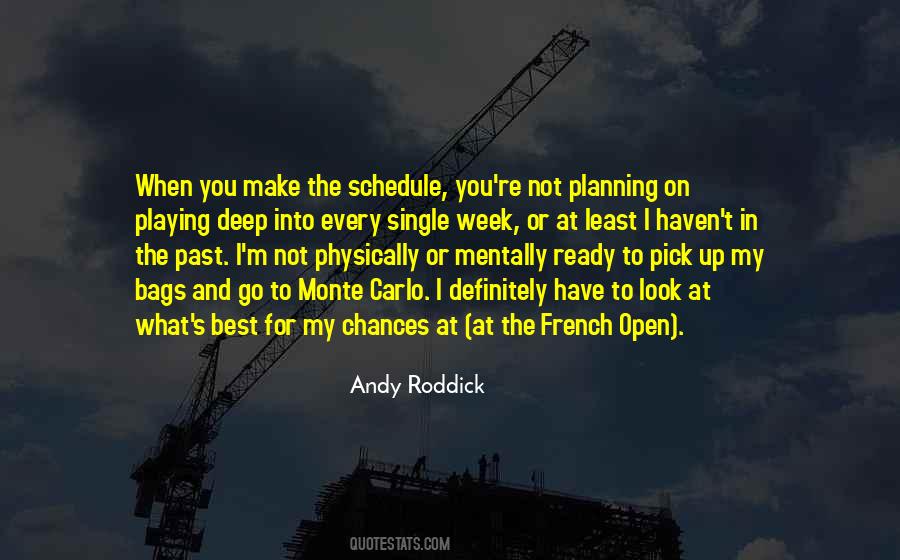 #73. My schedule, it always looks like it's really steady, but believe it or not, I tend to work a bunch and then take a year off. - Author: Julianne Moore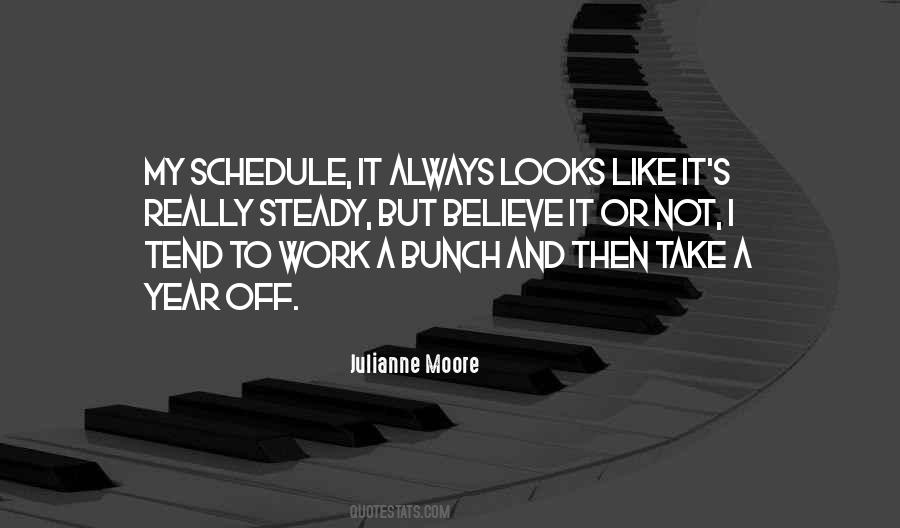 #74. Except for thinking up reasons I'm allowed to skip the gym, my schedule is almost totally empty. (Today's reason is because I have a cold. Yesterday's was the dogs seemed sad. - Author: Jen Lancaster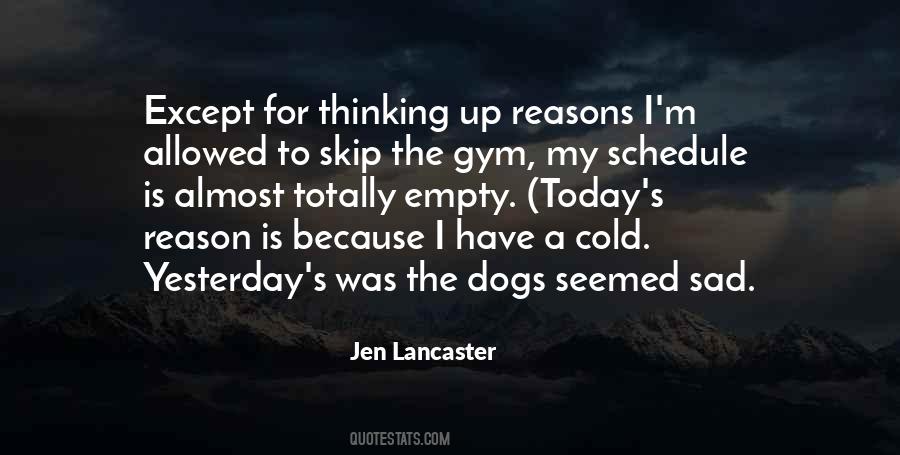 #75. I'm very rigid about my schedule. I sit down at 8 A.M., and the Internet blocker goes on. My standard time is 120 minutes. I'm a compulsive writer, so it reminds me to stop writing ... If I write more than that, I turn into an ogre for my kids. - Author: Claire Cameron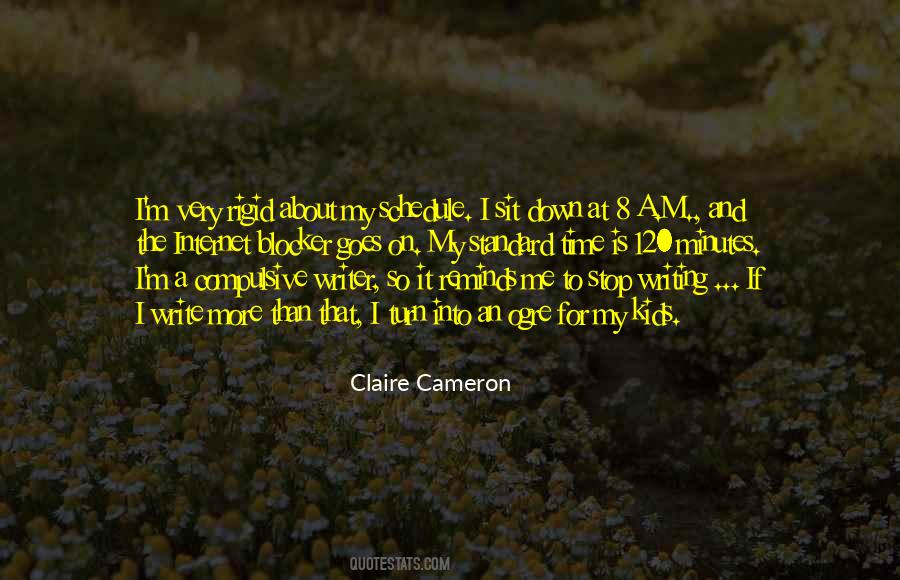 #76. I have no trouble with my sleep, but the amount I have varies from four to eight hours, depending on my schedule. - Author: Anton Du Beke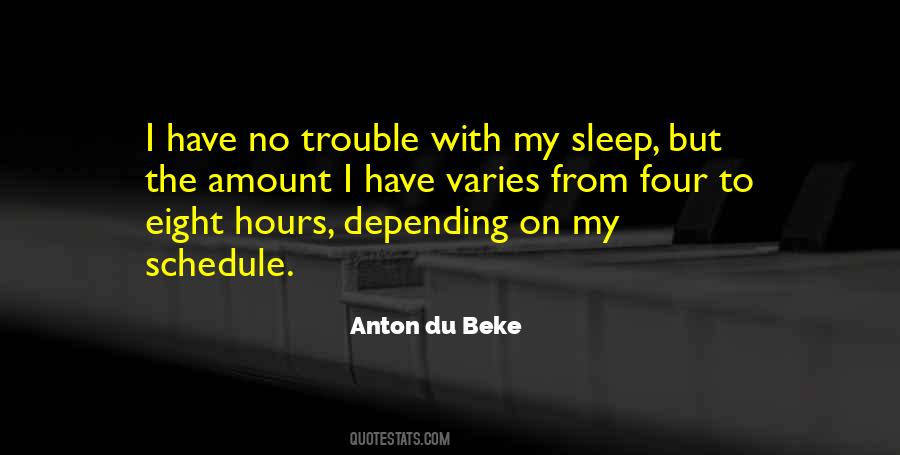 #77. I do have a chore schedule - in my mind. I don't tell anyone I have it, but it's in my mind. - Author: David Alan Basche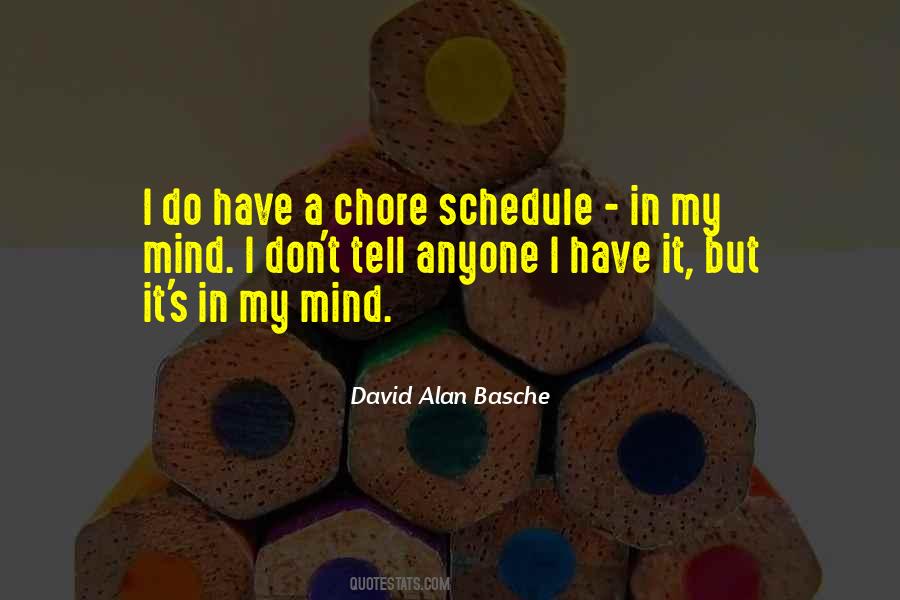 #78. My schedulers keep getting driven crazy by the fact that they can't fit hikes in my schedule. - Author: Gale Norton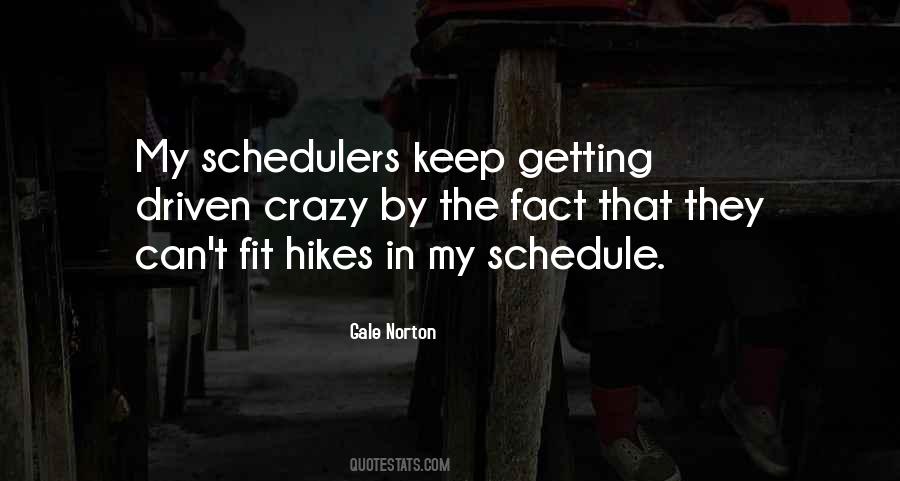 #79. I didn't have to do too much "research" or acting to play this guy. (laughs) It is actually very difficult to manage all the time. The Community schedule is crushing and it kills me because I don't get to be with my family as much as I'd like. - Author: Joel McHale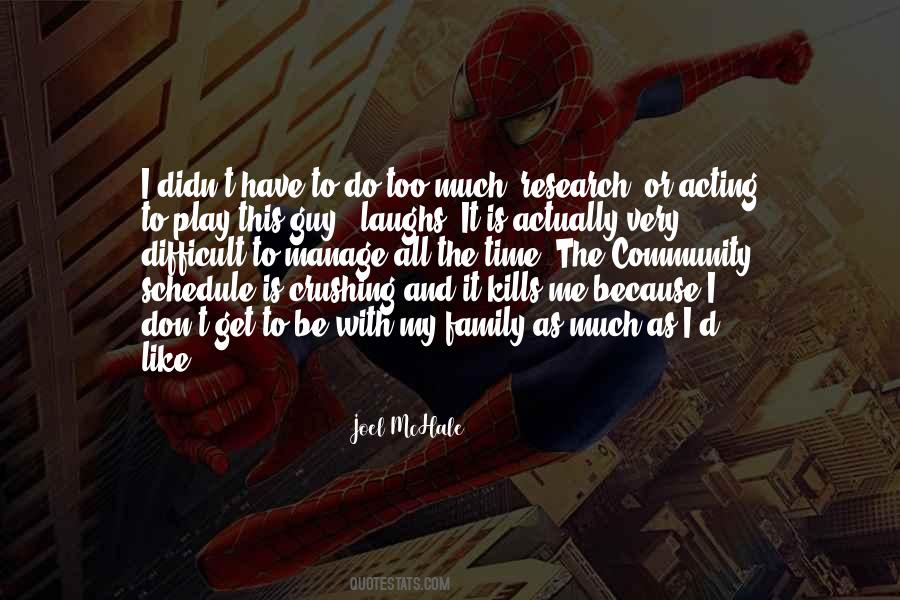 #80. I taught for a semester, but couldn't work out my teaching schedule with my acting schedule because they just didn't jive. So, I had to make a decision. And by sheer luck, I'm sure, I have not stopped working as an actor. - Author: Danny Burstein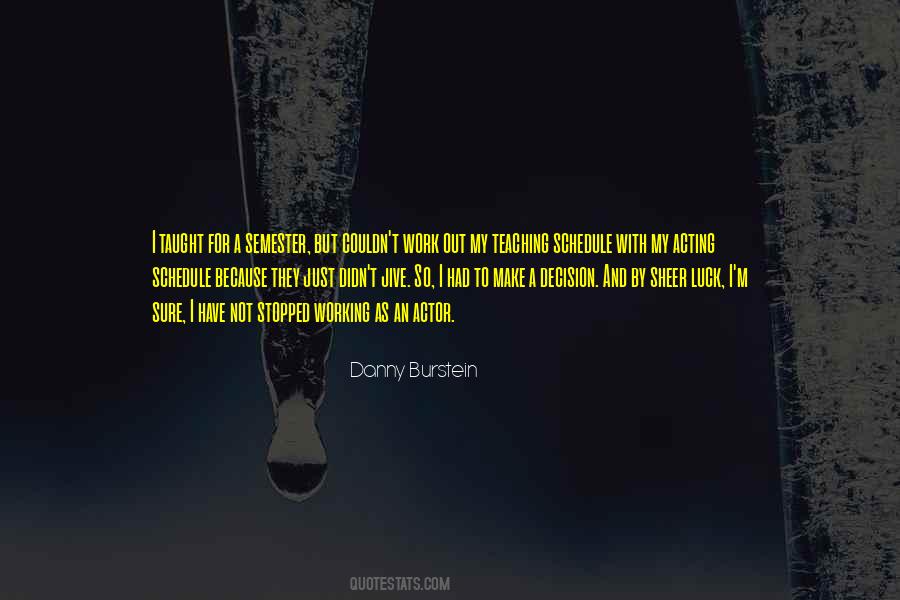 #81. I practice yoga even when my schedule doesn't allow me to teach. I've been practicing for 17 years, since before it became hip. - Author: Brenda Strong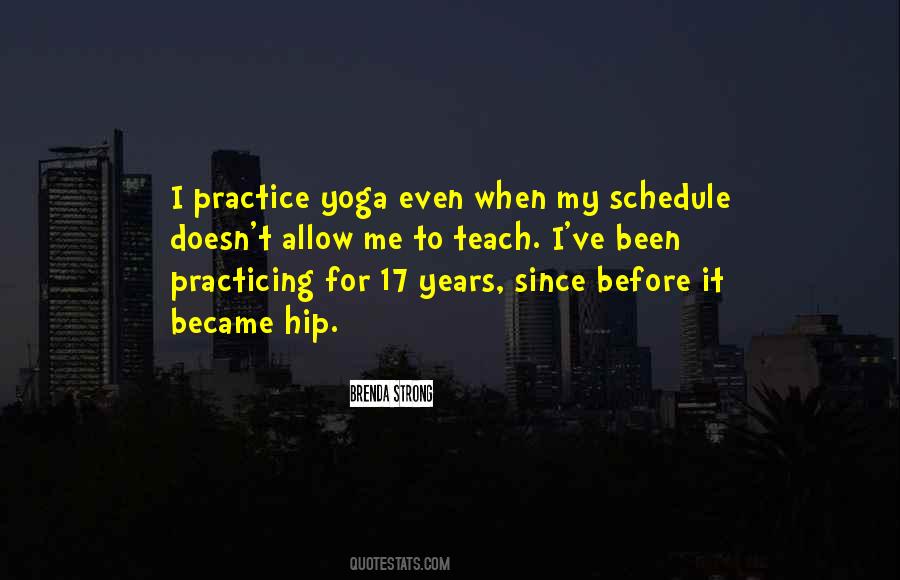 #82. I'm a night person, but because of being in the film business and having children, my schedule has shifted, and I'm always terrified that I'm going to oversleep. - Author: Timothy Simons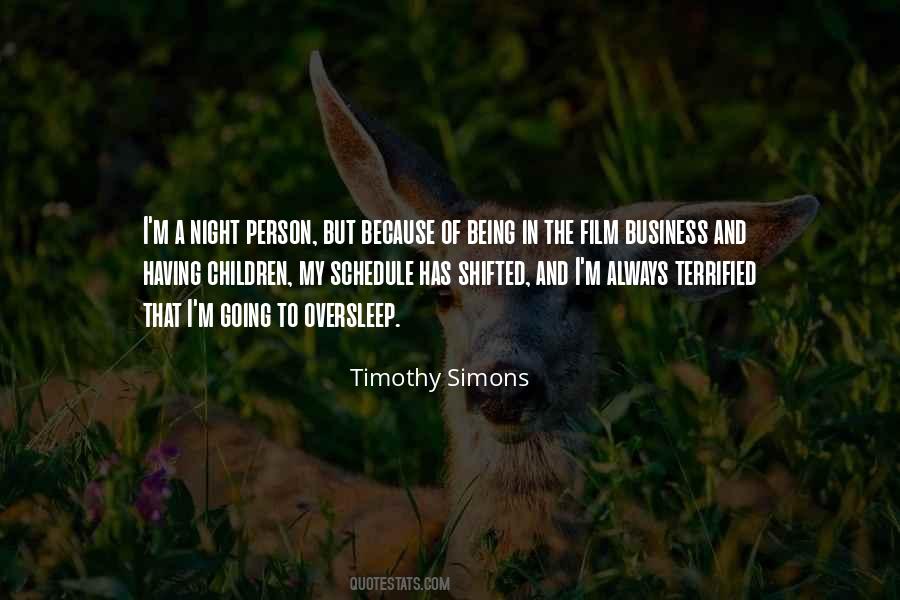 #83. I'm not busy ... a woman with three children under the age of 10 wouldn't think my schedule looked so busy. - Author: Garrison Keillor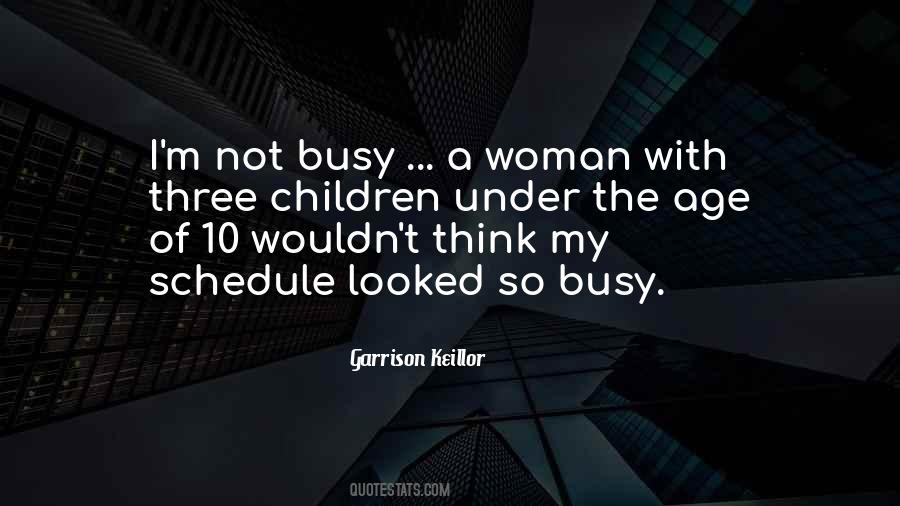 #84. If you can't handle me at my worst, then you sure as hell shouldn't schedule a meeting with me before 10am. - Author: Marilyn Monroe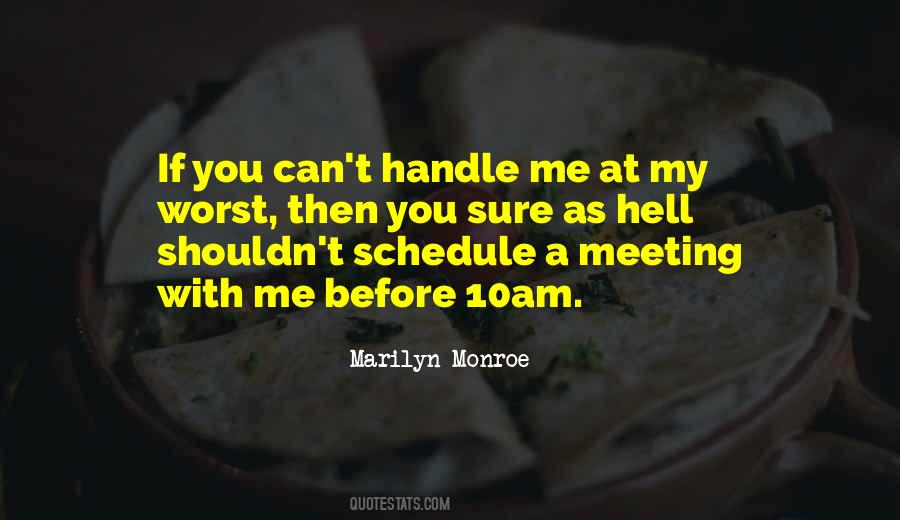 #85. I don't go on tour tours - I just go randomly to cities to do shows if I have an opening in my schedule. - Author: Harland Williams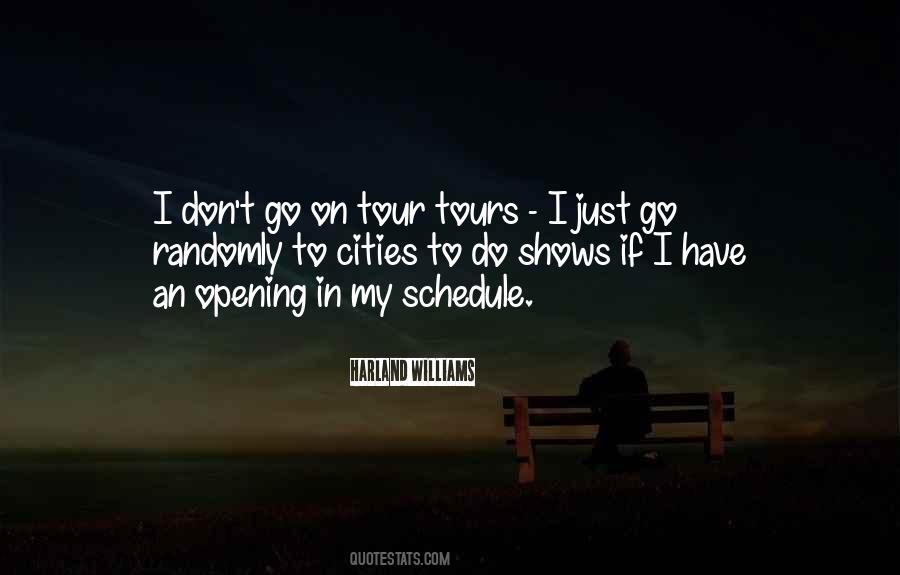 #86. I've maintained old friendships, like with people I knew in the nineteen-seventies, but have lost the knack for meeting new people. This has a lot to do with my writing schedule. I don't want to be disturbed, and the willingness to be disturbed is, I think, part of being a good friend. - Author: David Sedaris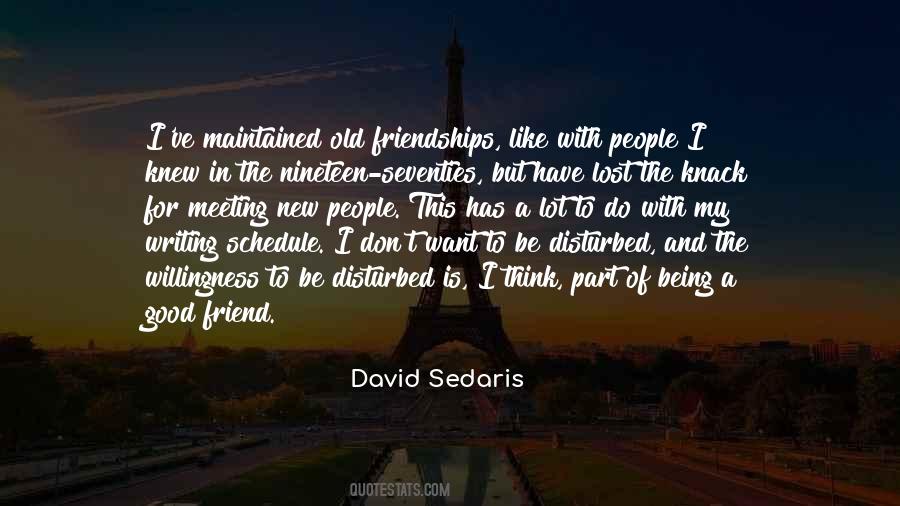 #87. I spend my days on a strict schedule. It helps to tell my brain when to behave a certain way and helps to keep my impulses and fantasies under control. - Author: Alessandra Torre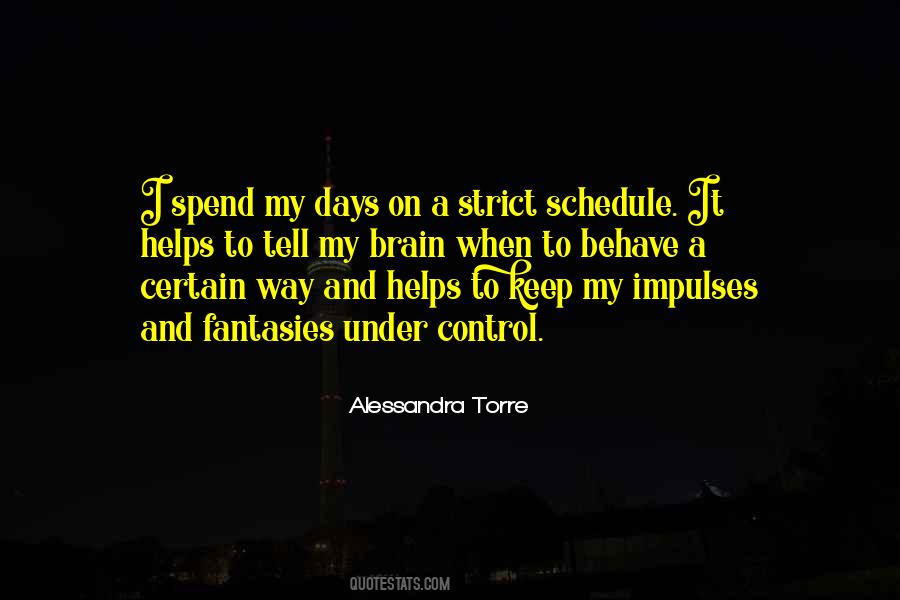 #88. With my busy schedule, my friends consist of my immediate family and the people I work with! - Author: Heather Hemmens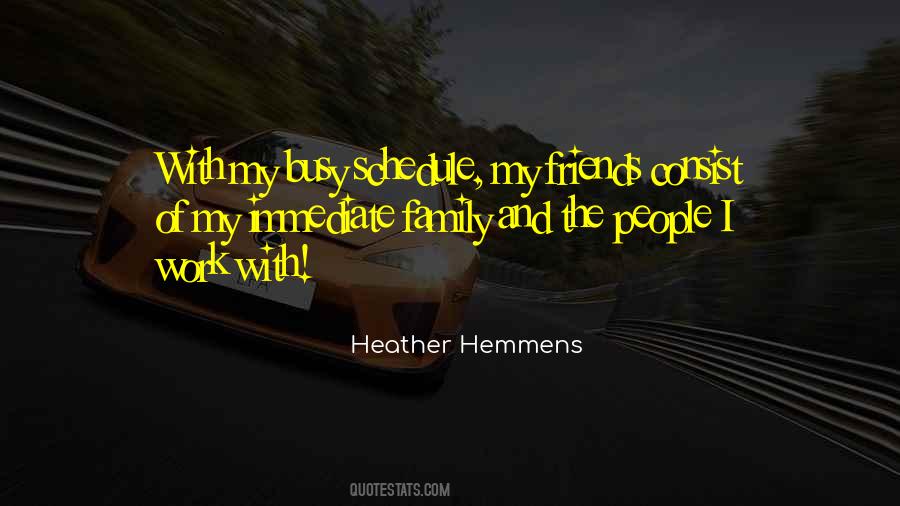 #89. I am always urging my students to honor their writing practice, to set up a schedule. - Author: Tayari Jones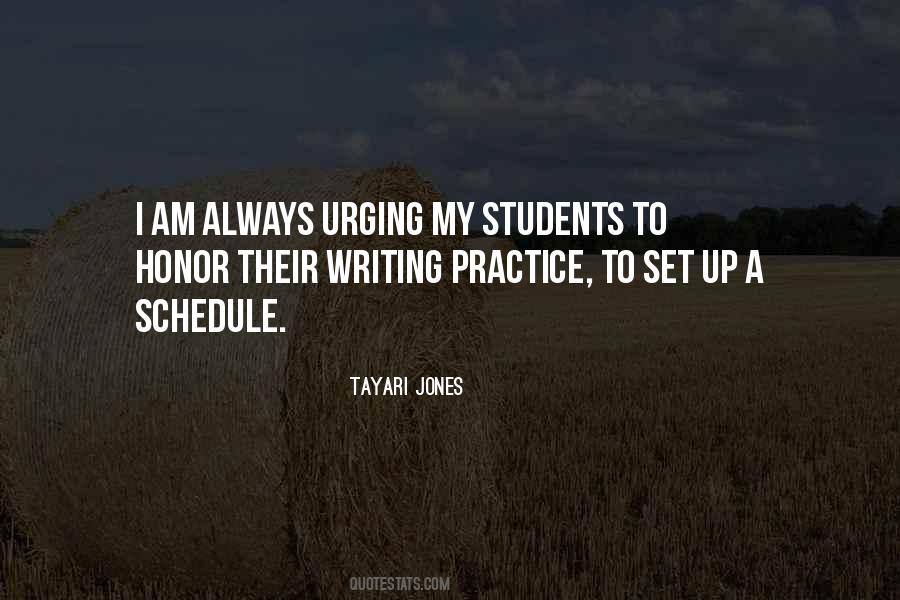 #90. Meg invited me to come again, but I always had reasons why I couldn't: my schedule was busy, bus fare wasn't cheap. Both of which were true, even if they weren't the truth. - Author: Gayle Forman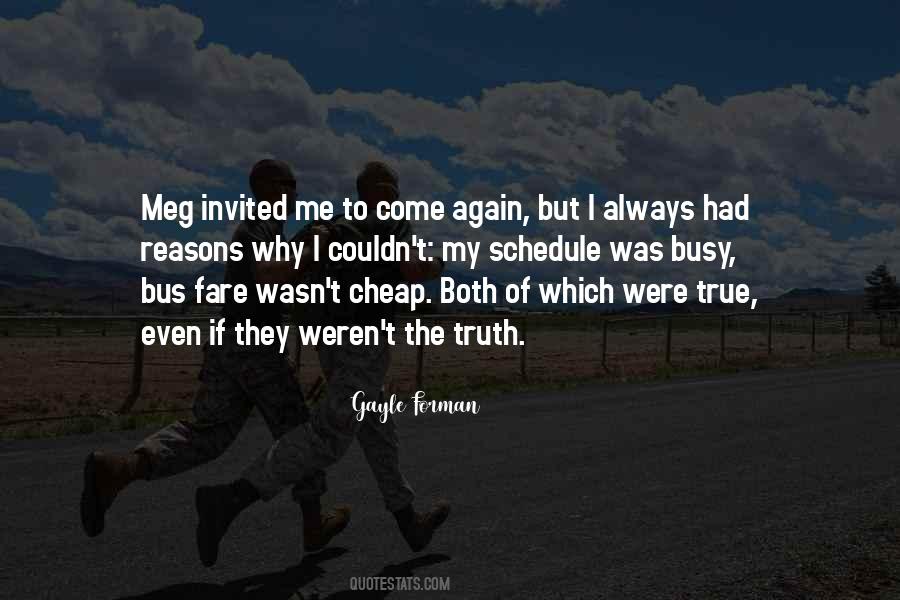 #91. My practice schedule is not constant and changes a lot and depends on my moods also. - Author: Viswanathan Anand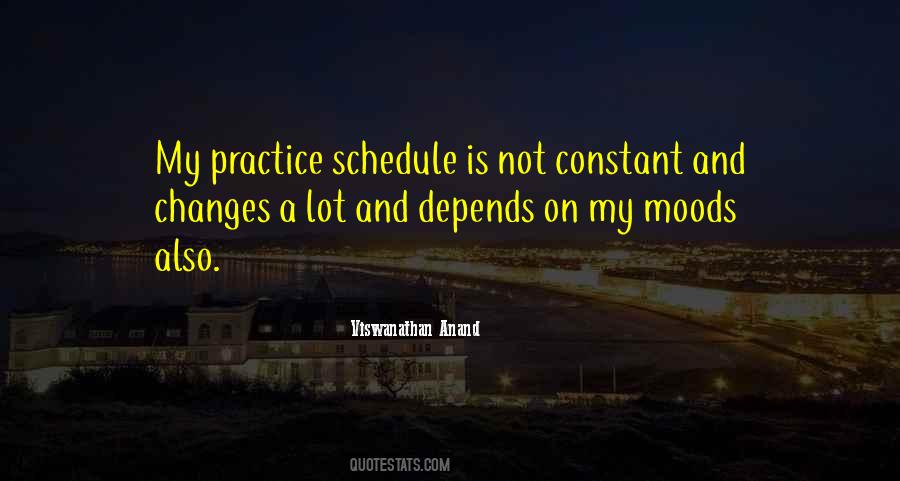 #92. I'm married, honey. My social life consists of work, church, taxiing the kids around and trying to schedule sex with my husband at least once a month. - Author: Marilyn Pappano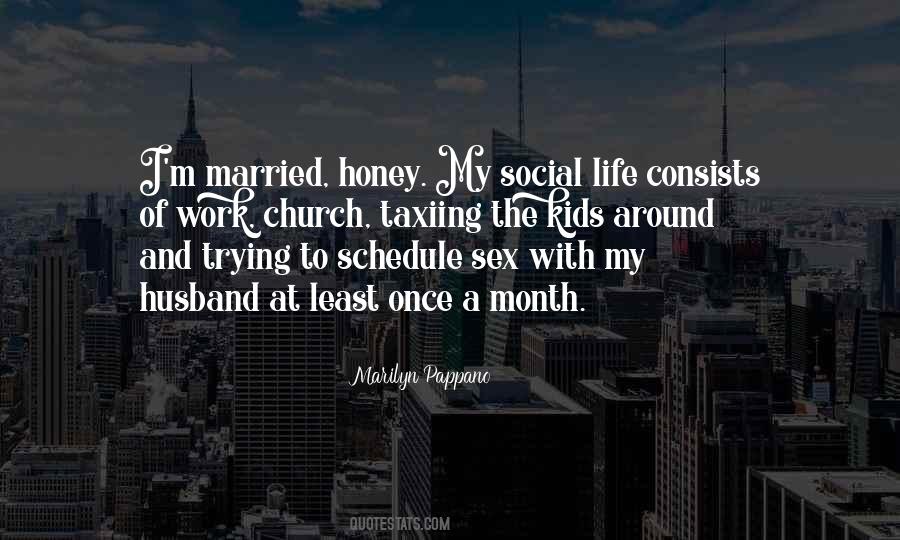 #93. Coaches who shoot par in the summer are the guys I want on my schedule in the winter. - Author: Abe Lemons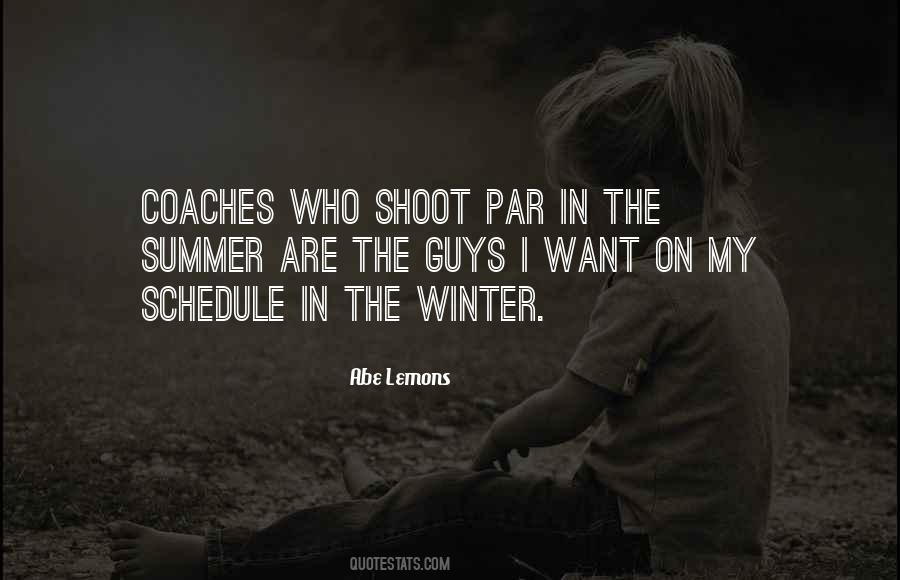 #94. You don't usually work Mondays, do you? What about Tuesday?
I grinned. She knew I didn't work on Monday. That meant she was aware of my schedule. Nice. We were both creepers. - Author: Helena Hunting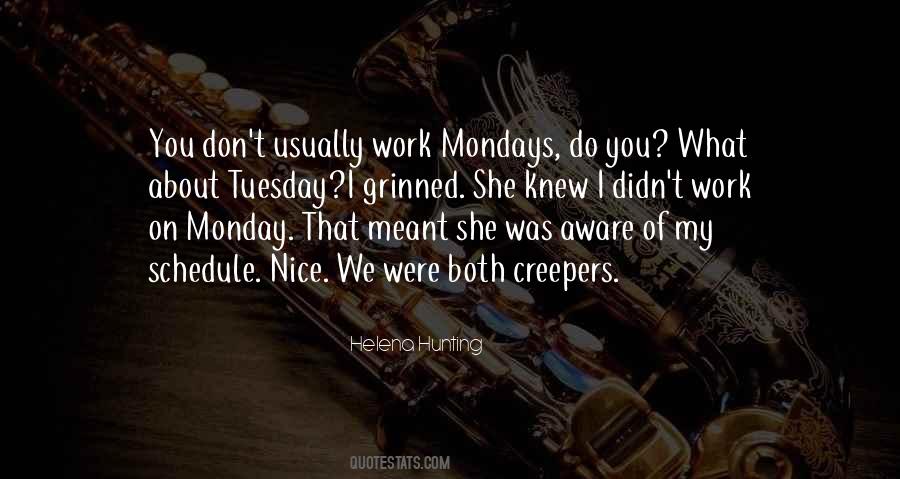 #95. I'm just not interested in getting judged or getting people to love me. Being seen and taking my photo and having to follow this schedule all the time, I don't enjoy it. - Author: Lykke Li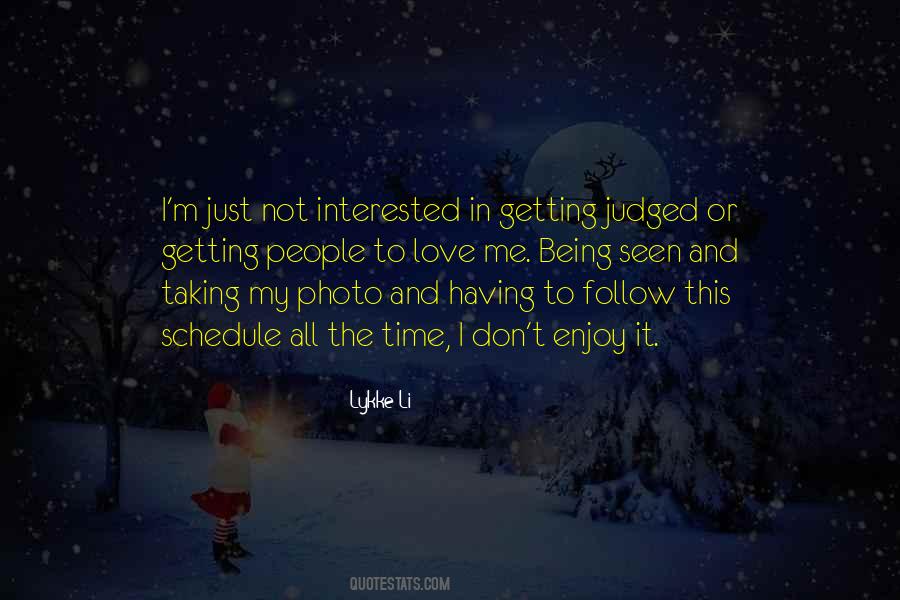 #96. I don't have time to be that girl who does the super workout. But I try to be as fit as possible, given my schedule. Even if I do 20 minutes a day, it's better than nothing. - Author: L'Wren Scott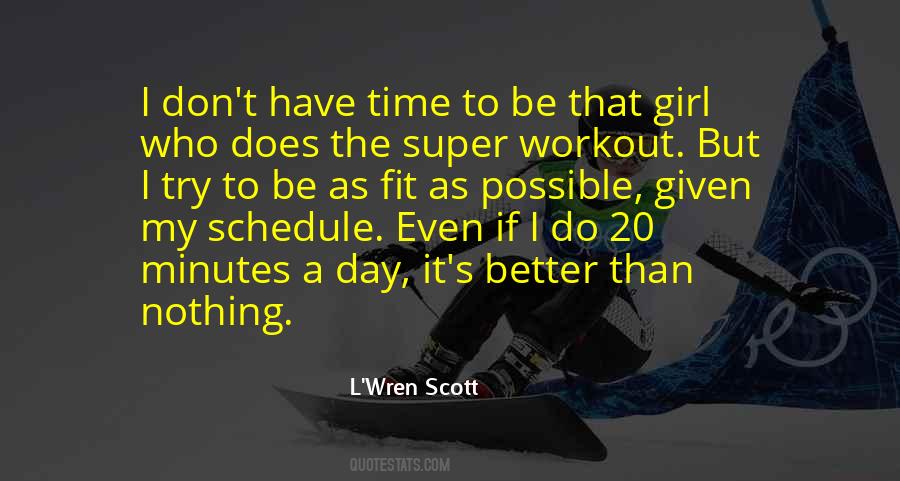 #97. Was slated for the afternoon shift with Nate, but hell if I was sticking to the schedule. I figured one of two things would happen the more time I spent with her. I'd learn she was annoying, a pain in the ass, or silly, and all of those would be great because I could get her out of my system. - Author: Lauren Blakely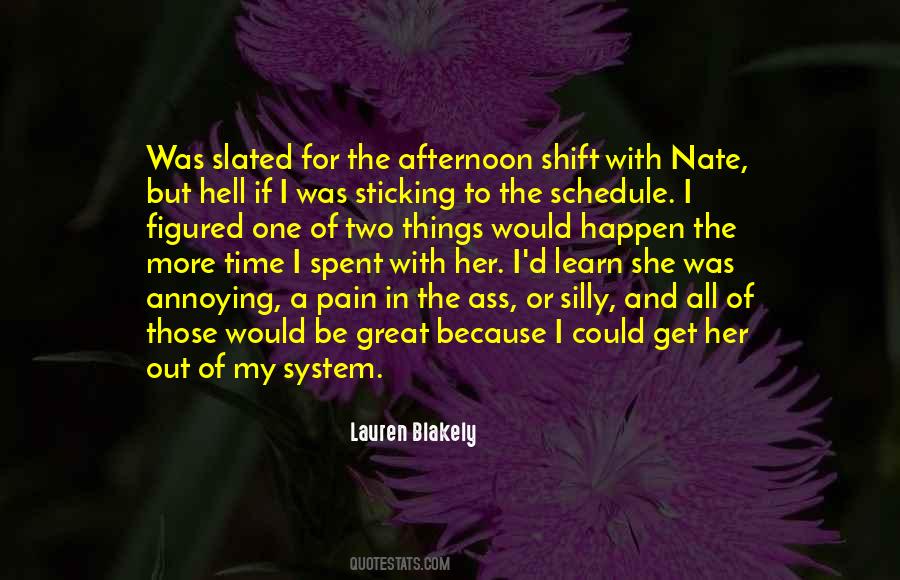 #98. And I remember as a second or third grader having some autonomy to go to the store if I felt like it, walk home, take my time, kick the can. We were on our own schedule after school, so that was cool. - Author: Stone Gossard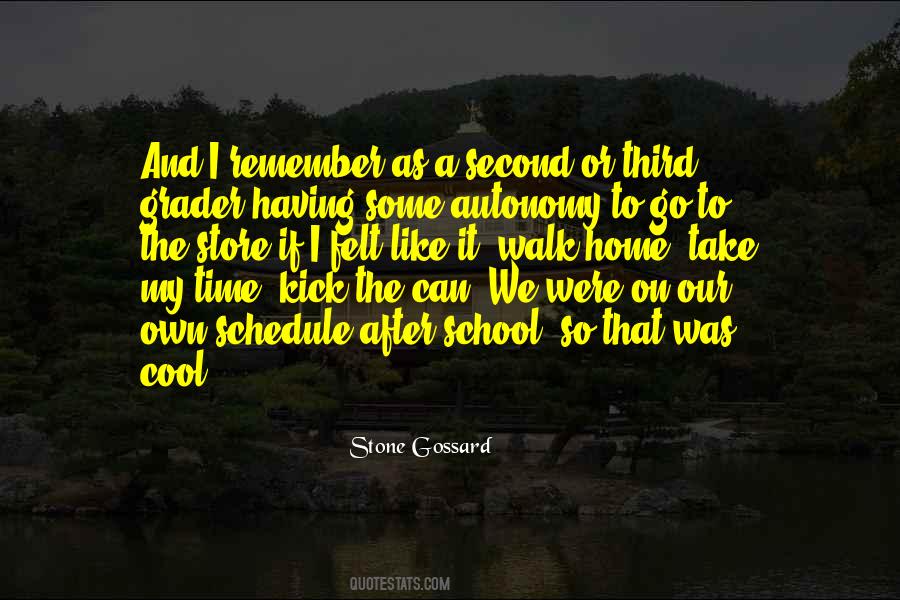 #99. I write lyrics. I play the guitar. If the rest of the band had to do my schedule, they would be dead - Author: John Frusciante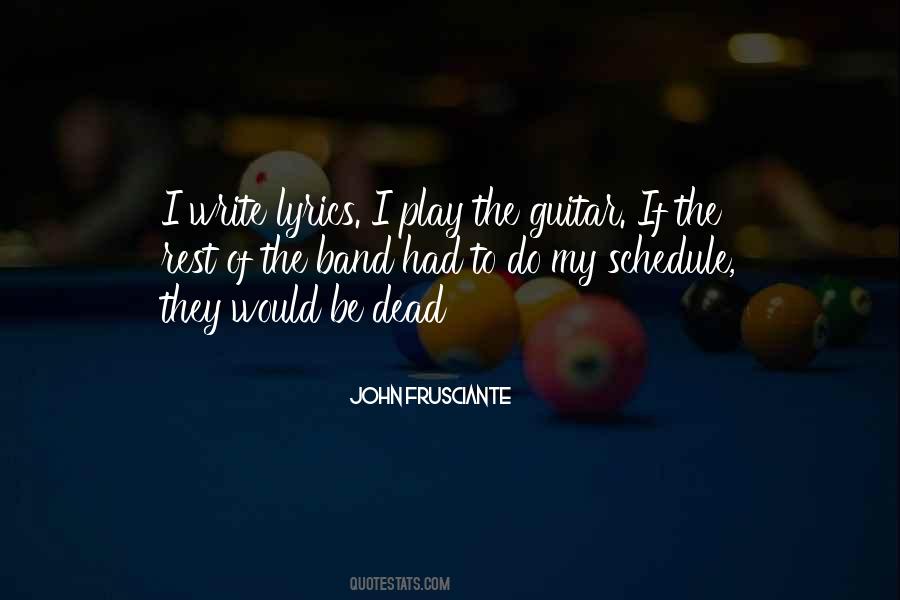 #100. I have never in my life found myself in a situation where I've stopped work and said, 'Thank God it's Friday.' But weekends are special even if your schedule is all over the place. Something tells you the weekend has arrived and you can indulge yourself a bit. - Author: Helen Mirren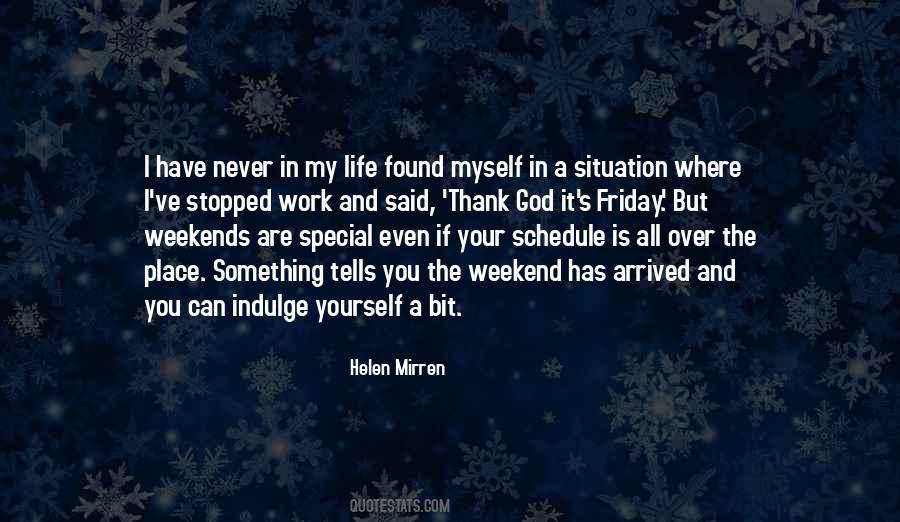 Famous Authors
Popular Topics