Music Business Famous Quotes & Sayings
List of top 100 famous quotes and sayings about music business to read and share with friends on your Facebook, Twitter, blogs.
Top 100 Music Business Quotes
#1. Bread and beauty grow best together. Their harmonious integration can make farming not only a business but an art; the land not only a food-factory but an instrument for self-expression, on which each can play music to his own choosing. - Author: Aldo Leopold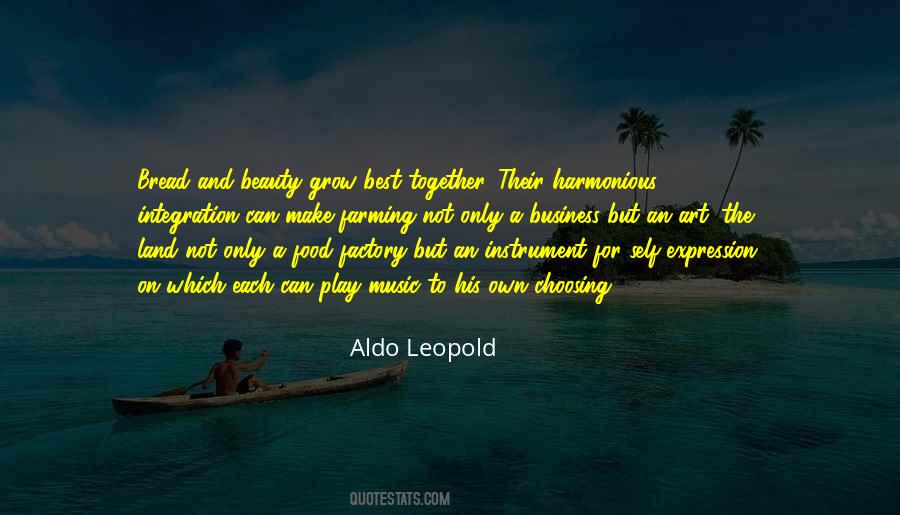 #2. I put up with the music business because I understand that I'm in the tradition, I'm in a tradition that's of far greater importance than the business I seem to be in. Everywhere I go in the world, people ask me about the business that I seem to be in, but I'm not really in that business. - Author: Billy Corgan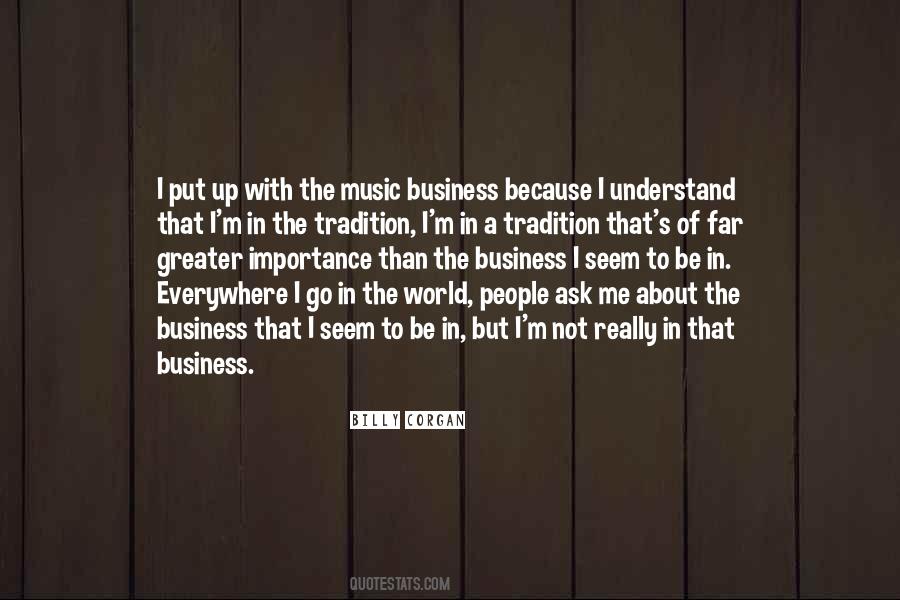 #3. Actually, I have another record I made with them in 1976, but I've had such a bad experience with record companies, because I keep my head so much in music and not in business. - Author: Ornette Coleman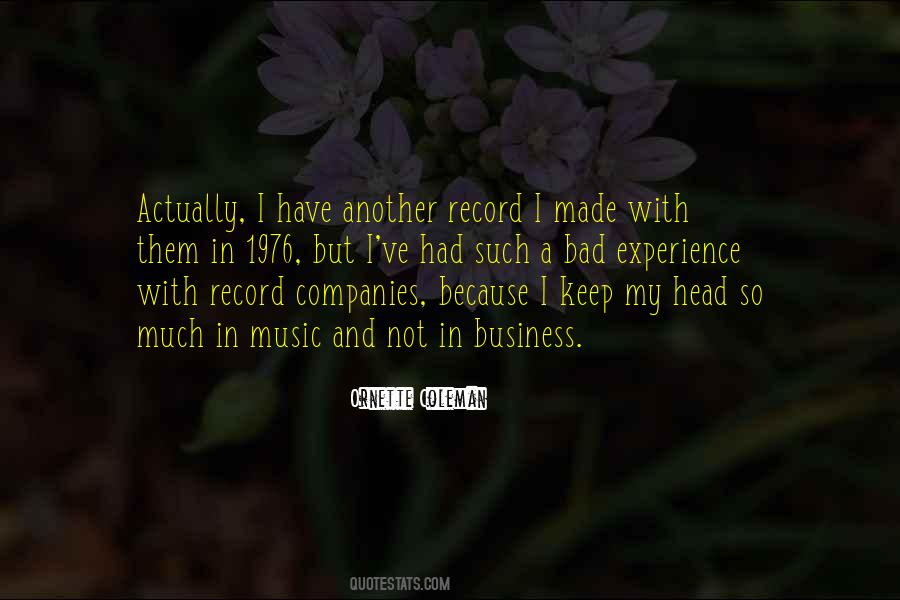 #4. It is a tough city to live in (Detroit) but a great city to be around. There is so much promise. There just needs to be a movement to help push the city beyond the automobile industry. The music business needs to learn how to support itself. - Author: MC Serch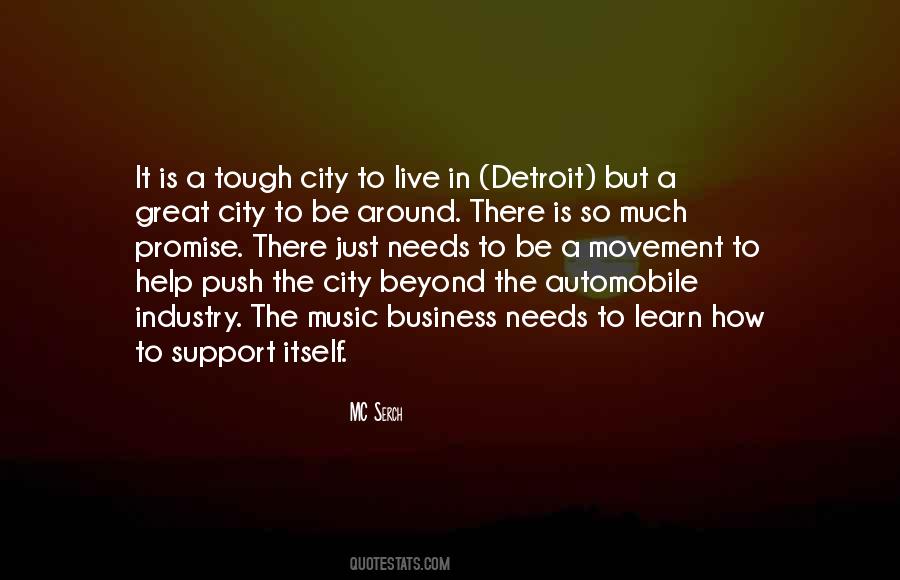 #5. Music and the music business are two different things. - Author: Erykah Badu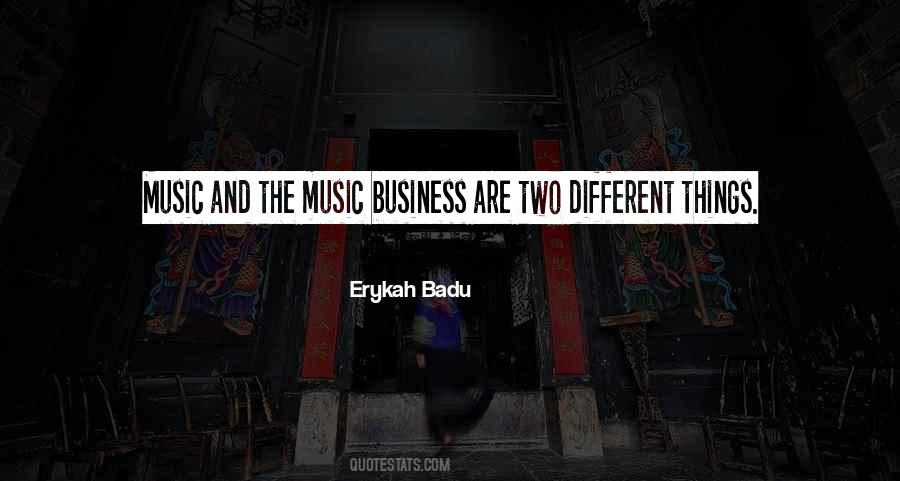 #6. The movie business is very difficult but the music business is just impossible. So I'll play in bands and record and play songs with other people, but for me it's a form of expression that all I need is me. I don't need cameras or agents, I can just have a piano and sing and feel totally verified. - Author: Jeremy Renner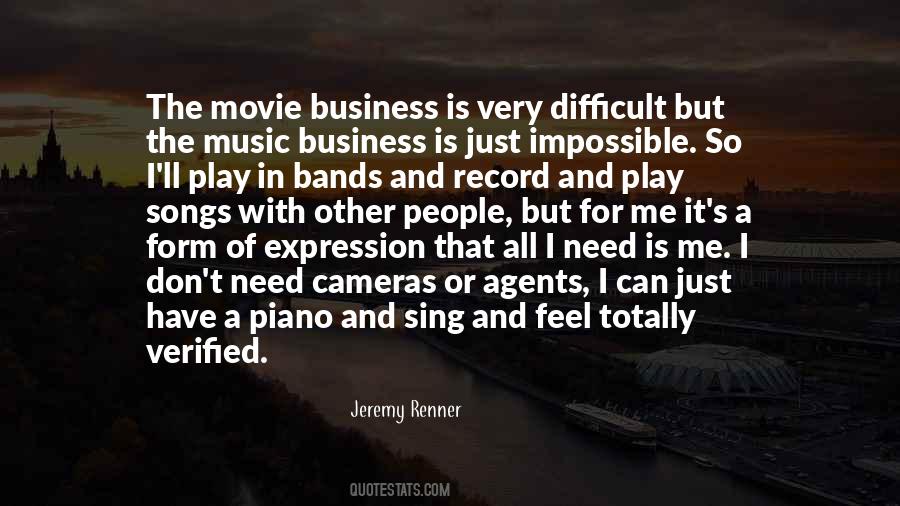 #7. The Beach Boys have always been a part of the '60s spectrum, with The Beatles and that kind of thing. They were a part of the music business like everyone else. And they did quite well as a singing group, and I finished a lot of good records, and I'm very proud of them. - Author: Brian Wilson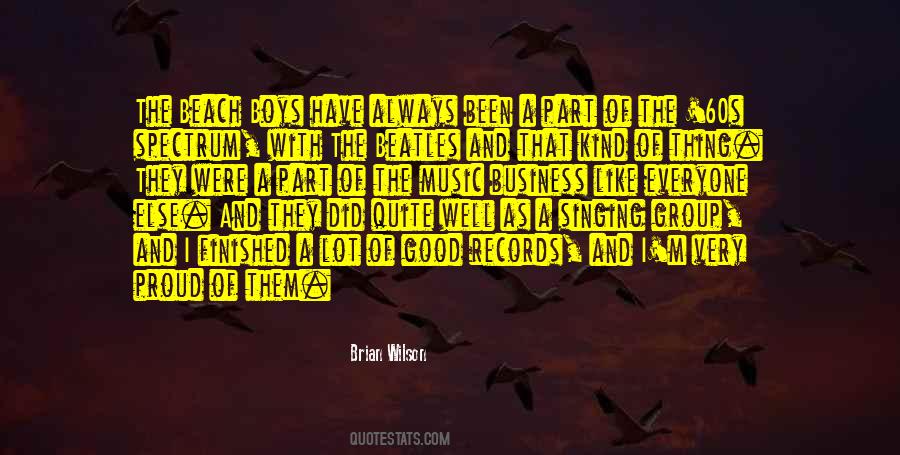 #8. That's always stuck with me, with music. I've never really gotten jaded about it. I've always loved music for the sake of doing it, and the longer I do it, the more I like it. Hopefully, I'll be able to have that same point of view in this business, or at least with doing this. - Author: Slash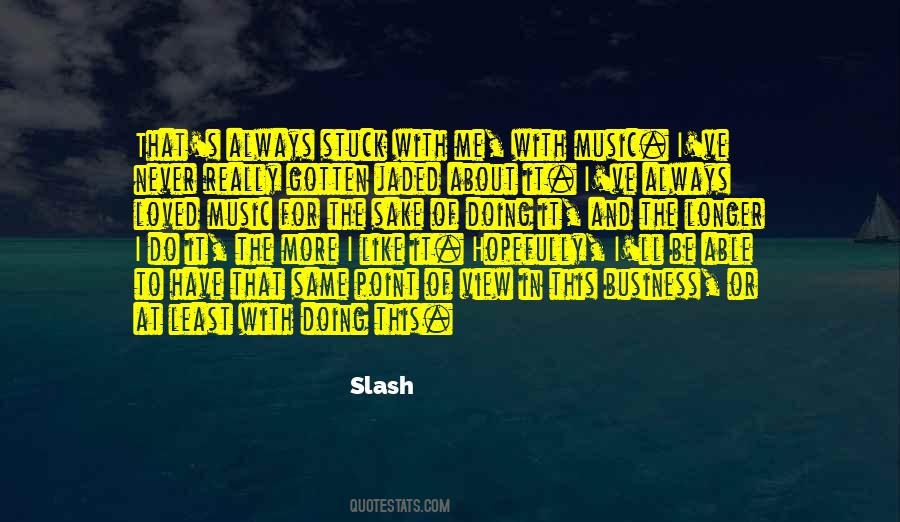 #9. The music we made then was so amateurish, compared to the rest of mainstream pop or rock and roll. But what differentiated us from what everybody else was doing in the business was the fact that you could tell that these people came from different reference areas. - Author: Kevin Ayers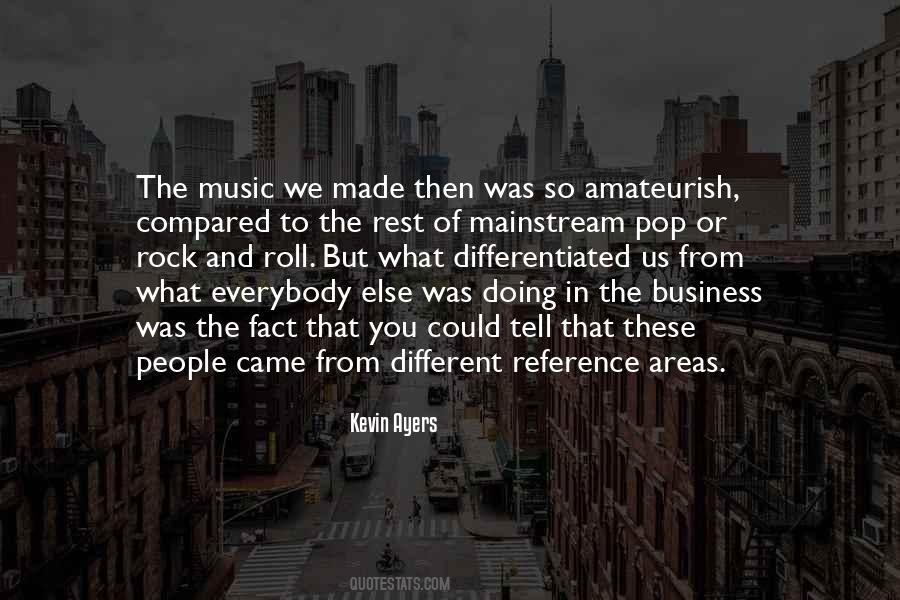 #10. My life is about politics, a lot of about music, and a lot about things other than acting. I like traveling the world. But, what makes me want to stay in this business and keep doing this are movies when it's a true labor of love. - Author: Olivia Wilde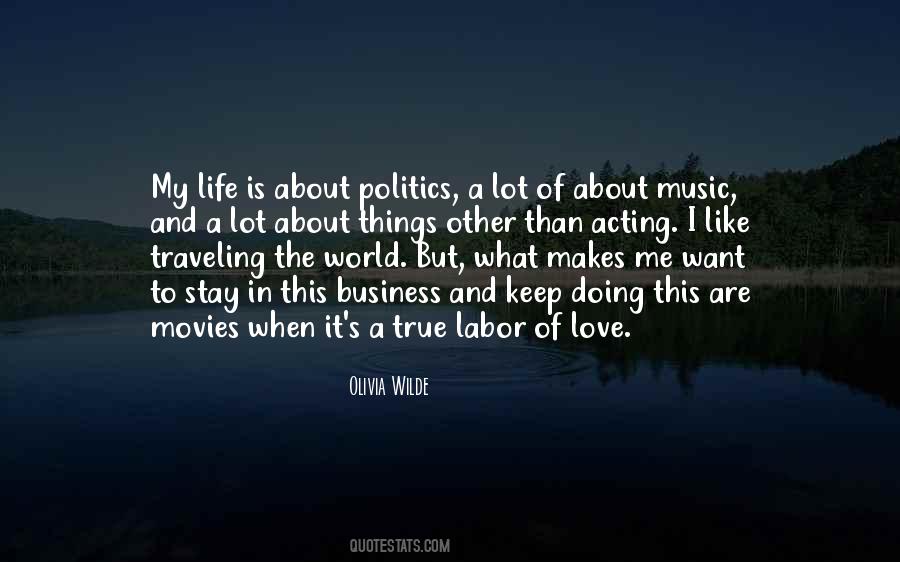 #11. Napster has pointed the way for a new direction for music distribution, and we believe it will form the basis of important and exciting new business models for the future of the music industry. - Author: Barry Diller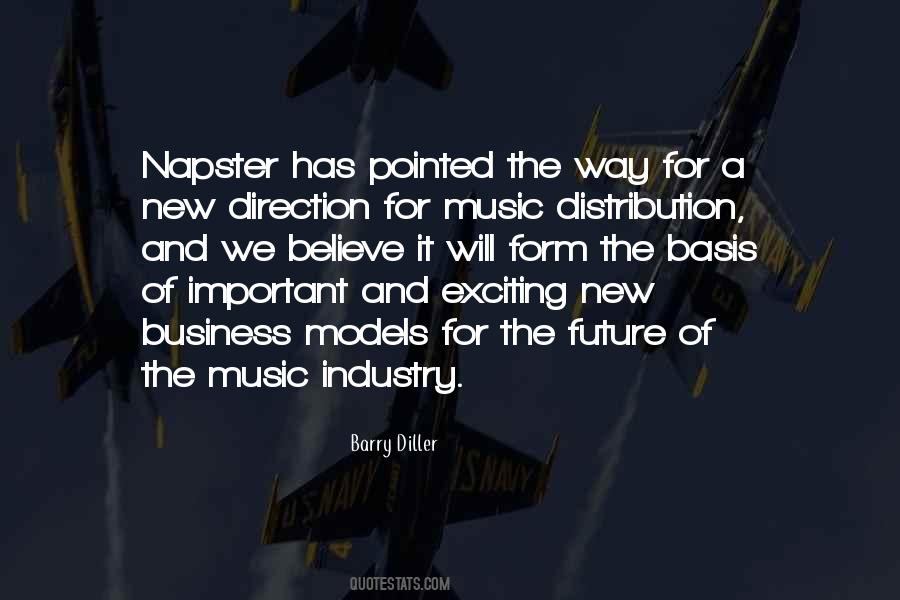 #12. Your mistakes aren't learning experiences ... if you aren't learning from them. - Author: Loren Weisman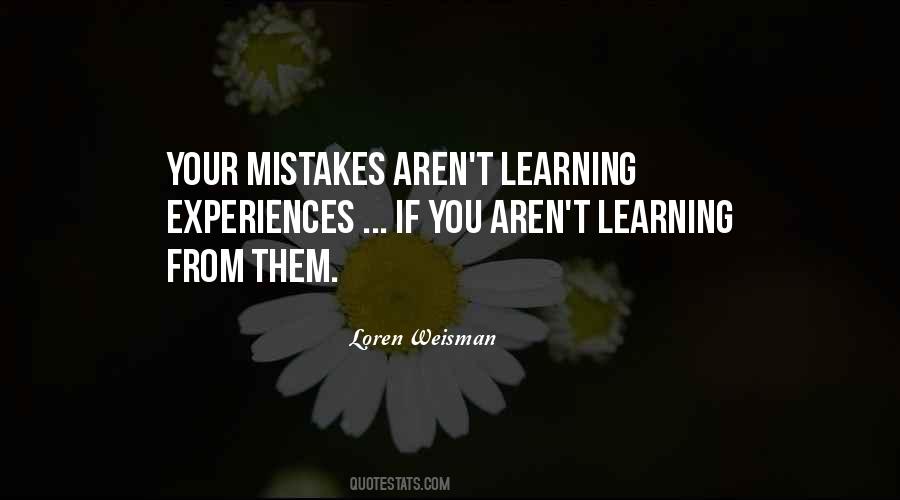 #13. When I first started recording, I was told by all of the experts in the business that the kind of music that I was doing was never going to sell. That disco was the coming thing and it was going to take over and what I was interested in was a minor sideline. - Author: Tom Scholz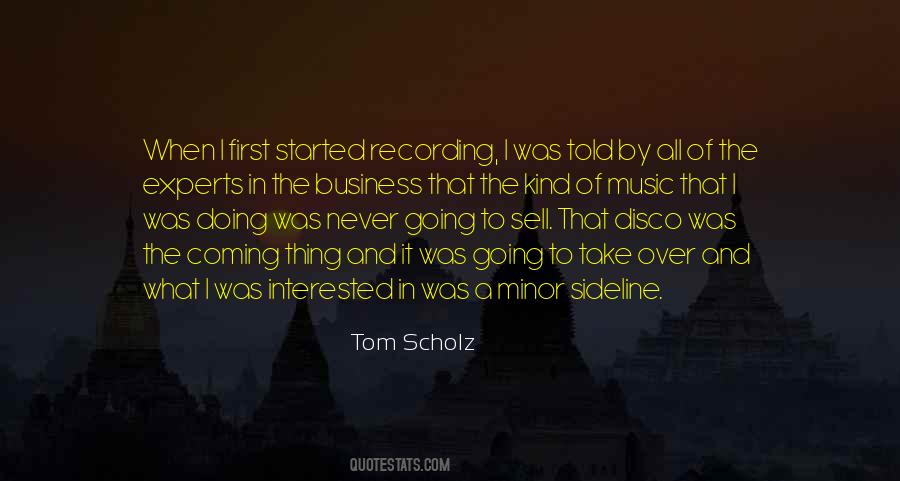 #14. The daily mindfulness, consistency, and discipline is ultimately more important than the amount of time. In other words, it's more about quality than quantity. If you use 15 minutes effectively, you'll accomplish more than you would be able to with two hours of unfocused, random actions. - Author: Simon S. Tam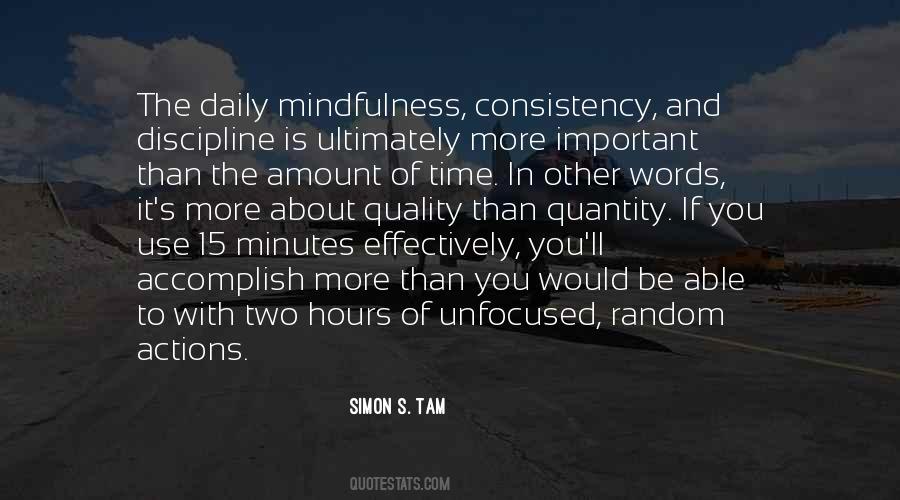 #15. I love what I do. I made my first record in '57. I don't think I'll ever get tired of making records and writing songs and singing and being in the music business. - Author: Ray Stevens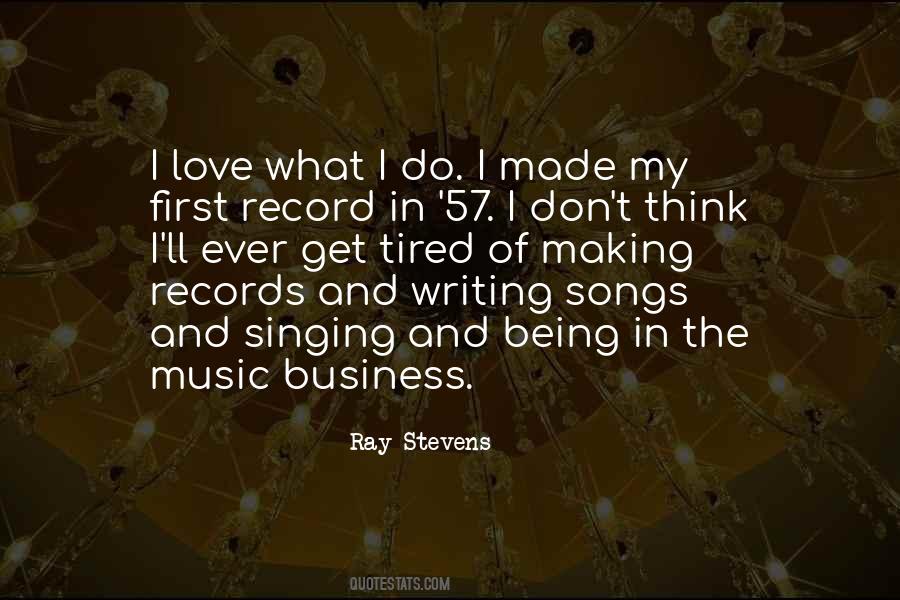 #16. The music business is really a spiritual business whether we know it or not. - Author: Kurtis Blow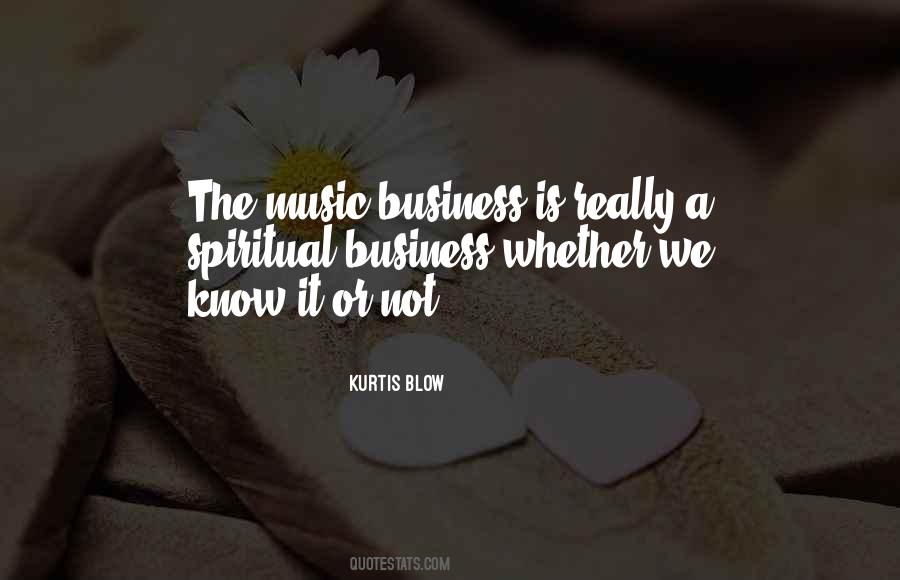 #17. I'm just trying to survive and stay relevant! That's all anyone in the music business can ask for. - Author: Christopher Tin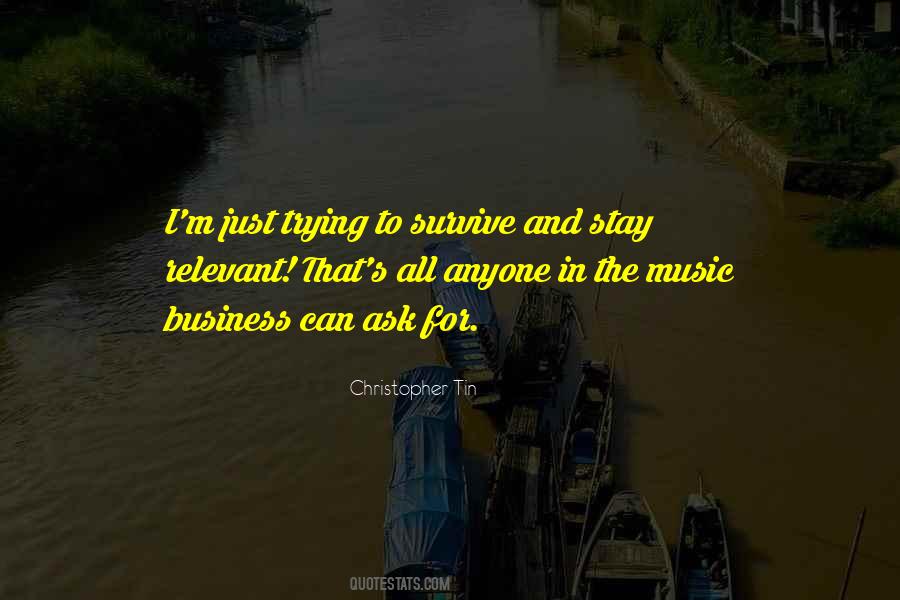 #18. I'd just like to inspire people to be themselves and do what they want and not conform to the rigid guidelines of the music or entertainment business. - Author: Juliana Hatfield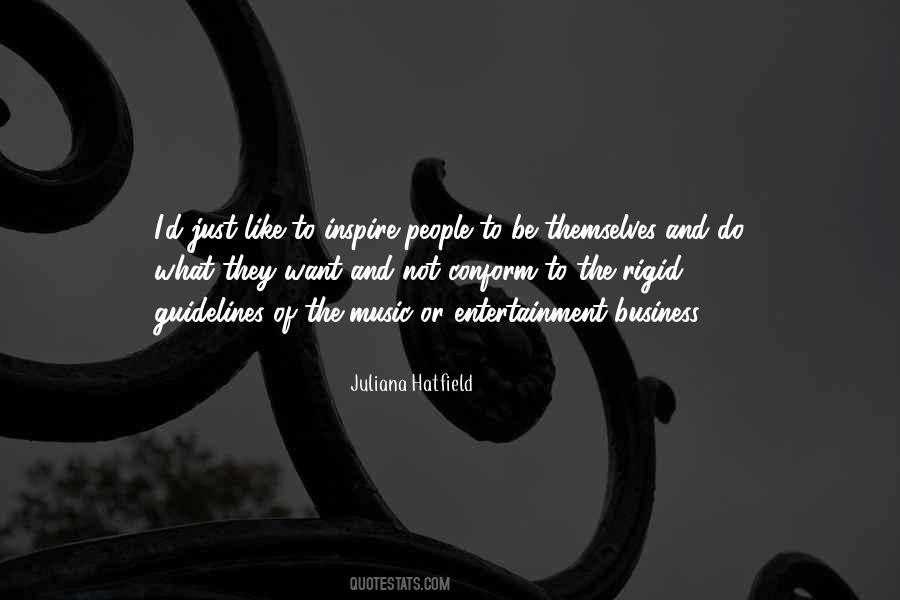 #19. We're the McDonalds of rock. Were always there to satisfy, and a billion served. - Author: Paul Stanley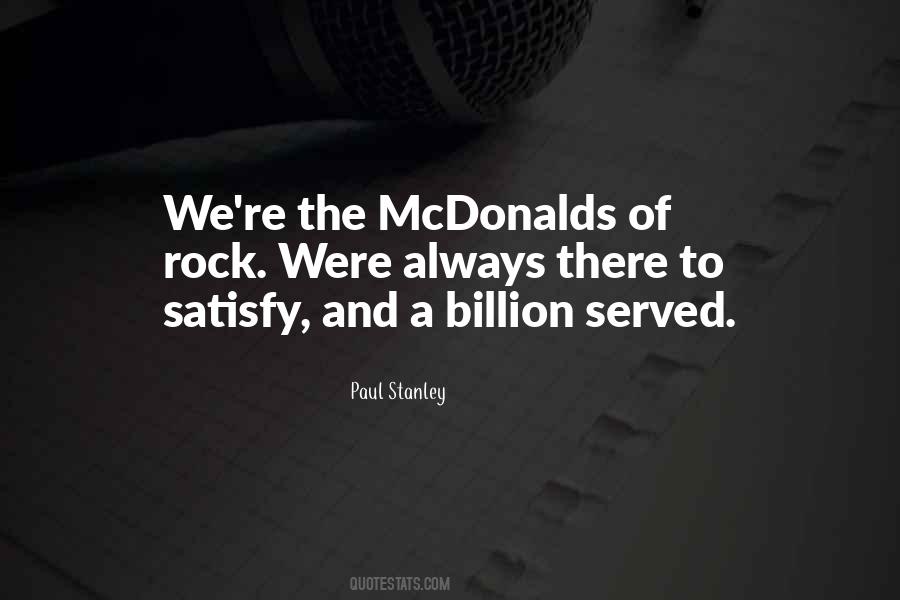 #20. I think the music business is changing. Artists that don't want to tour and just want to collect royalty checks and stay home are not going to be able to do that. - Author: Steve Earle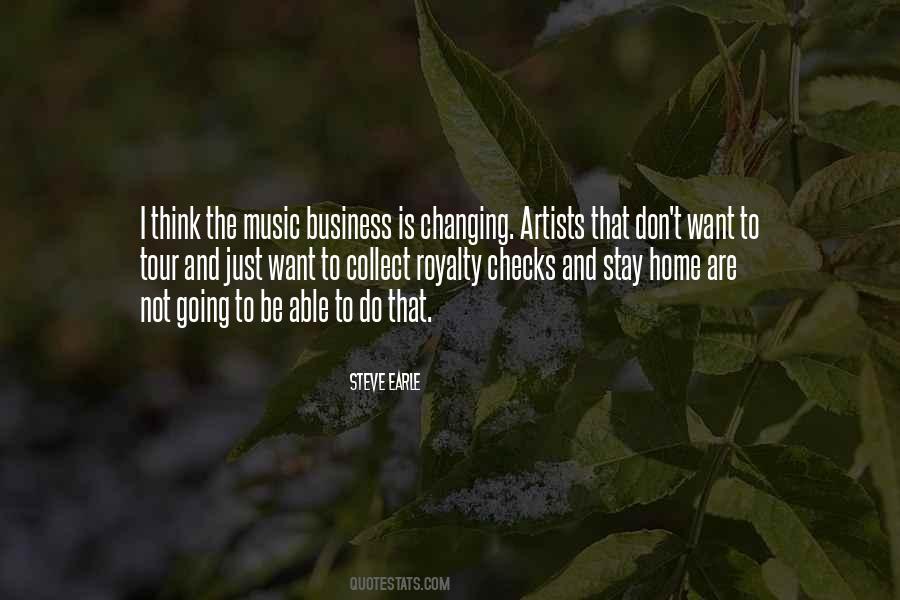 #21. Not since the steam engine has any invention disrupted business models like the Internet. Whole industries including music distribution, yellow-pages directories, landline telephones, and fax machines have been radically reordered by the digital revolution. - Author: John Sununu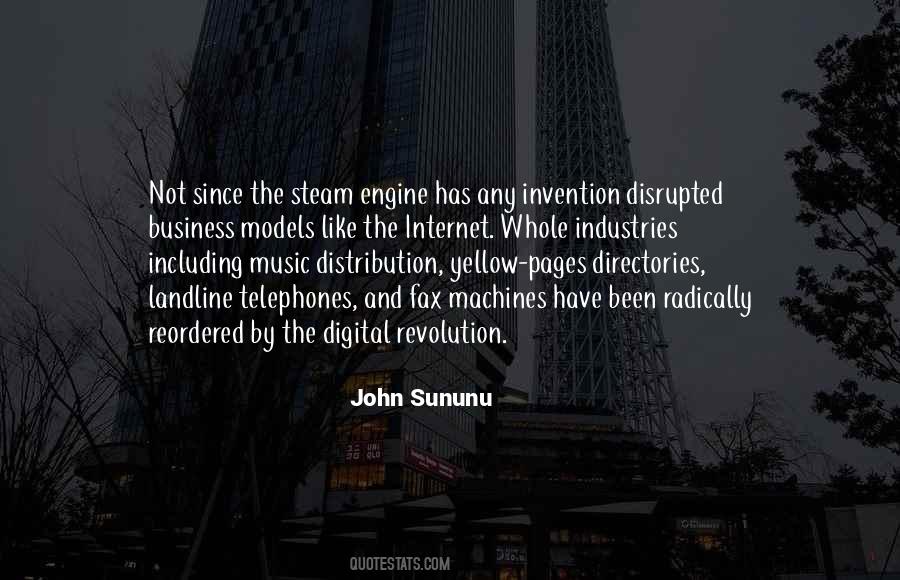 #22. I would say I know nothing about the music business, in a nice sort of way. I totally forgot I was in that music video. That's so funny. - Author: Zooey Deschanel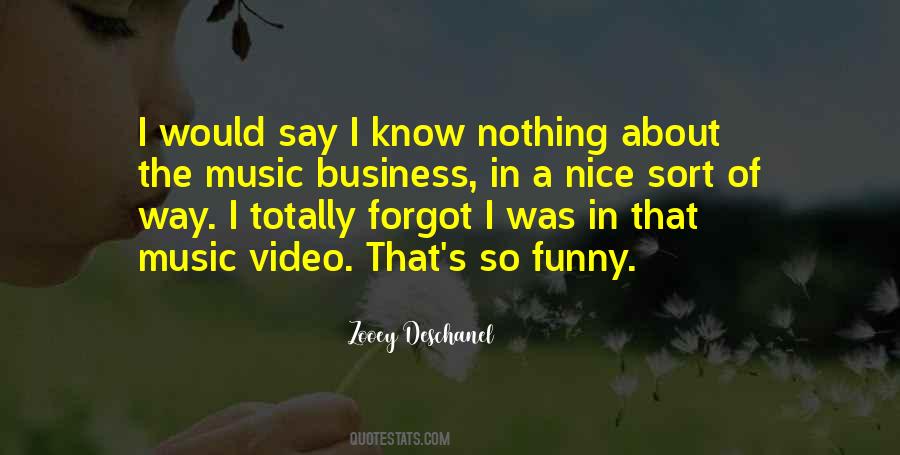 #23. There has been an effect of business rap on the output of today's rap music. But I don't think that's the modern day rapper's fault. - Author: M.I.A.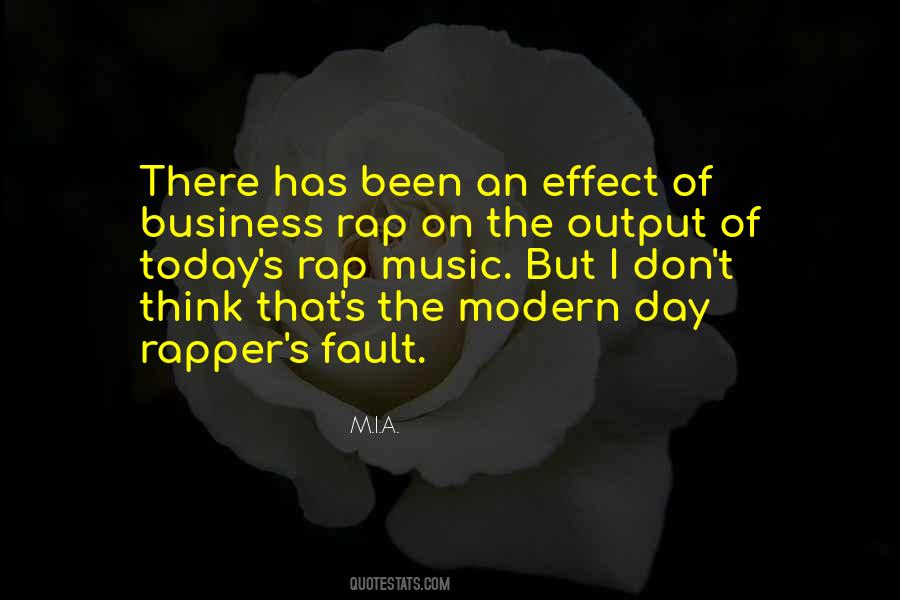 #24. Music for me is something I prefer to keep away form the whole business part of my life. I feel like everything I do, in a way, has some sort of business around it. So with my music I can have my privacy. If people don't have to pay for it then I think they can be a little more open to new ideas. - Author: Milla Jovovich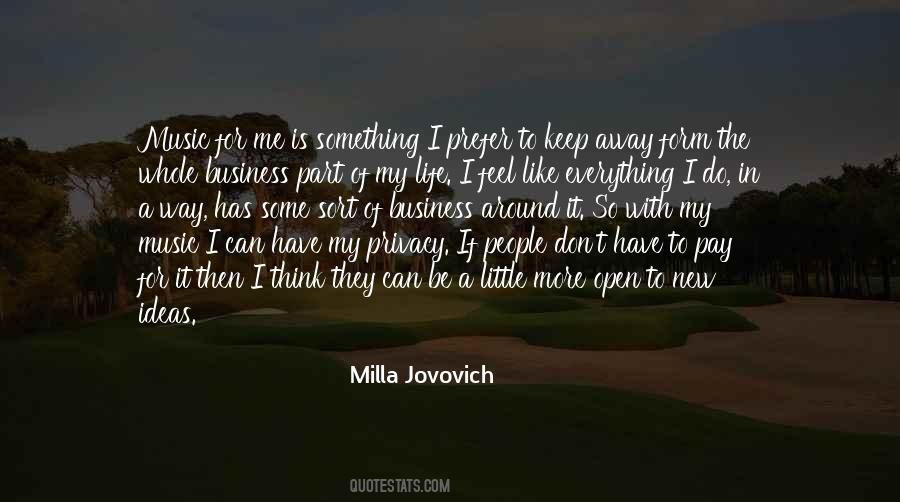 #25. It's weird because music is this thing that you love doing, and it comes completely from a place of creativity, and then that transfers into having to manage a business and make decisions and figure out what is the best route to go in terms of getting your product to as many people as possible. - Author: Macklemore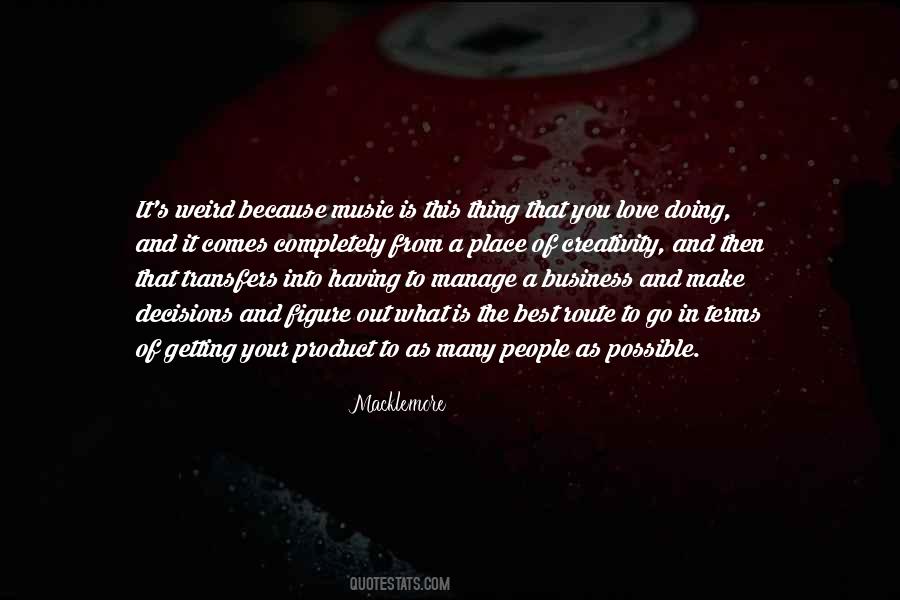 #26. 'The bigtime for you is just around the corner.' They told me that first in 1952 - boy, it's been a long corner. If I don't hit the bigtime in the next 25 or 30 years, I'm gonna pack in the music business and become a full-time gigolo. - Author: Ronnie Hawkins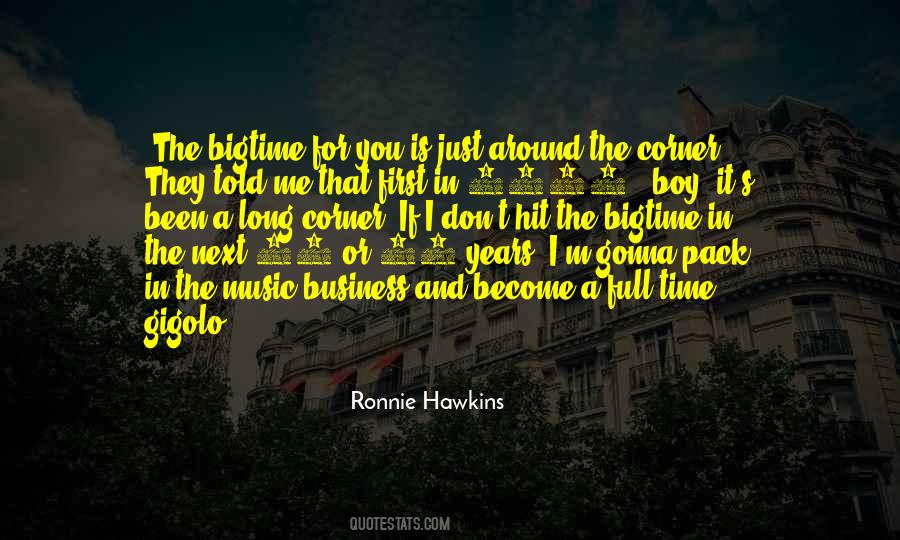 #27. Music has become a bigger business, and with that there is more pressure to succeed; I think that it creates a negative pressure for being creative. - Author: Jerry Harrison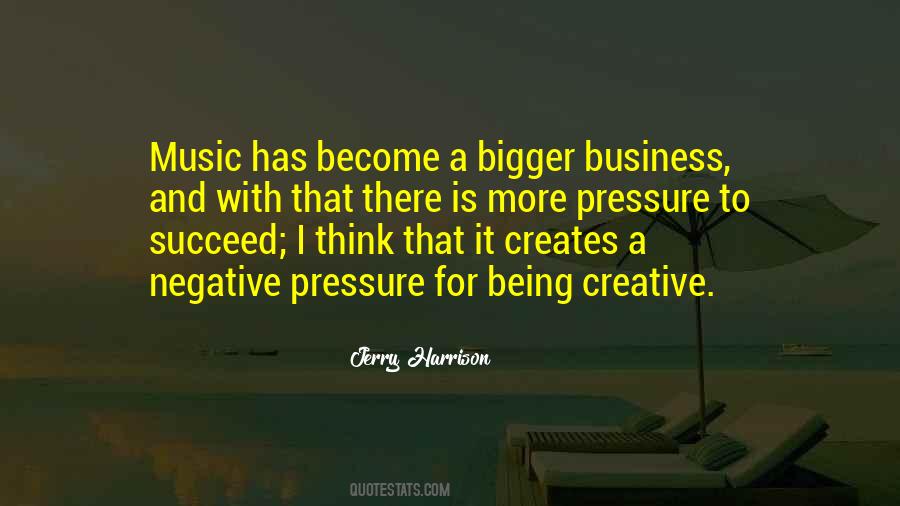 #28. The business aspect is one of the most important things about having a music career, because every choice you make in a management meeting affects your life a year-and-a-half from now. - Author: Taylor Swift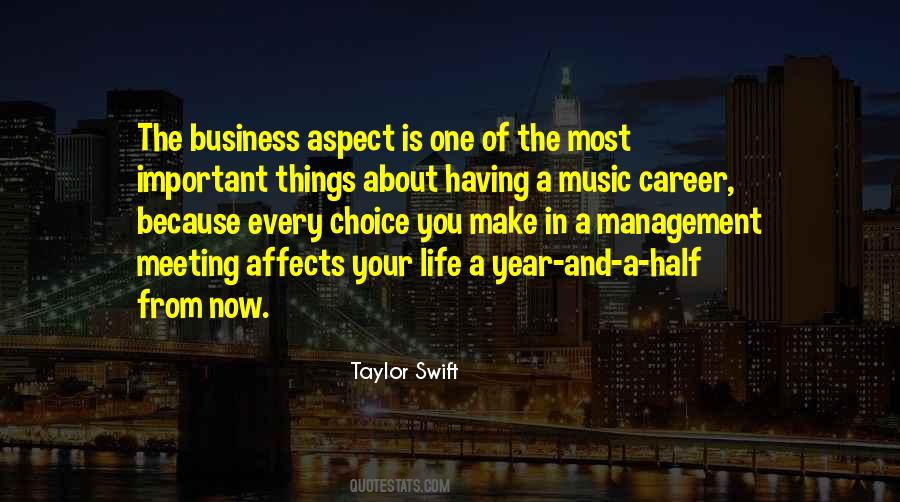 #29. Retire for what? What would I do? I made my name as a person that is helping. I'm like Moses in the music business. - Author: James Brown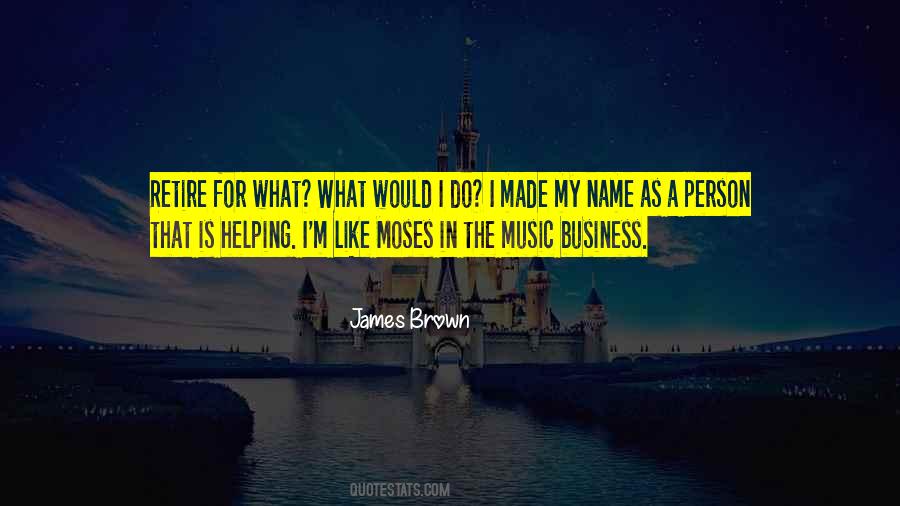 #30. I finished high school, moved to Nashville for college, and set out to break into the music business. Every night when I called home with news of my experiences, my mom and dad would encourage me to keep taking those small steps. - Author: Trisha Yearwood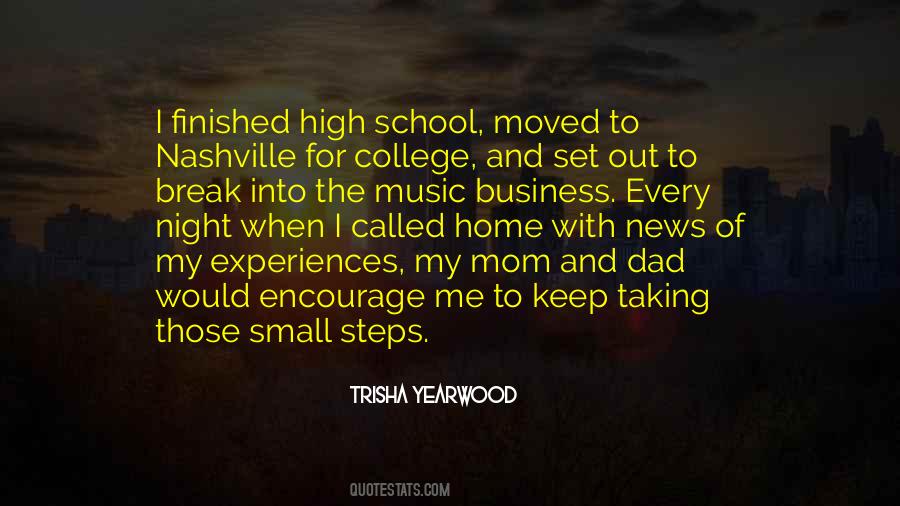 #31. Barry Manilow is a guy who's had a tremendous longevity that few have had in the music business. I'm in awe of what he does. - Author: Dave Koz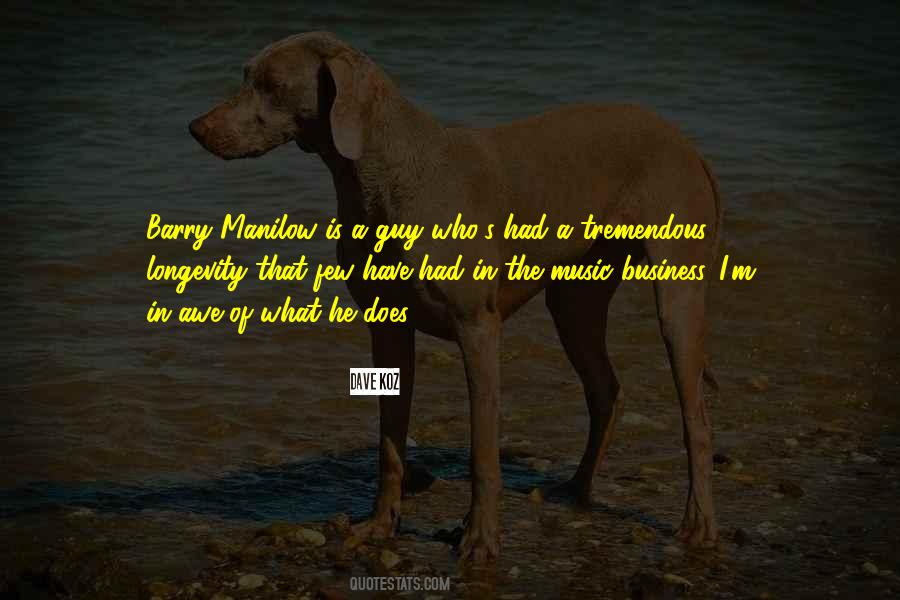 #32. As an artist, I feel that my father's biggest influence is me realizing that music has a purpose and it's not just for business and that music is spiritual. I get that from him that music is a spiritual thing. - Author: Ziggy Marley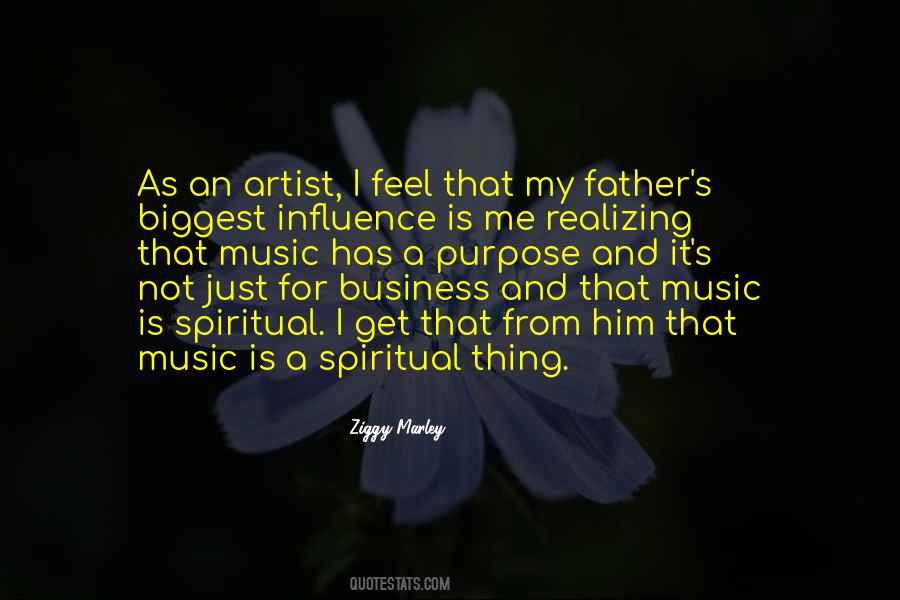 #33. The difference between me and other people in my generation is instead of saying the Internet's killing the record business, I say, 'Who cares about the record business, the Internet is enhancing music.' - Author: Daryl Hall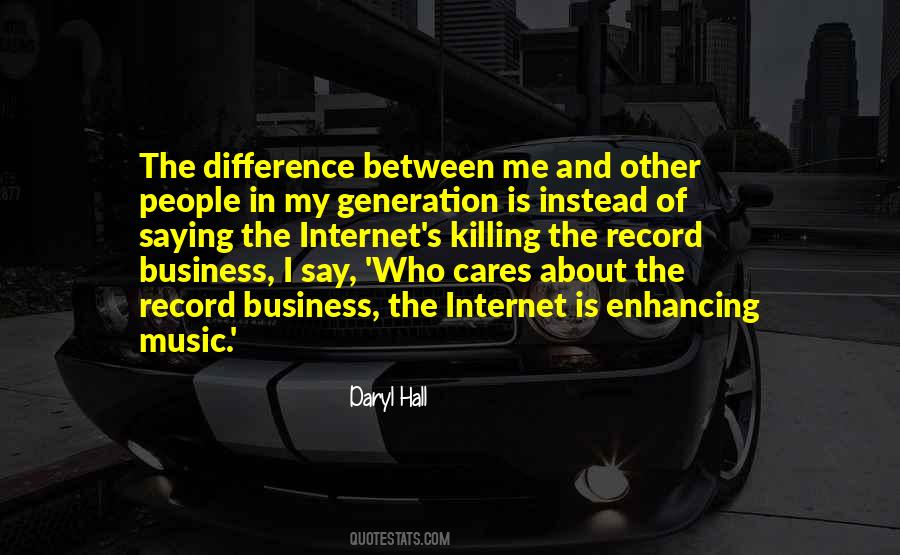 #34. Somebody asked me the question not too long ago: 'Dave, do you think the music business has turned corrupt'. I said: 'Absolutely not - it has always been corrupt. - Author: David Lee Roth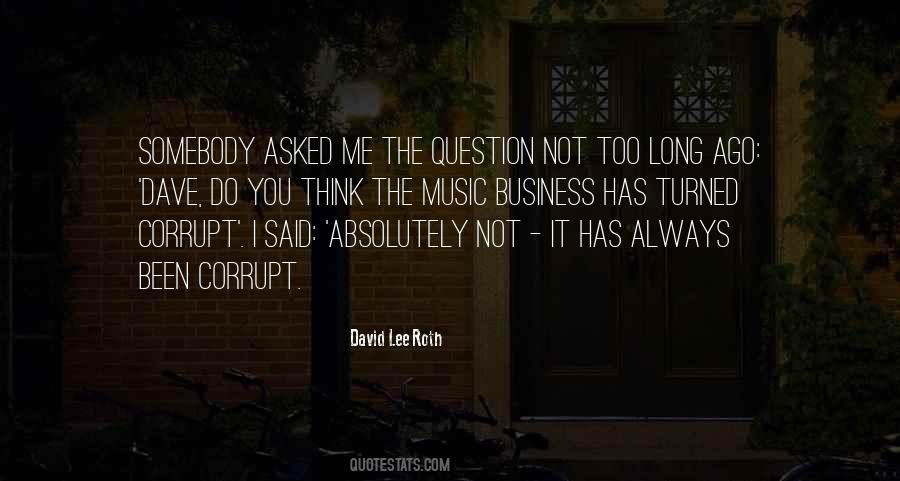 #35. There are few words in the music business or in art that I'll say people or some writers are overgenerous with words like 'legend' or 'genius', 'he's a pioneer' and all of that. - Author: Stanley Clarke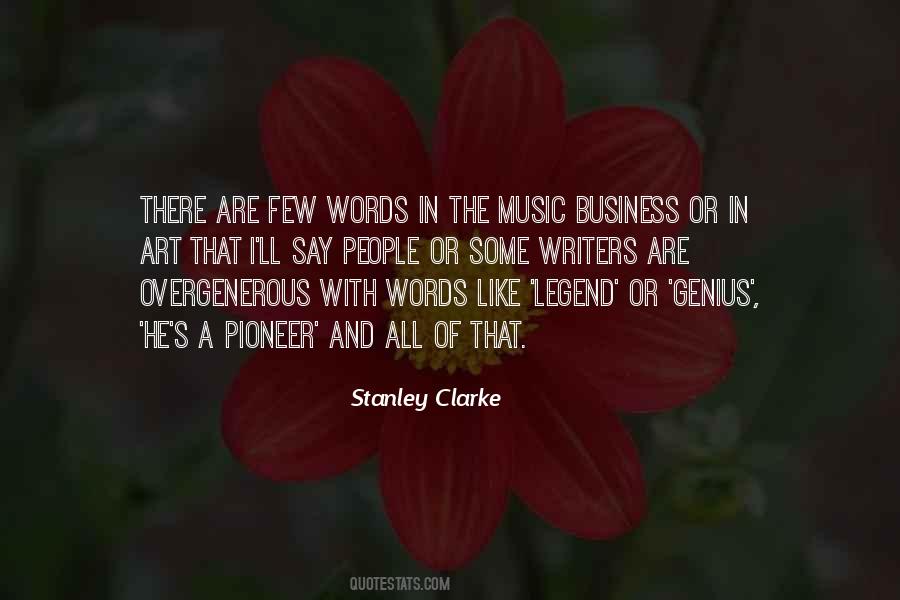 #36. All movies, when they're about the music business, tend to have a bit of a wide latitude in terms of how things really were. - Author: Chris Squire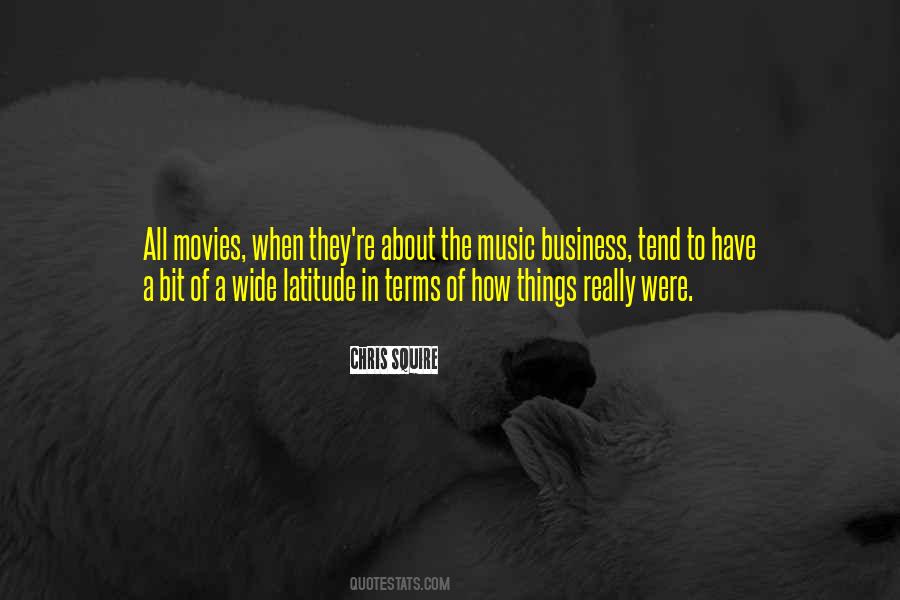 #37. You just plant a few seeds, cultivate the shoots, and watch your career grow and branch out. It takes time and dedication. There are no overnight success stories in the music business! - Author: Christopher Tin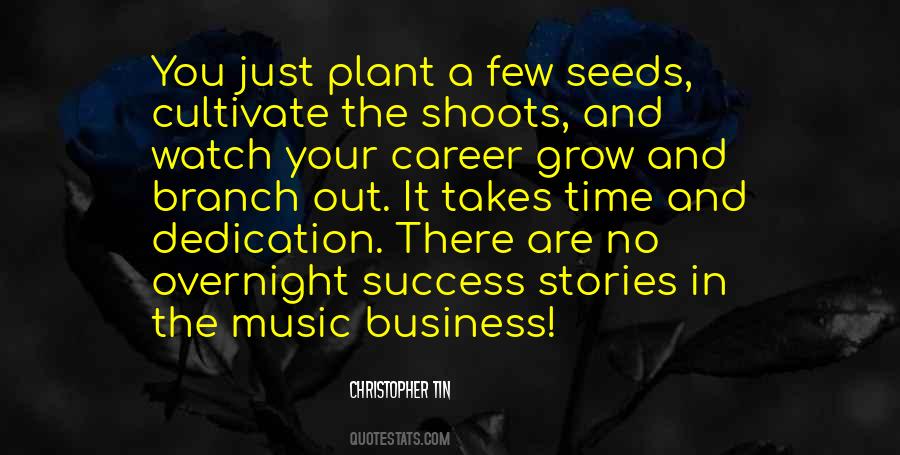 #38. I'm a good listener, you know. My gran used to say that's why you've got two ears and one mouth. I just truly love what I do and treat it with a lot of respect and all these relationships in the music business that people talk about. - Author: Johnny Reid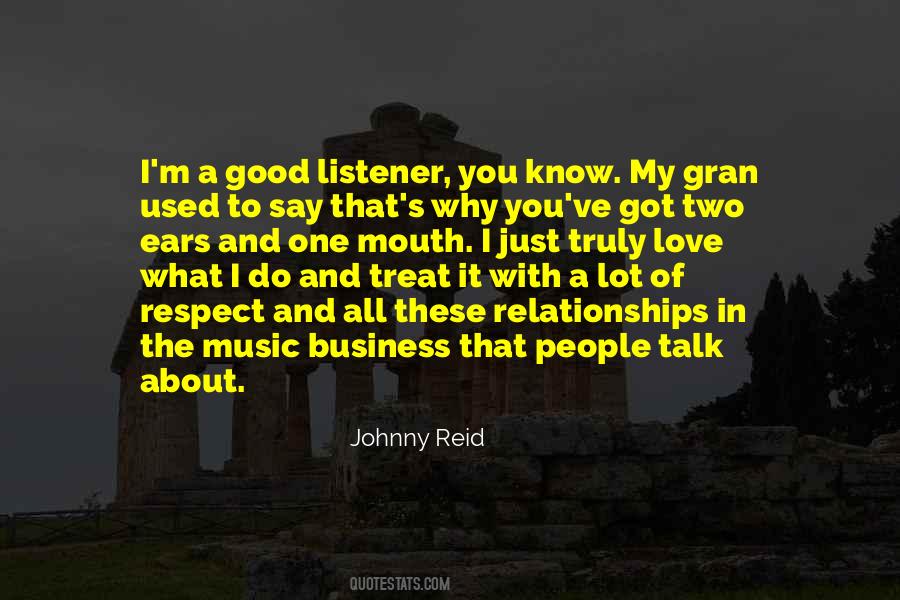 #39. That's why I do this music business thing, it's communication with people without having the extreme inconvenience of actually phoning anybody up. - Author: Morrissey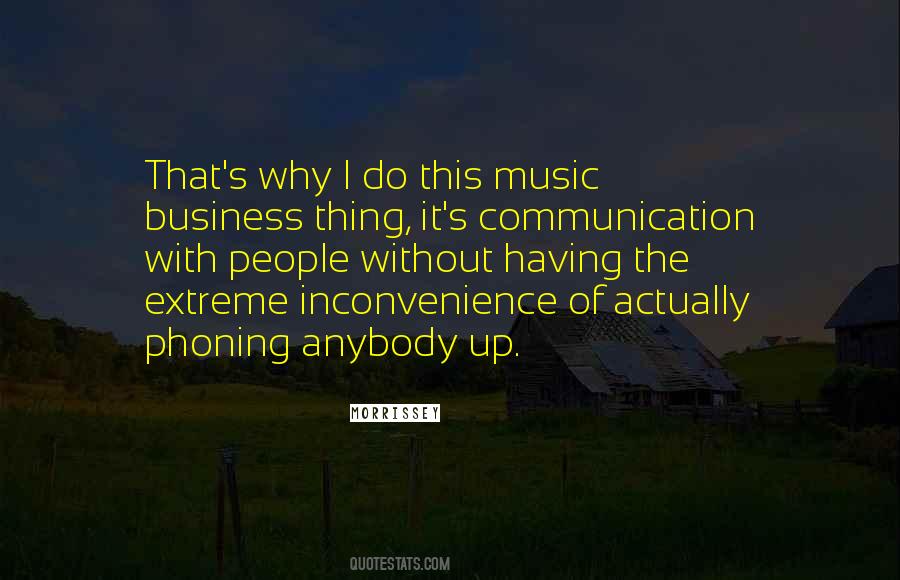 #40. I understand that music is a business, but for people who have control of their stuff, like little Taylor and other artists, I think you'll find them standing up for their music every chance they get. - Author: Garth Brooks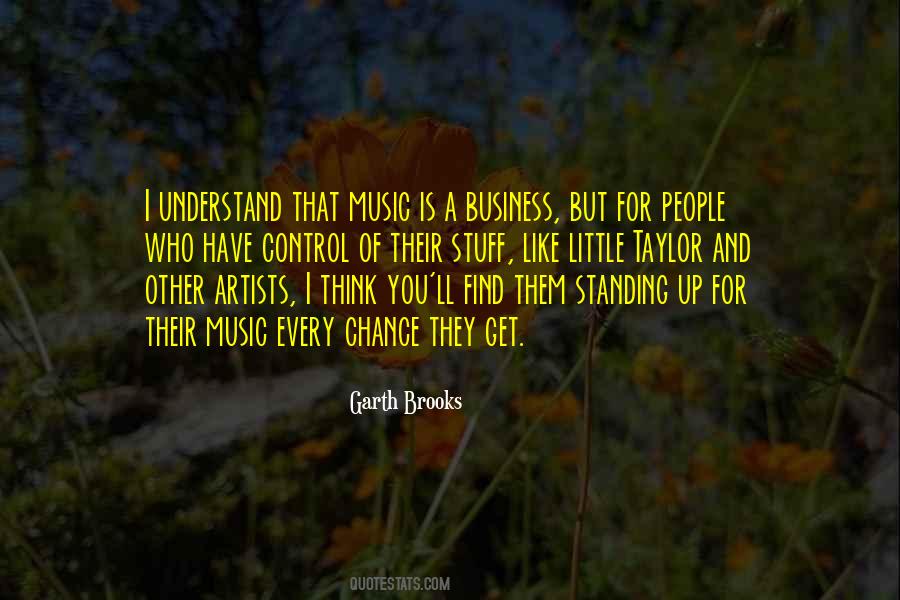 #41. I initially wanted to work in the music industry more on the A&R side. While I was in school, I began working in the New Business department of an advertising firm, and very quickly I was responsible for roughly 70% of their business, so you could say I had a natural knack for the advertising world. - Author: Adam Kluger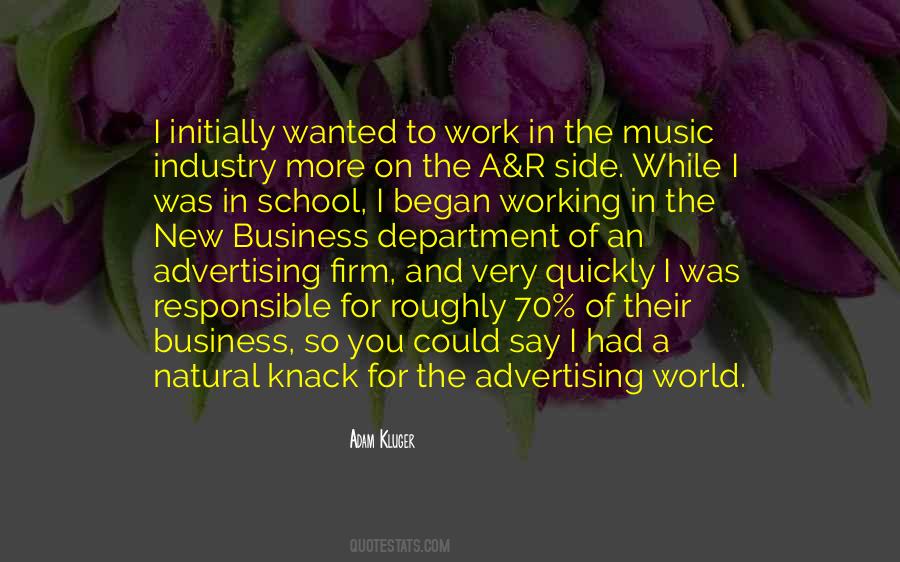 #42. I just had to find all my friends that used to be in the business. As I say, the music business didn't die, it just moved to Nashville. - Author: Lionel Richie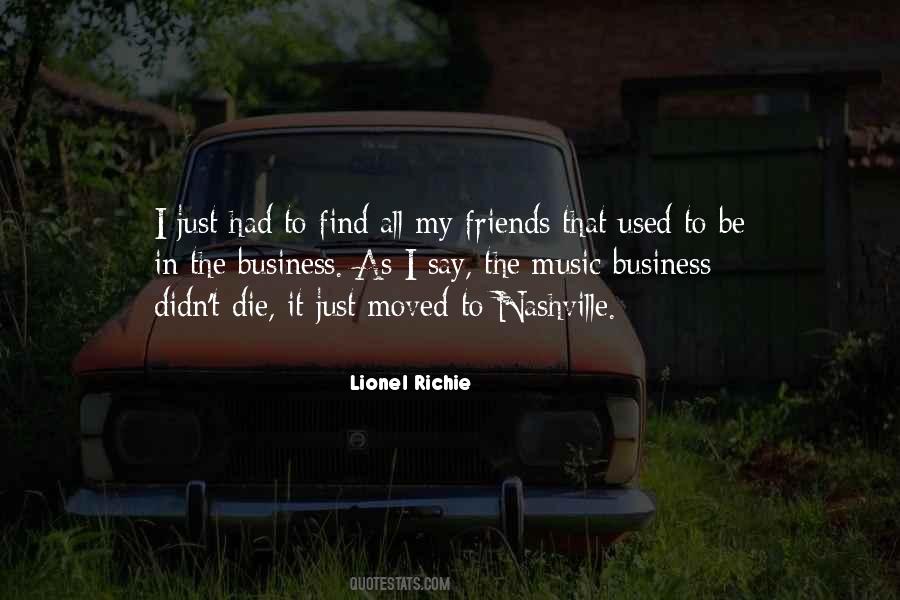 #43. Now, the good of business is put above anything else, as corporations have become the new ruling body. Most decisions seem to be made like ones of a medieval king: whatever makes profit while ignoring and repressing the truth about whatever suffering it may cause (like pop music, for that matter). - Author: Julian Casablancas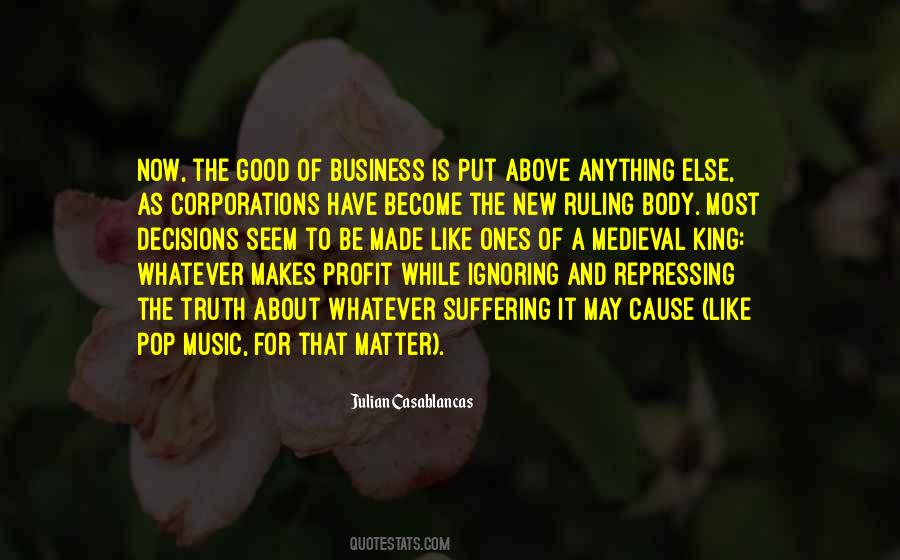 #44. All our institutions rest upon business. Without it we should not have schools, colleges, churches, parks, playgrounds, pavements, books, libraries, art, music, or anything else that we value. - Author: Charles Gates Jr.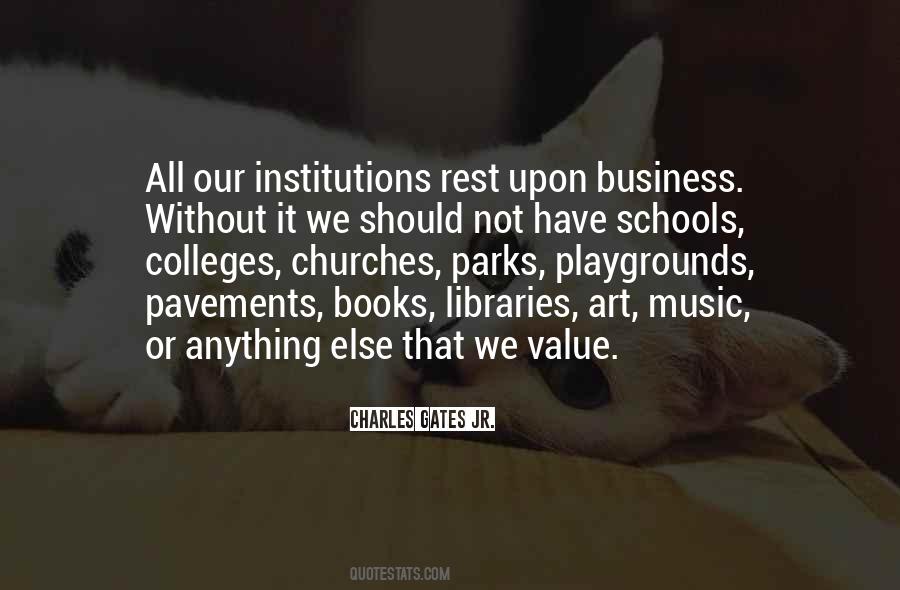 #45. You're a musician and you live and die by people responding to your music. It's a business just like anything else and if people don't like your music, that's kind of your problem. - Author: Marc Martel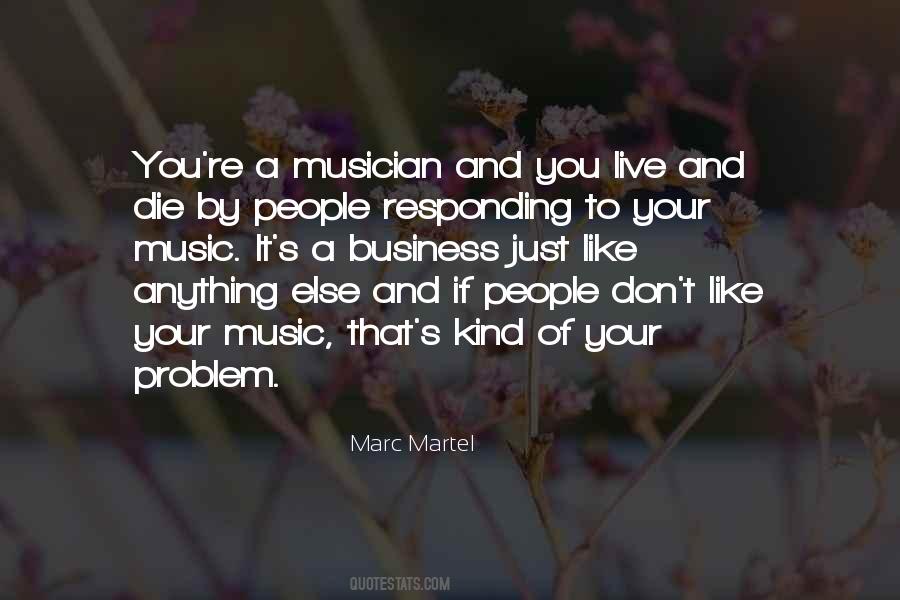 #46. I'm an indie artist with major distribution, so one foot in the extreme major music business and one foot in the abyss of indie artists. - Author: John Oates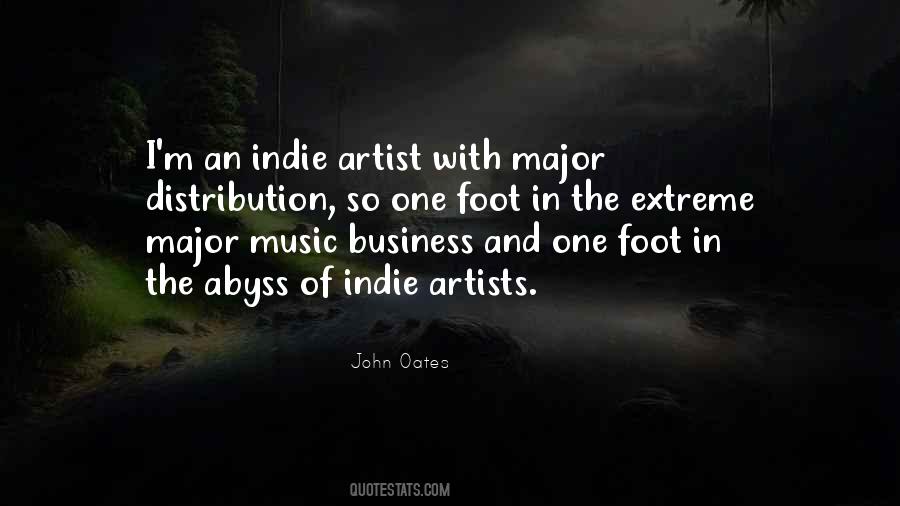 #47. The death of the music business was insane, but audio recordings have been around now for maybe 120 years. Books have been around for, what, nine centuries? So they're more entrenched than music. - Author: Stephen King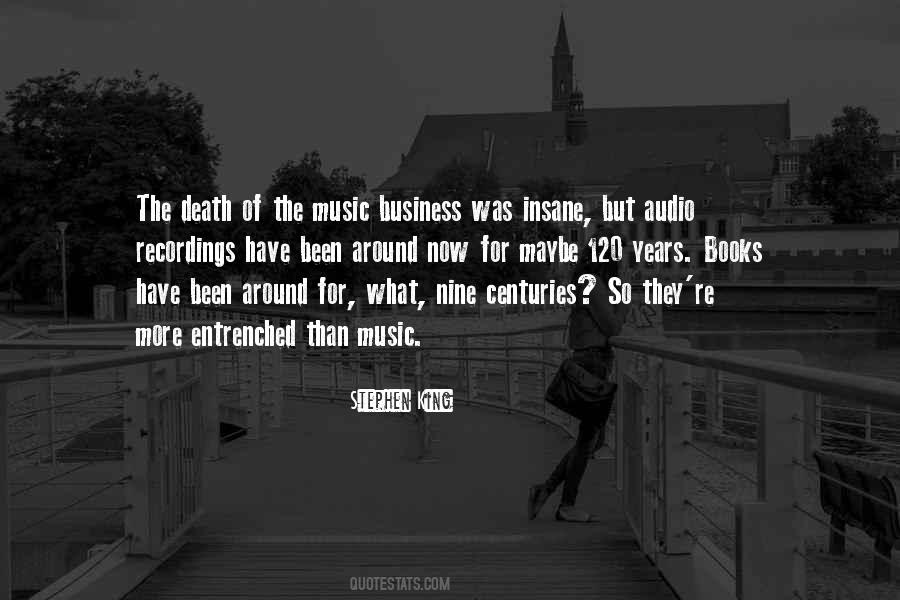 #48. I'm a survivor in a business that constantly rejects you. - Author: Dick Clark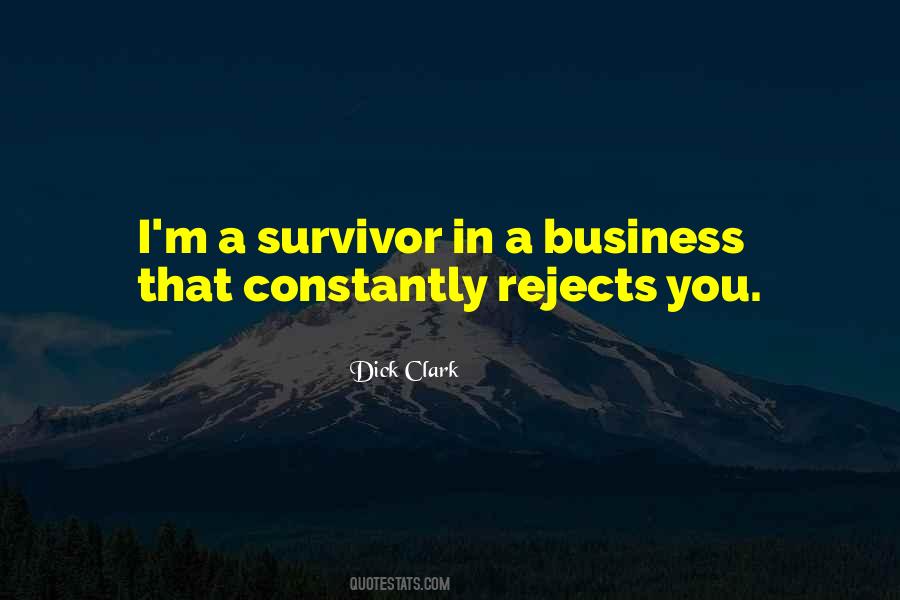 #49. People are people, and I get a bit annoyed that the music business only focuses in on the big metropolises. I find that people that don't live in big cities are just as likely to enjoy music as people that do live in big cities. - Author: Eddi Reader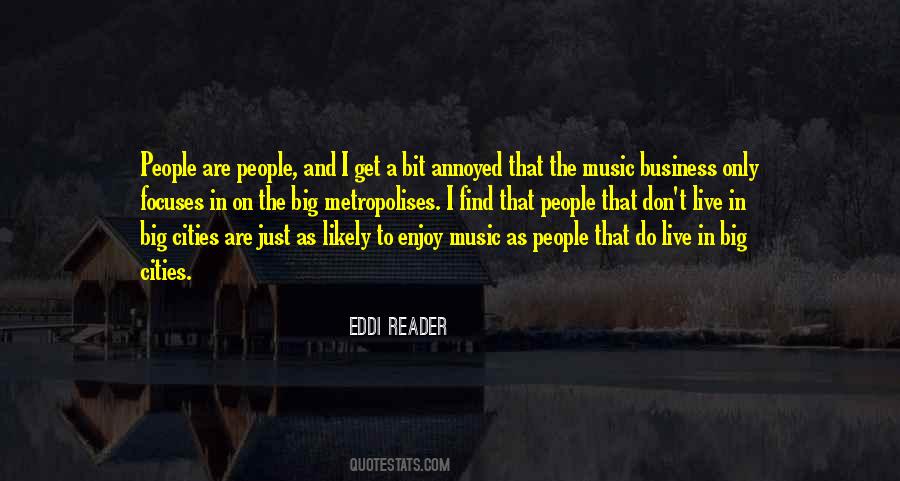 #50. Music licensing is a strange business to navigate, and all kinds of little things can drive a price up or down. It's completely fluid, it constantly changes, and there's no list of prices on a menu. Everything is negotiable in every way. - Author: Liza Richardson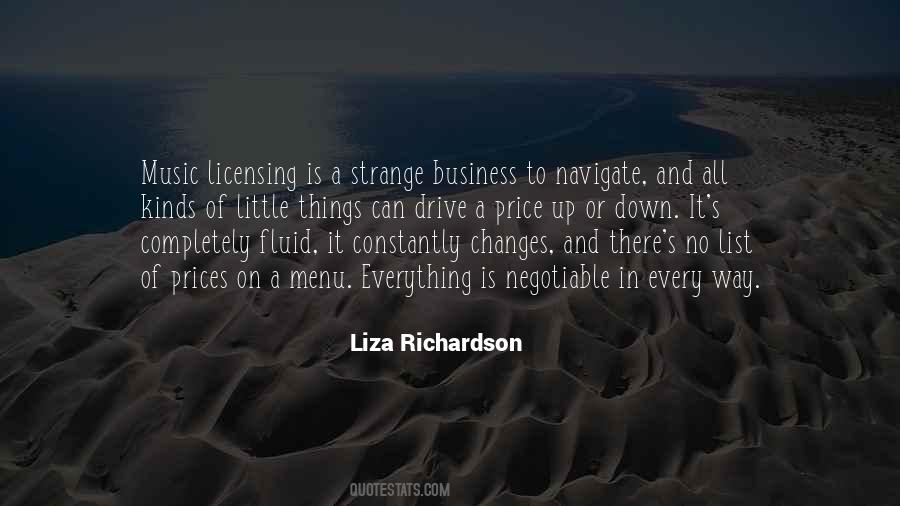 #51. When I graduated from college in early 2010, I decided that I needed to create a calling card, some kind of business card that people can link to my name and face. So I did this 'Mad Men Theme Song ... With a Twist' music video. I released it just as I moved to L.A. - Author: Allison Williams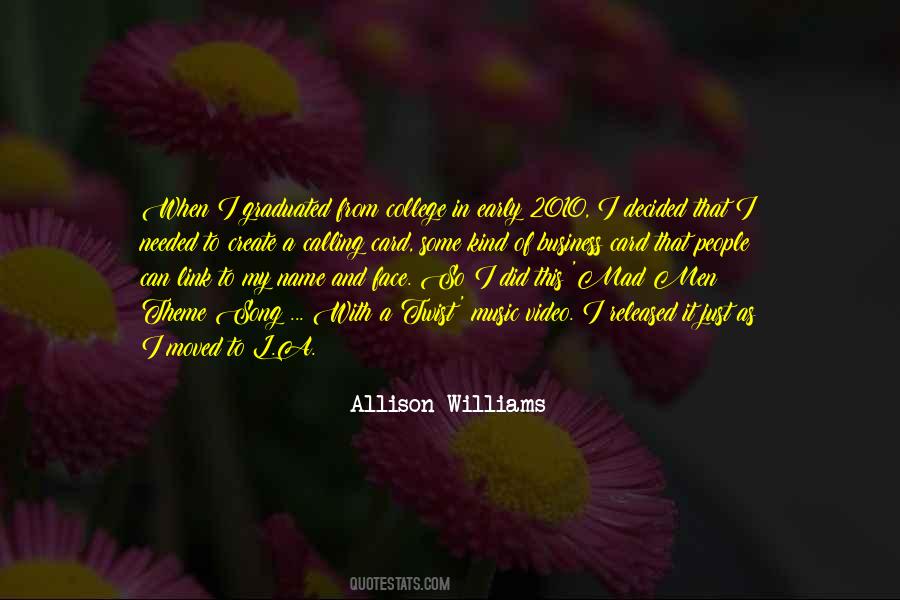 #52. One of the best things about Kickstarter and crowdfunding and the collapse of the music business is a lot of artists like me have been forced to face our own weird mess about ourselves and what we thought it meant to become musicians. - Author: Amanda Palmer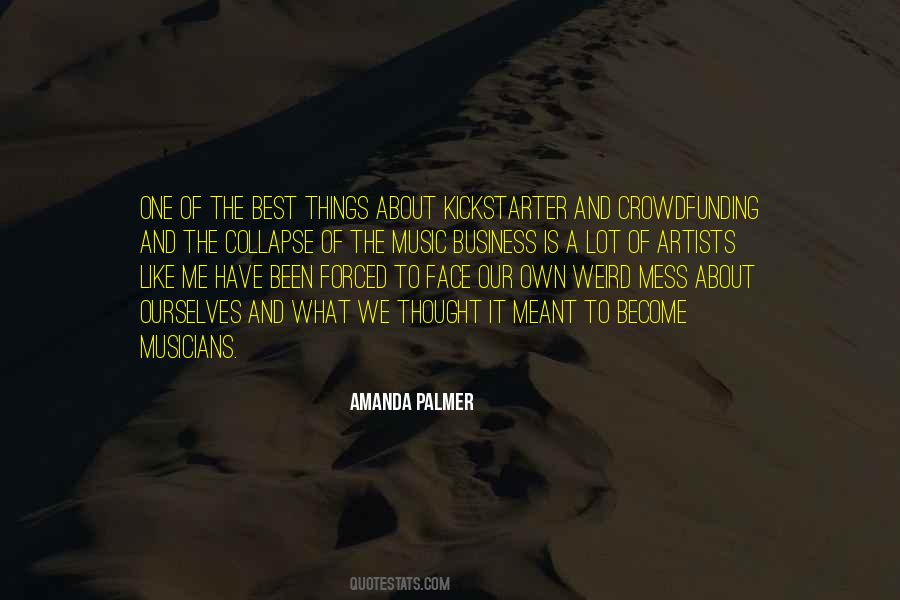 #53. Creating art (music, books, films, etc.) can be beautiful and liberating, but trying to sell art, well, that is the movie business. There are few winners, and lots and lots of losers. - Author: Ronnie Apteker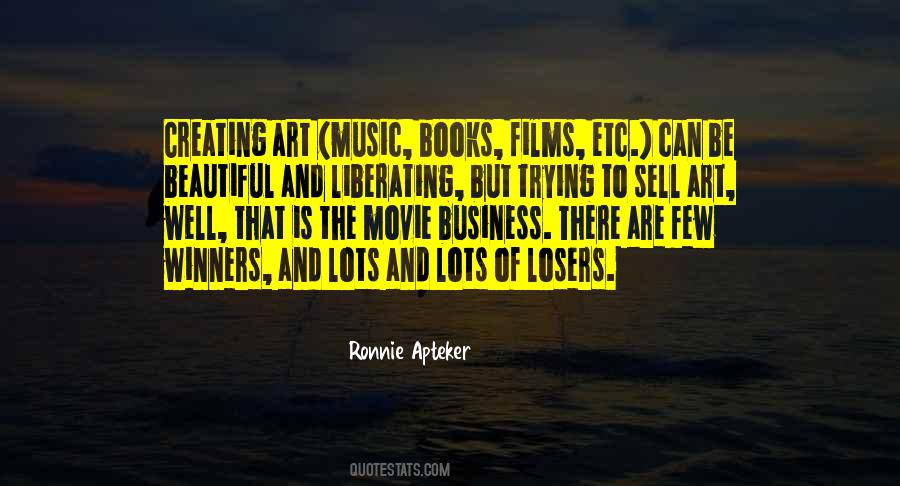 #54. People in the music business say don't make too many records because they'll compete against one another. - Author: Chick Corea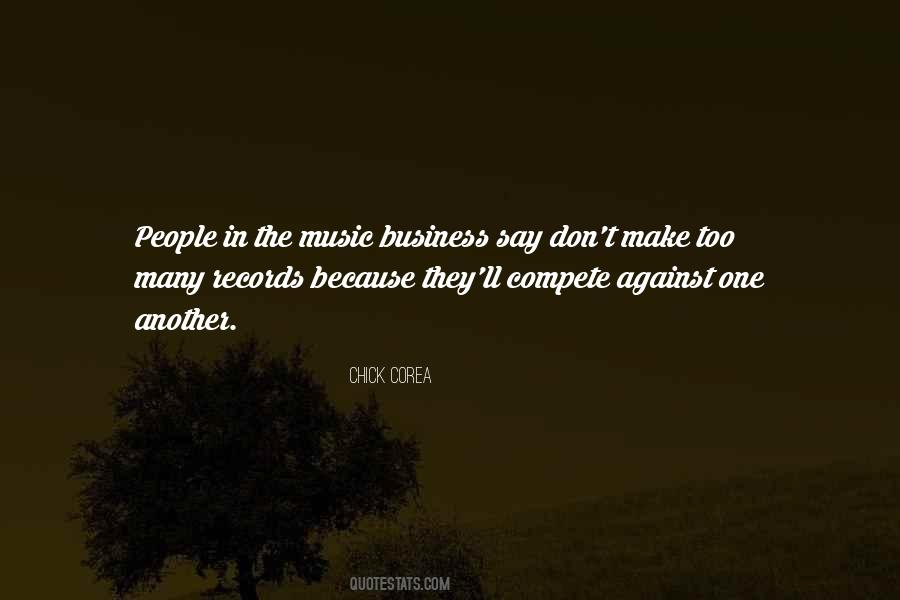 #55. We are at a crossroads in the music business: with the rise of the internet, the world we live in has changed, and the past is not coming back. But I see the glass as half-full: the internet and social networking are new avenues for the next Bob Dylan to be born on. - Author: Jon Bon Jovi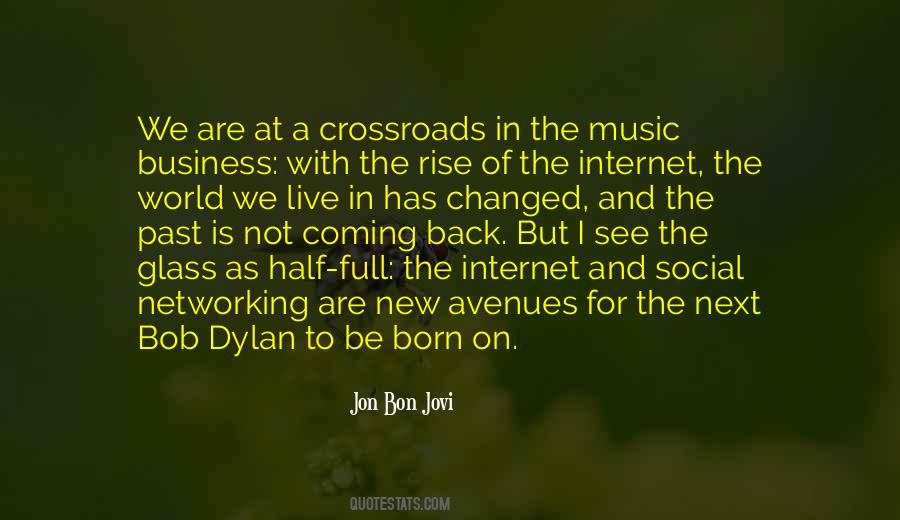 #56. I can honestly say my music is always going to be greater than my business side. Because I'm naturally a musician. And I don't have to get paid, I don't even have to have businesses. Business is business. And music is life. - Author: Lil' Wayne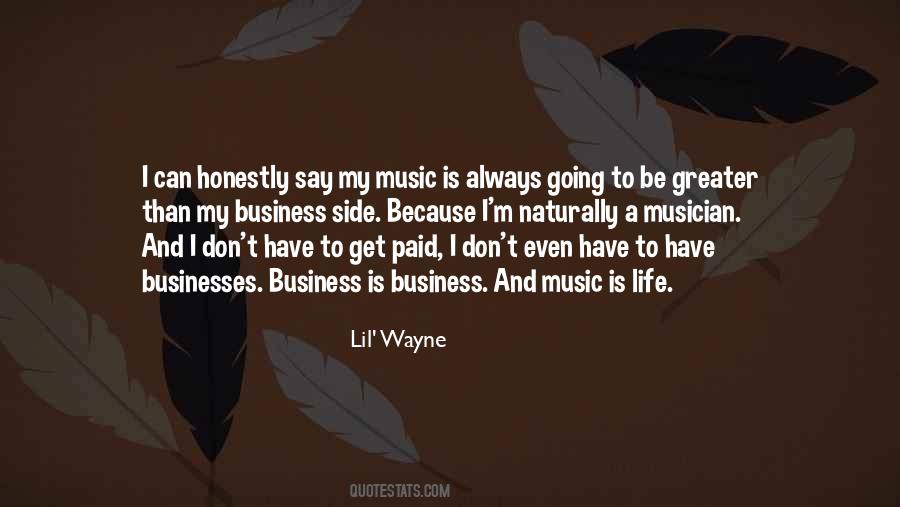 #57. Growing up in Nashville, especially in a music business family, means growing up with knowledge that seems like common sense until later in life when you realize people spend thousands of dollars a semester trying to learn or pretending to learn while looking for some intern job on music row. - Author: Caitlin Rose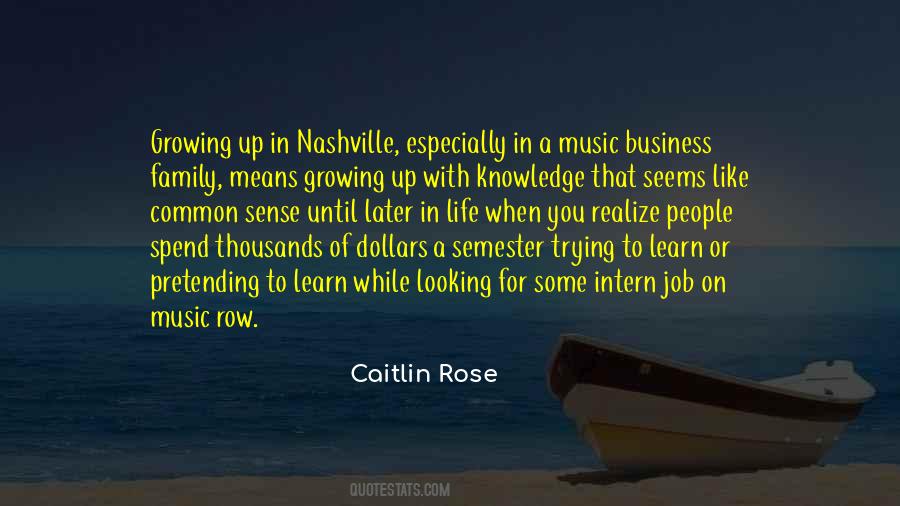 #58. When I was CEO, and I'd listen to music, a lot of people listen to music and you get inspiration from it. And a lot of things in hip hop are very instructive for being in business. Particularly, hip hop is a lot about business, and so it was very useful for me in any job. - Author: Ben Horowitz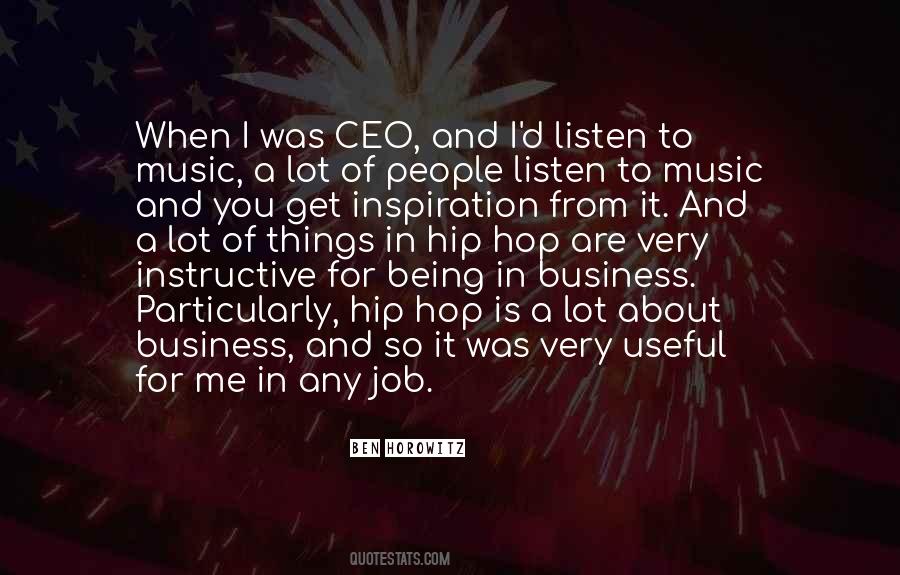 #59. The music business is a weird business. Sometimes licensing doesn't happen because some business component that you never knew about stops it. - Author: Ben Folds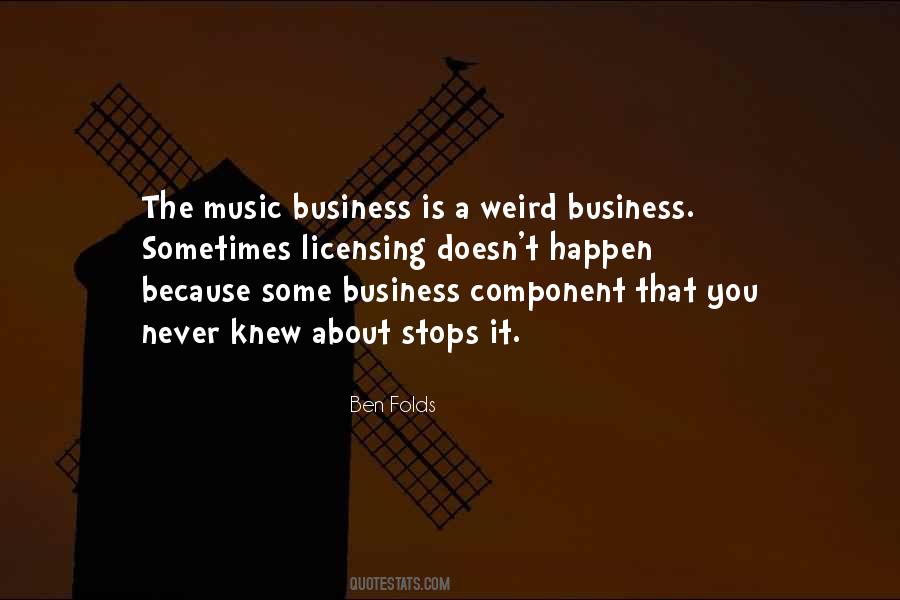 #60. Most true artists care about music as a pure, passionate art form, but can get caught in the trap of the business. Which, sadly, has now become more important than the artist or even the music itself. - Author: Rosanna Arquette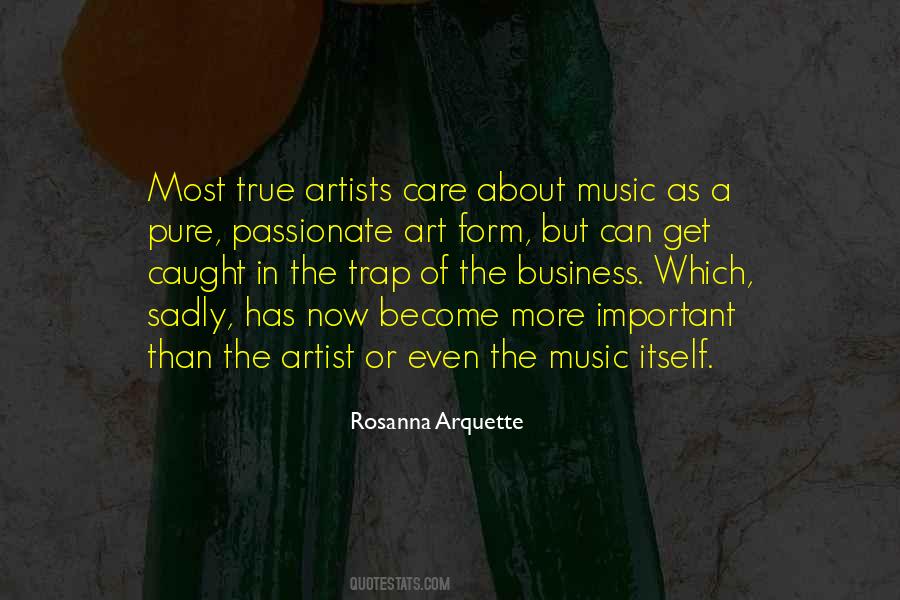 #61. The music business is one of a few places where everything you've heard about it seems entirely cliche, but it's true. - Author: Patrick Stump
#62. It's true that I tend to daydream. I'm the same person in business as I am in music: I can be distracted and absentminded. It's my style. - Author: Gordon Getty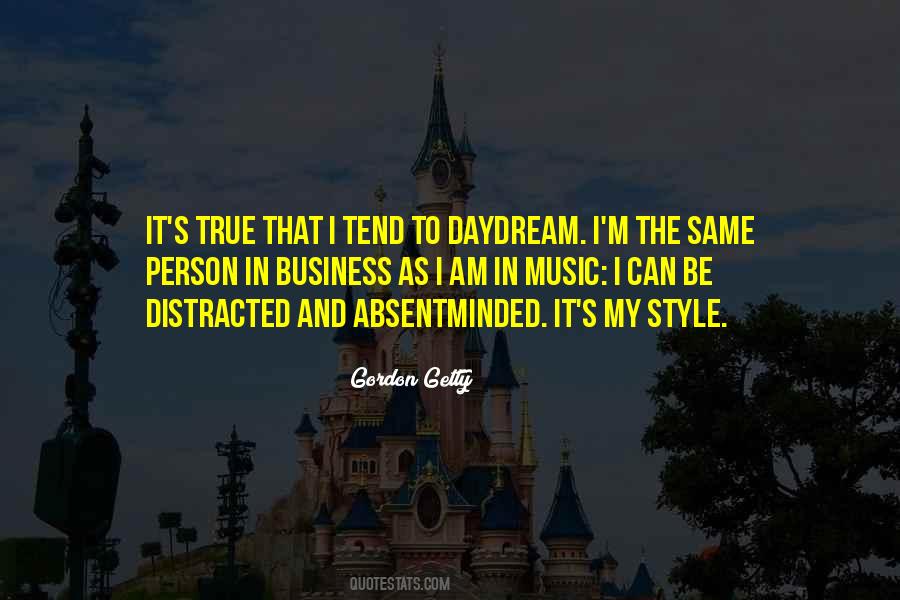 #63. I have to take time occasionally to get away from the pressures of this business. If I don't, I think I would get stale, and that would show in my music. - Author: Andy Gibb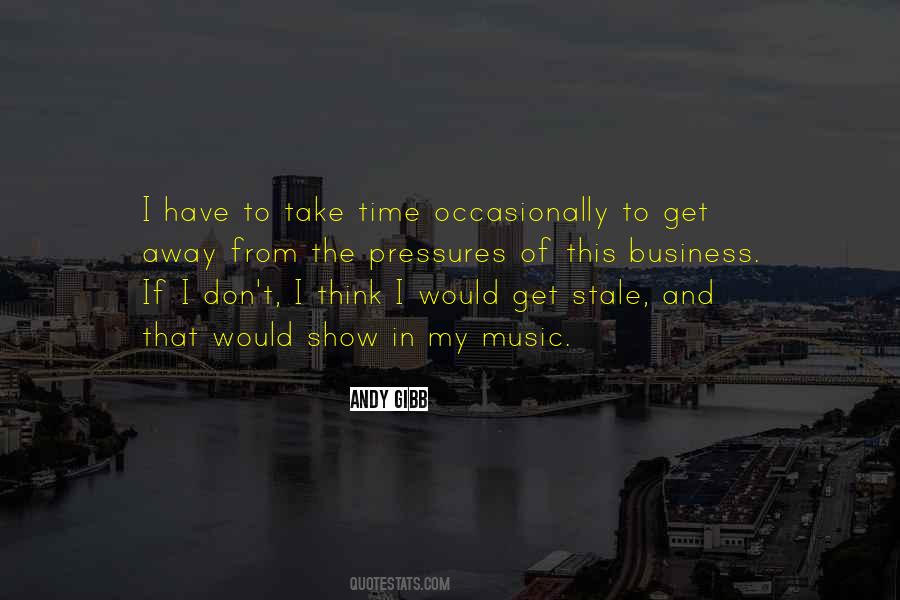 #64. My advice would be if you want to pursue a career in the music business, don't. - Author: Simon Cowell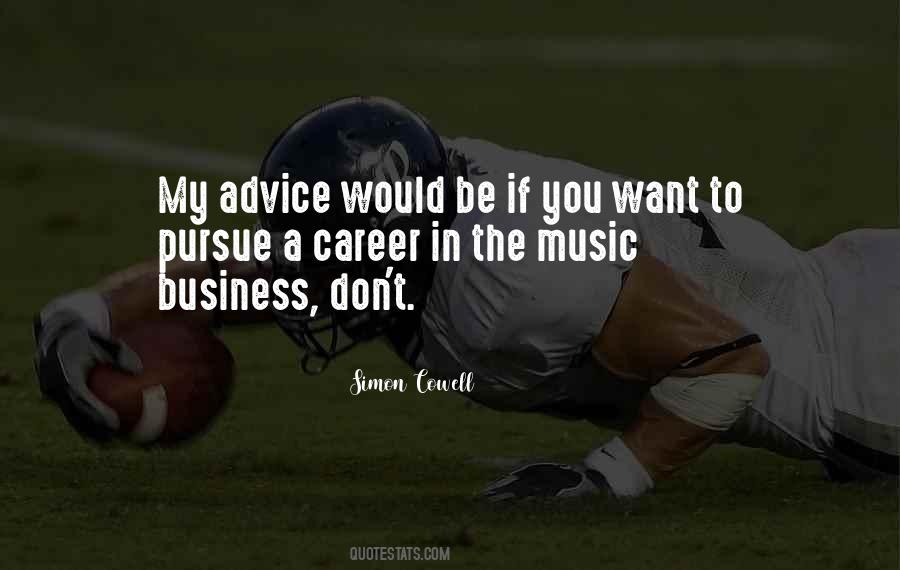 #65. I'd say we [Apple Inc.] are the most creative of the technology companies and definitely the most artist-friendly. Almost everyone in the music business uses a Mac and everyone has an iPod. - Author: Steve Jobs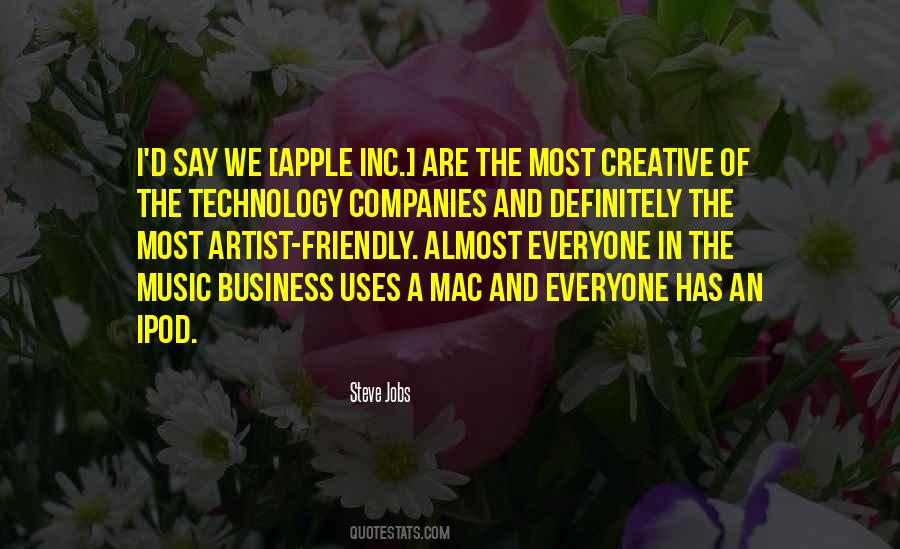 #66. Without music I wouldn't have the ability to be in business. The opportunity to be in business came with the finances from music and the notoriety that comes with being successful as an artist. So I see myself as an artist first, but I'm absolutely conscious of business. - Author: Curtis Jackson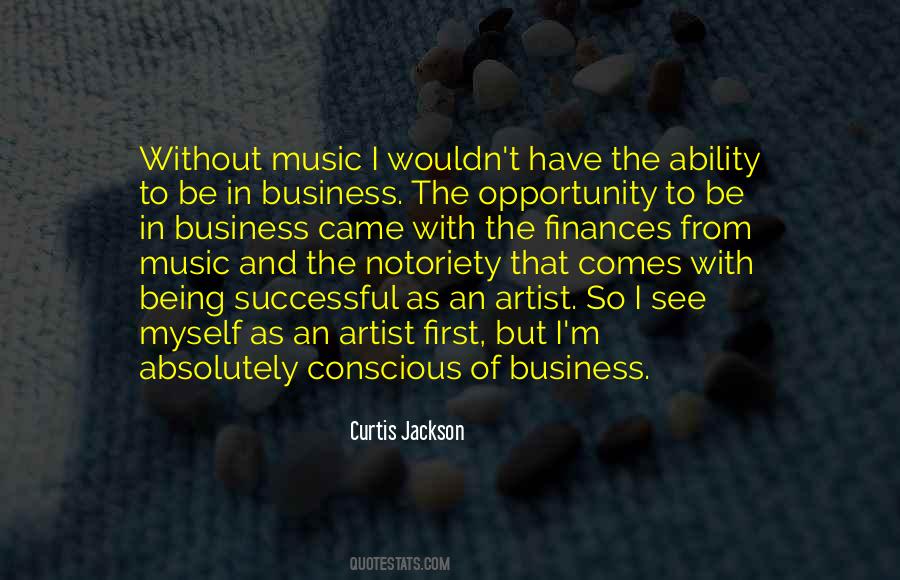 #67. Get into the music business. This is the business that you have absolutely no requirements. You listen to music, you need no college degree. - Author: Curtis Jackson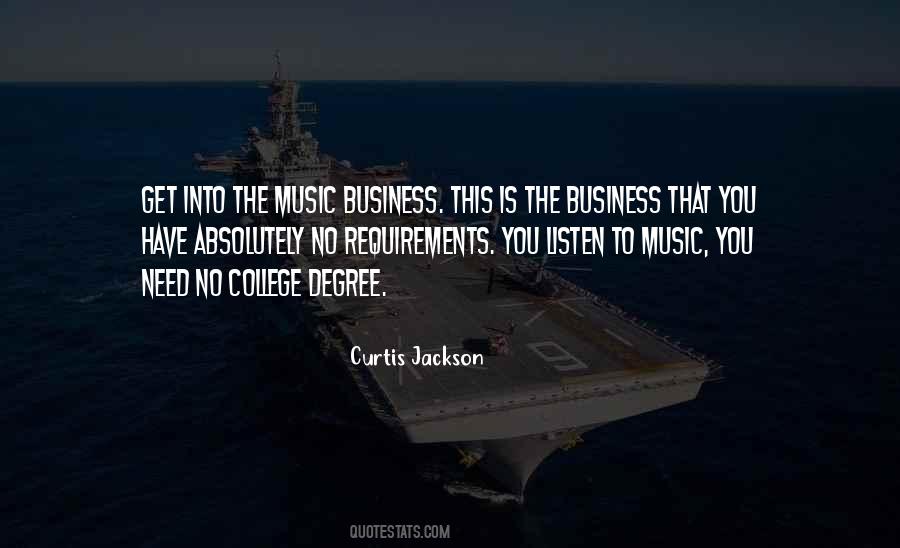 #68. In the world of Big Macks Starbucks coffee and oversized SUVS it was business as usual snort and go - Author: Saira Viola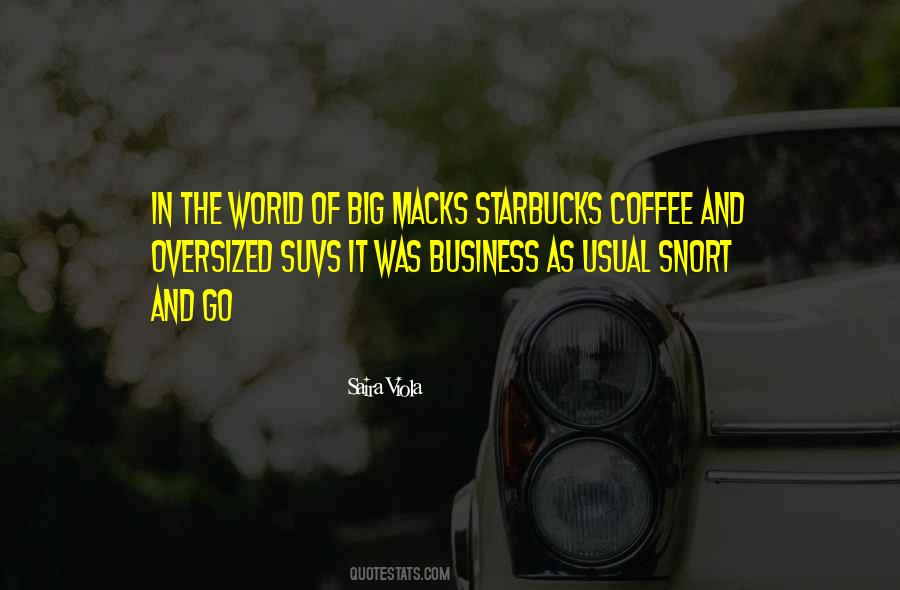 #69. Lots of people, from what I can see, just want to get into the music business for the glamour of it. But there isn't any, really. It's so up and down this industry, but if you really love it, nothing can stop you. - Author: Eliza Doolittle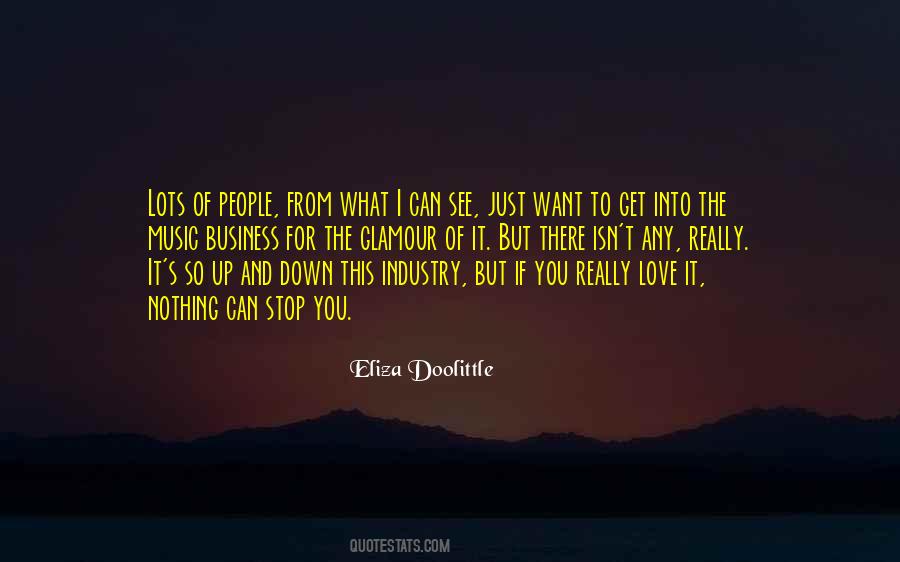 #70. I tell people I'm big in the music business like a barnacle is big in shipping. - Author: Vance Gilbert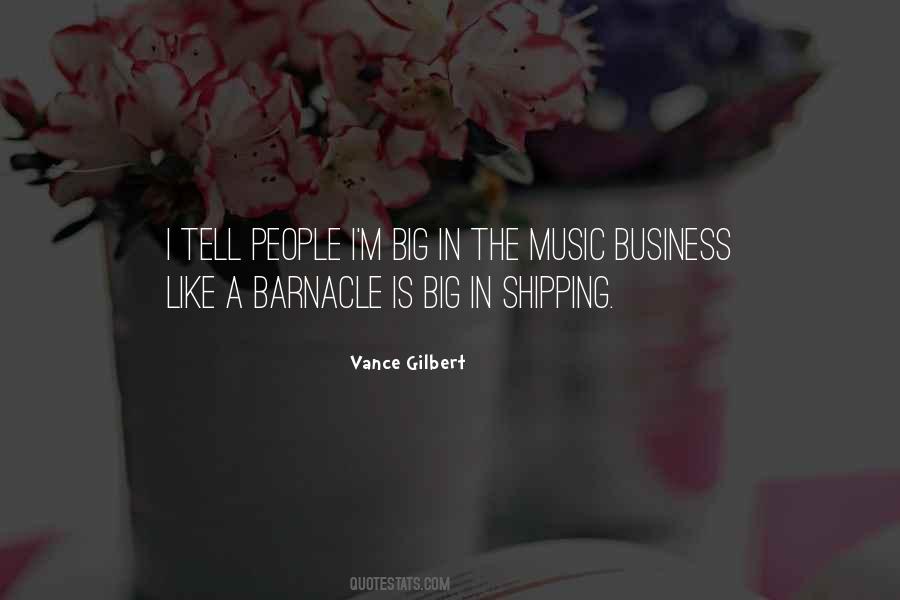 #71. I used to go with him and I'd sometimes play, take over from him. That was my first taste of the music business, I suppose, but I was also in the youth orchestra at Johnston Grammar. - Author: Trevor Horn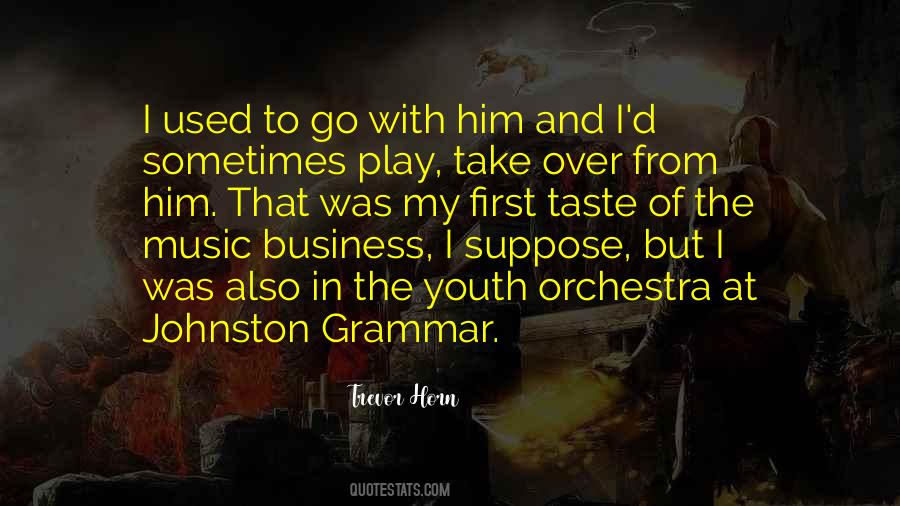 #72. Inside, I've got a real purist desire and dream about the music. I like the idea of being able to carve out a kind of magical, colourful, artistic, inspirational life. And the reality just turns out to be quite different, working with the business to bring this thing you have created into the world. - Author: Damien Rice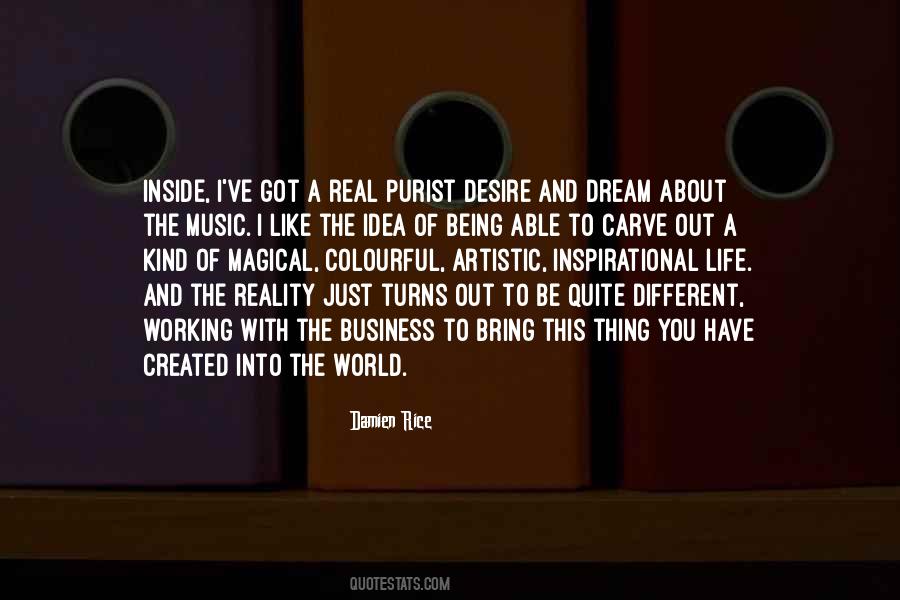 #73. If you want to make money in music, get into the band uniform business. - Author: Henry Mancini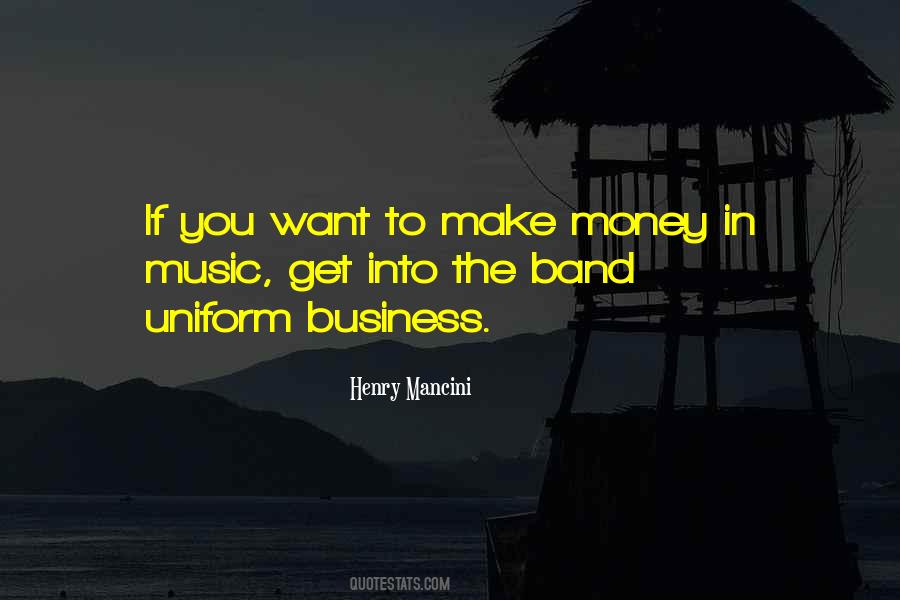 #74. The secret to longevity in the music business is to change, and to be able to change. An actor has to assume other people's identities. A rock star doesn't need to do that. But change is important. - Author: Nick Cave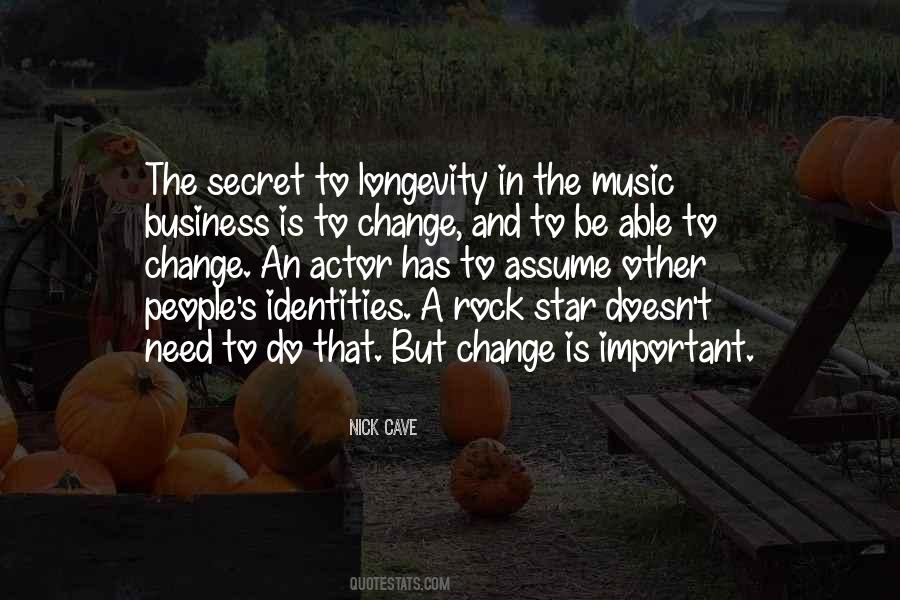 #75. I am right at the bottom compared to everybody else with press kits and demos and trying to get meetings. That's what I love about music and hate about it. That's why I respect people that are successful in the music business because you really have to build it from the ground up. - Author: Drake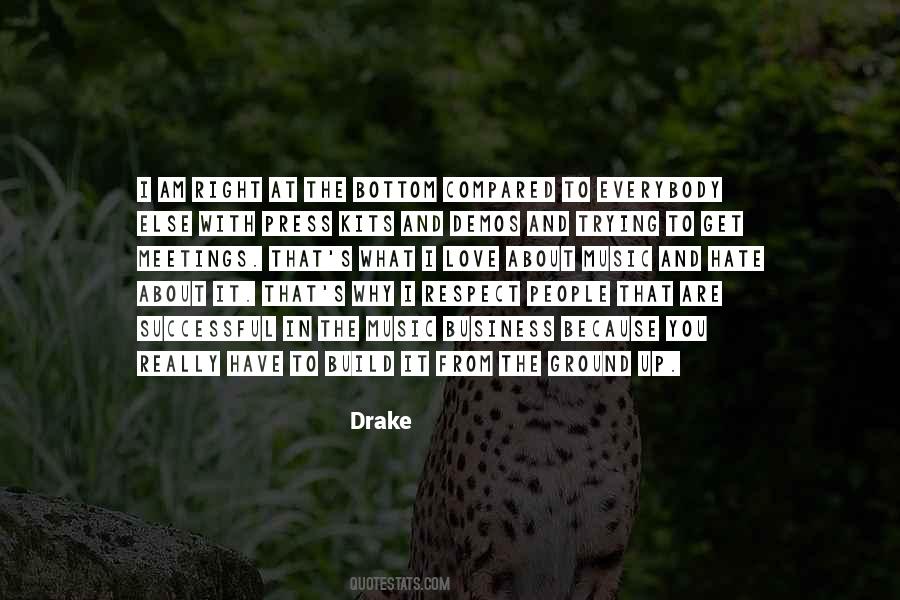 #76. My mom nor my father never pushed me into the music business. I always did it because I wanted to. - Author: Hank Williams III
#77. I worked hard all my life as far as this music business. I dreamed of the day when I could go to New York and feel comfortable and they could come out here and be comfortable. - Author: Tupac Shakur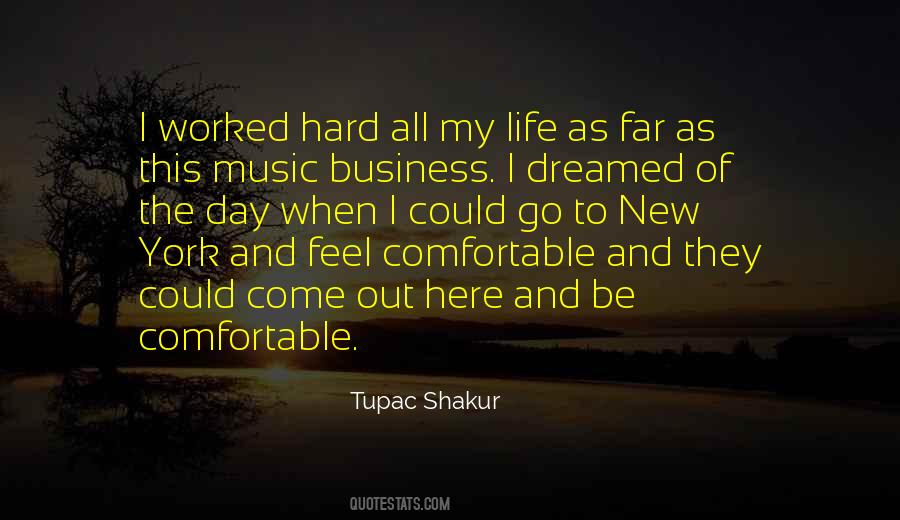 #78. There's also, I think more so in the music business and especially for women, this ceiling that people put on you if you have children or a family and decide to spend time with them. - Author: Juice Newton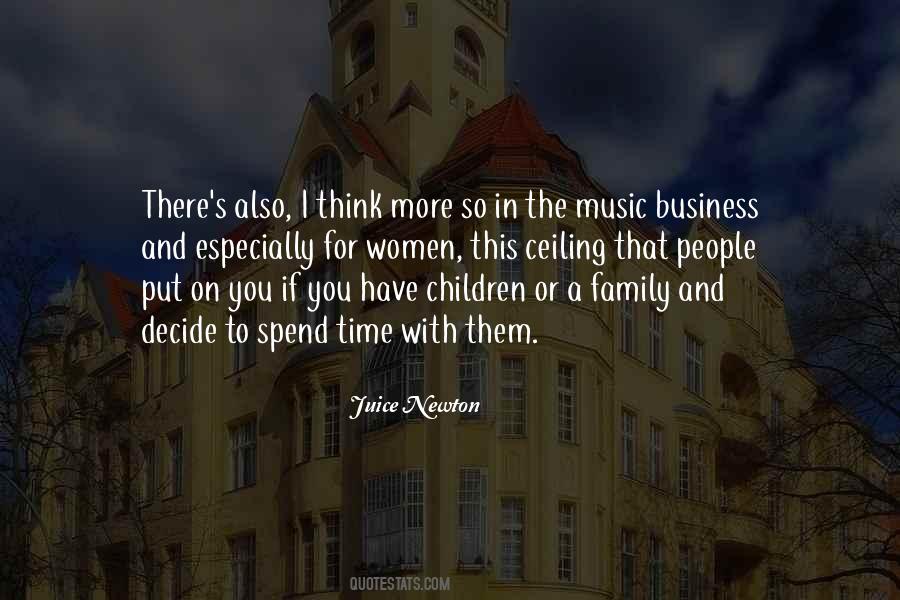 #79. Everybody knows in the business how I feel about country music. I'm an old traditionalist. Then they just call me an old man and stuck in my old ways, but with all the fans I've got out there, I can't be all that wrong. I do love traditional country music. I love the good stuff. - Author: George Jones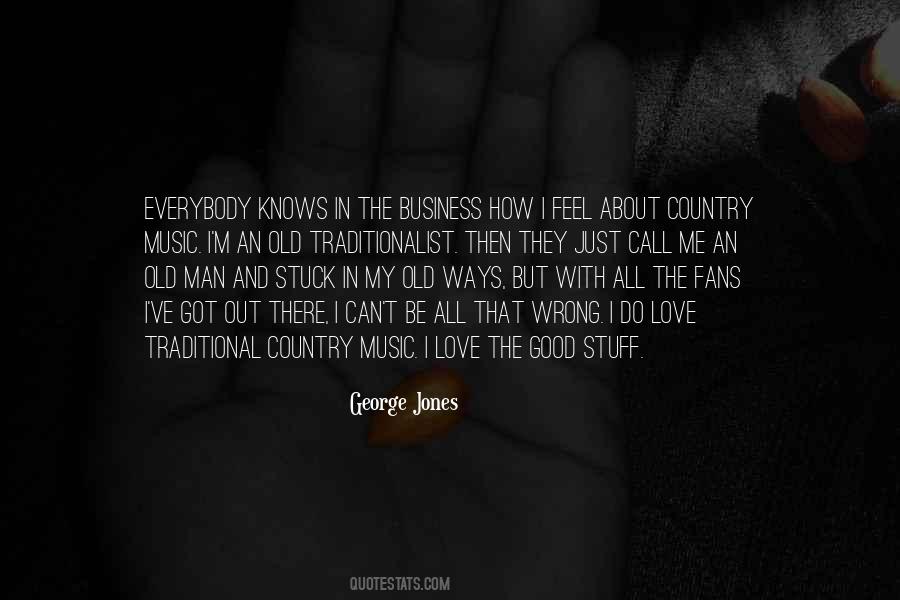 #80. I decided to start my own label because so many people with talent come to me wanting to know how they can get in the music business. - Author: Mary J. Blige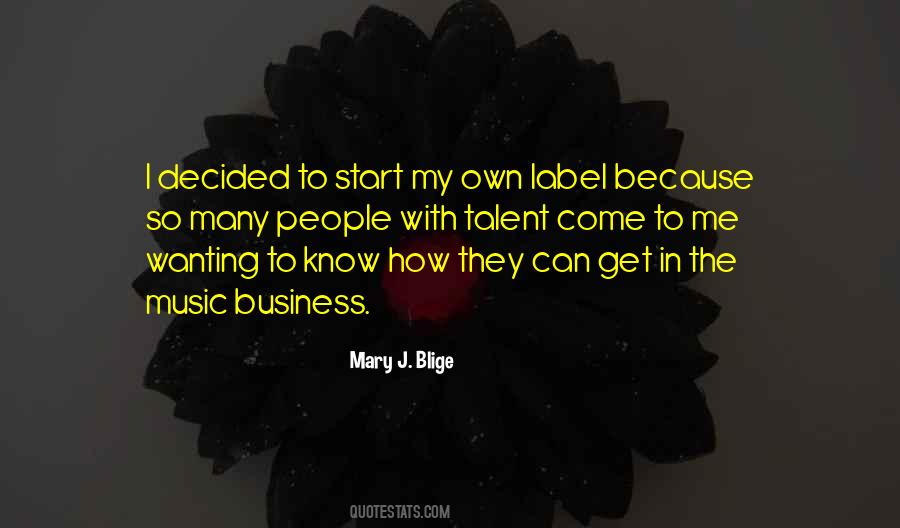 #81. I decided to come back and teach goodness in this business. To teach love, because music is the universal language. We are God's bouquet, and through music we become one. - Author: Little Richard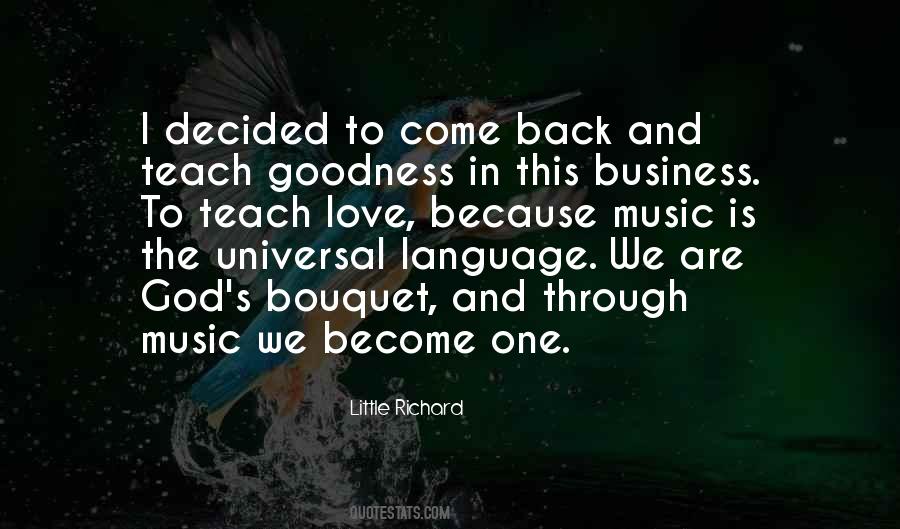 #82. Out of the ashes of the music business, comes the rebirth of the musician business. - Author: John Perry Barlow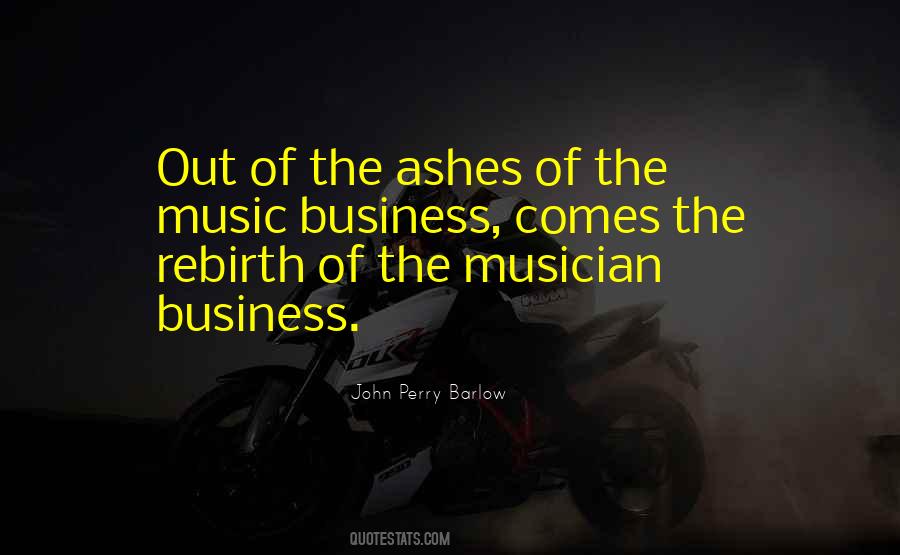 #83. But I cannot bring myself to believe that I was intended for a musician, because it seems so small a business in comparison with other things which, it seems to me, I might do. Question here: 'What is the province of music in the economy of the world?' - Author: Sidney Lanier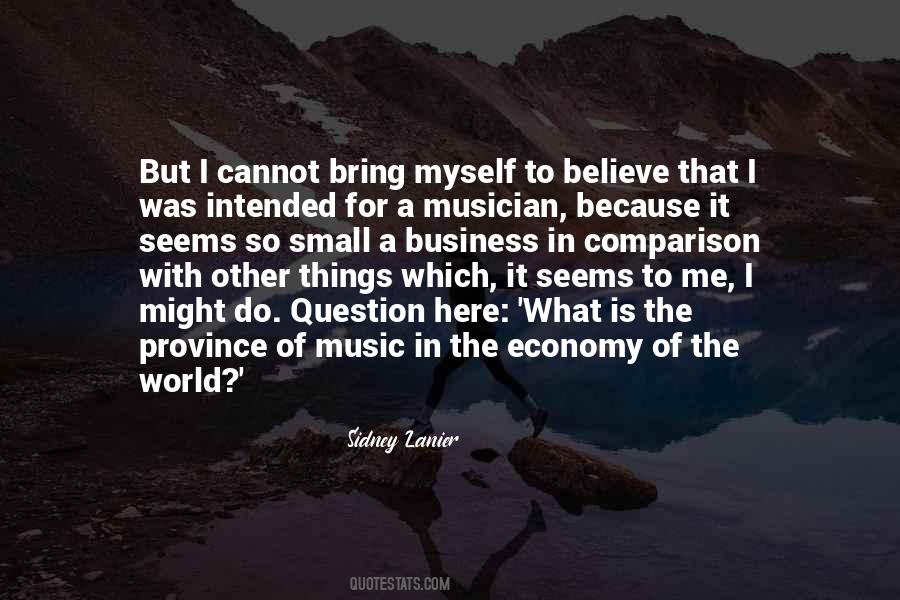 #84. Los Angeles and New York are the big centers of the music industry worldwide so of course it can be hard for newcomers who don't know what to expect from the music business. - Author: Ville Valo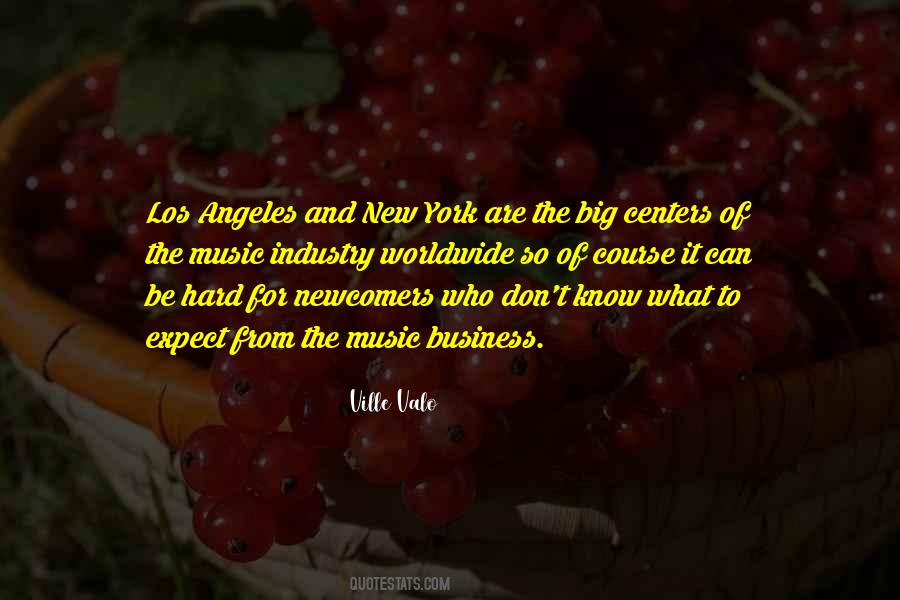 #85. You can't be in the music business as long as "Steve and Edie" have, if you stink .. - Author: Steve Lawrence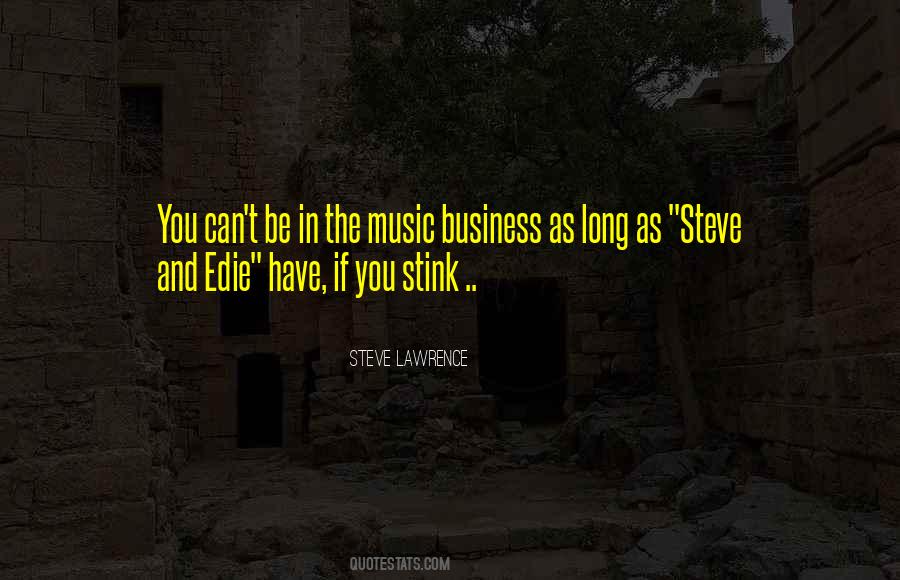 #86. I can give you my personal opinion: love the music, hate the business. It's a screwball business, and there are a lot of players who will straight-up lie to you. - Author: Justin Timberlake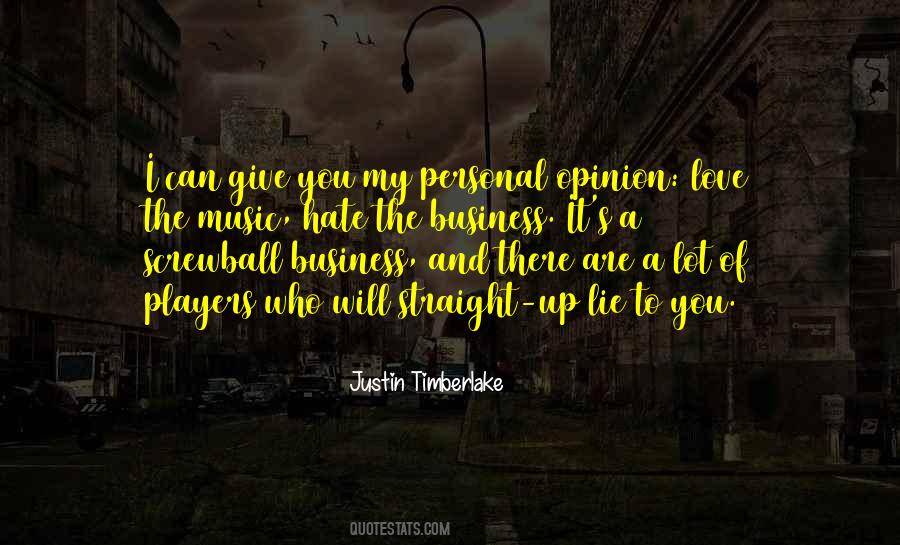 #87. The music business used to carry a certain amount of brotherly love, but it isn't that way now. - Author: Jimmy Rushing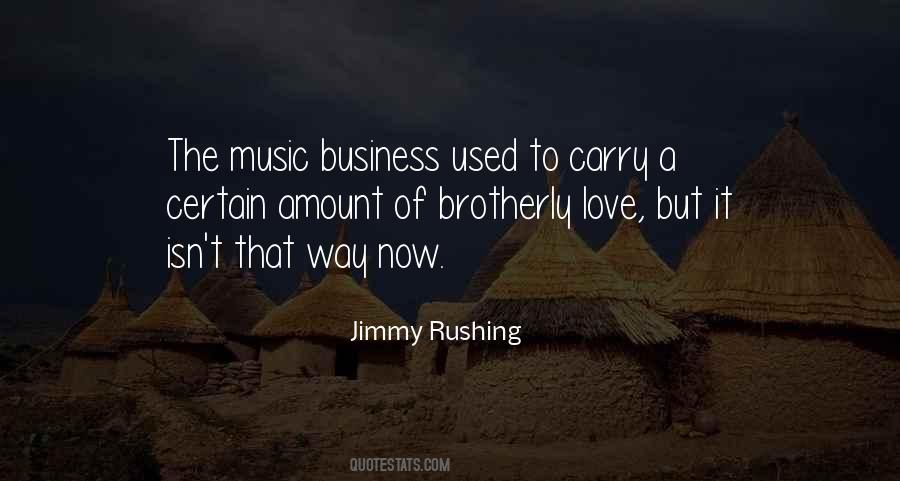 #88. It really is a very odd business that all of us, to varying degrees, have music in our heads. - Author: Oliver Sacks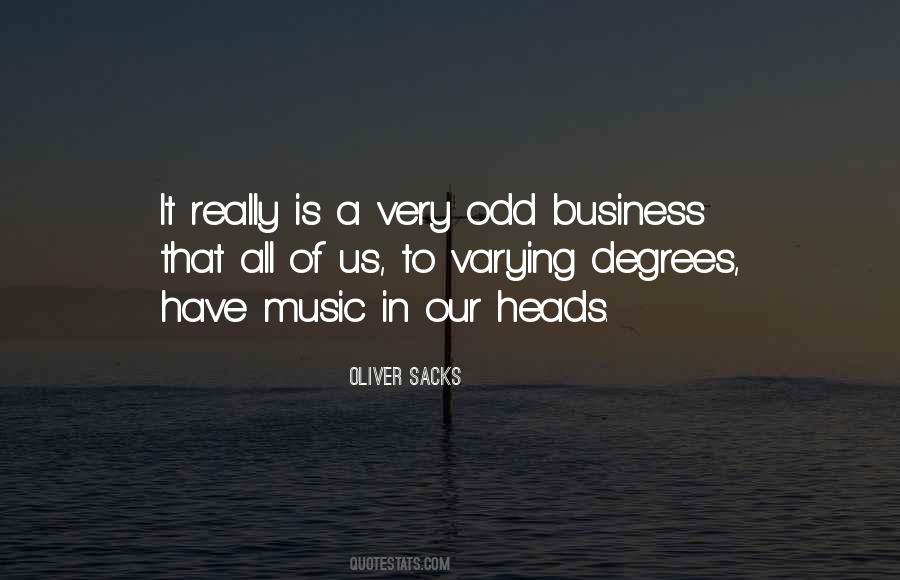 #89. I don't relate to what's left of the music business. There doesn't seem to be any point to it anymore. The business that I grew up in and loved, we made records a different way - there were record companies, there were stores where you could buy albums. - Author: Don McLean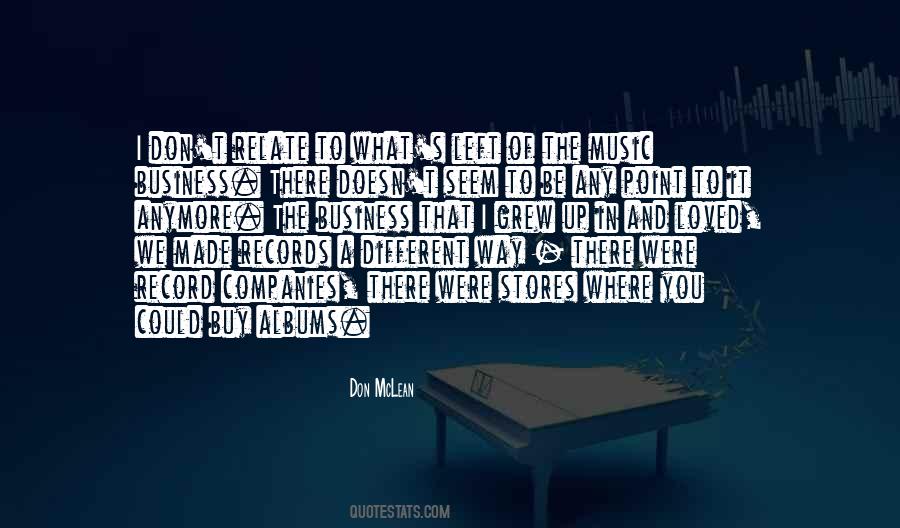 #90. Kitty Wells was the first and only Queen of Country Music, no matter what they call the rest of us. She was a great inspiration to me as well as every other female singer in the country music business. In addition to being a wonderful asset to country music, she was a wonderful woman. - Author: Dolly Parton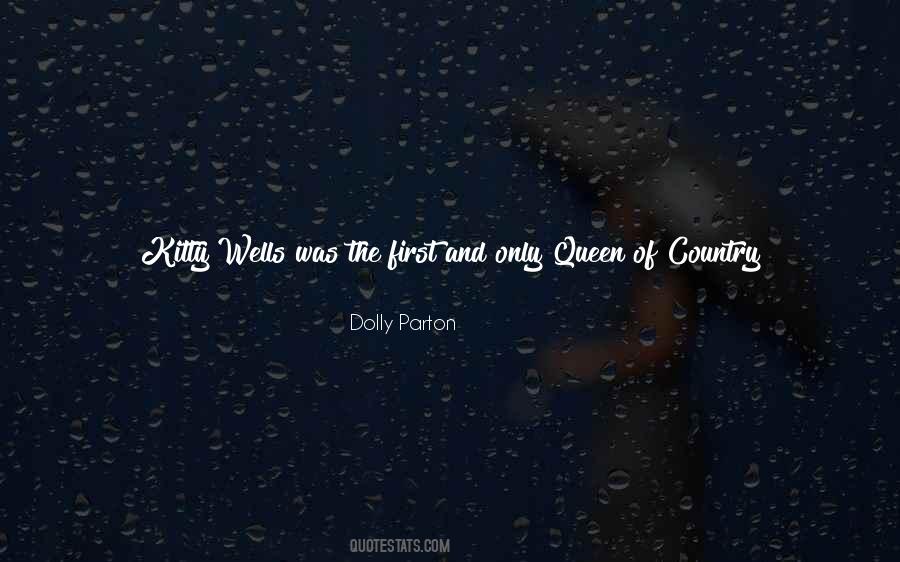 #91. Our house is a constant mayhem of music, noise, socializing and business. It vibrates life, as a house should. - Author: Dan Hill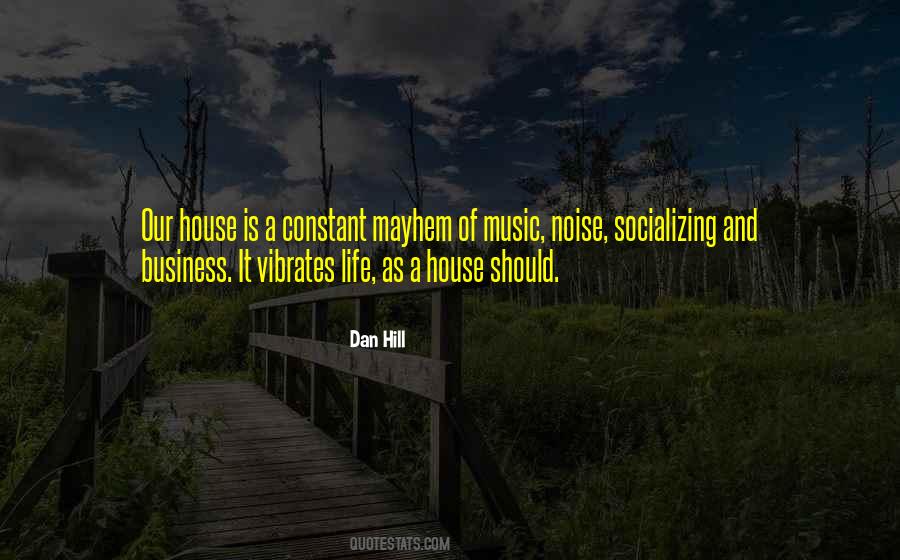 #92. Strategies are great, business models are great, but the reality is your music has to mean something to people. - Author: Brother Ali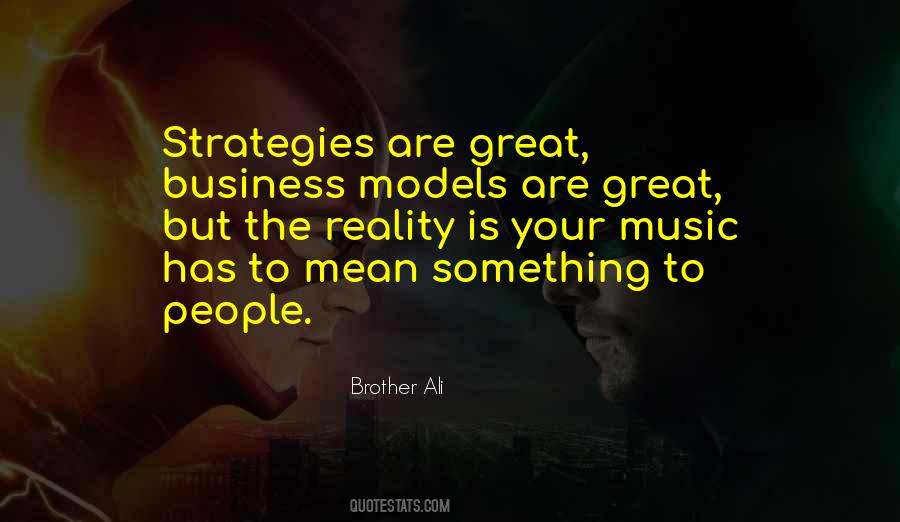 #93. Success in the music industry isn't something that you wait for or hope for. It is something that you create, day after day. - Author: Simon S. Tam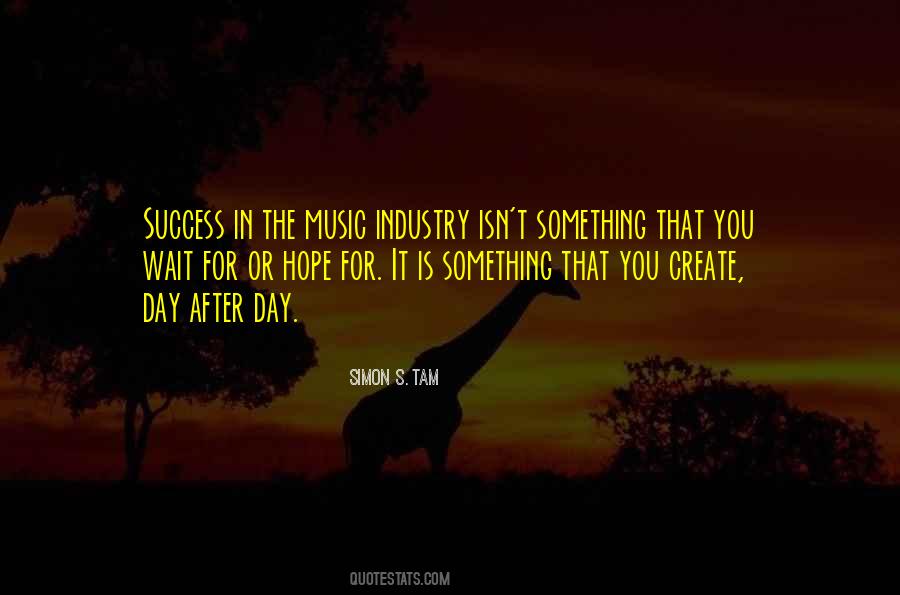 #94. Playing music has always felt very natural. You know, you do try to do other things, and you do learn lessons that way, but, eventually - well ... if your dad is a plumber, you become a plumber. It's the family business, and I felt like I was taking over the family business. - Author: Dhani Harrison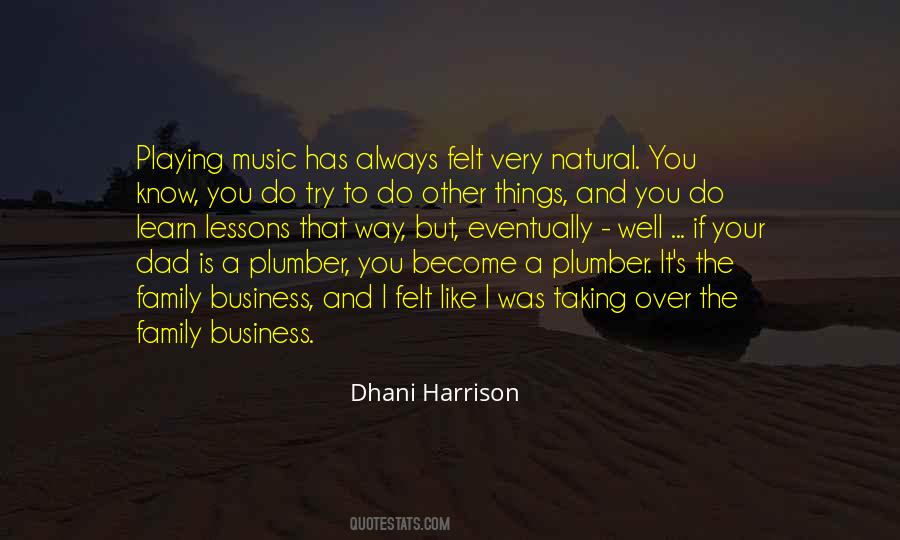 #95. Coming to a place like Nashville, which is just music music music, it's always been such an influence on me. And there are so many interesting songwriters out there, and it's such a crazy business and so many people are trying to do it, and it's all right there in Nashville. - Author: Sandra Bernhard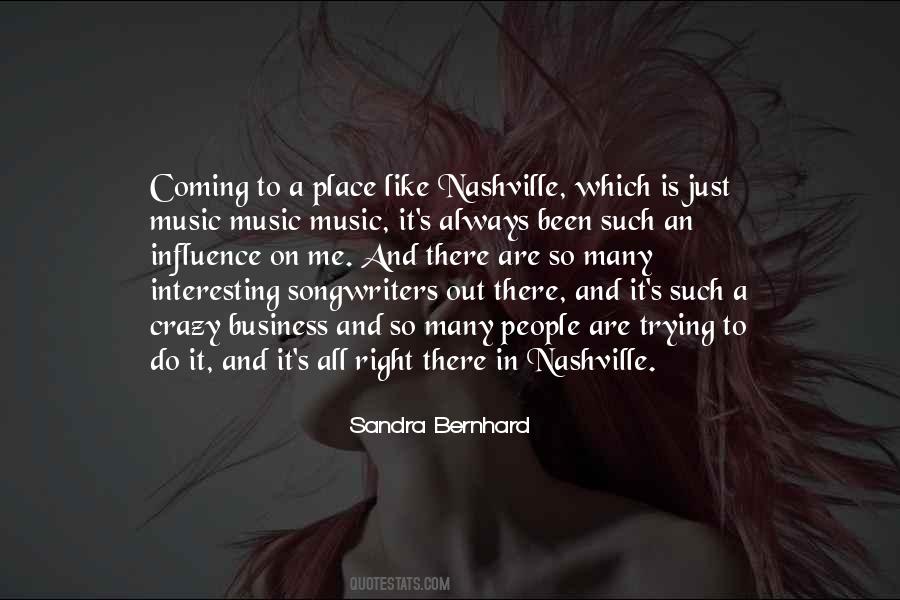 #96. I am very aware now that music is a business, but there is also a way to go about making music that is true to yourself as opposed to doing, you know, just going through the motions and making things that would just be commercially successful. - Author: Ronnie Montrose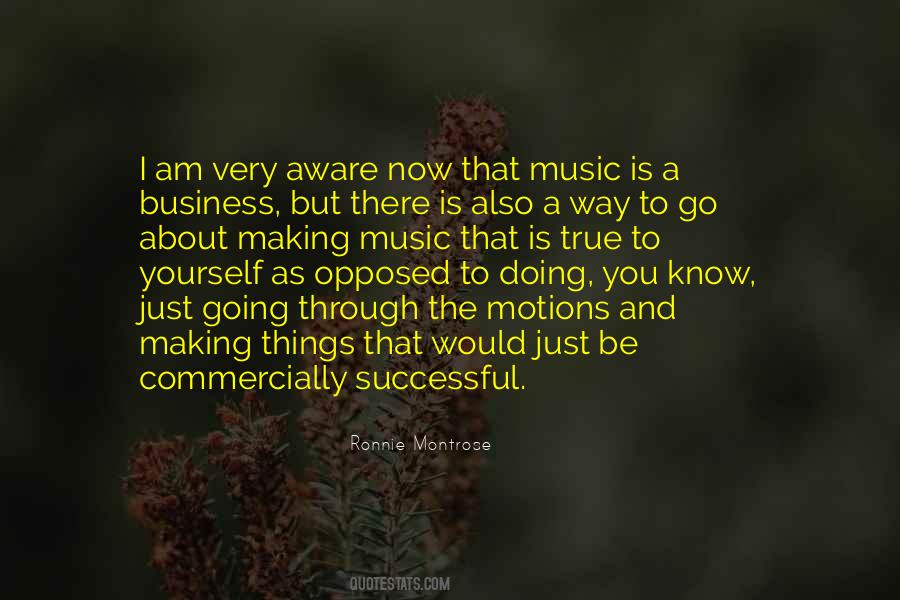 #97. I couldn't concentrate on music. So I made the choice to give up my career as a musician in the frontline to deal with the business. - Author: Robert Fripp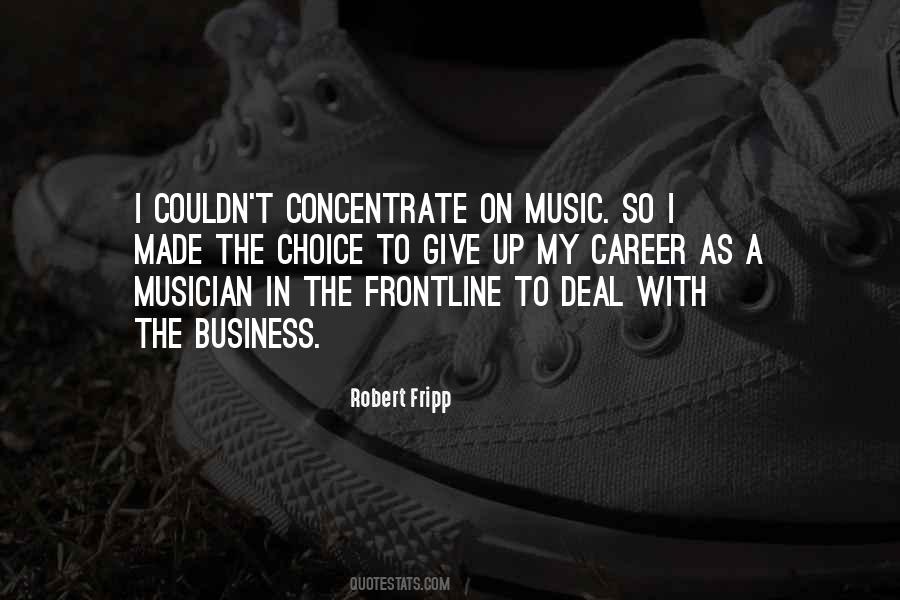 #98. I had no idea that I could sustain a career as an artist. But, I loved music and wanted to be in the music business. - Author: Ray Stevens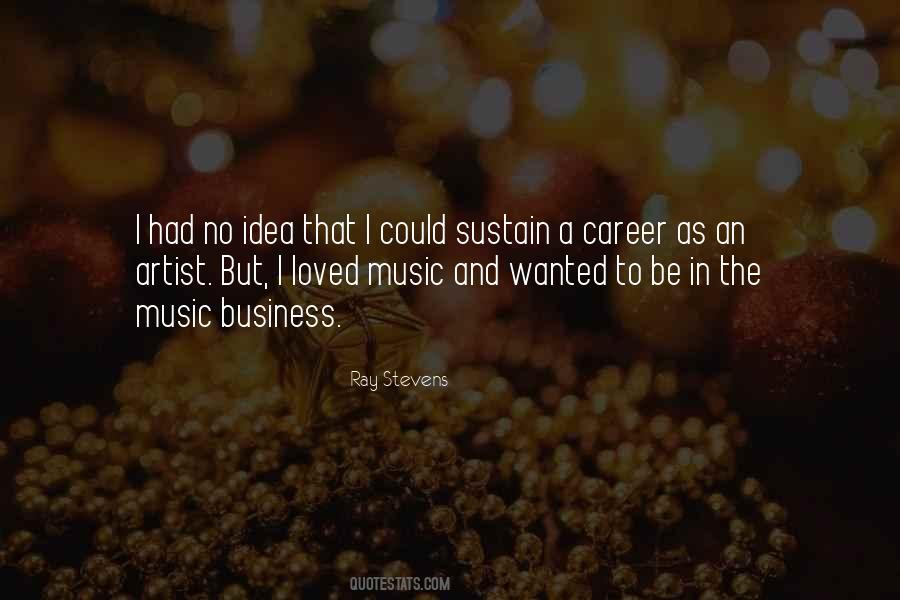 #99. I wish the music business was a much easier thing, but you know what? Nothing easy is worth anything. So it is what it is. There comes a time when things can work out and everybody can be happy. And that's what it's all about in the end - everybody being happy and working it out. - Author: Nas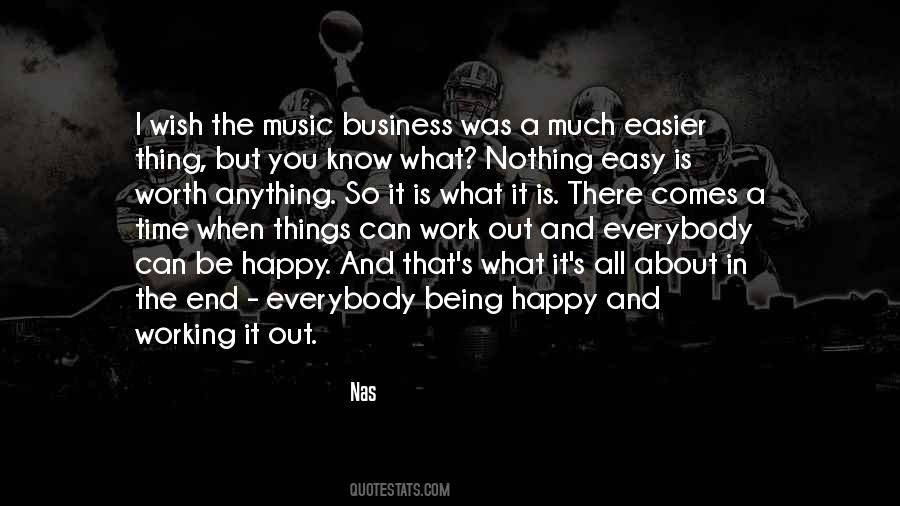 #100. To come out in the music business, you only really get one shot. A lot of people get to play small gigs first, and build up that way, without anyone really seeing them. - Author: Dhani Harrison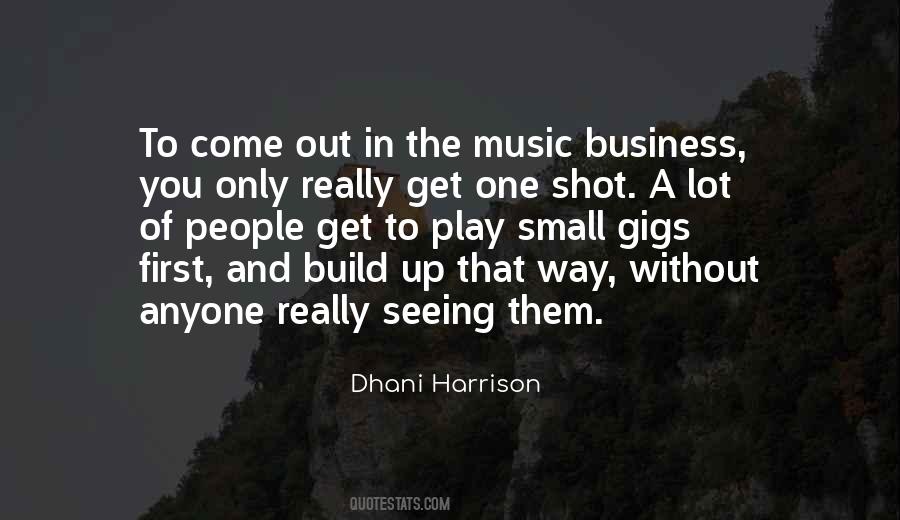 Famous Authors
Popular Topics