Love Human Being Famous Quotes & Sayings
List of top 100 famous quotes and sayings about love human being to read and share with friends on your Facebook, Twitter, blogs.
Top 100 Love Human Being Quotes
#1. How is it that you profess love for God but can't accept another human being? - Author: Phylicia Rashad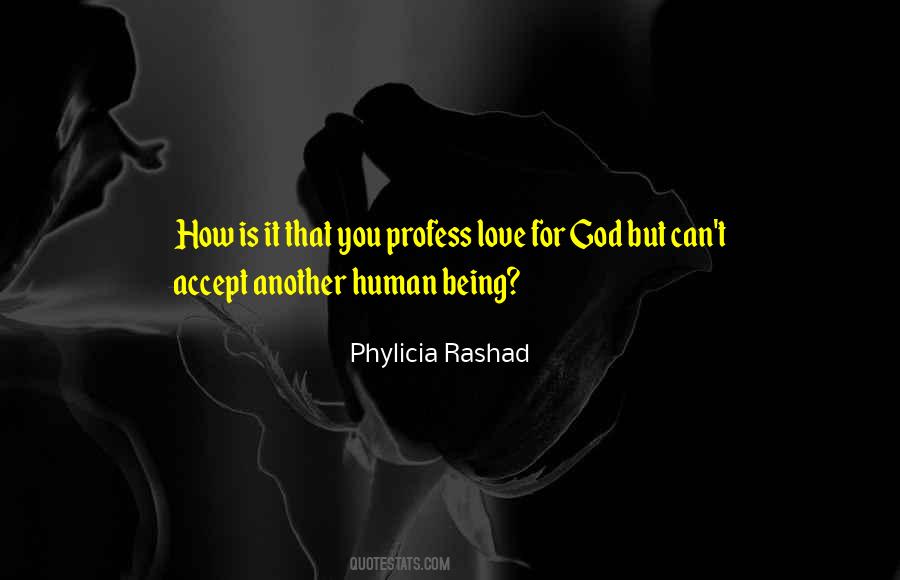 #2. I love being able to create characters, give them problems, and make sure everything turns out right in the end. Writing gives me limitless opportunity to study the human condition, and a love story with a positive ending always lifts my spirits and warms my heart. - Author: Jennie Adams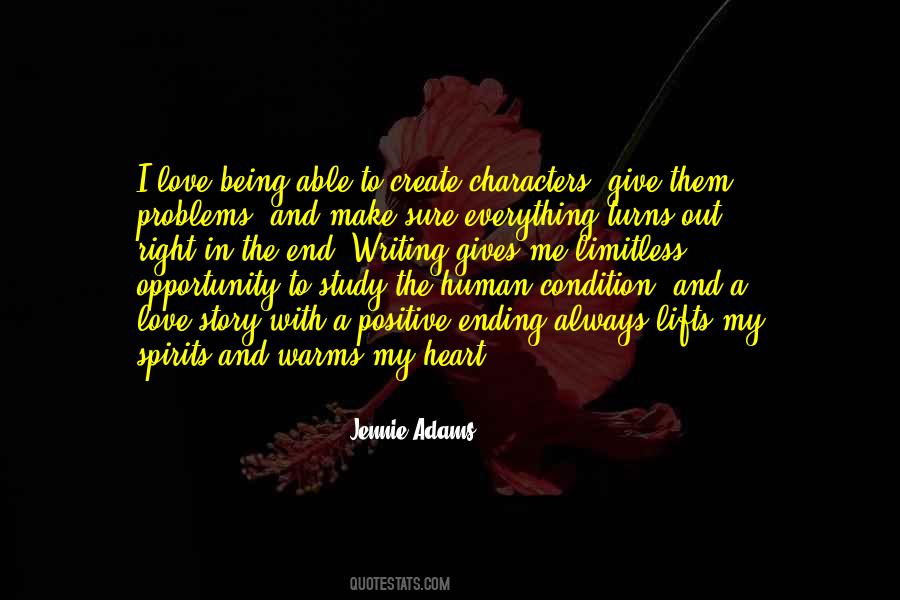 #3. The continued propinquity of another human being cramps the style after a time unless that person is somebody you think you love. Then the burden becomes intolerable at once. - Author: Quentin Crisp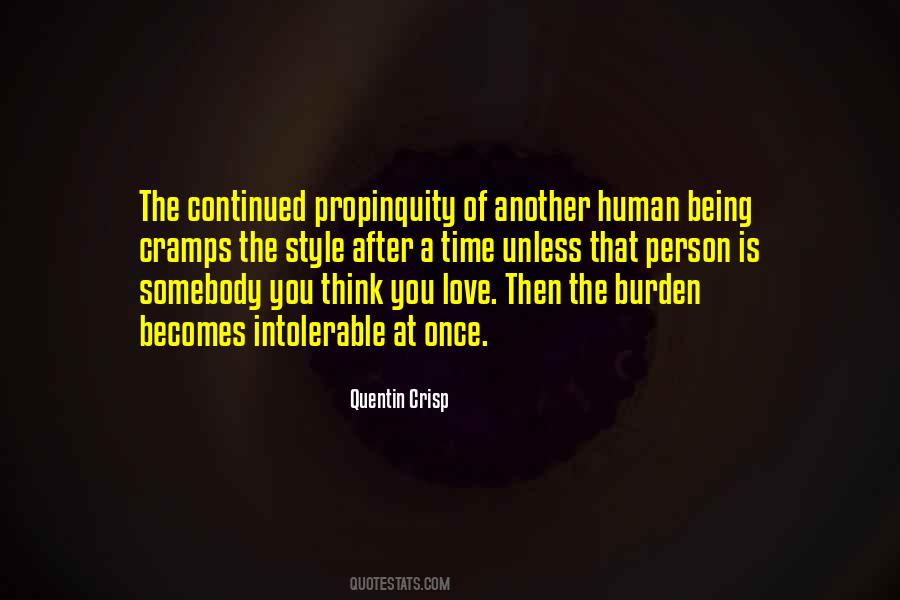 #4. I'm in love with everyone I've ever met in one way or another. I'm just a crazy, unhinged disaster of a human being. - Author: Edie Sedgwick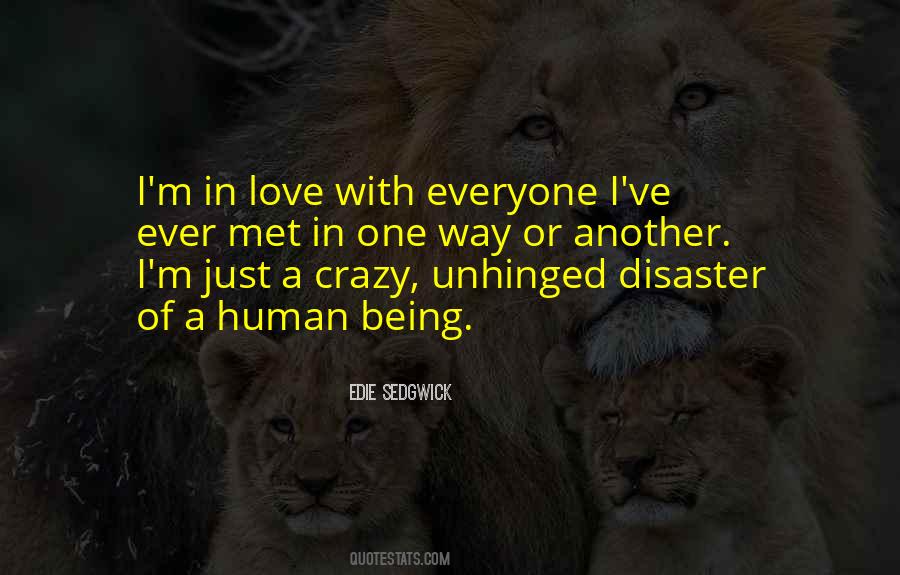 #5. A human being is not someone who once in a while makes a mistake, and God is not someone who now and then forgives. No, human beings are sinners and God is love. - Author: Philip Yancey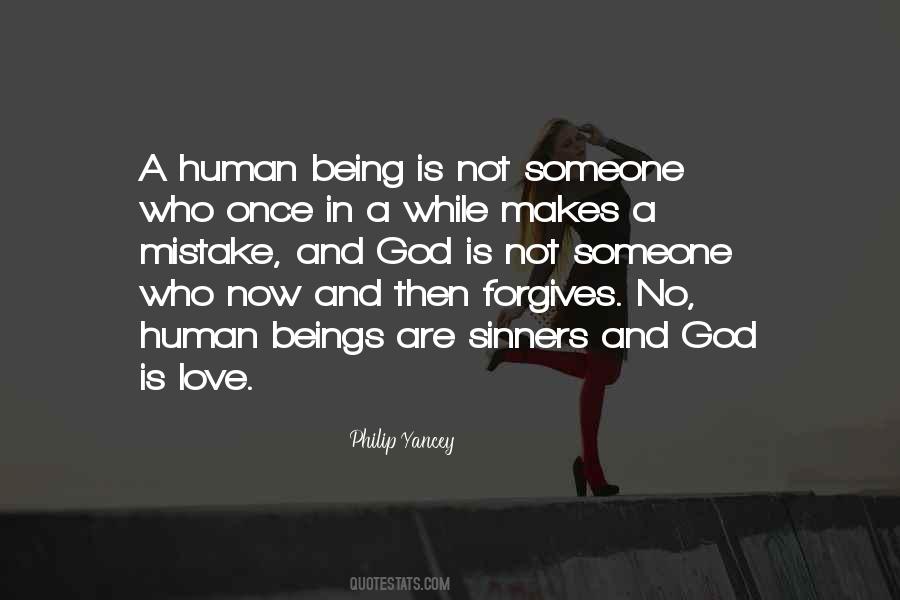 #6. If it is a virtue to love my neighbor as a human being, it must be a virtue - and not a vice - to love myself, since I am a human being too. - Author: Erich Fromm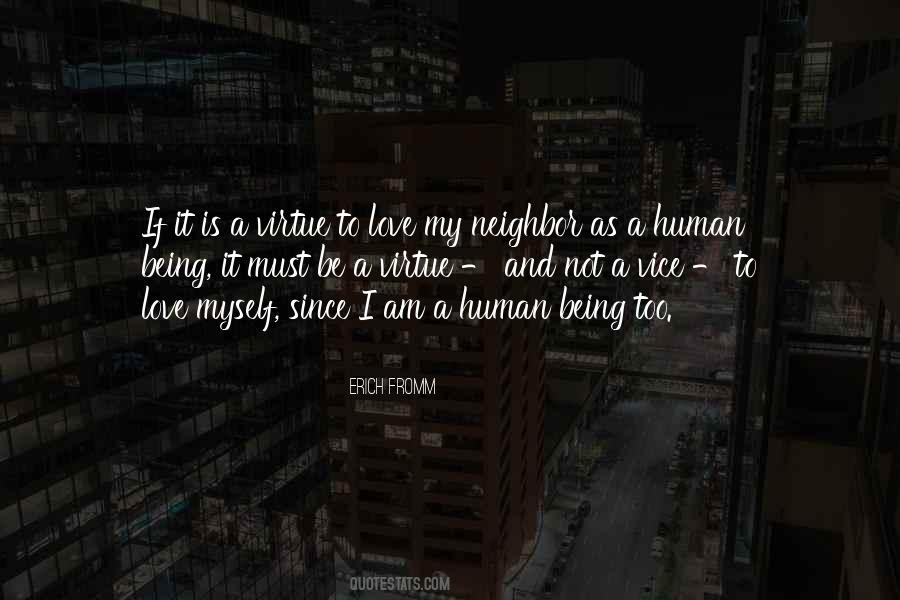 #7. A real relationship doesn't properly begin until the NRE burns away. That's when you have to start dealing with this person as an all-around human being, replete with irritating little habits. When disillusion sets in, love can begin. - Author: Anthony D. Ravenscroft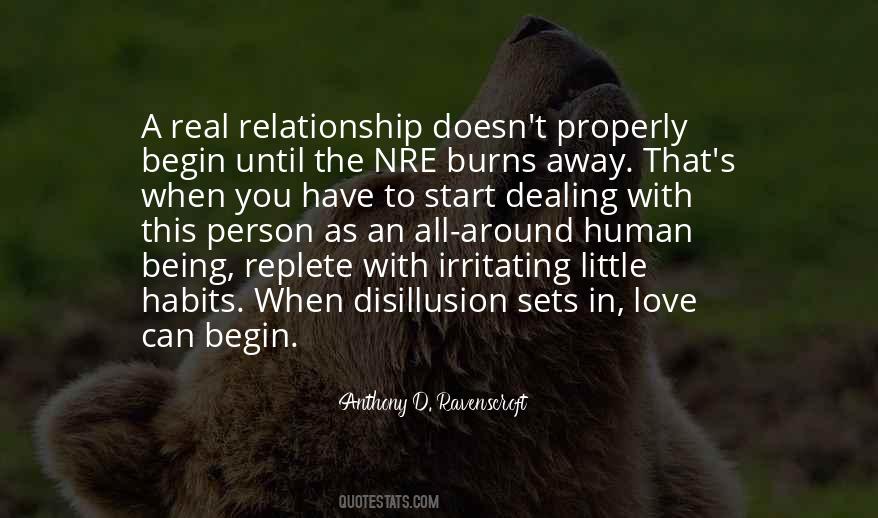 #8. John Green has written a powerful novel - one that plunges headlong into the labyrinth of life, love, and the mysteries of being human. This is a book that will touch your life, so don't read it sitting down. Stand up, and take a step into the Great Perhaps. - Author: KL Going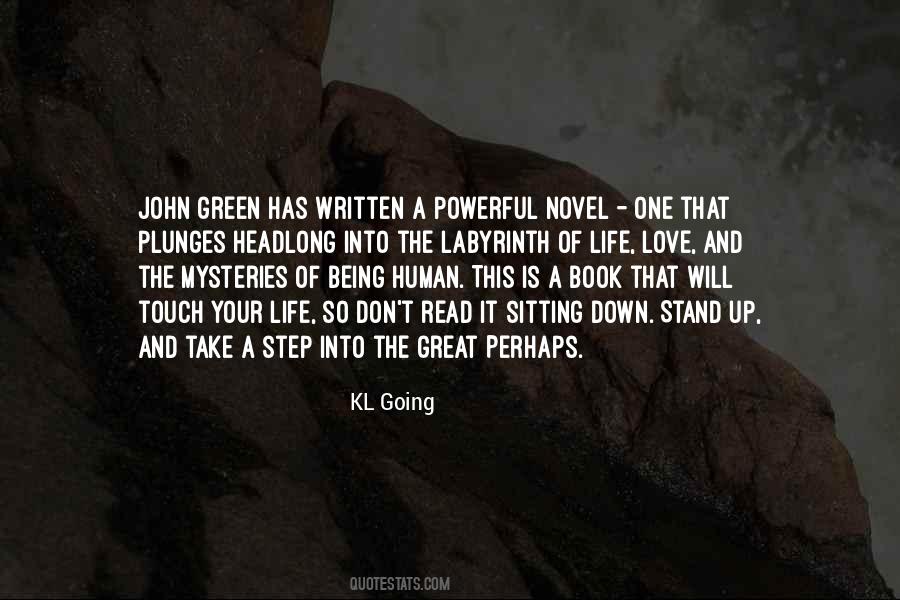 #9. Now the evening is beginning and I will discover a human being to court or to be courted by, an adventure with caprice and desire, and while gambling I might find love. - Author: Anais Nin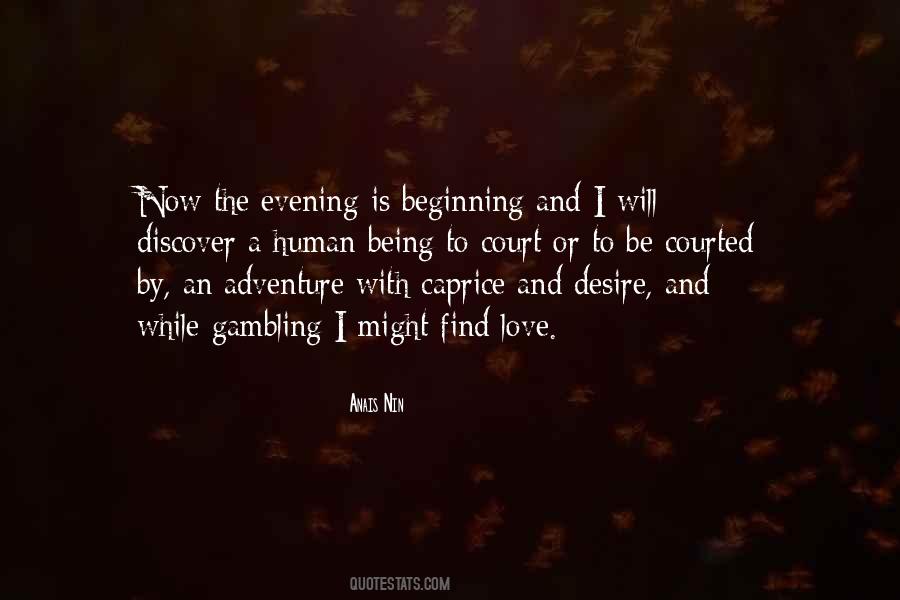 #10. Honestly, we'd probably be great parents. But it's a human being, and unless you think you have excellent skills and have a drive or yearning in you to do that, the amount of work that that is and responsibility - I wouldn't want to screw them up! We love our animals. - Author: Ellen DeGeneres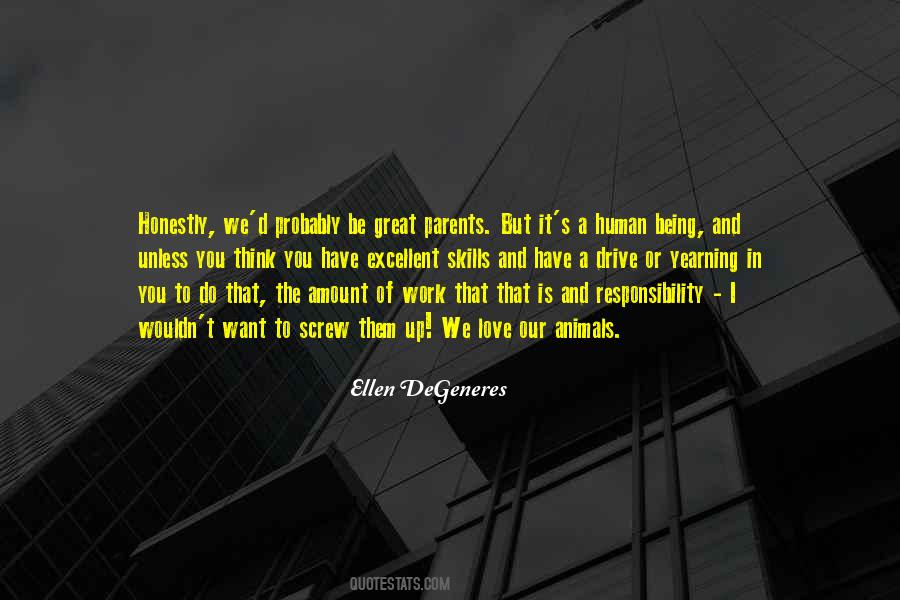 #11. To love for the sake of being loved is human, but to love for the sake of loving is angelic. - Author: Alphonse De Lamartine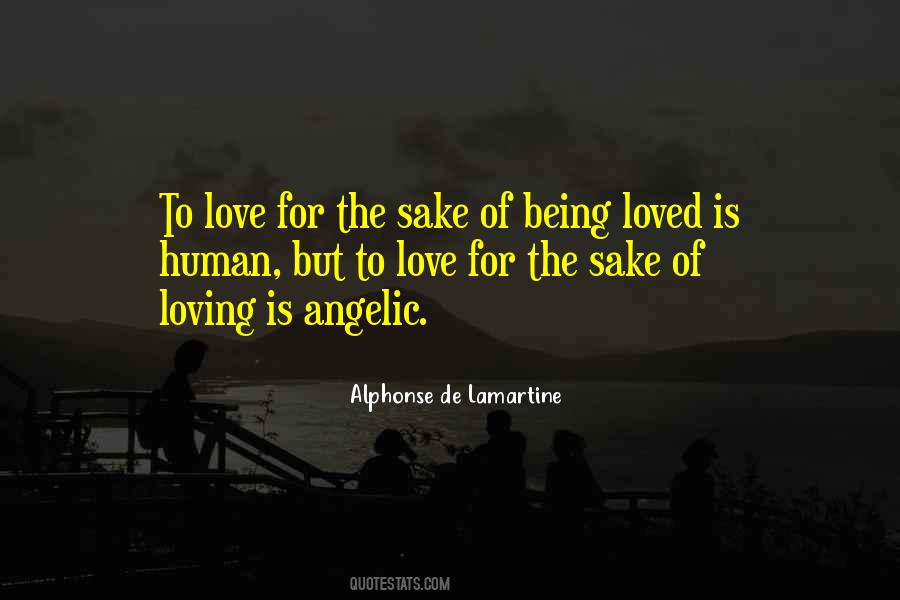 #12. The most difficult part is to convince a human being that in the entire creation, he is the most highly evolved being; that he is capable of becoming a glorious personality, a beautiful, peaceful angel. - Author: Nirmala Srivastava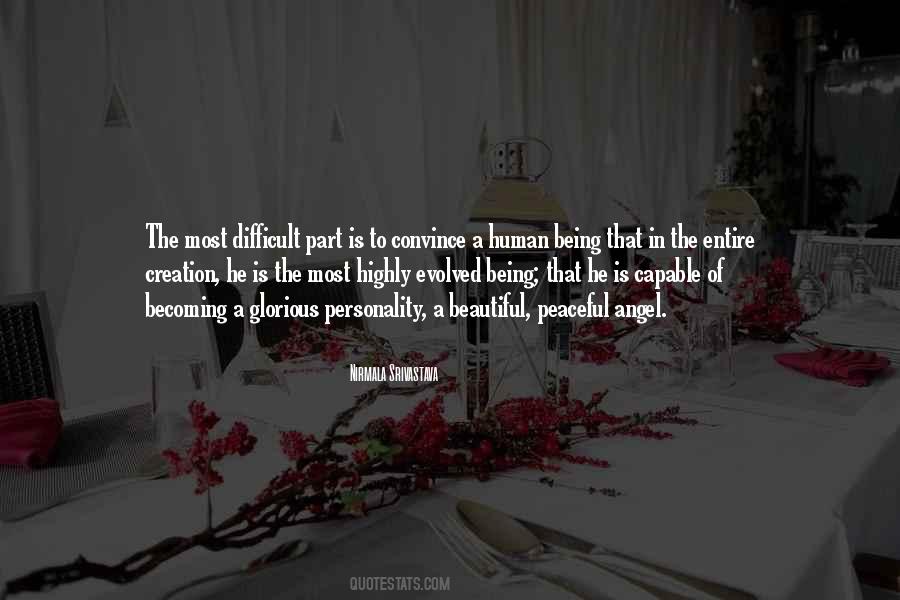 #13. You are a human being, not a human body. - Author: Kate Wicker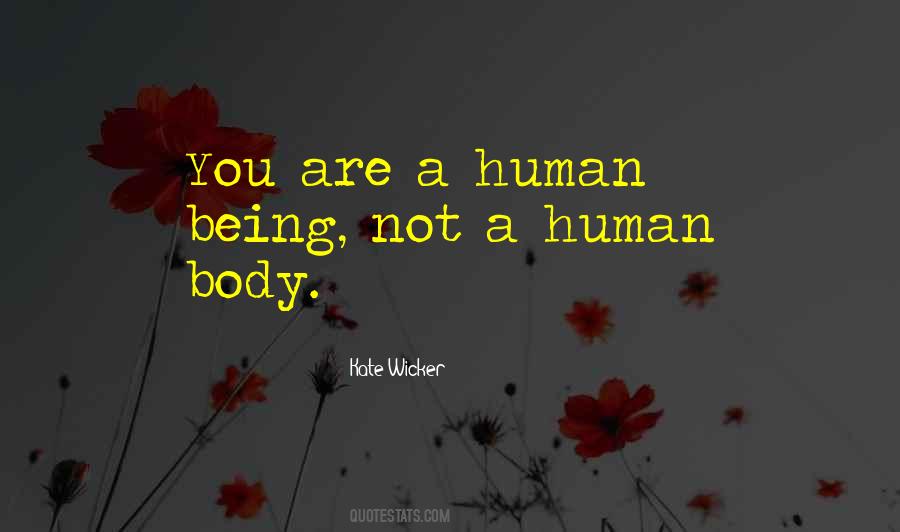 #14. Love your body, love your sexuality, and realize that you are a bad human being only if you are unkind and cruel and do harm unto others and not because of your sex life. - Author: Roxana Shirazi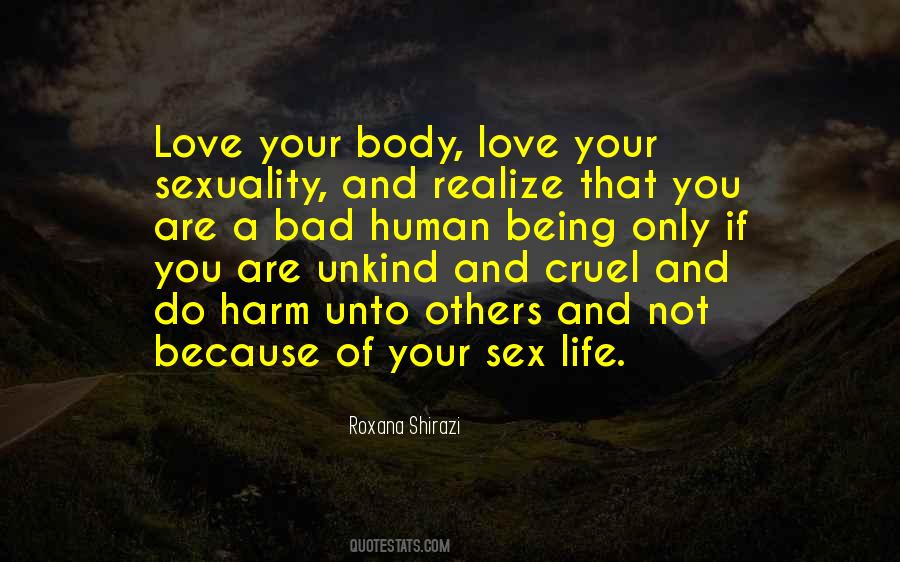 #15. Love is the most incredible gift to give and to receive as a human being, - Author: Ellen Page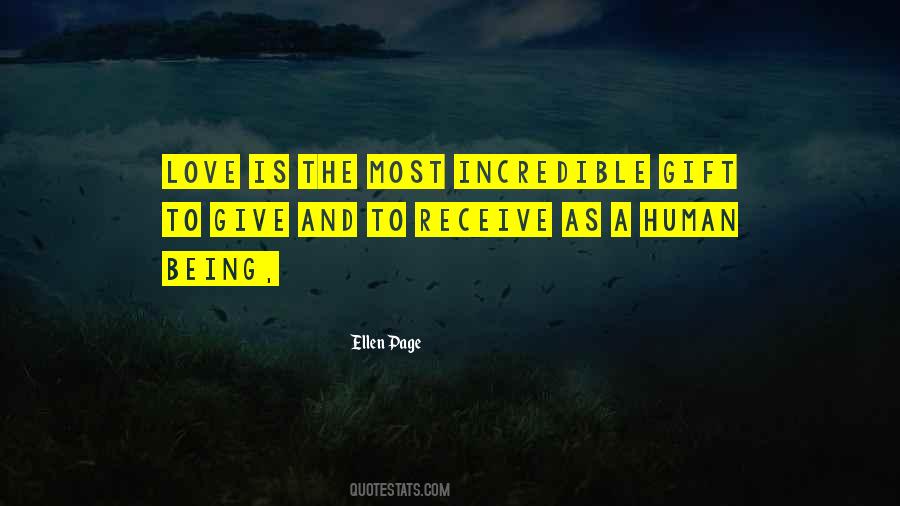 #16. Survival is for the human animal; fear the motivation. For the spiritual being survival is irrelevant. Curiosity, compassion and creativity are the name of the game; unconditional love the motivation. - Author: Peter Shepherd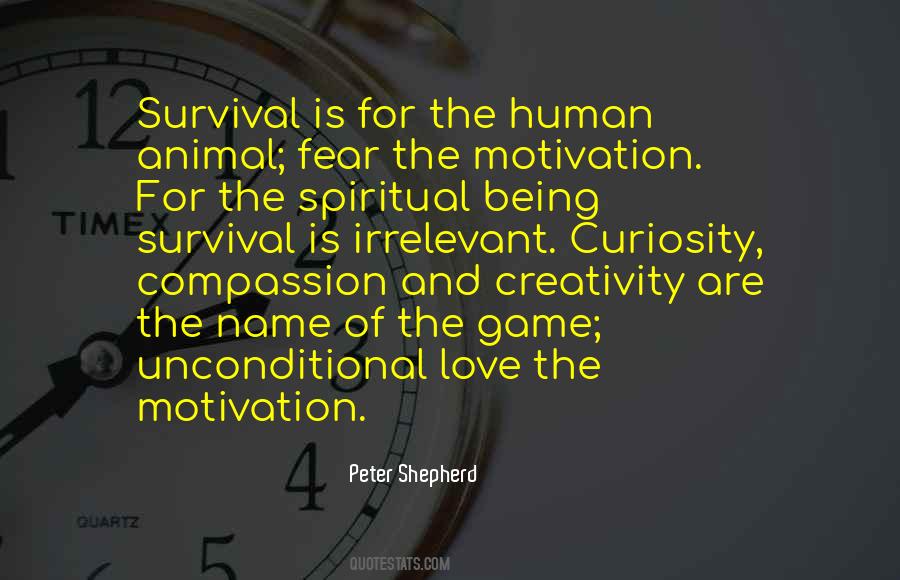 #17. I had taken this time to fall in love instead - inn love with the sort of helplessness I had not felt inn death - the helplessness of being alive, the dark bright pity of being human - feeling as you went, groping in corners and opening your arms to light - all of it part of nagivating the unknown. - Author: Alice Sebold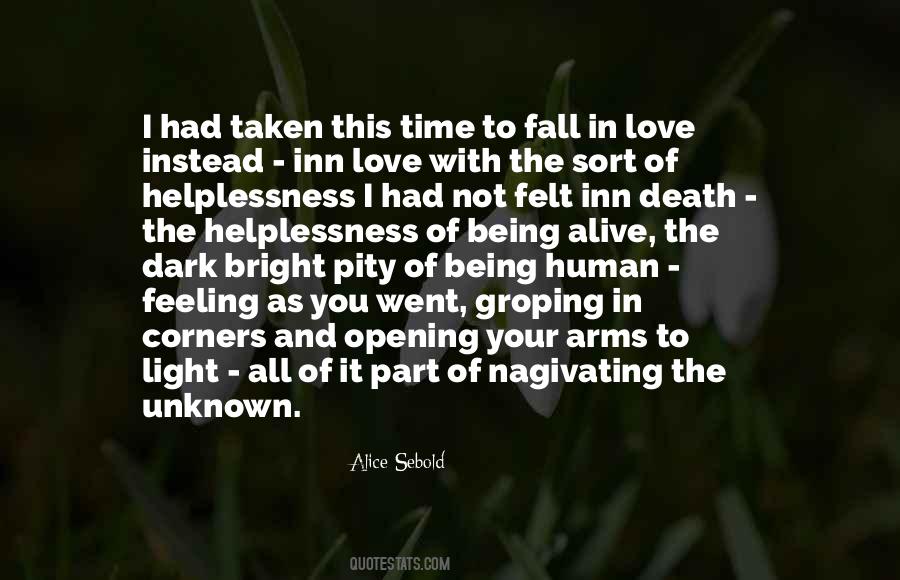 #18. Everything I thought I knew about what it meant to be a man was stripped away. What remained was what it meant to be a man who loved a woman as much as I did. To be a human being experiencing this life in all its ugliness, its beauty, its pain and hate; good and evil; love and death. - Author: Emma Scott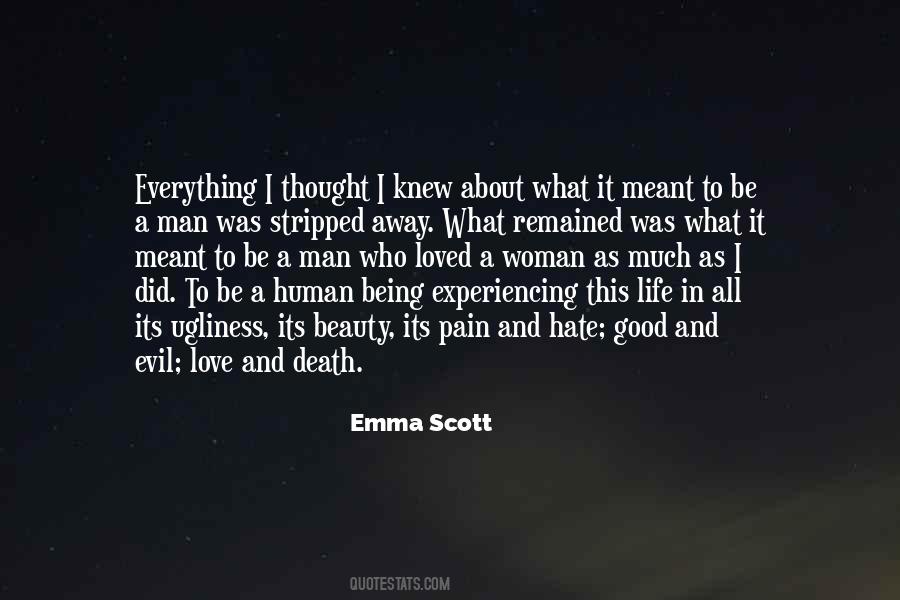 #19. As a human being, we have unlimited power and unlimited abilities, we just have to look for it. - Author: Debasish Mridha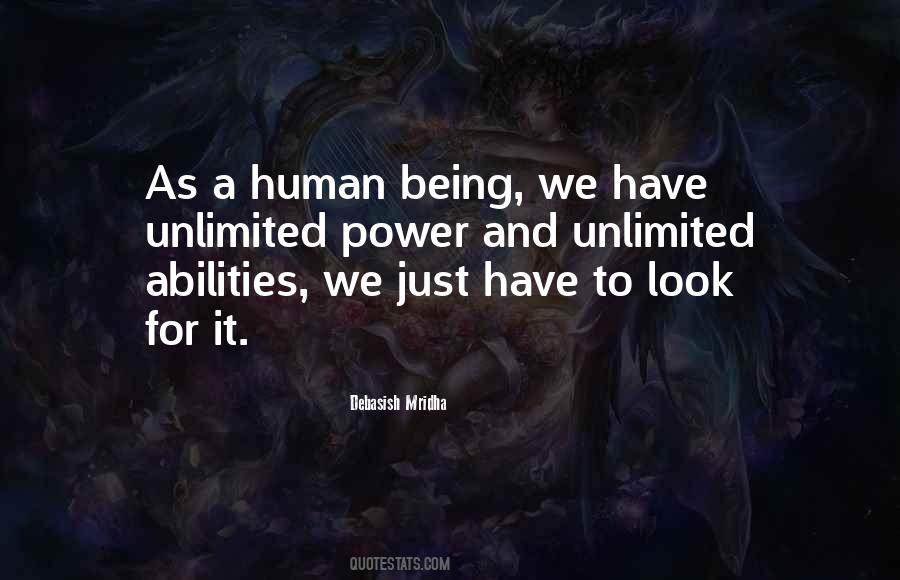 #20. Every human being must be viewed according to what it is good for. For not one of us, no, not one, is perfect. And were we to love none who had imperfection, this world would be a desert for our love. - Author: Thomas Jefferson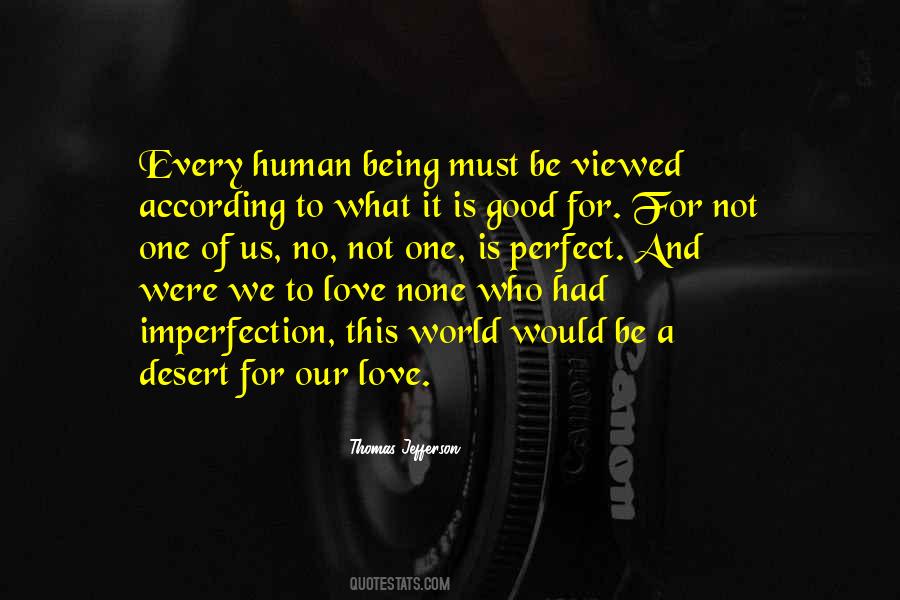 #21. Please look at the imperfect human being God gave to love you once, and try to like me a little for what I really was, or, God willing, am. Then please, darling, become an imperfect human being among imperfect human beings again."
"Jenny - Author: Kurt Vonnegut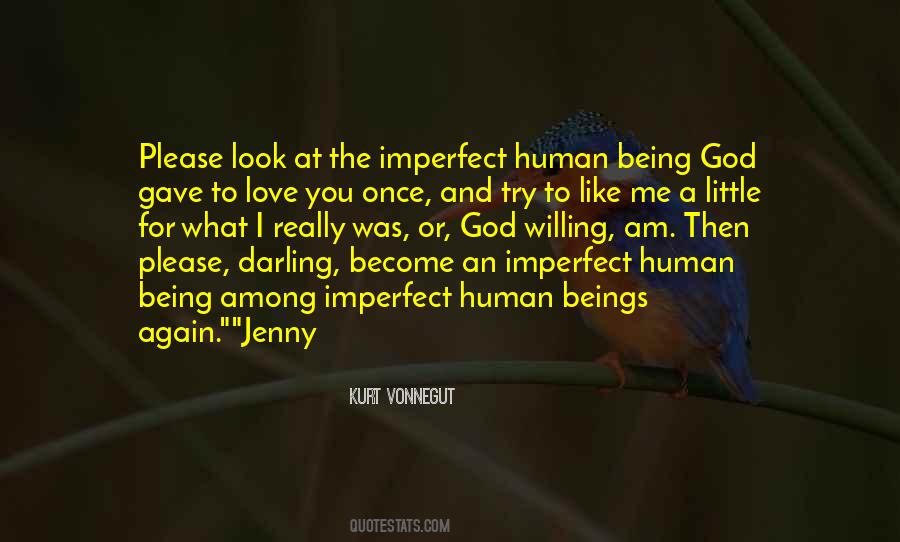 #22. You come to this universe as a baby but life turns you into a human being. - Author: Debasish Mridha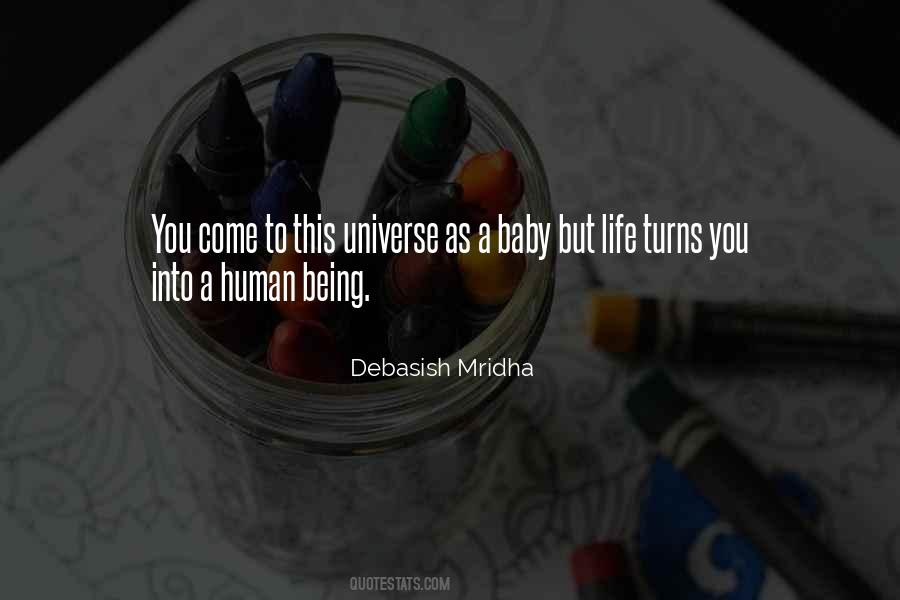 #23. I seem to be the only person in the world who doesn't mind being pitied. If you love me, pity me. The human state is pitiable: born to die, capable of so much, accomplishing so little; killing instead of creating, destroying instead of building, hating instead of loving. Pitiful, pitiful. - Author: Jessamyn West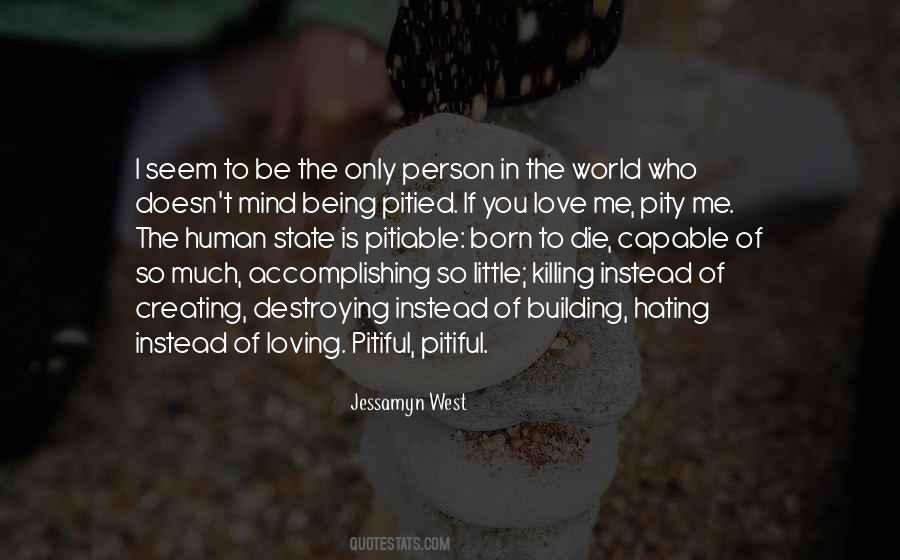 #24. There can be no life without faith and love - faith in a human heart, love of a human being! That - Author: Joseph Conrad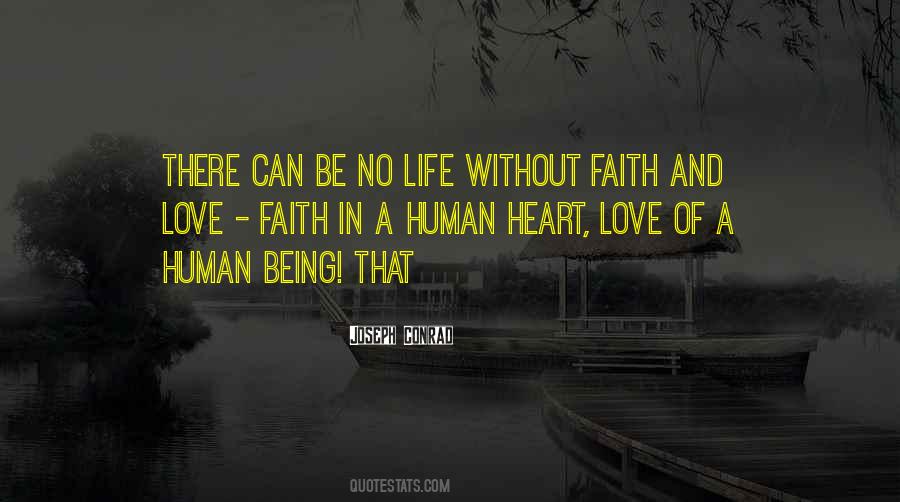 #25. Peepo Choo is avant-garde! ... It is both comedy and drama! It is both the wildest fiction and the most sobering reality! It's about love and hate! About passion! About being human! It's about life!!! - Author: Felipe Smith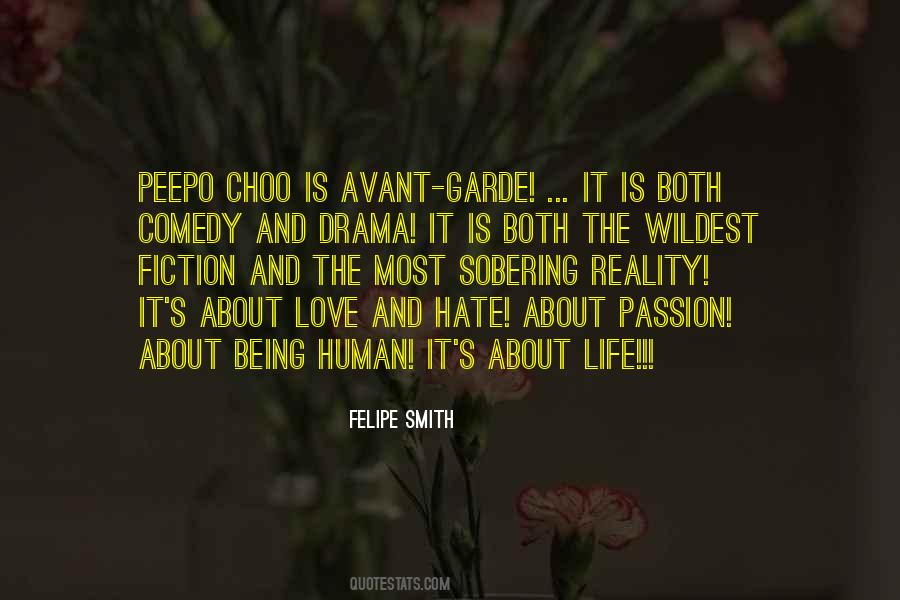 #26. Whoever lives in love lives in God, and God in him." No human being is going to be truly satisfied with life until he or she loves God. - Author: Myles Munroe
#27. I believe our concept of romantic love is irrational, impossible to fulfill and the cause of many broken homes. No human being can maintain that rarefied atmosphere of 'true love'. - Author: Rita Mae Brown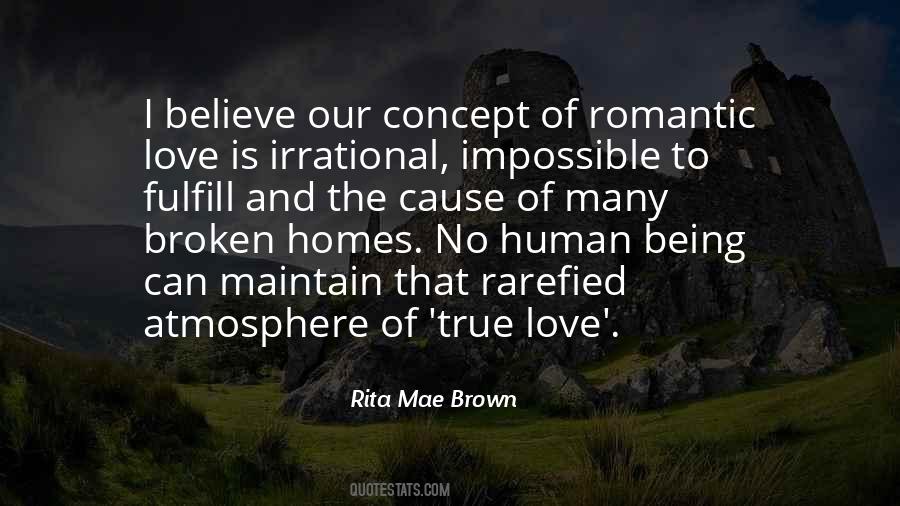 #28. No human being can control love, and no one is to blame either for feeling it or for losing it. What alone degrades a woman is falsehood. - Author: George Sand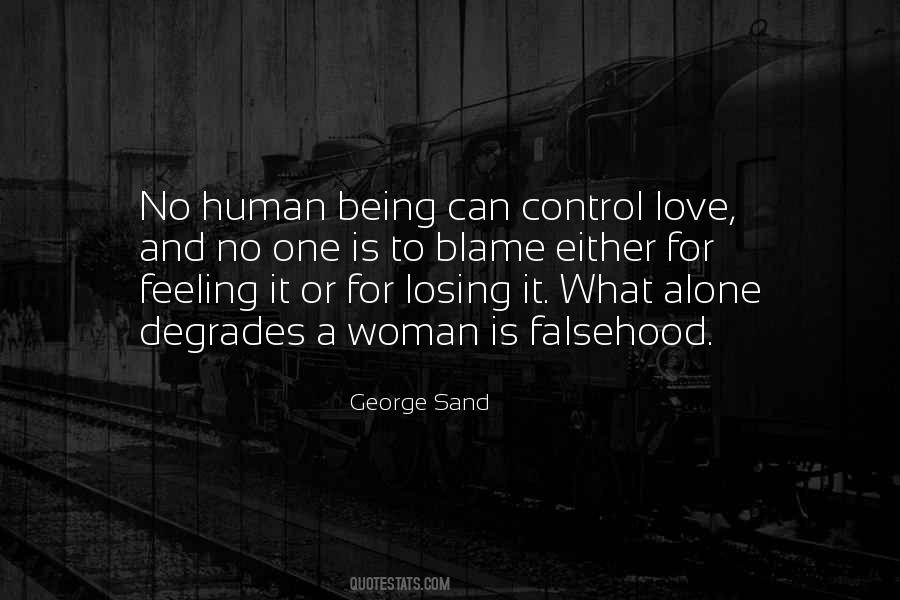 #29. The human being needs a framework of values, a philosophy of life, a religion or religion-surrogate to live by and understand by, in about the same sense that he needs sunlight, calcium or love. - Author: Abraham Maslow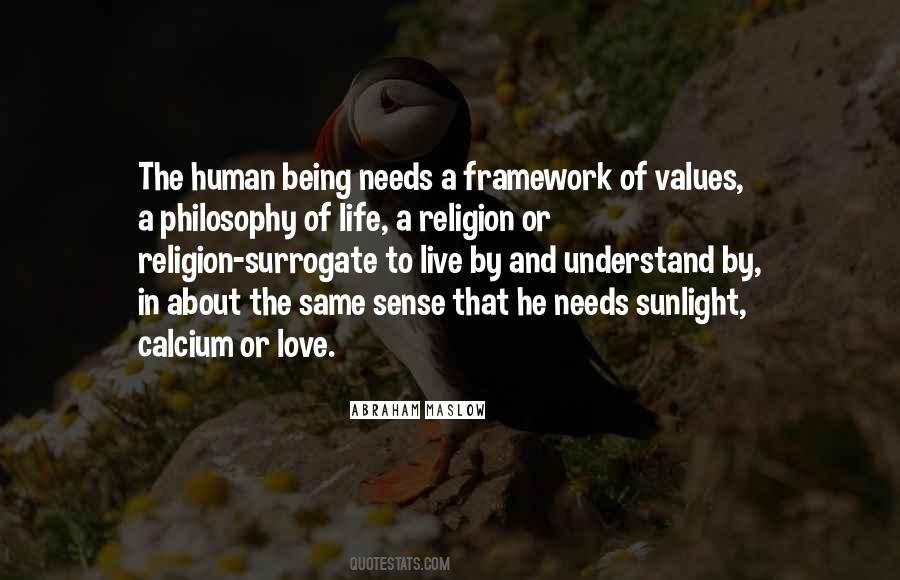 #30. Every human being I know craves love and affection. - Author: Terry McMillan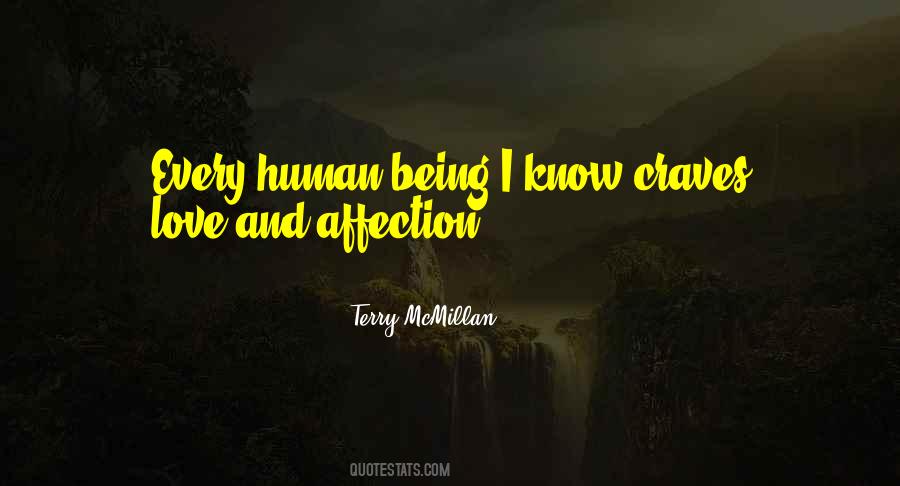 #31. A human being becomes human not through the casual convergence of certain biological conditions, but through an act of will and love on the part of other people. - Author: Italo Calvino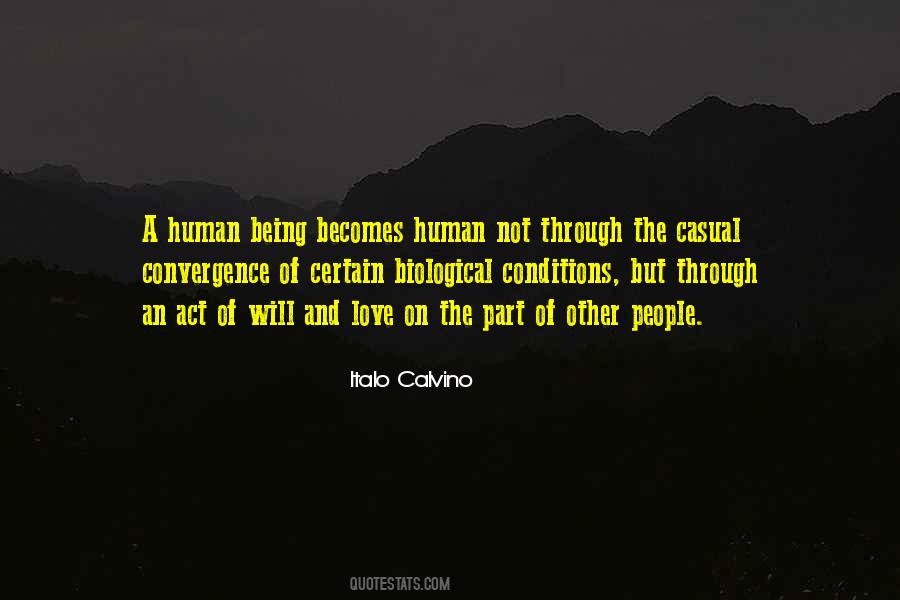 #32. If you're going to be a musician's girlfriend, you have to know that your man will always love his bandmates in a way you can't even touch, because they are the guys who help him create music. You can only help him create a living human being, with your dumb uterus. - Author: Julie Klausner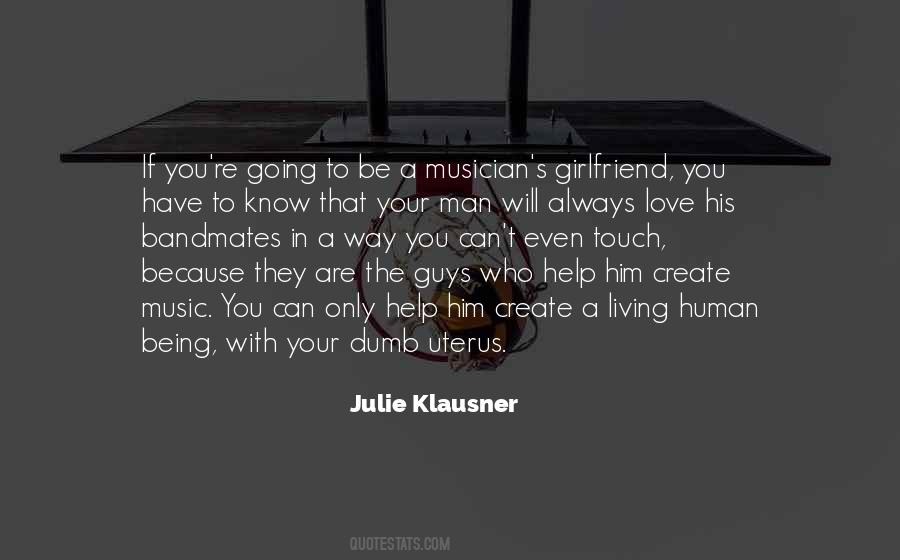 #33. What Richard Selzer, M.D. once wrote of surgery is true of therapy: only human love keeps this from being the act of two madmen. - Author: Thomas Lewis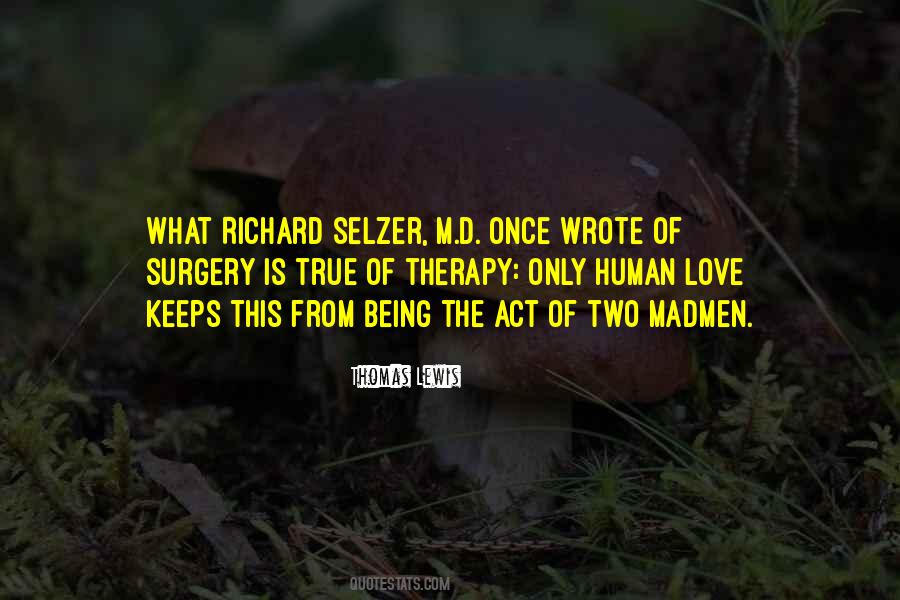 #34. When you have an intense contact of love with nature or another human being, like a spark, then you understand that there is no time and that everything is eternal. - Author: Paulo Coelho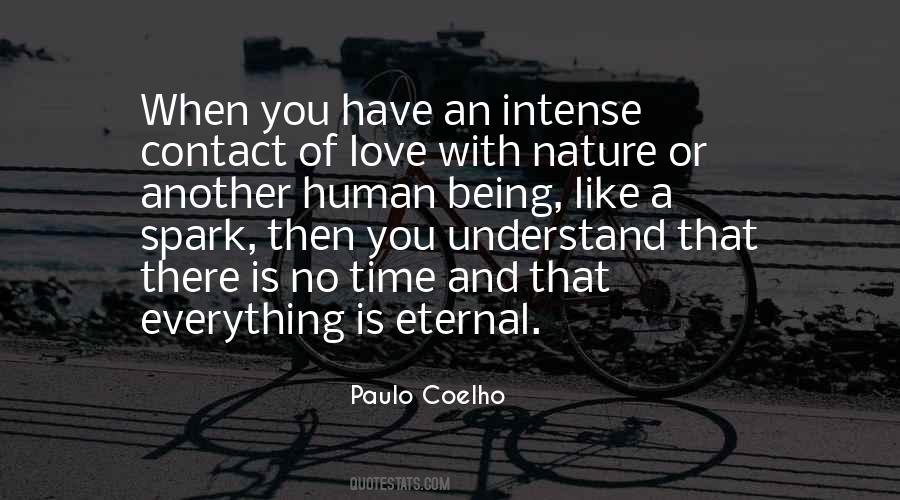 #35. There is something simply beautiful and simply innocent, in being human. It is just so innocent and beautiful. I love it. - Author: C. JoyBell C.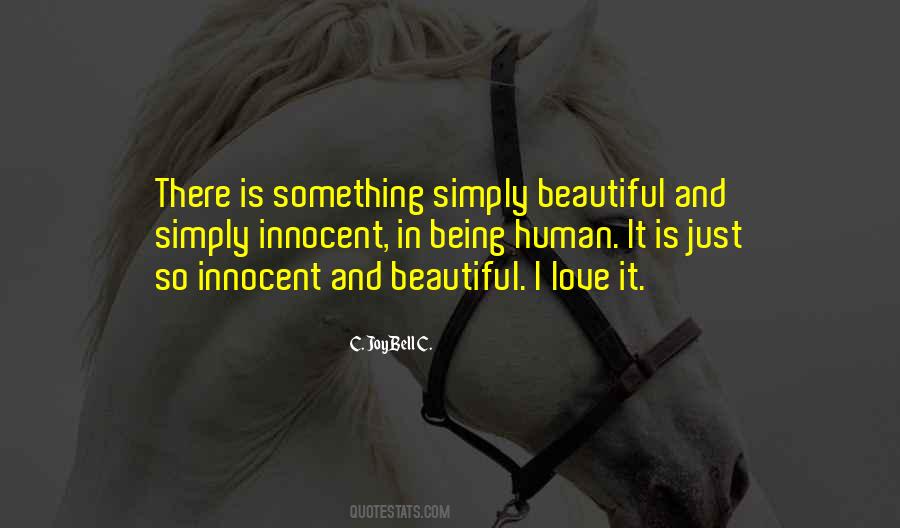 #36. When you secretly love someone it makes you an amazingly gentle and loving human being. - Author: Prassant Kevin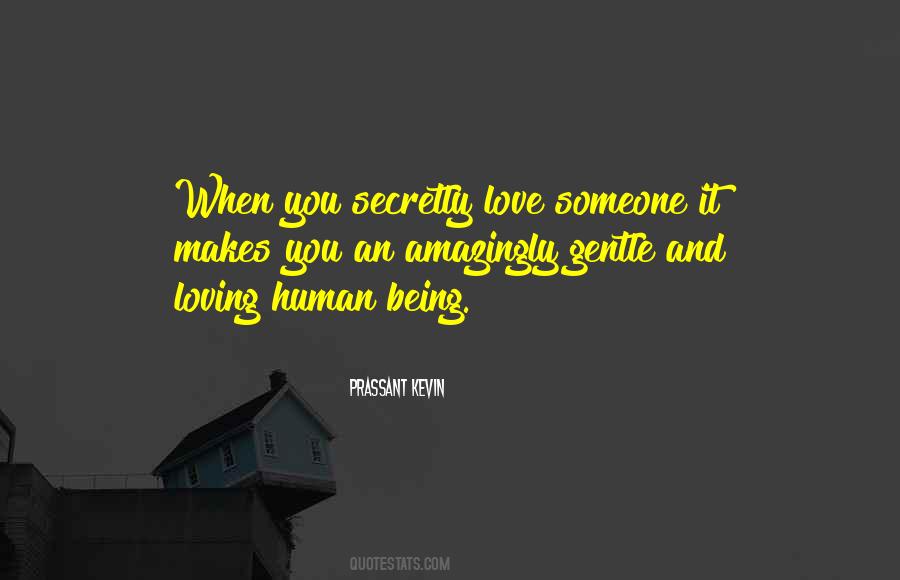 #37. If you are not personally free to be yourself in that most important of all human activities ... the expression of love ... then life itself loses its meaning. - Author: Harvey Milk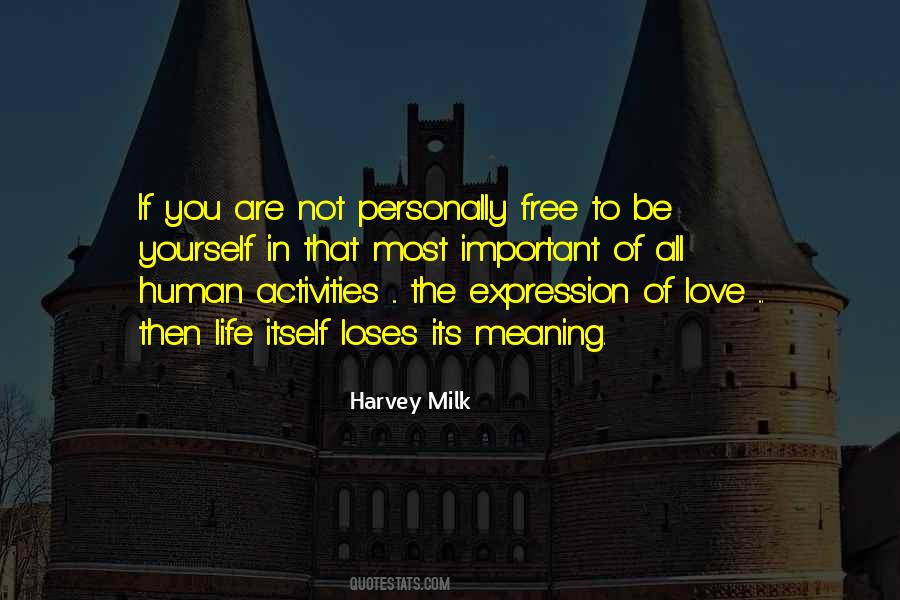 #38. Don't you see what's happened? You wanted to be in love again. To feel that feeling where a man you hardly know gazes into your eyes and seems to be the only human being who ever understood the real you. - Author: Nancy Horan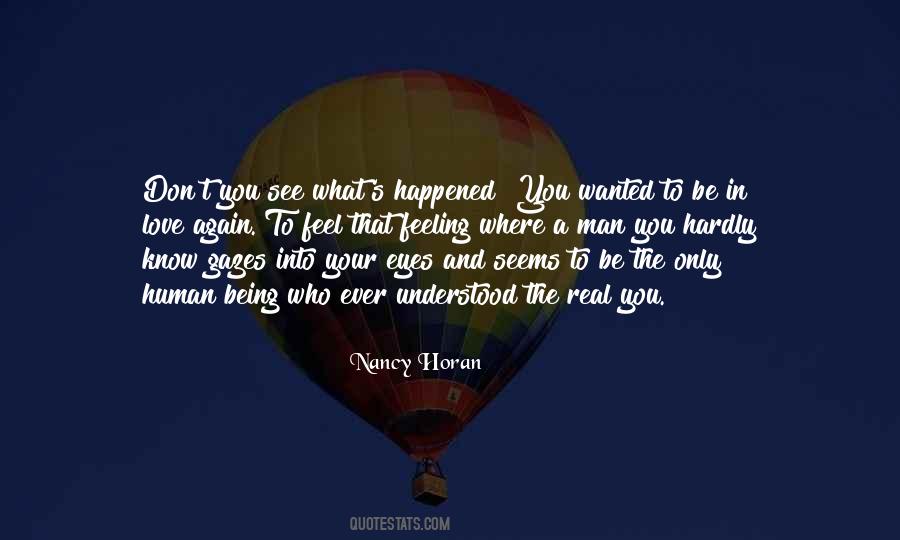 #39. I know, being a father myself, what my interpretation of true love is, or the essence of love, and you can apply it to other things besides human beings. - Author: Robert Stromberg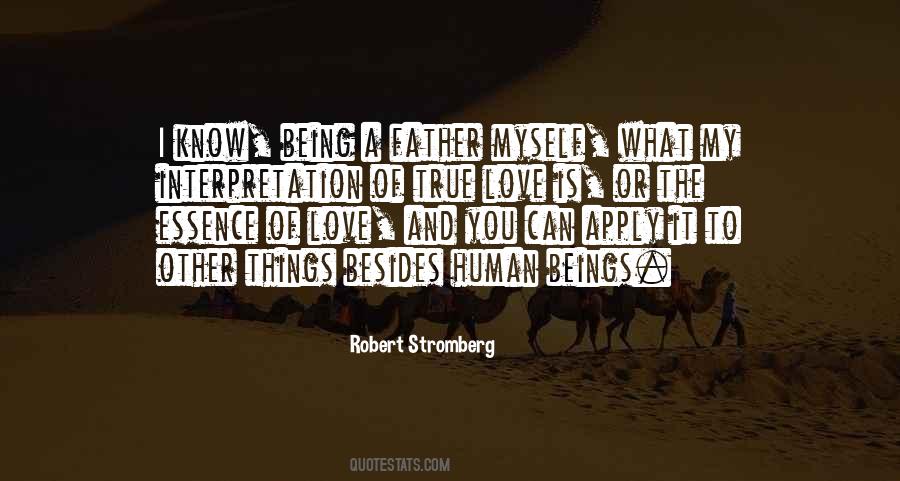 #40. To follow Jesus means to share his merciful love for every human being. - Author: Pope Francis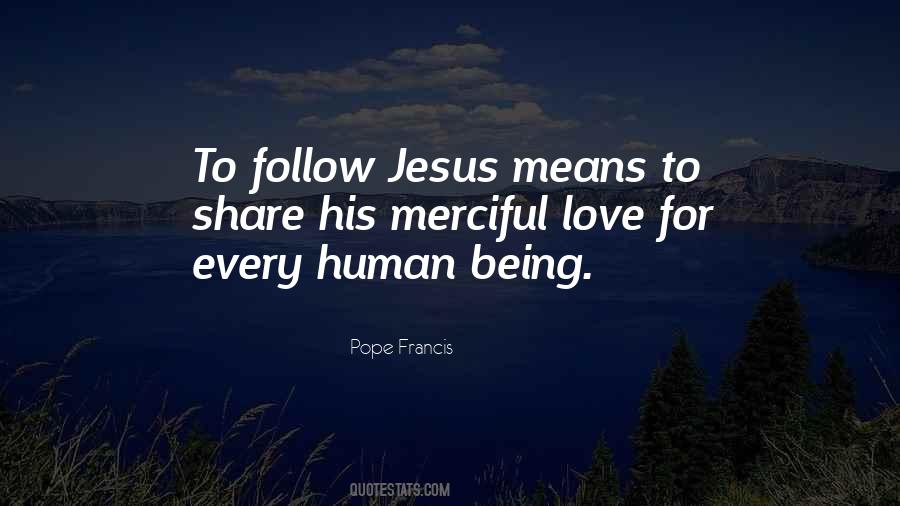 #41. To live within limits. To want one thing. Or a few things very much and love them dearly. Cling to them, survey them from every angle. Become one with them - that is what makes the poet, the artist, the human being. - Author: Johann Wolfgang Von Goethe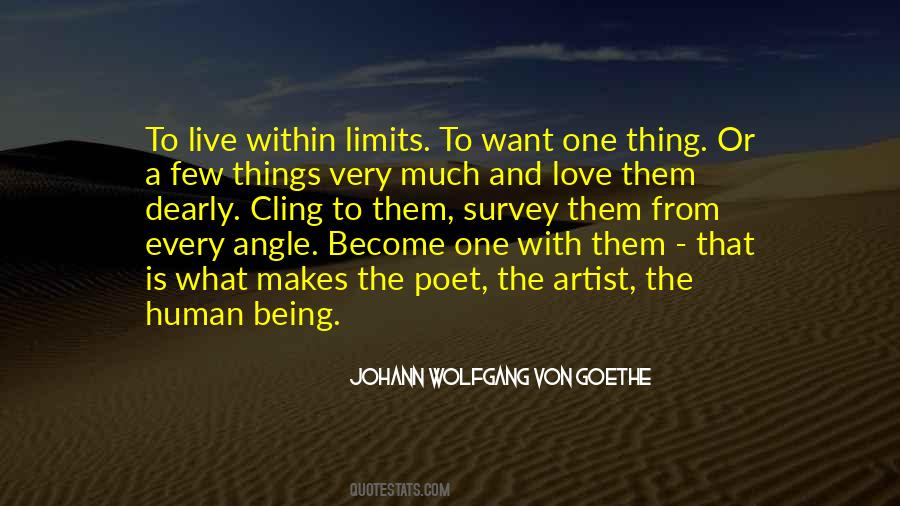 #42. It costs so much to be a full human being that there are very few who have the Love and the courage to pay the price. One has to abandon altogether the search for security and reach out to the risks of living with both arms. One has to embrace life. - Author: Morris West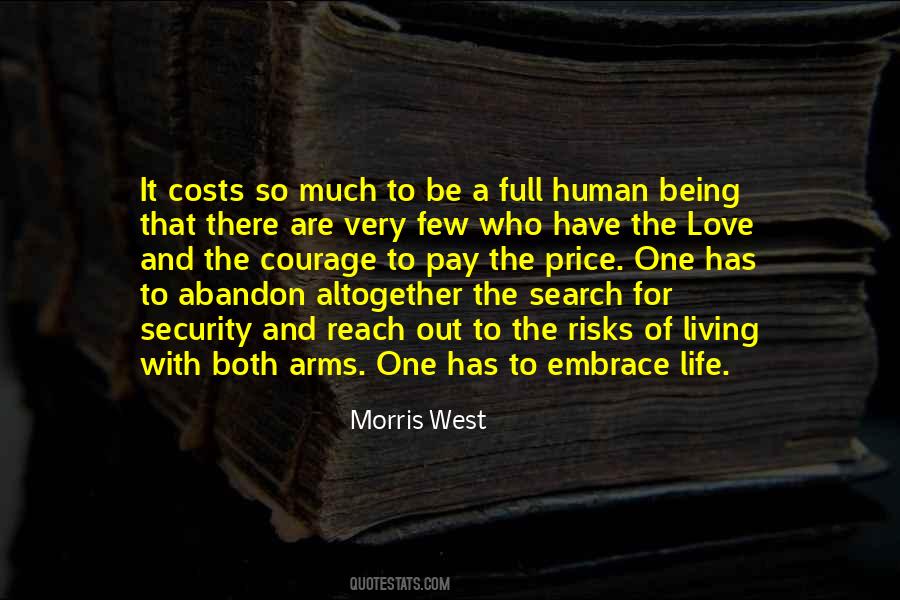 #43. I love theater. I love sitting in an audience and having the actors right there, playing out what it means to be a human being. - Author: Elizabeth Strout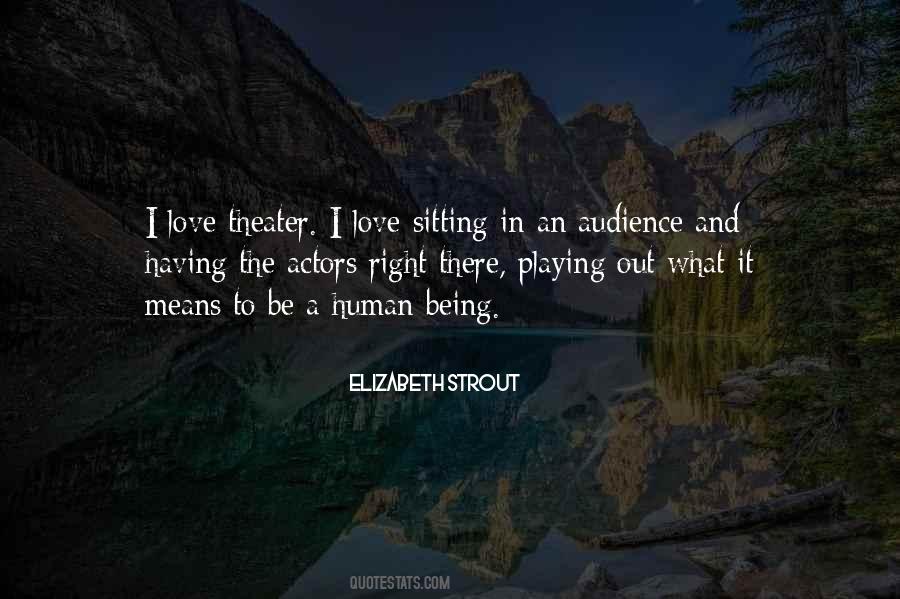 #44. I'm a human being and I fall in love and sometimes I don't have control of every situation. - Author: Beyonce Knowles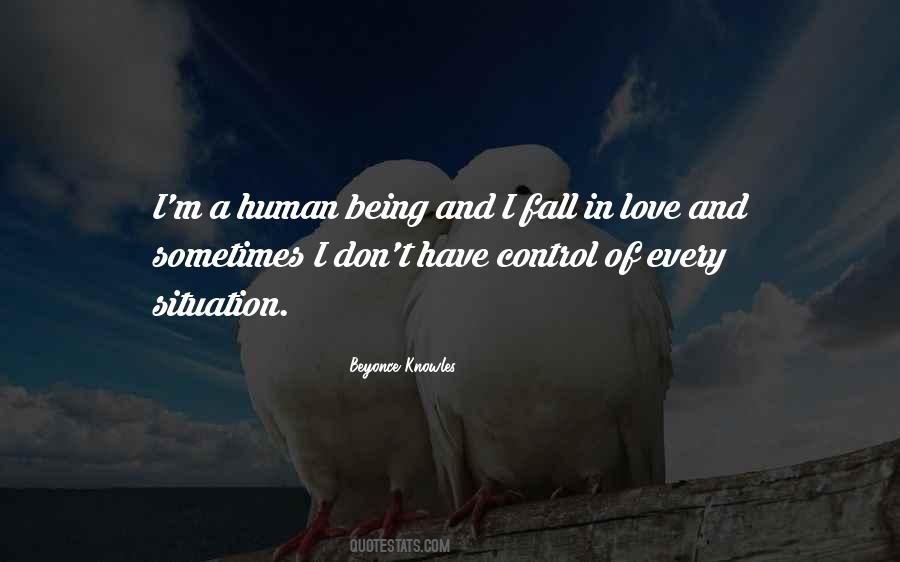 #45. I love the bicycle. I always have. I can think of no sincere, decent human being, male or female, young or old, saintly or sinful, who can resist the bicycle. - Author: William, Saroyan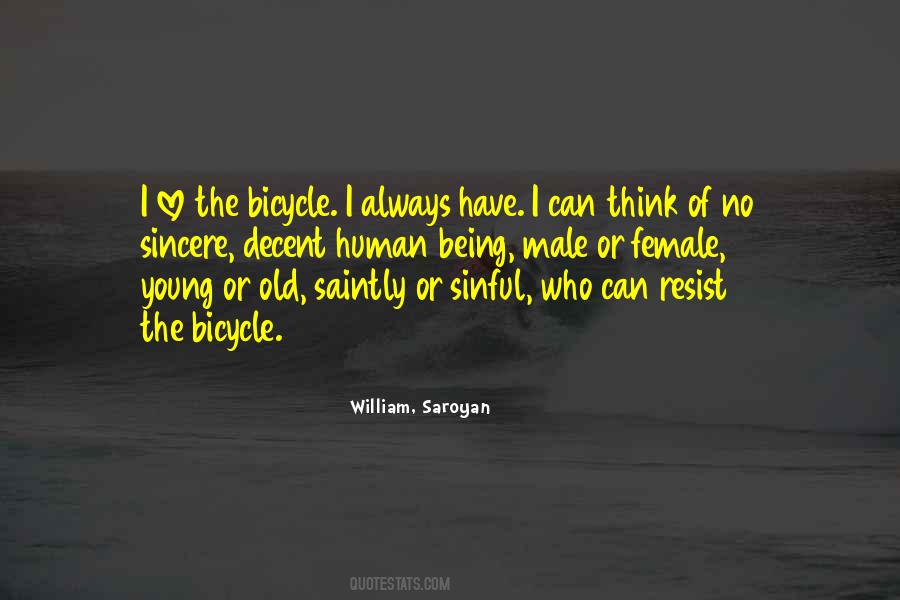 #46. The greatest gift we have ever received, and ever will or could receive, is the Spirit of God Himself. He enters the essence of our human form and changes us from within. He fills us with joy, love and peace. He subdues our passions and transforms our very being into the likeness of Christ. - Author: David Paul Kirkpatrick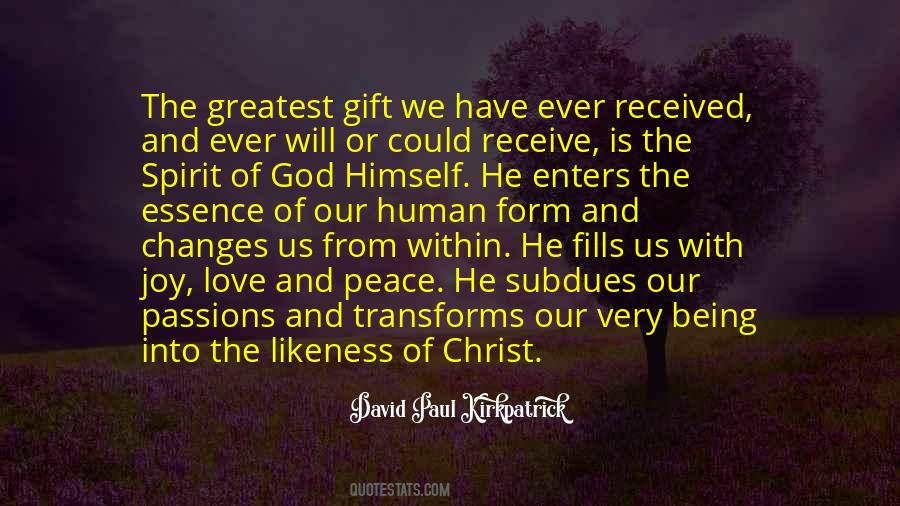 #47. Love is born into every human being; it calls back the halves of our original nature together; it tries to make one out of two and heal the wound of human nature. - Author: Plato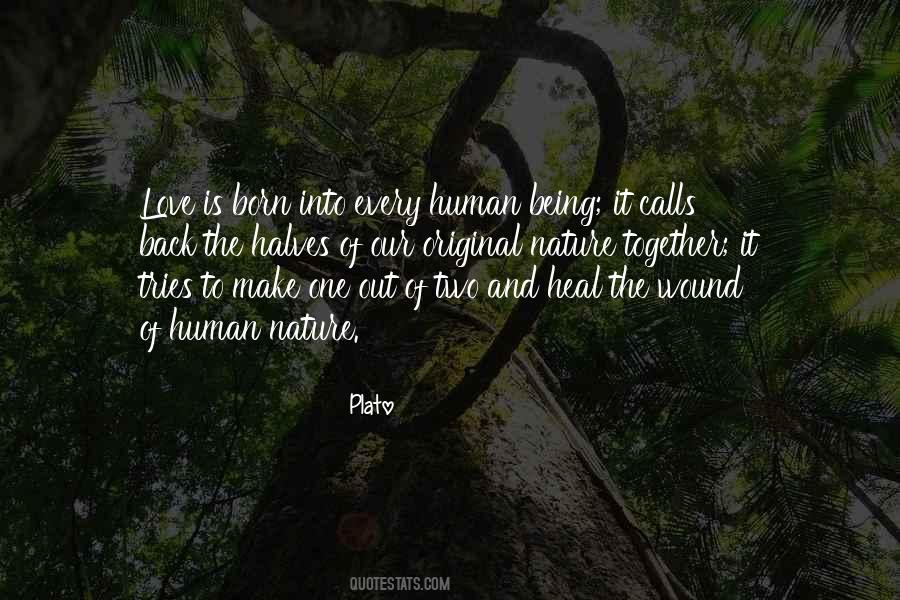 #48. I need to remember that I'm a human being too, so why can't I love me. - Author: Jai Uttal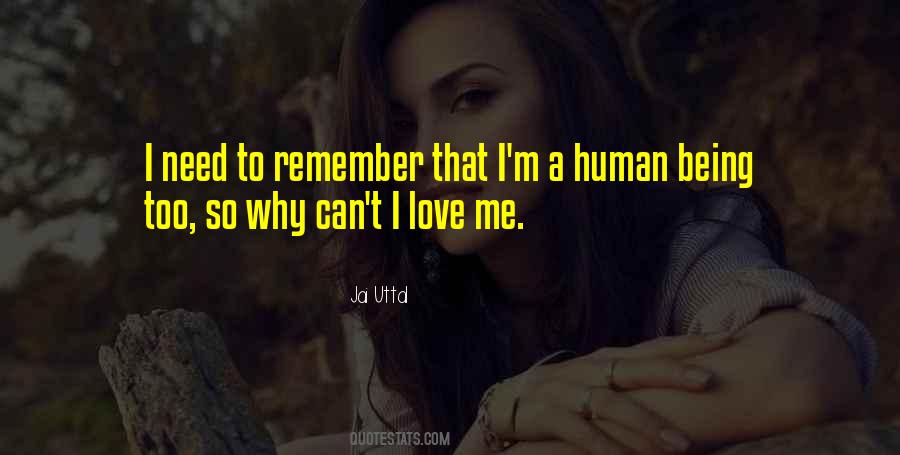 #49. Don't look for a soul mate.
Make one
out of the complex fabric of the human being already with you.
Instructions are never included. They vary with the strength of your ability to see, the measure of your selective blindness, the limits of your mercy, and the intensity of your desire. - Author: Vera Nazarian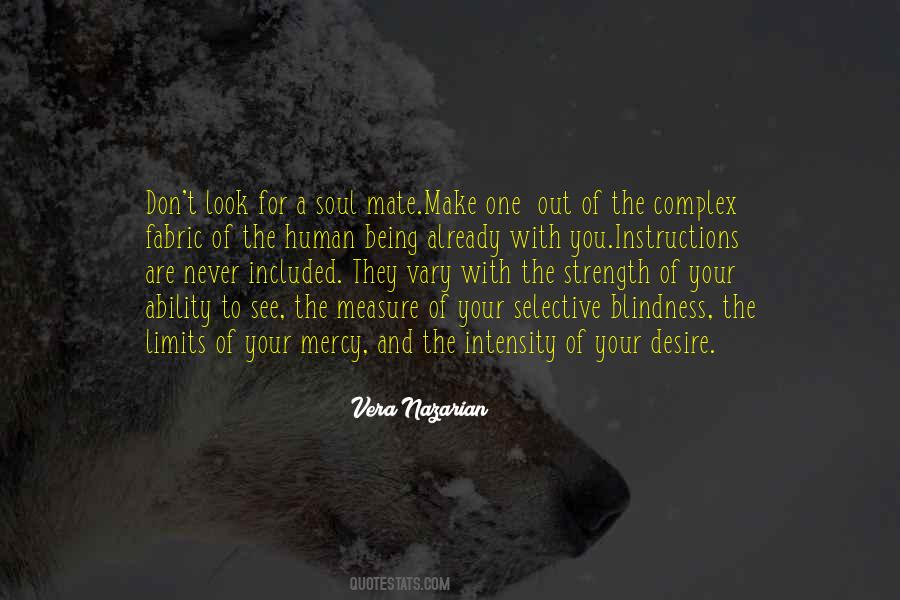 #50. Out of love, God becomes man. He says: See, here is what it is to be a human being. - Author: Soren Kierkegaard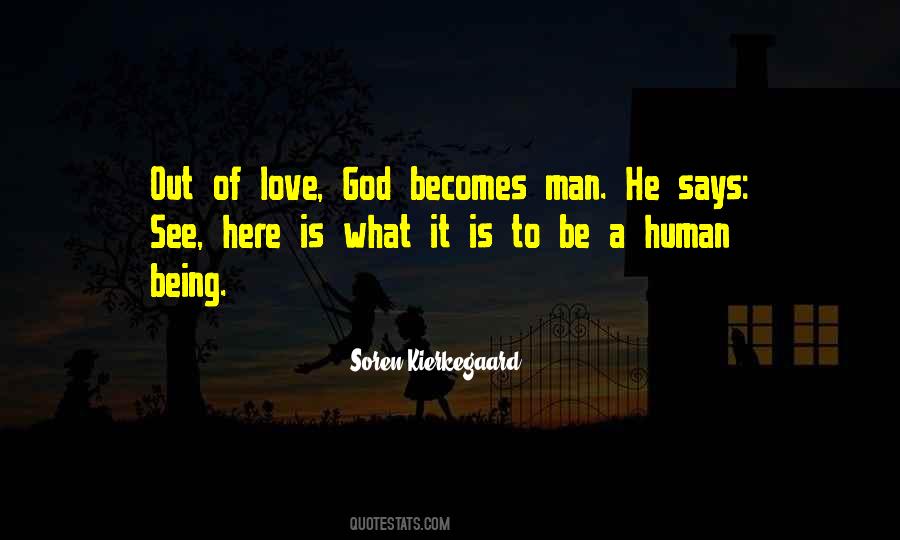 #51. The more a human being in his worldview approaches the goal, the hegemony of love in a moral universe, the more has he become slipshod in the light of intellectual honesty. - Author: Peter Wessel Zapffe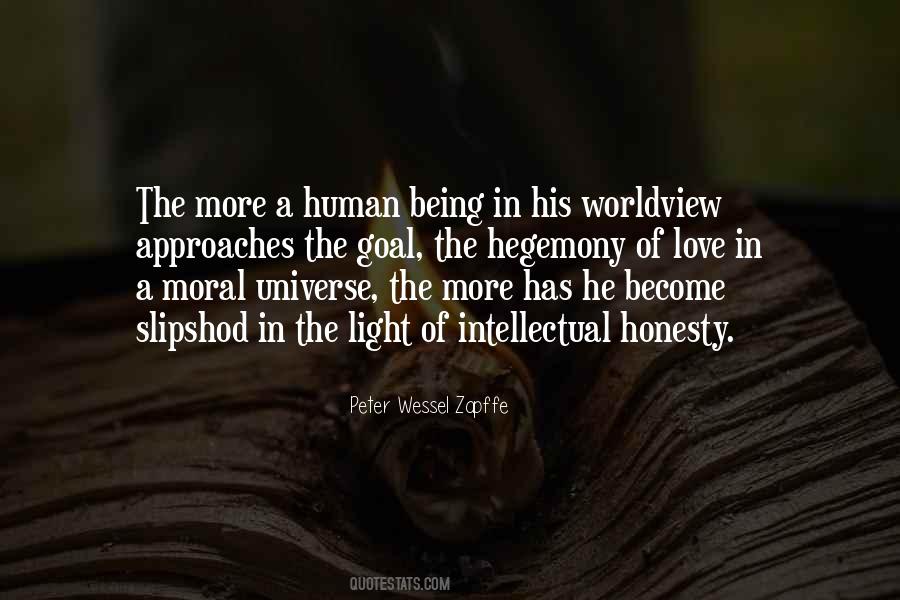 #52. Draw near to Nature. Then try like some first human being to say what you see and experience and love and lose. - Author: Rainer Maria Rilke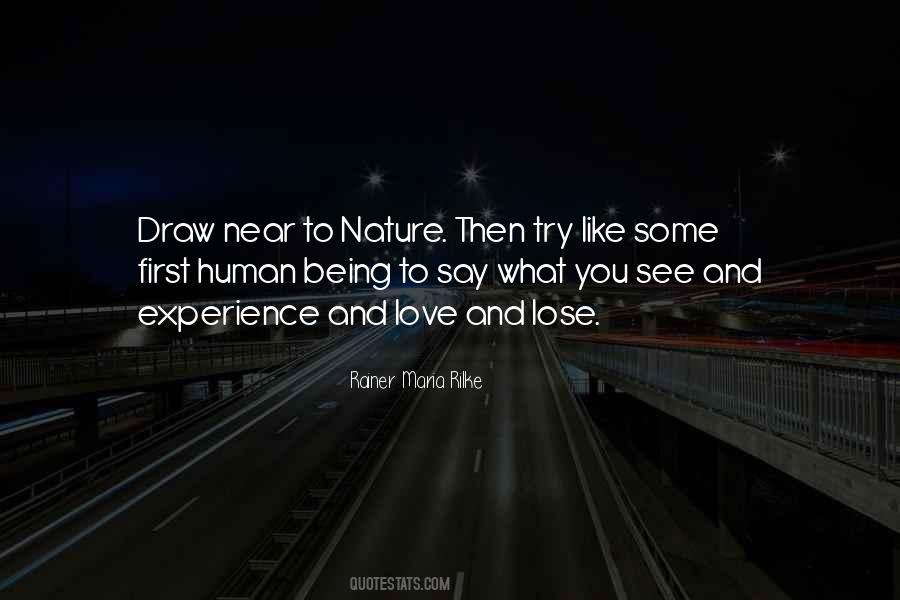 #53. Gamble everything for love, if you are a true human being. If not, leave this gathering. Half-heartedness doesn't reach into majesty. - Author: Rumi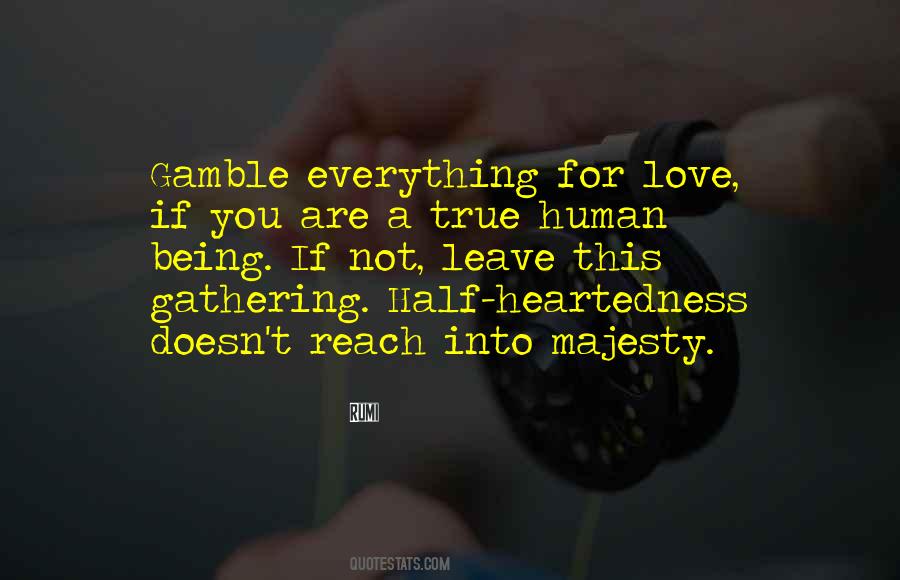 #54. One year before the Rapture " ... that proves how marvellous God's love is, even for the most miserable human beings, being that demons can never take a human figure in a perfect form, and so the most stupid people are able to discover them." Nicholas Remy, Daemonolatreiae libri tres, 1595. - Author: Phillip W. Simpson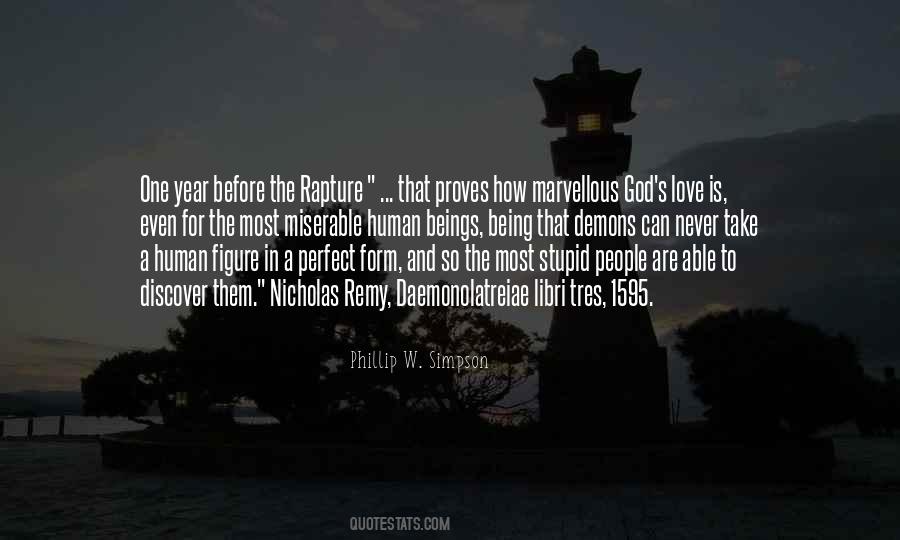 #55. Love stories are only fit for the solace of people in the insanity of puberty. No healthy adult human being can really care whether so-and-so does or does not succeed in satisfying his physiological uneasiness by the aid of some particular person or not. - Author: Aleister Crowley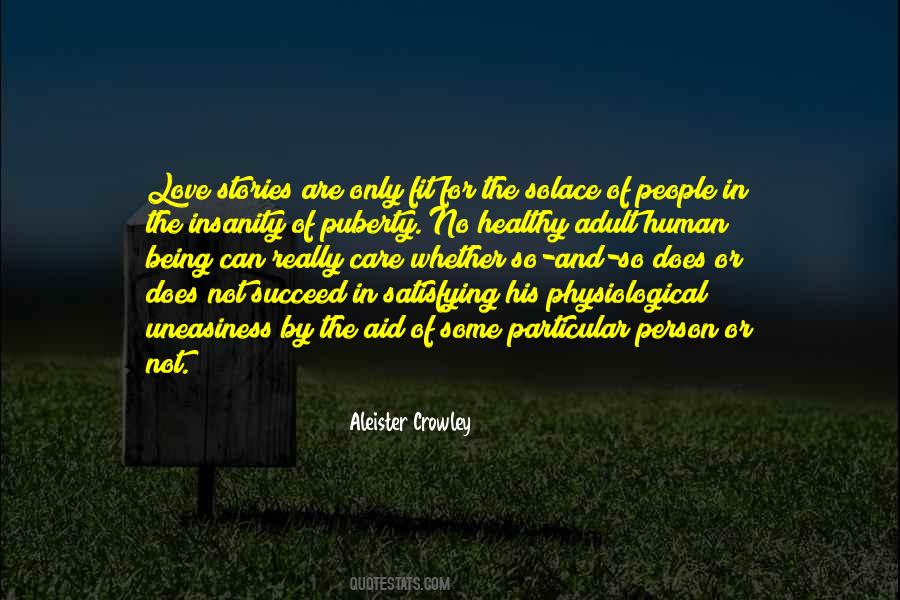 #56. I wonder if it's medically possible to be addicted to another human being. - Author: Simone Elkeles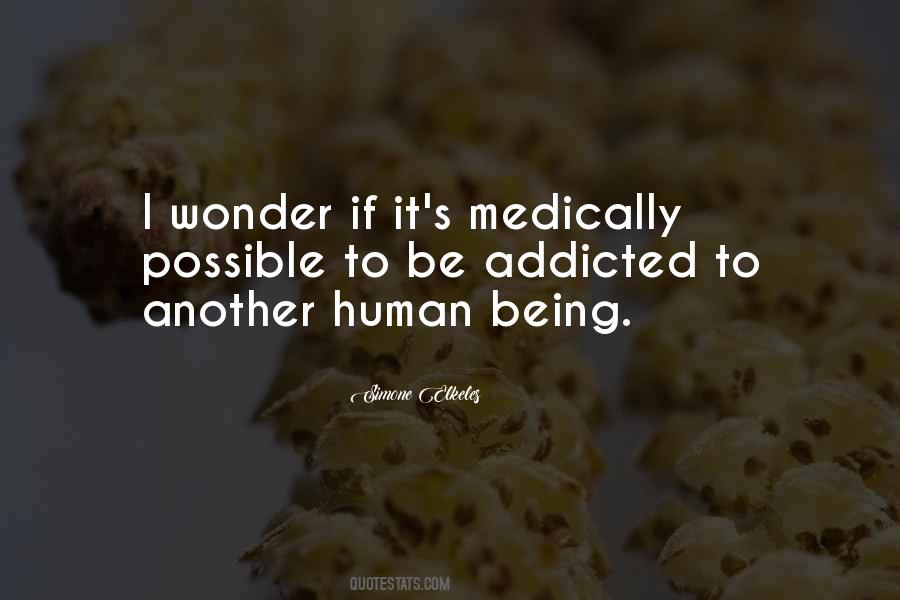 #57. Where the myth fails, human love begins. Then we love a human being, not our dream, but a human being with flaws. - Author: Anais Nin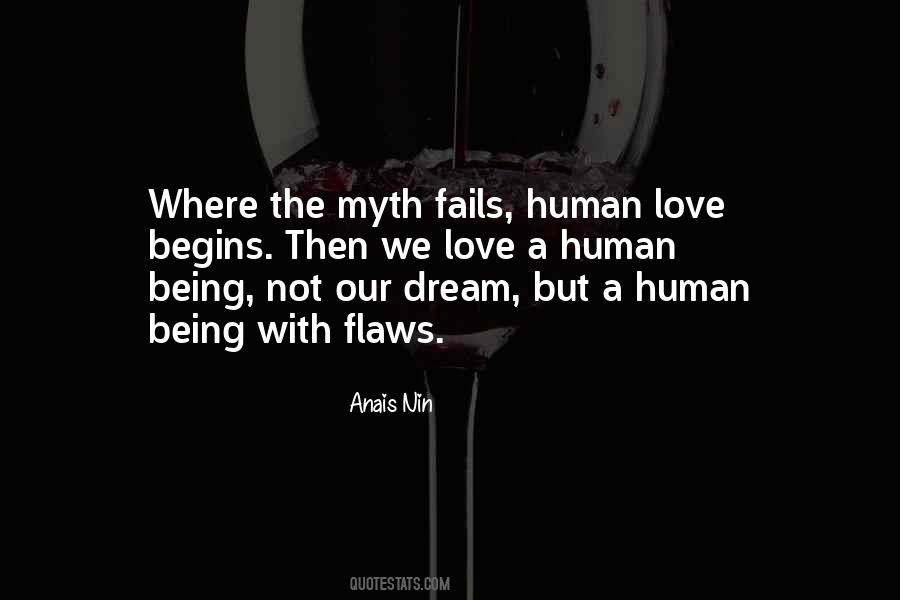 #58. Every single human being is created in the image of God; created for dignity, created for the Father's love, created for kindness, created for mercy. - Author: Heidi Baker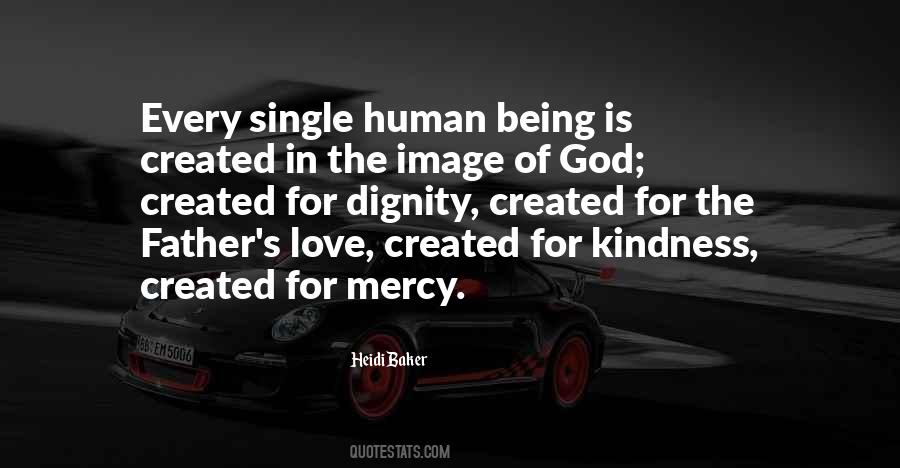 #59. I prefer to learn everything through music. If you want divinity, the music in every human being and their love for music is pretty much it. It's the big indication of their spirituality and their ability to love and make love, or feel pain or joy, and really manifest it, really be real. - Author: Jeff Buckley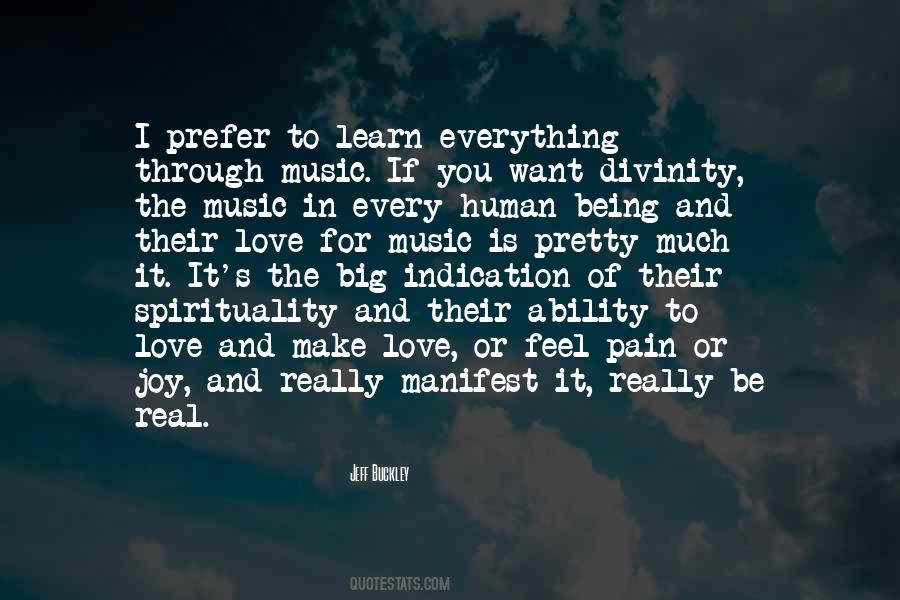 #60. Every human being begins and ends the same way, but how much they love the humanity distinguish him from others. - Author: Debasish Mridha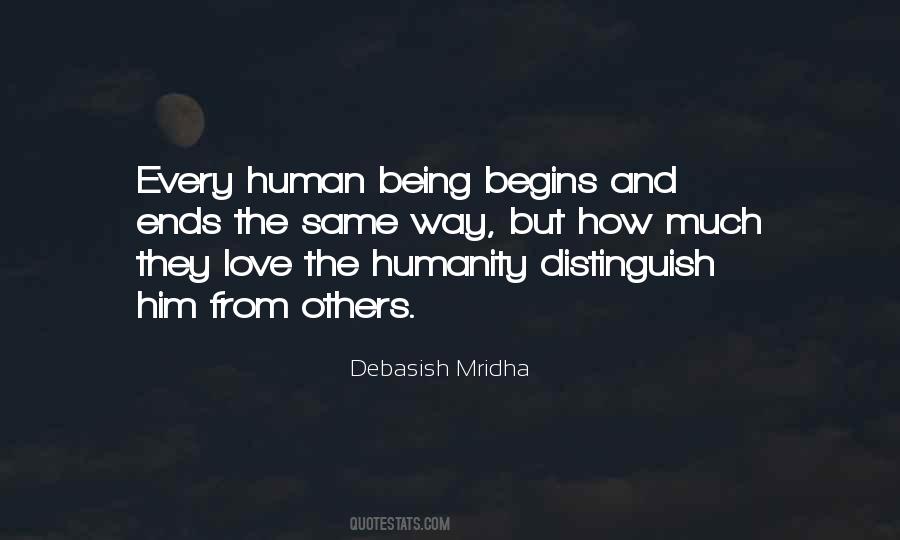 #61. I think the value of a relationship is not how long it is but how much it helps you to grow as a human being ... how much it affected your life and how much it affected your partner's. - Author: Fritz Diantan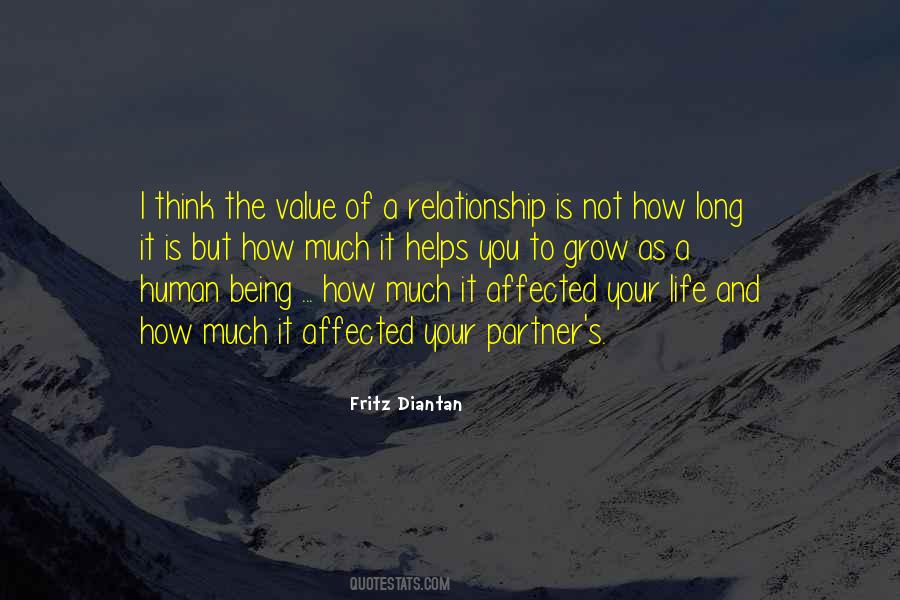 #62. A human being is a garden of love. Only you have to know how much water is needed to grow them. - Author: Debasish Mridha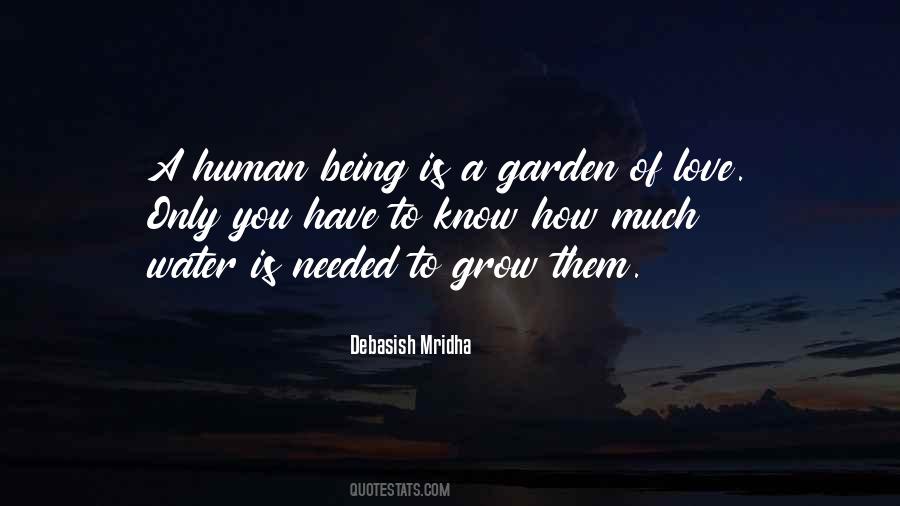 #63. I think love is the most important thing in life. Whatever kind, however you define it, but I think of it generally as being greatly valued by another human being and greatly valuing another human being. - Author: Chimamanda Ngozi Adichie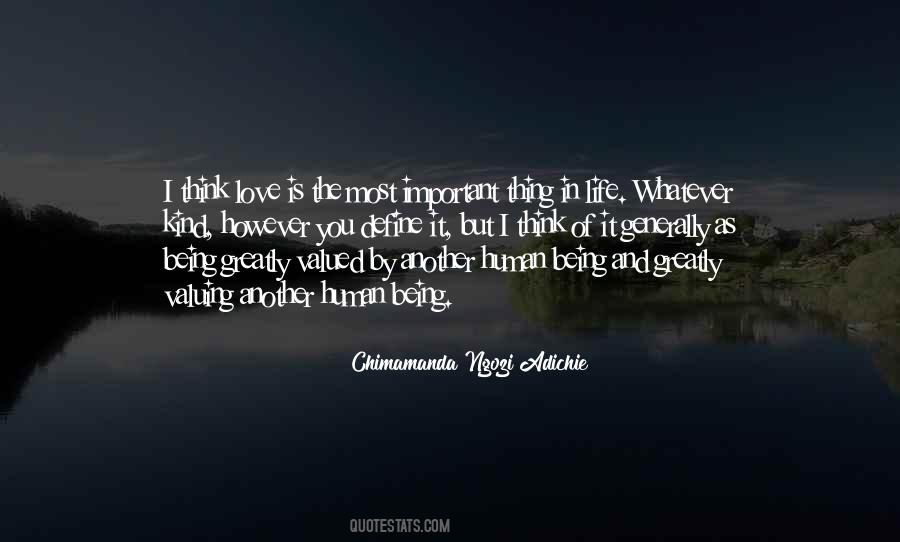 #64. Do you know what the definition of insane is? Yes. It's the inability to relate to another human being. It's the inability to love. - Author: Richard Yates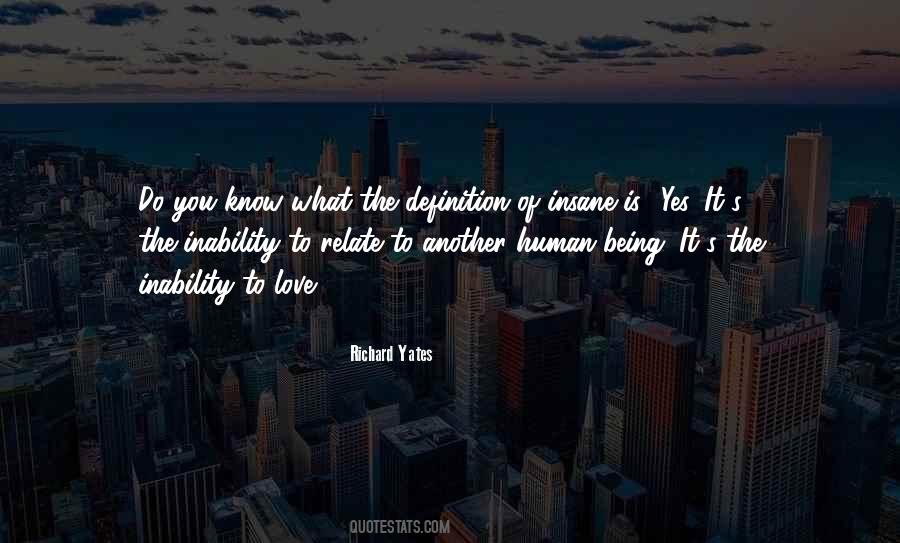 #65. Animals, like us, are living souls. They are not things. They are not objects. Neither are they human. Yet they mourn. They love. They dance. They suffer. They know the peaks and chasms of being. - Author: Gary Kowalski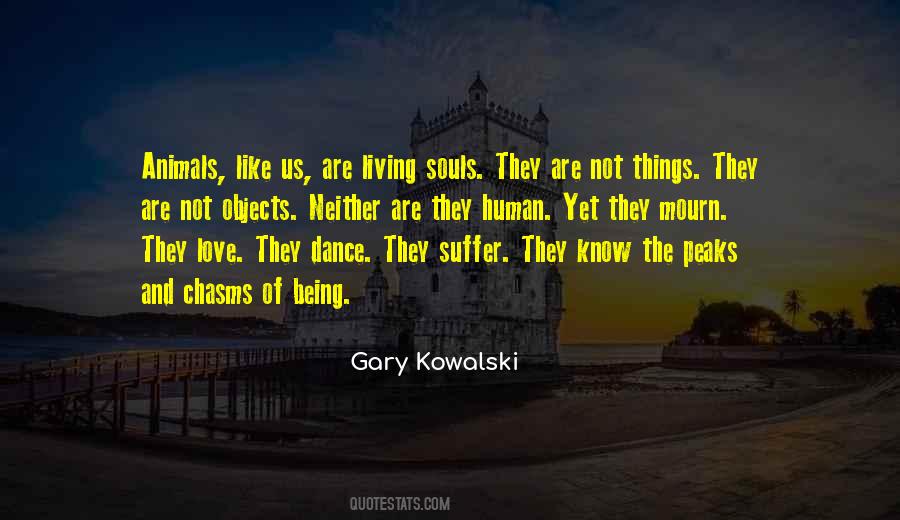 #66. And only well-informed, warm-hearted people can teach others things they'll always remember and love. Computers and TV don't do that. A computer teaches a child what a computer can become. An educated human being teaches a child what a child can become. - Author: Kurt Vonnegut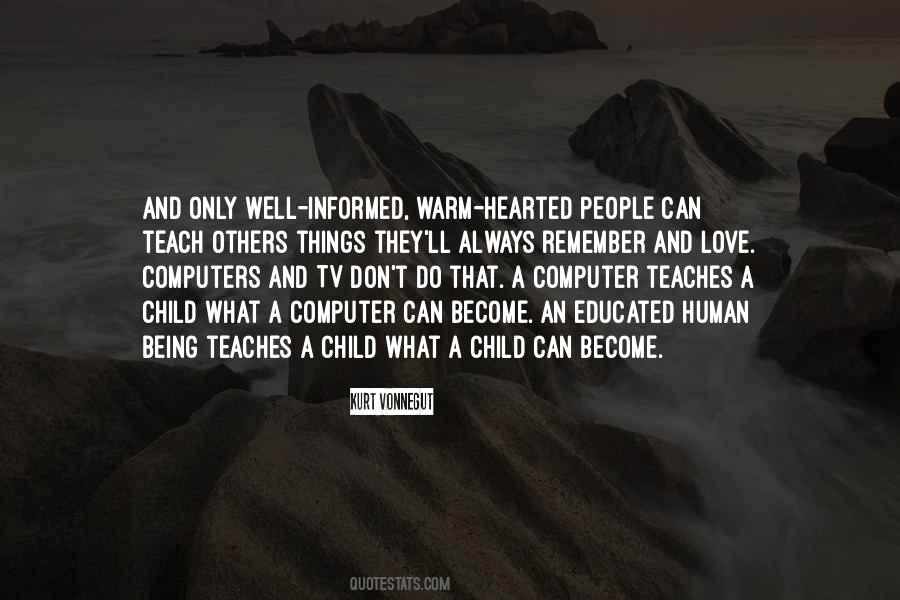 #67. Inspire me with love for my art and for thy creatures. In the sufferer let me see only the human being. - Author: Maimonides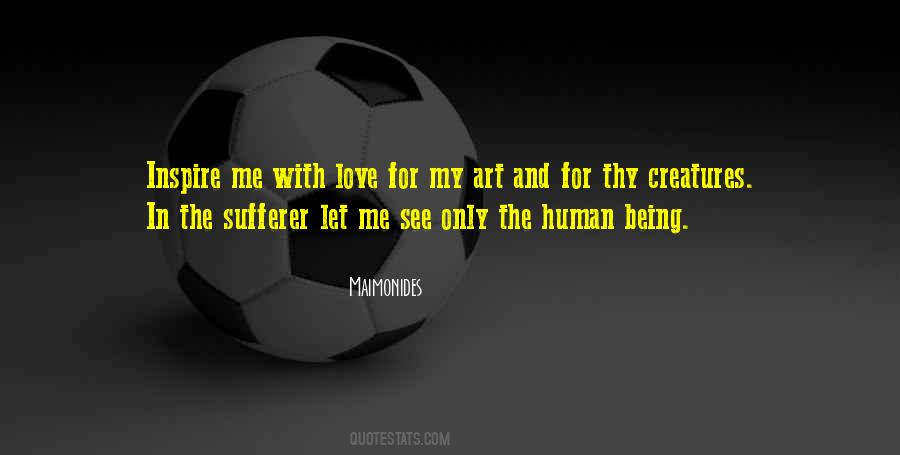 #68. Before I gave birth to Lukas, I hadn't truly understood that painful, consuming, I-will-do-anything-to-save-this-human-being kind of love. - Author: Lynsey Addario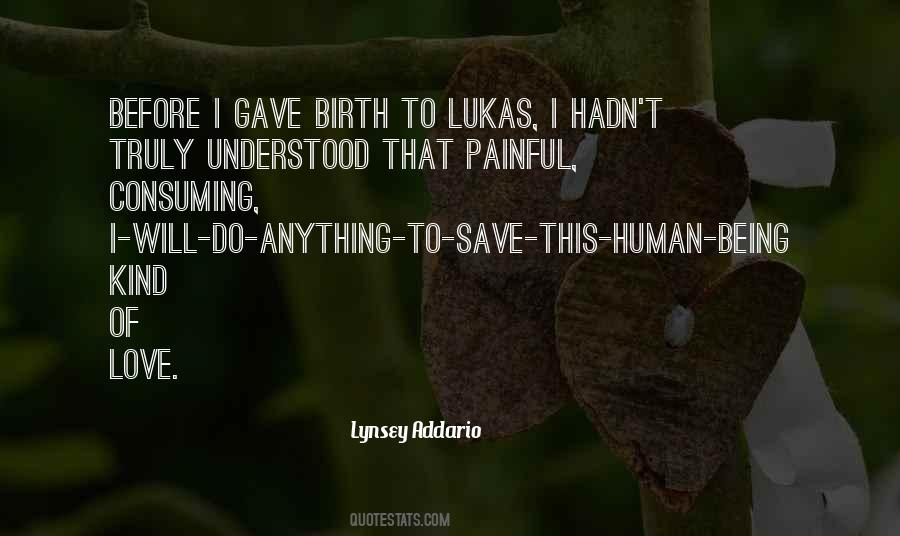 #69. The purpose of a short story is ... that the reader shall come away with the satisfactory feeling that a particular insight into human character has been gained, or that his (or her) knowledge of life has been deepened, or that pity, love or sympathy for a human being is awakened. - Author: Lin Yutang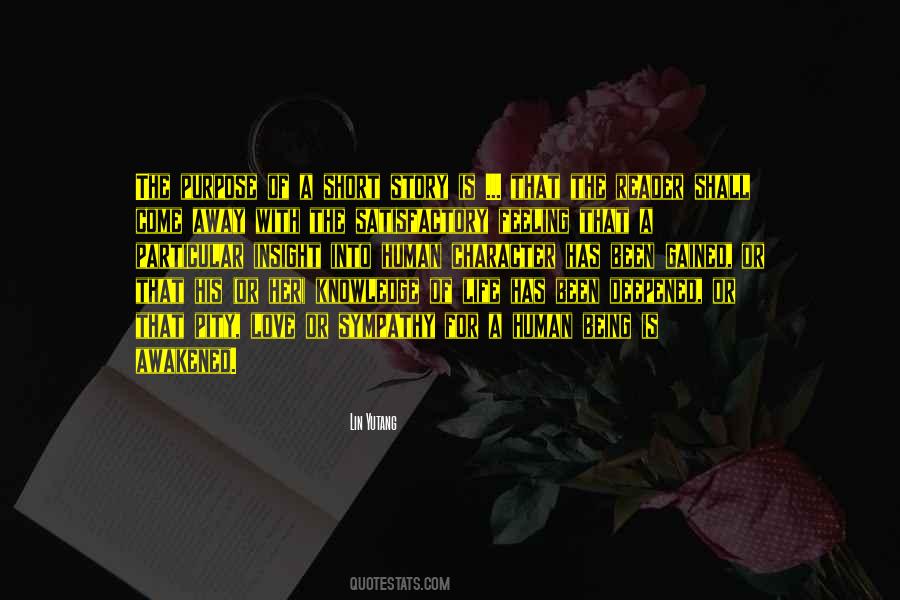 #70. Every act of true love towards a human being bears witness to and perfects the spiritual fecundity of the family, since it is an act of obedience to the deep inner dynamism of love as self-giving to others. - Author: Pope John Paul II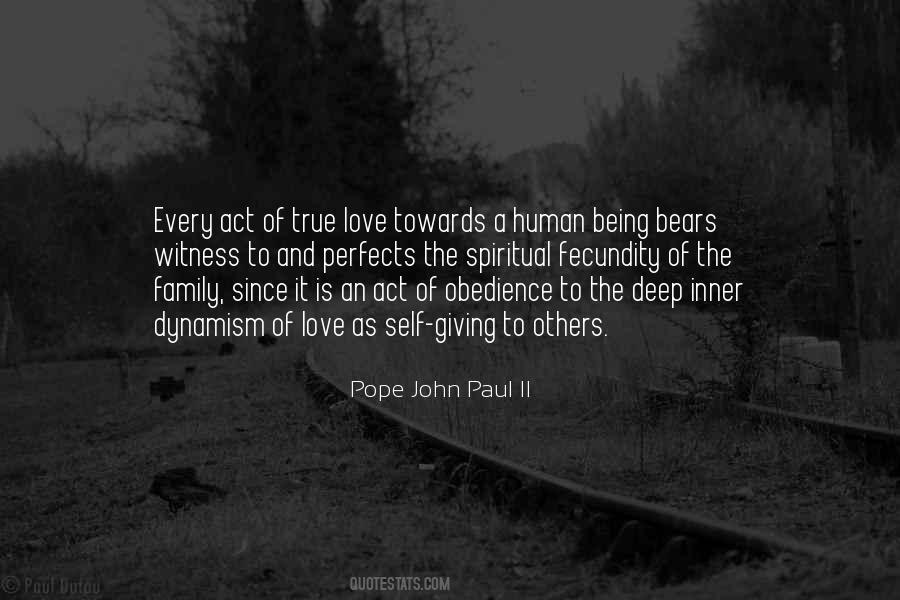 #71. Rather than being a human, be a humanitarian - Author: Kowtham Kumar K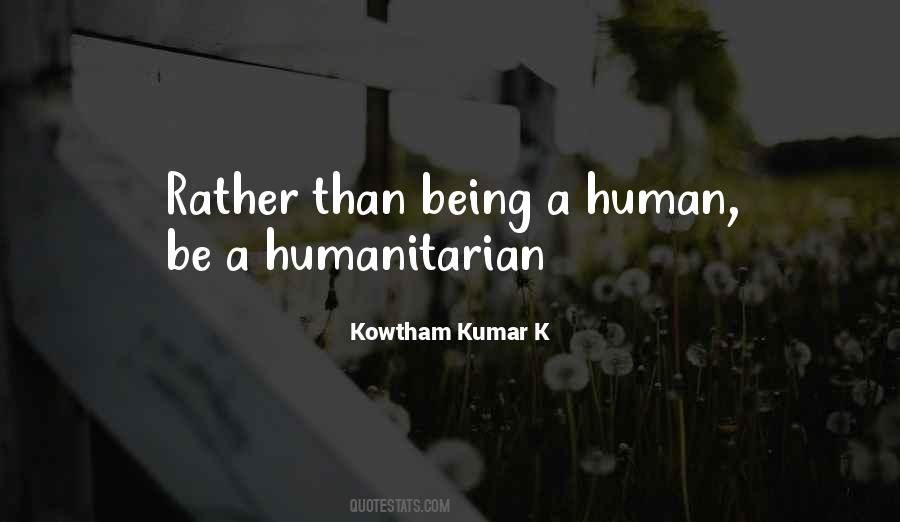 #72. If one believed in angels one would feel that they must love us best when we are asleep and cannot hurt each other; and what a mercy it is that once in every twenty-four hours we are too utterly weary to go on being unkind. - Author: Elizabeth Von Arnim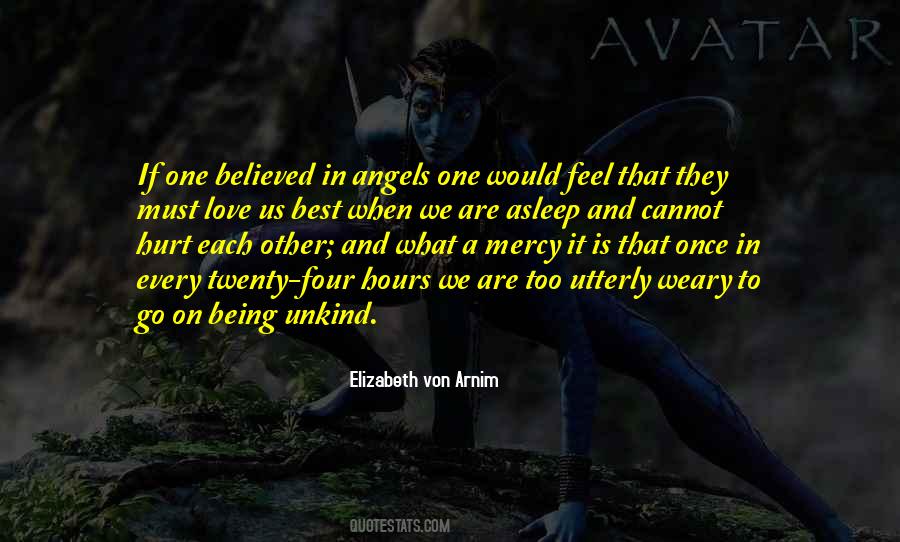 #73. That is our fate... One day we lose the person we love. Anyone who is unable to sustain that loss fails as a human being and does not deserve our sympathy. - Author: Sandor Marai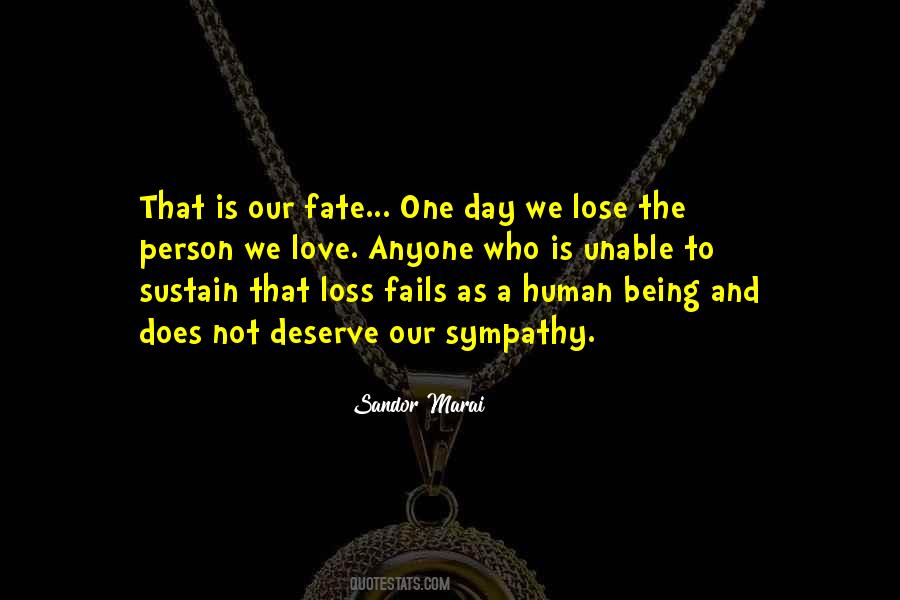 #74. Being in love is arguably the least productive of human states. - Author: Jonathan Galassi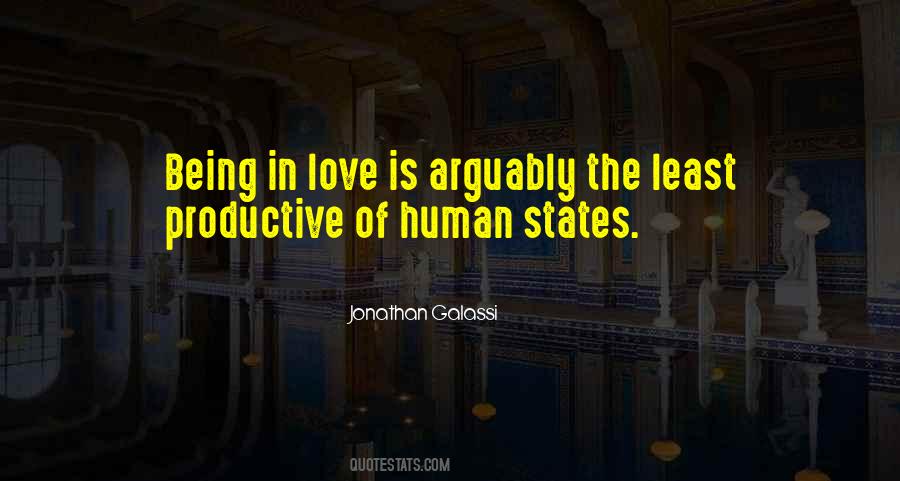 #75. There is so much more to the notes being strum from his guitar, behind everything is raw emotion, and it's proof that he is human. That his heart beats just like mine and that sadness can infiltrate those that appear to have souls made out of stone. - Author: Melissa Grijalva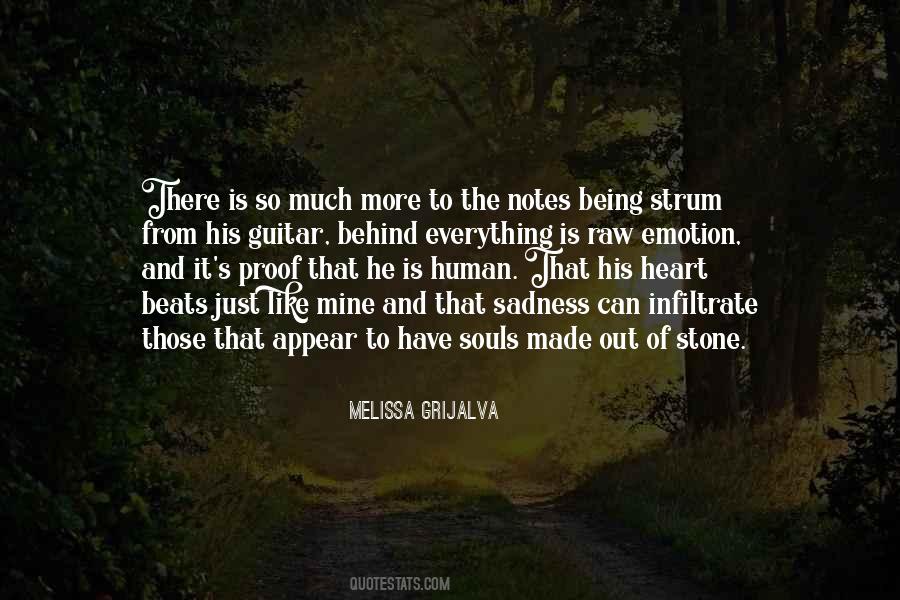 #76. We're living in an acquisitive capitalist society that is fundamentally anti-family and fundamentally uncomfortable with just enjoying being human. We'd rather shop than live, acquire than love and stare into a screen than hold each other. - Author: Frank Schaeffer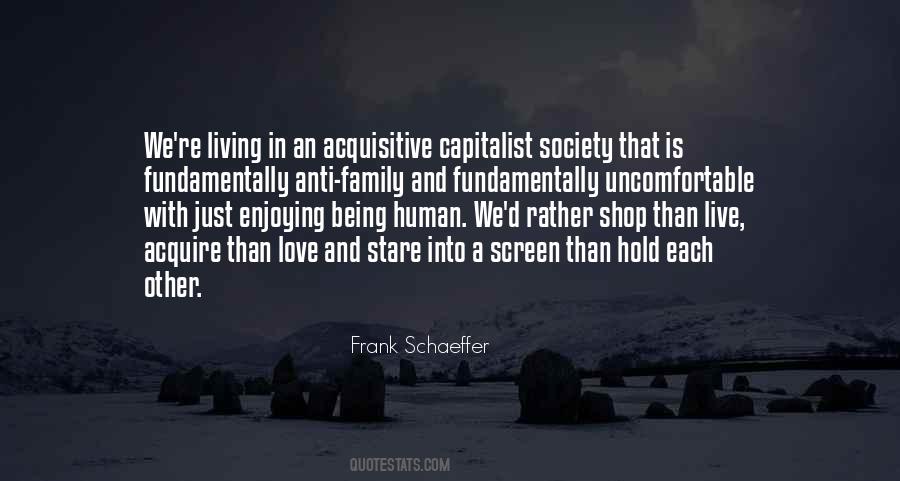 #77. Being embarrassed means that you're human, and we like you better for it - Author: Nick Morgan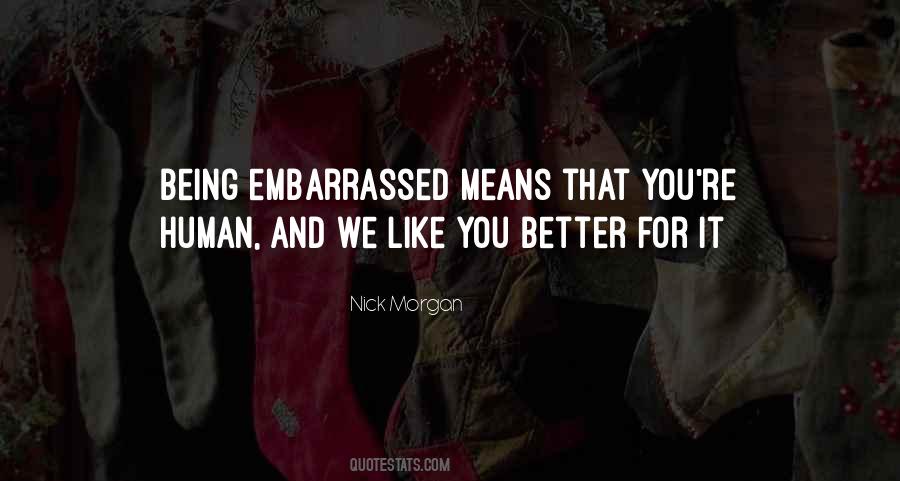 #78. I love Greek Mythology, wish there was a TV series, like being human or smallville, but with the series based around Percy Jackson and the Olympians, Holla Mayne! - Author: Rick Riordan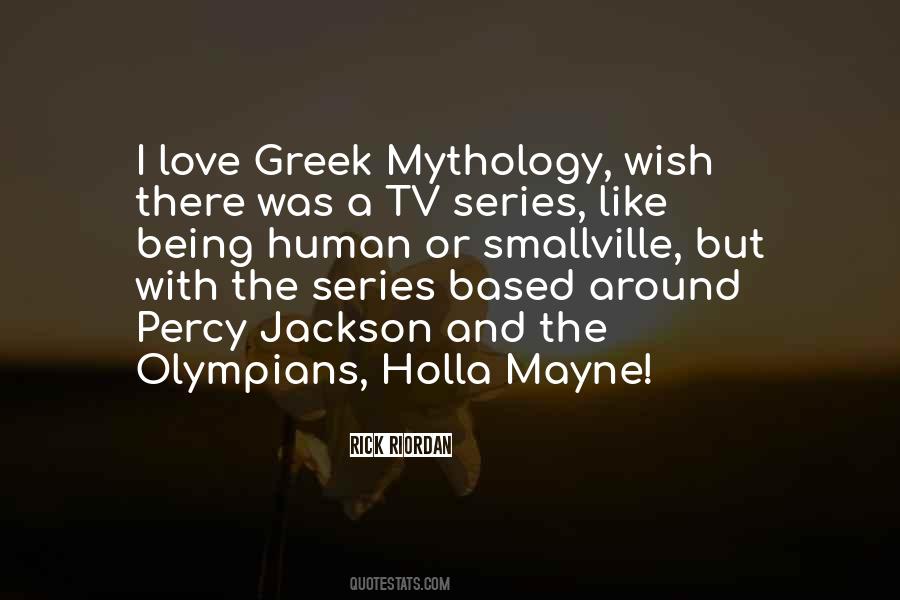 #79. A human being is like a seed. Either you can keep it as it is, or you can make it grow into a wonderful tree with flowers and fruits. - Author: Jaggi Vasudev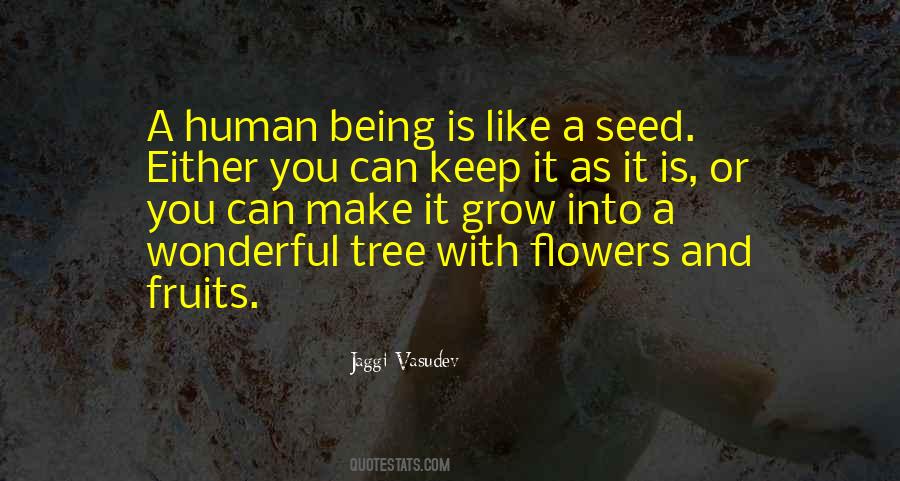 #80. Very young children are not afraid to express what they feel. They are so loving that if they perceive love, they melt into love. They are not afraid to love at all. That is the description of a normal human being. - Author: Miguel Ruiz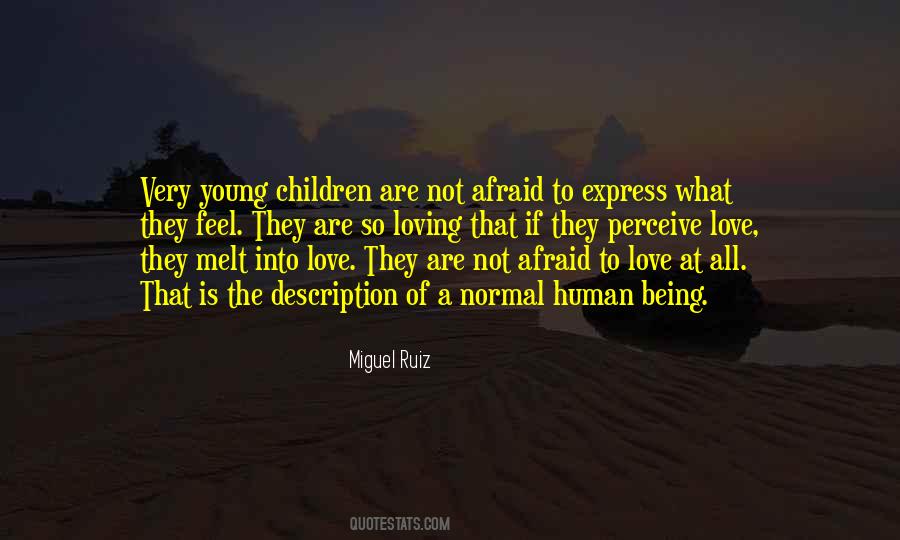 #81. How glorious it was to know that her love for it already dwarfed anything she had ever felt as a human being - Author: Khaled Hosseini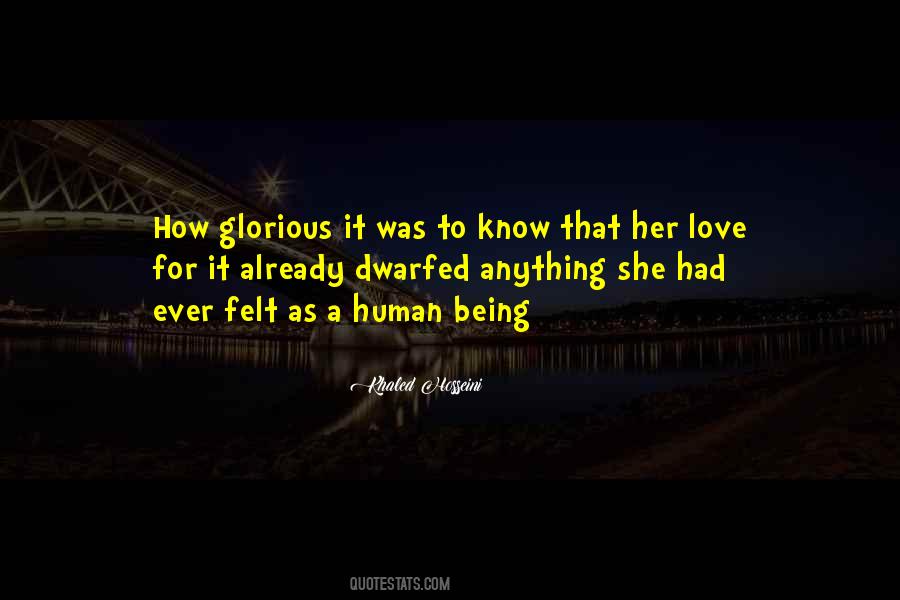 #82. I love librarians more than any other people in the world. When I was an immigrant kid, they've made me feel like a human being and they gave me books that taught me English. - Author: Gary Shteyngart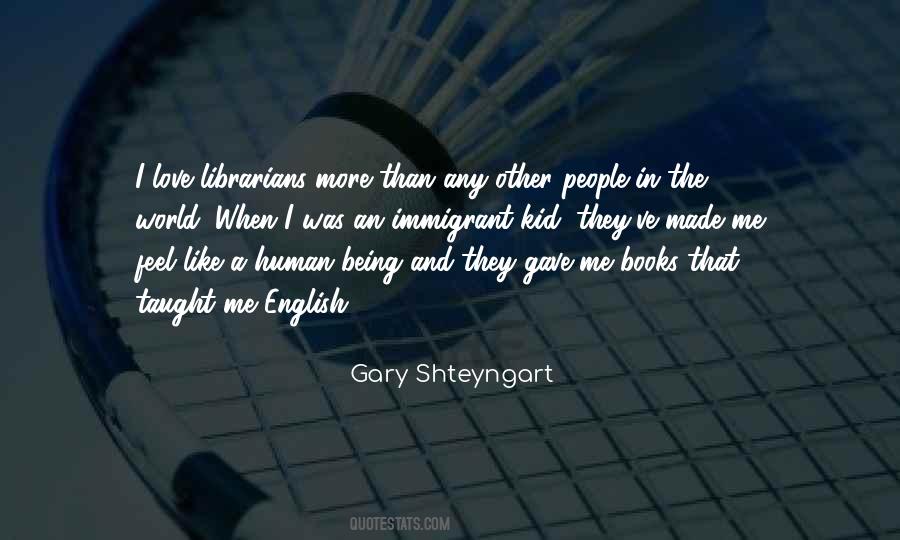 #83. I am not a human being but the song of the soul and dance of the spirit. - Author: Debasish Mridha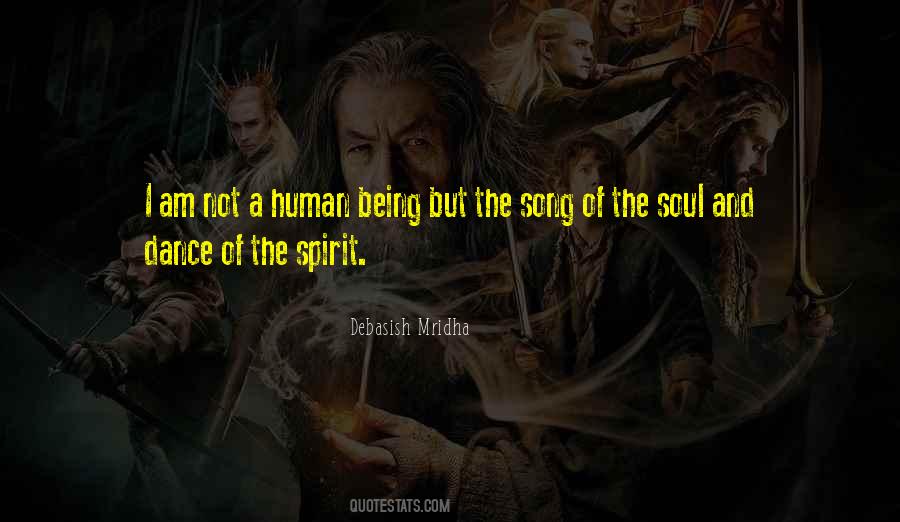 #84. We were born to be friends. We both knew it. The Australian Aborigines have the traditional belief that a complete human being comprises two parts that are split before birth, that we spend our lives seeking the other part to make ourselves whole again, and that only the lucky succeed in doing so. - Author: John Grant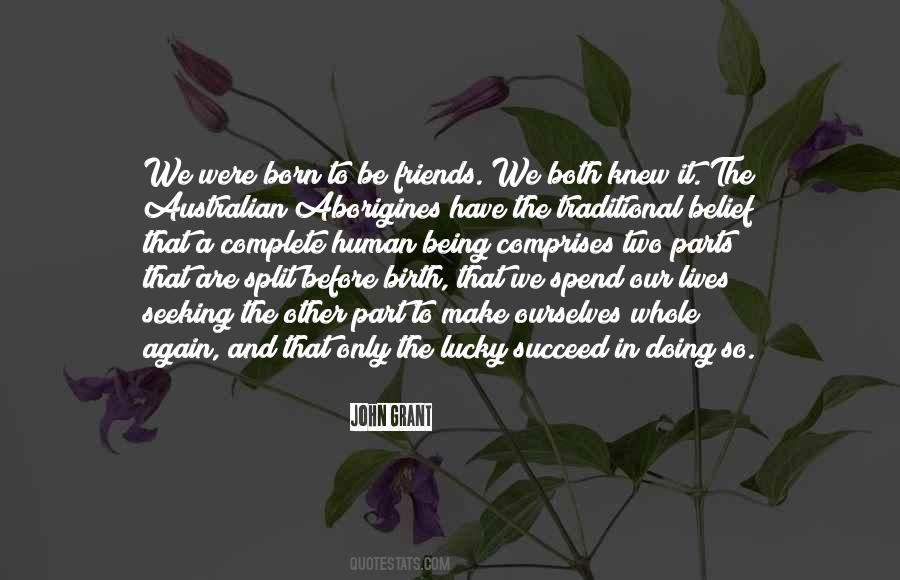 #85. The song, to me, is about what it is to be a human, what it is to love someone as a human being, and organizations that would undermine that, and undermine the more natural parts of being a person - Author: Hozier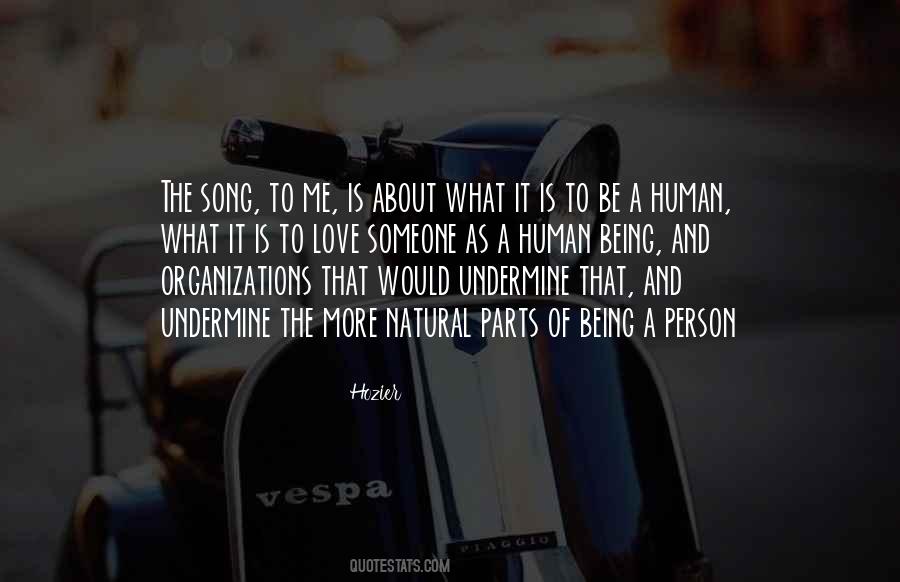 #86. Everything a human being wants can be divided into four components: love, adventure, power and fame. - Author: Matthew Heywood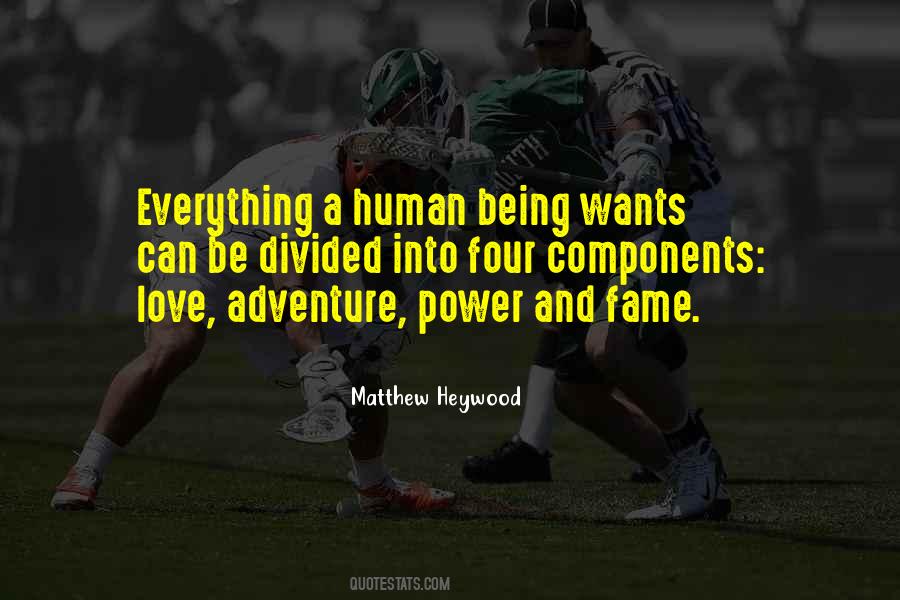 #87. Courage is the enabling virtue for any philosopher - for any human being, I think, in the end. Courage to think, courage to love, courage to hope. - Author: Cornel West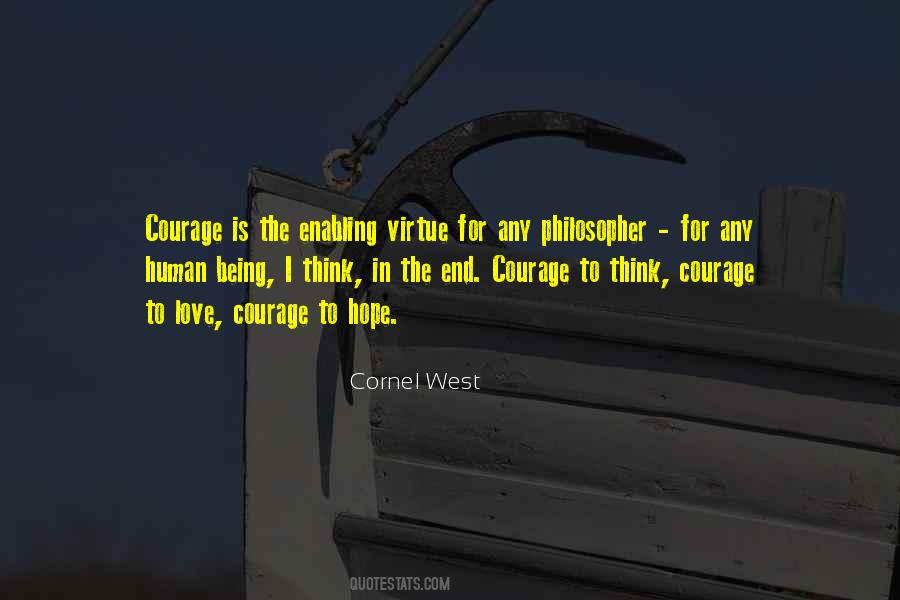 #88. That man sitting on the steps made me understand that I was important to the world and to the history of my country. I felt necessary, and that's the best feeling a human being can have. - Author: Paulo Coelho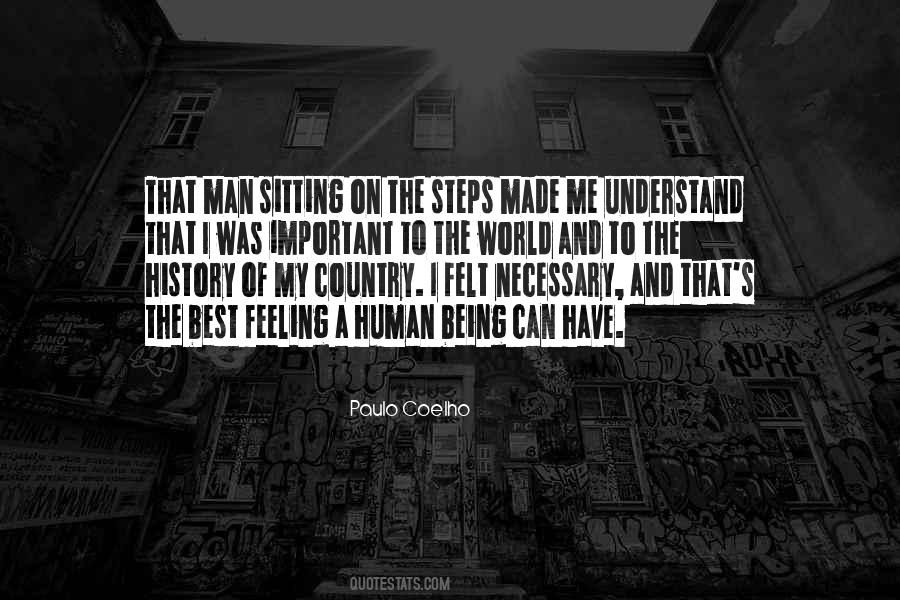 #89. In the heart of a human being,
emptiness becomes love.
When we touch that Source,
instantly the love is present.
Literally, the divine becomes human
and the human becomes divine. - Author: Adyashanti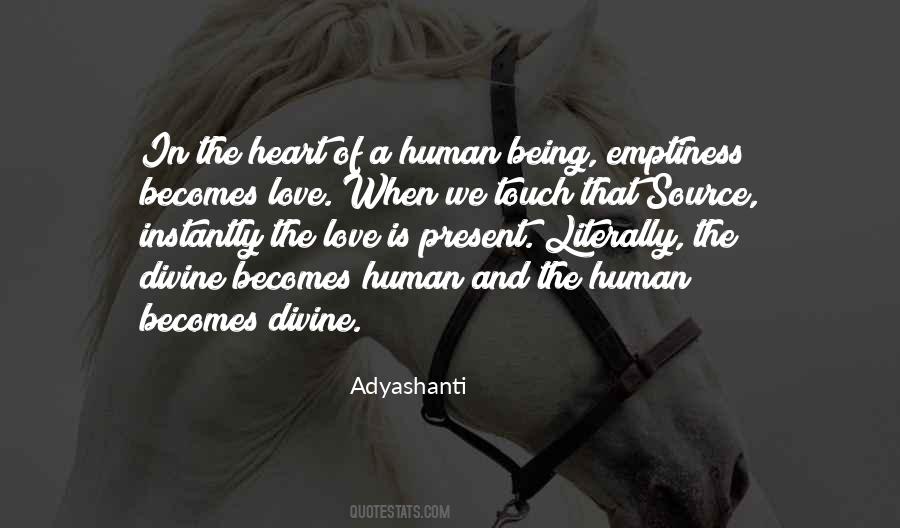 #90. I will never tire of repeating this: what the poor need the most is not pity but love. They need to feel respect for their human dignity, which is neither less nor different from the dignity of any other human being. - Author: Mother Teresa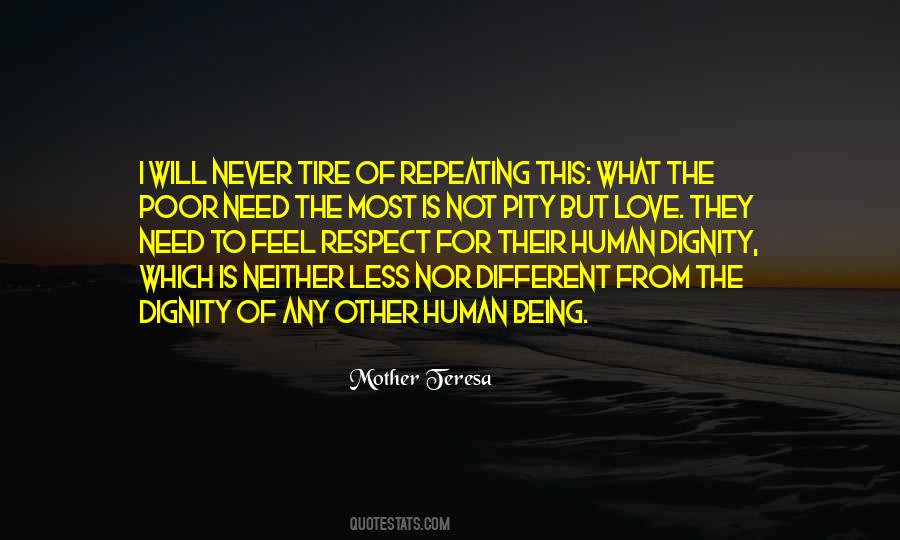 #91. All life is created in love, and thus in the depths of every human being lies a good heart. Some have lost their path from this love, so it up to us to show them the way. - Author: Julia Butterfly Hill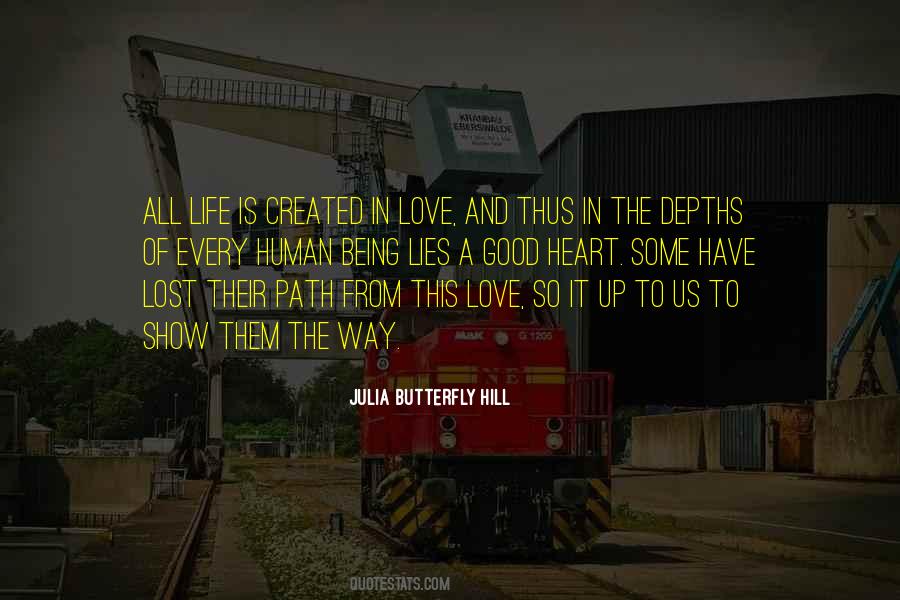 #92. I love ... What's gratifying to me is when you make/create a character and a human being, a person who lives entirely and who has their own existence, just merely from the words on a page. - Author: Jake Busey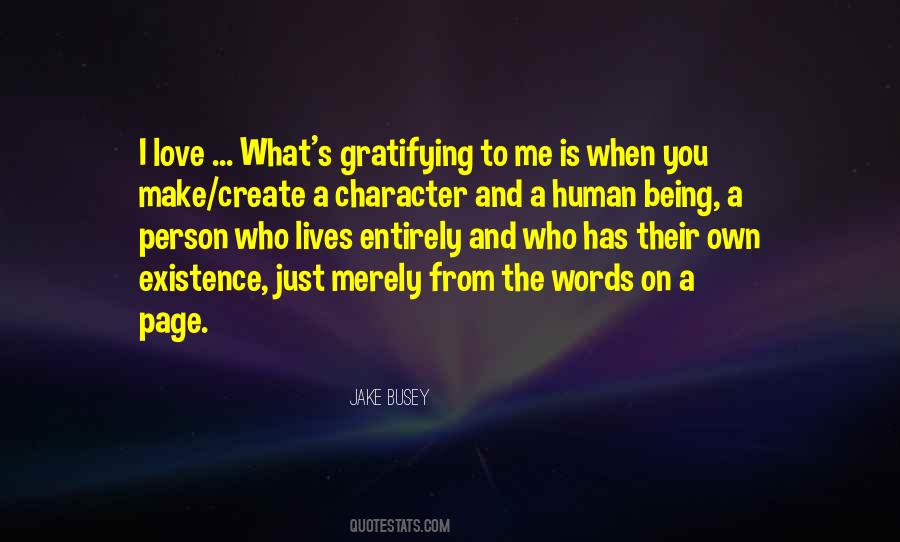 #93. Romantic love is an obsession. It possesses you. You lose your sense of self. You can't stop thinking about another human being. - Author: Helen Fisher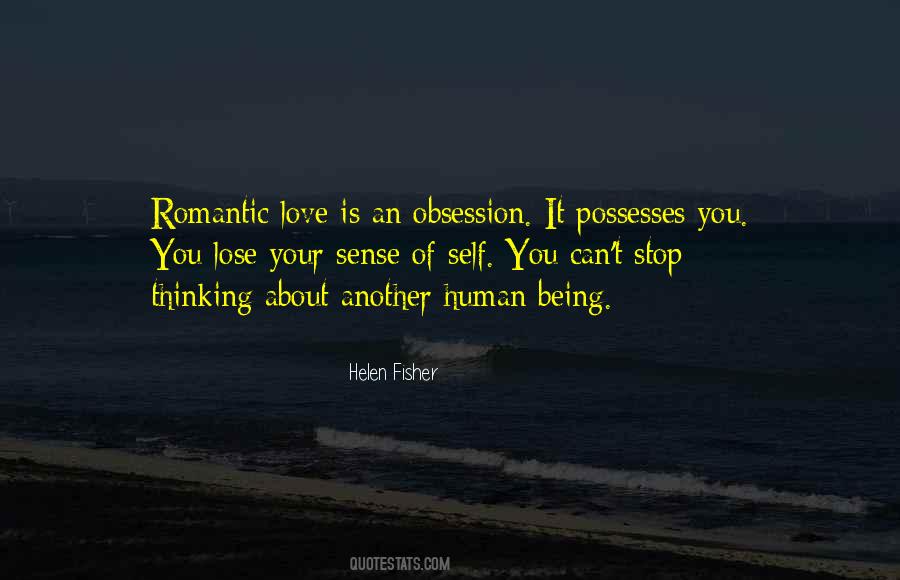 #94. You know, when you've been dumped, the one thing you love to do is just forget about this human being, and then go on with your life - but no, you just love them harder. - Author: Helen Fisher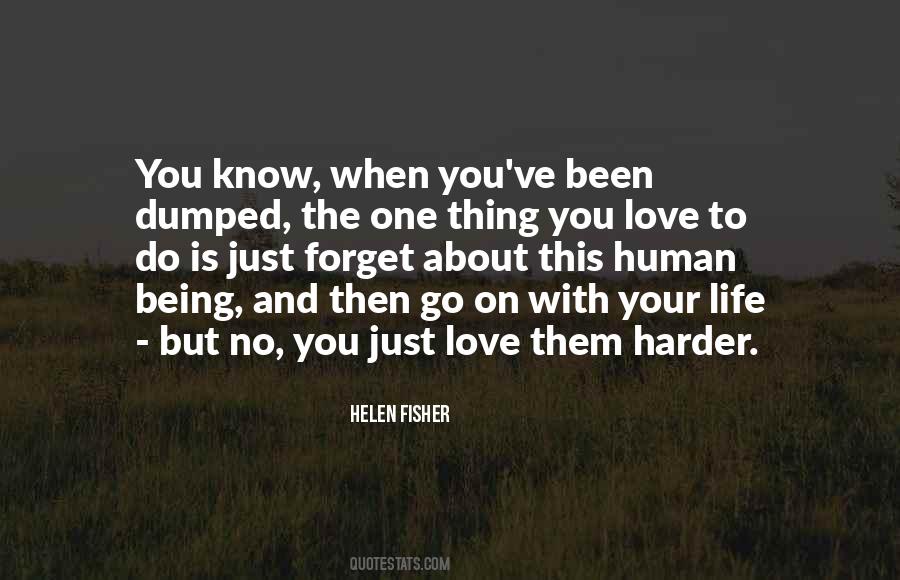 #95. Could the human girl have the same luck like mine on the first date?
Or was it just me? Who besides being a blue-blooded vampire, had not even lucky in love? - Author: Pet Torres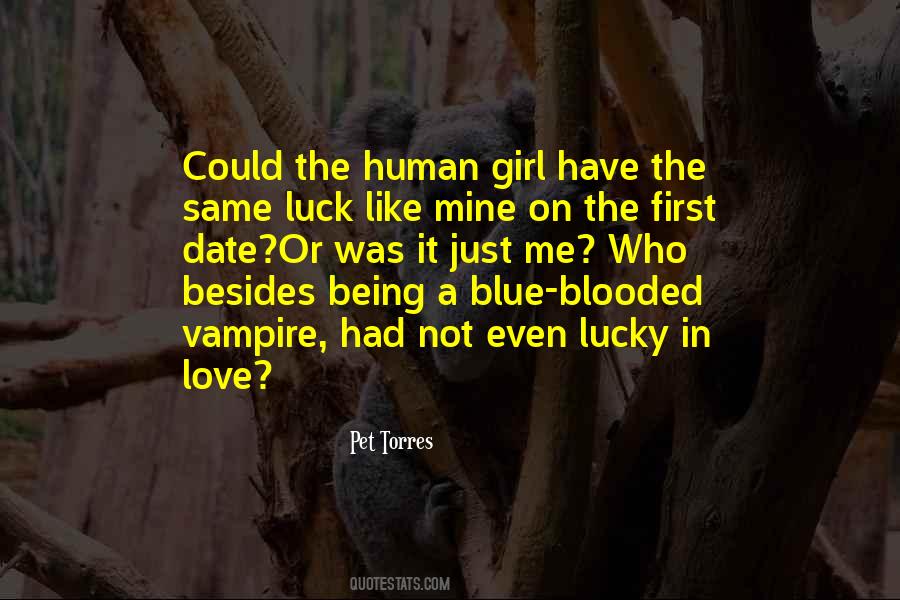 #96. Strange that grief should now almost choke me, because another human being's eye has failed to greet mine. - Author: Charlotte Bronte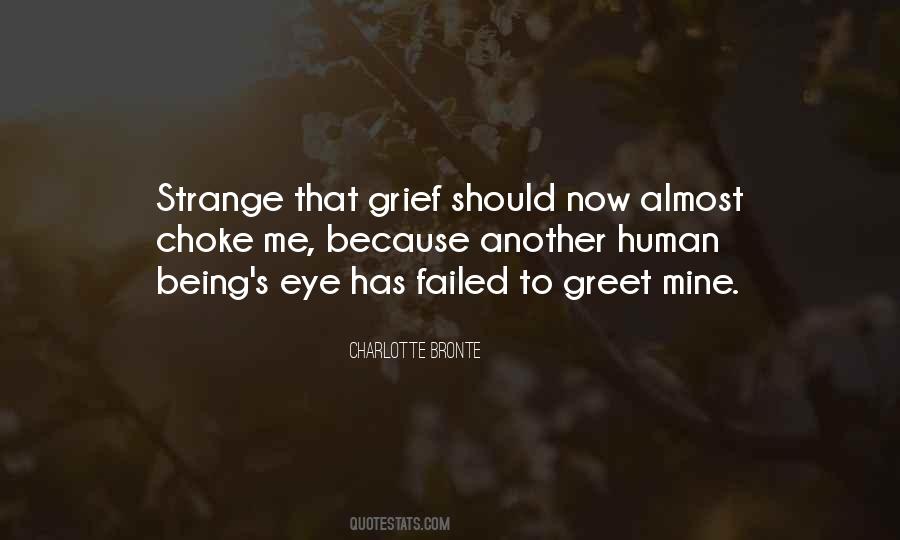 #97. The reason writers are such fragile beings, Marcus, is that they suffer from two sorts of emotional pain, which is twice as much as a normal human being: the heartache of love and the heartache of books. Writing a book is like loving someone. It can be very painful. - Author: Joel Dicker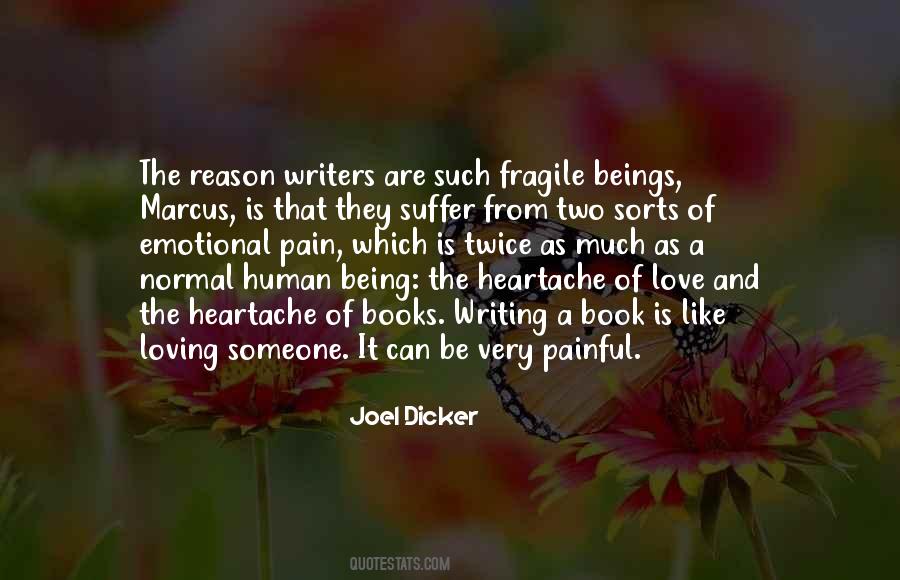 #98. If you have no love, do what you will - go after all the gods on earth, do all the social activities, try to reform the poor, the politics, write books, write poems - you are a dead human being. Without love your problems will increase, multiply endlessly. - Author: Carl Jung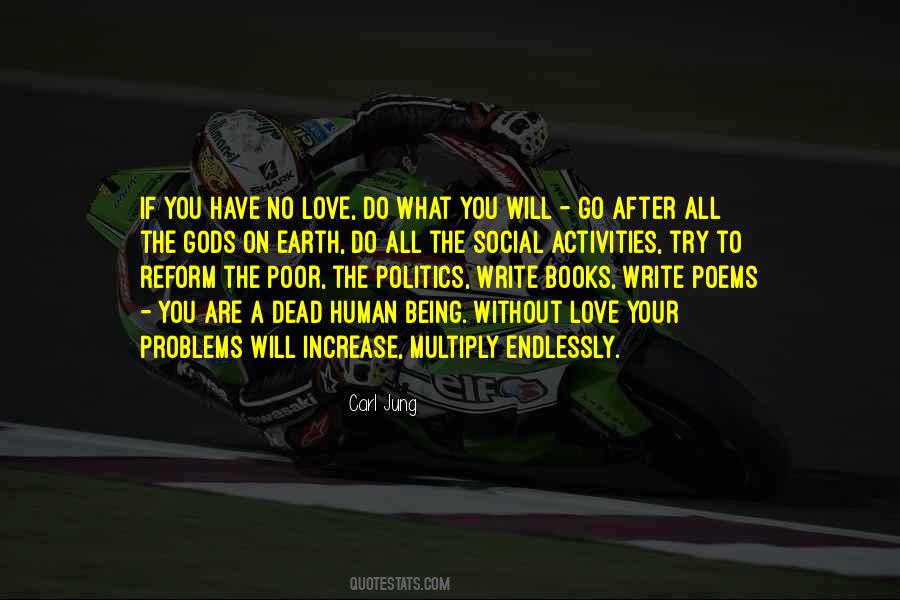 #99. I would love to play a normal human being with a little bit of a comedic bend that had a love interest. I would love to explore comedy, like a half-hour kind of single-camera comedy. I think that would kind of suit me best. - Author: Reggie Lee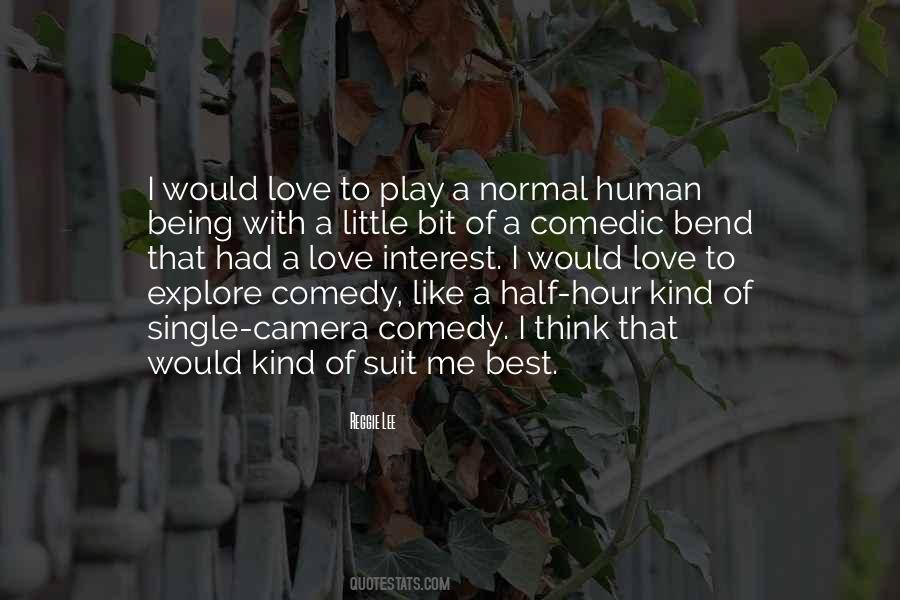 #100. there is something magical and addicting about going somewhere, being alone, and finding yourself in parts of the world you never knew existed, finding parts of yourself you never knew you would find. - Author: AVA.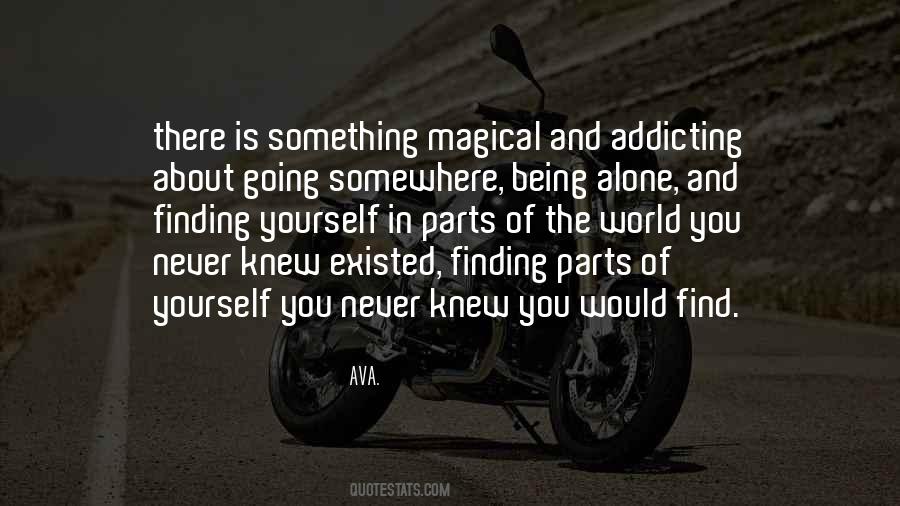 Famous Authors
Popular Topics