Love All Over Again Famous Quotes & Sayings
List of top 99 famous quotes and sayings about love all over again to read and share with friends on your Facebook, Twitter, blogs.
Top 99 Love All Over Again Quotes
#1. Lady Ligeia," he began again, "is a woman in the literature who returns from the dead, taking over another woman's body to be with her true love."
"Oh, yes. Lovely" Isobel blanched. "I guess the other chick didn't mind at all? - Author: Kelly Creagh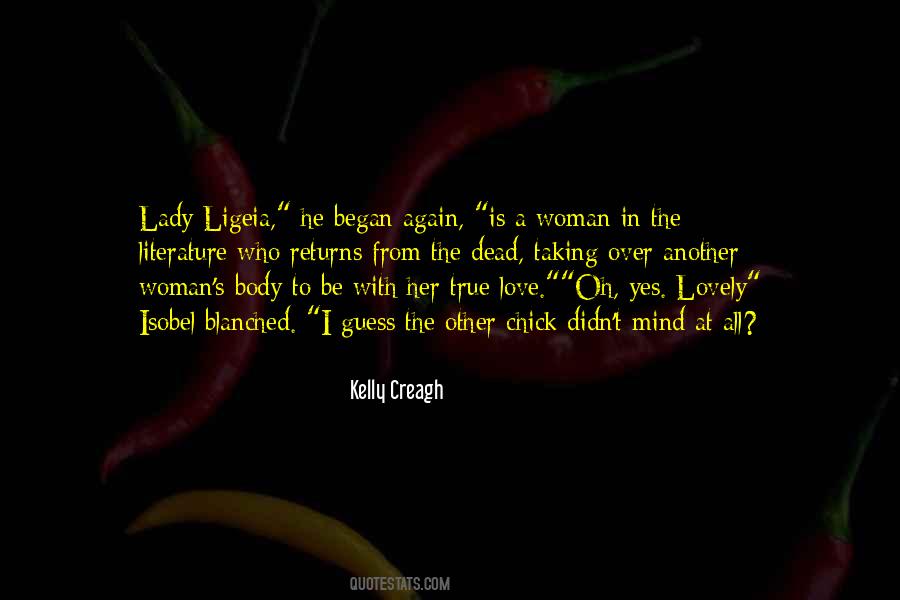 #2. I love to cook like a mad man. If I could do it all over again? I would be a NBA basketball player. - Author: Henry Zebrowski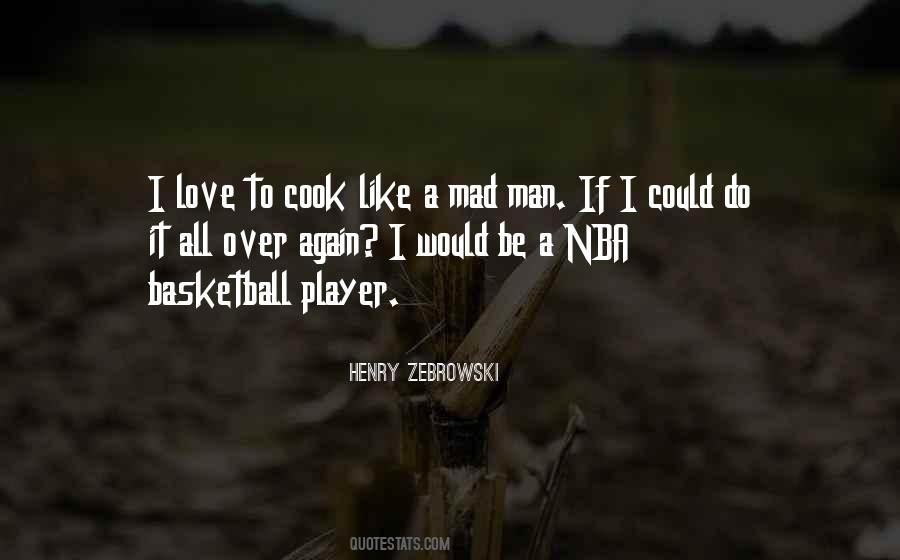 #3. I choose you and I would choose you all over again. As Jane Eyre said of her Mr. Rochester, "I know what it is to live entirely for and with what I love best on earth. I hold myself supremely blessed - blessed beyond what language can express; because I am my husband's life as fully as he is mine."1 - Author: Jen Hatmaker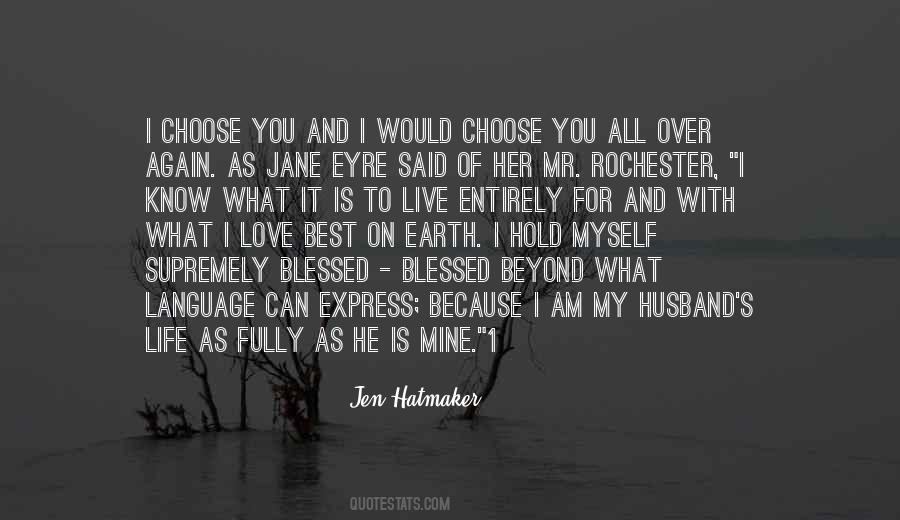 #4. I love films like 'Deliverance' where you can watch it over and over again and decode all of its many different meanings. - Author: Christopher McQuarrie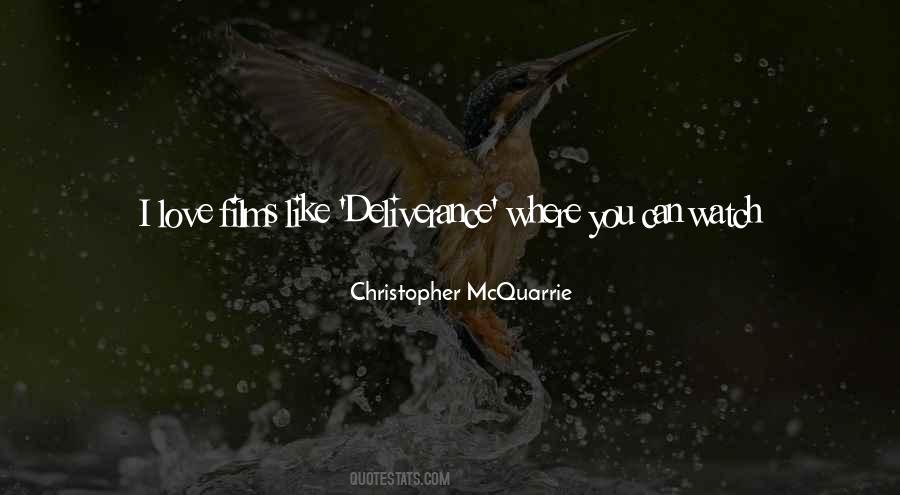 #5. It's one of those books that even though you like it, it manages to get better each time, and you find yourself falling in love with it all over again. - Author: Kim Holden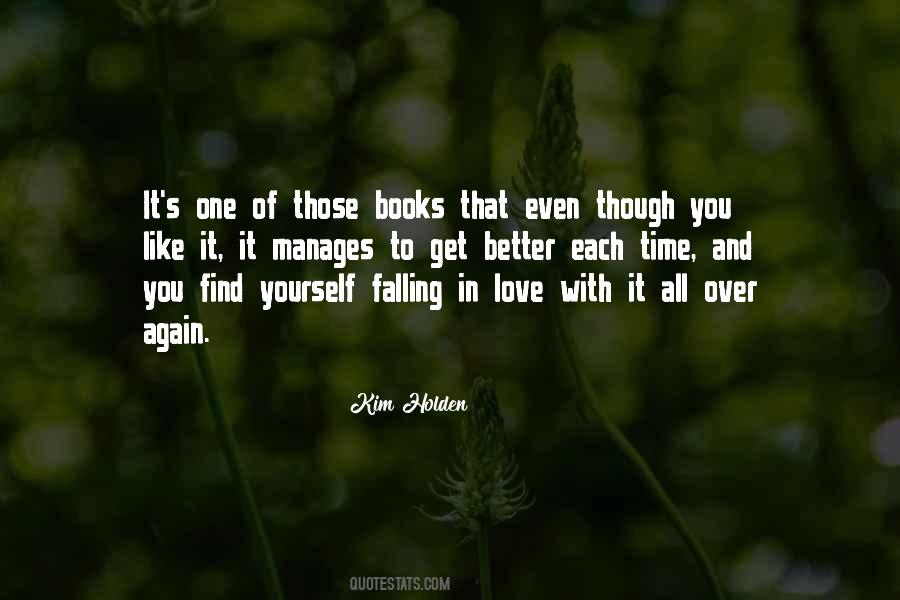 #6. Once you get into a feature, whether it's a sequel or an original one, you have to start all over again, and you're creating a world, creating new characters. You're also tracking emotions. You're trying to create emotion and create a character that you can fall in love with for two hours. - Author: Dan Scanlon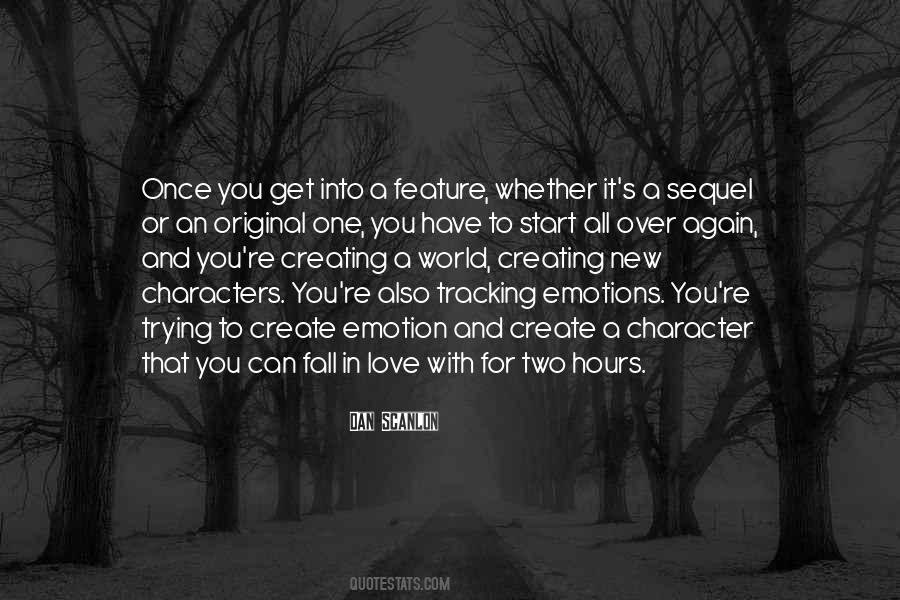 #7. you are not the story
they keep telling about you
over and over again.

you are not even the story
you keep telling yourself.

there are no lines
that can hold you.

there are not enough words
for all the more that you are. - Author: AVA.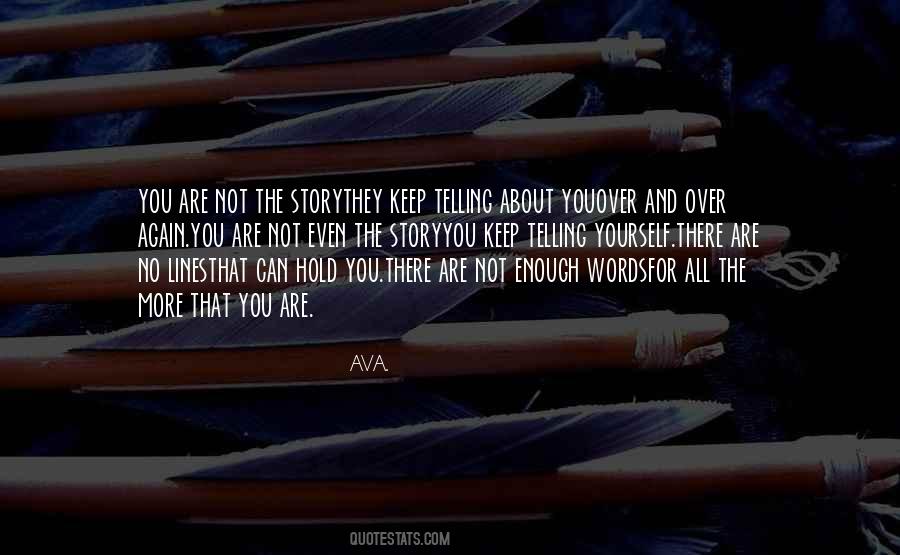 #8. Paxton
If happiness is the end result, if it's that single want that matters, if we had to through that to get here, I'd do it all over again. If it's the love that matters, then why does it matter how we got there? We were the perfect storm of two kinds of crazy. - Author: Jettie Woodruff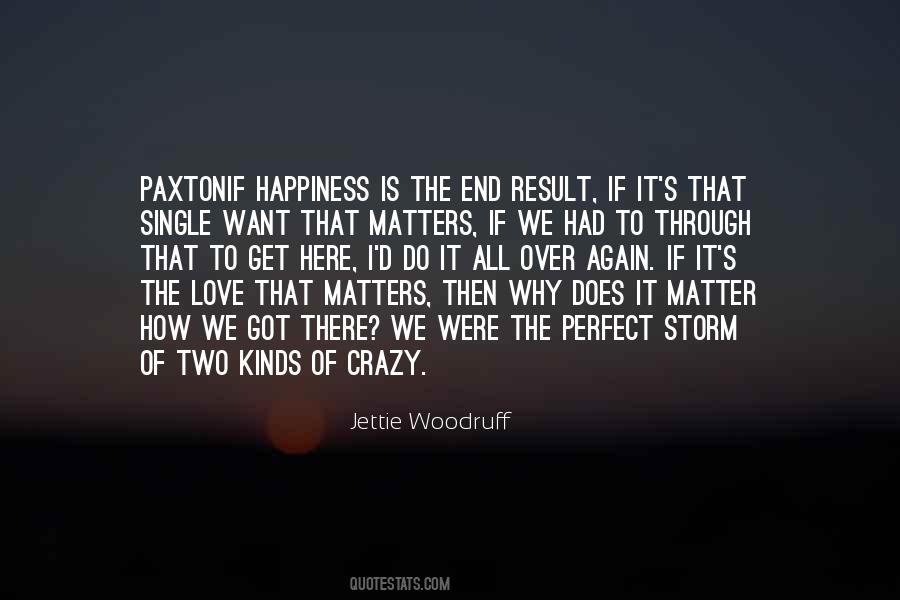 #9. When you look at the beautiful sunset, you feel as if you are falling in love. Maybe all over again. - Author: Avijeet Das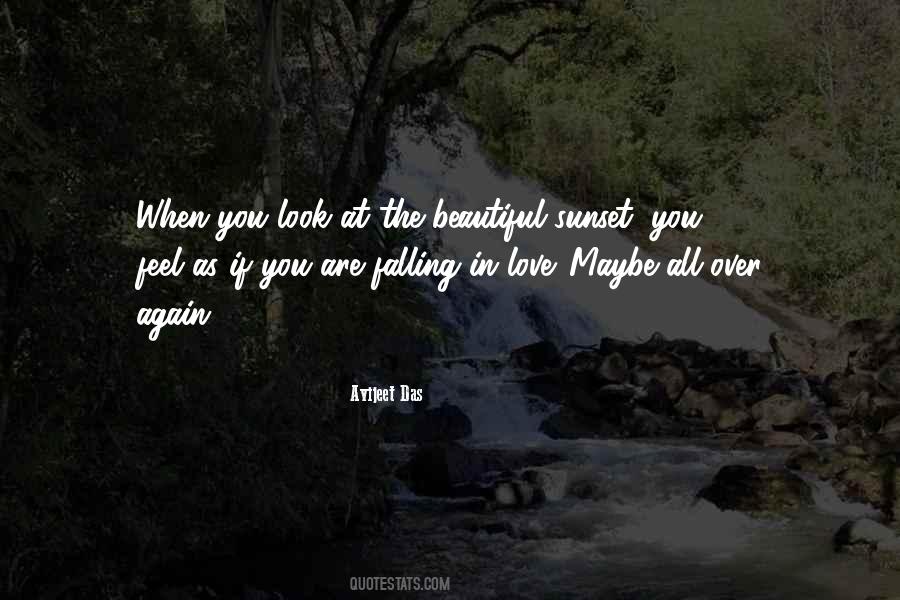 #10. All I could think about while driving after you was how it was about to happen all over again and that I would never be able to feel your warm skin under my hands or look into your beautiful blue eyes, or tell you how much I love you. - Author: Michelle Madow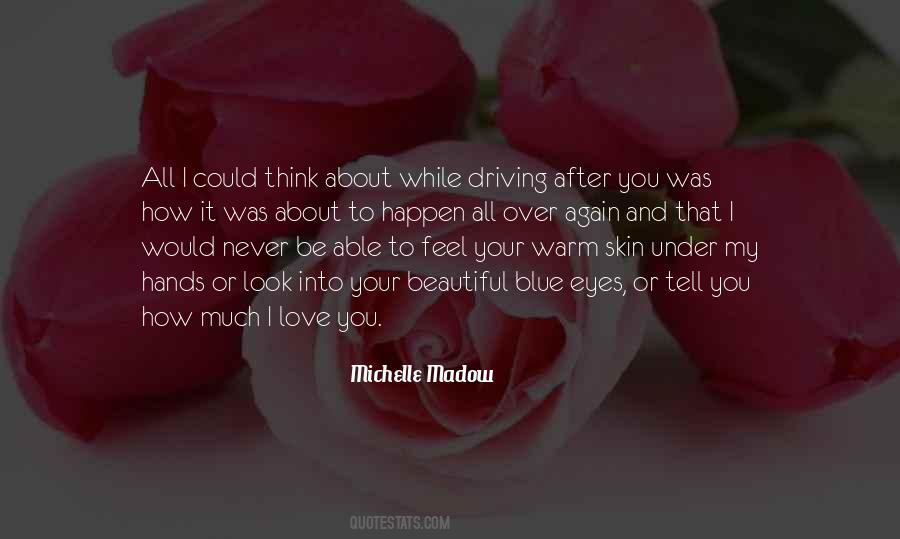 #11. Relationships aren't about idealistic love and happily ever after. It's those things that bug [ ... ] us about each other and yet eventually we find ourselves wishing we could go back and do it all over again. - Author: Julie Cross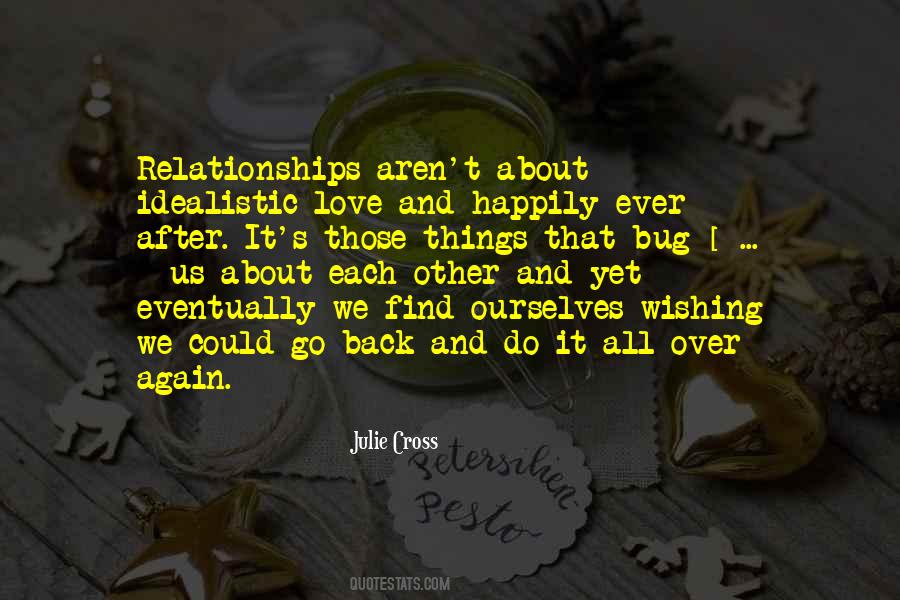 #12. I love visiting LA. It's an endlessly fascinating city, and is, of course, America's entertainment capital. Each time I go, I fall in love with it all over again. That said, it's not the sort of place I'd want to live. - Author: Lee Child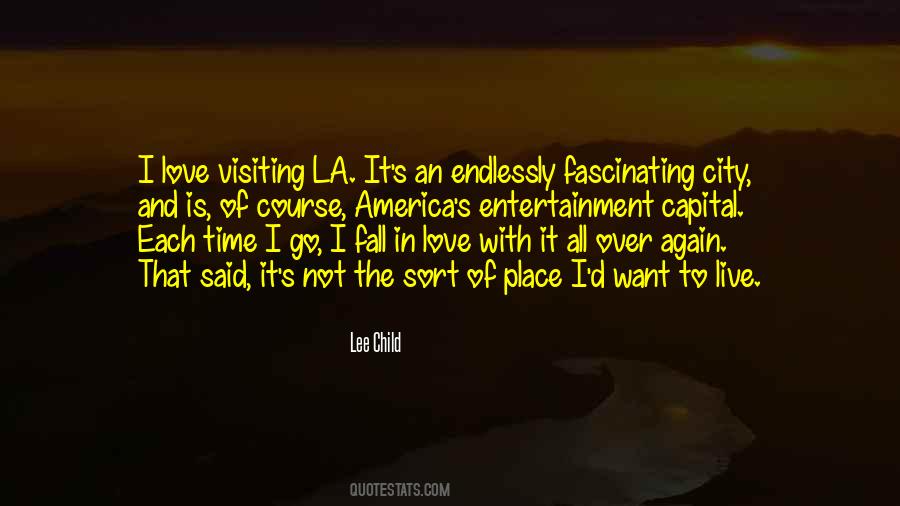 #13. You love me," I breathe.
He lets out a short laugh. "You're such a fucking girl."
"Say it again."
He smiles, a full blown one that tingles my body all over. "I fucking love you, sweetheart. - Author: Krista Ritchie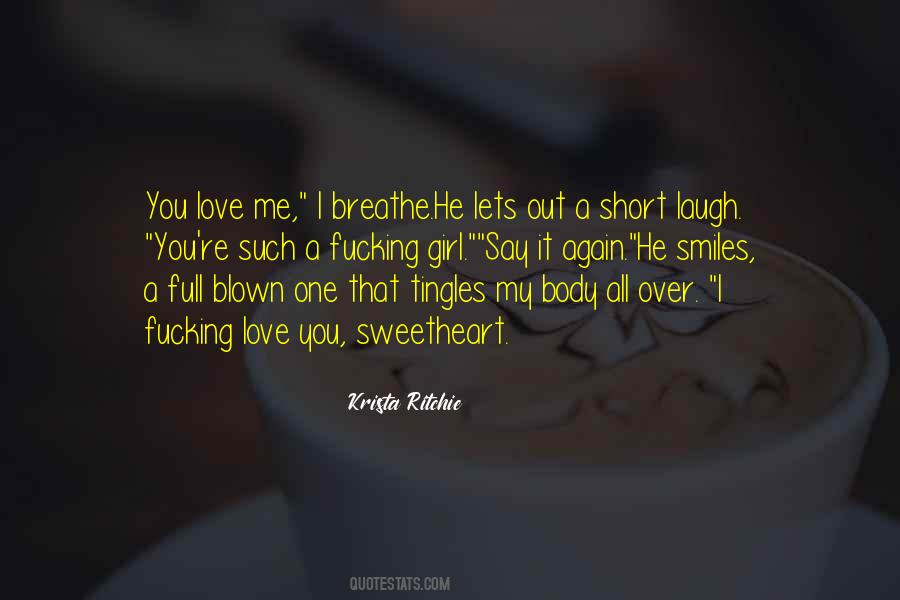 #14. Mainstream media has convinced people that black people aren't relatable. So when a Jewish person comes up to me and is all, 'Oh man, I love that one scene from Episode 3, I watch it over and over again,' I'm so happy. Because that's what I want. - Author: Issa Rae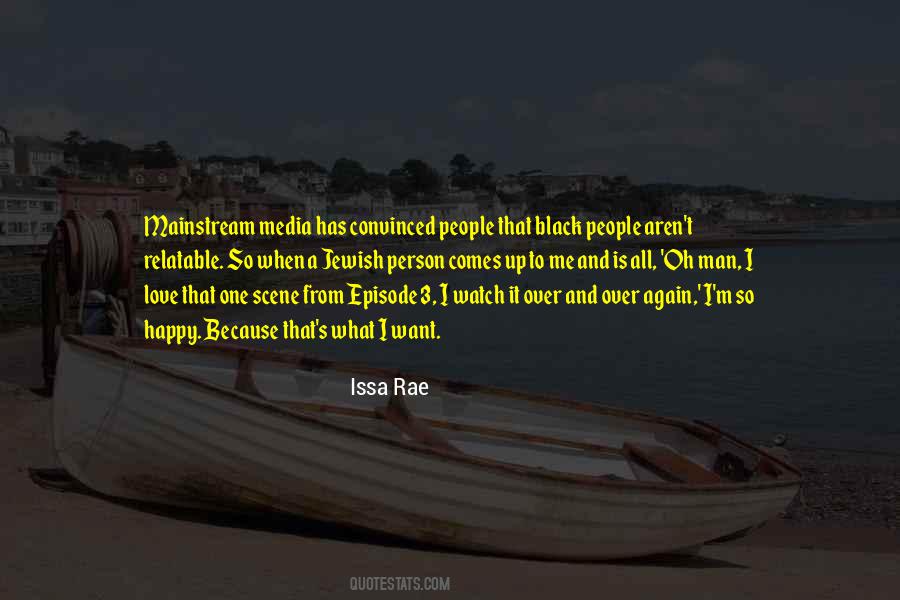 #15. I love 'Husbands and Wives,' Woody Allen's movie. It's like one of my all-time favorites. I could watch it over and over again. - Author: Zoe Lister-Jones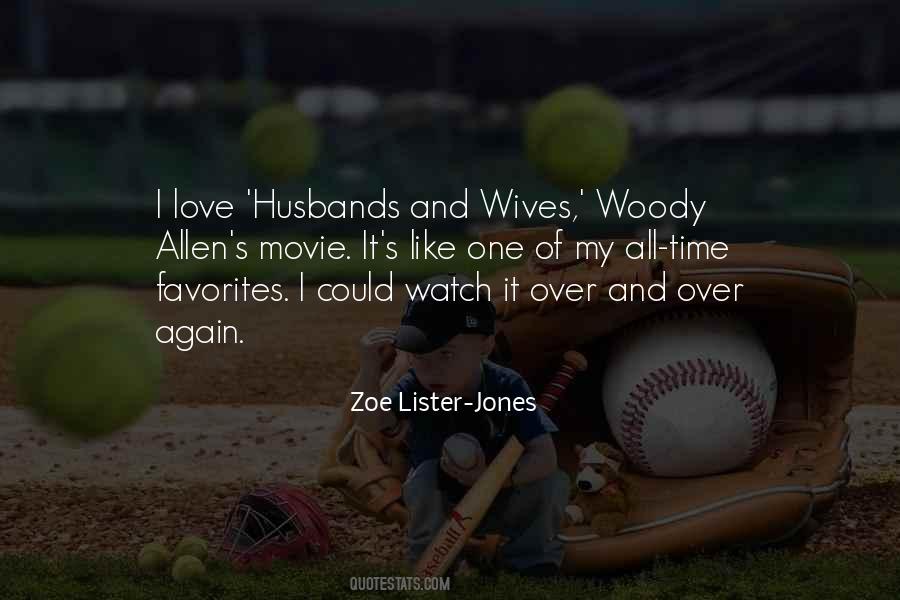 #16. There's a side benefit to this. We get to learn about each other, get to know each other, all over again." His voice dropped to a husky near whisper, and he leaned close and said next to my ear, "We get to fall in love all over again, for the second time. How cool is that? - Author: Charles Sheehan-Miles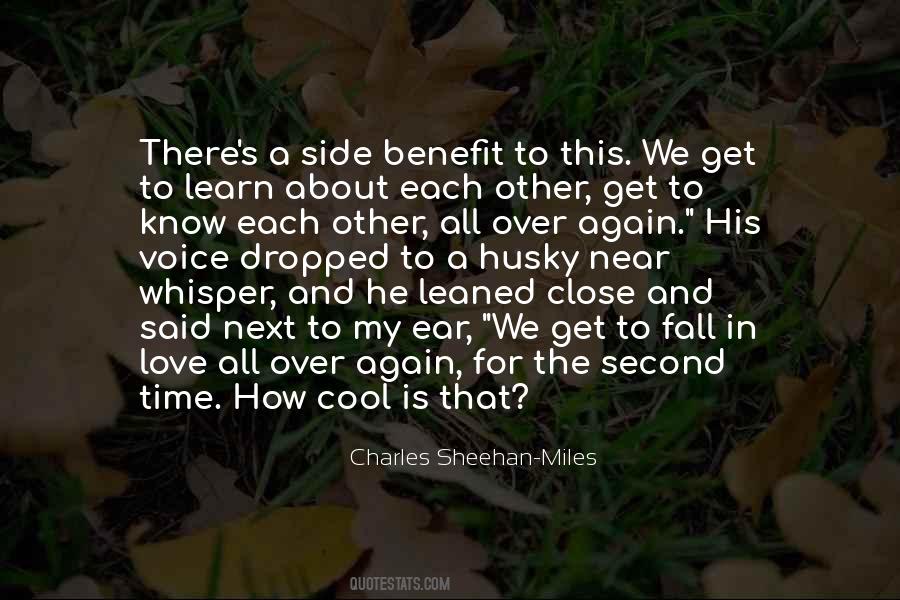 #17. Nothing was better than coming up with new ways to make her fall in love with me all over again. I lived for that shit now, and it was way more satisfying. - Author: Jamie McGuire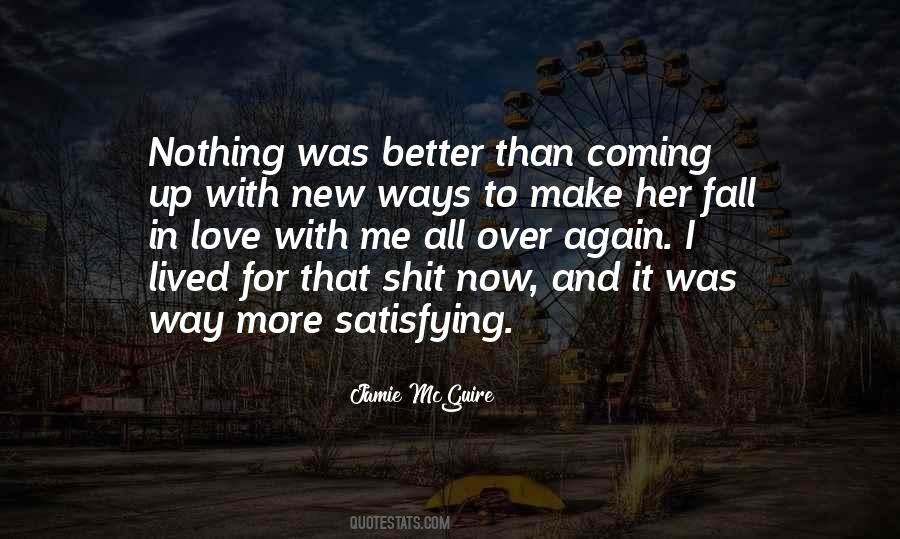 #18. Lisa Marie Rice thrilled fans and new readers alike when she returned to the world of her popular Midnight Series with Midnight Vengeance and Midnight Promises. This June, in Midnight Secrets, we get to fall in love with her cracktastic and sexy romantic suspense series all over again. - Author: Lisa Marie Rice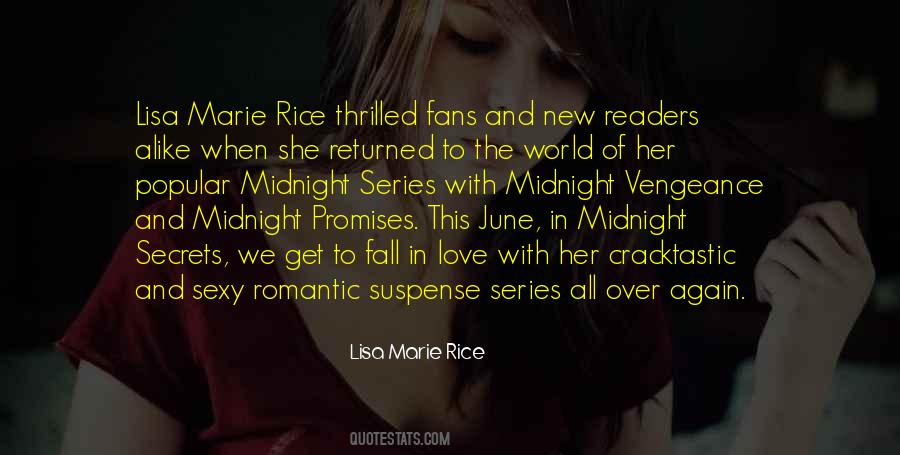 #19. Travis smiled. So you wanted to be here with me. I think I just fell in love with you all over again. - Author: Jamie McGuire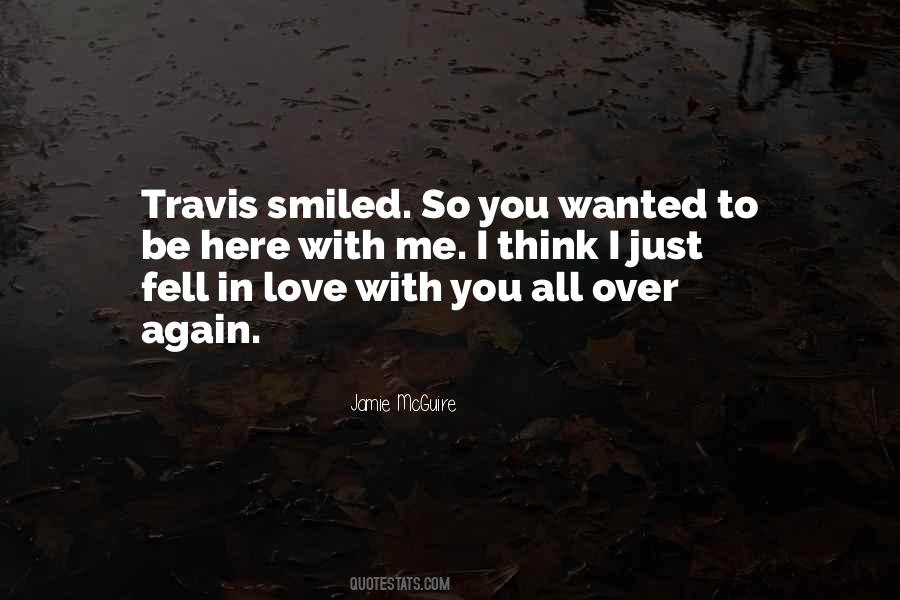 #20. A revival is the church falling in love with Jesus Christ all over again. - Author: Vance Havner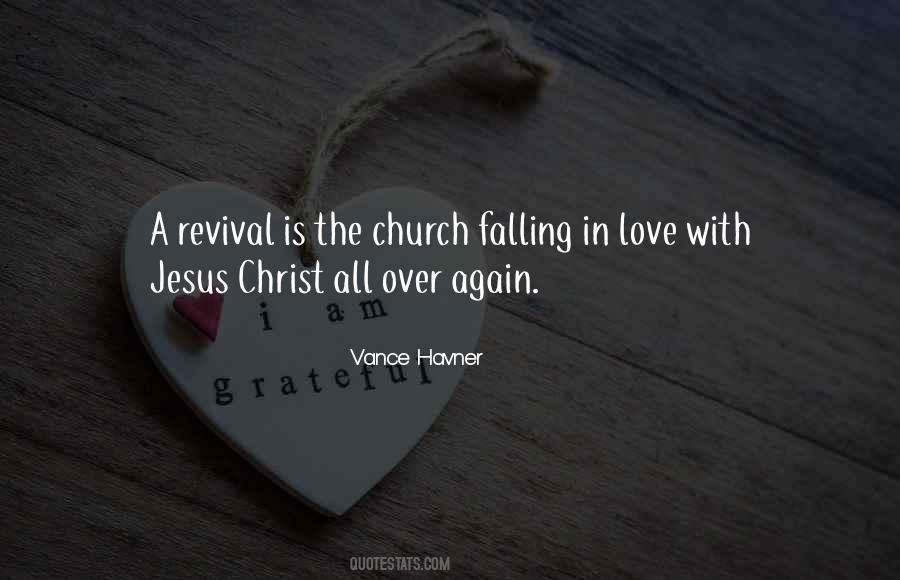 #21. Maybe ... you'll fall in love with me all over again."
"Hell," I said, "I love you enough now. What do you want to do? Ruin me?"
"Yes. I want to ruin you."
"Good," I said. "That's what I want too. - Author: Ernest Hemingway,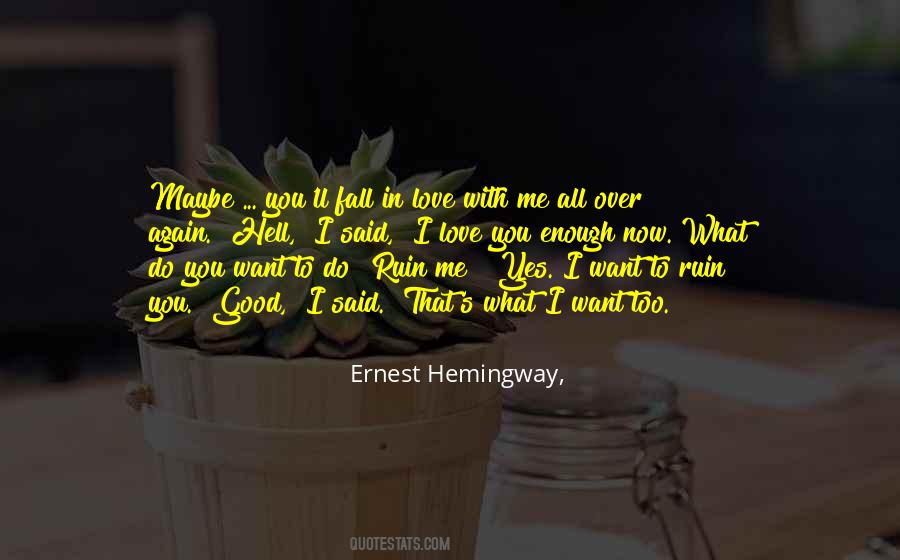 #22. The casualities seemed to go on and on. Just when I thought I was done losing her, I would find yet another way to love her all over again. - Author: Gabrielle Zevin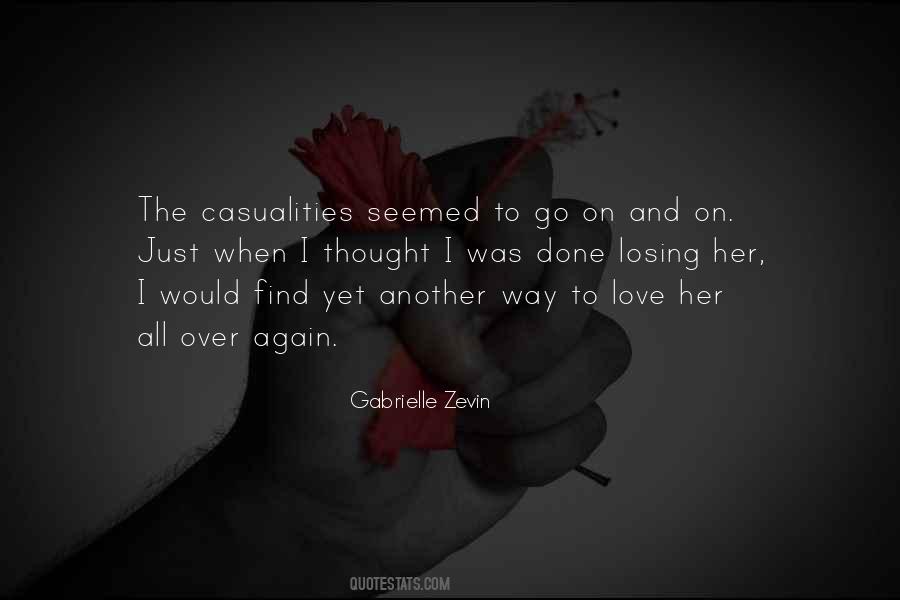 #23. He tightens one arm around my waist and cups the back of my neck with the other. We stare at each other, his eyes dark and intense before his lips come down on mine in a kiss of fierce, tender possession.
And just like that, I fall wildly in love with my husband all over again. - Author: Nina Lane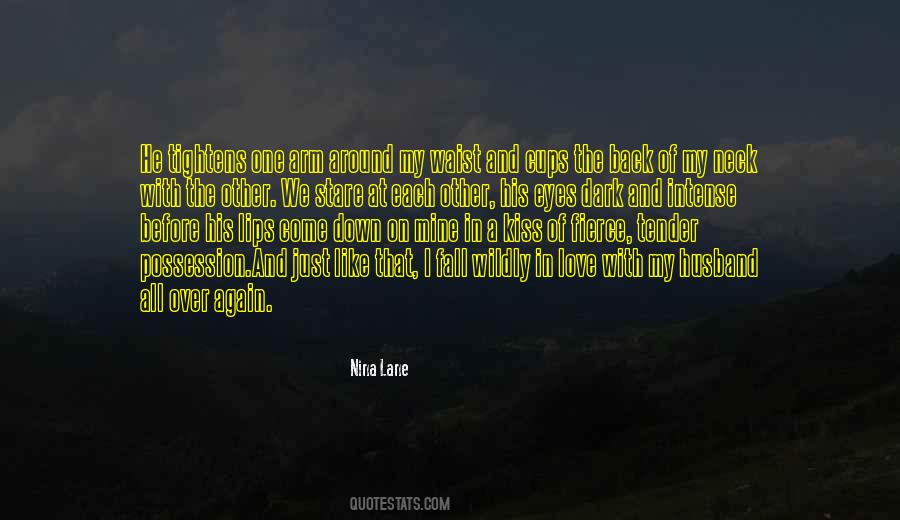 #24. 'The Master' with Joaquin Phoenix puts up a good fight, but my favorite movie of all time is 'The Wizard of Oz.' I just love it. I watched it over and over again as a child, and I think it has all the elements of wonder, and it's a beautiful story. - Author: Jonny Weston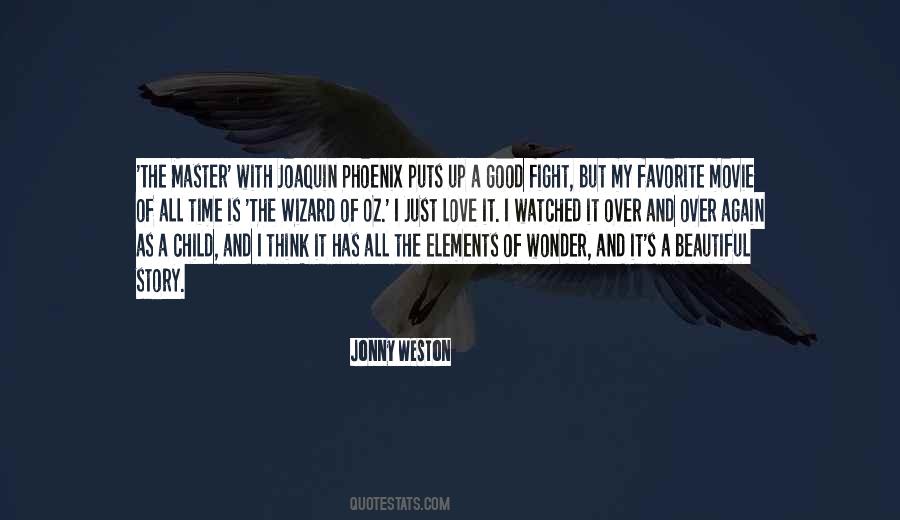 #25. What if I can never remember us?" She broke the silence and stilled him.
"Then I guess we'll have to fall in love all over again."
"How can you be so sure that's possible?"
"Because we're so fucking good at it. - Author: Elizabeth Finn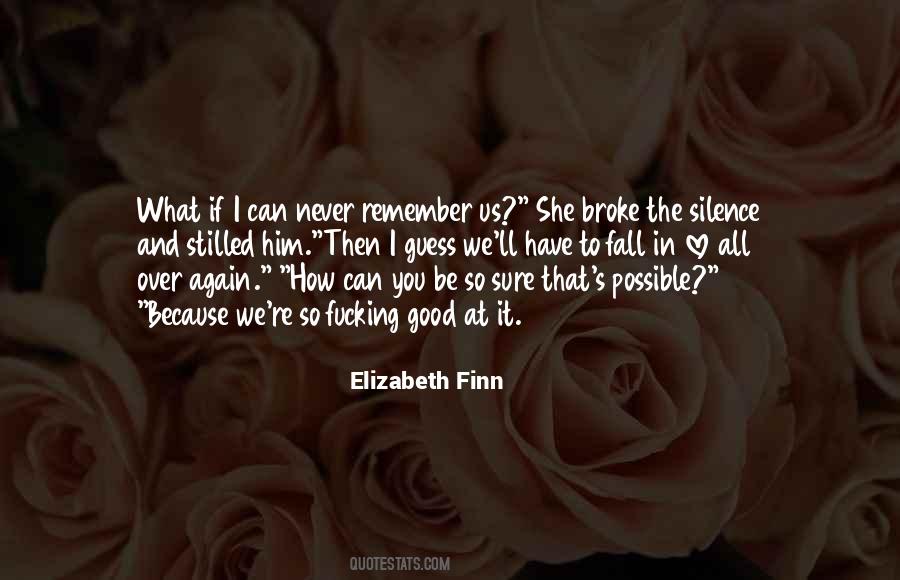 #26. I've always love how food preserves a memory. - Author: Piolo Pascual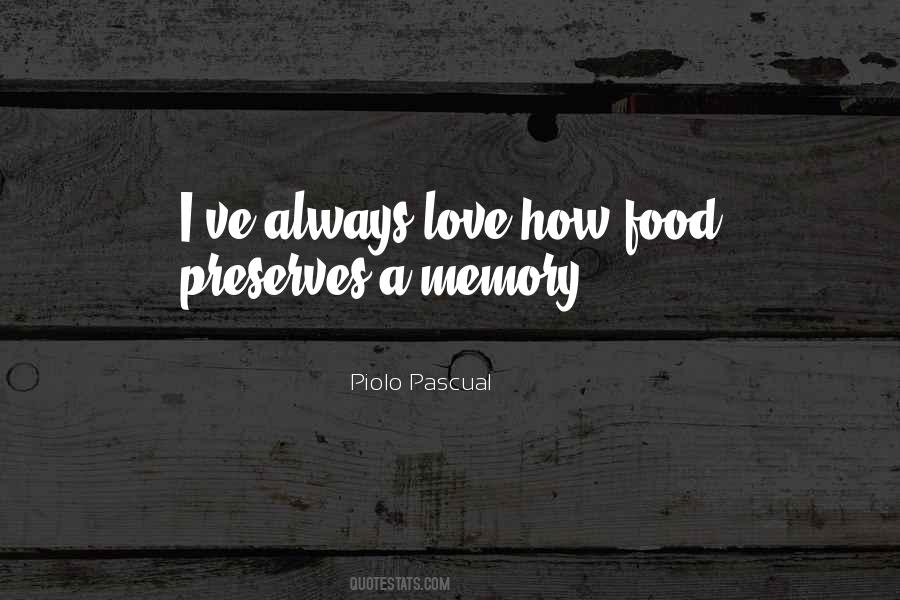 #27. All that I love
I fold over once
And once again - Author: Edith L. Tiempo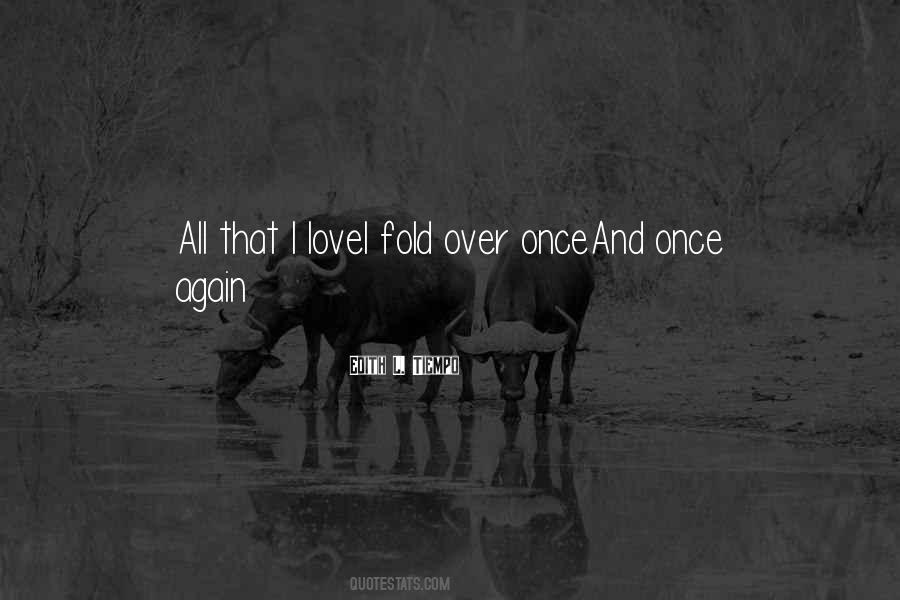 #28. If I didn't already love you, Jessica Chase, I'd fall in love with you all over again, every minute of every day. - Author: Olivia Cunning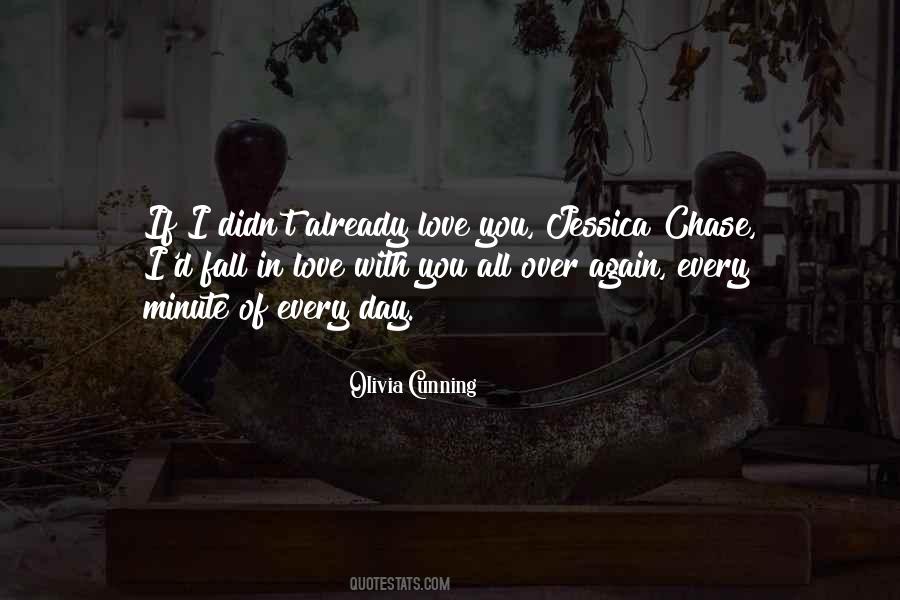 #29. He was proud of her, he admired her, and at that moment he was conscious of life as something good and he fell in love with her all over again. This consciousness of love took the form of a deep patience inhabiting him, rather than a feeling of cheer or even hope - Author: Michael Stein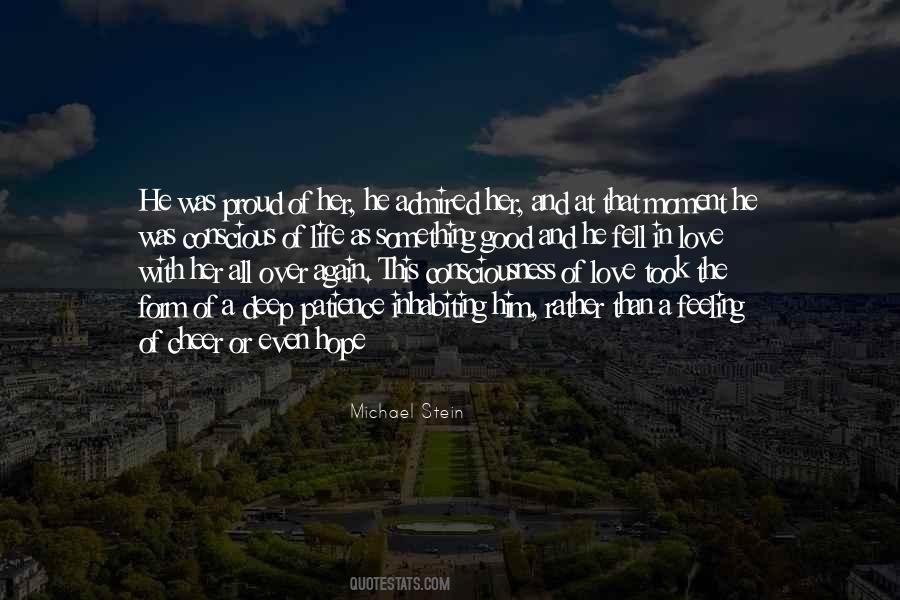 #30. Each time you happen to me all over again. - Author: Edith Wharton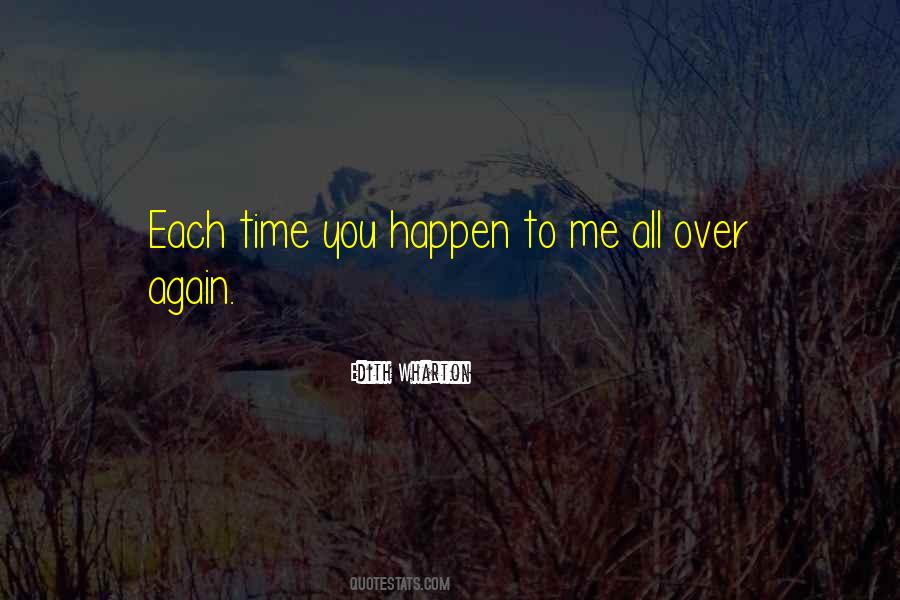 #31. I hoped she understood that I was hers, completely and undeniably, forever. That if I had all of this to do all over again, I would change everything. And that in any life, in any situation, I'd choose her. Every time. - Author: Molly McAdams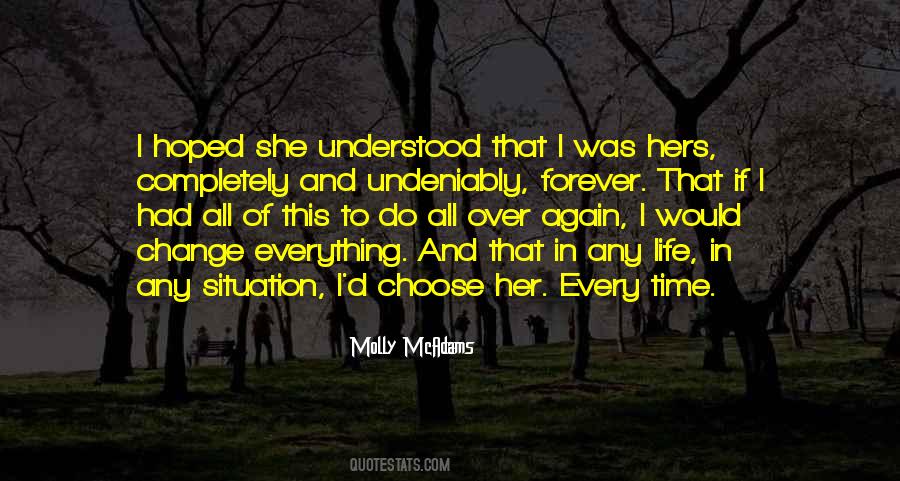 #32. The first time I met you, I fell in love with you there and then, but you didn't notice me. Then you stood me up. And then I met you again and I hated you. Well, I tried to hated you, but then when you cleaned up after Welly ... I fell in love with you all over again. - Author: Alexandra Potter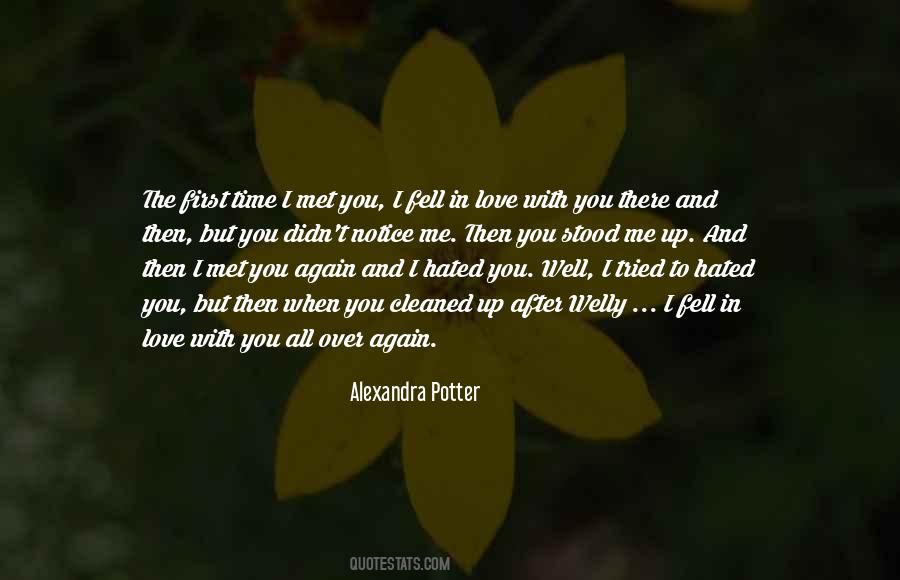 #33. My heart's cracking apart all over again because of the way I've missed him. - Author: Jolene Perry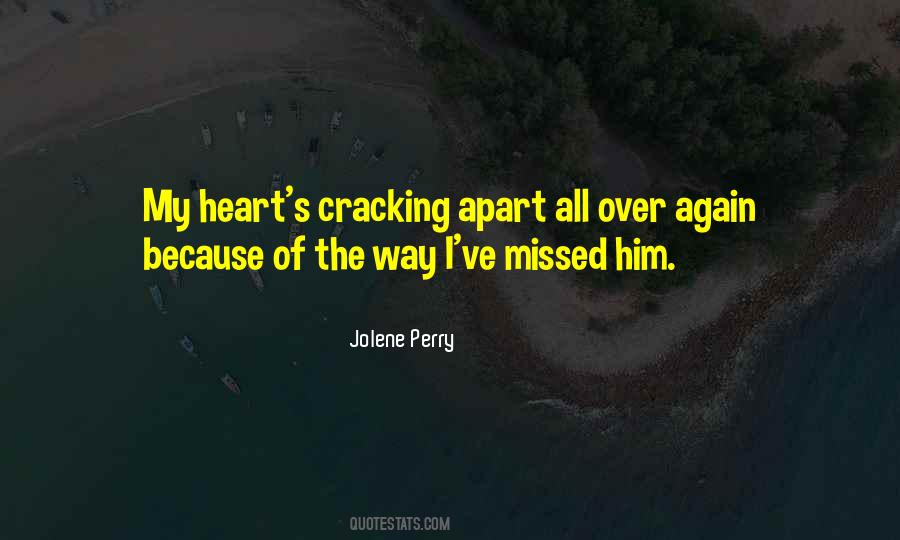 #34. Of course I loved you . . . and I knew that it would happen all over again . . . that where I loved, I would cause irreparable damage. I am no fit person to love . . . I have never loved without causing harm. - Author: J.K. Rowling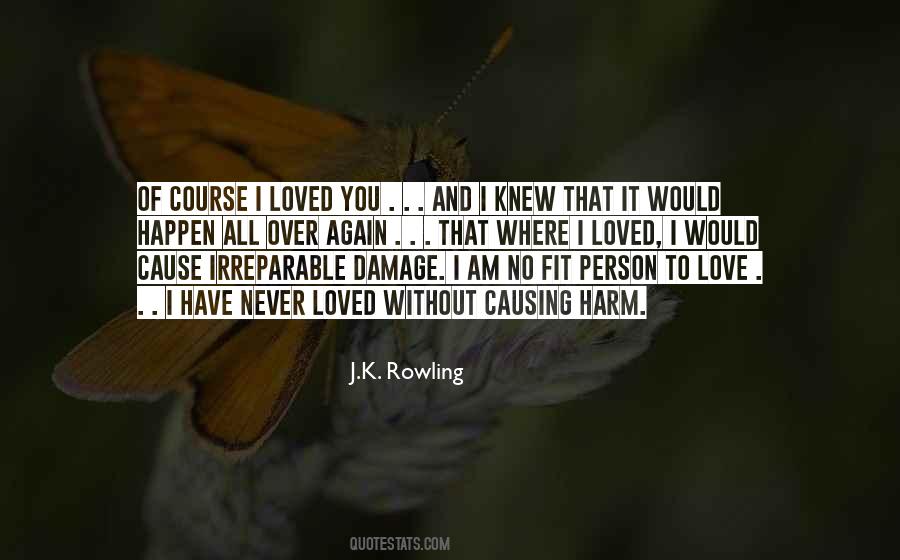 #35. Yves. You are goint to love him all over again when you meet him, believe me. You're married.'
'I'm what? But I can't be more than eighteen!'
'My son is very persuasive,' said Saul proudly. - Author: Joss Stirling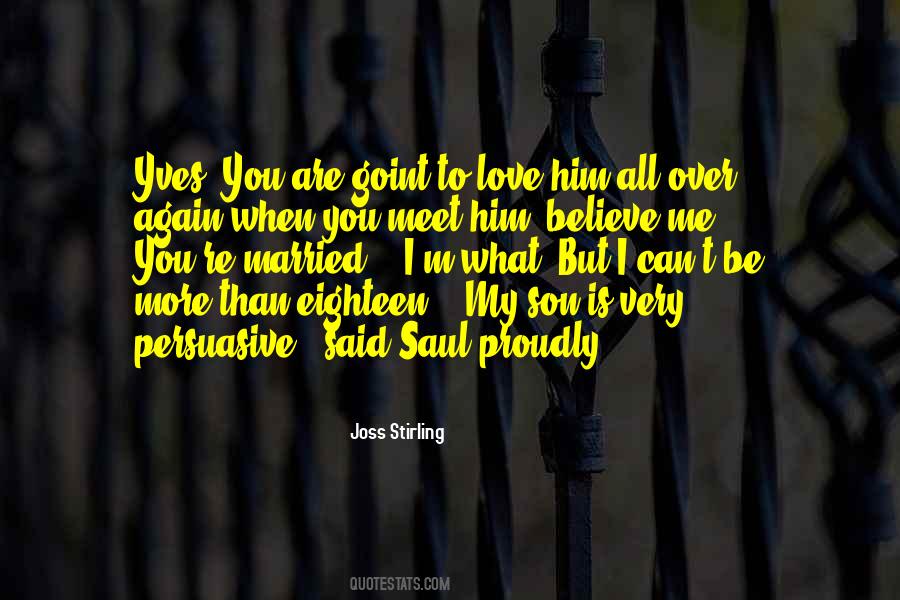 #36. Naturally, I now love Jesus very much. Yes, I love him so damn much that I would like to crucify him all over again! - Author: Carl Panzram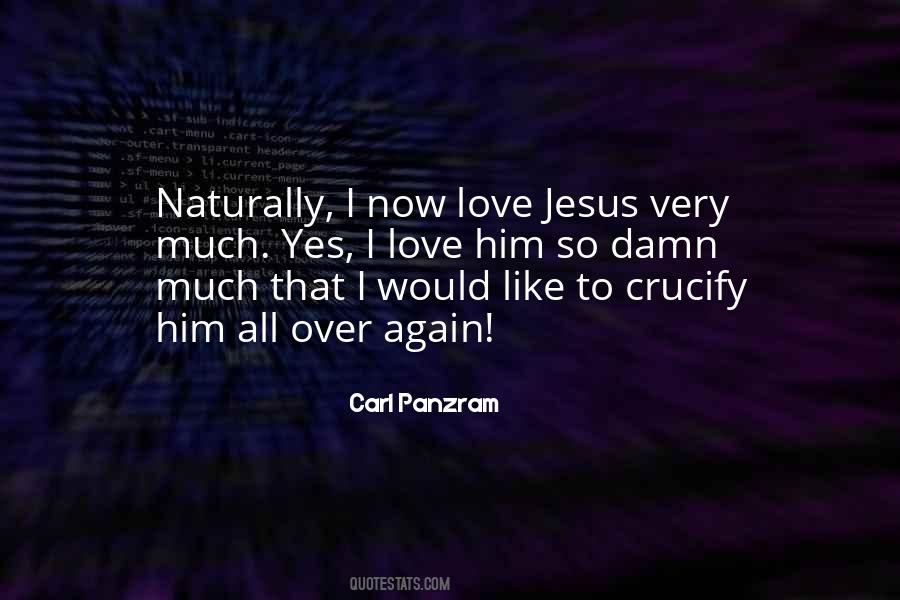 #37. I'd waited an eternity for this. I'd have waited all over again if I had to. I was meant to kiss this boy, designed to be held by him. - Author: Kiera Cass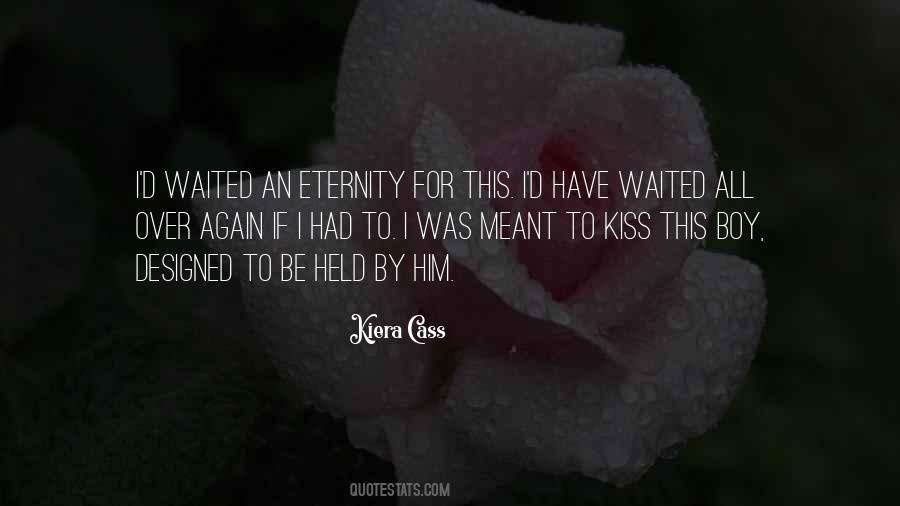 #38. I wanted to tell you that wherever I am, whatever happens, I'll always think of you, and the time we spent together, as my happiest time. I'd do it all over again, if I had the choice. No regrets. - Author: Cynthia Hand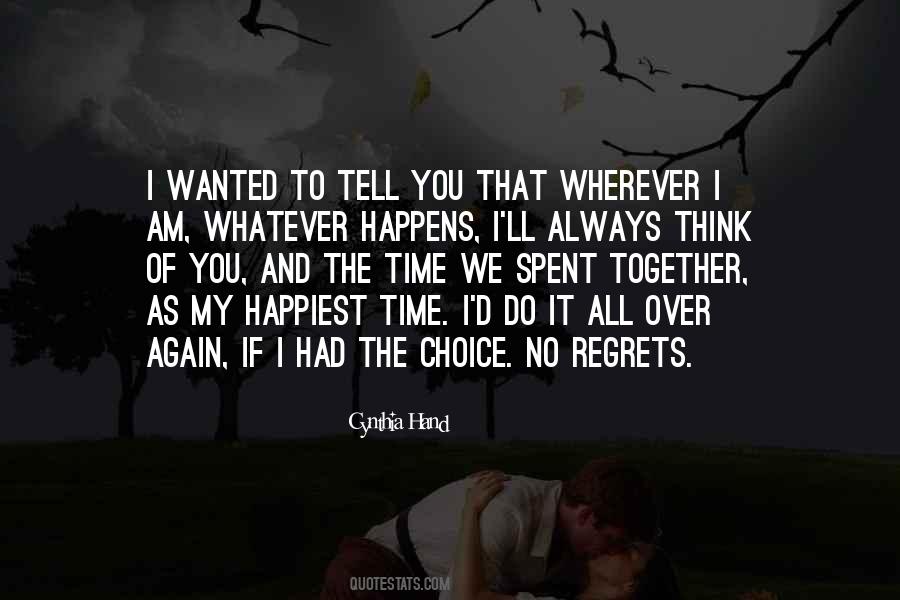 #39. I'd excluded New York from my writing, and then I came back and I fell in love with it all over again. The energy comes from an absence, that yearning for New York when you are not there. - Author: Jonathan Lethem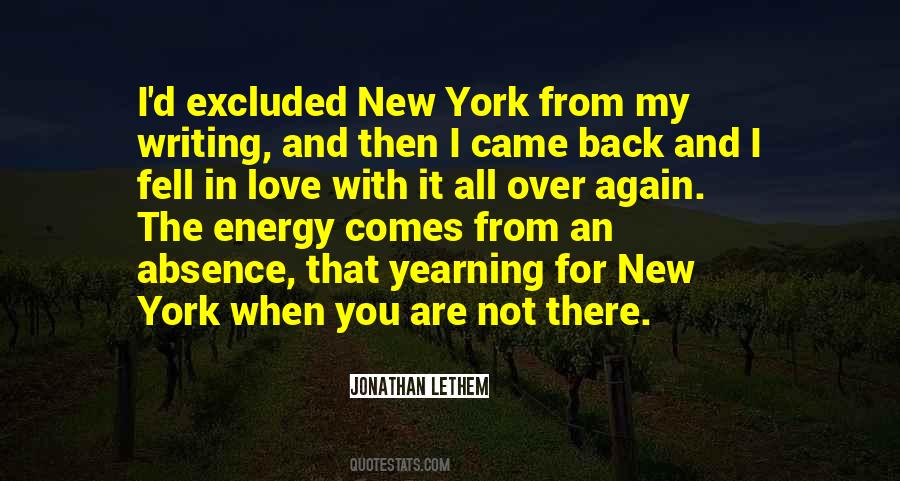 #40. I've been in love and it doesn't last. And when it's over, it's hell for a while. And then one discovers that life goes on. Eventually, one falls in love again. This pattern repeats itself until one is too jaded to believe in it anymore, or too old for all the upheaval. - Author: Laura Lee Guhrke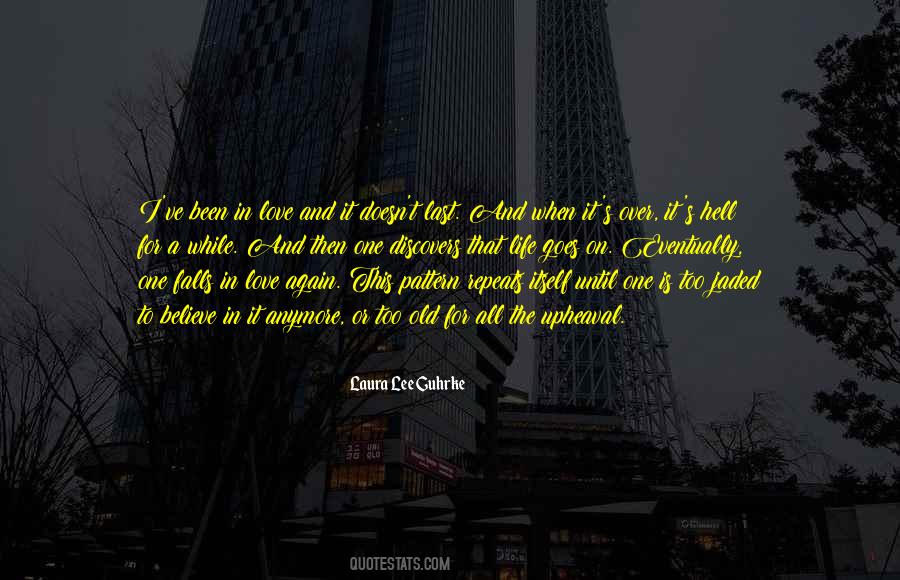 #41. Jessica ... The sound of his voice saying my name soothed me, and it's all I wanted to hear him say. Just my name, over and over and over again in his buttery baritone. I wanted my name to be his mantra, the word he meditated on, his tool for finding calm in the world.
But he kept on talking. - Author: Megan McCafferty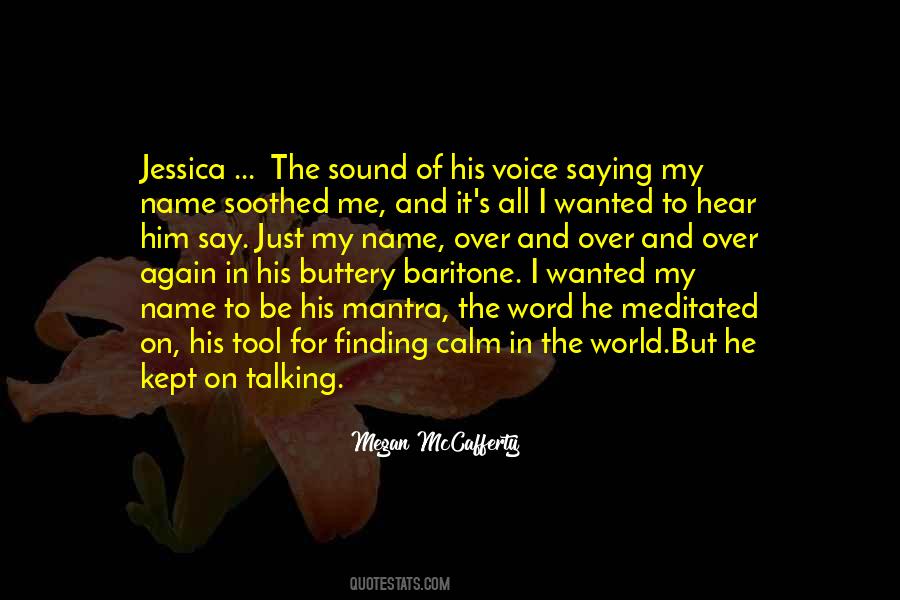 #42. You'll never know how incredible you are to me, how desperately I love you. I would do it all over again if I needed to. I'd go back to the beginning for you - Author: S.C. Stephens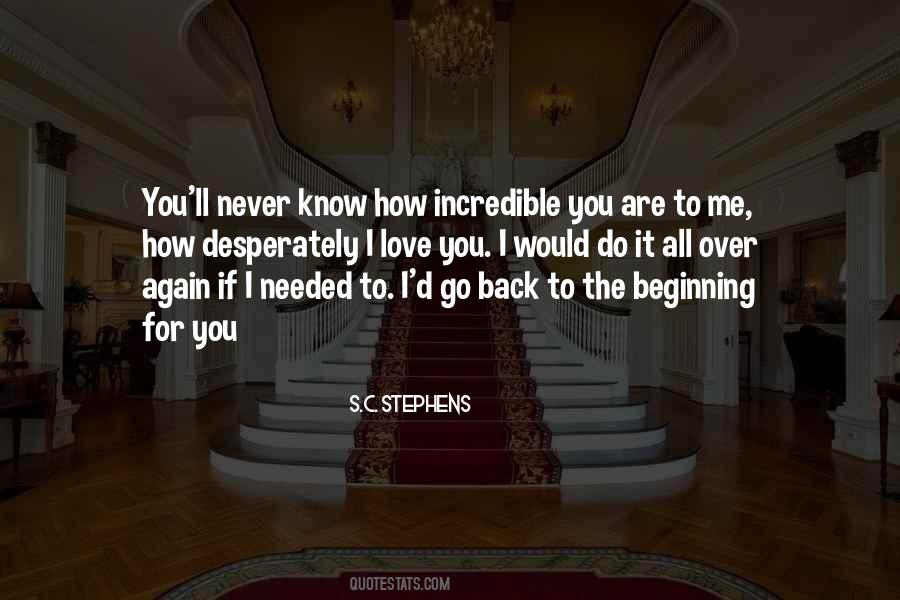 #43. Could we dig up this long-buried treasure, Were it worth the pleasure, We never could learn love's song, We are parted too long. Could the passionate past that is fled Call back its dead, Could we live it all over again, Were it worth the pain! - Author: Oscar Wilde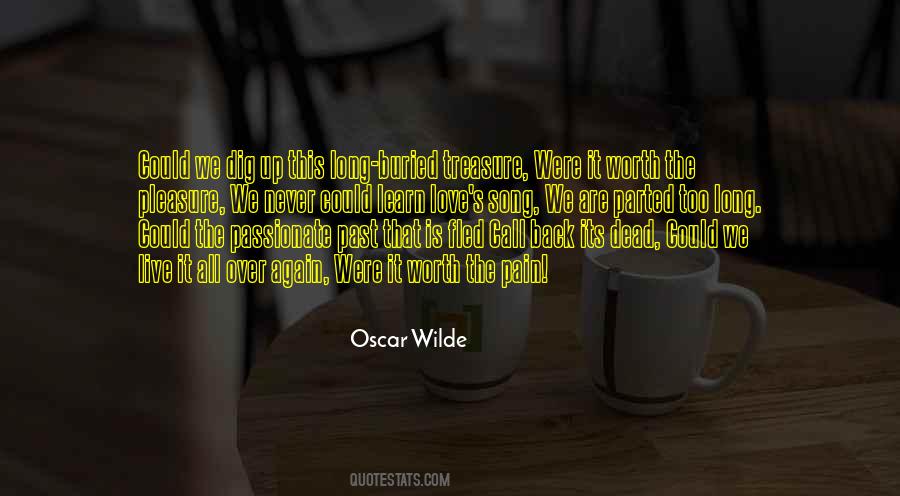 #44. It feels like I've fallen in love with you for the first time all over again - Author: Jay McLean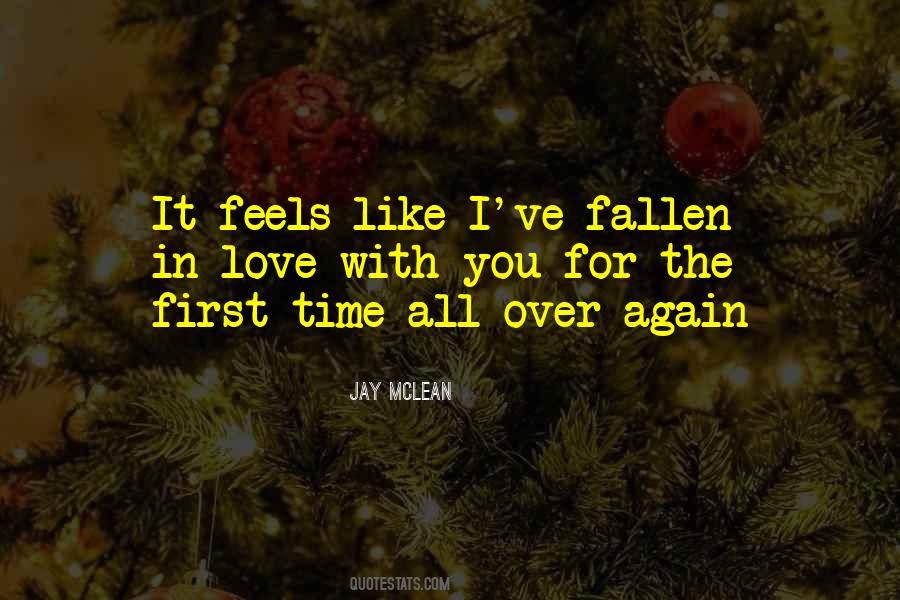 #45. I love the fact that, one time, my face was on the back of a cereal box - probably 3-CPO's - and it was a mask where you cut out the eye holes and put a string through the side. It makes me feel like I'm 11 years old all over again. - Author: Mark Hamill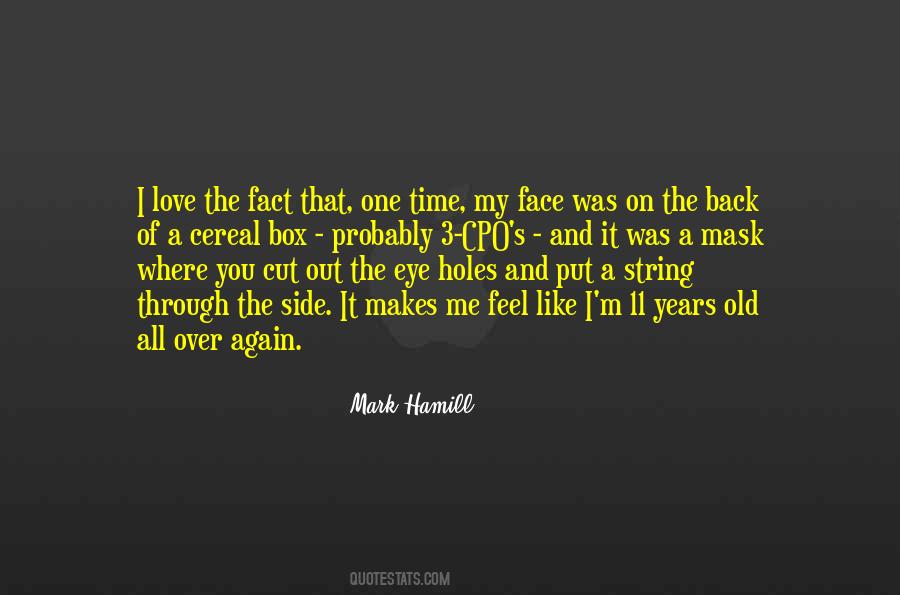 #46. I was seventeen all over again, falling into intrigue with the boy who was an exquisite contradiction. - Author: Blakney Francis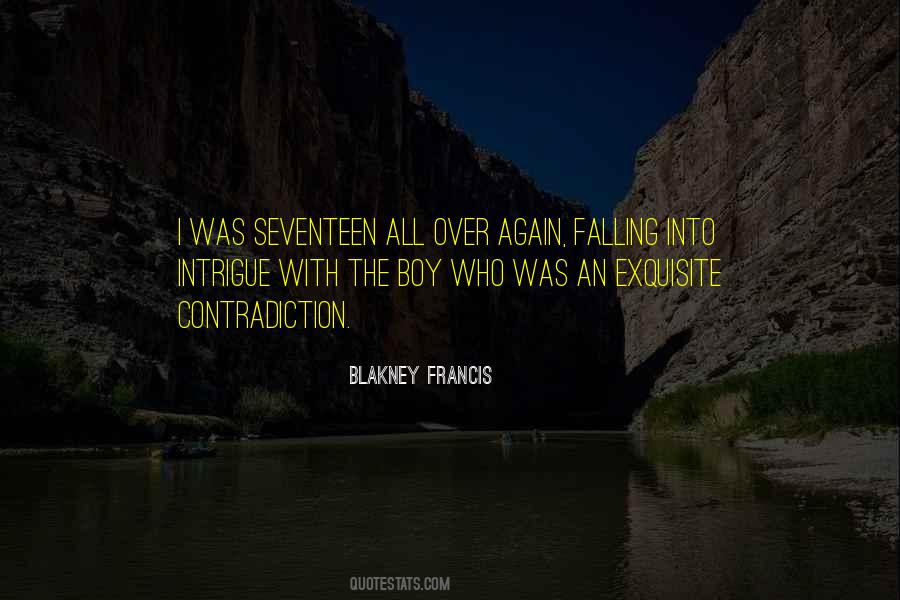 #47. I'd love to adopt, but having a daughter, Daisy, who's in the middle of her teens, I'm now thinking: Is this a time to start all over again or is this a time to realise those child-rearing years are over? - Author: Joely Richardson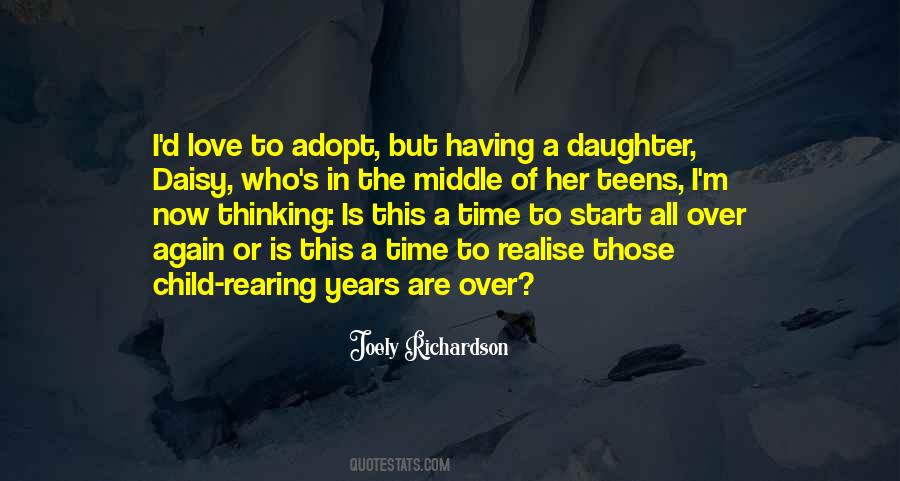 #48. We study ourselves three weeks, we love each other three months, we squabble three years, we tolerate each other thirty years, and then the children start all over again. - Author: Hippolyte Taine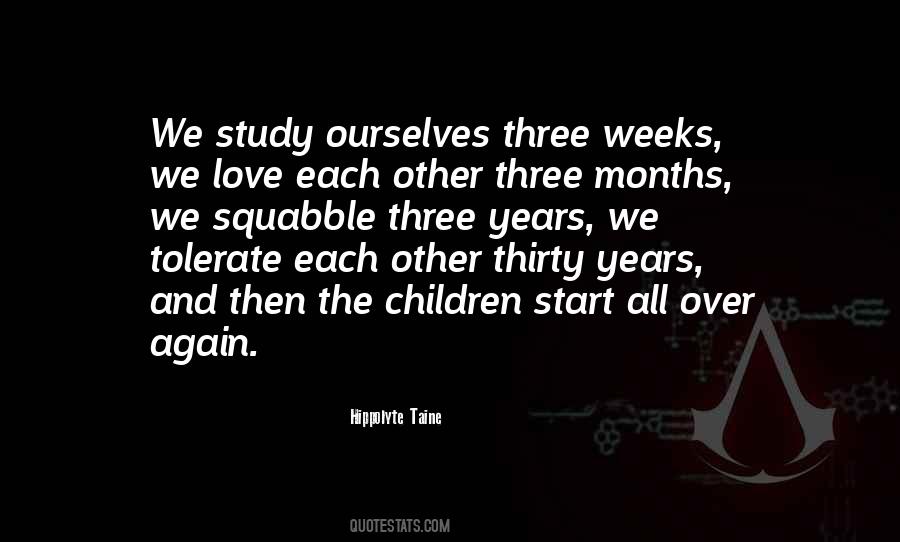 #49. They say you fall in love only once but every time I see her I fall in love with her all over again and again. - Author: Mayank Kashyap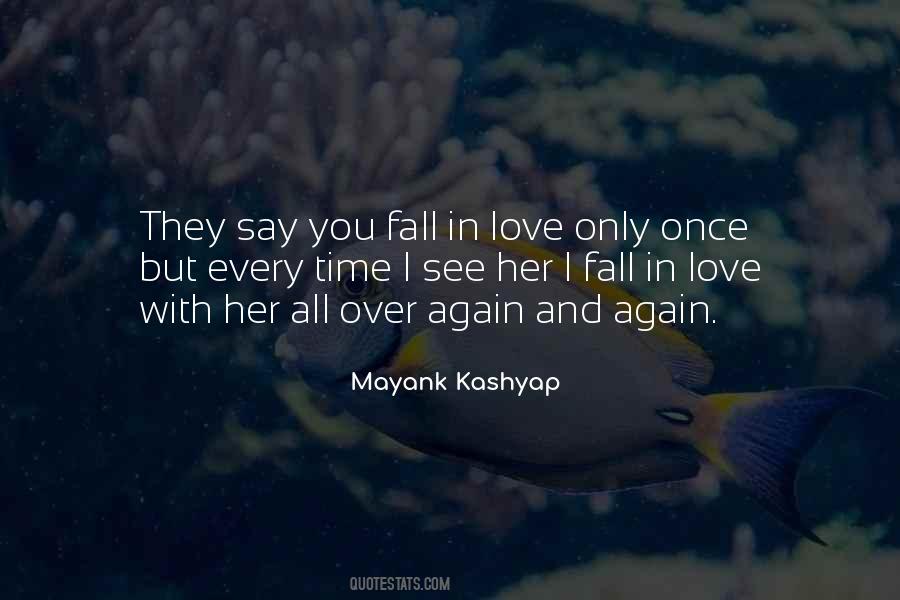 #50. [ ... ] I want to wake up with you in the morning, I want to fight with you in the afternoon, and I want to make love on any and every available surface in this place. And then I want to do it all over again. Come upstairs with me, Sophie. I'll keep you warm. I'll keep the darkness away. - Author: Anne Stuart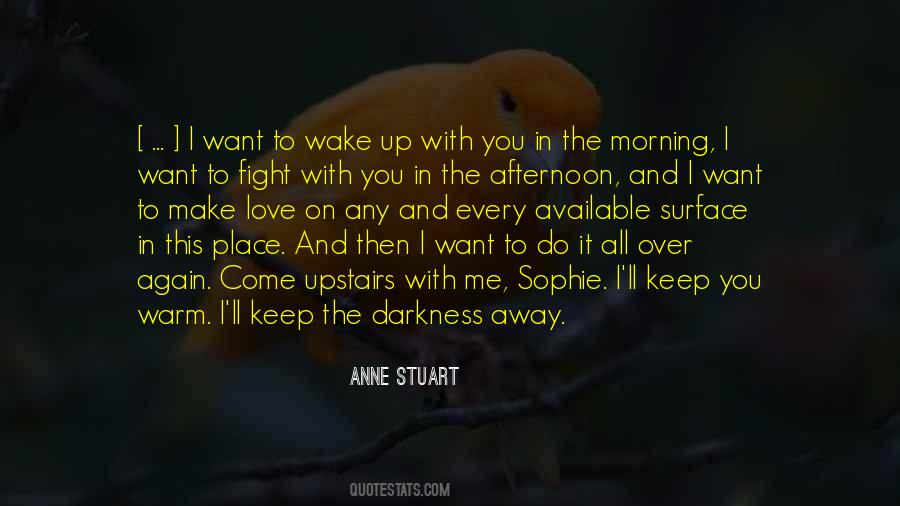 #51. The best part of re-working a story is falling in love with the characters all over again. - Author: M.E. Tudor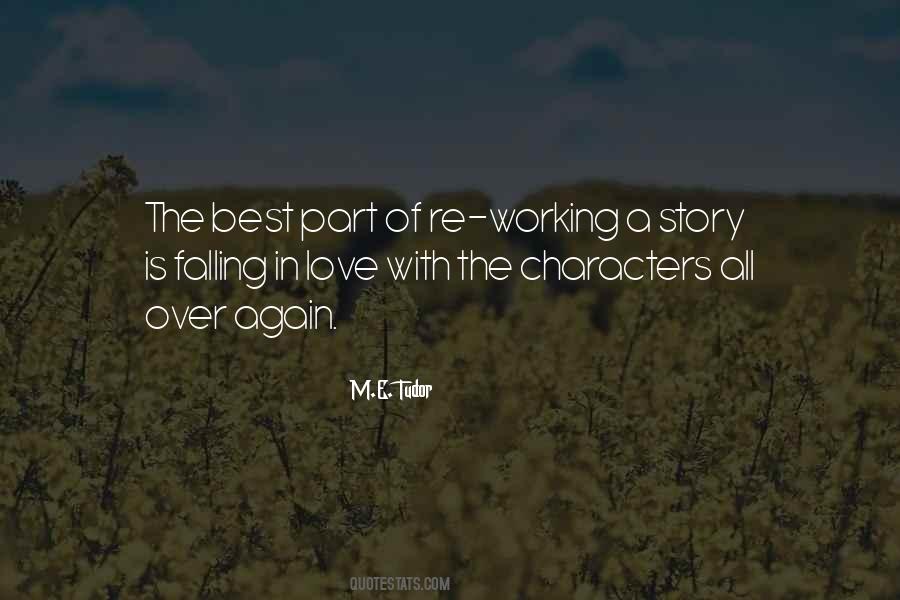 #52. Loving her is strange and confusing and damn risky. And if I had the chance I'd choose it all over again. - Author: Autumn Doughton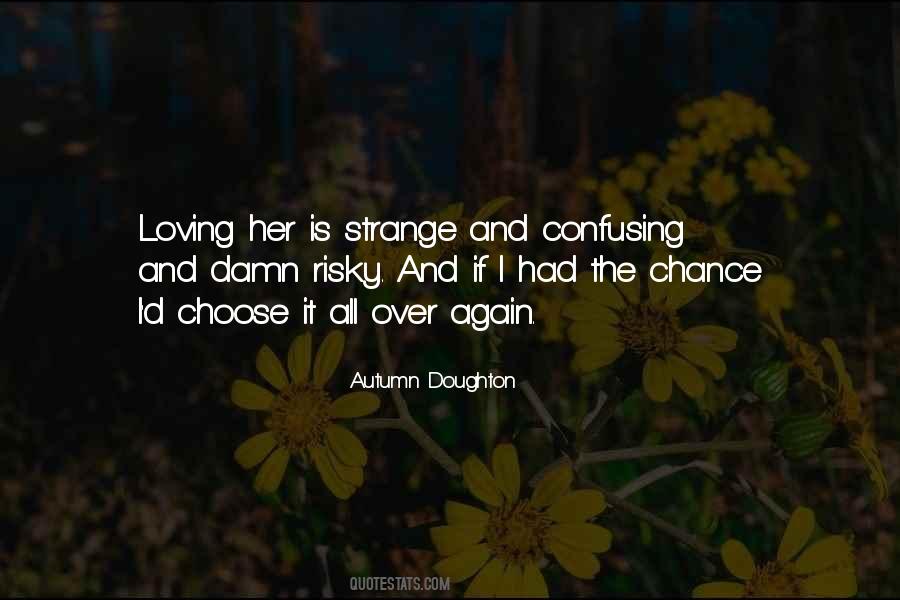 #53. I suppose if we're going to fall in love all over again, kissing will be part of it. - Author: Mary E. Pearson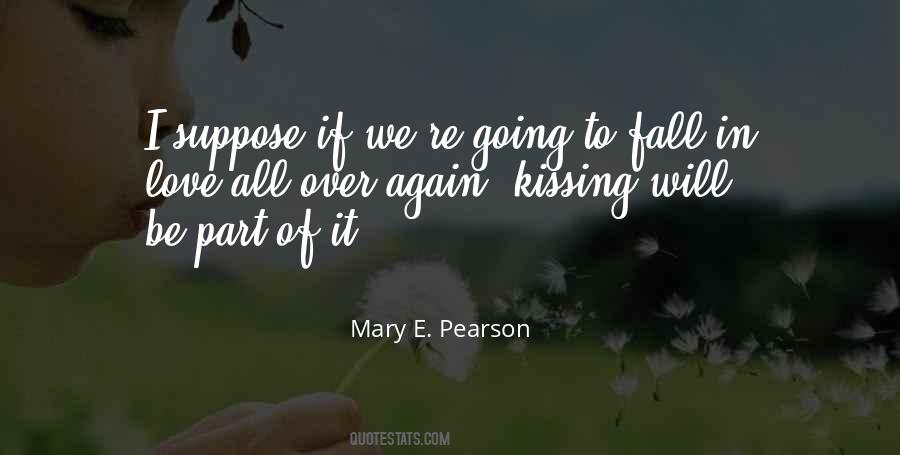 #54. Those who love the Gospel will love to be stirred by its truth all over again. - Author: Alistair Begg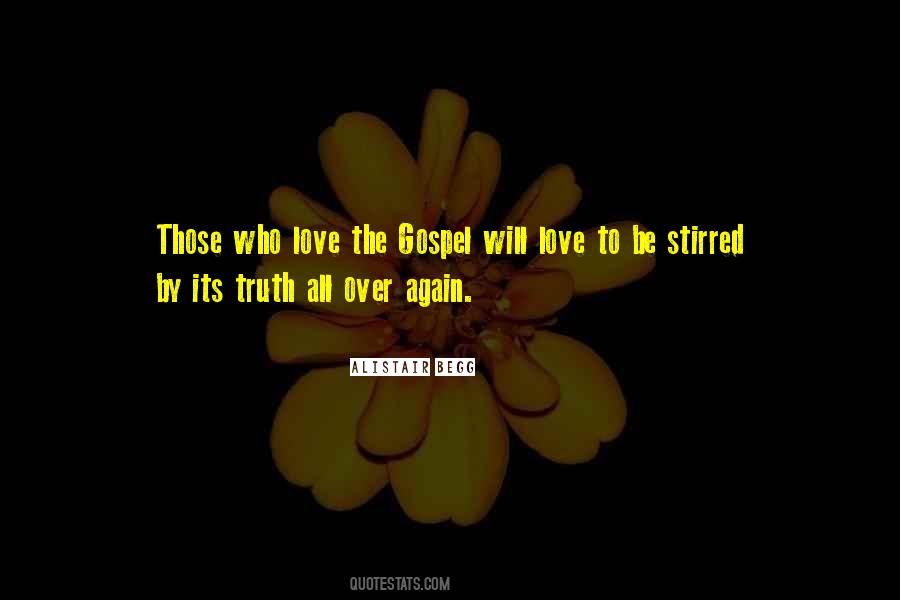 #55. It can be hard to feel like you have to start from scratch when you have invested so much time with a person, but shortly after my break up I realized something: I wasn't losing the chance to have love
I was getting the opportunity to do it all over again. - Author: Lauren Conrad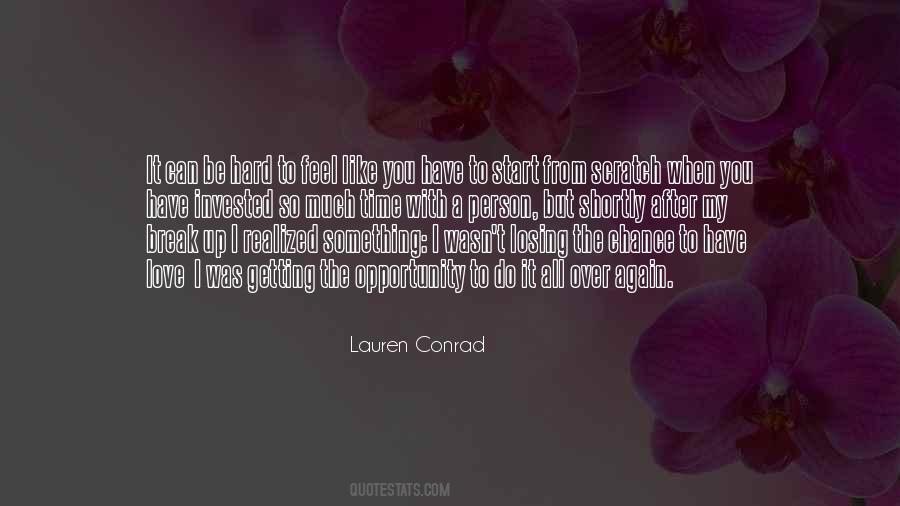 #56. I can't do this with you again and then watch you go," she admitted, her breathing ragged. Her skin tingled all over where their bodies touched and it felt as if it were over a thousand degrees in the house. - Author: Samantha Chase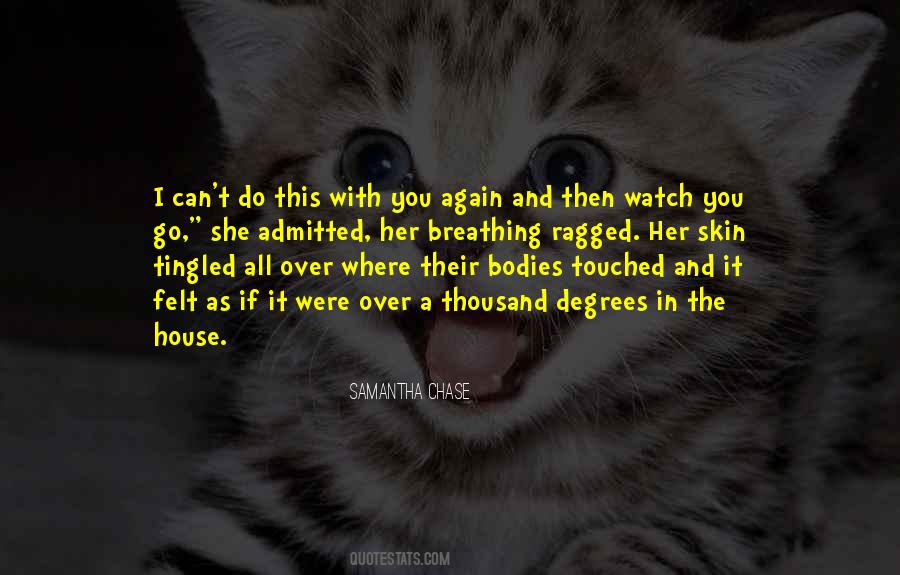 #57. I want my best friend back. I want the best thing that ever happened to me back. And I promise you I will make you fall in love with me all over again. This time, it'll be the forever kind. - Author: Christine Zolendz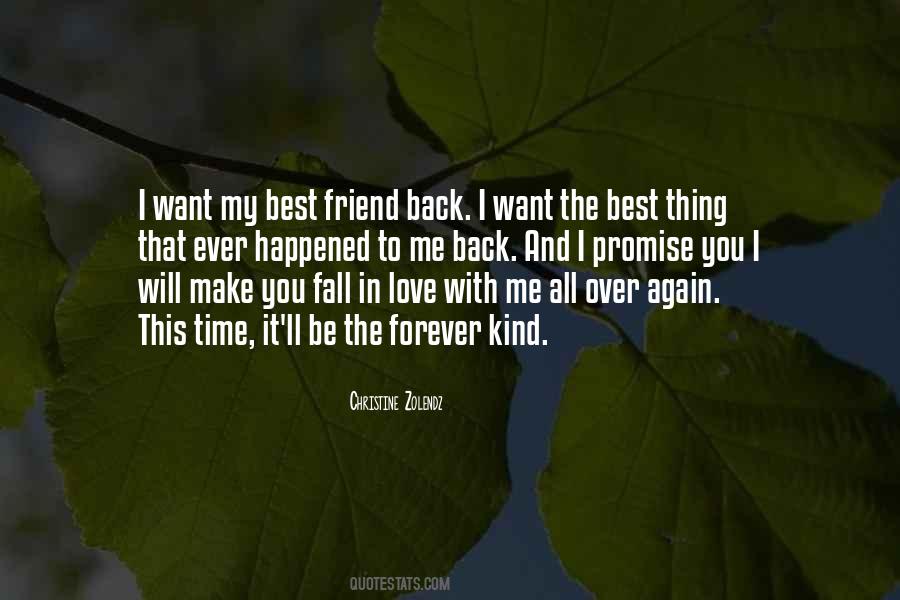 #58. I used to listen to Judy Garland all the time - I love Judy Garland and her music. But I started to realize that if you keep singing like that, singing songs of being victimized by love over and over and over again, it can't help but have a profound effect on your life. - Author: Diane Keaton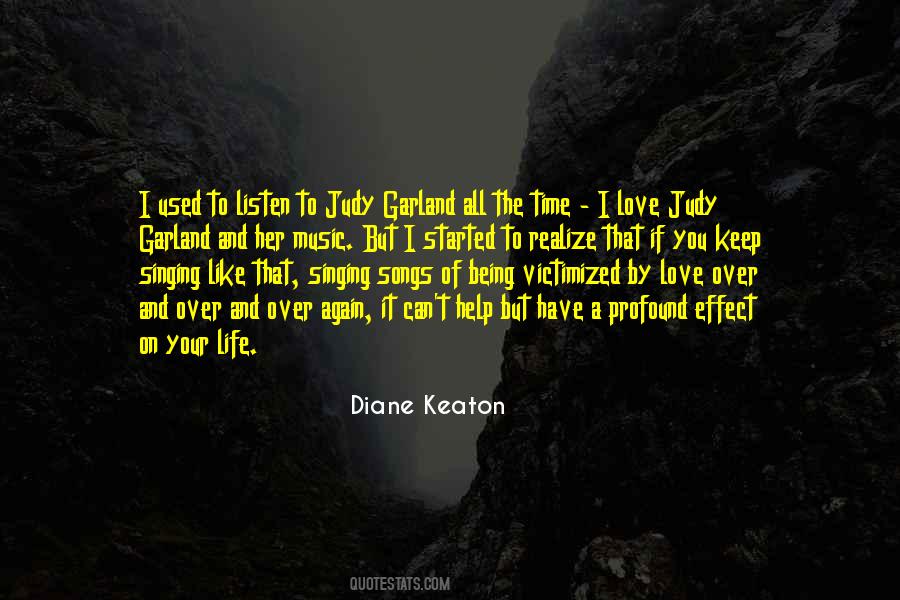 #59. That's why I love doing television because it's something that fans and viewers can sit down each week and get to know your character and get to know the show and get to know what's going on and fall in love with you all over again, like they did in previous shows. - Author: Tahj Mowry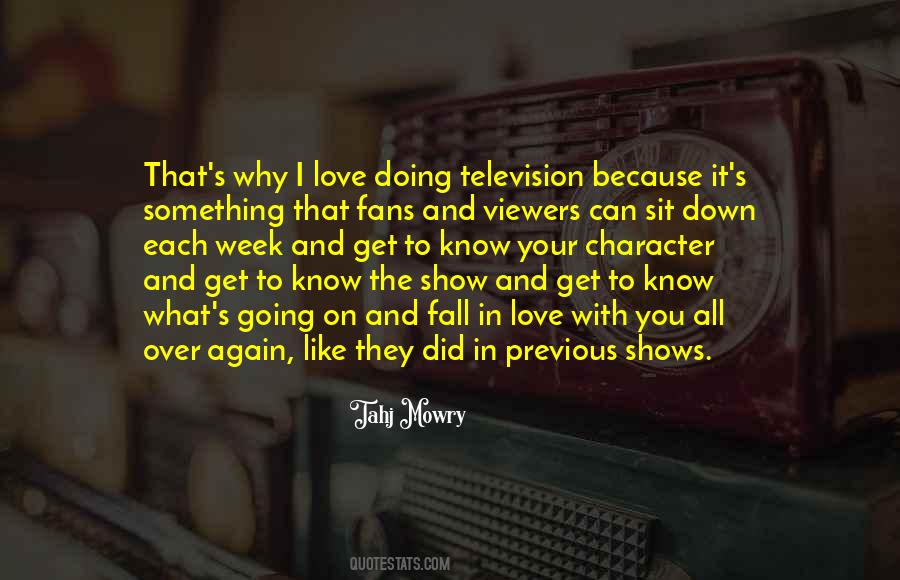 #60. I'm the man who said goodbye to you earlier, then realized he couldn't let you go. The same man who wants to make love to you all over again. Every single day of my life. - Author: Jess Dee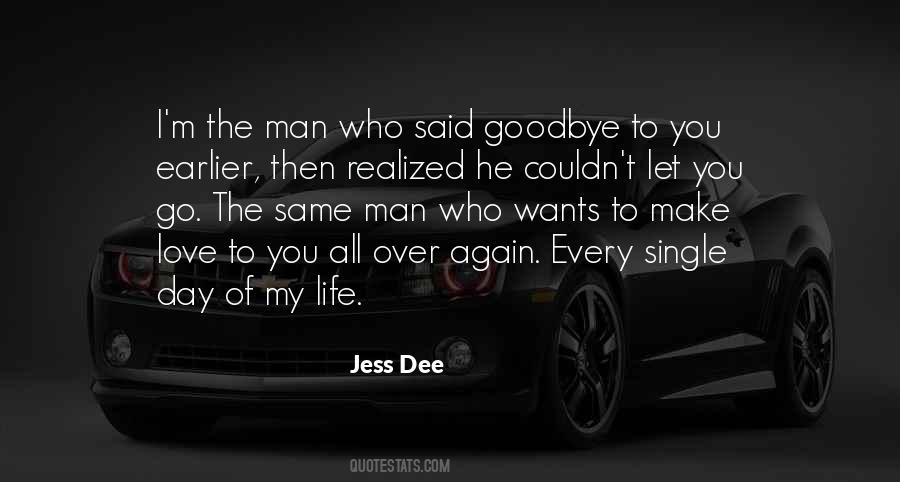 #61. You shouldn't be around me anymore. You shouldn't want to, Lex. Because all I see when I look at you is the woman I love, the woman I want to take home with me, the woman who I've spent damn near ten years messing things up with. And you should stay away because I know I'd do it all over again. - Author: K.A. Linde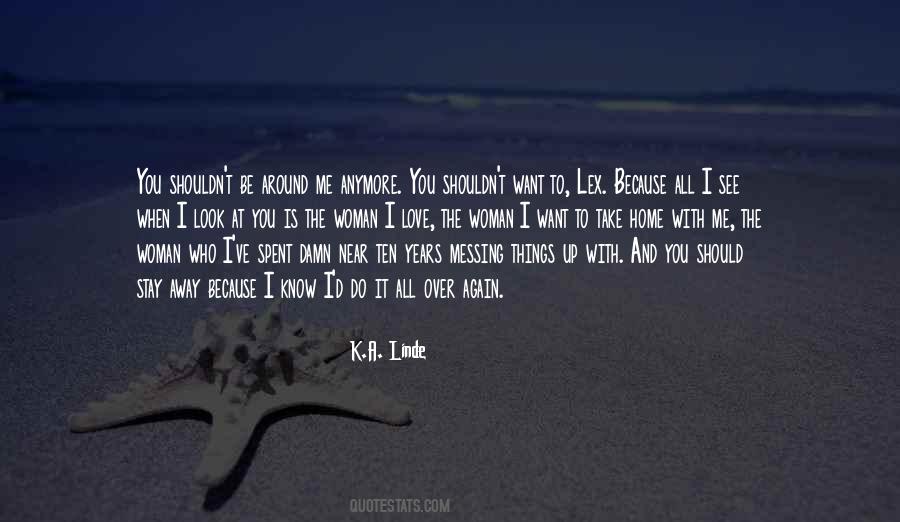 #62. I don't think there are enough stars in the sky to count how many times a day I fall in love with you all over again. - Author: Jewel E. Ann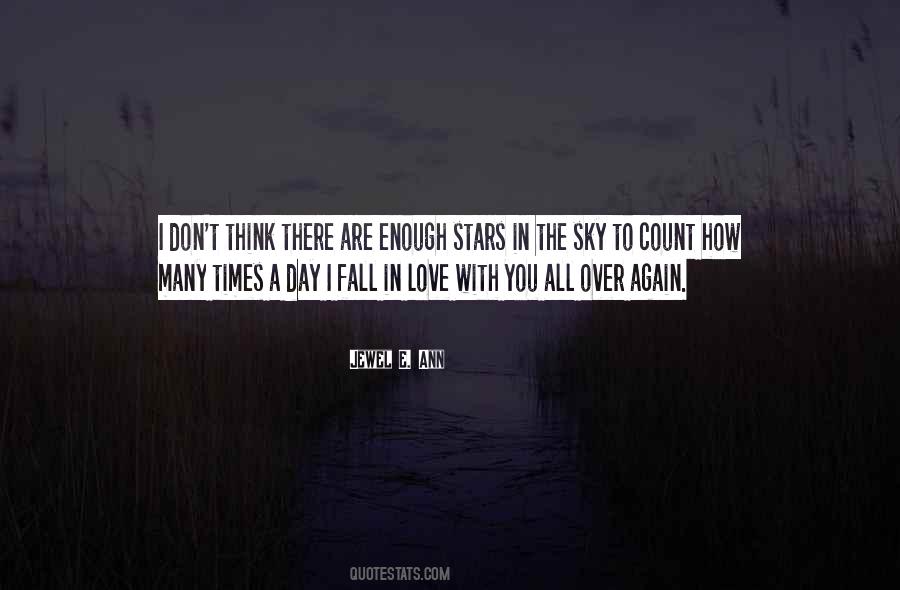 #63. If I could do it all over again, I'd be the mailman. I love housewives, and I hate dogs. What more is there? - Author: Norman Fell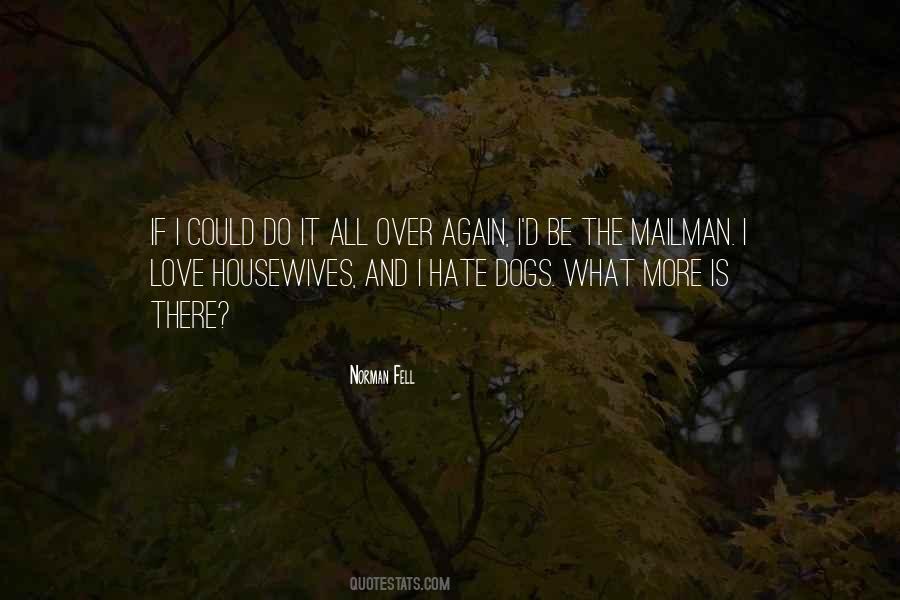 #64. You can't ever take your love for granted. It's like a flower than needs sun, water, and food to survive. Without them, it cannot bloom. And besides, it's never too late to fall in love all over again, even for us old folks. - Author: Jacob Z. Flores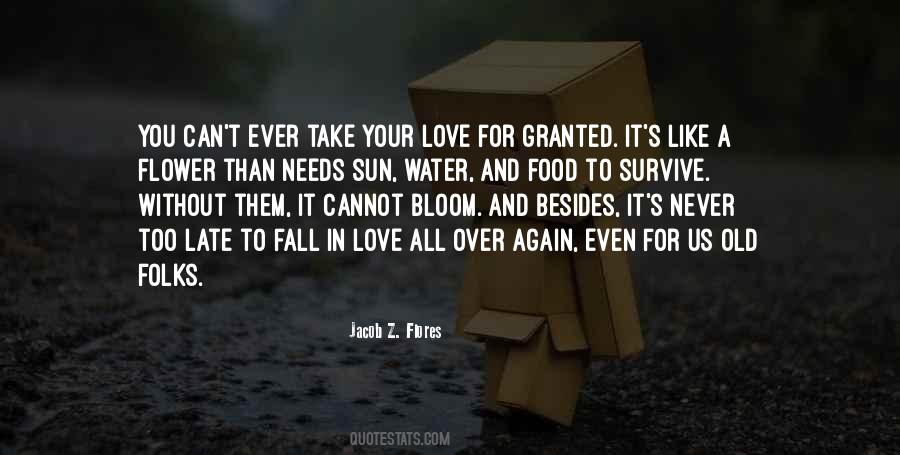 #65. Life is pointless. Love is pointless. And still, wouldn't I do every second of it all over again?"
"I'm guessing yes."
"Undoubtedly. Yes. - Author: Kiera Cass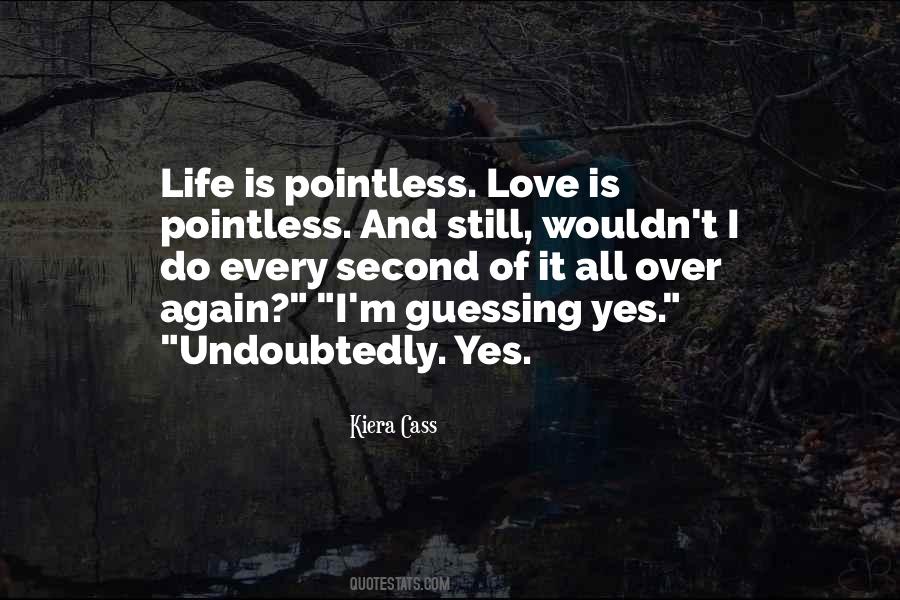 #66. Again, let's pay all due respect to De Palma and put him over here so we're not saying, "Mine's deeper, mine's better." Let's just say, in reading the book, what I fell in love with was this mother-daughter story that was so amazing and so profound. - Author: Kimberly Peirce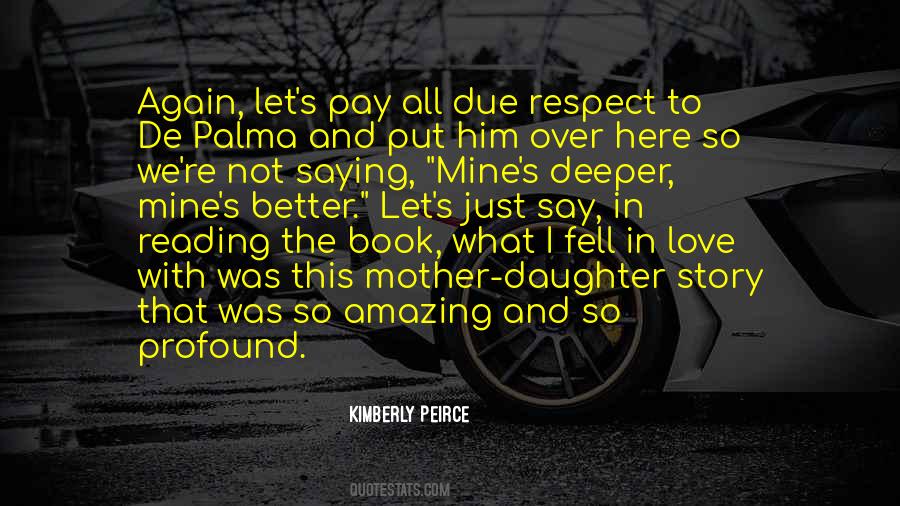 #67. Through the higher love the whole life of man is to be elevated from temporal selfishness to the spring of all love, to God: man will again be master over nature by abiding in God and lifting her up to God. - Author: Meister Eckhart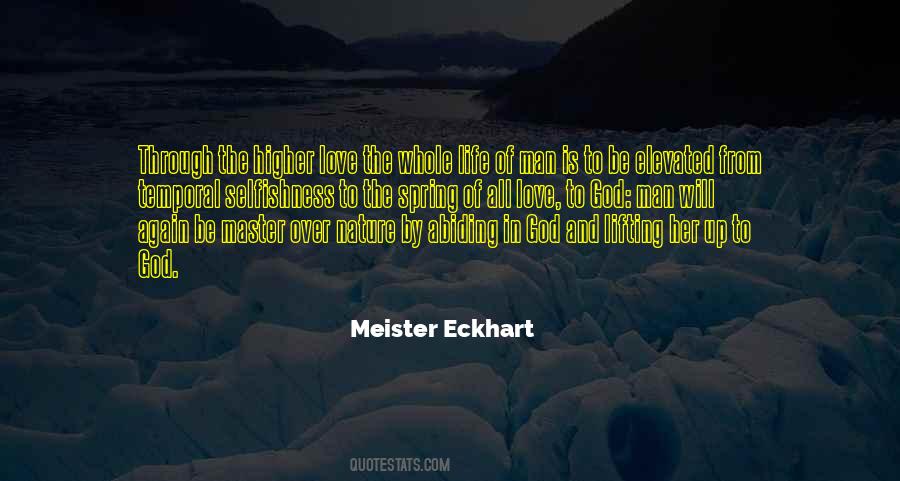 #68. Everything began all over again immediately: arrival of manuscripts, requests, people's stories, each person mercilessly pushing ahead his own little demand (for love, for gratitude): No sooner has she departed than the world deafens me with its continuance. - Author: Roland Barthes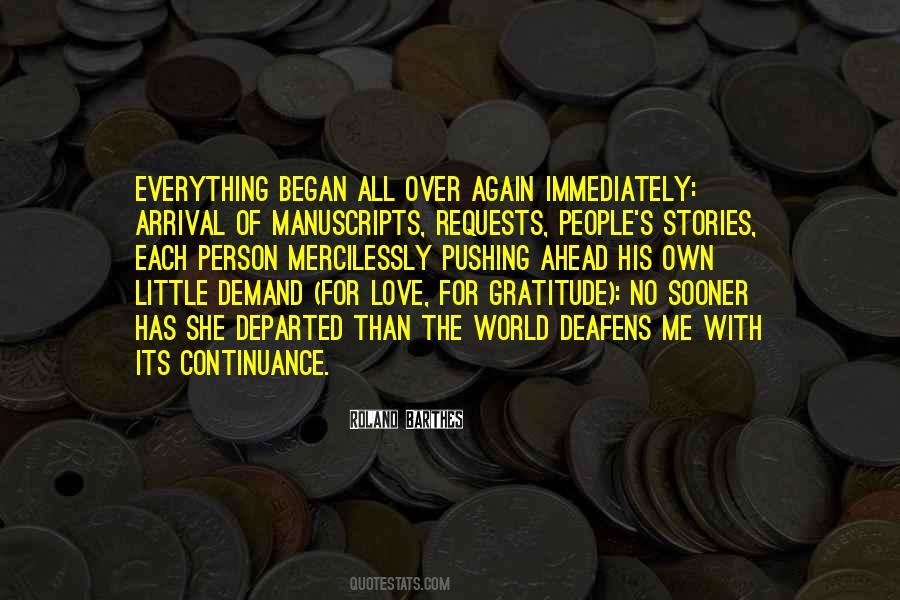 #69. All of what I told him was true - some people are just meant to break your heart, as if it were their sole mission here on earth to teach you not to fall in love with the wrong person.

Some people will break your heart over and over again, because some of us never learn - Author: Carmen Jenner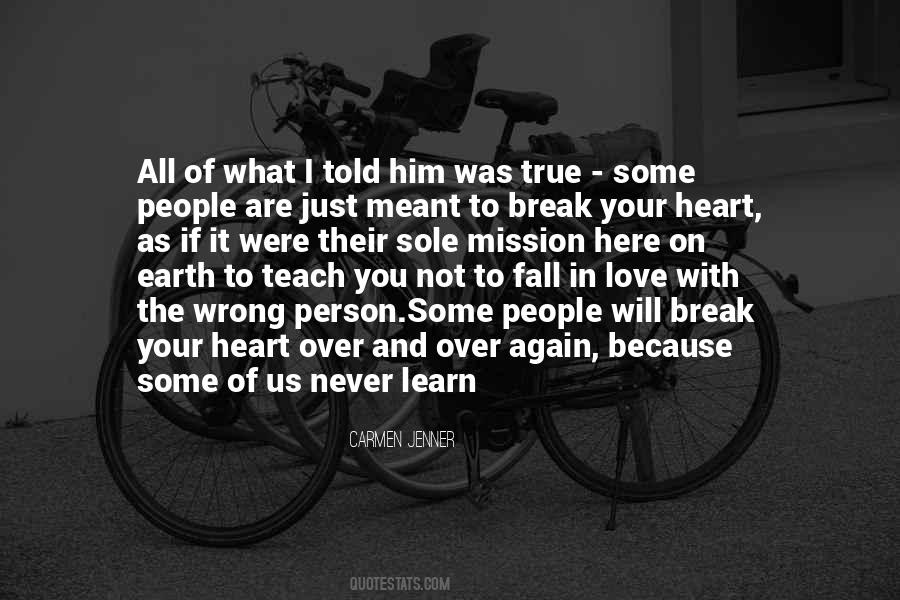 #70. Seeing someone you once loved is like falling in love for the first time all over again. - Author: Leah Raeder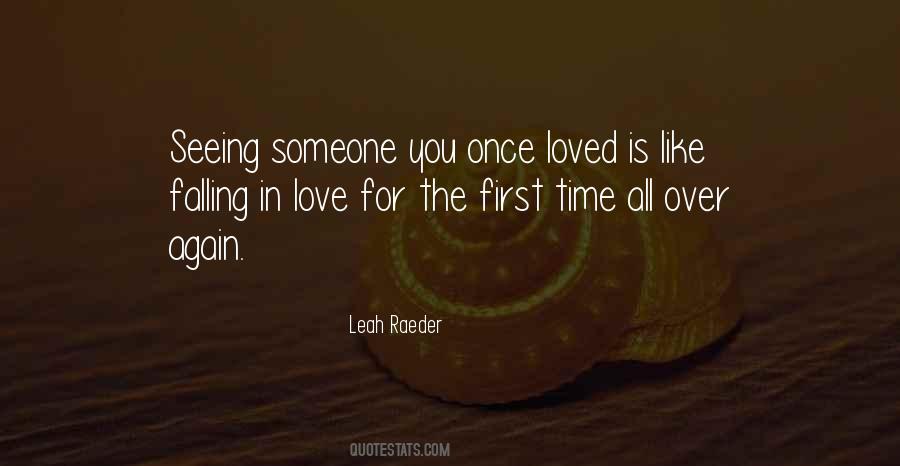 #71. And I look at him.
Really, truly, look at him.
And I fall in love all over again. - Author: Jay McLean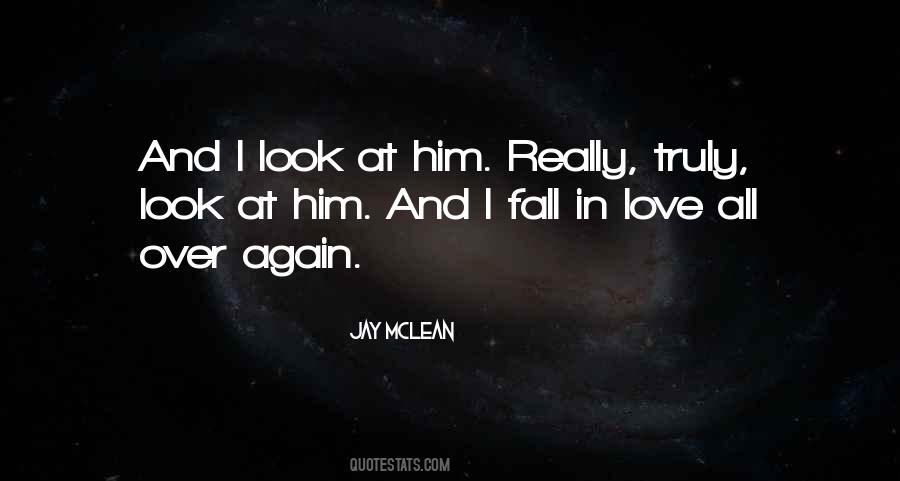 #72. Every time I listen to Eminem, I fall in love with music all over again. - Author: Hayley Williams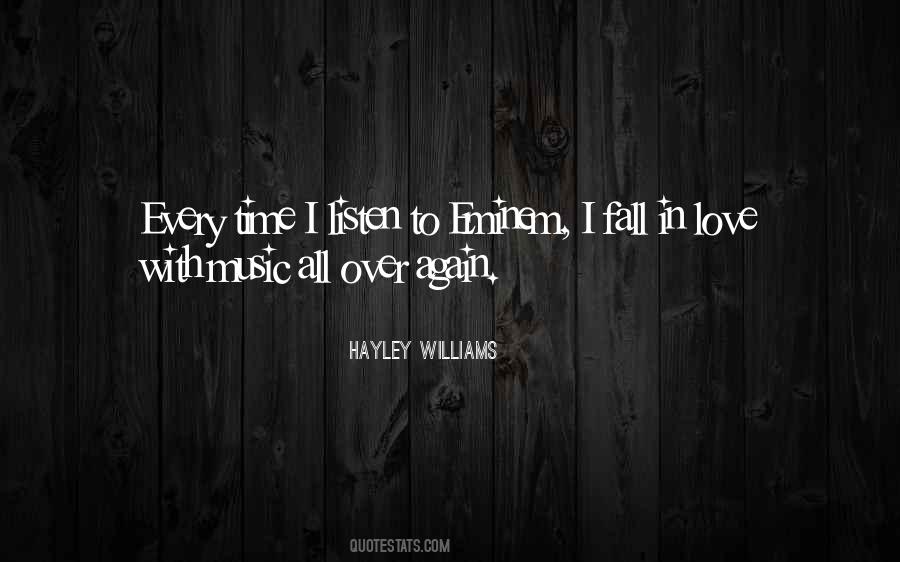 #73. I'd do it all over again. - Author: Jodi Picoult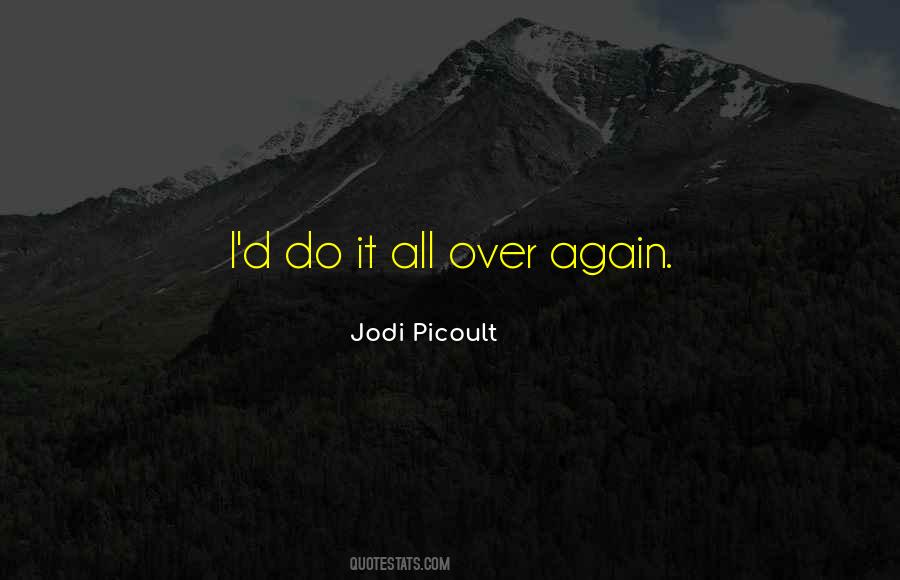 #74. Sometimes you fall in love with a song 'cause it's new, it's exciting and you just birthed it. Then you fall out of love sometimes. But the strongest songs always survive and you come back and you fall in love all over again. - Author: Jared Leto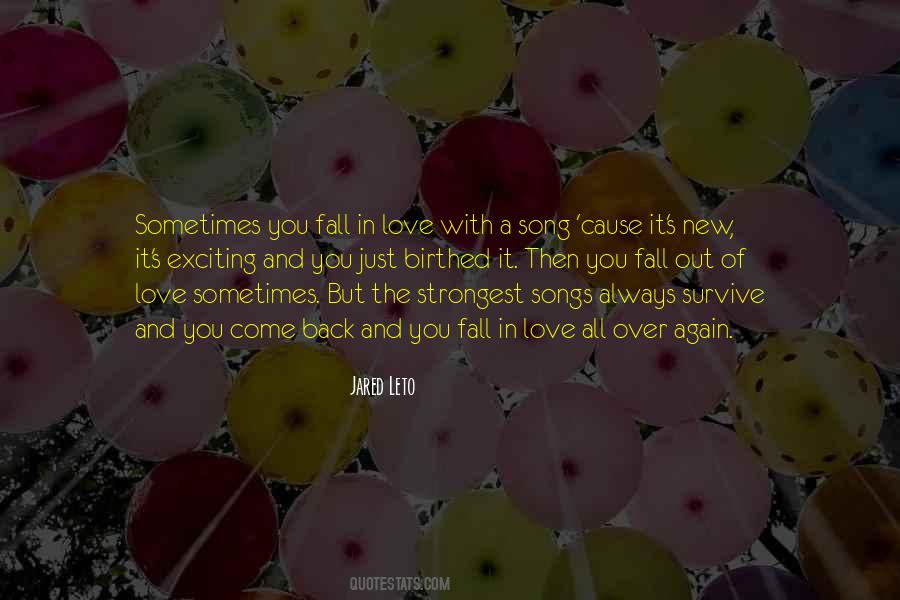 #75. I'm just trying to blur this very clear line we've drawn and are drawing over and over and over again between communities. Saying those are queer films and those are films. I would love for that line to disappear. For that frontier to be abolished once and for all. - Author: Xavier Dolan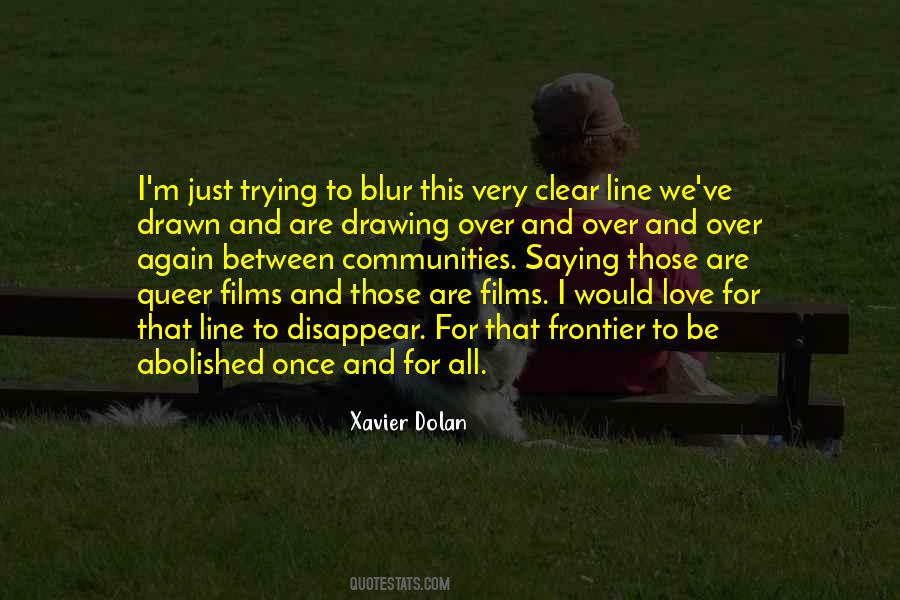 #76. I was remembering all of the reasons why I love you so much. I was appreciating everything you do, and everything you are. I was falling in love with you, all over again. - Author: S.C. Stephens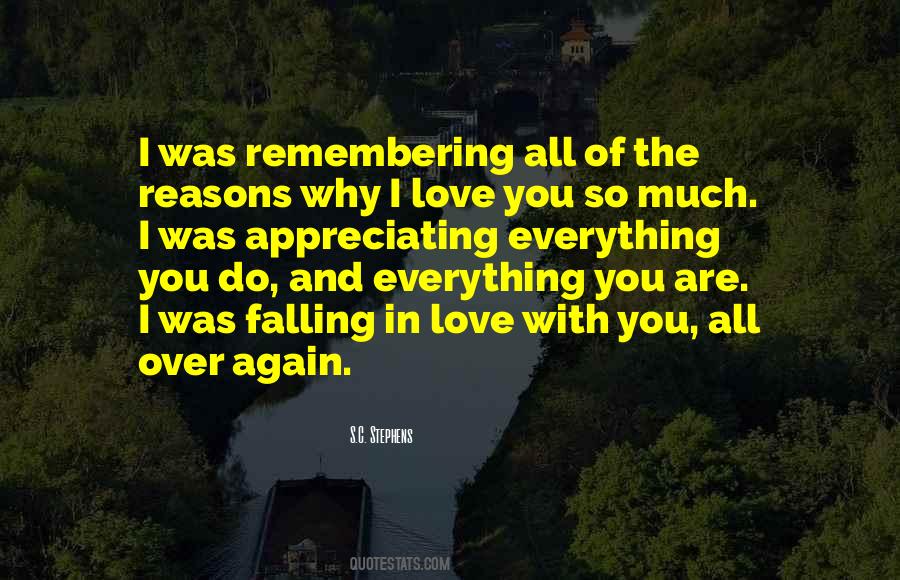 #77. All it took was to see him, to hear those words that I was his, and I was falling in love, so hard and so fast all over again. - Author: Karina Halle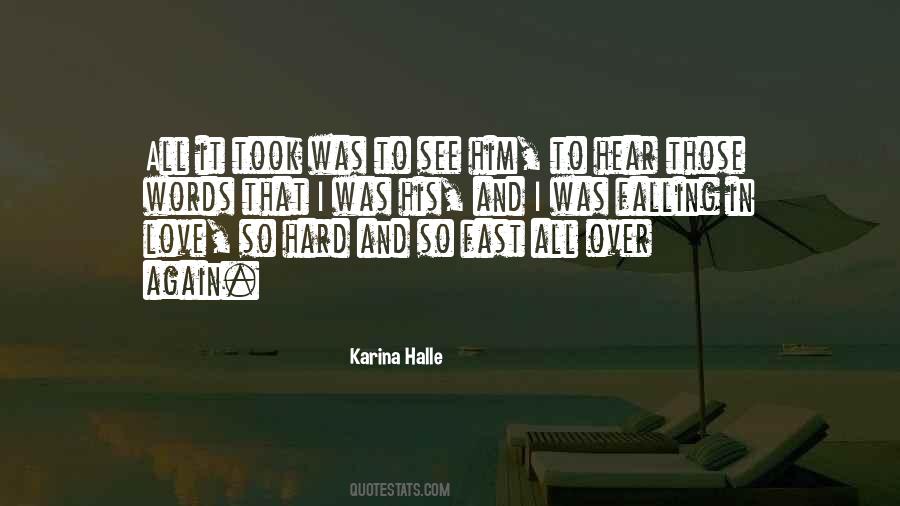 #78. George, if you had to do it all over, would you fall in love with yourself again? - Author: Oscar Levant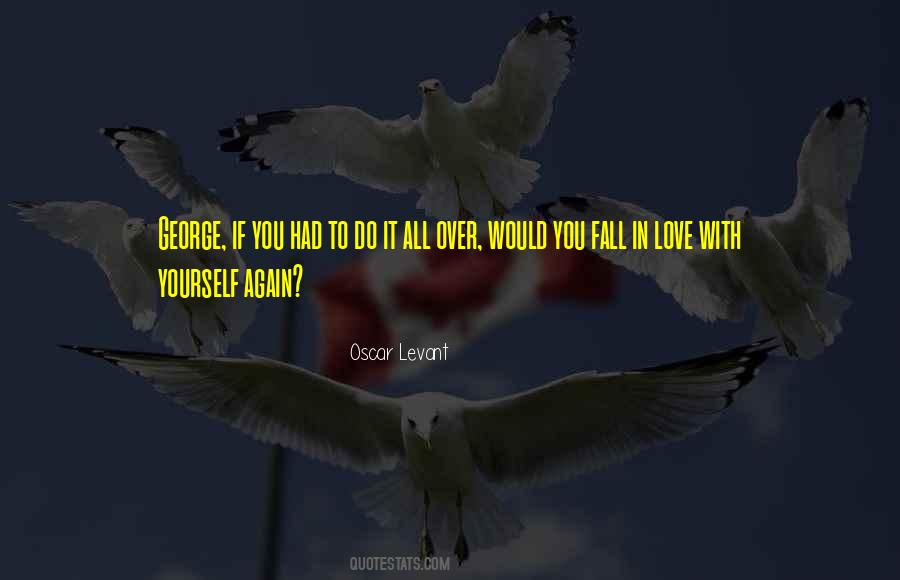 #79. We all have freedom of choice. Over and over again, minute by minute. How will you live your life? For yourself Or for others? For something good? For love? Love. - Author: Lisa Tawn Bergren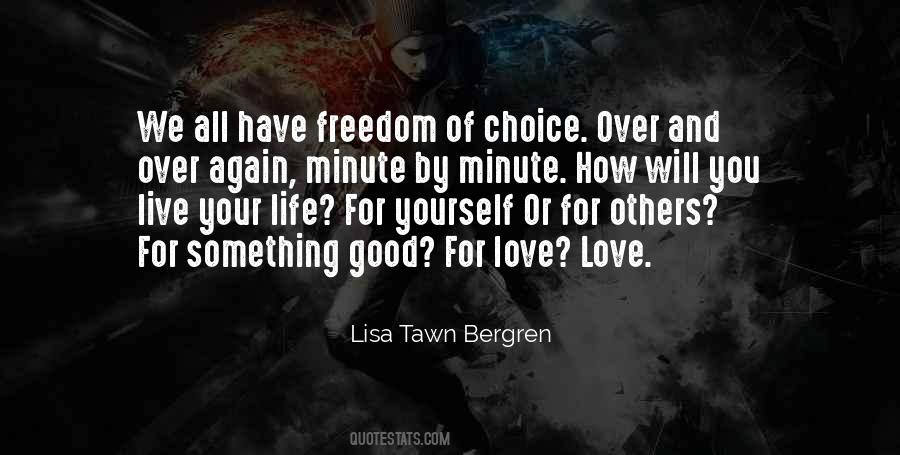 #80. By the time Bones announced it was Tammy's turn, I'd fallen in love with him all over again. Flowers and jewelry worked for most girls as a romantic gesture, but here I was, misty-eyed at watching him show my mother how to stab the shit out of him. - Author: Jeaniene Frost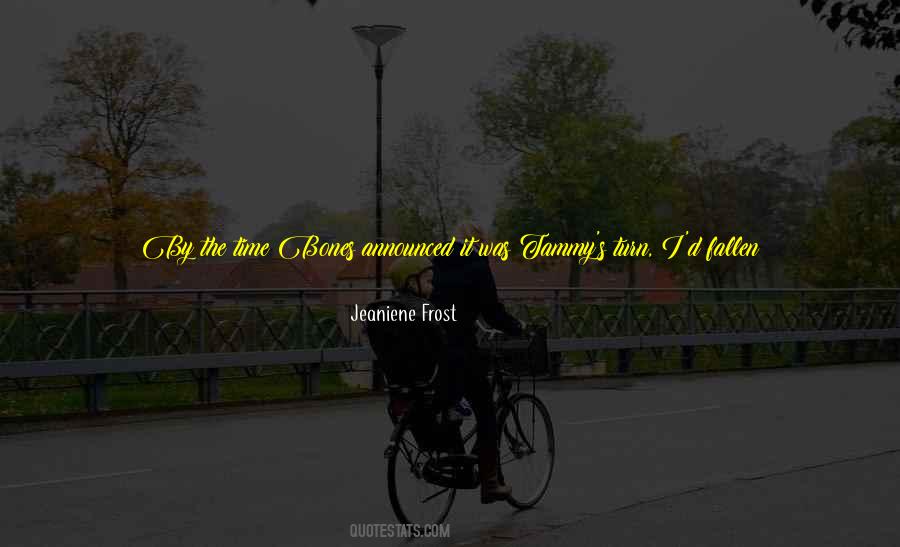 #81. I love you. I love you without the memories. I love you right now."
Isabelle said in a calm voice, "I know."
Simon stared at her. "Was that...," he said slowly. "Was that a Star Wars reference? Because if it was, I would like to declare my love all over again. - Author: Cassandra Clare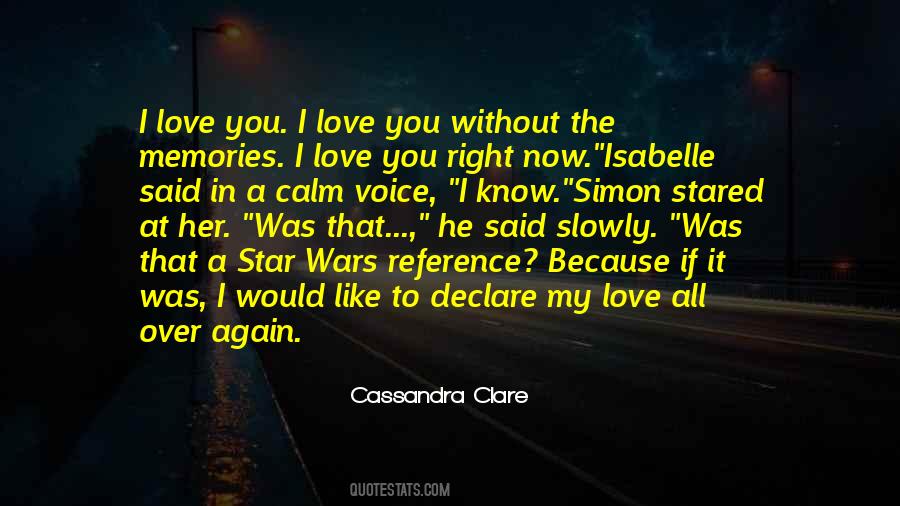 #82. This war is going to be full of women who fall in love with men they'll never see again. All we do is say goodbye over and over. - Author: Soraya Lane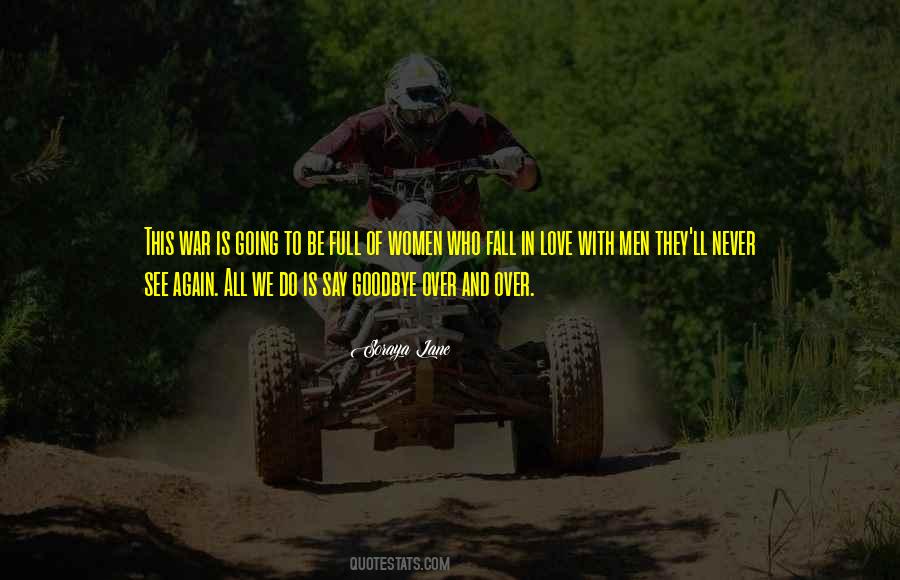 #83. I love you, Cat," he whispered. "I don't know what I did to deserve you, but I hope you know that I'd do it all over again to be with you. Thousands of years of loneliness was worth every second you've been in my life. - Author: Larissa Ione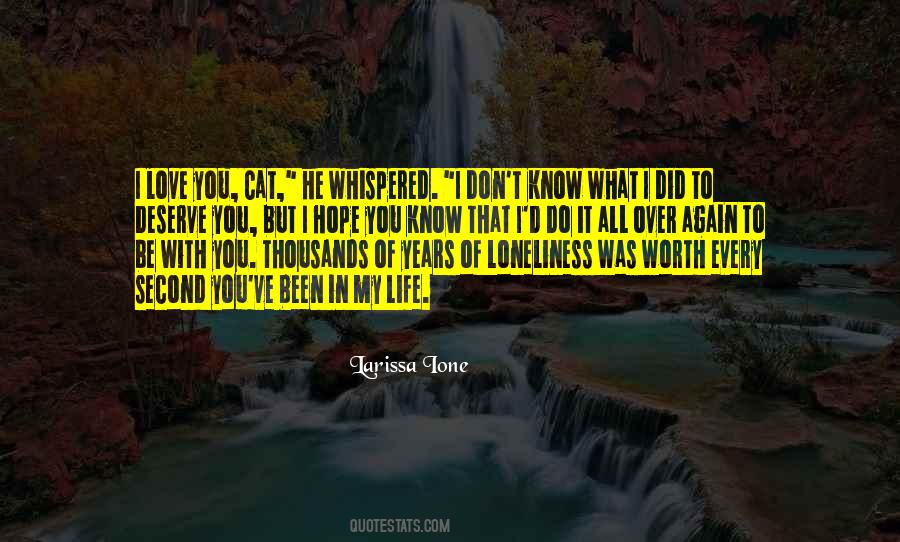 #84. I'm 48 now and I would like to have another baby. I would love to because of all the things I have learned. It would be like starting all over again. But am I too old? I'm young at heart and I would be different this time round. - Author: Brigitte Nielsen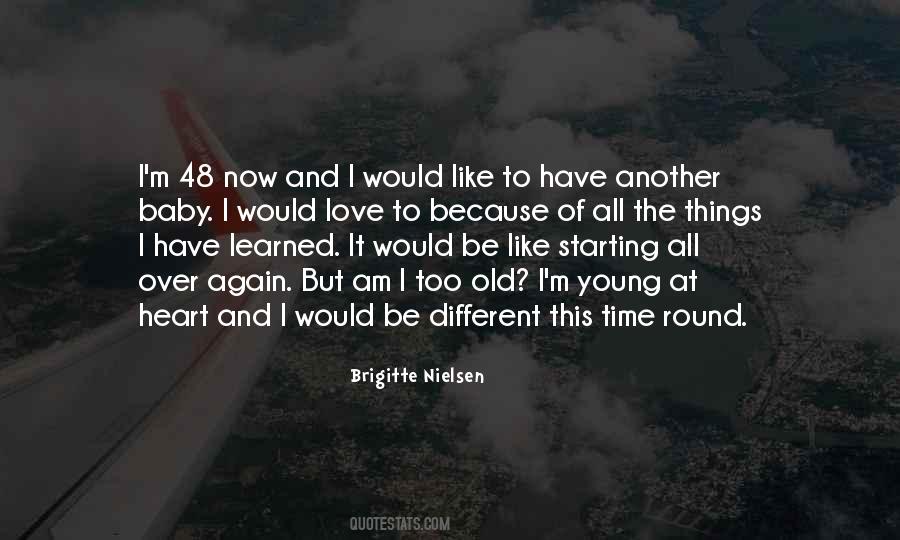 #85. Of course if you like your kids, if you love them from the moment they begin, you yourself begin all over again, in them, with them, and so there is something more to the world again. - Author: William, Saroyan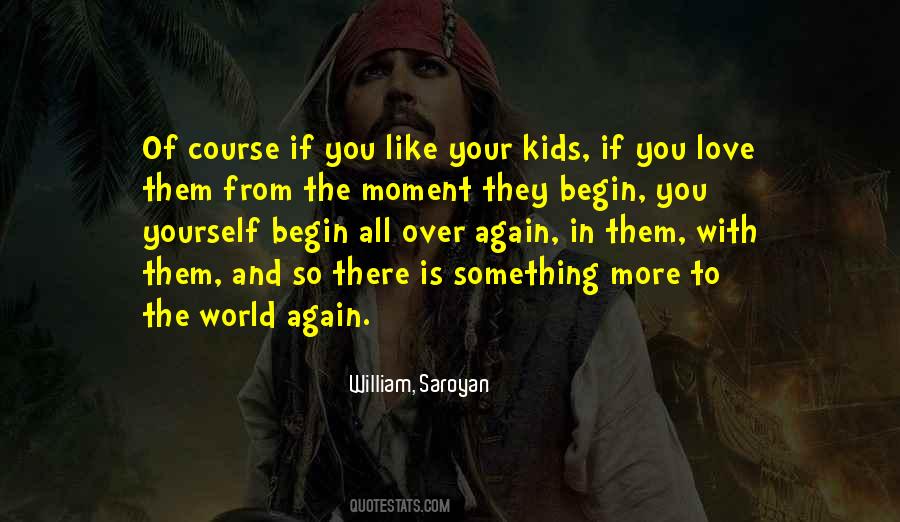 #86. After everything happened, we all got super tight. I can't deny it. We all just love each other. James Garner and David Spade came on and we fell in love with them too. We've just become a family all over again. We don't want to lose anyone again. - Author: Kaley Cuoco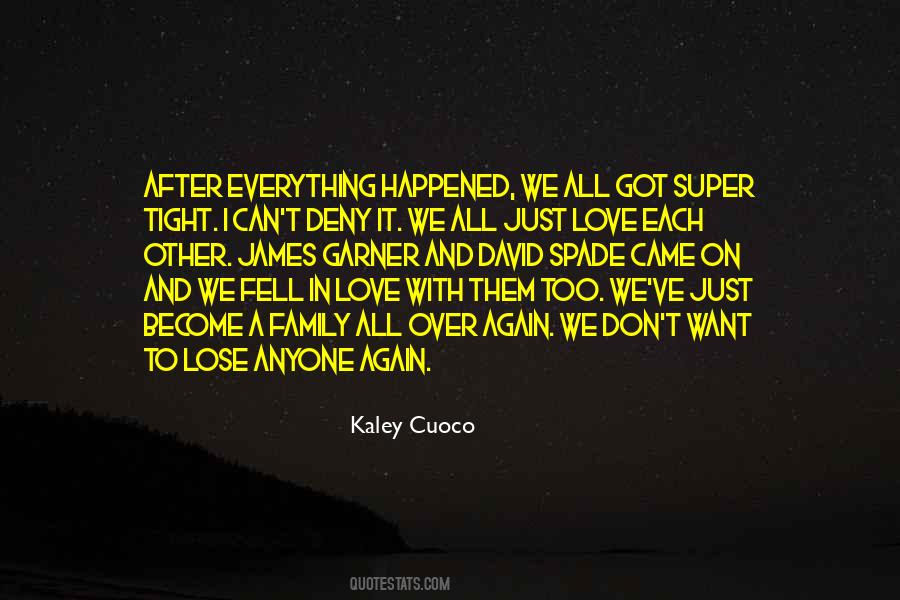 #87. I know you: You'll come find me again, you'll come rescue me no matter what happens. You'll come for me, and I'll discover you all over again. I love you. I love you without the memories. I love you right now. - Author: Cassandra Clare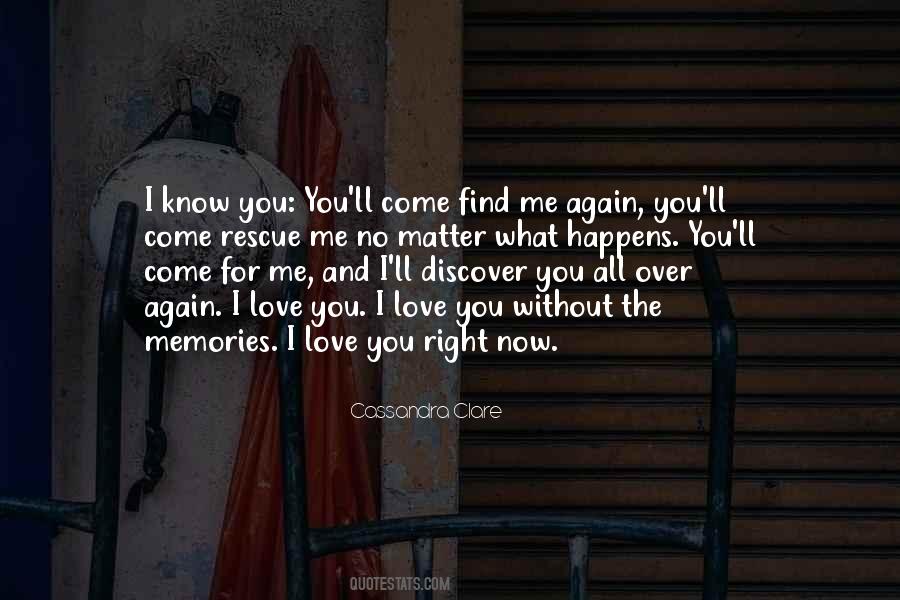 #88. Marriage is a journey of disasters, only to fall in love all over again, with the person that rescues you each time. - Author: Shannon L. Alder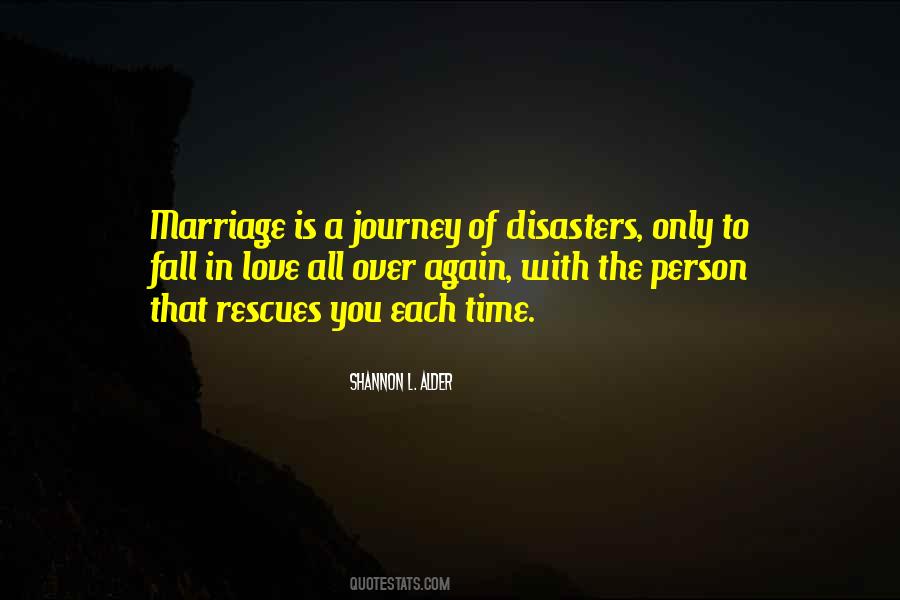 #89. Seeing him standing there in his boxers and hoodie with sticking-up hair, one sock pulled up to his calf, the other scrunched around his ankle, and his glasses just a tiny bit skew, my wildly beating heart falls in love with him all over again. - Author: Rachel Morgan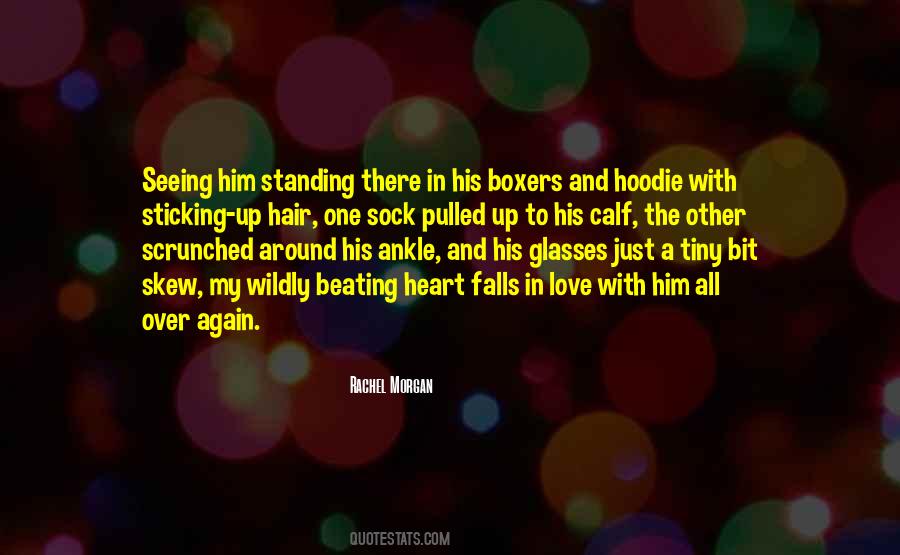 #90. The secret to success: find something you love to do so much, you can't wait for the sun to rise to do it all over again. - Author: Chris Gardner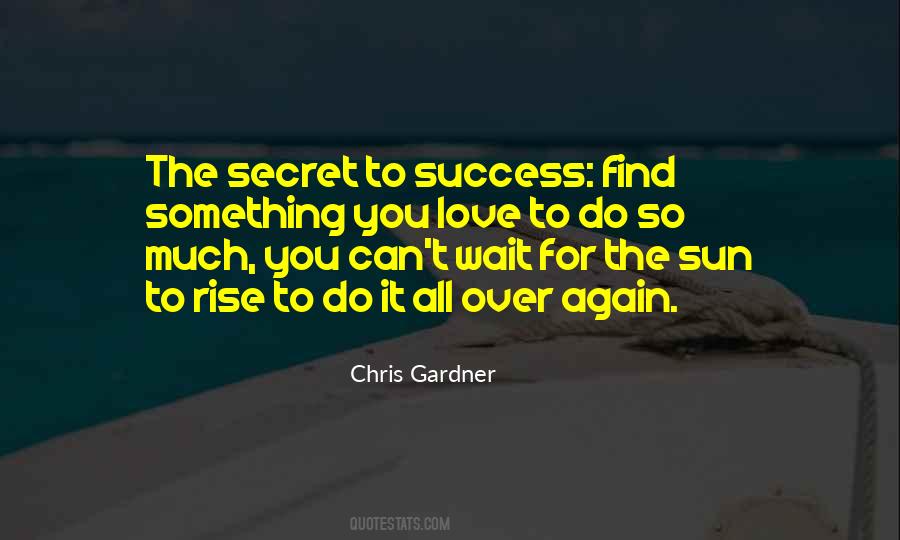 #91. And I will make you mine all over again. Every day, for the rest of my life, Solnyshko. That is my promise to you. I will make you fall in love with me every day for a lifetime. - Author: A. Zavarelli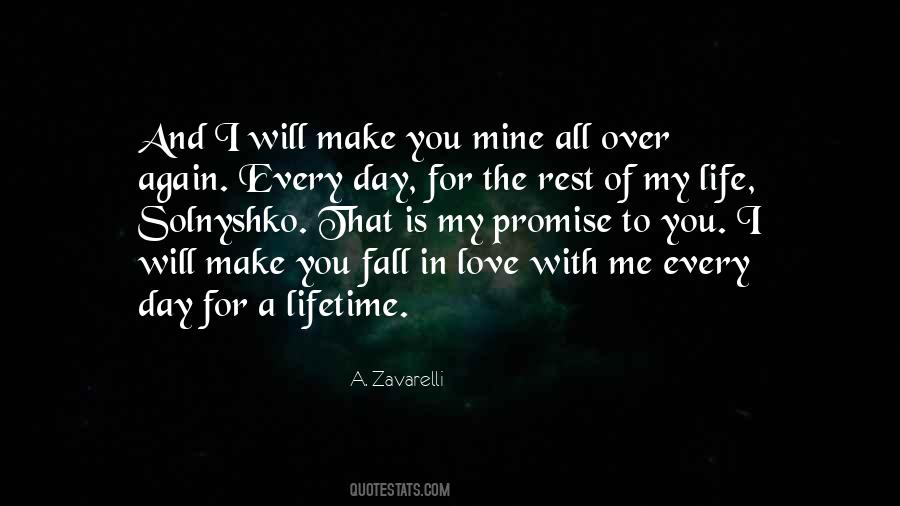 #92. Jesus is coming to earth again; what if it were today? Coming in power and love to reign; what if it were today? Coming to claim His chosen Bride, all the redeemed and purified, Over this whole earth scattered wide; what if it were today? - Author: Robert J. Morgan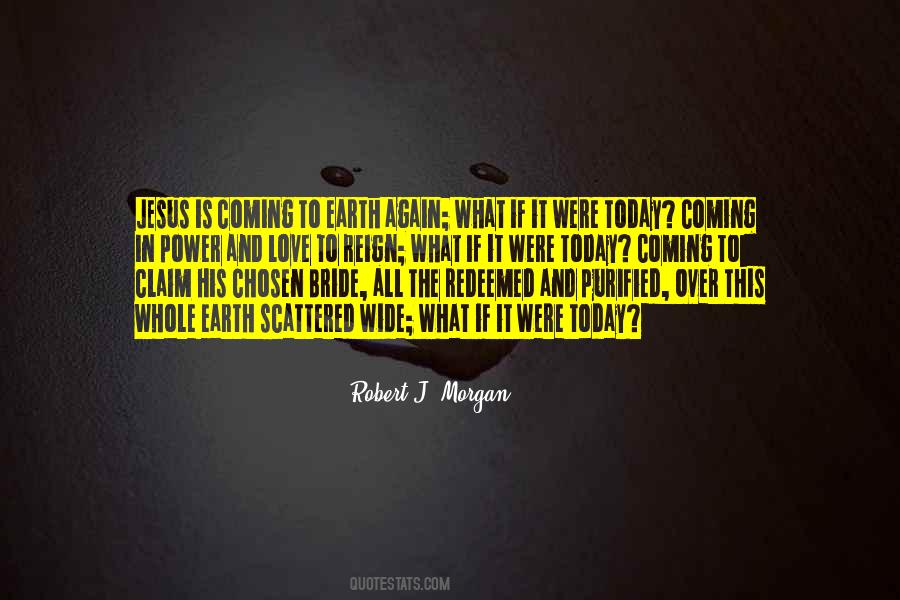 #93. I still love him. This man that I have thought was forever lost to me. If I am completely honest with myself, I never stopped loving him. But, all this knowledge shouldn't scare me. The teenage love we shared over a decade ago has grown with such a power that it will kill me if I lose it again. - Author: Harper Sloan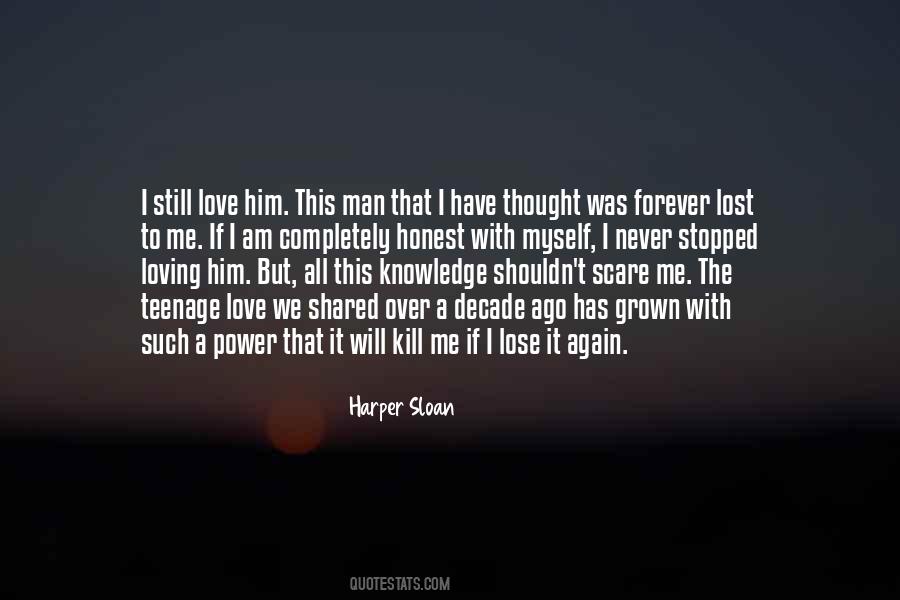 #94. Love, how often that word came up in books over and over again. If you had wealth and health, and beauty and talent ... you had nothing if you didn't have love. Love changed all that was ordinary into something giddy, powerful, drunken, enchanted. - Author: V.C. Andrews
#95. But, Dad ... " She hesitated. "It will mean raising me all over again. It means suffering through my childhood for a third time. No parent should be asked to do that."
Sol managed a smile. "No parent would refuse that, Rachel. - Author: Dan Simmons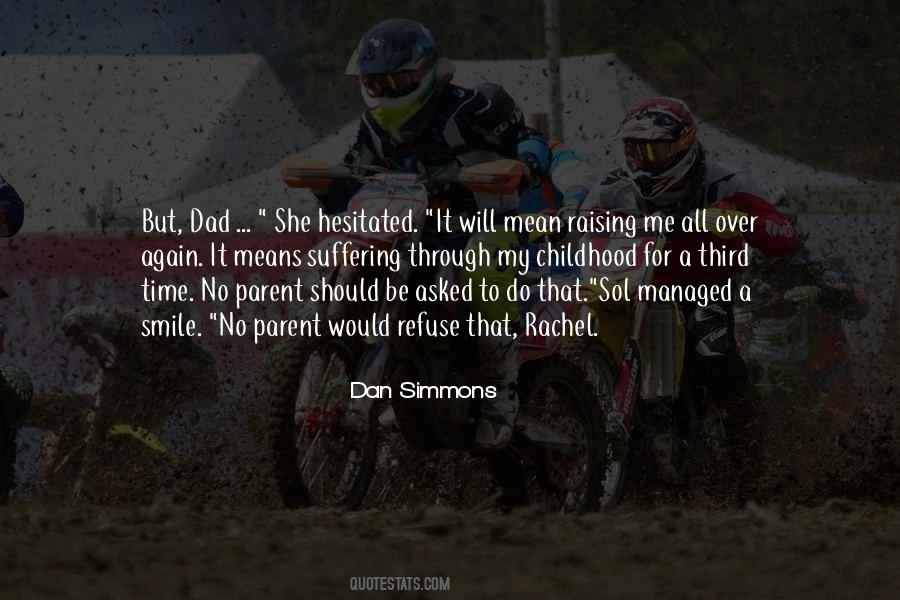 #96. I feel like I've been in love, but I have stood aside from it over and over again in my life. It's all you want, but it's terrifying. - Author: Adam Duritz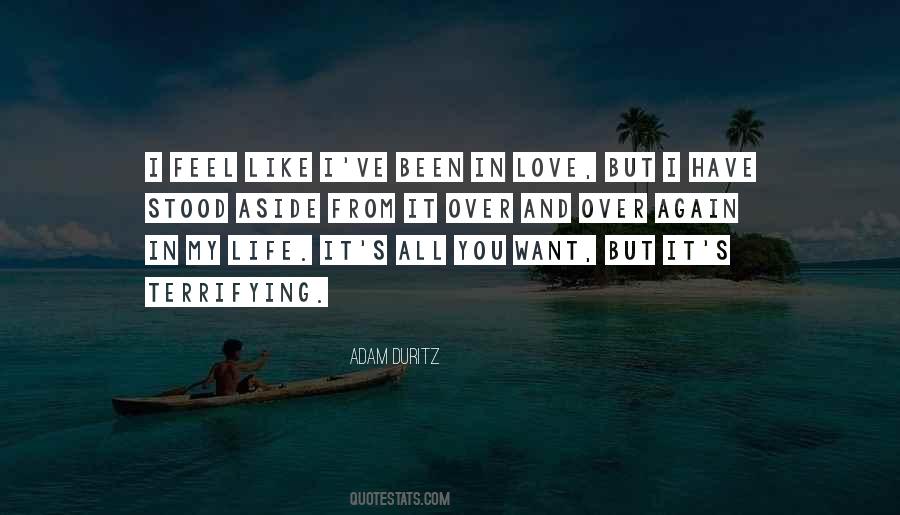 #97. I fall in love with this life all over again. It's only when I try to live it myself that I have trouble. It never feels genuine. - Author: Veronica Roth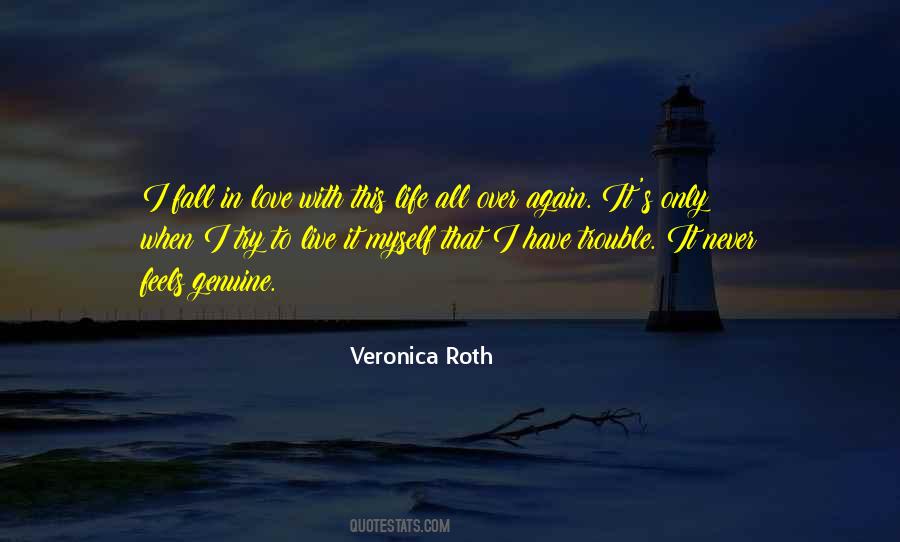 #98. Good Morning, Henry. How's it feel to be a prisoner for a day?' Henry looked at Keiko. 'Best day of my life.' Keiko found her smile all over again. - Author: Jamie Ford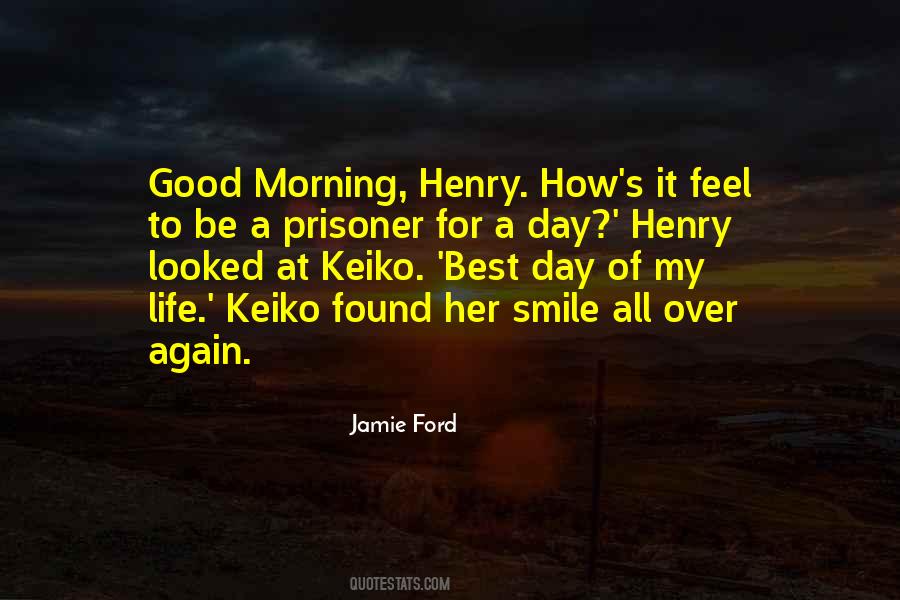 #99. If I could just get my partner to see me how she used to - to fall in love with me all over again - everything would be okay. Every morning I would vow to work harder, and every morning something would go wrong. - Author: Sloane Crosley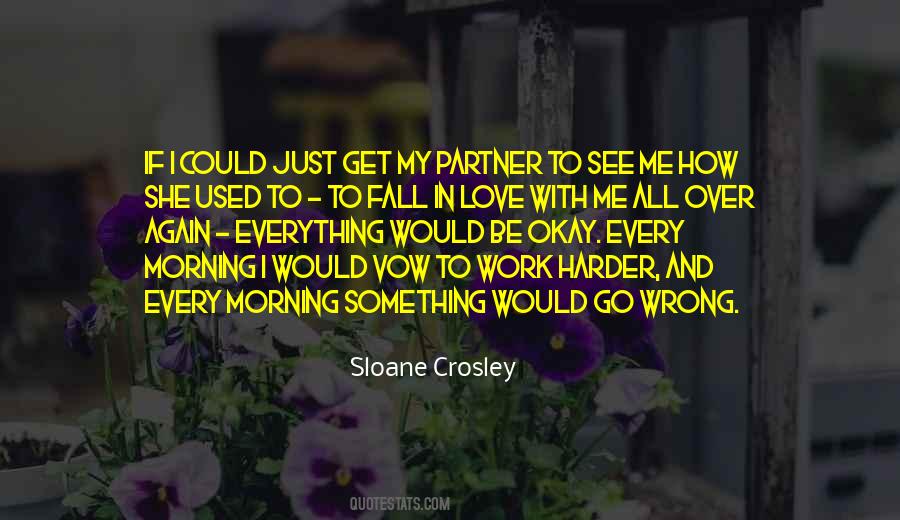 Famous Authors
Popular Topics