Life Is Water Famous Quotes & Sayings
List of top 100 famous quotes and sayings about life is water to read and share with friends on your Facebook, Twitter, blogs.
Top 100 Life Is Water Quotes
#1. A seed cannot grow in stone. It requires fertile soil, air, water, and sunlight. Compassion is like the fertile soil where life grows. - Author: Amit Ray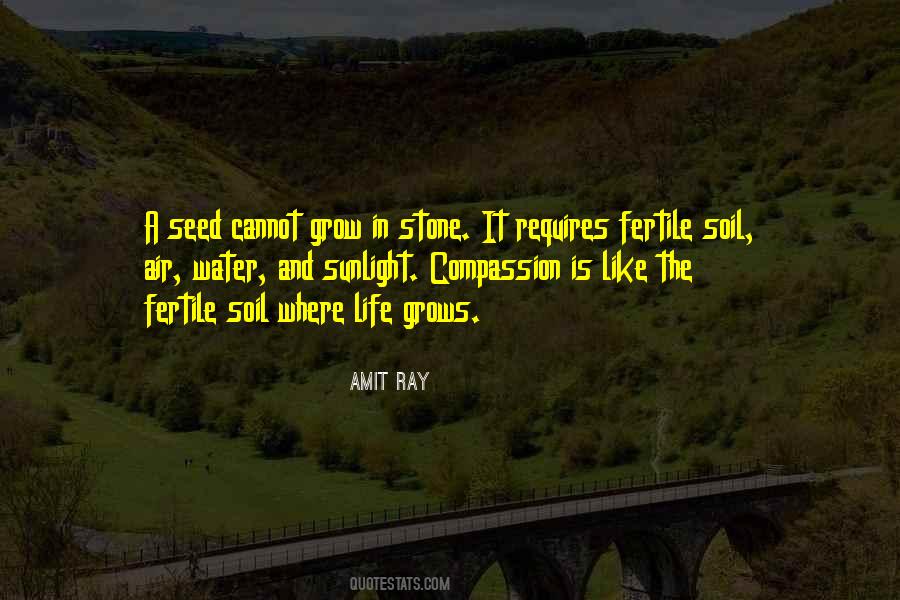 #2. What I like about you is that I've never met anybody like you in my life. You've got depth and you're funny and you have a sweet, good soul." A breeze from the water passes over us, "And I admire your strength. - Author: Augusten Burroughs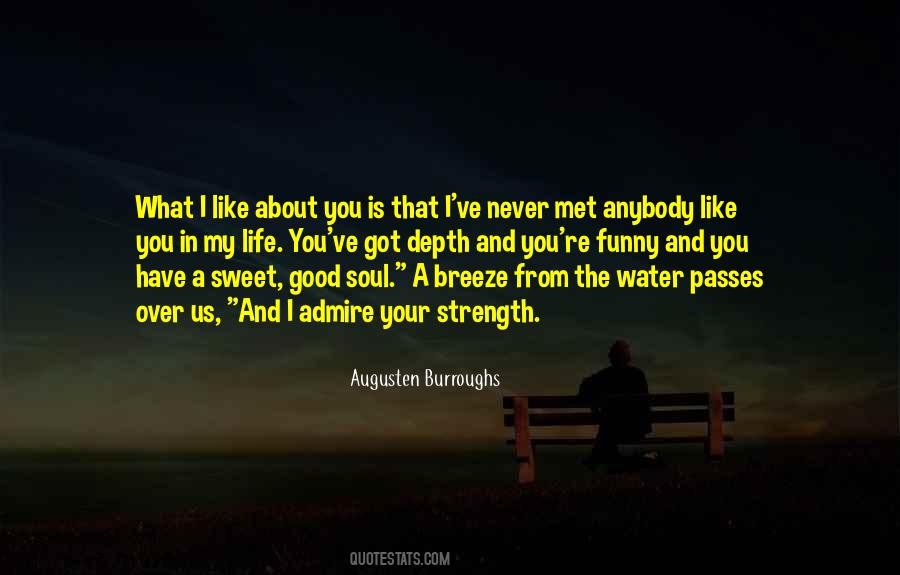 #3. Worshiping the Devil is no more insane than worshiping God ... It is precisely at the moment when positivism is at its high-water mark that mysticism stirs into life and the follies of occultism begin. - Author: Joris-Karl Huysmans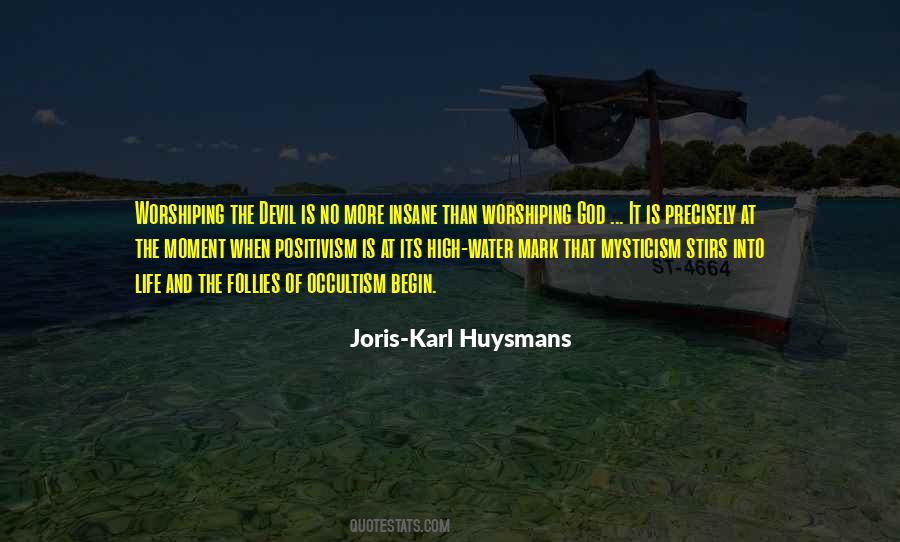 #4. Life is a perspective and for me, if a human being has access to school, clean water, food, proper health care, that is the basis of human rights. - Author: Gelila Bekele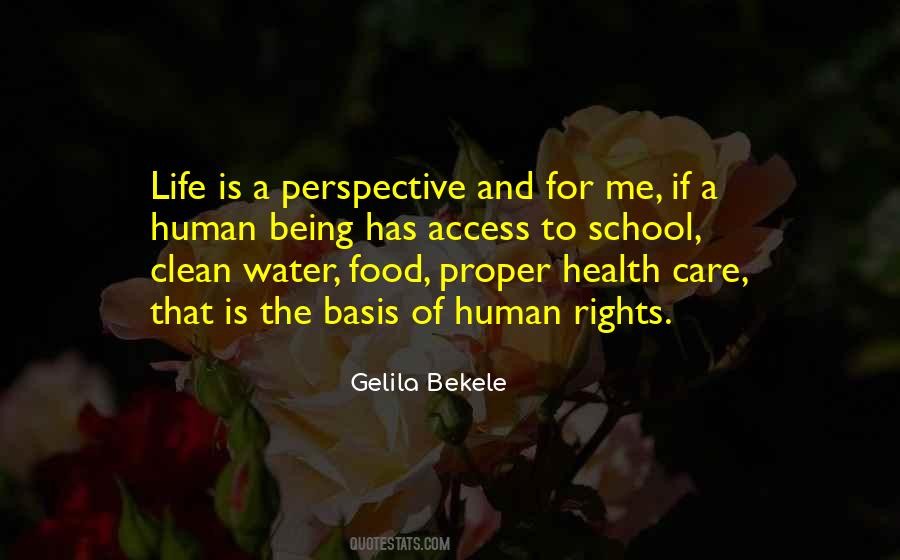 #5. Even a speck of love should not go unappreciated, because, as Rumi said, love is the water of life. - Author: Elif Shafak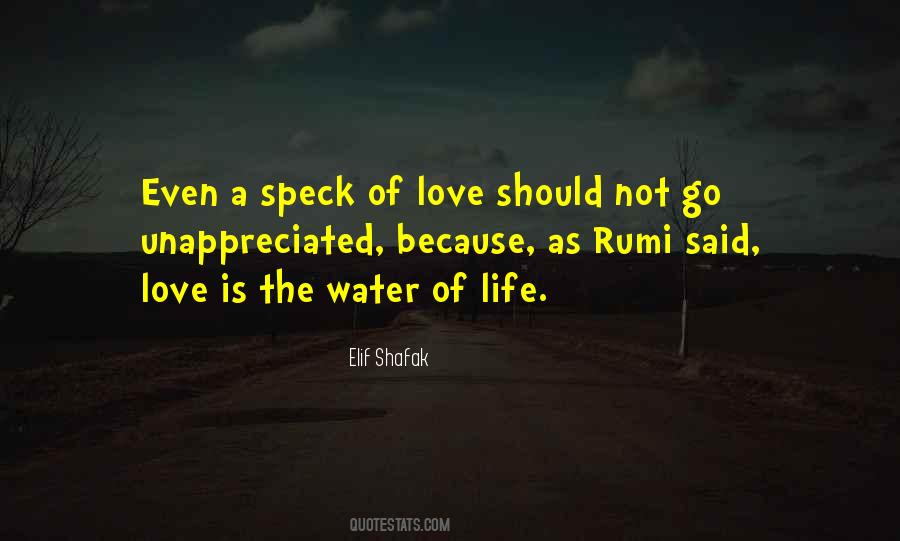 #6. Life, like that water droplet, is everlasting and imperishable. There is only a transition, never an end ! - Author: Rajib Mukherjee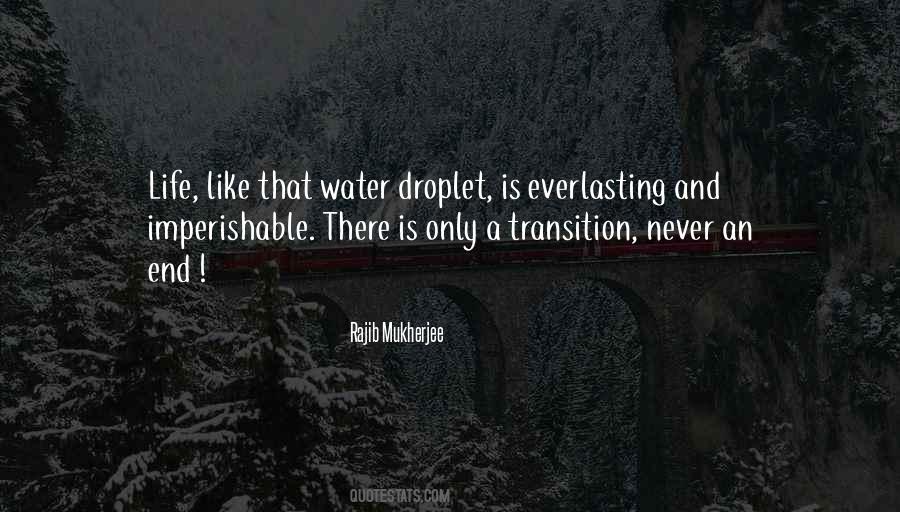 #7. Each nation has a main current in life; in India it is religion. Make it strong and the waters on either side must move along with it. - Author: Swami Vivekananda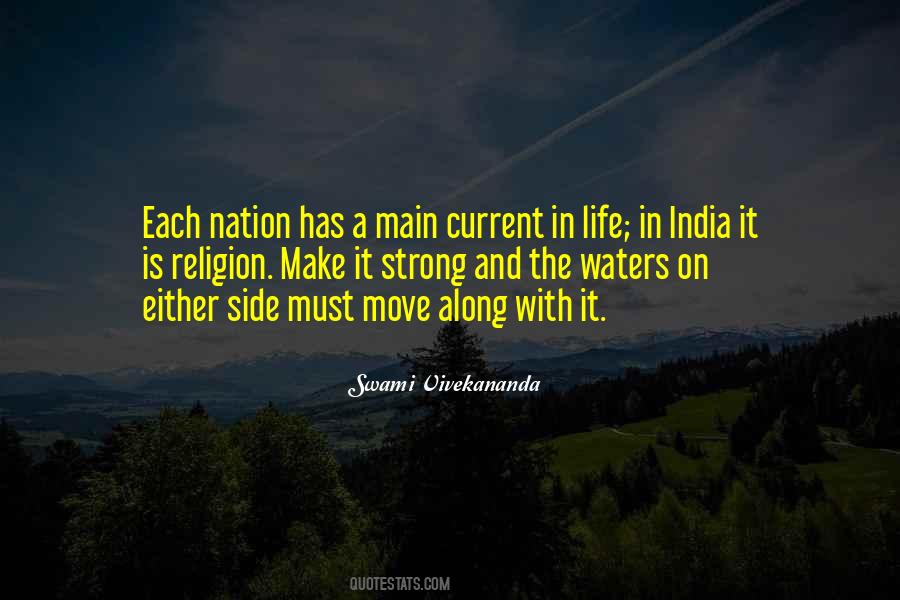 #8. Iron can only be destroyed by rust, and rust is a slow process which is caused by the hydrogen ion from water in the environment. Coat yourself against negative thoughts and be careful what you feed your mind because your mind is your greatest asset, make sure you are not using it against yourself. - Author: Uzoma Nnadi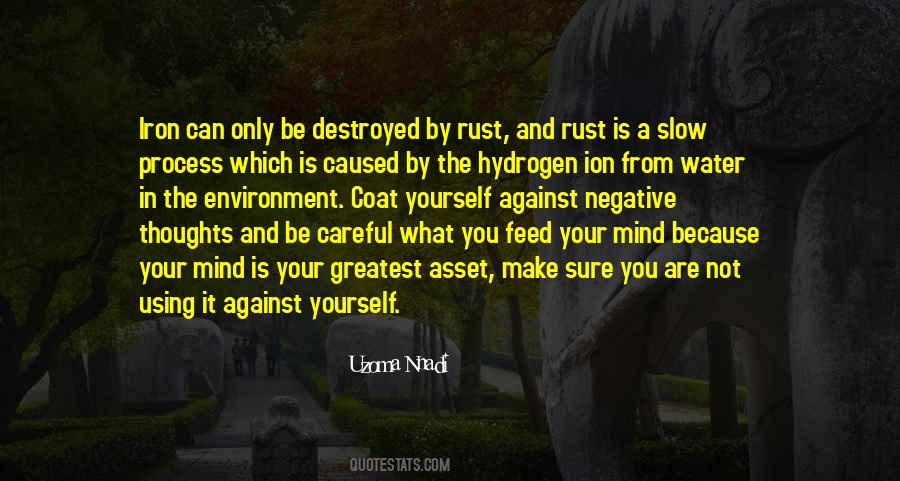 #9. Lao Tsu says the way of life is water, to be fluid. - Author: Frederick Lenz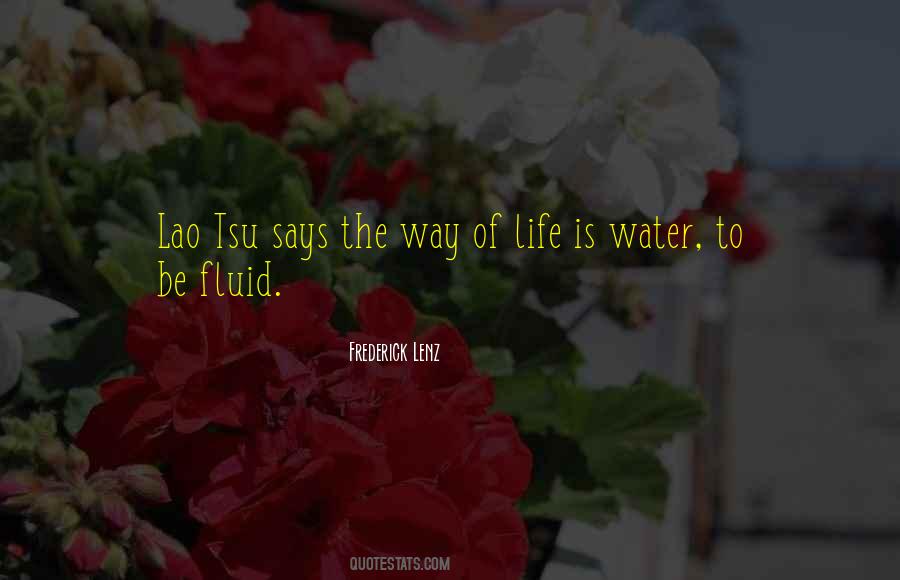 #10. This life is like a swimming pool. You dive into the water, but you can't see how deep it is. - Author: Dennis Rodman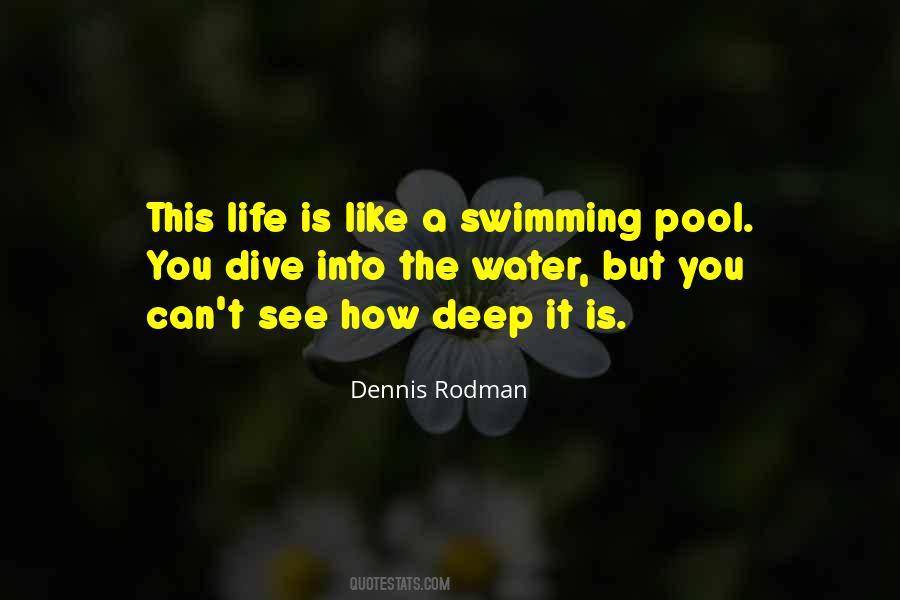 #11. Water boils at 212 degrees.
At 211 degrees it's just hot.
Every degree is needed. - Author: JohnA Passaro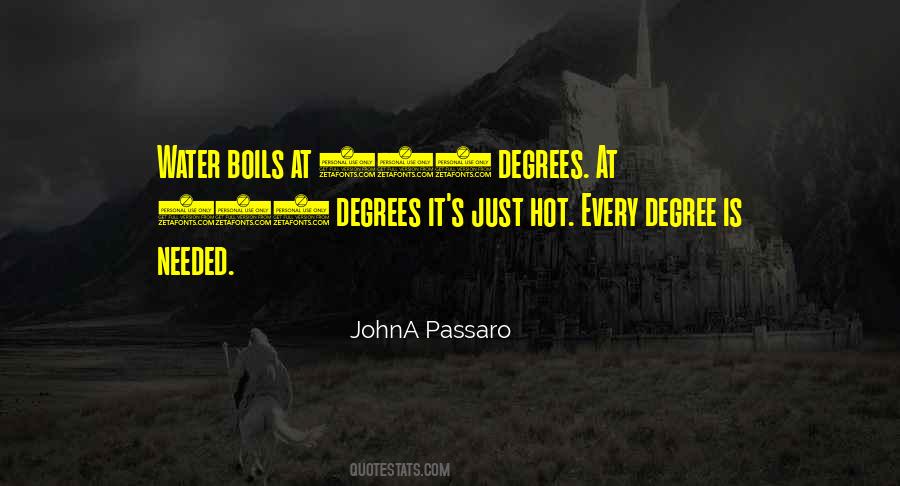 #12. Life is a razor, you are always in hot water or a scrape. - Author: John Updike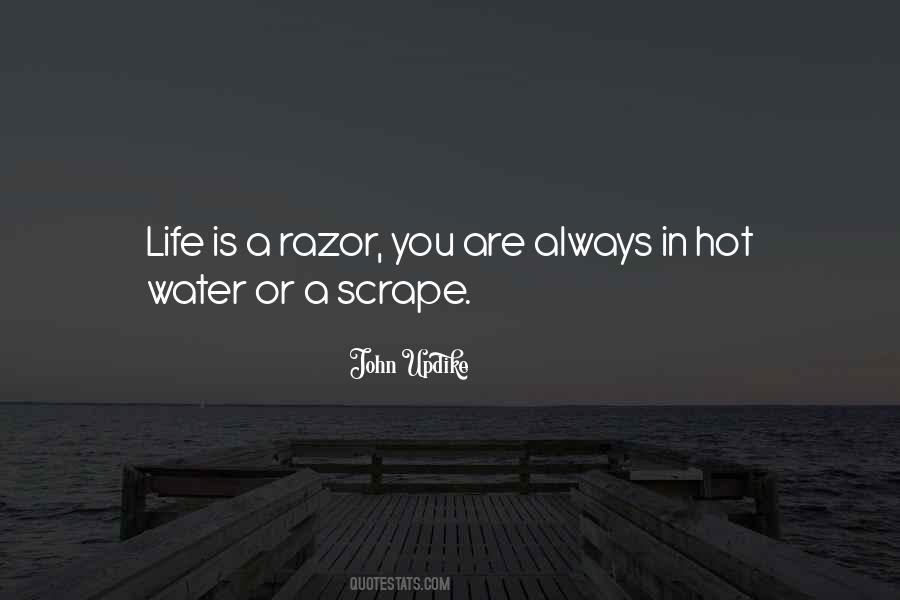 #13. It [money] doesn't have anything have anything to do with the magnificence of a person. It doesn't. What matters is what you make. Whether it's a cake for bingo night or a costume for a saint or a wall of water
whatever you pour into this life is what makes you rich. - Author: Adriana Trigiani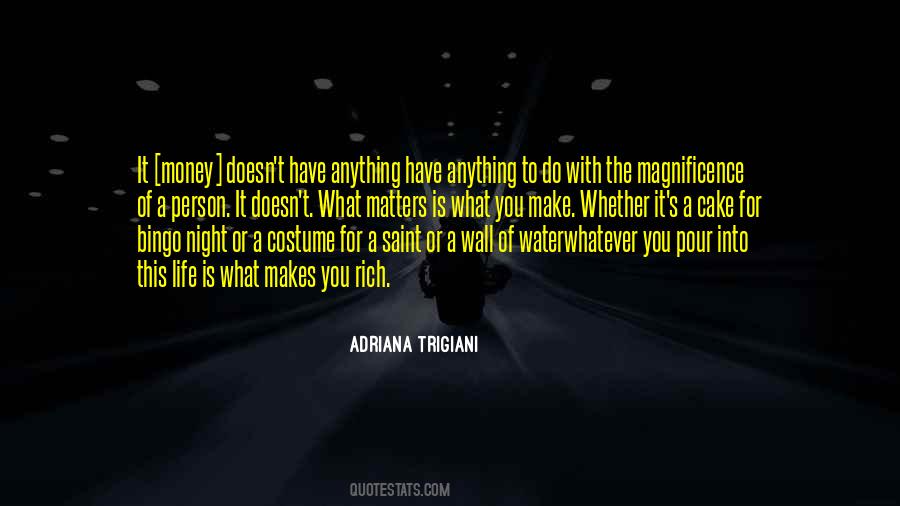 #14. In this ocean of time, life is smaller than a drop of water. To create an impact, create a massive wave with the power of your infinite love. - Author: Debasish Mridha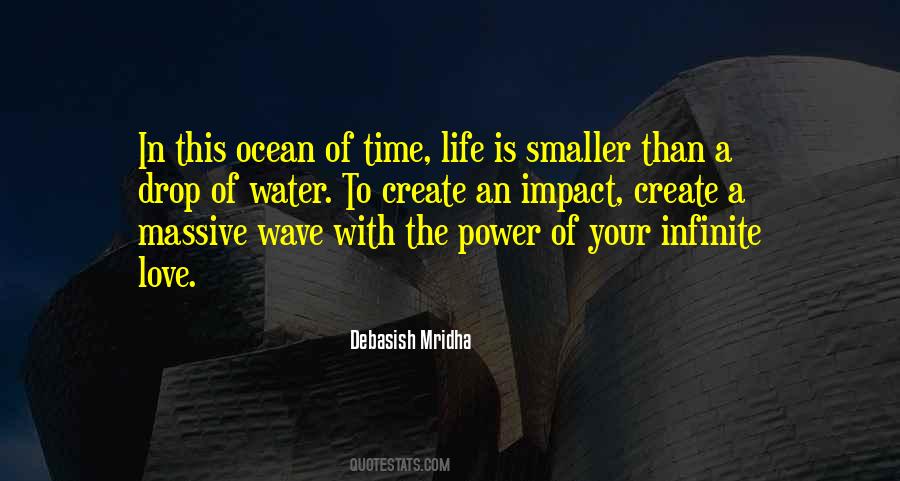 #15. The individual soul touches upon the world soul like a well reaches for the water table. That which sustains the universe beyond thought and language, and that which is at the core of us and struggles for expression, is the same thing. The finite within the infinite, the infinite within the finite. - Author: Yann Martel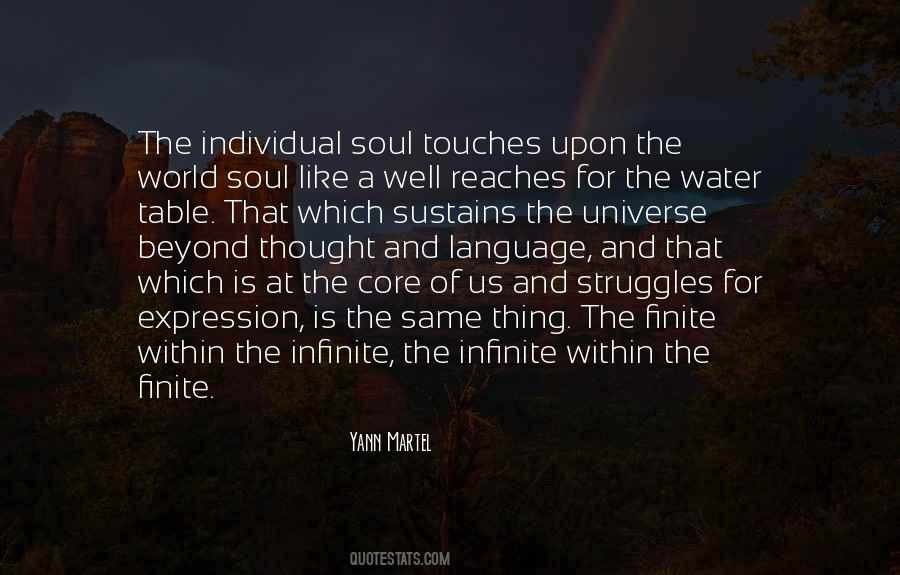 #16. Fear had an anatomy. A curious thought. It had genitals, a bladder and bowls. That was where you felt fear. Not in your head. It was between your legs. It affected your excretion. It emptied you. It turned your bowls to water. It is disgusting. - Author: Stuart Cloete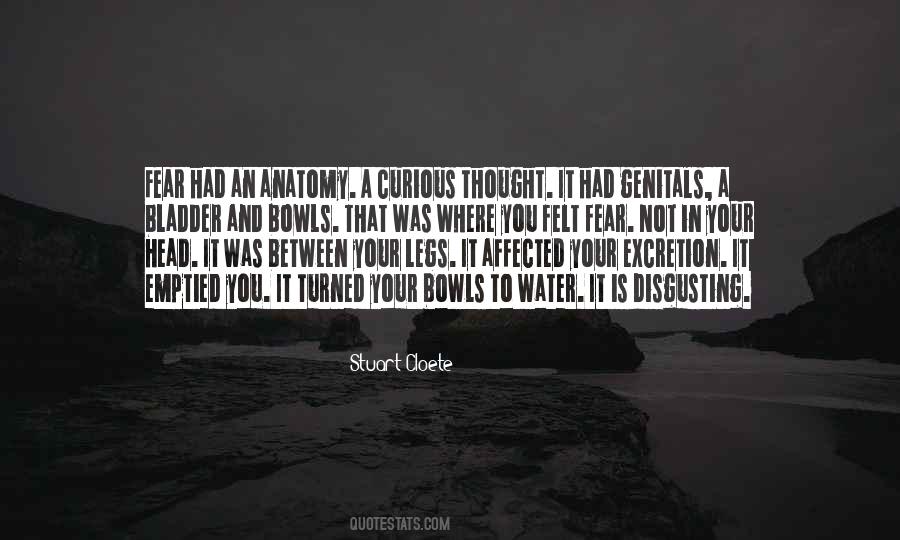 #17. Eggs possess an elemental power. Their outer shell is earth. Their white is water. The membrane that lines the shell is air, and the yolk at the core is fire. The core of the egg preserves life and being, and therefore represents heaven and earth, while the white represents chaos. - Author: Joanne Owen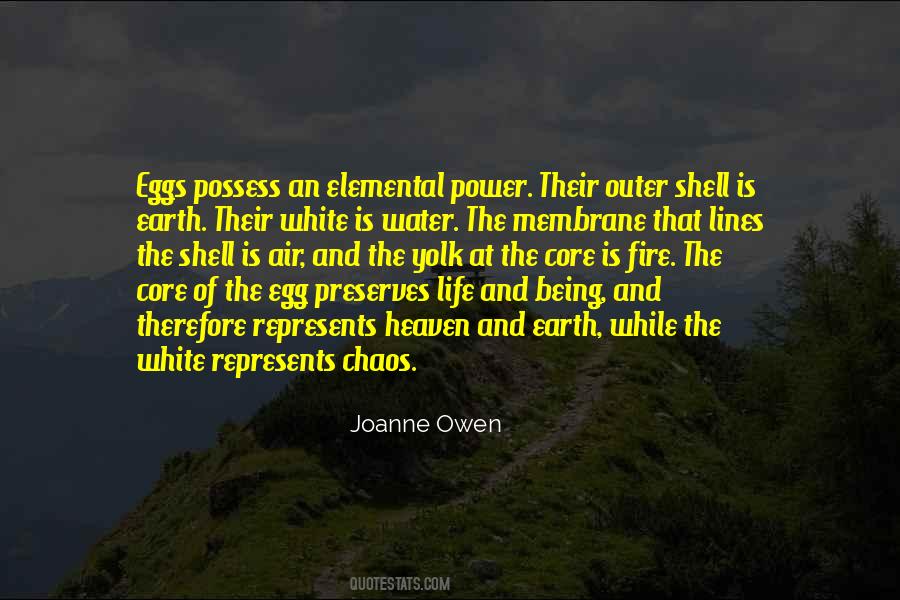 #18. One of the reasons for putting yourself on the line, is that life is not simply treading water ... I always felt that once you reach a certain point, you have to try and move ahead. - Author: Dick Button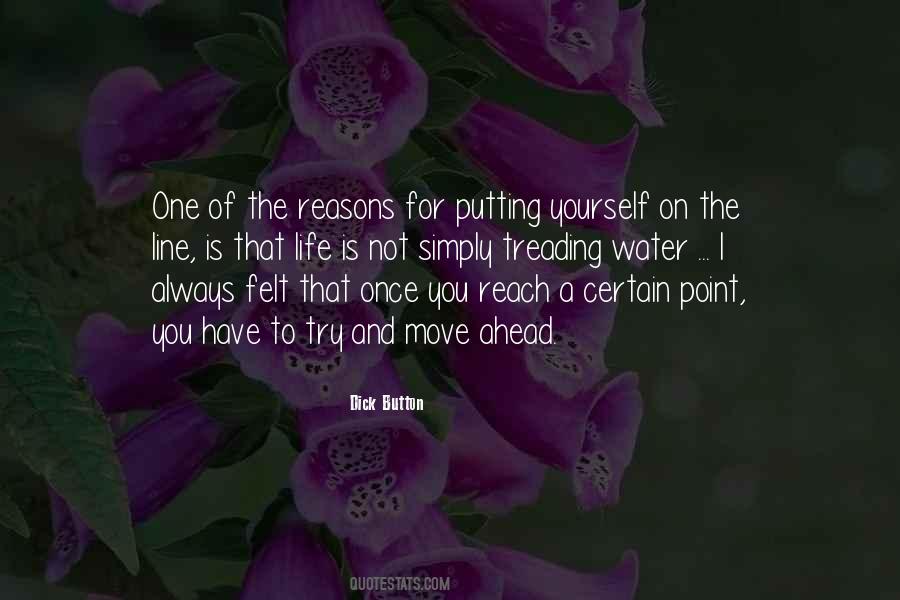 #19. Water is life is love is life is water. - Author: Diane Von Furstenberg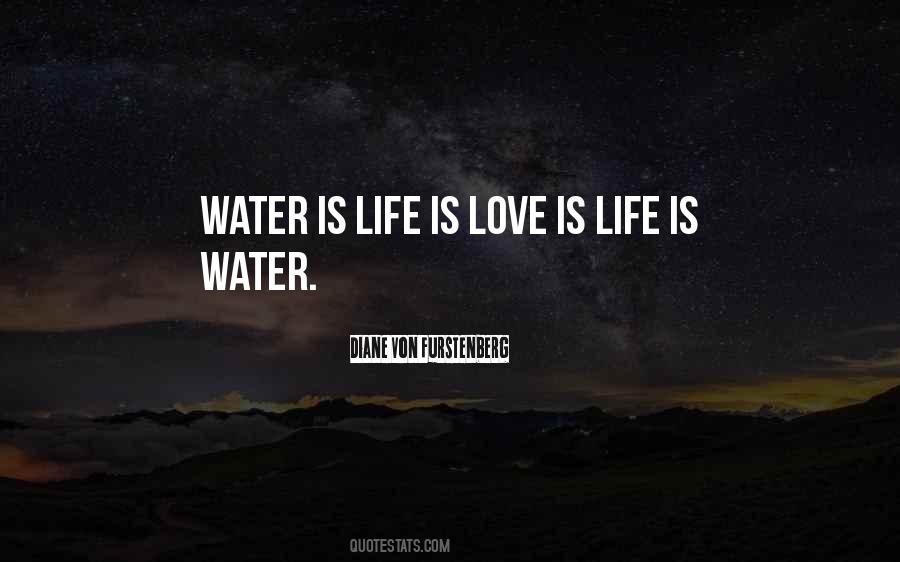 #20. It is life, I think, to watch the water. A man can learn so many things. - Author: Nicholas Sparks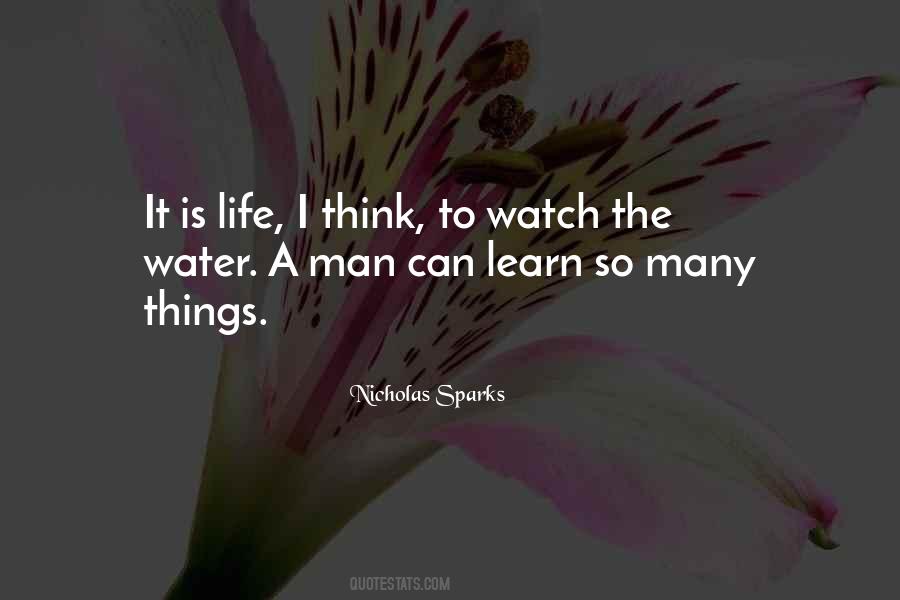 #21. Tea and water give each other life,' the Professor was saying. 'The tea is still alive. This tea has tea and water vitality. - Author: Jason Goodwin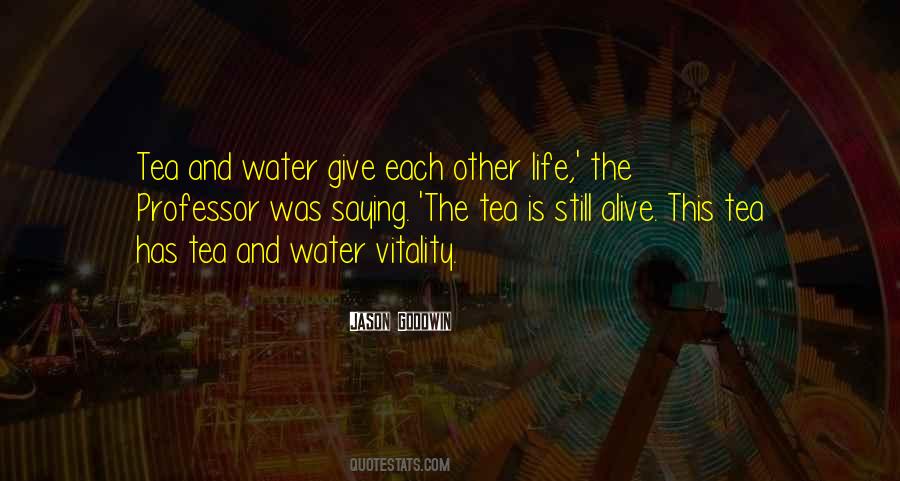 #22. Nothing is wrong with the inlet: It is the outlet that is obstructed. The water of life does not spring forth because the flow has no way through. Were the outlet cleared, the water of life would flow unceasingly. What a child of God needs is not more life but more flow of life. - Author: Watchman Nee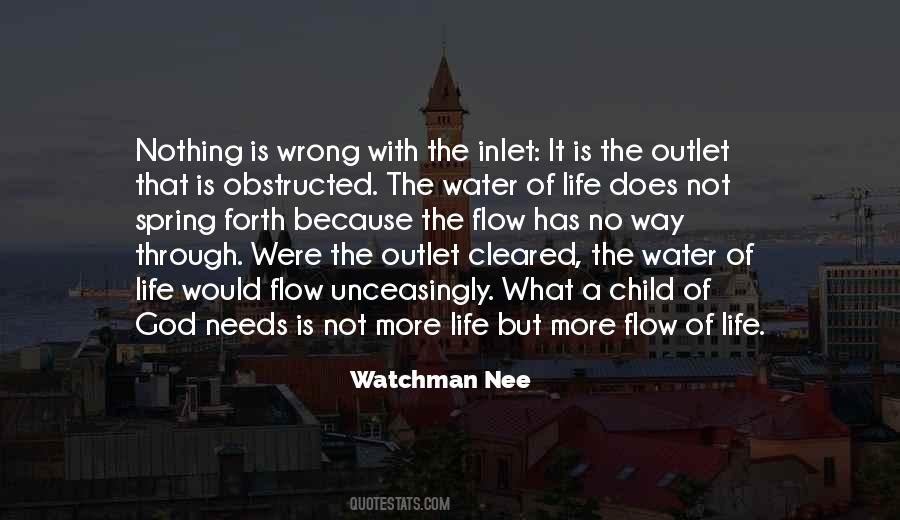 #23. Nothing is wasted in the sea; every particle of material is used over and over again, first by one creature, then by another. And when in spring the waters are deeply stirred, the warm bottom water brings to the surface a rich supply of minerals, ready for use by new forms of life. - Author: Rachel Carson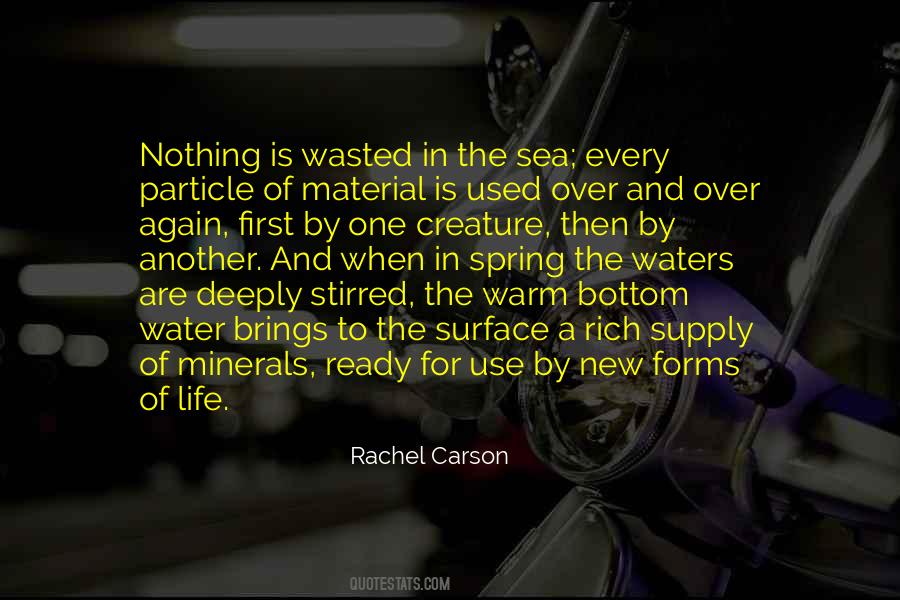 #24. She knows swimming still She die in water, This is Woman's life - Author: Smita Ravishankar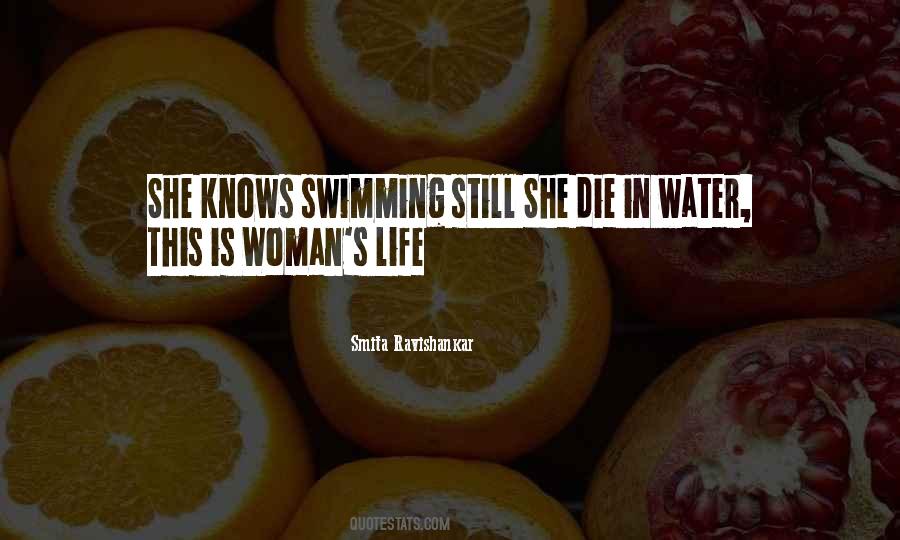 #25. To understand water is to understand the cosmos, the marvels of nature, and life itself. - Author: Masaru Emoto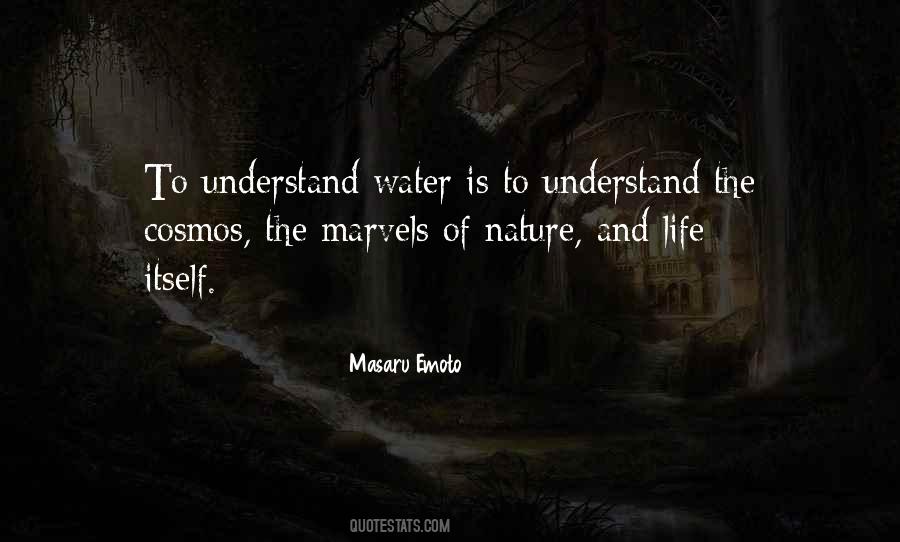 #26. Anything you don't water, anything you don't take care of in your life, is going to die, - Author: DeVon Franklin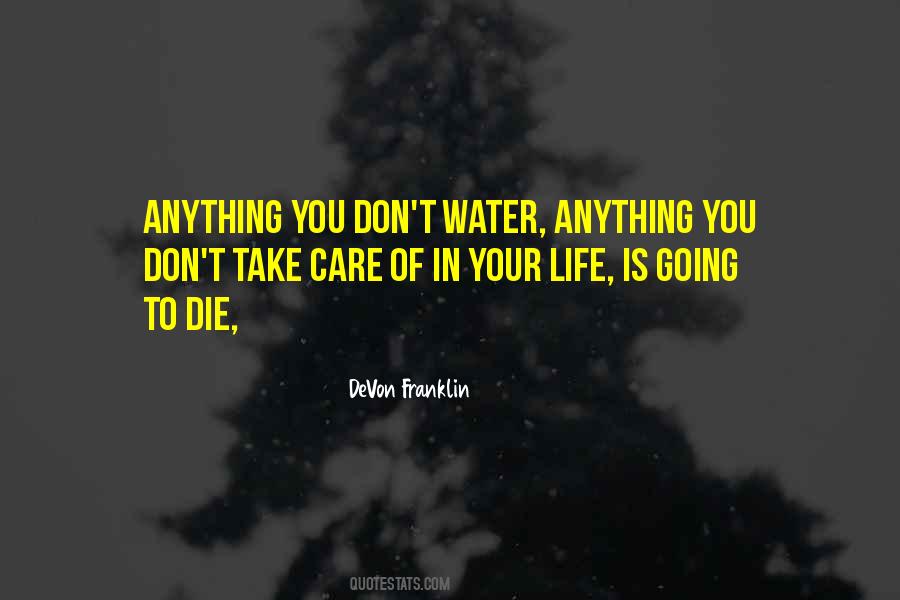 #27. The violence present in our hearts, wounded by sin, is also reflected in the symptoms of sickness evident in the soil, in the water, in the air and in all forms of life. - Author: Anonymous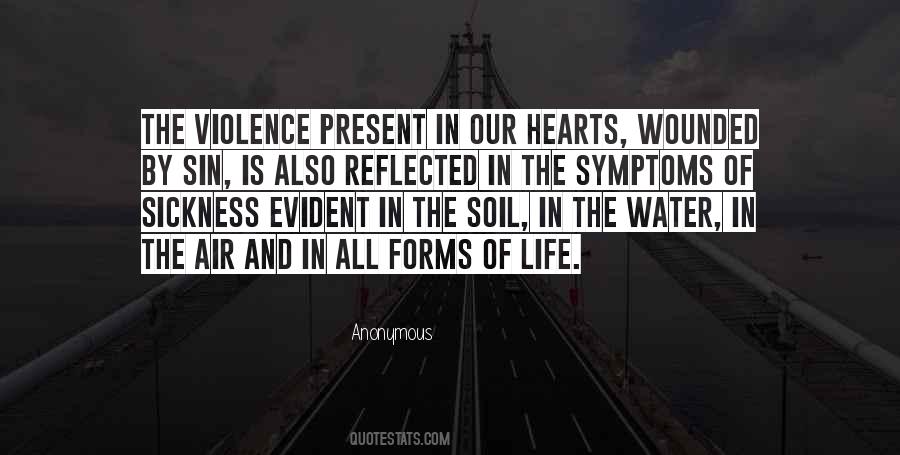 #28. The water moves on, a little faster than before, yet still the great river flows. It is as fluid and unpredictable in its moods as it has ever been, but it meanders within familiar banks. - Author: William Dalrymple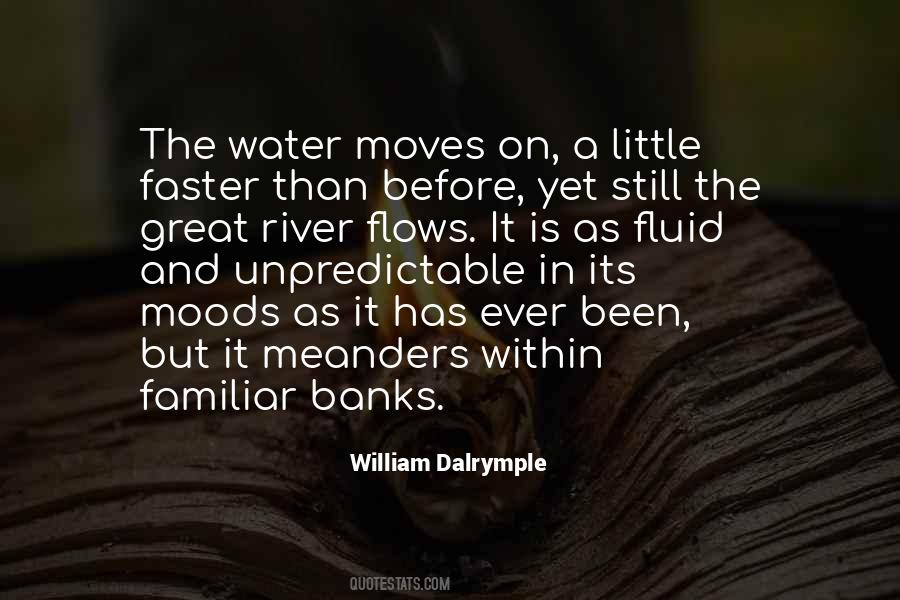 #29. But very little of it can do more
than start you on your way to the real, unimaginably
difficult goal of writing memorably. That work is done
slowly and in solitude, and it is as improbable as carrying
water in a sieve. - Author: Mary Oliver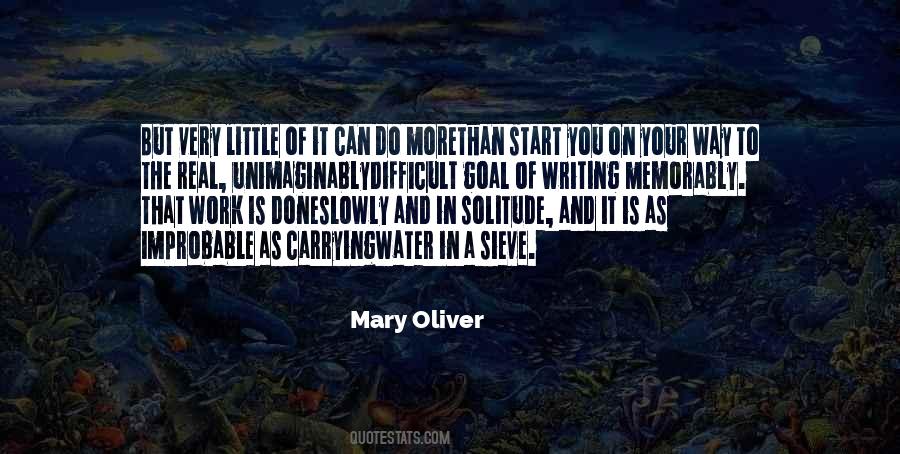 #30. I'm the glue that keeps it all together. I'm the nucleus of an entertainment family. My day-to-day is making decisions to keep life above water. - Author: Jada Pinkett Smith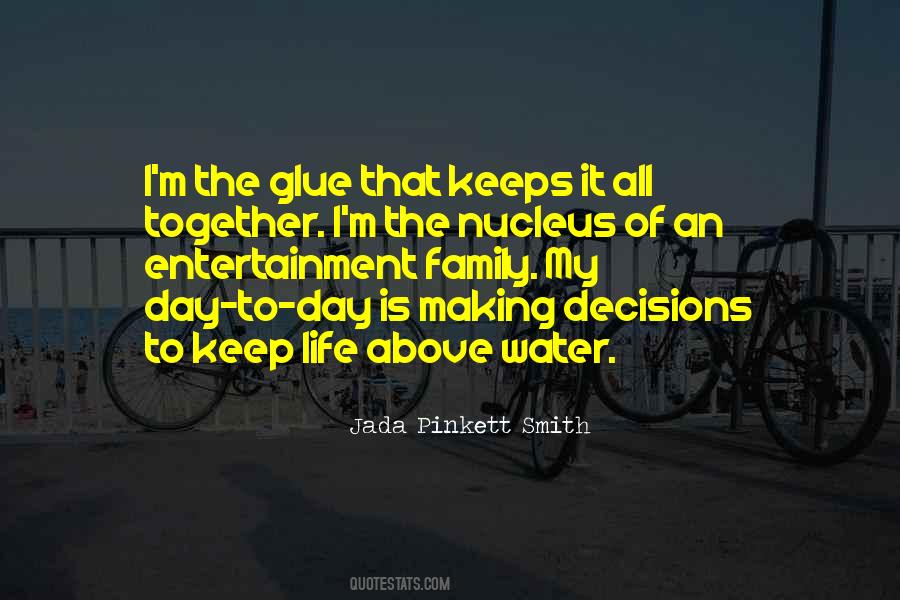 #31. Move on, sky is not limit, wind can touch you, water can dip you, mother will care you, wife will nurture you and above all, oneday you will see your child following, up above the sky; you became a star, twinkling, watching and waiting to come back again, on earth. - Author: Santosh Kalwar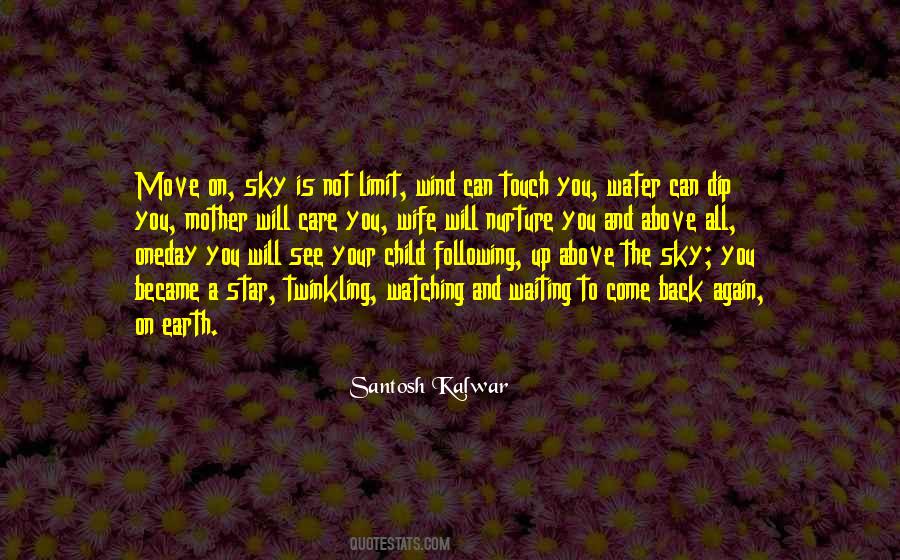 #32. For the people of my country," Renato said, "water is everything: love, life, religion ... even God."
"It is like that for me too," I said. "In English we call that a metaphor."
"Of course," said Renato, "and water is the most abundant metaphor on earth. - Author: Pam Houston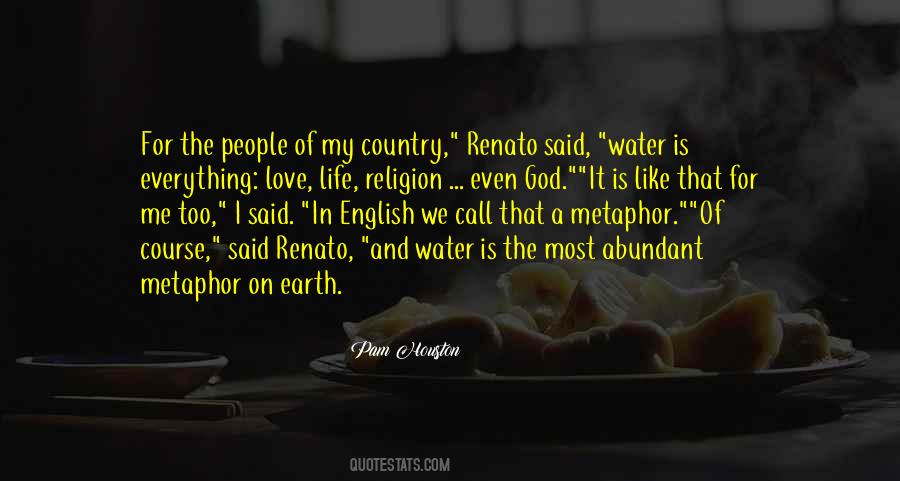 #33. The seeds of the life of fishes are everywhere disseminated, whether the winds waft them, or the waters float them, or the deep earth holds them; wherever a pond is dug, straightway it is stocked with this vivacious race. They have a lease of nature, and it is not yet out. - Author: Henry David Thoreau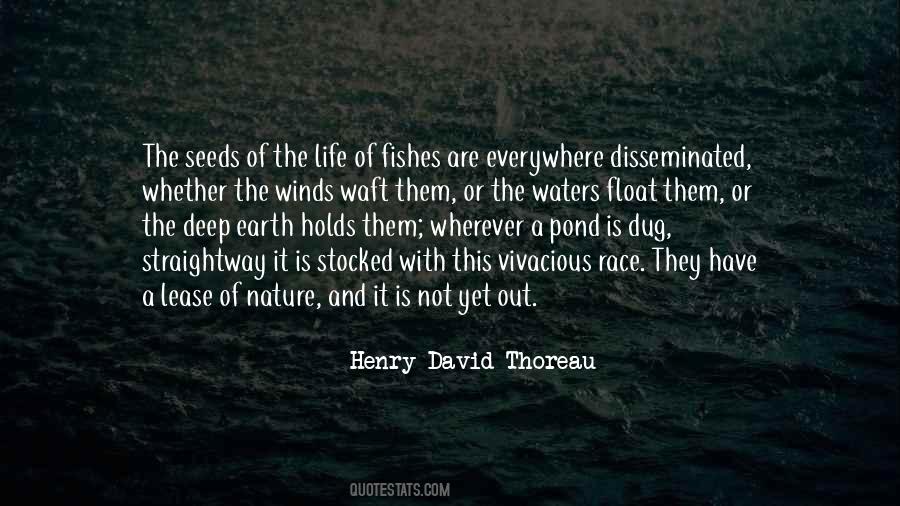 #34. A river is water is its loveliest form; rivers have life and sound and movement and infinity of variation, rivers are veins of the earth through which the lifeblood returns to the heart - Author: Roderick Haig-Brown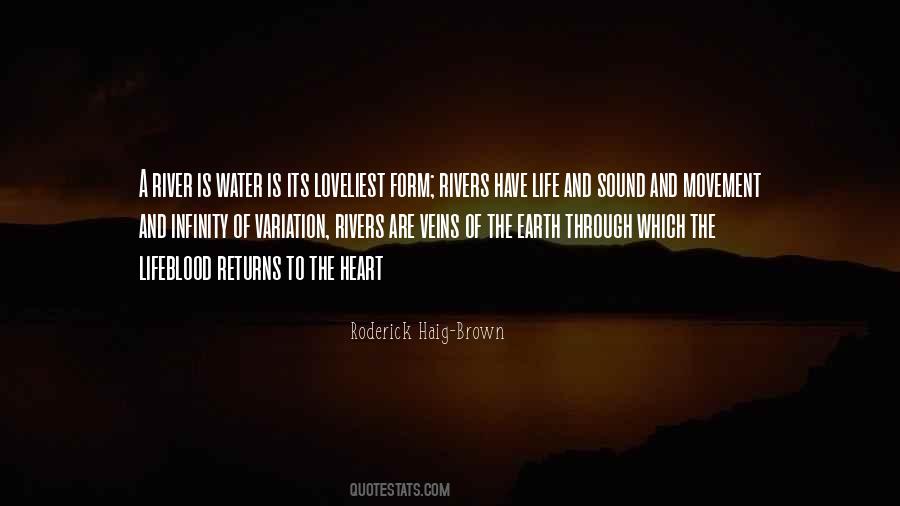 #35. ONE THING I AM NEVER GOING TO DO WHEN I GROW UP
Is fall in love, drop out of college, learn to subsist on water and air, have a species named after me, and ruin my life. - Author: Nicole Krauss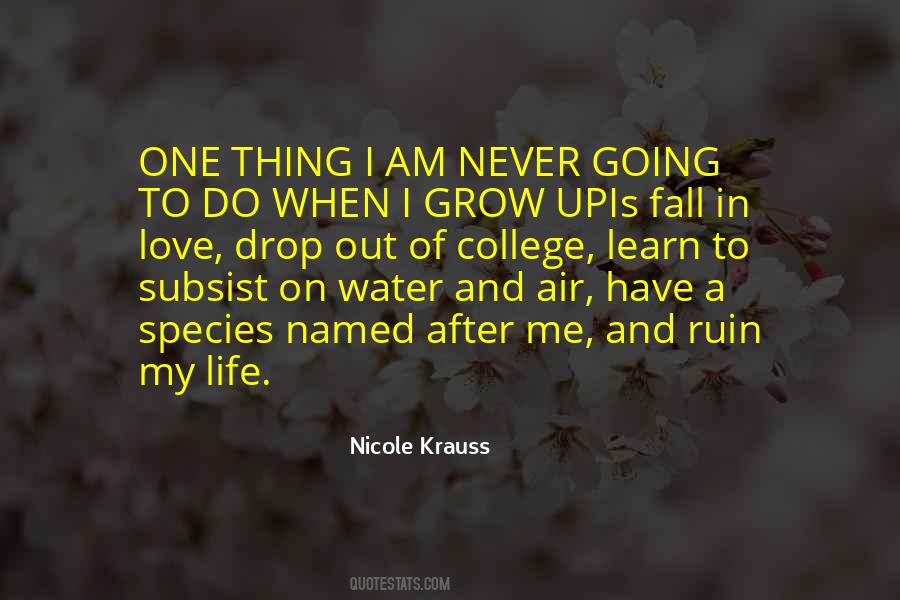 #36. Andy Anderson has written an autobiography in pictures, a life on the water. Salt is an eloquent modern paean to the strength and beauty of the coastal waters he cares for at a time when that environment is in danger of disappearing. - Author: Guy De La Valdene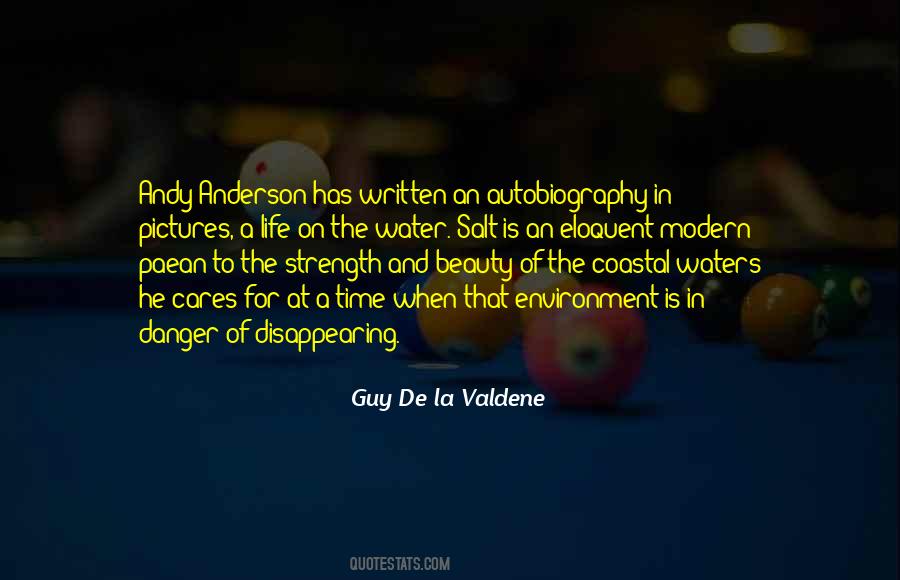 #37. When God
wishes to help,
he lets us weep.
Wherever water flows,
life flourishes,
wherever tears fall
divine mercy is shown. - Author: Rumi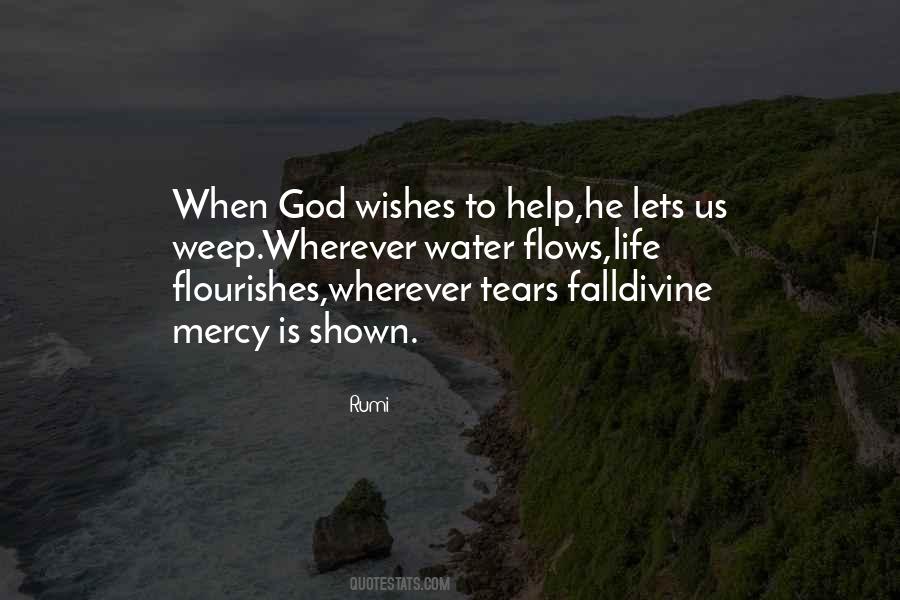 #38. Sometimes in order to help He makes us cry
Happy the eye that sheds tears for His sake
Fortunate the heart that burns for His sake
Laughter always follow tears
Blessed are those who understand
Life blossoms wherever water flows
Where tears are shed divine mercy is shown - Author: Rumi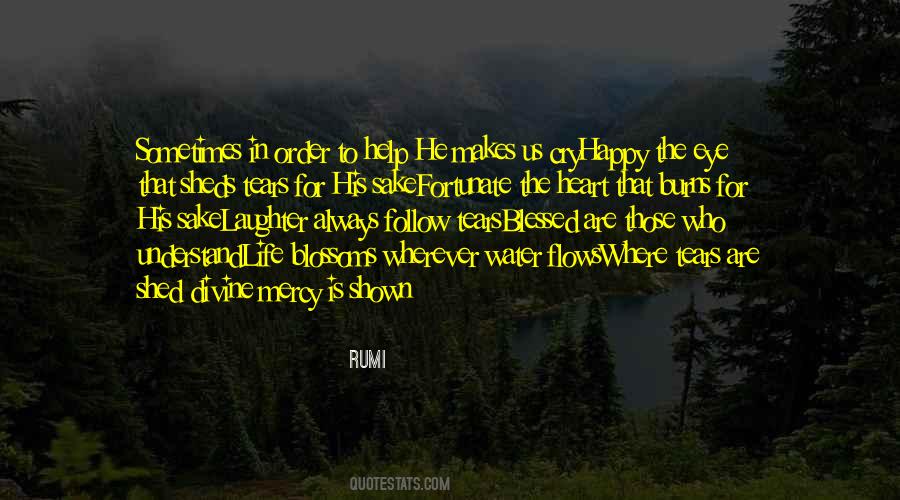 #39. The secret is to throw yourself into the water of life again and again, not to hang back, no reservations, risk everything, but above all strike out boldly with all you have. - Author: Arshile Gorky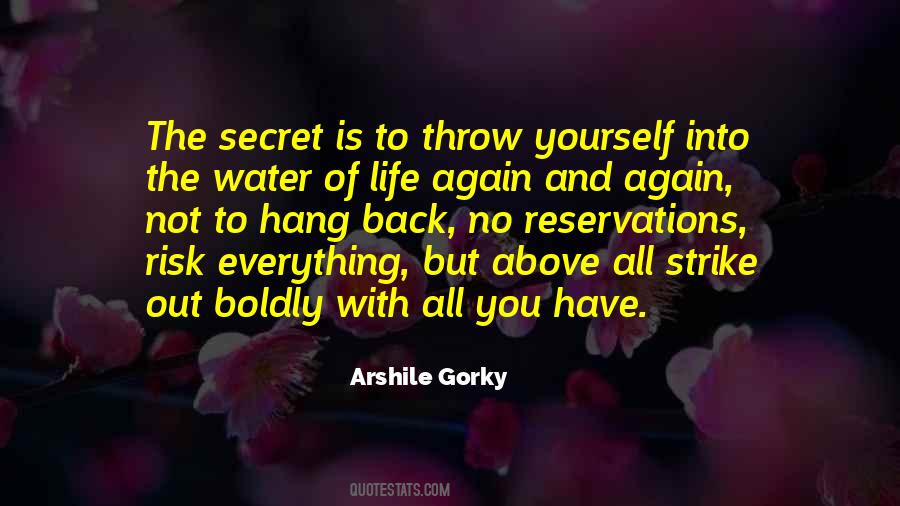 #40. The Sacred isn't housed in a building or worn around your neck or something in the sky. The Sacred is the here and now we reside in, all breathing the same air, all imbibing the same water and made of the same earth with 'the life force' flowing through all living things. - Author: Jaune Quick-to-See Smith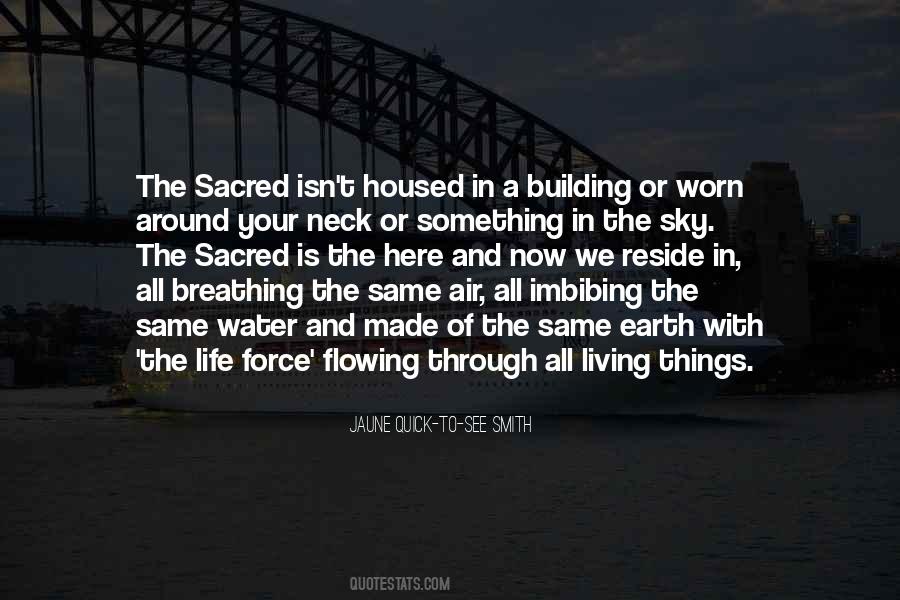 #41. In a state of grace, the soul is like a well of limpid water, from which flow only streams of clearest crystal. Its works are pleasing both to God and man, rising from the River of Life, beside which it is rooted like a tree. - Author: Saint Teresa Of Avila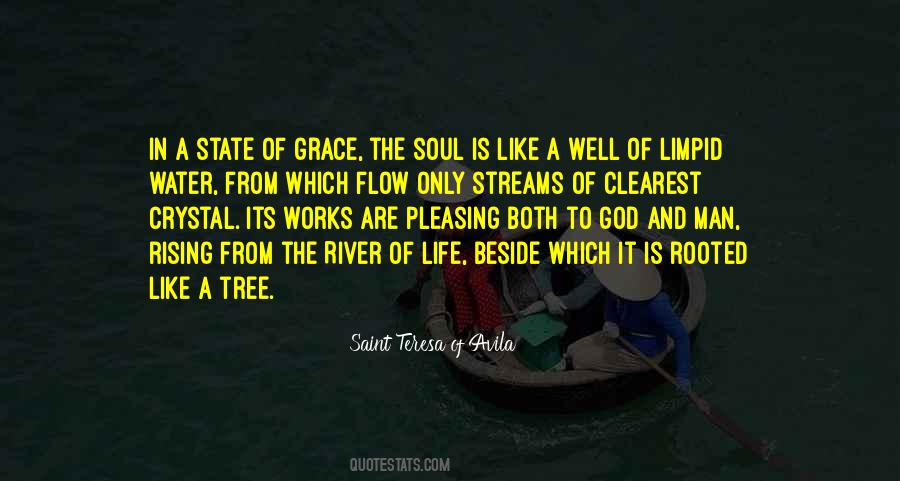 #42. Friendship is a sacred possession. As air, water and sunshine to flowers, trees and verdure, so smiles, sympathy and love of friends to the daily life of man. To live, laugh, love one's friends, and be loved by them is to bask in the sunshine of life. - Author: David O. McKay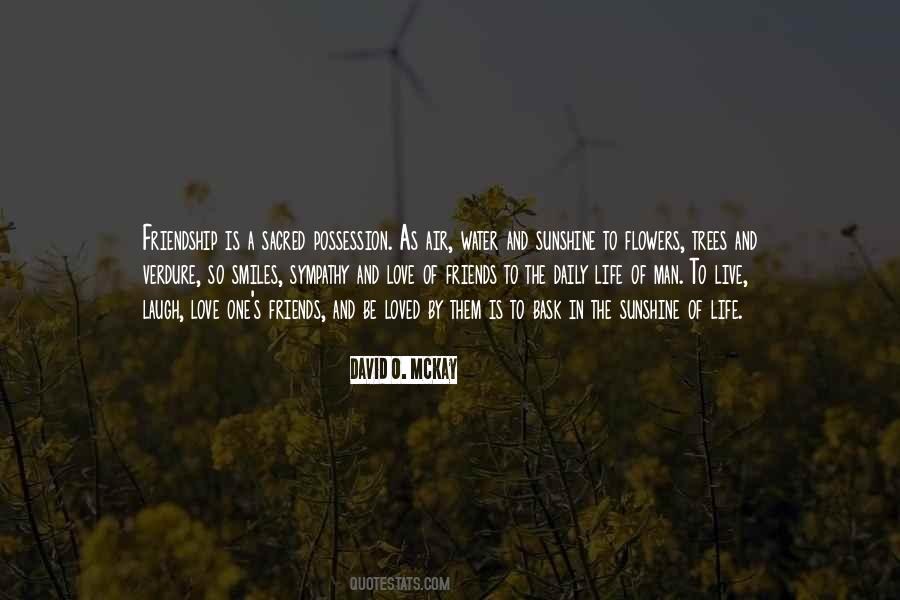 #43. All life long crying without avail, As the water all night long is crying to me. - Author: W.E.B. Du Bois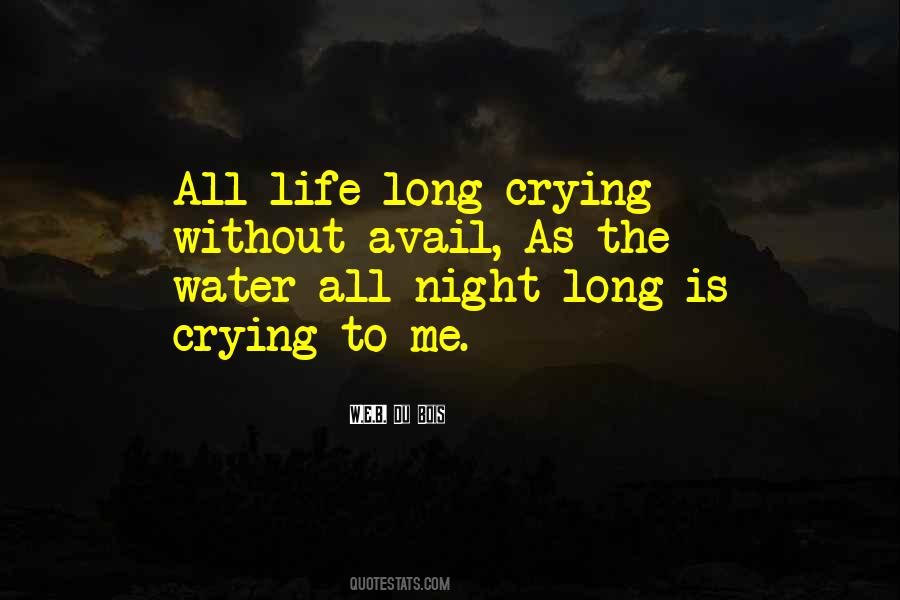 #44. Life originated in the sea, and about eighty percent of it is still there. - Author: Isaac Asimov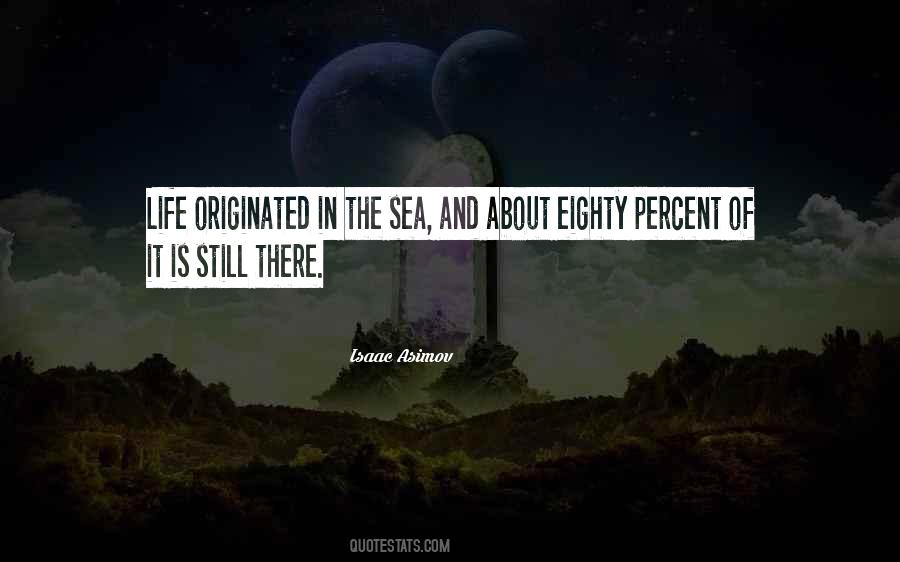 #45. The spinning wheel is as much a necessity of Indian life as air and water. - Author: Mahatma Gandhi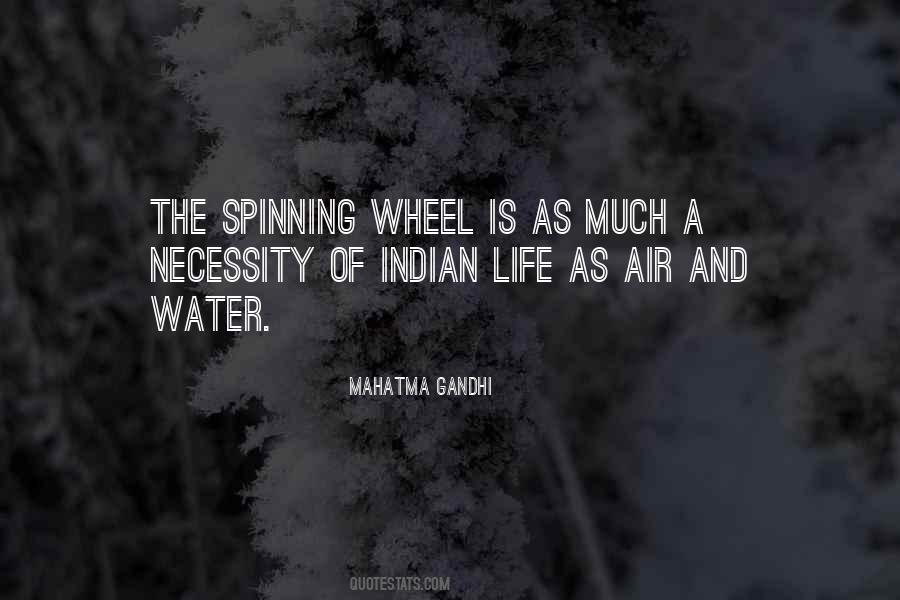 #46. A wave has a right to live her life as a wave, but she must also learn to live her life as water because she is not only a wave. She is also water. And water lives without the fear carried by the wave. - Author: Thich Nhat Hanh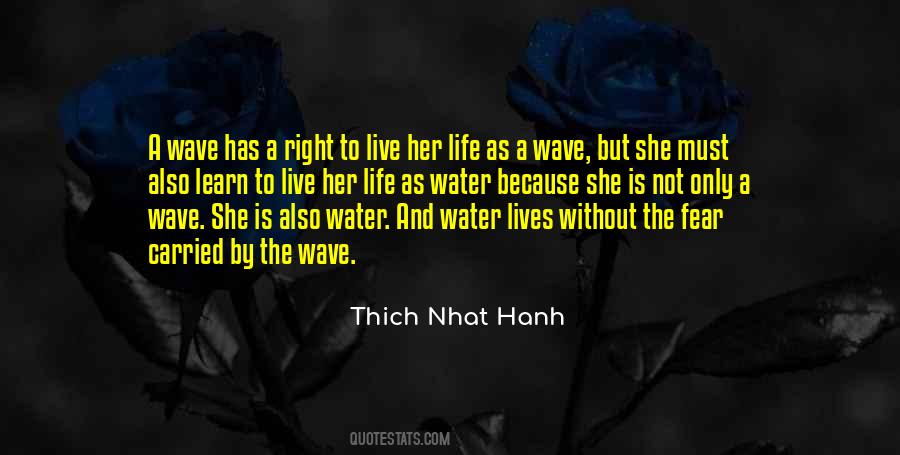 #47. If you fall into water, you may still be saved. But if you fall down in literary matters, there is no life left for you. - Author: Donna Jo Napoli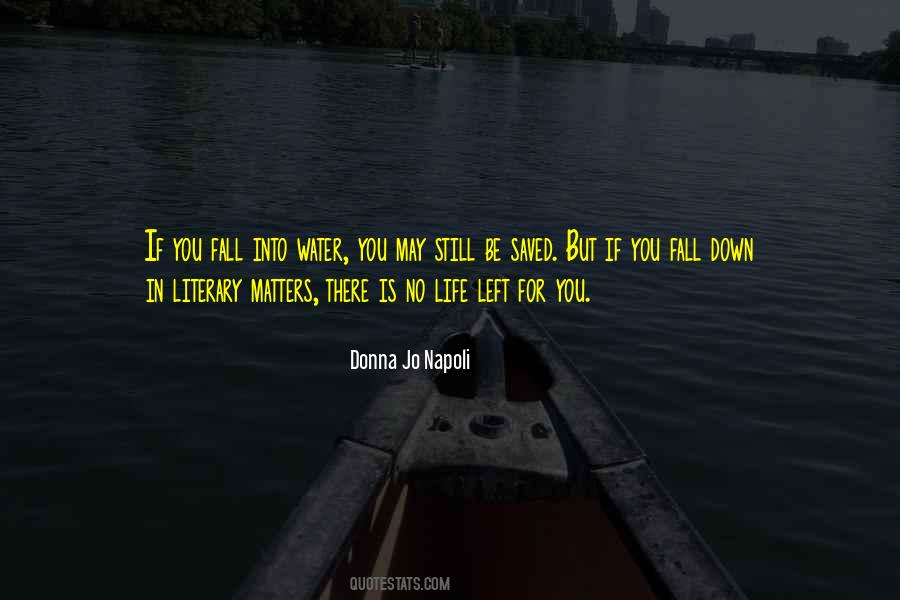 #48. Any action, like any act of magic, is in some sense an act of faith ... I've seen the desert bloom, the flower that emerges from the barest hint of water, and I know the power of life will rise, stubborn and persistent to be renewed. May our actions be the wind that brings the rain. - Author: Starhawk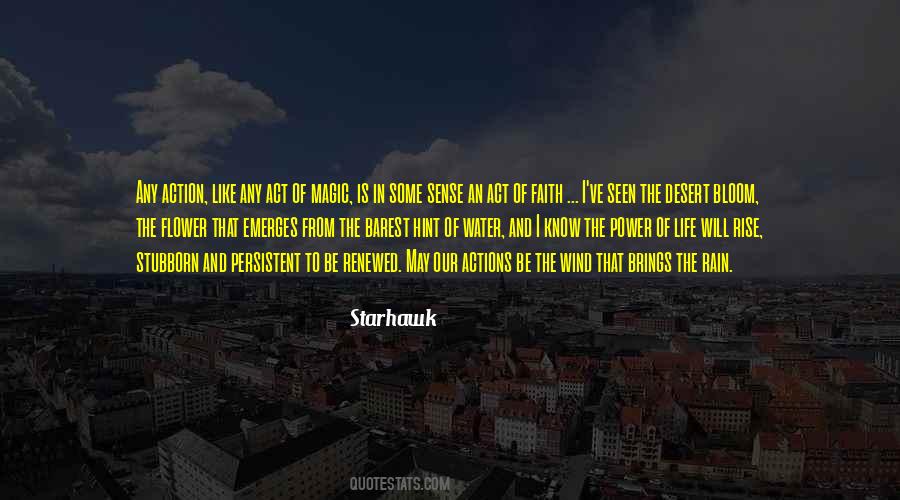 #49. Water is the ink that writes the poetry of life. - Author: Alexandra Cousteau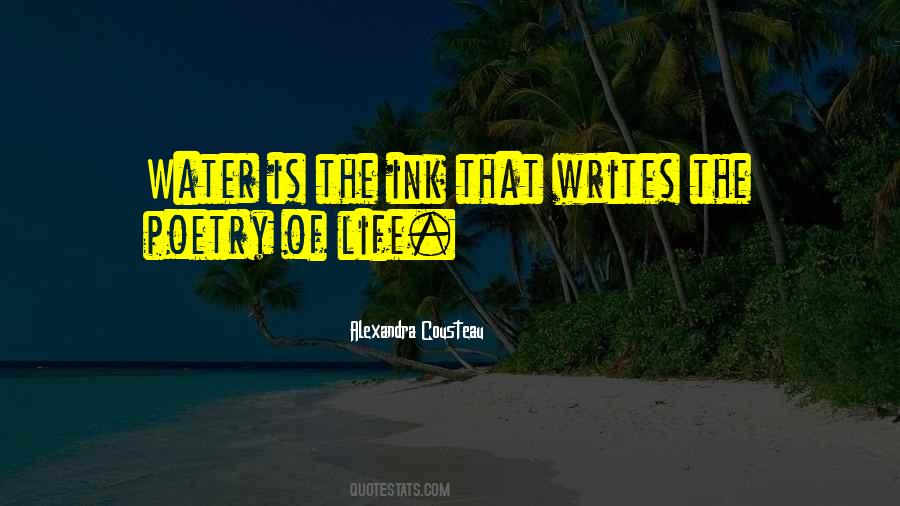 #50. Labor is life! 'Tis the still water faileth;
Idleness ever despaireth, bewaileth;
Keep the watch wound, for the dark rust assaileth. - Author: Frances Sargent Osgood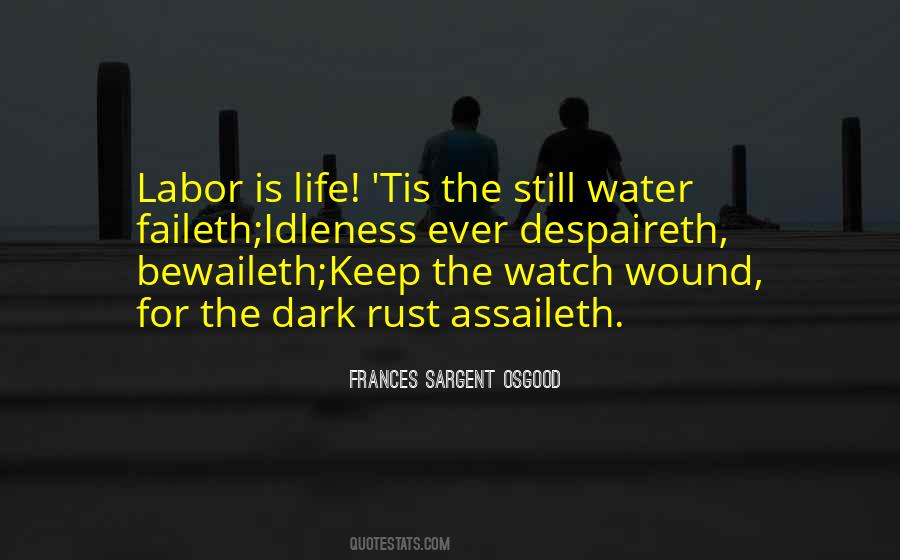 #51. Sometimes there is a wellspring or river of something beautiful and possible in the tenderest sense that comes to and from the most broken of children, and I was one of these, and whatever is was, I can't name, I can only thank. Perhaps it is the water of life that saves us, after all. - Author: Linda Hogan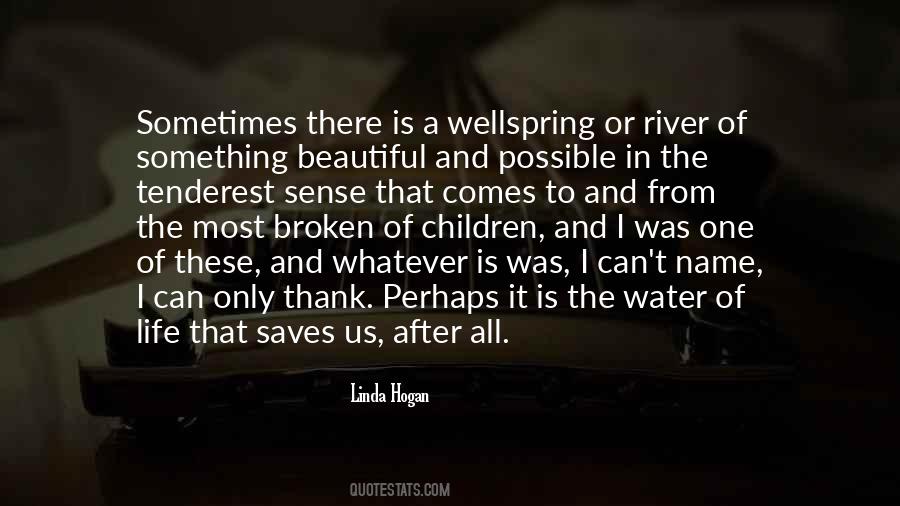 #52. It is about simple awareness - awareness of what is so real and
essential, so hidden in plain sight all around us, that we have to keep
reminding ourselves, over and over: This is water, this is water. - Author: David Foster Wallace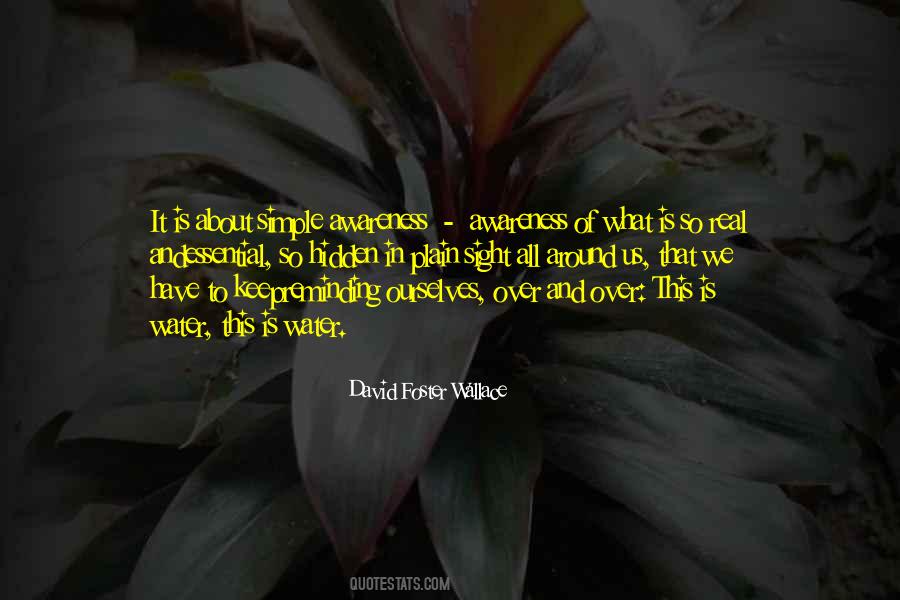 #53. The best thing about the sciences is their philosophical ingredient, like life for an organic body. If one dephilosophizes the sciences, what remains left? Earth , air , and [[water. - Author: Novalis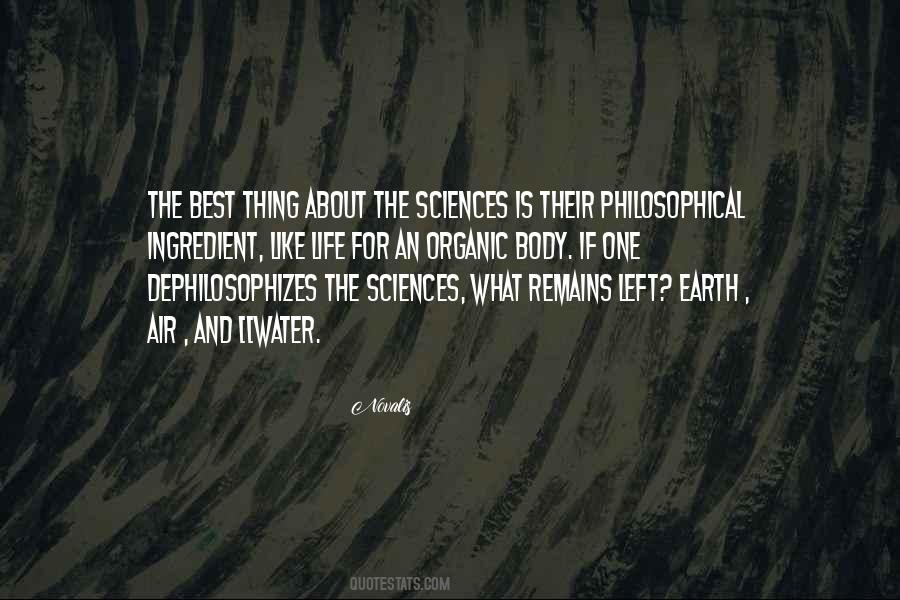 #54. Thus, flexibility, as displayed by water, is a sign of life. Rigidity, its opposite, is an indicator of death. - Author: Anthony Lawlor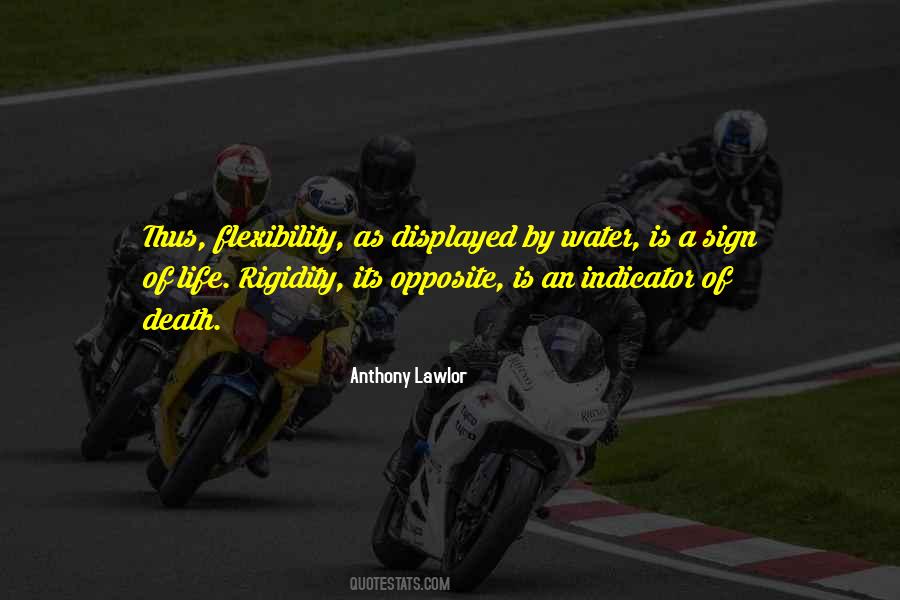 #55. I measure the coffee exactly. Pour in the water. As the flavor bursts, she surrenders. "Oh, you are old for such a long time!" She frets over the sugar bowl in the center of a tin tray. "You think it won't happen to you, but it will. You may live a long time, but most of life is old, old, old! - Author: Brock Cole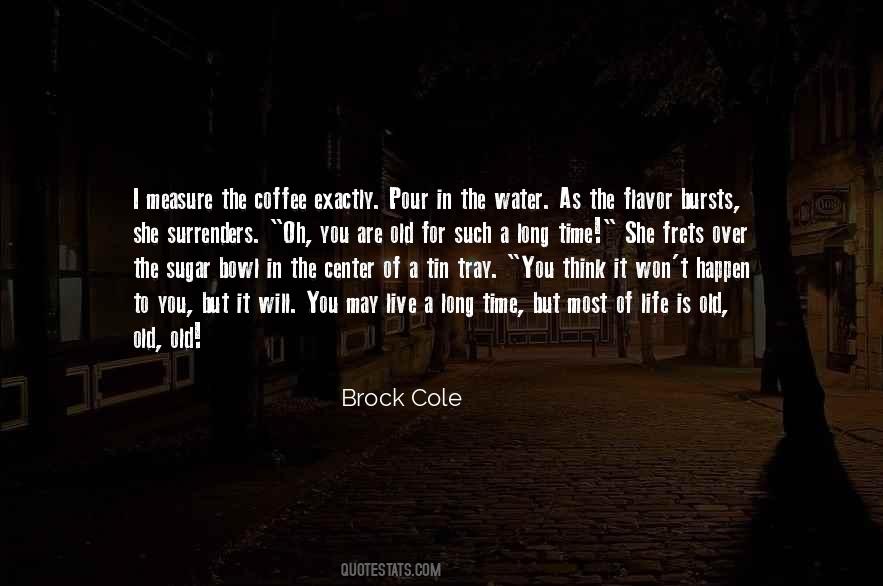 #56. The reason for the emphasis on shamanism and on other techniques is, you will need techniques if you go into the deep water. And they can make your life very simple and save you from unnecessary suffering. Not all suffering is necessary. Maybe no suffering is necessary. - Author: Terence McKenna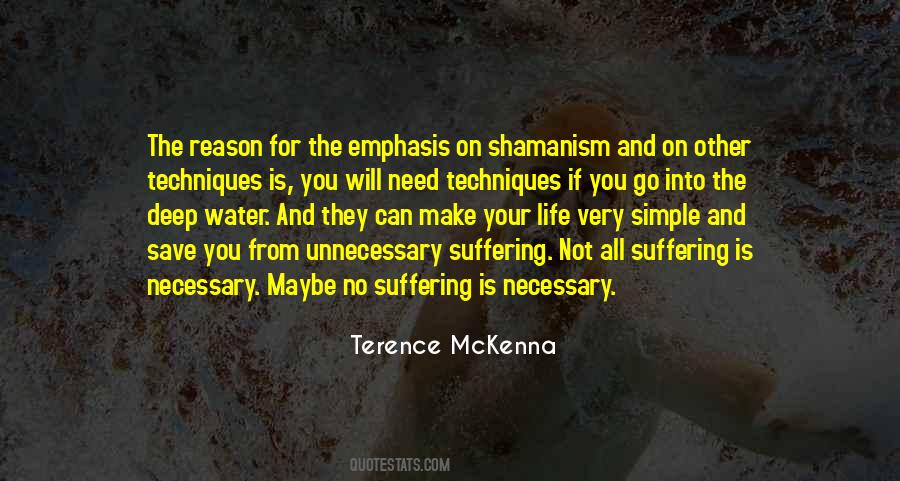 #57. The Bible teaches that we have a Christian duty to help our neighbors in their time of need. We are called by God to bring the water of life for both soul and body. God created them both, and His purpose is to redeem them both. - Author: Billy Graham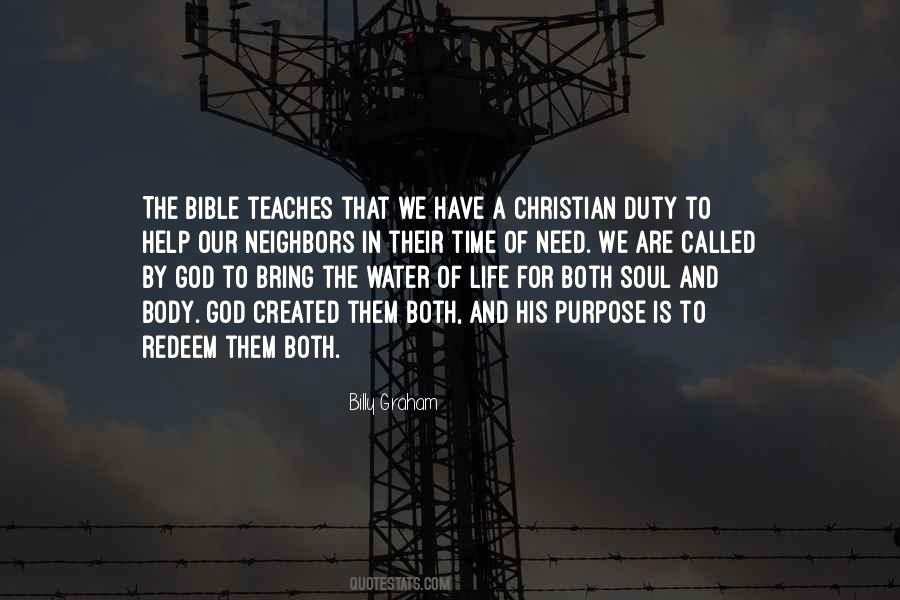 #58. On Kwajalein, Louie and Phil leared a dark truth known to the doomed in Hitler's death camps, the slaves of the American South, and a hundred other generations of betrayed people. Dignity is as essential to human life as water, food, and oxygen. - Author: Laura Hillenbrand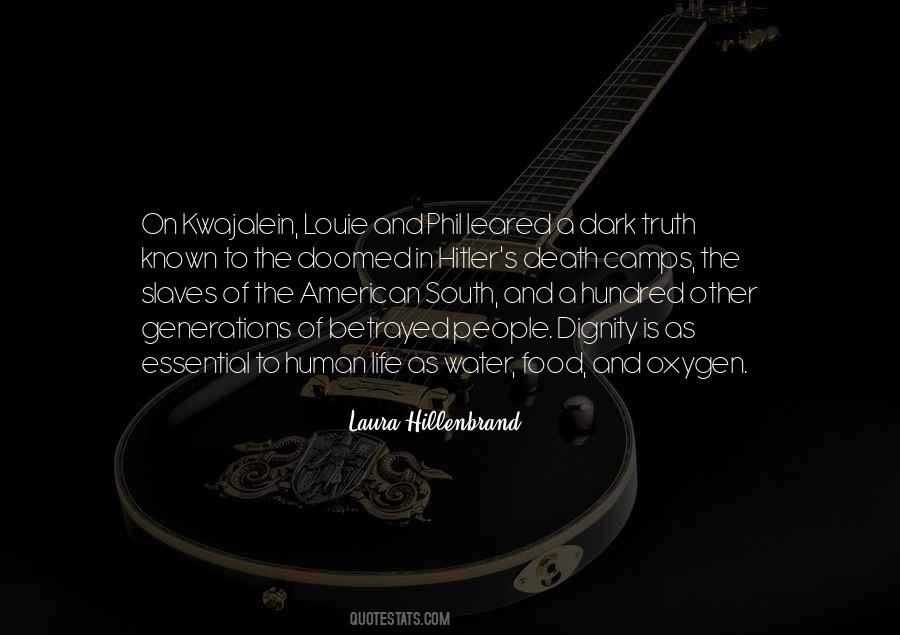 #59. A human being is a garden of love. Only you have to know how much water is needed to grow them. - Author: Debasish Mridha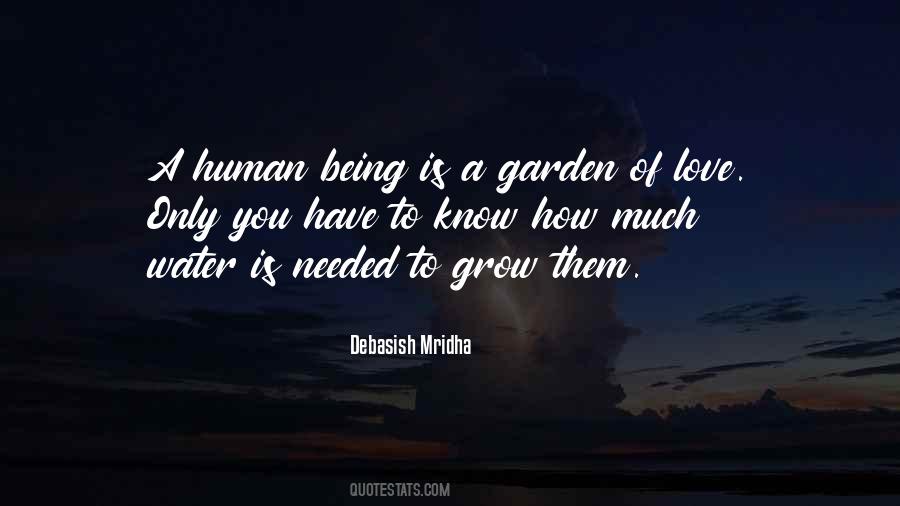 #60. Water is sacred to all Human Beings. If you do not have water, you cannot have life. I always remember to honor and pour the water because it is traditional. - Author: Autumn Morning Star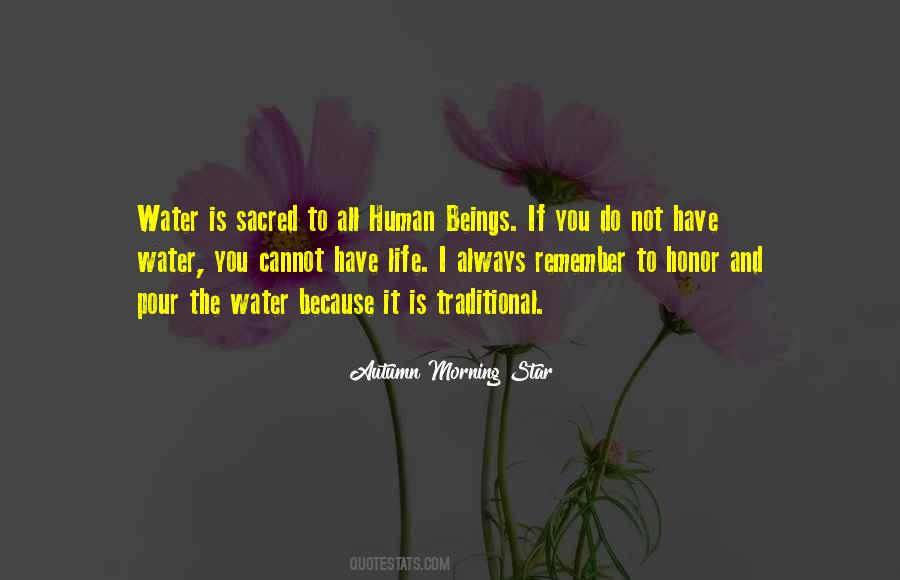 #61. The food in the hostel mess is worst of a kind. The grief in my words reach easily to those who have "been there and done that" Chapatti in the meal is either so uncooked or overly cooked and you can only expect dal in the ocean of water when you are ready to swim. - Author: Parul Wadhwa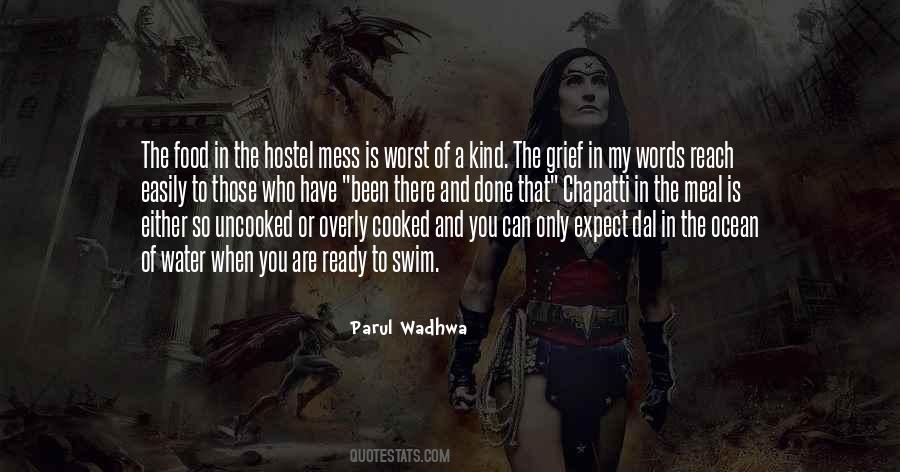 #62. A fish is a genius in water.
An eagle is a genius in air.
A fox is a genius on land.
A sage is a genius in life. - Author: Matshona Dhliwayo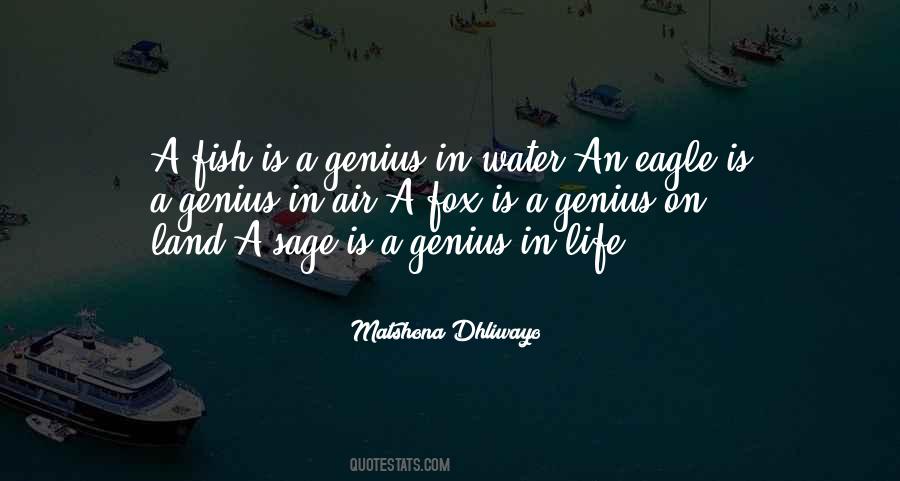 #63. No country is so peaceful as the one that leads into death. Life arches above one's head like a bridgespan, and below it flows the water, carries the boat, takes it further. - Author: Alfred Doblin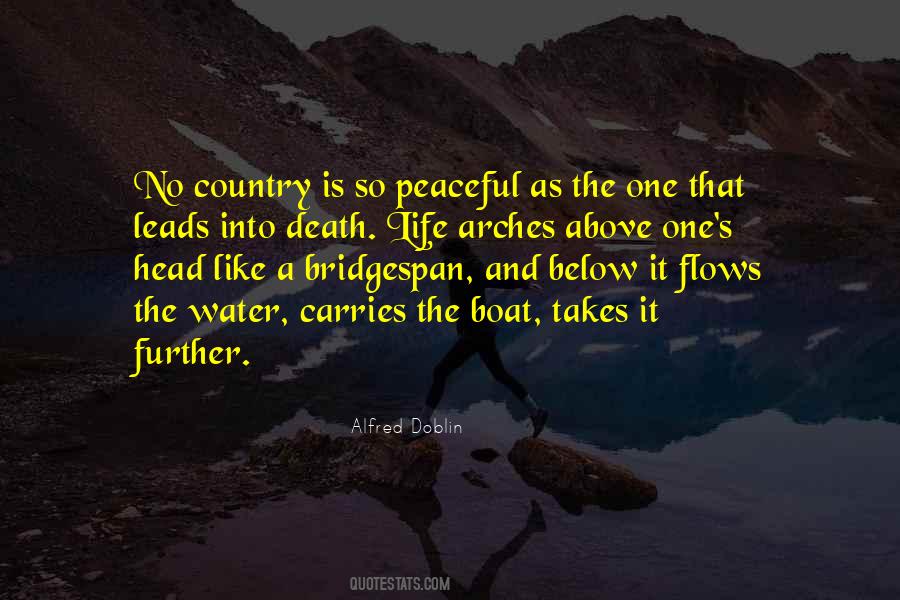 #64. Water is the basis of life and the blue arteries of the earth! Everything in the non-marine environment depends on freshwater to survive. - Author: Sandra Postel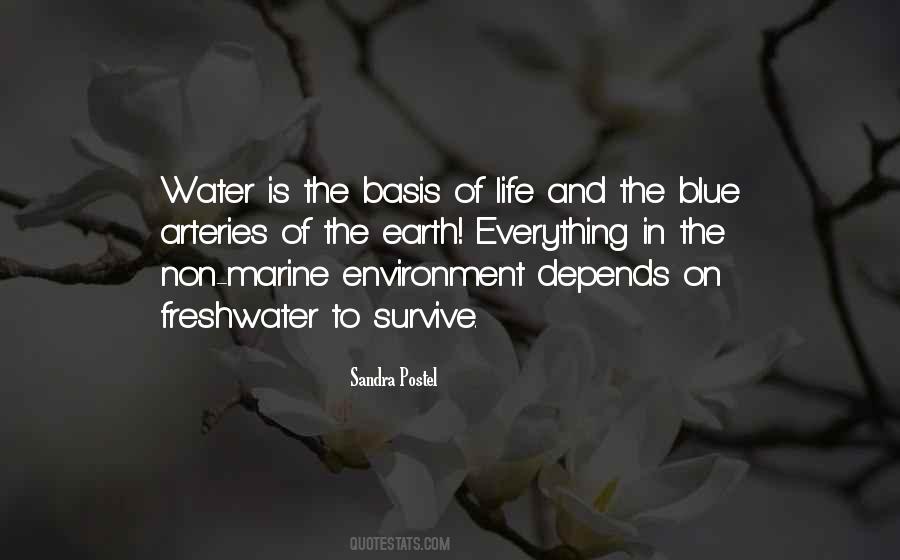 #65. God of deep waters and infinite riches, challenge me to go where I fear, to do what is difficult and what I thought could never be done. Push me to go to the deep waters of life and cast my net wide, for I put all my hope, trust and faith in you. - Author: Matthew Kelly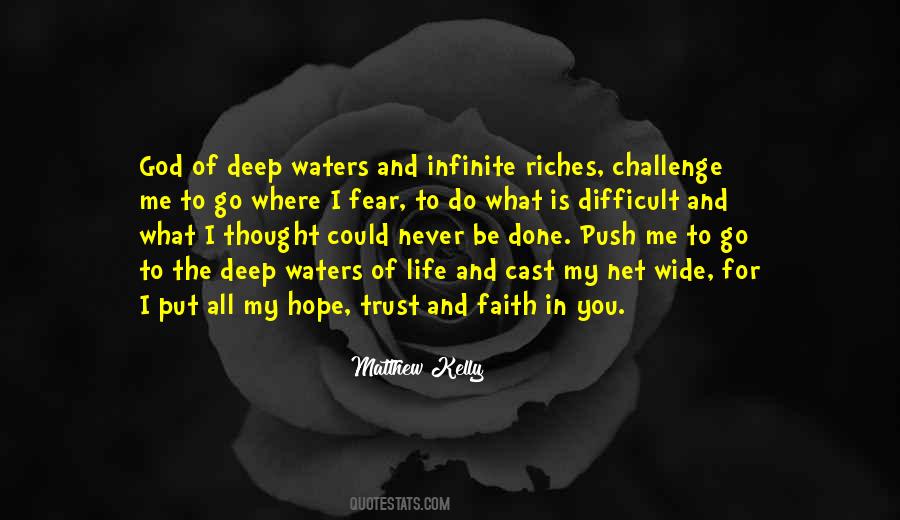 #66. Life from nonlife, like wine from water, has long been considered a miracle wrought by gods or God. Now it is seen to be the near-inevitable consequence of our thermal and chemical circumstances. - Author: Ursula Goodenough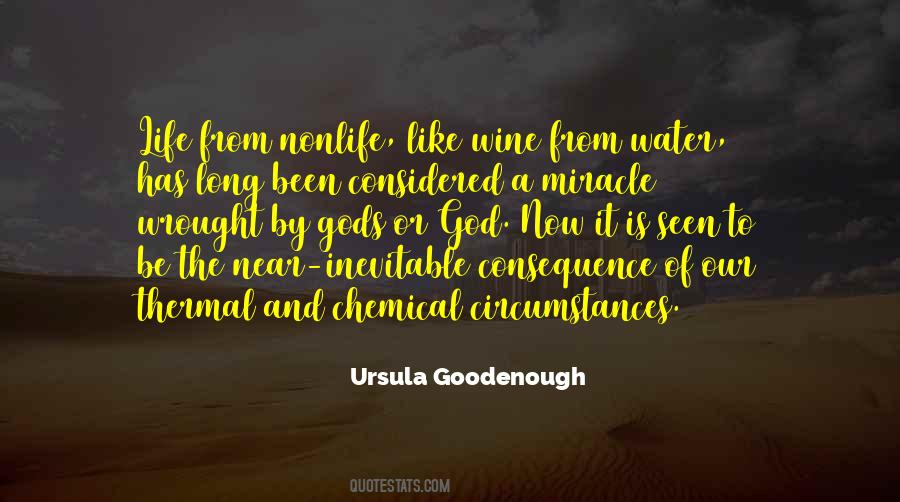 #67. Water IS the most important element on the face of the earth, because without water, there would be no WINE and without WINE I would be living in a PADDED CELL! - Author: Tanya Masse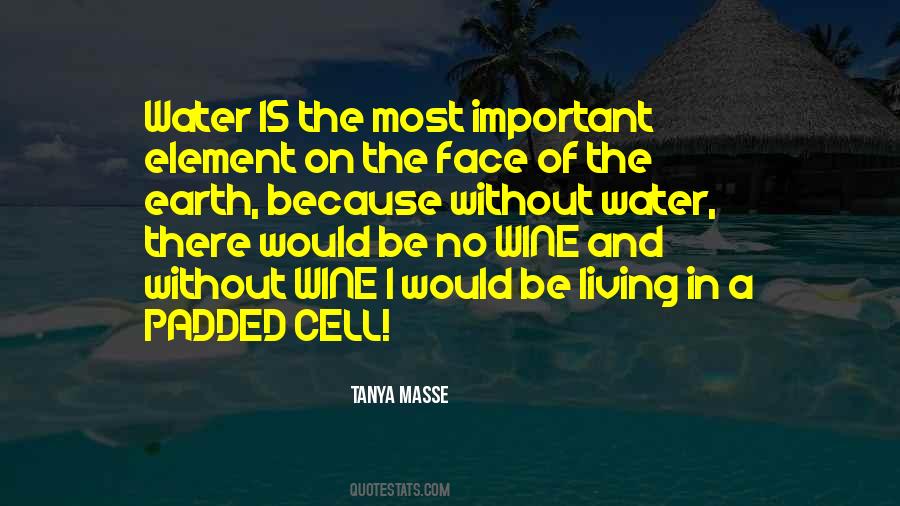 #68. Dream is like an Art.
Faith is like a Color.
Failure is like a Water.
If u drop a water on a art,it will affect the art not the color.
Never lose it.Life has to go on - Author: Saravanan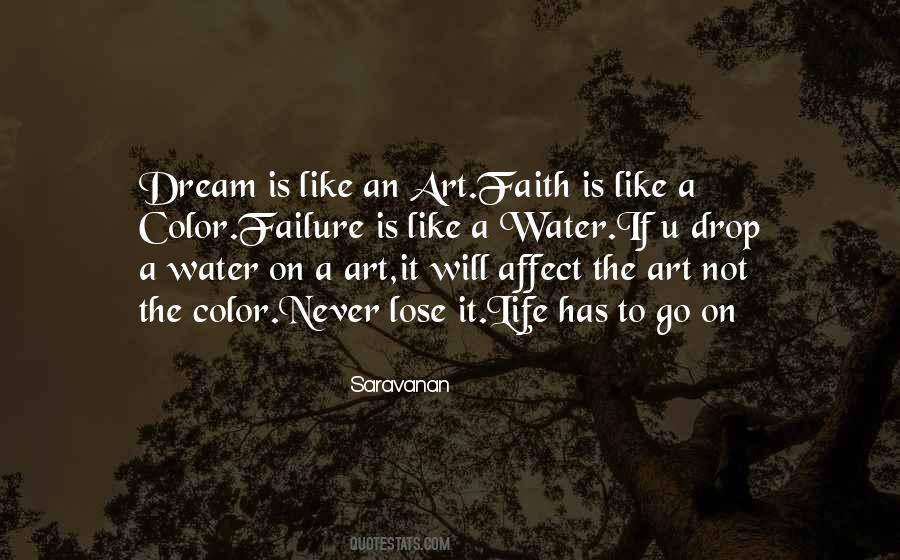 #69. In reality there are no separate events. Life moves along like water, it's all connected to the source of the river is connected to the mouth and the ocean. - Author: Alan W. Watts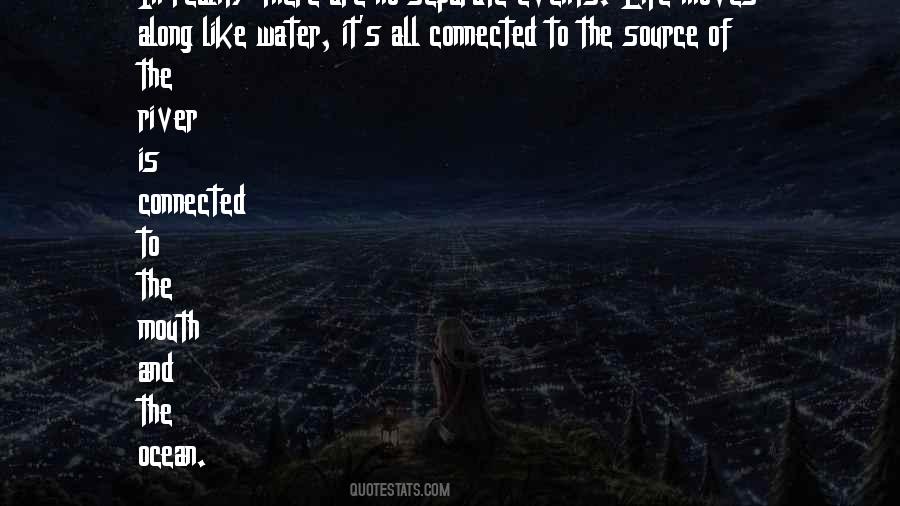 #70. Dignity is as essential to human life as water, food, and oxygen. The stubborn retention of it, even in the face of extreme physical hardship, can hold a man's soul in his body long past the point at which the body should have surrendered it. - Author: Laura Hillenbrand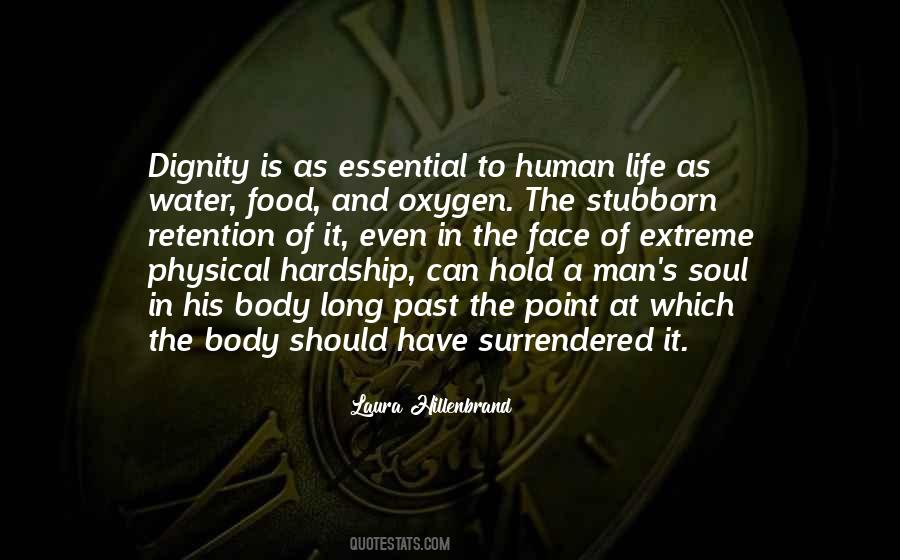 #71. Water, in Grace, is an all-or-nothing proposition, like happiness. When you have rain you have more than enough, just as when you're happy and in love and content with your life, you can't remember how you ever could have felt cheated by fate. - Author: Barbara Kingsolver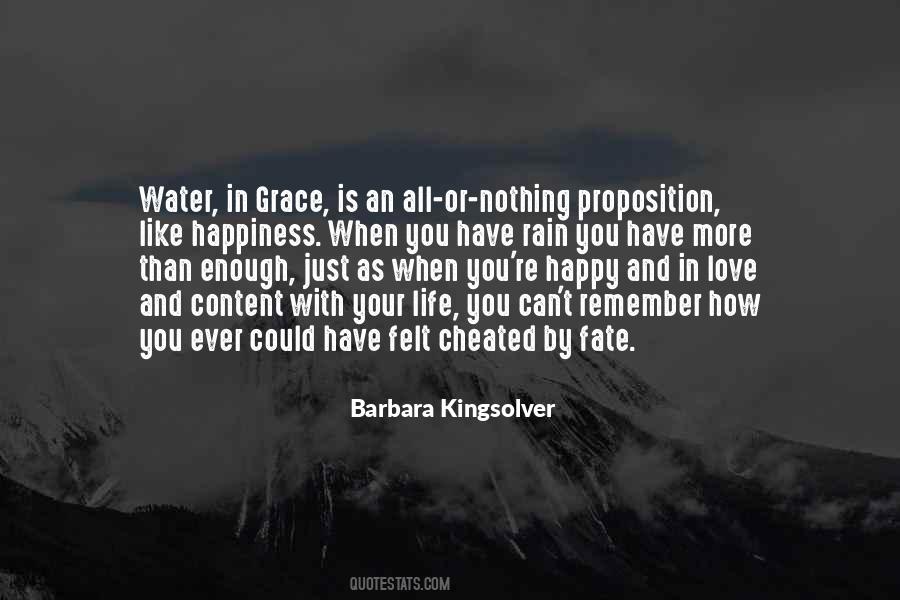 #72. Living life with a smile is like throwing yeast into a bowl of flour, adding warm water and waiting for the flour to rise. It multiplies may times over. - Author: John Templeton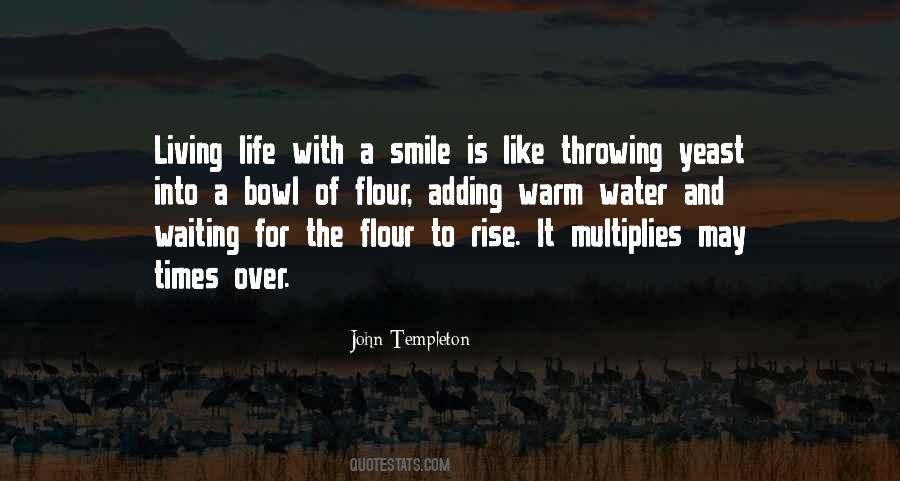 #73. I think most Coloradans would agree that our state is the most beautiful in the nation, and the water flowing through our borders is its life blood. - Author: Wayne Allard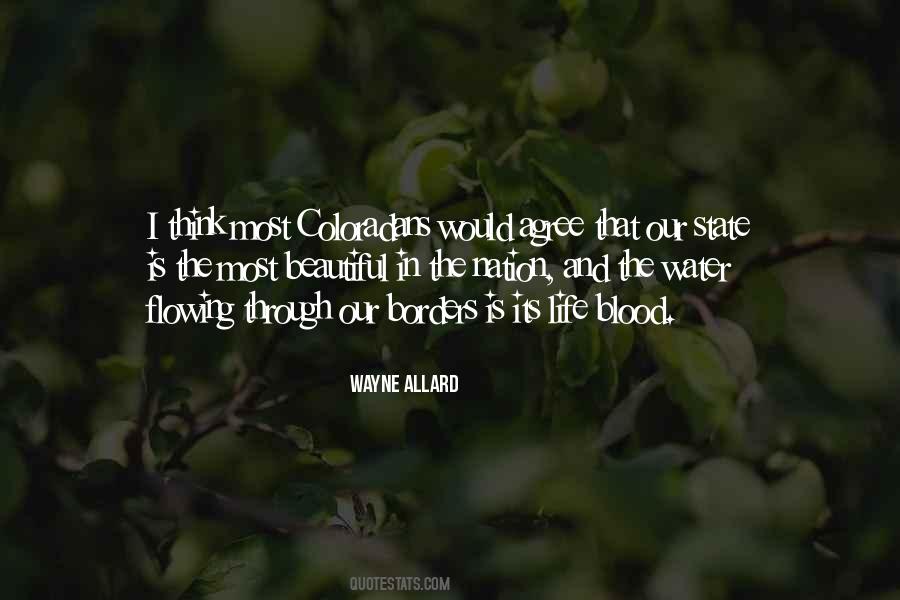 #74. Civilised life, you know, is based on a huge number of illusions in which we all collaborate willingly. The trouble is we forget after a while that they are illusions and we are deeply shocked when reality is torn down around us. - Author: J.G. Ballard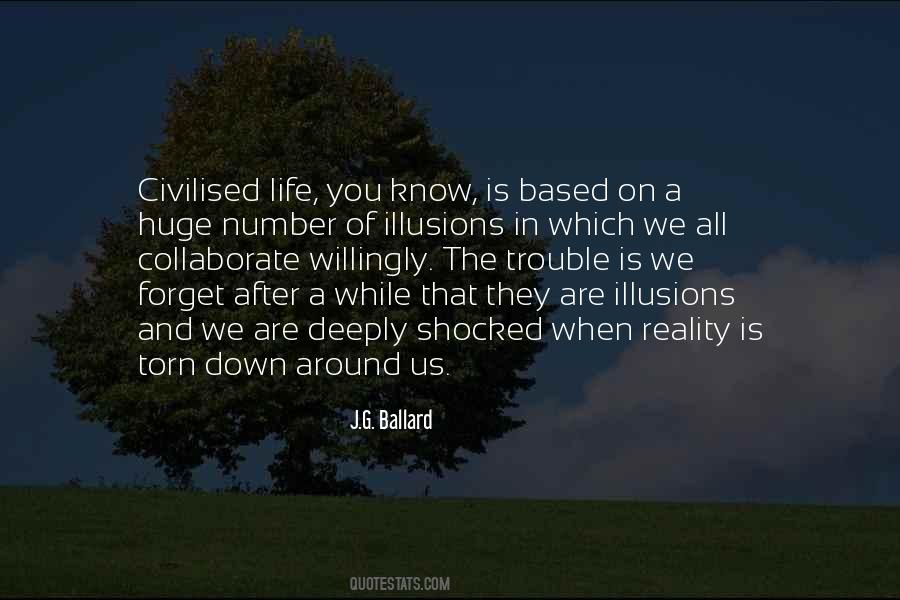 #75. Water is the formless potential out of which creation emerged. It is the ocean of unconsciousness enveloping the islands of consciousness. Water bathes us at birth and again at death, and in between it washes away sin. It is by turns the elixir of life or the renewing rain or the devastating flood. - Author: Scott Sanders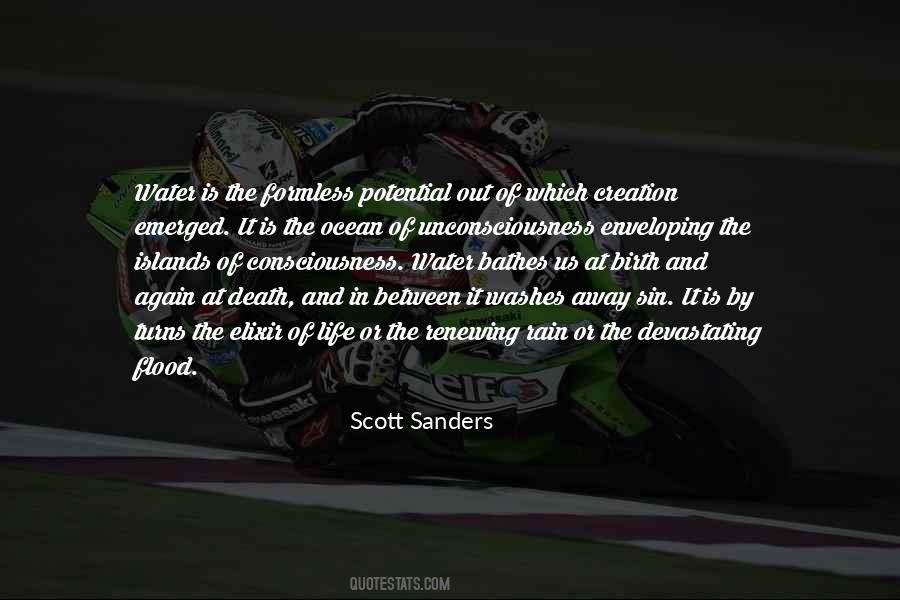 #76. Life is not like water. Things in life don't necessarily flow over the shortest possible route. - Author: Haruki Murakami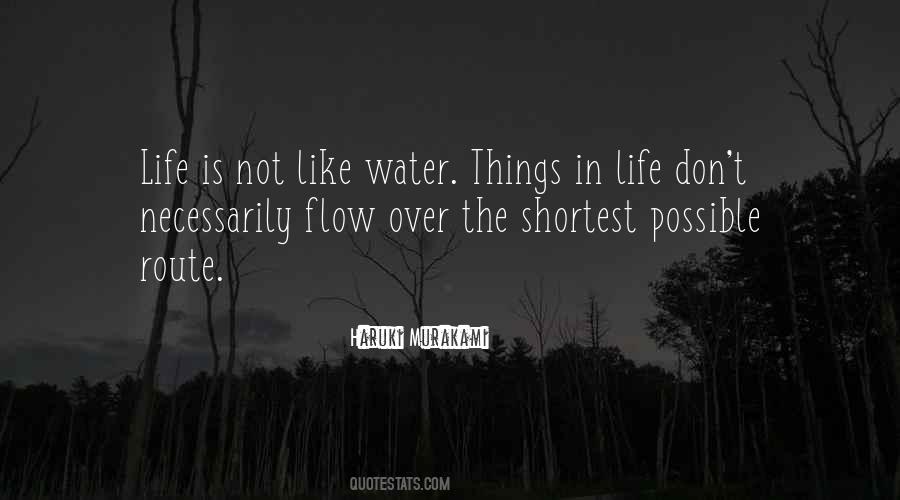 #77. I get ideas from everything. A big color, the sound of water and wind, or a flash of something cool. Playing is like life. Either you feel it or you don't. - Author: Erroll Garner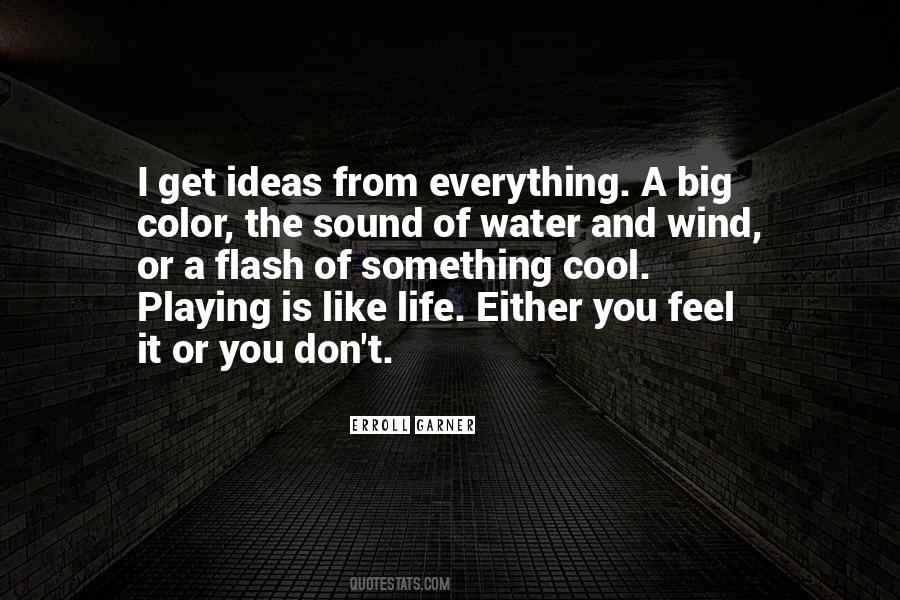 #78. To this day, my spiritual life is found inside the heart of the wild. I do not fear it, I court it. When I am away, I anticipate my return, needing to touch stone, rock, water, the trunks of trees, the sway of grasses, the barbs of a feather, the fur left behind by a shedding bison. - Author: Terry Tempest Williams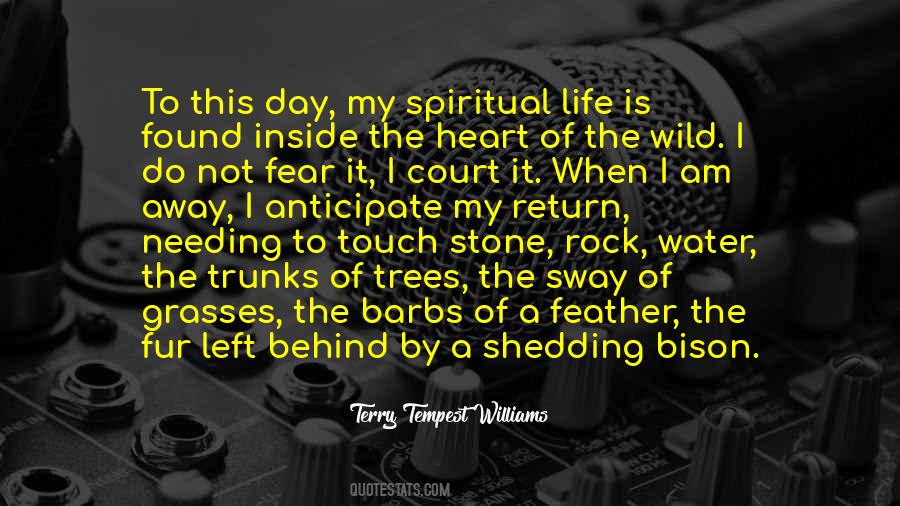 #79. She is free in her wildness, she is a wanderess, a drop of free water. She knows nothing of borders and cares nothing for rules or customs. 'Time' for her isn't something to fight against. Her life flows clean, with passion, like fresh water. - Author: Roman Payne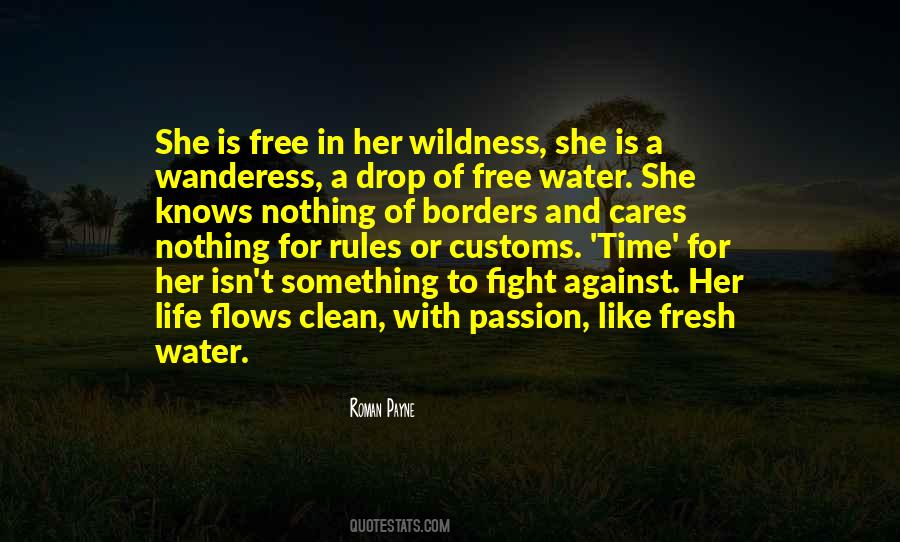 #80. Ah, but dreams cannot be captured with promises," he said. "Like water, they elude our grasp. But water is the staff of life. I believe your dream will come true if only because you will not compromise on it and let it go too lightly. - Author: Mary Balogh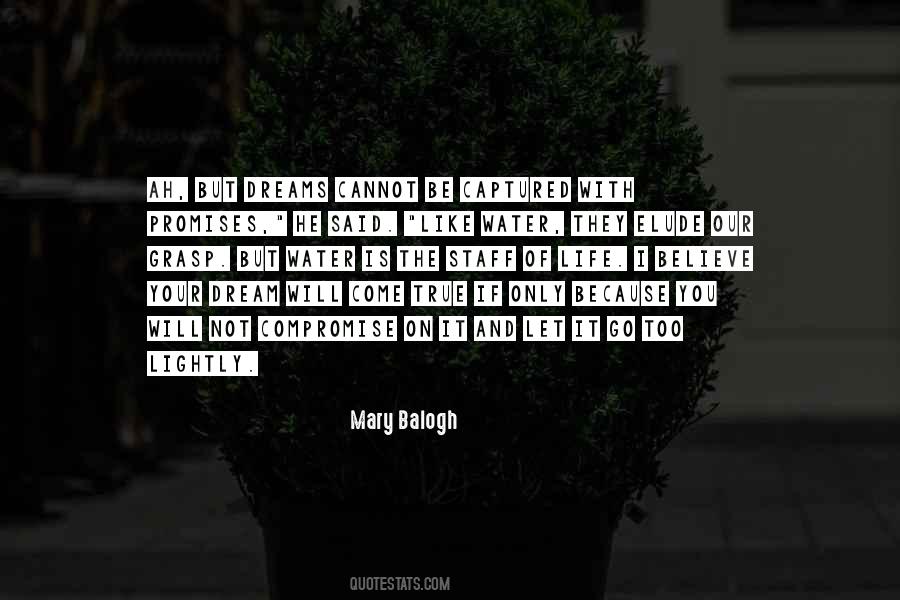 #81. One of the drawbacks to life is that it contains moments when one is compelled to tell the truth, - Author: P.G. Wodehouse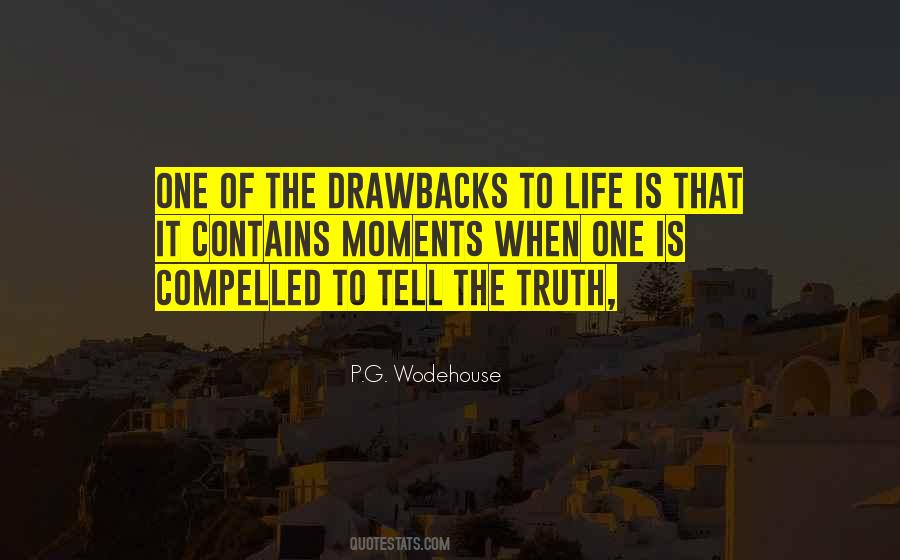 #82. Humility is more powerful than egoistic pride. Water is more powerful than the strongest cliff and Love is more powerful than might. - Author: Radhe Maa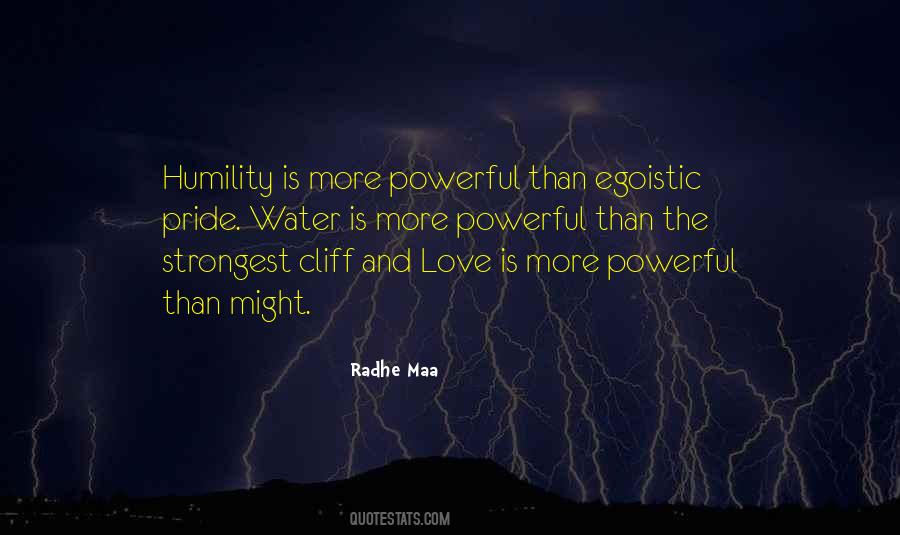 #83. A life without love is like a river without water. Dryness cracks the heart. - Author: Debasish Mridha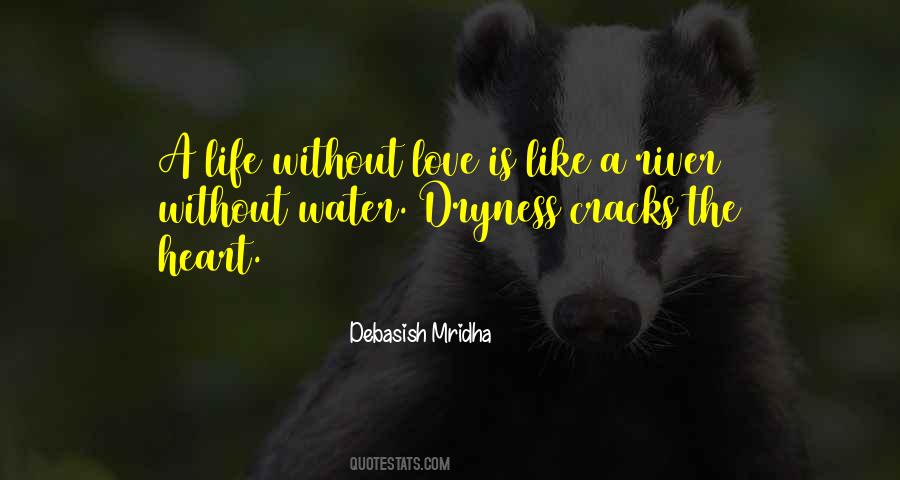 #84. "If any man thirst, let him come and drink from the rivers of living water" (cf. John 7:38). Where shall he who thirsts come? To heretics where the fountain and river of water is in no way life-giving? Or to the Church, which is One? - Author: Cyprian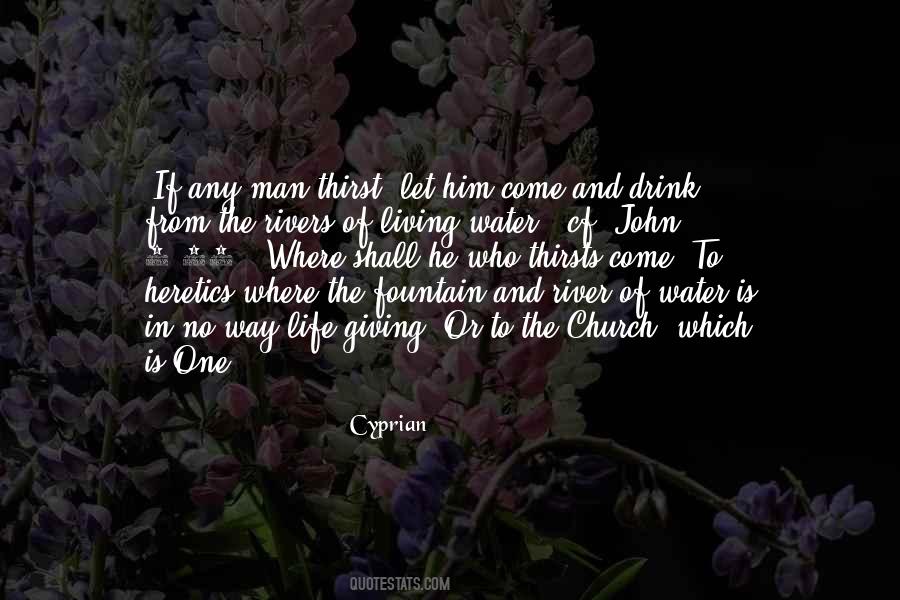 #85. Try as we might, we cannot force our children to reach their full potential. Theirs is the life that they alone must live. The role of the parent is to prepare the most fertile soil and appropriately water the seedling so it can most fully blossom. - Author: Gabriel Cousens M.D.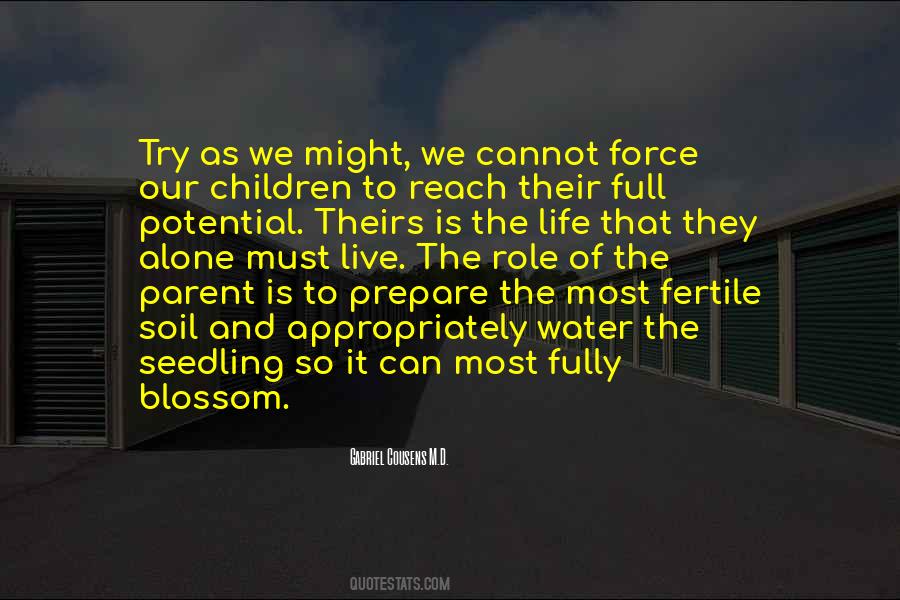 #86. Dream is like a Art.
Faith is like a Color.
Failure is like a Water.
If u drop a water on a art,it will affect the art not the color.
Never lose it. - Author: Saravanan Writer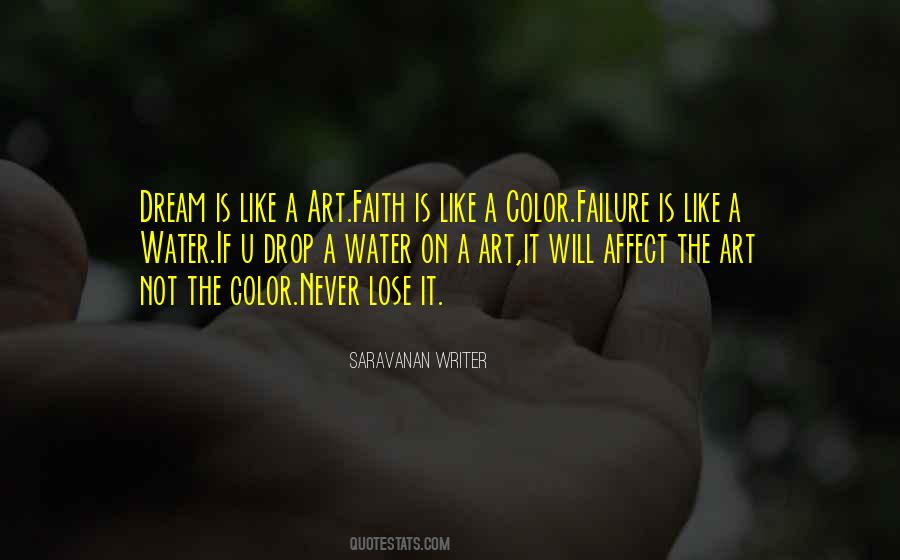 #87. It is not the hysterical alone for whom the great dash of cold water is good.
All who dream life, instead of living it,
require some similar shock. - Author: George MacDonald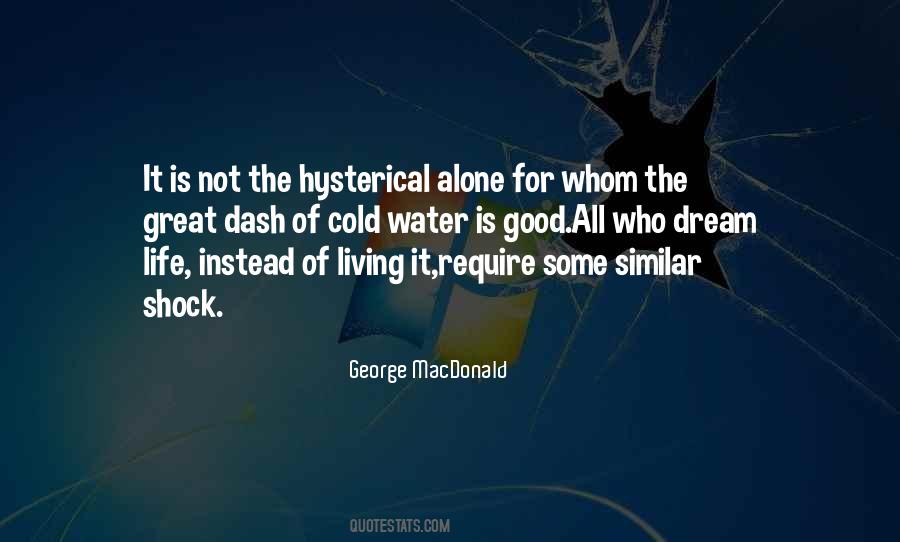 #88. Love in a hut, with water and a crust,
Is - Love, forgive us! - cinders, ashes, dust. - Author: John Keats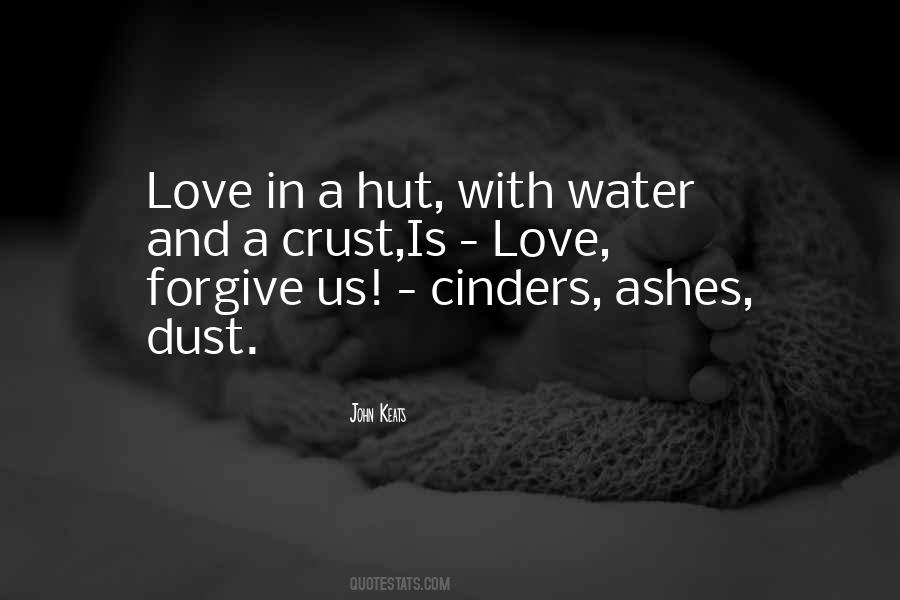 #89. Jesu, lover of my soul, Let me to thy bosom fly, While the nearer waters roll, While the tempest still is high; Hide me,O my Saviour, hide, Till the storm of life is past; Safe into the haven guide, O receive my soul at last. - Author: Charles Wesley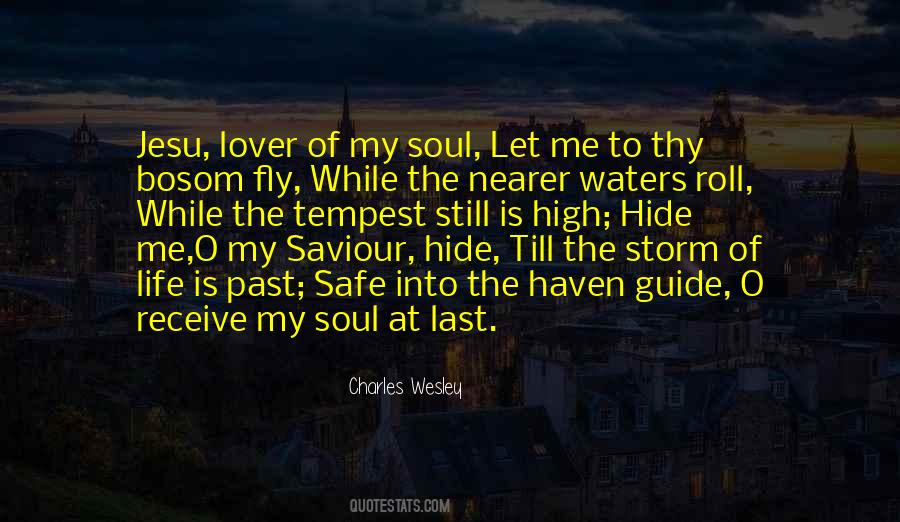 #90. I slowed my pace. Years of hauling water, wringing out clothes, scrubbing floors, emptying chamber pots, with no chance of beauty or color or light in my life, stretched before me like a landscape of flat land where, a long way off, the sea is visible but can never be reached. - Author: Tracy Chevalier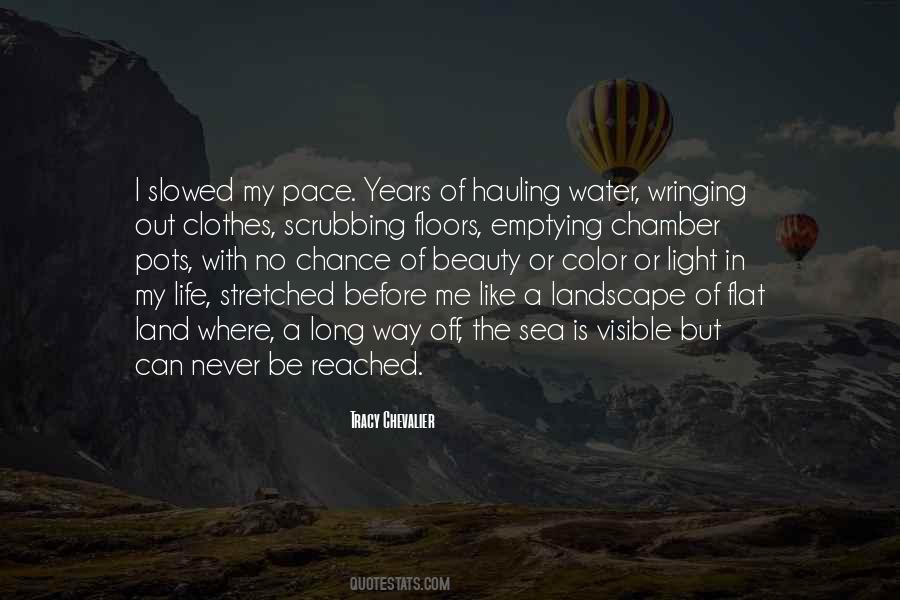 #91. The Baltic Sea is becoming more and more polluted. Not everybody living near the shore of the Baltic Sea is protecting it. It is the water of life for countries like Finland and Sweden. - Author: Harri Holkeri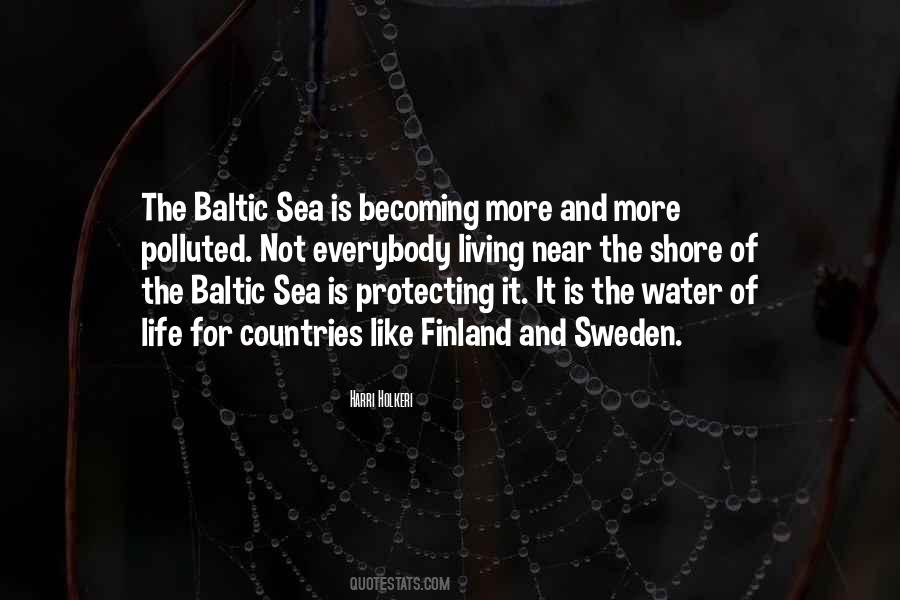 #92. Is not a patron my lord, one who looks with unconcern on a man struggling for life in the water, and, when he has reached ground, encumbers him with help? - Author: Samuel Johnson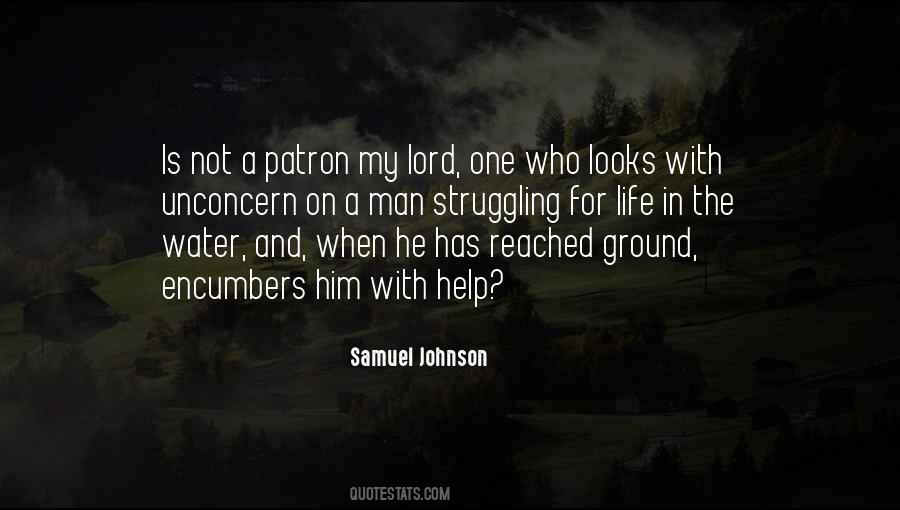 #93. A mind without kindness is like a river without water. - Author: Debasish Mridha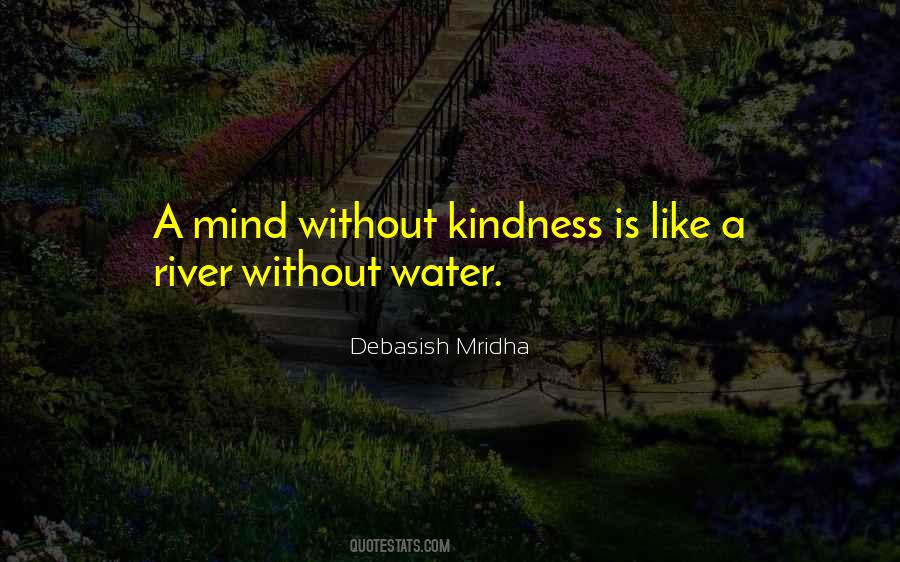 #94. Confidence is not a wilted plant that can be brought back to life with a bit of water. It is a highly flammable object. Doubt sets it aflame and destroys it irreparably. - Author: Michele Halberstadt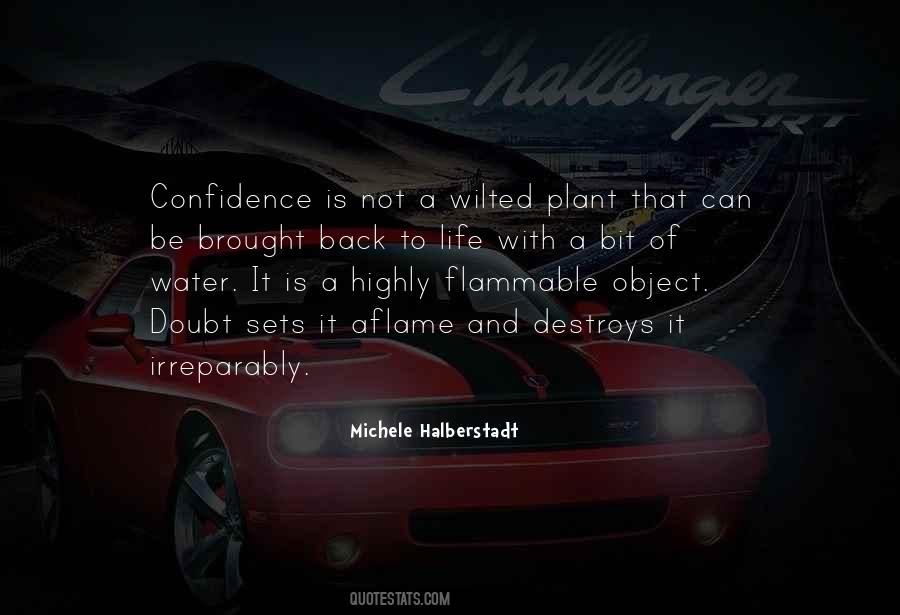 #95. The grass is not only greener on the side you water but also on the side you prevent preys from feeding on. Learn to keep out the preys and see your lawn flourish. - Author: Kemi Sogunle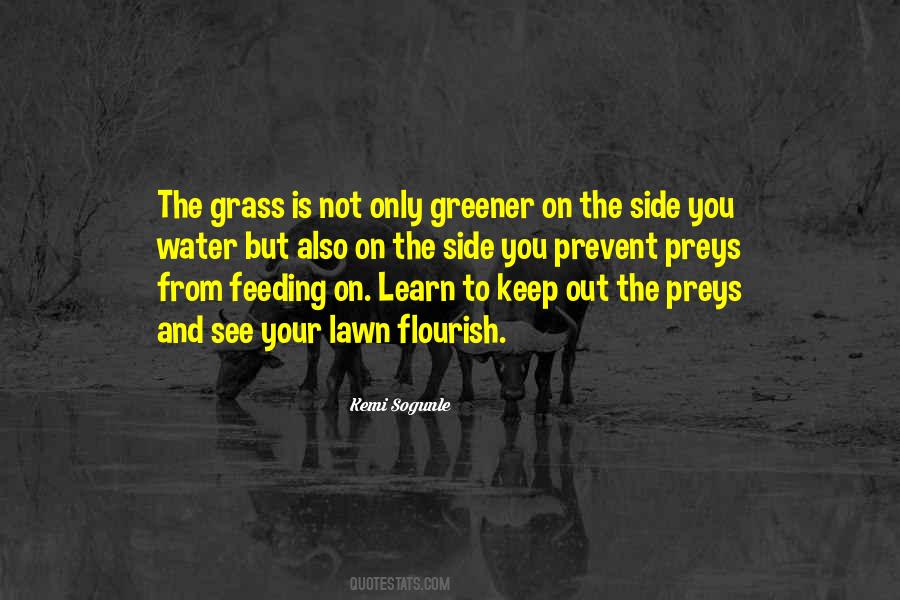 #96. Time is like a river
you cannot touch the same water twice because the flow that has passed
will never pass again ... - Author: Tanu B Singh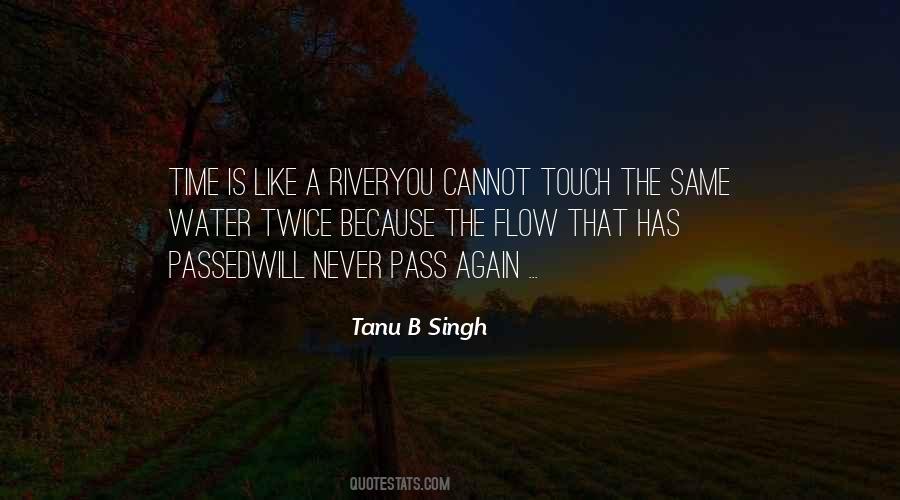 #97. The water which rises in the mountain is the blood which keeps the mountain in life. - Author: Leonardo Da Vinci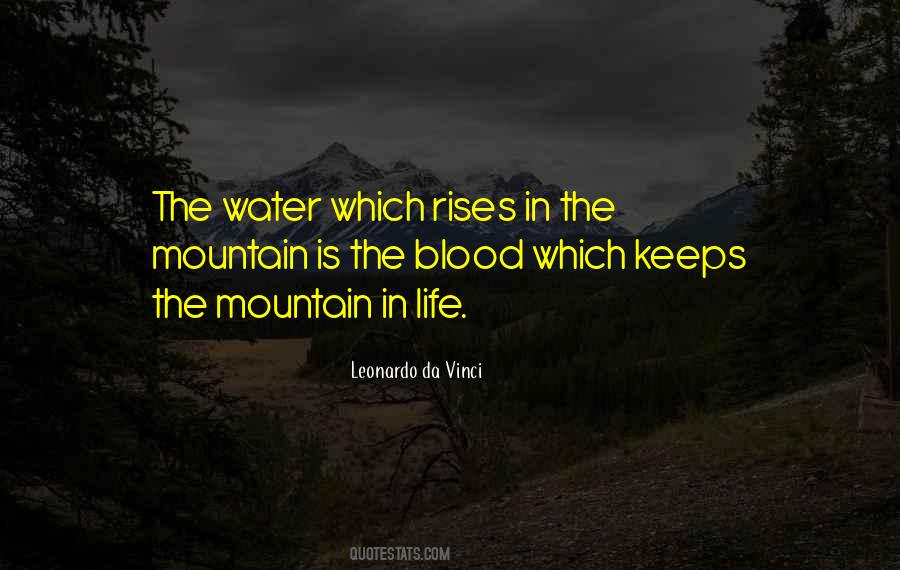 #98. The craving for colour is a natural necessity just as for water and fire. Colour is a raw material indispensable to life. At every era of his existence and his history, the human being has associated colour with his joys, his actions and his pleasures. - Author: Fernand Leger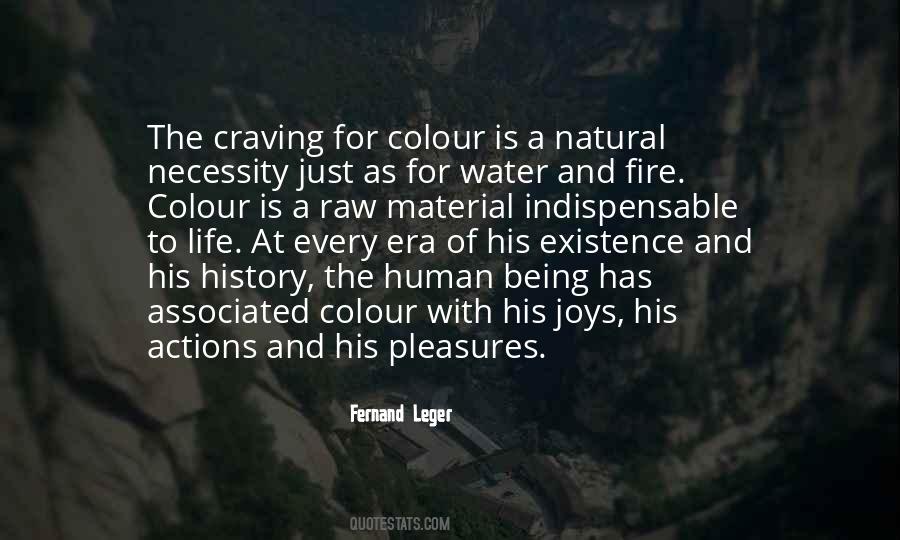 #99. So much of my life has been twisted and painful that now when happiness floods right through me like being flooded over with warm glittering blue water, I can't believe it. I say to myself: I am Anna Wulf, this is me, Anna, and I'm happy. - Author: Doris Lessing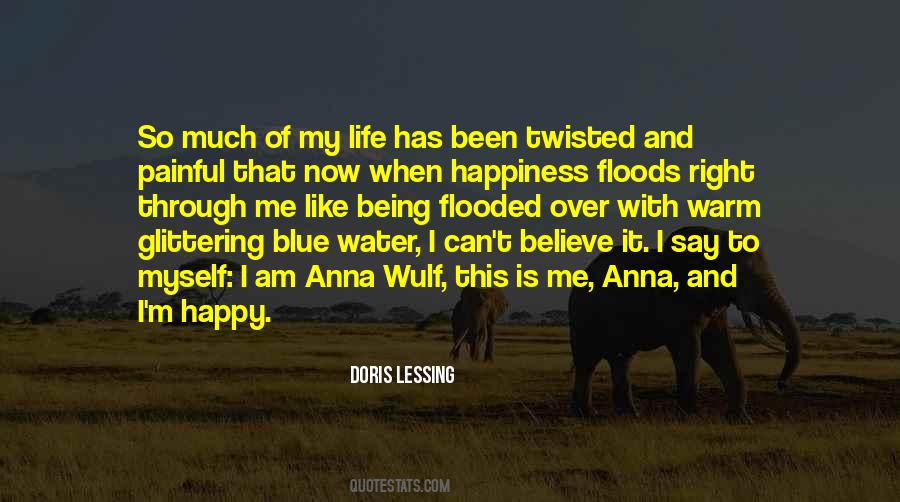 #100. Man is like the foam of the sea, that floats upon the surface of the water. When the wind blows, it vanishes, as if it had never been. Thus are our lives blown away by Death. - Author: Khalil Gibran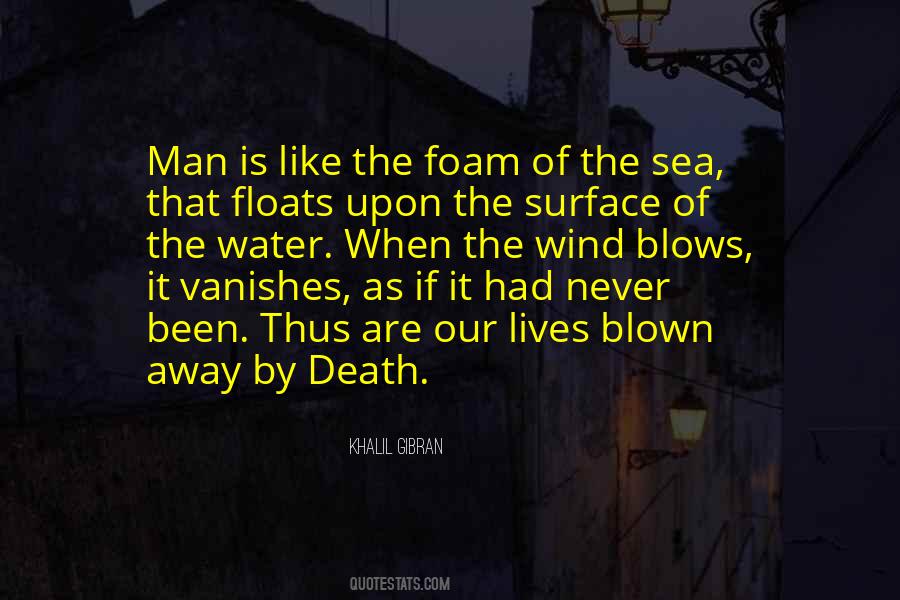 Famous Authors
Popular Topics