List of top 100 famous quotes and sayings about life is short live to read and share with friends on your Facebook, Twitter, blogs.
Top 100 Life Is Short Live Quotes
#1. Tomorrow is promised to no one. Prioritize today accordingly.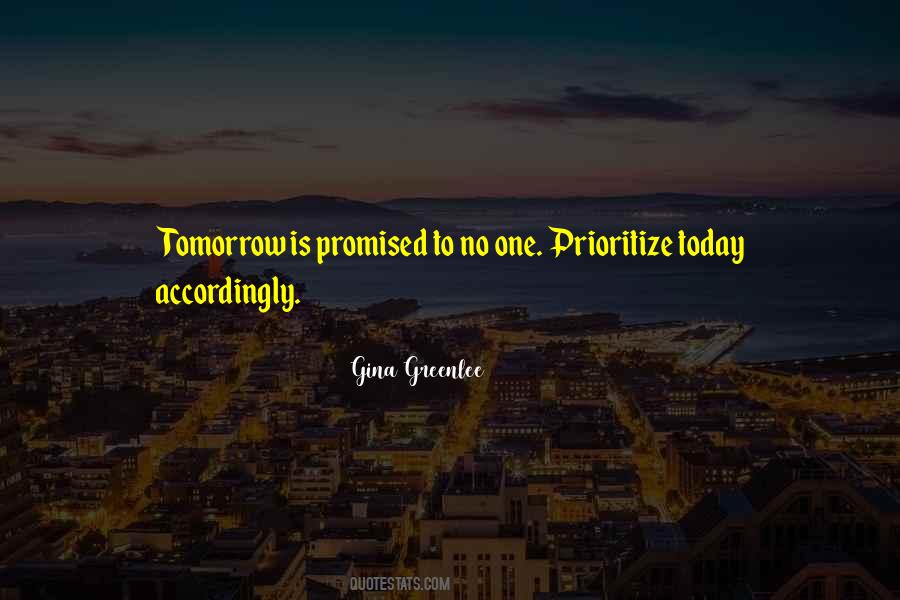 #2. Find your way early, on the road of life. For the way is too long to be struggling, and far too short to be waiting.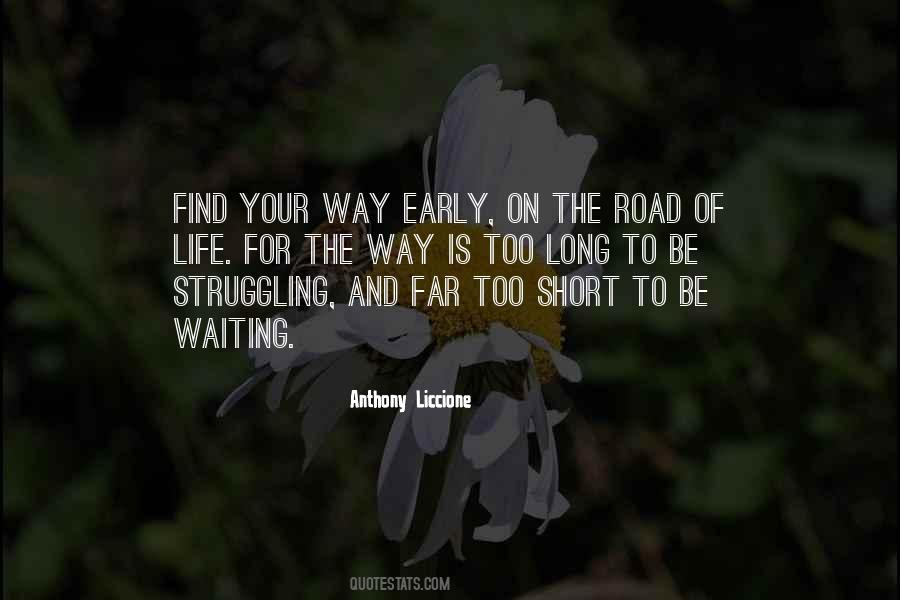 #3. Life is too short to be unhappy in business. If business were not a part of the joy of living, we might almost say that we have no right to live, because it is a pretty poor man who cannot get into the line for which he is fitted.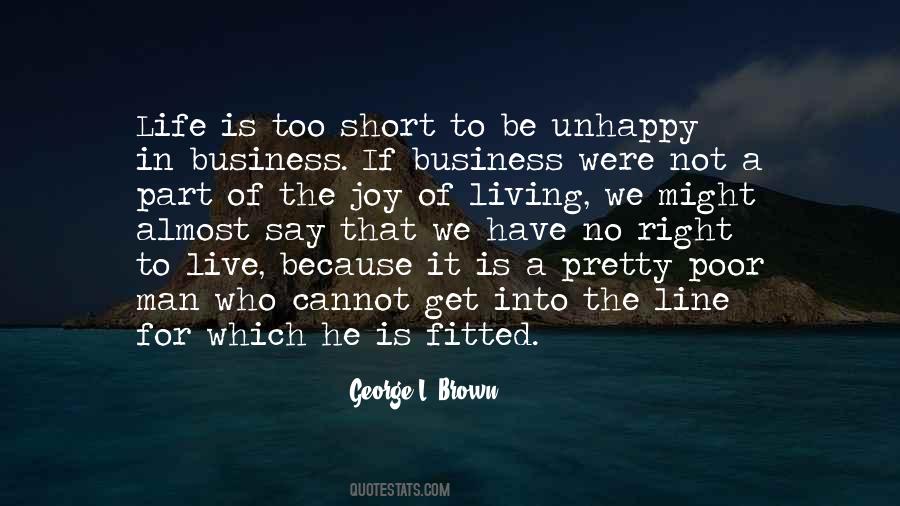 #4. Because you can make decisions for yourself even if they're wrong. Mistakes can be corrected. Life is too short to have everyone else tell you how to live. Make a few mistakes, and learn from them. At least they'll be real, and you'll be living, not just existing.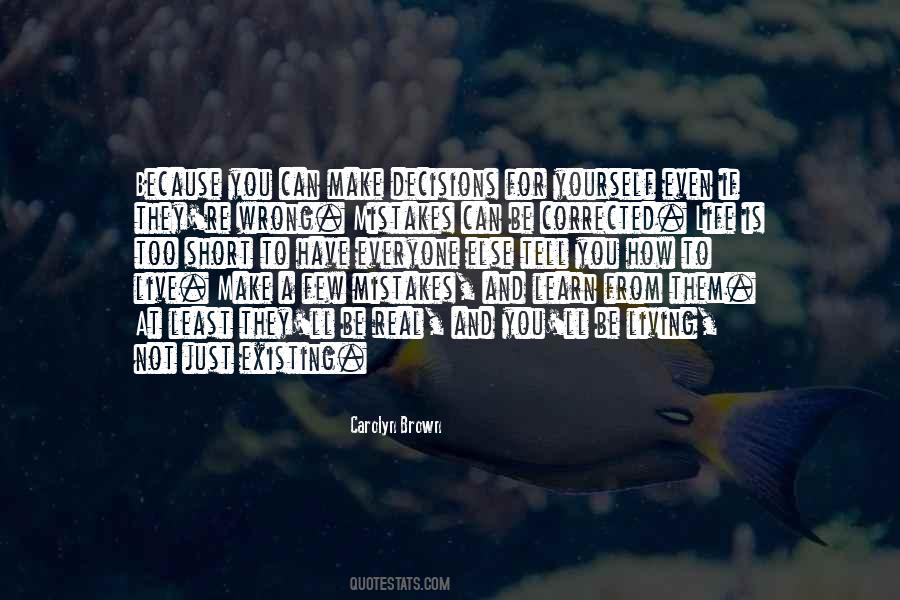 #5. You only live once, life is really short.. don't let anything minuscule like that keep you down. Keep your head up.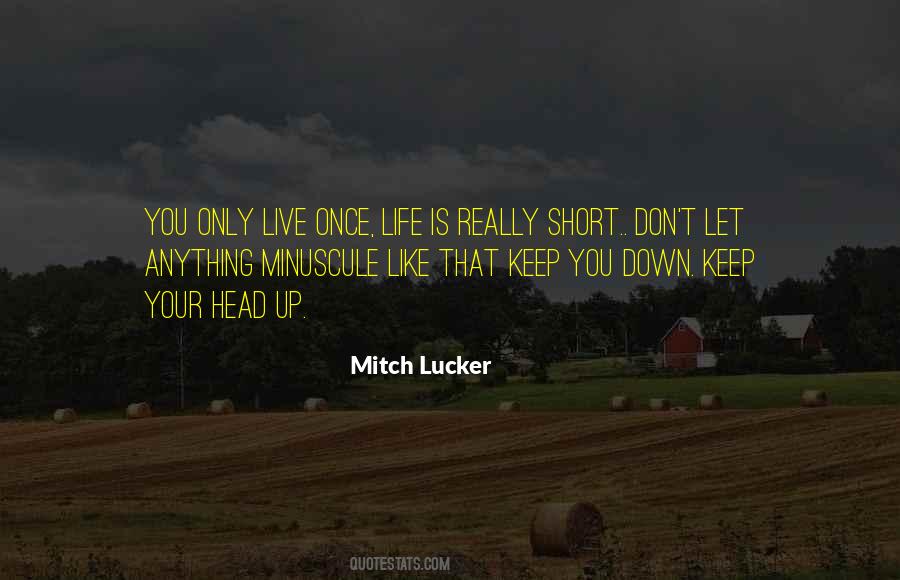 #6. Human life is truly a short affair. It is better to live doing the things that you like.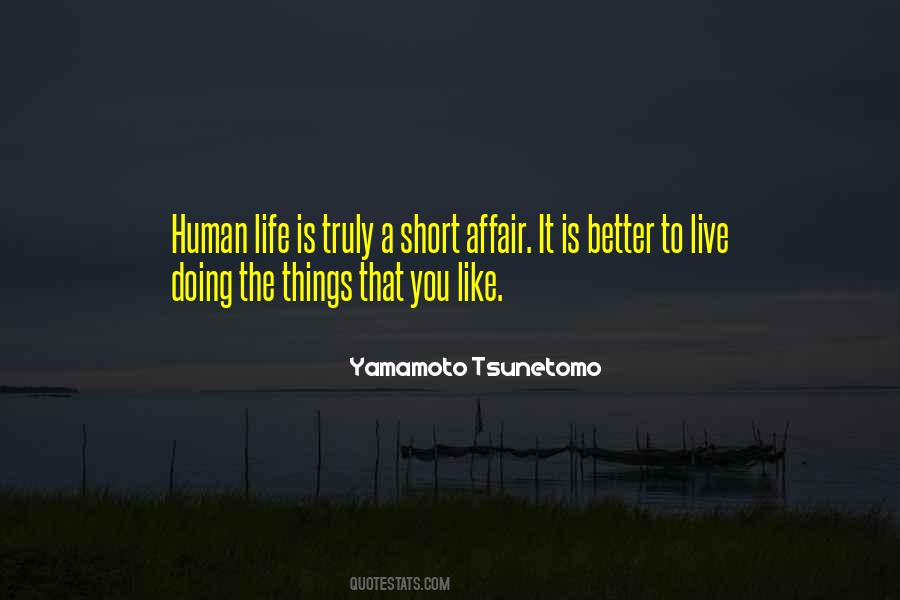 #7. Life is too short to waste time waiting for other people's approval on how you live it.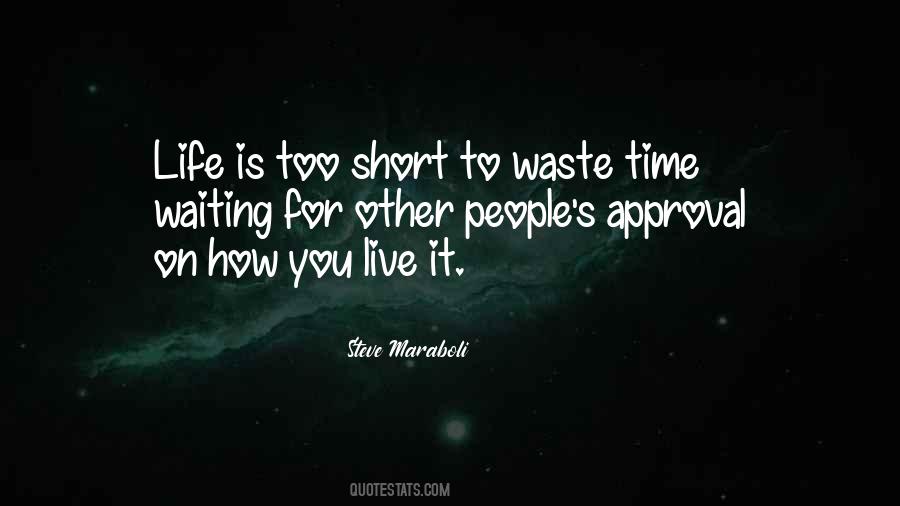 #8. Because I am a one-legged, black, short, woman I had to spend every day of my life pushing against what society told me I should be. I had to sell my value every day of my life. Confidence is what enables us to push back on reality. Once you get good at that, you can use it to live your joy.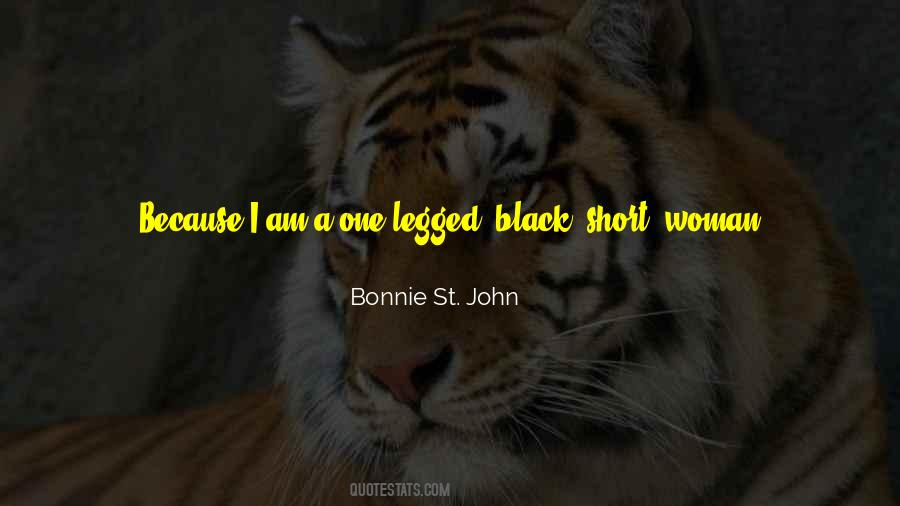 #9. I lost someone close to me once . . . Taught me to live in the moment. Life is short, you know?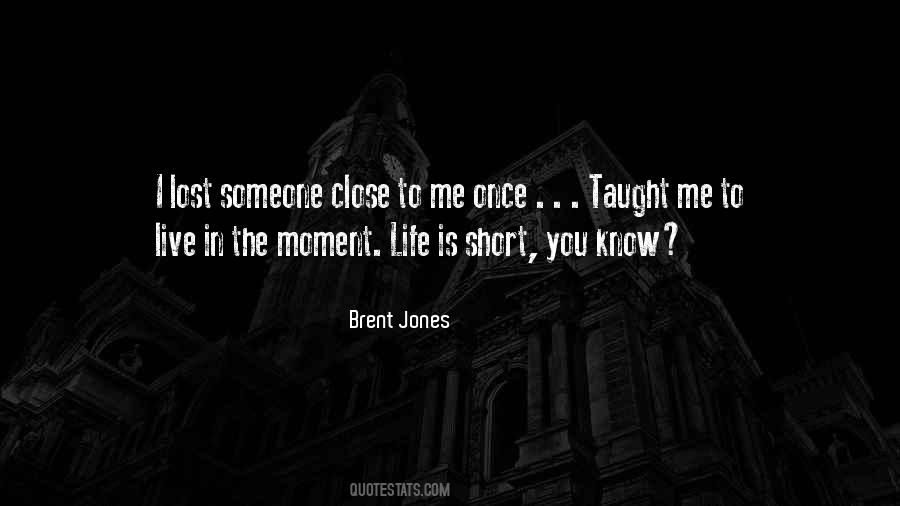 #10. Life is so transient and ephemeral; we will not be here after a breath. So think better, think deeply, think with kindness, and write it with love so that it may live a little longer.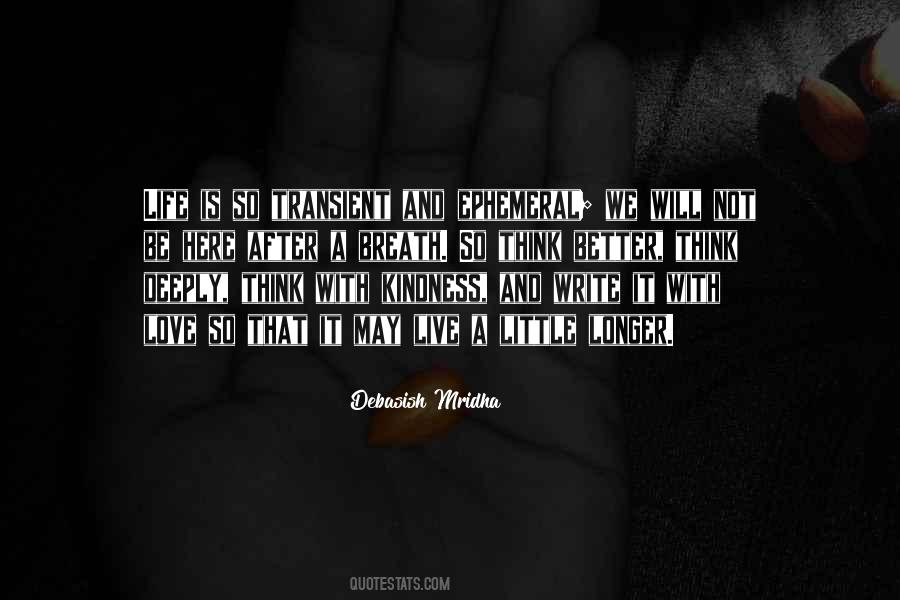 #11. Life is too short to live the same day twice. So each new day make sure you live your life.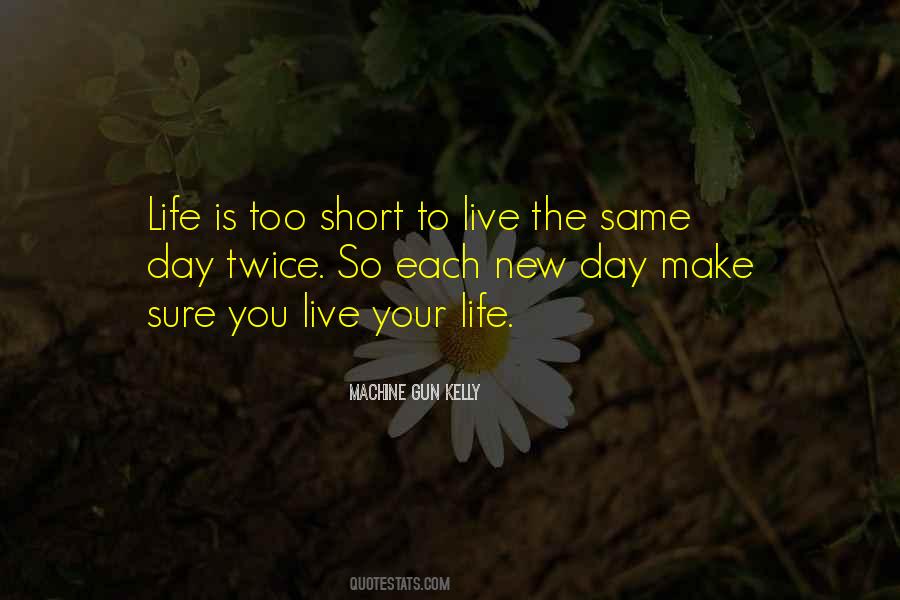 #12. Live life to the foolish coz life is to short to be wasted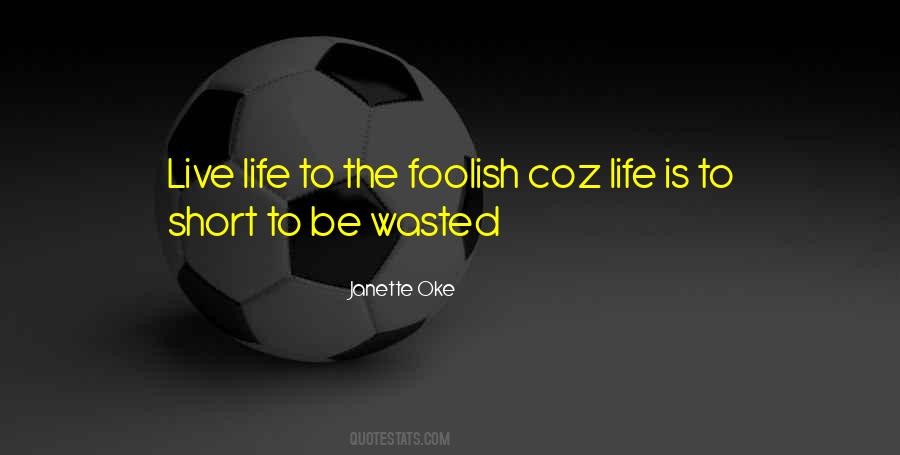 #13. Life is too short to listen to a MAN to tell me how to live it.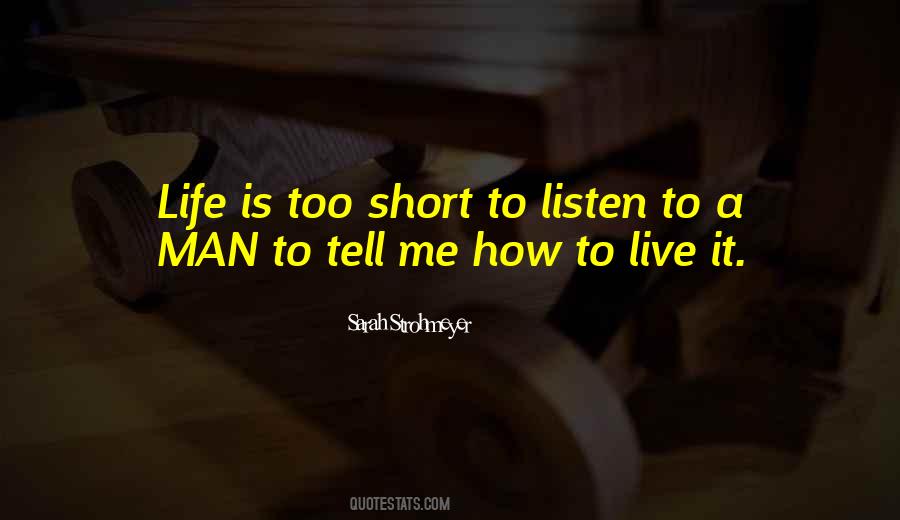 #14. We don't get to choose how we're born, Miranda, and very rarely how we die; but we get to choose how we live. Life is too short to spend in dread and guilt.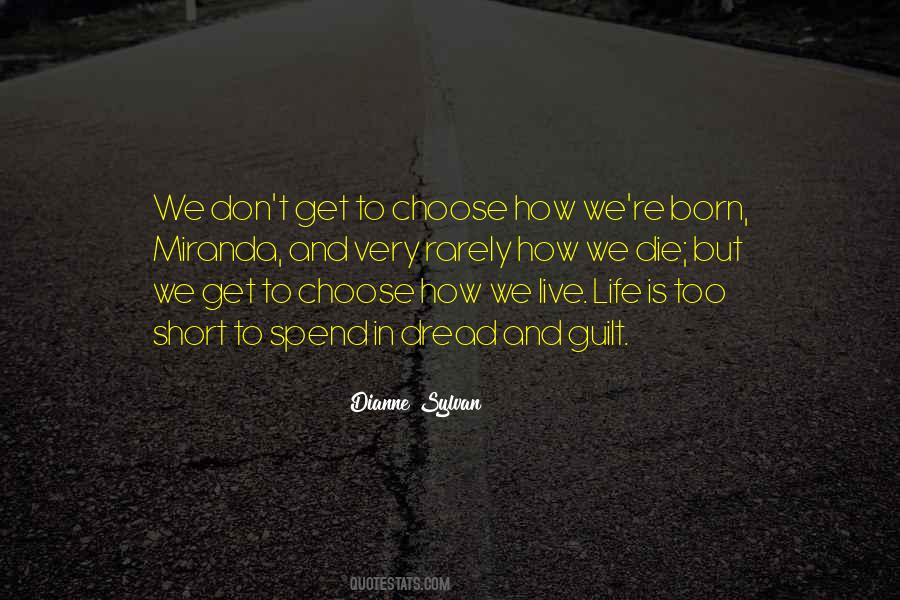 #15. Life's like a book: What matters is the hook.
Be it short or long, just live it strong.
Whether it's five stars, or how near or far, just soar!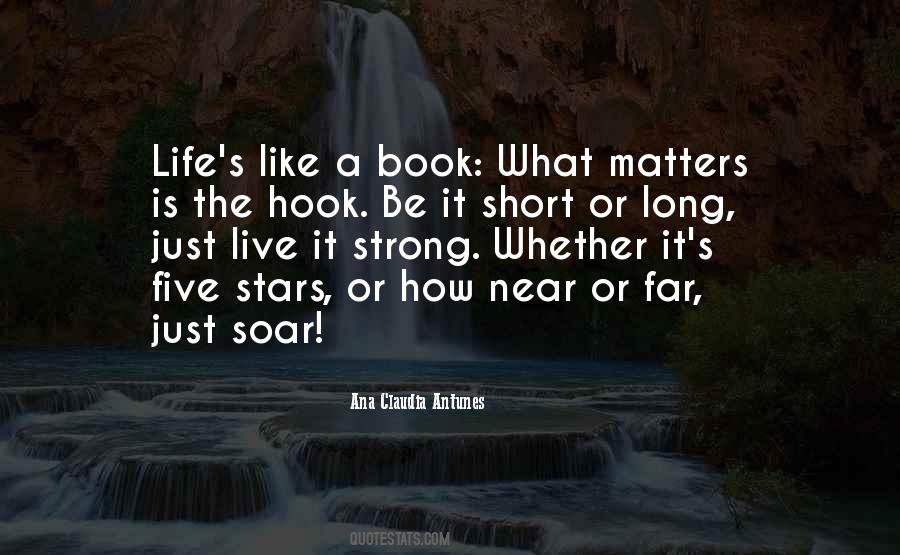 #16. Life is short, and life is beautiful, and everything is lovely. Love it, embrace it, smell the lilacs, play with the dog, and love endlessly and fiercely with everything you've got. Live without regret.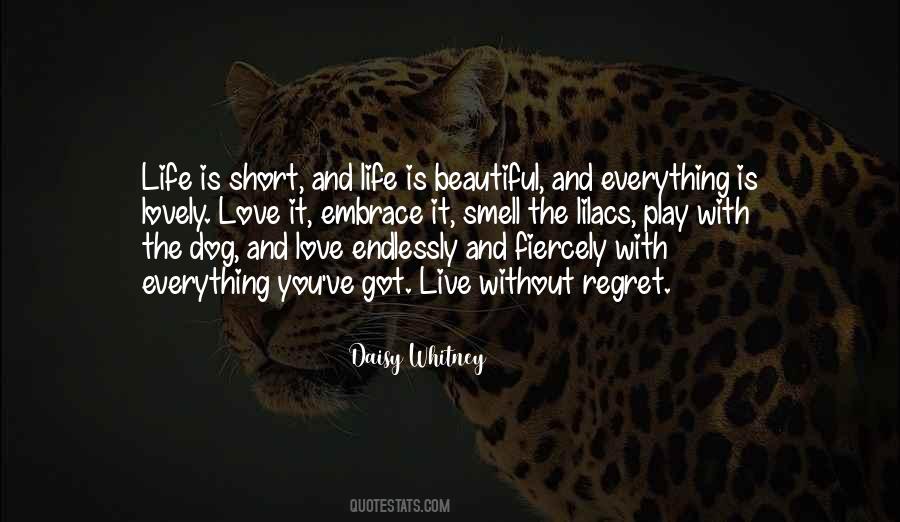 #17. Life is too short for anger, resentment, hostility and "should have." It is too short to put off doing what brings you joy. Live each day as if it were your last, because one day it will be.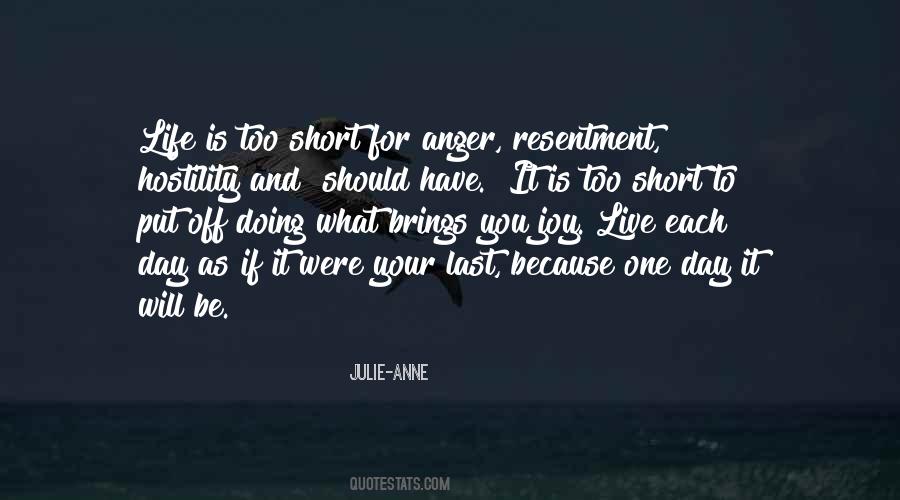 #18. I just know there's no way to live without pain
no matter how long or short your life is. People let you down. You get hurt and do damage in return.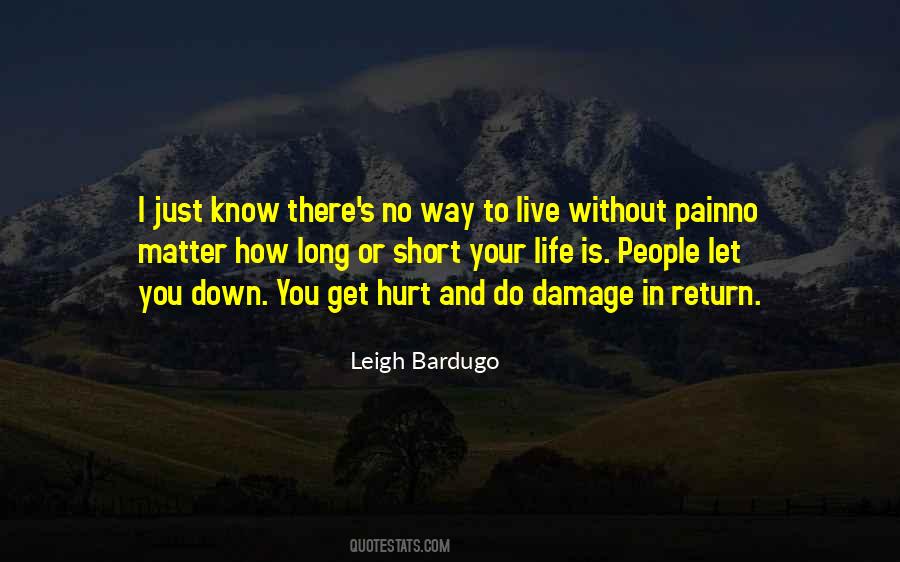 #19. Doctor," came the reply, "I'm going to do all the things you tell me not to do. If I've got to live the sort of life you have described, I don't care how short it is." Having spat the wormwood out,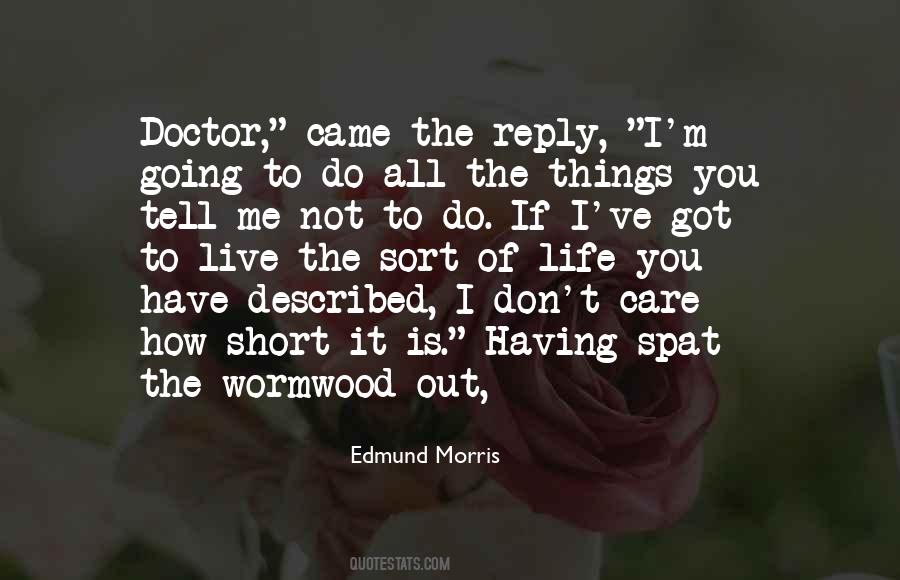 #20. How was I able to live alone before, my little everything? Without you I lack self-confidence, passion for work, and enjoyment of life
in short, without you, my life is no life.
[Written to his wife, Mileva]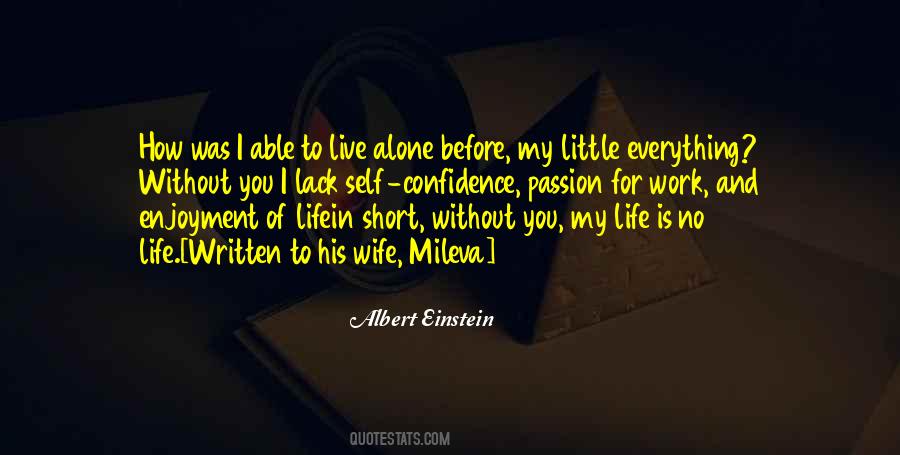 #21. I wanted to scream at those with the probing stares. "Stop calling me a loser! The way I live life is my choice." But I stop short, fearing being labelled a psychopath.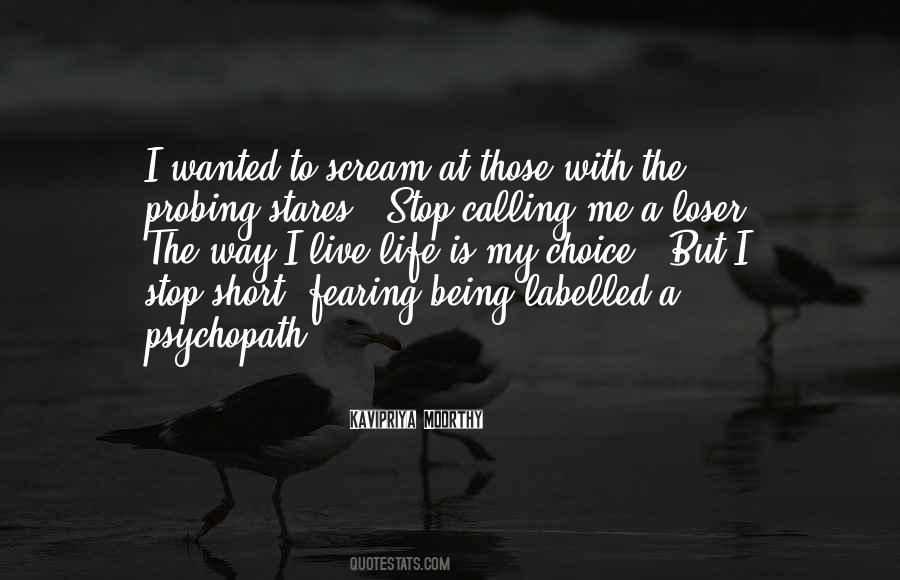 #22. The Timeline of a Life being Long or Short, is Computed on the Benchmark of How You Live It ...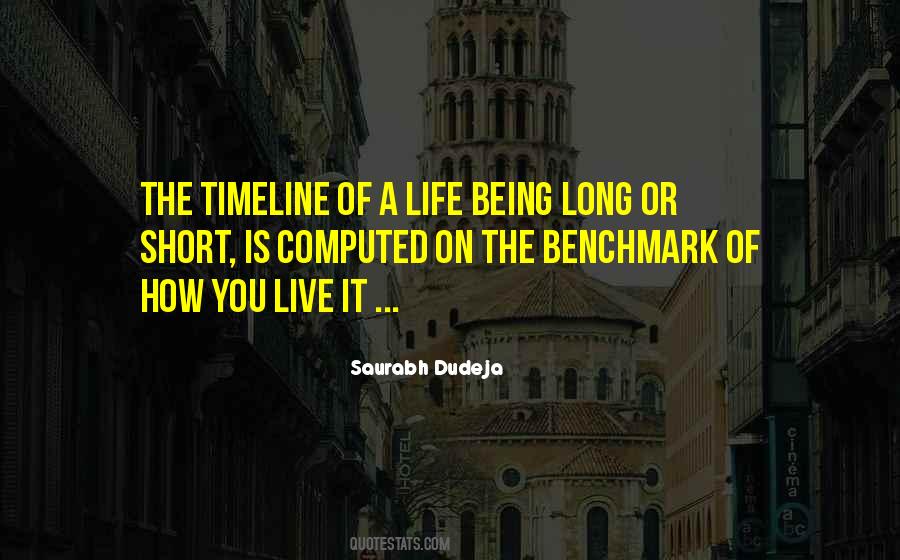 #23. The only certainty is that we never know what tomorrow holds. We live for today, life is short, so let's enjoy it together while we can.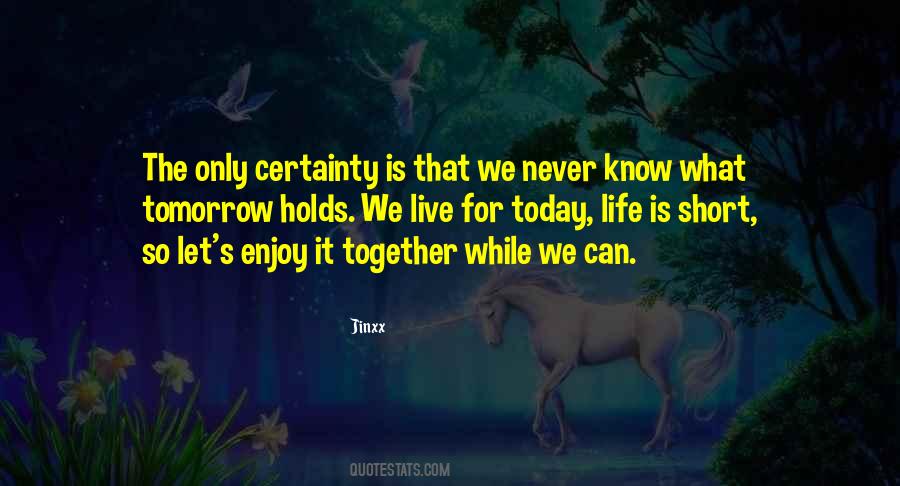 #24. Life is short. You've got to live while you've got life in you.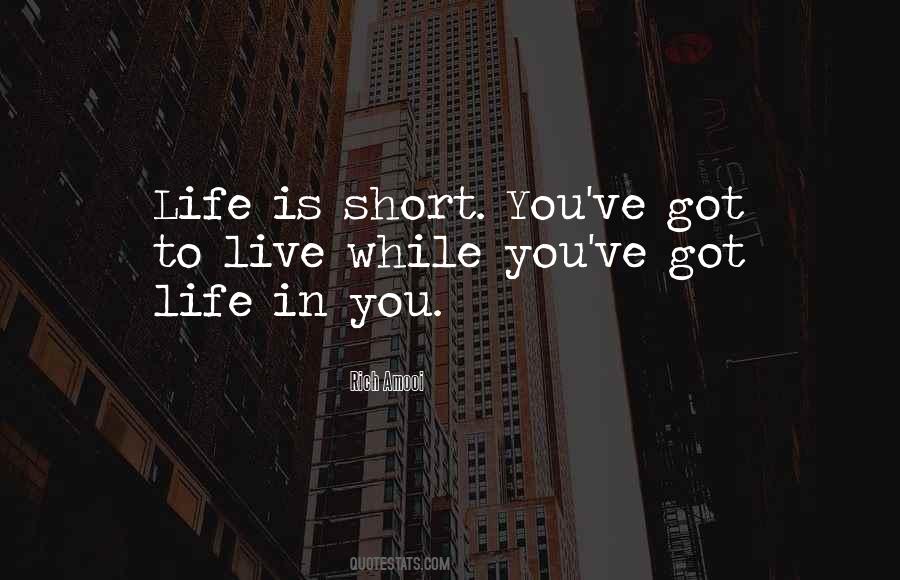 #25. ...life is too short to live without the things you want, to not fight for the things you love...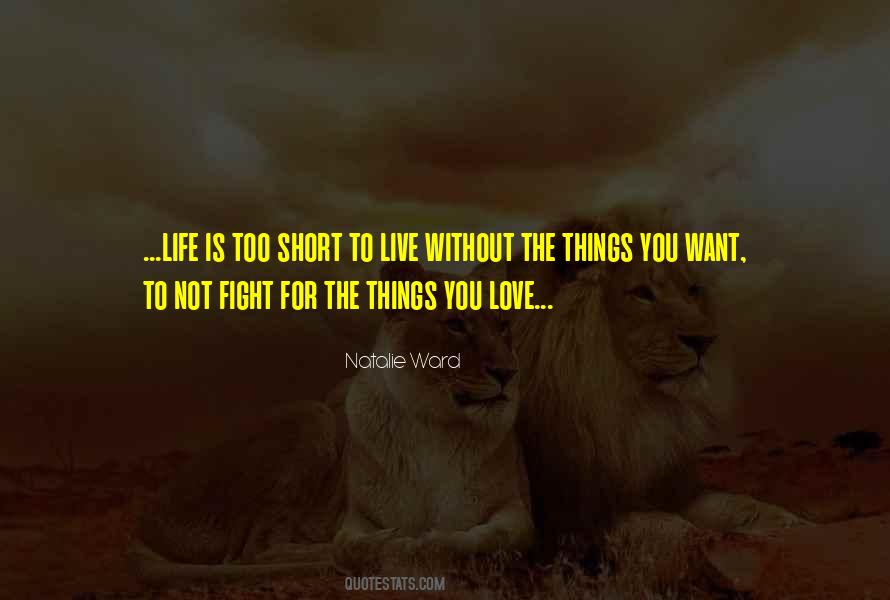 #26. You Know What, Hate is Baggage, Life Is To Short To Be Pissed Off All The Time, So Let Go Of Hate And Live Your Live To The Fullest Extent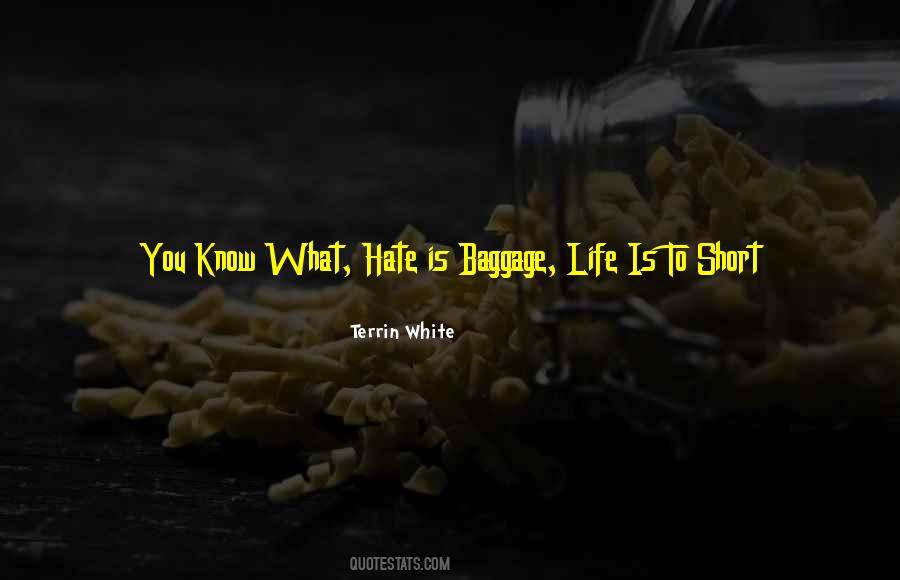 #27. Short is the little time which remains to thee of life. Live as on a mountain.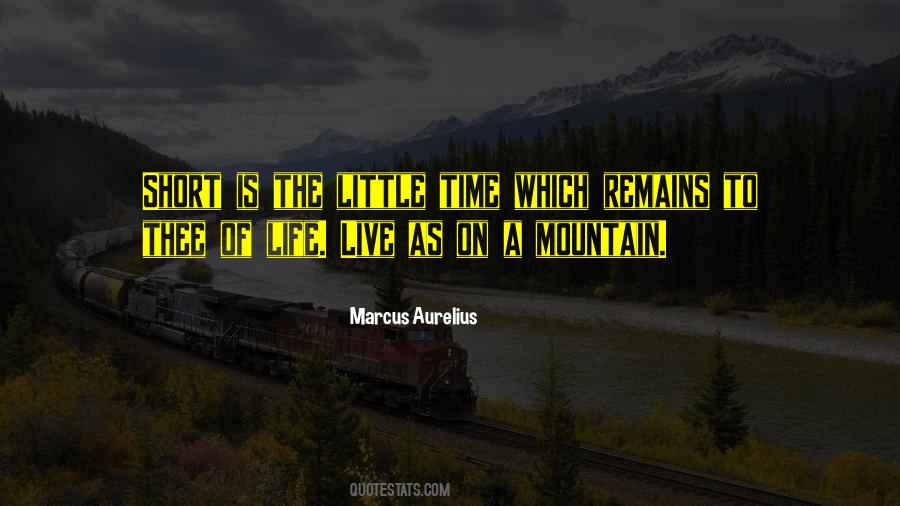 #28. Life is short; none of us knows how long we have. Live each day as if it were your last - for someday it will be.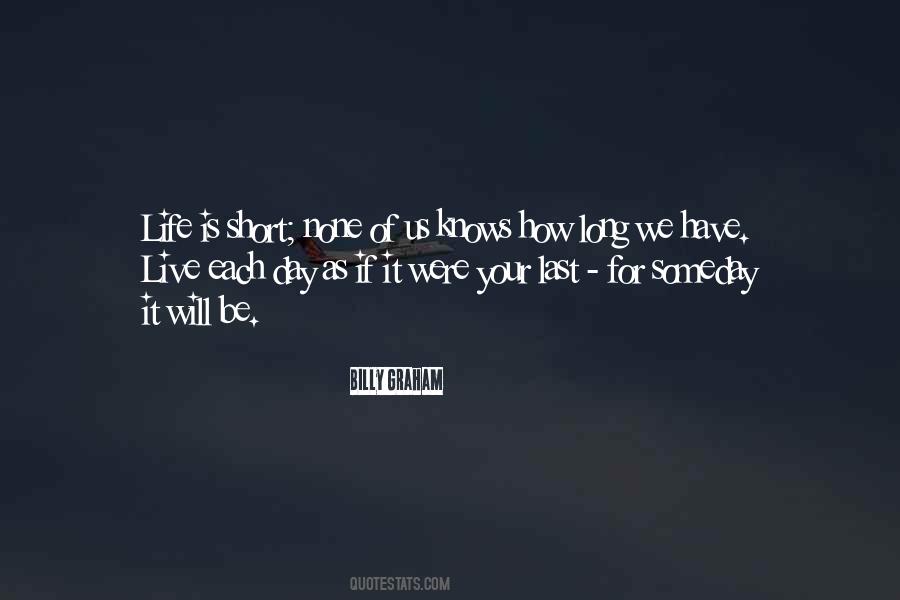 #29. Why do they not teach you that time is a finger snap and an eye blink, and that you should not allow a moment to pass you by without taking joyous, ecstatic note of it, not wasting a single moment of its swift, breakneck circuit?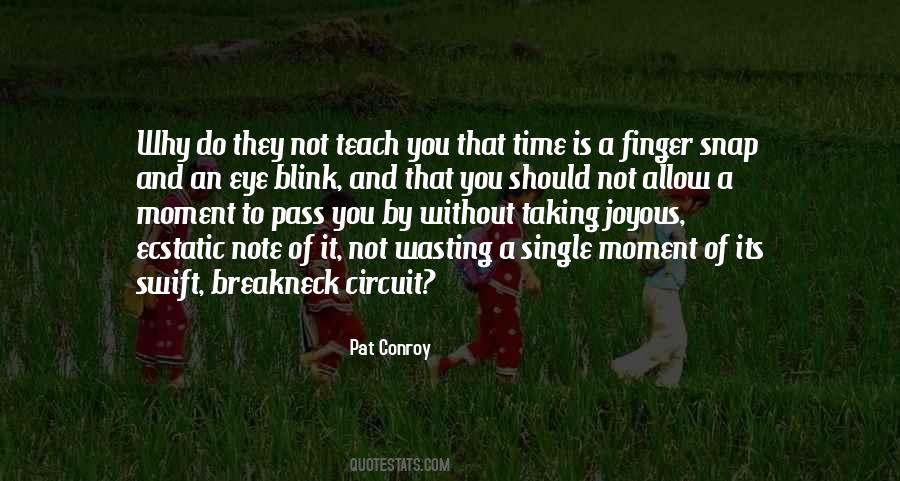 #30. This life is short, and you never know how many chapters you have left in your novel, Graham. Live each day as if it's the final page. Breathe each moment as if it's the final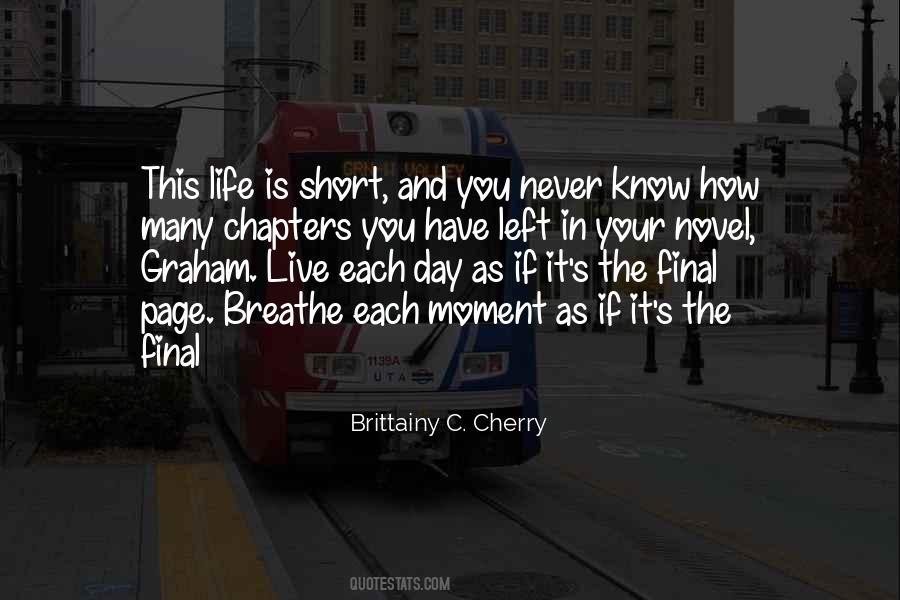 #31. We foolish mortals sometimes live through years not realizing how short life is, and that TODAY is your life.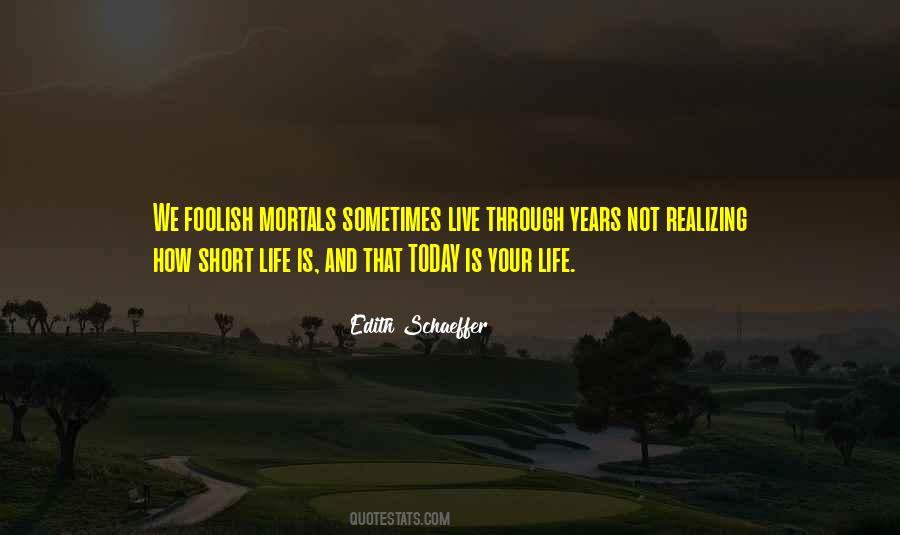 #32. We are reminded how short life really is, and how we are just passing through. So, all the people you haven't told you love lately, tell them, and live your days like you mean it.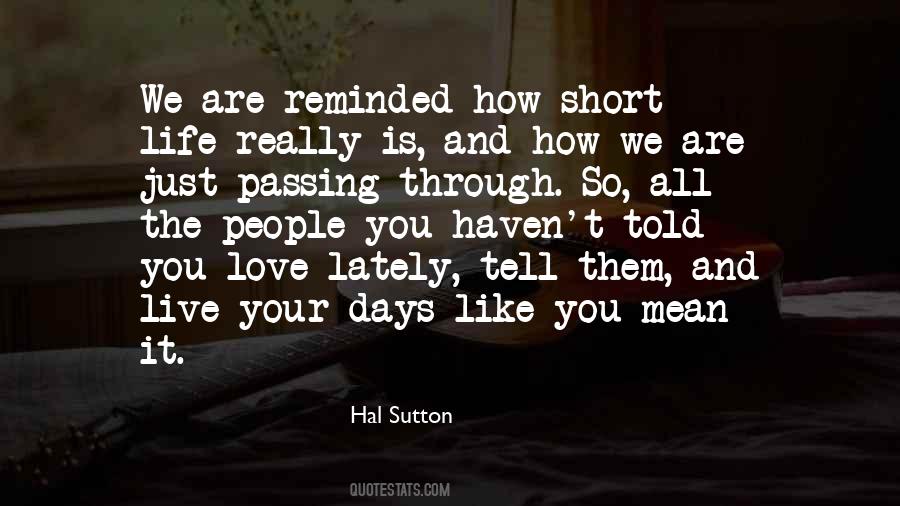 #33. As soon as something stops being fun, I think it's time to move on. Life is too short to be unhappy. Waking up stressed and miserable is not a good way to live.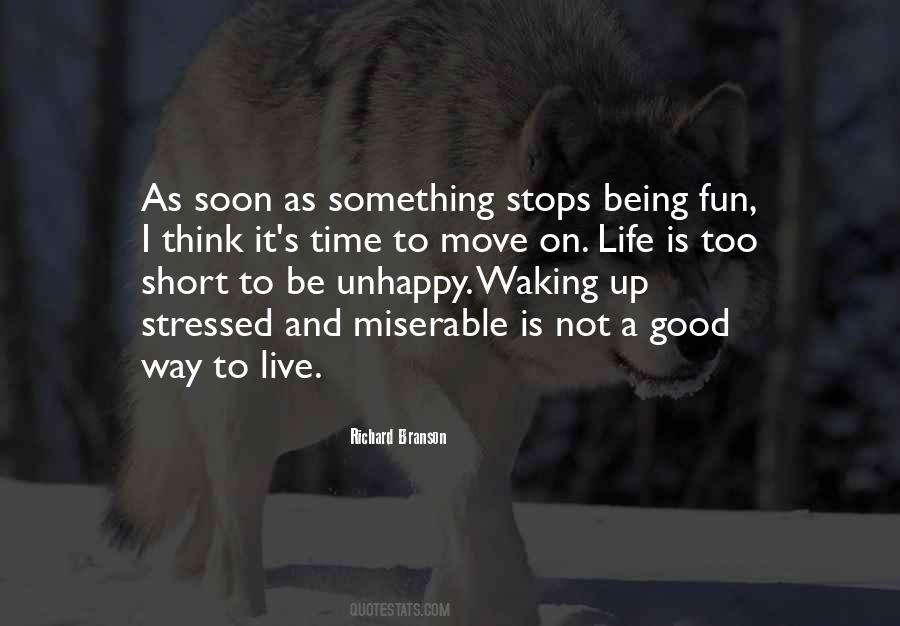 #34. Life is very short ... but I would like to live four times and if I could, I would set out to do no other things than I am seeking now to do.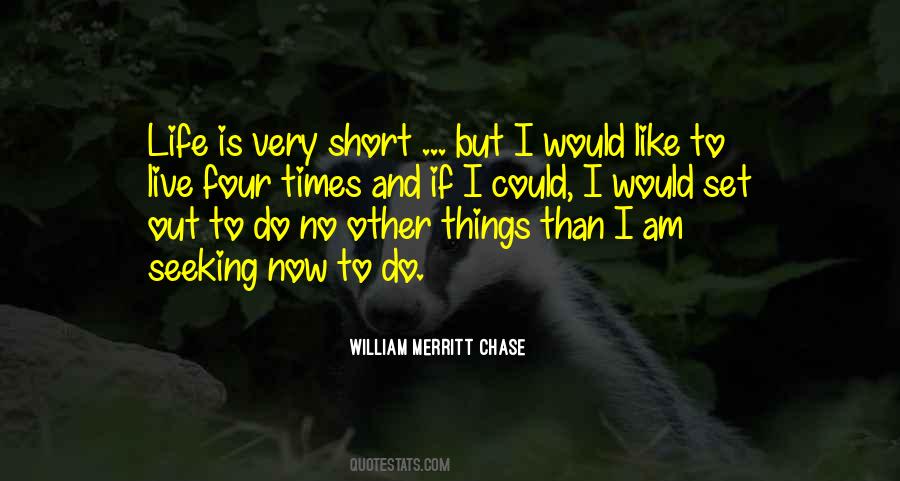 #35. We all tell our own stories the way we live our lives. My story is: Life is too short to not believe in fresh voices. I don't have Hollywood stars. I have great American artists.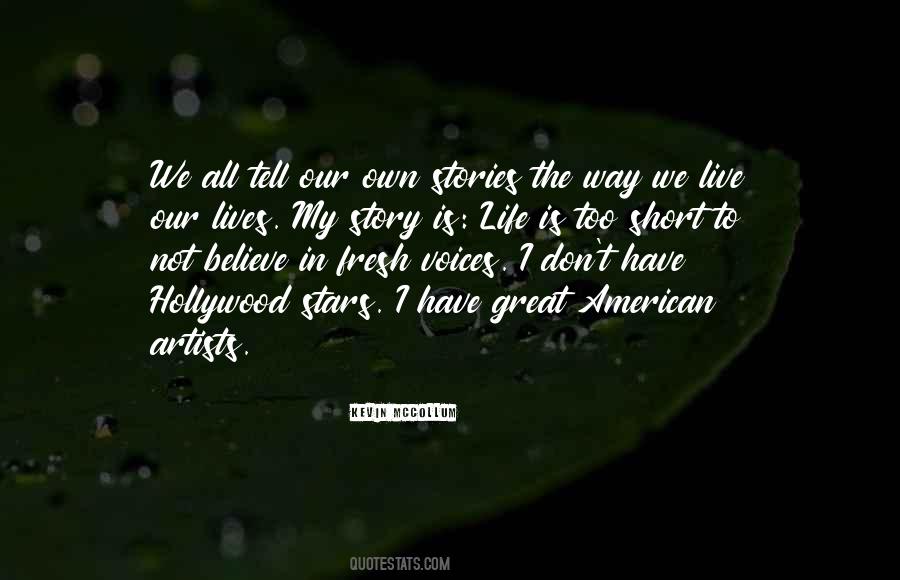 #36. I guess my view of life is that you live your life and it's short. The thing is to have as rich an experience as you possibly can.
That's what I'm trying to do. I'm trying to do something creative. I try to educate people.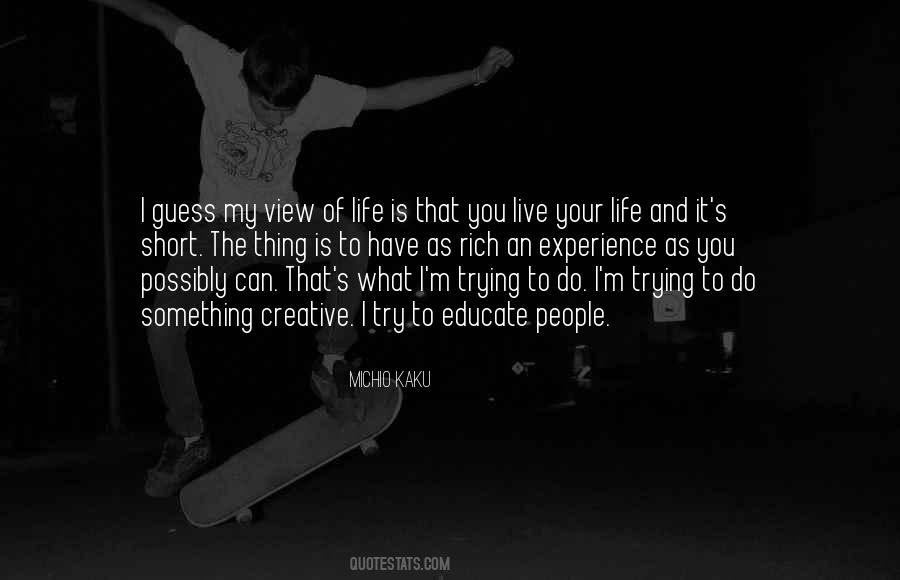 #37. Do not work primarily for money; do your duty to patients first and let the money follow; our life is short, we don't live twice; the whirlwind will pick up the leaves and spin them, but then it will drop them and they will form a pile.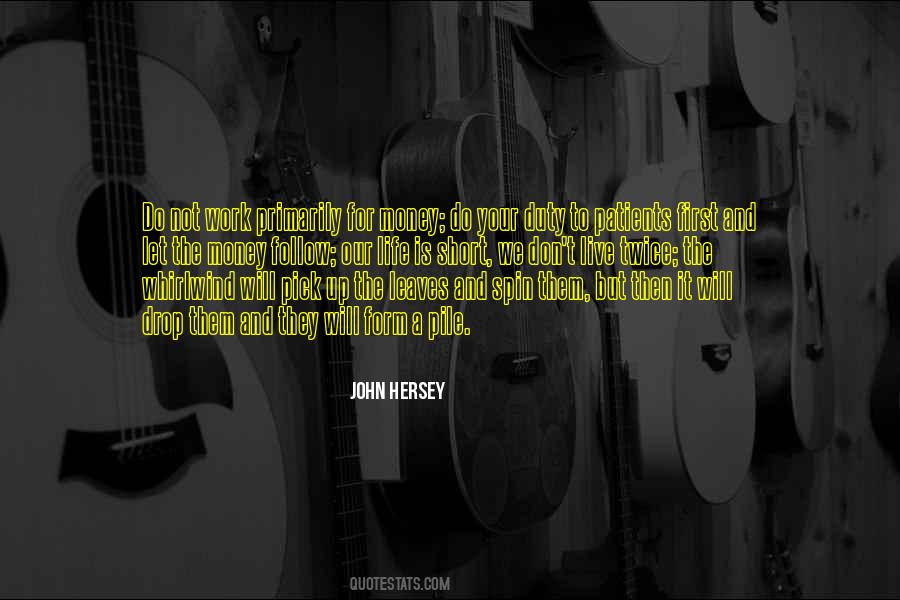 #38. We only have one life and one body to care of, and we better do it right. You never know what tomorrow may bring and so we better live this life the best we can and be grateful for everything we have.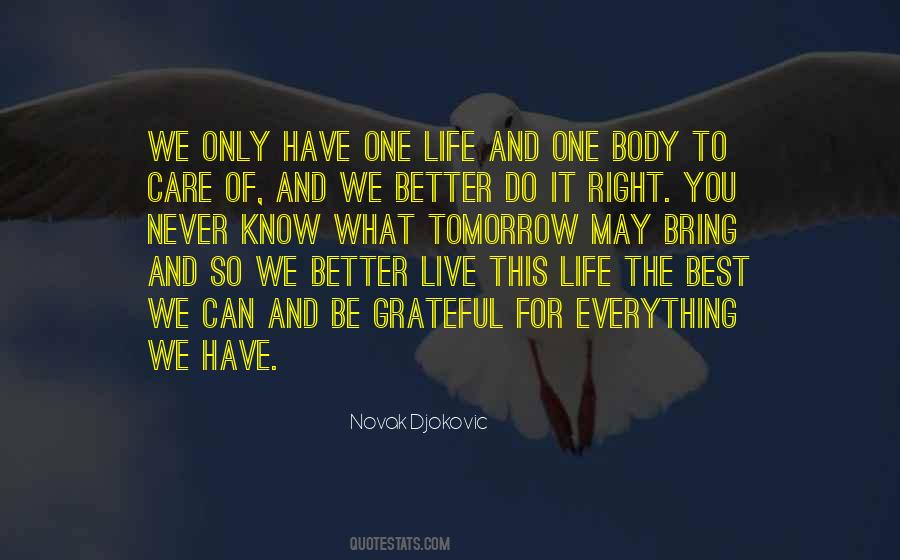 #39. Life is too short for regrets. Live, laugh, love.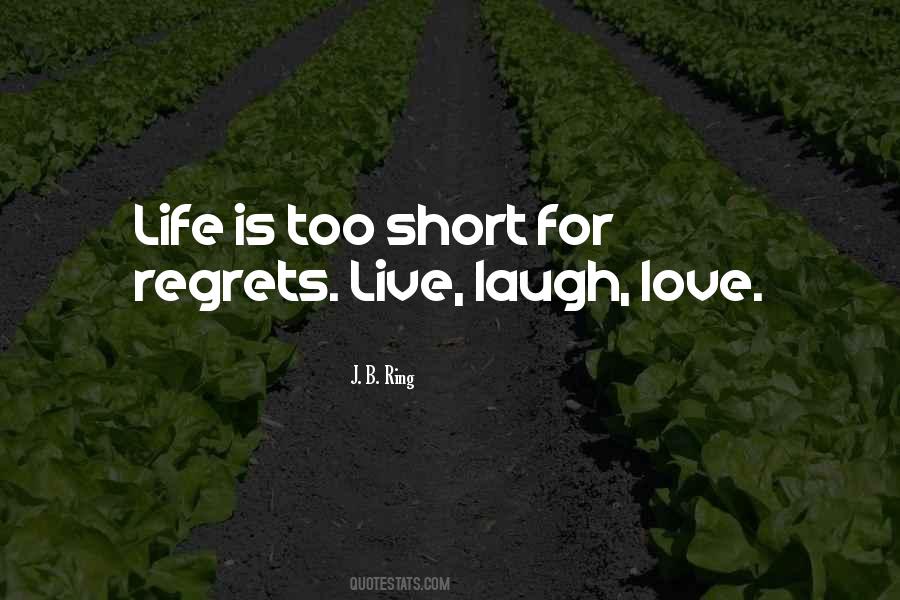 #40. Discard everything except these few truths: we can live only in the present moment, in this brief now; all the rest of our life is dead and buried or shrouded in uncertainty. Short is the life we lead, and small our patch of earth.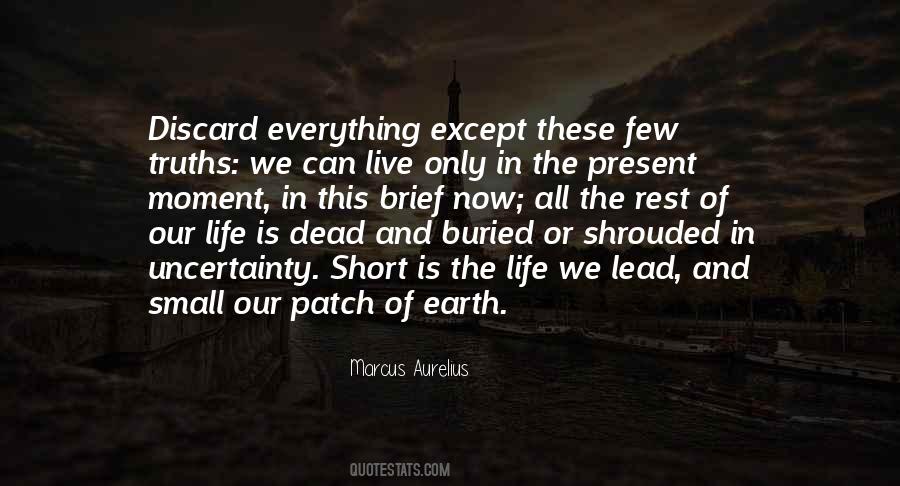 #41. Life is too short, so live your life to the fullest..every second of your life just treasure it..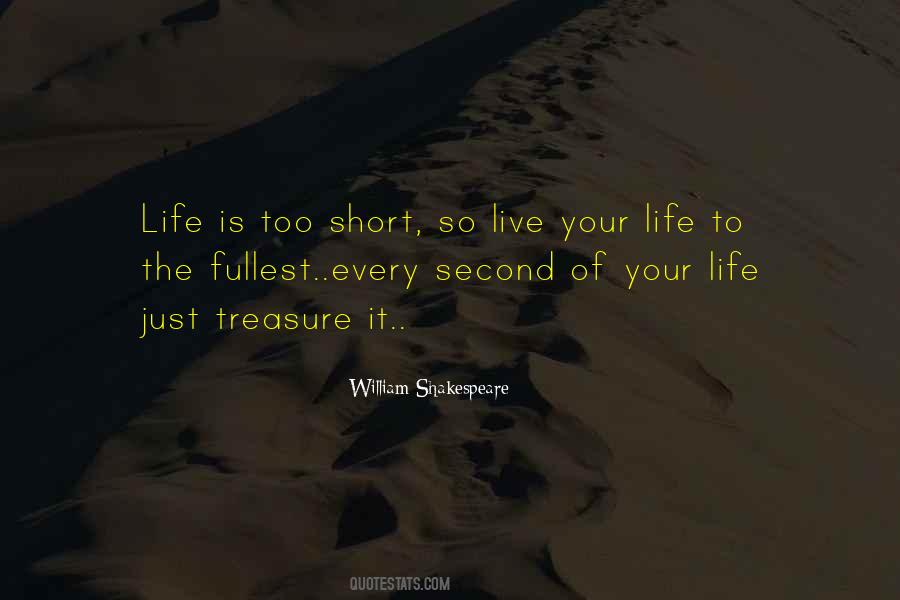 #42. Life is short. Live each day to the fullest. You may see God face-to-face tomorrow...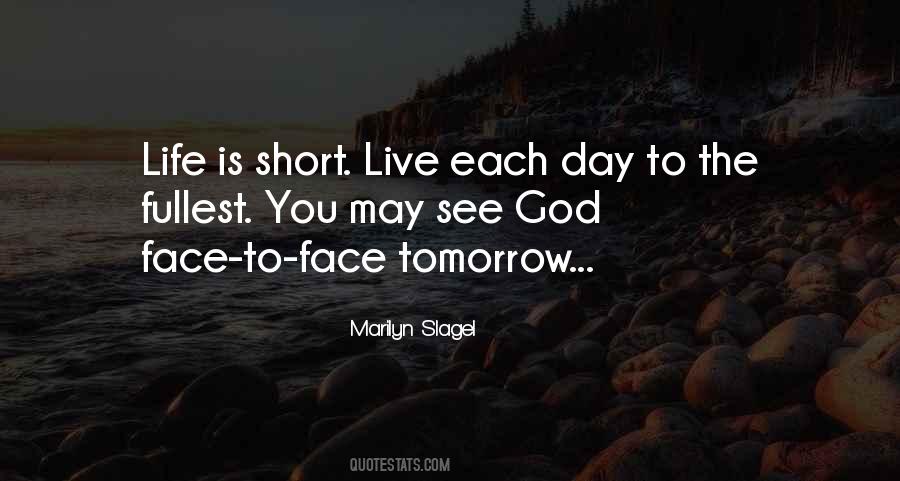 #43. Life is too short to hold in a single tear, a single laugh, a single breath. Biology is how we exist. Emotions are how we live.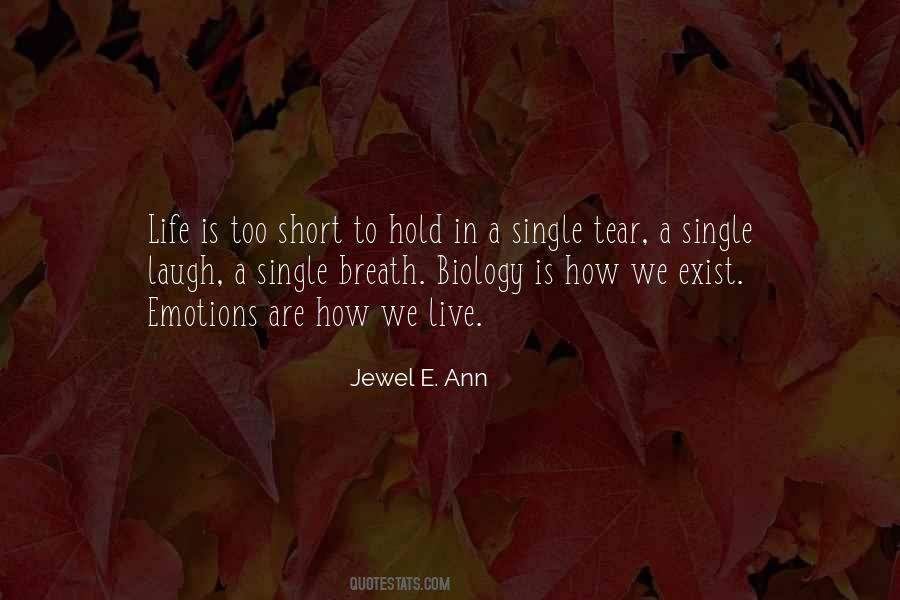 #44. There was some expiration point to my life, and it became very important to maximize the time that I did have on Earth. That's what led me to my personal philosophy: "No Opportunity Wasted" - NOW for short, which is about living life to the fullest.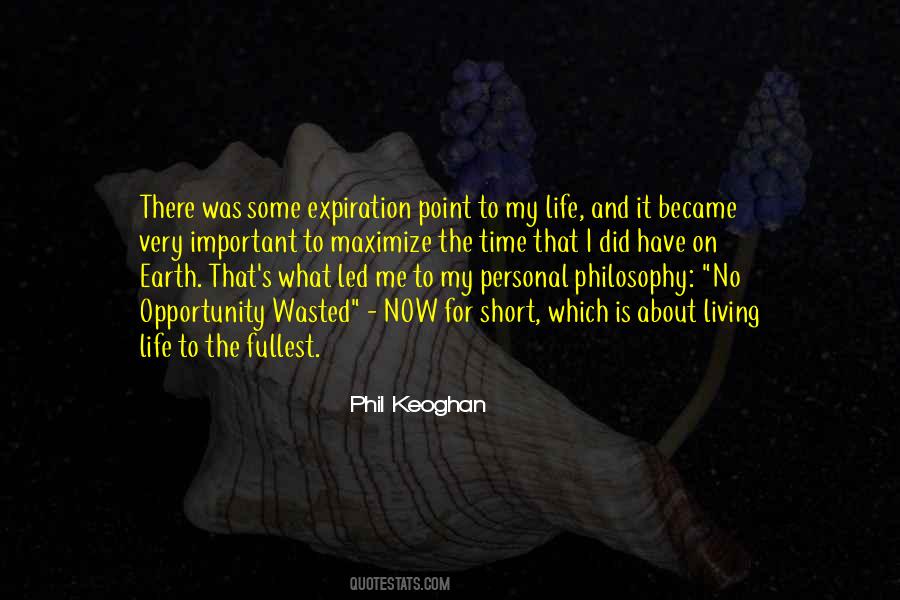 #45. There's a time to live and a time to die.
The only trouble is, when would you know?
When would your mind let you freely sacrifice your life?
Life is as long or as short as you want it to be.
Or so they say.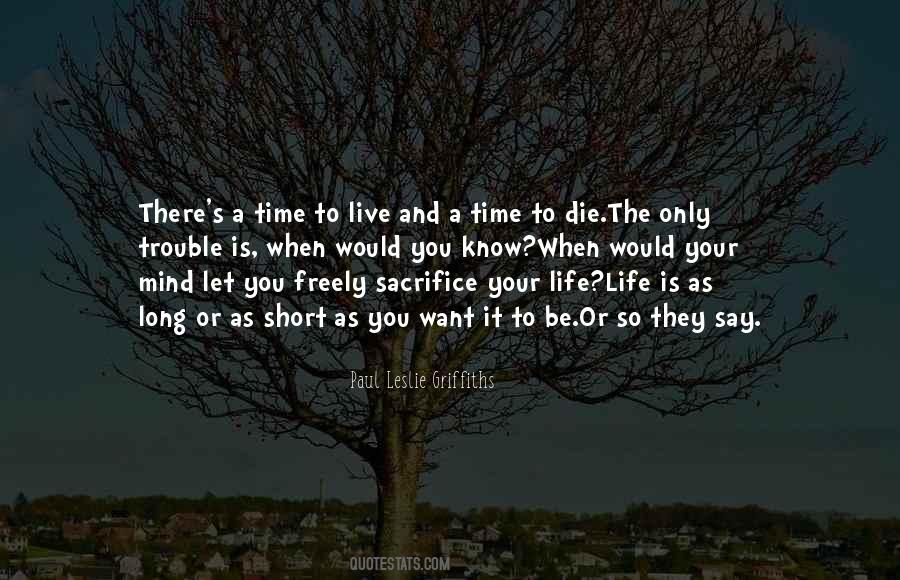 #46. Every moment there are a million miracles happening around you: a flower blossoming, a bird tweeting, a bee humming, a raindrop falling, a snowflake wafting along the clear evening air. There is magic everywhere. If you learn how to live it, life is nothing short of a daily miracle.
#47. Benedictine spirituality is a consistent one: live life normally, live life thouhtfully, live life profouncly, live life well. Never neglect and never exaggerate. It is a lesson that a world full of cults and fads and workaholics and short courses in difficult subjects needs dearly to learn.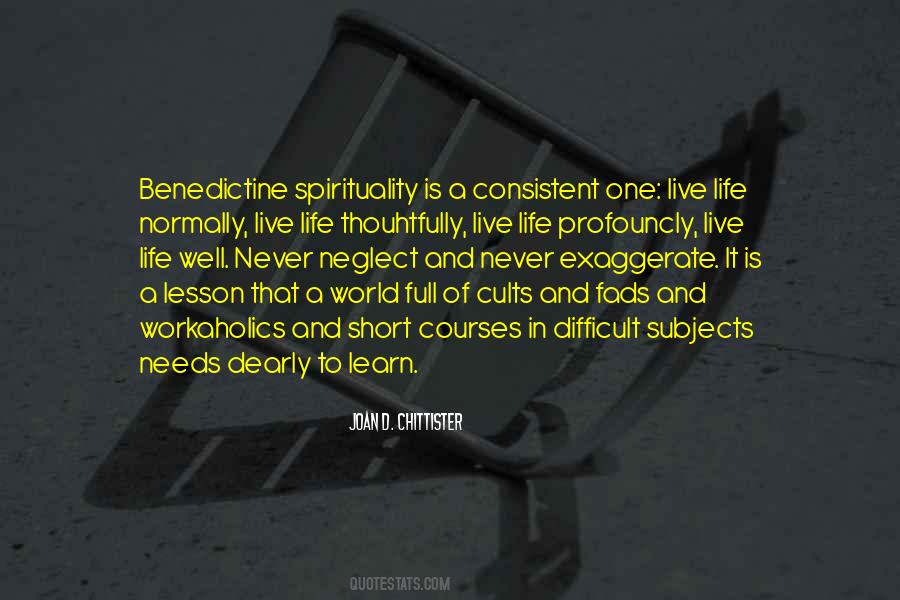 #48. I used to think the Lord's Prayer was a short prayer; but as I live longer, and see more of life, I begin to believe there is no such thing as getting through it. If a man, in praying that prayer, were to be stopped by every word until he had thoroughly prayed it, it would take him a lifetime.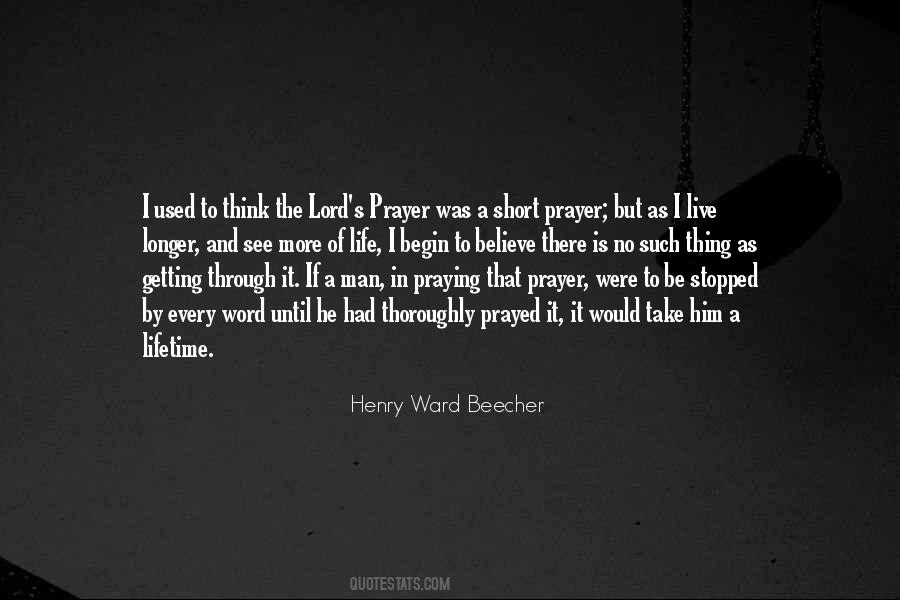 #49. At some point your candle will go out, so make use of the light.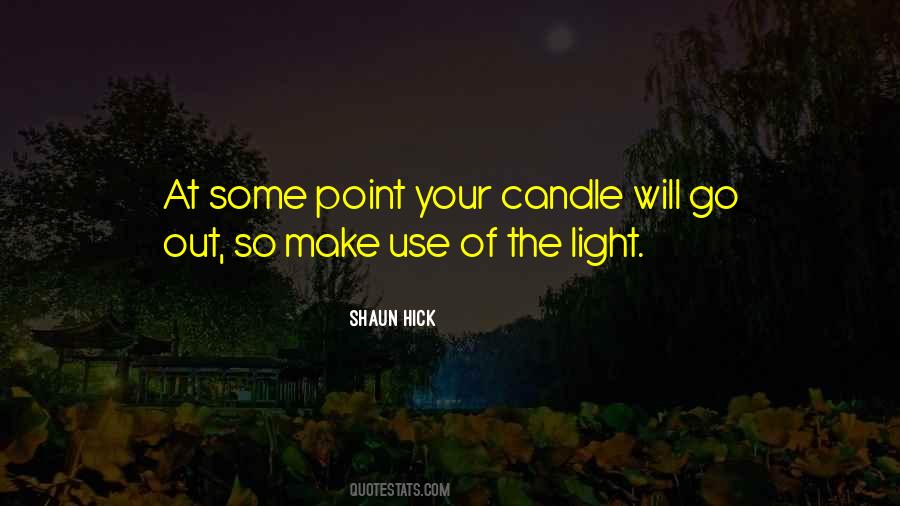 #50. Every night it's the same ... I have supper in my red dish and drinking water in my yellow dish ... Tonight I think I'll have my supper in the yellow dish and my drinking water in the red dish. Life is too short not to live it up a little!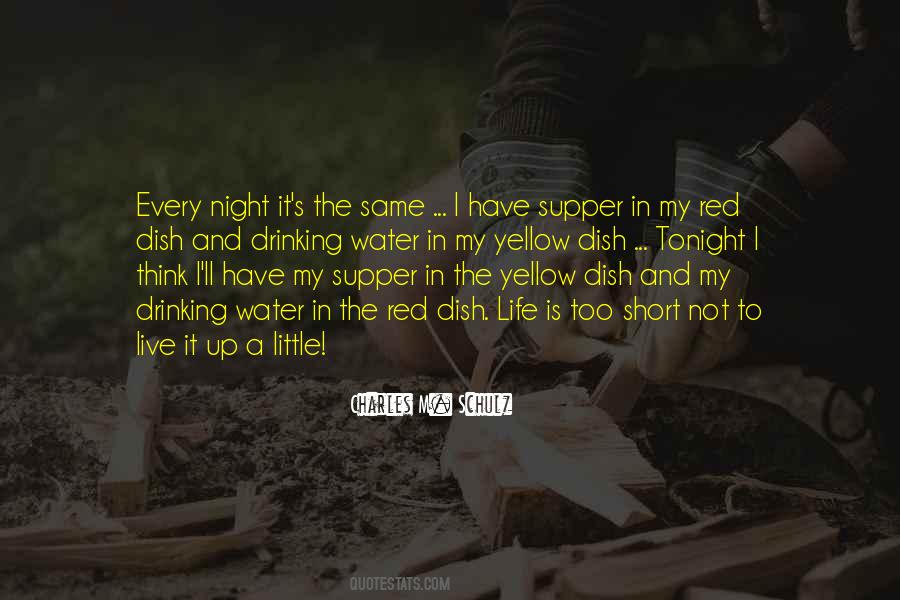 #51. Life is short and we have scarcely begun to live when we are called to die.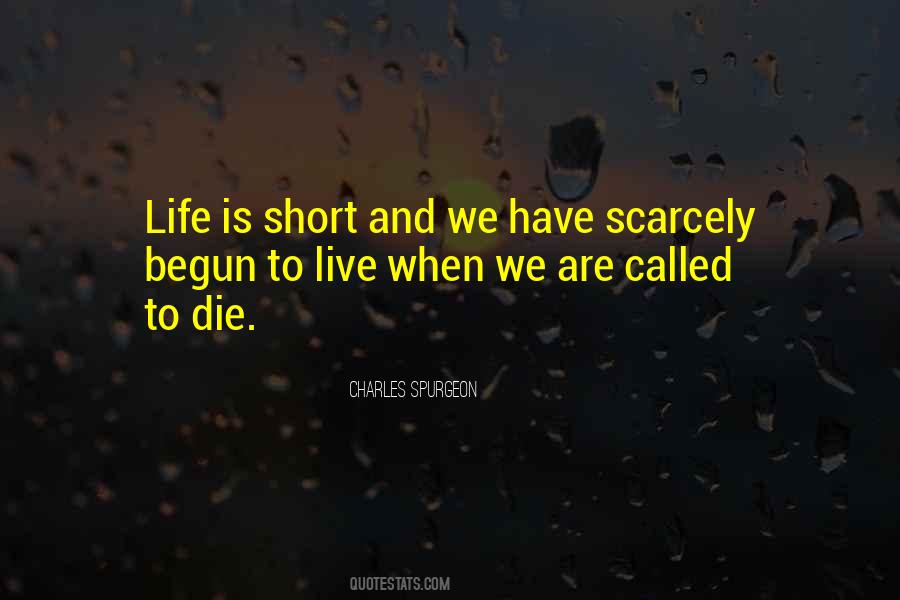 #52. When I want something, I go for it. Life is way too damn short to live any other way. And I want to get to know you better." Those lashes lowered one more time, his gaze tracking to my lips like they were some kind of Mecca. "Yeah, I definitely want to get to know you better.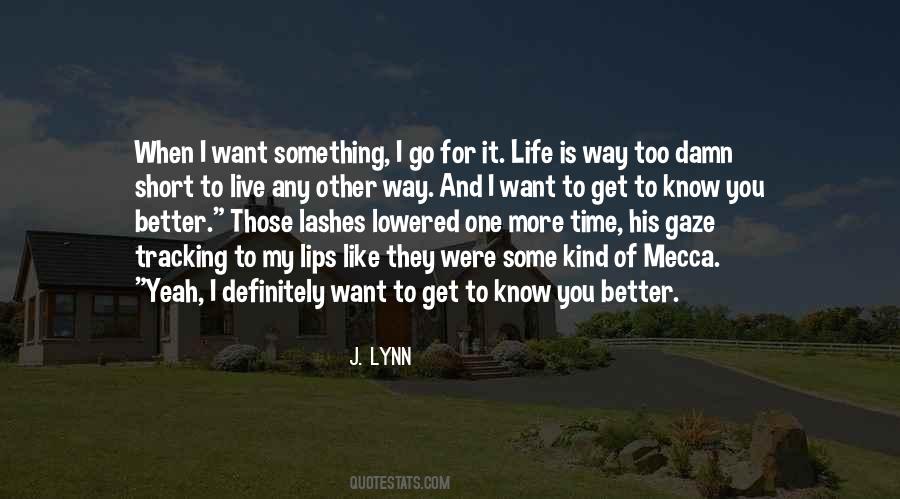 #53. But a society that has nothing to die for has nothing to live for ...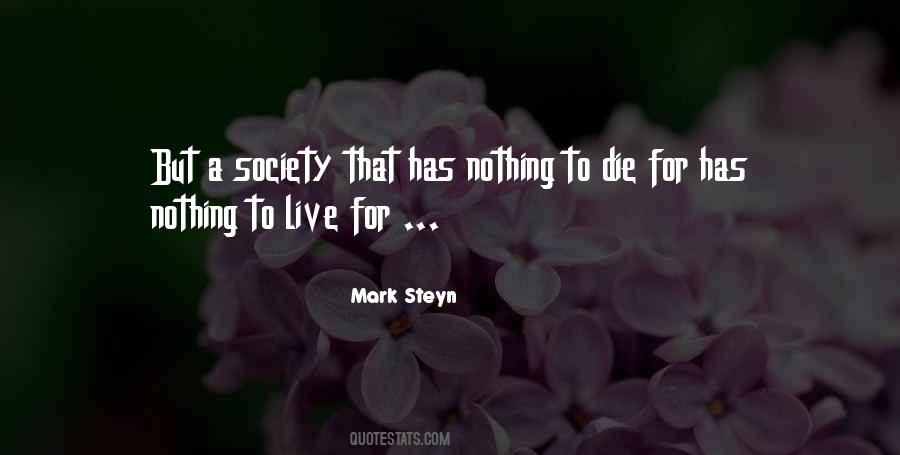 #54. And because the world is too big and time is too short and you only have one life to live, read!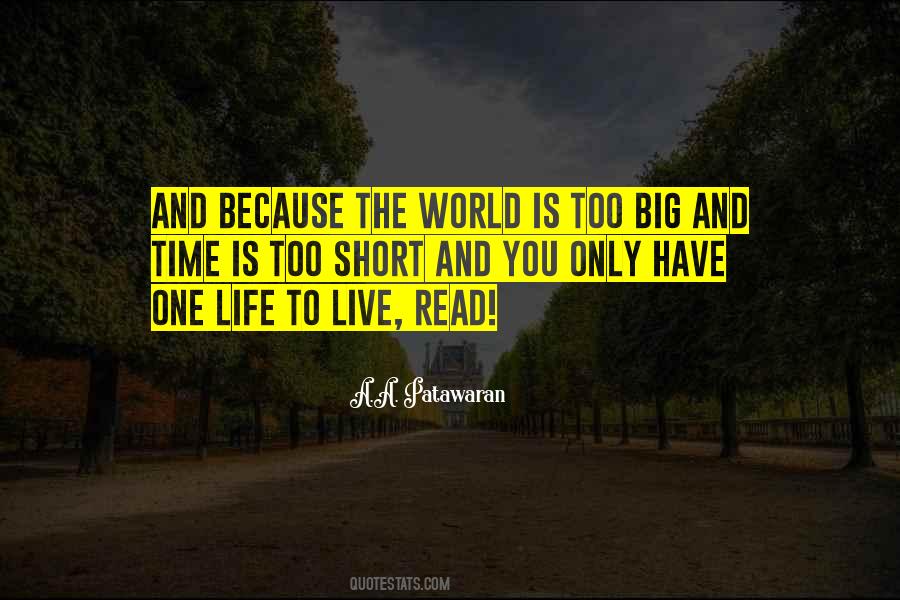 #55. If life is too short, isn't that more reason to make the most of what we've got? To live the way we want to?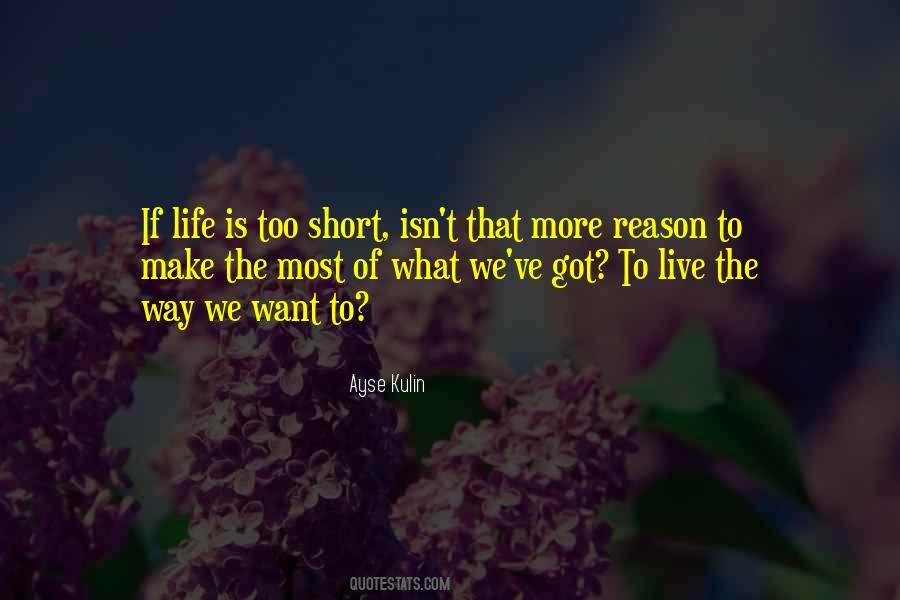 #56. Life is short. HOW we live it makes the most impact of all. The interactions, everyday, that we have with everyone around us--that is life! That is what matters most.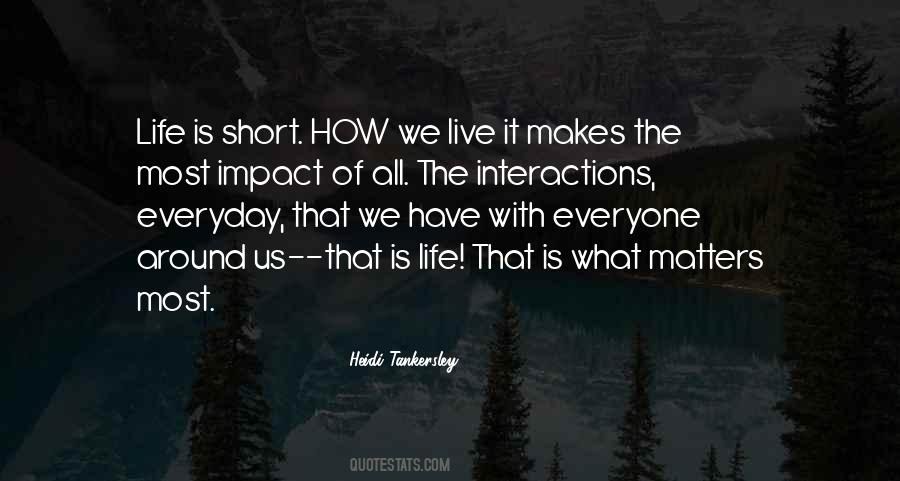 #57. How many millions of times the sentence 'Life is short' has been repeated in the human history? But nevertheless we all live as if we have millions of years! Oh, how silly!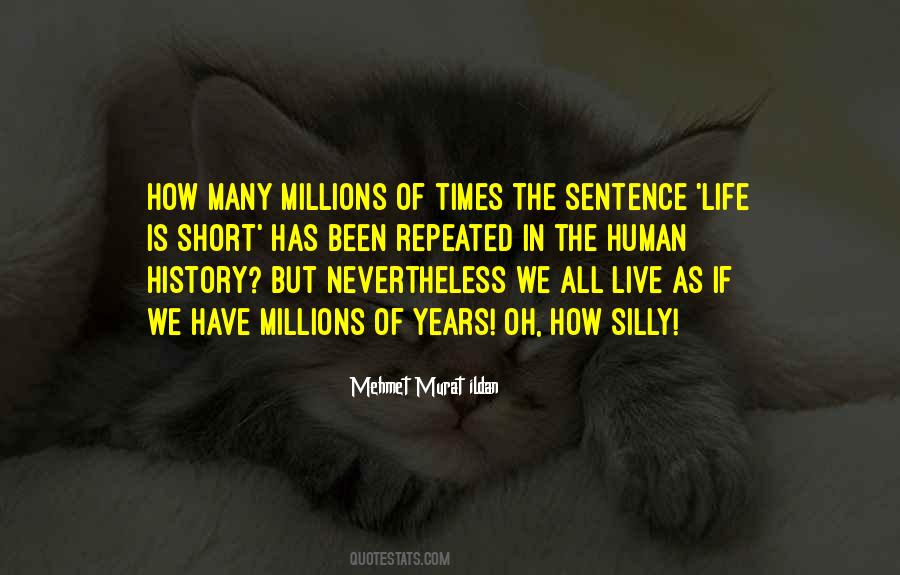 #58. Reminding me how fragile this life is and how easily it can be lost. Compelling me to live and to live well, while I still can.
Because sooner or later, we must all face eternity.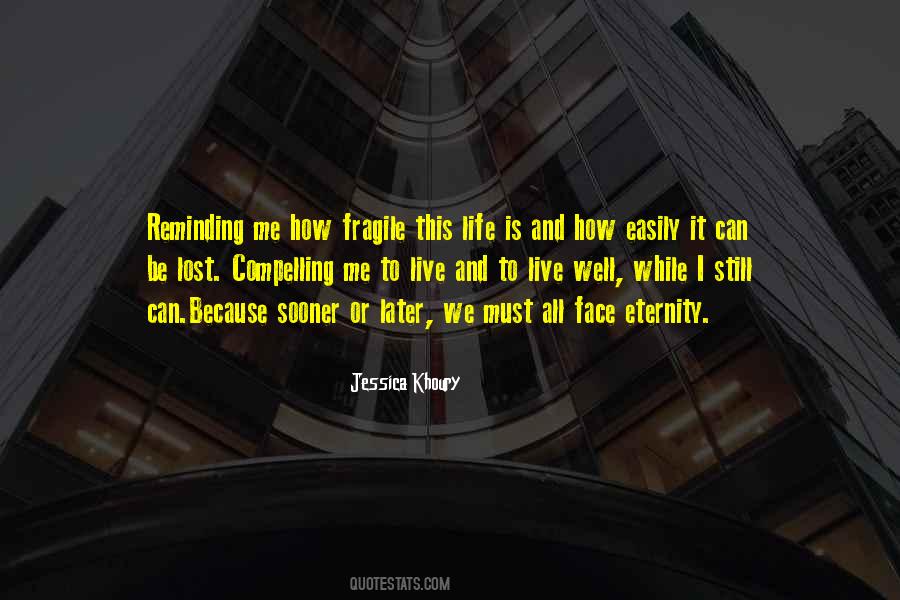 #59. Life is too short. It's too precious. We have to live in this world, but we don't have to wallow in it. We don't have to fill our lives with all of this darkness.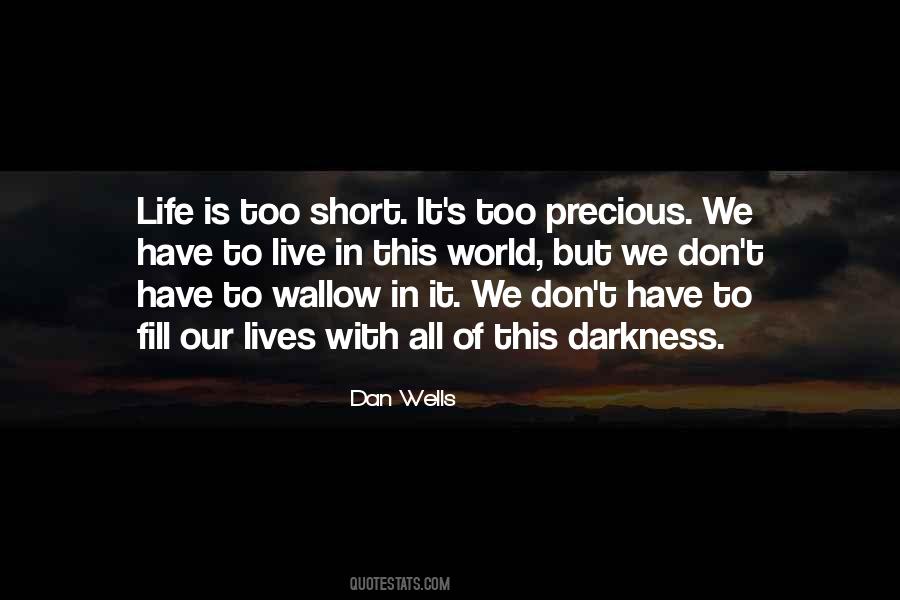 #60. it was that life is short, and we need to live it to the fullest. It's something I understand, but still struggle to follow through with some days.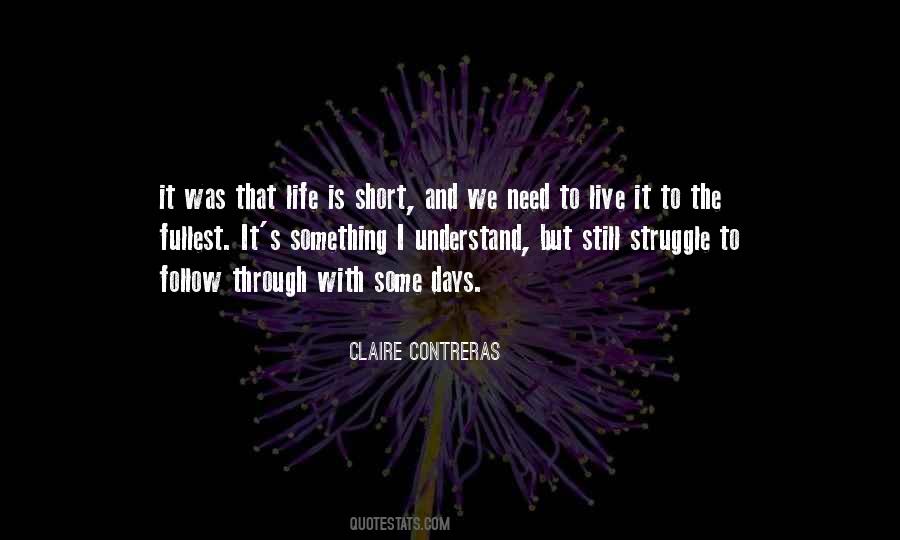 #61. Life is too short to spend your precious time trying to convince a person who wants to live in gloom and doom otherwise. Give lifting that person your best shot, but don't hang around long enough for his/her bad attitude to pull you down. Instead, surround yourself with optimistic people.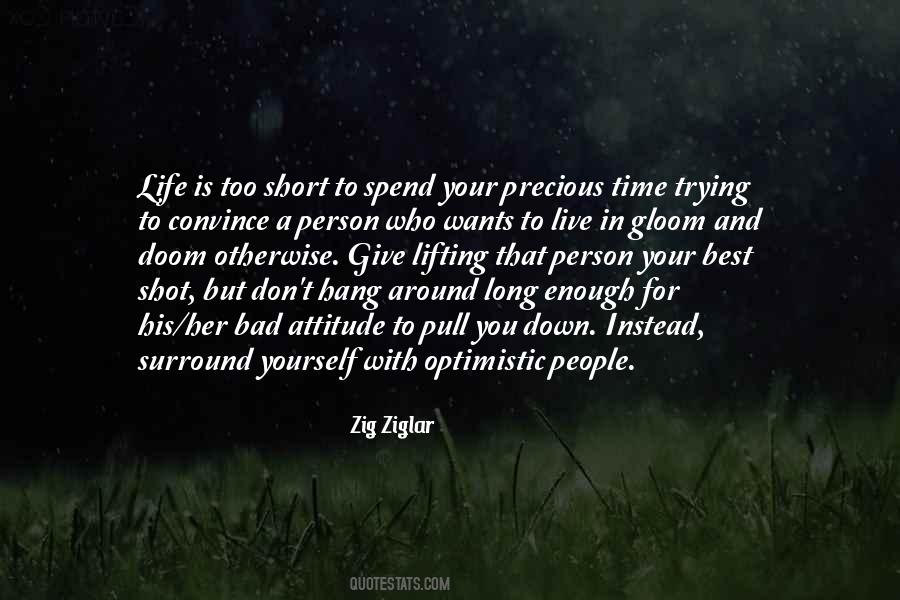 #62. You know, some people say life is short and that you could get hit by a bus at any moment and that you have to live each day like it's your last. Bullshit. Life is long. You're probably not gonna get hit by a bus. And you're gonna have to live with the choices you make for the next fifty years.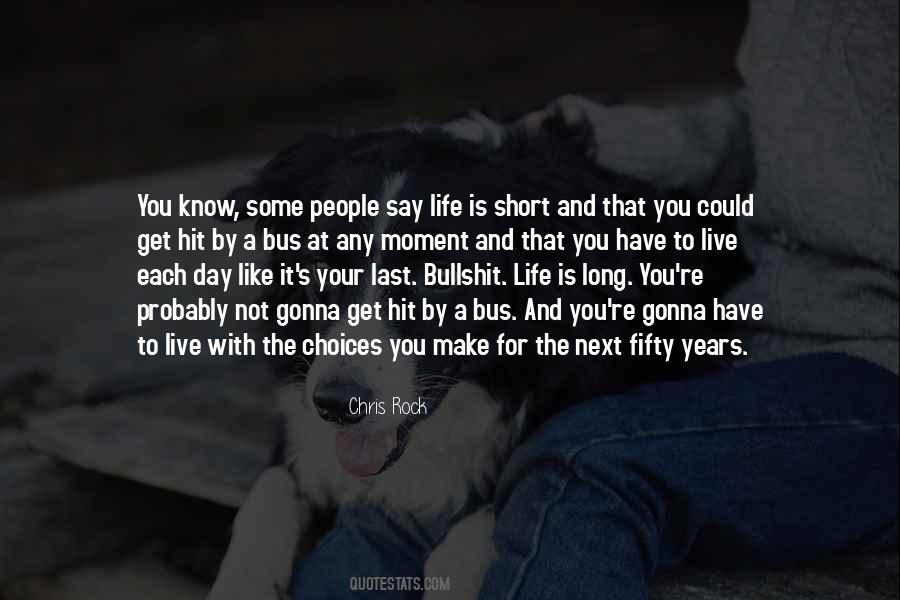 #63. I loved playing [the Doctor], and taking part in the basic essence and message of the series which is, it's a short life, seize it, and live it as fully as you can. Care for others. Be respectful of all other life forms, regardless of colour or creed. To be part of that was fantastic.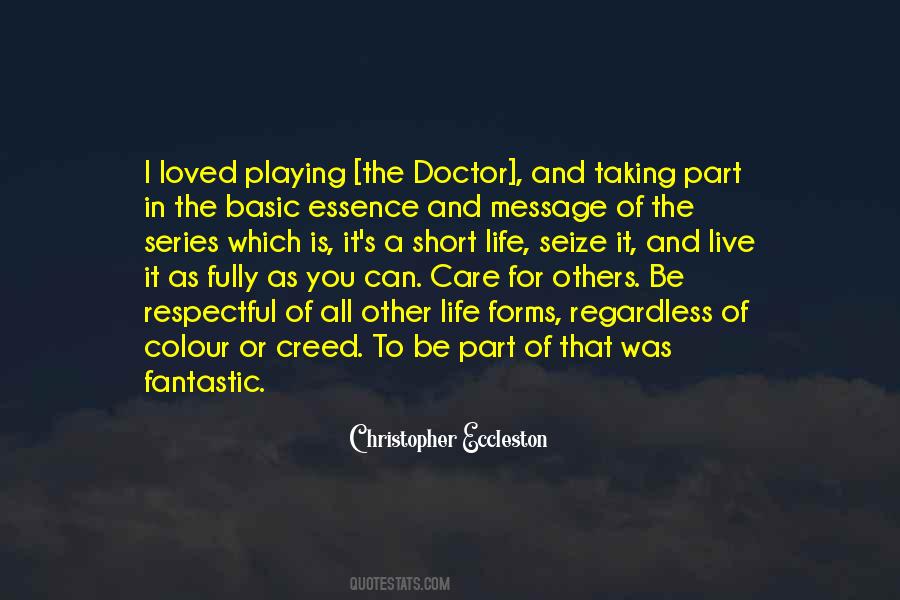 #64. Alexander the Great once said that 'I would rather live a short life of glory than a long one of obscurity!' What a great illusion is this! Wise man is he who always chooses to live longer and he who blesses the obscurity!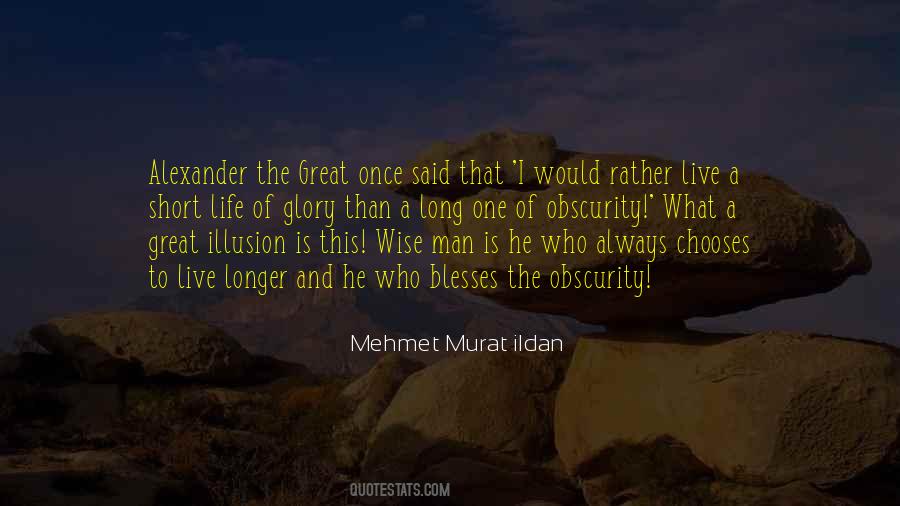 #65. Country people do not behave as if they think life is short; they live on the principle that it is long, and savor variations of the kind best appreciated if most days are the same.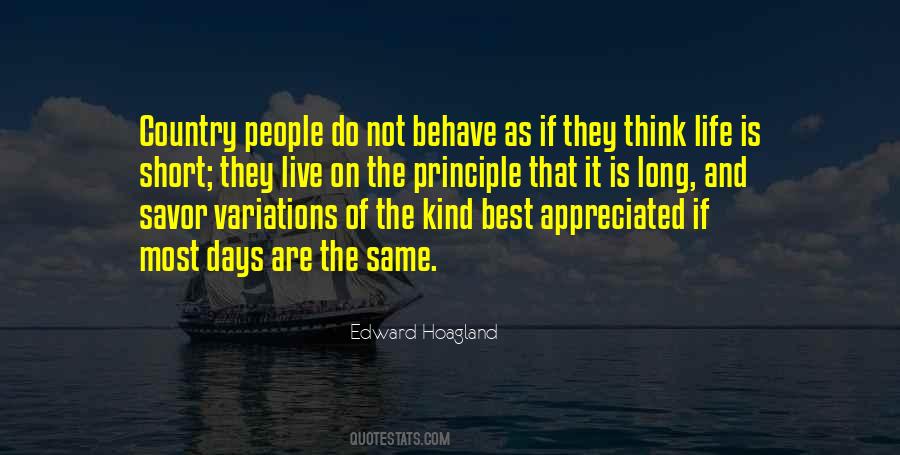 #66. Do what makes you happy. Life is too short to live on other people's expectations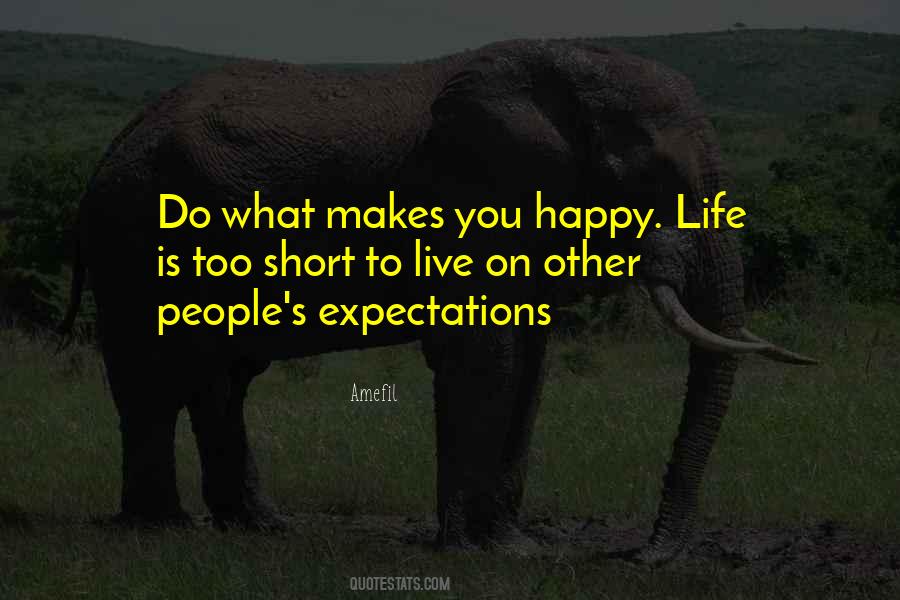 #67. Life is too short to hold back, so live It as if It's not guaranteed.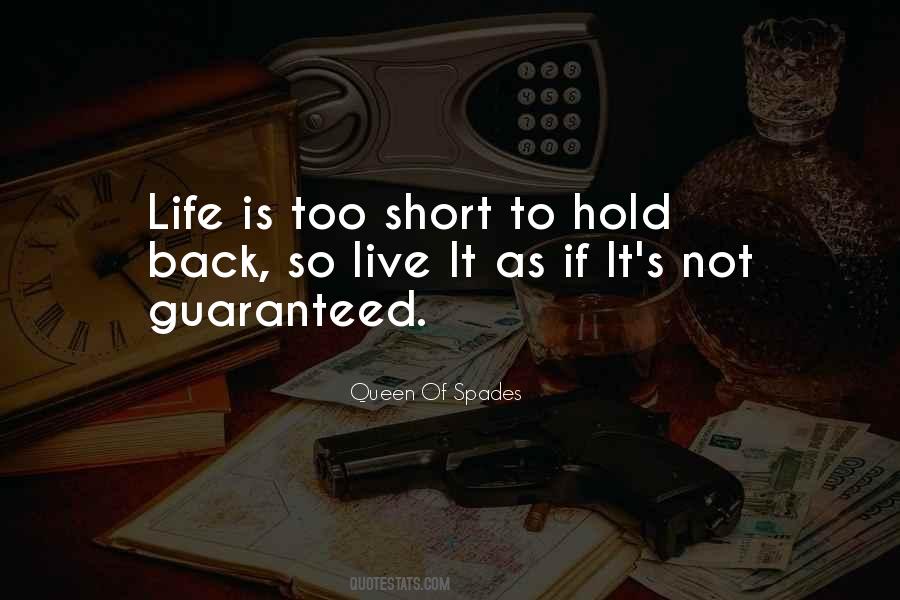 #68. Life is simply too short to live it less perfectly than it could be lived.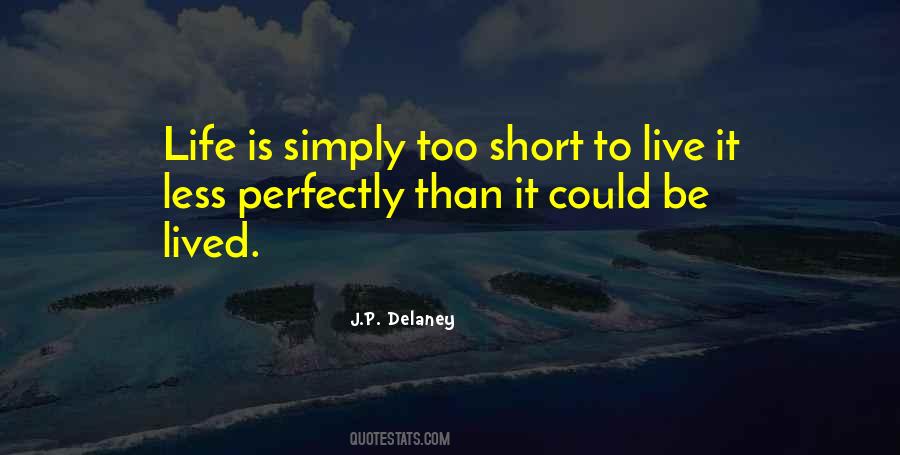 #69. Life is too short, the world is too big and God's love is too great to live ordinary.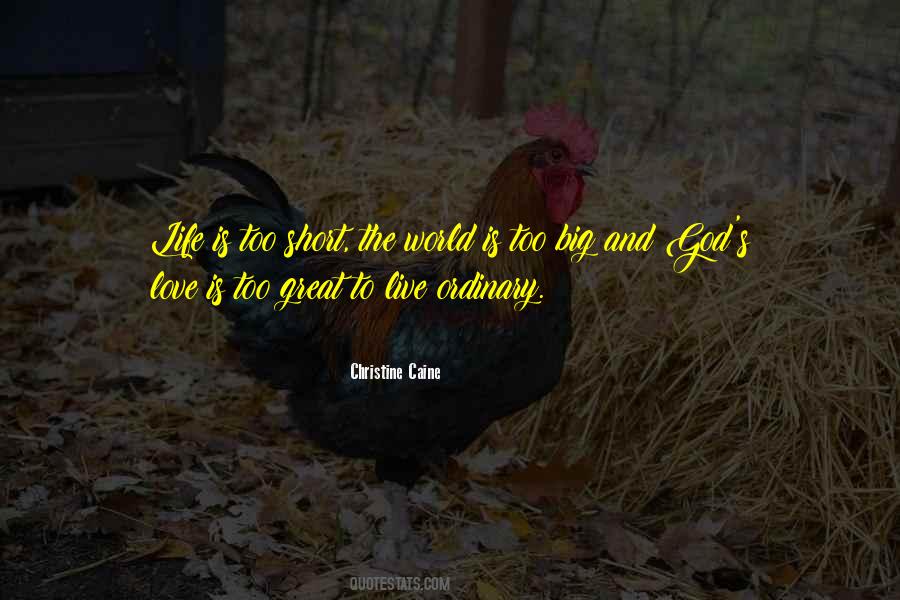 #70. Life is short. From here to that old car you know so well there is a stretch of twenty, twenty-five paces. It is a very short walk. Make those twenty-five steps. Now. Right now. Come just as you are. And we shall live happily ever after.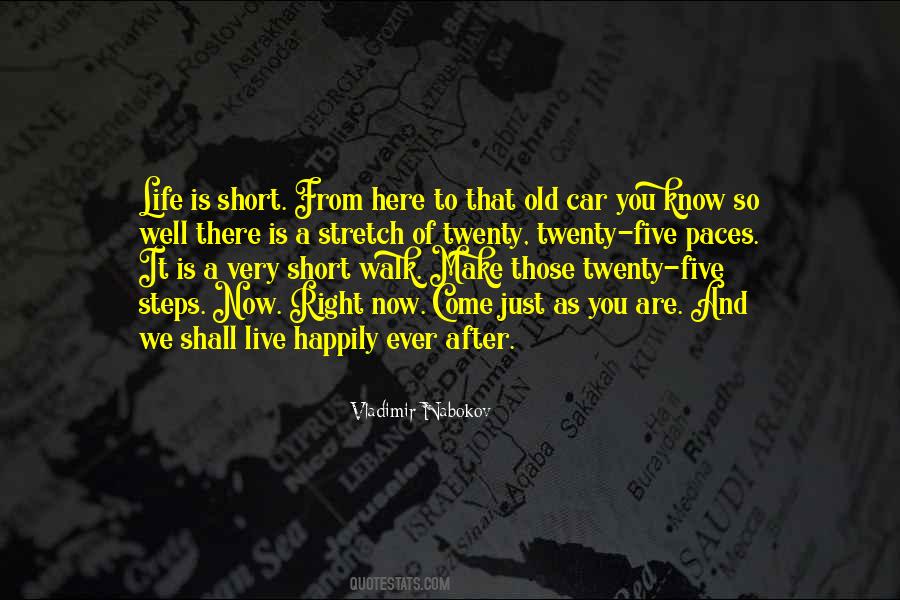 #71. For even if the allotted space of life be short, it is long enough in which to live honorably and well.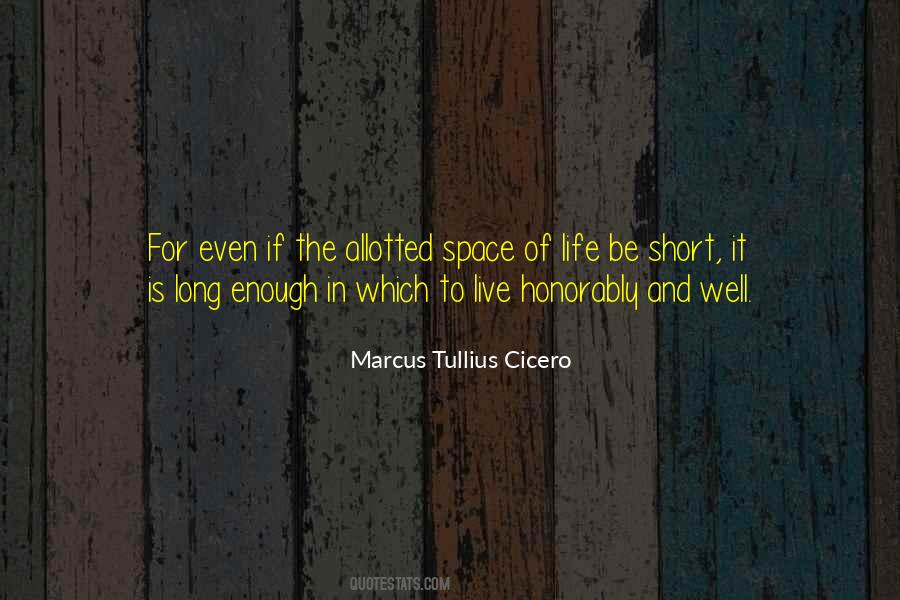 #72. Life is entirely too short for fear to be a factor in how we live it.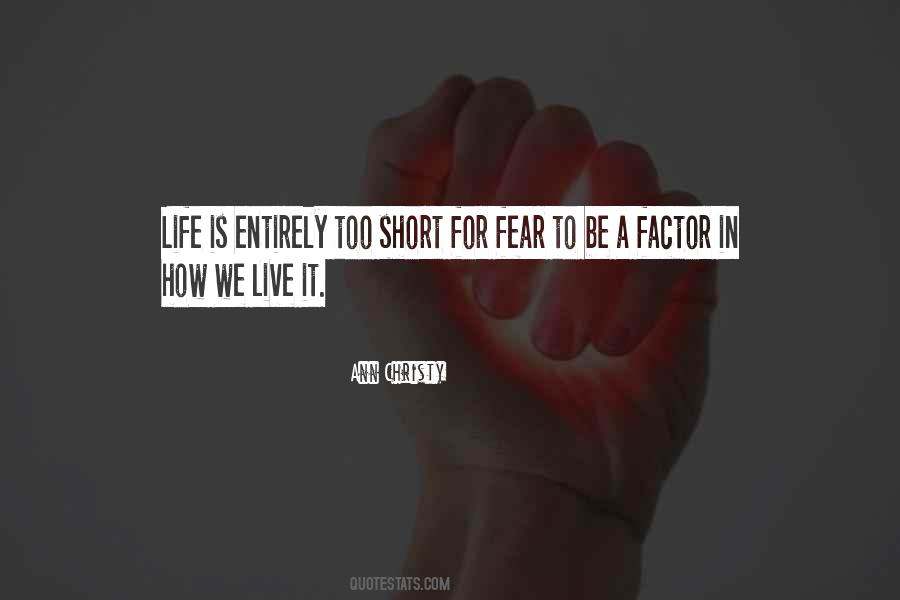 #73. The short answer to 'Why do you write' is - I suppose I write for some of the same reasons I read: to live a double life; to go places I haven't been; to examine life on earth; to come to know people in ways, and at depths, that are otherwise impossible; to be surprised.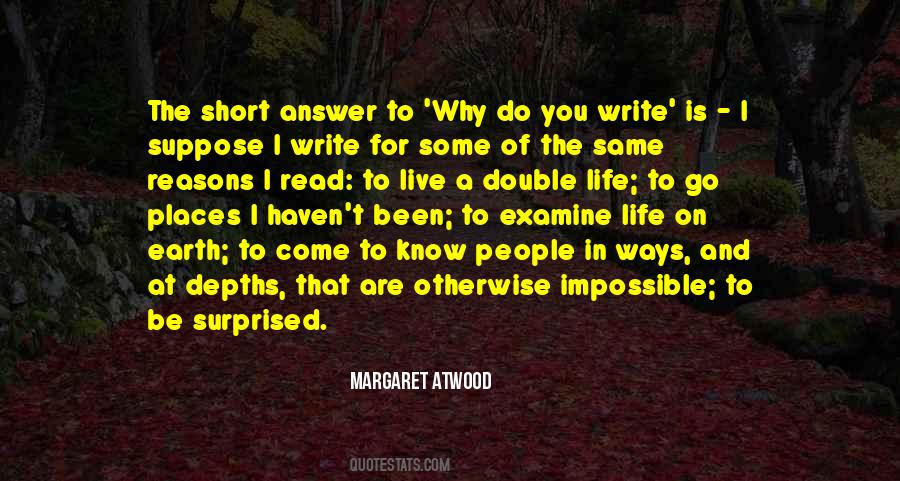 #74. Whatever your secret, live your own truth; life is too short.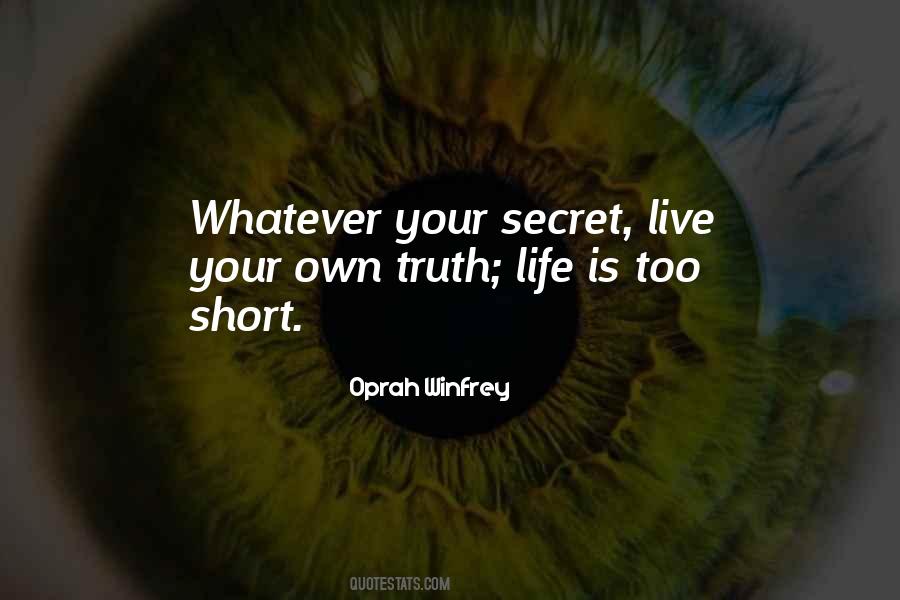 #75. Intelligence is attractive, but so is life experience. You can't amass it just by reading a ton of books. But you can live a lot of life in a short time. Travel. Talk to everyone. Collect adventures, and use them to understand the world. That's how you learn to treat people well. And that's sexy.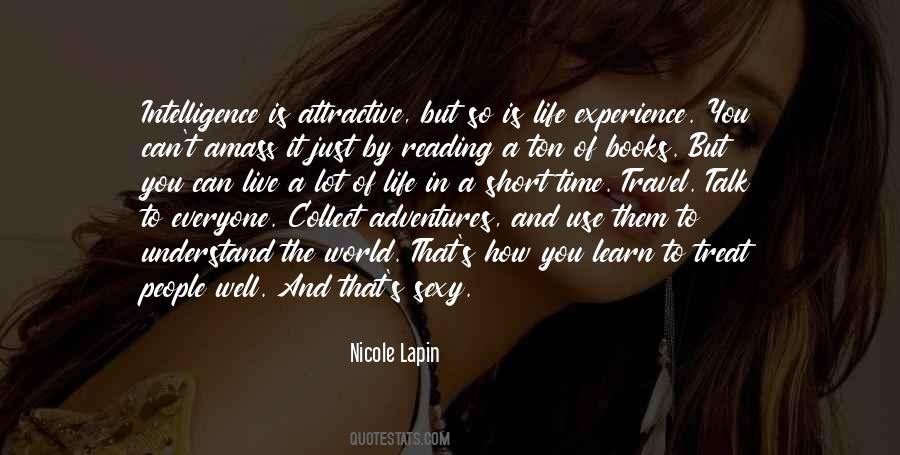 #76. STOP talking about your dreams and just go out and live them. Life is way too short ... what are you waiting for?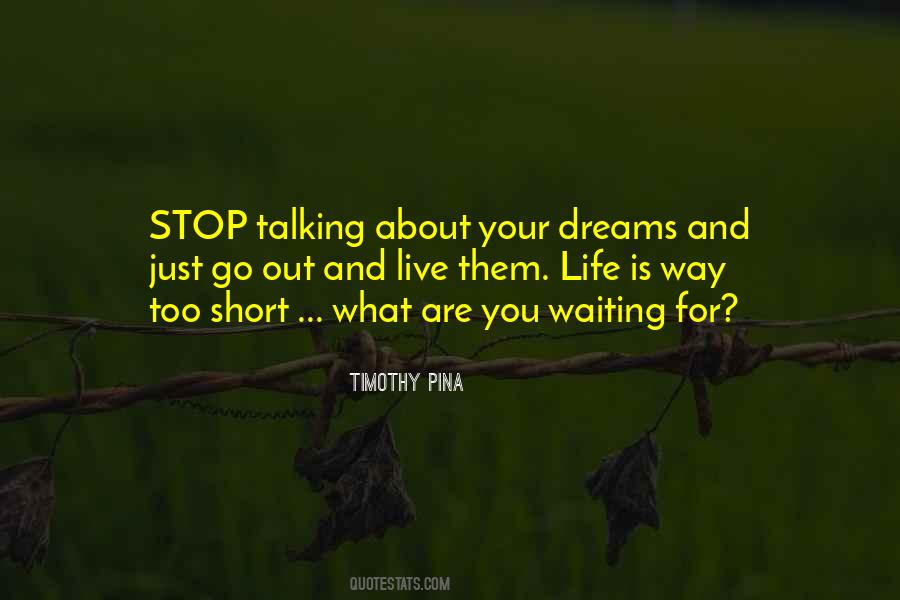 #77. Facing death means facing the ultimate question of the meaning of life. If we really want to live we must have the courage to recognize that life is ultimately very short, and that everything we do counts.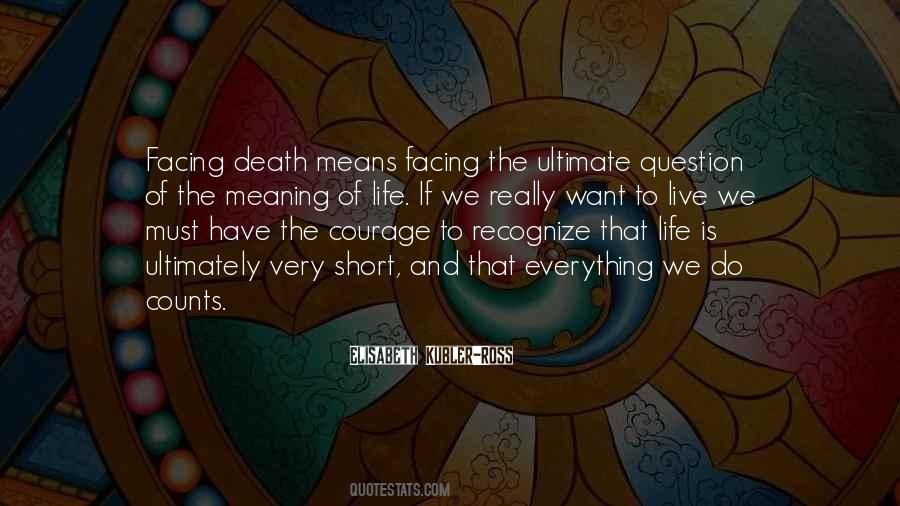 #78. Life is short as breathing!
Forget Yesterday, Focus today to enjoy tomorrow!
The purpose of life is to live it, not destroy it.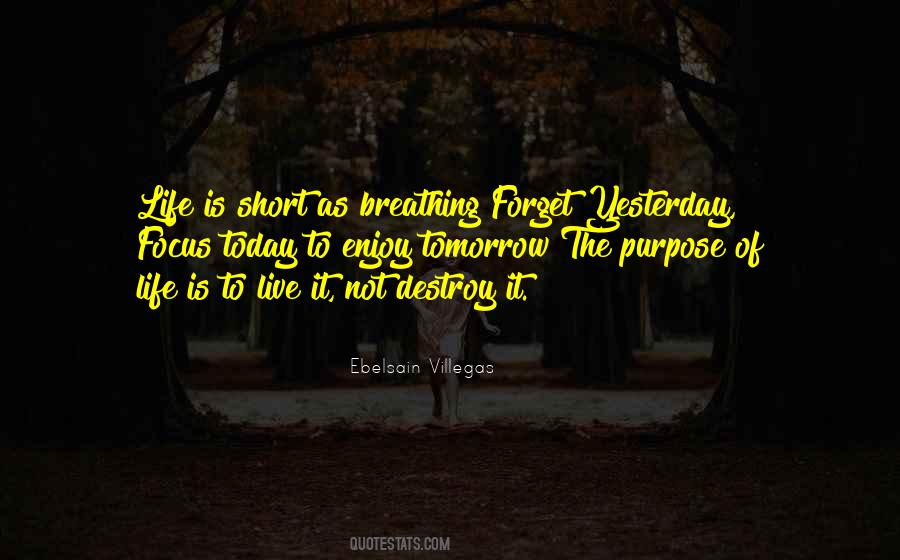 #79. Life is too short to pine away for someone who doesn't want you. Life is too short to live it for someone that is not you." I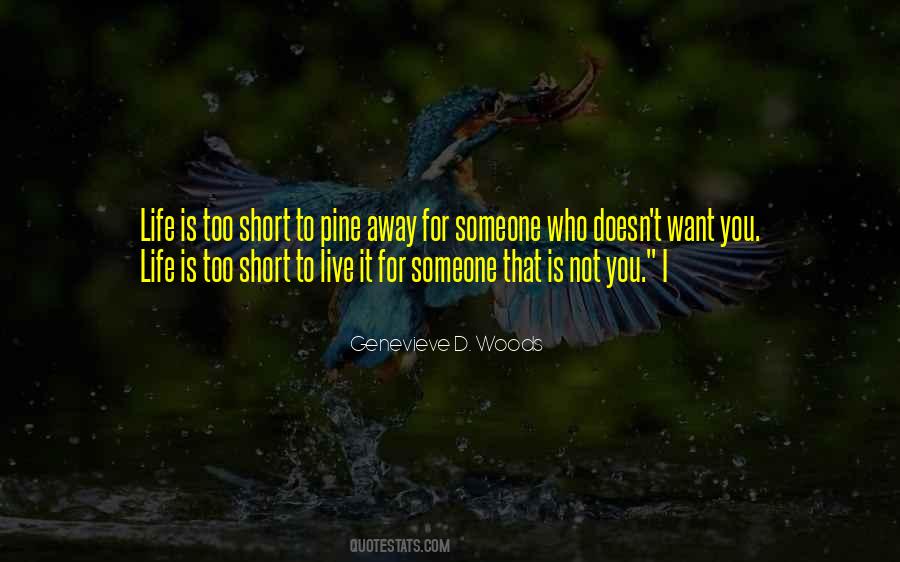 #80. Life is too short to be wasted on anything that does not help you to live out God's plan and purposes for your life.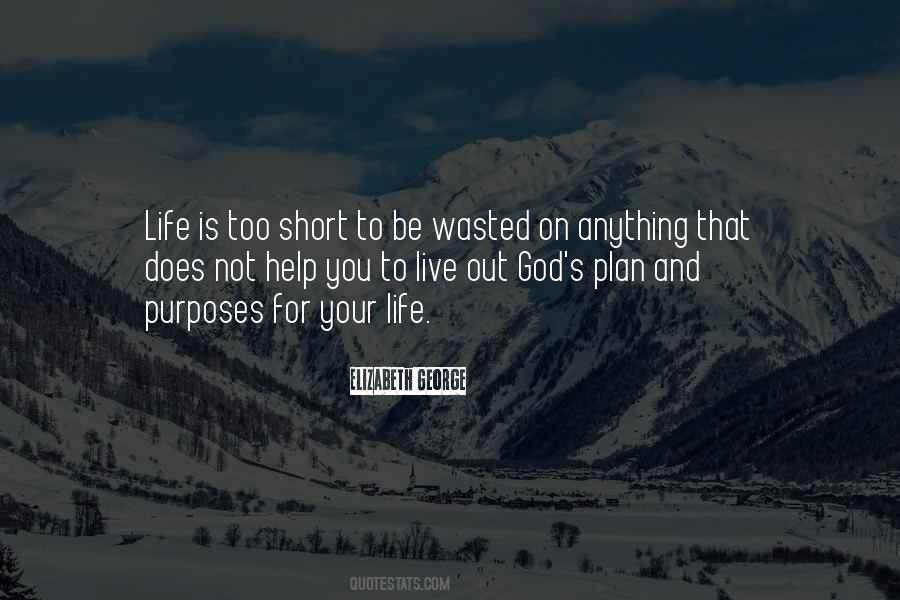 #81. You know," Daddy said, "it's some that can live their whole life out without asking about it and it's others has to know why it is, and this boy is one of the latters. He's going to be into everything!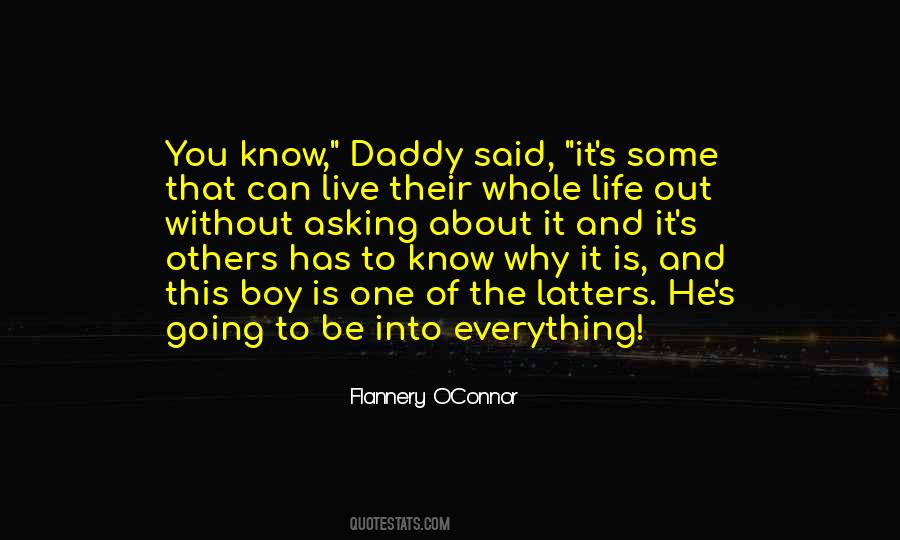 #82. Life is too short to live it without you.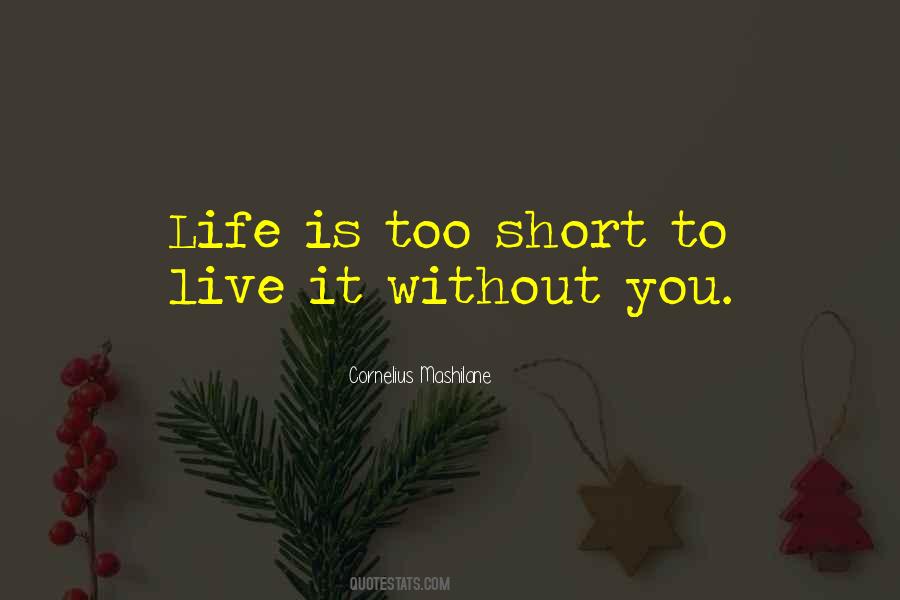 #83. I just wanna live the moment and just take every moment and embrace it because life is short.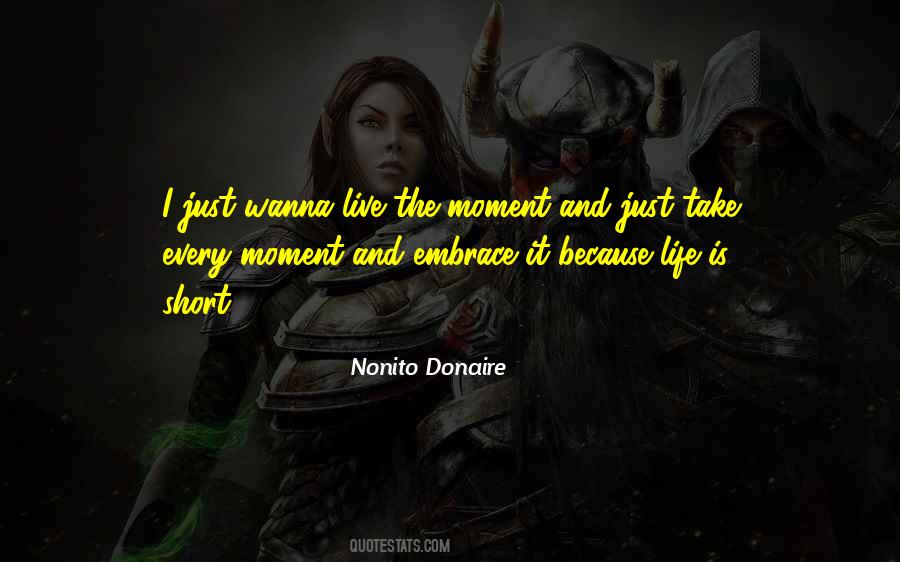 #84. Life is too short not to live in peace.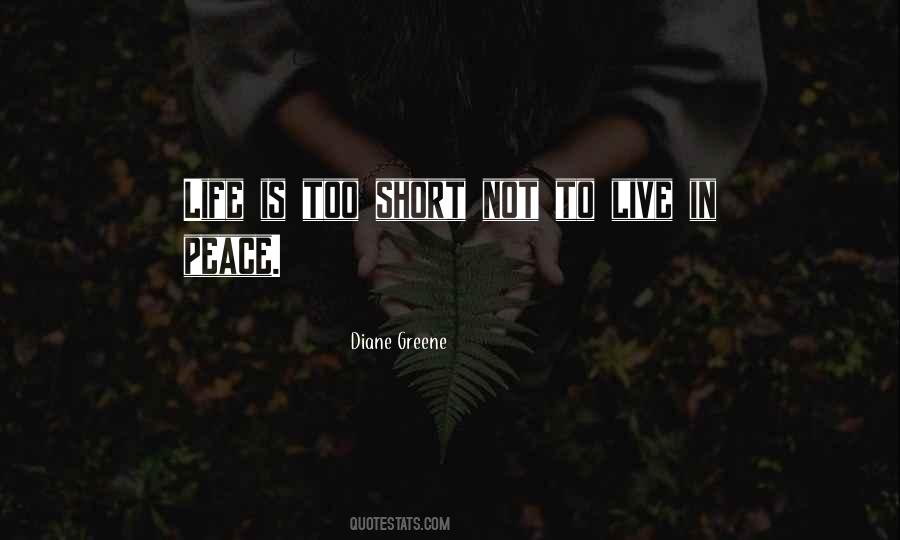 #85. Life is too short to care about what other people says and thinks about you. So live life and give them something to talk about.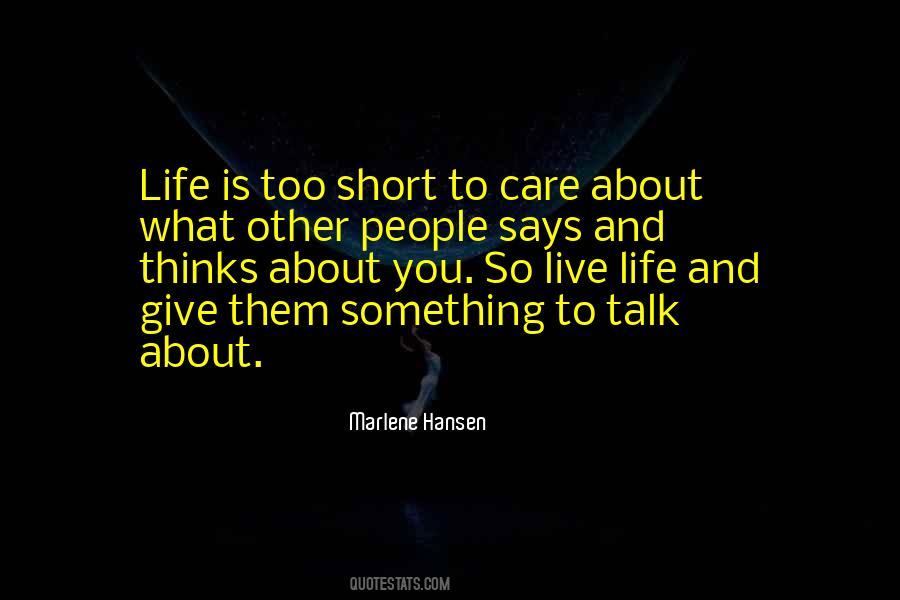 #86. The fact is, that life is too short to be occupied by aught but the present - hope and remembrance are equally a waste of time.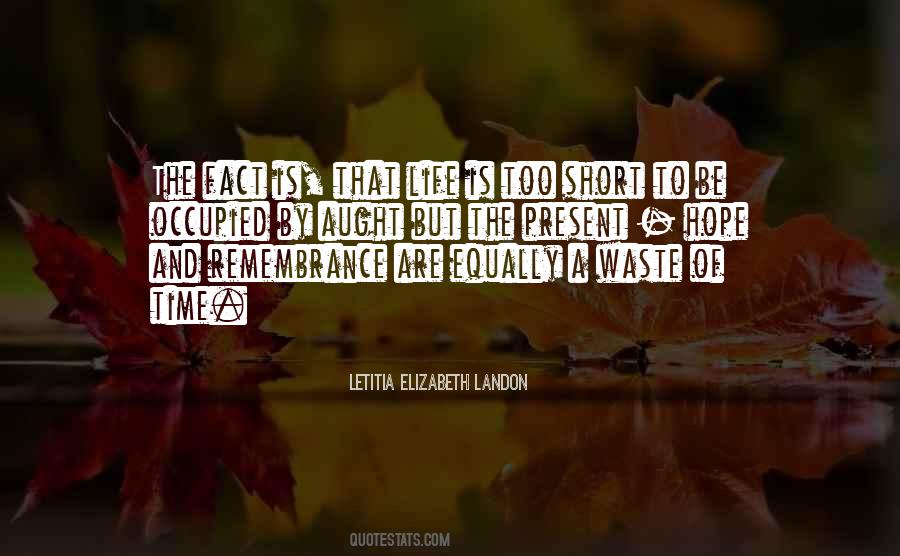 #87. Scars heal, glory fades, and all we're left with are the memories made. pain hurts, but only for a minute. life is short, so go on and live it.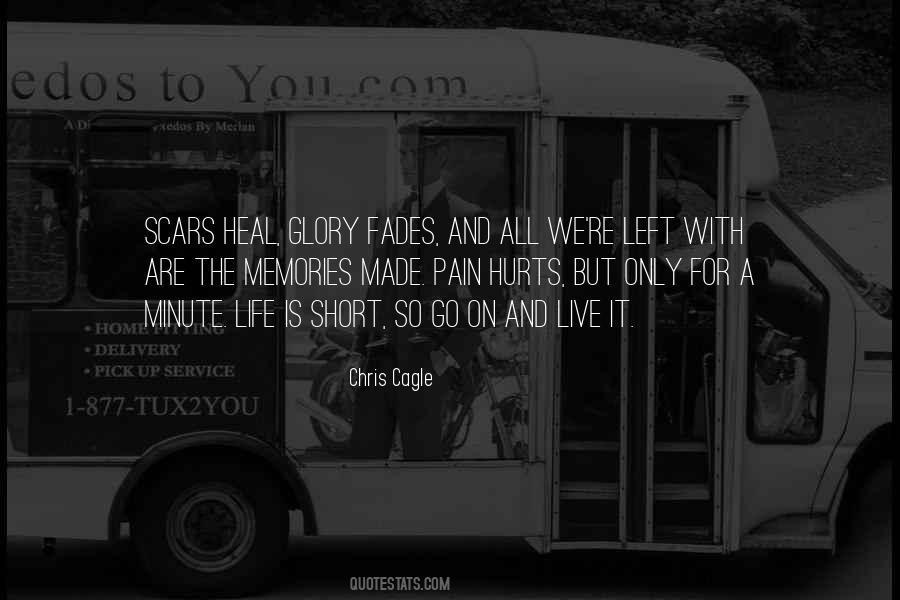 #88. Life is short..Live to the fullest..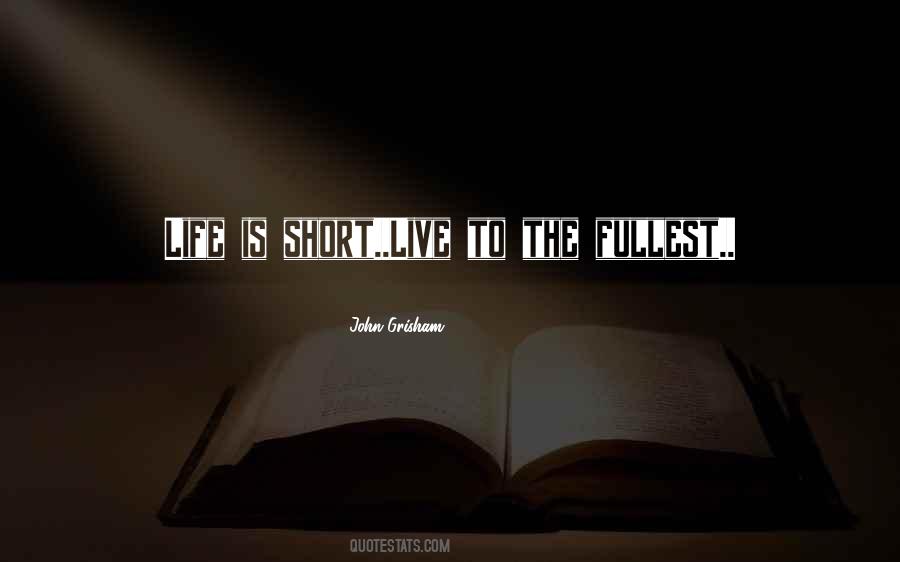 #89. Life is very, very short, and you can choose to live it how you want. You can choose to dumb yourself down and not express yourself just so you can fit in, just so people won't dislike you.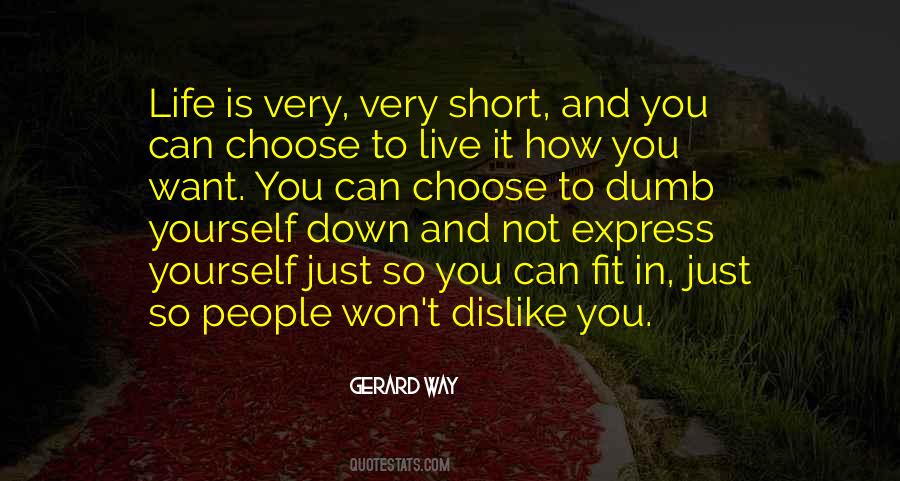 #90. Life is too short to be stuck with the "would haves" "could haves" and "should haves." It's on you to make sure you live every second as if it was your last.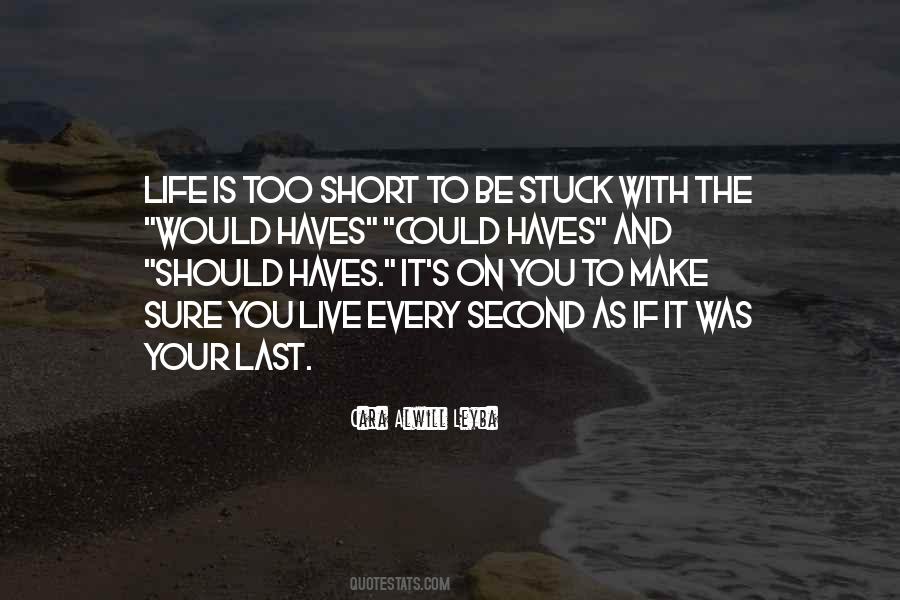 #91. Life is too short to cower.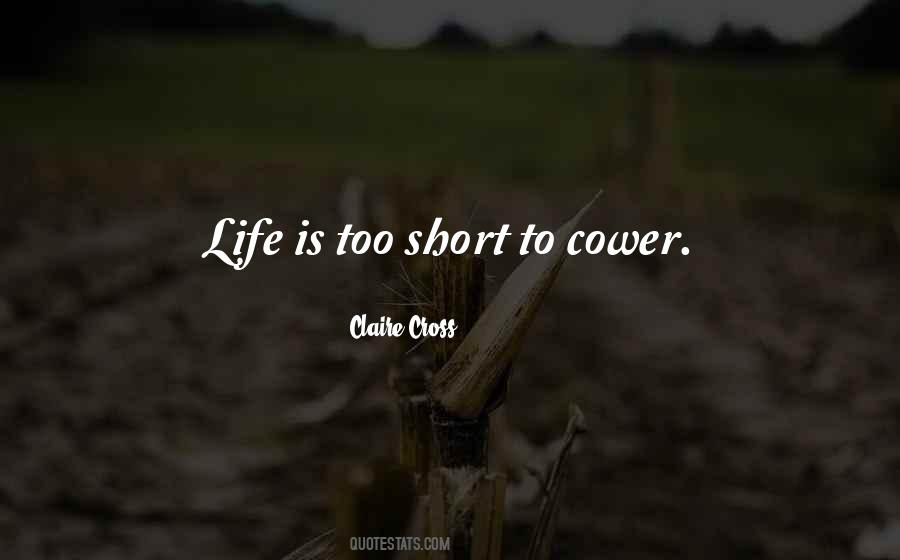 #92. Life is both too short and too long to live it half-heartedly.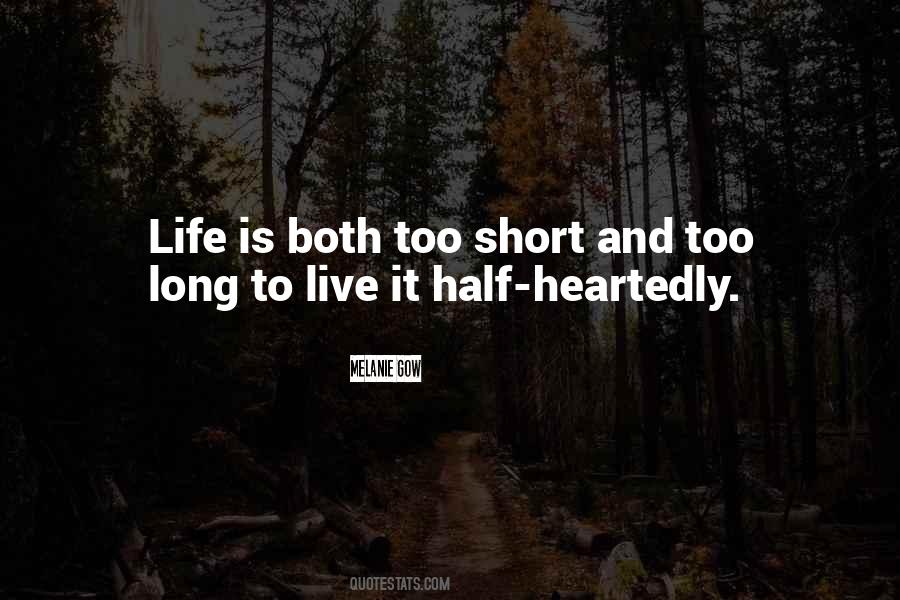 #93. Why just work and live for a happy retirement? Why not work and live for a happy life?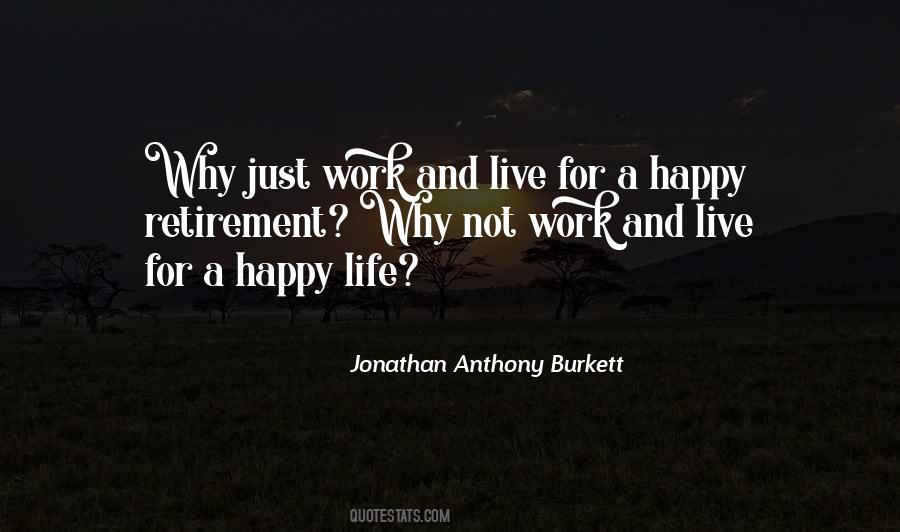 #94. There are things in life that are bigger than ourselves. Life is short, live it well.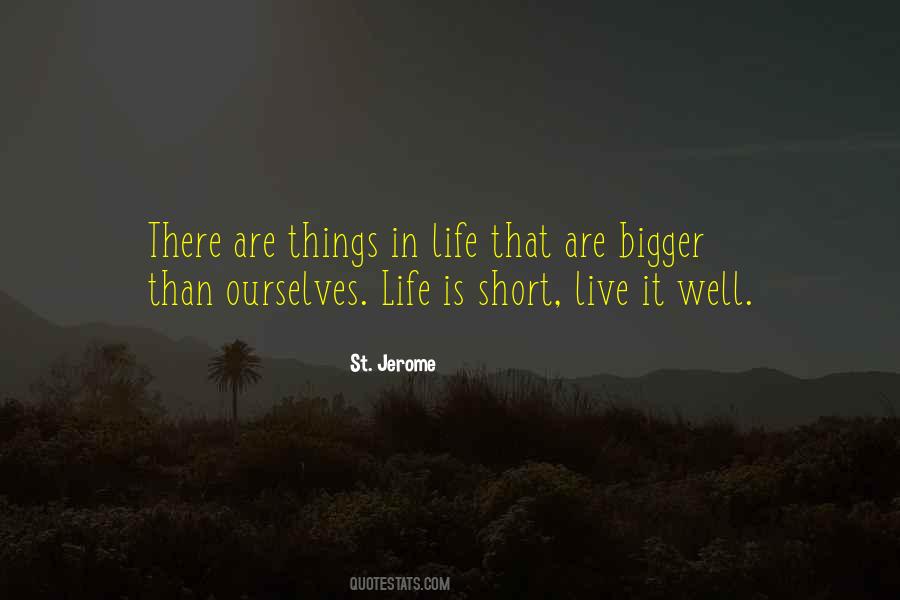 #95. The part of life which we really live is short.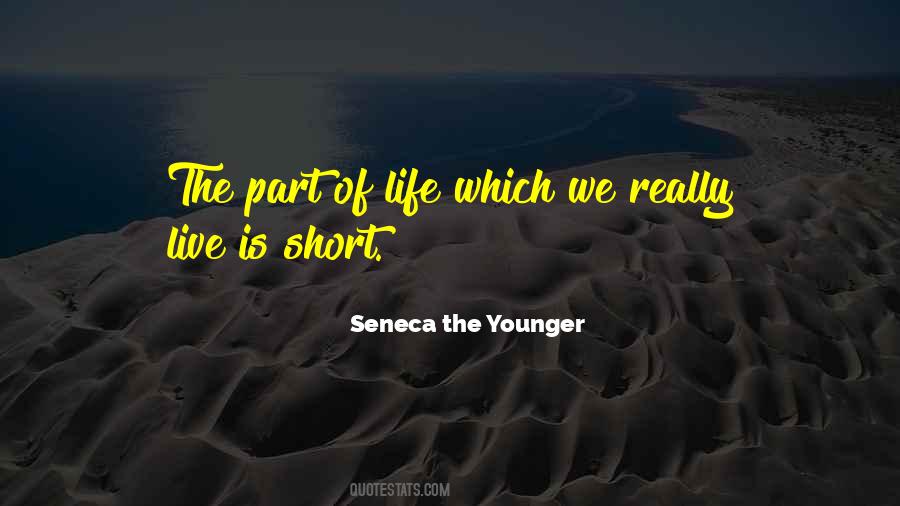 #96. Write your dreams down, toss them into the sea, and make a wish, Isabel. Life is too short to live with regrets, own today as if it was your last.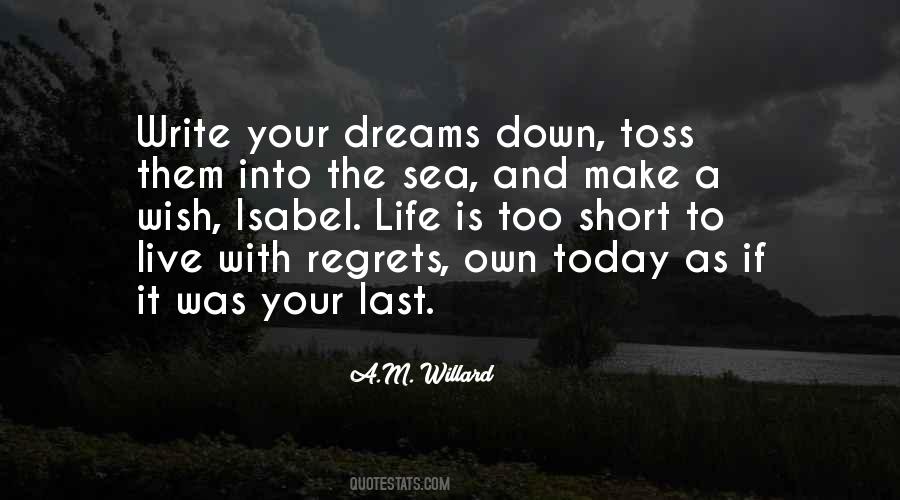 #97. Life is so short, no time to spare, so choose carefully, love intensely and live blissfully.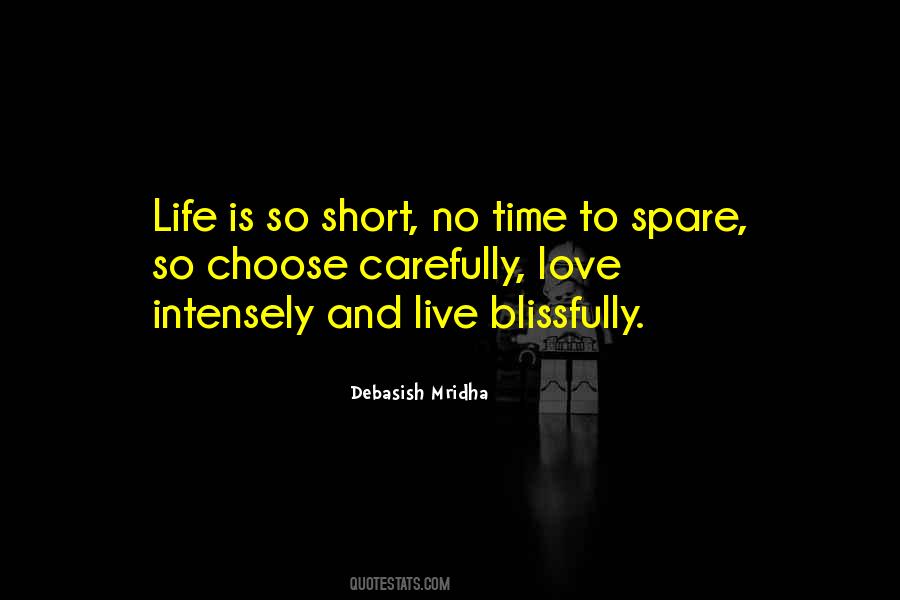 #98. The way I see it is life is too short to sit on your ass and not live every minute as if it's your last.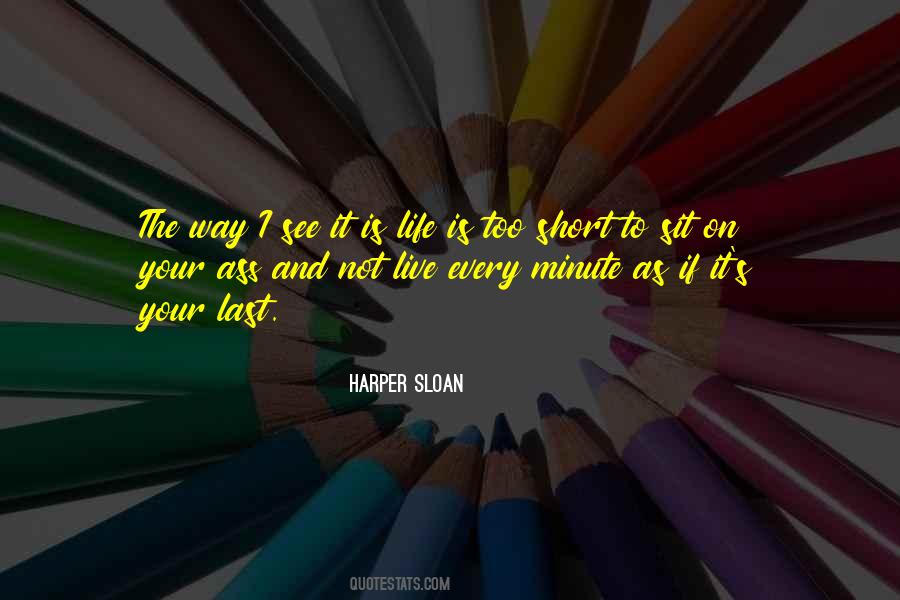 #99. Life is short. Make the most of it. Put God first. Love deeply. Forgive quickly. Laugh a lot. Find and live out your purpose.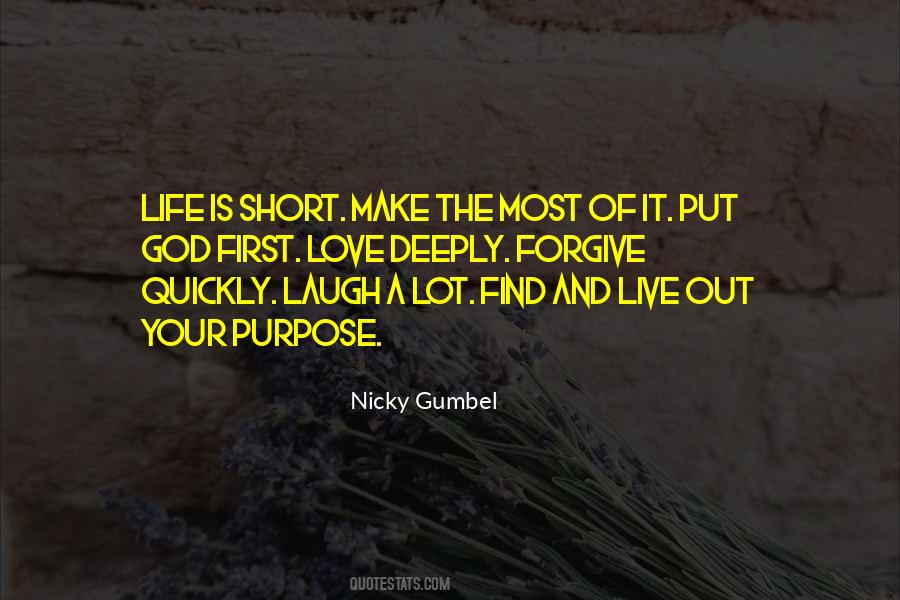 #100. Laugh as often as you can. Live with no regret, because life is short and nothing is forever.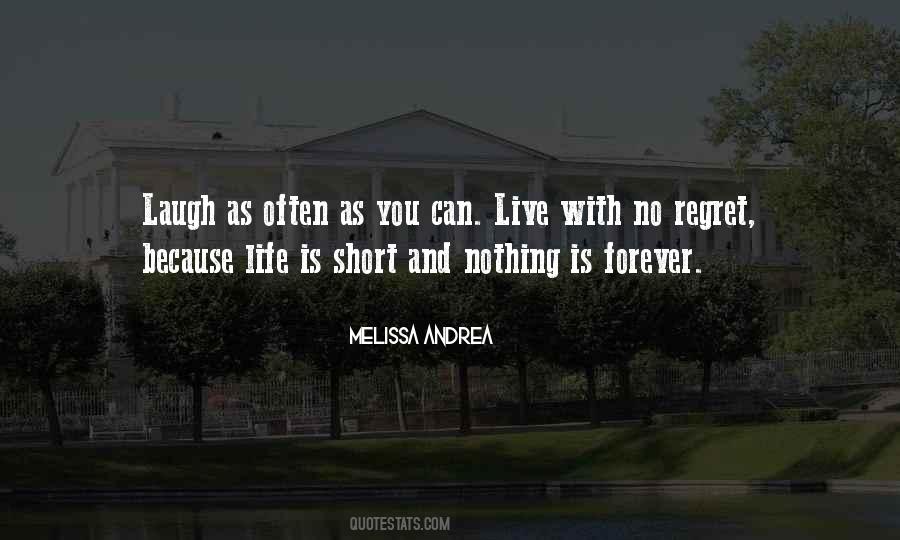 Famous Authors
Popular Topics