Life Evolve Famous Quotes & Sayings
List of top 100 famous quotes and sayings about life evolve to read and share with friends on your Facebook, Twitter, blogs.
Top 100 Life Evolve Quotes
#1. I see life as a classroom for humans to learn lessons, to grow and evolve. - Author: Elaine Seiler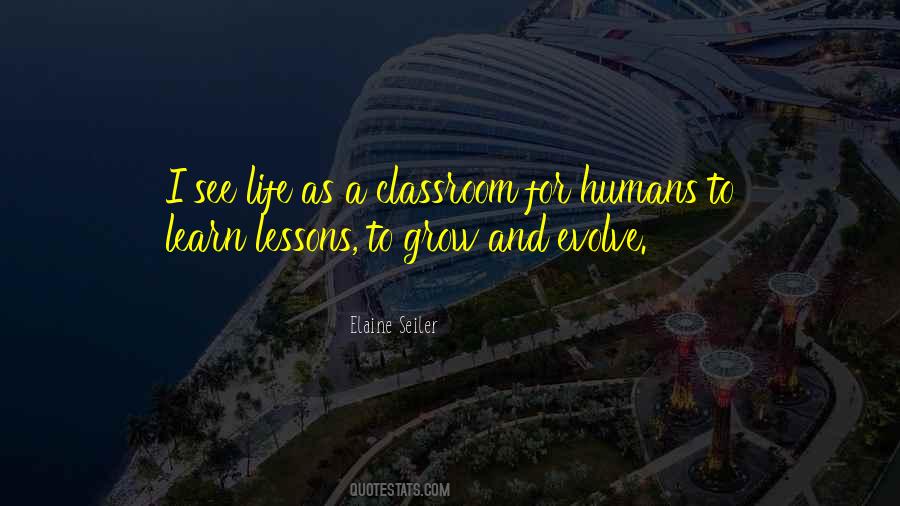 #2. The Christian life does not just evolve. It also requires specific decisions and public commitments to deepen our faith and obedience. - Author: Mark Galli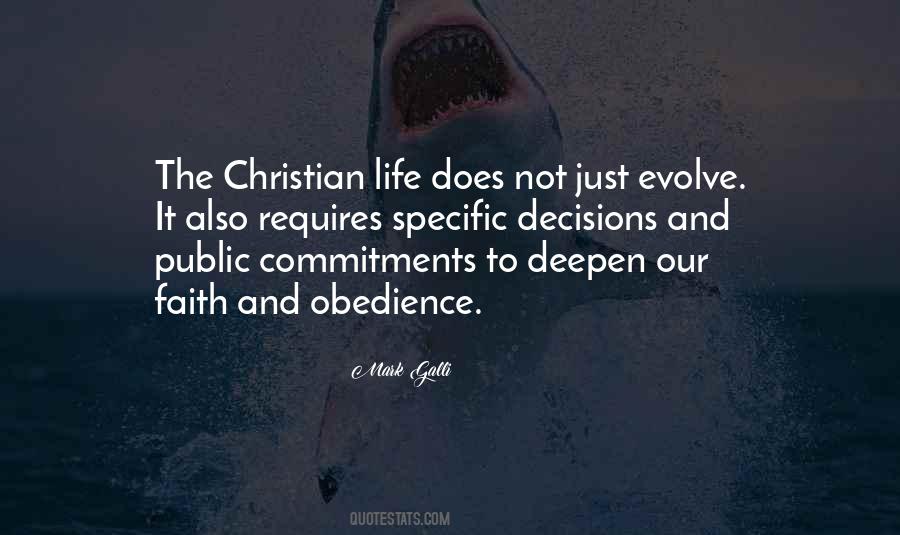 #3. Nobody knows whether our personalities pass on to another existence or sphere, but if we can evolve an instrument so delicate to be manipulated by our personality as it survives in the next life such an instrument ought to record something ... - Author: Thomas A. Edison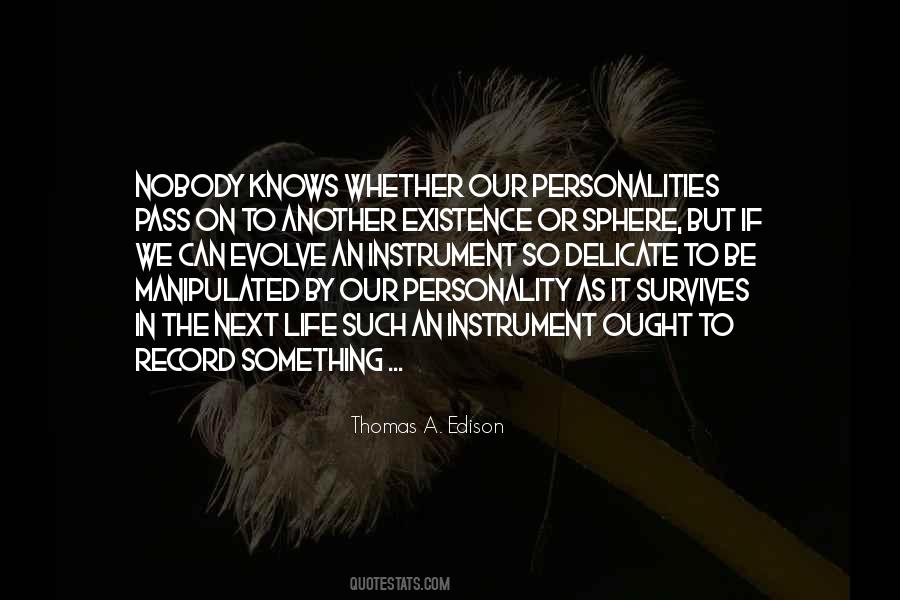 #4. I am a firm believer that the challenges we endure in life evolve us to be the peole we become. I have learned that life is what you make of it, what you do is important, work shouldn't become your life, and you should enjoy life as God hands it to you. - Author: Vickie L. Peach Wilkins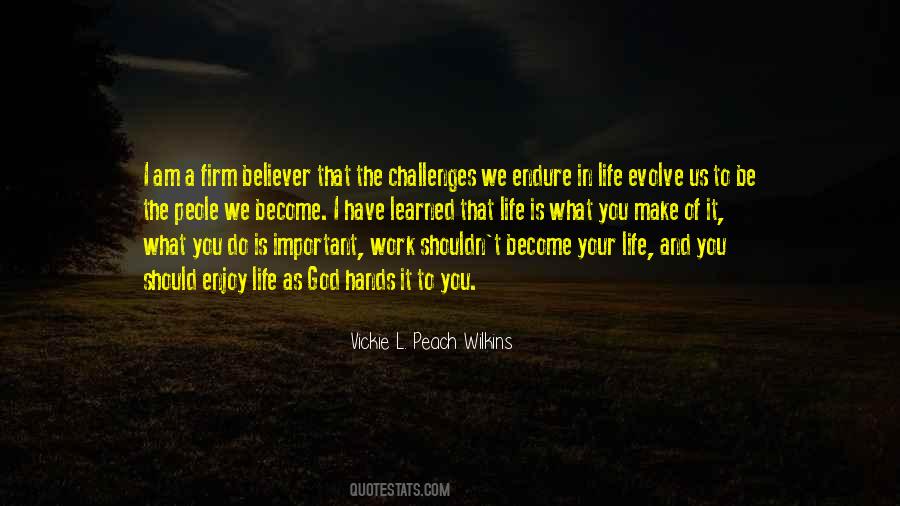 #5. My life is like a song and I think I know the words,
And as I start to sing along the whole verse becomes a blur.
So I freestyle improv, make mistakes and evolve,
The obstacles repeat, cause naturally it revolves. - Author: MURS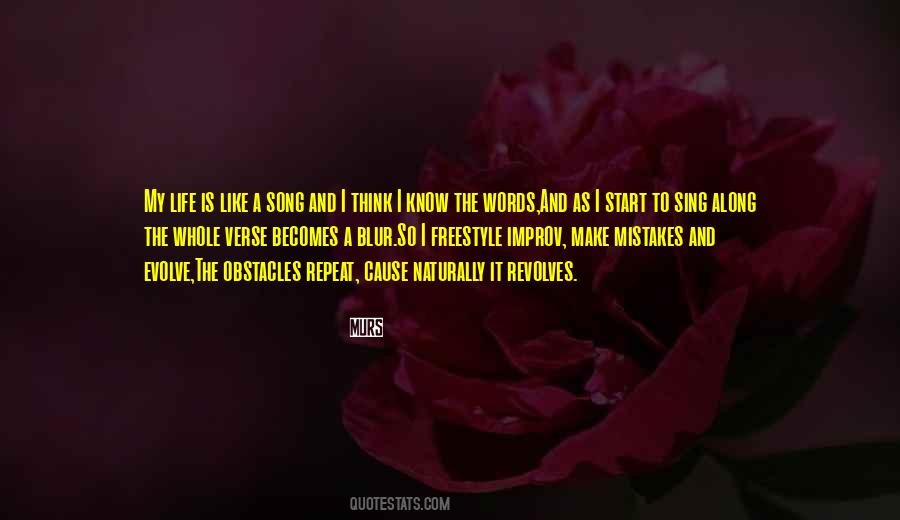 #6. We can always do anything as long as we are alive. We can always change, grow, evolve into a far better version of ourselves. It is surely what life is for. - Author: Mary Balogh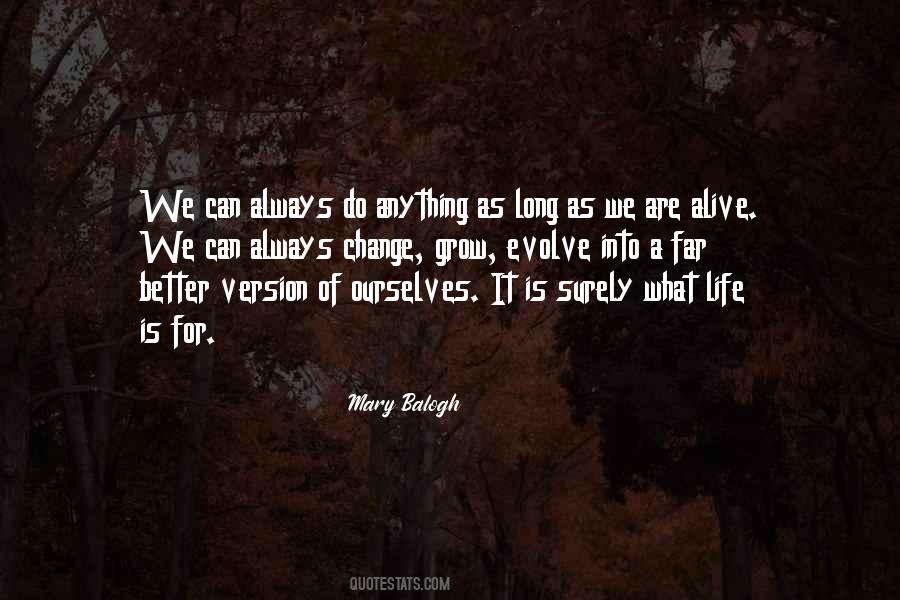 #7. They say life is tenacious. They say given half a chance, or less, life will grow and exist and evolve anywhere, even in the most inhospitable and unlikely of places.
Life will always find a way, they say. - Author: Steven Hall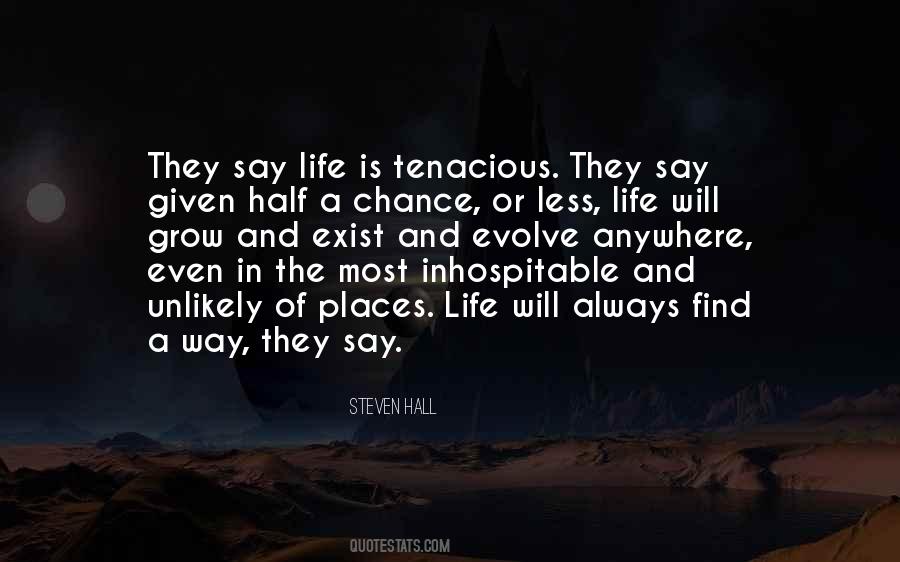 #8. It's interesting how songs can evolve. Sometimes I'll write a song that feels relevant in the moment, but four years later, I don't want to sing it anymore. Then something will happen in my life, and the song becomes relevant again. - Author: Jenny Lewis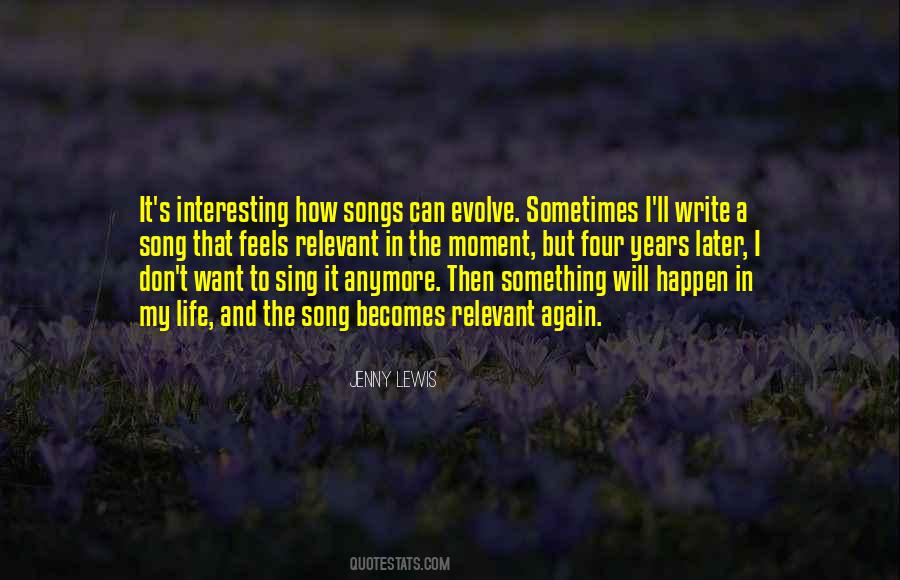 #9. I think that the needs in human life will change and grow and evolve. I do think that that the importance will always be grander than you would ever believe them to be. - Author: Tom DeLonge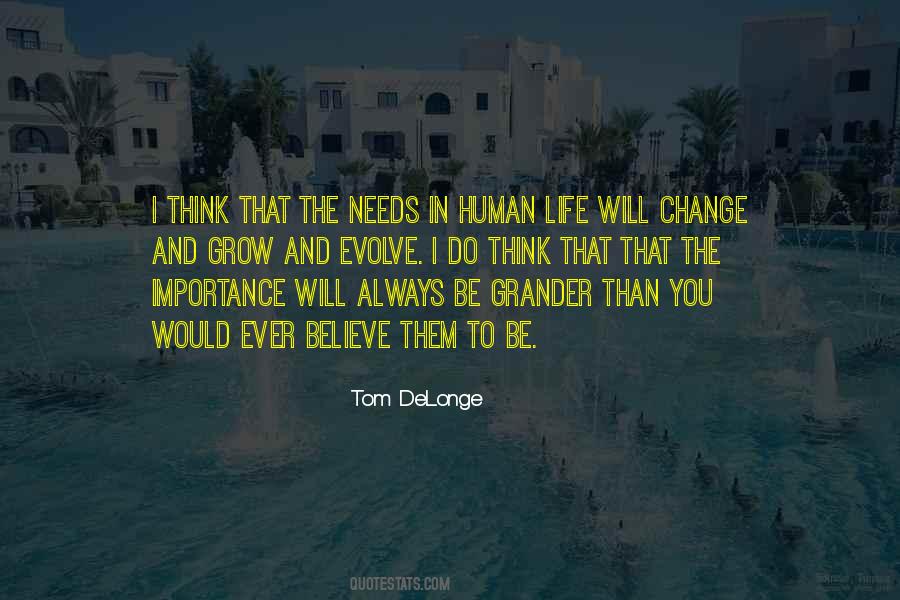 #10. Humans only really learn from each other by storytelling. We didn't evolve to memorize things. We evolved to hear each other's stories and feel them in our heart. Your life is the most powerful story you can tell. - Author: Martha Beck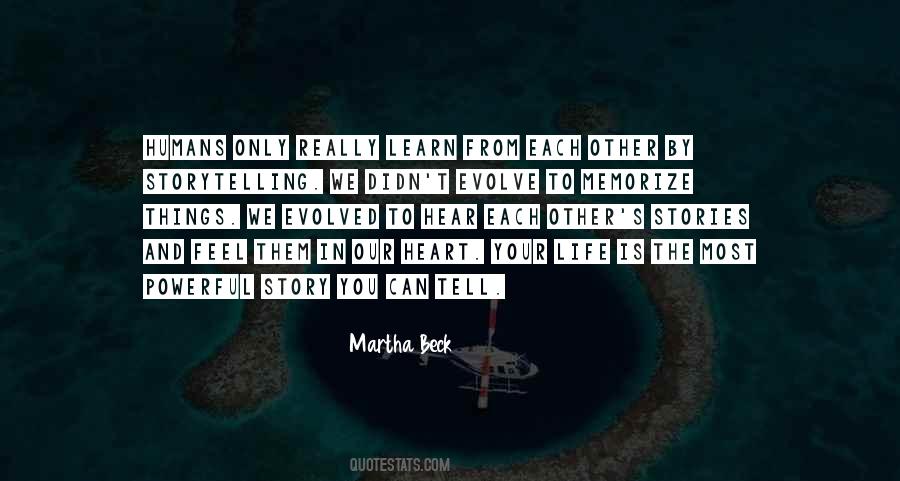 #11. Whether you're trying to learn in hockey or trying to learn in life, I've always tried to be observant and tried to learn more, tried to evolve, whether it's as a hockey player or as a person. With each year, I try to do that. - Author: Sidney Crosby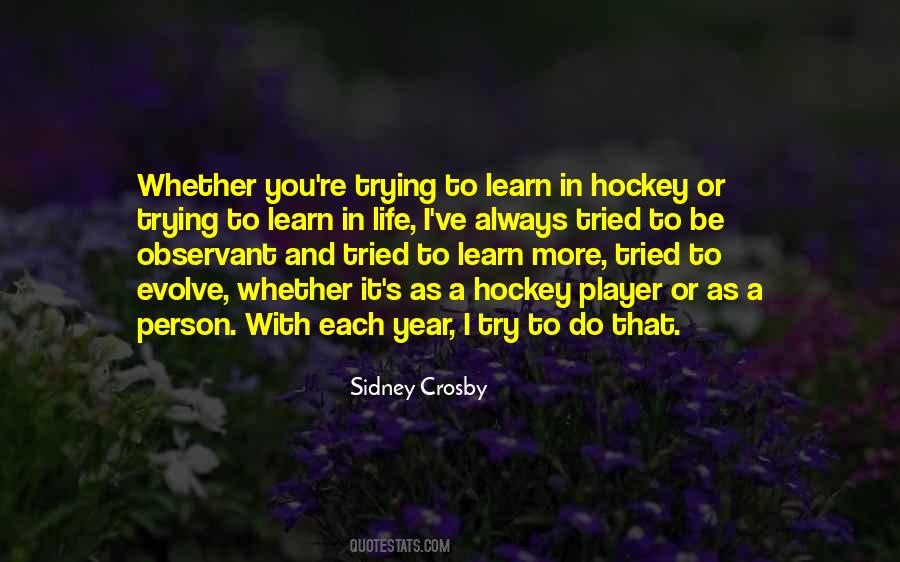 #12. With your depth of field and curious soul, allowing something to evolve or to see meaning in playful accidents can make the difference between creating the same old thing, or something that is unique, valuable, lasting, beautiful. - Author: Alan Moore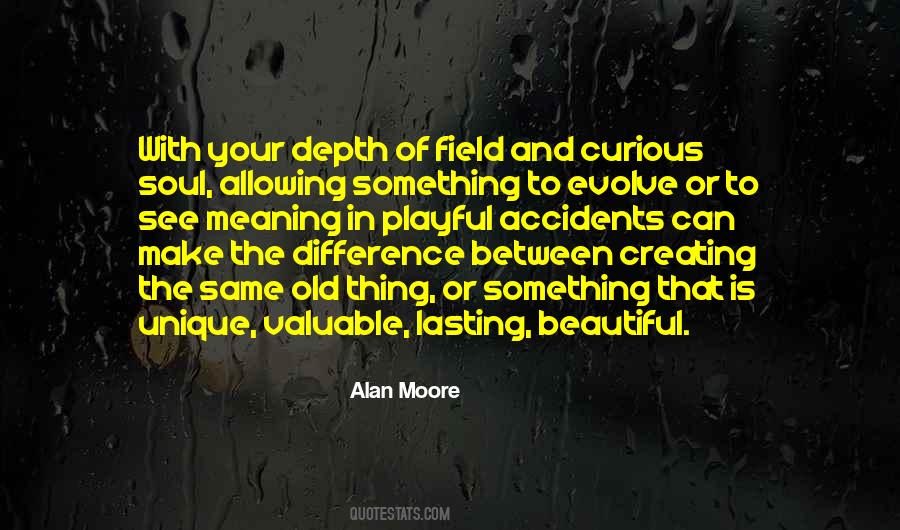 #13. If it's a phase, so what? If it's your whole life, who cares? You're destined to evolve and understand yourself in ways you never imagined before. And you've got our blood running through your beautiful veins, so no matter what, you've been blessed with the spirit of women who know how to love. - Author: Gabby Rivera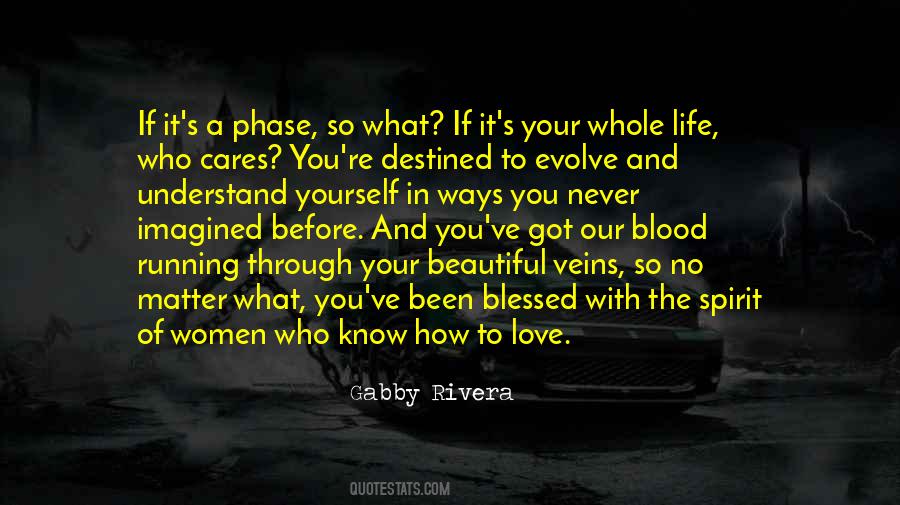 #14. To change skins, evolve into new cycles, I feel one has to learn to discard. If one changes internally one should not continue to live with the same objects. They reflect one's mind and psyche of yesterday. I throw away what has no dynamic, living use. - Author: Anais Nin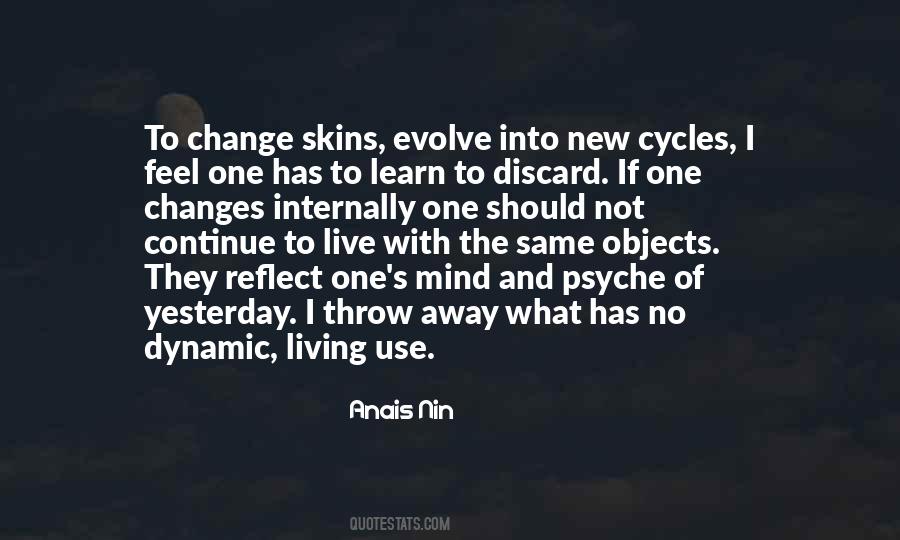 #15. The purpose of creation is beauty. Nature in all its various aspects develops towards beauty, and therefore it is plain that the purpose of life is to evolve towards beauty. - Author: Hazrat Inayat Khan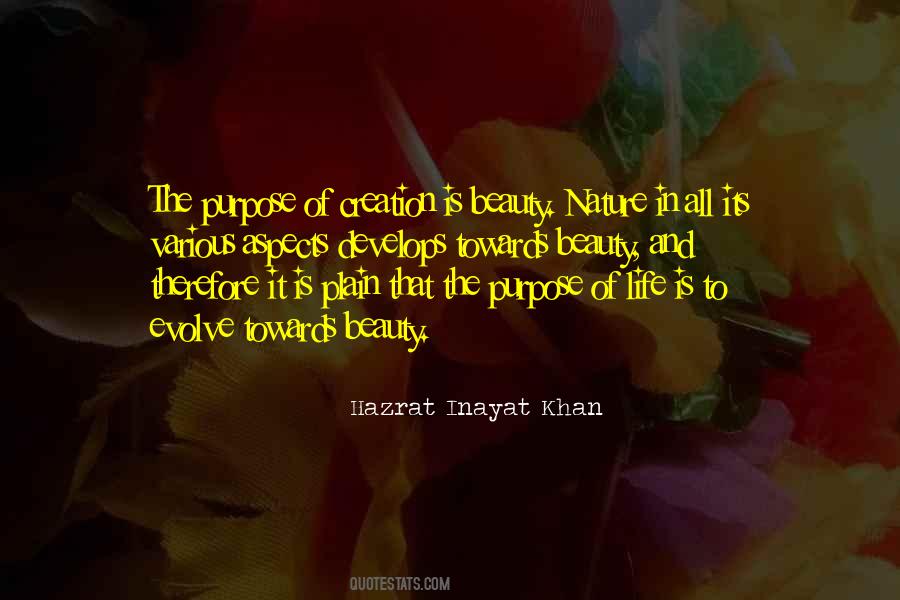 #16. THE INTENTION OF LIFE IS NOT TO REMAIN, BUT TO EVOLVE TO SOMETHING BETTER THAN IT WAS BEFORE AT EVERY STAGE, AND FINALLY, TO SOMETHING WONDERFUL. - Author: James Bergson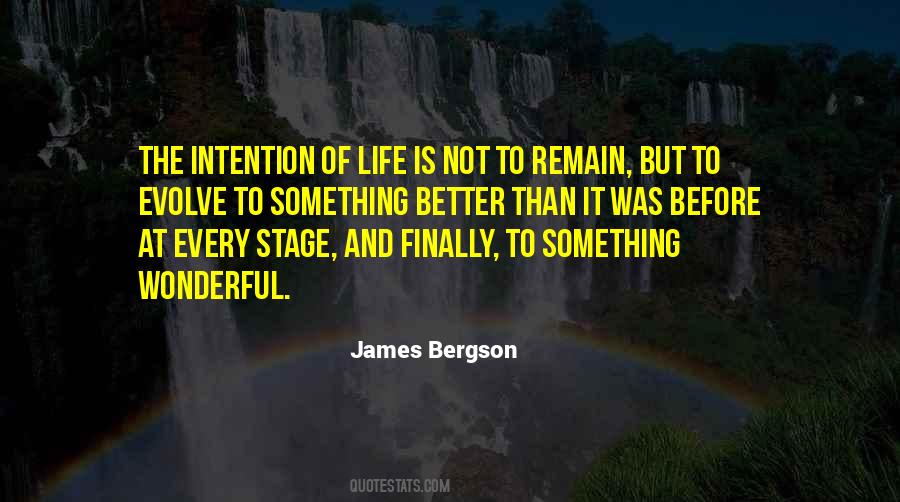 #17. You know, it's funny how songs continue to grow and evolve and become a new and deeper reflection of your life. - Author: Gloria Estefan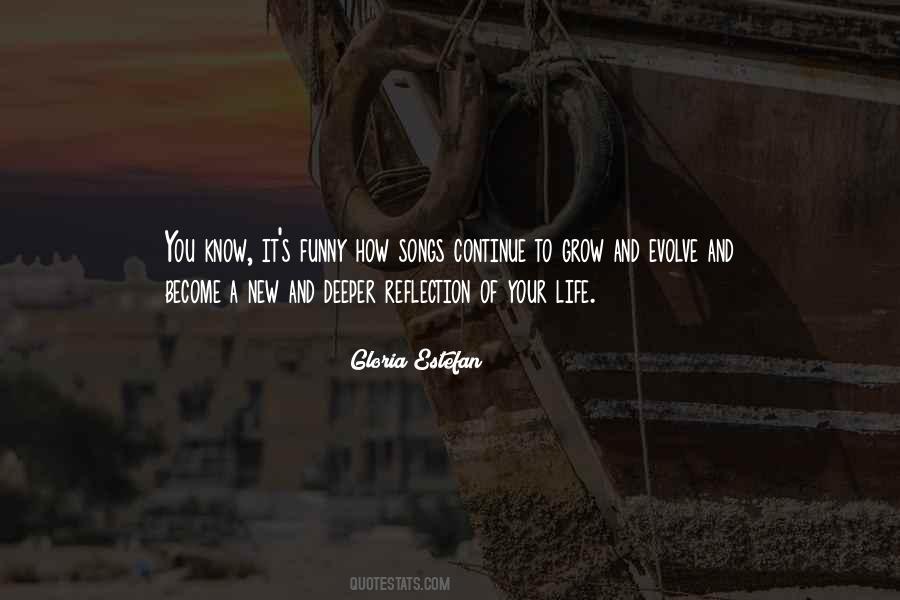 #18. At some point in your life, if you're lucky, you get to design the way in which things evolve. - Author: Daniel Day-Lewis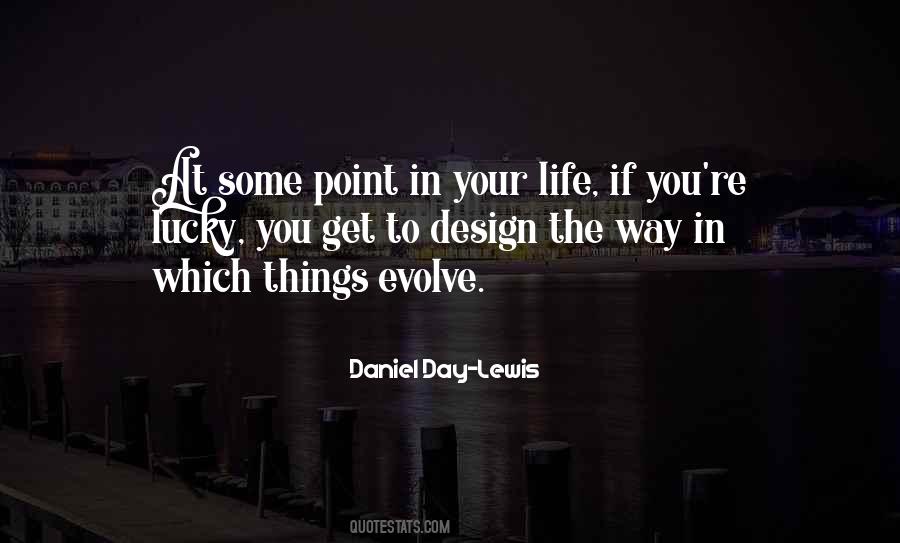 #19. Consciousness is the basis of all life and the field of all possibilities. Its nature is to expand and unfold its full potential. The impulse to evolve is thus inherent in the very nature of life. - Author: Maharishi Mahesh Yogi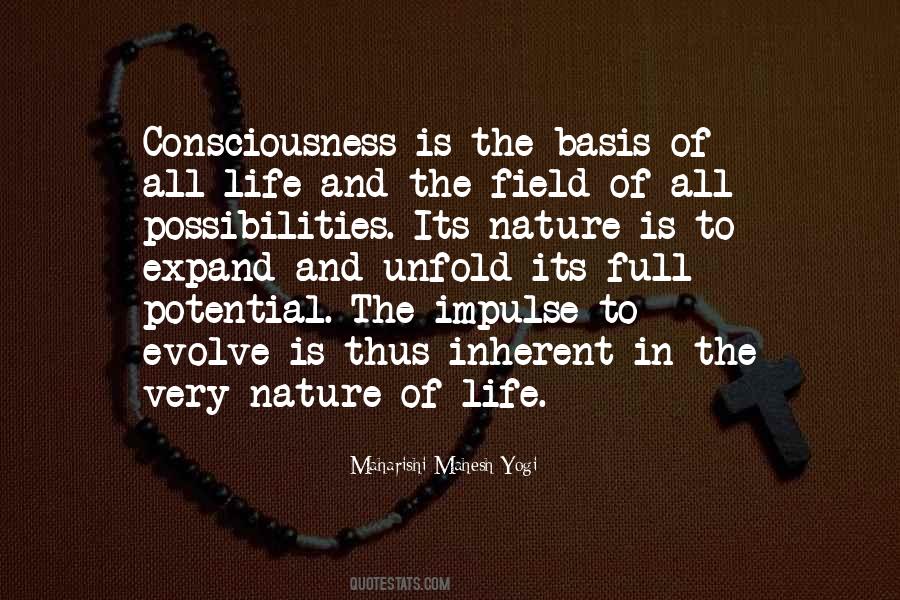 #20. When I photograph, I try to use my instincts as much as possible. It is when pictures are unconsidered and irrational that they come to life; that they evolve from showing to being. - Author: Jacob Aue Sobol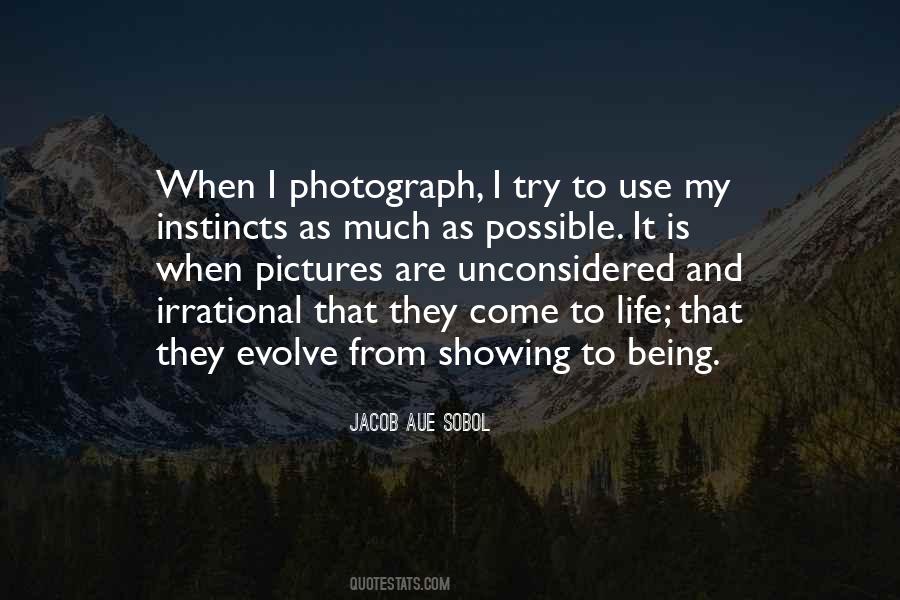 #21. Life here on Earth is promised suffering and one needs to find ways to live through it. Many people turn to meditation and prayer - anything that can connect us deeper into ourselves and with the divine. - Author: Kat Lahr
#22. What I wanted in life always was to write something as good as 'Pinocchio.' I wanted to write. I wanted to evolve. I wanted to grow. - Author: Patti Smith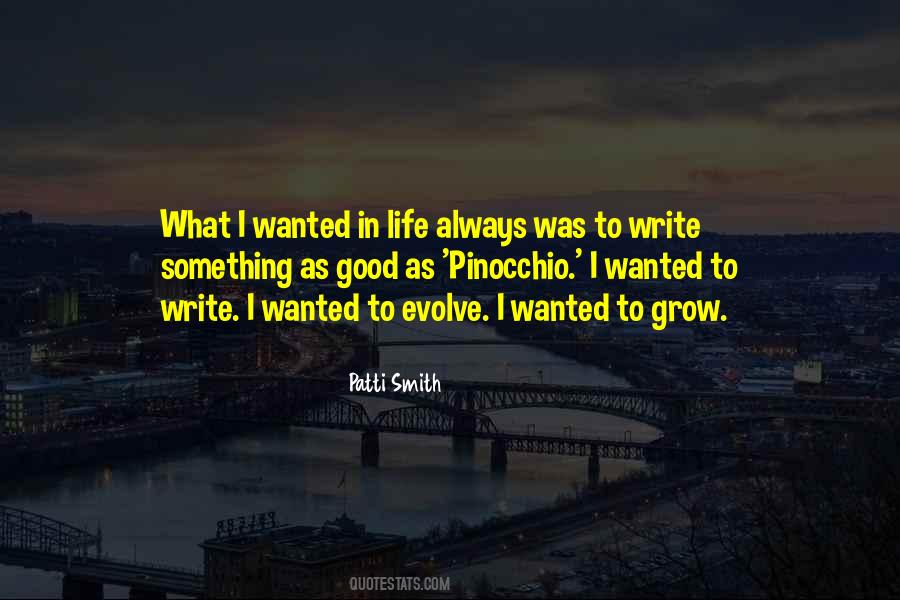 #23. What is life for?' he asked rhetorically. 'It's a way to evolve thought. And what is thought for? It's a way to be aware, a stage between the physical and the spiritual. And time? it's a good way to keep things separated. - Author: Raymond E. Feist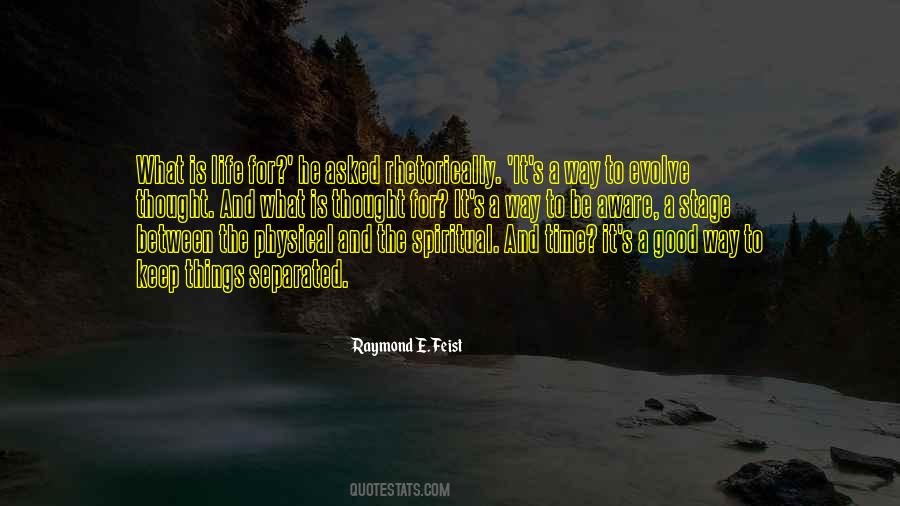 #24. Mostly I sit at home in the evenings watching the box and hoping that one day I'll evolve into plankton. - Author: Tom Holt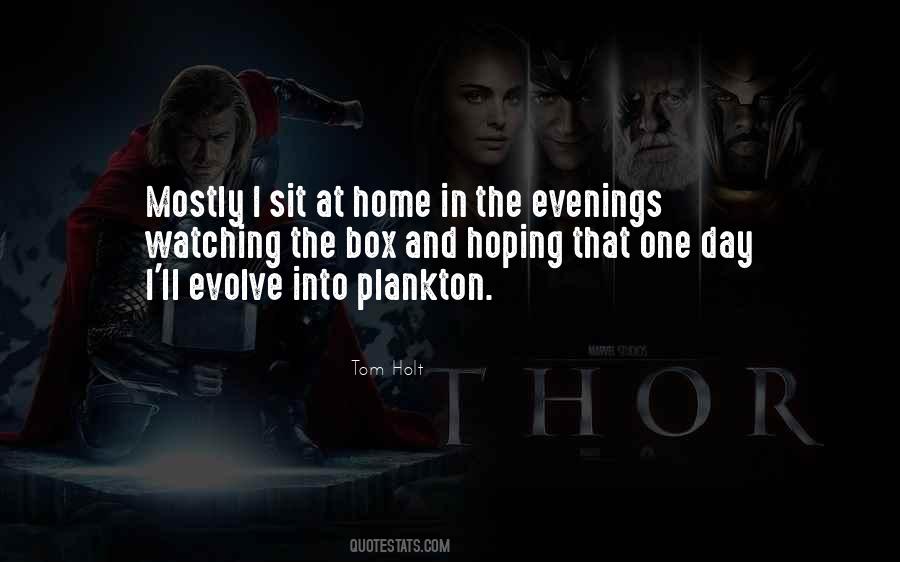 #25. Give yourself permission 2 evolve. Become a philosopher; come up with your own interpretation of life and stop accepting someone else's as your truth. - Author: Germany Kent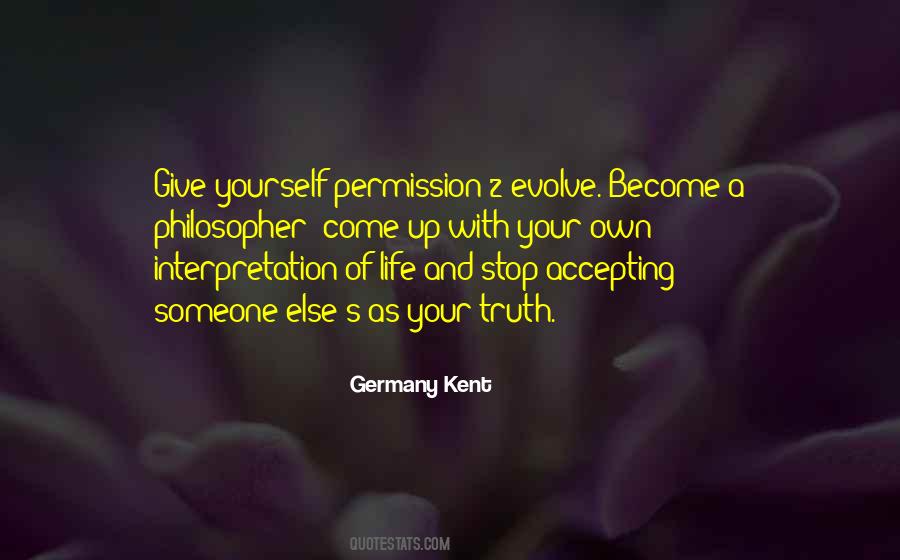 #26. The physical fabric of the world had to be such as to enable that ten billion year preliminary evolution to produce the raw materials of life. Without it there would not have been the chemical materials to allow life to evolve here on earth. - Author: John Polkinghorne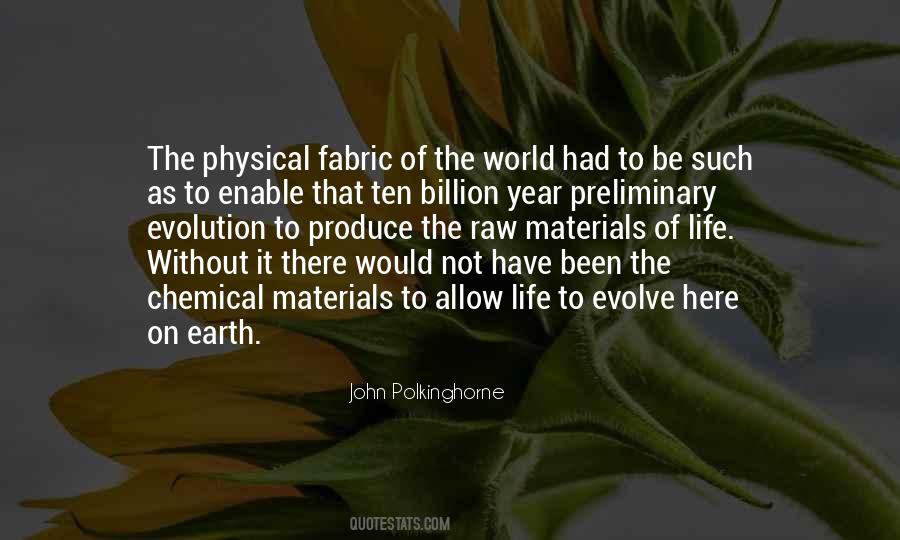 #27. You will know the person who was meant to be in your life by how they make you feel spiritually. If they live in such a way that inspires you to become better then you have found someone you can evolve with vs. raise. - Author: Shannon L. Alder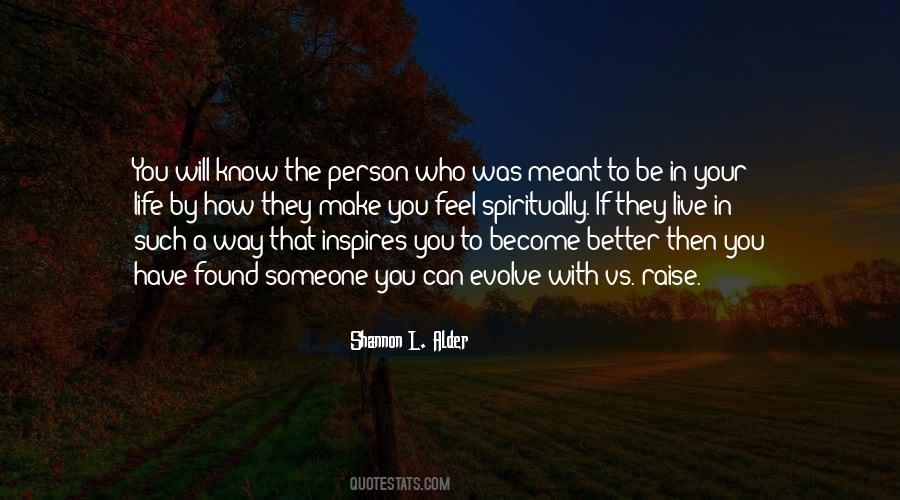 #28. The truth is, life grows and evolved inside of you and, it has nothing to do with any other person except you. The truth of life grows and evolves, in the form of understanding. - Author: Roshan Sharma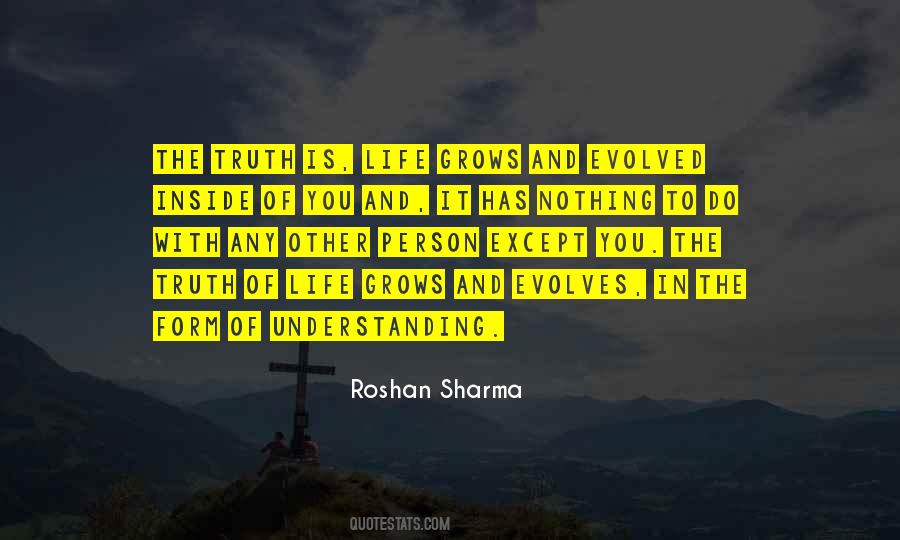 #29. The soul is imbued with a yearning that is carried, like a torch, from incarnation to incarnation. It burns with a curiosity about life and it's true identity. Souls live, strive, and evolve, driven to seeking the truth about the world and themselves. - Author: Stefan Emunds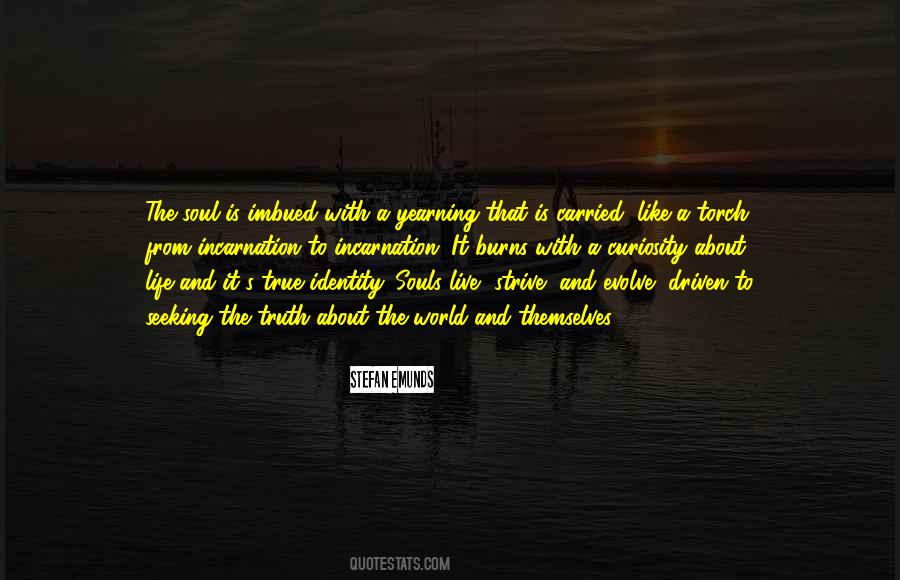 #30. This is the assembly of life that took a billion years to evolve. It has eaten the storms-folded them into its genes-and created the world that created us. It holds the world steady. - Author: Edward O. Wilson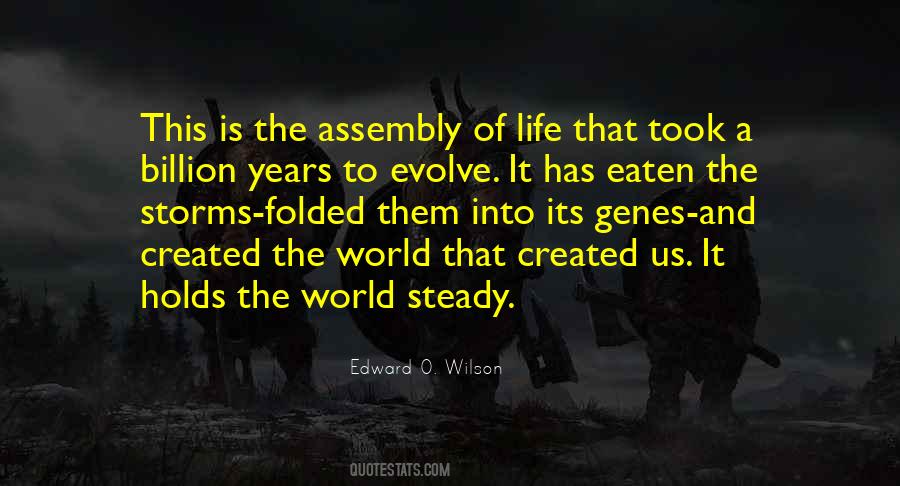 #31. When I see and feel the life beat of Spirit in every object, I evolve to a higher level of transformation called consciousness - Author: Deepak Chopra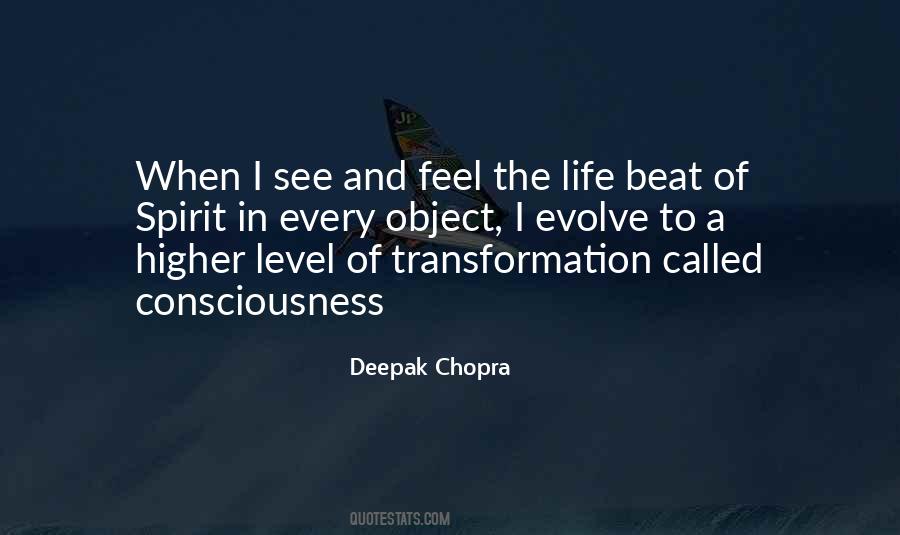 #32. Errors, failures, They are just experiences that will obligate you to evolve. - Author: Roberto Llamas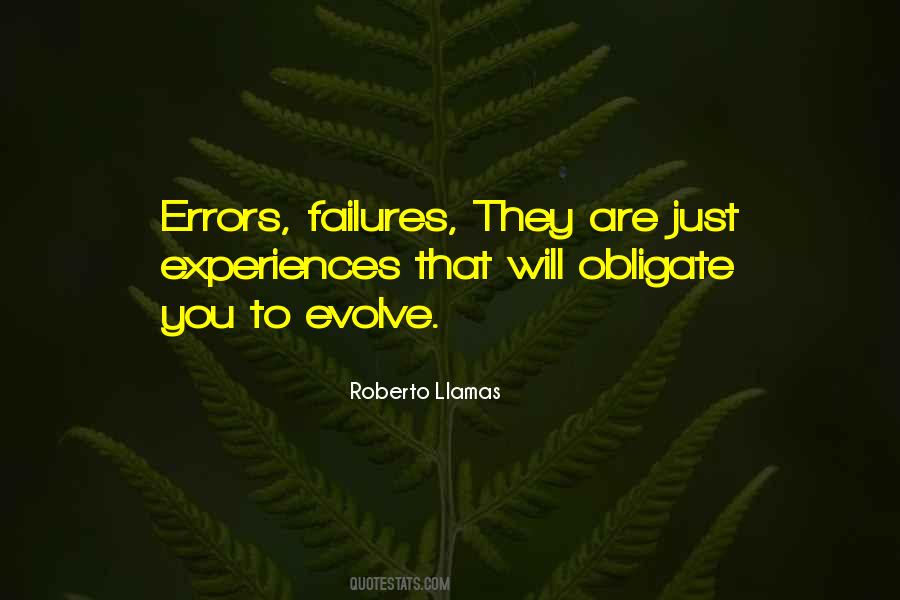 #33. It's the presence of others who are smarter, kinder, wiser, and different from you that enables you to evolve. Those are the people to surround yourself with at all times. - Author: Adam Braun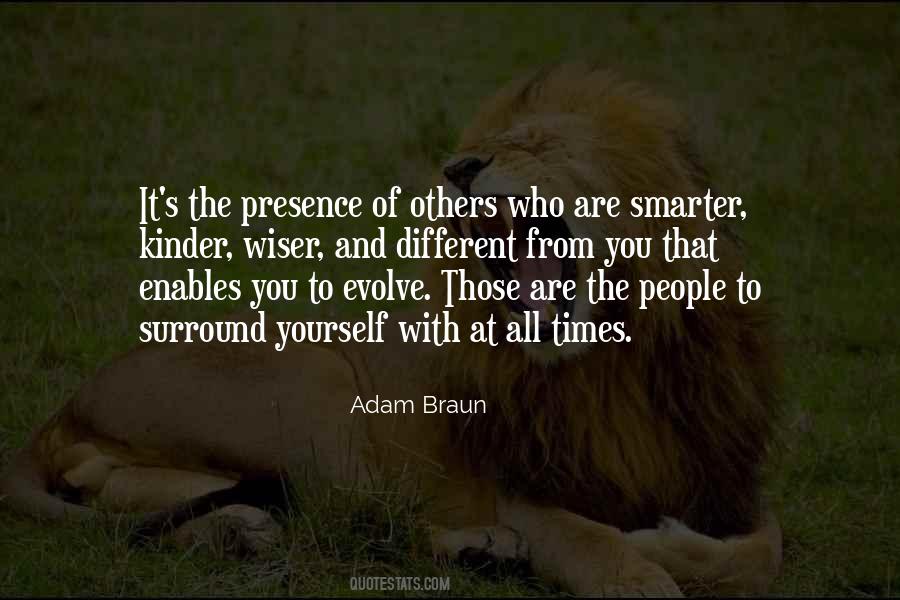 #34. It is very difficult to evolve by altering the deep fabric of life; any change there is likely to be lethal. But fundamental change can be accomplished by the addition of new systems on top of old ones. - Author: Carl Sagan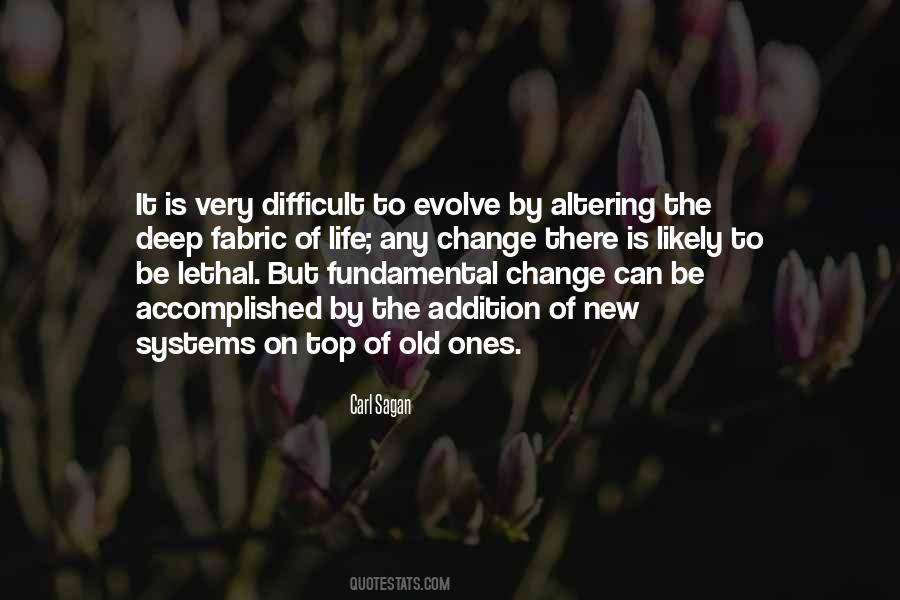 #35. My music must reflect whatever's going on in my mind, and my life needs to evolve for me to discover who it is I'm becoming. - Author: Shania Twain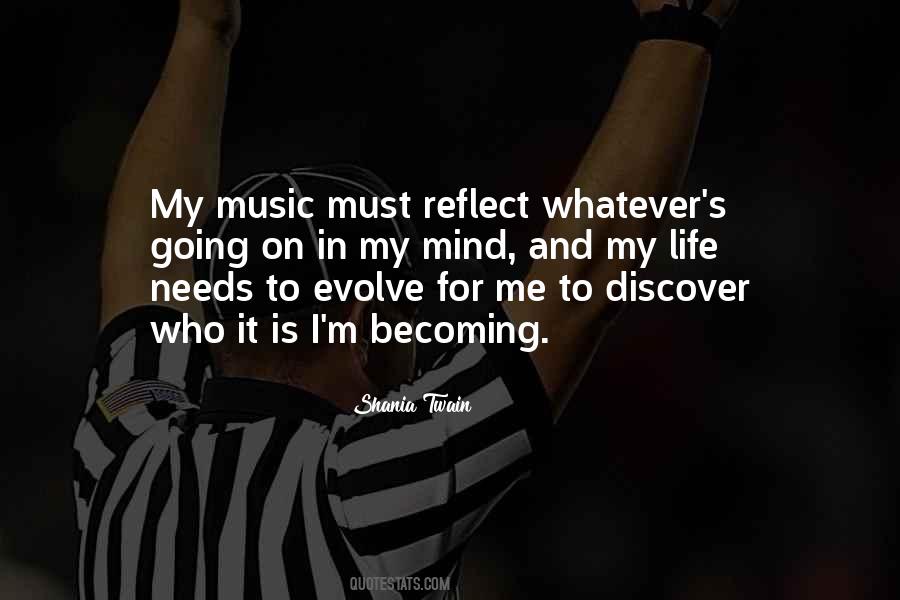 #36. If you want relief from pain just strive to touch more of every part of life. - Author: Bryant McGill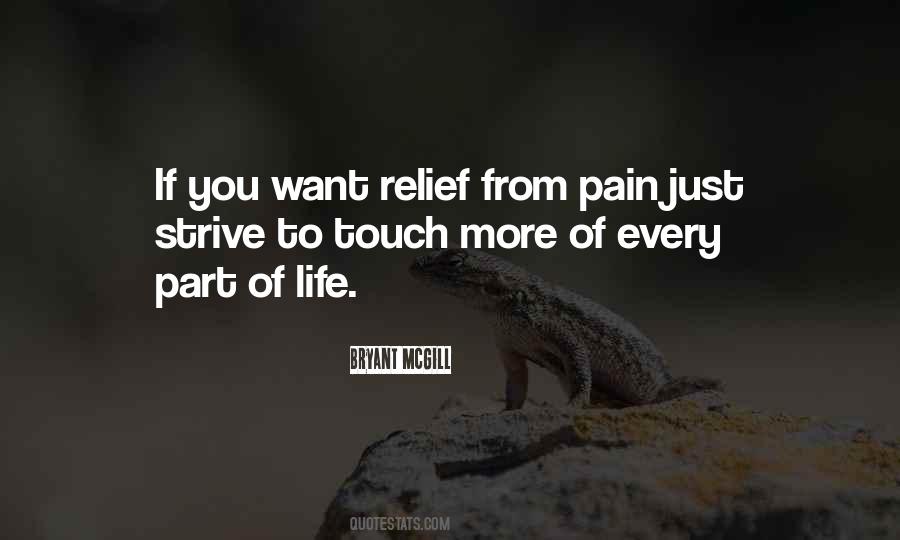 #37. I've always been known for bold flavors and rustic cooking, but there is another side to me. As you evolve as a cook, you understand life and how serious it is. There comes a point where there's got to be a better balance. - Author: Emeril Lagasse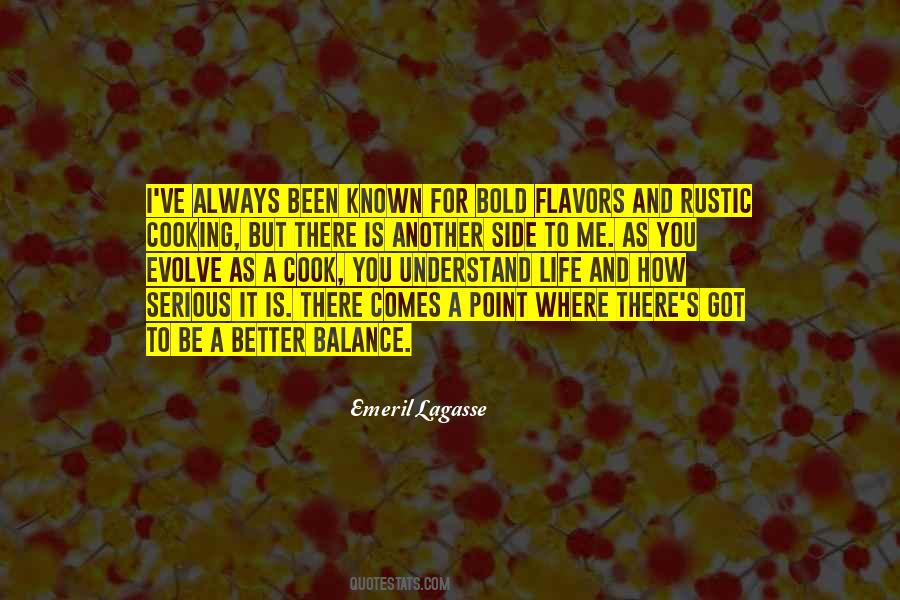 #38. RVM Thoughts for Today
Don't just be who you are and what you are. Move, Evolve, Change, Grow and become Better each Day. - Author: R.v.m.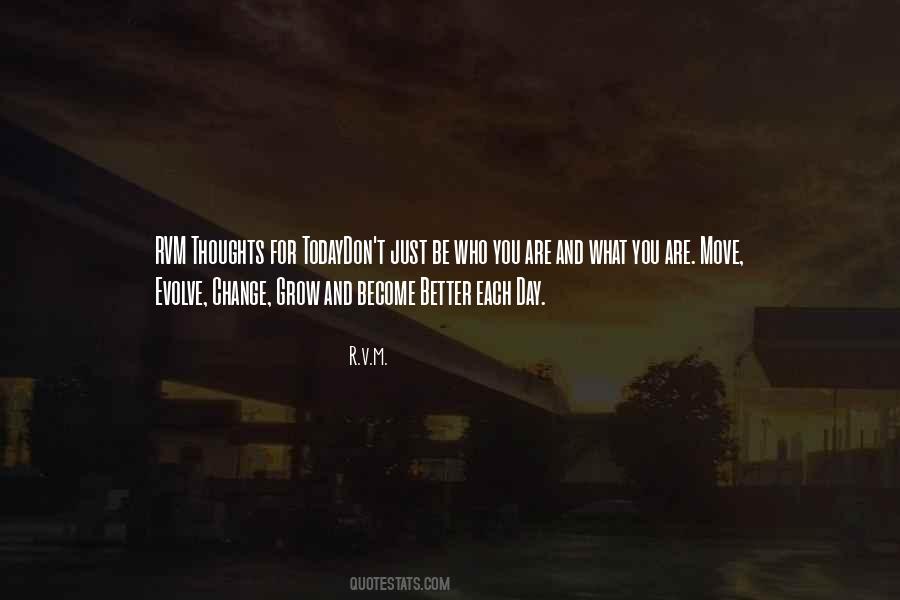 #39. I really don't have any weaknesses. I do have areas of my life that I am working on to grow, heal and evolve. Giving myself permission to rest is an area I am working on. Not rescuing my children and grandchildren is another area. - Author: Iyanla Vanzant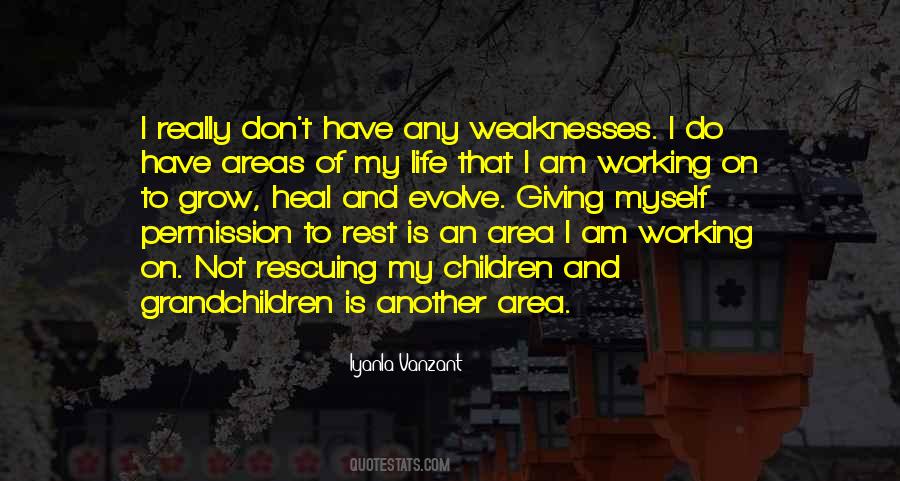 #40. To consciously evolve, we require clear vision of a compassionate future that draws out our enthusiastic participation in life. - Author: Duane Elgin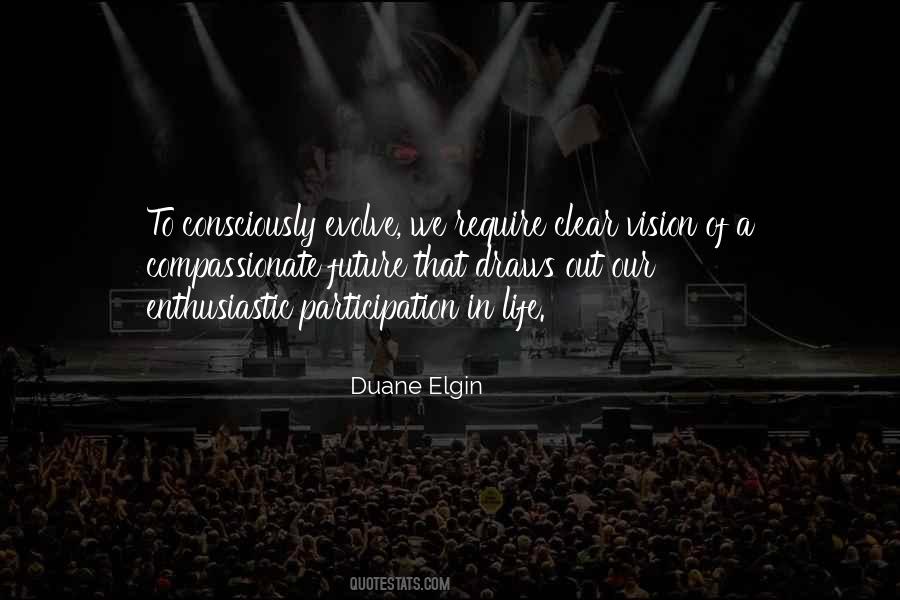 #41. Ancient, woman-centered words and beliefs never, like, fall off the planet. Having long done taken on a life of their own, they - like womankind - evolve, and survive. Chameleon style. - Author: Inga Muscio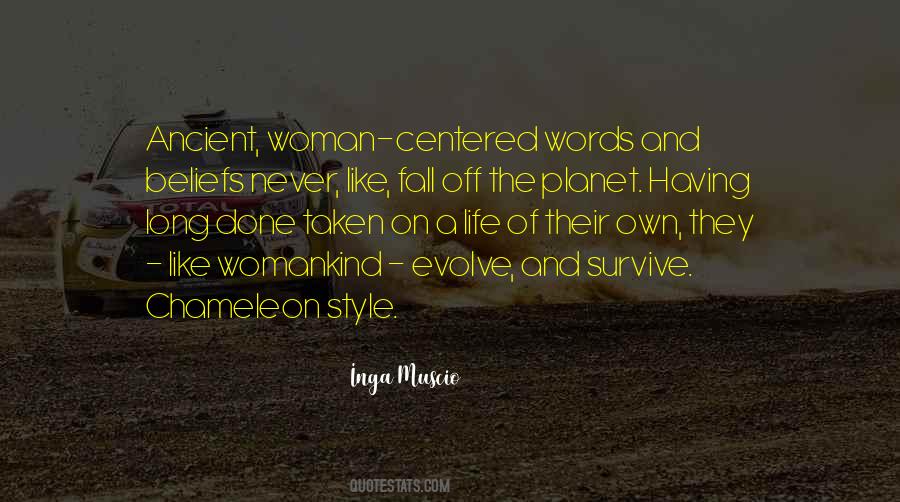 #42. Relationships are never static. They have to evolve over time as the individuals in them change. - Author: Sherryl Woods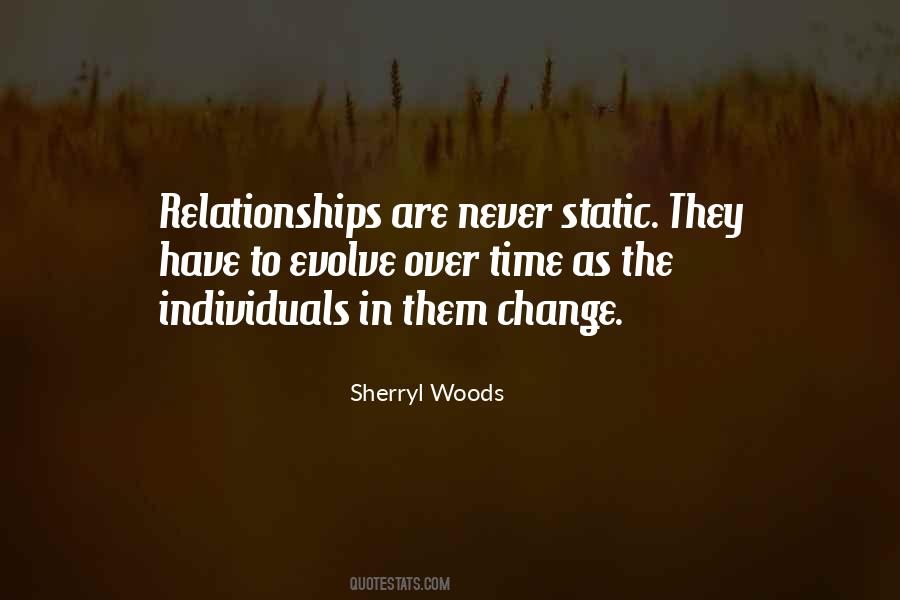 #43. A butterfly does not return to a caterpillar after it is mature. We must learn to grow and evolve into a stronger, wiser and better version of ourselves. Life occurs in stages and taking a step at a time is key to learning and growing. - Author: Kemi Sogunle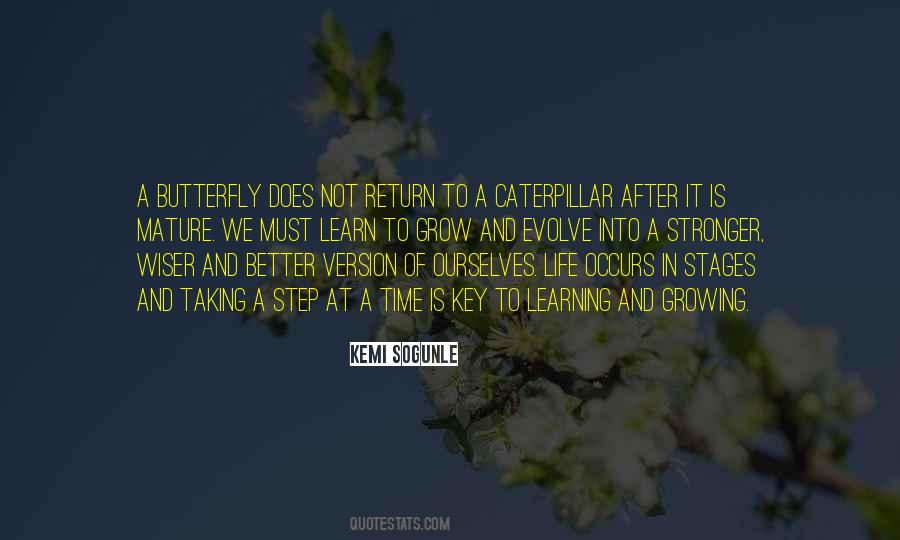 #44. The key to ultimate happiness and fulfillment lies within our own transformation. The more we learn and grow and evolve as individuals, the more we will find happiness and satisfaction in relationships, work and life. - Author: Kristi Bowman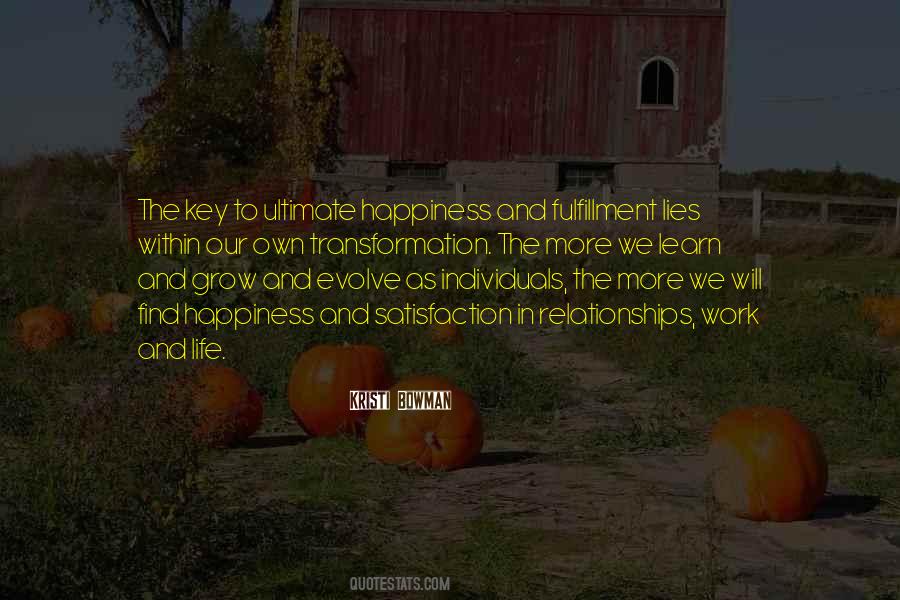 #45. Oba-sans, to put it in somewhat difficult terms, are life-forms that have stopped evolving. And anyone can turn into an Oba-san. Young women, of course, but even young men, even middle-aged men - even children. You turn into an Oba-san the instant you lose the will to evolve. - Author: Ryu Murakami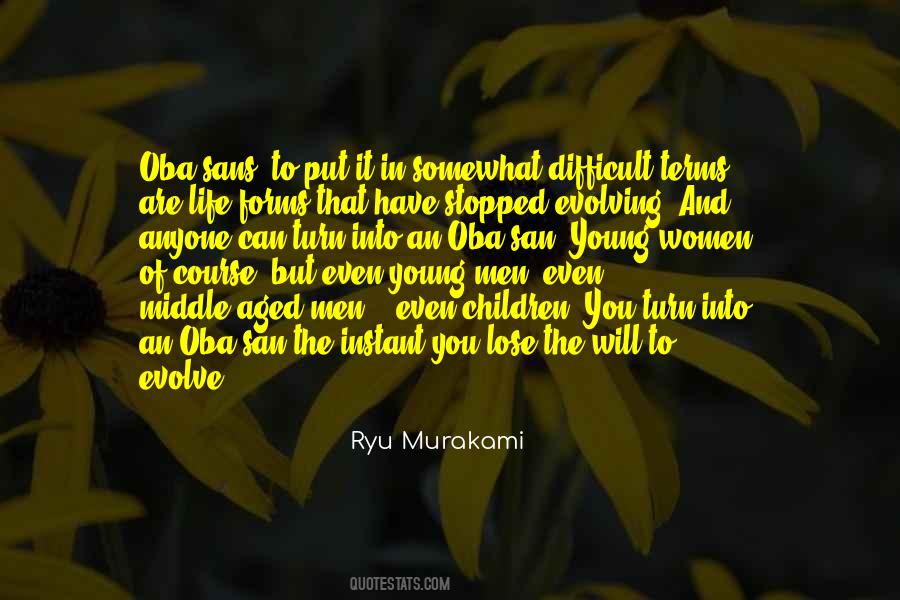 #46. You don't just become something in life. You evolve and grow; otherwise you get bored and remain stagnant. - Author: Anthea Syrokou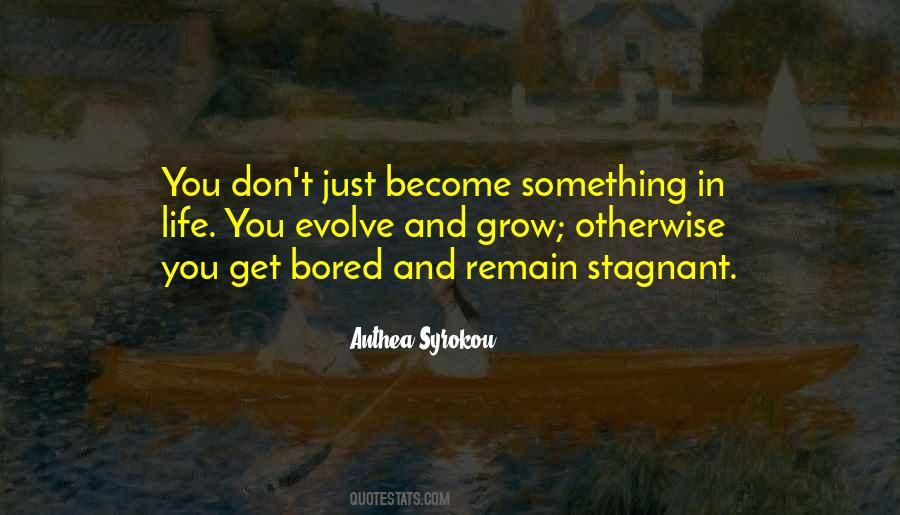 #47. To improve quality of life, to evolve into a better version of ourselves, to pause in recognition of blessings with only our name on the tag, to dance in graitutde, to embrance with abandon, to give without receiving, to seek the face of God ... all this and more is why we exisit. - Author: Toni Sorenson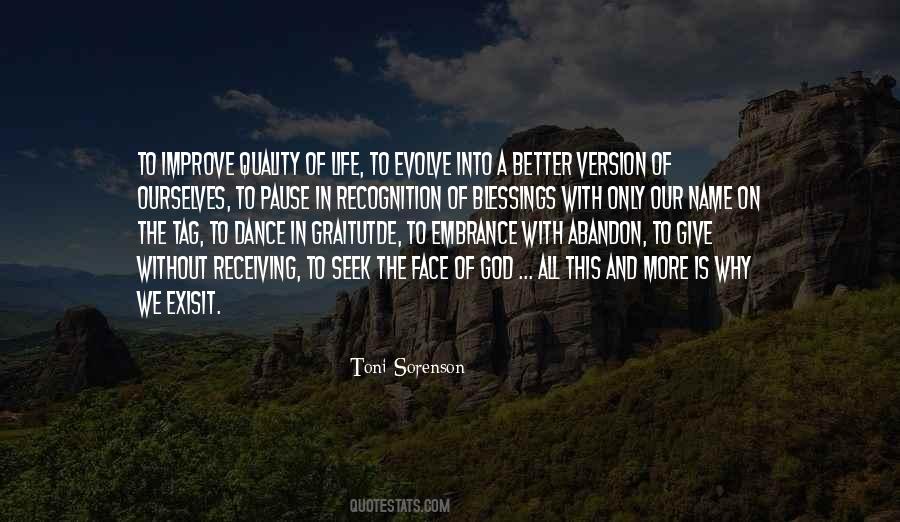 #48. All of life's experiences are teachers in some sense, challenging us to grow and evolve. Although the Persecutor certainly provokes a reaction, the Challenger elicits a response by encouraging the Creator to acquire new knowledge, skill, or insight. Both roles provoke change, but in different ways. - Author: David Emerald Womeldorff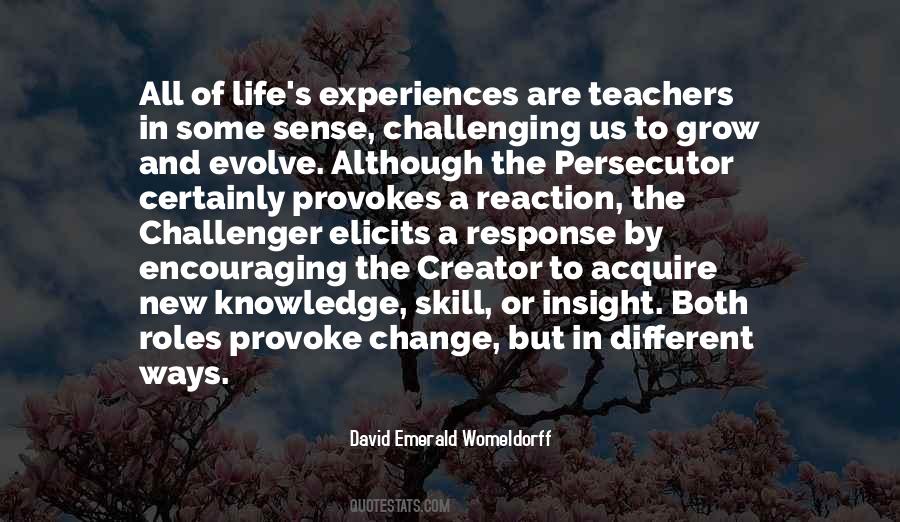 #49. People evolve and grow, and life is fascinating and fun and tragic. - Author: Fred Durst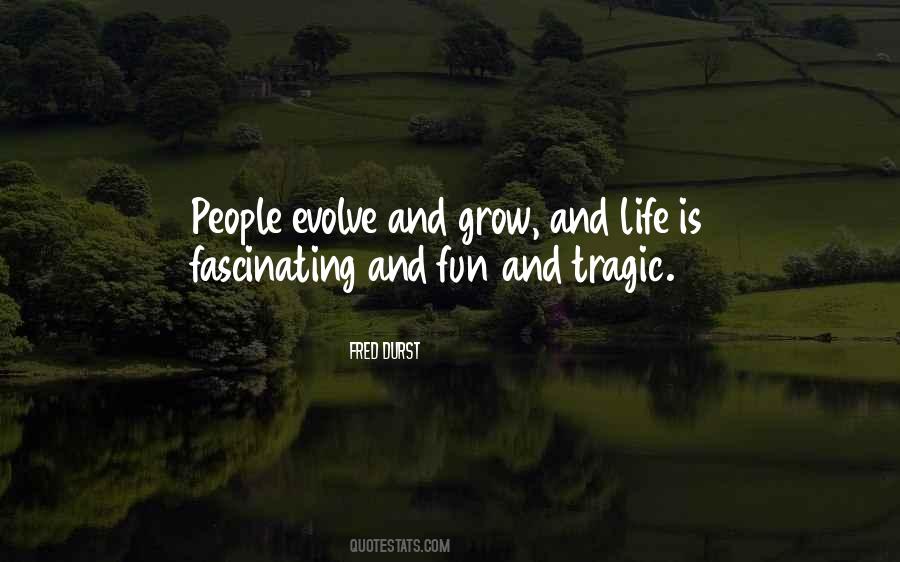 #50. MY LIFE IS a beautiful tragedy. A sad love story on an endless loop. The players may evolve and the setting may change, but it's always the same. Love. Pain. Death. Repeat. - Author: S.L. Jennings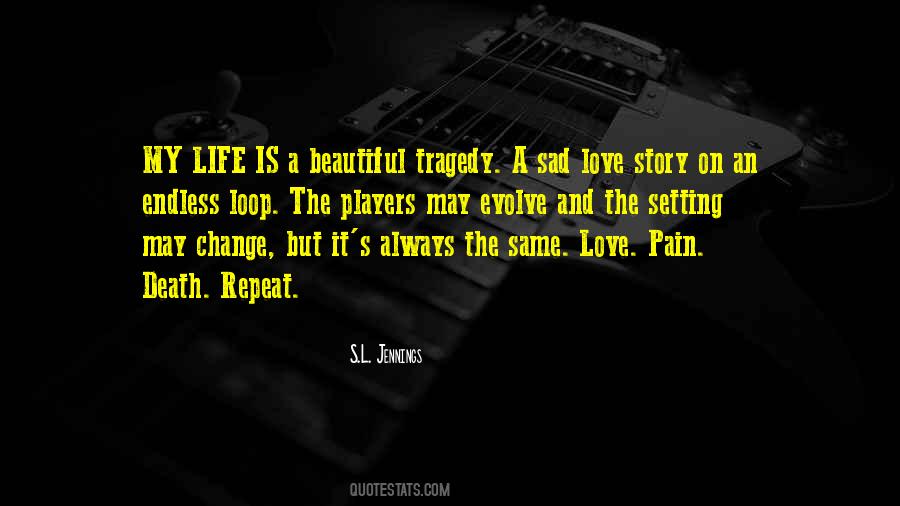 #51. I believe that understanding what is good is obtained by looking at the way the world works and figuring out how to operate in harmony with it to help it evolve. - Author: Ray Dalio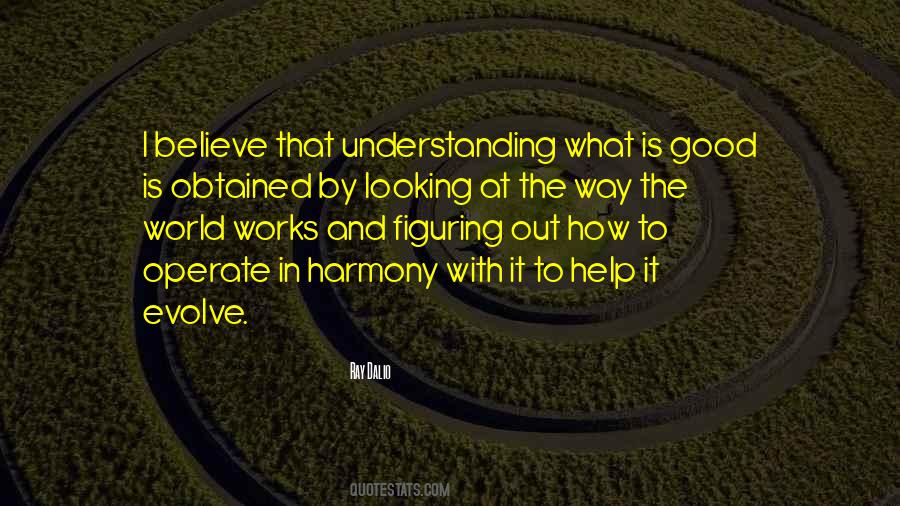 #52. Walk through life eager and open to self-improvemen t and that which is going to best help you evolve, because that's really why were here: to evolve as human beings. - Author: Oprah Winfrey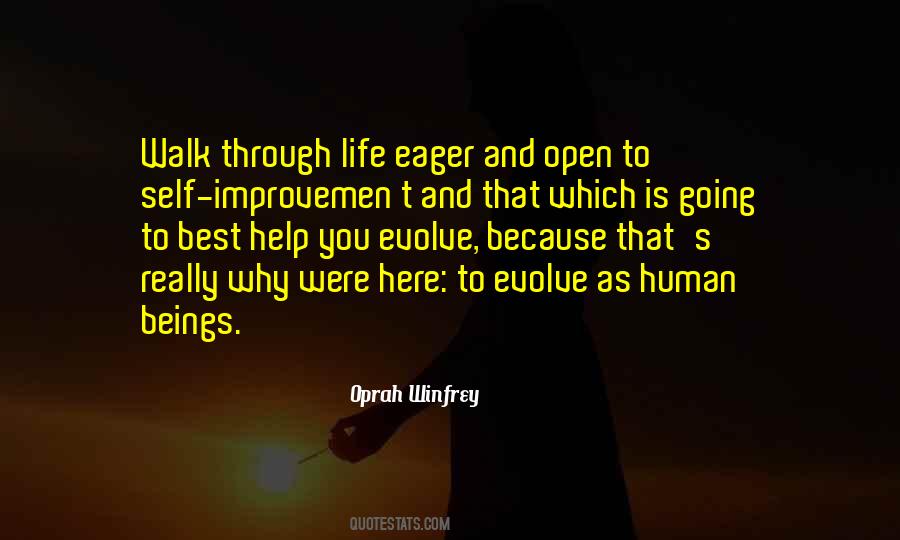 #53. As you evolve and develop your psychic abilities, you will enter into perceptions of life, truth, beauty and you will gain a power to live your life in an intelligent, perceptive and strong way. - Author: Frederick Lenz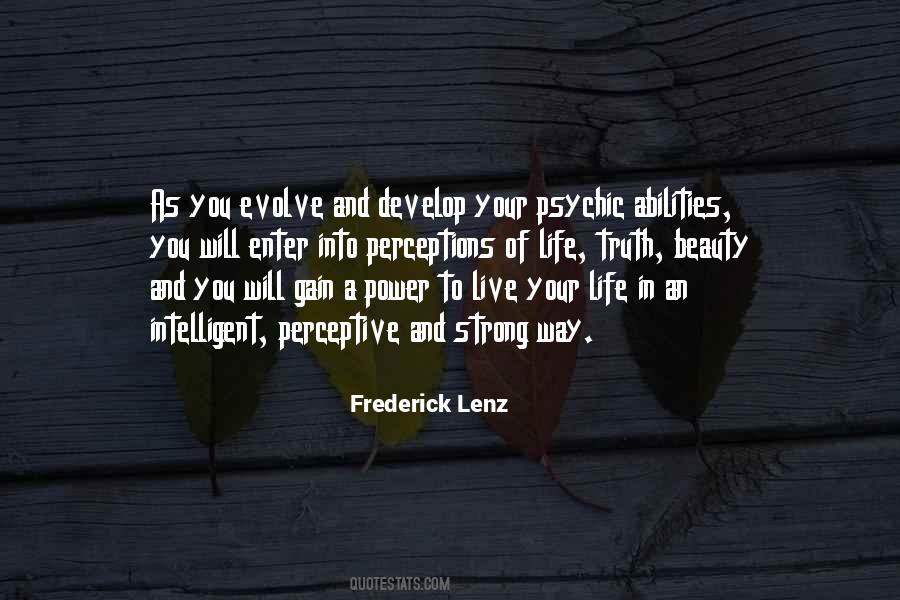 #54. Human beings have evolved so fast, relative to other life on Earth, and this has never been properly explained, but now there are signs that the human race has burned out in evolutionary terms, and perhaps it is our time to devolve. - Author: Robert Black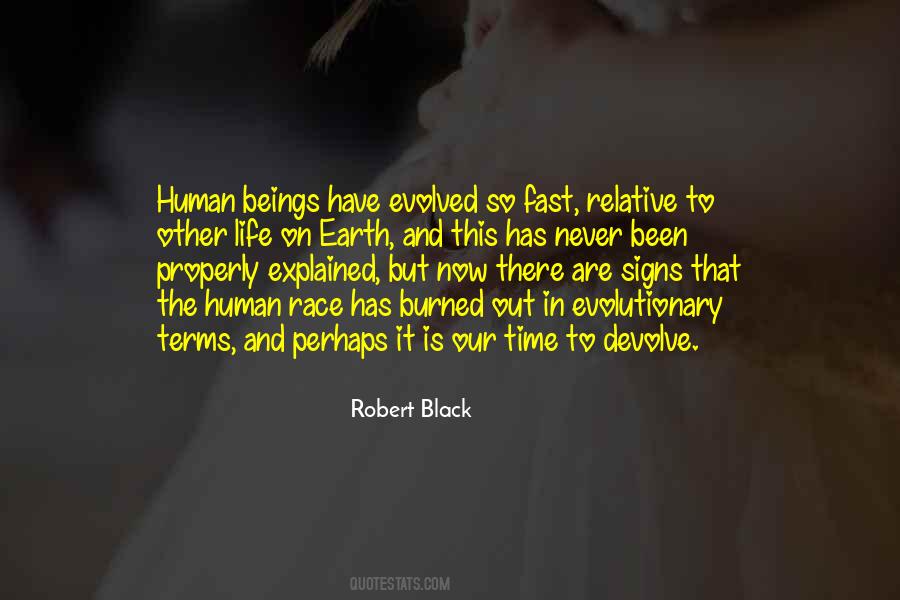 #55. I could never understand what was going on in my dreams I couldn't control the happenings, it's like I just stood there glued to the ground watching everything around me move and evolve into different scenarios. I was a ghost of myself watching life unravel before my own eyes ... - Author: JaszCab.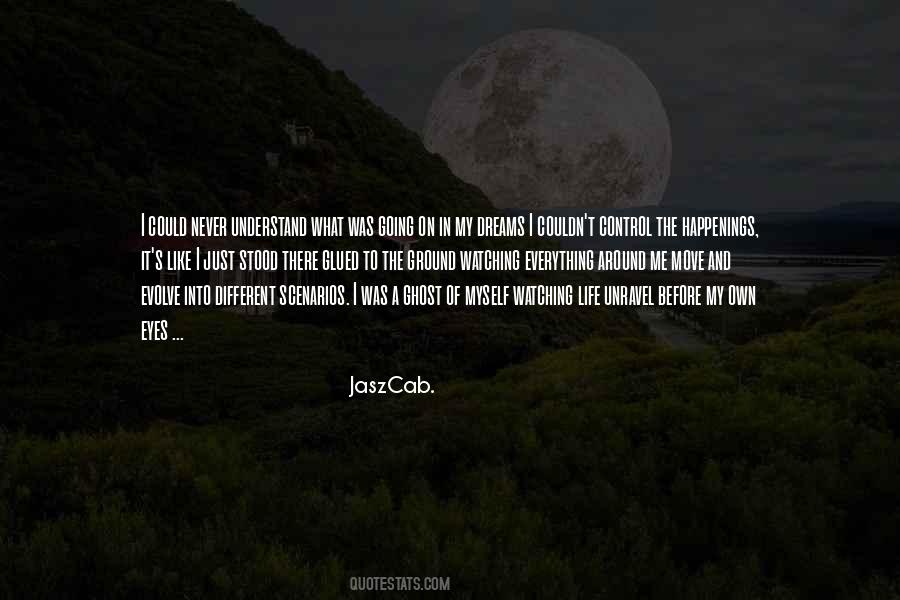 #56. One thing is that life's great moments evolve from simple acts of cooperation with God's mysterious promptings-nudges that always lean toward finding what's been lost and freeing what's been enslaved . - Author: Bill Hybels
#57. The purpose of life is to obey the hidden command which ensures harmony among all and creates an ever better world. We are not created only to enjoy the world, we are created in order to evolve the cosmos. - Author: Maria Montessori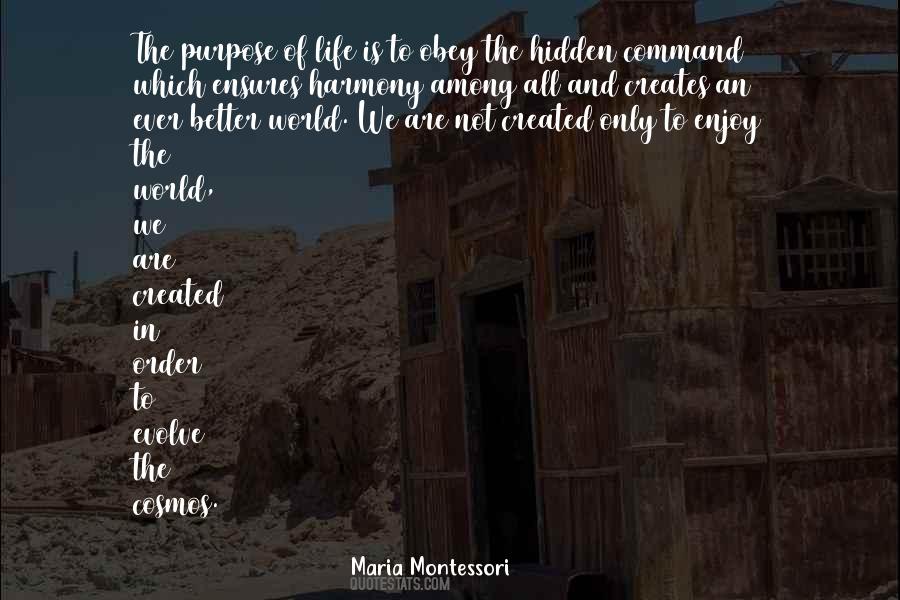 #58. Life is the name of all things that have shells separating them from the outside, the ability to sustain and reproduce themselves, and the capacity to evolve. - Author: Koji Suzuki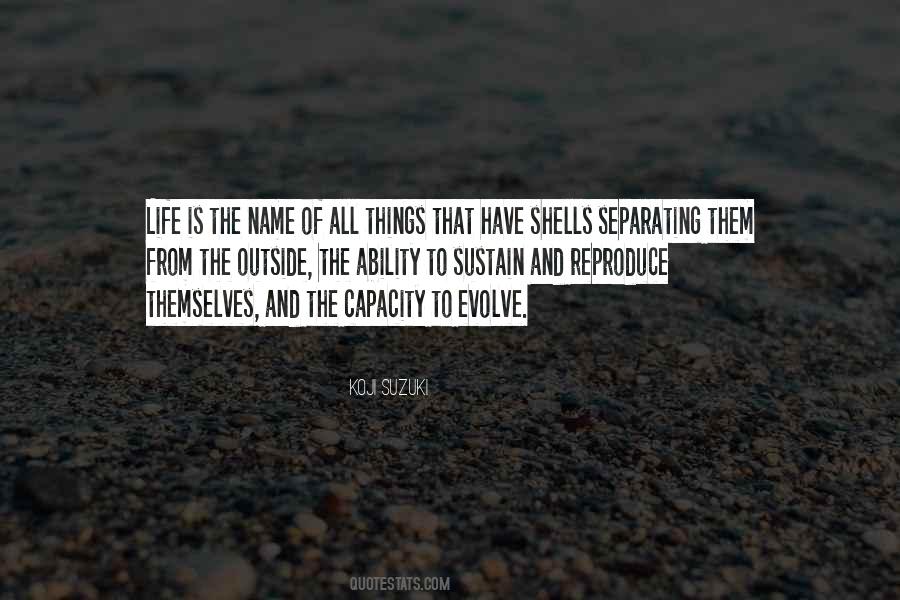 #59. Everyone's a different person when they're younger. You evolve as a human being with knowledge and attitude and challenges and obstacles in life. - Author: Tye Sheridan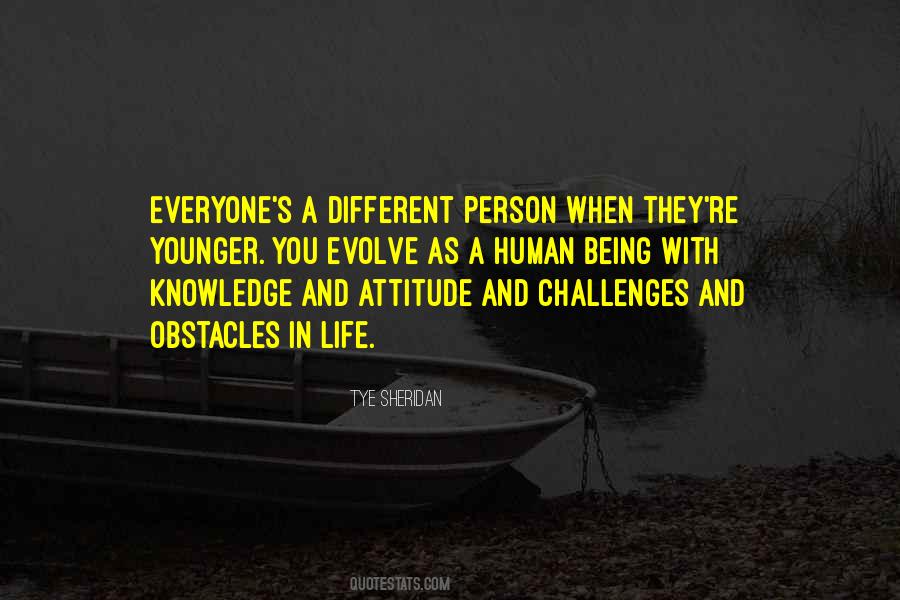 #60. When you can inspire others to dream, learn, evolve, and become one that they can appreciate and respect themselves; then you have arrived as a leader. - Author: Vishwas Chavan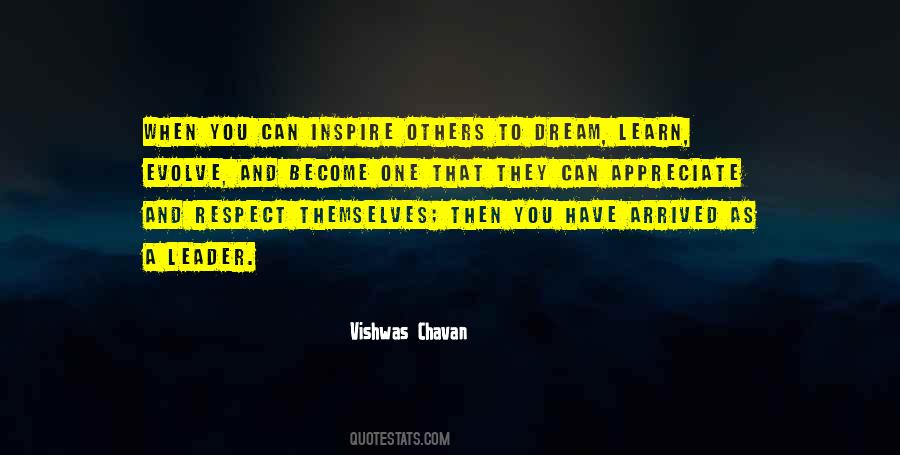 #61. Life took over 4 billion years to evolve into you, and you've about 70 more years to enjoy it. Don't just pursue happiness, catch it. - Author: Eric Idle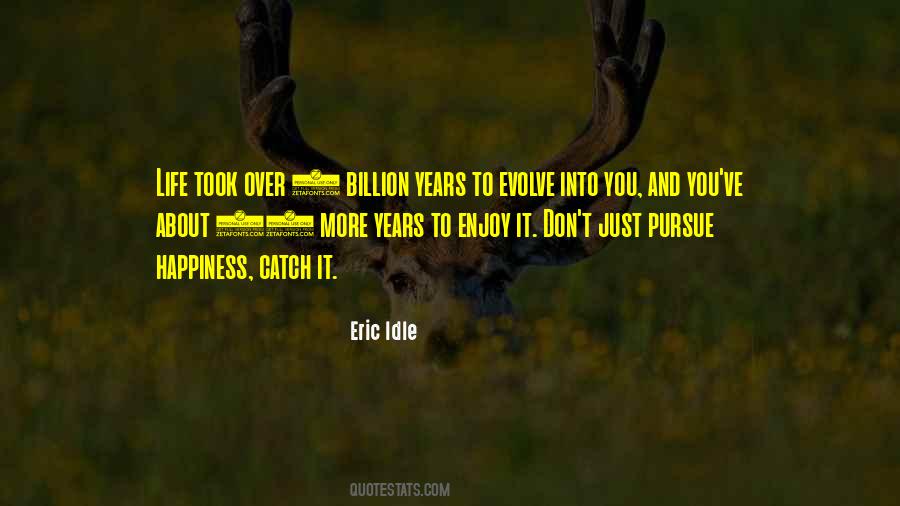 #62. I believe that architecture, as anything else in life, is evolutionary. Ideas evolve; they don't come from outer space and crash into the drawing board. - Author: Bjarke Ingels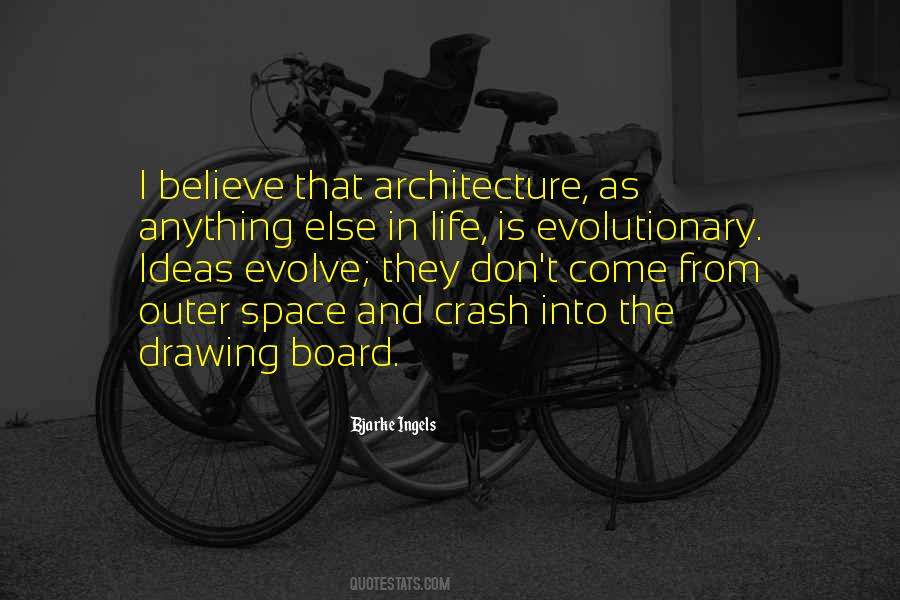 #63. Awakening is dynamic, Constantly evolving in accordance with life's realities - Author: Taitetsu Unno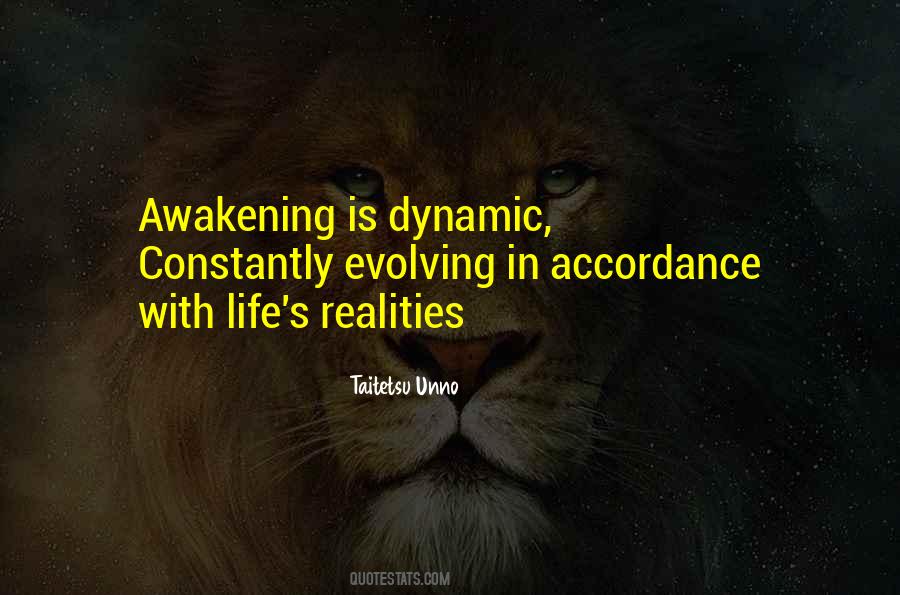 #64. Forgive, Adapt and Evolve, because holding on stagnates your opportunity of being better. - Author: Sachin Kumar Puli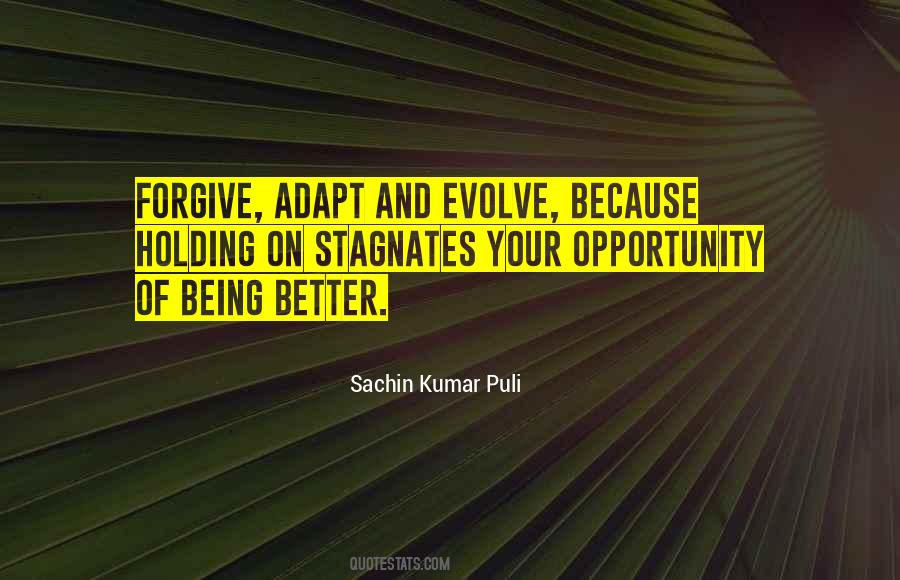 #65. Life is a moving, breathing thing. We have to be willing to constantly evolve. Perfection is constant transformation. - Author: Nia Peeples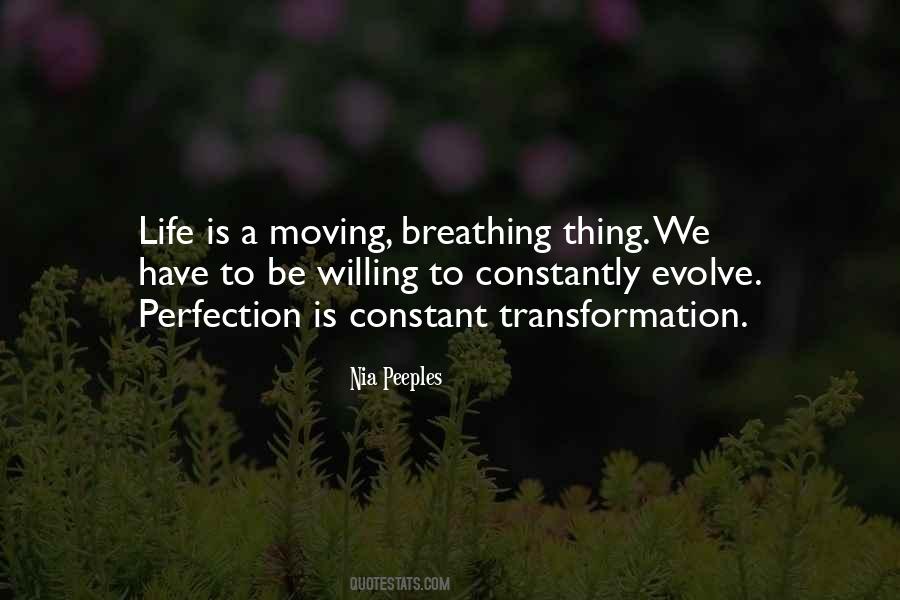 #66. Without people coming in to our lives we never evolve, we just remain stagnant. Surely there is more to life than standing still whilst letting it pass you by. What's even worse, is living a life pretending to be someone, or something that you believe others want you to be. - Author: Skye High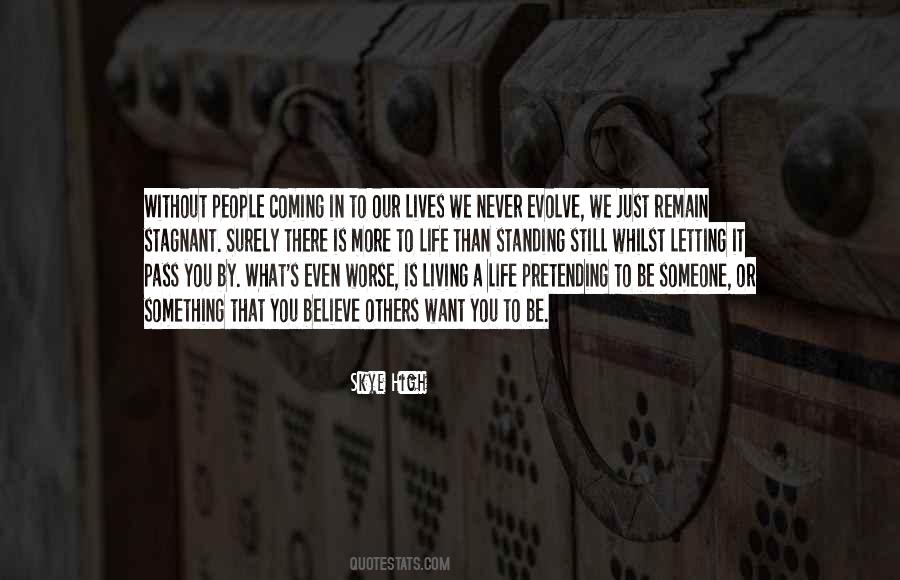 #67. The journey of a human is not only to expand its illusory personality of his mind, in the external world, but to realize himself beyond the identity of the mind and see the truth behind the formation of life within. - Author: Roshan Sharma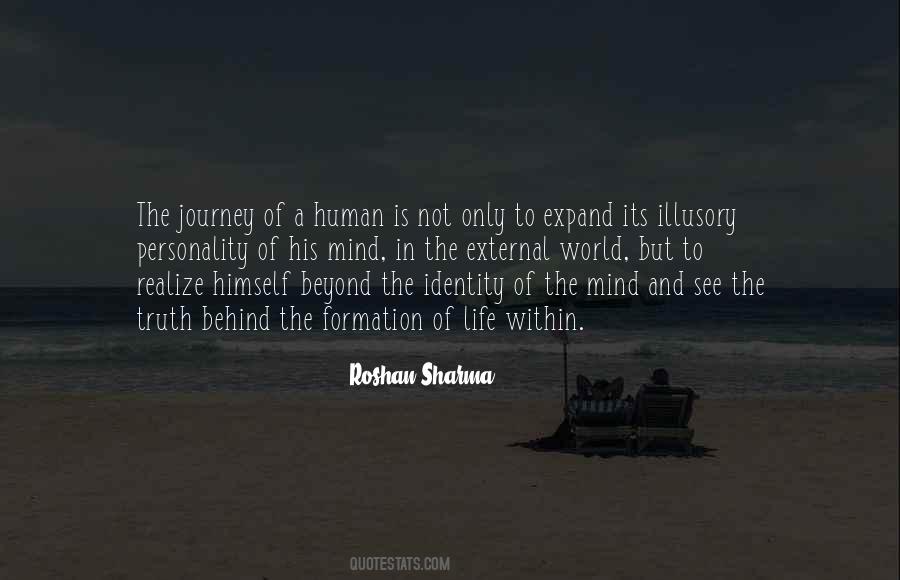 #68. When you mix with the wrong energy, there's bound to be an explosion. Pay attention and switch lanes when the signal changes. What's really real, is ultimately revealed. - Author: T.F. Hodge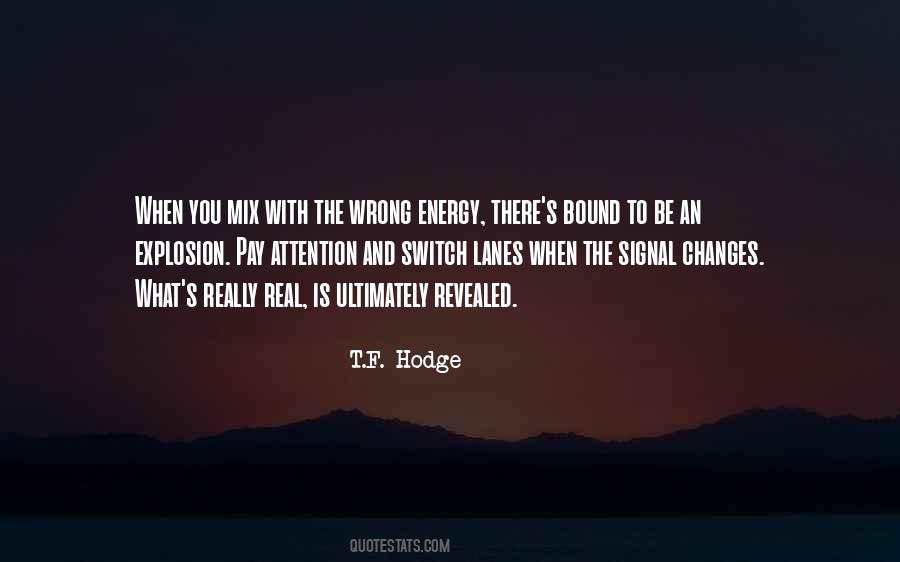 #69. Love only grows by sharing. You can only have more for yourself by giving it away to others. - Author: Brian Tracy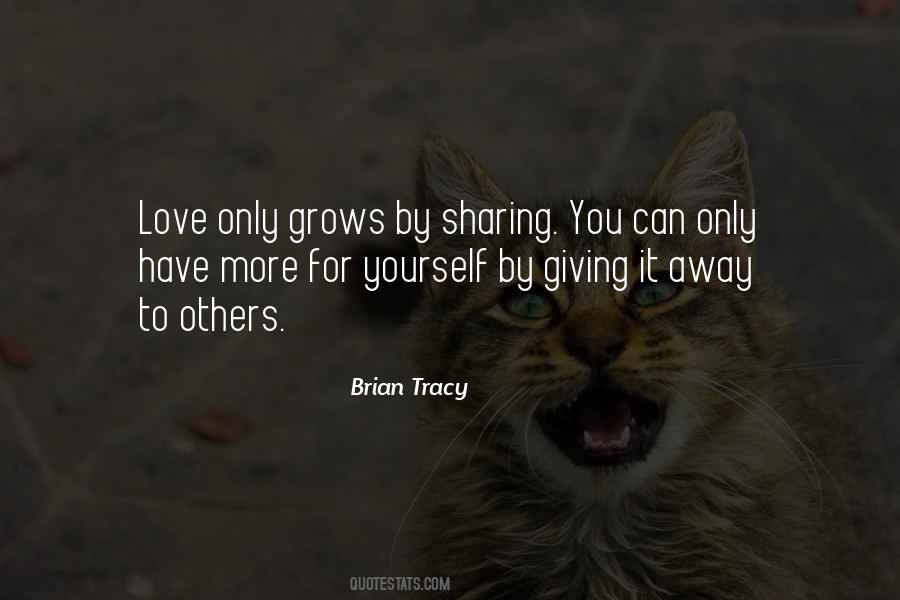 #70. Fictional characters also evolve, the way human being do in real life. - Author: Saumya Kaushik...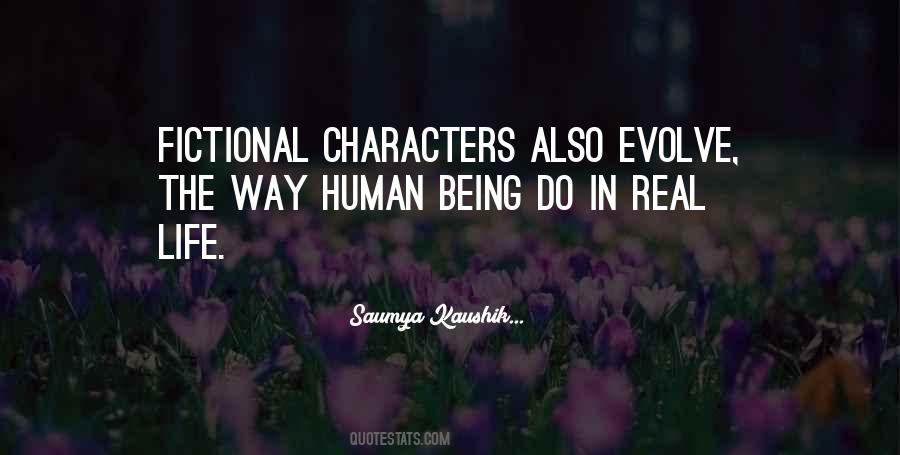 #71. I'm constantly learning and evolving. I'm fascinated with life. - Author: Gisele Bundchen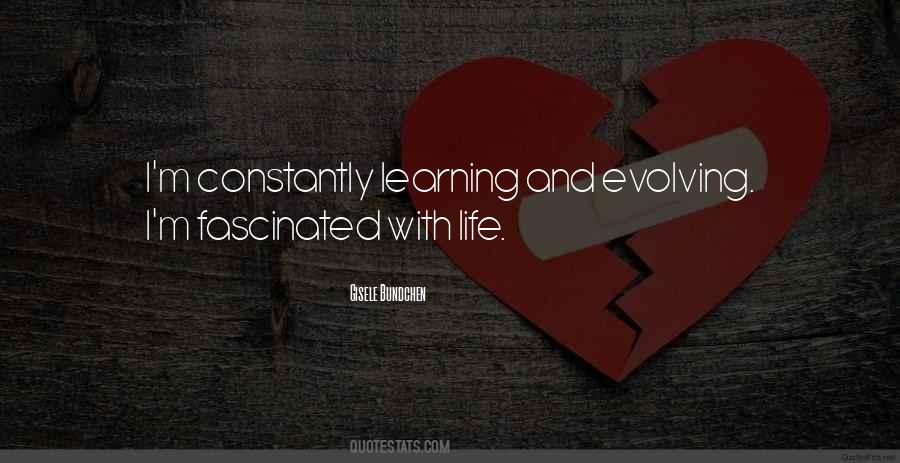 #72. Twilight, I'm sorry, is about a very unhealthy, toxic relationship. She falls in love with this guy and the second he leaves her, her life is over and she's going to kill herself! What message are we sending to young people? That is not going to help this world evolve, - Author: Shailene Woodley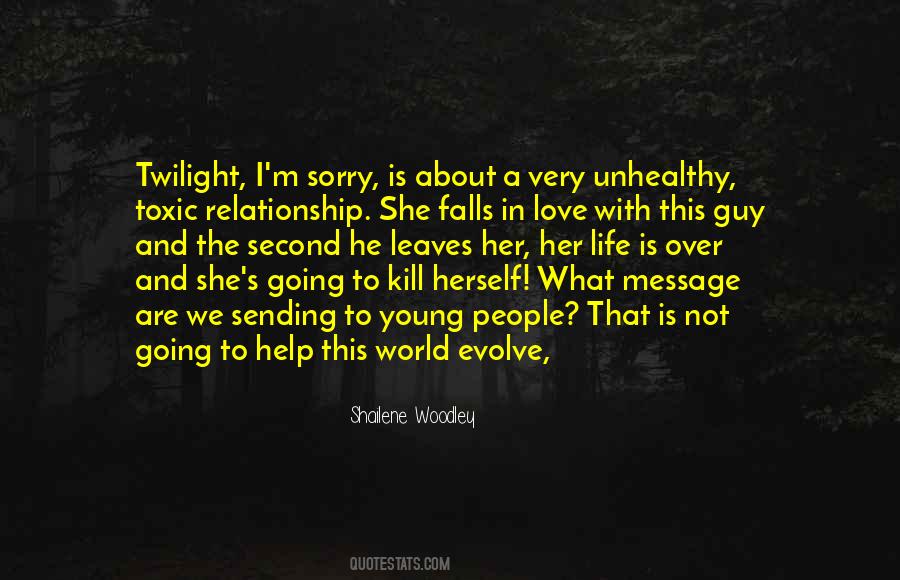 #73. The art of living has no history: it does not evolve: the pleasure which vanishes vanishes for good, there is no substitute for it. Other pleasures come, which replace nothing. No progress in pleasures, nothing but mutations. - Author: Roland Barthes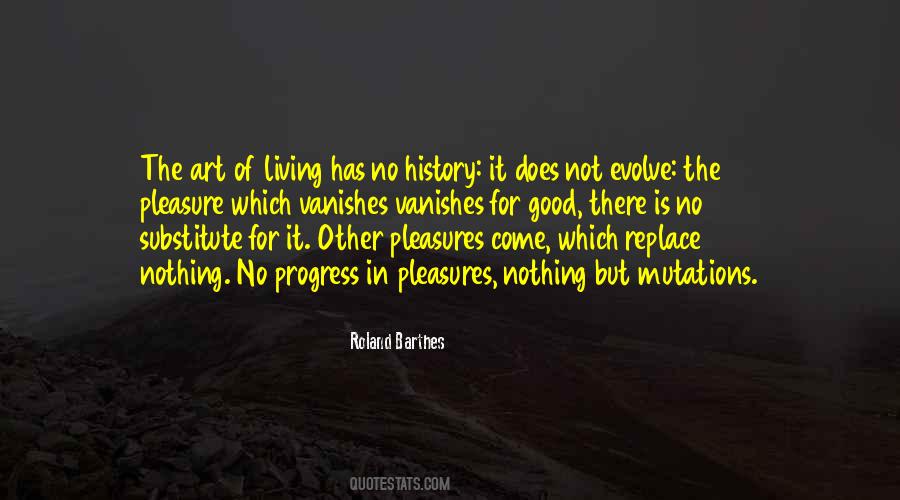 #74. These characters, they have to evolve. They're getting older on the show, these are things that happen in everyone's life. People do get married ... this is just a natural evolution. I wonder if we'll have 'Big Bang' babies in the season finale? - Author: Kunal Nayyar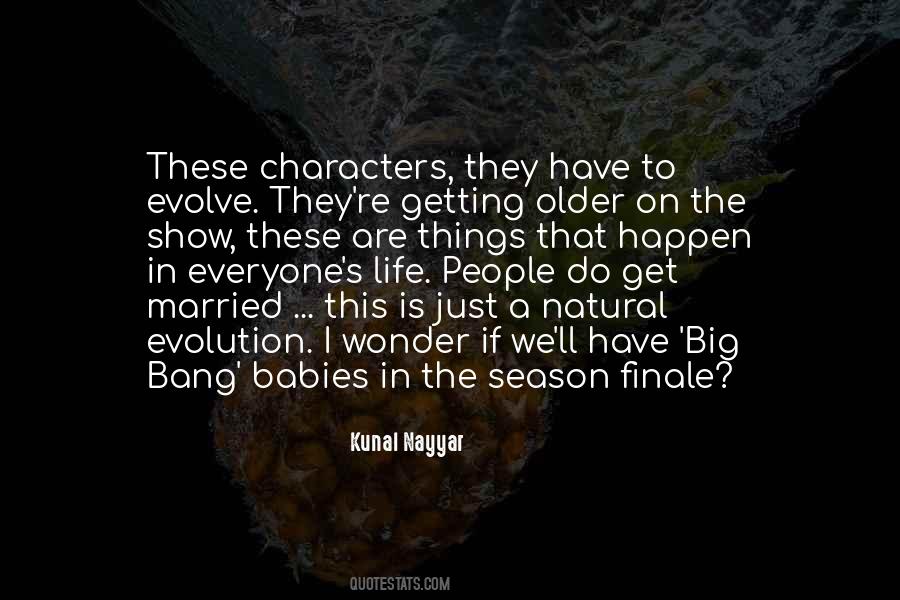 #75. Reincarnation is a hopeful understanding of life. It is an accurate understanding of life. In each lifetime we grow, develop and evolve. - Author: Frederick Lenz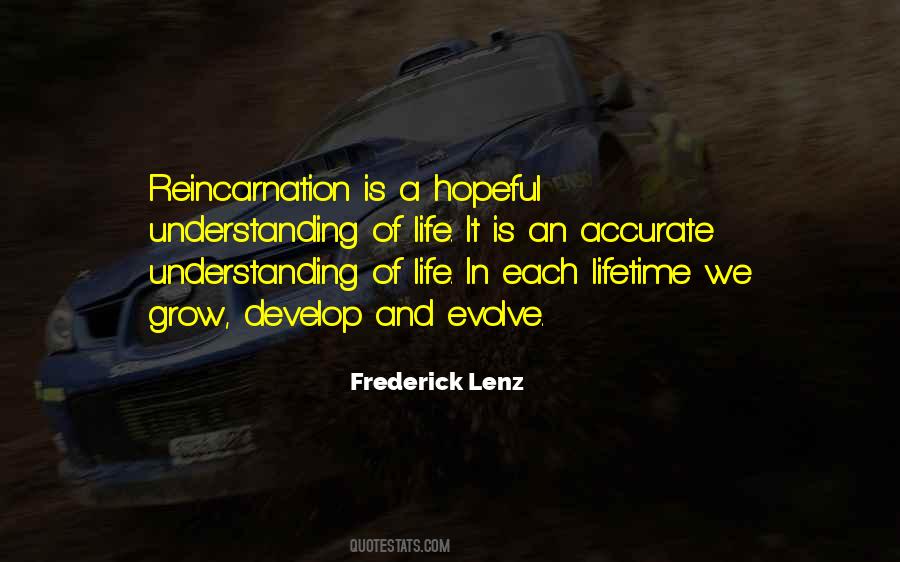 #76. Life is ever evolving. The only certainty is change. - Author: Allison McAtee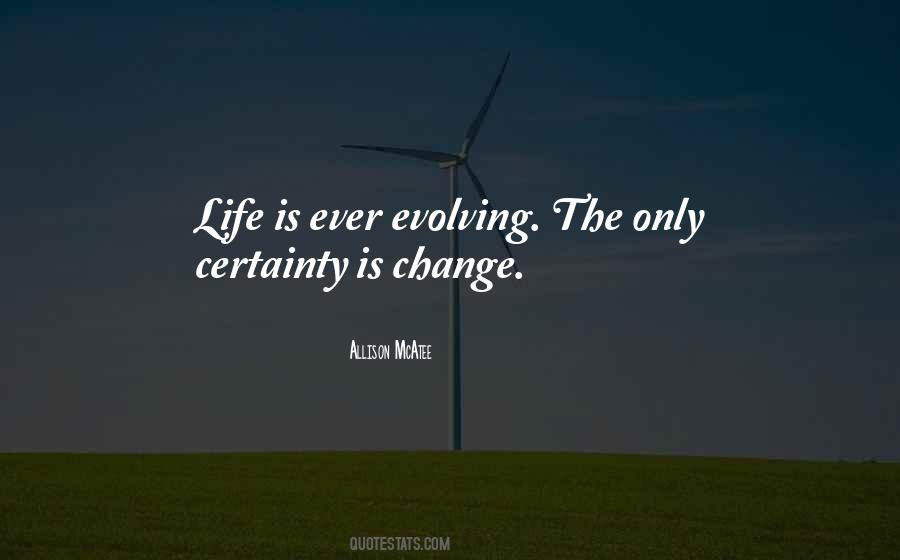 #77. Pain is as expansive as life itself. Pain grows with us and in us as a cultivation of life's unfolding. - Author: Bryant McGill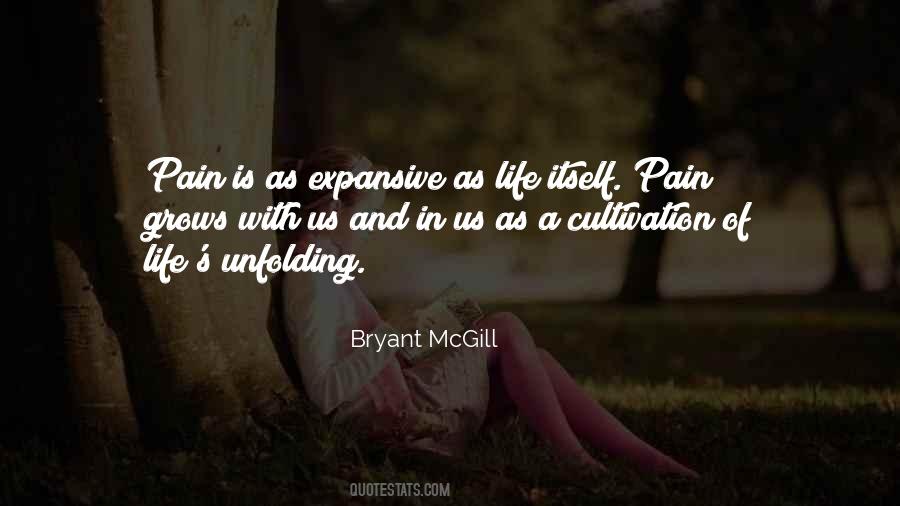 #78. In life, everything just happens, and I believe even before we are born that our role in life has already been determined. My main ambition is to continue to write music, which helps me to evolve in a spiritual sense and hopefully to inspire others. - Author: Gerry Rafferty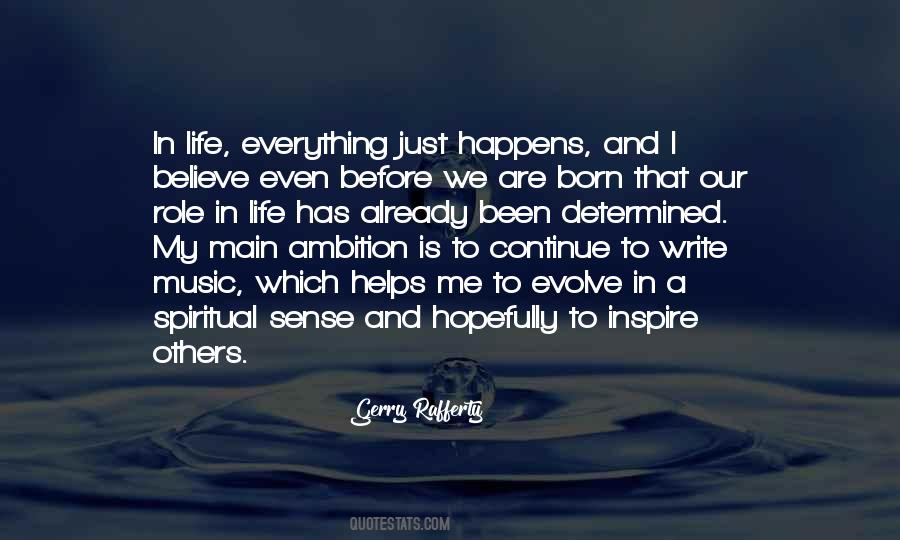 #79. Life is a journey; learn how to evolve spiritually. - Author: Ben Tolosa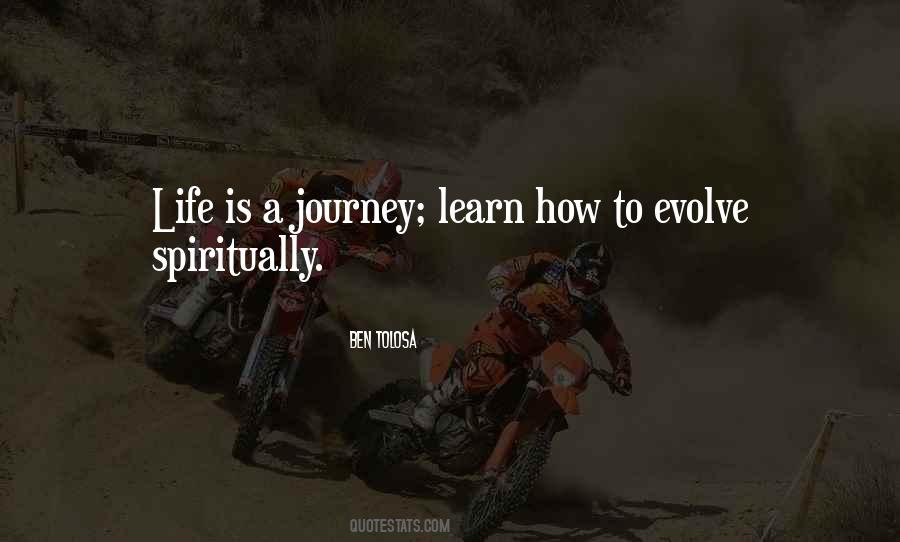 #80. Interests evolve into hobbies or volunteer work, which grow into passions. It takes time, more time than anyone imagines. - Author: Po Bronson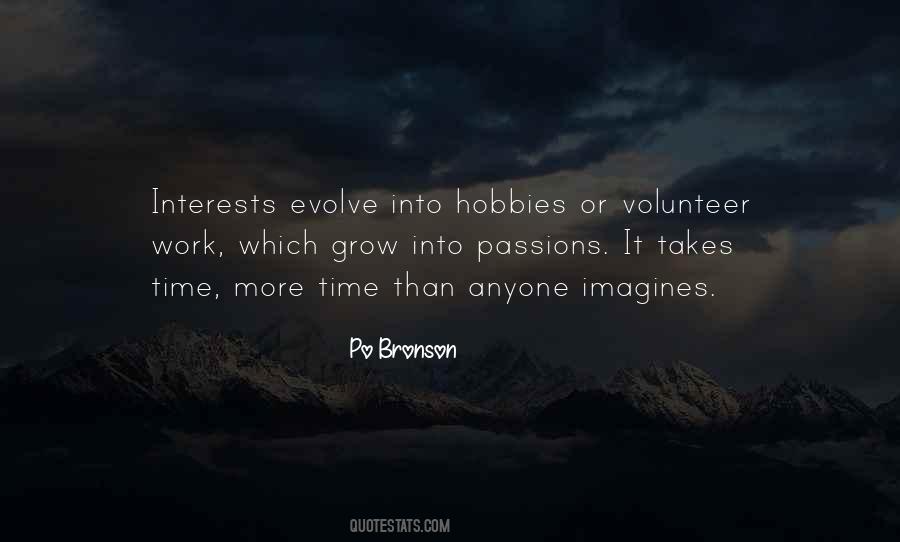 #81. Give a man a fish and he'll eat for a day, teach a man to fish and he'll evolve to become so skilled at fishing he destroys the ocean and kills every last fish. - Author: Craig Stone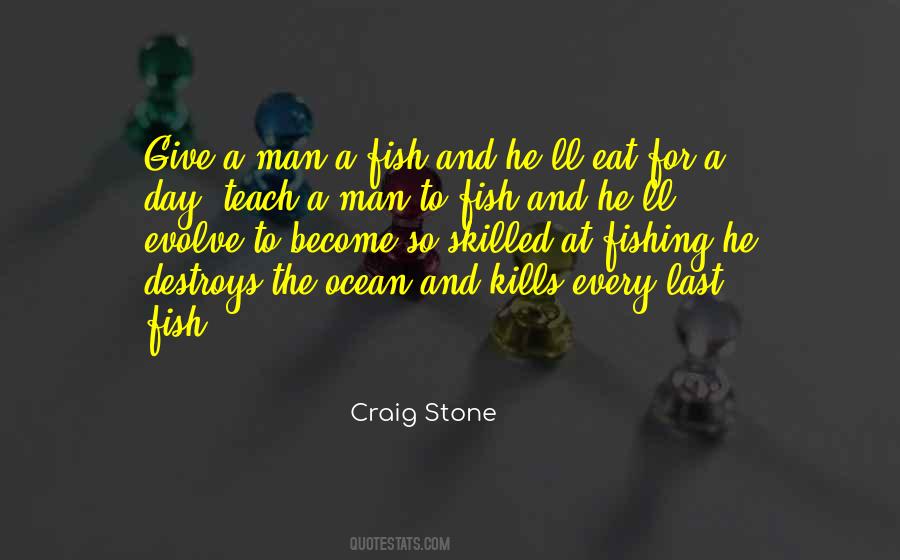 #82. Watch your thoughts-listen to them because they shape your life and evolve into words. They tell a story about you and how you perceive your life. - Author: Barbara Miller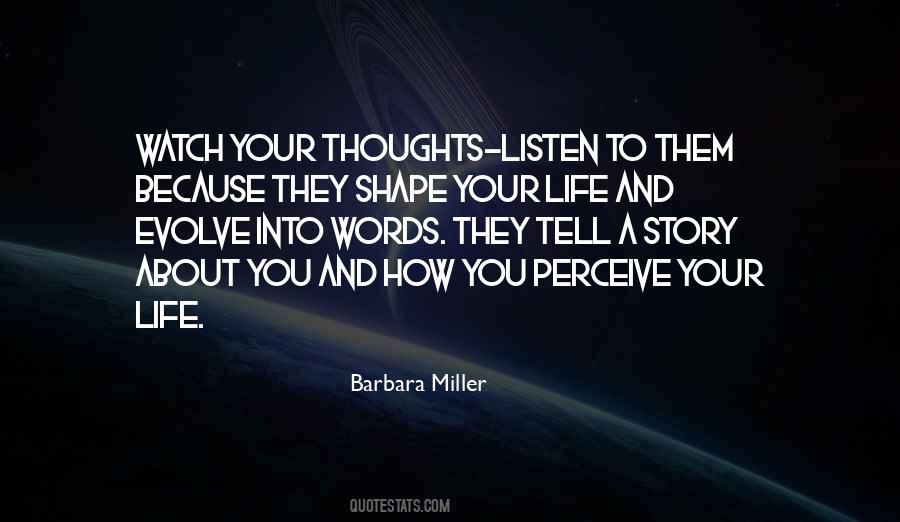 #83. Evolution requires intermediate forms between species and palaeontology does not provide them. - Author: David Kitts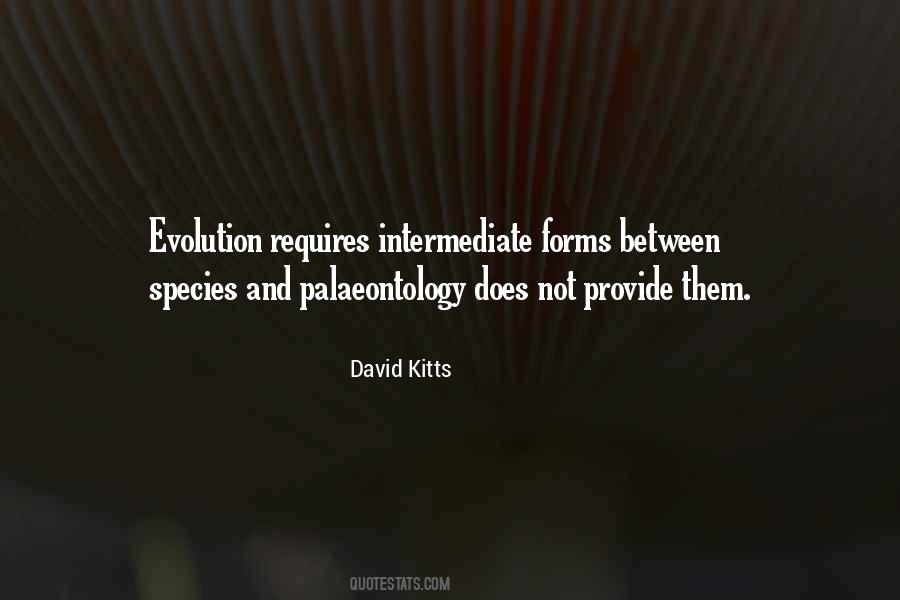 #84. Life is always moving, changing, shifting into its next shape. The movement is natural. It is how we evolve. Let the shifts happen. Take responsibility for yourself each step of the way. Trust the new shape and form of your world - Author: Melody Beattie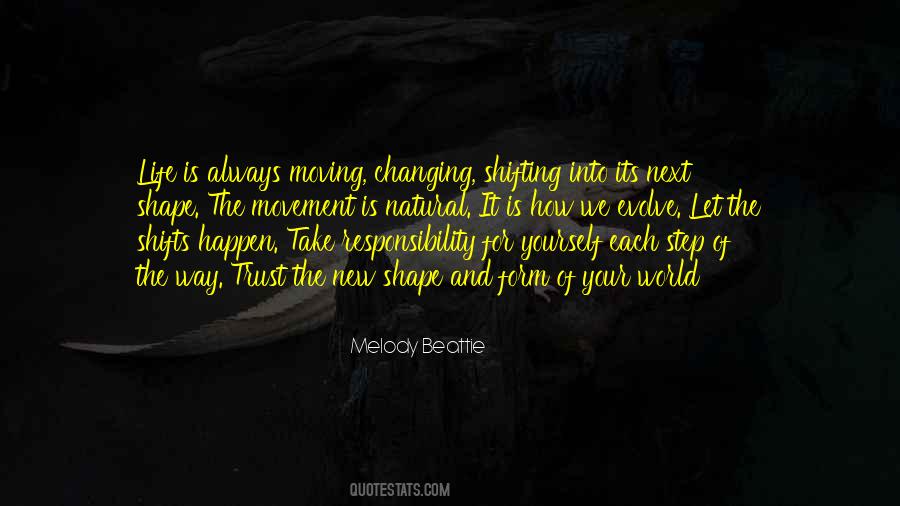 #85. We all come to this planet as spiritual beings destined to experience a variety of challenges and situation in order to grow and evolve spiritually. - Author: James Van Praagh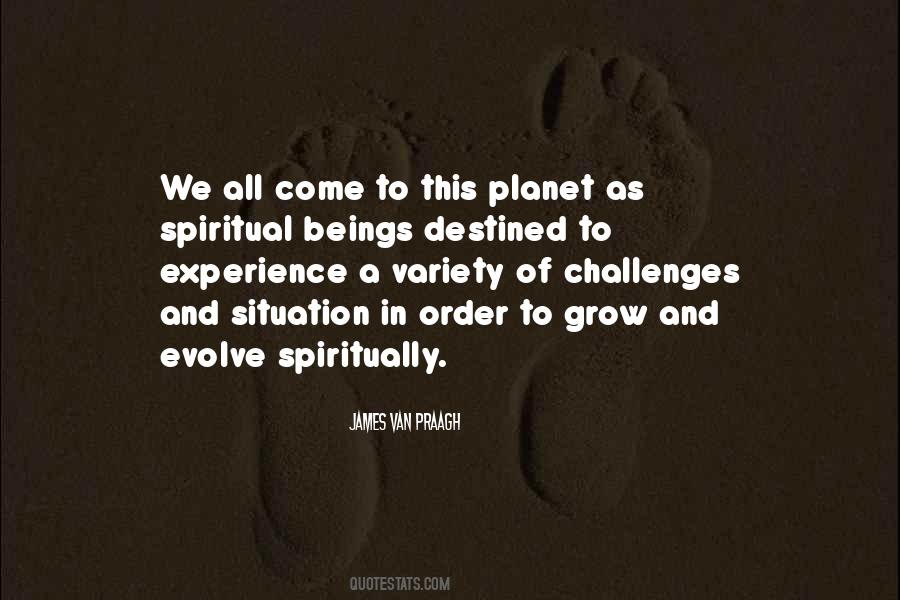 #86. All of us evolve everyday! The more we introspect and try to gather ourselves, the more rapid will be the pace of our evolution. The only thing to keep in mind is to be true to yourself. - Author: Ackshat Deoli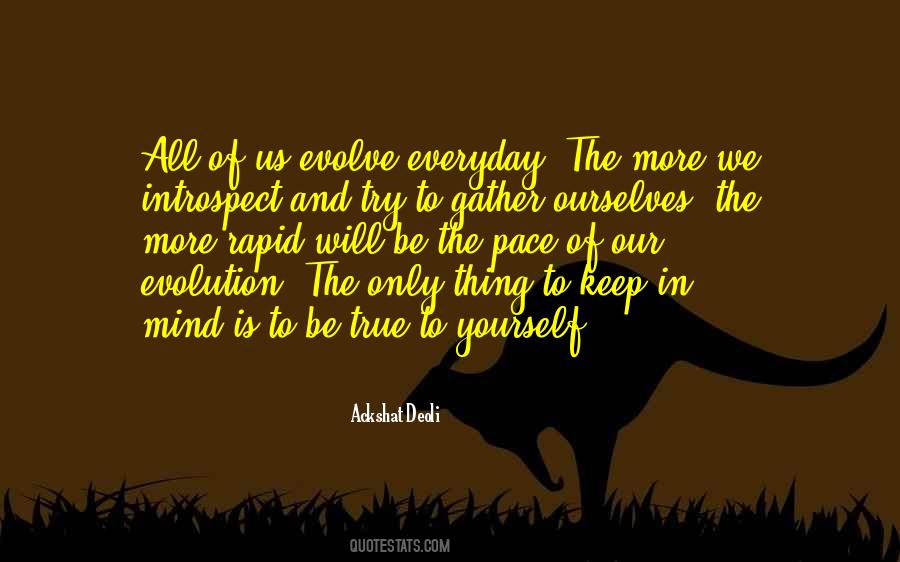 #87. Your body is a complete marvel. The more you study its anatomy and how each part works in harmony, the more you will be convinced that you didn't just evolve. You were designed from the beginning by the hand of a Master. - Author: Toni Sorenson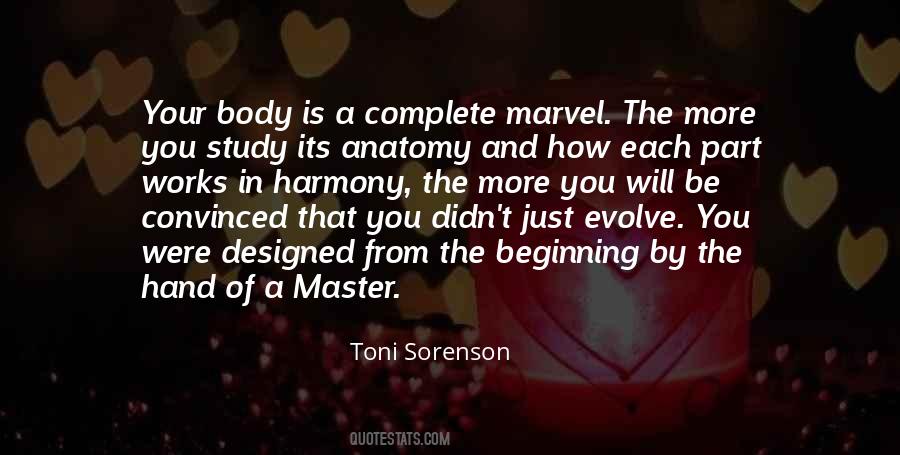 #88. Heartbreak is essential. We grow, evolve, and learn about the most beautiful thing ever: Love! My first heartbreak taught me that love is supposed to ADD beauty and happiness to my already love-filled life! - Author: Zulay Henao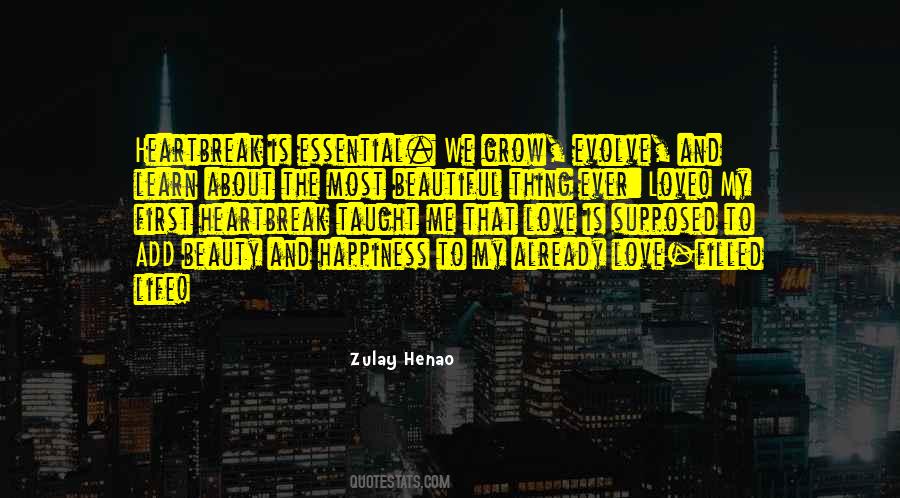 #89. I think that when you get right down to it, people do evolve on different issues. And, you know, I'm pro-life. And I was begrudgingly the other way. - Author: Donald Trump
#90. Three great actions; explore, experiment and experience. - Author: Lailah Gifty Akita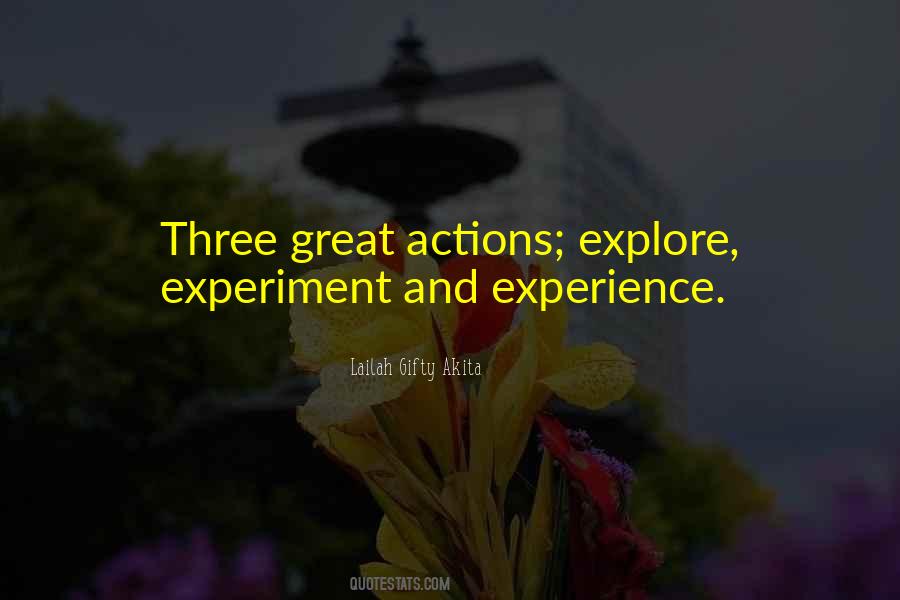 #91. The way to send a clear message that you are ready for better people in your life is the kick the rascals to the curb. - Author: Bryant McGill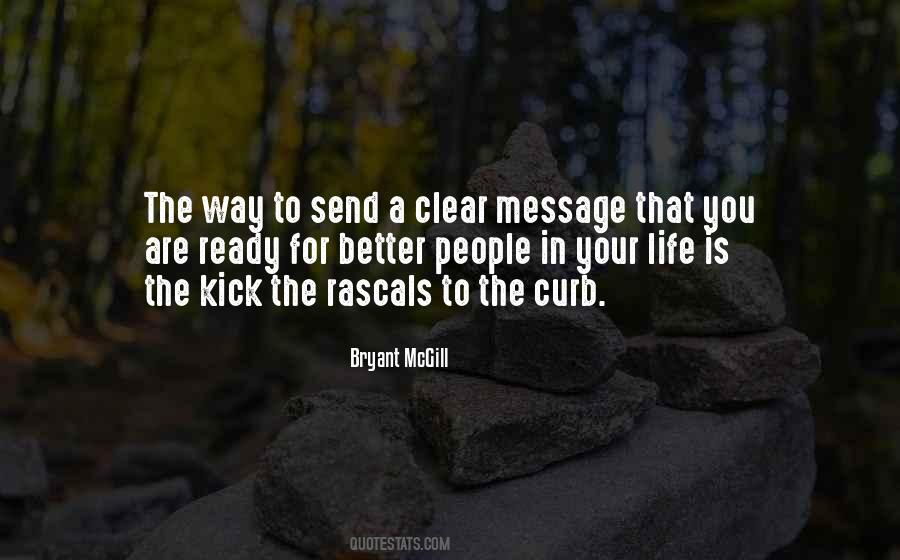 #92. Astrobiologists now believe that the existence of life throughout the universe requires: 1. a source of energy; 2. a type of atom that allows complex structures to exist; 3. a liquid solvent in which molecules can float and interact; and 4. sufficient time for life to arise and to evolve. - Author: Neil DeGrasse Tyson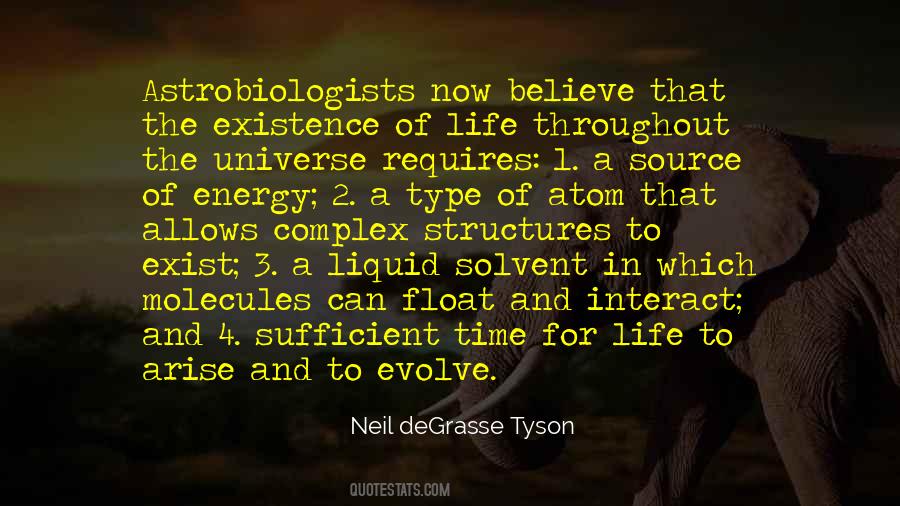 #93. For me, the key question is what's behind the dangerous idea. If it's simply to stir things up and appear radical, I'm not interested. But if it's done with a quest to learn, evolve, and improve the quality of life for people everywhere, I'm on board. - Author: David Livermore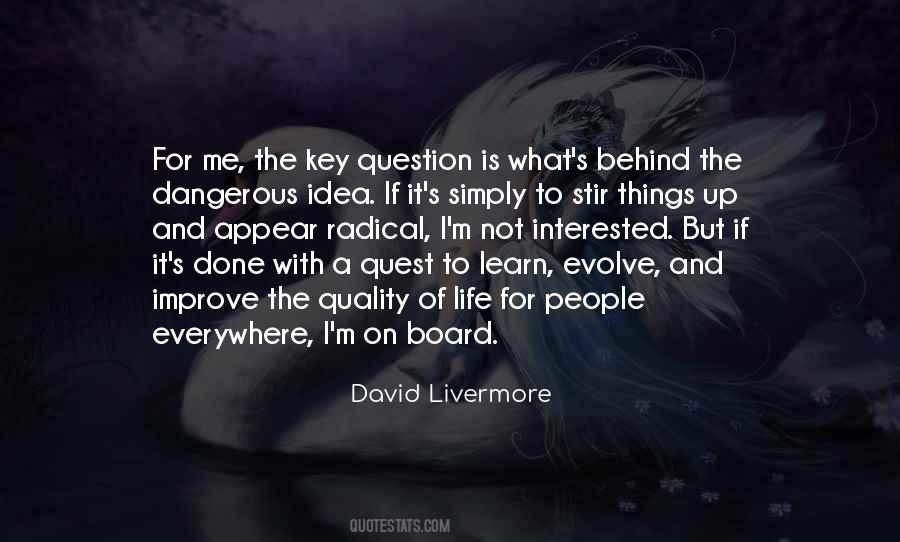 #94. Life's great moments evolve from simples acts of cooperation with God's mysterious promptings. - Author: Bill Hybels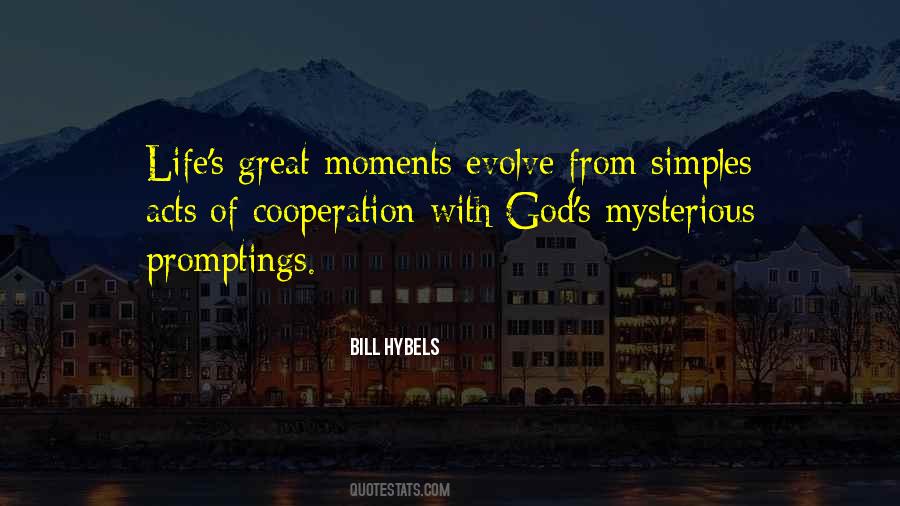 #95. Priorities need to change at different stages of our life if we want to grow and evolve. - Author: Apurva Purohit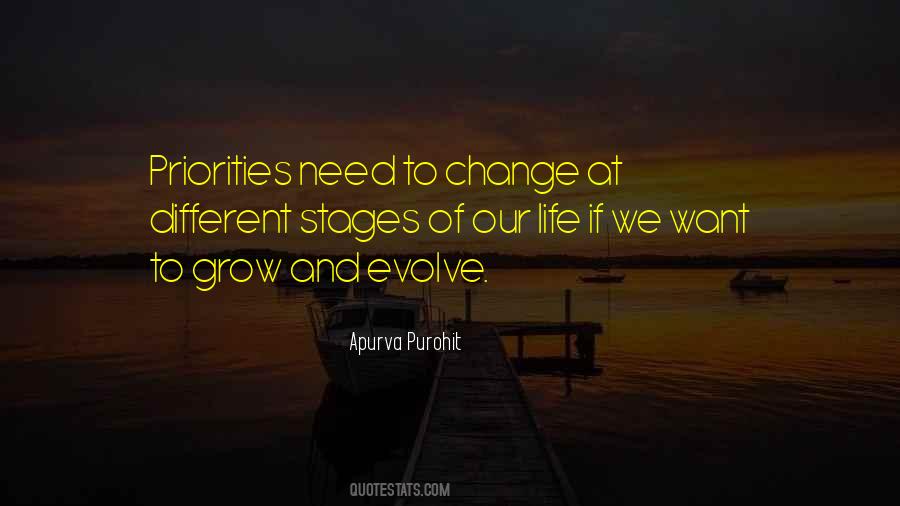 #96. The human mind is something very unique and precious. Possessing an unusual elasticity and capacity for wisdom, it can evolve at a rate found in no other life-form. - Author: Dalai Lama XIV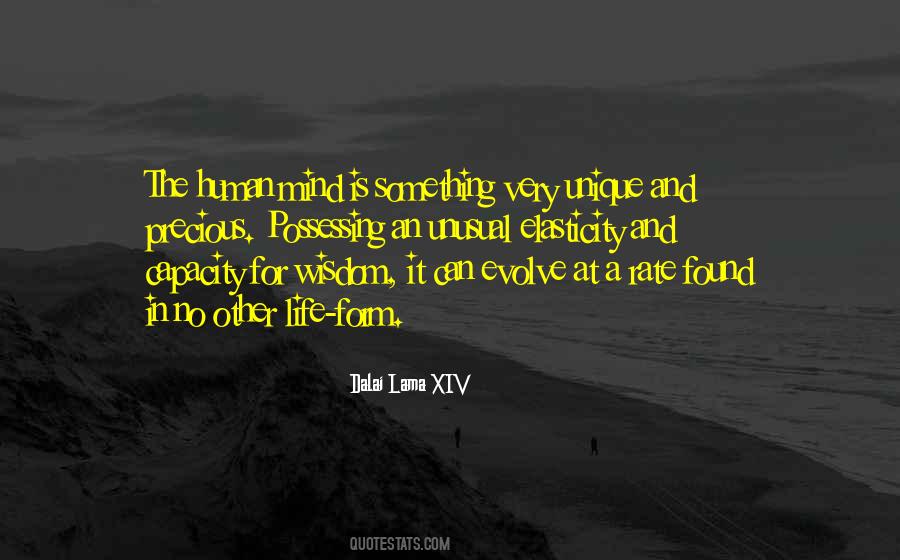 #97. Write to evolve and you'll evolve to write. - Author: Katina Ferguson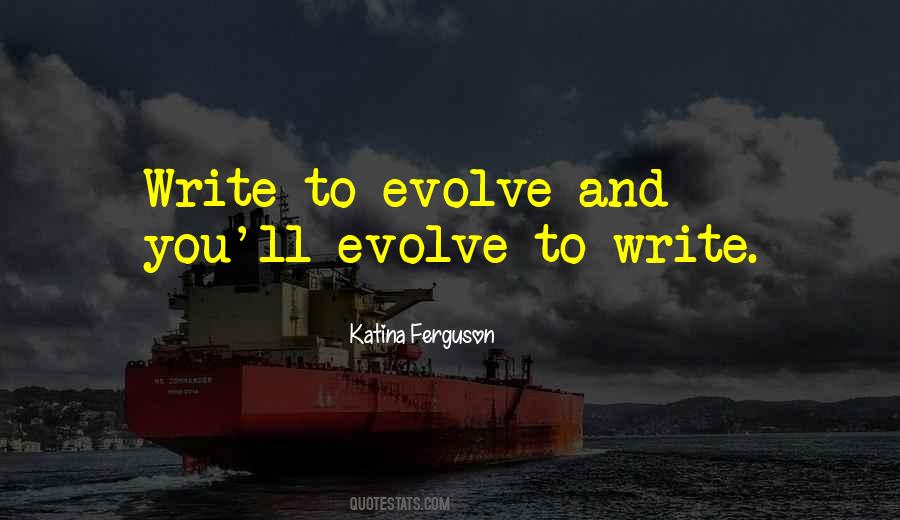 #98. With grace and gratitude, great lives evolve. - Author: Lailah Gifty Akita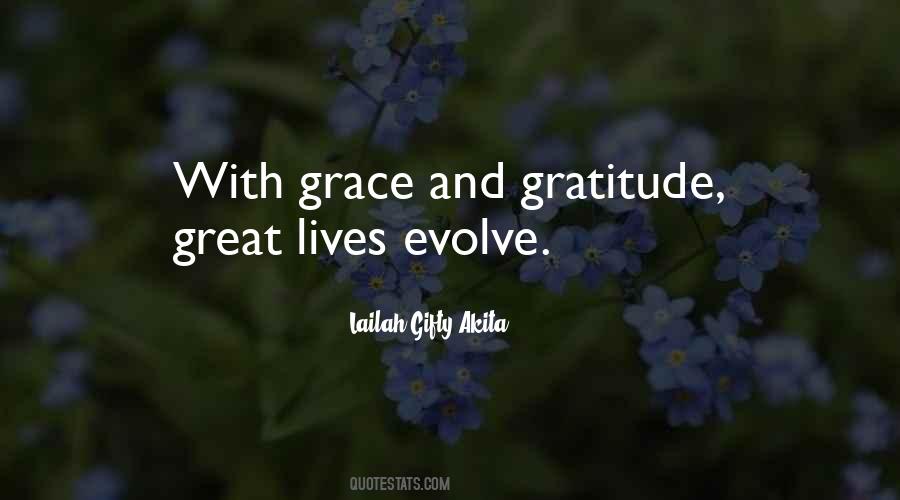 #99. I know myself as mortal, but this raises the question: "What is I?" Am I an individual, or am I an evolving life stream composed of countless selves? - Author: Charles Lindbergh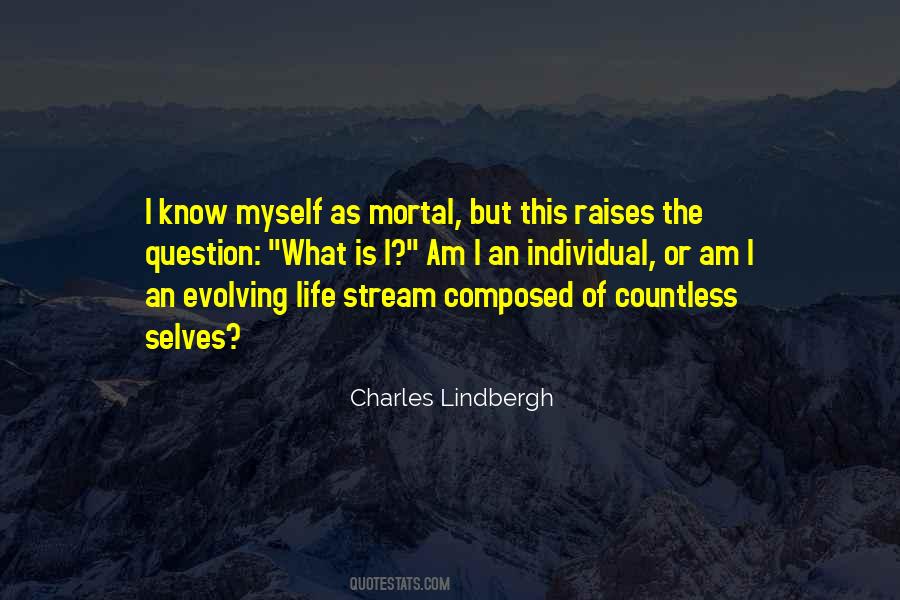 #100. Our lives together, our duet, also continues to evolve, and even if we can't go back to how it was, we're designing a good life for us, in spite of everything. - Author: Diane Ackerman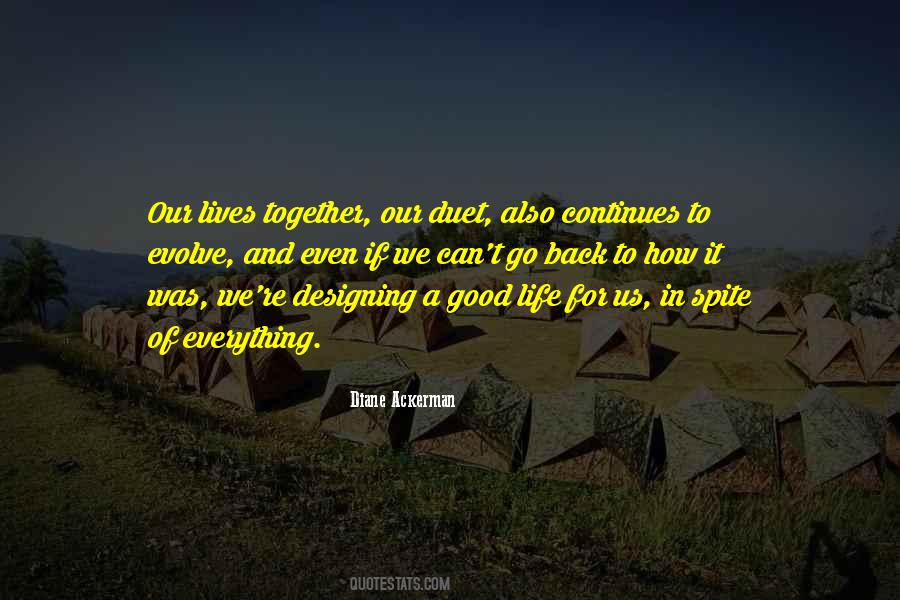 Famous Authors
Popular Topics