Just Stop Talking Famous Quotes & Sayings
List of top 39 famous quotes and sayings about just stop talking to read and share with friends on your Facebook, Twitter, blogs.
Top 39 Just Stop Talking Quotes
#1. 'Just Do It' is exactly what you need to hear when you're in a moment of doubt. When you're struggling, especially with sport ... just do it. Stop talking about it, stop complaining about the cellulite, or that you're not able to run fast enough for the bus ... just do it. - Author: Jessie J.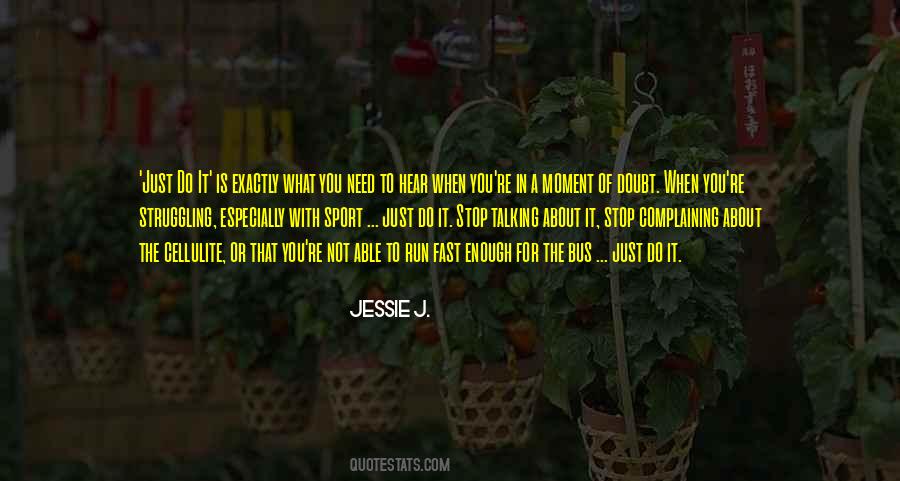 #2. If everybody would just stop talking, my job would be a lot easier. - Author: Tatjana Maria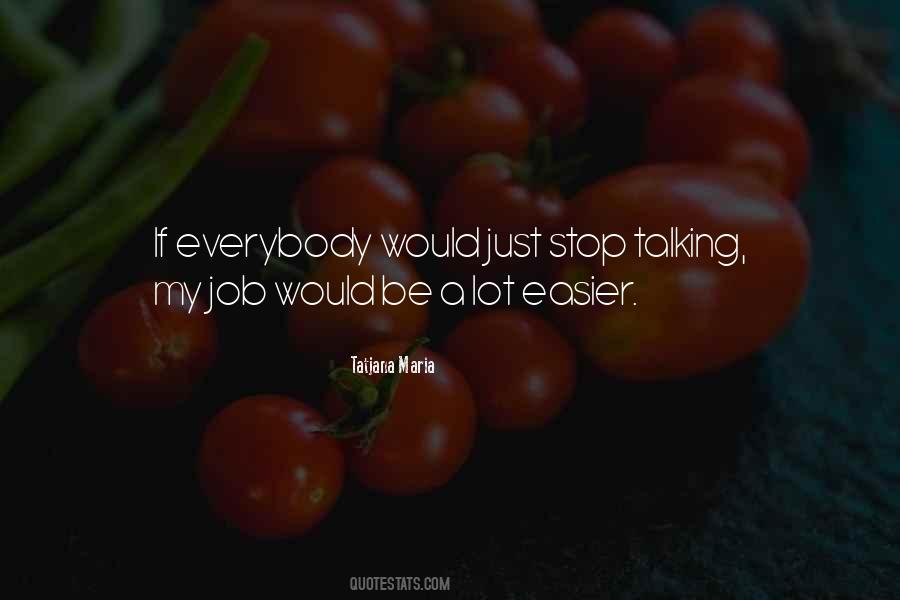 #3. You dare speak to me in such an insolent manner?'
'Stop talking like you're two hundred years old. You're sixteen, just like me. - Author: Michelle Rowen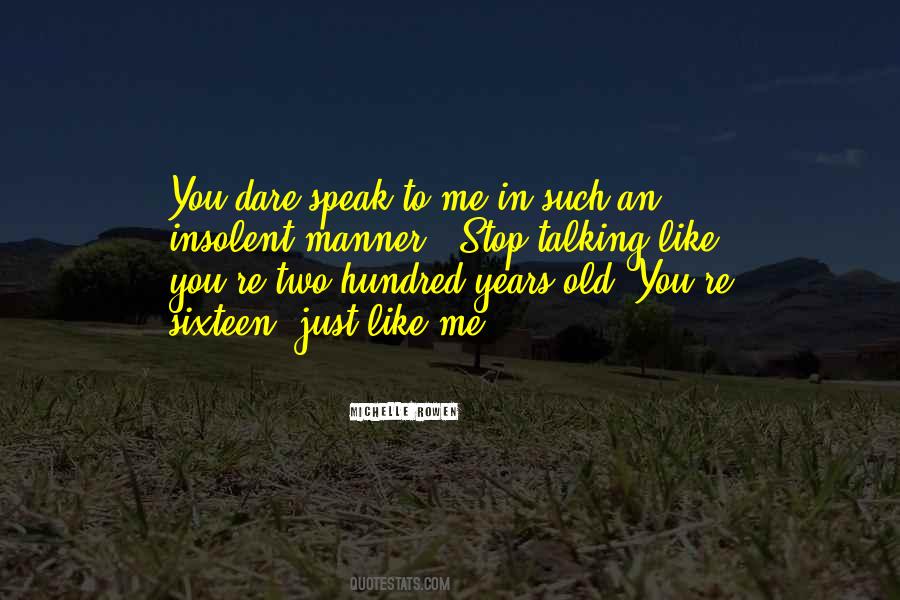 #4. I try not to get too rattled about things that aren't that important - there's a different outburst for when the kids are reaching for a knife in the kitchen versus the reaction I have when they just won't stop talking. And my wife and I have mellowed out as we've gone along. - Author: Chris O'Donnell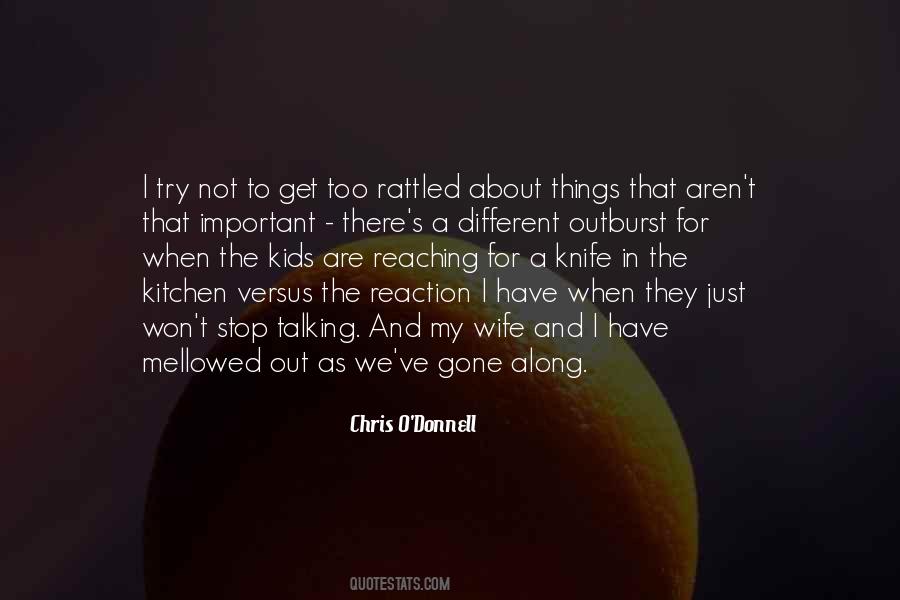 #5. I'm not afraid to live. I'm not afraid to fail. I'm not afraid to succeed. I'm not afraid to fall in love. I'm not afraid to be alone. I'm just afraid I might have to stop talking about myself for five minutes. - Author: Kinky Friedman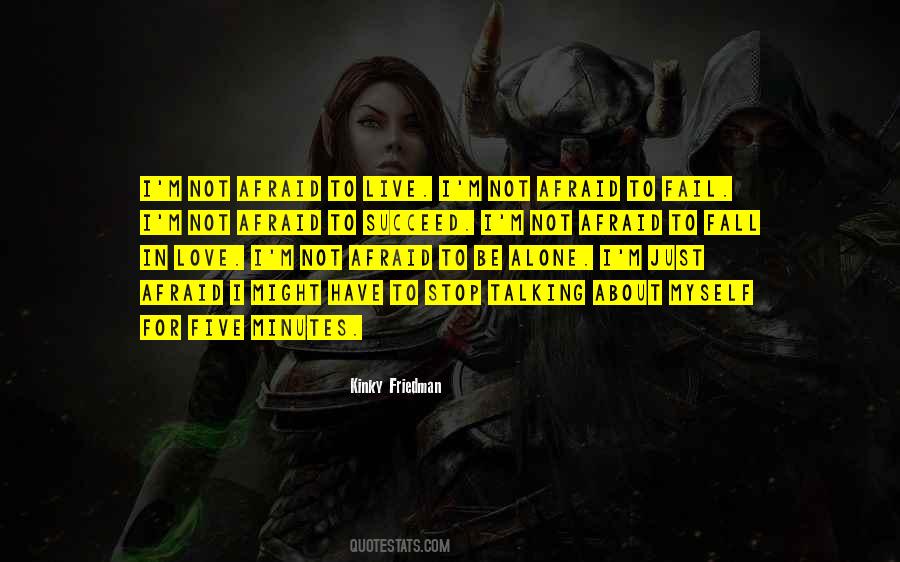 #6. It's not that I want to kill people, I just do it to stop them talking. - Author: Otsuichi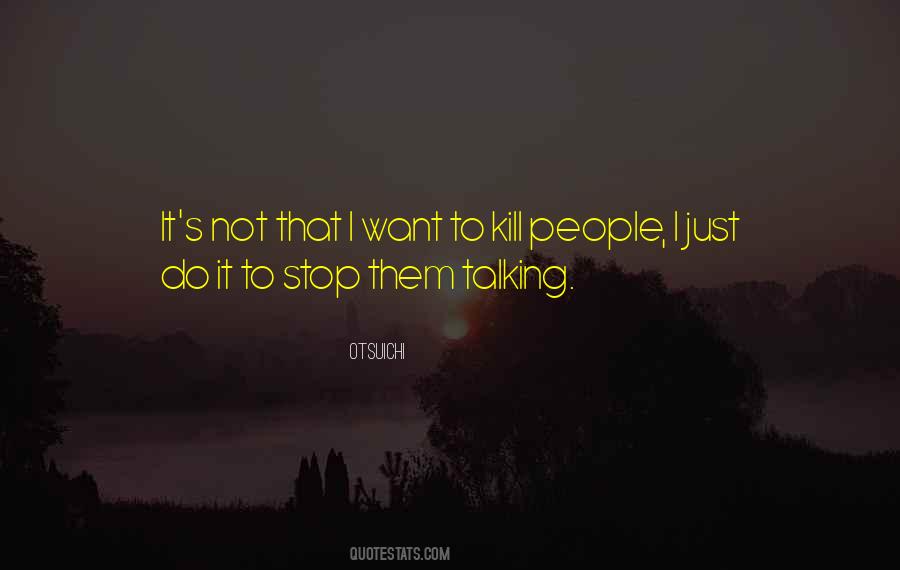 #7. If you should attempt to maintain that film is an art in conversation with a cultured, intelligent American, he'll just plain stop talking to you. - Author: Ilya Ilf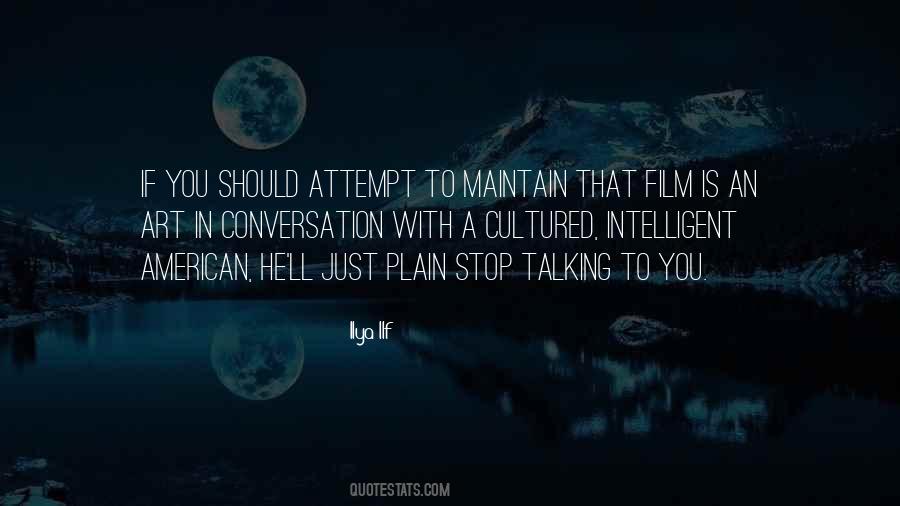 #8. I can't see myself not rappin' and not talking the bullshit I'm talking. I love that! I can't lie. Once I stop I'm just going to stop all the way. - Author: Sean Price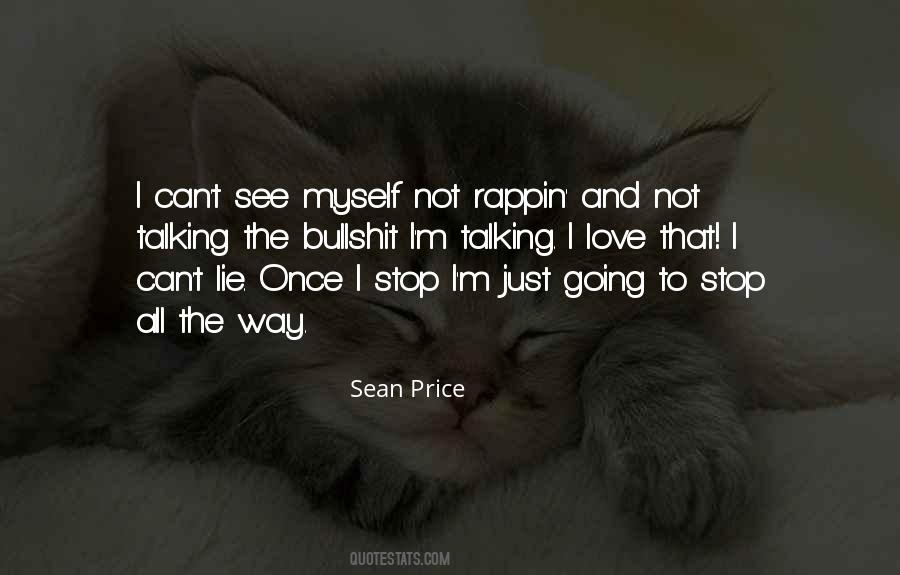 #9. When you expose a problem you pose a problem. It might then be assumed that the problem would go away if you would just stop talking about or if you went away. - Author: Sara Ahmed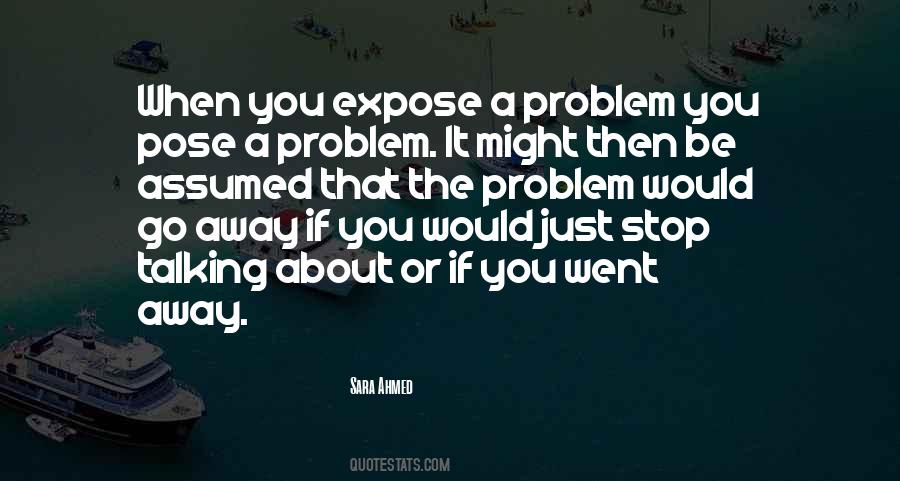 #10. Stop talking about it and just WRITE! - Author: C.K. Webb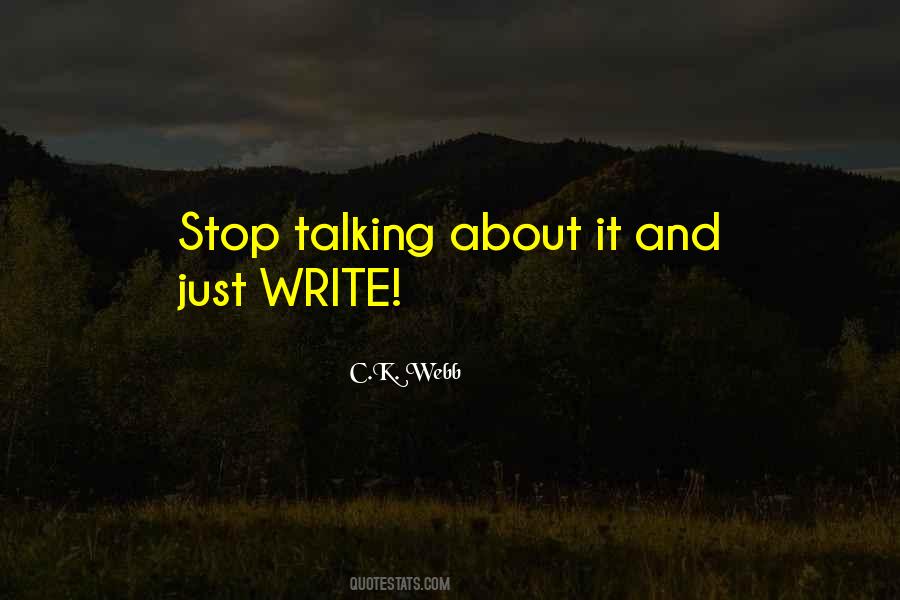 #11. We don't stop talking about how the world might be better just because we have no chance of making it to Prime Minister. We are all politicians. We are all artists. In an open society everything the mind and hands can achieve is our birthright. It is up to us to claim it. - Author: Stephen Fry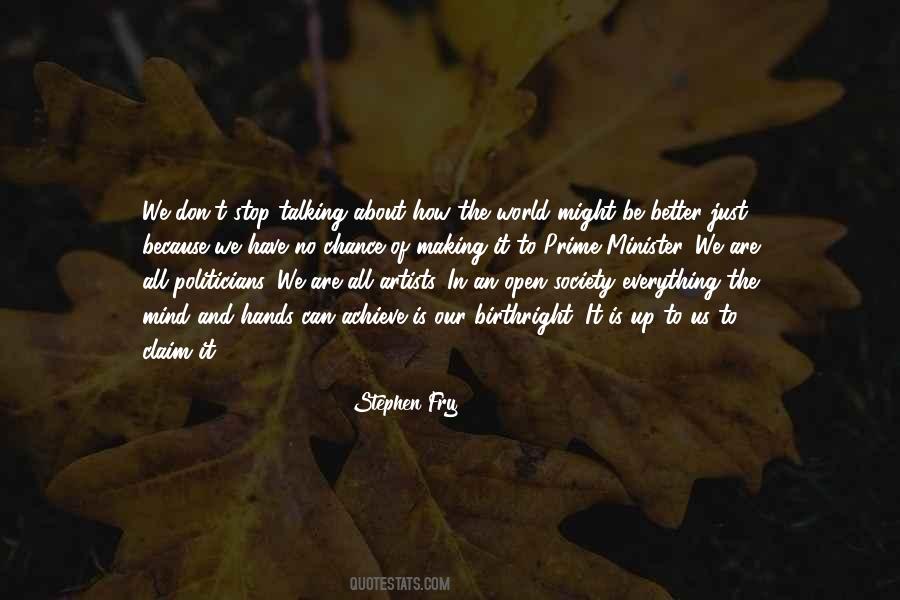 #12. Just then Jagger walks in, his hair all ruffled and his body hard and firm. We all stop talking and stare as he runs his hands through his hair in an attempt to straighten it up.
"Take a picture ladies, it lasts longer." he mutters - Author: Bec Botefuhr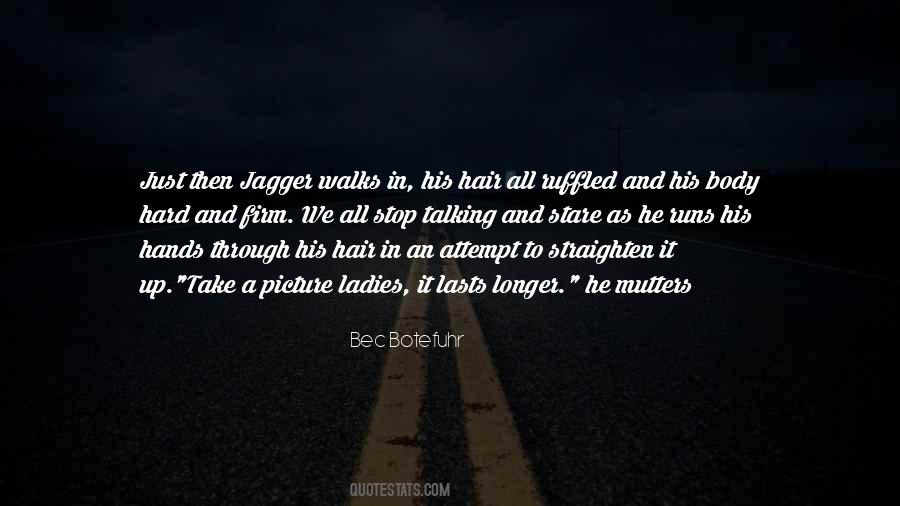 #13. They've got a Jobs Council that never meets. A Democratic Senate that doesn't act. A President who doesn't believe and a Vice President who won't stop talking. They just don't get it. - Author: Thomas G. Stemberg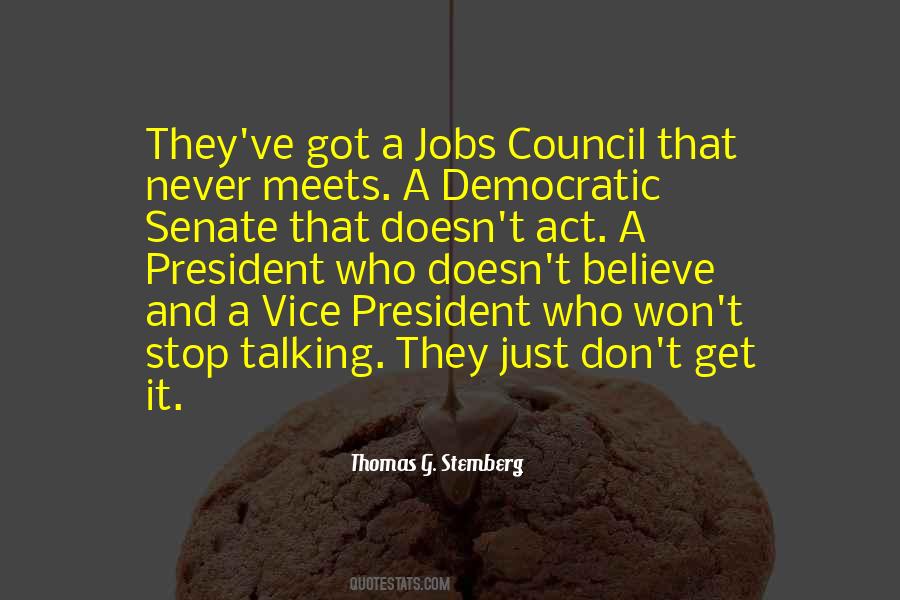 #14. God, it's like talking to a cyborg sometimes. You pretend to listen, but really, you've just gone on pause, waiting for me to stop so you can reiterate your original point. - Author: Kelley Armstrong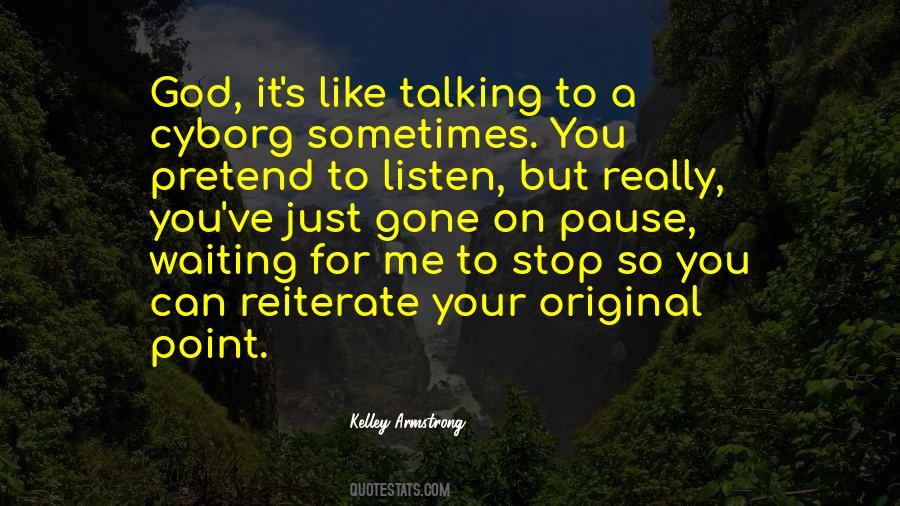 #15. STOP talking about your dreams and just go out and live them. Life is way too short ... what are you waiting for? - Author: Timothy Pina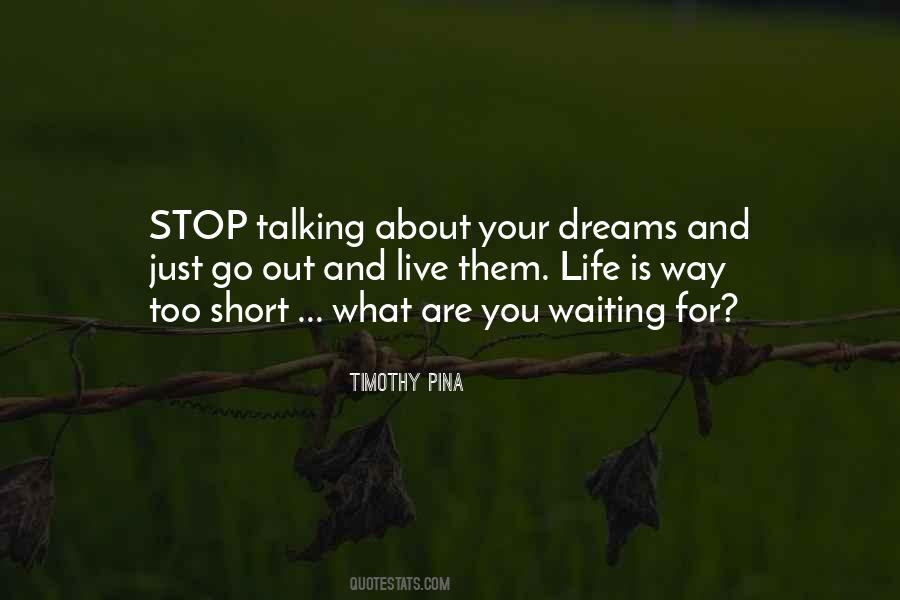 #16. I kiss him to get him to stop talking. If he keeps talking I will love him, and I don't want to love him. I really don't. As strategies go, it's not my finest. Kissing is just another way of talking except without the words. - Author: Nicola Yoon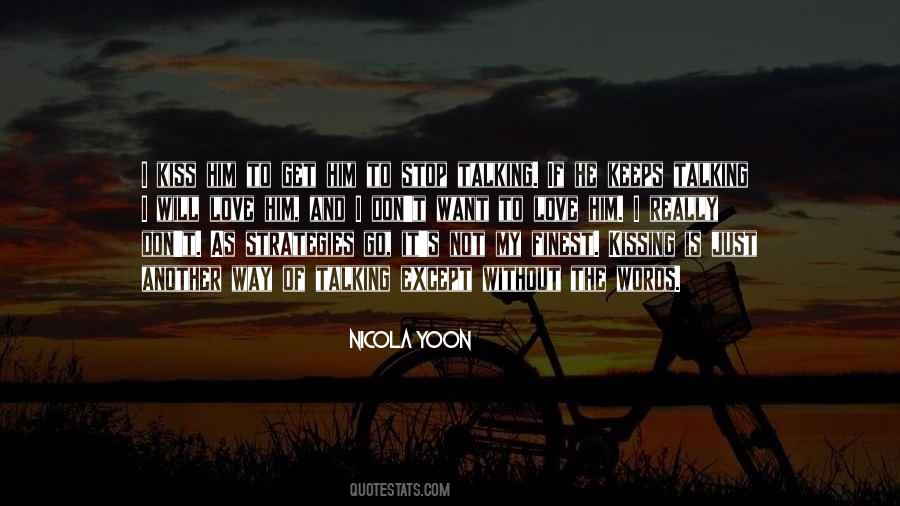 #17. Stop talking," she said boldly as she closed the distance between them until they were touching. "We can walk to the bedroom or you can carry me but if you don't decide soon I may just go insane. - Author: Samantha Chase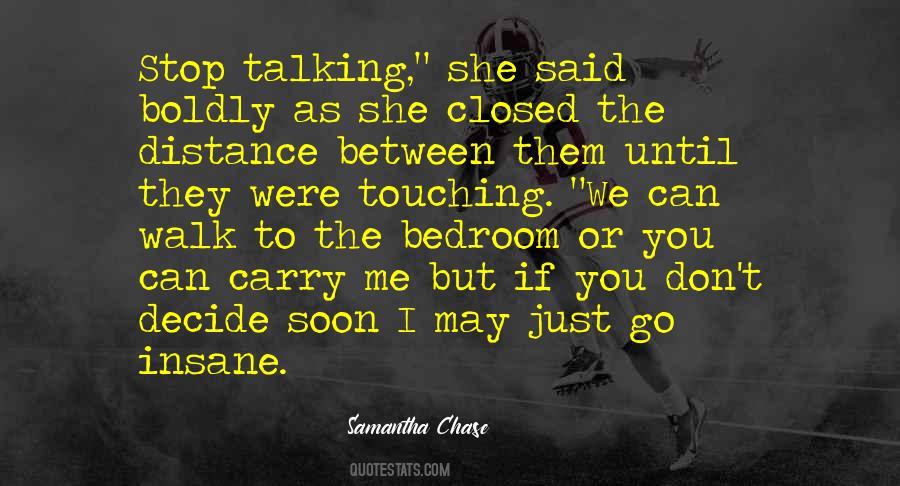 #18. Where I grew up, in the Detroit area, there was a really good station. Sometimes you would hear songs for the first time on the radio, and if a really special song came on, somebody would turn it up, and everybody would just stop talking. - Author: Mary Gaitskill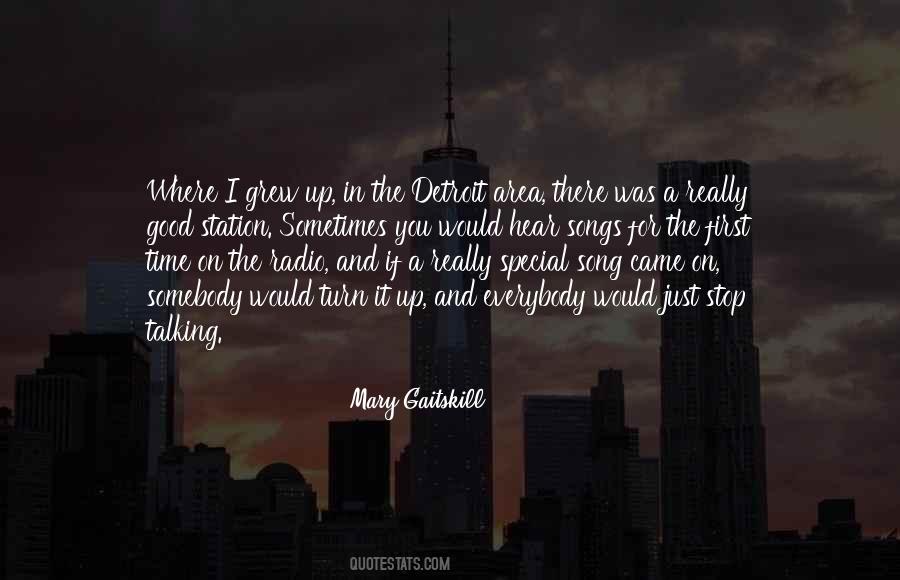 #19. It's much better when I go out with my mates and we stop talking about me like I'm some sort of egomaniac. It's great when we can just have a drink. - Author: Dido Armstrong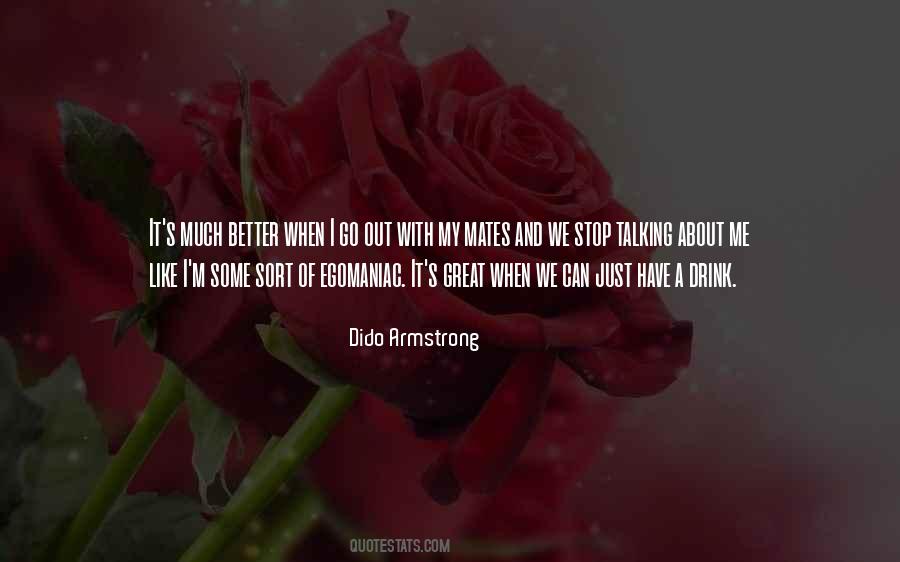 #20. War is always more complex. Economics, history, religion all have a role, but not for the ones dodging the bullets. They just get blown around like seeds in the wind until the city folk with calculators and Swiss bank accounts stop talking rot from a bunker under a mountain. - Author: Bill Carter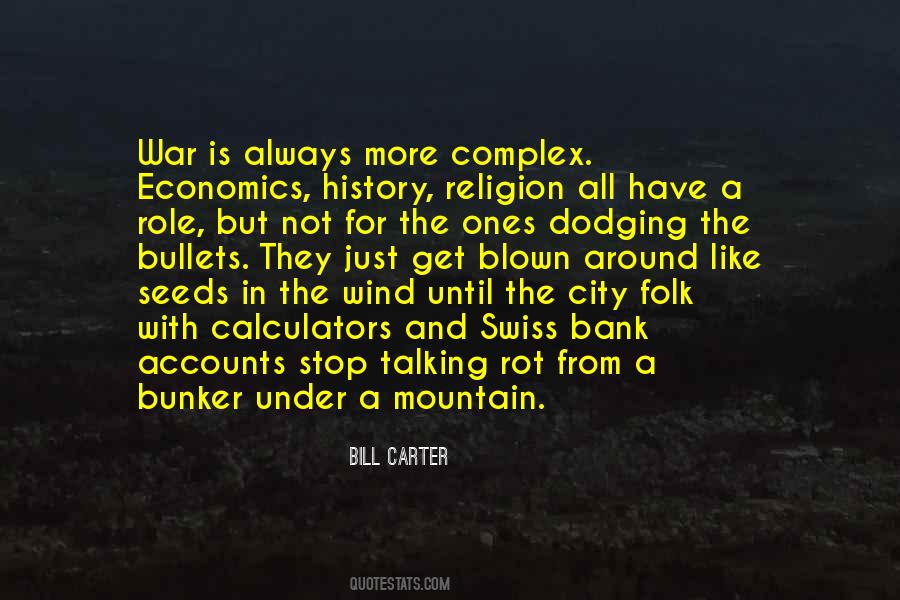 #21. The girls are all talking and laughing, trying to get pumped up and for just one small sliver of a moment, I stop. Taking it all in because this is something I've really missed over the last year. The comradery of a team. The sisterhood of hockey players. Girls who have your back. - Author: Jennifer Sucevic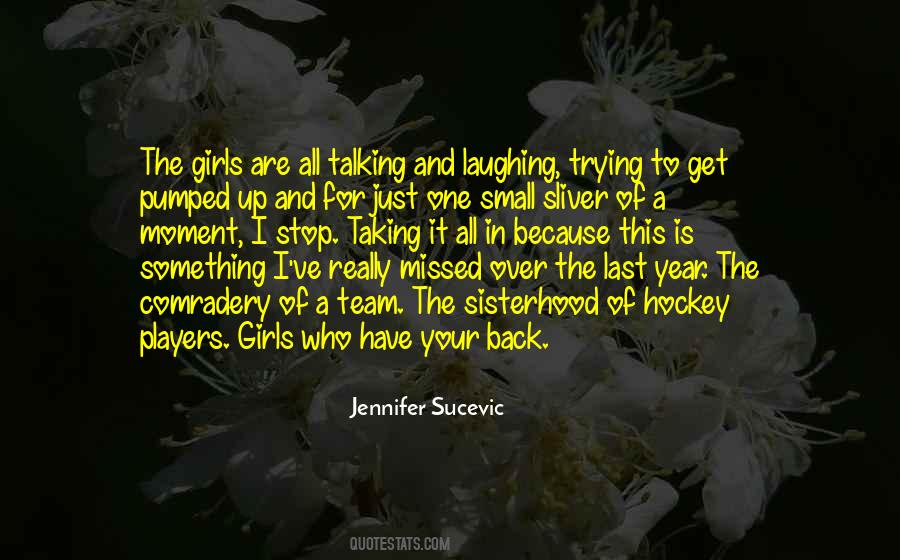 #22. I usually, if I give a talk, I don't usually prepare anything. I just say - you know, I may stop talking by showing some video or slides of what I do but mainly I try to respond to what problems people have with my work. - Author: Robert Barry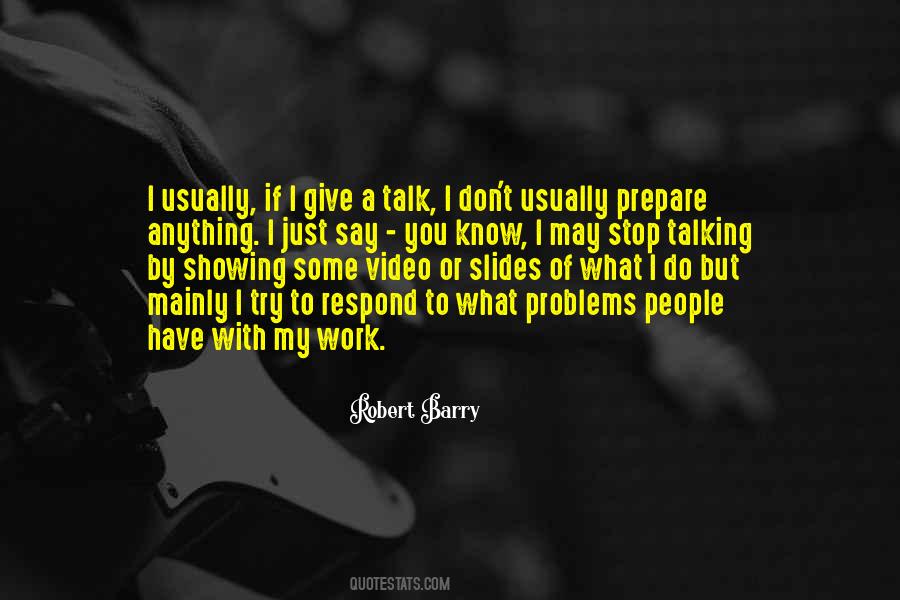 #23. I just want him to shut up and stop talking like this. I just want him to get up and follow me out of here. I just want to be back at Watford in our room, knowing he's there, and that he isn't hurting anyone, and no one is hurting him. - Author: Rainbow Rowell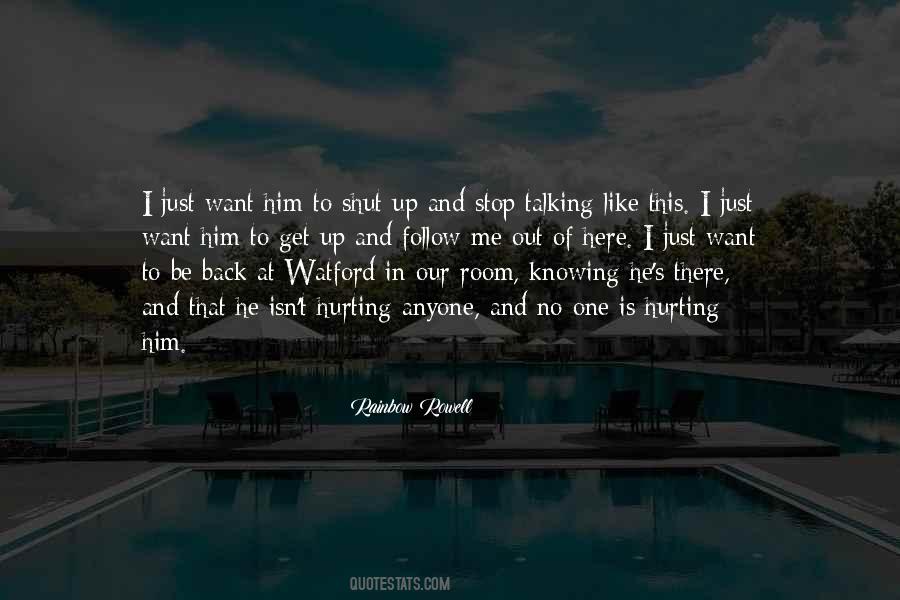 #24. To stop talking about what the good man is like, and just be one. - Author: Marcus Aurelius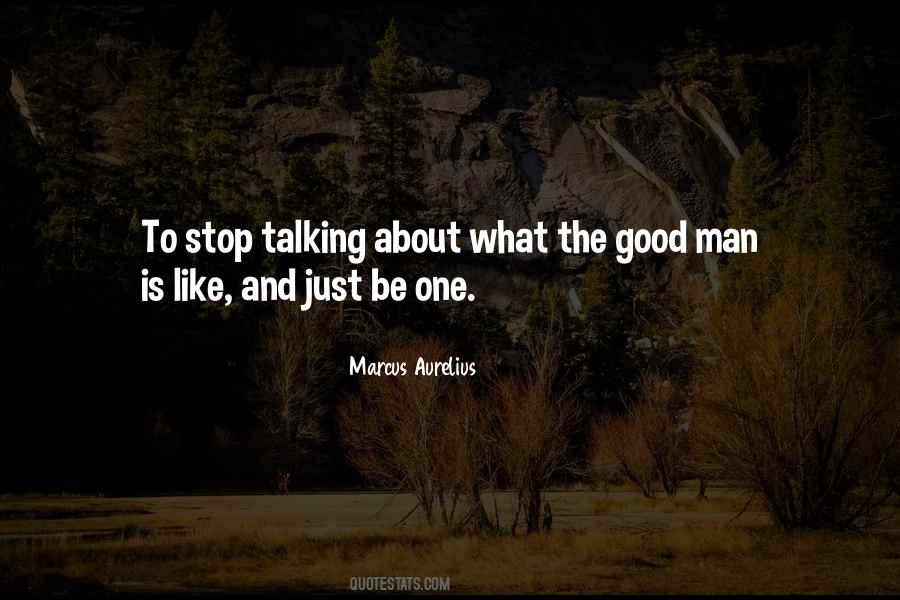 #25. Stop for a minute and think about how you typically interact with God. If prayer time is dominated by your own talking, some adjustments may be in order. Just as the Lord spoke to David, God also has many things to say to you, if you'll simply let Him speak. - Author: Charles Stanley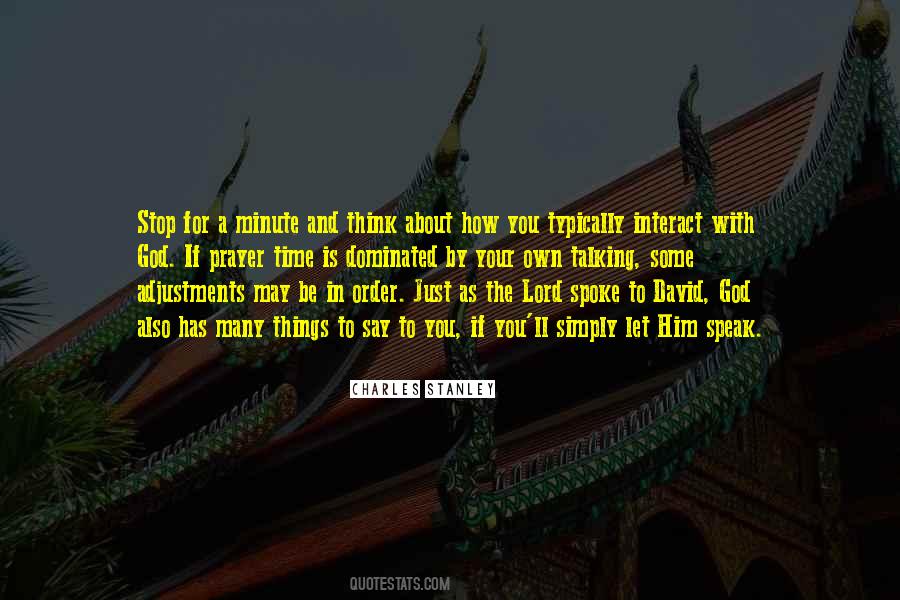 #26. And I'm not talking about becoming a millionaire and living happily ever after. I just mean reaching a point in my life that I can stop what I'm doing, take a look around me, breathe a sigh of relief, and think I'm where I want to be now. - Author: Cecelia Ahern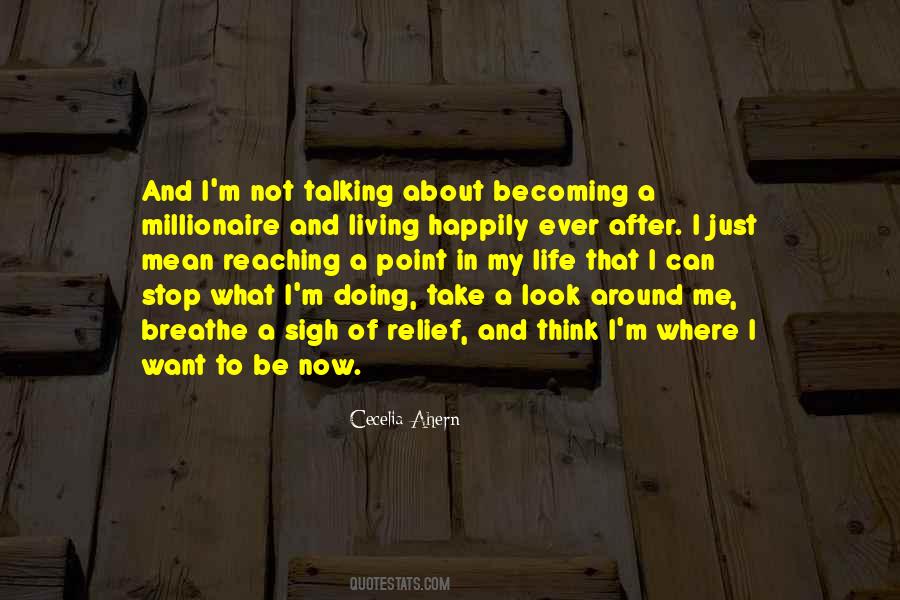 #27. If you're going to learn a new language, you can't try to be perfect. You'll stop yourself from talking. You just have to let go. - Author: Yao Ming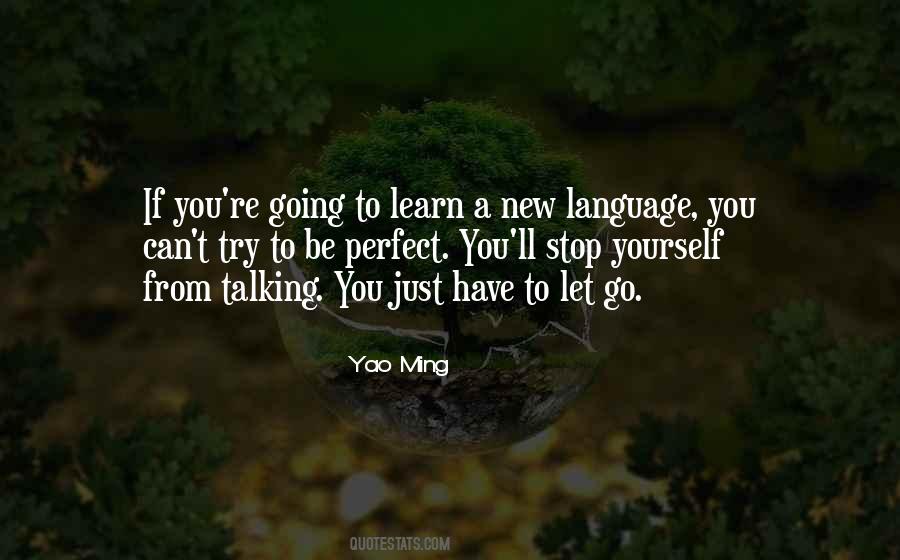 #28. Prayer isn't just about asking for things. It's taking time to hear what God is saying, too, just like any good conversation. Once we finally stop talking and demanding and begging for things, it's easier to hear what God is trying to say to us. - Author: Lynn Austin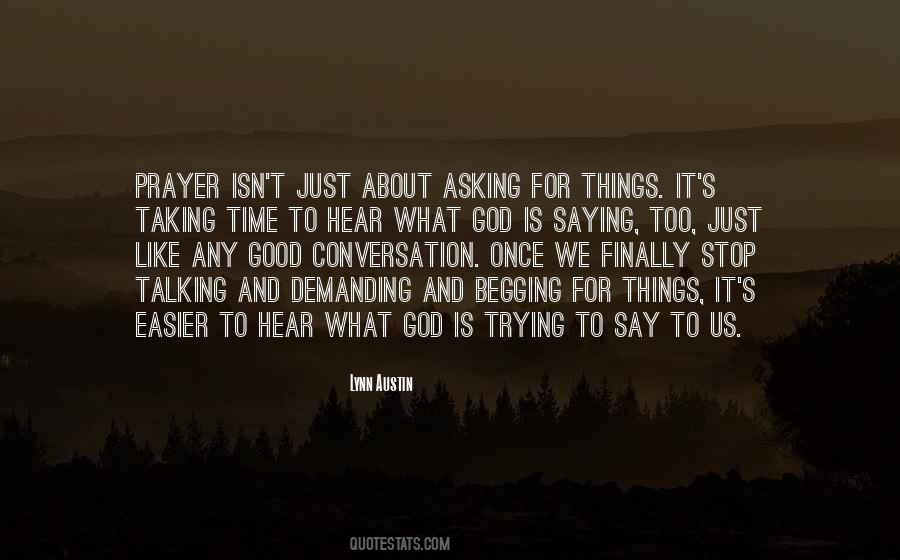 #29. I'm talking to myself in two different personas now. I'm reaching for a full-throttle meltdown and why not? Why stop halfway? Why not just go for it, jump on and ride the wave? - Author: C.K. Kelly Martin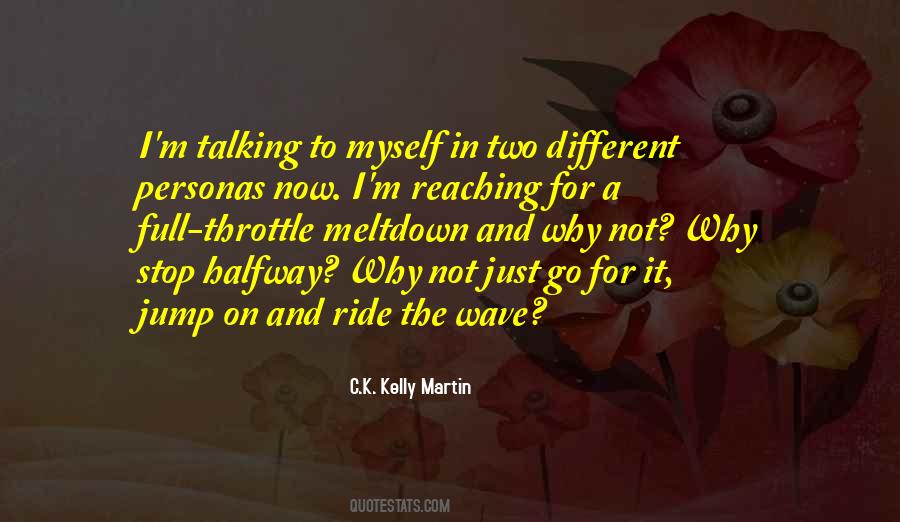 #30. Listen.
Dead people never stop talking. Maybe because death is not death at all, just a detention after school. You know where you're coming from and you're always returning from it. You know where you're going though you never seem to get there and you're just dead. Dead. - Author: Marlon James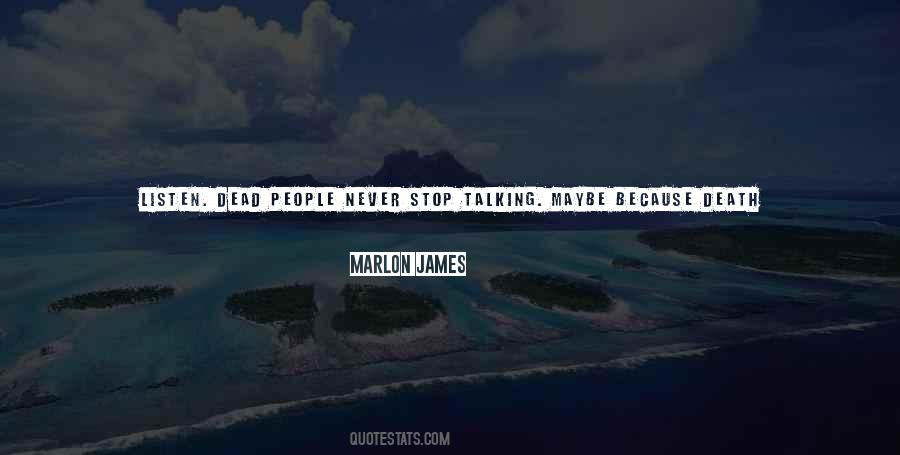 #31. I might just stop talking again and not do interviews. - Author: Prince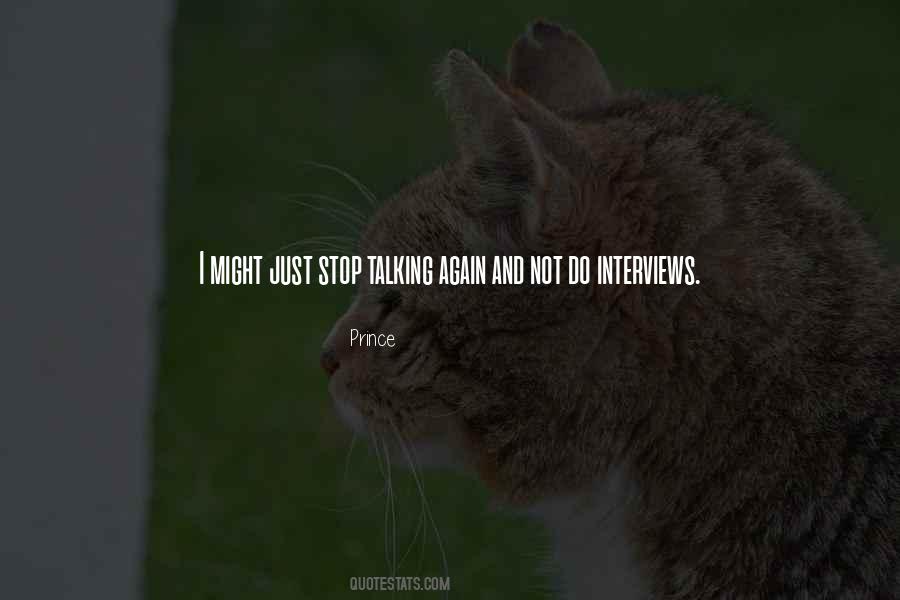 #32. Ty tapped Nick's knee. "Do you really want him left behind knowing you did this? It can wait until we get back."
"Just stop talking, Beaumont," Nick grunted. "You're like the Bermuda Triangle of morals."
Zane snorted and covered it with a cough. - Author: Abigail Roux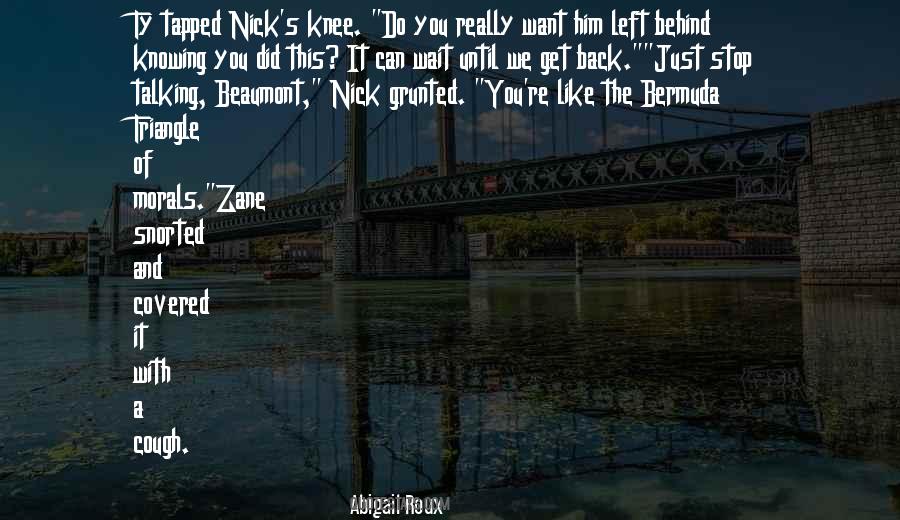 #33. It's good Mam, you've got a bike
It's so much better than walking
Dad just thinks it's a blessed relief
It's the only time you stop talking - Author: John Walter Bratton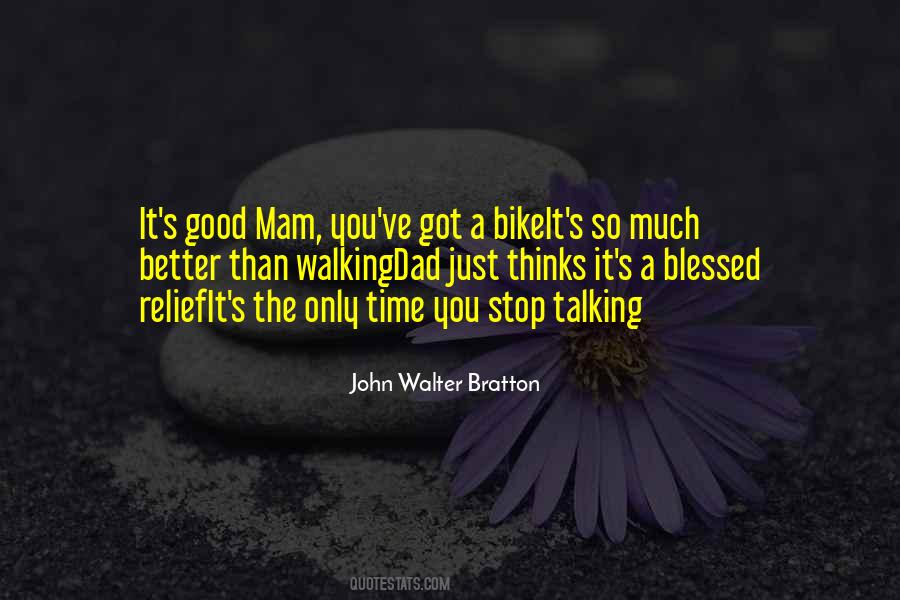 #34. I would just like to throw out there that we can all stop talking about putting things up my ass. No fly zone. Do not enter. No parking. - Author: Dani Alexander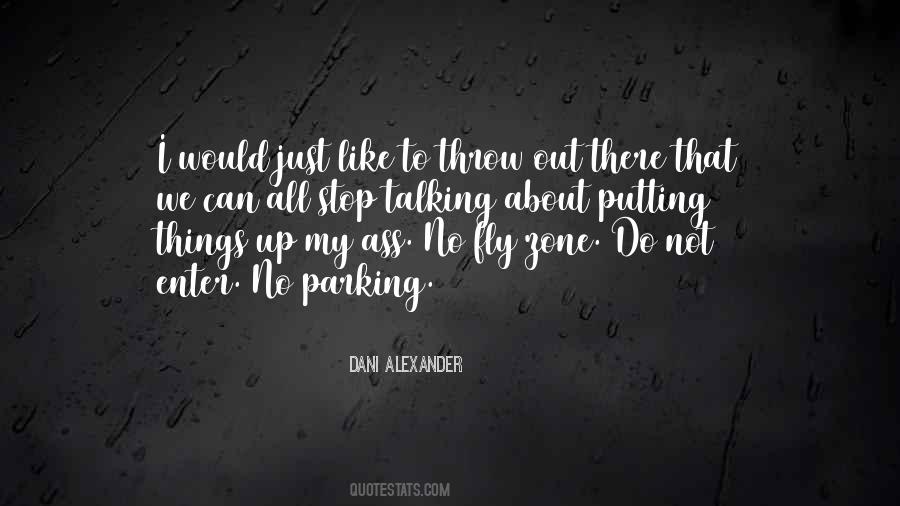 #35. I wish she would just look at me, look at my face and stop talking long enough to see me. To see that things are not right. That none of this is real and I am in some other place. - Author: Kekla Magoon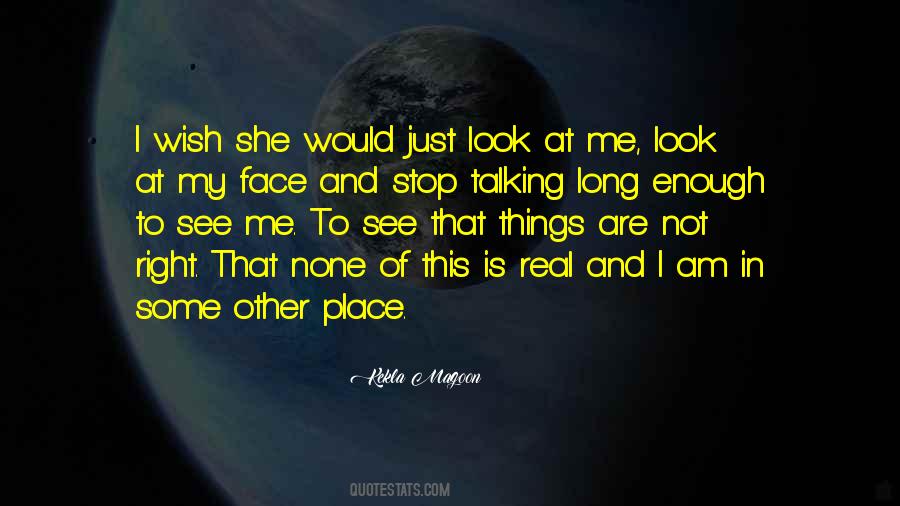 #36. None. They should just go out and photograph and stop talking about it. That's the only way they are going to find themselves. They can't do it in their heads - they have to go out and do it in the camera and get it on film. - Author: Berenice Abbott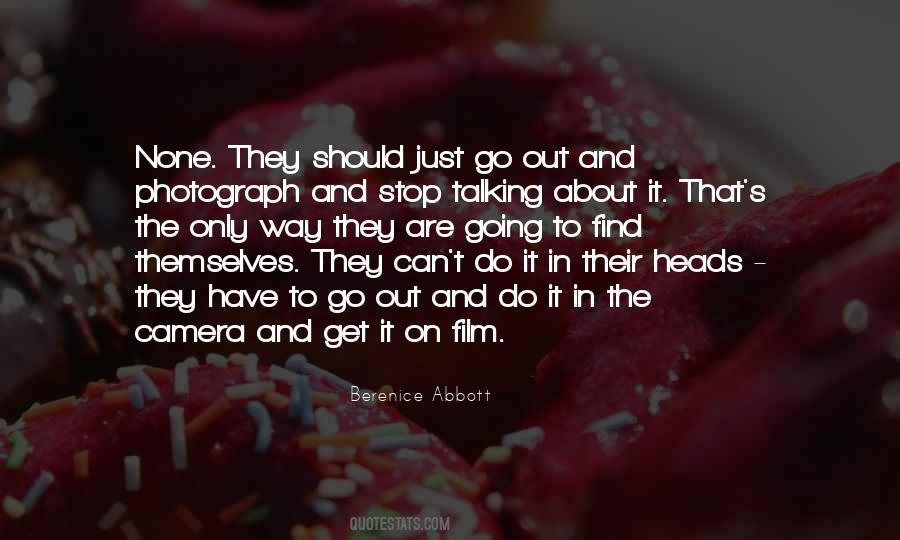 #37. I am not sure what it is that finally allows people to just turn to each other and touch. There is some hidden trigger. There is a secret language people learn, so they can signal to stop talking and just move. I don't know it. - Author: M T Anderson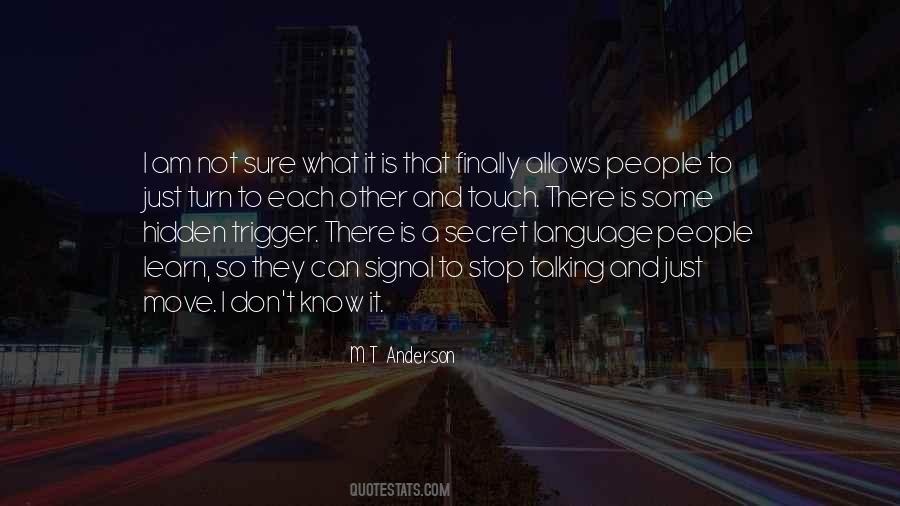 #38. When you love something you just don't want to stop talking about it. - Author: Neil Gaiman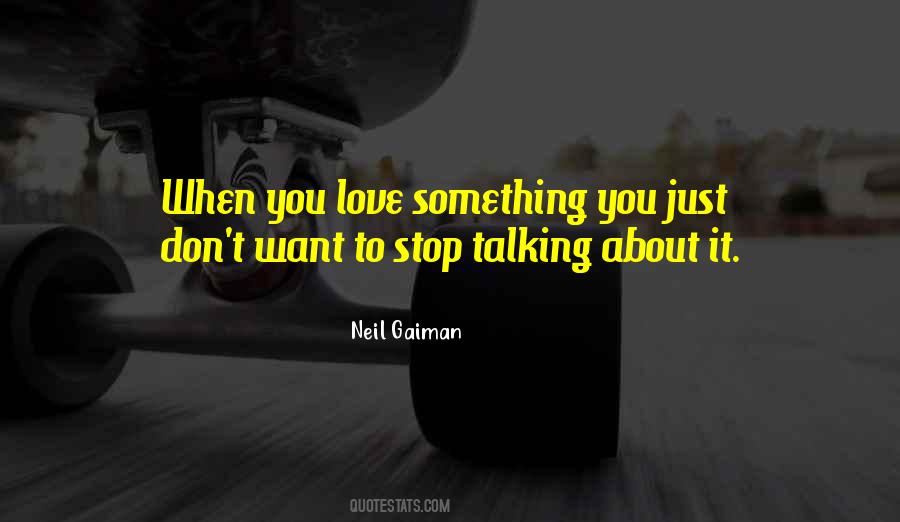 #39. Stop talking about the murders, and we won't know they're happening. And then we can all just live in a bubble that isn't reality. - Author: Kimberly Guilfoyle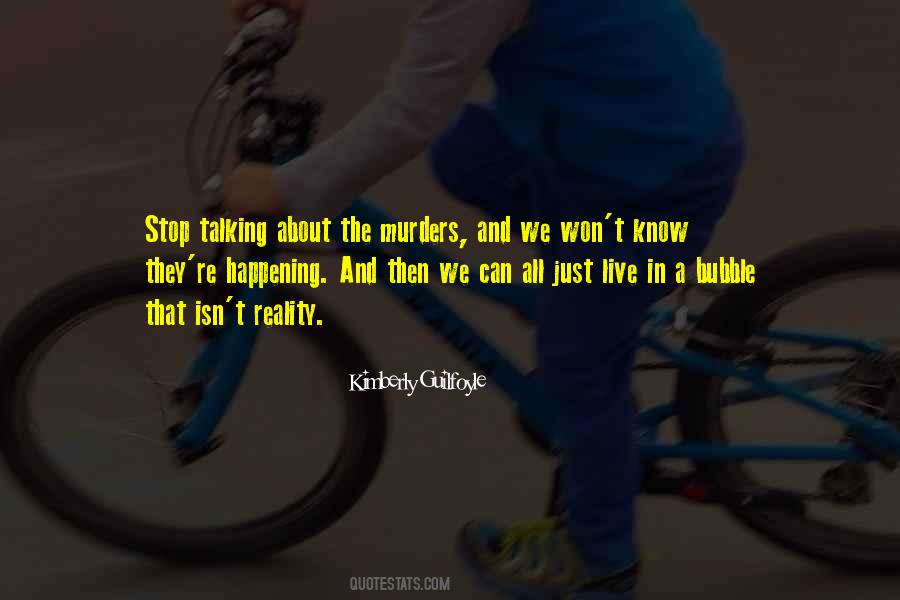 Famous Authors
Popular Topics