It's All About Family Famous Quotes & Sayings
List of top 100 famous quotes and sayings about it's all about family to read and share with friends on your Facebook, Twitter, blogs.
Top 100 It's All About Family Quotes
#1. I love Shakira - she is such a beautiful person. She does so many good things for the world on top of making good music. And she is an awesome mom. When you are Latina, it is all about family, and to see that she prioritizes family and her career at the same time is really nice. - Author: Becky G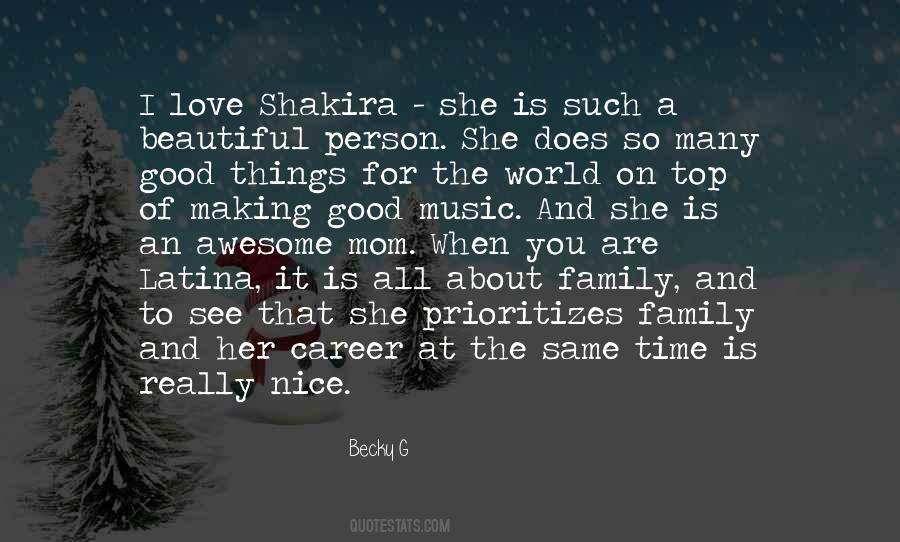 #2. The thing about adolescence is that you are emerging from a state of obscurity. You are coming out into the world from your family. Your family can seem normal because it is your family and all you know, but in fact it is a mess. - Author: Meg Rosoff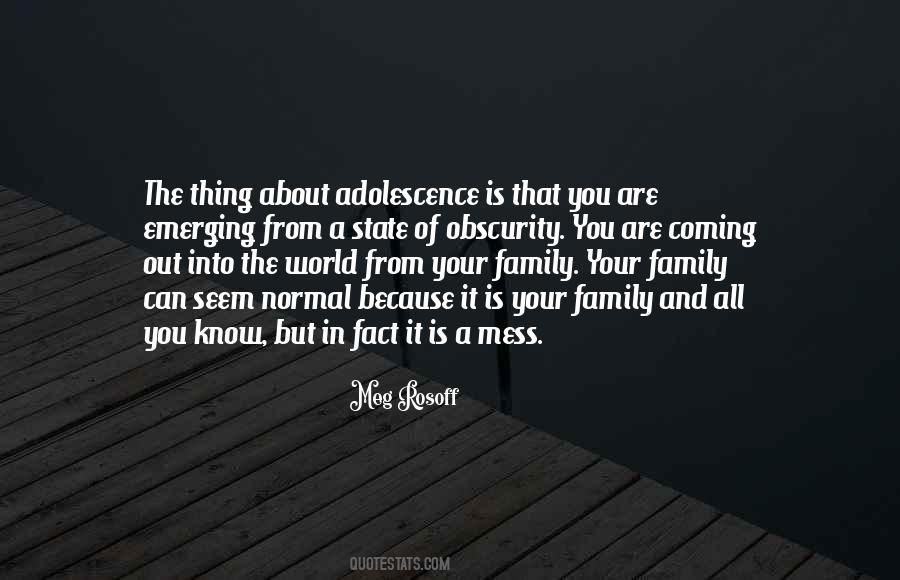 #3. For me, it's all about who you are. Some athletes may feel a responsibility. Some may not. One thing I've talked with my family and team about is doing more. Trying to make an impact. - Author: Chris Paul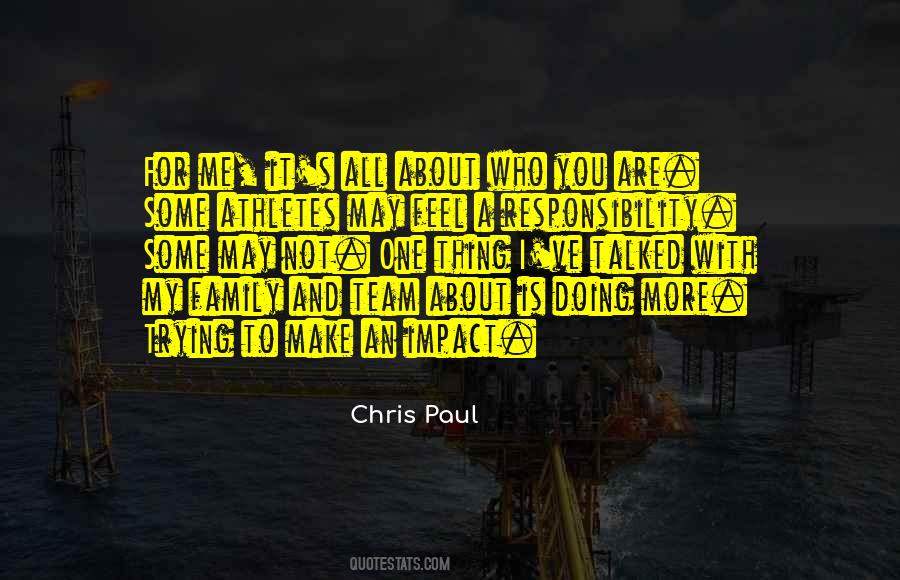 #4. I mean, I think having a great family like I do. You know, I tend to want to give it all I have when I'm at the golf course, and then when I leave I don't want to think about golf at all. And I just remind myself almost daily that golf's just my job, it's not who I am. - Author: Webb Simpson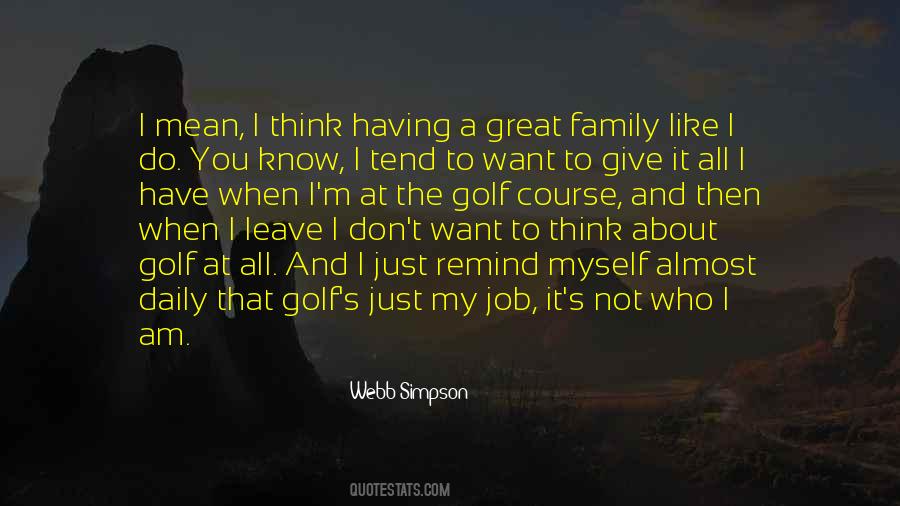 #5. I feel like I grew up being babysat by a television, and all I ever wanted to do was be in movies, direct movies, make movies, but it took me a really long time to be honest with myself about it because my background is that my family was very poor. - Author: Noel Wells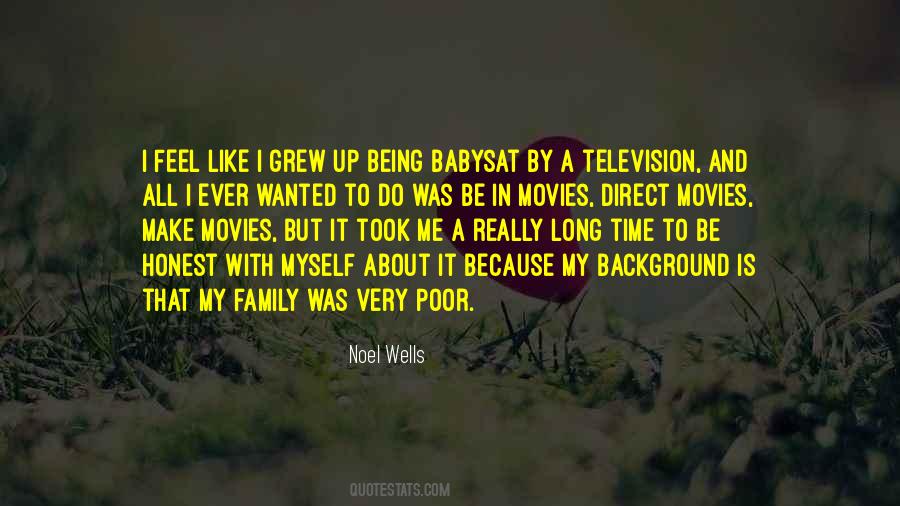 #6. Cook to make yourself and your family happy, because that's really what it is all about. - Author: Donald Link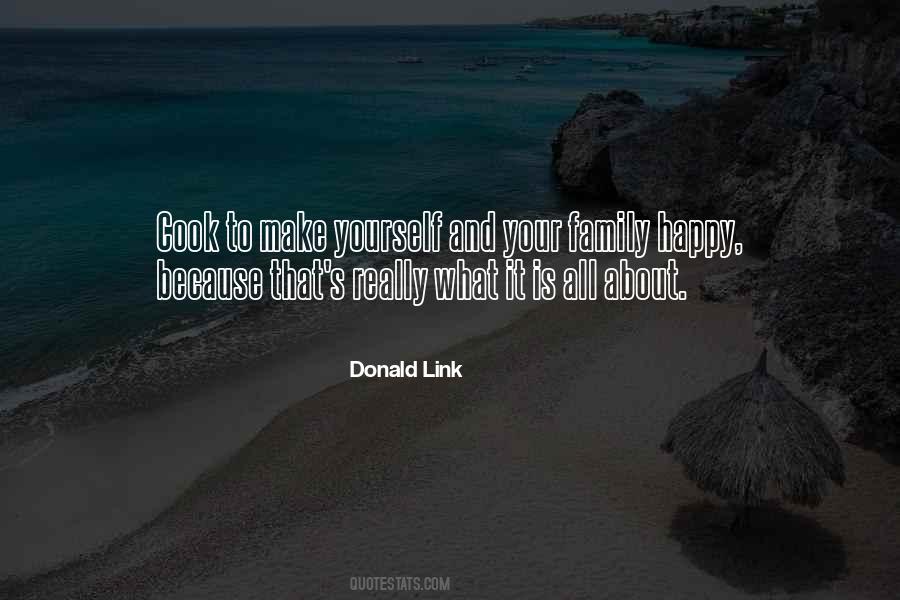 #7. Everybody wants to make as much money as possible. Take care of your family. It's not about the money; it's about status. I want to be ranked amongst all the players. I don't want to just have all this money. I want to be that guy. - Author: Lance Stephenson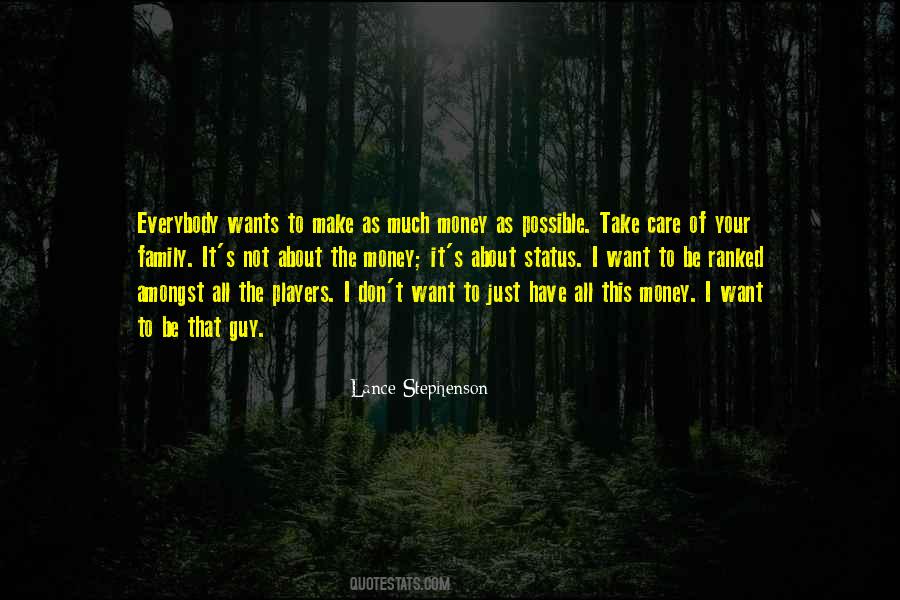 #8. He's not the only one who's got people to worry about," Rachel said. "I have a family. We
all do."
"Not me," Tobias said softly. He smiled his sad, crooked smile. "It's true. No one gives a rat's
rear about me."
"I do," Rachel said. - Author: K.A. Applegate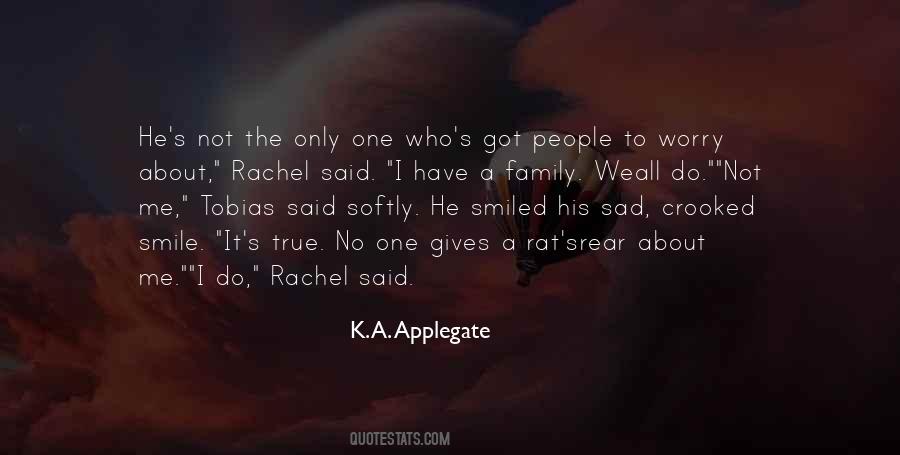 #9. It's in the kitchen that confidences are exchanged, that family life takes place; it's among the remains of a meal or when your're elbow-deep in peelings that you ask yourself what life is all about, rather than when you're sunk in an armchair in the sitting room. - Author: Benoite Groult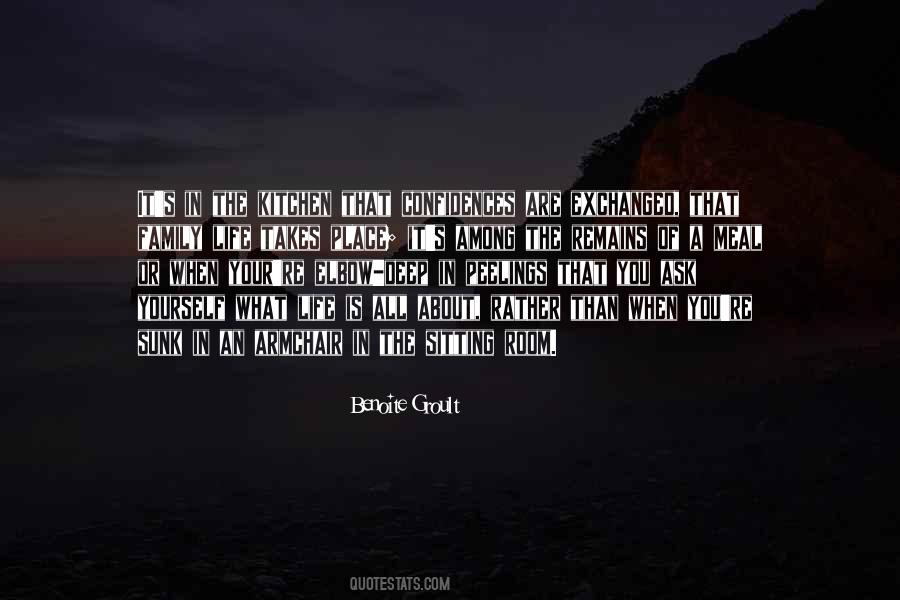 #10. I try to keep in mind that it's a long journey. It's not a race. It's about staying focused, continuing to do good work, make my family and community proud; that's all I really want to do ... and pay my bills. - Author: Gina Rodriguez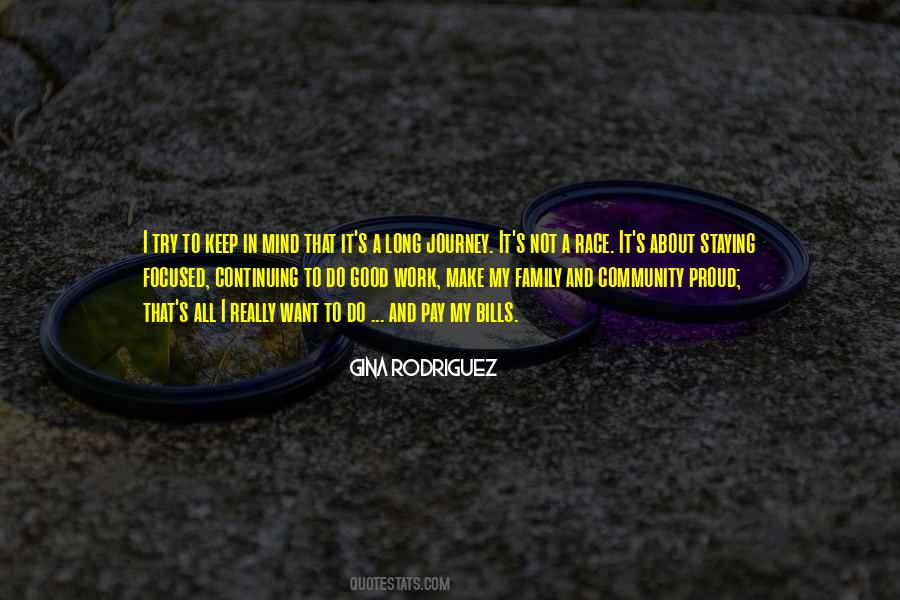 #11. The thing about depression is that, if you're not the one who's actually suffering from it, there's very little you can do to be proactive. If someone in your family is depressed, all you can really do is send them to the shrink, get them their meds, be gentle, and wait. - Author: Sarah Silverman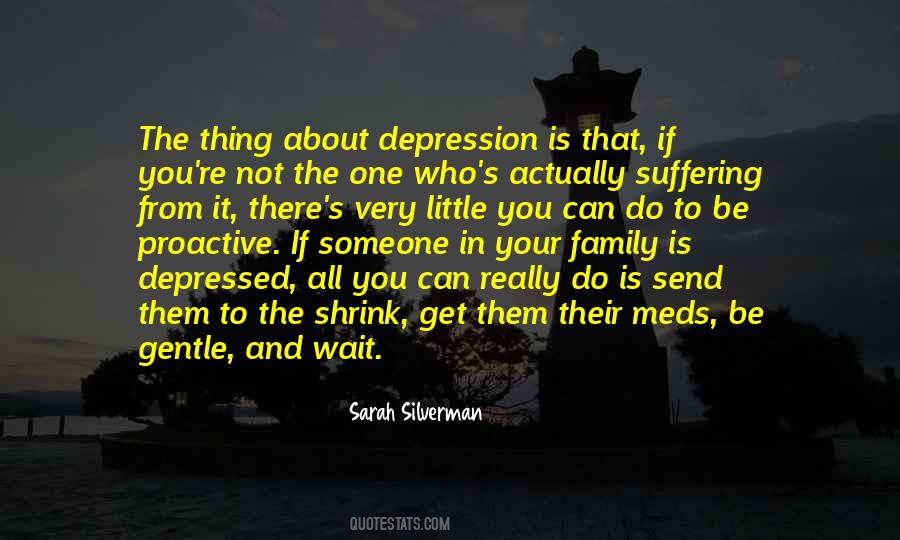 #12. It is difficult for me to talk about some of these things without reliving the extreme emotions and loss one always feels for the untimely deaths of acquaintances, family and friends, all because they stood up against the unlawful tyranny of non-Indian America. - Author: Leonard Peltier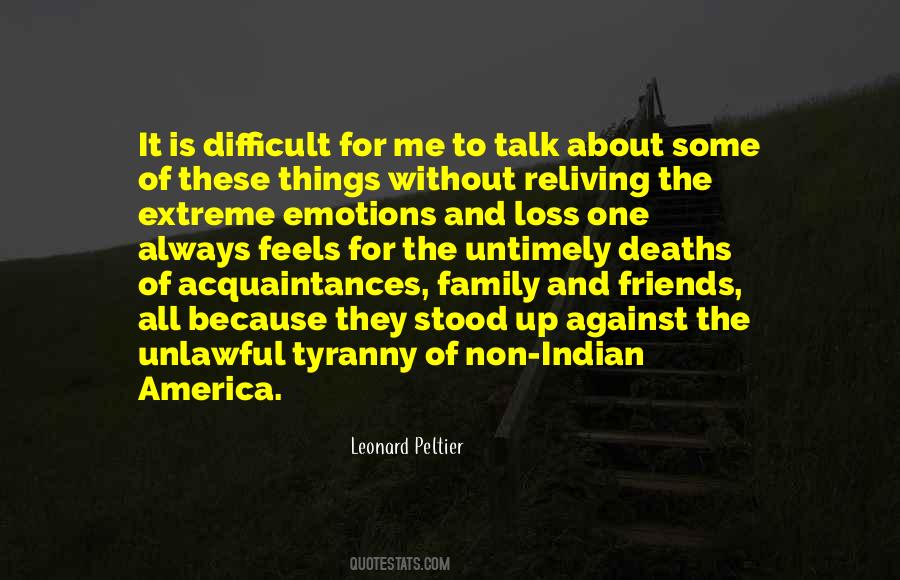 #13. In general, her family wasn't very good at talking about important stuff. And of all of them, she was the least good at it. When she tried, it felt like all the chains on all her imagined safes and trunks started rattling - Author: Holly Black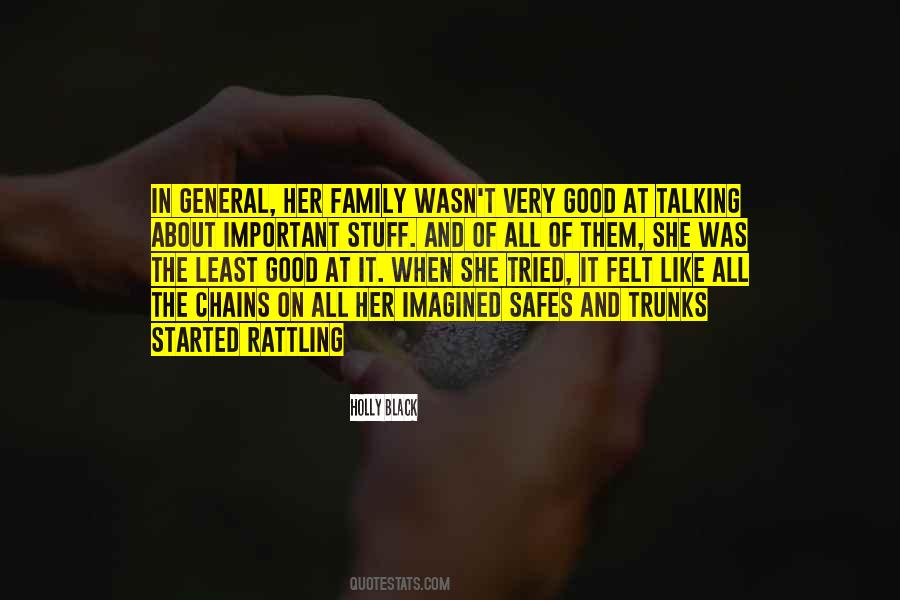 #14. Movies these days have made killers into funny people. What's that all about? I've got kids and family and friends, and I don't like bad things. I don't think they're funny, and it's irresponsible to make movies that don't show you how that's not good. - Author: Billy Bob Thornton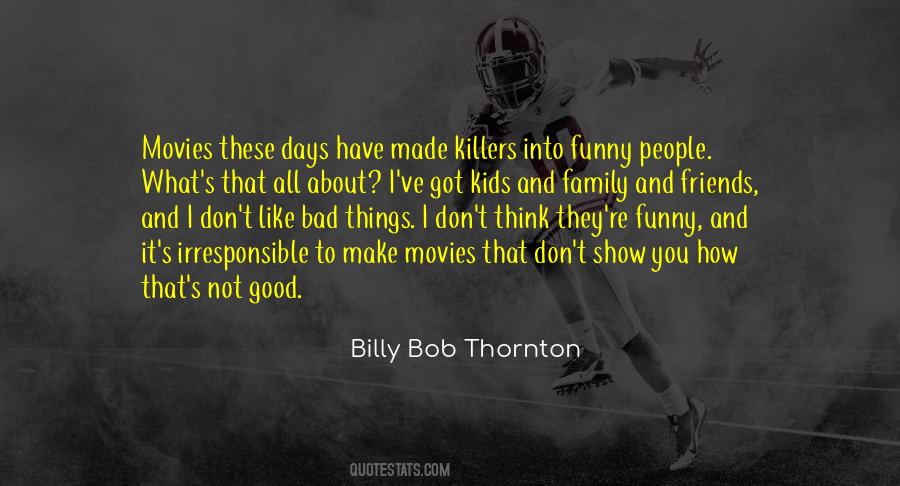 #15. It was just that there was something newly powerful about this assembled family in the car. They were all growing up and into each other like trees striving together for the sun. - Author: Maggie Stiefvater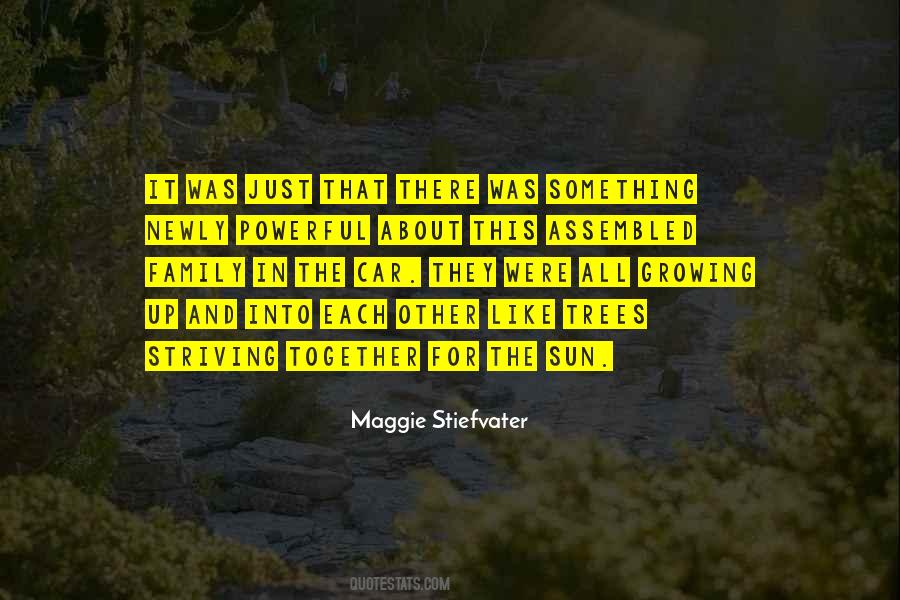 #16. Dollywood is a family park, and all families are welcome. We do have a policy about profanity or controversial messages on clothing or signs. It is to protect the individual wearing or carrying them, as well as to keep down fights or problems by those opposed to it at the park. - Author: Dolly Parton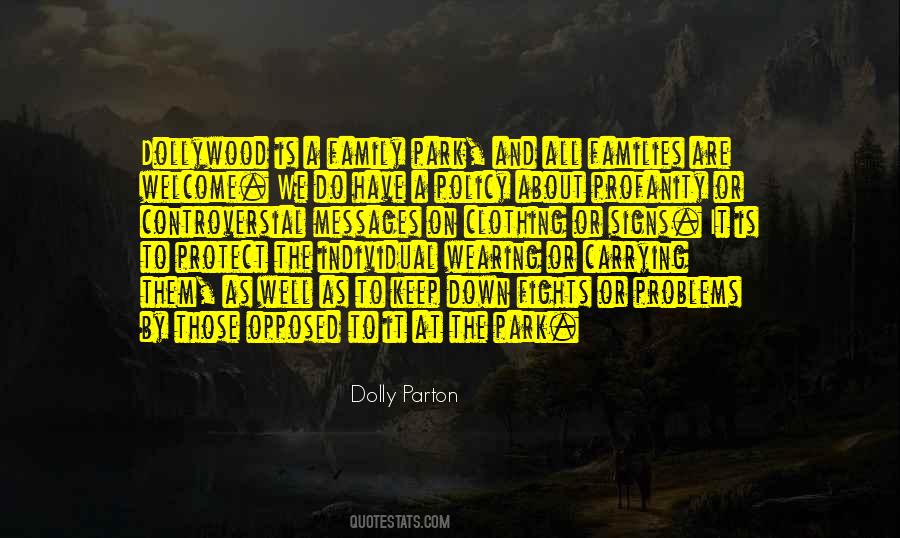 #17. As I get older, personal happiness is all about love. It's all about love. - Author: Jada Pinkett Smith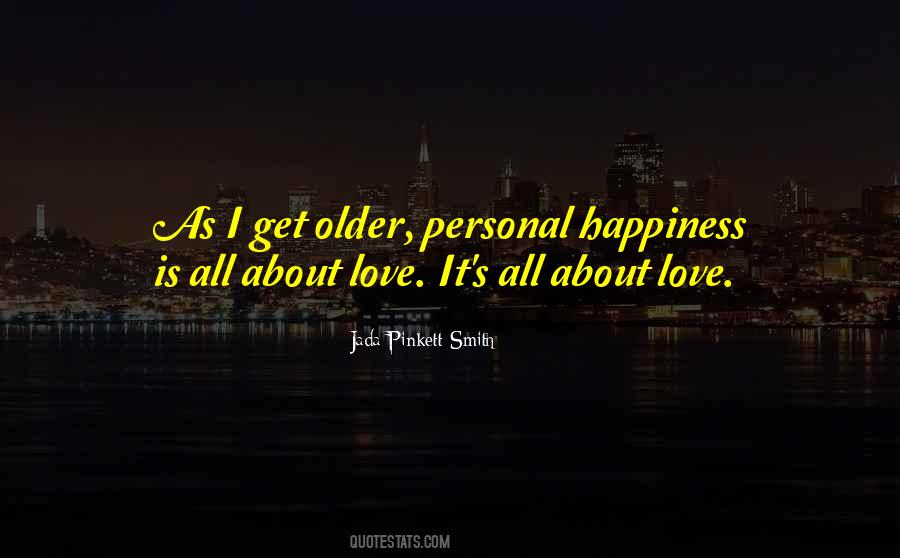 #18. I've been thinking about Jesus. Don't you find it a bit strange that, since He was living with His family and all, He up and left them just when they needed him most? - Author: Edith Piaf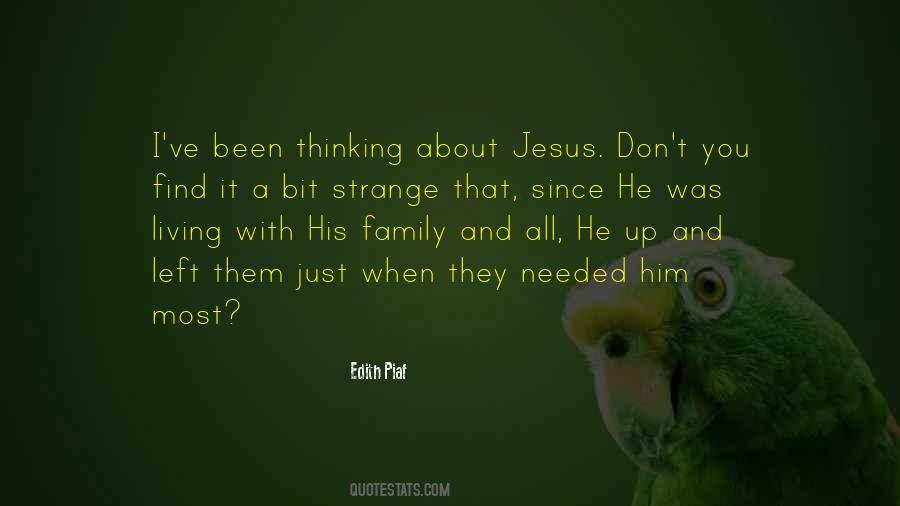 #19. Mankind has a mandate to care for the earth and all that is within it, especially the animals, and an animal should never be placed in a position where he needs to be concerned about such things. But this is not that time. - Author: Tara Pollard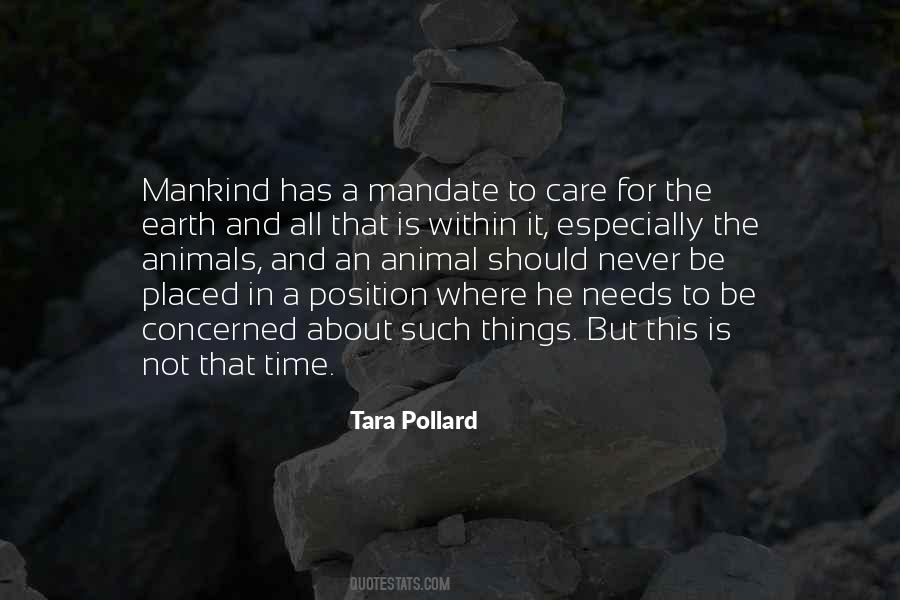 #20. learn pretty damn fast that everything else is smoke and mirrors. Fame. Money. Success. You realize that life is fleeting and family's what it's all about. It's the only thing that matters. - Author: Brenda Novak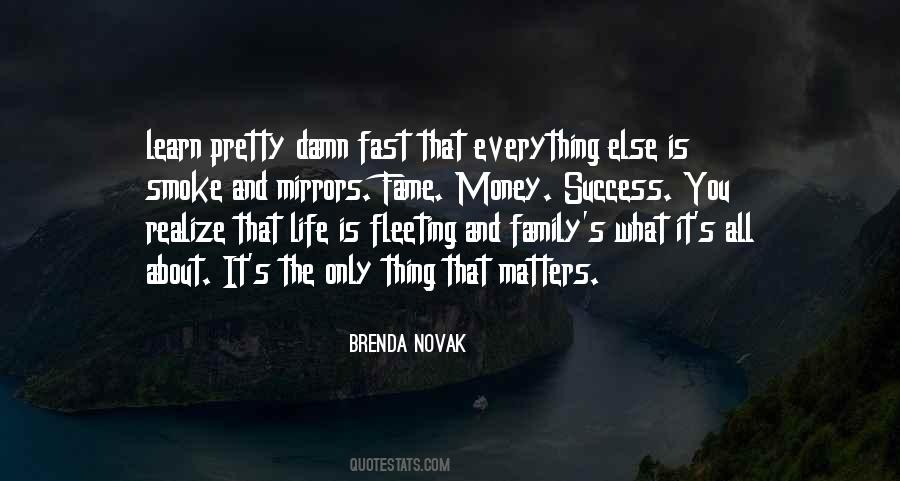 #21. I keep thinking about all the time away from my family this will cause, and the time away from the other family at Pixar," Jobs said. "But the only reason I want to do it is that the world will be a better place with Apple in it. - Author: Walter Isaacson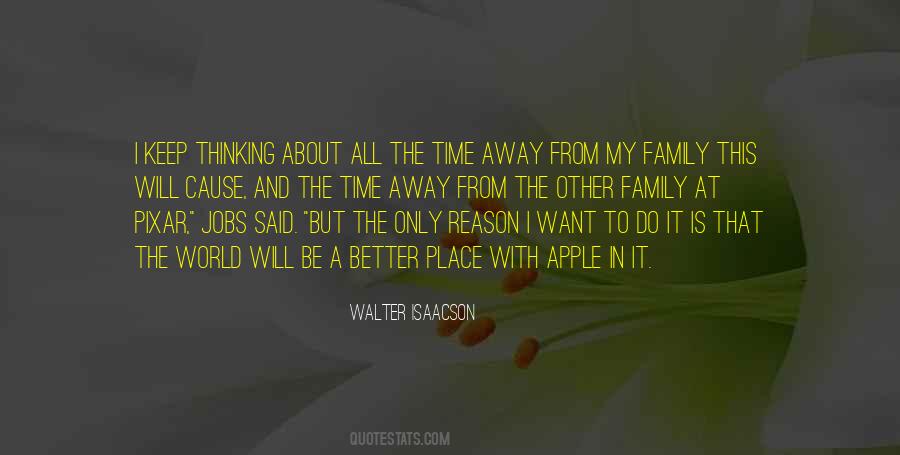 #22. Death in its natural state can be very beautiful. When you think about a body that's died of natural causes - family taking care of it - all of that is very beautiful. - Author: Caitlin Doughty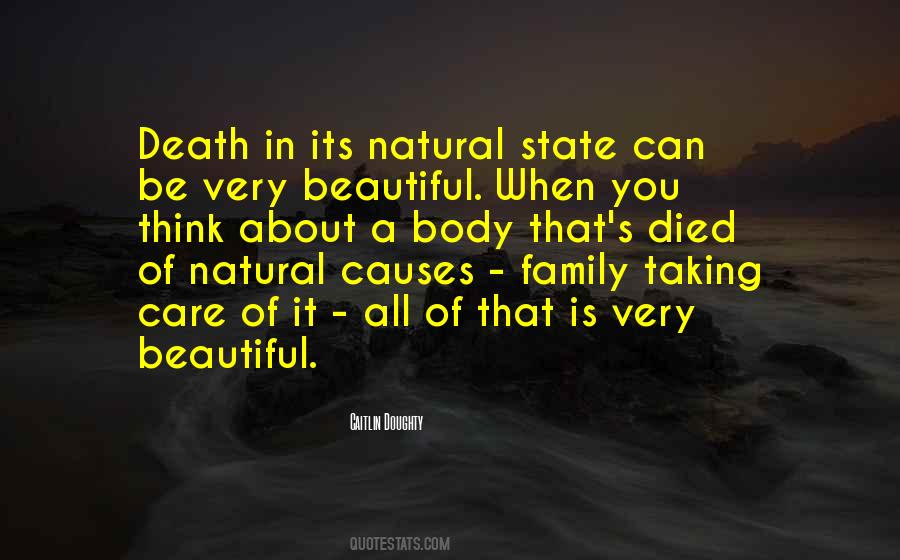 #23. Because of the way I've made my money or the way I've conducted myself in public to get success, it doesn't make me any better a person. So I always thought money and achievement would make me a more legitimate person, where my family seems to think it's all about actions. - Author: Jim Jefferies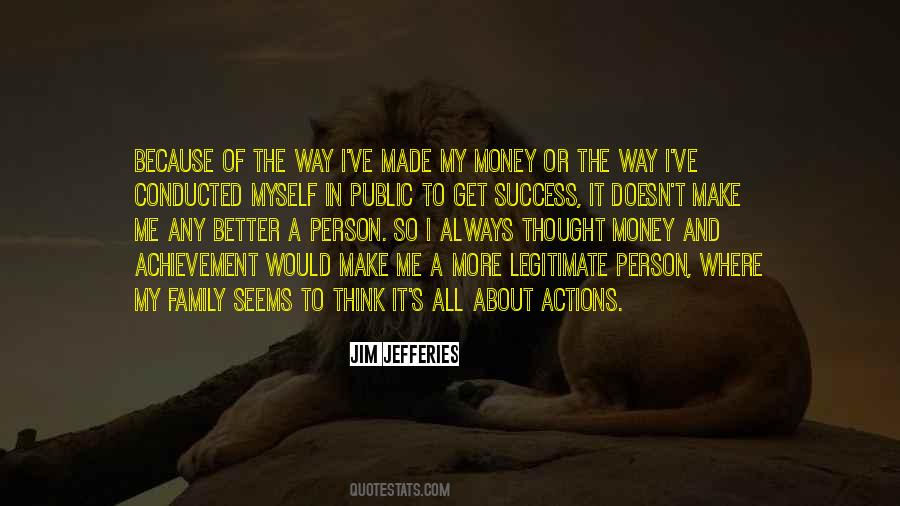 #24. From Genesis to Revelation, holy text is all about relationships and the limitless flavors of those relationships. It is the duty of mankind to tap into our women's unique talents
their genius for 'relationships.'
pg vii - Author: Michael Ben Zehabe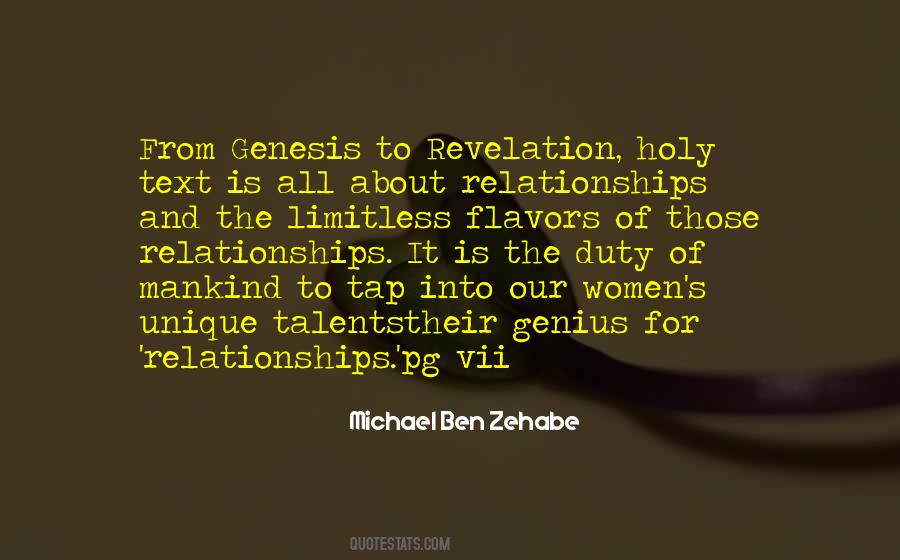 #25. I always say about my daughters, they save me from my miserable self. They take me out, you know, a comedian, you could live in your head a lot. And you're writing and you're doubting. But when I'm with my kids and my family, it's all about them. - Author: Chris Rock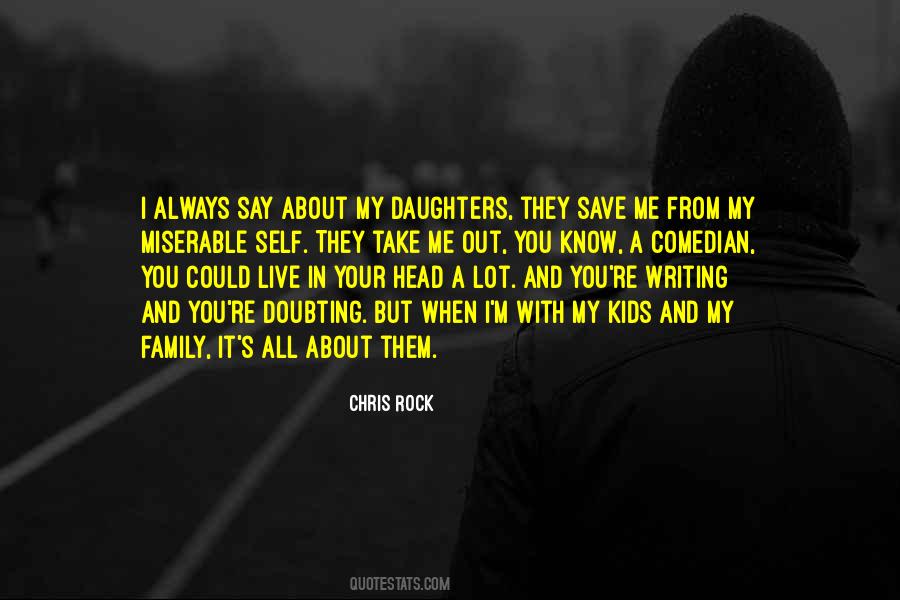 #26. From "Caleb's Crossing"
This is an excellent thought about family though it doesn't apply to me. I am lucky in my brothers.
"Now, of all times in my life, did I wish Caleb truly was my brother, rather than that selfish, imperious, weak-willed soul to whom fate had shackled me. - Author: Geraldine Brooks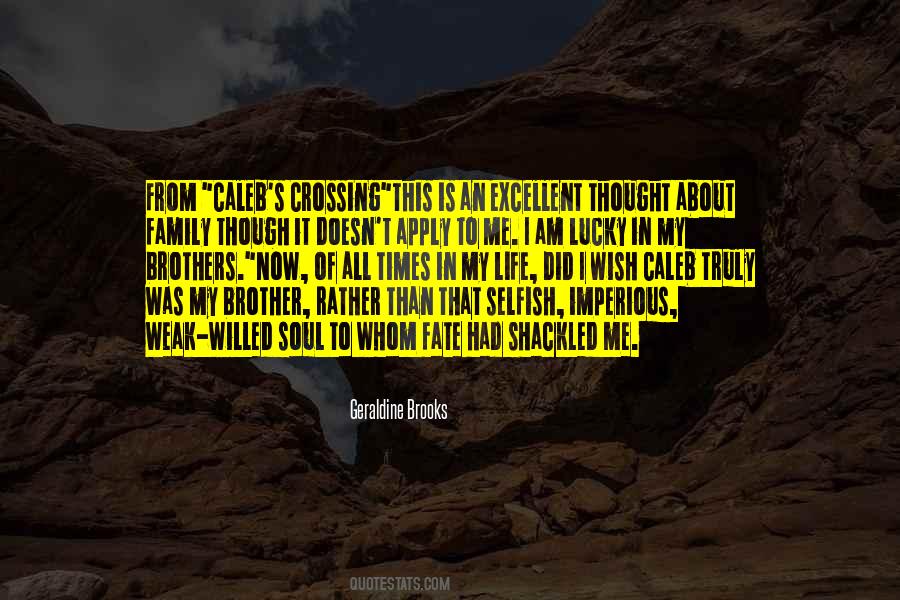 #27. While you've been gadding about the countryside, we've held a meeting, and we've all of us decided that you must go.'
In short, we've voted you out of the family,' Daffy said. 'It was unanimous. - Author: Alan Bradley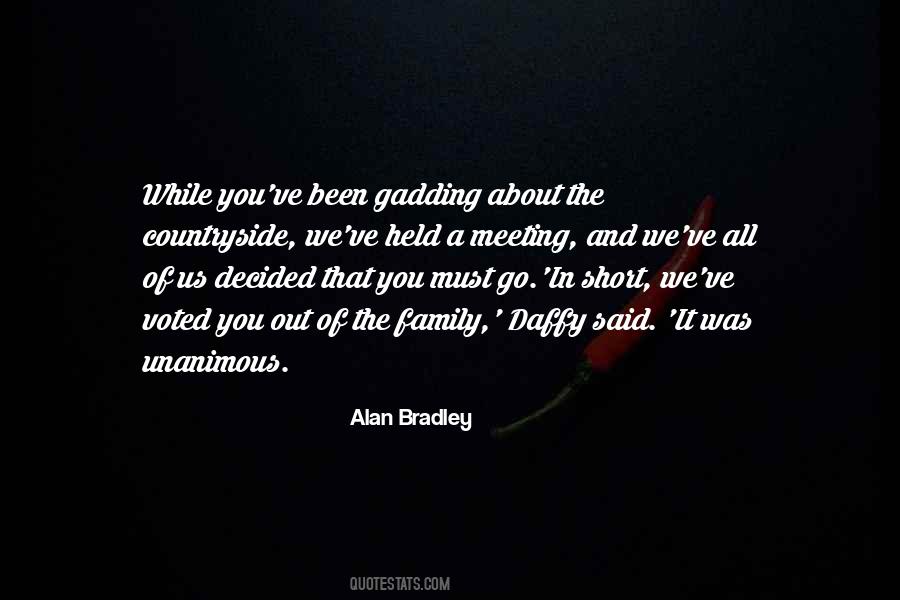 #28. That is one of the first things my family, my mother and my grandfather, had taught me about acting: 'Use your eyes!' Not being able to do that physical aspect of it, and having to put it all into your voice? That was a little bit of a challenge. - Author: Keith Coogan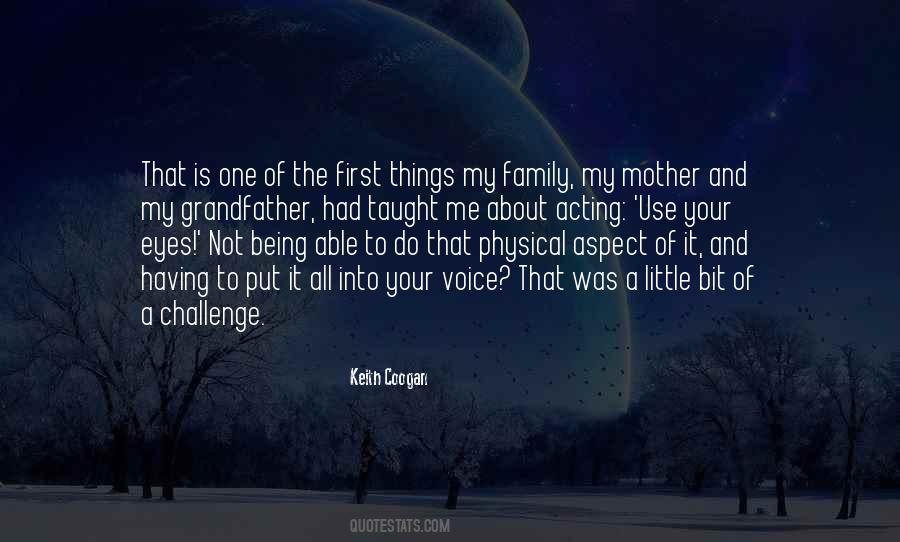 #29. What I miss most about Mexico isn't the food or the customs; it's my family and the way we'd all sit around chatting together. - Author: Javier Hernandez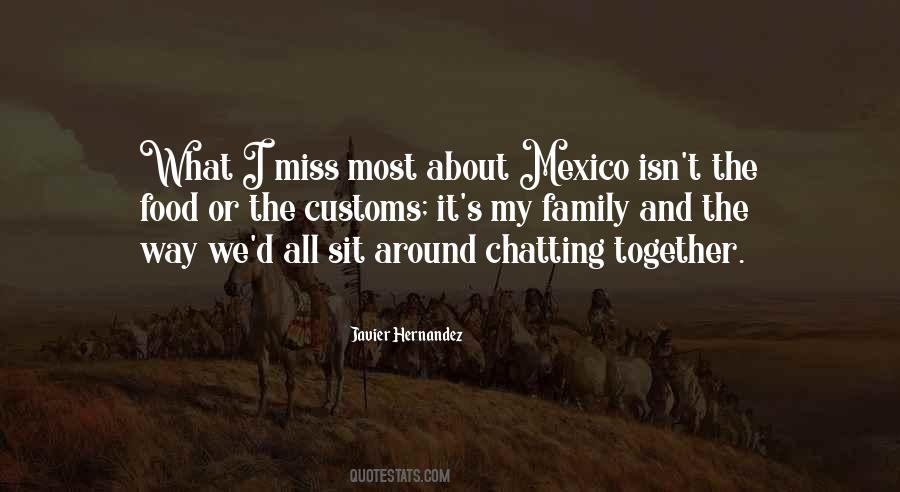 #30. Over the last couple of years, I've really worked toward balancing my life out more, having a little bit more time with friends, family and my boyfriend. There was a period of time when they were way down the list. It was all about music and touring and if everything fell by the wayside, so be it. - Author: Alanis Morissette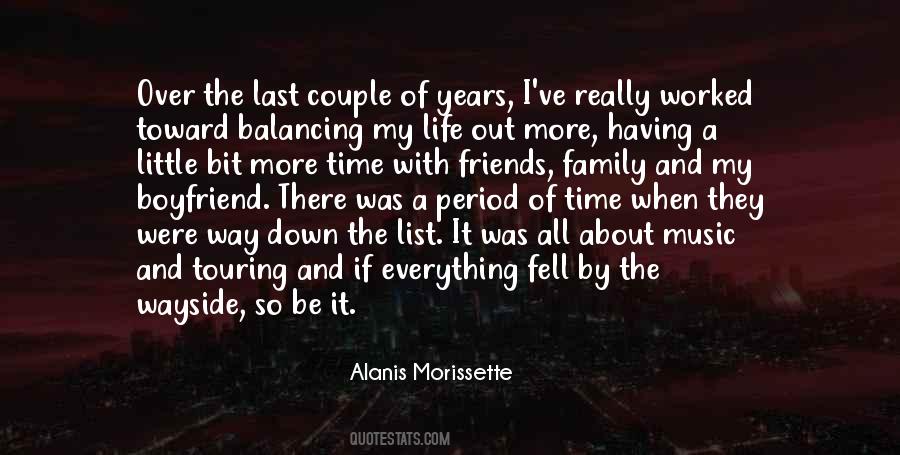 #31. I have been thinking about you a great deal this summer; having somebody take an interest in me after all these years makes me feel as though I had found a sort of family. It seems as though I belonged to somebody now, and it's a very comfortable sensation. - Author: Jean Webster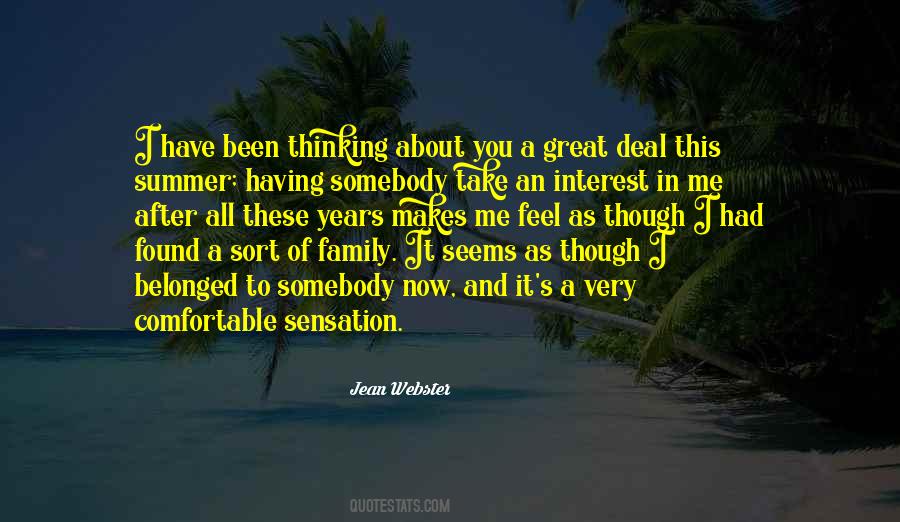 #32. A wise man once told me family don't end in blood, but it doesn't start there either. Family cares about you, not what you can do for them. Family's there through the good, bad, all of it. They got your back even when it hurts. That's family - Author: Eric Kripke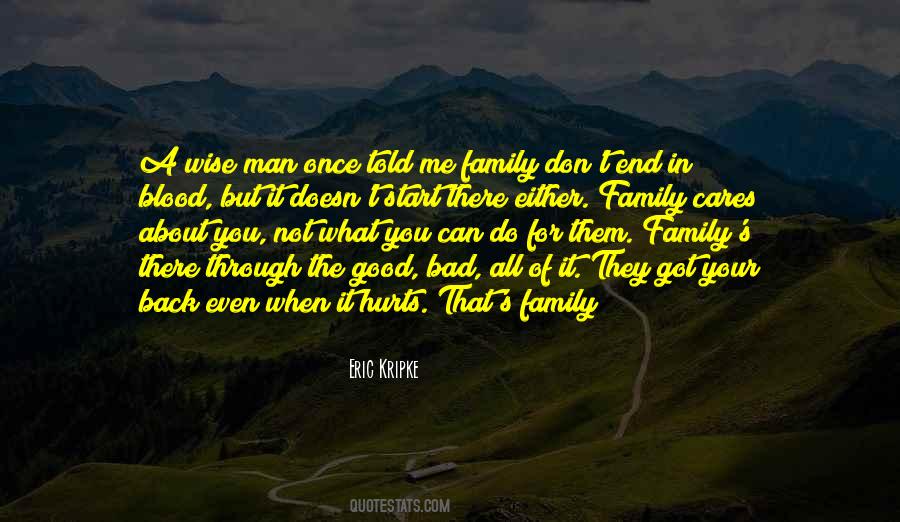 #33. African-Americans know about racism, but I don't think we really know the causes. I decided it's first of all a family problem. - Author: Bebe Moore Campbell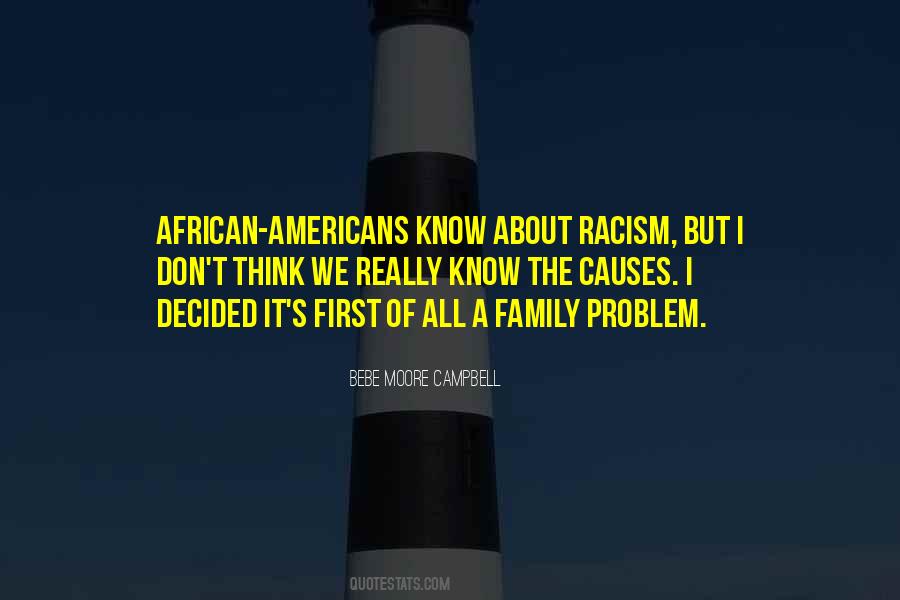 #34. With love like that, you can't get pick about how it finds you or the details. All that matters is that it's there. Better late than never. - Author: Sarah Dessen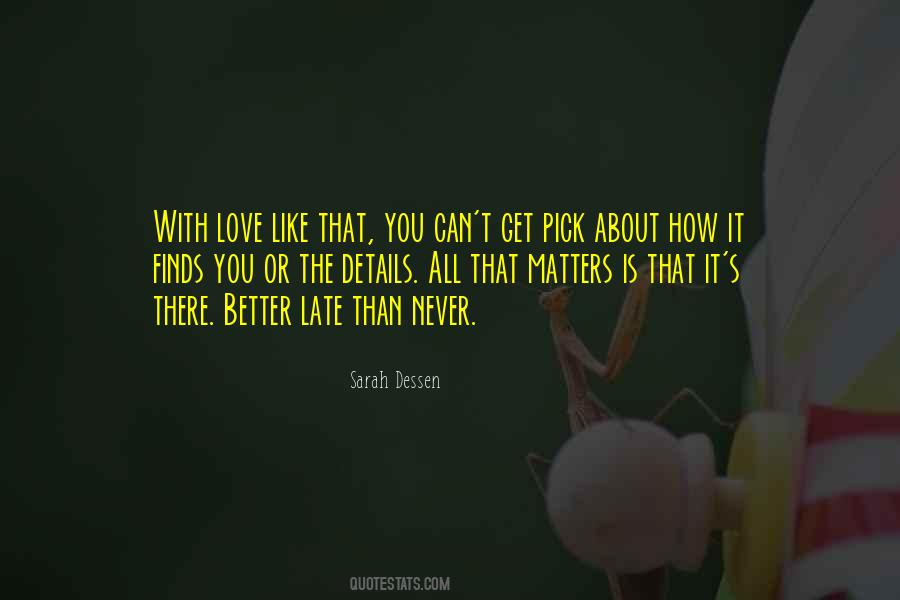 #35. You can follow your favorite company or organization. You can also mix that in with your family and your social network and talk about all these interests in real time. That's the value, not the brand 'Twitter.' Twitter just provides the venue for it. - Author: Jack Dorsey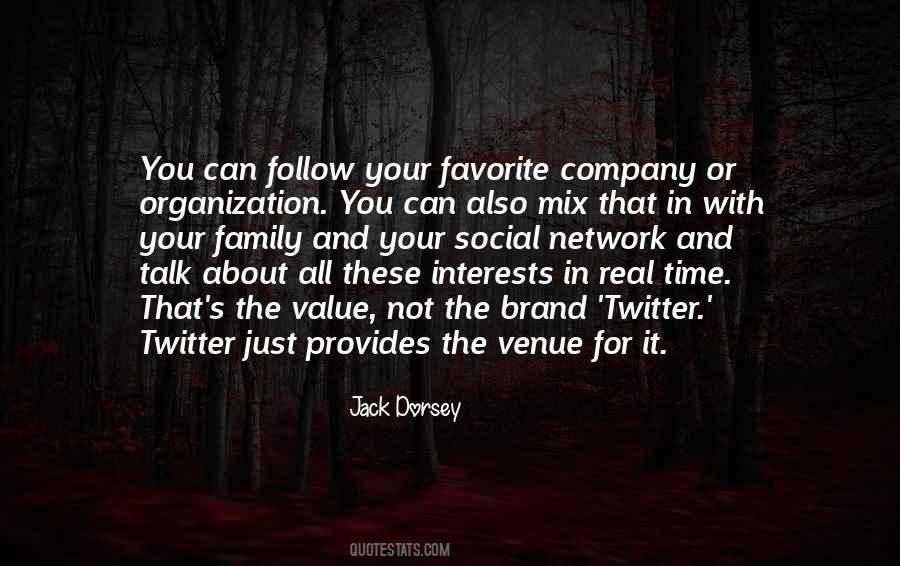 #36. We tend to harp on little things, or worry about something, when, really, it's just not that important. If you have a roof over your head, and you're healthy, and your family is healthy, that's all that matters. Don't let the little things get you down. - Author: Asher Roth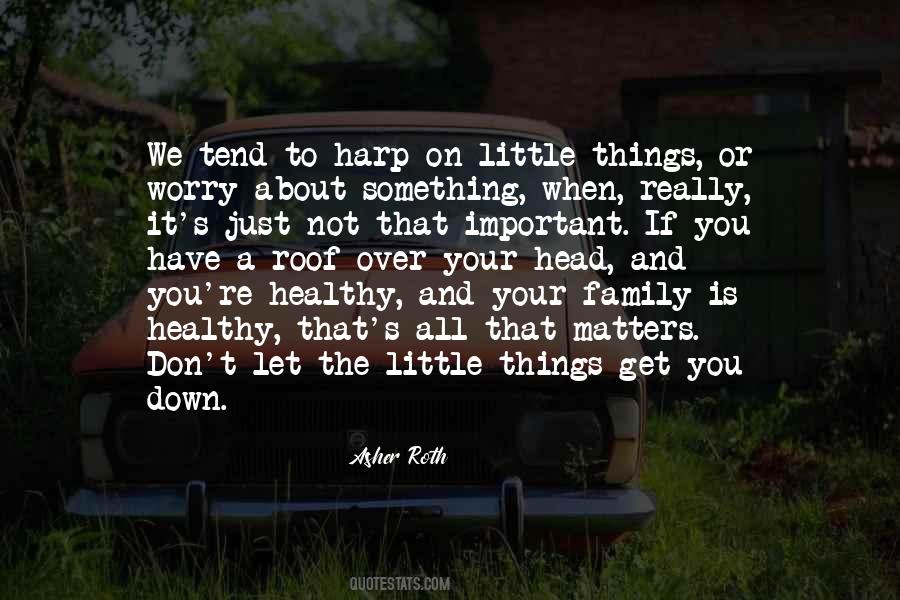 #37. Thats the irony of Josh and me, and it shames me every time I think about it. He has no family. No one to love him. I'm surrounded by love and I dont want any of it. I piss all over what he woud thank God for. And if I needed more proof that I have no soul, then there it is. - Author: Katja Millay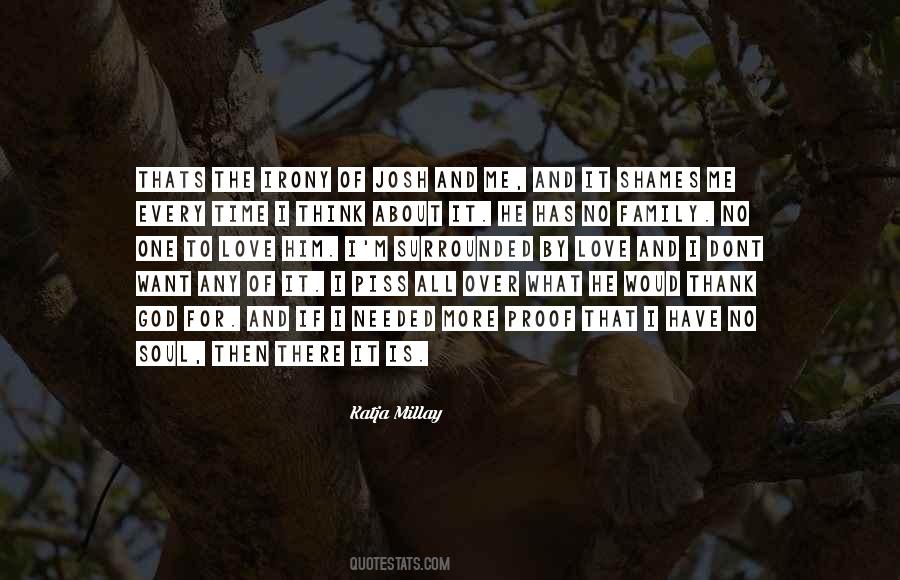 #38. The thing about families, Arlo thought, was that there was always some question nobody wanted to answer for you, and it was like a stray thread pulling loose in a sweater. You could tug at it all you wanted, but in the end, all you'd have was a pile of twisted yarn. - Author: Sarah Sullivan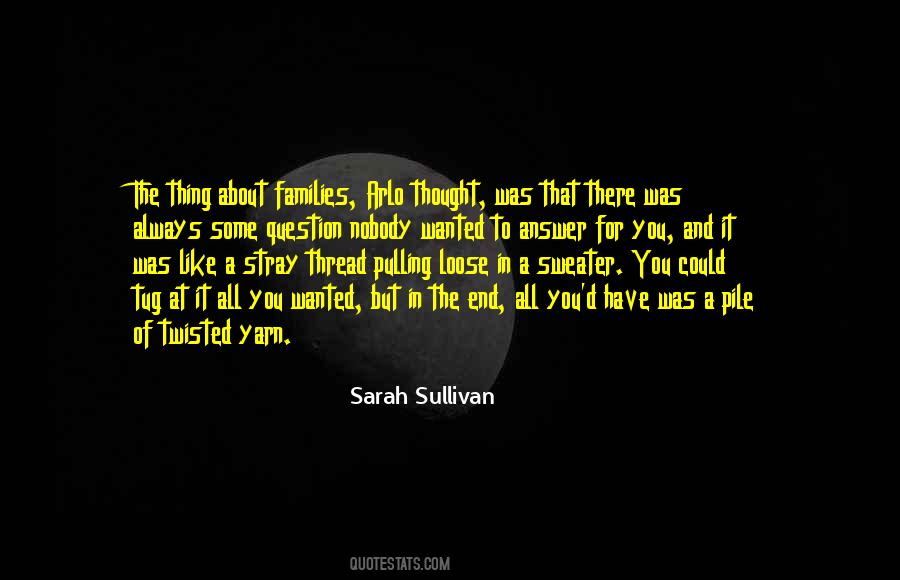 #39. You live a life, you have a family, you sing your songs. You do not think about these things. You just do them. And then one day, it all make sense to you. - Author: Julio Iglesias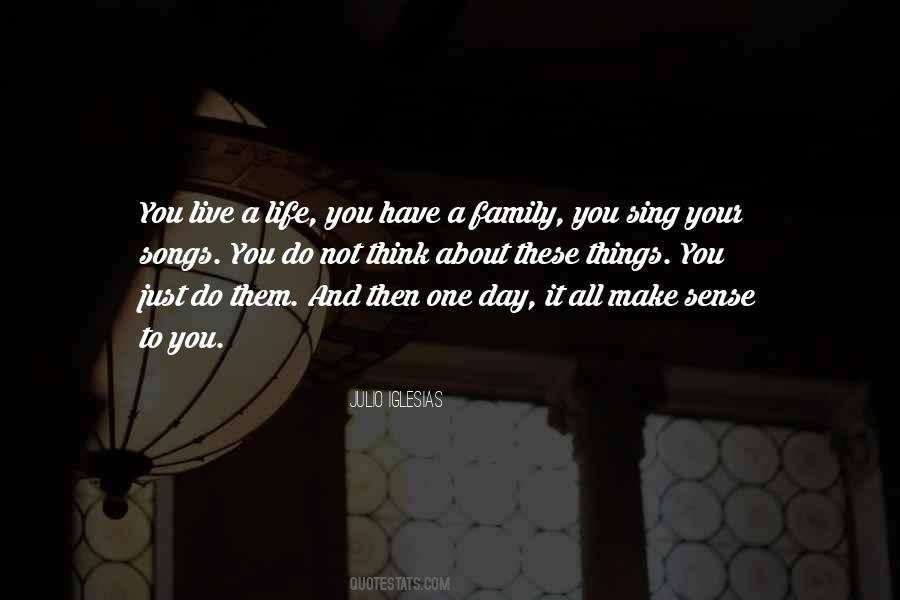 #40. I'd lost my family to my years of failing as a songwriter. All I had were bills, child support, and grief. And I was about to get fired. It looked like I'd trashed my act. But there was something liberating about it. By not having to live up to people's expectations, I was somehow free. - Author: Kris Kristofferson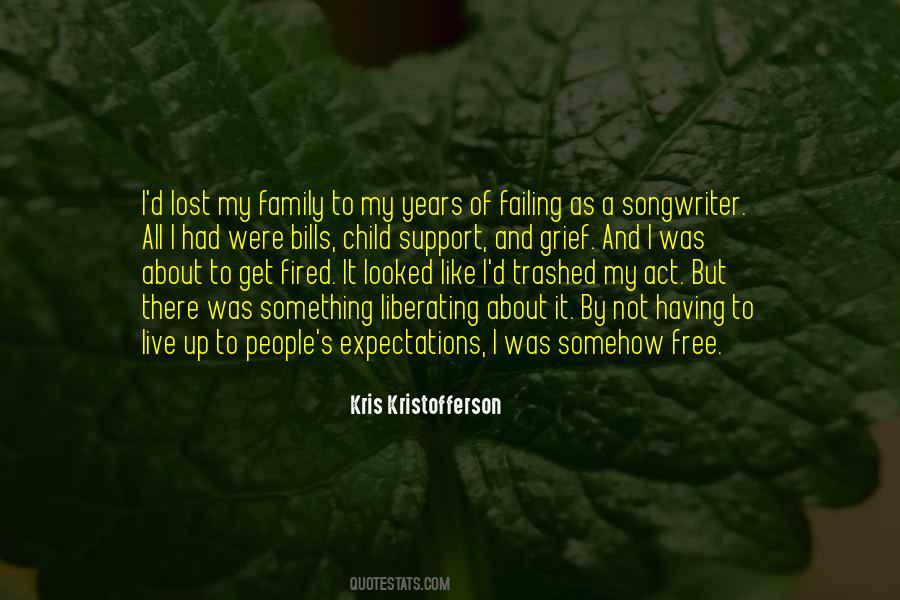 #41. People dream. They talk about escaping from it all. Their friends and family diligently listen and politely ignore it when the ruminations fade into oblivion. So quite a few eyebrows went up when I made this trip a reality. - Author: Kristine K. Stevens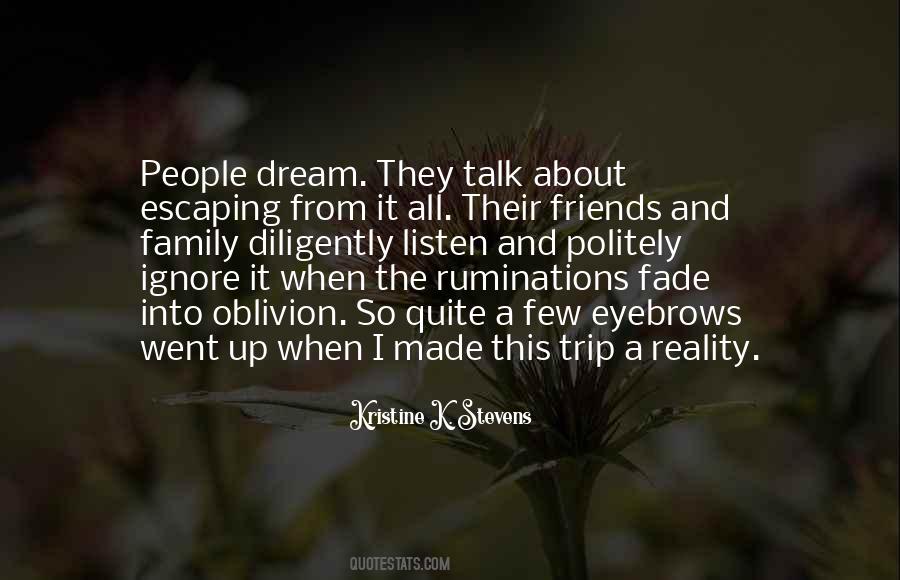 #42. He [Ryan White] had a kind of angelic aura about him. And his family, too, it's like, they are going through all this suffering, and I'm living this "Life of Riley" and I'm complaining about everything, and they are living this horrific life and complaining about nothing. - Author: Elton John
#43. A building get torched. All that is left is ashes. I used to think that it is true about everything - family, friends, feelings - but now I know that sometimes if love proves real, and two people are meant to be together, nothing can keep them apart. - Author: Sarah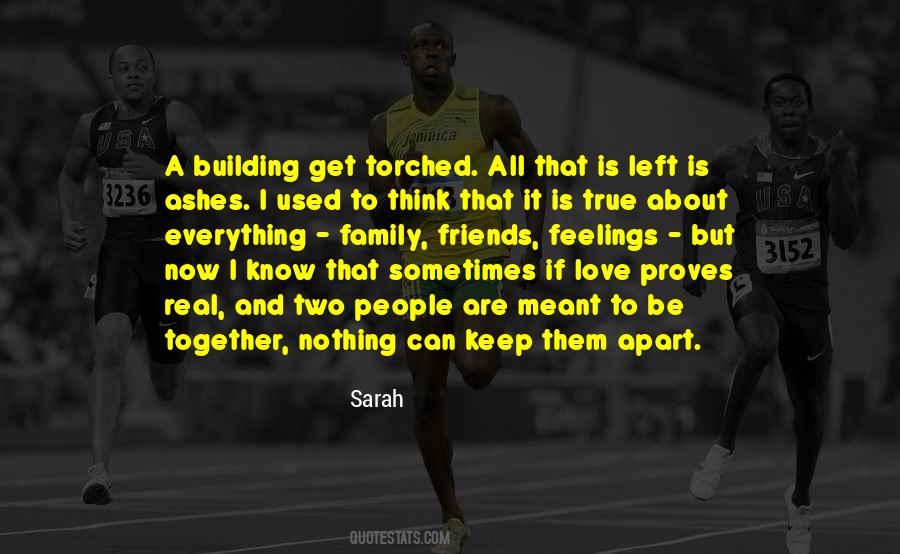 #44. Maybe all that silence about my brother did something to me. I think it did. Not talking can make a guy pretty lonely - Author: Benjamin Alire Saenz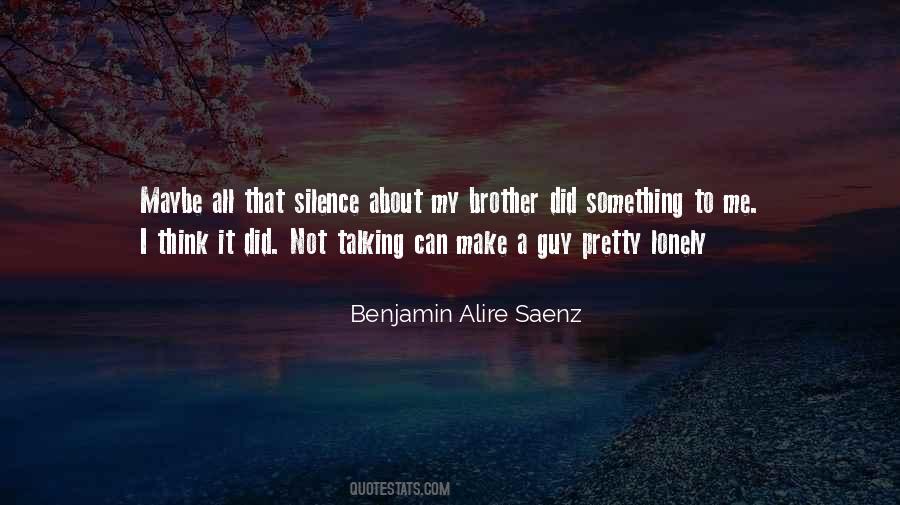 #45. already thinking about the good and the bad and the deep human necessity of it all, and how anybody ever got anything done without family, and how someone could give that up in the amount of time it takes to seal an envelope, with the same saliva once used to seal a marriage. - Author: J. Ryan Stradal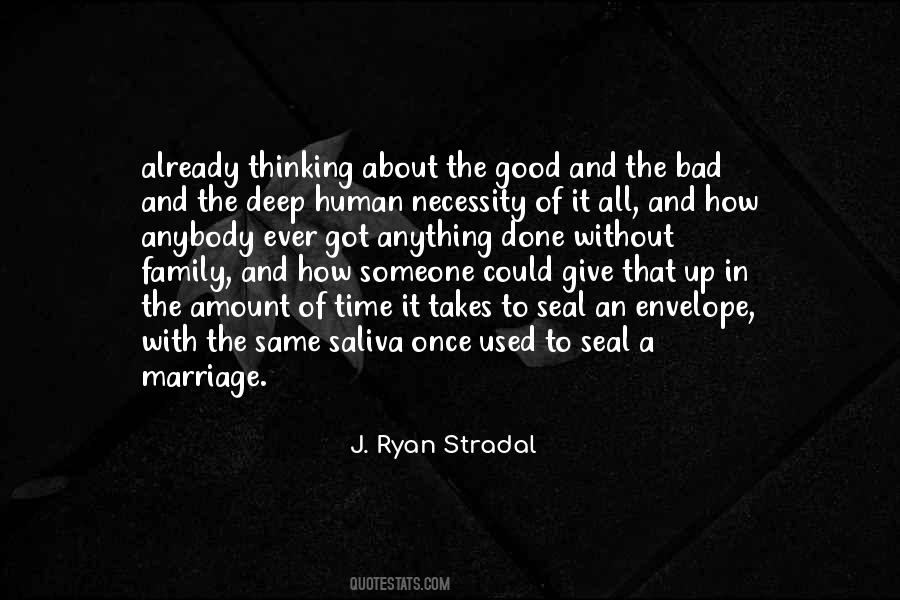 #46. I was brought up with two sisters, so I do know about a three-way dynamic. It's a complex one, because it's easy for one to get left out and the others to gang up. In my family, we were all pretty up for it, but the dynamics would constantly change. - Author: Anna Chancellor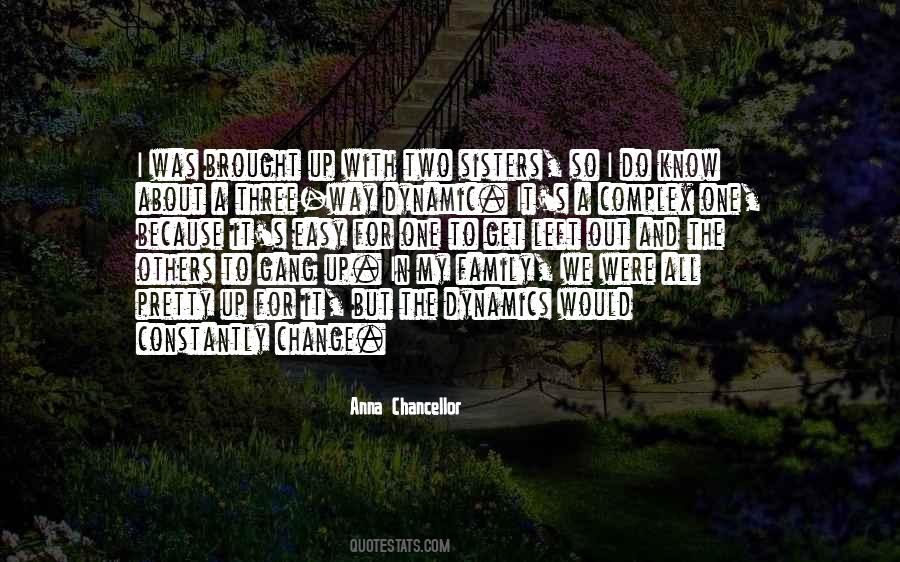 #47. The second rule is family is a choice."
I thought about that. "You can't choose your family. It's all blood relations."
"Family consists of people you care about, who care about you, who try to make an effort. - Author: C.L.Stone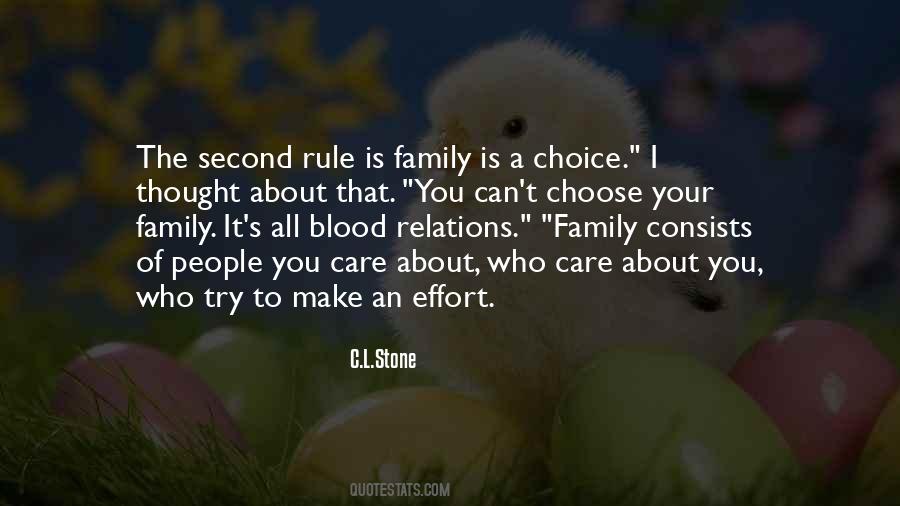 #48. I prick my hand as I seize the rose from her. "I'll think about it." A small spot of blood forms on my palm and I realize I've been bleeding on the inside this whole time, all these years. It was only a matter of time before it showed on the outside. - Author: Tracy Krimmer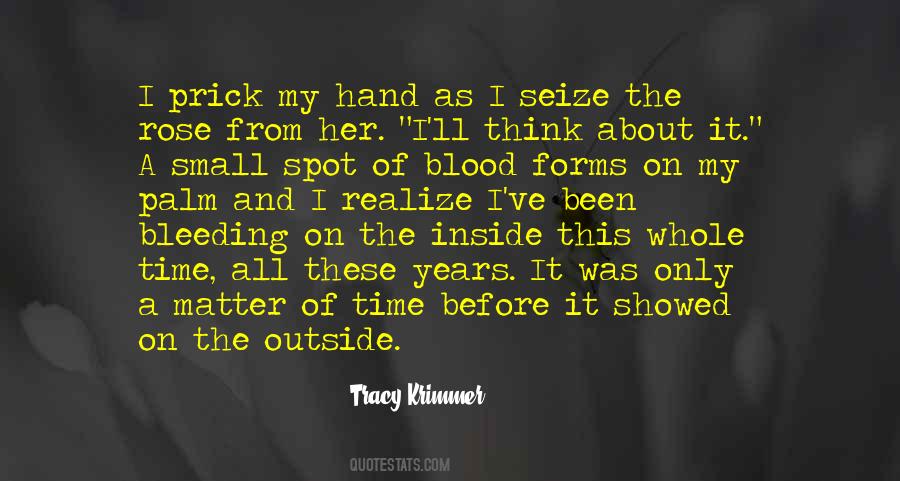 #49. The distinctive feature of my family was intolerance of sensitivity and emotion - 'Everything's great, it all has to be great all the time and why do you have to spoil it?' Whereas probably the most fundamental and important thing to me has been defending my right to tell the truth about how I feel. - Author: Rachel Cusk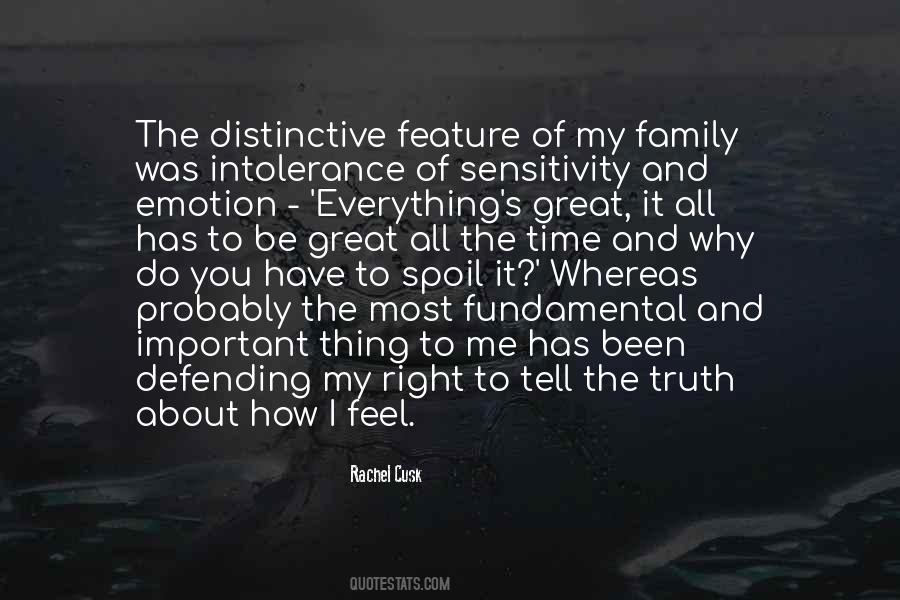 #50. What's so amazing about 'All in the Family' is sometimes an entire act was one camera shot. It was all about characters. - Author: Adam Green
#51. I've managed to dodge the curse. Not all my family have. Of course, music helped me - music is all about civilization, about something worthwhile. It's all about ideas. - Author: Gordon Getty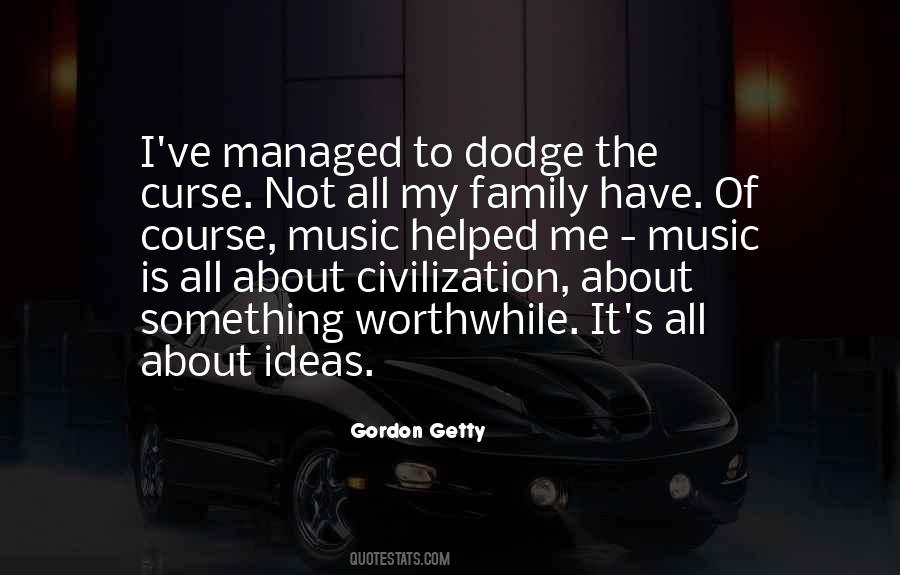 #52. For me, the spirit of Christmas means being happy and giving freely. It's a tradition for all the kids in the family to help mom decorate the tree. Christmas is all about family, eating, drinking and making merry. - Author: Malaika Arora Khan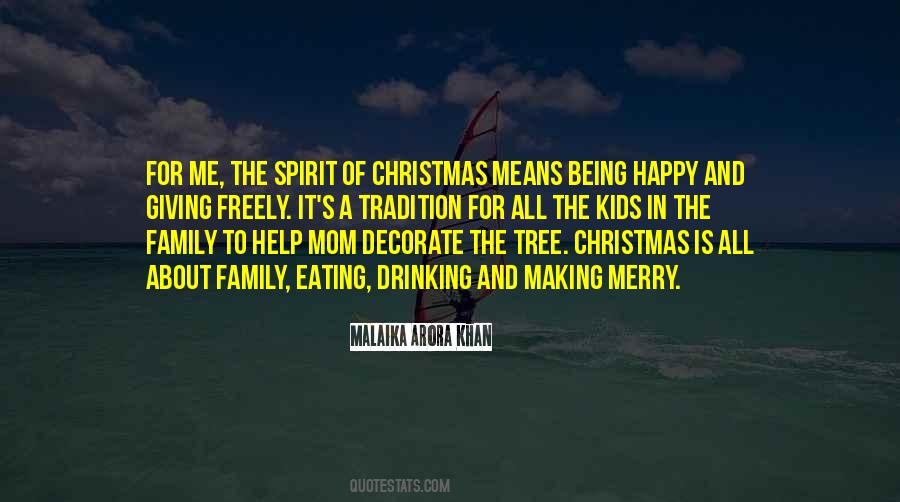 #53. I want longevity; I love music, being a musician is the greatest gift in the world to me, and if I were to get signed to a label, my family and team around me are always gonna be there to make sure they want the very best for me. My fans are what it's all about ... - Author: Christina Grimmie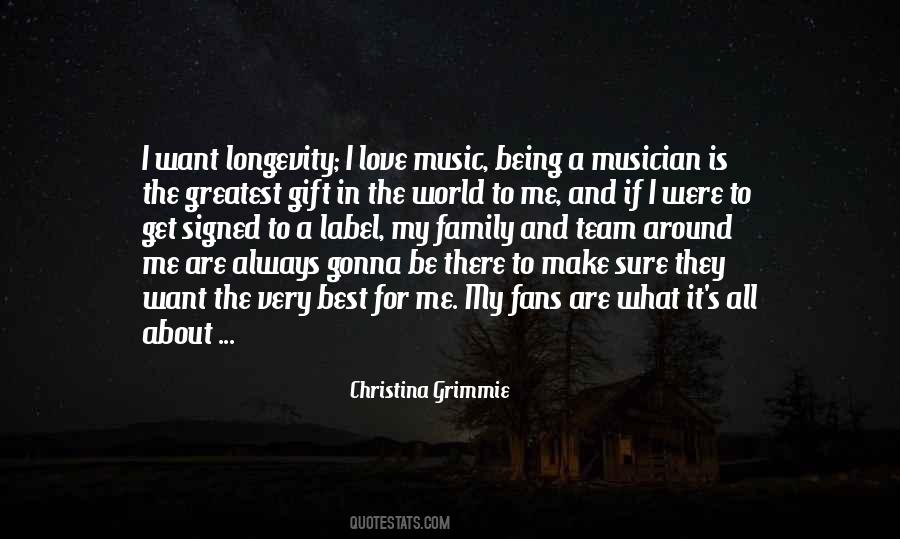 #54. Even though I have a nice house, nice family, the rest of my generation is still in South Central L.A. My cousins, my brothers, my sisters, they don't wanna move out. They don't want to and they don't have the means to sustain it. That's where my heart is and that's what I think about all the time. - Author: Ice Cube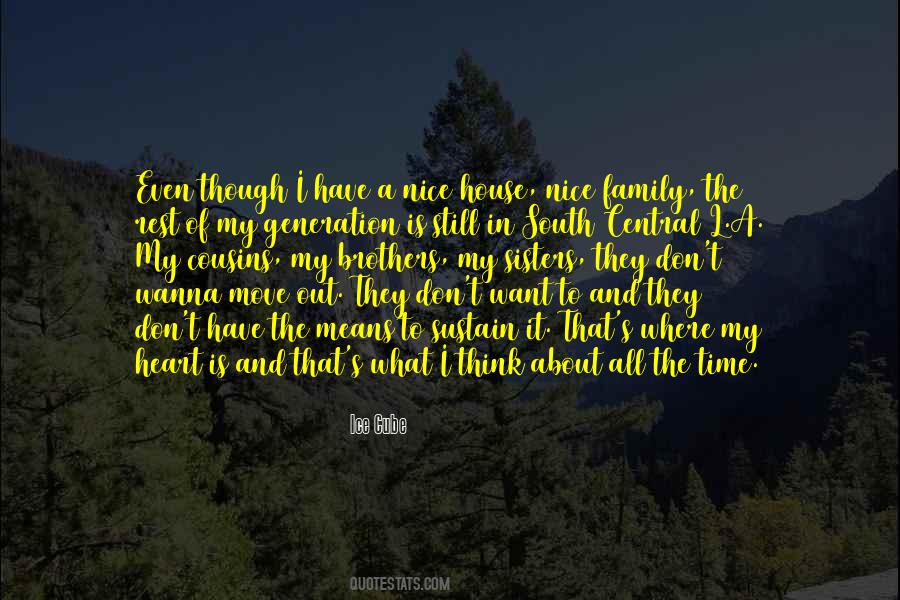 #55. Let's be honest: it's not like I'm not making a good living that the whole family benefits from. No one talks about my foul mouth when we're all in Aspen for Christmas. - Author: Daniel Tosh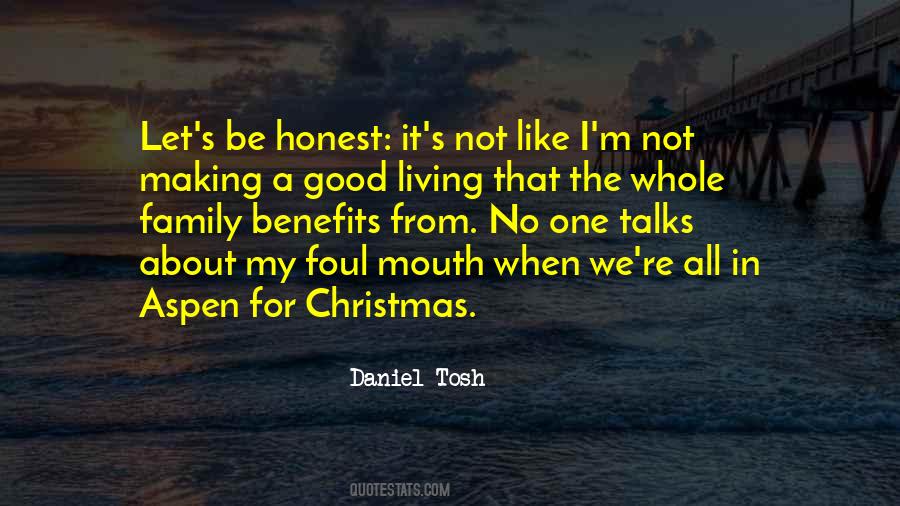 #56. It's all about how can you take care of yourself when furthering your life's goals and ambitions, and purpose and whatever you choose - family, career - to maintain a really balanced, whole, healthy outlook. - Author: Abigail Spencer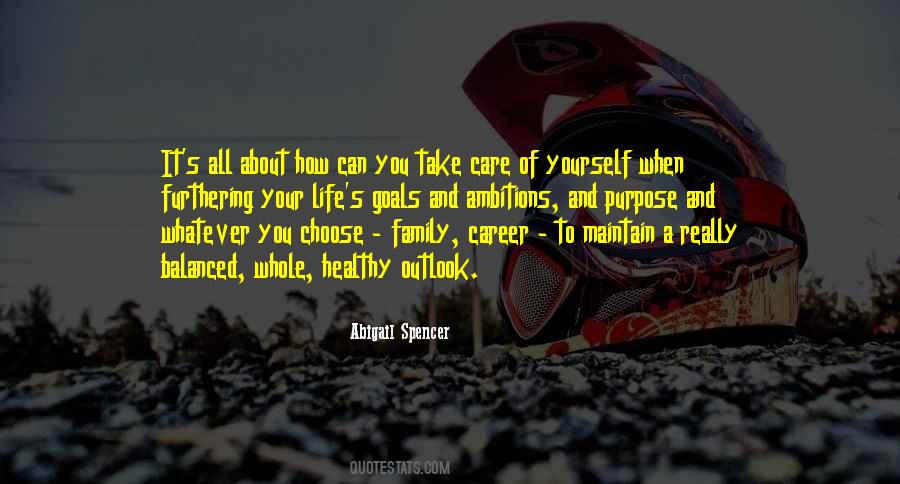 #57. Religion and gods and beliefs - for me, it all comes down to your brother. And your brother might be the brother in your family, or it might be the guy next to you in the foxhole - it's about human connections. - Author: Eric Kripke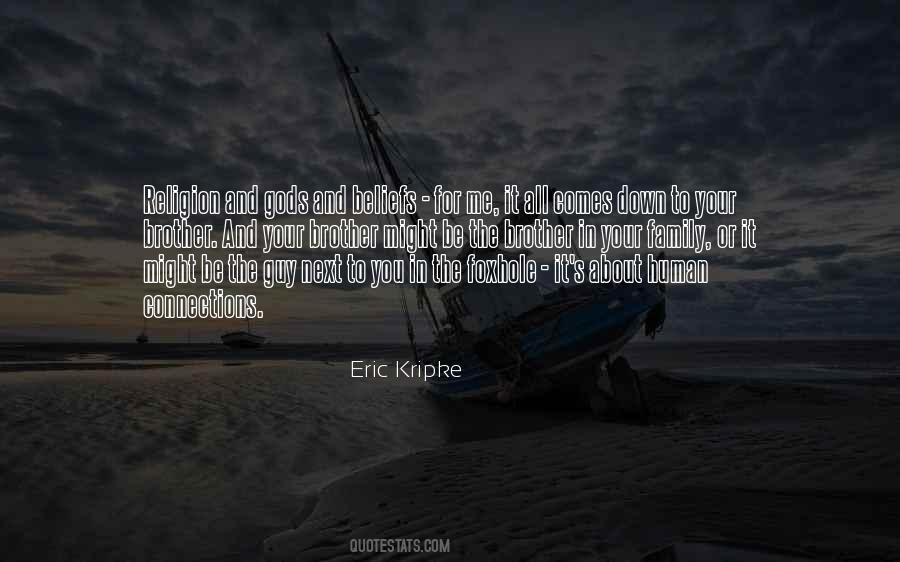 #58. Absolutely the worst thing about this job is the travel and being away from family. I have a wife and three wonderful children, the kids are all active in sports and it's very difficult to up and leave and miss them growing up. - Author: Roy Clark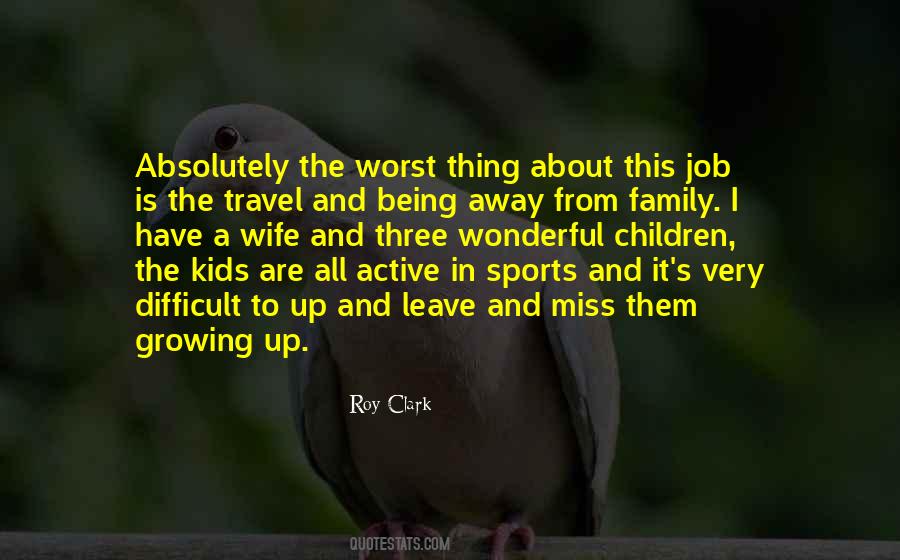 #59. I'm from a big family - I'm the youngest of seven - and my wife is one of four. So we always wanted a lot of kids. It's what we're used to, and for us it's what life is all about. - Author: Chris O'Donnell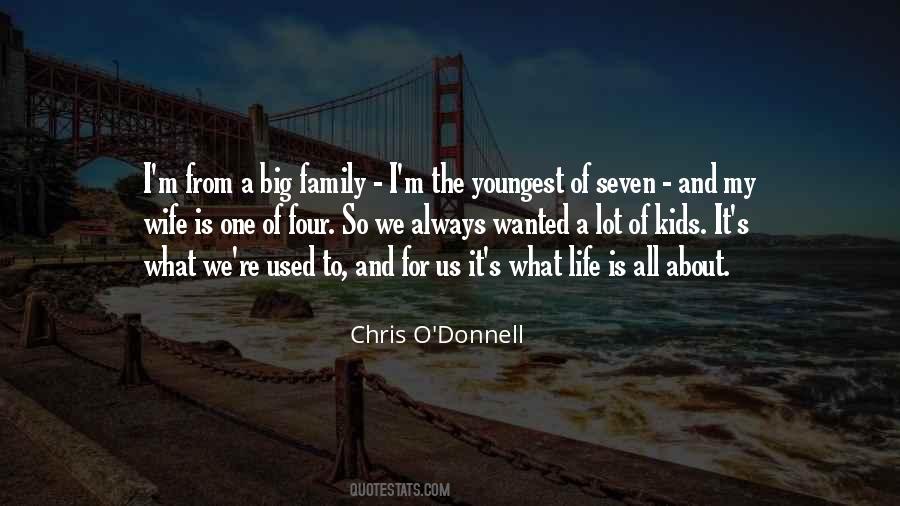 #60. It's impossible to be someone you're not, so quit trying. I am as passionate about my hobbies as I am about my work and my family. All three are equally important to me at all times. - Author: Gautam Singhania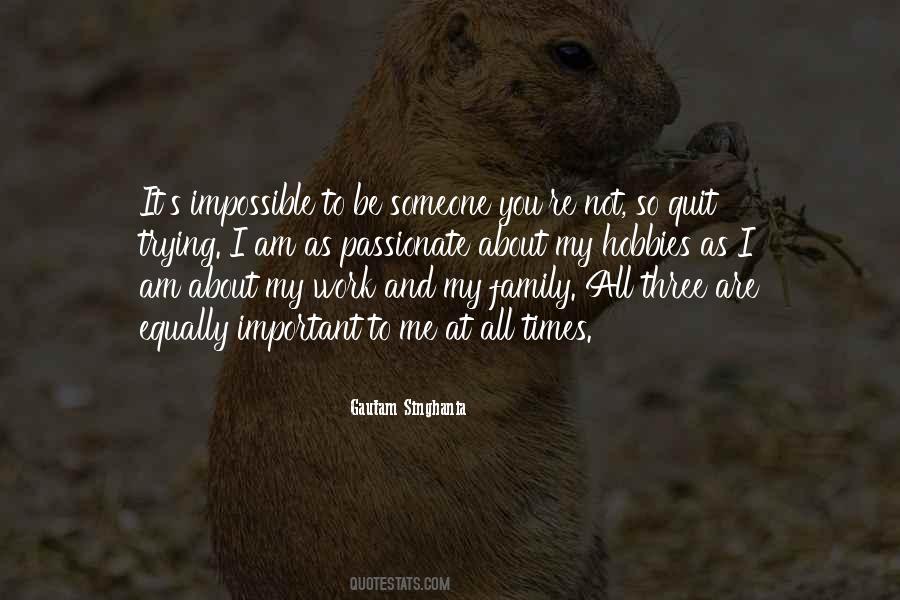 #61. Being on a comedy tour is like traveling with family, everyone is all having a great time ... then all of a sudden it turns sour. One thing gets said out of turn, and everyone is on everyone's last nerve. After an hour of silence, we all start laughing about it. - Author: Steve Harvey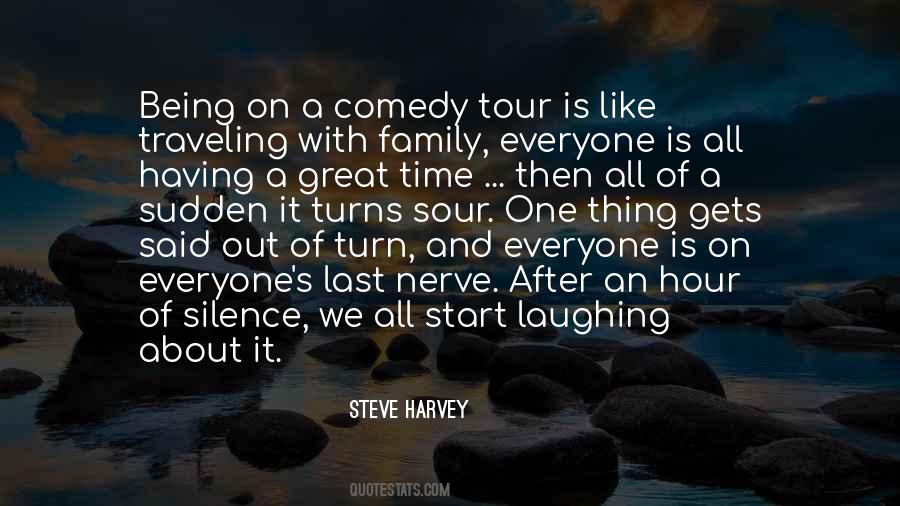 #62. It all starts with the script: it's not worth taking myself away from my family if I don't have something I'm really passionate about. - Author: Steven Spielberg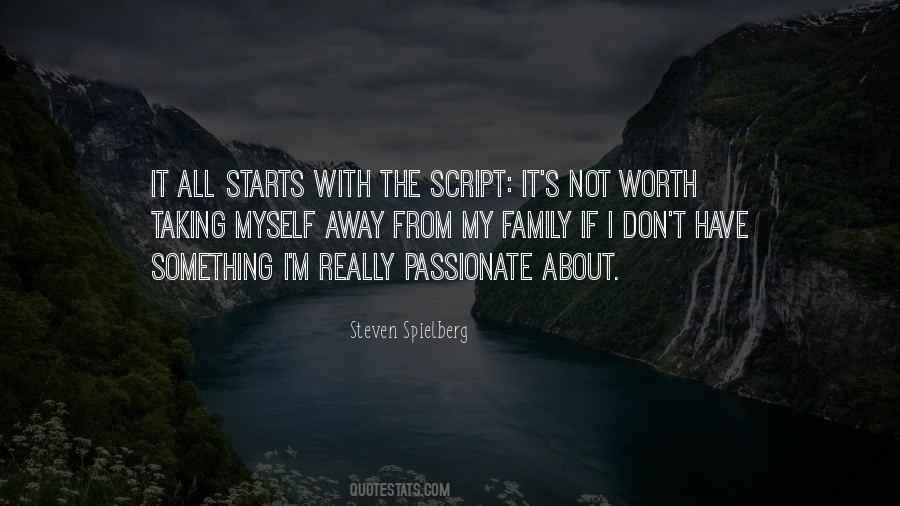 #63. People forget that keeping a band together is hard; man, it's really hard. All the cliches apply about living in each other's pockets; of it being a relationship, a marriage, a family. - Author: Dean Wareham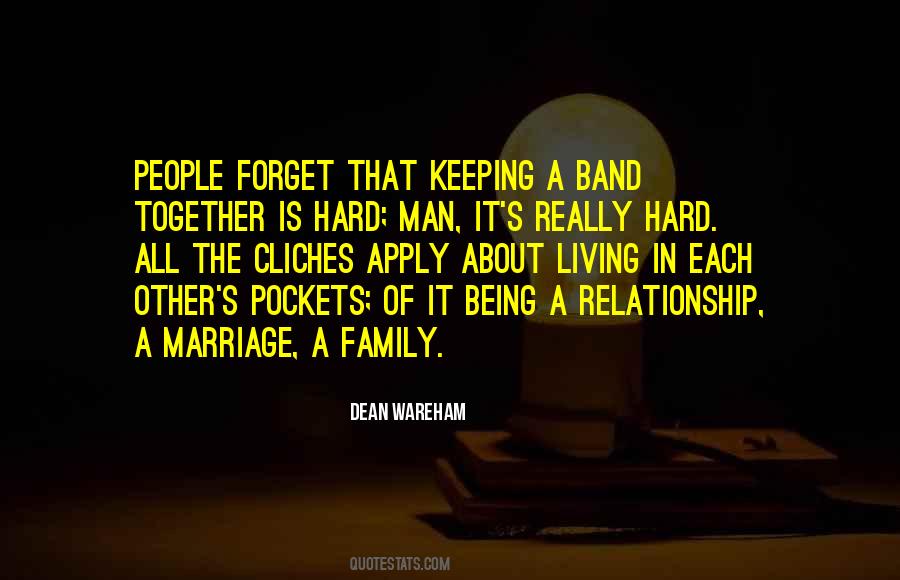 #64. Lily, the next time you tell me you don't know what to do with family. Because you know exactly. It's about loyalty and kindness and unconditional love, and you are more than capable of all that. - Author: Jill Shalvis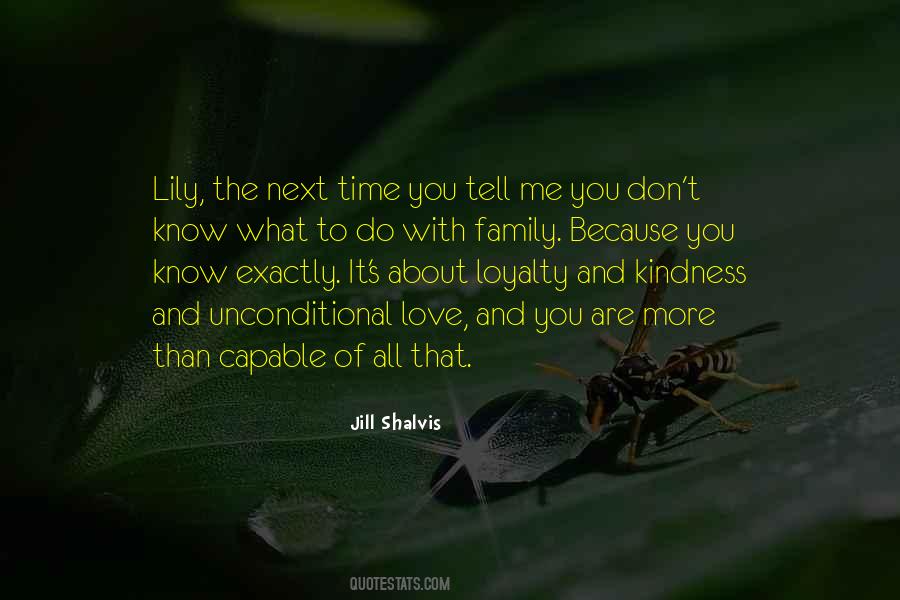 #65. Acting is our job, not talking about it. In France, they know me like I belong to their family. I go somewhere and I feel like I'm sometimes the aunt, the grandmother, the mother, the sister. They all know me. But it's not supposed to be that way. - Author: Carole Bouquet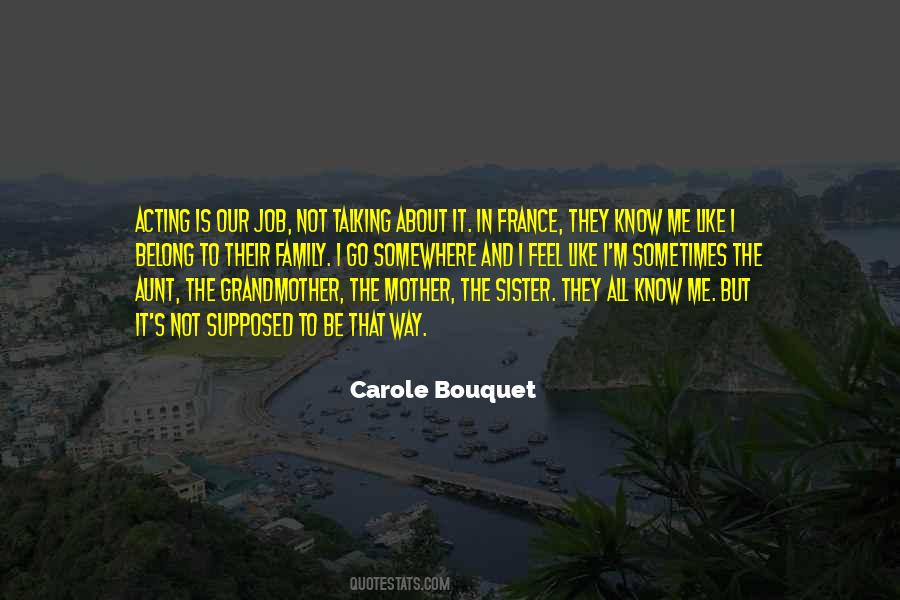 #66. Immigration is not an issue that I read about in the newspaper or watch a documentary on PBS or CNN. It's an issues I've lived around my whole life. My family are immigrants. My wife's family are immigrants. All of my neighbors are immigrants. - Author: Marco Rubio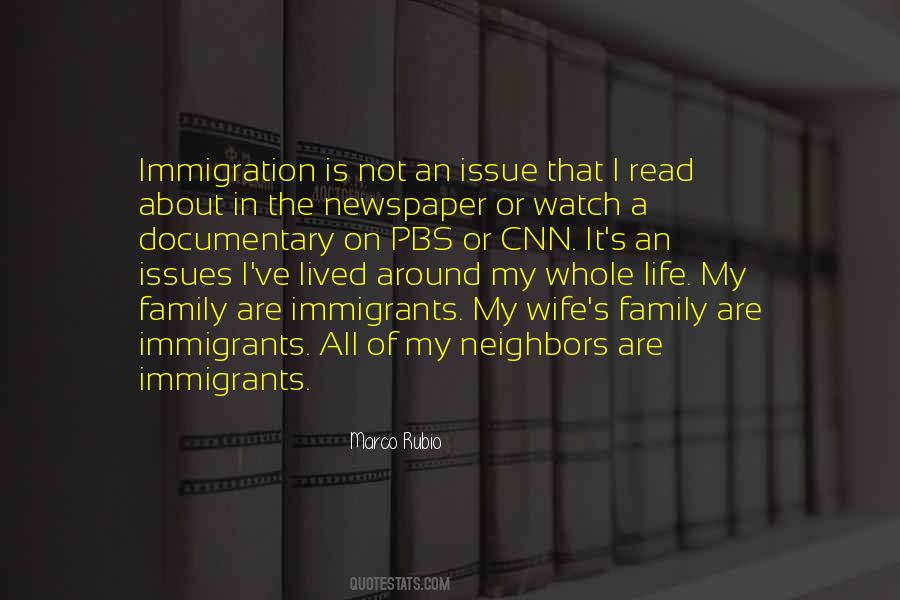 #67. One of the reasons we all still read Jane Austen is because her books are about universal things which still matter today - love, money, family. They haven't gone out of fashion, so it's not throwing the baby out with the bathwater to rework her in a contemporary style. - Author: Val McDermid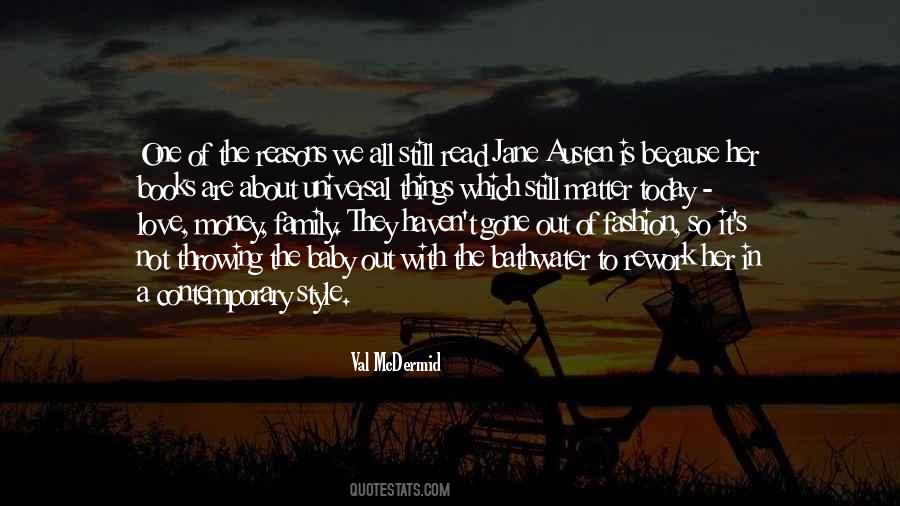 #68. I can sit underneath the shed with all my family, my cousins, and everything, and just be like, "Yeah, this is what it's about - just sitting with people you love and hanging out." - Author: Channing Tatum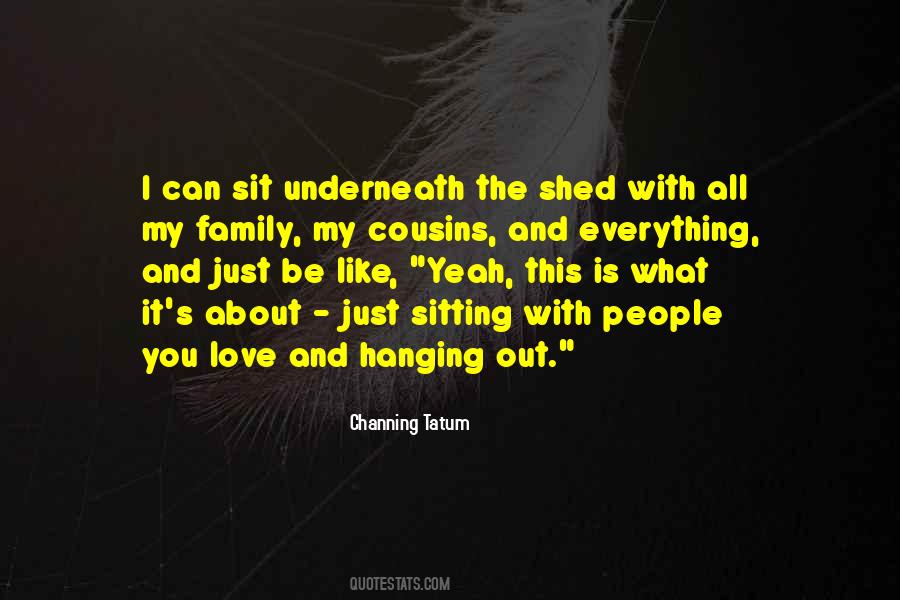 #69. You know, as I get older, personal happiness is all about love. It's all about love. You know, how I'm loved and how I love my family and my husband. That to me is happiness, when I feel like I am loved and I have a place to love deeply. That to me is happiness. - Author: Jada Pinkett Smith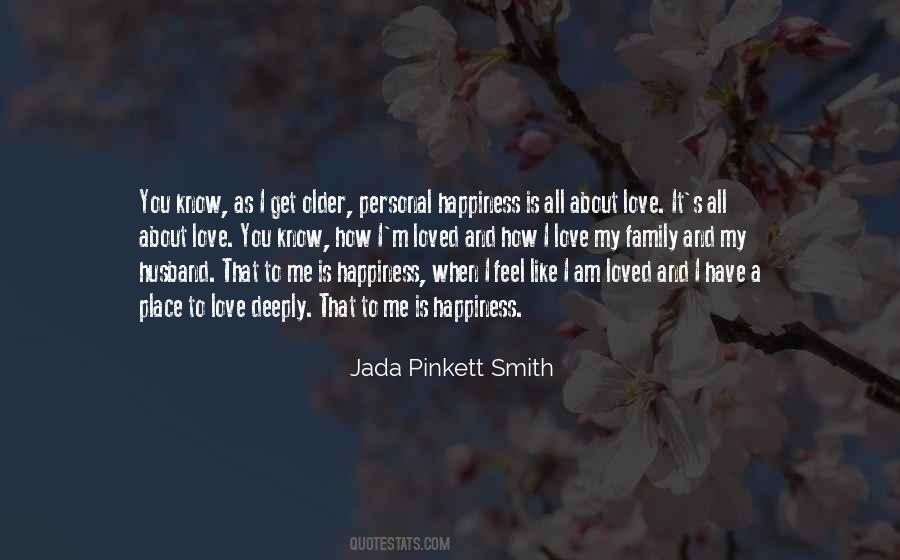 #70. You're in my dreams every night. I wake up in the morning and all I think about is you in my house, you and Noah finally mine. My family. It's even better than ridin' my bike. I'm crazy for you, Soph. - Author: Joanna Wylde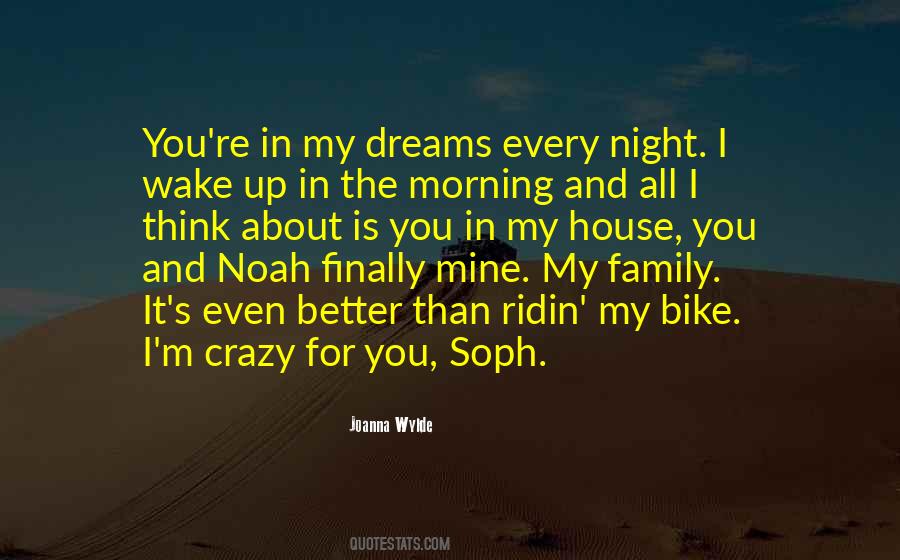 #71. You can achieve all the things you want to do, but it's much better to do it with loved ones around you; family and friends, people that you care about that can help you on the way and can celebrate you, and you can enjoy the journey. - Author: John Lasseter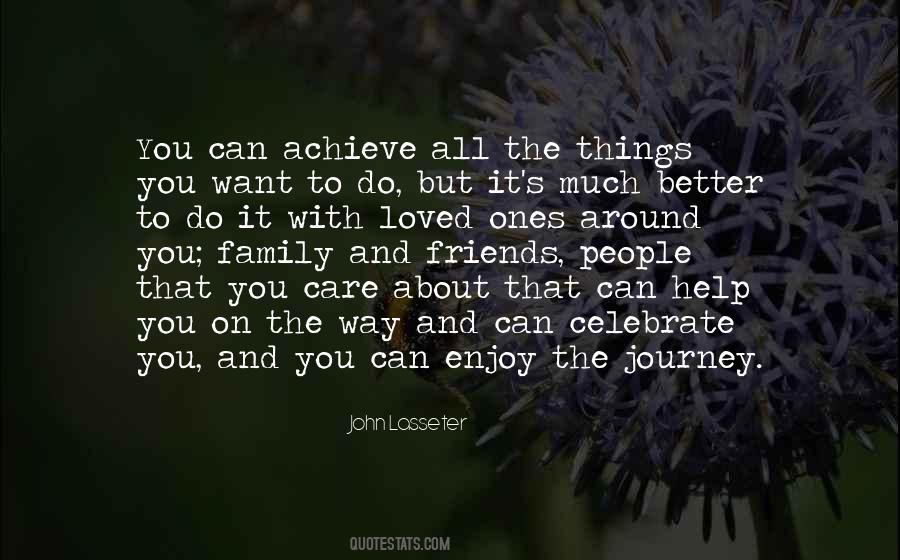 #72. A family's photograph album is generally about the extended family and, often, is all that remains of it. - Author: Susan Sontag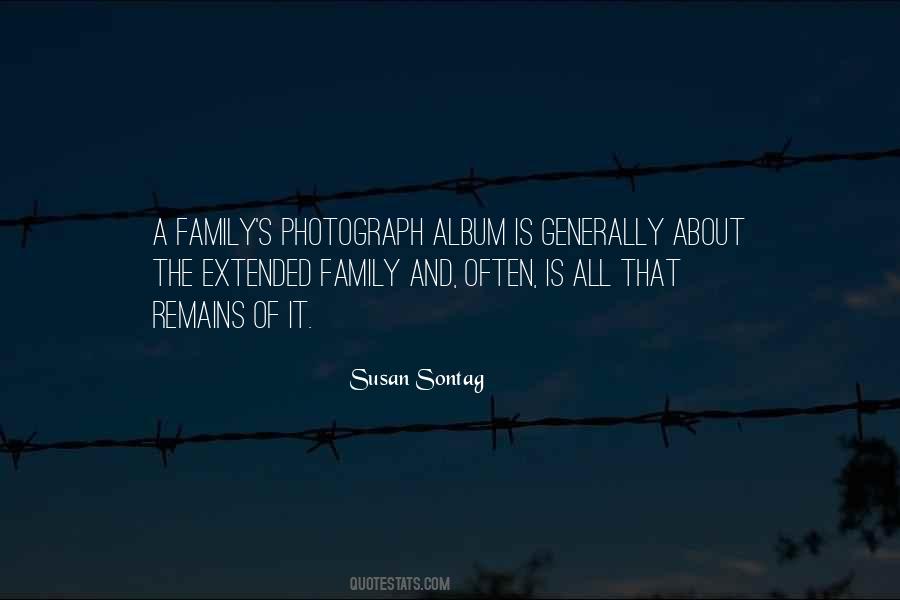 #73. I want to have a big family. My parents have been together for 36 years, and that is what I want. I am in that place. It's all good in that part of my life. It's one part of my life that I'm learning about every day. I've been challenged a lot by it, but it's the most rewarding part. - Author: Gisele Bundchen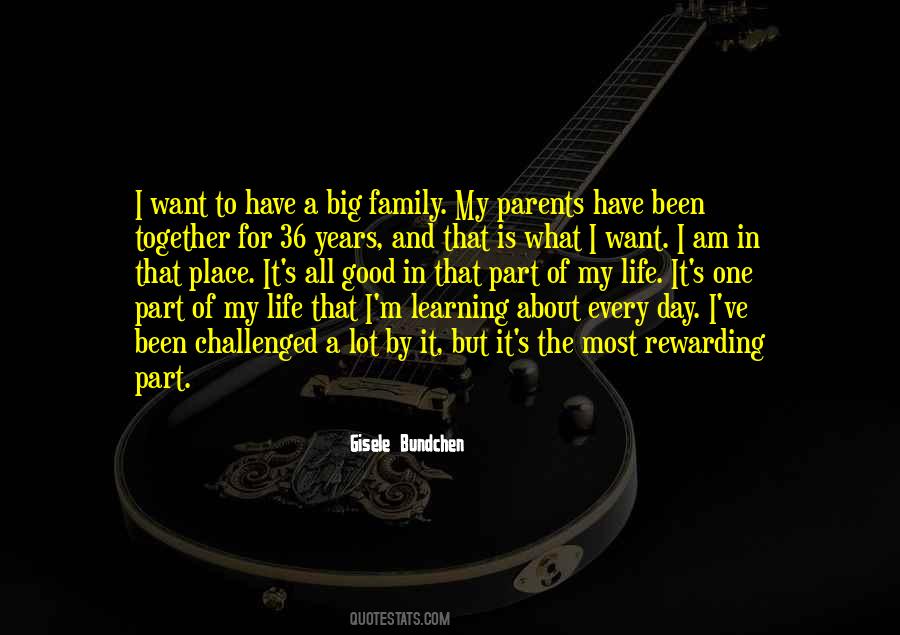 #74. One of the things I want to do with 'Desi Rascals' is go a bit deeper into the characters and their family lives and have a bit more heart and a bit more inter-generational story-telling, so it's not all about young people. - Author: Gurinder Chadha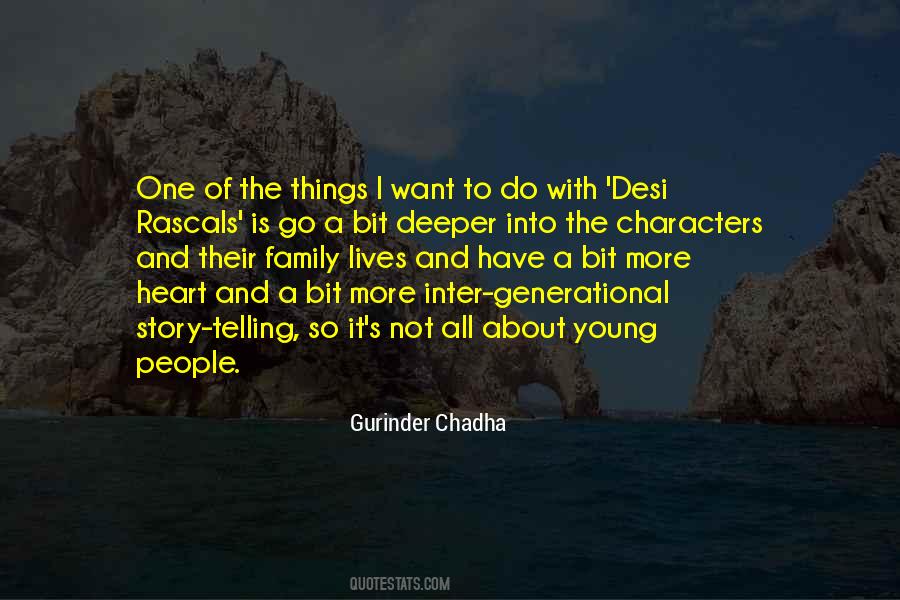 #75. I blinked at my mate. Then grinned, not bothering to hide the savagery within it. "Hybern has no idea about the hell that's about to rain down upon them, do they." "Here's to family reunions," was all Rhys said. Then - Author: Sarah J. Maas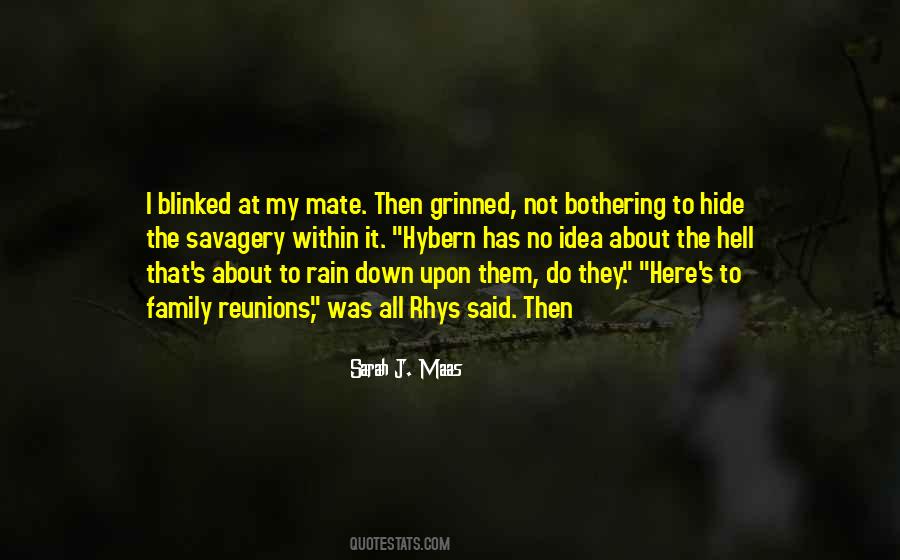 #76. 'Game of Thrones' isn't all about magic - it's way more about political scheming and family tensions - but to be a part of this exclusive magic club is actually really cool. - Author: Isaac Hempstead-Wright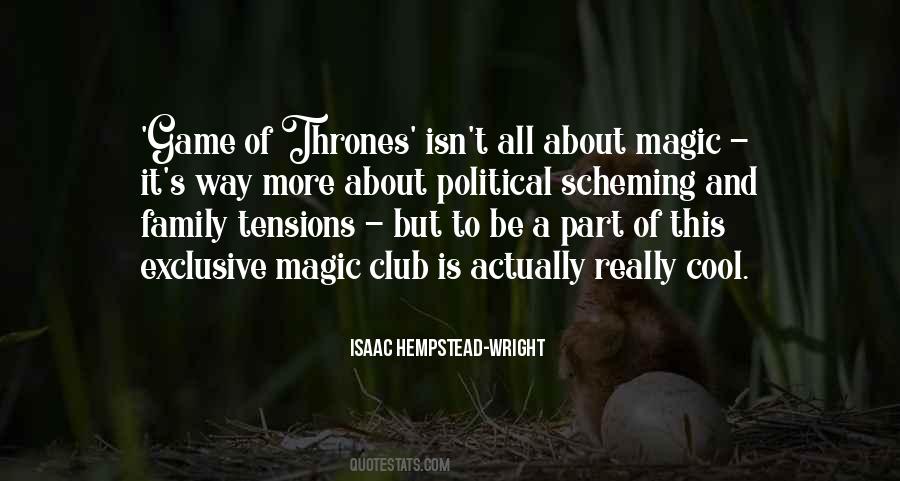 #77. It's really all about family, love and the children for me. I work at that every day. - Author: Celine Dion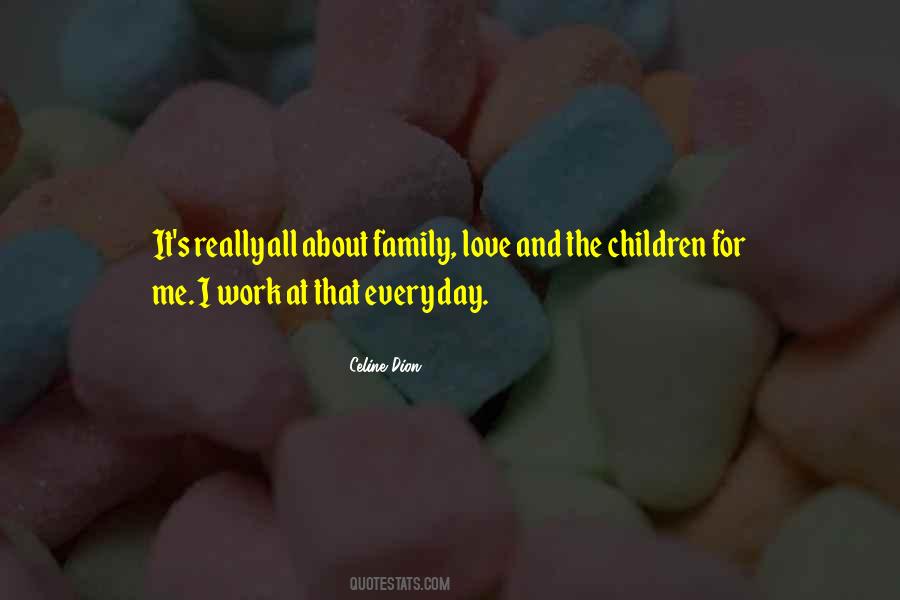 #78. You go through life wondering what is it all about but at the end of the day it's all about family. - Author: Rod Stewart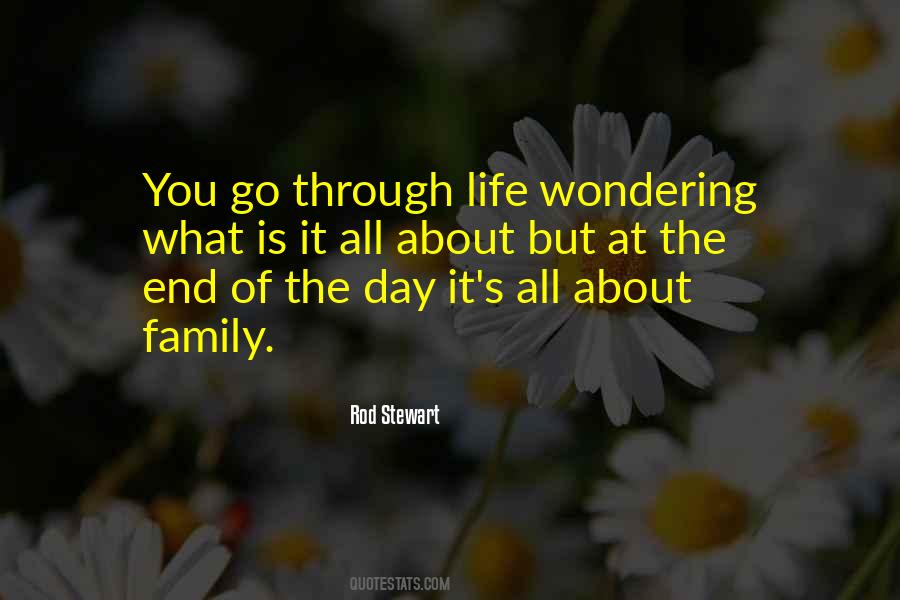 #79. I don't mind talking about my family and how to balance it all. But, in today's world, we should probably be asking both women and men about work and family and how to balance the two. - Author: Kelli O'Hara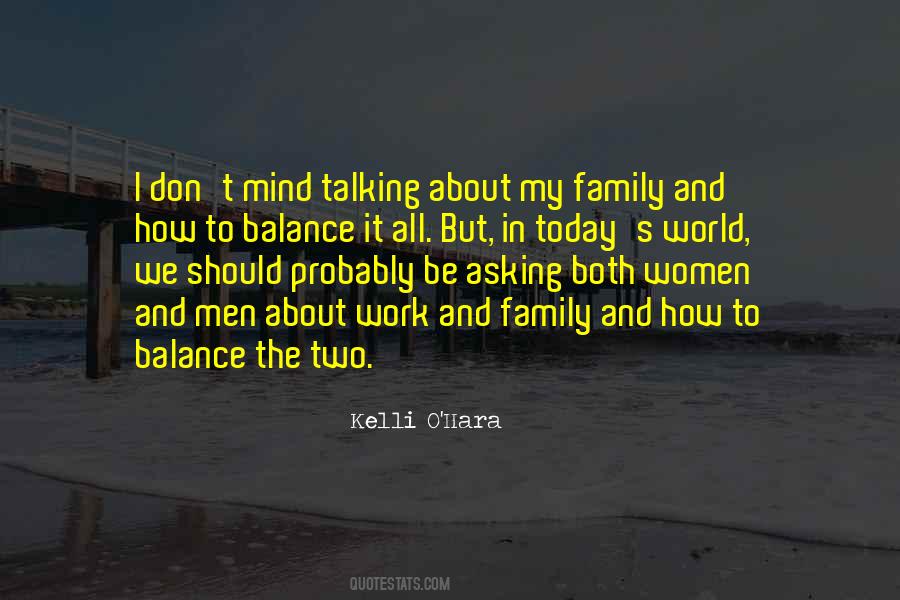 #80. If there is one thing about my family that I do identify with, it is that everyone is extremely hardworking. Also, the people whom I grew up with all did things they really loved. And I think that's an important lesson. - Author: Rooney Mara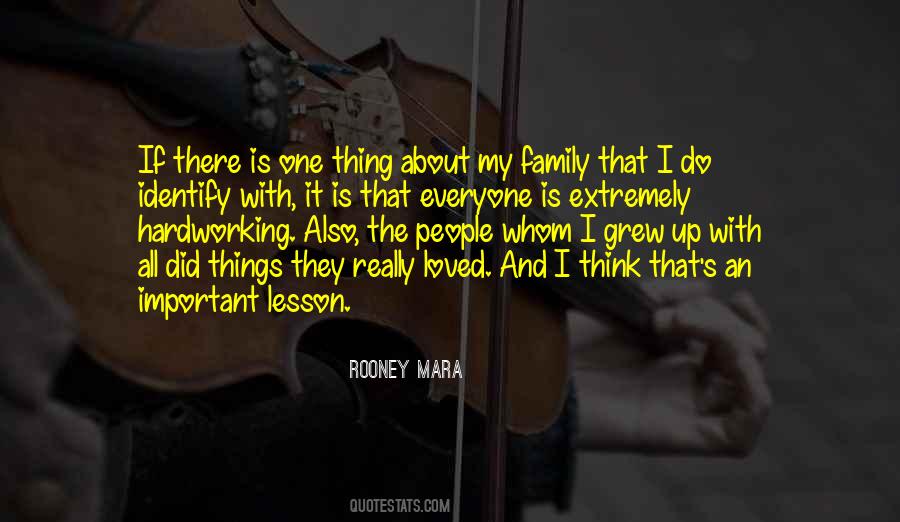 #81. You can't tell me anything about family life. I've had plenty to last me.' 'But it's not all like that,' I objected. 'Near enough. It's all being under somebody's thumb. - Author: Willa Cather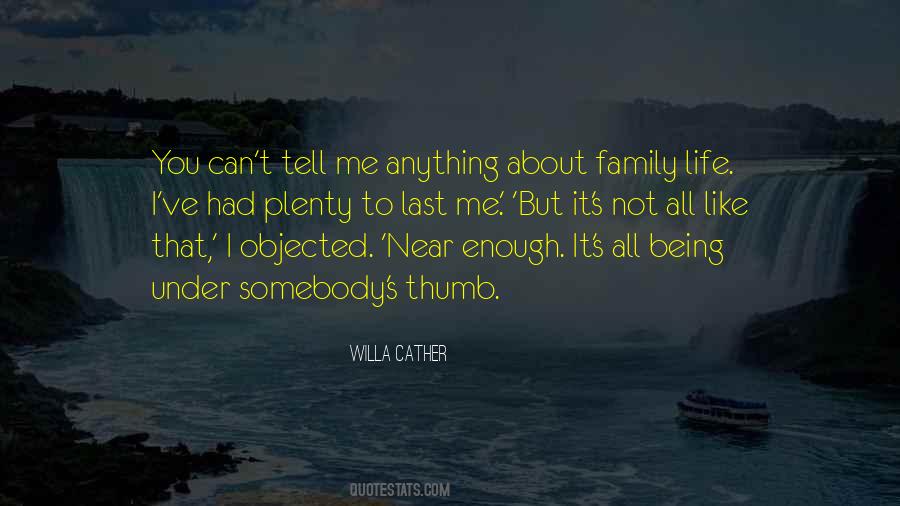 #82. People think in Hollywood there's a family, where everybody gets together talks about stuff and we all know each other, and it's just not that way at all to me. - Author: David Lynch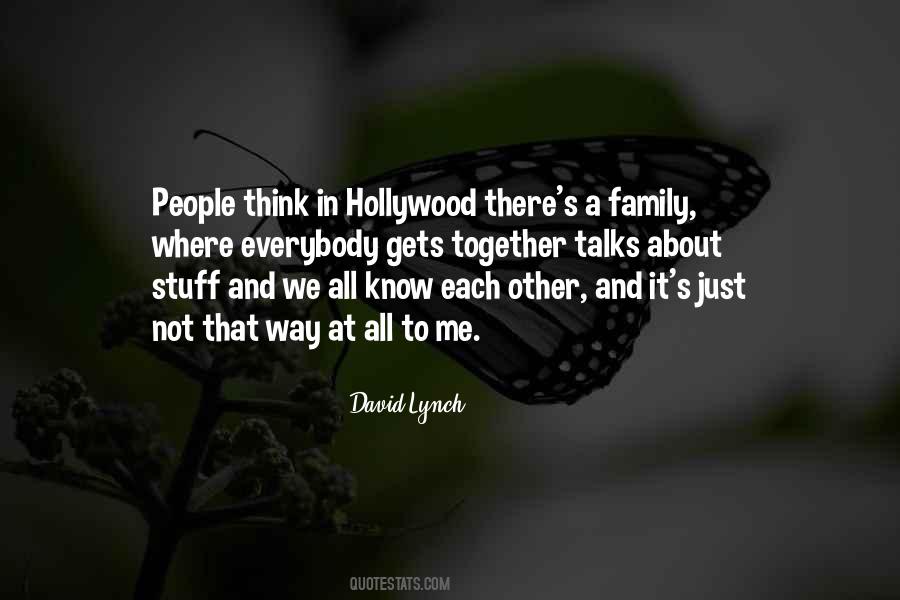 #83. We live in a world where everything is connected. We can not longer think in terms of us and them when it comes to the consequences of the way we live. Today it's all about WE. - Author: Gregg Braden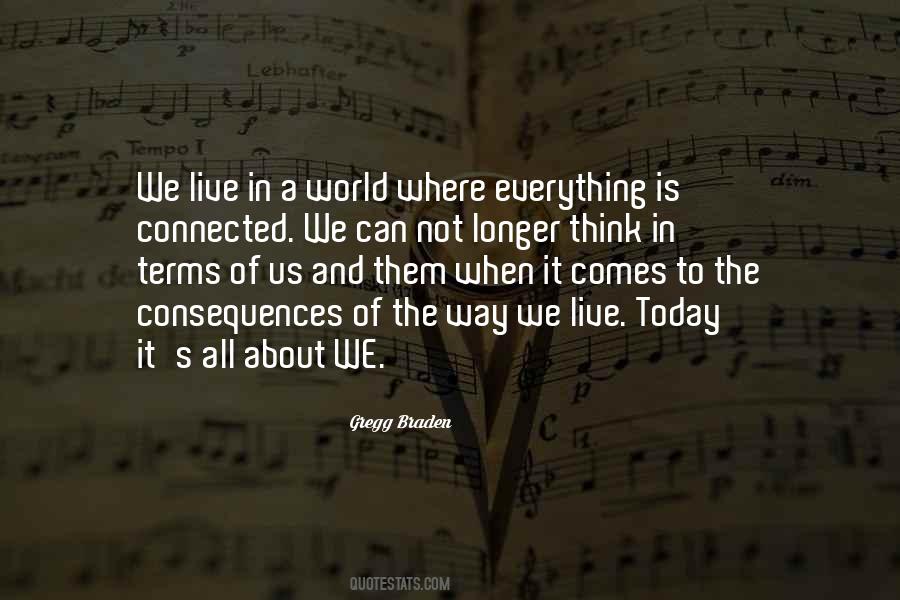 #84. I play with my grandchildren. I tend to my garden, which I love. Of course, I love to read, and family is really what it's all about. - Author: Julie Andrews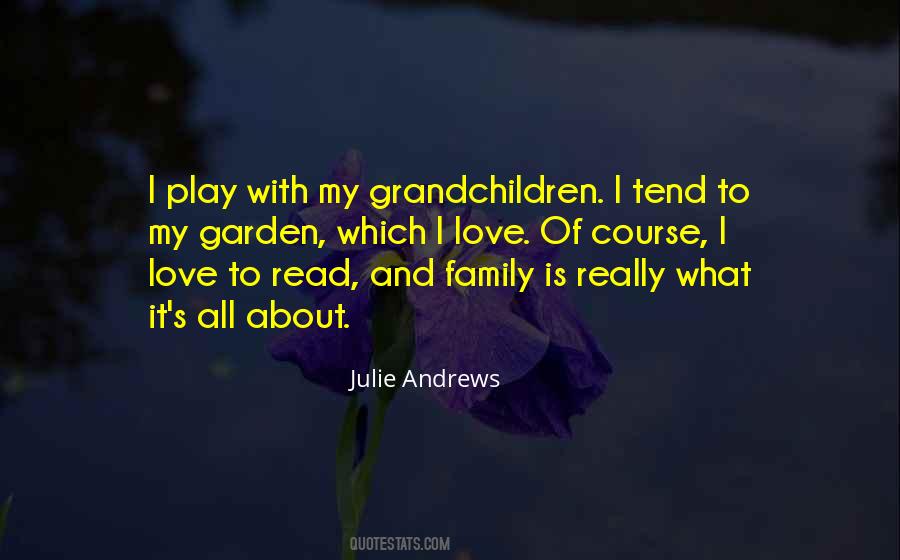 #85. I grew up in a family that was very barbed and difficult, and there was a lot of humor. None of it was painless humor. All of it was at someone else's expense. It was kind of always about power. - Author: John Wells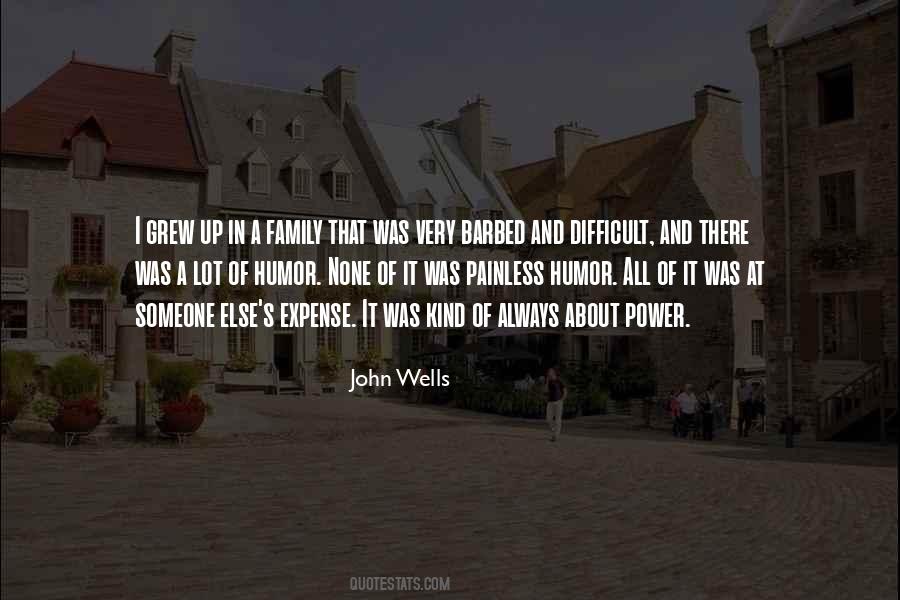 #86. Putting on a movie is like going to war - for me, at least. It's all about time; time is money, and we don't have it. So it's all about getting to know each other intimately quickly. You are with family members that you like or don't like, but you can't leave them because you're stuck with them. - Author: Lee Daniels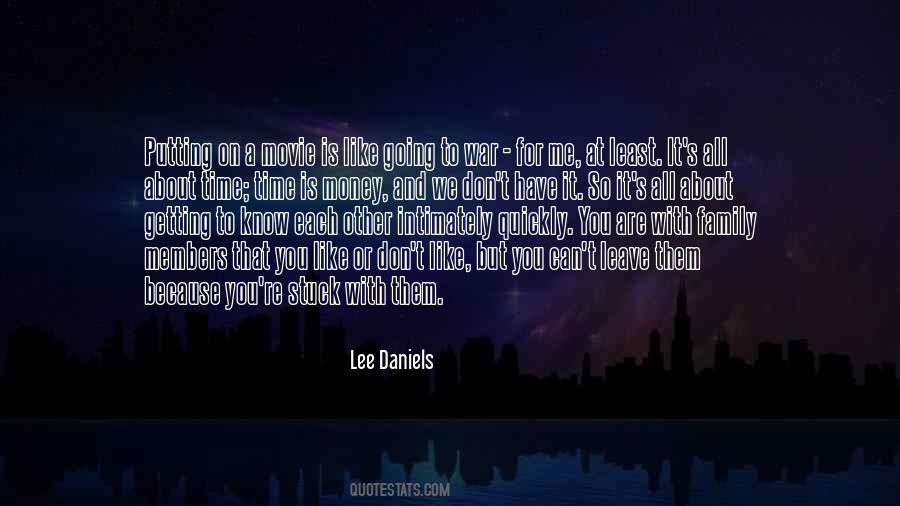 #87. Do all kids have to worry about their parents' mental health? The way society is set up, parents are supposed to be the grown-up ones and look after the kids, but a lot of times it's the other way around. - Author: Ruth Ozeki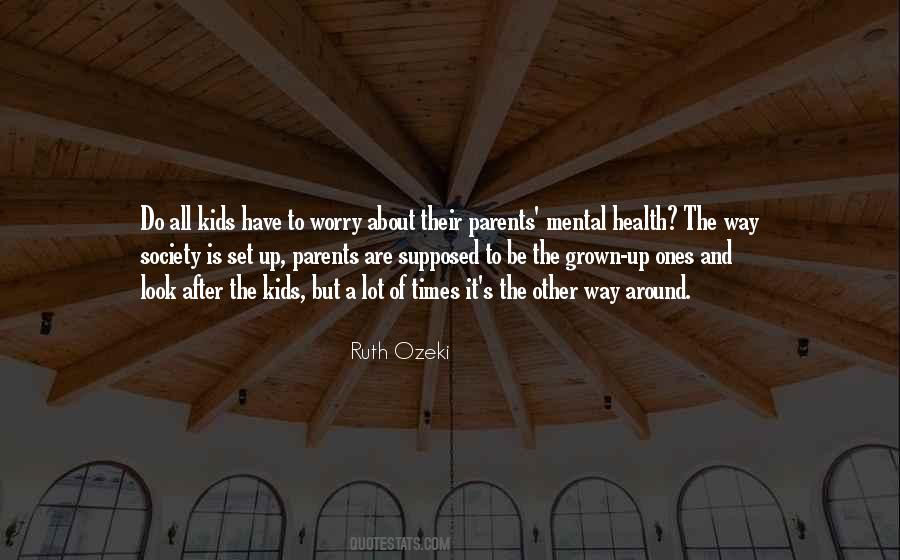 #88. The fight to save family farms isn't just about farmers. It's
about making sure that there is a safe and healthy food supply for all of us.
It's about jobs, from Main Street to Wall Street. It's about a better
America. - Author: Willie Nelson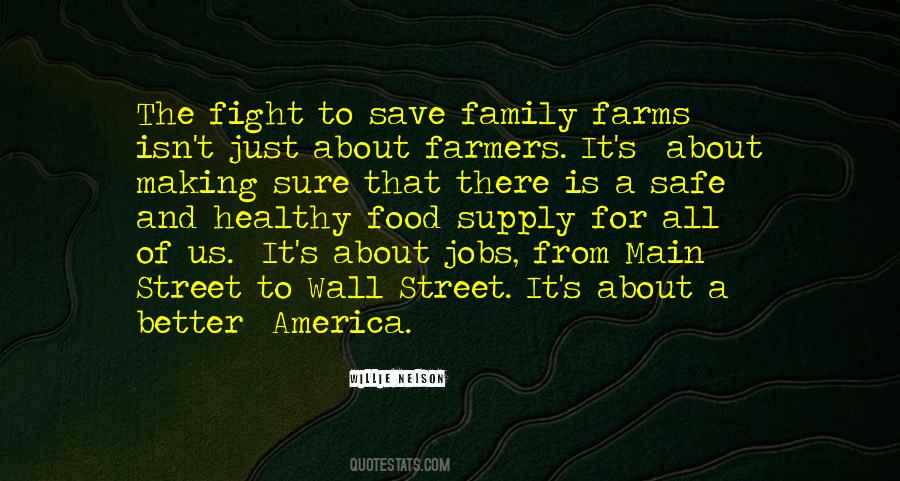 #89. This is what a family is all about - one another, sitting around the table at night. And it's very, very important, I think, for the kid to spend time not only around the table eating with their parents, but in the kitchen. - Author: Jacques Pepin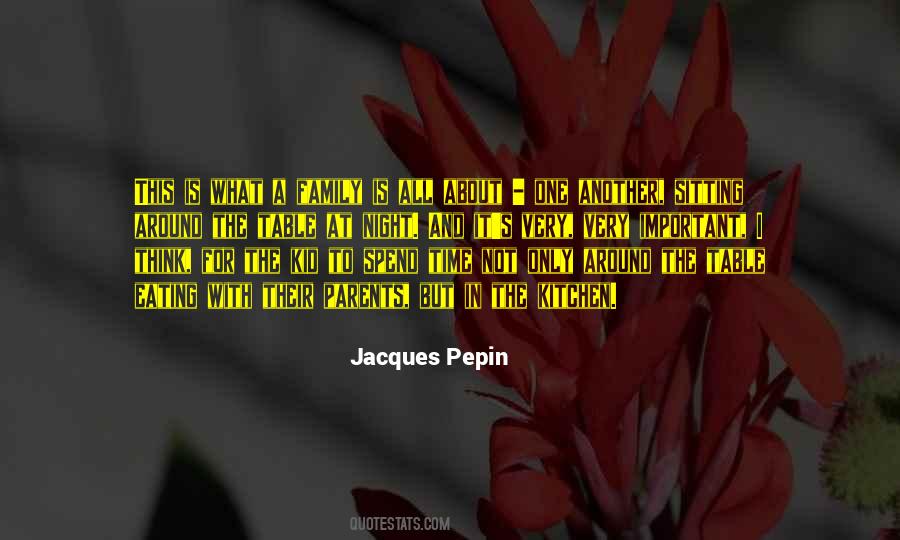 #90. I realized that food was actually a metaphor for bringing us all together. It's about us communicating and being like family. - Author: George Tillman Jr.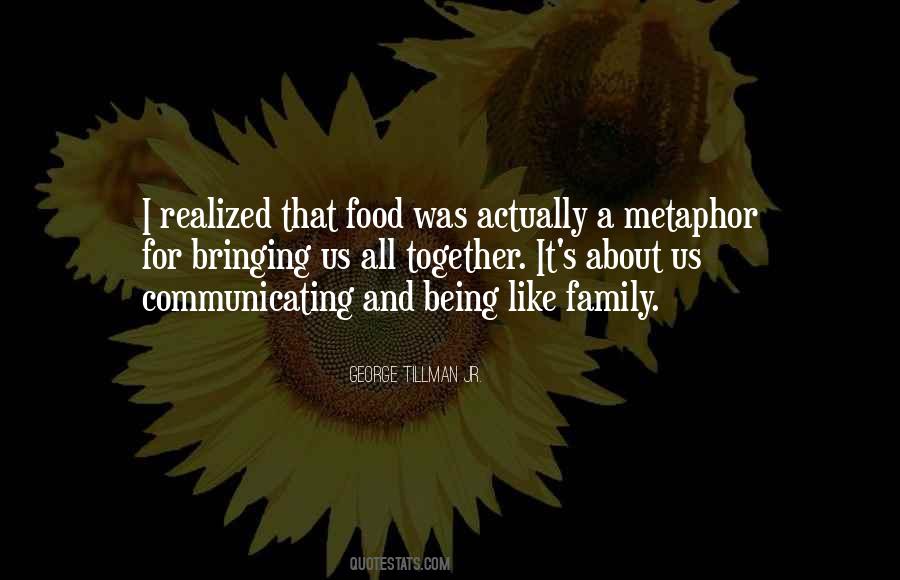 #91. It doesn't matter what you all think, what you all say about me, because when I go home at night, the same people that I look in the face, my family that I love, that's all that really matters to me. - Author: Marshawn Lynch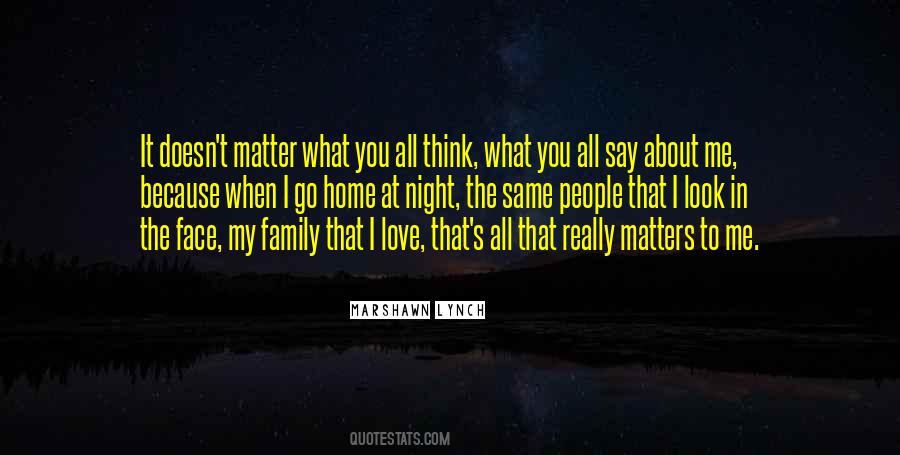 #92. All the songs I write are about human dynamics, whether it's with girlfriends, boyfriends, or family. - Author: Amy Winehouse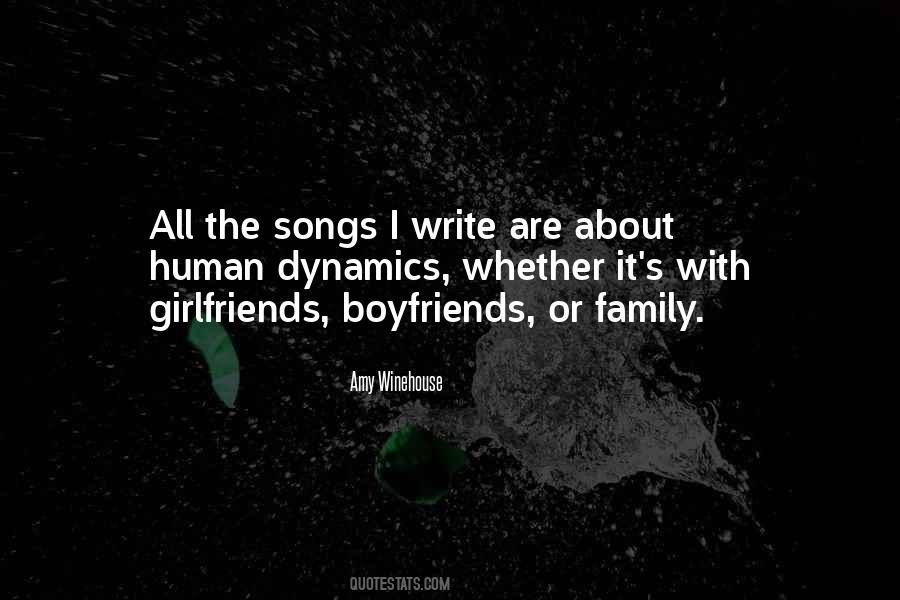 #93. Puerto Rican culture is very lively; very lively people; very warm people; and the food is really great. We're all about cooking a lot of food and having family around, we're kind of loud. It's that sort of vibe and it's great. - Author: David Lambert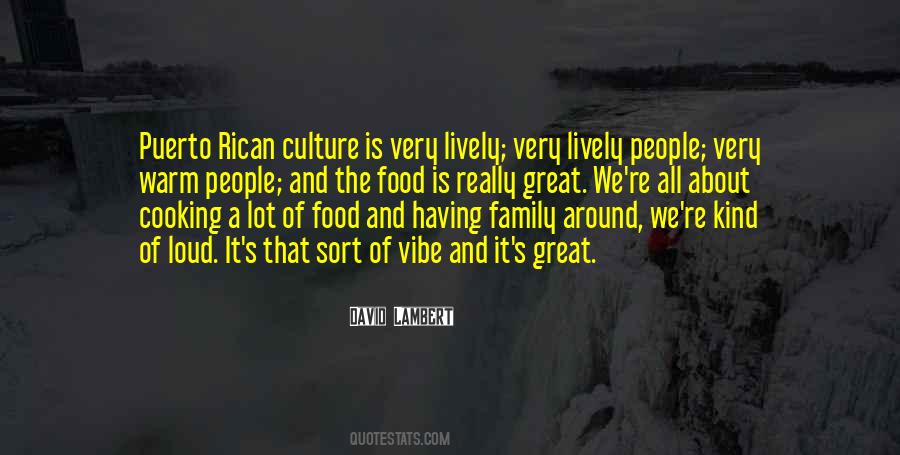 #94. It's about time we all faced up to the truth. If we accept the radical homosexual agenda, be it in the military or in marriage or in other areas of our lives, we are utterly destroying the concept of family. - Author: Alan Keyes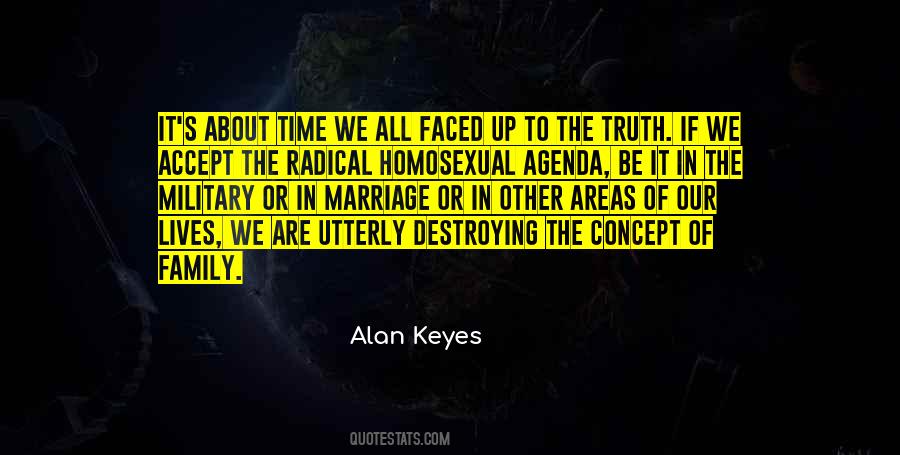 #95. Amadu is all about the family. I've never known love like that before, and it made me think, 'I want a bit of that'. It kind of forced me to get to know my family again. Another reason why he's so lovely. - Author: Billie Piper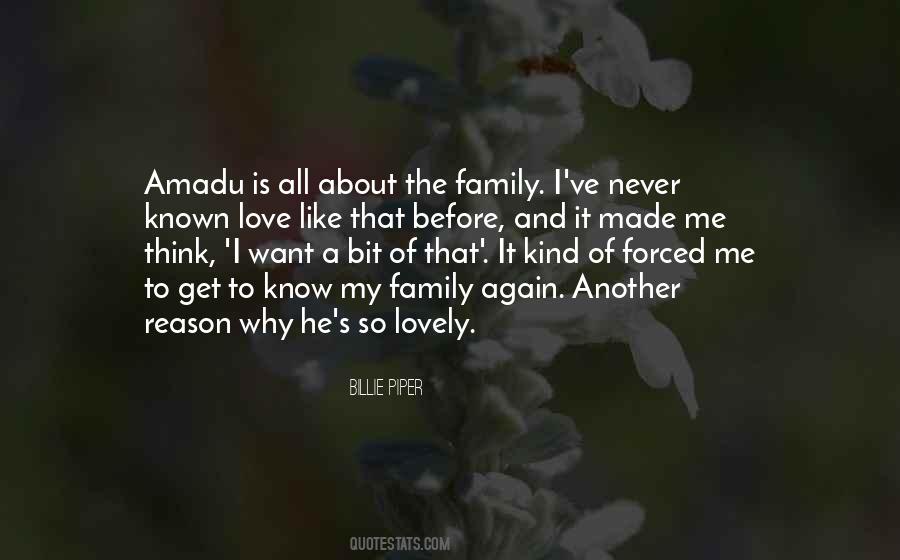 #96. What I went through in 1976, it's the same today: It's about all the pressure that you feel, the anxiety, the family, and everything that surrounds the Games, and then getting there knowing this is your big chance, and you're able to come through. It's such a satisfying thing. - Author: Caitlyn Jenner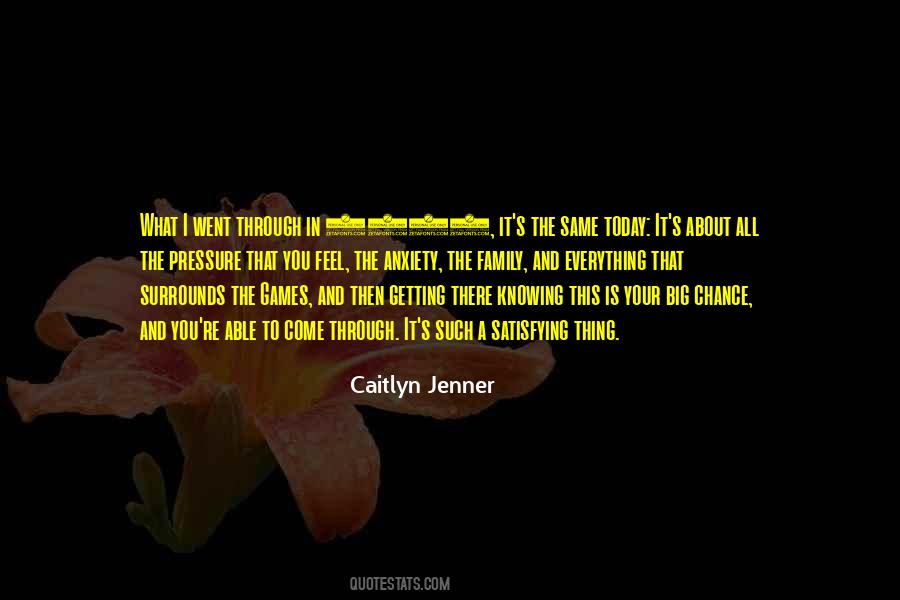 #97. It's all about loyalty and collaboration, gathering your gang around you, finding your soulmate in filmmaking because it is a collaborative process. When failure happens, that family you gathered regroups around you and gives you the fresh energy you're lacking. - Author: Matthew Jacobs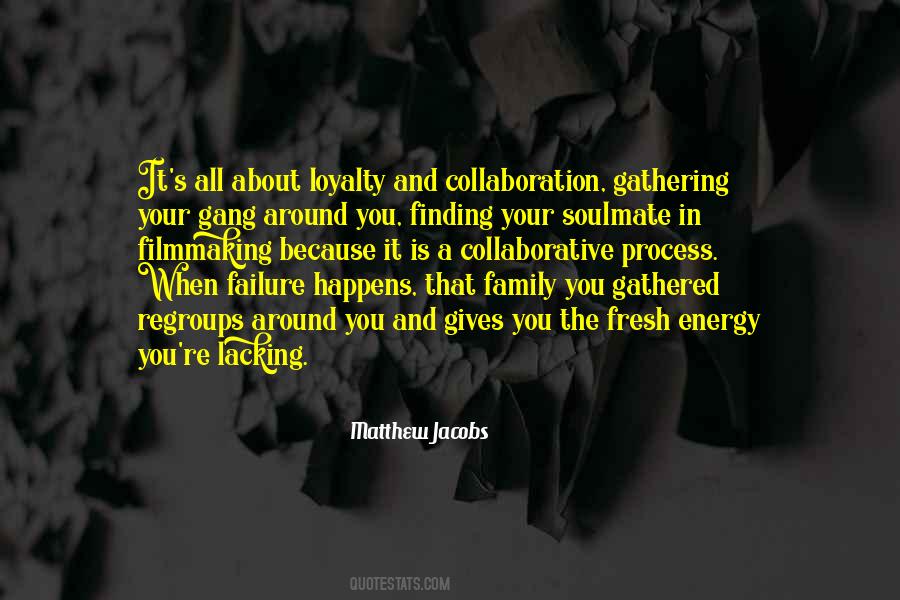 #98. You should feel good about making your home nicer for your family and your friends. You should feel great about cooking a good dinner and making a dress for a granddaughter, creating a beautiful birthday party. It's all part of life. - Author: Martha Stewart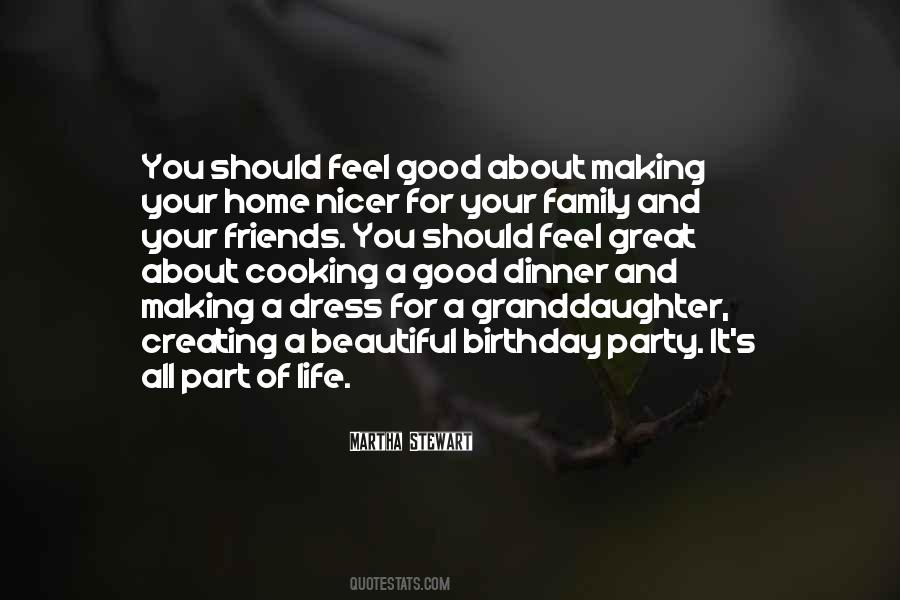 #99. It's all about family [jake]. It was always about family. It will always be that way if I have anything to say about it. - Author: Fern Michaels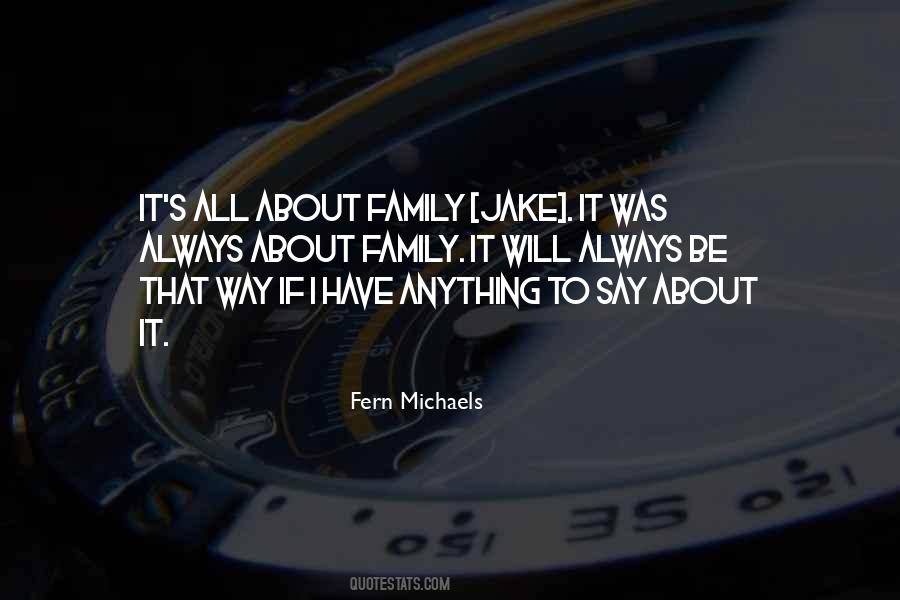 #100. It's all about quality of life and finding a happy balance between work and friends and family. - Author: Philip Green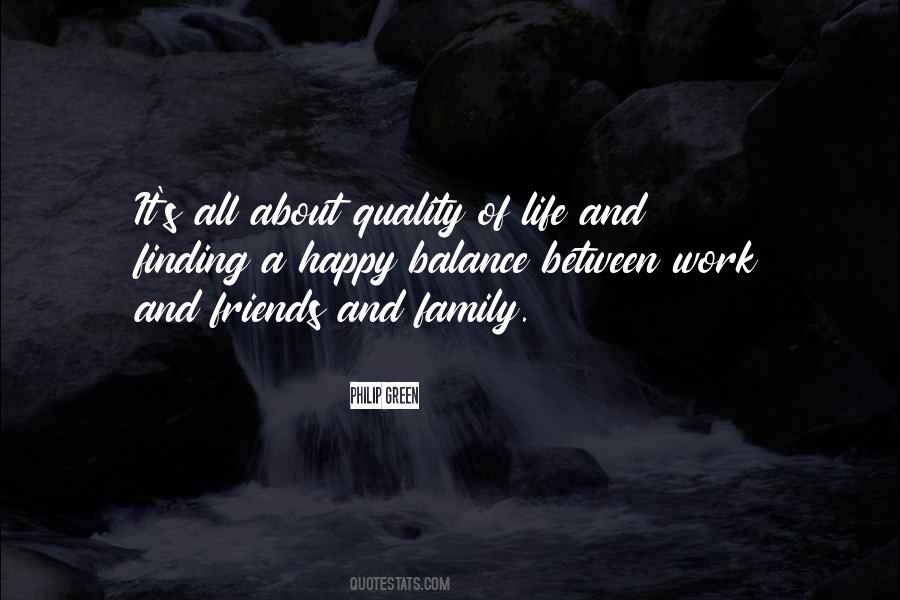 Famous Authors
Popular Topics