I Call It Life Famous Quotes & Sayings
List of top 100 famous quotes and sayings about i call it life to read and share with friends on your Facebook, Twitter, blogs.
Top 100 I Call It Life Quotes
#1. There are many individuals, companies and even countries operating in what I call a 'me first' mentality, which is effectively a purely competitive approach to life, treating the planet as if it has infinite resources and pitting one country against another for supremacy. - Author: Simon Mainwaring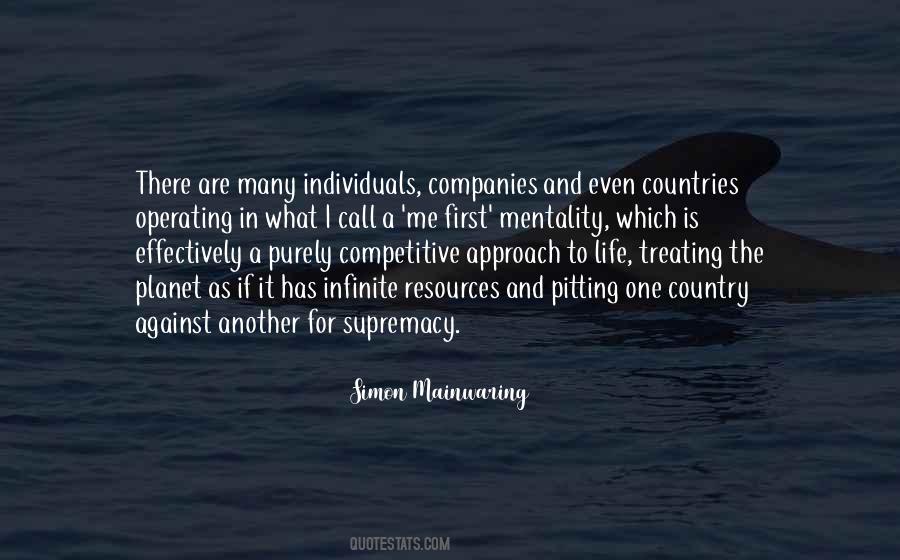 #2. a~call it a blessing or call it a curse, but I see all of life in verse~ - Author: Lynn Orloff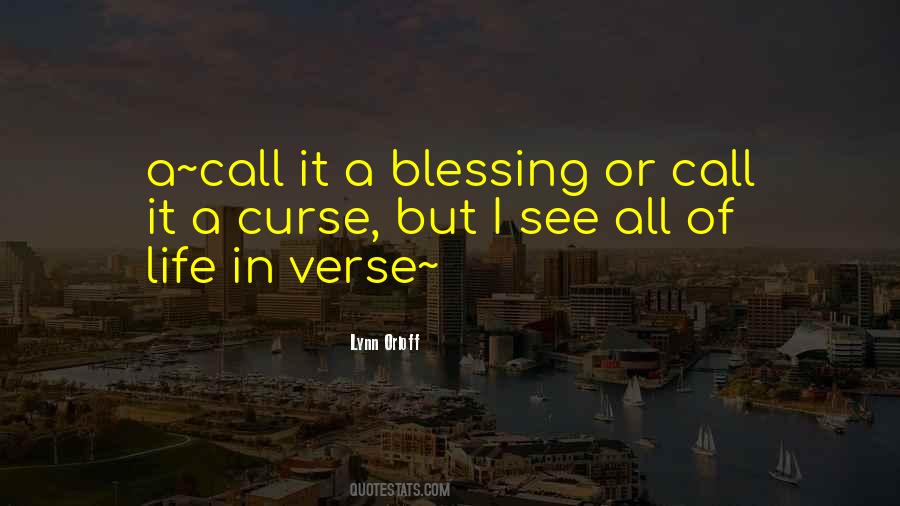 #3. I don't call it "Life Insurance," I call it "Love Insurance." We buy it because we want to leave a legacy for those we love. - Author: Farshad Asl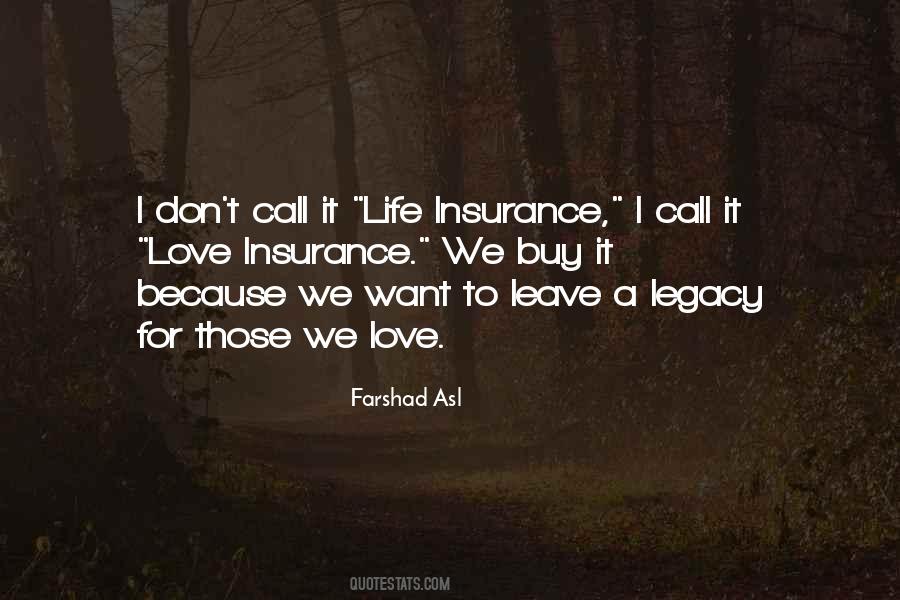 #4. Probably a dozen times since their death I've heard my mother or father, in an ordinary conversational tone of voice, call my name. They had called my name often during my life with them ... It doesn't seem strange to me. - Author: Carl Sagan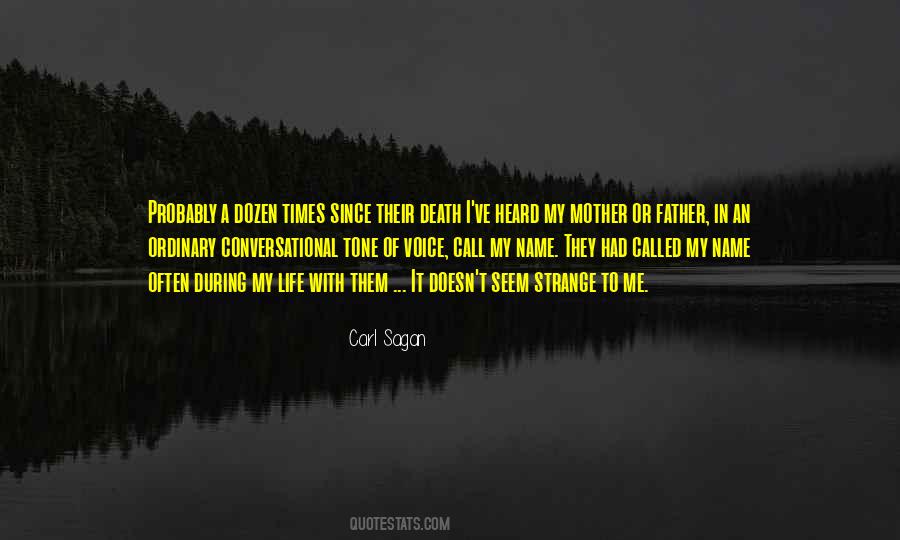 #5. I will burn your life to the ground and call it art. - Author: Unknown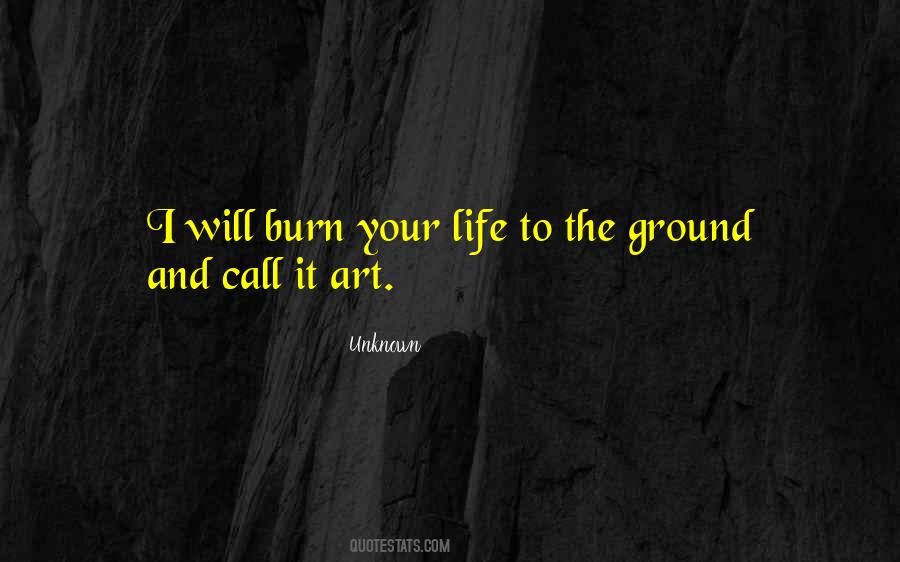 #6. Now and then I'd catch my mother looking at my like she was thinking about her life, like she was about to say something, but she never did. I didn't expect it. Sometimes it's better not to go back
just settle accounts as they are, call it even. - Author: Mark Slouka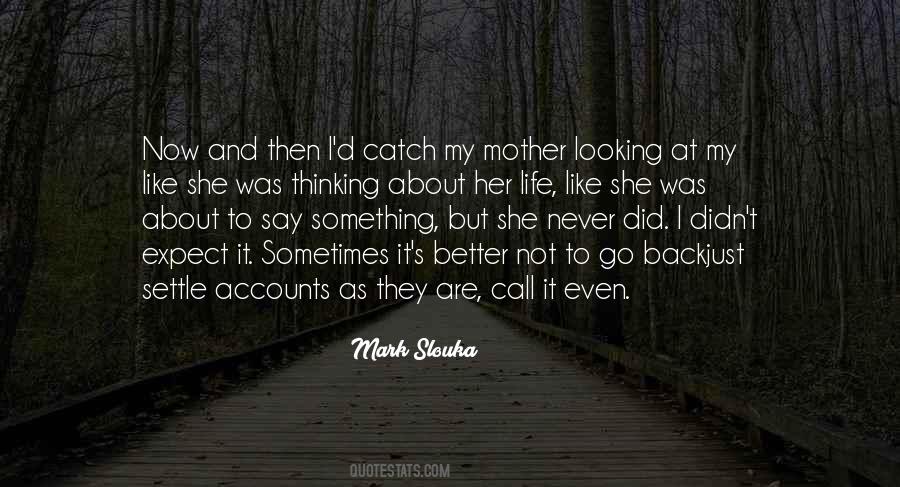 #7. I love everything about what we [Suicide Silence] do, and our life style. It's an insane way to live when you spend most of your time inside a plane, tour bus, or in a back stage. All over this massive place we call earth. - Author: Mitch Lucker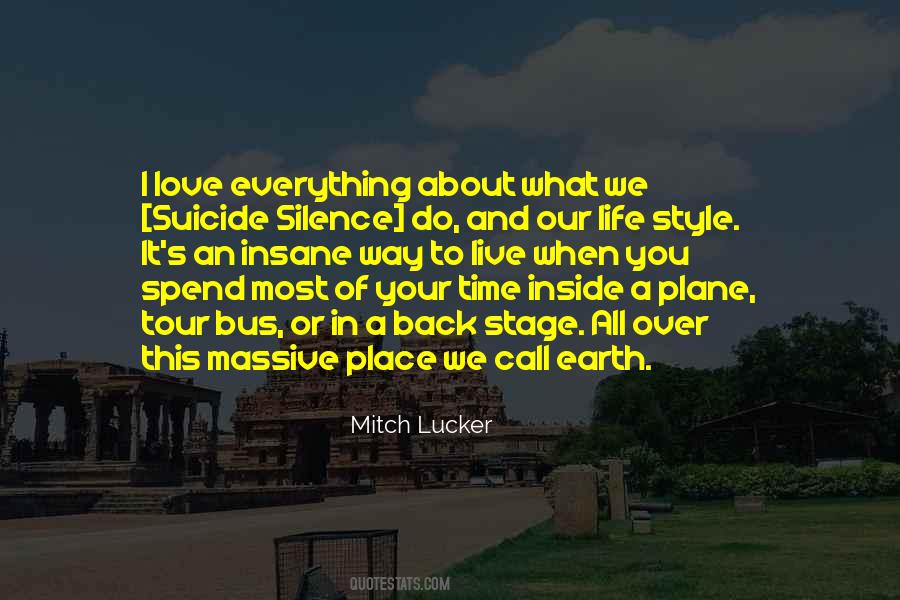 #8. I know everyone has dreams of flying, but this isn't a dream of flying. It's a dream of floating, and the ocean is not water but wind.
I call it a dream, but it feels realer than my life. - Author: Maria Dahvana Headley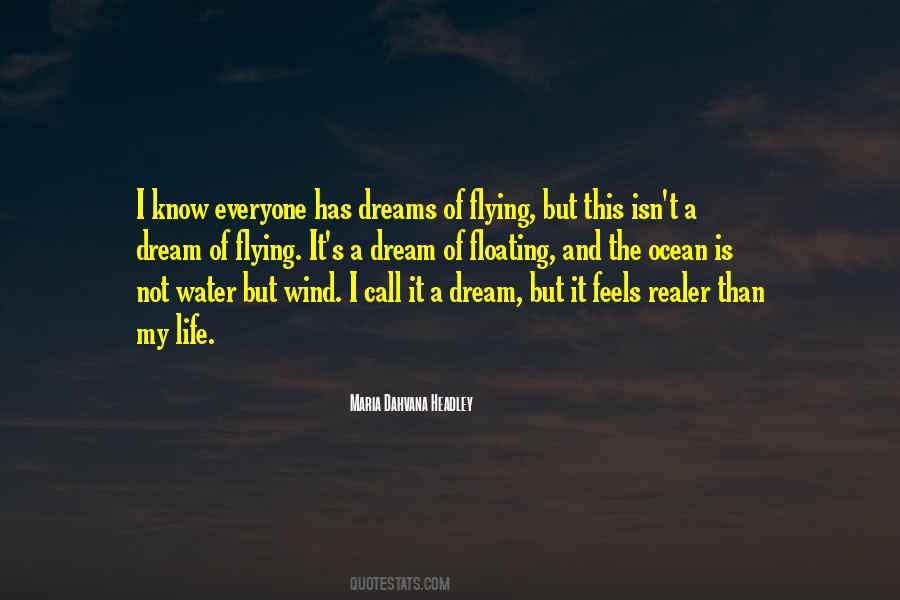 #9. I have always been the first on the dance floor. Before fame, people thought it made me a good laugh; now, people point and call me an attention seeker! I'm very aware of the way people can view me, but I'm very aware that I have to just enjoy my life. - Author: Jessie J.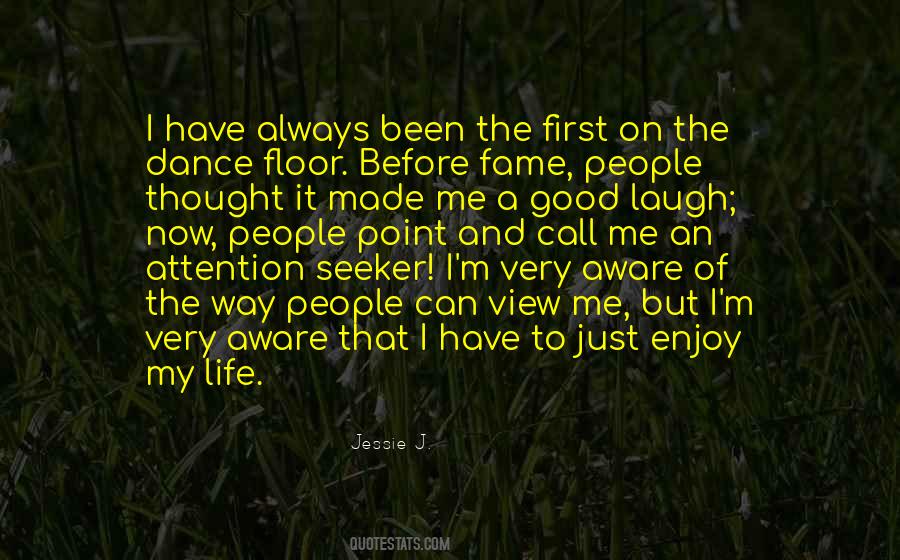 #10. I became a marine mom with the signing of a paper, but it would take a phone call, late one night, for me to fully absorb the impact this new title would have on my life. - Author: Diana Mankin Phelps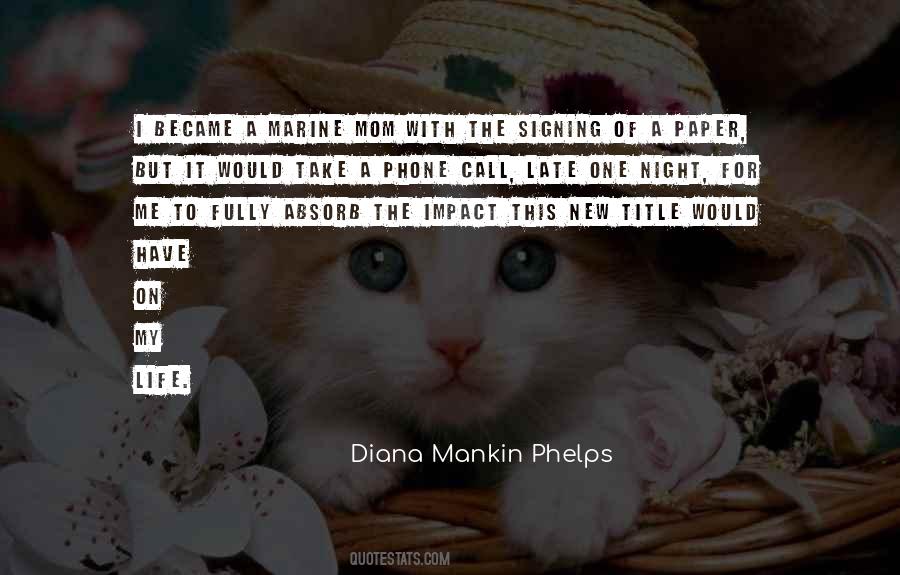 #11. You will be wounded many times in your life. You'll make mistakes. Some people will call them failures but I have learned that failure is really God's way of saying, "Excuse me, you're moving in the wrong direction." It's just an experience, just an experience. - Author: Oprah Winfrey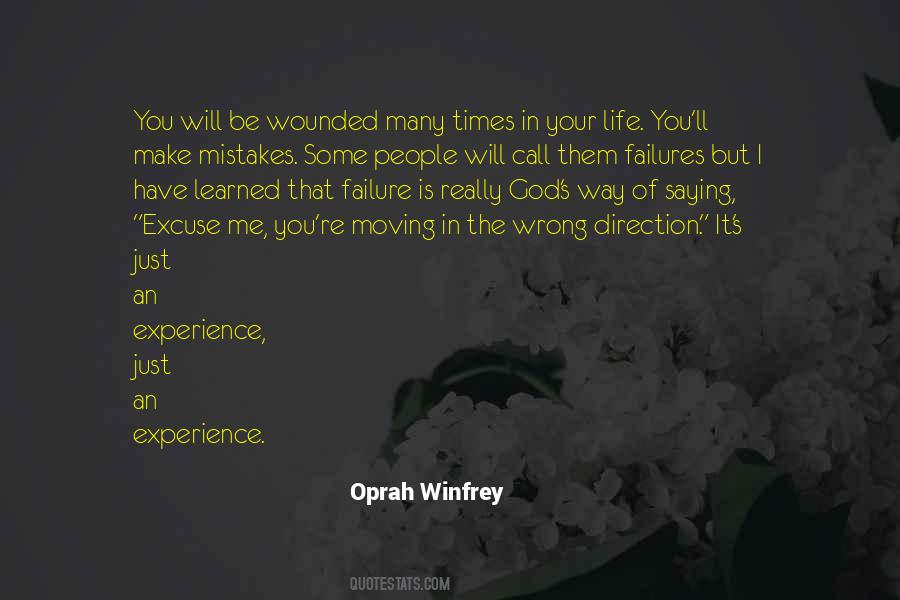 #12. I loved the illusion, the conviction, the desire - whatever you want to call it - that the words were agents rather than extensions of reality. That they made my life happen, rather than just recorded it happening. - Author: Eavan Boland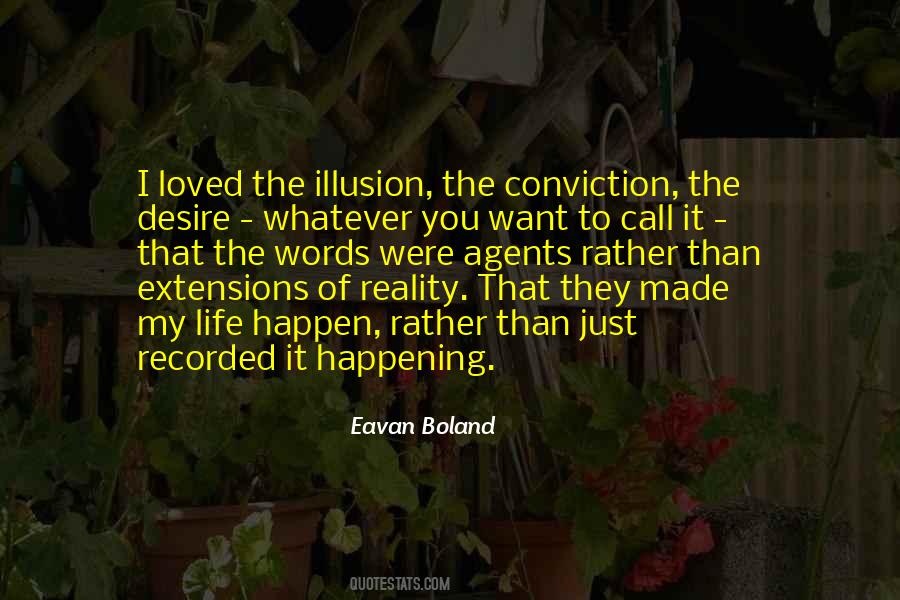 #13. I think that everybody in life probably goes through obstacles at different times in life. I wouldn't really call them obstacles, I think that's just called growing up, and I think it's hard to be in the industry at such a young age - Author: Kirsten Dunst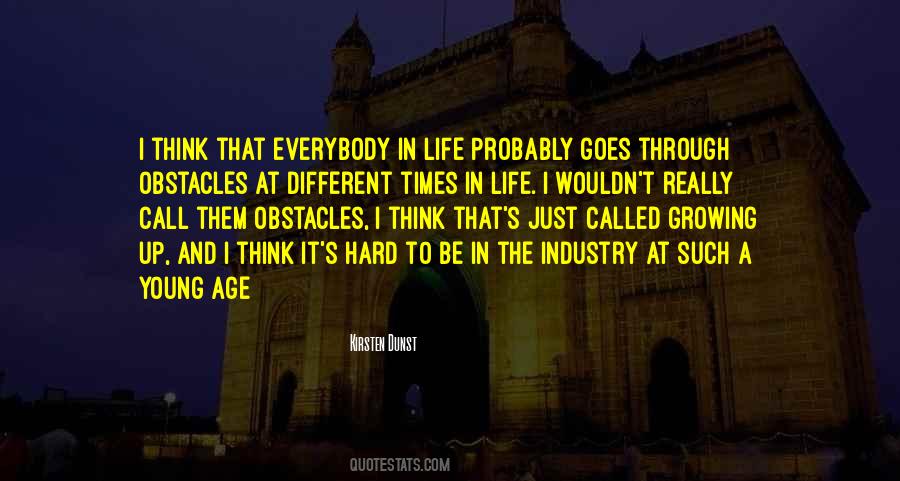 #14. For this is what I have learned, in my short life: do not act out of anger. Act from love or not at all. I have seen it, how anger makes a space for what I must call evil. - Author: Kim Edwards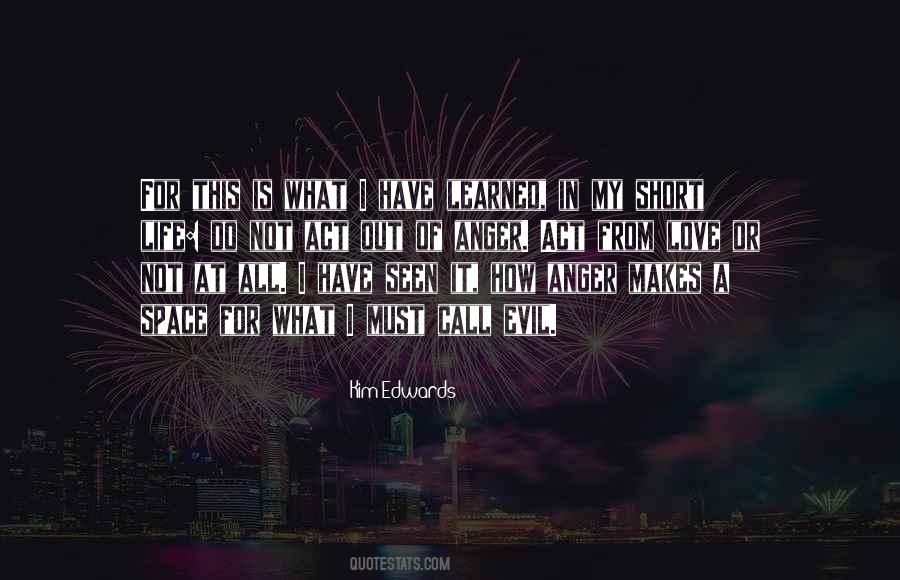 #15. There's a reason they call it a private life, I'd often say to interviewers. But there's a fine line between being private and being ashamed. The - Author: Portia De Rossi
#16. There still seems to be a lack of film for the baby boomer generation, if you'd like to call it that. And I think 'Martin Bonner' showed what's possible. Later in life, when you've been working at something for a long time, to actually get some kudos for what you do is wonderful. - Author: Paul Eenhoorn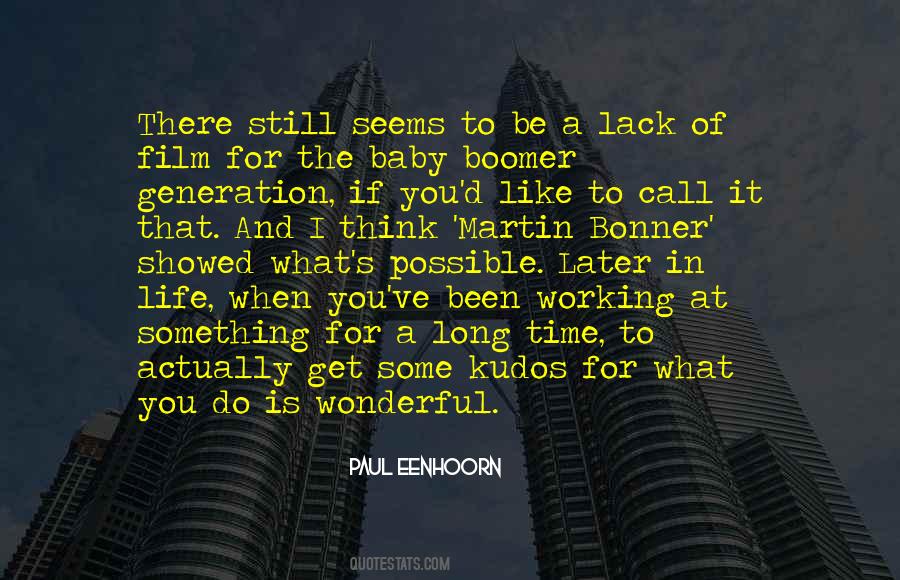 #17. Such is life, marked by the ticking of the clock and the call of the alarm until the day it all falls into perpetual silence. For most of us, certainly for this boy, life is not composed of great deeds, but of small actions, and that's okay. It's the best I can give and I like it this way. - Author: Gillibran Brown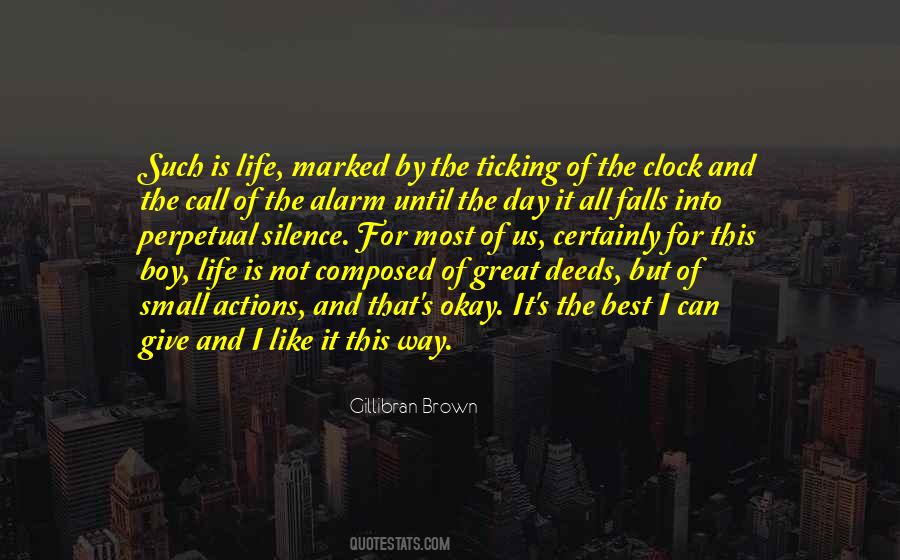 #18. I call my life a beautiful mess and organised chaos. It's just always been like that. My entire life things have been attracted to me and vice versa that turn into chaotic nightmares or I create the chaos myself. - Author: Mindy McCready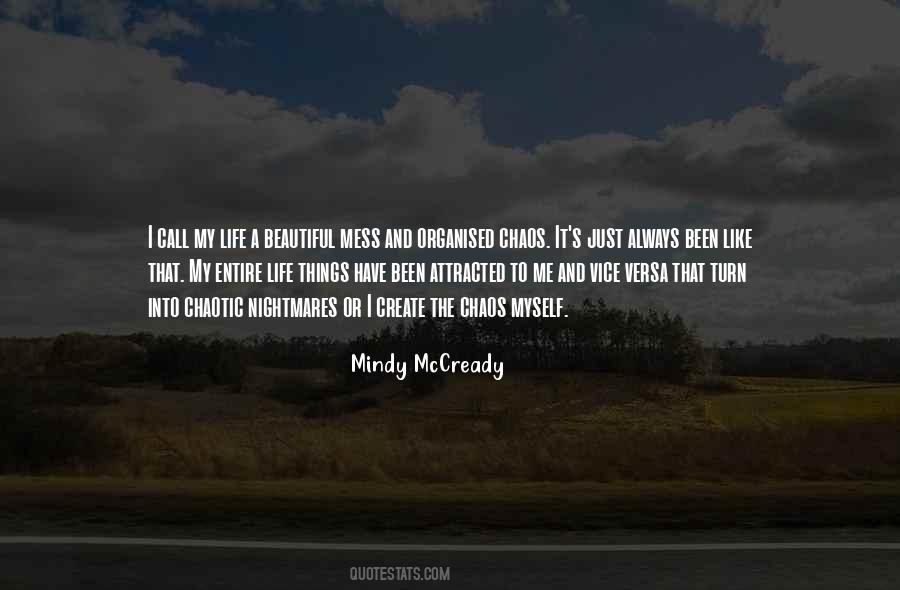 #19. I'm not an actor, and I'll never call myself an actor. I've never thought of it as part of my life. I'll always be a singer, in my eyes. - Author: Glen Hansard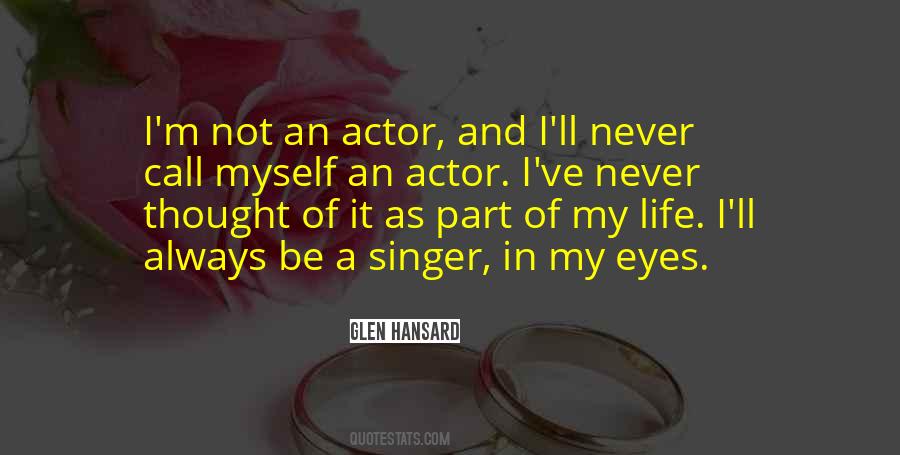 #20. Psychologists call it "learned helplessness" when a person believes, as I did during my youth, that the choices I made had no effect on the outcomes in my life. - Author: J.D. Vance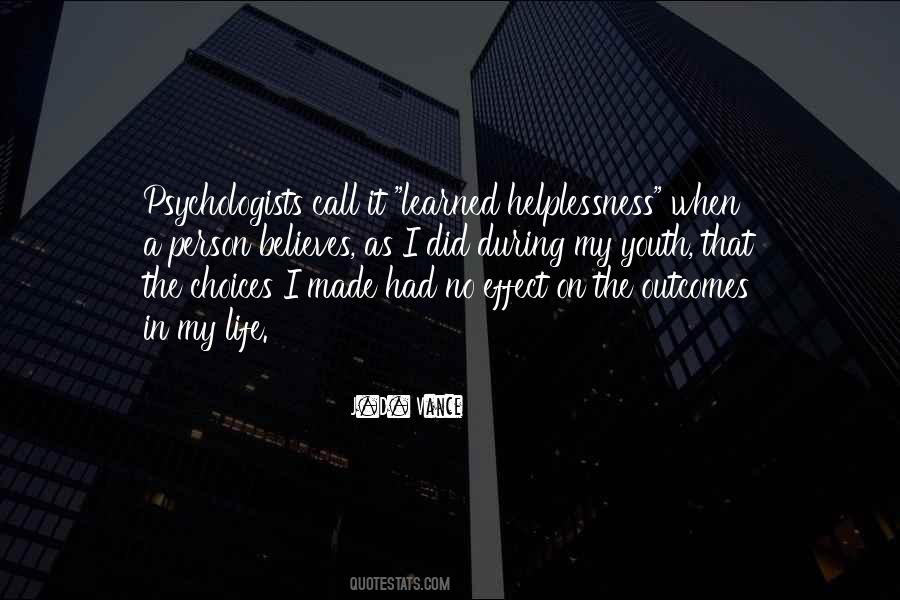 #21. One of the most effective means for transcending ordinary and moving into the realm of extraordinary is saying yes more frequently and eliminating no almost completely. I call it saying yes to life. Say yes to yourself, to your family, your children, your coworkers, and your business ... - Author: Wayne Dyer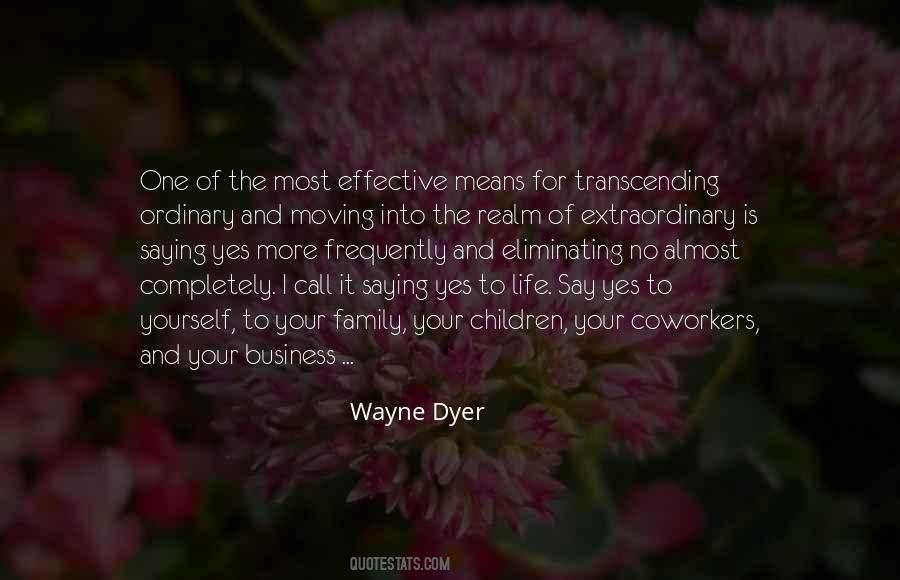 #22. In The Curtain, Milan Kundera writes, "Faced with the unavoidable defeat we call life, the only thing left to us is the attempt to understand it." I - Author: Arno Geiger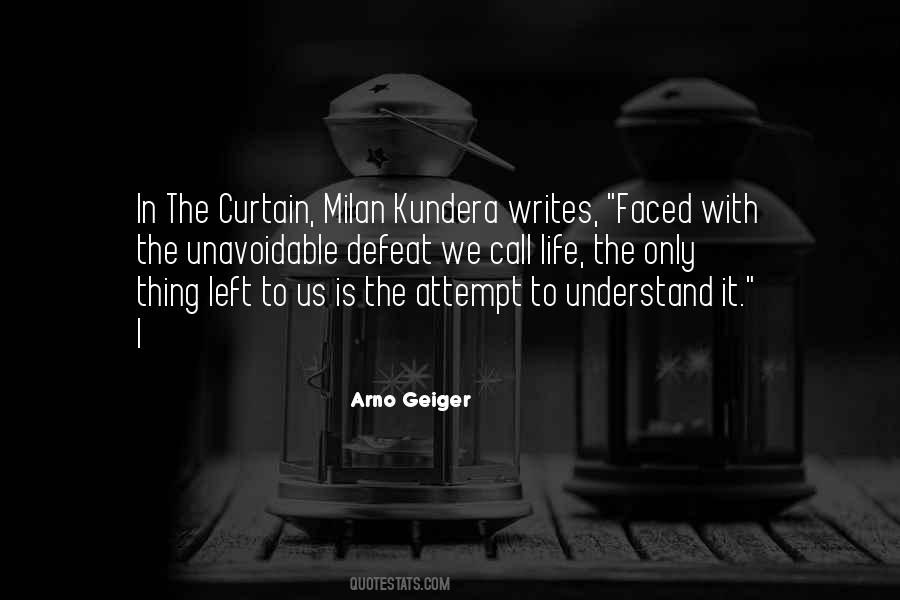 #23. What is required is faith. Man has body, life and mind but that is not all that constitutes man. He has risen to the mind as a result of evolution. Now a higher consciousness will be evolved - this I call Supermind. It is the instrument of the Divine Consciousness, the Truth-Consciousness. - Author: Sri Aurobindo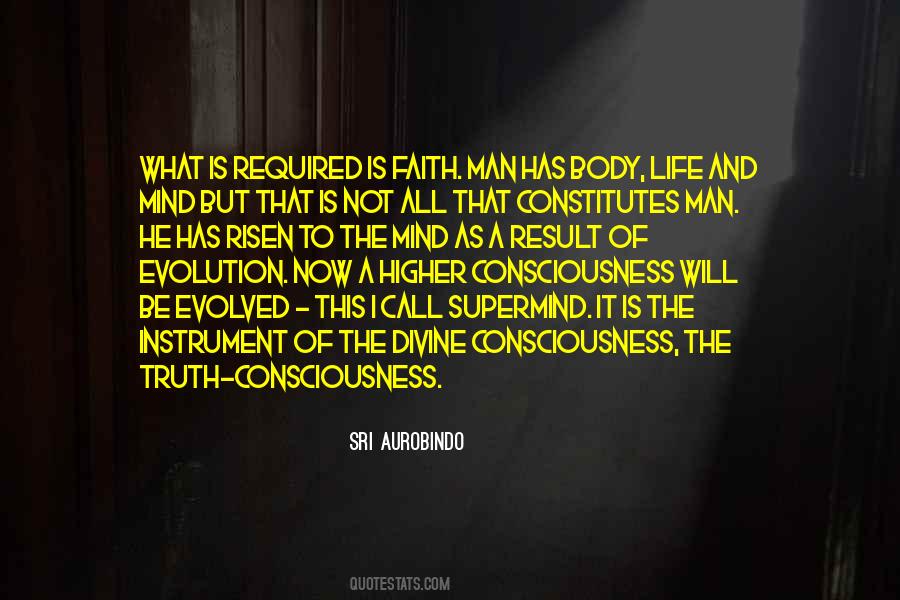 #24. I have created a life by stepping out of the box of people's limitations. I call it zigging when others are zagging. - Author: Oprah Winfrey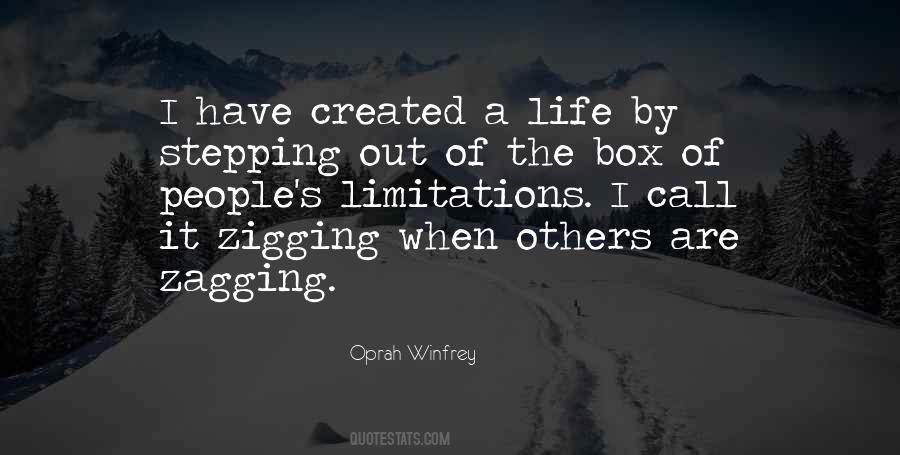 #25. Sometimes it takes a wake-up call, doesn't it, to alert us to the fact that we're hurrying through our lives instead of actually living them; that we're living the fast life instead of the good life. And I think, for many people, that wake-up call takes the form of an illness. - Author: Carl Honore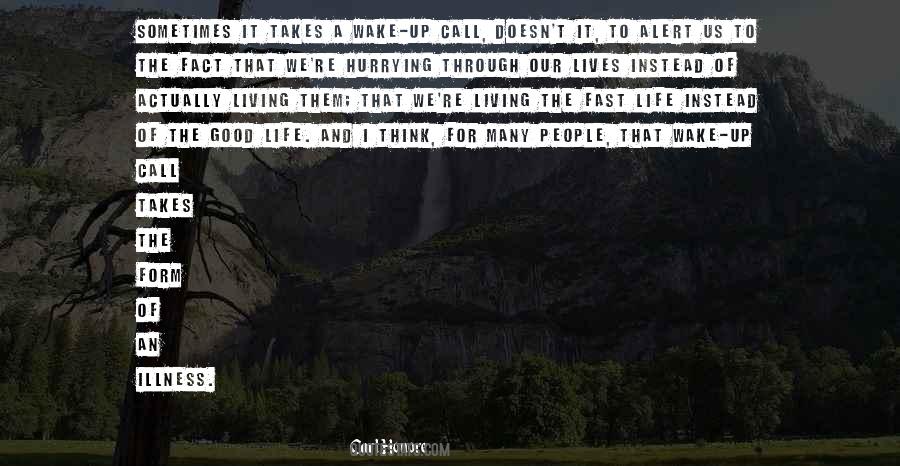 #26. Grace? Undeserved kindness? Blessings? Whatever we call it, I'm pretty sure we get doses of luck more than we'll ever know. - Author: Jon Foreman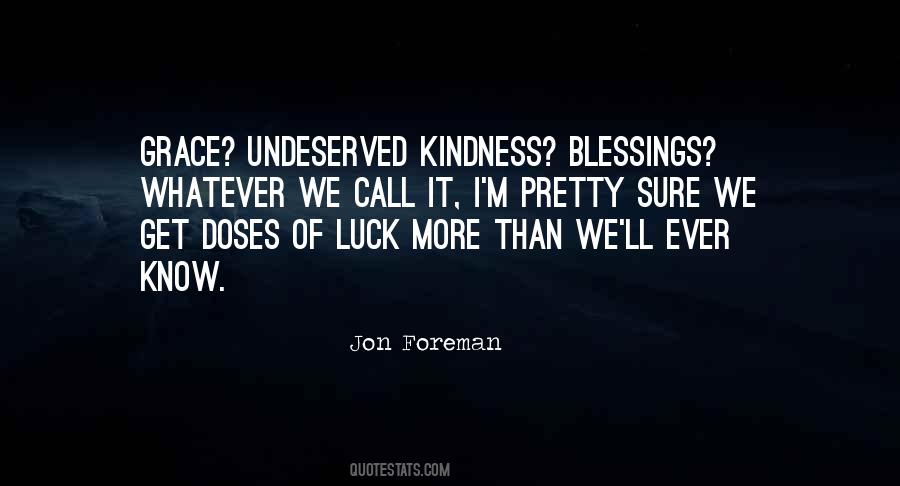 #27. I wish I'd learned then that when you call someone's bluff you usually win: it's simply not what the other person is expecting. And swimming along in the slipstream of another's current is no way to live. - Author: Harriet Evans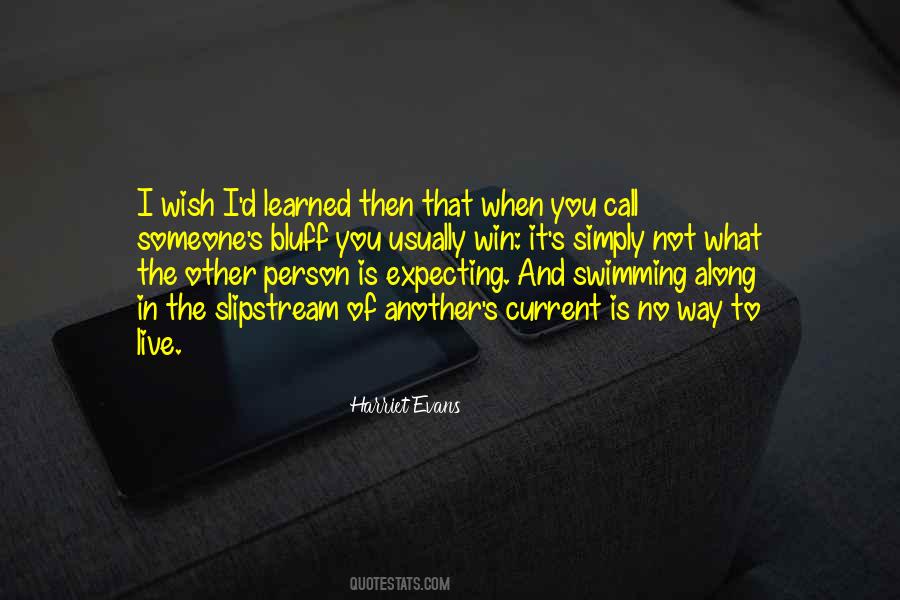 #28. I am no stranger to working hard. I have done it all my life. As a result I have become accustomed to expecting success in everything I do. Some people call me lucky, but I know better. - Author: Donald Trump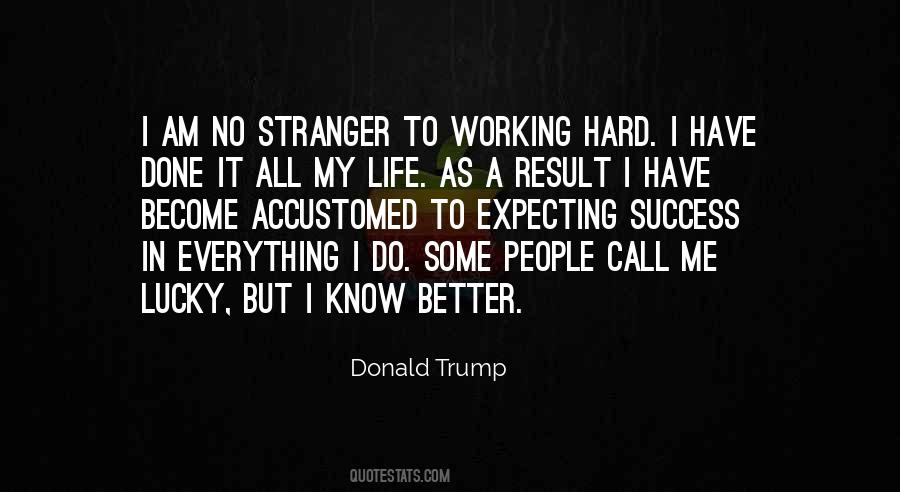 #29. We start to realize that there are anodynes in life that help us through the day. I don't care if it's a walk in the park, a look out the window, a good bubble bath - whatever. Even a meal you like, or a friend you want to call. That helps us solve all this stuff in our head. - Author: Al Pacino
#30. It's not about me - four simple words that described the life of Christ. Do you call yourself a Christian? Well then, you're not off the hook. You don't get to claim 'Me, myself, and I' as your four words. 'It's not about me' should describe your life as well. - Author: Monica Johnson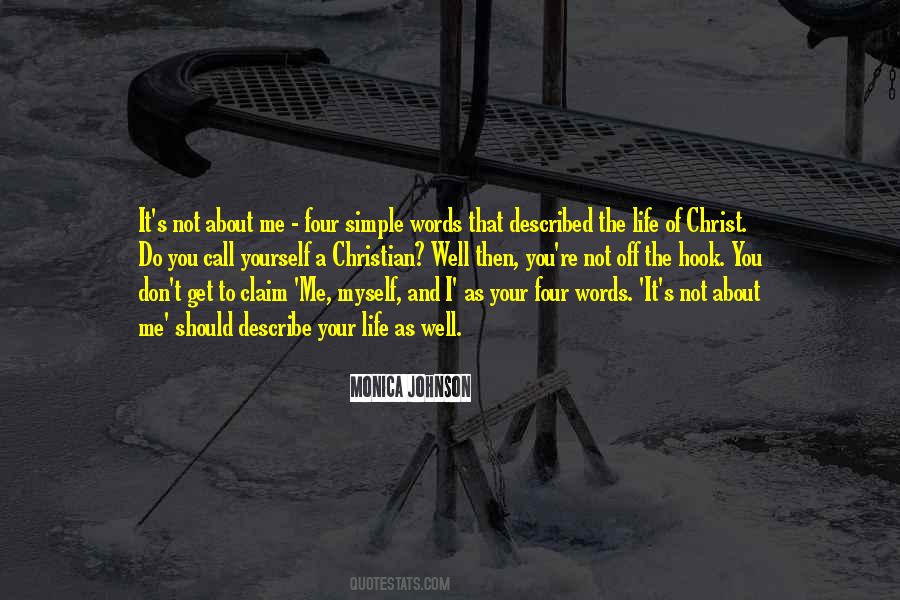 #31. Everywhere I go, the kids call me 'the book lady.' The older I get, the more appreciative I seem to be of the 'book lady' title. It makes me feel more like a legitimate person, not just a singer or an entertainer. But it makes me feel like I've done something good with my life and with my success. - Author: Dolly Parton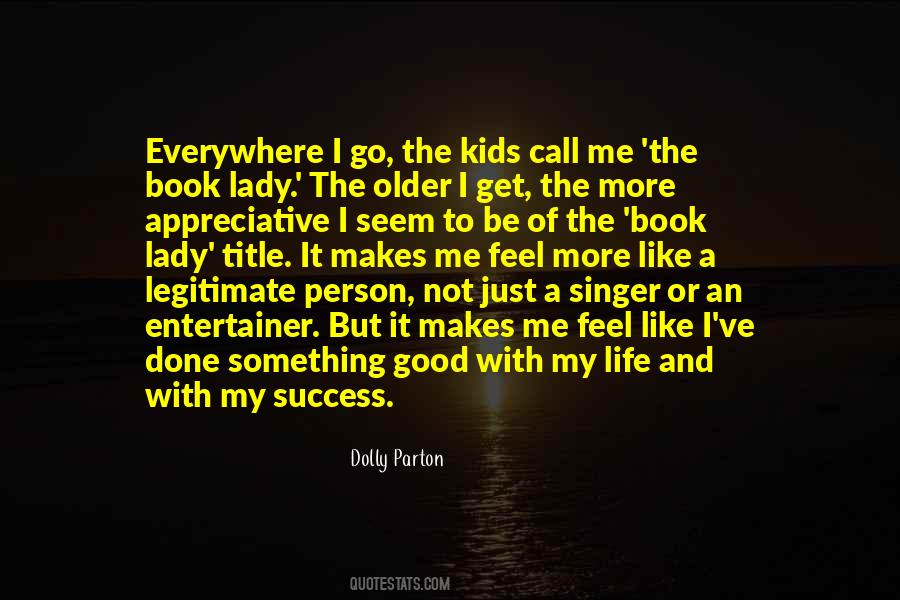 #32. Don't say you're a writer if you're not writing. Even if you're writing, don't call yourself a writer. Say instead, 'I write.' It's the verb that's important, not the noun. - Author: Patti Digh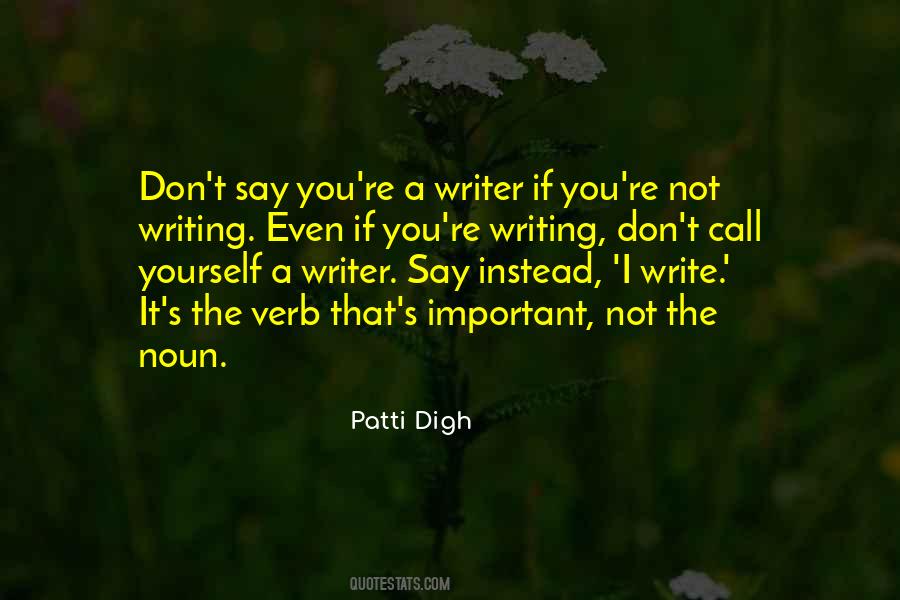 #33. I call it 'the Etch A Sketch life.' Every few years, you should shake that thing up. - Author: John Tesh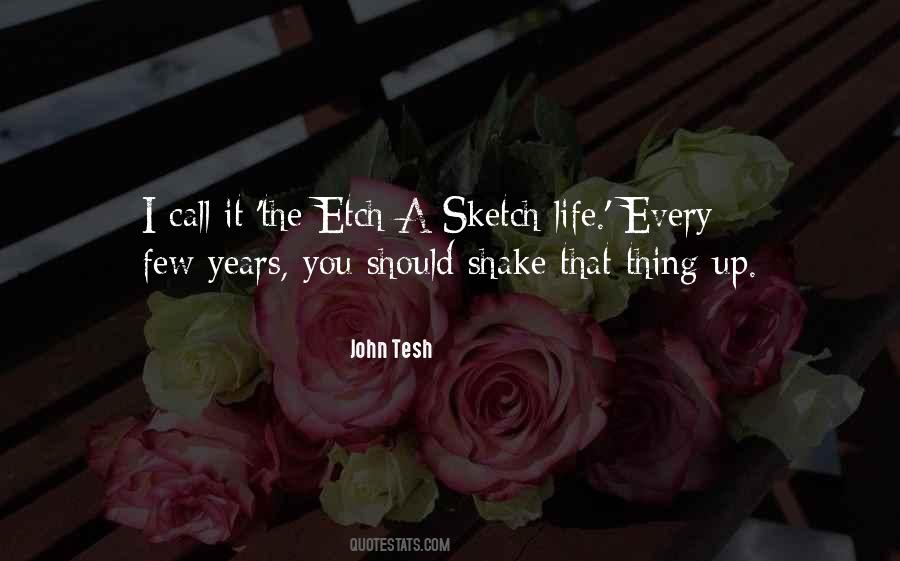 #34. Many parts of my life are perfectly ordinary, if that's what you mean. One could even call it boring, but that's what I like about it. - Author: J.K. Rowling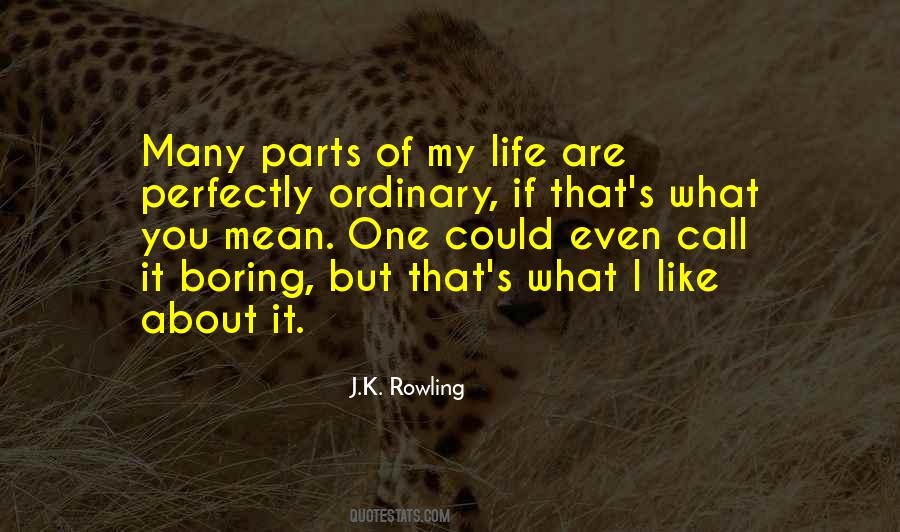 #35. You know, I wouldn't even call snowboarding a sport, you know for me it's just a way of life - Author: Travis Rice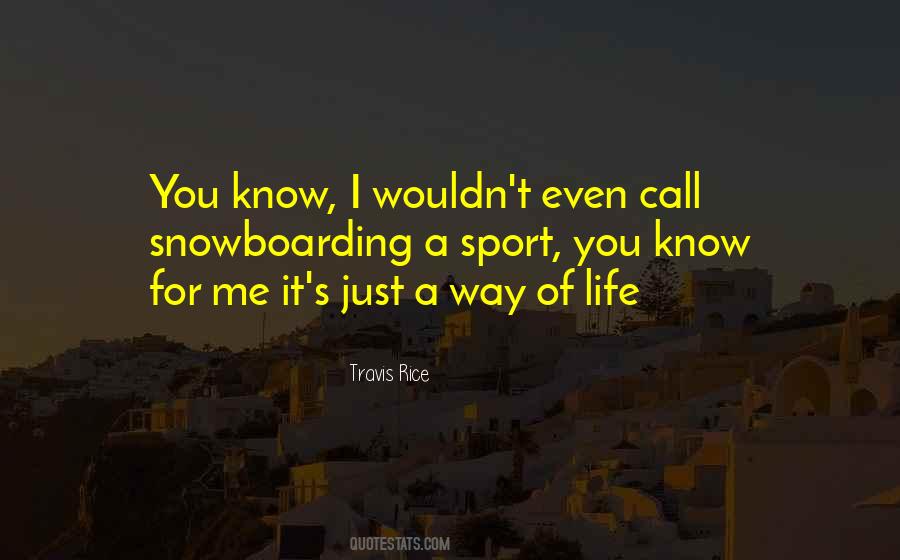 #36. I started out doing commercials, like Diet Coke and Pizza Hut. And I started to find there was a different life for me, in a different field. From there, I got a call from a director in Italy, and we did 'Indio' I and II, and that's where it started. - Author: Marvin Hagler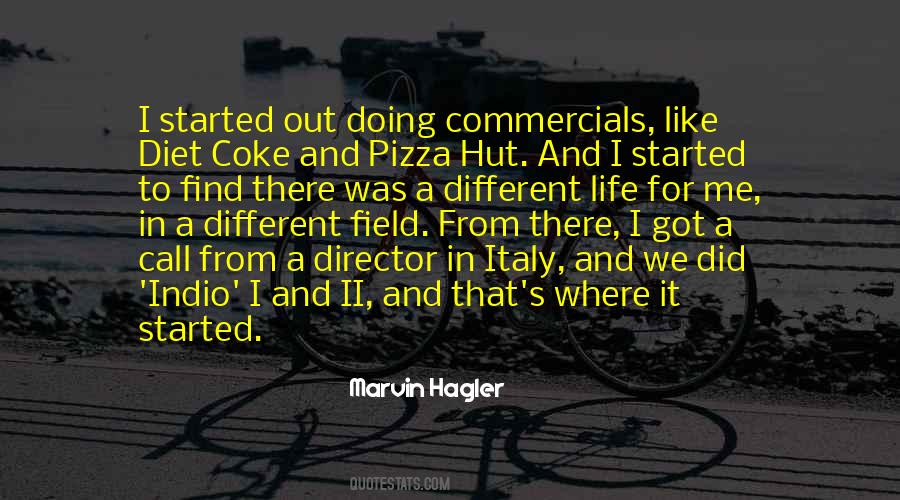 #37. If I call it pain, and try to touch it With my hands, my own life, It lies still and the music thins, A pulse felt for through garments. - Author: Tracy K. Smith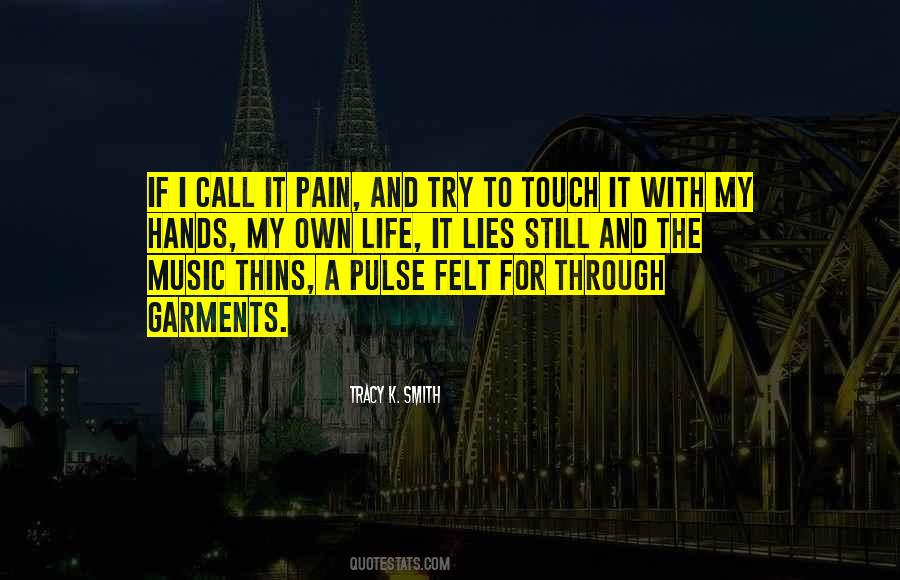 #38. State I call it where all drink poison, the good and the wicked; state, where all lose themselves, the good and the wicked; state, where the slow suicide of all is called life. - Author: Friedrich Nietzsche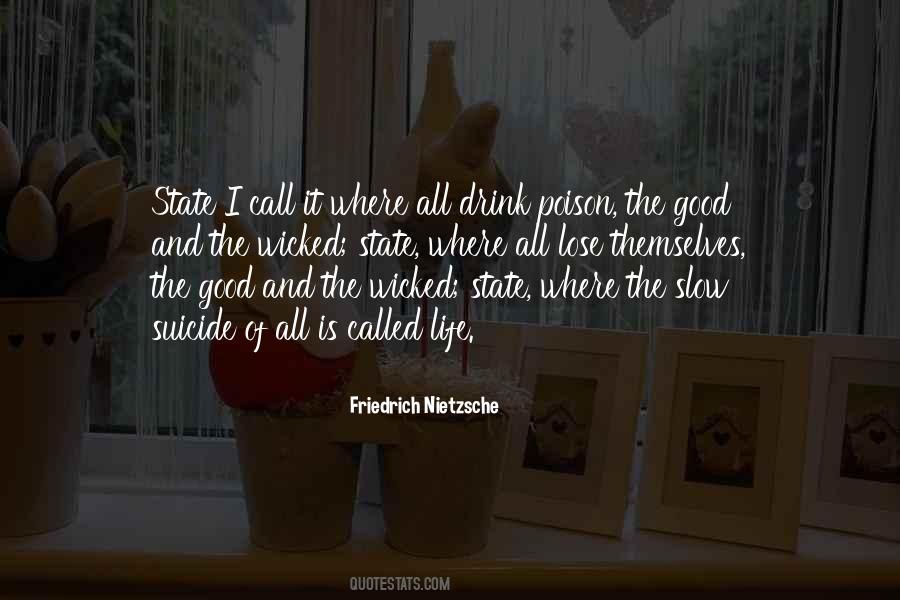 #39. You call it a near death experience, I call it a near life experience! - Author: L.J. Vanier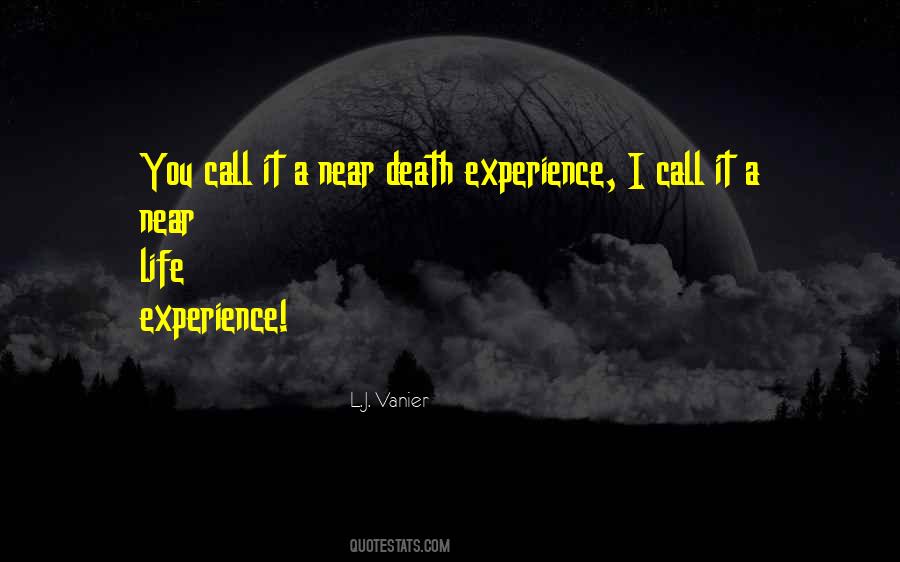 #40. Having Zoe saved my life. It was my wake-up call. There were so many things I didn't want to pass on to her. - Author: Lisa Bonet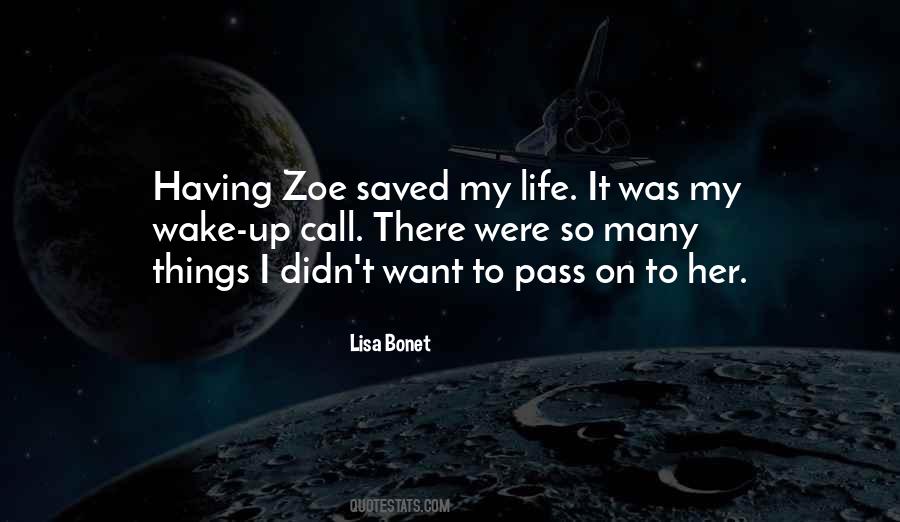 #41. You can't call it an adventure unless it's tinged with danger. The greatest danger in life, though, is not taking the adventure at all. To have the objective of a life of ease is death. I think we've all got to go after our own Everest. - Author: Brian Blessed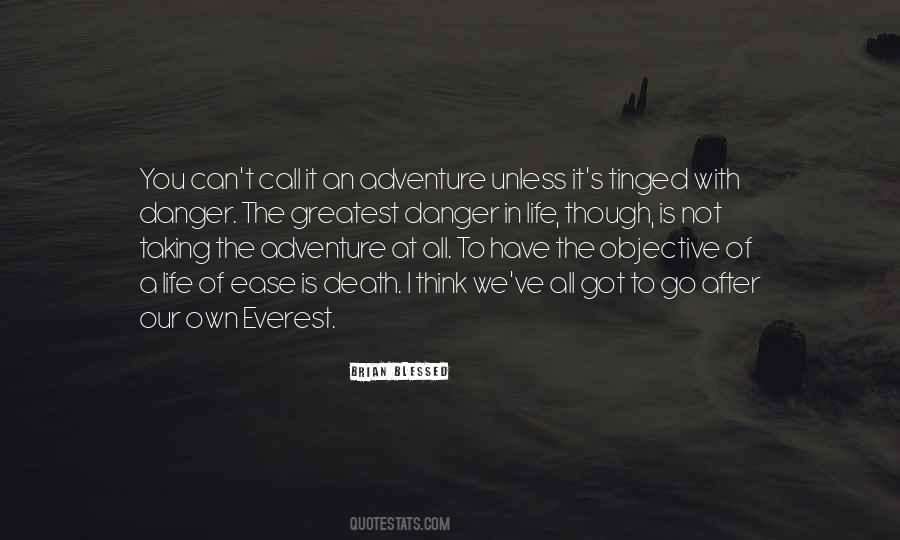 #42. Behind this dark cloud we call life, with its occasional silver linings, there is a blue sky bright with the everlasting light of that hidden world full of majesty without suffering. It is the domain of the one about whom some of us say, 'God is my salvation, I will trust and not be afraid. - Author: Brad Keena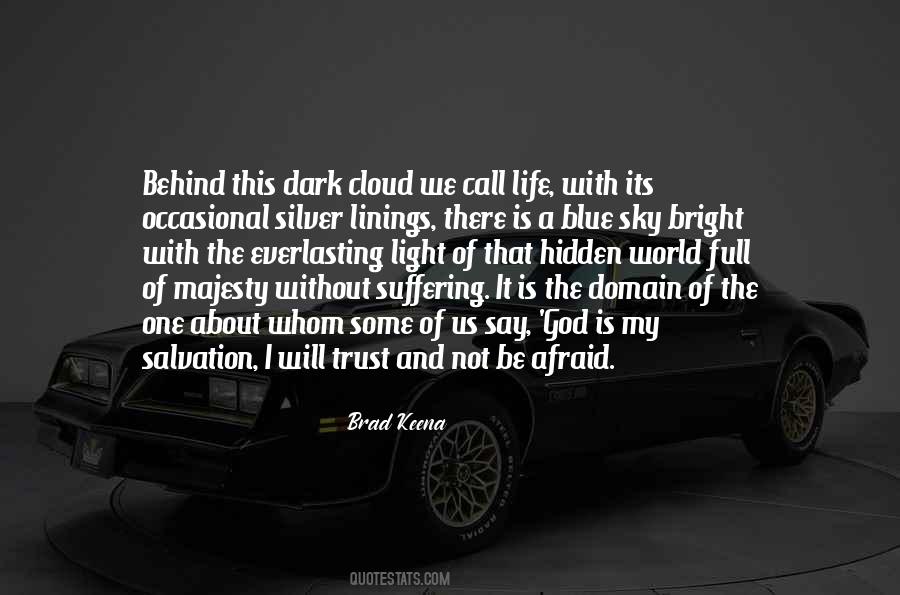 #43. I'm a truth seeker. That's what I do every day on the show - put out the truth. Some people don't like it, they call it sensational, but I say life is sensational. - Author: Oprah Winfrey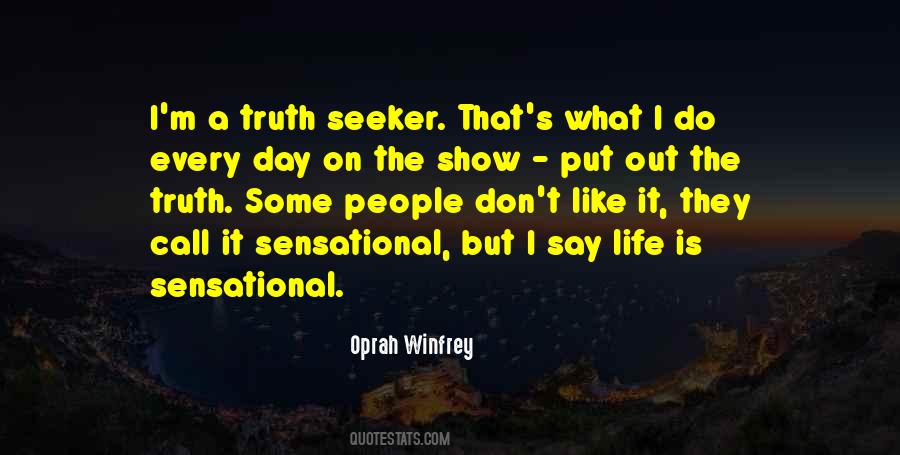 #44. I feel like nature abhors prolonged suffering. It does not allow it. It knocks you off if you got something chronic. But we somehow perpetuate that. Like we live day after day, year after year, our whole life under prolonged suffering. And that I would call cruelty. - Author: Daniel Suelo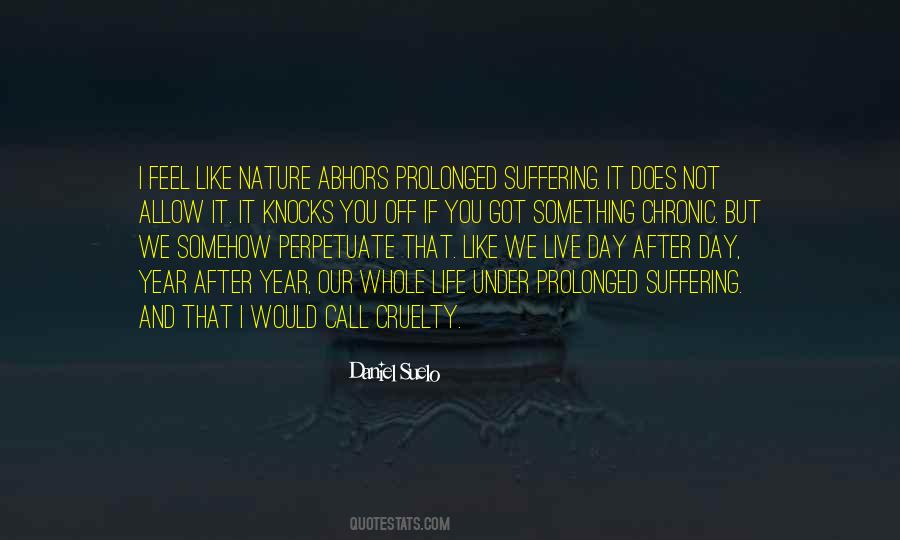 #45. I never used to believe in fate. I used to think you make your own life and then you call it fate. That's why I call it irony. - Author: Gene Wilder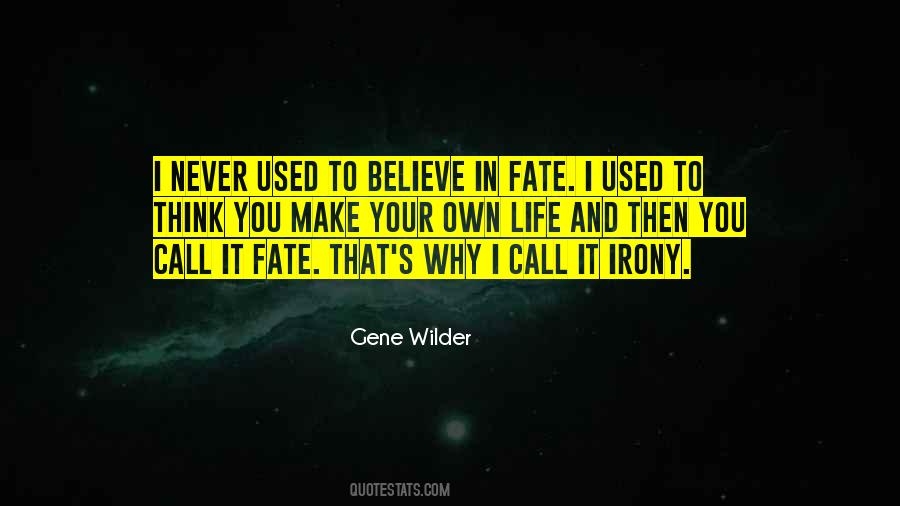 #46. Yeah, leading an examined life, I always say, is a pain in the ass. It adds an element of complexity to business that most businessmen don't want to hear about. They just want to call a fabric manufacturer, and say, "Hey, give us 10,000 yards of shirting." - Author: Yvon Chouinard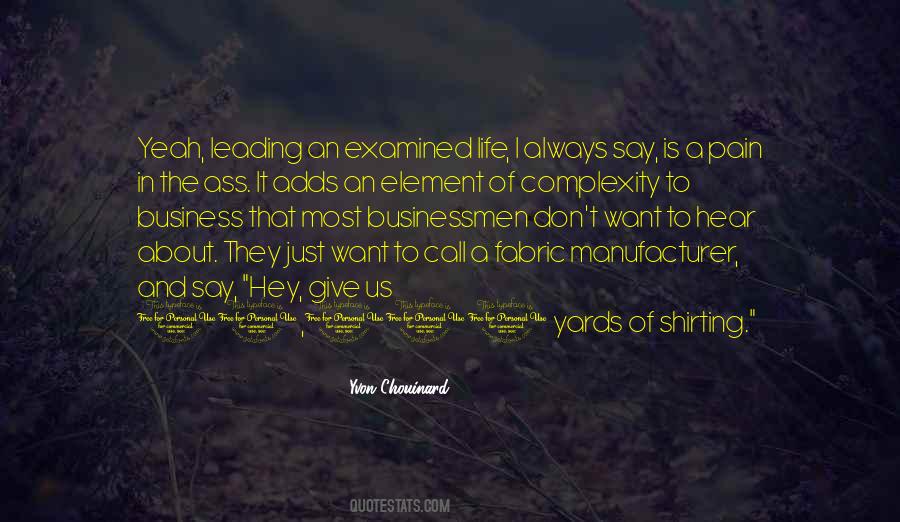 #47. I go through life watching the english language being raped before me face, like miniver cheevy, i was born too late.
and like miniver cheevy i cough and call it fate and go on drinking. - Author: Helene Hanff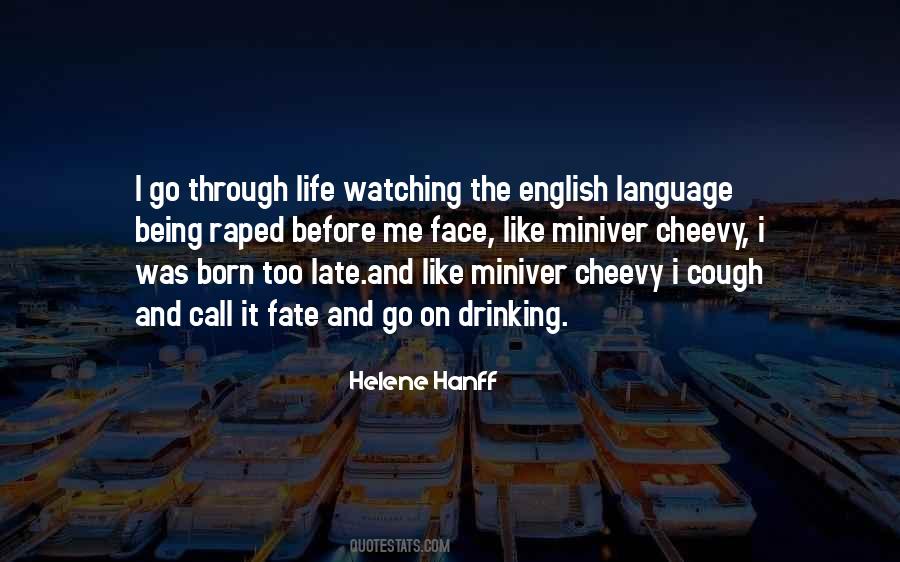 #48. Yes, in my life, since we must call it so, there were three things, the inability to speak, the inability to be silent, and solitude, that's what I've had to make the best of. - Author: Samuel Beckett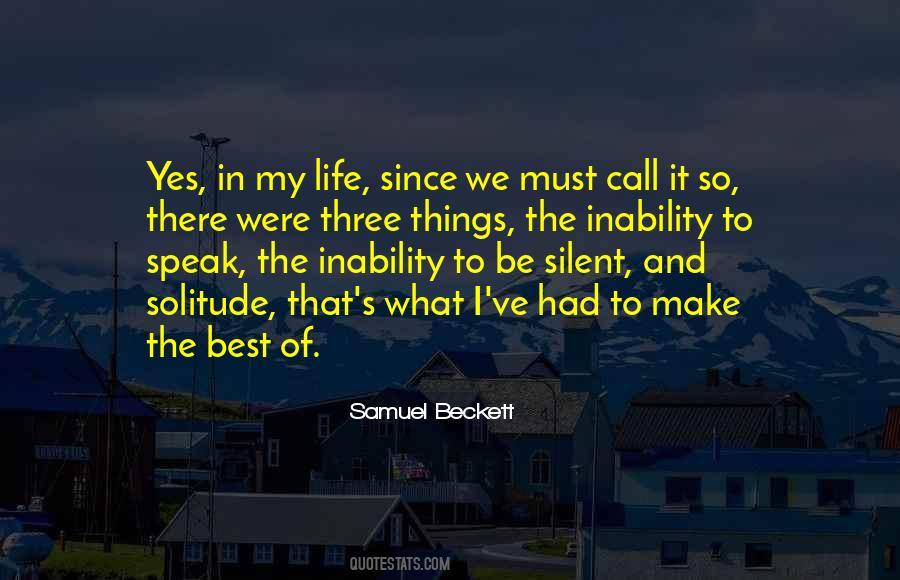 #49. Chaos is not disorder. Chaos is the totality of existence. You could call it God. You could use the term, the Tao. I like chaos. It means more to us in English. Chaos is all things, wild and wonderful, connected perfectly by the life force. - Author: Frederick Lenz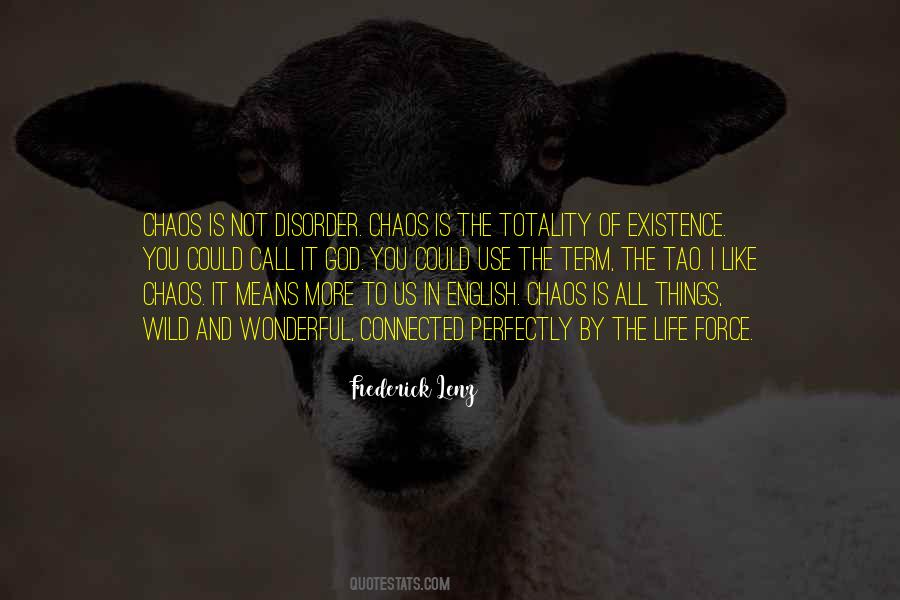 #50. I could call my wandering thoughts together. I had hardly any patience with the serious work of life which, now that it stood between me and my desire, seemed to me child's play, ugly monotonous child's play. - Author: James Joyce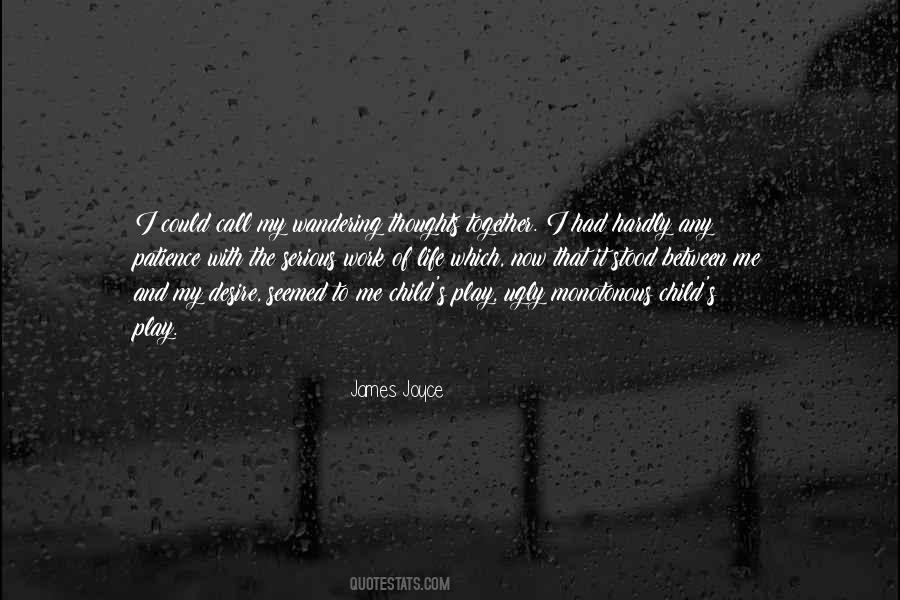 #51. My hope is that you will see this book for what it is...a conversation about the core questions that call us into humanity. Who am I? What am I? Who created me? What is my purpose? This is the story about the journey through the mysteries that make up the depths of life. - Author: Julia J. Gibbs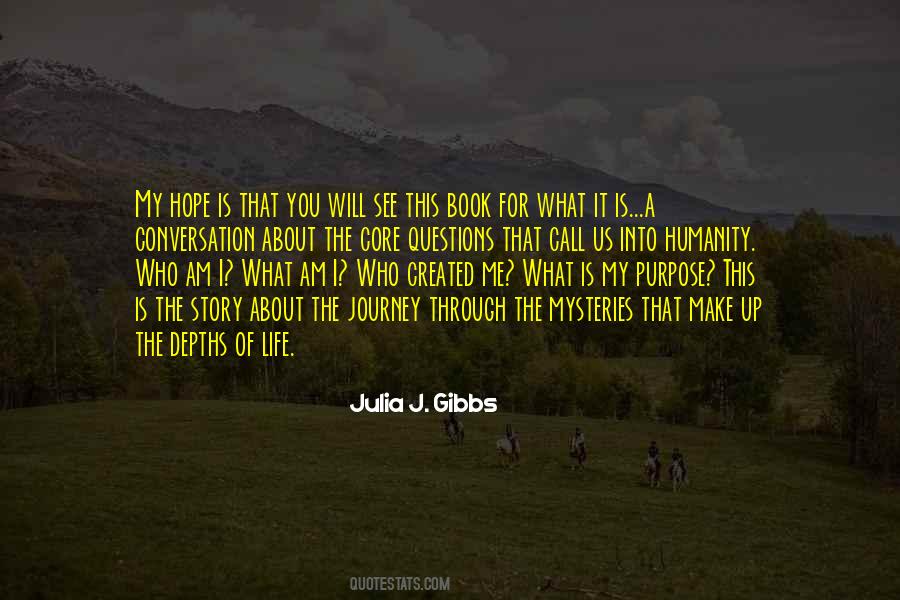 #52. I've written a number of songs over the years and it's a big part of my life, this sort of tension between a longing for home and the call for the open road. It's sort of like a tug between two families. I even love to miss my home. - Author: James Taylor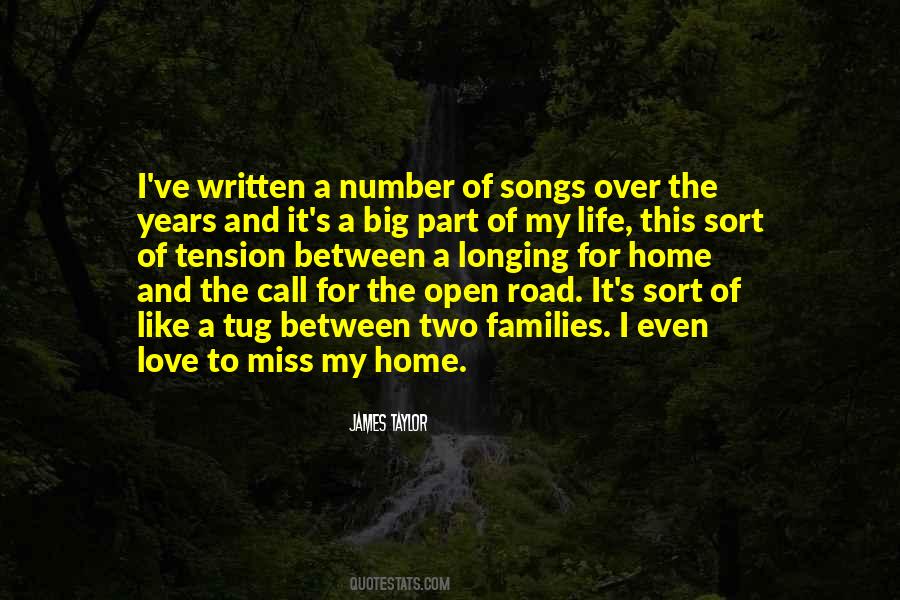 #53. Here am I, footsore and hungry, tramping away from it, tramping southward, following the old call, back to the old life, THE life which is mine and which will not let me go. - Author: Kenneth Grahame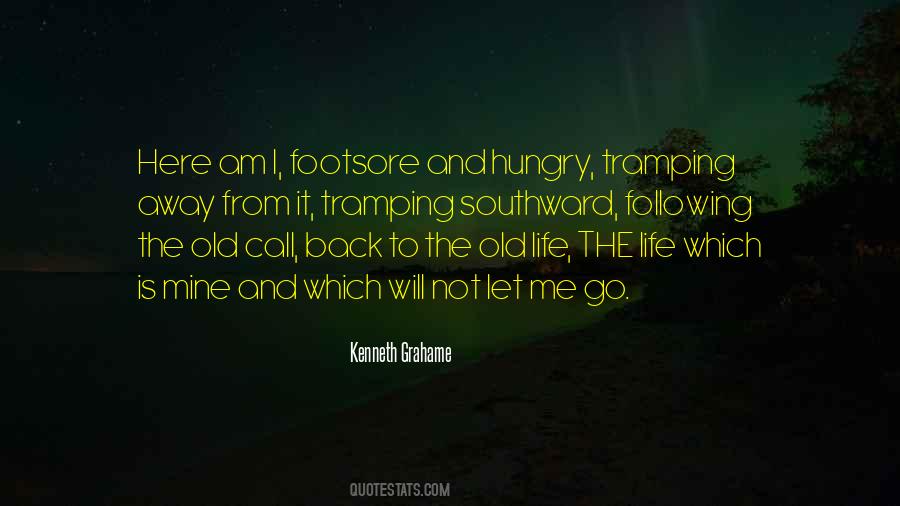 #54. I've very emotional. When I went through my first breakup, I thought it was the end of the world, and I thought I was going to die if I didn't have him in my life. It was good to cry it out, and just scream, or call my friends in the middle of the night crying. - Author: Selena Gomez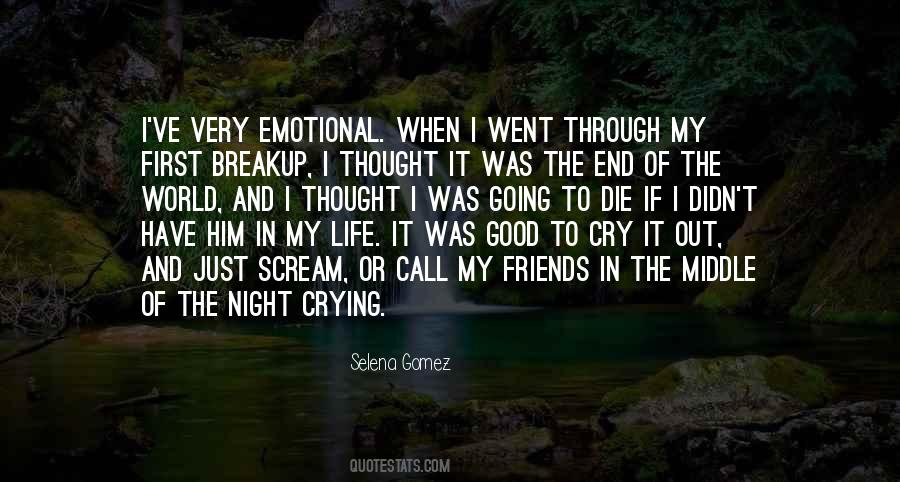 #55. I have been doodling with ink and watercolor on paper all my life. It's my way of stirring up my imagination to see what I find hidden in my head. I call the results dream pictures, fantasy sketches, and even brain-sharpenin g exercises. - Author: Maurice Sendak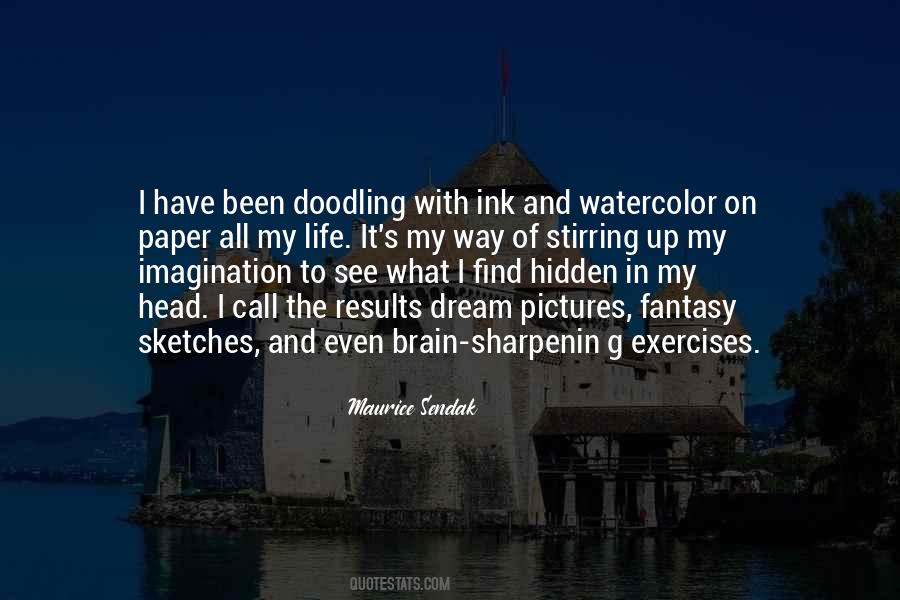 #56. As I began to love myself I stopped craving for a different life, and I could see that everything that surrounded me was inviting me to grow. Today I call it 'maturity'. - Author: Charlie Chaplin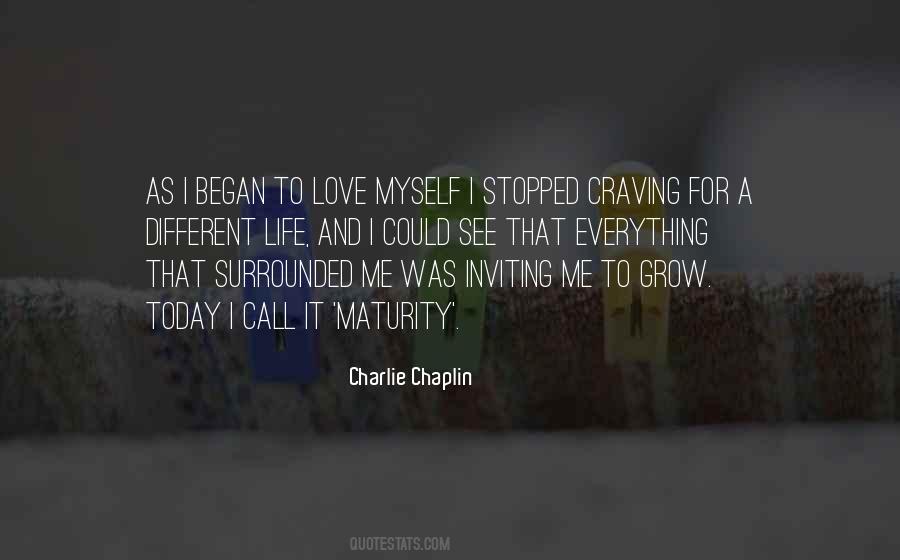 #57. Hell! I'm glad I did it. It's going to be a change. I
call this life! - Author: Jack Kerouac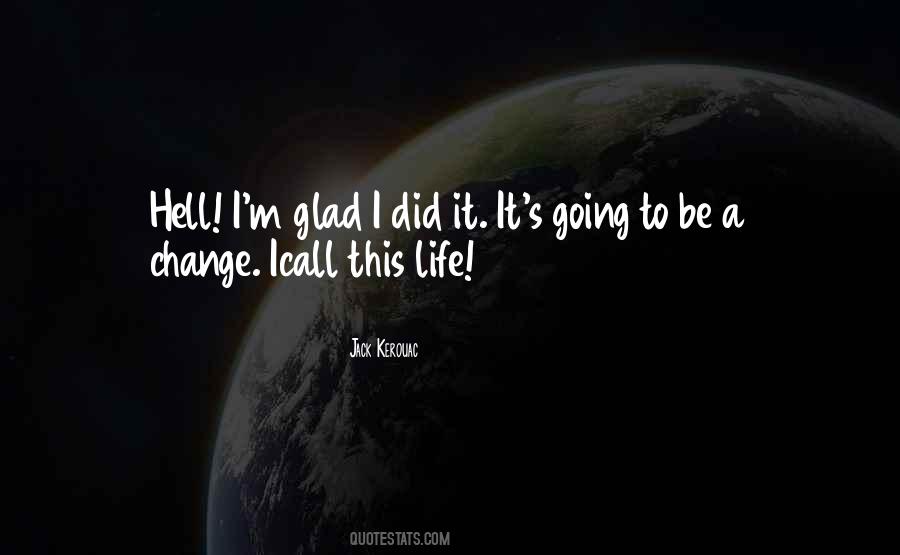 #58. For the people of my country," Renato said, "water is everything: love, life, religion ... even God."
"It is like that for me too," I said. "In English we call that a metaphor."
"Of course," said Renato, "and water is the most abundant metaphor on earth. - Author: Pam Houston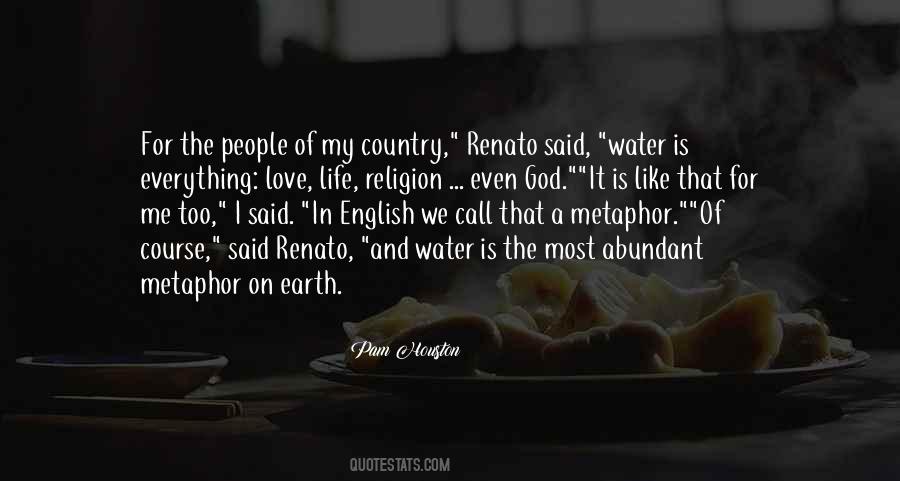 #59. I would not call it a difficult life, really. I just had a lot of challenges at a very young age. - Author: Ger Duany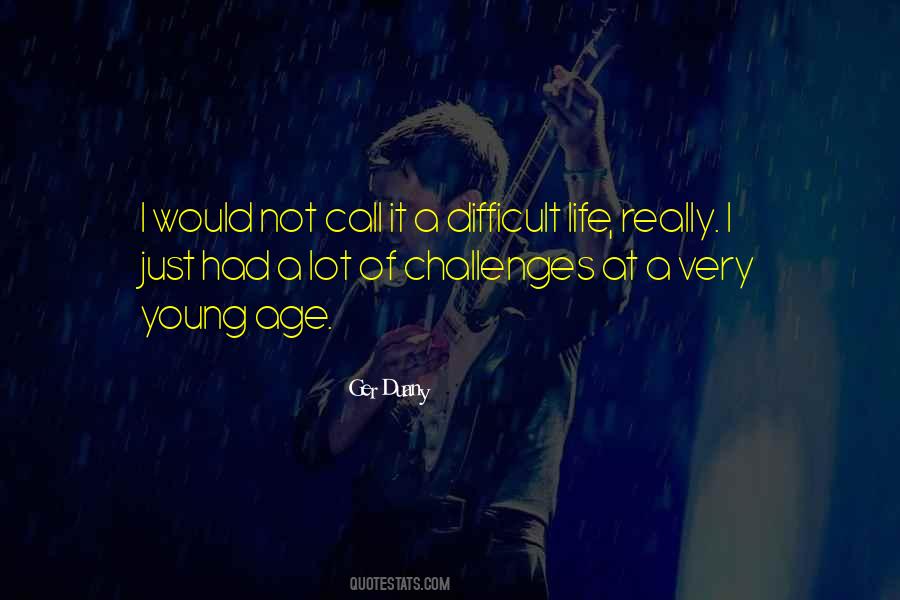 #60. A mouth that has no moisture and no breath
Breathless mouths may summon;
I hail the superhuman;
I call it death-in-life and life-in-death. - Author: William Butler Yeats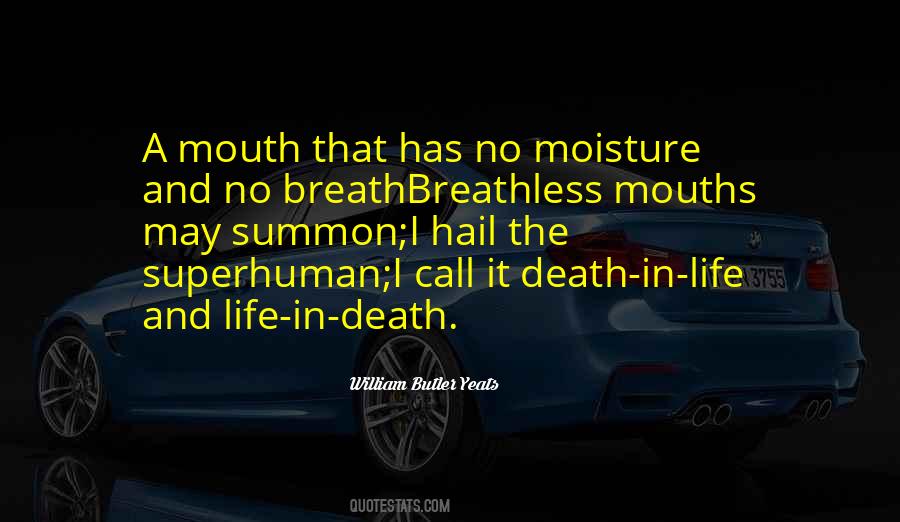 #61. A world of death is a world of stagnation, without the change that makes it worthwhile. What you call uncertainty, I call life itself. - Author: Graham McNeill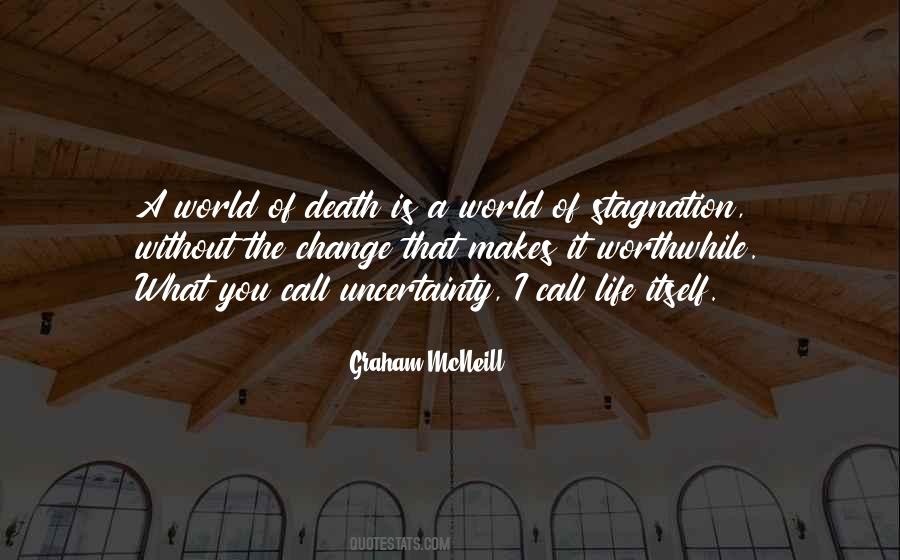 #62. I feel how little it concerns me, everything that's called "the world," and how grand and exciting what I privately call the world is to me. - Author: Robert Walser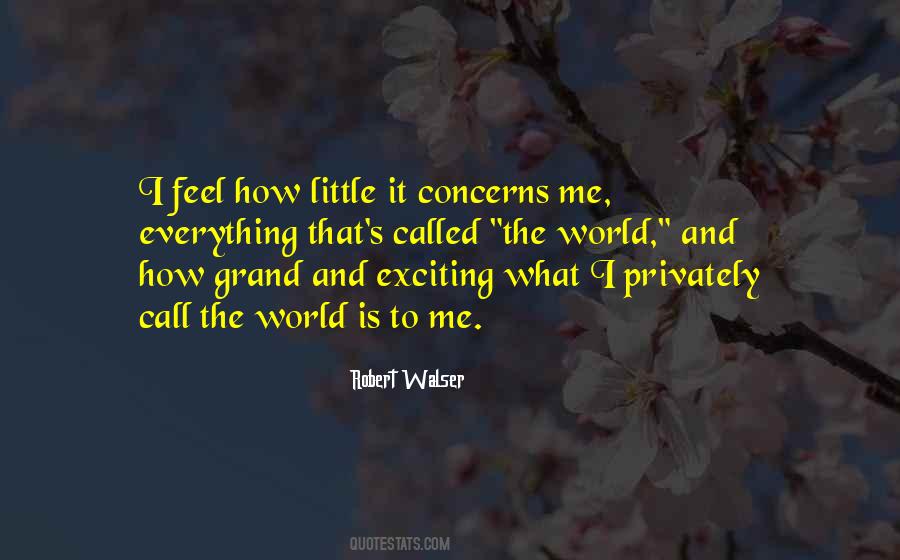 #63. You didn't just accidentally win my favor," I dispute, slowly shaking my
forehead against his.
"You earned it. Now, if I can just save your life twenty or thirty more times ... We might actually be able to call it even. - Author: M.A. George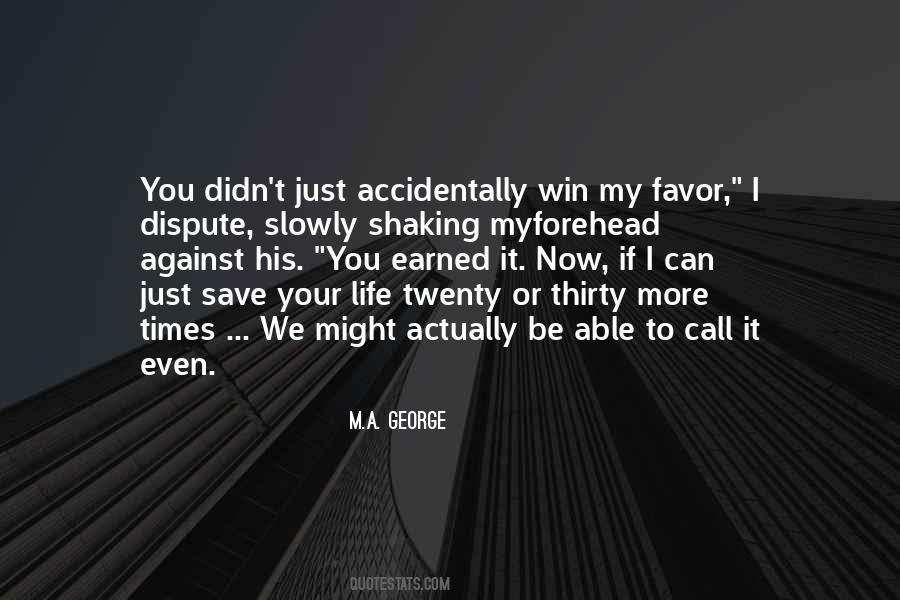 #64. Sometimes I feel like I have walked into the middle of a movie. Maybe I can make my own movie. The film will be the story of my life. No, not my life, but of this experience. I'll call it what the lady who is the prosecutor called me. MONSTER. - Author: Walter Dean Myers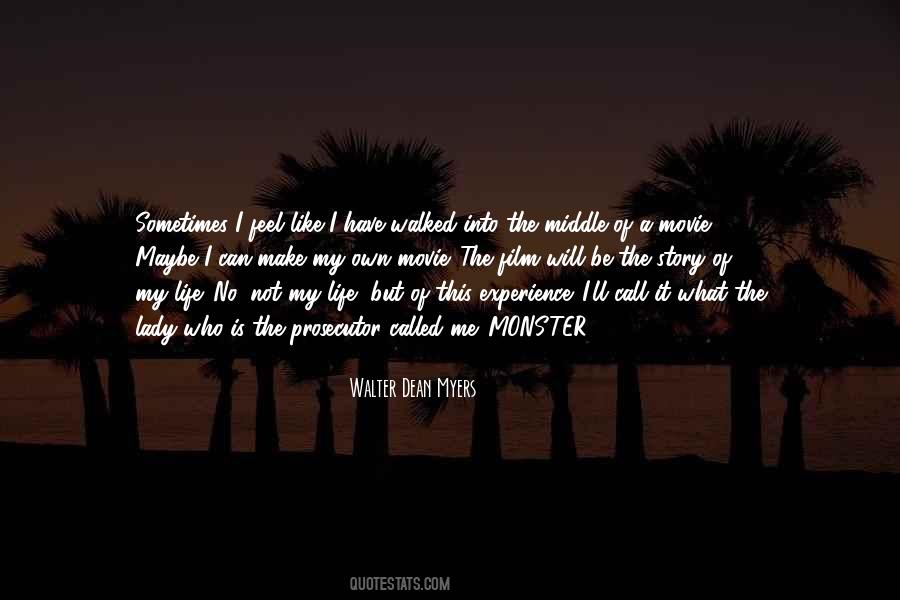 #65. You gotta live in the moment. I don't care what you've done in your life, it has nothing to do with what you're gonna do or what you can do. The past is history, tomorrow is a mystery. But today is a gift-that's why they call it the present. - Author: Mike Ditka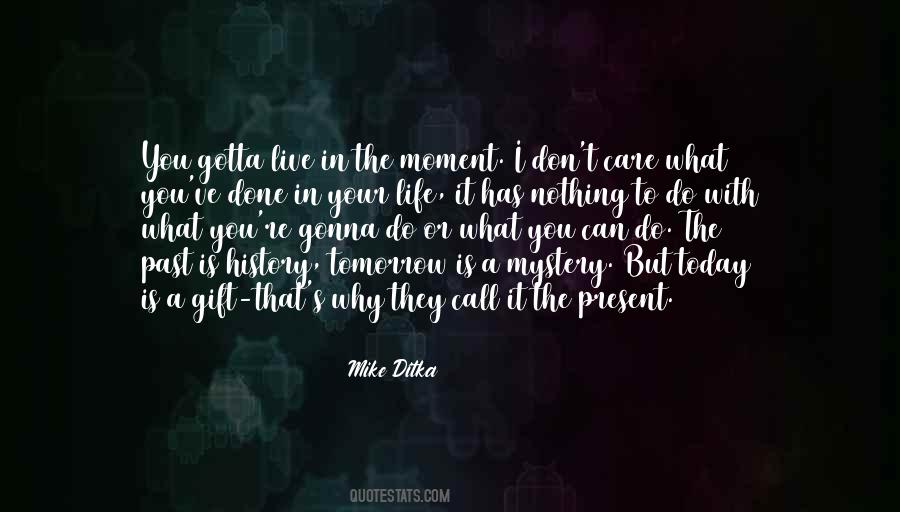 #66. I believe that labor is a blessing. It never was and never will be a curse. It is a blessed thing to labor for ... the ones you love. It is a blessed thing to have an object in life - something to do - something to call into play your best thoughts, to develop your faculties and to make you a man. - Author: Robert Green Ingersoll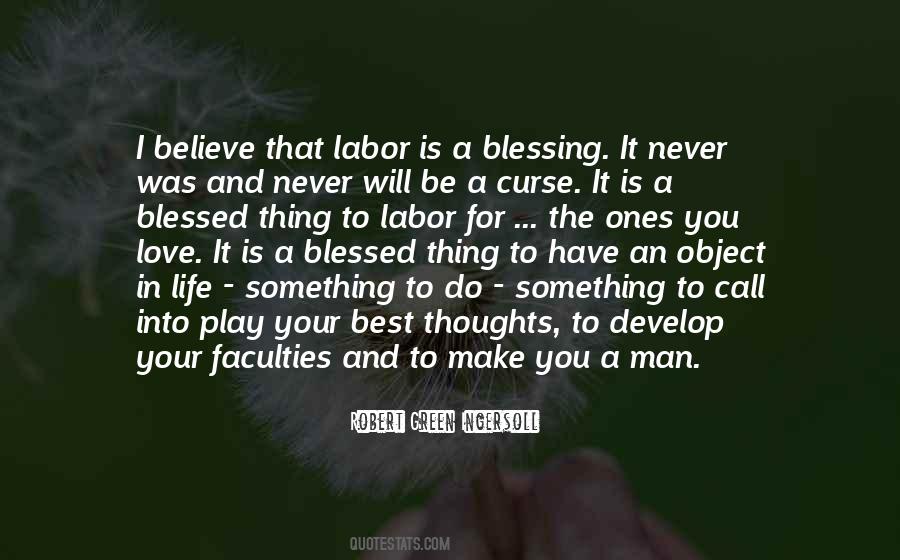 #67. I think writing is like ministry. You get this call and you run before accepting it. If you run right to it, there's a good chance you were not called. - Author: Robin Caldwell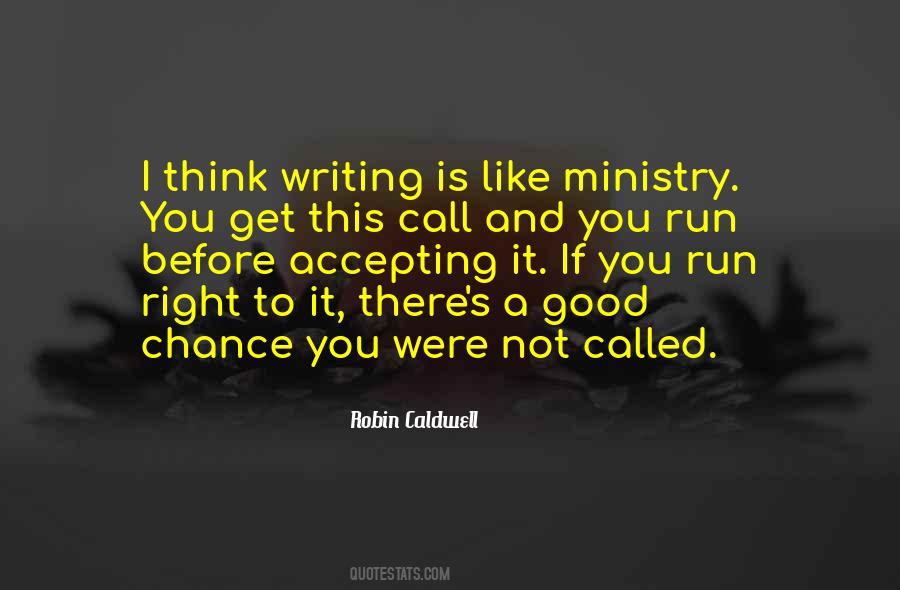 #68. There is a reason behind life. There is some connectivity between living beings. Whether you want to call that 'God' or 'The Force' or whatever word you use for it, I do believe in a spiritualized mechanism. - Author: Damon Lindelof
#69. Well, life is dark. We live in a very dark world. When they call them "dark films" it annoys me, because they're very real stories. They're stories I have seen or experienced or witnessed, and coming from that place, that is the hope of humanity. - Author: Charlize Theron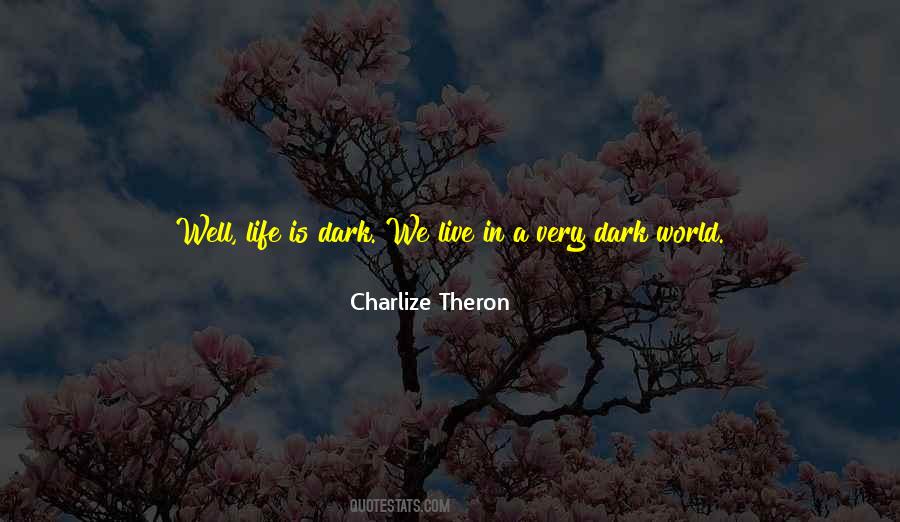 #70. You are sunshine and moonlight, laughter and joy, a life lived entirely without fear. You heard the call of a dream and made it a reality. You are everything I believed I was fighting for all those years. - Author: Elaine Levine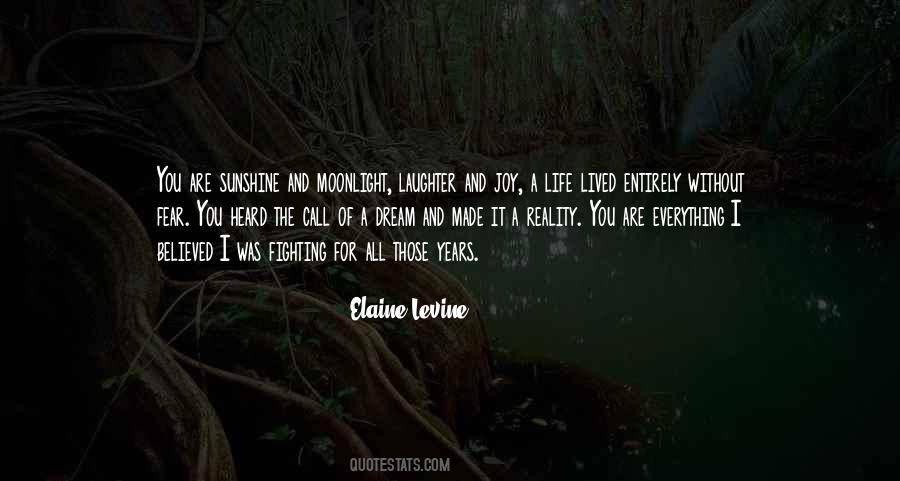 #71. Some people call it fearless, some people call it confidence. And I feel I'm confident of whatever I do. - Author: Sachin Tendulkar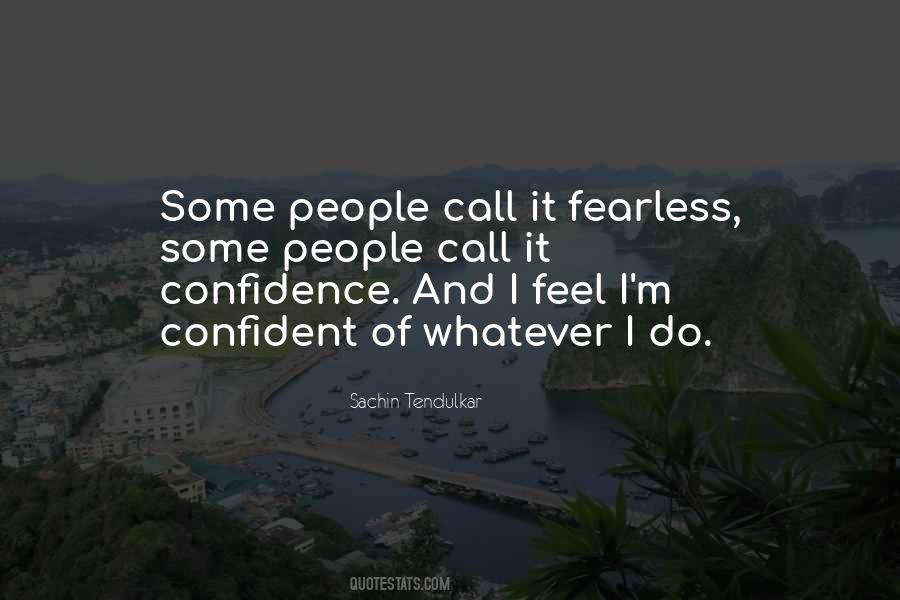 #72. My dad had a stroke. It's one of those life-changing events. It was right around the time I was turning 40. We were doing 'L.A. Law,' and I got this call that my dad was in Rome and had had a stroke. I want to stress that it wasn't a huge stroke, but it was enough to provide a serious wake-up call. - Author: Corbin Bernsen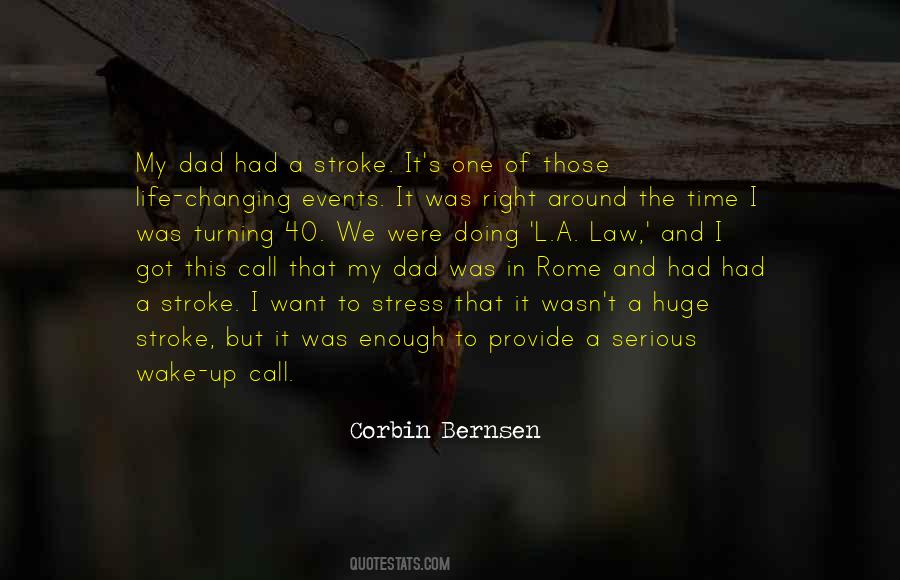 #73. Let's just call it like it is, no need to pretty it up. I care what other people think of me. I'm not Jesus Christ. I'm just a girl in the world. - Author: Andrea Portes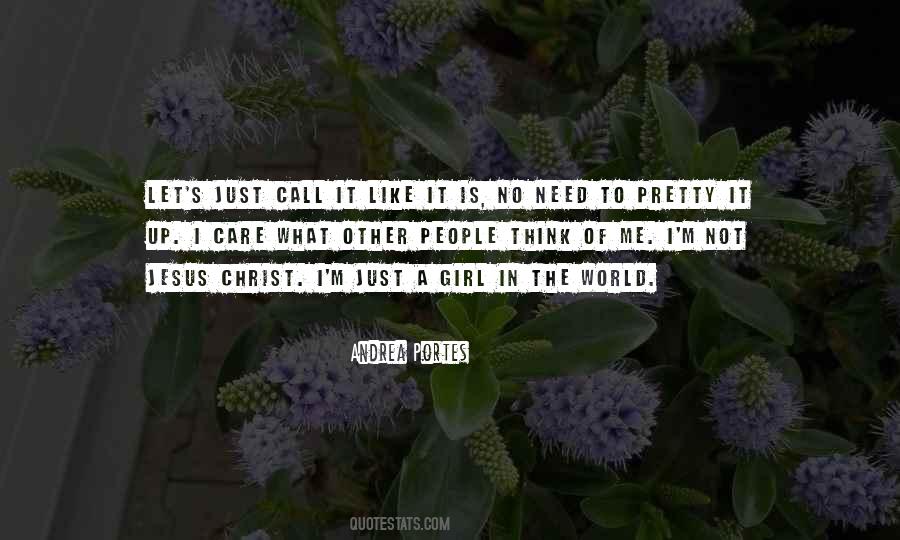 #74. It's part of me to get off on those moments where ... well, what people would call attention. Obviously, that isn't the be-all and end-all of life, but at the states of creativity that I've reached, well, it helps the lyrics along a little bit. - Author: Robert Plant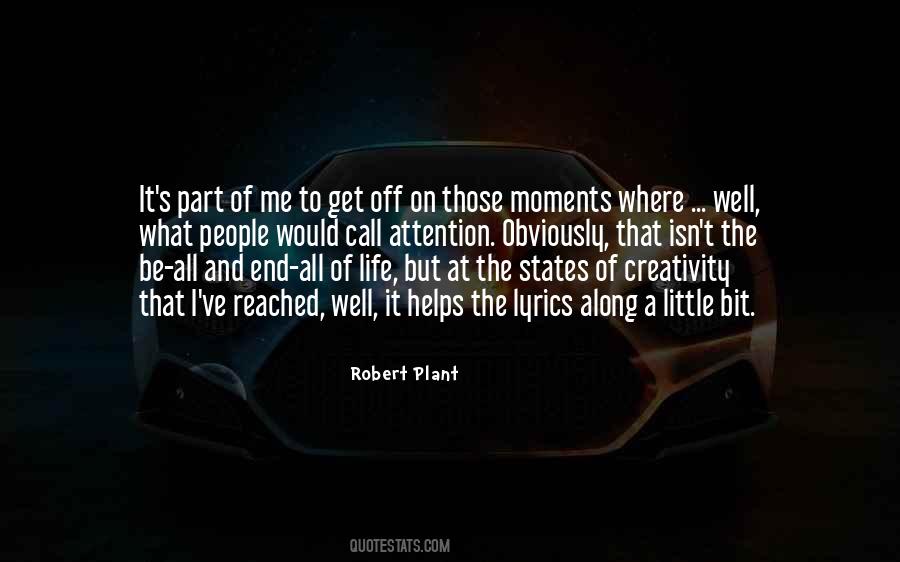 #75. I wrote a little autobiography about how luck has to do with everything. It's called 'My Lucky Life In and Out of Show Business.' A publisher came to me and said, 'Write a book,' so I did. I wanted to call it 'Everybody Else Has Got a Book.' - Author: Dick Van Dyke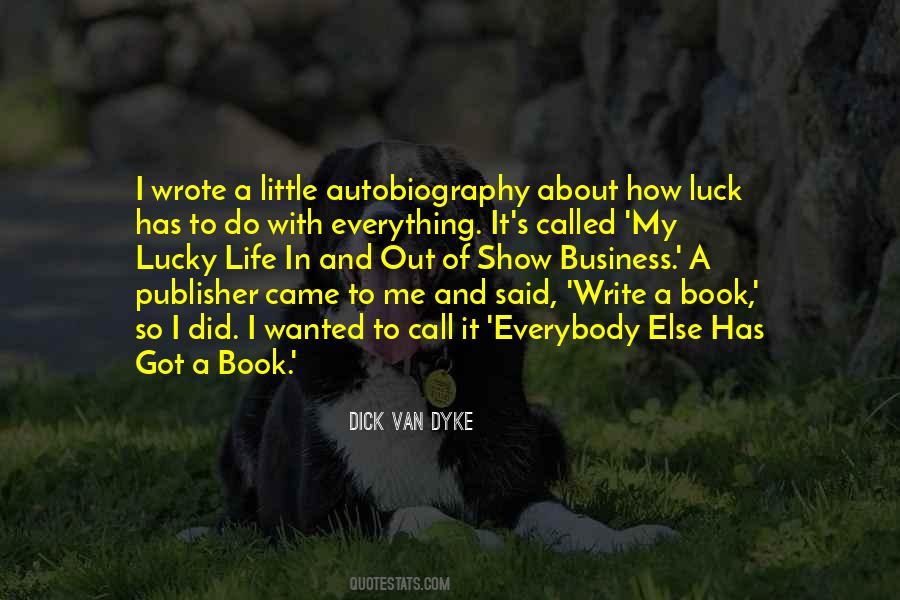 #76. I love contemporary poetry because it moves between what we call poetry and what we call philosophy. It joins these fields and makes writing more natural, as in how it is lived in the person. We don't separate thinking from feeling in real life, so why should we separate it in writing? - Author: Etel Adnan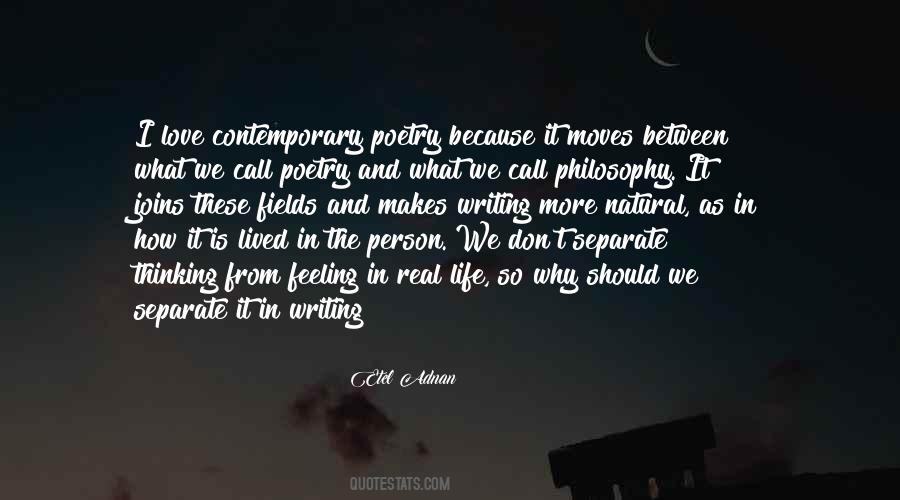 #77. I long ago developed a very practical smile, which I call my "Noh smile" because it resembles a Noh mask whose features are frozen. Its advantage is that men can interpret it however they want; you can imagine how often I've relied on it. - Author: Arthur Golden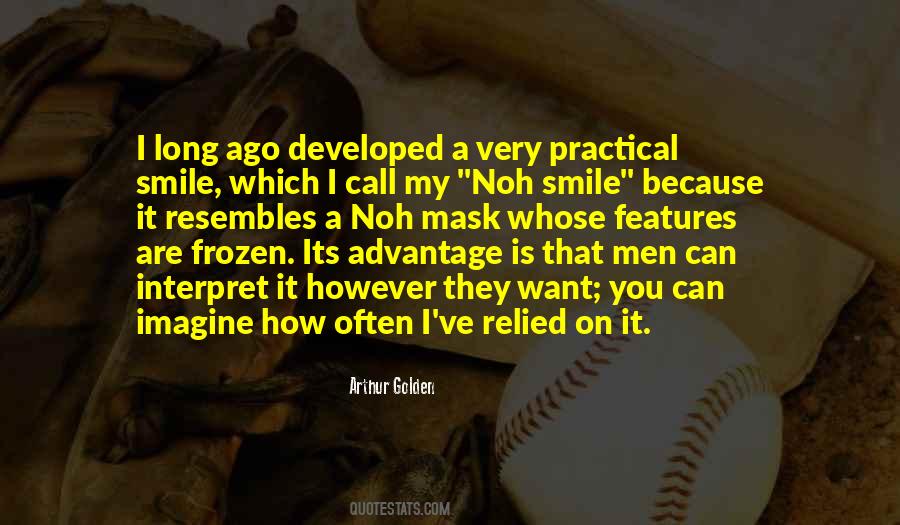 #78. I'd send them both letters wishing them safe travels. Maybe they'd send me a postcard. Maybe they'd call when they got back, or when they settled in at college. Maybe they wouldn't, and they'd end up in the book. It was uncertain, like life.
I was starting to be okay with that. - Author: Sarah Ockler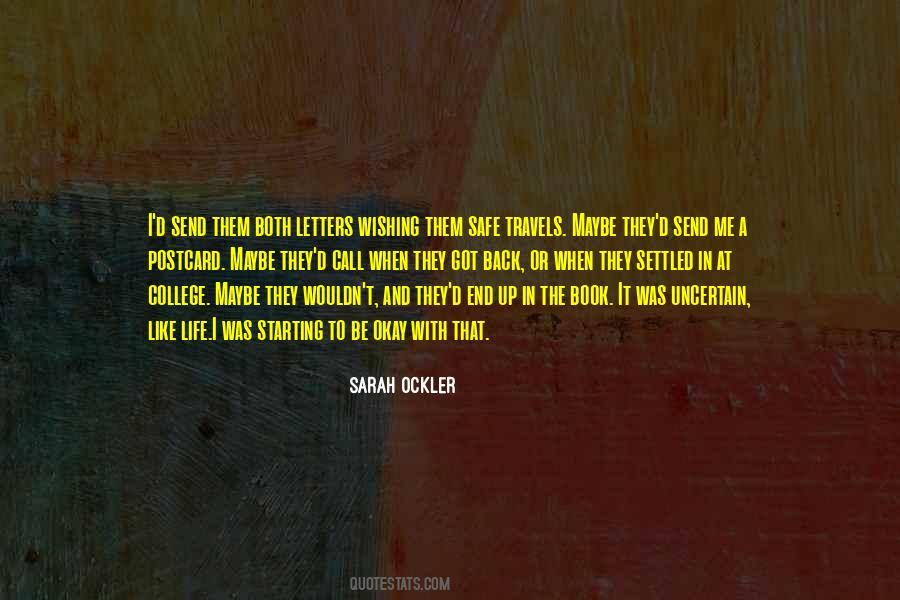 #79. He explained civilization to me. I mean how it looks to him. He's going to let it go on a little while longer. But it better be careful and not interfere with his private life. If it does, he's apt to make a phone call to God and cancel the order. - Author: Raymond Chandler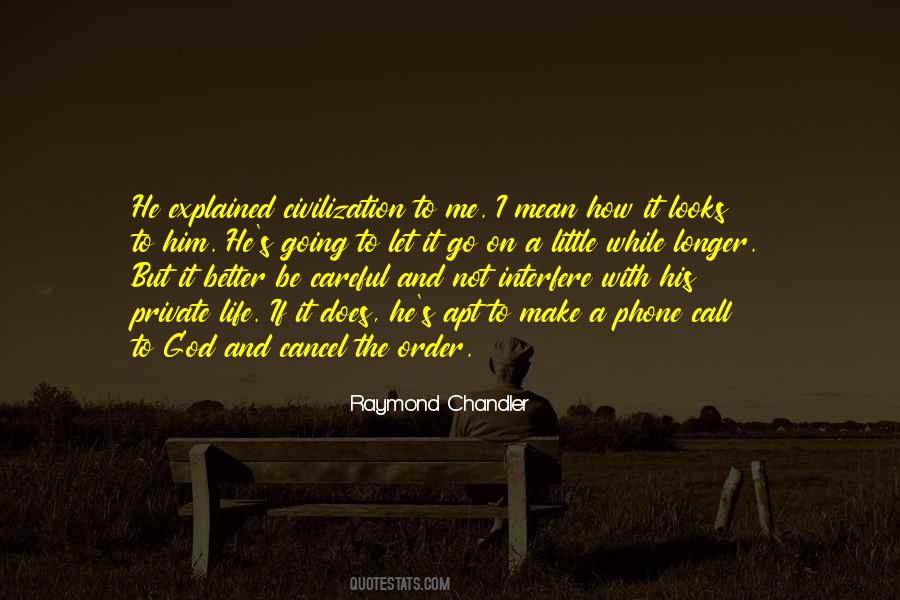 #80. I knew I was putting you under immense pressure when I rejected your work the other day. I set an impossible deadline - yet you have met it with work that I can only call outstanding. As your teacher, I had to push you to your limits so that you could recognize your own true potential. - Author: A. P. J. Abdul Kalam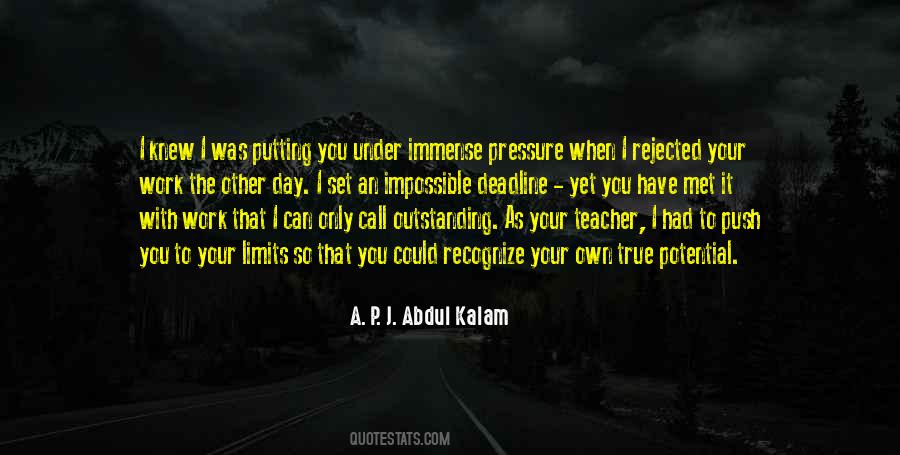 #81. I've reached a happy stage in my life - you can call it "happy" - but I have no expectations anymore. I'm glad I'm not young anymore. - Author: Anthony Hopkins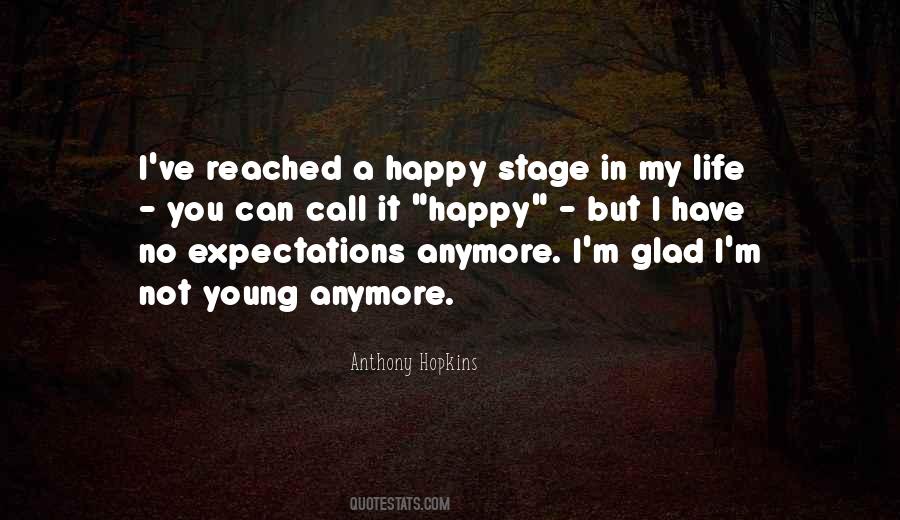 #82. I felt like I wasn't doing justice to either side of my life. It wasn't pronounced. Publicity is an awkward thing to do. It is awkward to call people up all the time and ask them for things on a very basic level. - Author: Sloane Crosley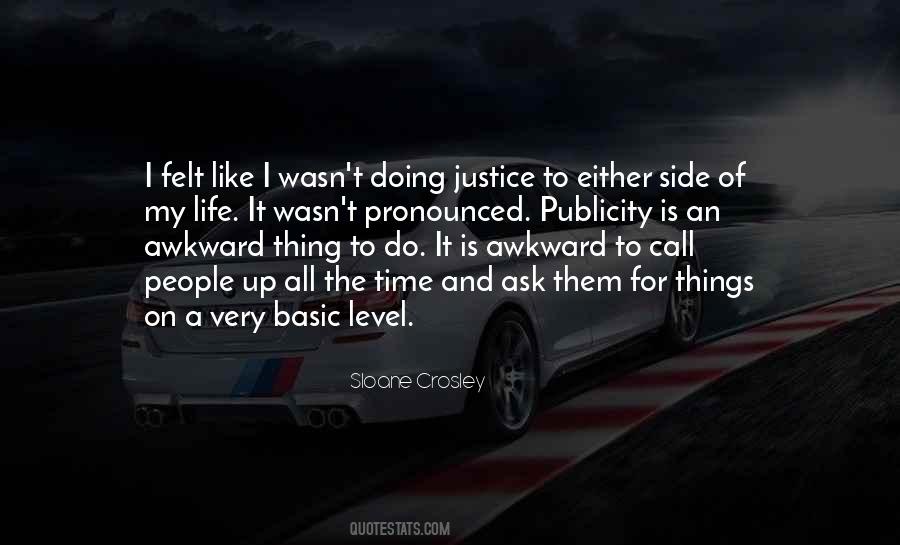 #83. I call the Change of Life "Orchids" because menopause is such an ugly word. It's got men in it for goddsakes. - Author: Lisa Jey Davis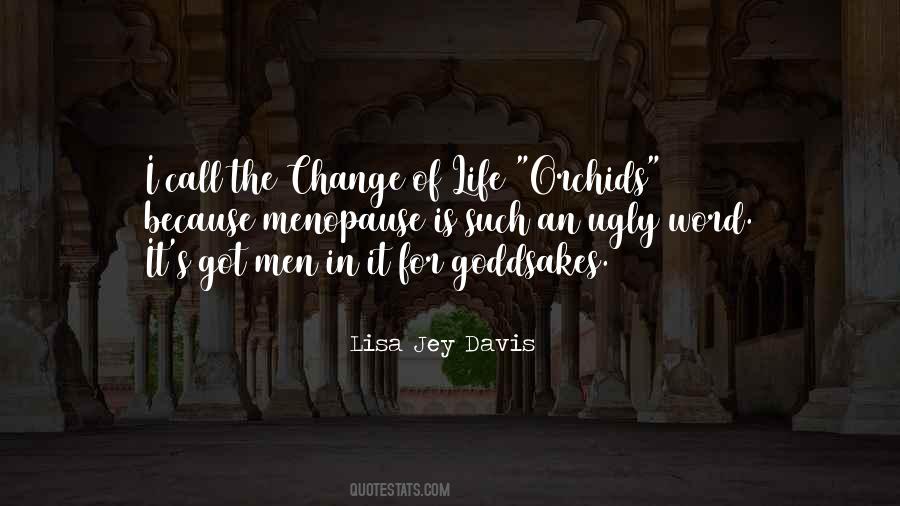 #84. You're trying to put yourself in that moment and trying to prepare yourself, to have a 'memory before the game. I don't know if you'd call it visualising or dreaming, but I've always done it, my whole life. - Author: Wayne Rooney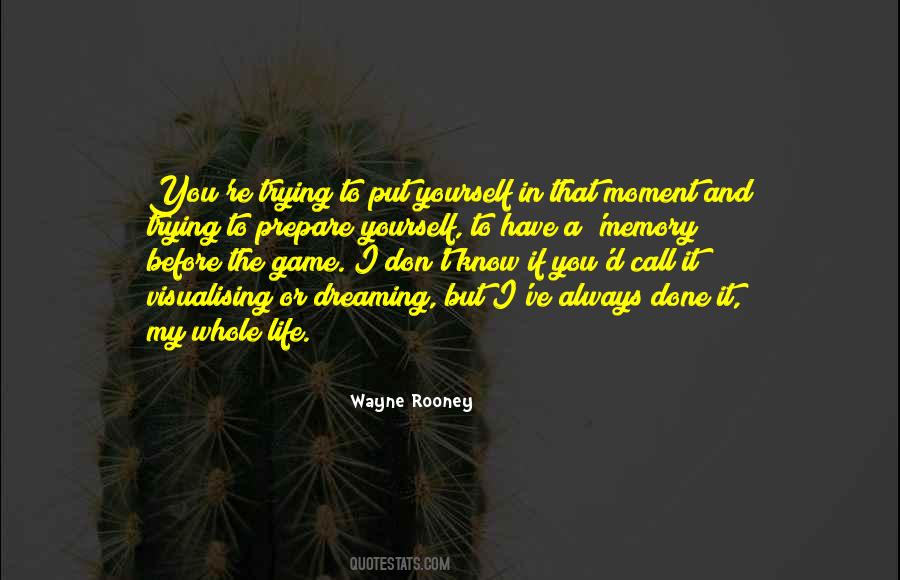 #85. There's what you're forced to do, there's what you choose, and everything else - most things - are a mix. At best, you'll spend your life trying not to get hurt, but trying not to do the hurting, either. You won't always come through, but it's the best anyone can do. It's the trying I'd call good. - Author: Alexandra Duncan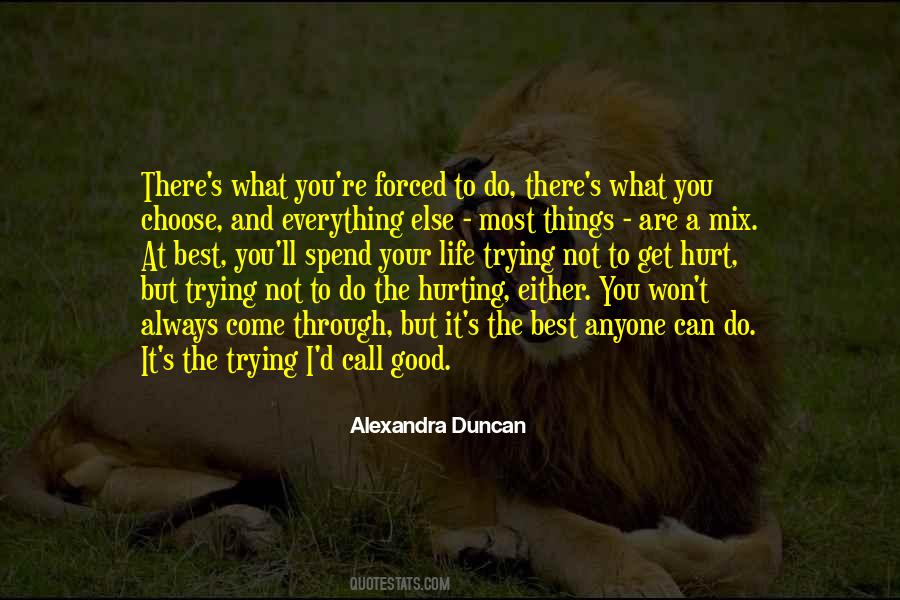 #86. Would to God, brethren, I could tell you WHO I am! Would to God I could tell you WHAT I know! But you would call it blasphemy and want to take my life! - Author: Sam Smith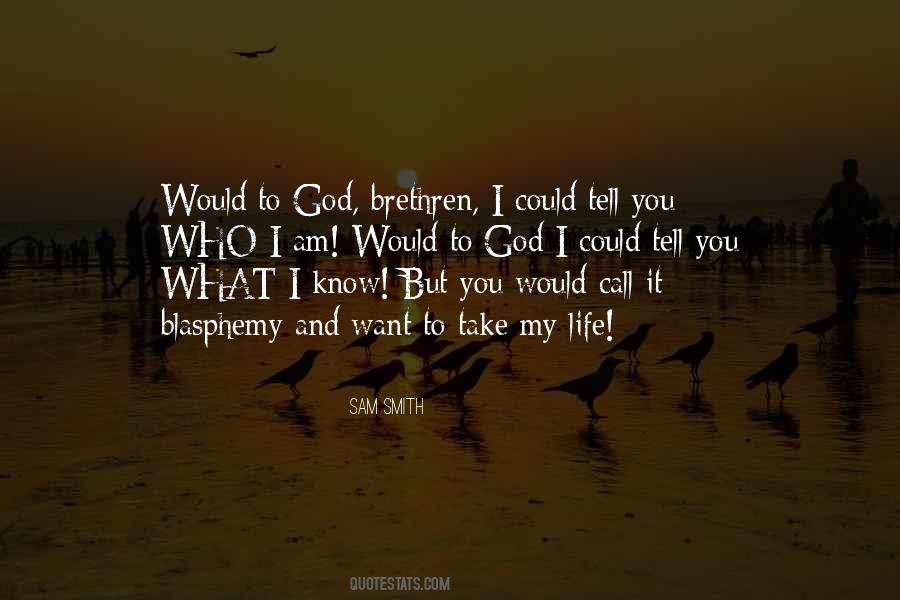 #87. I want to confess. I thought that her story was comprised of scenes. I thought the tragedy could be glamorous and her grief could be undone by a sunnier future. I thought we could pinpoint dramatic events on a time line and call it a life.
But I was wrong. - Author: Nina LaCour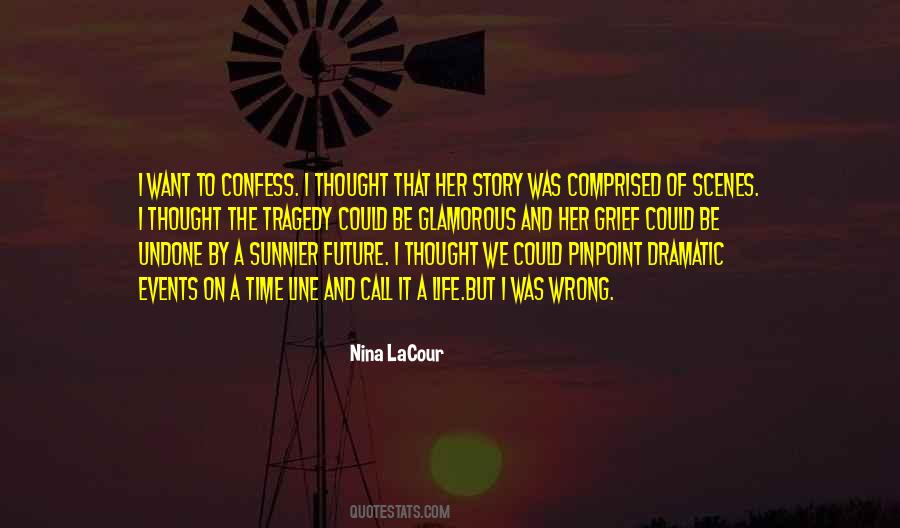 #88. When the most important things in our life happen we quite often do not know, at the moment, what is going on. A man does not always say to himself, "hullo! i'm growing up." It is only when he looks back that he realises what has happened and recognises it as what people call "growing up. - Author: C.S. Lewis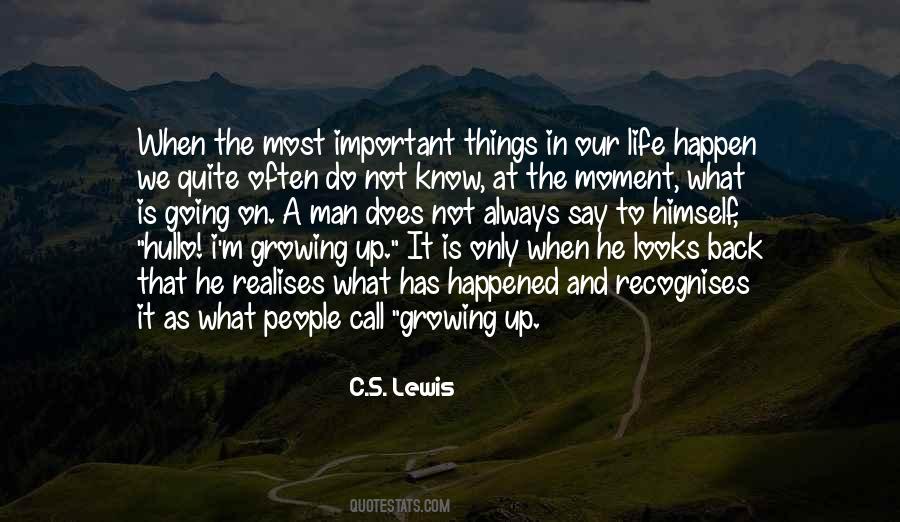 #89. In my heart I do have a fear...I long to grow more godly with each passing day. Call it "the fear of the Lord," being in awe of Him and scared to death of any sin that would mar my life. - Author: Anne Ortlund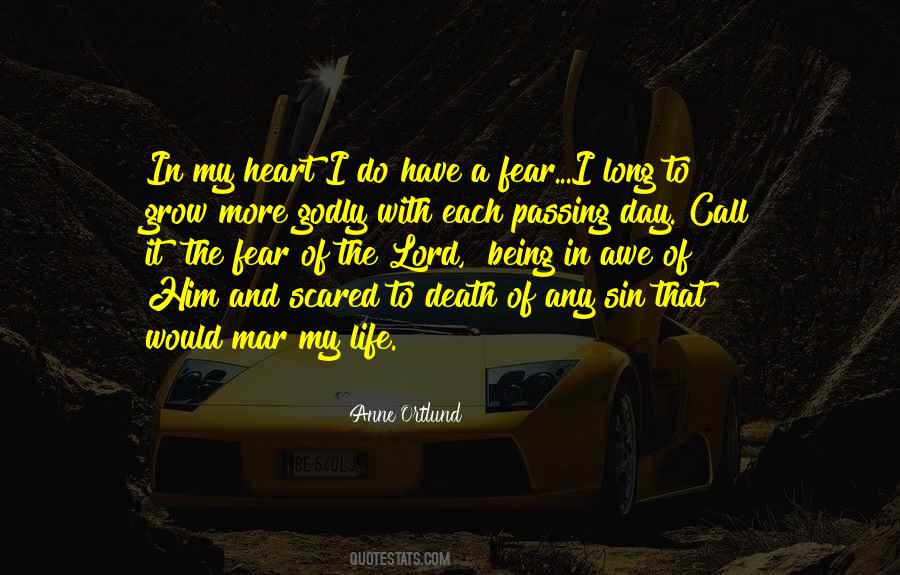 #90. I carefully choose people in my life and if you are not happy with it, then its your call to be angry, broken, disappointed and lose sleep over my choice, judgement & decision ... no apologies. - Author: Uzoma Nnadi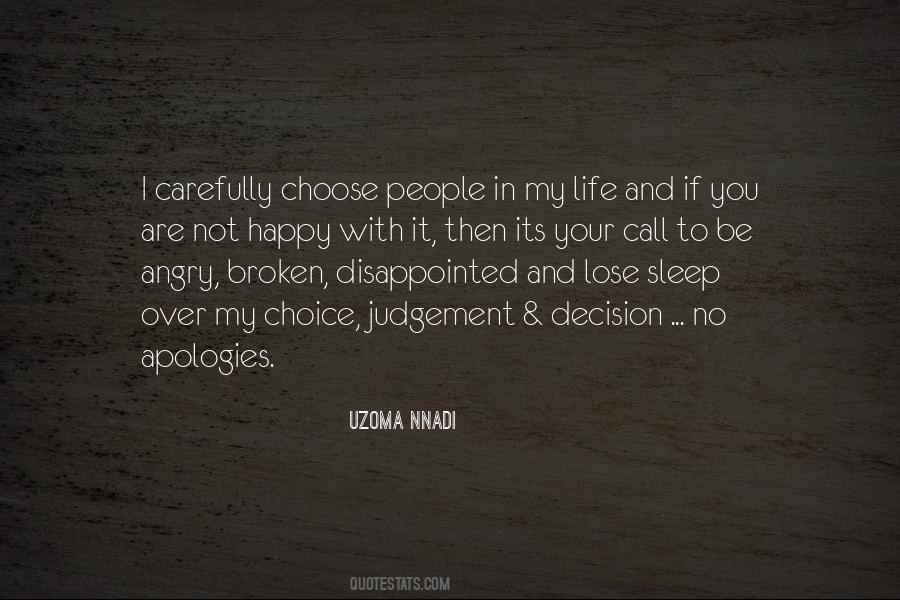 #91. All the proliferating falsifications of what I and everyone I know experienced once in what it is now so convenient to call the "fifties" or "sixties," as if life was really measured or lived in arbitrary decades, when the history books are sold like comix. - Author: Lester Bangs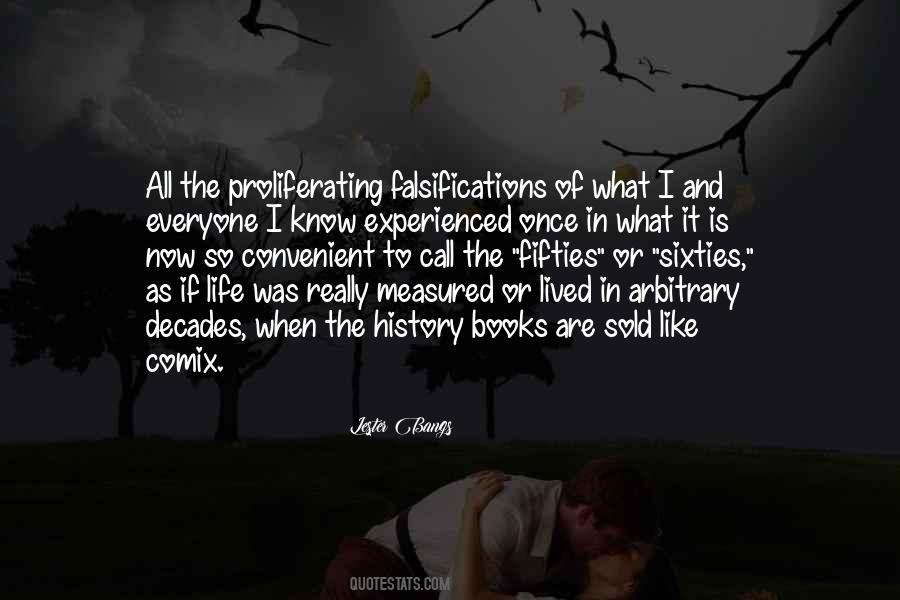 #92. I can't really remember a time in my life when I didn't know something about what we call the Holocaust. It was this dark topic that I would know more about when I got older, but which was spoken about in hushed tones. - Author: Elliot Perlman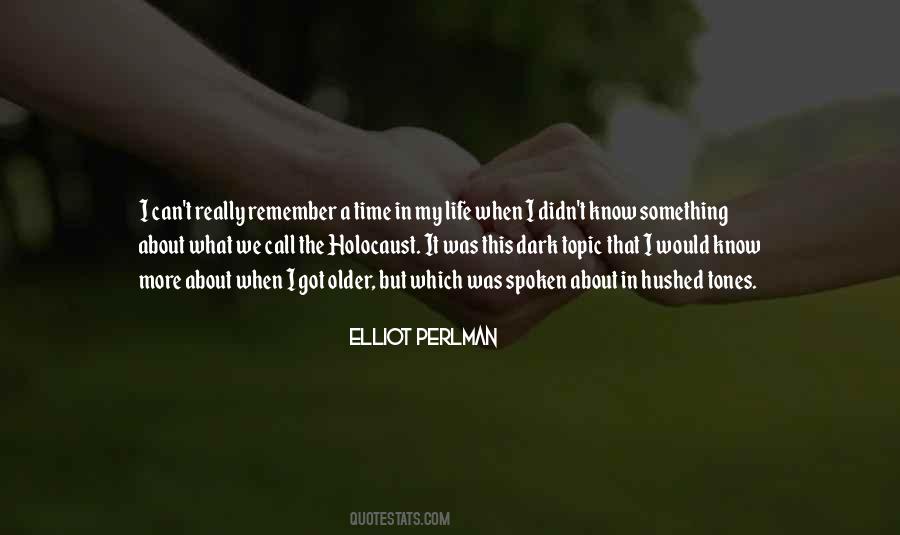 #93. My homicidal maniac is of a peculiar kind. I shall have to invent a new classification for him, and call him a zoophagous (life-eating) maniac; what he desires is to absorb as many lives as he can, and he has laid himself out to achieve it in a cumulative way.. - Author: Bram Stoker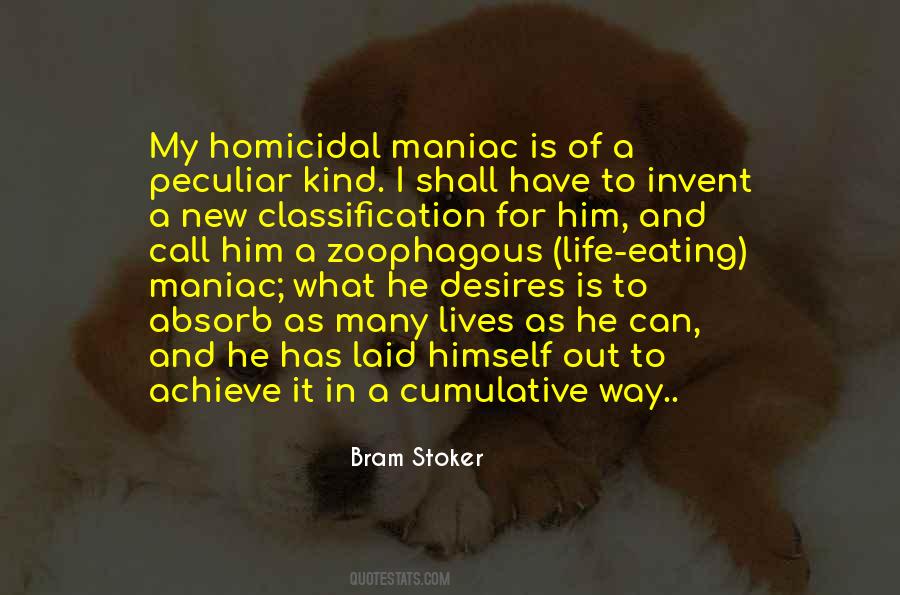 #94. Some days, I know beauty techniques like it's my job, and other days I can't do my makeup for the life of me. So I find it easiest to just put on mineral veil and a little mascara and call it a day. I use Physician's Formula and Bare Minerals every day of my life. - Author: Christian Serratos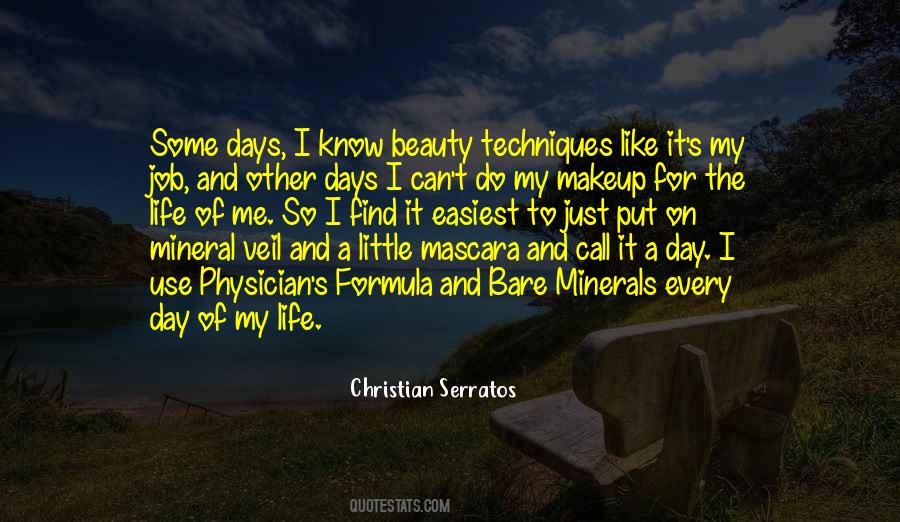 #95. My life's experiences, I've always had, my uncle used to call it antenna. I know what's going to happen oftentimes before it happened when it's involving me. - Author: Terrence Howard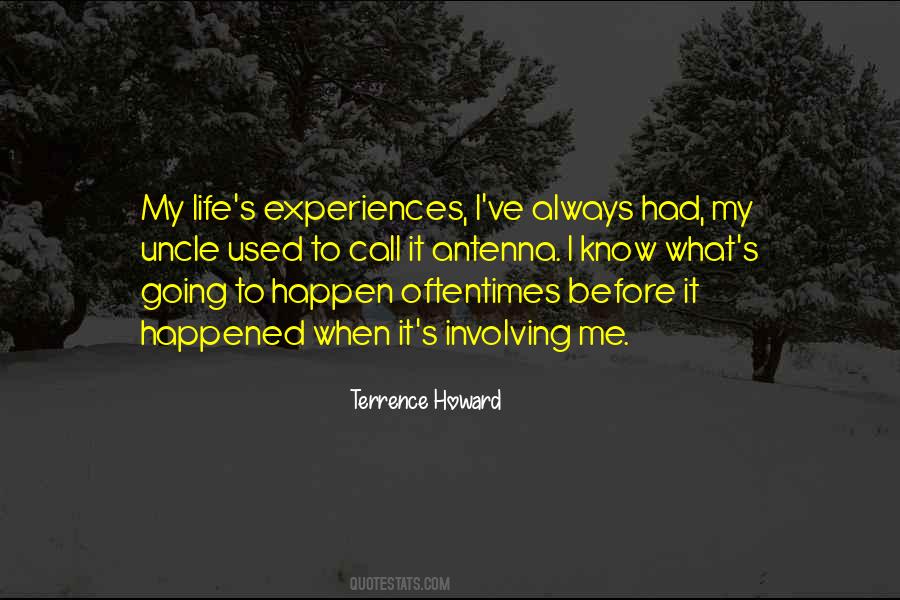 #96. Me, when I'm utterly exhausted by it all, when my skin breaks out, on those lonely evenings when I call my friends again and again and nobody's home, then I despise my own life - my birth, my upbringing, everything. - Author: Banana Yoshimoto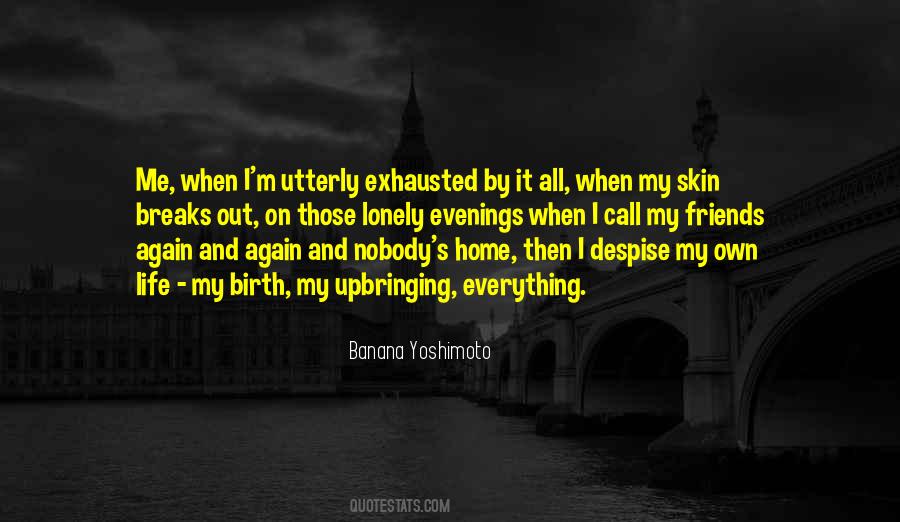 #97. "State," I call it, where they all drink poison, the good and the wicked; "state," where they all lose themselves, the good and the wicked; "state," where they all call their slow suicide-"life." - Author: Friedrich Nietzsche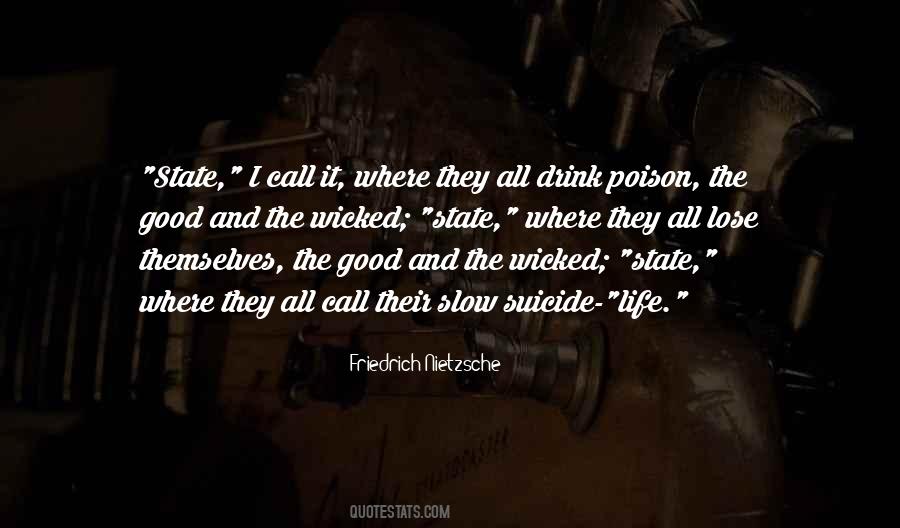 #98. That was when I first observed a phenomenon I now call the "New York Slide": you offer your words to try to communicate and connect with someone, but your words just hit a brick wall the person has erected to ward off human contact- the words slide down it and roll away. - Author: Kelly Cutrone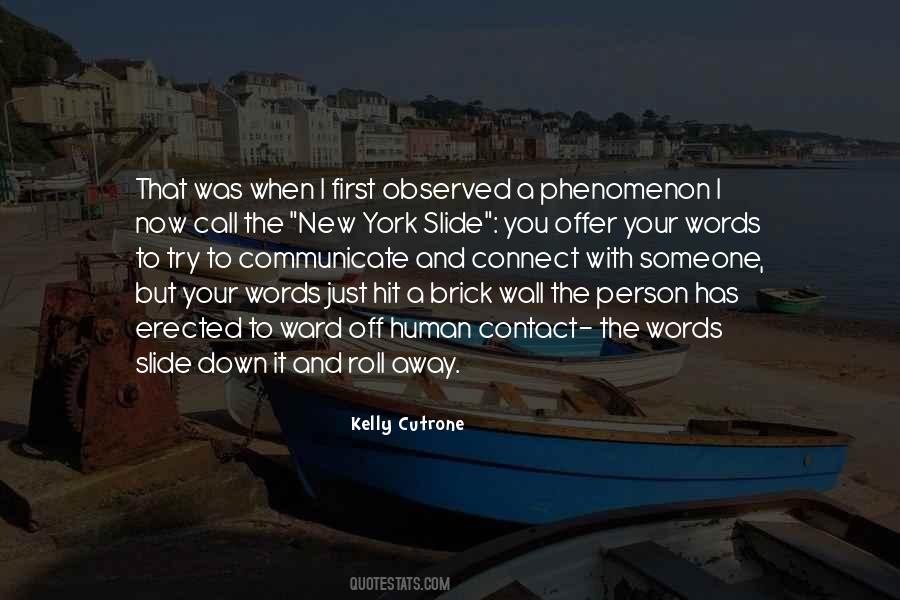 #99. I love Matthew Broderick. Call me crazy, but I love him. We can only be in the marriage we are. We're very devoted to our family and our lives. I love our life. I love that he's the father of my children, and it's because of him that there's this whole other world that I love. - Author: Sarah Jessica Parker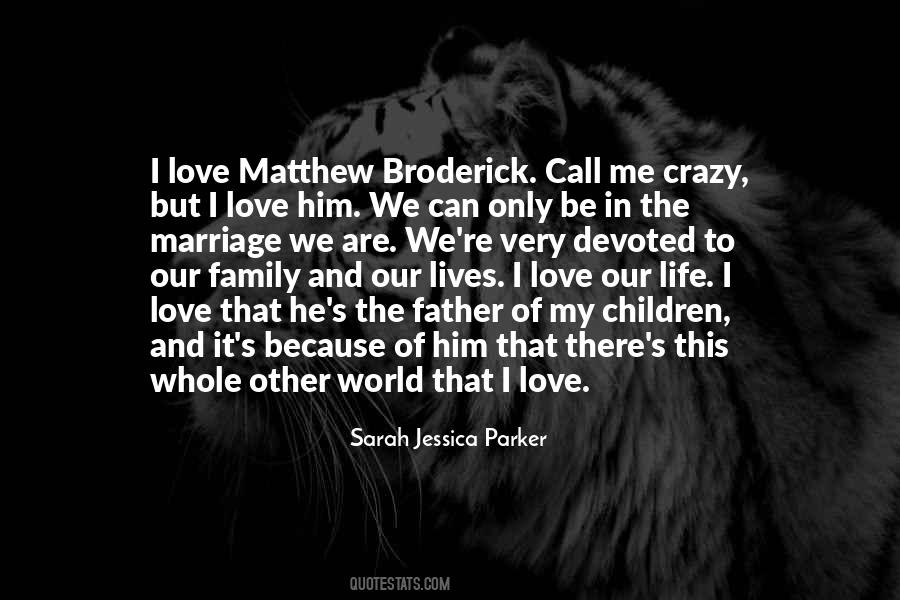 #100. We all have a dark side. Most of us go through life avoiding direct confrontation with that aspect of ourselves, which I call the shadow self. There's a reason why. It carries a great deal of energy. - Author: Lorraine Toussaint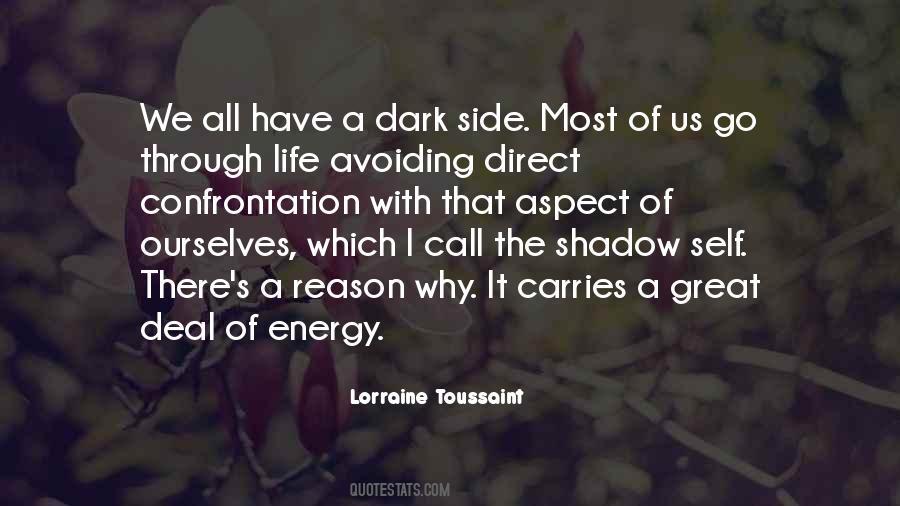 Famous Authors
Popular Topics