Having Fun Life Famous Quotes & Sayings
List of top 81 famous quotes and sayings about having fun life to read and share with friends on your Facebook, Twitter, blogs.
Top 81 Having Fun Life Quotes
#1. You just realize at the end of the day, everyone is going to have their opinion on your life, more and more so as you go along. As long as you're getting to work and be a part of it - still having fun, learn to just not sweat it so much and keep doing the things you love. - Author: Dianna Agron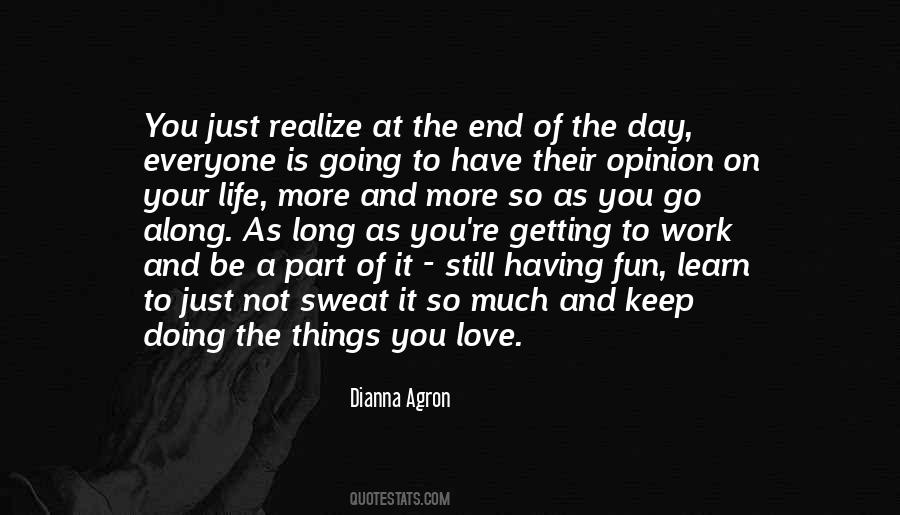 #2. I went through a period when I felt my film characters were having more fun than I was. It might partly explain why I ended up tattooed or doing certain extreme things in my life. - Author: Angelina Jolie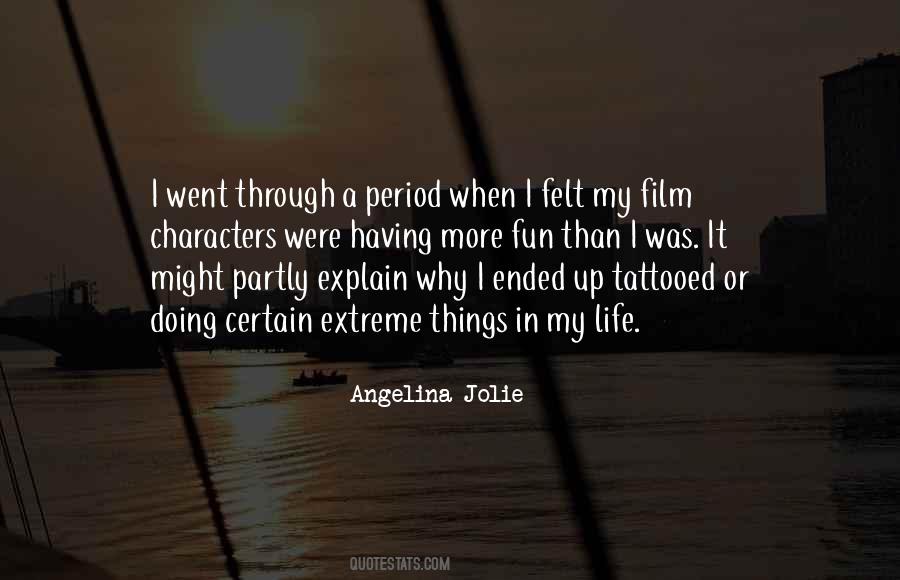 #3. Life is hard for insects. And don't think mice are having any fun either. - Author: Woody Allen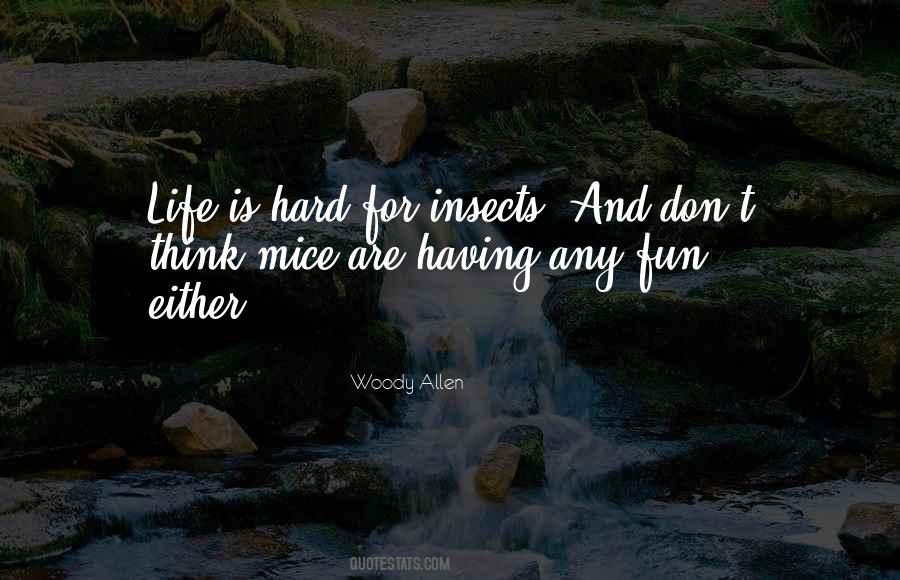 #4. If you're not having fun - I don't care what you're doing - don't do it. Move on. Find something else, life's too short. - Author: Jerry Doyle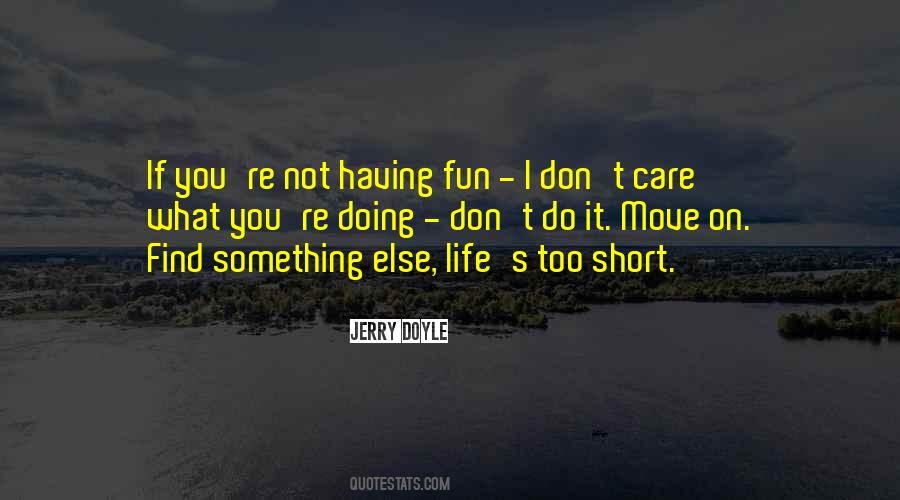 #5. We are game-playing, fun-having creatures, we are the otters of the universe. - Author: Richard Bach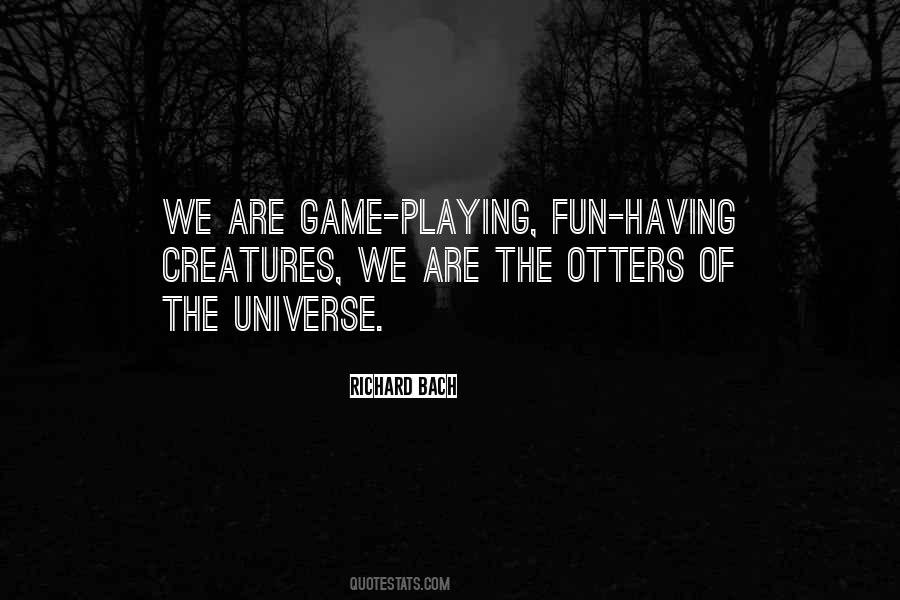 #6. I would say that life at 84, I am having as much fun as I've ever had in my life. I mean I get to do what I love every day with the people I love-and it just doesn't get any better than that. - Author: Warren Buffett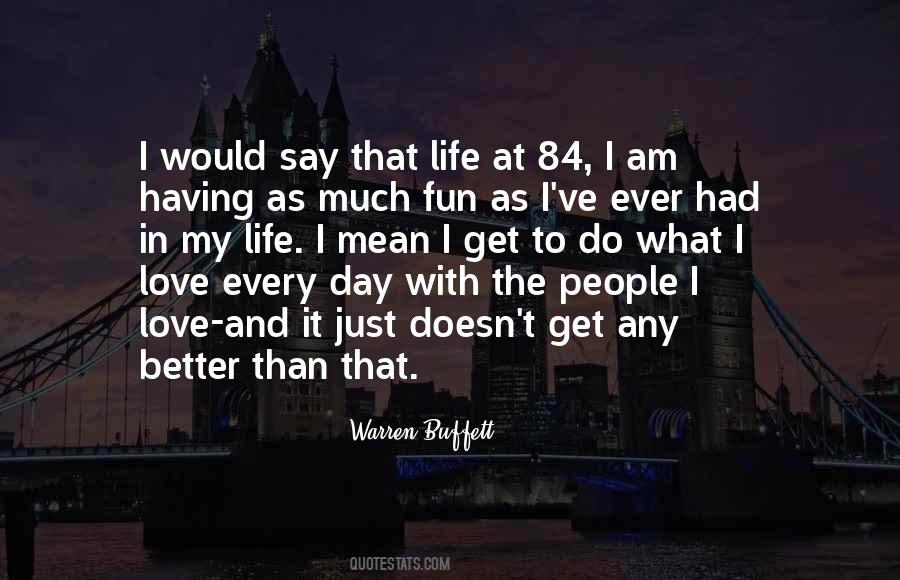 #7. I'm legitimately having more fun doing music, but at the same time I worked my whole life for baseball. If I had to pick, I would probably pick music. I just connect more with the fact that other people connect with that I'm doing so much. It's a much cooler thing than being good at sports. - Author: Mike Stud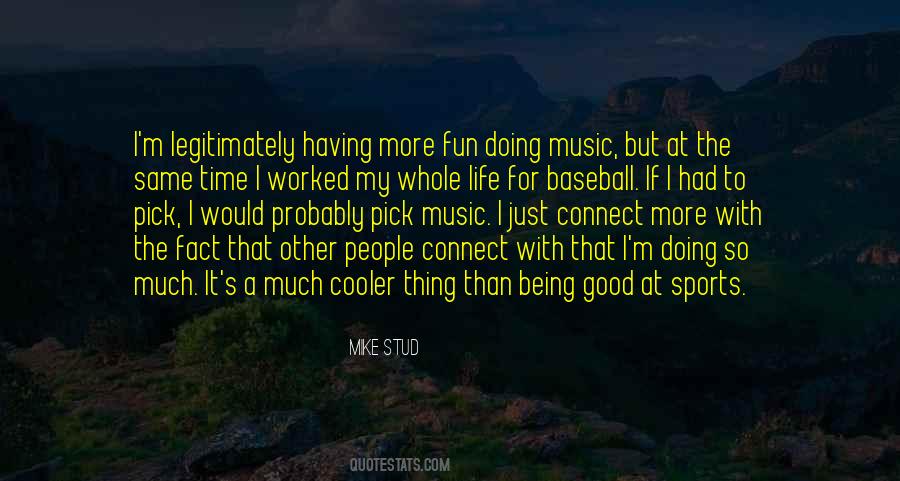 #8. It's all about being happy with your life and having fun. At least that's what works for me. - Author: Donald Cerrone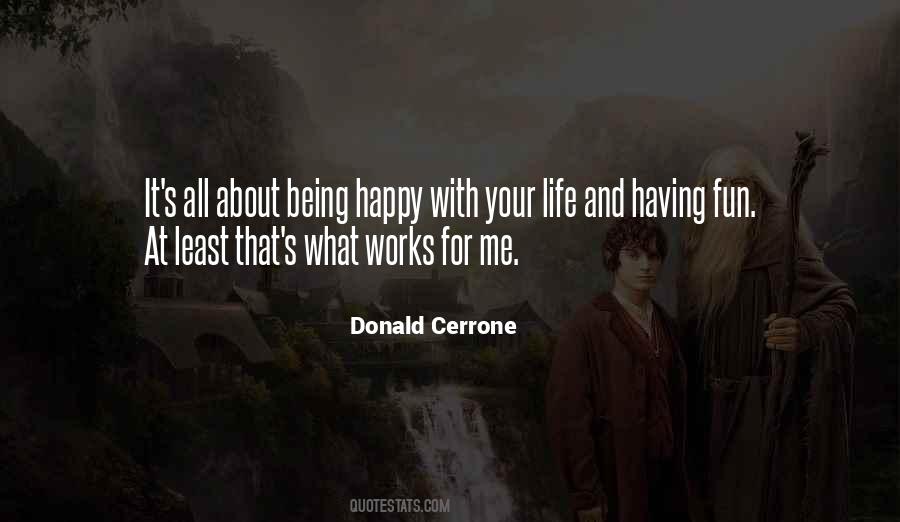 #9. My mom was always like, "If I know that my kid is having fun, she's gonna do whatever she wants. Whether that's gymnastics, learning the car, acting or just being a normal kid, she's gonna do what makes her happy." That's how I've always lived my life. - Author: Chloe Grace Moretz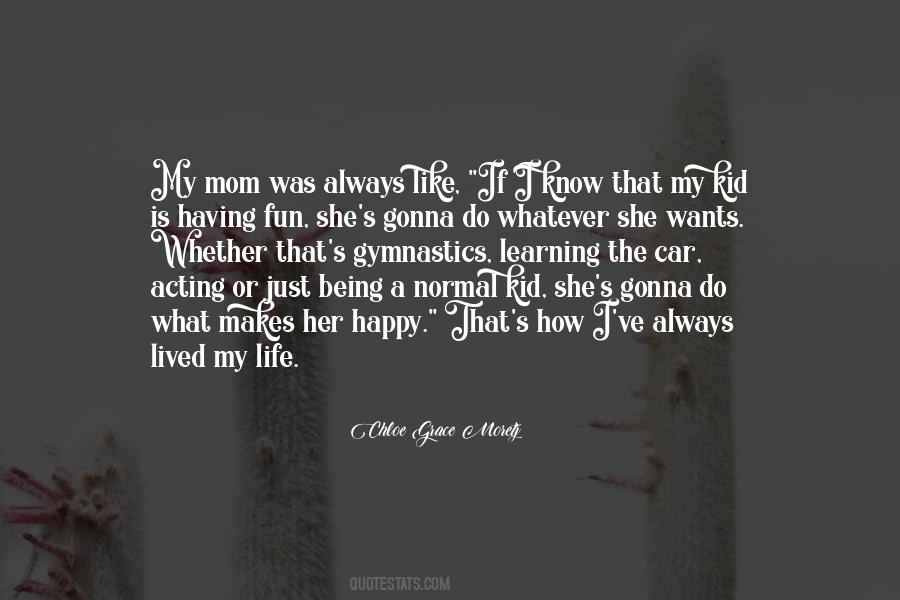 #10. When you start recognising that you're having fun, life can be delightful. - Author: Jane Birkin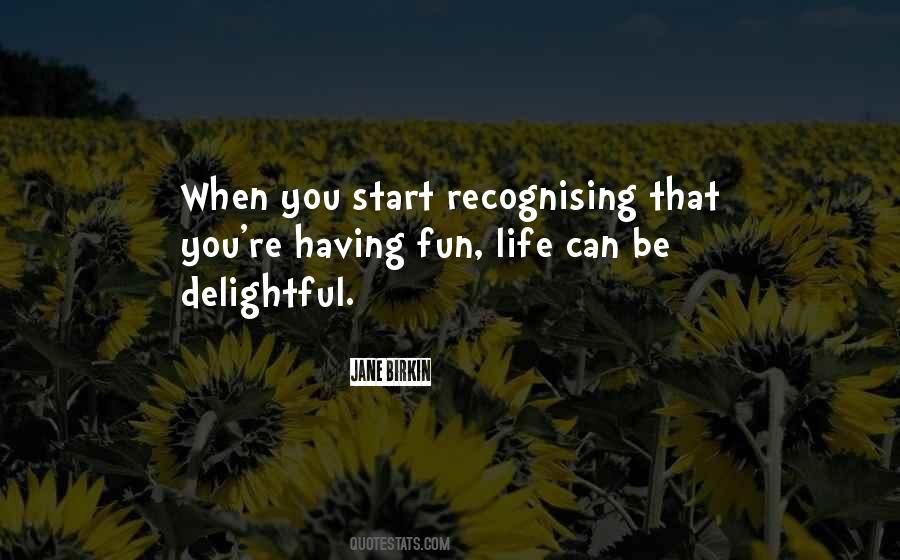 #11. Life is like a game - we should be curious to play it - you explore and learn and grow - that is what it is for - that and having fun. It all expands consciousness- your own, the collective, and the cosmic. - Author: Jay Woodman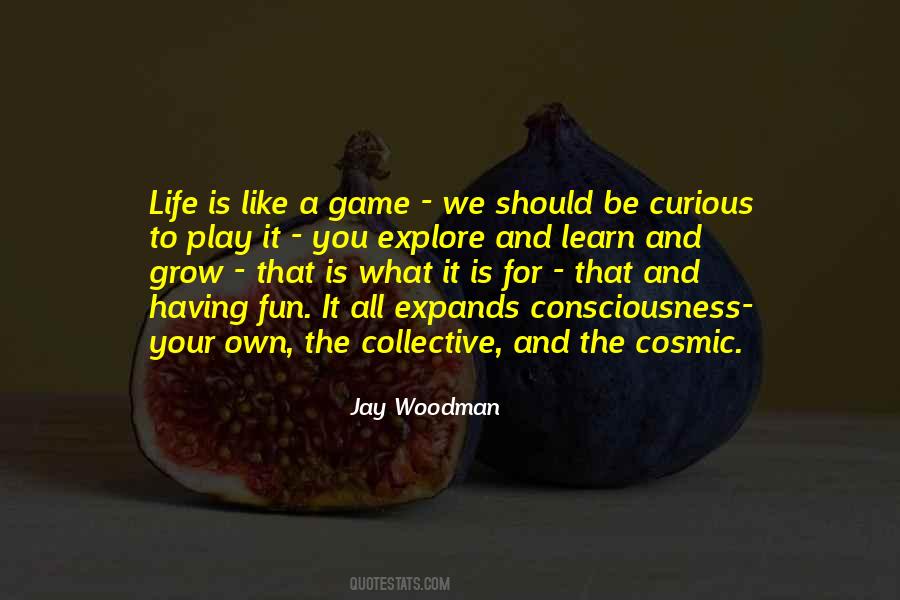 #12. Pink Champagne is about having fun and letting go, and living your life to the fullest! - Author: Ariana Grande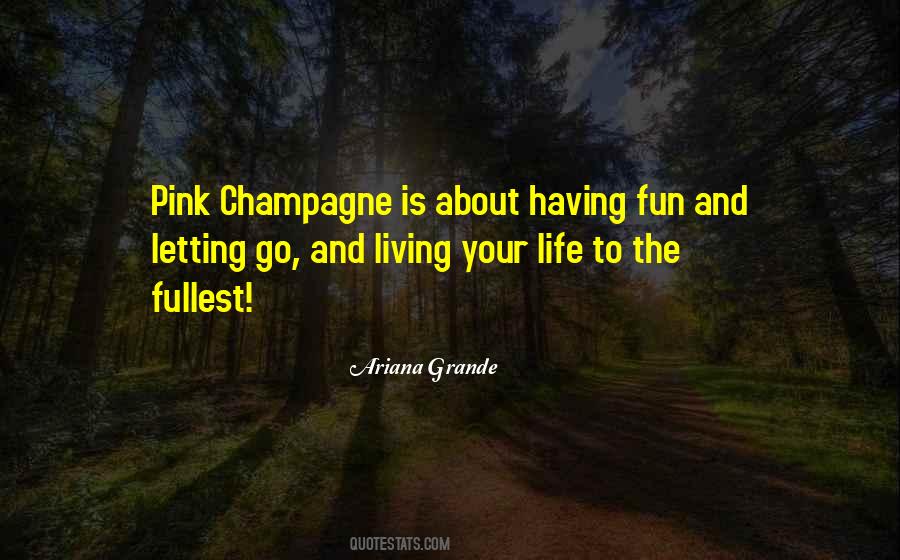 #13. I think I'll work all my life. When you're having fun, why stop having fun? - Author: Helen Thomas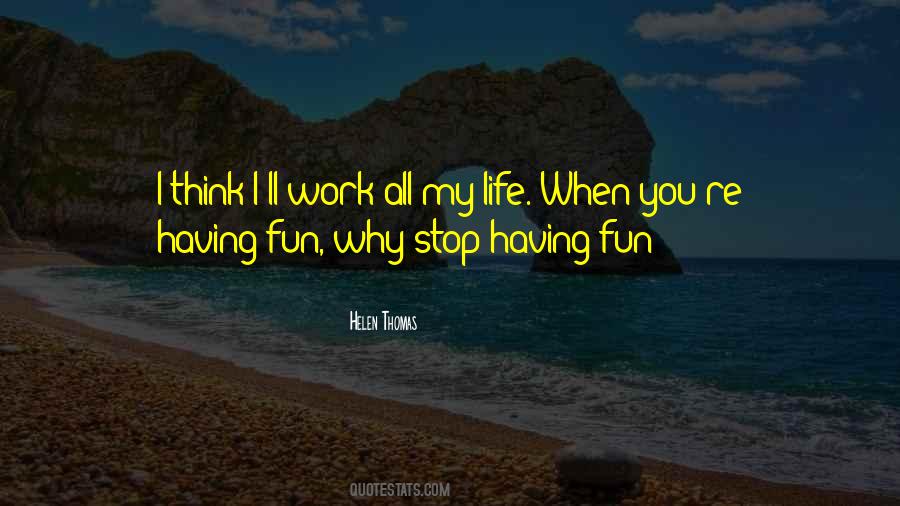 #14. You have to change your life for yourself, and it's about the fun of getting there - sitting in the tour van, breaking down on the side of the road, you know, having a laugh with the guys in the band, making mistakes with nobody watching. - Author: Imelda May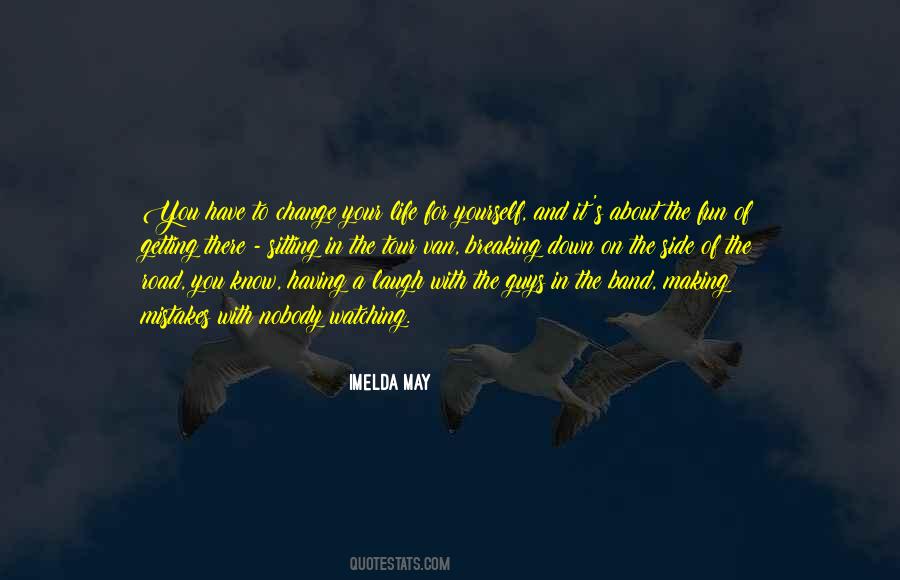 #15. I love playing basketball because you could be having a rough day in your life, and while you're on the court it gives you a clear mind. I'm not worried about anything. I'm there just playing freely and I go out there all and I have fun. - Author: Derrick Rose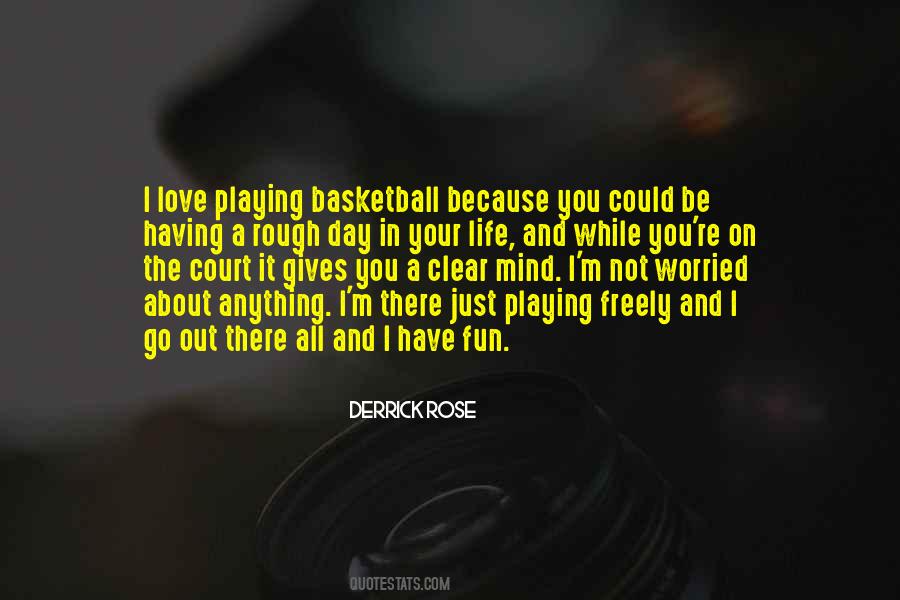 #16. You think like a boxer and behave like a boxer, and you try to live your life that way, being in the gym all the time and being careful to push the plate away at the dinner table. You don't need dessert. When you're out having fun, you ask for agua instead of vodka. It's very important. - Author: Holt McCallany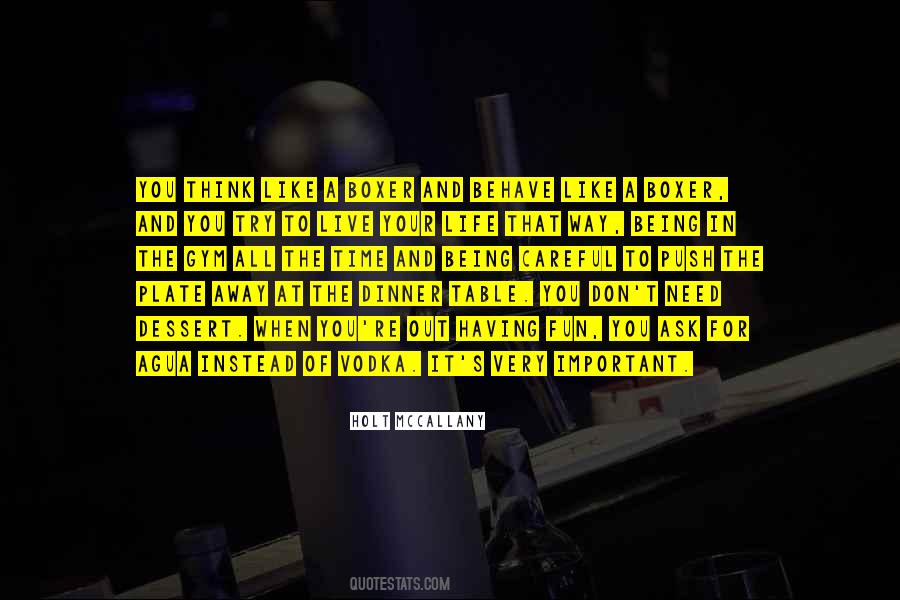 #17. We've got to learn hard things in our lifetime, but it's love that gives you the strength. It's being nice to people and having a lot of fun and laughing harder than anything, hopefully every single day of your life. - Author: Dag Hammarskjold
#18. I'm always jacked up. I'm pumped up. It's just, I love life and I'm having fun. - Author: Terry McAuliffe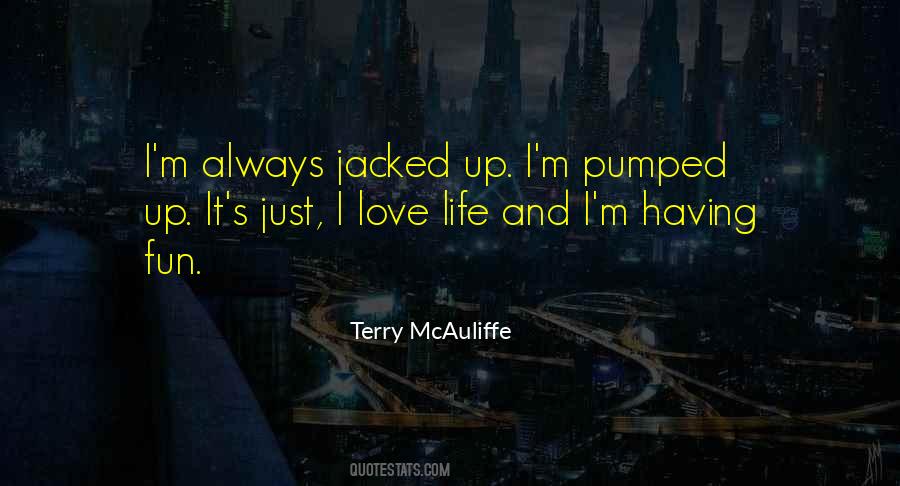 #19. Every girl needs a bit of whimsy to remind her that life is a game and it's all about having fun. - Author: Candace Havens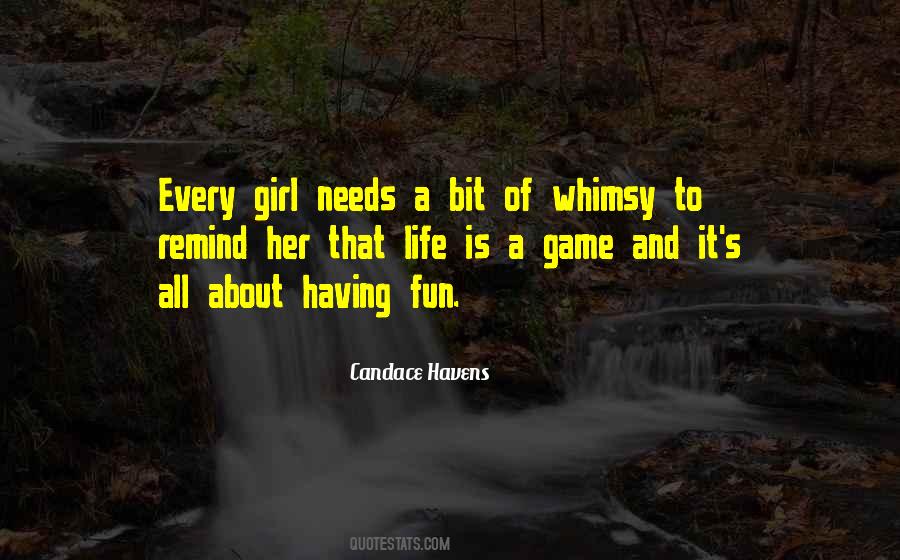 #20. I don't think it's the most important thing in life to fit it. I think it's the most important thing in life to dance to the beat of your own drum and to look like you're having more fun than the people who look cool like they fit in. - Author: Taylor Swift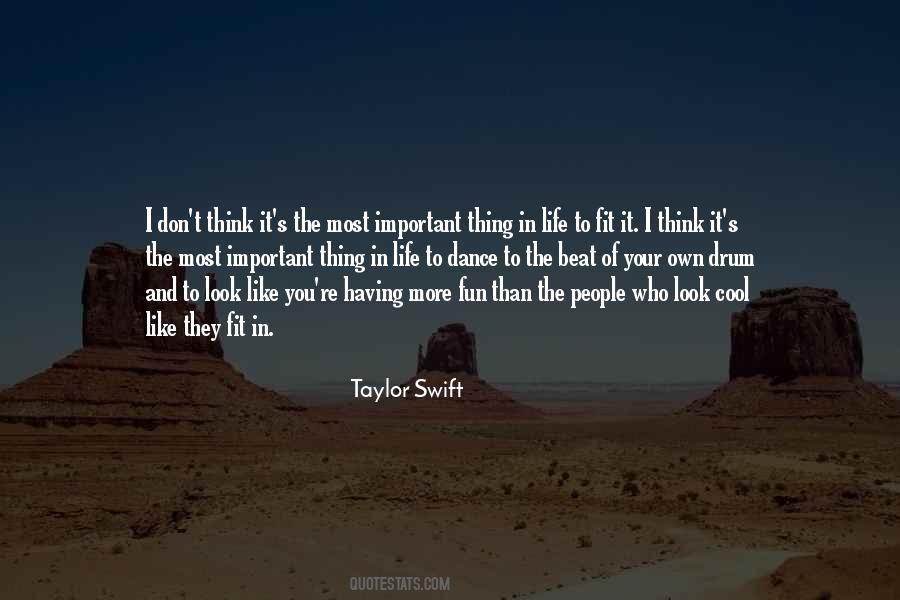 #21. I love those kids on 'The Suite Life of Zack and Cody.' I remember when they were little they looked like they were having so much fun just being kids. And that's how I was growing up and how I try to be. - Author: Kellan Lutz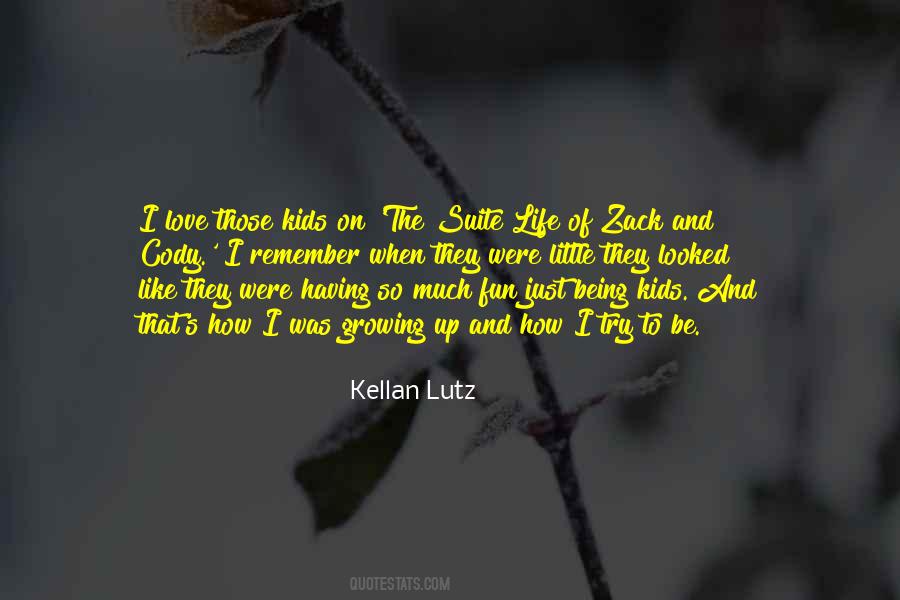 #22. I don't really think I feel pressured to become a teen sensation because that's not really my goal in life. It's not really about being star, being popular or having lots of girls. It's really about continuing to be able to act and have fun, and do what I like to do. - Author: Chris Massoglia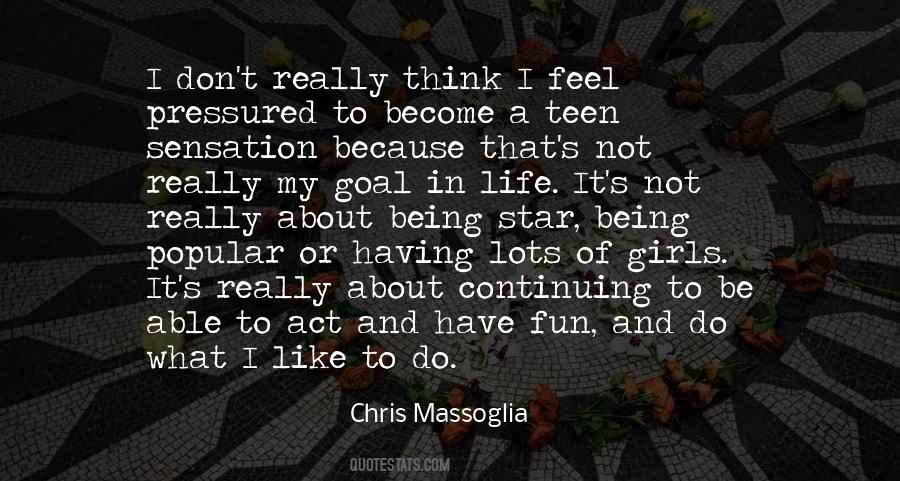 #23. At 35, I'm definitely starting to feel more like a grown-up than I ever have. There's nothing in my life that is childish or whimsical. Having fun is fantastic and I never want to lose a sense of that - and also, I think, you have to have that to put into your work or else it's going to feel stiff. - Author: Drew Barrymore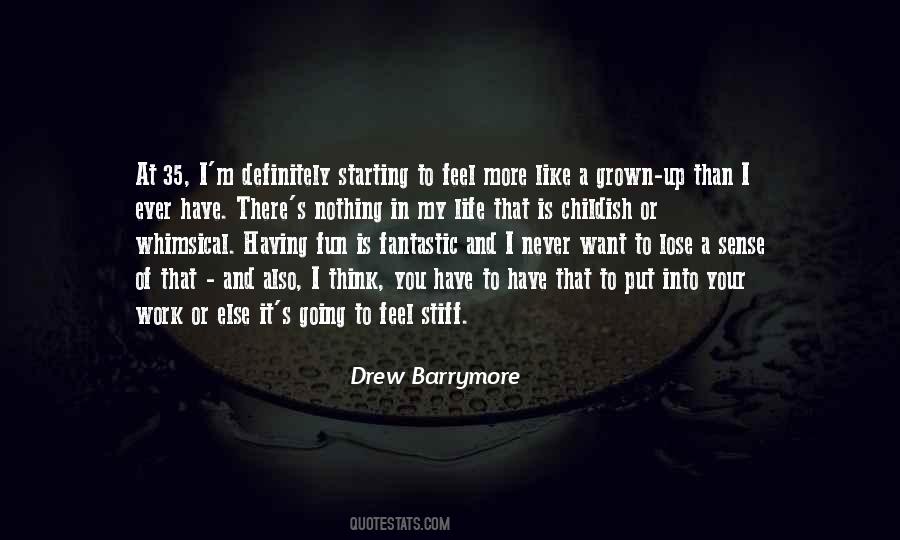 #24. I prioritize in life. I like to work, I do TV shows, I do a lot of Iron Man training. I enjoy kicking back on a good night and drinking wine until I go to bed, and having fun with my friends. You just have to make time for it and keep it balanced. - Author: Joe Bastianich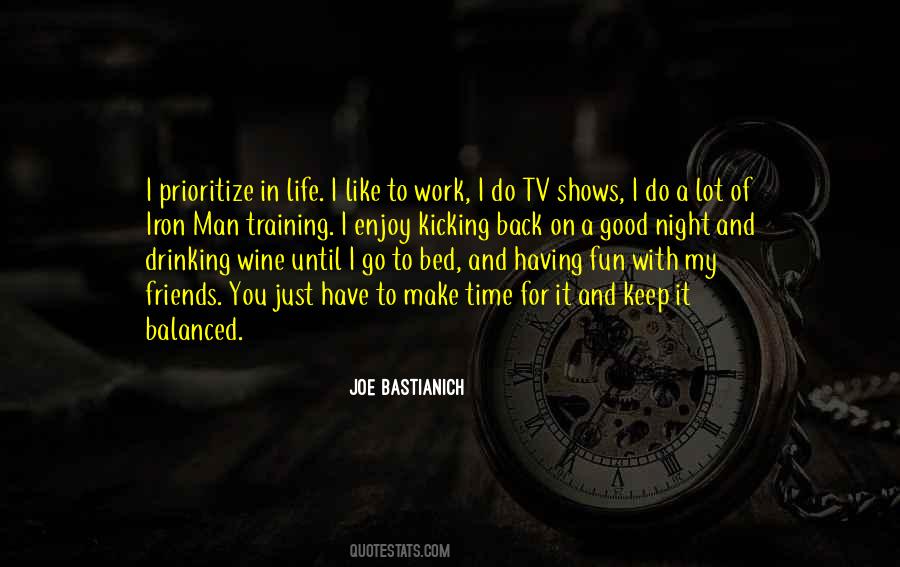 #25. I've always told people that to be successful you have to enjoy what you're doing and right now I really enjoy what I'm doing. I'm having too much fun with my life. Why would I want to do something else? Why would I want to run for governor? - Author: Donald Trump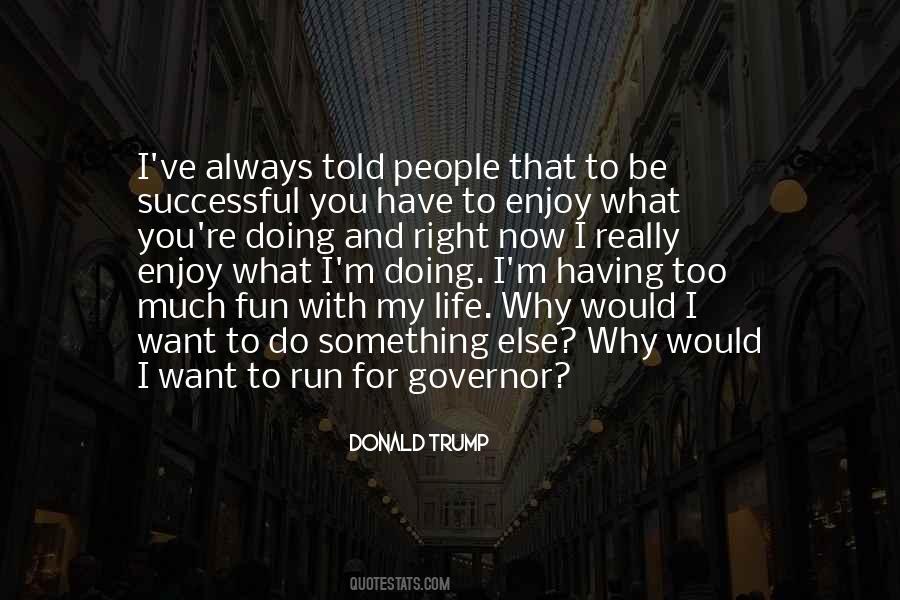 #26. I'm a great believer in life to saying yes and not saying no, and hopefully making people smile and just having fun in life. - Author: Richard Branson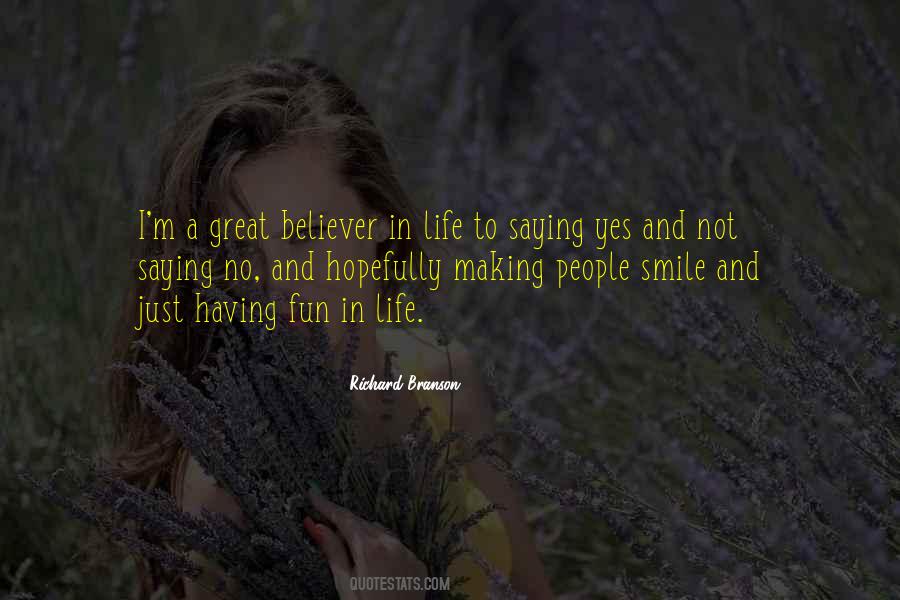 #27. Good sex isn't just fun, it keeps us sane and happy. Having sex with someone makes us feel wanted, alive and potent - Author: Alain De Botton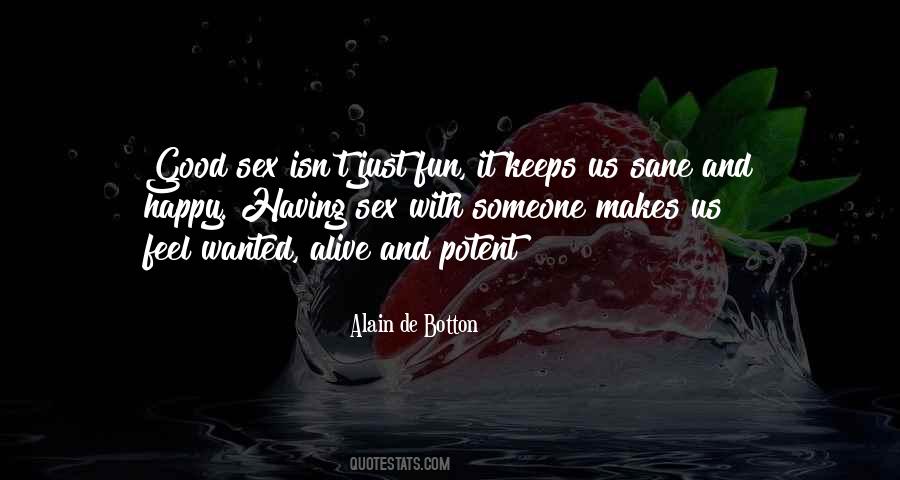 #28. What matters is that you meditate, you're seeking enlightenment, you're on the pathway to enlightenment, and you're having fun. Don't look for reassurance in the eyes of others. Look for reassurance in your own eyes. Only you know if Buddhist practice is improving the quality of your life. - Author: Frederick Lenz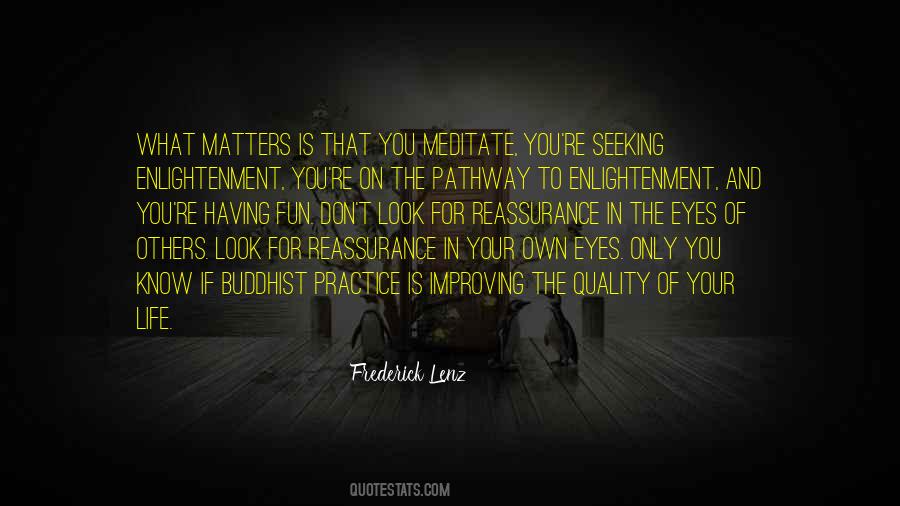 #29. In my public life, I'm just a guy who enjoys having fun. - Author: Brett Ratner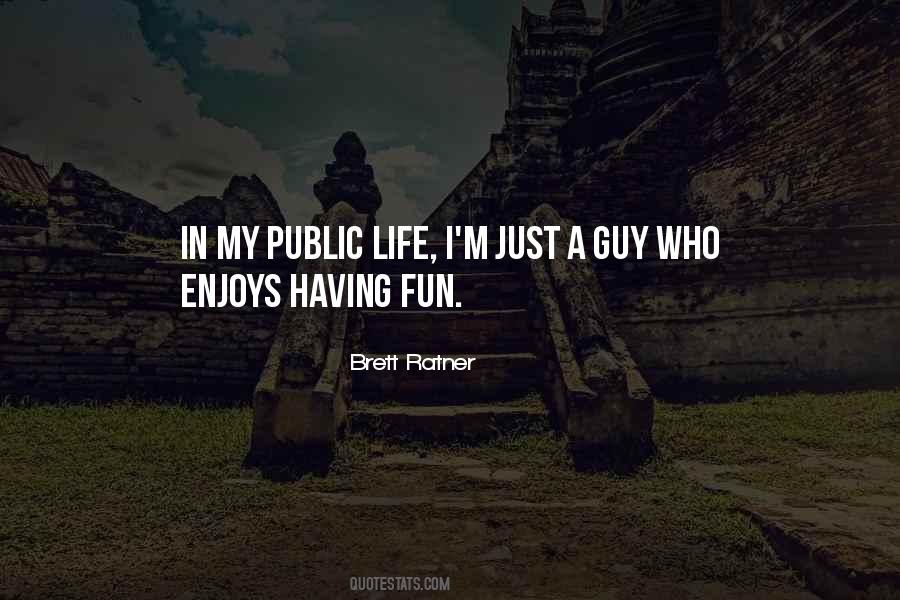 #30. Every once in a while I think, 'What am I doing out here running, busting myself up? Life could be so much easier. The other guys are out having fun, doing other things, why not me?' - Author: Steve Prefontaine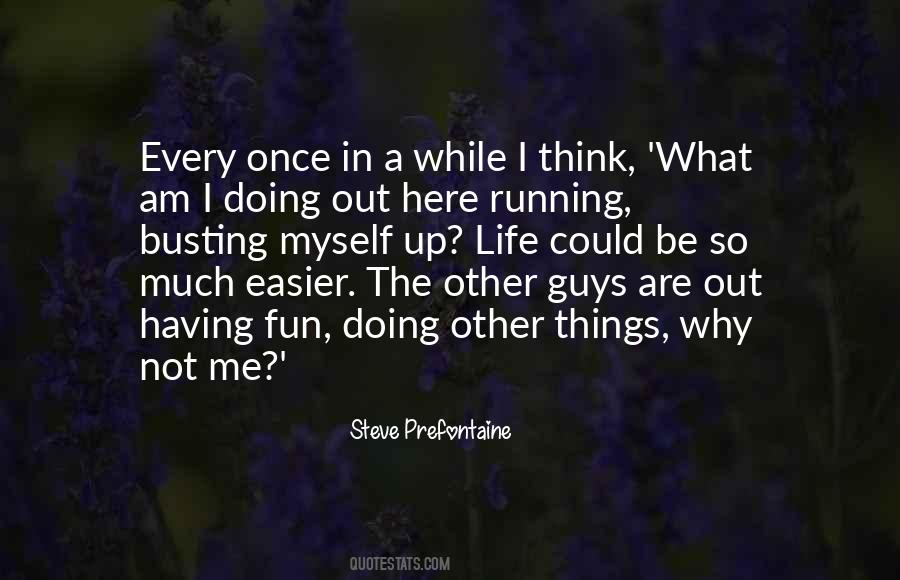 #31. Be all you can be and live a good life, have fun with it. - Author: Tina Yothers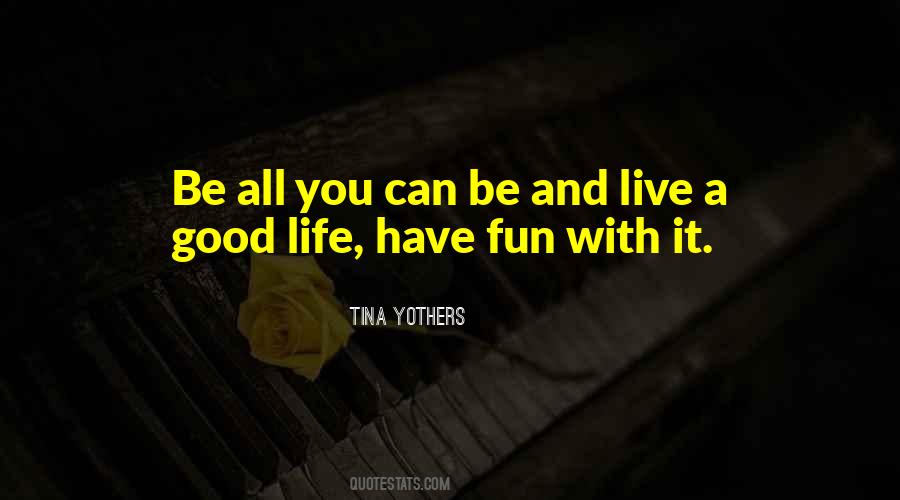 #32. Don't underestimate anyone else's pain, Mar. Everyone goes through hard times. Life's thrown us a lot of challenges, but we can't back down from them. We've just got to keep going. Keep fighting, keep living, keep having fun and working hard and always doing the best we can. - Author: Kate Lattey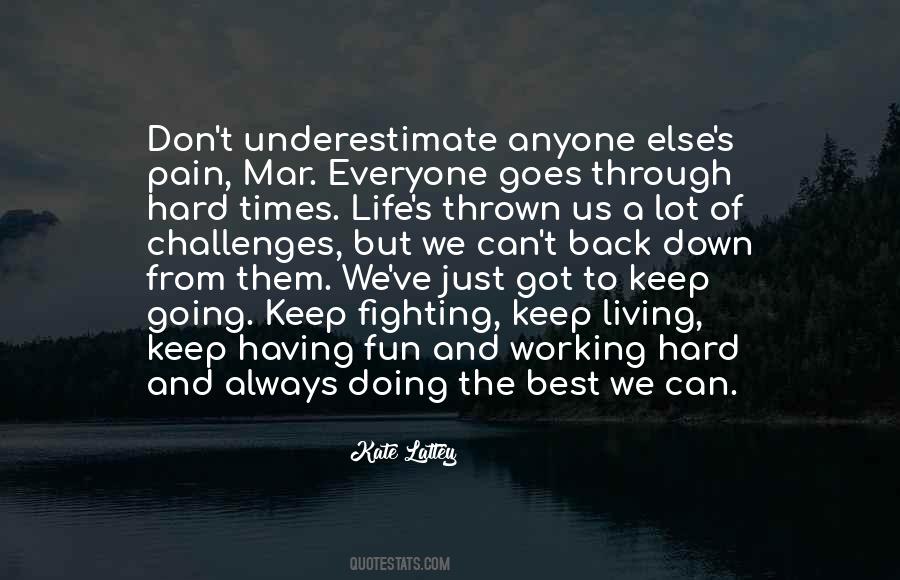 #33. Time flies. Time flies faster every year. Time flies whether you're having fun or not, whether you're living your life big or small, whether you surround yourself with fear or laughter. - Author: Claire Cook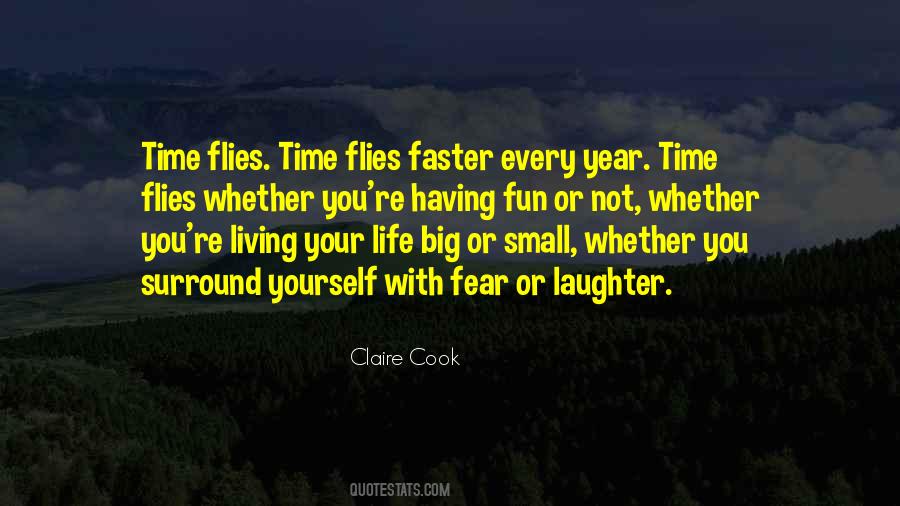 #34. It was fun being an actor, but by the time college rolled around, I was ready to try some new things. By the time I graduated, I realized I enjoyed having a normal life and I never went back. - Author: Jeff Cohen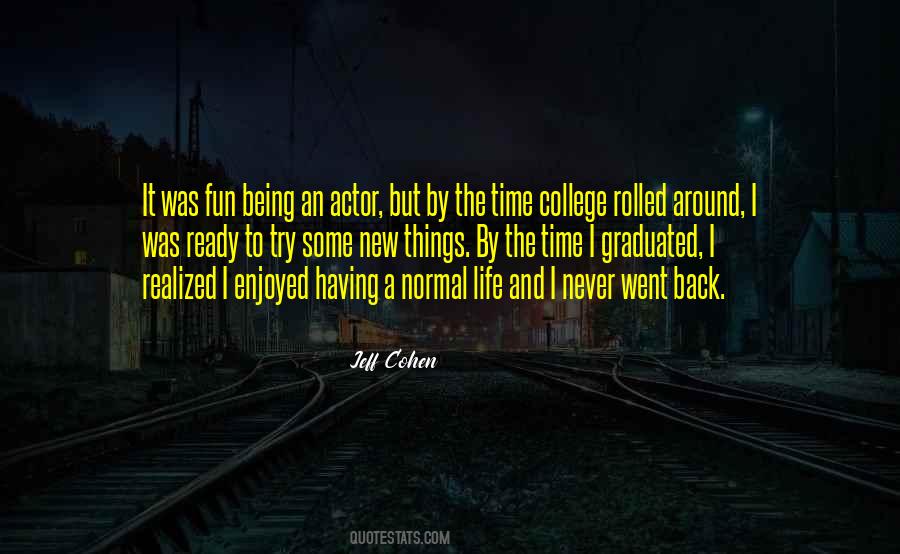 #35. Life is supposed to be fun! When you're having fun, you feel great and you receive great things! Having fun brings the life you want, and taking things too seriously brings a life you have to take seriously. - Author: Rhonda Byrne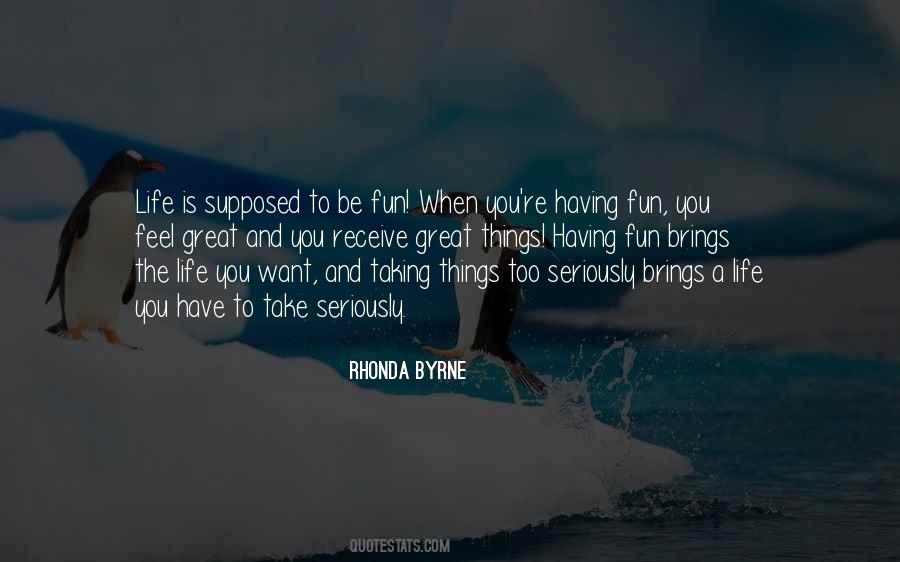 #36. Life is a journey; let's enjoy it, seeing some exciting things, and having fun along the way. - Author: Ellen J. Barrier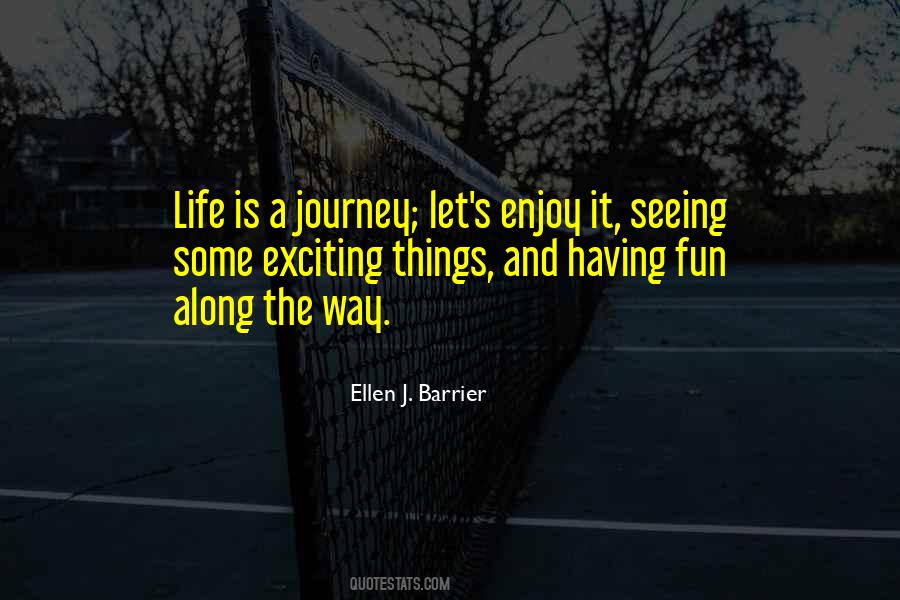 #37. It's easy to live the expected and conventional. It's when you live the unexpected that you start having fun with your life. - Author: Richard Bach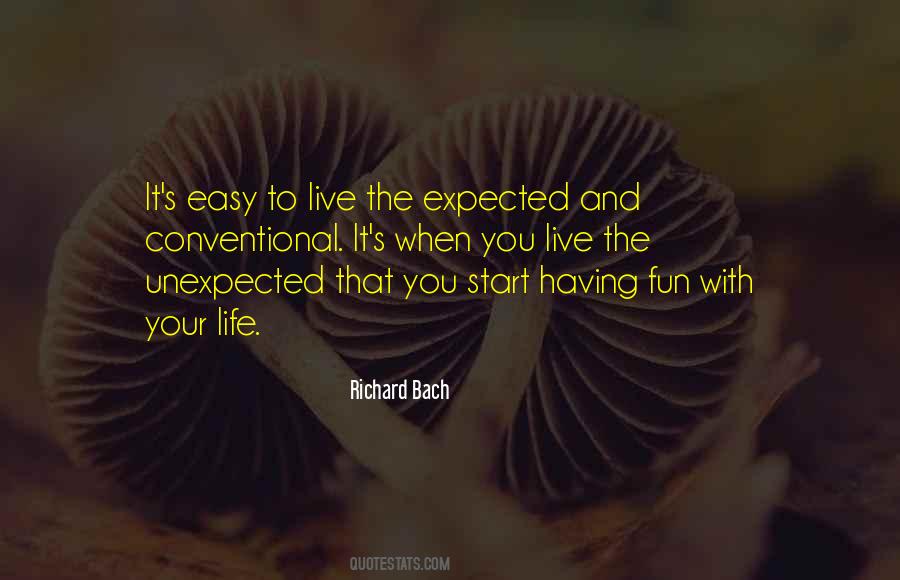 #38. Don't take life so seriously. Have fun. Enjoy your time on this planet. - Author: Haley Pullos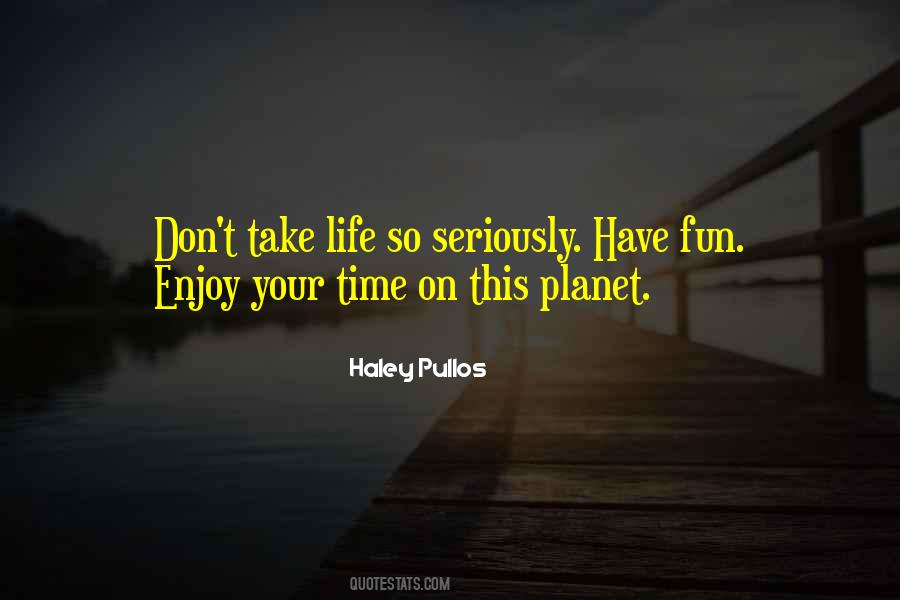 #39. I have fun when I want to have fun, but I am learning how to balance my life out. - Author: Carmen Electra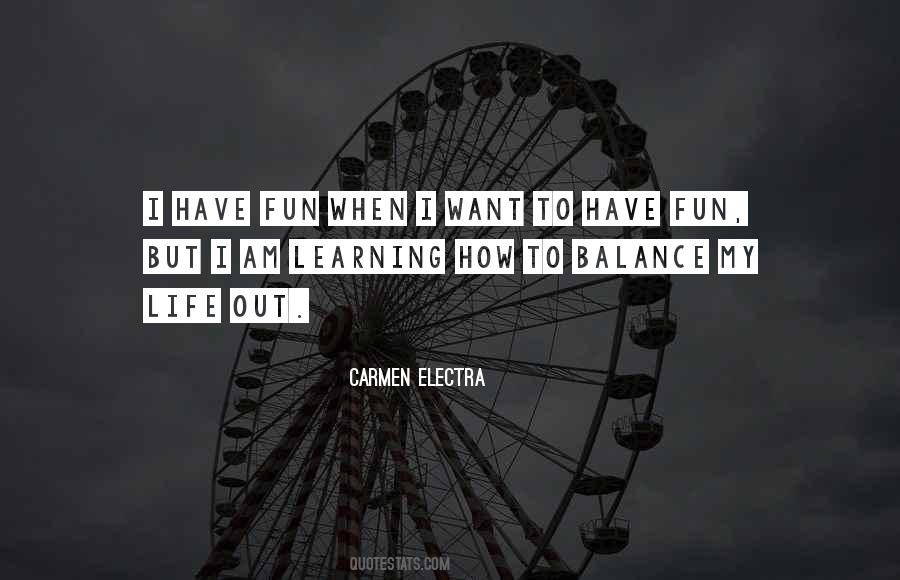 #40. I'm just having fun making jokes and writing books. But you see me once a year, I come on when I have a new book out, but basically, I've got my nose to the grindstone and I'm doing what I'm supposed to do in life, which is make stories. - Author: T.C. Boyle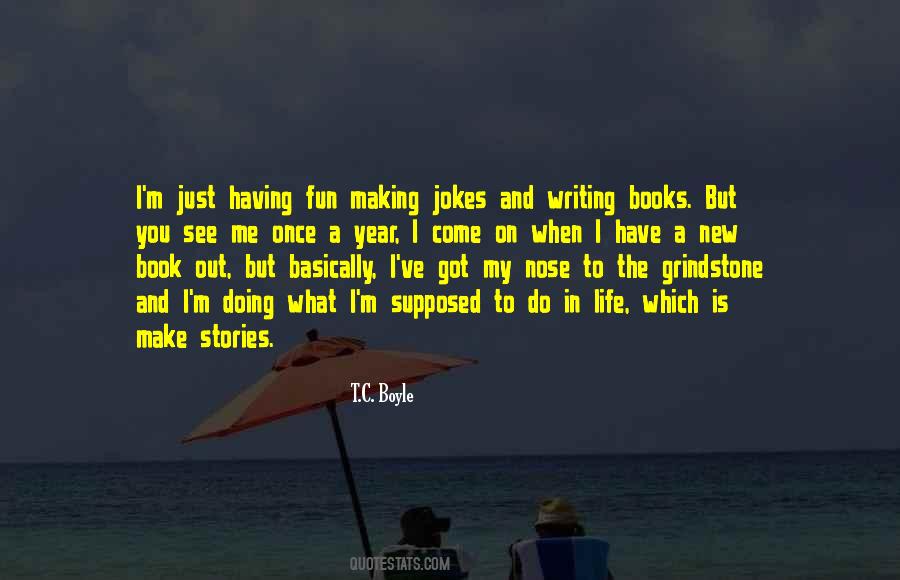 #41. Frances Stevens: Mother, this is why I've had to spend half my life running around the world after youto keep men like this away from you.
Mrs. Stevens: Well after this, let me run my own interference. It looks like the blockers are having all the fun. - Author: John Michael Hayes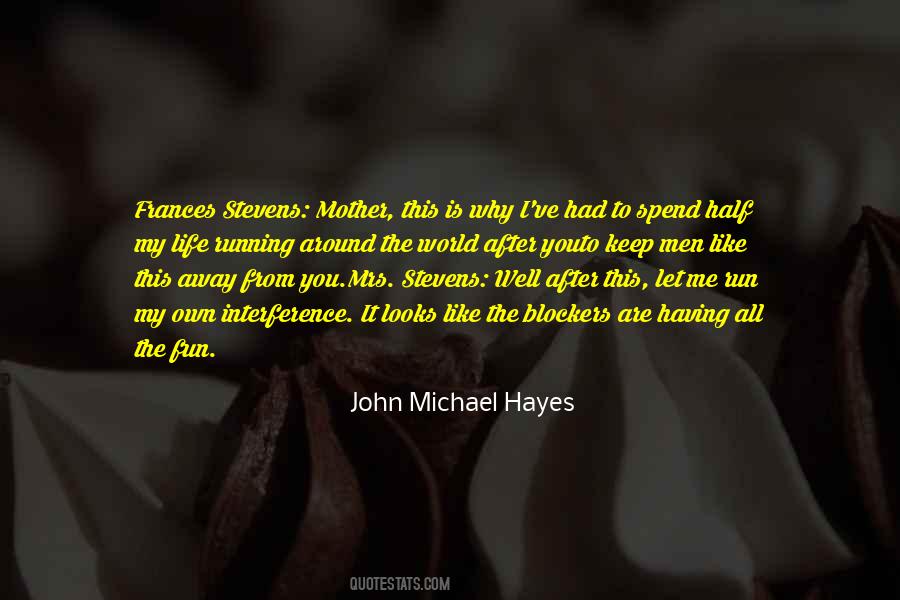 #42. It is a challenge. When you do things that are comedy, you're having to look at the funnier side of life. Often I find Christians - but not just Christians, (any) people who have a certain core belief of things - don't like to have fun made of them at all. - Author: Corbin Bernsen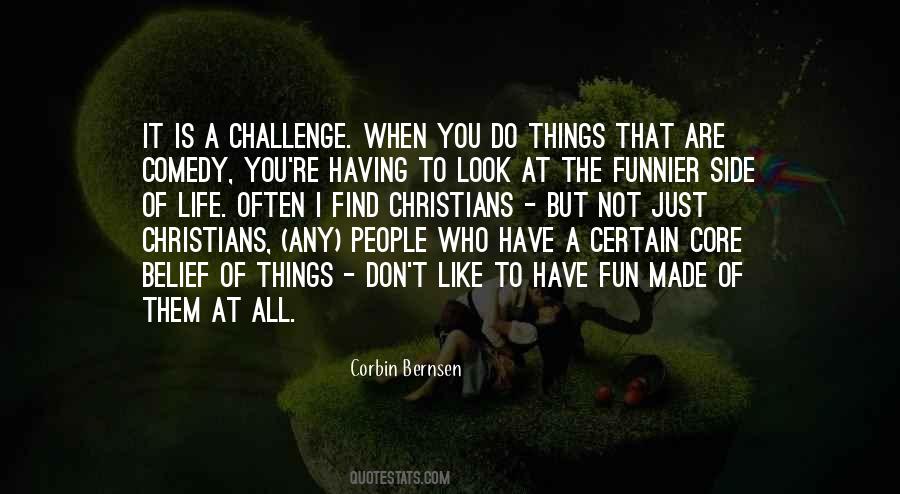 #43. You go from having fun doing something to having it become your life without you realizing it. It can be weird and dark, but every single time I have a dark thought that makes me think dark about that, I tell myself, "Stop, you're stupid. This is great." - Author: Nicolas Jaar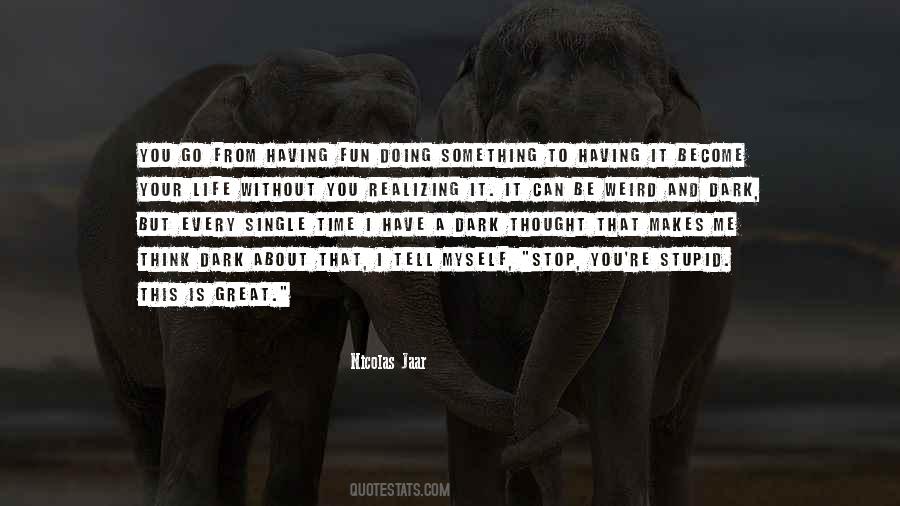 #44. I've lived my life the way I wanted to, whether scaling the mountains, partying long into the night or having fun playing soccer. - Author: Marat Safin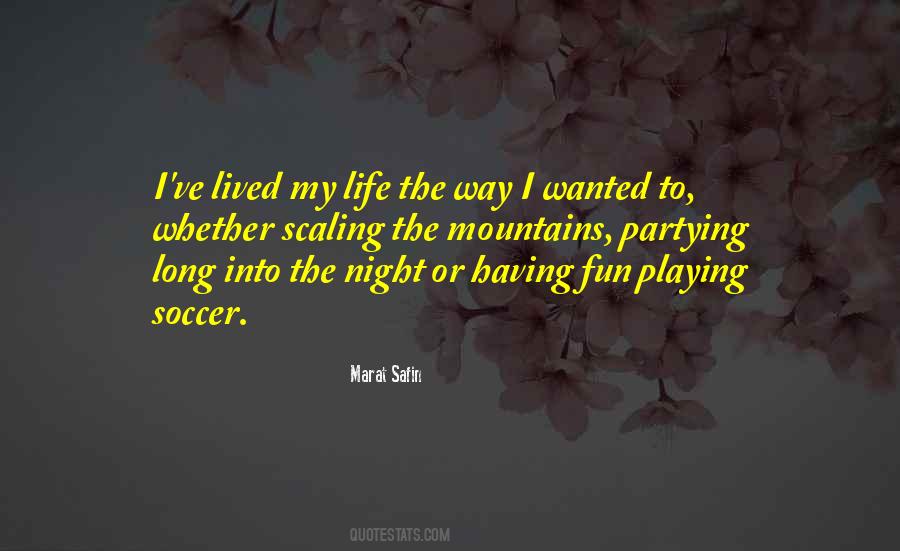 #45. It's all about having fun and feeling good! - Author: Marissa Campbell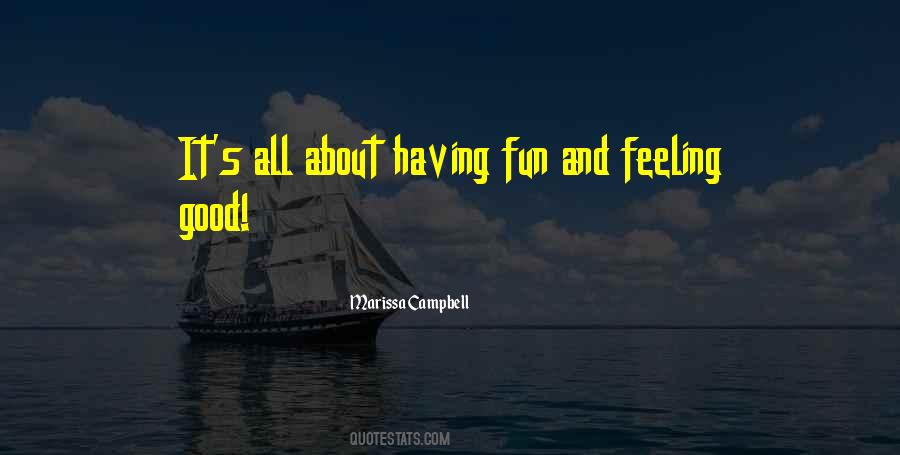 #46. I think people fake that they're having fun a lot of the time in photos, because they want people to think they're having fun. Well, that's not life, is it? - Author: Lara Avery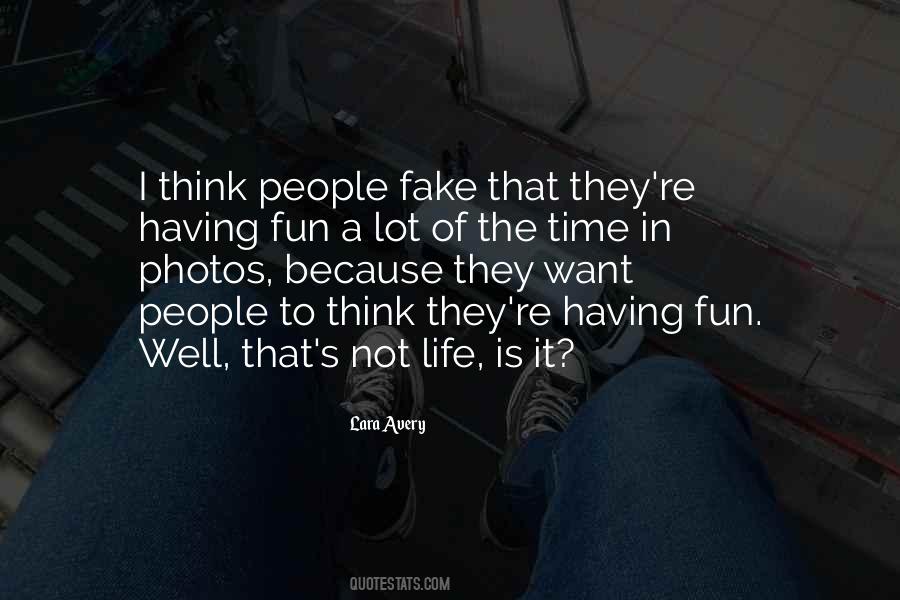 #47. I never knew modelling was what I wanted to do. I was just meandering through life having fun, having a laugh with my friends. - Author: Agyness Deyn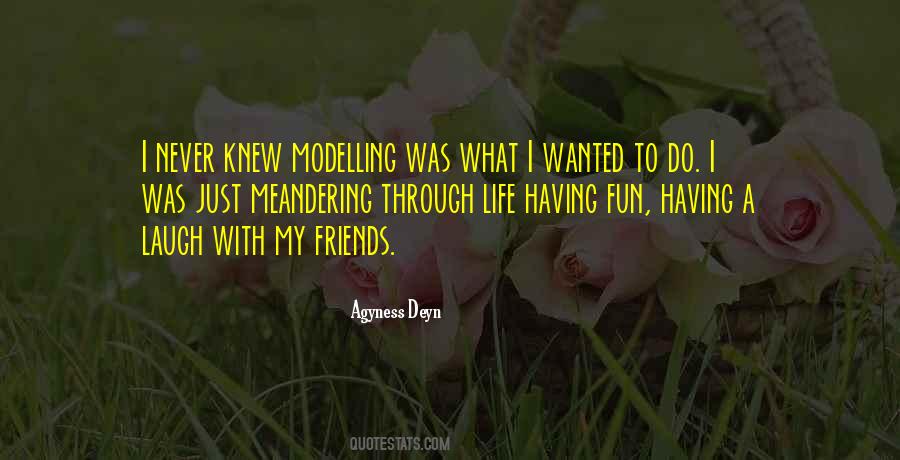 #48. You need to have a life. Have fun. Then ruin it by having a serious relationship - Author: Kyle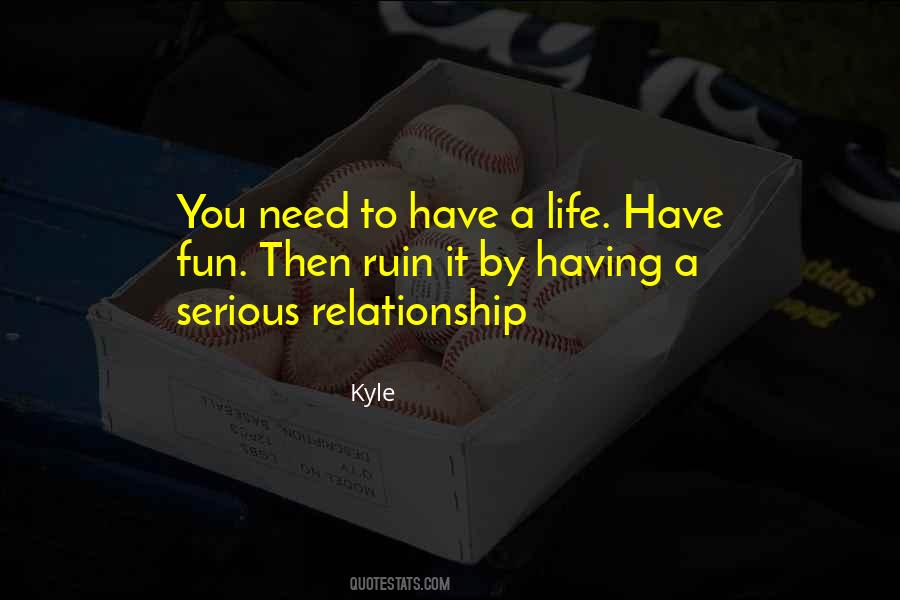 #49. I was being taken around by a press agent at the Venice Film Festival at age 18. Was it fun? Sure. But it was a dangerous path to be walking on as far as having a substantive life. Because the casualty rate at the Venice Film Festival for 18-year-olds? High. - Author: Ethan Hawke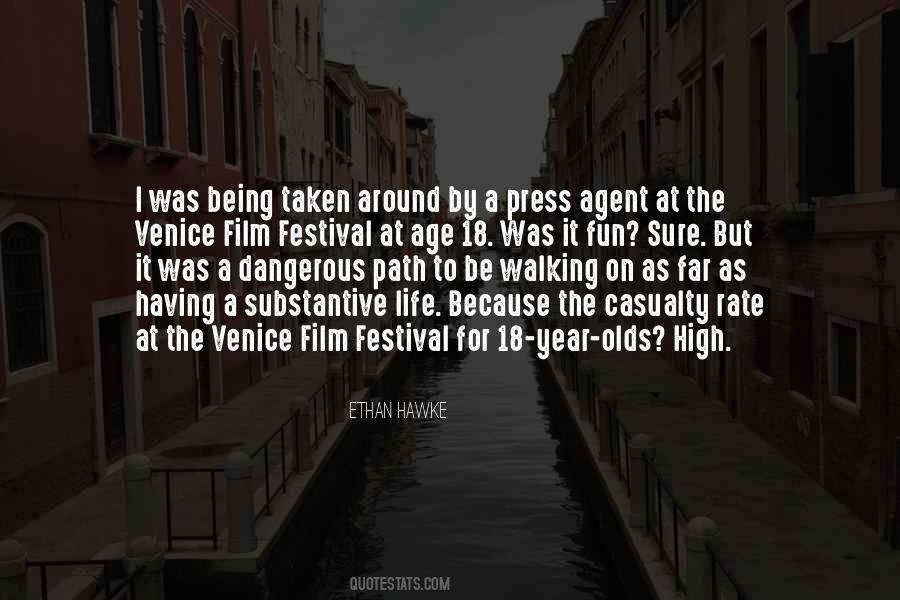 #50. I think you have to be who you truly are and love who you are (to be beautiful). It's also important to be free and honest, enjoying life and having fun. In conclusion, ... I am who I am. - Author: CL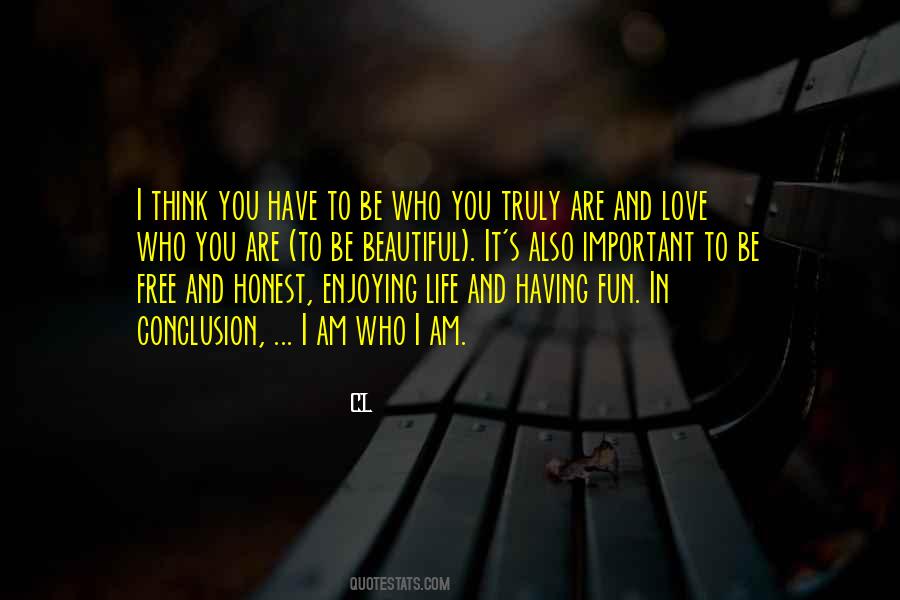 #51. Life's not about money. Look at achievements, accomplishments . It's about having fun. It's about enjoying life. - Author: Mike Ditka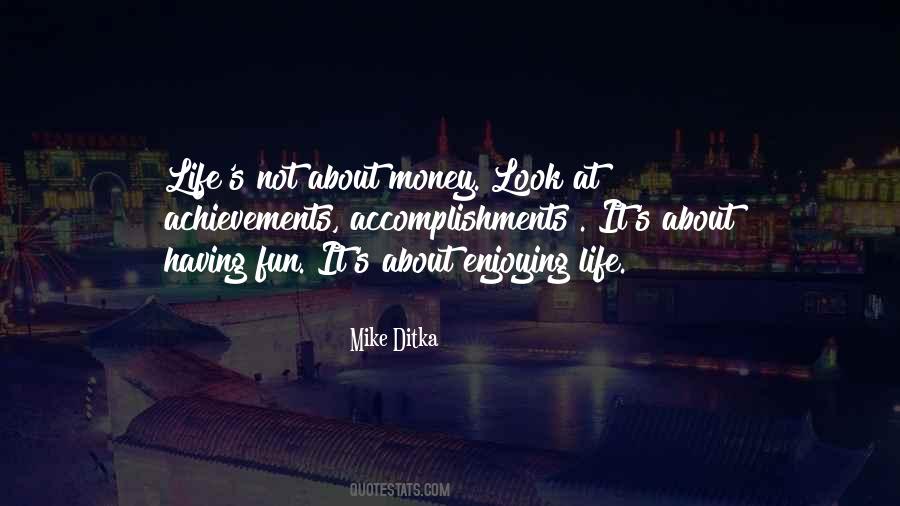 #52. Being alive at 87 is quite an accomplishment if you're curious, interested, seeing the fun out of life, doing things, having a purpose. - Author: Art Linkletter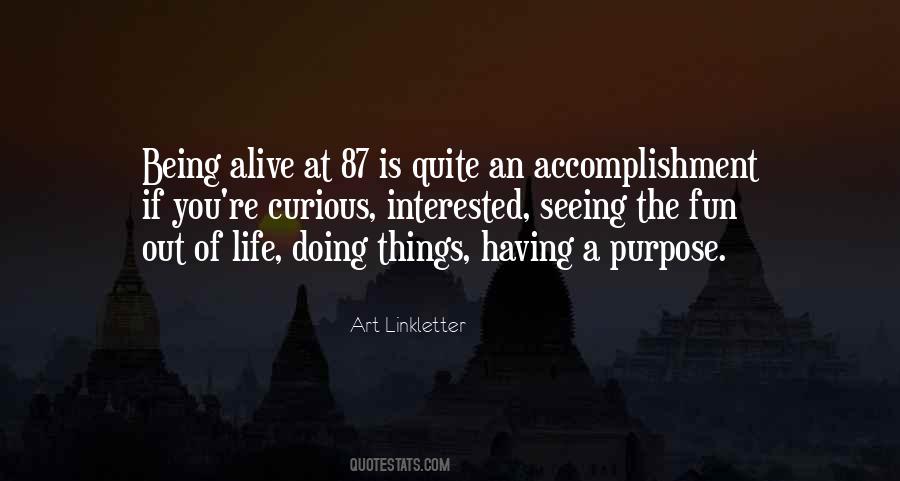 #53. Having fun is not a diversion from a successful life; it is the pathway to it. - Author: Martha Beck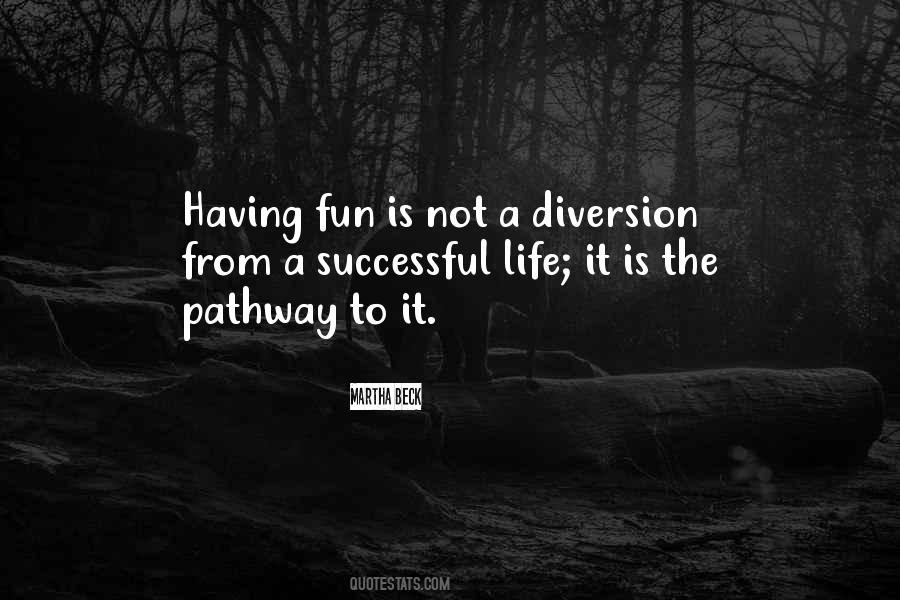 #54. If we like what we do, if we always do our best, then we are really enjoying life. We are having fun, we don't get bored, we don't have frustrations. - Author: Miguel Angel Ruiz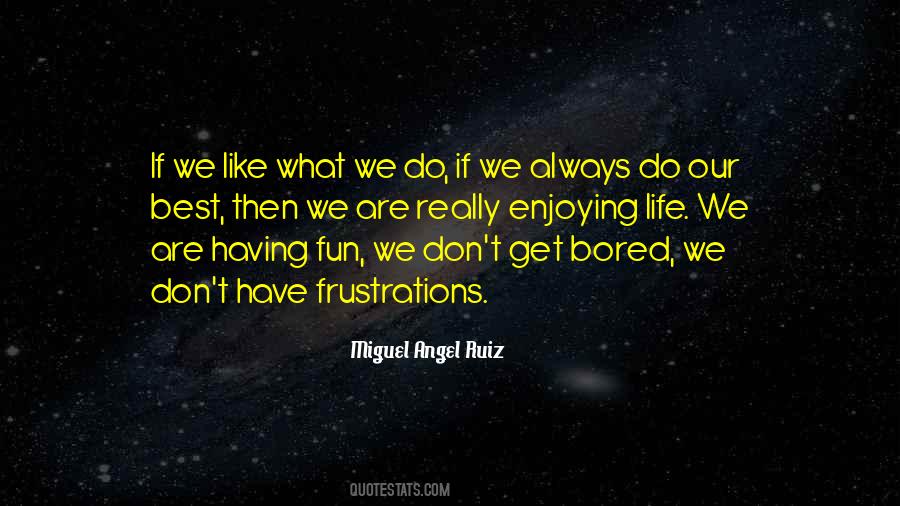 #55. I just love building buildings. I'm the largest developer in New York City. I'm having a lot of fun doing it. I think I've never had more fun. I'm just enjoying my life. - Author: Donald Trump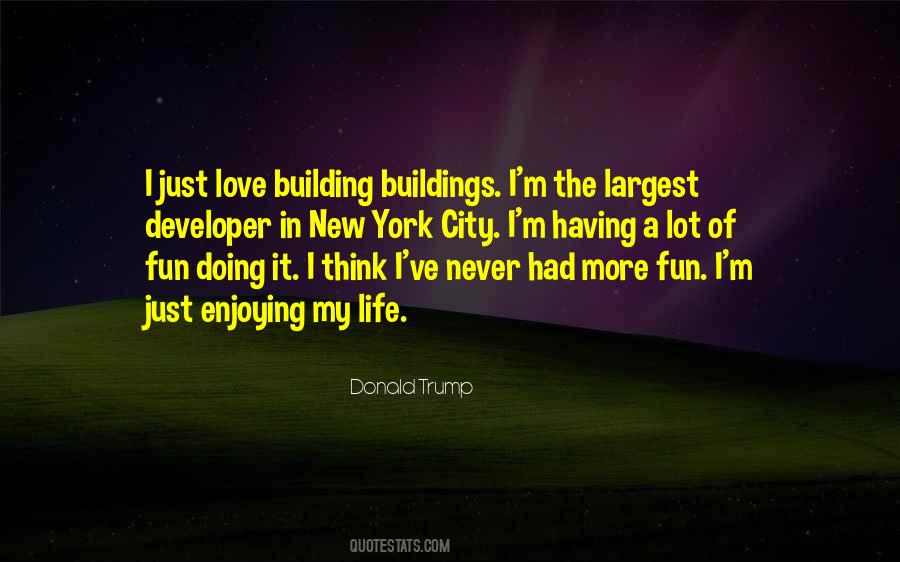 #56. It's great hearing stories of my mum growing up in Brooklyn, then moving to Florida, having me and growing up with this eccentric, fun family. Although I don't eat a lot of Italian things, because I'm vegan. I was raised on meat and cheese, so I've had enough for anyone's normal life span. - Author: Ariana Grande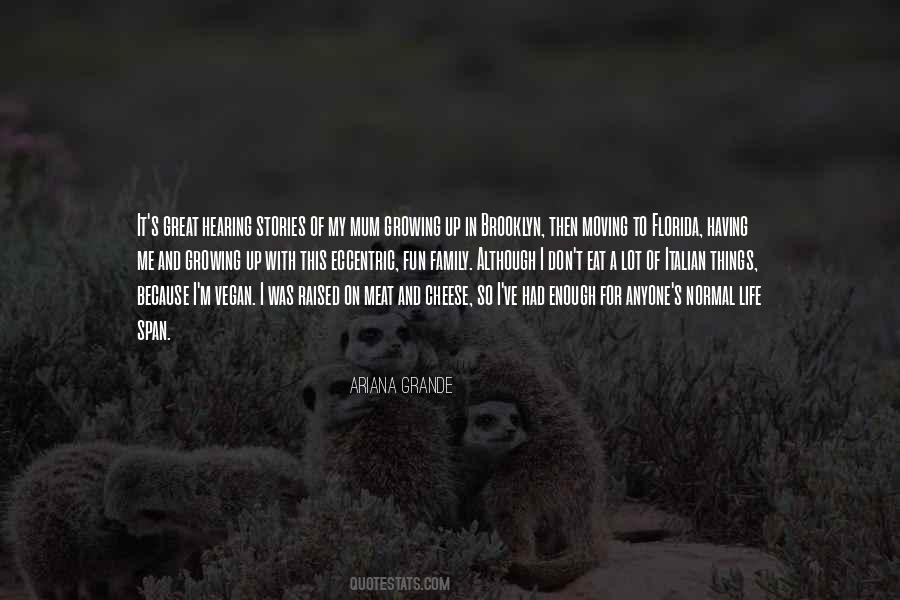 #57. I'm having a mid-life crisis, so I thought instead of having sex with a stranger, I'd just get a new haircut. It's good clean fun without all the messy emotional baggage. It's just a haircut folks! It's not like I had an eye removed, or a leg added on! Live a little ... it'll grow back! - Author: Ed Robertson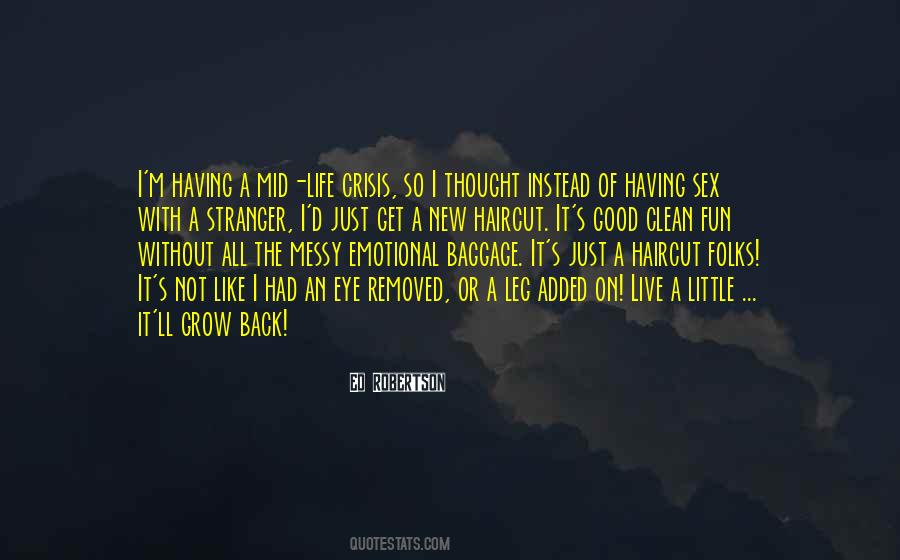 #58. Mainly, I like to have fun. Swimming is all about having fun, and I am firm believer that you should keep swimming as long as you are having fun, but I can say that it becomes much more fun as you get older and learn more about the sport, life, and especially more about yourself - Author: Scott Goldblatt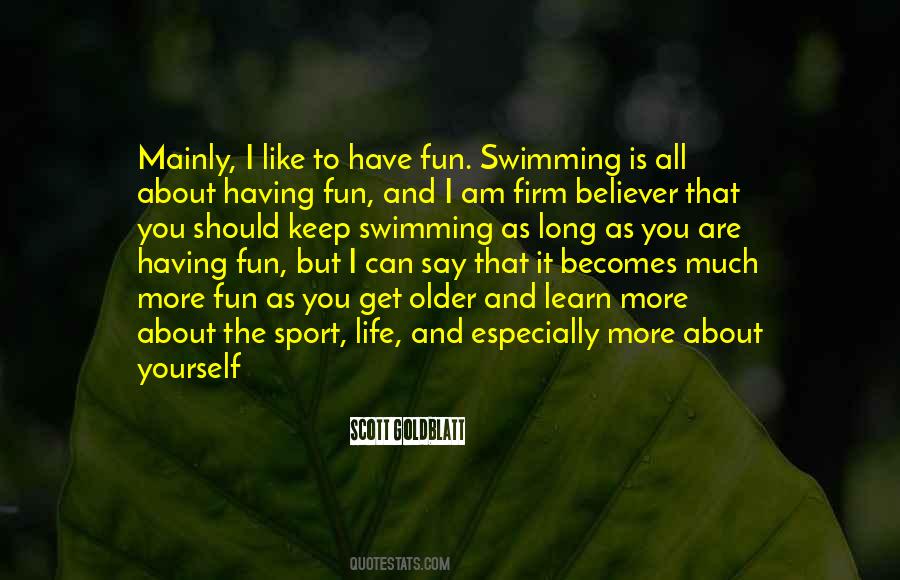 #59. I love fresh fruit and vegetables. I'm not a strict dieter. I don't think that anything in life should be so regimented that you're not having fun or can't enjoy like everybody else. Just know that fresh food is always going to be better for you. - Author: Carrie Ann Inaba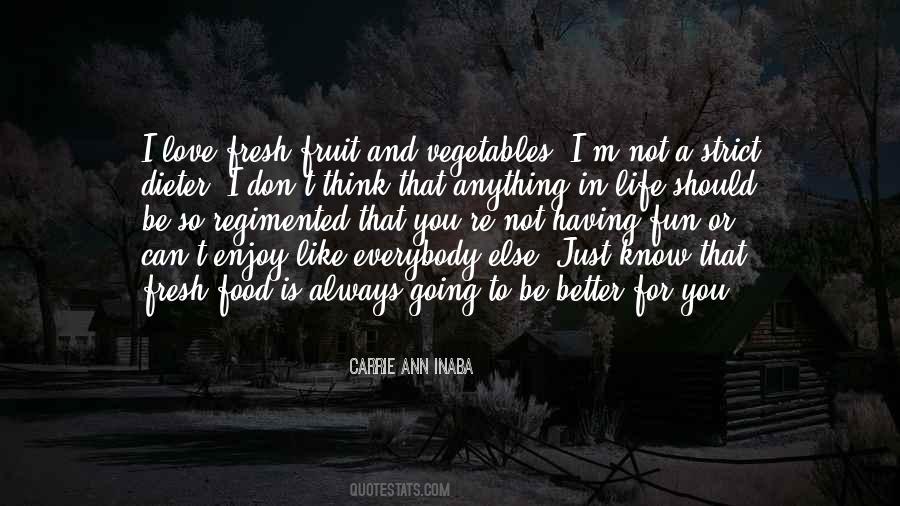 #60. I really love sharing my gift with others. At the same time, I'm just a normal kid having fun and that's what life is all about-having fun at the same time as helping people. - Author: Akiane Kramarik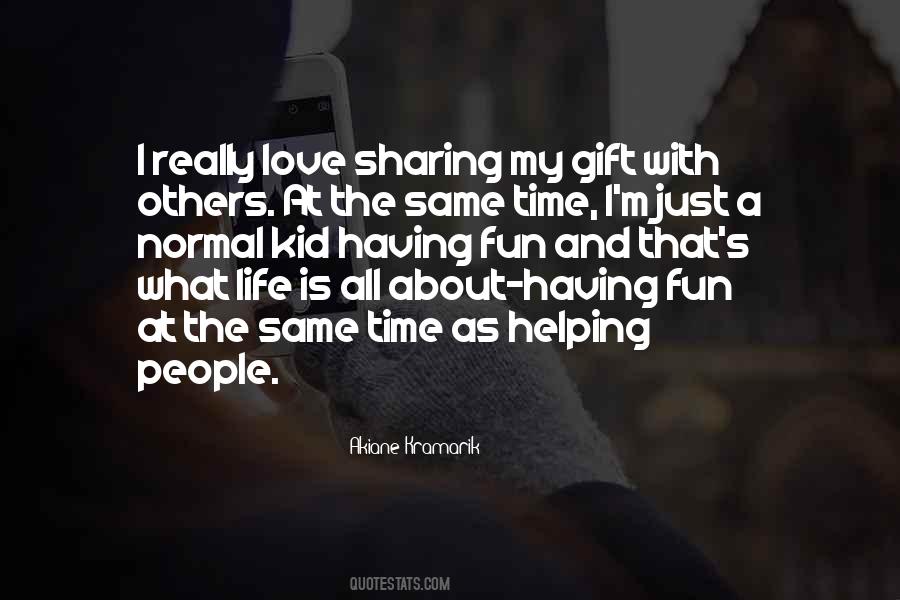 #61. Having fun is good for your health! - Author: Amy Leigh Mercree
#62. I'm at the stage of my career when it's not only about winning and developing players, it's about having fun. That's a void in your life right now, but it's something you're going to have here. - Author: Rick Pitino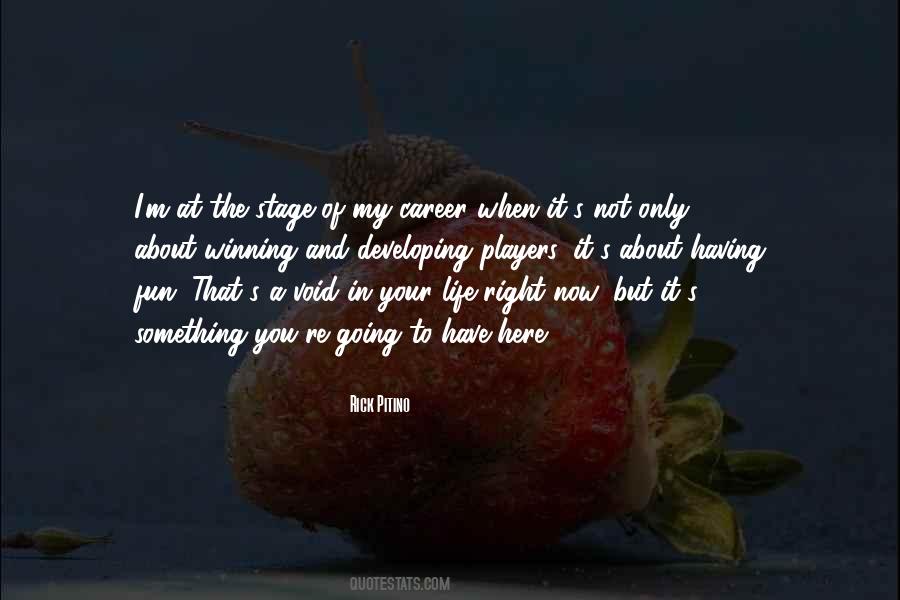 #63. If Jenks and she were to be believed, I structured my life to be as horrific as possible to have fun in bed, but having Ivy mad at me might be too much for even me right now. - Author: Kim Harrison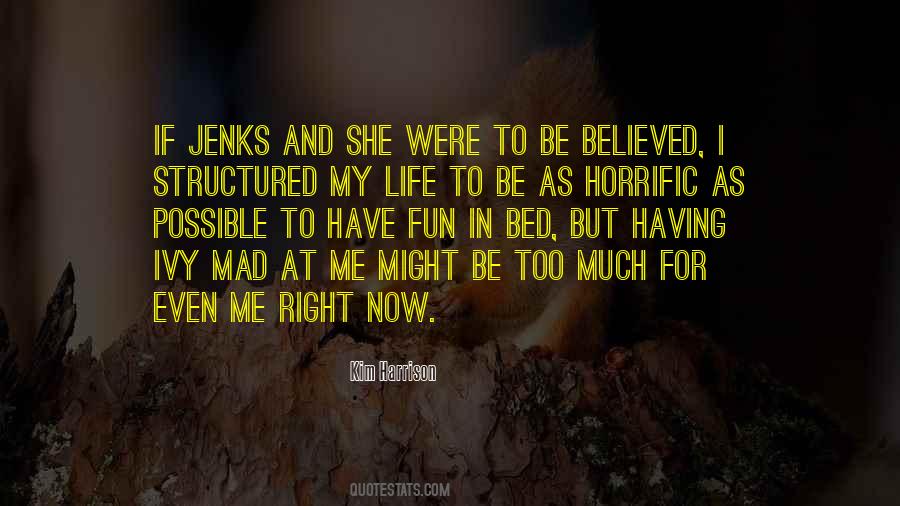 #64. I'm just having fun. And giving a sort of second shot at childhood and life - and I need to be present to do it. - Author: Sandra Bullock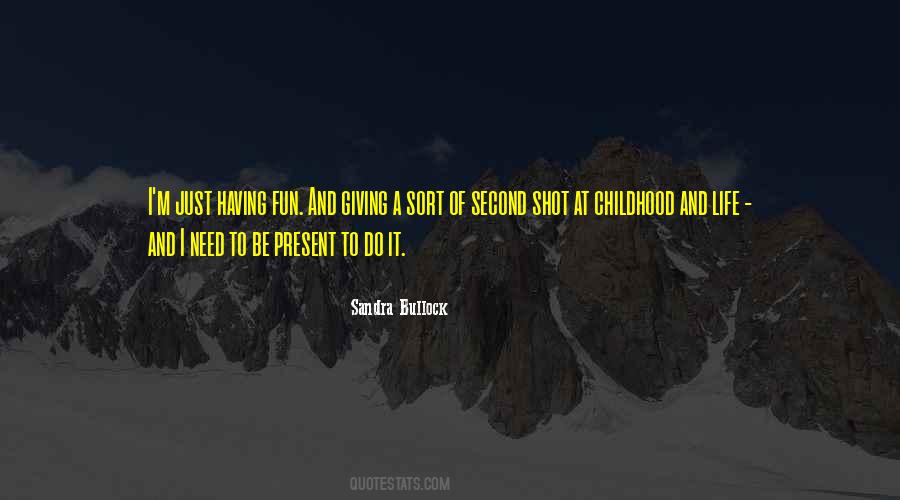 #65. I say this about everything: when I was on 'Neighbours,' I said, 'These are the best years of my life!' When I was filming 'The Wolf Of Wall Street,' I said, 'These are the best months of my life!' I always think I'm having the best time ever, and that I'll never have so much fun again. - Author: Margot Robbie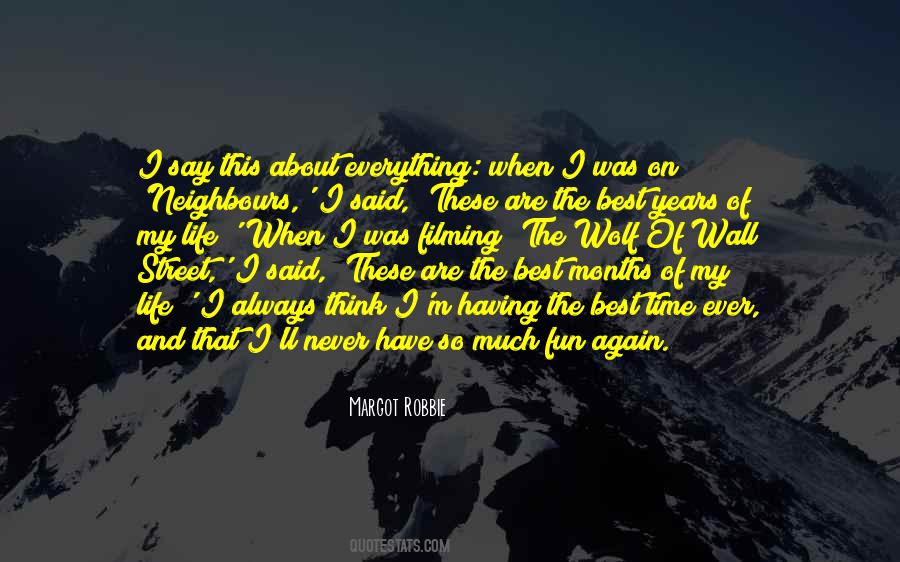 #66. It seemed to me that life was a giant ice skating rink, and I was the only one who didn't have skates. Most people fear death. I don't. I'm only afraid of not living. I don't want to be the one behind the ice rink fence, watching other people having fun. - Author: Milena Veen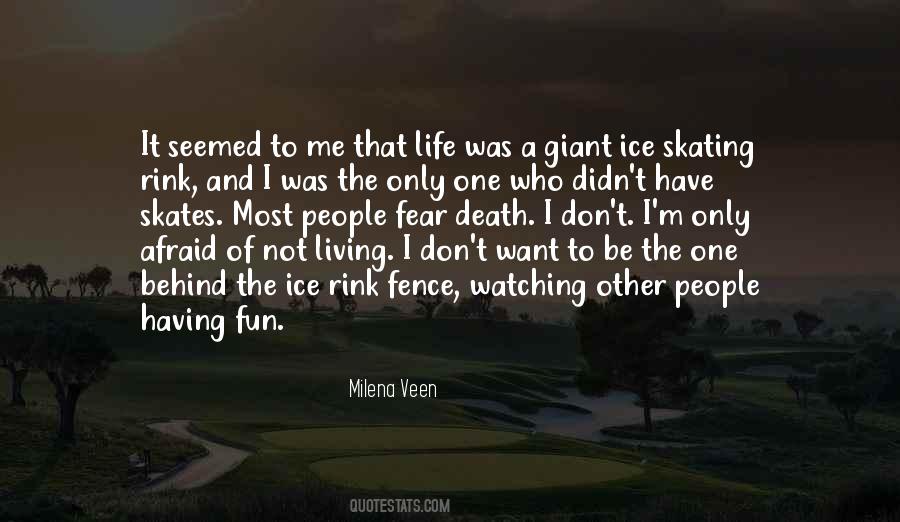 #67. Use your struggles as fuel to enrich your life, and psych your spirit into having fun. - Author: C.C. Wyatt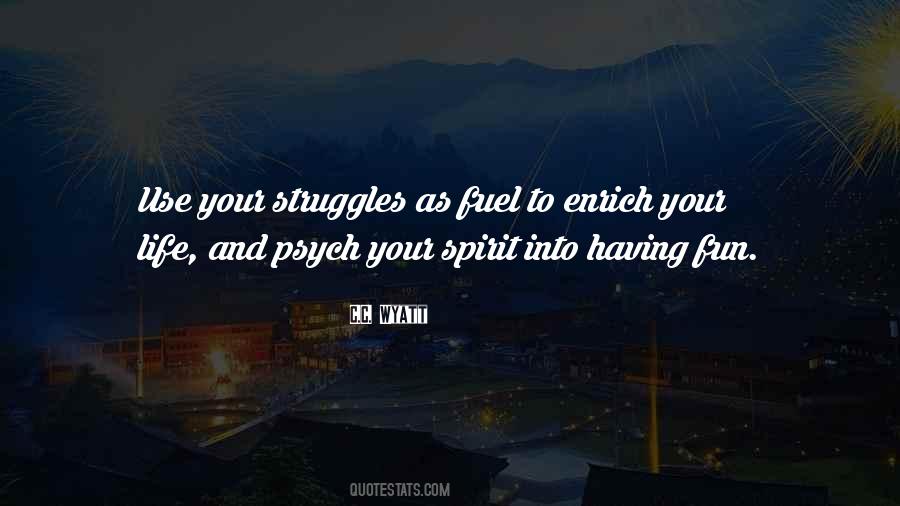 #68. Those who achieve happiness understand the basic fact that regardless of how much fun you're having or how many things you accomplish, life through the lens of history is incredibly short. - Author: Ian K. Smith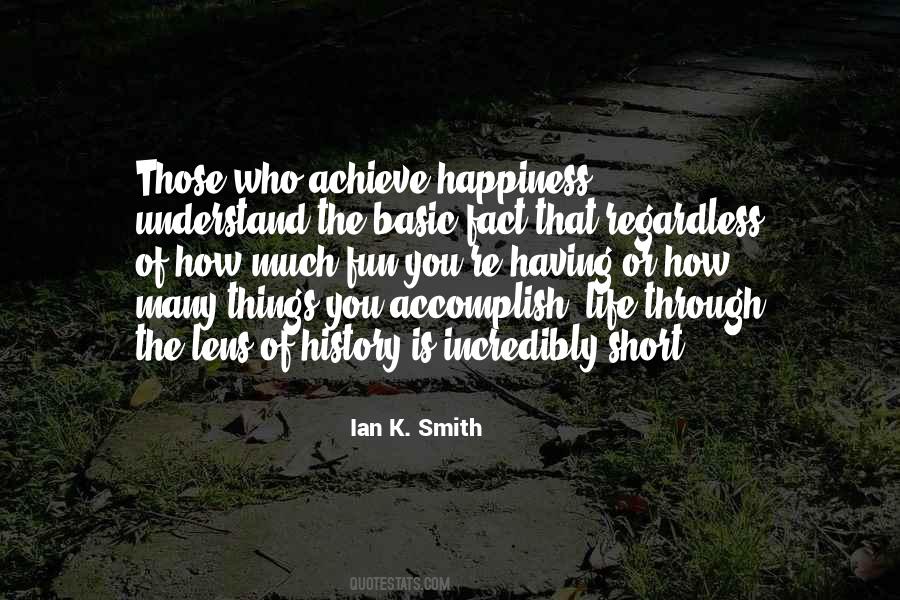 #69. Golf is a very serious part of my life, but when you stop having fun at it, that's when it's time to hang it up. - Author: Tiger Woods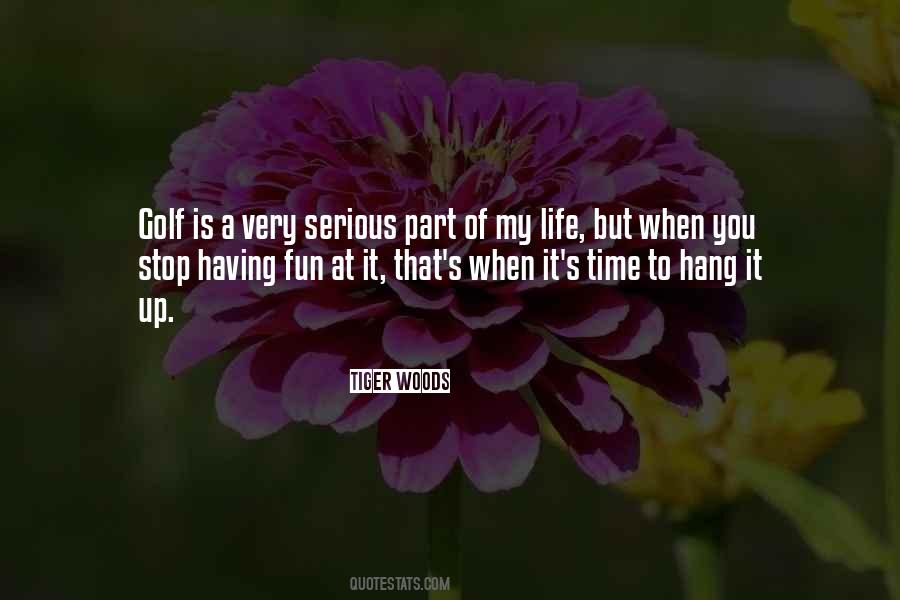 #70. I am playing with the assumptions that we have in our everyday life when we are tripped up or fooled and we learn something, that makes things exciting - I am having fun with that stuff, but you have to manage it so it doesn't get too cute, that's what I trying to work toward. - Author: Jim McKay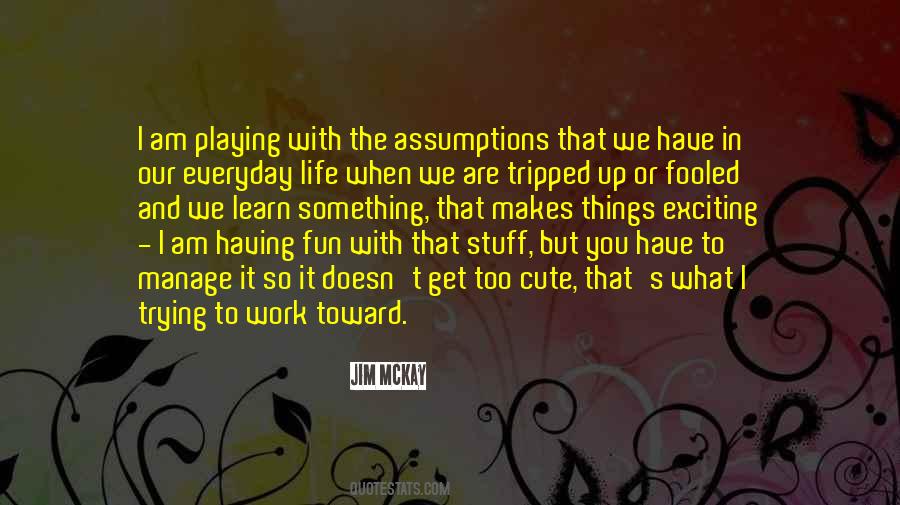 #71. My grandmother is one of the biggest inspirations of my life. She was my biggest fan, and she made sure everybody knew it. Her never-ending joy was infectious, and there wasn't anyone who could beat her at partying and having fun. - Author: Roberto Aguire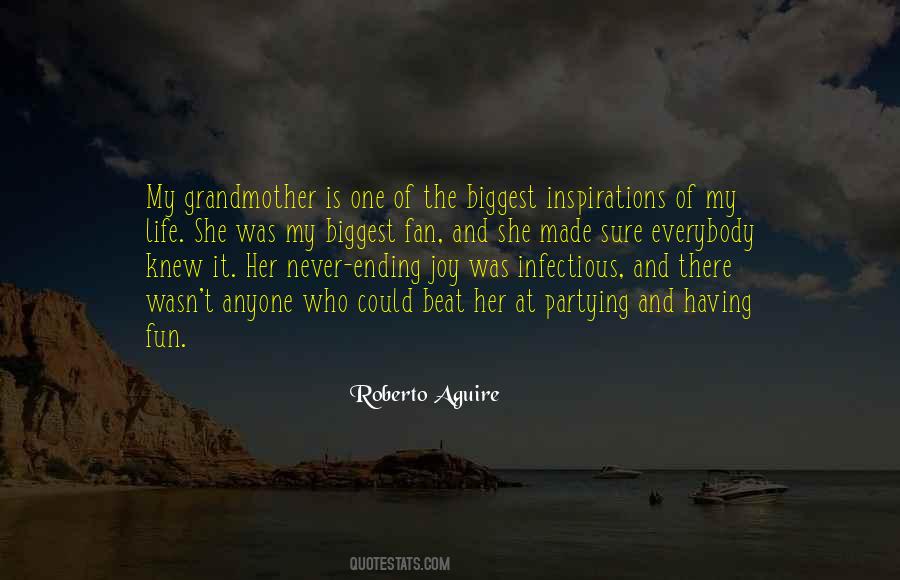 #72. I make more time to have fun in the life I'm living before I'm worm food. - Author: Andy Biersack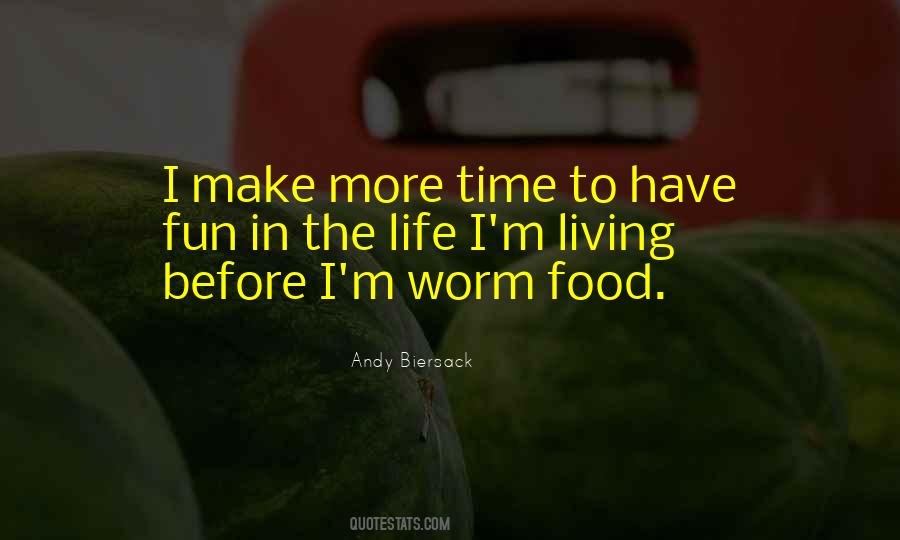 #73. Enjoyment of life generally includes being socially connected, having fun, and feeling a sense of purpose. - Author: Mallika Chopra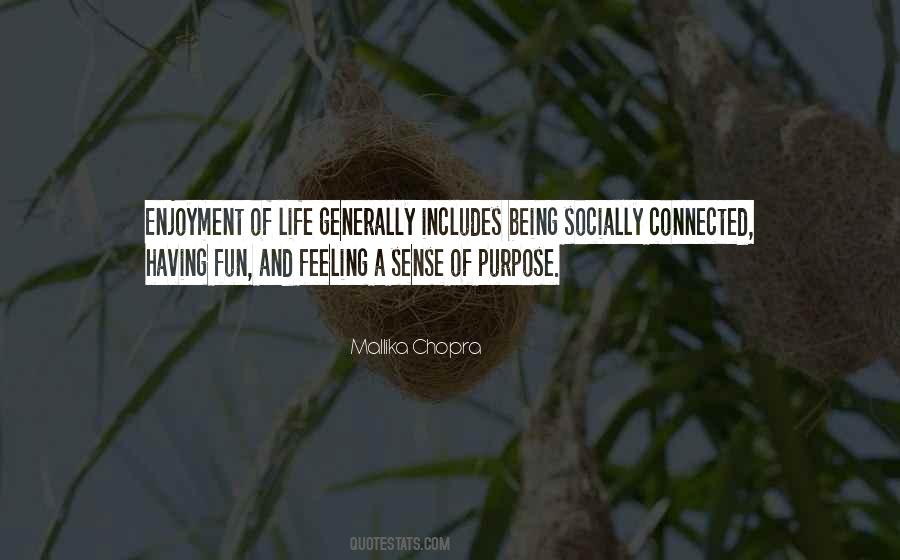 #74. Can dancing change your life? Yes. It's changed mine. What I've learned is, it's not about how good you are technically. It's about your soul coming through. It's about having fun. - Author: Lisa Rinna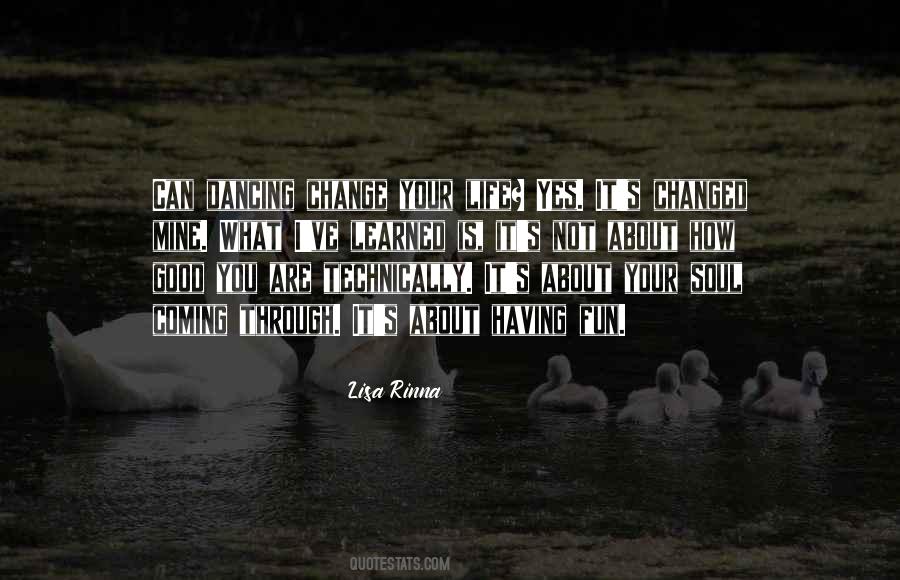 #75. I'm not good at interviews, I'm not good at dancing, I'm not good at looking like I'm having fun. I never will be, I don't think. Unless I go to a life coach. - Author: Calvin Harris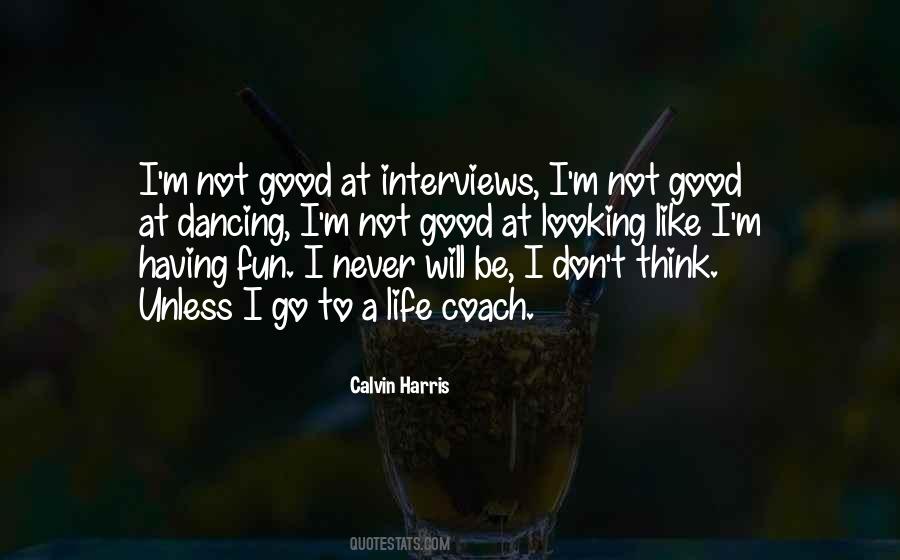 #76. I think the older you get, the more you know about life, and the more you learn about yourself and you become comfortable in your own skin. So the older I'm getting, the more fun I'm having. - Author: Colbie Caillat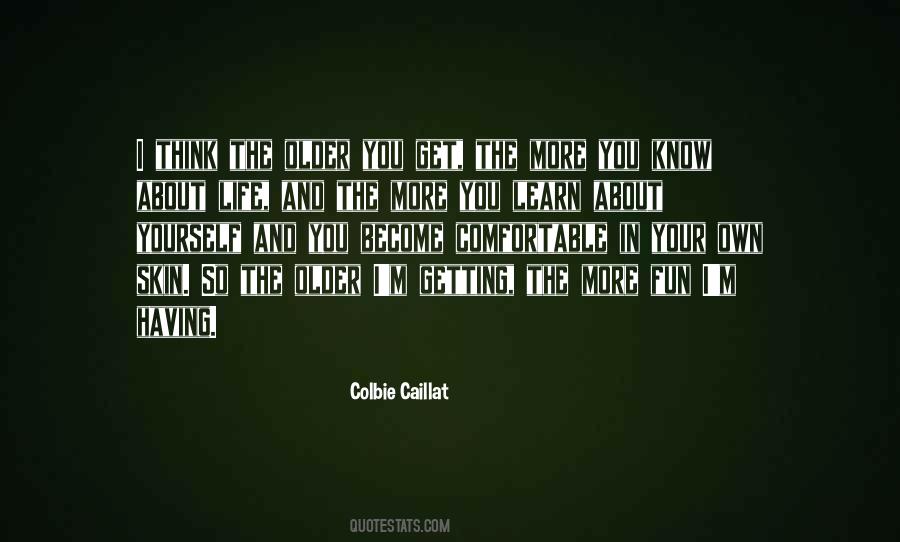 #77. I am going to keep having fun every day I have left, because there is no other way of life. You just have to decide whether you are a Tigger or an Eeyore. - Author: Randy Pausch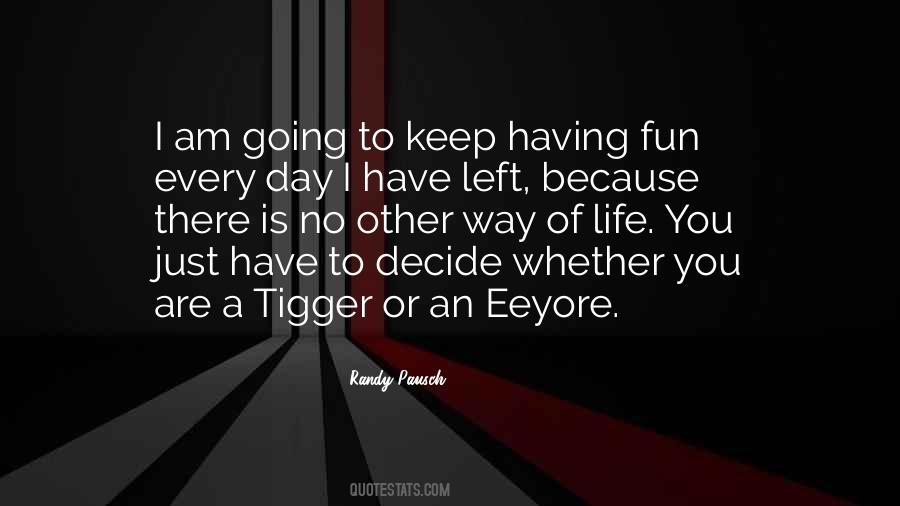 #78. With 'Dope Walk,' I wanted to bring back kids dancing and having fun again. That's how it used to be in Harlem. I remember everybody Harlem-shaking and 'Chicken Noodle Soup'-ing. Those were some of the most fun and memorable times in my life. - Author: ASAP Ferg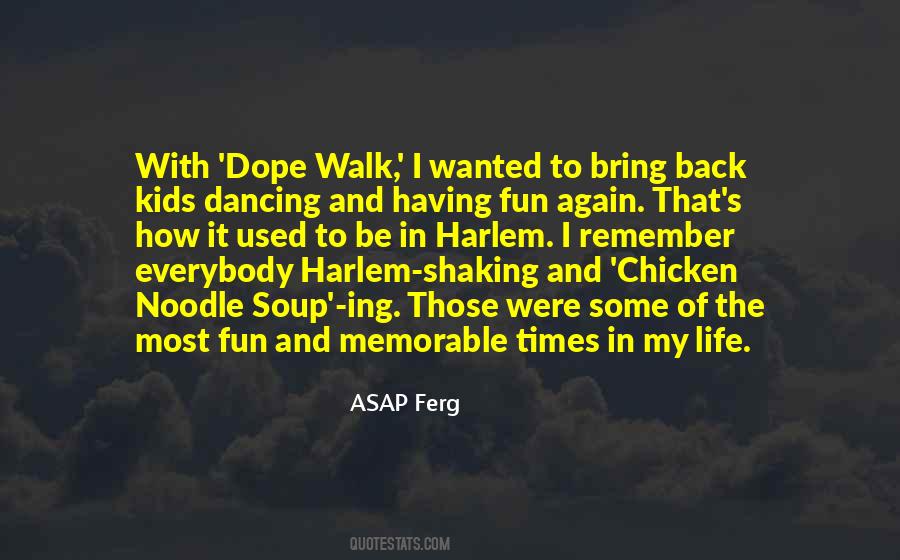 #79. So this was the rest of his life. It felt like a party to which he'd been invited, but at an address he couldn't actually locate. Someone must be having fun at it, this life of his; only, right at the moment, it wasn't him. - Author: Margaret Atwood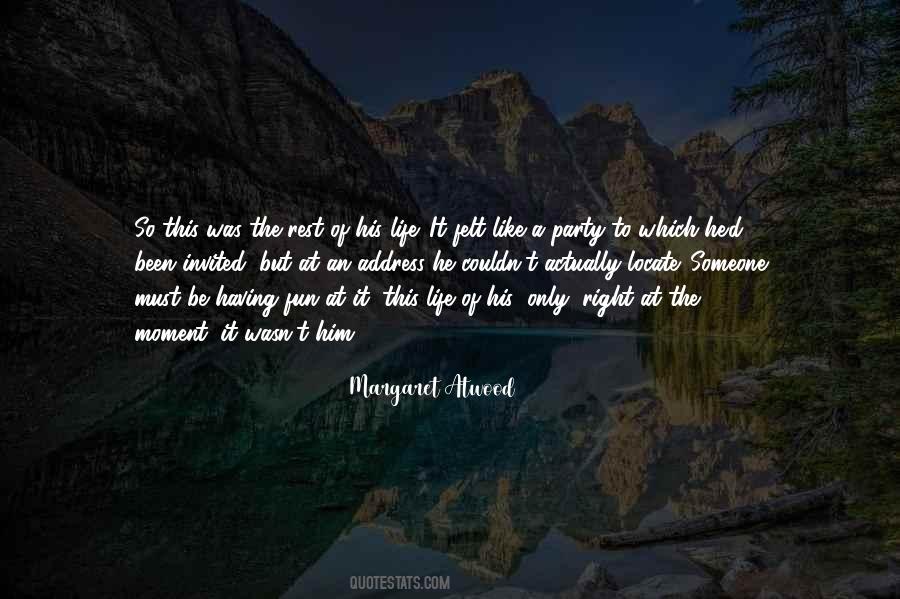 #80. I'm having a lot of fun, enjoying my life and trying to raise my children. - Author: Harry Connick Jr.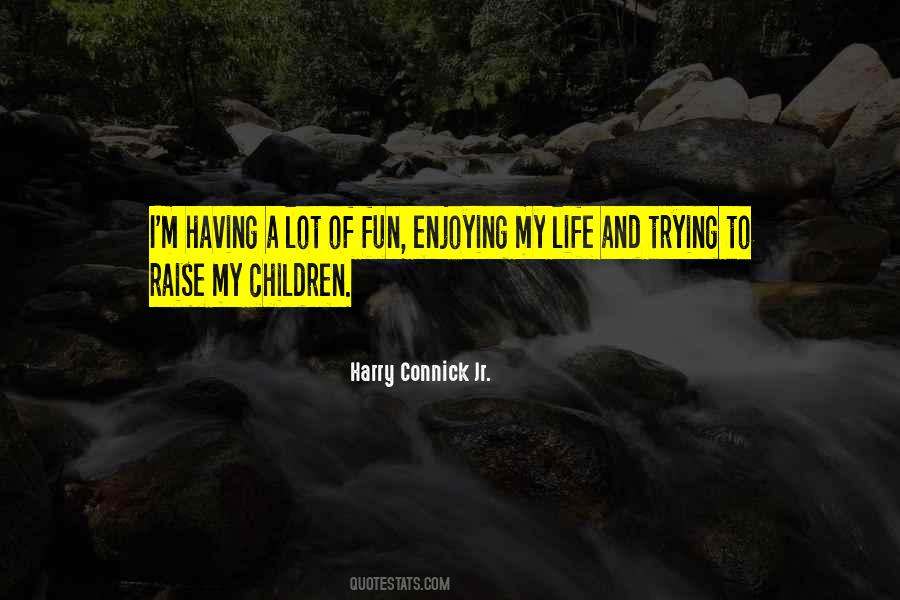 #81. Sex is probably the most fun you can have in life without gaining weight or having a hangover the next day. - Author: Linda Sunshine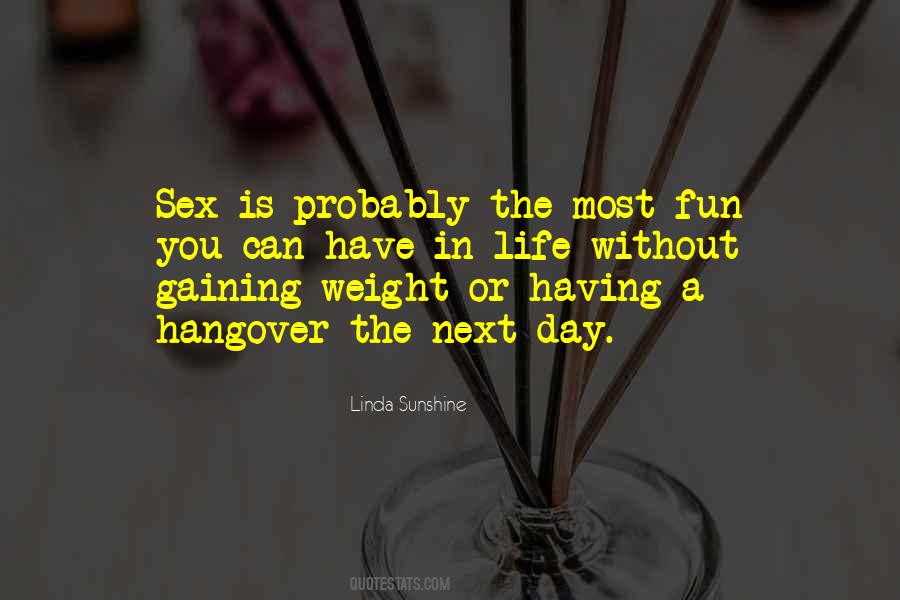 Famous Authors
Popular Topics