Happy And Positive Famous Quotes & Sayings
List of top 100 famous quotes and sayings about happy and positive to read and share with friends on your Facebook, Twitter, blogs.
Top 100 Happy And Positive Quotes
#1. I'm a Dreamer that's no Secret it's make me Happy, Positive, Satisfied and to see the good side of Life. - Author: Jan Jansen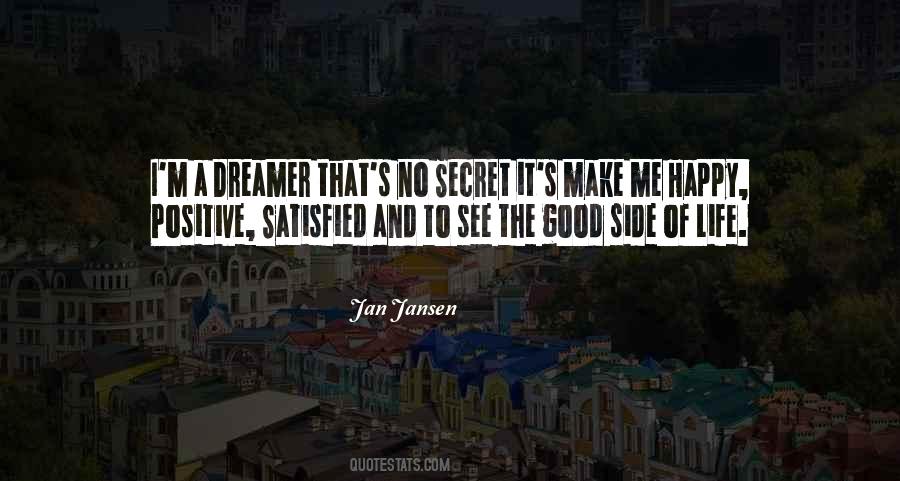 #2. It's easier to be angry. It's harder to be positive and happy, I reckon. - Author: Courtney Barnett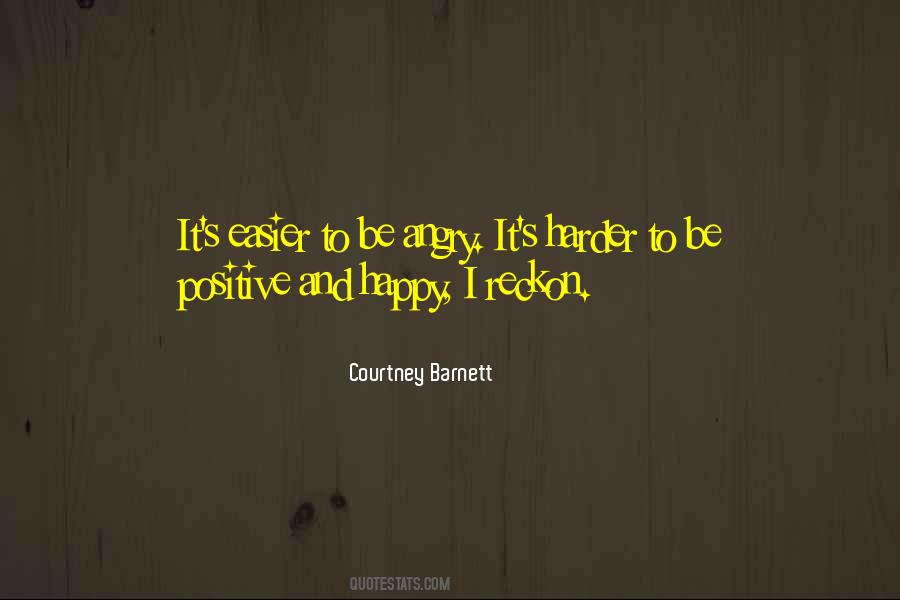 #3. Every cloud doesn't have a silver lining but making time to look at the beauty of clouds can give you peace of mind - Author: C.L. Bennett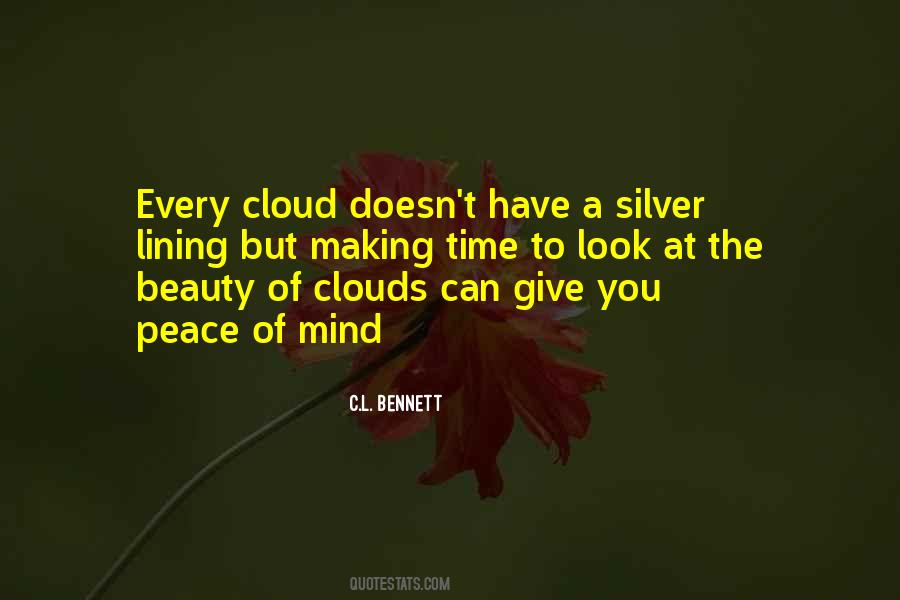 #4. However, I must say that I am very happy to see that we have such a positive result for our first referendum in our history and that gives me more confidence in Taiwan's democracy. - Author: Chen Shui-bian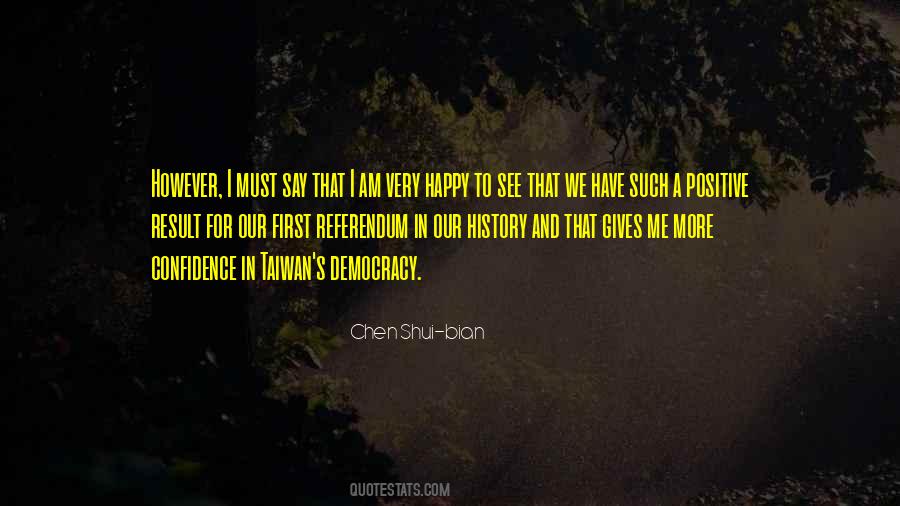 #5. If you are surrounded by people who not only don't believe in your goals and your positive outlook on life, but who also continually try to tear you down, it will be extremely challenging for you to hold firmly in mind that you will succeed and that you can be happy. - Author: Chris Prentiss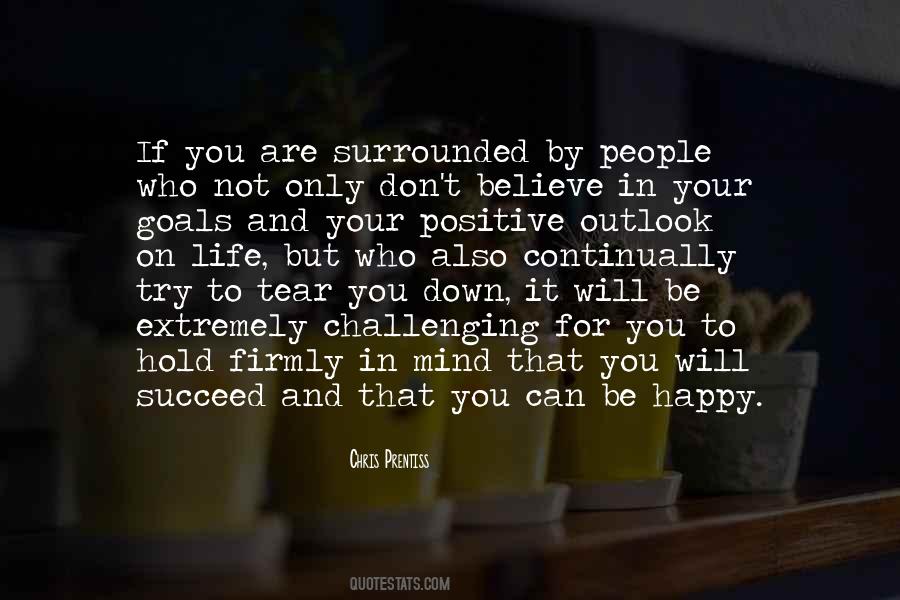 #6. Two famous happy warriors - Reagan and his political soulmate, British Prime Minister Margaret Thatcher - knew they were fighting their own ideological and external wars. But they did so with the sunny dispositions and positive outlooks of those who knew they were on the right side of history. - Author: Monica Crowley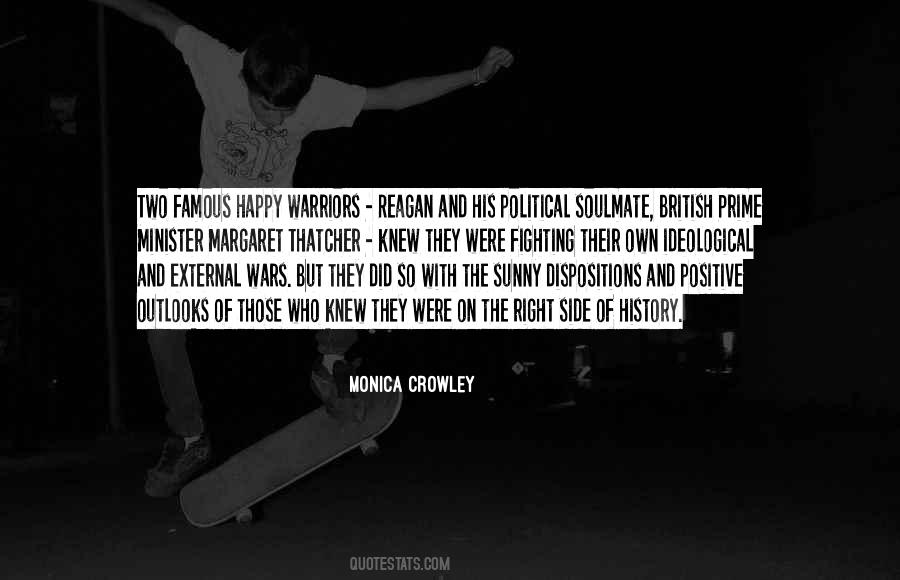 #7. Happiness is an emotion based on positive circumstances within our lives. The origin of the word "happiness" was
derived from the same root "hap", similar to the word "happening." Depending on what's happening in our lives, we're either happy or sad. It's based on pure luck and good fortune. - Author: Dana Arcuri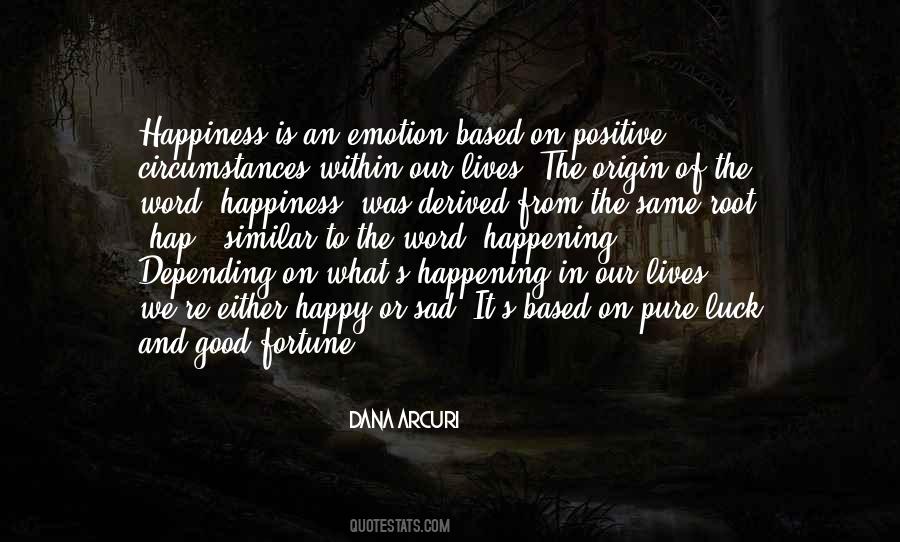 #8. If I can lead a happy life, touch the lives of others in a positive way, win the respect of those that I care about - and make a few million along the way - then I have been successful. - Author: Bill Rancic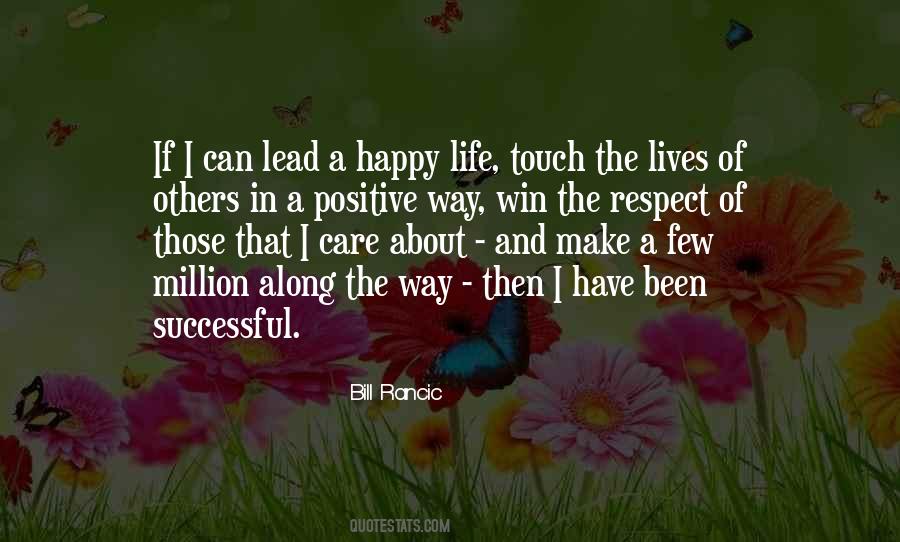 #9. If a girl is smiling and is bringing positive energy and she's happy, that's what I notice right away - and her teeth. - Author: Chandler Parsons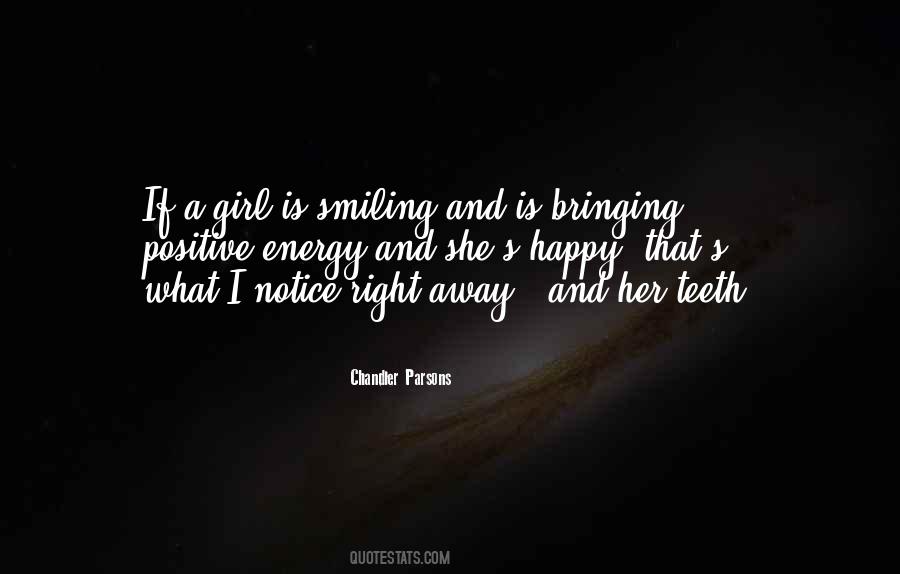 #10. Our best friend and our worst enemy reside within us. Unfortunately, most of us access the latter far more often than the former. - Author: Maddy Malhotra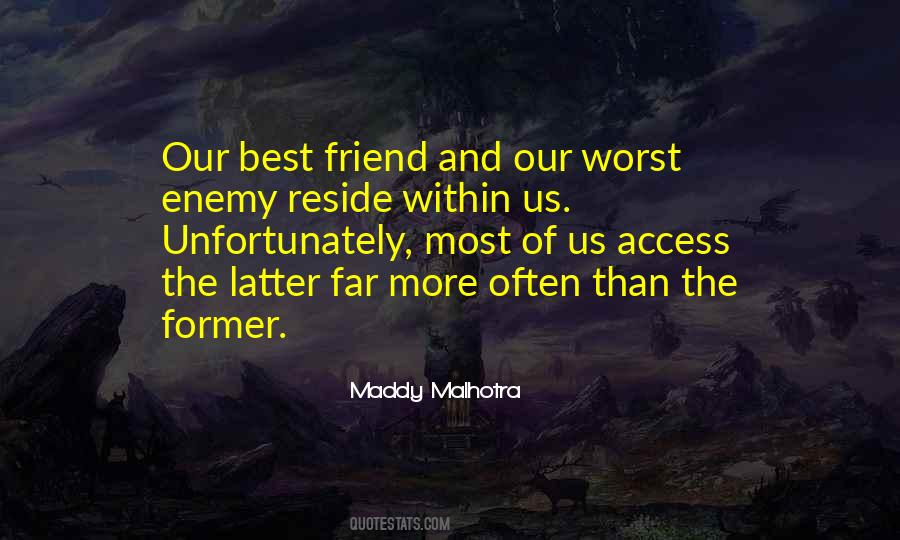 #11. I actually think that I'm a rather optimistic and happy person; it's just that I'm not a very positive person, if you see the difference. - Author: Linus Torvalds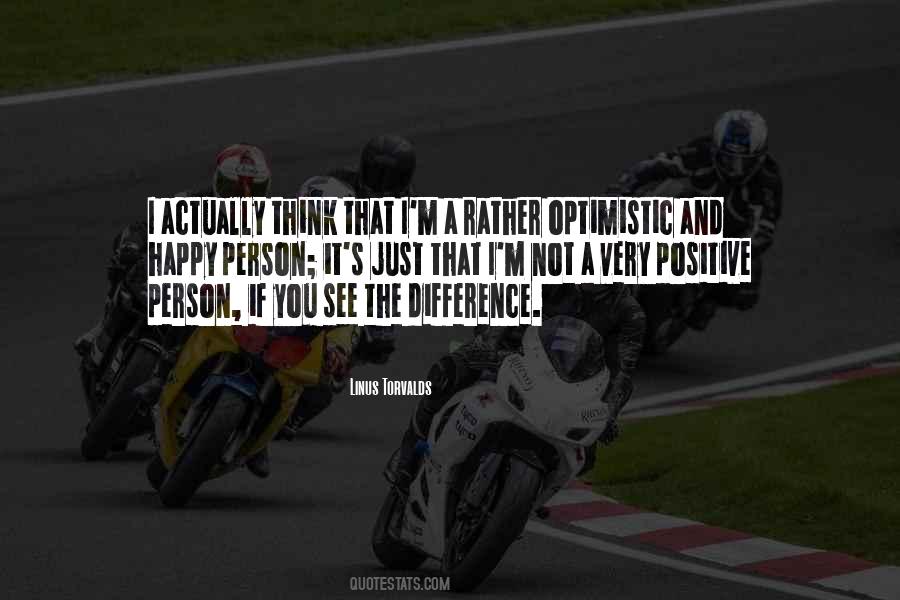 #12. You are damaged and broken and unhinged. But so are shooting stars and comets. - Author: Nikita Gill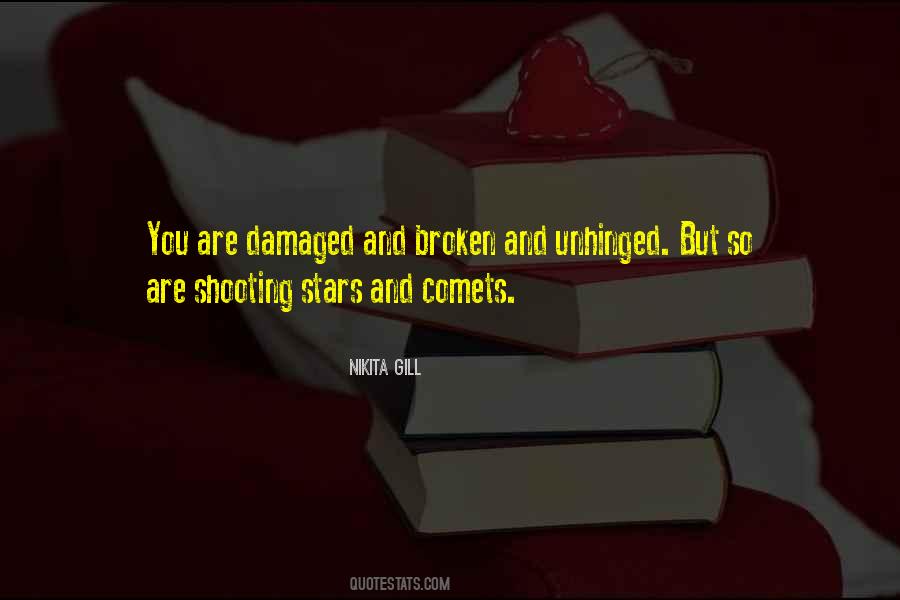 #13. It's rare to be depressed and be in prime health. Healthy people tend to be happy people. - Author: Toni Sorenson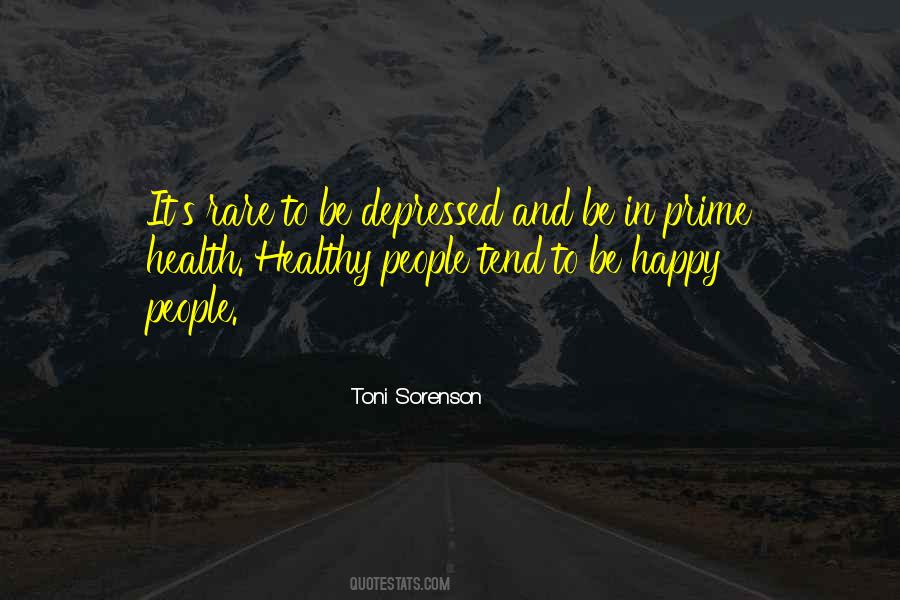 #14. God's Word does not say, "Call unto me, and you will thereby be trained into the happy art of knowing how to be denied. Ask, and you will learn sweet patience by getting nothing." Far from it. But it is definite, clear and positive: "Ask, and it shall be given unto you." - Author: Edward McKendree Bounds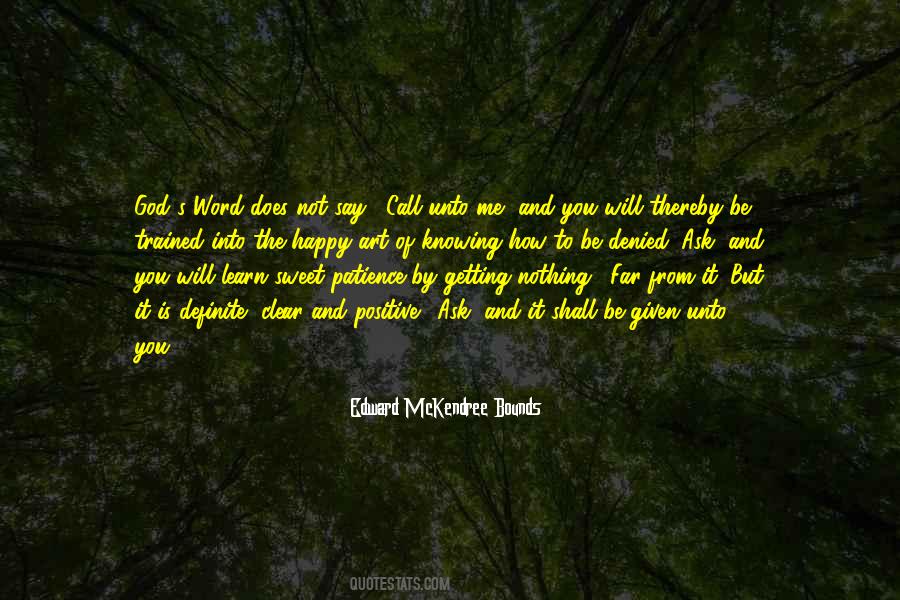 #15. I am Happy. I love colorful and cute stuffs. Whole my life is all about being happy and to stay positive in my beliefs. I love to inspire people and let them know more about themselves. - Author: Diana Rose Morcilla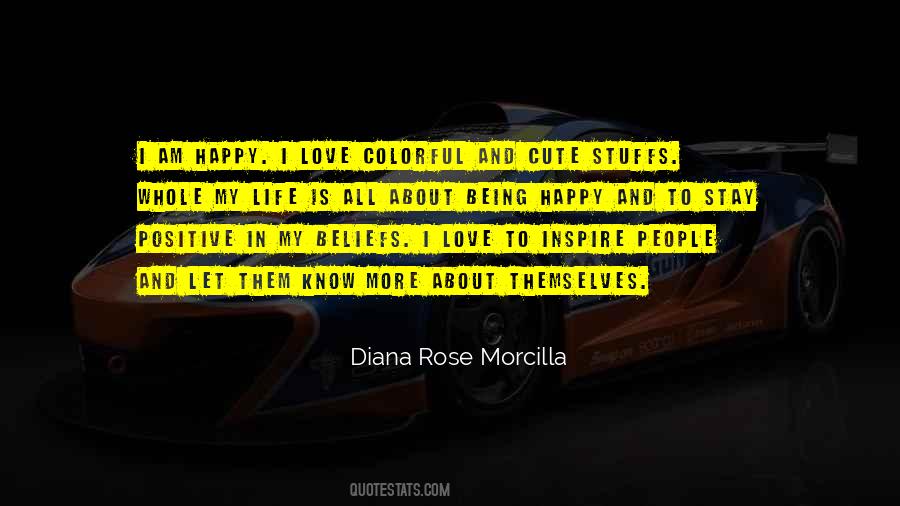 #16. There is always a story behind what you like. Like what you like and be happy with what you like but don't ever forget to mind the real lessons from the story behind what you like. - Author: Ernest Agyemang Yeboah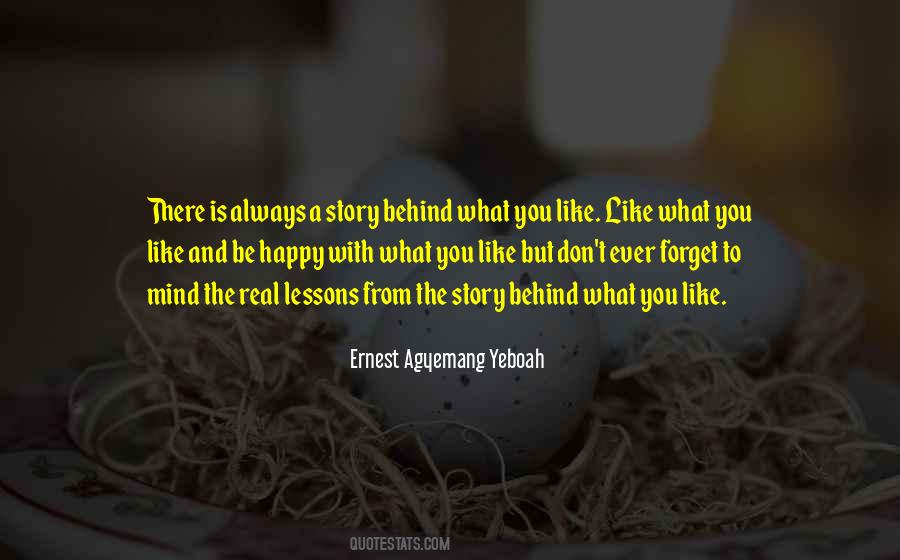 #17. I try to teach people that I believe God wants us to be positive toward ourselves, meaning that, you know what, I like the way I look, I like the way I sound, I'm happy with what I'm doing in my career - and not always be beating ourselves down. - Author: Joel Osteen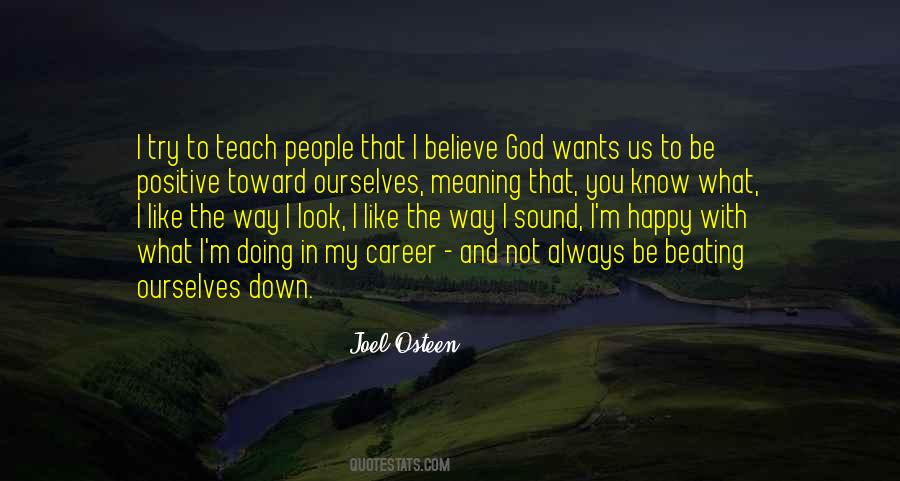 #18. Last weekend a young man asked me how I remain so positive. "It seems all the negativity in the world doesn't affect you," he said. I had no more than a minute with the young man so I offered this: It's all about where you choose to put your attention, and I choose to be happy. - Author: Jason Mraz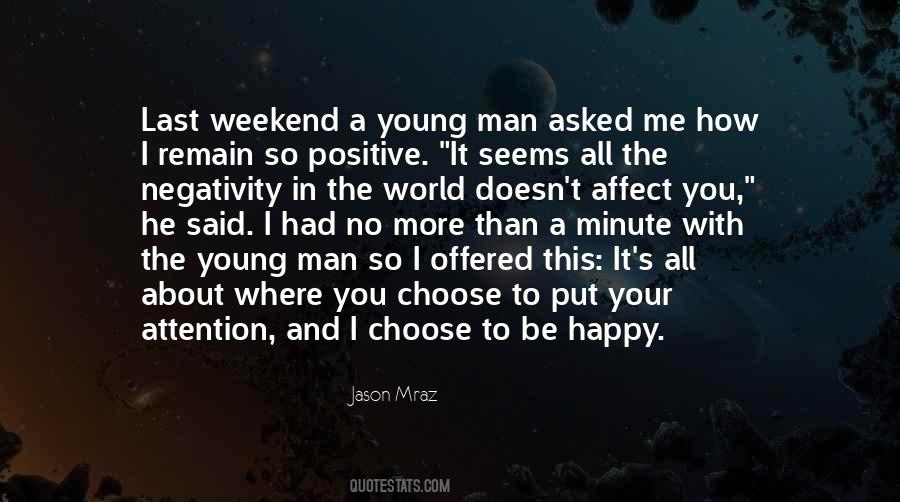 #19. Happiness is a conditioning of the mind and body so that happiness is totally within the way you perceive things and handle situations in life. You choose to be happy; happiness doesn't choose you. - Charmainism - Author: Charmaine Smith Ladd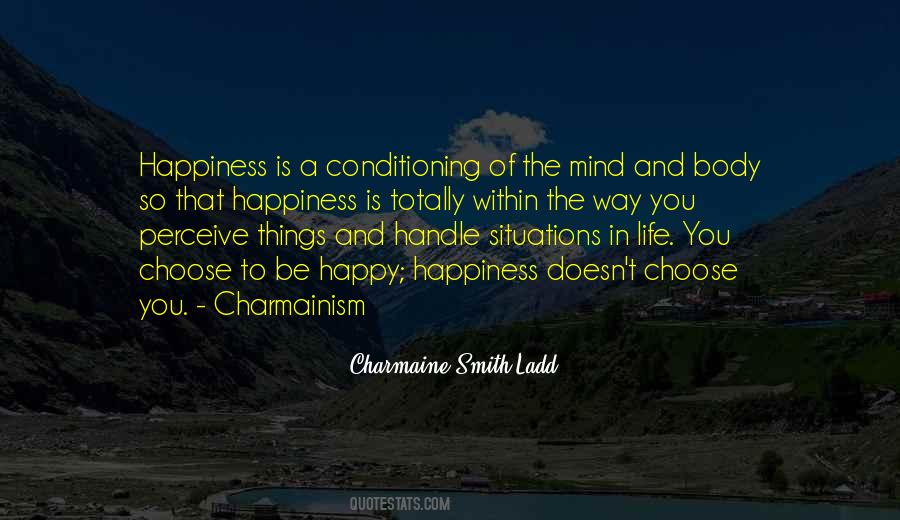 #20. The sky is but a looking glass into a pool of airless oceans, cast off into a dance of light and energy, leaving only a facet of guidance to navigate. Such an existence lays but within the mind man. - Author: Indiana Lang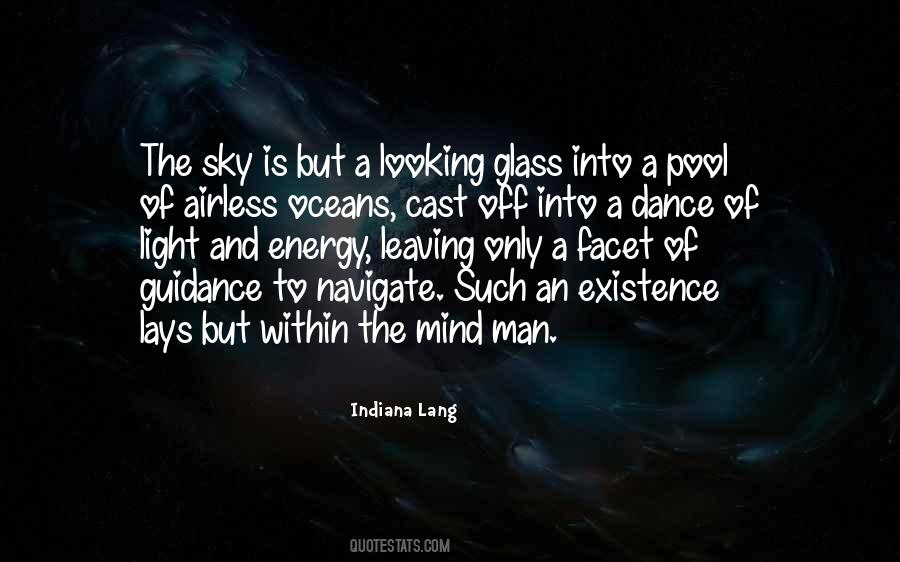 #21. Man is happy only as he finds work worth doing - and does it well - Author: E. Merrill Root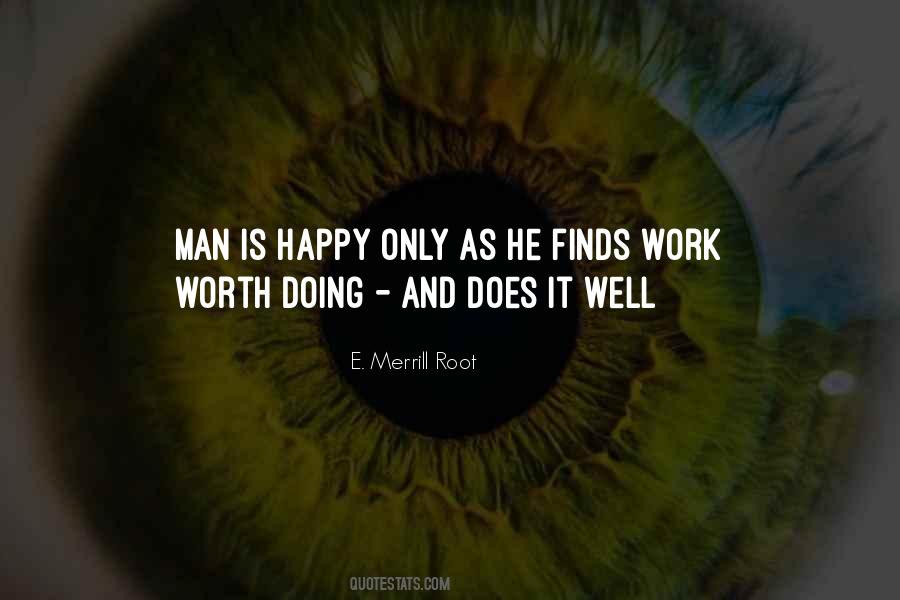 #22. Figure out what makes you laugh, and do more of it. Figure out what makes you cry, and do less of it. - Author: Mandy Hale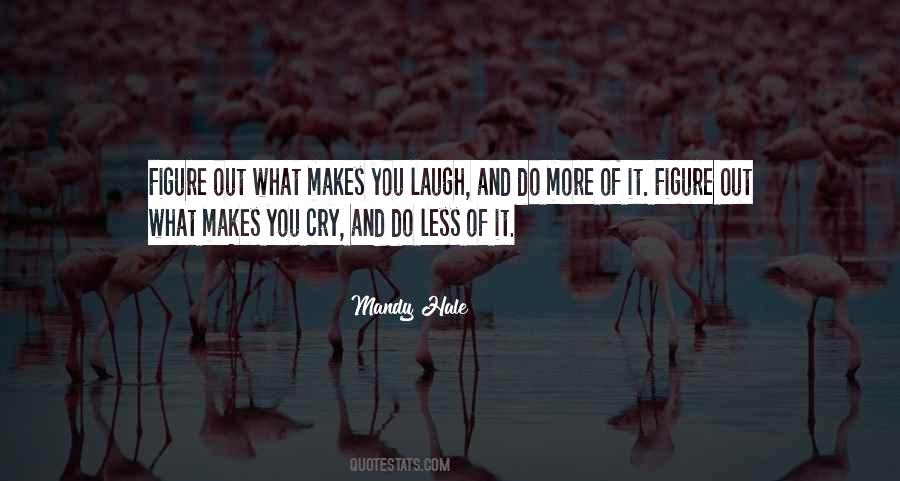 #23. He was cold and tired, but he ignored the cold. Around him stars shone. Some bright, some dim, the most constant things in life. Segundo smiled up at them, happy at least to be dying among friends. - Author: Orson Scott Card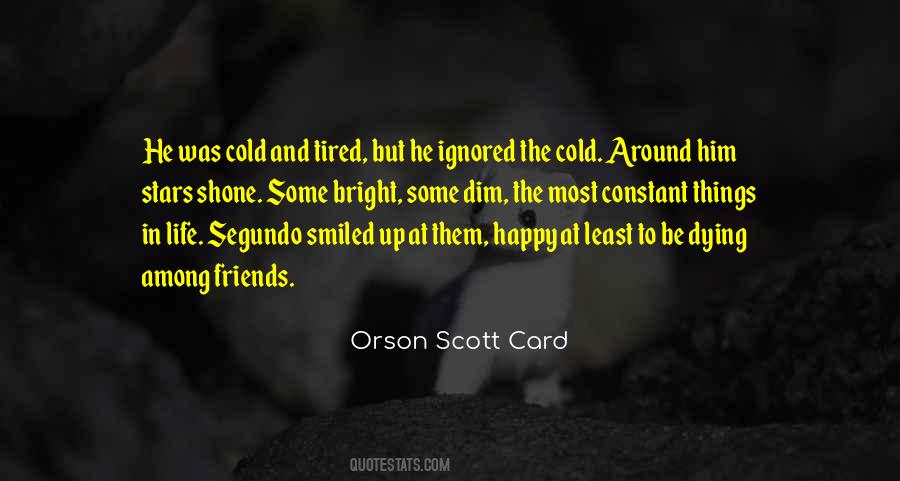 #24. I have come, more and more, to believe that the way we are in the world actually has an impact on the world. When we are respectful, joyous, grateful, engaged, the world responds to that in concrete ways. When we are angry and resentful, or selfish or bitter, things sour around us. - Author: Alan S. Kesselheim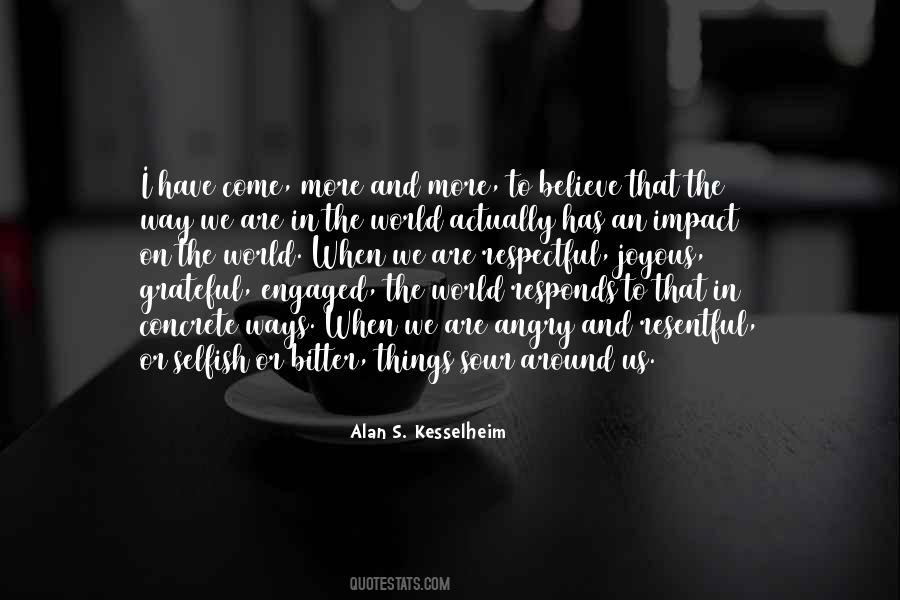 #25. Not only do happy people endure pain better and take more health and safety precautions when threatened, but positive emotions undo negative emotions. - Author: Martin Seligman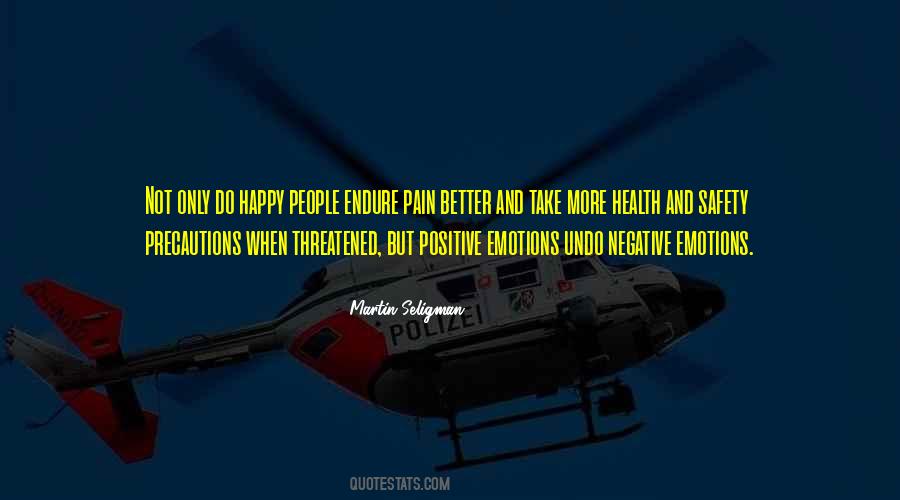 #26. You can't be happy at work every day. No matter how much you love your job, there are still going to be bad days. And that's cool - it's always OK to have a bad day at work. - Author: Alexander Kjerulf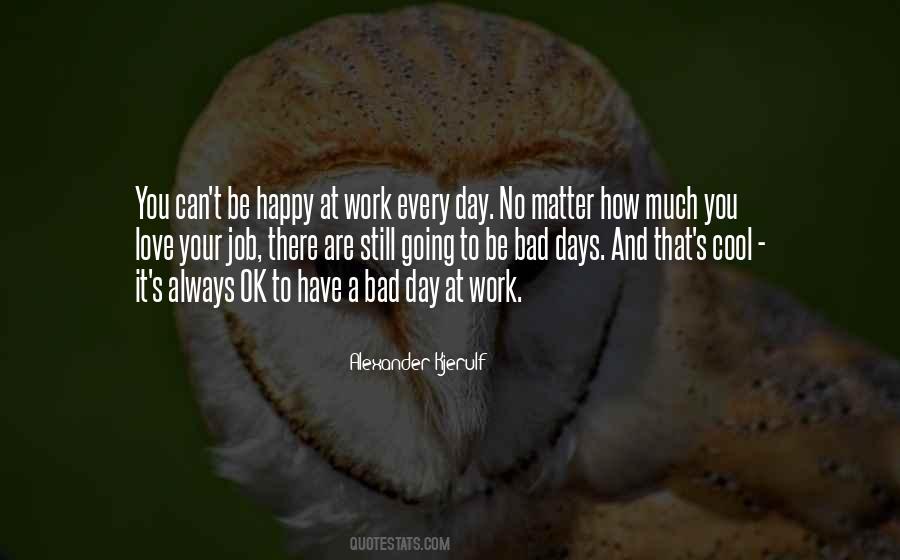 #27. Wherever you may go; Life is a beautiful thing. Life is like a passing season. It comes and go. Whatever may come, it's better to enjoy the changing seasons. - Author: Diana Rose Morcilla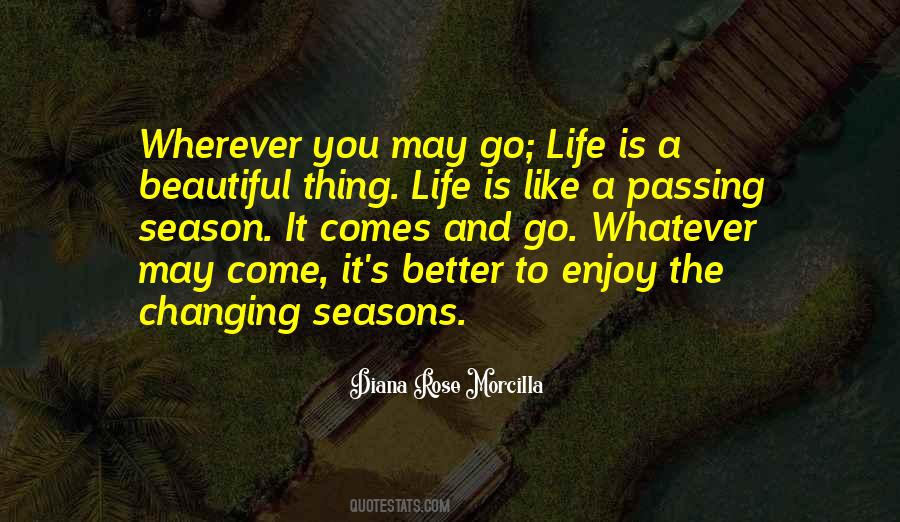 #28. Look at the beautiful side of life and be happy. - Author: Lailah Gifty Akita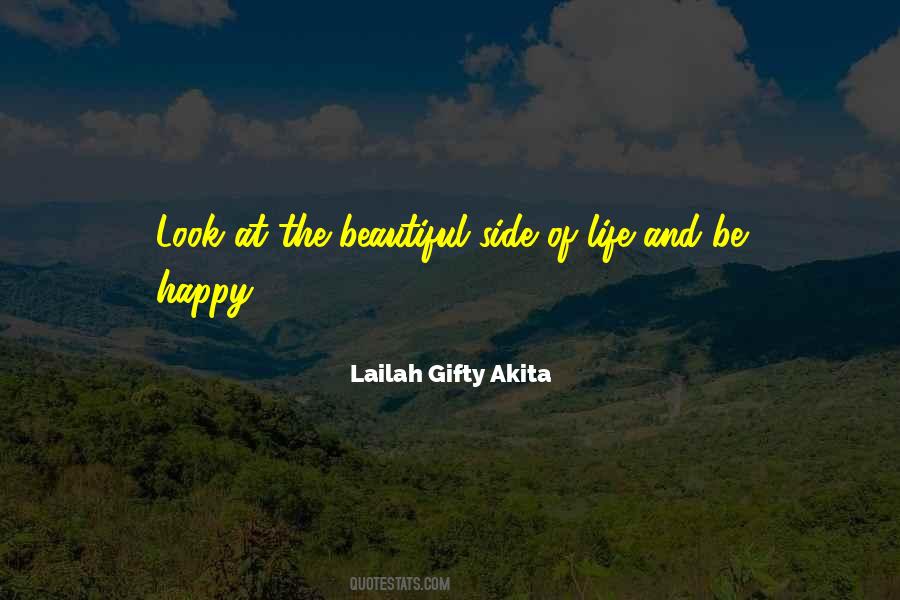 #29. Major brands don't know what to do with happy customers. They make it hard for customers to say thanks and way too often companies don't celebrate and embrace customers' positive gestures. - Author: Paul Walker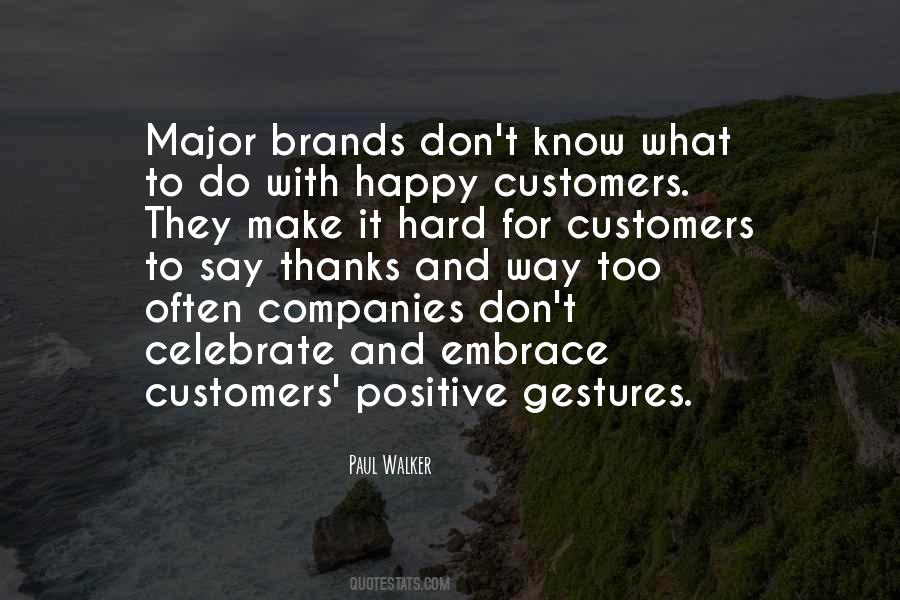 #30. Tomorrow, smile at a perfect stranger and mean it. - Author: John O'Callaghan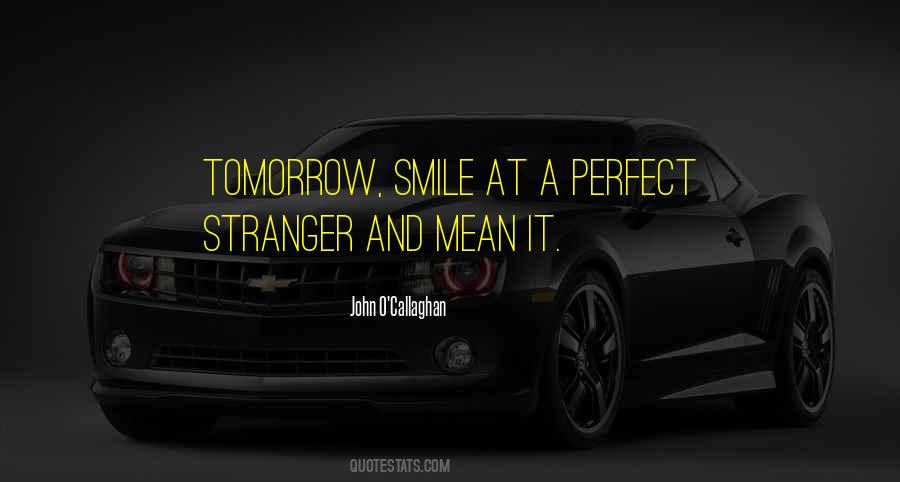 #31. I am a happy person and I choose to be a positive person. I think some people think my life has been tragic and there have been these horrible dramas but things really have been, and are, fine. - Author: Patsy Kensit
#32. To Be Happy, You Must Know The Pass Code of Life. And Life Gives You Many Attempts To Unlock It ... - Author: Muhammad Imran Hasan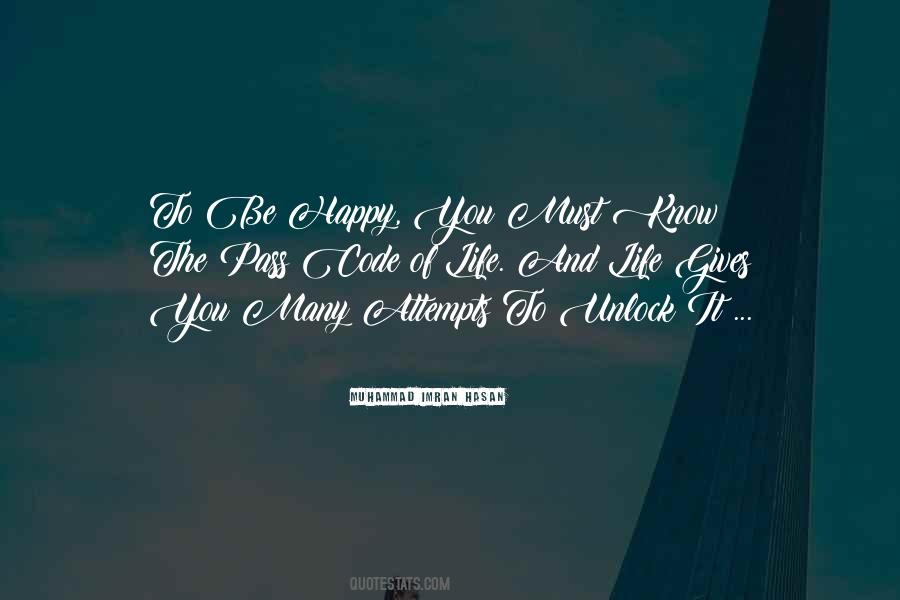 #33. Stay positive and happy. Work hard and don't give up hope. Be open to criticism and keep learning. Surround yourself with happy, warm and genuine people. - Author: Tena Desae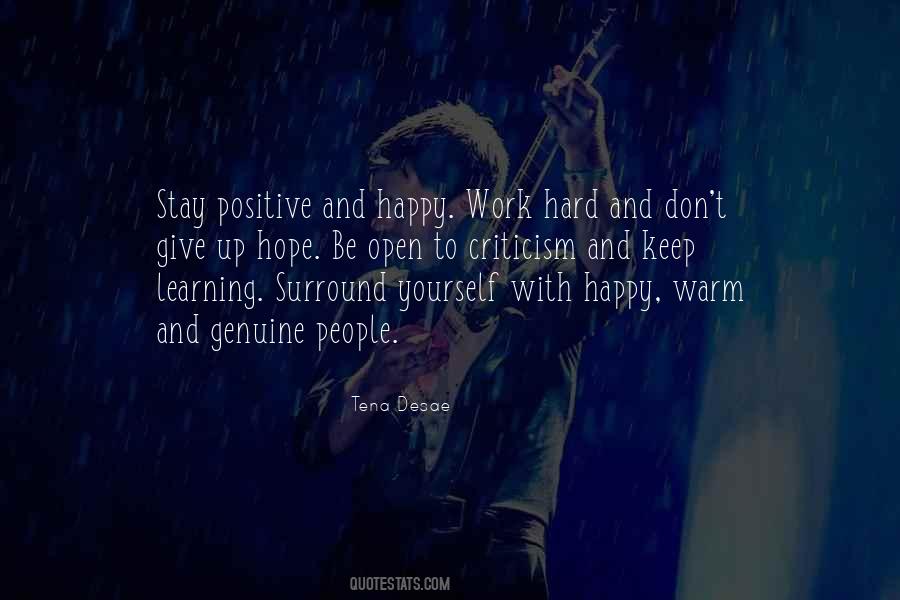 #34. Some way some how i'm going to be happy i'm going to laugh i'm going to prosper,i feel good that i remain positive thru these mess up times!!! - Author: Jojo1980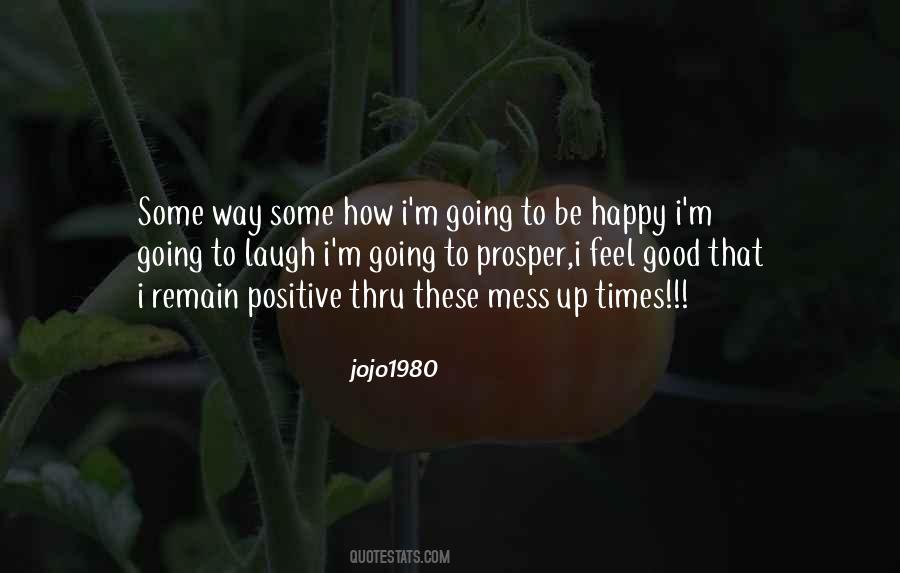 #35. And if all could with one voice be asked whether they wished to be happy, there is no doubt they would all answer that they would. And this would not be possible unless the thing itself, which we call "happiness", were held in memory. - Author: Augustine Of Hippo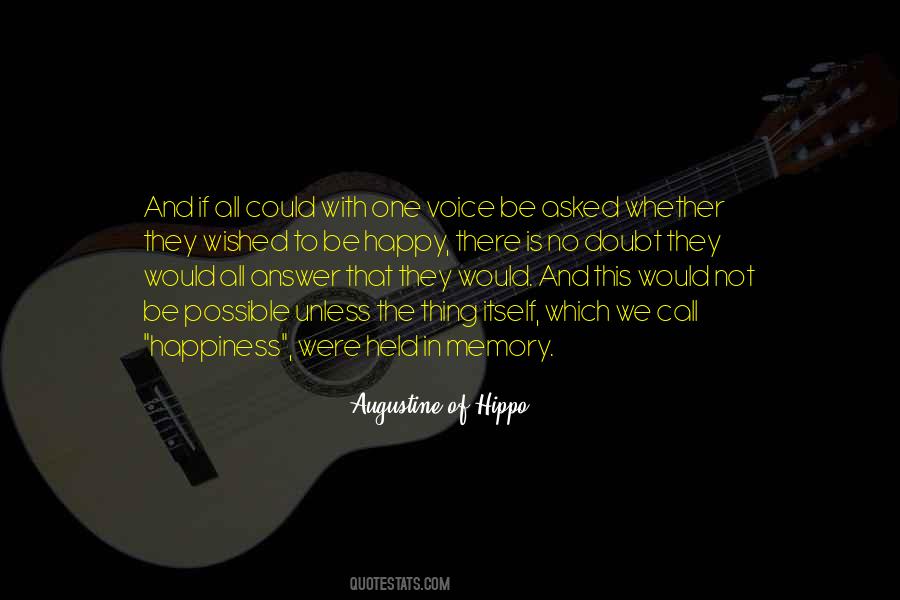 #36. For me, it's that I contributed, ... That I'm on this planet doing some good and making people happy. That's to me the most important thing, that my hour of television is positive and upbeat and an antidote for all the negative stuff going on in life. - Author: Ellen DeGeneres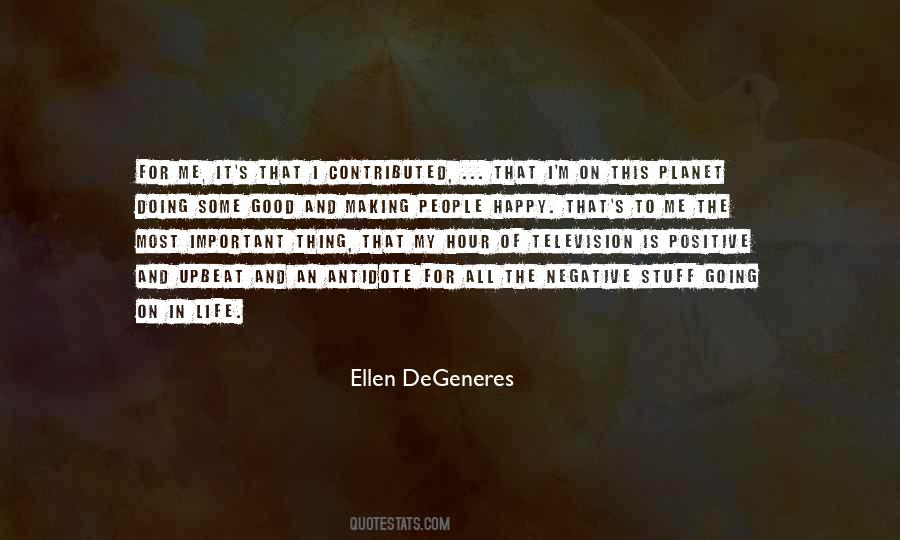 #37. Aha! #20 It's not what happens to you in life, it's what you do with what happens that counts. - Author: Barbara Burke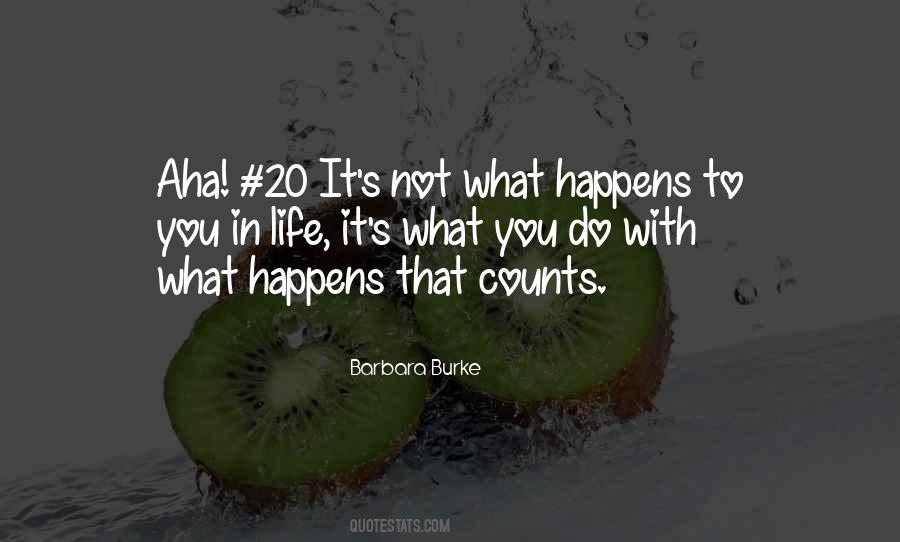 #38. I think I make films to help bolster and feed the part of me that wants to remain in a positive relationship with the world and to engage in it. So hopefully in non-sentimental ways, I'm trying to make something that helps make me happy. - Author: Mike Mills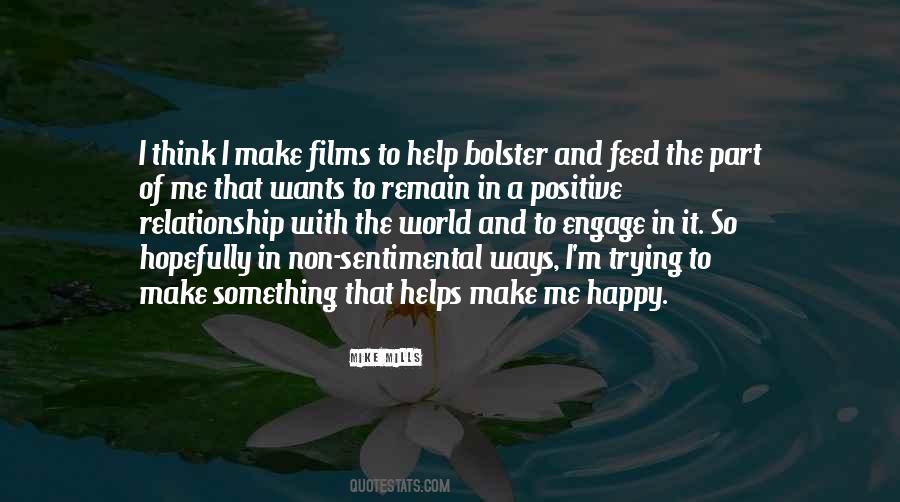 #39. I just do not hang around anybody that I don't want to be with. Period. For me, that's been a blessing, and I can stay positive. I hang around people who are happy, who are growing, who want to learn, who don't mind saying sorry or thank you ... and [are] having a fun time. - Author: John Assaraf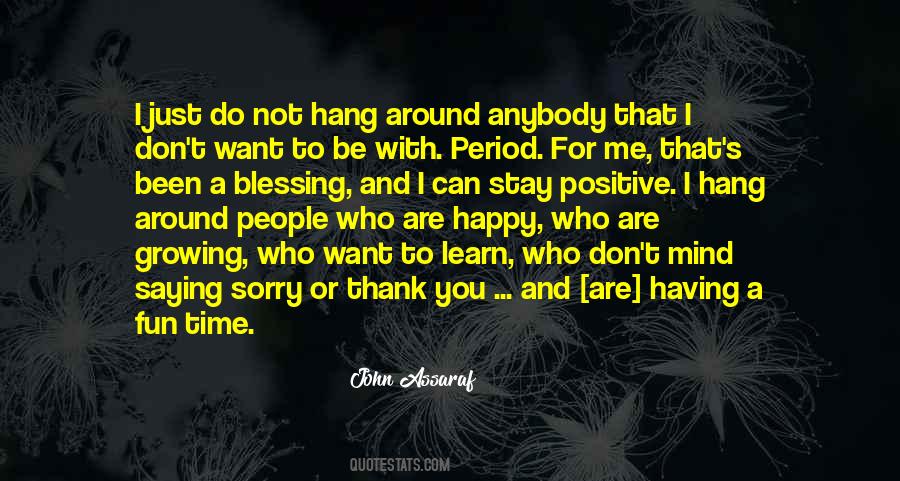 #40. People hear the words mental illness and immediately think crazy. But he's not crazy, and there's no reason you can't have a happy and positive relationship like anyone else." "You - Author: Nicola Haken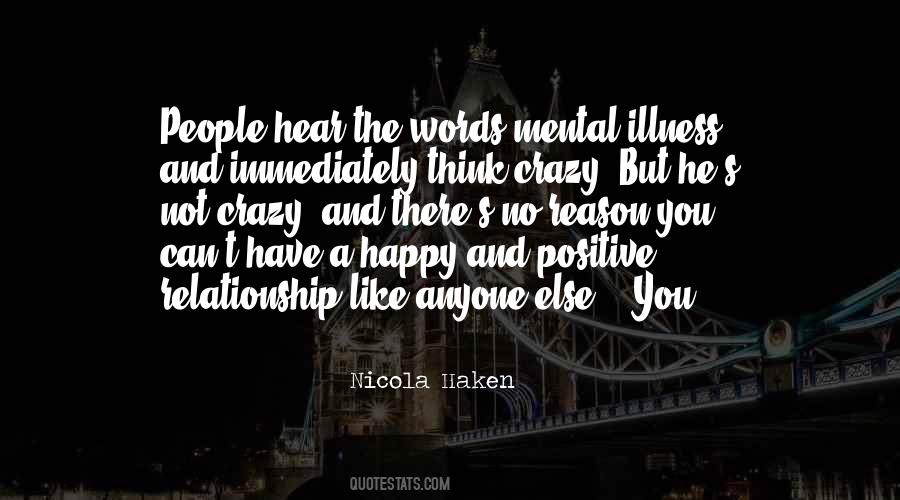 #41. A healthy choice for your overall health and well-being is one of a happy and positive disposition. - Author: Steve Maraboli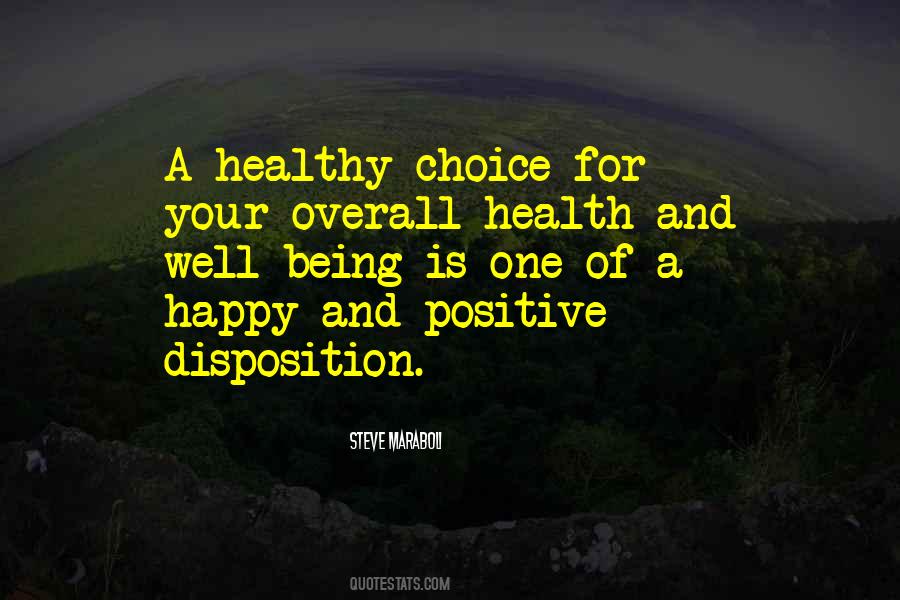 #42. Choose your thoughts and beliefs wisely.
Be your own best friend, and not your enemy. - Author: Maddy Malhotra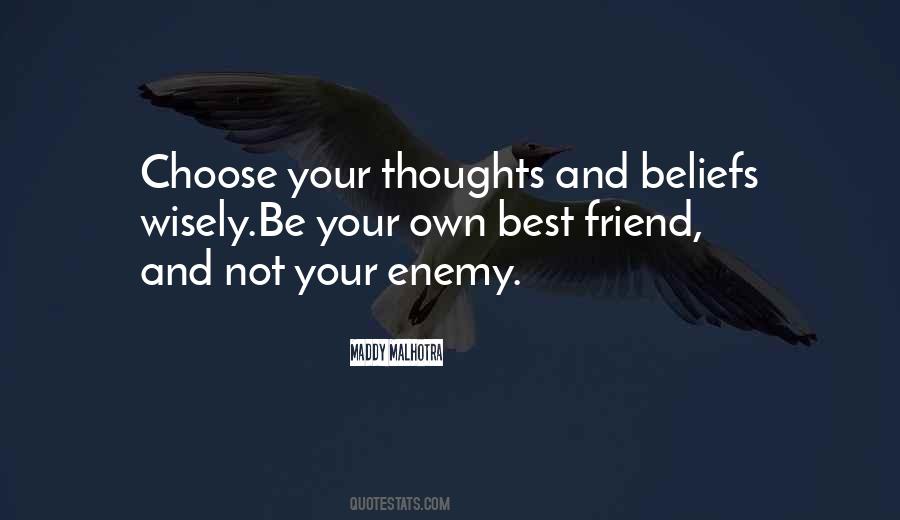 #43. Most power is lost in one's own mind by thinking negative thoughts, by worrying about the future, by focusing on the past, as opposed to thinking positive, strong, and happy thoughts. - Author: Frederick Lenz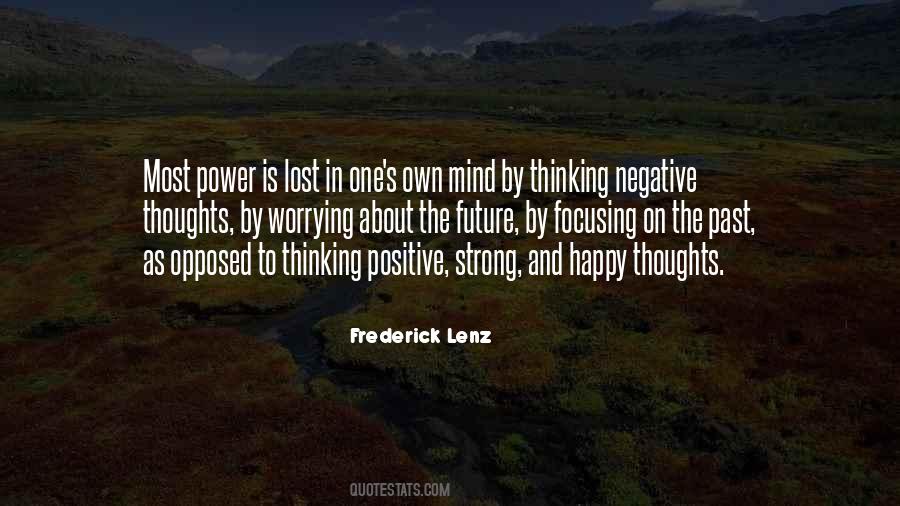 #44. If You Are Feeling Blue, Try To Paint The Sky With It. When Its Done, Look At It And Then Definitely The Golden Sun Will Come Out From You To Brighten Up Your Entire Day ... - Author: Muhammad Imran Hasan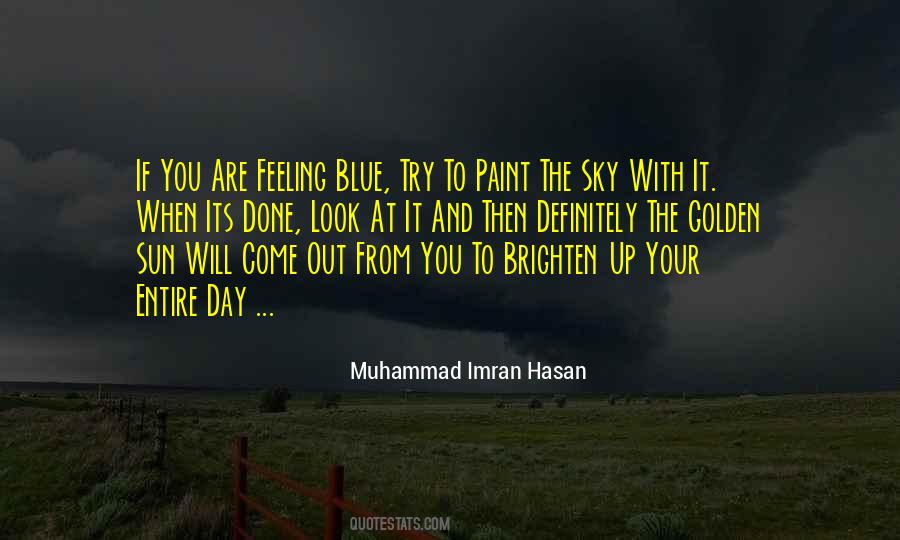 #45. Your father wasn't a positive influence on you, was he? (Simone) Being the god of nightmares, he wasn't a warm fuzzy bunny. Unless you count Happy Bunny. Amazingly the two of them have a lot in common ... And I have to say that I've developed a fondness for that pissy rodent. (Xypher) - Author: Sherrilyn Kenyon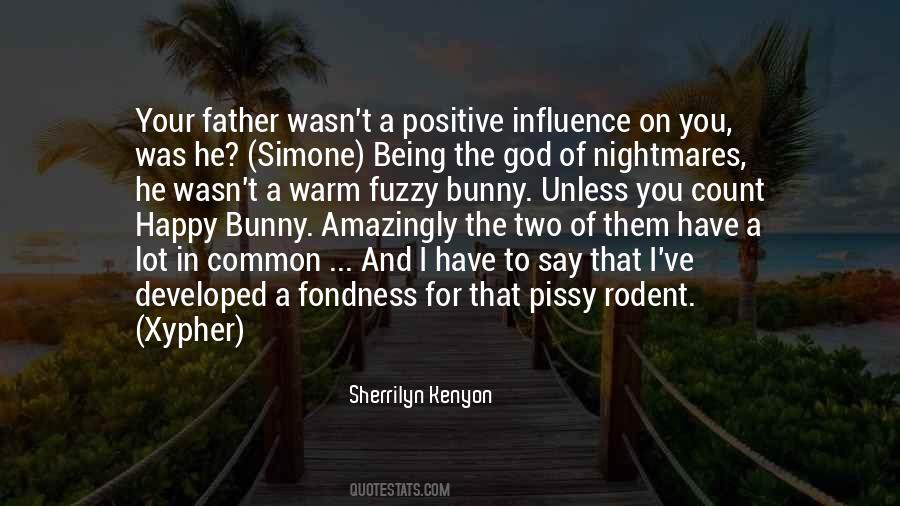 #46. I wanted color. I wanted to soar with happiness even if it meant dealing with the weight of fear and guilt, too. I wanted to live. - Author: Heather Anastasiu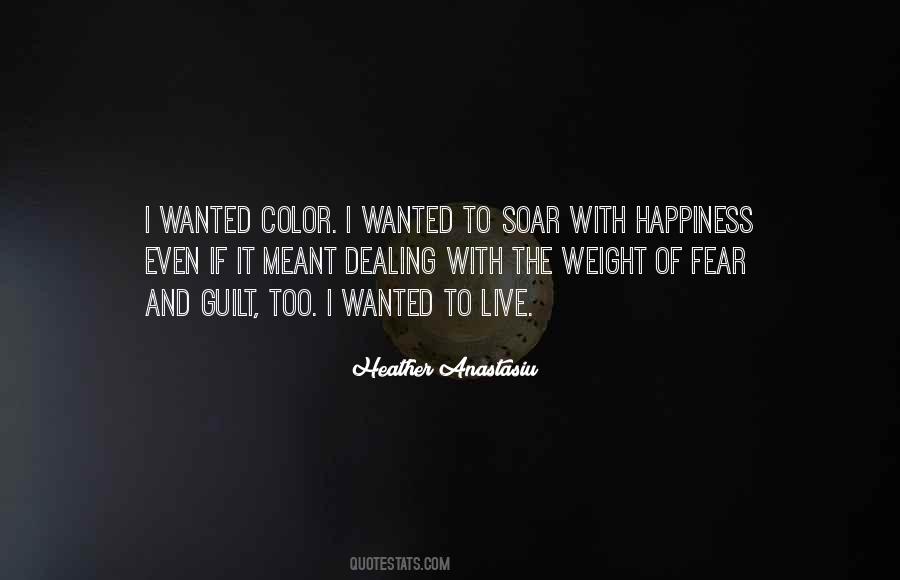 #47. Stay positive and do whatever makes you happy. - Author: Charles Trippy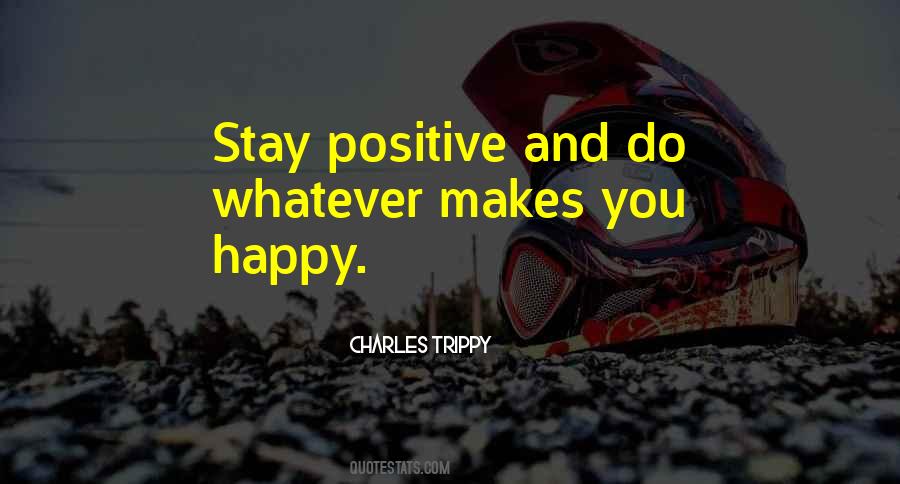 #48. I would like to think that I will be remembered as someone who had some positive impact on the sociosexual values of his time. And I think I'm secure and happy in that. - Author: Hugh Hefner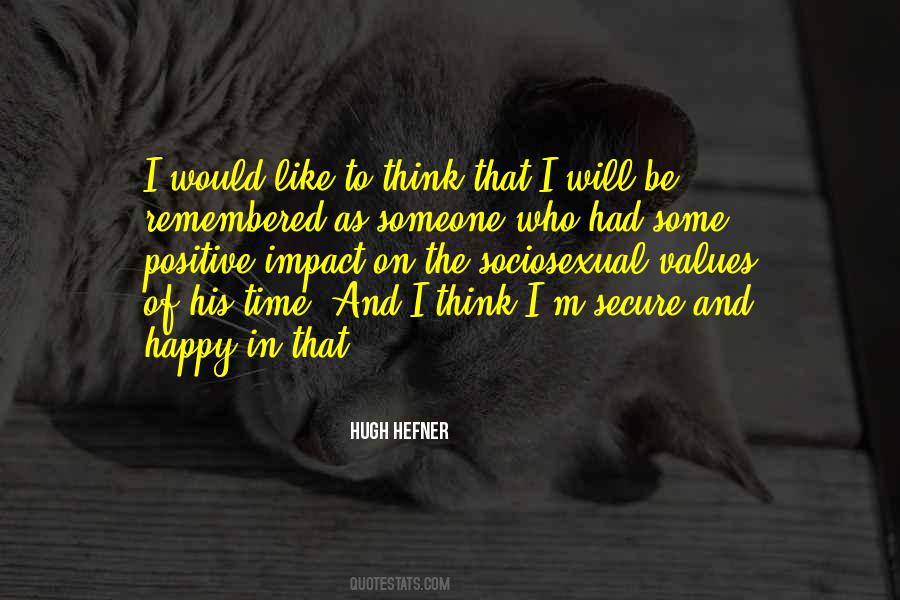 #49. When you are in love, you always want to be with your lover. - Author: Lailah Gifty Akita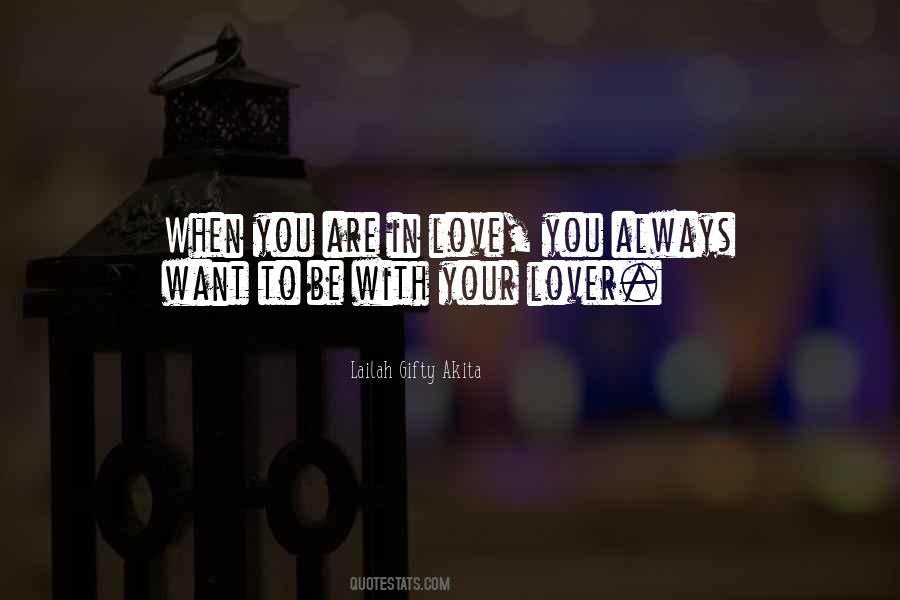 #50. More important, you have to stay happy and positive or the stress will kill you - but at least it will make you skinny - Author: Joely Fisher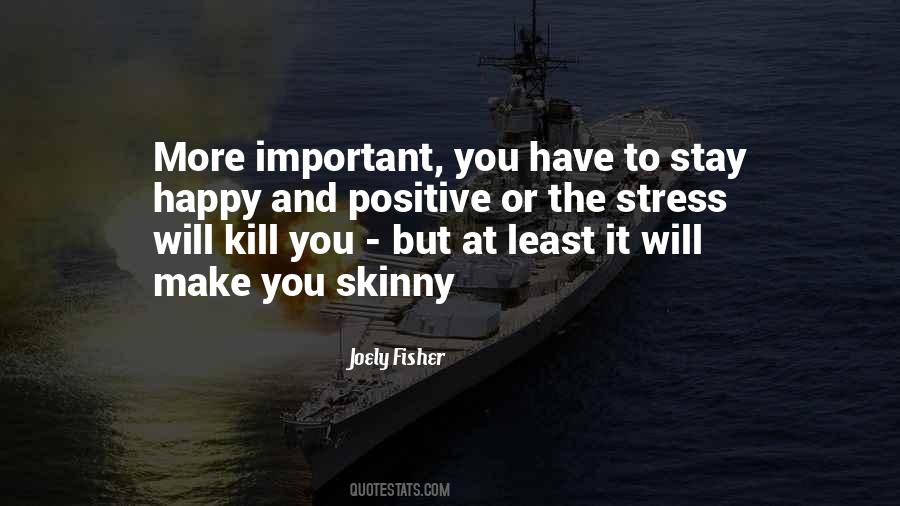 #51. Dogs are a gift to mankind. They are happy and joyful and loyal by nature. They are pure, positive energy and teach by example. That is all that's required of them. - Author: Alyson Noel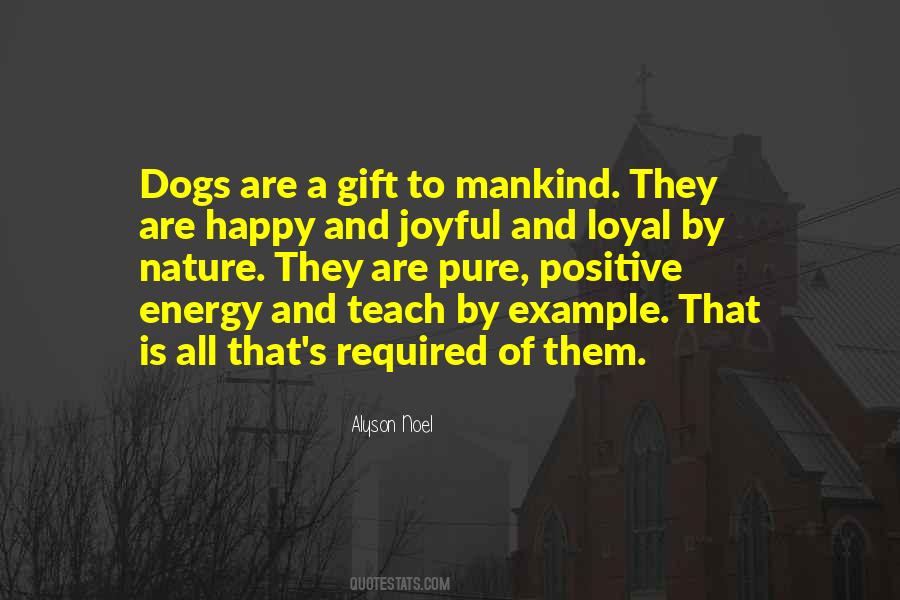 #52. We need to be our own guide. We can live a much more peaceful and happy life if we think about positive growth of ourselves and others, and its effects on the universe. -Hina Hashmi - Author: Hina Hashmi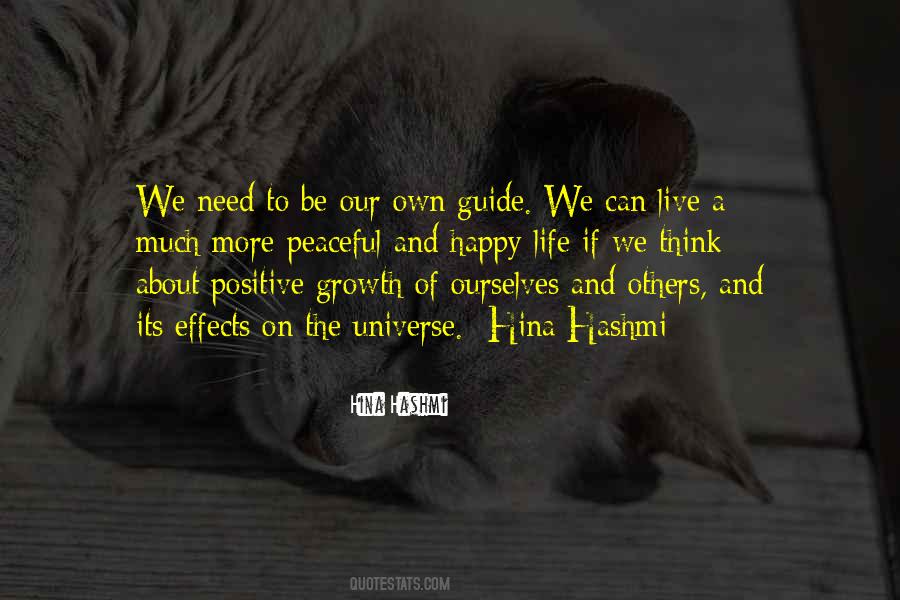 #53. One day, all your worries will set like the sun does and deserved happiness will come gushing like waves at the beach do. All you need to make sure id that your trips to beach never end. - Author: Jasleen Kaur Gumber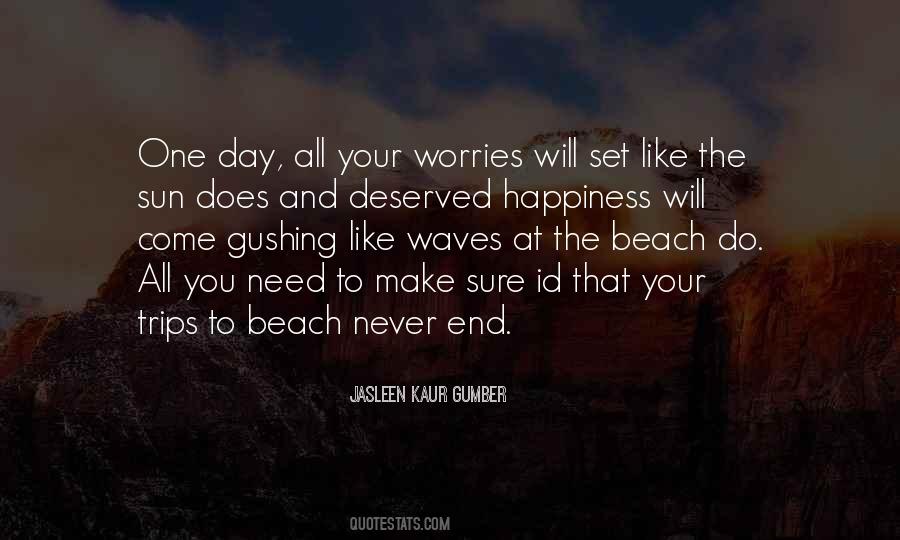 #54. I felt afraid. No one would know that, not Mother and not Mike. I'd keep the fear pushed down inside of me, and no one would know it was there. "I'm awfully happy," I wrote. I was. Awfully happy and awfully in love, and tomorrow I was marrying Mike. - Author: Benedict Freedman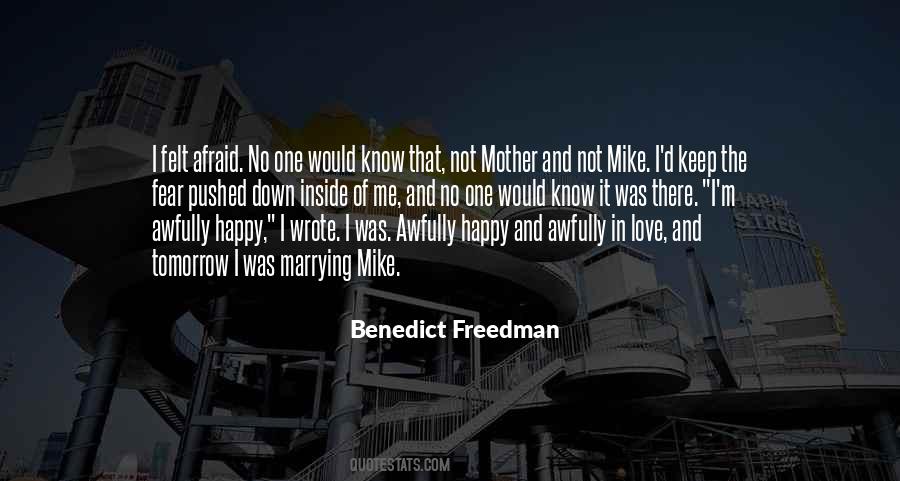 #55. And will you succeed? Yes, you will indeed! - Author: Dr. Seuss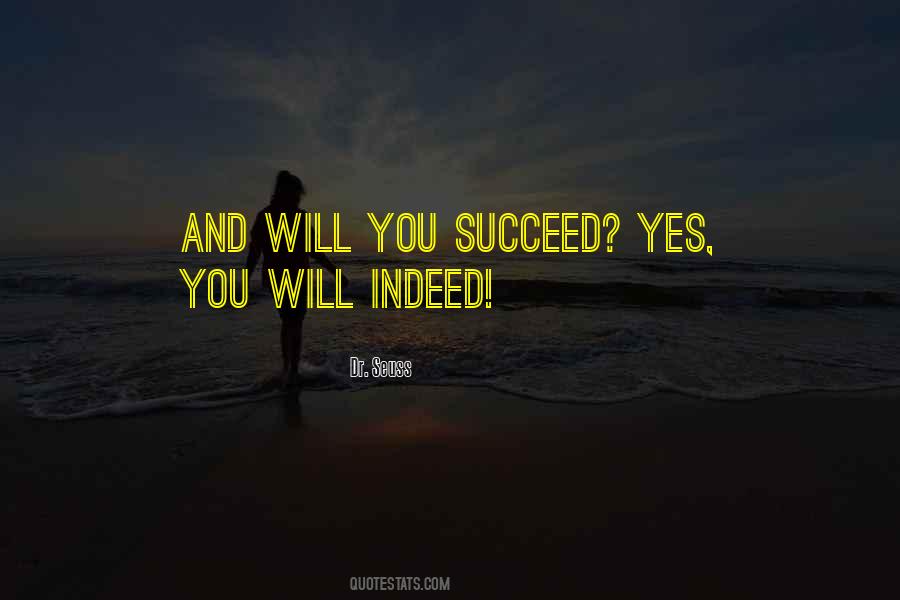 #56. I work extremely hard to stay positive and happy. But I get sad and anxious, too, just like everyone. - Author: Rachel Platten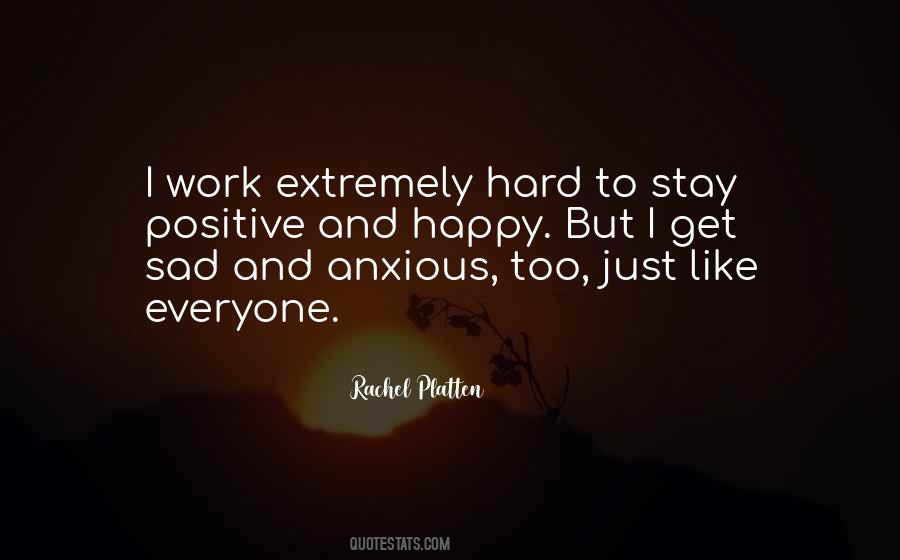 #57. Come on, I'm a television star. Nobody on television is curing cancer. I've had a great ride, and I'm very honored to have been in this business. I'm happy if I managed to affect people in a positive way. - Author: David Hasselhoff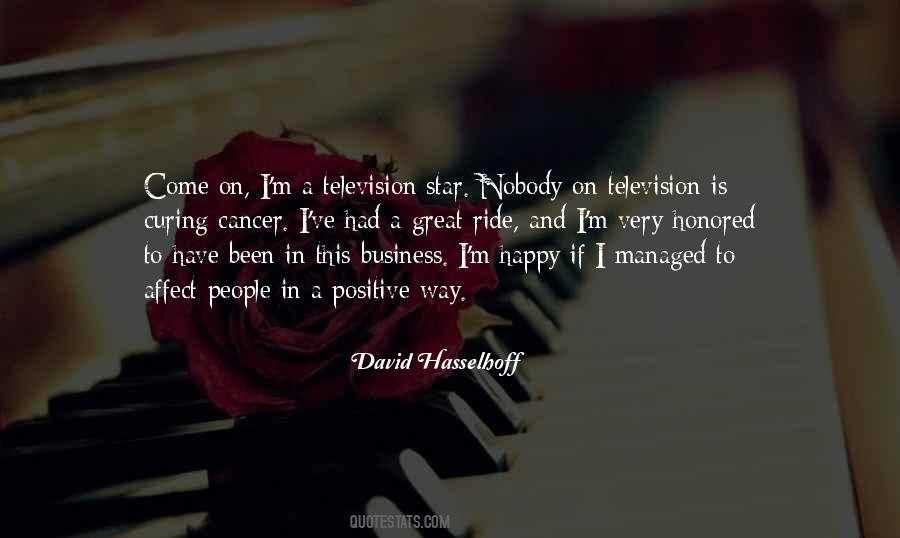 #58. We are constituted so that simple acts of kindness, such as giving to charity or expressing gratitude, have a positive effect on our long-term moods. The key to the happy life, it seems, is the good life: a life with sustained relationships, challenging work, and connections to community. - Author: Paul Bloom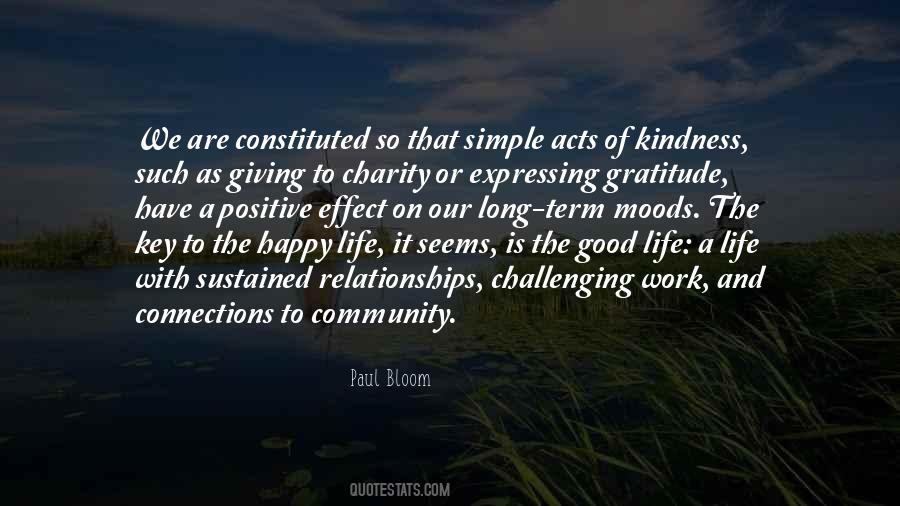 #59. I think people should put more emphasis on love, family, and caring for other people. We focus so much on the negative and bad in life, we need to focus more on the positive and happy things. - Author: Delano Johnson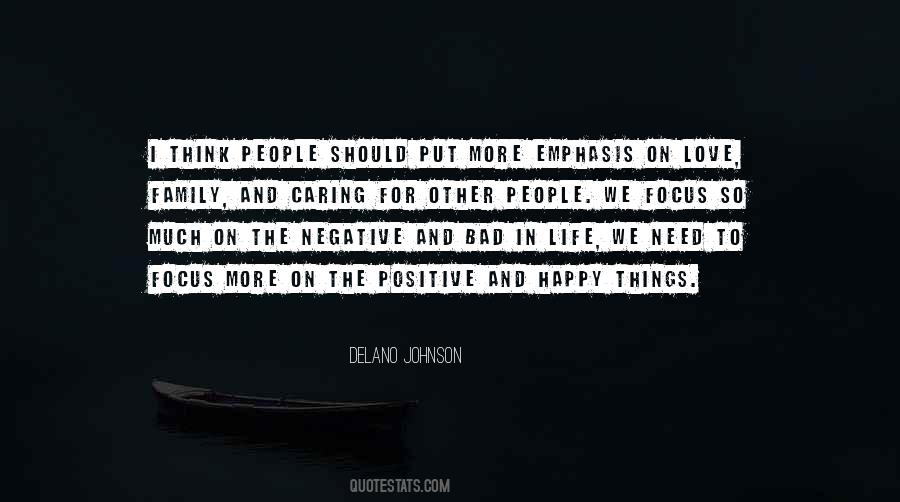 #60. Negative thinking will always lead to failure and nervous prostration; but positive faith- positive thinking -will lead you towards happy, healthy, and abundant living. - Author: Albert E Cliffe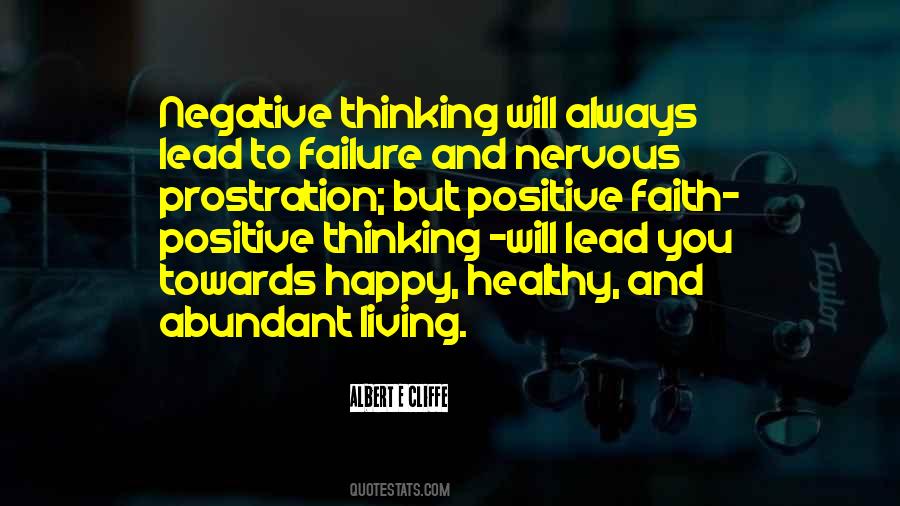 #61. I held it up, and tried to channel happy dog thoughts toward Cerberus- Alpo commercials, cute little puppies, fire hydrants. - Author: Rick Riordan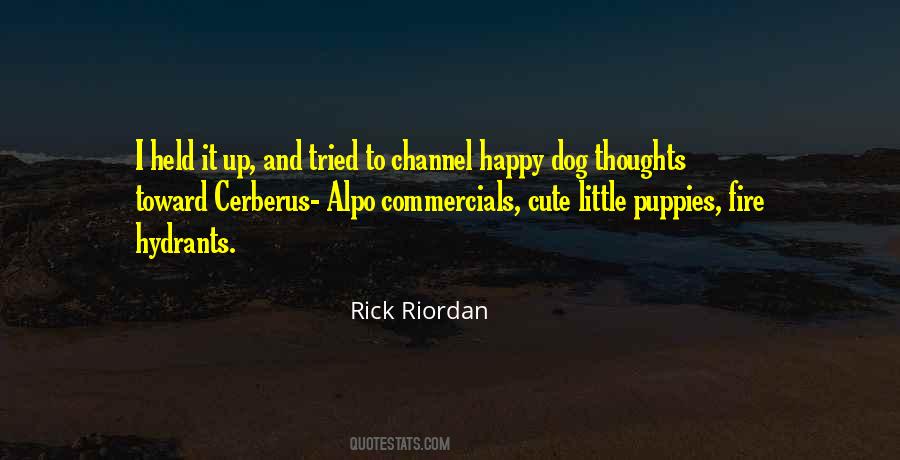 #62. It makes me very happy when I create goals or score goals myself, but the most important thing is that the team reaches its goal and plays positive football. - Author: Mesut Ozil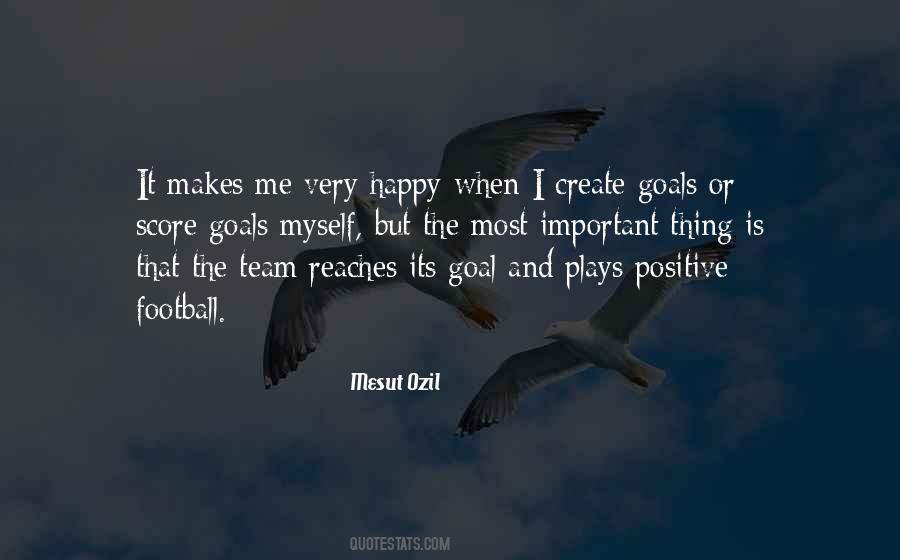 #63. The key to happiness is being happy with who you are and enjoying the life you are living. - Author: Robert Moment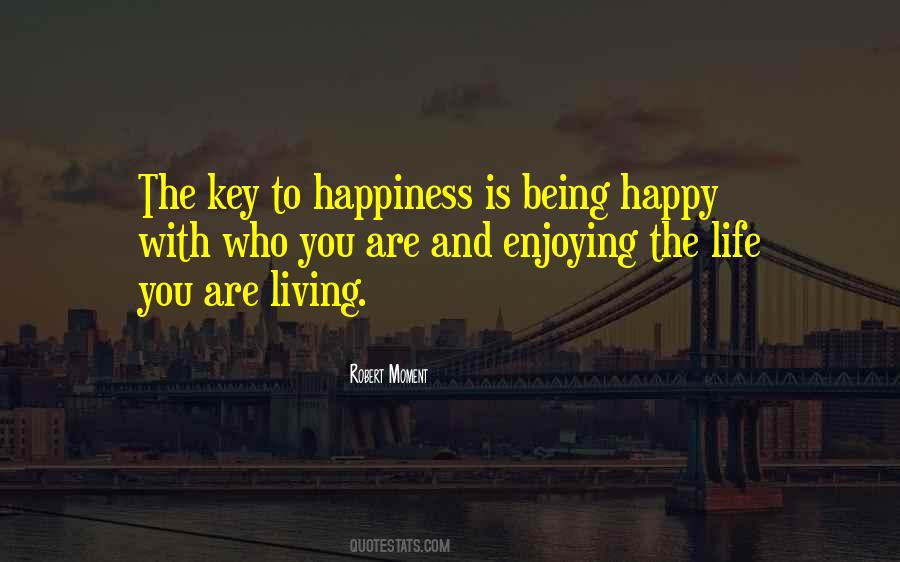 #64. We are governed by our thoughts in life. Think happy and positive thoughts and you will live a happy & positive life. There is no other way. - Author: Timothy Pina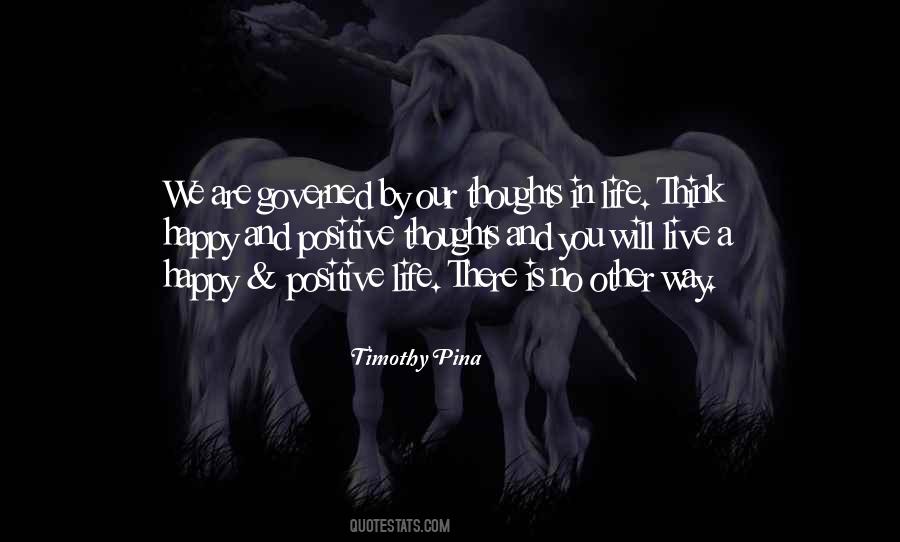 #65. Love is a beautiful, wonderful, and even sacred thing, but until it arrives, shouldn't we give ourselves permission to thrive? - Author: Mandy Hale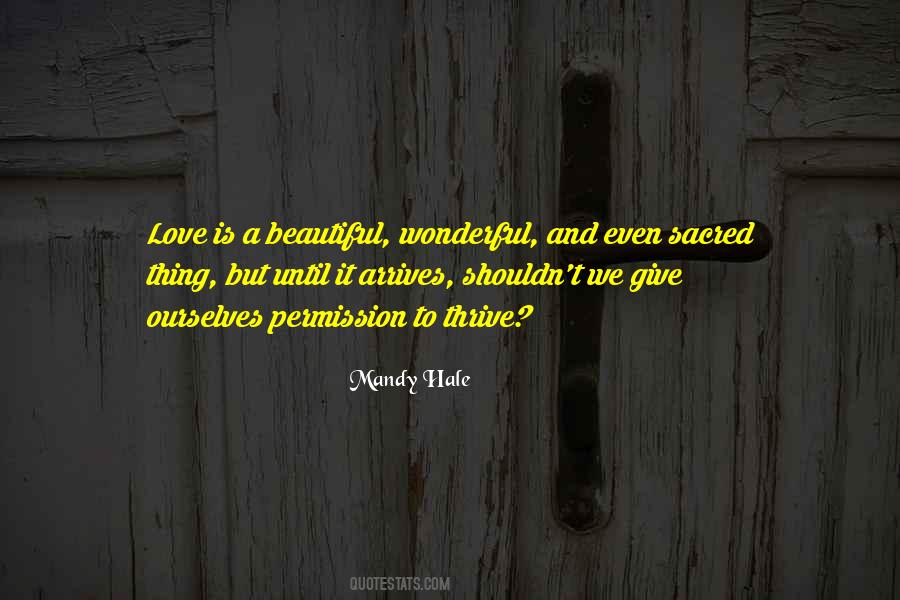 #66. Happiness at work is not about eliminating all the bad stuff from your job. It's about being happy at work even though some of these bad things are present. It's about building your skills and your energy to fix the problems, and to create more and more positive experiences at work. - Author: Alexander Kjerulf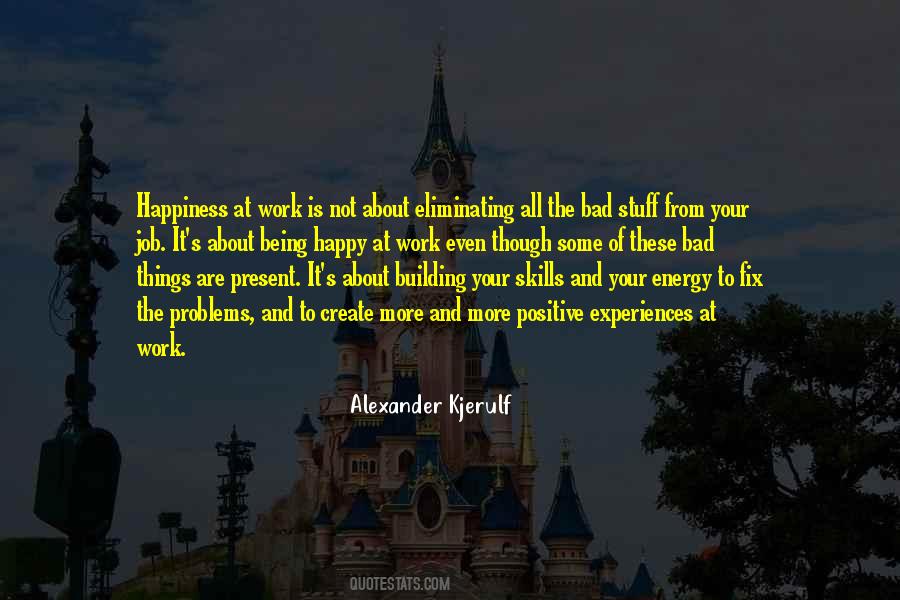 #67. You are positive, creative and happy to the degree to which you eliminate negative emotions from your life. - Author: Brian Tracy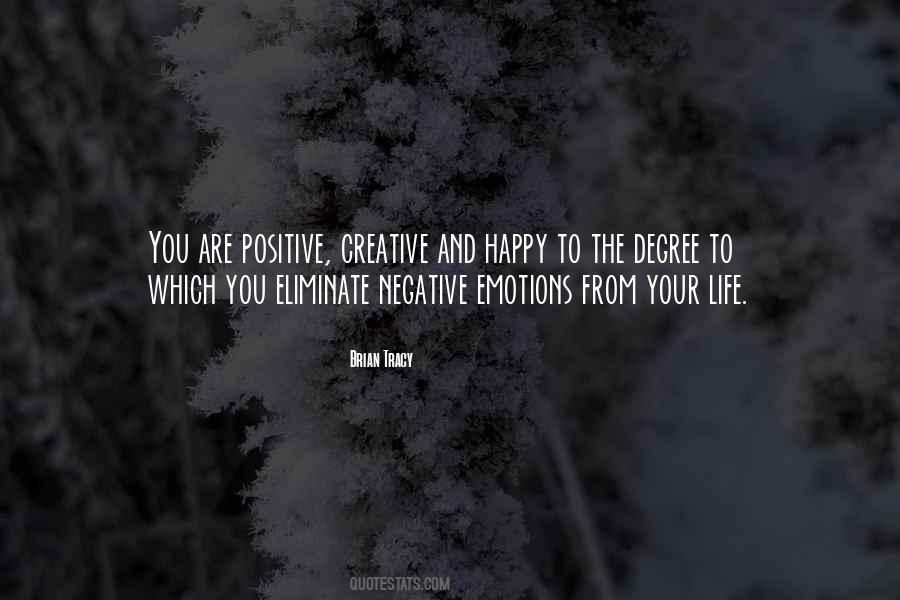 #68. The bourgeoisie loves so-called " positive " types and novels with happy endings since they lull one into thinking that it is fine to simultaneously acquire capital and maintain one's innocence , to be a beast and still be happy . - Author: Anton Chekhov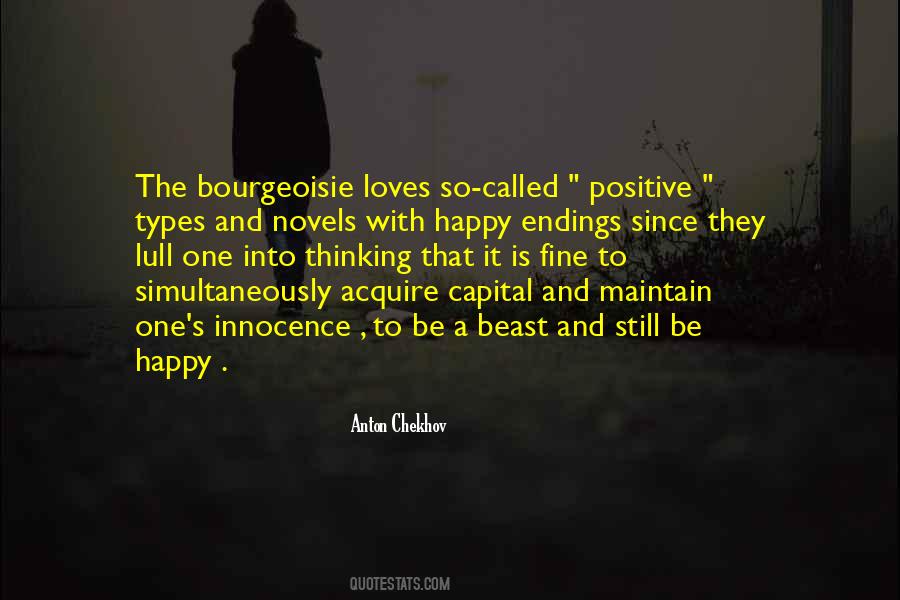 #69. Positive means feeling enjoyment, suspense, amusement, and the satisfaction of what psychologists call belief affirmation - stories turning out as readers believe they should. That requires more than just a happy ending. It means affirming readers' beliefs and validating their morals. - Author: Donald Maass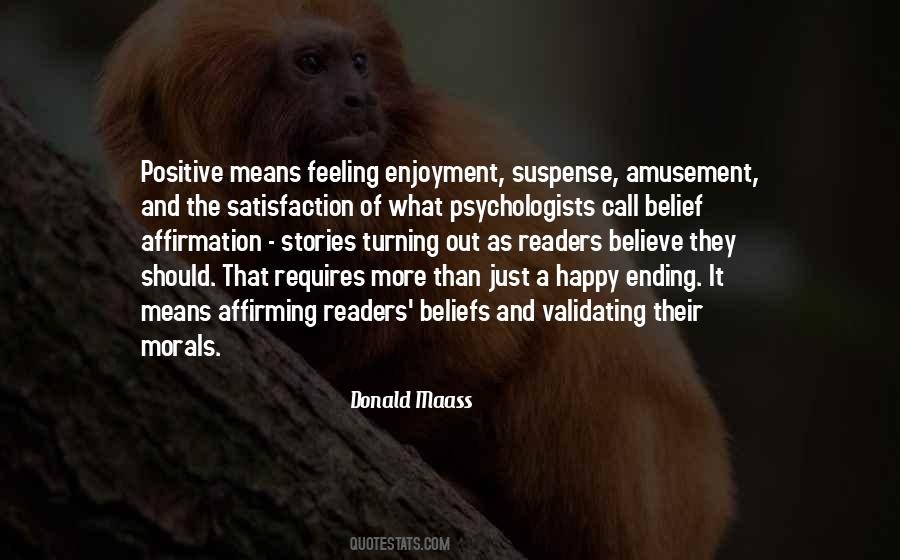 #70. Happy Monday Fam! Let's make it a positive and productive week! Be proud of the strides you've made and BE EXCITED about what YOU WILL accomplish! - Author: Tracey Edmonds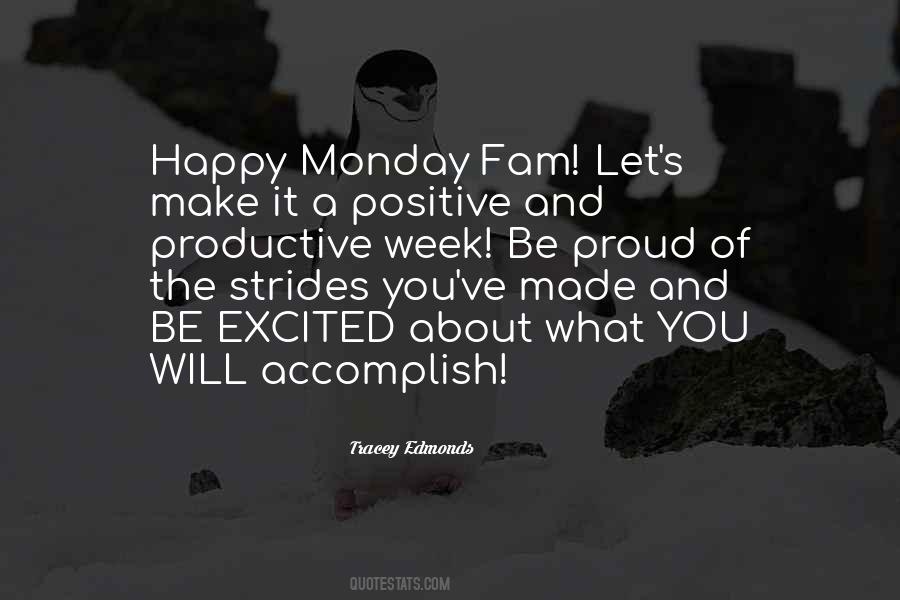 #71. If you want a positive and happy life then stop feeling self-pity or seeking attention for your problems and take action towards creating a positive and fulfilling life. - Author: Hina Hashmi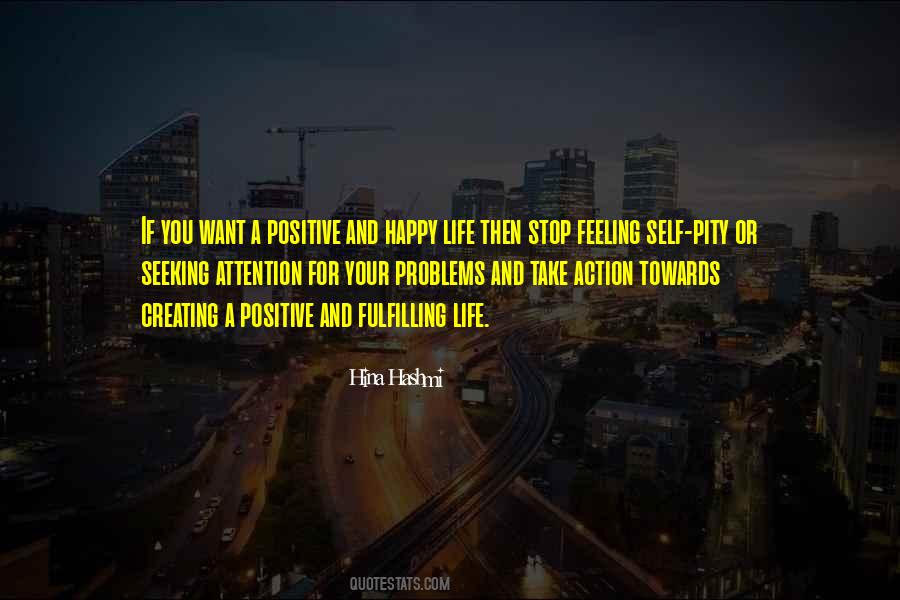 #72. CHOOSE WISELY'
Birth wasn't your choice,
and neither shall death be.
But the way you live your life
is your choice, buddy. - Author: Maddy Malhotra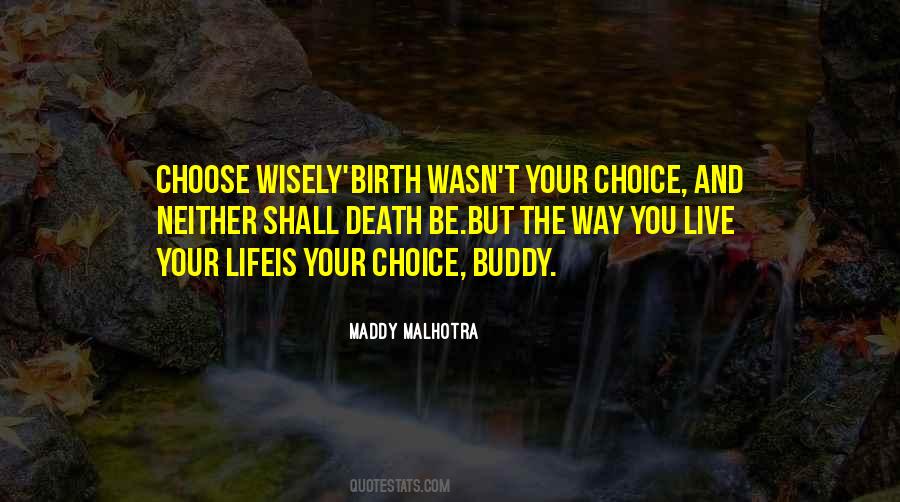 #73. In intimate conversation I am as supportive and positive as the next man, but gatherings of happy people make me miserable. I long to share in the collective joy, but instead I am racked with anxiety. - Author: Joel Derfner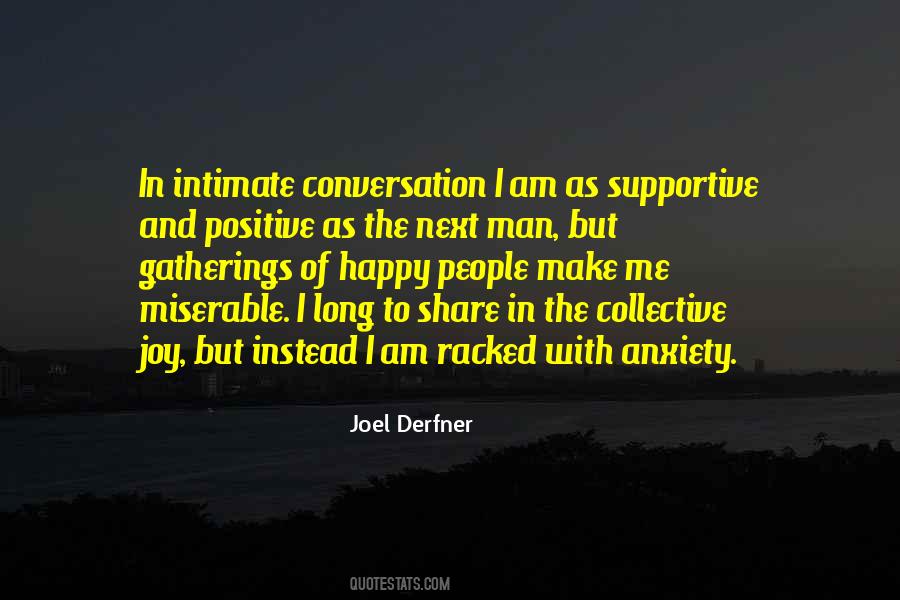 #74. You can give in to the failure messages and be a bitter deadbeat of excuses. Or you can choose to be happy and positive and excited about life. - Author: Arthur L. Williams Jr.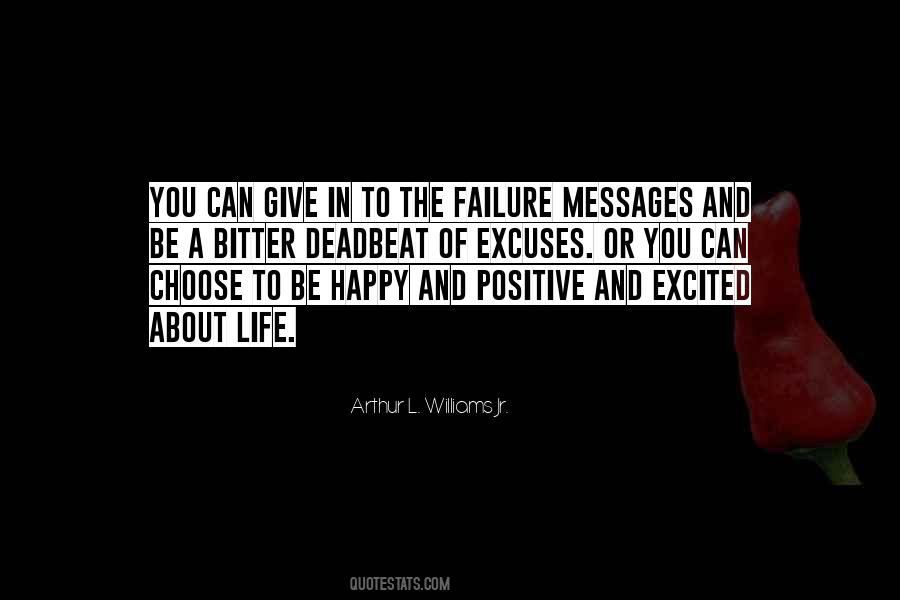 #75. I'm very naturally happy, quirky and positive. - Author: Kiesza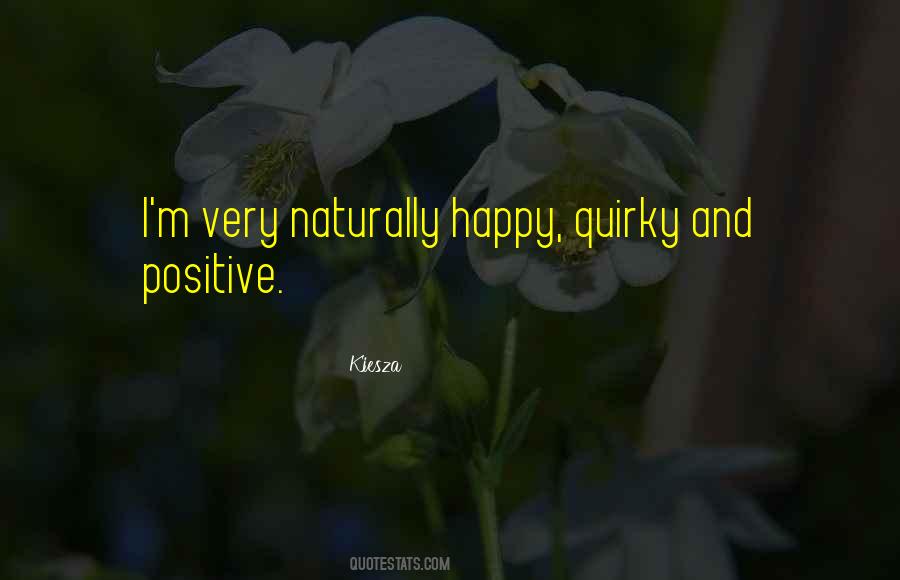 #76. I will end up with someone in the arts. I am positive. I eat, breathe and sleep acting. And I'll end up with someone who is happy staying at home and having me cook supper. But I also really need to be intellectually challenged and stimulated. I want someone bookish, and someone who is passionate. - Author: Ginnifer Goodwin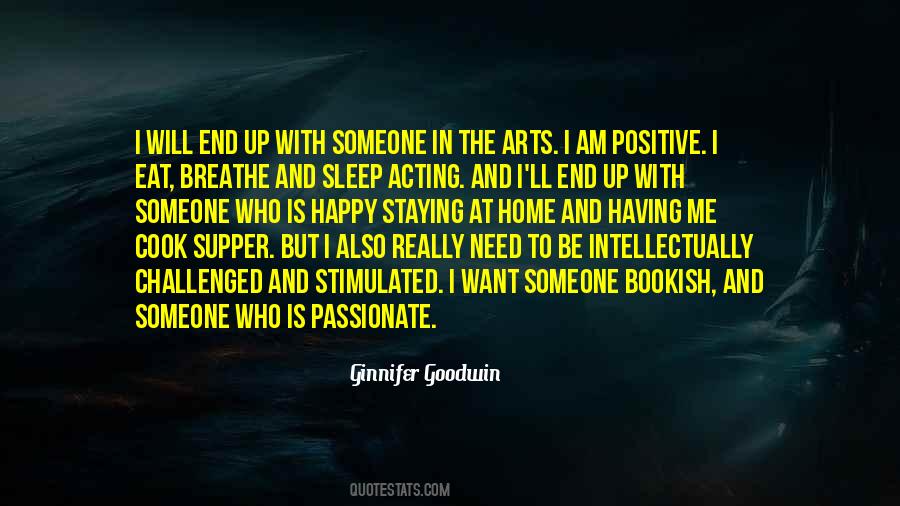 #77. Do you really want to know the simplest secret to a happy life and a positive attitude? It's believing that God is on your side; that He's actively working on your behalf, that he loves you and is capable of completely forgiving you. - Author: Toni Sorenson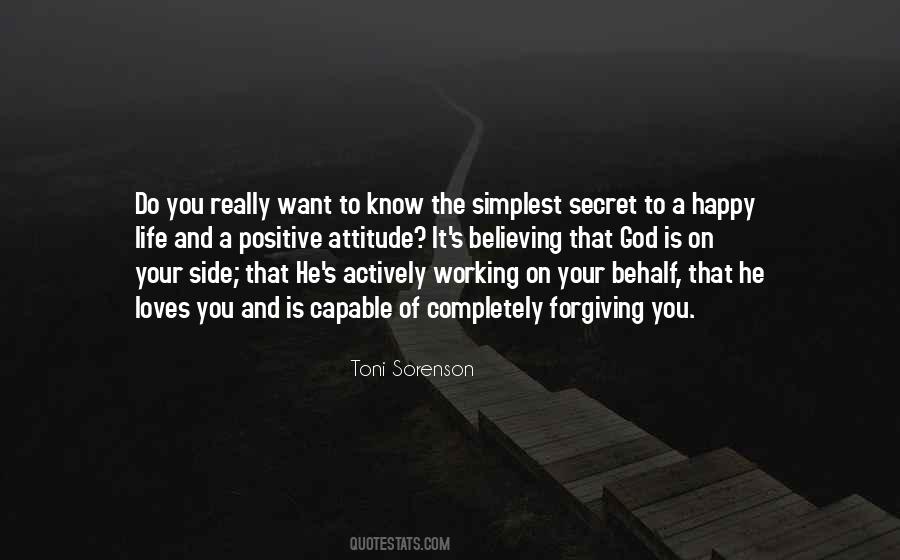 #78. I am happy to say that everyone that I have met in my life, I have gained something from them; be it negative or positive, it has enforced and reinforced my life in some aspect. - Author: Walter Payton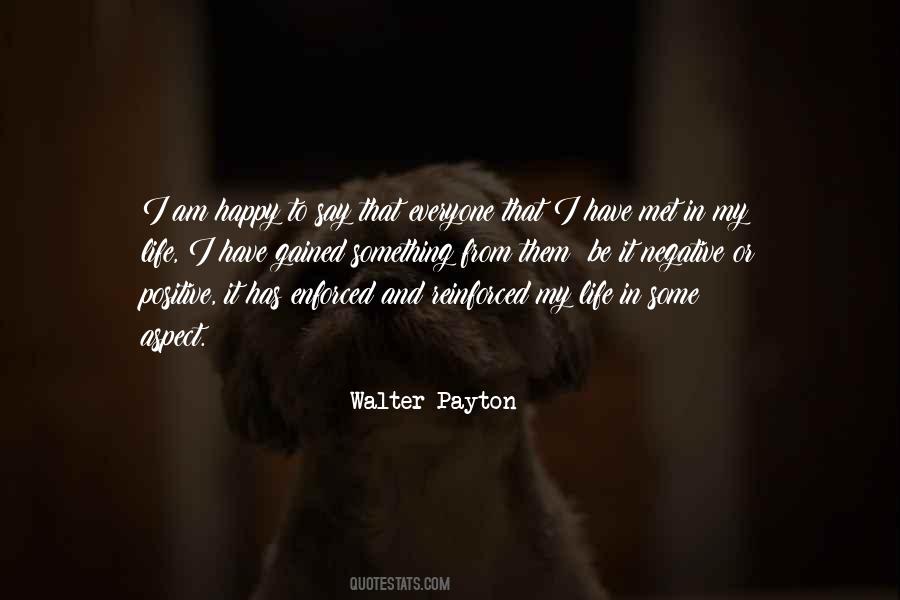 #79. Be positive. Stay happy and don't let the negativity of the world get you down. - Author: Germany Kent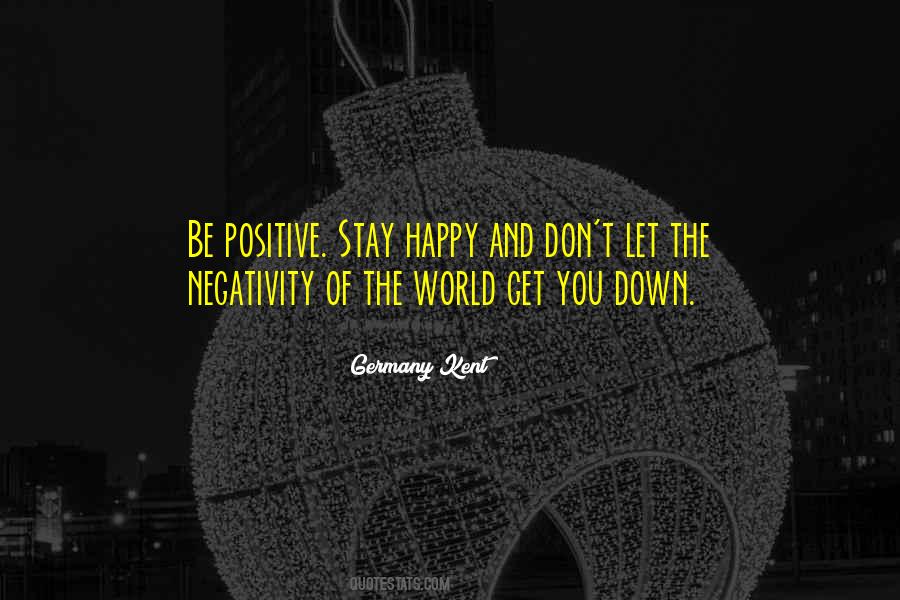 #80. Be Happy and Positive all will come Good in Time. - Author: Jan Jansen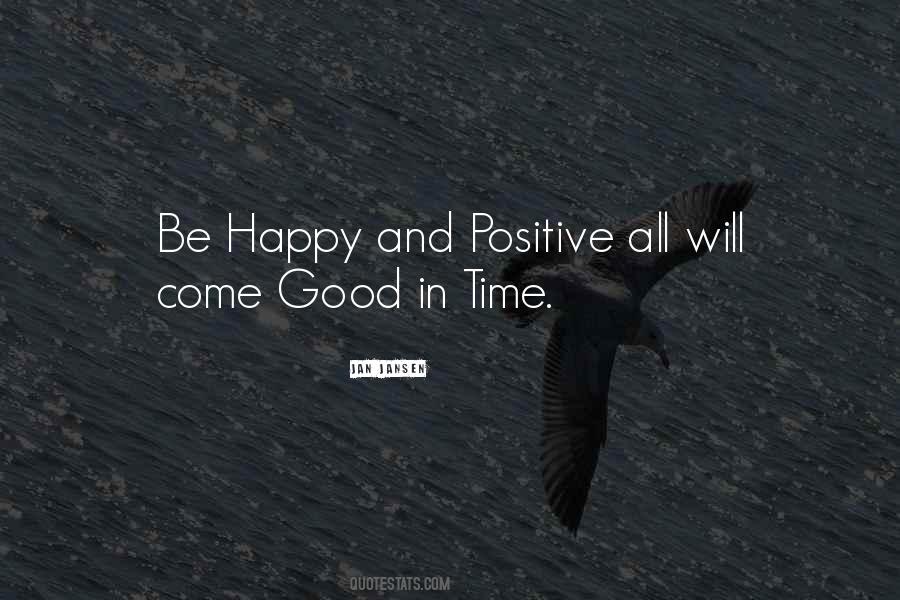 #81. Laugh loud, and laugh often. It'll keep you happy, keep you healthy, and keep your attitude headed in a positive direction. - Author: Mac Anderson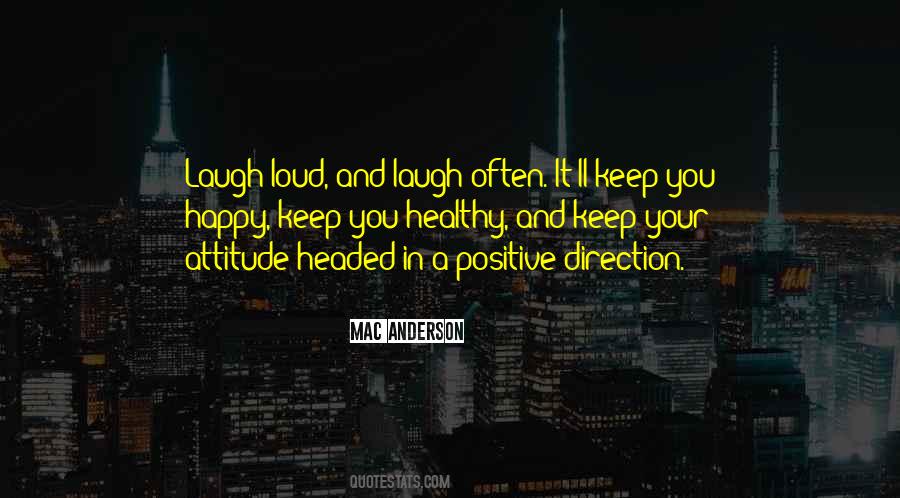 #82. I'm a happy-go-lucky manic-depressive. It does get very deep and dark for me, and it gets scary at times when I feel I can't pull out of it. But I don't consider myself negative-negative. I'm positive-negative. - Author: Tim Burton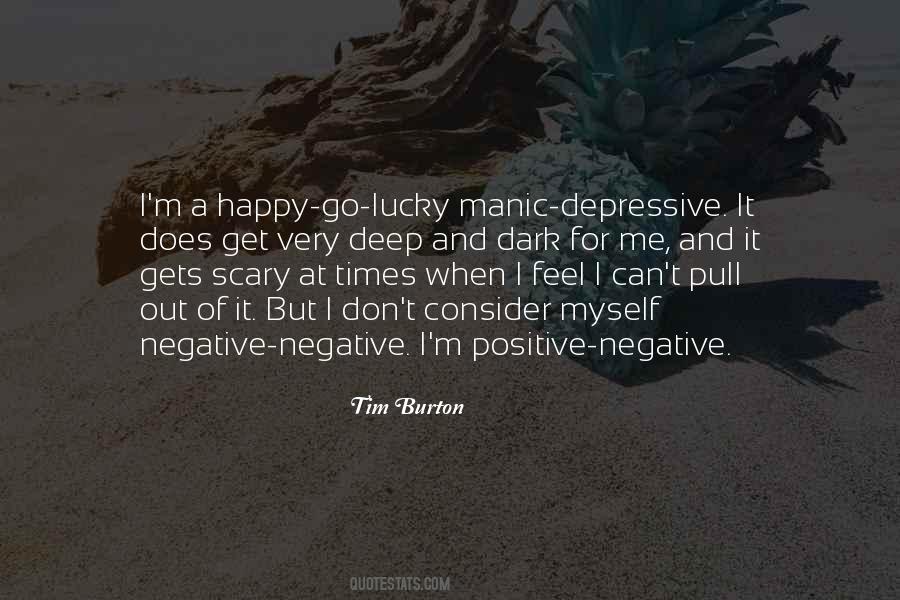 #83. Blessed are you who forgive.
You will forever be happy. - Author: Lailah Gifty Akita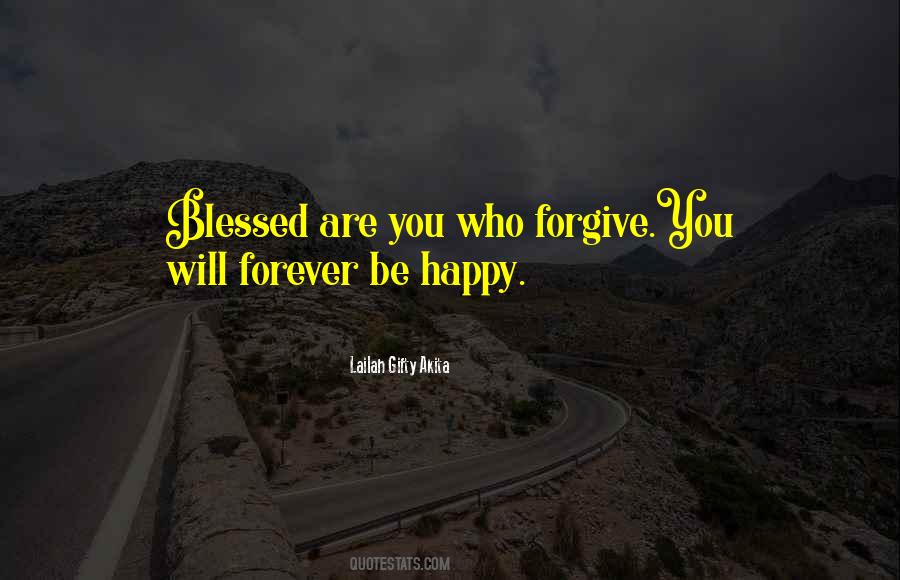 #84. And if you wonder how serious I am when I talk about filling your head with positive thoughts: I only watch one type of movies. The ones with happy endings. - Author: Petter A. Stordalen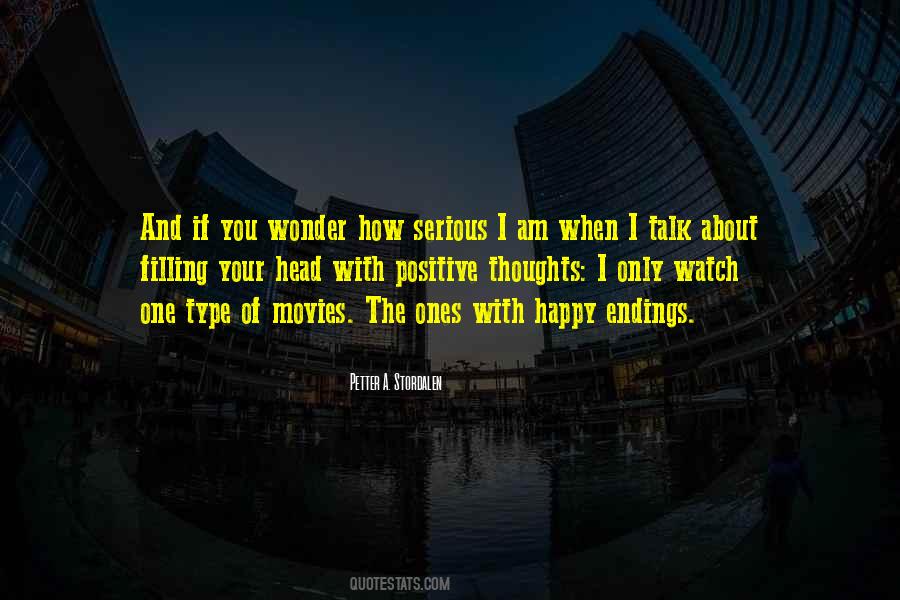 #85. Happy soul;begin and end your day with music. - Author: Lailah Gifty Akita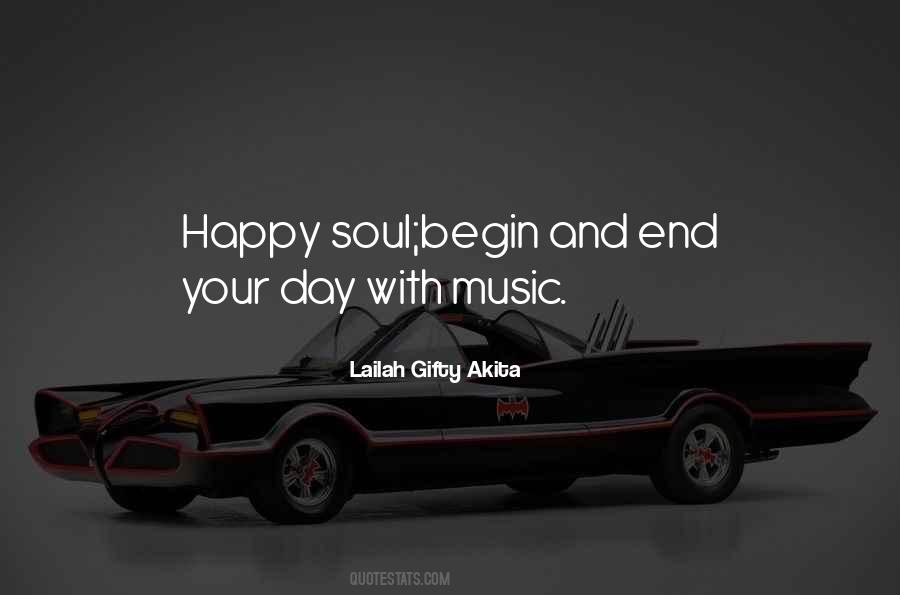 #86. Your attitude toward life is more important than environment, upbringing, and even your education. So always have a happy positive attitude. - Author: Debasish Mridha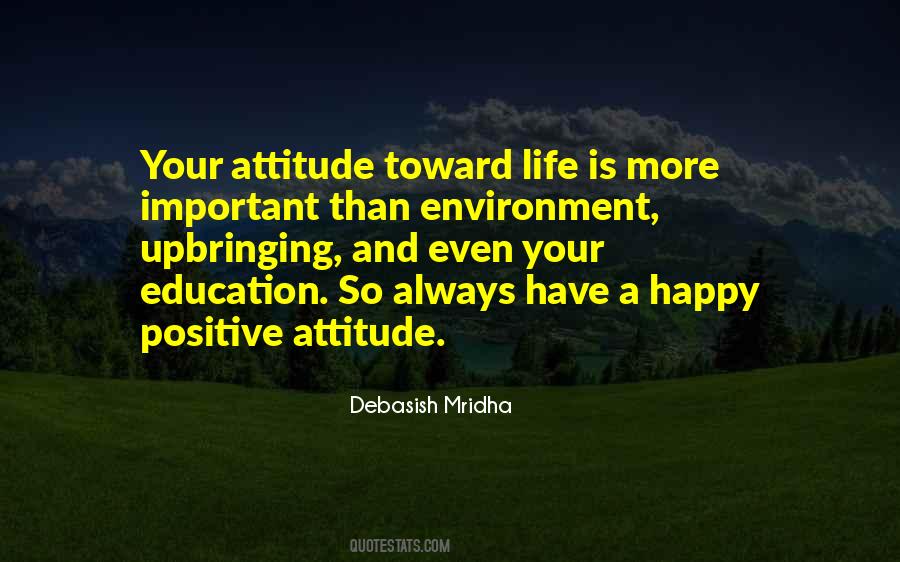 #87. I'm a very positive person, but this whole concept of having to always be nice, always smiling, always happy, that's not real. It was like I was wearing a mask. I was becoming this perfectly chiselled sculpture, and that was bad. That took a long time to understand. - Author: Alicia Keys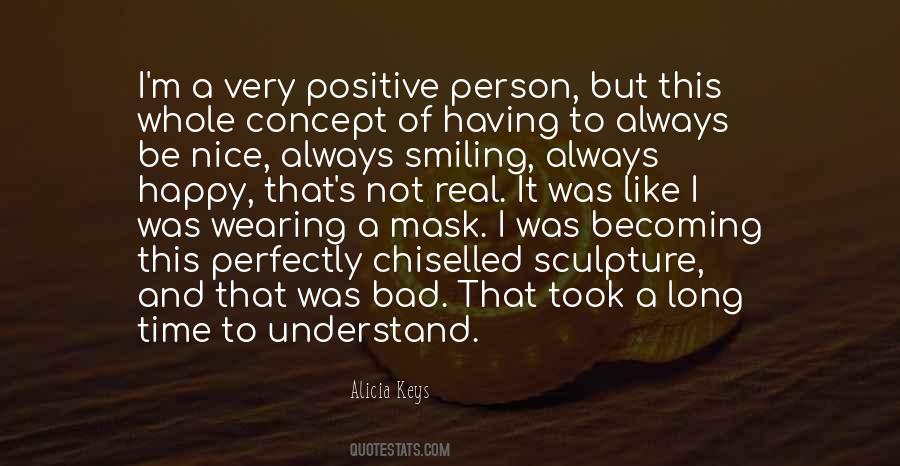 #88. Waiting to be happy limits our brain's potential for success, whereas cultivating positive brains makes us more motivated, efficient, resilient, creative, and productive, which drives performance upward. - Author: Shawn Achor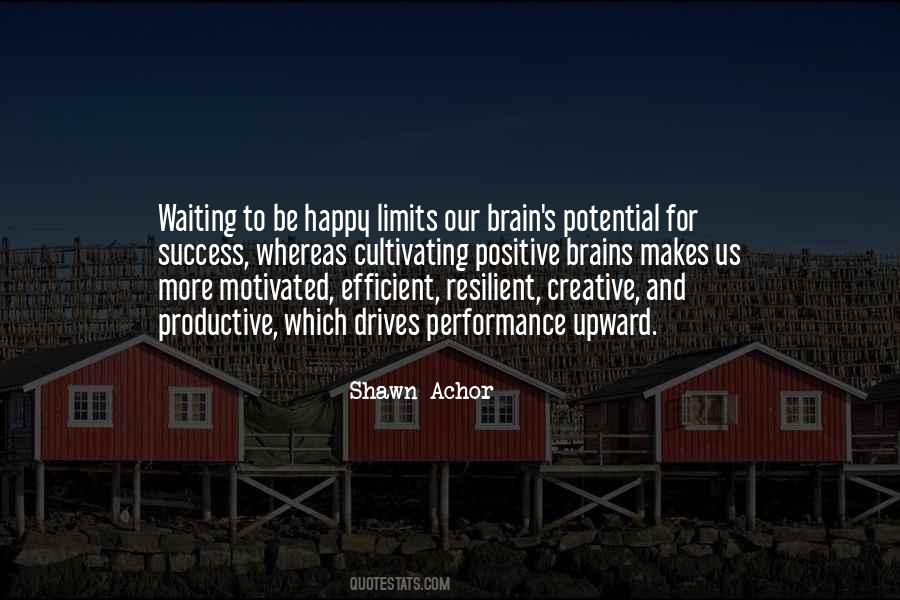 #89. The way is open, ride the wave of success again today. You can't lose. - Author: Sereda Aleta Dailey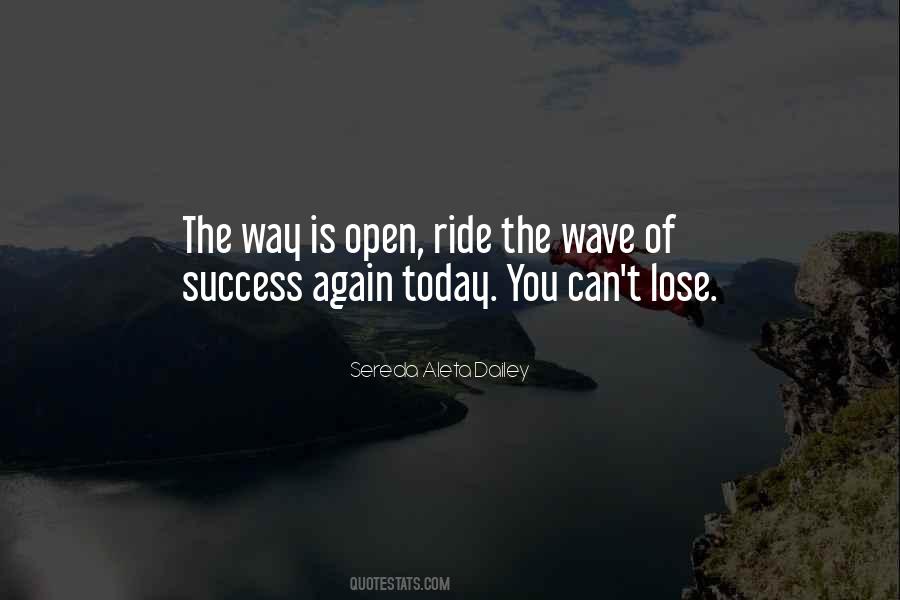 #90. He believed in good omens and positive thoughts and happy endings to films, a trouble-free belief, because he had not considered them deeply before choosing to believe; he just simply believed. - Author: Chimamanda Ngozi Adichie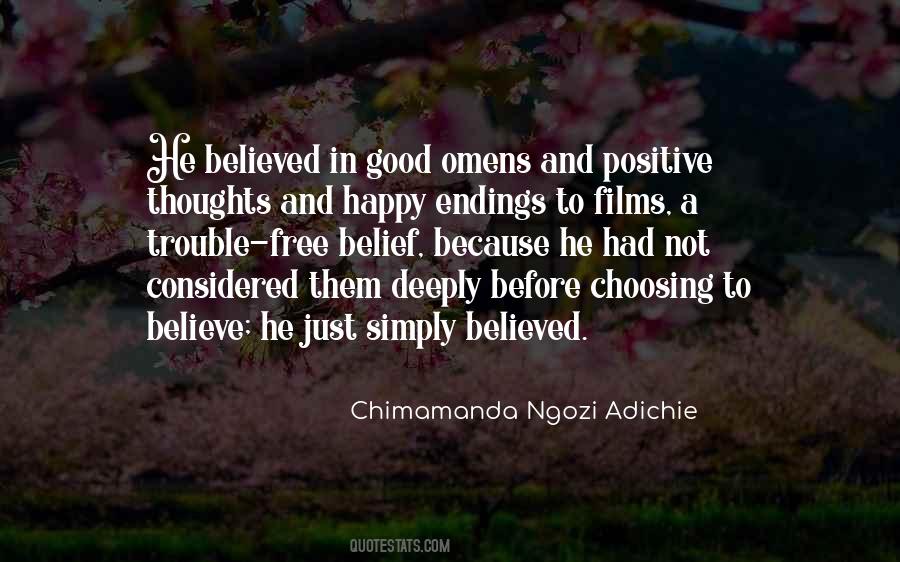 #91. I get so many big ideas while I'm running and such clarity while I'm lifting weights. And staying fit keeps me happy and positive. - Author: Robin S. Sharma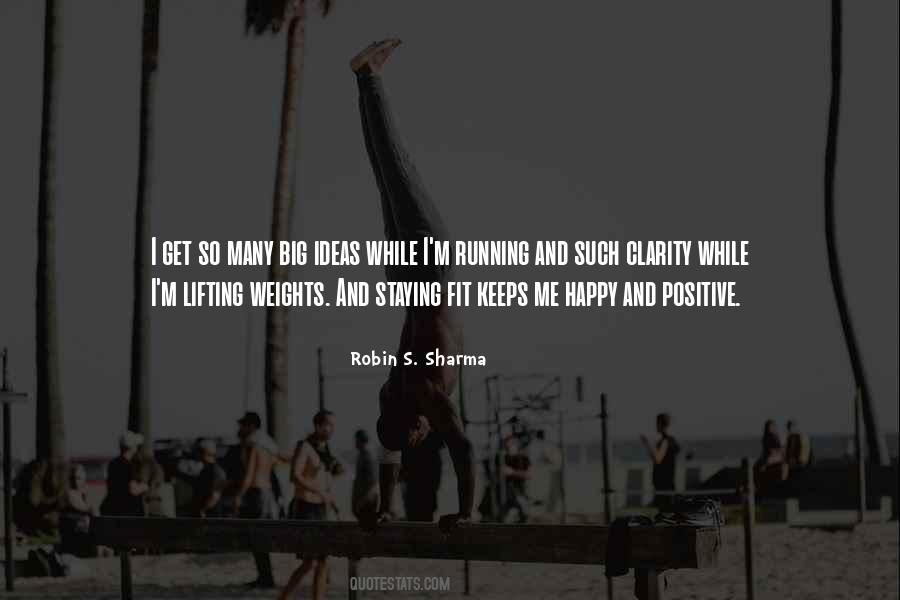 #92. Some people can act Hollywood and others don't. I just try to live my life as a normal, everyday man. At times, fame does get to you. But you must stay positive and remember two things: It's easier to be happy, and without all those fans, life wouldn't be as good as it is. - Author: Chumlee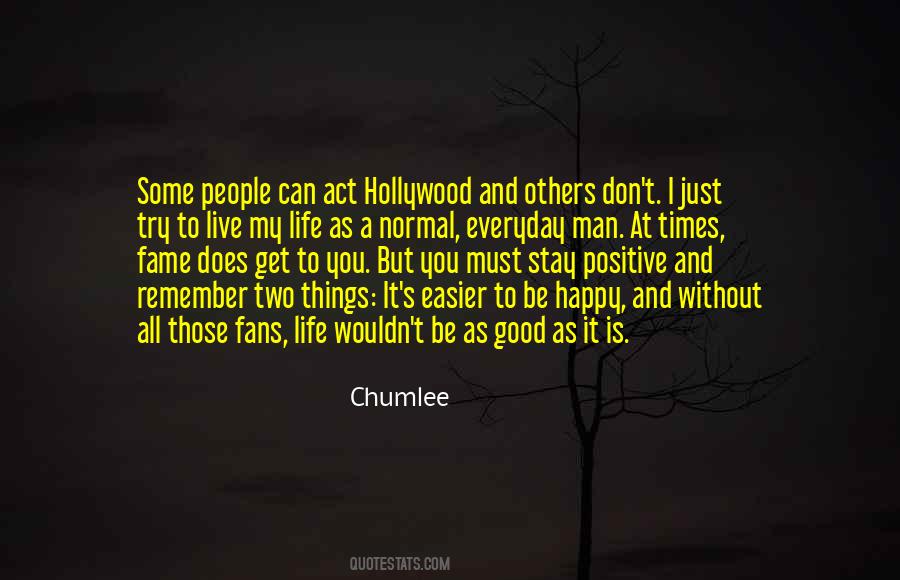 #93. Be sure that your praise songs are numbered higher than your sorrowful dirges and your utmost hope, firmer than your woeful regrets. Be positive. - Author: Israelmore Ayivor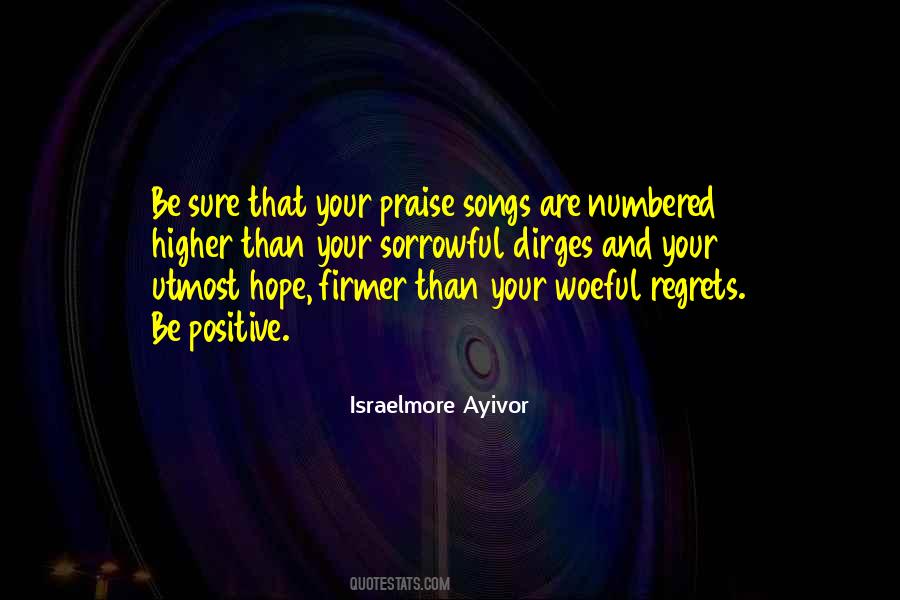 #94. Switch over to the right channel in your life --- positive attitude, right kind of food, right people and positive conversations. - Author: Sanchita Pandey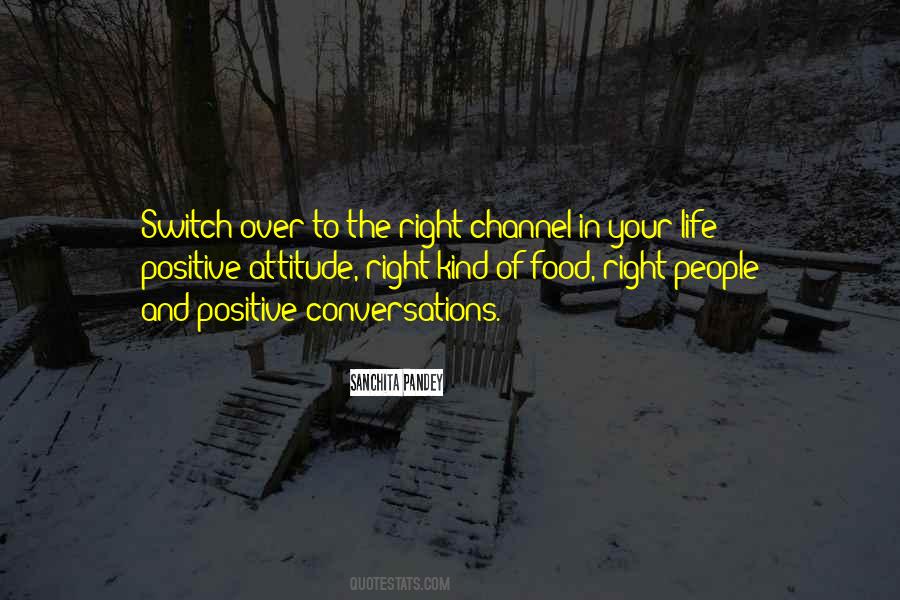 #95. Be happy.
Be happy for no reason at all.
Believe it or not, you have the ability and free agency to make that choice. - Author: Richelle E. Goodrich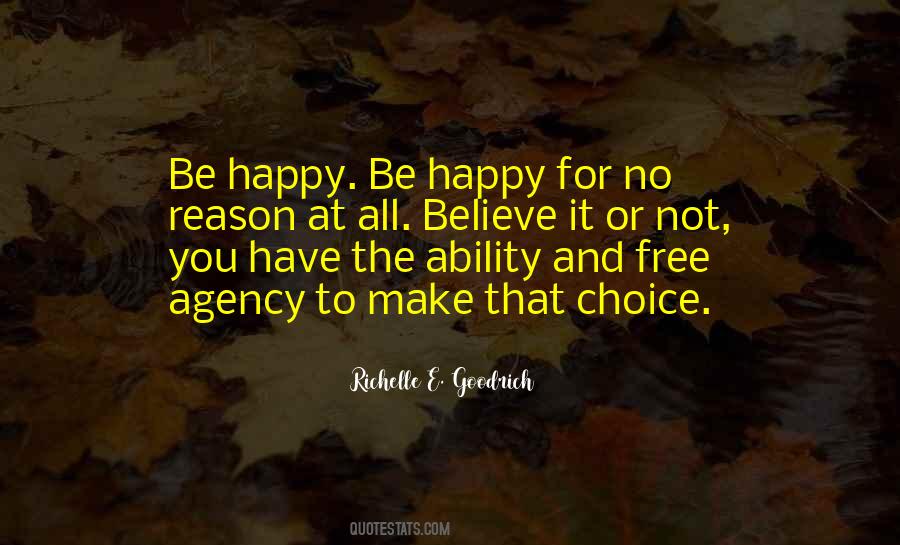 #96. To God be the glory, great things He has done and greater things He will do. - Author: Lailah Gifty Akita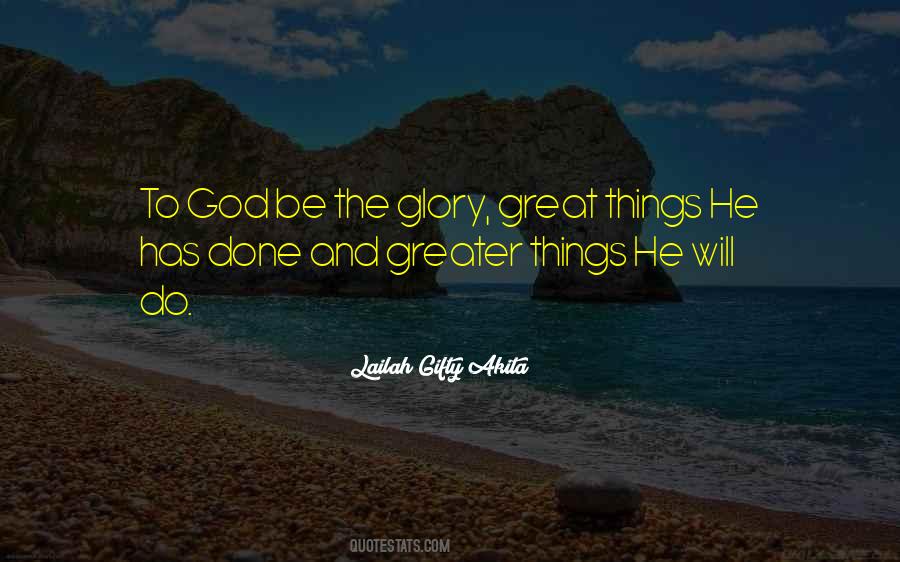 #97. In nicey-nicey land, you must be happy-clappy and positive all the time - bad news is taboo. - Author: Michael Leunig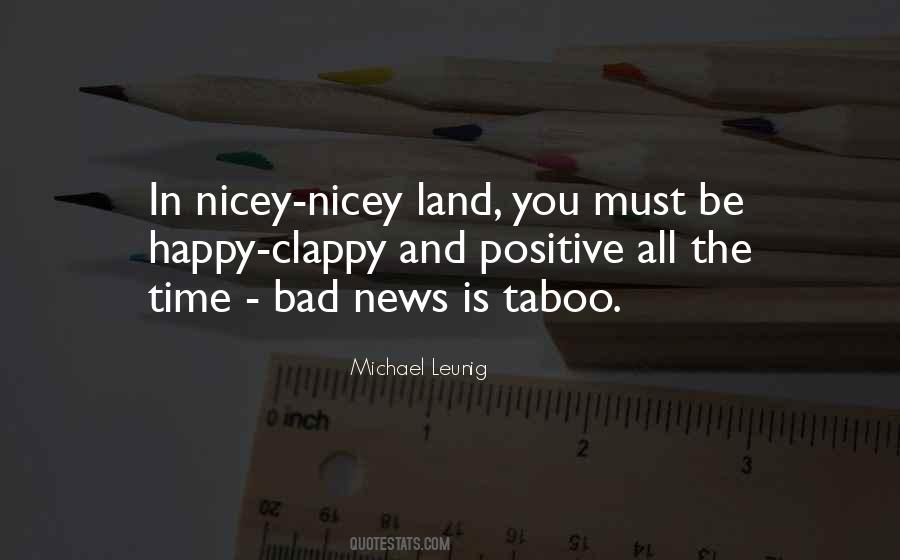 #98. By nature, I'm a very positive person, and because I'm happy in myself, and in my life, and I've got a great husband, and beautiful children, and I have a job that I love that calls for a certain amount of emotional expression, I get to realise a lot of my dreams and aspirations. - Author: Kate Winslet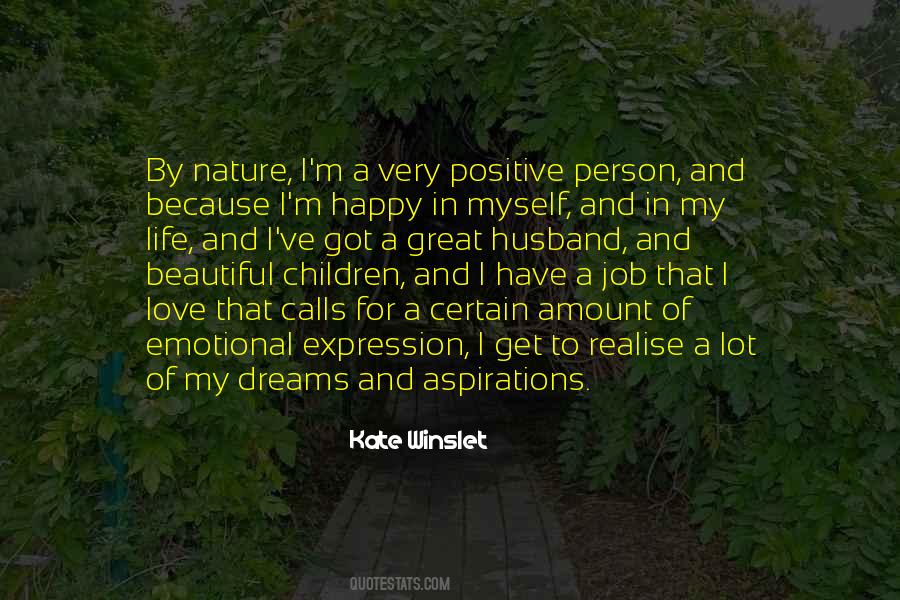 #99. And I simply decided to be happy again. - Author: Zeenat Aman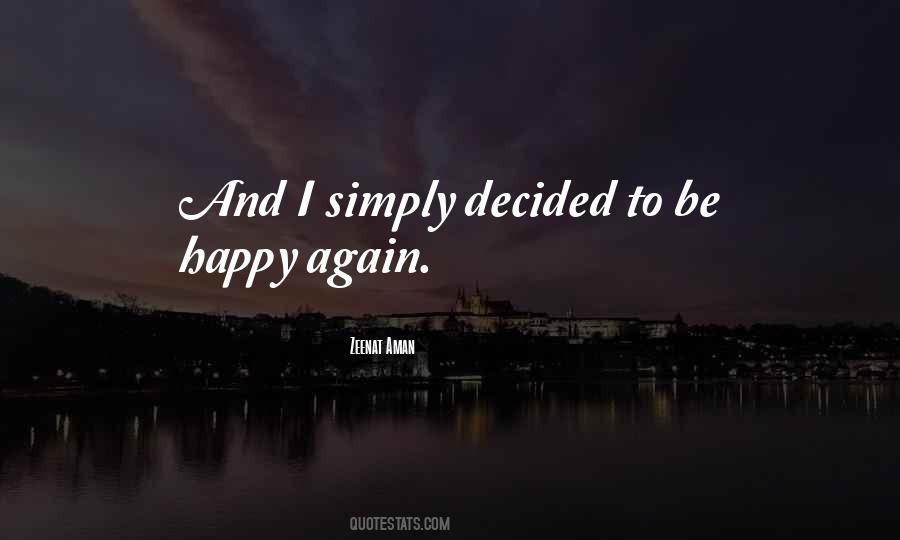 #100. Anyone can make a positive impact on the lives of other people. All we have to do is live our ordinary lives extraordinarily well. Be happy and positive. Do what you love and love your work. Reach out not only by using your hands, but with your heart as well. Life is lived wonderfully that way. - Author: Kcat Yarza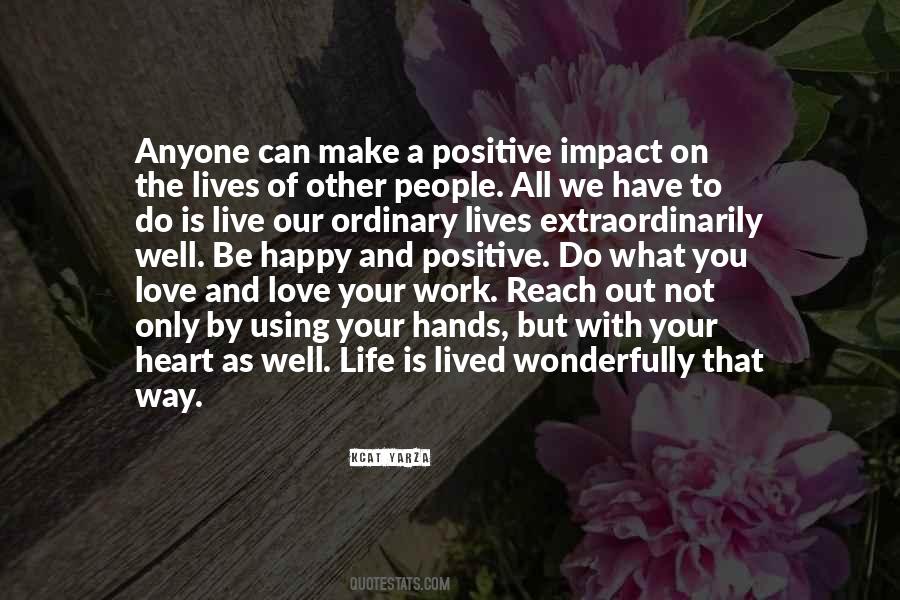 Famous Authors
Popular Topics