Happiness Comes Famous Quotes & Sayings
List of top 100 famous quotes and sayings about happiness comes to read and share with friends on your Facebook, Twitter, blogs.
Top 100 Happiness Comes Quotes
#1. Happiness comes as a by-product of the "life well lived." And - Author: Henry Cloud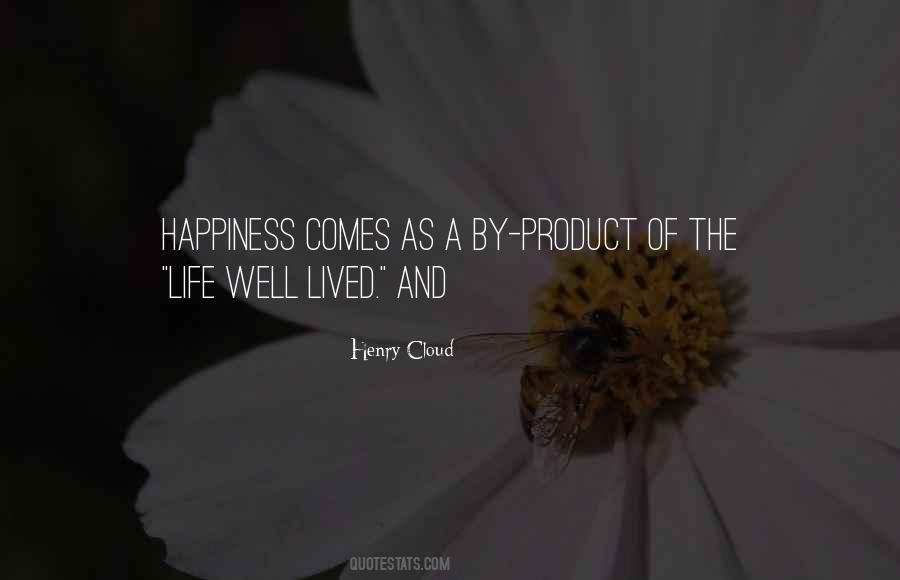 #2. Happiness is not ready made. It comes from your own actionns - Author: Dalai Lama XIV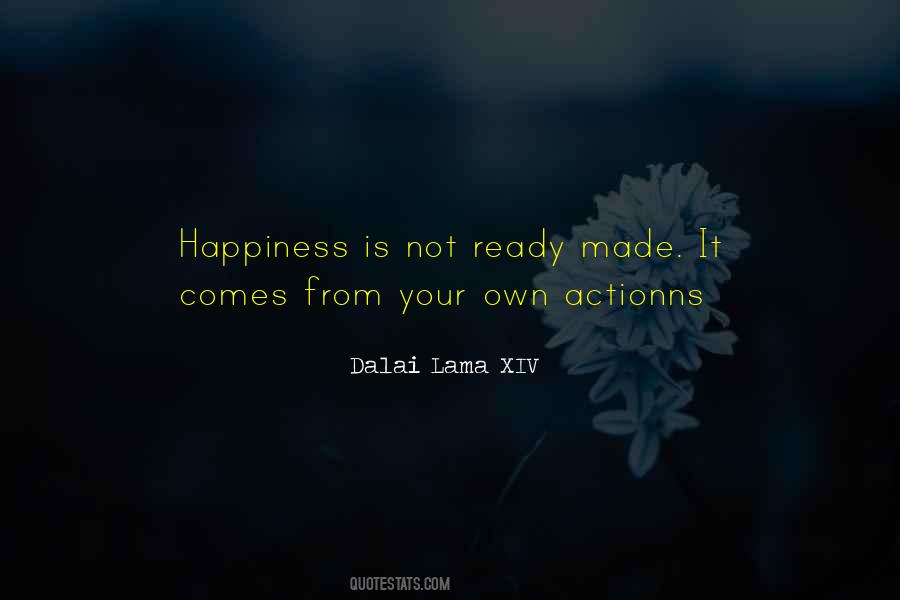 #3. You can't care what other people think of whom you choose to love, or not to love. When it comes to your love life, it's NOT the time to be satisfying other people's opinions. The difference between what's good for you and what's good for everyone else is happiness. - Author: Chrissy Anderson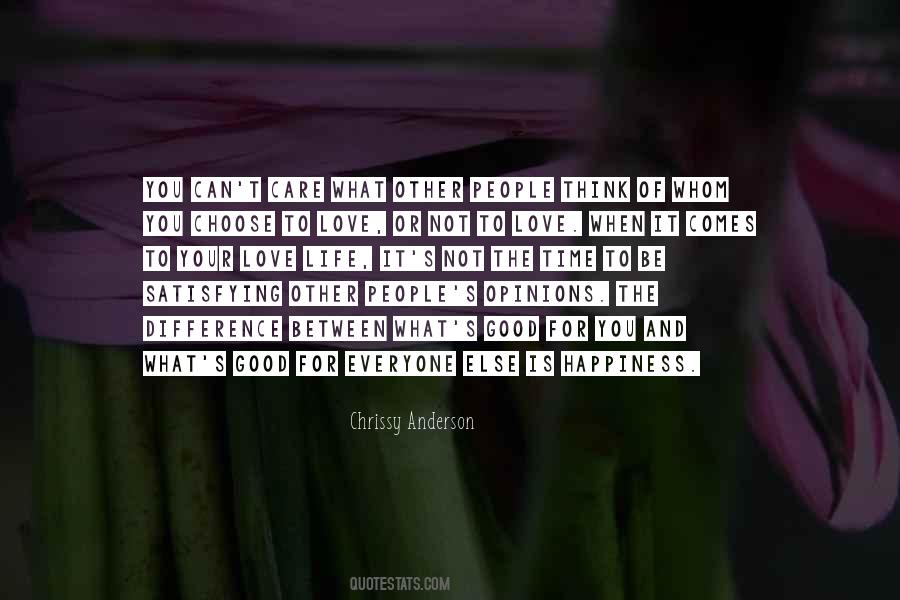 #4. Real happiness comes from the cultivation, the development, of the highest that is in us. - Author: Orison Swett Marden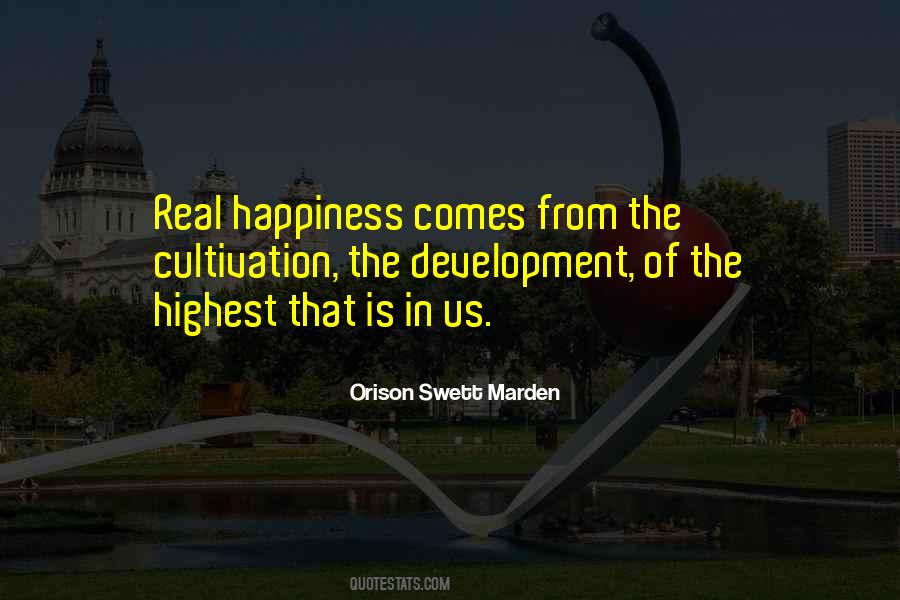 #5. When we ... devote ourselves to the strict and unsparing performance of duty, ihen happiness comes of itself. - Author: Wilhelm Von Humboldt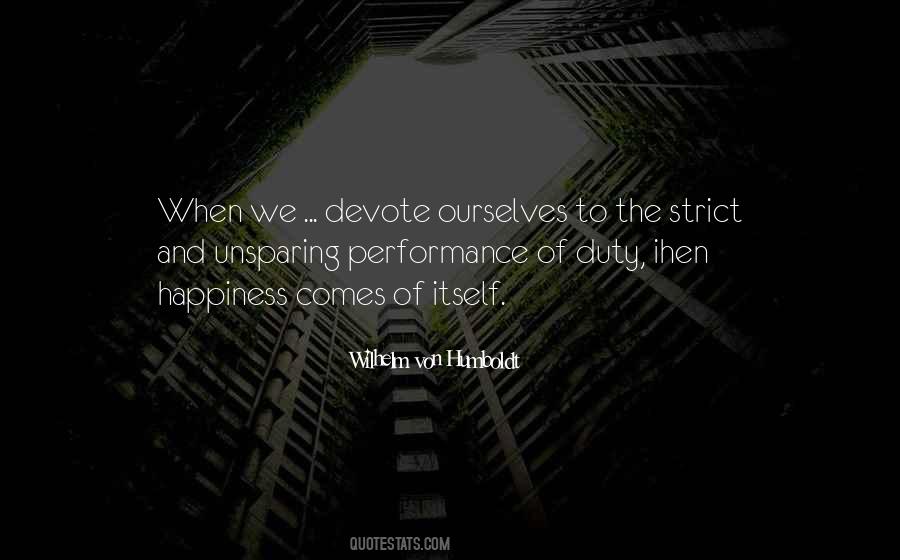 #6. All the suffering in the world comes from seeking pleasure for oneself. All the happiness in the world comes from seeking pleasure for others. - Author: Shantideva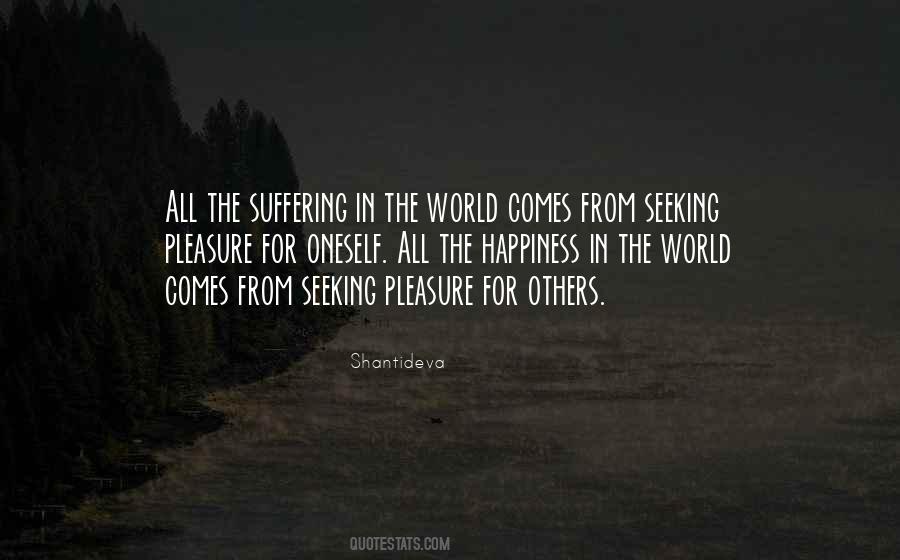 #7. Happiness comes in many forms - in the company of good friends, in the feeling you get when you make someone else's dream come true, or in the promise of hope renewed. It's okay to let yourself be happy because you never know how fleeting that happiness might be. - Author: Lucas Scott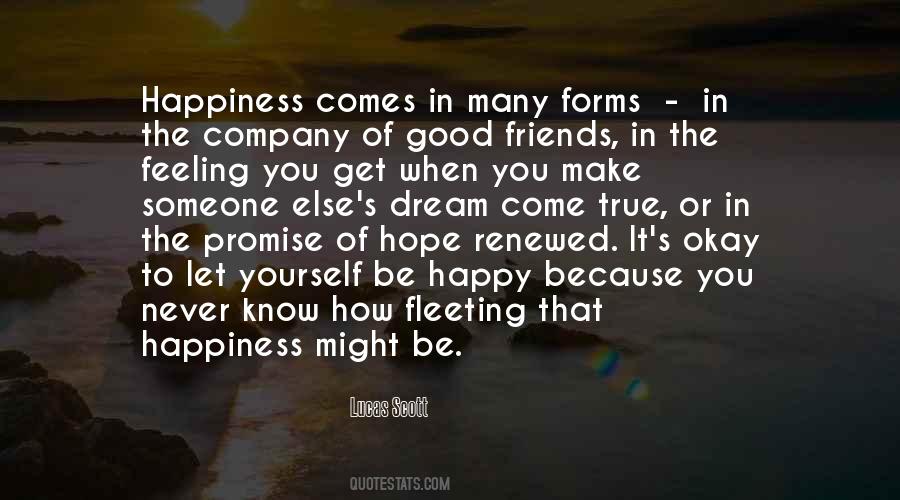 #8. If you want to be happy, set yourself a goal that commands your thoughts, liberates your energy and inspires your hopes. Happiness is within you. It comes from doing some certain thing into which you can put all your thought and energy. If you want to be happy, get enthusiastic about something. - Author: Dale Carnegie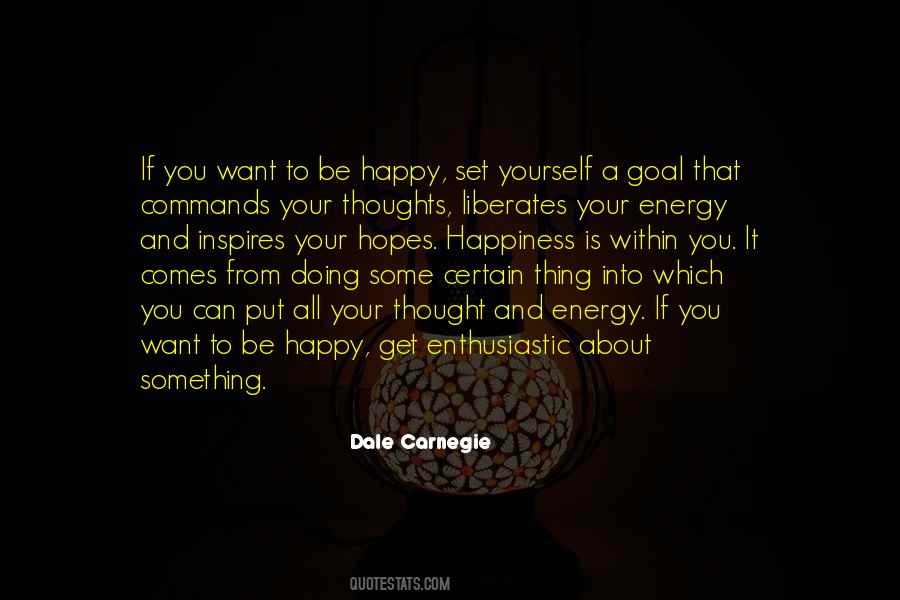 #9. There's too much pain and uncertainty in the world. You should seize happiness whenever it comes, and hold onto it for as long as you can. - Author: Anna White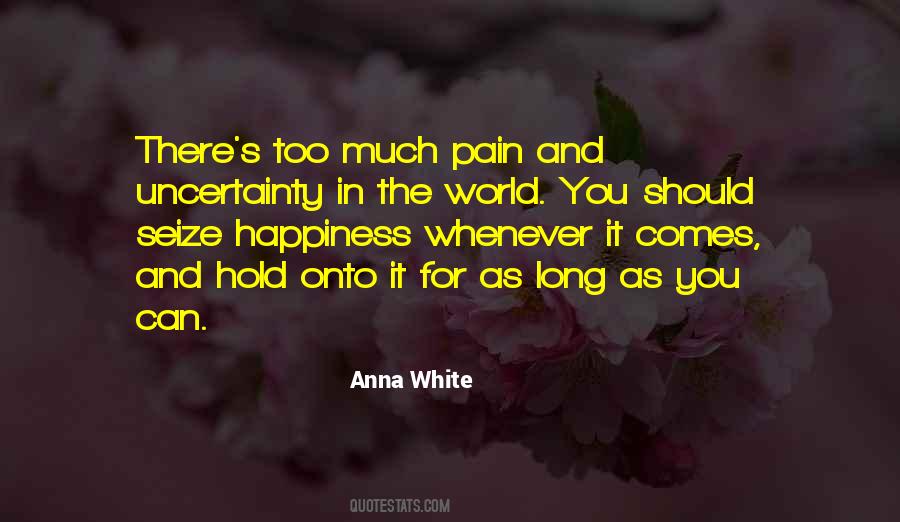 #10. Our spirit is the real part of us, the body but its garment. A man would not find peace at the tailor's because his coat comes from there; neither can the spirit obtain true happiness from the earth just because his body belongs to earth. - Author: Hazrat Inayat Khan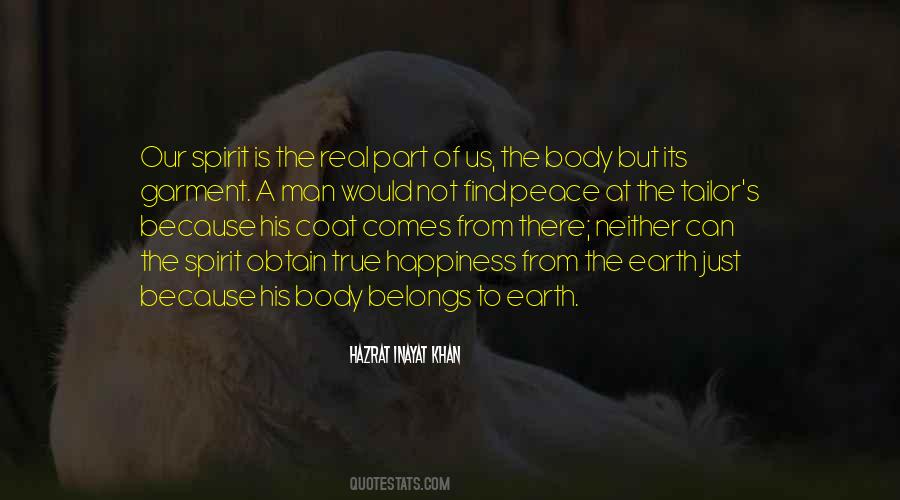 #11. Happiness comes from your mindset. - Author: Debasish Mridha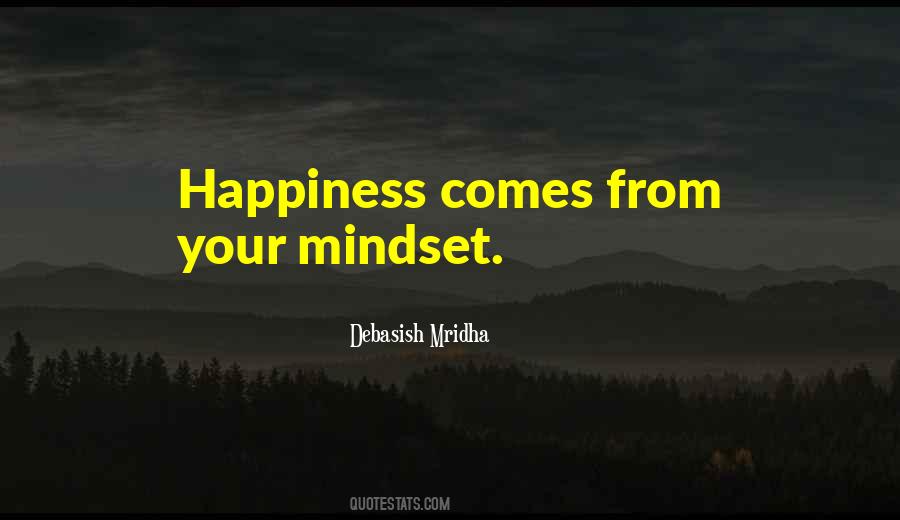 #12. Happiness comes from loving and giving - Author: Debasish Mridha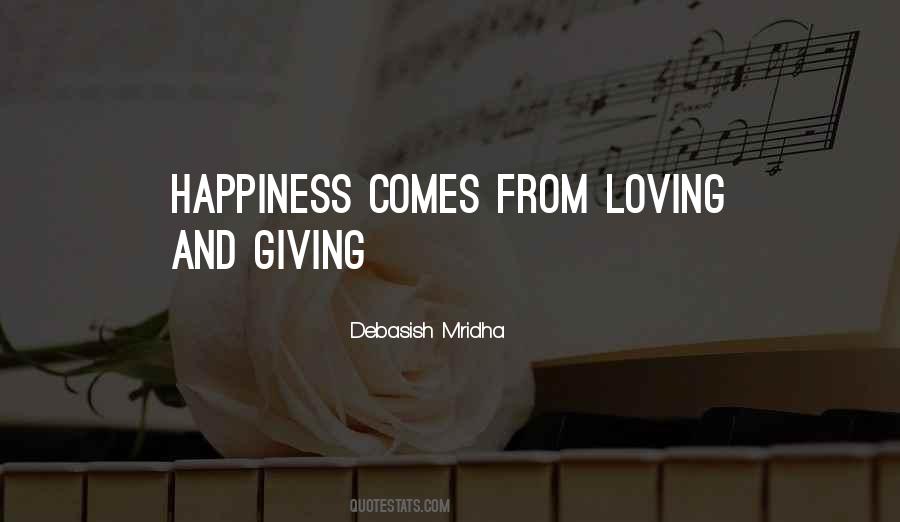 #13. True happiness comes from the realization that God has already made available everything we will ever need. - Author: Angela Burt-Murray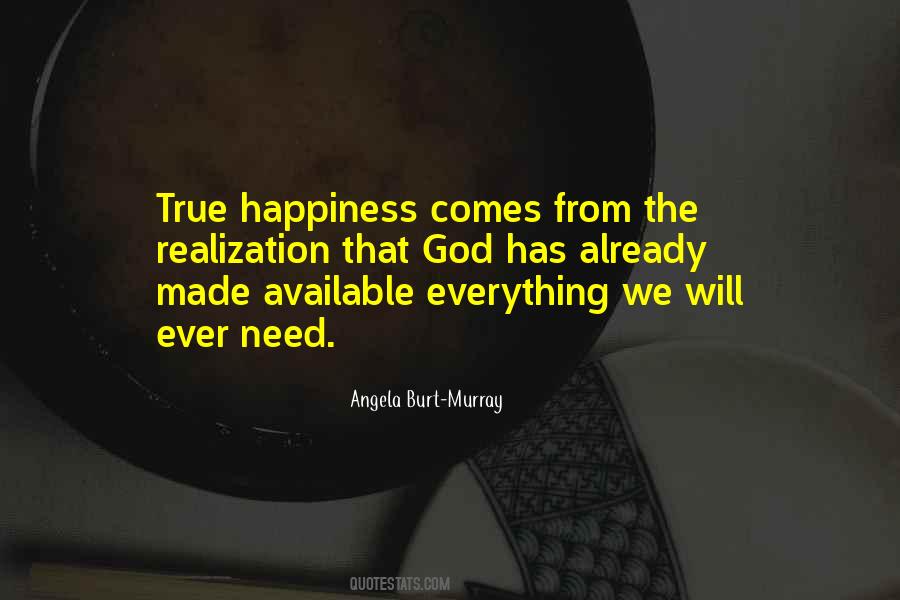 #14. Happiness, when it comes, is stronger than all the jerk girls in Santo Domingo combined. - Author: Junot Diaz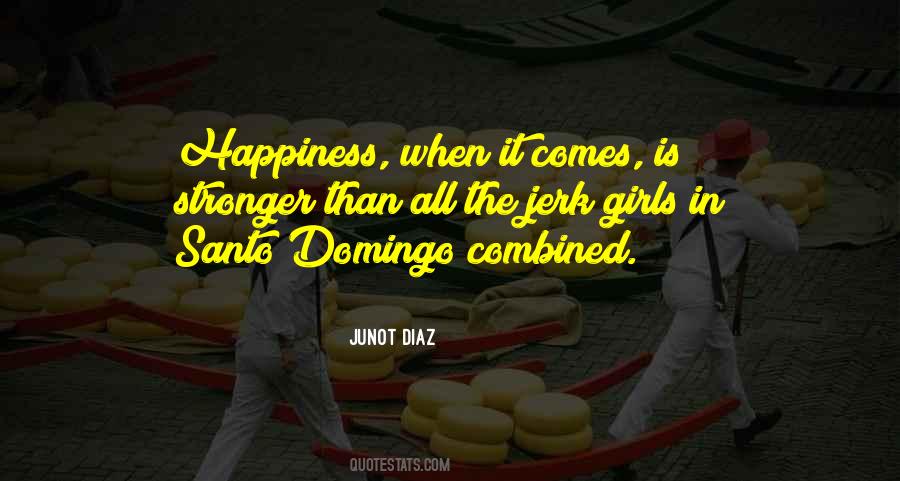 #15. Happiness does not come from a job. It comes from knowing what you truly value, and behaving in a way that's consistent with those beliefs. - Author: Mike Rowe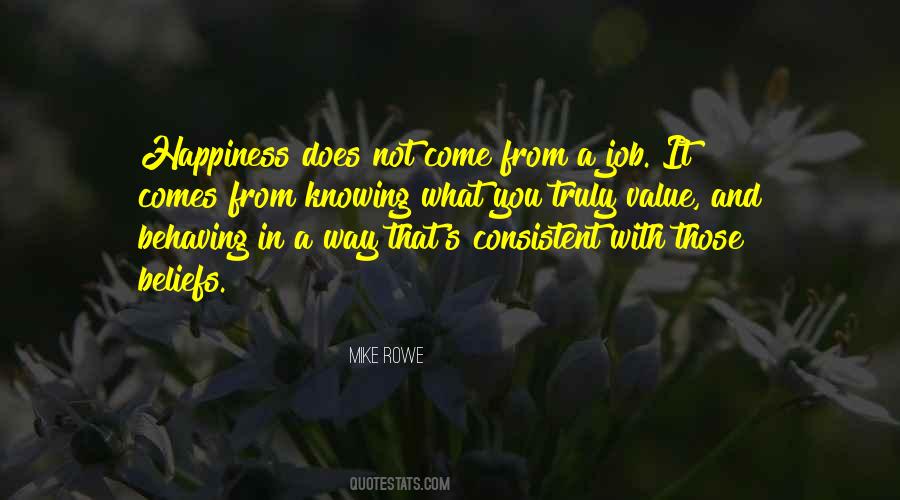 #16. Happiness comes from living as you need to, as you want to. As your inner voice tells you to. Happiness comes from being who you actually are instead of who you think you are supposed to be. - Author: Shonda Rhimes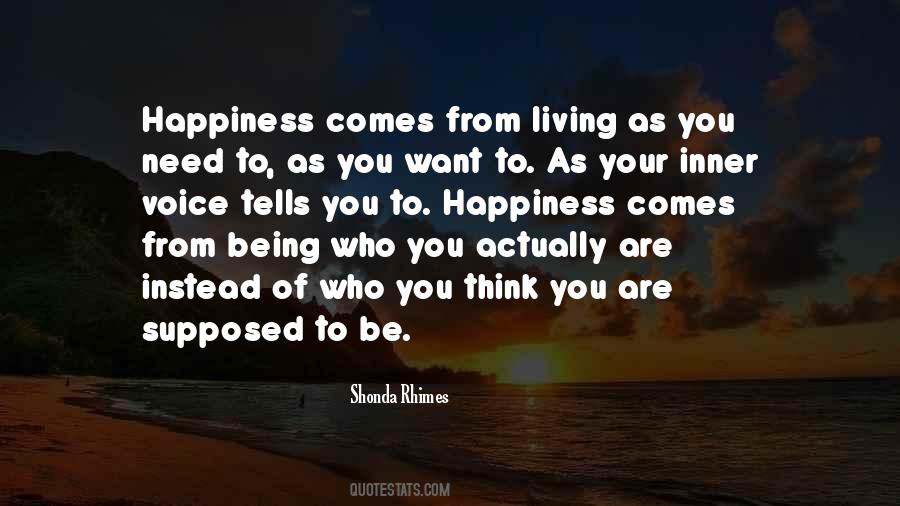 #17. I am in love,
I became an angel;
flowers bloom with my touch,
birds comes to me and sing love song,
air touches my cheeks to feel my love,
leaves are dancing around me with the melody of love.
Oh love, I am in love, I am the love. - Author: Debasish Mridha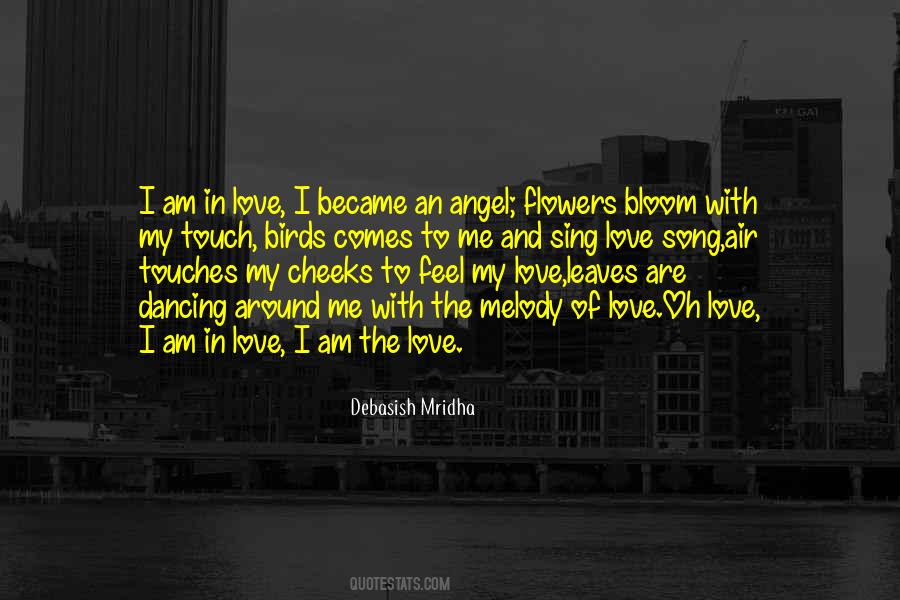 #18. Happiness comes from theperfect practice of virtue. - Author: Aristotle.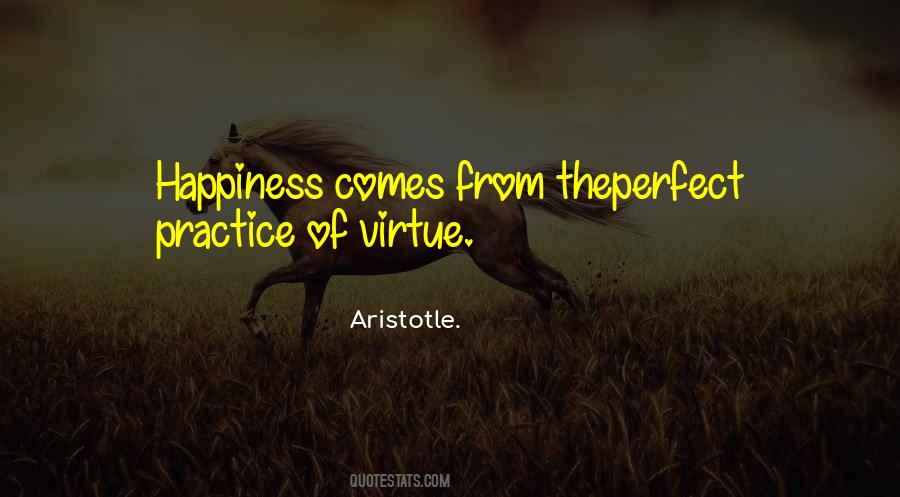 #19. The kind of experience of humility and happiness that comes with gratitude tends to crowd out whatever is coarse, or ugly, or mean. - Author: Kevin DeYoung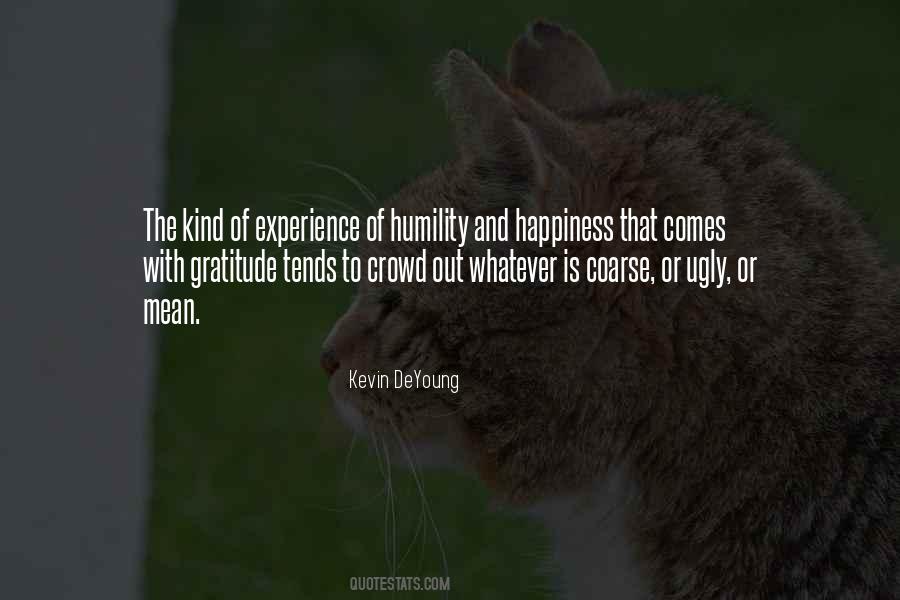 #20. Real happiness lies in that which never comes nor goes, but simply is. - Author: Ram Dass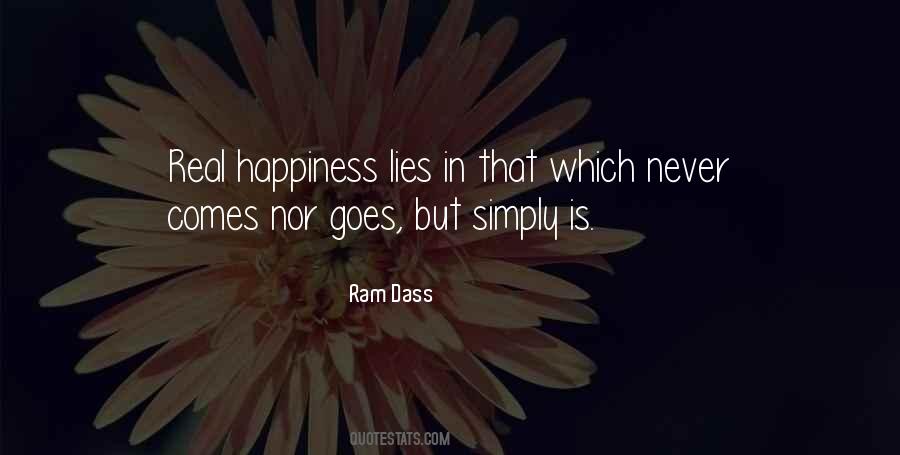 #21. Happiness comes from you. No one else can make you happy. You make you happy. - Author: Beyonce Knowles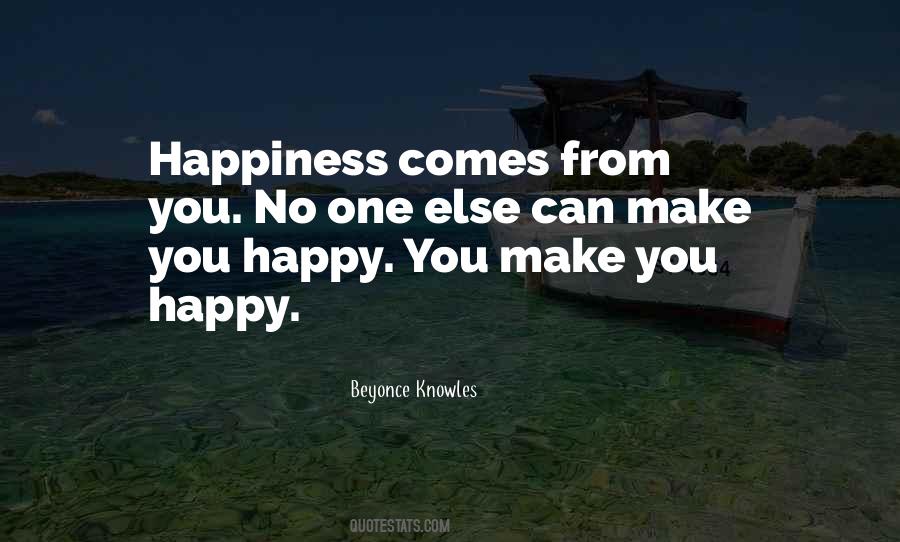 #22. Happiness comes from your thoughts; it resides inside you. To be happy, have happy thoughts, whatever you do. - Author: Debasish Mridha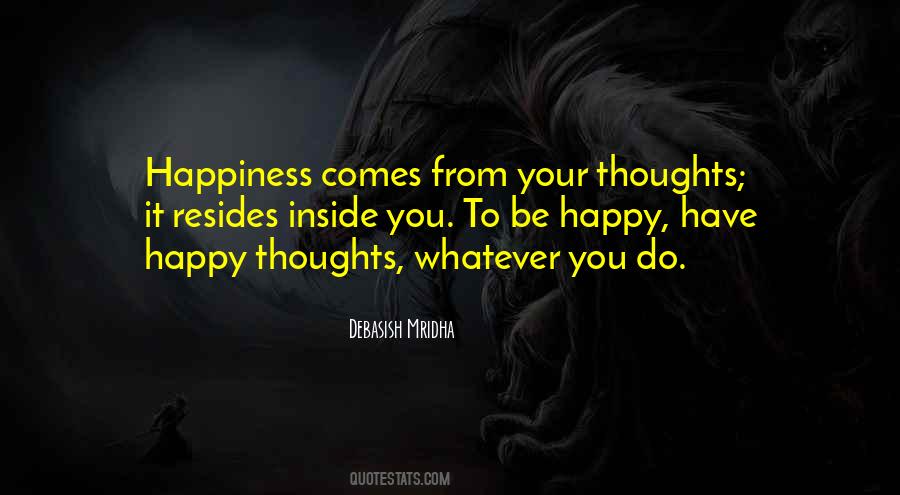 #23. Your genuine happiness does not come from other people, activities or things, it comes from living a meaningful life - a life that is in alignment with your values and is beneficial. - Author: John Bruna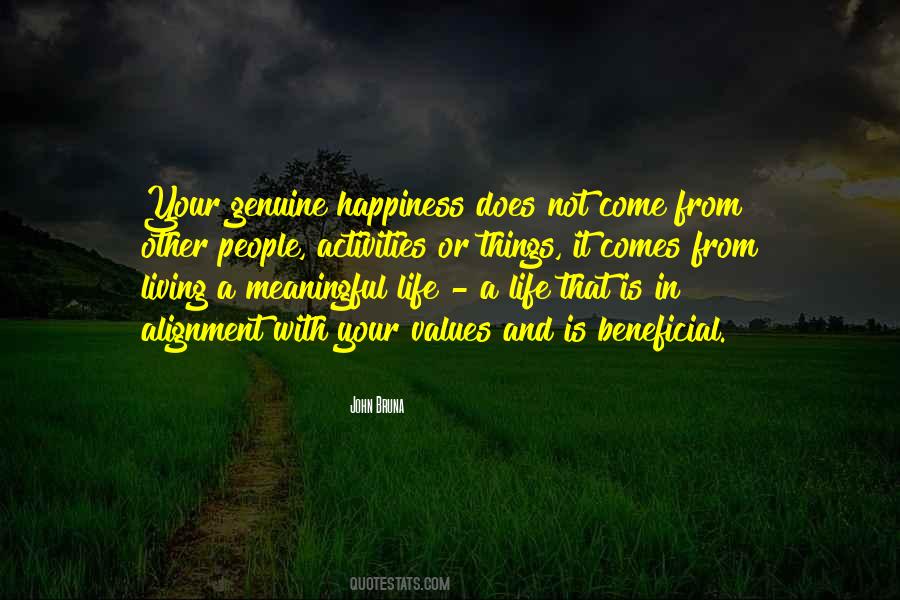 #24. I think perhaps a better thing to want is fulfillment. A deeper state, one that comes from within, from being your best self. From living life the way you really wish to live it. Then, happiness emanates from within as a byproduct. Naturally. - Author: Kamal Ravikant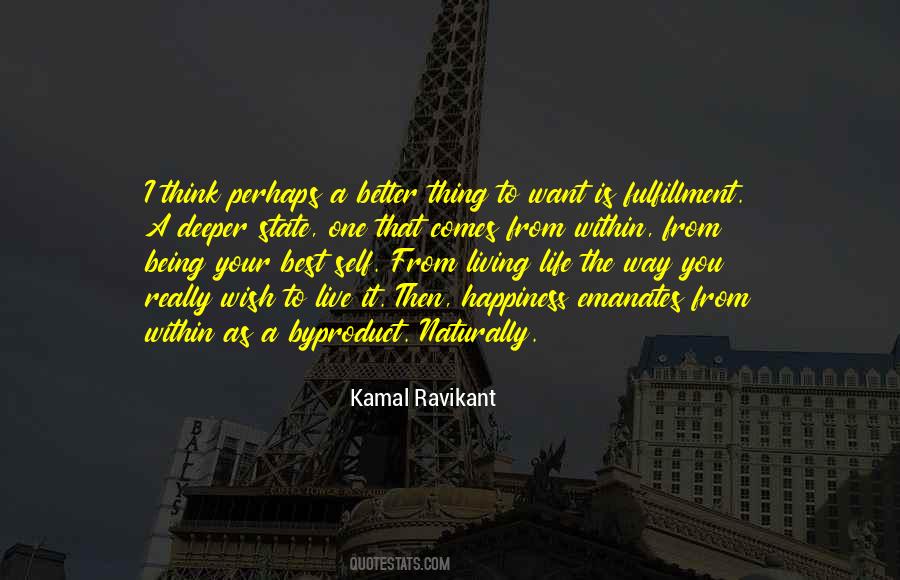 #25. There was no lasting happiness ... You just need to be grateful when it comes ...
There was no eternal sadness ... You just need to be patient until it goes
So ... whatever happens, life must go on ..
Just live and love your life ... because we are not immortal .. # andry_lavigne - Author: Andry Lavigne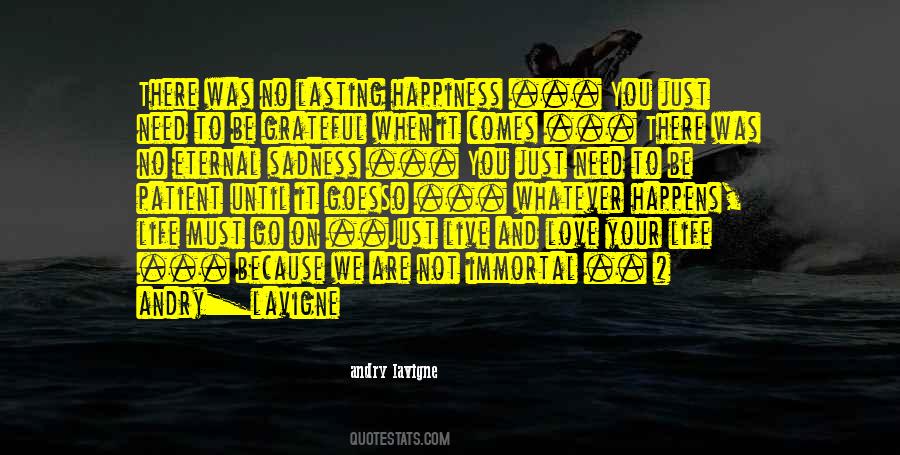 #26. Happiness comes when your work and words are of benefit to others. - Author: Gautama Buddha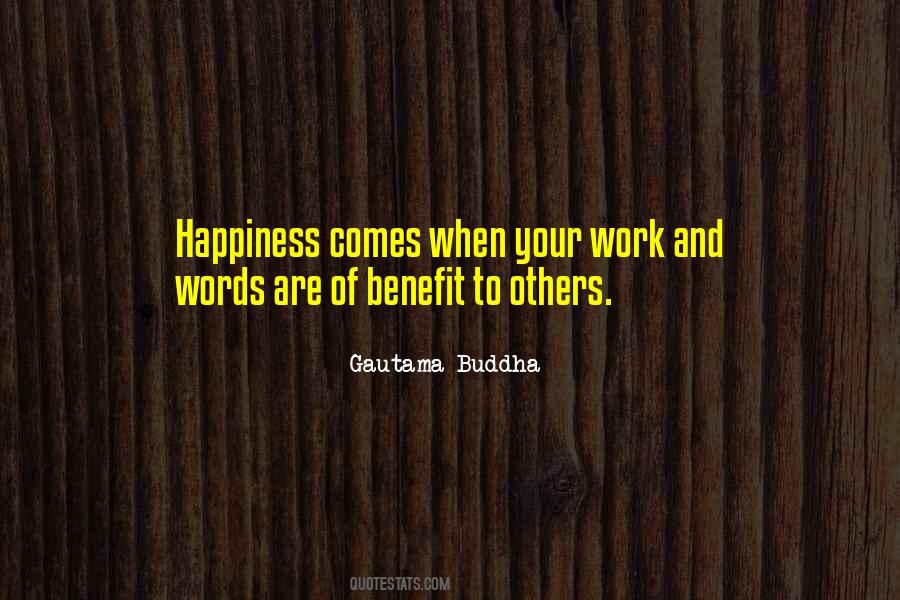 #27. Buddhism teaches us that happiness does not come from any kind of acquisitiveness, be it material or psychological. Happiness comes from letting go. In Buddhism, the impenetrable, separate, and individuated self is more of the problem than the solution. - Author: Mark Epstein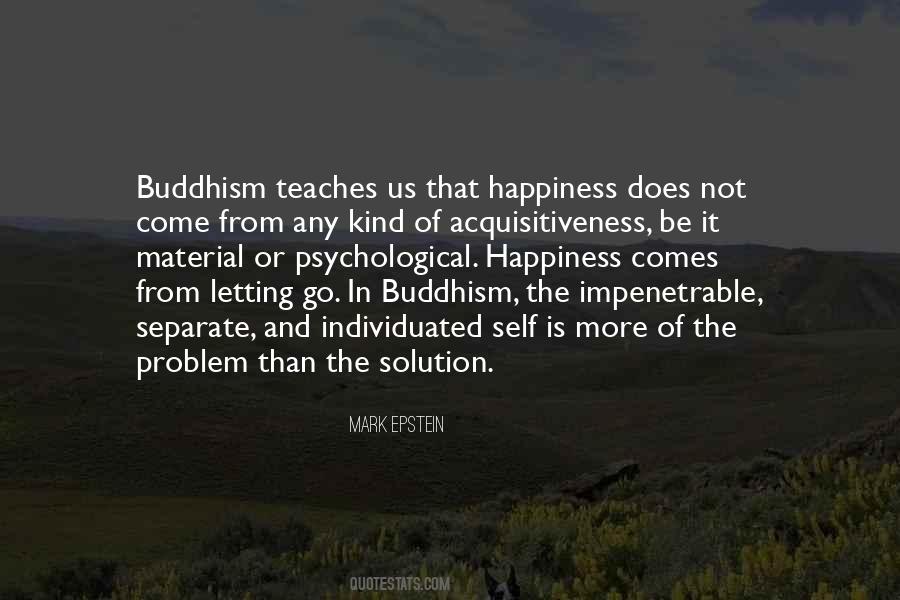 #28. Sometimes happiness comes, sometimes sadness, anger, jealousy - you need not make them your problems - Author: Rajneesh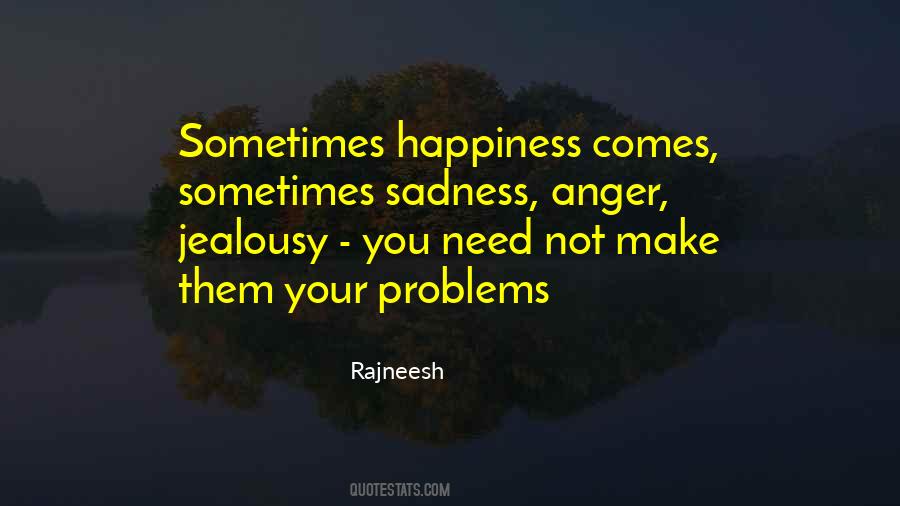 #29. The venerable teachers, philosophers & spiritual practitioners throughout history have concluded that the greatest happiness we can experience comes from the development of an open, loving heart. - Author: Allan Lokos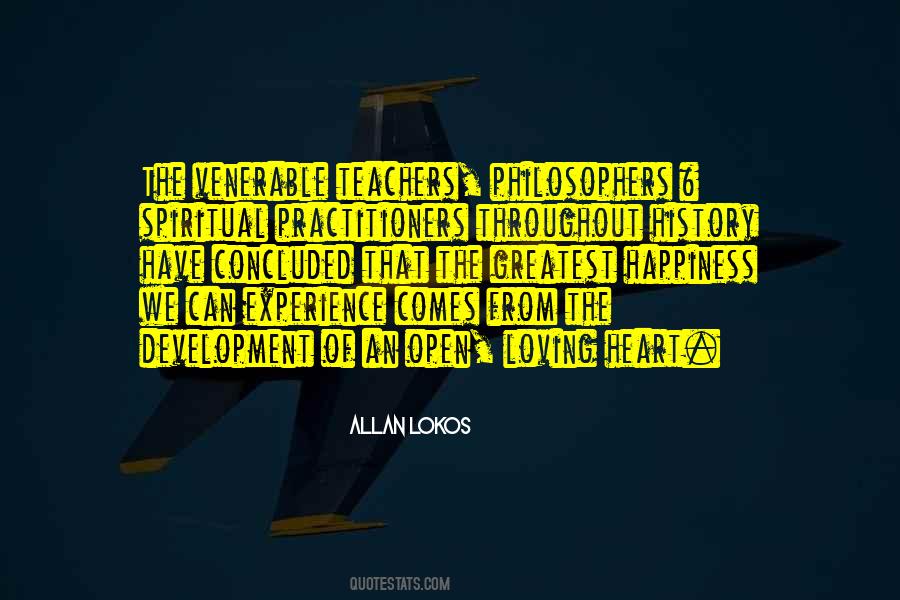 #30. If happiness comes at all: which is by no means prearranged; it comes by the way, while you are seeking for something else. Something outside yourself, beyond yourself: in a brief absorption of self-forgetfulness. - Author: Caitlin Thomas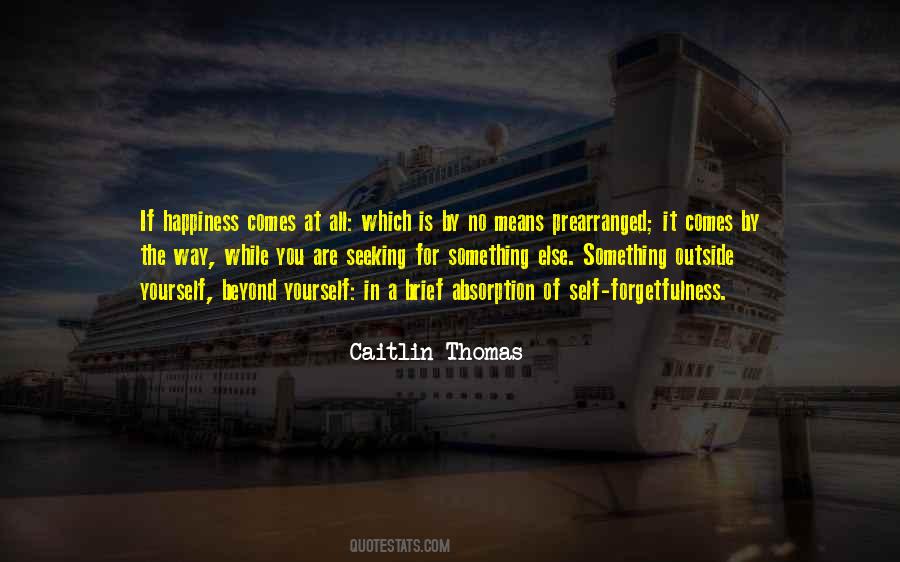 #31. Our genuine happiness comes from doing things we feel good about, not from doing things that make us feel good. - Author: John Bruna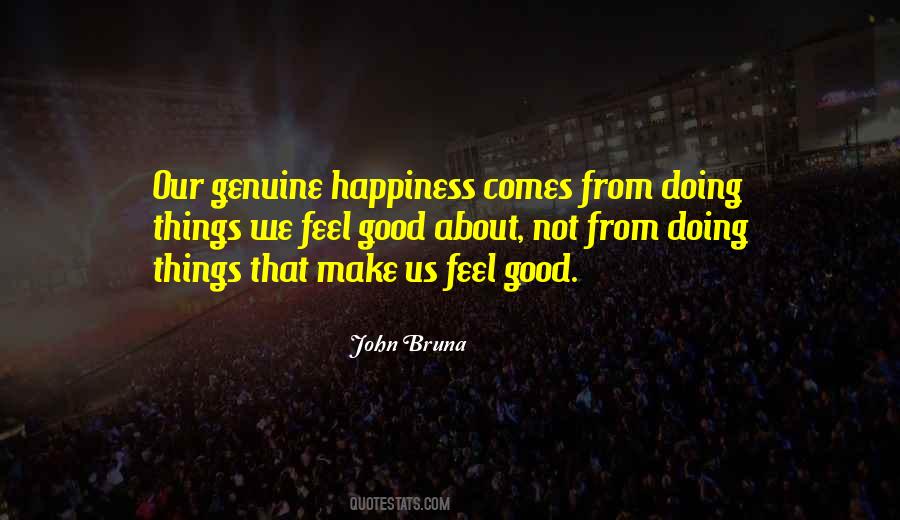 #32. I think the secret to happiness is having a Teflon soul. Whatever comes your way, you either let it slide or you cook with it. - Author: Diane Lane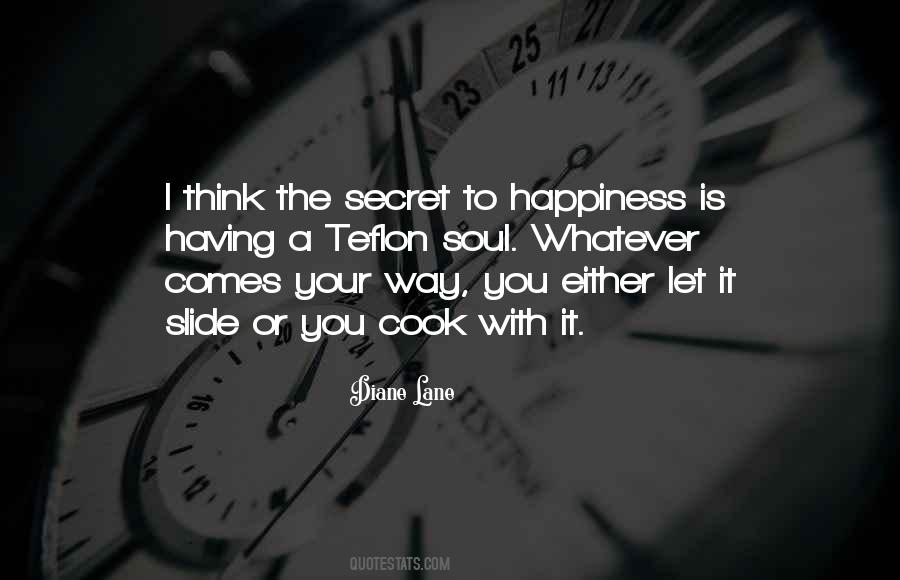 #33. One can acquire money, fame and distinction, but one cannot create happiness or unhappiness, not for oneself or for others. One can only accept what comes, although one can, to be sure, accept it in entirely different ways. - Author: Hermann Hesse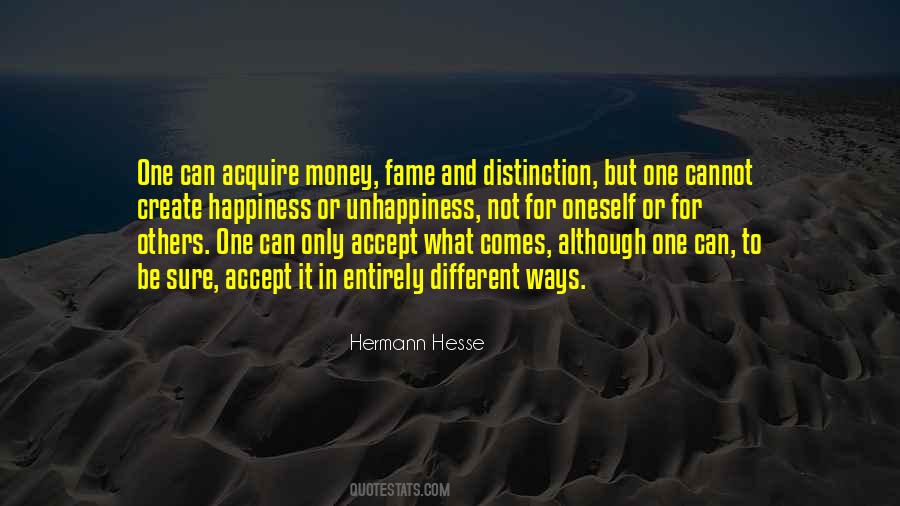 #34. Learn that happiness comes through self-control and not being angry or jealous. The only one that you really torment is yourself. It is easier to let go and gain new ways of looking at life. - Author: Frederick Lenz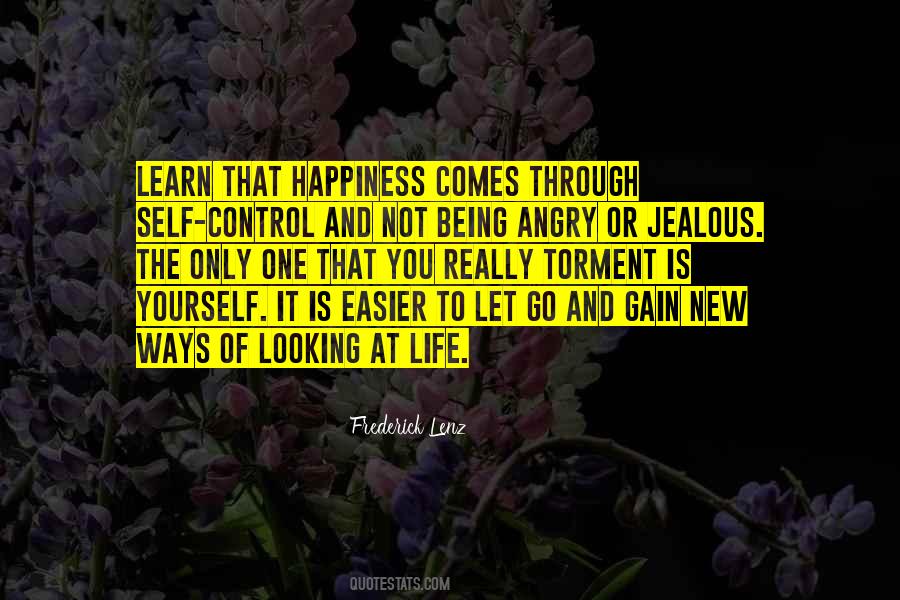 #35. Of all the things that make for happiness, the love of books comes first. No matter how the world may have used us, sure solace lies there. - Author: Myrtle Reed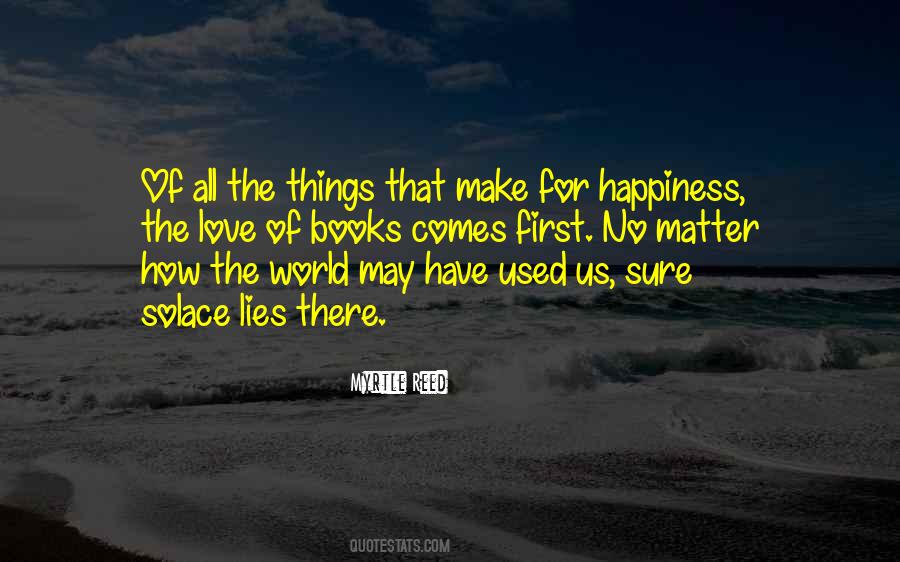 #36. The greatest happiness comes from being vitally interested in something that excites all your energies. - Author: Walter Annenberg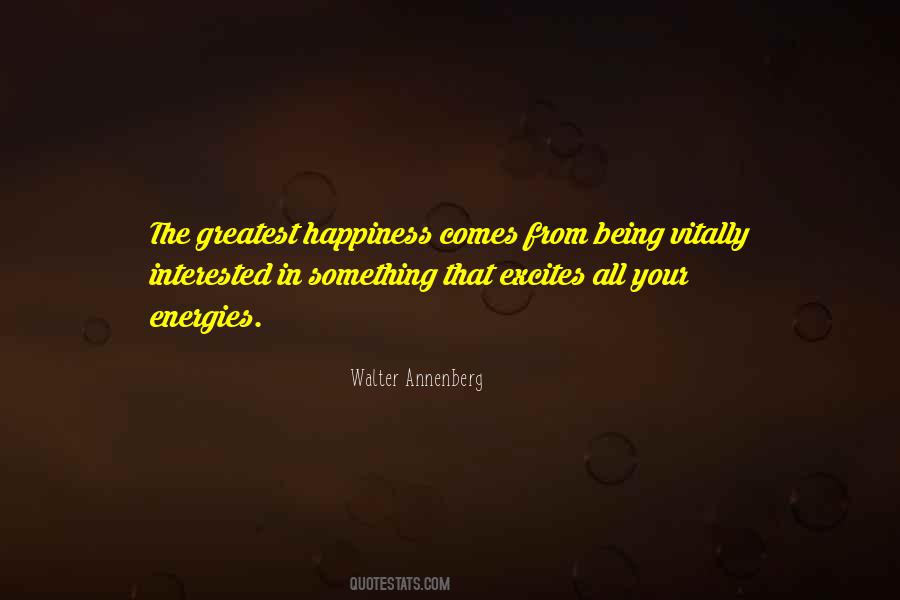 #37. I find my joy of living in the fierce and ruthless battles of life, and my pleasure comes from learning something. - Author: August Strindberg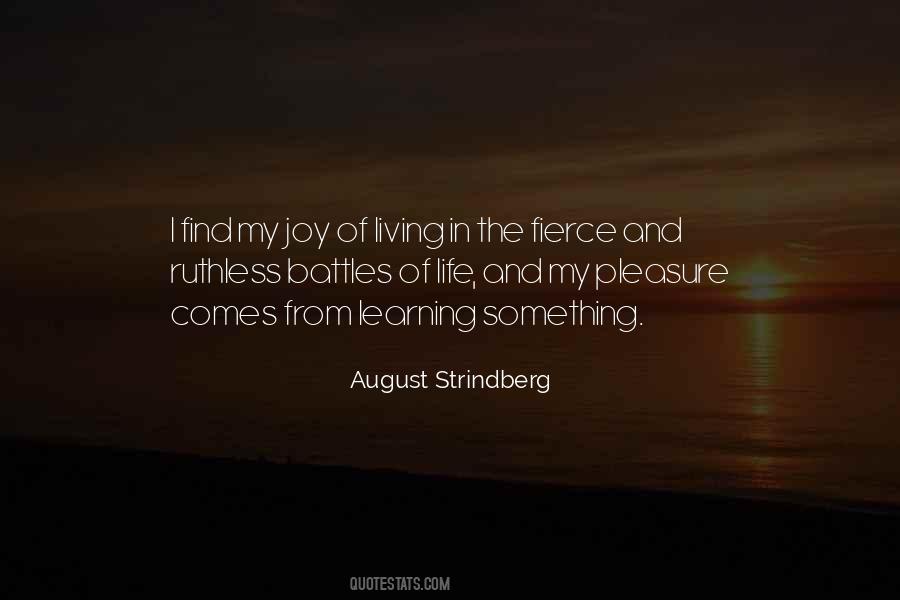 #38. True happiness Is not a mental hallucination. True happiness Is not a complacent feeling. True happiness Is the spontaneous feeling of joy That comes from knowing 132 You are doing the right thing 133 And leading a divine life. - Author: Sri Chinmoy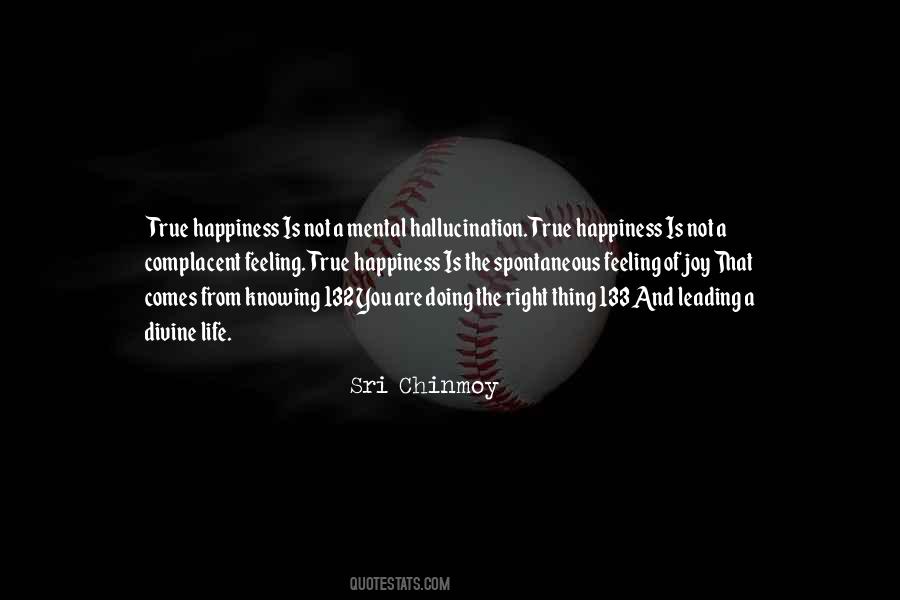 #39. Happiness comes when you are doing something because you really love to do it, and not because it gives you riches or makes you a prominent person. - Author: Jiddu Krishnamurti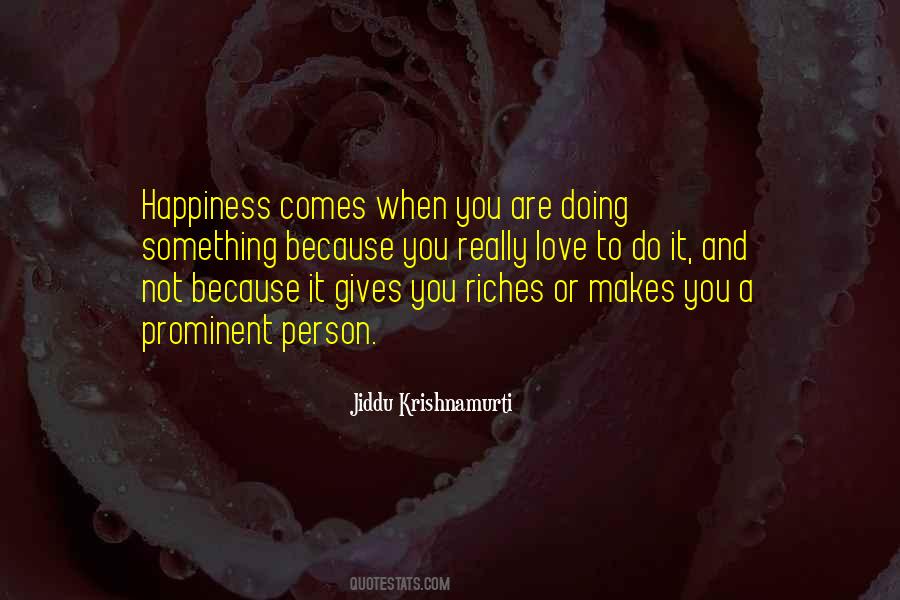 #40. Happiness in this world, when it comes, comes incidentally. Make it the object of pursuit, and it leads us a wild-goose chase, and is never attained. Follow some other object, and very possibly we may find that we have caught happiness without dreaming of it. - Author: Nathaniel Hawthorne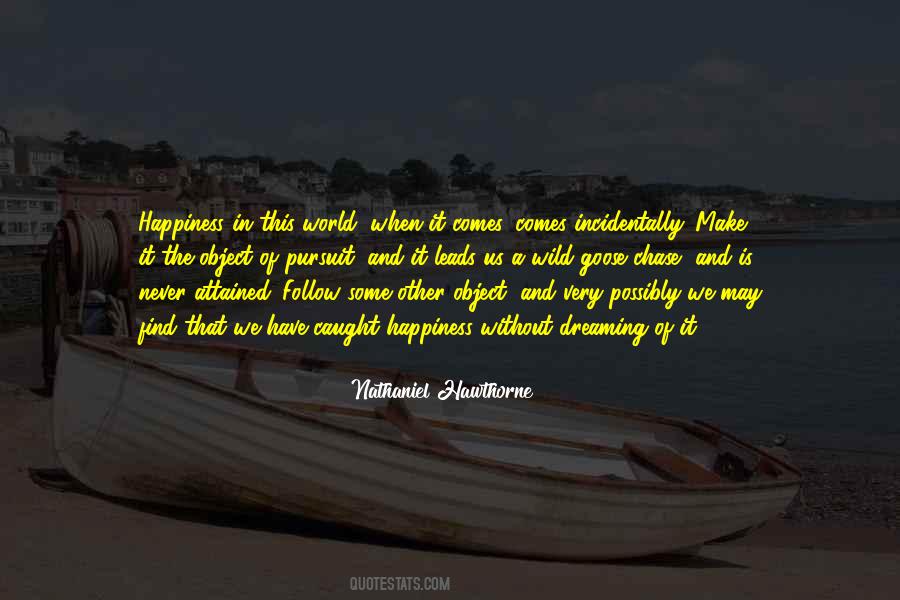 #41. Happiness or misfortune are prescribed by law of Heaven, but their source comes from ourselves. - Author: Nguyen Du
#42. Musical cherub, soar, singing, away! Then, when the gloaming comes, Low in the heather blooms Sweet will thy welcome and bed of love be! Emblem of happiness, Blest is thy dwelling-place O, to abide in the desert with thee! - Author: James Hogg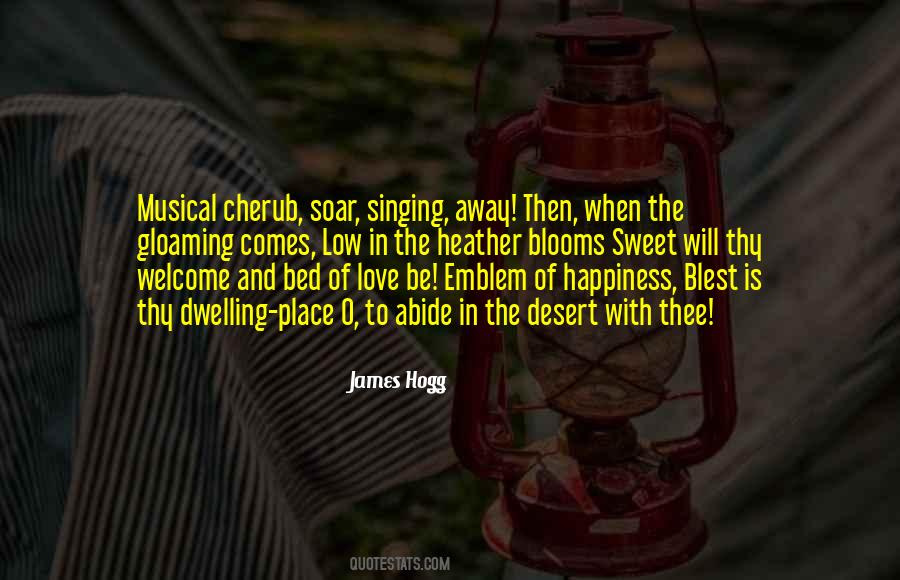 #43. Almost all unhappiness in life comes from the tendency to blame someone else. - Author: Brian Tracy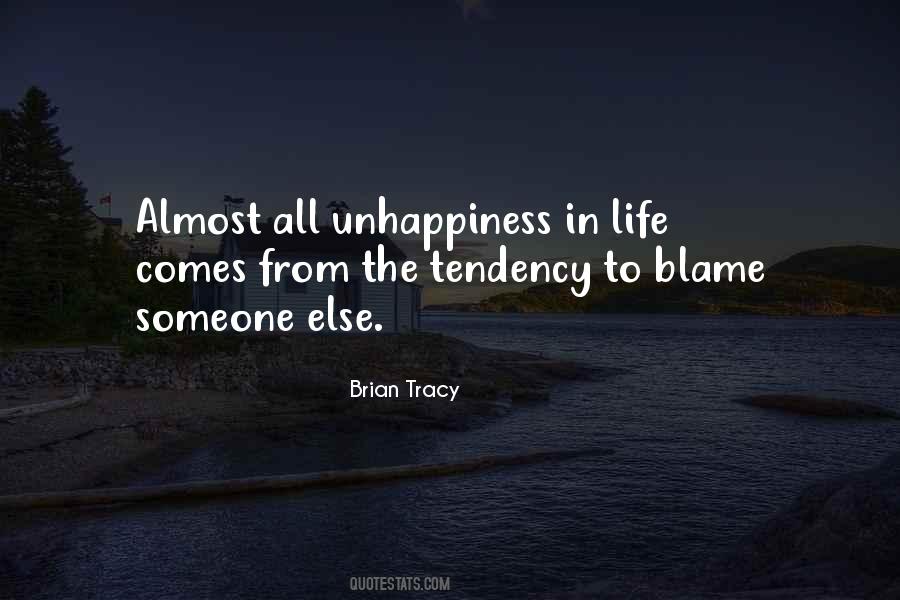 #44. Real happiness comes from a deeper place, not from anything external. The freshest and best water flows from the deepest, darkest chasms of the mountain. Likewise, true happiness flows from the hidden places of the human heart. - Author: Bobby Schuller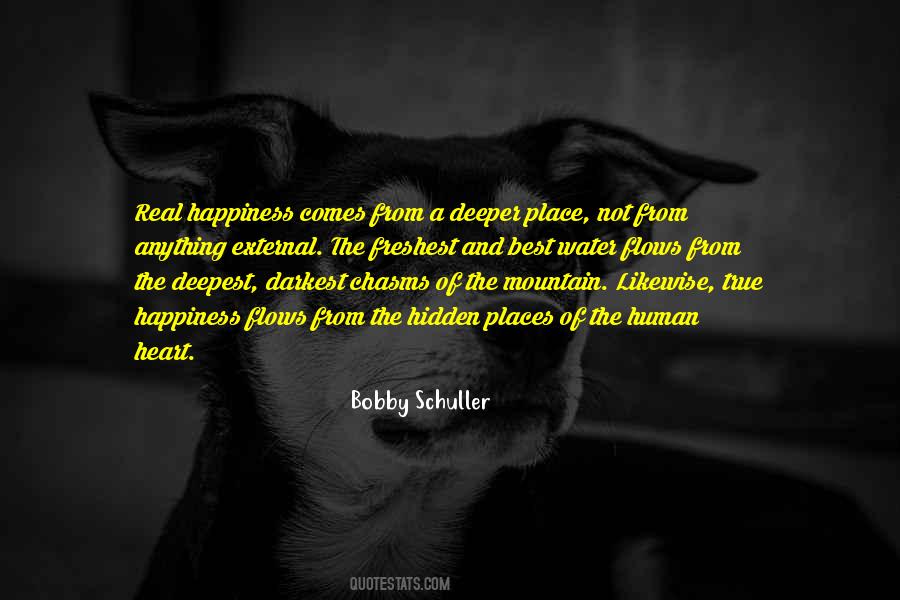 #45. It takes a special courage to challenge the rigid confines of our accustomed story. It's not easy to radically alter our views about where happiness comes from but it's eminently possible. - Author: Sharon Salzberg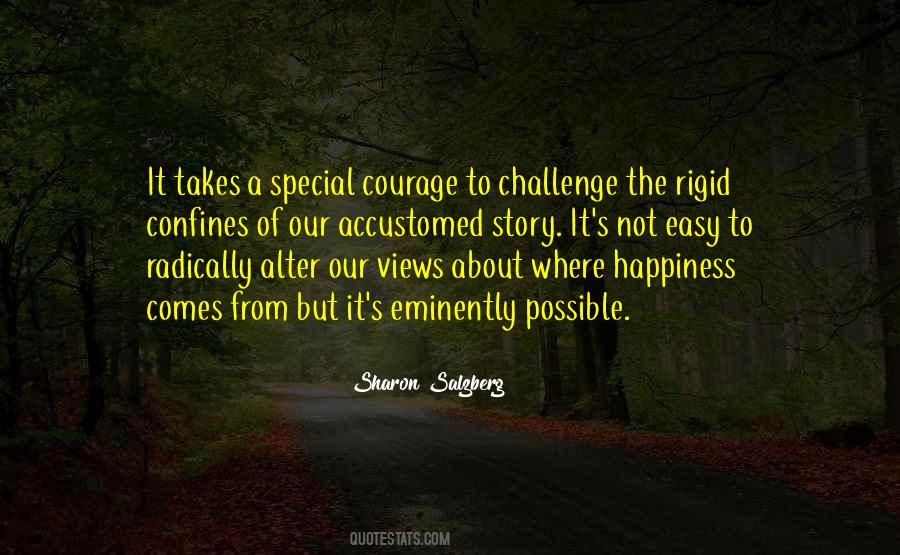 #46. There comes to everyone a turning point in their lives, M. Poirot. They stand at the crossroads and have to decide. My profession interests me enormously; it is a sorrow - a very great sorrow - to abandon it. But there are other claims. There is, M. Poirot, the happiness of a human being. - Author: Agatha Christie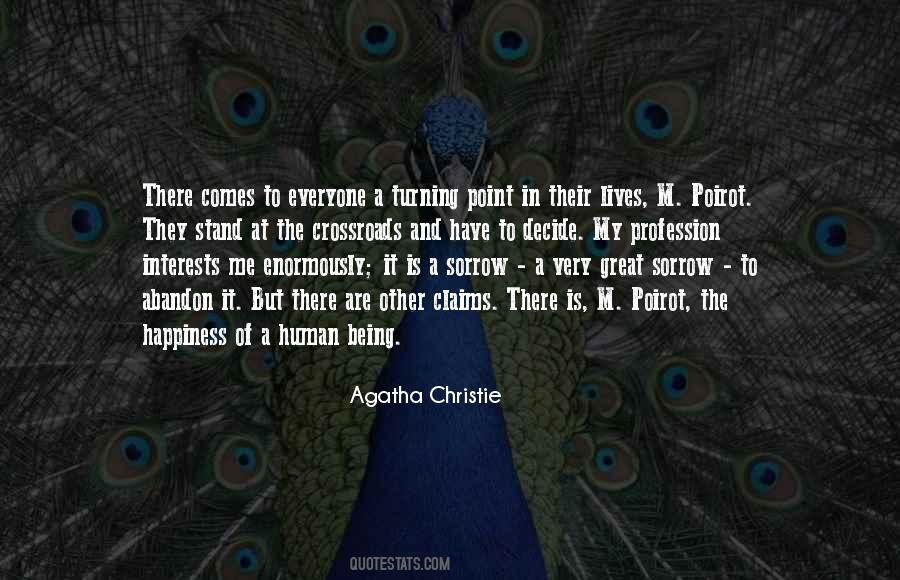 #47. Happiness is a gift and the trick is not to expect it, but to delight in it when it comes. - Author: Charles Dickens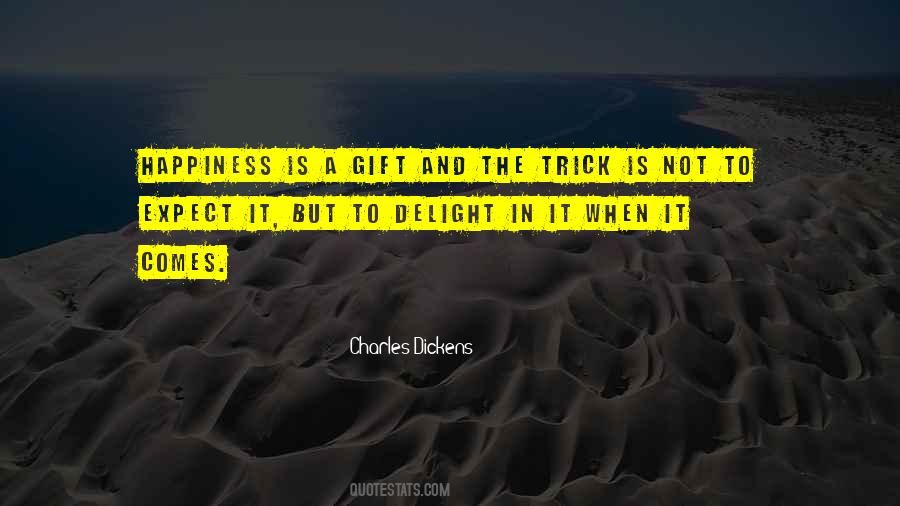 #48. Friends have suggested that I am the least qualified person to talk about happiness, because I am often down, and sometimes profoundly depressed. But I think that's where my qualification comes from. Because to know happiness, it helps to know unhappiness. - Author: Alastair Campbell
#49. All happiness comes from the desire for others to be happy. - Author: Shantideva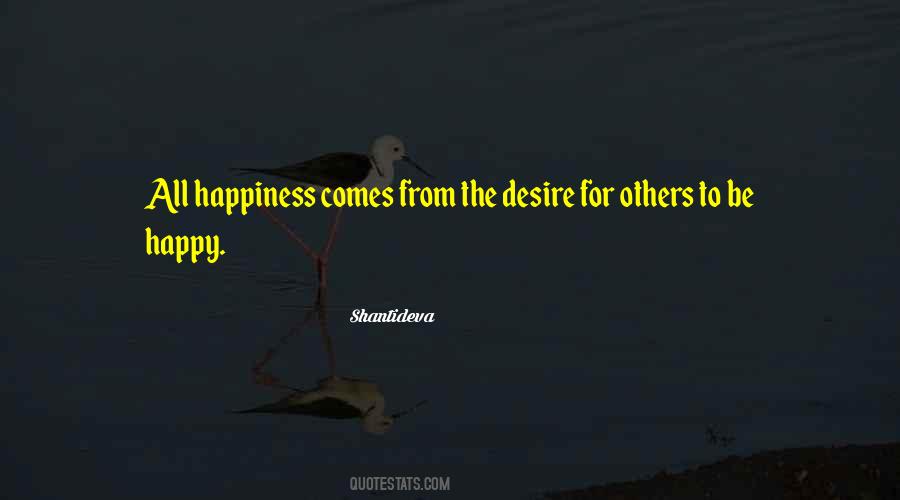 #50. The secret to happiness is to embrace the humility to accept what comes and the courage to continue on your life's path with an open heart. - Author: Mary Alice Monroe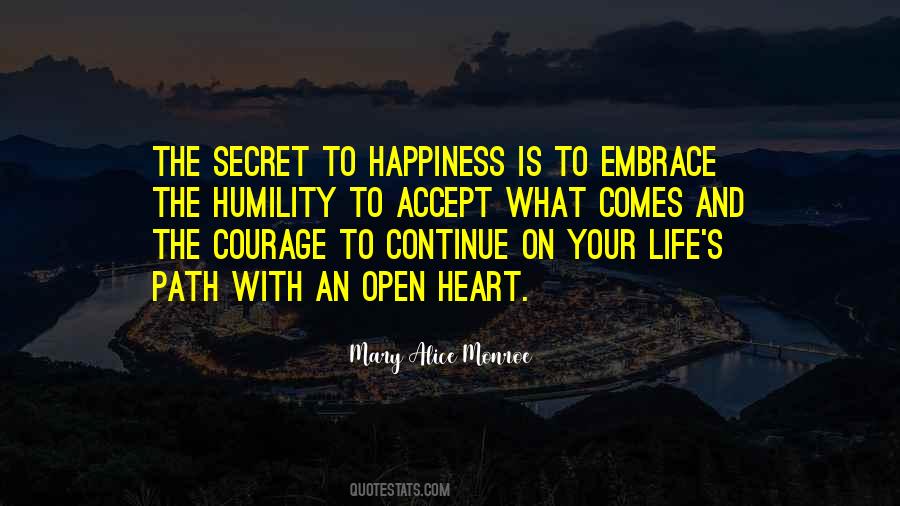 #51. Happiness comes towards those which believe in him - Author: Ali Ibn Abi Talib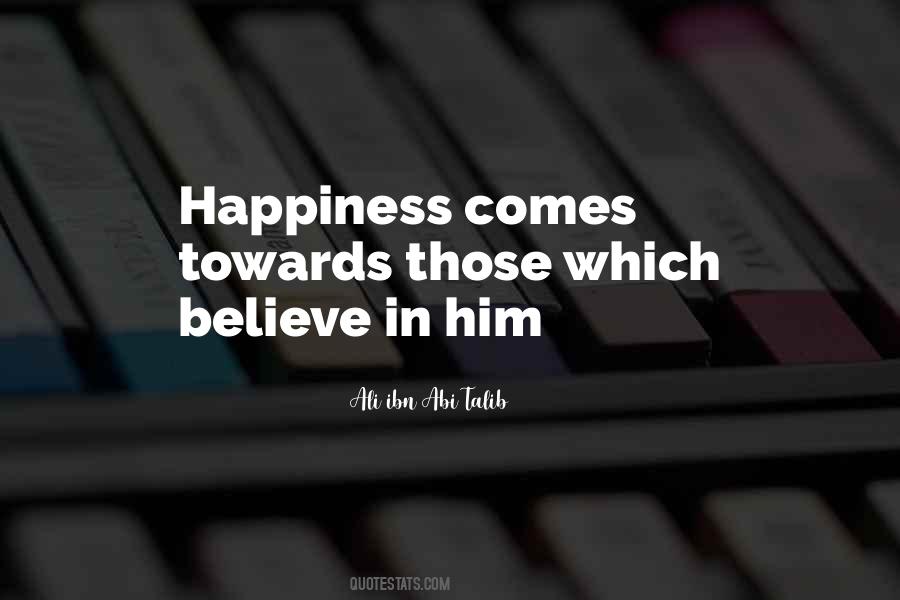 #52. Beauty comes from the happiness within. - Author: Liv Tyler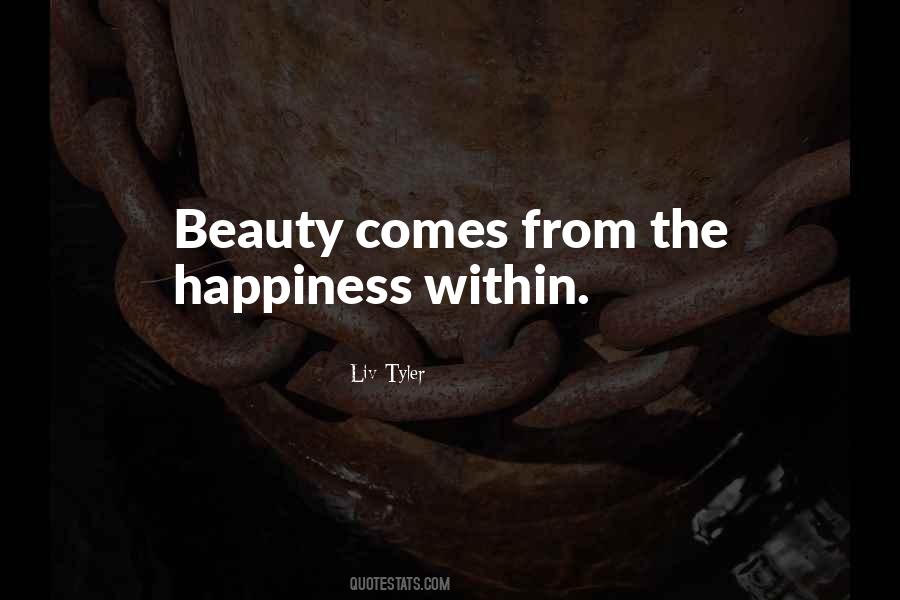 #53. Real happiness and peace is attained only if one comes into one's true Self. - Author: Dada Bhagwan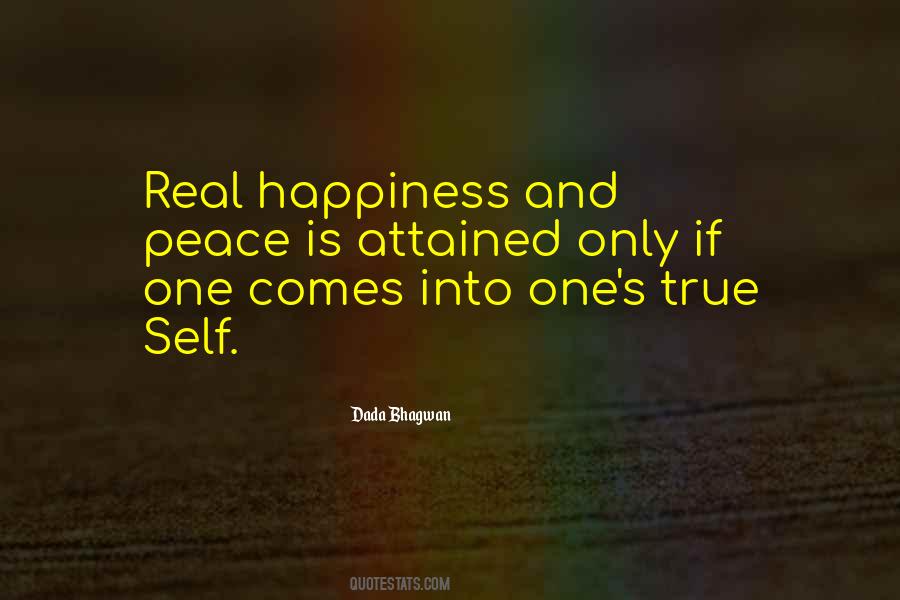 #54. Creativity comes from curious, intuitive, persistent action. - Author: Debasish Mridha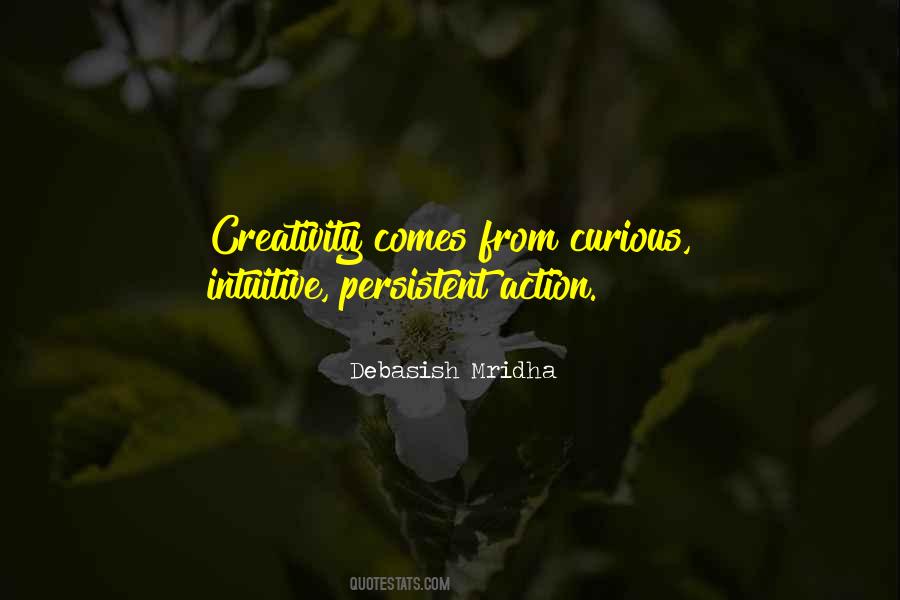 #55. Coming true is not the only purpose of a dream. Its most important purpose is to get us in touch with where dreams come from, where passion comes from, where happiness comes from. Even a shattered dream can do that for you. - Author: Lisa Bu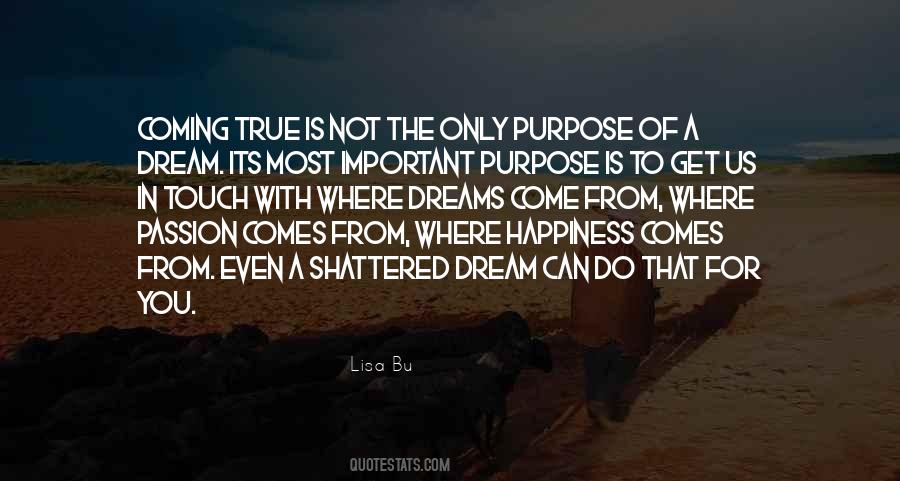 #56. America stands for liberty, for the pursuit of happiness and for the unalienable right for life. This right to life cannot be granted or denied by government because it does not come from government, it comes from the creator of life. - Author: George W. Bush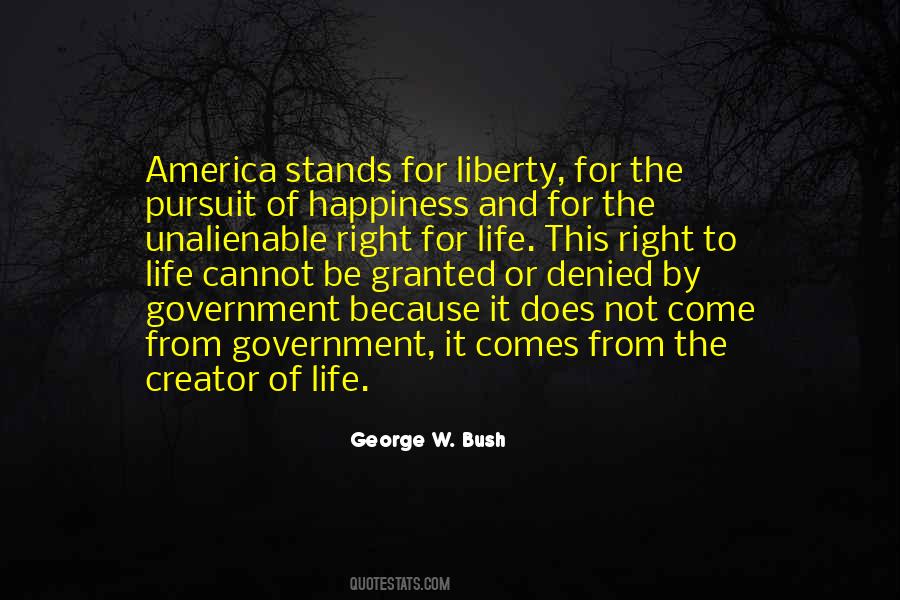 #57. Continuity of purpose is one of the most essential ingredients of happiness in the long run, and for most men that comes chiefly through their work. - Author: Bertrand Russell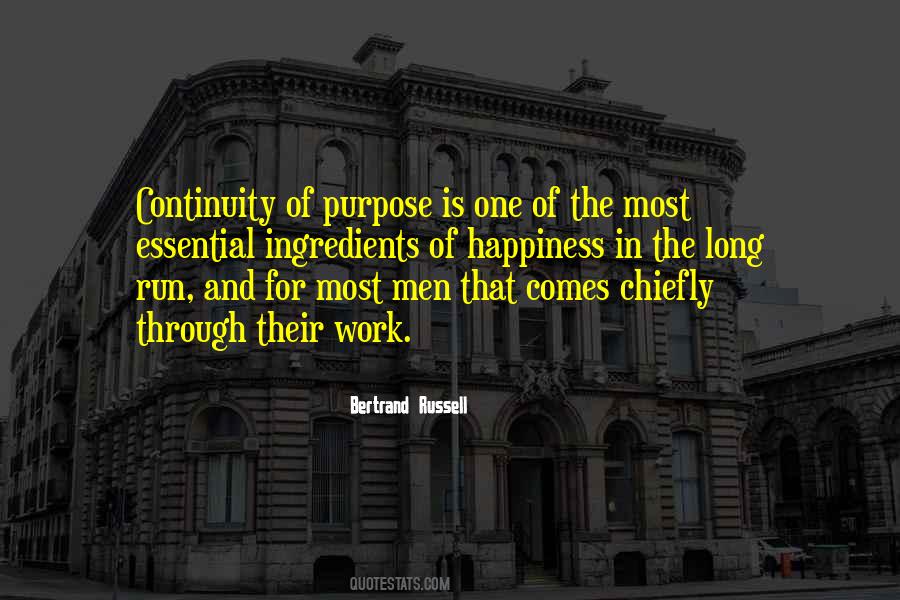 #58. Gratitude always comes into play; research shows that people are happier if they are grateful for the positive things in their lives, rather than worrying about what might be missing. - Author: Dan Buettner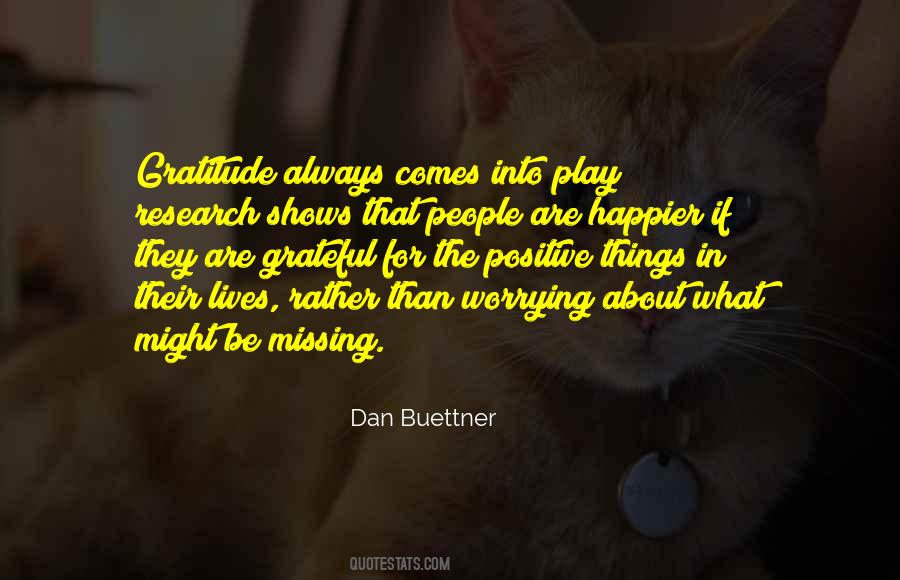 #59. Whence comes this idea that if what we are doing is fun, it can't be God's will? The God who made giraffes, a baby's fingernails, a puppy's tail, a crooknecked squash, the bobwhite's call, and a young girl's giggle, has a sense of humor. Make no mistake about that. - Author: Catherine Marshall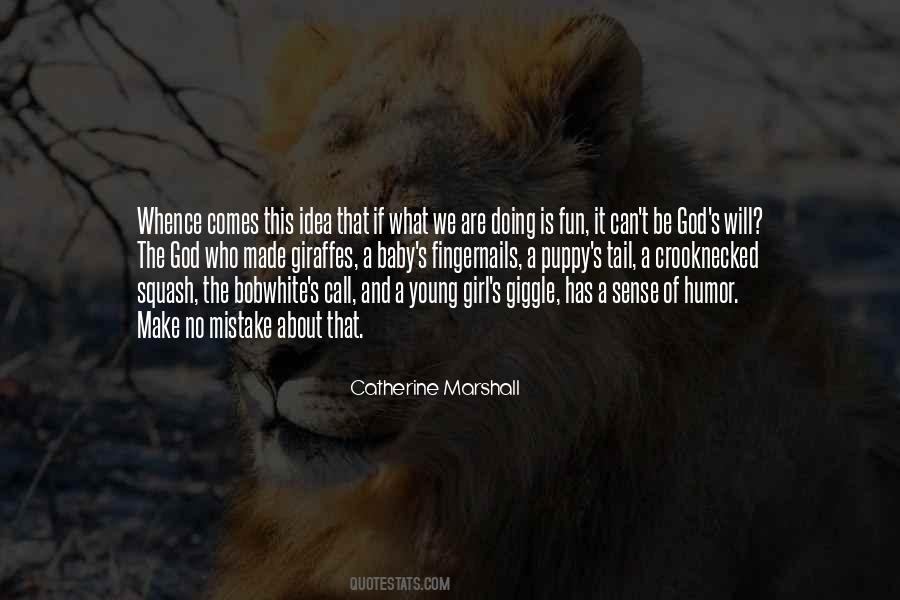 #60. Fulfillment comes not in pursuit of happiness, but rather in pursuit of service. - Author: Philip Yancey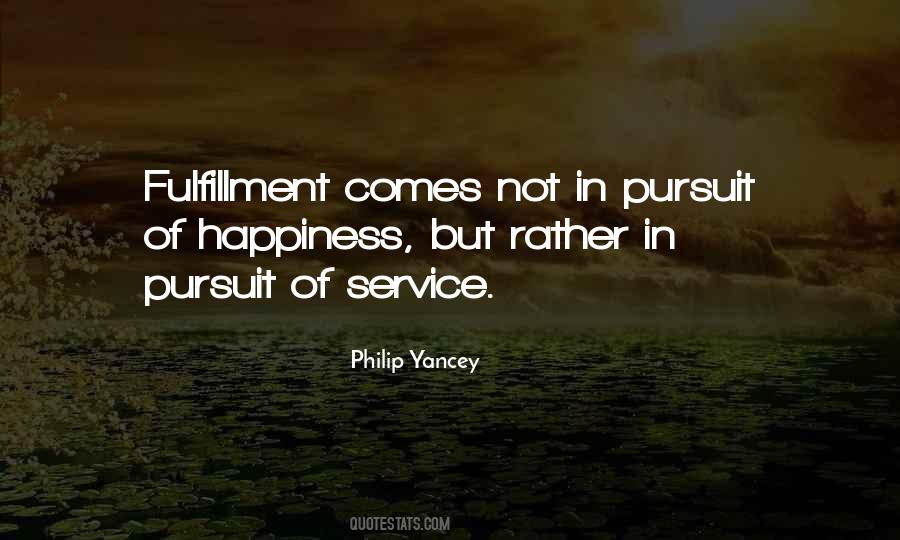 #61. Happiness comes to those who are moving toward something they want very much to happen. And it almost always involves making someone else happy. - Author: Earl Nightingale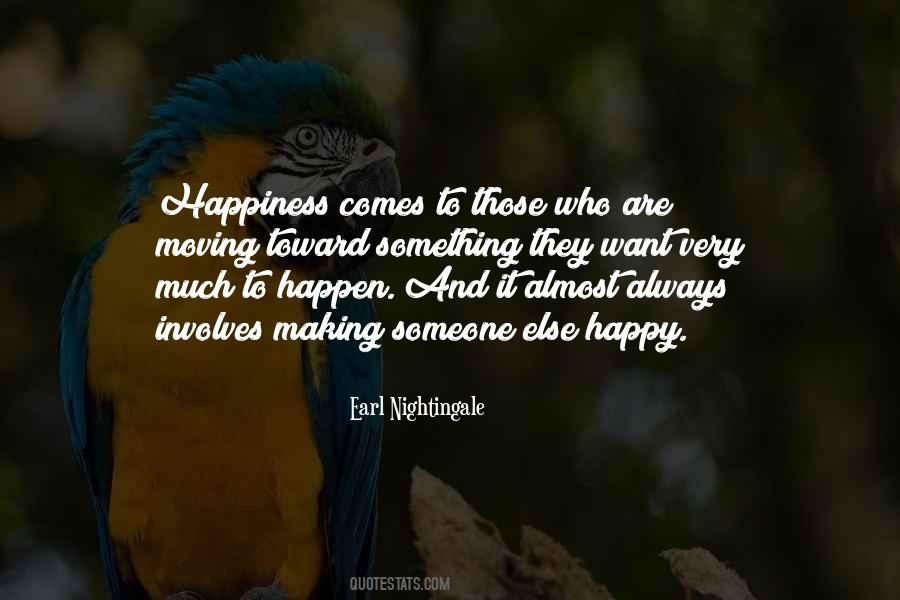 #62. For me, beauty comes from natural happiness. I think that a woman glows, and a man, even, when they're healthy and they're happy. - Author: Michelle Yeoh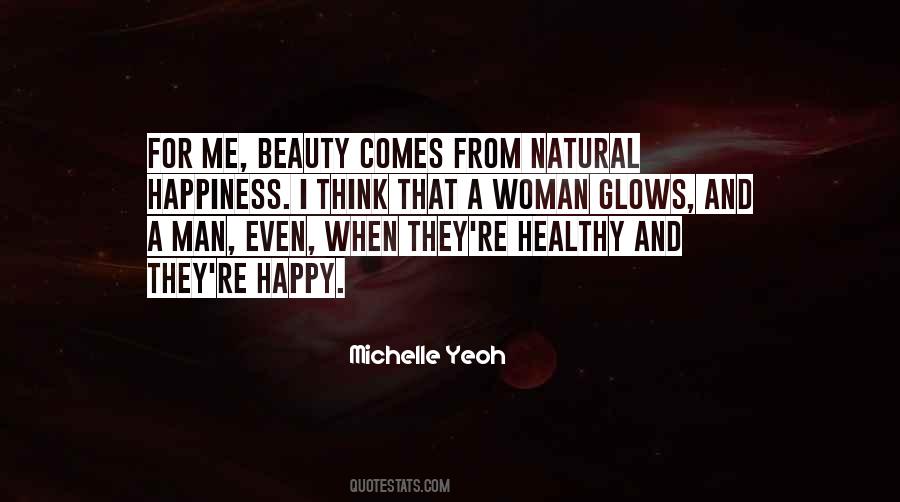 #63. Real happiness comes from inside. Nobody can give it to you. - Author: Sharon Stone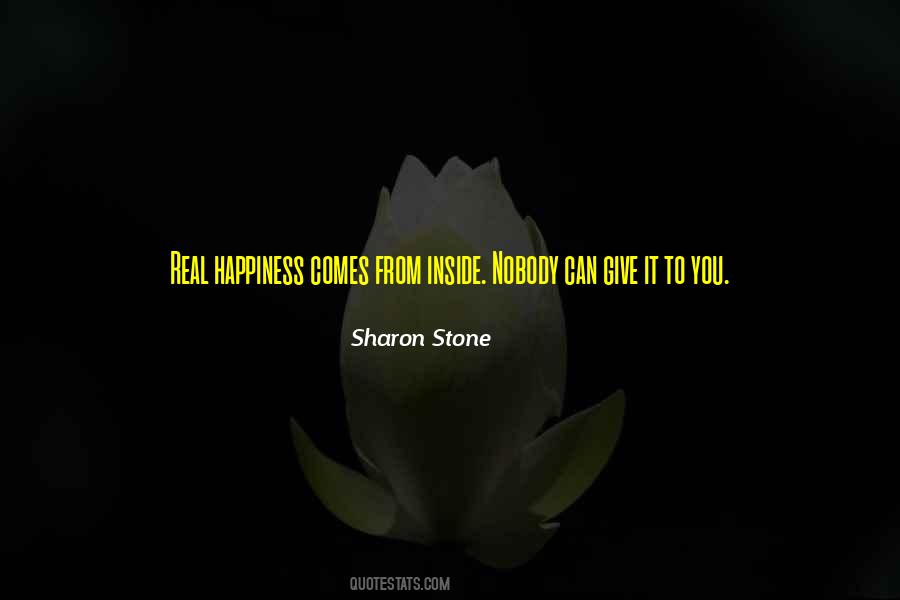 #64. Happiness is a habit, it isn't something that comes with new clothes. It's something you have to work at. So, start smiling and get out and take some exercise - Author: John Crace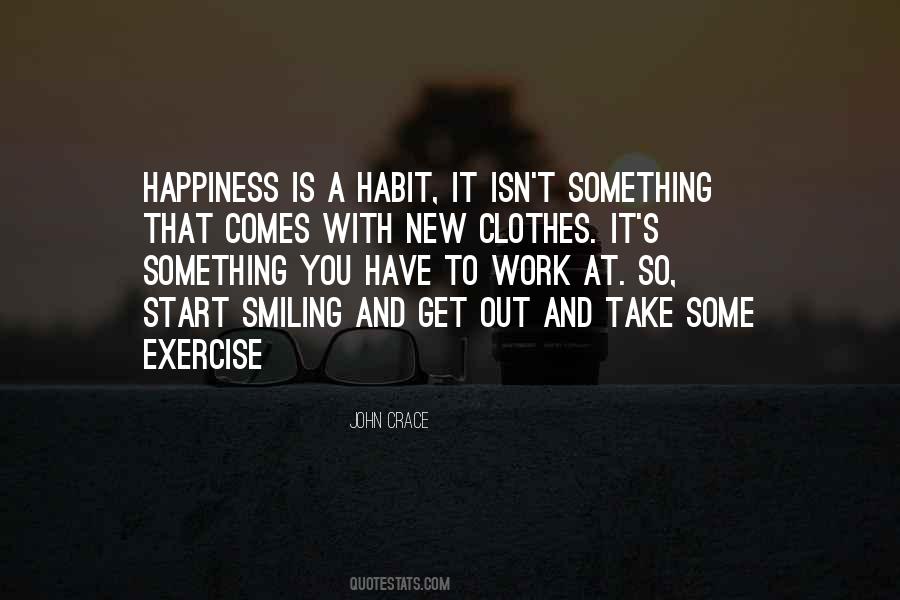 #65. I'm an inherently happy person. It comes from the inside, which means you can achieve happiness under any circumstance. - Author: Patrick Duffy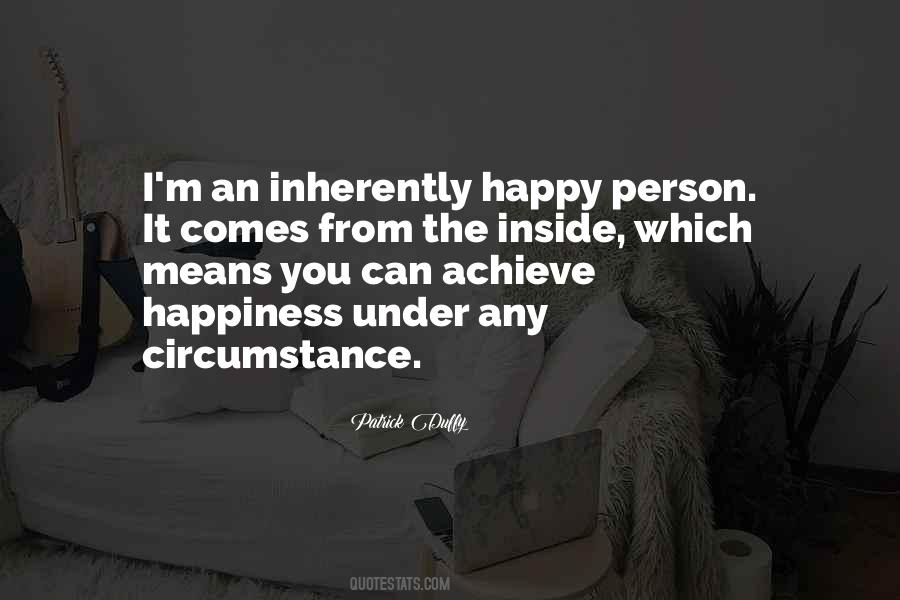 #66. Where do we find happiness? We pursue it, search for it, kill ourselves trying to find it, and all the time it's just here ... It comes just when we've stopped expecting anything, stopped hoping, stopped being afraid. - Author: Irene Nemirovsky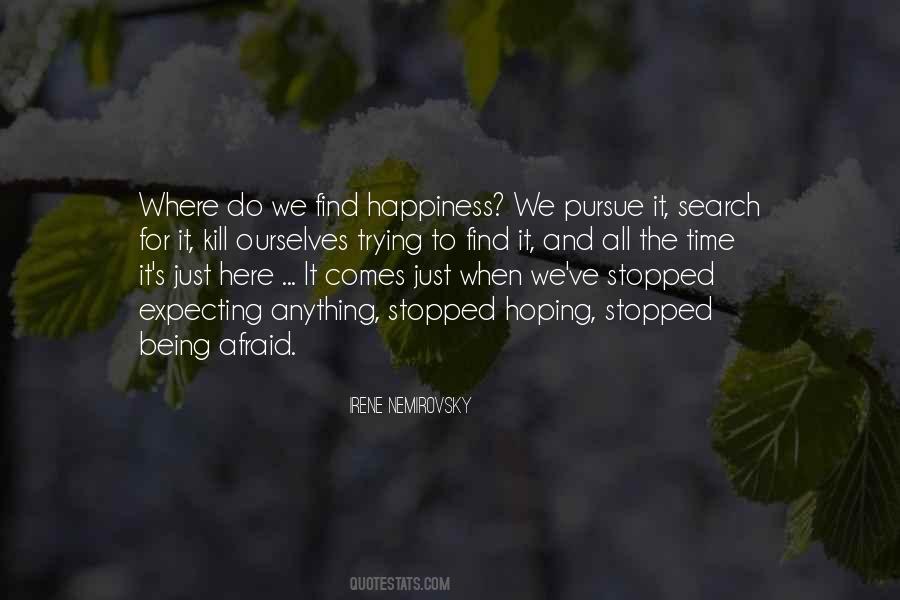 #67. Happiness comes from physical activity; sorrow from thought. - Author: Marty Rubin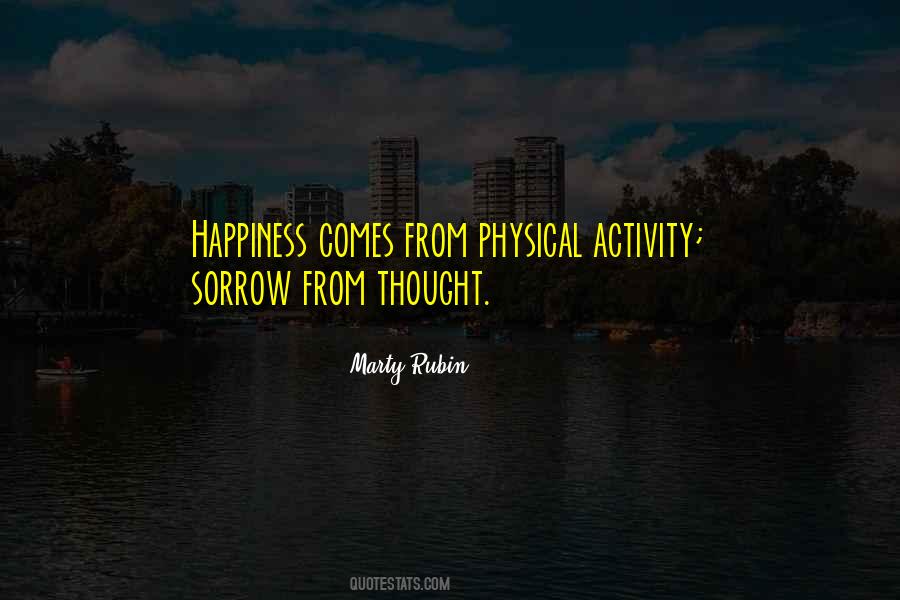 #68. Happiness comes in small doses folks. It's a cigarette butt, or a chocolate chip cookie or a five second orgasm. You come, you smoke the butt you eat the cookie you go to sleep wake up and go back to fucking work the next morning, THAT'S IT! End of fucking list! - Author: Denis Leary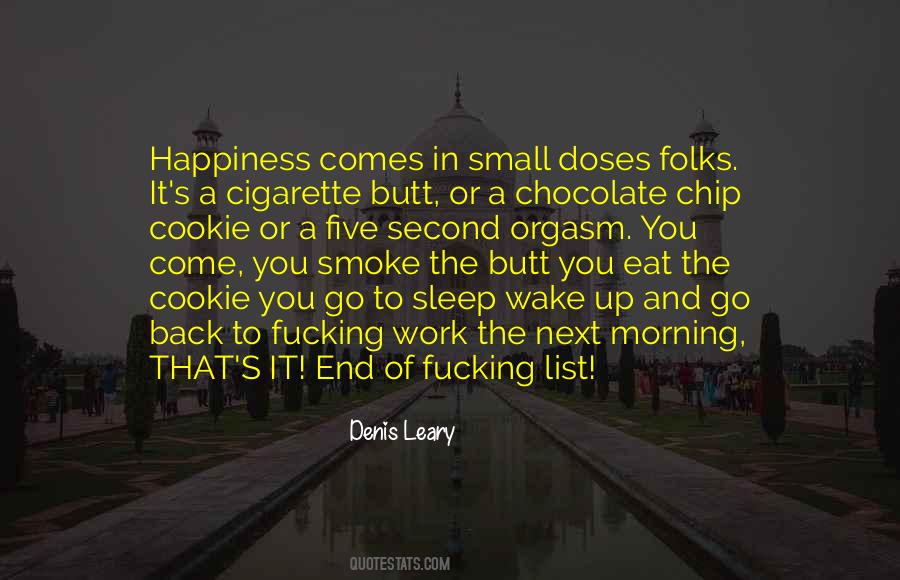 #69. Stuff comes and stuff goes and the only thing that matters in the end is who you are inside, what you do and what make it leaves in the world. - Author: Claire Cross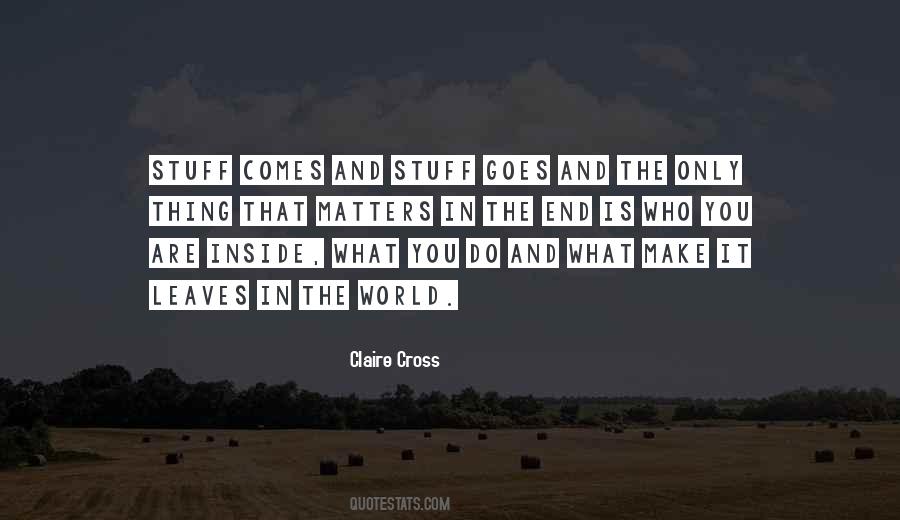 #70. Our greatest happiness comes from the experience of love & compassion. - Author: Allan Lokos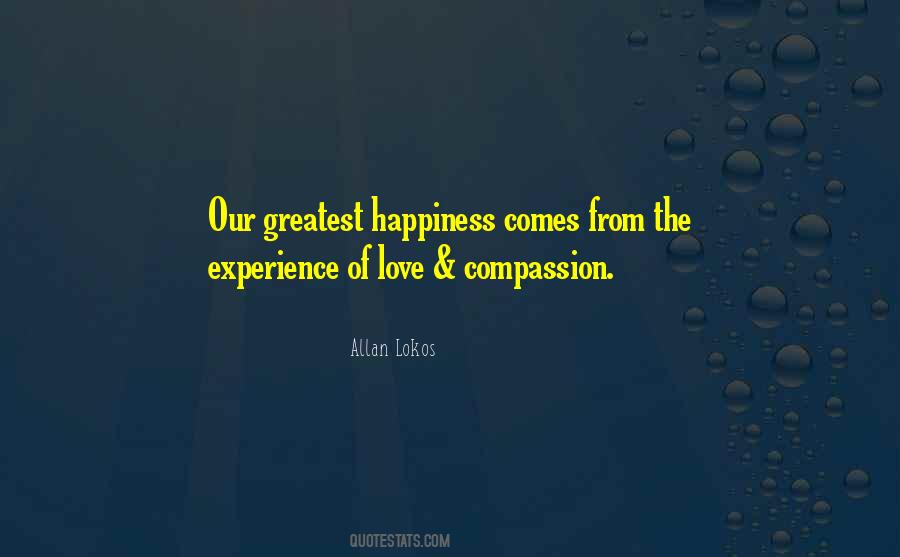 #71. I kept looking for happiness, and then I realized: This is it. It's a moment, and it comes, and it goes, and it'll come back again. I yearn for things, but at the same time I'm just peaceful. - Author: Nicole Kidman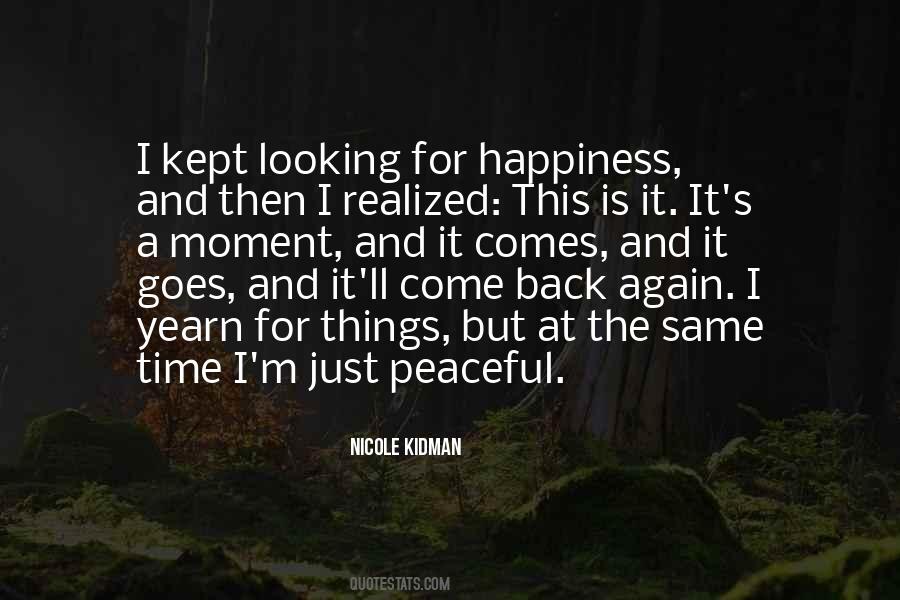 #72. We owe it to our husband or wife, our fellow workers, our children, our friends, indeed to everyone who comes into our lives, to be as happy as we can be. - Author: Dennis Prager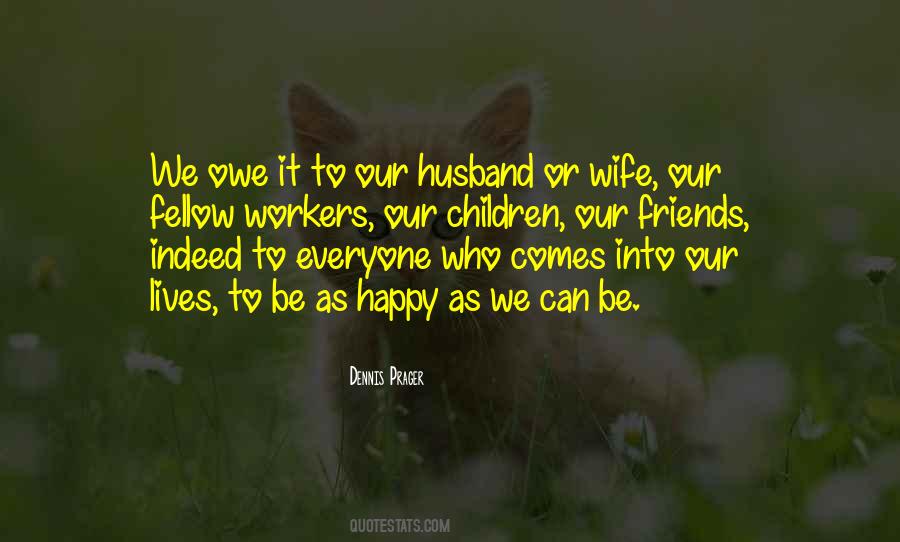 #73. Happiness is something that you are, and it comes from the way you think. - Author: Wayne Dyer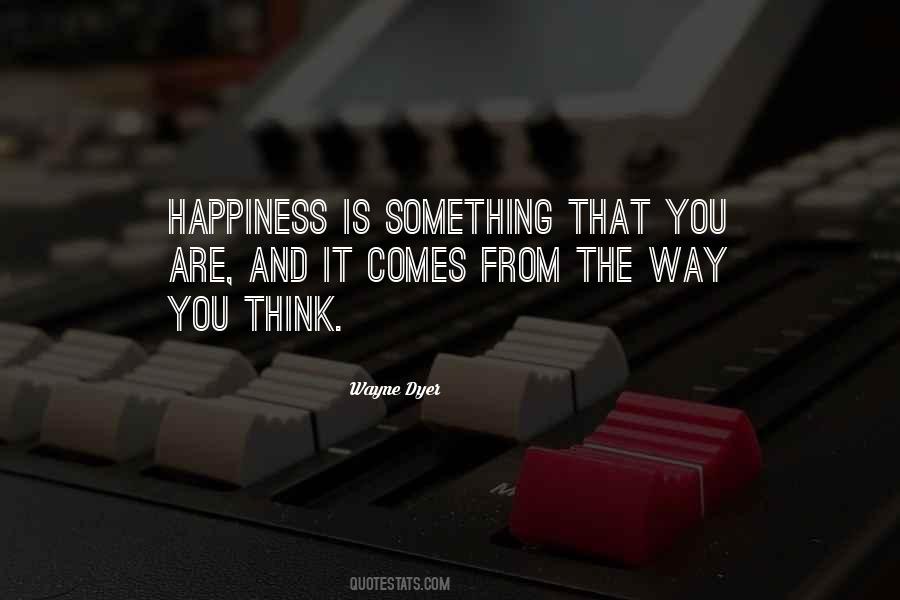 #74. Try that yourself sometime: Take something (or someone) you love, and -in your imagination- say goodbye forever right now. Grieve for a moment. Then feel the explosion of happiness that comes when you remind yourself you don't have to say goobye.
At least, not yet. - Author: Teller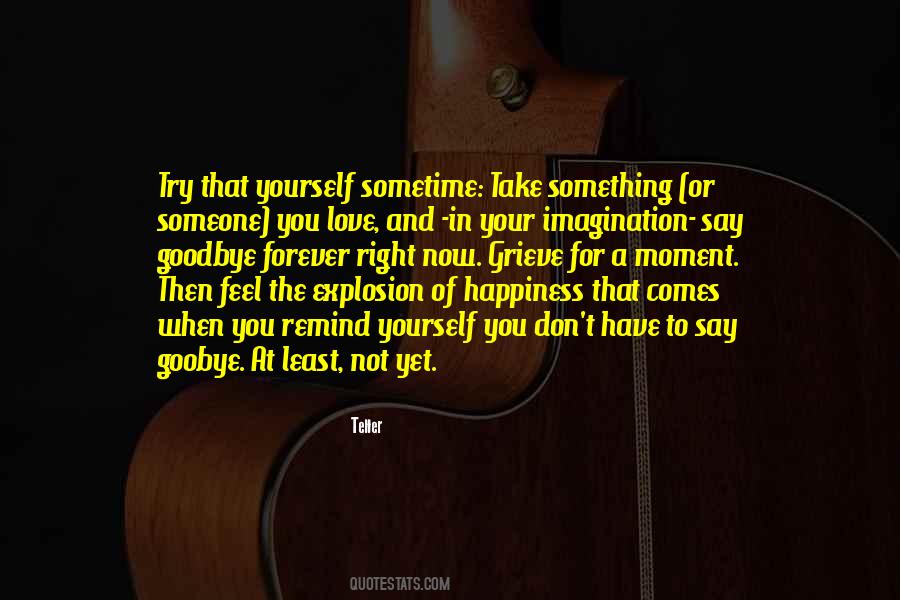 #75. I keep forgetting were Pono's girls. Maybe we're not suppose to be happy.'
'Then we'll pretend to be,' Rachel said. ' We'll make it a habit, no matter what.'
That's all we can do, Jess thought. Live in readiness for whatever comes. - Author: Kiana Davenport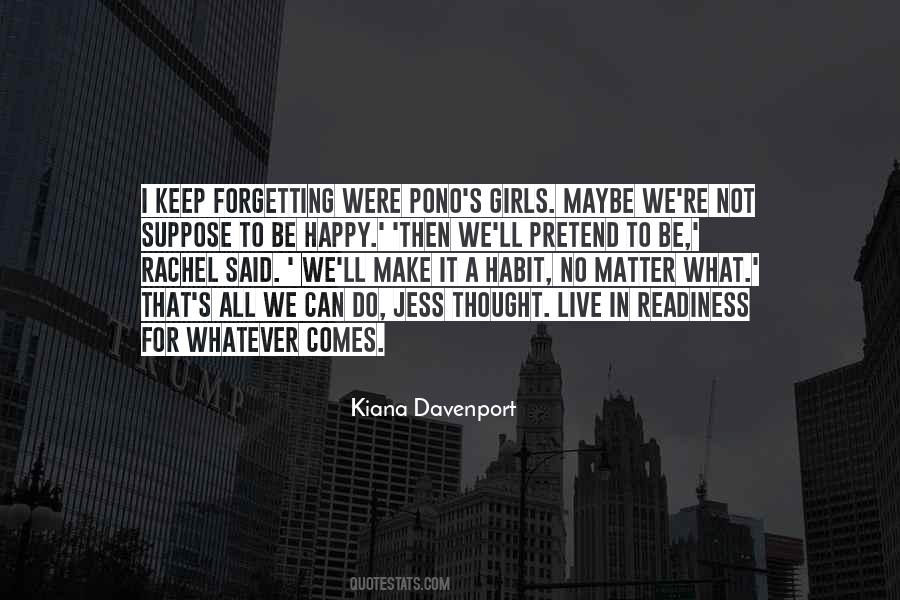 #76. Seek happiness now within you. Don't look anywhere else or for anyone to help bring that happiness to your life. Happiness comes as a reward of battles we win. Happiness will come from the will to be strong minded and the readiness to face the next challenge with a smile. - Author: Sal Martinez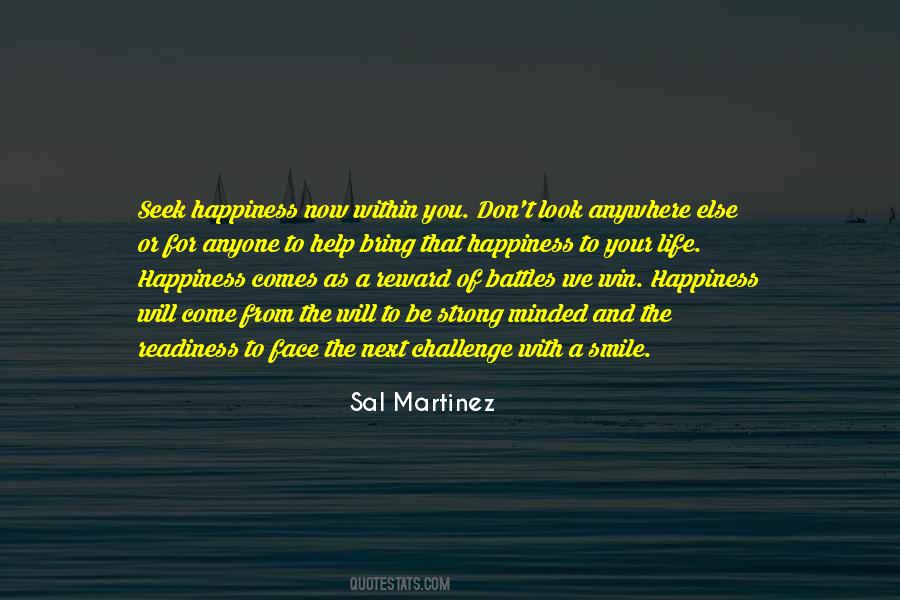 #77. And to know that joy - not just happiness, but true joy - comes when we give up our own agenda and let God work through us. Then we can begin to see the bigger picture, the eternal picture, rather than just the tiny brush stroke of our own lives. - Author: Laura Sobiech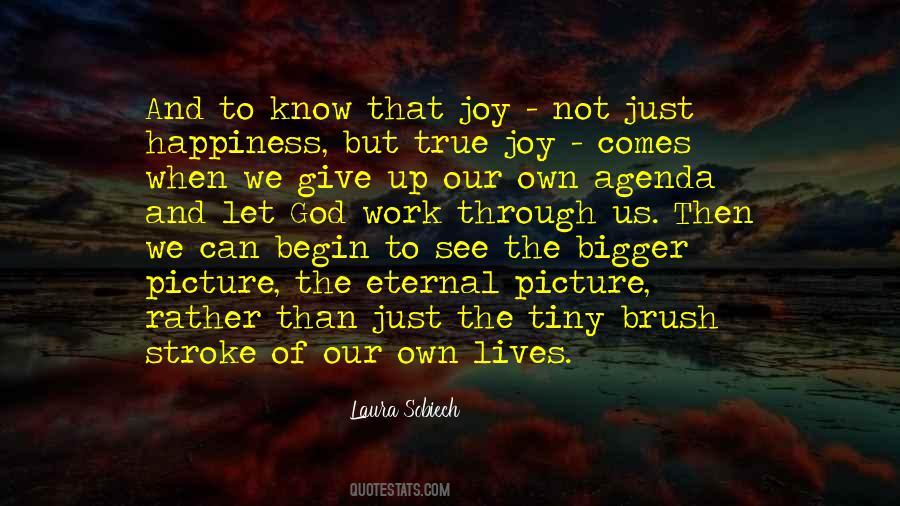 #78. Mystery is gone to the certainty of technological principles. So the real terror, the real aggression against life comes in the form of the pursuit of our technological happiness. - Author: Godfrey Reggio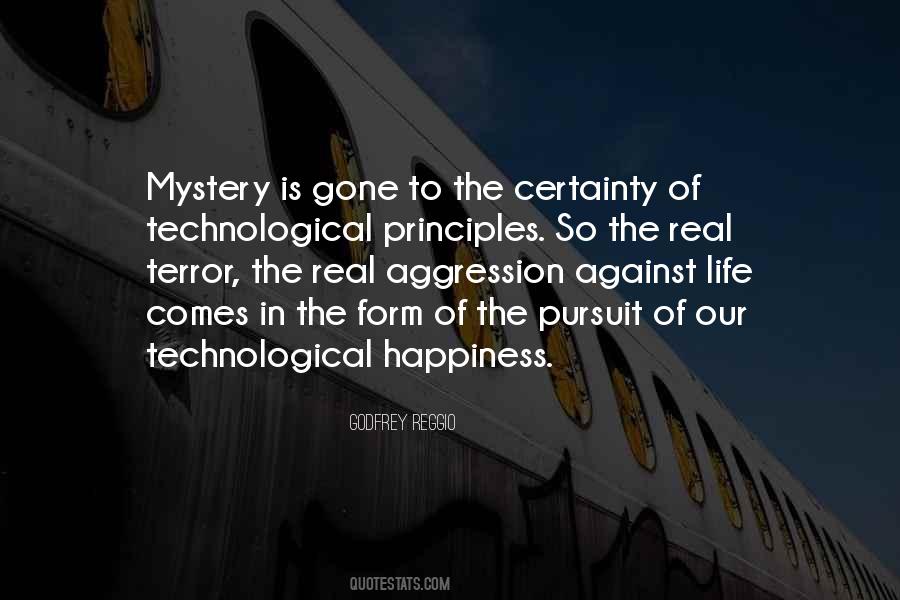 #79. The greatest happiness comes from the greatest activity. - Author: Christian Nestell Bovee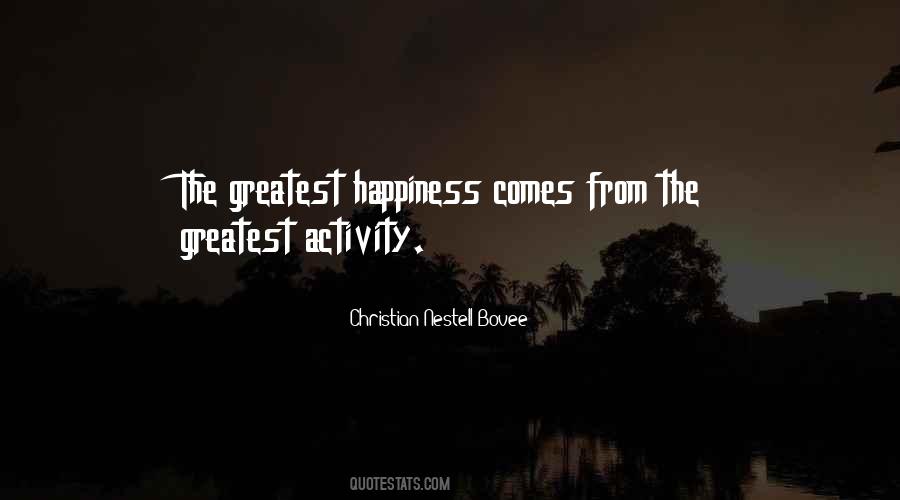 #80. The greatest happiness we can give to a mate comes from helping him or her to more understanding of Truth. - Author: Lester Levenson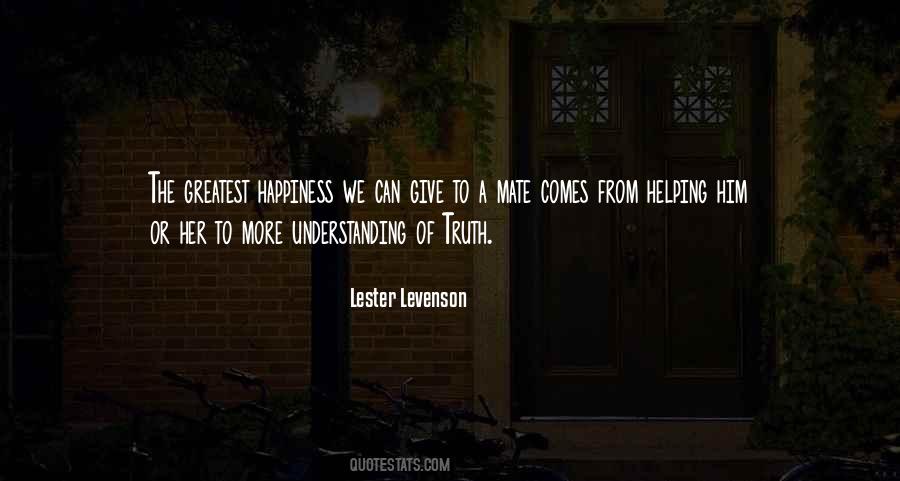 #81. Now my ability to notice things and respond to things and be here is far more profound. With that comes happiness, with it comes sadness, but it's a beautiful life. - Author: Nicole Kidman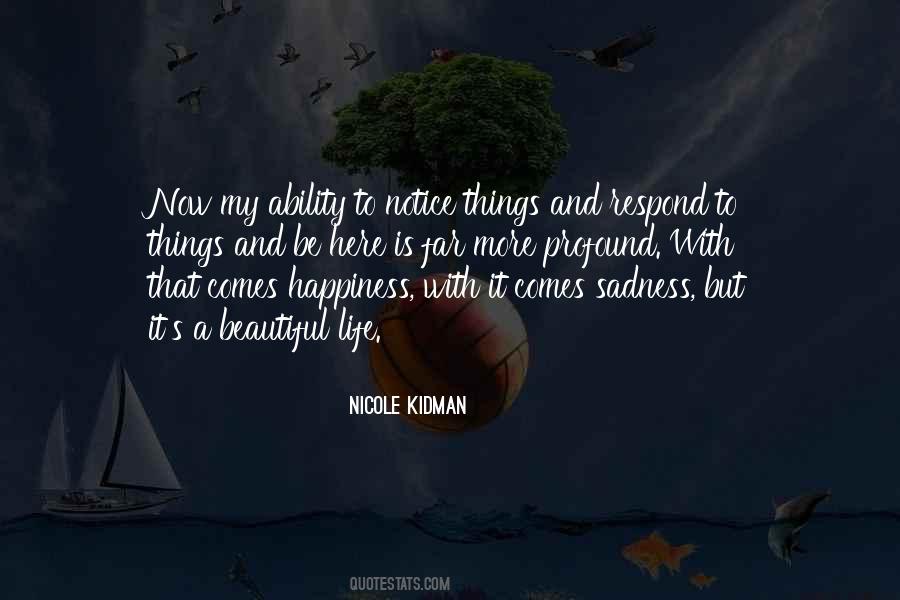 #82. Understand this great truth: The happiness that comes from the pleasures of the world is but a minute reflection of the infinite bliss that comes from within your own Self. - Author: Mata Amritanandamayi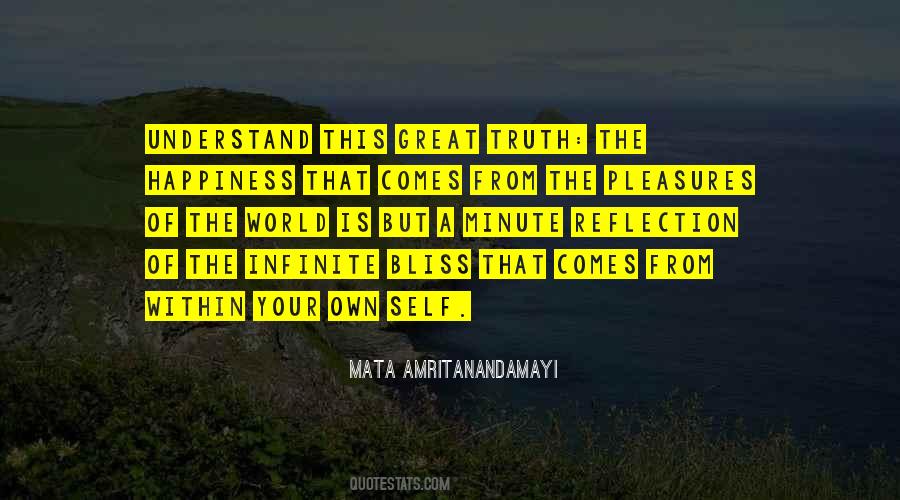 #83. Happiness comes from growth, not comfort. - Author: Steve Chandler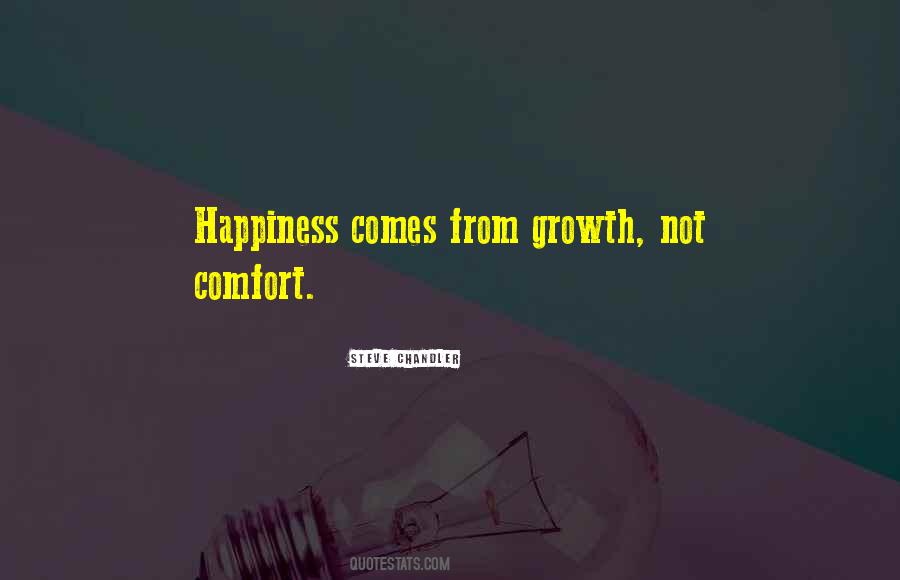 #84. Your courage comes from love. - Author: Debasish Mridha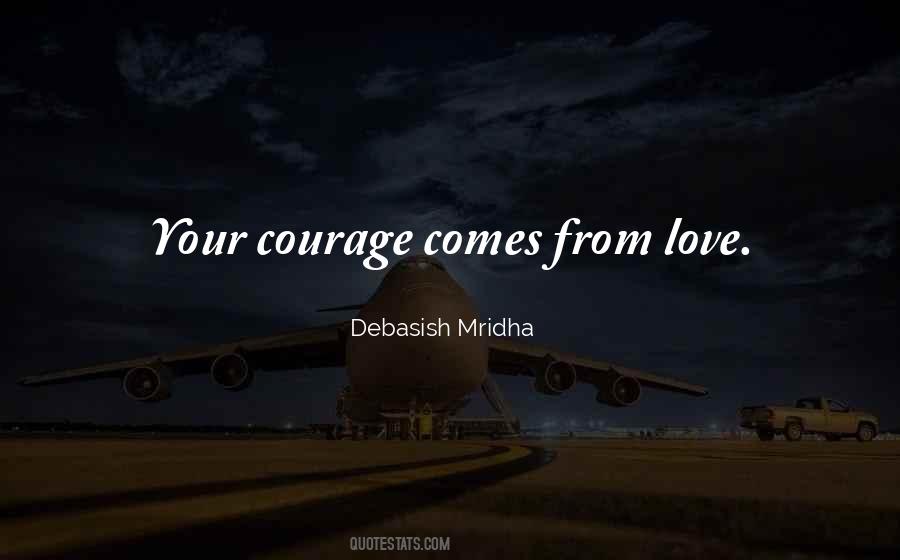 #85. Man's greatest happiness comes from losing himself for the good of others. - Author: David O. McKay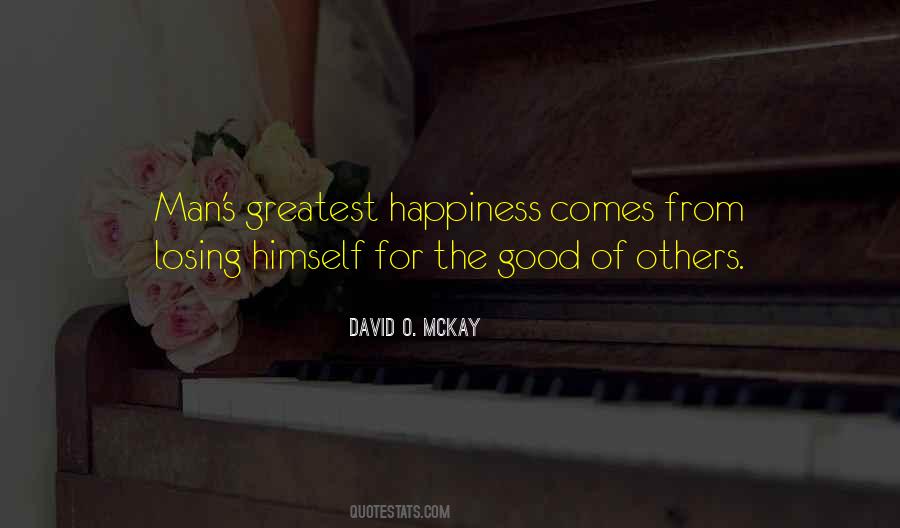 #86. Mental happiness is more important than physical comfort. Physical comfort comes from the material. But material facilities cannot provide you with peace of mind. - Author: Dalai Lama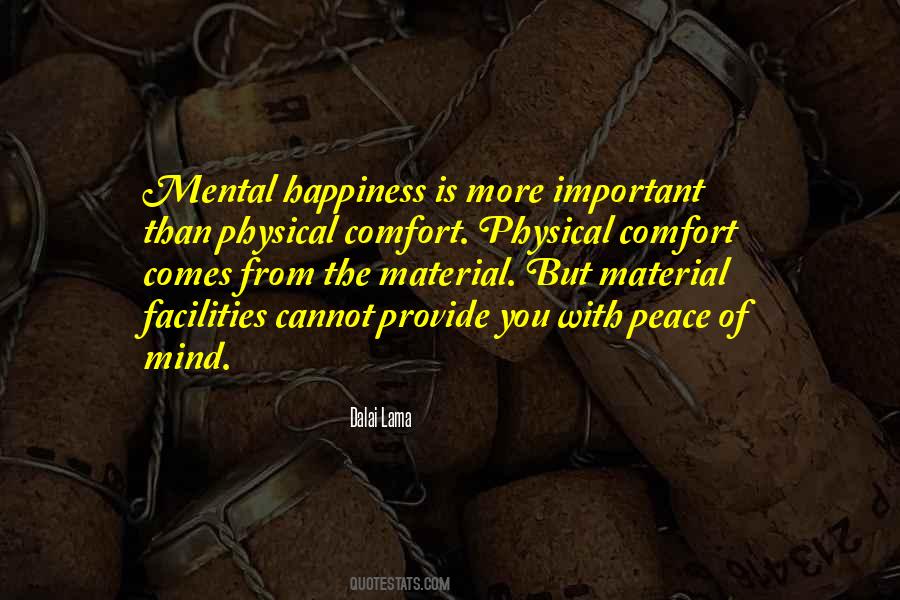 #87. Forgiveness is the key to happiness, and there is great healing that comes from going through the journey of forgiveness. - Author: Sam Gupta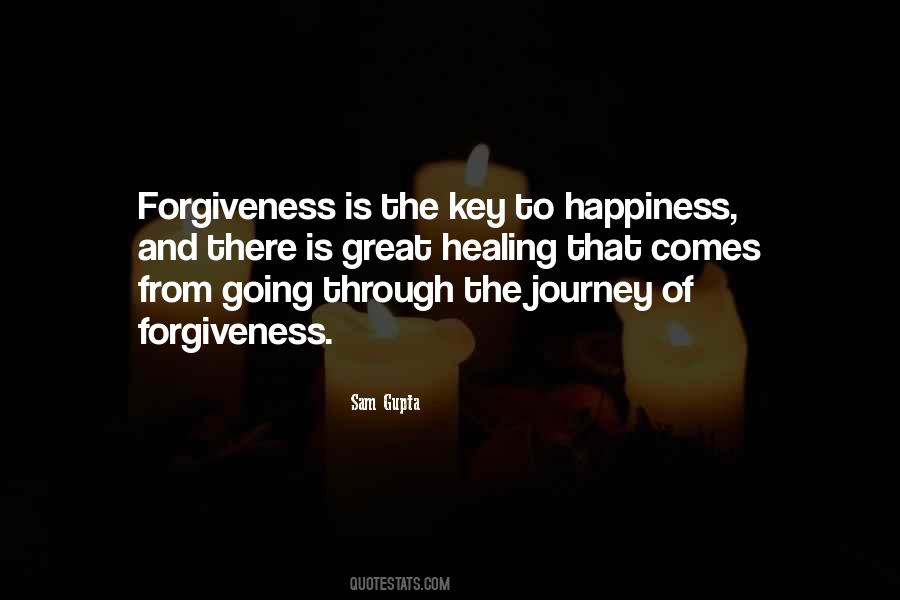 #88. Happiness only comes when you let go of who you think you are. If you think you're wealthy and powerful and noble and truthful or horrible and demonic, whatever it may be, it's all a waste of time. Take it from the Zen Master. He knows. - Author: Frederick Lenz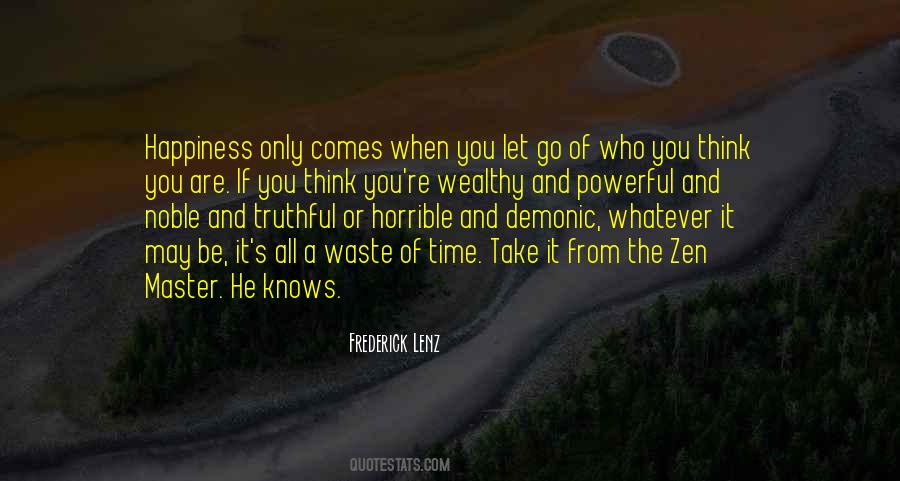 #89. Happiness in marriage comes from taking part in a threesome: you, your intimate partner, and God. - Author: Nityananda Das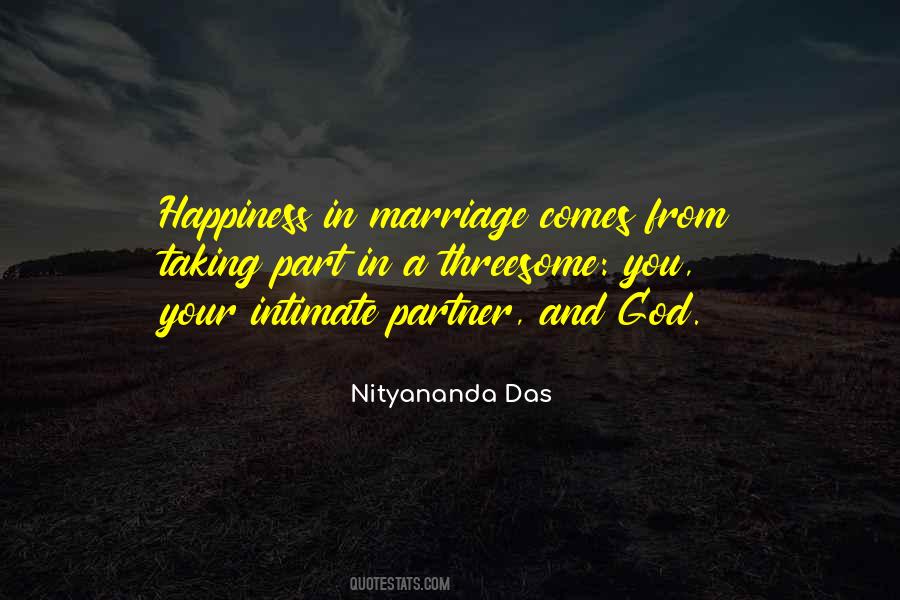 #90. Most writers enjoy two periods of happiness - when a glorious idea comes to mind, and when a last page has been written and you haven't had time to know how much better it ought to be - Author: J.B. Priestley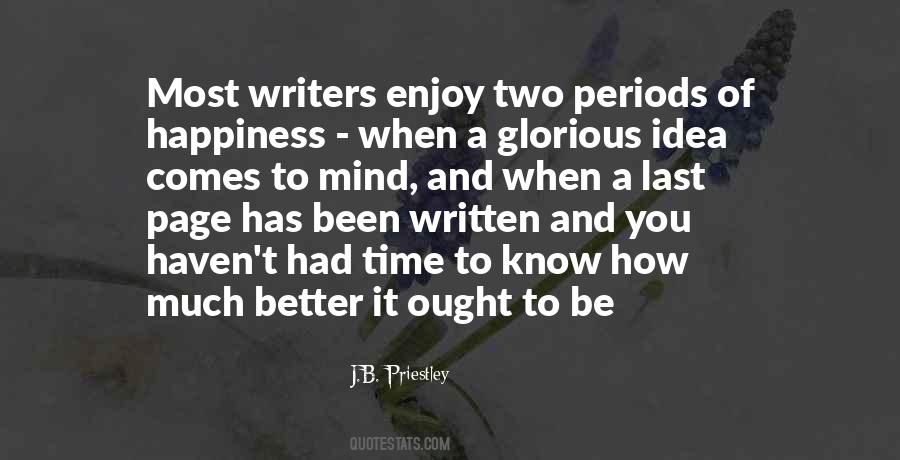 #91. Happiness don't ask to see who you be afore her sits down at your table. 'Er comes and sits with them as know how to welcome her and keep her the willing guest. - Author: Jean Plaidy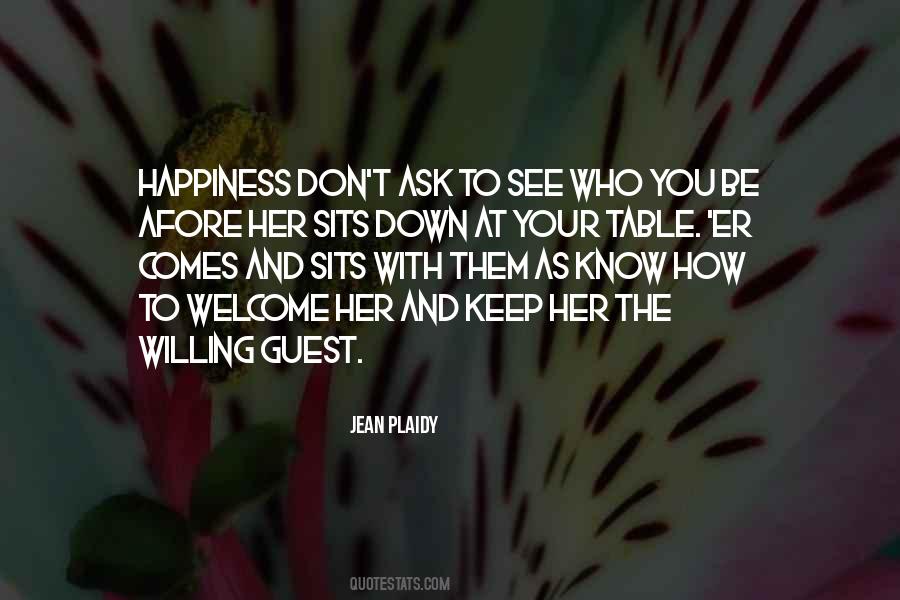 #92. Happiness. It comes on unexpectedly. And goes beyond, really, any early morning talk about it. - Author: Raymond Carver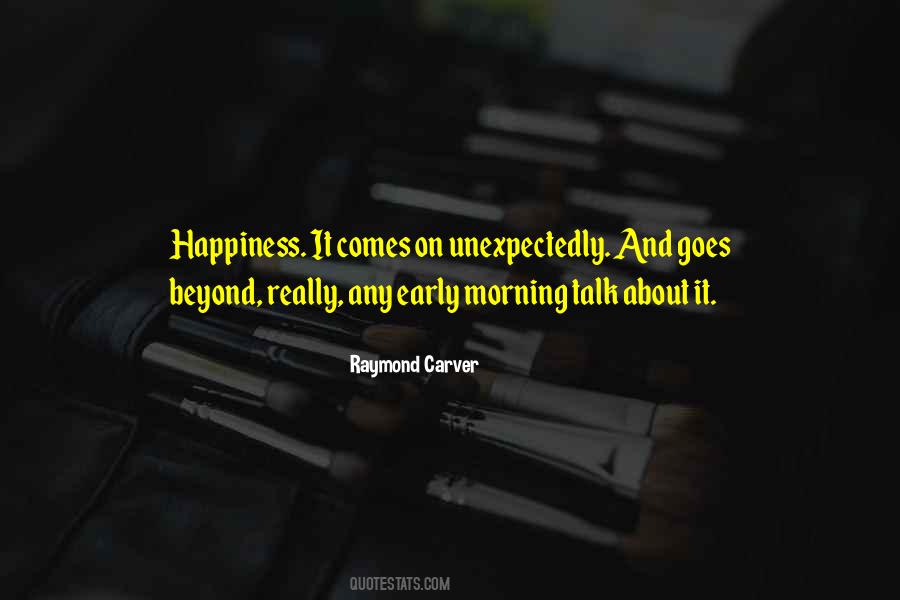 #93. And if sun comes / How shall we greet him? / Shall we not dread him, / Shall we not fear him / After so lengthy a / Session with shade? - Author: Gwendolyn Brooks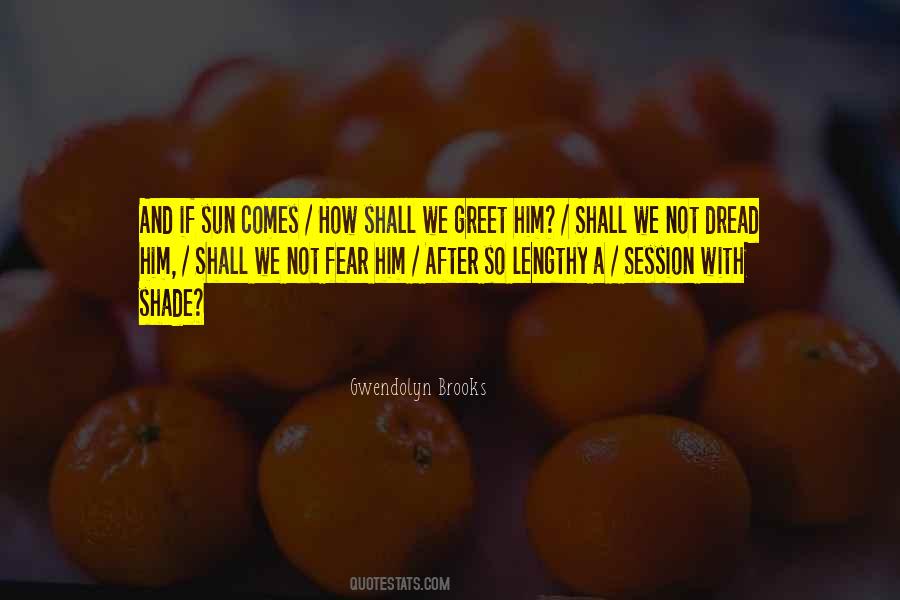 #94. Imagine for a moment that life has given you everything you dream about, but you won't be happy, because happiness comes when you pursue your dreams, otherwise it is not your dream, but charity. - Author: M.F. Moonzajer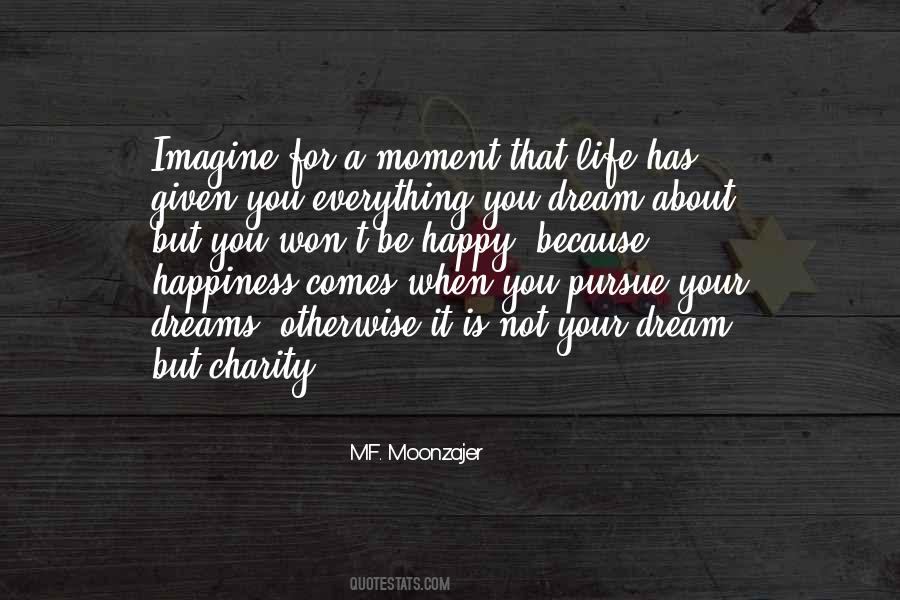 #95. Depression might have chosen you, but you don't have to choose it back. Sometimes happiness comes with bootstraps, but so what? Pull 'em up. Choose joy. - Author: Marianne Williamson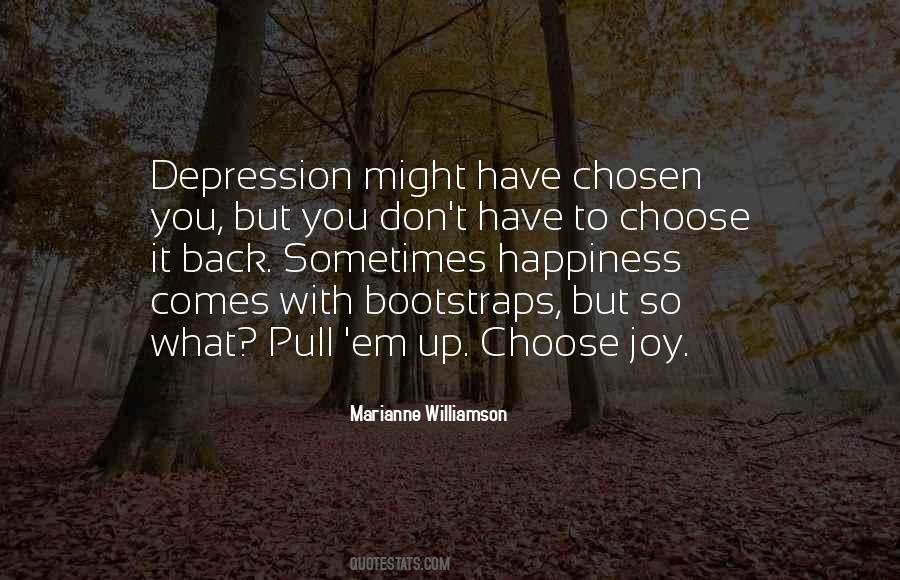 #96. Happiness comes from action, not from reaction. It is a feeling, not the success, but the perception. - Author: Debasish Mridha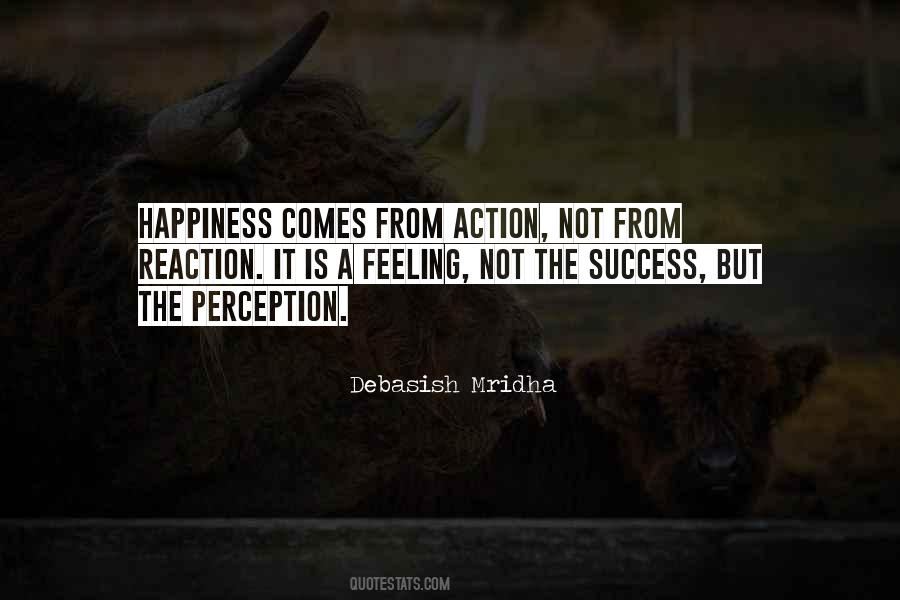 #97. In acrylic, happiness comes a bit faster. - Author: Robert Genn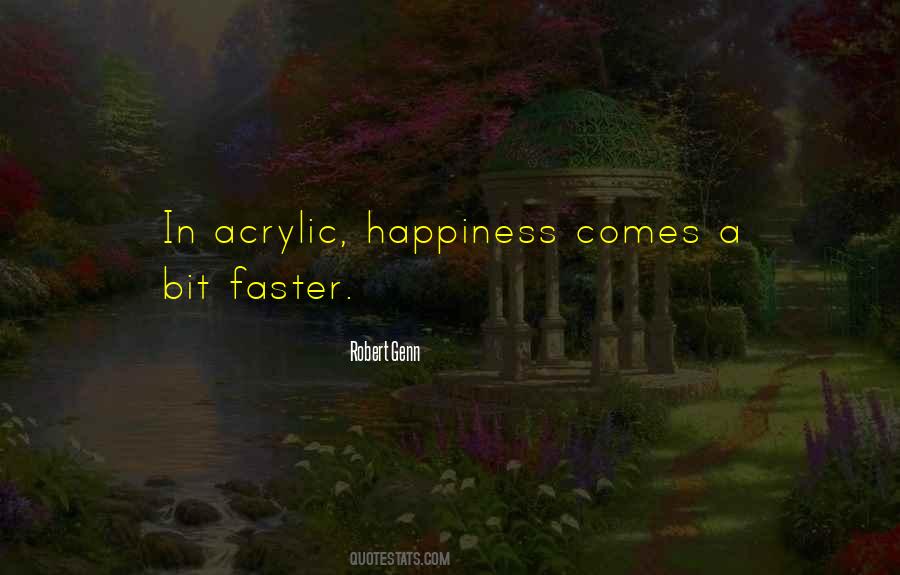 #98. They said when you are in love you will be happy but when the day comes i fell in love with someone.i regret the day that i met him.. it gives to much pain inside i feel everything is wrong.
knowing that loves is happiness.but in me it has a reversed meaning.it makes my life unhappy. - Author: O.v Grace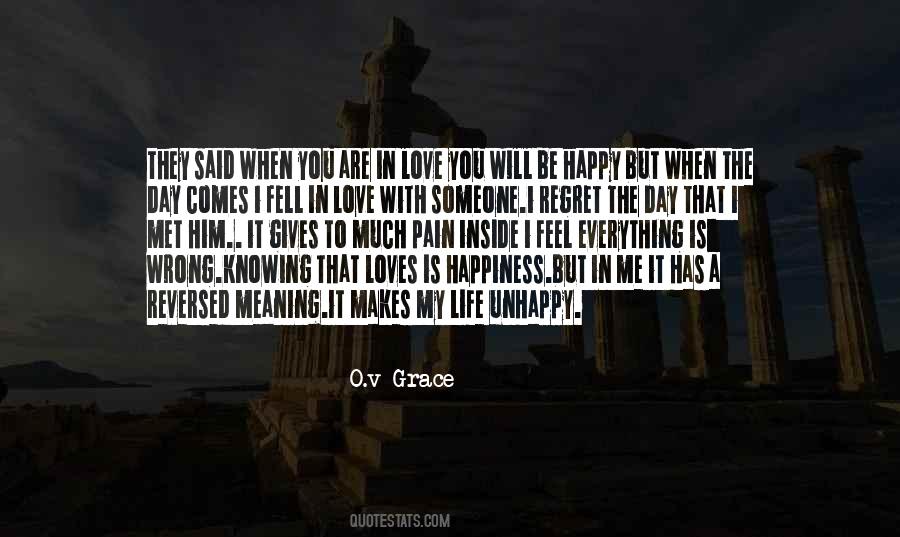 #99. Happiness is not the shallow state of feeling pleased and chipper all the time. Happiness is the state of a human being that has achieved cross-level coherence within herself, and between herself and the people, challenges, and institutions around her. Happiness comes from between. - Author: Jonathan Haidt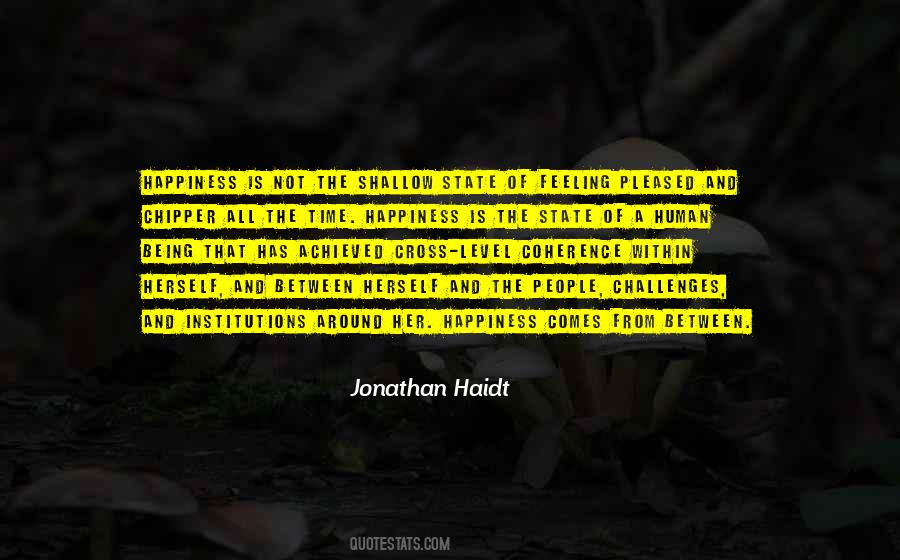 #100. Happiness is overrated. It comes and goes just like sadness and miseryboth fleeting. What's important is peace. With all. - Author: Hrithik Roshan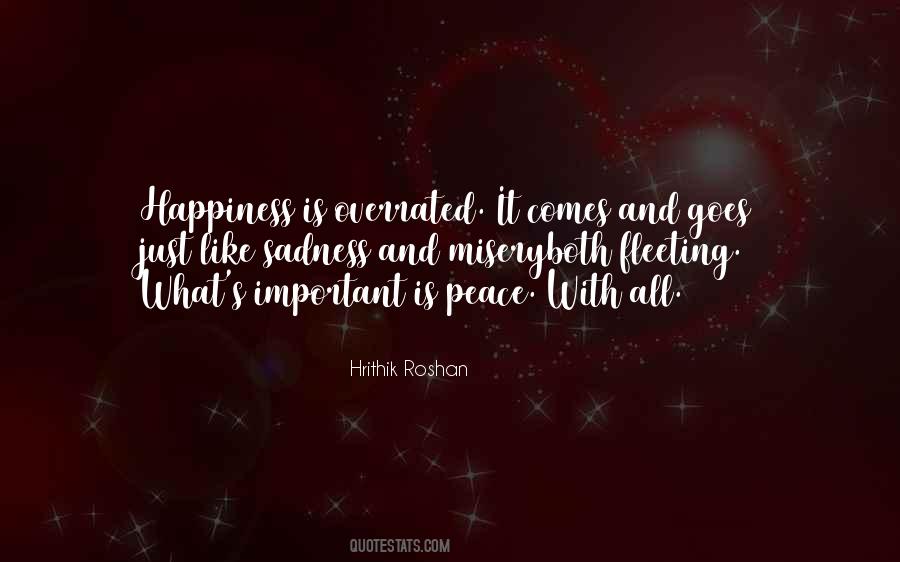 Famous Authors
Popular Topics