God Will Protect Famous Quotes & Sayings
List of top 84 famous quotes and sayings about god will protect to read and share with friends on your Facebook, Twitter, blogs.
Top 84 God Will Protect Quotes
#1. Guys said you did good today." He made a face. He'd done his job, nothing more. God knew he'd have taken on any threat to protect Taya. "Wish I'd been able to get more out of the bastard before he went to his seventy-two virgin dating service in the sky. - Author: Kaylea Cross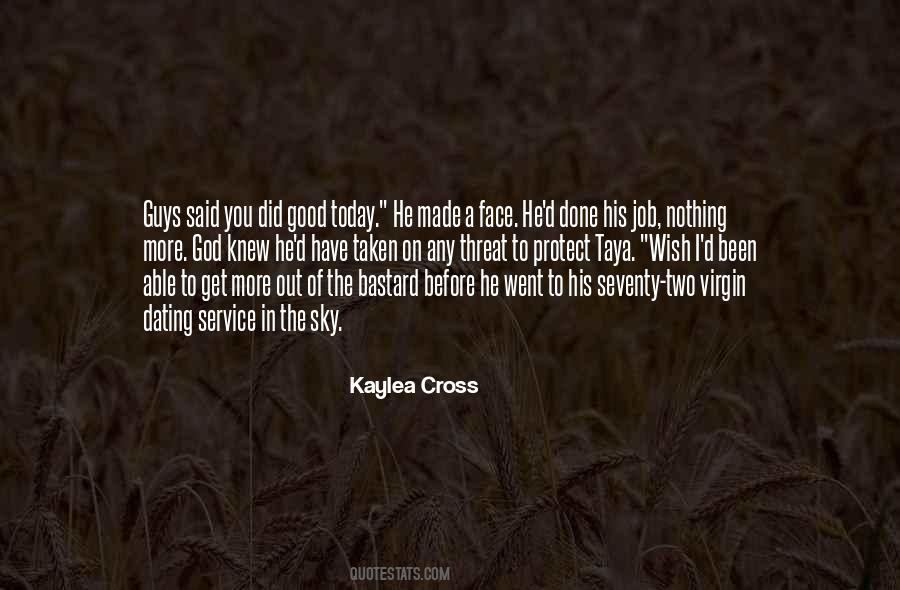 #2. I desire not to keep my place in this government an hour longer than I may preserve England in its just rights, and may protect the people of God in such a just liberty of their consciences ... - Author: Oliver Cromwell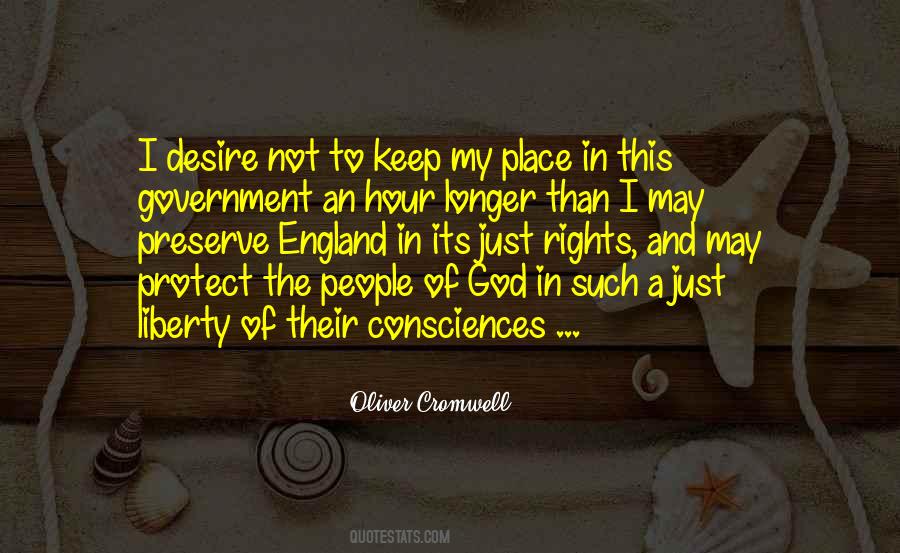 #3. May God protect us from every calamity. - Author: Lailah Gifty Akita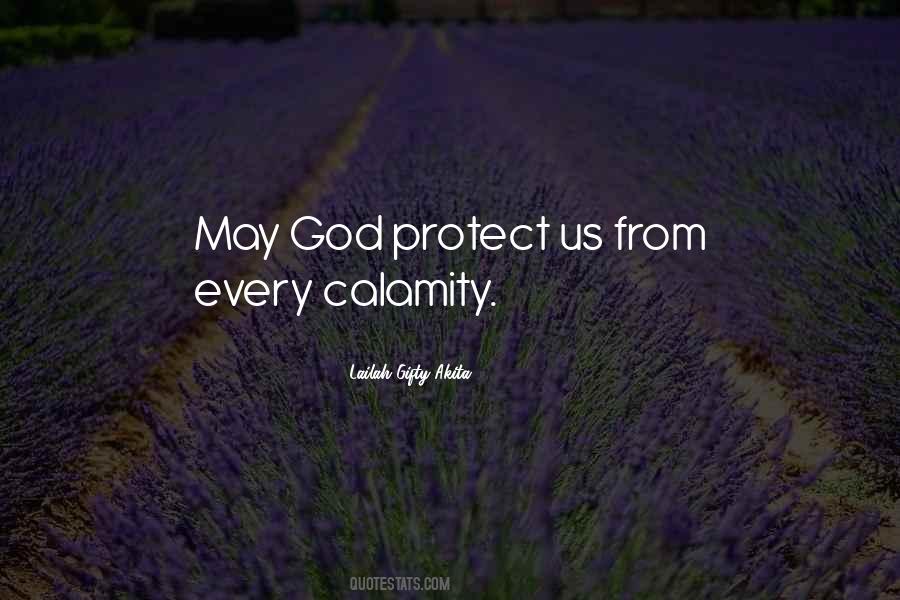 #4. Do you not think that God will protect us?"
"No," he said flatly. "My experience is that He rarely attends to the obvious. - Author: Philippa Gregory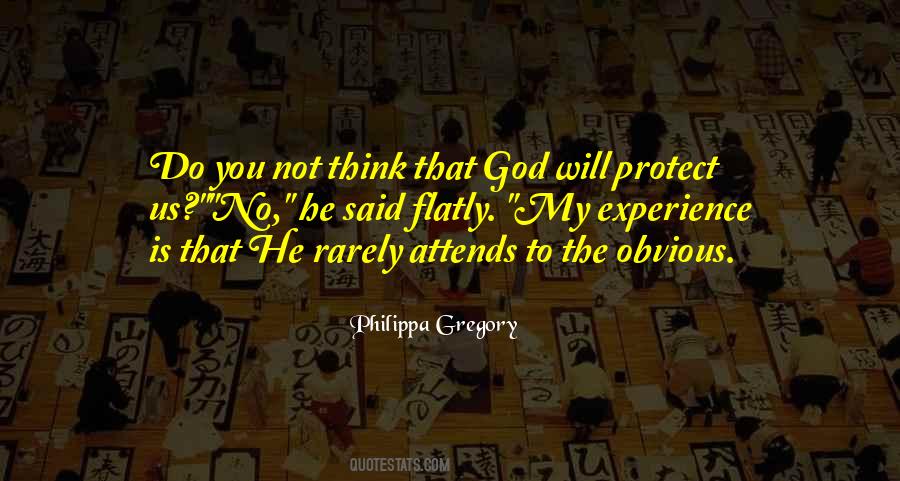 #5. They care for, protect, and guide God's people, frequently intervening or bring messages to people from God. - Author: Mary C. Neal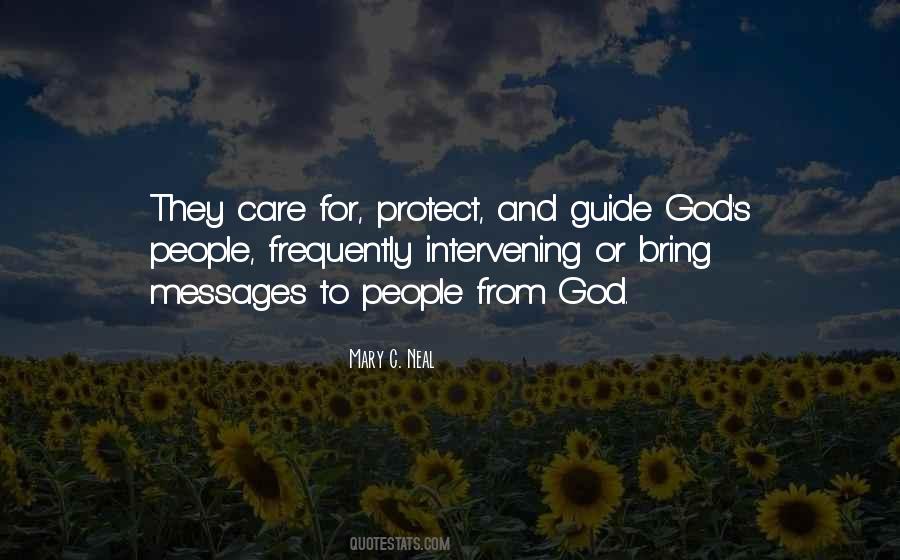 #6. There is no ocean big enough to protect us from the Lord's judgment when we decide to hammer our plowshares into swords and our pruning hooks into spears, in contempt of the will and the grace of God. - Author: Marilynne Robinson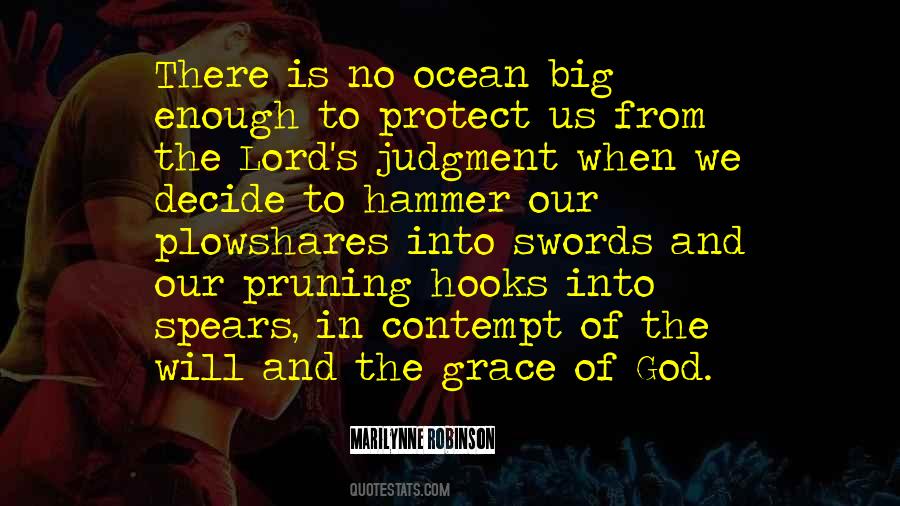 #7. Your angel cannot protect you against that which neither god nor the devil had made - Author: Cassandra Clare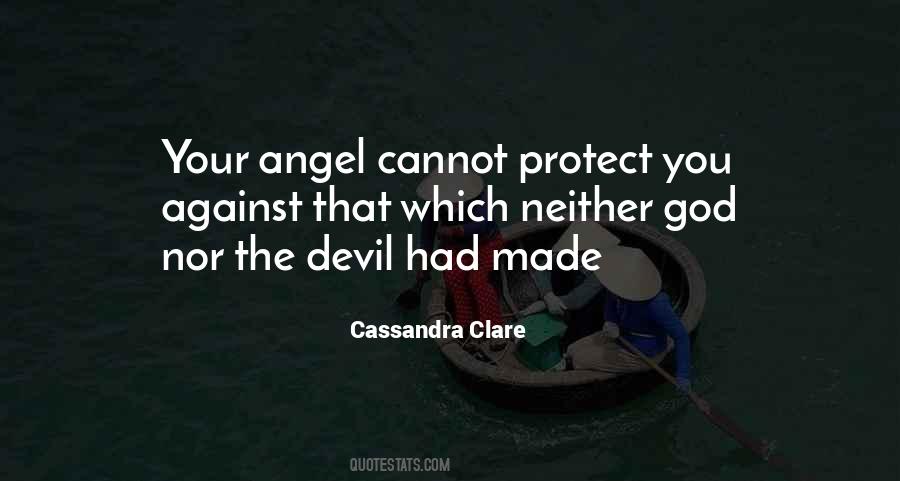 #8. You need to guard the city before God could protect it for you - Author: Sunday Adelaja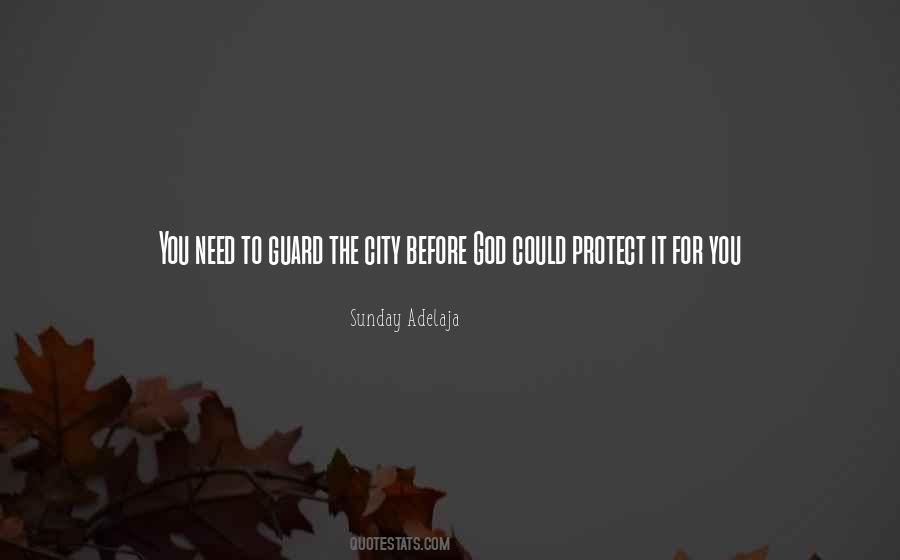 #9. Two great prayers;
Yahweh, grant me grace for my daily activities.
Yahweh, protect me from all evil, so that my life will be free of pain in Jesus name. Amen! - Author: Lailah Gifty Akita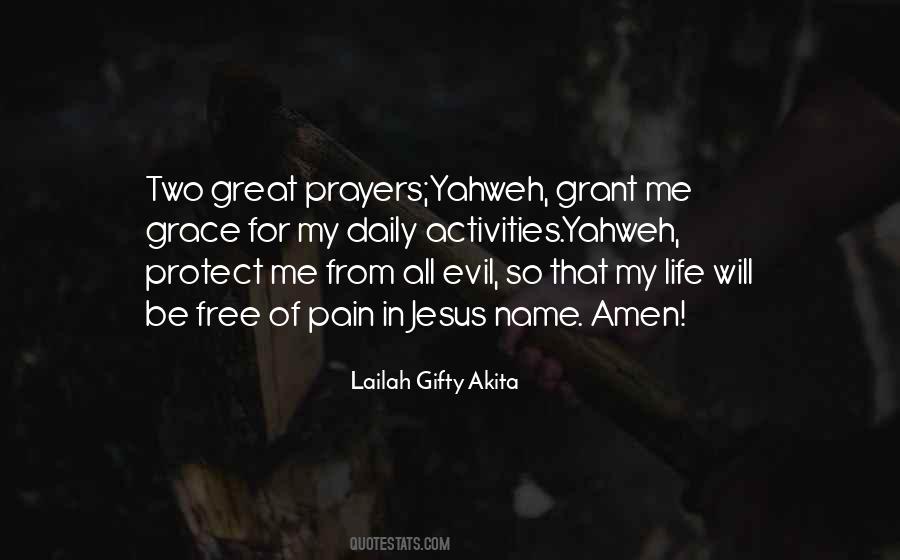 #10. OUR WORLD IS SO DANGEROUS because there are so many people willing to die and kill in order to defend GOD.
In Judaism is our God's duty to protect us - Author: Celso Cukierkorn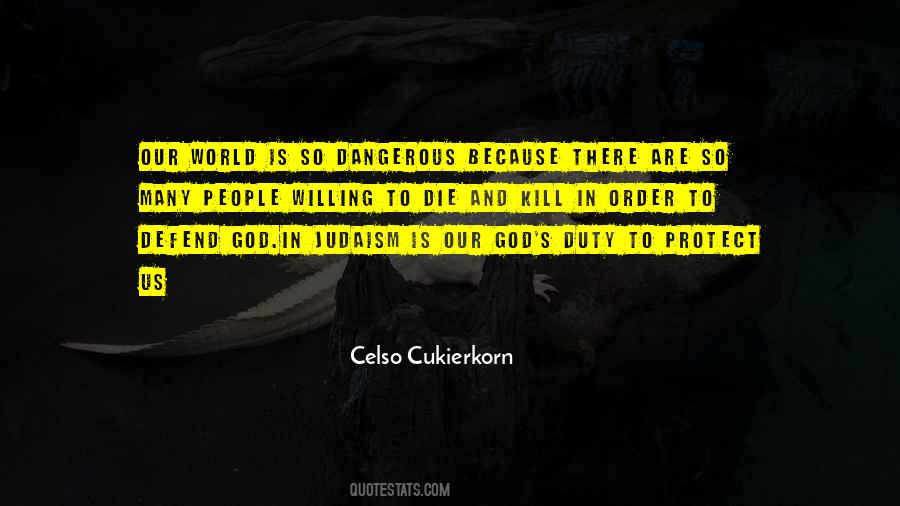 #11. But wishing our Kansas soldiers 'God speed' is not enough. We need to comfort, care for, and protect their families. And we should ease the financial burdens that these families often face. - Author: Kathleen Sebelius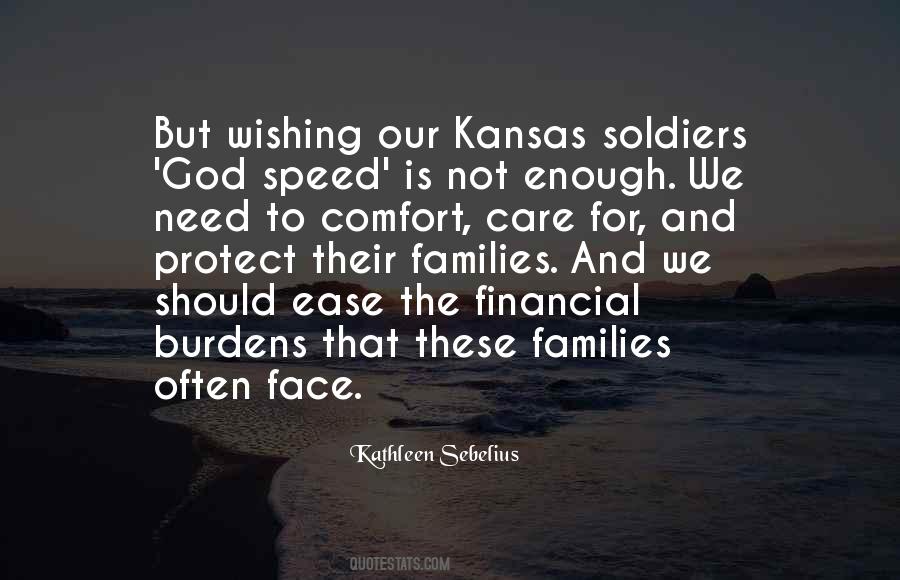 #12. It was because he wanted to kiss her so much that he stopped himself, bent over her hand, clicking his heels together, then let her go. "Adios, Isabella. Good luck. Please be careful. Stay safe."
"Goodbye, Finlay. May God protect you and keep you from harm. - Author: Marguerite Kaye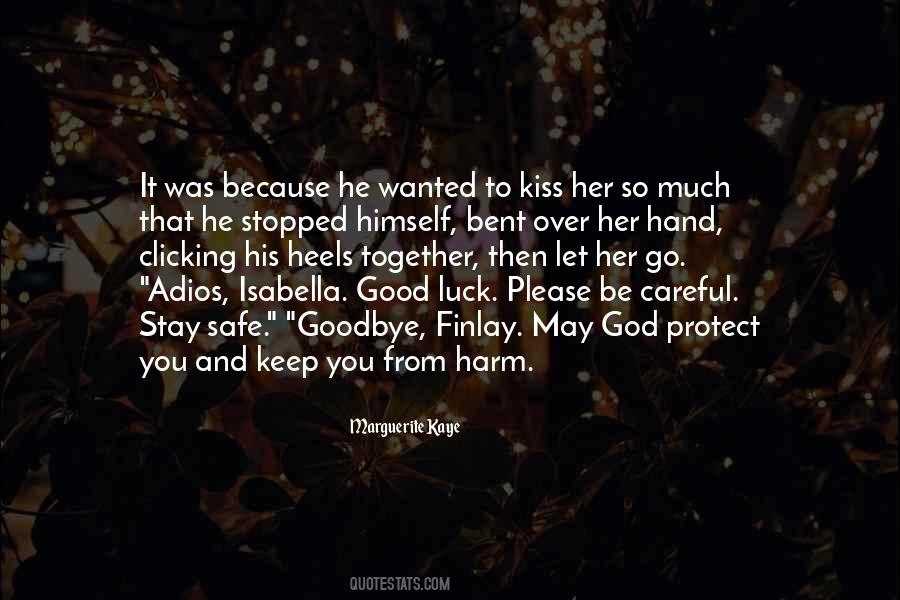 #13. I recognize that there are times in God's divine will and infinite wisdom that He chooses not to heal or to protect from harm. It was out of my love relationship with God that I was able to trust Him to walk with me through the situation, regardless of how it turned out. - Author: Henry T. Blackaby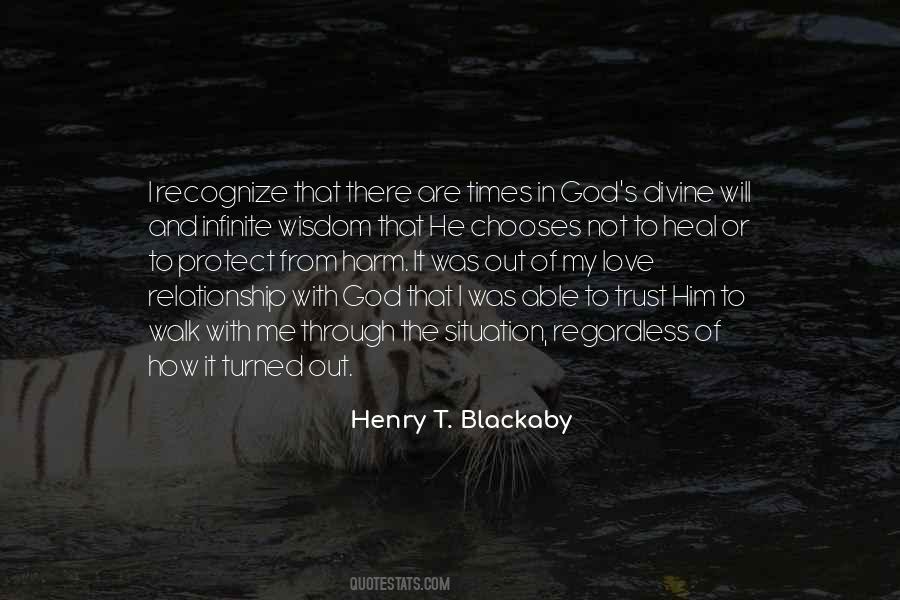 #14. God is in control of all events and is able to protect and provide for you His child. - Author: Jim George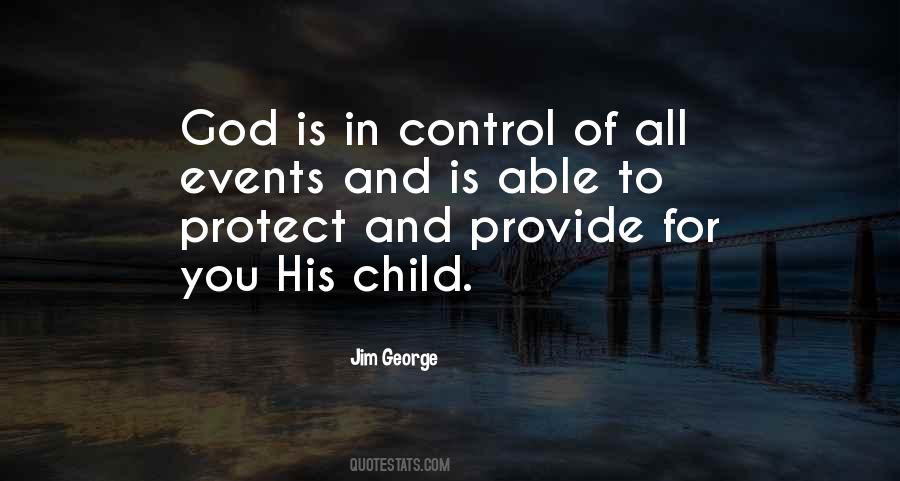 #15. Angels are all around us - everywhere and
omnipresent. I consider them to be proof that God loves us, wants to protect us, and that he is always there. - Author: Catherine Carrigan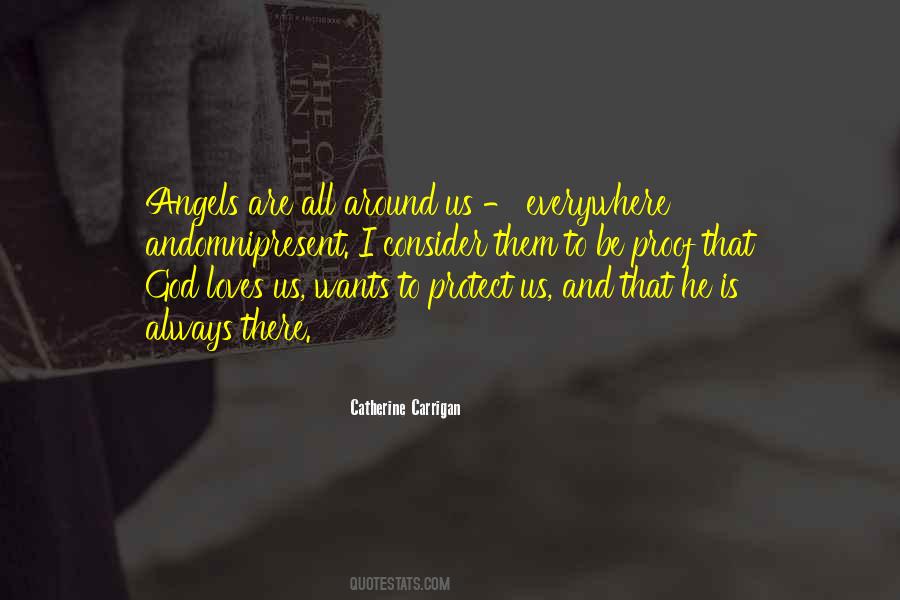 #16. God's love does not protect us from suffering. God's love protects us in the midst of suffering. - Author: Hans Kung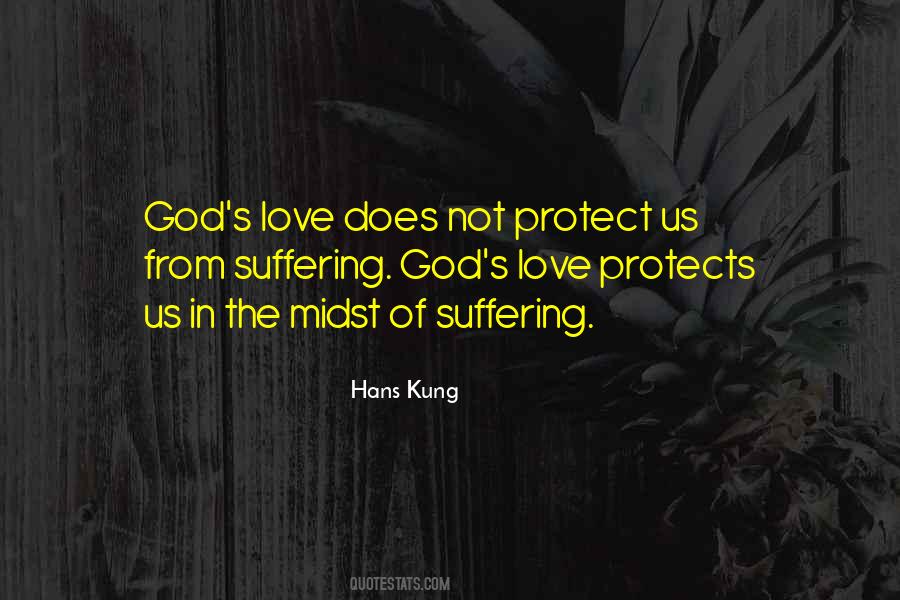 #17. The soft heart is not a thing to harden but a treasure to protect. For soft hearts extend mercy, compassion, refuge, and God's redemption to the world. - Author: Richelle E. Goodrich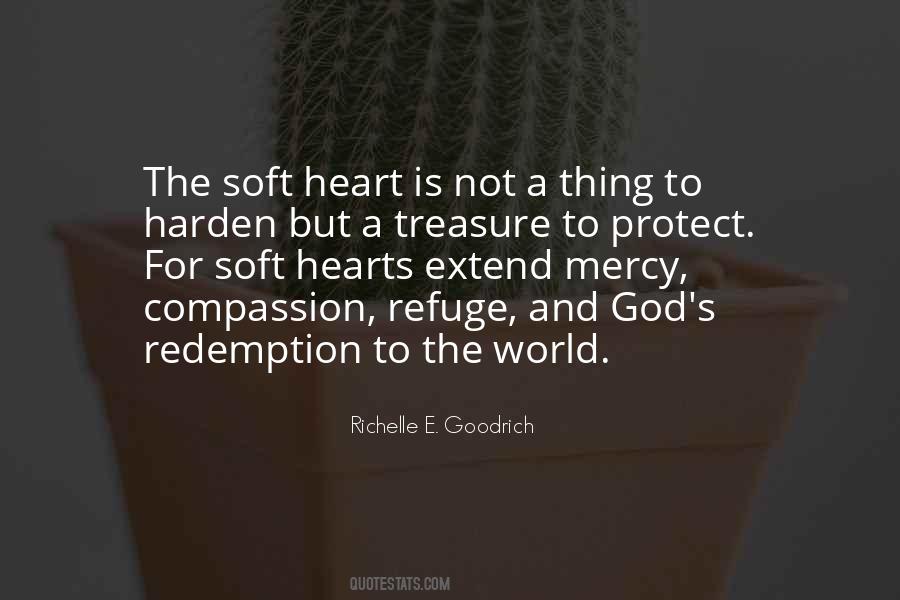 #18. Small yet strong in the love of God, like Saint Francis of Assisi, all of us, as Christians, are called to watch over
and protect the fragile world in which we live, and all its peoples. - Author: Pope Francis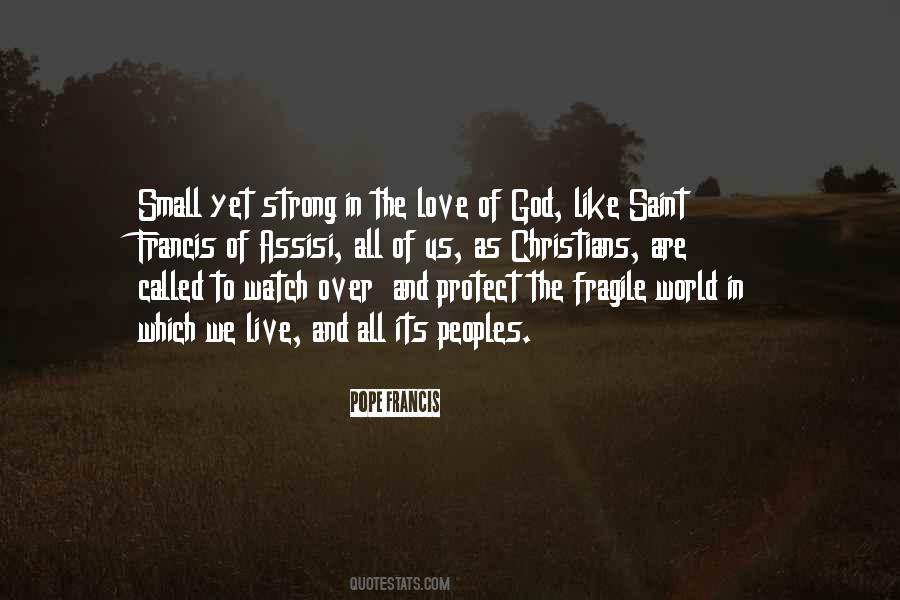 #19. The utter folly of our time is lamentable, that men should think to assist God with human help and to protect the Church of Christ by worldly ambition. - Author: Hilary Of Poitiers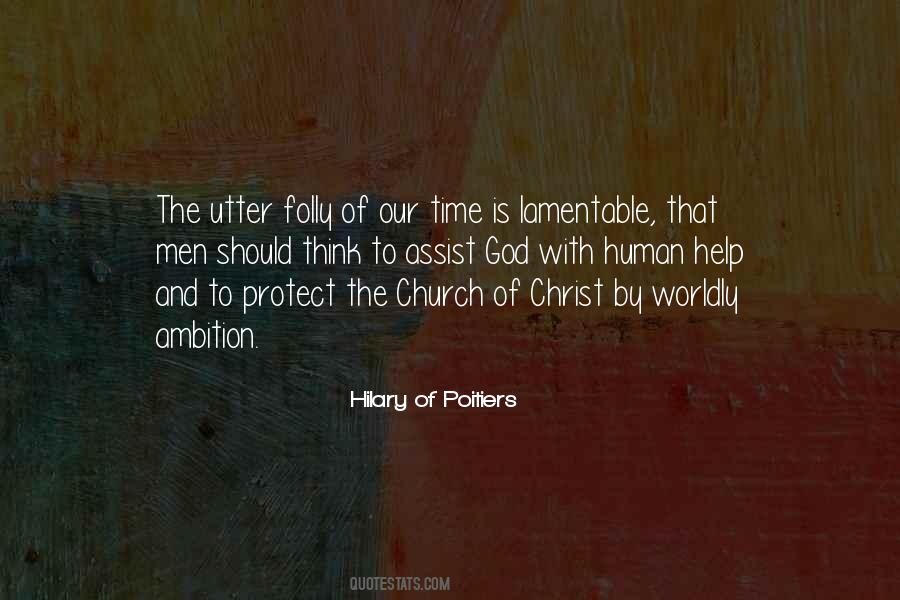 #20. God allows us to feel pain for a reason: to protect us. - Author: Tony Dungy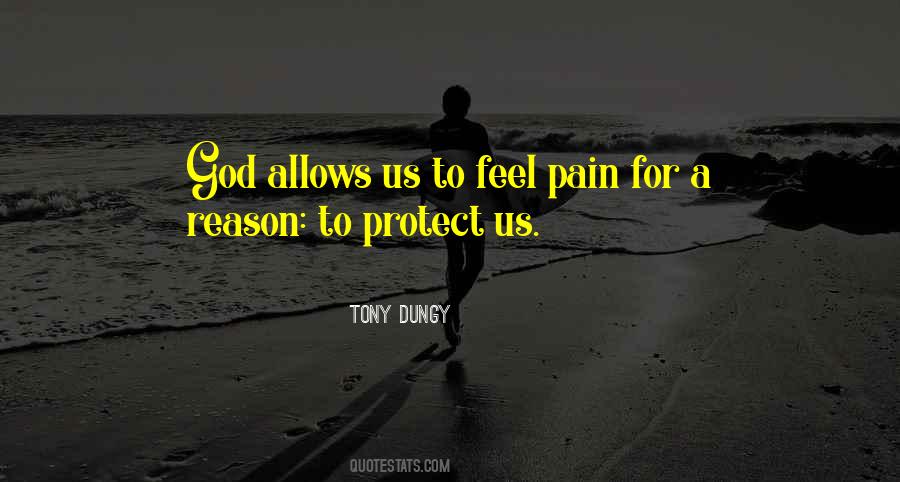 #21. You know the expression 'God protects fools and drunks'? I qualify for both. - Author: Lou Reed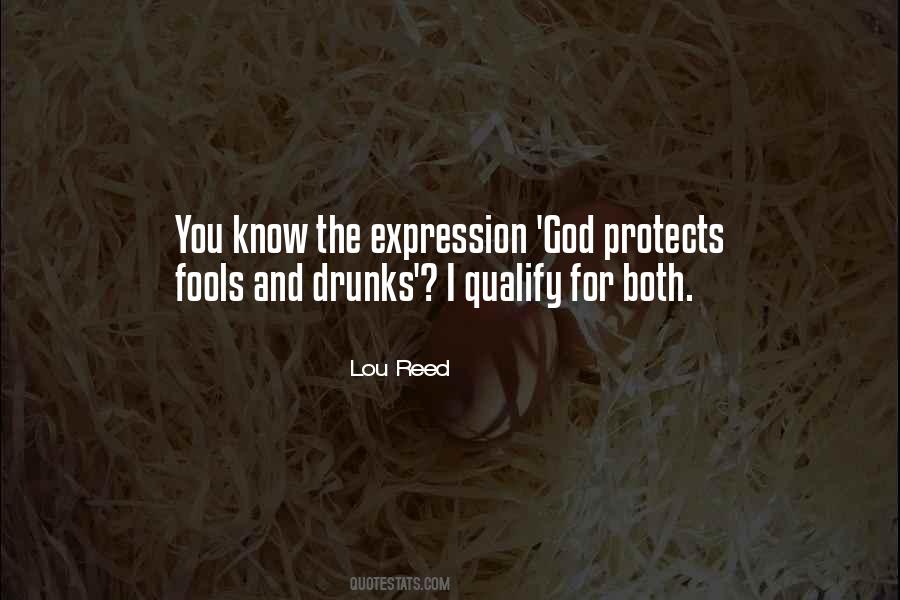 #22. A nation that honors God will always be honored by God. I've seen nations that have dishonored God: God has been taken out of schools, the government, the military; and when you take Him out of a nation, how can you expect God to protect this nation? - Author: Nick Vujicic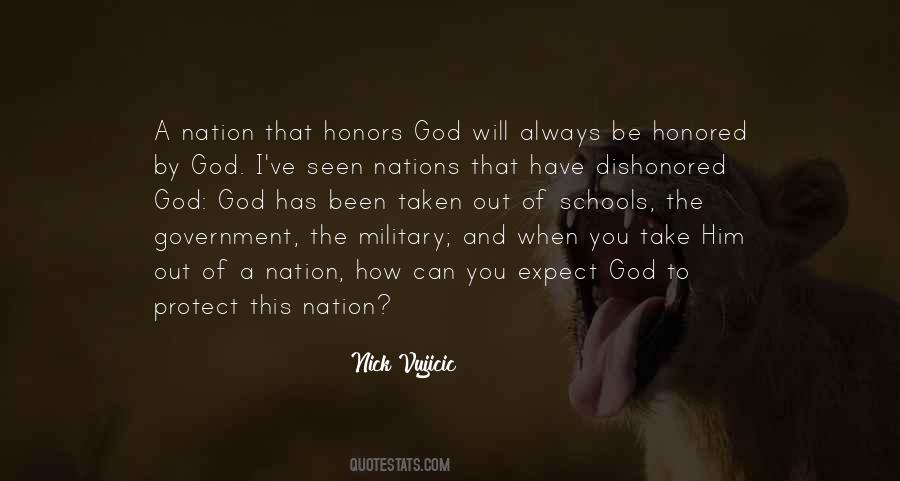 #23. While separation does not mean disengagement from the world, there are certain activities and places that God clearly wants us to avoid not only to protect ourselves from spiritual harm but so that the witness we have will not be tarnished. - Author: Billy Graham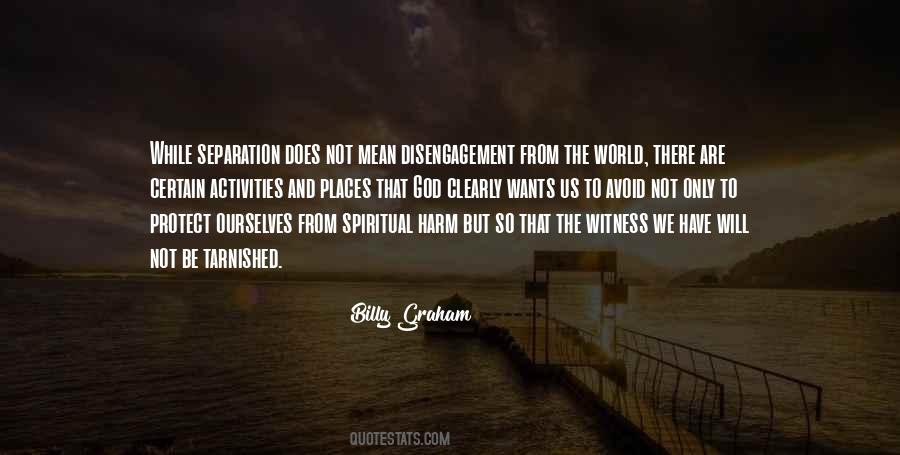 #24. Your discipline or lack of discipline will protect you from or expose you to disaster. Practice discipline. Be consistent. - Author: Bobby F. Kimbrough Jr.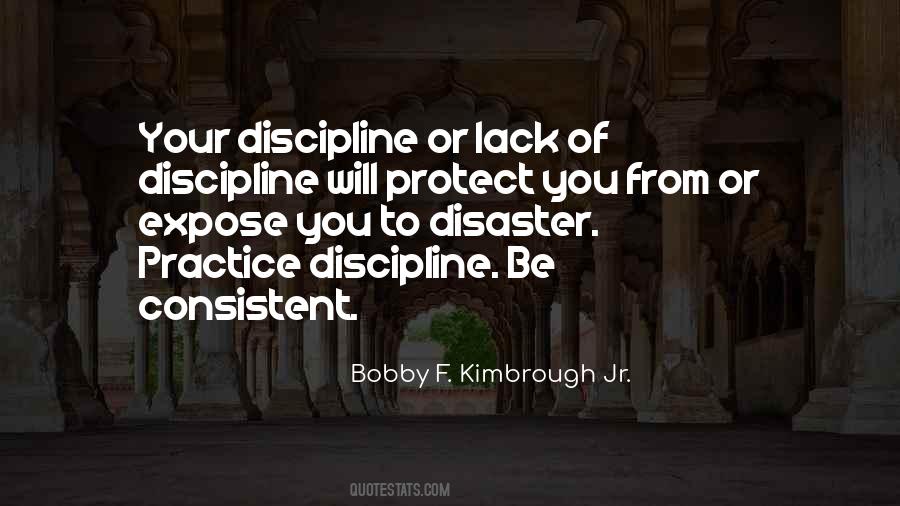 #25. Aye! Claiming to be able to keep Mountshannon safe. Funny how religious folks like that say their god will protect them - right up until someone hits them with a club." "Still, - Author: John Flanagan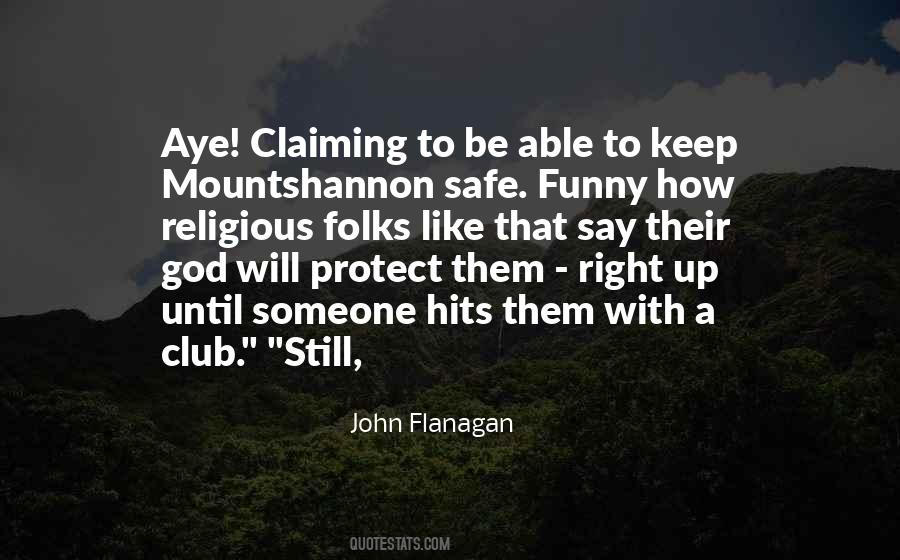 #26. God will close a door, in order to protect you from someone that is not capable of helping you fulfill your life mission. Overtime these become the doors you are grateful to have locked. - Author: Shannon L. Alder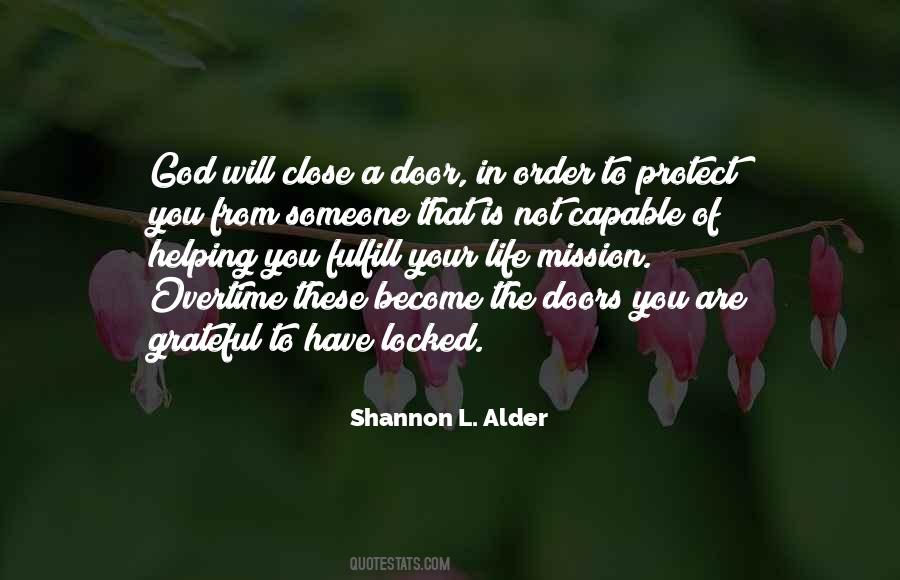 #27. God will not protect you from anything that will make you more like Jesus. - Author: Elisabeth Elliot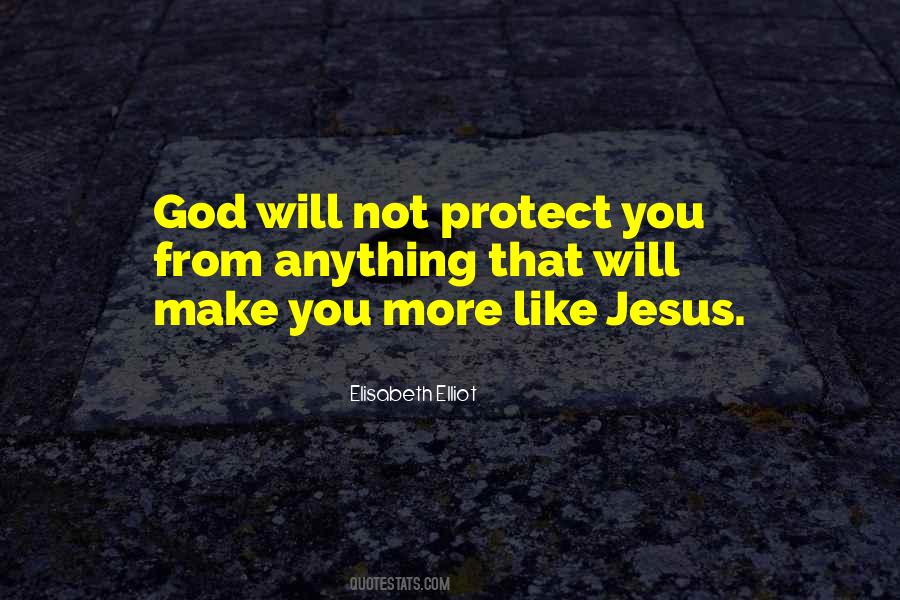 #28. Only a strong faith - a faith based on God's Word - will protect us from temptation and doubt. - Author: Billy Graham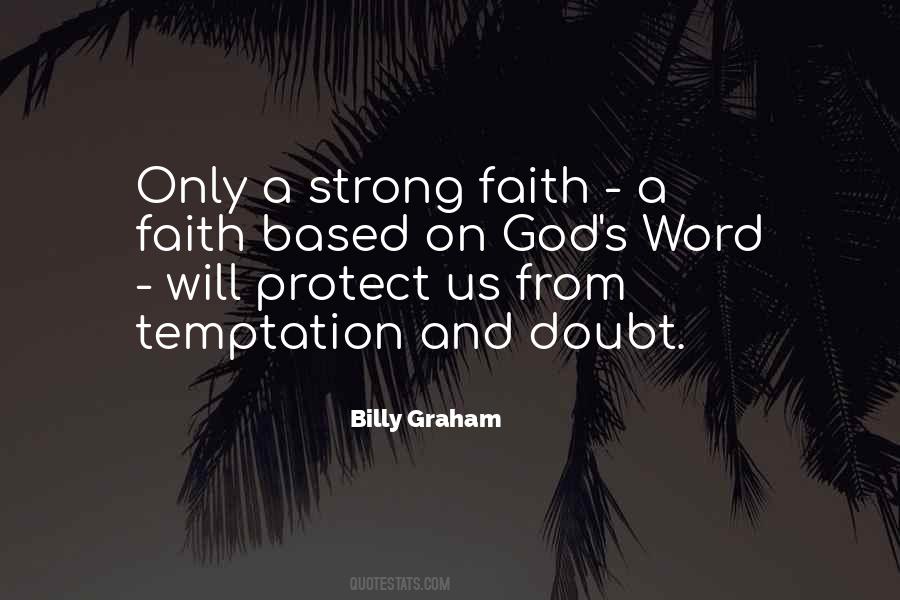 #29. Are you feeling exposed to the storms of life? Read Psalm 91, a wonderful promise from God. When we love him and tell others about that love, he moves to protect us. "I will be with them in trouble. I will rescue and honor them" (v. 15 NLT). - Author: Max Lucado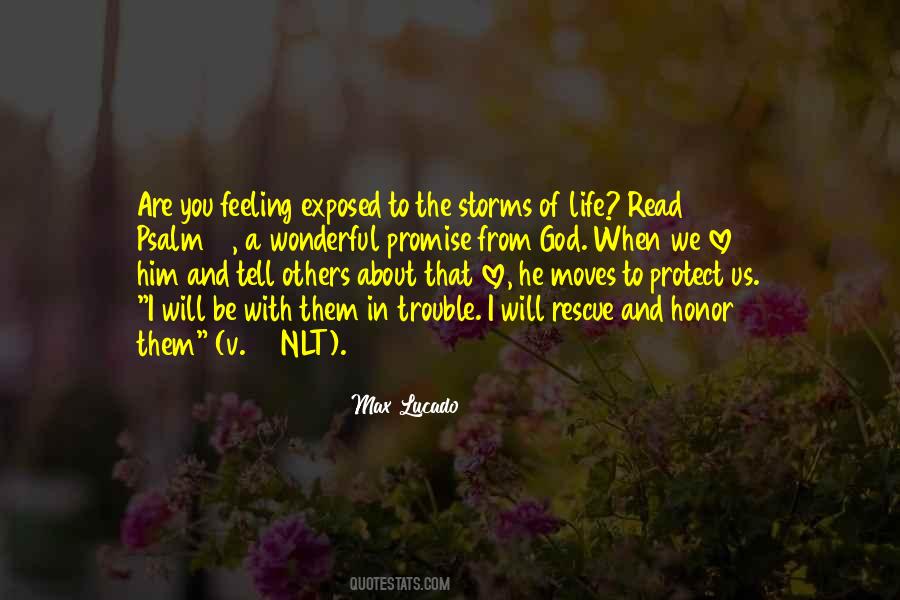 #30. I thank God tonight for freedom - those who bought and paid for it with their lives in the past - those who will protect it in the present and defend it in the future. - Author: Jim Gibbons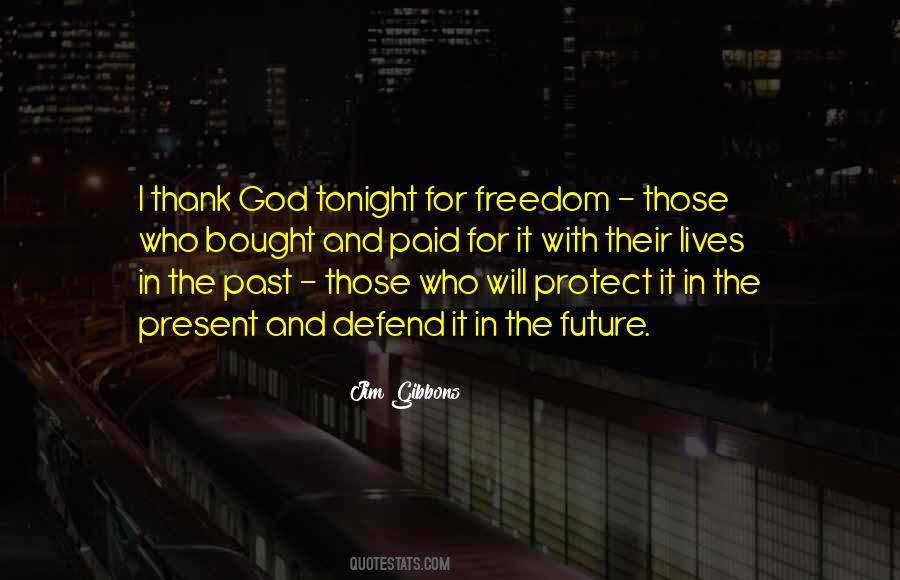 #31. Today I will not be tempted to wander the byroads of pain, but rather I will set my feet upon the path of joy and peace. May the spirit of God protect my mind from any forces of fear that would divert my thinking. - Author: Marianne Williamson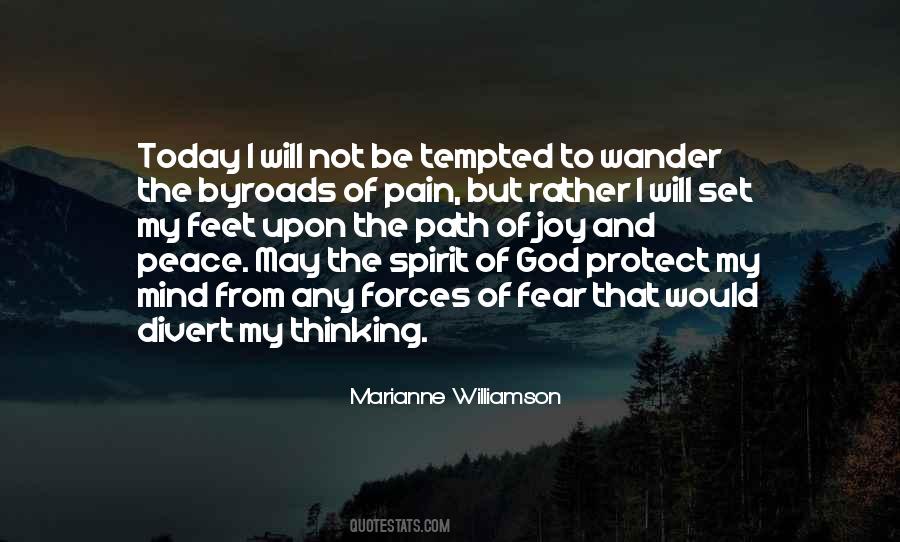 #32. When God has a mission for you to complete he will give you the intelligence, talents and resources to complete the job. He will also give you an army of people to protect you. - Author: Shannon L. Alder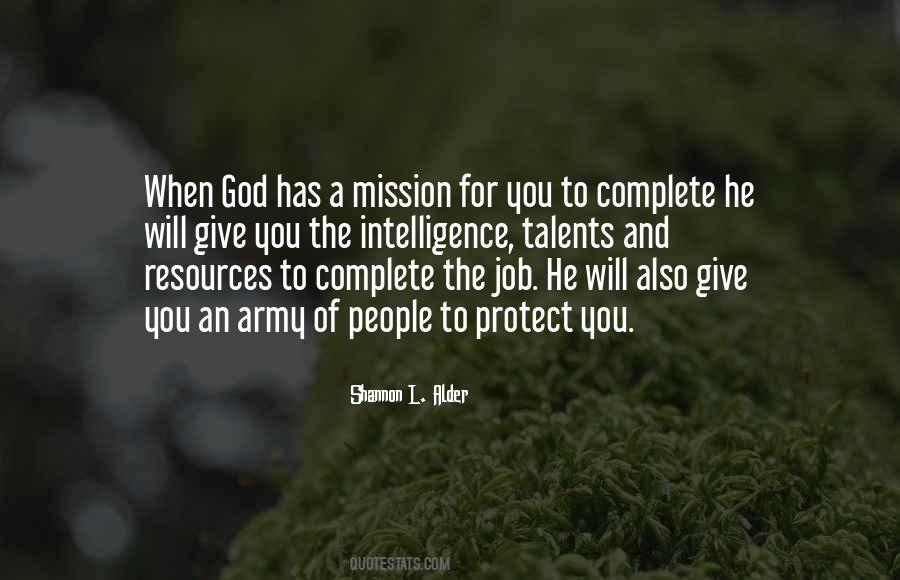 #33. I have an idea heaven will be both absolutely happy and absolutely dark, to protect us from the blaze of God. - Author: Evelyn Underhill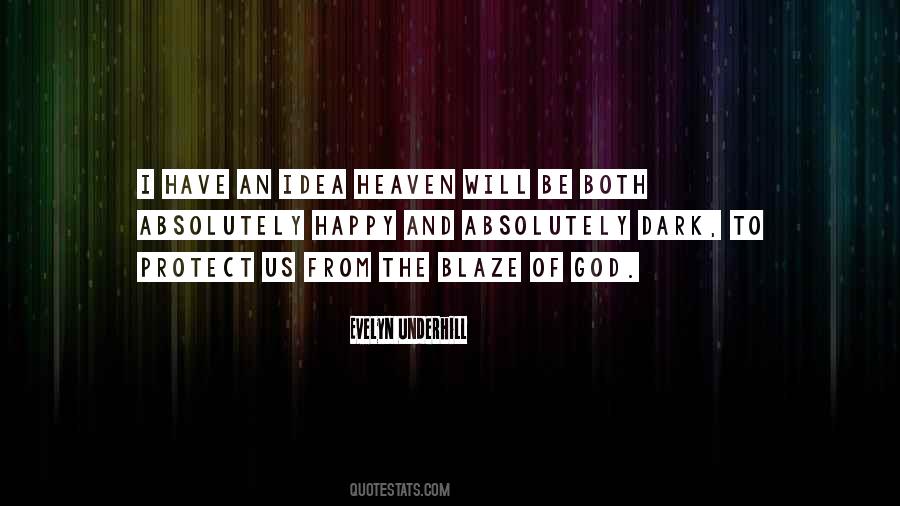 #34. The wrath of God is inescapably bound up with the love of God. Permissive love which did not act to protect victimized loved ones would inspire no one. - Author: Matt Chandler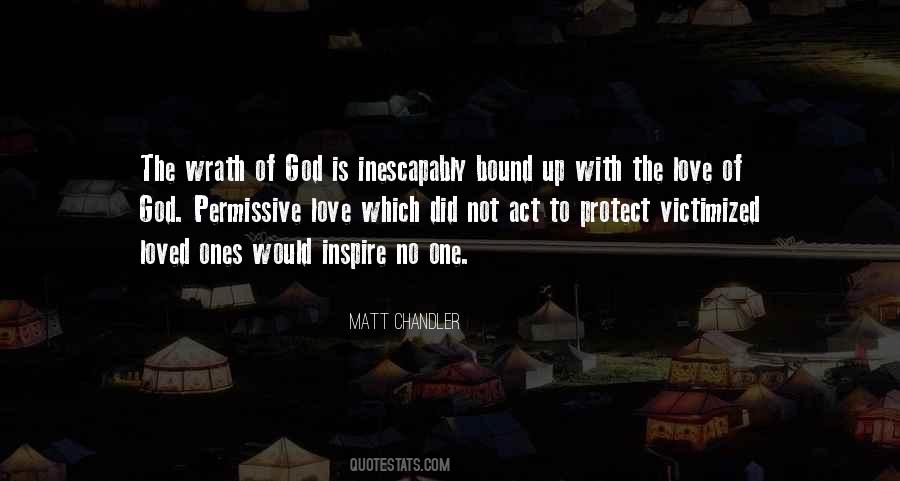 #35. God's mercy is a holy mercy, which knows how to pardon sin, not to protect it; it is a sanctuary for the penitent, not for the presumptuous. - Author: Edward Reynolds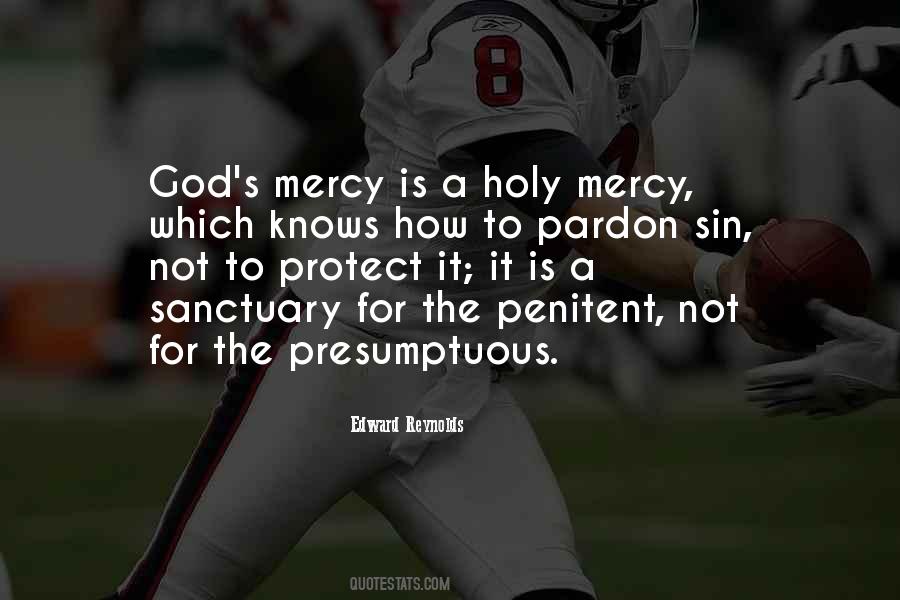 #36. We are not only to use our armor to protect and defend ourselves from them - as important as that is - but also to go on the offensive against them as well. When we do that, we close doors to the enemy and open doors to the will of God to be done on earth. We advance God's kingdom. - Author: Stormie O'martian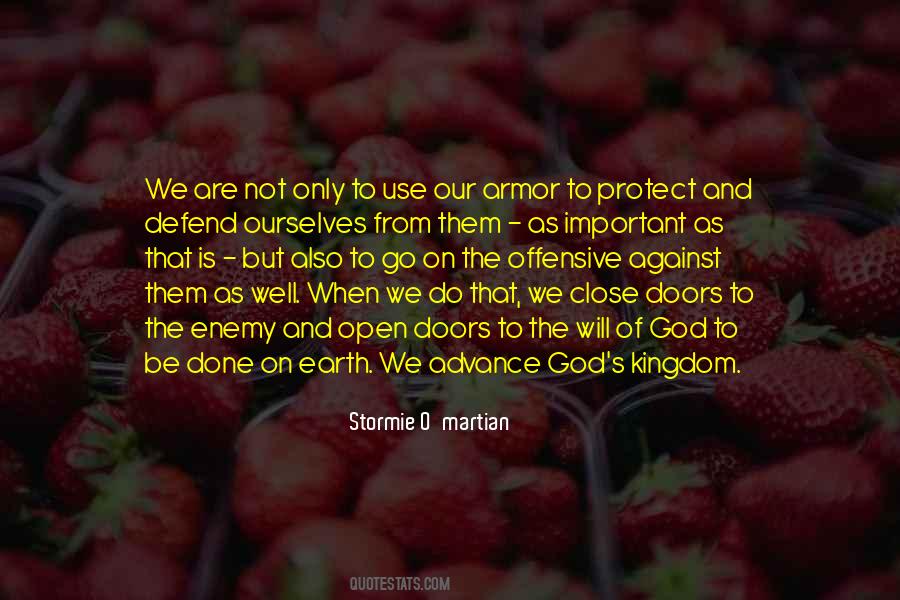 #37. The white man's God cannot love our people or He would protect them. They seem to be orphans who can look nowhere for help. How then can we be brothers? - Author: Chief Seattle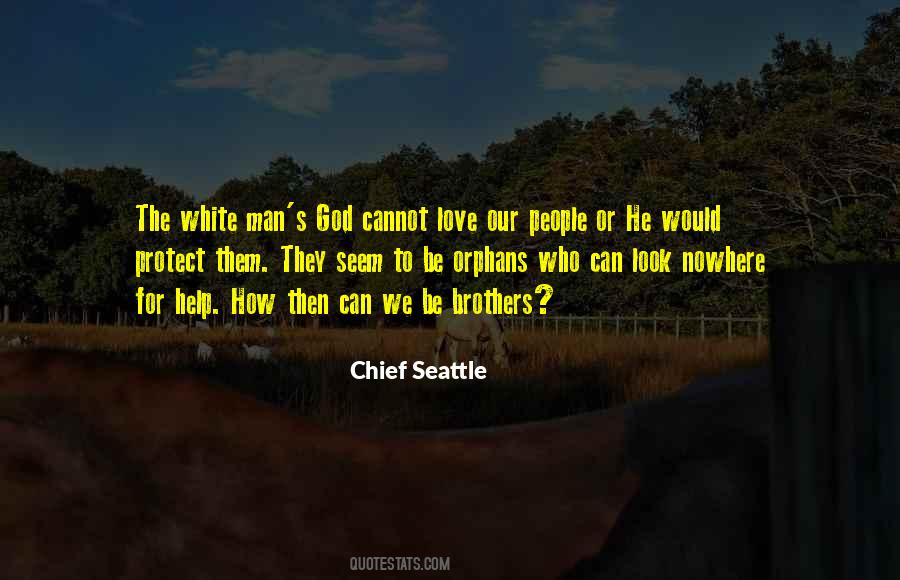 #38. The more I pursue God, the more I realize that he is inherently different from us. He does not protect his possessions and hoard his toys. He does not look for
ways to make us jealous of him, though he, the God Most High, is jealous for us. - Author: John D. Richardson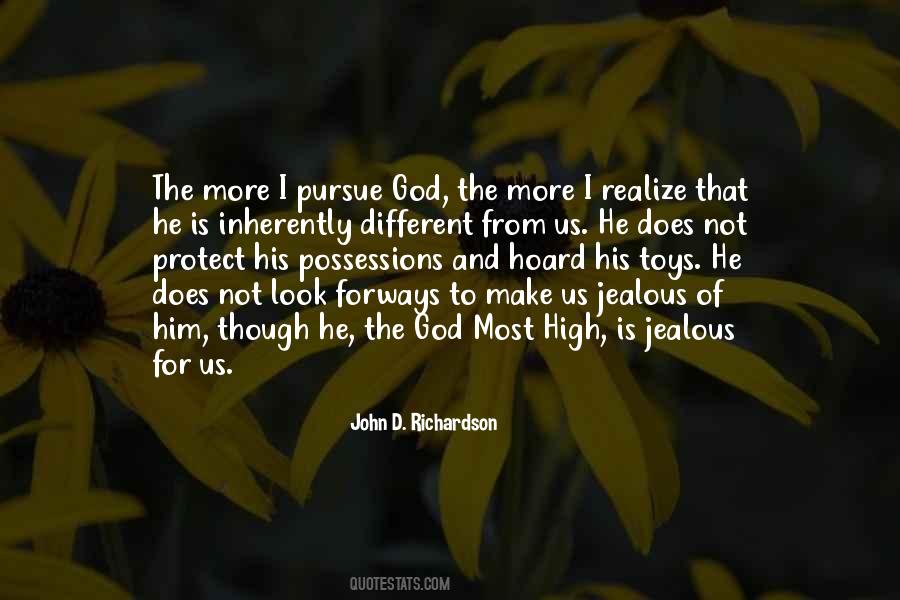 #39. I am dying innocent. The sentence is wrong. God protect Germany and make Germany great again. Long live Germany! God protect my family! - Author: Fritz Sauckel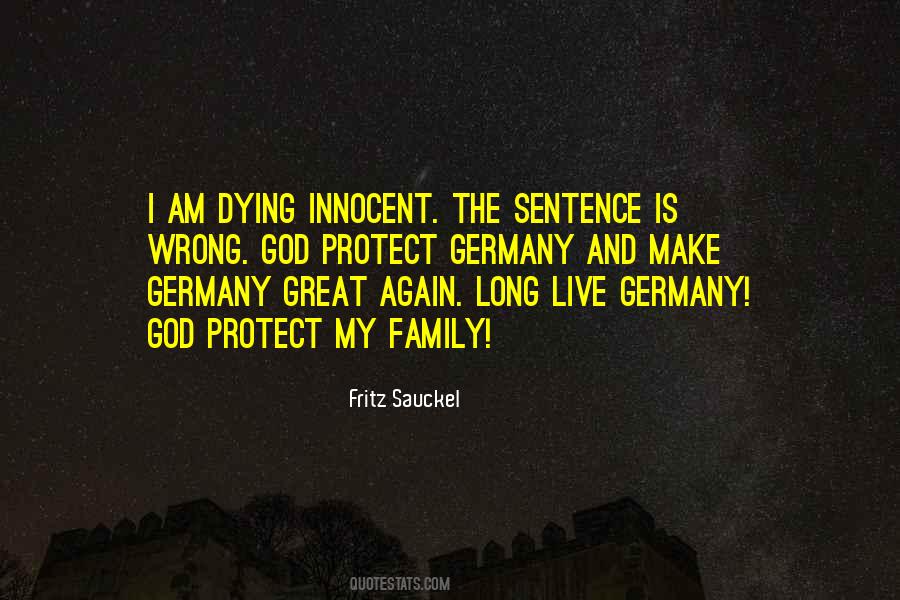 #40. They [human beings] are unwilling to gamble that God made those people who are skilled at rational argumentation uniquely virtuous. They protect themselves and others from cleverness by obscuring their preferences. - Author: James G. March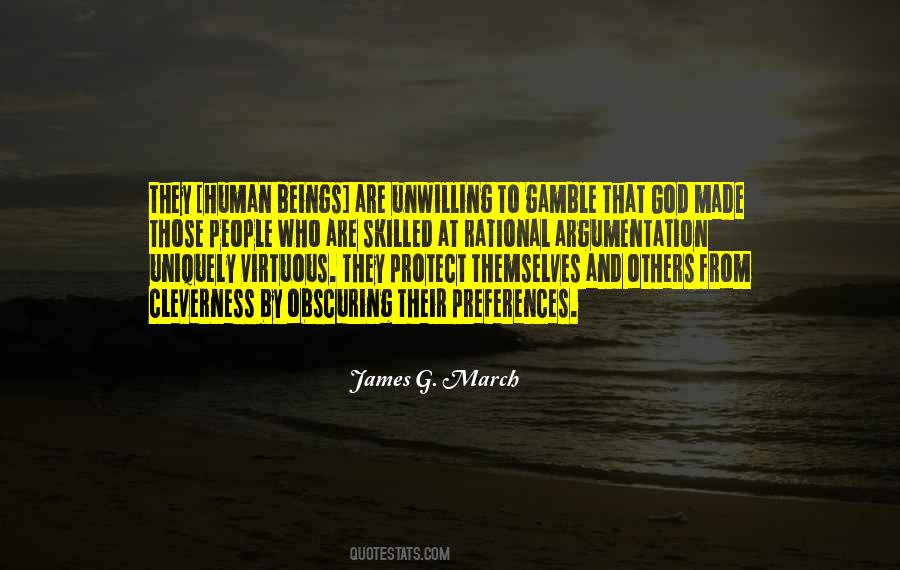 #41. If there is a god, I think he has a sense of humour. He does not require human beings to protect him from satire. - Author: James K. Morrow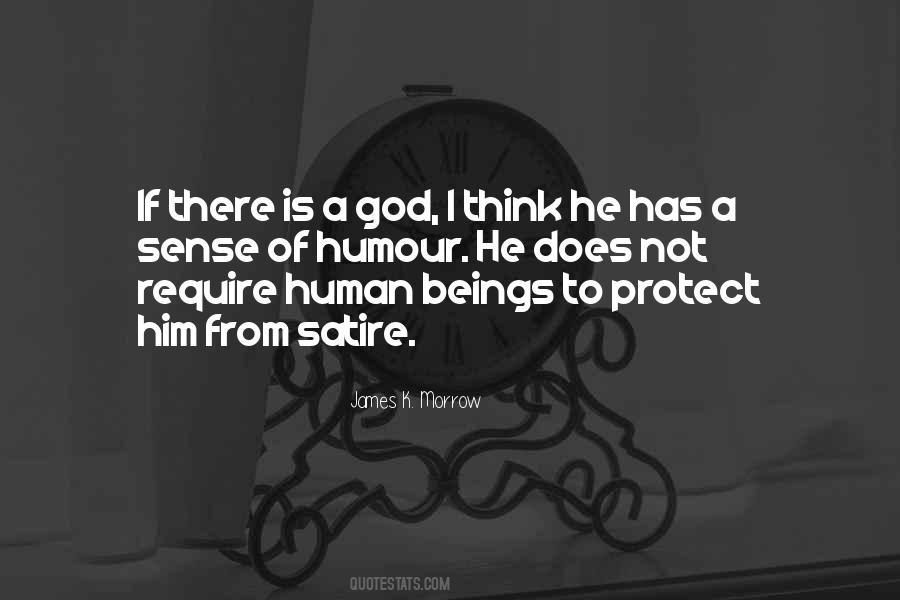 #42. They too, are created by the same loving hand of God which Created us ... It is our duty to Protect Them and to promote their well-being. - Author: Mother Teresa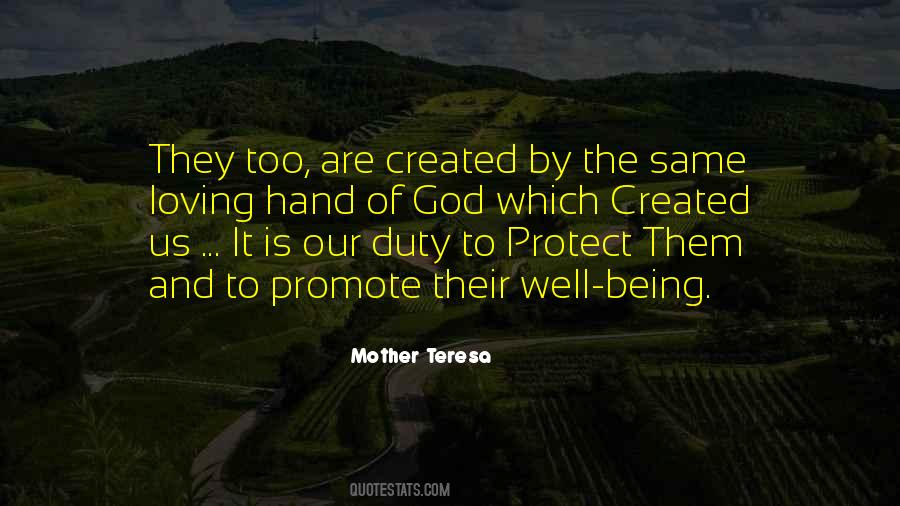 #43. I pledge to love Jesus more than anything or anyone. And you are next in line, God's remarkable gift to me. I promise to protect, honor, and cherish you for the rest of our lives. - Author: Robert Wolgemuth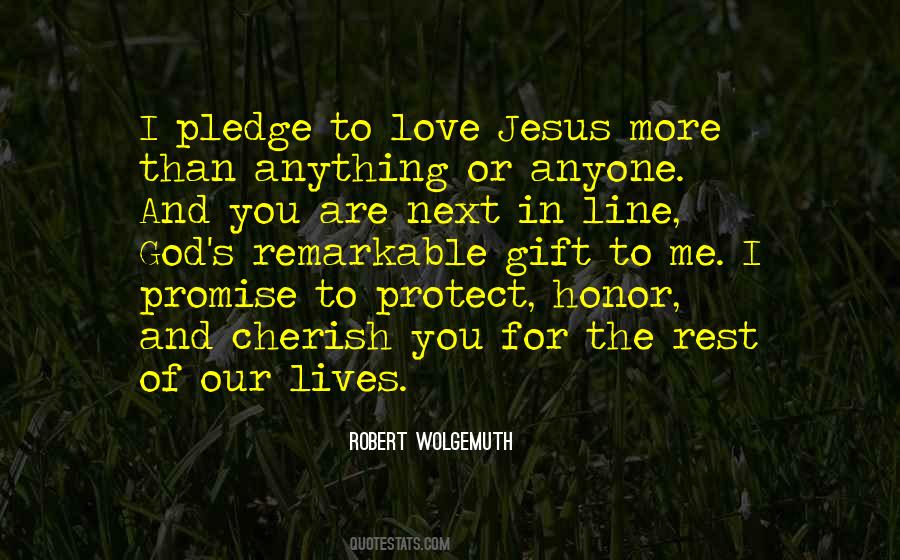 #44. When I was young, I asked my priest how to get to heaven and still protect yourself from all the evil in the world. He told me what God told His children;'You are sheep among wolves, be wise as the serpent, yet innocent as doves. - Author: Dennis Lehane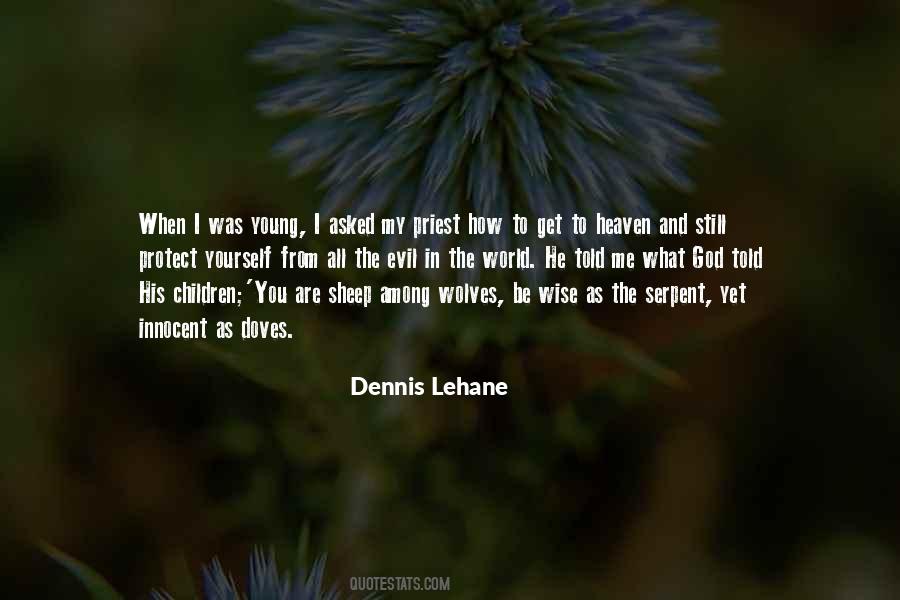 #45. Never think that you need to protect God. Because anytime you think you need to protect God, you can be sure that you are worshipping an idol. - Author: Stanley Hauerwas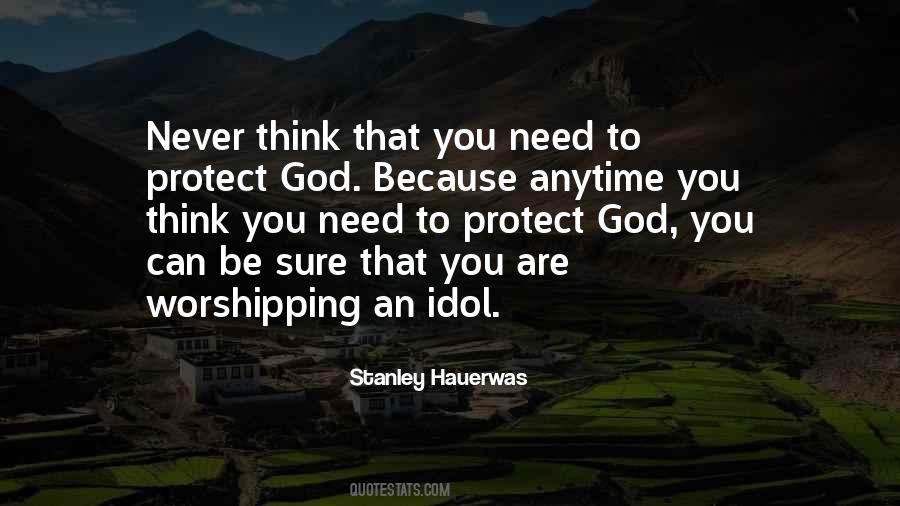 #46. Turn your cheek' only works with physical slaps, only works pre-Second coming. Against guns, bombs, and the most inhumane practices ever conceived, we must protect ourselves. We must become the agents of God's vengeance. - Author: Peter Tieryas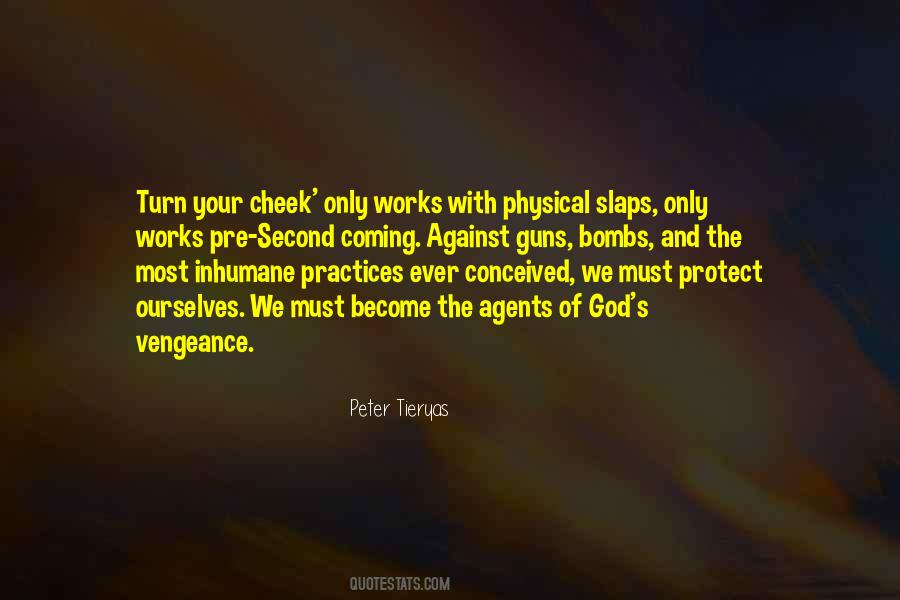 #47. Augustine in City of God pictures a resurrection in which the bodily systems we no longer need to protect ourselves can use energy to praise God. - Author: Matt Chandler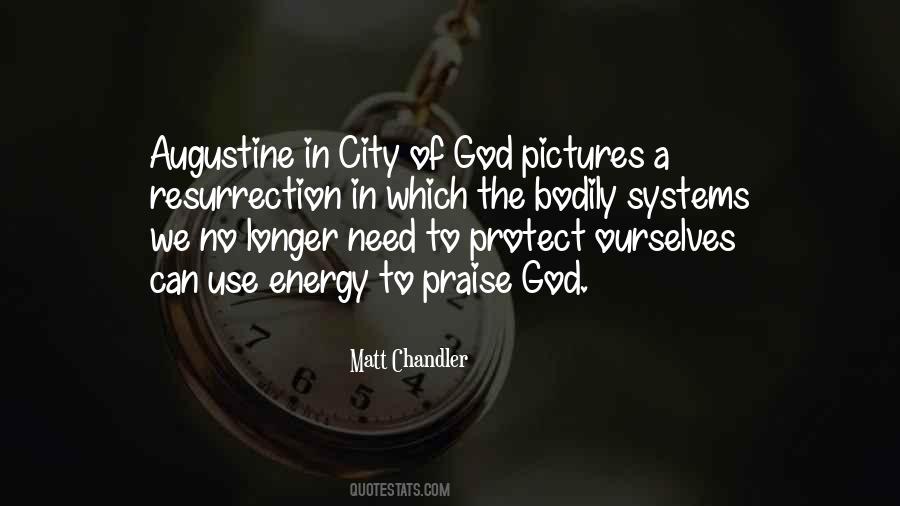 #48. May the strength of God pilot us, may the wisdom of God instruct us, may the hand of God protect us, may the word of God direct us. Be always ours this day and for evermore. - Author: Saint Patrick
#49. God gave us the gift of life. It is the most precious gift ever. To be unarmed is to be helpless to protect that gift; that is outright irresponsible. - Author: Ted Nugent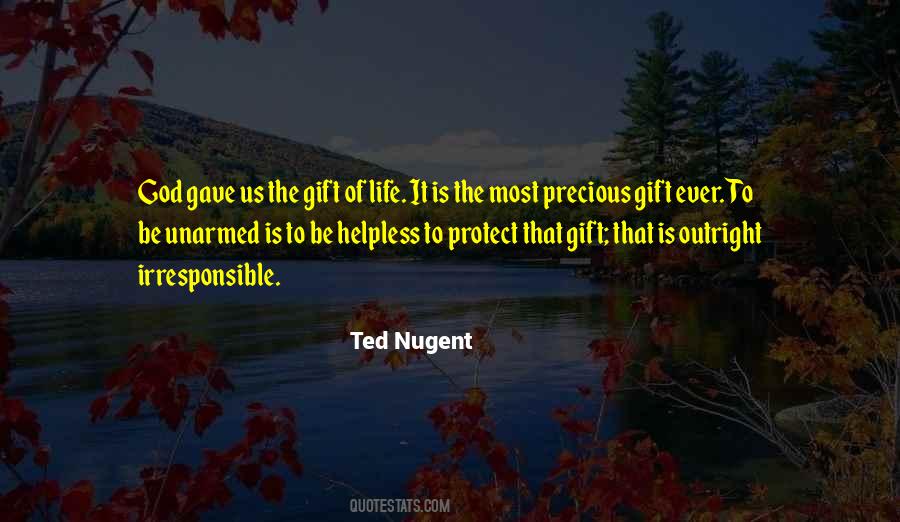 #50. We can't have it both ways. We can't expect God to protect us in a crisis and just leave Him over there on the shelf in our day-to-day living. I wonder if sometimes He isn't waiting for us to wake up, He isn't maybe running out of patience. - Author: Ronald Reagan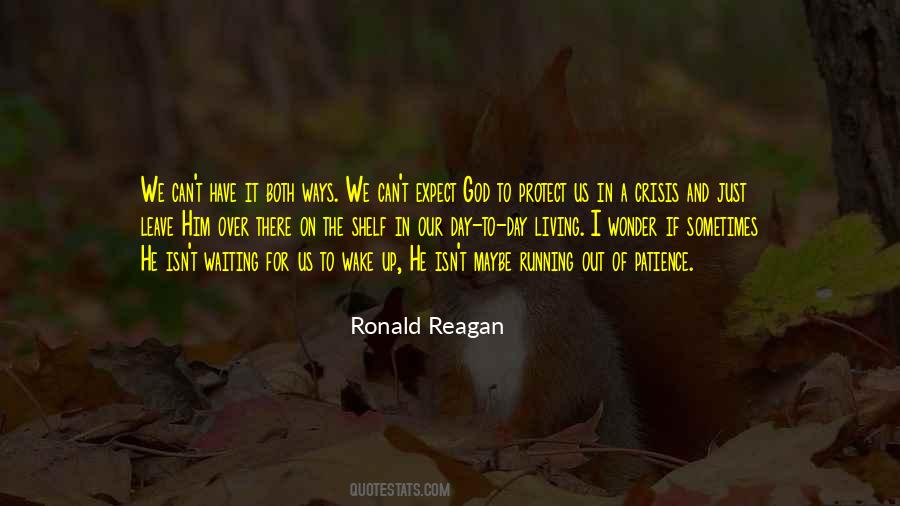 #51. Nay, this village isn't yer sanctuary from the cruel world. It's God Almighty. He's the only one who can protect ye. - Author: Jennifer Hudson Taylor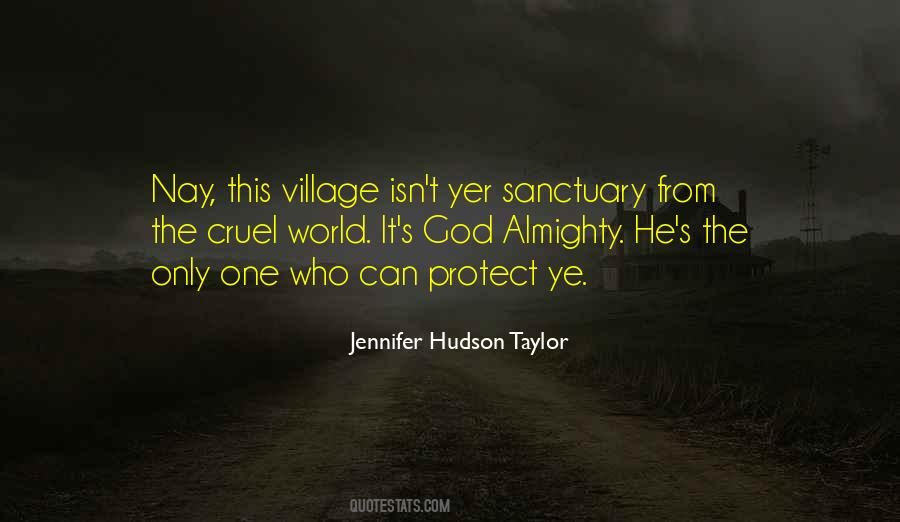 #52. Some day you cross this thin line and you really realize that we need to protect ourselves from ourselves. - Author: Douglas Coupland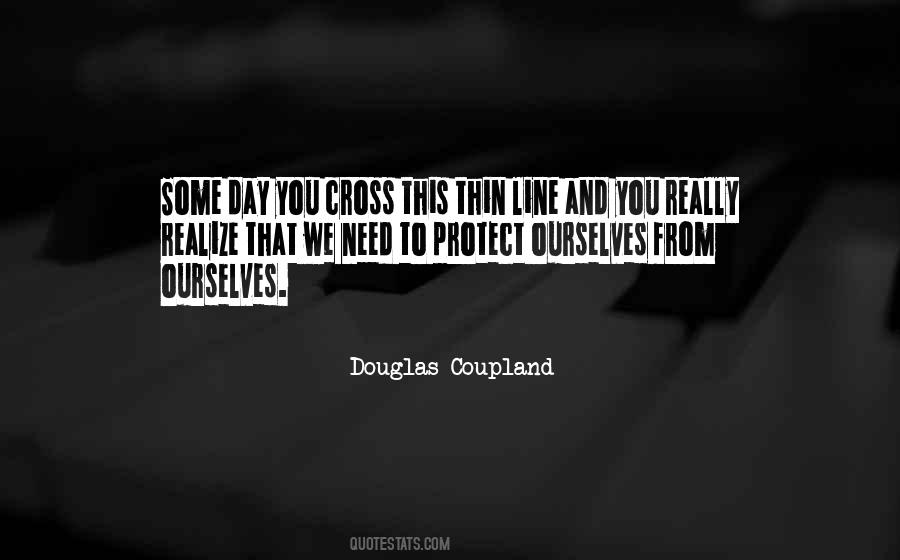 #53. He who defends with love will be secure; Heaven will save him, and protect him with love. - Author: Lao-Tzu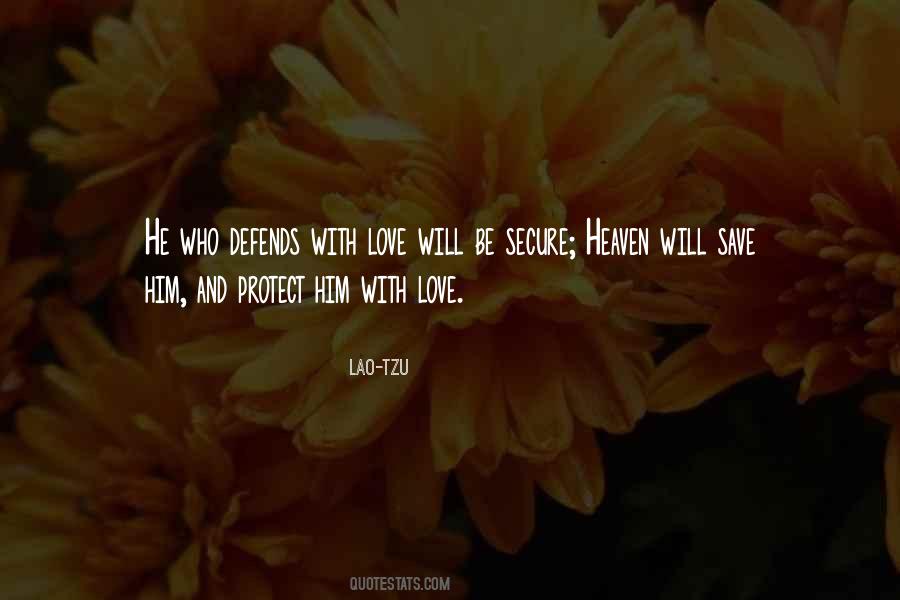 #54. God will protect us, but to make sure, carry a heavy club. - Author: Gypsy Rose Lee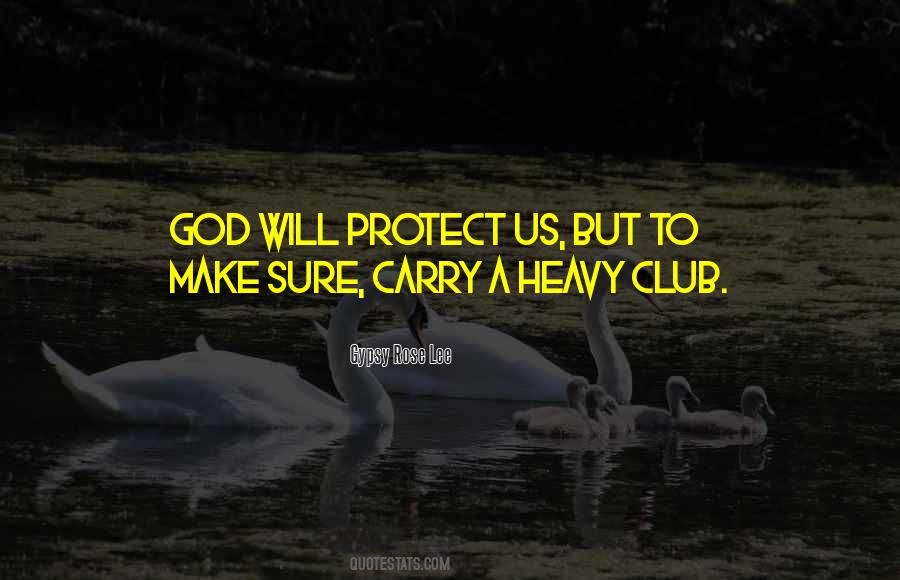 #55. We pray for this beloved country, Egypt, for God to protect her safety, security, stability; to protect her unity and more so, her image. - Author: Pope Theodoros II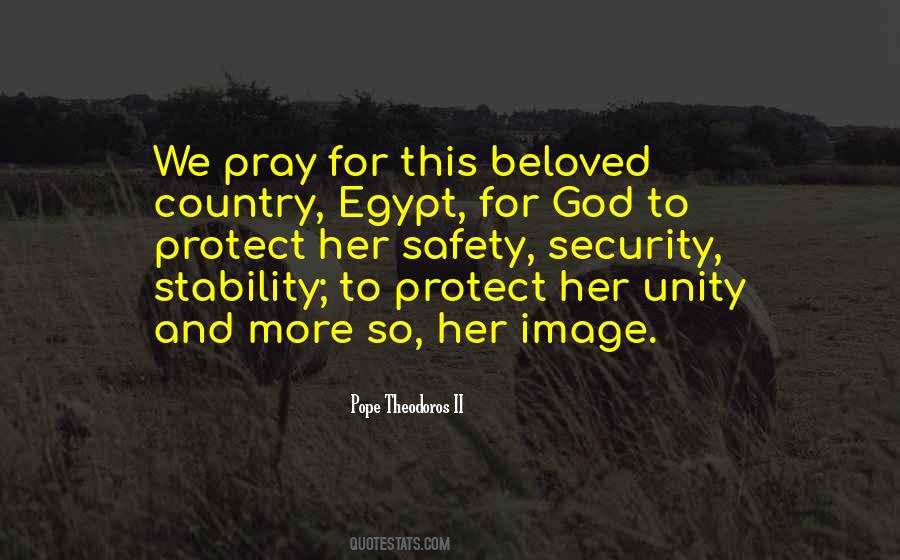 #56. I know that there is a God - the God within me that's always present and will protect me. I'm not afraid to climb any mountain, because I know that I'm protected. Even if I fall and die, I'm still protected. My faith is on that level. - Author: Halle Berry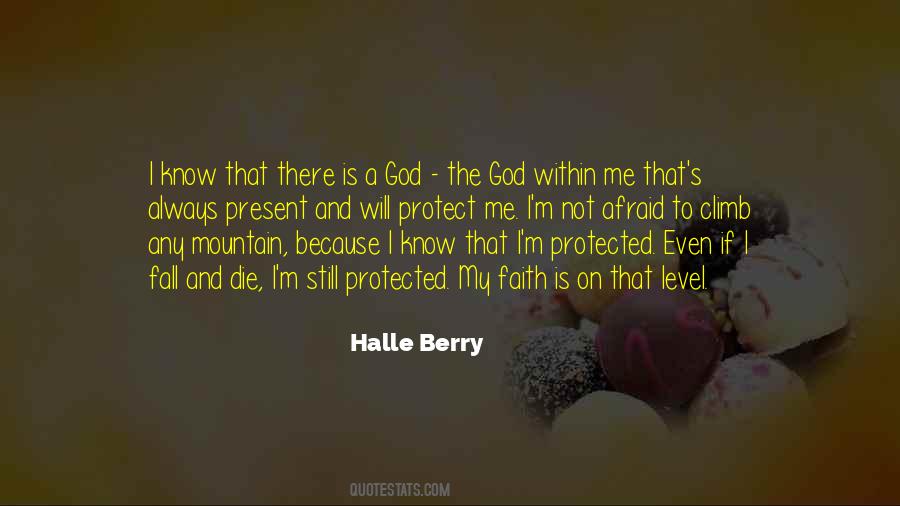 #57. God your love is so precious! You
protect people in the shadow of your
wings. Psalms 36:7 - Author: Anonymous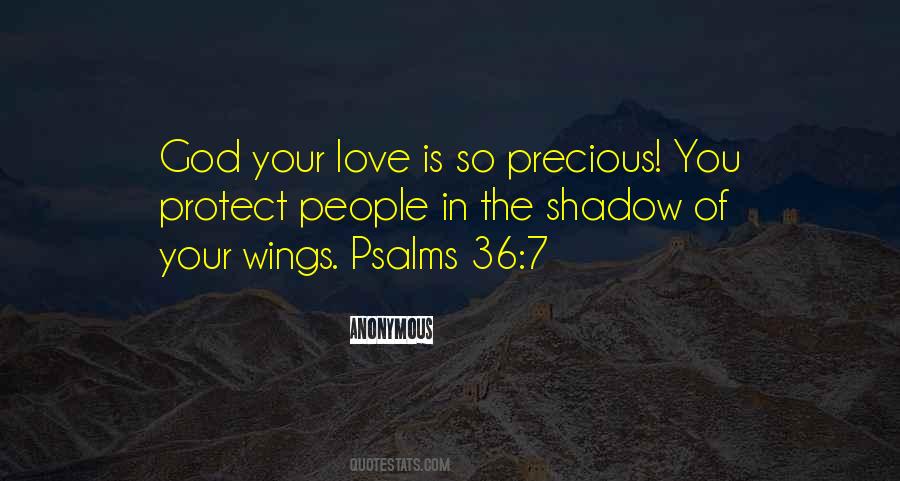 #58. Our people are ebbing away like a rapidly receding tide that will never return. The white man's God cannot love our people, or He would protect them. - Author: Chief Seattle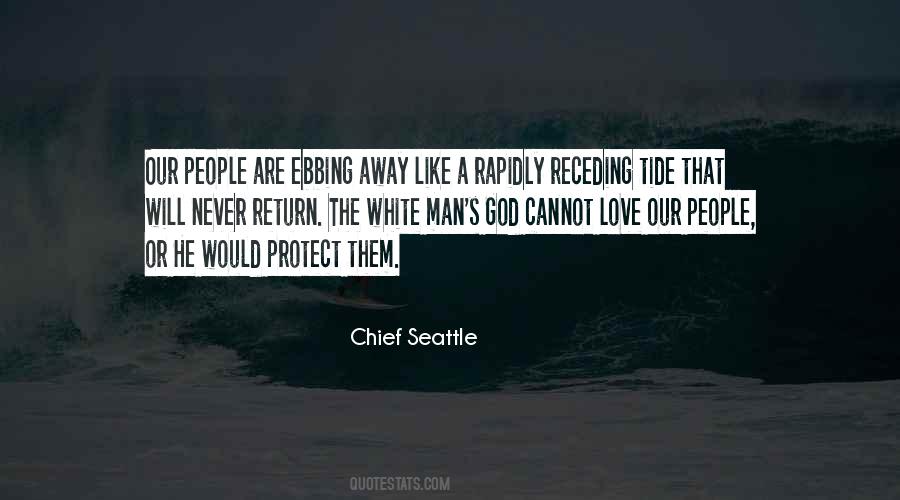 #59. We're in His hands." Abby muttered the words she and Phil had said before they left for Iceland. "May God protect us all. He always does." Her breath caught, and she turned to face the horizon with a brimming heart. "He always has. - Author: C.R. Hedgcock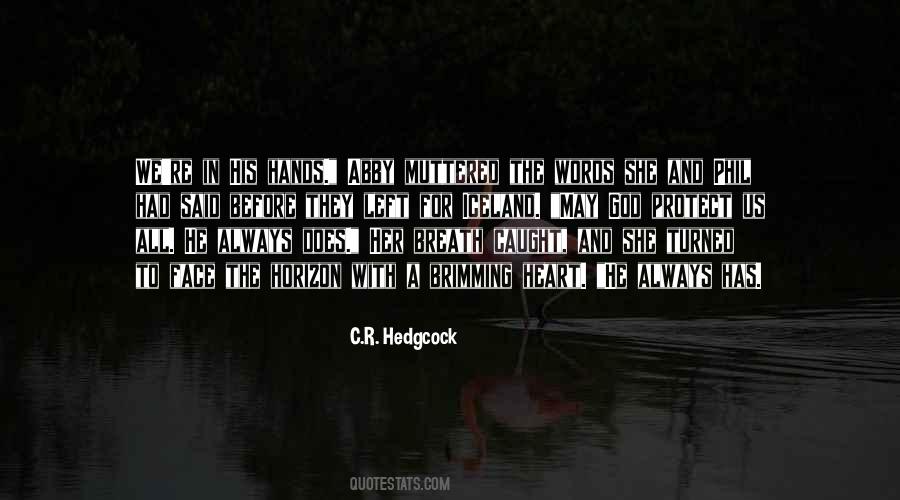 #60. feel that God was so very close, so very concerned with my particular life, so very ready to protect and to love. Always nearby. Always listening. Always leading. But - Author: Lisa Wingate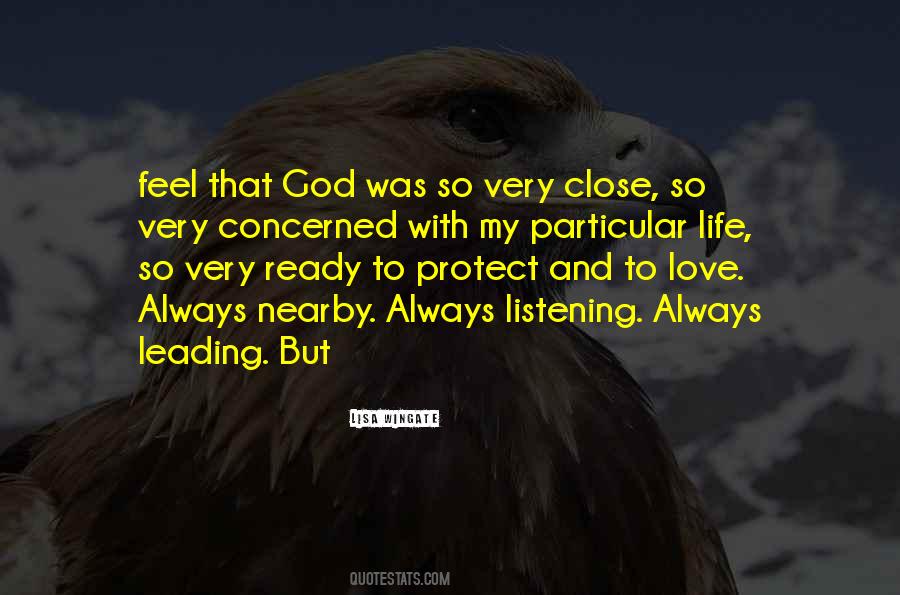 #61. The love for God is the love to protect the environment. - Author: Lailah Gifty Akita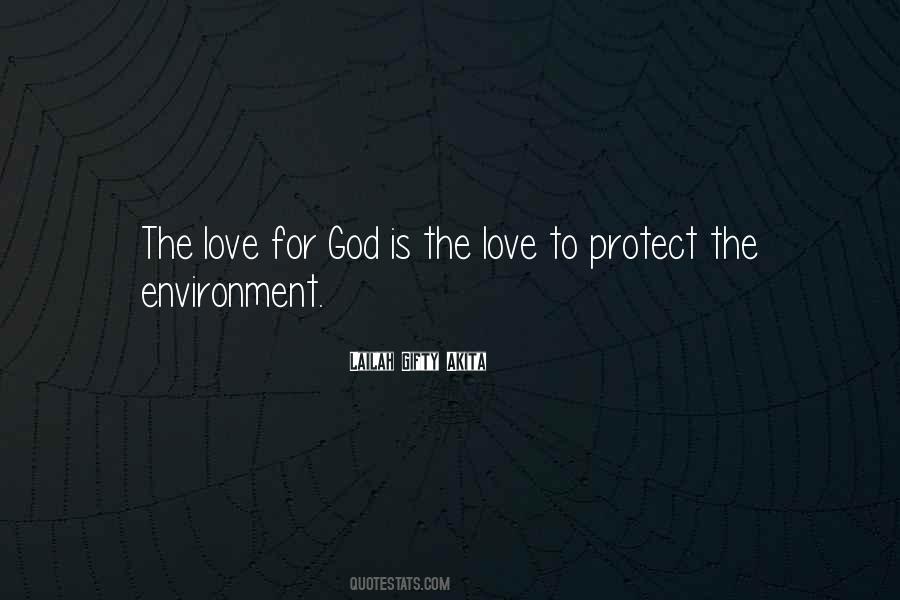 #62. We cannot tolerate one mistake from others, and yet God tolerates a planet covered with His own creation that live their entire lives sinning and denying Him, and yet continues to feed, clothe and protect them. - Author: Yasmin Mogahed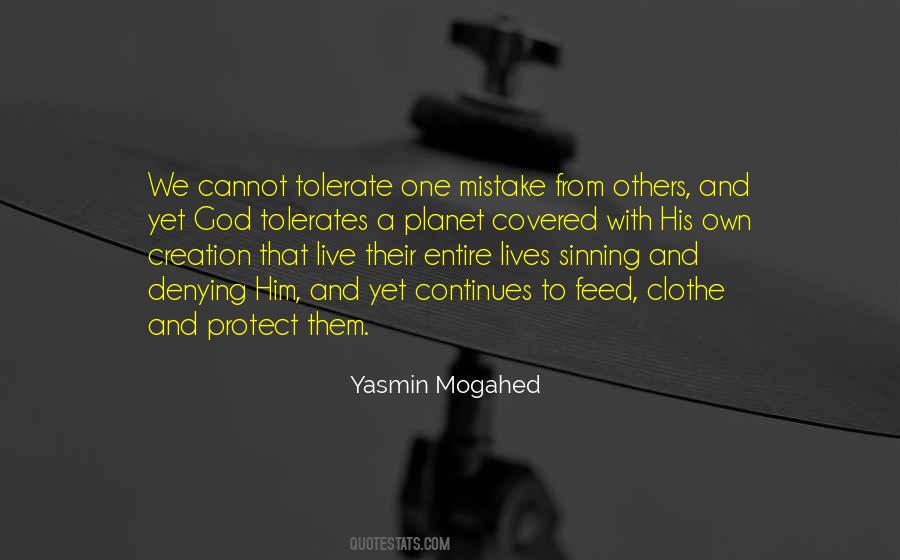 #63. Emotionally and physically, I'm an extremely fragile creation of God; while the strong will and character are formed out of the necessity to protect the vulnerable core. - Author: Sahara Sanders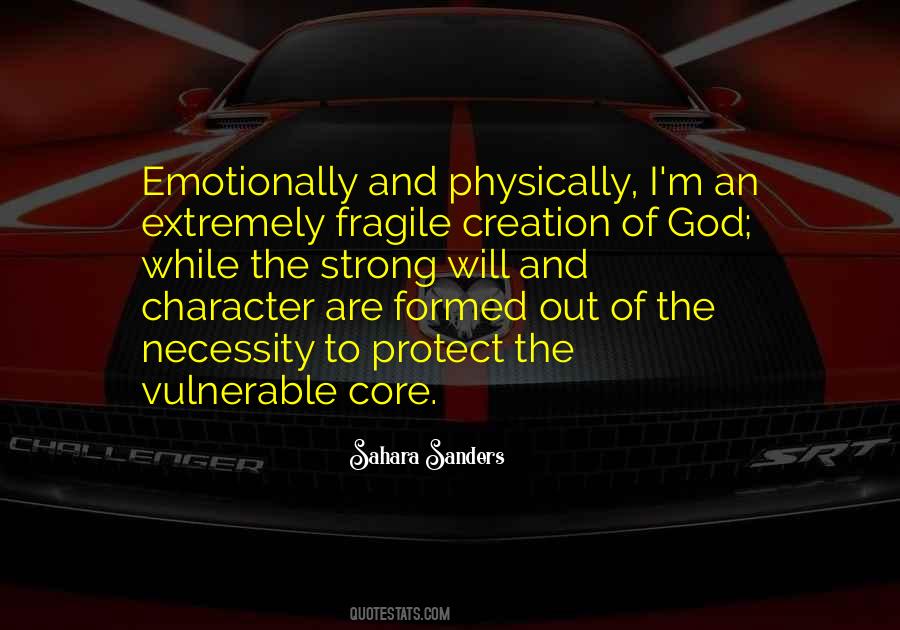 #64. Serge bowed his own head and closed his eyes God, please protect us from your followers. Amen - Author: Tim Dorsey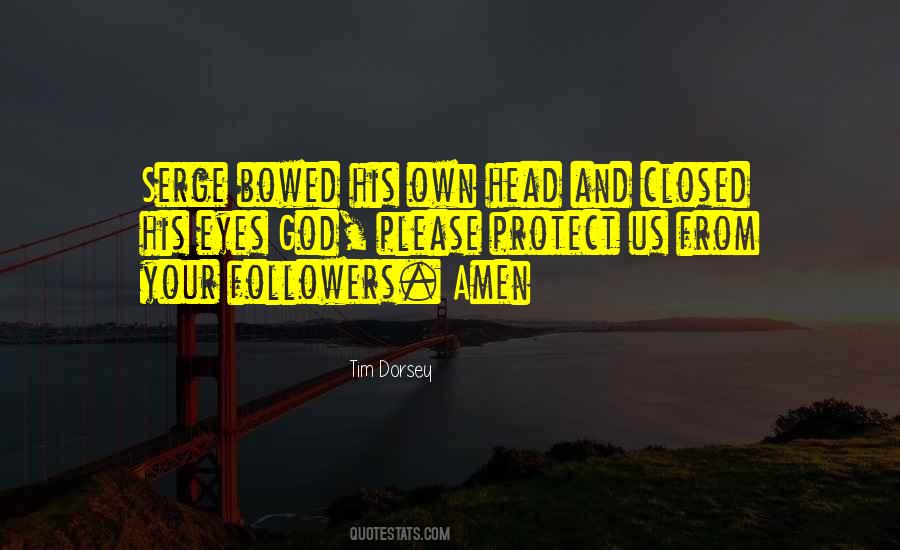 #65. The First Amendment exists to protect our religious liberty
to ensure that all Americans are able to seek out worship God with all our hearts, free from government coercion; it does not mandate scouring the public square to forcibly remove all acknowledgement s of the Almighty - Author: Ted Cruz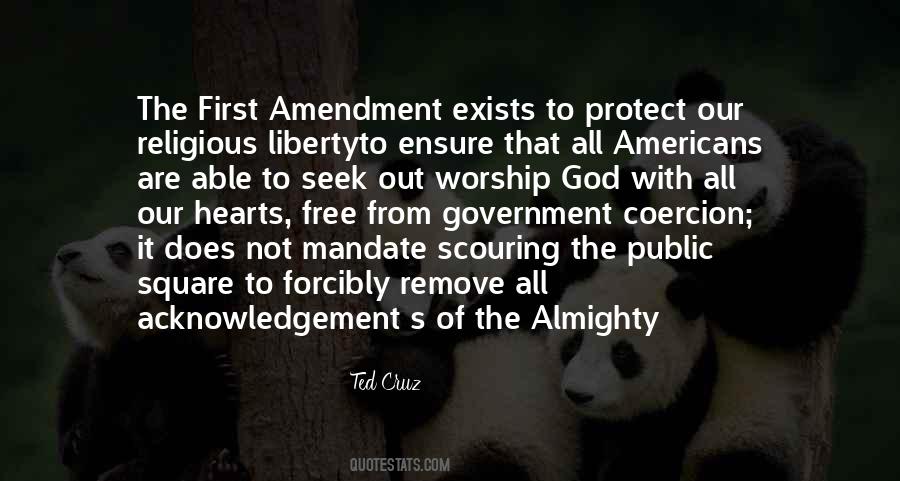 #66. The moment the idea is admitted into society that property is not as sacred as the law of God, and that there is not a force of law and public justice to protect it, anarchy and tyranny commence. - Author: John Adams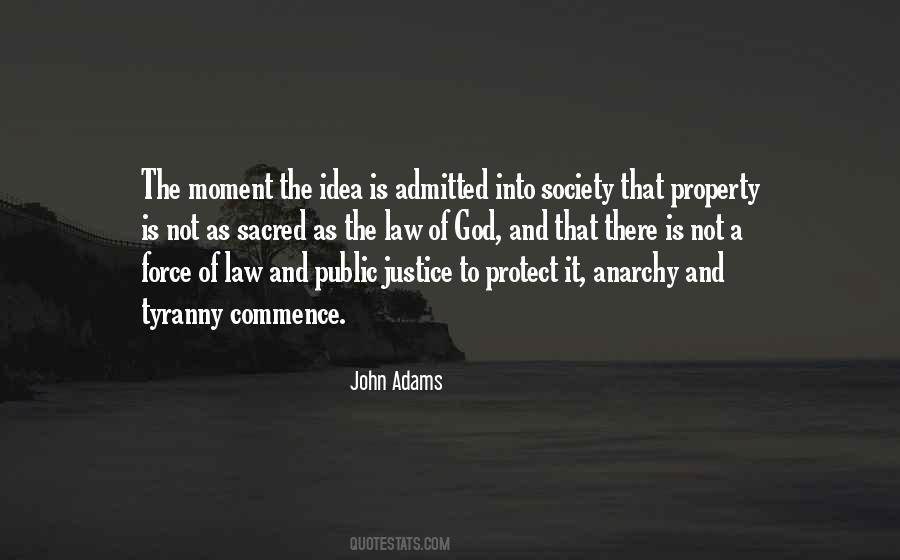 #67. Pride is often used as a way to protect our hearts and to hide the truth. Pride causes us to shut down and build walls. - Author: Heather Bixler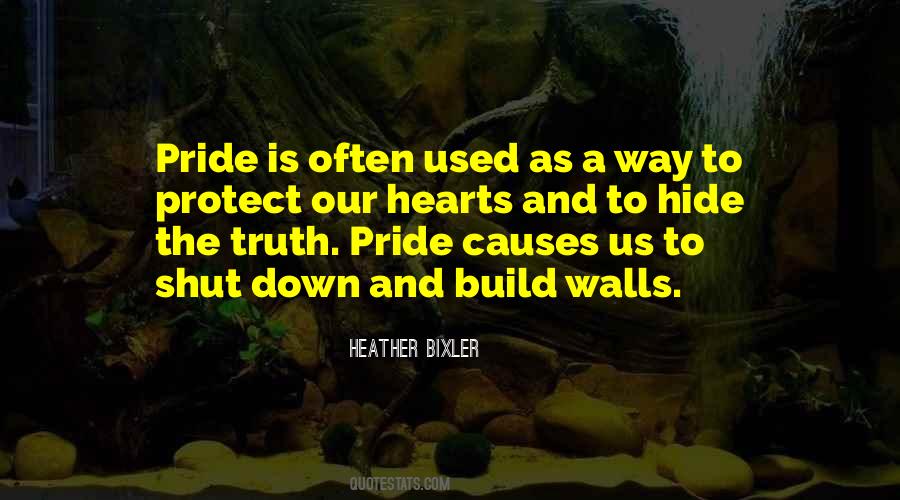 #68. Marriage can be tough. It really is. But God is calling you to do everything you can. It's just not you and your spouse. There's a third person in your marriage. And God would like to bless and protect that marriage, and give you many fruitful days ahead. - Author: Tim Huelskamp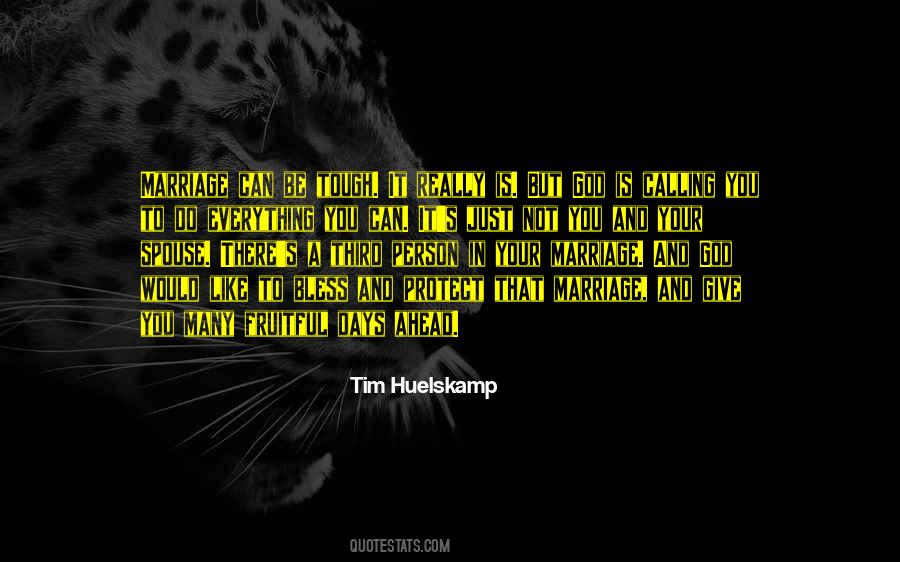 #69. Whatever your fears, whatever the unknowns or the challenges in your life, God has promised to provide for you, to share His pleasure with you, to protect you, and to give you His enduring presence. - Author: Nancy Leigh Leigh DeMoss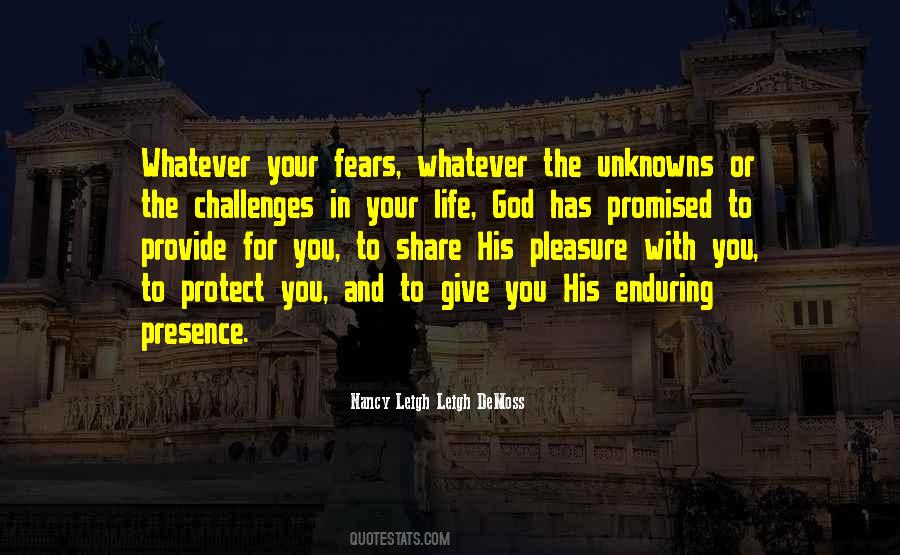 #70. In the time of trouble just before the coming of Christ, the righteous will be preserved through the ministration of heavenly angels; but there will be no security for the transgressor of God's law. Angels cannot then protect those who are disregarding one of the divine precepts. [257] - Author: Ellen G. White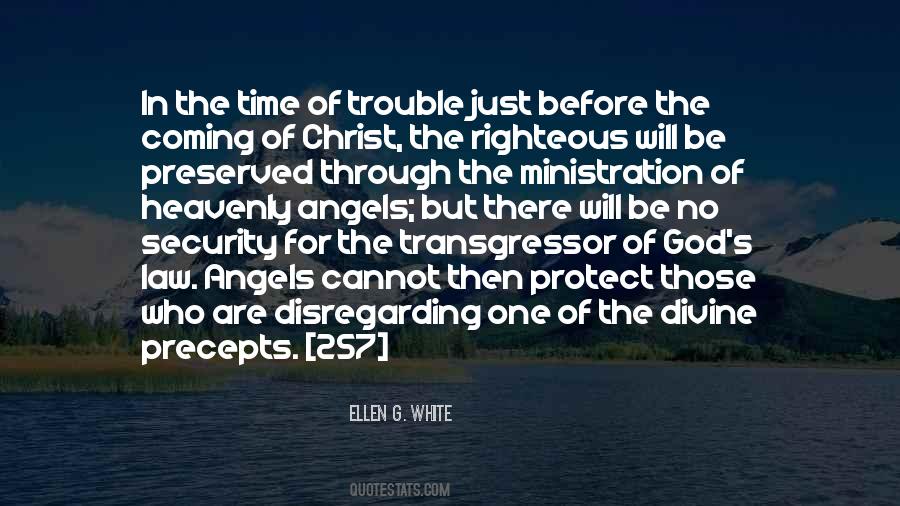 #71. God protect me from the lazy, selfish and ungrateful. - Author: Habeeb Akande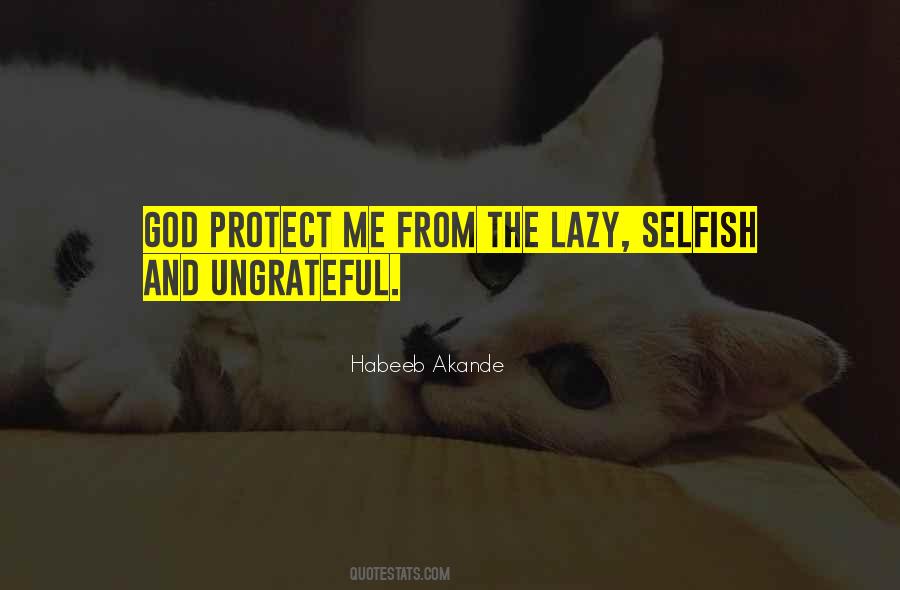 #72. One of the joys of heaven ... will be discovering the hidden ways that God in His sovereignty acted in our lives on earth to protect and guide us [that we might] bring glory to His name, in spite of our frailty. - Author: Billy Graham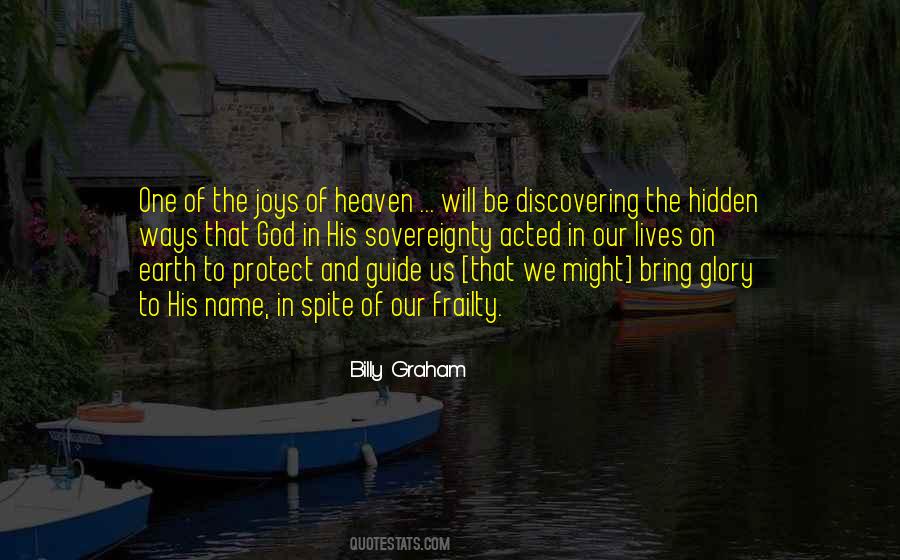 #73. We have got to protect privacy rights. We have got to protect our God-given, constitutionally protected civil liberties, and we are not doing that in the federal government. The Department of Homeland Security, as well as the TSA, is a great culprit in being a Gestapo-type organization. - Author: Paul Broun
#74. Protect the future by living and fulfilling your God-given dreams. - Author: Ifeanyi Enoch Onuoha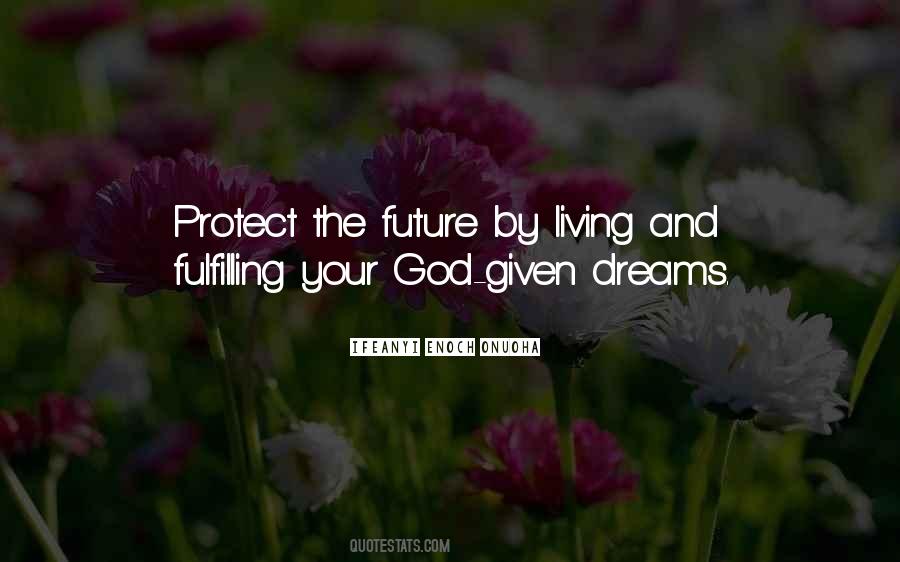 #75. If God lives in you and you have a relationship with Him, He will protect you - Author: Sunday Adelaja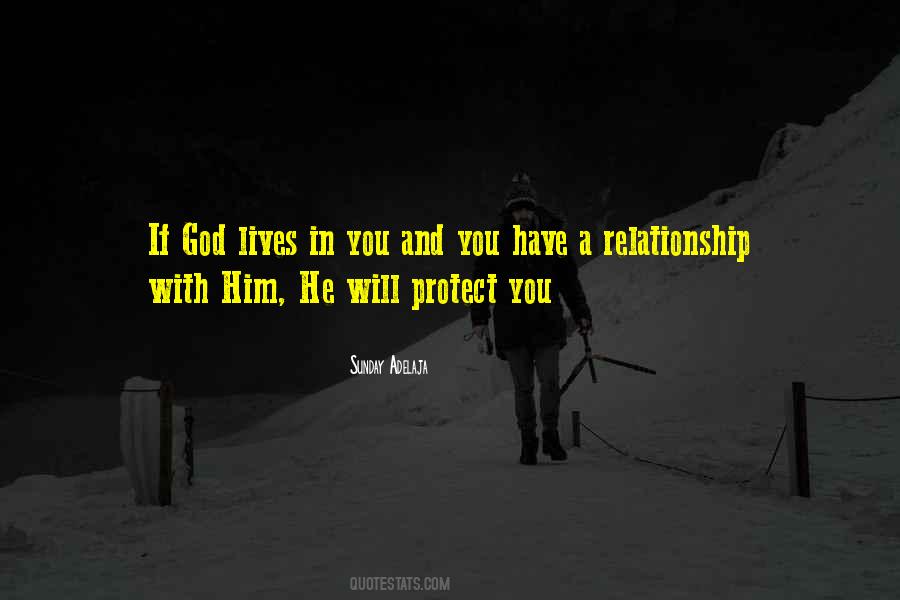 #76. May God protect me from gloomy saints. - Author: Saint Teresa Of Avila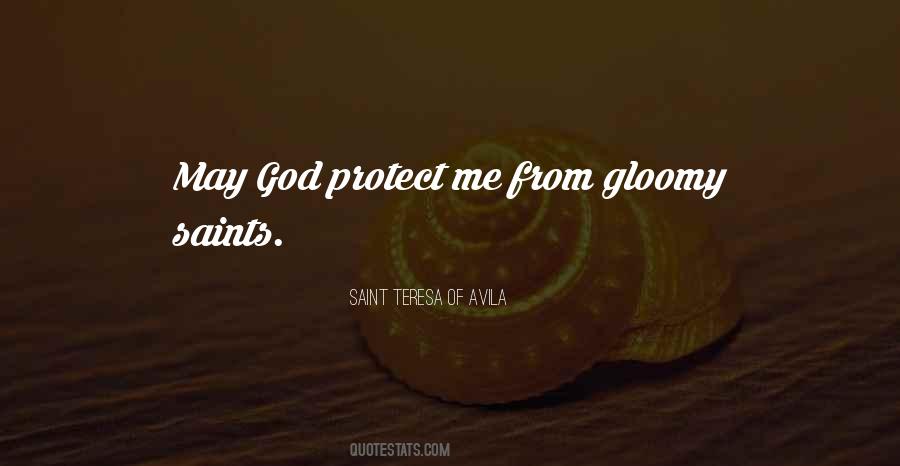 #77. The key ingredient that is missing is a government that will protect the priorities of Heaven and the presence of God in our land. - Author: Danny Silk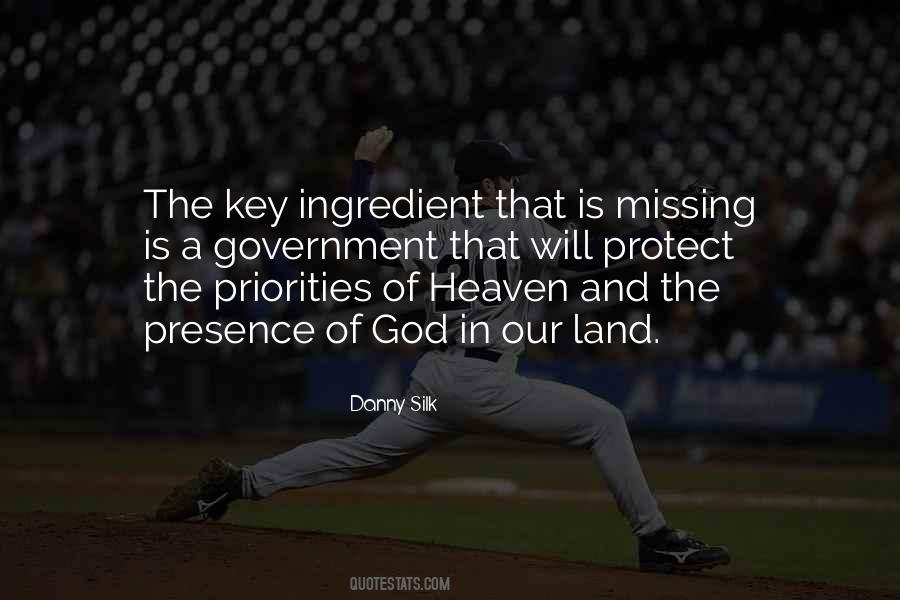 #78. When people were conscious of a God whose character was moral law, when their consciences were informed by a sense of rightness, their watchmen would shout halt when they trespassed the law. Now their watchmen are silent. They serve no king and protect no kingdom. - Author: James W. Sire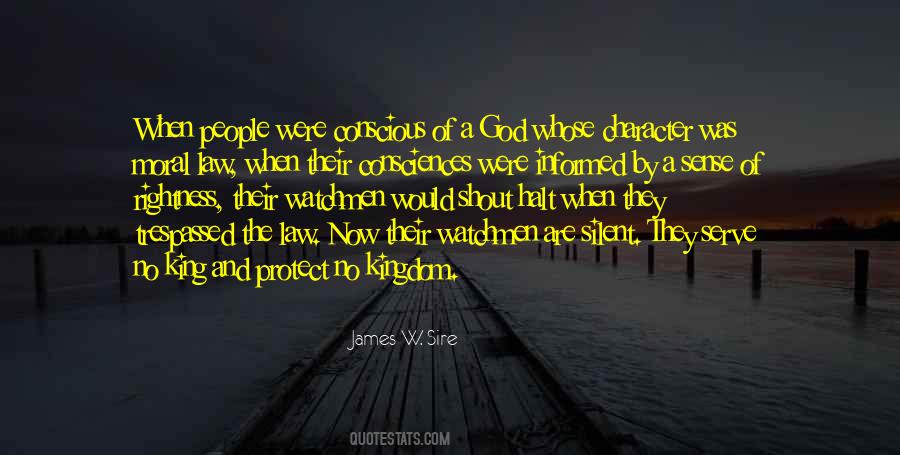 #79. The message, if you think about it this way, is all about taking chances because fate or destiny or God will protect you. Take a risk, have a little faith. It's all about life, not death. - Author: Chris Bohjalian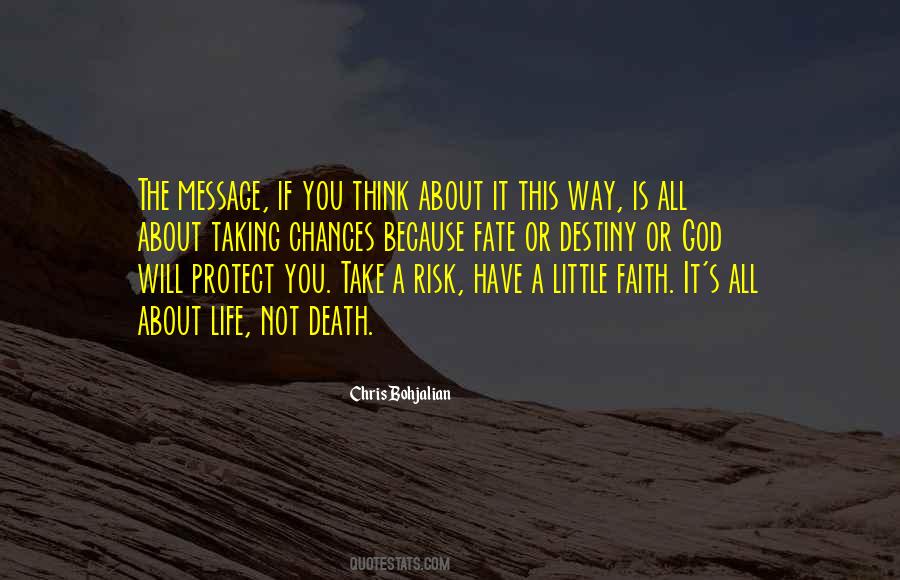 #80. What if God's 'NO,' is really a gift? His way to protect us from what we cannot see, provide something better than we can imagine, or be part of the process of growing us closer to Him. - Author: Lysa TerKeurst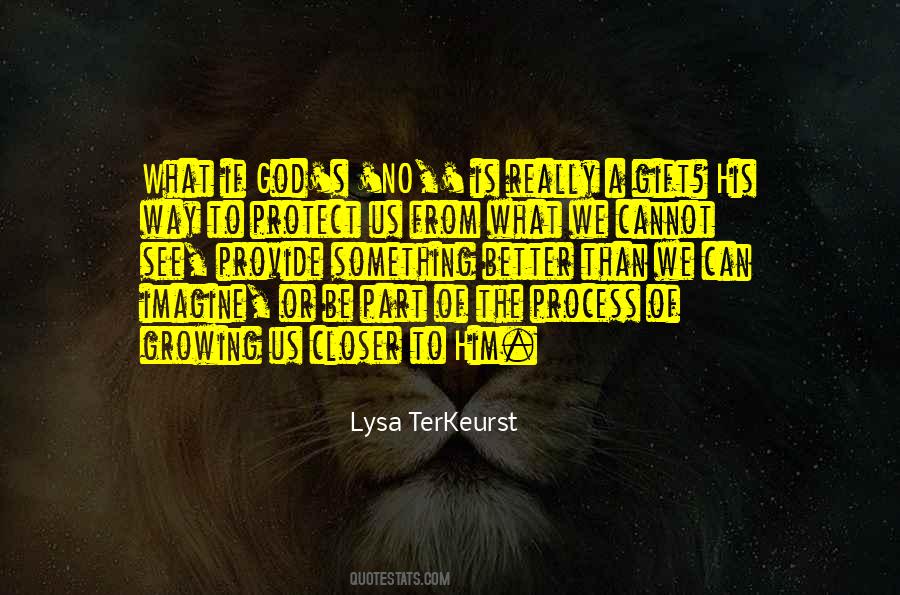 #81. Father God, let my sufferings not be for nothing. And don't let Annabel suffer any longer. Help her realize none of this is her fault. Protect her. - Author: Melanie Dickerson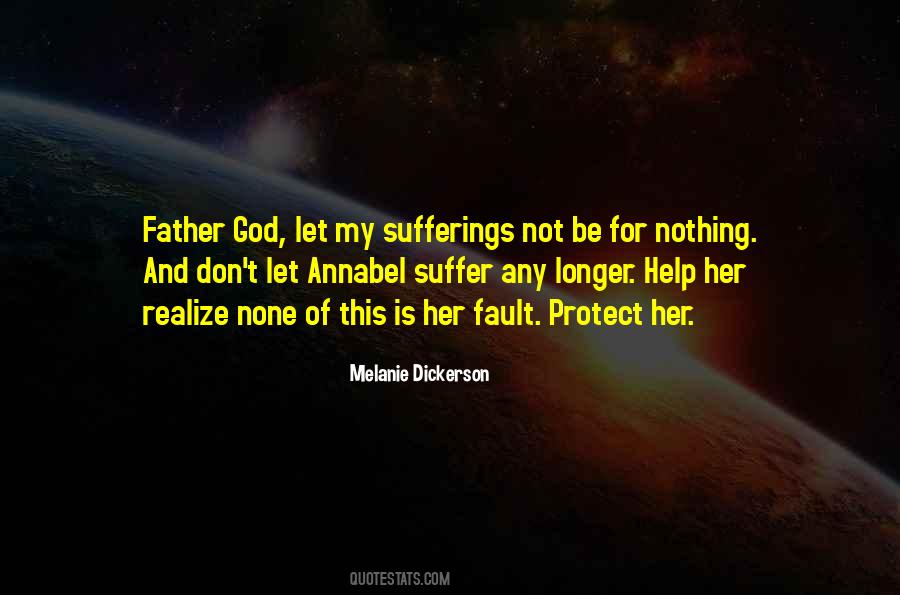 #82. A Christian who does not protect creation, who does not let it grow, is a Christian who does not care about the work of God; that work that was born from the love of God for us ... And this is the first response to the first creation: protect creation, make it grow. - Author: Pope Francis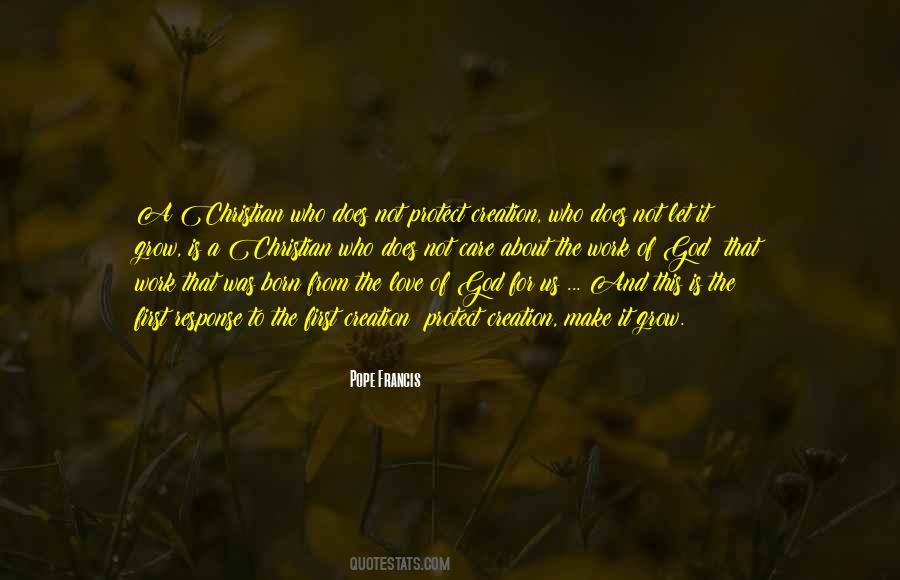 #83. Caring for your heart is also how you protect your relationship with God ... [The heart] is where we commune with him. It is where we hear his voice. Most of the folks I know who have never heard God speak to them are the same folks who live far from their hearts. - Author: John Eldredge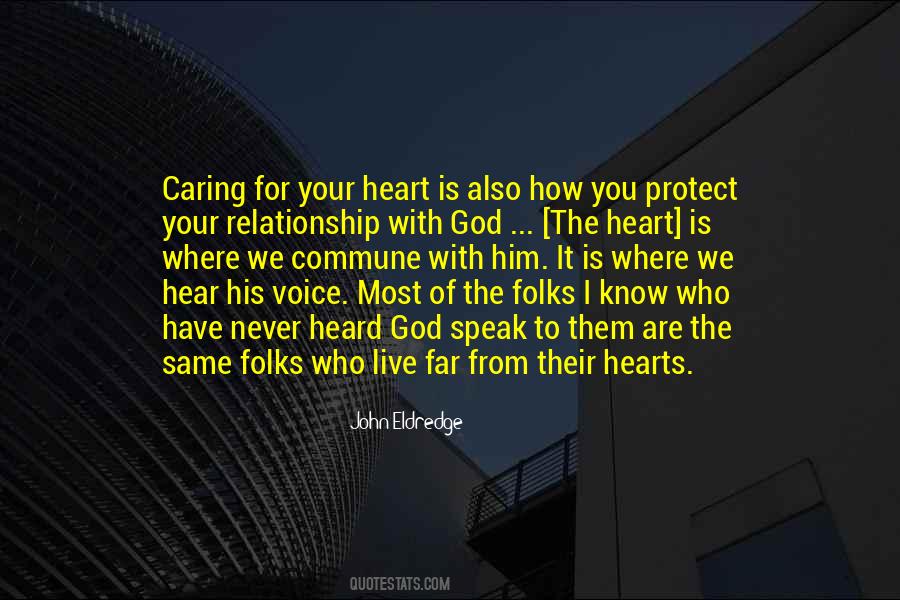 #84. Whether you were Moslem, Christian, Druze, or Israeli, remember, God protect thee, that religious fanaticism for political goals or political fanaticism for religious purposes is the worst kind of fanaticism. - Author: Ameen Rihani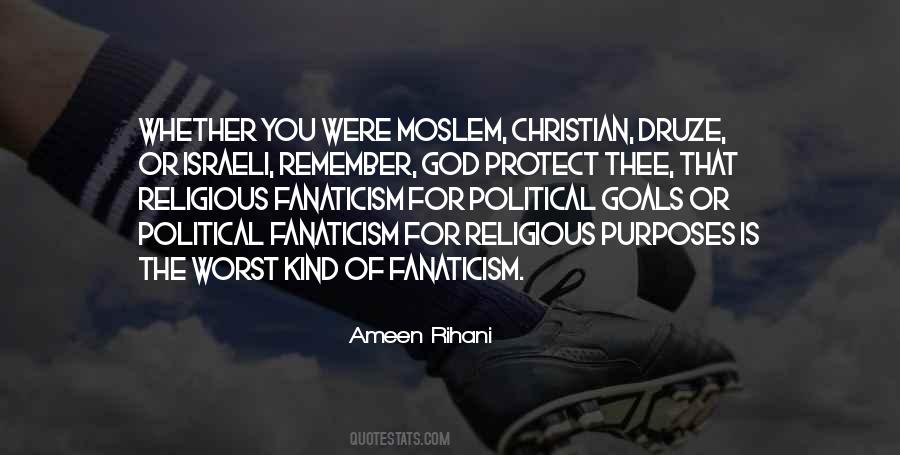 Famous Authors
Popular Topics