God See All Famous Quotes & Sayings
List of top 100 famous quotes and sayings about god see all to read and share with friends on your Facebook, Twitter, blogs.
Top 100 God See All Quotes
#1. When I'm in the house of God, I don't wear my jewelry, if you're looking for my jewelry. All you see is my heart of gold. - Author: Mr. T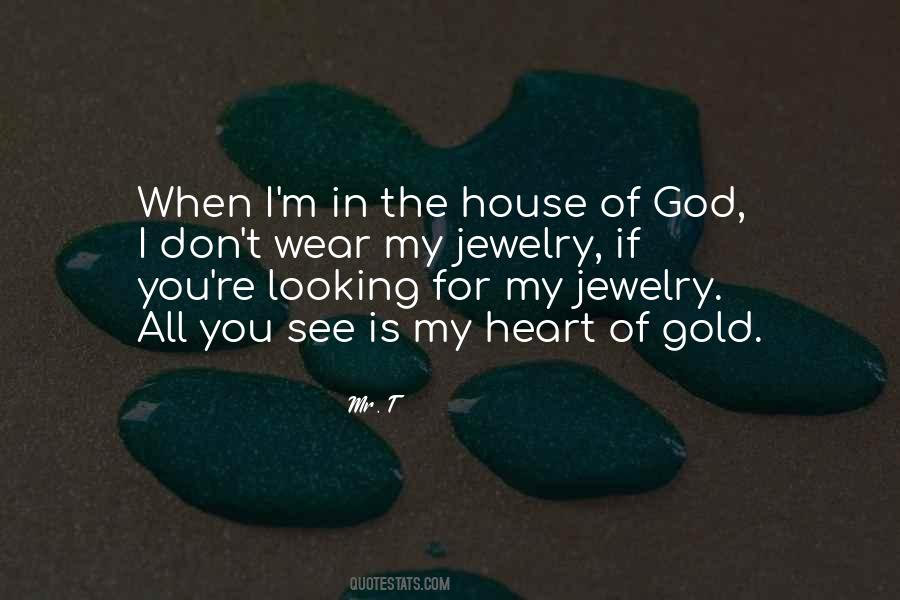 #2. To the sight of the swallows dying in mid air, Alessandro was finally able to add his own benediction. "Dear God, I beg of you only one thing. Let me join the ones I love. Carry me to them, unite me with them, let me see them, let me touch them." And then it all ran together, like a song. - Author: Mark Helprin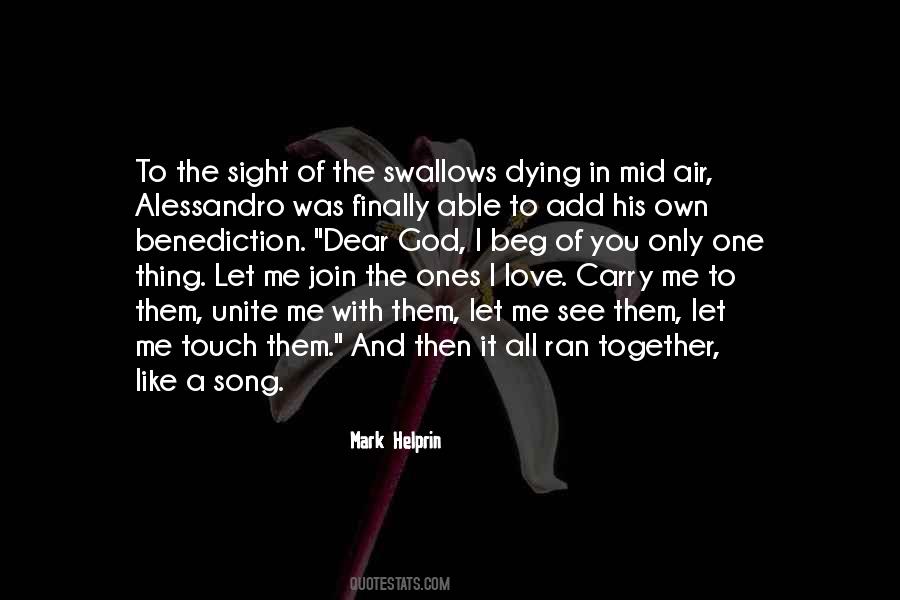 #3. We can all see God in exceptional things, but it requires the culture of spiritual discipline to see God in every detail. - Author: Oswald Chambers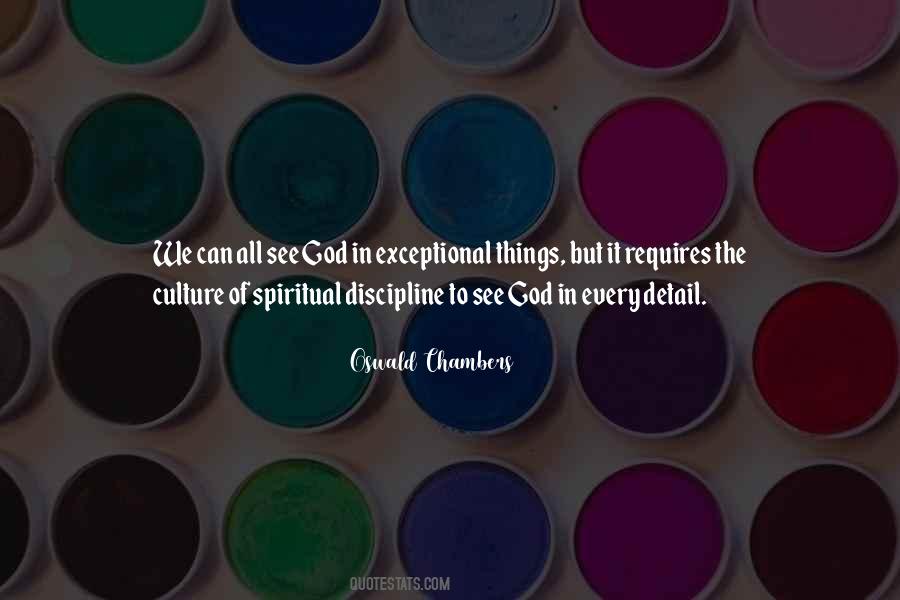 #4. Maybe we can pray and God answers in ways we can't see and it doesn't all happen spontaneously. Maybe it's about the journey, too."

(Undercover Protector) - Author: Elizabeth Goddard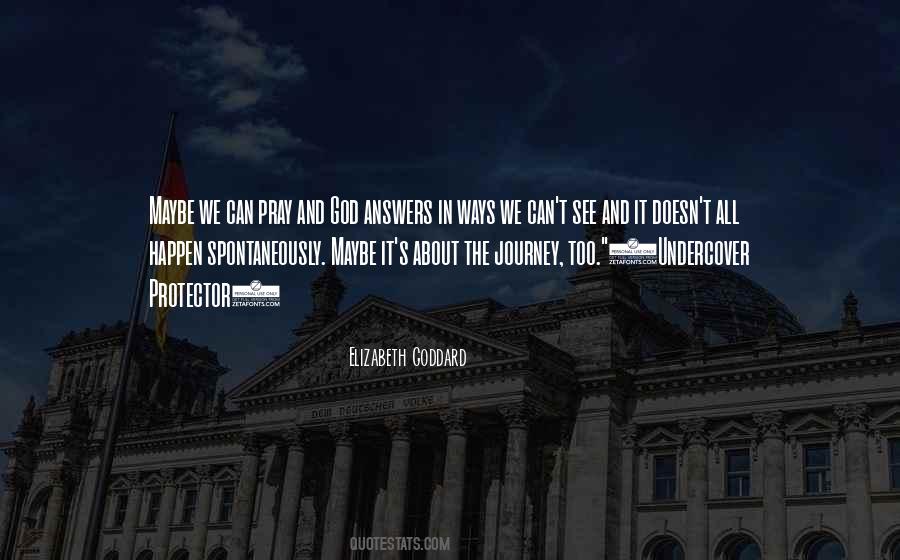 #5. Grow old along with me! The best is yet to be, the last of life, for which the first was made. Our times are in his hand who saith, 'A whole I planned, youth shows but half; Trust God: See all, nor be afraid! - Author: Robert Browning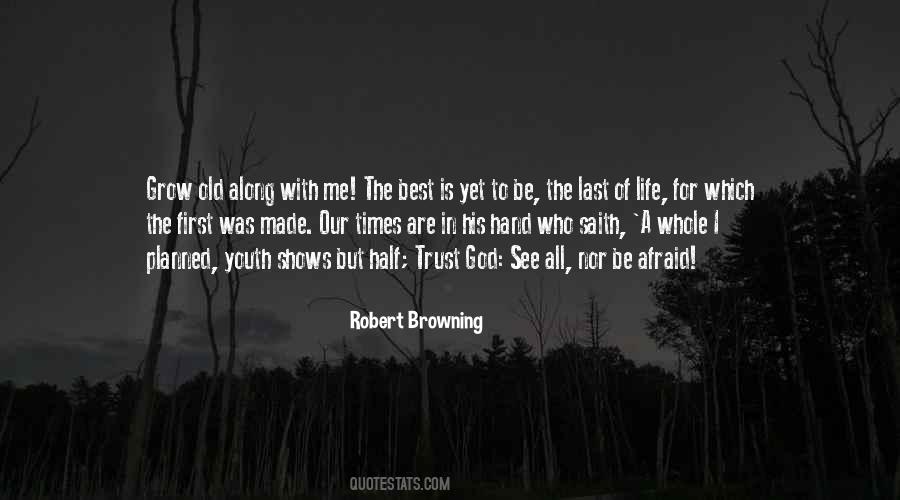 #6. Henri J.M. Nouwen wrote about 'wounded healers.' I've come to see that there's no other kind. We are all wounded, and we are all called to take part in what God is doing to bring healing to those around us. - Author: Mary Lou Redding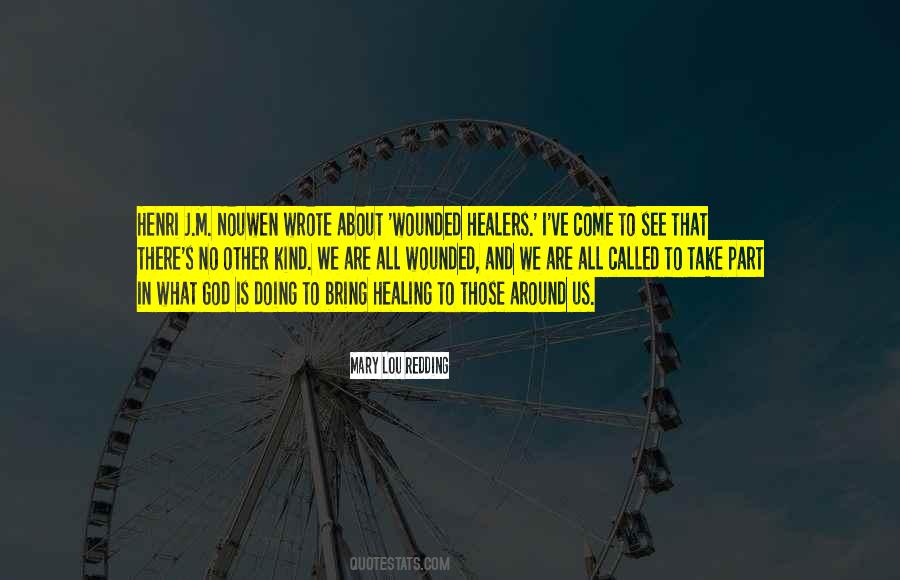 #7. Whenever you see confusion, you can be sure that something is wrong. Disorder in the world implies that something is out of place. Usually, at the heart of all disorder you will find man in rebellion against God. It began in the Garden of Eden and continues to this day. - Author: A.W. Tozer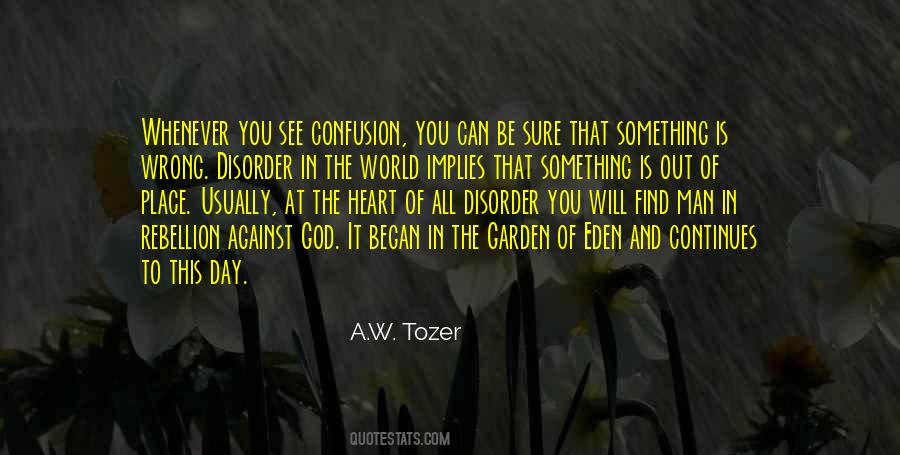 #8. You see, the richest people I know don't always understand what is going on. They don't always like what they see. But they have a quiet confidence that God will put all things together for their good. - Author: Phil Callaway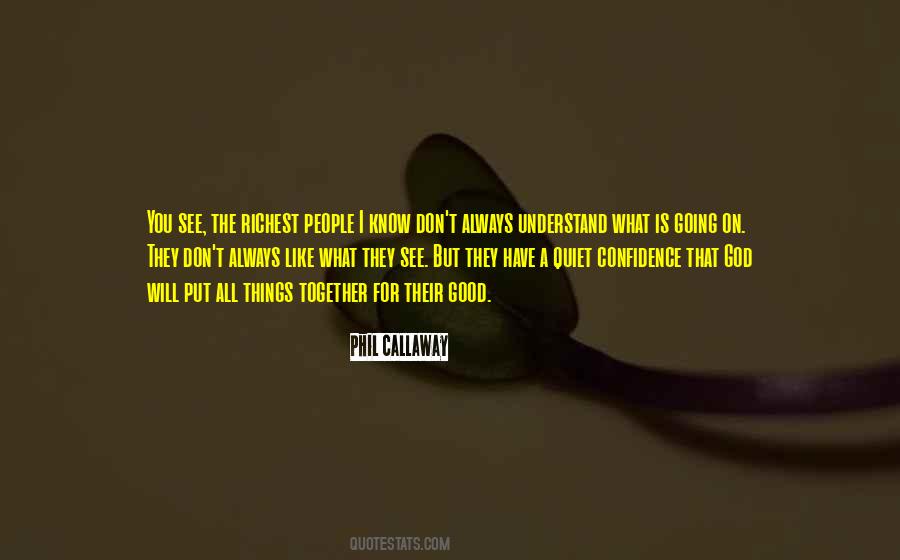 #9. See, loving heart, how He delights in you. When you lean your head on His bosom, you not only receive, but you give Him joy; when you gaze with love upon His all-glorious face, you not only obtain comfort, but impart delight. - Author: Charles Haddon Spurgeon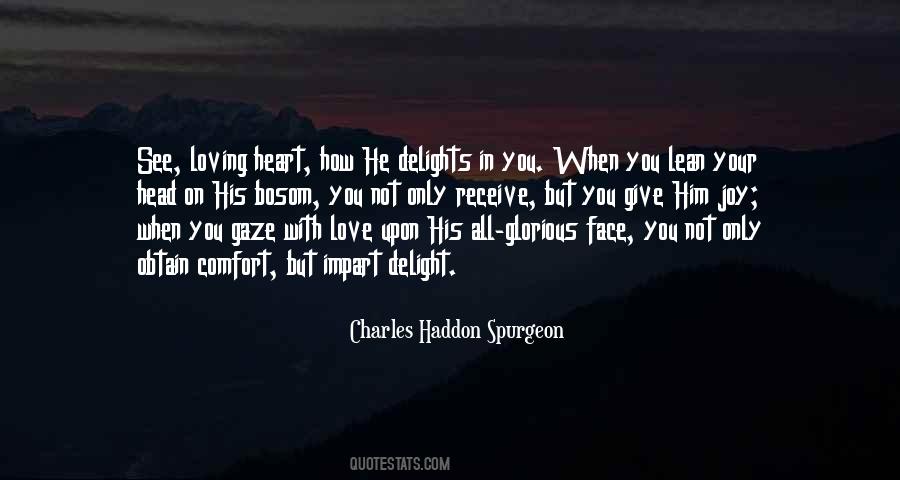 #10. Blake's song isn't really a song for England alone," said Dym. "It's a song for every land. We're all building the unseen Jerusalem together. But the powers of darkness don't want to see a time when the earth shall be filled with the glory of the God as the waters cover the sea. - Author: Constance Savery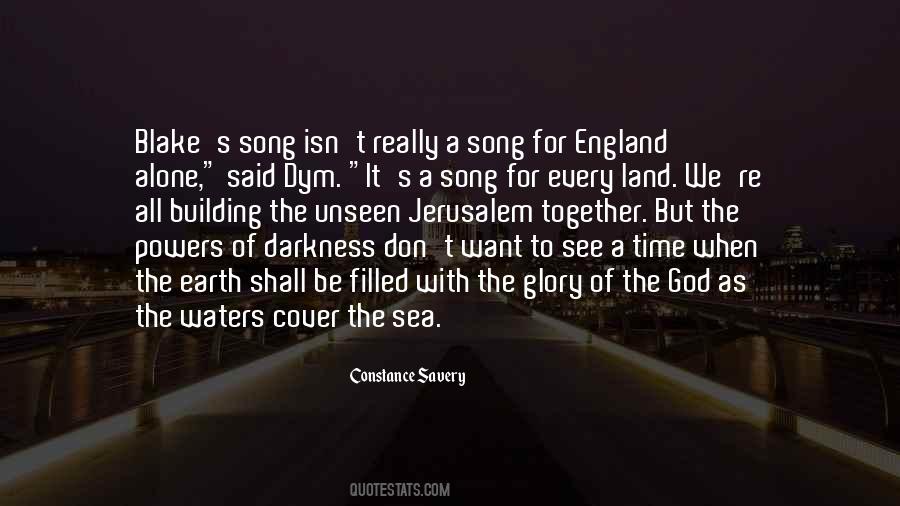 #11. Oh, Brethren, what is the result of pride? Oh, see what humility can do? What was the need for all these sufferings? For, if from the beginning Man had humbled himself, obeyed God, and kept the commandment he would not have fallen. - Author: Dorotheus Of Gaza
#12. Open your eyes that you might see that all things are possible through you (with God's help) - Author: Robert A. Schuller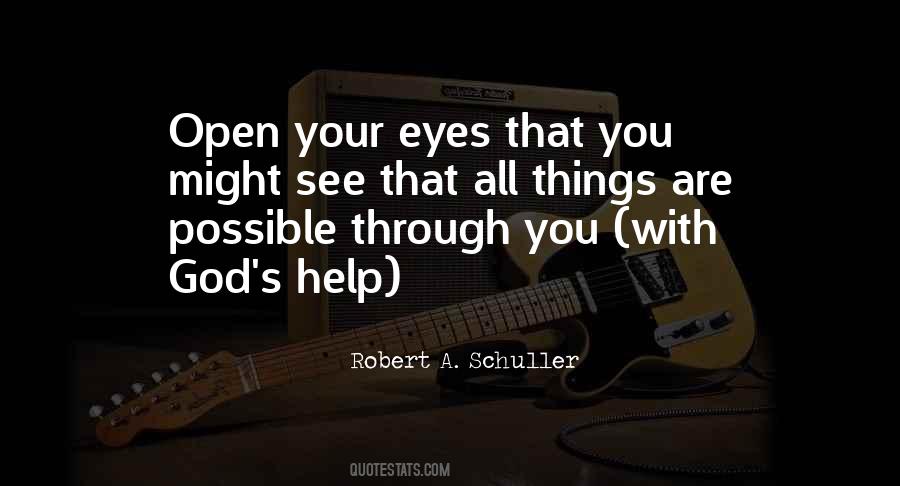 #13. He is the God of nothing, if that is all you can see. He is the God of everything, he's inside you and me. - Author: Jethro Tull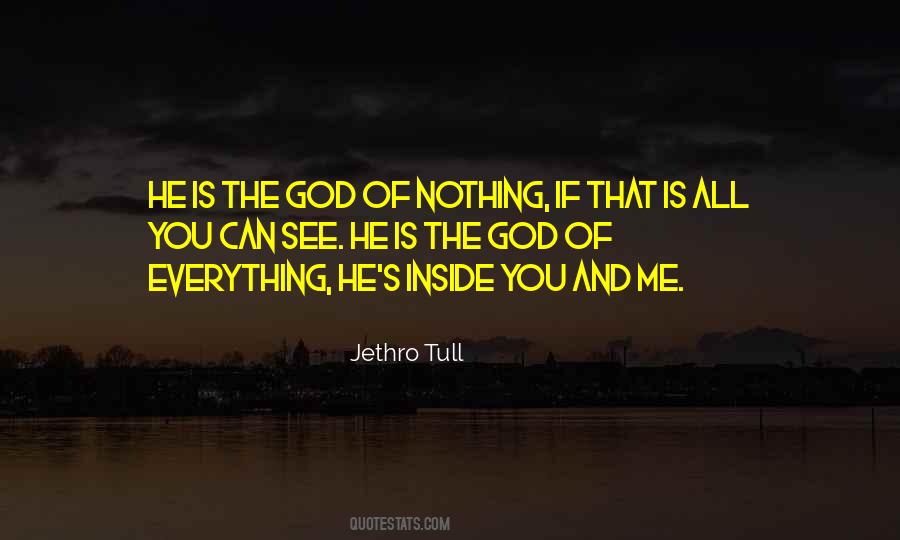 #14. I'm a religious man. I am Jewish but I believe in all religions. I believe in God and see him as an old man with a big white beard and pray to him every day for a few minutes. - Author: Uri Geller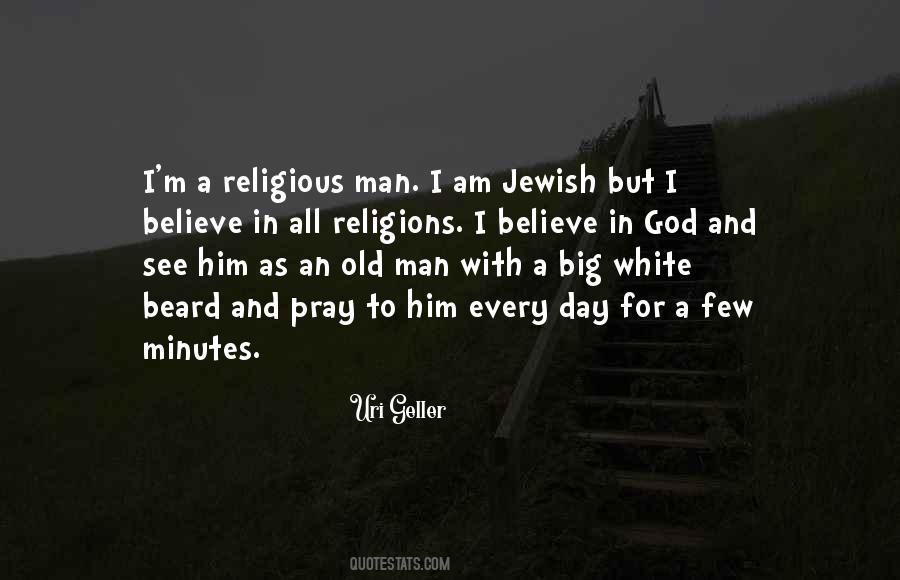 #15. Whoever possesses God in their being has Him in a divine manner, and He shines out to them in all things; for them all things taste of God and in all things it is God's image that they see. - Author: Meister Eckhart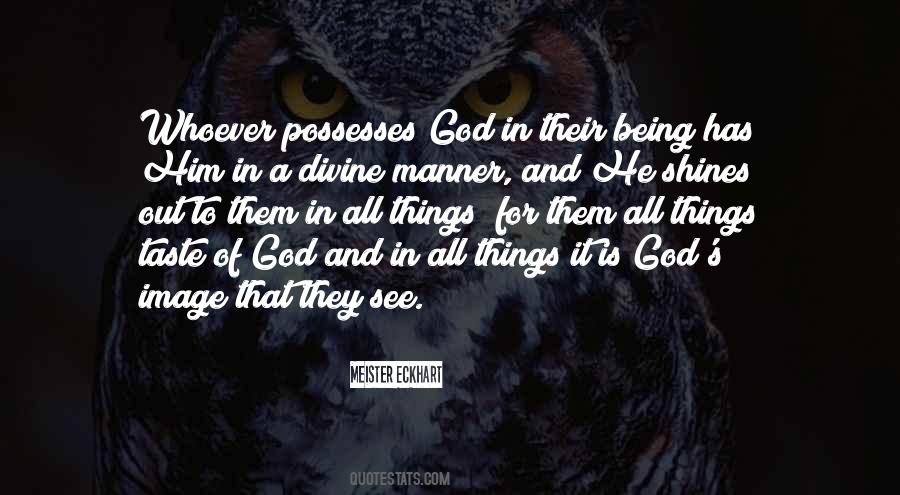 #16. Sometimes, as in a great novel, you cannot see until you get to the end that God was leaving clues for you all along. - Author: Lauren F. Winner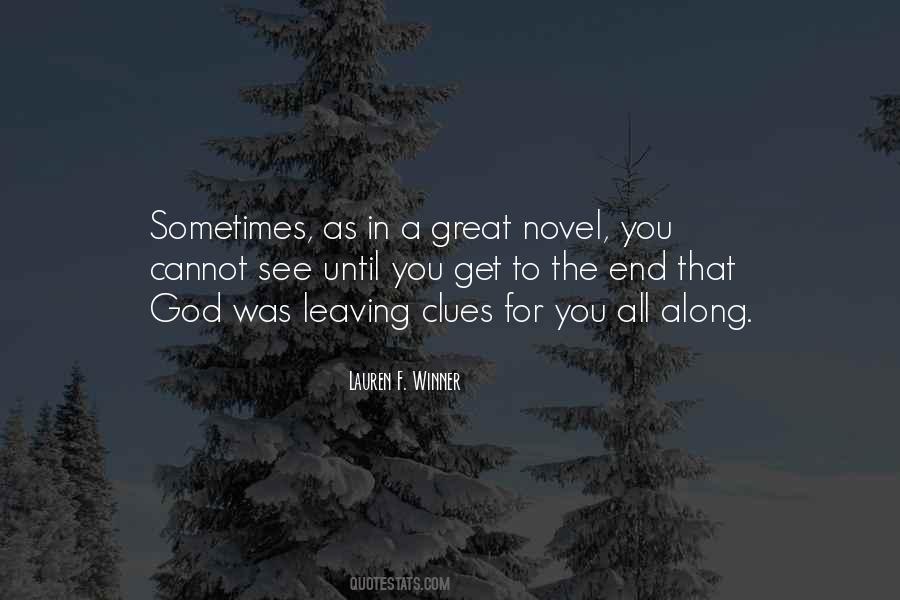 #17. When God is your source it doesn't matter whether you're graced with a six-figure salary or living in squalor in a slum. All you got to do is see Him as your source and you'll find your needs met. - Author: David Roiel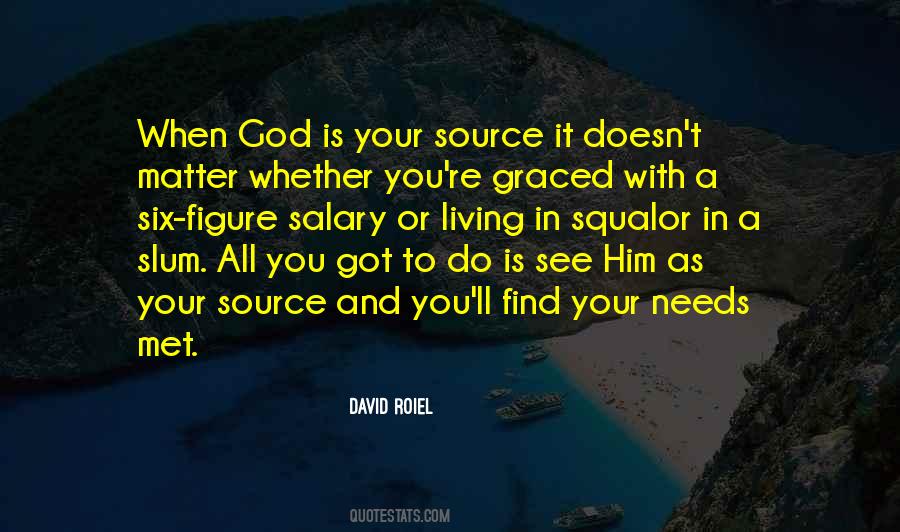 #18. All religions are the same. They all lead to God. God is everybody ... The same blood flows through us all, the arms, the legs, the heart, all are the same. See no difference.
See all the same. - Author: Neem Karoli Baba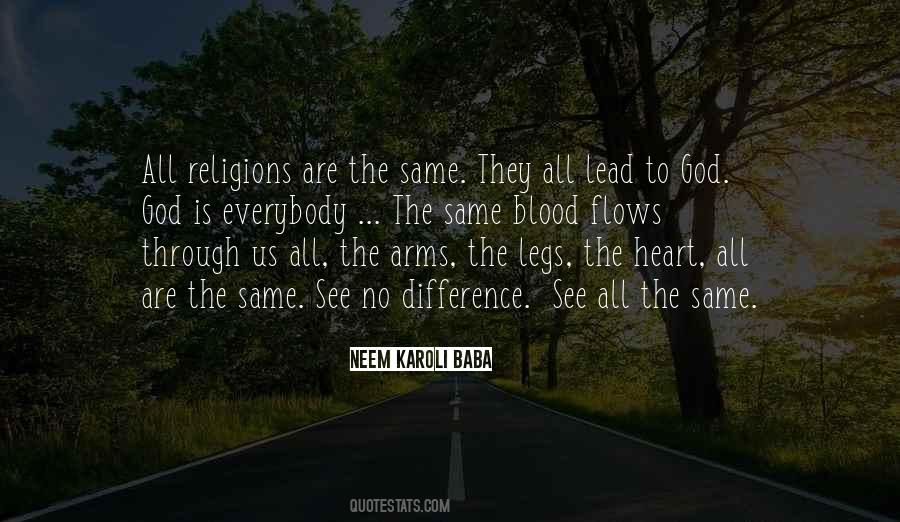 #19. I have lived to see the greatest plague on earth
the condemning of God's word, a fearful thing, surpassing all other plagues in the world; for thereupon most surely follow all manner of punishments, eternal and corporal. - Author: Martin Luther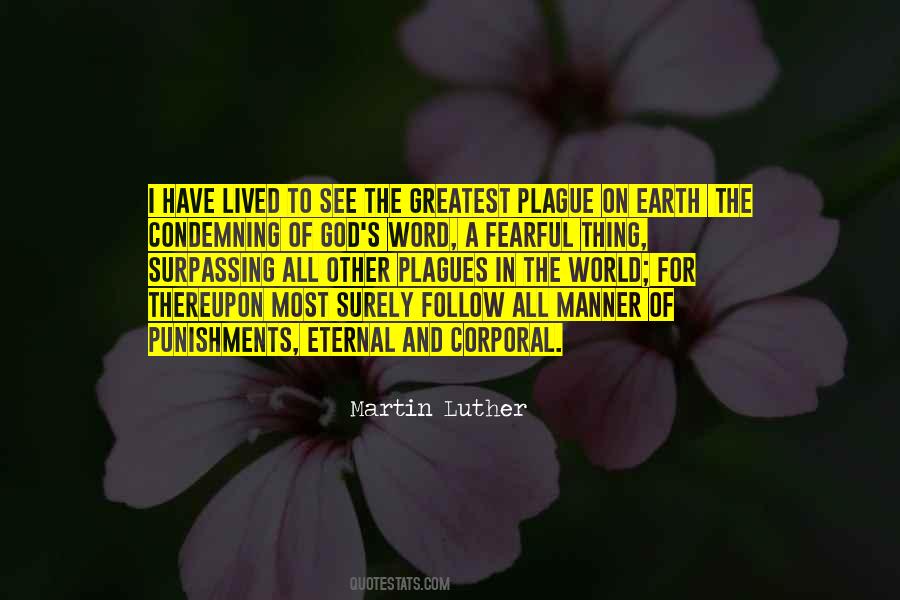 #20. God wants us to be present where we are. He invites us to see and to hear what is around us and, through it all, to discern the footprints of the Holy. Actually, - Author: Richard J. Foster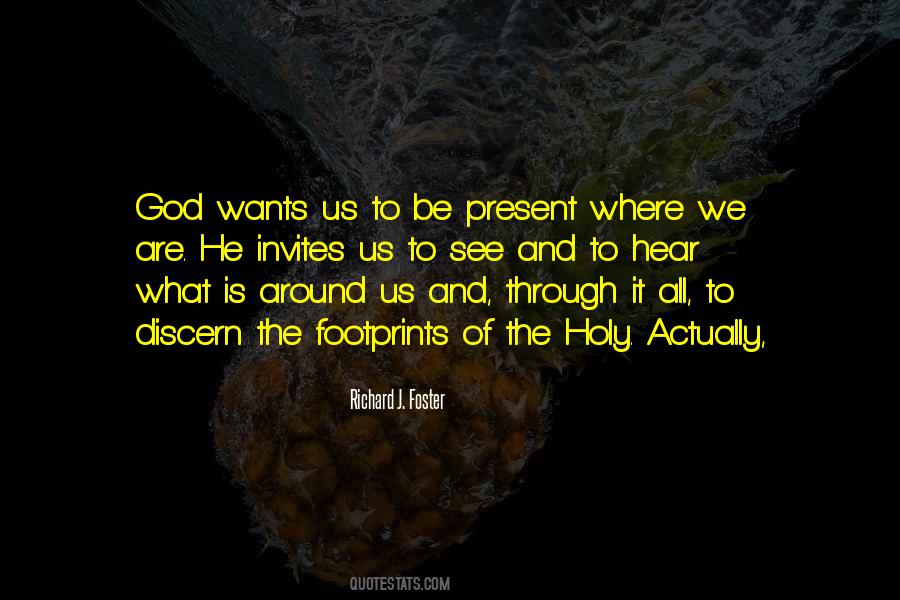 #21. Although the works of the Creator may be in themselves all equally perfect, the animal is, as I see it, the most complete work of nature, and man is her masterpiece. - Author: Georges-Louis Leclerc, Comte De Buffon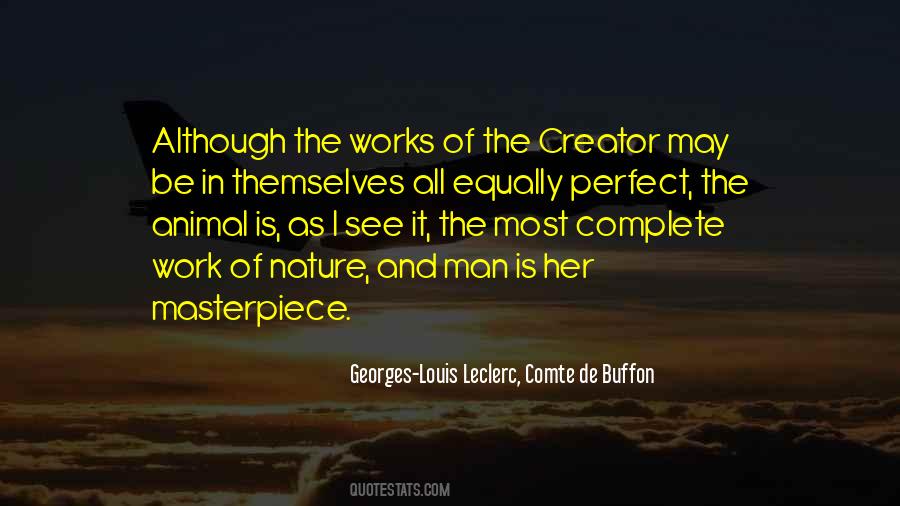 #22. We don't ask any people to throw away any good they have got; we only ask them to come and get more. What if all the world should embrace this Gospel? They would then see eye to eye, and the blessings of God would be poured out upon the people, which is the desire of my whole soul. - Author: Joseph Smith Jr.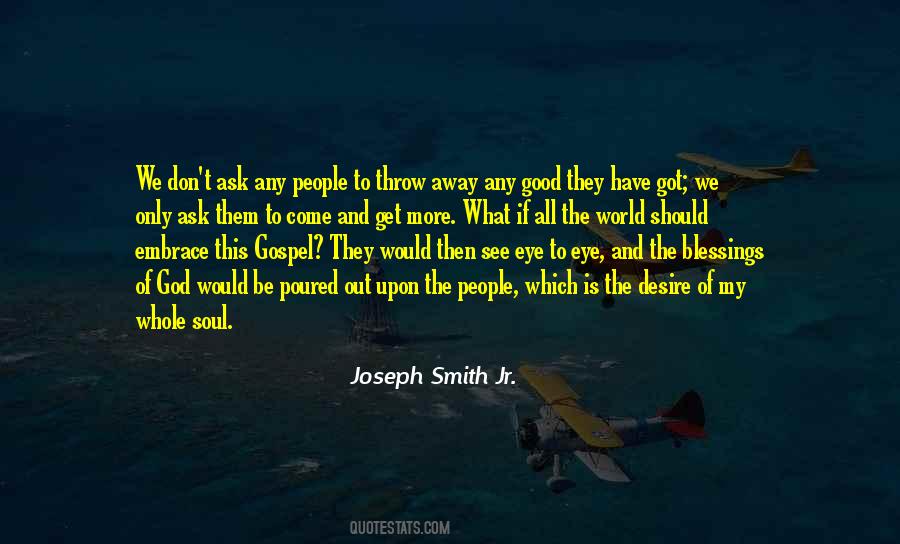 #23. Though justice be Thy plea, consider this: That in the course of justice none of us should see salvation. We do pray for mercy, And that same prayer doth teach us all to render The deeds of mercy. - Author: George Bernard Shaw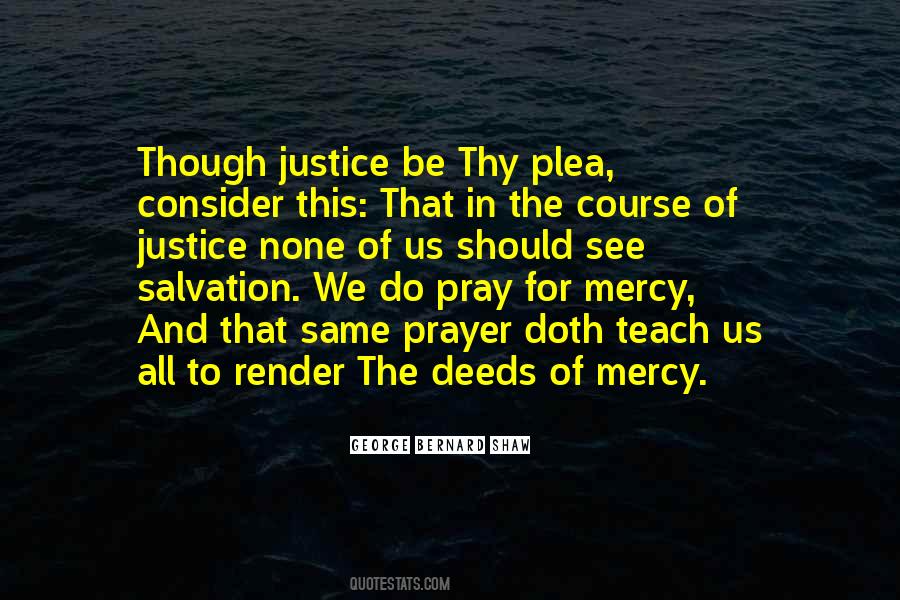 #24. If God's masons built real walls, I doubt we'd be able to destroy them. But instead of walls all I see is backdrops, sets. And sets are made to be destroyed. - Author: Milan Kundera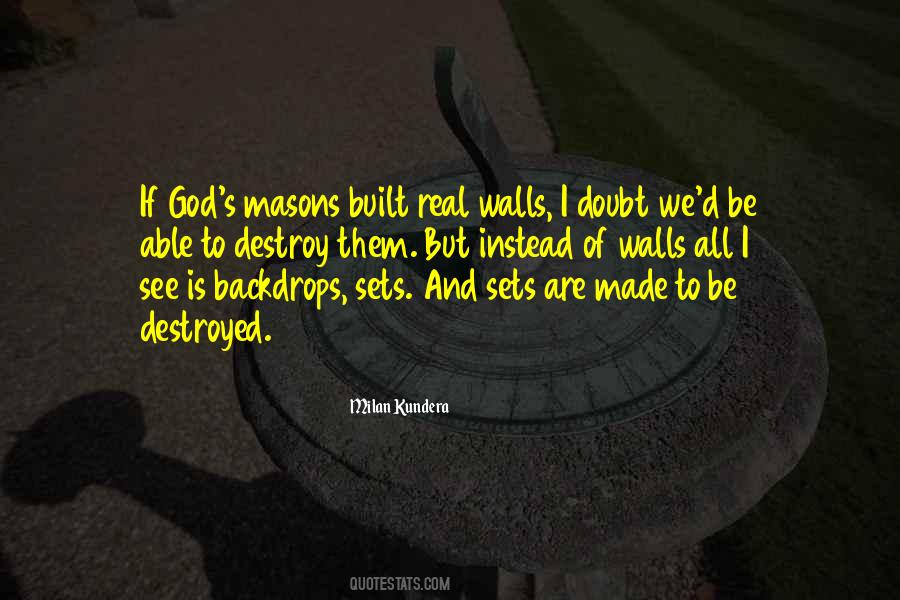 #25. That higher awakening is called God-consciousness. In that condition, you will see that all the objects of the world are your own universal self. - Author: Krishnananda Saraswati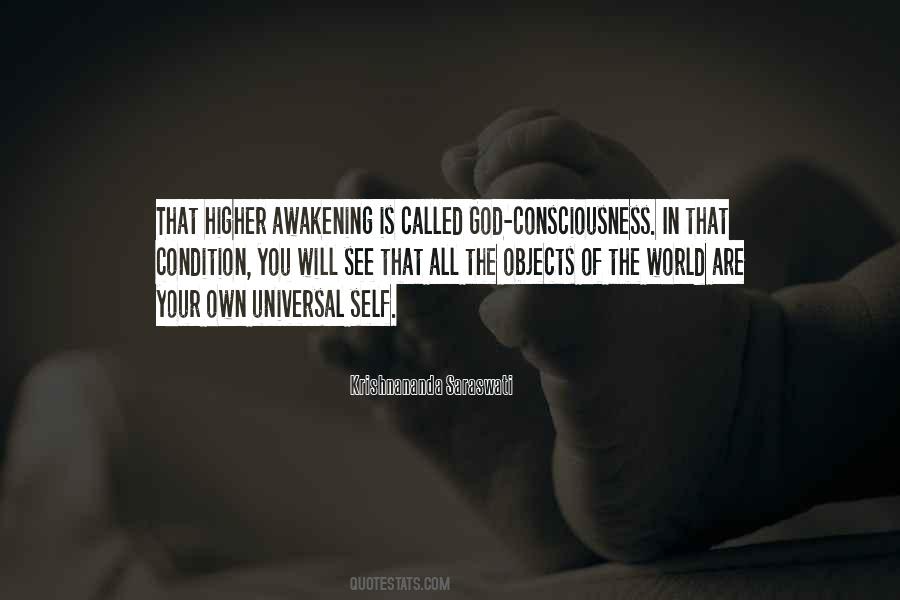 #26. Both of my parents got to see me host Carson, thank God. That's all anyone wants: to have their parents see they're going to be all right in life. - Author: Joan Rivers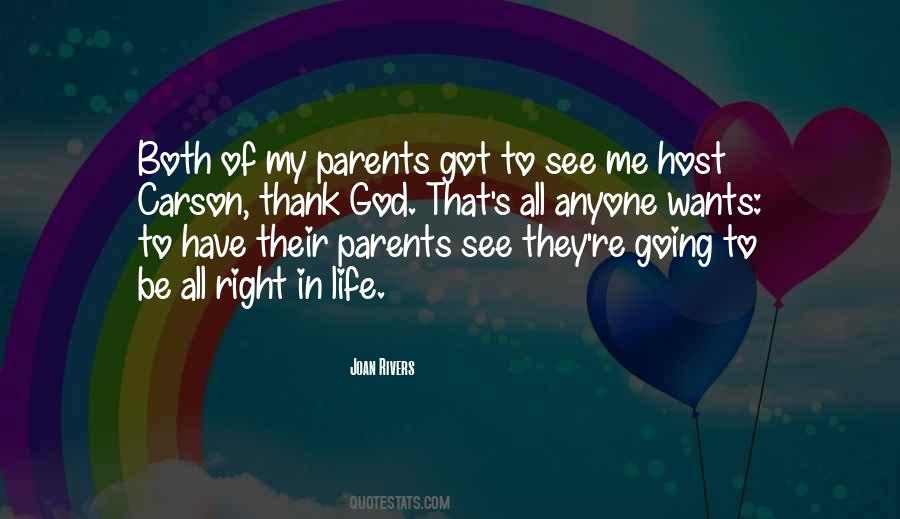 #27. When you love people, you see all the good in them, all the Christ in them. God sees Christ, His Son, in us and loves us. And so we should see Christ in others, and nothing else, and love them. There can never be enough of it. There can never be enough thinking about it. - Author: Dorothy Day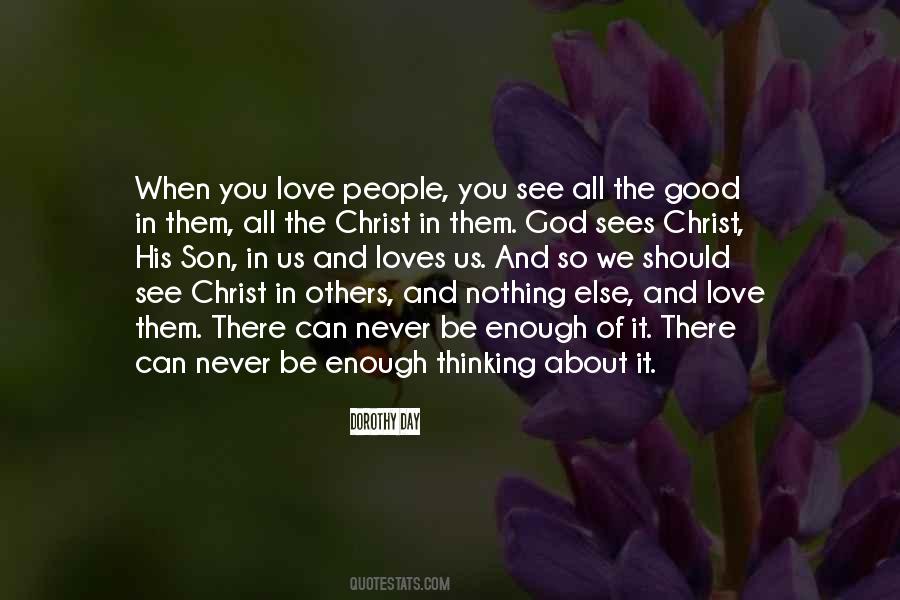 #28. Maybe the job of the artist is to see through all of this strangeness to what really is, and that takes a lot of courage and a strong faith in the validity of the artistic vision even if there is not a conscious faith in God. - Author: Madeleine L'Engle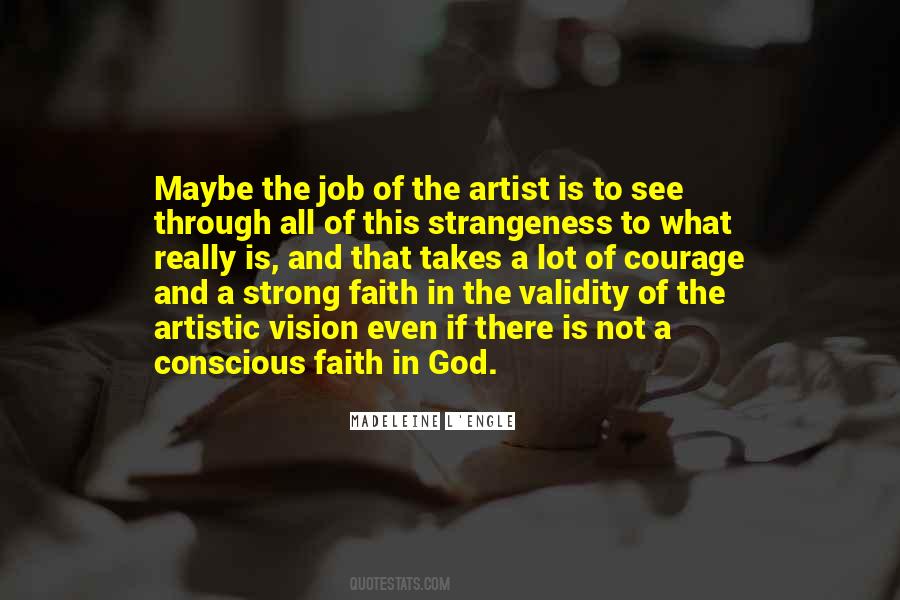 #29. Yeah, man. It's time to let de people get good herbs and smoke. Government's a joke. All dey wan' is ya smoke cigarettes and cigar. Some cigar wickeder den herb. Yeah, man, ya can't smoke cigar. Smoke herb. Some big cigar me see man wit', God bless! Me tell him must smoke herb. - Author: Bob Marley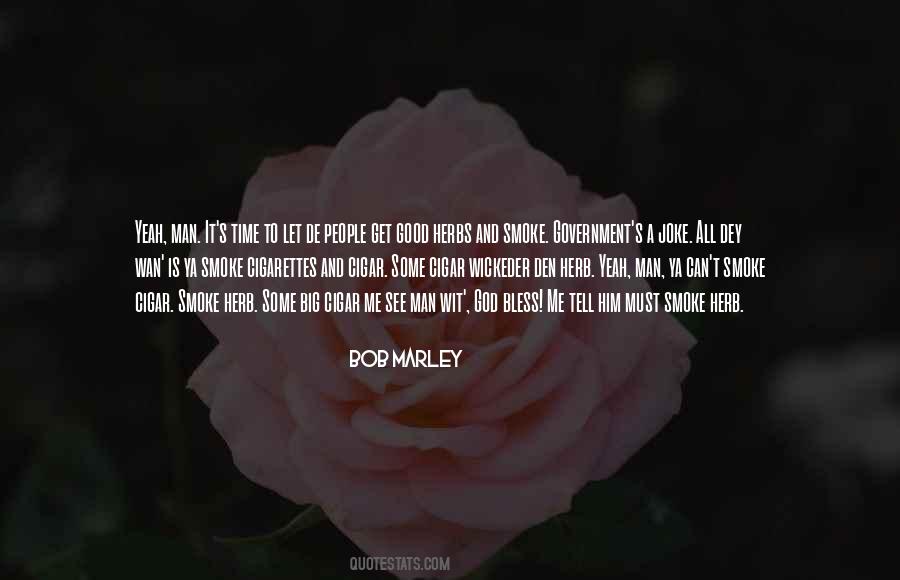 #30. The truth is tucked inside of me, it is what I want the world to see. But do youy see it in me, oh just let it all be. I am happy being me. - Author: Cindy M. Miller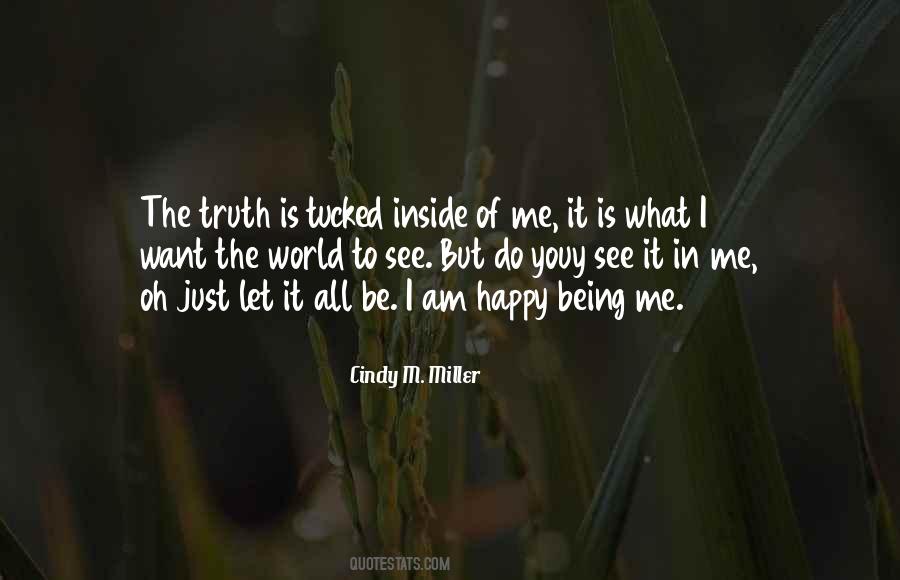 #31. See, a marriege needs love. And God. And a little money. That's all. - Author: James McBride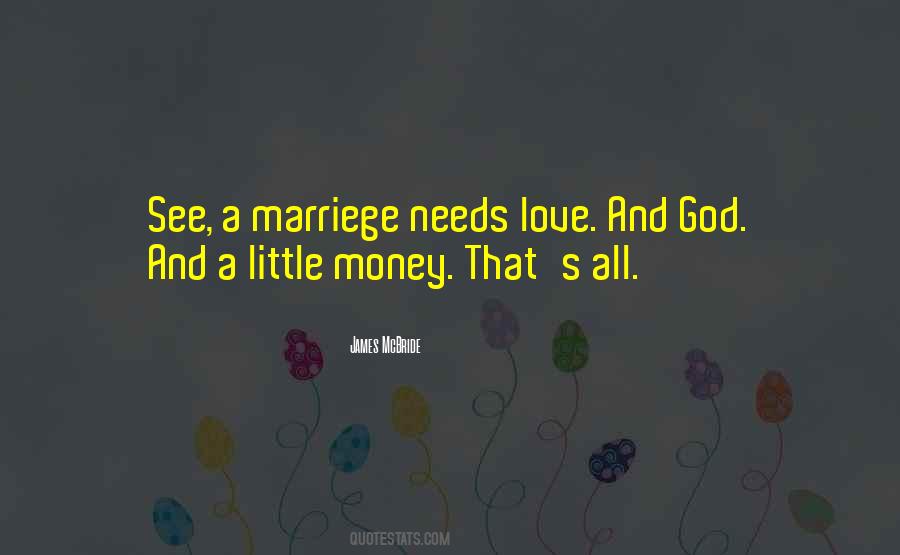 #32. As we see in Ezra's life, committed study of Scripture can bring about much more than merely head knowledge. It can bring God himself into all the recesses of our being, for "the word of God is living and active" (Heb 4:12). Take - Author: Richard J. Foster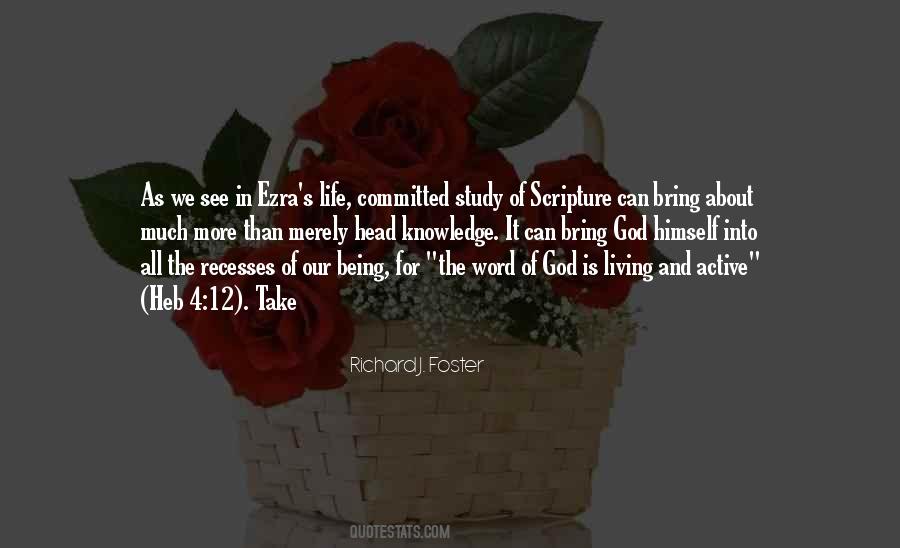 #33. We will not go to Heaven,Goetz, and even if we both entered it, we would not have eyes to see each other, nor hands to touch each other. Up there, God gets all the attention ... We can only love on this earth and against God. - Author: Jean-Paul Sartre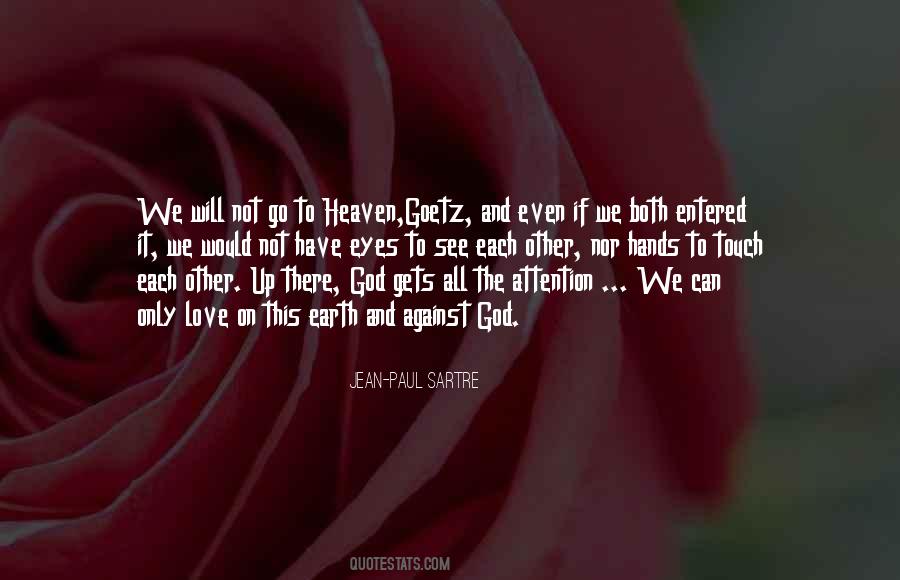 #34. I shall stay and tell my tale, hope that it may serve some purpose, that eyes shall see it and learn, that the future will not repeat the mistakes of the past. That is my prayer, but what use is prayer to a god that has abandoned all things . . . - Author: John Gwynne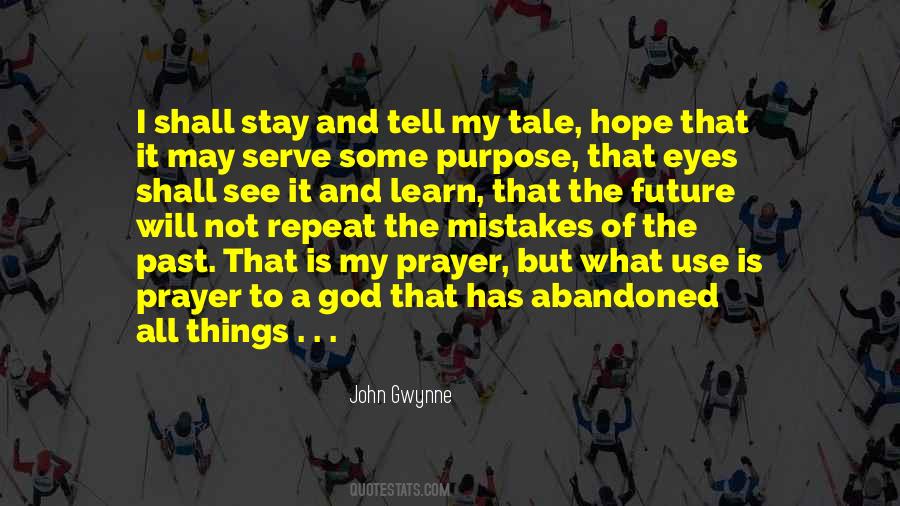 #35. I become a transparent eyeball; I am nothing; I see all; the currents of the Universal Being circulate through me; I am part of God. - Author: Ralph Waldo Emerson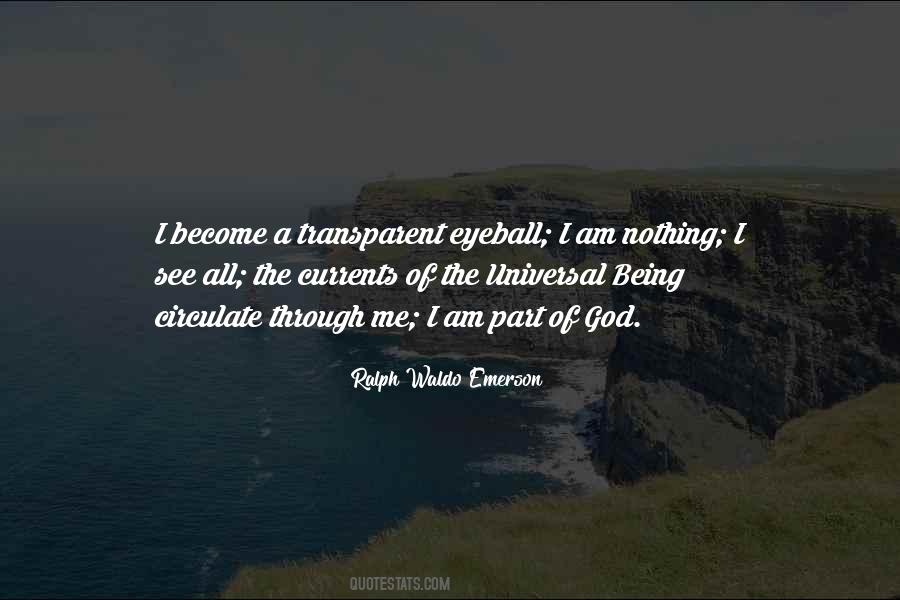 #36. You see, God has given us all the clues we need in a complex mystery, and we just need to figure it out. Along the way, we learn, and we become better people - Author: Amelia C. Adams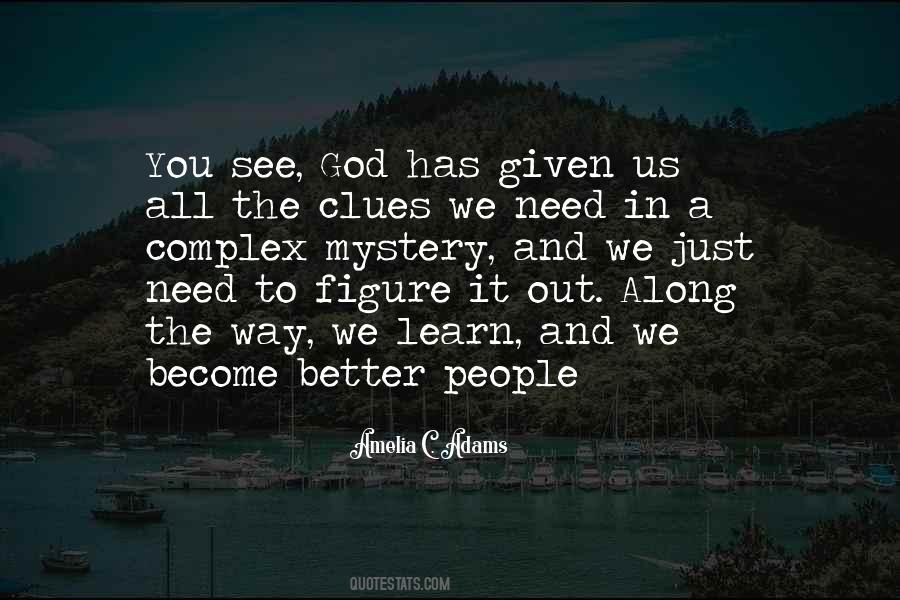 #37. I could not help but see the hand of the balancer in all of this. Could hatred and determination be a counterweight to organization and experience? I suddenly understood something about the old god of death and why he was also the god of balances. - Author: Robin Hobb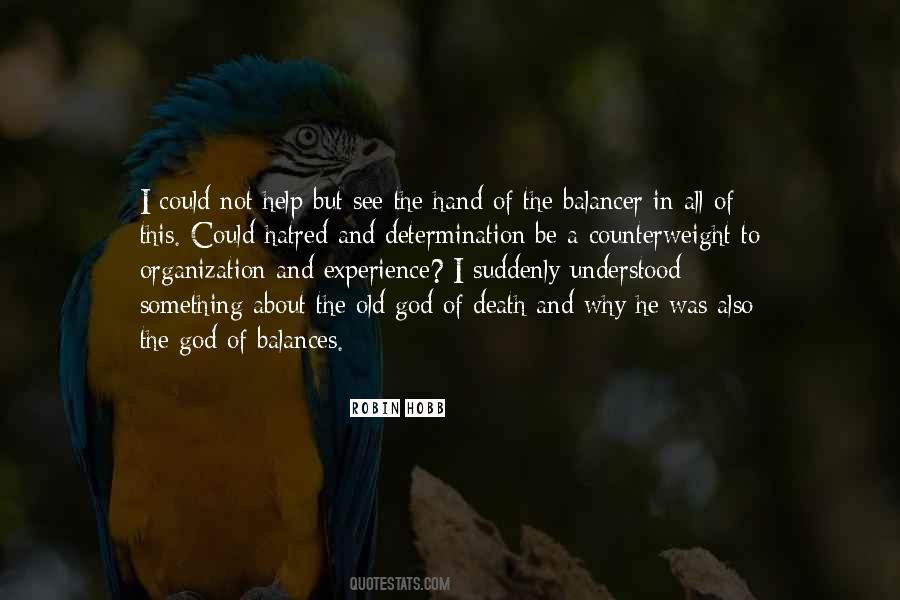 #38. Those people cannot enjoy comfortably what God has given them because they see and covet what He has not given them. All of our discontents for what we want appear to me to spring from want of thankfulness for what we have. - Author: Daniel Defoe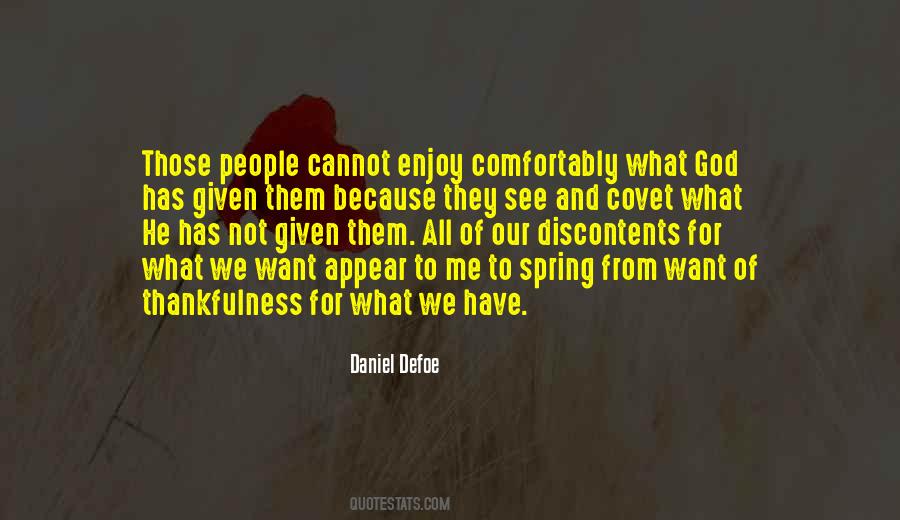 #39. I thought Clint Eastwood was cool in all the western movies, but I'm not gonna drive somewhere he's at and stand in line to see him. I told Missy, my wife, 'The only person I'd stand in line for is God Almighty. You made the universe? All right, I'll get in line!' - Author: Jase Robertson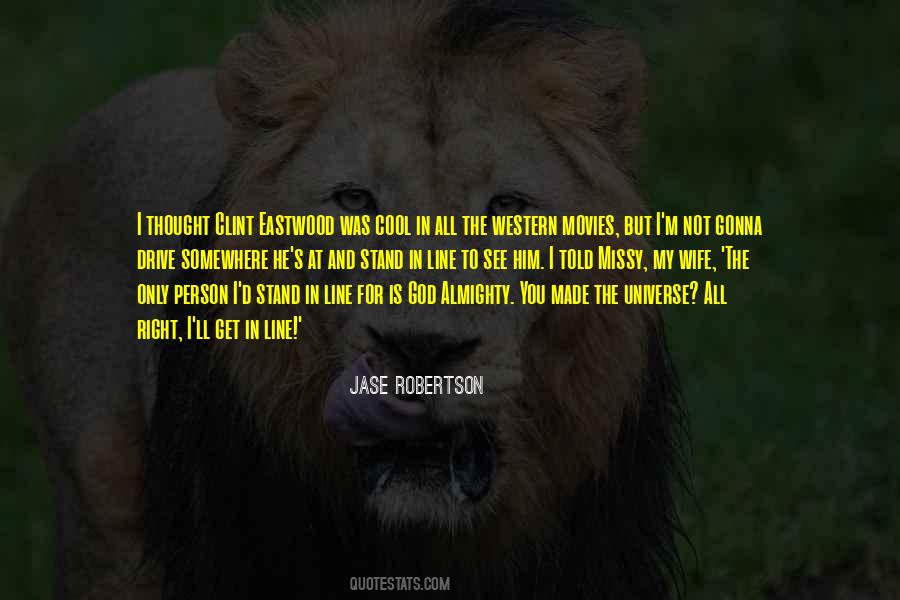 #40. Wishing you the greatest power of all, which is to see love, or a call for love, in everything. - Author: Margaret Aranda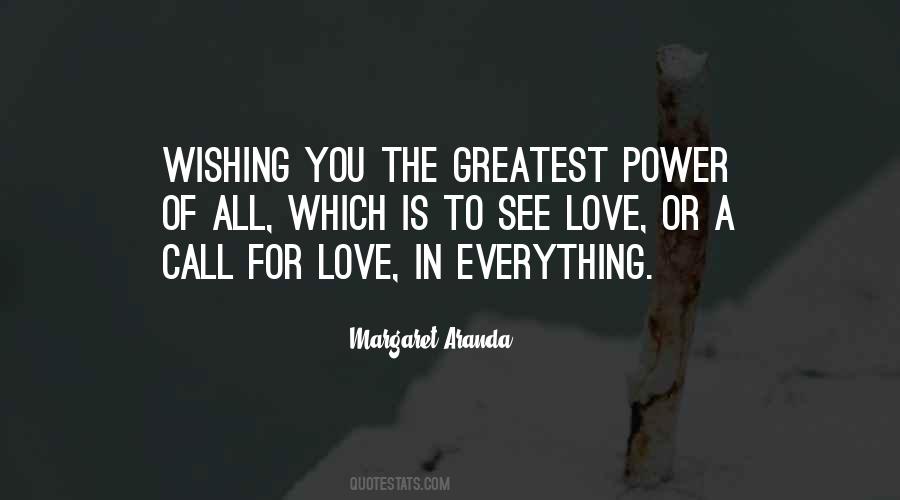 #41. All the world talks, knowledge or information, takes you nowhere unless it's applied into life. It's only the experience, which allows you to see, beyond the present state. - Author: Roshan Sharma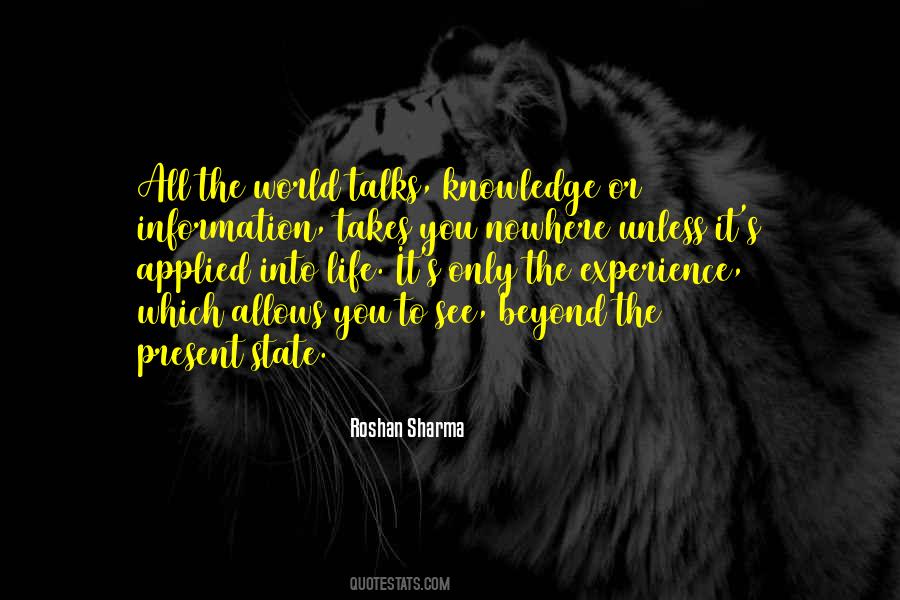 #42. Whoever does not believe in God will not believe in the people of God. But he who believes in the people of God will also see their holiness, even if he did not believe in it at all before. - Author: Fyodor Dostoyevsky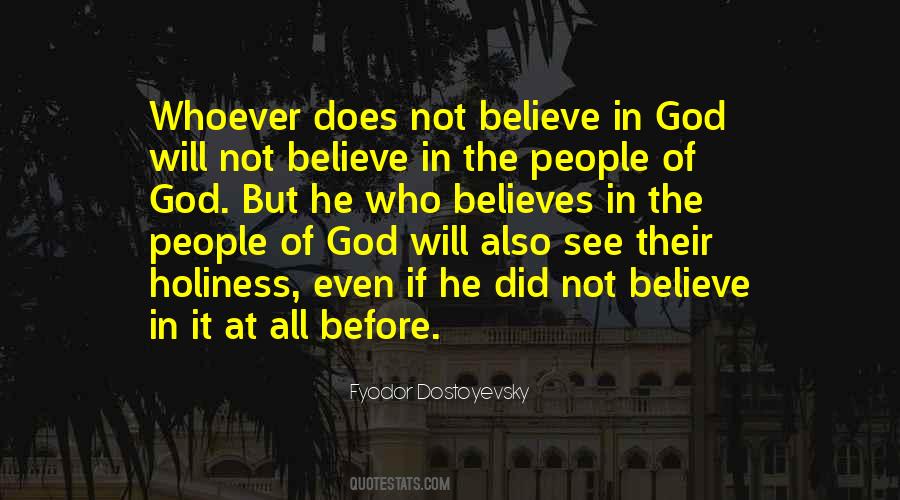 #43. The more I read, the more I see. Connections get made. Lights go on. God speaks. Often, when I am facing some difficult or puzzling situation, God reminds me of a Scripture passage I have read. And it makes all the difference. - Author: Ann Spangler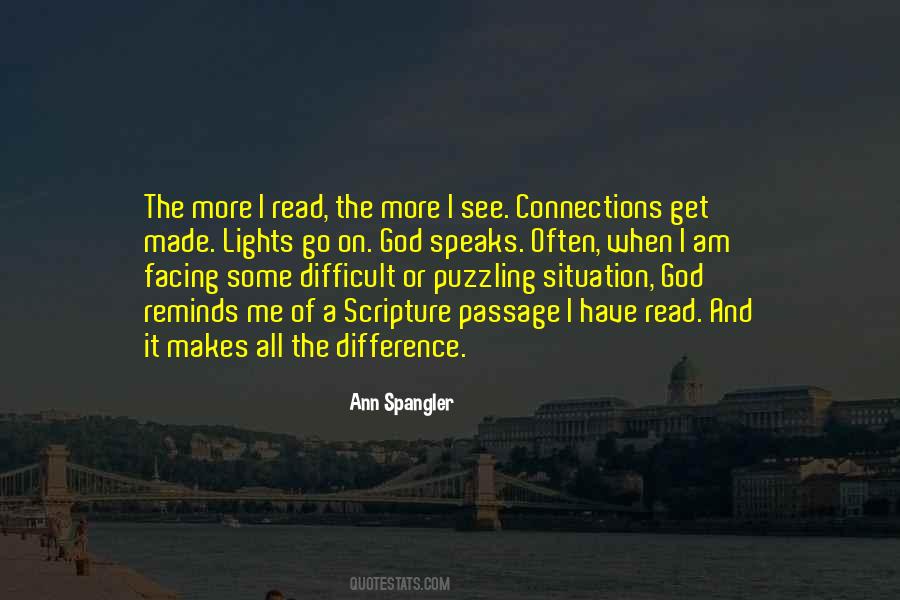 #44. That is why Christians are told not to judge. We see only the results which a man's choices make out of his raw material. But God does not judge him on the raw material at all, but on what he has done with it. - Author: C.S. Lewis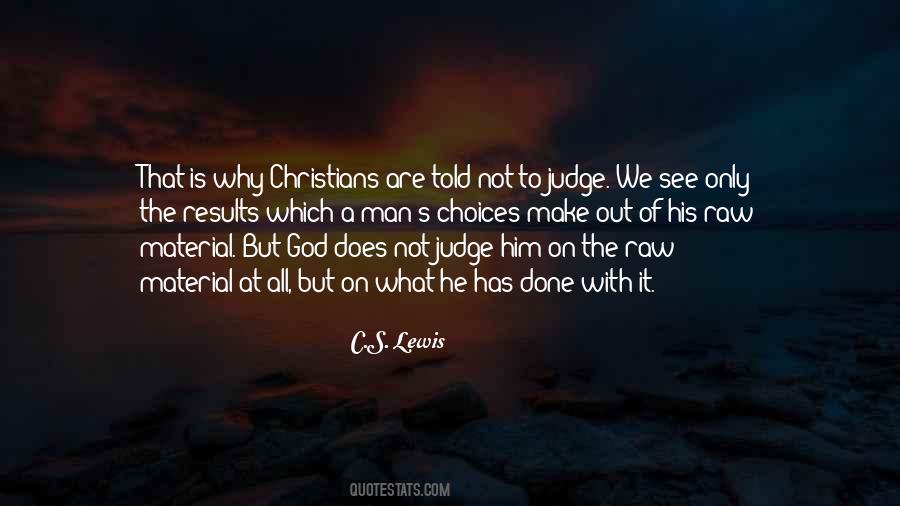 #45. The Light of the Christ within now wipes out all fear, doubt, anger and resentment. God's love pours through me, an irresistible magnetic current. I see only perfection and draw to me my own. - Author: Florence Scovel Shinn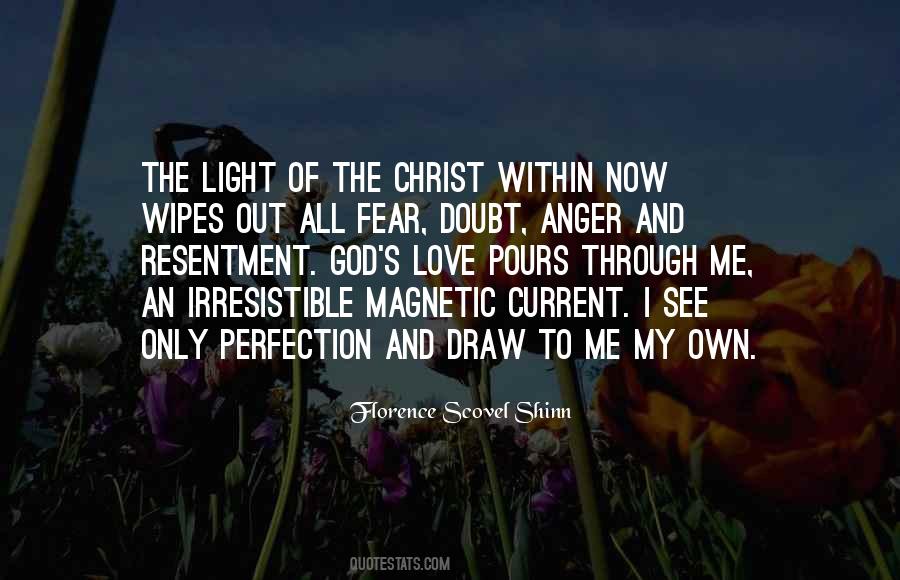 #46. Those of religious faith see time as evidence of god. For surely nothing could be created without a creator. Nothing could be universal and not be divine. All absolutes are part of the One Absolute. - Author: Alan Lightman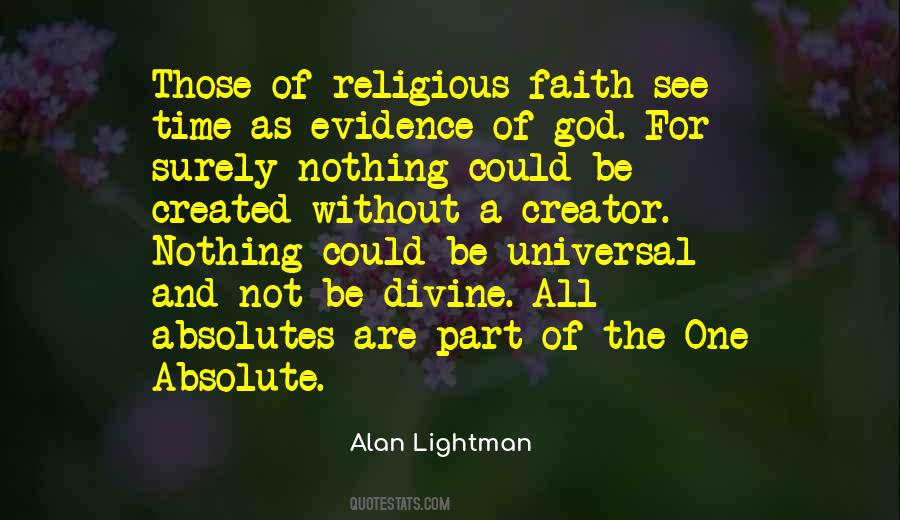 #47. Thor is a god who's lived in Asgard most all his life, but I think he still has a sense of awe and wonder about the place. I want us, as readers, to have that same sense of awe whenever we see, finally see, the golden spires of Realm Eternal. - Author: Jason Aaron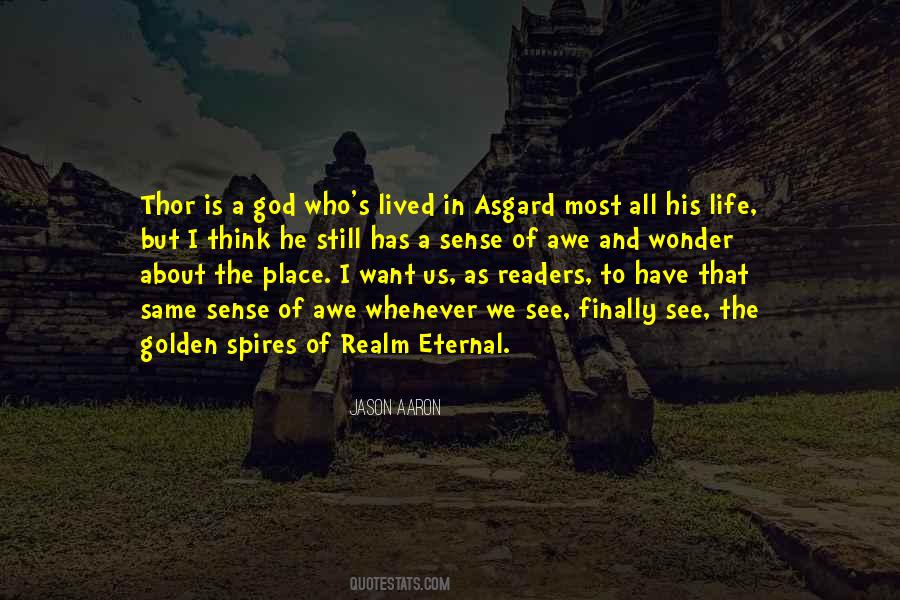 #48. I do not see them here; but after death God knows I know the faces I shall see, Each one a murdered self, with low last breath. 'I am thyself,what hast thou done to me?' 'And Iand Ithyself,' (lo! each one saith,) 'And thou thyself to all eternity! - Author: Dante Gabriel Rossetti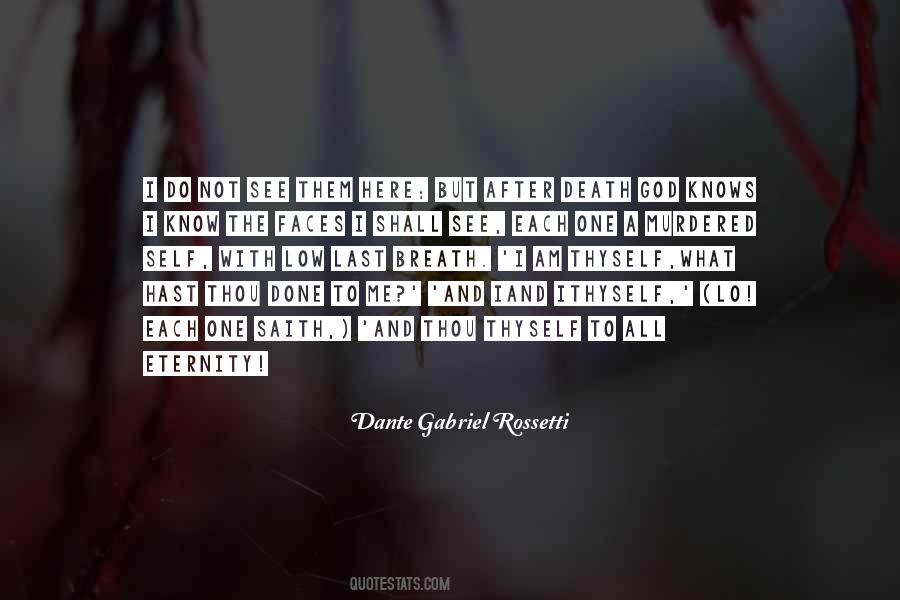 #49. I've often told people who ask if there is a God: Get around enough people with horses and see what happens. See how they survive in spite of all the things they do, and you'll become a believer! - Author: Buck Brannaman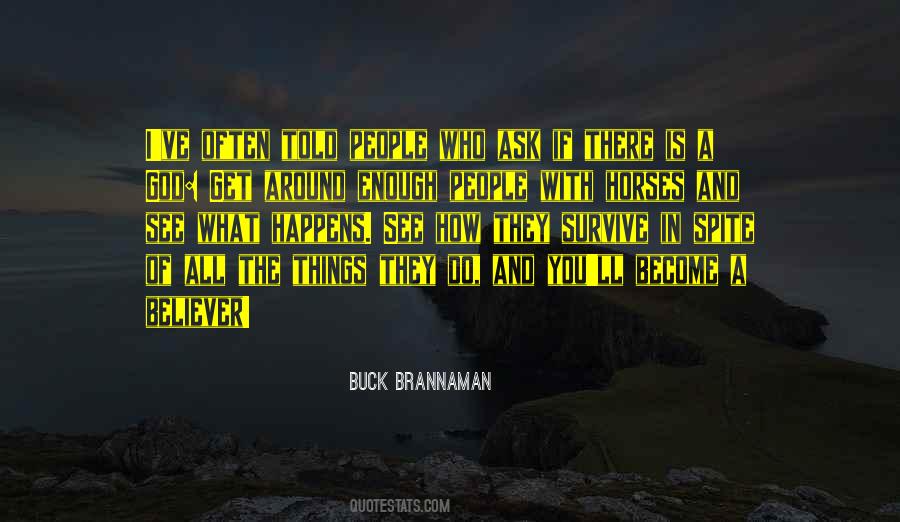 #50. Do you not see that the word, "God with us," puts impossibility out of all existence? - Author: Charles Haddon Spurgeon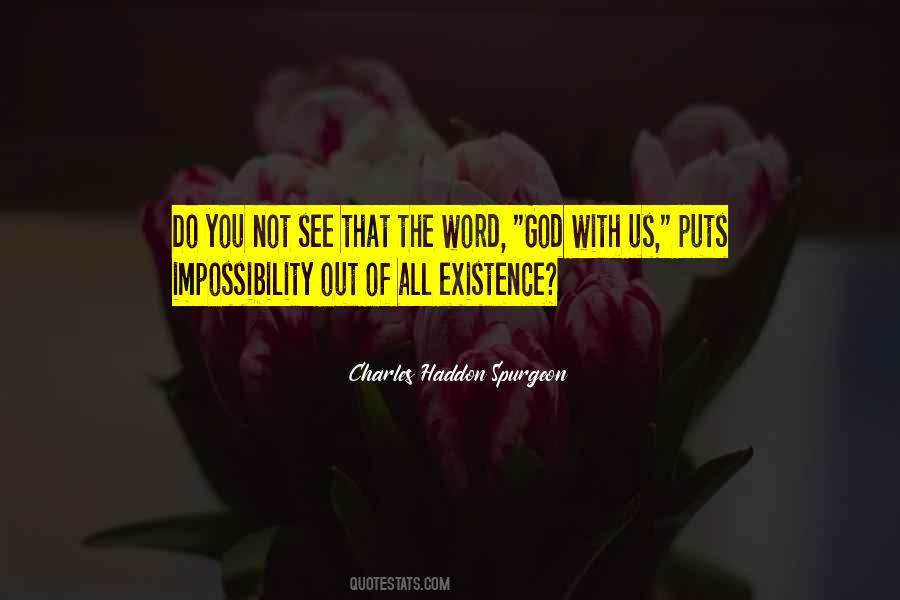 #51. When everything goes wrong, what a joy to test your soul and see if it has endurance and courage! An invisible and all-powerful enemy - some call him God, others the Devil, seem to rush upon us to destroy us; but we are not destroyed. - Author: Nikos Kazantzakis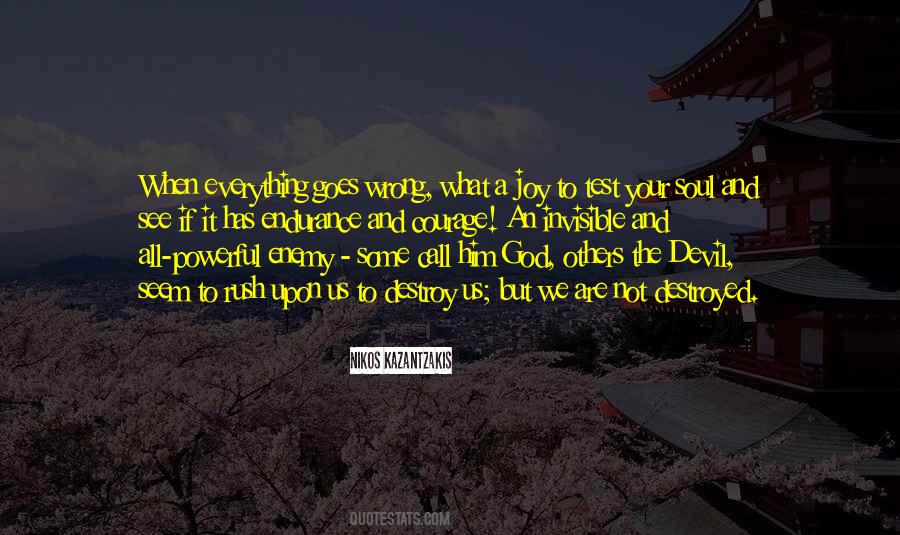 #52. Randal is a lad of about twenty and two, curly-haired and distressingly cherubic in appearance."
"Distressingly? Really, Northrup, I cannot see what could be distressing about a cherub."
His brows drew in a scowl. "They're baby angels, for God's sake." As if this explained all. - Author: Kristen Callihan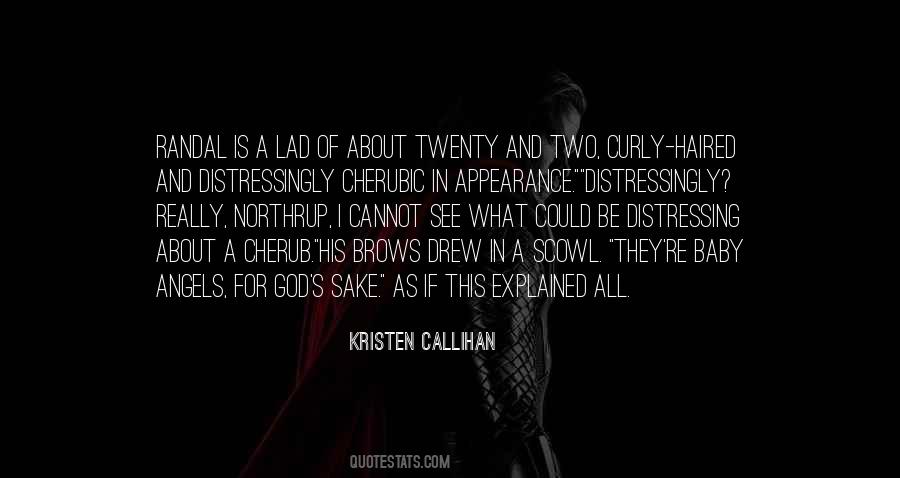 #53. God's will is like a jigsaw puzzle until you put all the pieces together, you won't be able to see the whole picture. - Author: Danny L. Deaube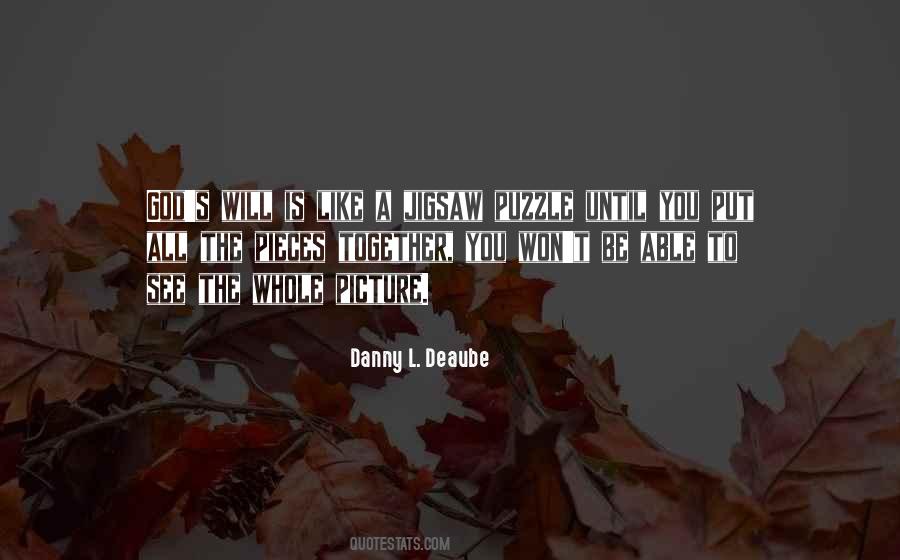 #54. All persons who bear the blessed title of parent have the personal responsibility to see that their children are growing up fully appreciative of the rights of God and their fellowmen. - Author: J. Edgar Hoover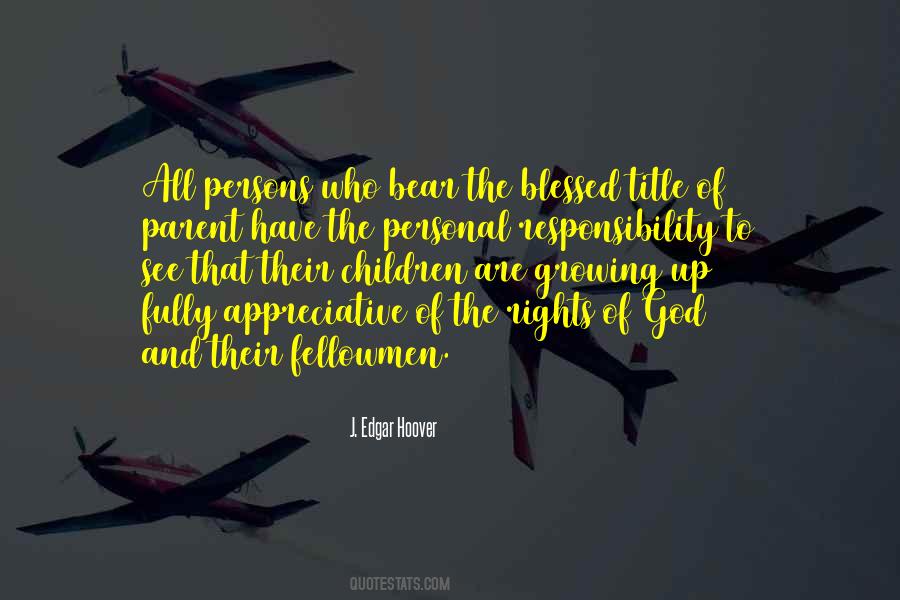 #55. To see how Christ was prophesied and described therein, consider and mark, how that the kid or lamb must be with out spot or blemish; and so was Christ only of all mankind, in the sight of God and of his law. - Author: William Tyndale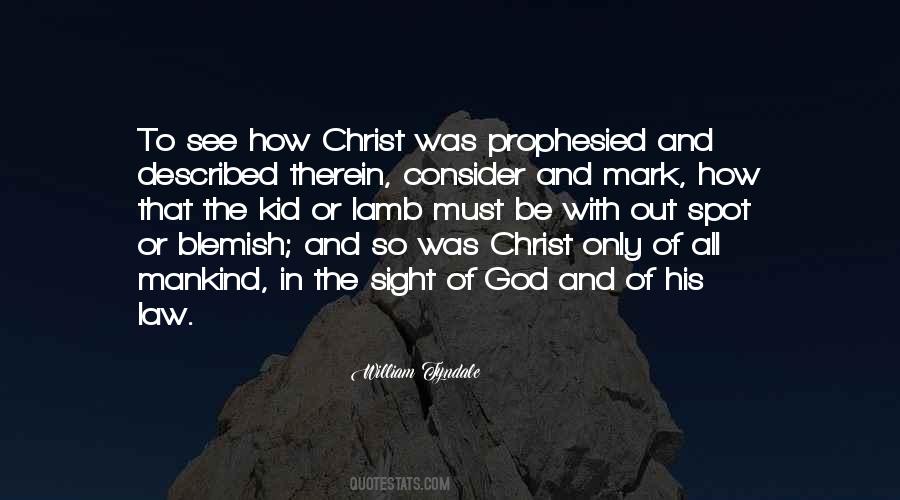 #56. When I see gurgling retarded children (that's God's doing, by the way, not mine) happily styling their hair with their own stinking mards, I think of Adam in those pre-marital days. I know he's your great-to-the-nth-degree-granddad and all - but I'm afraid he was rather an imbecile. - Author: Glen Duncan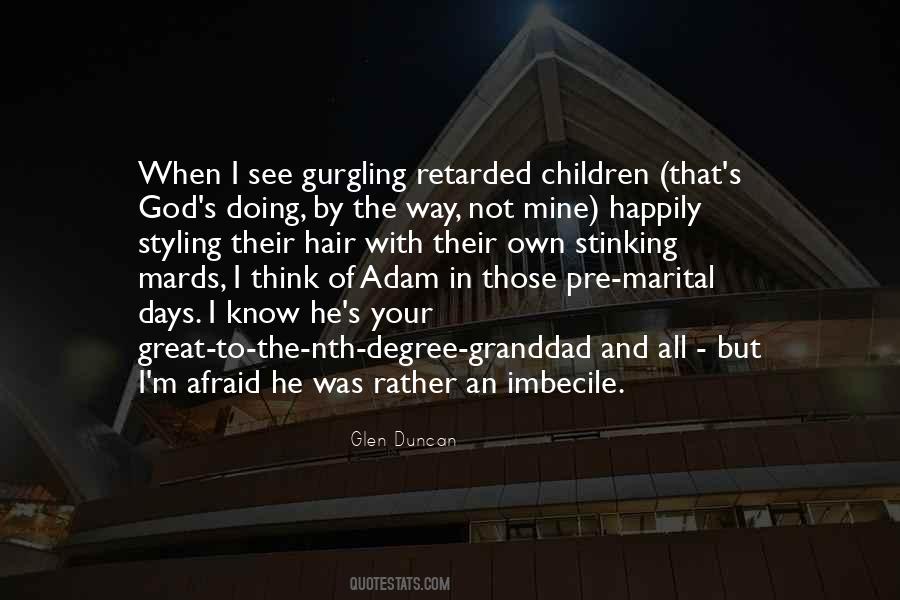 #57. God loves me enough to let me go through all the lessons I came here to learn, even the ones that hurt the most. His presence doesn't deny me. It's always there to help me see and understand what I came to this planet to learn. - Author: Melody Beattie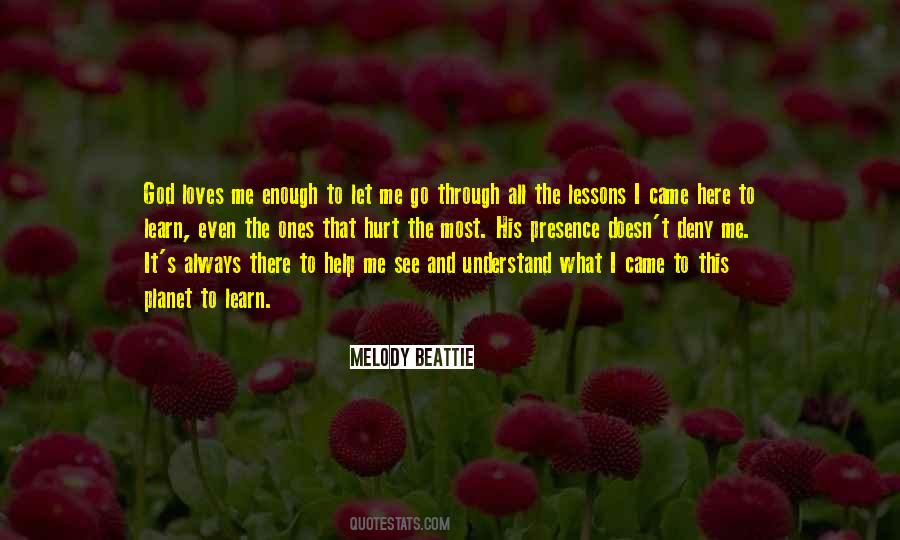 #58. First of all, God inspires me, where he's brought me, it blows my mind. To know that He brought me this far, it could not have been an accident, to go forward, I'm excited to leap into the void, I'm excited about tomorrow, the unknown, excited to see what else He has for me. - Author: Columbus Short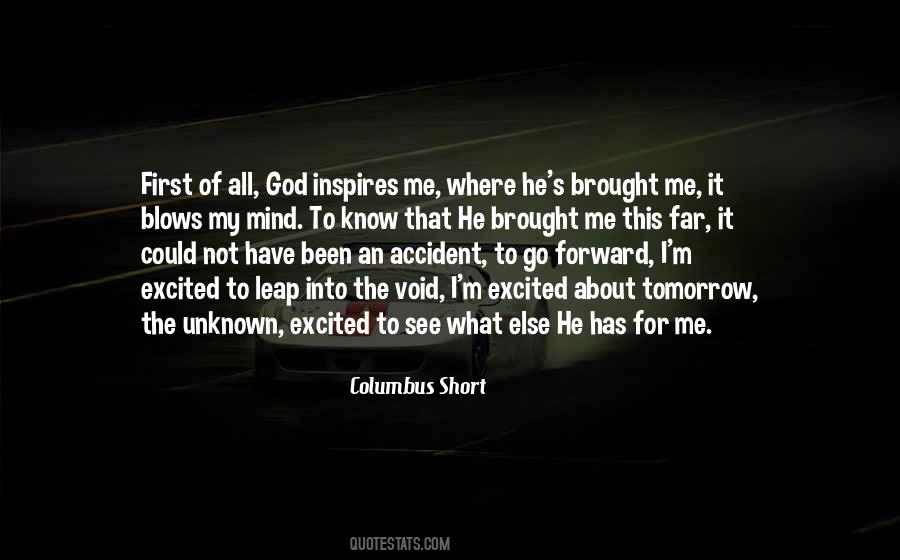 #59. God took his chosen people and we are what's left. He looked at what's left and thought: I could kill you all, but let's see what happens. A little social experiment. - Author: Moby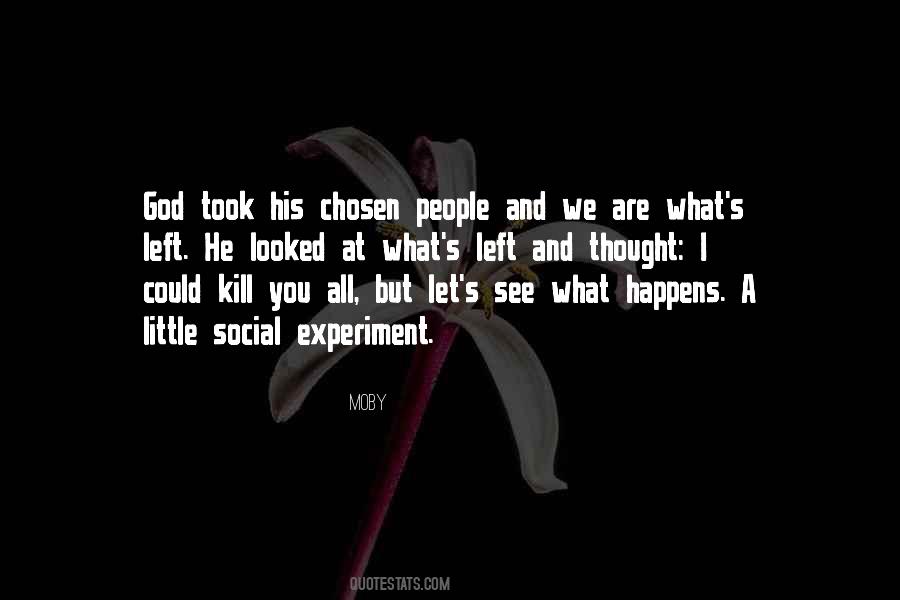 #60. Nature is all the body of God we mortals will ever see. - Author: Frank Lloyd Wright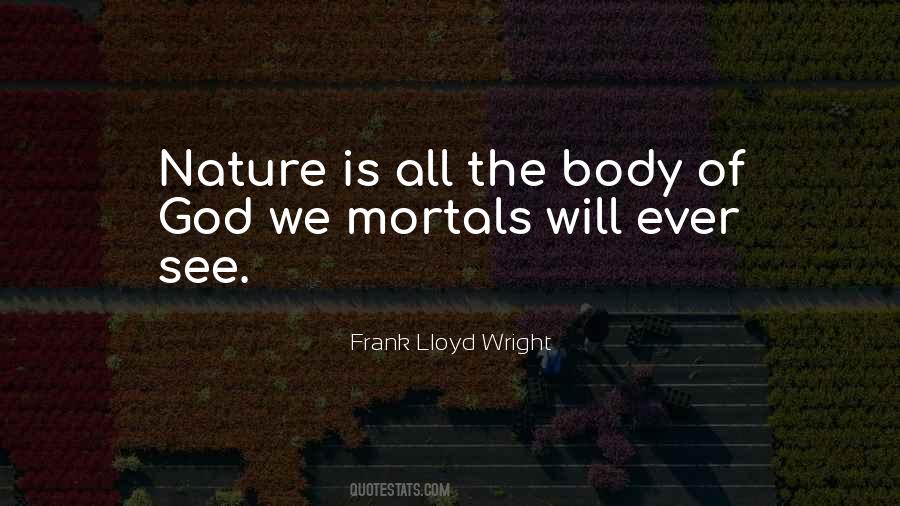 #61. Sally, do you think God has put us into the world just to be selfish, and do nothing but see after our own souls? or to help one another with heart and hand, as Christ did to all who wanted help? - Author: Elizabeth Gaskell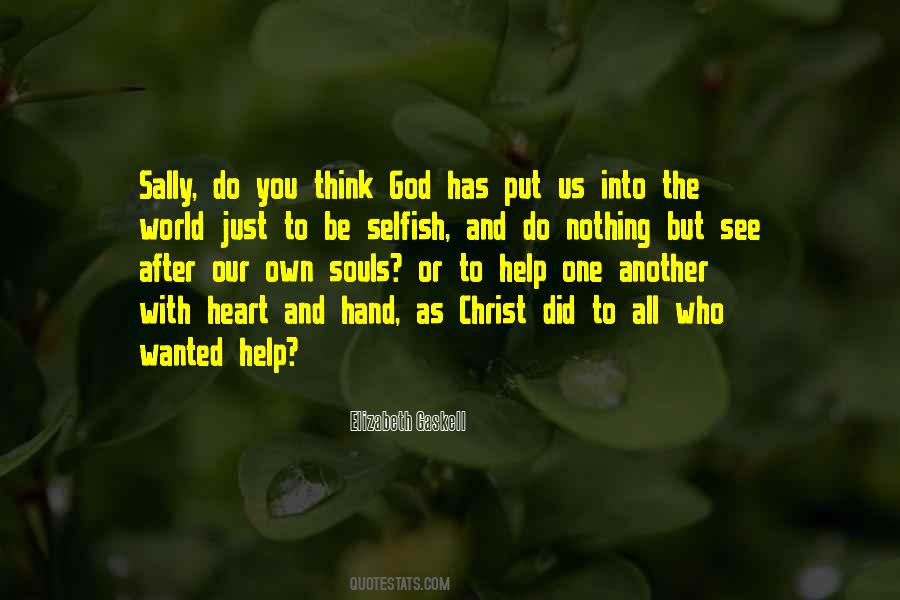 #62. When the mouth cries, I want to see God, the heart has reached its finest moment. Once we have sought and seen God, all other things have a way of finding us. - Author: Gayle D. Erwin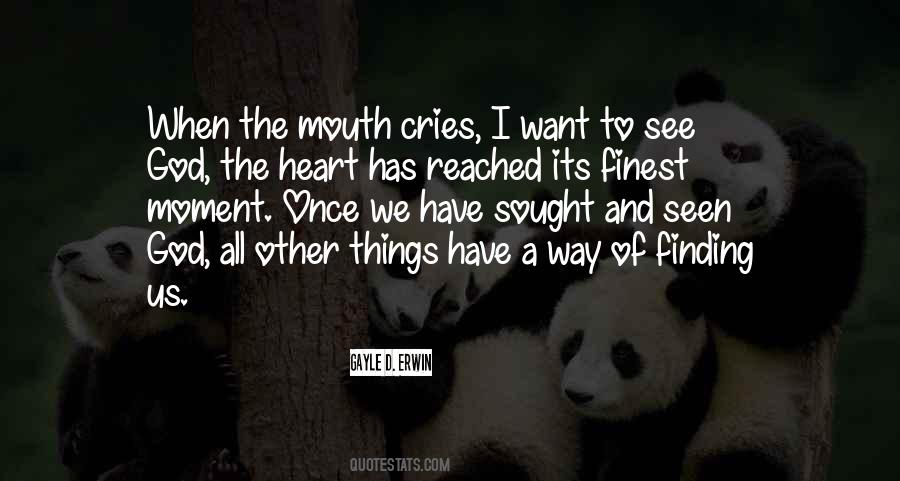 #63. She tried to make the pain go away by telling herself it was for the best, that it was all part of God's plan, that she would one day see the wisdom behind it. But despite the her efforts to appease her restless souls, she felt a cold chill take over her, inside and out. - Author: Ameera Al Hakawati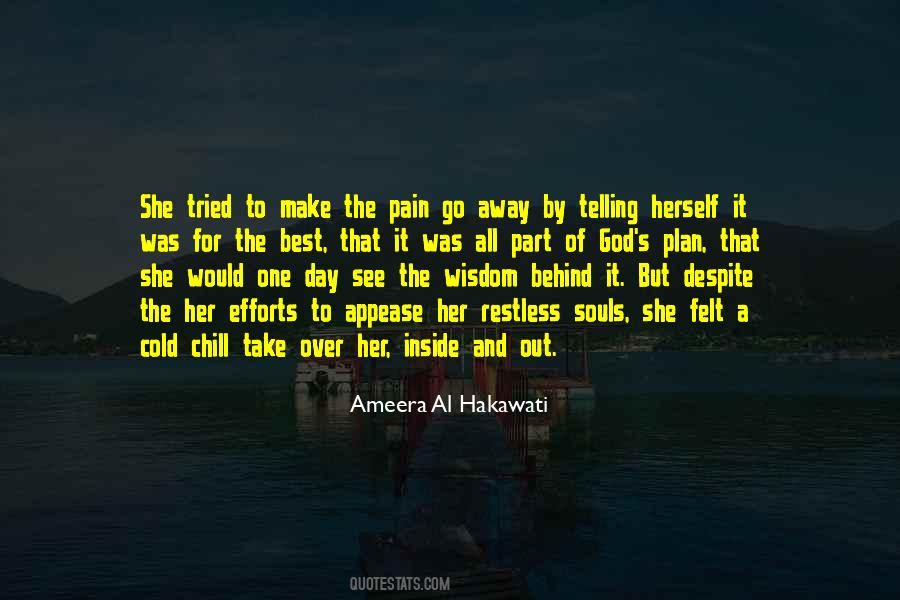 #64. Everything's a conspiracy and everything's not a conspiracy. You could look at this planet and go, "This is all a conspiracy. God made this to test us to see if we'll use the nukes." You can let your mind believe anything. - Author: Harland Williams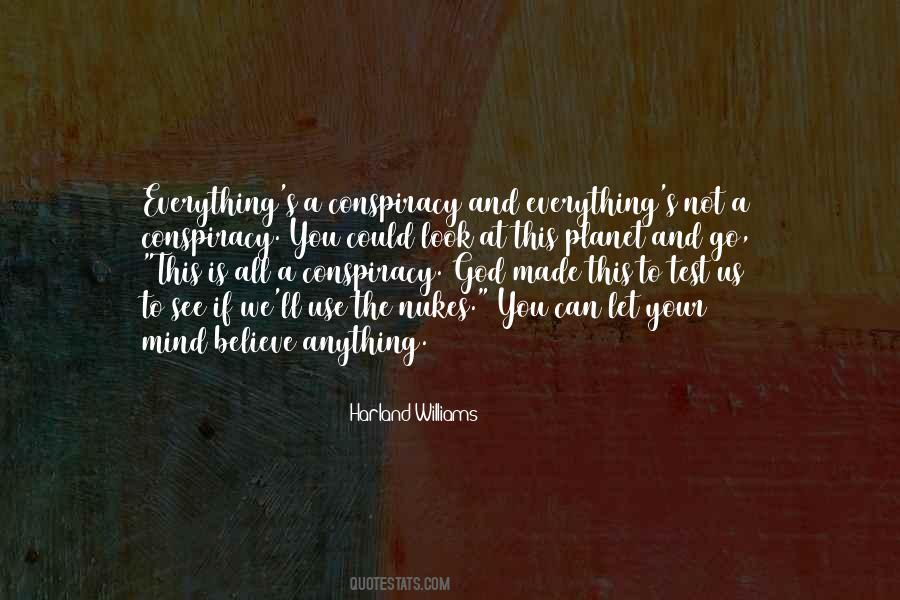 #65. And the LORD said to Moses, See, I have made you like o God to Pharaoh, and your brother Aaron shall be your p prophet. 2 q You shall speak all that I command you, and your brother Aaron shall tell Pharaoh to let the people of Israel go out of his land. - Author: Anonymous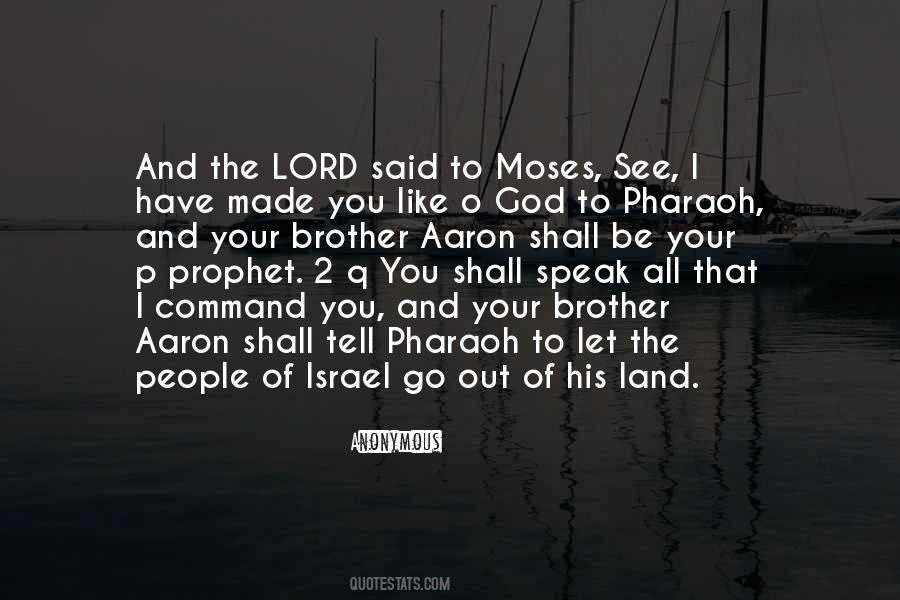 #66. God gave us intestines for a reason. I'm not keen on surgery. It's too extreme. All it took was one of those plastic surgery shows to see how violent it is. - Author: Kirstie Alley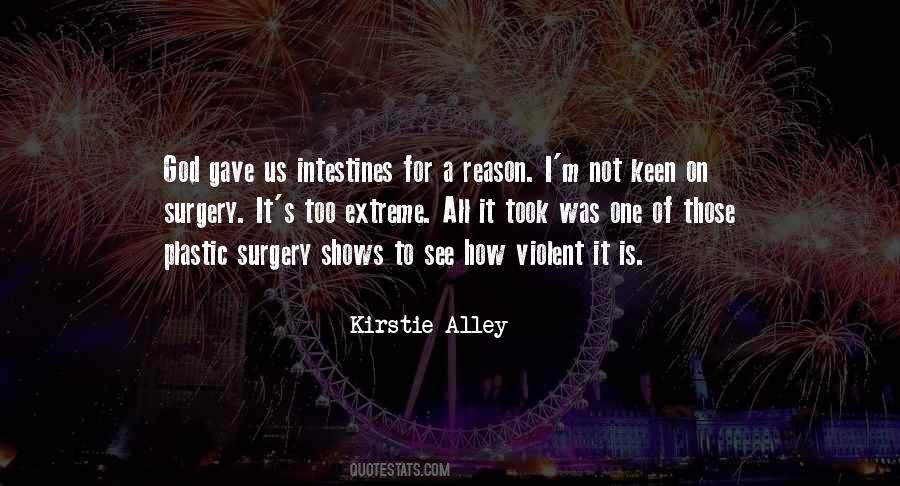 #67. hey babe did it hurt when you fell from heaven haha ? hey babe did you see a god in heaven haha ? hey babe is there even a god at all?? Does life have a point????Babe?????? Or are we all just pointless machines in an uncaring universe ???????????? Babe ??????????? - Author: Unknown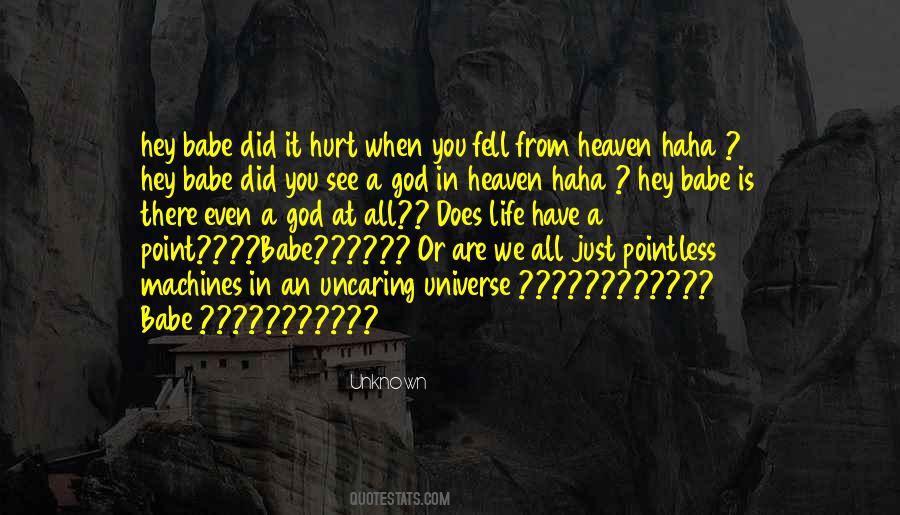 #68. We read some things in the Bible three hundred and sixty-five times and they mean nothing to us, then all of a sudden we see what God means, because in some particular we have obeyed God, and instantly His nature is opened up. - Author: Oswald Chambers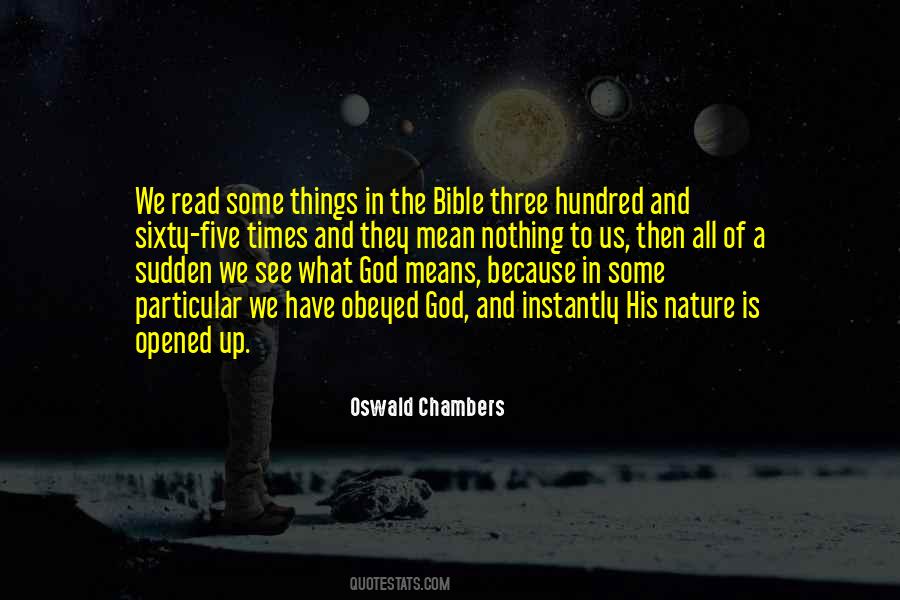 #69. Welcome any change that comes into any phase in your life; insist that it is going to turn out for the better - and it will. See the Angel of God in it, and the Angel of God will make all things new. - Author: Emmet Fox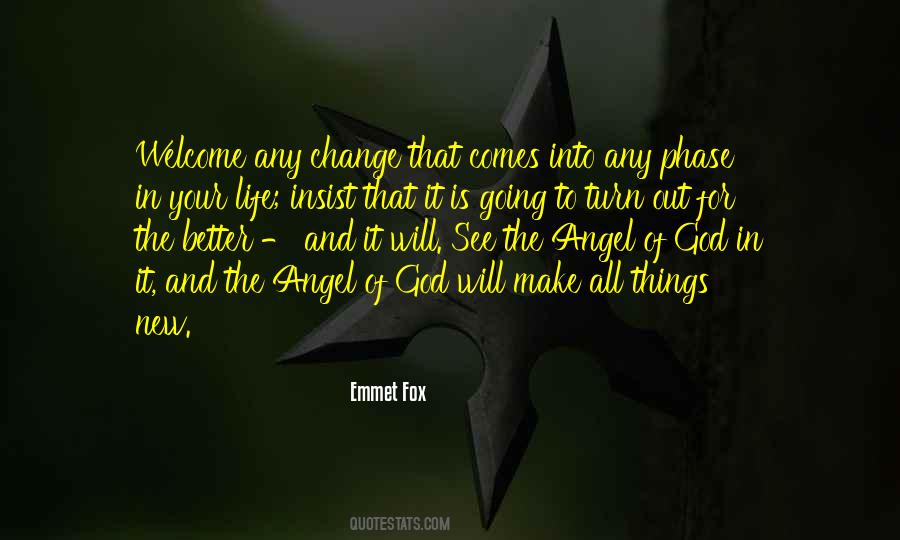 #70. My heart goes out to you, and I long to see you all coming constantly to God for a fresh supply of love. - Author: Dwight L. Moody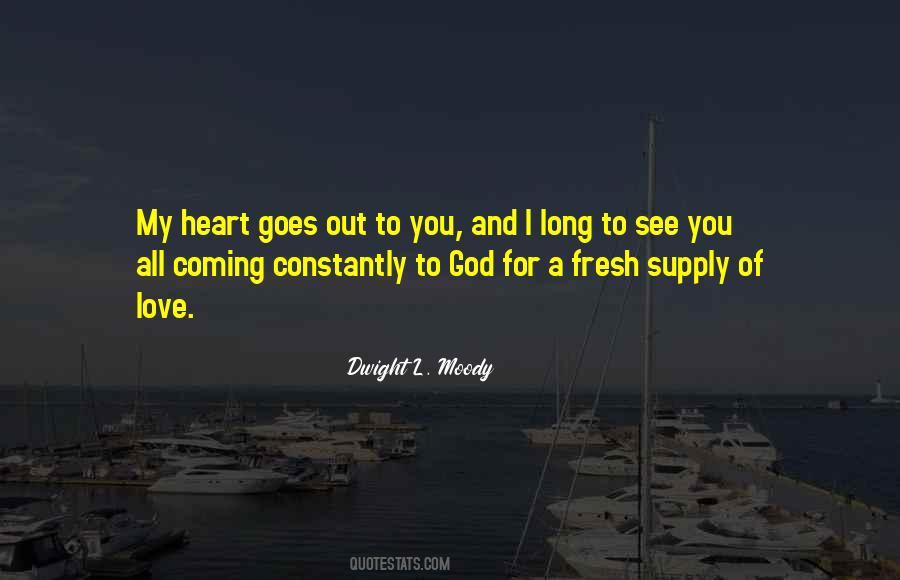 #71. In order to get some help in your love walk, all you have to do is ask God to let you see these people through His eyes. - Author: Anna M. Aquino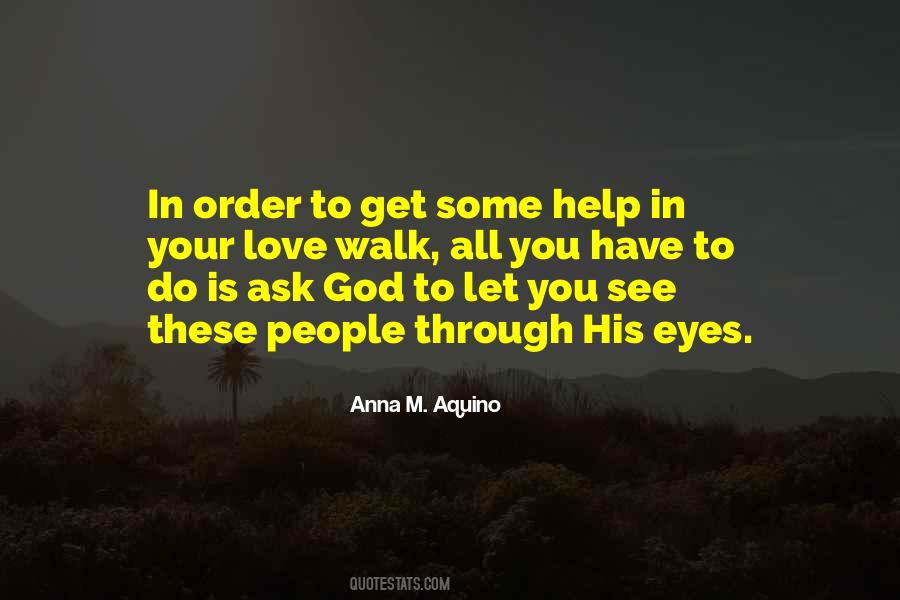 #72. Normally Connor would walk away from a conversation like this. His life is about tangibles: things you can see, hear and touch. God, souls, and all that has always been like a secret in a black box he couldn't see into, so it was easier just to leave it alone. Only now, he's inside the black box. - Author: Neal Shusterman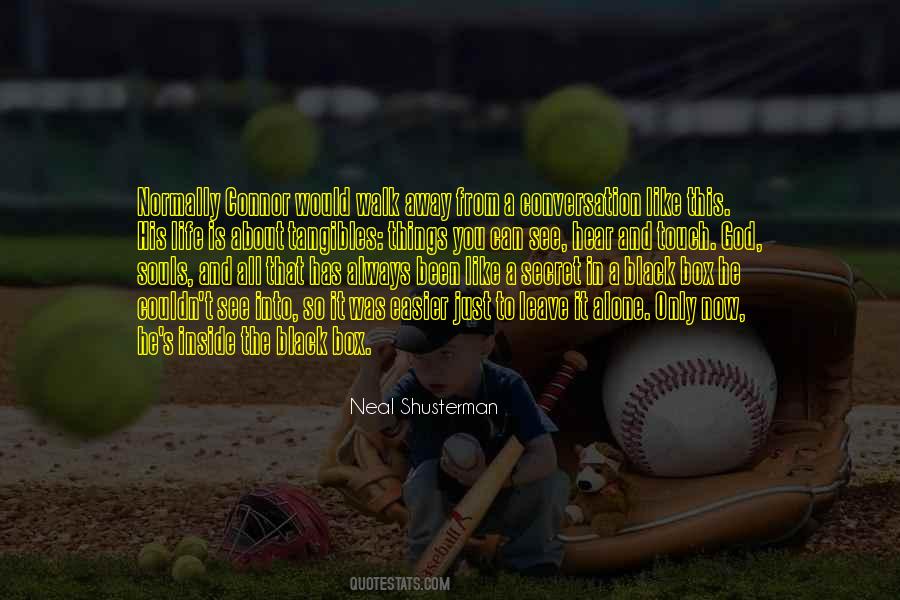 #73. Every ordinary thing in your life is a word of God's love: your home, your work, the clothes you wear, the air you breathe, the food you eat ... the flowers under your feet are the courtesy of God's heart flung down on You! All these things say one thing only: "See how I love you." - Author: Caryll Houselander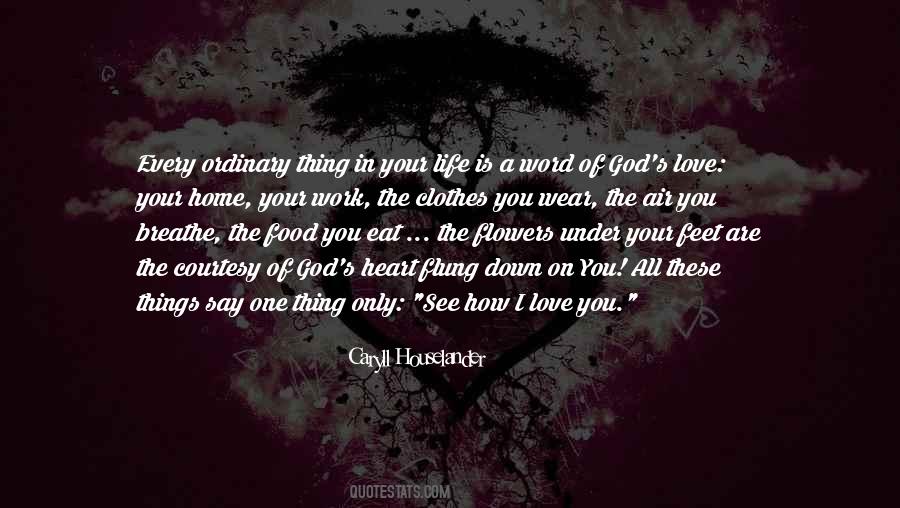 #74. God planted the seeds of all the trees," continued Hetty, after a moment's pause, "and you see to what a height and shade they have grown! So it is with the Bible. You may read a verse this year, and forget it, and it will come back to you a year hence, when you least expect to remember it. - Author: James Fenimore Cooper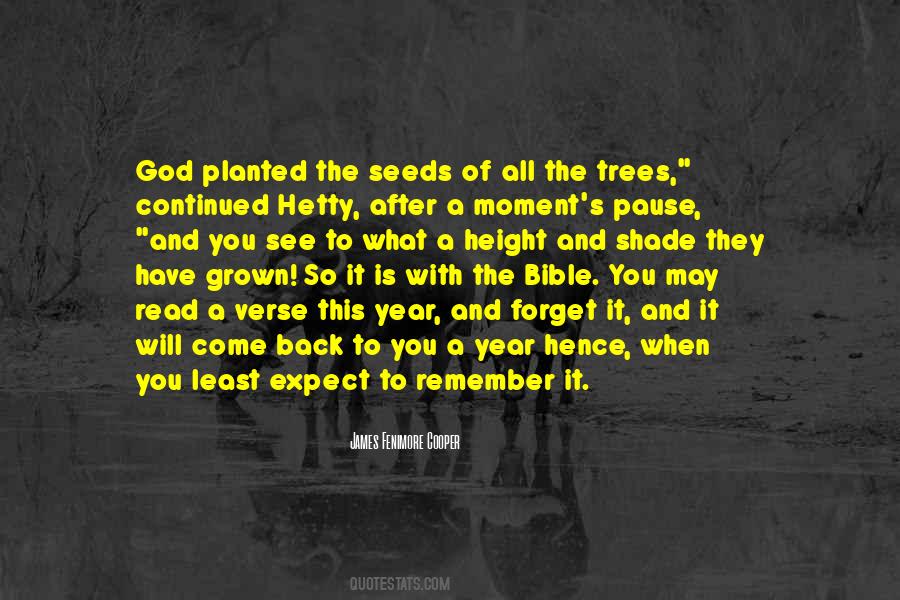 #75. One day we will see our animals again in eternity of Christ. Paradise is open to all God's creatures. - Author: Pope Francis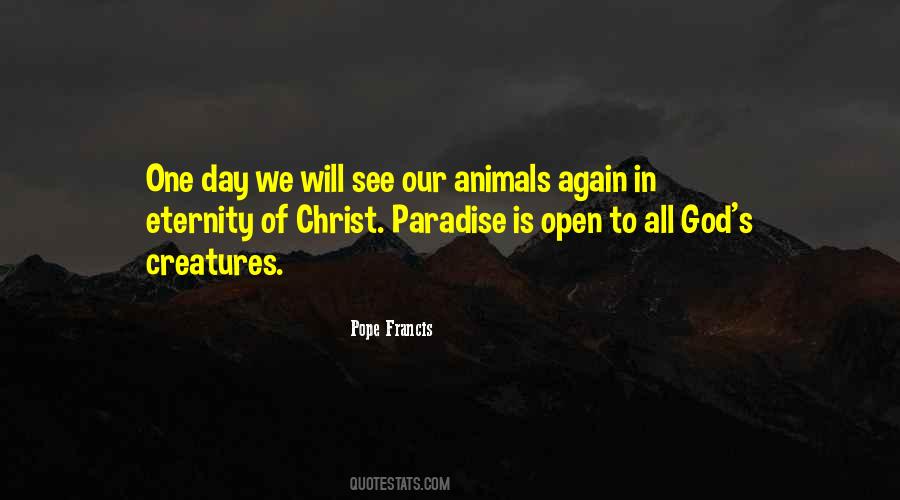 #76. The yoga of love is for those who want an all-consuming relationship with their teacher. They see the teacher as an extension of God, of eternity - which all of us are. - Author: Frederick Lenz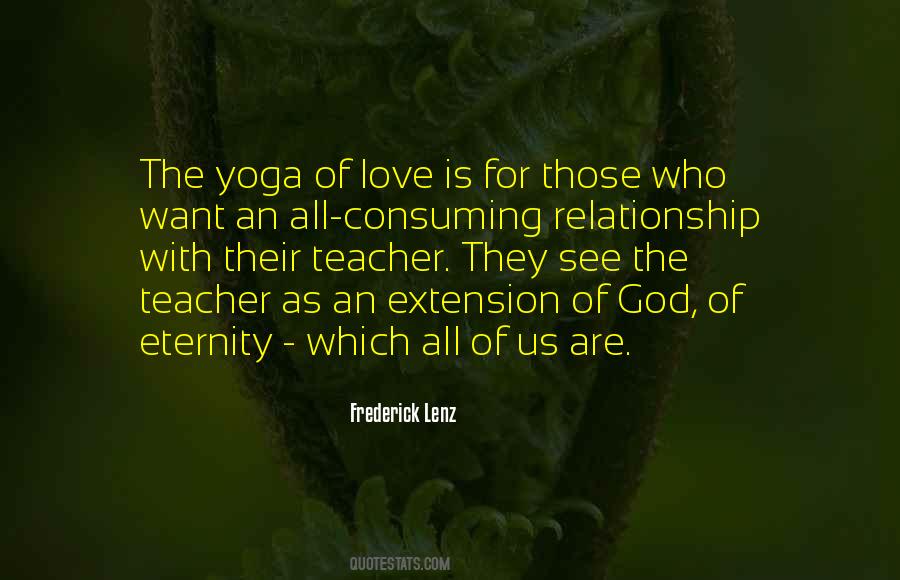 #77. ...I realized that any provisions we had did not ultimately come from me at all, but only from God. Sometimes we can't see that from where we're standing, but time and time again on this journey, God provided for us in ways that I cannot ignore, just as He had before we left. - Author: Ryan J. Pemberton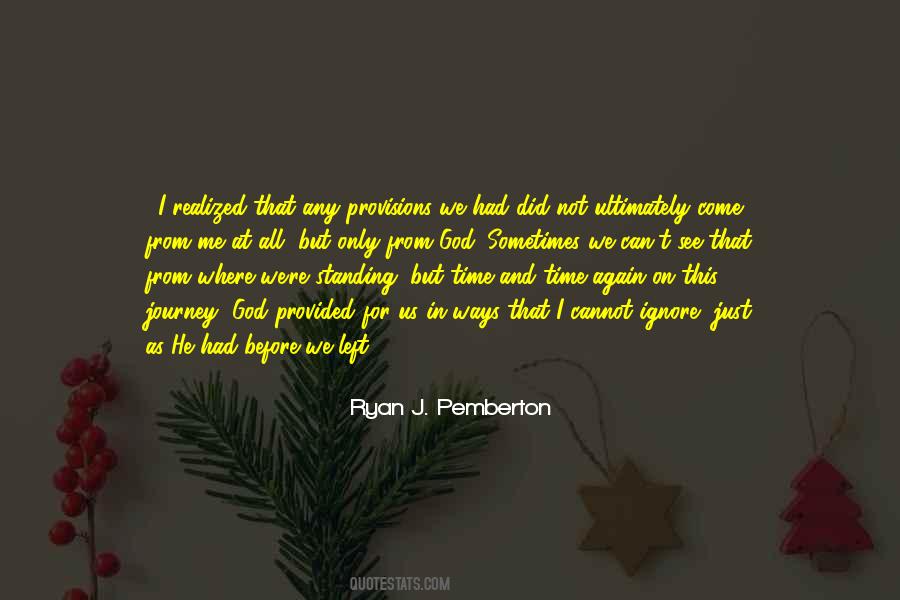 #78. How great God is! He has given us eyes to see the beauty of the world, hands to touch it, a nose to experience all its fragrance, and a heart to appreciate it all. But we don't realize how miraculous our senses are until we lose one. - Author: Malala Yousafzai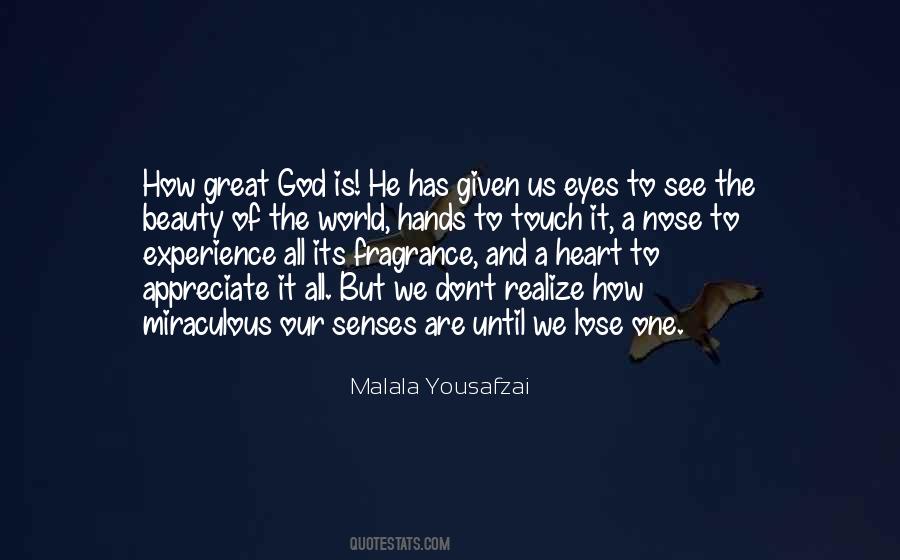 #79. That's what it is every time you walk into the room to write with someone new. It's like, oh god I have to take my clothes off 'my creative clothes' and let them see all of my flaws. - Author: Cynthia Weil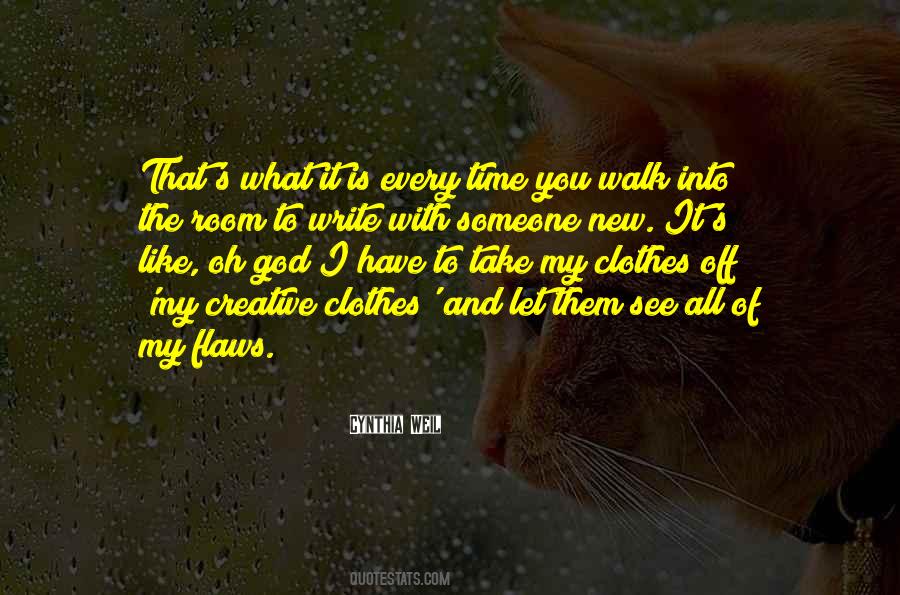 #80. Whatever God requires is right, no matter what it is, although we may not see the reason there of until all of the events transpire. - Author: Joseph Smith Jr.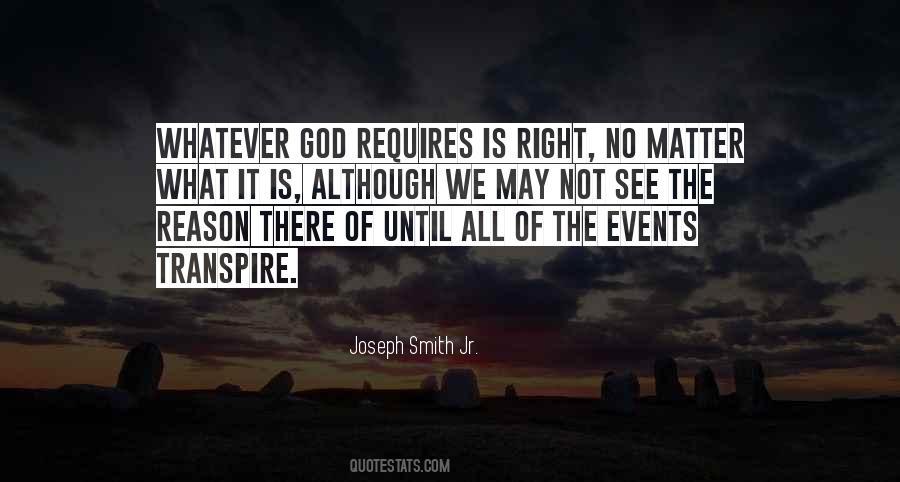 #81. Before men we stand as opaque bee-hives. They can see the thoughts go in and out of us; but what work they do inside of a man they cannot tell. Before God we are as glass bee-hives, and all that our thoughts are doing within us he perfectly sees and understands. - Author: Henry Ward Beecher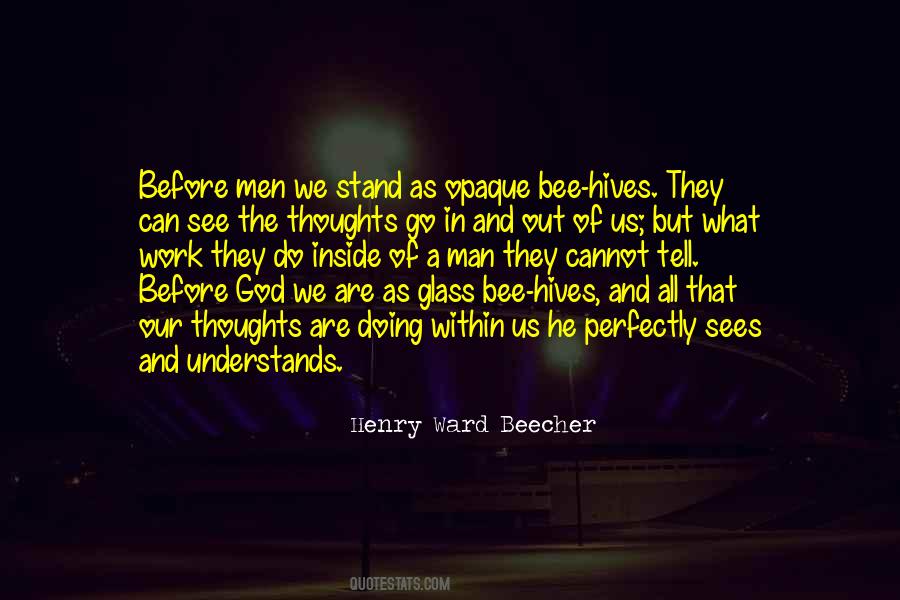 #82. Commit yourself to the possibility that everything you see around you is far less real than God. You want to see the truth "with all your heart, with all you soul, and with all your mind," as Jesus says. This is actually a commitment to joy. - Author: Deepak Chopra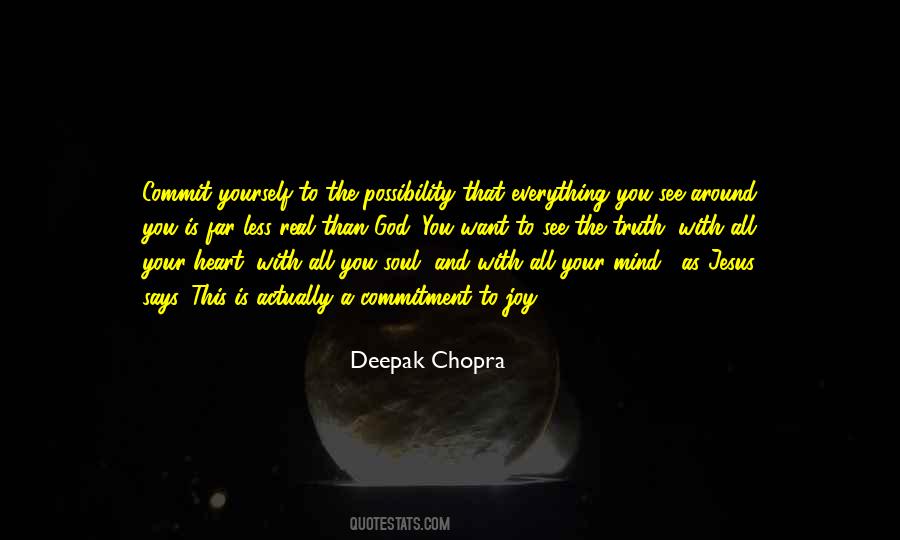 #83. Faith isn't faith, unless it believes in the unseen. It doesn't take faith at all to cling to what you see. Faith in God trusts Him even when you can't see the very next step in front of you. - Author: Cherie Hill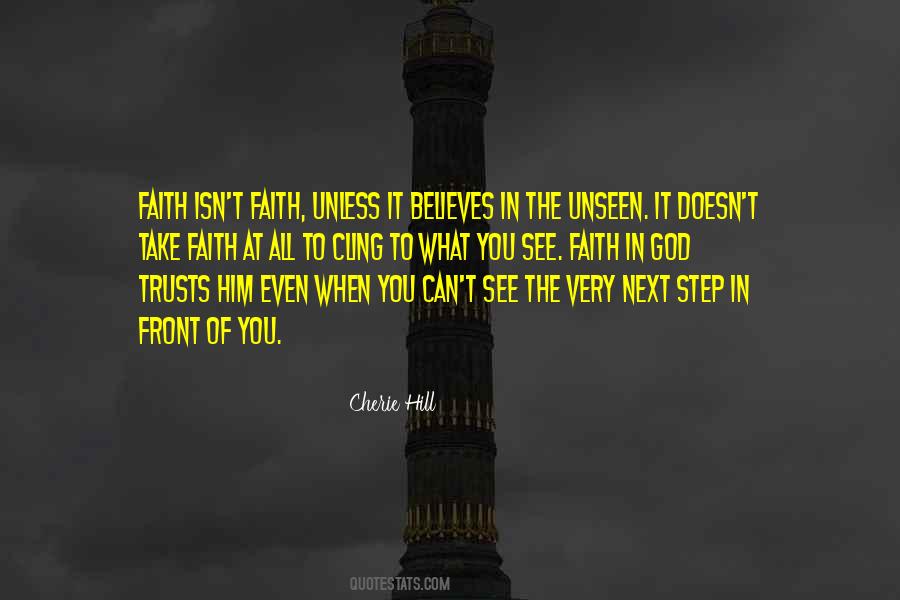 #84. There is hope for me yet
Because God won't forget
All the plans he's made for me
I have to wait and see
He's not finished with me yet - Author: Brandon Heath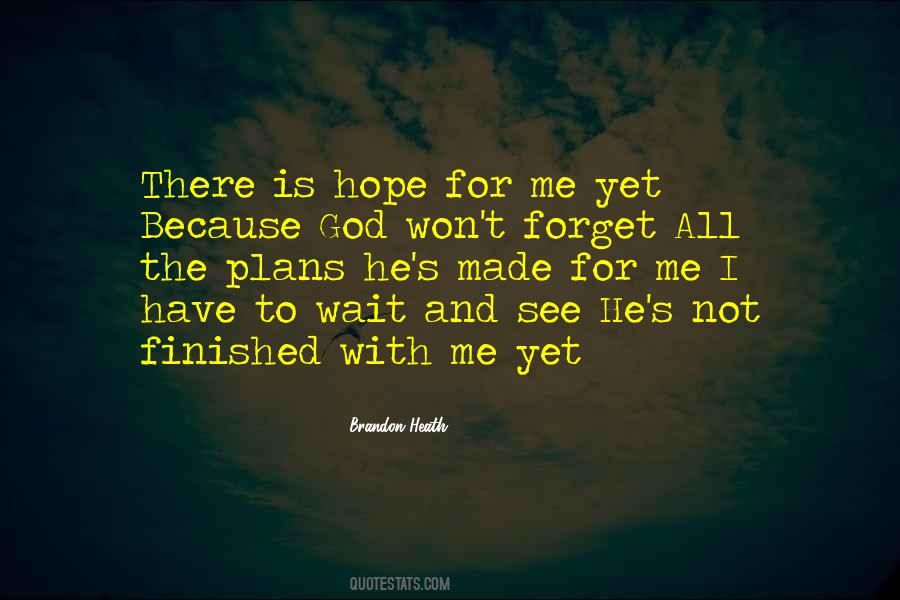 #85. All this anti-Christian rhetoric that you see coming from the government, all this anti-Christian push, is not really an attack on Christianity. It's an effort to make you realize that God is your government. Your government is God. - Author: Rafael Cruz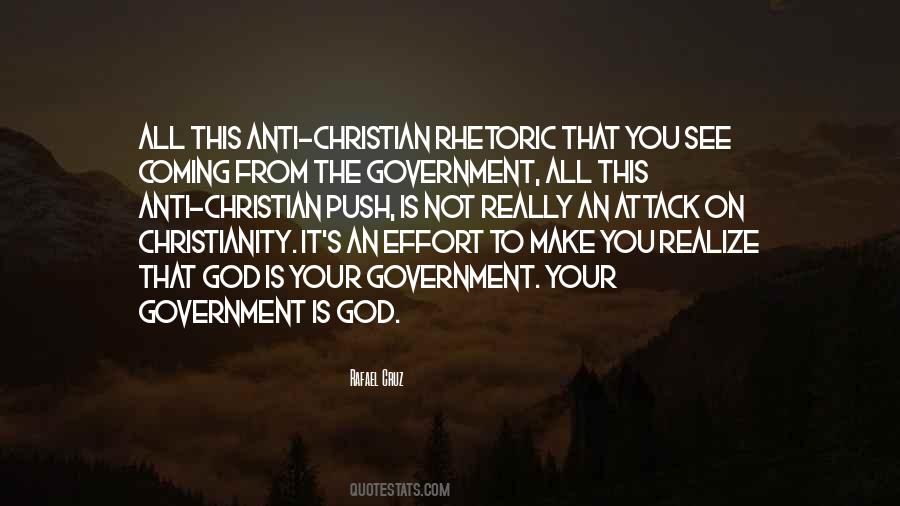 #86. I'm not Catholic. I don't believe in God. But at the same time, I'm obsessed by the sacred, by spirituality. The question of redemption has been present well before Christianity, but as French people are a bit stupid, they see all that in religious terms. - Author: Bruno Dumont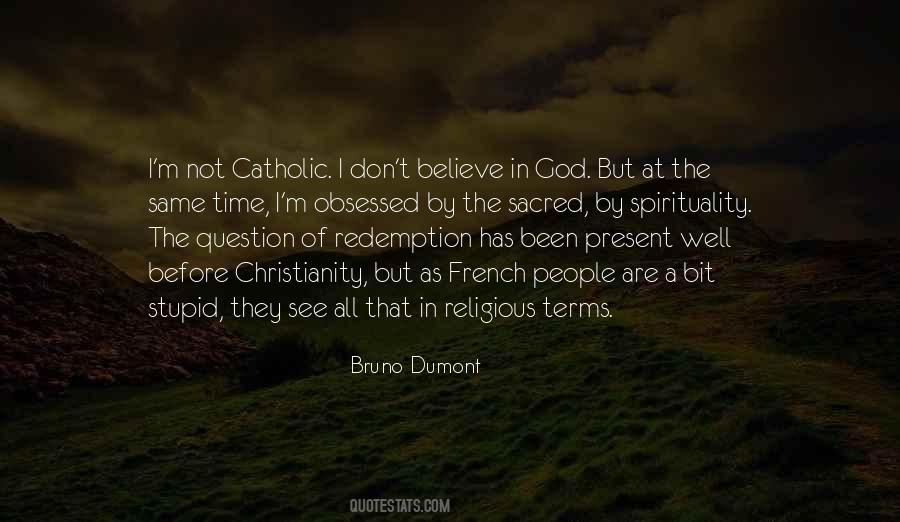 #87. I was a very private person. All of a sudden, to see myself all over the internet and be like, "Oh god, do I want people to even hear this stuff?" - Author: Jack Tatum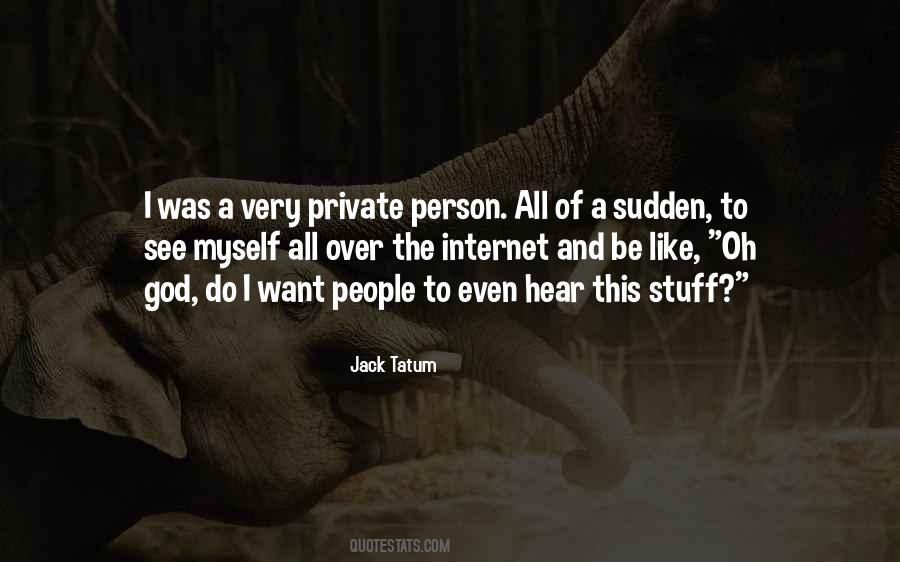 #88. I will govern my life and thoughts as if the whole world were to see the one and read the other, for what does it signify to make anything a secret to my neighbor, when to God, who is the searcher of our hearts, all our privacies are open? - Author: Lucius Annaeus Seneca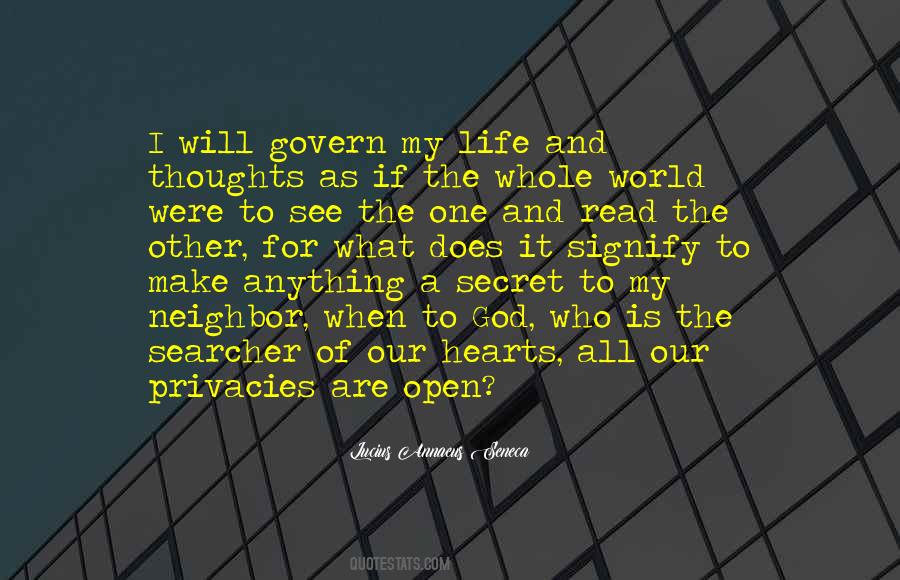 #89. Strive to see God in all things without exception. Do not smother yourself ... If you start smothering yourself with a host of cares and longings and wishes ... you will be disabling yourself from serving God with all your heart. - Author: Saint Francis De Sales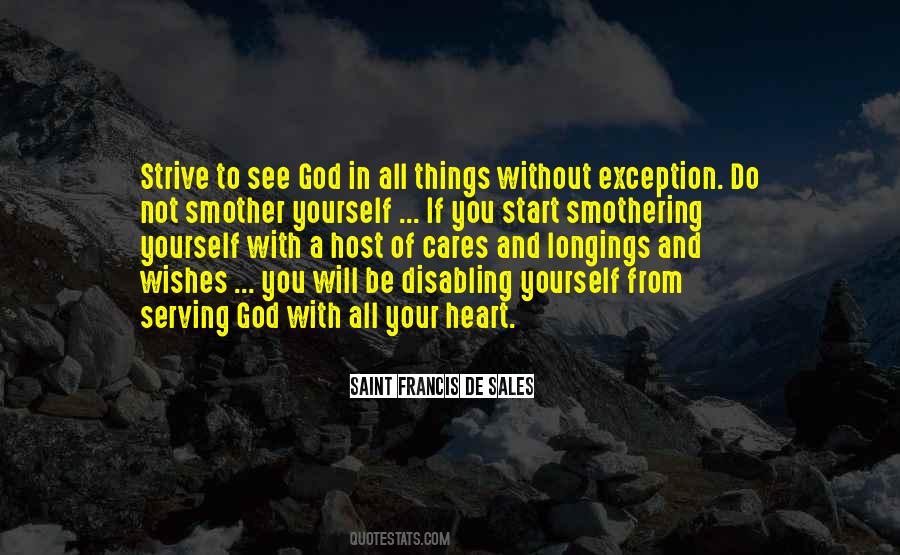 #90. See that the mind is honest, first; the rest may follow or not as God wills. [That] the fundamental treason to the mind ... is the one fundamental treason which the scholar's mind must not allow is the bond uniting all the Oxford people in the last resort. - Author: Dorothy L. Sayers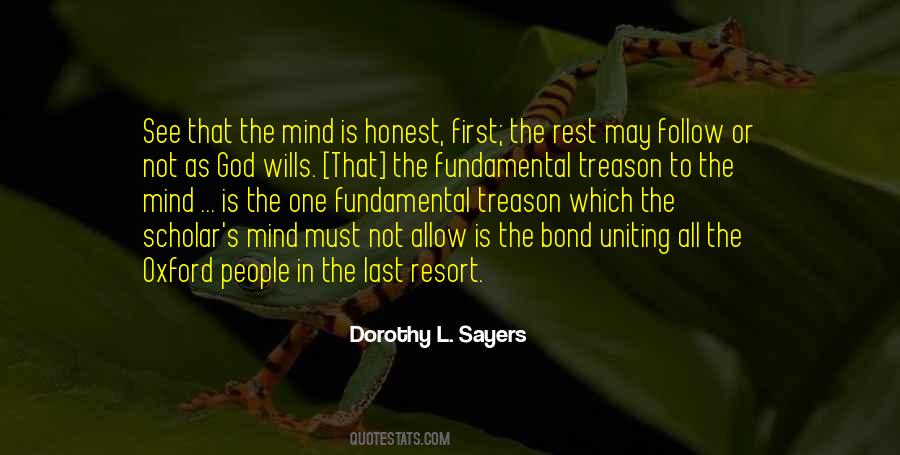 #91. Glance at the sun. See the moon and the stars.
Gaze at the beauty of earth's greenings.
Now, think.
What delight God gives to humankind
with all these things .
All nature is at the disposal of humankind.
We are to work with it. For
without we cannot survive. - Author: Hildegard Of Bingen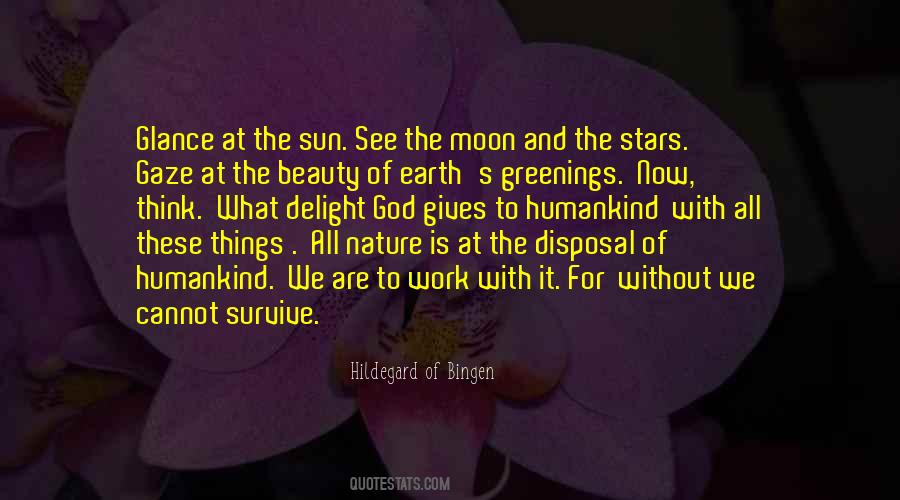 #92. The kosmos works by harmony of tensions, like lyre and bow. Good and evil are one. On the one hand God sees all as well, fair, and good; on the other hand a human being sees injustice here, justice there. Justice in our minds is strife. We cannot help but see war makes us as we are. - Author: Heraclitus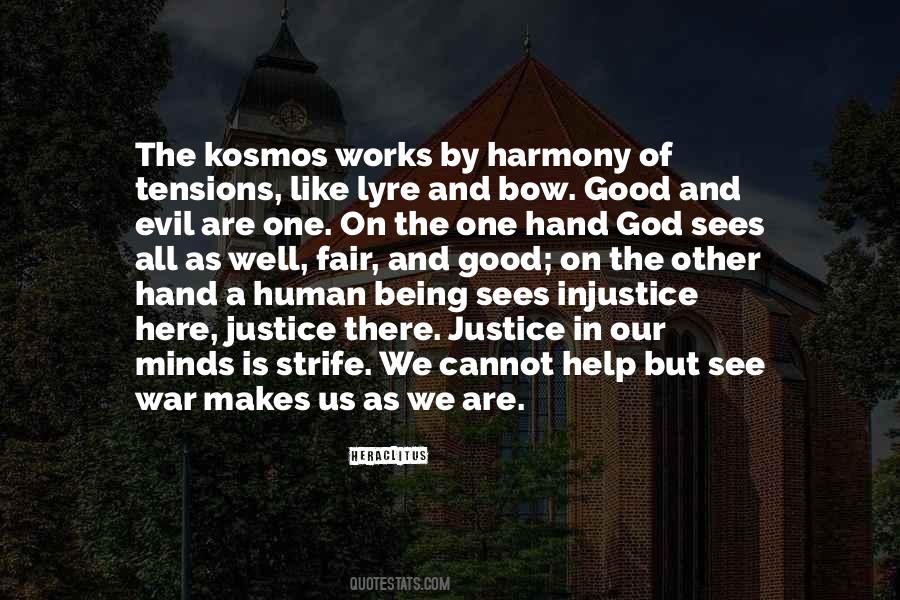 #93. But what I have come to see is that God is big enough to receive us with all our mixture. We do not have to be bright, or pure, or filled with faith, or anything. That is what grace means, and not only are we saved by grace, we live by it as well. And we pray by it. - Author: Richard J. Foster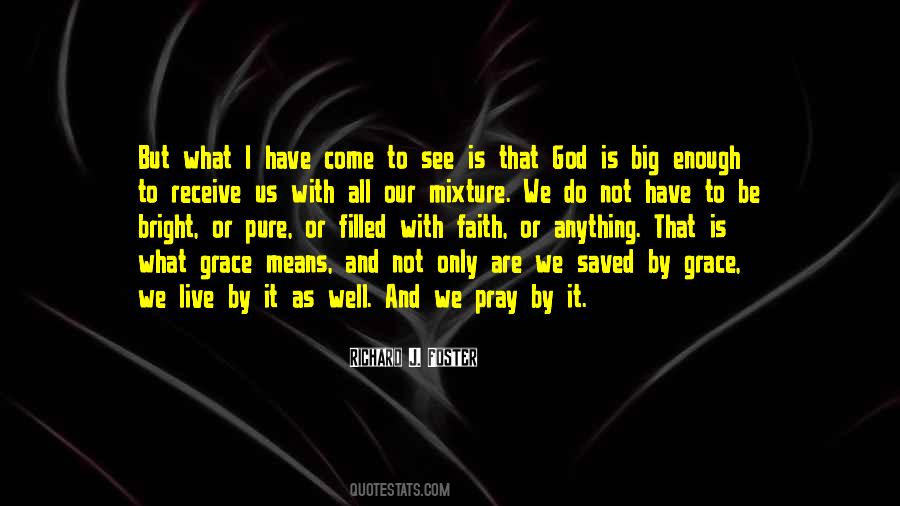 #94. Anything that we see in creation is due to reflected light. And all light comes from God. - Author: Hamza Yusuf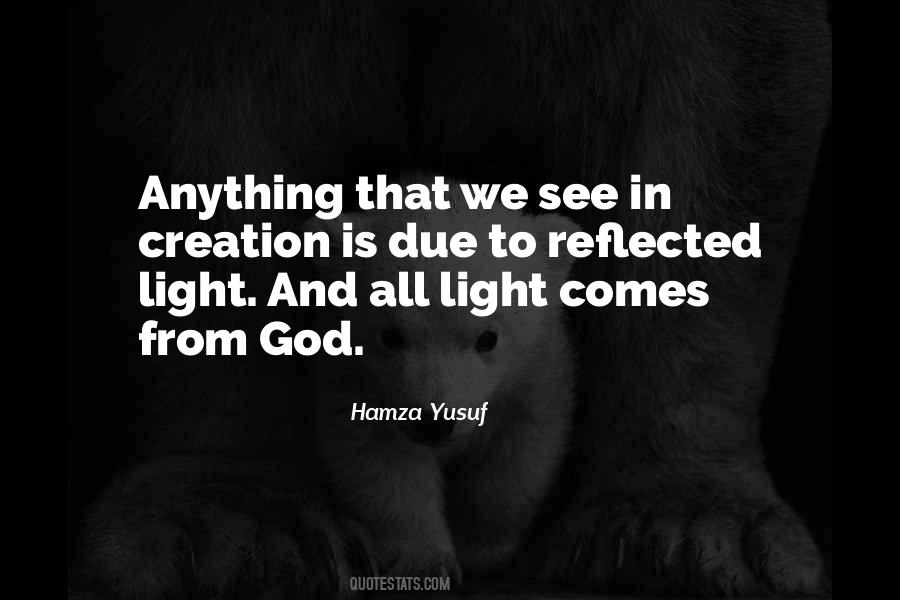 #95. God is a thing I know when I see, and I see It all over, in Megan, in the night sky and the morning sun, and especially in Grandmother. - Author: Emily Henry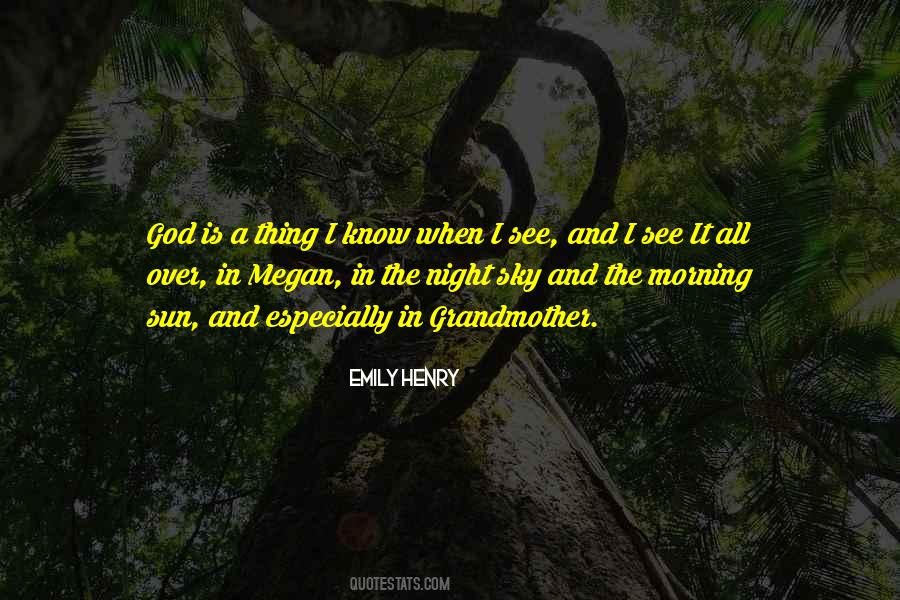 #96. God is not accustomed to refusing a good gift to those who ask for one. Since he is good, and especially to those who are faithful to him, let us hold fast to him with all our soul, our heart, our strength, and so enjoy his light and see his glory and possess the grace of supernatural joy. - Author: Saint Ambrose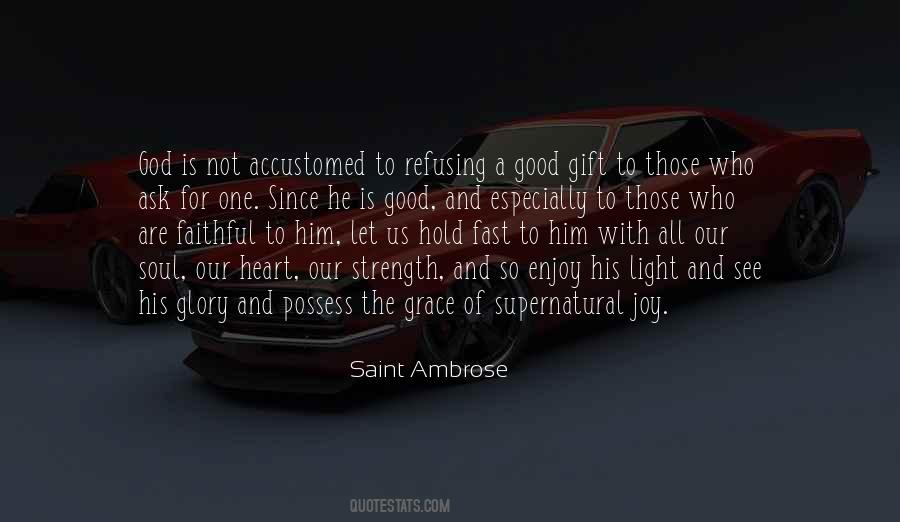 #97. We praise God, not because he needs our praise (for all glory resides in and on him), but in order to see him more clearly, enlarge our soul, and relieve our spirit. - Author: Ron Brackin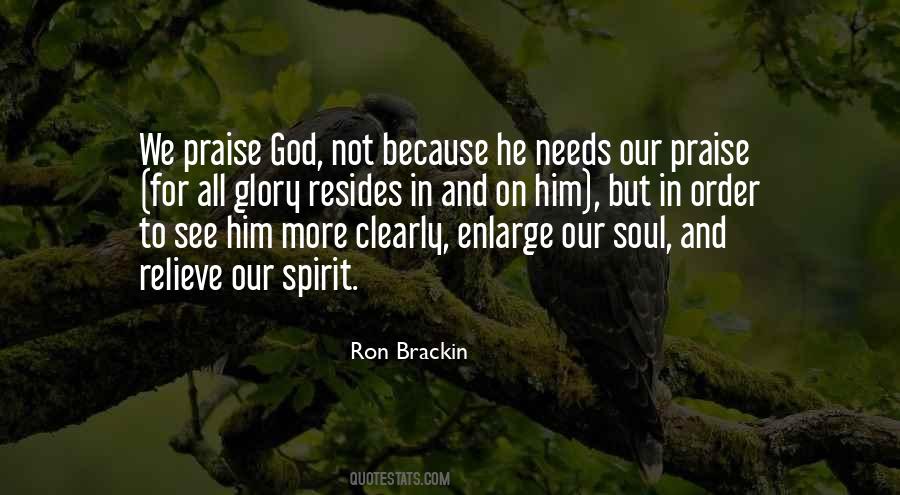 #98. Let the whole world tag you wrongly, brand you with evil and create a different you, and let God give you a solemn tag of dignity and see you differently, you have no problem at all! - Author: Ernest Agyemang Yeboah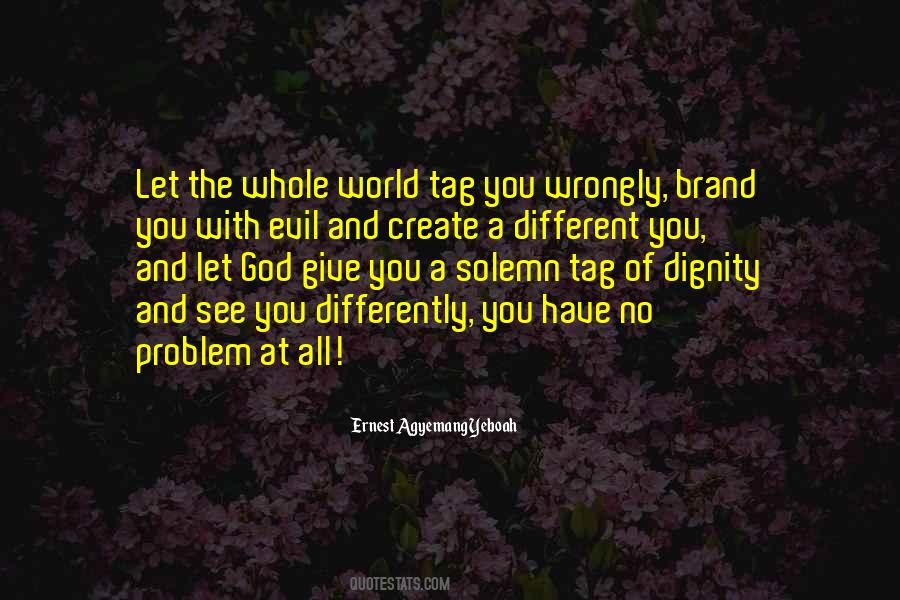 #99. I've heard it said that God made all men, but Samuel Colt made all men equal.
We'd see what Mr. Colt could do for a woman. - Author: Cherie Priest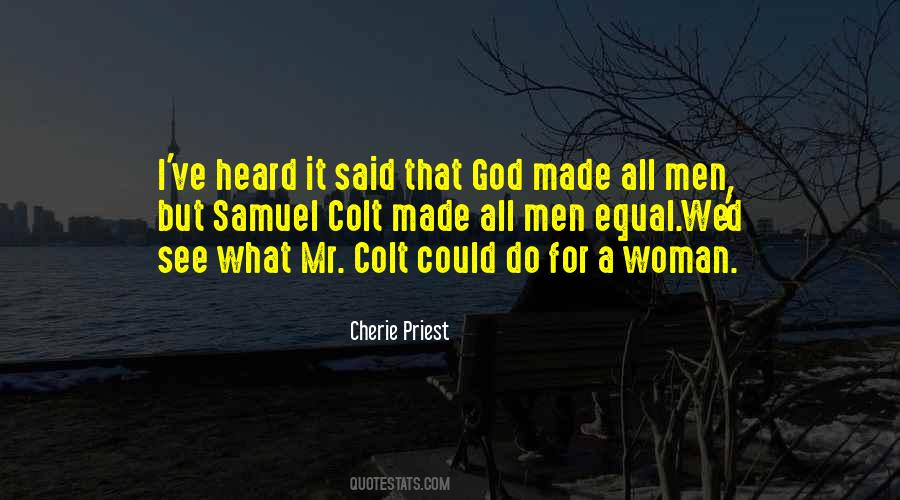 #100. If one religion were 'true,' we would expect to see, even if only once in all of recorded history, a religious missionary that had stumbled upon a culture that shared the same revelations - brought forth by the same deity. - Author: David G. McAfee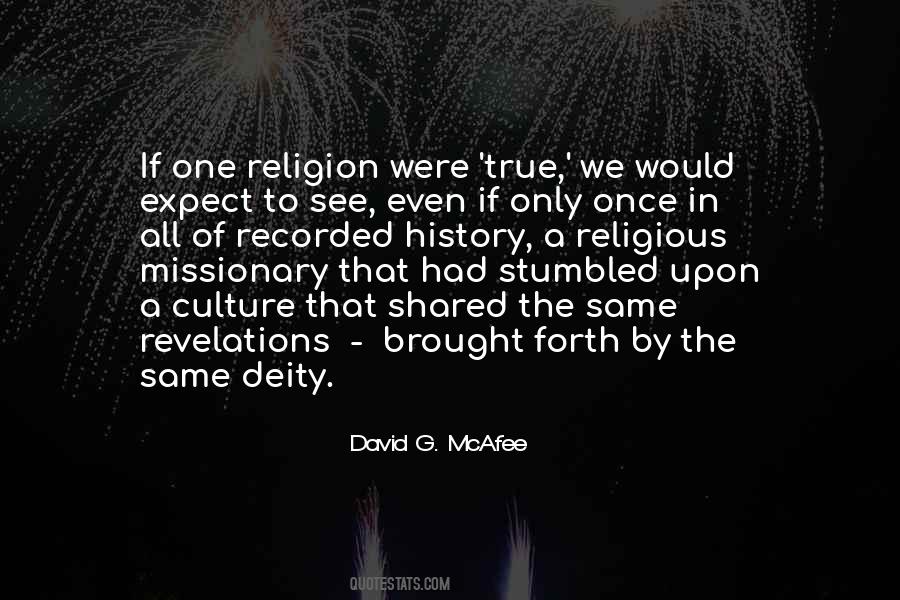 Famous Authors
Popular Topics