God Chose Us Famous Quotes & Sayings
List of top 70 famous quotes and sayings about god chose us to read and share with friends on your Facebook, Twitter, blogs.
Top 70 God Chose Us Quotes
#1. But Marge, what if we chose the wrong religion? Each week we just make God madder and madder. - Author: Matt Groening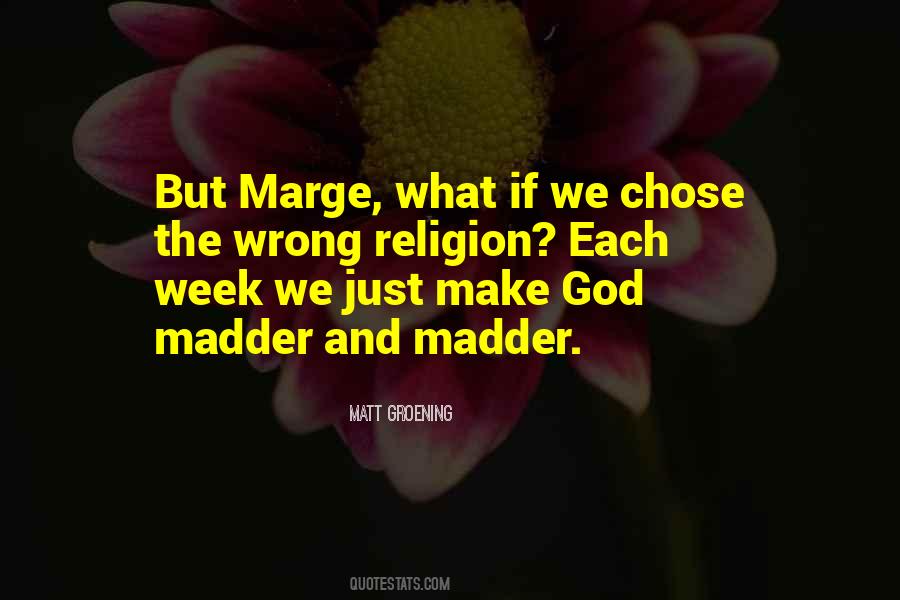 #2. I don't know all you've done, but God knows. And even in the knowing, He chose to love you. - Author: Michelle Griep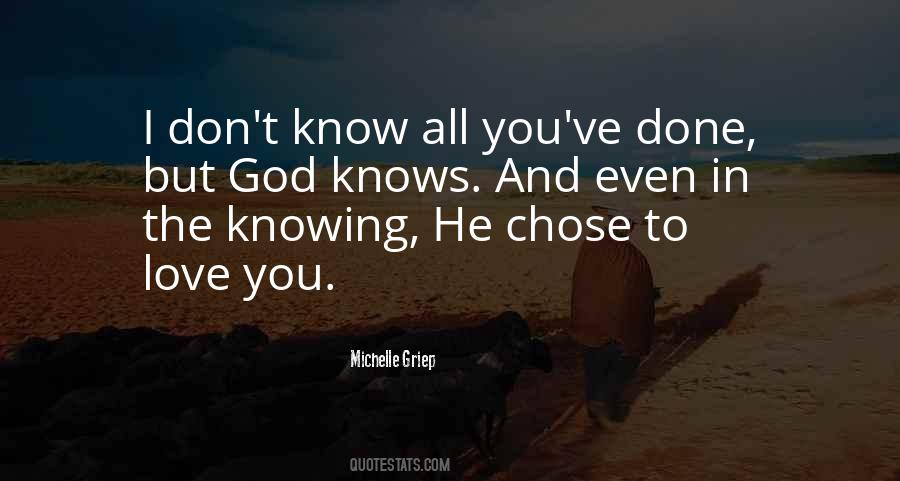 #3. You have to remember that love is not an emotion; it is a choice. Before God created us, He chose to love us and considered that love worth the anguish it would cause Him. Even beyond that, I think God made this choice with joy and not with dread. - Author: Vance C. Kessler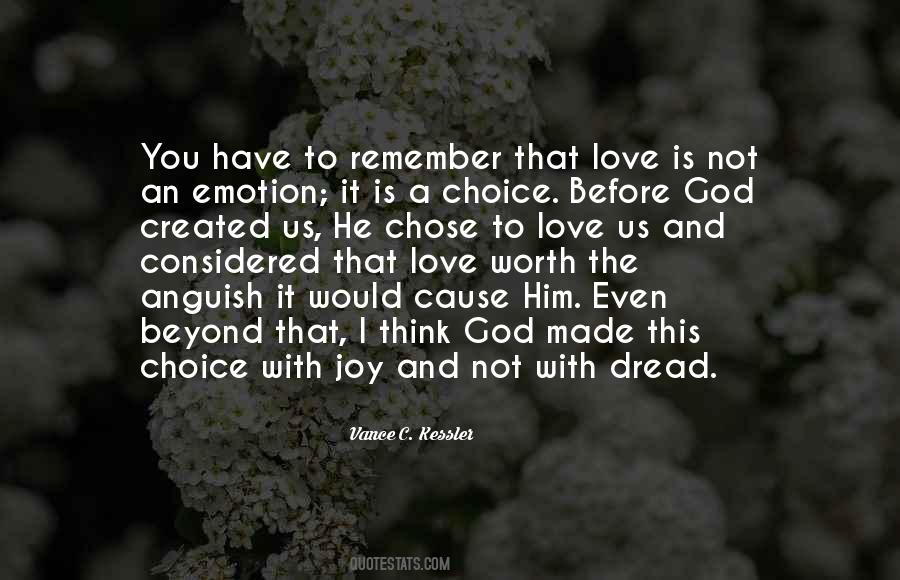 #4. I chose God over the material universe. - Author: Philip K. Dick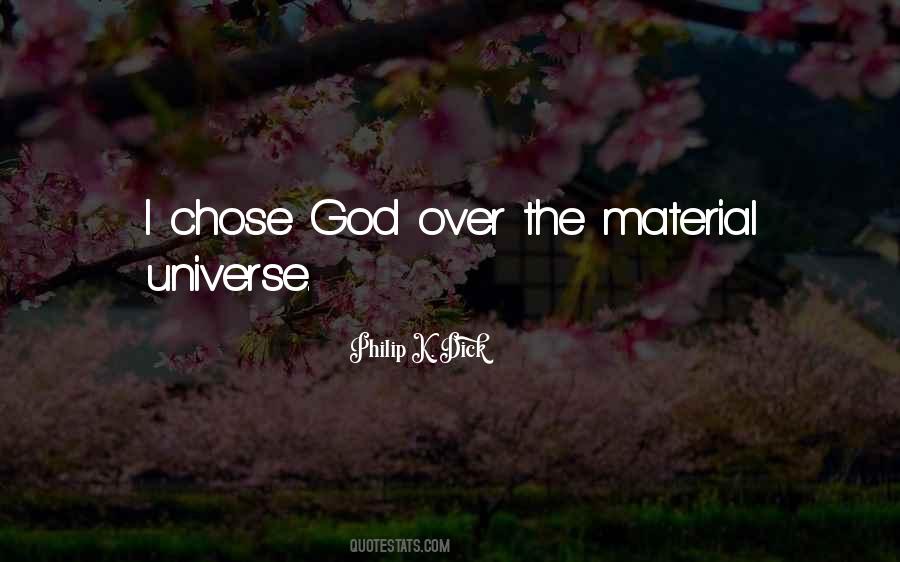 #5. I chose to believe that God, a benign God, would understand our sufferings and forgive us our trespasses. - Author: Jojo Moyes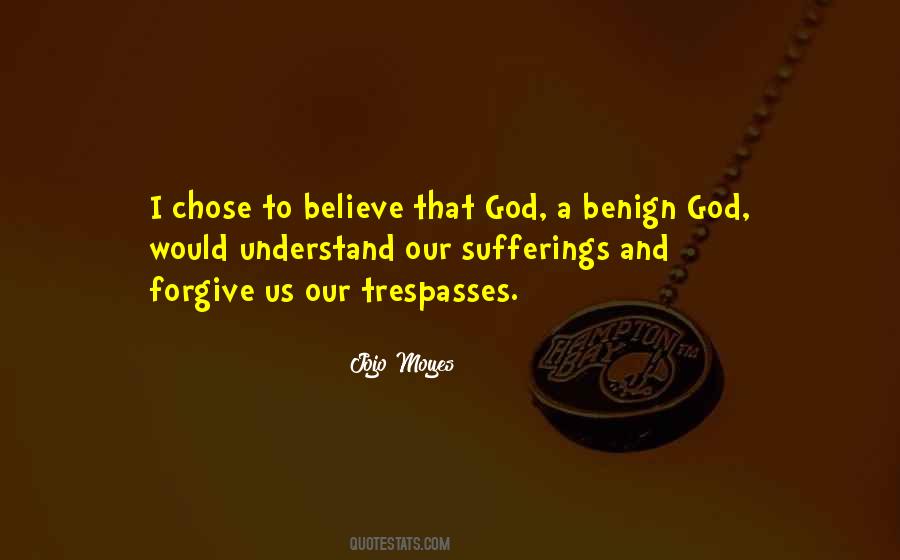 #6. The single most important thing in my life is God. The second most important thing in my life is my family and the third thing is the great profession that I chose. I chose to do something that I love. I never had to work a day in my life. - Author: Sam Rutigliano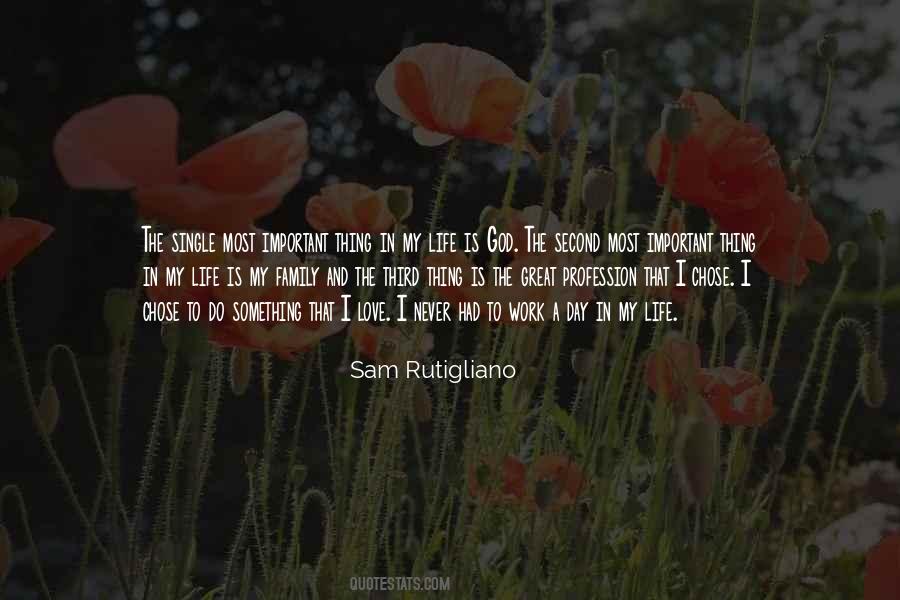 #7. No wonder God chose this dark land to send prophets to, for a candle only shines in the dark. - Author: Rami Ollaik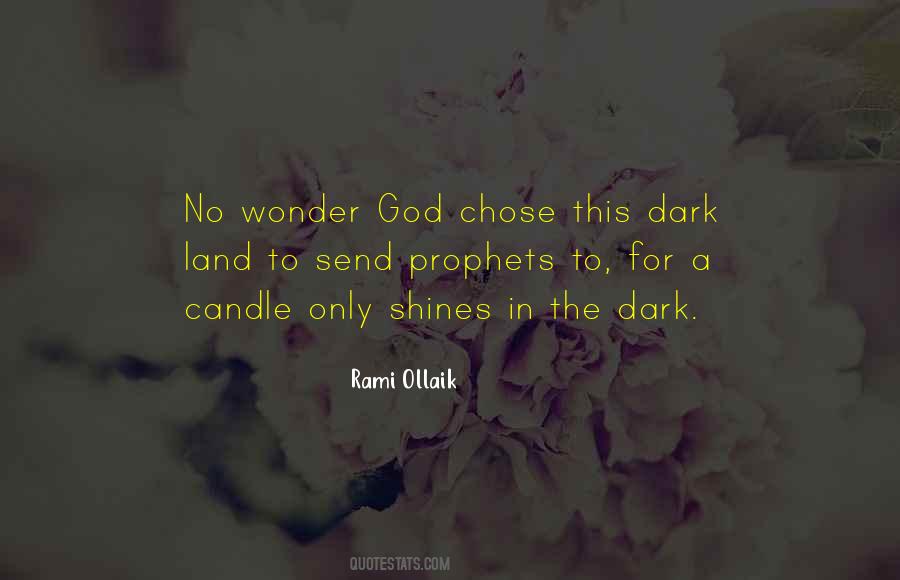 #8. Even when God chose Israel, he did not create the people of Israel as he created its human members, as natural beings. Instead, God formed the people of Israel from individual human beings already living in the natural world, calling them into a new historical identity. - Author: David Novak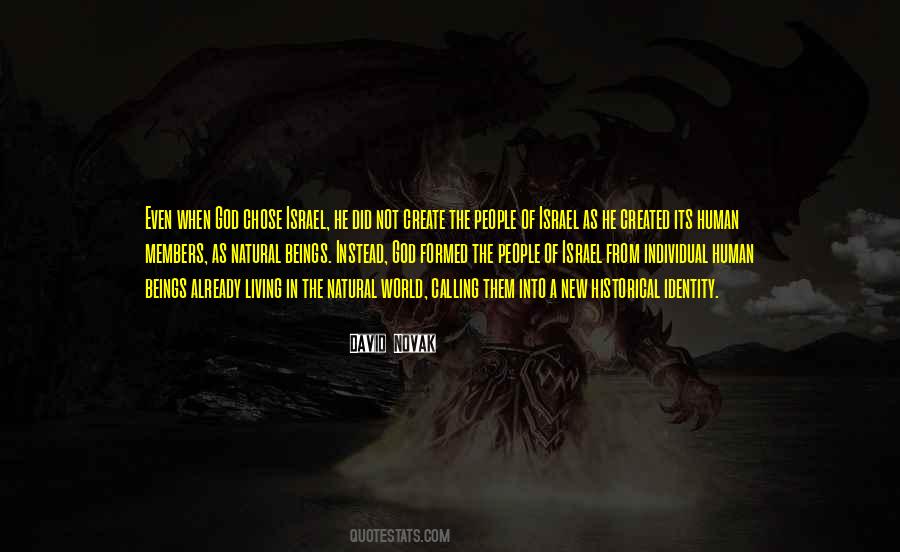 #9. God, I hate my family, these people I never chose to love, but love all the same. - Author: Anne Enright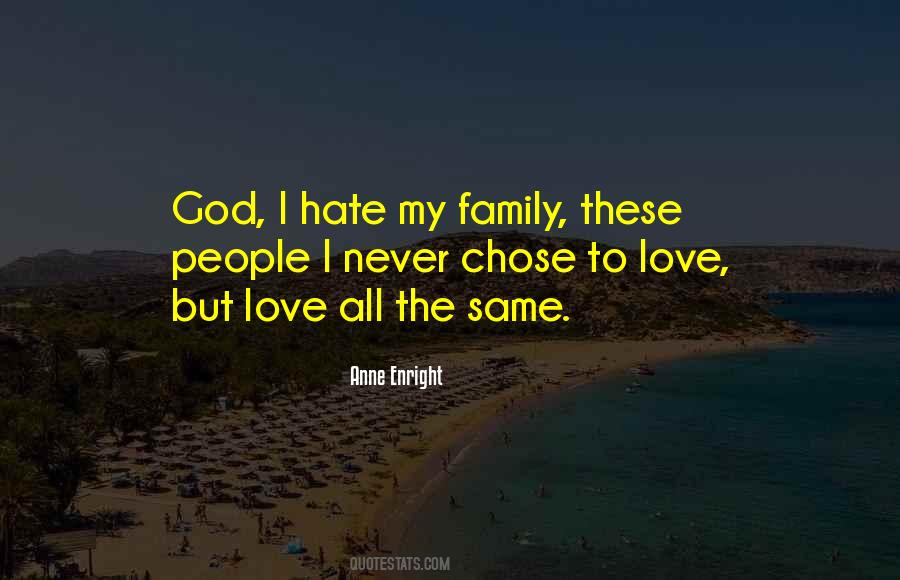 #10. Man and woman, in a world without suffering, chose against God. - Author: Philip Yancey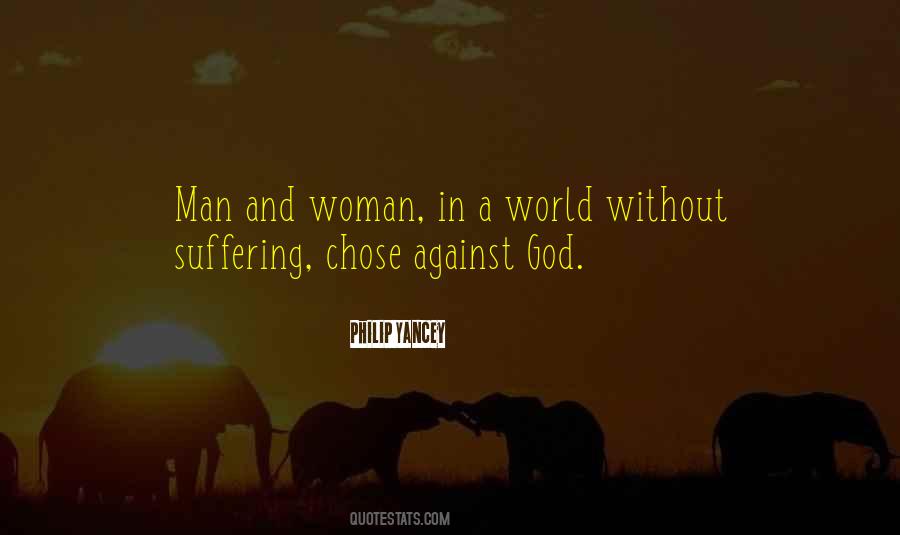 #11. Long as I chose to see her that way, as long as I was not willing to give up my focus on her errors, I could not be at peace because I was not sharing God's perception. - Author: Marianne Williamson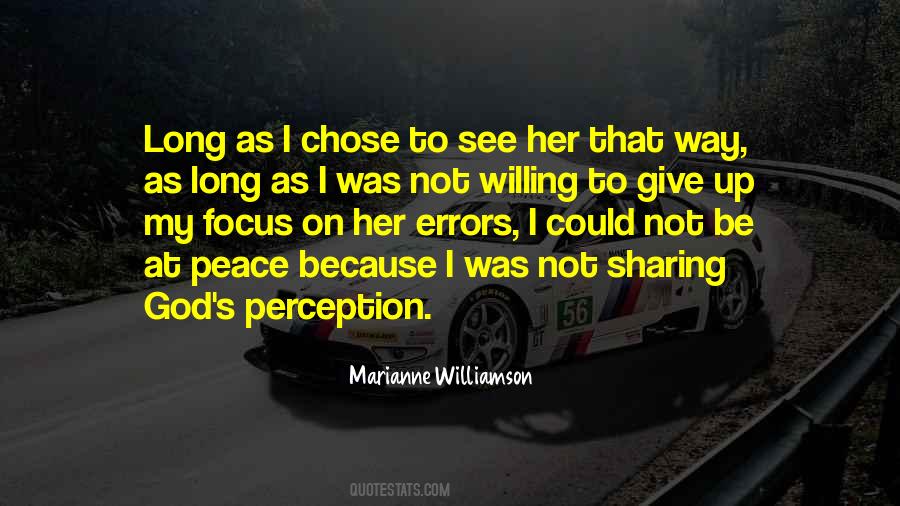 #12. I didn't know why God had chose me for this ordeal, but I was somehow suited to it and knew that I would see it through to the end. - Author: Amber Frey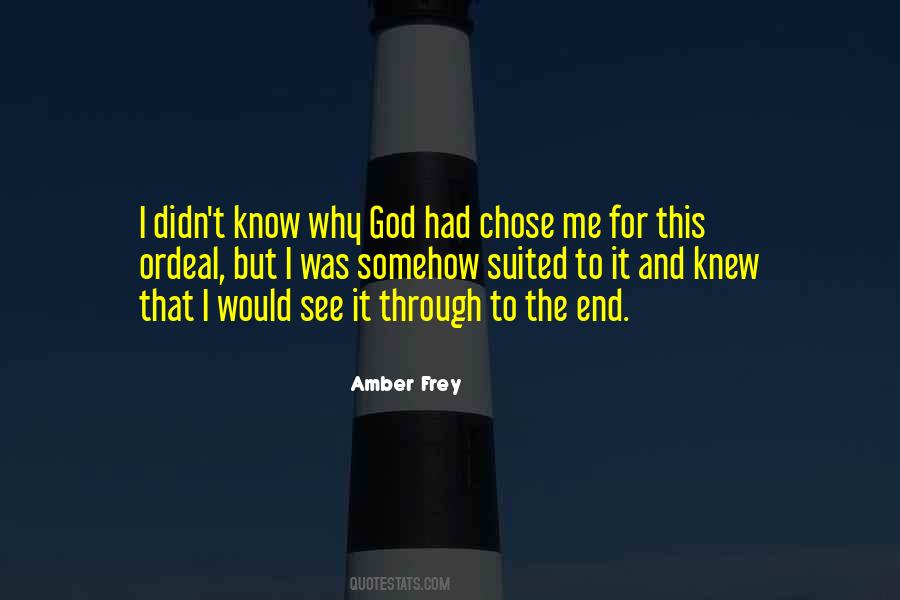 #13. Sister Katherine smiled. 'Such arrogance. You did not choose God, Maria. He chose you. For you, as his servant, there is no such thing as choice. You must do what is right. You may do no other. - Author: Jack Higgins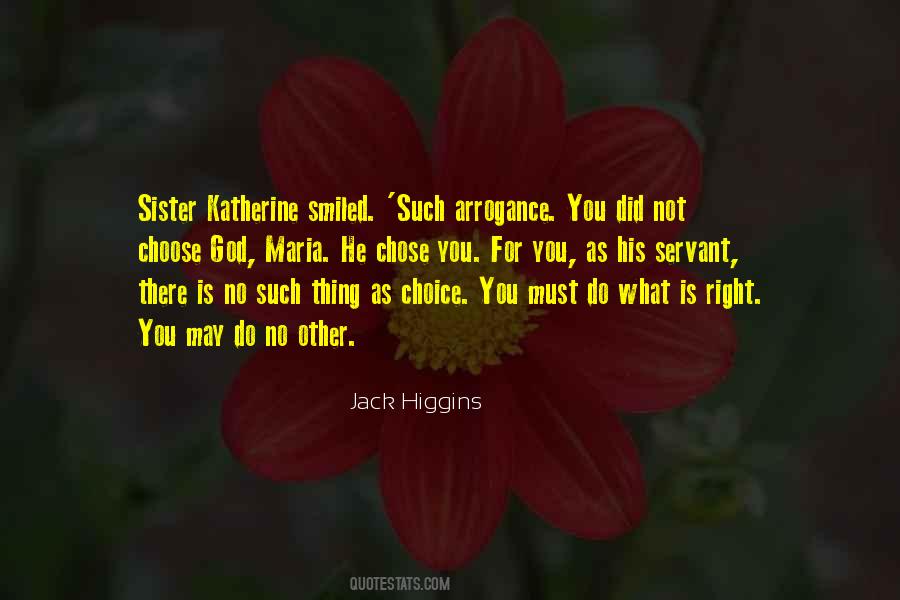 #14. Bill Bright, founder of Campus Crusade for Christ and author of the Four Spiritual Laws chose three words for his tombstone: "slave for Jesus". - Author: Kyle Idleman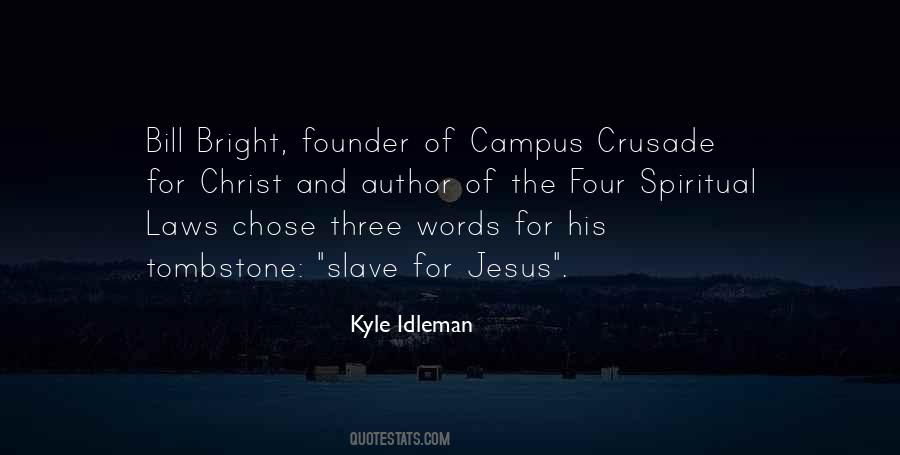 #15. Although I insist that God has always had the power to intervene directly in nature to create new forms, I am willing to be per-suaded that He chose not to do so and instead employed secondary natural causes like random mutation and natural selection. - Author: Phillip E. Johnson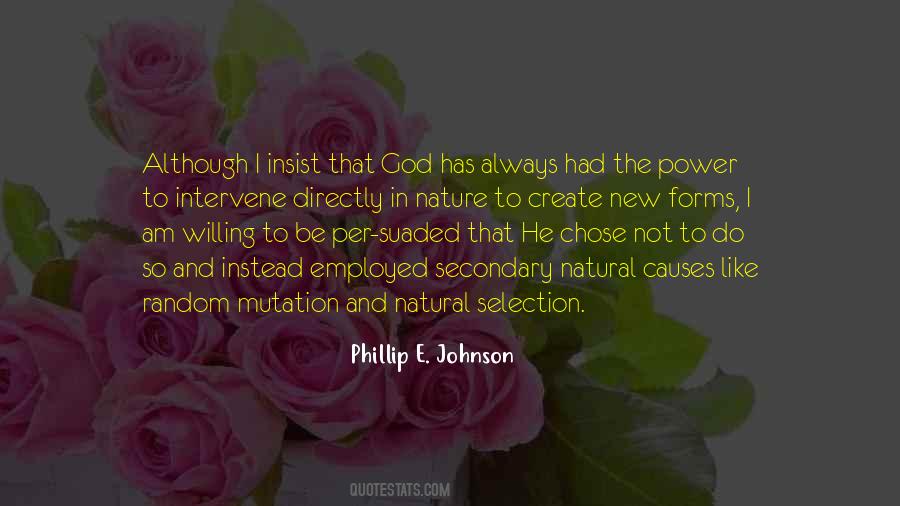 #16. I believe I was born for this, to tell people about the Lord. I just wanted to find the best way that I could do it, and music, God graced me to be able to do it, and that was the way that I chose to be effective and tell people that the Lord loves them. - Author: Fred Hammond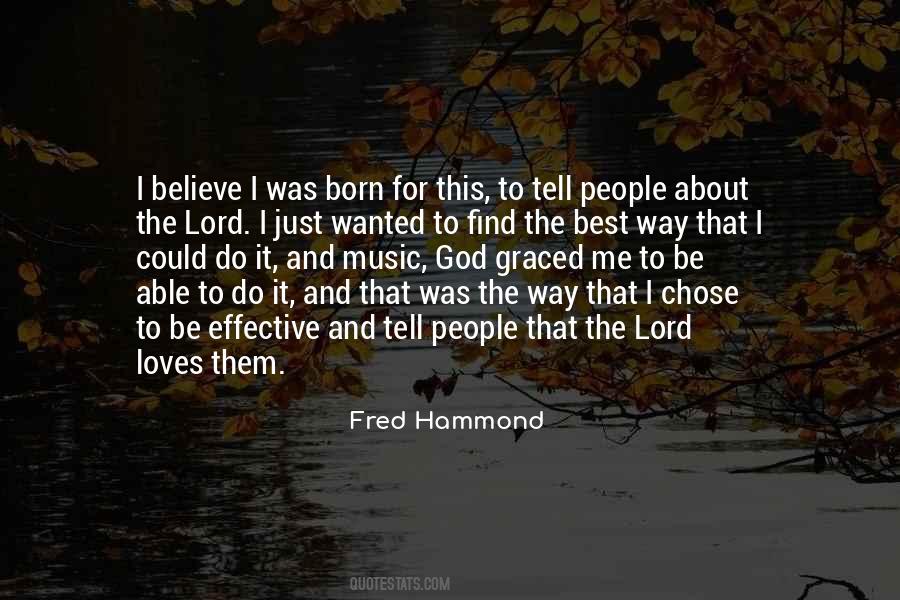 #17. Instant destruction would be fitting every time anyone sinned, if that were how God chose to deal with us. But, thankfully, it ordinarily is not. "His tender mercies are over all His works" (Psalm 145:9). - Author: John F. MacArthur Jr.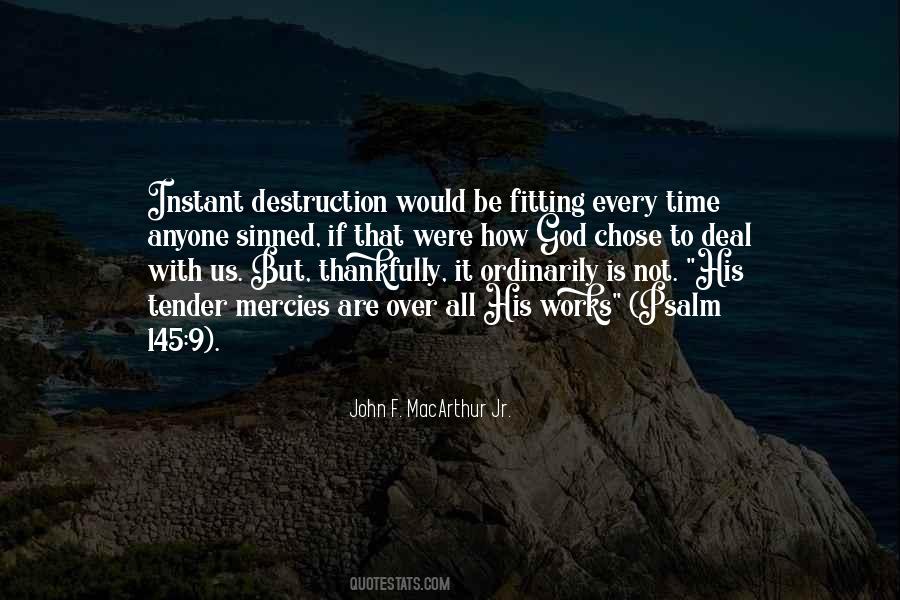 #18. She felt like an angel in heaven, whom God had given the only thing truly worth having, and who, through the rottenness of her own nature, consciously chose her own damnation in Hell. - Author: Hannah Heat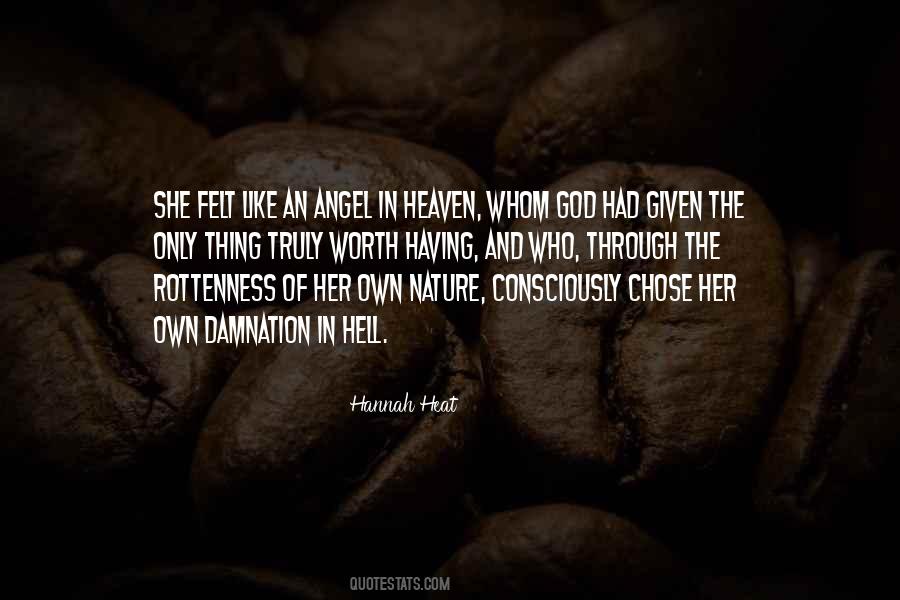 #19. He chose you. Why? That his glory and grace might be praised and magnified. Your salvation is to glorify God. Your regeneration is to glorify God. Your justification is to glorify God. Your sanctification is to glorify God. And one day your glorification will be the absorbance into the Glory of God. - Author: Timothy Keller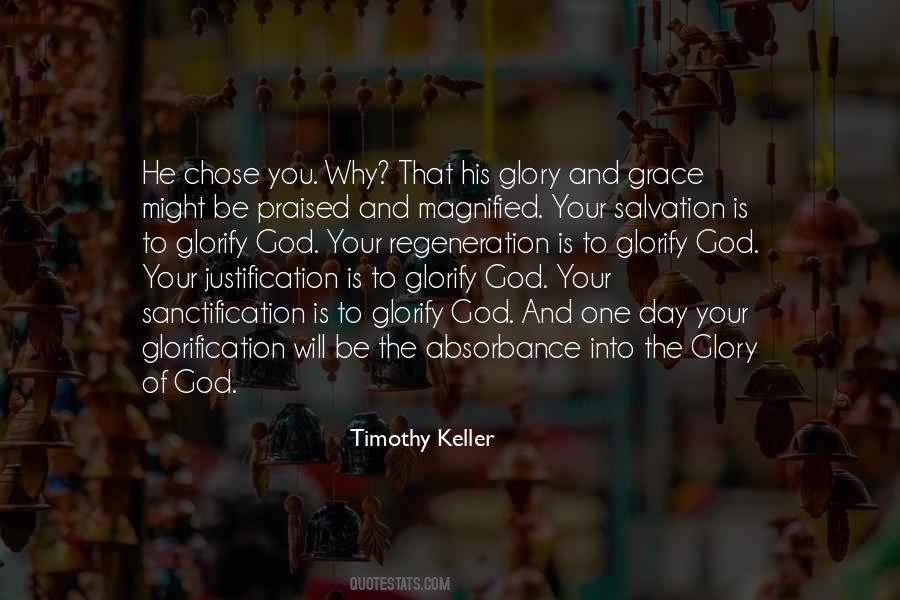 #20. It's a good thing God chose me before I was born, because he surely would not have afterwards. - Author: Charles Spurgeon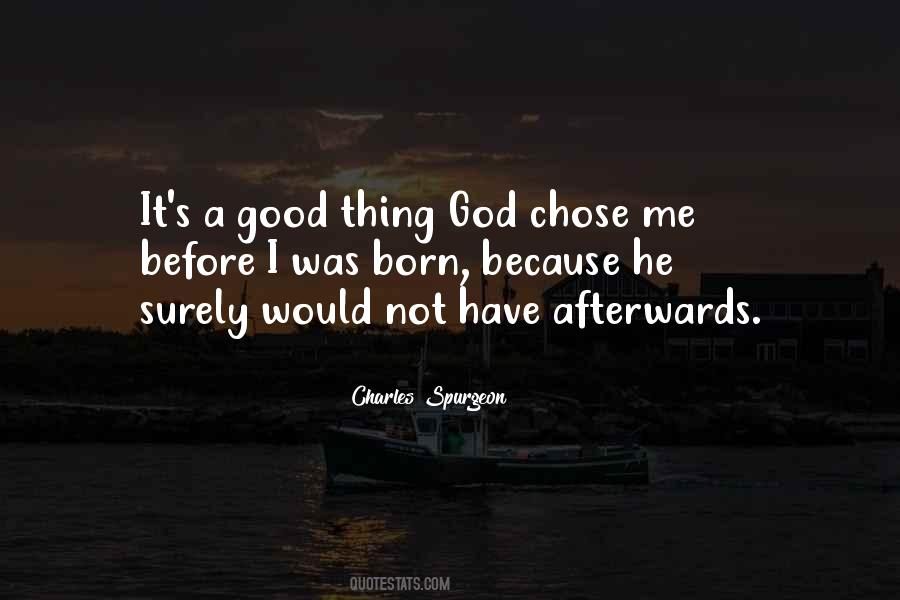 #21. The curse of God must have been on our people when we chose him out of so many noble sons of the South, who would have carried us safely through this Revolution. - Author: P. G. T. Beauregard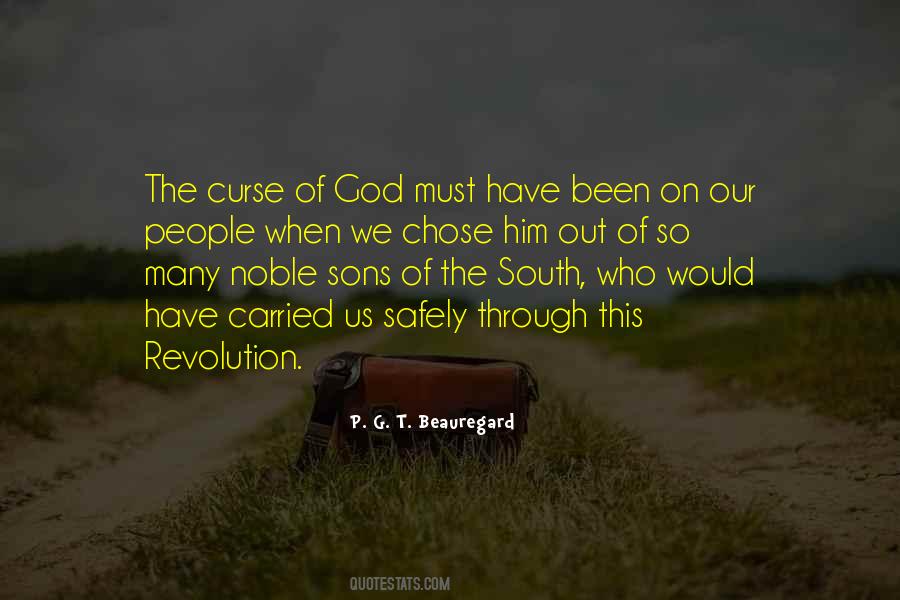 #22. God, he asserted, was not contained in any Book, but was a Voice, which every human being could hear (and which most of us chose to ignore). The common name of that voice was Conscience; but it was a God by any reasonable definition, Stepney claimed. - Author: Robert Charles Wilson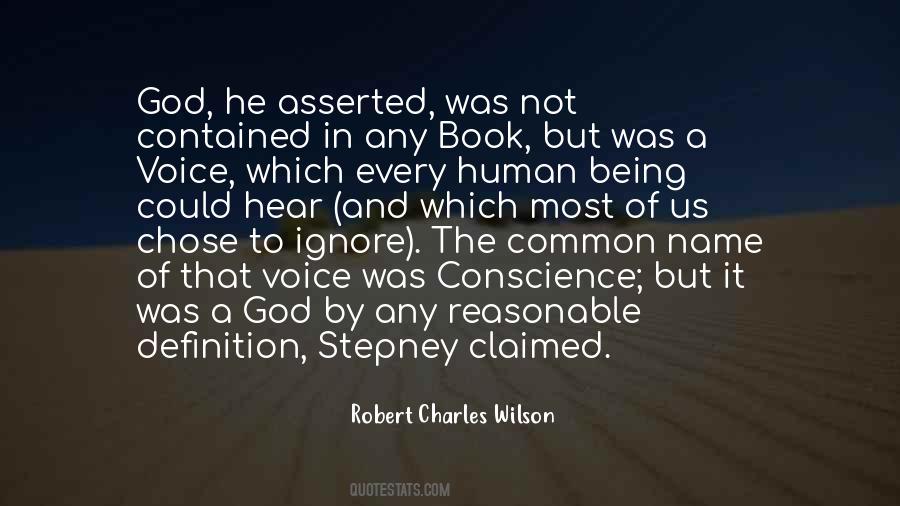 #23. We all need to be aware of our personal calling. What is a personal calling? It is God's blessing, it is the path that God chose for you here on Earth. Whenever we do something that fills us with enthusiasm, we are following our legend. - Author: Paulo Coelho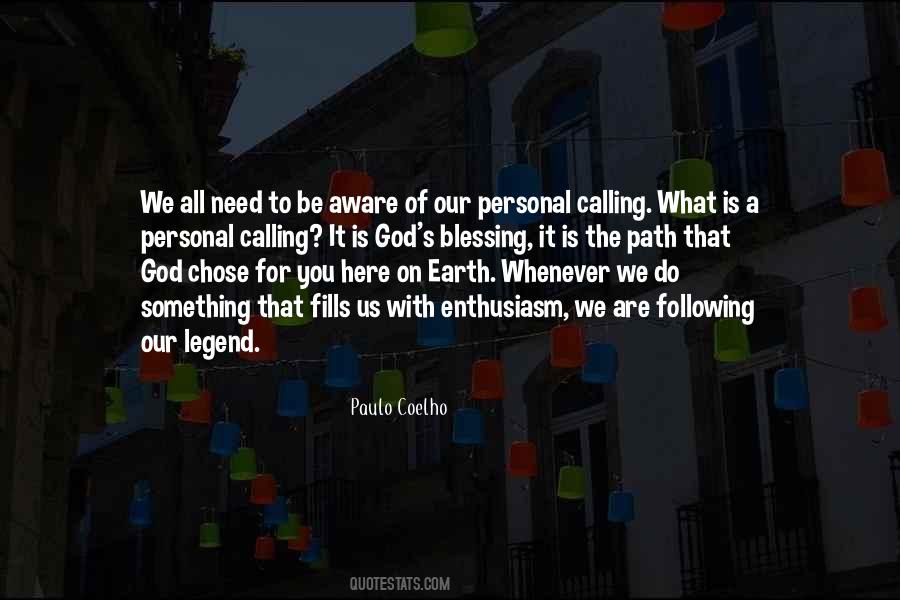 #24. The fundamental religion of most of mankind is the faith that God has revealed Himself to us and not to the barbarians. Our tribe is the one God chose and so if we vanquish the other tribes and rain fire and destruction on them, we're only carrying out God's Will. - Author: Garrison Keillor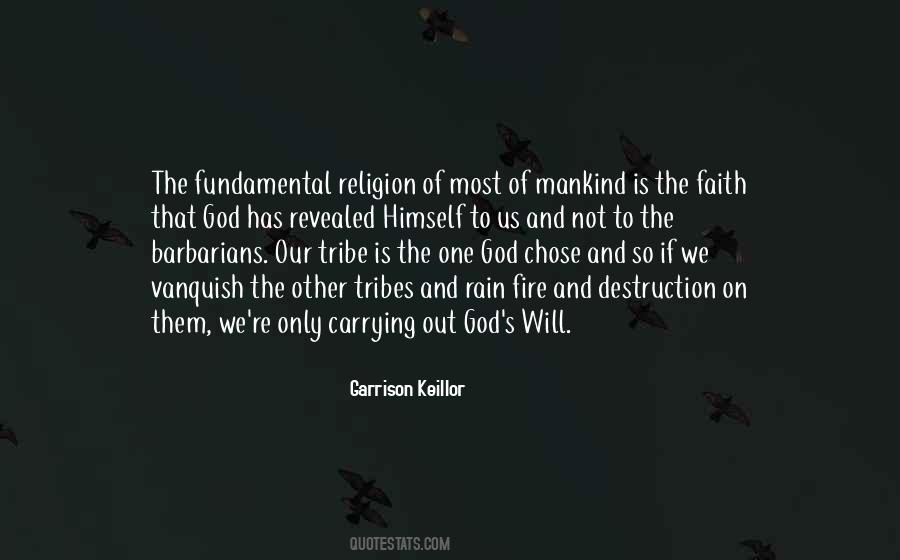 #25. God chose to introduce Himself to us in the first verse of Genesis as a Creator. And yet so few Christians really understand the power of creativity to influence the culture. - Author: Phil Cooke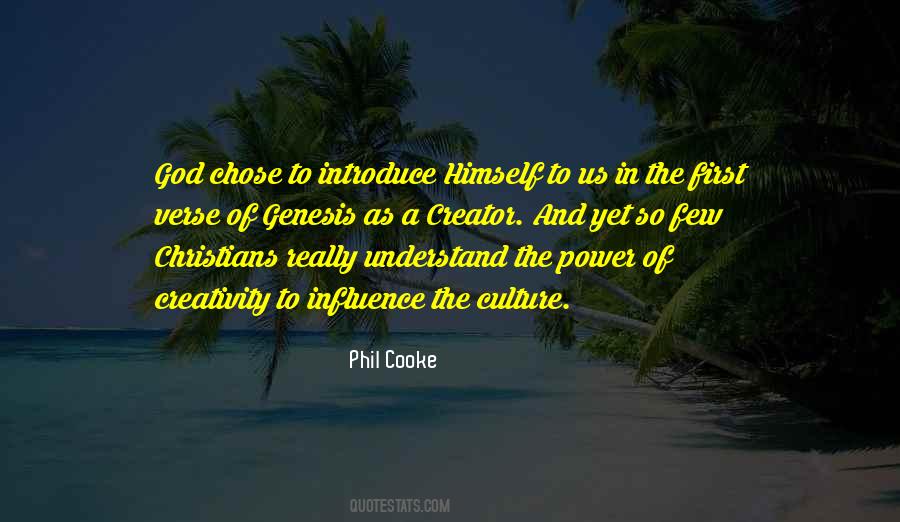 #26. He chose to love us. He chose to lay down His life for us. The danger of believing that you "fall in love" is that it also means you can "fall out of love" just as unexpectedly. Aren't you glad that God's love for us isn't as unpredictable? - Author: Joshua Harris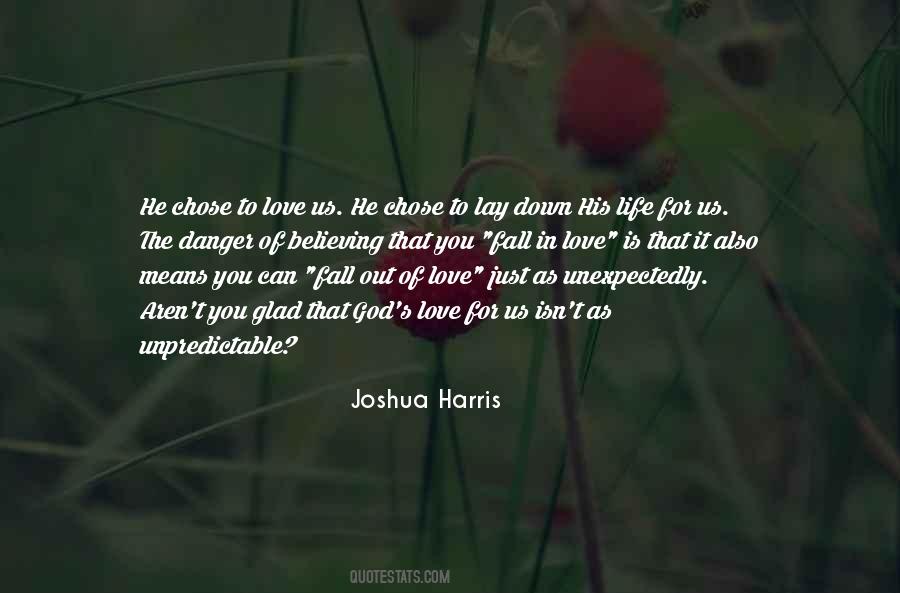 #27. God, remember when we defeated Goliath, when we pastured sheep or we threw, in vain, the nets, and You chose us."
FROM THE LIGHTHOUSE OF ASAPH BOOK - Author: Roberto Ornan Roche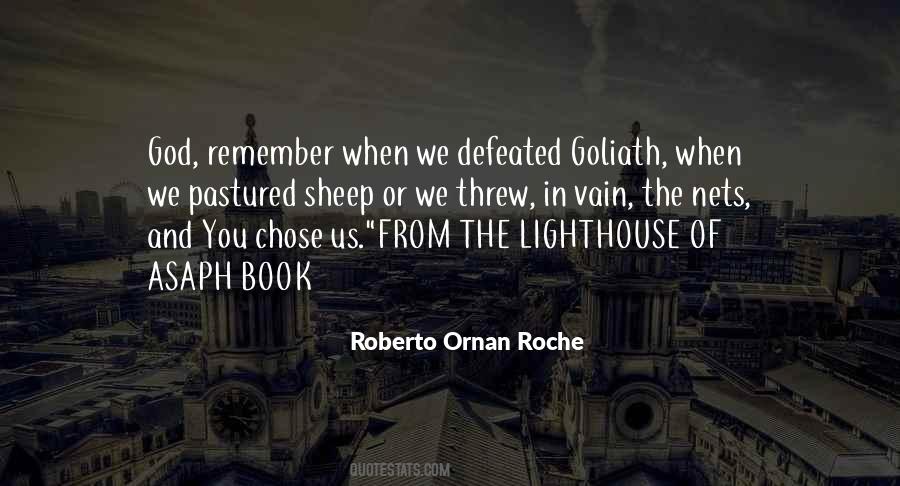 #28. God neither chose them nor called them because they were holy, but he called them that they might be holy, and holiness is the beauty produced by his workmanship in them. - Author: Charles Haddon Spurgeon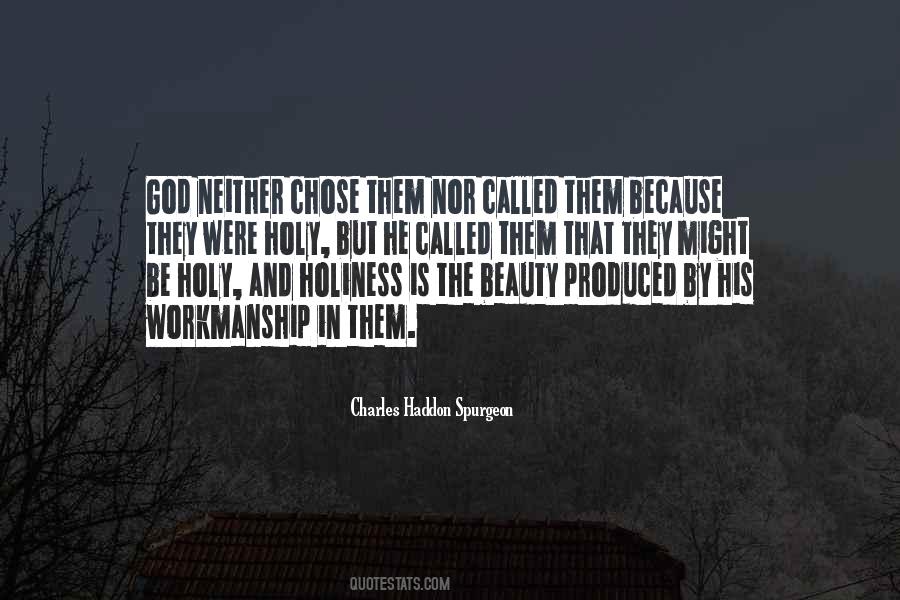 #29. God's love is so extravagant and so inexplicable that he loved us before we were us. He loved us before we existed. He knew many of us would reject him, hate him, curse him, rebel against him. Yet he chose to love us. God loves us because he is love. - Author: Judah Smith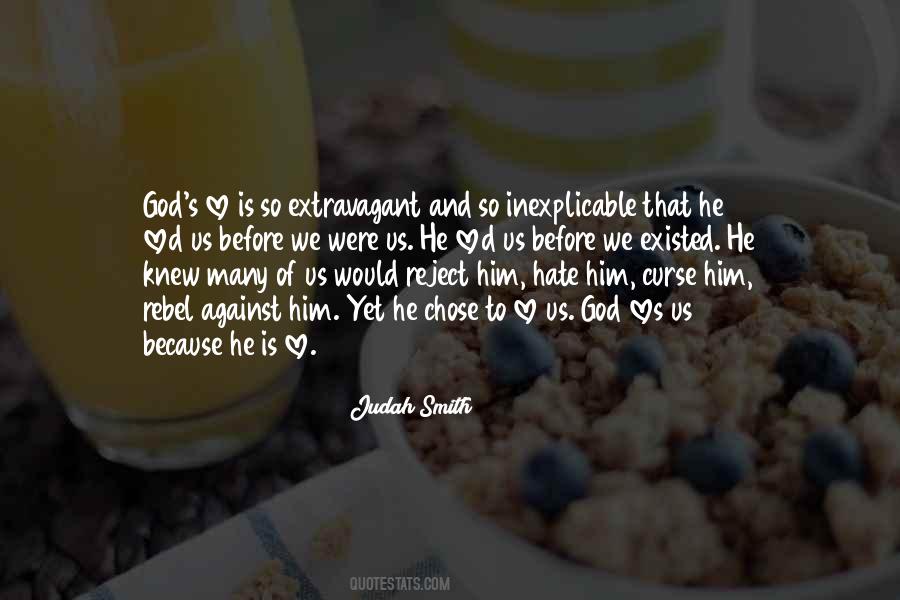 #30. I feel annoyed that in His wisdom, [God] chose to reel me in with middle-brow Christian fiction. It could be worse, I suppose. I could have come to faith while reading Left Behind. - Author: Lauren F. Winner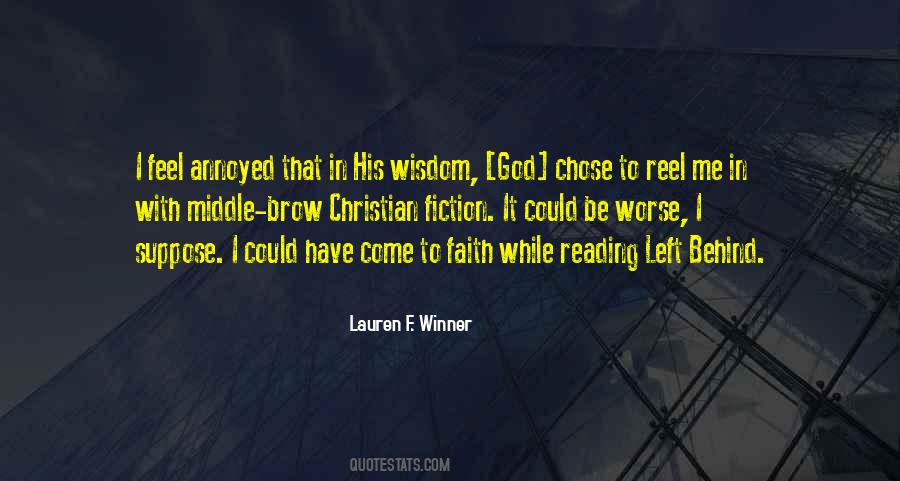 #31. Faith means I chose not to know, which is different than ignorance which refuses to know. - Author: Craig D. Lounsbrough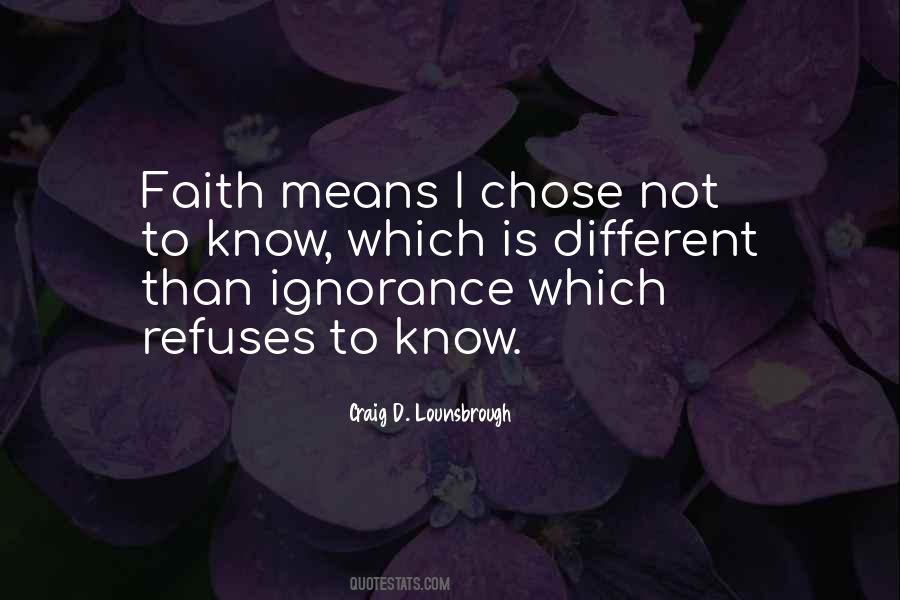 #32. God did not choose Herod or Pontius Pilate or Caesar Augustus as His instrument. He chose the unknown son of an unknown carpenter in one of the least important stretches of the Roman Empire. - Author: Dan Simmons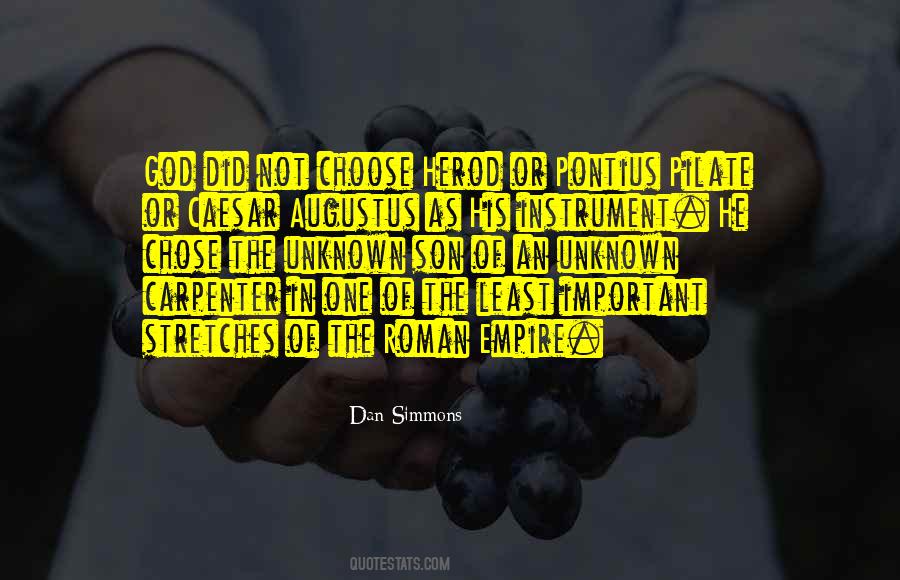 #33. Grumble is the god of henchmen and minions. Once a former lackey himself, after his deification he chose to look over his own people rather than putting on airs. - Author: Drew Hayes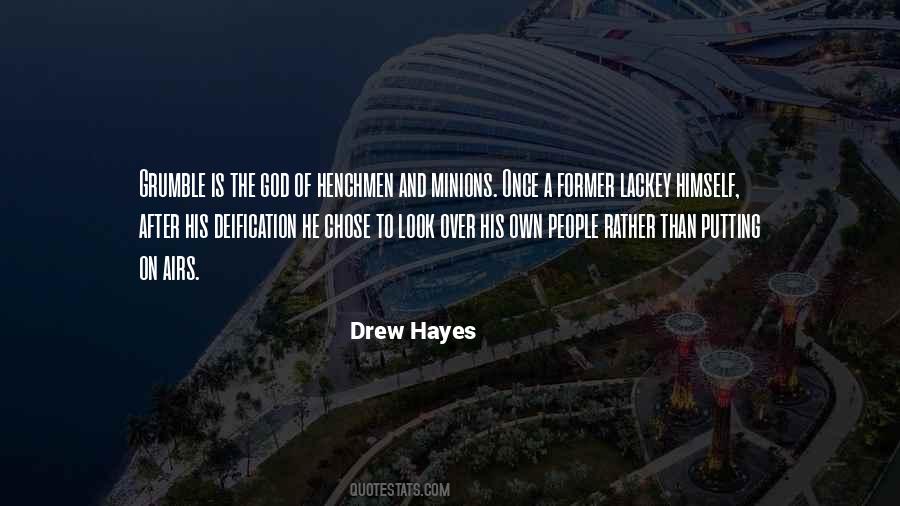 #34. Repentance is not something God demands of you before He will take you back and which He could let you off if He chose; it is simply a description of what going back is like. - Author: C.S. Lewis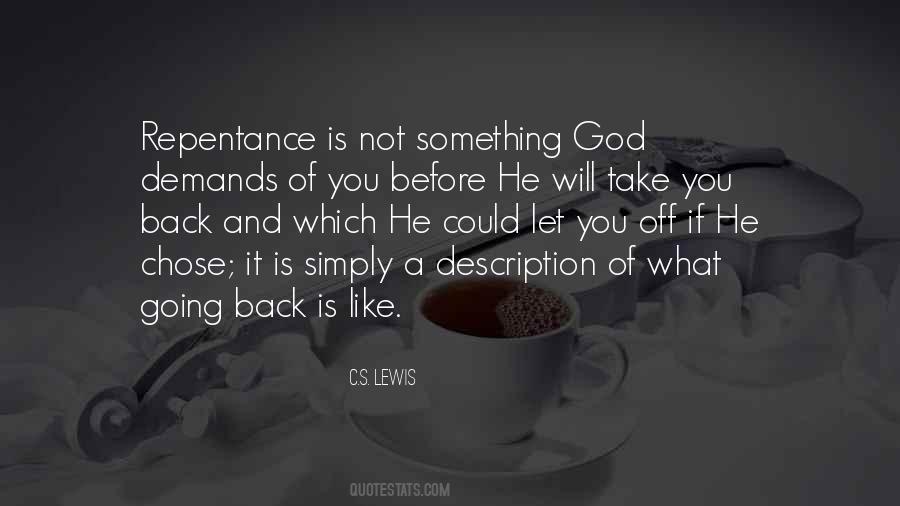 #35. Religious discrimination is not like racial discrimination. One you chose for yourself, the other God chose for you. - Author: Habeeb Akande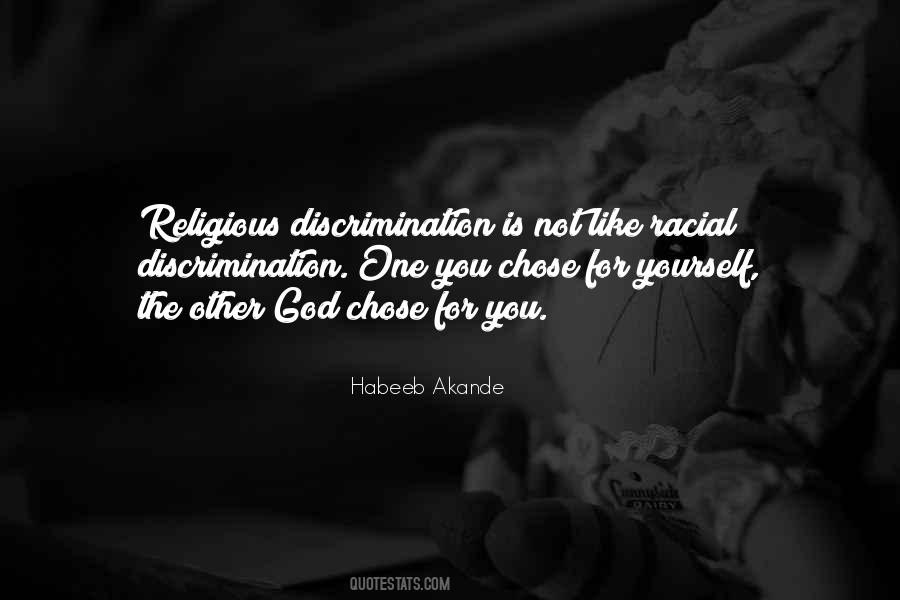 #36. Yesterday the paper had a "short" summary of the places where Jews are not allowed! I can better mention where they are still aloud: "in their houses and in the streets!" God, punish those who are persecuting the people you chose and to whom Jesus also belonged. -From the diary of Diet Eman - Author: Diet Eman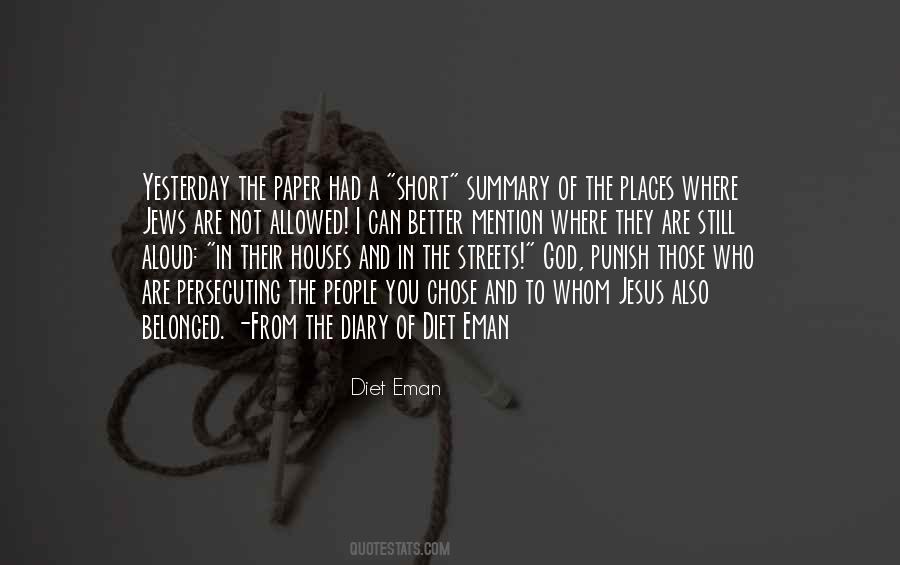 #37. God looked through eternity past and He saw you and He chose to reach out and redeem you by His own grace. It's hard to imagine that kind of love. - Author: James MacDonald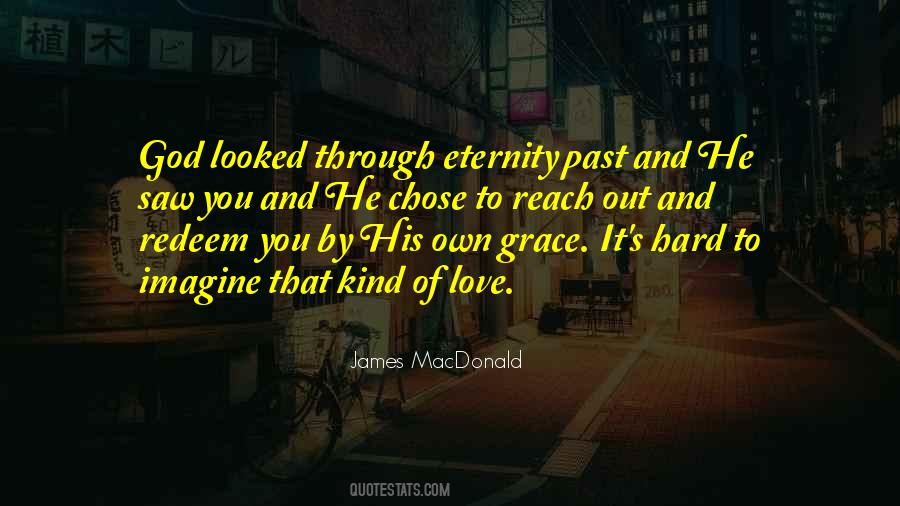 #38. What is a personal calling? It is God's blessing, it is the path that God chose for you here on Earth. Whenever we do something that fills us with enthusiasm, we are following our legend. However, we don't all have the courage to confront our own dream. - Author: Paulo Coelho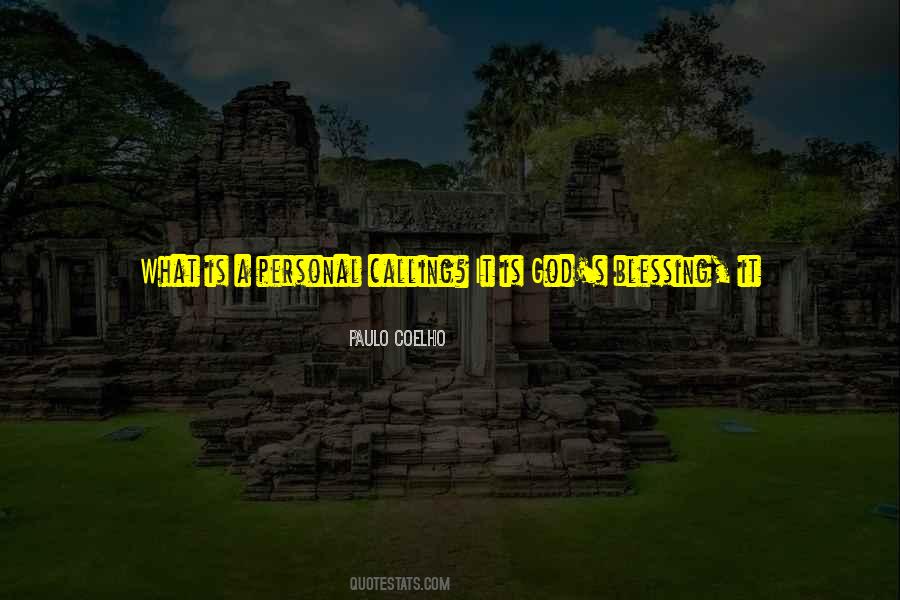 #39. I did nothing to deserve God's love; in fact, I was living as an orphan, without hope. Yet God chose to pursue a relationship with me, and through the death of his son Jesus, I was adopted into God's family. - Author: Steven Curtis Chapman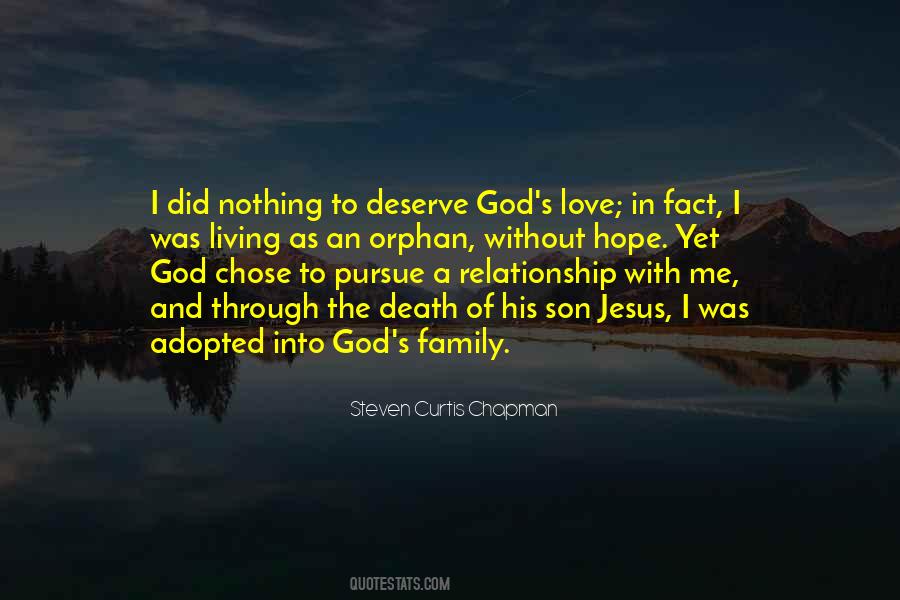 #40. God blessed us with so many beautiful things around us 'NATURE' and then gave us the precious gift 'LIFE' to enjoy. So, why worried about future, Start 'To Live' because God chose you to experience the adventure of his own made world. - Author: Manik Ghawri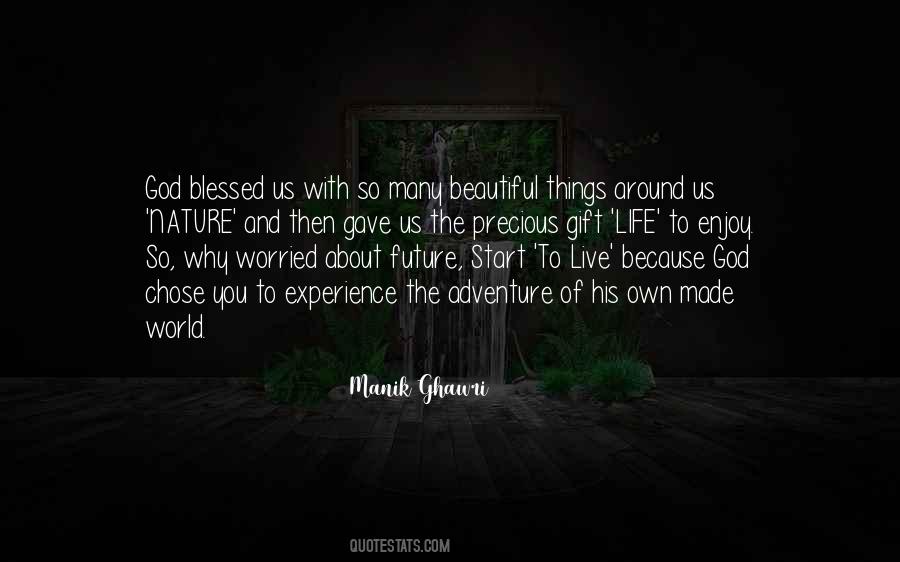 #41. God chose the foolish of the world to shame the wise, and God chose the weak of the world to shame the strong, and God chose the lowly and despised of the world, those who count for nothing, to reduce to nothing those who are something. - Author: Anonymous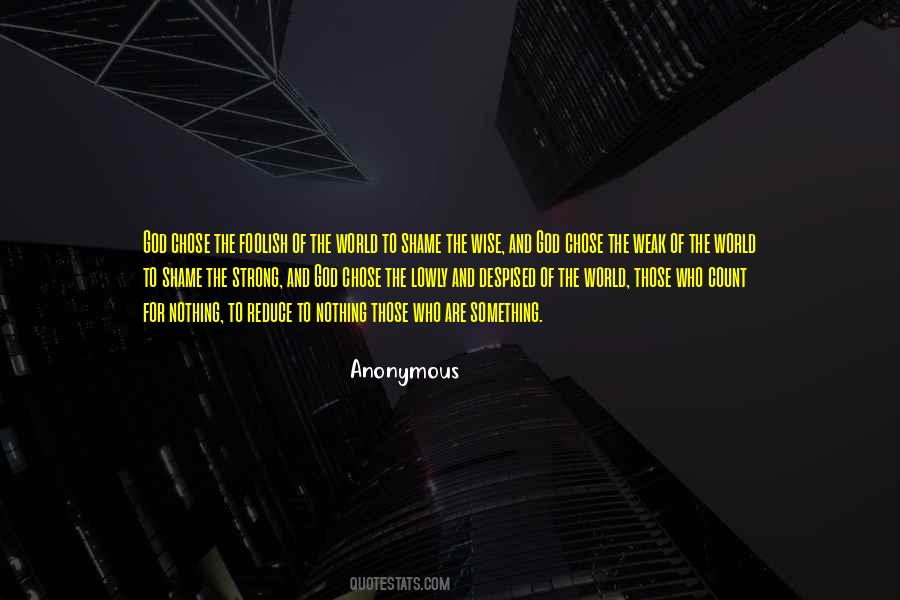 #42. Reed says that God made a thousand, thousand worlds, each like this one, only different.
I hope there's one of them in which I chose to walk another path. But I fear that in any universe my path will be marked with blood. - Author: Neil Gaiman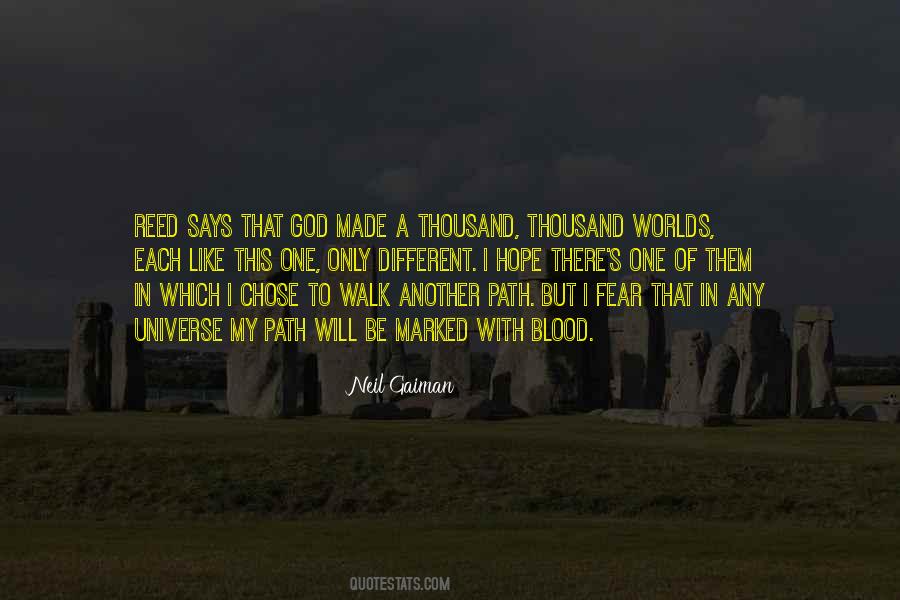 #43. New Testament writers do not tell me why God chose to save me. They only tell me to be thankful that He did. - Author: J.I. Packer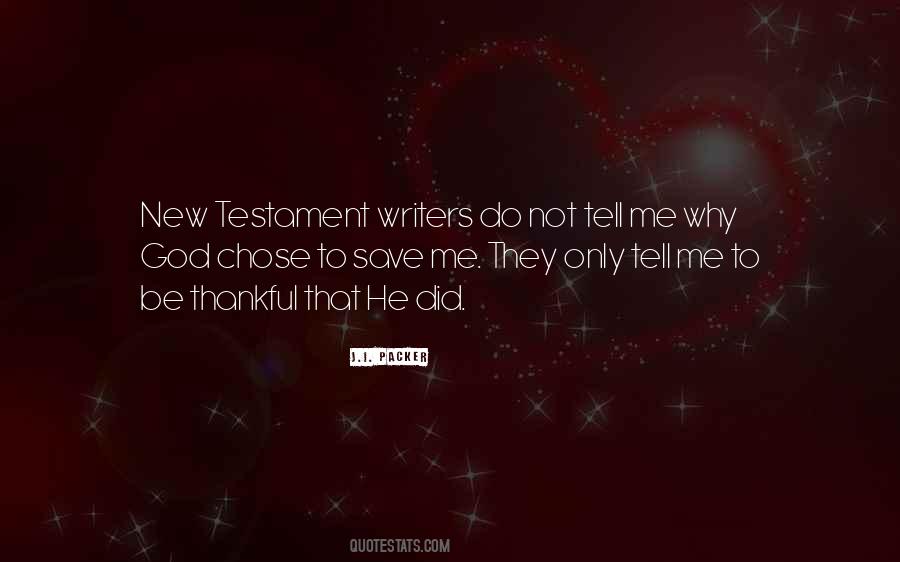 #44. God, it stinks," I said, hand over my nose as he pulled me into a long step. Al strode forward, head high. "It's the stench of bureaucracy, my itchy-witch, and why I chose to go into human resources when but a wee lad. - Author: Kim Harrison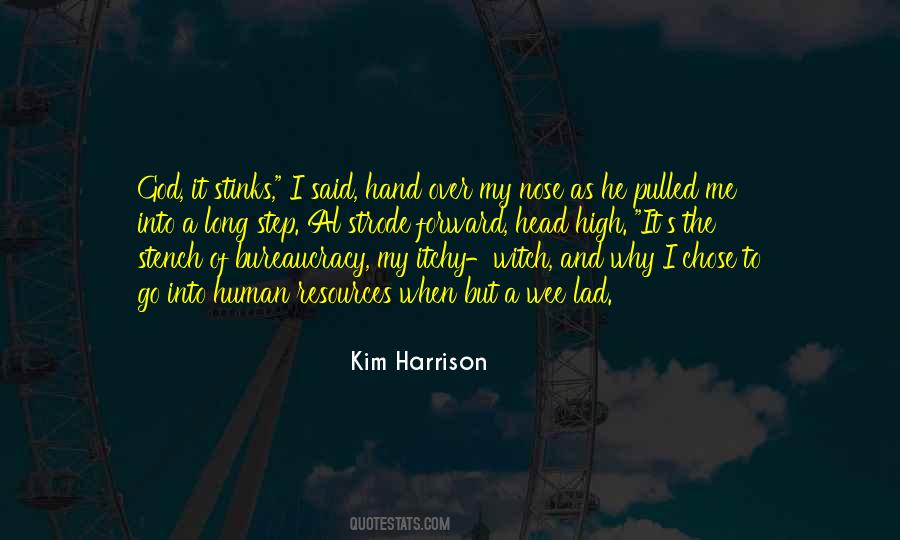 #45. You are someone who is different, but who wants to be the same as everyone else. And that in my view is a serious illness. God chose you to be different. Why are you disappointing God with this kind of attitude? - Author: Paulo Coelho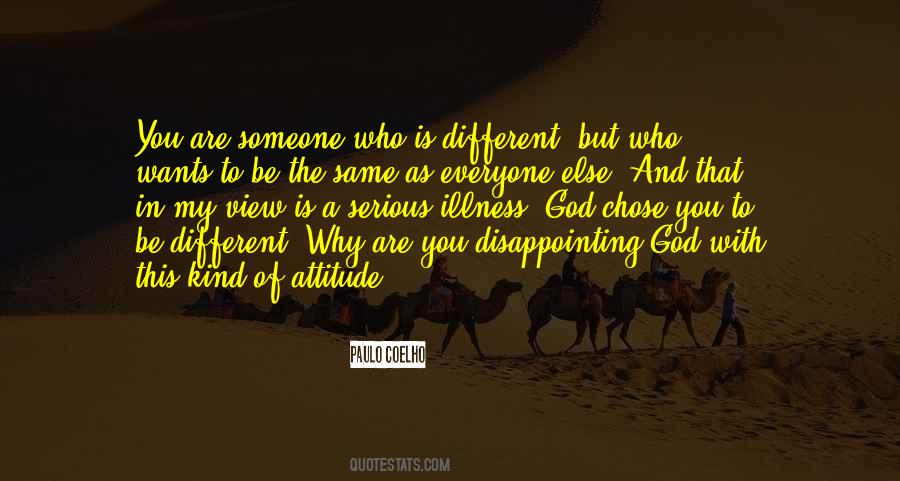 #46. You are a steward of every moment, of every talent, of every gift, of every resource that God has given you. Chose wisely what you do today! - Author: Paul Washer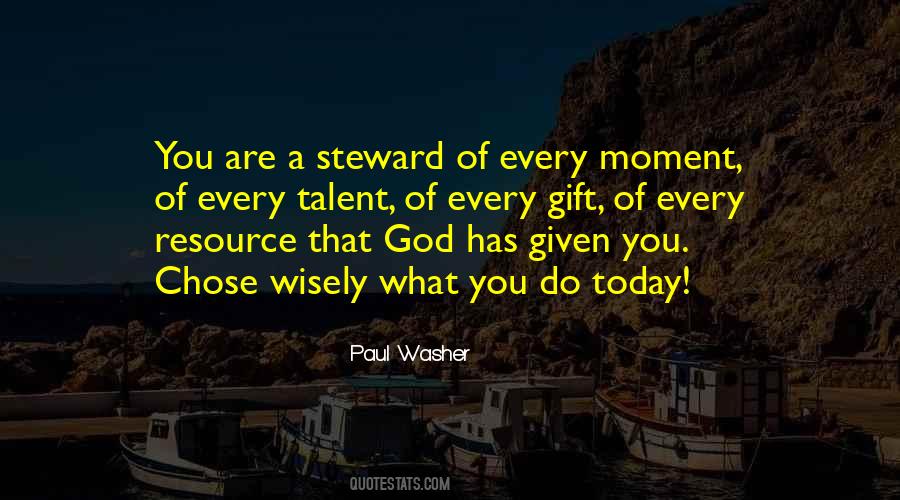 #47. You didn't choose God. He chose you. When you stop feeling hurt by everyone and plotting your comeback, he has some very important things he wants you to accomplish with your life. - Author: Shannon L. Alder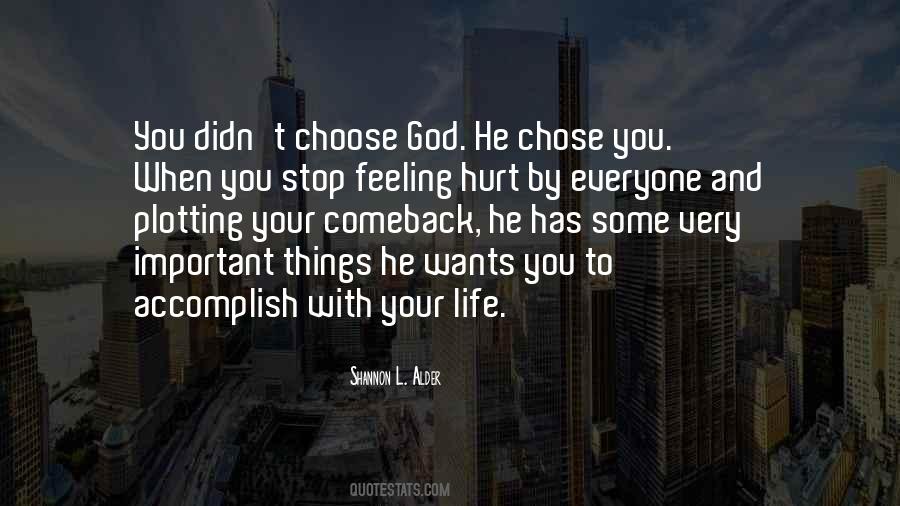 #48. Your life is a gift. Before anything else can be said about you, for some reason the universe (or God, or being, or force, or reality, or whatever you name it) chose to give you life. - Author: Rob Bell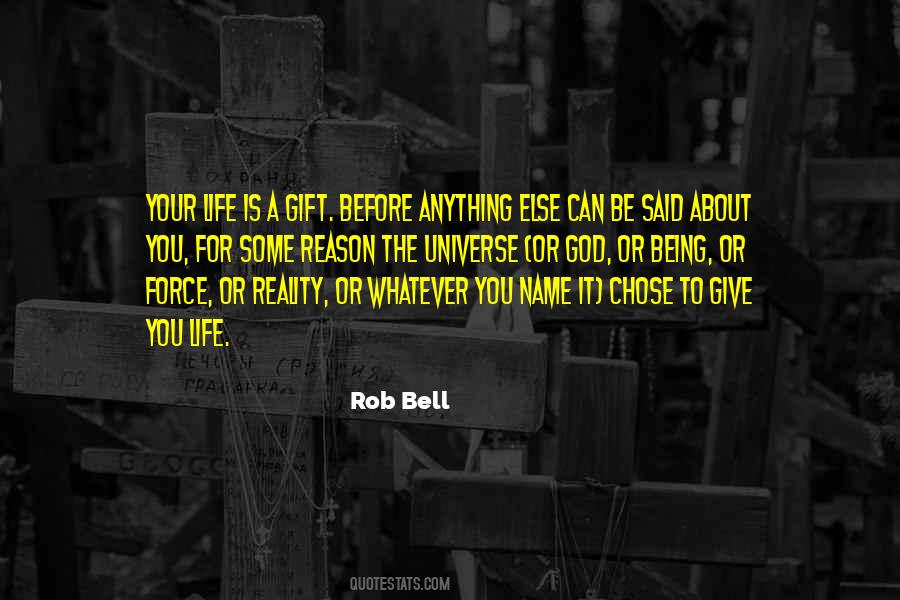 #49. Whatever else we may say about it, the atonement fulfills the Jewish principle that only one who has been hurt can forgive. At Calvary, God chose to be hurt. - Author: Philip Yancey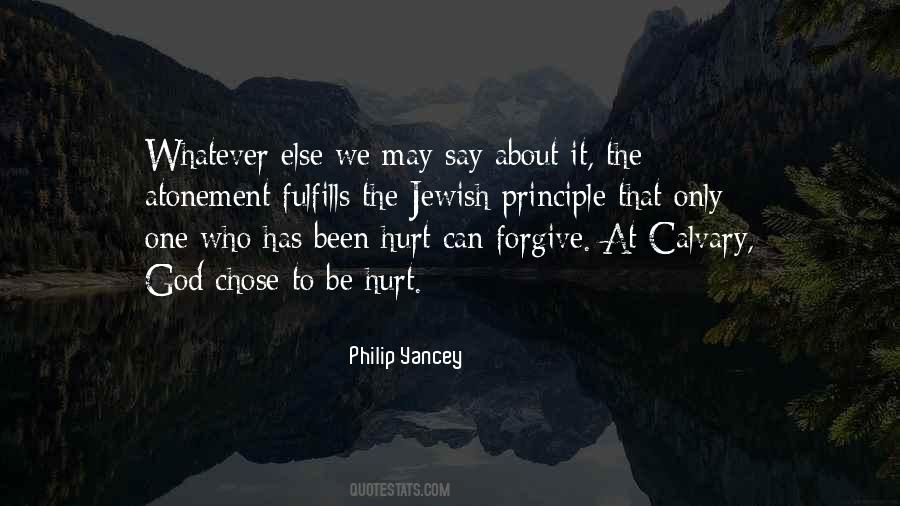 #50. God chose us to live both in body and in soul, but the body functions for the sake of the soul more than the soul functions for the body. - Author: David Novak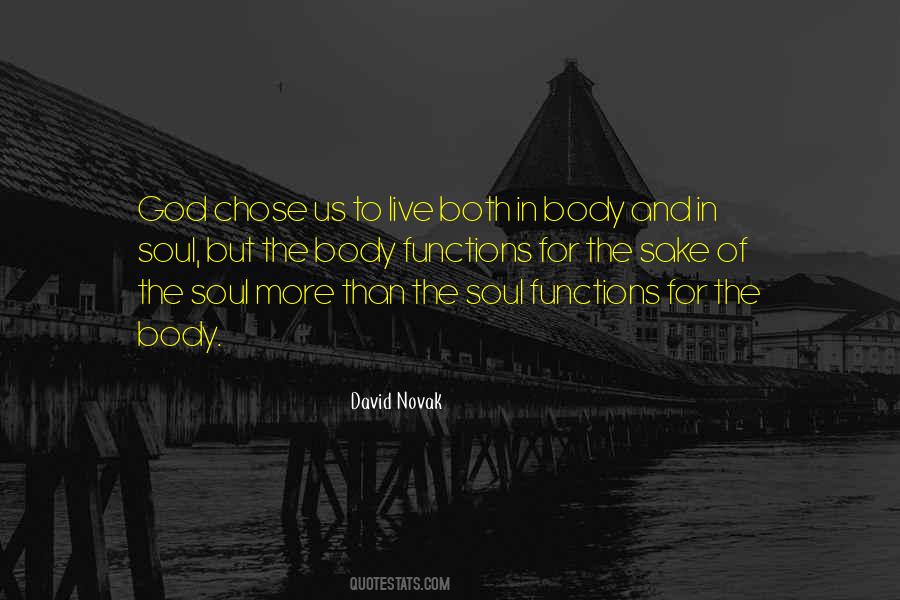 #51. God's love reached out to us and chose us even before we ever thought of Him. - Lloyd O'Donnell - - Author: Gary Chapman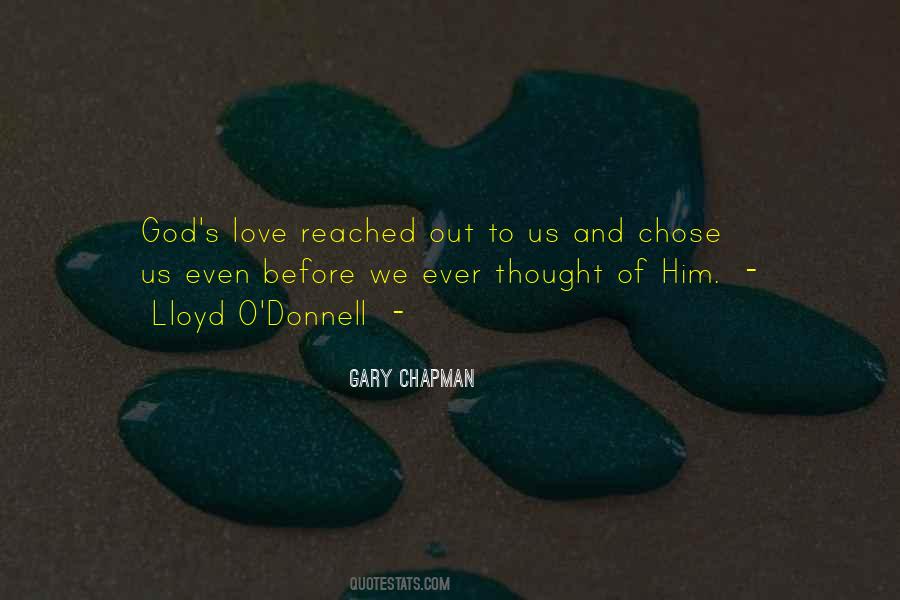 #52. The traditional Jeffersonian principle of religious freedom was so broadly democratic that it included the right to have no religion at all - it gave to the individual the right to worship any God he chose or no god. - Author: Franklin D. Roosevelt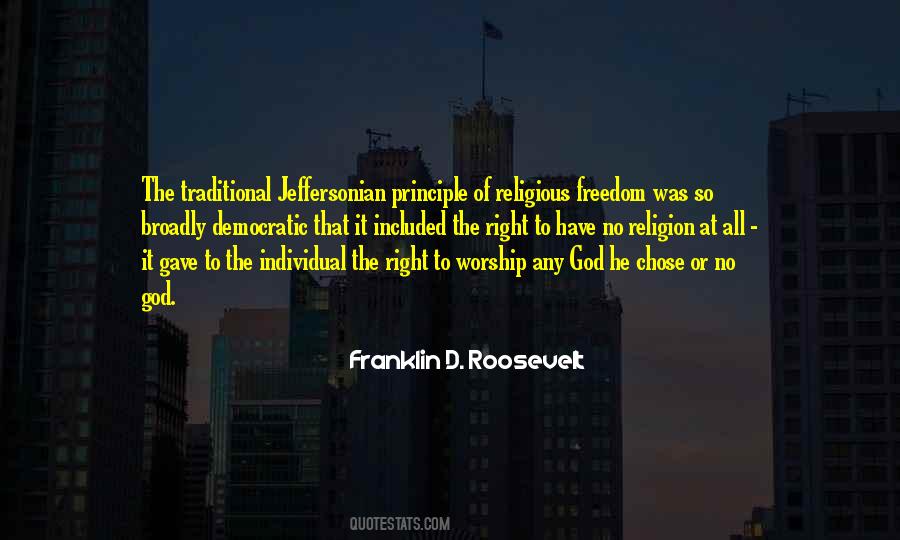 #53. A long time ago god chose you, today remember to choose Him. - Author: Gerald Brooks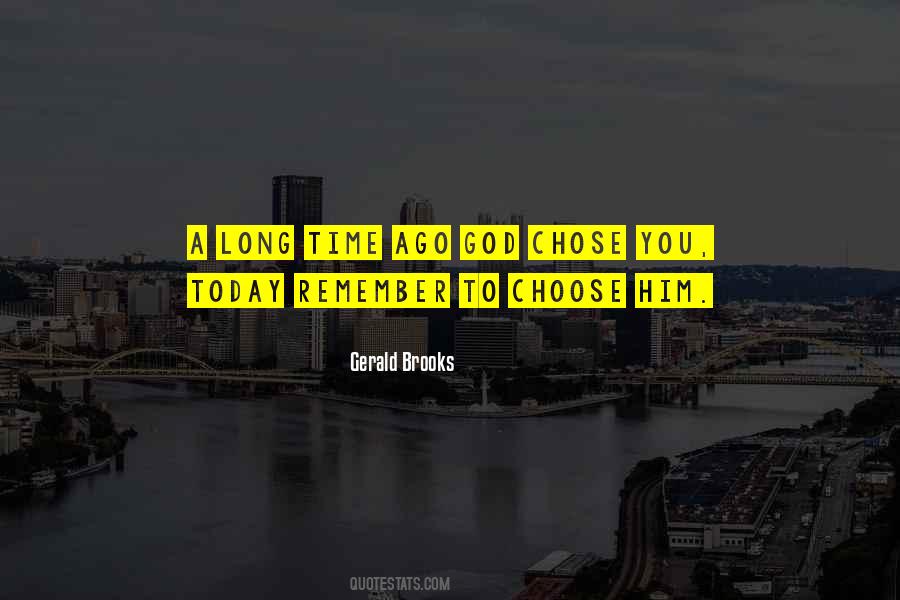 #54. The God-given ability that you're given to use, it speaks as much about who and what I was and was around, and the crowd of people that I chose to live my life with, as it does about me. - Author: Curt Schilling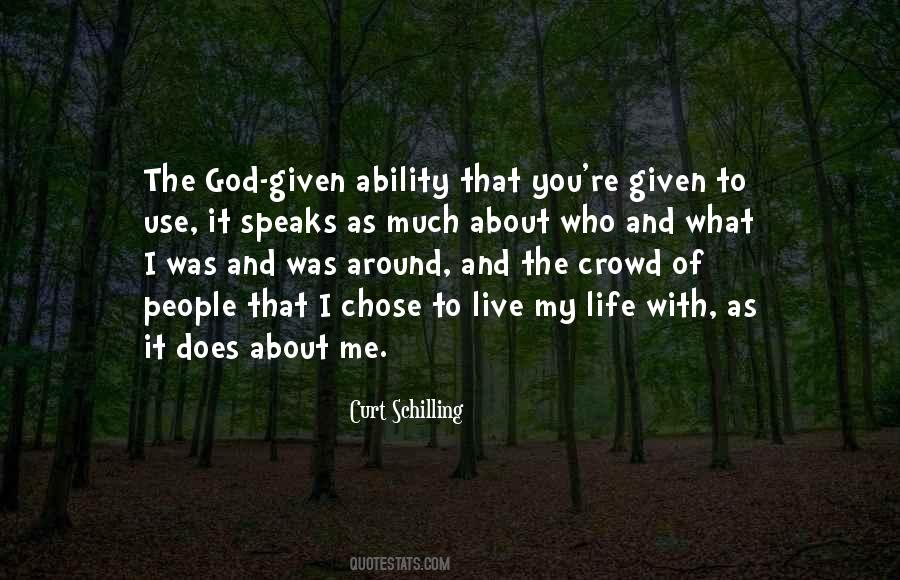 #55. Just look at the fellow, standing there like a bloody Greek god. Do you think she chose him because of his intellect? - Author: Lisa Kleypas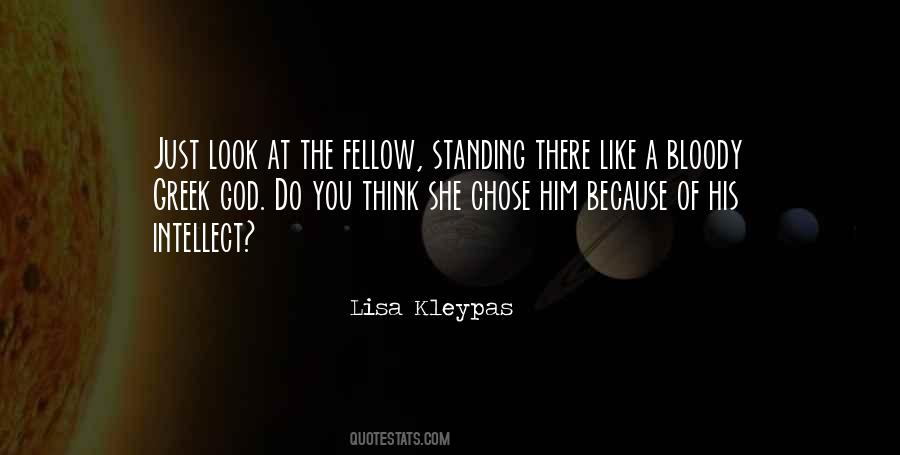 #56. I have always been determined to never compromise my faith or my principles. I always relied on my God-given talent when I took the field. So the idea of using PED's to enhance my performance was a line I chose not to cross. - Author: Tim Salmon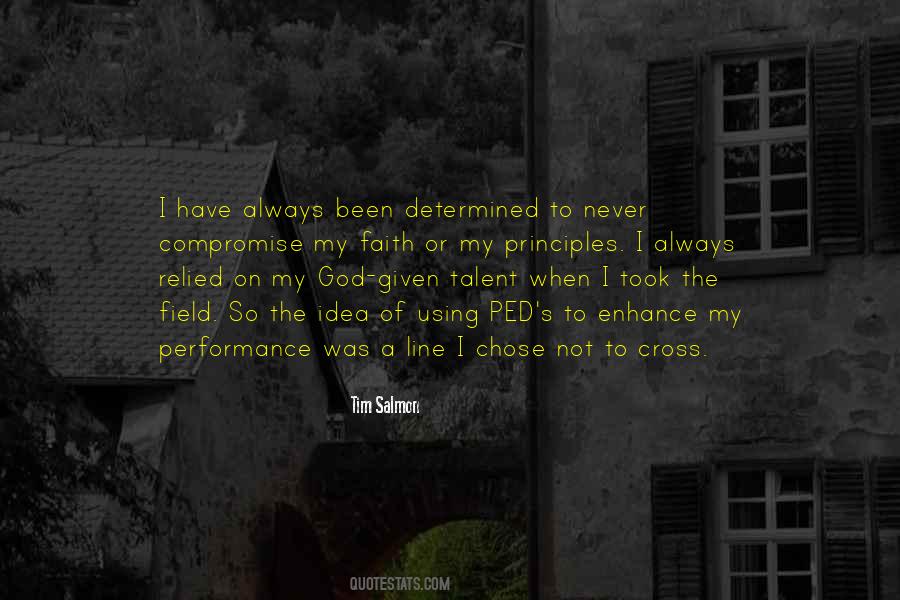 #57. Love should be a staple in our history book. Wasn't it an act of love when the god of the sky chose to keep us? Isn't love what makes living bearable, and unbearable?" -Daphne Leander - Author: Lauren DeStefano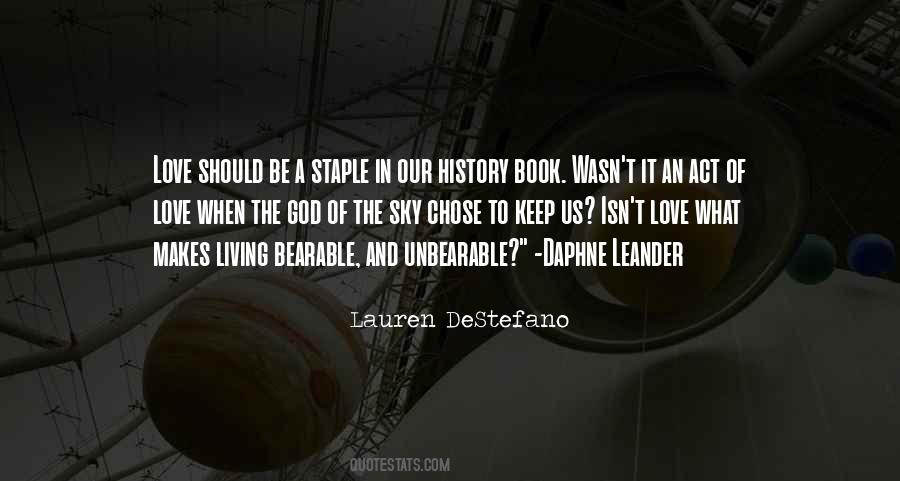 #58. dead. We sinned. We blew it over and over. What was God's part? He did it all. He chose us, made us alive, lavished his grace on us, started us, and will complete what he started. - Author: Mark Hall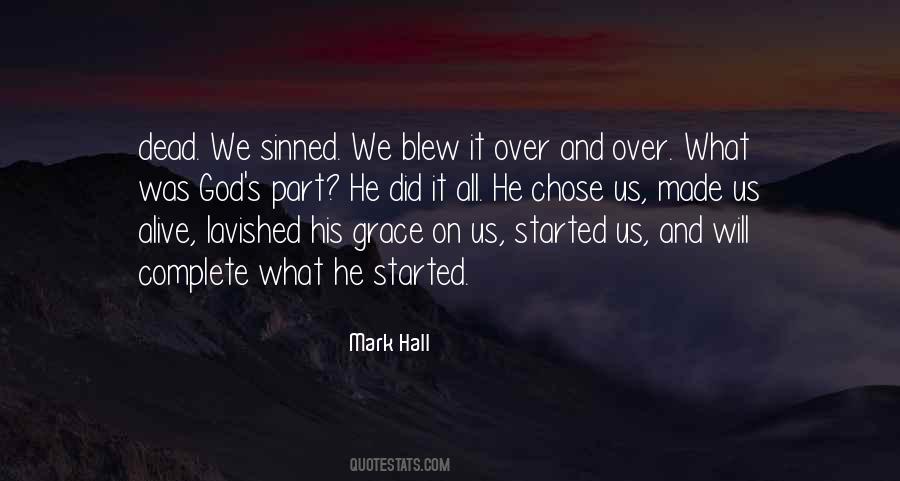 #59. God is real by any name you chose, or none at all. - Author: Deepak Chopra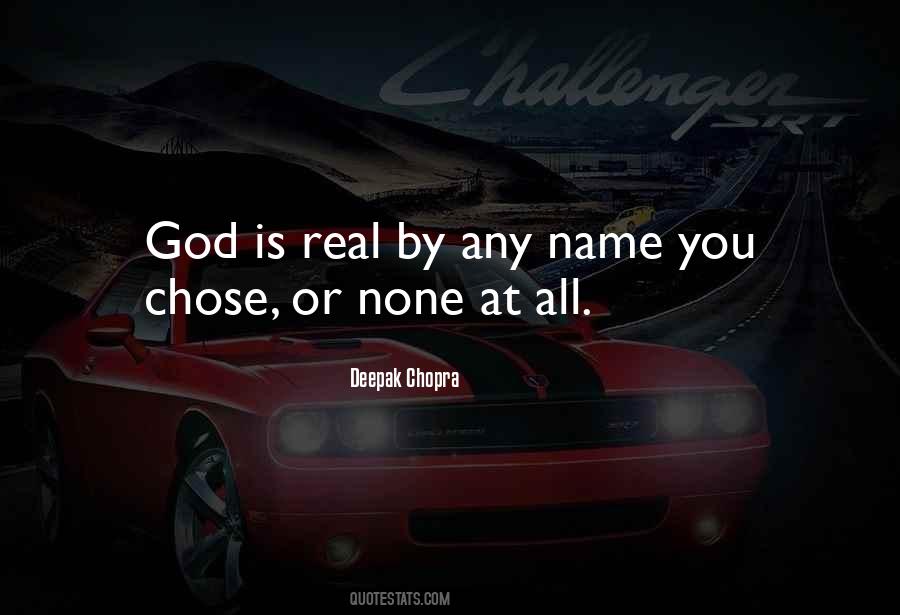 #60. It should have great meaning that of all the titles of respect and honor and admiration that could be given him, that God himself, he who is the highest of all, chose to be addressed simply as "Father." - Author: A. Theodore Tuttle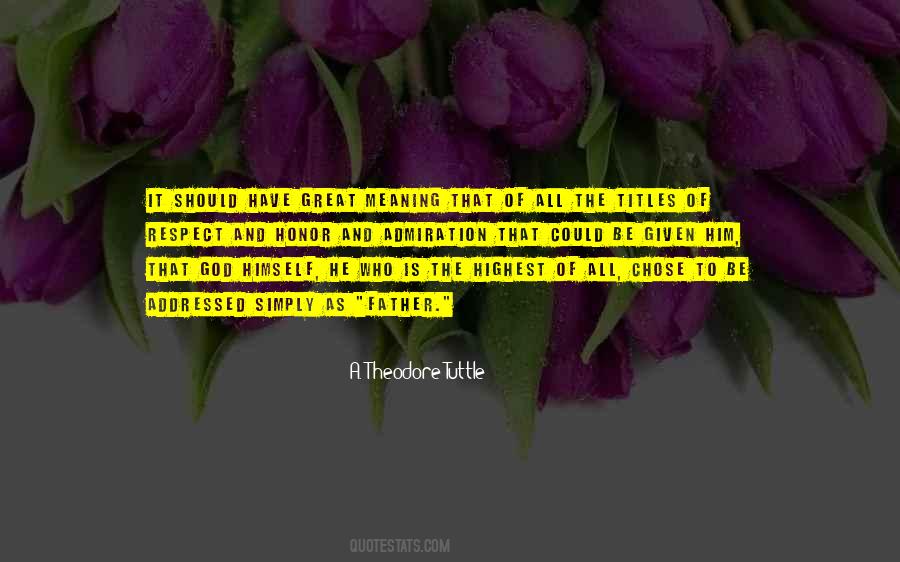 #61. God chose David. On the surface, the choice made no sense. But God doesn't work on sense; He works on grace. God called you, and God called me. He knew what He was doing. - Author: Beth Moore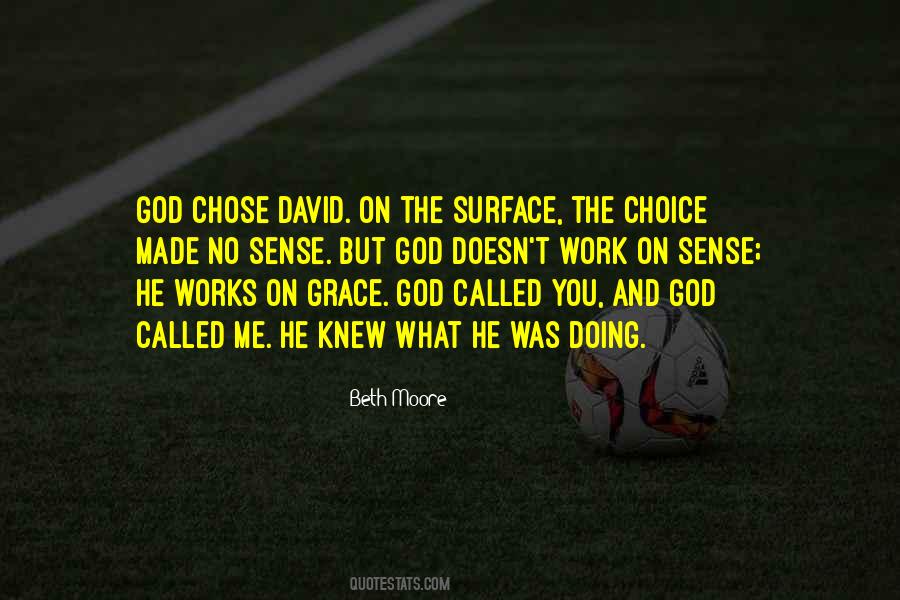 #62. I'm glad God chose you to be my Dad! - Author: John Walter Bratton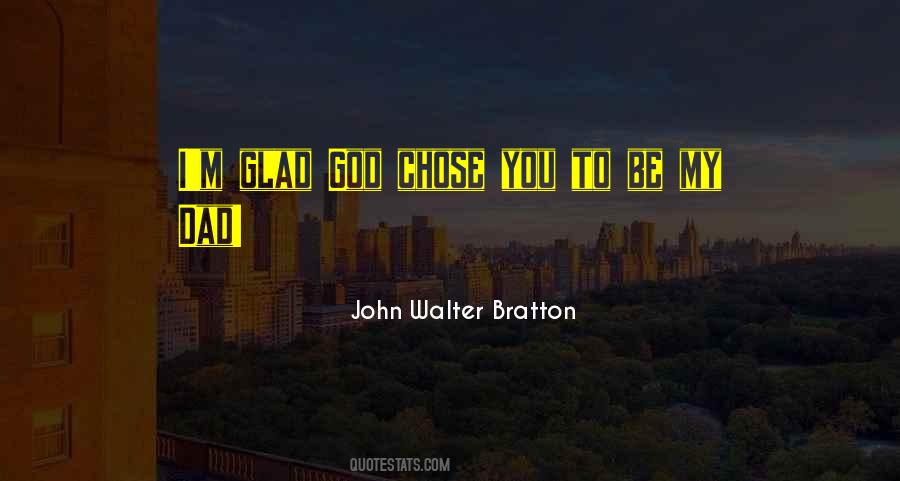 #63. God tries to tell us in His Word how much He loves us and He accepts us, and that even though He already knows every mistake we will ever make, He still chose us for Himself. - Author: Joyce Meyer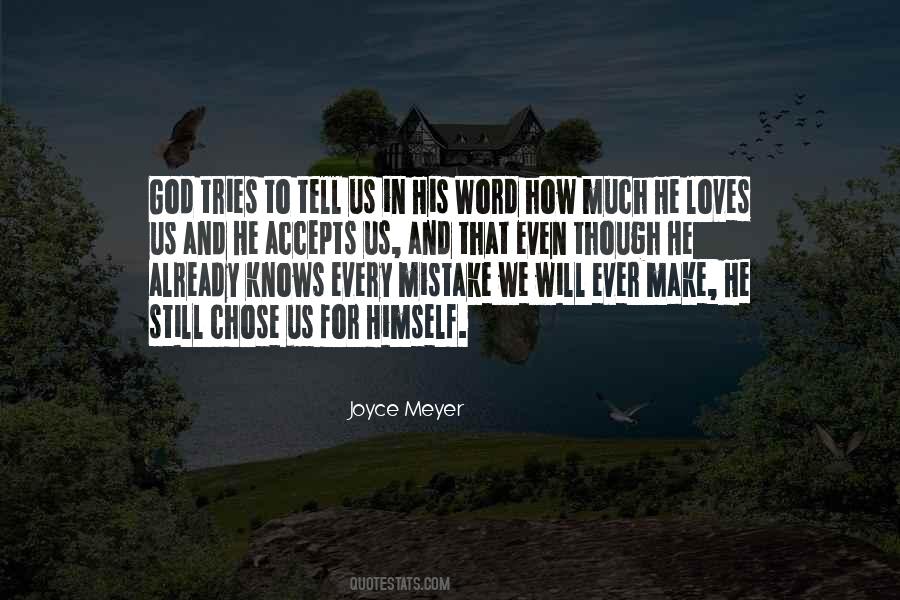 #64. God knows I wanted love ... but the moment I had to choose between the man I loved and my dresses ... I chose the dresses - Author: Coco Chanel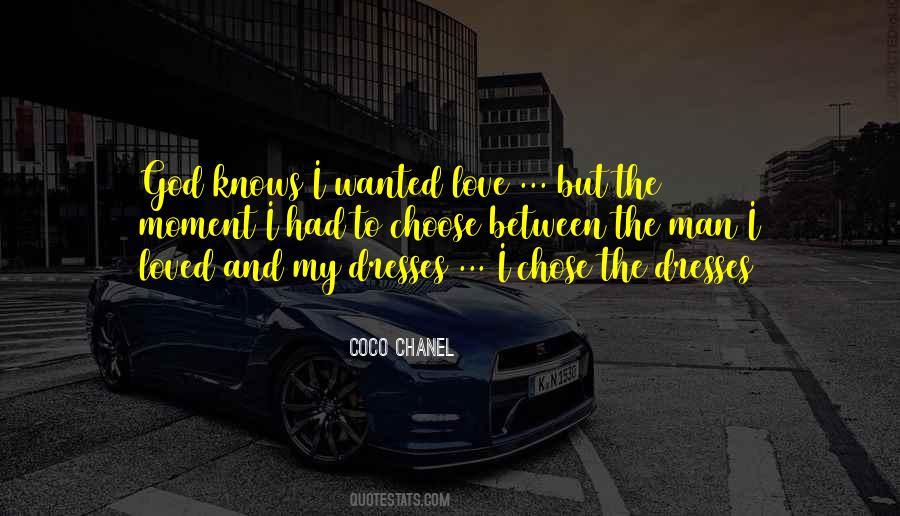 #65. Scripture sees hell as self-chosen ... Hell appears as God's gesture of respect for human choice. All receive what they actually chose. Either to be with God forever, worshipping Him, or without God forever, worshipping themselves. - Author: J.I. Packer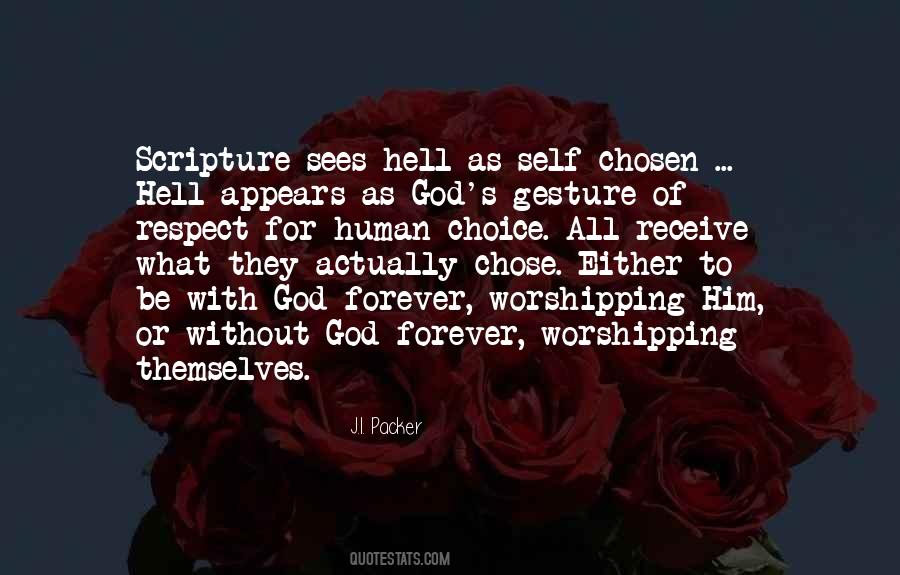 #66. There is an apparent need to save the earth and the means God chose to do this is not by sending POWER but by sending his Son - Author: Sunday Adelaja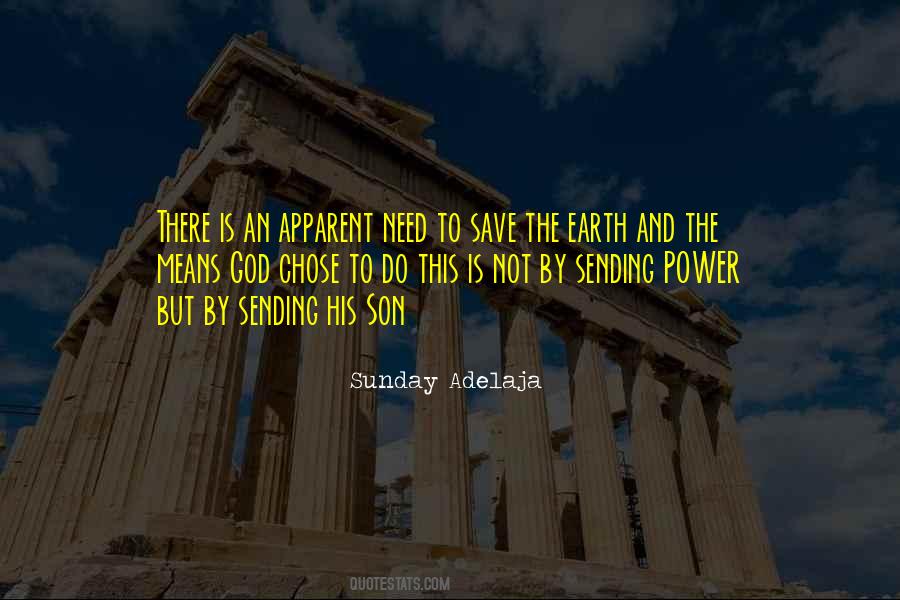 #67. I want to stop writing, stare you in the face, and scream: Jesus died! He chose the most grueling death to bring you to God! Everything is changed! You and I were destined for a horrifying encounter with God - we were "objects of wrath" (Eph. 2:3) - but that has all changed! Death - Author: Francis Chan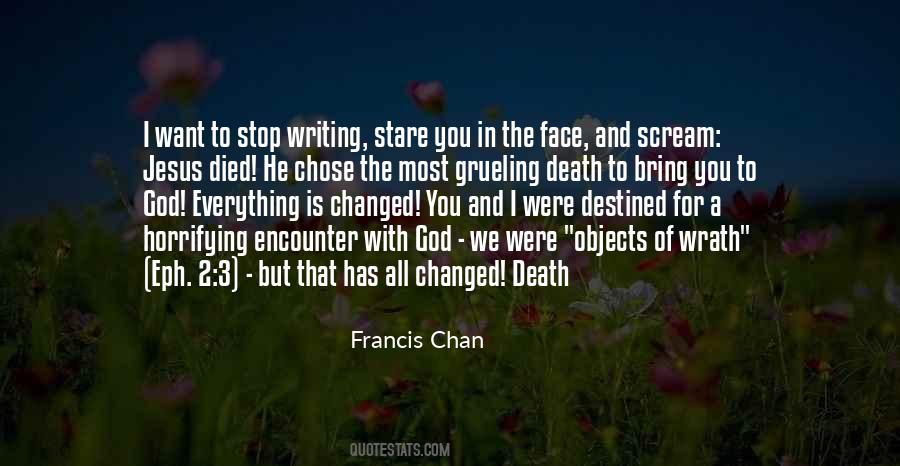 #68. I testify that Jesus Christ, born in Bethlehem, was and is the Only Begotten of the Father, the Lamb of God. He chose from before the foundations of the earth to be your Savior, my Savior, and the Savior of all we will ever know or meet. - Author: Henry B. Eyring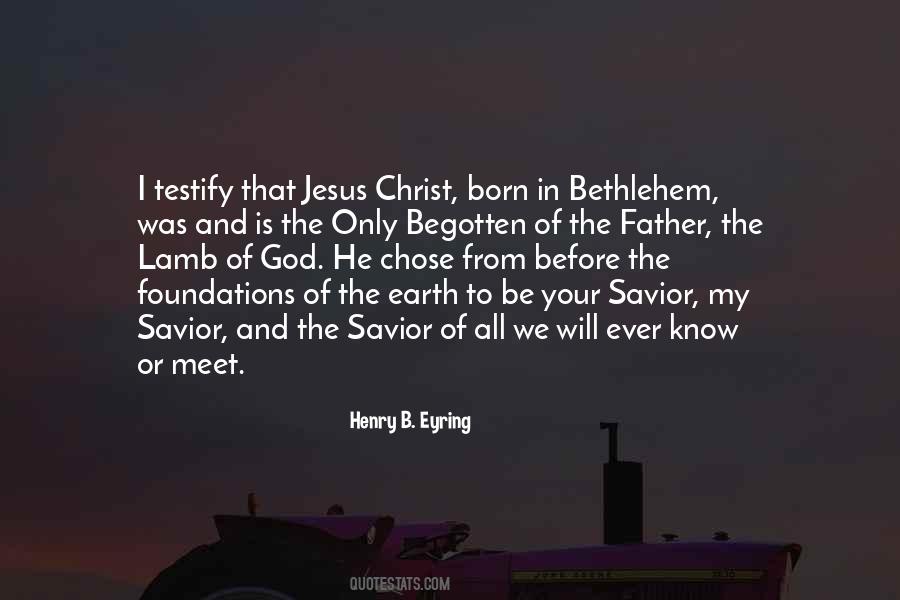 #69. God surpasses our dreams when we reach past our personal plans and agenda to grab the hand of Christ and walk the path he chose for us. He is obligated to keep us dissatisfied until we come to him and his plan for complete satisfaction. - Author: Beth Moore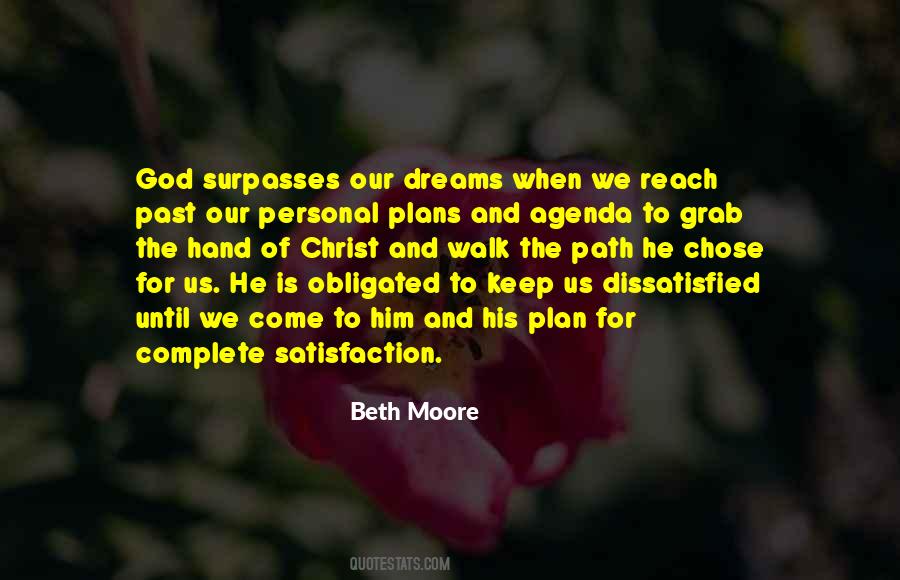 #70. Racism is stupid. It's an insult to God, arrogantly implying that God goofed-up when he chose to make us all different. - Author: Rick Warren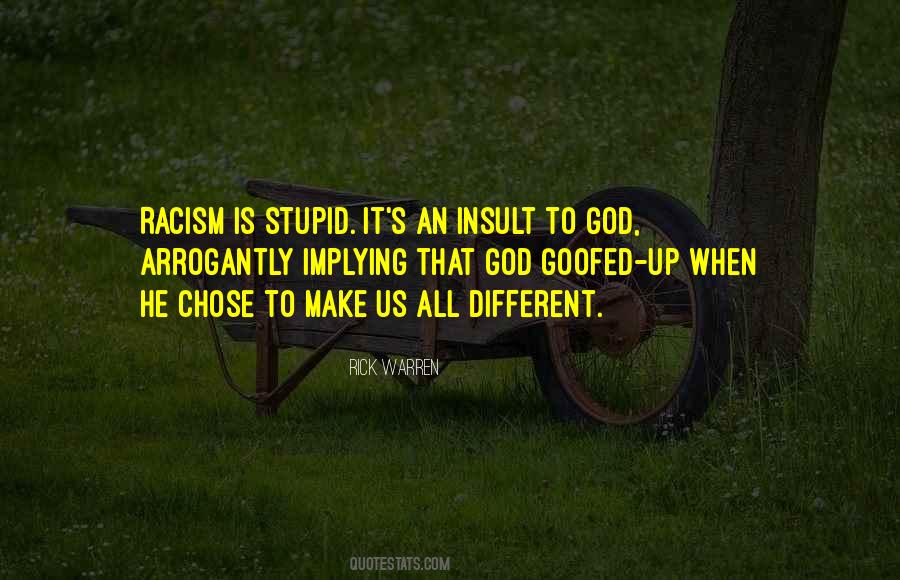 Famous Authors
Popular Topics