Follower Famous Quotes & Sayings
List of top 100 famous quotes and sayings about follower to read and share with friends on your Facebook, Twitter, blogs.
Top 100 Follower Quotes
#1. The first lady must be a leader. She must not be a follower. - Author: Oleg Cassini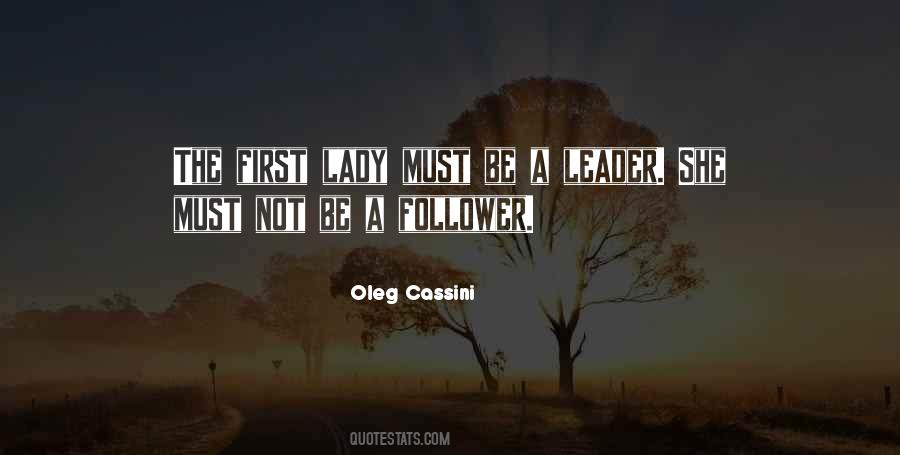 #2. Once you begin to take yourself seriously as a leader or as a follower, as a modern or as a conservative, then you become a self-conscious, biting, and scratching little animal whose work is not of the slightest value or importance to anybody. - Author: Virginia Woolf
#3. Loving-kindness is required, but a follower of Christ-just like the Master-will be firm in the truth. - Author: Dallin H. Oaks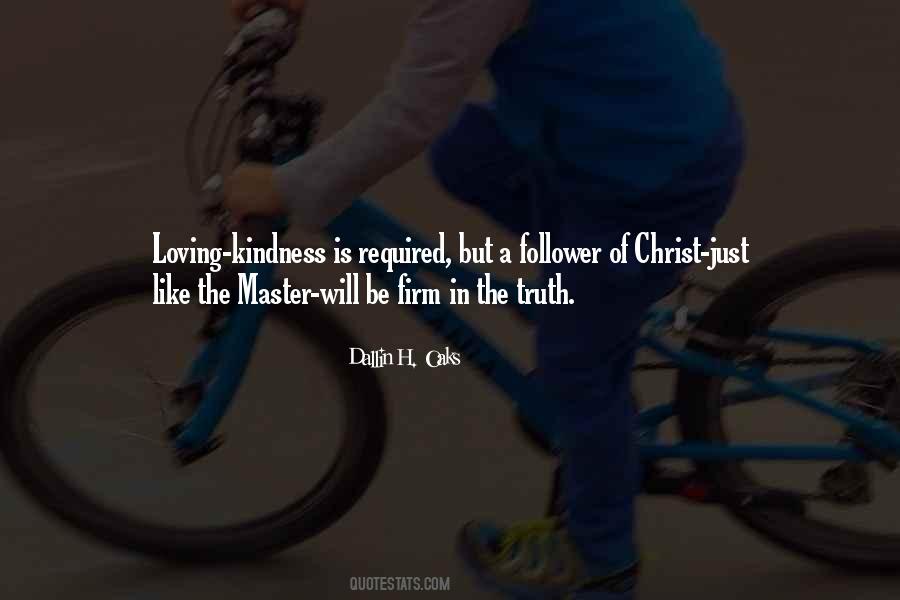 #4. Can one be a follower of Jesus Christ ... and have countries attacked. The lives, reputations and possessions of people destroyed and on the slight chance of the presence of a few criminals in a village, city, or convoy for example, the entire village, city or convoy set ablaze. - Author: Mahmoud Ahmadinejad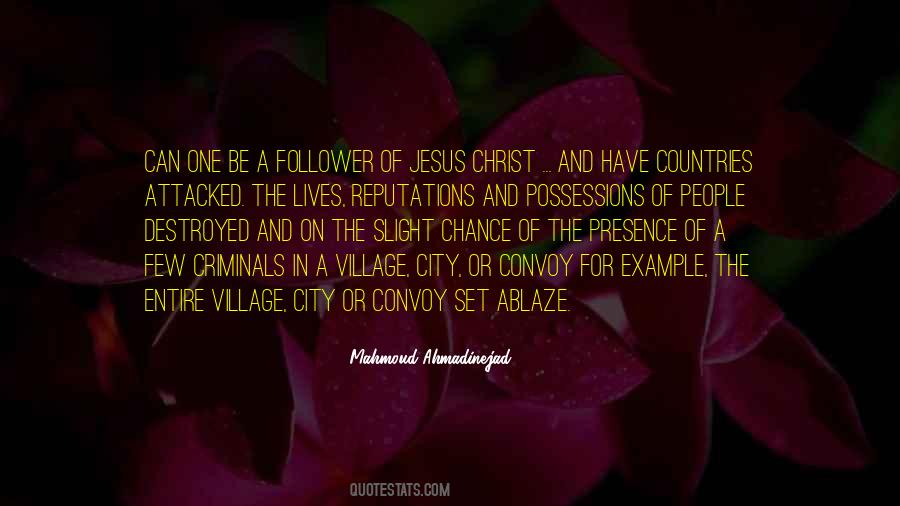 #5. There is no movement without the first follower. See, we are told that we all need to be leaders but that would be ineffective. The best way to make a movement, if you really care, is to courageously follow and show others how to follow. - Author: Derek Sivers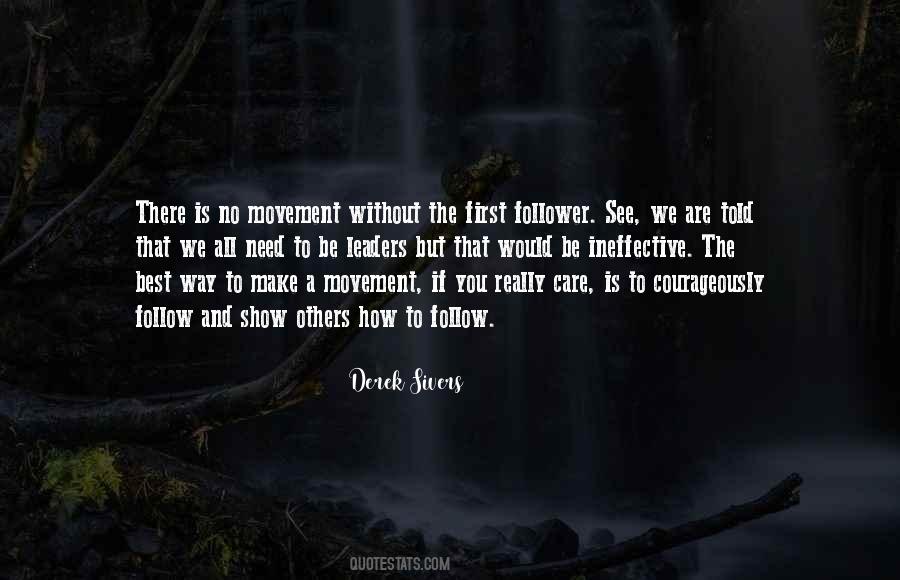 #6. The follower of Tao is always flexible and adaptable to circumstance. - Author: Ming-Dao Deng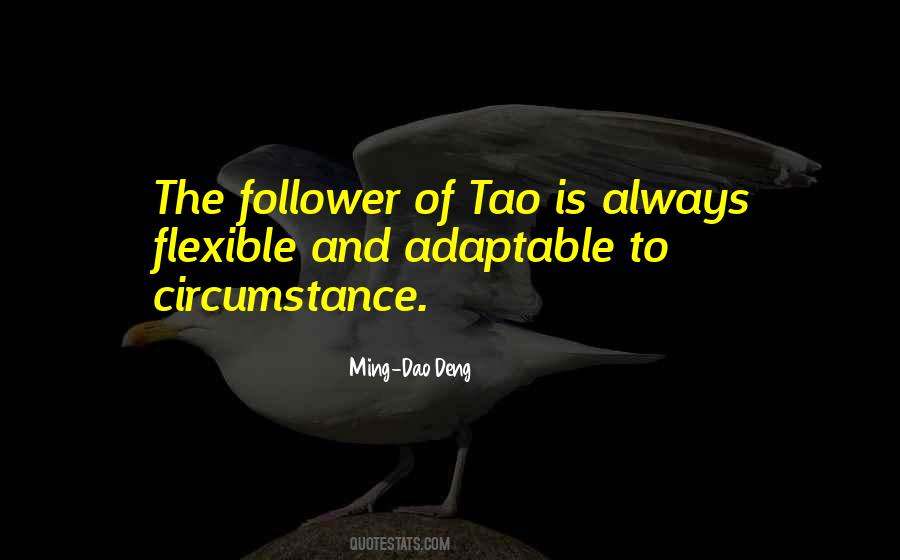 #7. The man who can follow a leader most efficiently, is usually the man who develops into leadership most rapidly. An intelligent follower has many advantages, among them the opportunity to acquire knowledge from his leader. The - Author: Napoleon Hill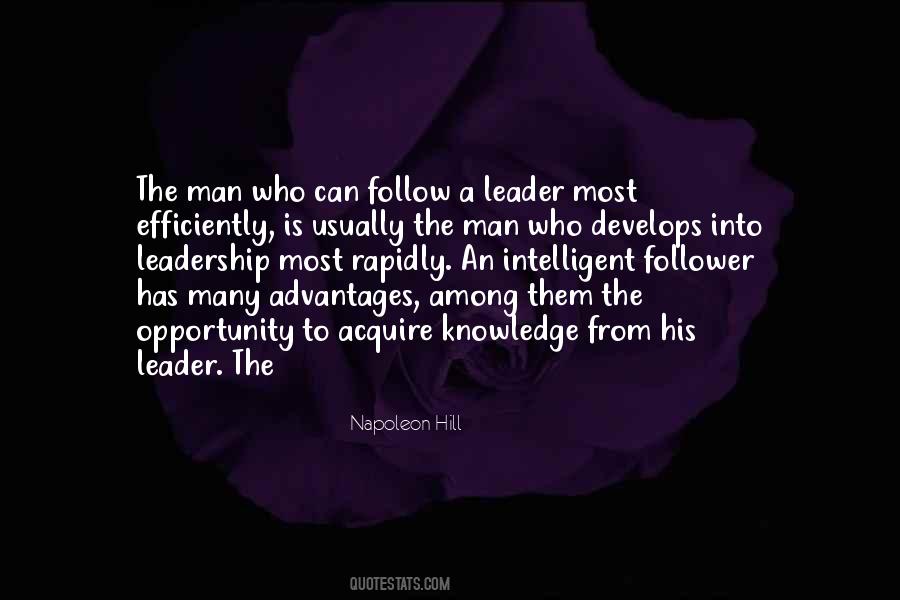 #8. All these boundaries - Africa, Asia, Malaysia, America - are set by men. But you don't have to look at boundaries when you are looking at a man - at the character of a man. The question is: What do you stand for? Are you a follower, or are you a leader? - Author: Hakeem Olajuwon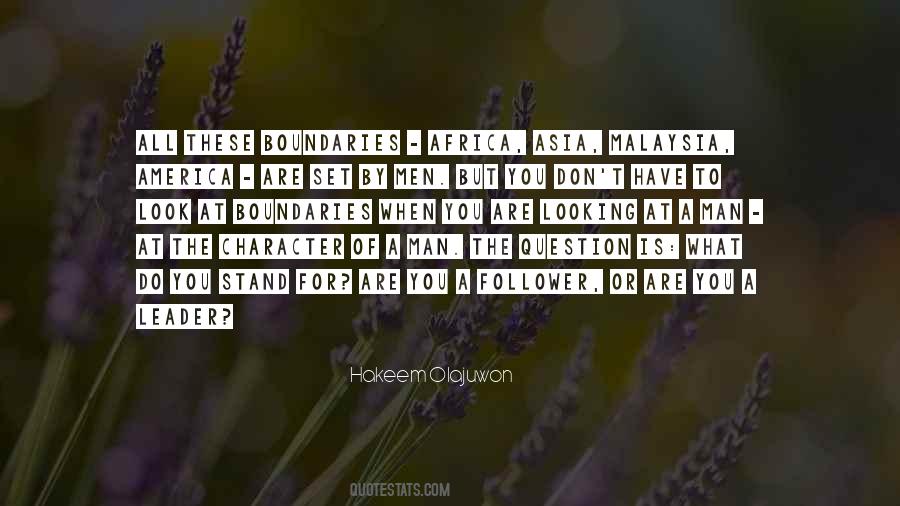 #9. I was a rule-follower. I obeyed all forms of authority. I had never before encountered a situation where the authority was clearly wrong and I had to stand up for what was right. - Author: Linda Kage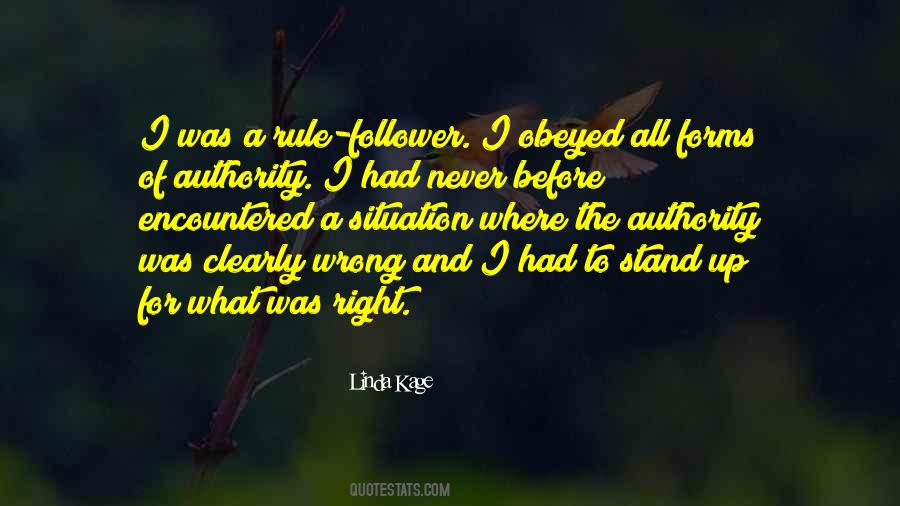 #10. I'm a shepherd, not a sheep, and I've always prided myself on being a leader and not a follower. - Author: Dustin Diamond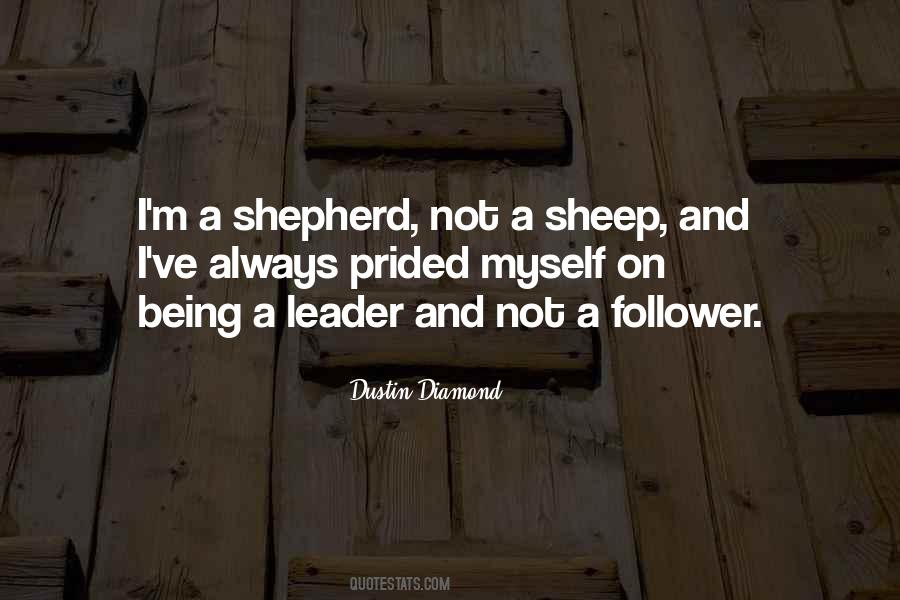 #11. I am a follower of Jesus. My husband really brought me to the Lord when I was 18 and I am so lucky to have a platform through the studio. - Author: Jodi Benson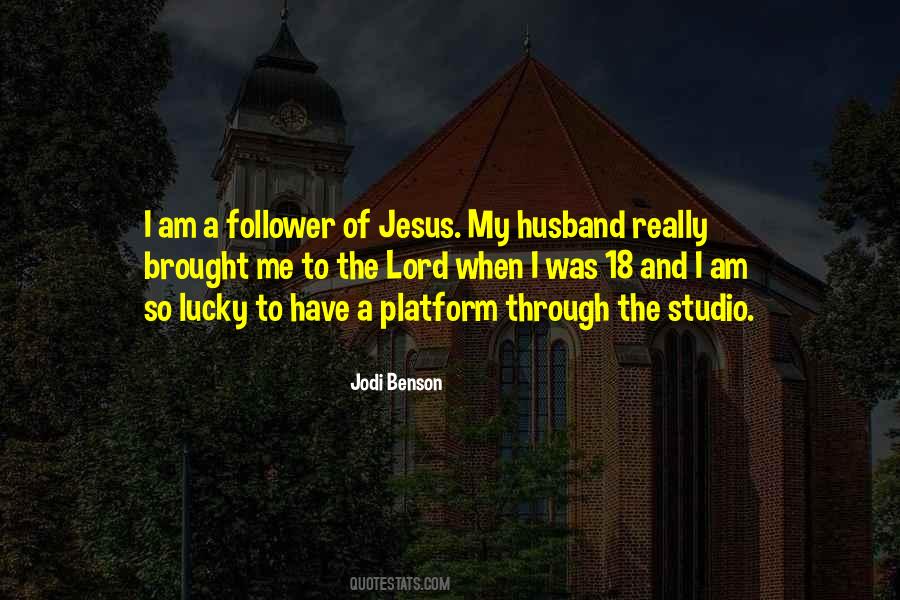 #12. I have a general moral: great philosophers may be great, but that is not a reason to follow them. Don't be a follower. Work it out for yourself. - Author: Tim Crane
#13. Philosophically I am, or at least have been, a follower of Sartre. I am very interested in the choices we make, or don't make, in life-defining matters. That moment of 'angst' and its consequences can be such a cruel thing. - Author: Per Petterson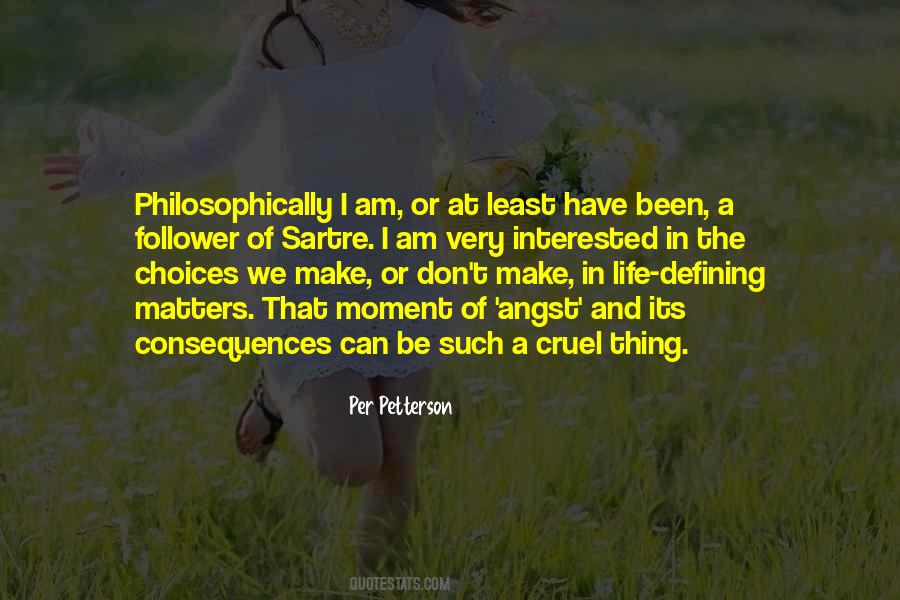 #14. Just because all your friends are doing it, doesn't mean you have to follow suit. Don't be a blind follower, you don't know where you're going. - Author: Lik Hock Yap
#15. I have never been much of a follower although I like to learn. - Author: Barry Moltz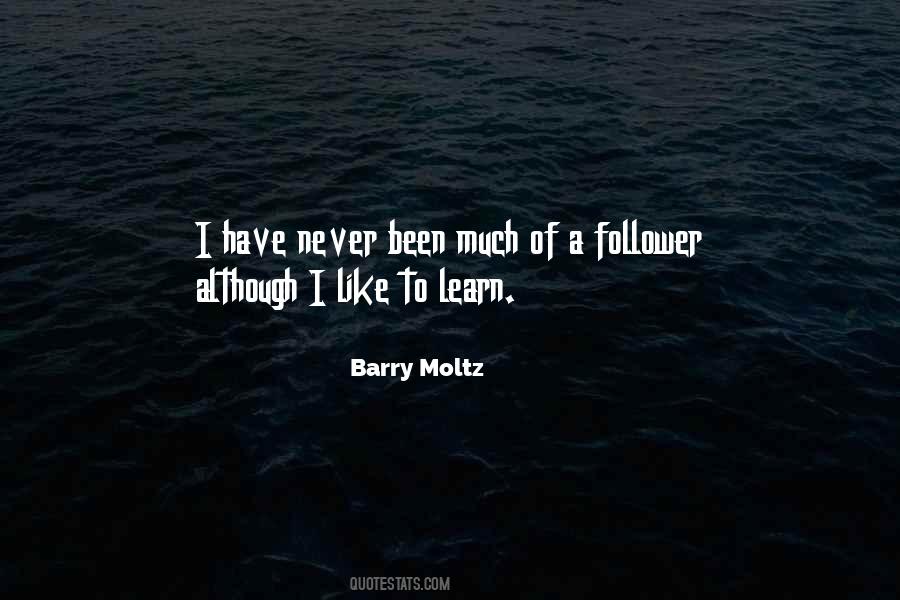 #16. I'm not a follower. - Author: Jon Lester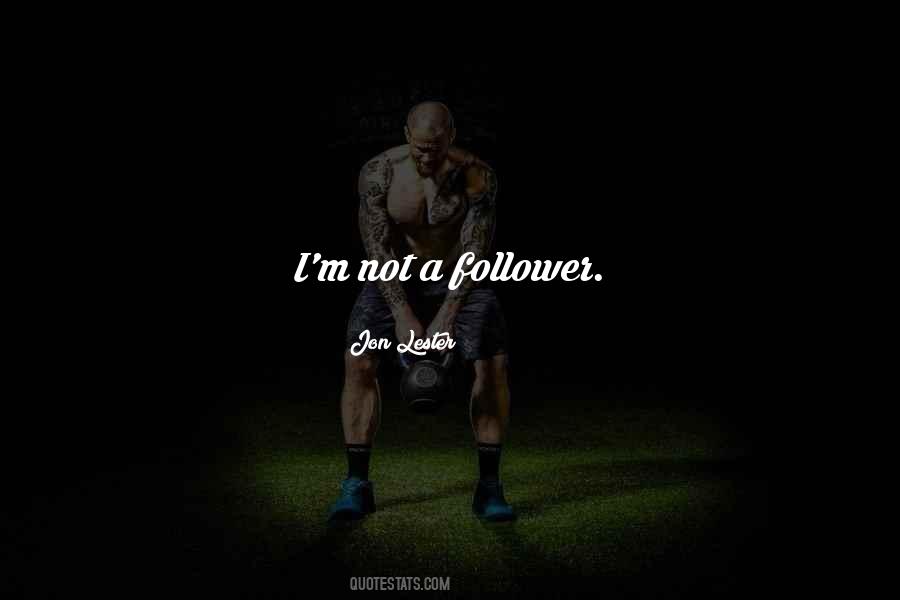 #17. Don't be anybody's follower, be a student. - Author: Jim Rohn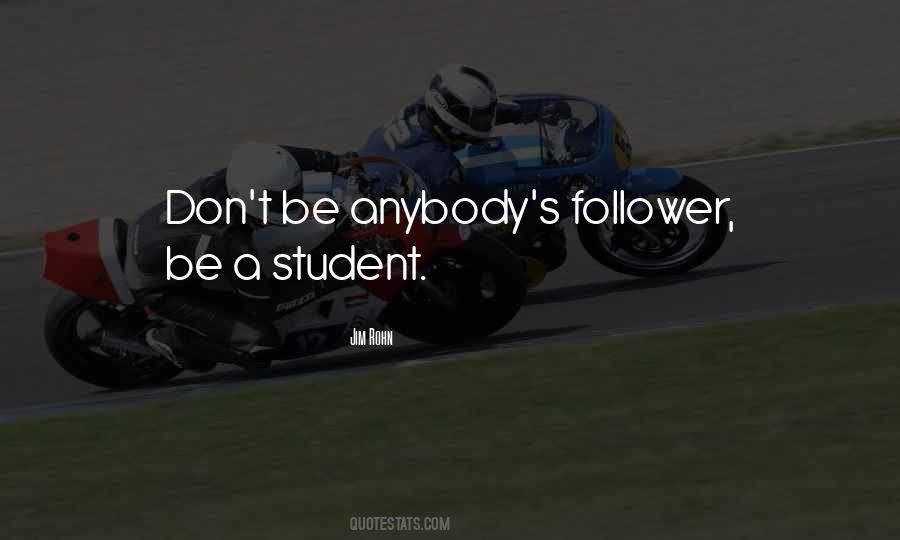 #18. A man may have a perfect body, but if his emotions, mind, and will are not under the control of the Holy Spirit he will fail regularly and tragically as the husband, father, and follower God intends him to be. - Author: Charles F. Stanley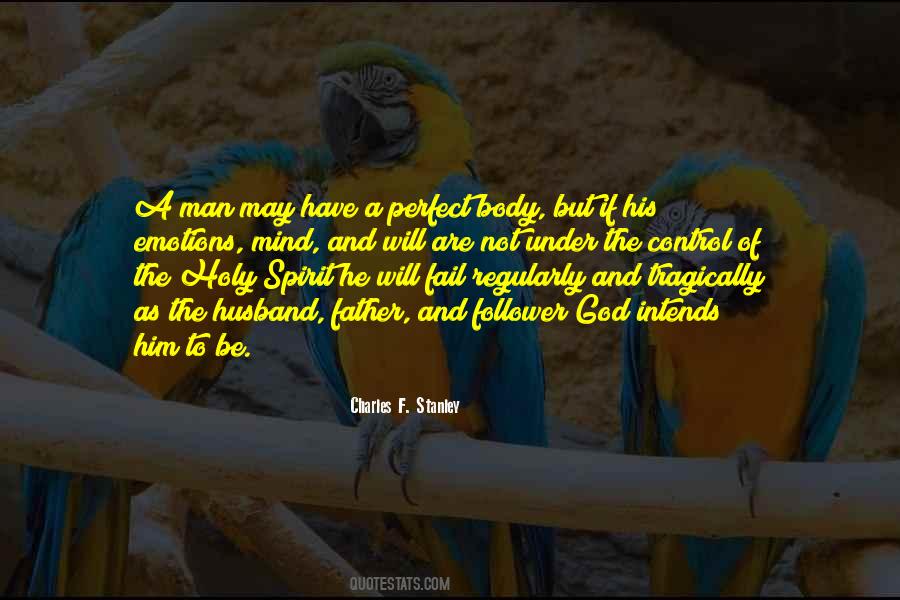 #19. Dear Great Pumpkin, Halloween is now only a few days away. Children all over the world await you coming. When you rise out of the pumpkin patch that night, please remember I am your most loyal follower. Have a nice trip. Don't forget to take out flight insurance. - Author: Charles M. Schulz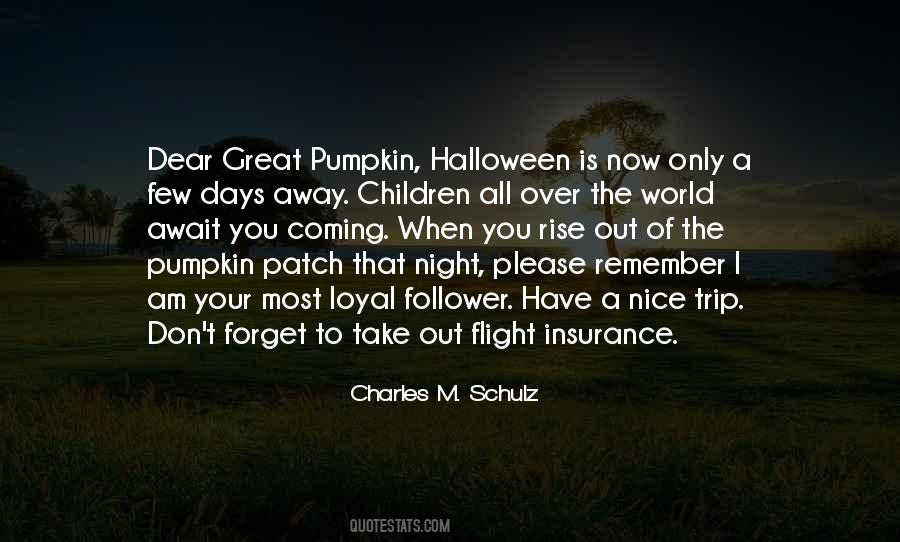 #20. Start with a growing market. Swim in a stream that becomes a river and ultimately an ocean. Be a leader in that market, not a follower, and constantly build the best products possible. - Author: Robert Noyce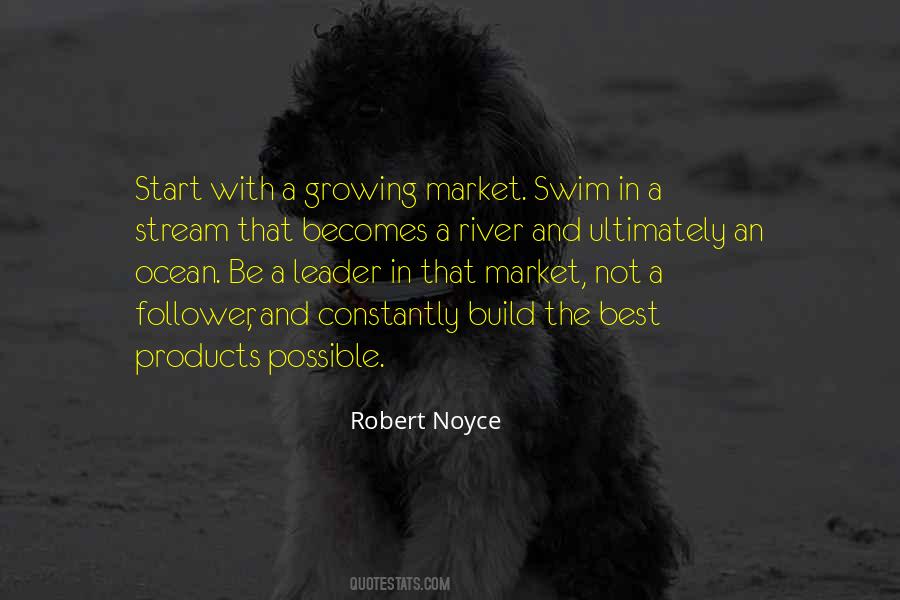 #21. Anyone can follow a crowd.
It's the leader that follows the facts. - Author: Richard Diaz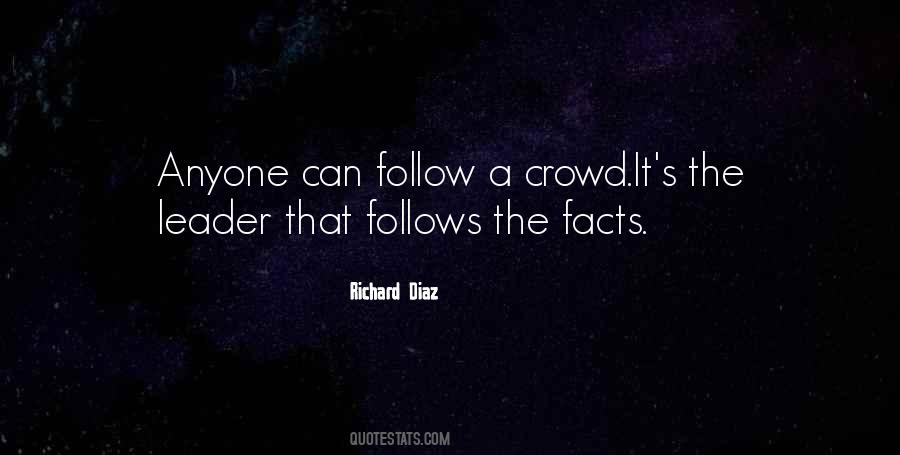 #22. Being a man with a big heart, a man of consideration, a man who wants to do the right thing by people, and a follower of Christ (who said "Love thy enemy" -- though I would add "from a distance")[...] - Author: Flavor Flav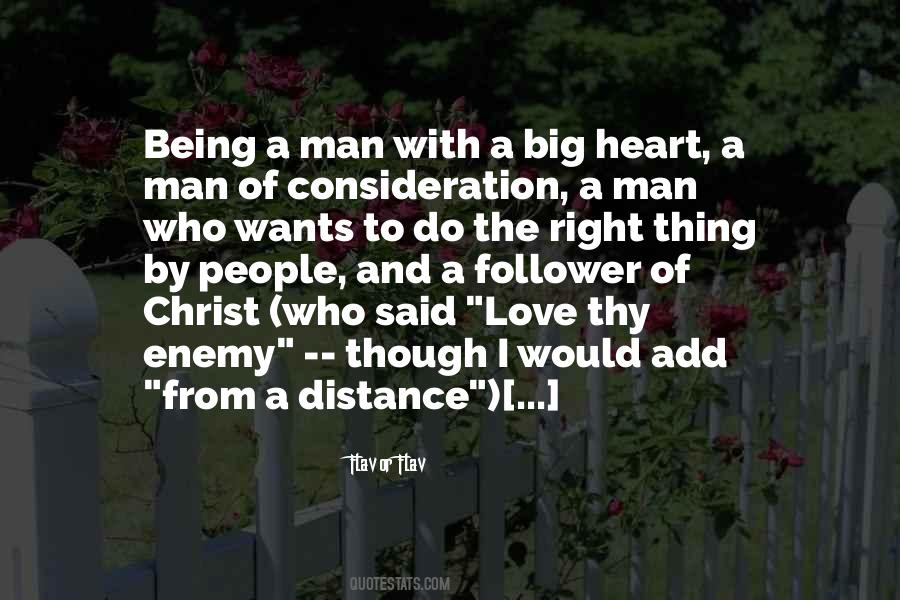 #23. My default position is not to be an actor. My default position is to be a follower of Jesus Christ. If that means I continue in acting, great! I'd love that. But if it means I need to change professions someday because I can't provide for my family, well, that's what I need to do. - Author: Kirk Cameron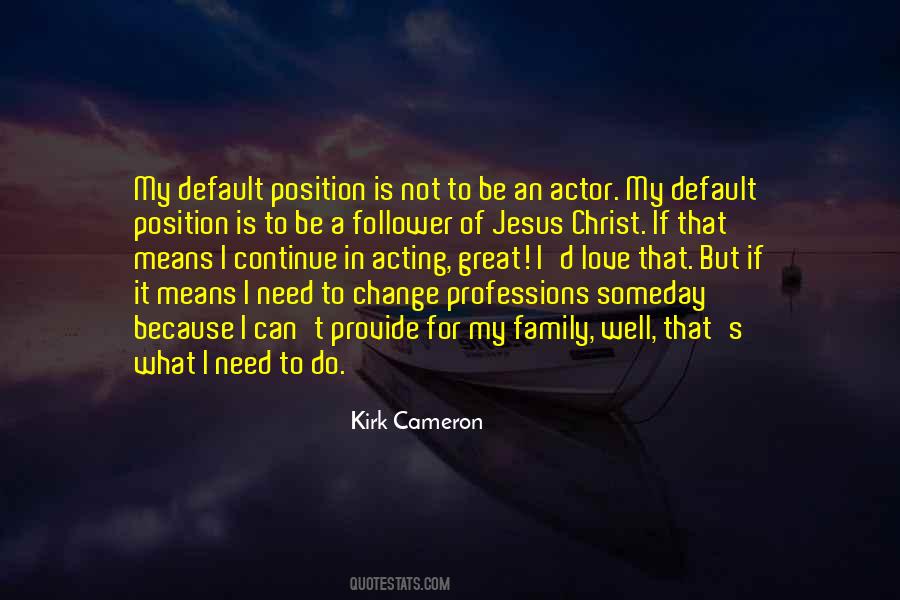 #24. I'm definitely not a follower. This is our job. This is what we do. If you're not having fun here, you shouldn't be here. - Author: A. J. Burnett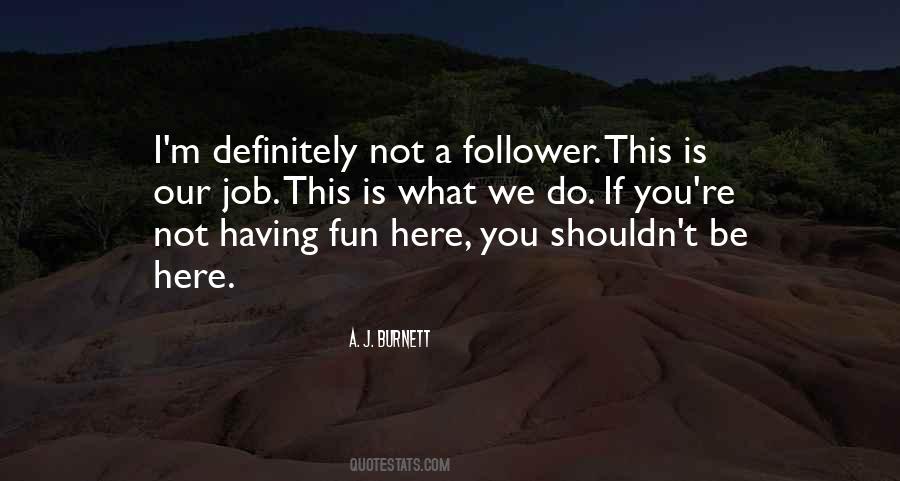 #25. He thinks he is a flower to be looked at And when he pulls his frilly nylon pants right up tight He feels a dedicated follower of fashion. When a waiter at Buckingham Palace spilled soup on her dress: Never darken my Dior again! - Author: Ray Davies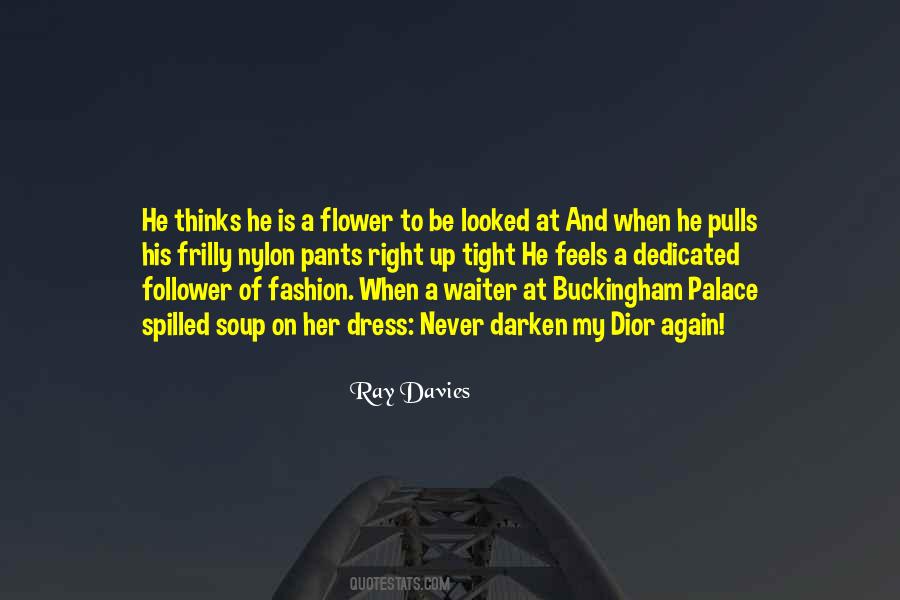 #26. A believer twists the Bible to fit his or her lifestyle. A follower works to make his or her lifestyle resemble the teachings of the Bible. - Author: Jarrid Wilson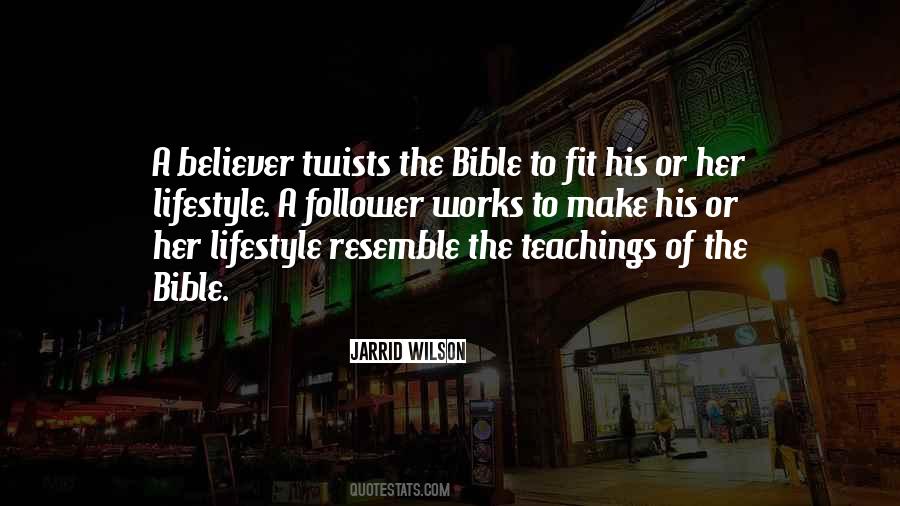 #27. Innovation distinguishes a leader from a follower. - Author: Steve Jobs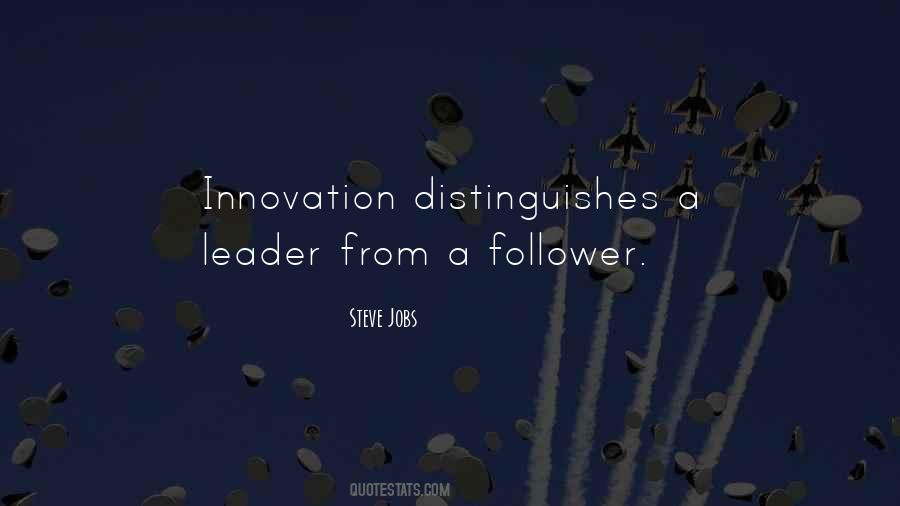 #28. For the Christ-follower,small spiritual adjustments make huge eternal differences. - Author: Todd Stocker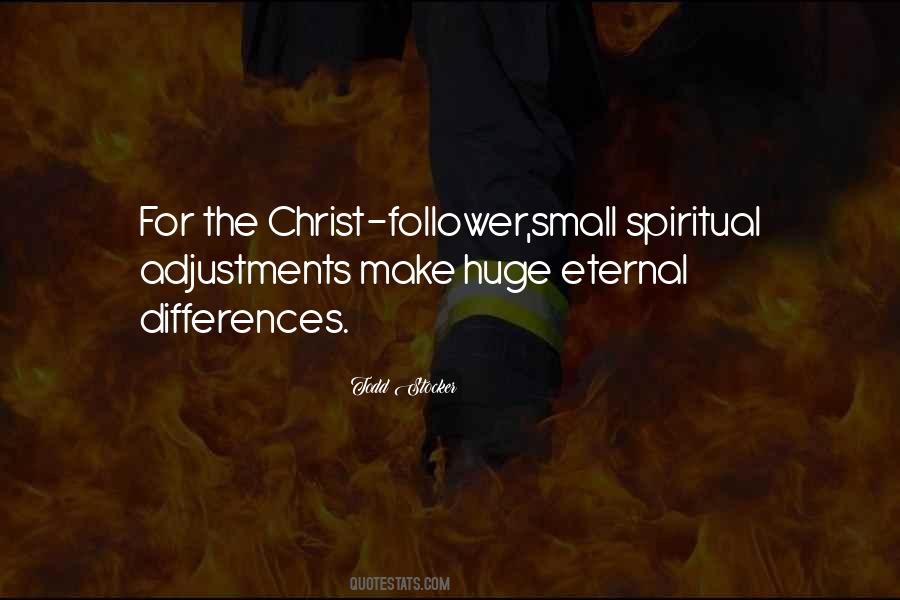 #29. I am not a follower of Monet. I am not an admirer or follower of De Kooning. I am not an action painter. I am not an abstract expressionist. I am not younger or older. I will not take my hat off to any other artist living or dead in all the world. I know this. - Author: Milton Resnick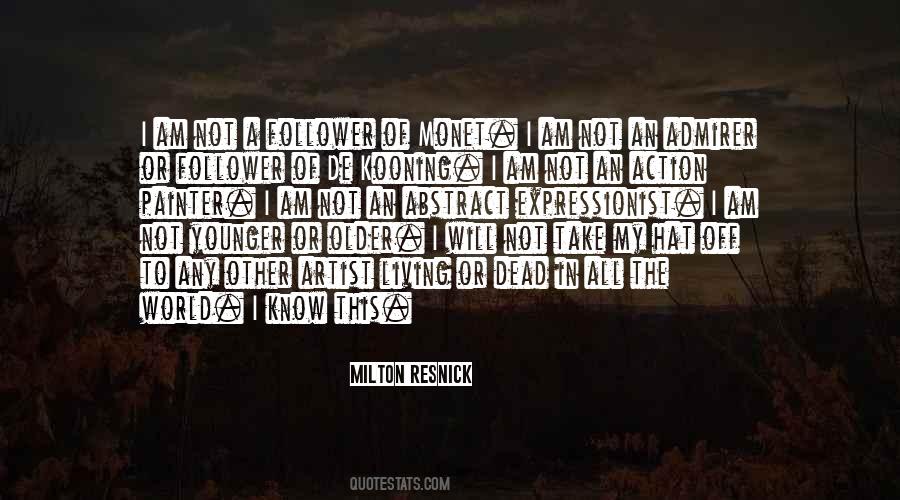 #30. Do not be a follower, because others like it, but be different want You like it.
Jan Jansen - Author: Jan Jansen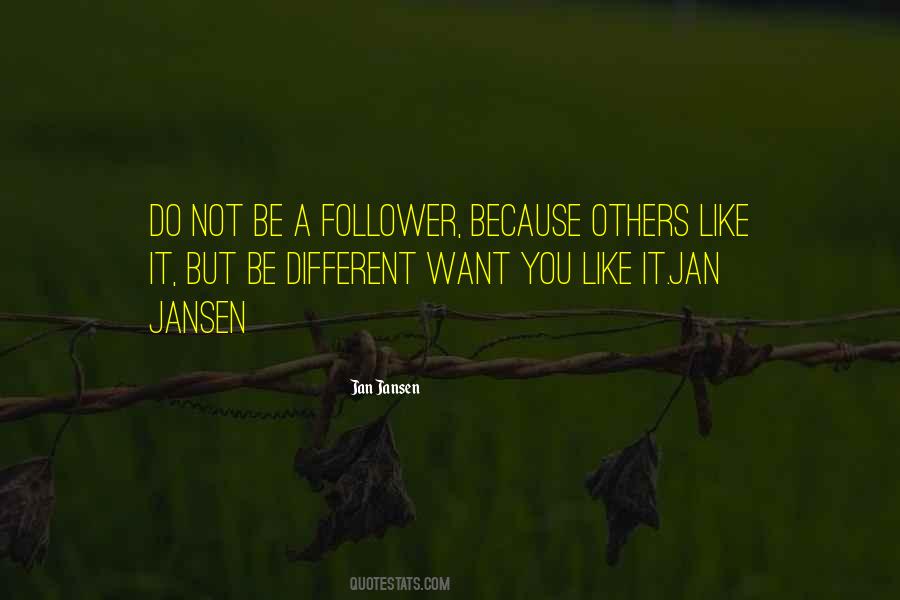 #31. The sun shine comes, you see the shine you see the color, when night comes you the stars you see the dark the blooming moon you choose a star you follow the star it comes in your dreams you follow stars once a light bug dies you see a new star you follow the star your dreams come true. - Author: Demi Lovato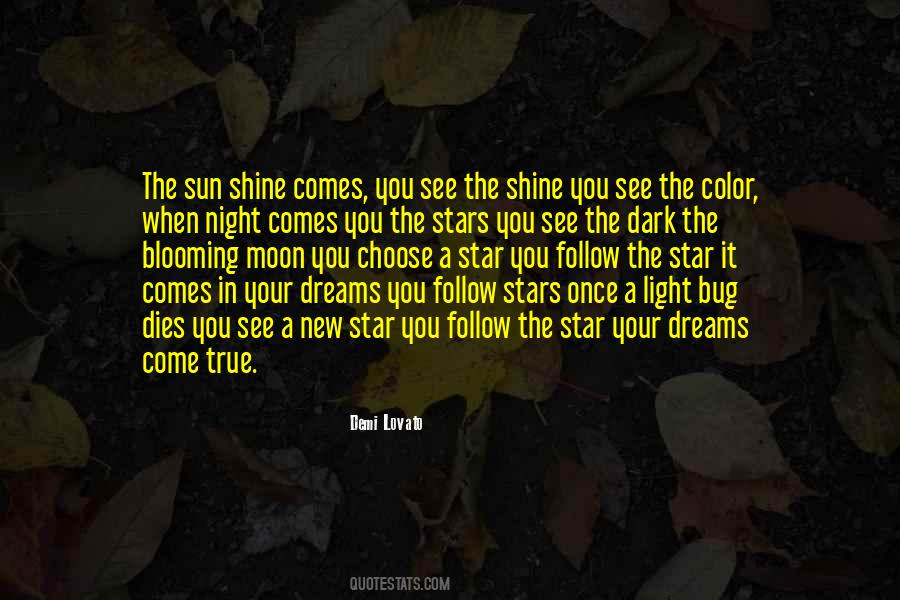 #32. We are all priests before God, there is no such distinction as 'secular or sacred.' In fact, the opposite of sacred is not secular; the opposite of sacred is profane. In short, no follower of Christ does secular work. We all have a sacred calling. - Author: Ravi Zacharias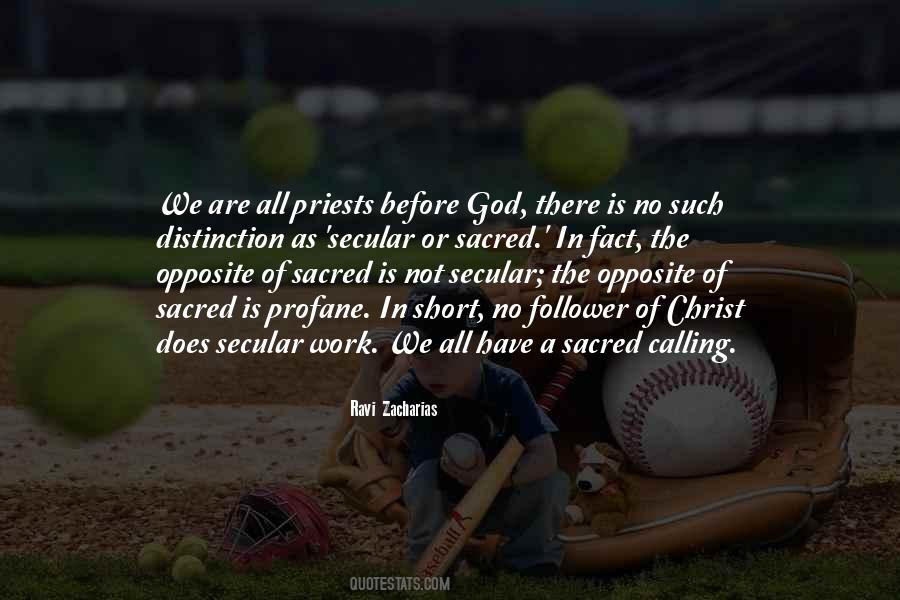 #33. On twitter, you may have a zero follower; but in real life, this is not possible because everyone has a shadow! - Author: Mehmet Murat Ildan
#34. You can be a leader, a follower or out of business. - Author: Terence Mauri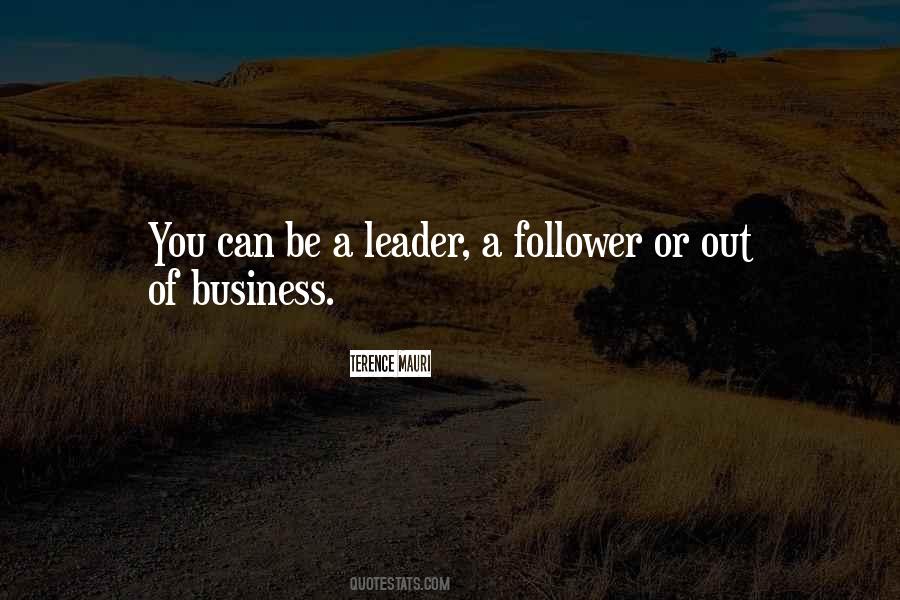 #35. I'd been on 'SVU' before and I'd been on 'Criminal Intent,' but I wasn't a follower. Like, my mom watches every episode, even before I was on it. - Author: Kelli Giddish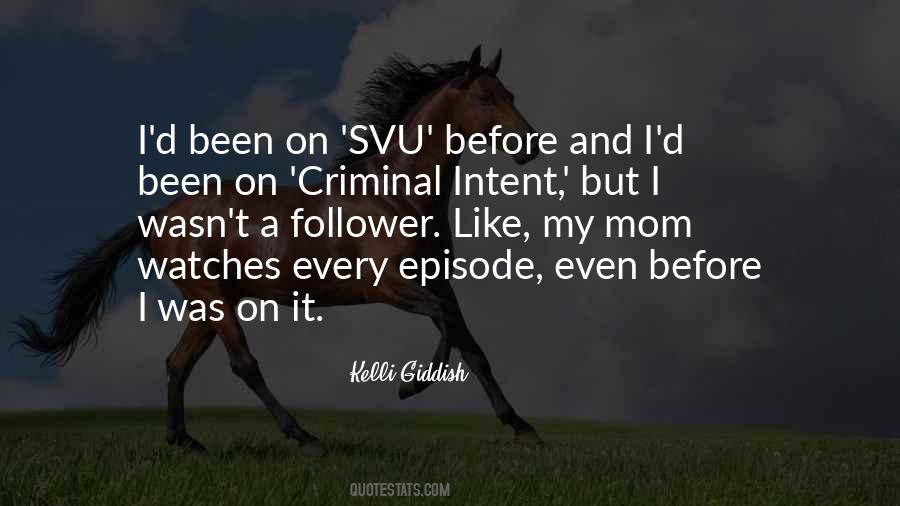 #36. Every leader attracts a different type of follower from the left or the right, from the lowest or the highest class. Every leader unwittingly attracts certain stereotypes that fuel their underlying agenda. - Author: Anita B. Sulser PhD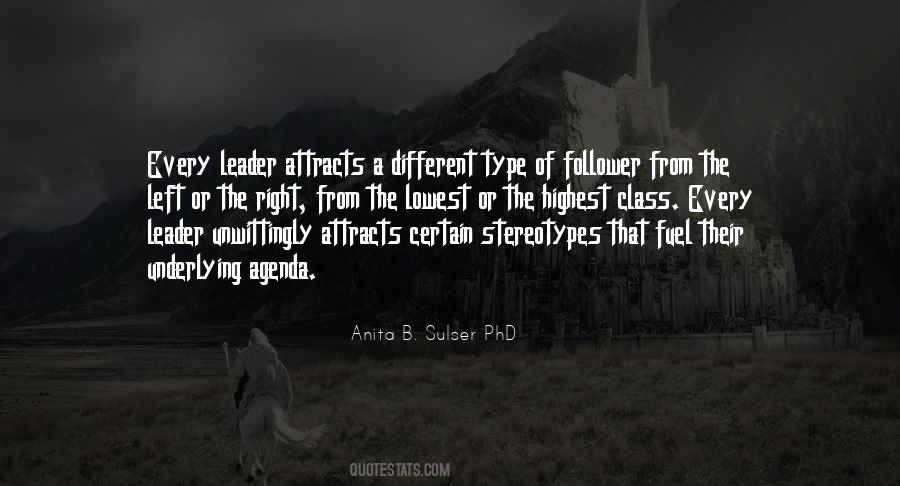 #37. Anybody who French bashes just might as well wear a badge that says 'I am a follower! I don't think for myself and I have no idea what I'm talking about.' That would be a French basher. - Author: Janeane Garofalo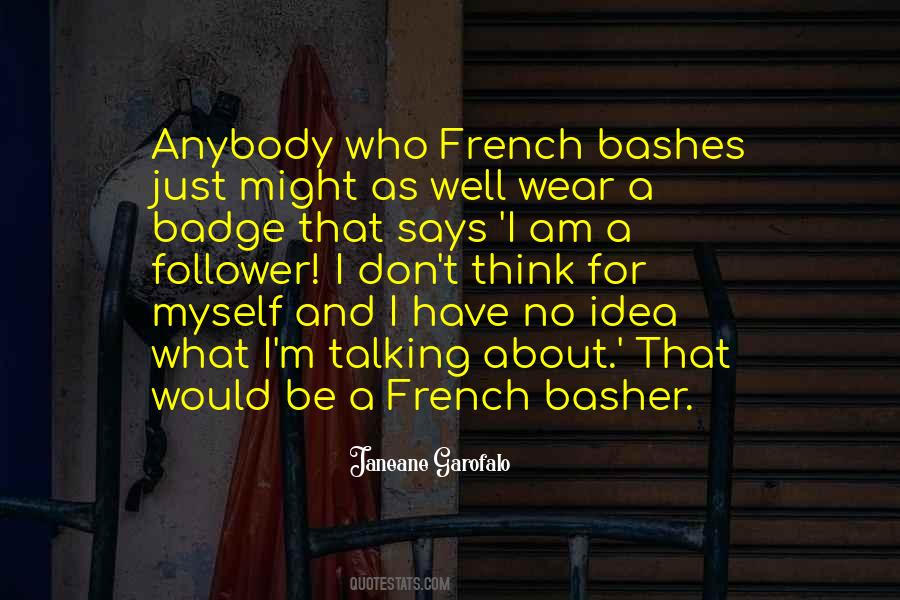 #38. I want to live with that sense with the music I make, with the art I make, with the way I love my kids, with the way I am a father and a husband and a friend and a follower of Christ, I want to live with reckless abandonment to the truth of the Gospel. - Author: Steven Curtis Chapman
#39. He wants all or nothing. The thought of a person calling himself a 'Christian' without being a devoted follower of Christ is absurd. - Author: Francis Chan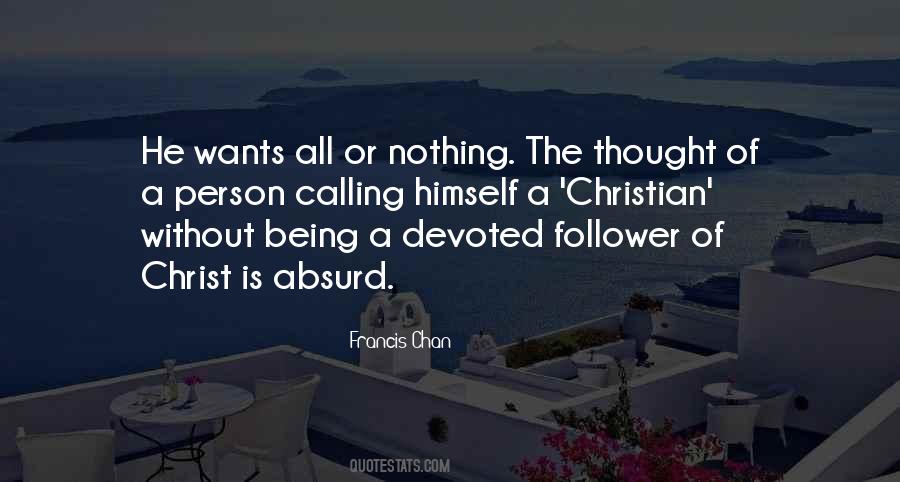 #40. To be an excellent leader, you have to be a superb follower, - Author: Herb Kelleher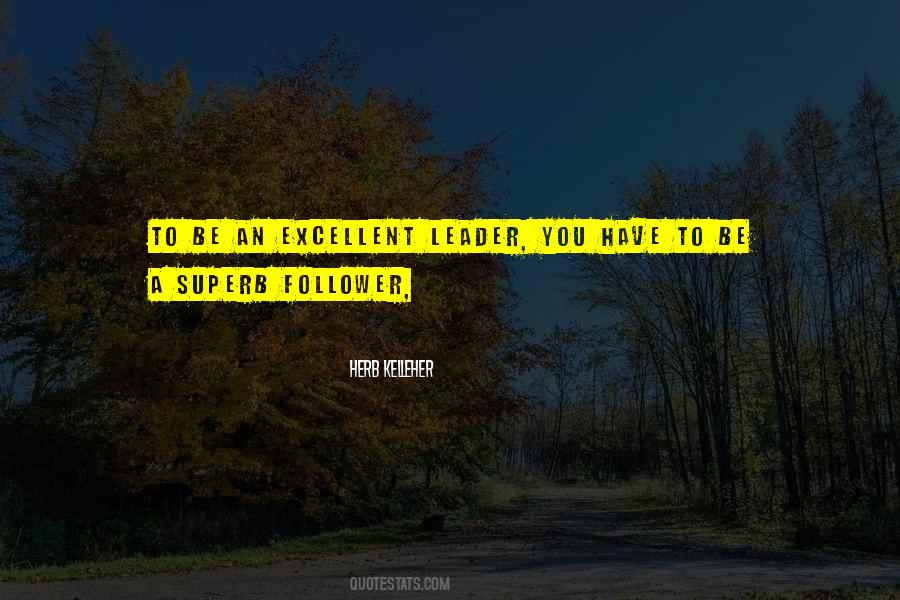 #41. Don't initiate! Follow the initiator! Follow the follower. - Author: Viola Spolin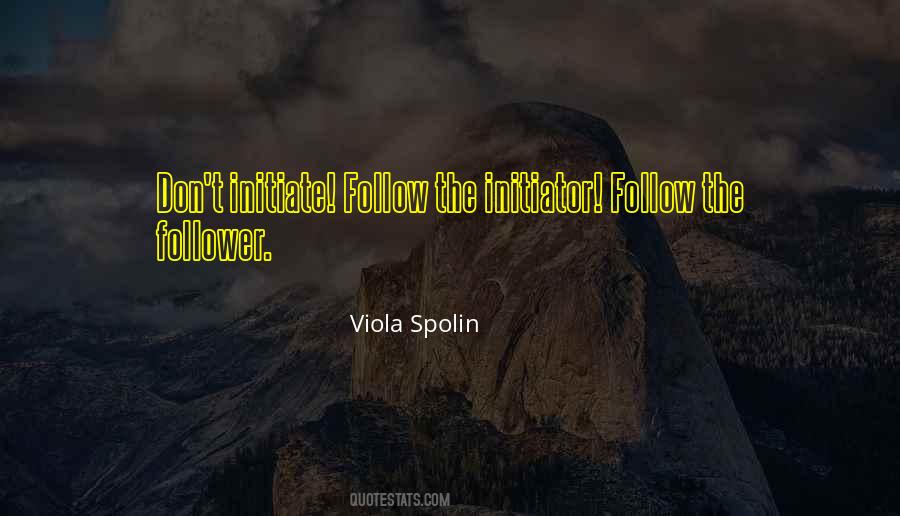 #42. Your directions, your judgment, your disposition to rebel must be subjected and reduced to ashes. How? In the fire of obedience, for it is there that you will find out if you are truly a follower of Divine love or self love. - Author: Michael Molinos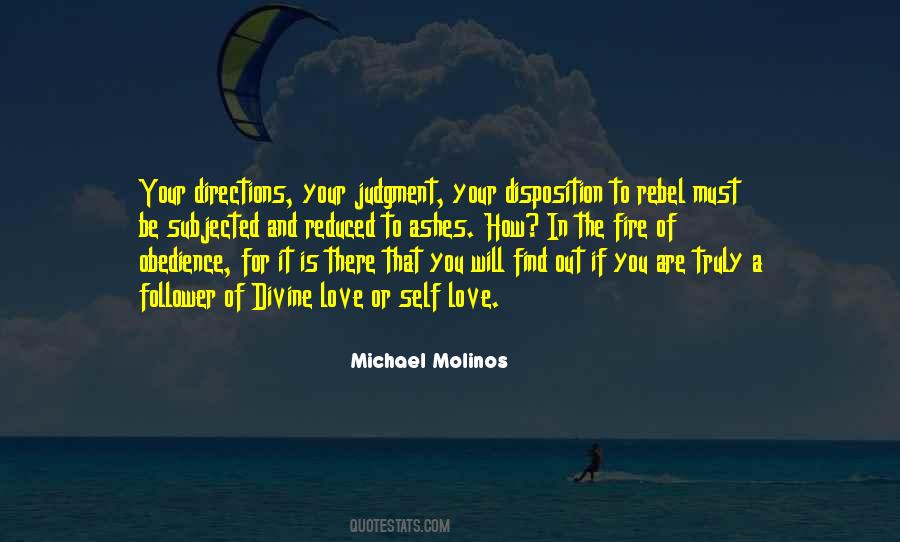 #43. Slave. Minion. Fiend. The others who have come before me have been called such things, but I prefer to think of myself as a disciple; a devout follower of my voluptuous mistress. - Author: Charlotte Featherstone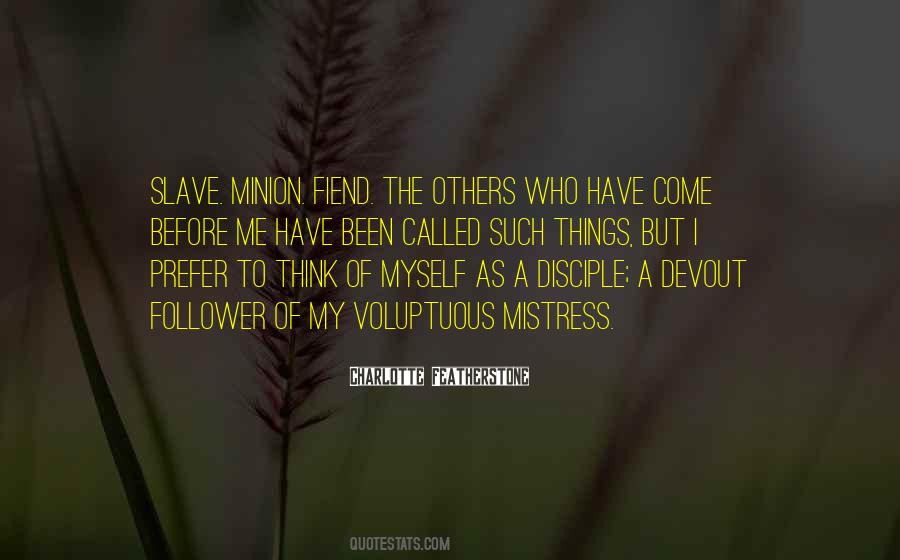 #44. My dad taught me to be a leader or a follower, and he said follower ain't fun. So I want to be the leader of Bubba Watson. - Author: Bubba Watson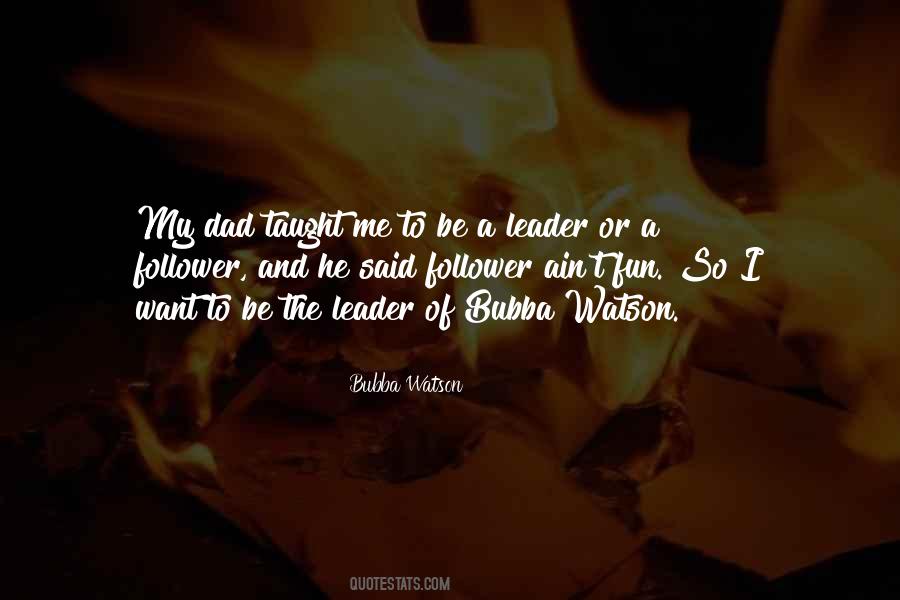 #45. A member must say that he is a member of the Unification Church and that he is the follower of Sun Myung Moon. If he doesn't have the courage to say it, he is not worthy of me. - Author: Sun Myung Moon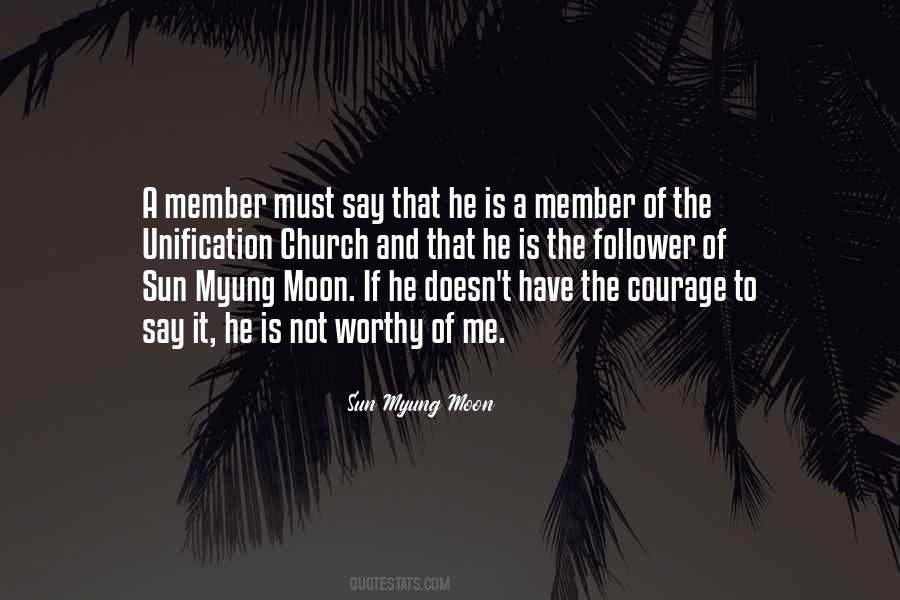 #46. Whether you're a Twitter follower, a YouTube subscriber or a Facebook friend, natural social instinct is to collect people and to not kind of see them later. But unfortunately, with social media, you collect them and they're in your life, whether you really want them or not. - Author: Felicia Day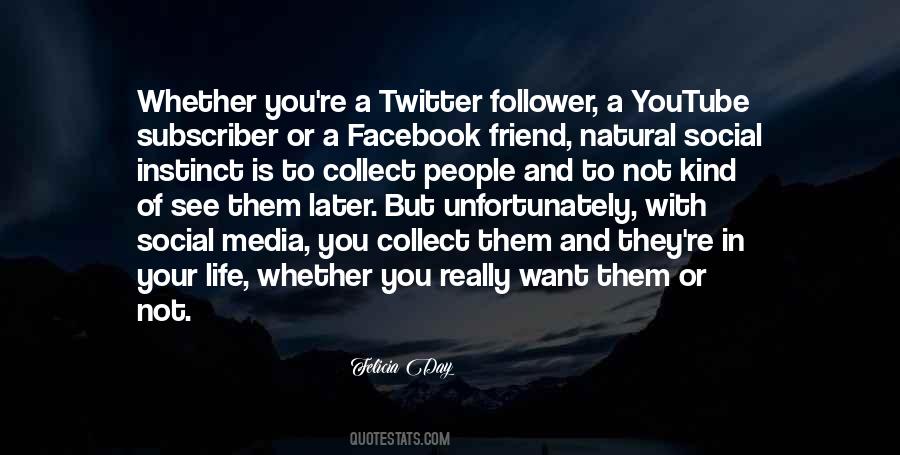 #47. That is the joyful task of every follower of Jesus. Someday may it be written about me on my tombstone: He was so amazed by God's grace that he couldn't keep it to himself. - Author: Lee Strobel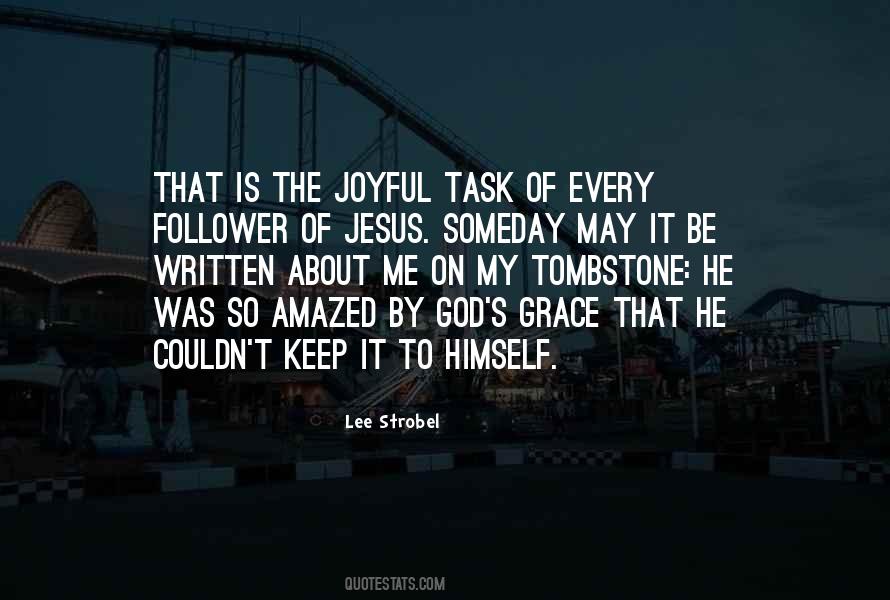 #48. It's a stupid leader who can't turn follower when somebody offers him a wiser course - Author: Orson Scott Card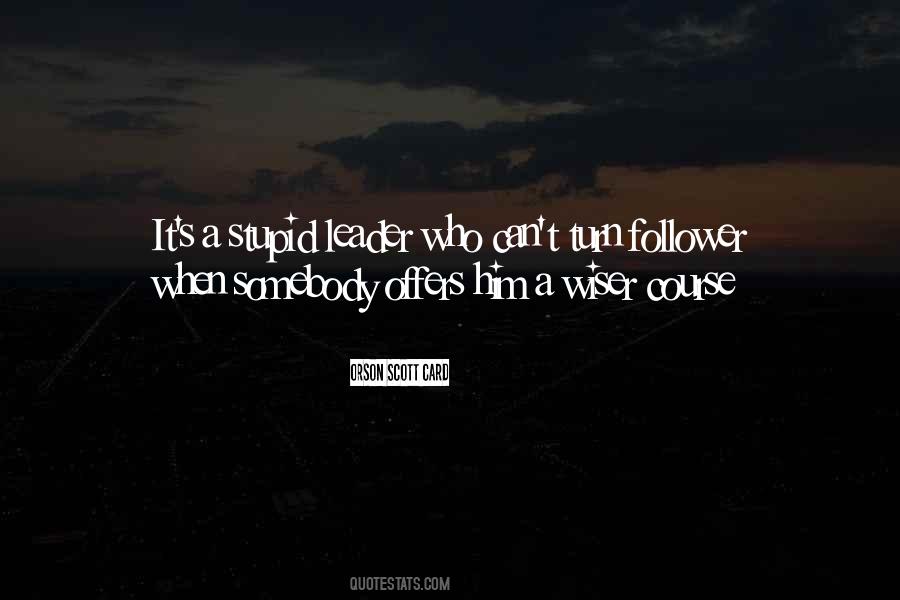 #49. Fanatics are like debris following the course of the wind, they are swept around like sand, and convinced to believe in what they do not understand. - Author: Michael Bassey Johnson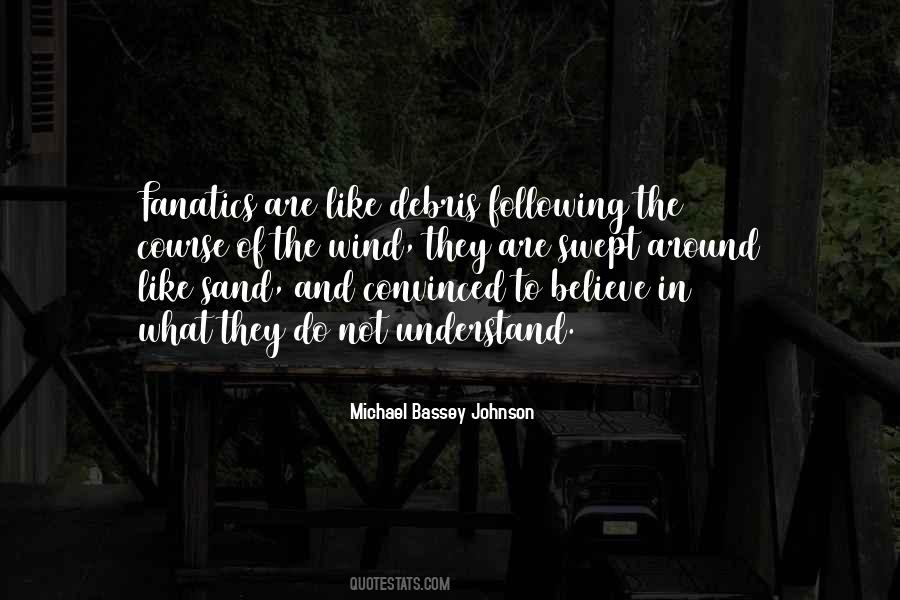 #50. I have the greatest love for the rituals of organised religion - the sense of community and belonging it can confer to people. But me, I'm more a questioner than a follower; not by whim or fashion, but as a decision painfully arrived at after much, much thought. - Author: Kabir Bedi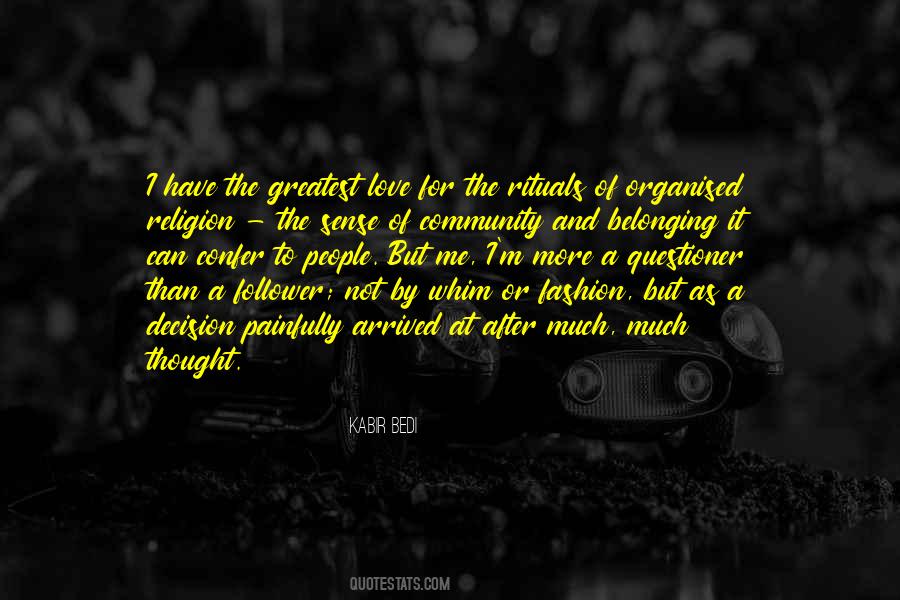 #51. Professional societies are sooner or later fractured by the ego of their leaders. Everyone wants to be president, chairman, CEO; no one wants to be a mere follower. - Author: F. Sionil Jose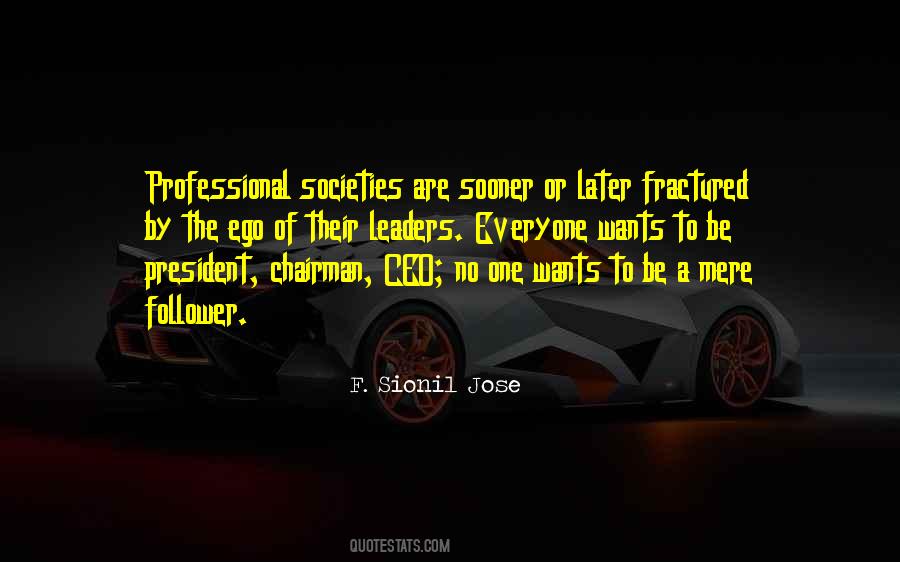 #52. The most dangerous follower is the one whose defection would destroy the whole party: hence, the best follower. - Author: Friedrich Nietzsche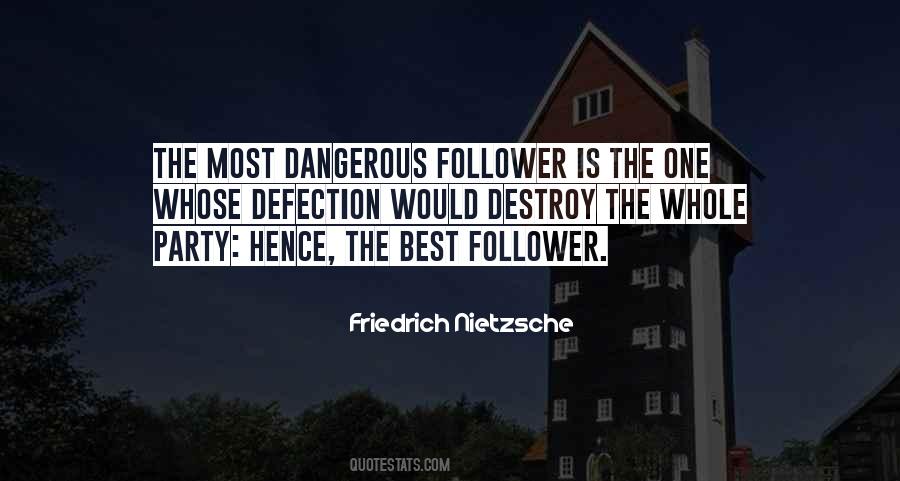 #53. I am neither a philosopher nor a thinker, but simply follower of my own thoughts. - Author: M.F. Moonzajer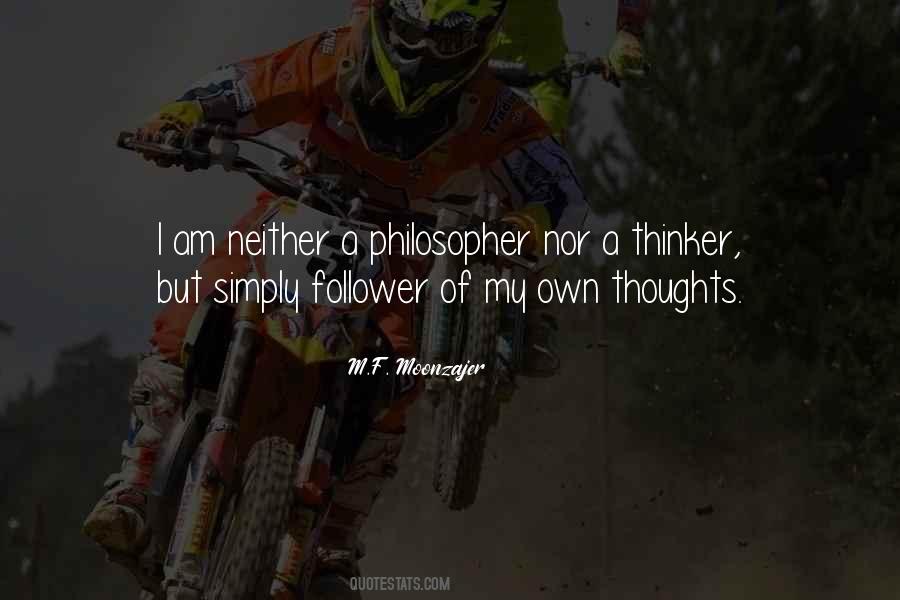 #54. He might not be a truly good man, but he was a rule follower, and he wasn't out to hurt or debase her. She - Author: Zannie Adams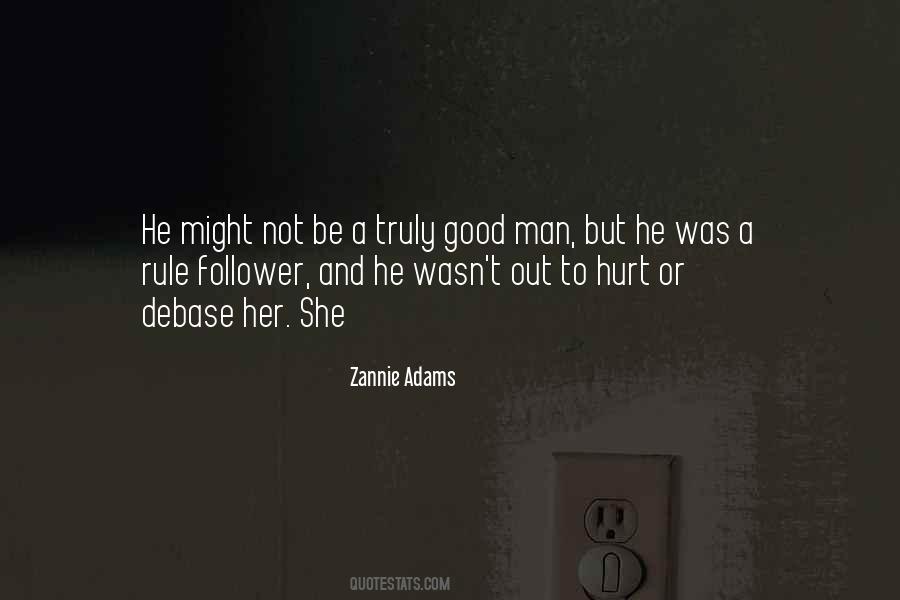 #55. It is better to be nothing than a follower of other painters. The wise man has said when one follows another one is always behind. - Author: Jean-Baptiste-Camille Corot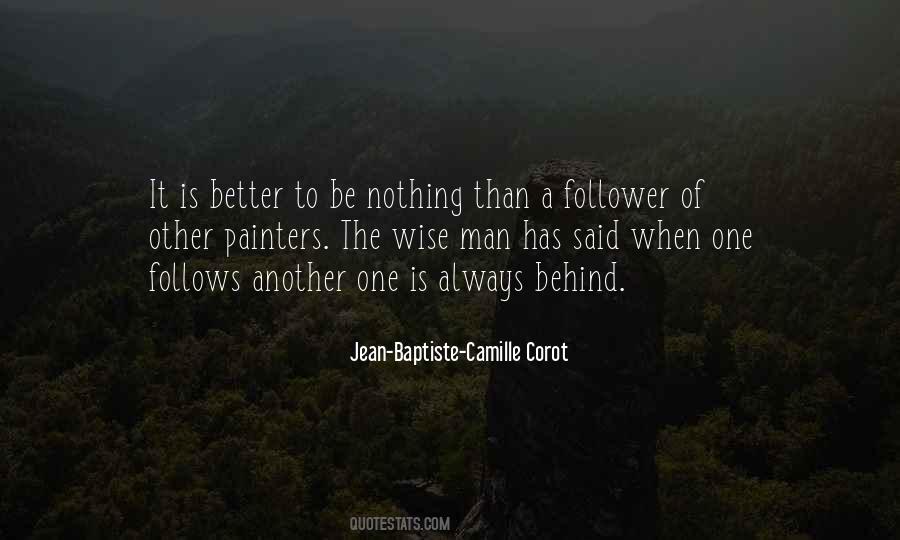 #56. True leadership must have follower-ship. Management styles can vary, but even an autocrat needs people who believe and simply don't follow from fear. - Author: James D. Robinson III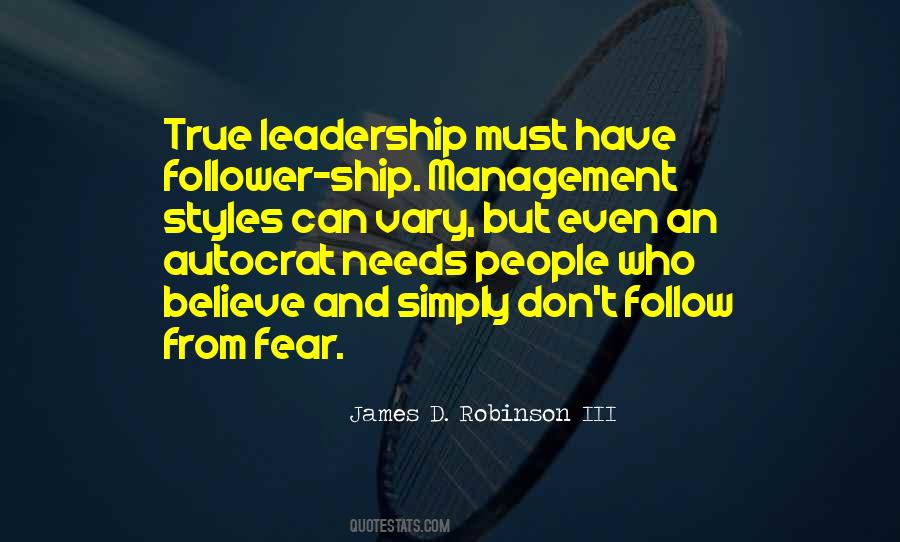 #57. A seeker after truth, a follower of the law of Love, cannot hold anything against tomorrow. - Author: Mahatma Gandhi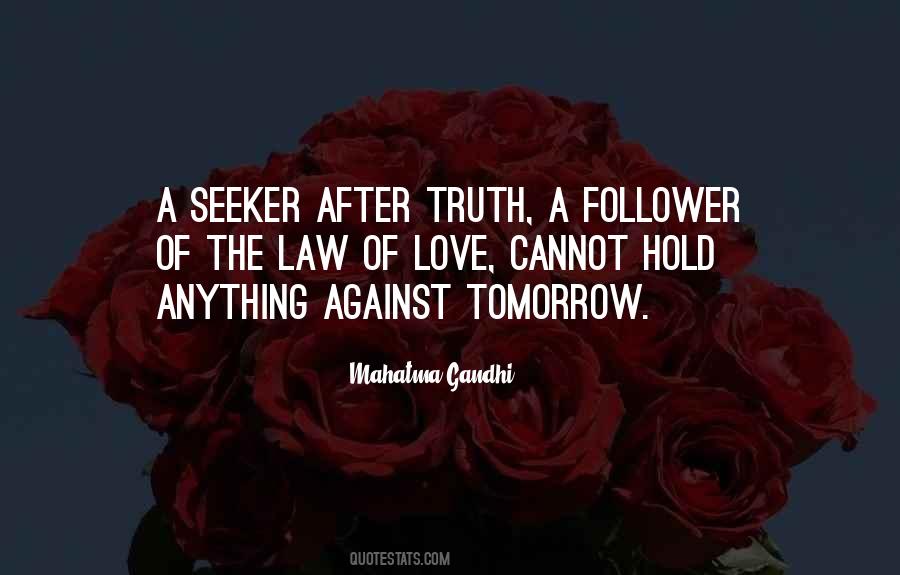 #58. When I'm on the court, I'm a follower. - Author: Howard Bach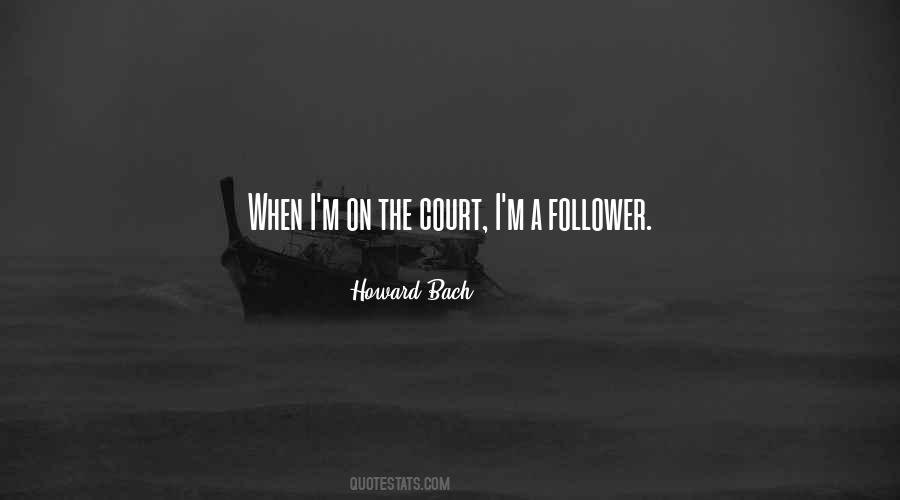 #59. Sufis (the name for the realised individual, not the learner or follower) are reunited with objective Reality and Unity. - Author: Idries Shah
#60. The purpose of a politician is to be a leader. A politician has to lead. Otherwise he's just a follower. - Author: Alan Greenspan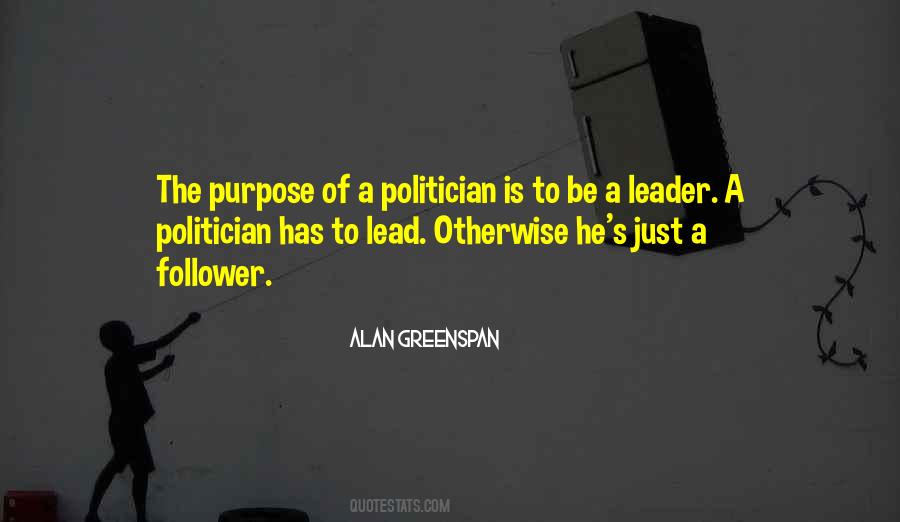 #61. There's no point in arguing with partisan supporters. Their views are their identity. Nothing you can tell the most phlegmatic follower. - Author: Michael Lewis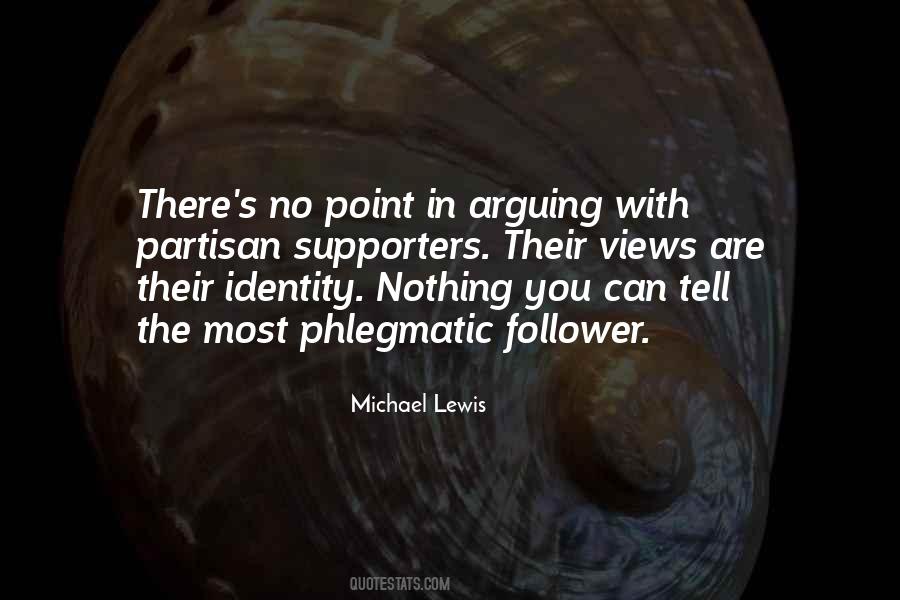 #62. Just because your friend does it, doesn't mean you have to. Be a leader, not a follower. - Author: Diana Lopez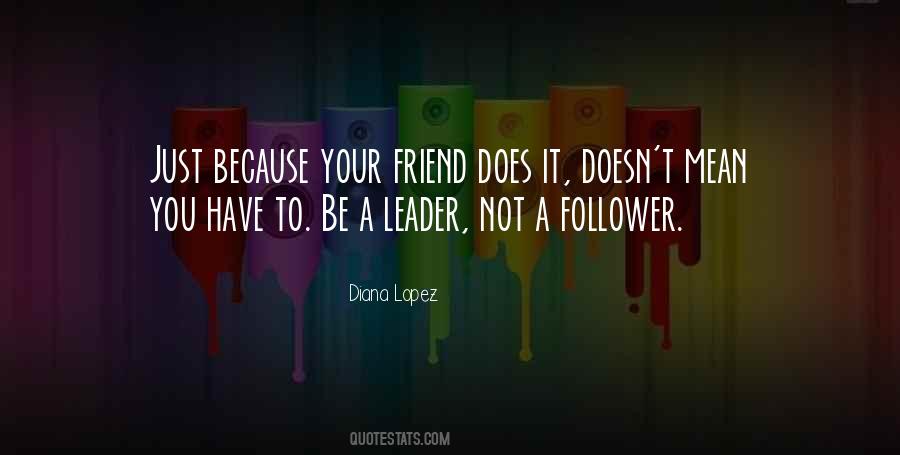 #63. The essence of loving living as a follower of Jesus isn't in trying harder but in enjoying more. I'm not saying you can change without trying. I'm saying that enjoyment empowers effort. Pleasure in God is the power for purity. - Author: Sam Storms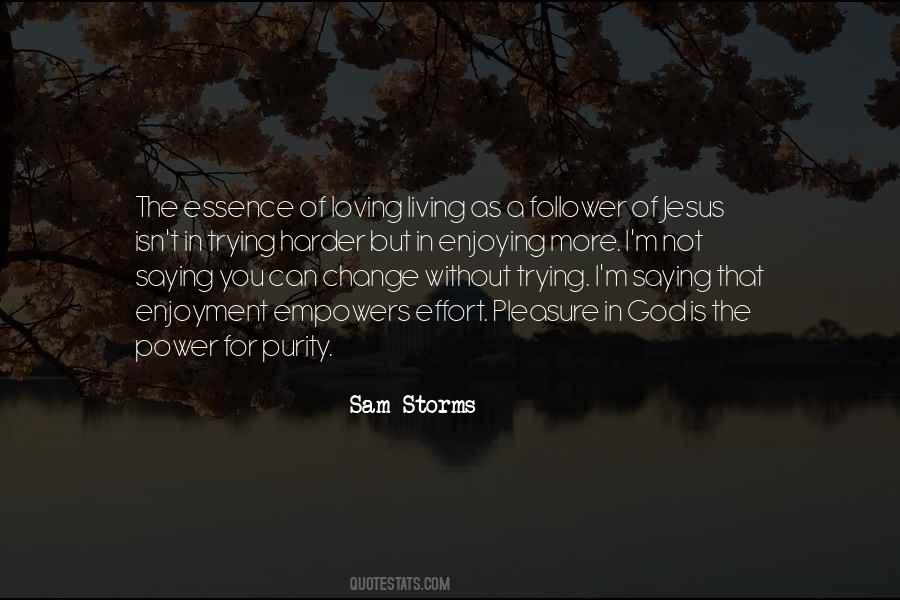 #64. Going to a bar or pool hall doesn't mean you're a drunk, just like sitting in a henhouse doesn't make you a chicken. It's the same in the opposite setting. Sitting in a church building doesn't make you a follower of Christ. - Author: Jase Robertson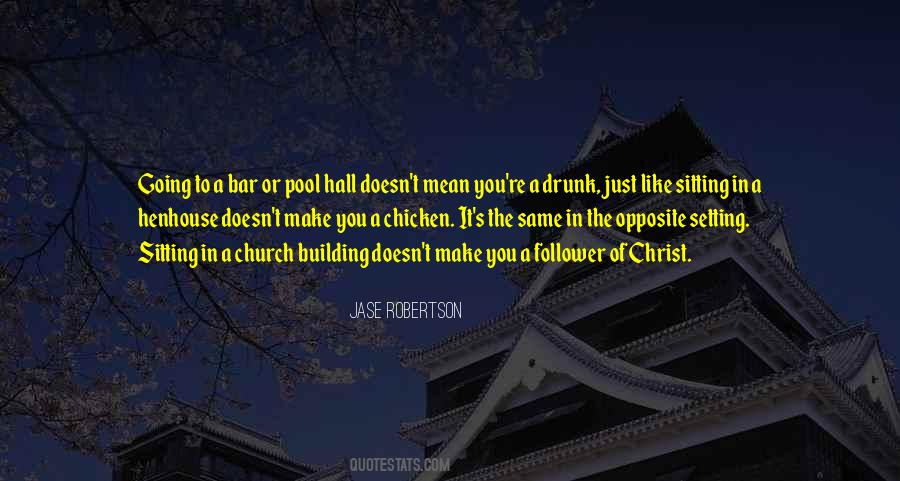 #65. Give other Christians permission to be different from you. You're not the only Christ-follower in the world, and neither are you the most committed. Your way of loving Jesus is neither the only way for the best. If you don't know that, your Christian world is way too small. - Author: Will Davis Jr.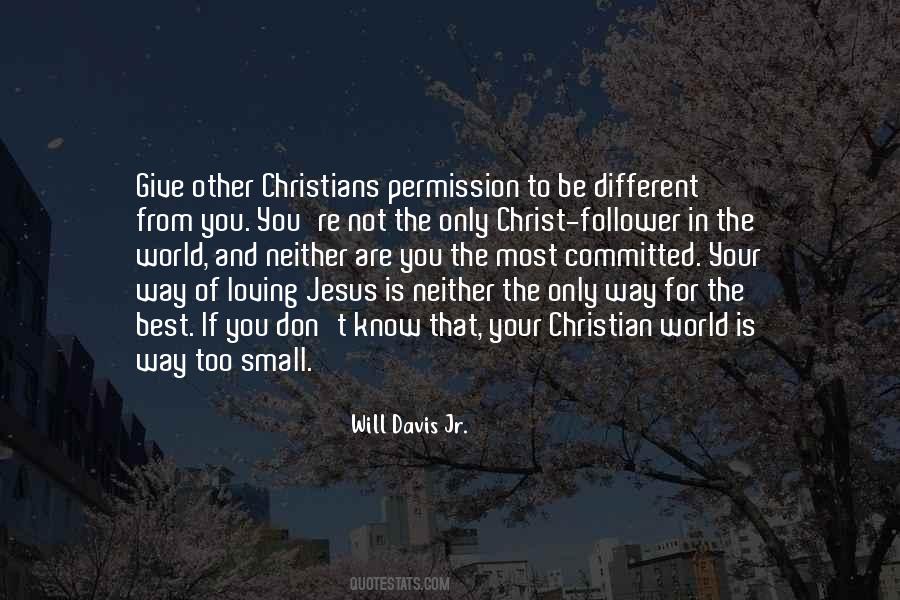 #66. As long as Satan is loose in the world and our hearts are dominated by his evil passions, it will never be easy or popular to be a follower of Christ. - Author: Billy Graham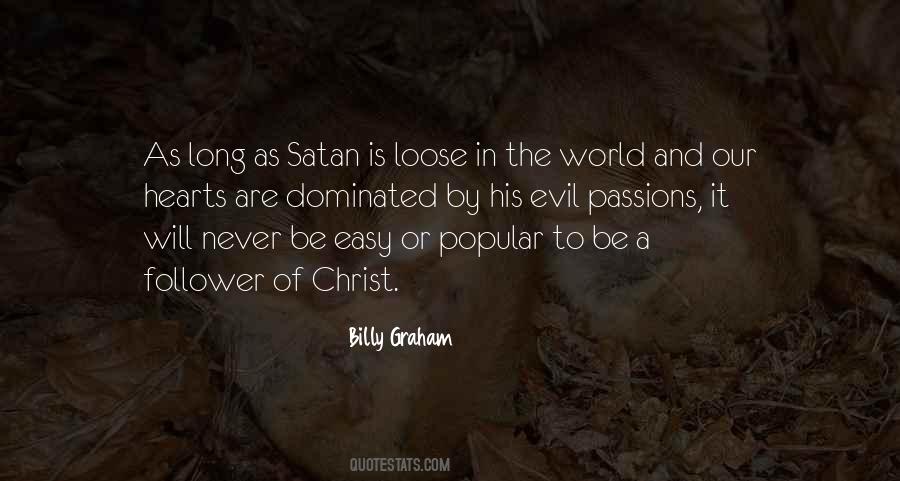 #67. He believes me. But that is nothing new. He always did because I was a rule follower. I played by the rules he understood. But there are new rules now, ones he doesn't know yet. He'll learn. Just as I'm learning. - Author: Mary E. Pearson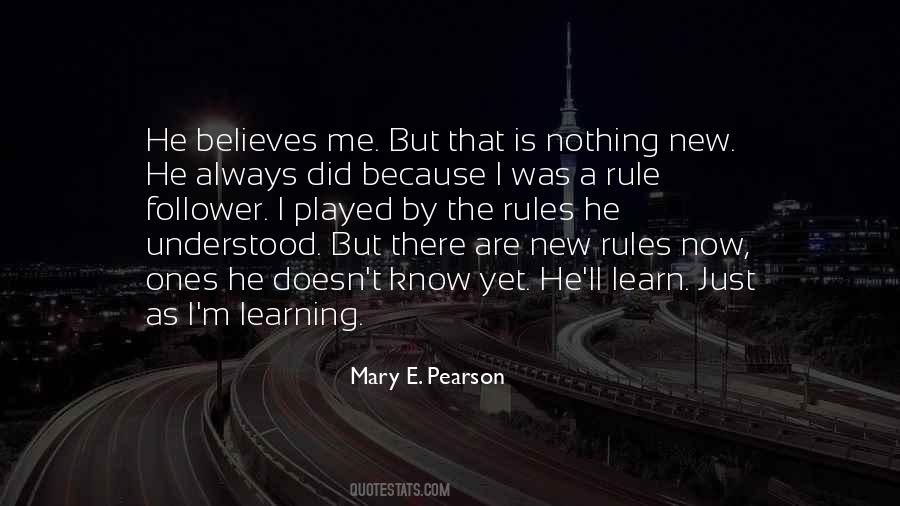 #68. In life, I always thought that an Atheist values life much more than any follower of any religion. I believe in that now more than ever. Hell has strengthened that opinion. - Author: J.C. Wickhart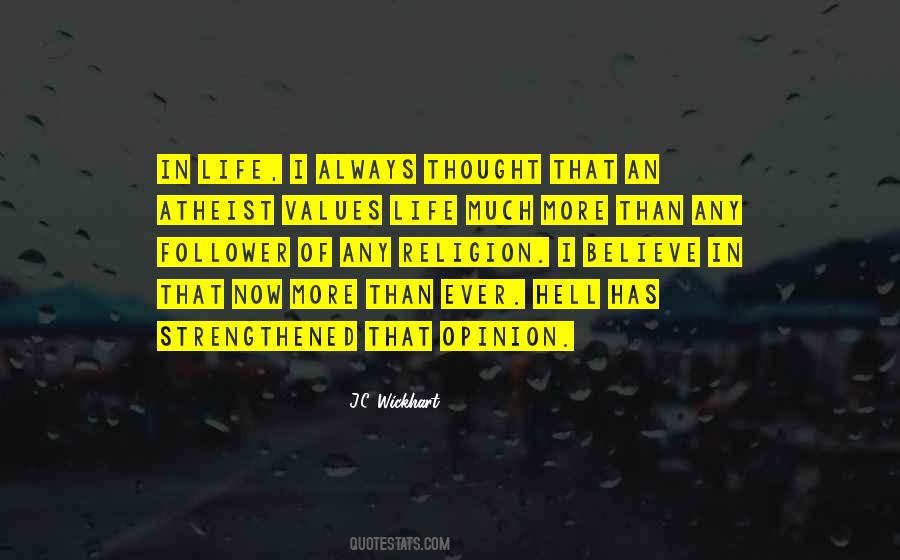 #69. It is the responsibility of every Christ-centred follower to carve out a satisfying life under the loving rule of God or else sin will start to look good. - Author: Dallas Willard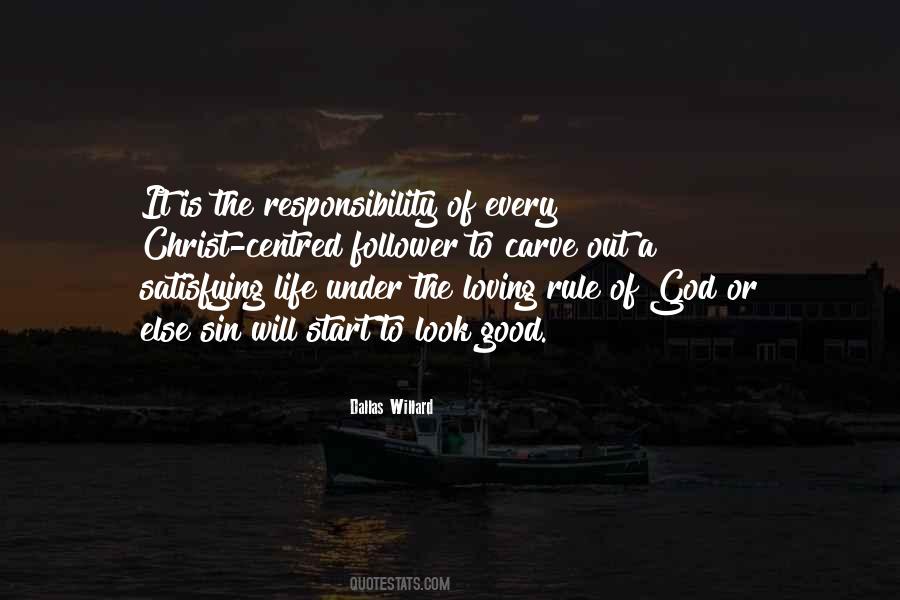 #70. I'm not a follower. I'm a leader. And anyone who speaks their mind is always criticised. - Author: Tyler, The Creator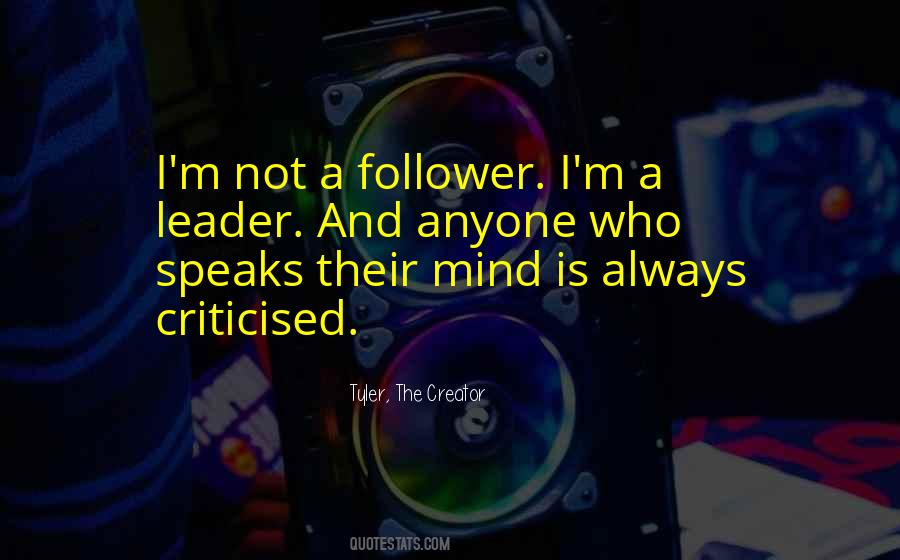 #71. If you wait for others to initiate change you automatically become a follower. - Author: Peyton Manning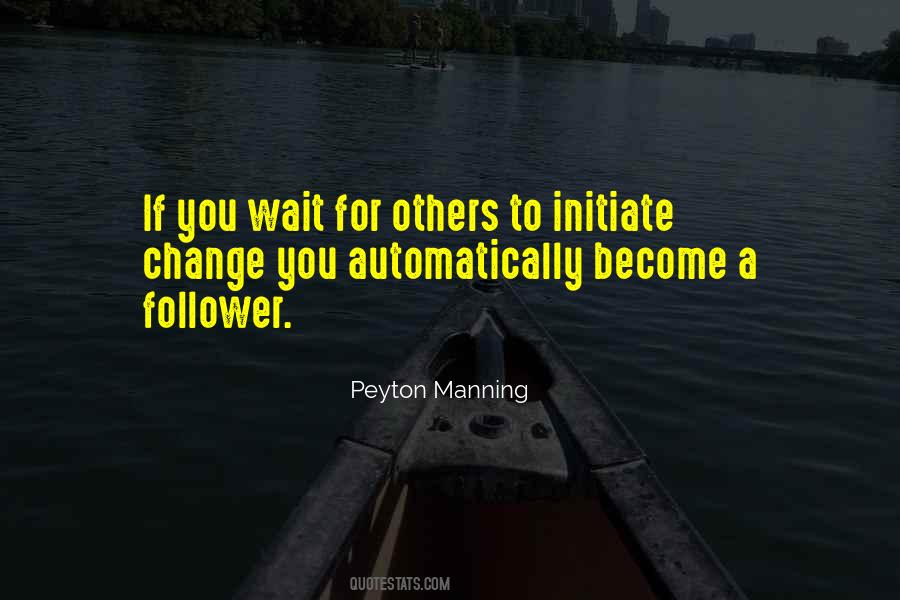 #72. Being a Christ follower means being acquainted with sorrow. We must know sorrow to be able to fully appreciate joy. Joy costs pain, but the pain is worth it. After all, the murder had to take place before the resurrection. - Author: Katie Davis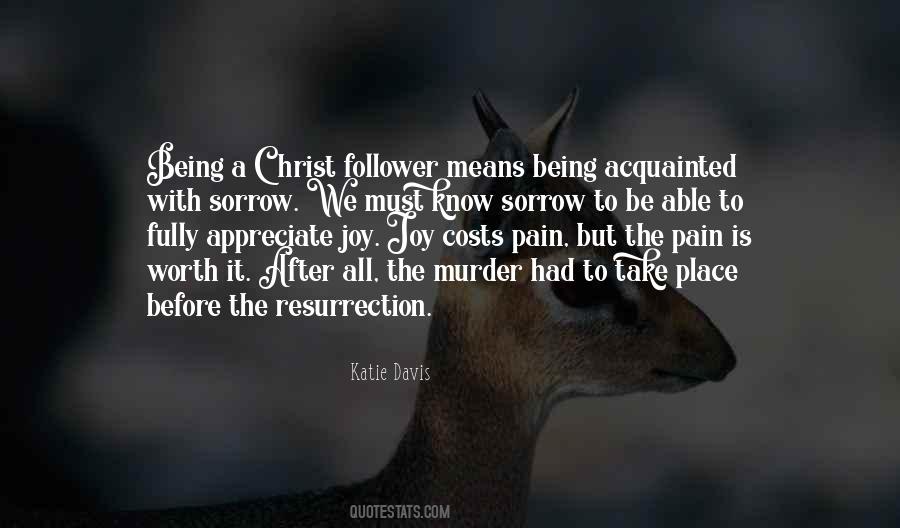 #73. You can be a follower of Jesus and not necessarily be a Christian. - Author: Reza Aslan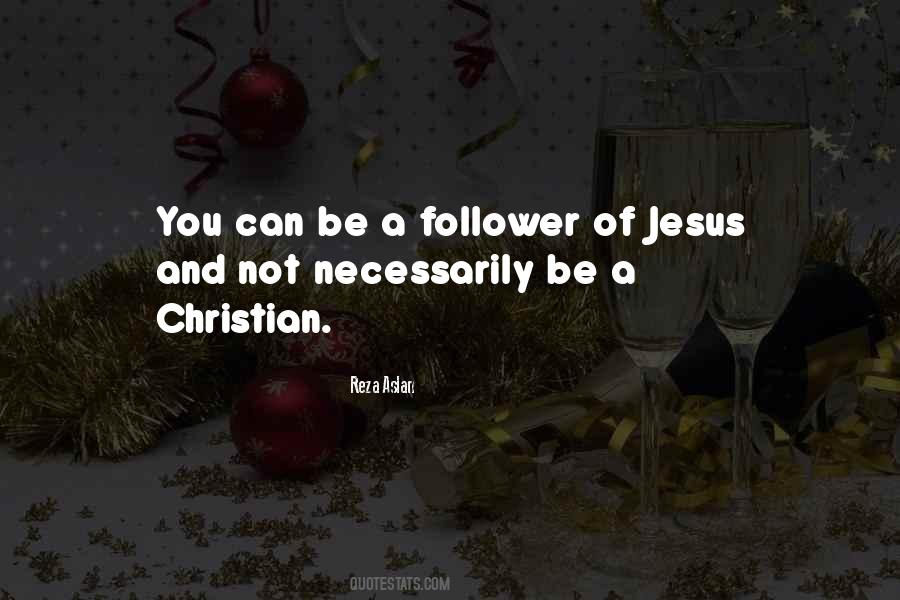 #74. The one thing I knew for sure about Felicity Harper was that she was a runner. I had never thought of myself as a follower, but here I was, always one step behind her. - Author: J.J. McAvoy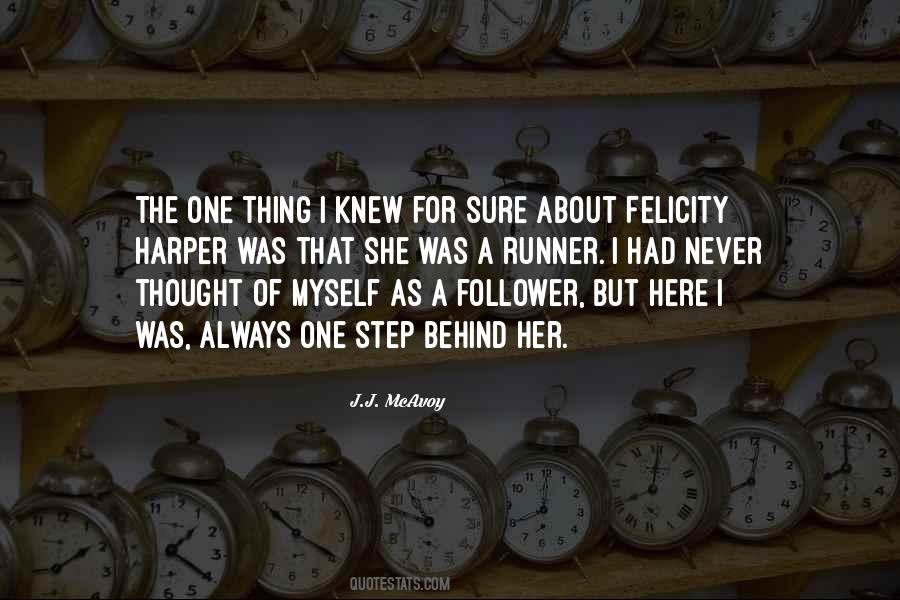 #75. Be strong. Don't be a follower. Always do the right thing. - Author: Jennifer Lawrence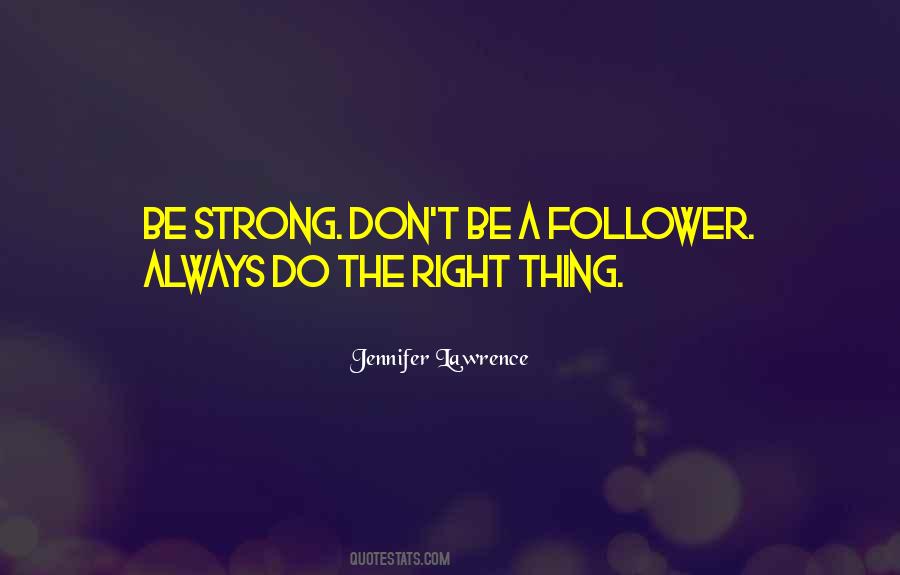 #76. Many people are leaders trapped in a follower's body. - Author: Myles Munroe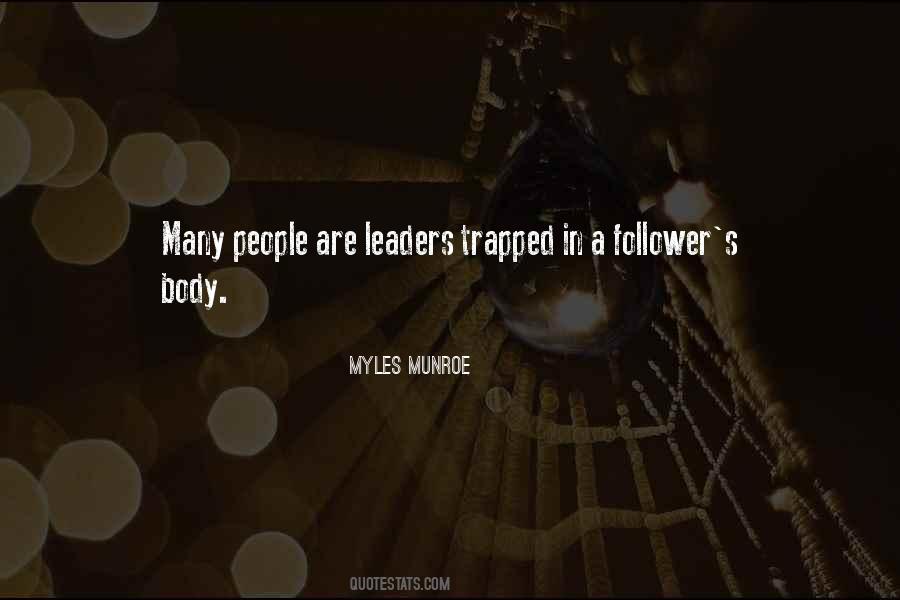 #77. Always strive to be a leader and not a follower. - Author: Abdulazeez Henry Musa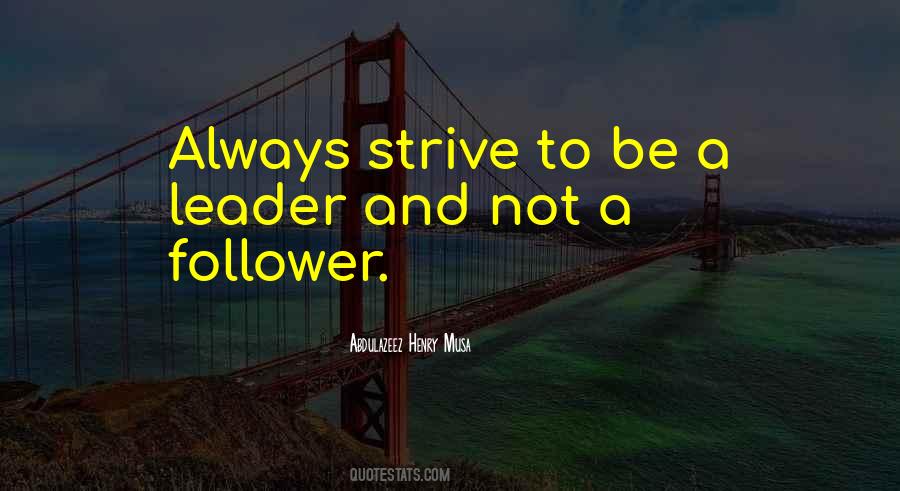 #78. The decision to grow always involves a choice between risk and comfort. This means that to be a follower of Jesus, you must renounce comfort as the ultimate value of your life. - Author: John Ortberg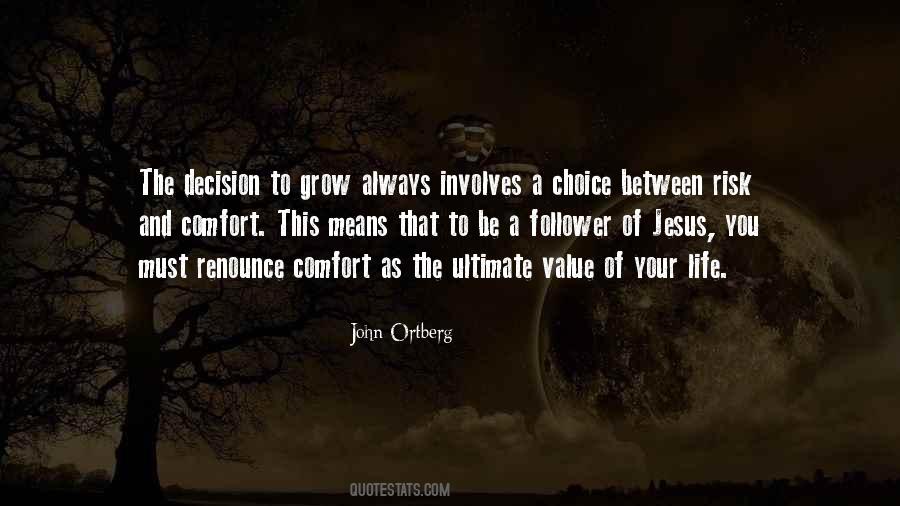 #79. A believer knows about Jesus. A follower knows Jesus as his or her Lord and Savior. - Author: Jarrid Wilson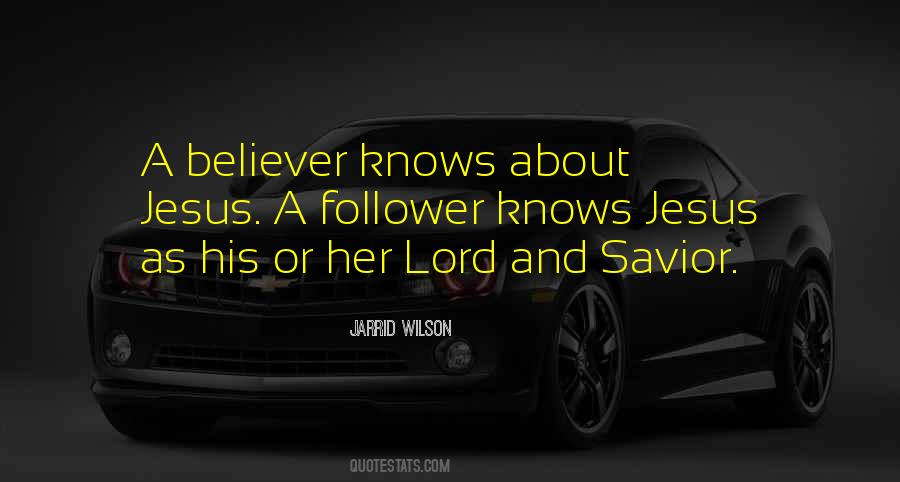 #80. To me it's very important to be a leader not a follower. Sometimes it takes balls and heart to do that. Sometimes it's not that east to say. - Author: Shane Bunting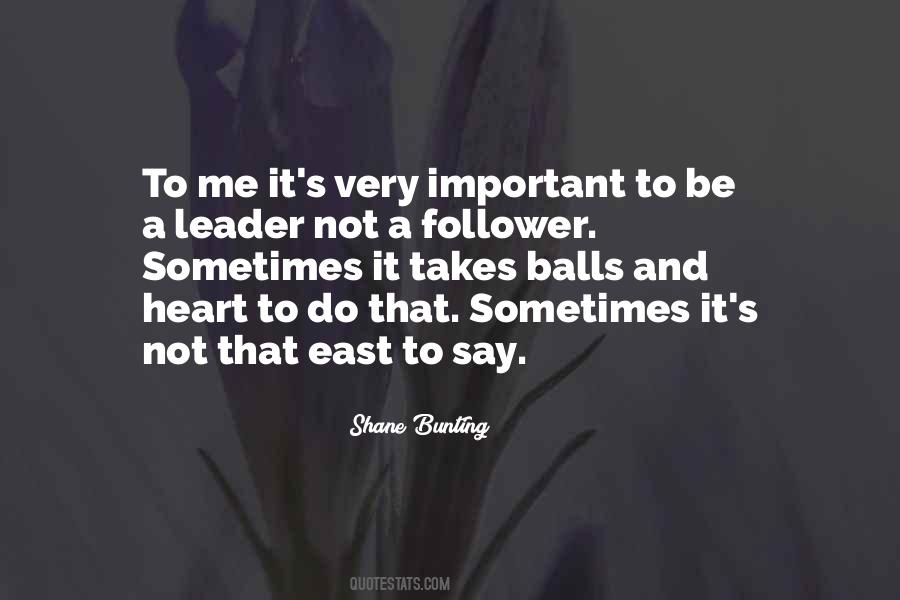 #81. REPENTANCE, n. The faithful attendant and follower of Punishment. It is usually manifest in a degree of reformation that is not inconsistent with continuity of sin. - Author: Ambrose Bierce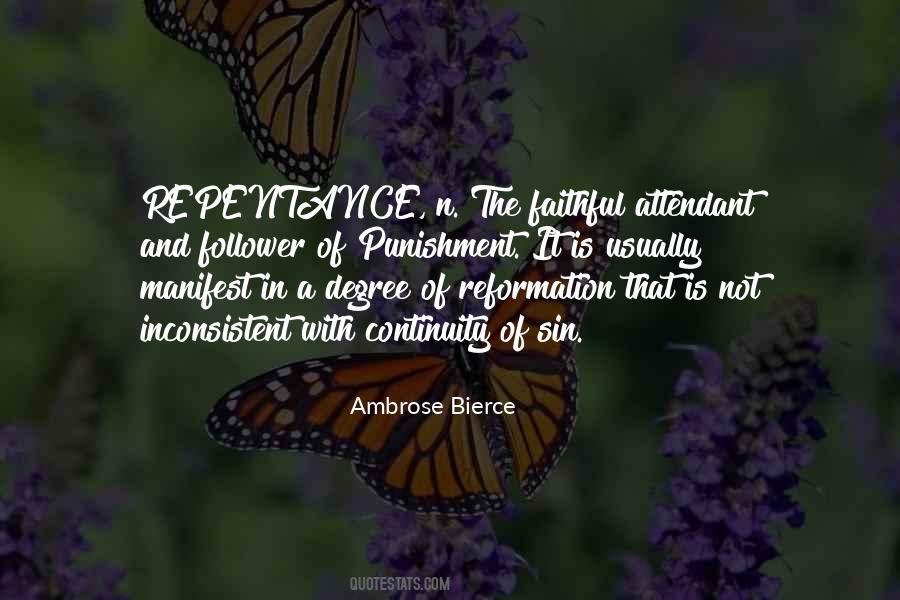 #82. A man who tries to surpass another may perhaps succeed in equaling inot actually surpassing him, but one who merely follows can never quite come up with him: a follower, necessarily, is always behind. - Author: Quintilian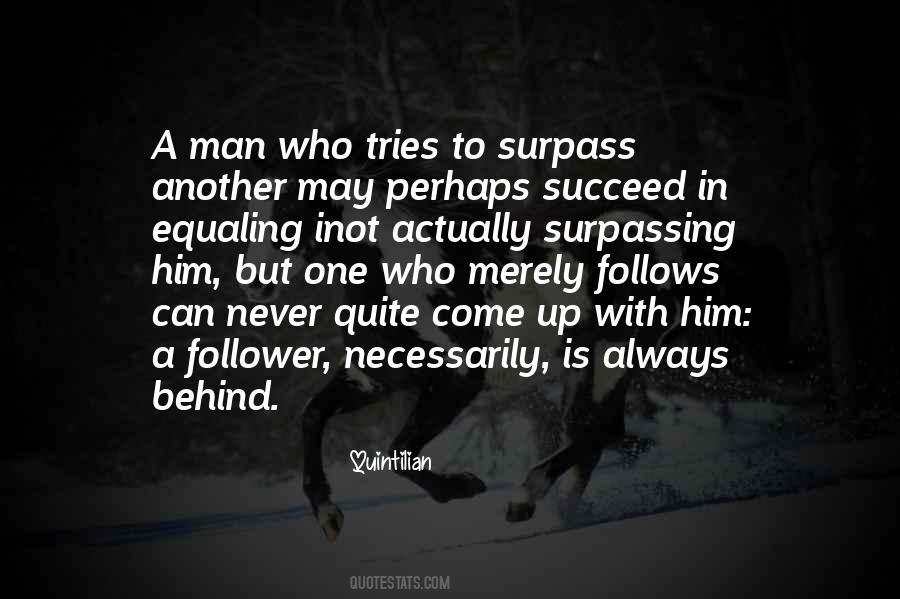 #83. There were times in my career when I would try to write songs like Bob Dylan ... Artists get hooked up in that. To be a follower, you lose. - Author: Del Shannon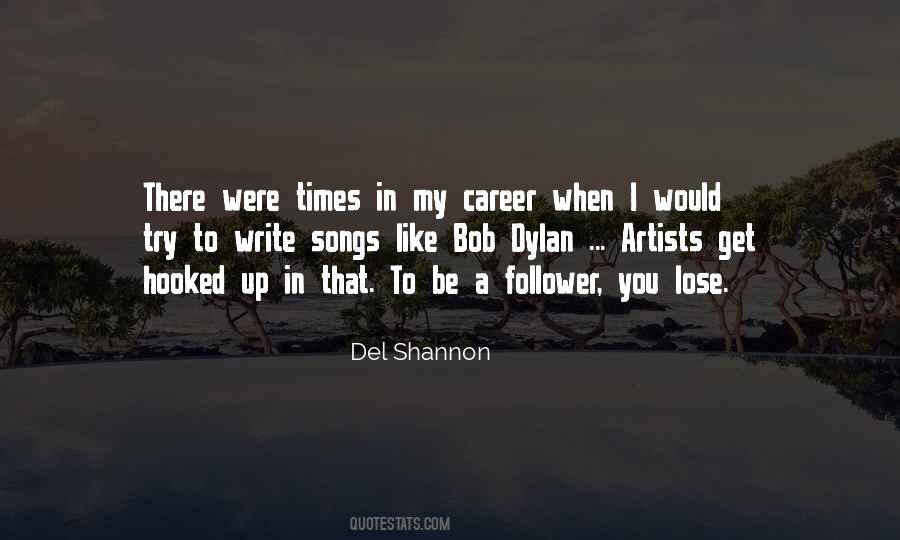 #84. Every pretentious, made up moment of my life will be yours. Welcome, follower! - Author: Tarryn Fisher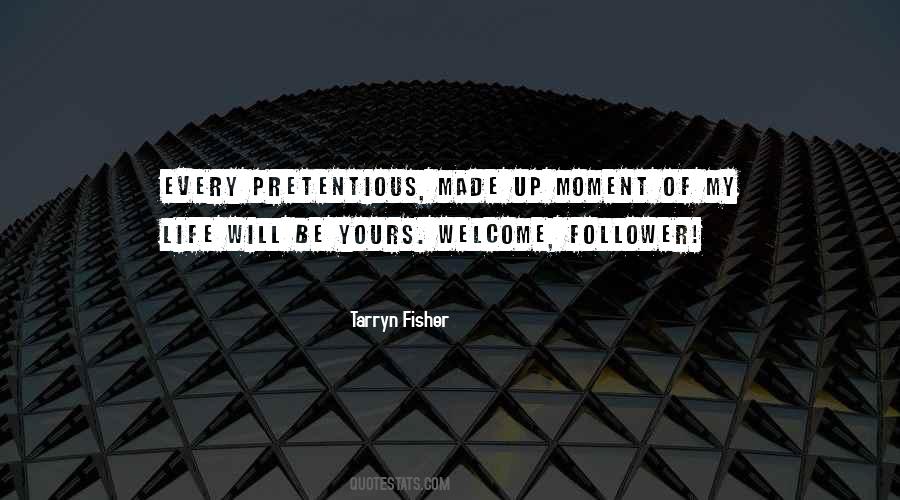 #85. When you choose a Guru you become a follower. When your Guru chooses you, you become a disciple - Author: Guruji Naushir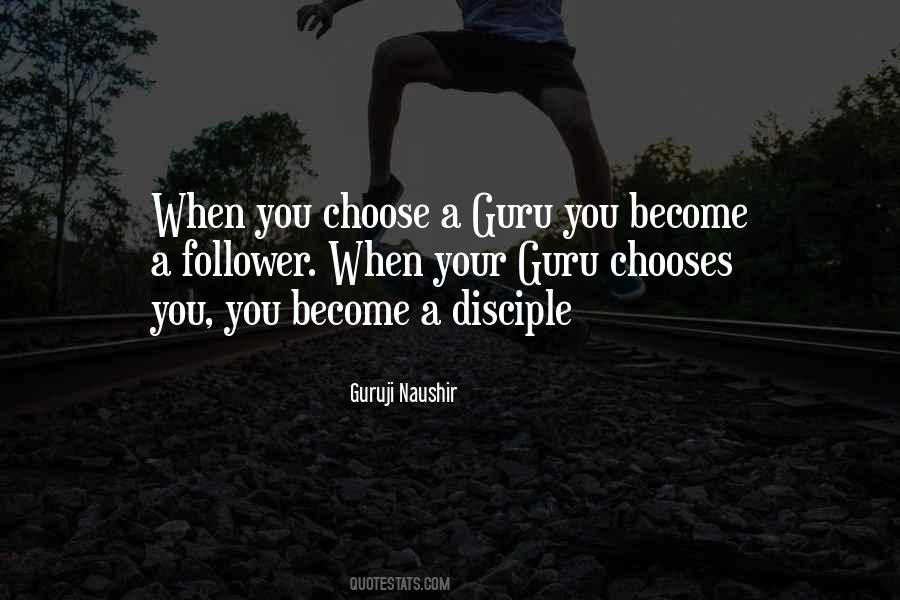 #86. If you are an artist who pays too much attention this system and its politics, you are in deep trouble because you have become a follower. - Author: John Seed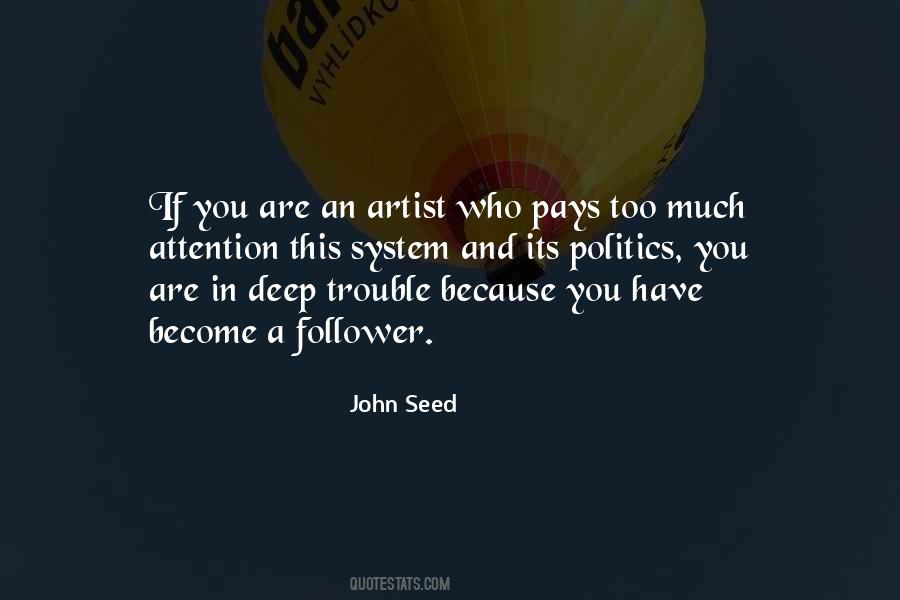 #87. The follower of fashion can be as honest as the leader of the rebellion against it. - Author: Vincent Price
#88. You can be a follower of Muhammad or Jesus or Buddha or whomever. Always, they said that the most essential factor is to love your neighbor. And to love you. - Author: Leo Buscaglia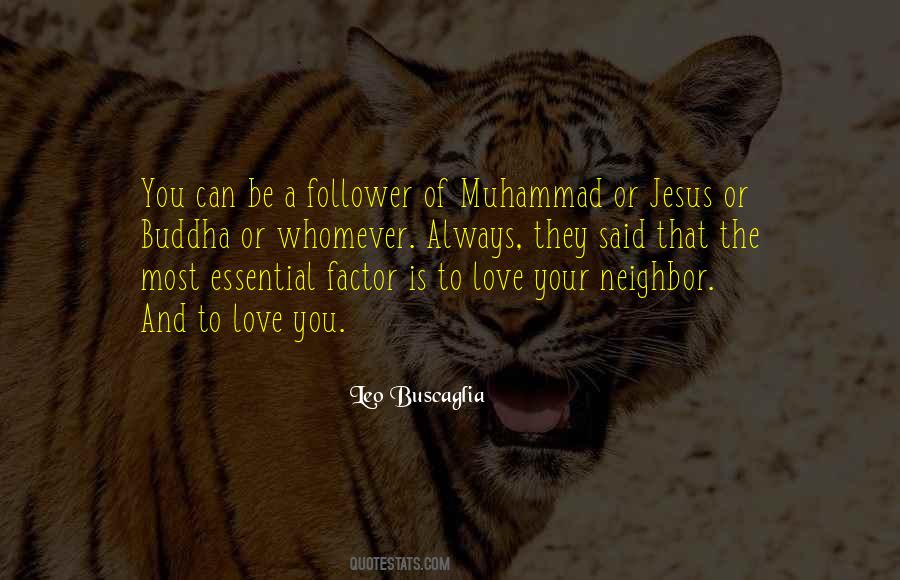 #89. It should be considered illegal for a follower of the Lord Jesus Christ not to be burning with passion for our Lord and burning with passion for the lost. - Author: Mark Cahill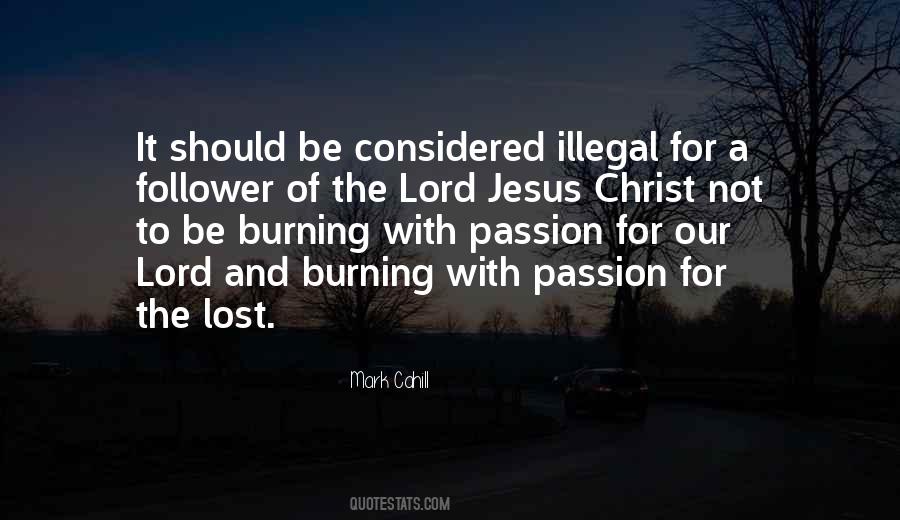 #90. What is it to be a follower of Jesus? What does it mean to imitate Him? What does it mean to walk in His steps? - Author: Charles M. Sheldon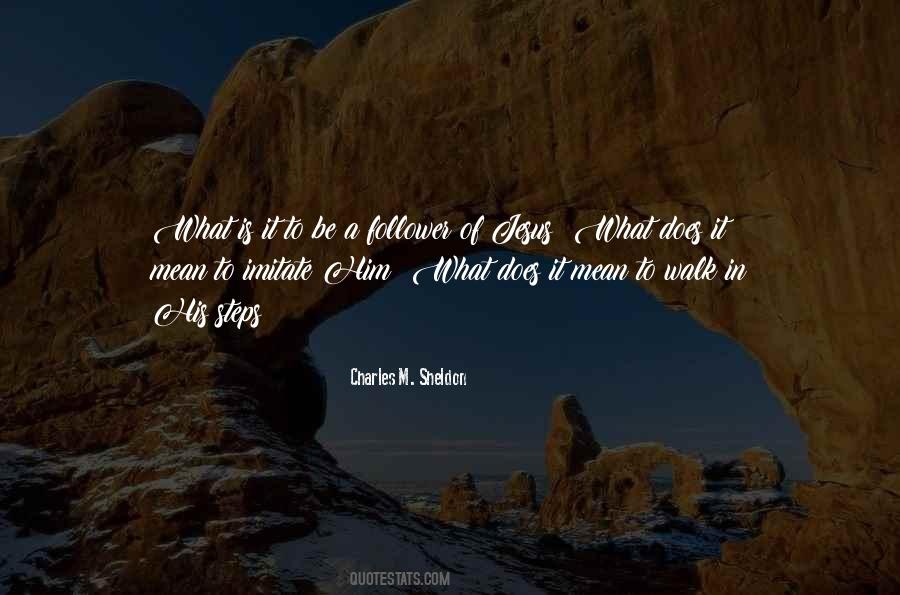 #91. I am a steadfast follower of the doctrine of non-violence which was first preached by Lord Buddha, whose divine wisdom is absolute ... - Author: Dalai Lama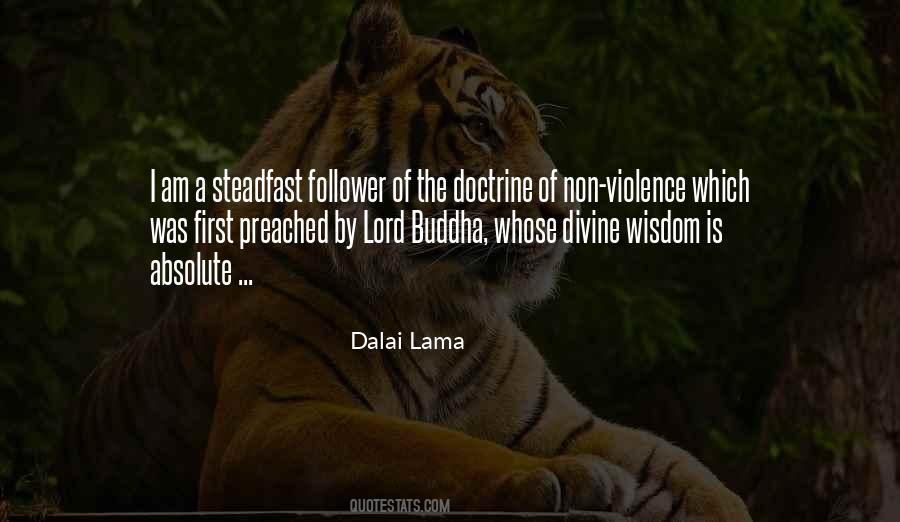 #92. The true follower of Christ will not ask, "If I embrace this truth, what will it cost me?" Rather he will say, "This is truth. God help me to walk in it, let come what may!" - Author: Aiden Wilson Tozer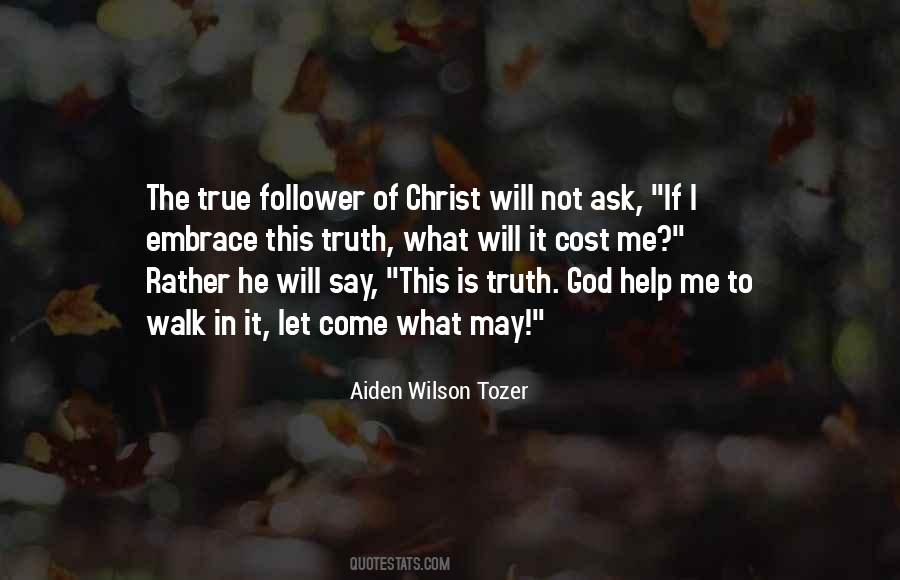 #93. Life as a Christ follower will always be a learning process of depending less on our own strength and more on God's power. - Author: Lysa TerKeurst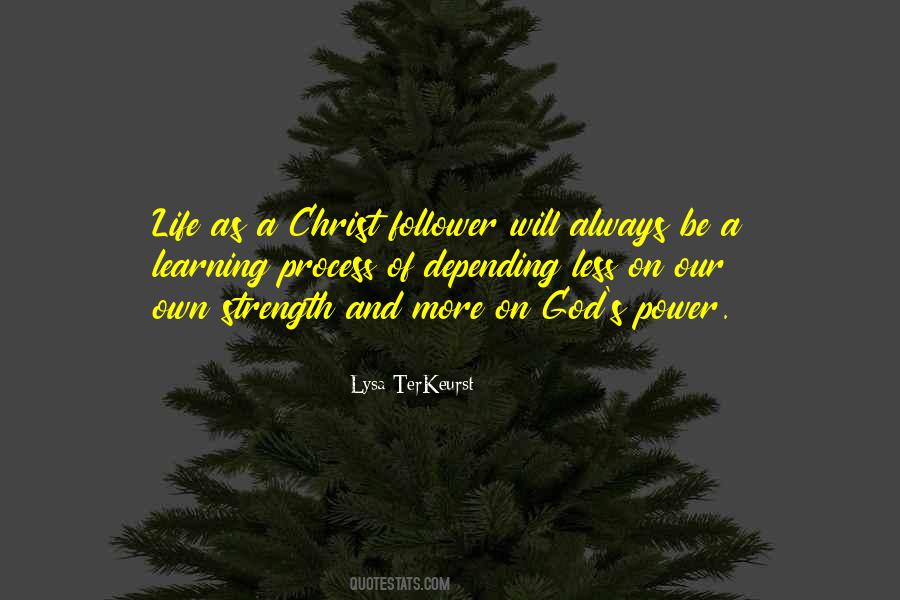 #94. A follower of the Way (Tao) loses something each day. Loss after loss until arriving at Non Action (Wu Wei). - Author: Laozi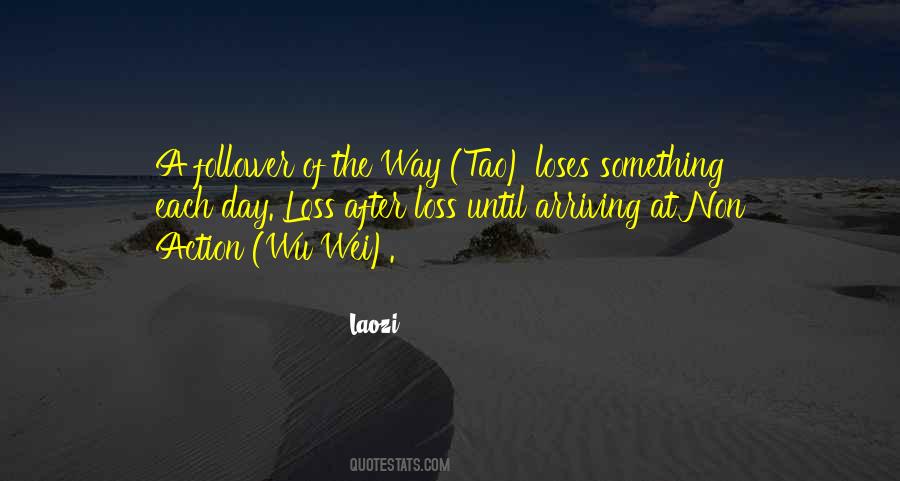 #95. I wondered what the value was, in the Darwinian sense, of making fast friends like that. There must be some scientific significance to being a follower, to allowing yourself to be persuaded by personality - Author: Hilary Thayer Hamann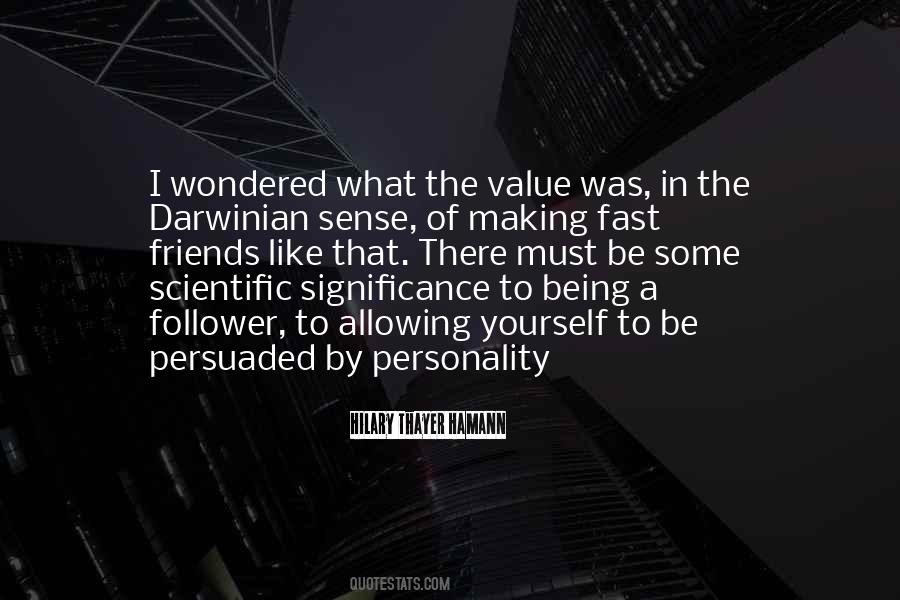 #96. My mother used to tell me to be a leader, never a follower. As a respect to my the words of my mother, I cannot place my faith in God or anyone else, because if I do, I am merely a follower. In order to respect my mother's wishes, I had to dethrone God himself and claim the title as leader. - Author: Lionel Suggs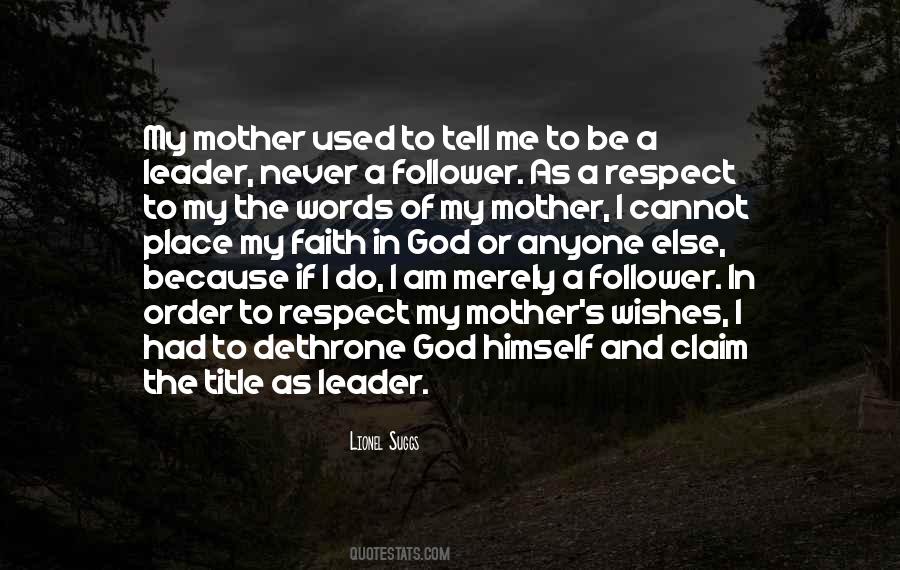 #97. I got to thinking about the Book of Revelation that was written by a Jewish prophet who was also a follower of Jesus who hated the Roman Empire. I realized that the Book of Revelation could be a way to reflect on the issue of religion's relationship to politics. - Author: Elaine Pagels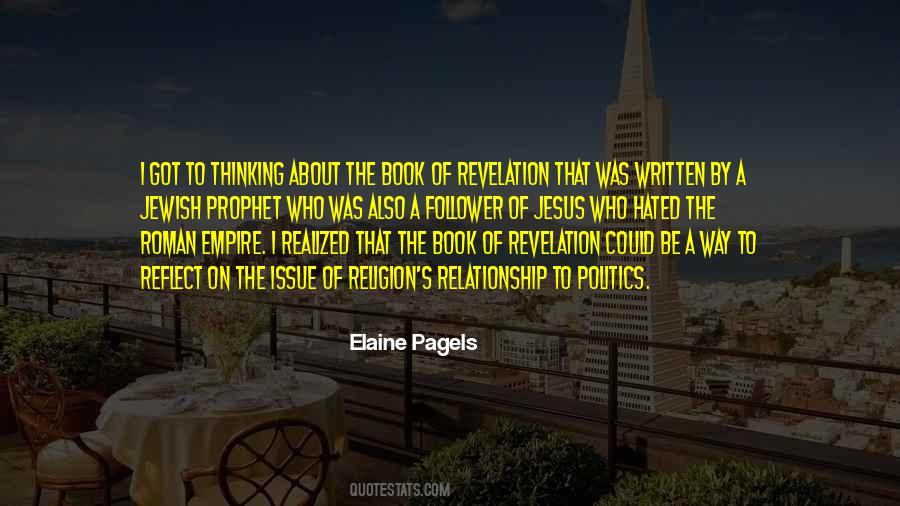 #98. I think we have to rethink the concept of "leader." 'Cause "leader" implies "follower." And, so many- not so many, but I think we need to appropriate, embrace the idea that we are the leaders we've been looking for. - Author: Grace Lee Boggs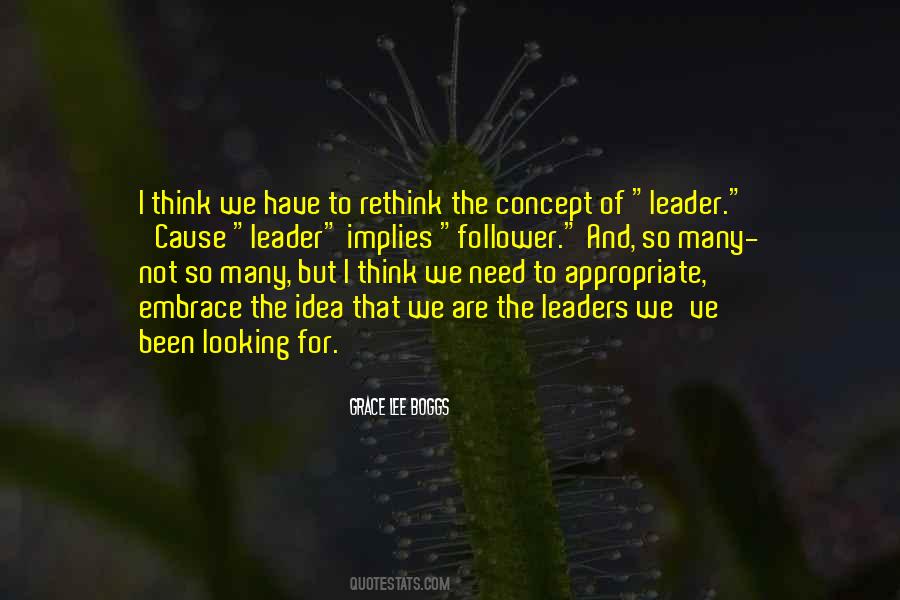 #99. You're not all that God has called you to be, as a follower of Jesus, if you're missions-minded but not engaged in God's mission here and now. - Author: John Piper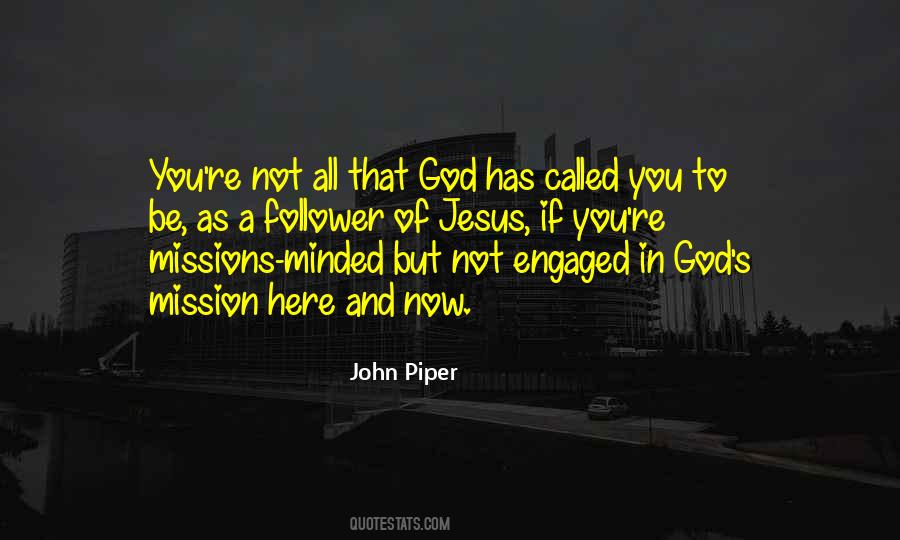 #100. A leader is one who travels the path carved out by him, and he 'leads' himself onward on that path. If his path is good and his goals are desirable, many more may follow him in their desire to achieve the same goal. Hence, followership is the effect of leadership and not its cause. - Author: Awdhesh Singh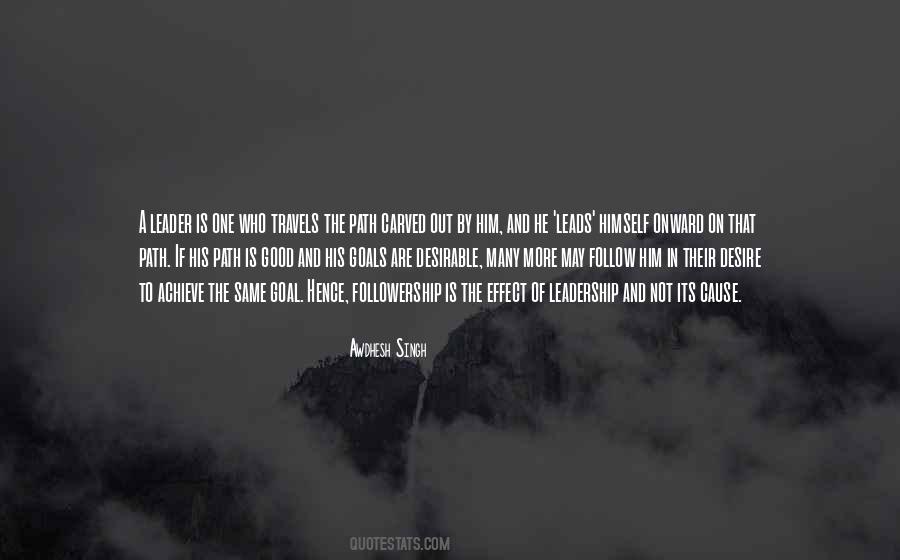 Famous Authors
Popular Topics