First To Do Something Famous Quotes & Sayings
List of top 100 famous quotes and sayings about first to do something to read and share with friends on your Facebook, Twitter, blogs.
Top 100 First To Do Something Quotes
#1. I had all the usual ambition growing up. I wanted to be a writer, a musician, a hockey player. I wanted to do something that wasn't nine to five. Acting was the first thing I tried that clicked. - Author: Michael J. Fox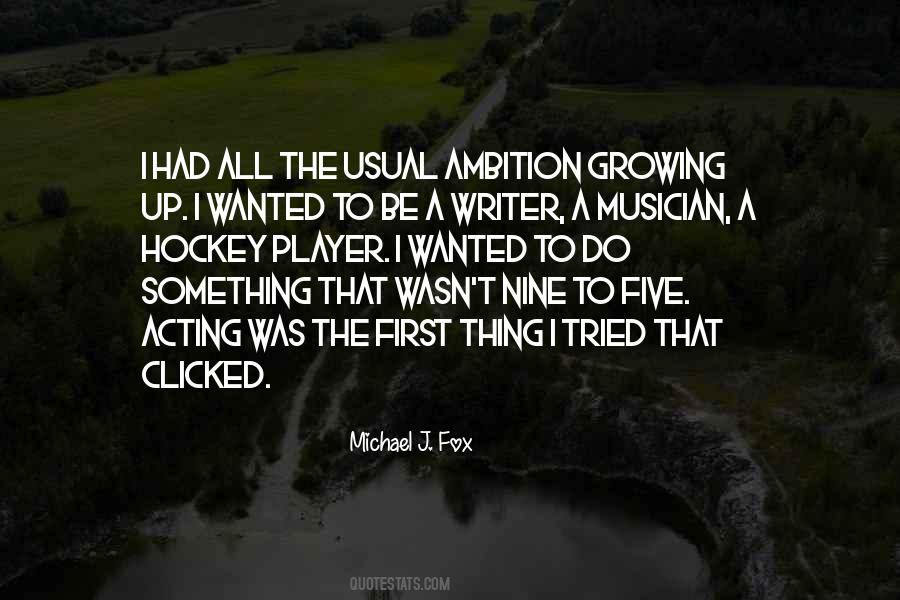 #2. We should all do something to right the wrongs that we see and not just complain about them. - Author: Jackie Kennedy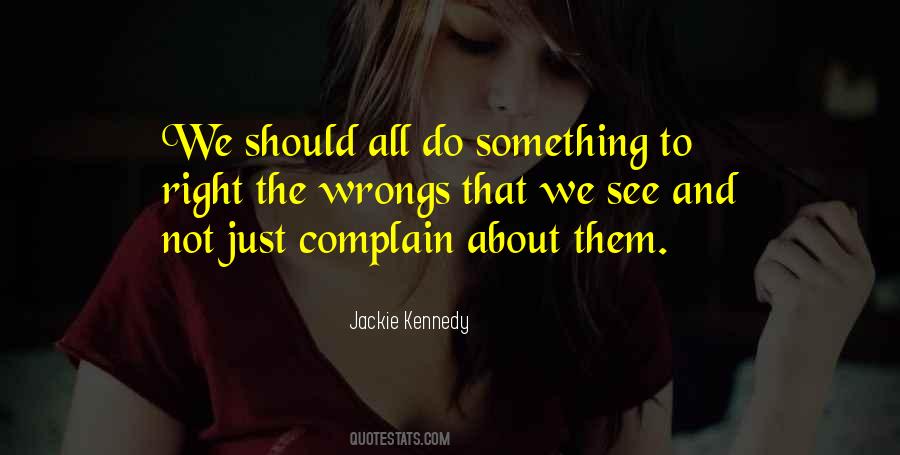 #3. Go a little easier on yourself, and in so doing, be prepared to make and do things that might seem silly at first. Just keep moving: don't ruminate and stare at the wall. Don't just play with your phone: go out and produce something. - Author: Merlin Mann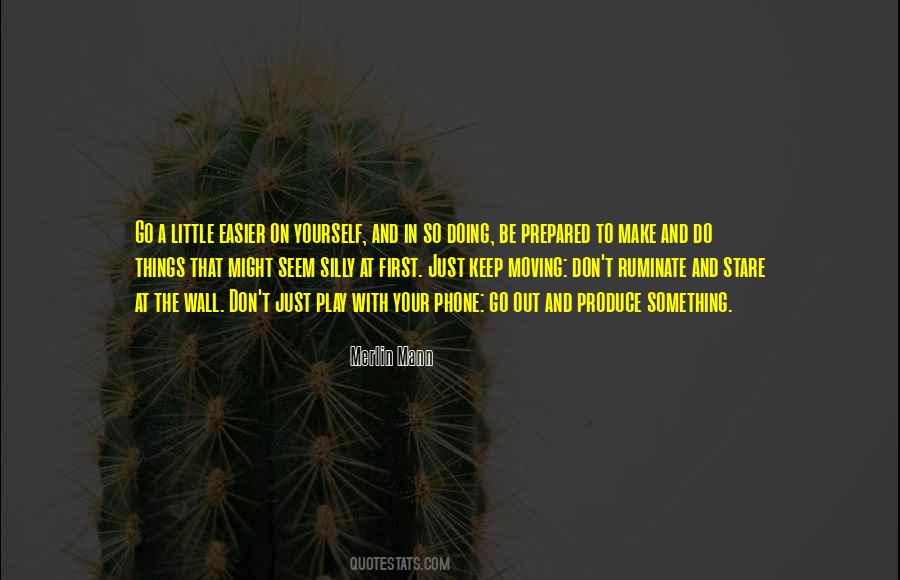 #4. It's like seeing someone for the first time, and you look at each other for a few seconds, and there's this kind of recognition like you both know something. Next moment the person's gone, and it's too late to do anything about it. - Author: Elmore Leonard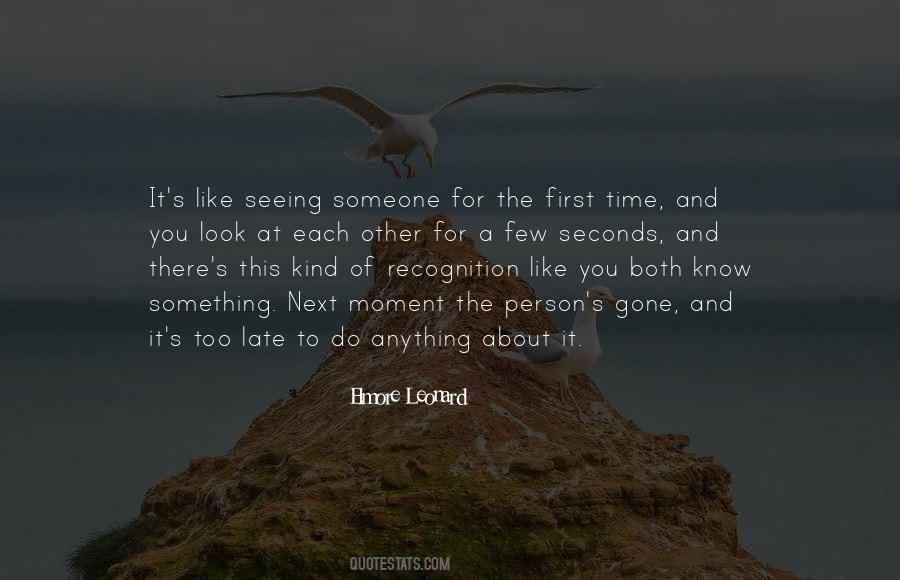 #5. I used to get stuck trying to find the first sentence of a story, then I realised that it was often because I didn't know what problem a character was facing in the story. As soon as I did, I could have the character trying to do something about it or have the problem whack him between the eyes. - Author: Morris Gleitzman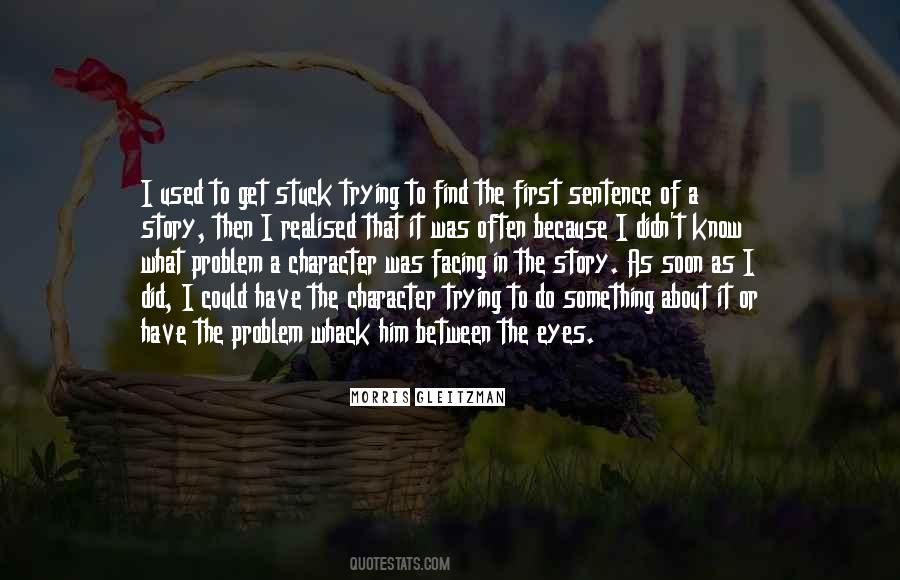 #6. As long as it's something you truly want to do, then it's never too late to take that first step. - Author: Kou Matsuzuki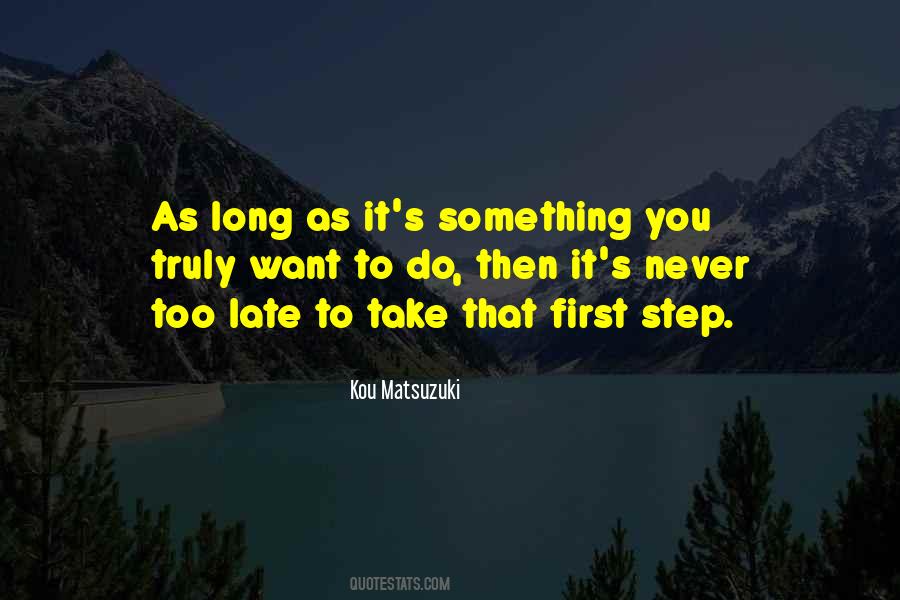 #7. Oh, 'The Thing' is one of my favorite movies of all time. That changed my life because I was like, 'I've got to do this.' Something that scared me that much? It was the first R-rated movie I ever saw, and I was like, 'Dude, I'm changed.' - Author: Terry Crews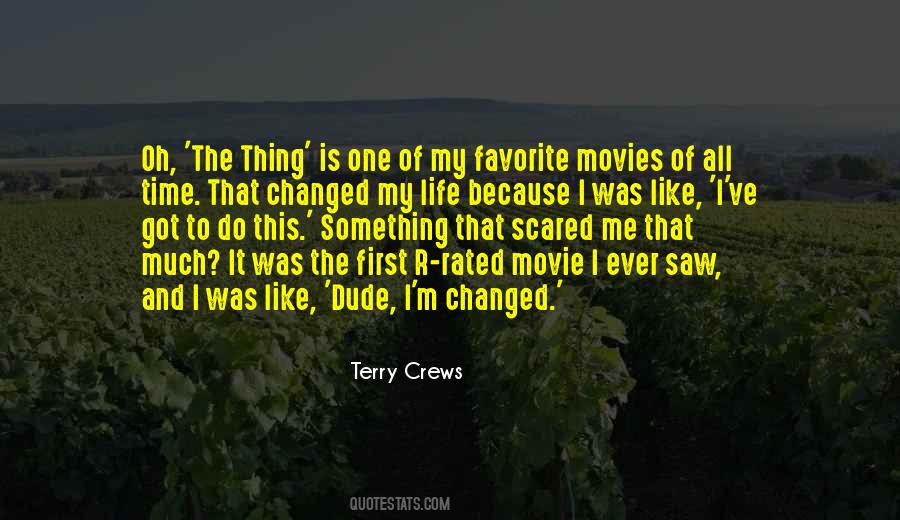 #8. She smoked because she craved something to do with her hands, that delicate interplay of light and cup and first inhale. Craved the repetition of it. It was so difficult sometimes to be still in a room, alone with oneself. To bare oneself to the lonely. - Author: Kate Zambreno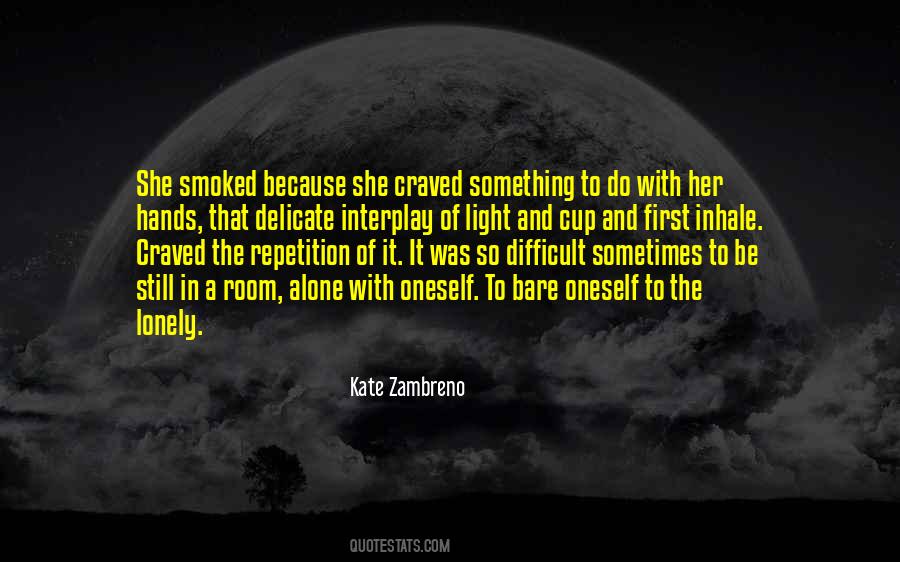 #9. I do think Bitcoin is the first [encrypted money] that has the potential to do something like change the world. - Author: Peter Thiel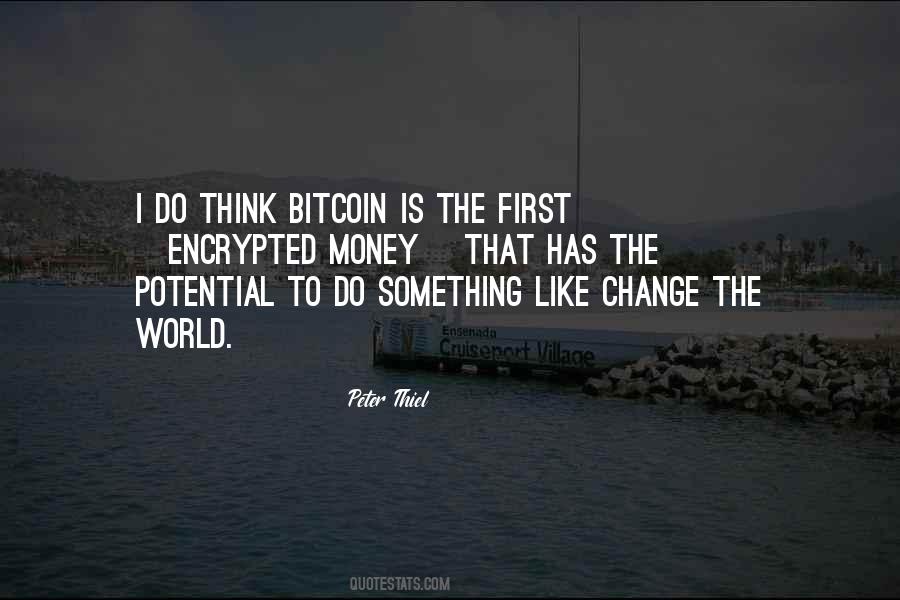 #10. Grandma said [ ... ] when you come on something that is good, first thing to do is share it with whoever you can find; that way, the good spreads out to where no telling it will go. - Author: Forrest Carter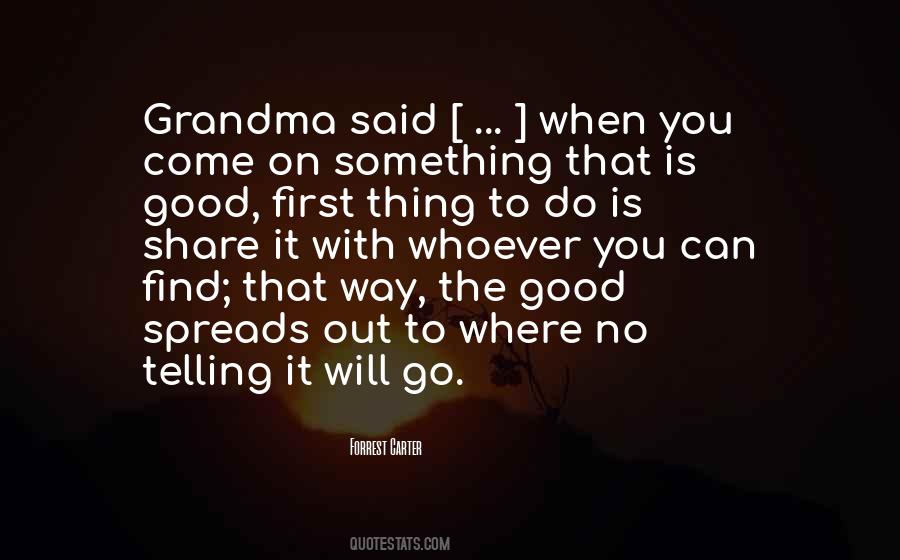 #11. I consider myself a lyricist first and foremost, but if you get something else out of what I do, that's fine too. I'm not sitting back here telling people how they have to take my stuff. We just want to play music, and hope that people like it. - Author: John Darnielle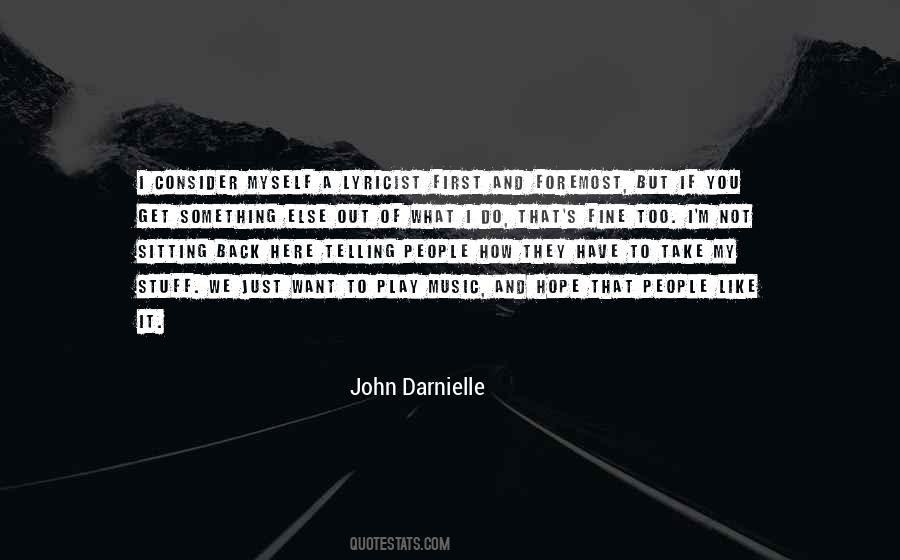 #12. For the first time ever, women are scoring higher than men on IQ tests. Scientists say it has something to do with breast implants
not that it makes the women smarter, it just makes the men dumber. - Author: Jay Leno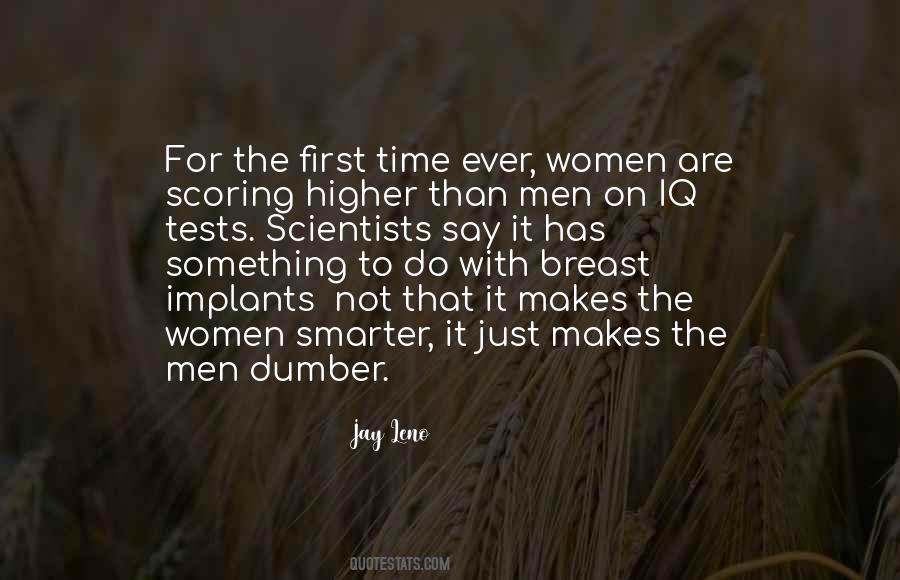 #13. I think it's the first idea I ever got about doing something on my own, because it was the first time I'd ever really felt the confidence to do it. - Author: Justin Timberlake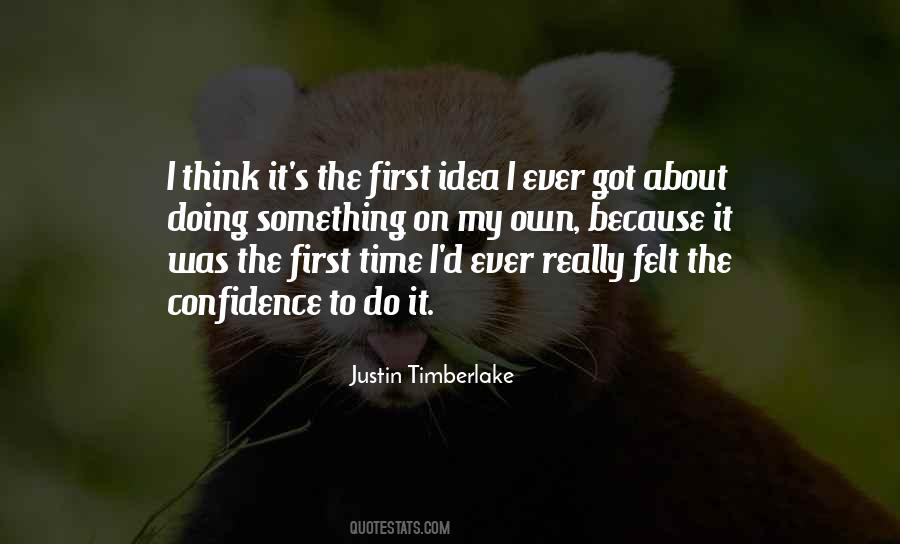 #14. I should like to be a full-time Mother and a full-time Artist and a full-time Wife-Companion and also a 'Charming Woman' on the side! And to be aware and record it all. I cannot do it all. Something must go - several things probably. The 'charming woman' first! - Author: Anne Morrow Lindbergh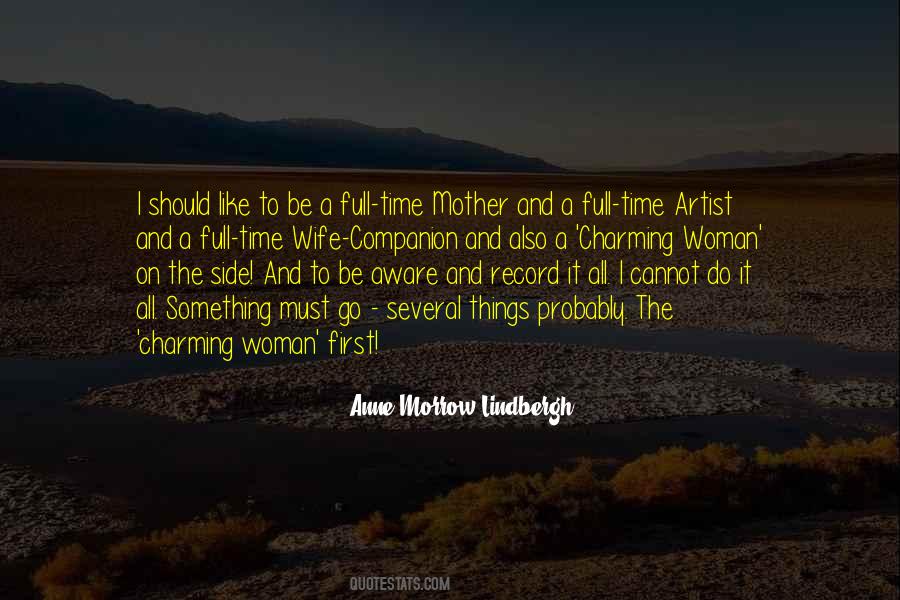 #15. First of all, directing was the most incredible experience. When you run a television show, directing is something that not many people actually get the time to do because you're so consumed with everything that's going on. You can't just disappear. - Author: J.H. Wyman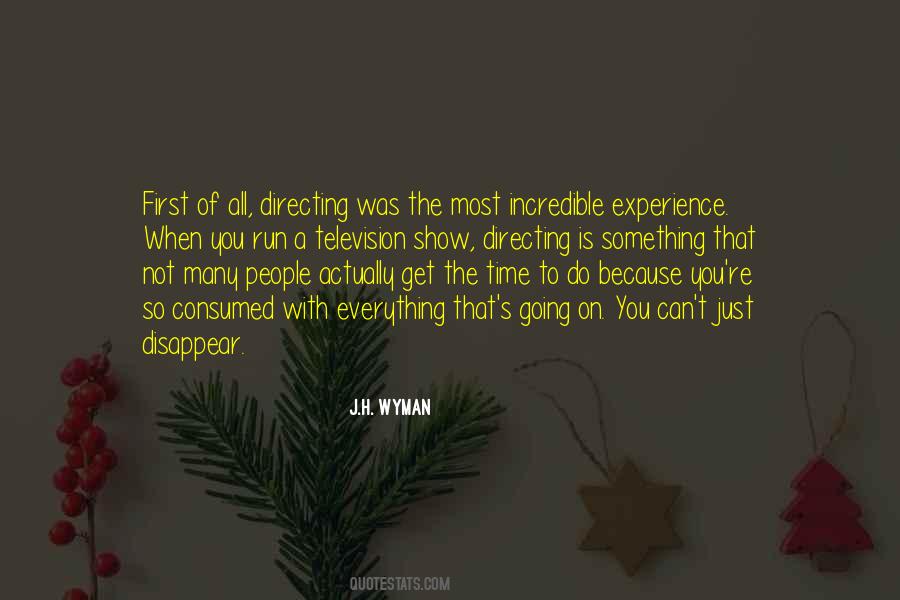 #16. I'm going to do something bigger and better,
bigger and better
and bolder, but first,
I'm going to do something
smaller and worse. - Author: JonArno Lawson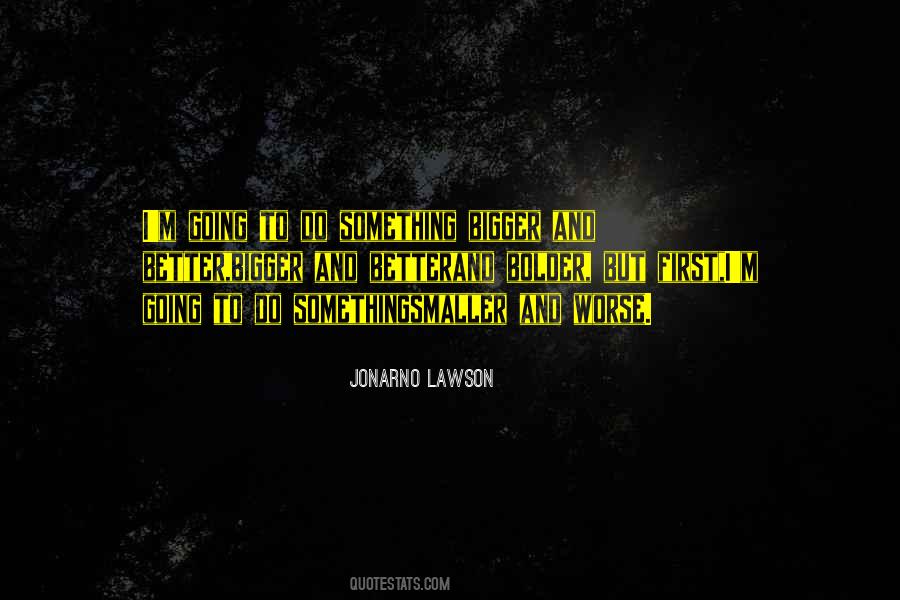 #17. I promise to tell you everything you want, but first I want something from you in return.
What do you want? Olivia asked.
I want a kiss, William said. You and I, we're making a deal of sorts ... a bargain that we will keep each other's secrets ... - Author: Evette Davis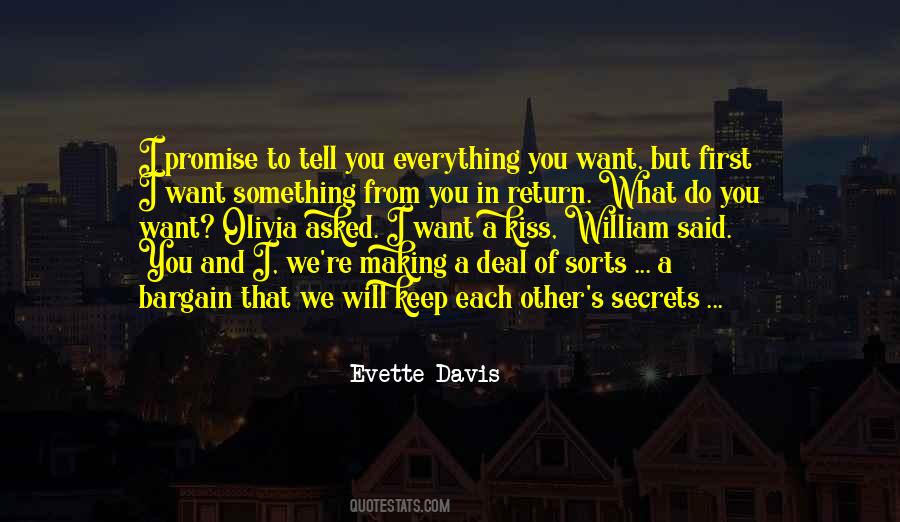 #18. When I started writing, I just wanted to do something different and creative. I first thought neo-soul was a good pathway for me, so I tried that out but realized I didn't want to be placed in that box. - Author: Leon Bridges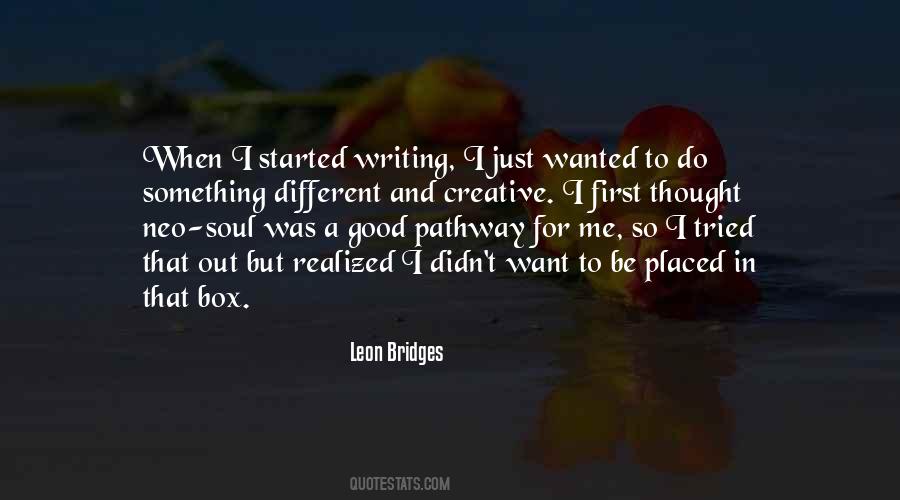 #19. The first world is going to have to account for this sort of horrible poverty in our midst. We have to, first of all, become aware of it. We have to take responsibility for it. And then we have to do something about it for our own freedom, for our own salvation, for our own humanity. - Author: Martin Sheen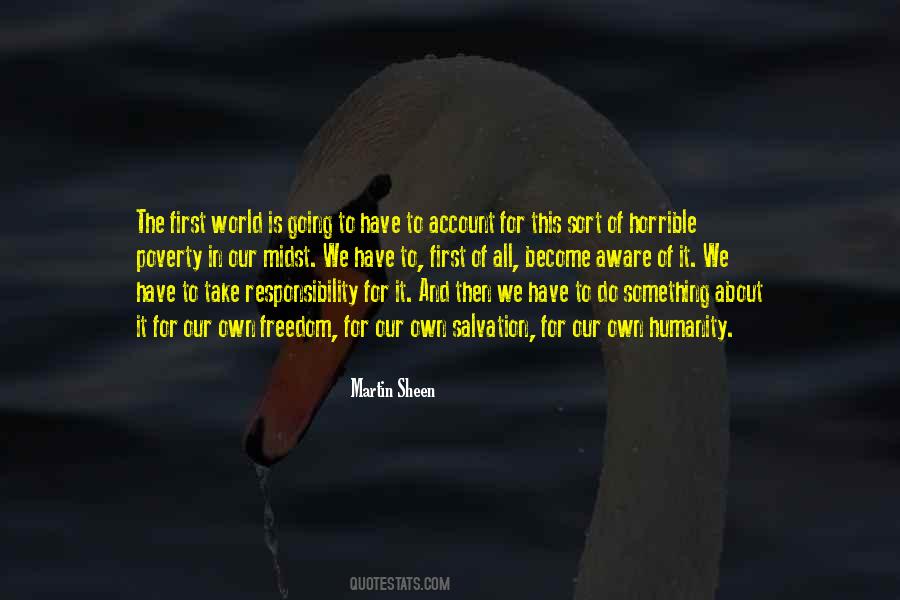 #20. I am always trying to do something new and different. The first step is curiosity, questions. You pay attention to what fascinates you. If you can't shake it, there is something there. - Author: Dana Spiotta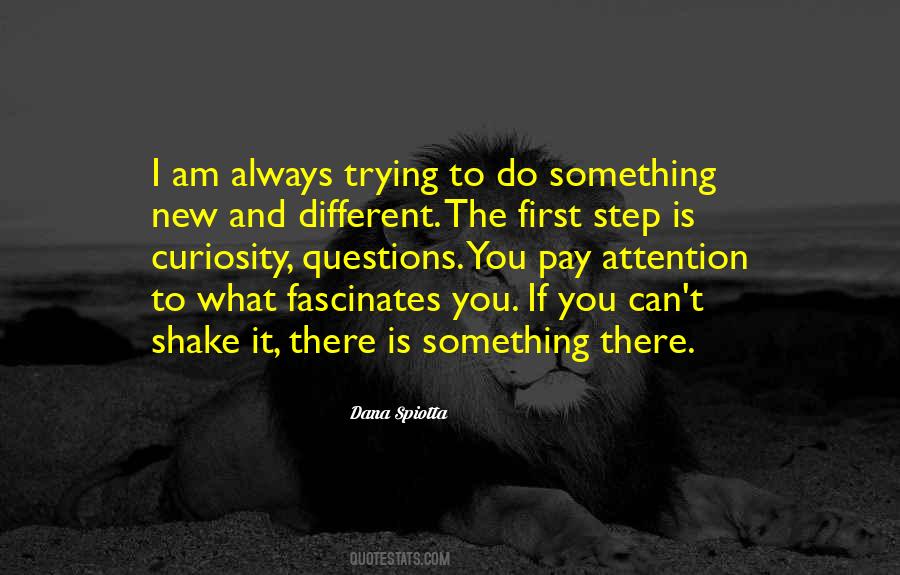 #21. I believe a novel must first of all be a good story. My hope is that the spiritual message is woven in so well, is such a part of the fabric of the story and of the characters' lives, that it is subtle but meaningful. This is difficult to do well and is something I constantly endeavor to improve. - Author: Julie Klassen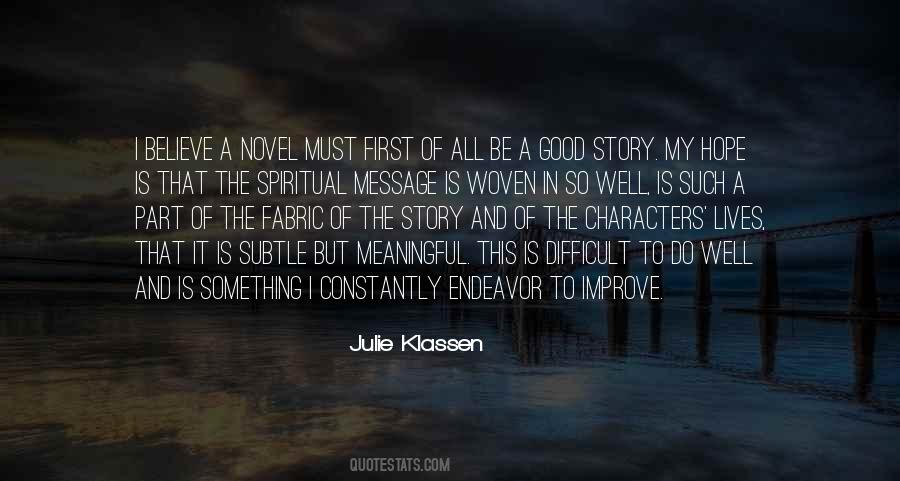 #22. I was the first South Asian female to do comedy videos on YouTube. But at the same time, all races face their barriers, and I've learned through YouTube, if it's not race, it will be sexism, if it's not sexism, it will be homophobia. It will always be something, and all voices should be heard. - Author: Lilly Singh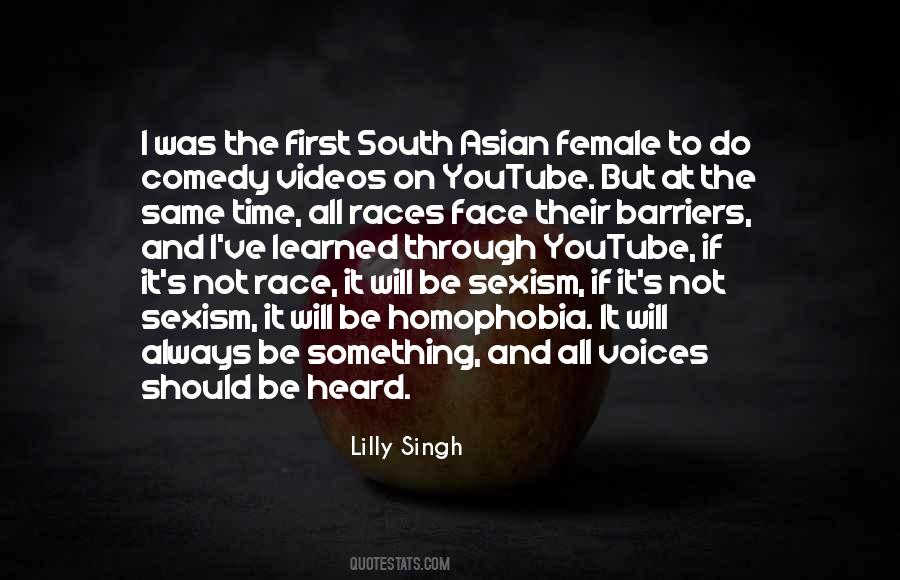 #23. We all learn how to do something eventually. First, we fall down. Then we get up. We fall down yet again, and then we get up. And then we succeed. - Author: Sydney Wilhelmy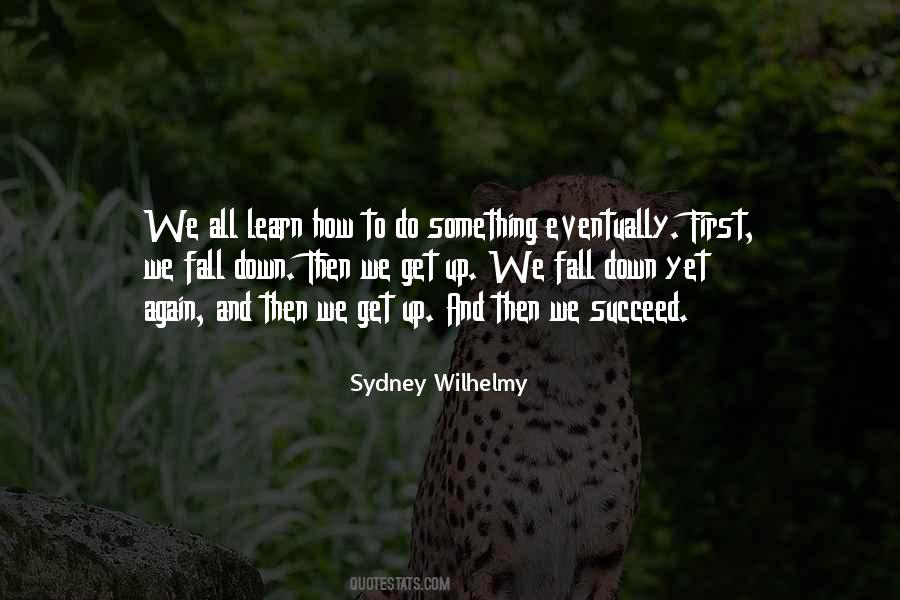 #24. I don't consider myself a feminist, but I'm down for my first opportunity to say something to the world to be so meaningful. If you asked me, 'What do you want to say?' it would be, 'Love yourself more.' - Author: Meghan Trainor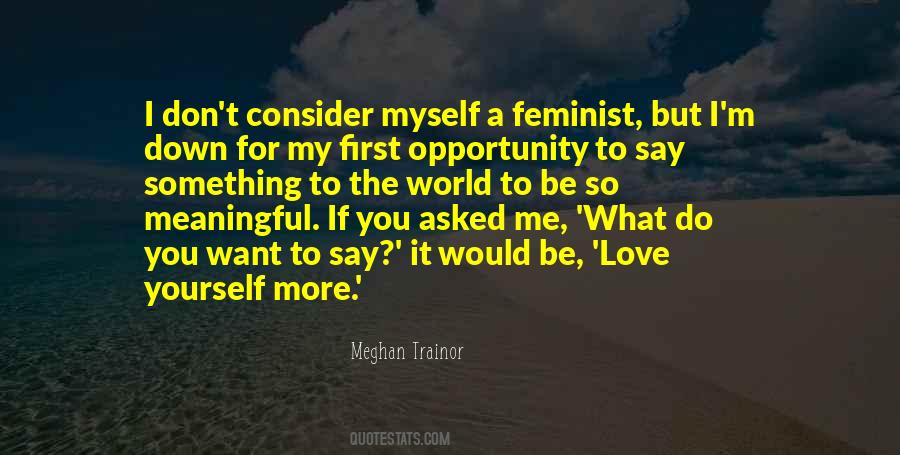 #25. It's interesting to note that when something like a virus tries to poison us, the first thing our bodies do is heat up. We burn away the infection. Maybe that's what Earth is doing to us. - Author: Simon Toyne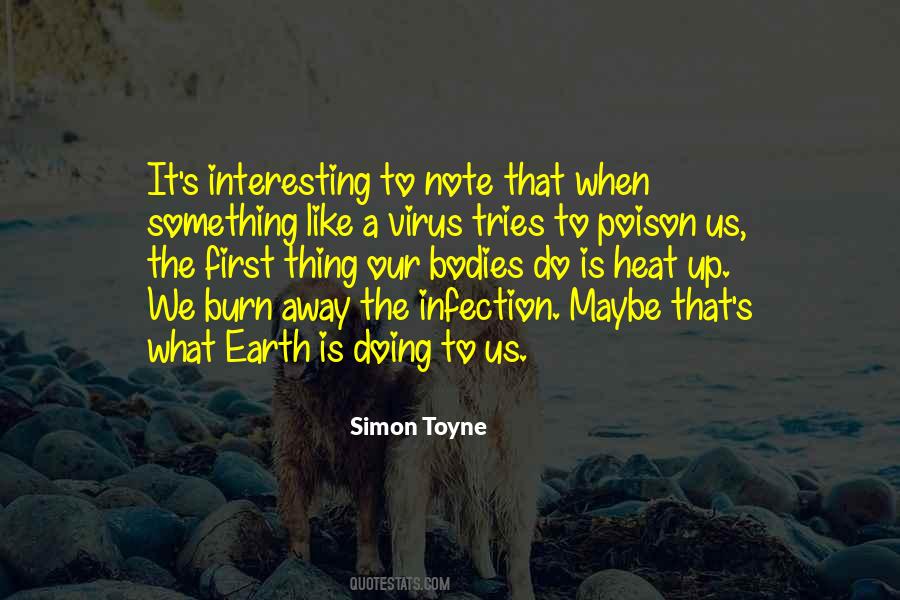 #26. I have an immensely understanding partner who does something creative herself, and we both need a lot of time alone. I structure my life around getting my work done, first and foremost. Everything else is secondary. That's the only way I've been able to do it. - Author: Tom Bissell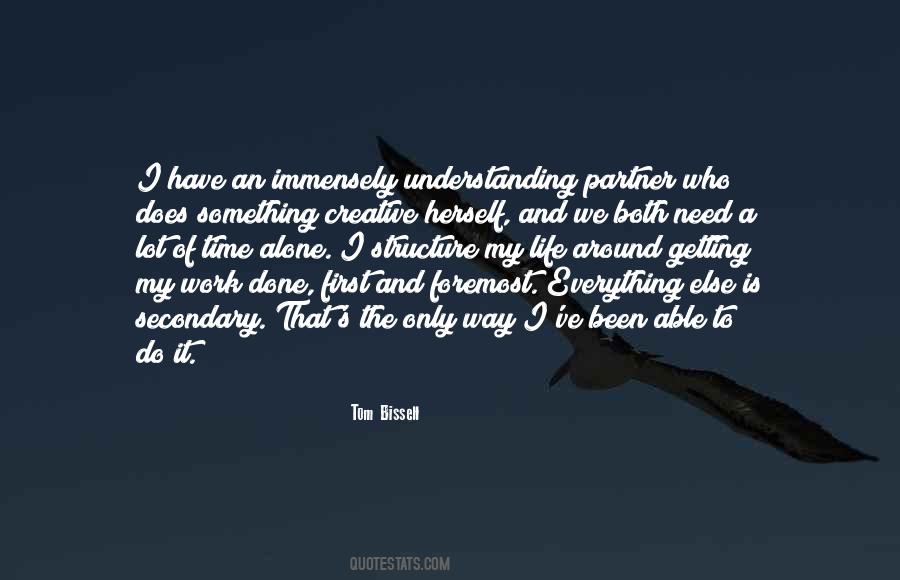 #27. Don't try to convince anyone of anything. When you don't know something, ask or go away and find out. But when you do act, be like the silent, flowing river and open yourself to a greater energy. Believe
that's what I said at our first meeting
simply believe that you can. - Author: Paulo Coelho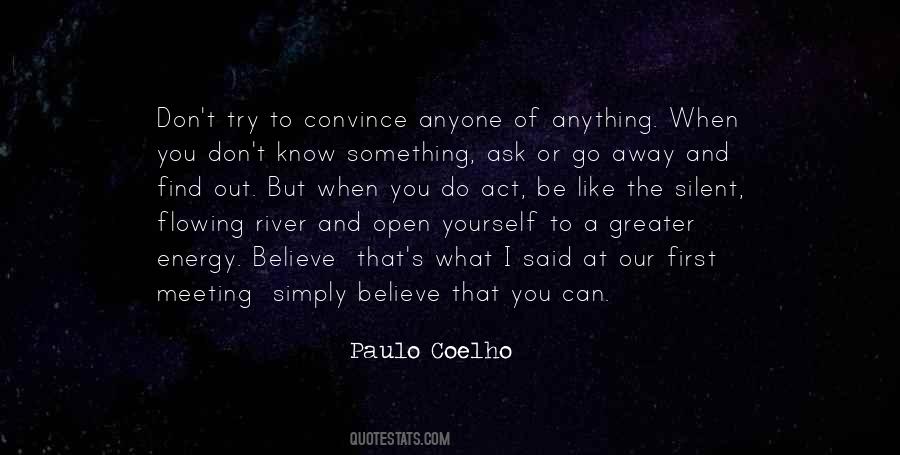 #28. Without either the first or second amendment, we would have no liberty; the first allows us to find out what's happening, the second allows us to do something about it! The second will be taken away first, followed by the first and then the rest of our freedoms. - Author: Andrew Ford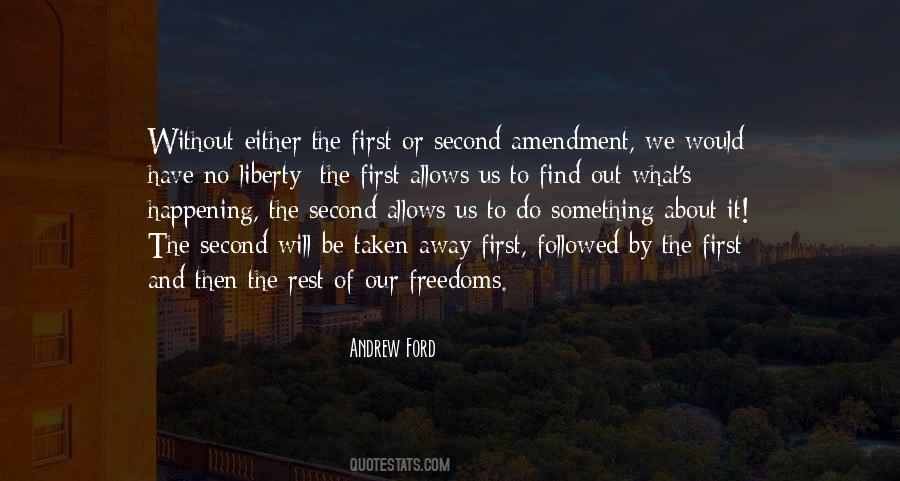 #29. When you make the decision to start something new, first figure out the jobs you want to do. Then position yourself to play where no one else is playing. - Author: Whitney Johnson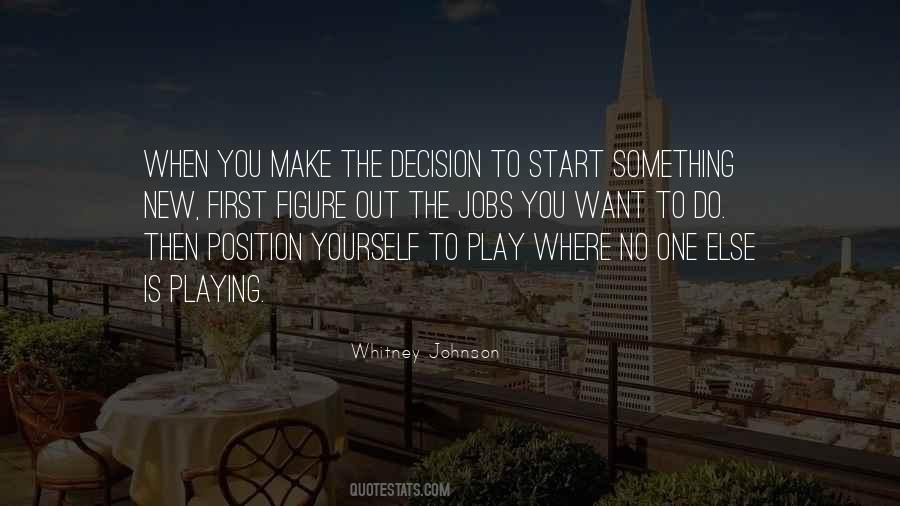 #30. Let each one of us, if we have done nothing for Christ, begin to do something now. The distribution of tracts is the first thing. - Author: Charles Spurgeon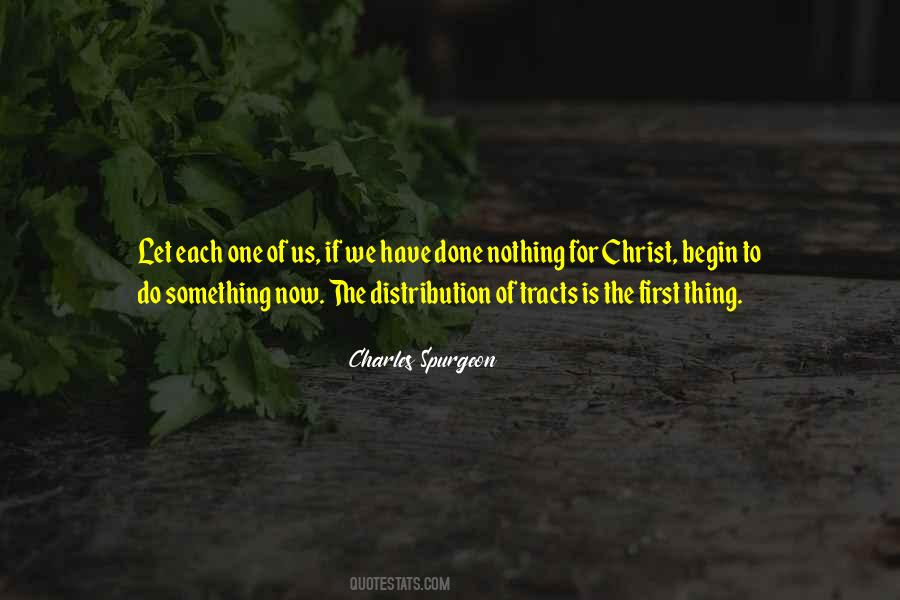 #31. Being the first to do something like this also registers a lot of attention that the line might not have gotten if all four books had just appeared from one company. - Author: Mark Millar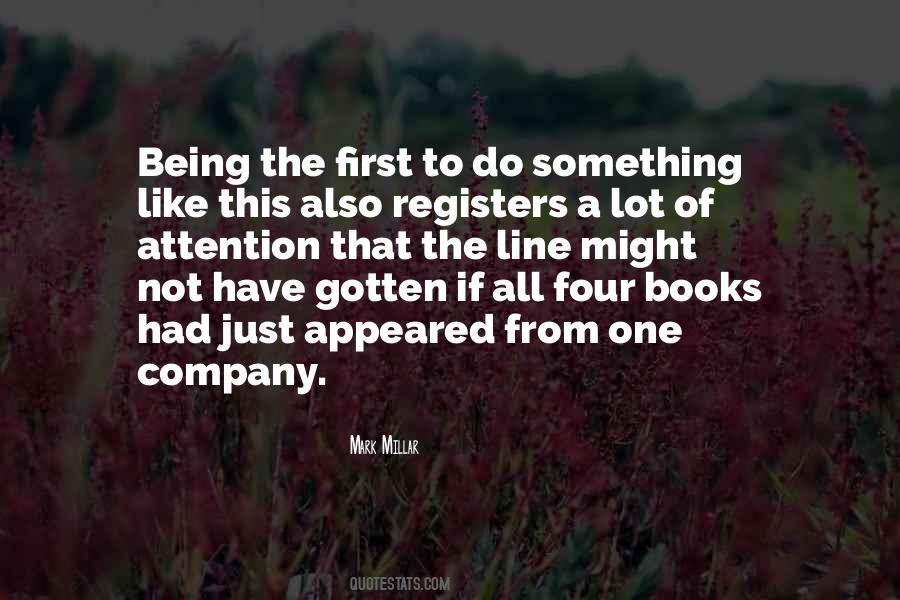 #32. One of the quiet agonies of life, is seeing people who love something, lose touch with what made them happy. It can happen to anybody.

No matter what you do for a living, where you live, or who you're with, it's important to remember why you wanted to do something for the first time. - Author: Jason Gay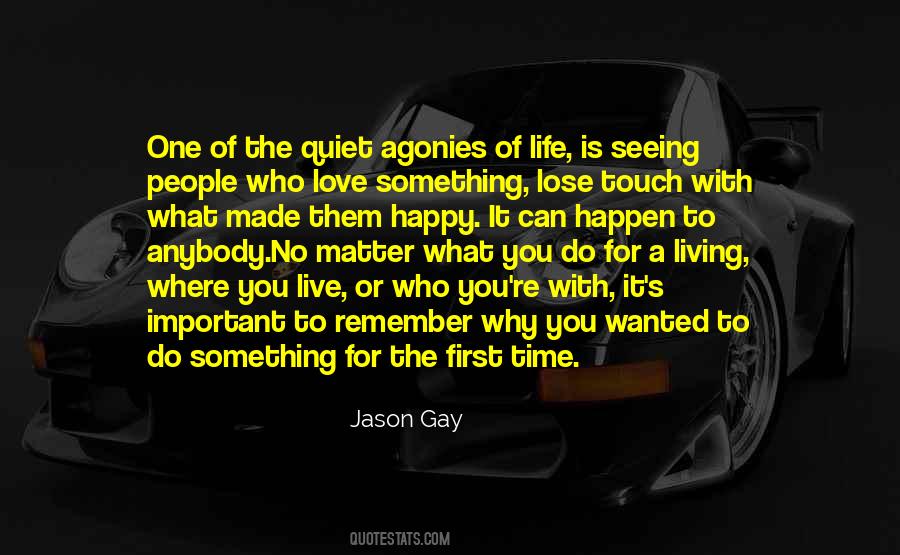 #33. I've frowned at the idea of breaking records, the first one to do something, or do it longer, higher, more difficult. - Author: Philippe Petit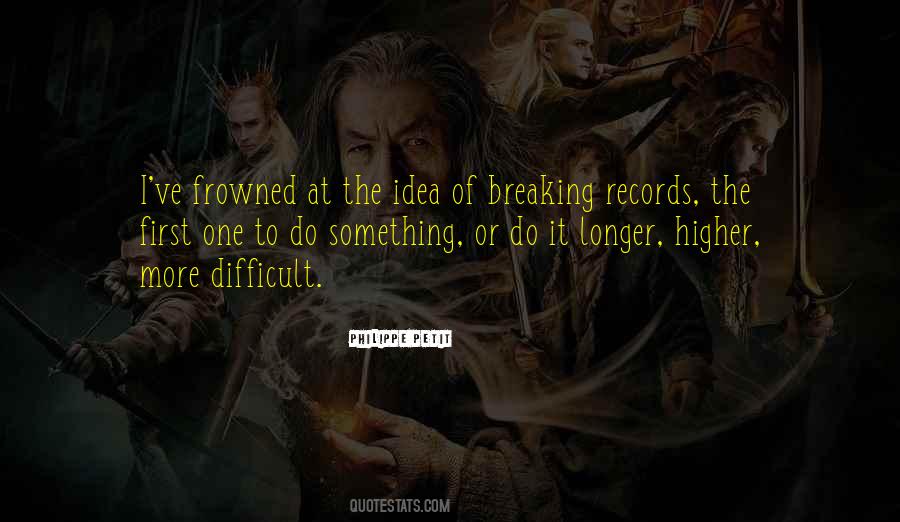 #34. You have to do something first and let God bless - Author: Sunday Adelaja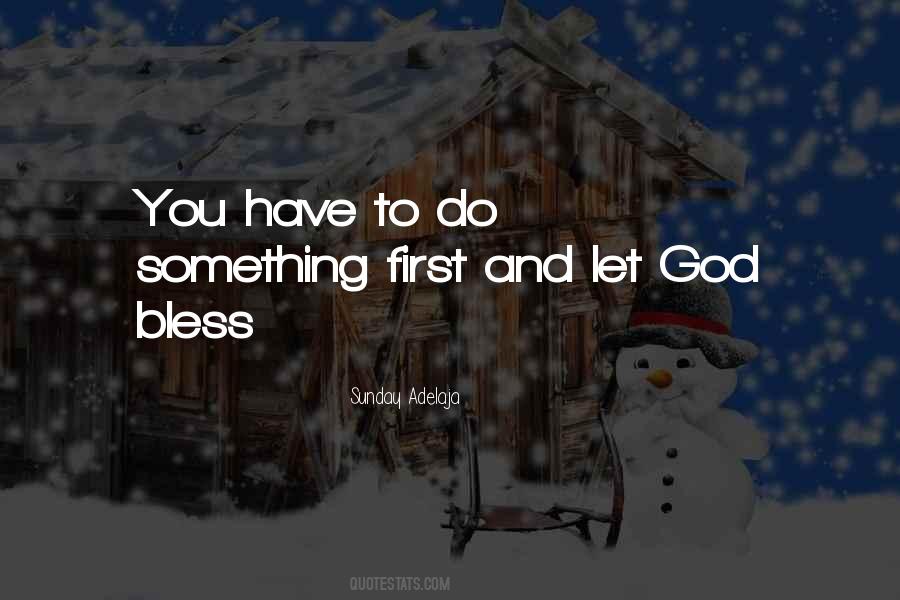 #35. Every second we have a second chance to do something we haven't done yet. That's why it's called a second and not a first. - Author: Robert J. Braathe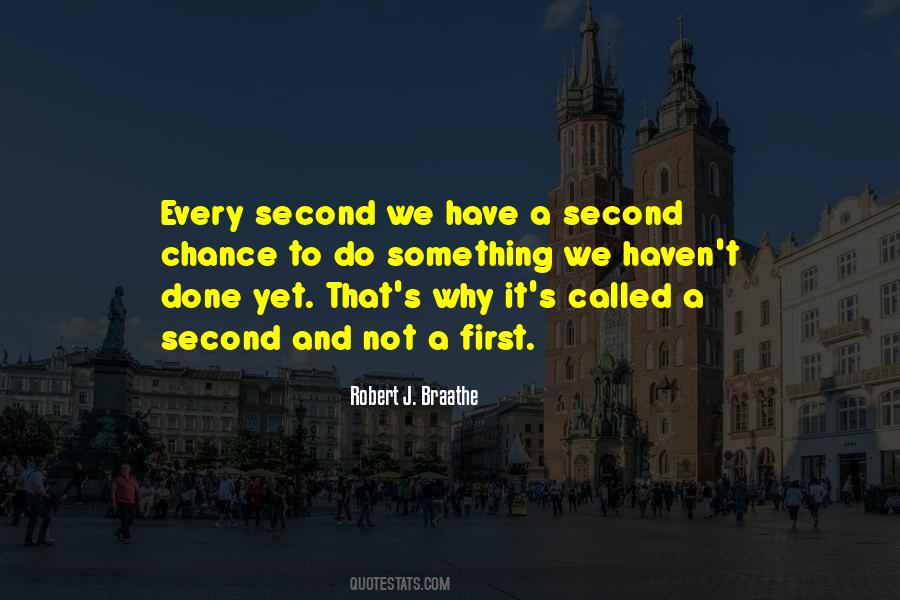 #36. I did my 'Hulk,' but it was not easy. If I do another Hulk film it will always be compared to the Ang Lee thing, and my first one ... if I come back, I'd love to do another superhero, something different that I can really put my touch on. - Author: Louis Leterrier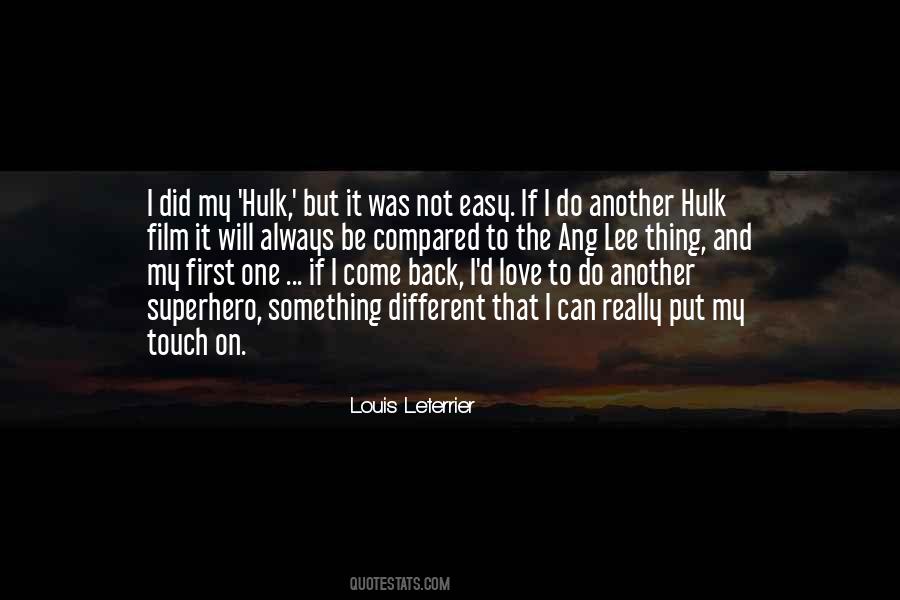 #37. I squirmed in my hiding spot. Do something, people," I urged. Say something. The silence dragged on. I imagined my first report to Maris. "We have underestimated our enemy. They are lethal. We are in serious danger of the Hancocks boring us to death. Abort, abort, abort. - Author: Anne Greenwood Brown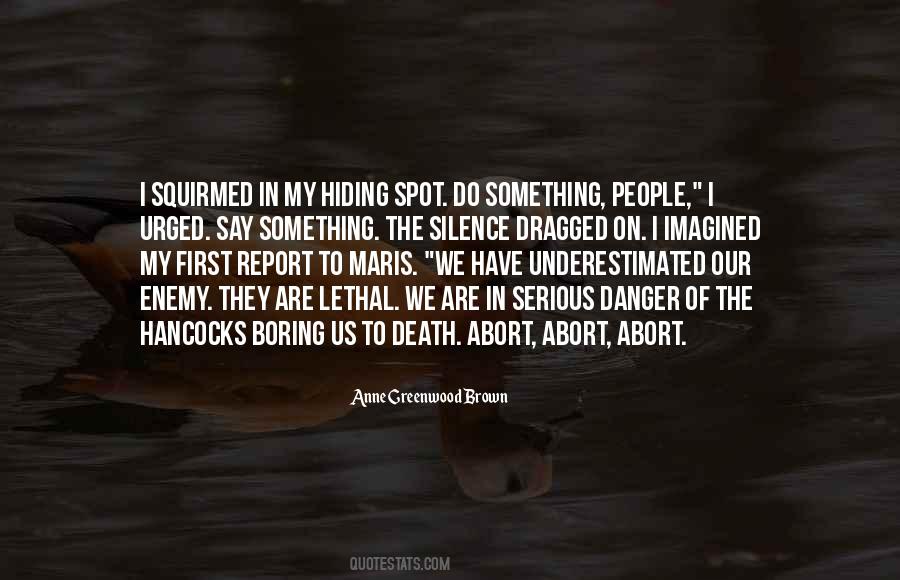 #38. Even if a movie's not a hit, it still has to have something to do with the big thing, which is the stand-up. It pays the most, first of all. It's the thing that I can do at a high, high level. Amongst the best. - Author: Scott Raab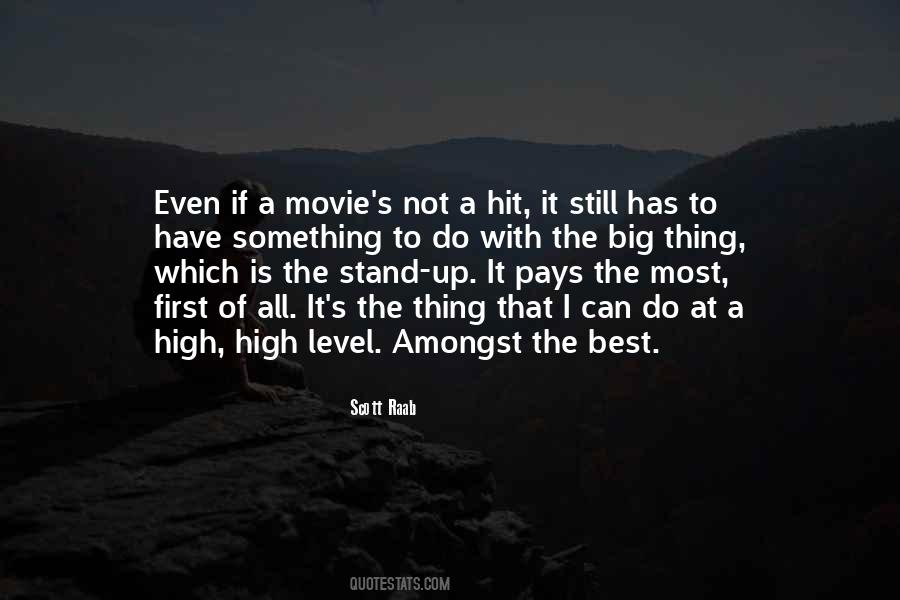 #39. One of the first keys to success, he considered, was to recognize the difference between problems you could do something about and problems you could do nothing about. - Author: Diane Setterfield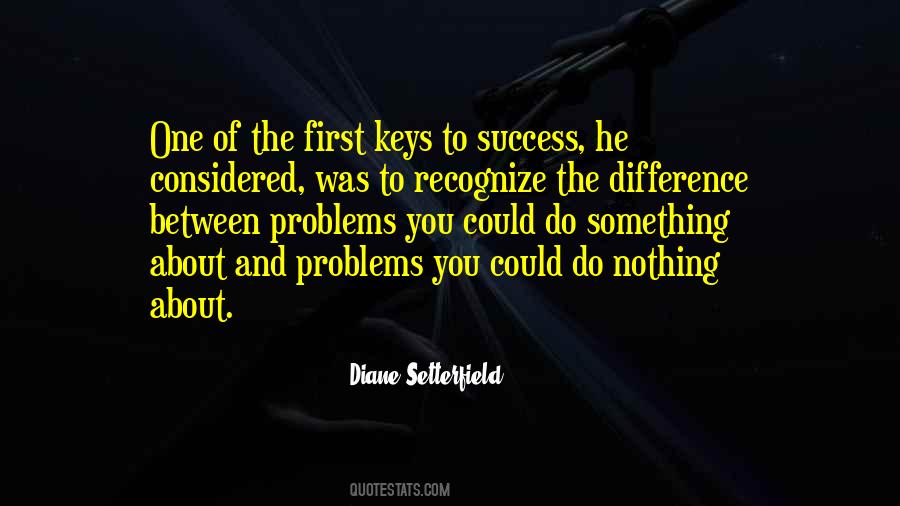 #40. I was like twelve or something, when you first kiss a guy and you see the way the guy reacts, how they get really excited, or whatever. And I'm perceptive, so I think, "Ah, jeez, is that something that I'm able to do?" - Author: Juliette Lewis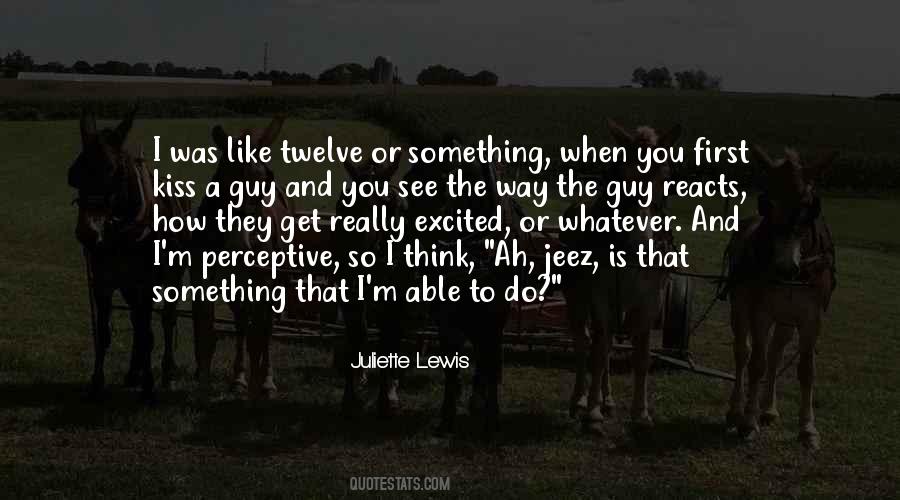 #41. Everything I do in my life is very instinctual and in the moment. If I'm attracted to something, that's it. If I have reservations, those don't change till they're resolved. My first impression is how I go. - Author: Andy Garcia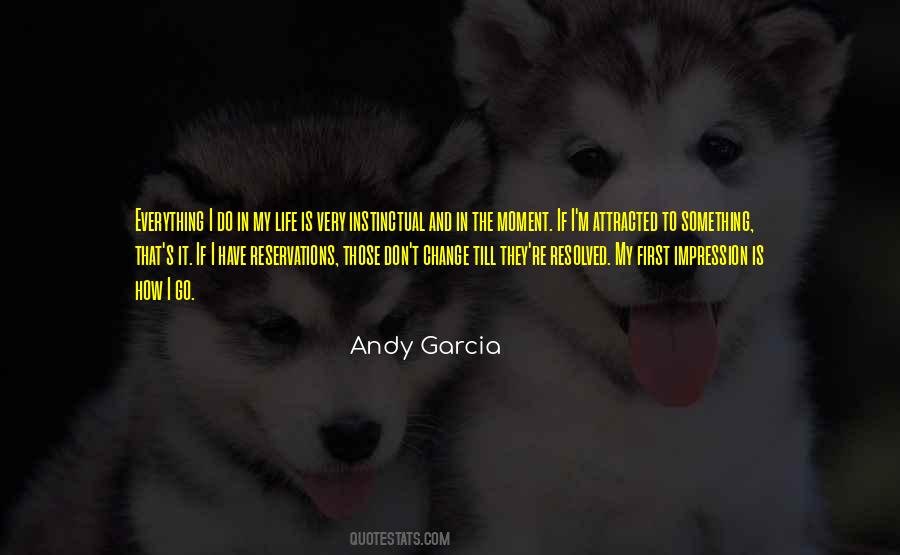 #42. You see, pops, that's the kind of talk that's ruining the music. Everyone's trying to do something new, no one trying to learn the fundamentals first. All them young cats playing their wierd chords. And what happens? No one's working. - Author: Louis Armstrong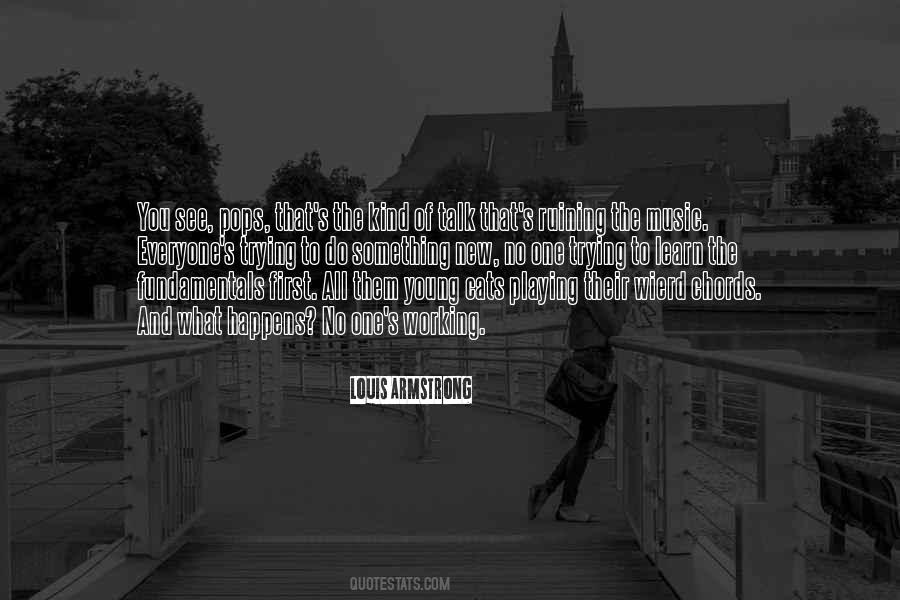 #43. When Philip Glass asked me if I would be interested in doing a new recording of Jesus' Blood he assumed that I would do something similar to the first version and wanted to know what other pieces would be on the same CD. - Author: Gavin Bryars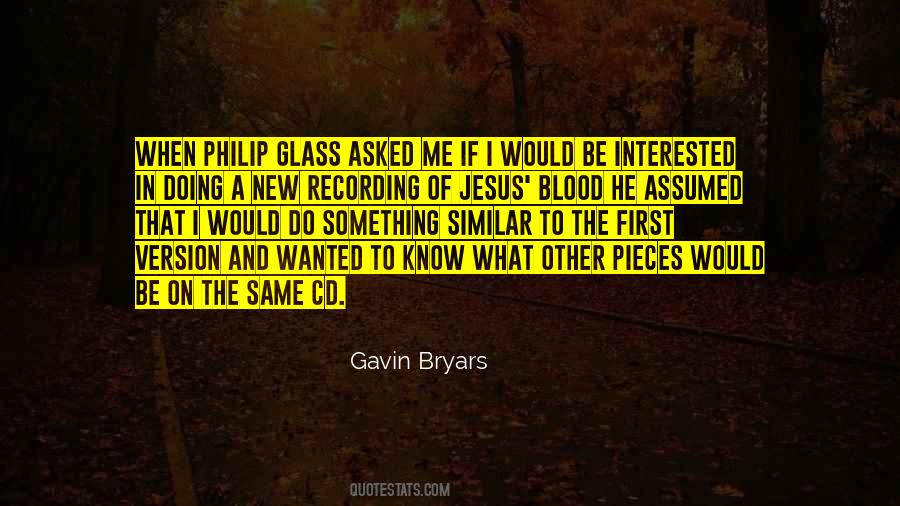 #44. First, I do not sit down at my desk to put into verse something that is already clear in my mind. If it were clear in my mind, I should have no incentive or need to write about it. We do not write in order to be understood; we write in order to understand. - Author: Cecil Day-Lewis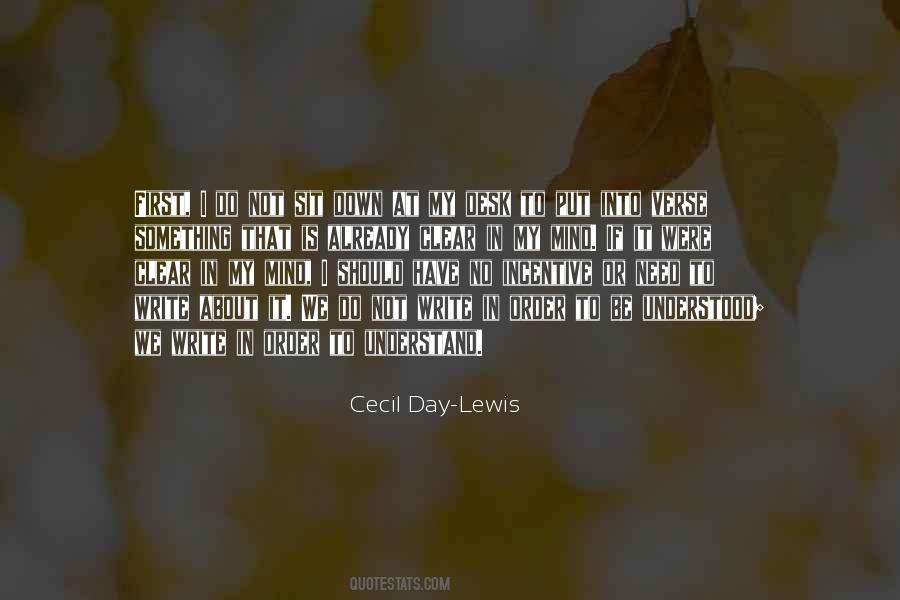 #45. First, I have to read something and find it interesting and like the story. If I don't understand it fully, but there is something in there that is interesting, then it takes a director to convince me. If he can't do that, then I don't go with it. It doesn't matter where the project comes from. - Author: Mads Mikkelsen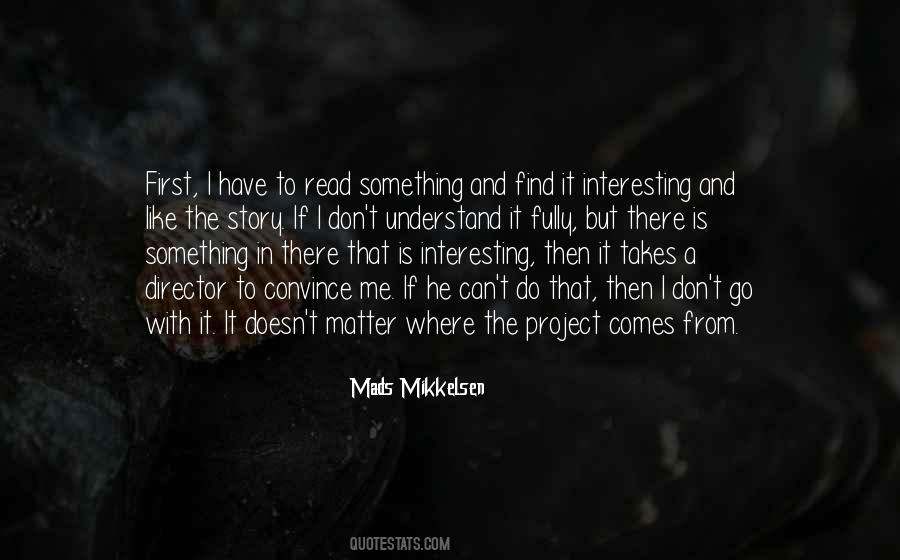 #46. I remember when I first wanted to act my parents were supportive, but it was that they were like please, if you can find something else in the world, don't do this. So it wasn't even they're like 'Oh we've been waiting for you to arrive, welcome to the family business' kind of thing. - Author: Troian Bellisario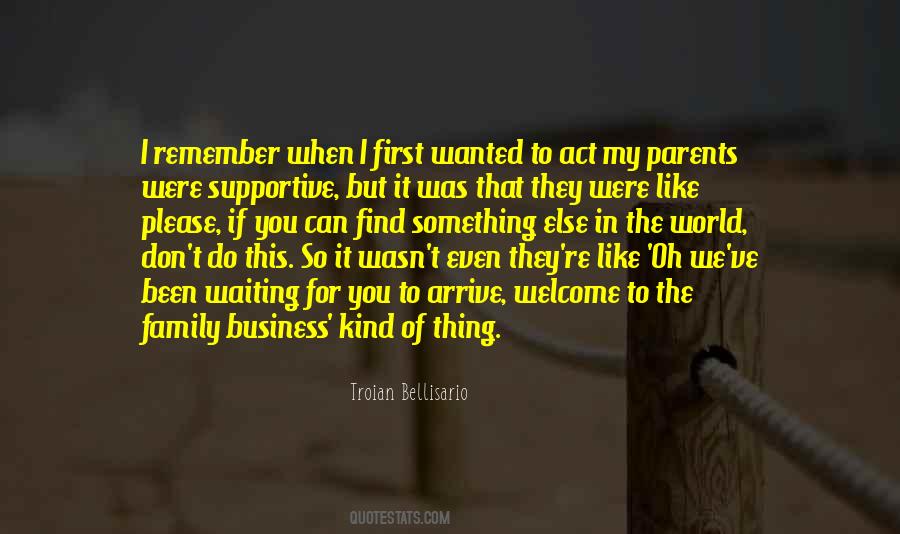 #47. Before we get into that, there's something I want to do first."
There's amusement in her voice as she asks, "What do you want to do, Drew?"
I pick her up, sweep everything off my desk, and lay her down.
"You. - Author: Emma Chase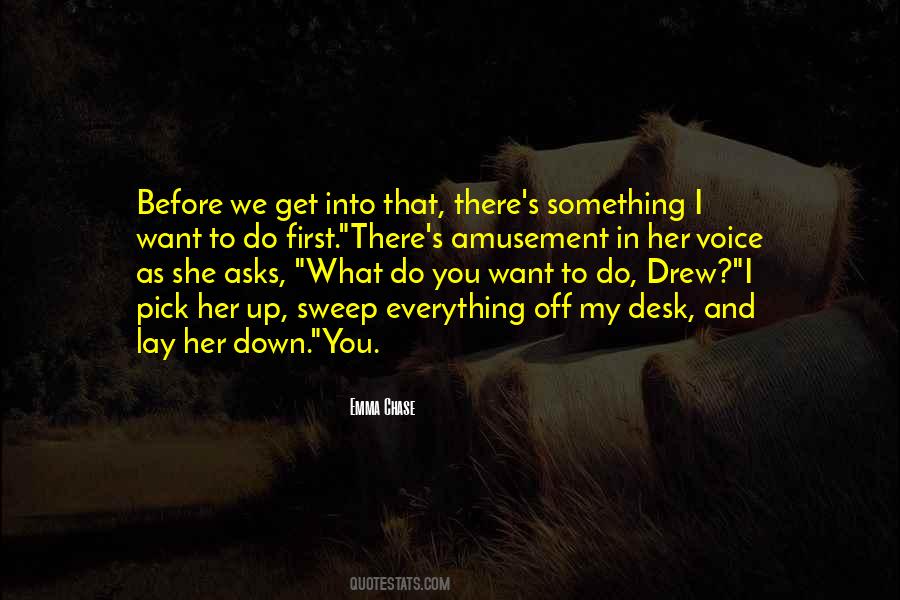 #48. This is the first generation in all of recorded history that can do something about the scourge of poverty. We have the means to do it. We can banish hunger from the face of the earth. - Author: Hubert H. Humphrey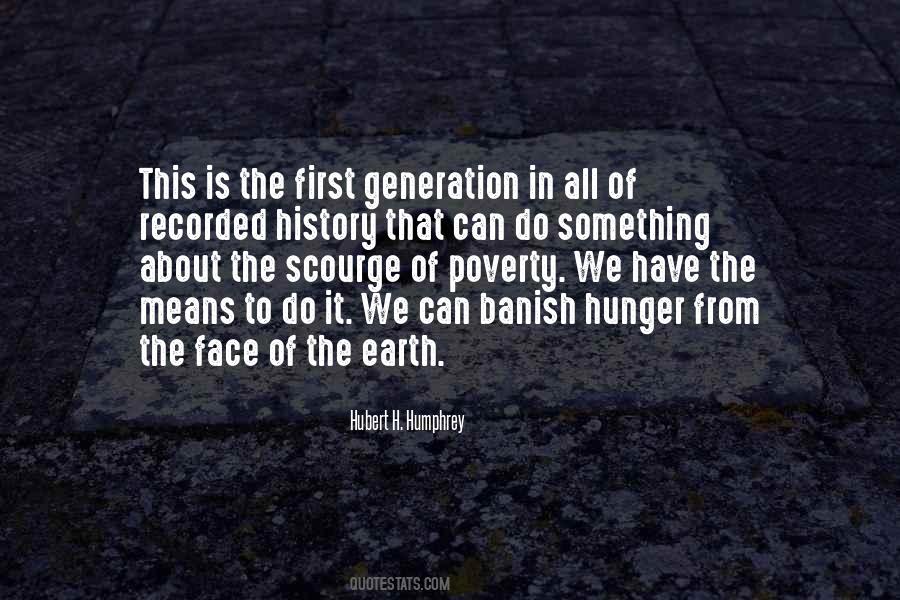 #49. Whenever a warrior decides to do something, he must go all the way, but he must take responsibility for what he does. No matter what he does, he must know first why he is doing it, and then he must proceed with his actions without having doubts or remorse about them. - Author: Carlos Castaneda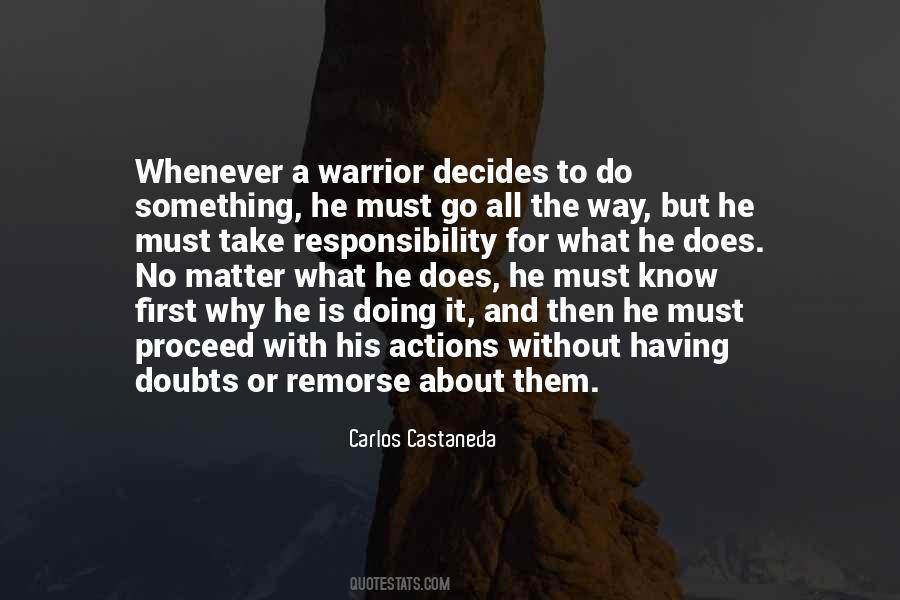 #50. I've been talking to certain wrestlers on the phone lately, and certain female wrestlers that were huge stars ten years ago, and the first thing I ask them is 'do you still want to work?' Do they want to talk, or do they want to wrestle or do something else in the business? - Author: Hulk Hogan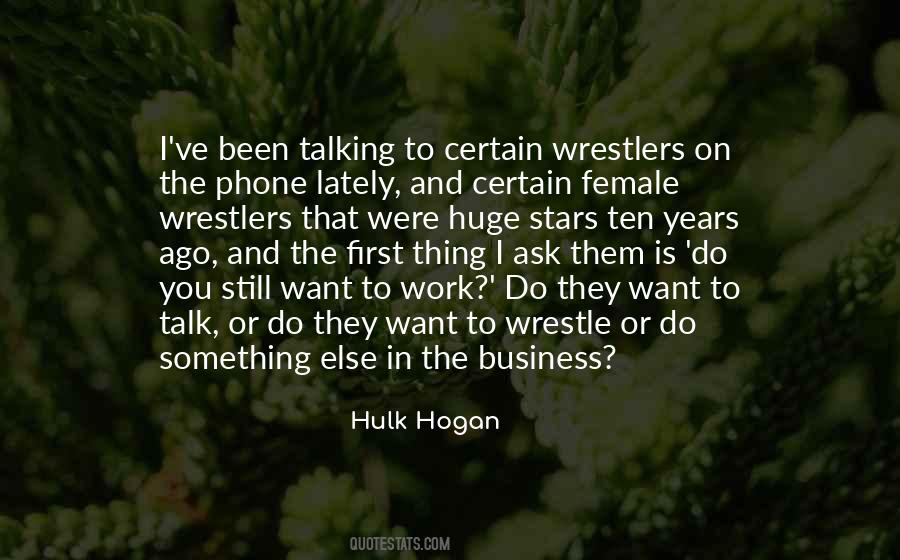 #51. I'm not worth it. But I want you to know, in case I ever do give you this letter and you read it first before you burn it or something, that for just a little while, you made me feel like I was really alive. Like I was special. - Author: Cynthia Hand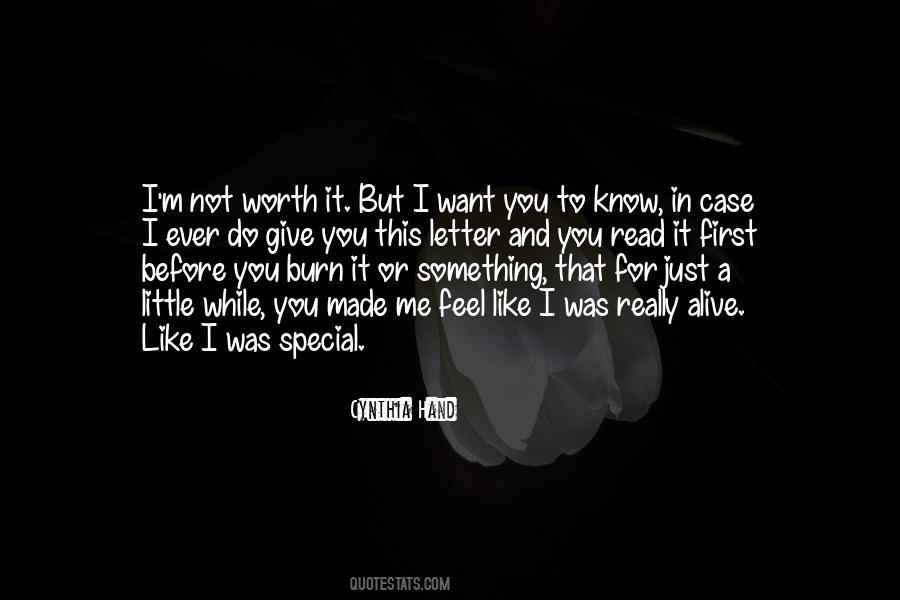 #52. My first book is really comparable to what I do now, where it's pretty surreal and strange at moments, but that being my first book - I wrote that when I was 22; it came out when I was 24 - and it was just really overwritten. I just didn't trust myself as a writer to say something once. - Author: Joe Meno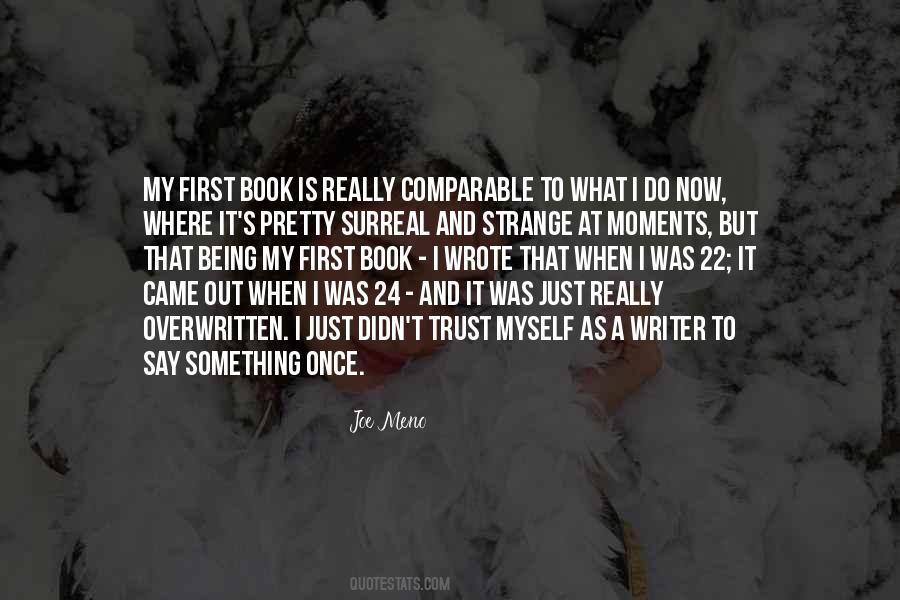 #53. Do not rush into a business just because you have the capital. You'd lose your shirt if you jump into it recklessly. Do your homework first. Study the market and look for that golden opportunity. Whatever business you choose to go into, it must be something that you can pursue with passion. - Author: Andrew Tan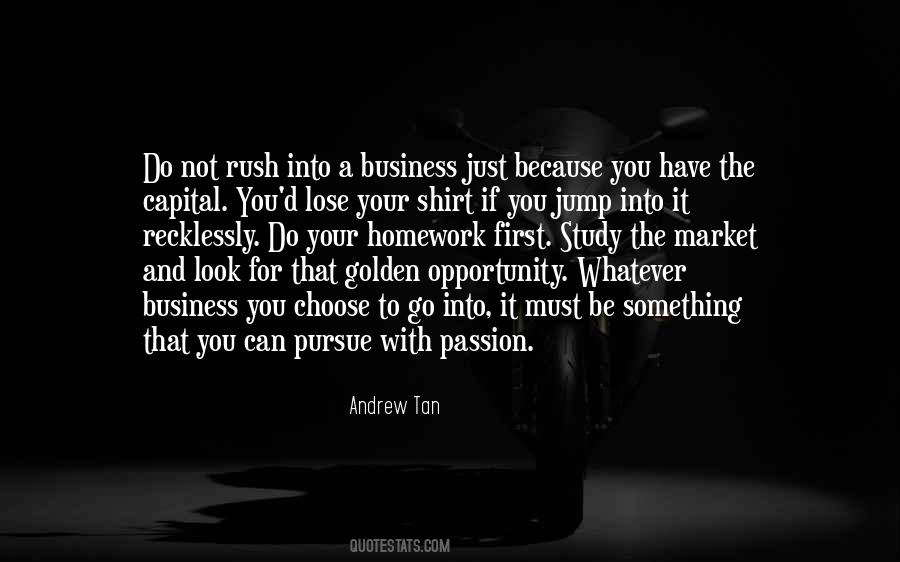 #54. Do you know why the big brother is born first? It's to protect the little brothers and sisters that come after him. A brother telling his sister, "I'll kill you" ... You never, ever say something like that. - Author: Tite Kubo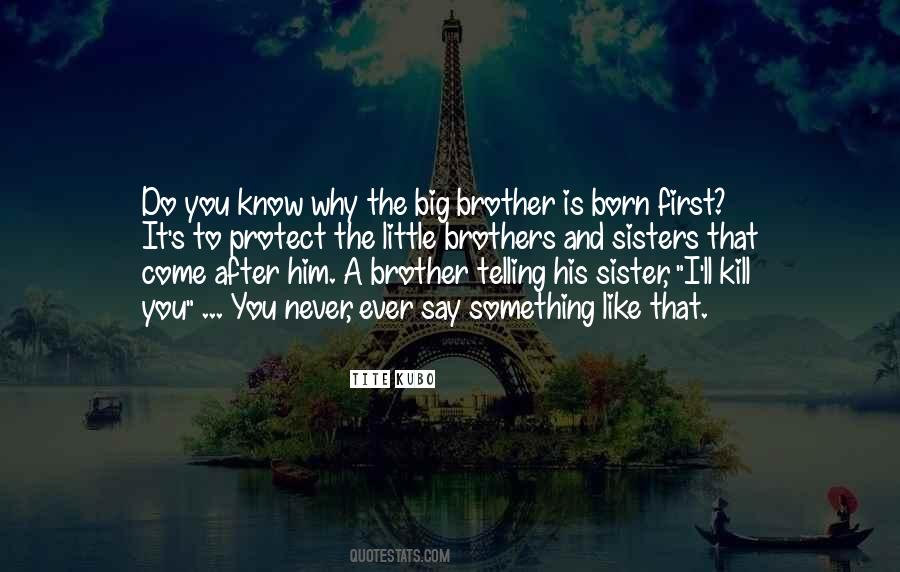 #55. Basketball has always and will always come first to me but it's also given me the chance to do really fun things and work with really fun people and its something I'm lucky to have. - Author: Blake Griffin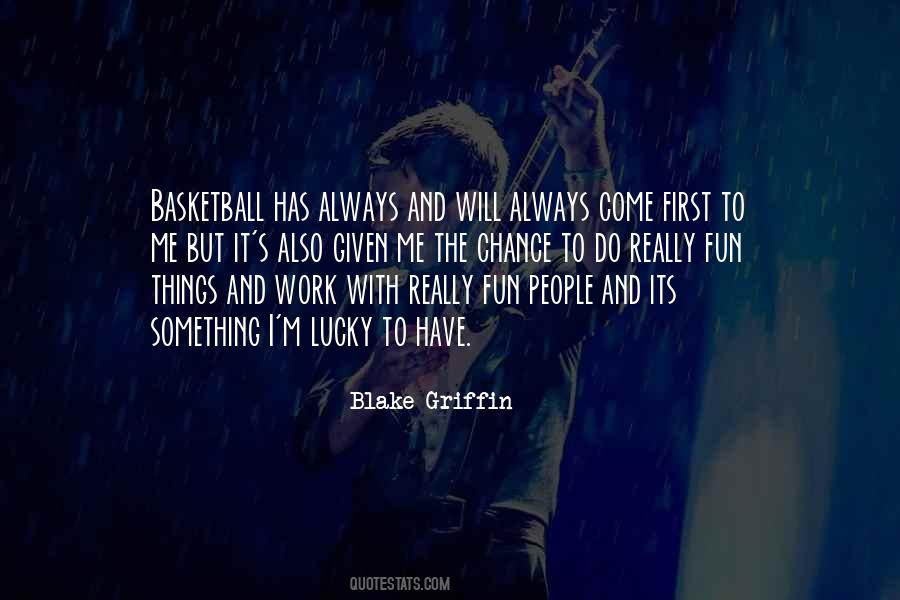 #56. You're not going to be immediately good at anything you do. You wouldn't quit on the first day of your new job, so why quit on the first try at doing something else? - Author: Jennifer Megan Varnadore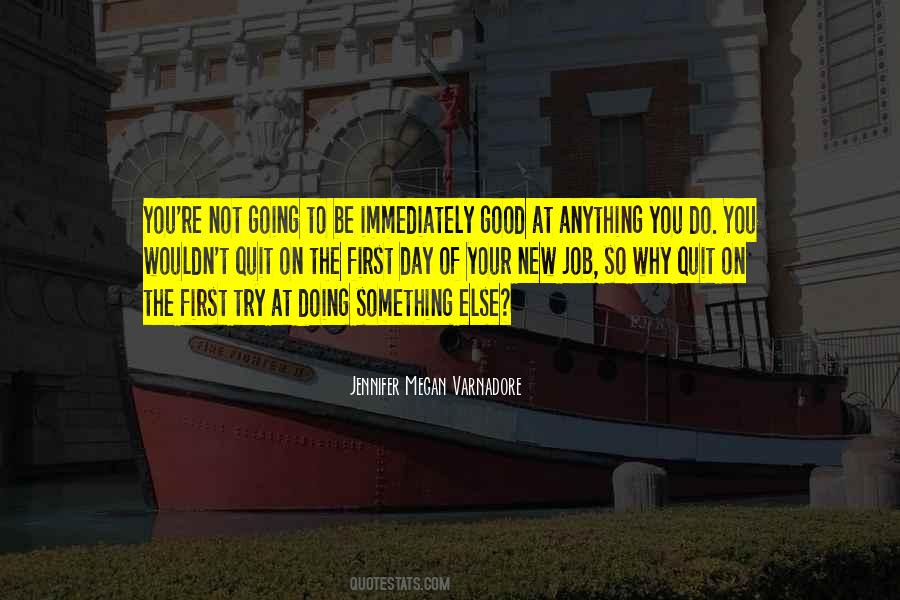 #57. If you're suddenly doing something you don't want to do for four years, just so you've got something to fall back on, by the time you come out you don't have that 16-year-old drive any more and you'll spend your life doing something you never wanted to do in the first place. - Author: Ewan McGregor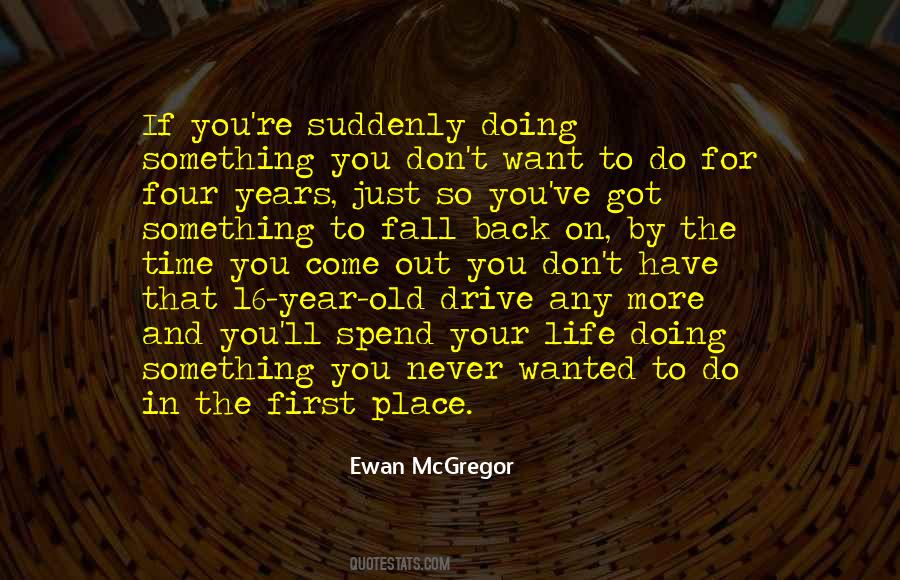 #58. That's why," he said speaking with averted face, "I wanted to do something first. I mean, to show I was worthy of you. Not that I could ever really be that. But at any rate to show I wasn't absolutely un-worthy. I wanted to do something. - Author: Aldous Huxley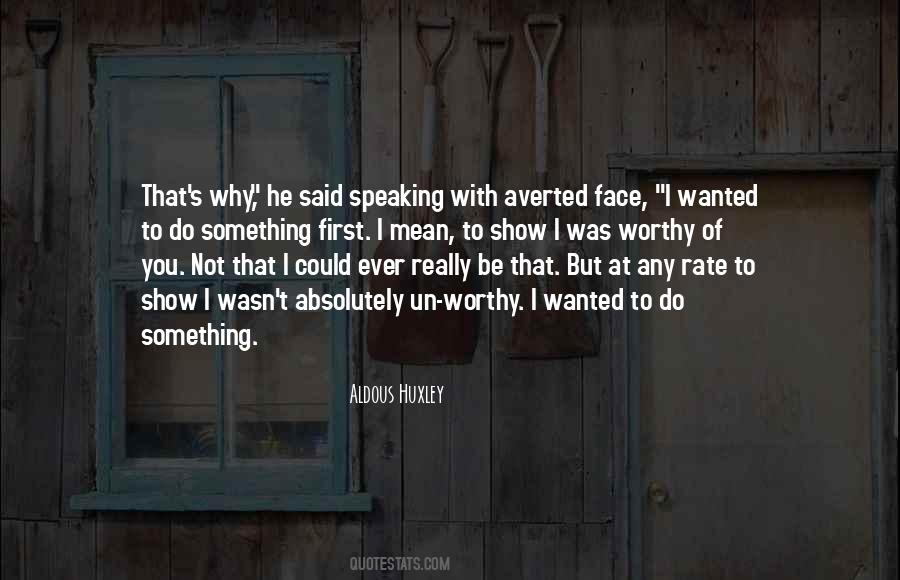 #59. You don't feel the need to talk all the time, do you," she said.
He smiled. "No."
"Most people don't know how to appreciate silence. They can't help talking."
"I talk, I just want to have something to say first. - Author: Nicholas Sparks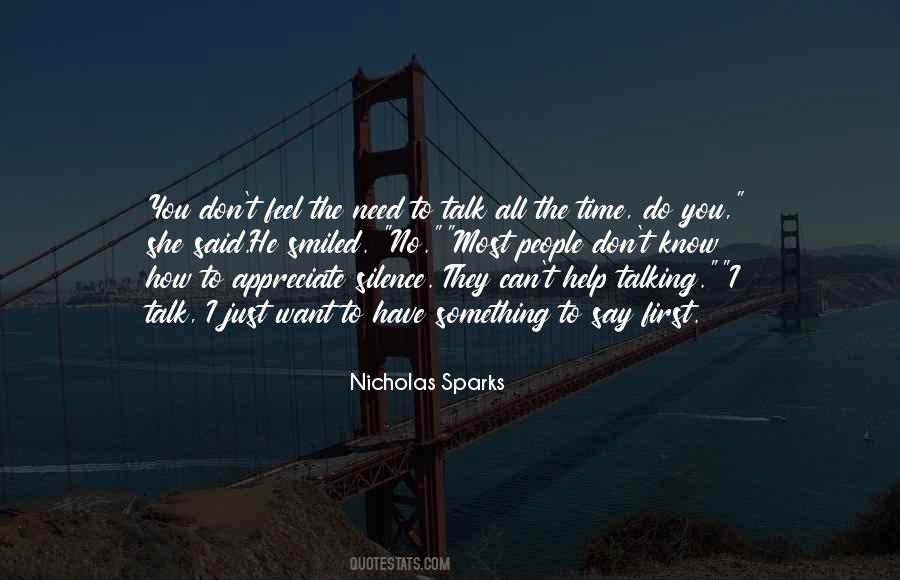 #60. I have to hope that my instincts will do the right thing, because I can't erase what I have done. And if I drew something first, then my paintings would be illustrations of drawings. - Author: Francis Bacon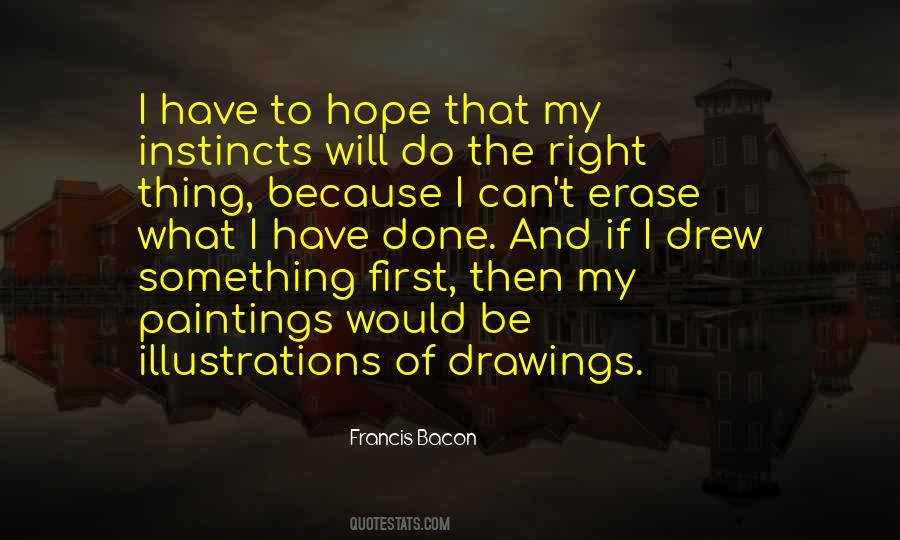 #61. My first job was a McDonald's commercial. It made me want to wake up at 4 A.M. to do something I loved. I haven't been the same since. - Author: Nadine Velazquez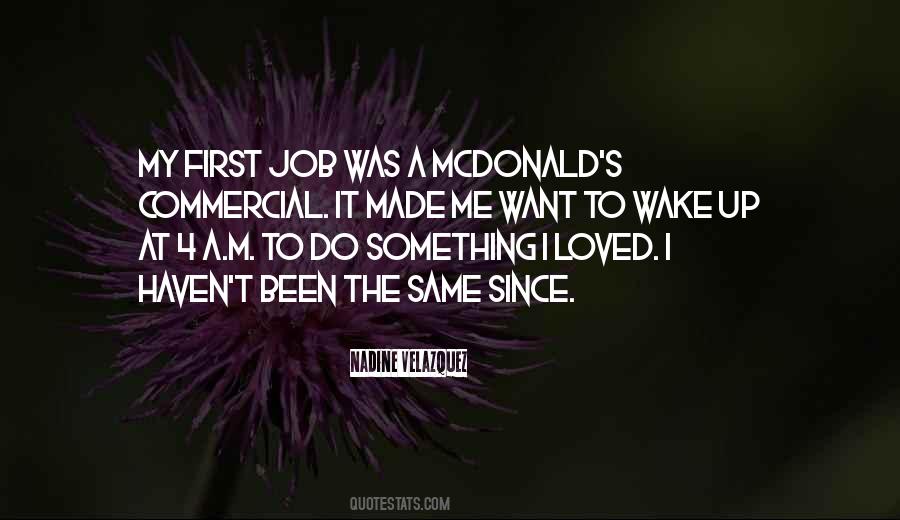 #62. When I was 15, I started playing first class cricket and always dreamt of being a Test cricketer, wanted to do something for the country, married in 1995, have 2 kids it's been great. - Author: Sachin Tendulkar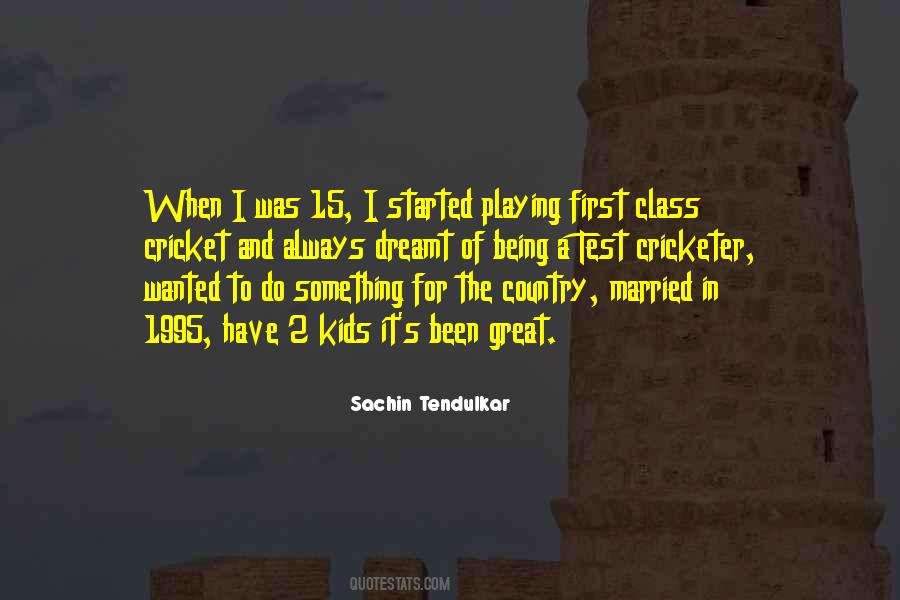 #63. The first year I was in New York, I met Martha Graham. She said, 'Well, Mr. Wilson, what do you want to do in life?' I was 21 years old, and I said, 'I have no idea.' And she said, 'If you work long enough and hard enough, you'll find something.' - Author: Robert Wilson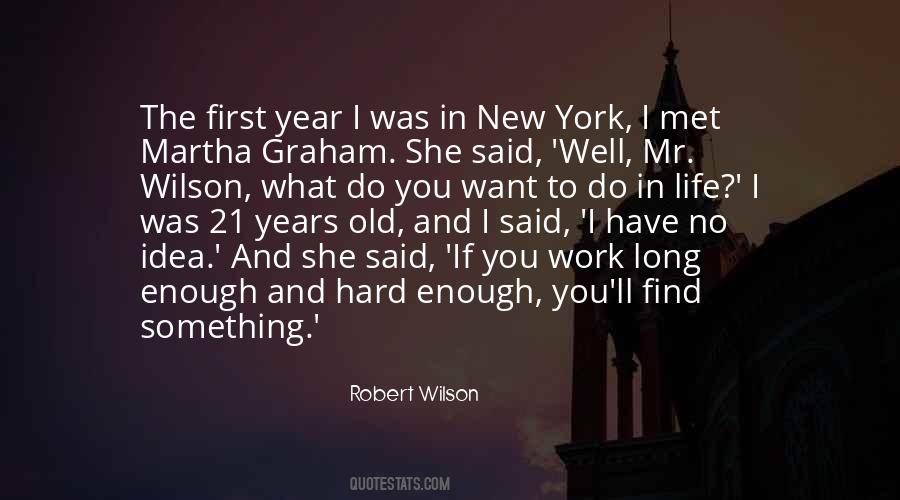 #64. Happiness is a thing honored and perfect. This seems to be borne out by the fact that it is a first principle or starting-point, since all other things that all men do are done for its sake; and that which is the first principle and cause of things good we agree to be something honorable and divine. - Author: Aristotle.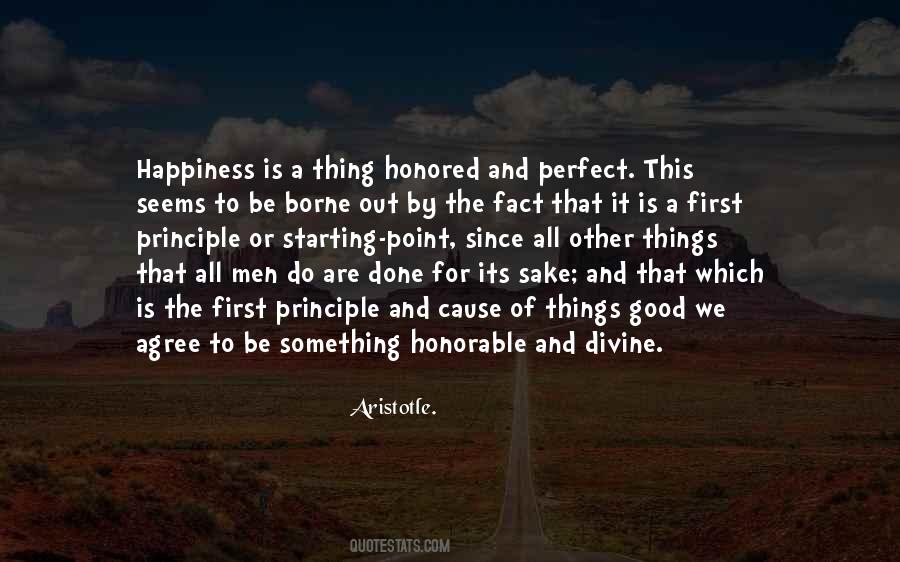 #65. I have little routines in the theater. Once I've established something, like the order of putting on makeup and a costume, I have to invariably do it in the same order every time, even if I only did it by chance the first time round. - Author: Ian McKellen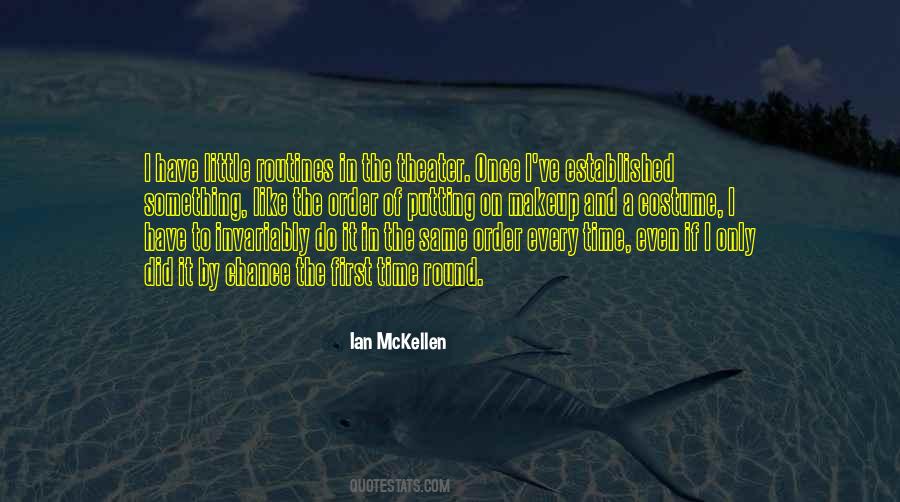 #66. I am scared of spiders! And I still get a little afraid every time I have to do something new or have to get out in front of a big crowd. The first time I sang "Swag It Out" live, I was really scared. - Author: Zendaya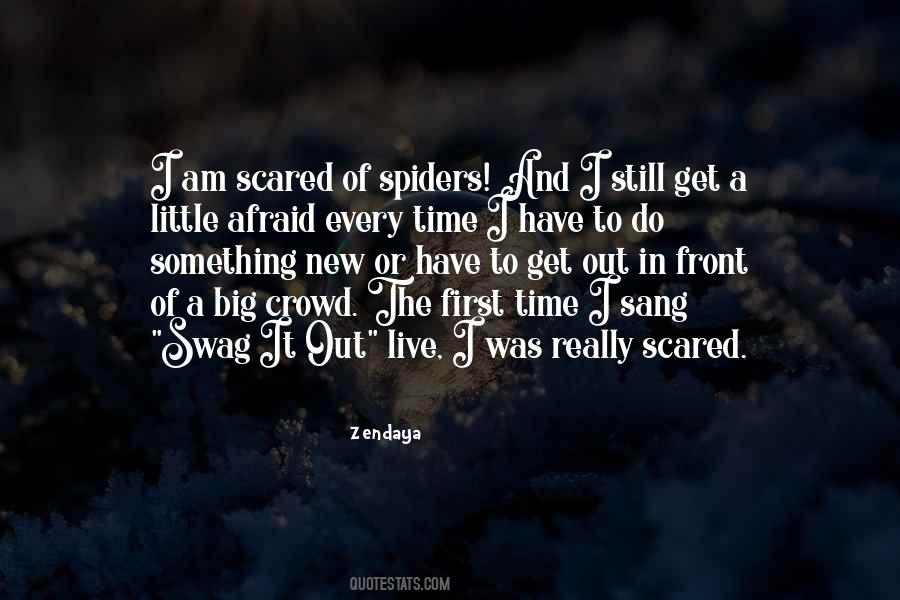 #67. My name is Herbert Badgery. I am a hundred and thirty-nine years old and something of a celebrity. They come and look at me and wonder how I do it. There are weeks when I wonder the same, whole stretches of terrible time. It is hard to believe you can feel so bad and still not die. - Author: Peter Carey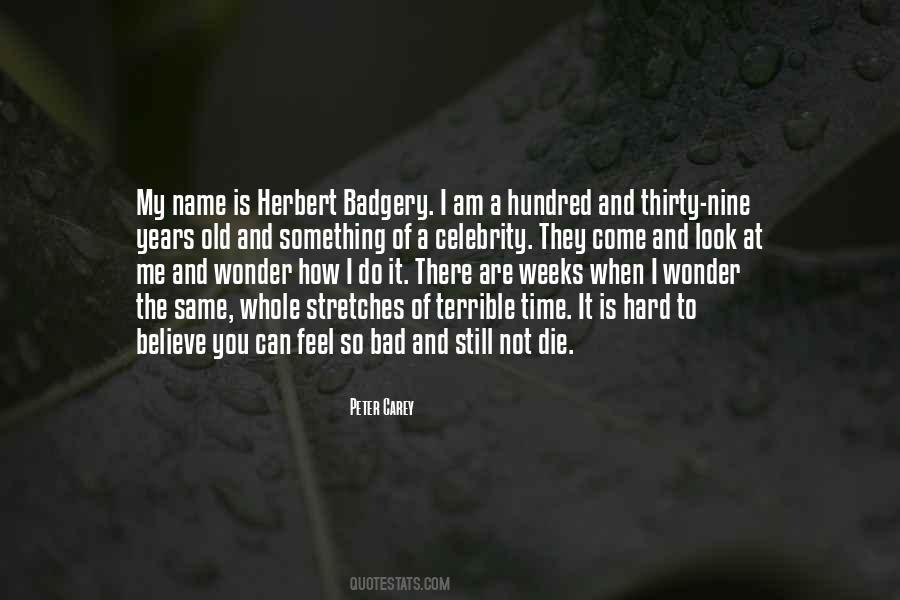 #68. Use your eyes. Do not enter unfamiliar areas that you cannot observe first. Make it a practice to swing wide around corners, use window glass for rearward visibility, and get something solid behind you when you pause. - Author: Jeff Cooper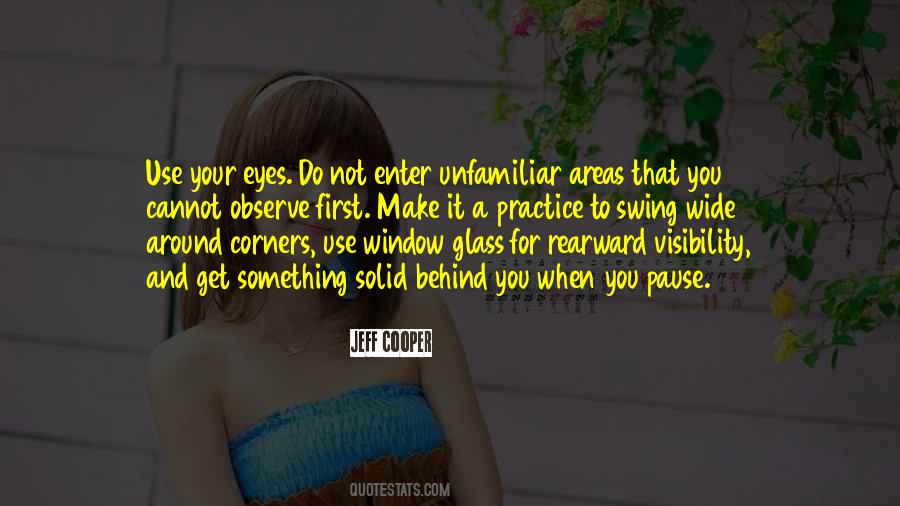 #69. I love it when you can bring really great design and simple capability to something that doesn't cost much," he said as he pointed out the clean elegance of the houses. "It was the original vision for Apple. That's what we tried to do with the first Mac. That's what we did with the iPod. - Author: Walter Isaacson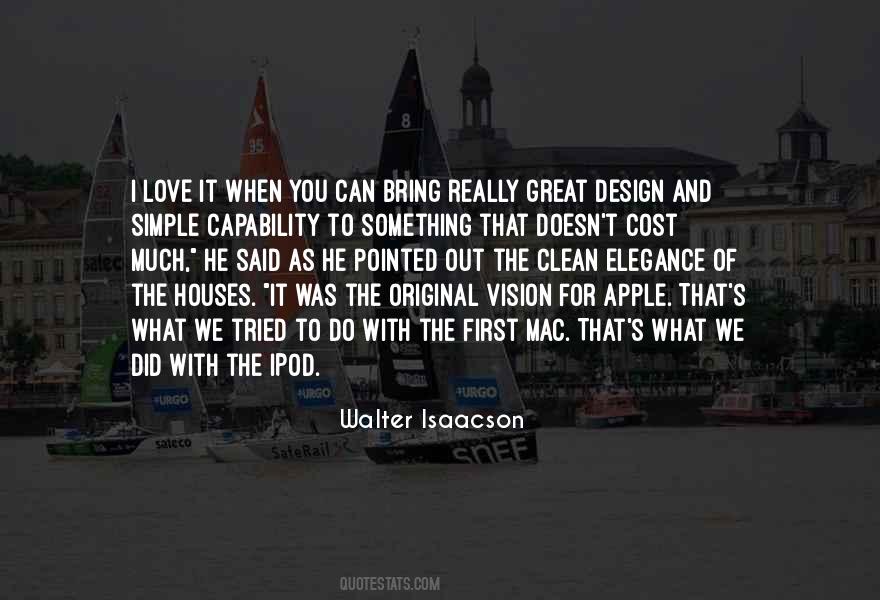 #70. I wanted my first film to be something where I was surrounded by an amazing cast. I wanted to do something that was completely unexpected, totally out of the box, something that would blow people's minds, that the last thing on the planet earth they would ever think I would do would be it. - Author: Alicia Keys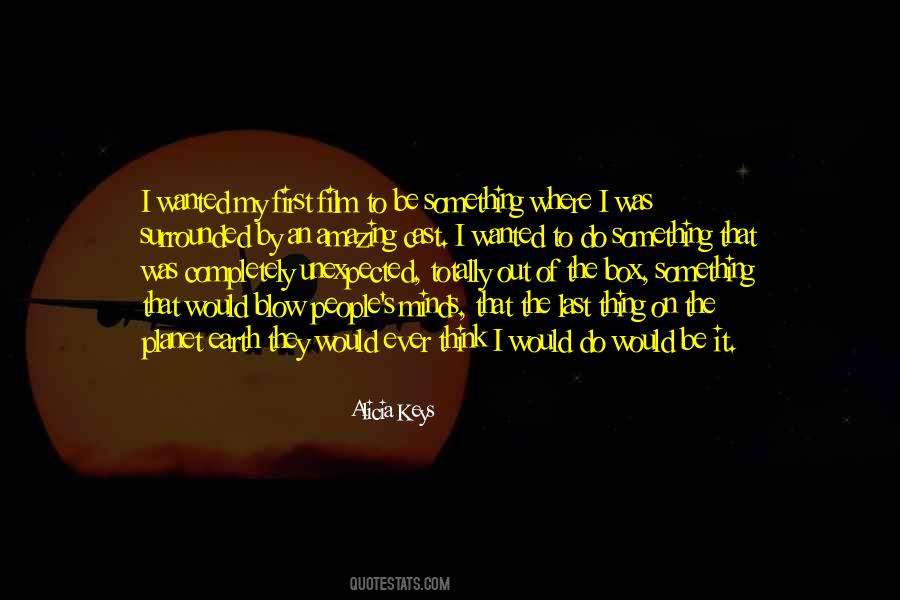 #71. First there is the 10-second war: can you do something in your first moments on stage to ensure people's eager attention while you set up your talk topic? Second is the 1-minute war: can you then use that first minute to ensure that they're committed to coming on the full talk journey with you? - Author: Chris J. Anderson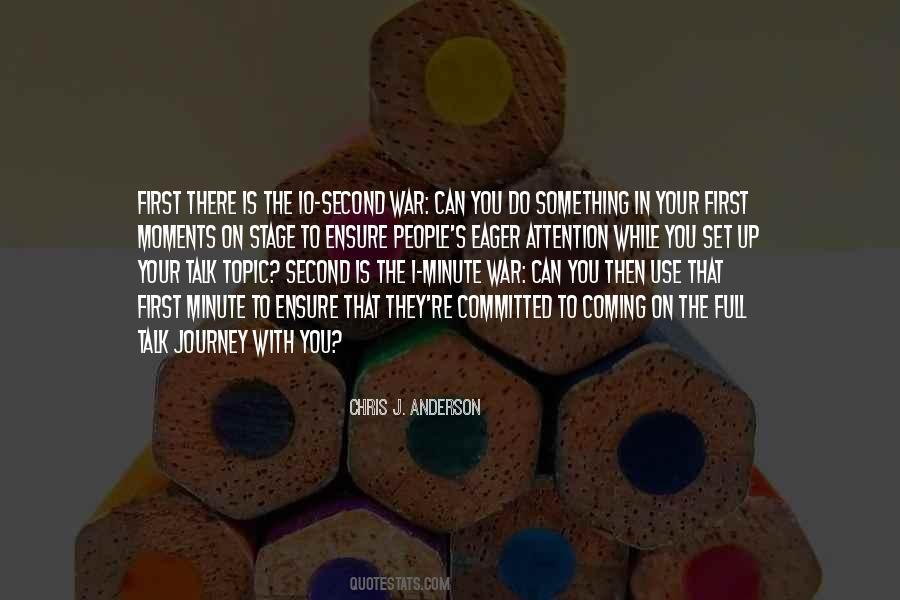 #72. I will kill him."
"Erra's eyebrows rose. "You'd have to go through me first."
I shrugged. "I have to do something for a warm-up."
She laughed softly. "That's the spirit. I do think you might be my favorite niece. - Author: Ilona Andrews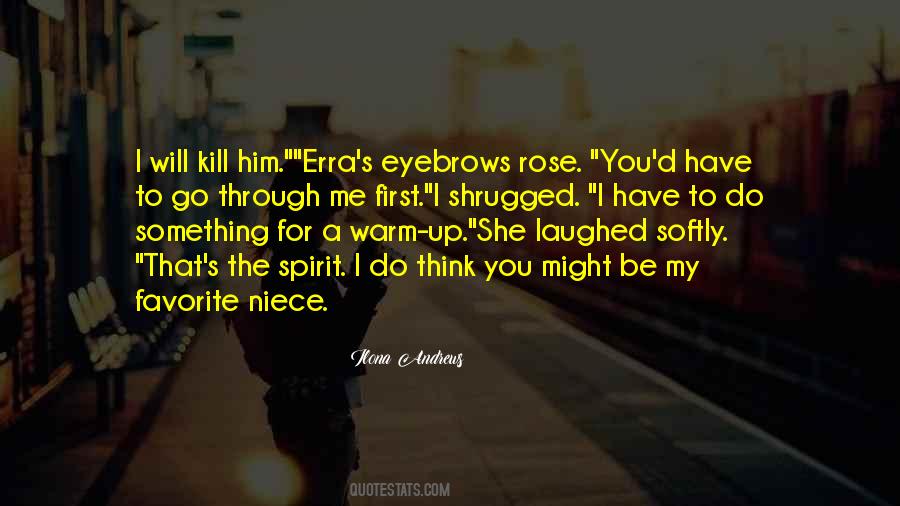 #73. But it's not just "Do you want a hit?" More importantly, it has to be something we - the artist and I - like. If you go in just wanting a hit song, it's not going to happen that way. You have to first be committed to making music you like. - Author: Lukasz Gottwald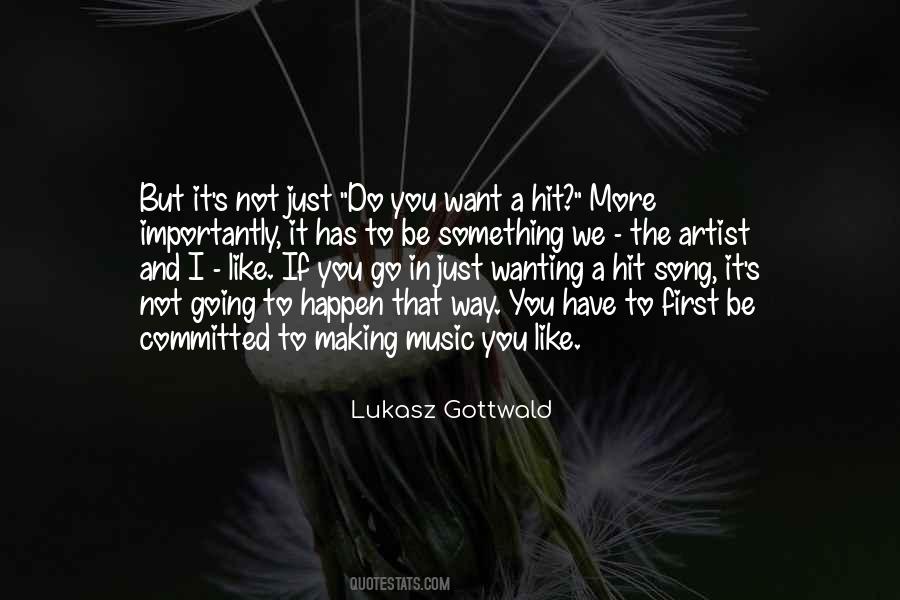 #74. Love won't come through unless the heart is open. To work with an open heart is to love or care for something or someone more than you do for yourself. This is the first step to the divine love that we all are looking for. - Author: Harold Klemp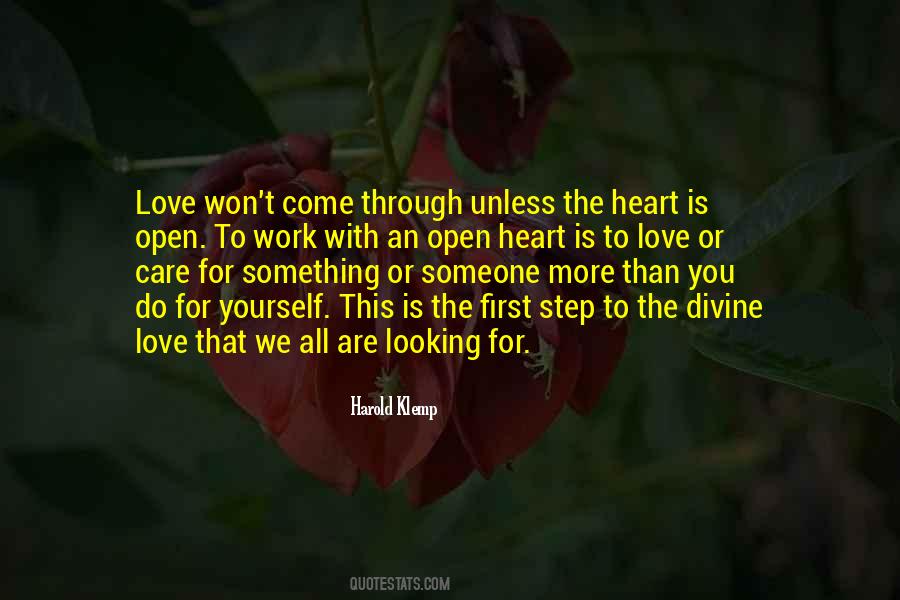 #75. First, I think of myself as a brand, a businesswoman. Musician is something I just do because it's my passion - I love it and it's something I do for fun. I love music and I love to make people dance. - Author: Paris Hilton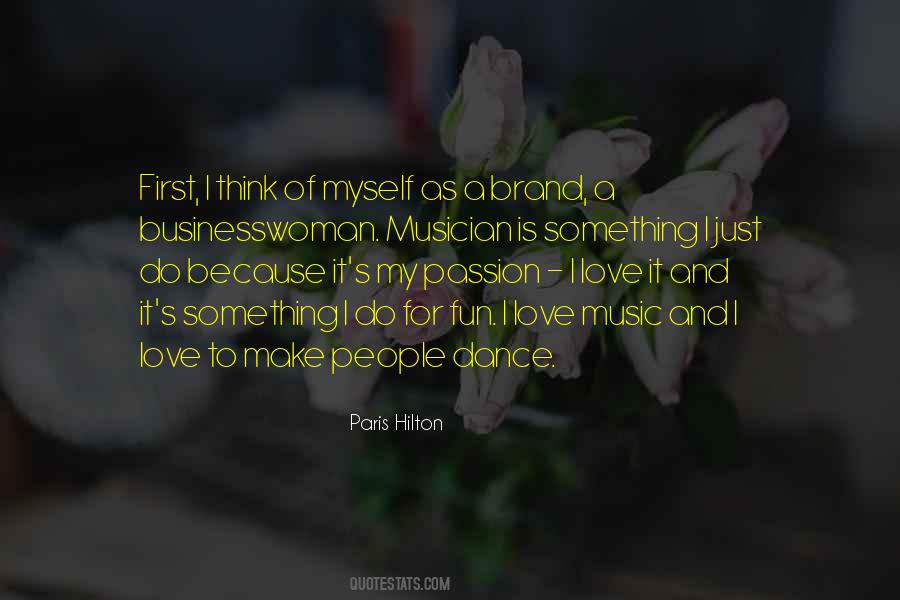 #76. God! She was tempted to take a picture of her middle finger and send it back. Her fingers flew across the screen. Heading to first period. Maybe you can do something more useful than texting me. - Author: Brigid Kemmerer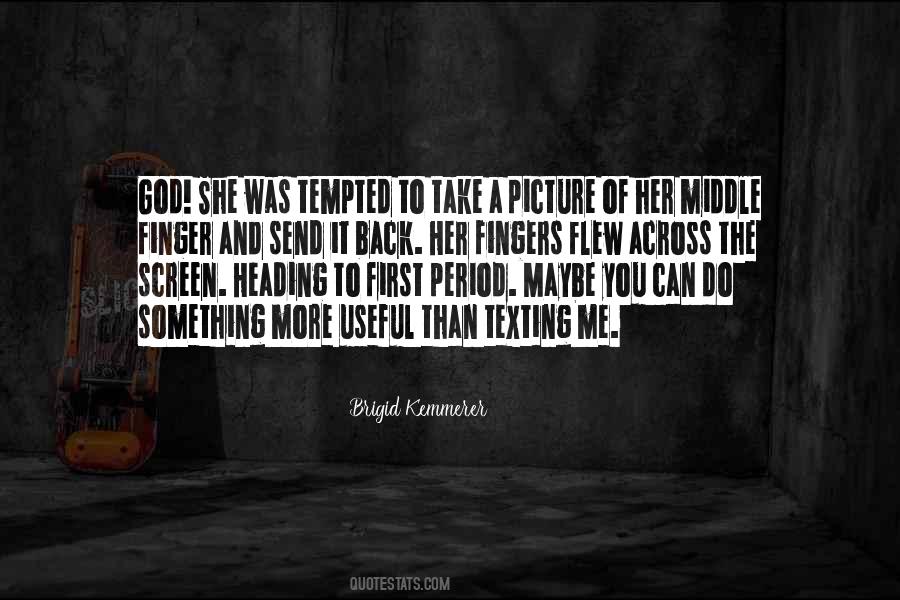 #77. There are three reasons for becoming a writer: the first is that you need the money; the second that you have something to say that you think the world should know; the third is that you can't think what to do with the long winter evenings. - Author: Quentin Crisp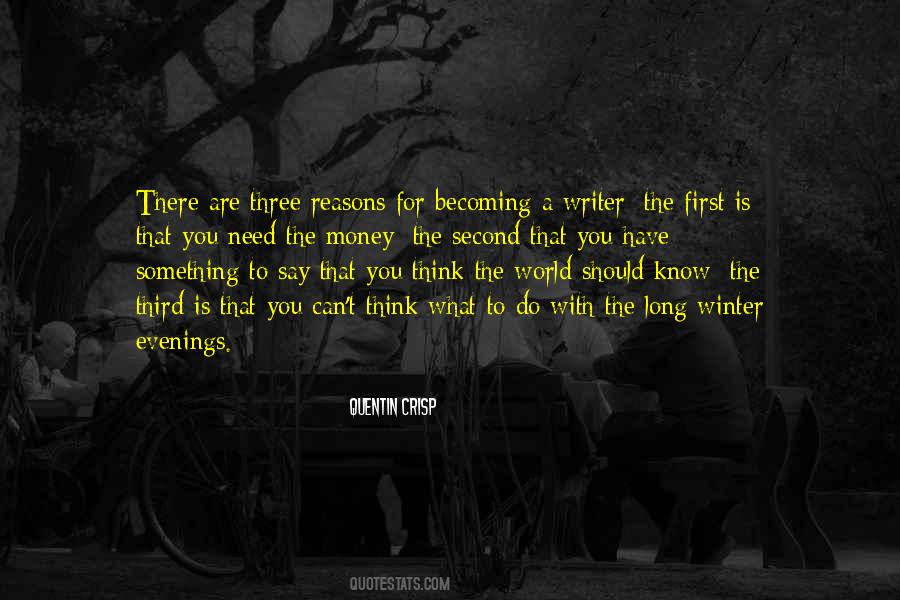 #78. It took a second for me to understand what he meant. Then another to get that he was serious. A third second to do something about the first two seconds, which was to sit down. - Author: Rick Yancey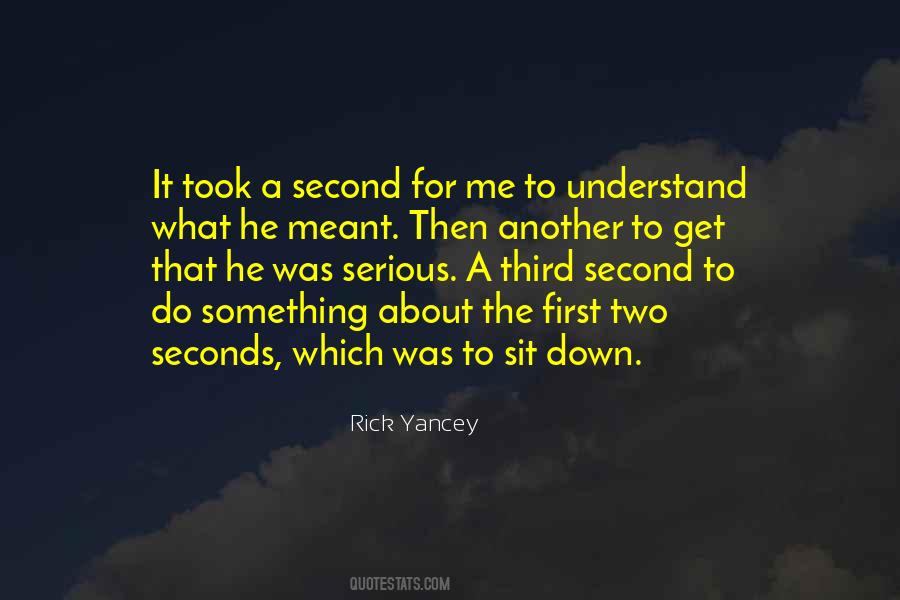 #79. If a man really has charge of his destiny at all, he should have something to say about getting born; and I only came through by a hair's-breadth. What had I to do with this momentous first step? In the language of the lawyer, I was not even a party of the second part. - Author: Clarence Darrow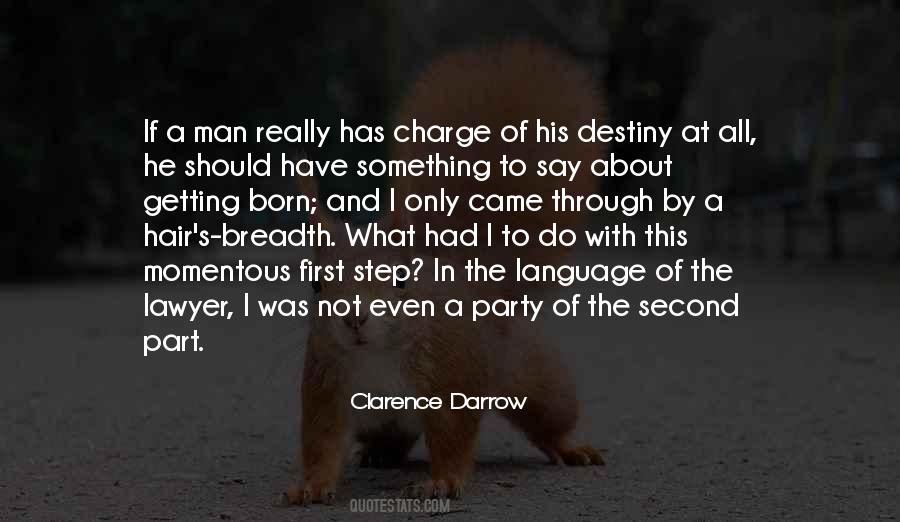 #80. Have we been guilty of declaring, 'I've been thinking about making some course corrections in my life. I plan to take the first step - tomorrow'? With such thinking, tomorrow is forever. Such tomorrows rarely come unless we do something about them today. - Author: Thomas S. Monson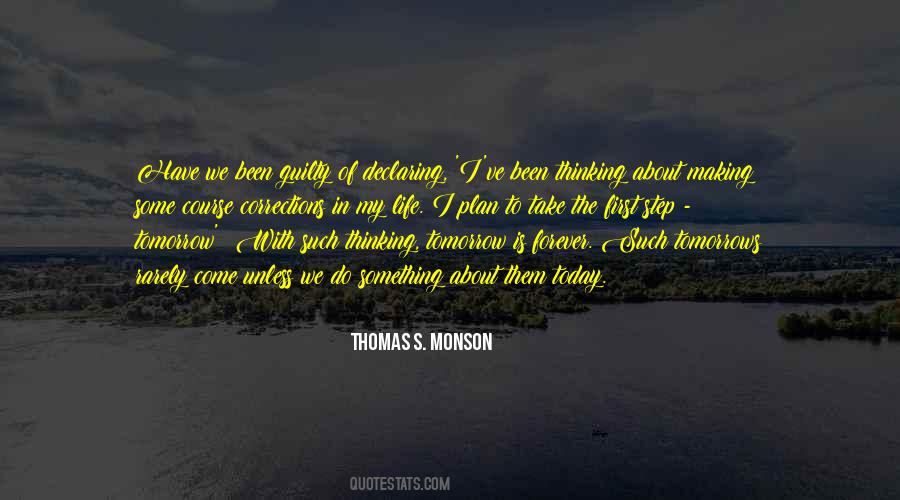 #81. When I first came up to the majors and I'd have a bad day, I'd punish myself. I would do something like not eat dinner. Now I've come to appreciate that we play 162 games a year, and you're going to have bad days. And not eating dinner hurts, it doesn't help. - Author: Todd Helton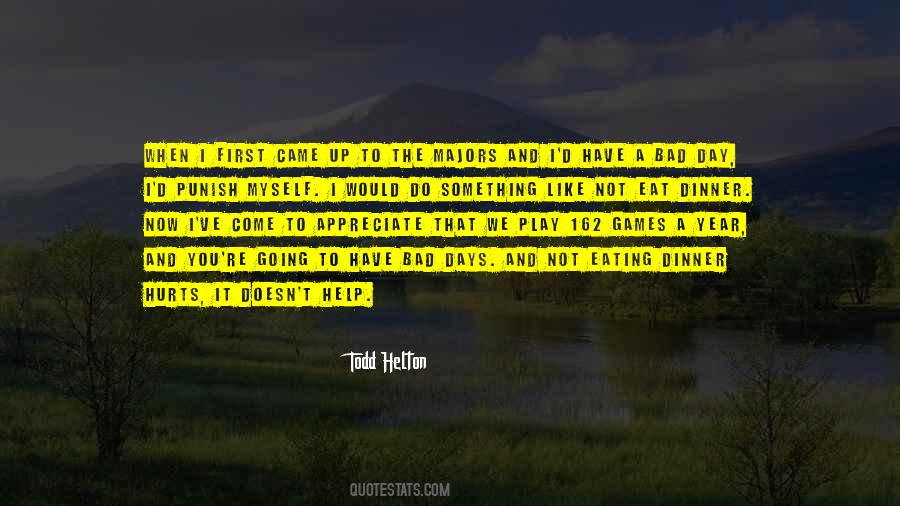 #82. The first step to success is knowing that you failed to do something because many people don't even realise. Second step is to take a first step towards making your dreams true. - Author: Vikrmn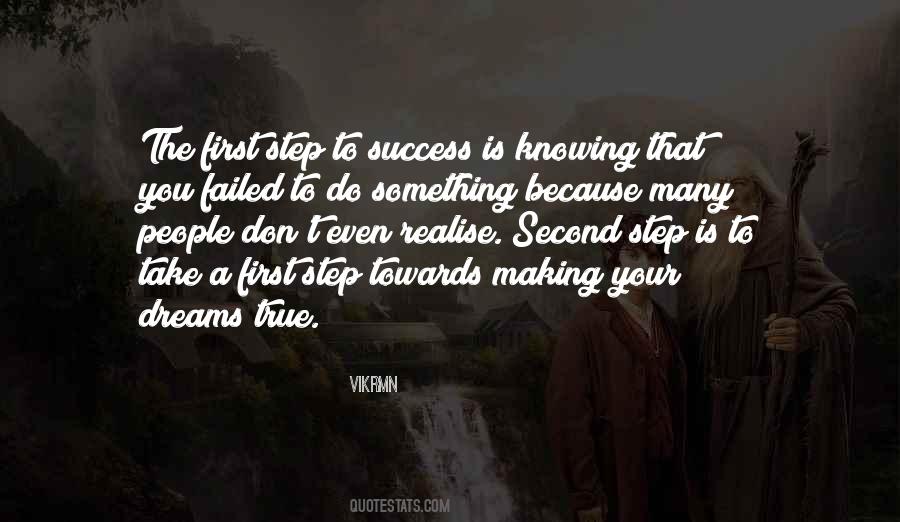 #83. When I came to Congress, like our first panel, small business people, 64 percent of the people had health insurance. We'd buy it. Now, we're down to about 34 percent. That's why we have to do something on health care in this country because the cost is killing us. - Author: Bart Stupak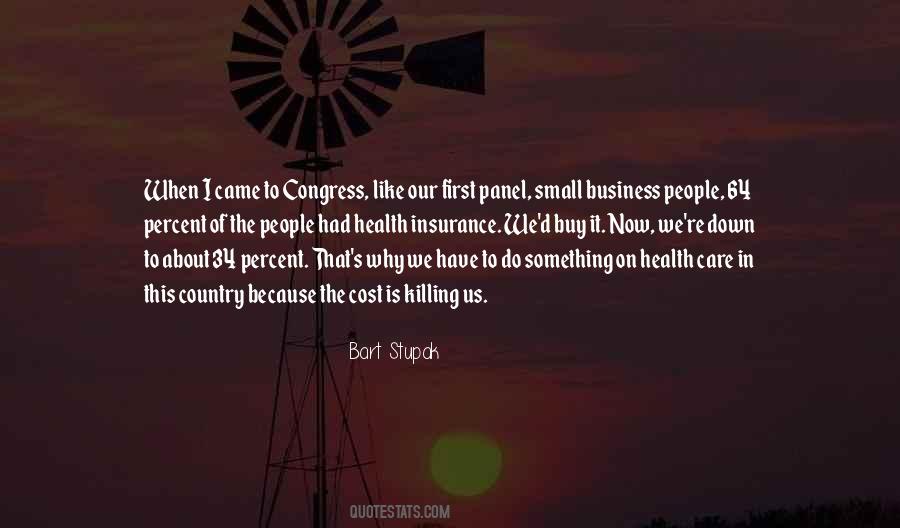 #84. There are only 2 reasons that someone would want something in their life and not get it. First, they don't know what to do and second, they know what to do and don't know how to get themselves to do it consistently, if at all. - Author: Marshall Sylver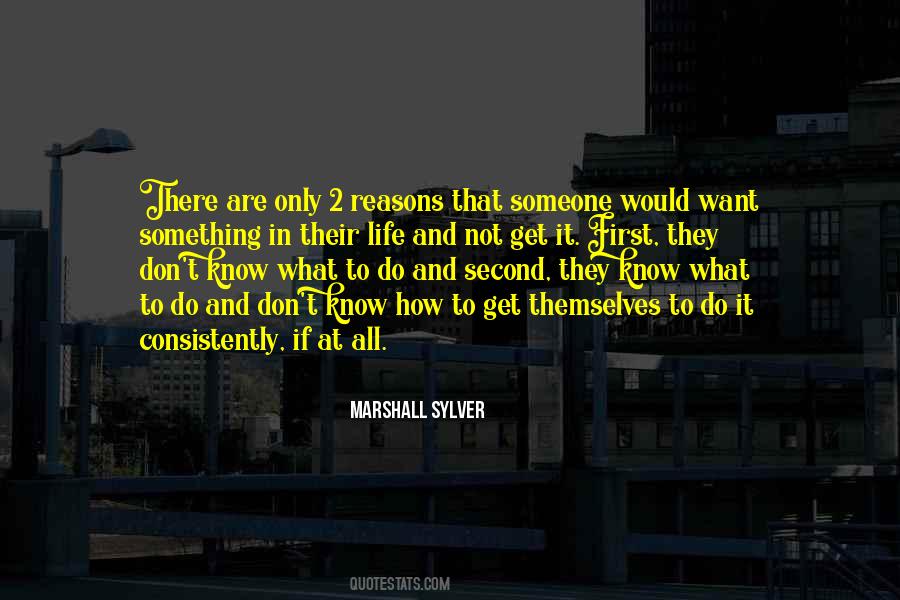 #85. I'm always telling my students go to law school or become a doctor, do something, and then write. First of all you should have something to write about, and you only have something to write about if you do something. - Author: Jamaica Kincaid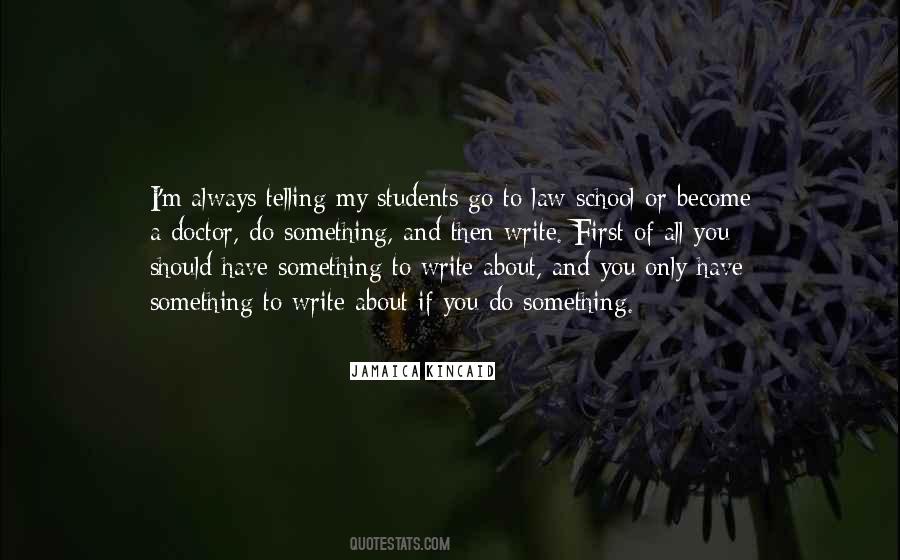 #86. My father, OK, when we first got old enough to hunt, this was his rule: If you shoot it, you come home and eat it. Otherwise you do not shoot it, OK? You don't just kill something for the sake of killing it, OK? If you kill it, you gotta grill it, so to speak. - Author: Si Robertson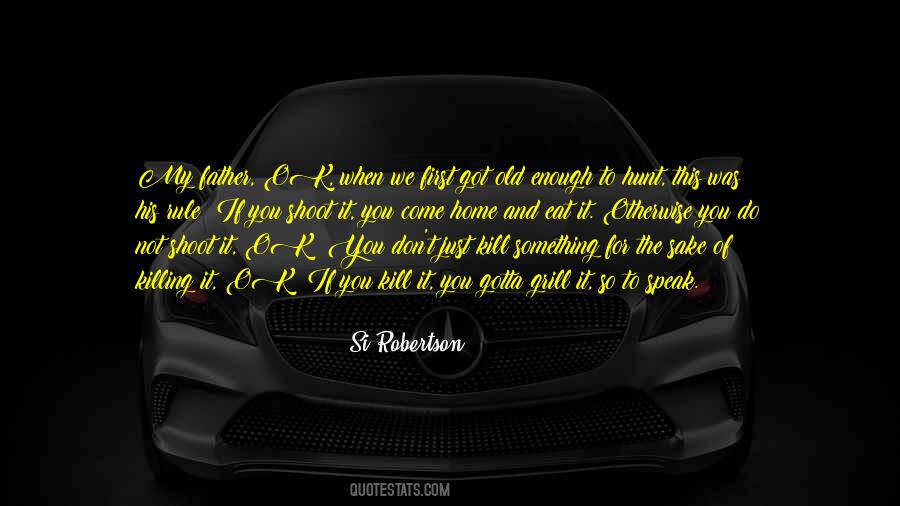 #87. I just wish I could have all this and stand up to her a little. Rose would."
"Rose would have gotten herself arrested for treason the first time Tatiana asked her to do something. - Author: Richelle Mead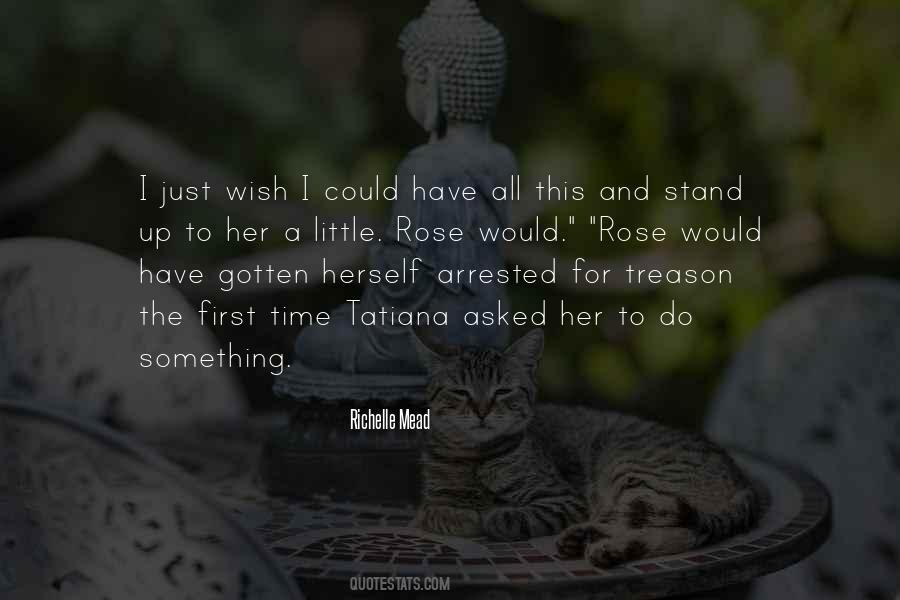 #88. When I sold my first business, I wanted to do something nice for my dad. I wanted to give my parents a bunch of money, but they wouldn't take anything from me. They were so happy for me; they felt they didn't need money. - Author: Robert Herjavec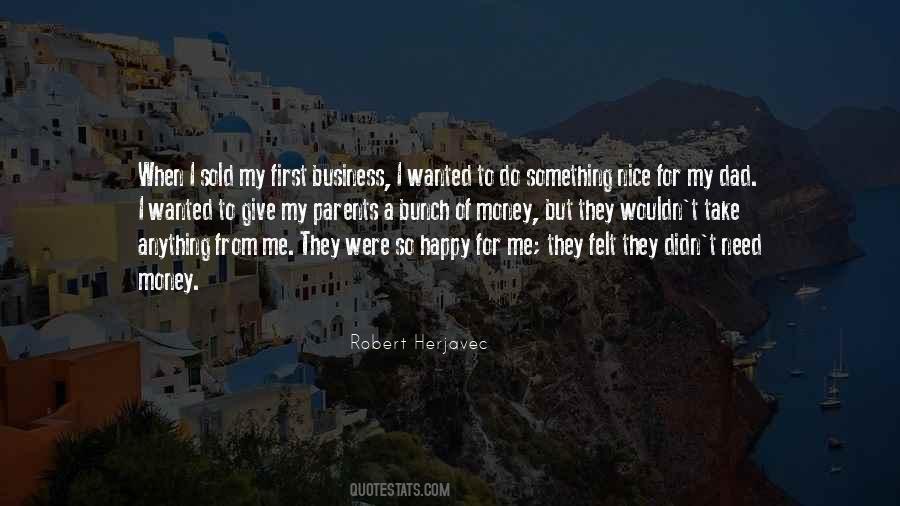 #89. If you're going to be a writer, the first essential is just to write. Do not wait for an idea. Start writing something and the ideas will come. You have to turn the faucet on before the water starts to flow. - Author: Louis L'Amour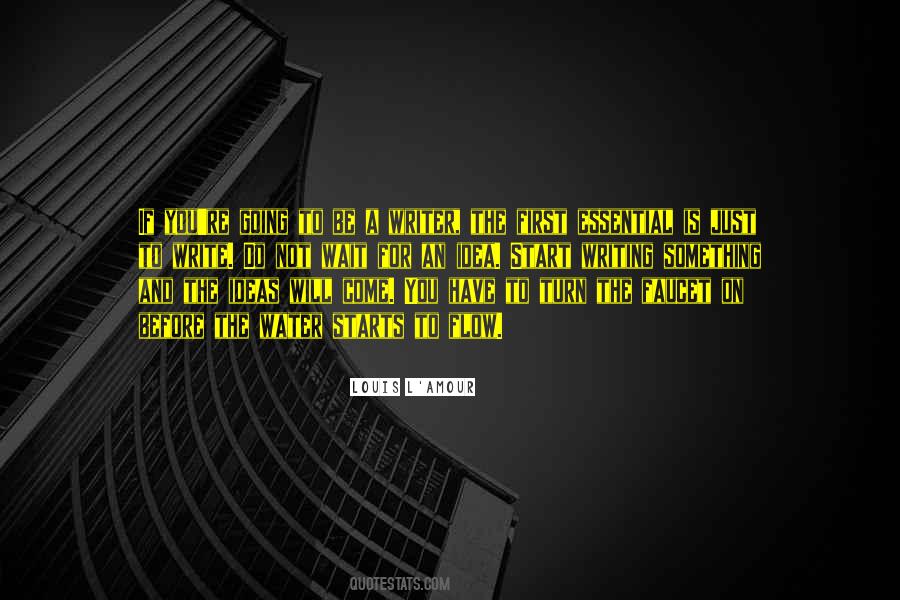 #90. To do something right it must be done twice. The first time instructs the second. - Author: Simon Bolivar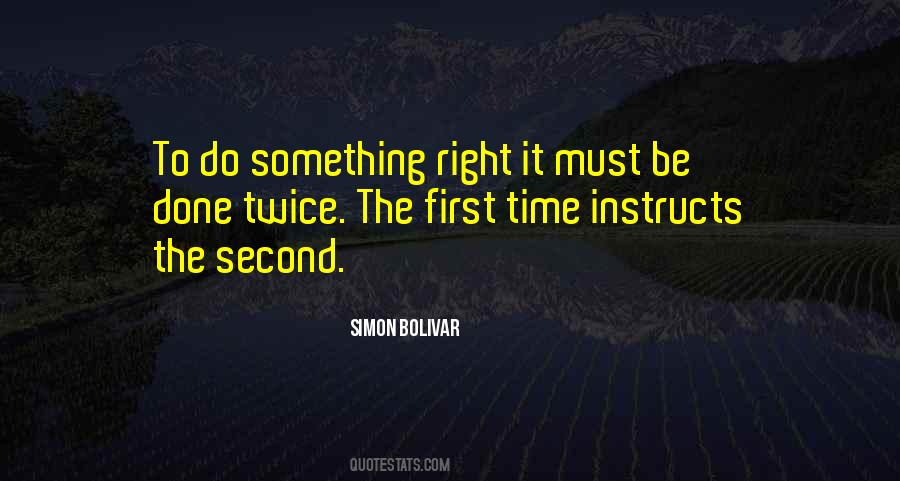 #91. God knows, I'm no expert on relationships, but I do know when something's good. And this thing we've created between us is precious and rare. I only hope it's not fleeting, because for the first time in my adult life, I've given someone the power to hurt me. - Author: Linda Castillo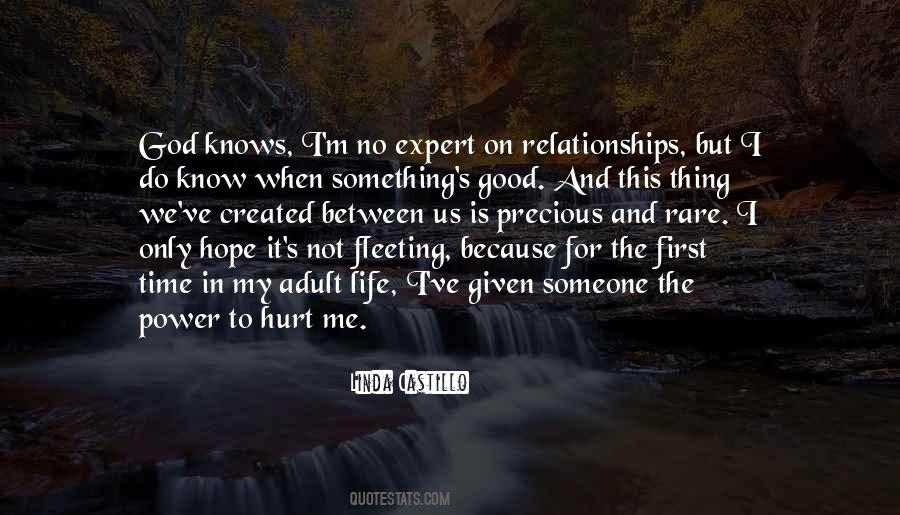 #92. I can't think of a story that doesn't have something terrible in it. Otherwise, it's dull. So when I embarked into the world of picture books, my first thought was to do something about the dark. - Author: Daniel Handler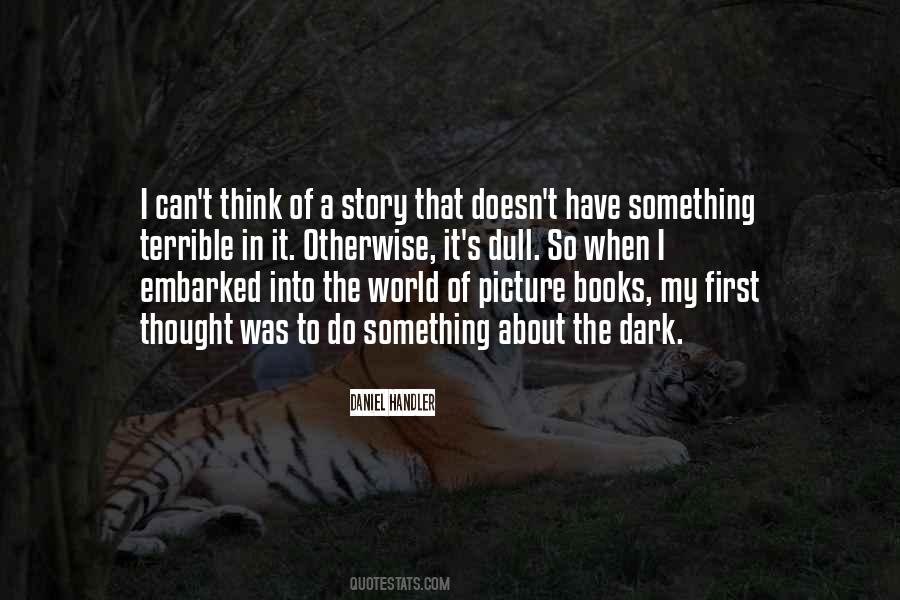 #93. My brother was very important to me. And he played guitar. So that's what I wanted to be. I wanted to be a guitar player. So he was the first one to inspire me to do something with my life. And I was so glad that he was there. - Author: Bootsy Collins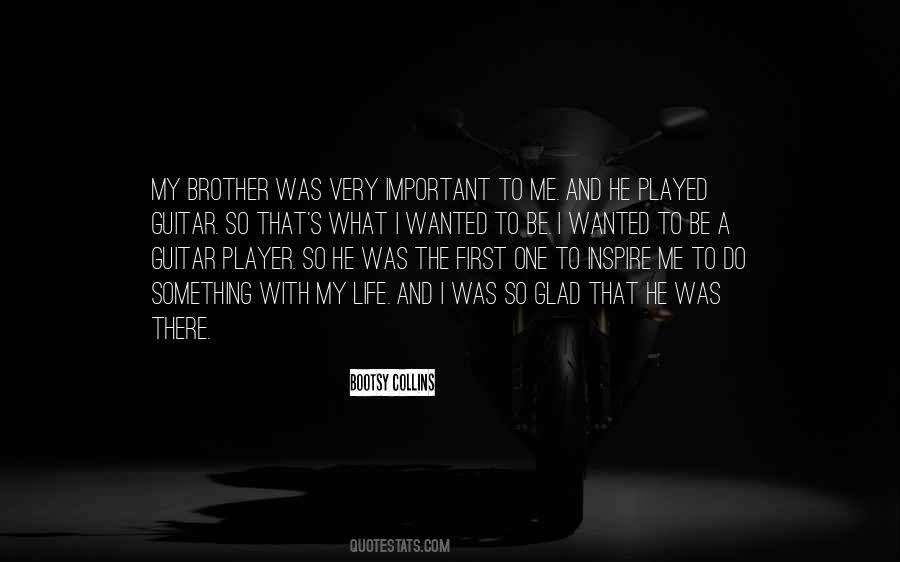 #94. So what's so enticing about doing a play is that you get to do that thing that got you into acting in the first place ... There's a real attraction to being able to play, to just play. And that's something that theater affords you. - Author: Rich Sommer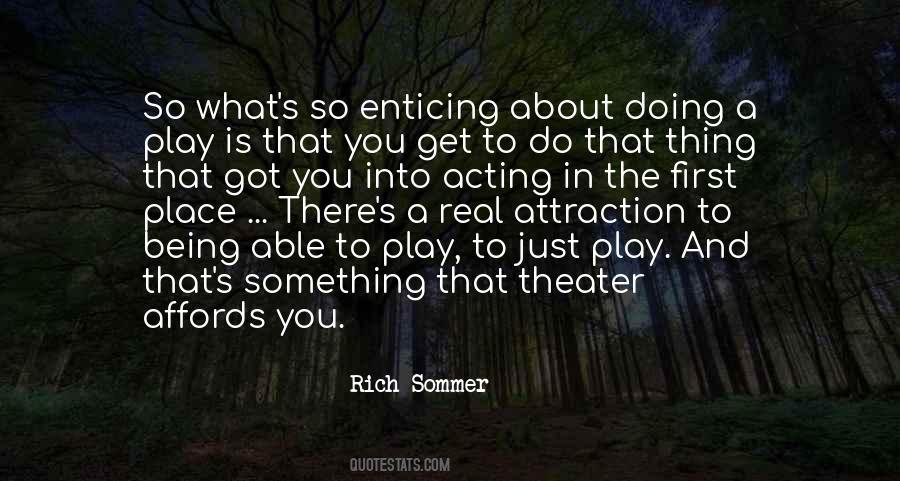 #95. In order to turn around and do something better, we must first escape the vicious circle of self-righteousness and denial. And that calls for the humility to say "I'm sorry. Please forgive me." - Author: Desmond Tutu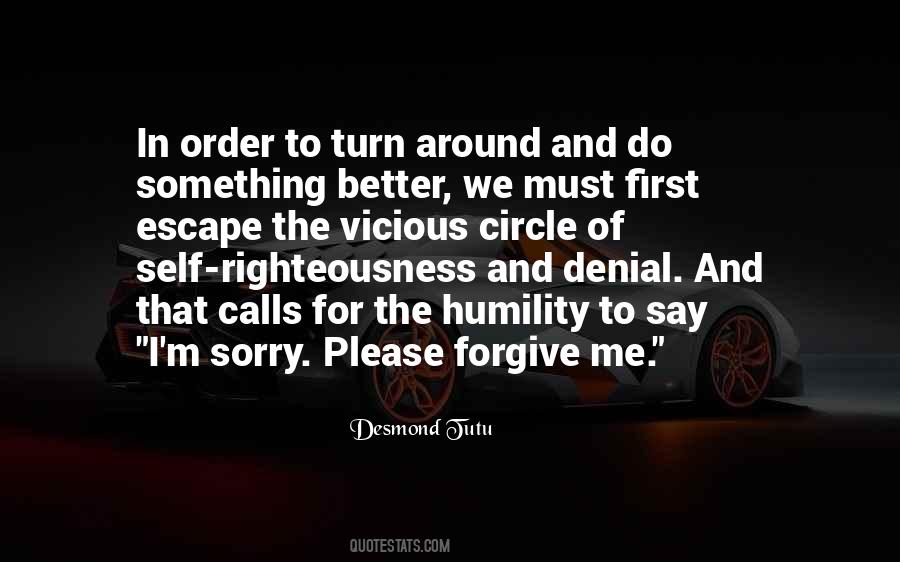 #96. If there is any method in the way I take pictures, I believe it lies in this: See the subject first. Do not try to force it to be a picture of this, that or the other thing. Stand apart from it. Then something will happen. The subject will reveal itself. - Author: Bill Brandt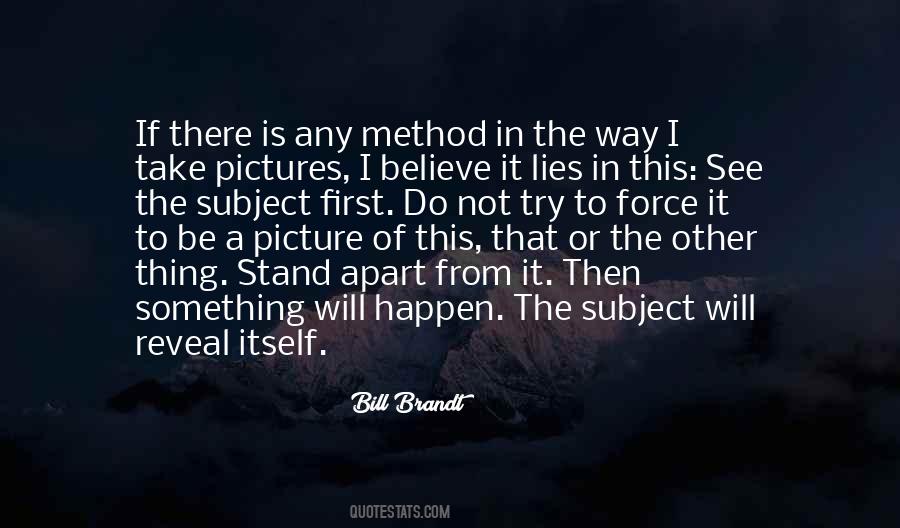 #97. My company, Against All Odds Productions, has done print on demand; we were the first to do a book with a CD-ROM in the early 1990s. We do custom covers. It's always fun to do something new. - Author: Rick Smolan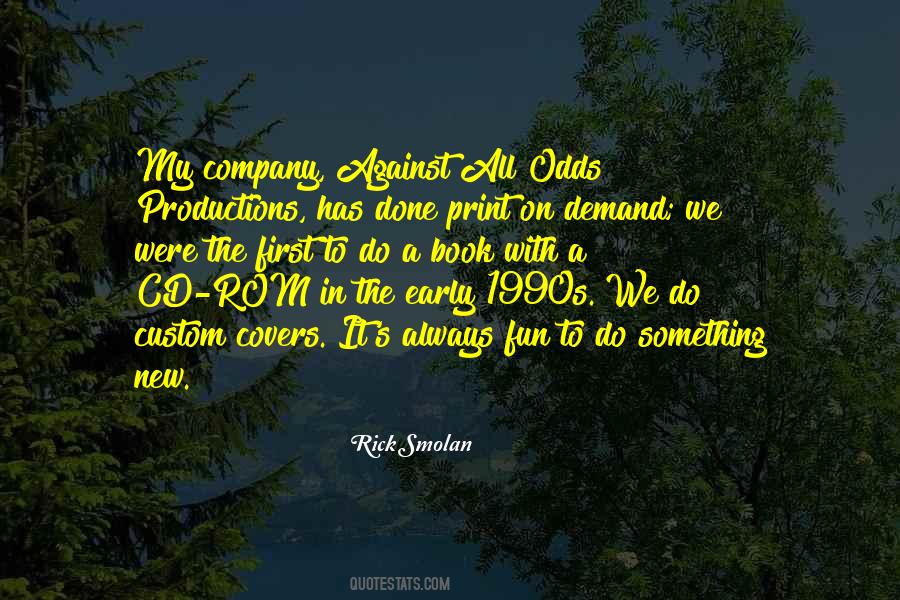 #98. But first, my friends, I need you to do something for me. We have two spies in the back of the auditorium. - Author: James Dashner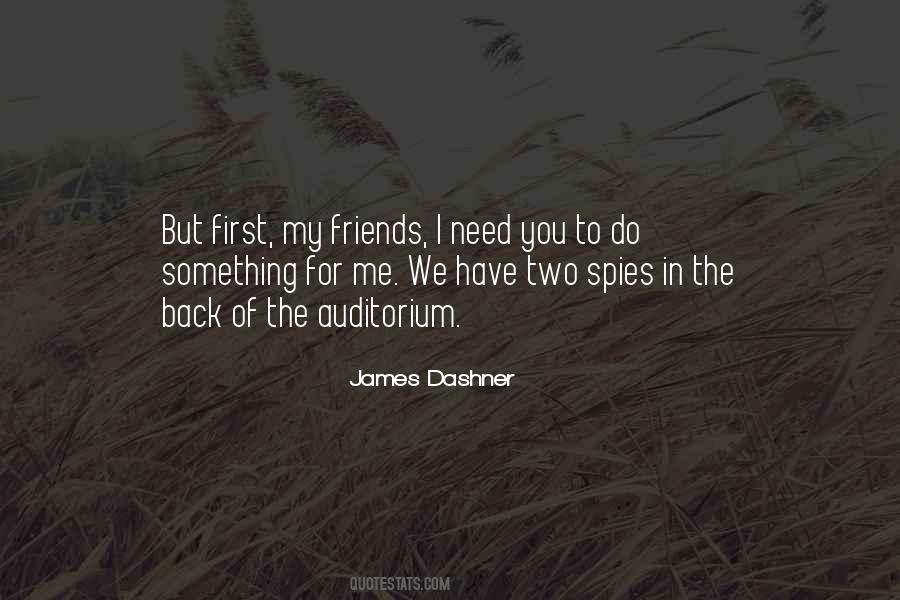 #99. I make films for myself, first and foremost, just because it is such a personal experience, and it's something I really have to want to do and feel connected to. - Author: Cameron Diaz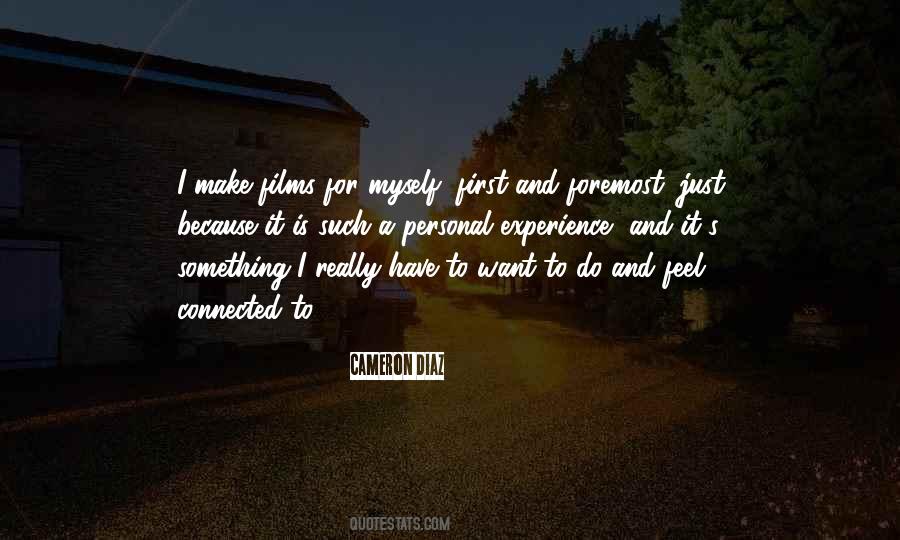 #100. I first decided to become an actor at school. A teacher gave us a play to do and that had a major impact. At first, I wanted to work in the theatre, but there was something about the ambience of film, especially American films, that always attracted me. - Author: Jean Reno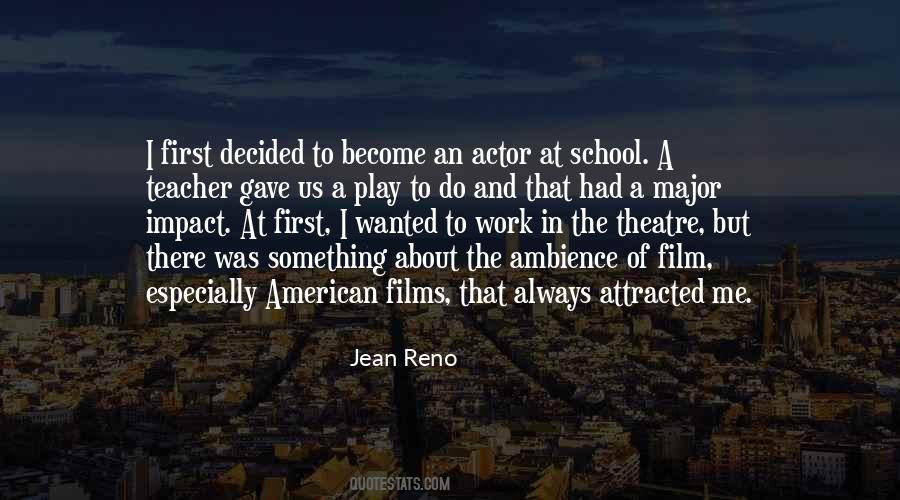 Famous Authors
Popular Topics