Fight Harder Famous Quotes & Sayings
List of top 74 famous quotes and sayings about fight harder to read and share with friends on your Facebook, Twitter, blogs.
Top 74 Fight Harder Quotes
#1. Think about all of the times, situations, and circumstances where you have gotten caught up in making your self right rather than happy ... The harder you fight to win, the bigger you lose. - Author: Phil McGraw
#2. I think some have to fight harder to choose good over evil because the evil's got it out for them. And maybe it's because those're the ones evil knows will become the strongest warriors, recognizing true wickedness when it rears its head. - Author: Mary Weber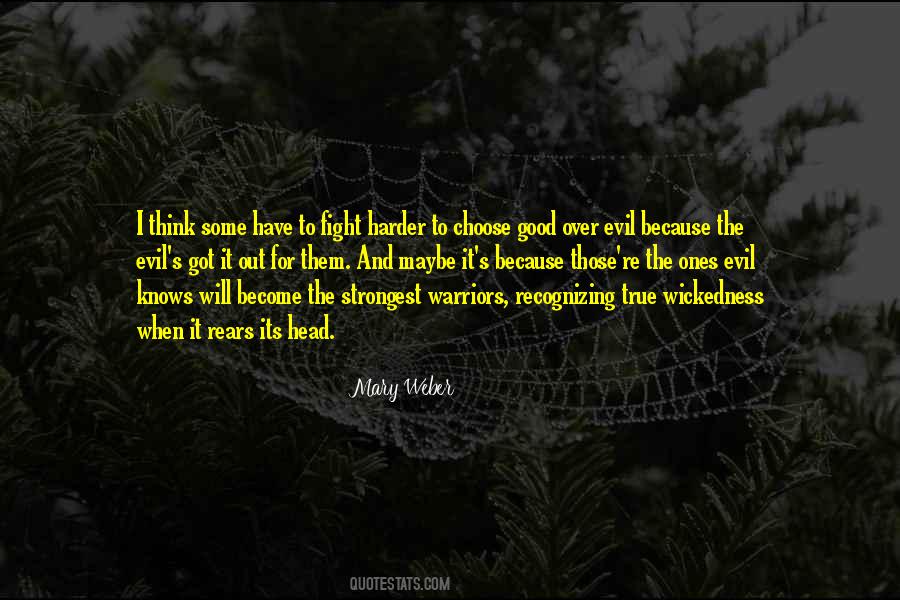 #3. As one ages, eventually, no matter what regime you've followed, no matter how fiercely you've fought the fight, good health becomes harder to maintain. It may disappear overnight or simply dwindle, but with every year that passes, the odds shorten. - Author: Laurie Graham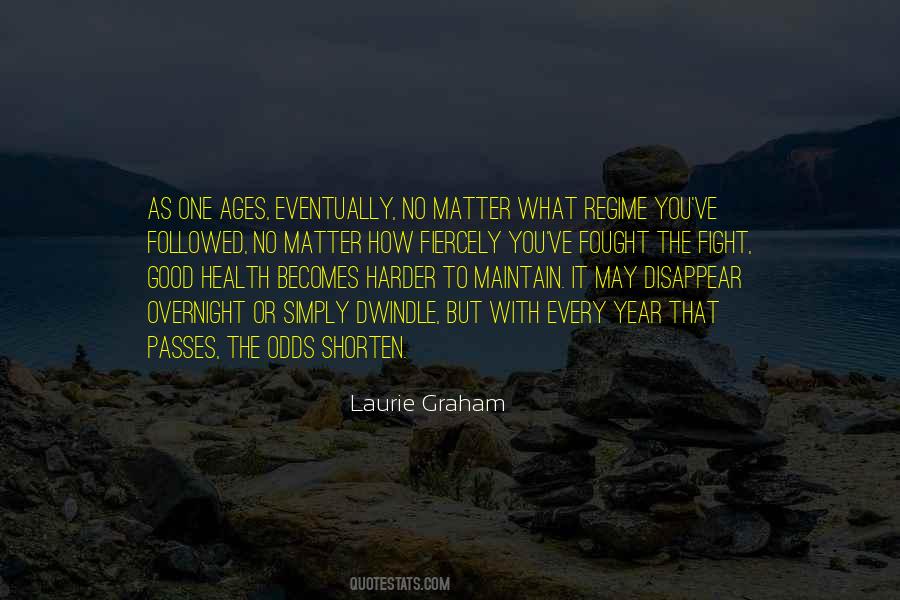 #4. Girls can fight with swords, too. Sometimes, even better than men can. They just have to want it badly enough that they're willing to work harder at it. - Author: Nenia Campbell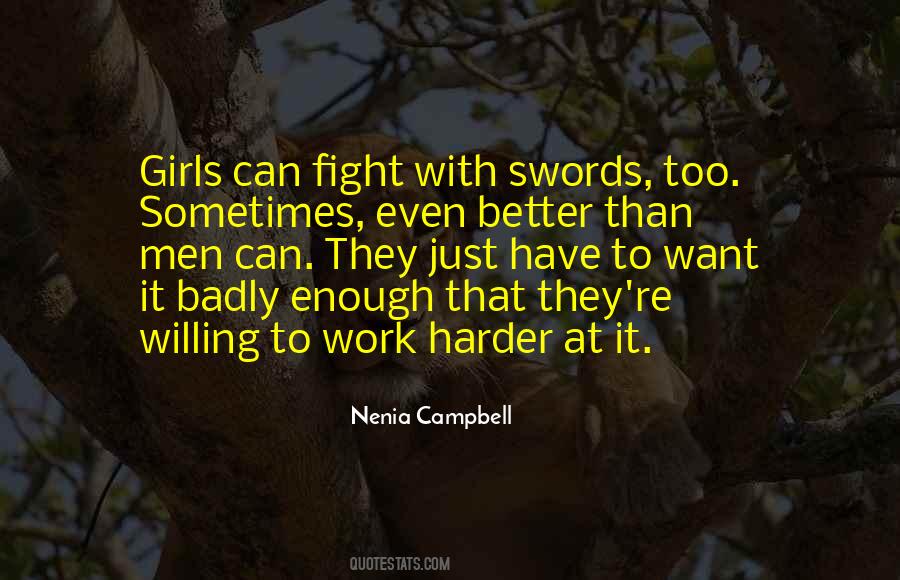 #5. Change comes, even in the face of overwhelming odds. And the recognition of the changes we have already made, of what we have won, inspires us to fight even harder. When - Author: Bernie Sanders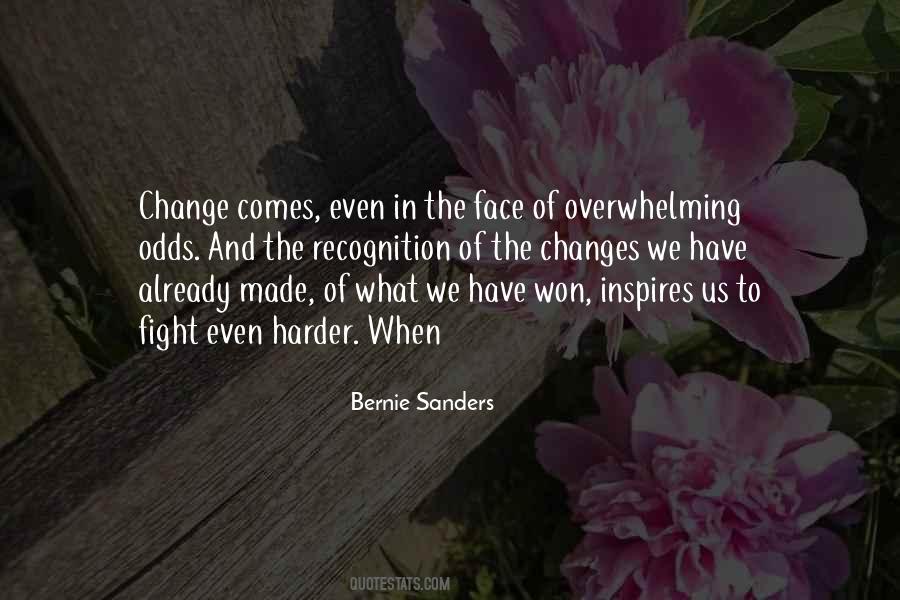 #6. Life bites, and the harder you fight it, the more leverage it has to tear your heart right out of your chest. - Author: Rachel Vincent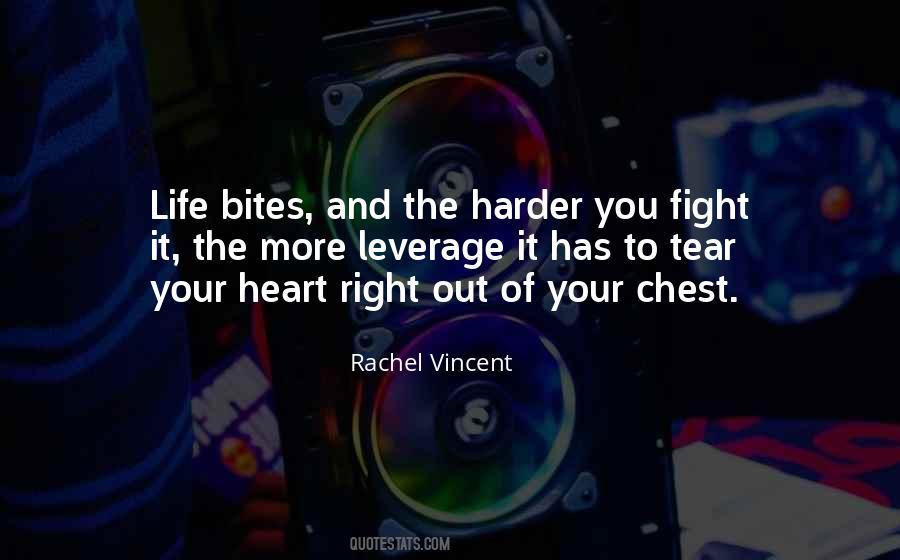 #7. I also know about running away," I said, when staying around is so much harder. And I know the happiness, the"-I searched for a word and had to settle on- "the joy when sticking around and fighting things mean I get to keep the people I love near me. - Author: Faith Hunter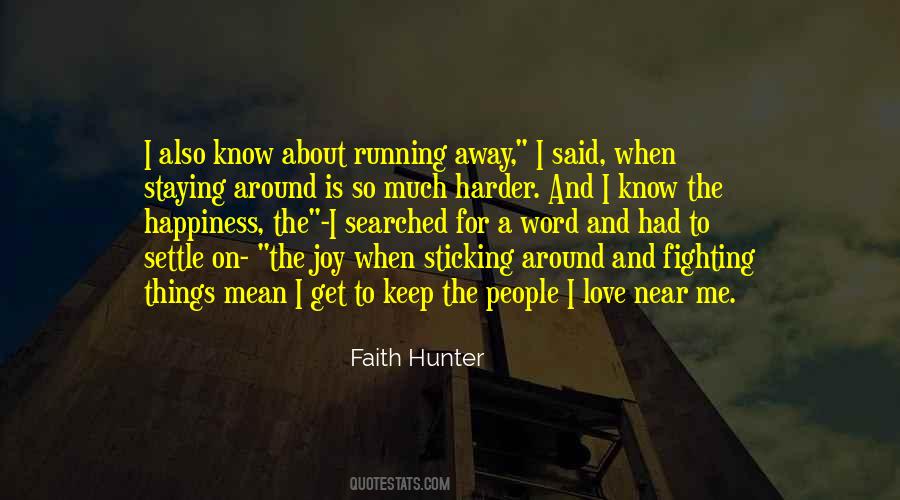 #8. Leaving my first agent was both my best business decision and my worst business decision. It depends on how I want to look at my career because of opportunities that may have come had I stayed with him and because of the opportunities that did come because I had to fight harder for roles. - Author: Carmen Ejogo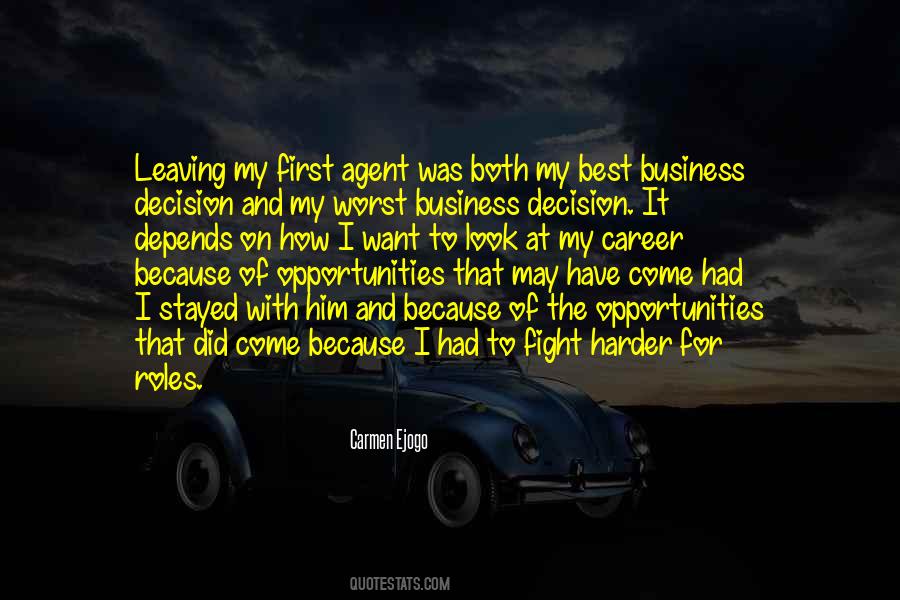 #9. Knowing that it has never been done before makes me want to fight even harder. - Author: Misty Copeland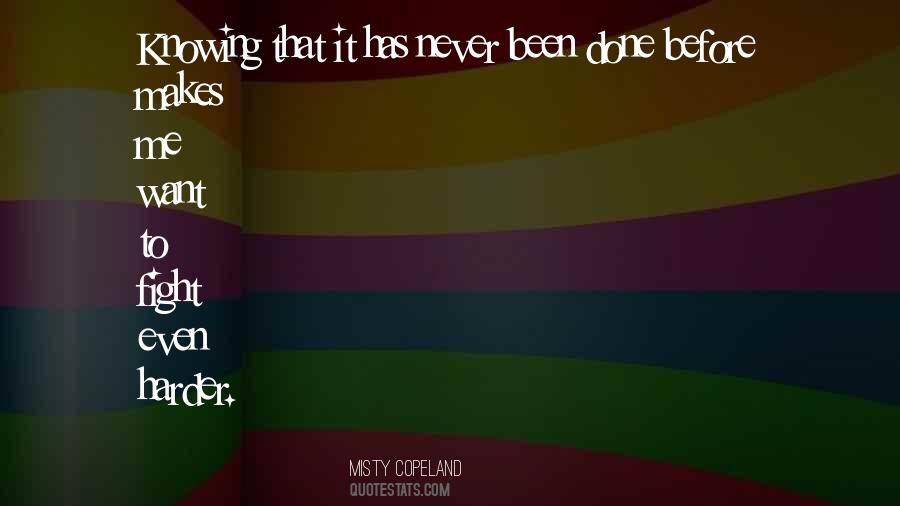 #10. I will never quit. My nation expects me to be physically harder and mentally stronger than my enemies. If knocked down i will get back up, every time. I will draw on every remaining ounce of strength to protect my enemies and to accomplish our mission. I am never out of the fight. - Author: Marcus Luttrell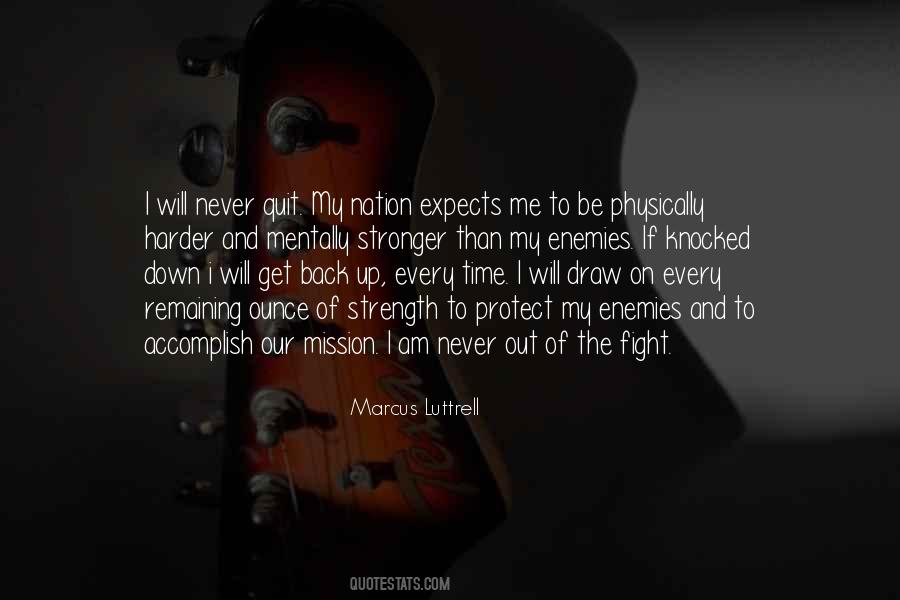 #11. The harder you fight to hold on to specific assumptions, the more likely there's gold in letting go of them. - Author: John Seely Brown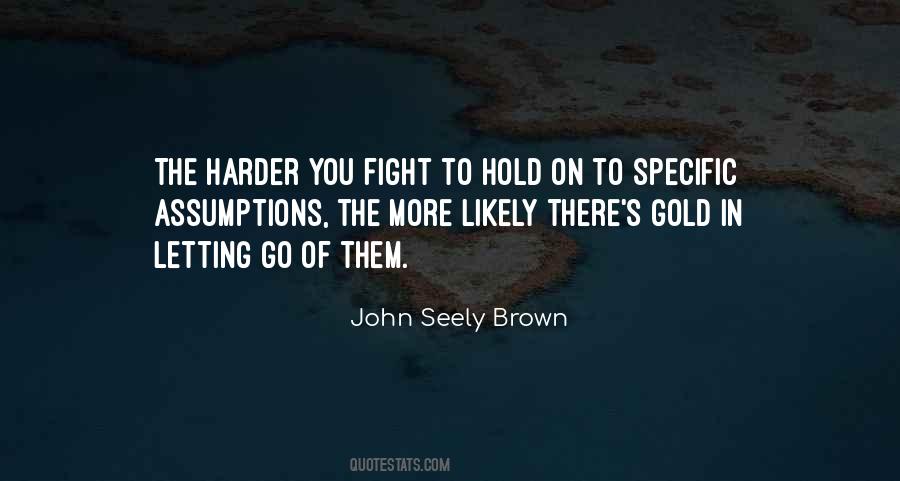 #12. I can't promise you it'll always be sweet and tender because you and I fight hard. But I'm pretty sure it won't be a horror ride either because you and I love even harder. What I can promise is you'll always mean more to me than my next breath, and it'll always be you in my life. No one else. - Author: Gail McHugh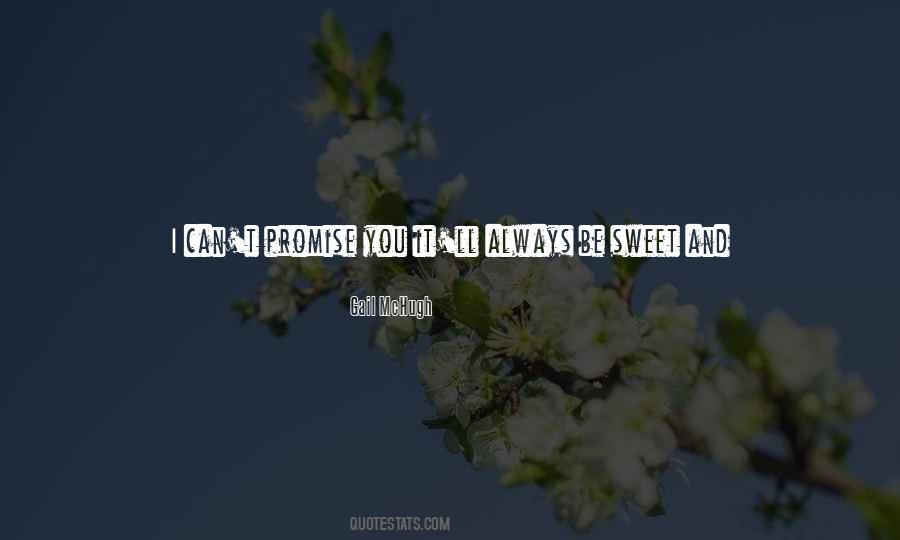 #13. I meet people who say, "Girl, I watch every match, and I pray for you." I feel that energy and those prayers. Sometimes when I'm down on the court, in the back of my mind, I'm thinking, "They want me to win. Is there anything else I can give?" It encourages me to do better, to fight harder. - Author: Serena Williams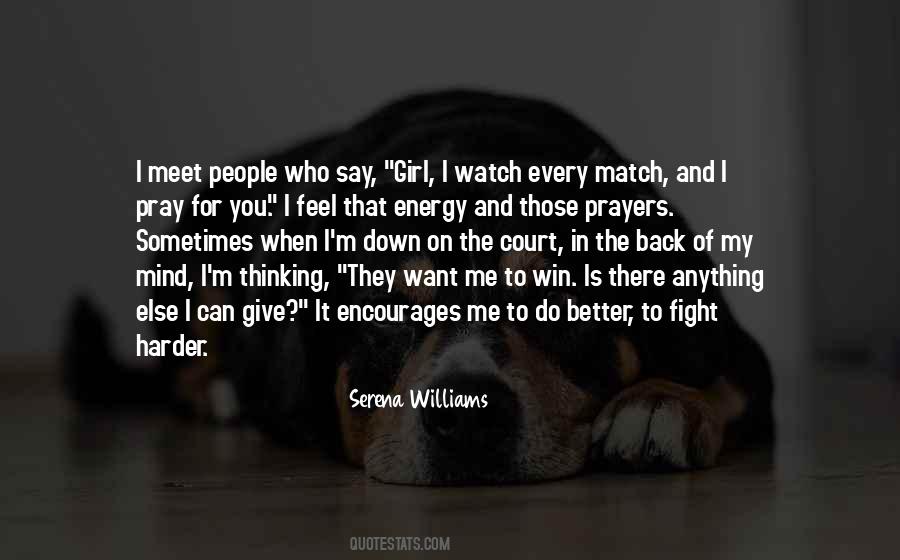 #14. I think the general's job is harder than the painter's; canvas doesn't fight back, after all. - Author: Django Wexler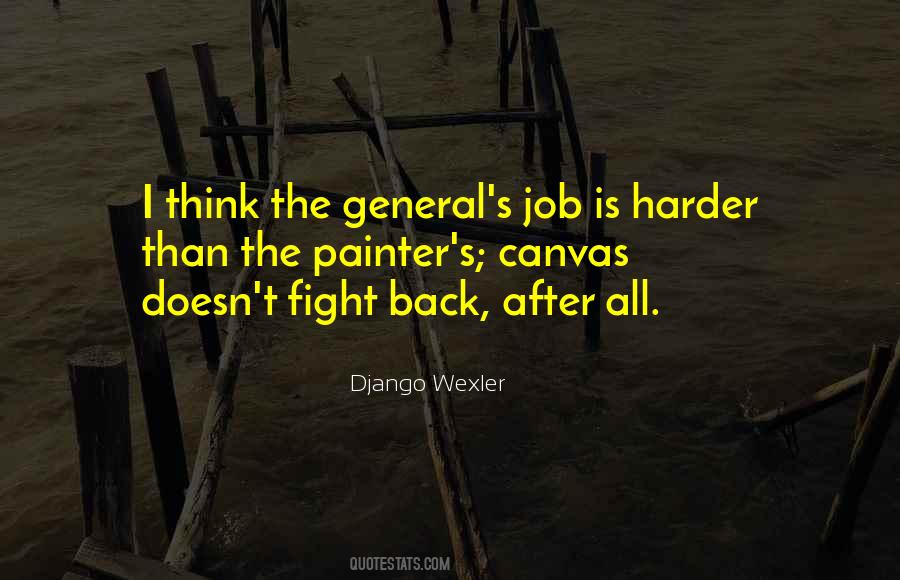 #15. At the next vacancy for God, if I am elected, I shall forgive last the delicately wounded who, having been slugged no harder than anyone else, never got up again, neither to fight back, nor to finger their jaws in painful admiration. - Author: John Ciardi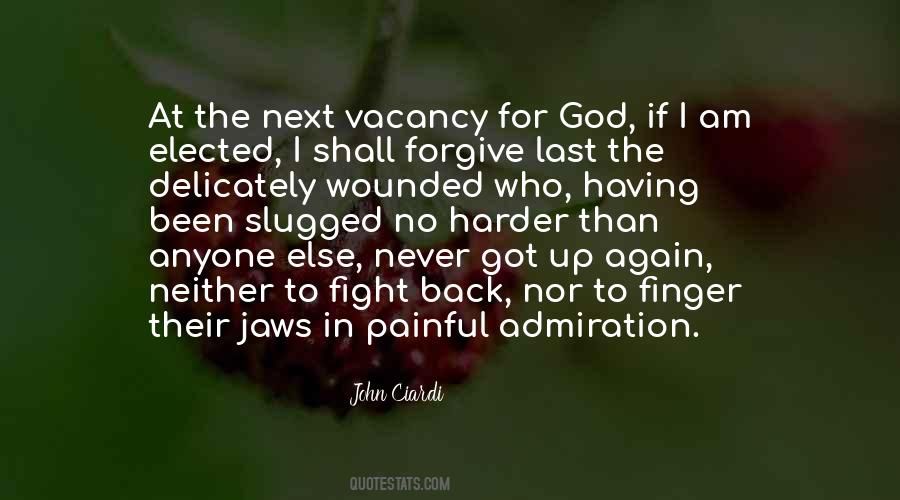 #16. You're playing and you think everything is going fine. Then one thing goes wrong. And then another. And another. You try to fight back, but the harder you fight, the deeper you sink. Until you can't move ... you can't breathe ... because you're in over your head. Like quicksand. - Author: Keanu Reeves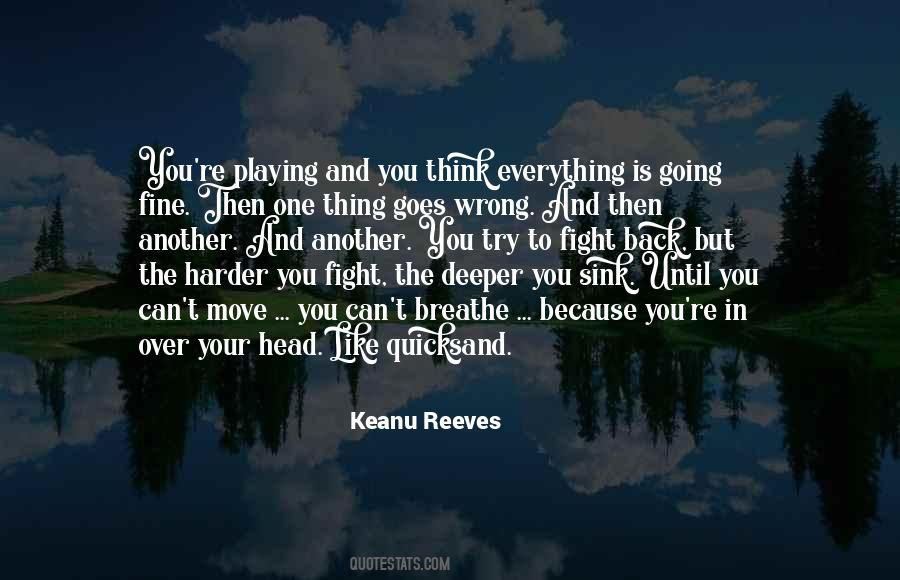 #17. That a lie which is all a lie may be met and fought with outright, But a lie which is part a truth is a harder matter to fight. - Author: Alfred Lord Tennyson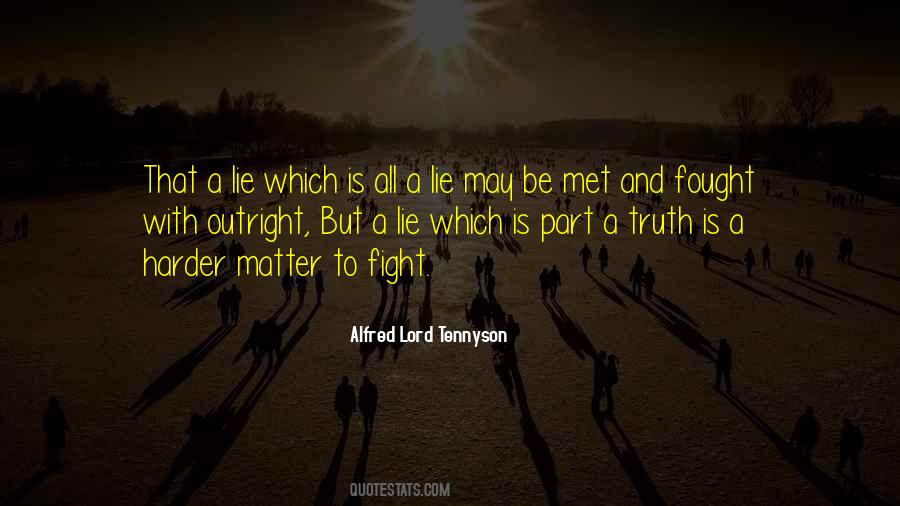 #18. Fight and push harder for what you believe in, you'd be surprised, you are much stronger than you think. - Author: Lady Gaga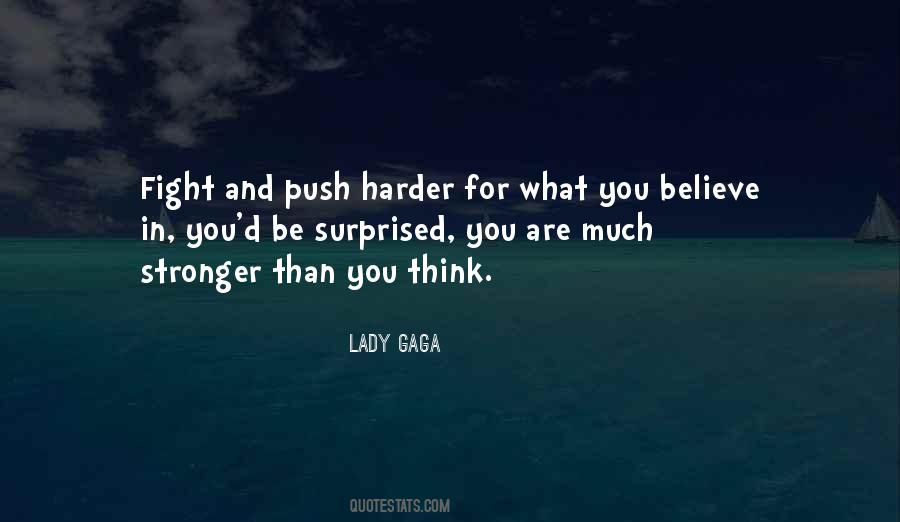 #19. Live long, fight hard, love harder... - Author: Julia Mills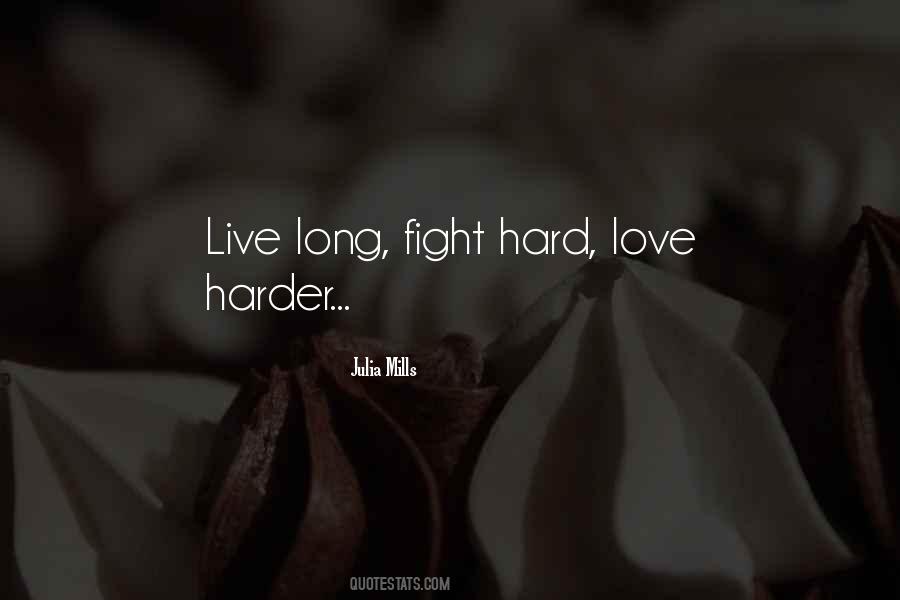 #20. No fight is harder than the struggle against the thing you want most to believe. - Author: Martha Albrand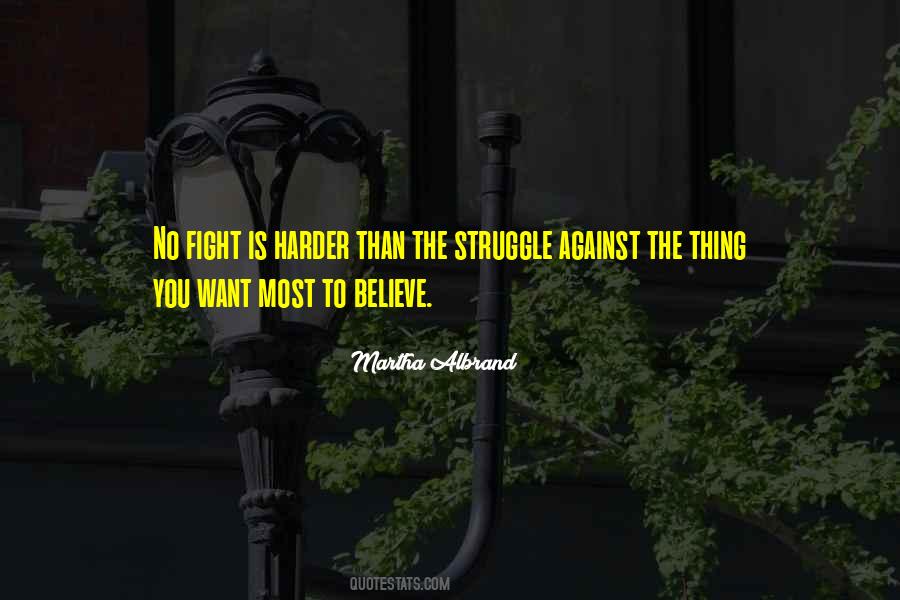 #21. The broken ones need someone to fight for them even harder. - Author: Carrie Ryan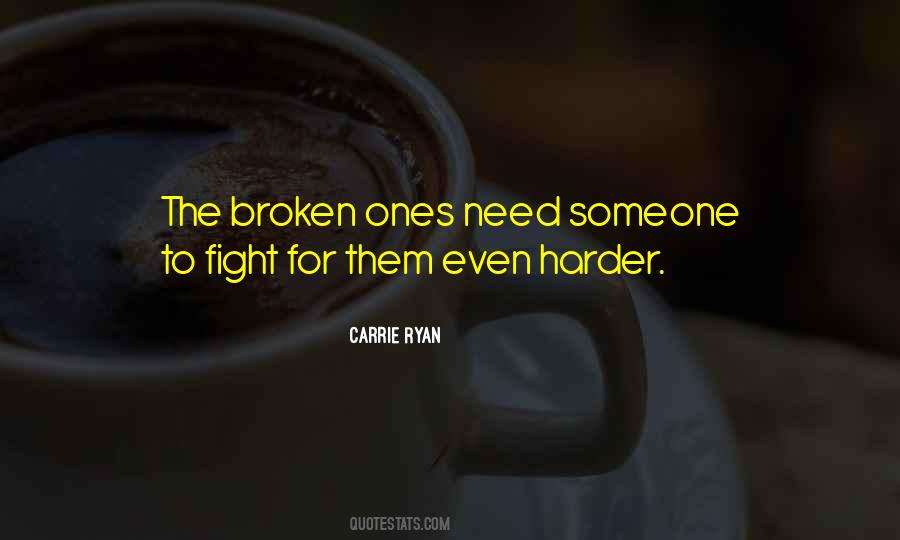 #22. It's easy to talk, it's harder to fight. - Author: Georges St-Pierre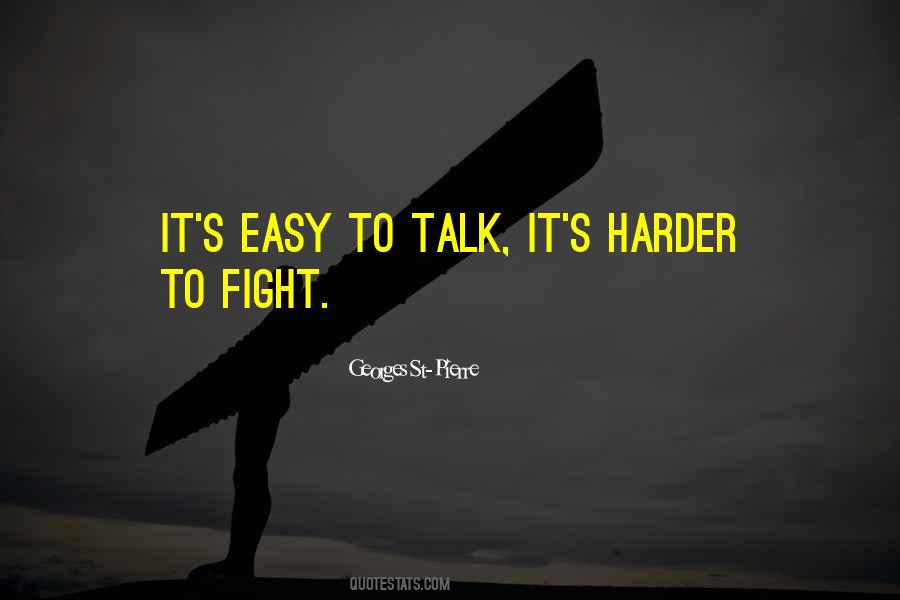 #23. Each year, humanity died a little more. ChronoCom's charter was to fight that decline, yet things had never gotten better. Every year, there was a little less power to utilize. People went hungry a little longer. Lived lives a little harder. They were losing this war. - Author: Wesley Chu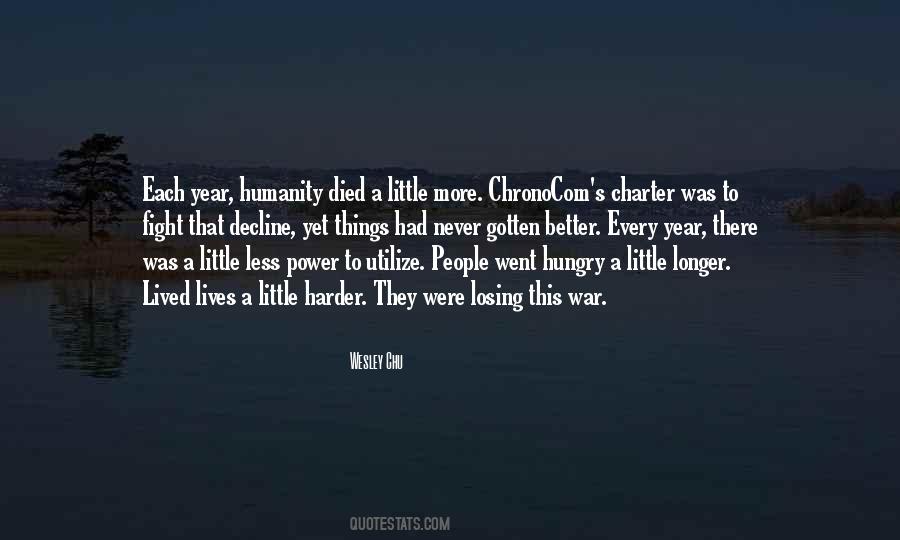 #24. The economy works best when better ideas win out over worse ideas, harder work wins out over less work, when it's a fair fight in the marketplace. - Author: Adam Davidson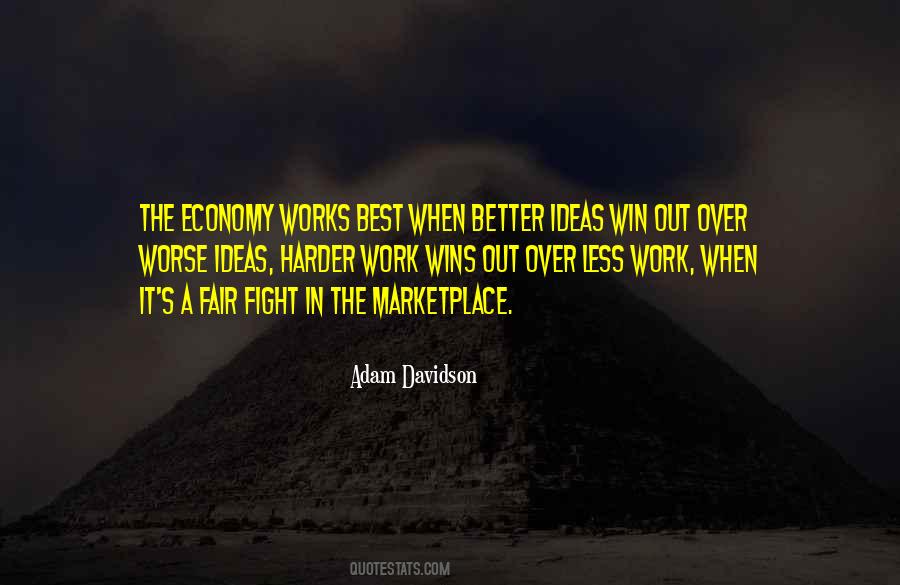 #25. A man will fight harder for his interests than for his rights. - Author: Napoleon Bonaparte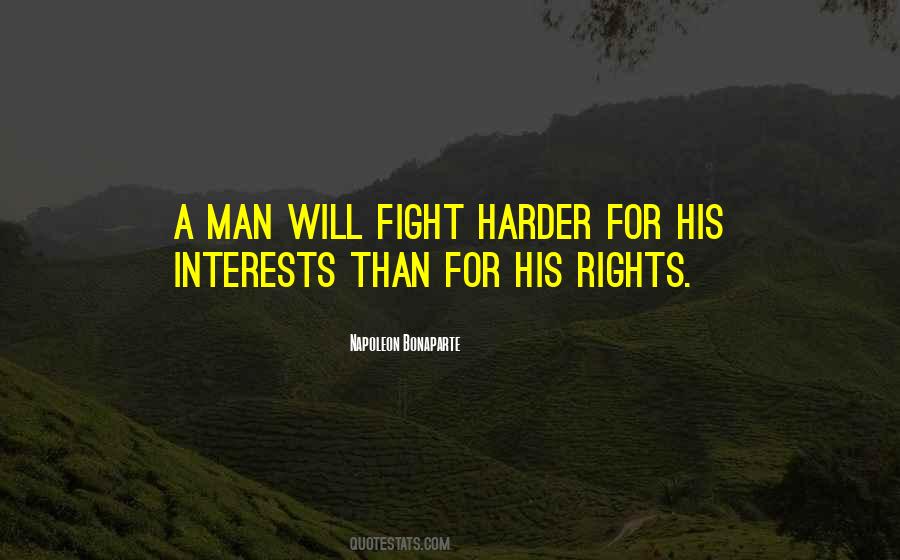 #26. You have to fight harder, dig deeper, and prove all the doubters wrongs. - Author: Carli Lloyd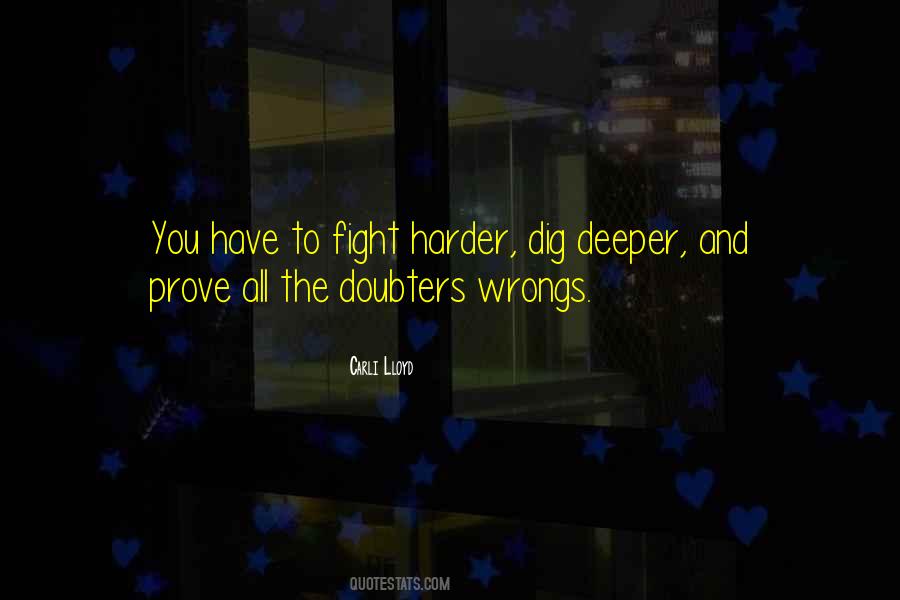 #27. Seize the moment and seize the day. Revel in the joy and fight all the harder against despair. I - Author: R.A. Salvatore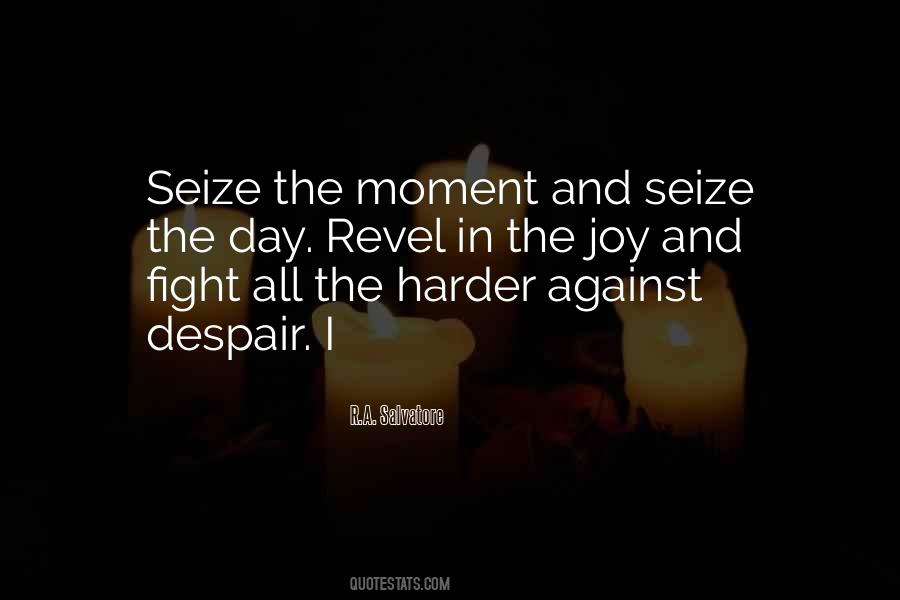 #28. Guys have a level of insecurity and vulnerability that's exponentially bigger than you think. With the primal urge to be alpha comes extreme heartbreak. The harder we fight, the harder we fall. - Author: John Krasinski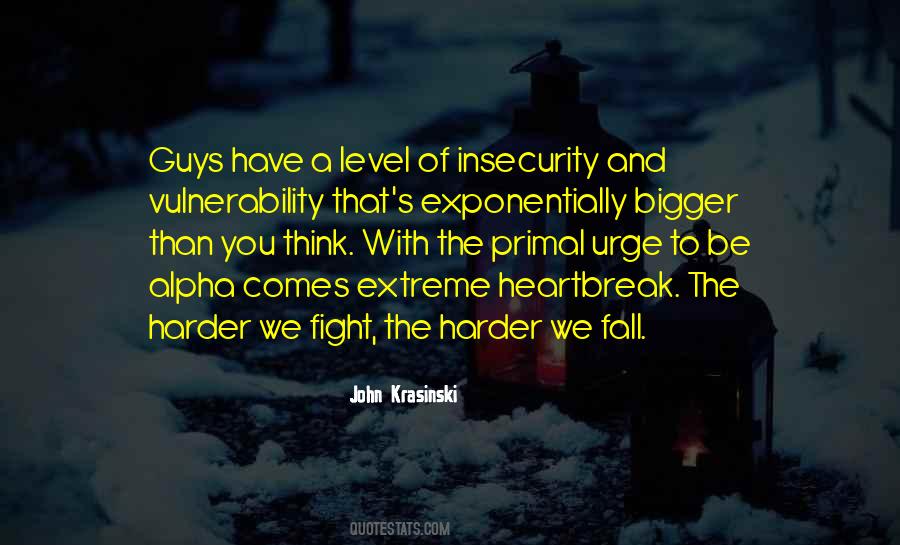 #29. What was it, she wondered, that made some people give up and others fight harder? Where was her fight? She was out. - Author: Kaya McLaren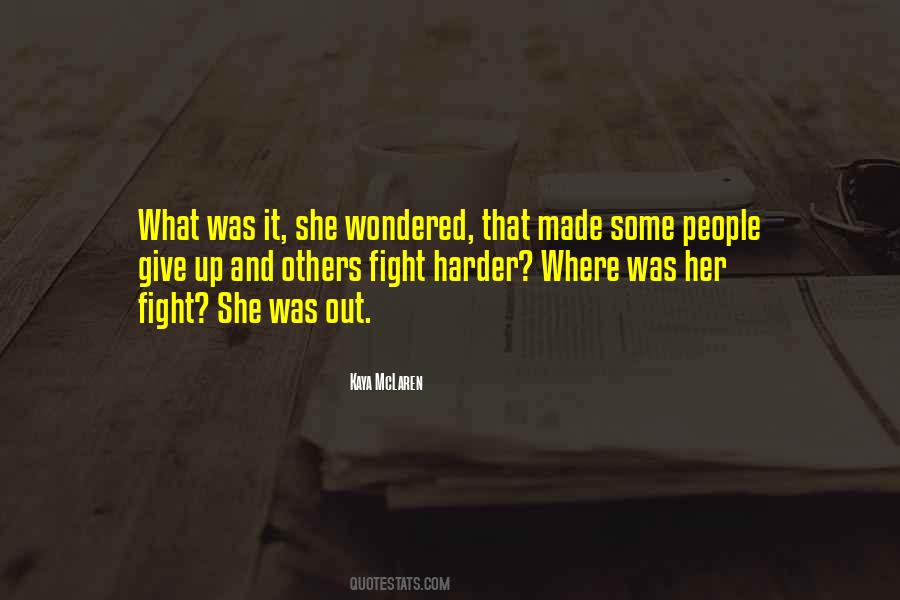 #30. I'm such a private person, and sexuality is such a private thing. A sex scene is much harder than a fight scene. It's one thing to say, 'Kick higher,' but 'Kiss harder' - that's just crazy. - Author: Carrie-Anne Moss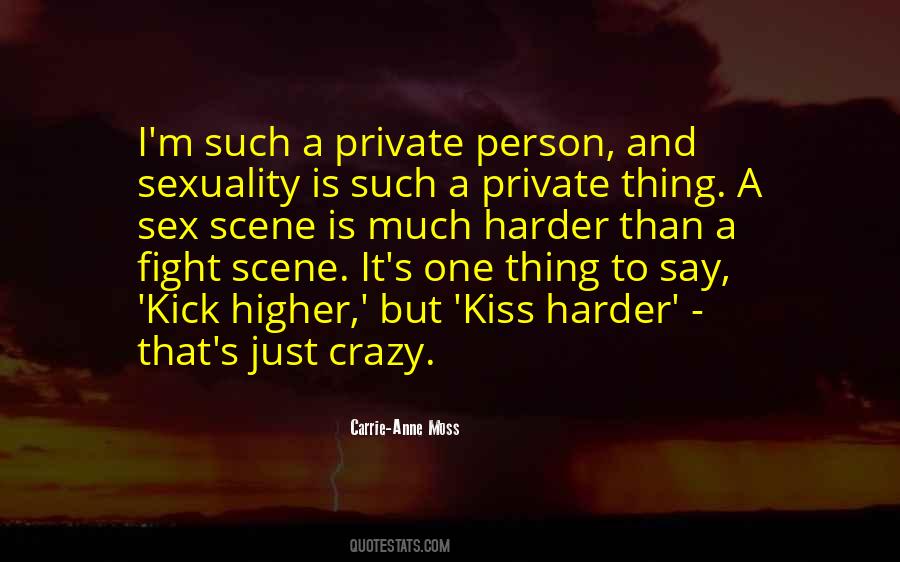 #31. It had only taken nine years for the world to change completely ... You'd have thought we'd fight harder and stronger. - Author: Jessica Shirvington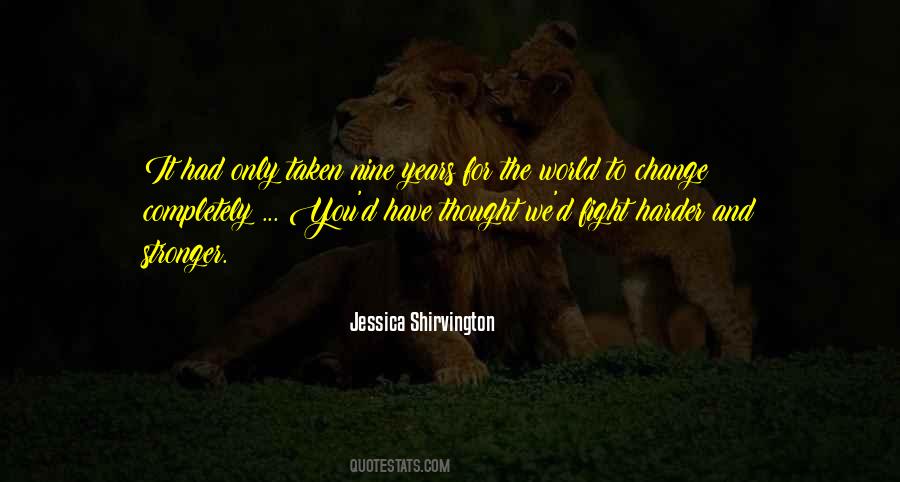 #32. There were never two people more ill suited for a relationship than us. We were all wrong. We didn't stand a chance.
And that made me want to fight for it even harder. - Author: A Meredith Walters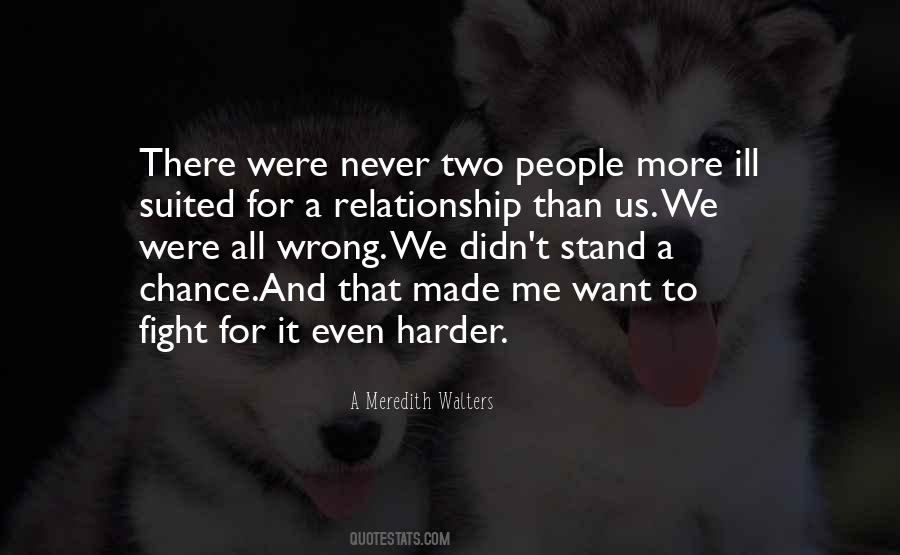 #33. Who has a harder fight than he who is striving to overcome himself. - Author: Thomas A Kempis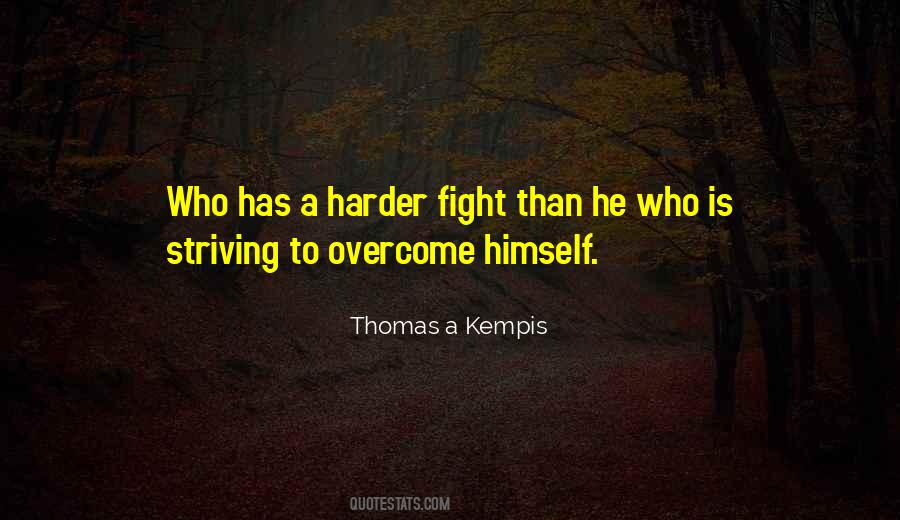 #34. Losing doesn't make me want to quit. It makes me want to fight that much harder. - Author: Bear Bryant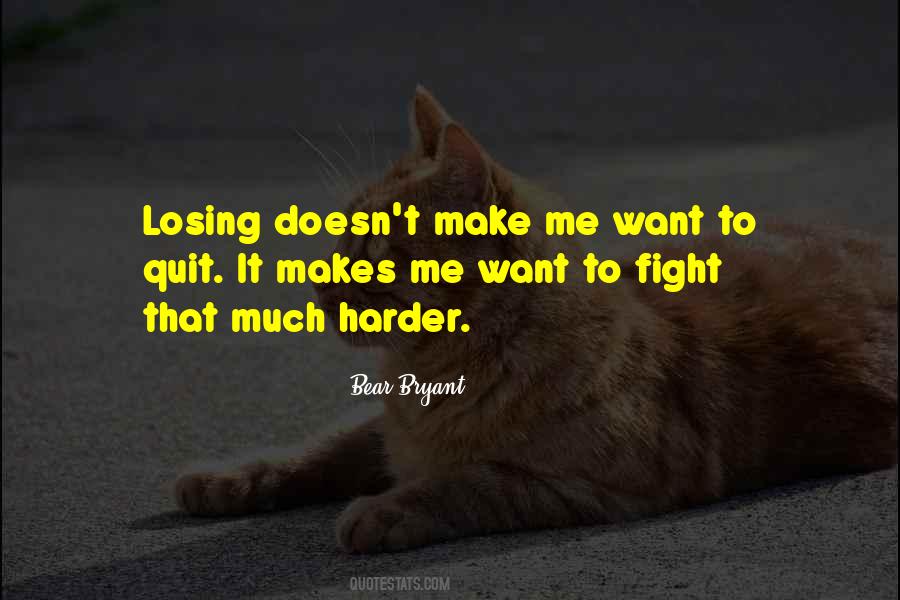 #35. Conservatives are tougher. They fight harder, they fight for their own, and they're willing to win for themselves and they're willing to impose pain on the opposition. Liberals are much less willing to do that. They're much more - they would much rather give to everybody. - Author: Thomas B. Edsall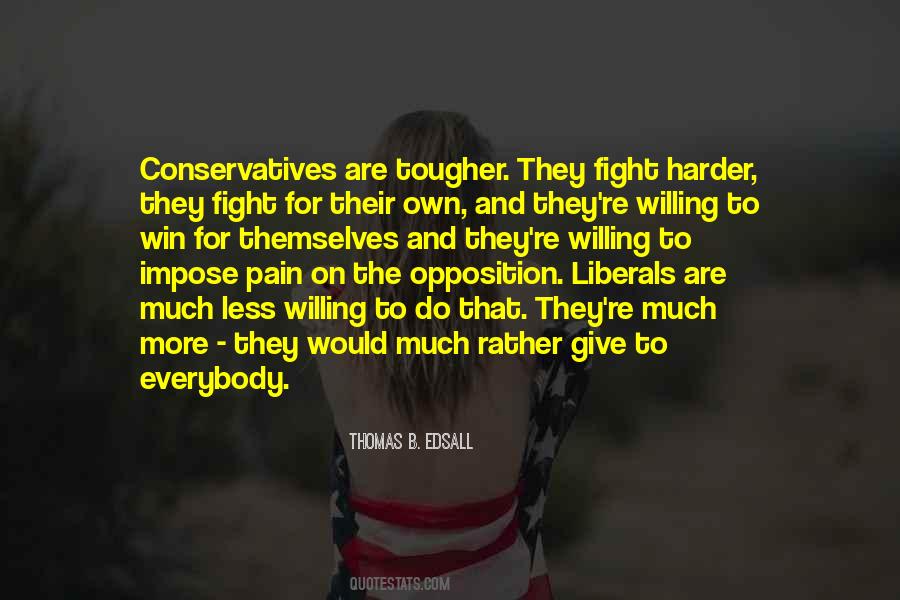 #36. The Worse Things Get, The Harder I Fight. The Harder I Fight, The More I Love You. - Author: Neko Case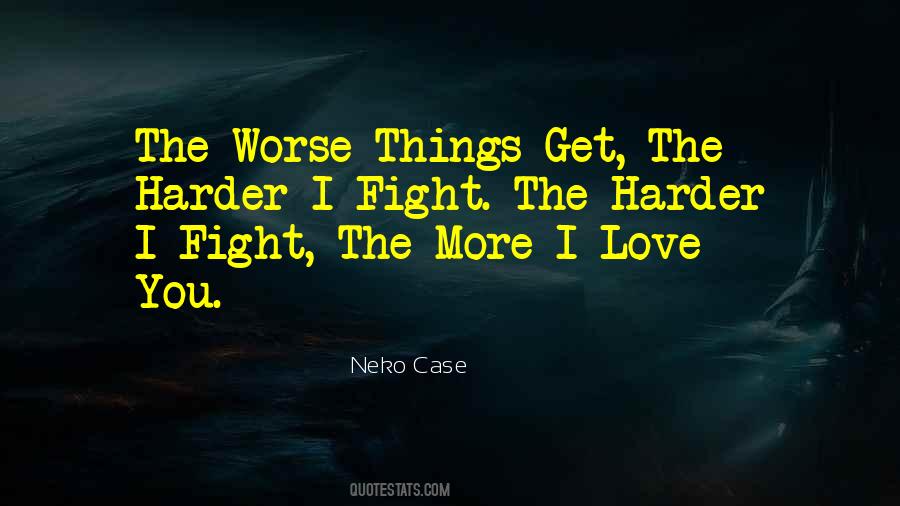 #37. Again, it is harder to fight with pleasure than with anger, to use Heraclitus' phrase', but both art and virtue are always concerned with what is harder; - Author: Aristotle.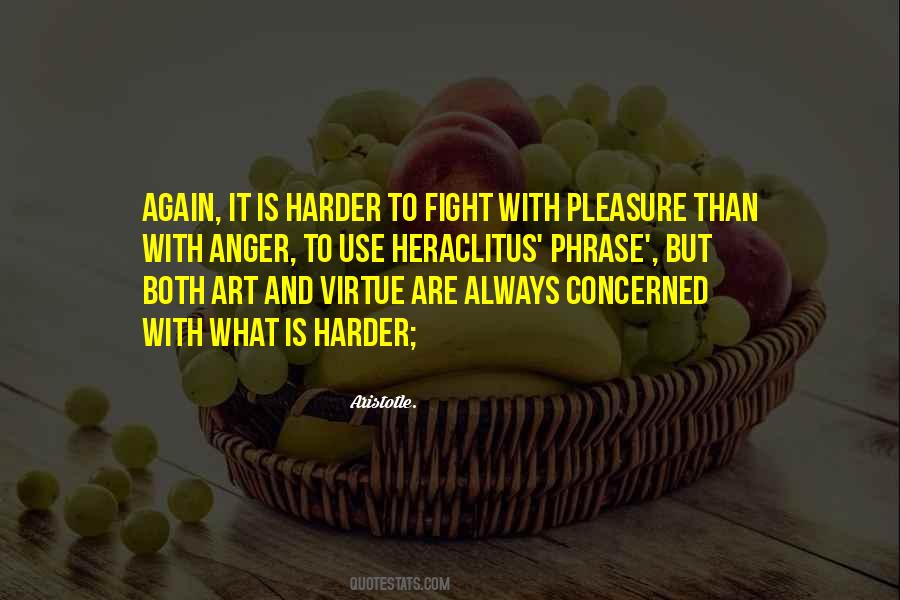 #38. Life is hard, kid. you gotta be harder. you gotta take it on and fight for it and be a fucking man about how you live it. if you're too much of a pussy to do that, then maybe you should leave, 'cause you're dead already - Author: James Frey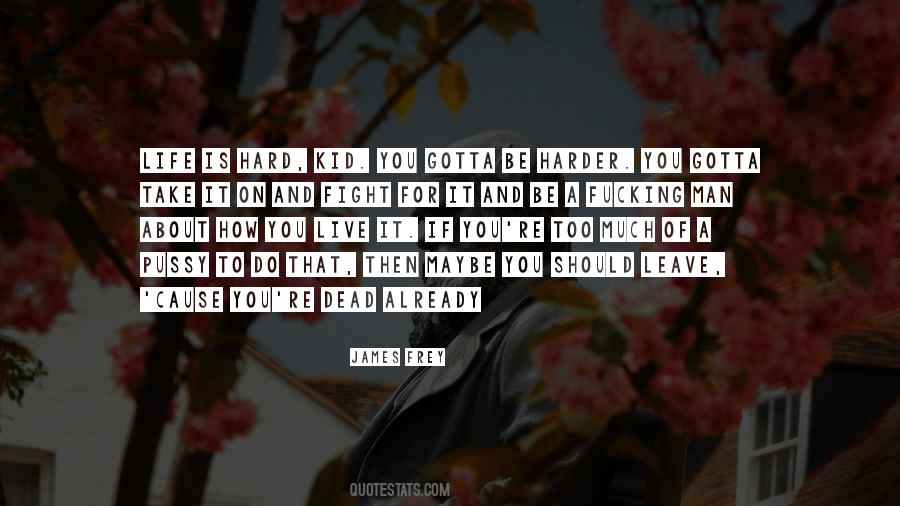 #39. In France, I guess there's something like a tyranny in mentalities - we accept success badly, beauty, money. People are certainly envious, and this creates negative energy. This is annoying. I suffered a great deal at one time. I had to fight harder than others. Add to that my marriage to Polanski. - Author: Emmanuelle Seigner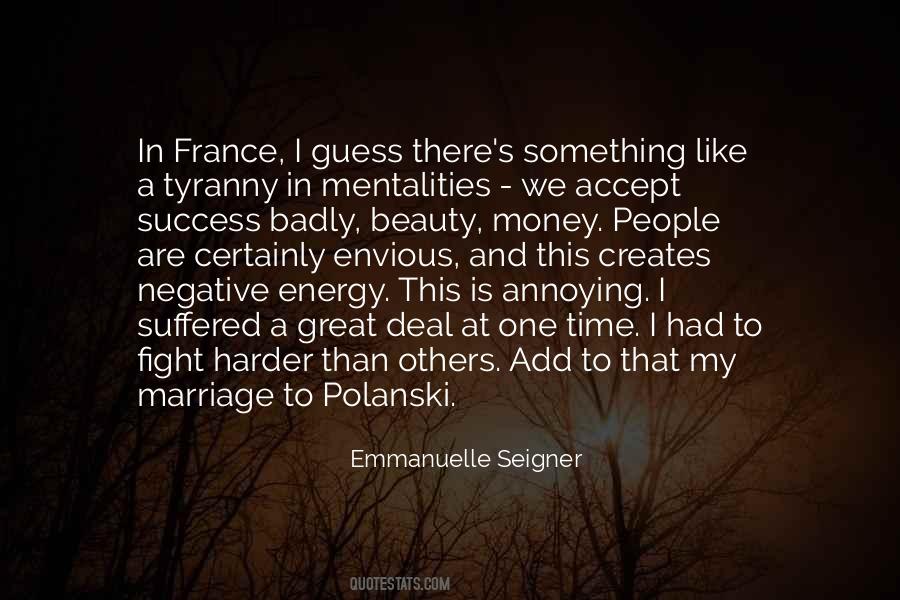 #40. We fight hard, but love harder and the pull we have to each other is all consuming. - Author: Danielle Jamie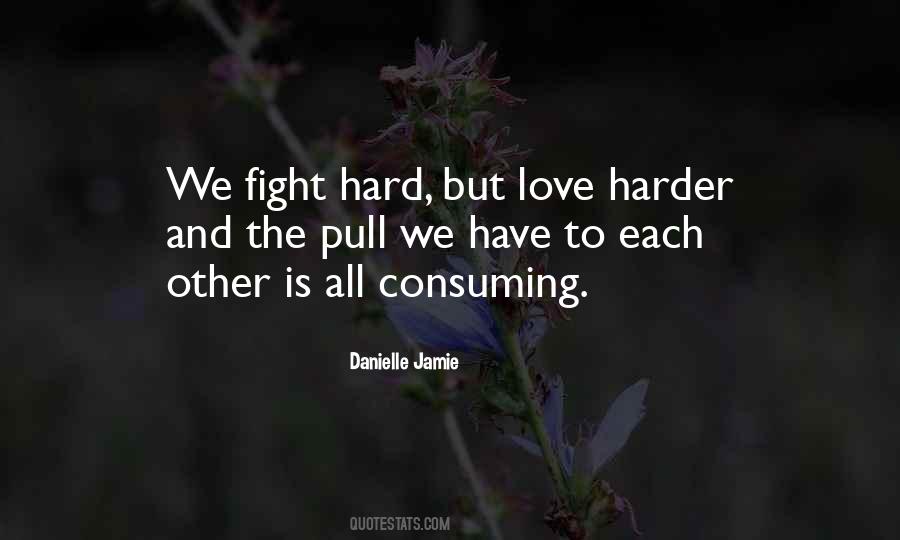 #41. I should move away from his touch. But he's a constant storm in my life, clouding my head, ensuring I make bad decisions. He doesn't do it on purpose, he knows we're not good for each other, but there's something about us that makes us fight back harder, thinking we can overcome it. - Author: Brittany Butler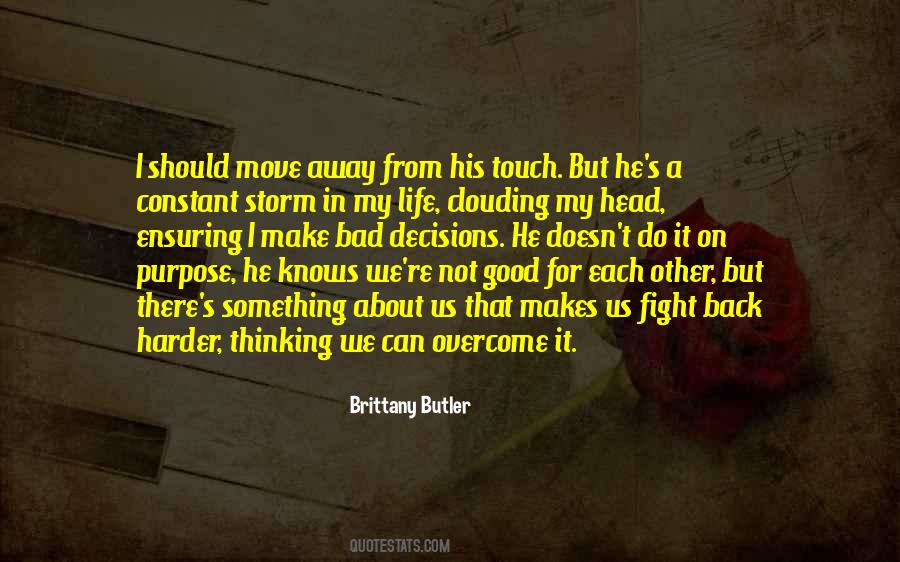 #42. The statues of Lenin and Stalin are down, but the fight against their ghosts seems harder. - Author: Octavian Paler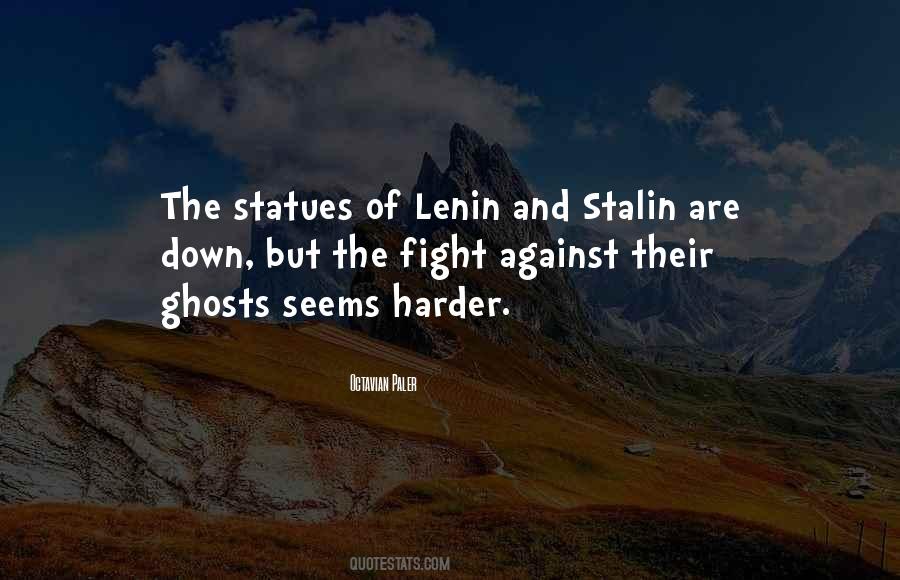 #43. I just recently realized. It's very strange. But doing fight scenes with Kate [Beckinsale], I was little bit more cautious. You can go harder with a guy, which I don't mean as an insult. - Author: Colin Farrell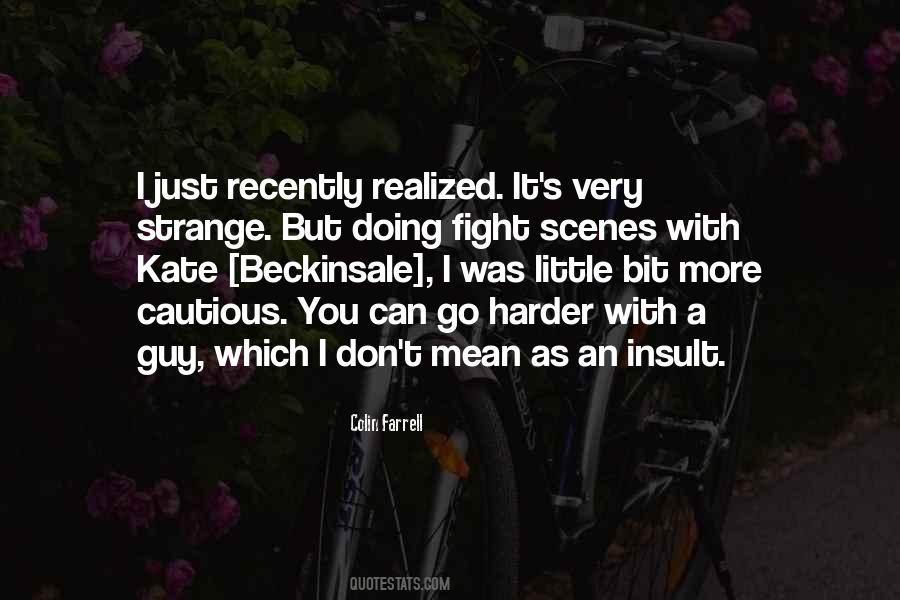 #44. I fight cynicism. It's too easy. It's really boring. It's much harder to be positive and see the wonder of everything. Cynicism is a bunch of people who aren't as talented as other people, knocking them because they make them feel even more untalented. - Author: Ewan McGregor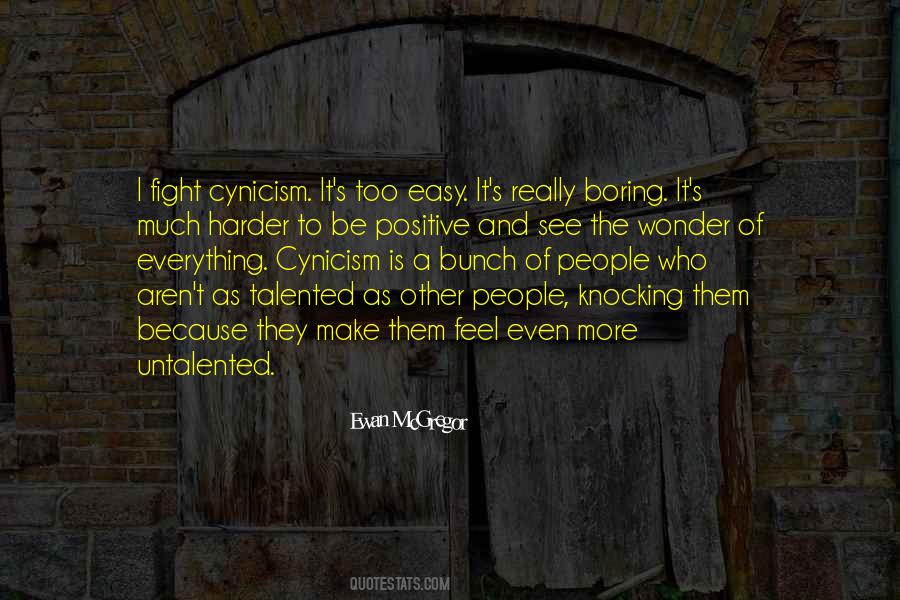 #45. If I go as hard as I can in practice, make sure it's a lot harder than than a fight, then the fight's going to be easy. - Author: Rashad Evans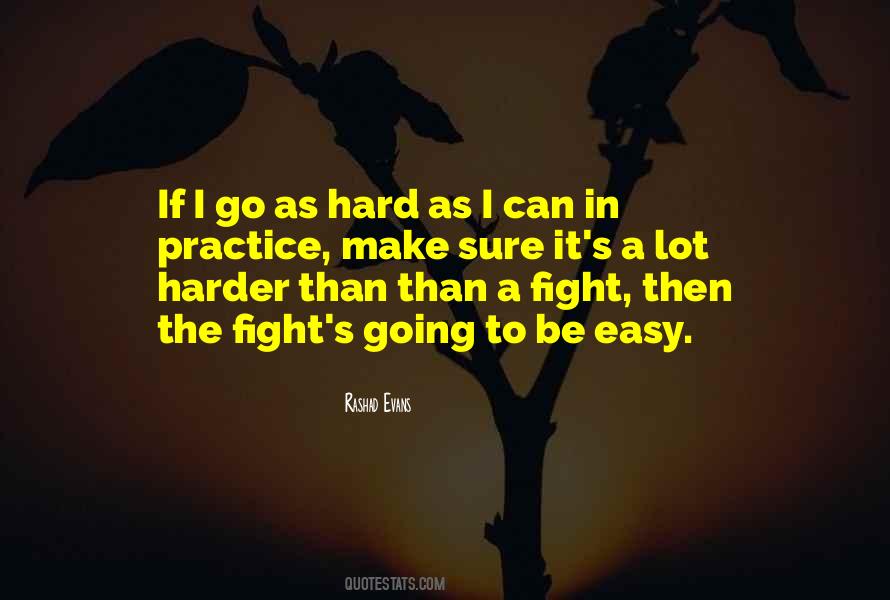 #46. I'll fight. I'll fight for you. For us. And this time, I won't let you walk away from me. When I saw you at the hospital, I shouldn't have let you walk away. You deserved for me to fight harder even if you were the one ripping my heart out. - Author: Brooke Cumberland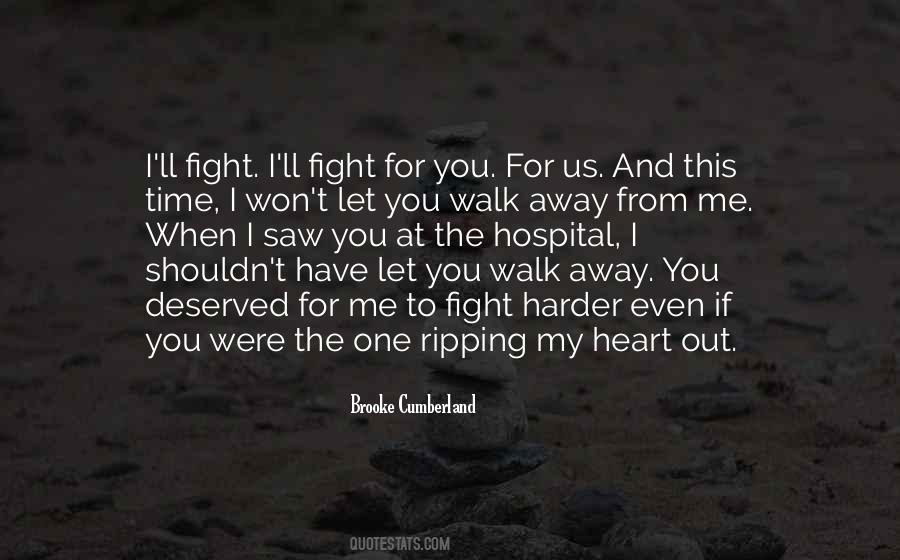 #47. Indifference is harder to fight than hostility, and there is nothing that kills an agitation like having everybody admit that it is fundamentally right. - Author: Crystal Eastman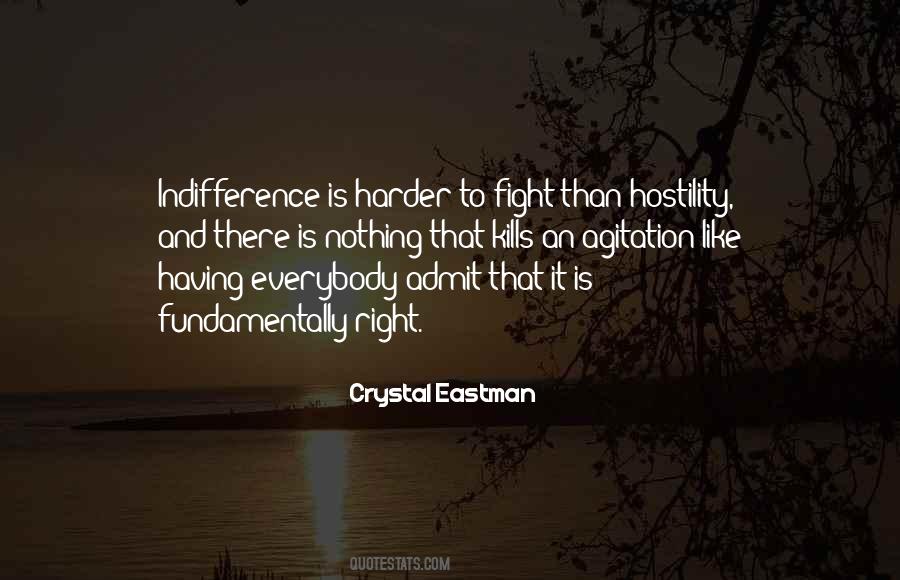 #48. Every setback might be the very thing that makes you carry on and fight all the harder and become much better. - Author: Les Paul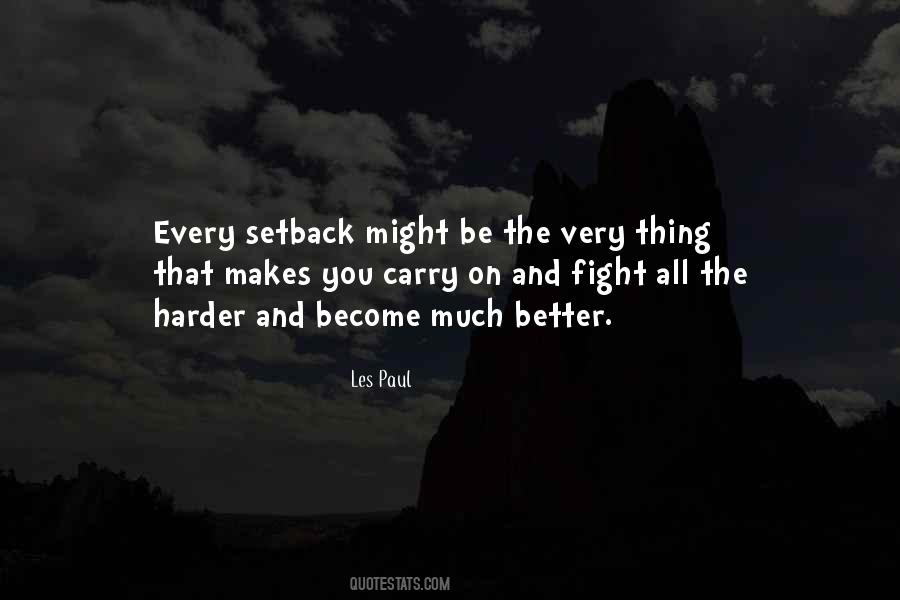 #49. Frustration in a fight can lead to four things: You give up, you fight harder, you fight worse, or you cheat. - Author: Laurell K. Hamilton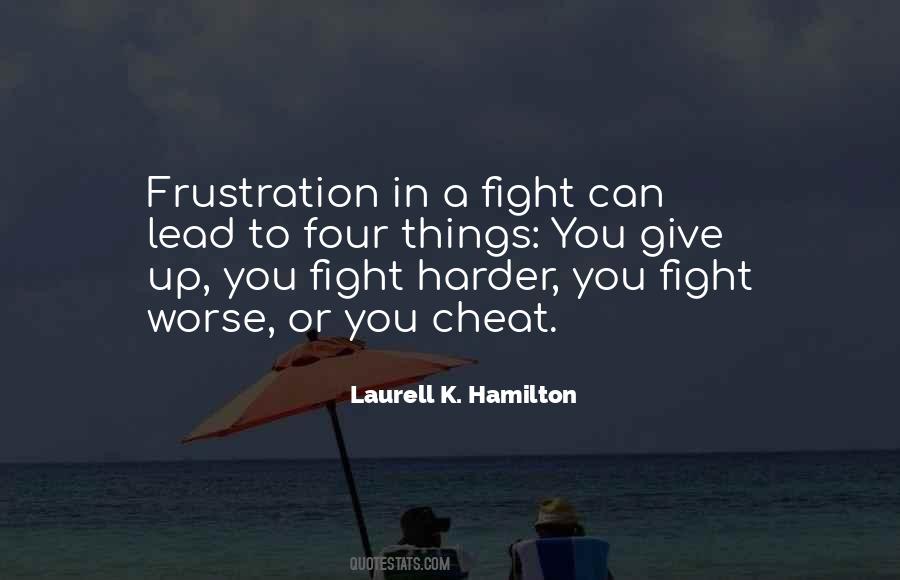 #50. Any little touch a defender can make on me when I'm in the air literally moves me. On the ground, I can use my muscle, but in the air, it's harder to fight that off. - Author: Abby Wambach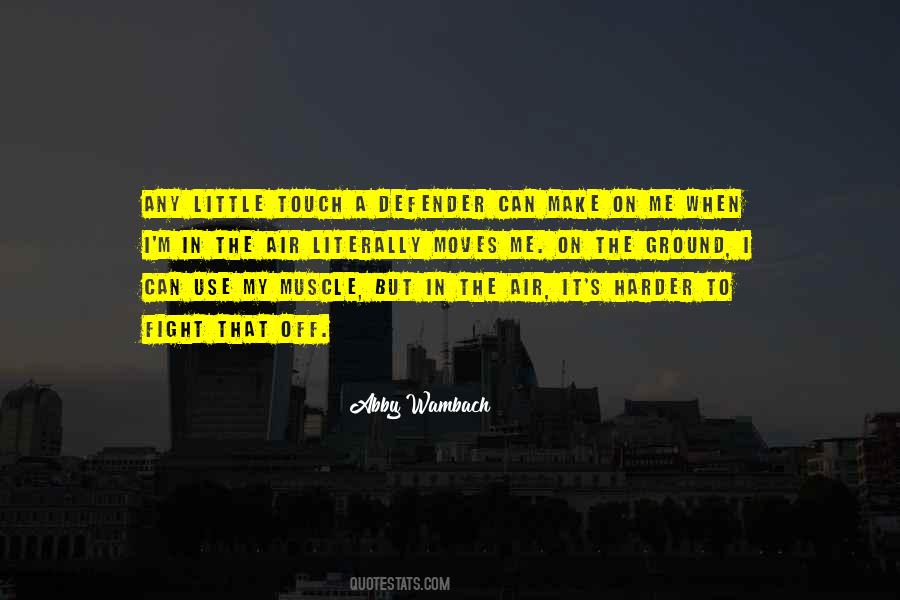 #51. It is harder to fight pleasure than to fight emotion. - Author: Heraclitus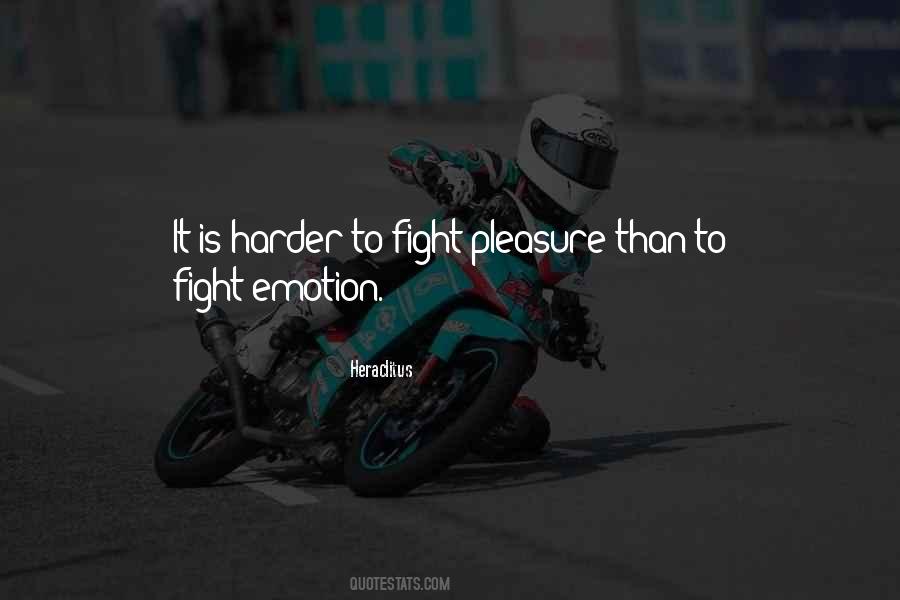 #52. Sometimes it's the harder relationships, the complicated ones you have to fight and claw for that have staying power. May give you gray hair and bruises,but,you know. - Author: Sharla Lovelace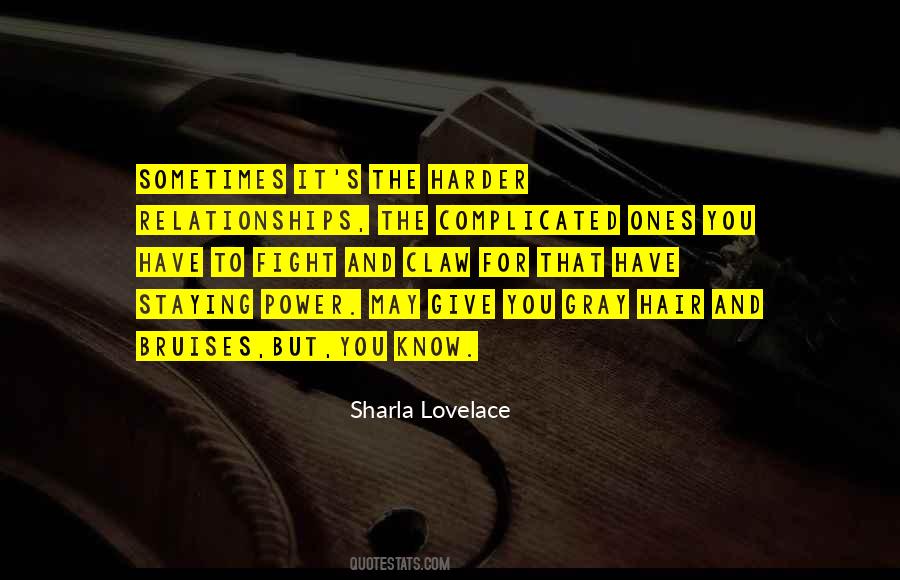 #53. You might be able to thrash your way out of a spiderweb, but thrashing in quicksand doesn't work. The harder you fight, the more ground you lose. Struggling merely expedites your inevitable defeat. - Author: Karen Marie Moning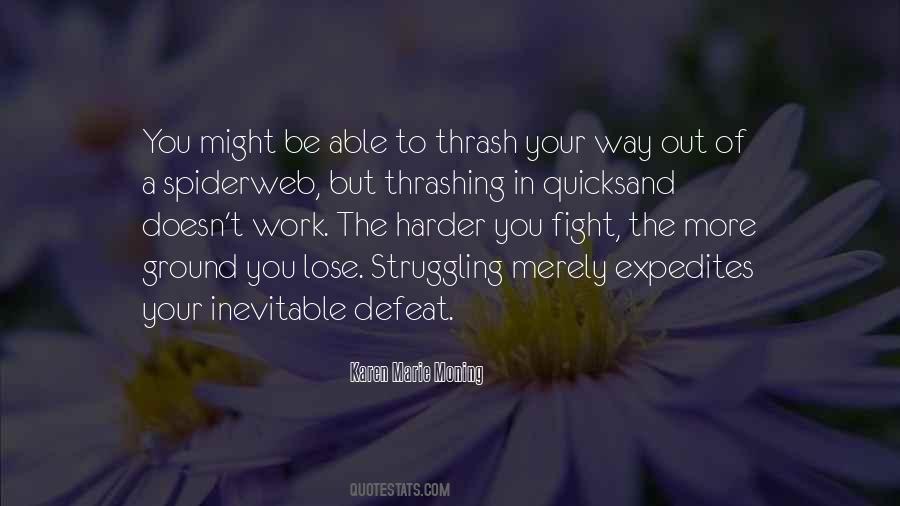 #54. Come on, where did you learn to fight? Miss Manners' School for Girls? My baby sister could hit harder than you when she was three years old. Damn, if you're going to turn Daimon, the least you could do is take a few fighting lessons so you can make my boring job more interesting. (Wulf) - Author: Sherrilyn Kenyon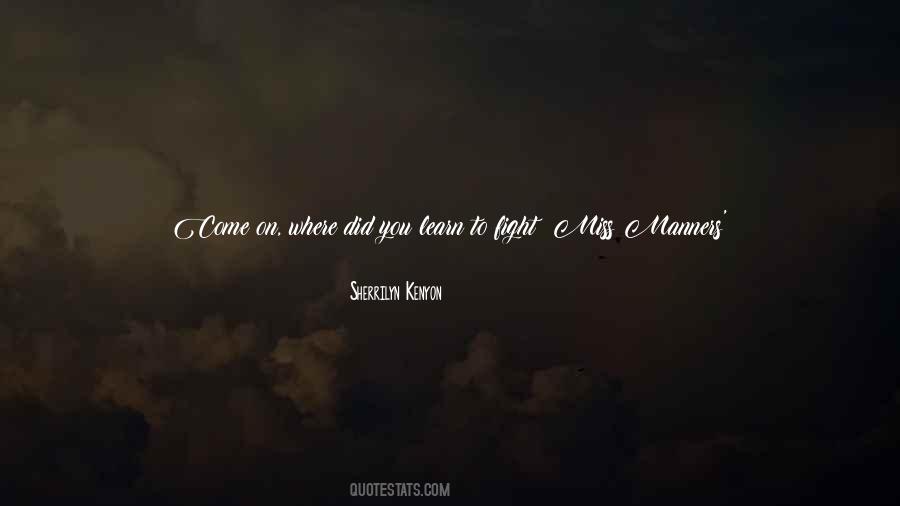 #55. There are those who believe justice and dignity are reserved only for some people. Young men have died in police custody, and the growing heel of poverty has worn down harder on children of color ... We must fight back. - Author: Elizabeth Warren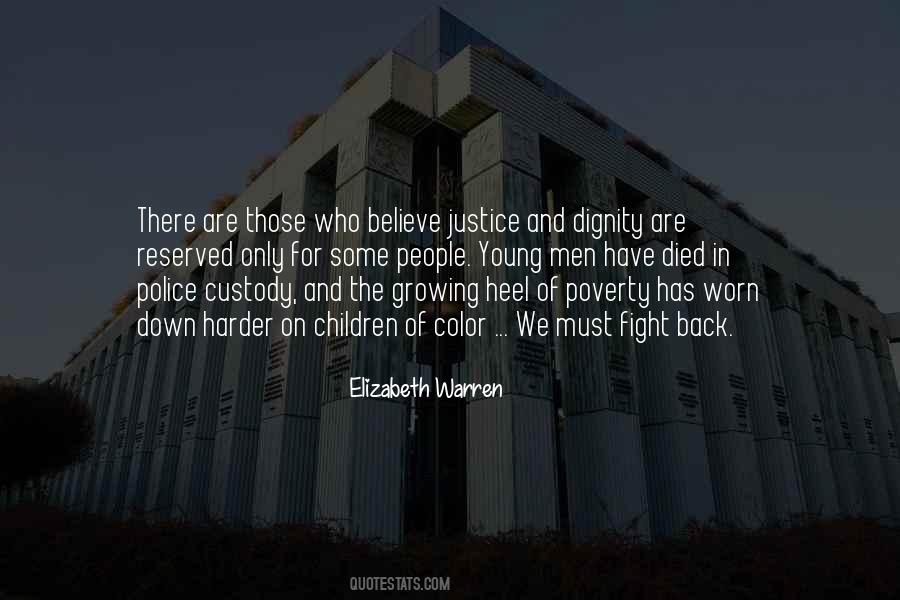 #56. It's obviously a lot harder to try and be a good guy than it is to be a bad guy. The world is a fundamentally evil place, it seems like. So in order to be a good person, you have to fight temptation and vice. - Author: Michael Shannon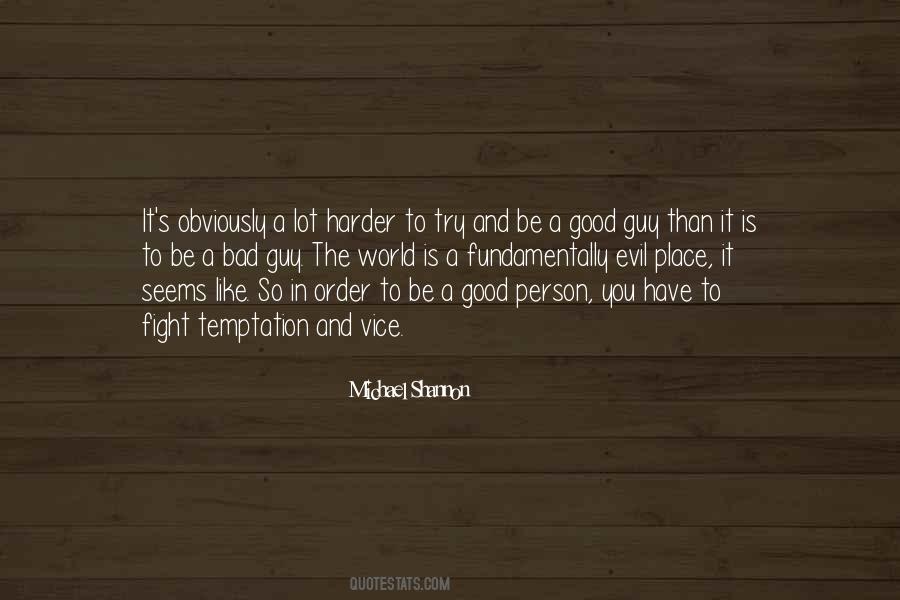 #57. Remember, little Star, it's easy to fight, but much harder to know when. When to fight. When to win." His voice lowered. "When to lose. - Author: Karpov Kinrade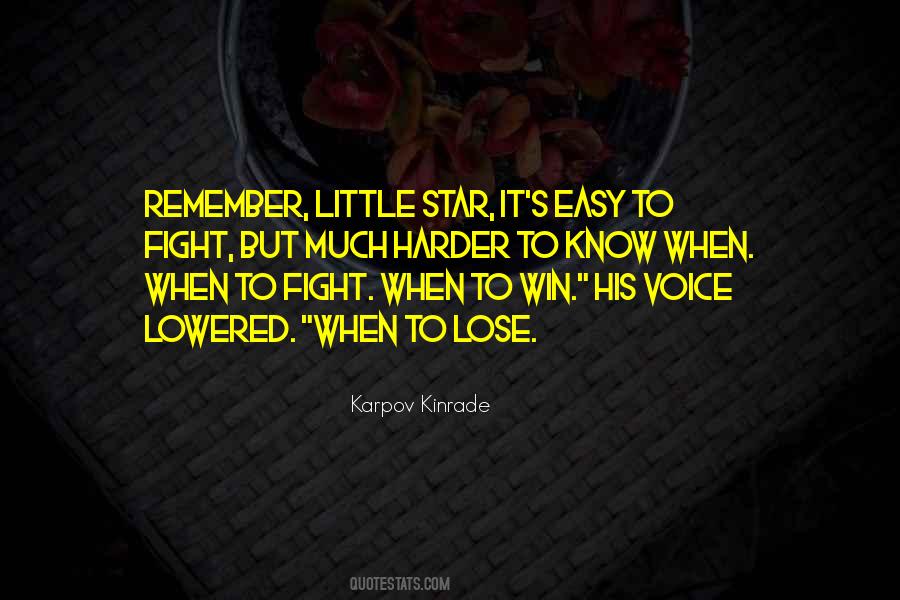 #58. All is fair in war, and starvation is one of the weapons of war. I don't see why we should feed our enemies fat in order for them to fight harder. - Author: Obafemi Awolowo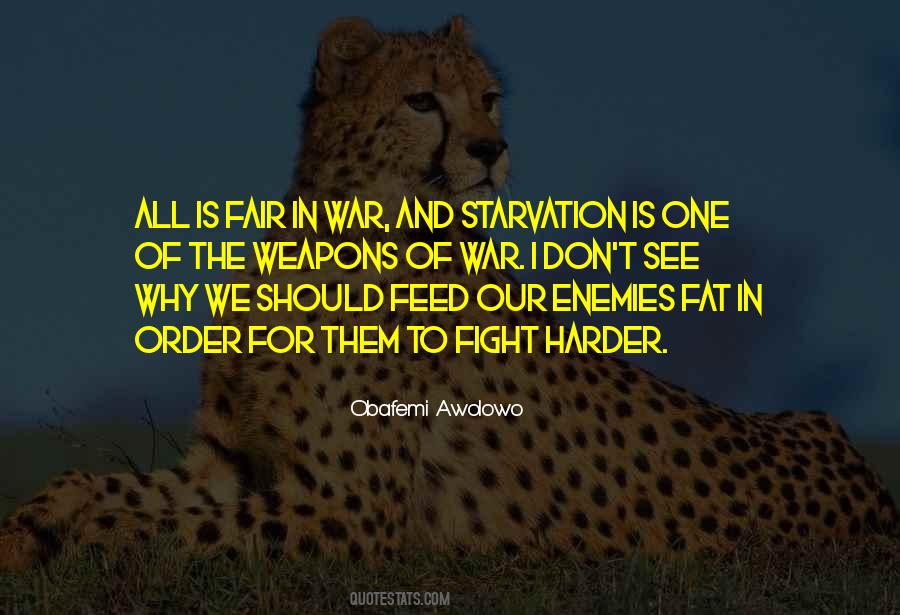 #59. Love hard. Fight harder - Author: Jamie McGuire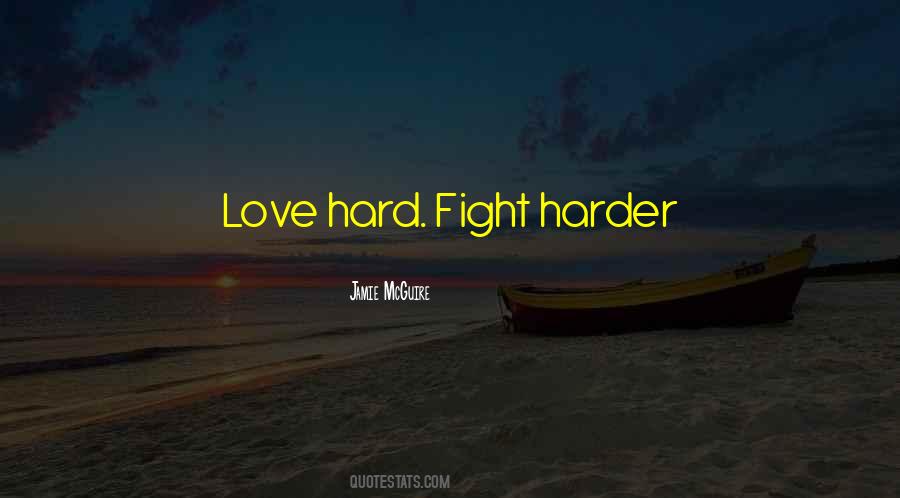 #60. I heard it all the time, but I never looked at it that way. People that said I was too small were the ones that helped my career out. They were the ones that said I would never make it, and they're the ones that made me fight that much harder. - Author: Doug Gilmour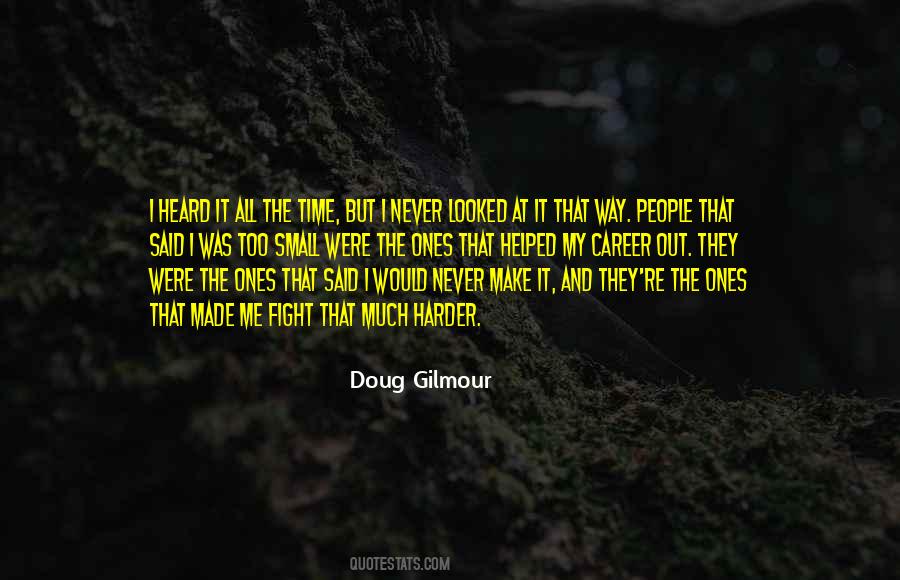 #61. For the moment, the snow is quite wet and soft. If it was hard or icy, it would be a perfect downhill for my style, because I could fight even harder. - Author: Hermann Maier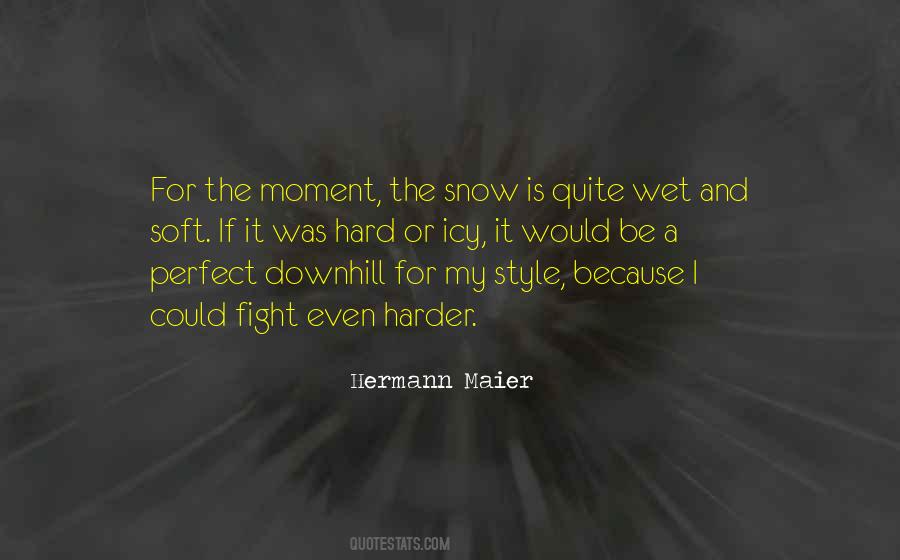 #62. [WASHINGTON]
It's alright, you want to fight, you've got a hunger
I was just like you when I was younger
Head full of fantasies of dyin' like a martyr?

[HAMILTON]
Yes

[WASHINGTON]
Dying is easy, young man. Living is harder - Author: Lin-Manuel Miranda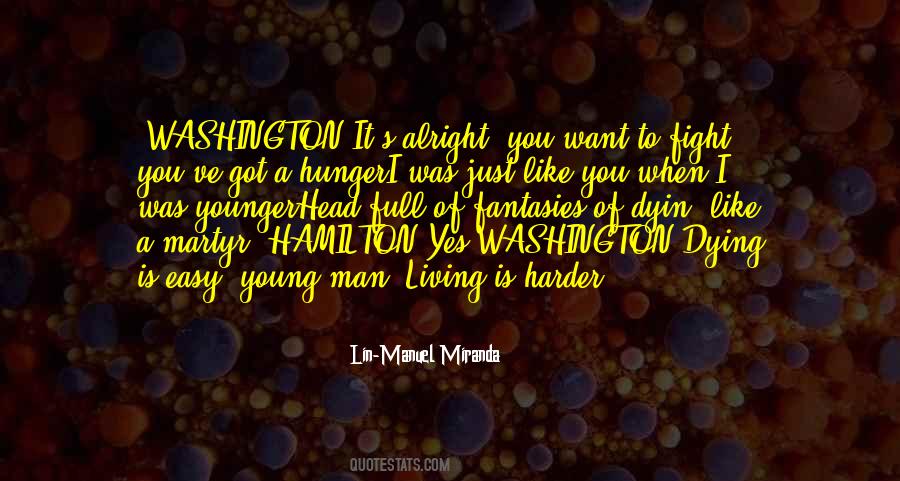 #63. You've got to have a villain and they'll always make me a villain. I'm used to it - it makes me work harder and it makes me fight harder. - Author: Floyd Mayweather Jr.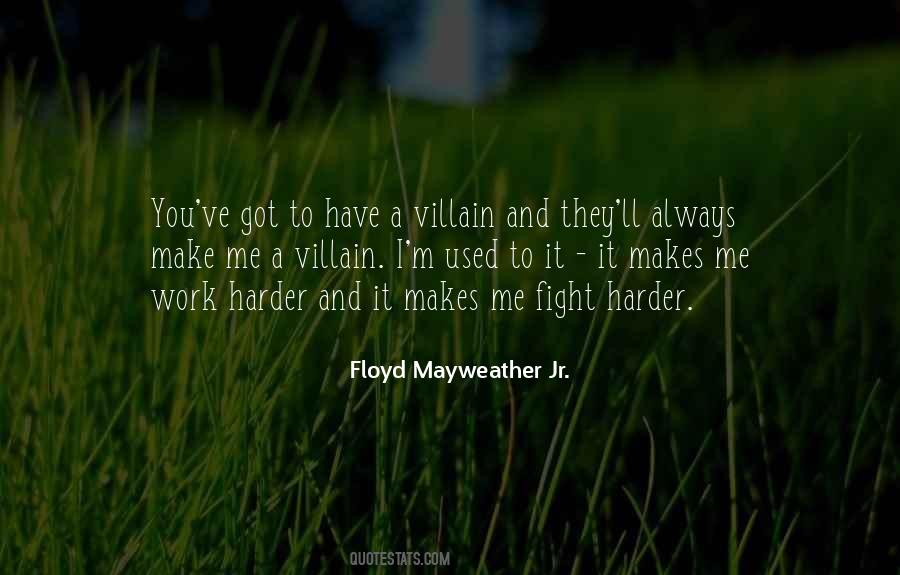 #64. While I can't promise you that I'm going to be a perfect candidate and I can't promise you that I'm not going to make mistakes, I can unequivocally promise you that no one, no one, will work harder on your behalf, no one will fight harder with you and no one will make you more proud. - Author: Alexi Giannoulias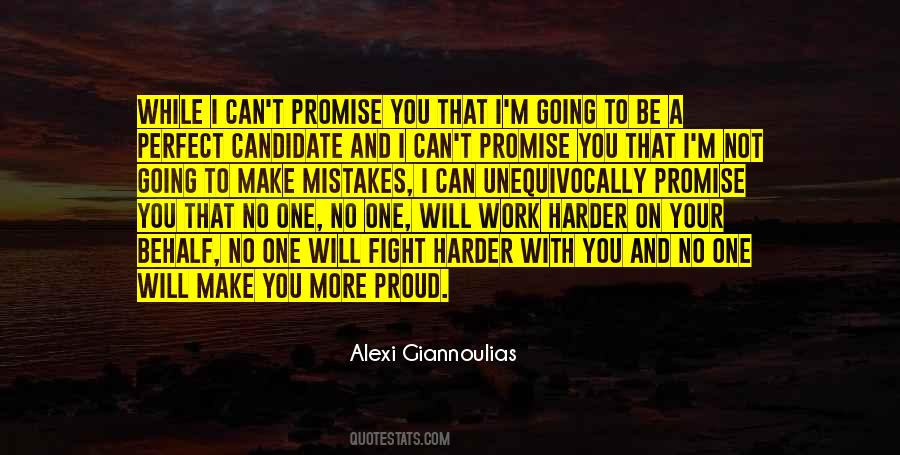 #65. After holding hearings to get input from Missourians, I led the fight to pass legislation that protects seniors from predatory lending in the mortgage industry. I stood up against efforts that would make it harder for seniors to vote, and battled telemarketers bent on defrauding seniors. - Author: Claire McCaskill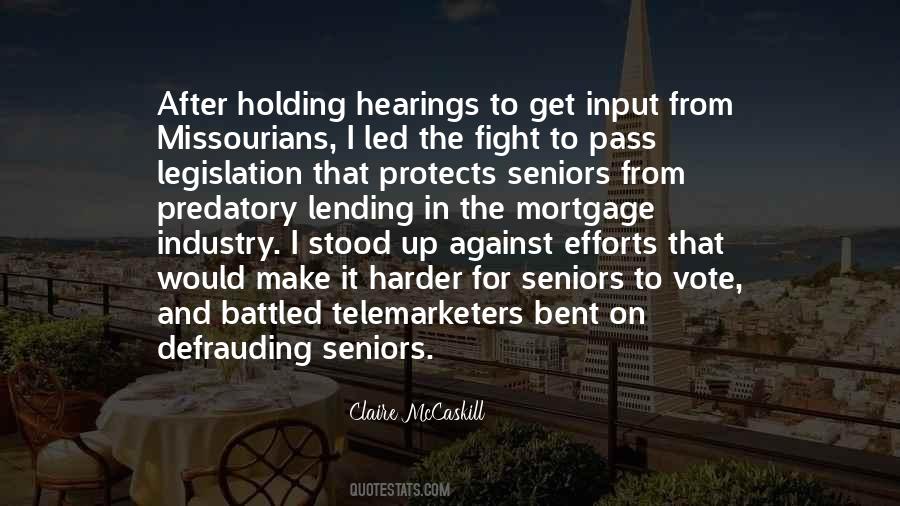 #66. In this world, you have to fight to live. In this world, there's no easy way, there's the hard way, and the harder way. - Author: Darby Browne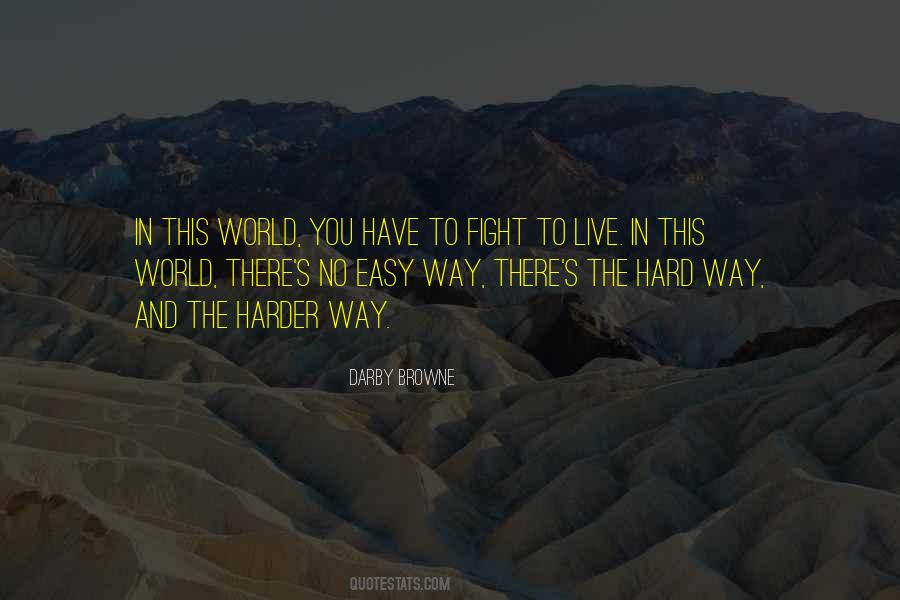 #67. I didn't want to invade his
privacy; I didn't want to fight with him; I didn't want anyone else to ever hurt him. I just wanted
him to be a child forever." She glanced up, crying harder now. "But you can't do that, if you're a
parent. Because part of your job is letting them grow up. - Author: Jodi Picoult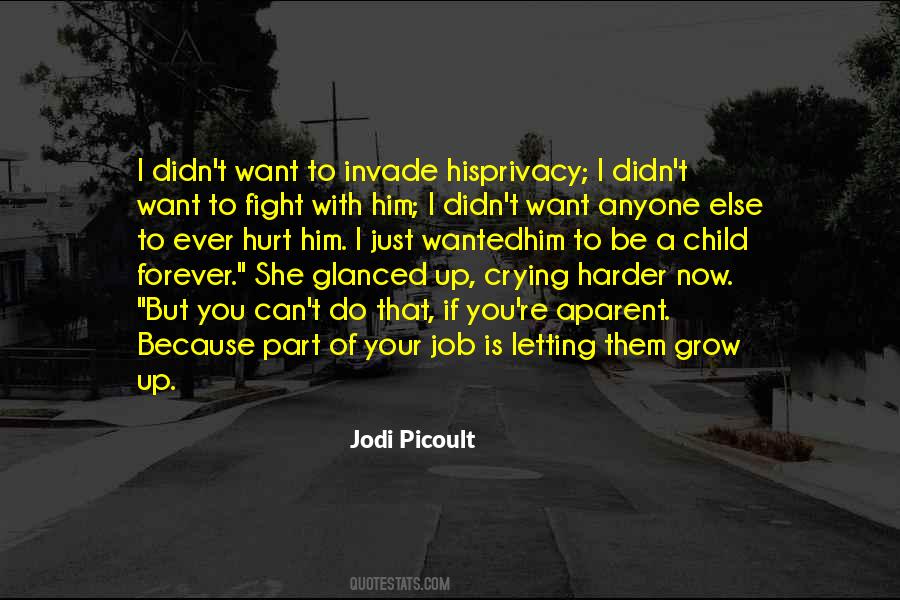 #68. In public affairs, stupidity is more dangerous than knavery, because it is harder to fight. - Author: Woodrow Wilson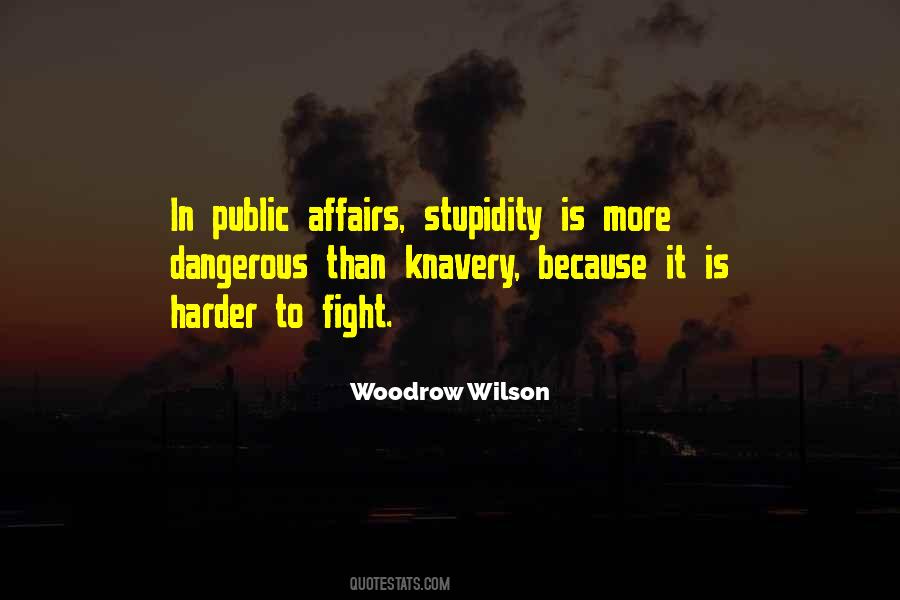 #69. The money buys the drugs, the drugs work harder and harder to trick your blackened dopamine receptors into giving a damn about living. At some point you make a choice: fight your need the rest of your goddamned long-suffering life, or fill your need until it disappears into the grave with you. - Author: Jeremy Robert Johnson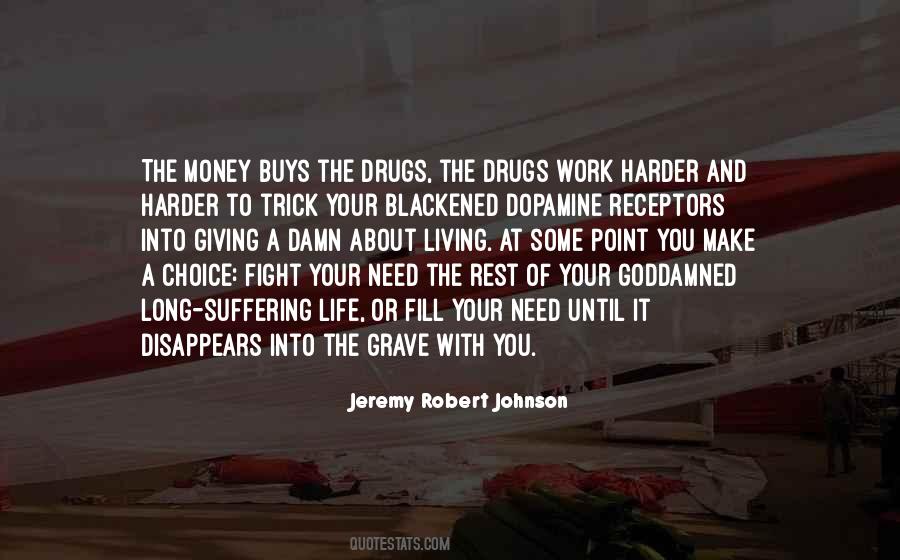 #70. The more obstacles you encounter, the harder you must fight to meet your destiny. Never let adversity win. Never give up on yourself and the good you can bring to the world. - Author: Ingrid Weir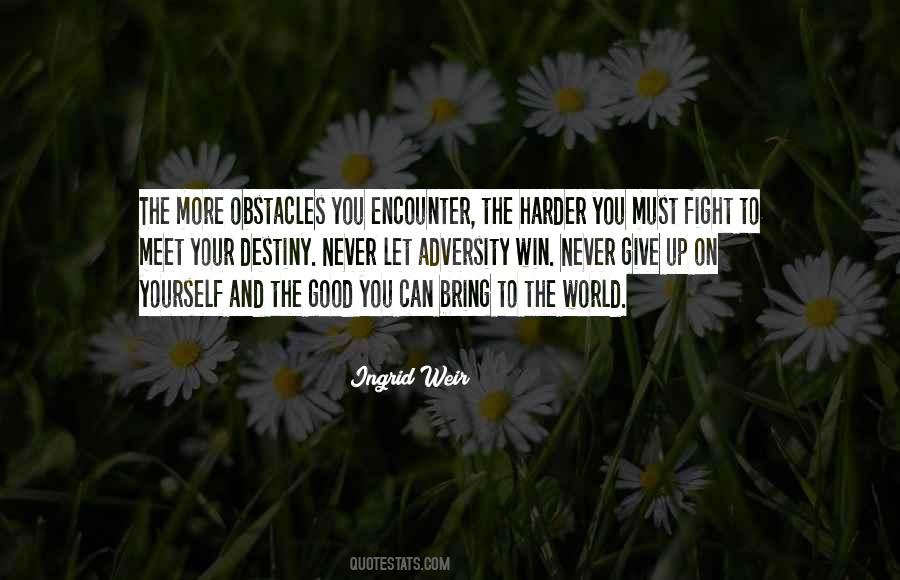 #71. I trained as hard as I could, I ran as much as I could, I sparred hard, I did everything right. I did everything I could possibly do at the age when I could fight. You have to be realistic; you can't say, 'Oh, I am smarter now, older and I can punch harder.' You think you can, but you can't. - Author: Micky Ward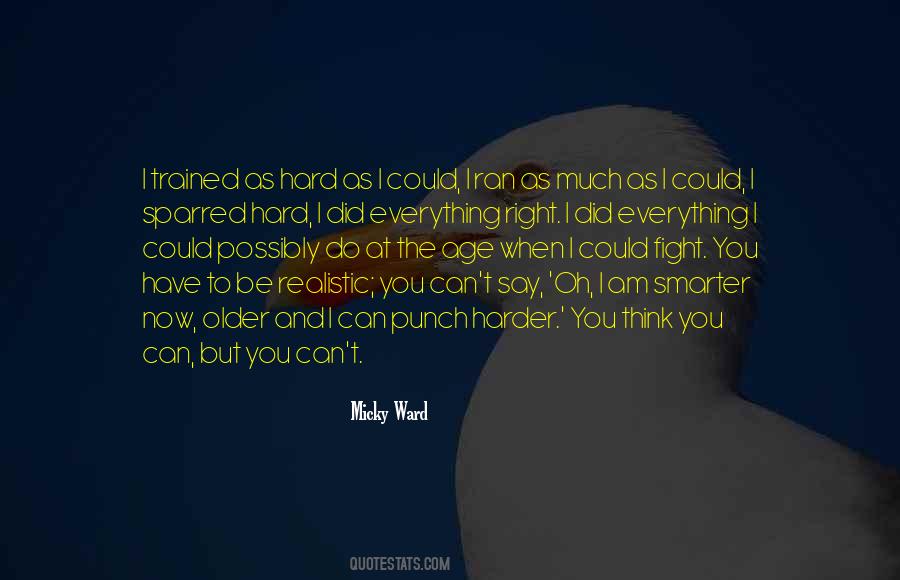 #72. When you believe in something, fight for it. And when you see injustice, fight harder than you've ever fought before. - Author: Brad Meltzer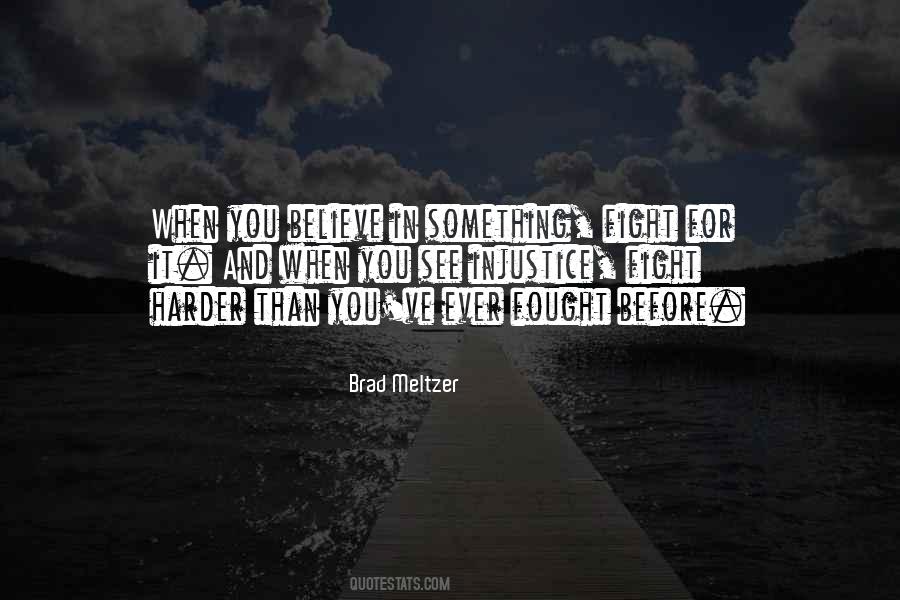 #73. My legion has won many victories. And since you are my dearest friend, we will fight that much harder." His intense, dark eyes locked with hers. "I swear to you: Ker-Ys will not fall. - Author: Jennifer McKeithen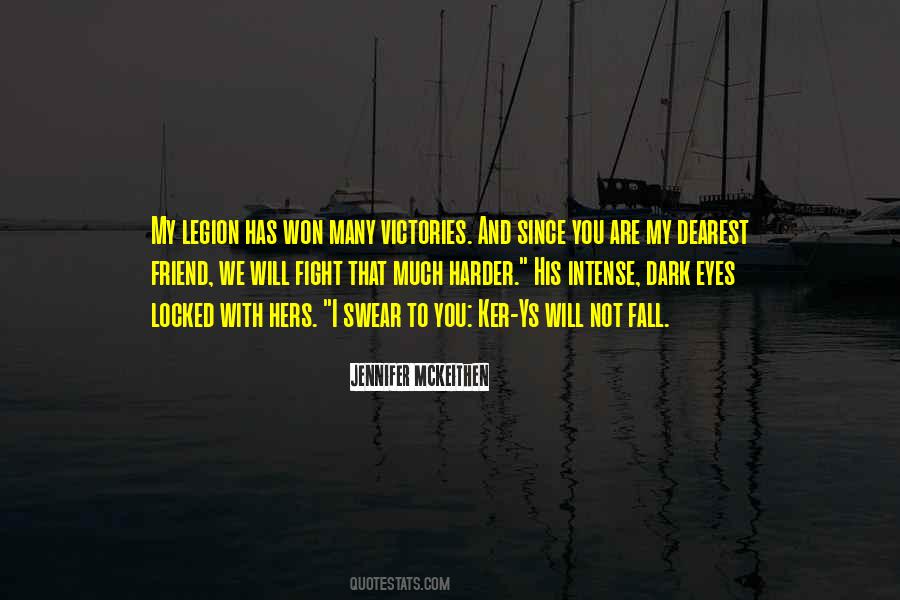 #74. We all got ugliness inside us, Kellen. Yours is worse? Then fight harder. Figure it out. But don't you ever pretend you don't have a choice. - Author: Sebastien De Castell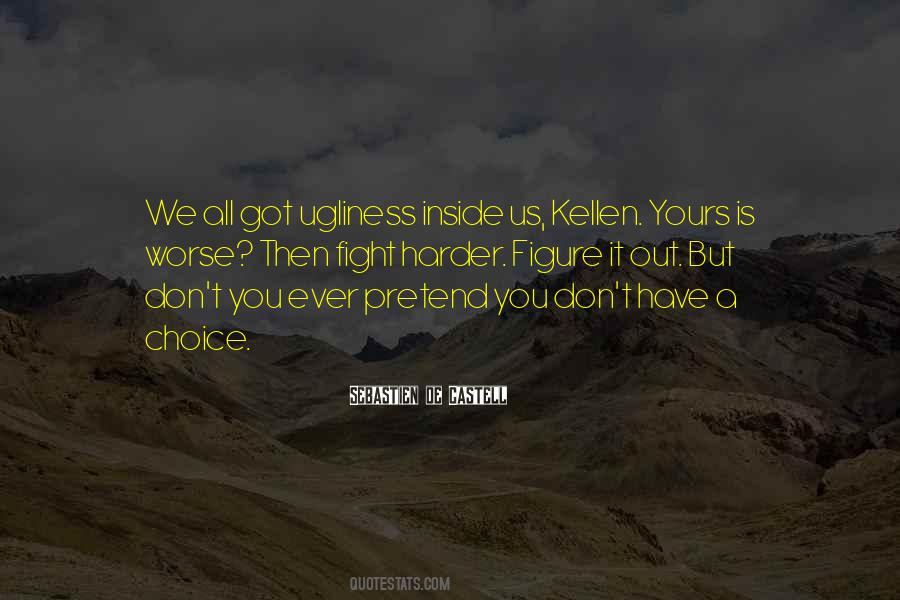 Famous Authors
Popular Topics