Felt Nothing Famous Quotes & Sayings
List of top 100 famous quotes and sayings about felt nothing to read and share with friends on your Facebook, Twitter, blogs.
Top 100 Felt Nothing Quotes
#1. Noah acted like he felt nothing because he felt everything. He seemed not to care because he cared too much. - Author: Michelle Hodkin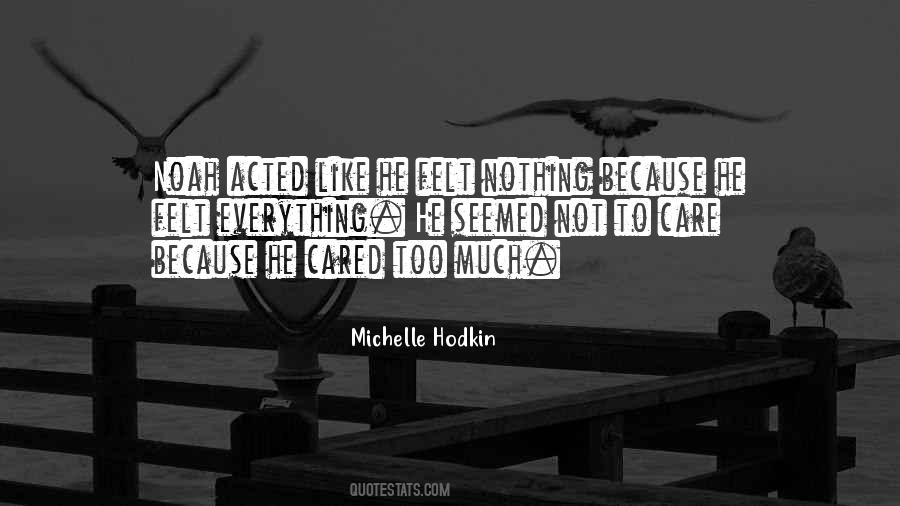 #2. There was simply nothing in his experience that even compared with the thrill of killing to protect his family. In this moment, it was the purpose of his existence. He felt, possibly for the first time in his life, like a fucking man. - Author: Blake Crouch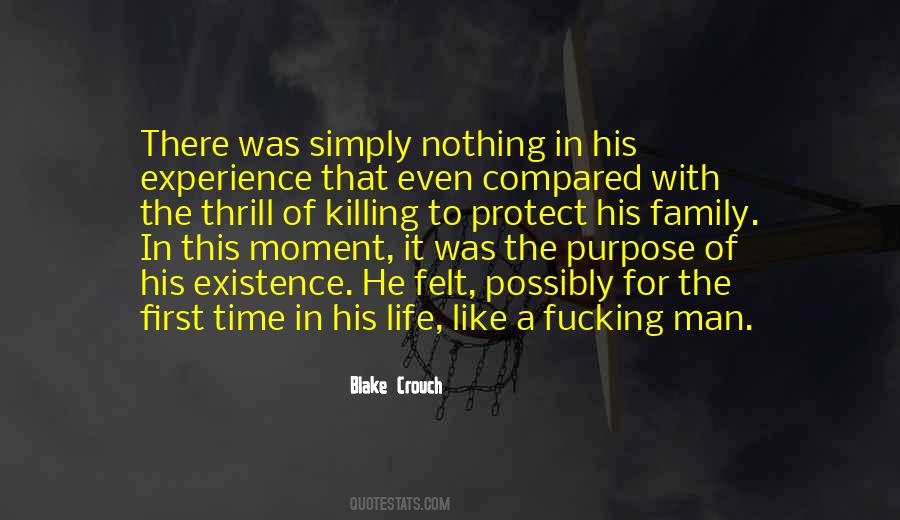 #3. Nothing felt real, nothing felt intimate or close or true - it all
seemed like a terrible movie of my life that I was being forced to watch from hundreds of feet away. - Author: Sierra Simone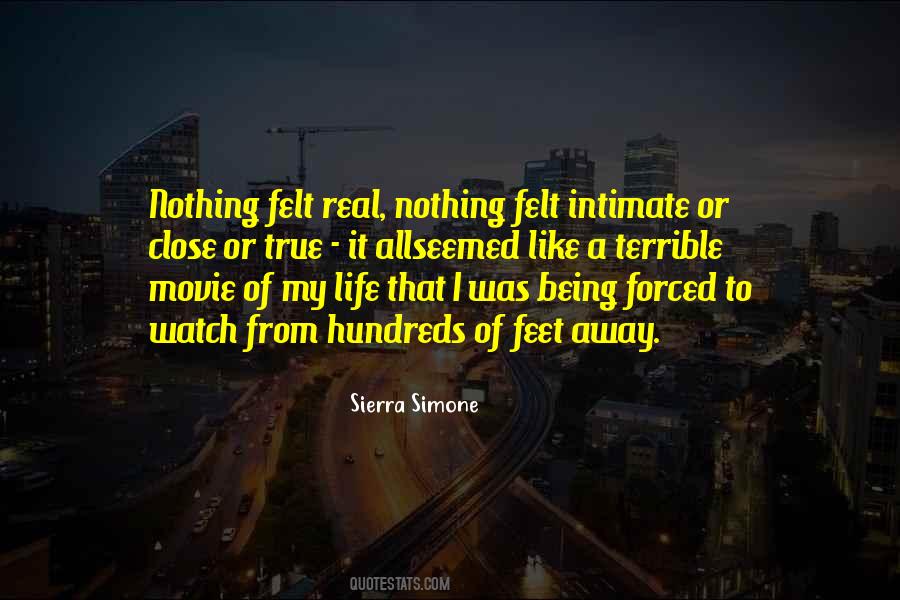 #4. We exhausted ourselves in all the love we felt and we held off the shadows by sheer willpower until there was nothing left. - Author: Jennifer L. Armentrout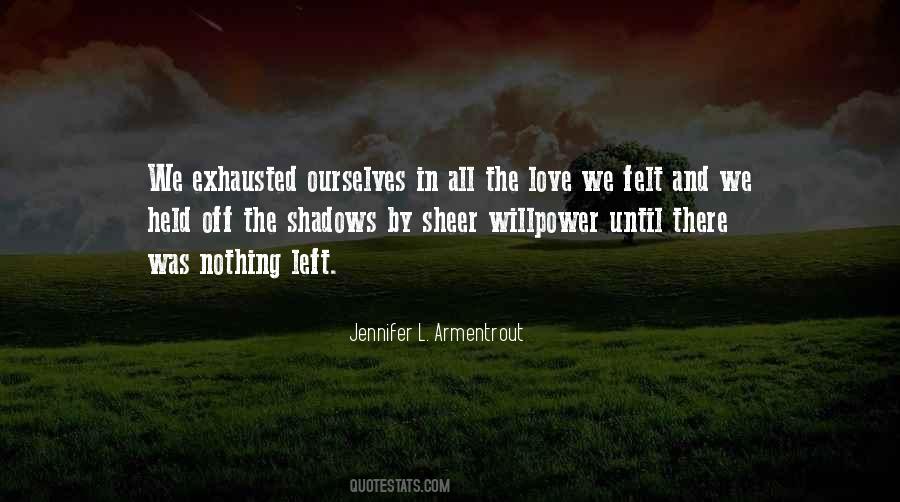 #5. There was nothing I wanted to do more than be unconscious again, wrapped in black, gone away. I was raw. I felt swollen with potential tears, like a water balloon filled to burst. Begging for a pin prick. - Author: Gillian Flynn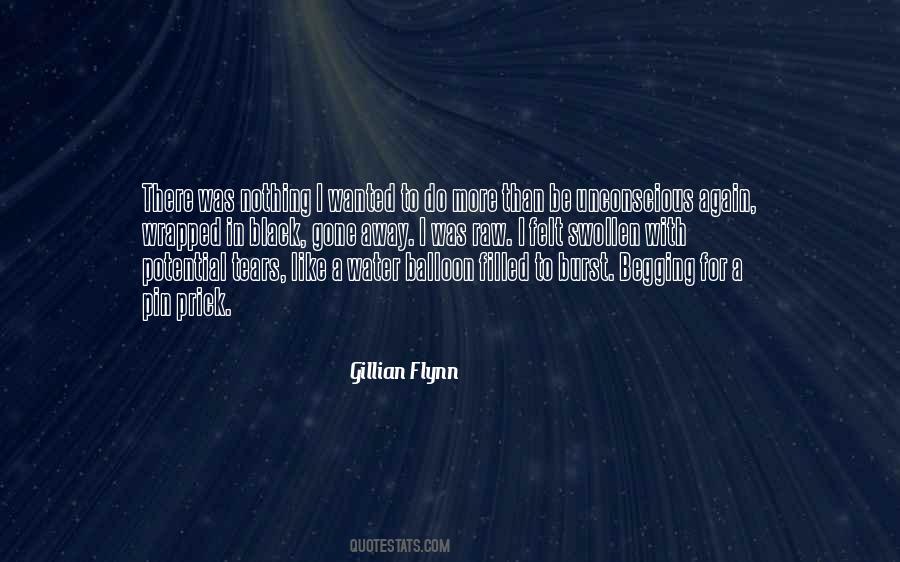 #6. And she pressed closer to me and we were silent and I smelled her, and felt her and listened to her, and knew that if I had nothing else but this, this would be enough. - Author: Robert B. Parker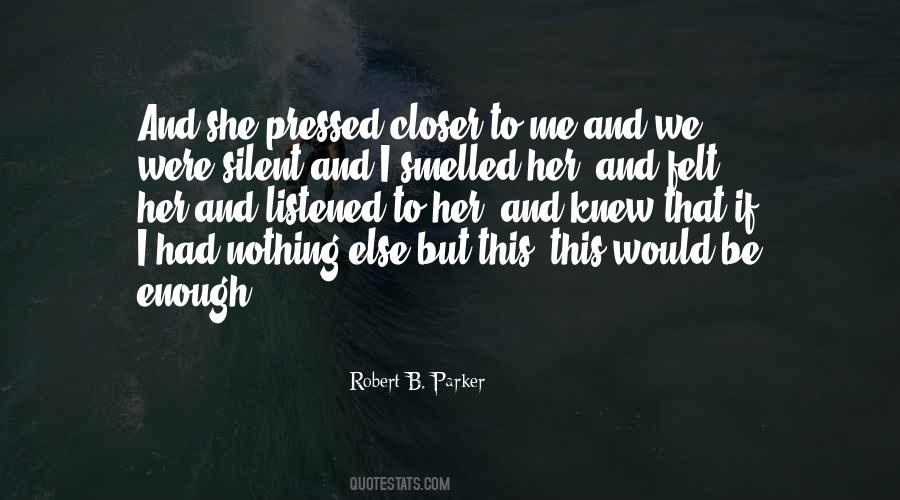 #7. I felt so many things at once that together, they combined to make nothing, a numbness, an absence of feeling caused by a surplus of feeling. - Author: Hanya Yanagihara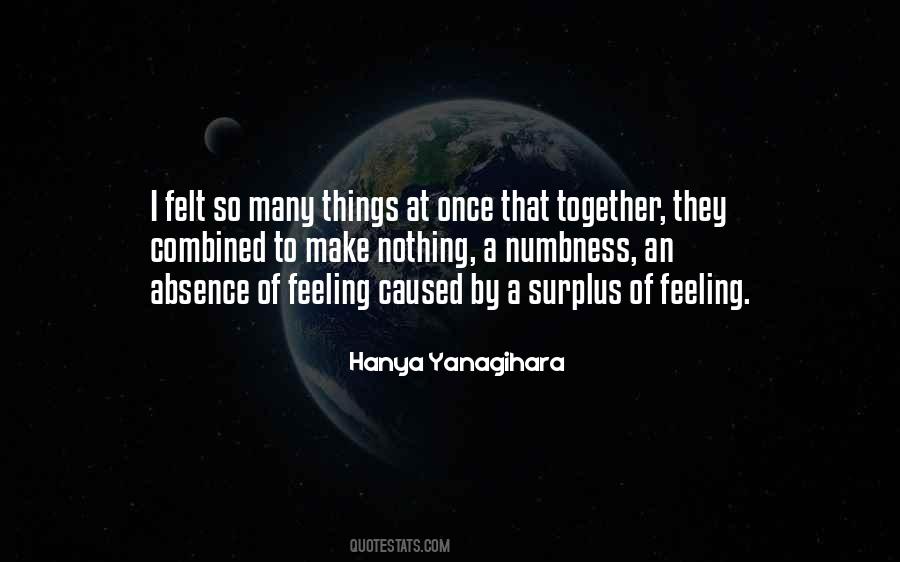 #8. I haven't stopped thinking about Orion, and it's made a mess of me. Nothing happened between us. Nothing physical, anyway. We never touched, and after a while, we hardly even spoke. But I felt different. - Author: Jessi Kirby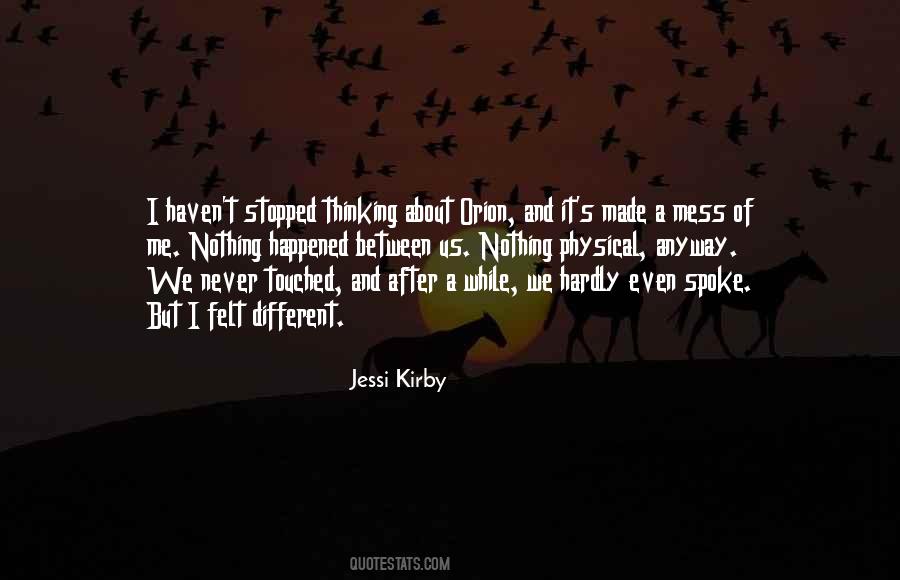 #9. Patriotism has nothing to do with Conservatism. It is actually the opposite of Conservatism, since it is a devotion to something that is always changing and yet is felt to be mystically the same. - Author: George Orwell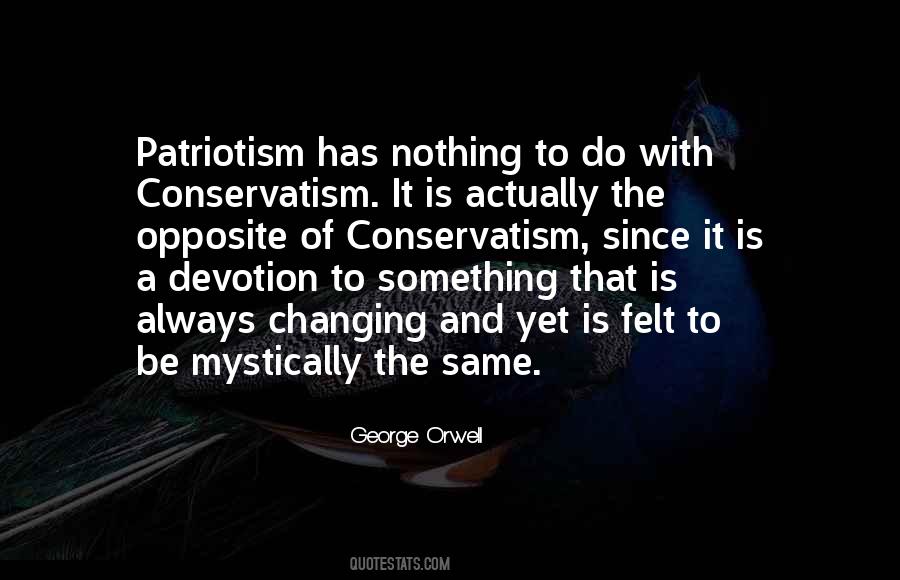 #10. I kissed her cheek as she turned it to me. I think I would have gone through a great deal to kiss her cheek. But I felt the kiss was given to the coarse common boy as a piece of money might have been, and that it was worth nothing. - Author: Charles Dickens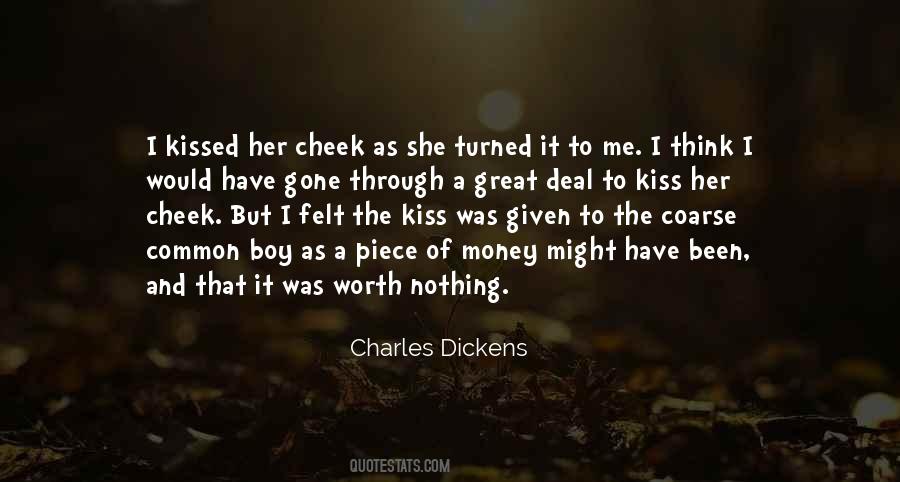 #11. I felt today when the night melted away into a flowering bush and the wind smelled of strawberries and without love one is only a dead man on furlough, nothing but a scrap of paper with a few dates and a chance name on it and one might as well die - Author: Erich Maria Remarque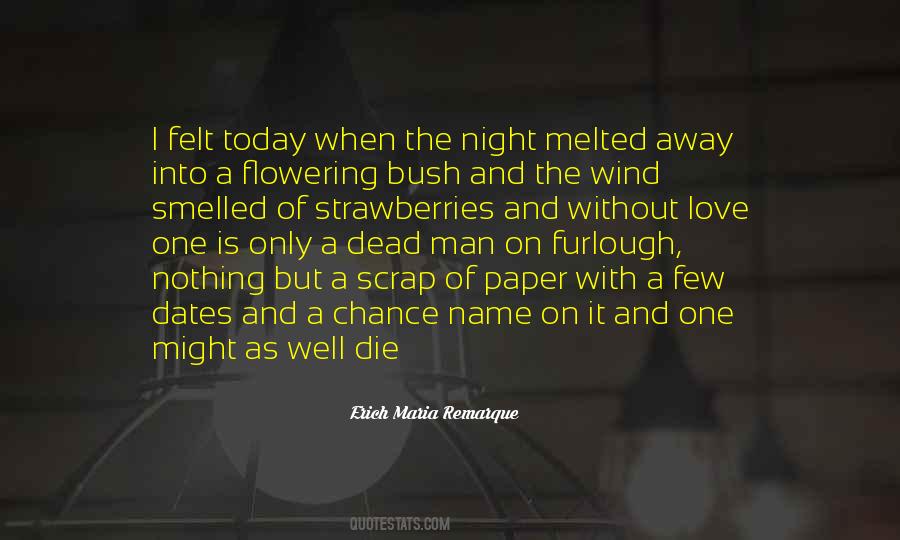 #12. What I use from my own life is not the facts, it's the emotion. It's how I felt about something. It has nothing to do with facts at all. You can get those anywhere. It's the feelings of childhood that you need to know. - Author: Judy Delton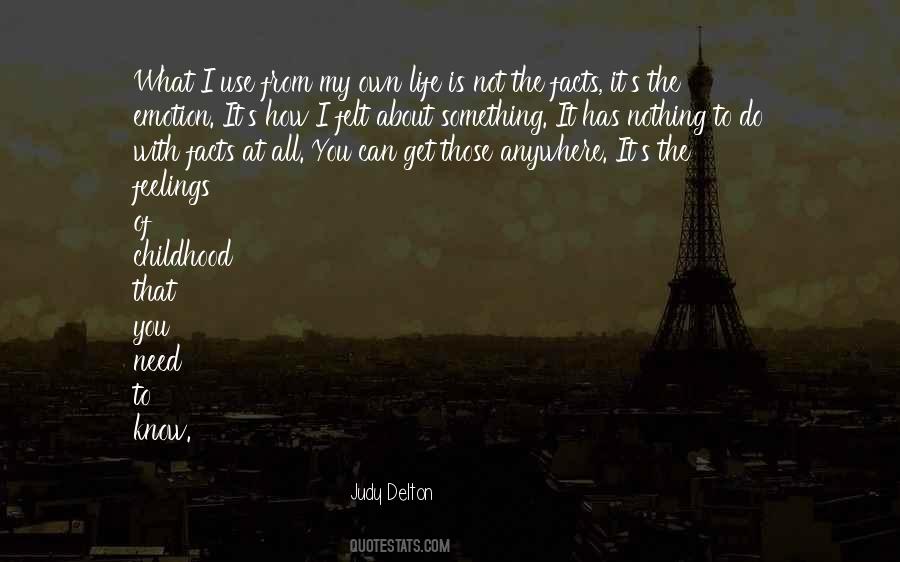 #13. Nothing in my life has ever felt so good, yet hurt so achingly bad. - Author: Colleen Hoover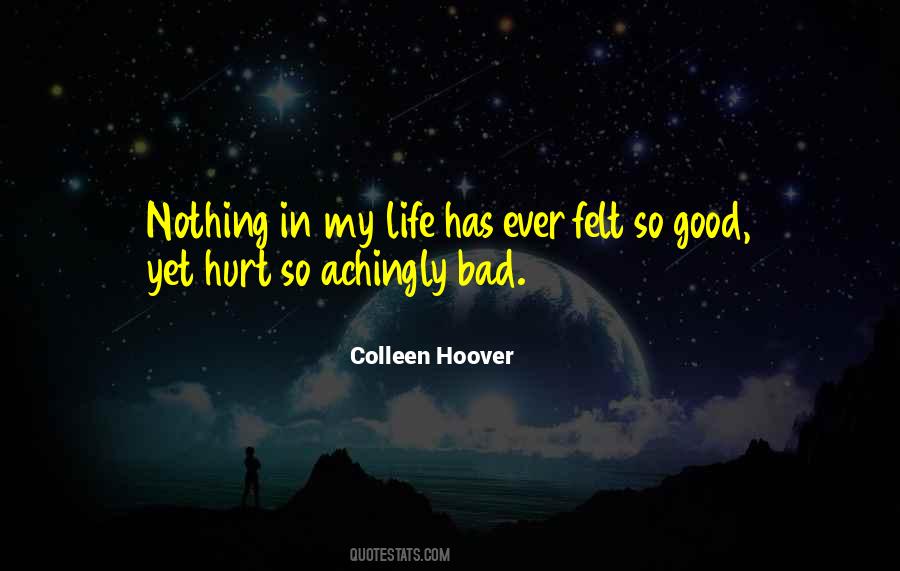 #14. It felt like being a child again, though it was not. Being a child is like nothing. It's only being. Later, when we think about it, we make it into youth. - Author: China Mieville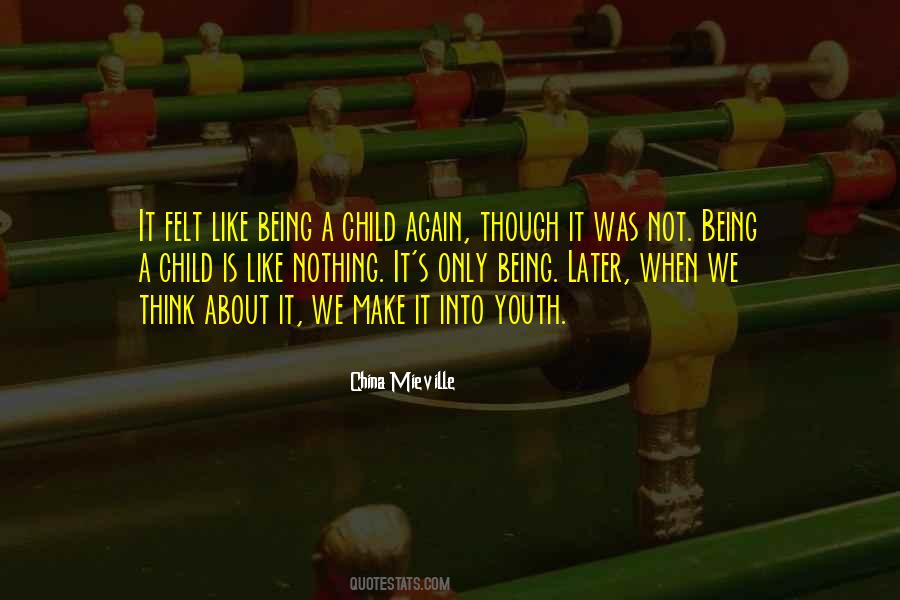 #15. He could not feel her near him in the darkness nor hear her voice touch his ear. He waited for some minutes listening. He could hear nothing: the night was perfectly silent. He listened again: perfectly silent. He felt that he was alone. - Author: James Joyce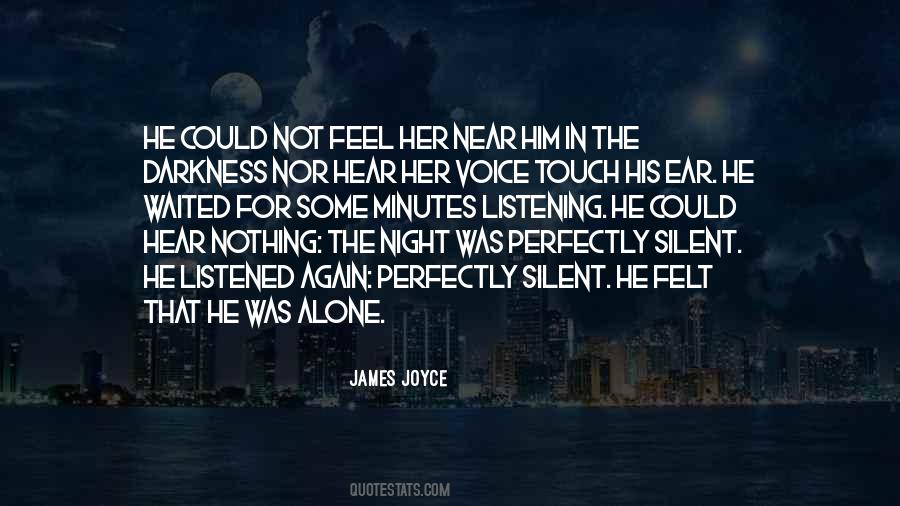 #16. Lisa had confessed and Mommy had forgiven her. It had been a long, complicated confession, followed by a brief absolution for all the sins committed--a look, a kiss--nothing more was needed...Oh how wonderful it was to have told the truth at last! How free she felt, as free as air! - Author: Erich Kastner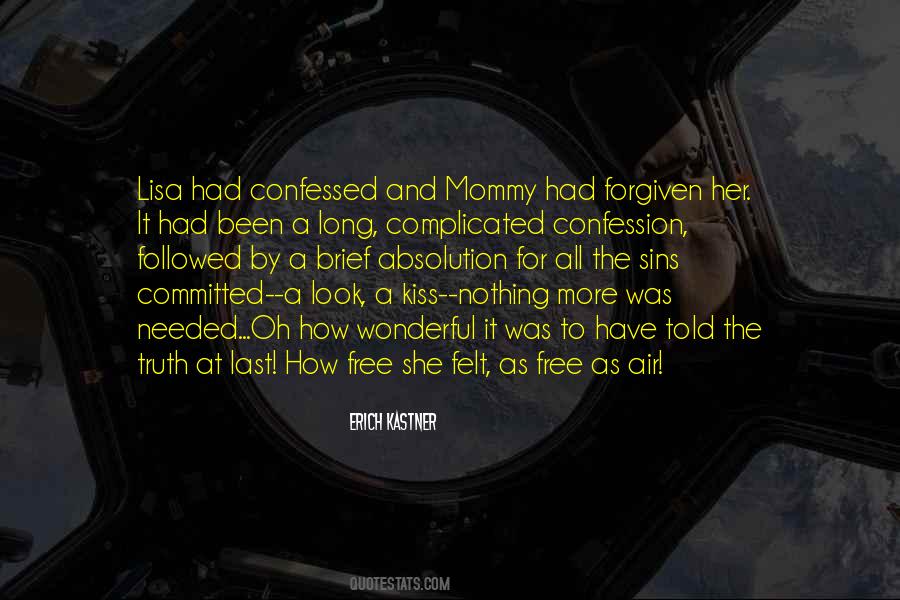 #17. The days with the baby felt long but there was nothing expansive about them. Caring for her required me to repeat a series of tasks that had the peculiar quality of seeming both urgent and tedious. They cut the day up into little scraps. - Author: Jenny Offill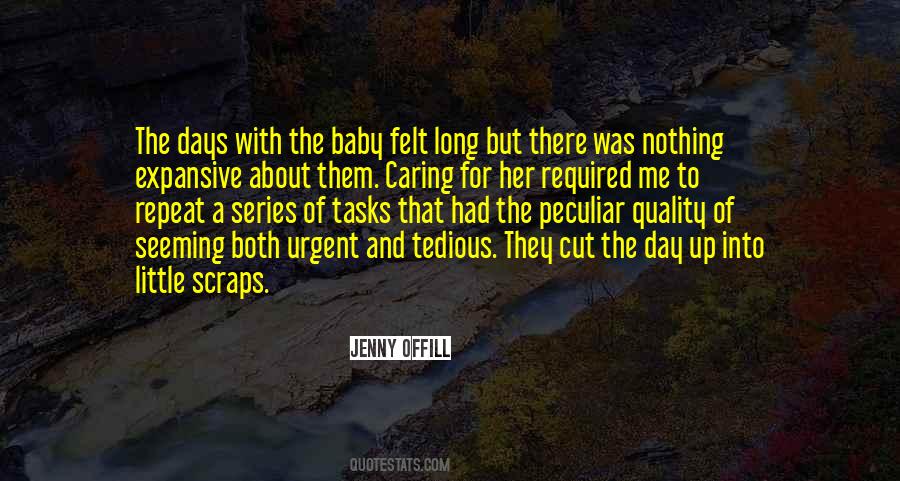 #18. He felt the pressure of her love as she squeezed his fingers, and then there was nothing. Except the pain. But nothing else, no Heather, no hospital, no staff men, no light. And no sound. It was an eternal moment and it absorbed him completely. - Author: Philip K. Dick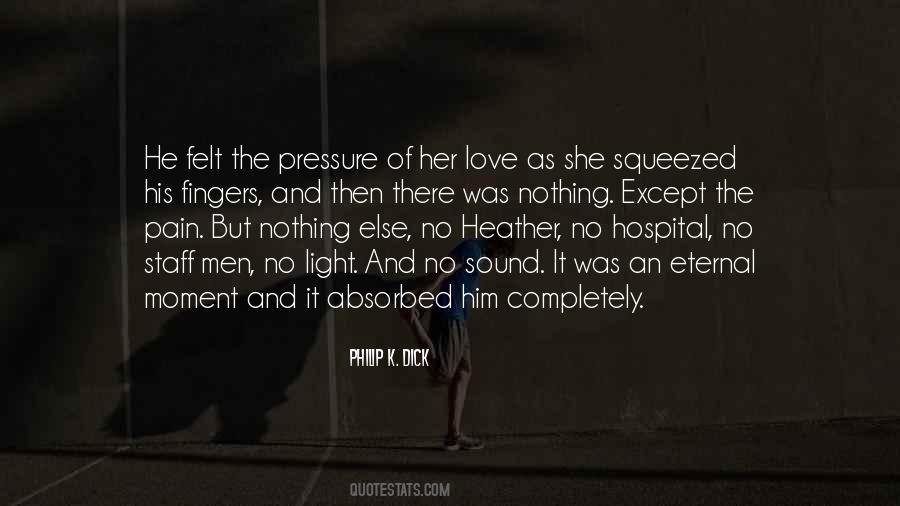 #19. All that existed was Jace; all she felt, hoped, breathed, wanted, and saw was Jace. Nothing else mattered. - Author: Cassandra Clare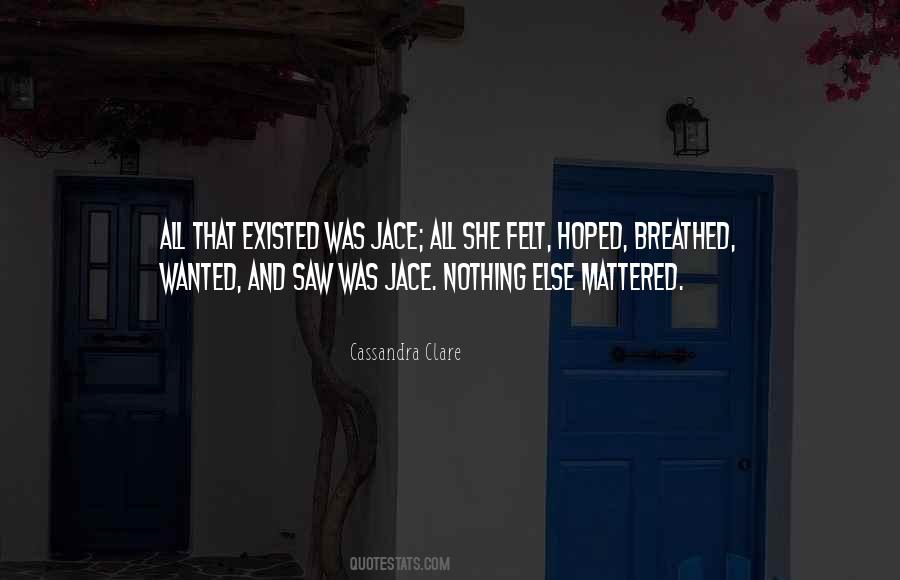 #20. Your fiery spirit excites me, Keirah, like nothing I have ever felt before. Yet I have the overwhelming desire to put you over my knee when you don't do as you are told. - Author: Madison Thorne Grey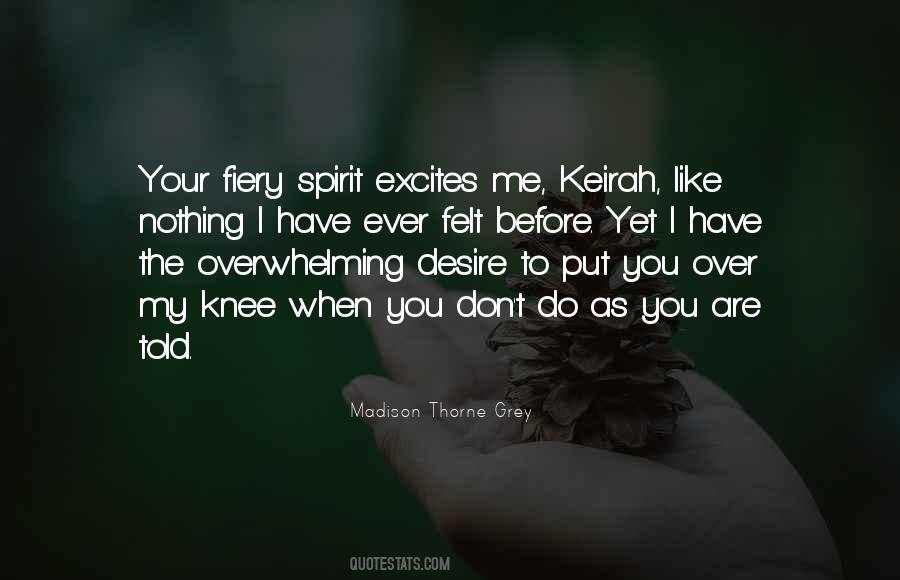 #21. Finally, the horizon stretched out infinitely before me and I felt utterly content looking at stars from afar and trying to make out all the variable, temporary, extinguished or faded stars. I was nothing in this infinity, but I could finally breathe. - Author: Patrick Modiano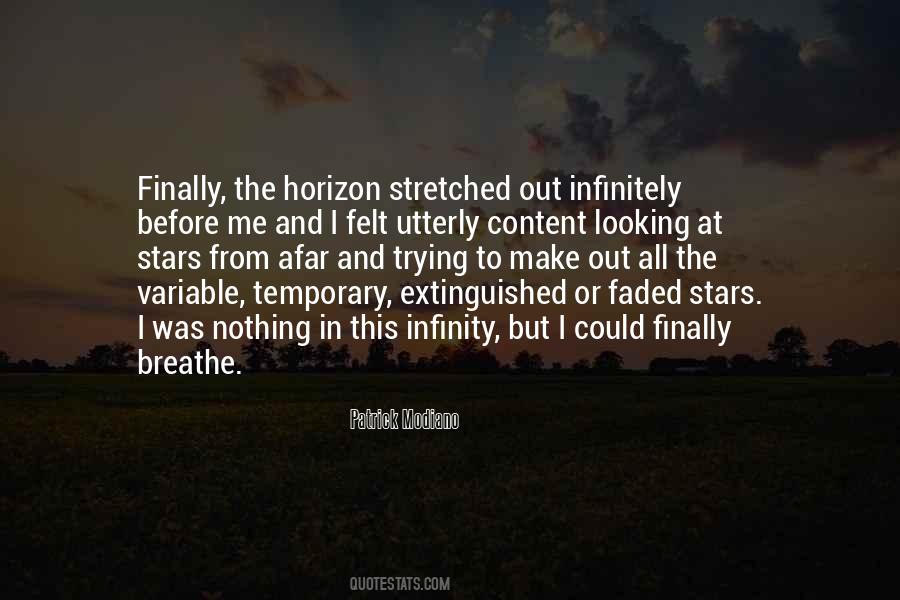 #22. But before that day it felt like at least I had an ally on this boat. Now I have nothing. Well, I have a fat baby sea monster. But Bao doesn't tell jokes, and somehow I need that.

I hate how I need that. - Author: Emily Skrutskie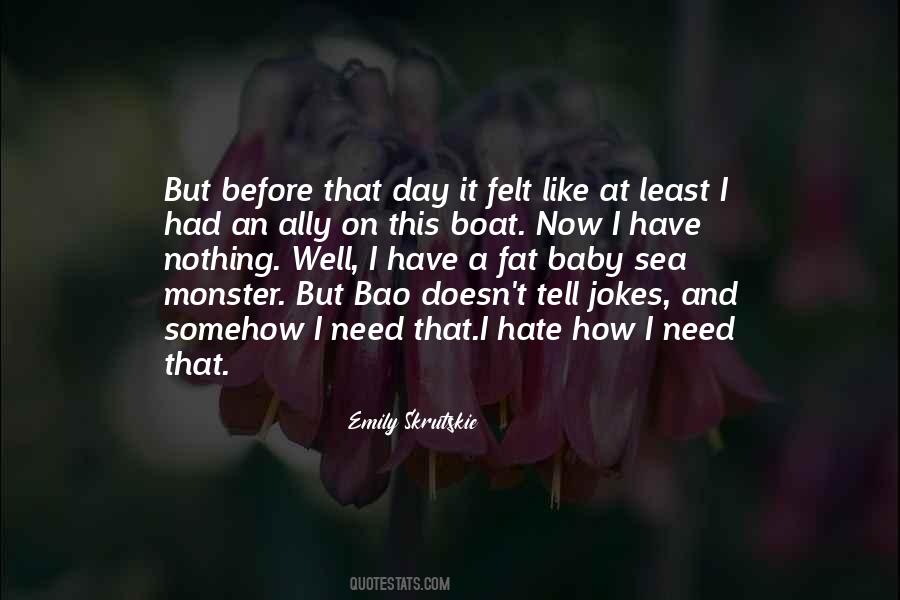 #23. She needed to be loved and cherished and shown that how he felt had nothing to do with controlling her decisions and everything to do with keeping her safe. "I - Author: Melissa Foster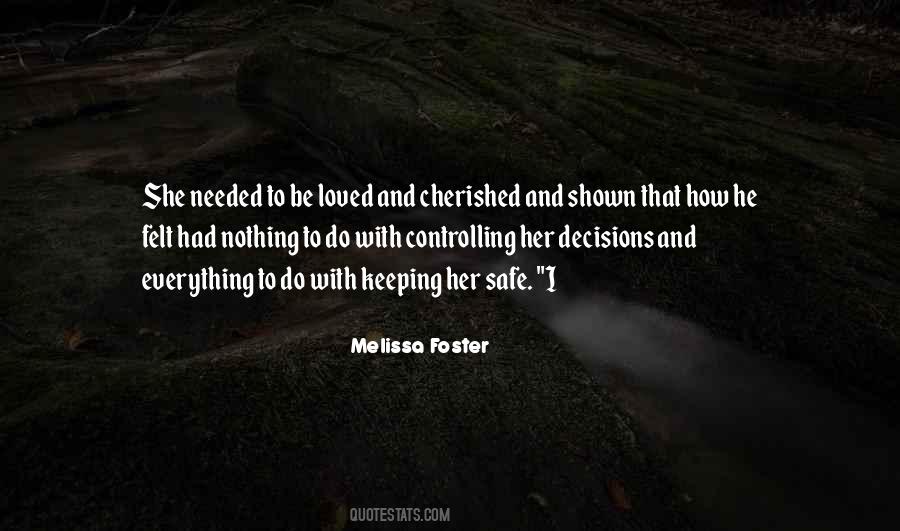 #24. There's nothing to try, Ethan. It's over. It's too late. She barely whispered, but it felt like she was shouting. - Author: Kami Garcia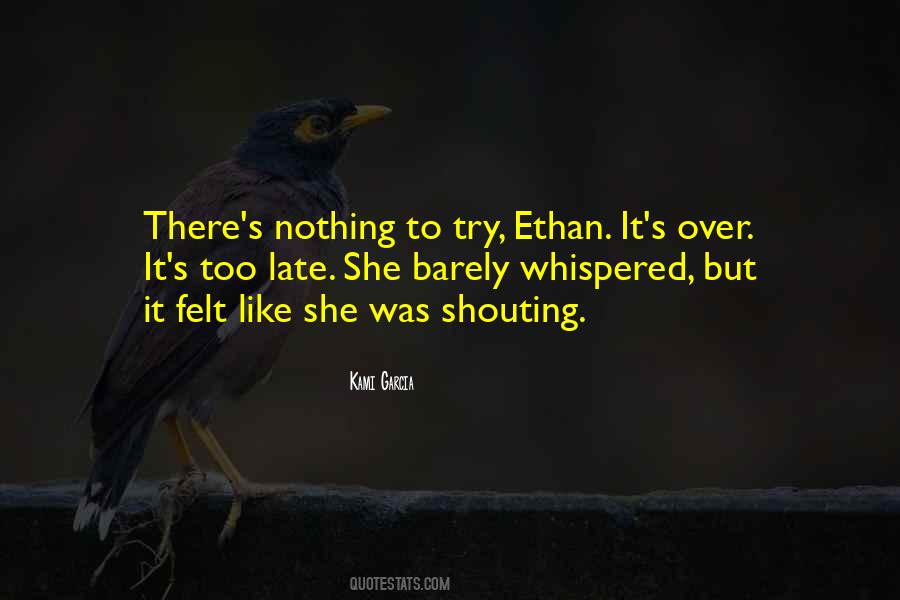 #25. I felt at one and the same time quite close, within reach of my hand, and yet an infinite distance away, an unknown world of goodness. Often Isa had said to me: 'You, who see nothing but evil ... You, who see evil everywhere ... ' It was true, and it was not true. - Author: Francois Mauriac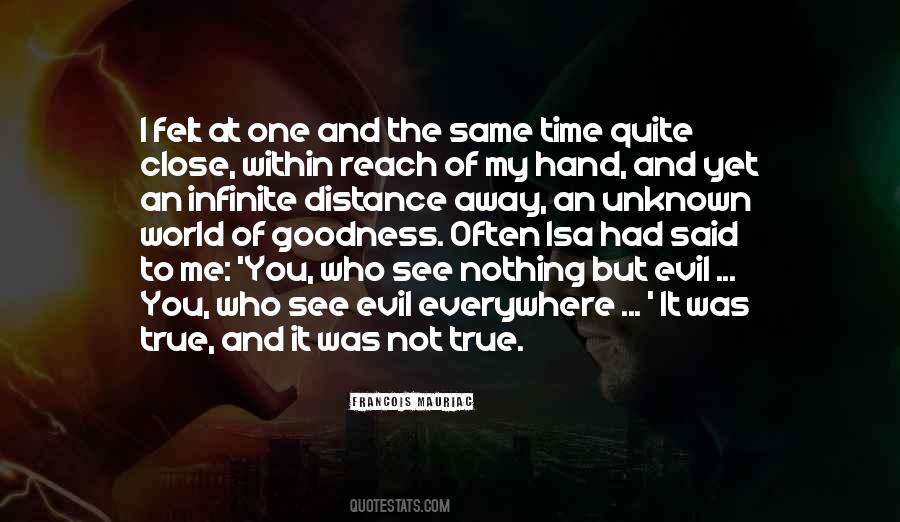 #26. At the worst possible moment, the most painful, darkest moment when you can't take it anymore and you are afraid, that is when a feeling of peace and comfort will come over you, and it's like nothing you've ever felt. - Author: Ann Brashares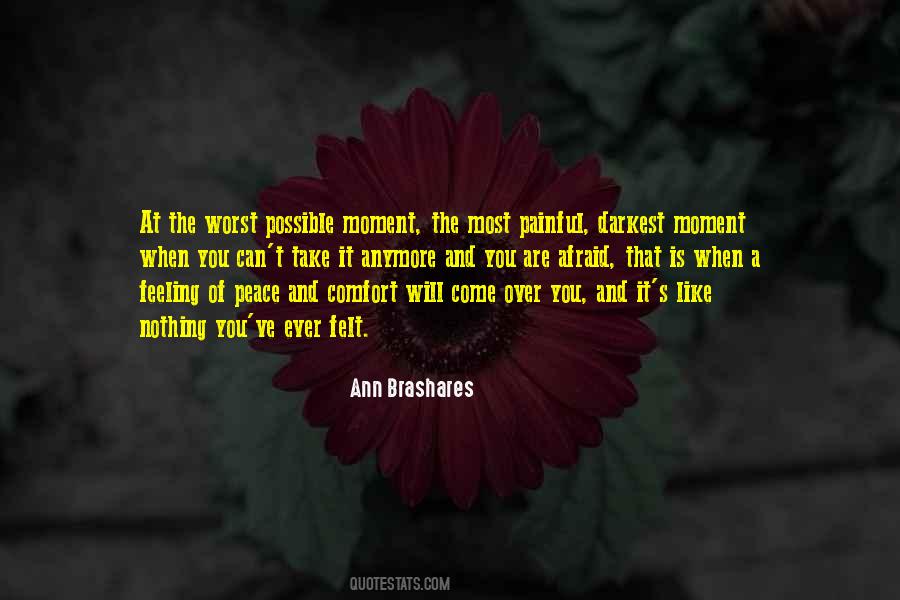 #27. People are defined by their relationships. Every single one is a thread in our mind that wraps neatly to make the nest of emotions we live in. Two of those threads- at the very core of my nest- had snapped and now I felt nothing. - Author: Anoosha Lalani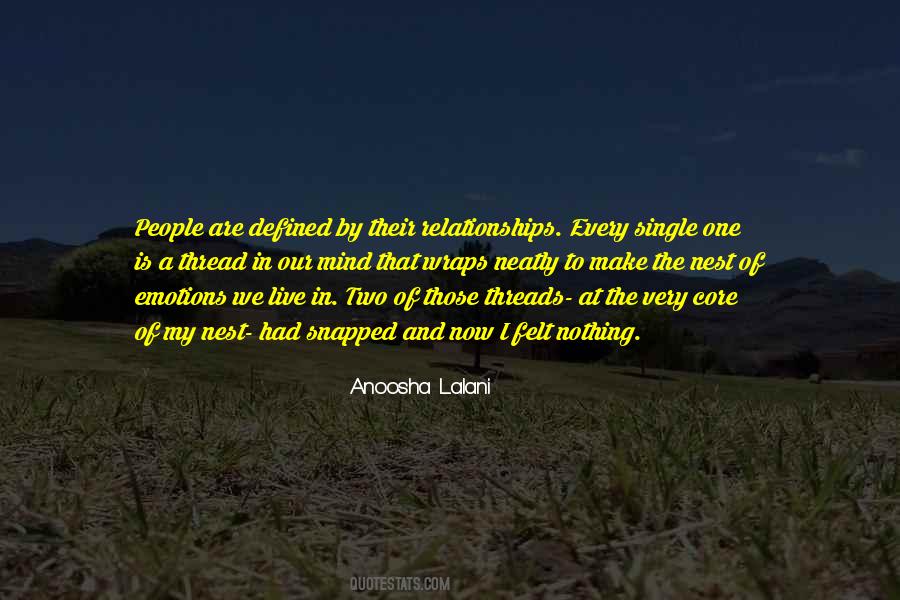 #28. I felt nothing like a horse, whose instincts I knew were to run and run. I had mostly in life tried to stand still like a glob of coral so as not to be spotted by sharks. But now I had crawled out onto land and was somehow already a horse. - Author: Lorrie Moore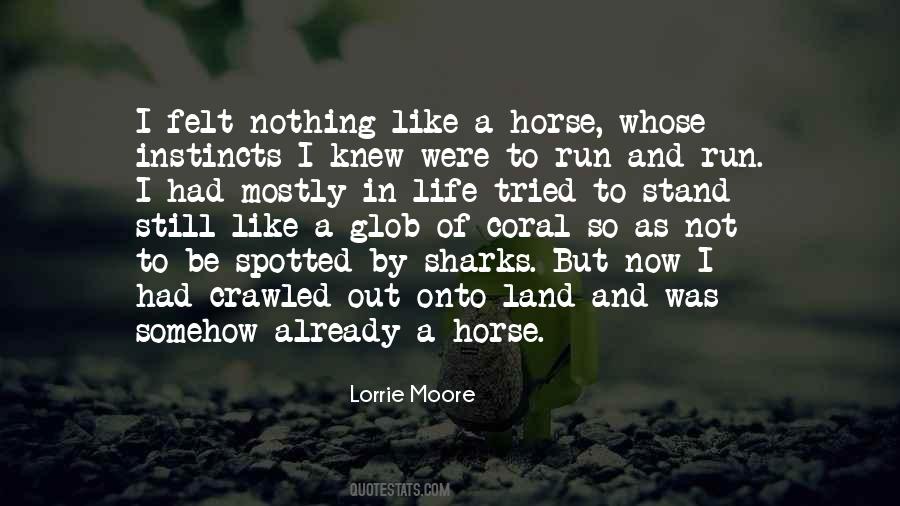 #29. Anxiety is not fear, being afraid of this or that definite object, but the uncanny feeling of being afraid of nothing at all. It is precisely Nothingness that makes itself present and felt as the object of our dread. - Author: William Barrett
#30. Nothing lasts forever." "Some things do." "What kind of things?" "The things we like to remember. The love we've felt for people. - Author: Justin Cronin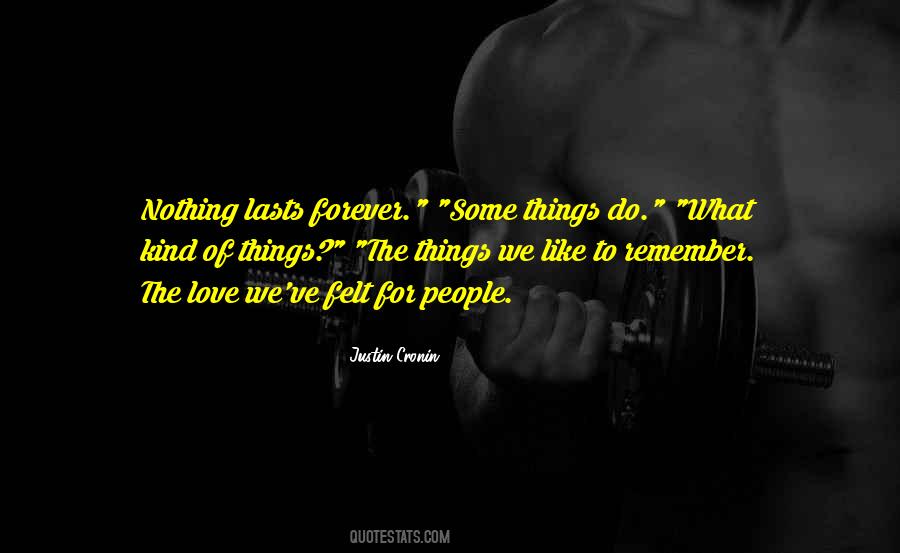 #31. We are part of the world creation, and we ourselves create nothing. Our knowledge allows us to make use of all the forces already in existence, our art to interpret emotions already felt. One big war, an epidemic, and we collapse into ignorance and darkness, fit sons of chimpanzees. - Author: Arshile Gorky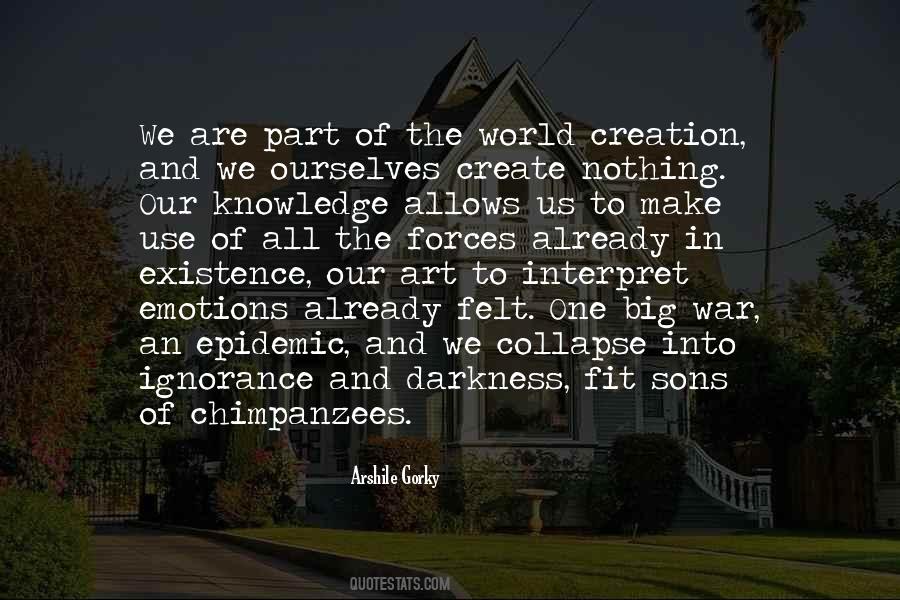 #32. I felt at some point that I had nothing to lose, and [laughs] maybe I was wrong. I think, you know, there's always these little autobiographical secrets behind things. I think I was really attacking my earlier self, and this kind of pretentious figure. - Author: Billy Collins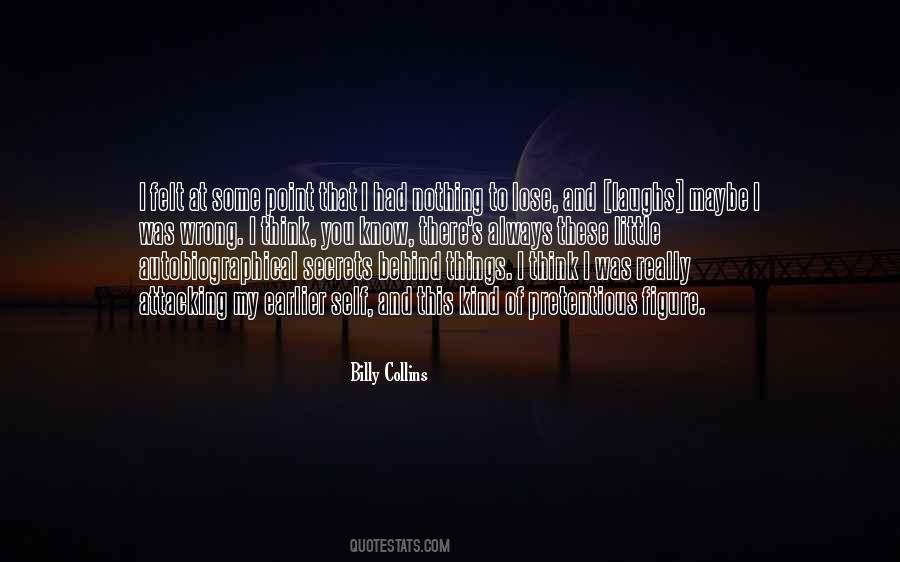 #33. Her joy with him was like nothing she had ever experienced. His love for her felt like a miracle. - Author: Elizabeth Chandler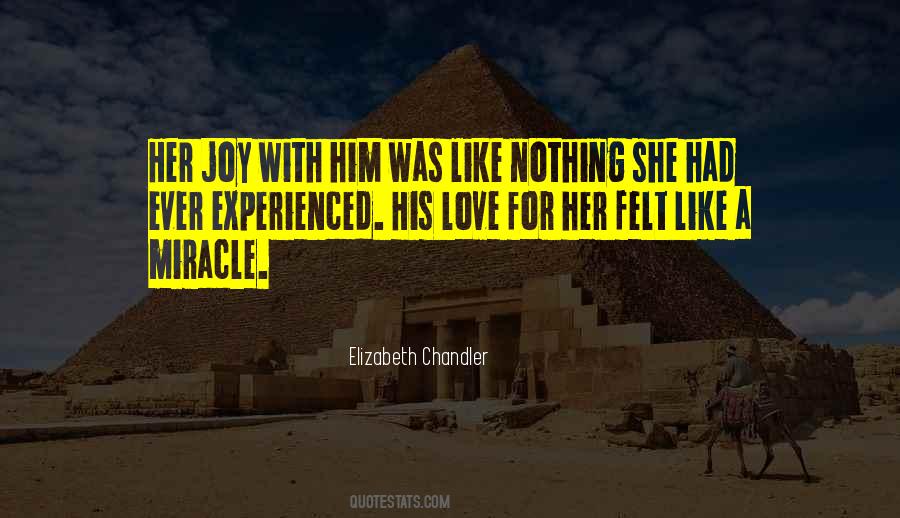 #34. Laurie herself was more focused on the years when her kids were little, when she felt so necessary and purposeful, a battery all charged up with love. Every day she used it up and every night it got miraculously replenished. Nothing had ever been as good as that. - Author: Tom Perrotta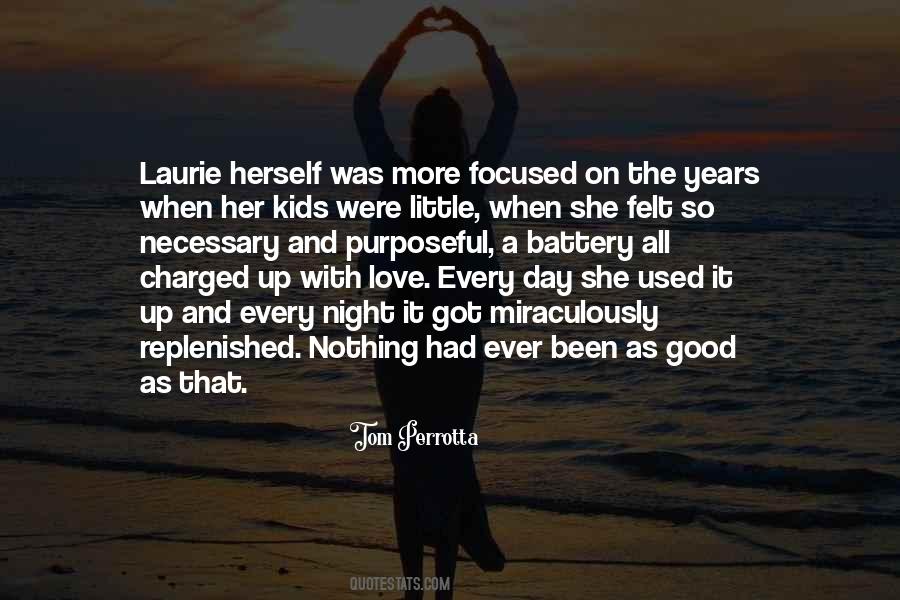 #35. The effect she had on him was druglike, a tantalizing combination of sexual need and profound ease. Like he was having an orgasm and falling into a peaceful sleep at the same time. It was like nothing he'd ever felt before. - Author: J.R. Ward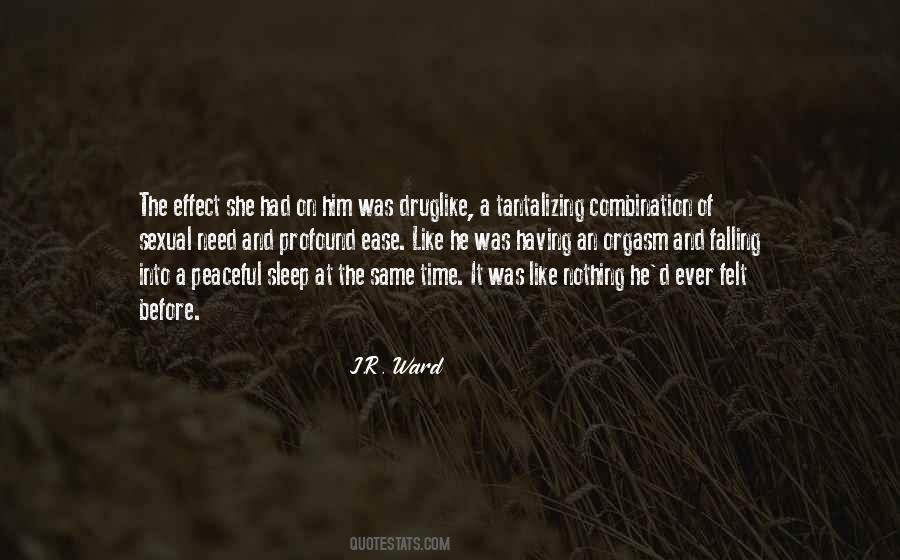 #36. Having listened to great songwriters like James Taylor and Carole King, I felt there was nothing new that was coming out that really represented me and the way I felt. So I started writing my own stuff. - Author: Amy Winehouse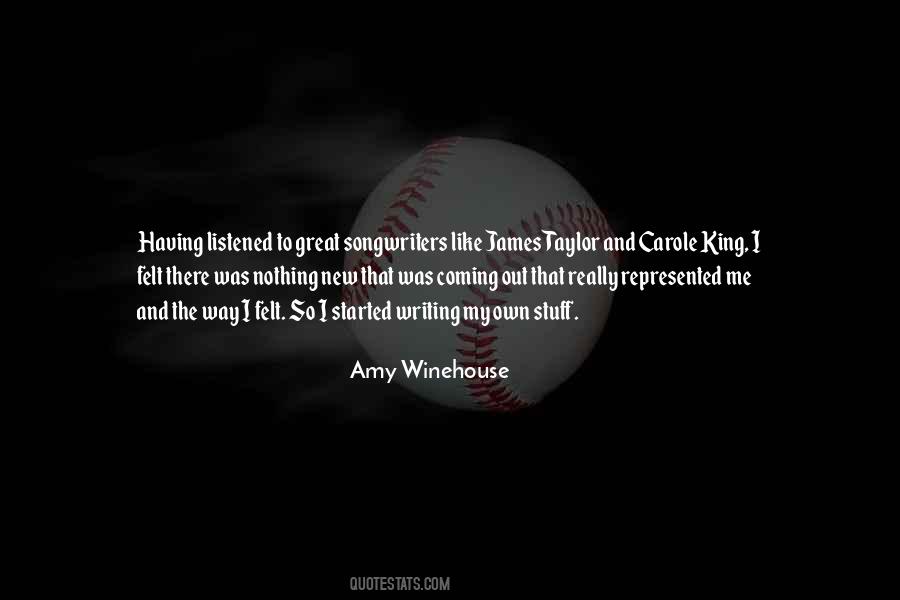 #37. There seemed to be nothing left in the world, for I felt that Roland had taken with him all my future and Edward all my past. - Author: Vera Brittain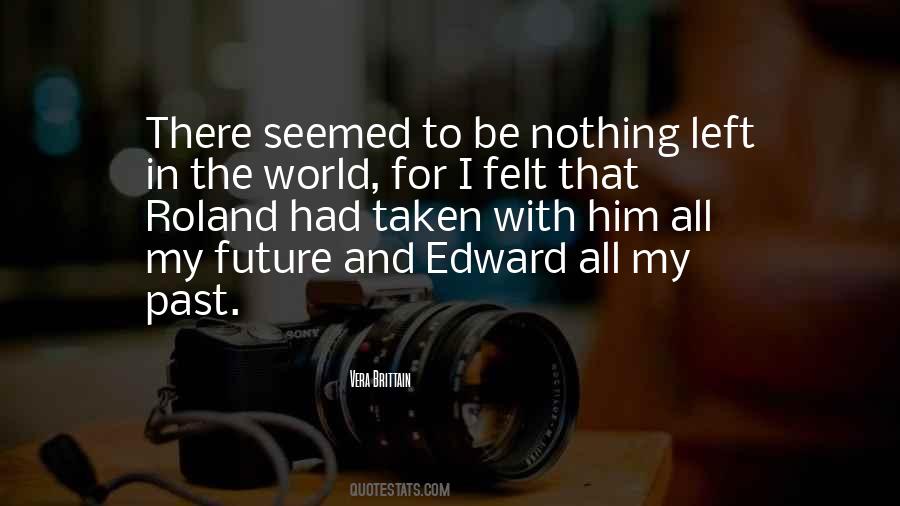 #38. Have you felt it too? Have you seen how your best friends love everything about you- except the things that count? And your most important is nothing to them; nothing, not even a sound they can recognize. - Author: Ayn Rand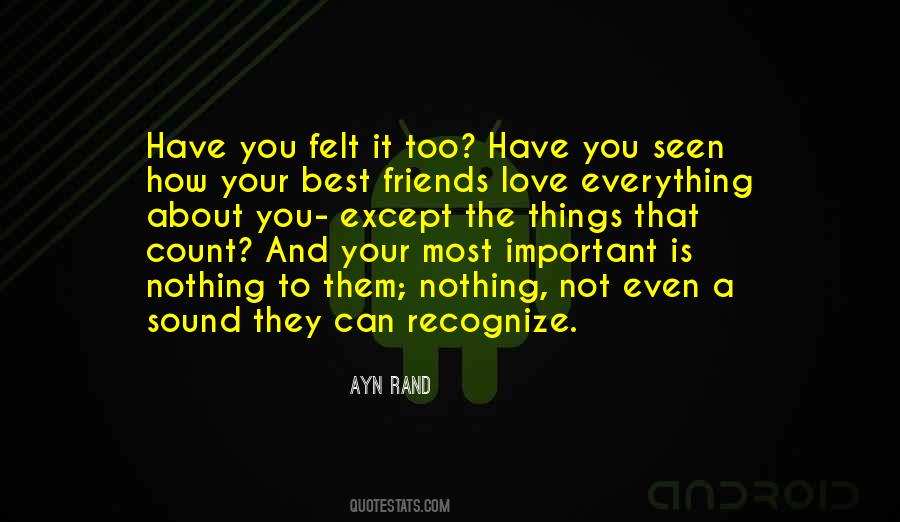 #39. [He] went on to say that during all those years he had done nothing at all, that all he had felt had been a need to live, to live actively, violently, noisily, a need to sing, to make music, to roam the woods, to drink a little too much and get involved in a brawl. - Author: Edmond De Goncourt
#40. He felt that his life was nothing more than a light that would blink once in the history of the universe and then be forgotten. - Author: Simon Van Booy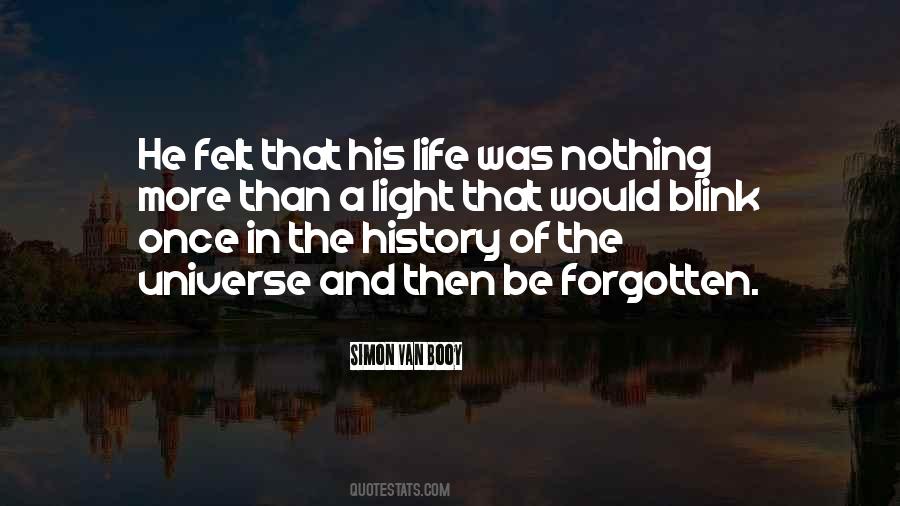 #41. For a long time I felt I had done a very brave thing. There is nothing more boring for an intelligent woman than to spend endless amounts of time with small children. I felt I wasn't the best person to bring them up. I would have ended up an alcoholic or a frustrated intellectual like my mother. - Author: Doris Lessing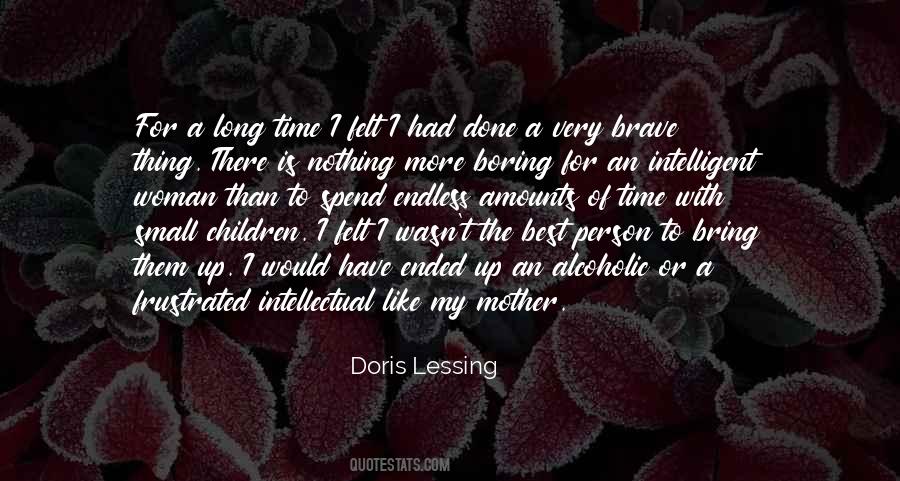 #42. Water, in Grace, is an all-or-nothing proposition, like happiness. When you have rain you have more than enough, just as when you're happy and in love and content with your life, you can't remember how you ever could have felt cheated by fate. - Author: Barbara Kingsolver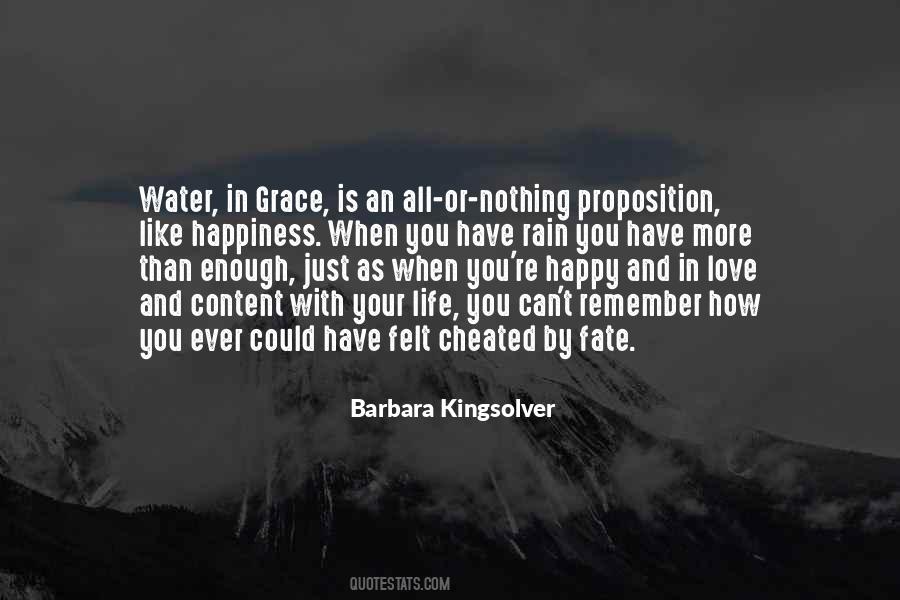 #43. When there was nothing but space between you, everything felt like a leap. - Author: Jennifer E. Smith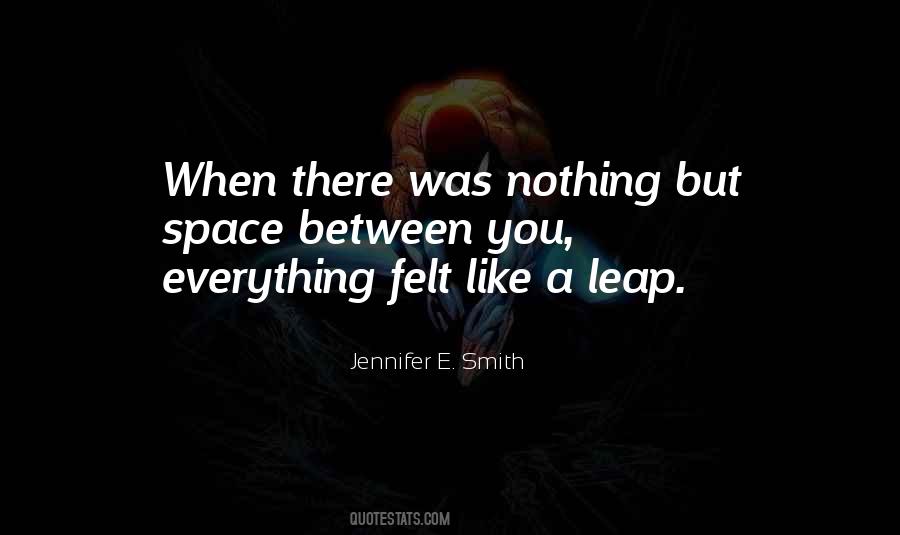 #44. I asked this heroic pet lover how it felt to have died for a schnauzer named Teddy. Salvador Biagiani was philosophical. He said it sure beat dying for absolutely nothing in the Viet Nam War. - Author: Kurt Vonnegut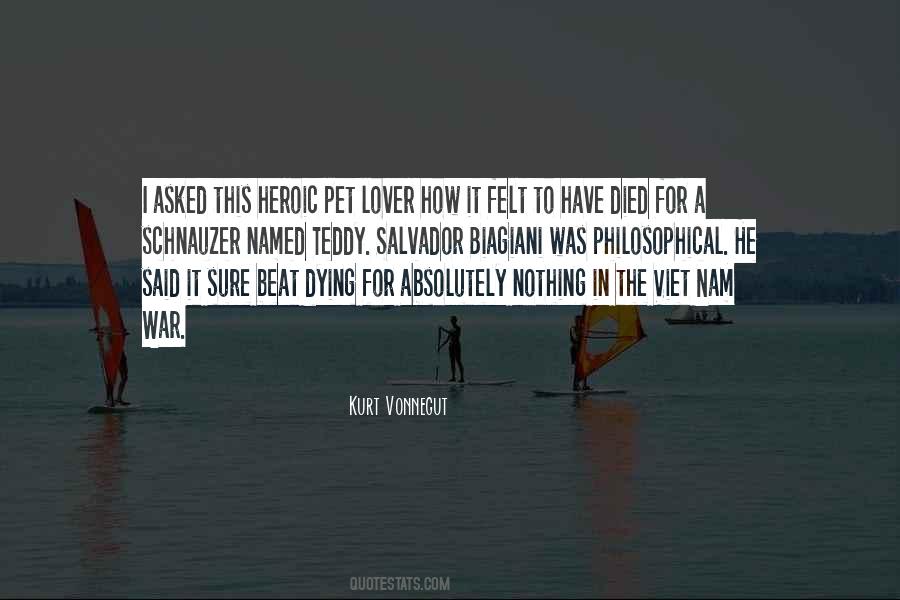 #45. I have clung To nothing, lov'd a nothing, nothing seen Or felt but a great dream! - Author: John Keats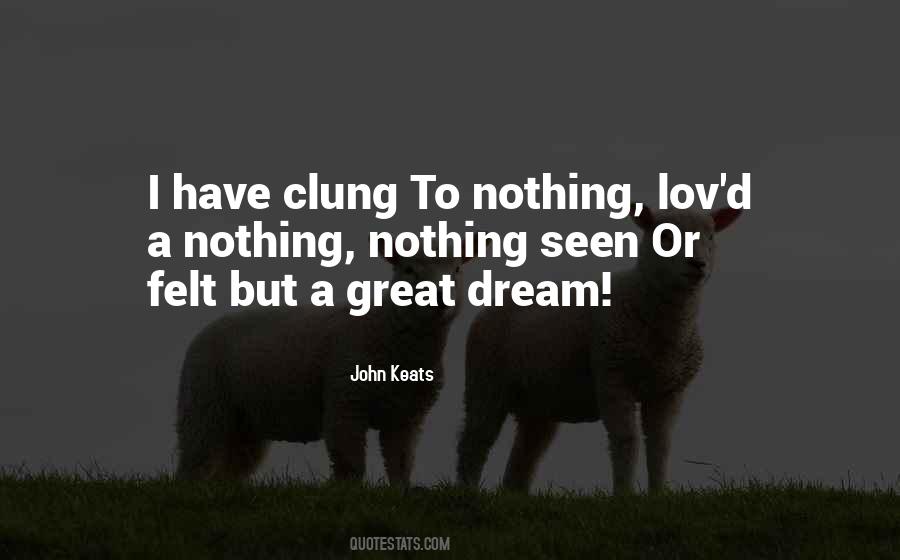 #46. Nature abhors a vacuum. At the very least, though, she felt that now there was nothing for her to hate. - Author: Haruki Murakami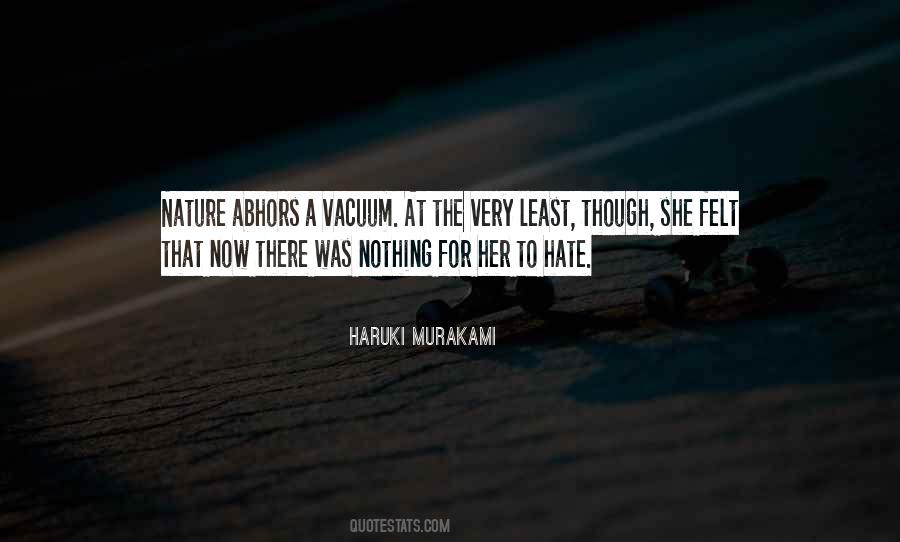 #47. I can't remember what I really felt. Maybe nothing happened, maybe these emotions I remember are not the right emotions. - Author: Margaret Atwood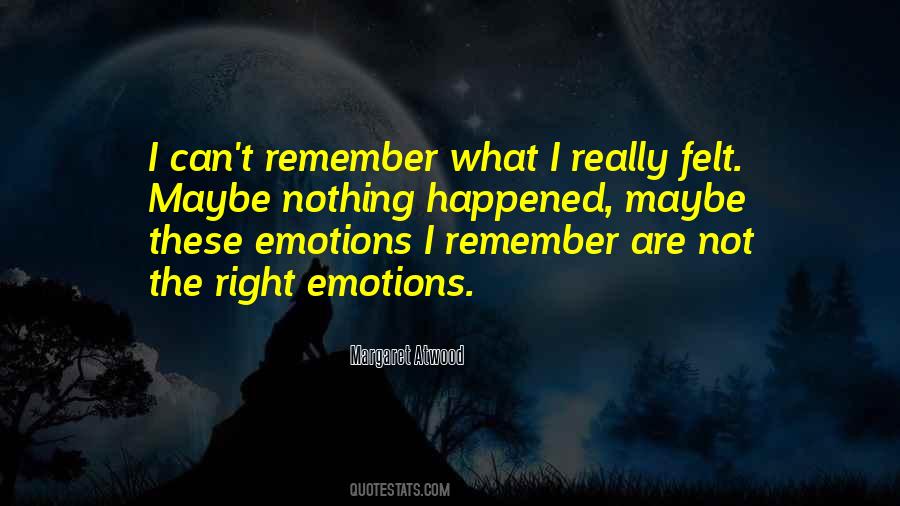 #48. My heart was beating like mad even as I felt it breaking in two. It was too much, not enough, everything I'd ever wanted and nothing I could have. Could a person die from this? - Author: T. Torrest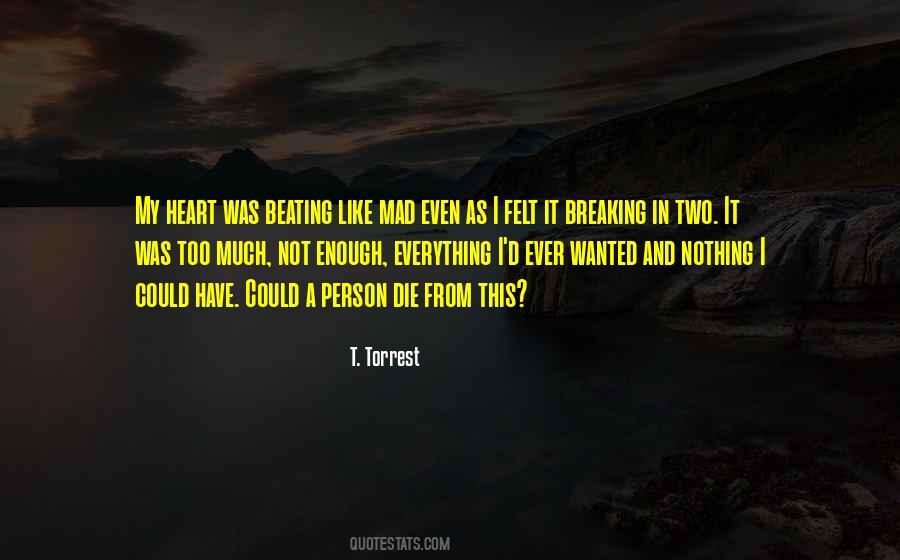 #49. And just getting into bed with somebody wasn't the magic solution, because people could hide their terrors in pure technique - depersonalizing so completely the body embraced that they felt nothing at all. - Author: Paul Monette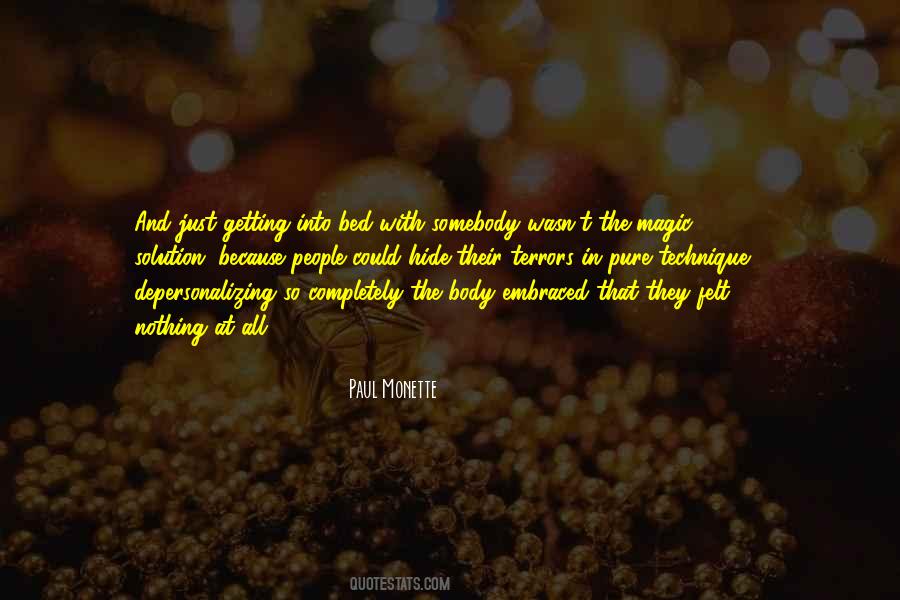 #50. It was probably nothing but it felt like the world. - Author: Morrissey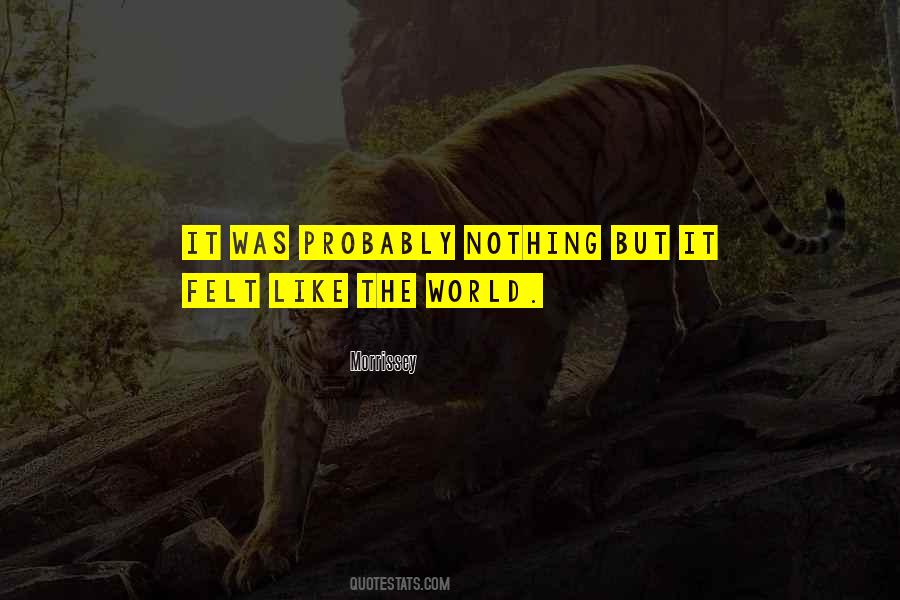 #51. You feel so good sweetheart. I swear nothing's ever felt better in my whole fucking life. - Author: R.K. Lilley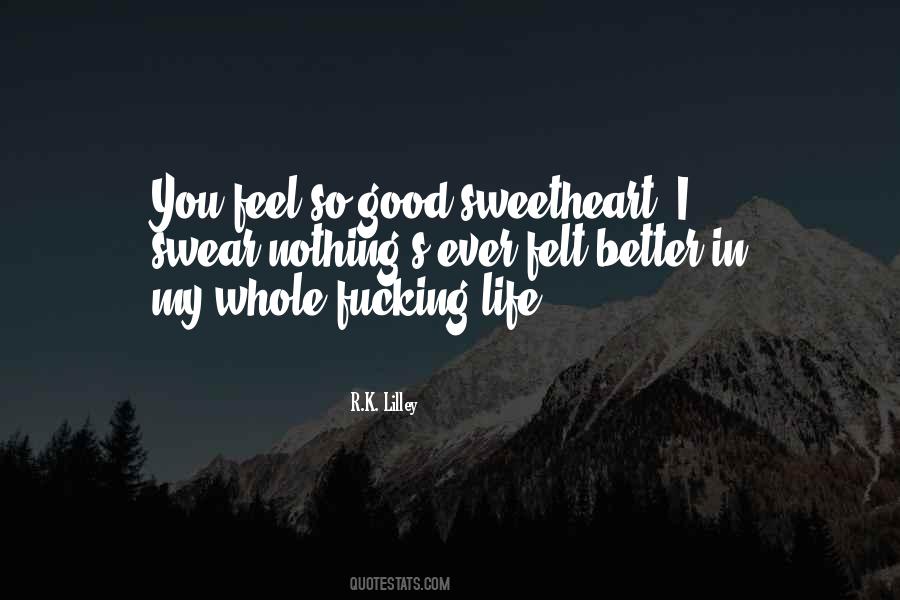 #52. But Jo wasn't angry. Not anymore. He couldn't really tell if what he had been before was angry. It was an emotion he had no use for, that accomplished nothing and meant even less than that. If anything, what Jo really felt was tired. - Author: Yaa Gyasi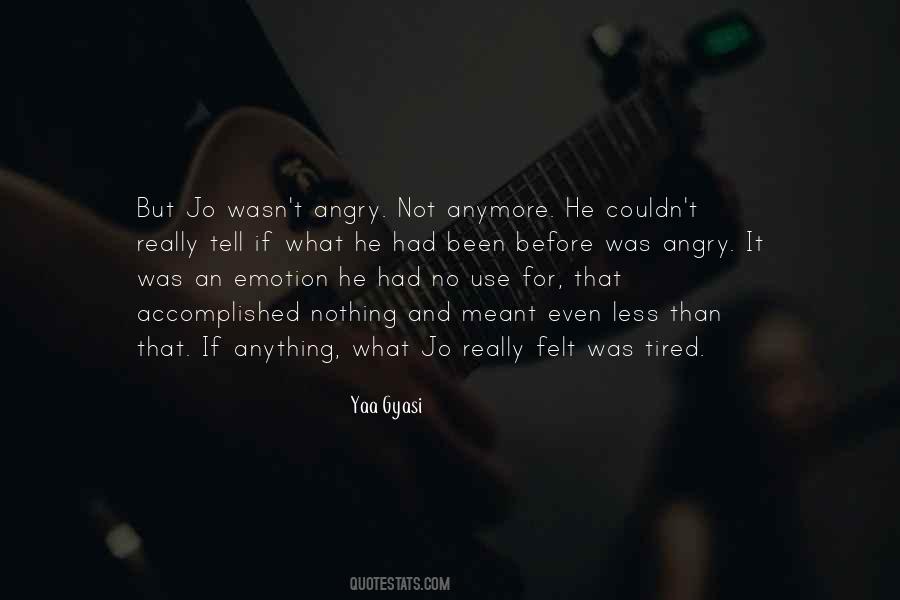 #53. Oh hours of childhood,
when behind each shape more than the past appeared
and what streamed out before us was not the future.
We felt our bodies growing and were at times impatient to be grown up, half for the sake
of those with nothing left but their grownupness. - Author: Rainer Maria Rilke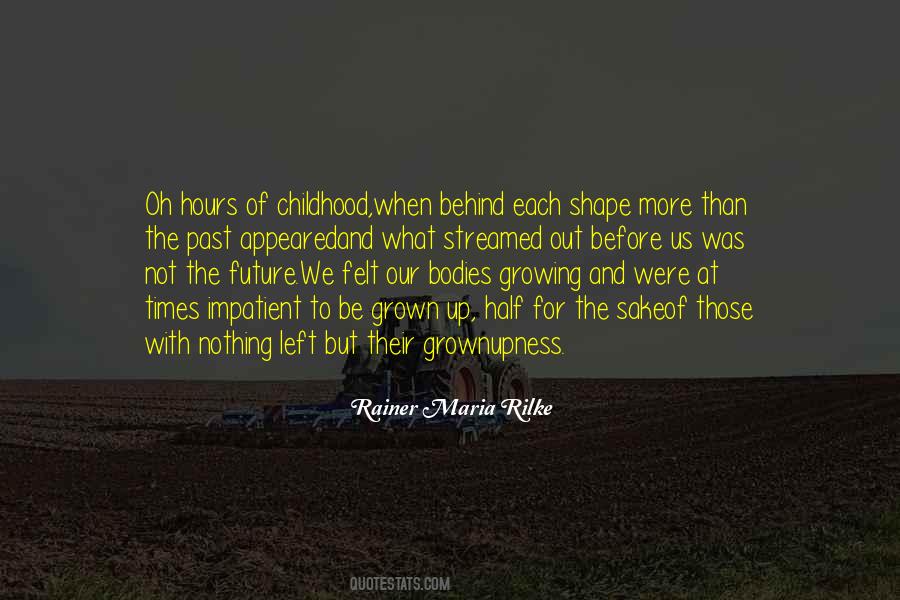 #54. Elizabeth scowled, feeling like a nobody, a nothing. She felt like her entire self had been made worthless. She could change her interests, but she couldn't change her looks. She'd never be six feet tall. She'd never look like a supermodel. - Author: Francine Pascal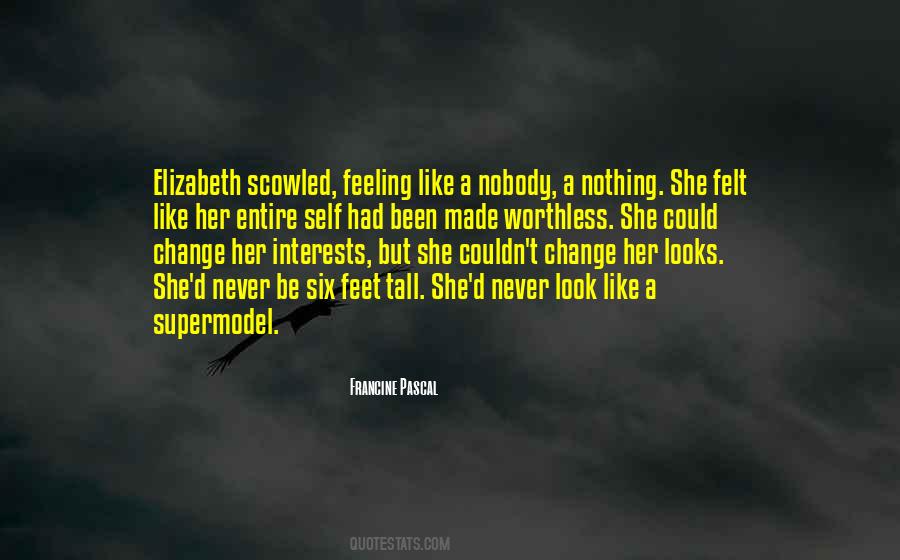 #55. ...she felt safe with Nicolo, and feared nothing. - Author: Mirella Sichirollo Patzer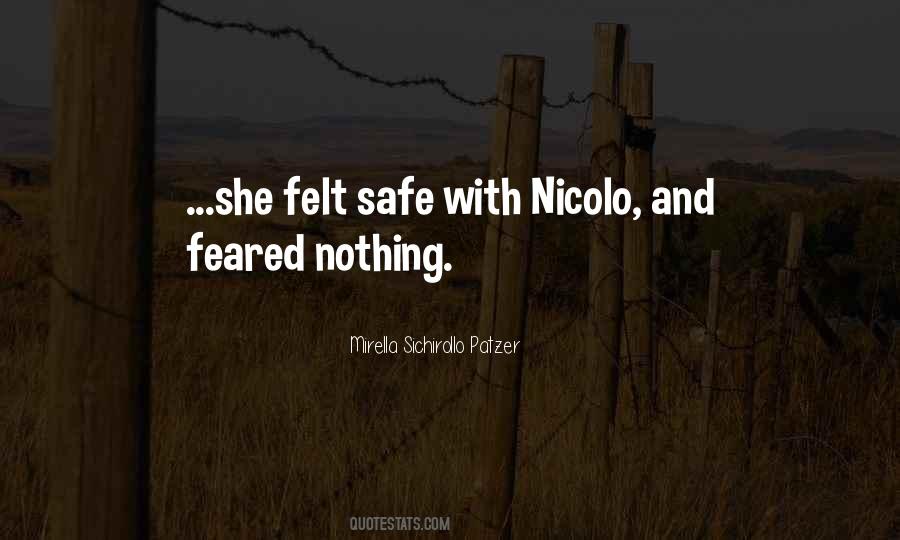 #56. I felt totally myself, nothing like the emptiness and horrible feeling I had then [pulling out the Olympics] - no dizziness. - Author: Paula Radcliffe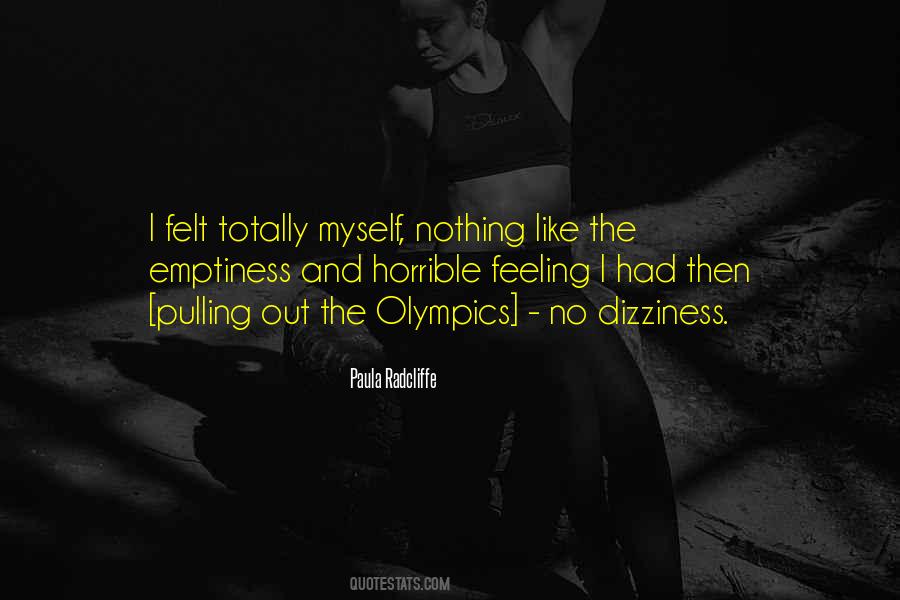 #57. Whenever I finished filming a movie, I felt my job was only half done. Every film had to be nurtured in the marketplace. You can have the greatest movie in the world, but if you don't get it out there, if people don't know about it, you have nothing. - Author: Arnold Schwarzenegger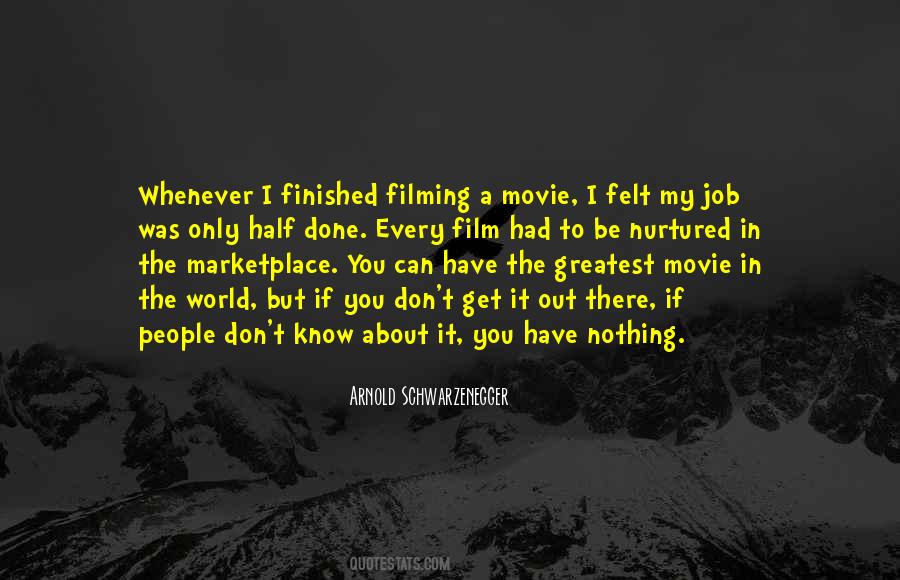 #58. For the most part I felt nothing but scorn for an art form that required the pretense that it was natural for people to communicate with one another in rhymed song. - Author: Joel Derfner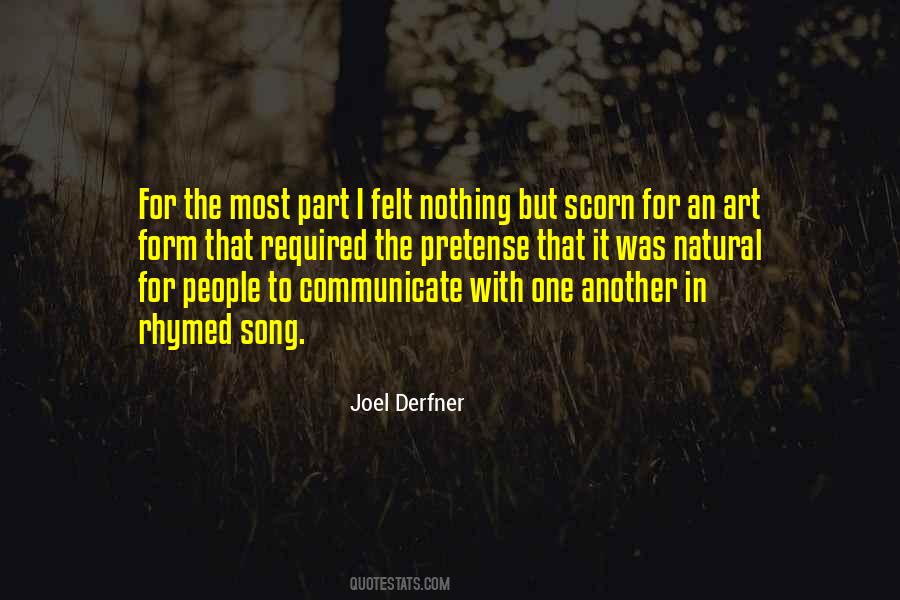 #59. In another place, in another time, she would have felt the majesty of the beauty around her, but as she stood on the beach, she realized that she didn't feel anything at all. In a way, she felt as if she weren't really here, as if the whole thing was nothing but a dream. - Author: Nicholas Sparks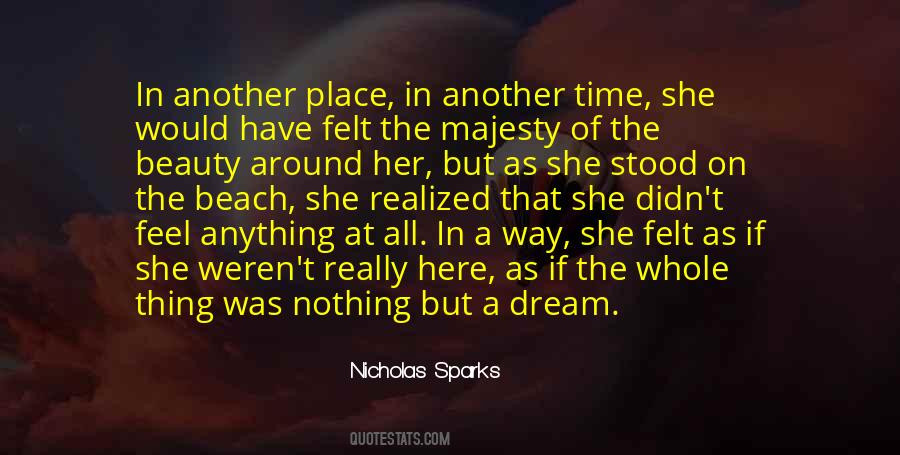 #60. It wasn't that she was sad - sadness had very little to do with it, really, considering that most of the time, she felt close to nothing at all. Feeling required nerves, connections, sensory input. The only thing she felt was numb. And tired. Yes, she very frequently felt tired. - Author: Nenia Campbell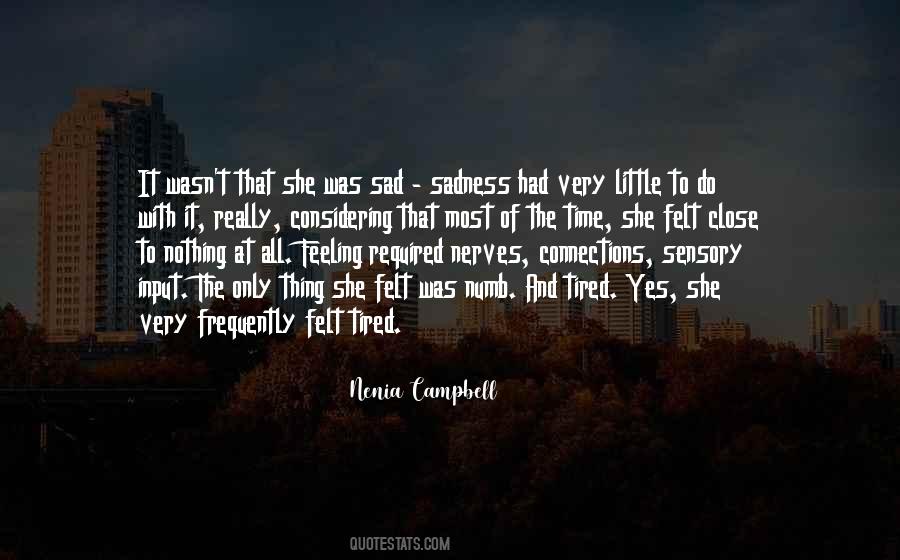 #61. He shook-a me up, he took me by surprise. He had a pickup truck, and the devil's eyes. He stared at me and I felt a change. Time meant nothing, never would again. - Author: Richard O'Brien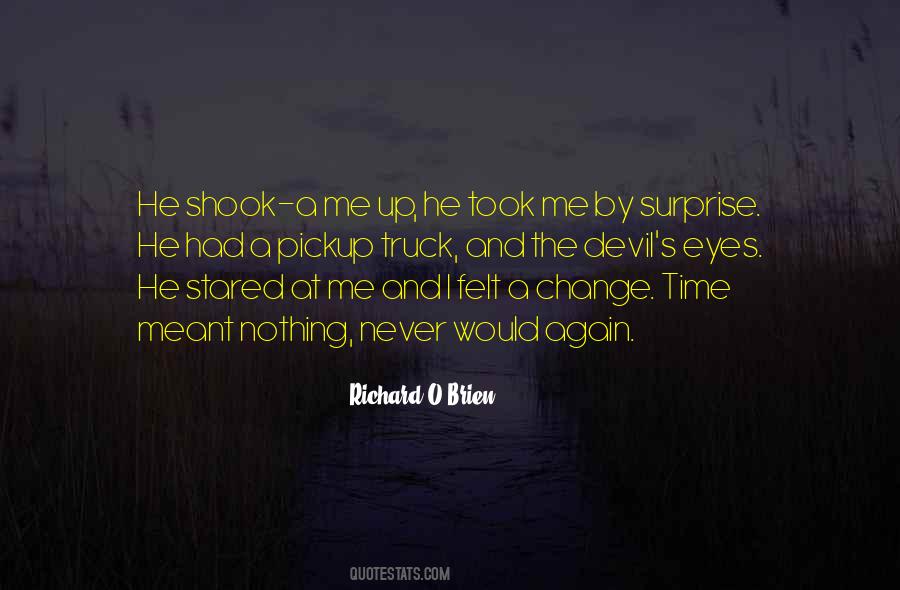 #62. Although Salinger had long since cut me out of his life completely and made it plain that he had nothing but contempt for me, the thought of becoming the object of his wrath was more than I felt ready to take on. - Author: Joyce Maynard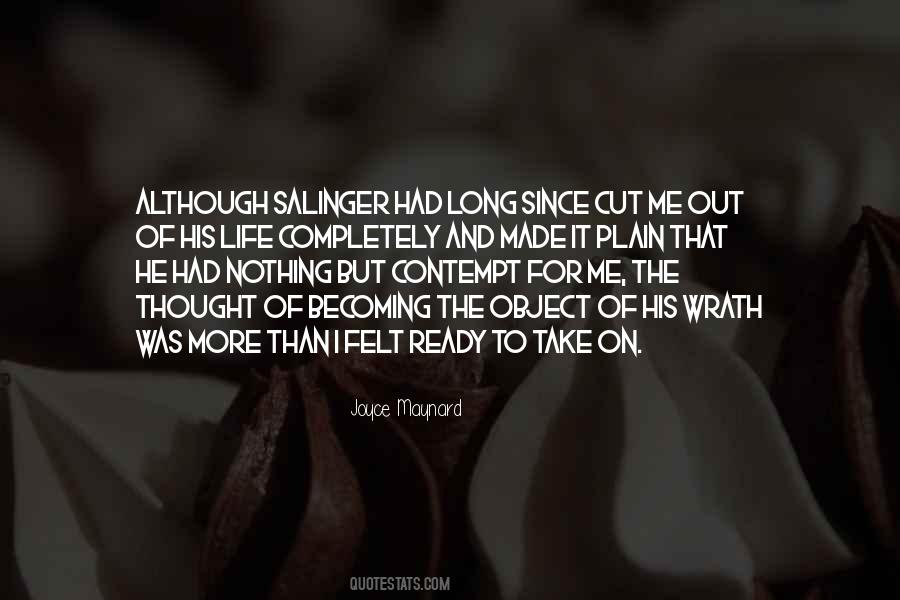 #63. She did not hate Miss Garnder anymore. She didn't like her, but she felt sorry for her. Miss Garnder had nothing in all the world excepting a sureness about how right she was. - Author: Betty Smith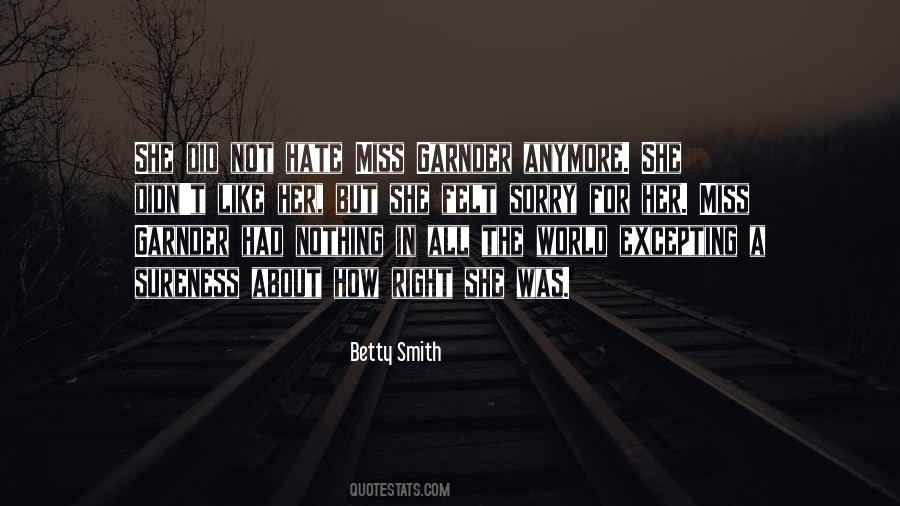 #64. I've always felt you don't have to be completely detached, emotionally uninvolved to make precise observations. There's nothing wrong with feeling great empathy for your subjects. - Author: Jane Goodall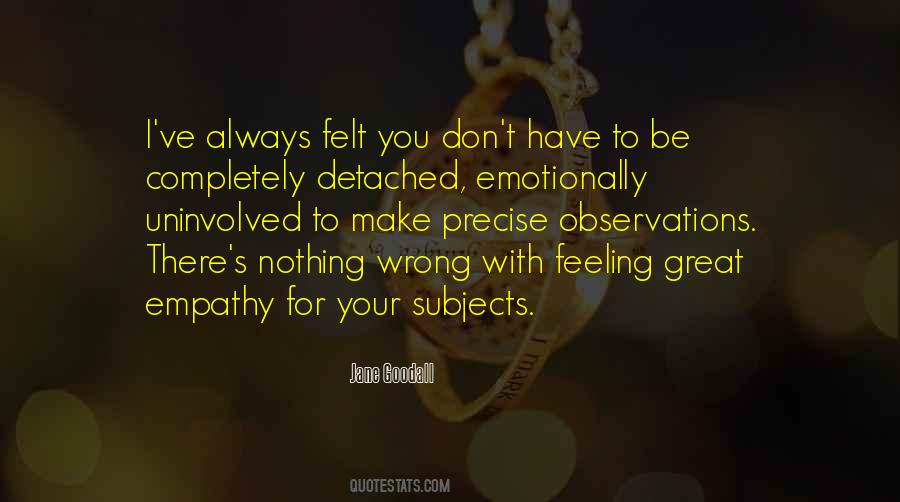 #65. I always felt that the great high privilege, relief and comfort of friendship, was that one had to explain nothing - Author: Katherine Mansfield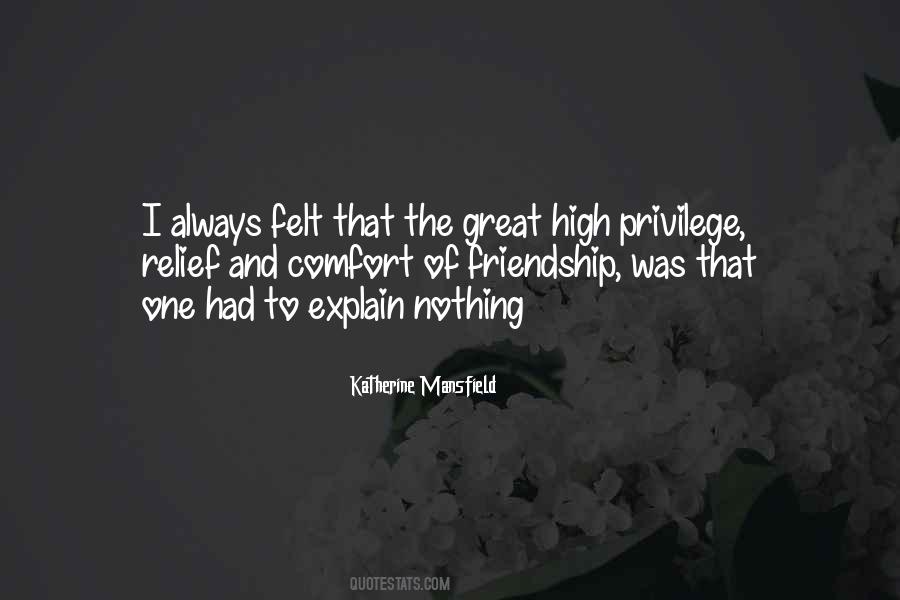 #66. I was aggressively nonpolitical. I believed that people who make a fuss about politics do so because their heads are too empty to think about more important things. So I felt nothing but impatient contempt for Osborne's Jimmy Porter and the rest of the heroes of social protest. - Author: Colin Wilson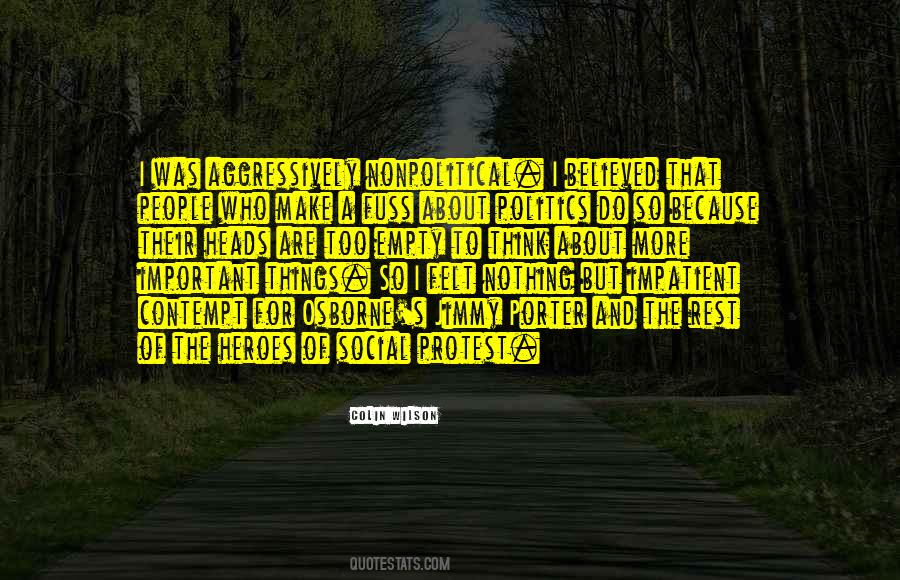 #67. I felt like crying but nothing came out. it was just a sort of sad sickness, sick sad, when you can't feel any worse. I think you know it. I think everybody knows it now and then. but I think I have known it pretty often, too often. - Author: Charles Bukowski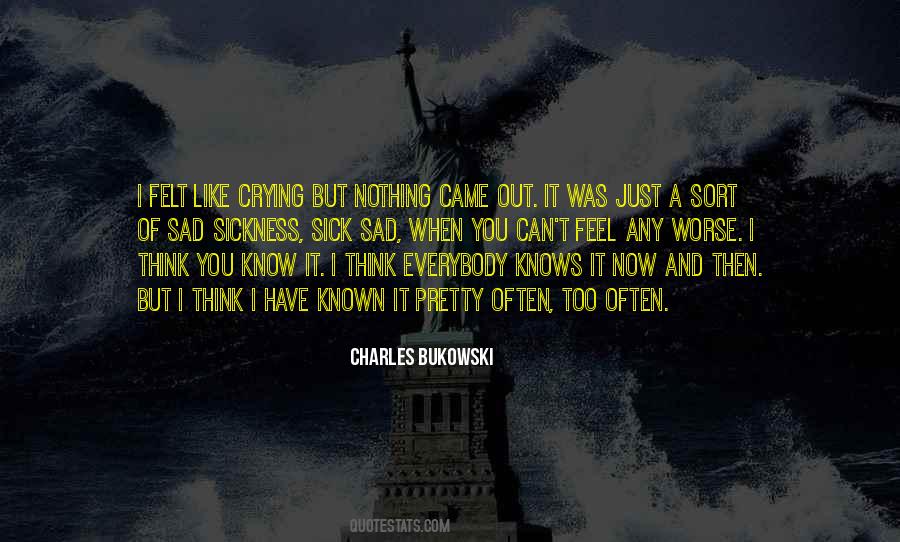 #68. Nothing that'll kill us sounded good, but Holden felt a pang for his coffeemaker. Alex, - Author: James S.A. Corey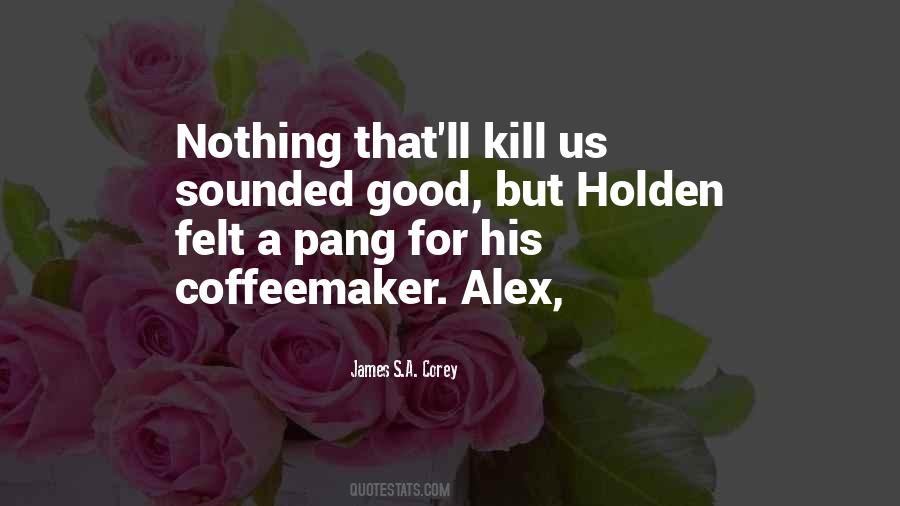 #69. Loneliness can't be seen. It's a worse feeling that can only be felt, We experience a lots of feeling in our life but loneliness is such a feeling that kills us from inside yet we can't help it. We only see our self being destroyed day by day,yet nothing to do. - Author: Debolina Bhawal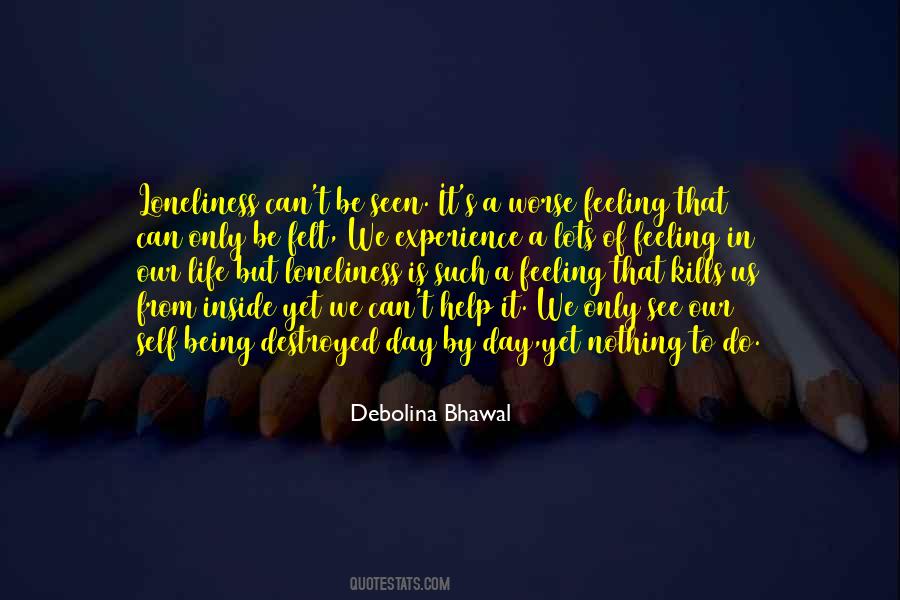 #70. I felt ashamed for having been jealous of his life, considering the price he'd paid for it, and I tried to feel lucky for the safe and unextraordinary one that I had done nothing to deserve - Author: Ransom Riggs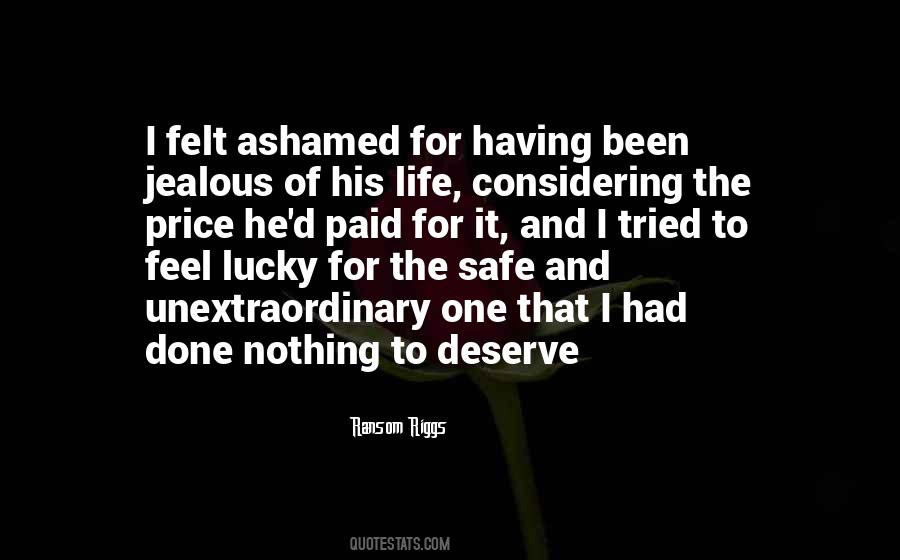 #71. I assumed it was perfect, that everyone was happy and beautiful and wanted for nothing, and in my numb, limited way I felt envy and wanted to eat them all the more - Author: Isaac Marion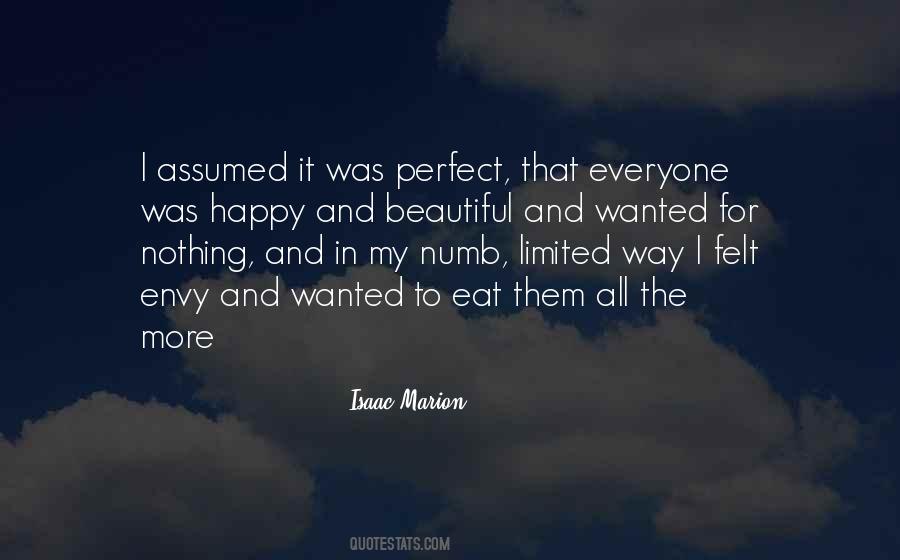 #72. When he heard his father call out for Abel and he saw his borther go forth, it made him feel like he was nothing. He couldn't even say that he felt like Cain anymore. One could not feel like Cain because it had no flavor. Cain was the absence of flavor. Cain was like saliva or a Wednesday. - Author: Jonathan Goldstein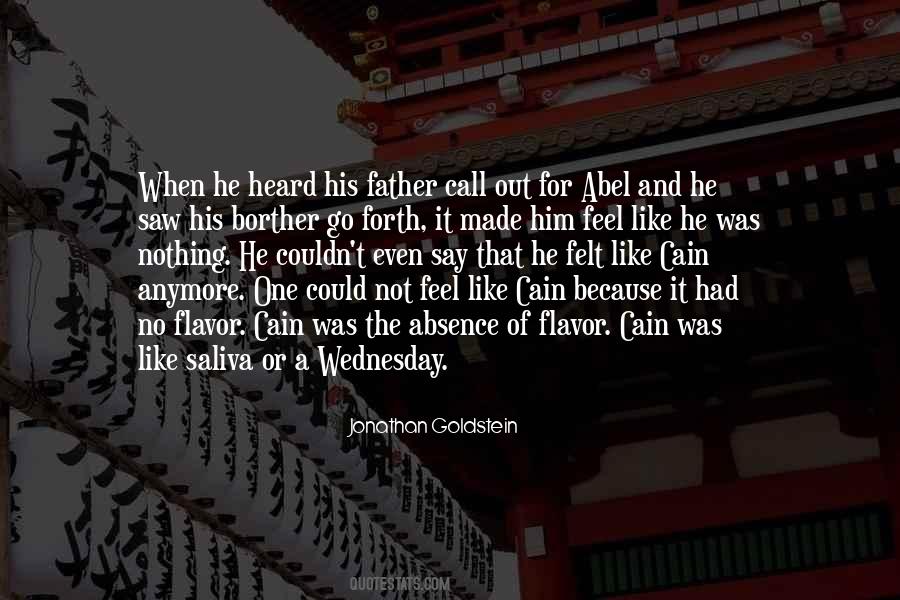 #73. I was thirty-seven years old and wearing nothing but a butt plug. But there was a 1940's film-star Toby, looking about to spontaneously combust from sheer desire. It was probably hysterical postpubescent hormones, but still, it felt so good. So ridiculously good. - Author: Alexis Hall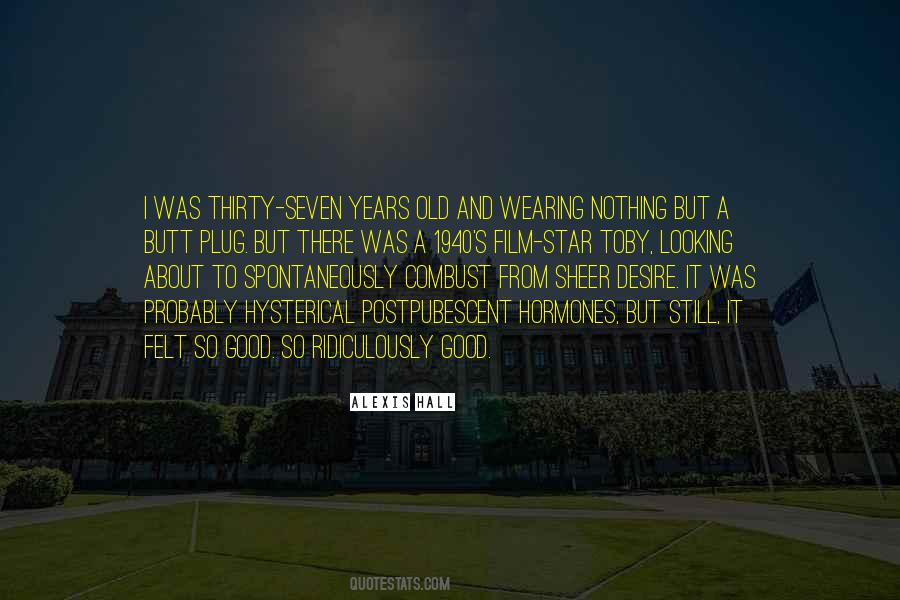 #74. I was born in 1961. Now I think the 16 years that elapsed between 1961 and the end of the wars is nothing. To a child growing up it felt like an eternity, an entirely different world. - Author: Jeremy Northam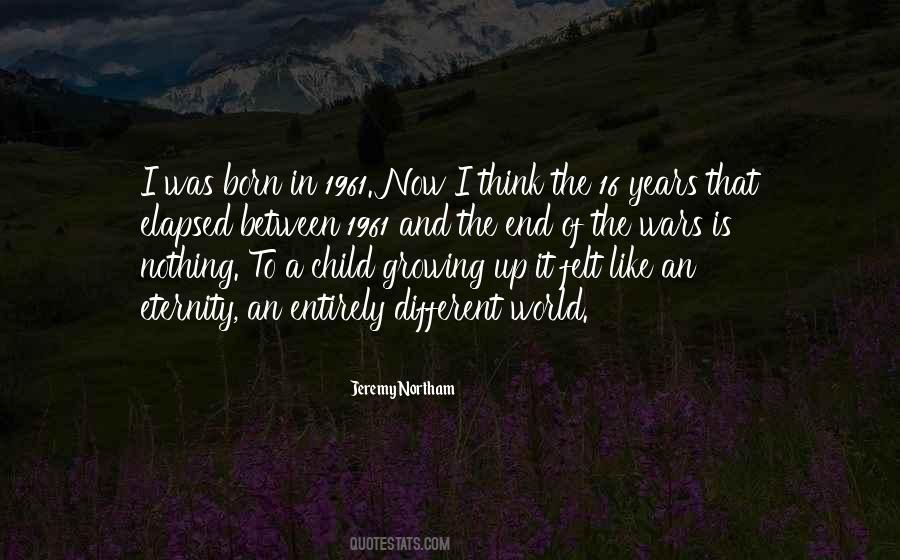 #75. He felt guilty about that, even though he knew he had done nothing he should feel guilty about. - Author: Kurt Vonnegut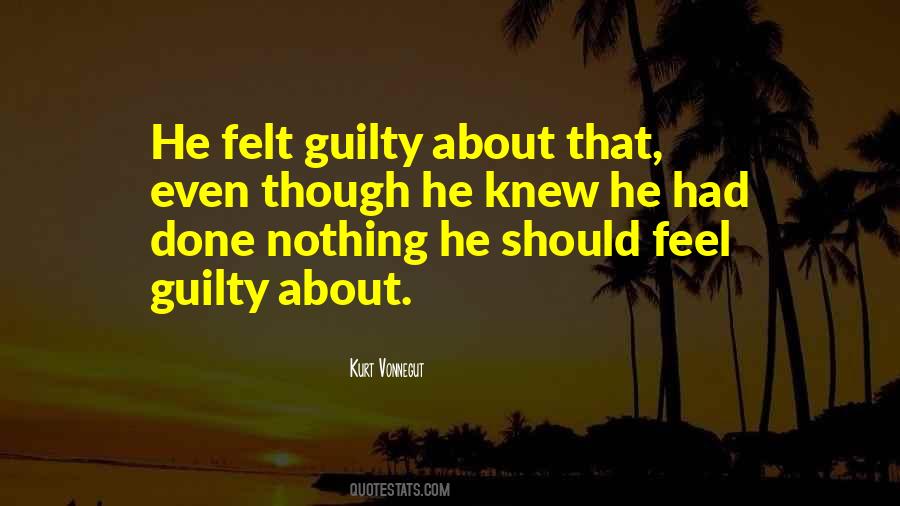 #76. Bob grinned. 'Wear that white swimsuit you bought last week, OK?' he said. 'I want all the other guys to wish you were their girlfriend.'
Sara felt vaguely uncomfortable, but she ignored the sensation. Bob just wanted her to look her best, she figured. There was nothing wrong with that. - Author: Francine Pascal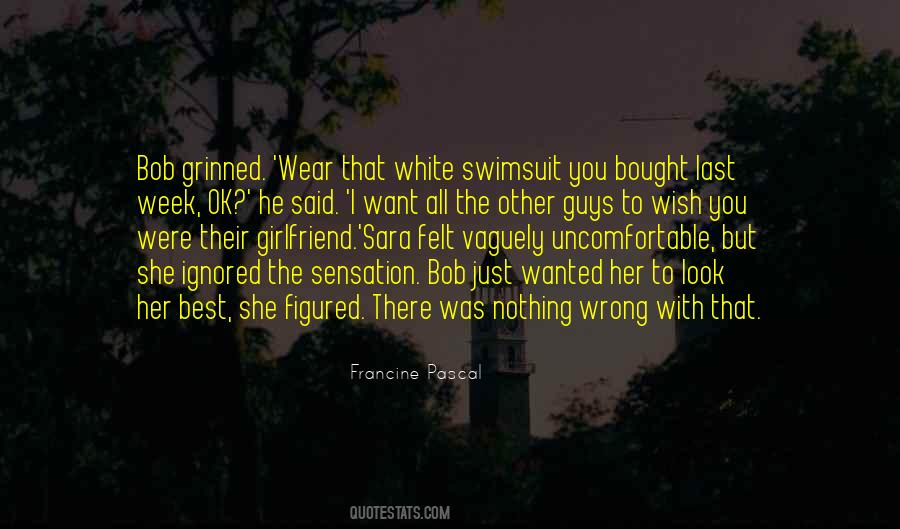 #77. There was nothing so very unfamiliar about the excitement she was feeling, and yet it felt always like a new excitement. It was, in other words, a perennially unfamiliar feeling. - Author: Soseki Natsume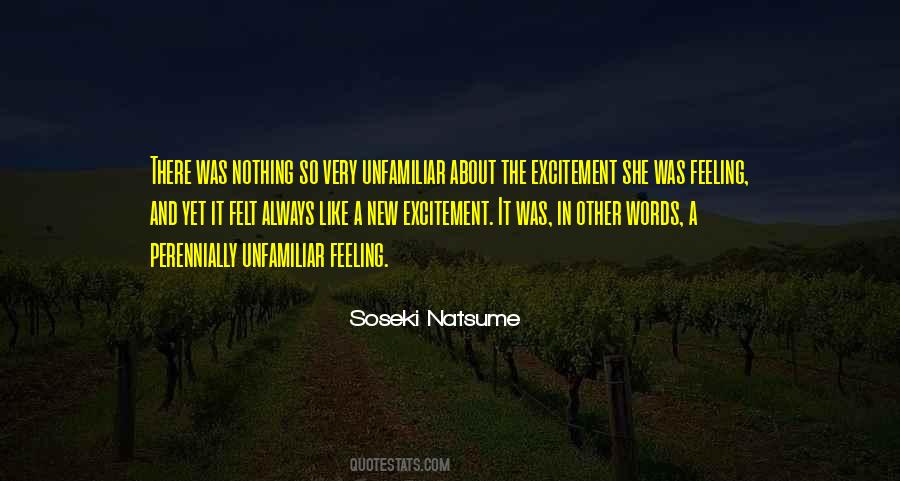 #78. She was luxuriously tired and her muscles felt sore from the unaccustomed strain of riding astride. Nothing had ever tasted so good as the cool golden ale she swallowed from a pewter tankard. She slept deeply that night and longer than she had intended ... - Author: Kathleen Winsor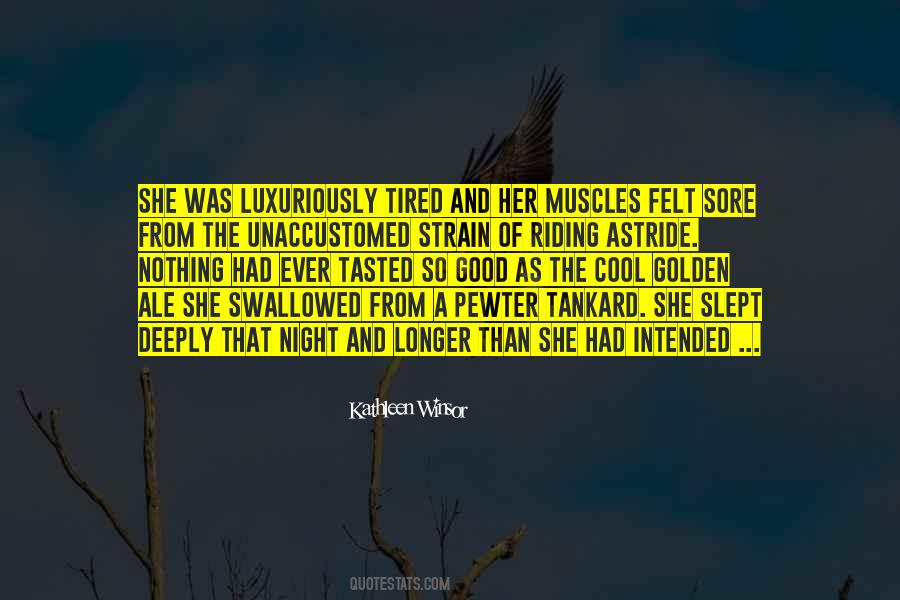 #79. He felt his heart roll, exposing its underbelly. Nothing he could do about that. He was equipped to eliminate threats, protect and serve. Not to love. Never to love. - Author: Jill Shalvis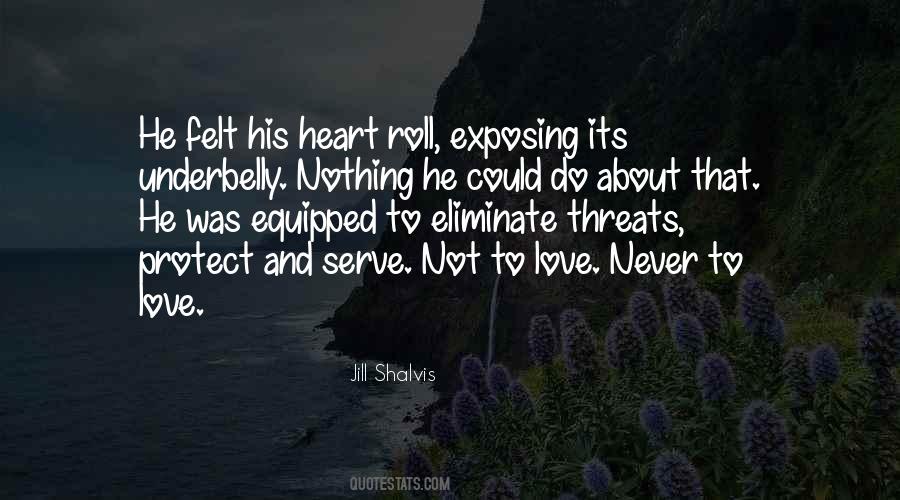 #80. Or rather, he was sad because that morning he'd understood that he'd understood nothing, because while he still understood nothing he wasn't sad at all, but now that he'd understood that he'd understood nothing he felt sad, if you follow. - Author: Francois Lelord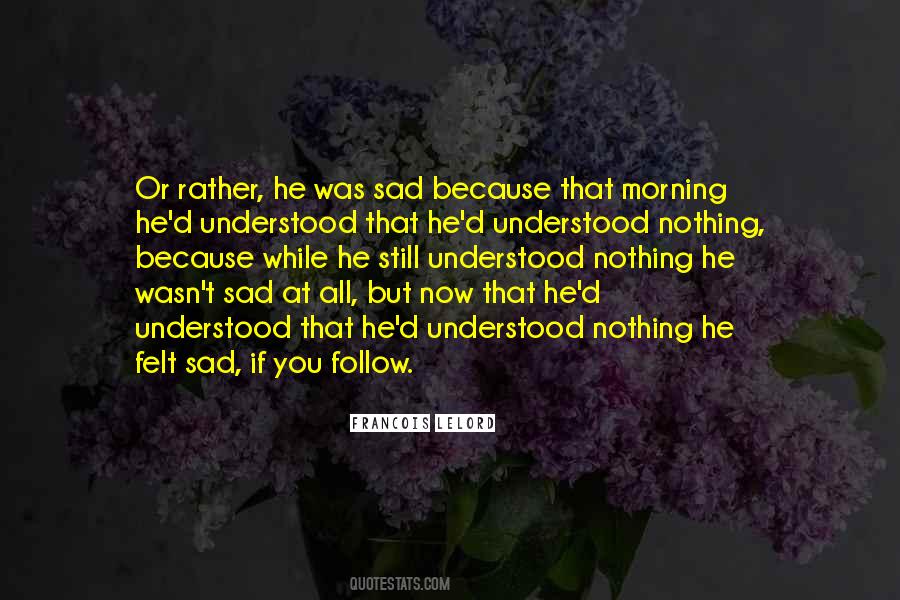 #81. Lucy seemed to be imprisoned by a legion of people in her life who always wanted what was right for her. And as a result, in the eyes of everyone, she had everything ... and yet she always, always felt she had nothing. No one. - Author: C. JoyBell C.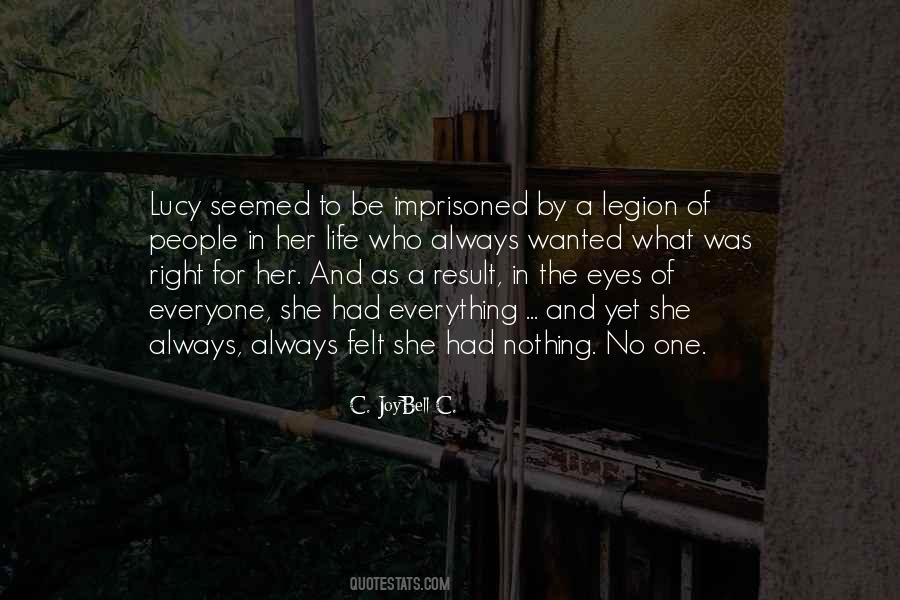 #82. More than anything else I wanted to get inside my readers' defenses, wanted to rip them and ravish them and change them forever with nothing but story. And I felt I could do those things. I felt I had been made to do those things. - Author: Stephen King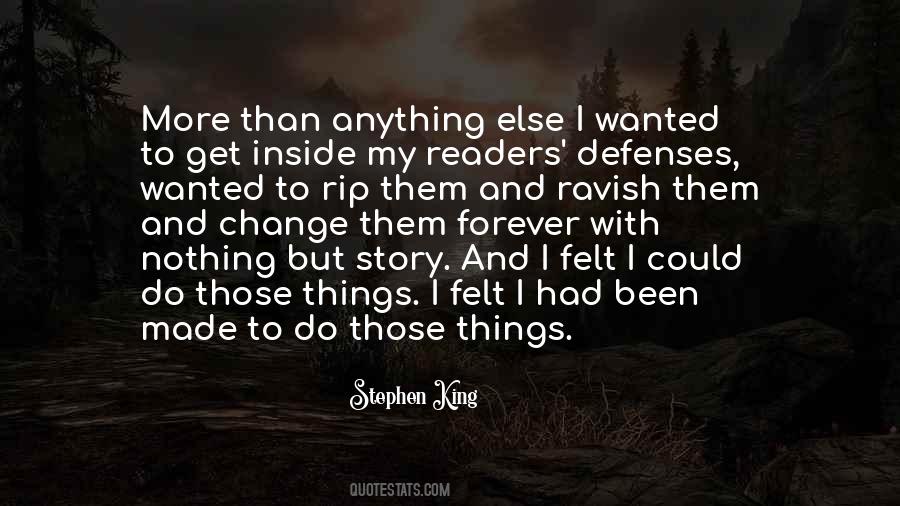 #83. Forth from the war emerging,a book I have made, the words of my book nothing, the drift of it everything, a book separate, not link'd with the rest nor felt by the intellect, but you ye untold latencies will thrill to every page. - Author: Walt Whitman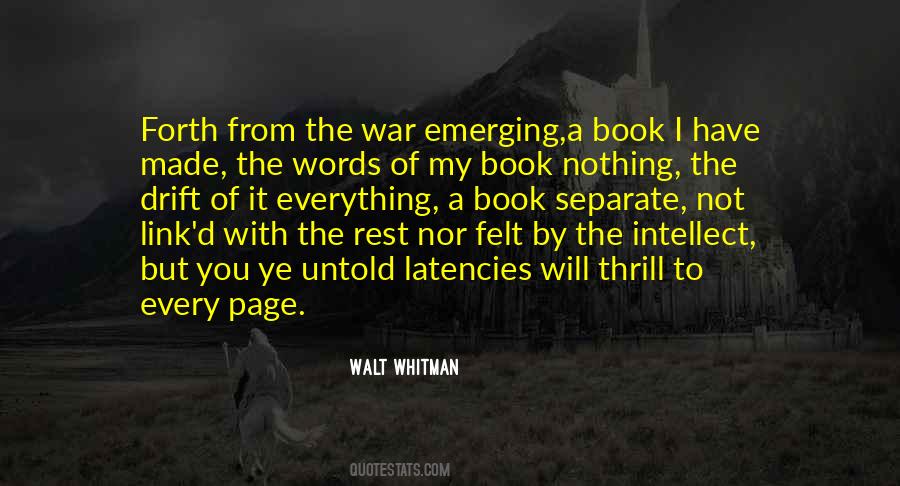 #84. I felt as if something hung there in the back of my mind, waiting to tarnish whatever happiness I might find. Is it safer to be unhappy? Nothing ever wants to take that away. - Author: Storm Constantine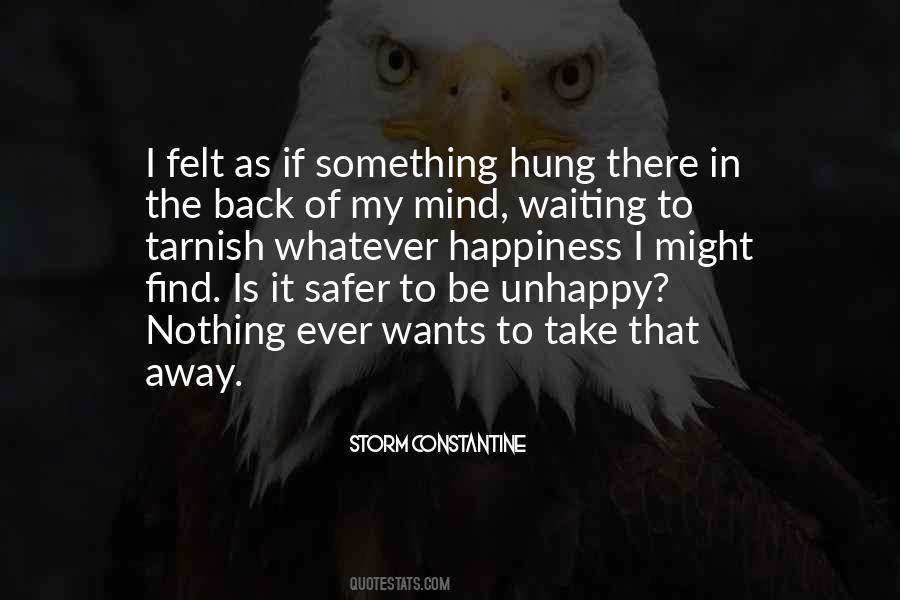 #85. I've always felt writing is an art. Publishing is a business. I felt strongly if I was going to write, I would write what I wanted to, and if the 'market' didn't respond, there was nothing I could really do about it. - Author: M.J. Rose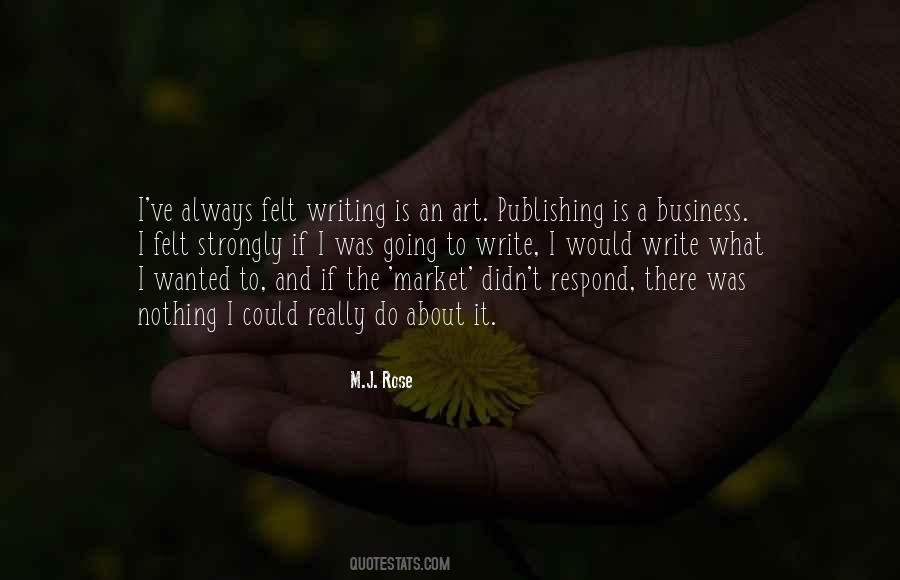 #86. Often, you know.' 'I don't know,' said the Caterpillar. Alice said nothing: she had never been so much contradicted in her life before, and she felt that she was losing her temper. 'Are you content now?' said the Caterpillar. 'Well, I should like - Author: Lewis Carroll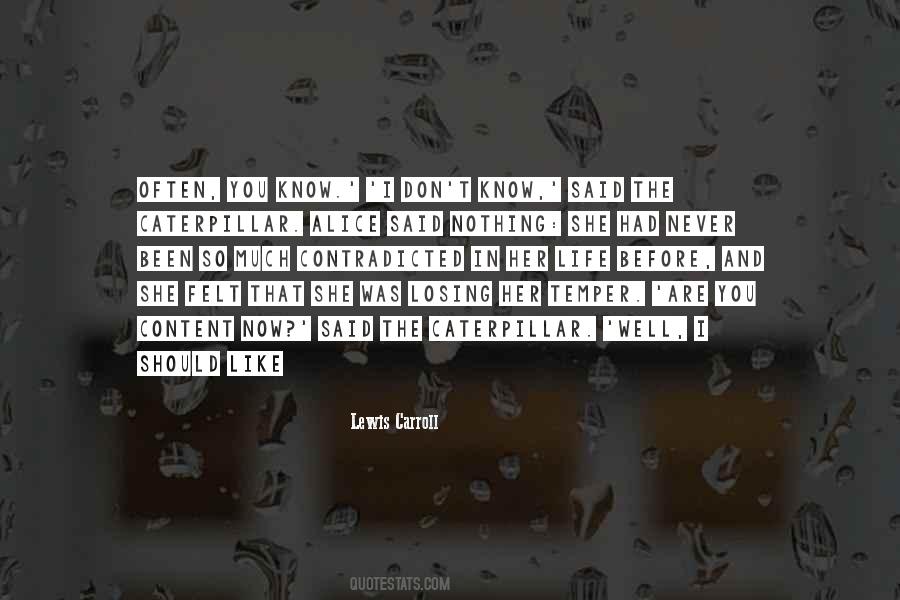 #87. I felt that there was nothing wrong with what I was doing because I was supplying a product to people that wanted it and it was accepted. I mean nobody really was making any negative statements about marijuana. - Author: George Jung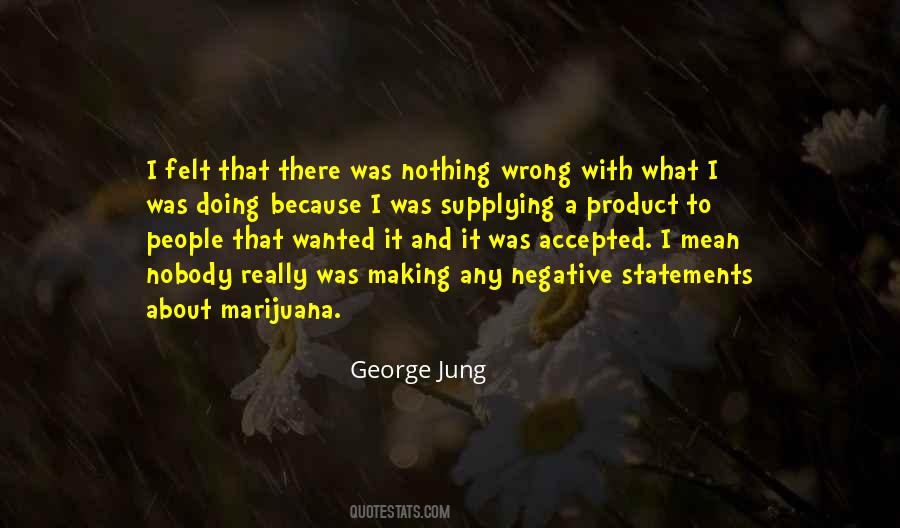 #88. Before I came to New York I lived here, in this mausoleum. I was nothing. I was dead. When I came to New York it was like a veil lifting. For the first time I felt I was alive, breathing. - Author: Jacqueline Susann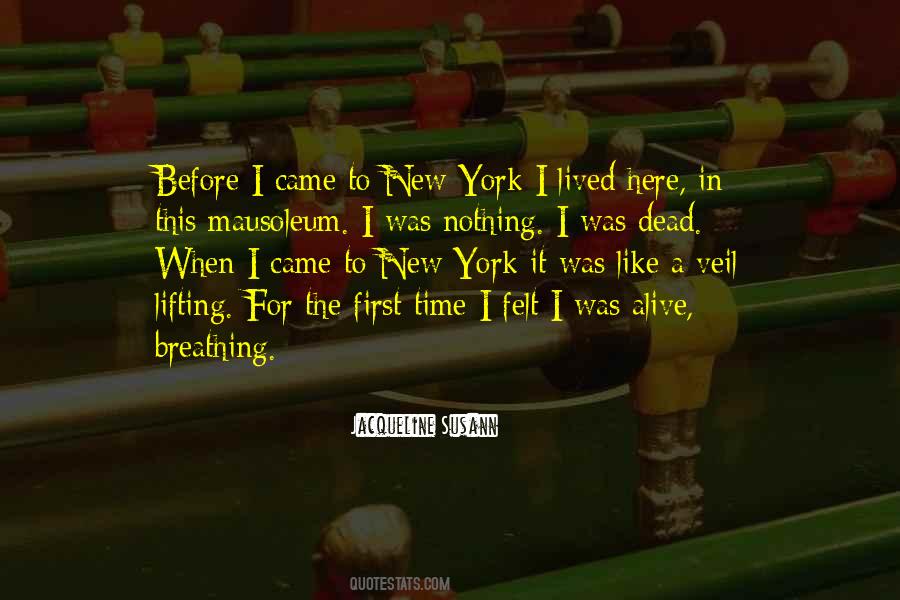 #89. I likewise felt several slender ligatures across my body, from my arm-pits to my thighs. I could only look upwards; the sun began to grow hot, and the light offended my eyes. I heard a confused noise about me; but in the posture I lay, could see nothing except the sky. - Author: Jonathan Swift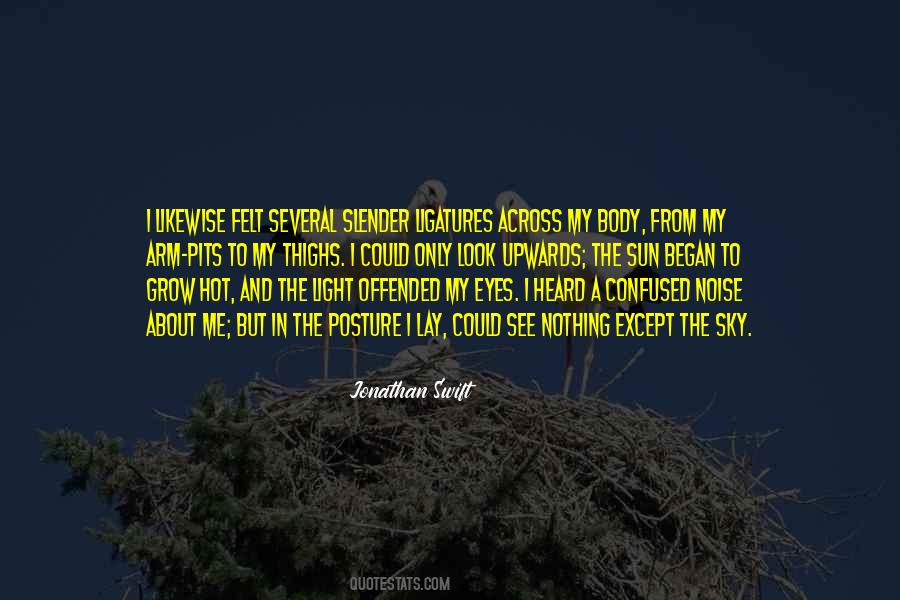 #90. Home is meant to be a place, but for me Dec was my home. He was where I felt secure and loved, and time did nothing to diminish that. No matter what. - Author: Sean Kennedy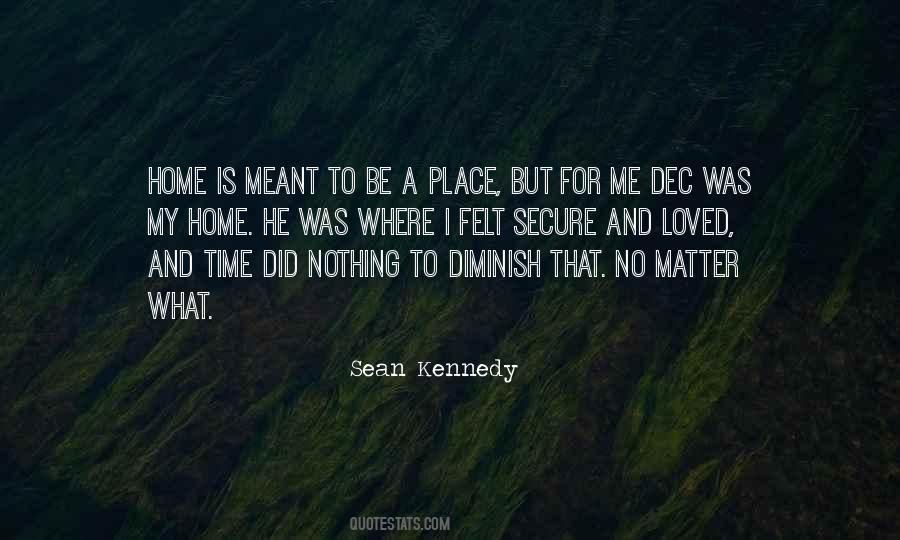 #91. I've always felt I should do things 100 percent or not do them. It's all or nothing. That's what makes me a good athlete - doing things with all the 'ganas' I can. - Author: Sergio Garcia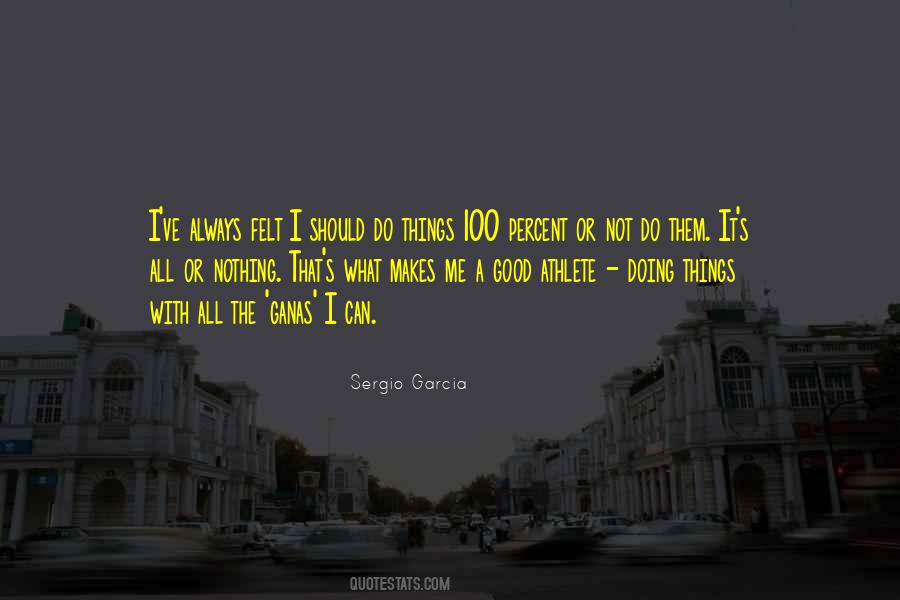 #92. Last night I felt the approach of nothing. Not too close but on its way, like a wingbeat, like the cooling of the wind, the slight initial tug of an undertow. - Author: Margaret Atwood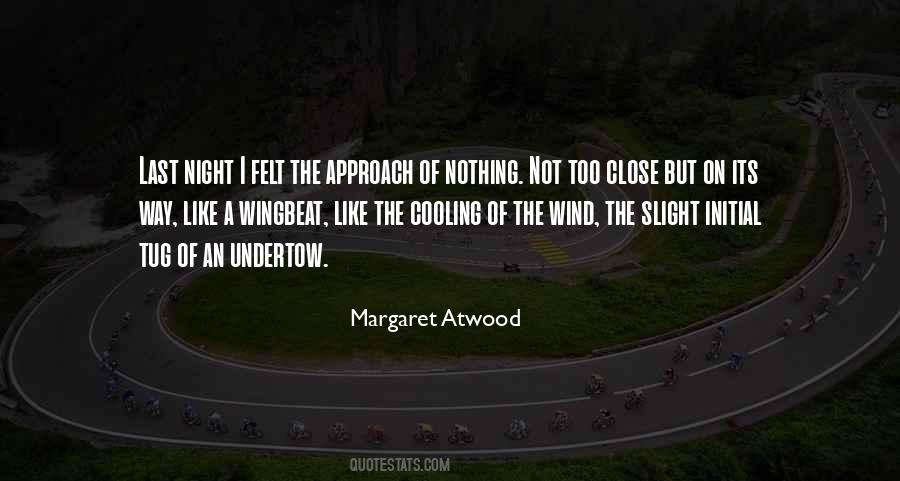 #93. Bound and helpless to do anything but moan, she gave in to the unraveling until she fell apart with a pleasure so intense it felt like dying, like the universe had ceased to exist because nothing could ever be this perfect again. - Author: Nicolette Hugo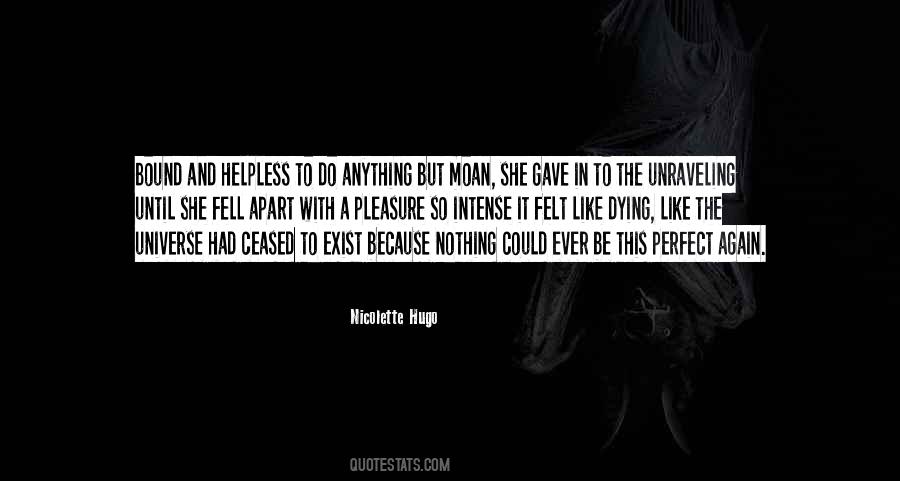 #94. Think about what I said, Kat. You have nothing to prove."
"I don't?"
"No," I said, and I'd say it a thousand times.
But I knew screaming it from the top of Seneca Rocks wasn't going to change how she felt. - Author: Jennifer L. Armentrout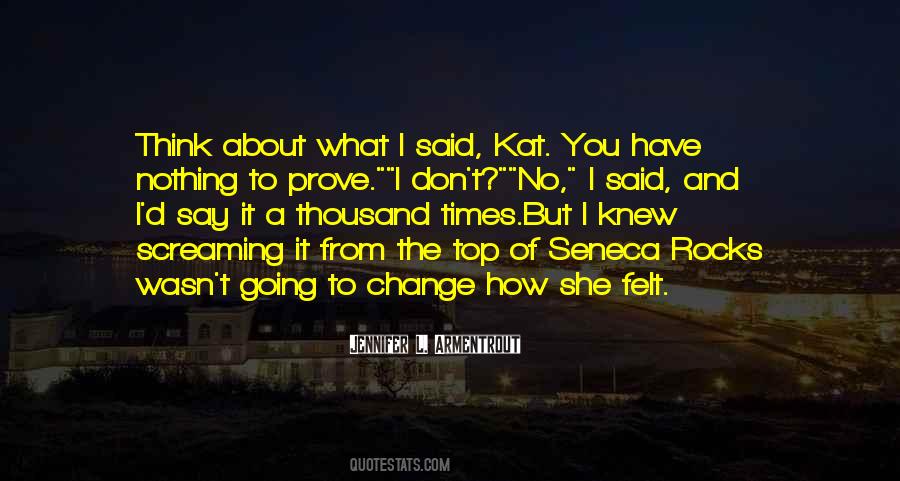 #95. Before I chose Dauntless ... I felt assured of my long lifespan, if nothing else. Now there are no reassurances except that where I go, I go because I choose to. - Author: Veronica Roth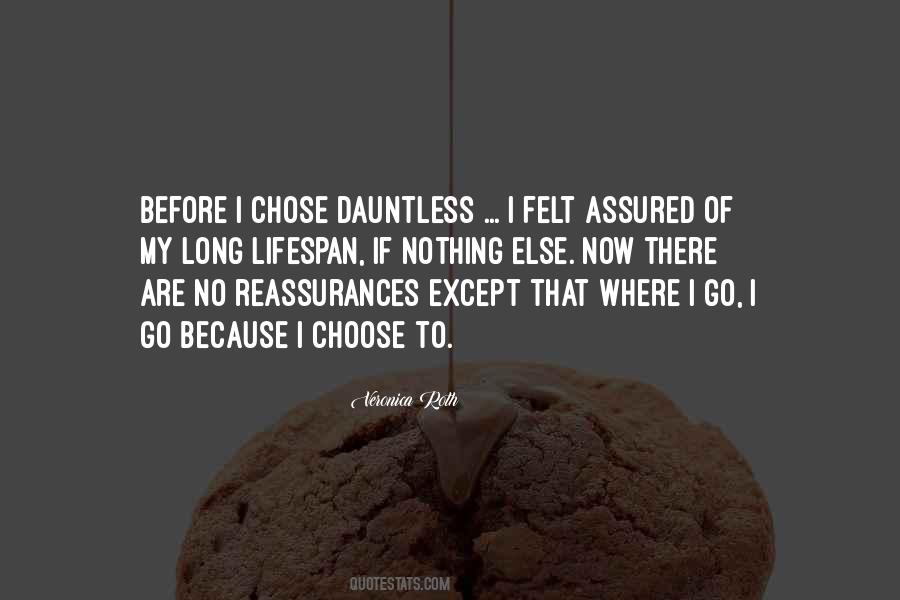 #96. Whether it was the delicious food they filled us with, their humorous antics, or the extreme warmth and acceptance they provided the family, one thing is for sure, nothing could replace the love for and the love felt from Italian grandmothers. - Author: Jacqueline Miconi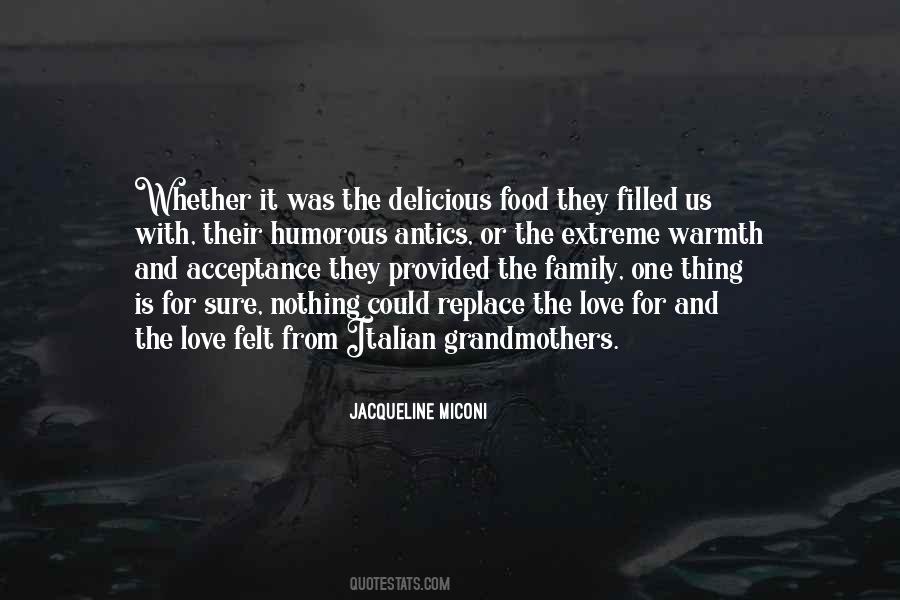 #97. He regretted nothing. Not the way she'd felt in his arms and not the way he'd felt in hers. - Author: Jill Shalvis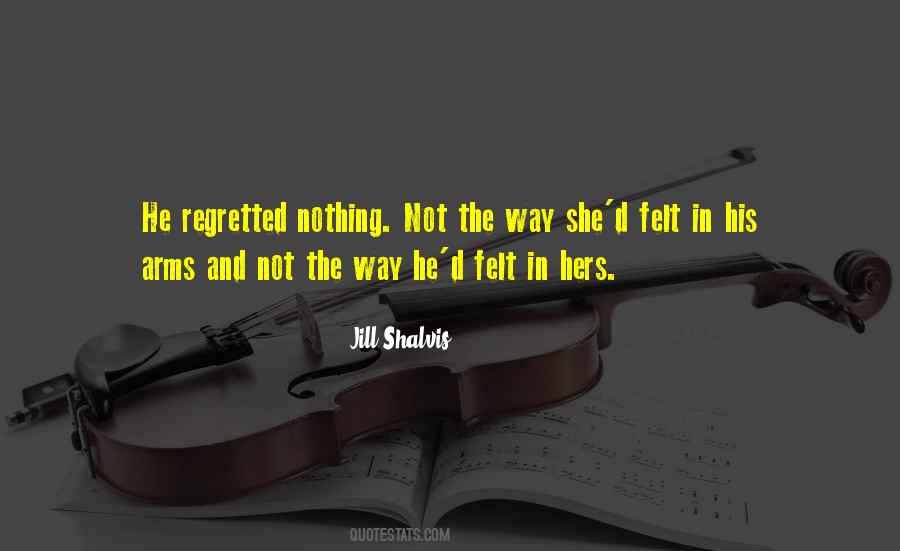 #98. The past and the future were starlight, seemingly so close, but forever out of reach.
Eli felt that starlight, the infinity of knowing nothing but his finite existence. - Author: Daniel J. Rice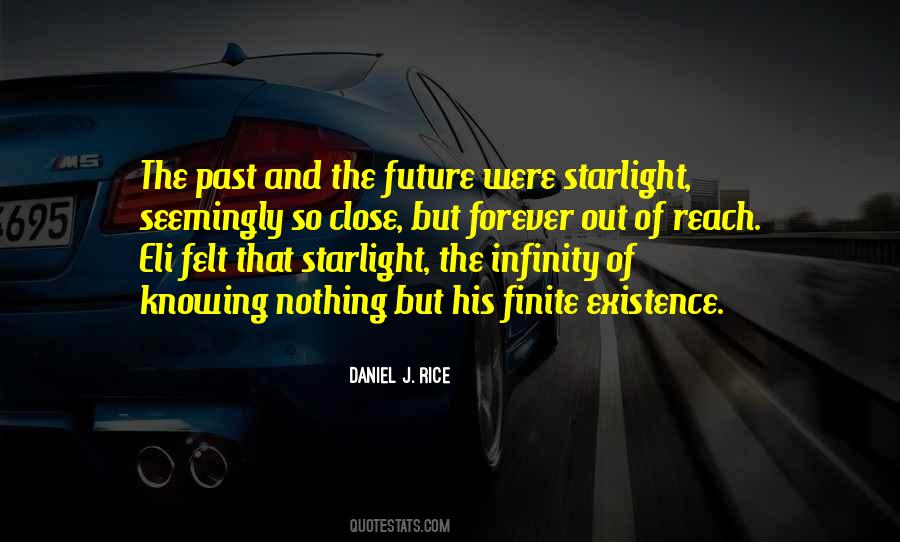 #99. When you moved, I felt squeezed with a wild infatuation and protectiveness. We are one. Nothing, not even death, can change that. - Author: Suzanne Finnamore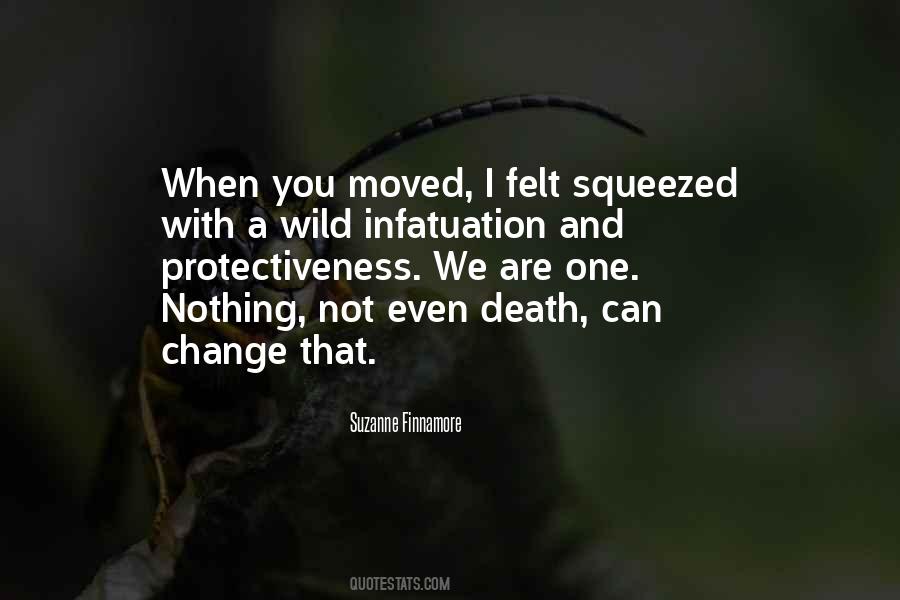 #100. I felt I had to share Idaho with my friend from New York because he'd shared New York with me, so I was going to share the beauty of nature with a man who went to museums and clubs late at night. But there was nothing to do where I lived at night. - Author: Mariel Hemingway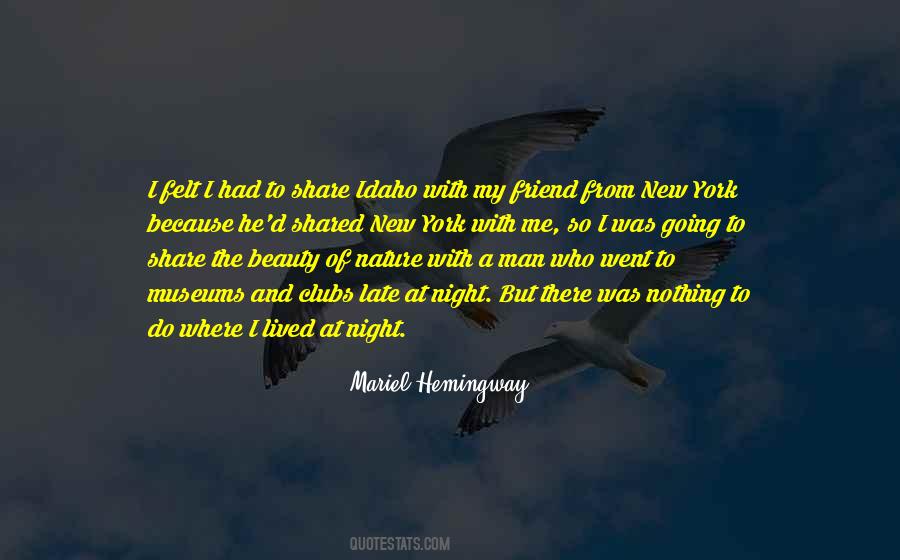 Famous Authors
Popular Topics