Feeling Friend Famous Quotes & Sayings
List of top 71 famous quotes and sayings about feeling friend to read and share with friends on your Facebook, Twitter, blogs.
Top 71 Feeling Friend Quotes
#1. There is something, like a feeling, that reminds me of happy days filled with exploration and imagination. Days where the rest of the world fell behind me and only left a friend. - Author: Angeles Kossio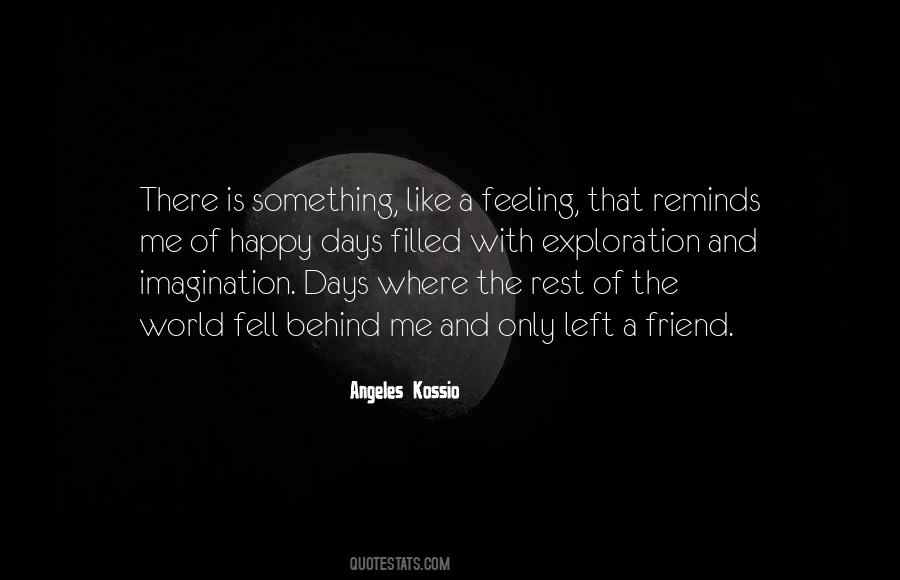 #2. Emotions are contagious. We've all known it experientially. You know after you have a really fun coffee with a friend, you feel good. When you have a rude clerk in a store, you walk away feeling bad. - Author: Daniel Goleman
#3. The feeling of betrayal by the friend you trust - Author: Jeon Tae-il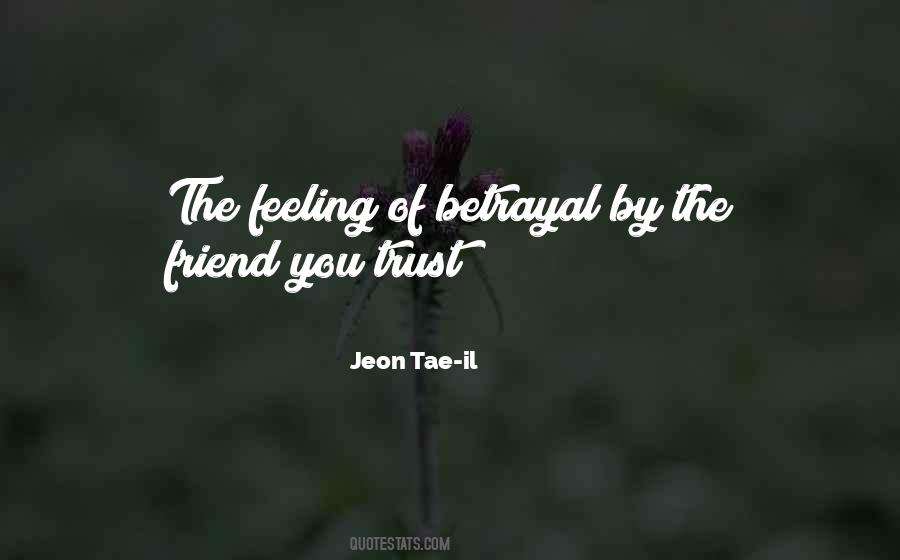 #4. Maybe the kid gravitated to Zeb for the same reason children like dinosaurs: when feeling abandoned in a world of forces beyond your control, it's comforting to have a huge, scaly beast who is your friend. - Author: Margaret Atwood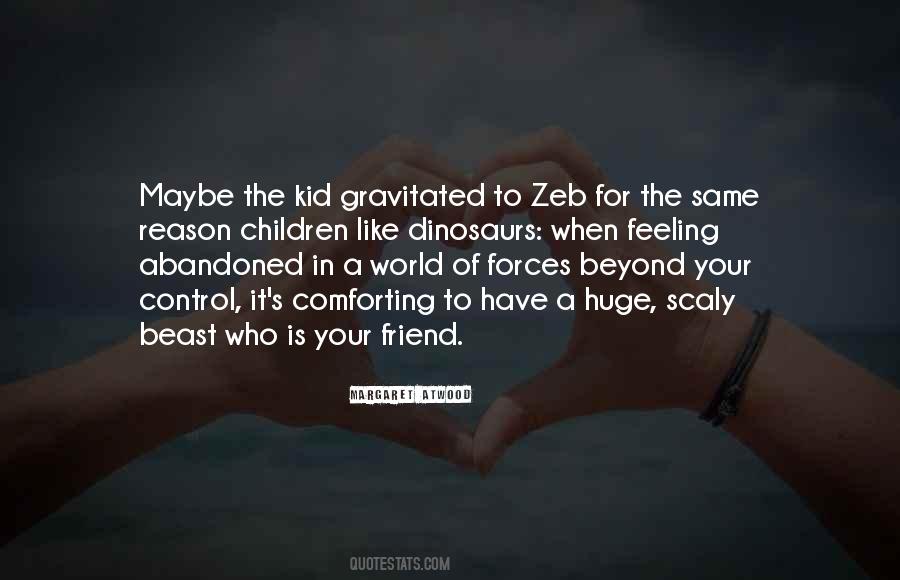 #5. I had the feeling deep in my gut that there'd been lines I should have spoken, gestures I should have made, that would have made things better. But looking back, I didn't know what they were. As a friend, I was pretty much useless, apparently. - Author: Megan Crewe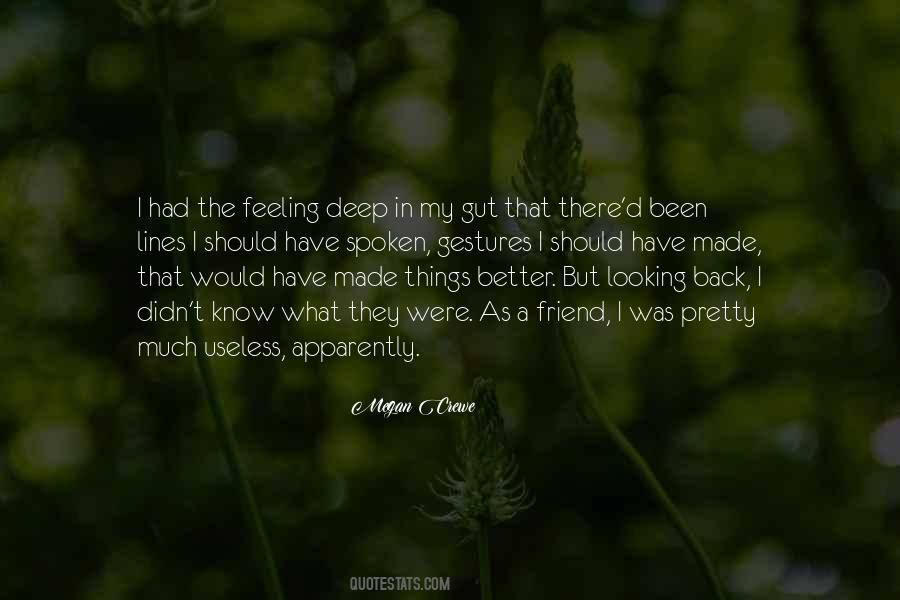 #6. The best kind of friend is the one you could sit with,hardly saying a word, and then walk away feeling like that was[the]best time you've ever had - Author: Molly Detweiler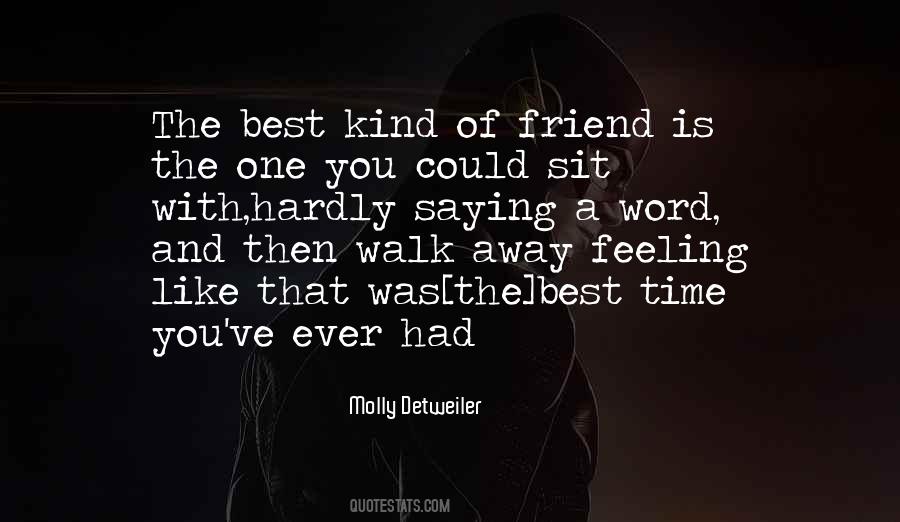 #7. The best kind of friend is the kind you sit with, never say a word and walk away feeling like it was the best conversation you ever had. - Author: Steven Wright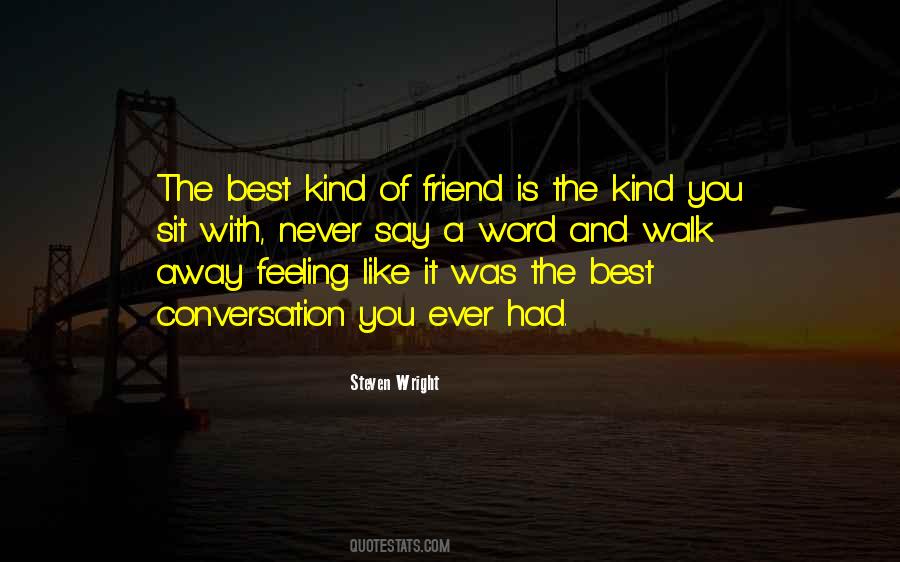 #8. When I was going away to school, I had a friend who took a liking to my family just a little too much. We couldn't get her out of the house. It took me saying to my parents, 'I don't want her here. I'm feeling replaced.' - Author: Nicole Holofcener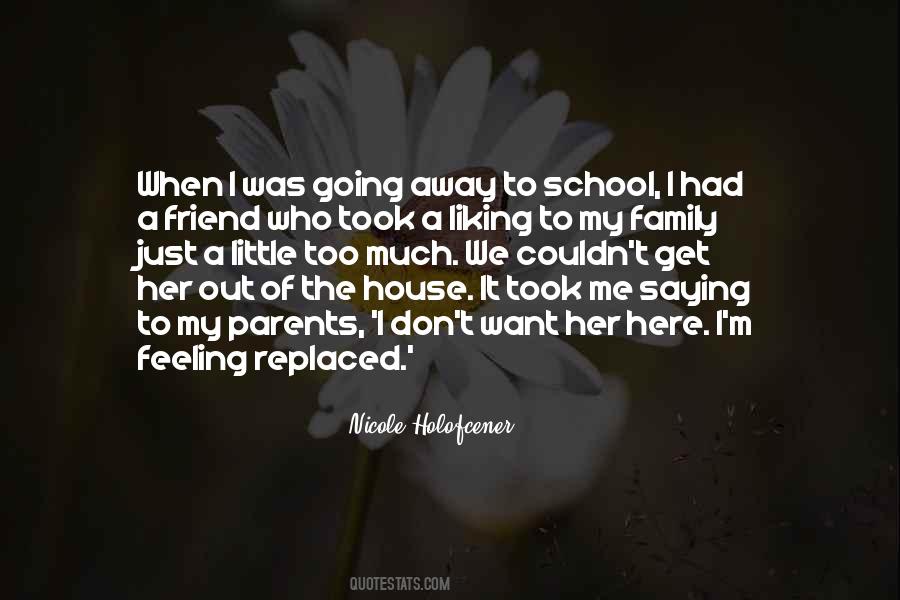 #9. It's hard dealing with day to day disappointments and feeling like you can't find success. Especially when your best friend is Pixar. - Author: Dane Cook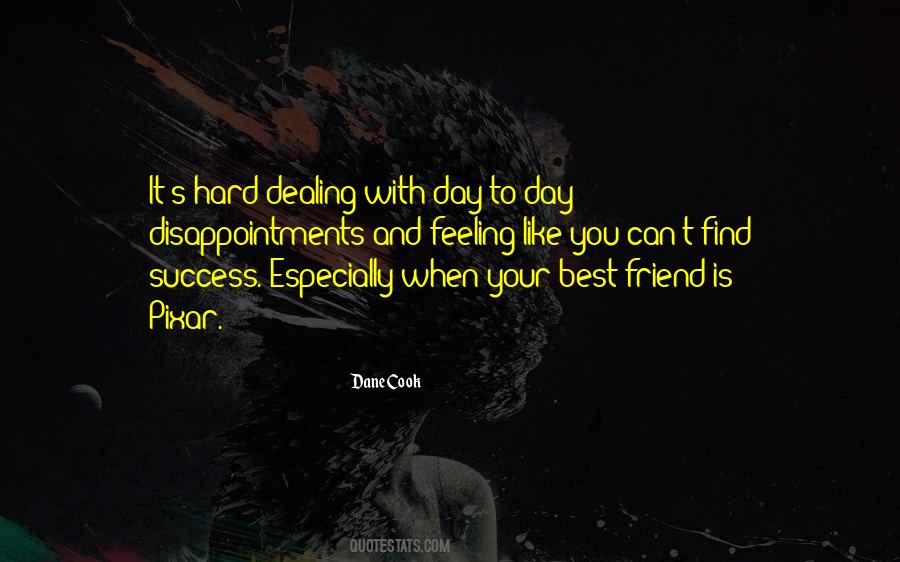 #10. I don't like to see things on purpose. I like them to soak in. A friend ... asked me to go to the top of the Empire State Building once, and I told him that he shouldn't treat New York as a sight-it's feeling, an emotional experience. And the same with every place else. - Author: Robert Frost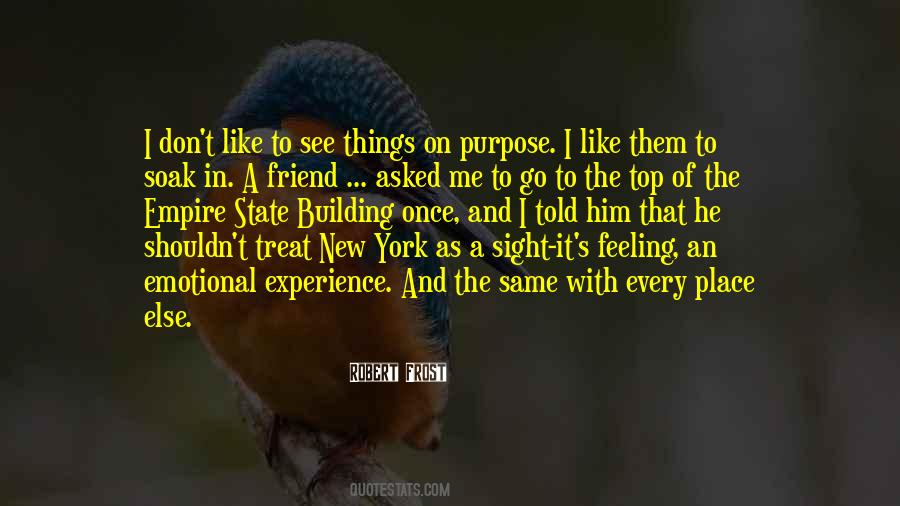 #11. I do not drink from this jug every day. But sometimes at night when the wind blows and I am alone and feeling very solitary, it is my only friend and comfort. Right, Pancho? - Author: Rick Skwiot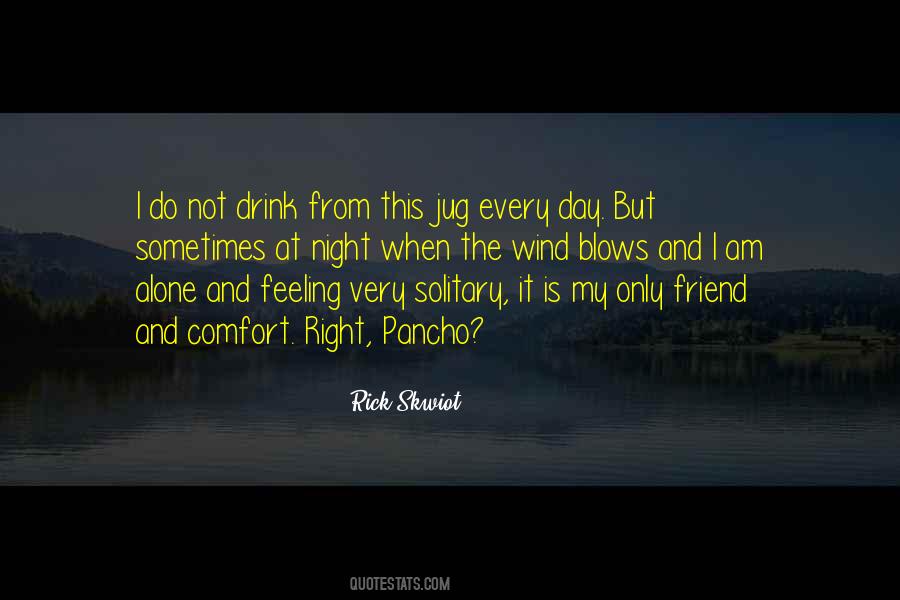 #12. Pride has often been his best friend. It has connected him nearer with virtue than any other feeling. - Author: Jane Austen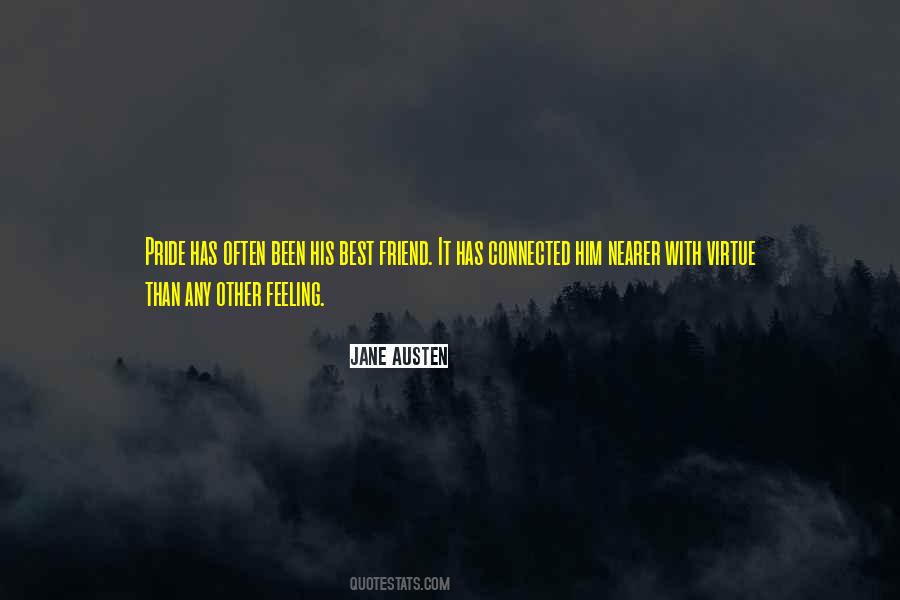 #13. Catching up on pictures of your good friend's kids ahead of a visit across the country to see her is a great way to deepen your time together. Following near-strangers can leave us feeling detached and lonely. - Author: Michelle Gielan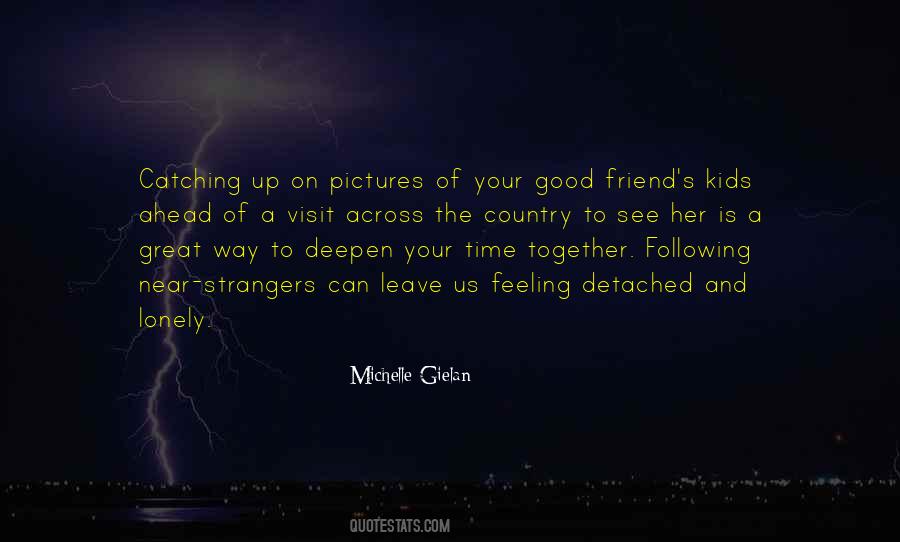 #14. Friendship is the inexpressible comfort of feeling safe with a person, having neither to weigh thoughts nor measure words. - Author: George Eliot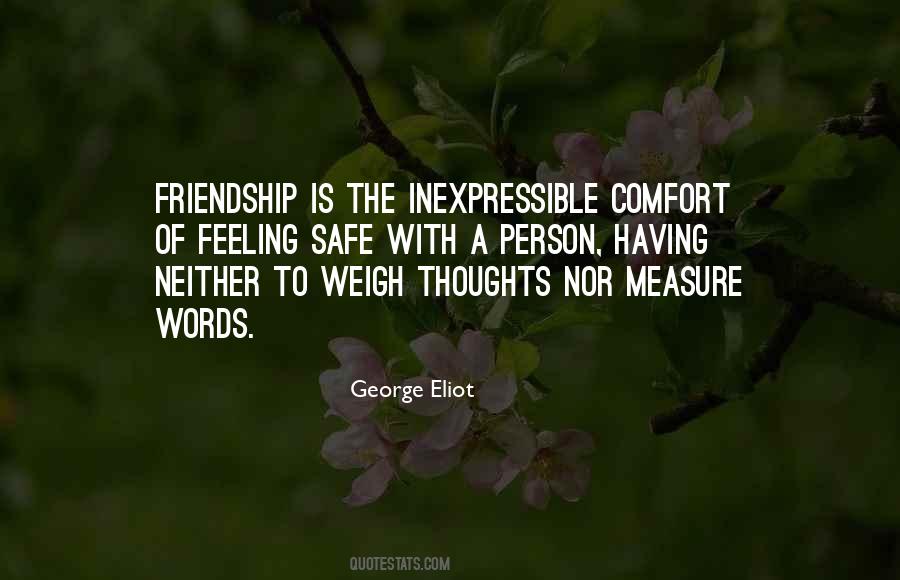 #15. Germany will never be a real, free thinking and free feeling friend of Israel, because it will always fall under this shadow. - Author: Daniel Barenboim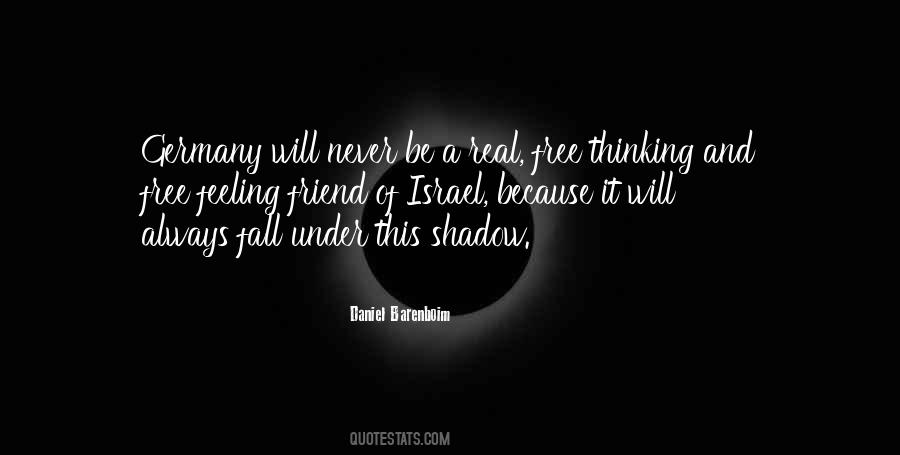 #16. The sky is always there for me, while my life has been going through many, many changes. When I look up the sky, it gives me a nice feeling, like looking at an old friend. - Author: Yoko Ono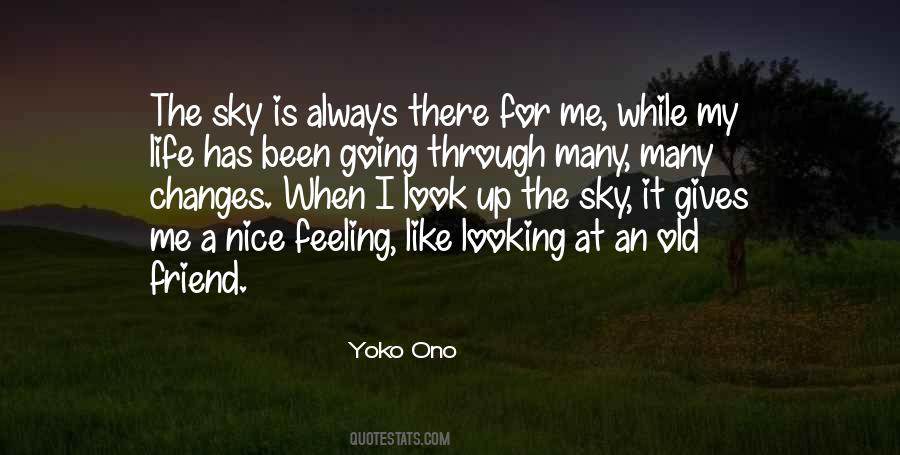 #17. I try to treat whoever I meet as an old friend. This gives me a genuine feeling of happiness. It is the practice of compassion. - Author: Dalai Lama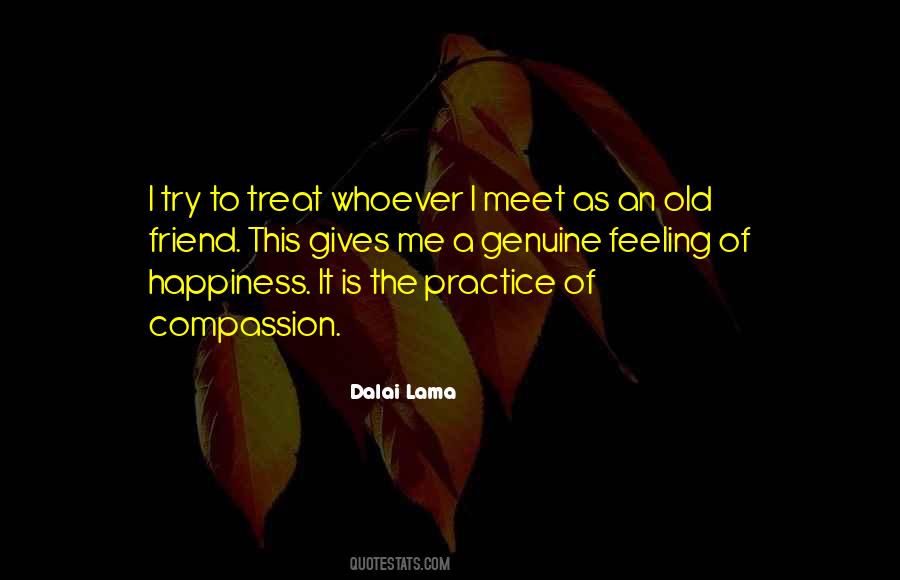 #18. What irritated me most in that entire situation was the fact that I
wasn't feeling humiliated, or annoyed, or even fooled. Betrayal was
what I felt, my heart broken not just by a guy I was in love with, but
also by, as I once believed, a true friend. - Author: Danka V.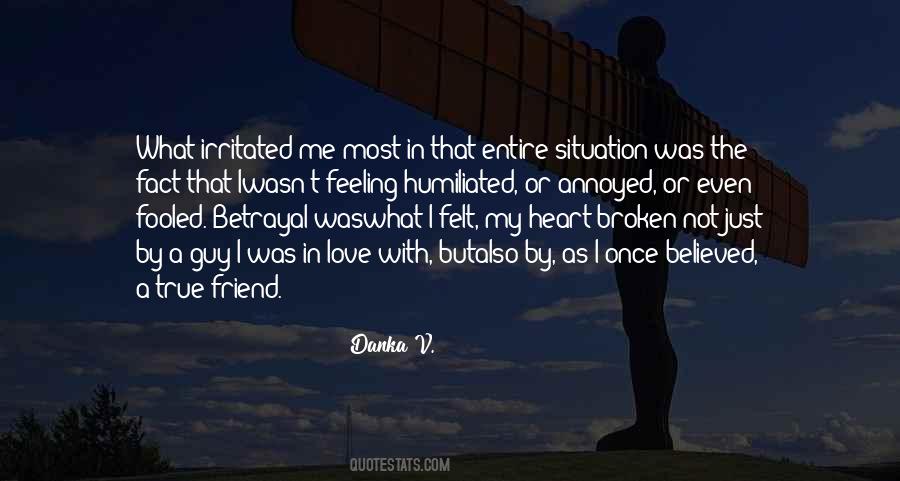 #19. A real friend isn't capable of feeling sorry for you. - Author: Jodi Picoult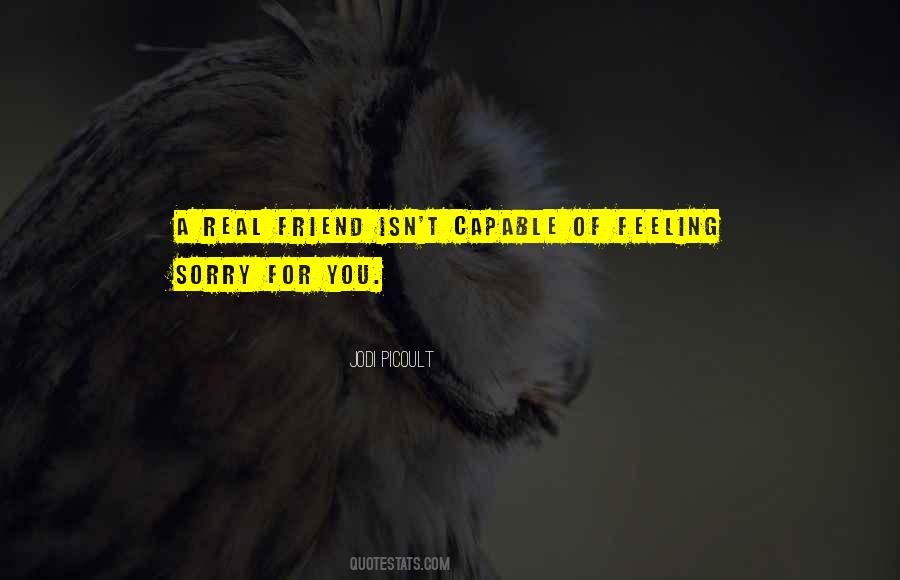 #20. Music is the one universal language. It's your best friend when the chips are down, and it's better than any energy drink when you're feeling it. - Author: Dave Smalley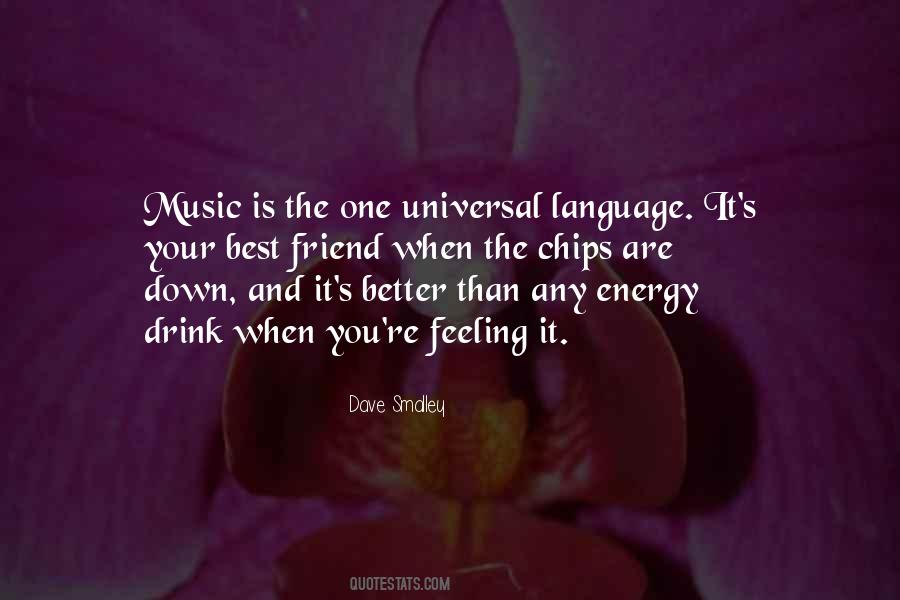 #21. A true friend is someone who lets you have total freedom to be yourself - and especially to feel. Or, not feel. Whatever you happen to be feeling at the moment is fine with them. - Author: Jim Morrison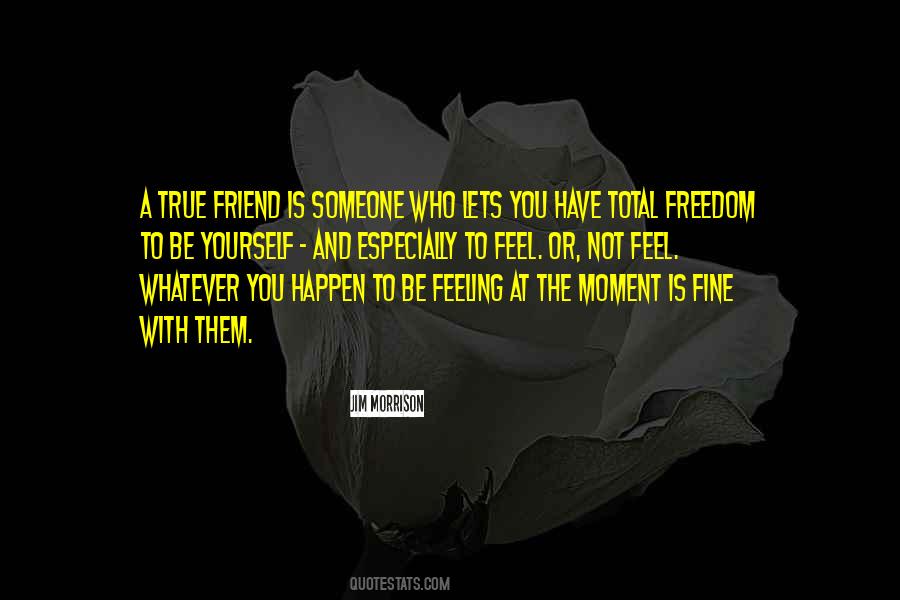 #22. You hear the beginning of a melody, you should kind of know it's going to lead down this path. It should start feeling like a friend, like familiar. - Author: Danny Elfman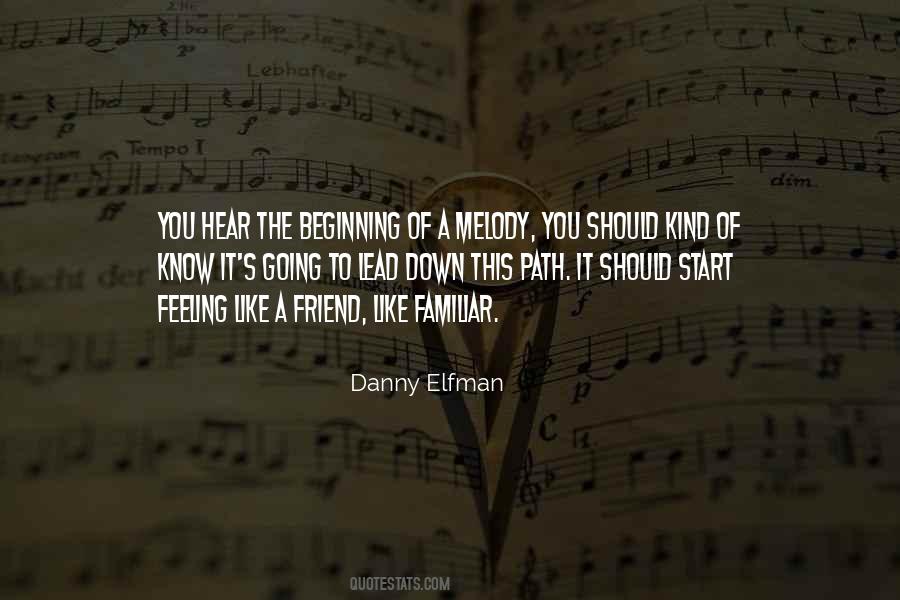 #23. I was unable to resist my stare at her, I never felt like this before, I knew it's not that old feeling for a friend. What is it? Is it love? - Author: Swapna Rajput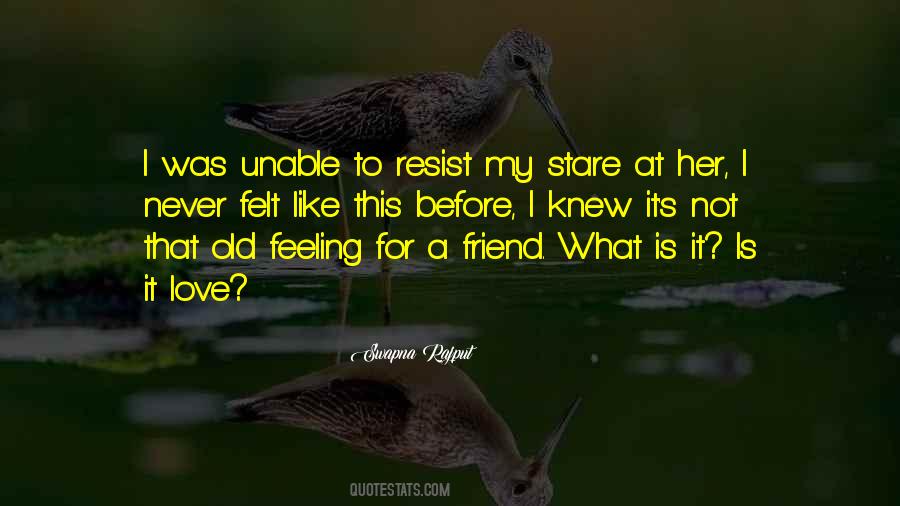 #24. I have a feeling that I make a very good friend, and I'm a good mother, and a good sister, and a good citizen. I am involved in life itself - all of it. And I have a lot of energy and a lot of nerve. - Author: Maya Angelou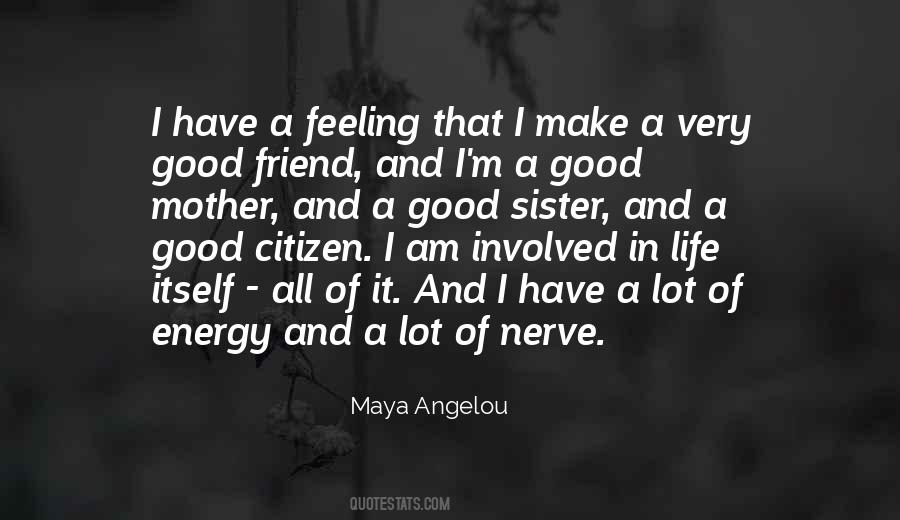 #25. Enough, dear son, enough, my friend," he said at last with deep feeling. "What is it? You should rejoice and not weep. Don't you know that this is the greatest of his days? - Author: Fyodor Dostoyevsky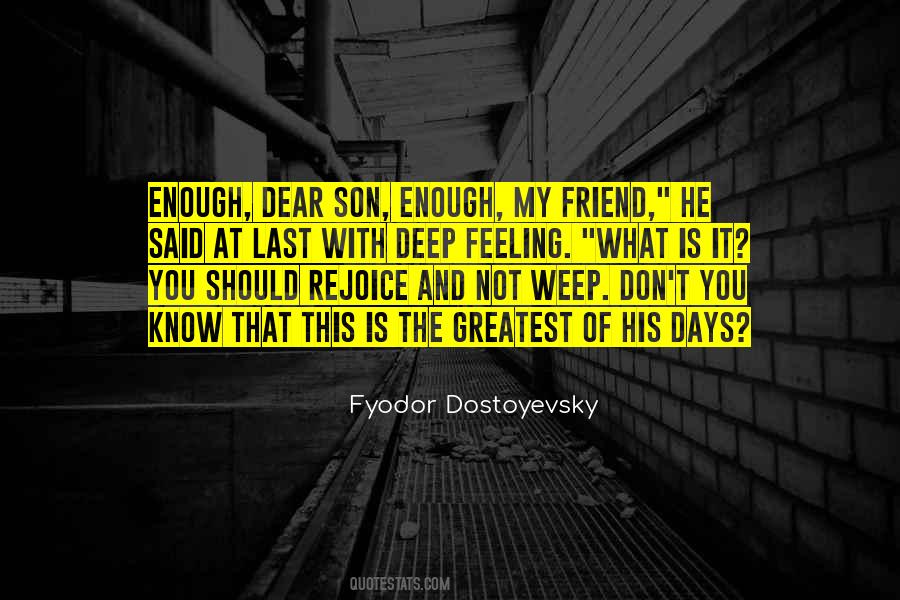 #26. Sometimes I'd like to have a conversation with a friend in a restaurant without feeling I'm being watched. At this rate I will have to go on holiday to Greenland. But maybe the Eskimos would know me. - Author: Fernando Torres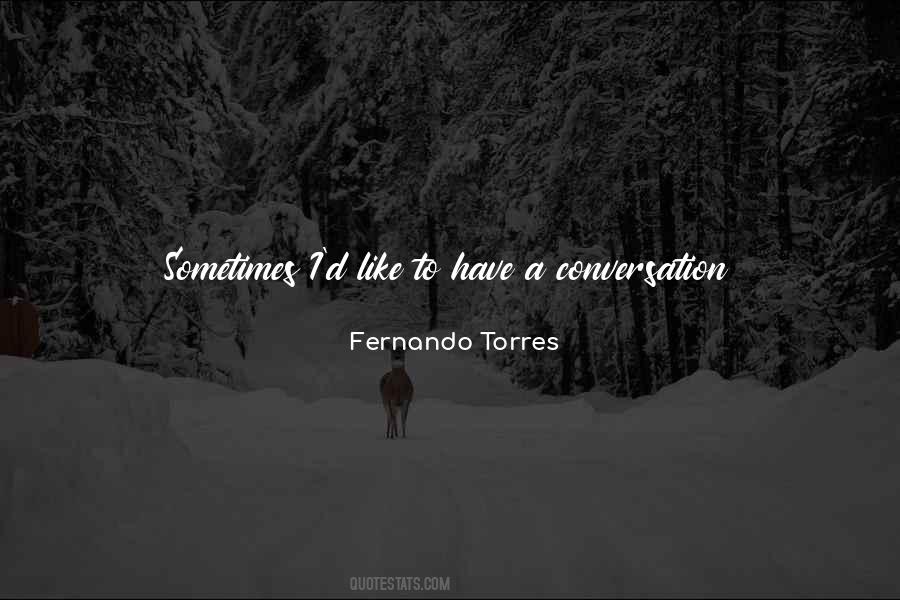 #27. I think the issue of female friendship really resonates well with women, ... So many women have a friend like Darcy or can relate to the feeling of being second-fiddle to a friend. - Author: Emily Giffin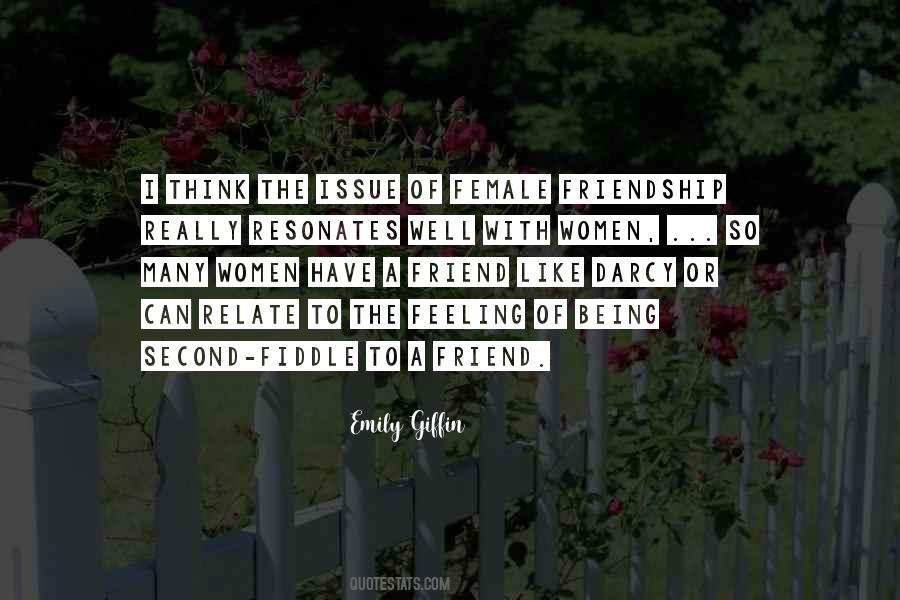 #28. In his heart he was highly delighted with his friend's suggestion, but he thought it a duty to conceal his feeling. He was not a nihilist for nothing! - Author: Ivan Turgenev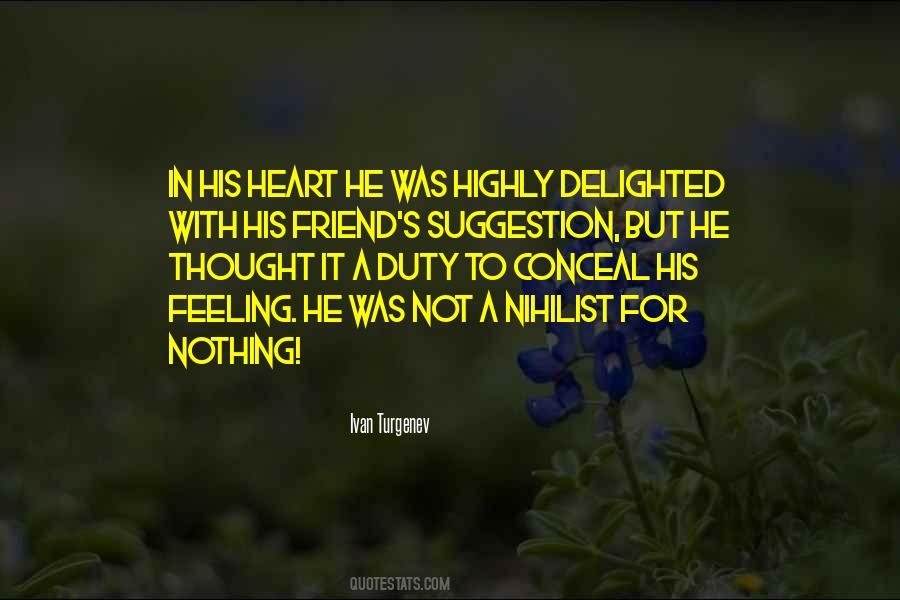 #29. A friend is someone who gives you total freedom to be yourself - and especially to feel, or not to feel. Whatever you happen to be feeling at any moment is fine with them. That's what real love amounts to
letting a person be what he really is. - Author: Ava Dellaira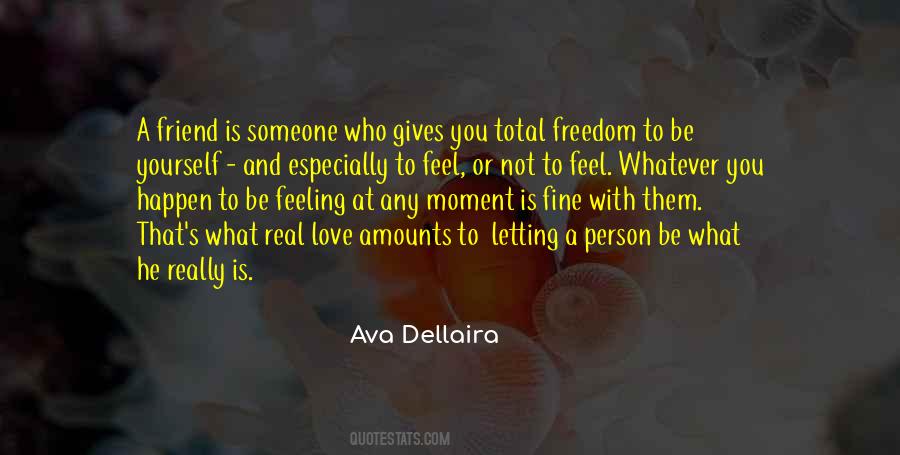 #30. One of the surest ways of making a friend and influencing the opinion of another is to give consideration to his opinion, to let him sustain his feeling of importance. - Author: Dale Carnegie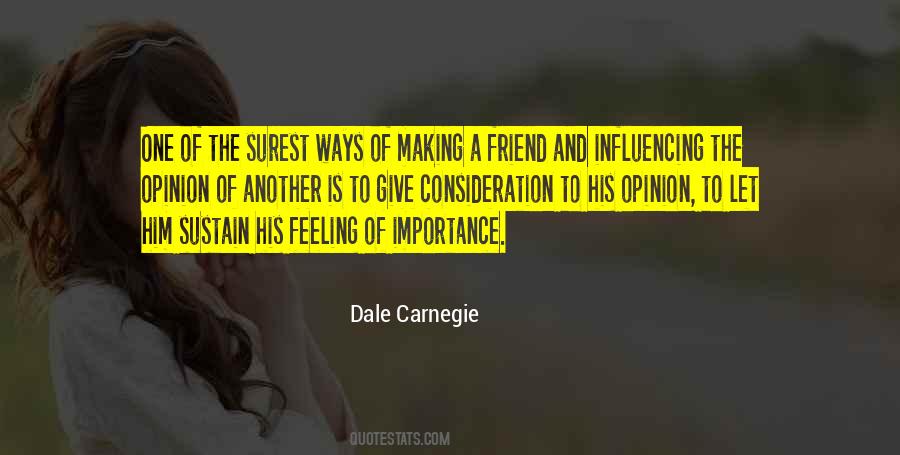 #31. Frog said, 'I wrote 'Dear Toad, I am glad that you are my best friend. Your best friend, Frog.' 'Oh,' said Toad, 'that makes a very good letter.'Then Frog and Toad went out onto the front porch to wait for the mail. They sat there, feeling happy together. - Author: Arnold Lobel
#32. Teacher's pet Teacher's pet.. Your feeling so perplexed ... Your friend has gone into pieces and you'll be next ... - Author: Richie Tankersley Cusick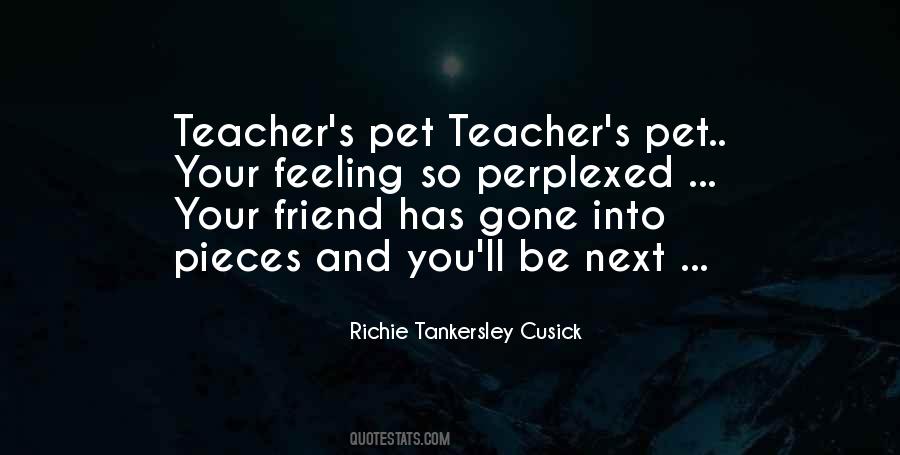 #33. Although I had savored my solitude, there was a big difference between enjoying time to myself and feeling lonely. I had no reason to feel lonely because Lord Krishna, my friend and ever well-wisher, was with me the entire time. - Author: Samita Sarkar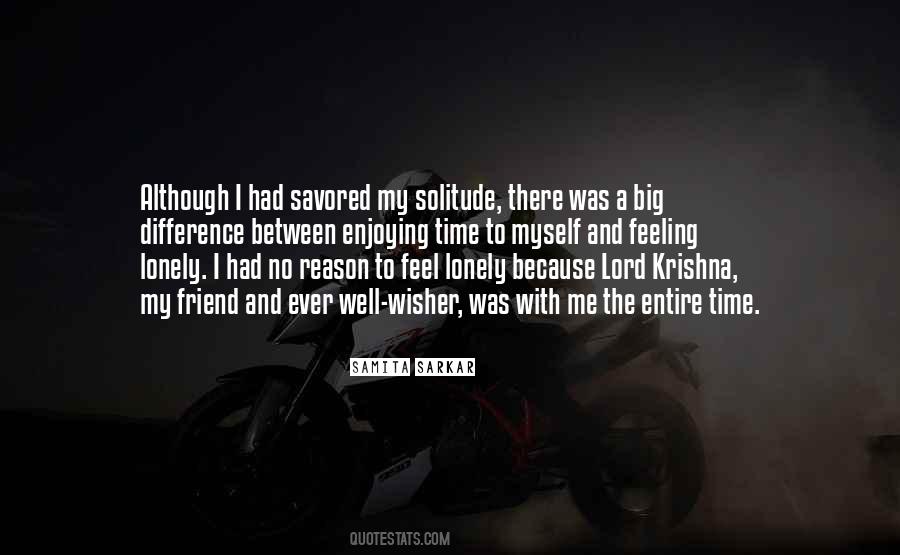 #34. I think my friend Tom Hanks knows me. He understands me very well. He's always had a sort of parental feeling toward me. He knows I'm a big mush ball, which is just part of my personality. - Author: John Travolta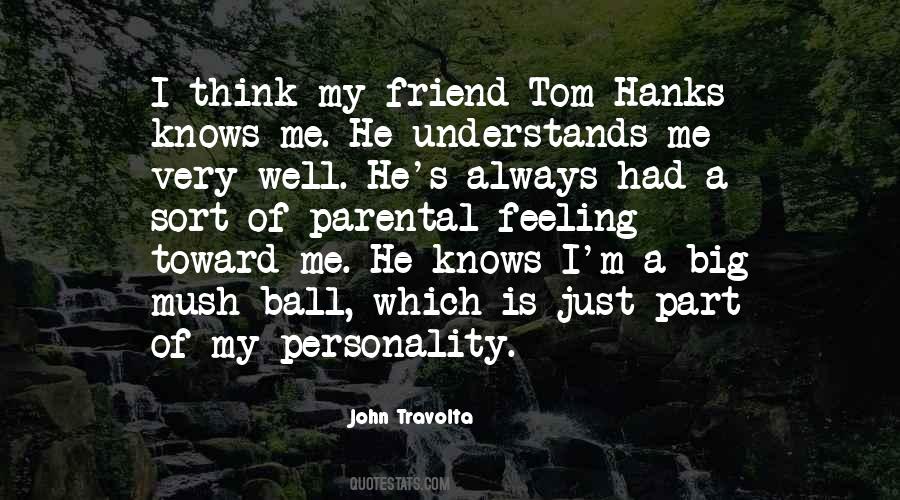 #35. How is your nose?" I asked, anxious and feeling guilty that I might have caused my friend harm.
"Fine. It's not broken. Thank God for that. It would be the fourth time, and I really like the job the last guy did resetting it. - Author: Penny Reid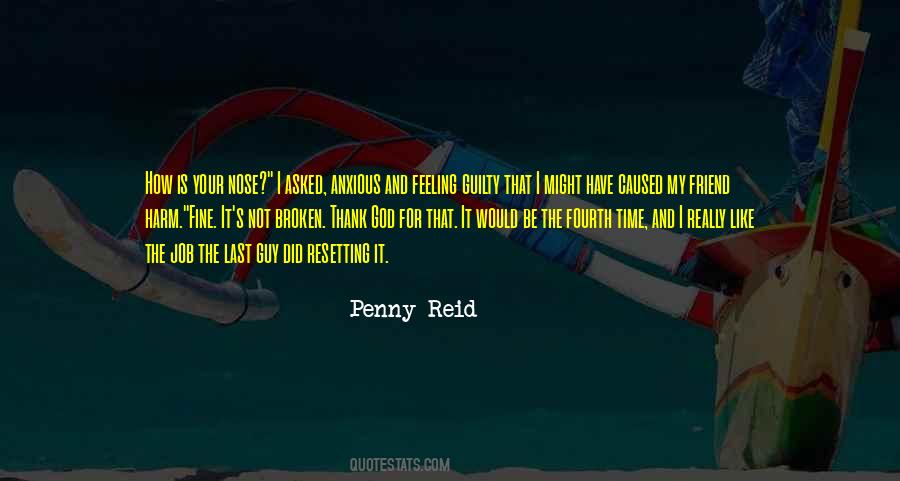 #36. Friendship is the most beautiful relation in ones life, It gives us the best part of our life, a reason to smile,some happy moments,sharing the worse feeling,Love you forever my dear friend,miss you every moment - Author: Debolina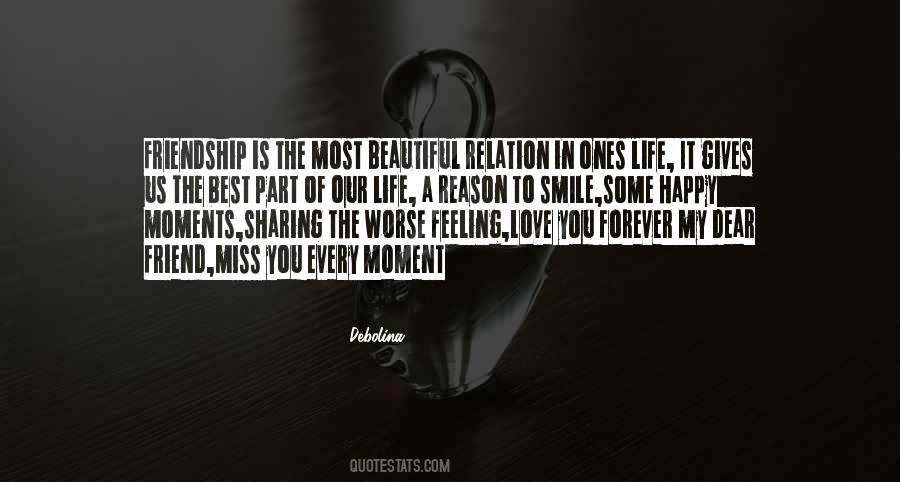 #37. I get it. You'd rather have him, broken, than me whole. If that didn't clarify my chances with you, nothing would. But you can't have what you want either, Deuce. I can't be your friend, feeling like this. Give me some time, and then ... Maybe. No promises. - Author: Ann Aguirre
#38. I loved the feeling of finally falling in love to someone who would love me back. - Author: Kristine Cuevas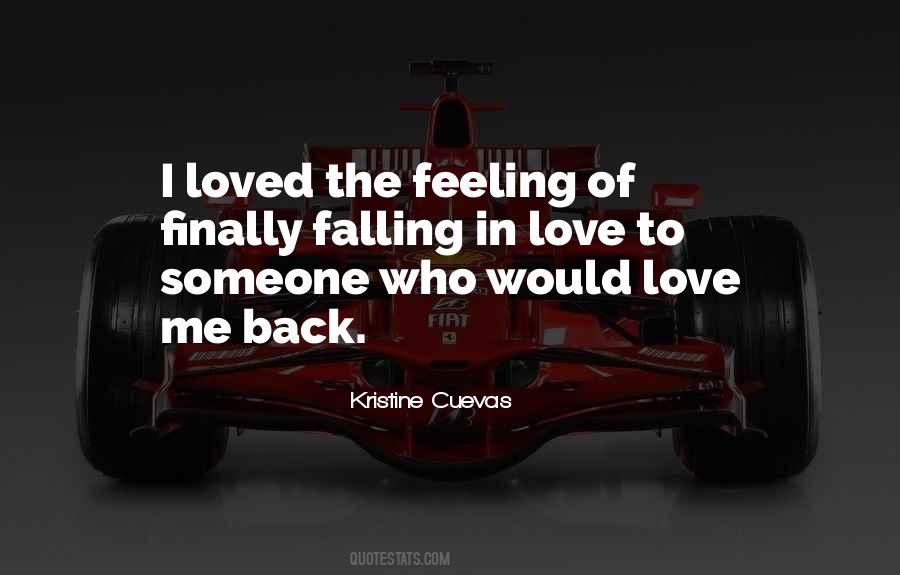 #39. The ego is your enemy, not your friend. It is the ego that gives you wounds and hurts you. It is the ego that makes you violent, angry, jealous, competitive. It is the ego that is continuously comparing and feeling miserable. - Author: Rajneesh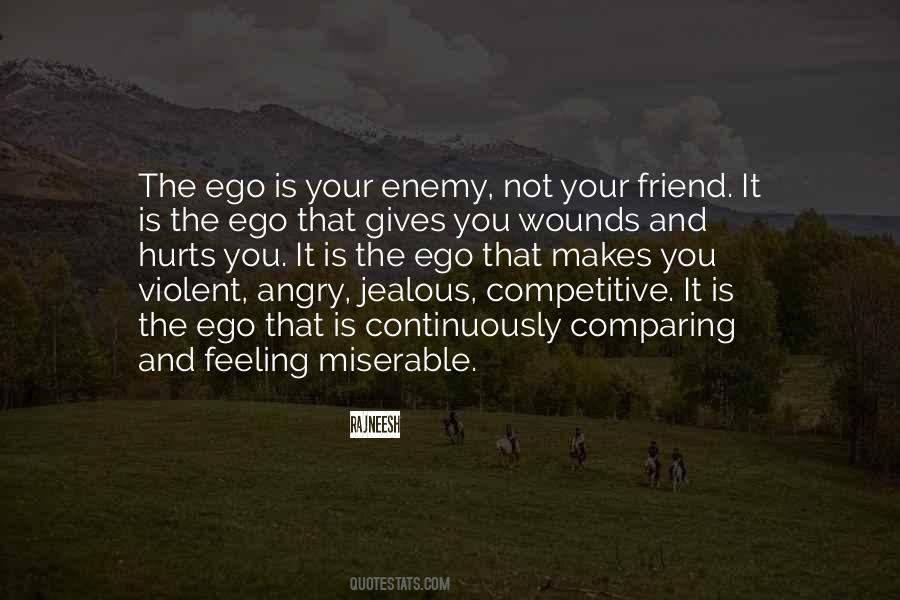 #40. And then she got a bad, bad feeling because she realized she had been wrong.
You can fool a person.
You can fool a dog.
You can fool a cat or a horse or a teacher or a friend.
But you cannot ever fool a heart. - Author: Barbara O'Connor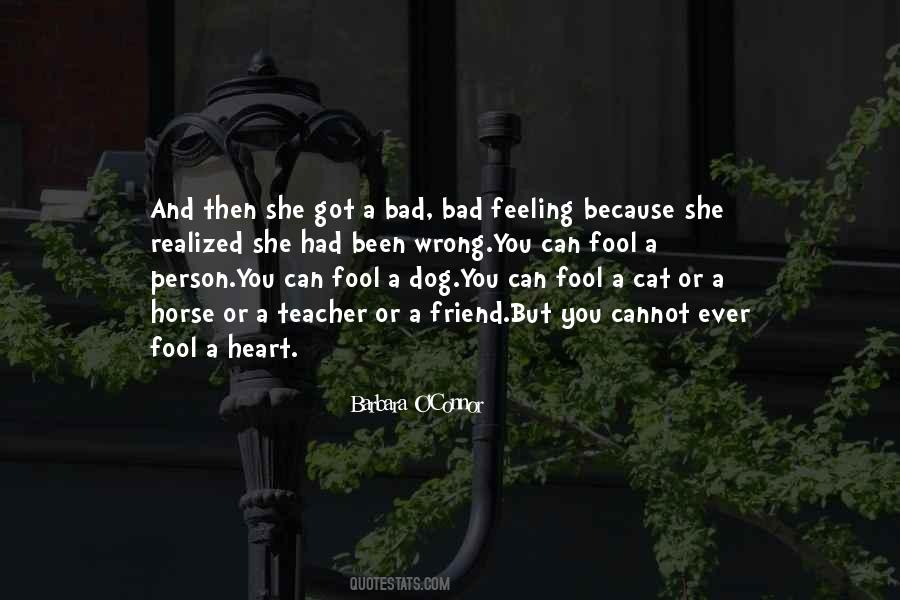 #41. My friend, love is a verb. Love - the feeling - is a fruit of love, the verb. So love her. - Author: Stephen R. Covey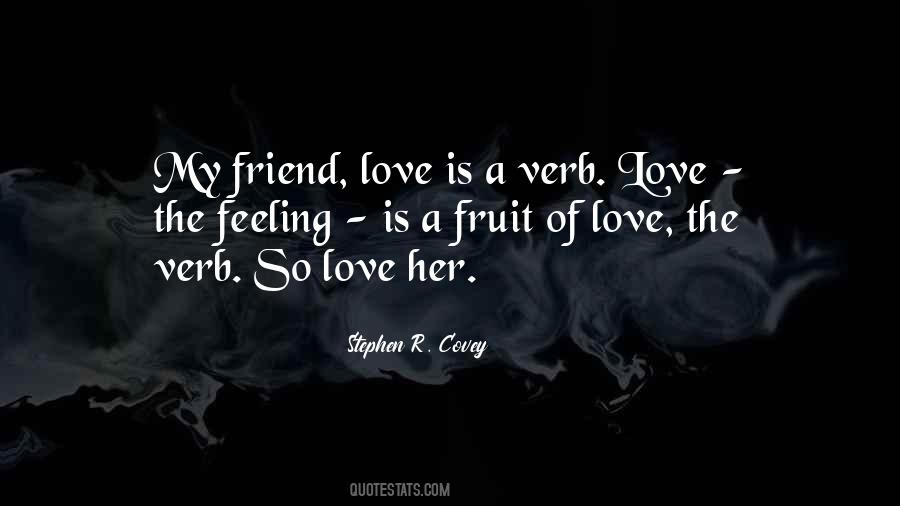 #42. In a letter to a friend the thought is often unimportant, and the feeling, if it be only a desire to entertain him, every thing. - Author: Walter Raleigh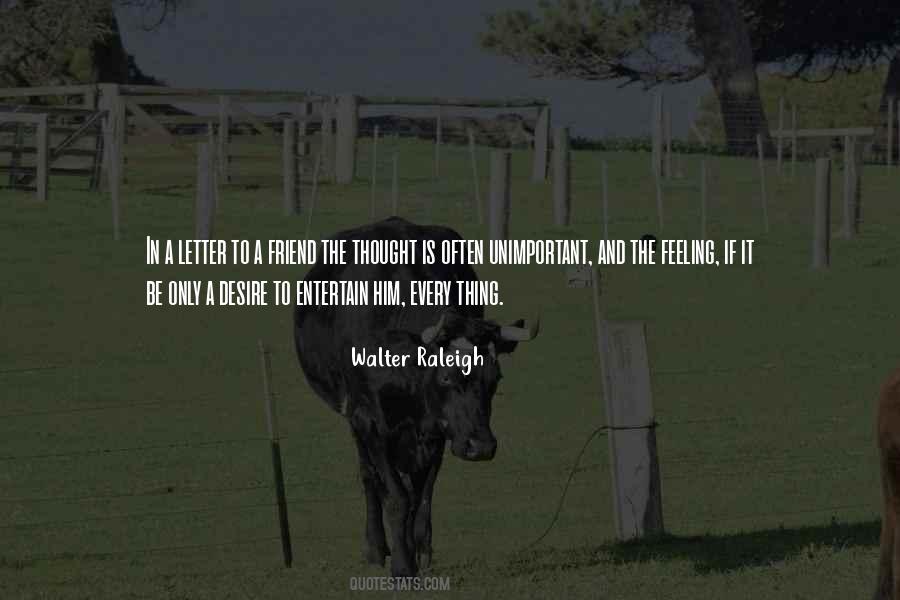 #43. Recognition is what you feel when a friend sums up exactly what you're feeling, when an author gives you the right words, when someone "gets" you. - Author: Laurie A. Helgoe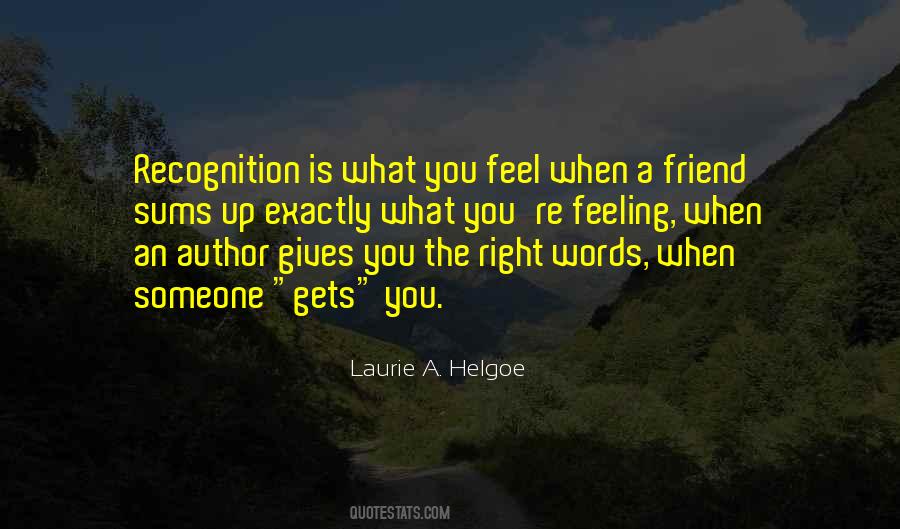 #44. The best compliment to a child or a friend is the feeling you give him that he has been set free to make his own inquiries, to come to conclusions that are right for him, whether or not they coincide with your own. - Author: Alistair Cooke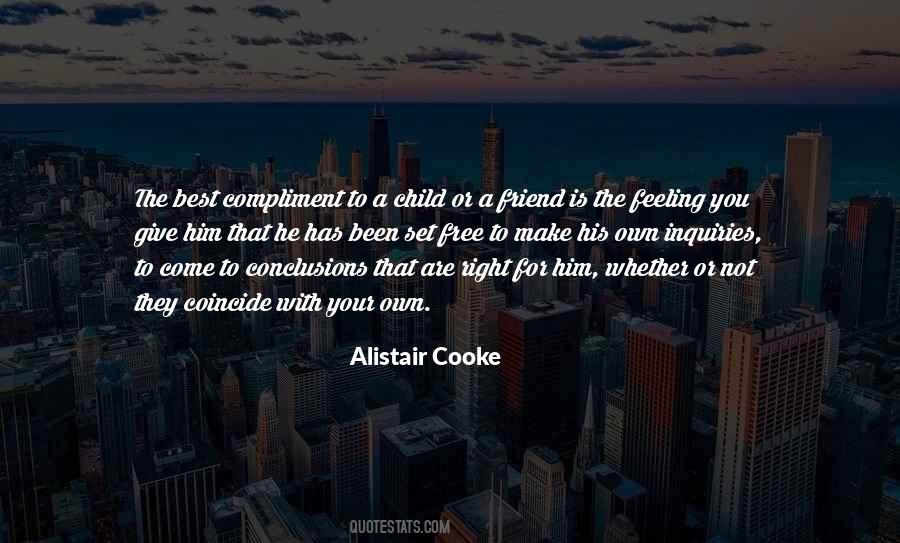 #45. And also
to add to my problems
my parents and relatives kept telling me how they'd grown up feeling so close to the Almighty that they'd spoken to Him on a daily basis as one would speak to a friend and how, now and then, God had actually spoken back to them in the form of miracles. - Author: Victor Villasenor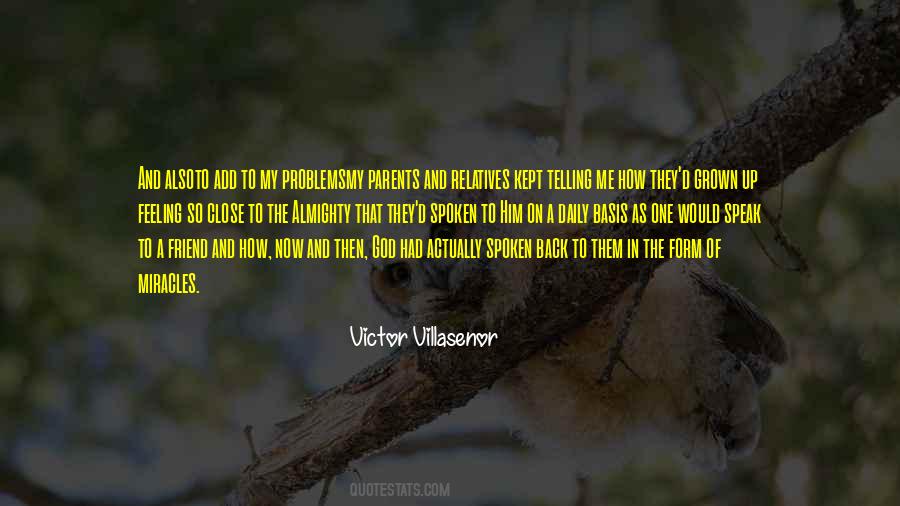 #46. To act the part of a true friend requires more conscientious feeling than to fill with credit and complacency any other station or capacity in social life. - Author: Sarah Ellis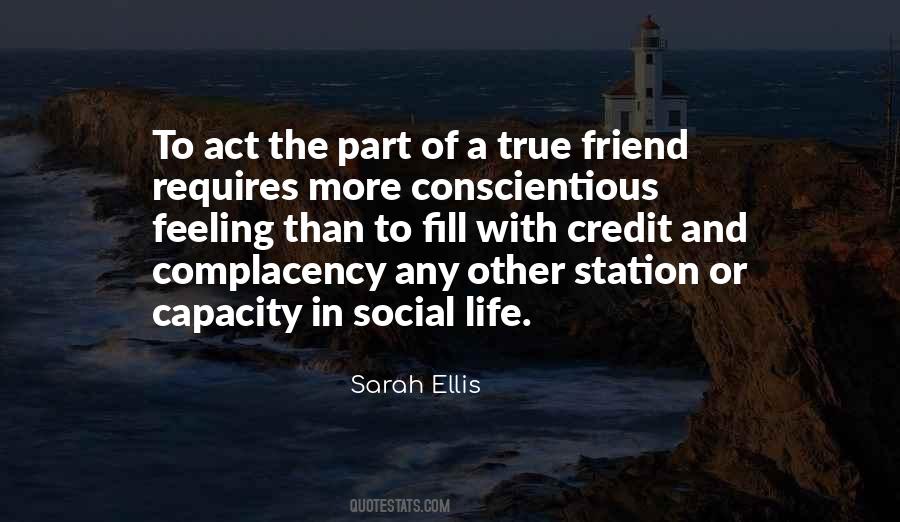 #47. Be of service. Whether you make yourself available to a friend or co-worker, or you make time every month to do volunteer work, there is nothing that harvests more of a feeling of empowerment than being of service to someone in need. - Author: Gillian Anderson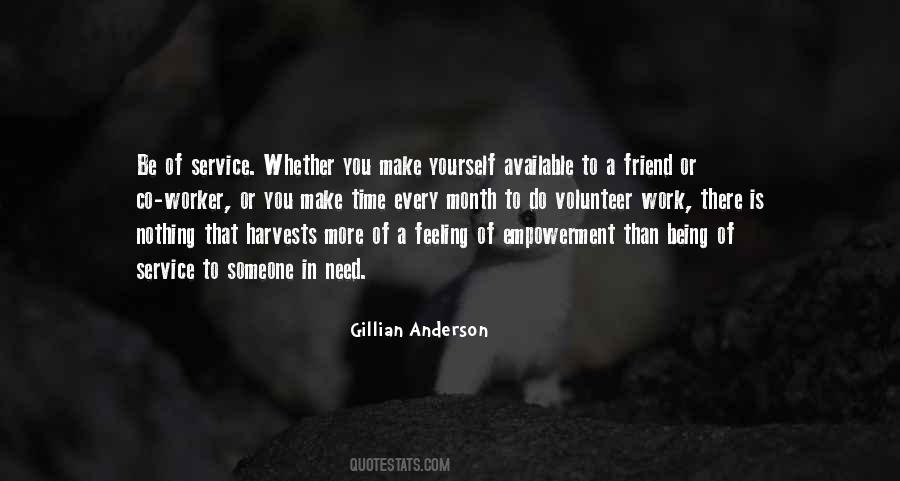 #48. I wanted to scream with the pain, scream with the feeling of death pressing so close but I clenched my teeth together, grinding then until my head pounded and forced my trembling legs to stand. I had always been stubborn, wilful and no power on earth could change that. - Author: Hannah Blatchford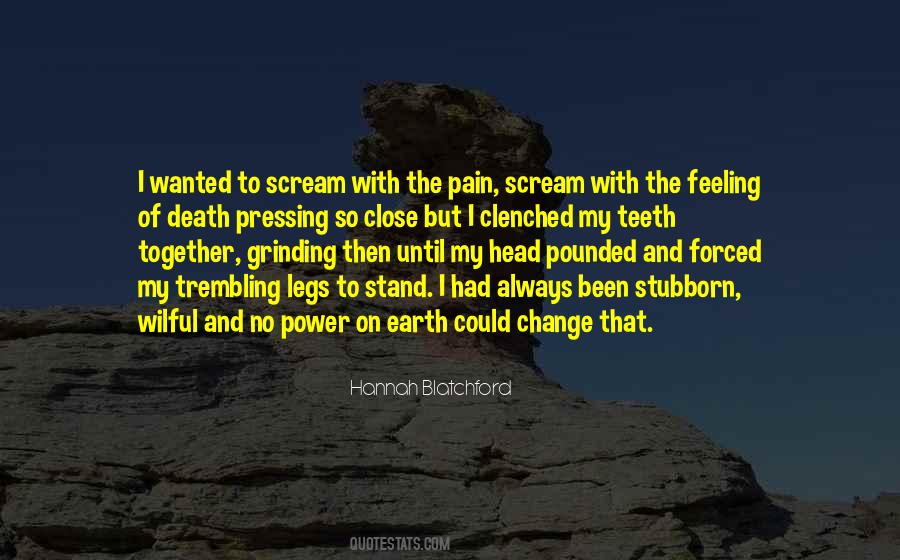 #49. Don't get depressed about not being where you want to be. This nagging feeling of anxiety is actually called ambition. Ambition is your friend. - Author: Atom Egoyan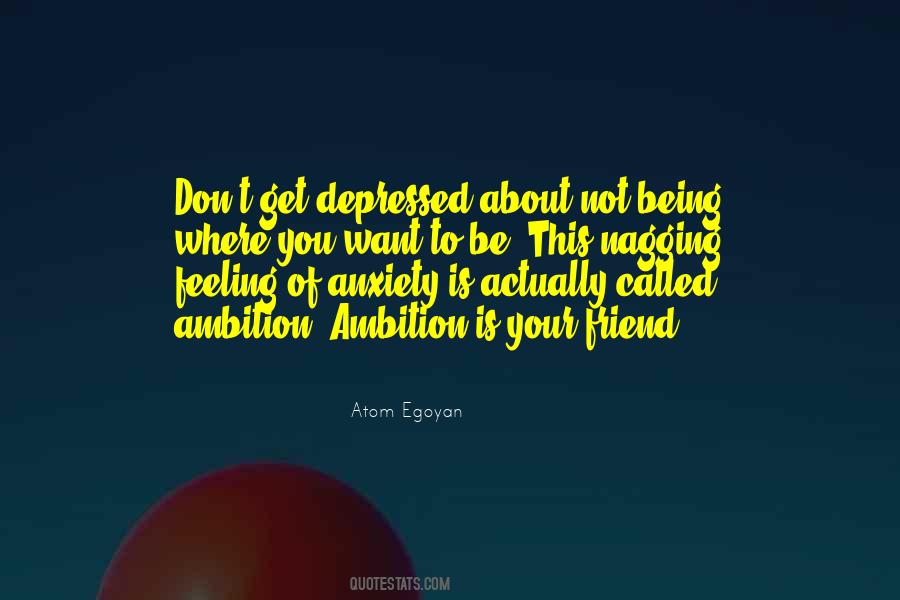 #50. It's like a big circle. I've gone on a get-a-man crusade, but so far it's been a disaster and I'm feeling as bad about myself as I ever have. I know I'm a great person and all that, a good friend, but I feel like real bottom of the barrel girlfriend material. - Author: Ann Patchett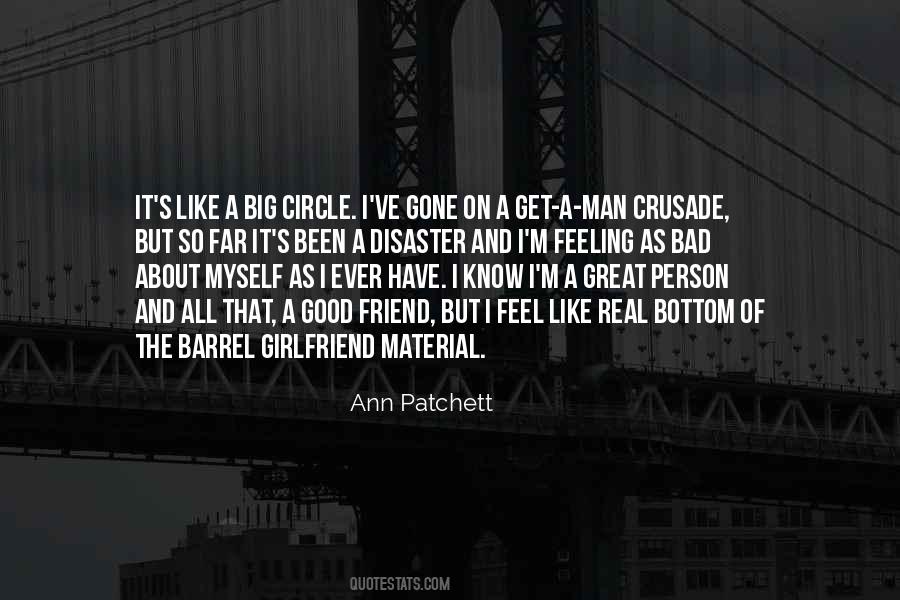 #51. A close friend is someone with whom we can allow ourselves to enter the daydreaming attentional mode, with whom we can switch in and out of different modes of attention without feeling awkward.) - Author: Daniel J. Levitin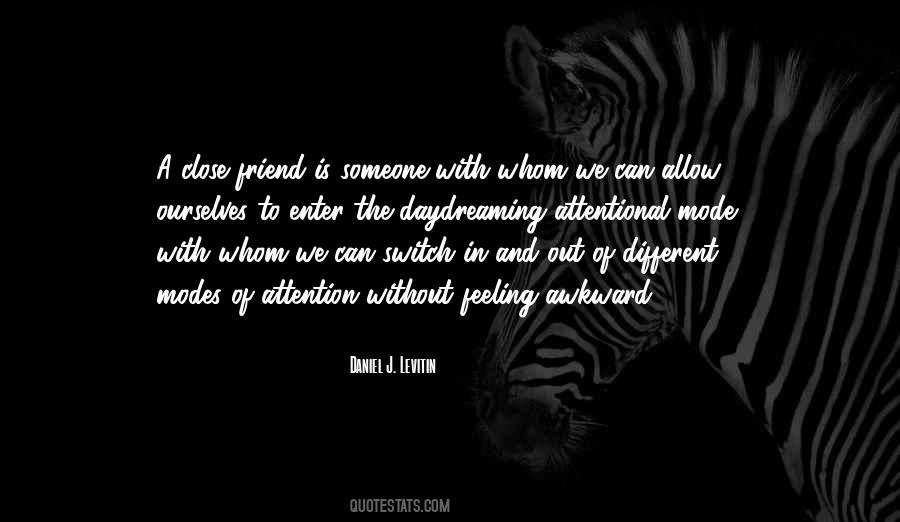 #52. Nervous and scared is a good thing, it's your friend. You feel more on the edge, you feel like you're about to fall down the river, it's a good thing for me. I like that feeling. - Author: Georges St-Pierre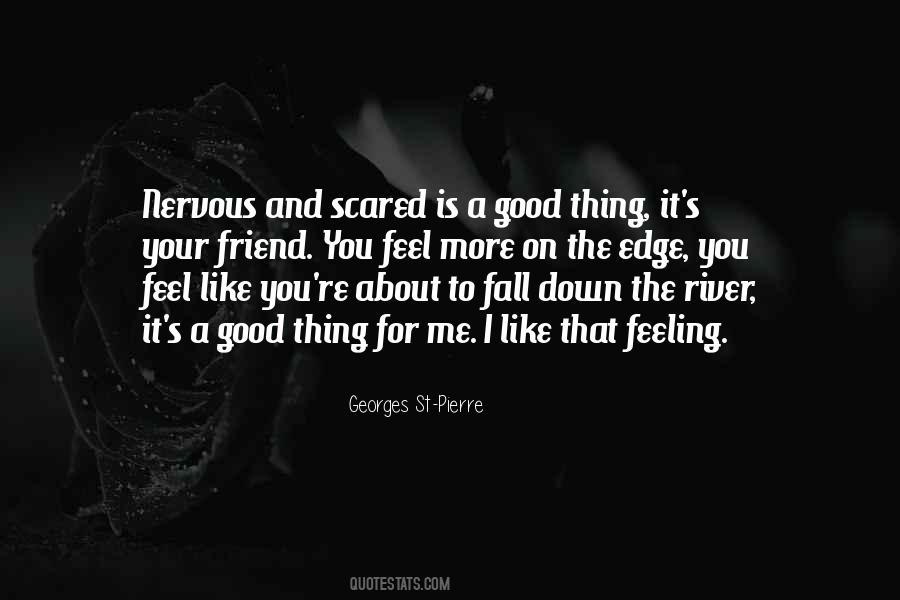 #53. When you're feeling lonely
and no one is around
Remember to look inside yourself
and a best friend will be found - Author: Stephen Cosgrove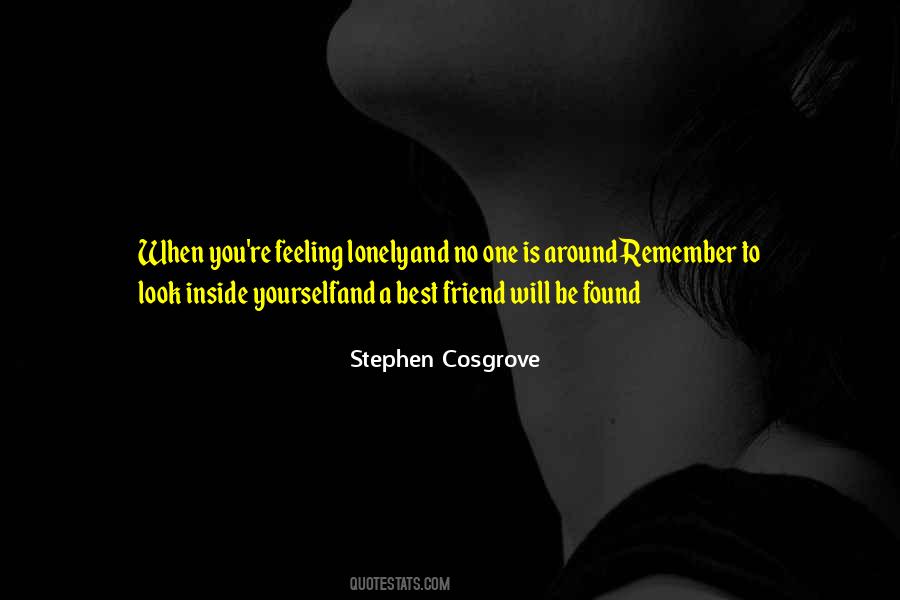 #54. Verily I say unto you, he that heareth my word and believeth on Him that sent me, hath everlasting life, and shall not come into condemnation, but is passed from death unto life. My friend, that is worth more than all the feeling you can have in a life-time. - Author: Dwight L. Moody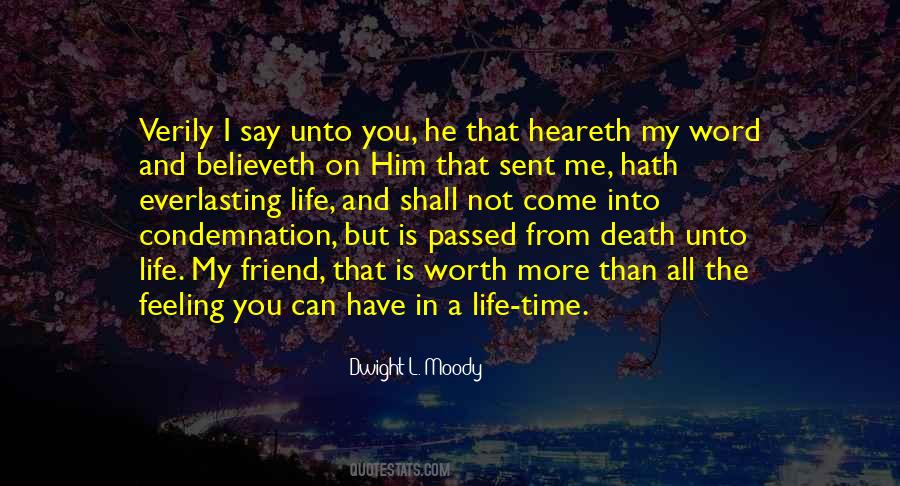 #55. People mourn the loss of a friend or loved one in many different ways, some turn to the bottle, others to something stronger just to get some warped sense of feeling something. - Author: Adam Steven Page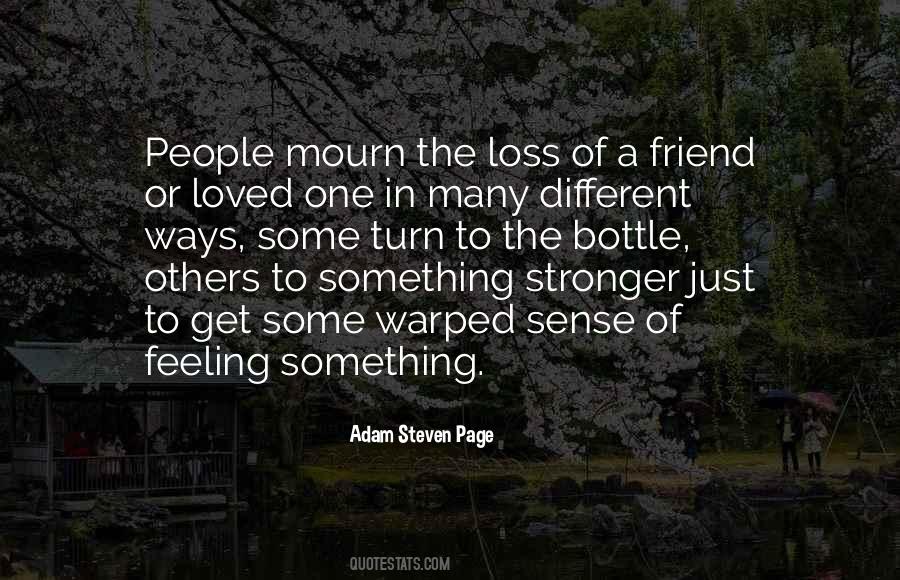 #56. You don't need to apologise, my friend,' smiled the Pandit. There is no "your god" or ";my god". All godliness comes from the same source. Just the manifestations are different. But I have a feeling that one day you will find a temple worth walking into just for prayer, not to admire its beauty. - Author: Amish Tripathi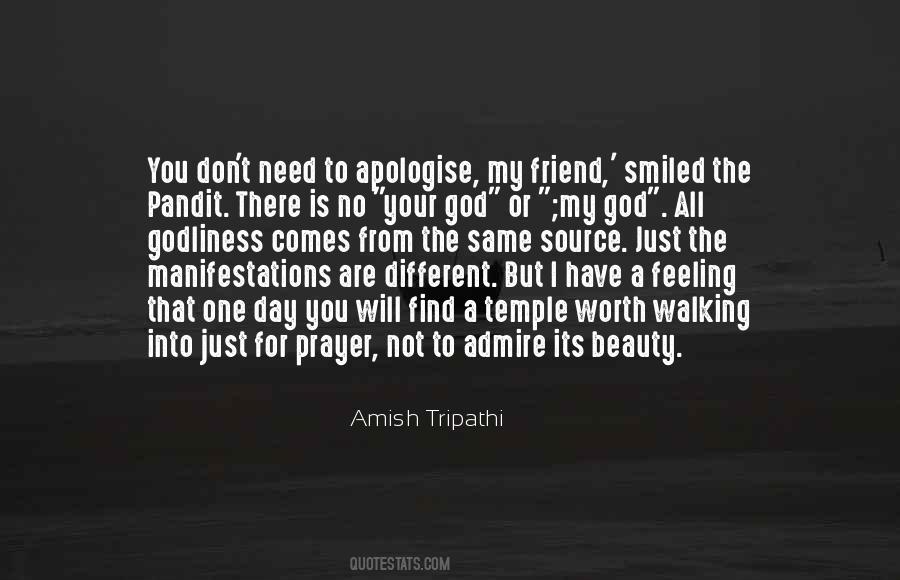 #57. In the beginning, the taste of power is sweet, savored on the tongue, like fine wine. It whispers promises in your ear and pretends to be your friend. It is easy to become addicted to this feeling. - Author: Rahma Krambo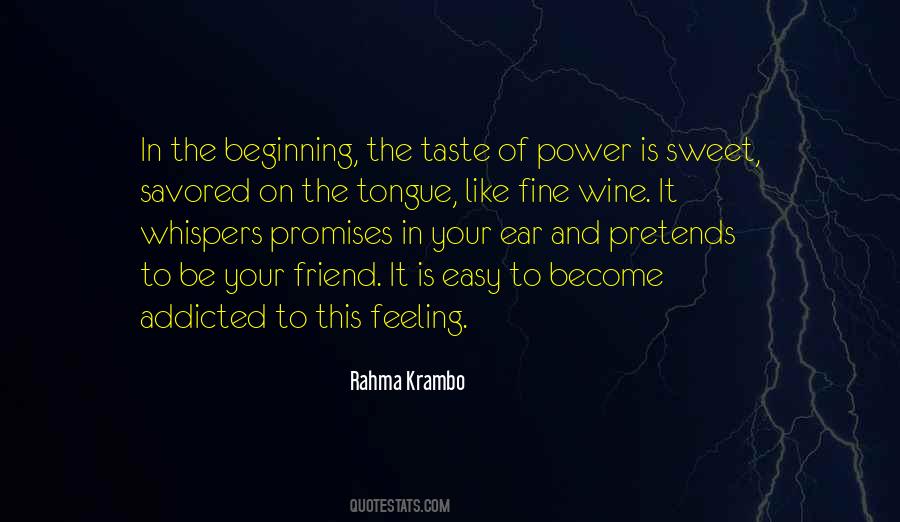 #58. But the man of independent feeling, except he be thus your friend, will not unlikely resent your compassion, while the beggar will accept it chiefly as a pledge for something more to be got from you; and so it will tend to keep him in beggary. - Author: George MacDonald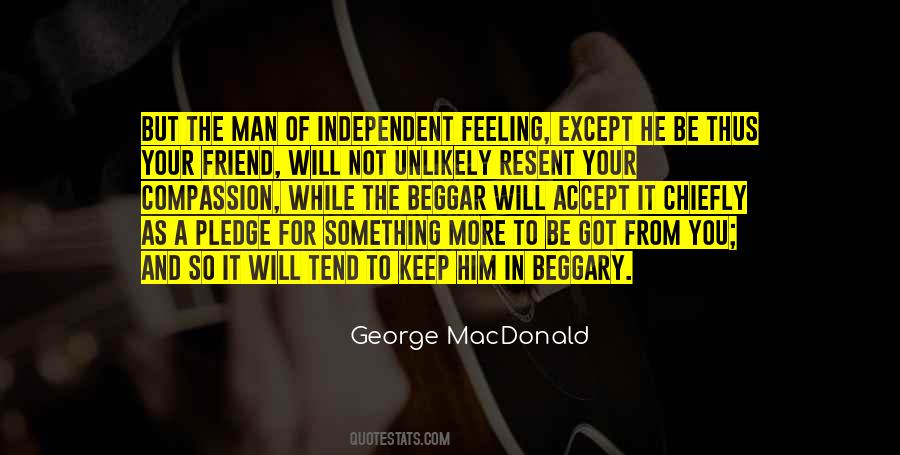 #59. Zachary smiles, and I wonder if he's felling different. Because standing out here waist deep in Gossimer Lake, next to my best friend, I'm feeling different-light and good and maybe even holy. - Author: Kimberly Willis Holt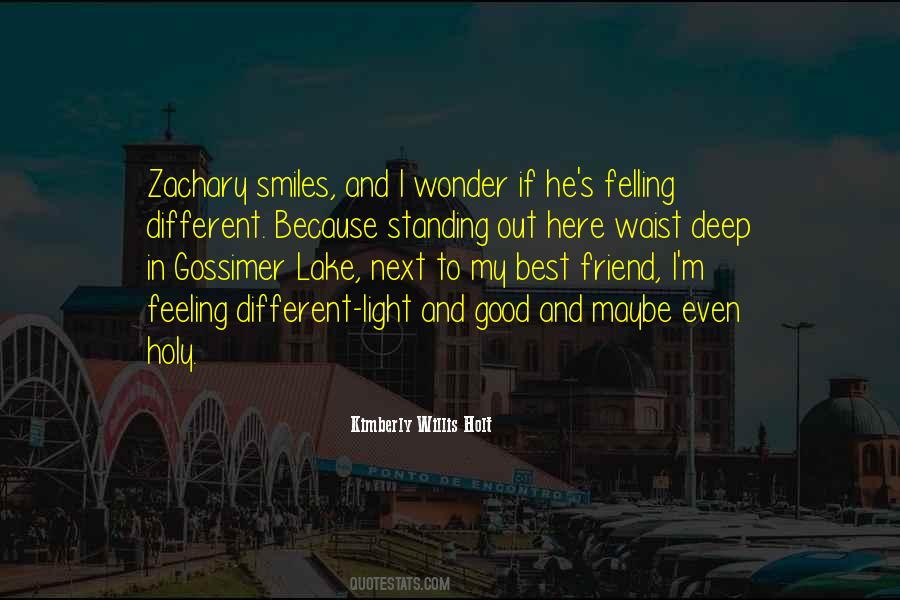 #60. Finding the one is not just a feeling, it's an educated guess. I feel like I chose someone to share my life with who is my friend. - Author: America Ferrera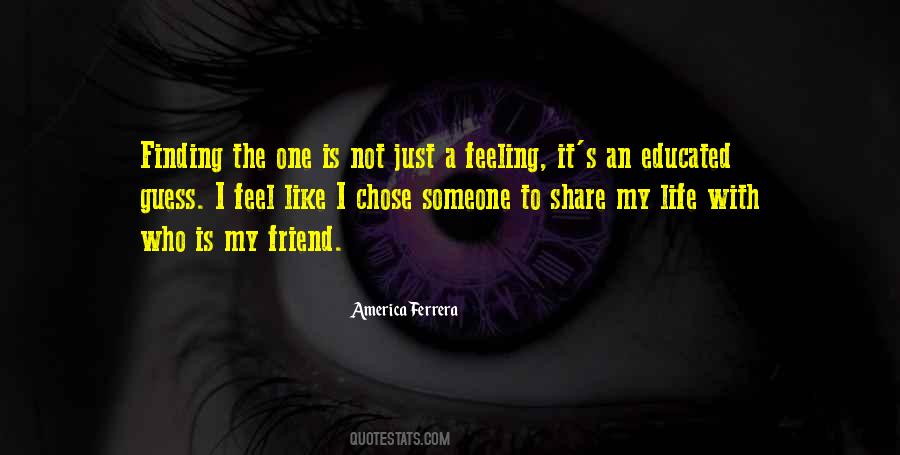 #61. For a moment, Pamela watched her friend. Although she was one of several hostesses who were greeting the guests, Elizabeth drew all eyes with her blonde beauty, sparkling blue eyes, and gracious manners. Feeling - Author: Debra Holland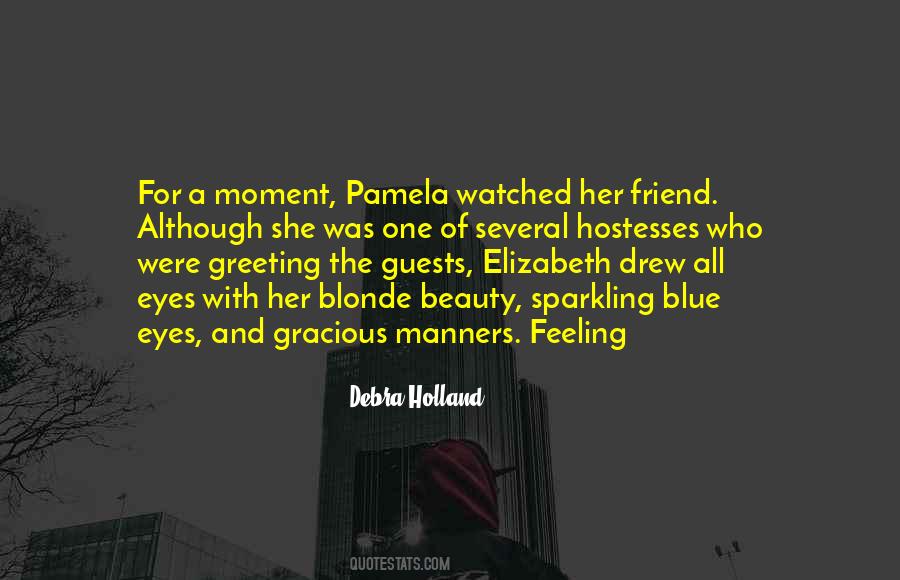 #62. As it is, I'm Elizabeth DeVille, super spy and resident poor girl, and watching him out of the corner of my eye will have to do. I nod at something my best friend Suri is saying to me, feeling like a shitty friend because I'm not really listening. - Author: Ella James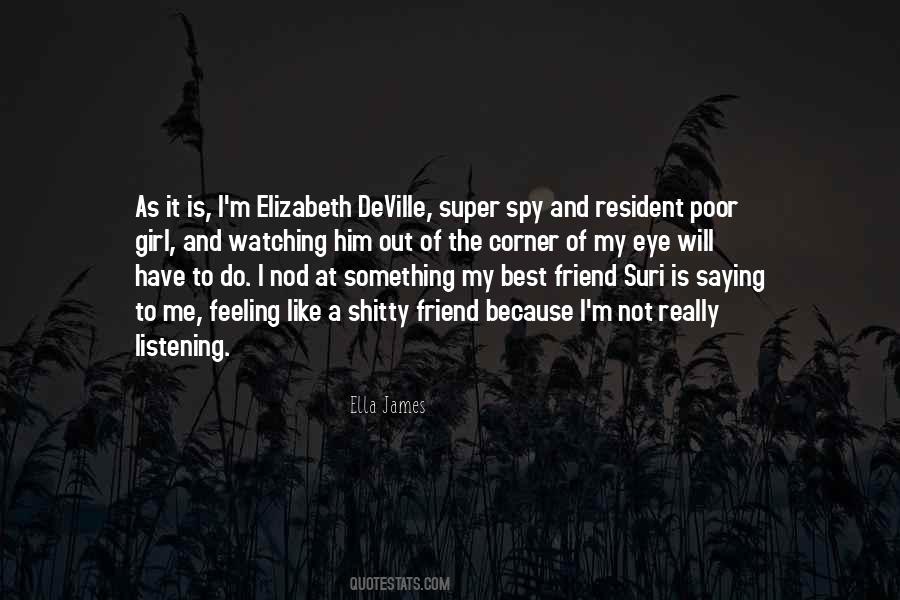 #63. When you 'make good,' you find out who your real friends are. You find out pretty quick. And it's a very ambivalent feeling, because you're, like, happy you found out that people are [jerkfaces], but you're kinda sad because you think, 'Wow, I wasted so much time being this person's friend.' - Author: Greg Camp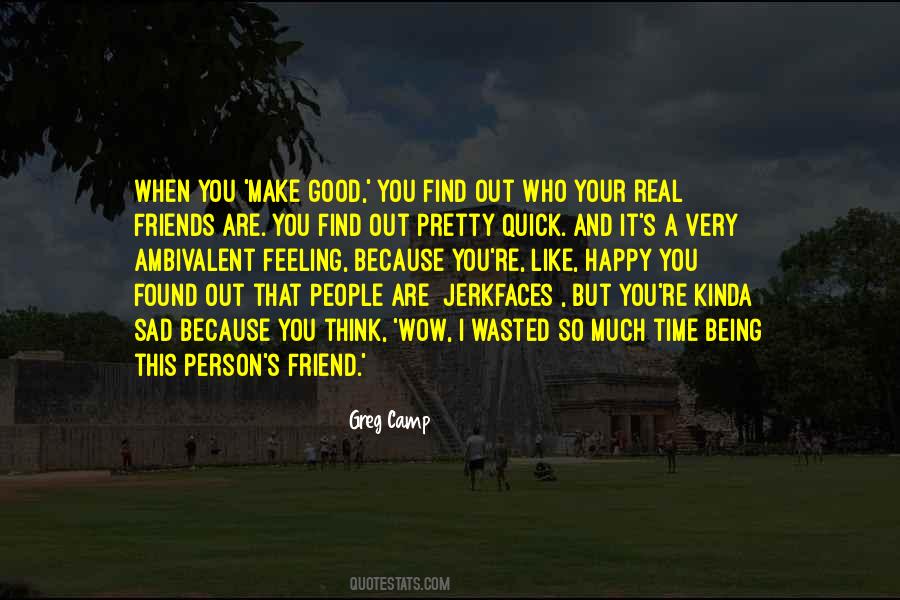 #64. Good friends must not always be together; It is the feeling of oneness when distant That proves a lasting friendship. - Author: Susan Polis Schutz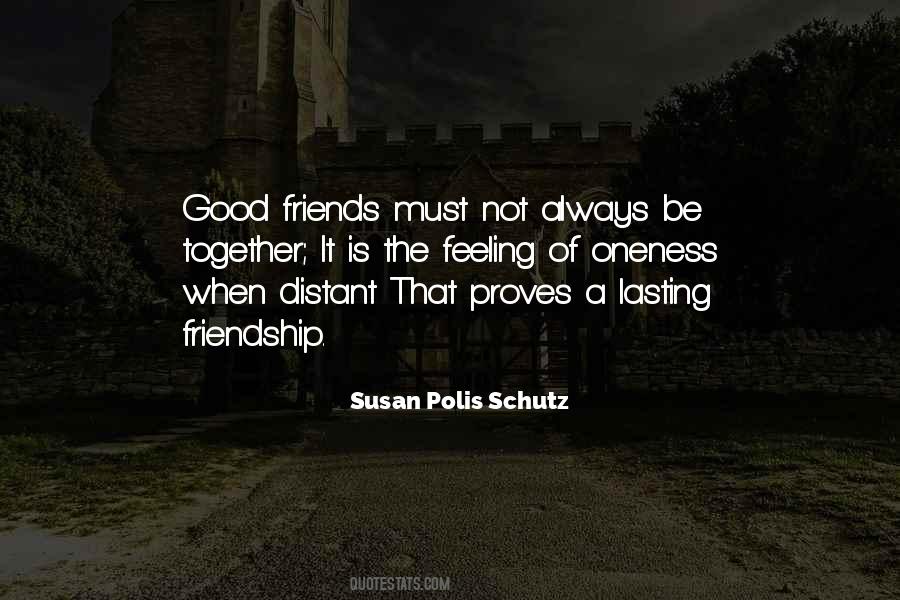 #65. It's a great feeling to think that I can be a friend to so many people through my movies. - Author: River Phoenix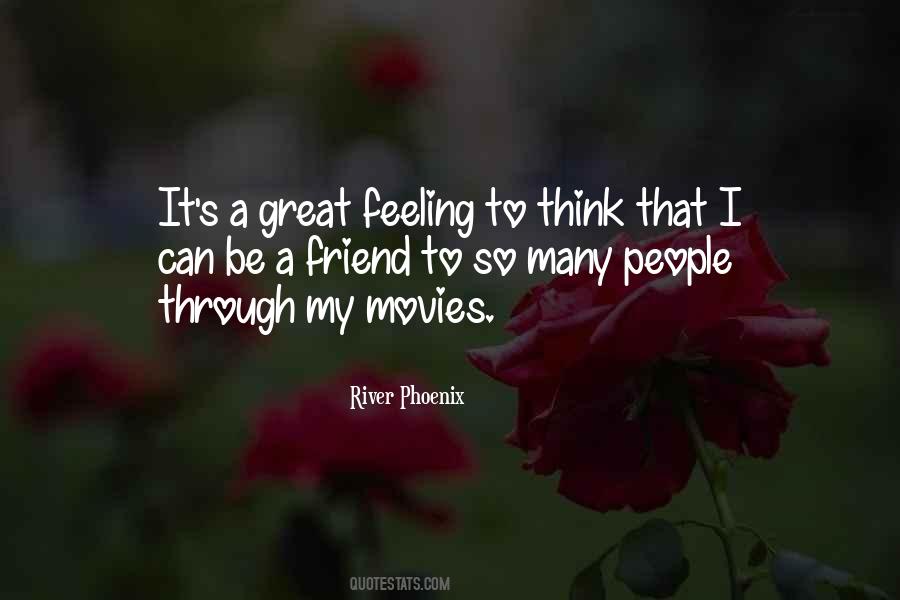 #66. I know you're feeling worried,
But I promise I'm okay.
You think I'm missing all the fun,
But I don't want to play.
And I'm not feeling lonely;
Yeah, I've got a friend with me.
I'm just keeping this corner company. - Author: Margo T. Rose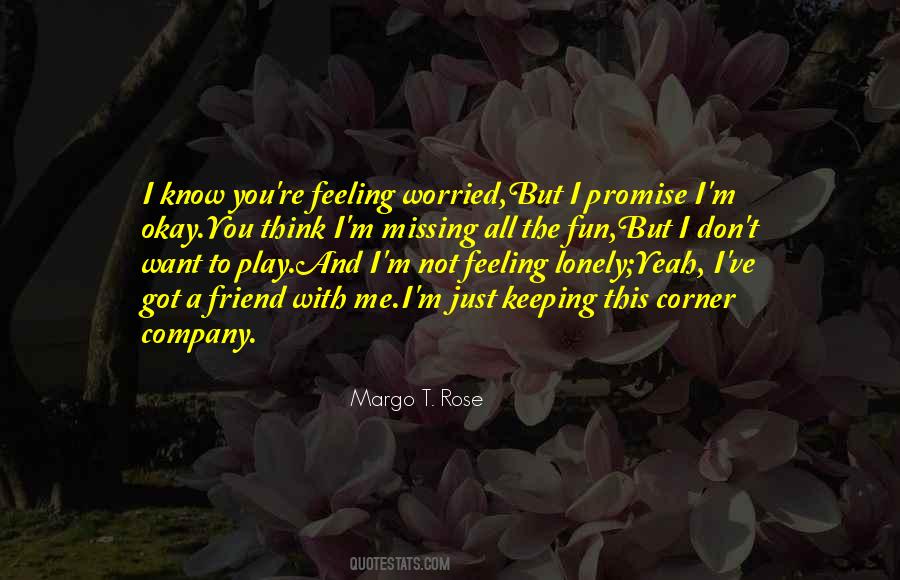 #67. A friend to me has no race, no class and belongs to no minority. My friendships were formed out of affection, mutual respect and a feeling of having something strong in common. These are eternal values that cannot be racially classified. This is the way I look at race. - Author: Frank Sinatra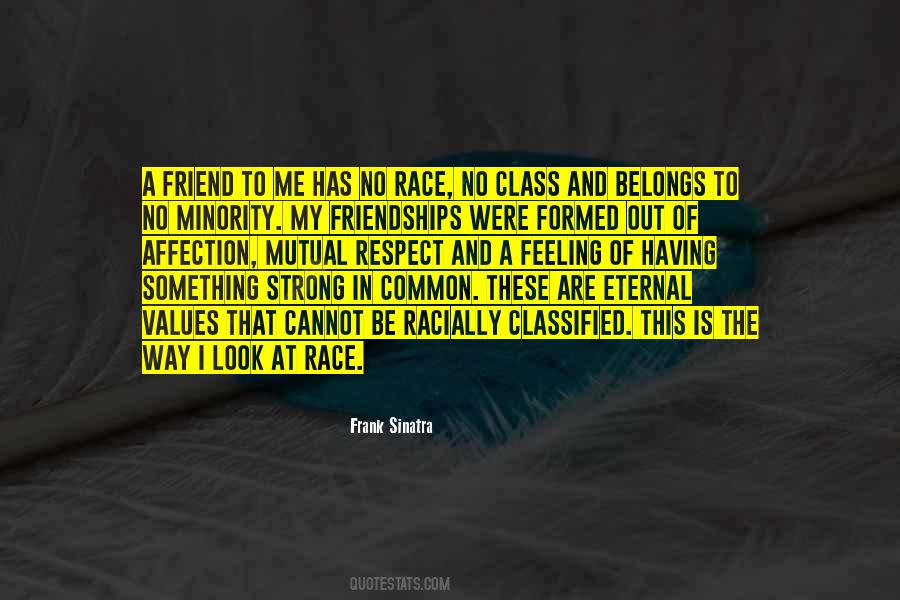 #68. I'd go down to the end of my street, to a garage that had a certain feeling about it, or a particular light; I'd take a picture of a friend who needed a head shot. That's how I learned, instead of having school assignments and learning camera techniques. - Author: Herb Ritts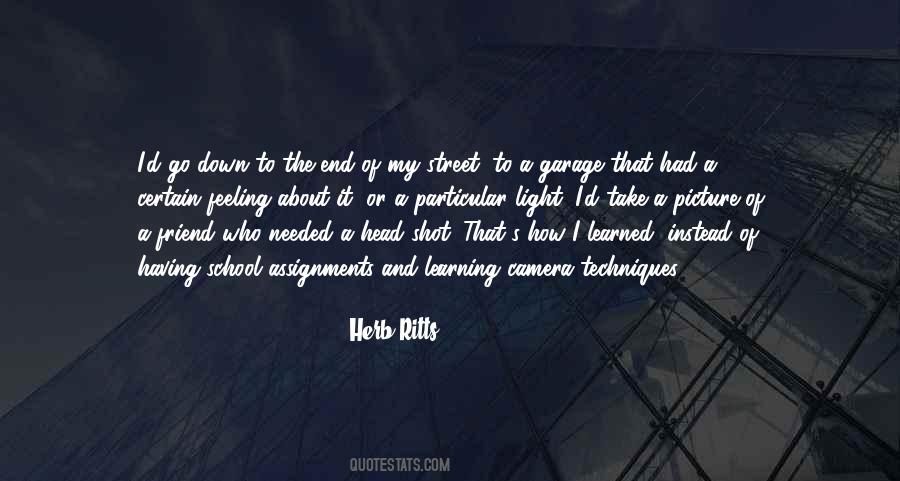 #69. e had the strangest feeling come over him, which he'd never before known. Like he was meeting his best friend, for the first time. It was recognition mixed with relief...but also some amount of joy. Like, 'Oh, there you are! It's so great to meet you finally! I've missed you! - Author: Elizabeth Gannon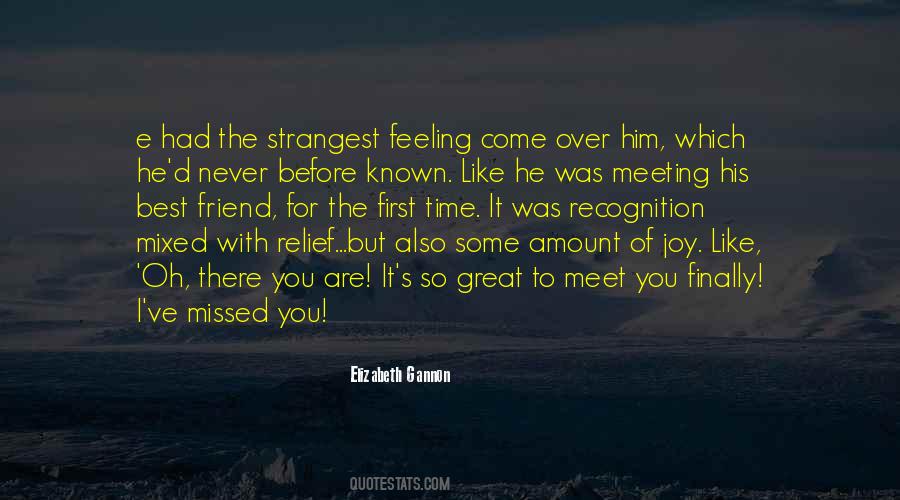 #70. Good Advice If your best friend's feeling tearful, Try not to be too cheerful. Just let her fill your ear full Of sad tales by the score. And when she is through, She'll feel as good as new. Now you'll be feeling blue. But that's what friends are for! - Author: Beatrice Schenk De Regniers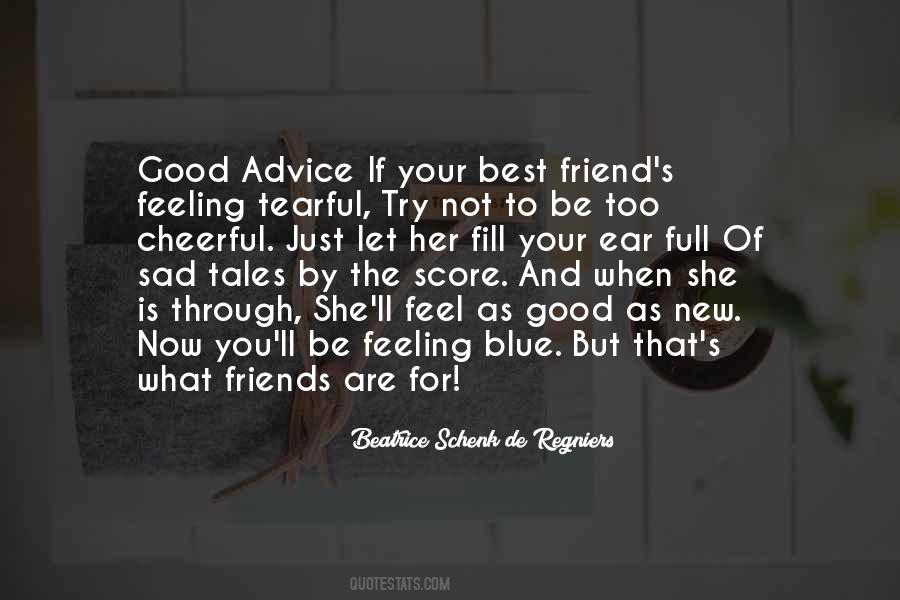 #71. Honey, I have a feeling he doesn't think of you as a friend. Have you seen the way he looks at you?"
She glanced at him and as if he could feel her gaze, he turned his eyes on her. Soft and hard all at once. "Yeah," Mel said. "He promised to stop doing that. - Author: Robyn Carr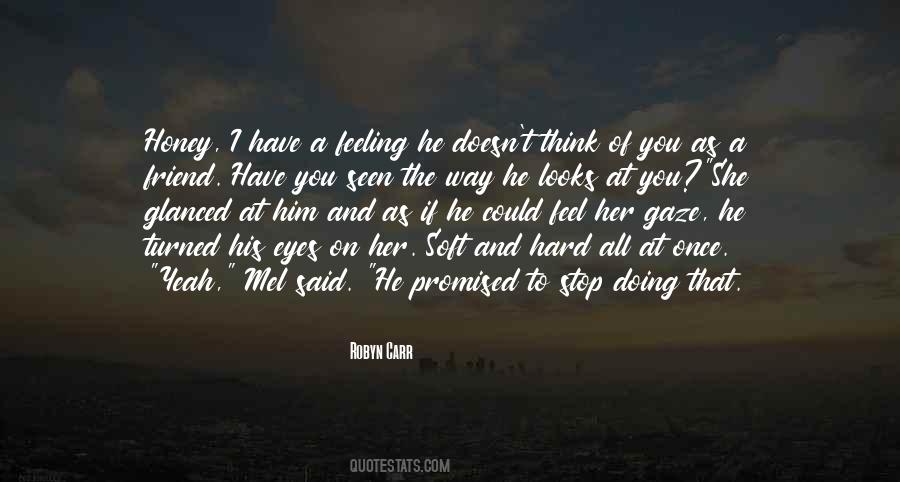 Famous Authors
Popular Topics