Feel The Music Famous Quotes & Sayings
List of top 100 famous quotes and sayings about feel the music to read and share with friends on your Facebook, Twitter, blogs.
Top 100 Feel The Music Quotes
#1. Music gets inside you, music captures you. Music becomes your heartbeat. It's a drug and makes you feel whatever the song's about. - Author: Ed Westwick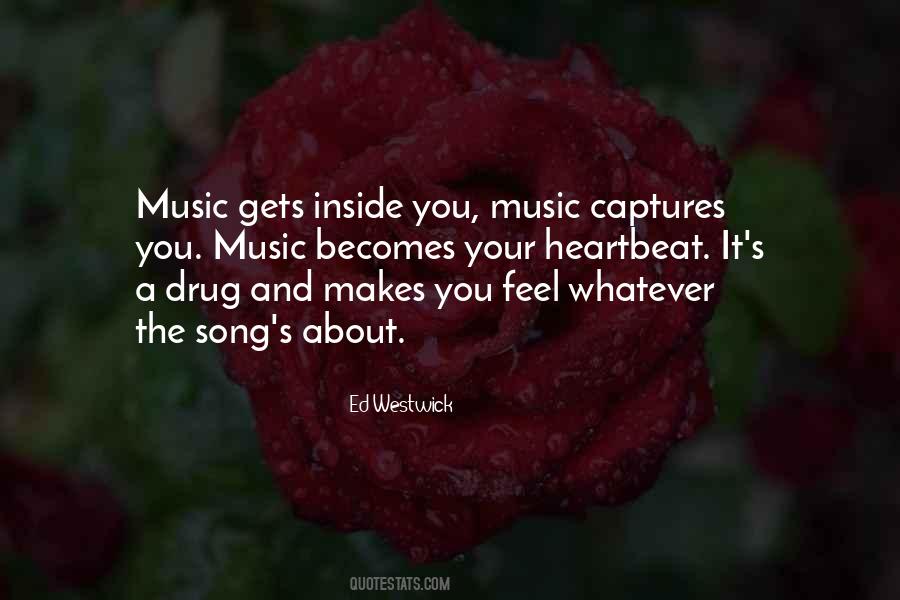 #2. How can anybody say they know how I feel? The only one around here who is me, is ME. - Author: Morrissey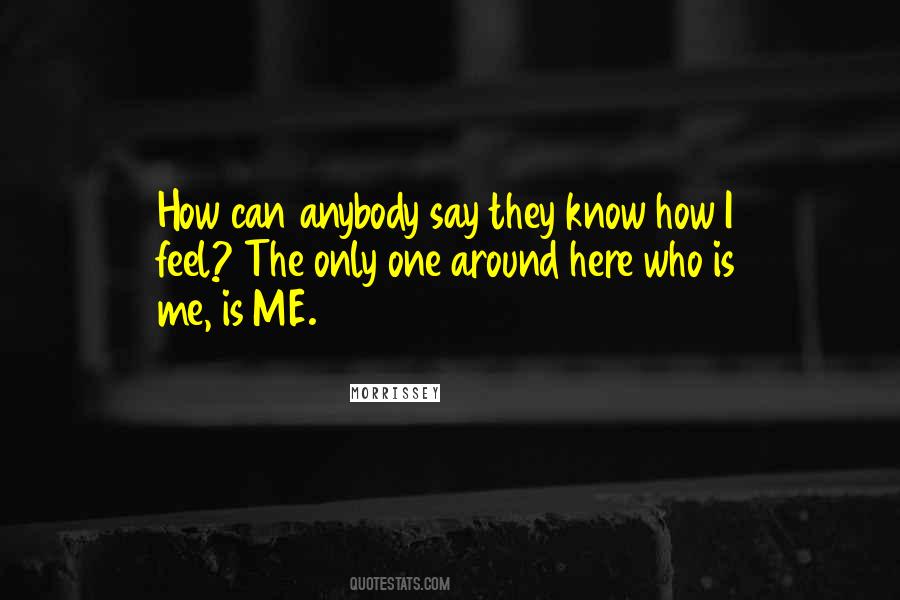 #3. Being able to express myself through music and art has always been when I feel the most alive. - Author: Avril Lavigne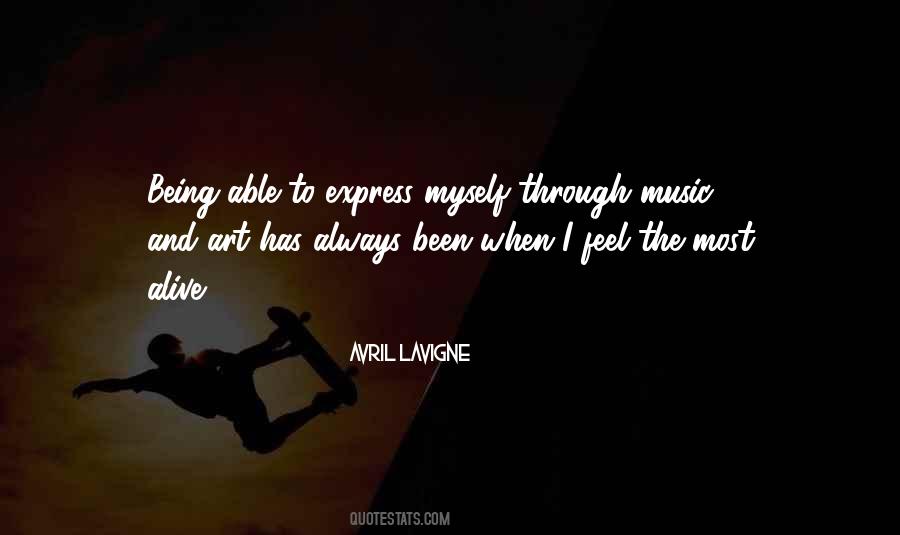 #4. I feel like I have a very unique perspective especially for someone in the hip-hop genre. I'm not afraid to explore it, and how my upbringing then shapes my music and being a New York kid and all of that stuff ... that's really the most unique thing I can offer to the music in general. - Author: Hoodie Allen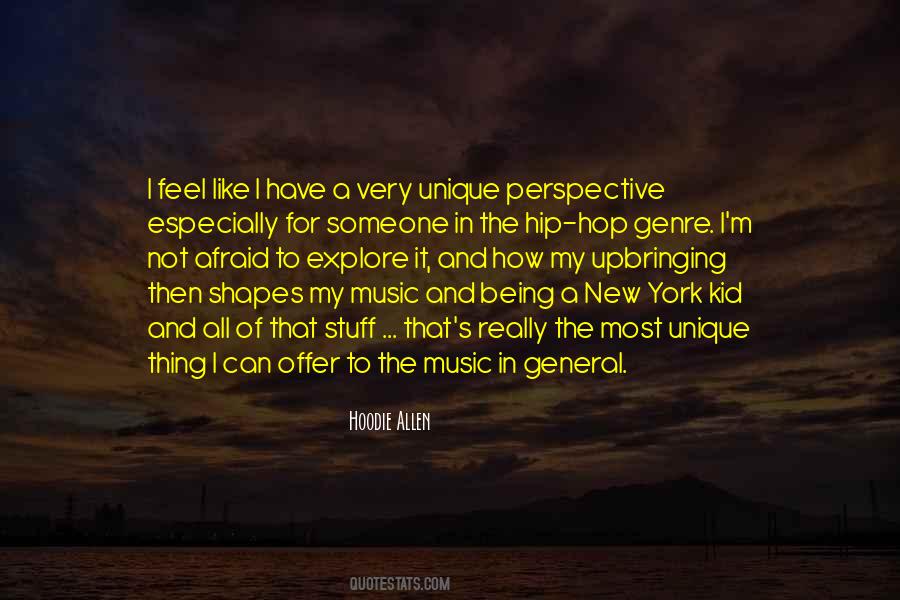 #5. I really feel like there's a void in this world for music that acknowledges that spiritual aspect of these activities as well as just the sheer physicality of them. - Author: Taraka Larson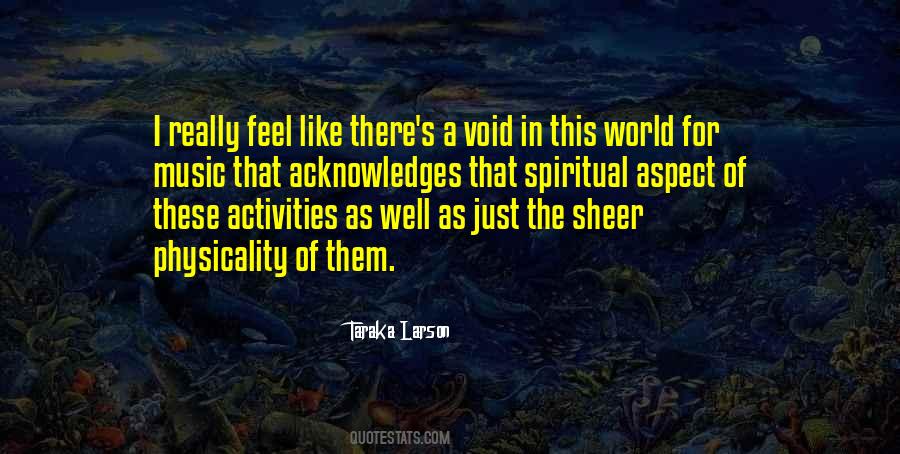 #6. Had music not delivered Richard, too, on more than one occasion, from a life he'd believed himself trapped in? The tempos had changed, but that almost didn't matter. The point, now as then, was to tune in to something bigger than yourself, and to feel around you others who felt as you did. - Author: Garth Risk Hallberg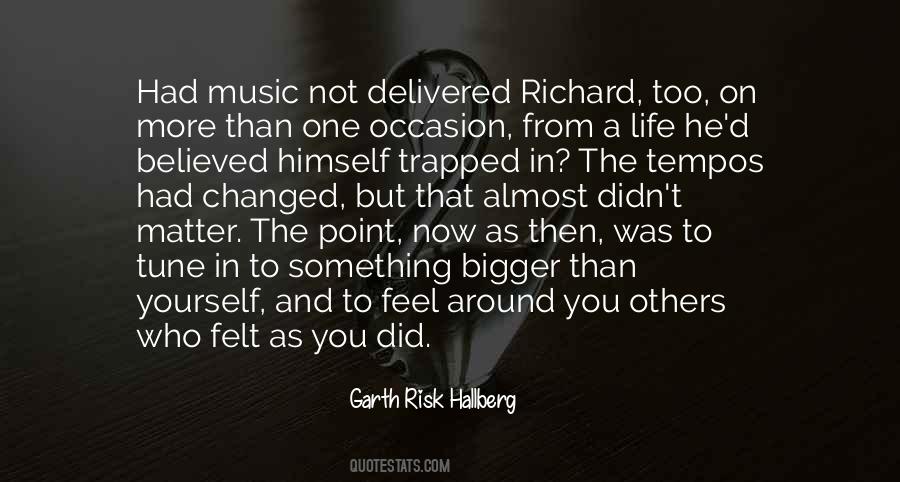 #7. I think of a piece of music as something that comes alive when it is being performed, and I feel that my role in the transmission of music is to be its best advocate at that moment. - Author: Yo-Yo Ma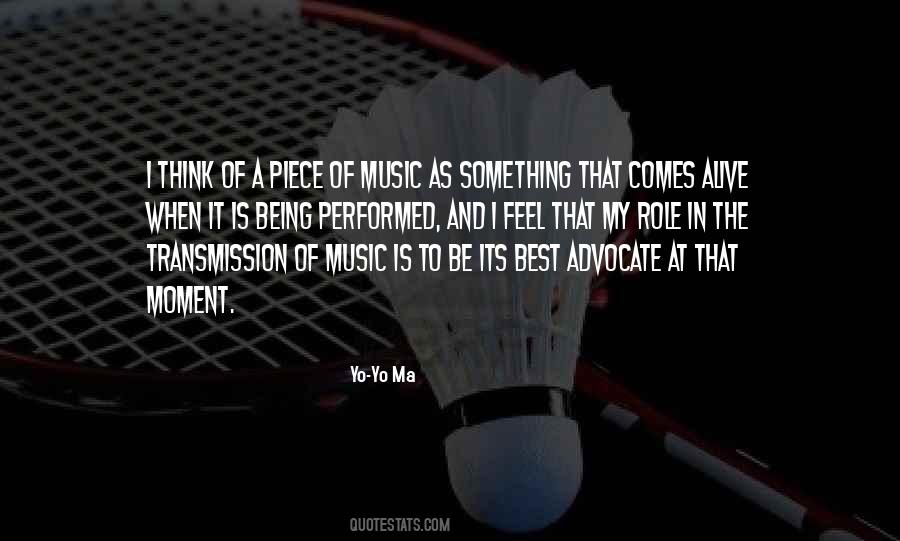 #8. Part of what my music represents is to stand up and be the voice of those who feel like they are not heard and want to be treated with respect regardless of race, color, orientation - android, cyborg, whatever. - Author: Janelle Monae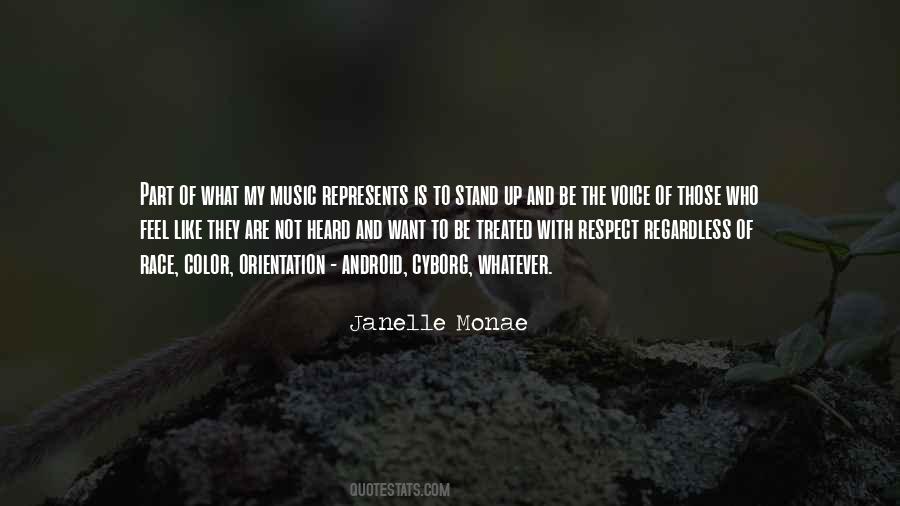 #9. Making lyrics feel natural, sit on music in such a way that you don't feel the effort of the author, so that they shine and bubble and rise and fall, is very, very hard to do. Whereas you can sit at the piano and just play and feel you're making art. - Author: Stephen Sondheim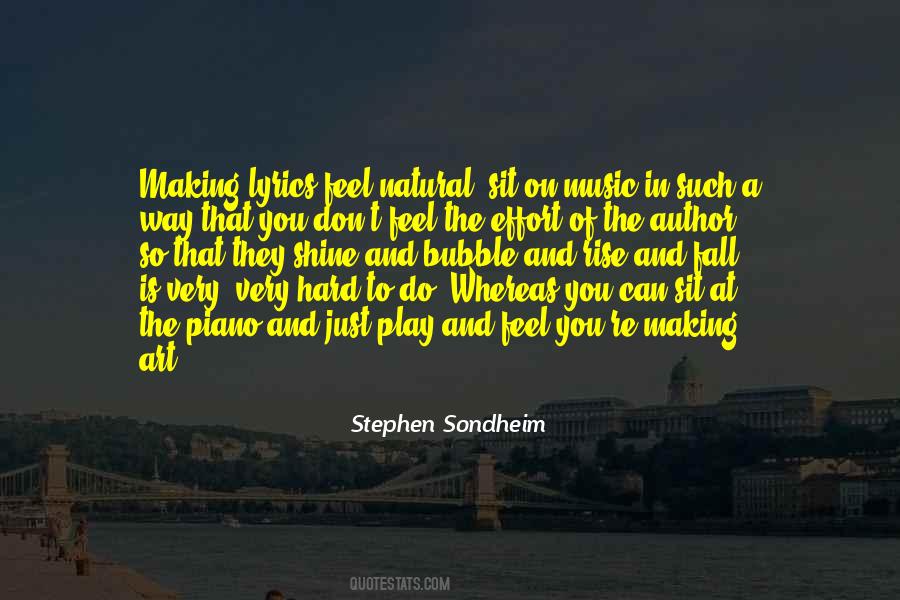 #10. I don't feel that electronic music has to stand on the back of urban artists or anyone else to be recognized. It's great music. - Author: Kaskade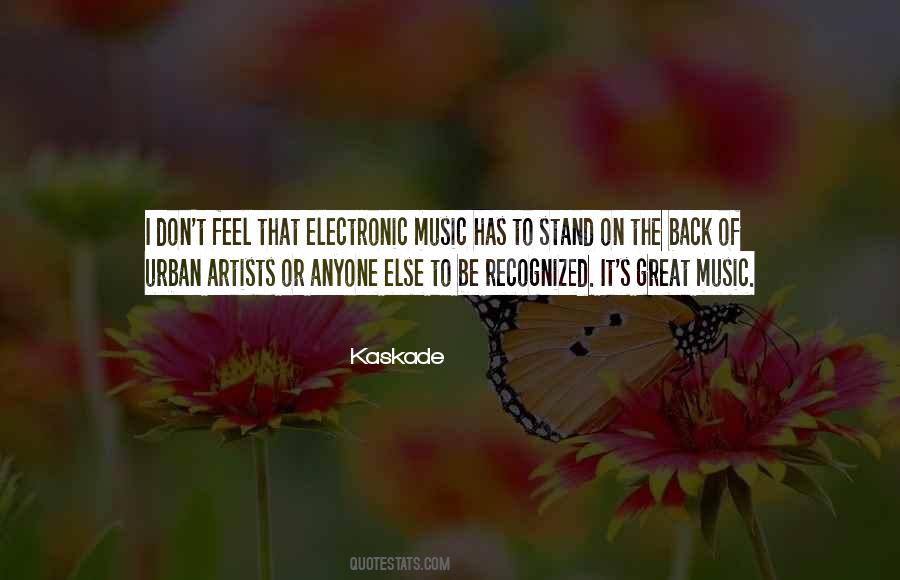 #11. That's what music did. It made you feel.
...
Music, her grandfather always told her, was language. A special language, a gift from the Muses, something all people are born understanding but few people can thoroughly translate. - Author: Sara Zarr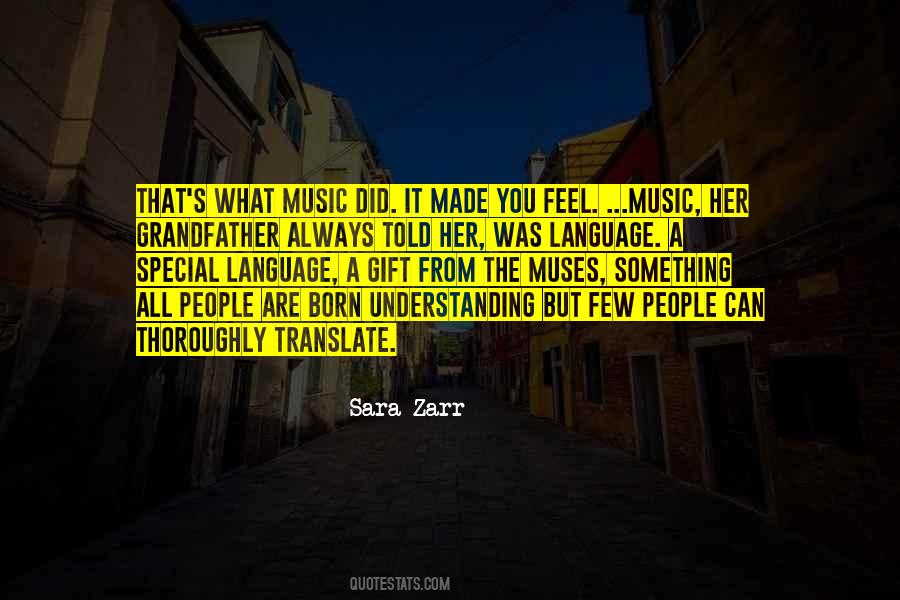 #12. I'm not the one who's so far away
When I feel the snake bite enter my veins.
Never did I wanna be here again,
And I don't remember why I came. - Author: Sully Erna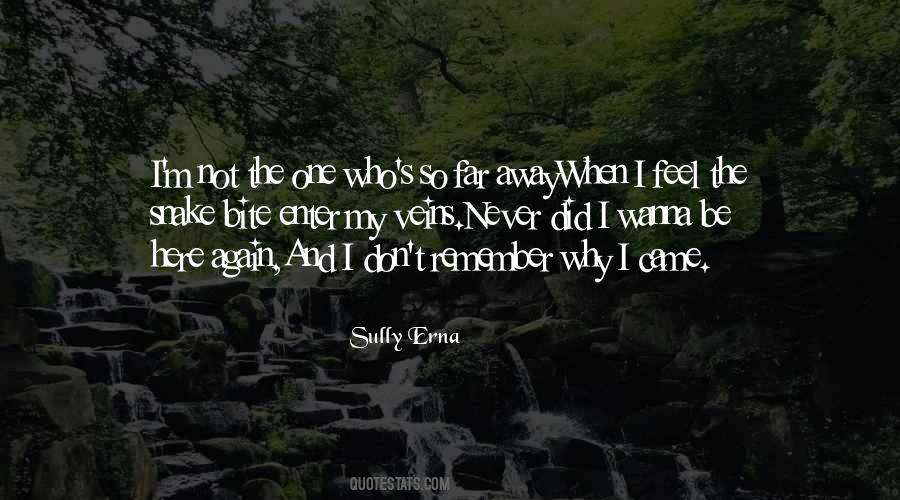 #13. Music is like a mirror in front of you. You're exposing everything, but surely that's better than suppressing ... You have to dig deep and that can be hard for anybody, no matter what profession. I feel that I need to actually push myself to the limit to feel happy with the end result. - Author: Enya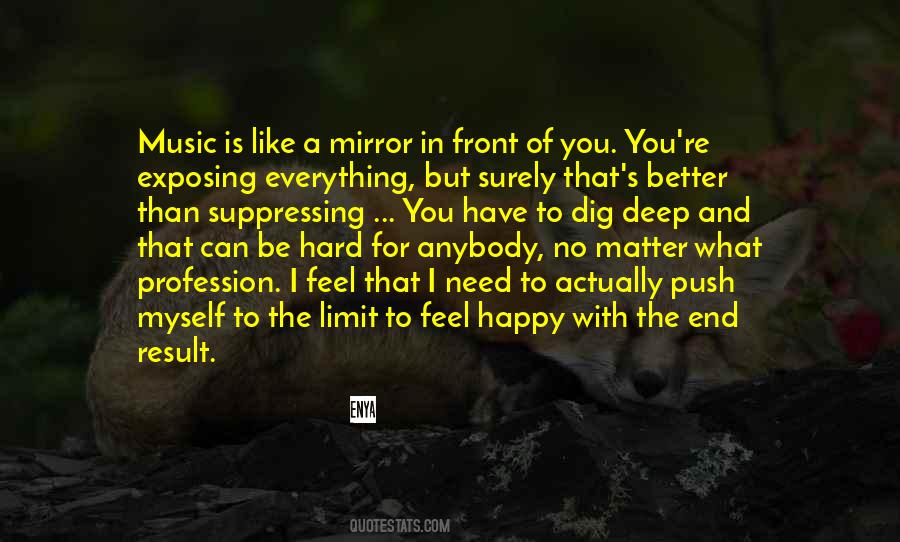 #14. Music is a sacred, a divine, a God-like thing, and was given to man by Christ to lift our hearts up to God, and make us feel something of the glory and beauty of God, and of all which God has made. - Author: Charles Kingsley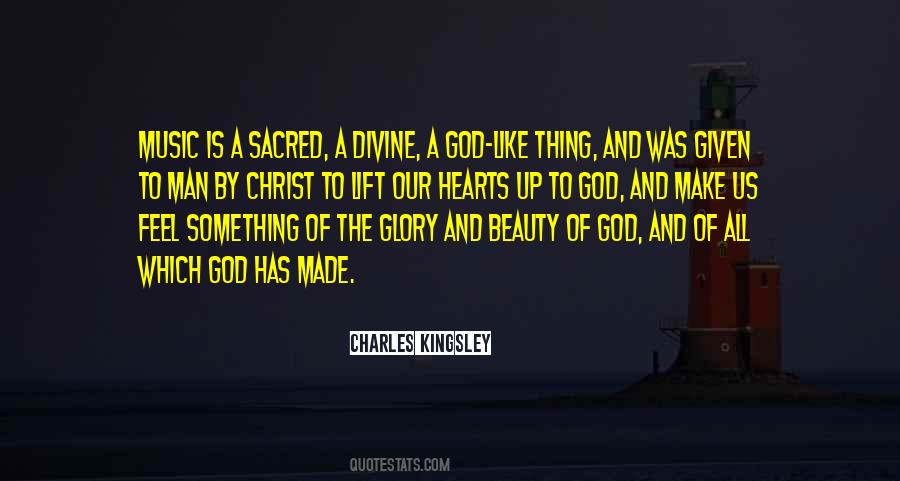 #15. One of the reasons we survive as a band is that we are seen as a band of today. We don't want to be seen as a band that tours and plays old songs. We feel that we are making the best music of our careers. - Author: Andrew Fletcher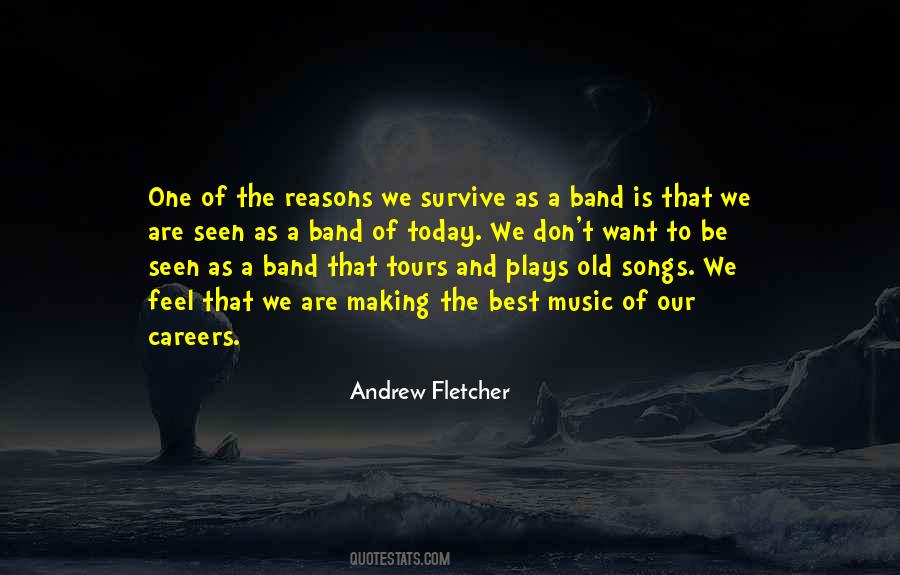 #16. I've always liked New York, as I like towns with an edge and New York has a European feel, so when I came to play music here in the '80s it was a surprise to me. - Author: Billy Childish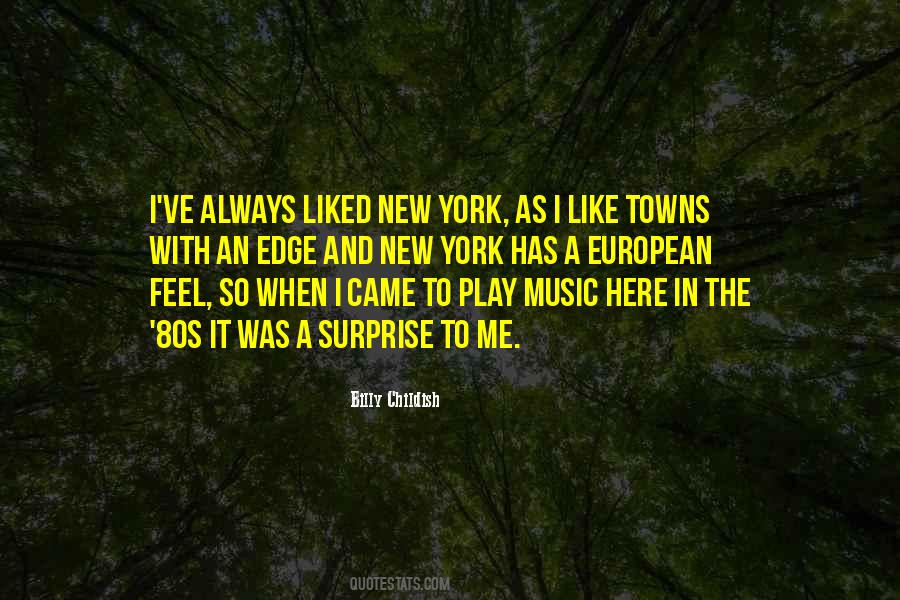 #17. But how reassuring it was for us, you remember, every now and then ("Mr. Gorbachev, tear down this wall"), to vibrate to the music of the very heartstrings of the Leader of the Free World who, to qualify convincingly as such, had after all to feel a total commitment to the Free World. - Author: William F. Buckley Jr.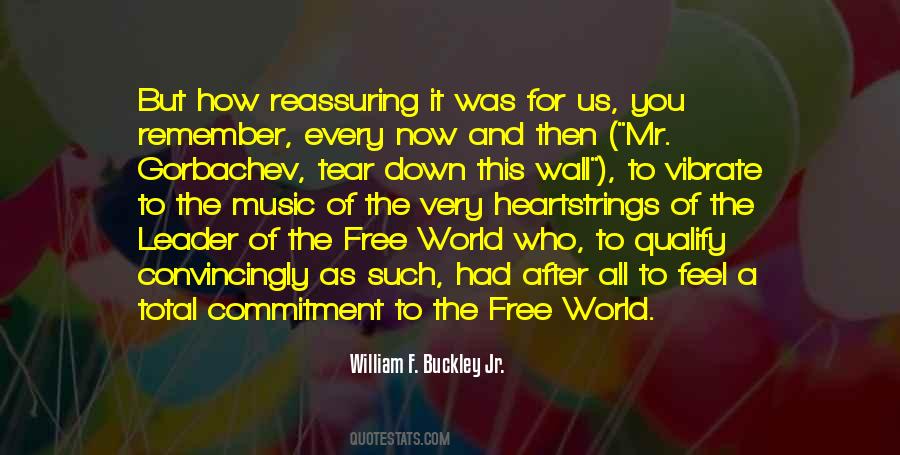 #18. It's weird - the cab driver is playing very loud dance music and yet it doesn't really feel like a party. - Author: Eugene Mirman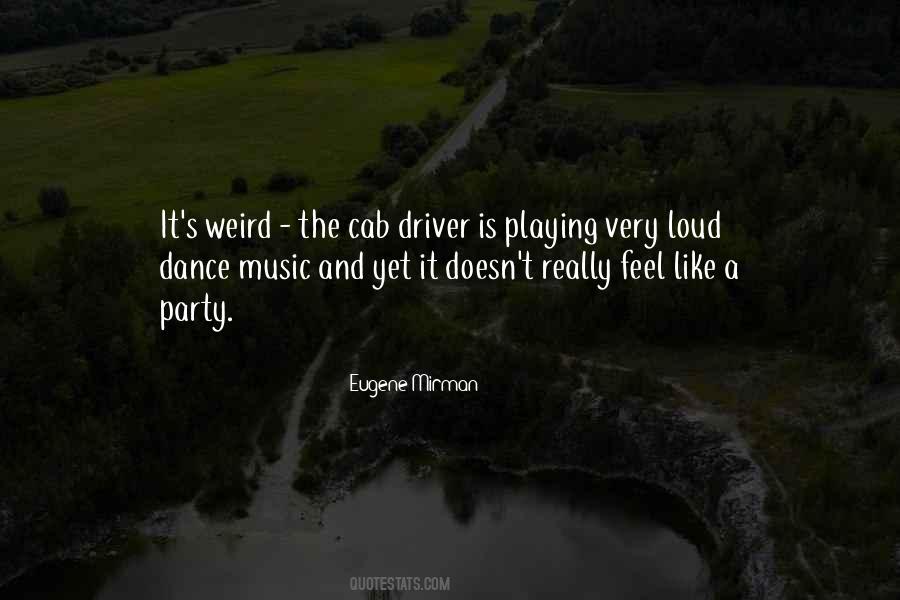 #19. In my career I defined myself by my music, and the danger is that one defines oneself based on popularity. As you know, that goes up and down, and you can't judge how you feel about yourself based on what your sales is. - Author: Kenny Loggins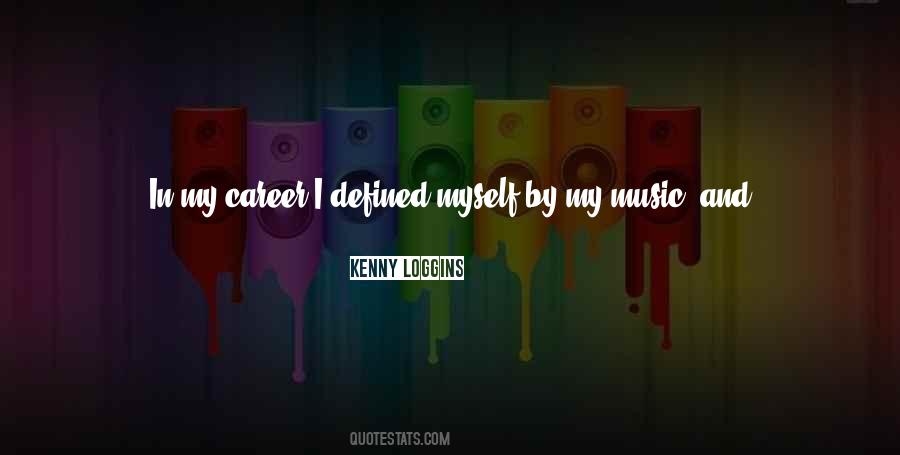 #20. I remember when we kissed. I still feel it on my lips. The time you danced with me with no music playing. I remember the simple things. I remember till I cry. But the one thing I wish I'd forget, the memory I wanna forget is goodbye. - Author: Miley Cyrus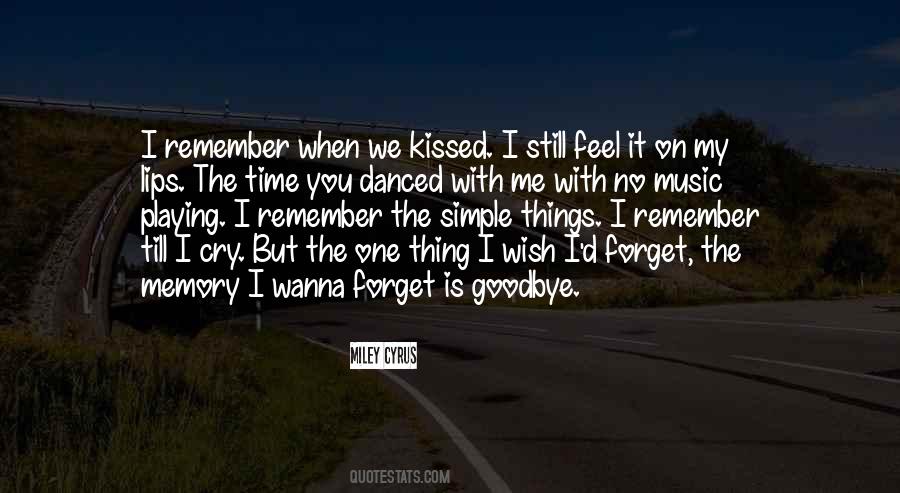 #21. I feel like I've spent the majority of my time touring and traveling, so if I reduced the actual time making music, it's probably four and a half years at the most. - Author: Beck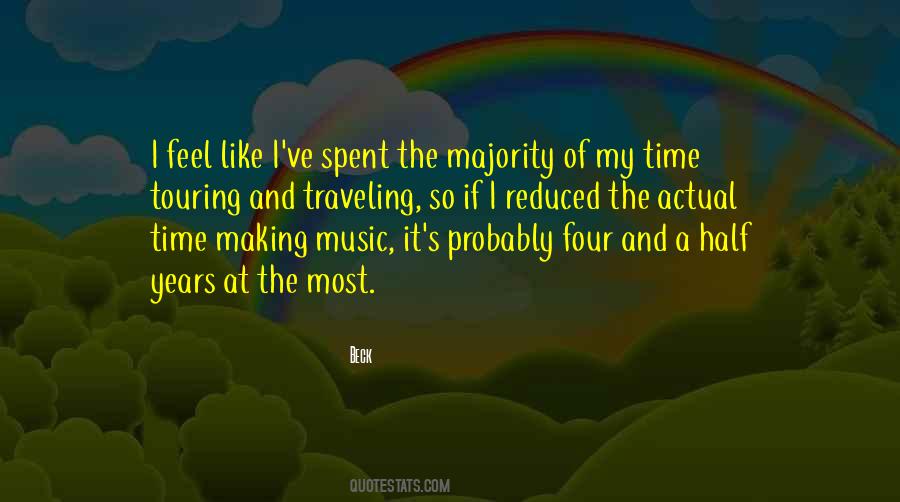 #22. Most of the music you hear on the radio today is developed for making money. It doesn't feel true or honest. You can feel it in the music. - Author: Iris Dement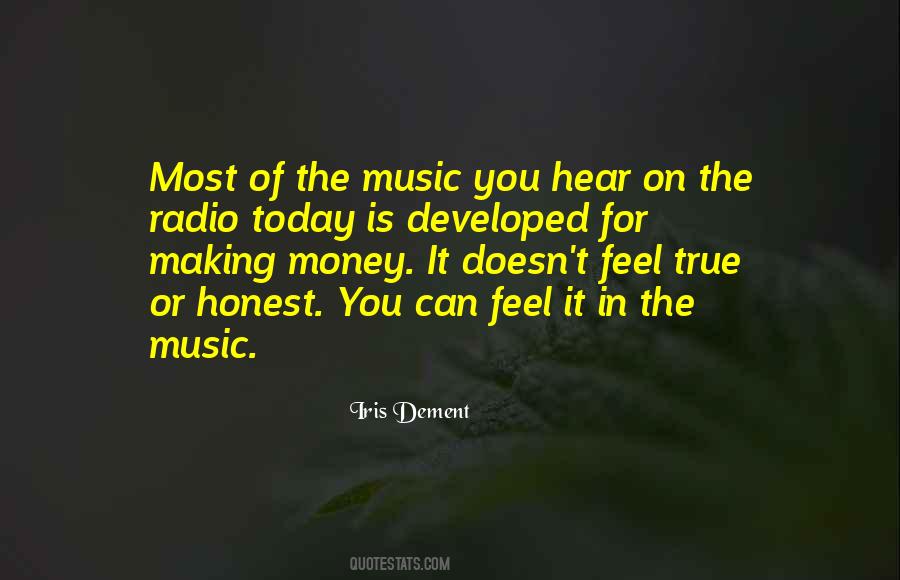 #23. In my life, looking at other women who have been pregnant while writing, I always feel like it's kind of their most musical or the closest to themselves. I think for me it's such a validating moment, you know. I always knew I wanted to have kids, and I've been making music all my life. - Author: Kelis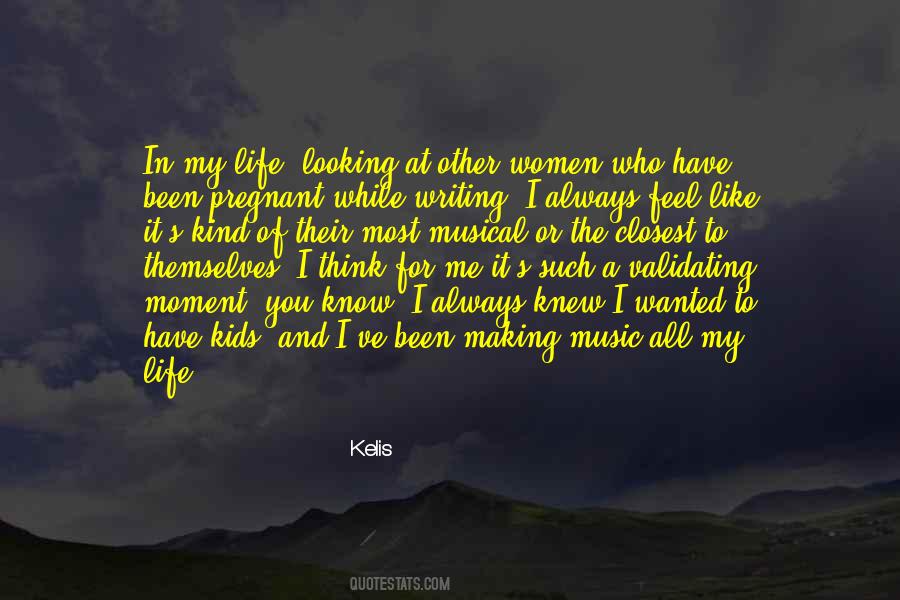 #24. I hated the blog hype and how fast everything was happening. It didn't feel natural to me. But at the same time, what's more natural than thousands of people sharing your music because they just really like it? - Author: Michael Angelakos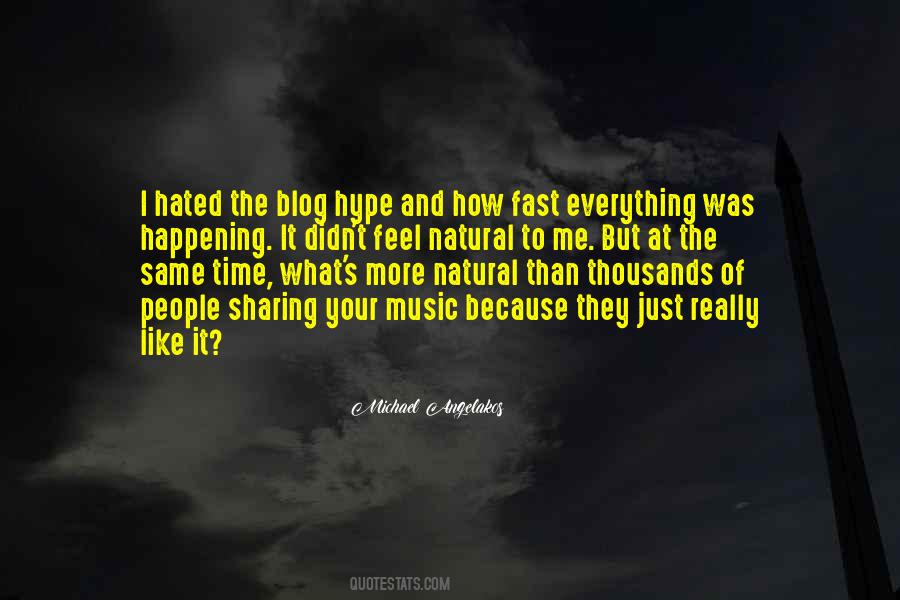 #25. I feel that people who are new to punk/hardcore don't truly understand the music and the role it plays in people's lives until they experience the environment for themselves. - Author: Jacob Bannon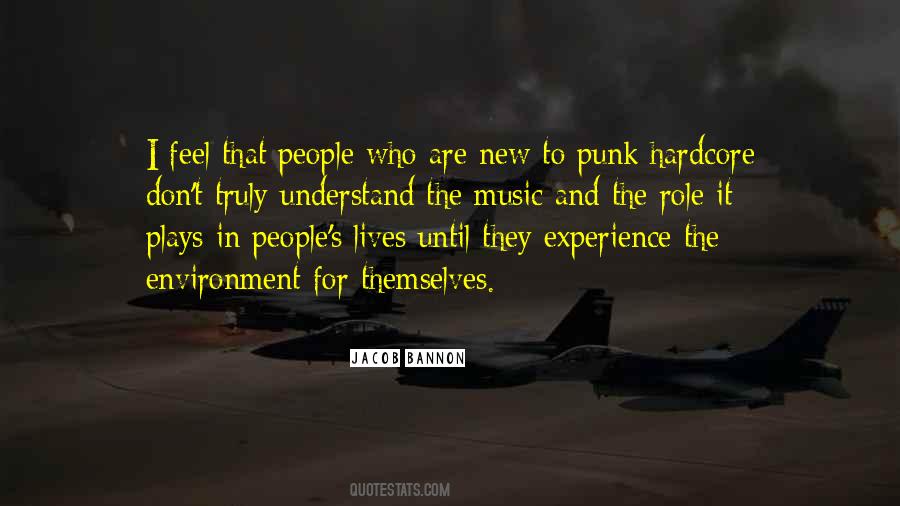 #26. I'll leave a store if I hate the music. If it's just, like, techno, I feel like my brain is going to explode. - Author: Kim Gordon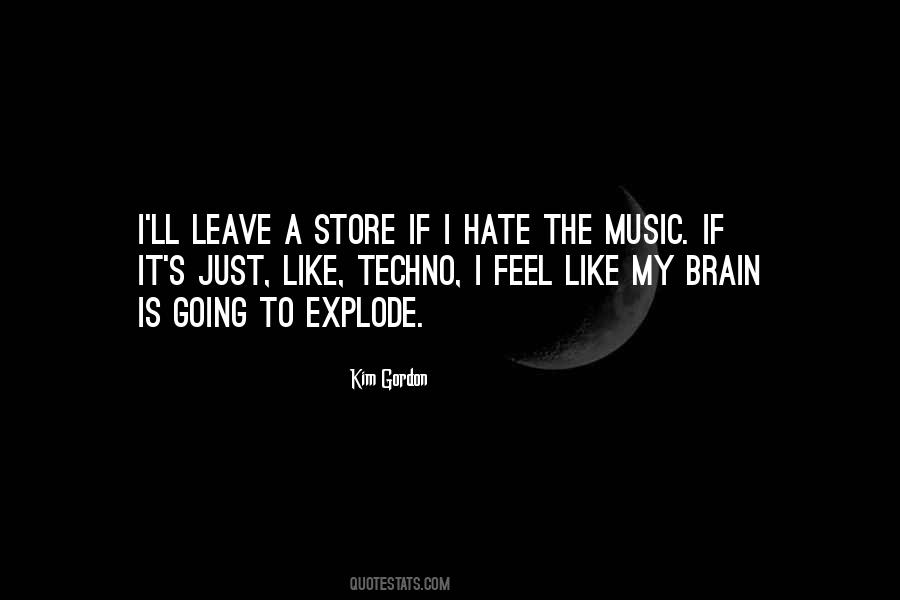 #27. Influences come from everywhere. I don't really feel like I had too many influences for the first record because I grew up listening to music in church, and that was pretty much it. I didn't really grow up listening to AC/DC and all those bands. - Author: Avril Lavigne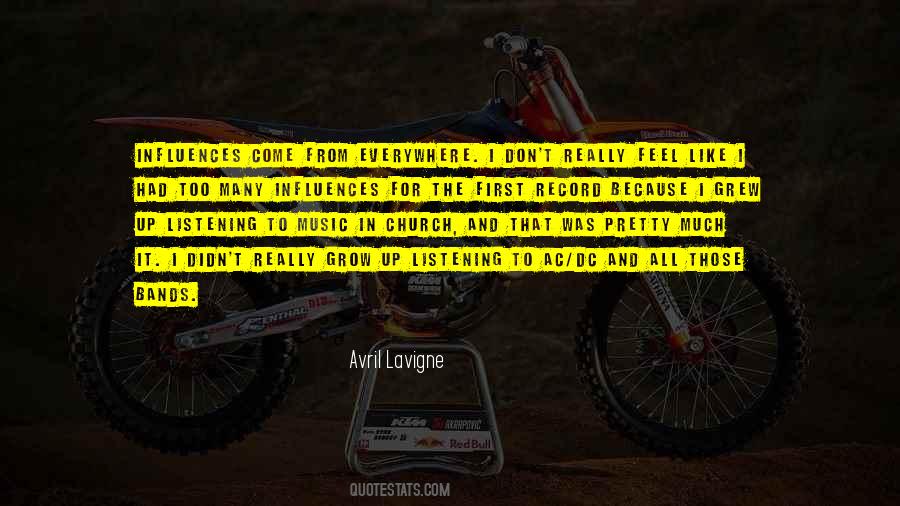 #28. I'm trying to make records where people don't feel cheated. Nashville has been guilty of insulting the Country Music audience for years and years. - Author: Steve Earle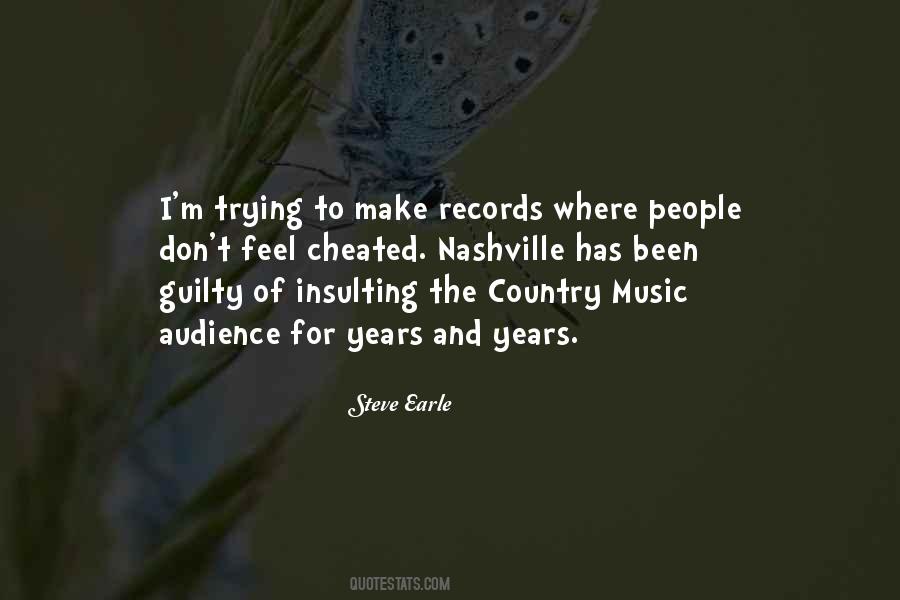 #29. I think humans in general, make associations and feel the need to group things together to have a better understanding of them. Though I would say my music is more country in a lot of ways, than it is surfy. - Author: Tristan Prettyman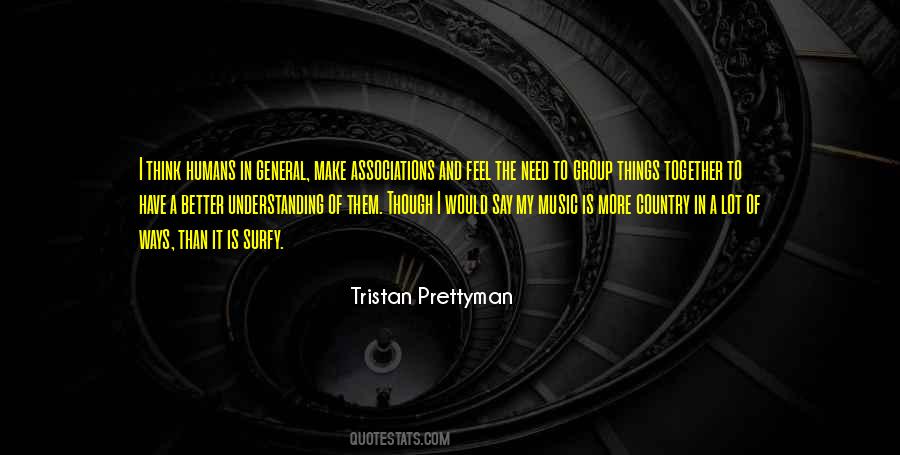 #30. I felt the sharp sting of emptiness and solitude that you feel so acutely and with such internal sorrow and wonder whenever music is performed well. - Author: Pat Conroy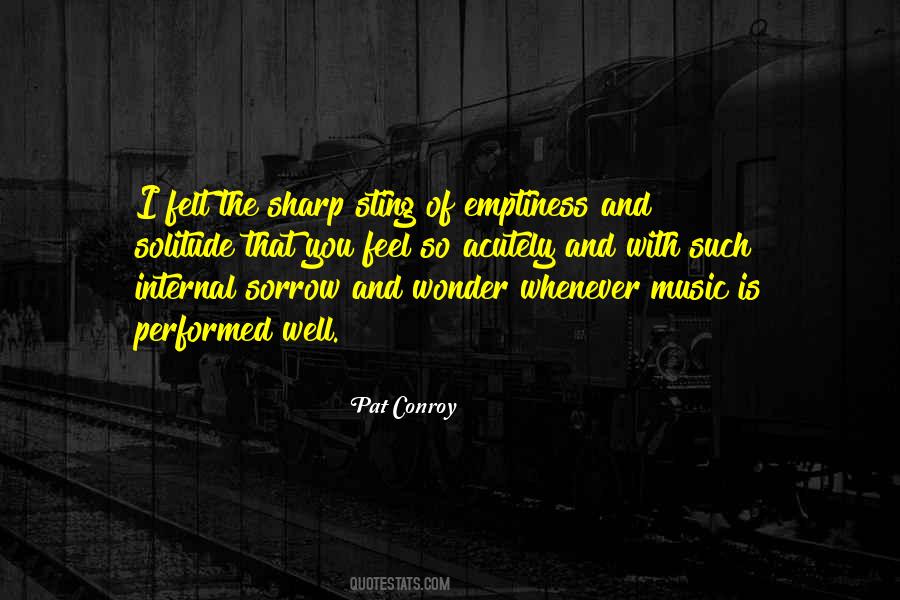 #31. But I love to write music. What I would love to do is give some of the songs I write to someone like Taylor Swift because I feel like she could sing them. - Author: Keegan Allen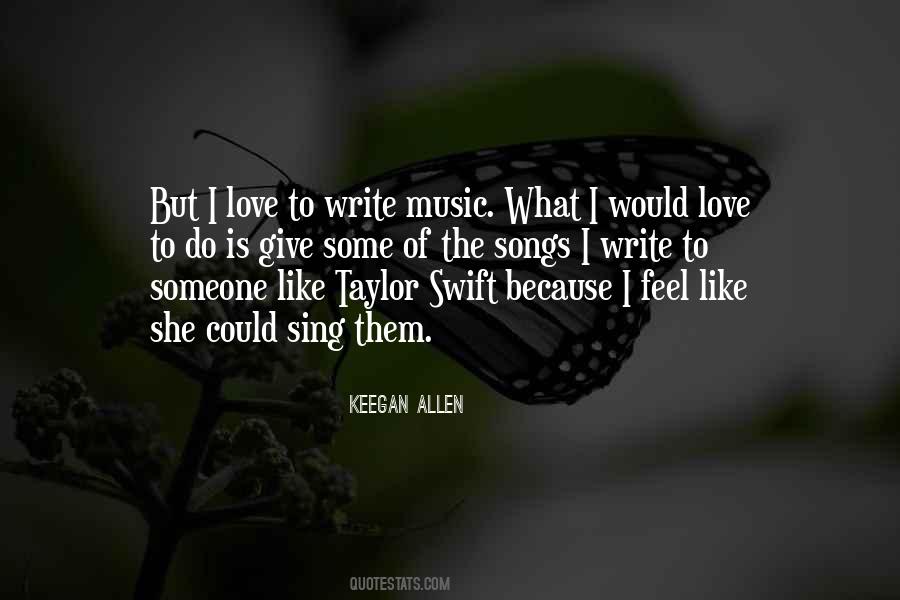 #32. When I hear a great musician, I can feel his life inside the music. - Author: John McLaughlin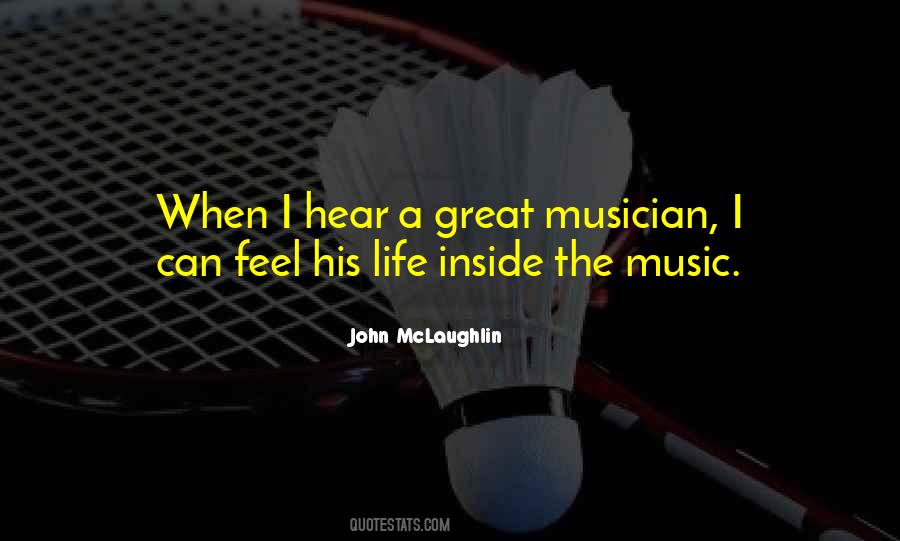 #33. I connect emotionally to these songs. I mean what I say when I say it, and that allows your audience to connect. That's the number-one reason why any music is successful, because you make people feel something. - Author: Michael Buble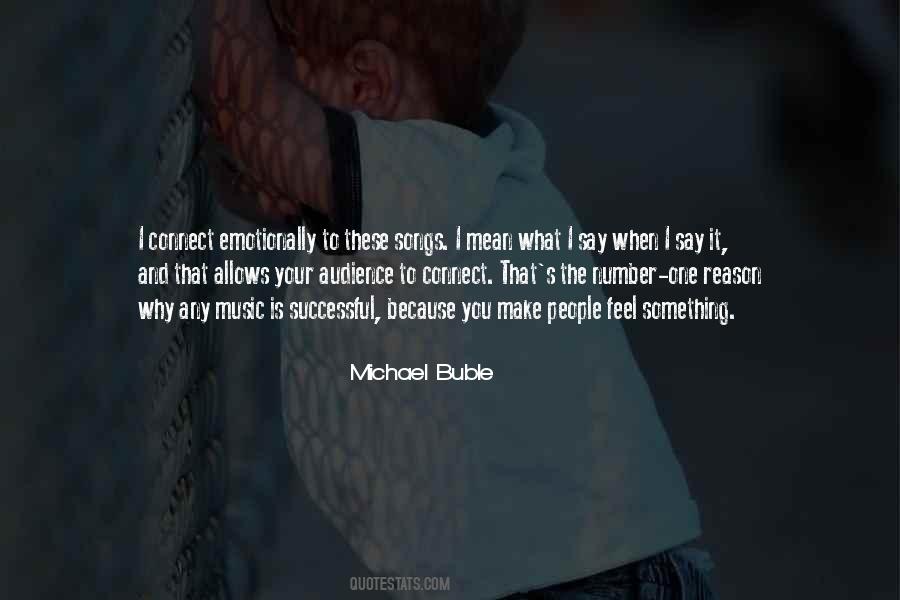 #34. The word feminism has negative connotations for men. Rather, we are wanting to celebrate females and their confidence. There is no political agenda behind my work. I'm just trying to make music that makes me feel good and confident. We've got a cool message. - Author: Nicole Scherzinger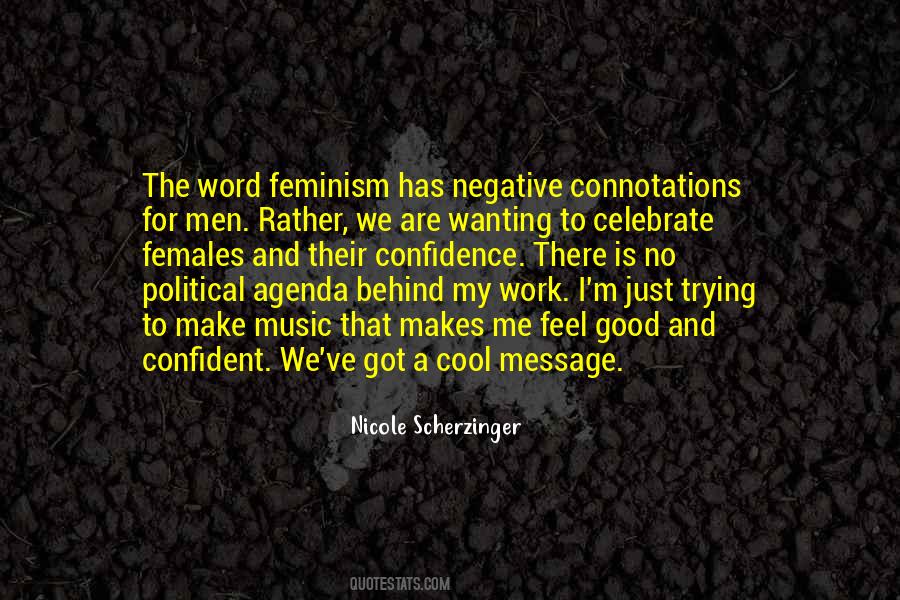 #35. I'm not a fan of anybody music who I feel like a sucka. I don't listen to you. They play you in the club, you can have the #1 jam, but if I know your character, how can I listen to your music? - Author: Gucci Mane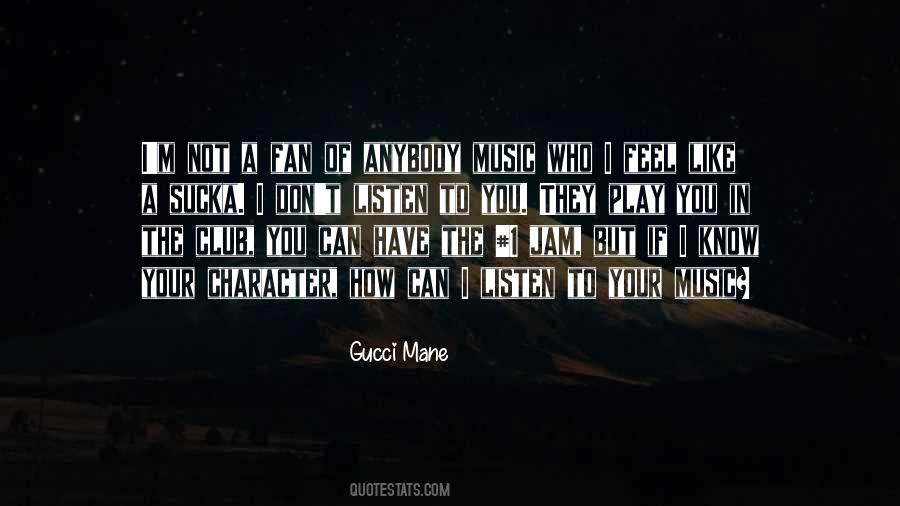 #36. I guess it was the first time I really thought about leaving. I don't just mean Iron Maiden, I mean quitting music altogether. I just thought, 'Nothing is worth feeling like this for.' I began to feel like I was a piece of machinery, like I was part of the lighting rig. - Author: Bruce Dickinson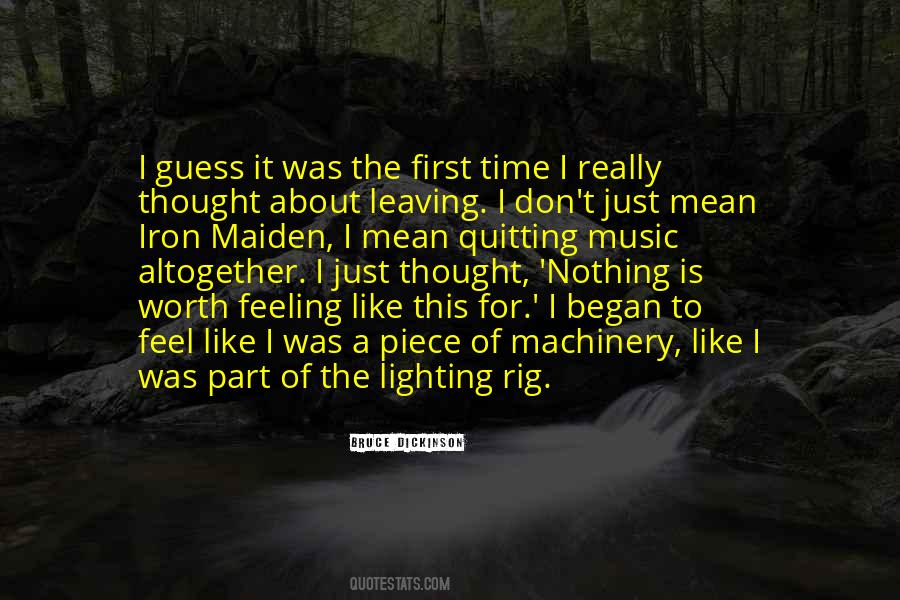 #37. Before our albums are released I feel like we still own it, that we have control over our music. But once it's out there in the world it's no longer ours. - Author: Chris Martin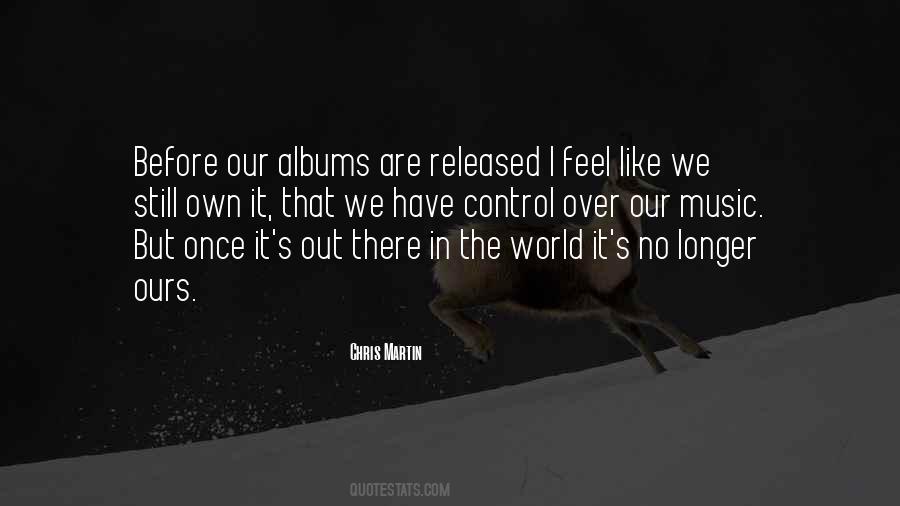 #38. There are men who love to gaze with the mind at things that can never be seen, feel at least the throb of a beauty that will never be known and hear over immense, bleak reaches the echo of that which is no celestial music but only their heart's vain cries. - Author: A.E. Coppard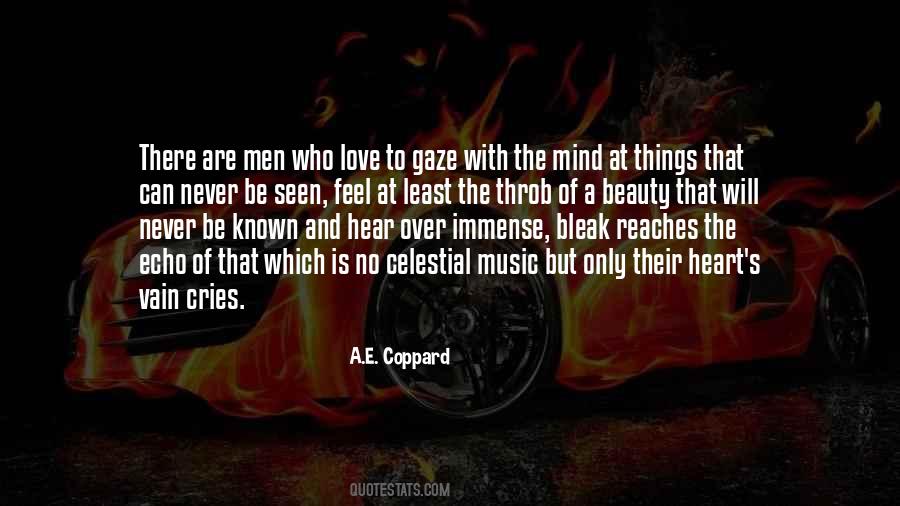 #39. Because people love music, I feel it's my responsibility to produce more of the music and to get it out to more people, so like I said, If the mainstream route does that without compromising me being happy as a person then that's something I'll do. - Author: Jhene Aiko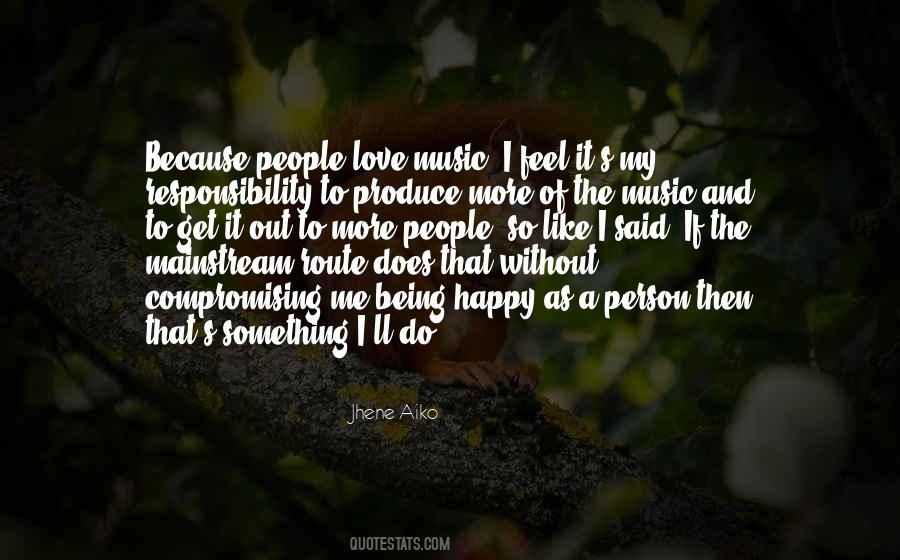 #40. We feel cold, but we don't mind it, because we will not come to harm. And if we wrapped up against the cold, we wouldn't feel other things, like the bright tingle of the stars, or the music of the aurora, or best of all the silky feeling of moonlight on our skin. It's worth being cold for that. - Author: Philip Pullman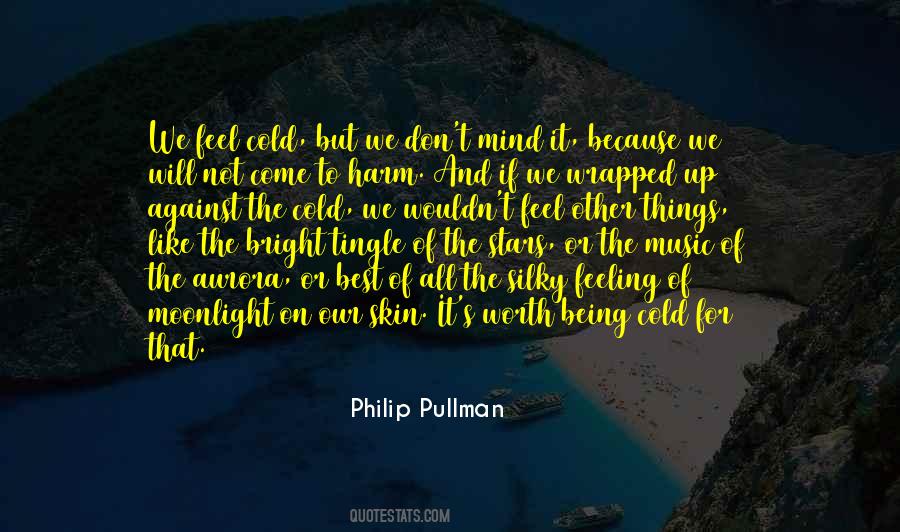 #41. I feel that I am pregnant by music, and it is the father and mother of my child. - Author: R. Kelly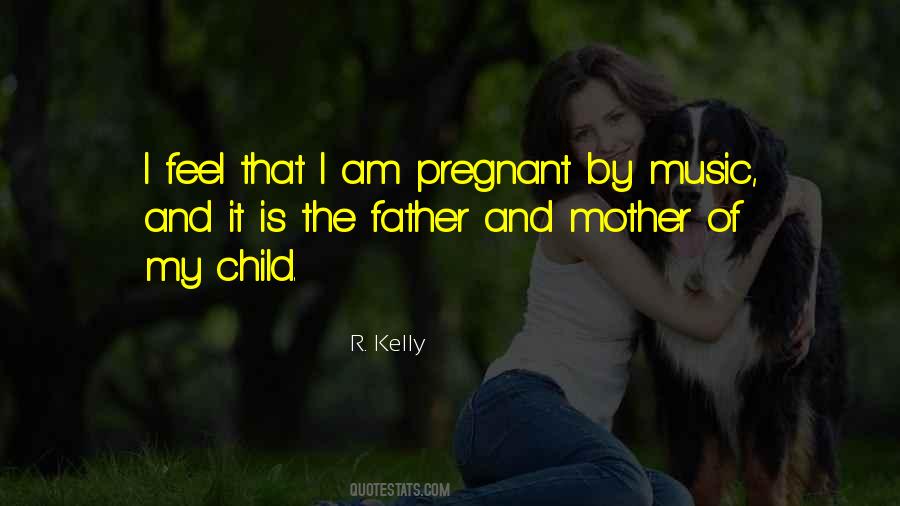 #42. I guess I would definitely feel a bit of a void in what people are getting from music these days. And I think that the problem lies not so much on the listener. People kind of listen to what is presented to them, whether it be on the radio or at a local venue. - Author: Ben Lovett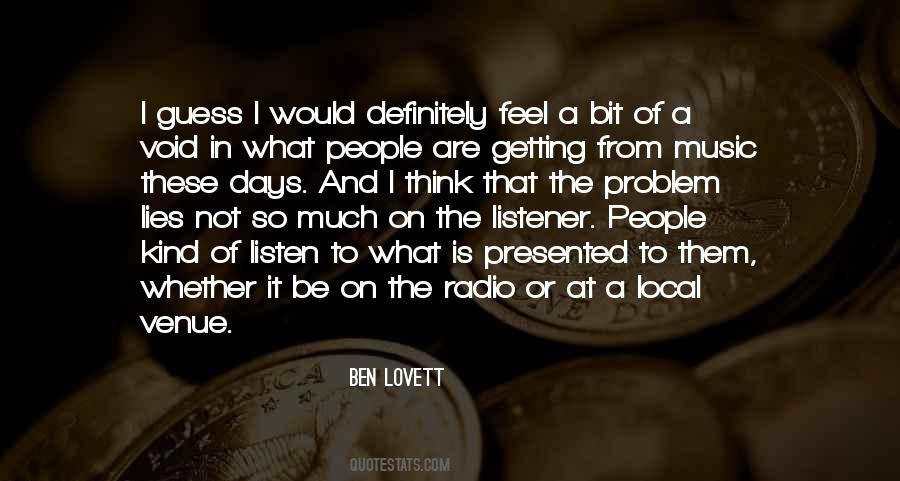 #43. I'd never been around a capella or really knew much about it. I feel like I know a lot about music, but what I didn't anticipate is that when every actor has to sing a different part and then do all their choreography on the same beat or on the same word, it's really hard. - Author: Jason Moore
#44. Children go with whatever makes them feel good - like if that's the color green or orange, they do that with their clothes. As I've grown older, everything reversed. My music, my personality - onstage those things became my colors. - Author: Janelle Monae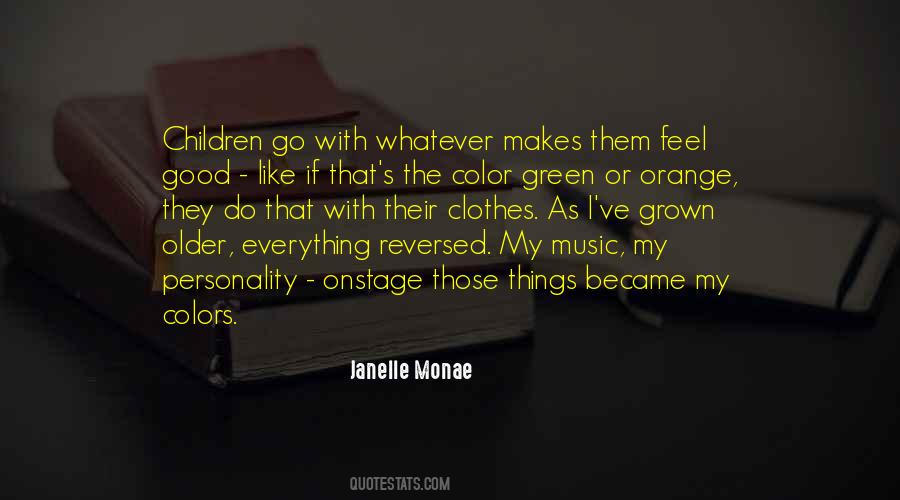 #45. For each of us is
A separate miracle
In a collective miracle

Brought together
For a moment
By a group of notes
And a scan of words

From the heart
Of one
Who dares
To think

That others
Might feel
As he feels - Author: Leonard Nimoy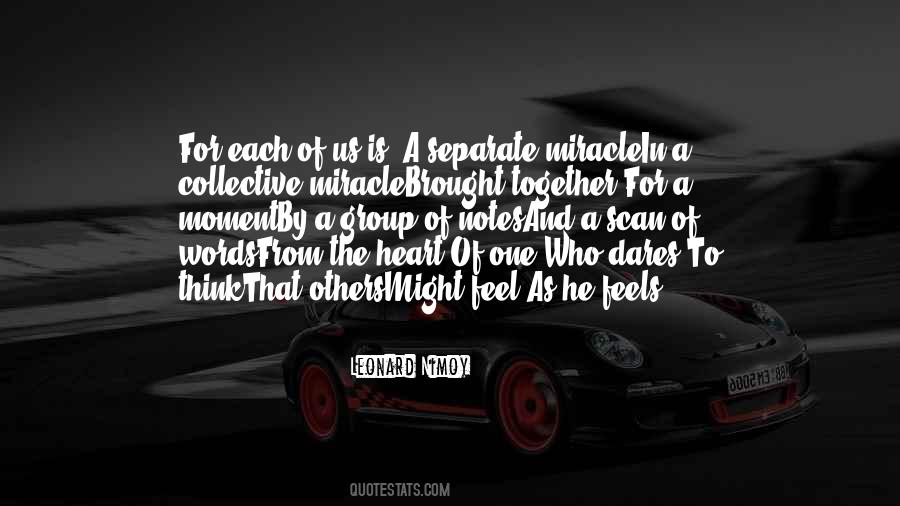 #46. One day when I have a band I will have a band name, but since it's just me I feel it should just be my name. For me it doesn't make much sense since the music is from me and about me. I haven't ever been in a band. - Author: Sharon Van Etten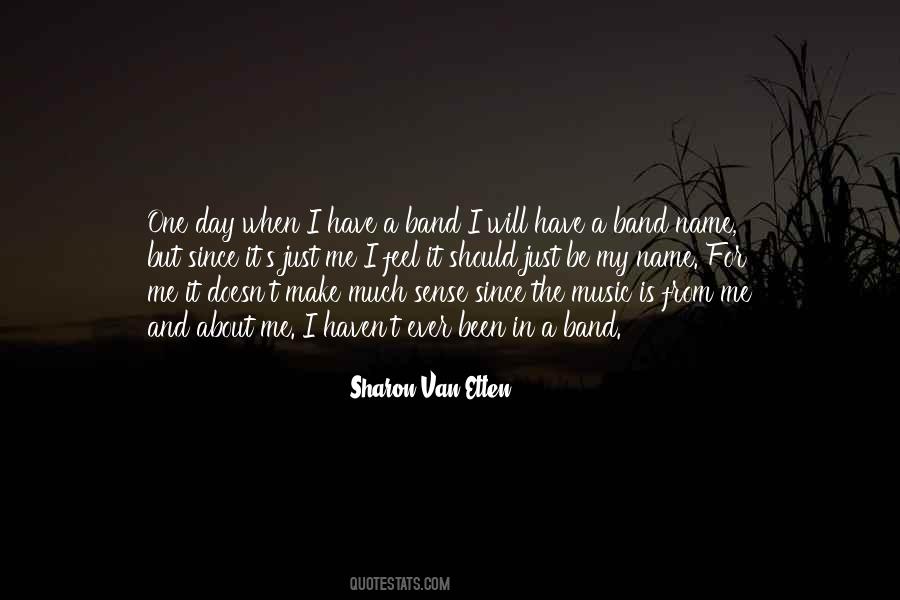 #47. Because I hate the ocean, theme parks and airplanes, talking with strangers, waiting in line. I'm through with these pills that make me sit still, are you feeling fine? Yes, I feel just fine. - Author: Aurelien Budynek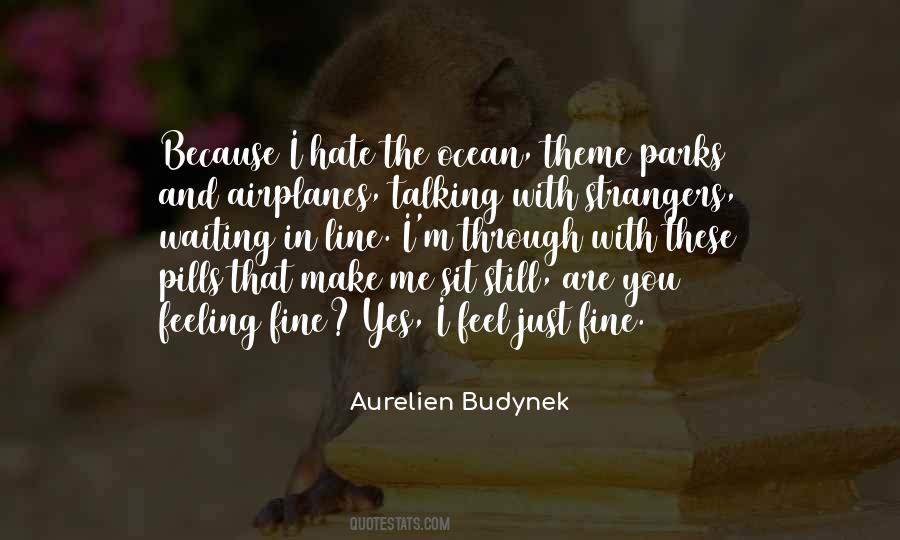 #48. Love is the music of the heart, which you can feel but can't hear. - Author: Debasish Mridha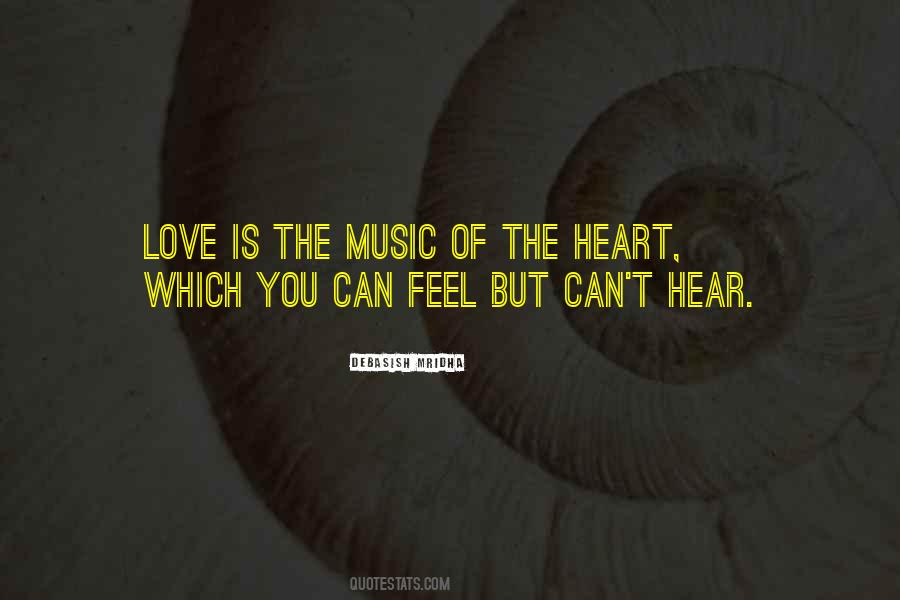 #49. It's crazy to think of myself as a musician. It's ridiculous that I get to do it, and I don't necessarily mean music. Getting to do something you really enjoy as a job is an incredible privilege, I think. I still don't really feel like a musician outside of the actual music. - Author: Ben Rector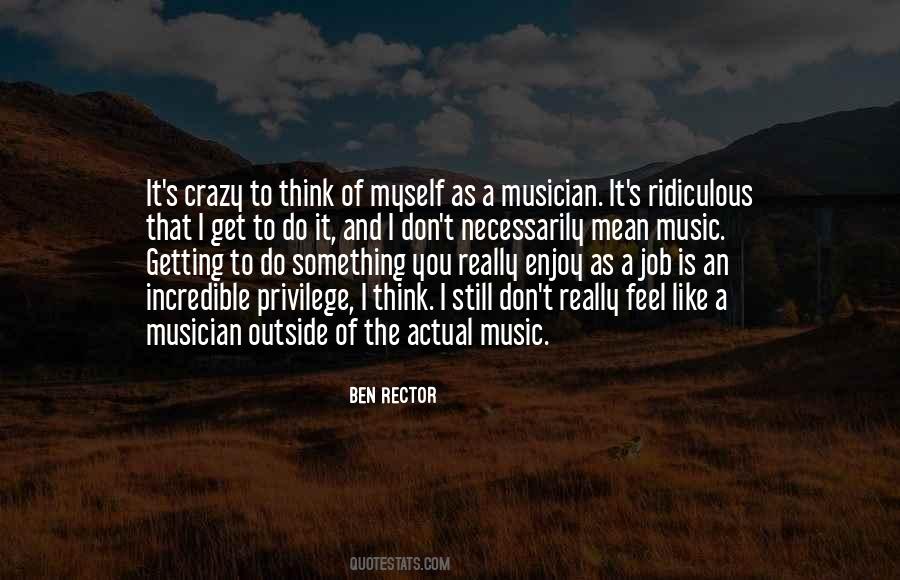 #50. When we're at the end of The Rite of Spring or of a Bruckner symphony, I want people to feel the music physically. - Author: Esa-Pekka Salonen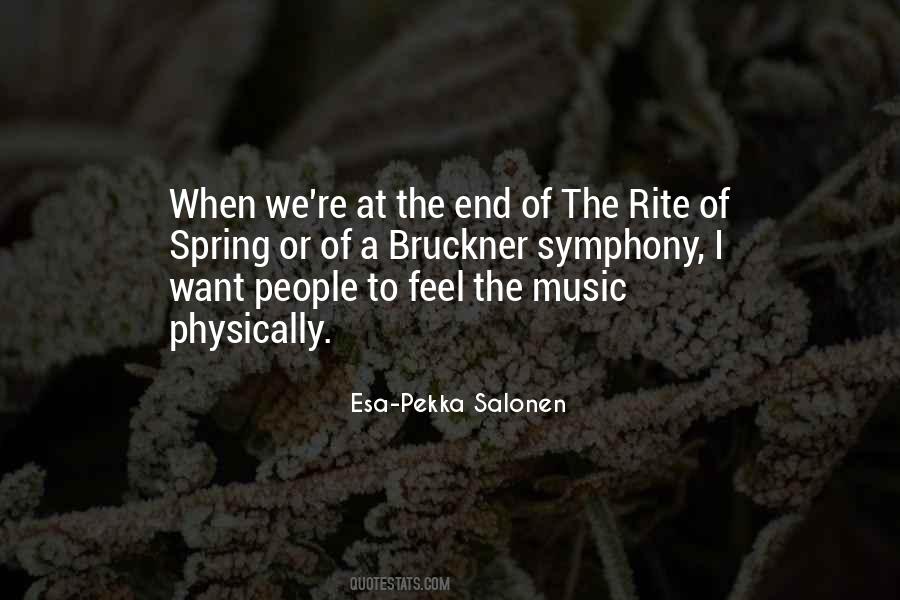 #51. To have the chance to see your music be elevated and to have almost universally positive response to that music, makes me feel better every day. I feel more confident and inspired, and that's fun. - Author: John Legend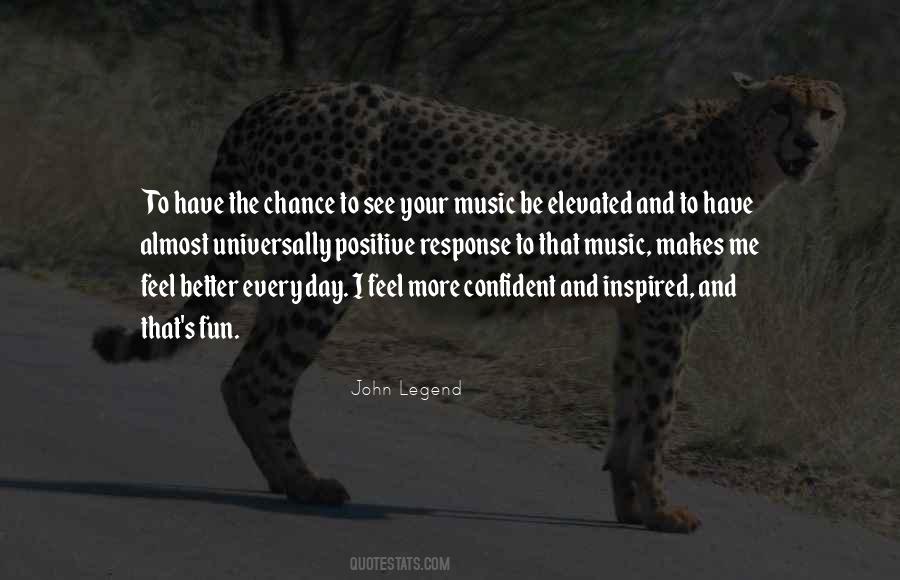 #52. It is enough for me by day To walk the same bright earth with him; Enough that over us by night The same great roof of stars is dim. I do not hope to bind the wind Or set a fetter on the sea
It is enough to feel his love Blow by like music over me. - Author: Sara Teasdale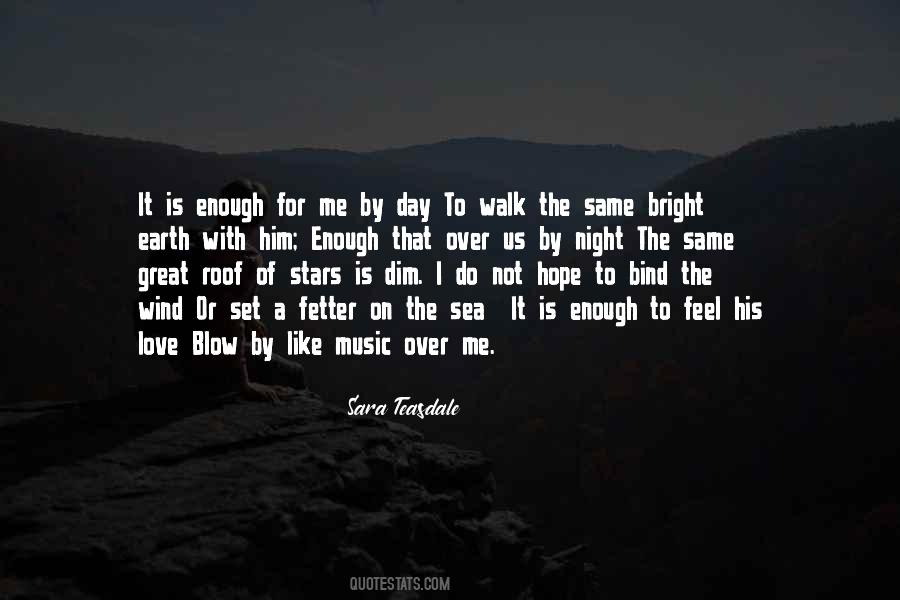 #53. I got to tell you, that if it weren't for that harmonica music, i might of just packed up and gone home, but it made me feel so good, I can hardly describe it. Sort of like my whole body is the harmonica and the music give me goosebumps when I play it. - Author: Winston Groom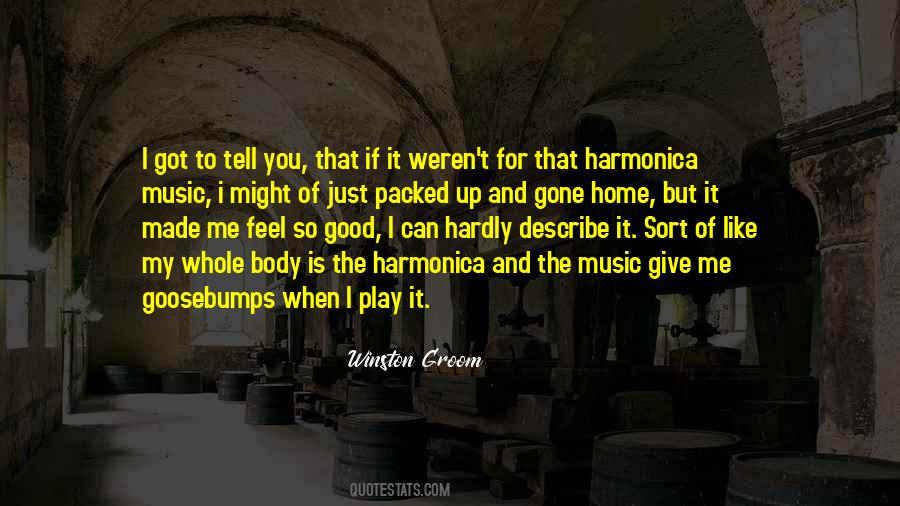 #54. I feel I must fight for [my music], because I want women to turn their minds to big and difficult jobs; not just to go on hugging the shore, afraid to put out to sea. - Author: Ethel Smyth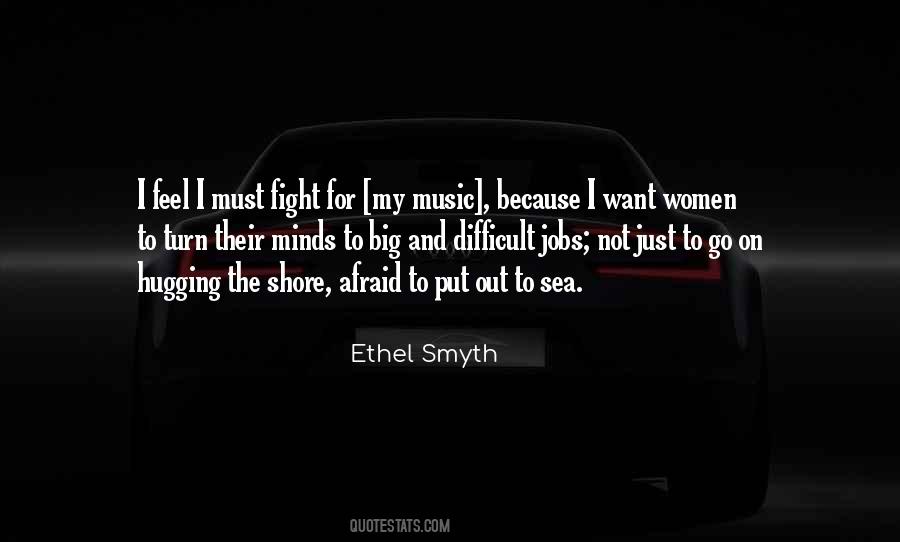 #55. It's hard to view myself sometimes as even in the same league as other musicians, mainly because there's so much music before me. I feel overinformed by different styles and different possibilities. - Author: Ryan Adams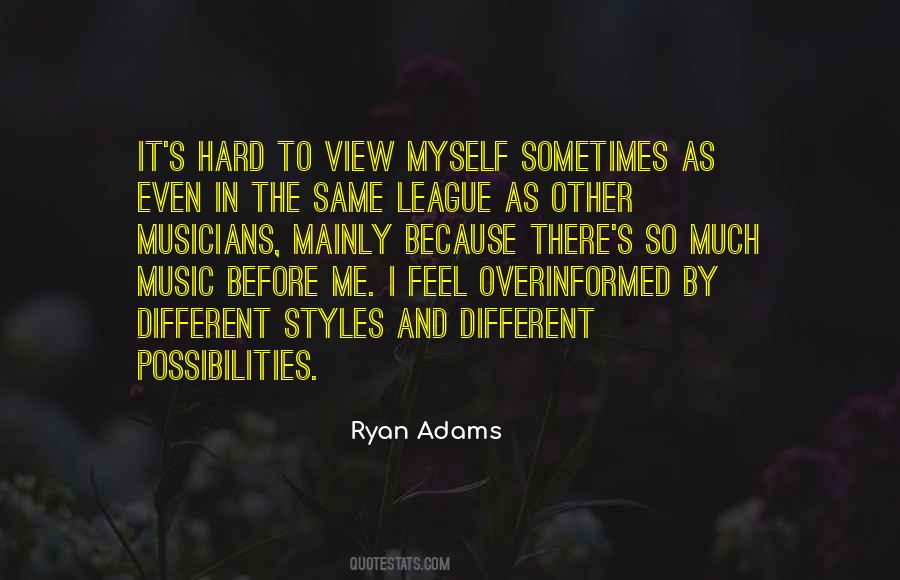 #56. I wish I finished music school, because then I feel like I could talk more about the dissonant notes. - Author: Petra Haden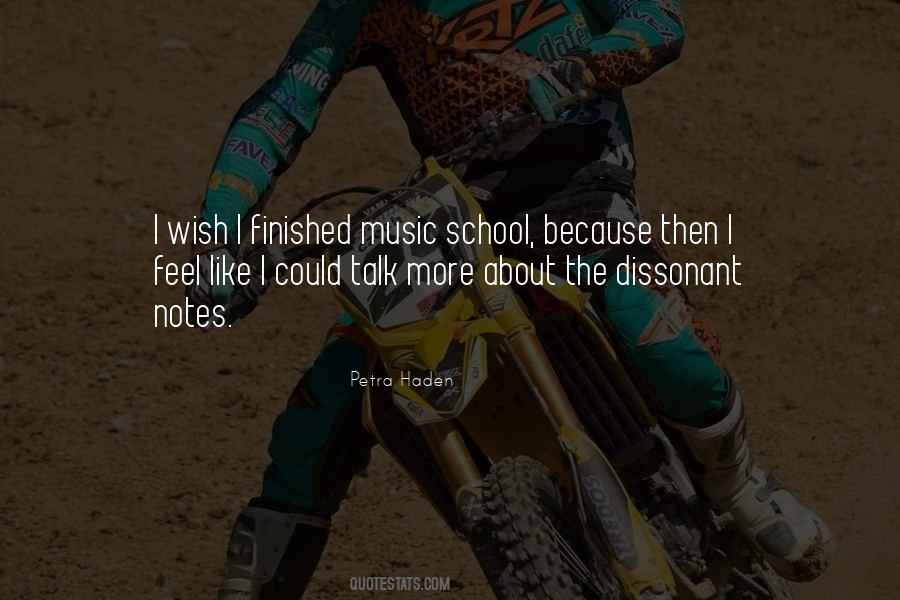 #57. I'm really very glad that I had skating to be my love and my escape. I think that it always gave me something that made me feel good, and it was music, and it was peaceful, and not a lot of the other stresses of life. - Author: Dorothy Hamill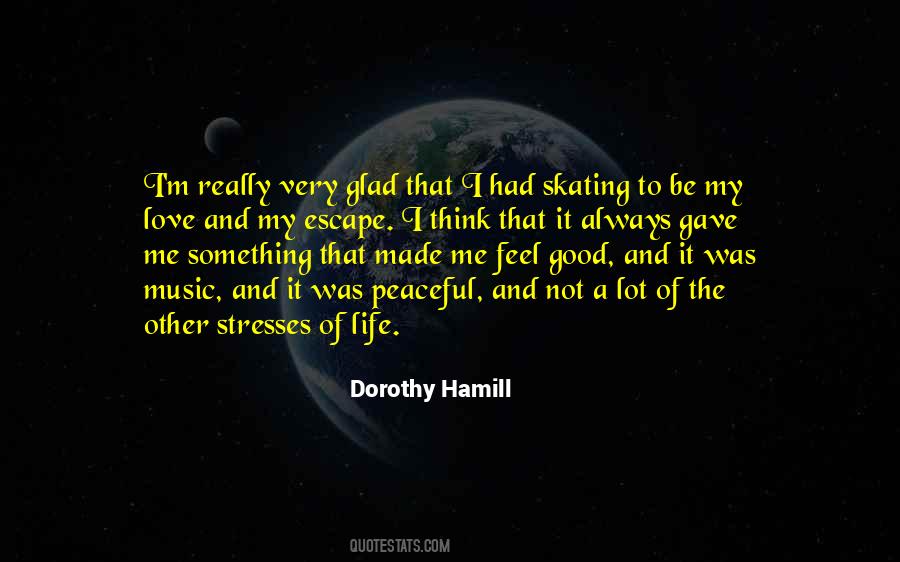 #58. People are not even going to have time to listen to radio in their cars because they are going to be talking on their phones or twittering, or BBM'ing. So I feel like the only time people are going to hear music is when your phone rings, so that's the whole market I'm going after. - Author: Spencer Pratt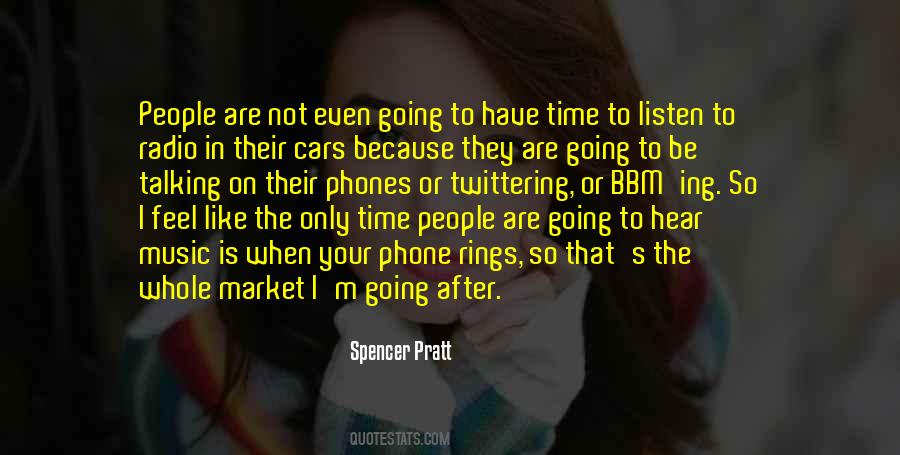 #59. I don't really feel like a rock artist, but I guess in the small category of the world of music genres, that's where I fall in because I've got a guitar. - Author: Courtney Barnett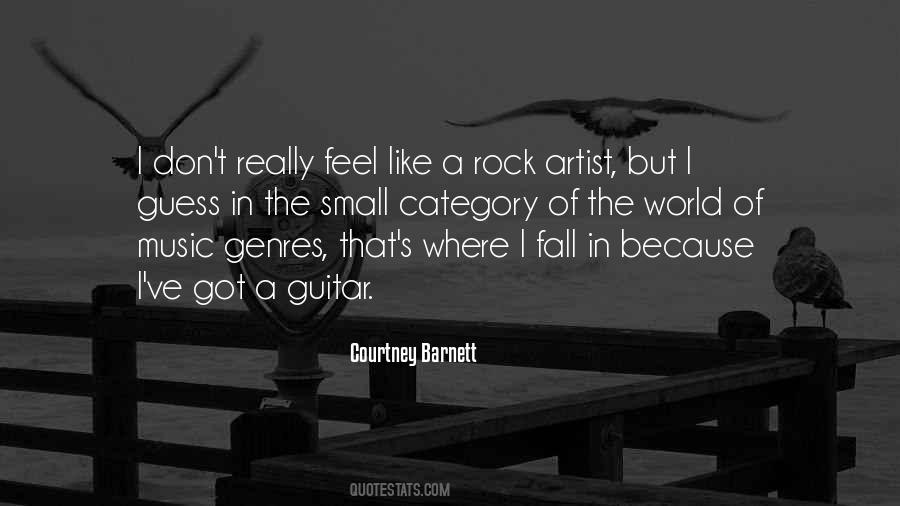 #60. It's sort of pathetic to just play other people's songs all the time, even if you don't feel like you have the chops to write good music. - Author: A.D. Aliwat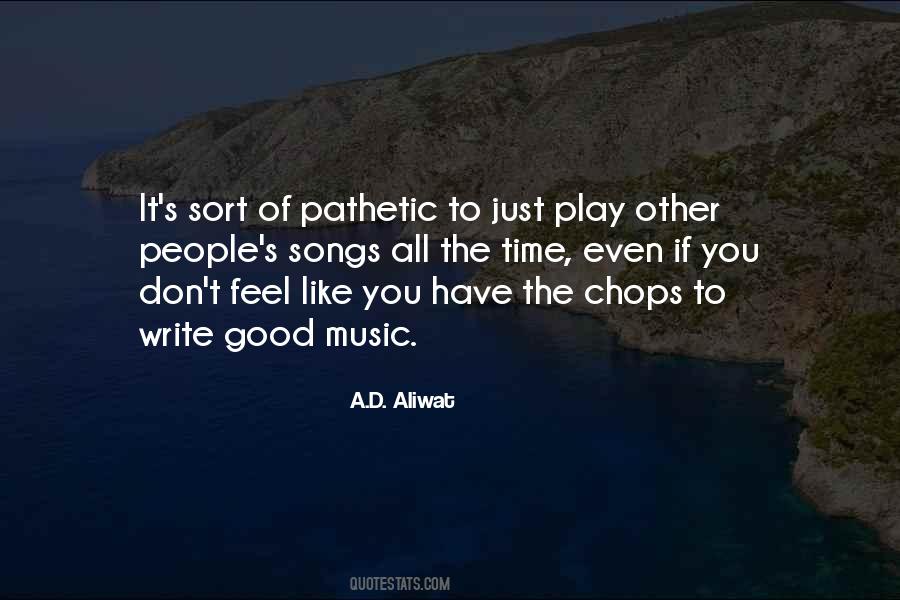 #61. For a moment my hands stopped aching from the cold, and instead longed for the familiar feel of music running through them. - Author: Patrick Rothfuss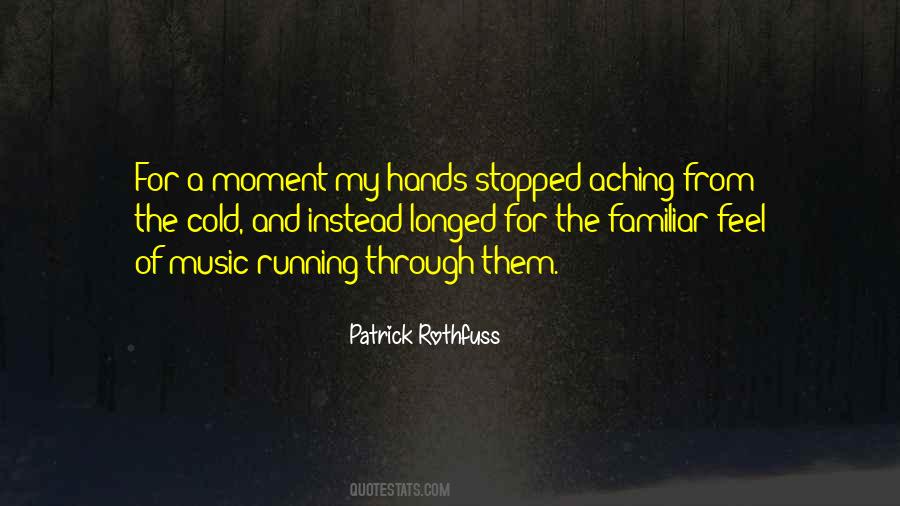 #62. I'm not a supermodel. That's not what I do. What I do is music. I want my fans to feel the way I do, to know what they have to offer is just as important, more important, than what's happening on the outside. - Author: Lady Gaga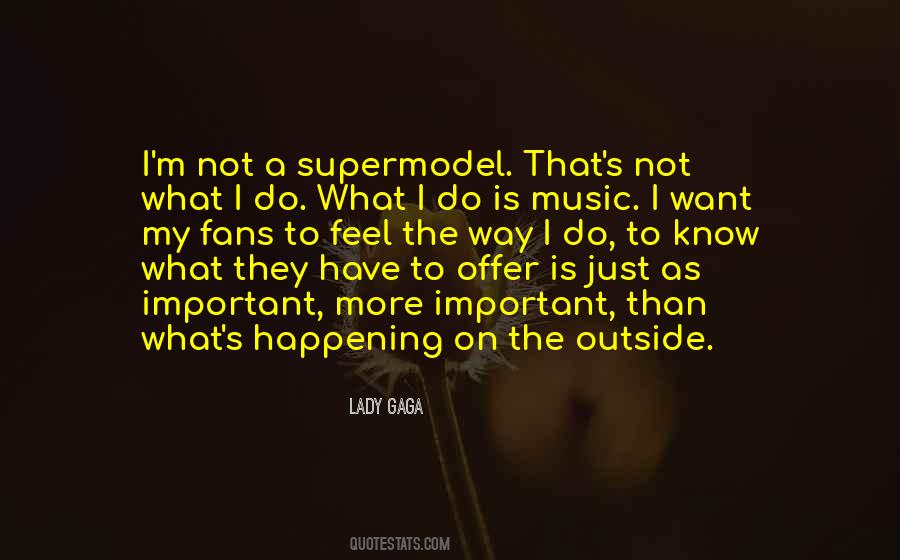 #63. Music enhances the education of our children by helping them to make connections and broadening the depth with which they think and feel. If we are to hope for a society of culturally literate people, music must be a vital part of our children's education. - Author: Yo-Yo Ma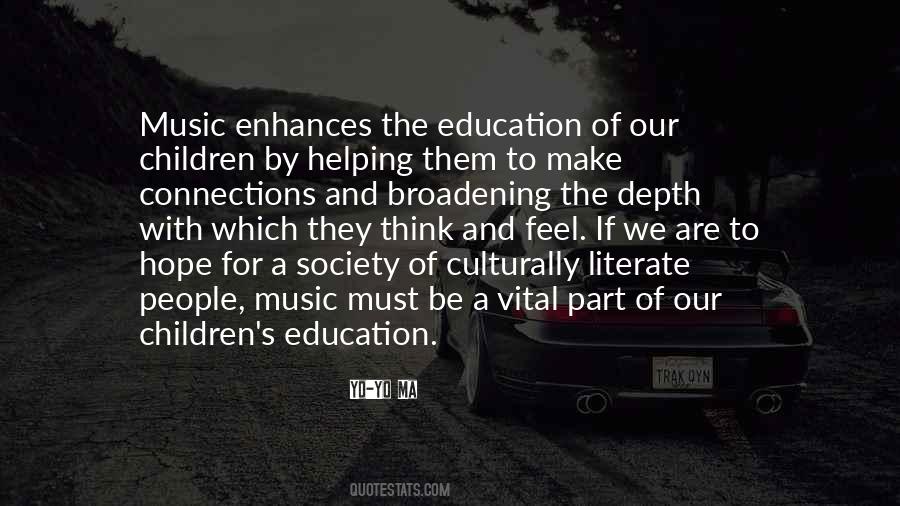 #64. It seems the activity of expressing sound to do with music has just started blooming - and because of that, the beginners feel like they're professionals, and the professionals feel like they are beginners, which is very healthy. - Author: Ornette Coleman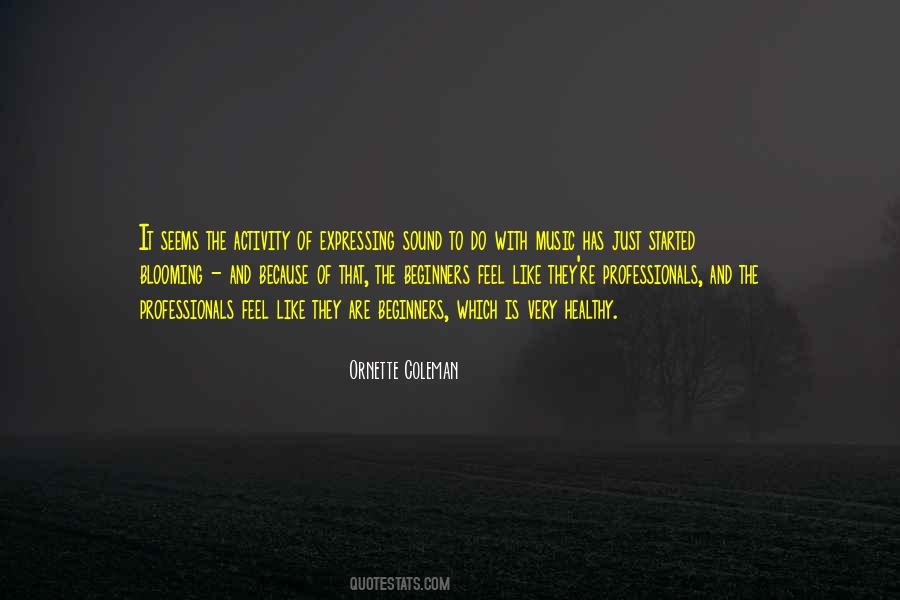 #65. You've got to go down the road you naturally go down, and for me it was pop, folk country, just feel-good music. I suppose most of my songs are very up-tempo. - Author: Shane Filan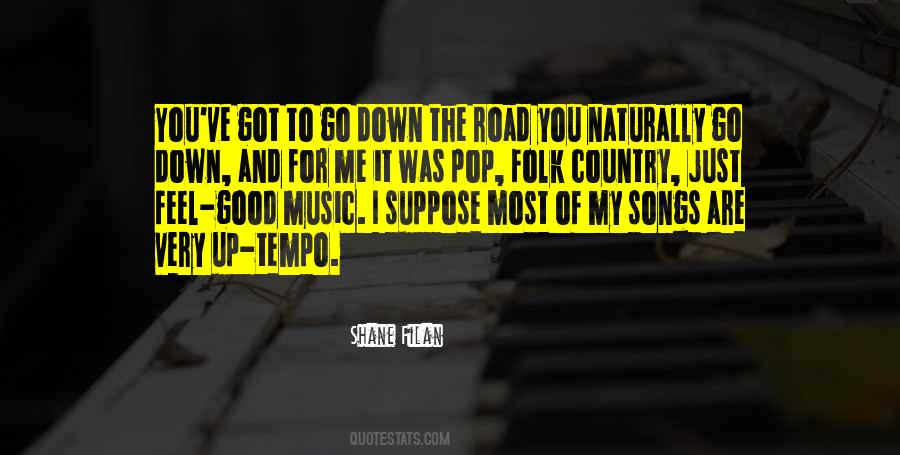 #66. One of the good things about globalization is it has created a single international music community, and I feel very much part of it. - Author: The Edge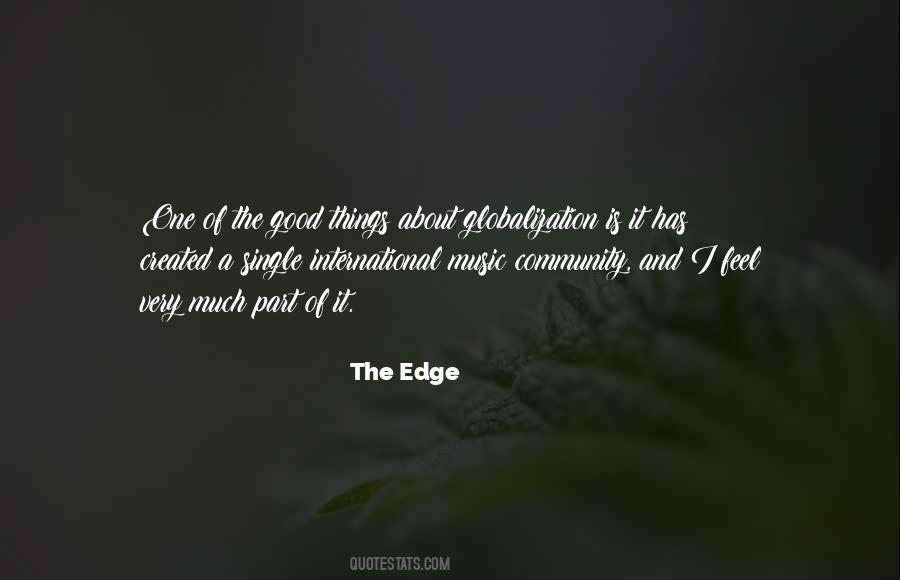 #67. If only the whole world could feel the power of harmony. - Author: Wolfgang Amadeus Mozart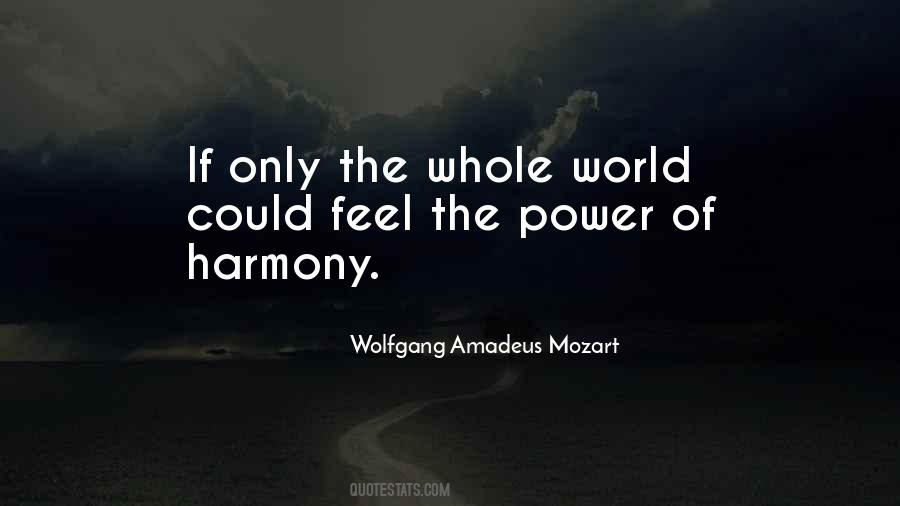 #68. Half the time I feel like I'm appealing to the downer freaks out there. We start to play one downer record after another until I begin to get down myself. Give me something from 1960 or something; let me get up again. The music of today is for downer freaks, and I'm an upper. - Author: Wolfman Jack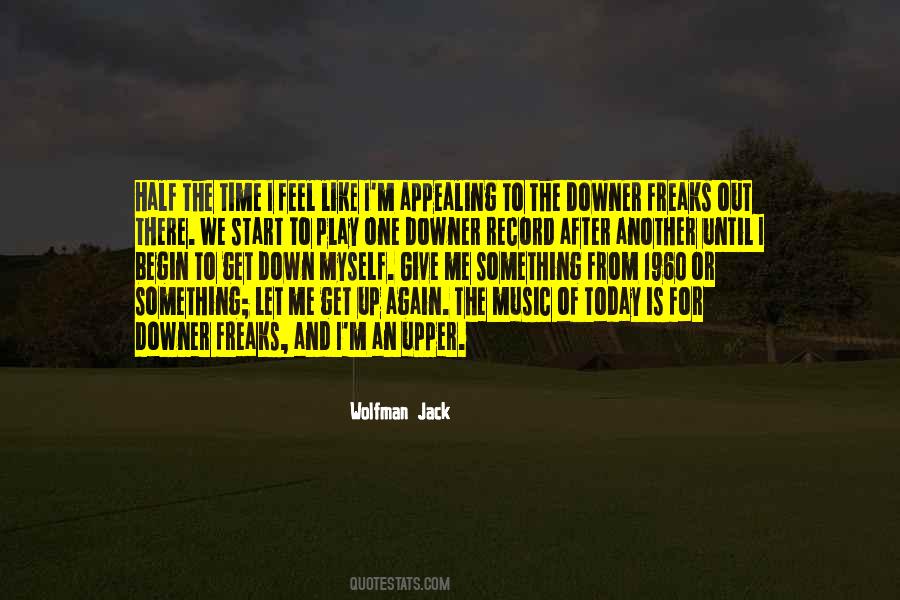 #69. We don't typically use music. We don't manipulate our audience into what we think it should feel. We tell the truth. That's 'Southland' Style' ... and I love it! - Author: Shawn Hatosy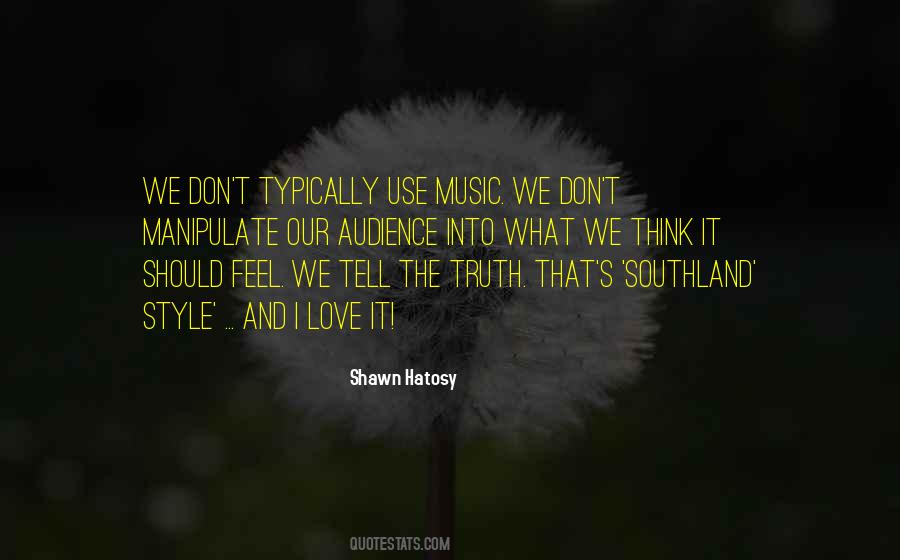 #70. I personally feel the need to experience life and new music and ideas before I can sit down and start writing music again. - Author: DJ Shadow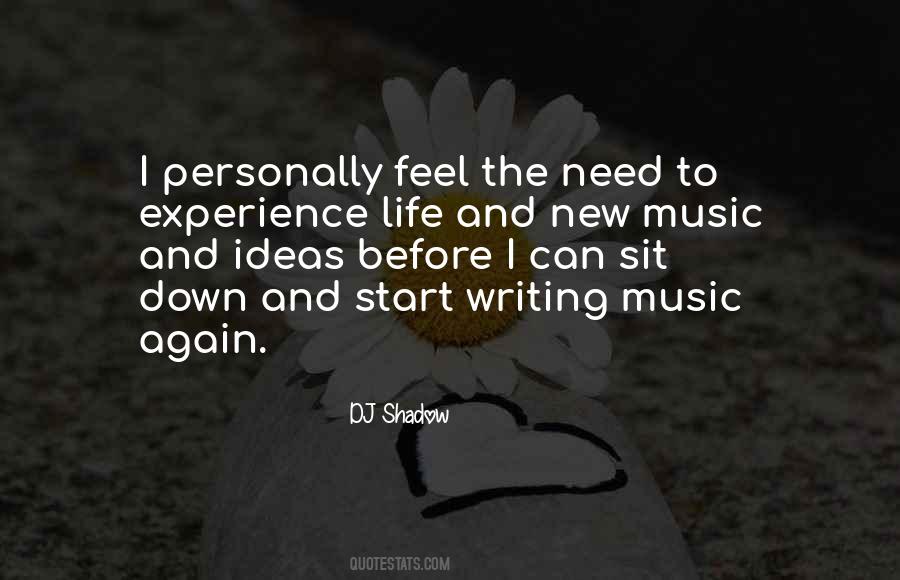 #71. I don't know if I was as ambitious as to change the world, but I do feel like - the reason why I called the album "Our Version of Events" was that I feel a lot of people are not represented in pop music and popular culture. - Author: Emeli Sande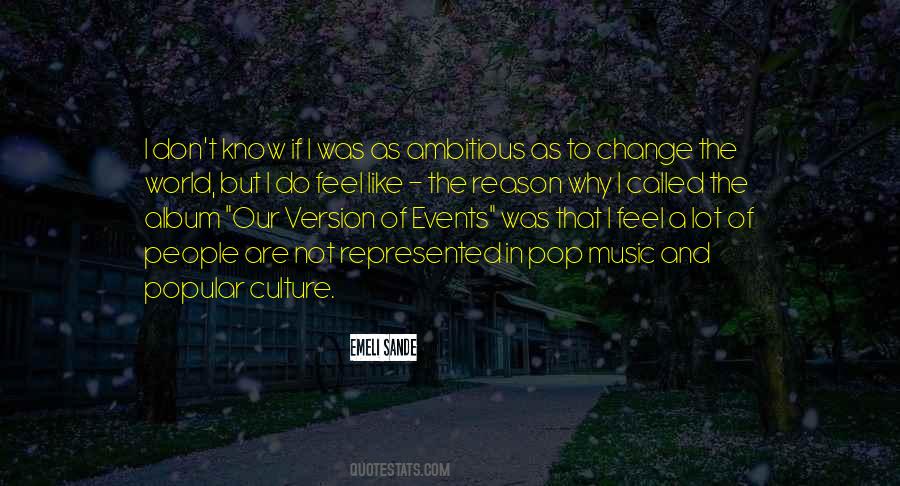 #72. I was sick of fast, aggressive music; I felt like I needed to make a poppy thing. But, right now, I feel like I need to make a Hawkwind/Sabbath record. It gets boring if you just do the same thing all the time. - Author: Ty Segall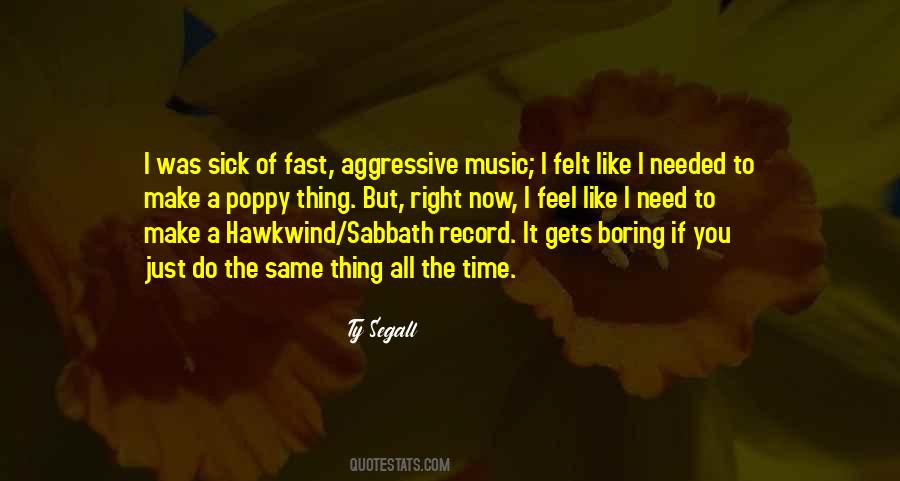 #73. And the guilt and the loathing slipped away, pushed out by the overwhelming gratitude that I was alive, that I could feel, that I could hear the music. - Author: Amy Harmon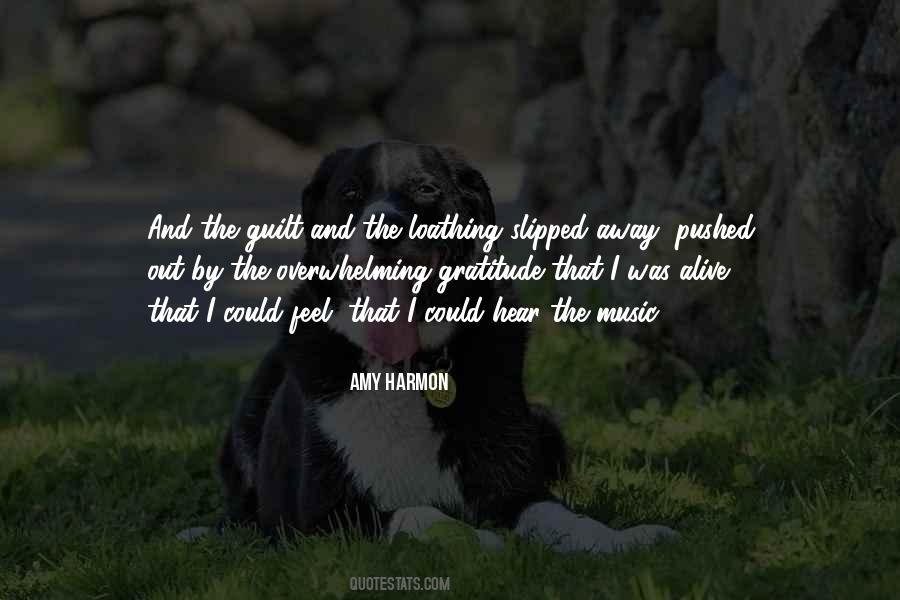 #74. Every now and then when I feel the doubt, I look inside myself and I see the way. The whole world full of possibilities. So you could be you and I could be me. - Author: Jonathan Anthony Burkett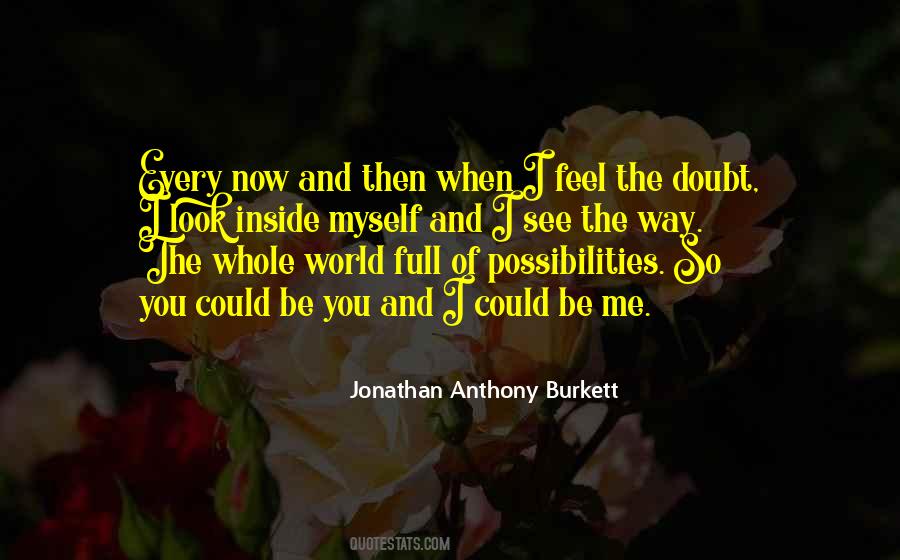 #75. I believe that regardless of how many people you've listened to or emulated over the years, your sound is you and what you really feel inside. - Author: Clark Terry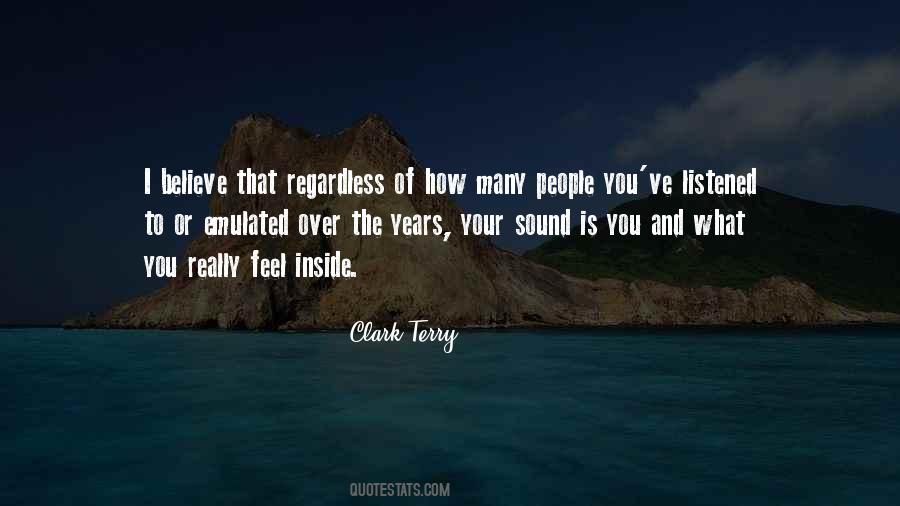 #76. I feel connected to my generation through the music, but I also fear for us. We're in a very self-destructive state where we're addicted to outside opinions and we all feel like we have fans. - Author: Drake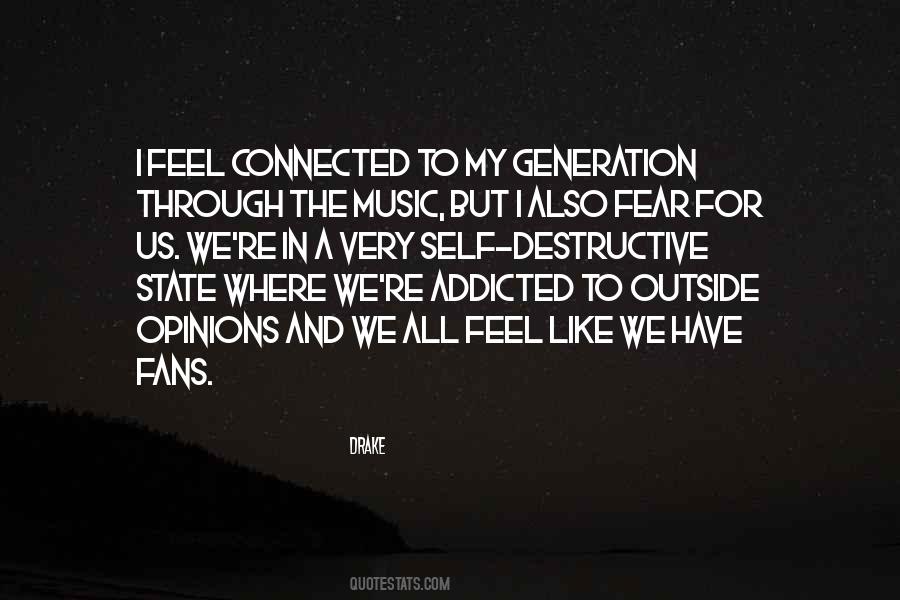 #77. Everybody knows in the business how I feel about country music. I'm an old traditionalist. Then they just call me an old man and stuck in my old ways, but with all the fans I've got out there, I can't be all that wrong. I do love traditional country music. I love the good stuff. - Author: George Jones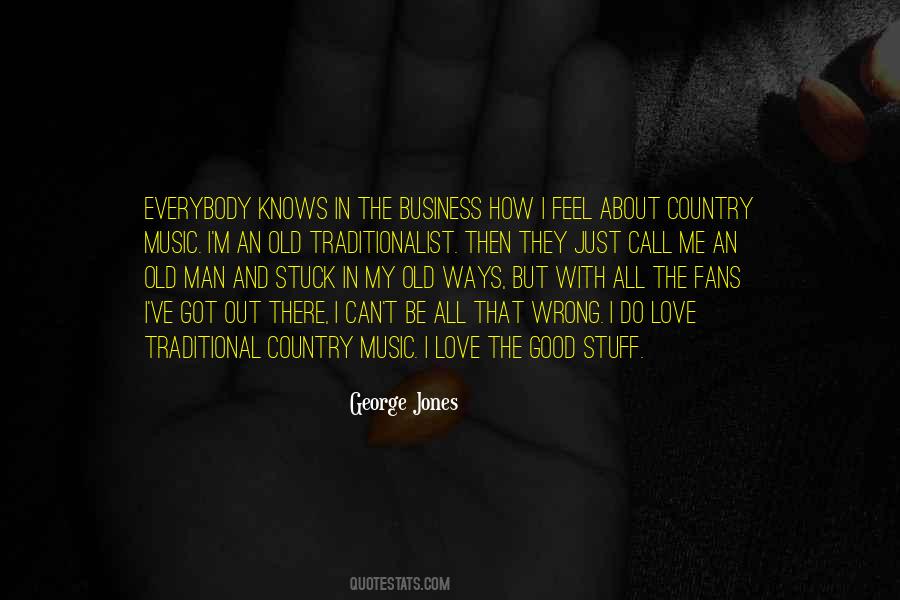 #78. As I put out more music, I really want to get to the point where people feel like my show is a must-see. - Author: Big Sean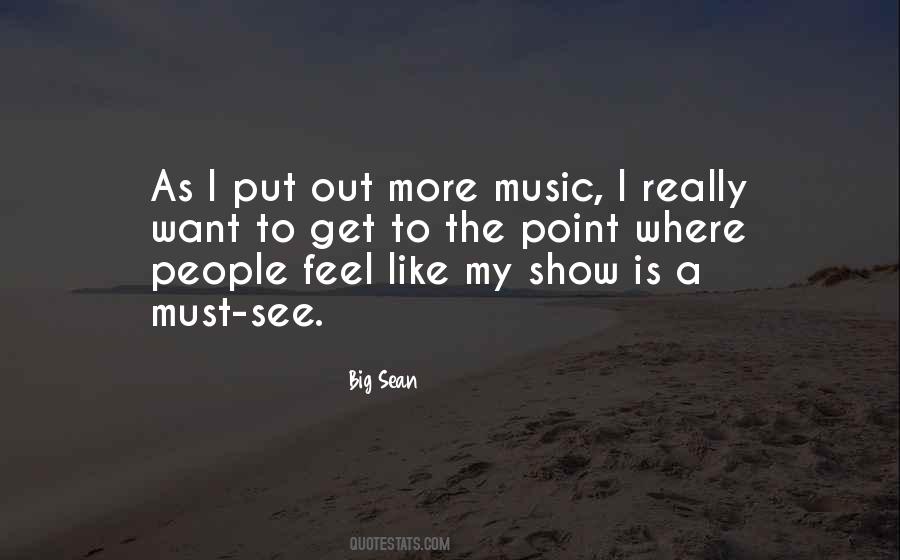 #79. There are parallels between the music and film worlds, but they're really very different. I feel like they're just two different ways to channel my creativity. - Author: Mandy Moore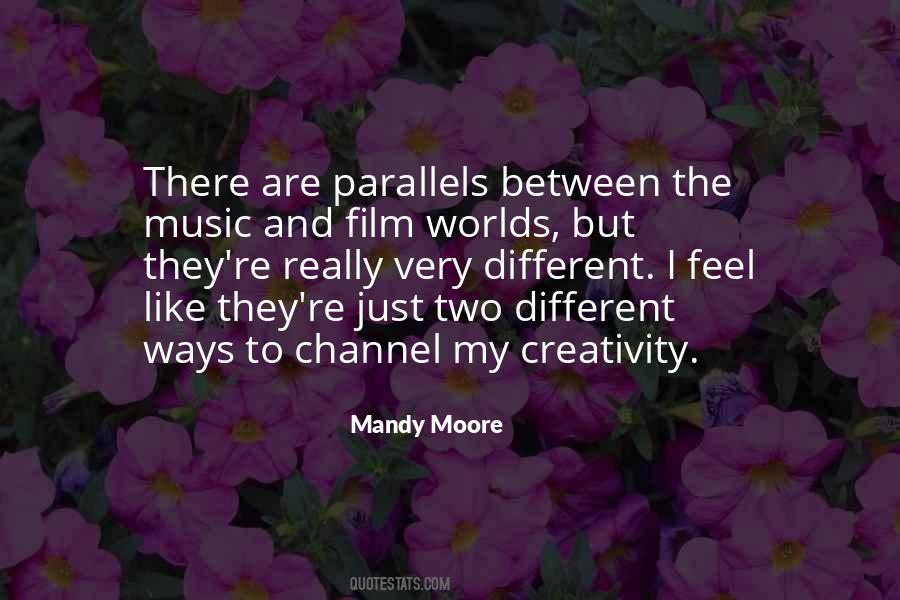 #80. I worked hard all my life as far as this music business. I dreamed of the day when I could go to New York and feel comfortable and they could come out here and be comfortable. - Author: Tupac Shakur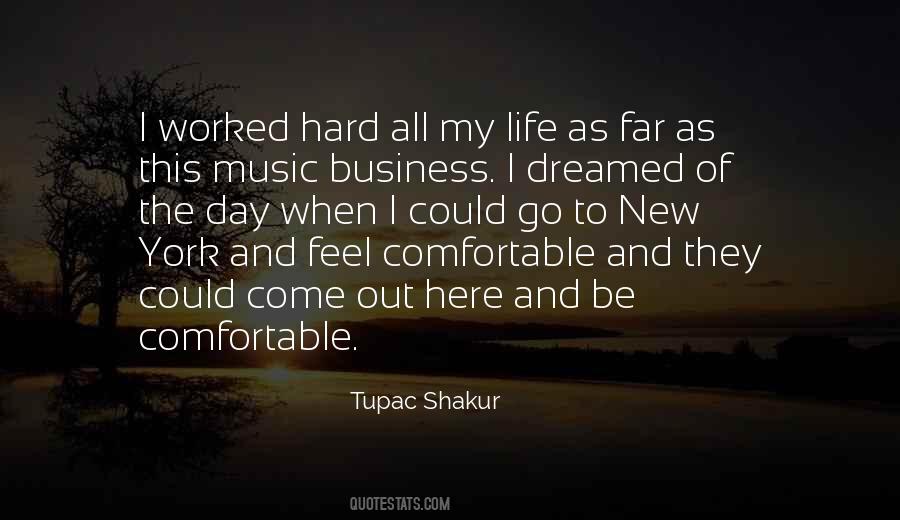 #81. It was the moment I realized what music can do to people, how it can make you hurt and feel so good all at once. - Author: Nina LaCour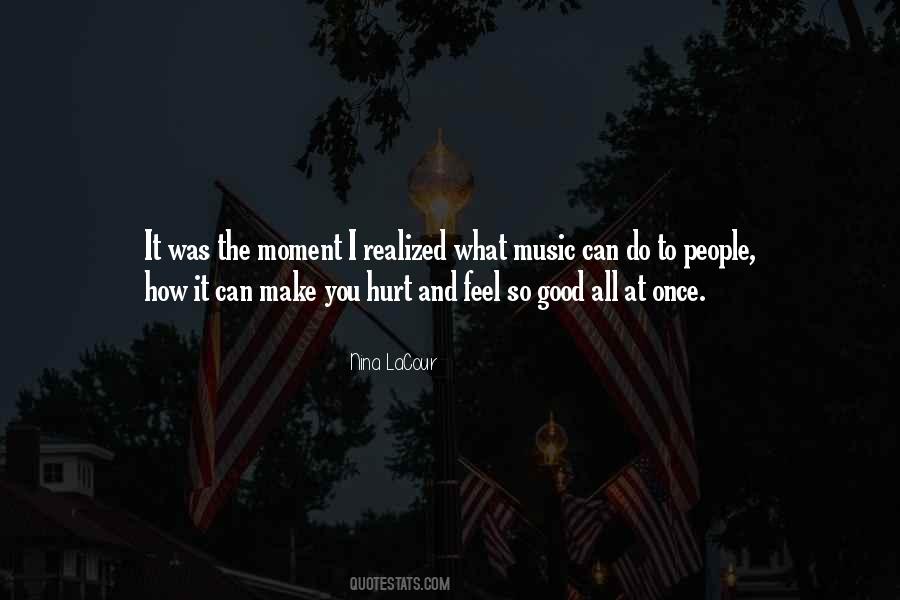 #82. Music for me is something I prefer to keep away form the whole business part of my life. I feel like everything I do, in a way, has some sort of business around it. So with my music I can have my privacy. If people don't have to pay for it then I think they can be a little more open to new ideas. - Author: Milla Jovovich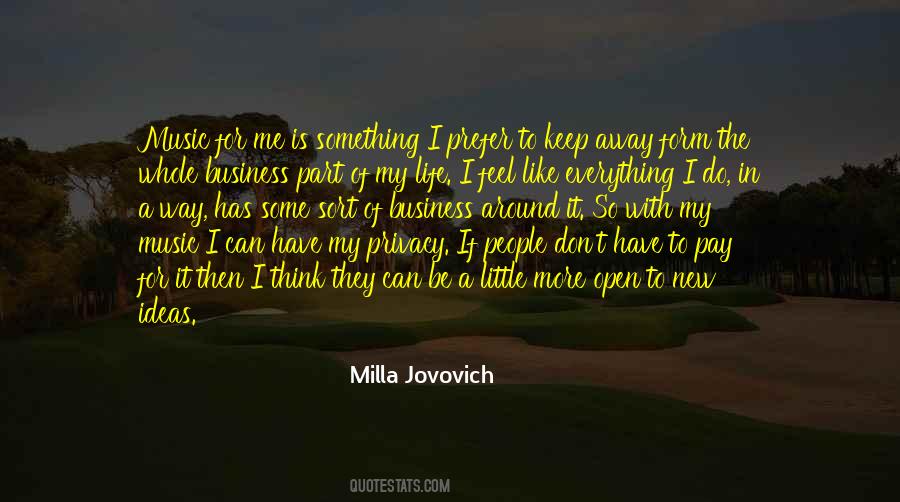 #83. We're all dealt with the same hand here, so to speak. I feel like I've had it a lot better than most people. I've had the opportunity to travel and play music all my life. - Author: Levon Helm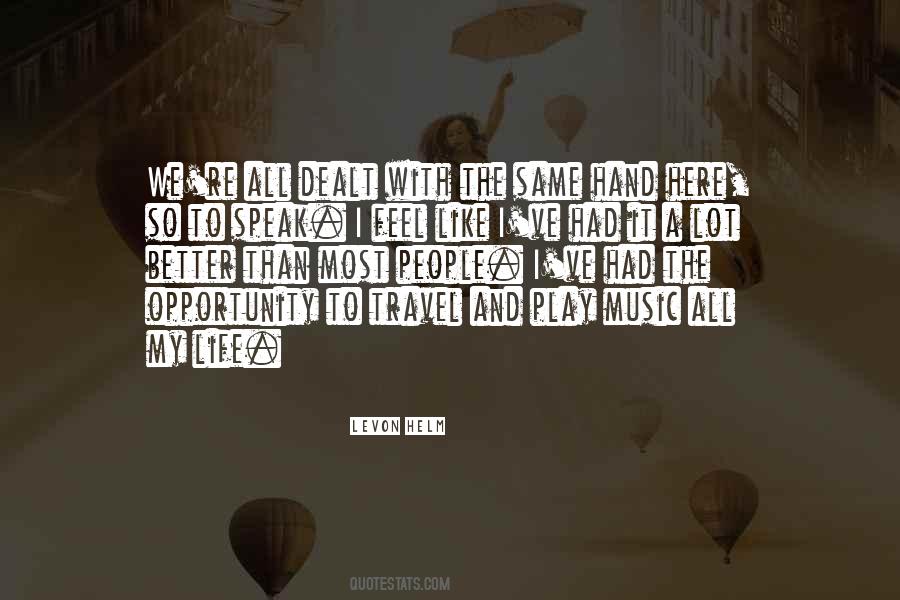 #84. I think trance music is the only music you can listen to without taking drugs. You can really feel the emotions in it. You can get on another level without the drugs. If you listen to techno, it's so monotone that you really need drugs to enjoy it. - Author: Tiesto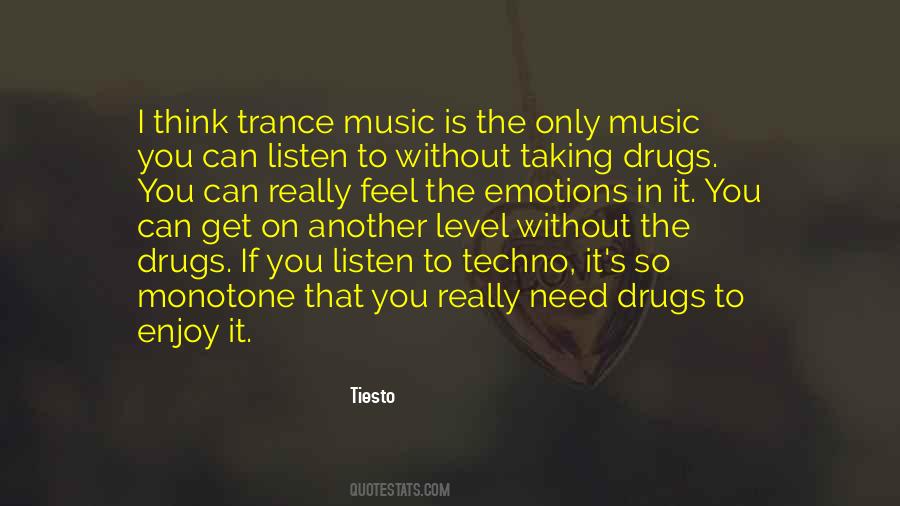 #85. I feel like vocals are to music what portraits are to painting. They're the humanity. Landscapes are good and fine, but at the end of the day everyone loves the Mona Lisa. - Author: Grimes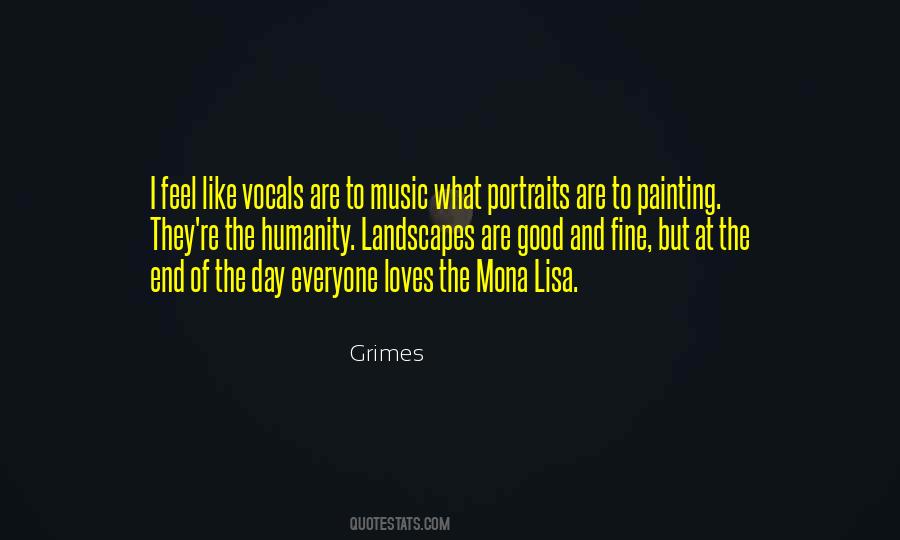 #86. The mall is good for hearing new music because you hear music everywhere. I like to walk around the mall and hear what the kids are listening to, or what's the feel of Middle America, cause that's what the mall is. - Author: Ester Dean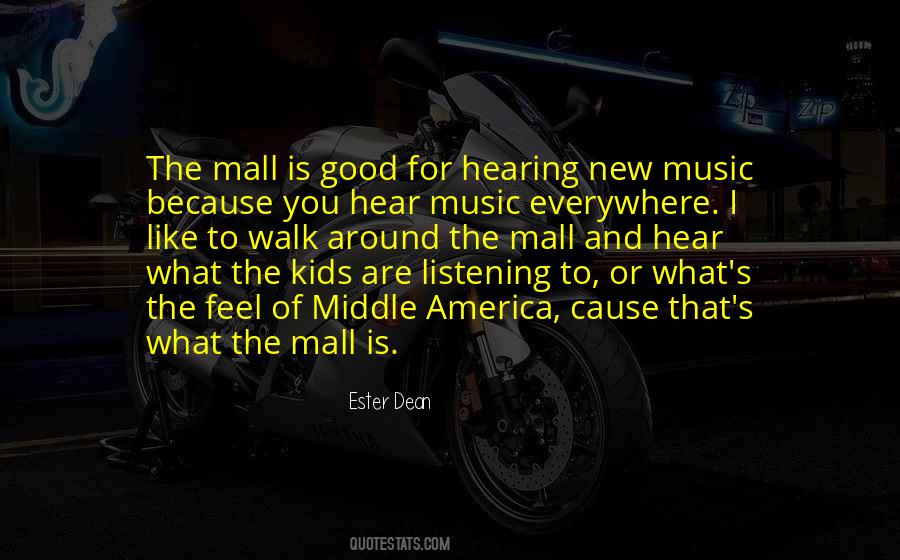 #87. Letter from Van Gogh to Gauguin: Ah! my dear friend, to make of painting what the music of Berlioz and Wagner has been before us ... a consolatory art for distressed hearts! There are as yet only a few who feel it as you and I do!!! [Letter 739, Arles, 21 January 1889] - Author: Liesbeth Heenk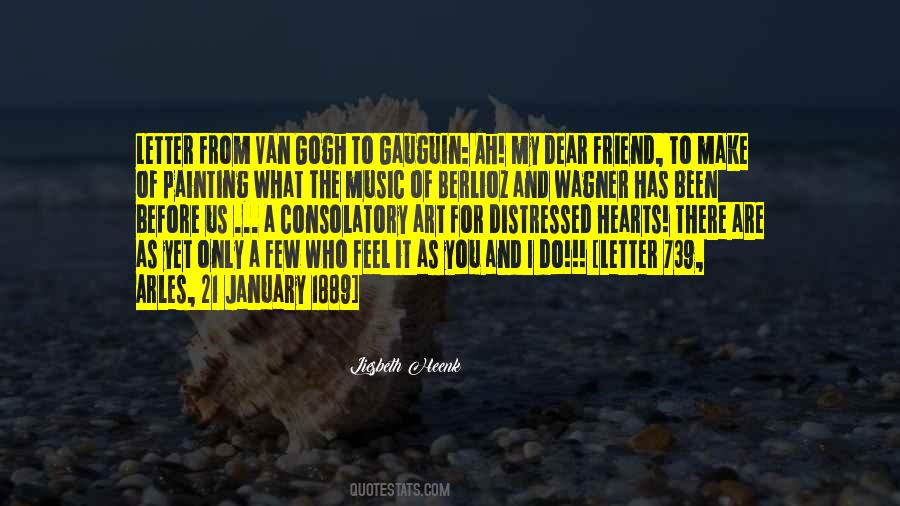 #88. Music is emotional. Your job is to make people feel something. The best way to do that is to sing and speak from something they've personally been through. That's where I write from. - Author: Sevyn Streeter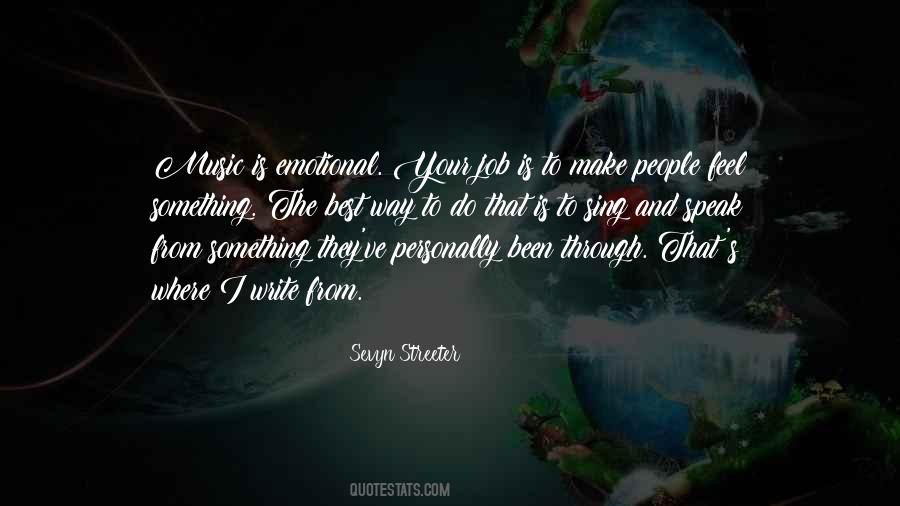 #89. Everybody has they're own audience you know what I'm saying. I write rhymes and make music for the people that I fell wanna hear my music. They write rhymes and make music for the people they feel wanna hear they're music. - Author: Bun B.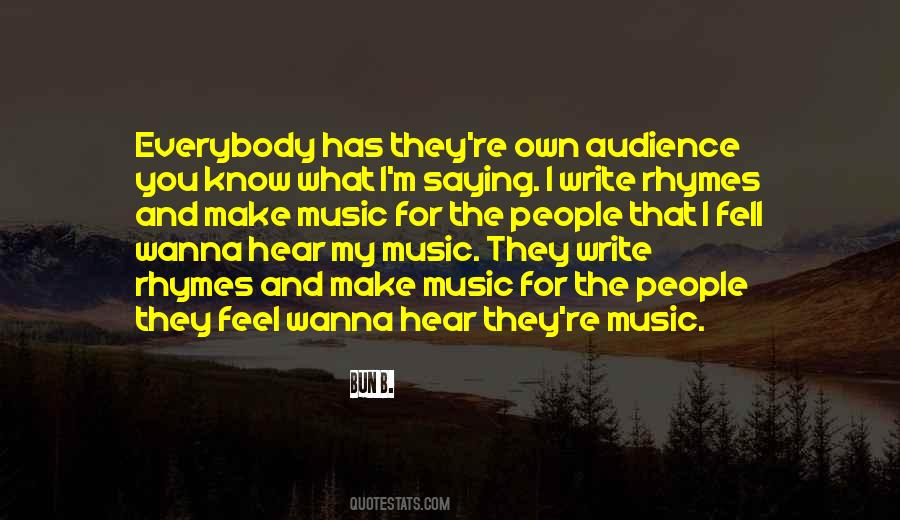 #90. That internal ache is the starting point of country music. If it's a happy song and I can still feel sad in it? That's my favorite. - Author: Shane McAnally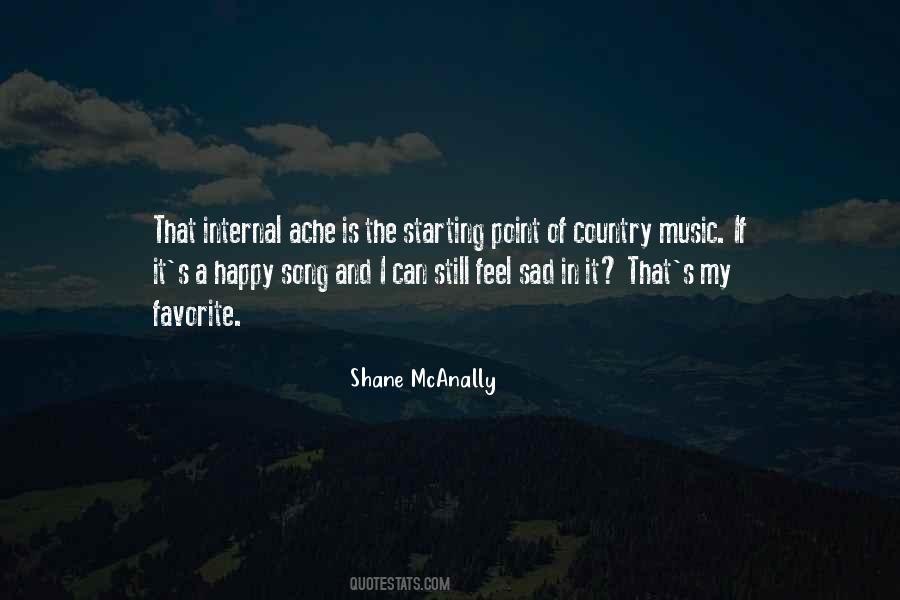 #91. Music is not a hobby, not even a passion with me; music is me. I feel what people get out of me is this outlook on life, which comes out in my music. My music is the last expression of all that. - Author: Arthur Rubinstein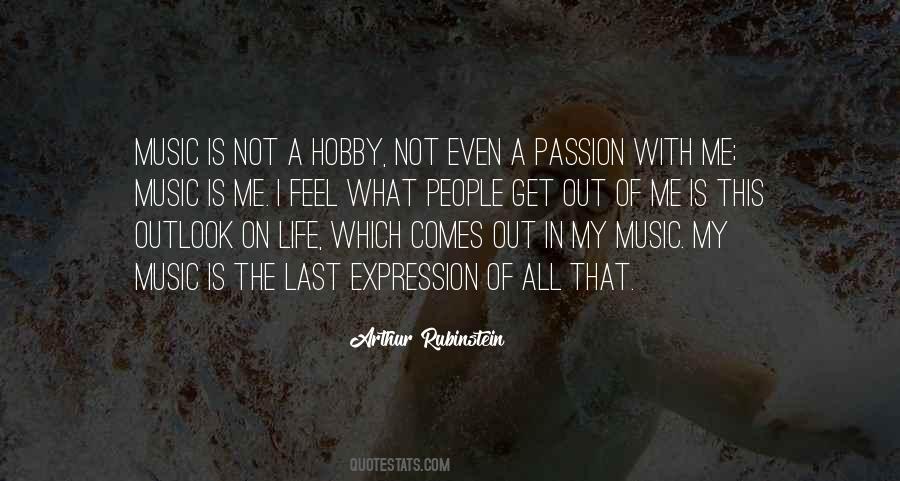 #92. But there's something about music, when you feel it deeply, when you understand it so well, the way Isabelle understands it, there is something about it that makes scary things seem to disappear. If only for a little while" -Giselle - Author: Edwidge Danticat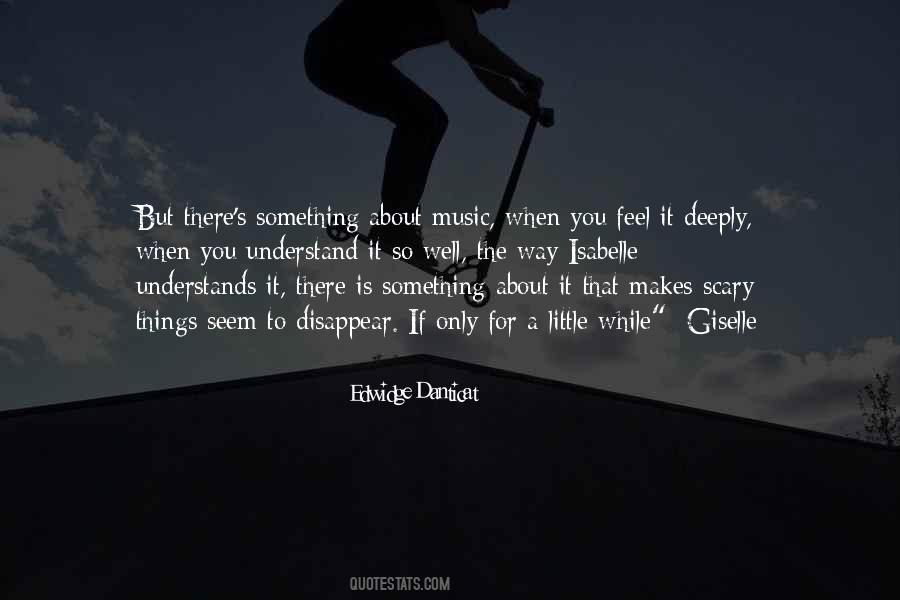 #93. I am fifty years old and I have never known what it is to love. I can write those words, know them to be true, but feel only the regret that a tone-deaf man must feel because he can't appreicate music, a regret less keen because it is for something never known, not for something lost. - Author: P.D. James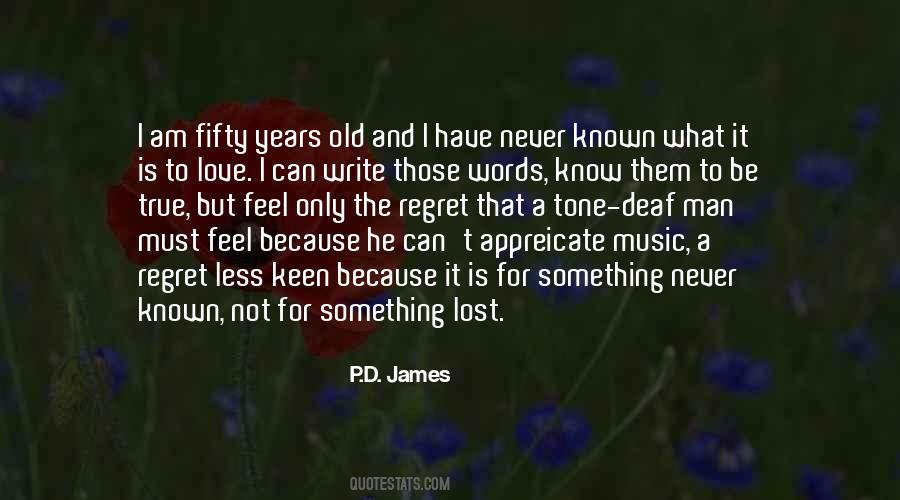 #94. But times changed, and I changed, and I didn't feel that way anymore. The Beatles were happening. I think that was probably the main thing. The Beatles just changed the whole world of music. - Author: Barry McGuire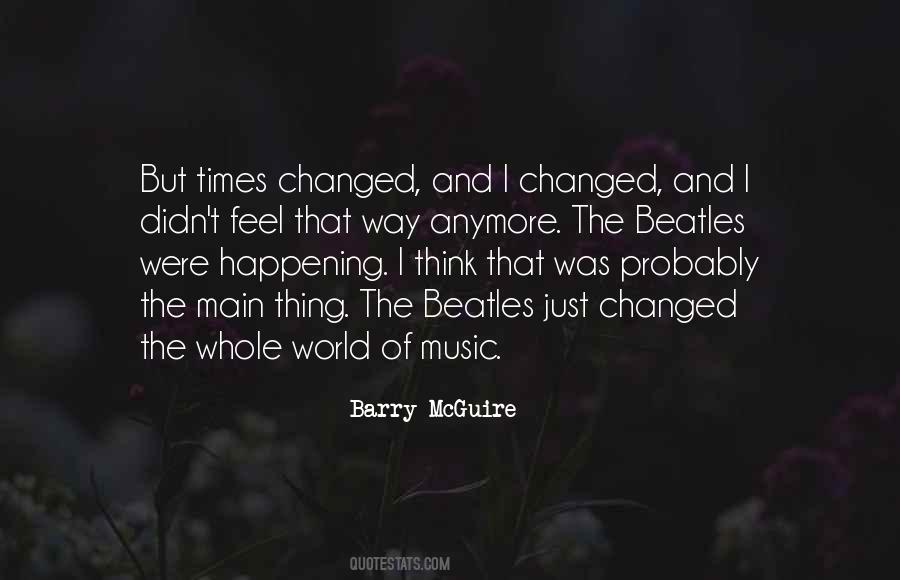 #95. Rock has always been THE DEVIL'S MUSIC ... I believe rock and roll is dangerous ... I feel we're only heralding SOMETHING EVEN DARKER THAN OURSELVES. - Author: David Bowie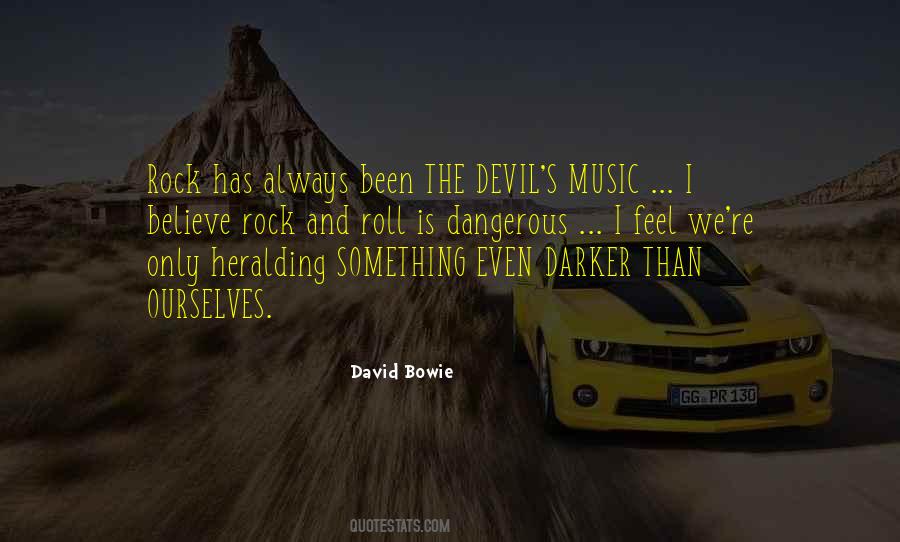 #96. I've come close to matching the feeling of that night in 1944 in music, when I first heard Diz and Bird, but I've never got there ... I'm always looking for it, listening and feeling for it, though, trying to always feel it in and through the music I play everyday. - Author: Miles Davis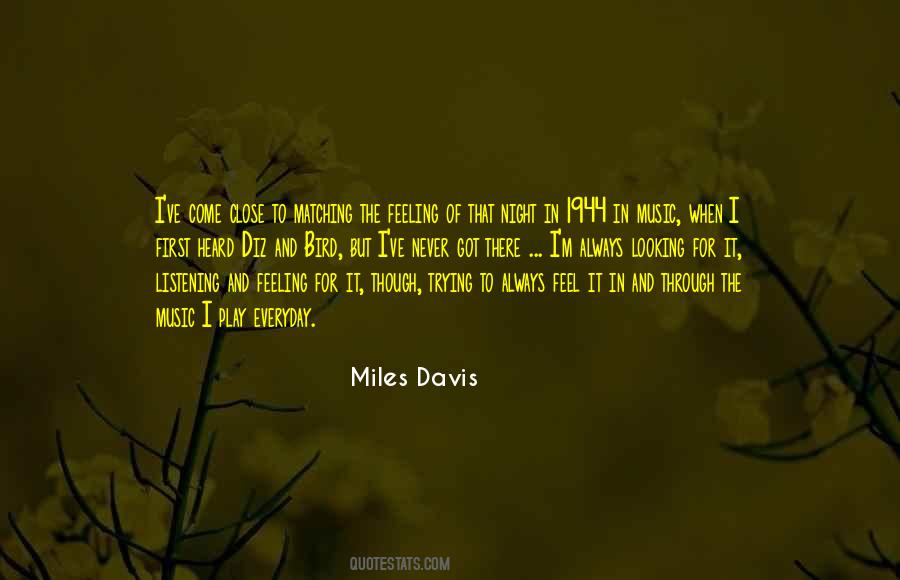 #97. I feel like you listen your whole life, so when you are in the studio, your references are all the songs and music that you know. It just depends on where the songs are going and what attracts you at the moment. - Author: Albert Hammond Jr.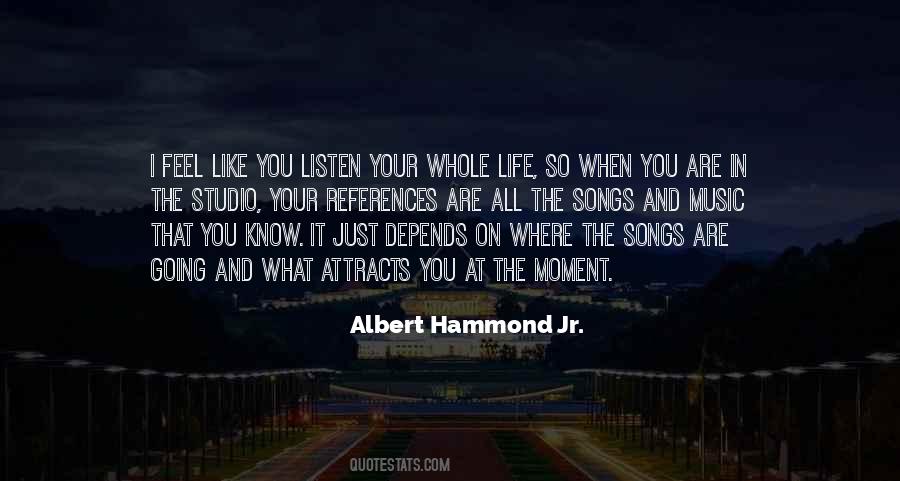 #98. I do feel that movies and music do have the power to slightly influence a person's decision. I believe that if violence is not in a person, then the film is not going to encourage them [people]. - Author: Morris Chestnut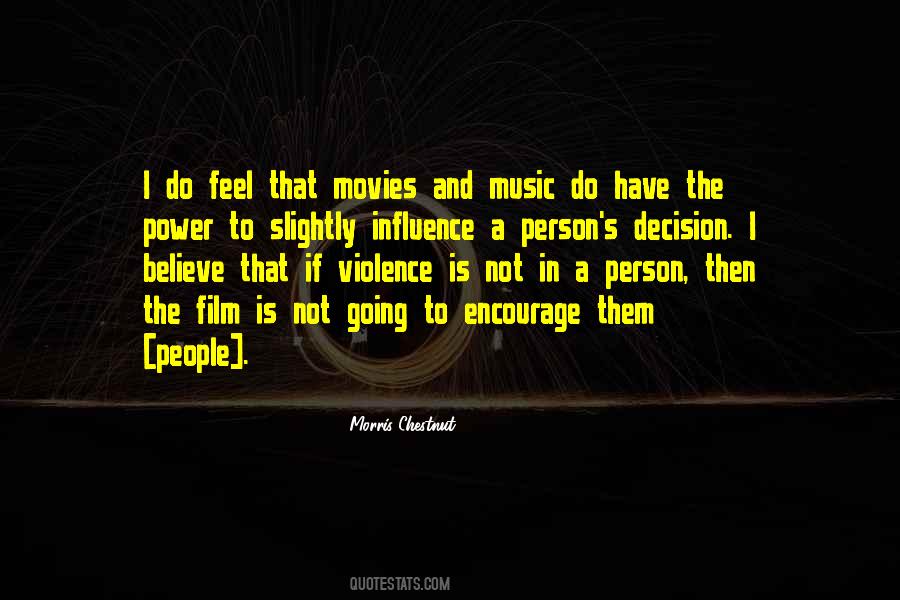 #99. Everyone making electronic music has the same tool kits and templates. You listen, and you feel like it can be done on an iPad. If everybody knows all the tricks, it's no more magic. - Author: Thomas Bangalter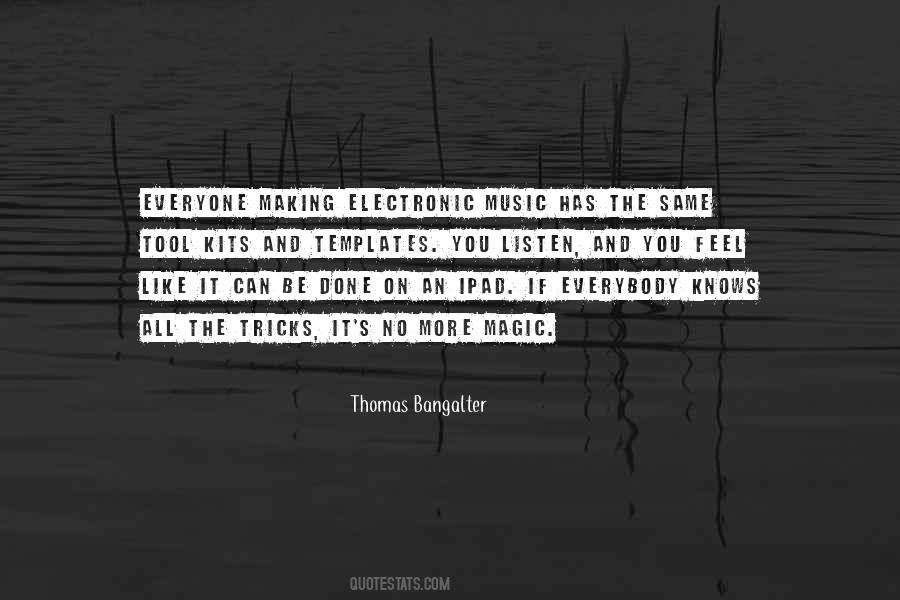 #100. The music industry can feel wonderful, but it can also feel very cold. - Author: Sara Bareilles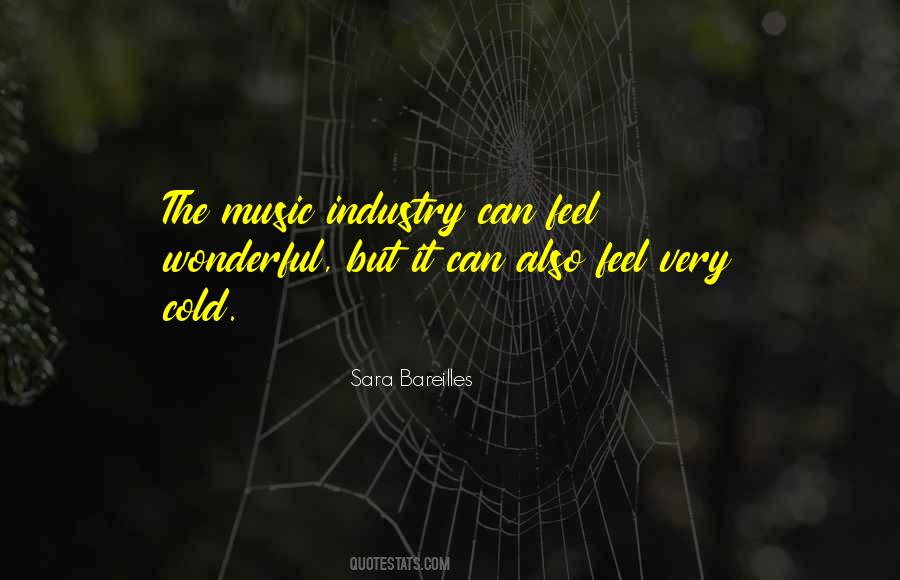 Famous Authors
Popular Topics