Equality For All Famous Quotes & Sayings
List of top 100 famous quotes and sayings about equality for all to read and share with friends on your Facebook, Twitter, blogs.
Top 100 Equality For All Quotes
#1. Stronger than all the armies is an idea thats time has come ... The time has come for equality of opportunity in sharing in government, in education, and in employment. It will not be stayed or denied. It is here! - Author: Everett Dirksen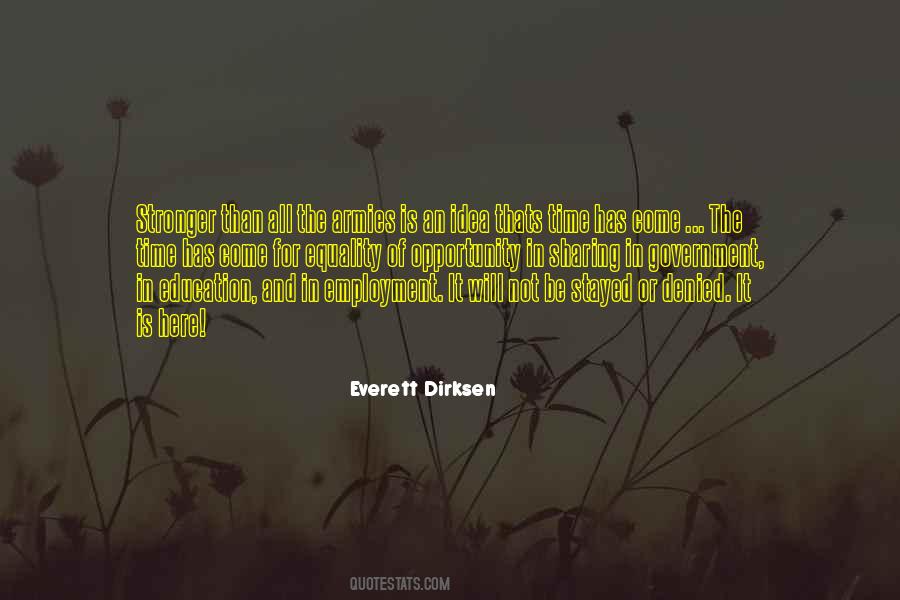 #2. In the past, only some of the males, but all of the females, were able to procreate. Equality is more natural for females. - Author: Nassim Nicholas Taleb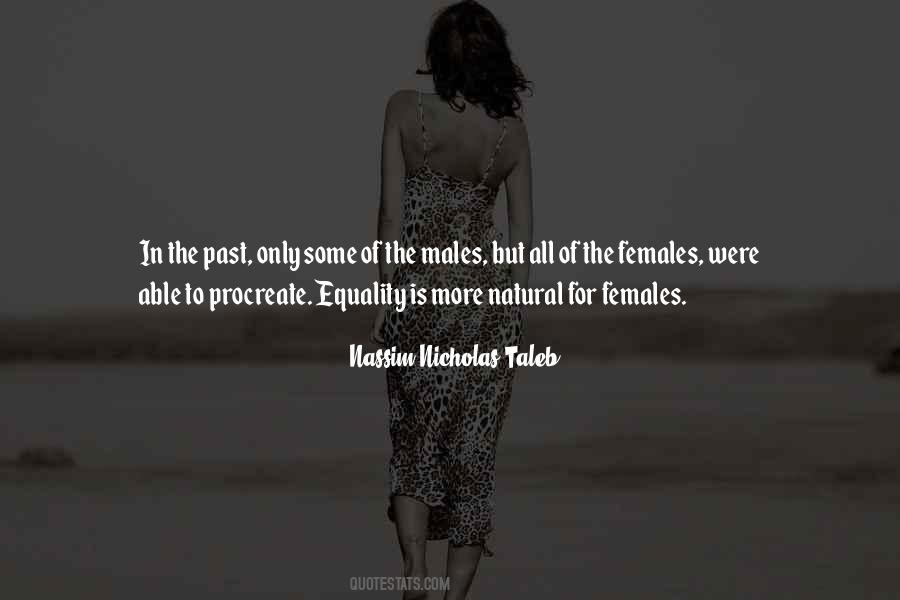 #3. It does no service to the cause of racial equality for white people to content themselves with judging themselves to be nonracist. Few people outside the clan or skinhead movements own up to all-out racism these days. White people must take the extra step. They must become anti-racist. - Author: Clarence Page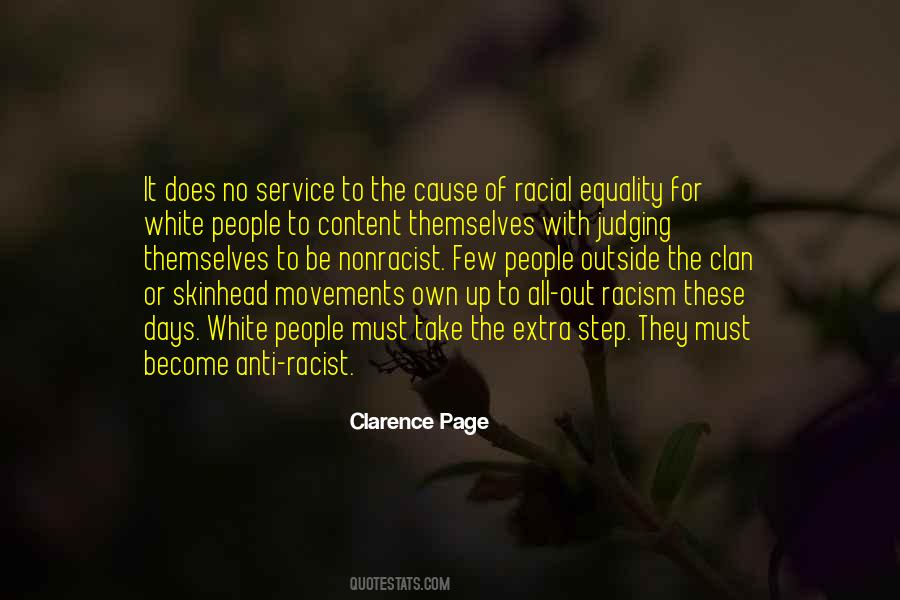 #4. We believe in equality for all, and privileges for none. This is a belief that each American regardless of background has equal standing in the public forum, all of us. Because we believe this idea so firmly, we are an inclusive, rather than an exclusive party. Let everybody come. - Author: Barbara Jordan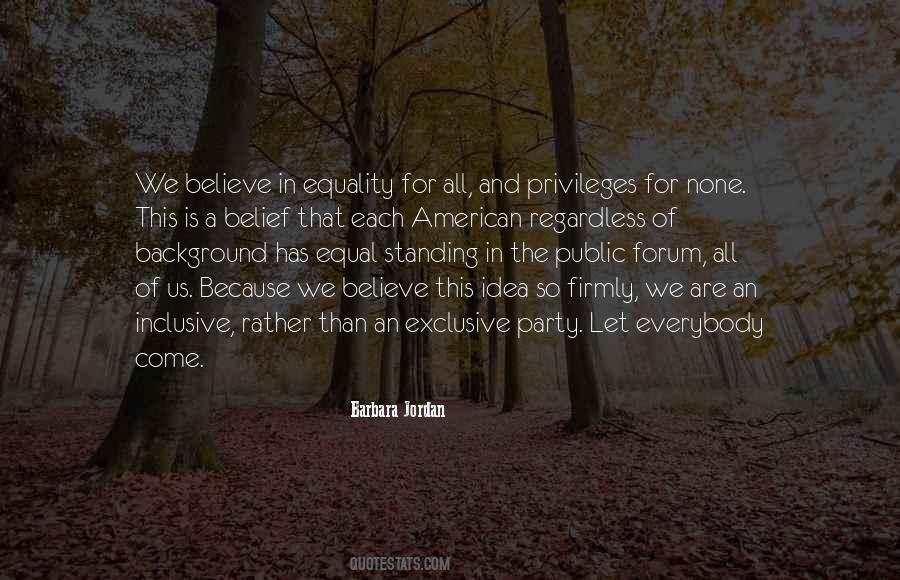 #5. Most of all, we should remember all of us are capable of individually helping advance the spirit of equality for all. - Author: Mike Rogers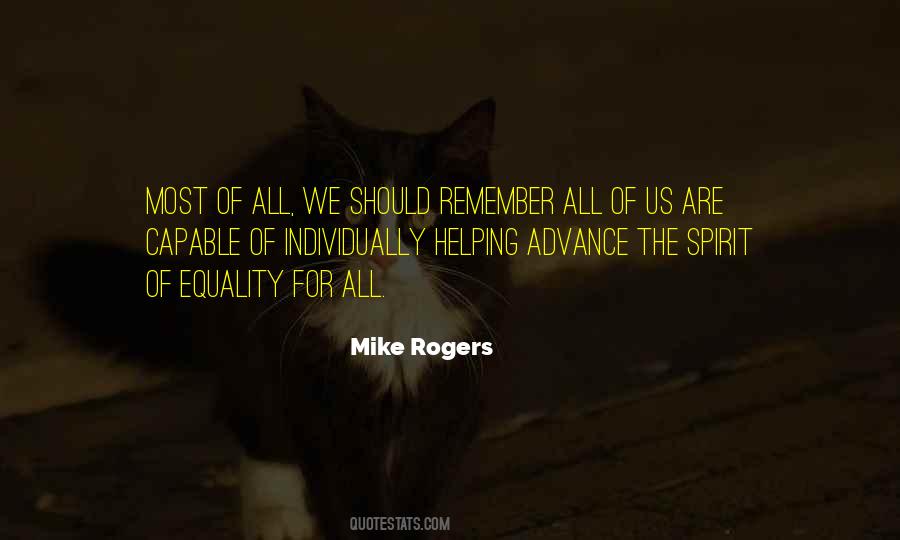 #6. The new religion will teach the dignity of human nature and its infinite possibilities for development. It will teach the solidarity of the race: that all must rise and fall as one. Its creed will be justice, liberty, equality for all the children of earth. - Author: Elizabeth Cady Stanton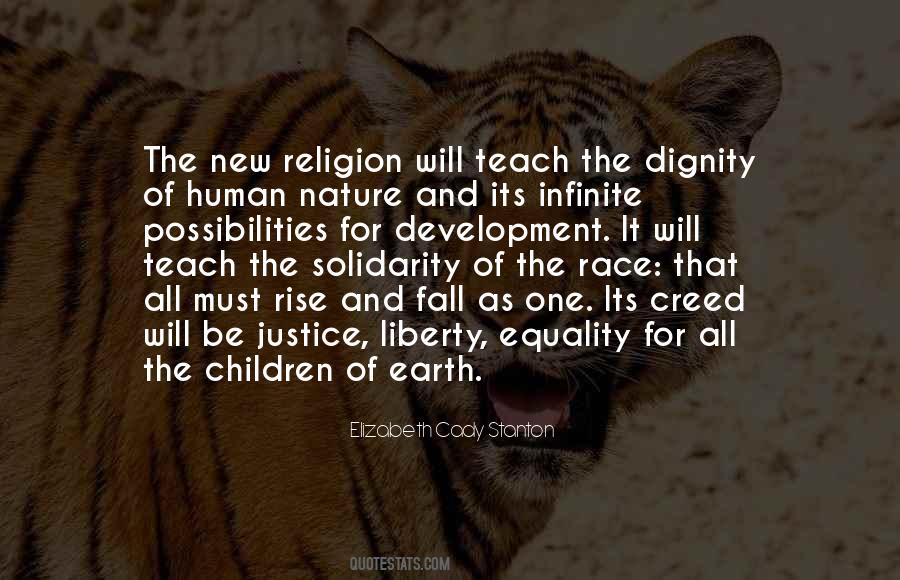 #7. The work that must be done for each woman to reconnect with her psyche and to give herself a chance to live her own life is essentially the same. The realization of the equality of all races, the equality of all beings is essential. - Author: Betty Buckley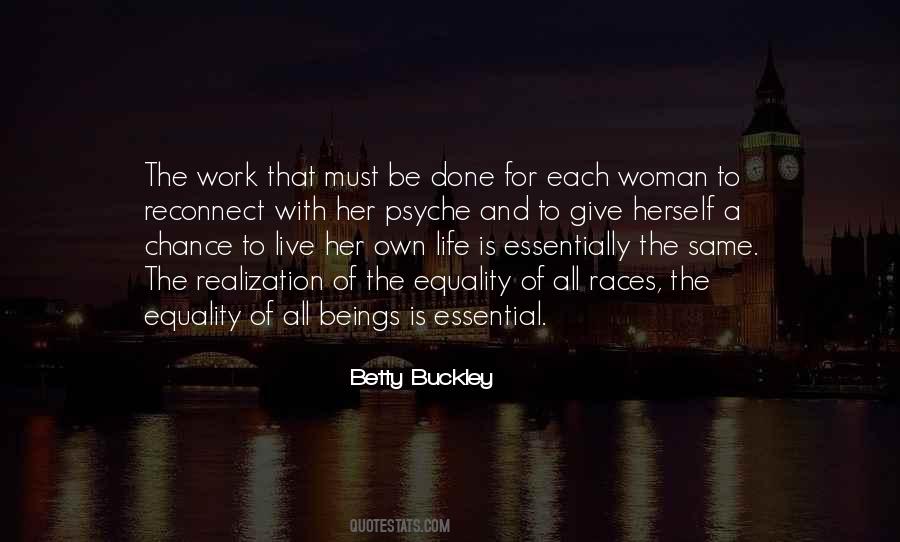 #8. I don't think there has ever been a man who treated a woman as an equal and that's all I would have asked for, for I know I'm worth as much as they. - Author: Berthe Morisot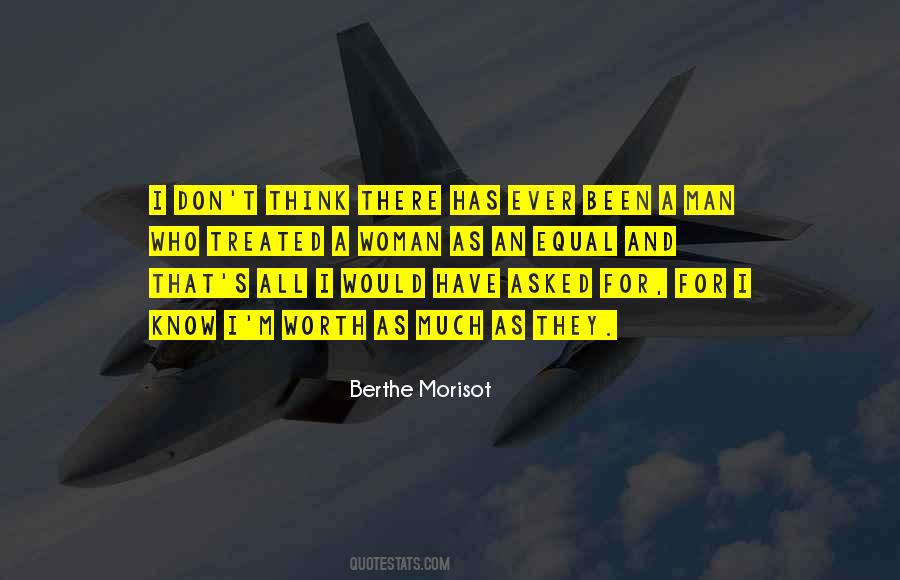 #9. Syldor was not a land of oppressive rules, roles, and labels. Here, love and power were open to, for, and between all; woman or man, rich or poor. What mattered was the sharpness of your mind, the speed of your blade, and the heat of your touch. - Author: Natalia Marx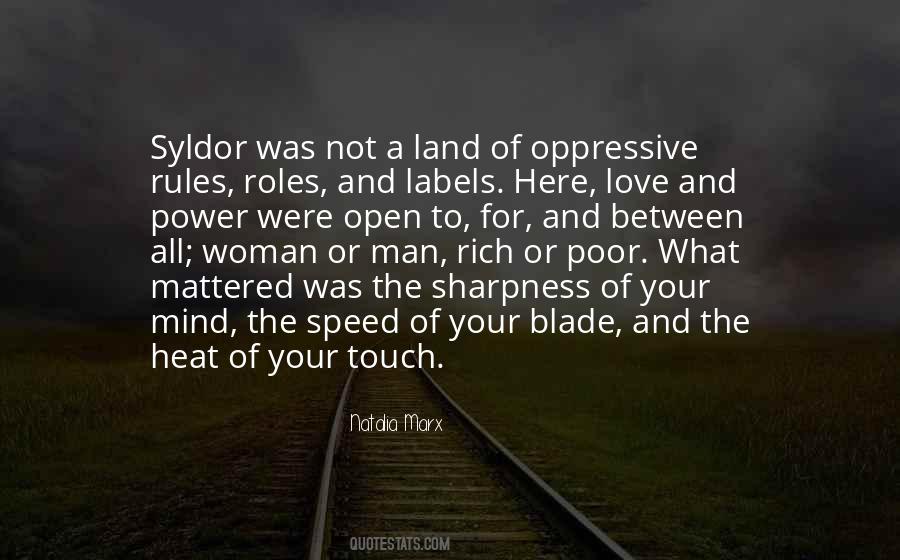 #10. Despite all of the social advances in women's rights and the push for gender equality in the workplace, it seems like modern men still want a woman that they can take care of at home. - Author: Shannon Mullen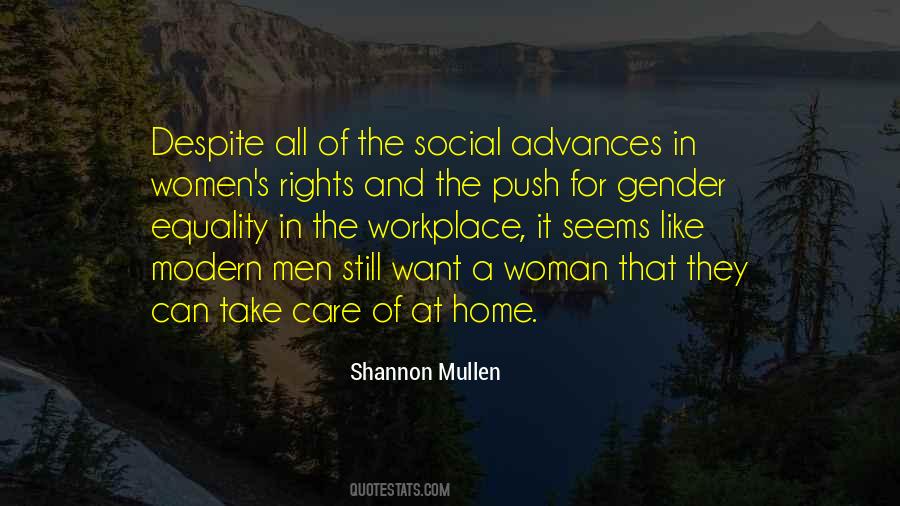 #11. This made me reflect, how vain an attempt it is for a man to endeavor to do himself honor among those who are out of all degree of equality or comparison with him. - Author: Jonathan Swift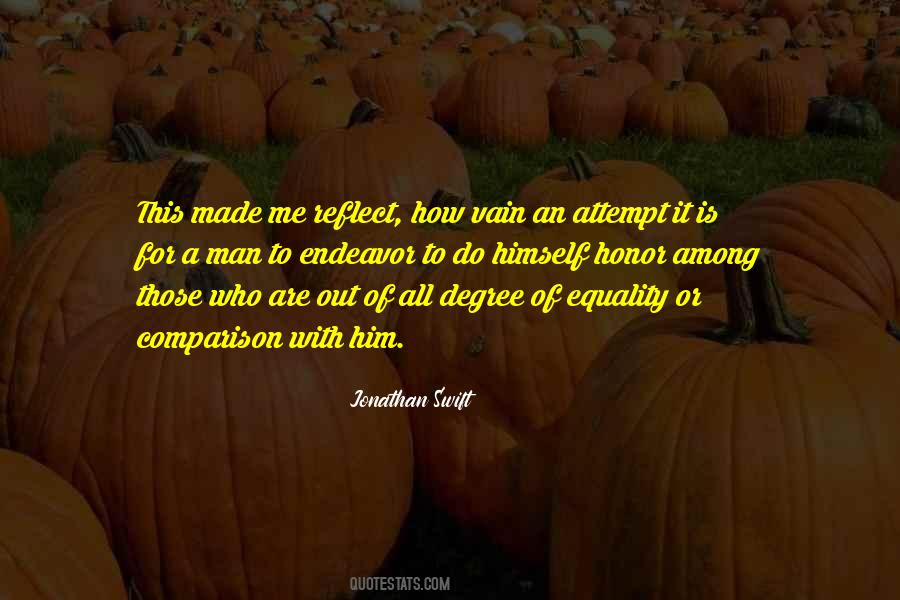 #12. We must learn to think again. America floats on a sea of misguided philosophies, all competing for equality while the values that provide true freedom are hidden in a dishonored generation. Returning to biblical principles will shore up our foundation and increase our freedom and health as a nation. - Author: Karla Perry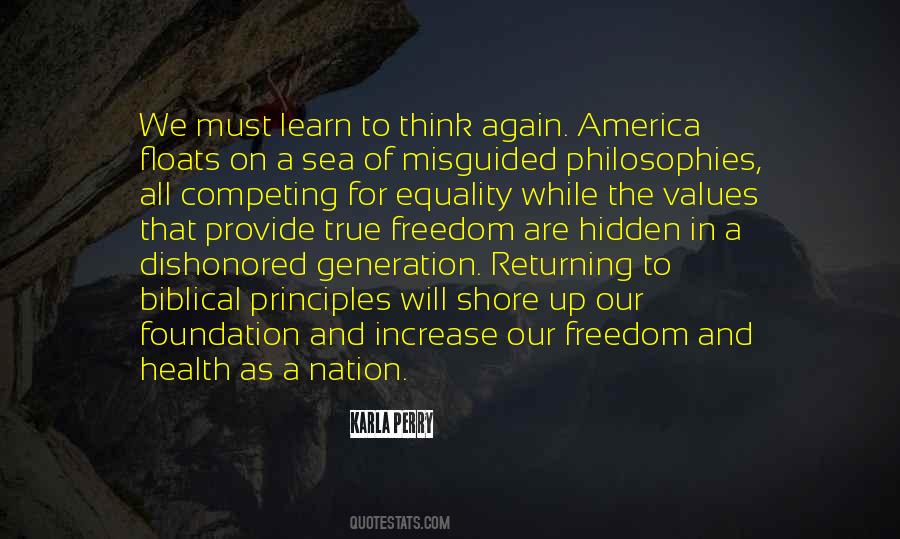 #13. Marriage equality is a threat: to inequality. It's a book to everyone who values and benefits from equality. It's for all of us. - Author: Rebecca Solnit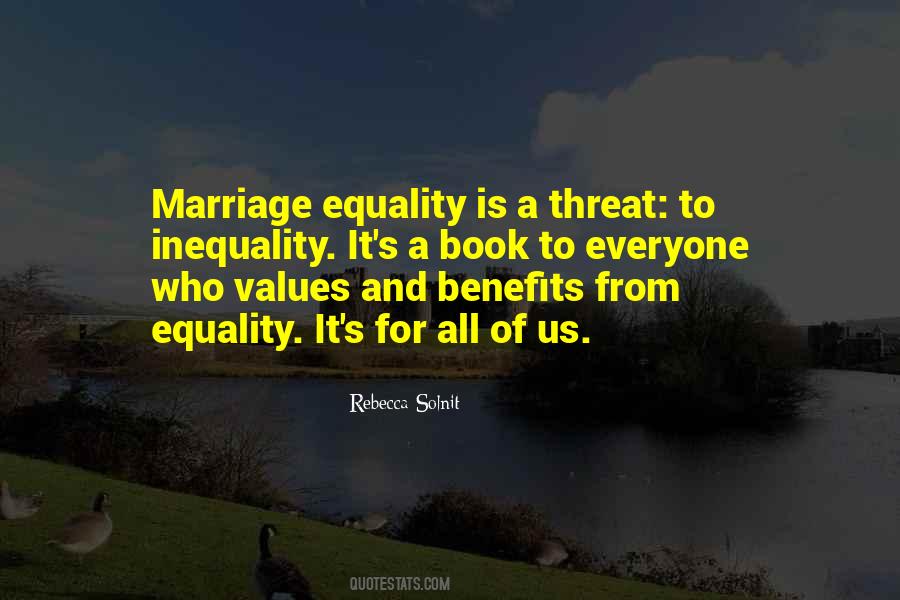 #14. All across my home state, throughout the South, and around the country, LGBT people and their families are seeking basic respect and dignity. This victory is an essential step on the journey toward full equality for all. - Author: Chad Griffin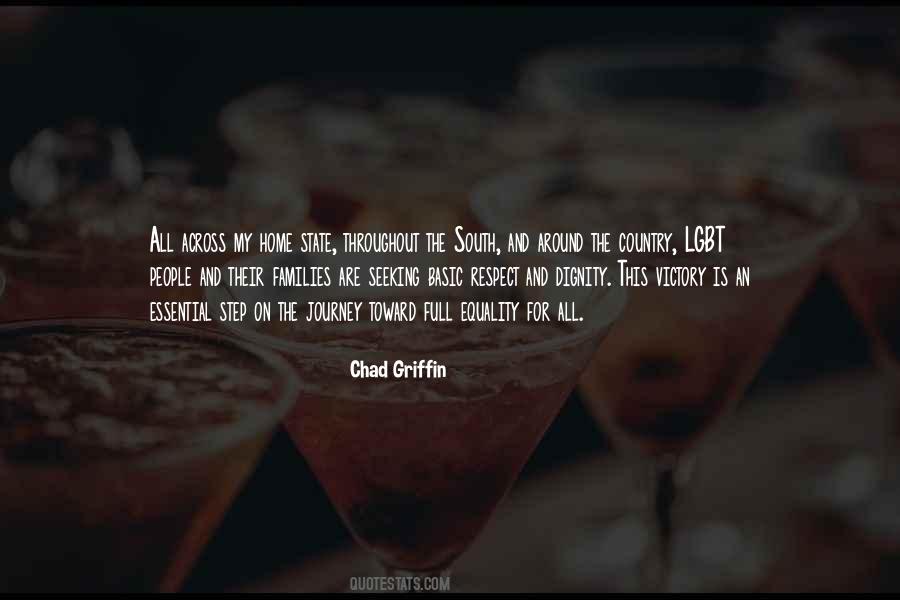 #15. All I asked for was equality and independence. A rotating chairmanship might have been the answer. - Author: D. J. Enright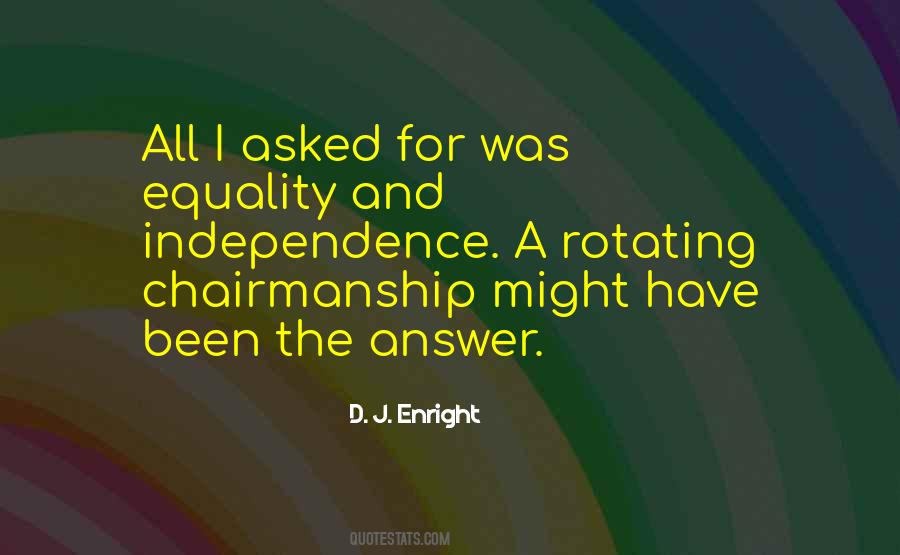 #16. Feminism is just an idea. It's a philosophy. It's about the equality of women in all realms. It's not about man-hating. It's not about being humorless. We have to let go of these misconceptions that have plagued feminism for 40, 50 years. - Author: Roxane Gay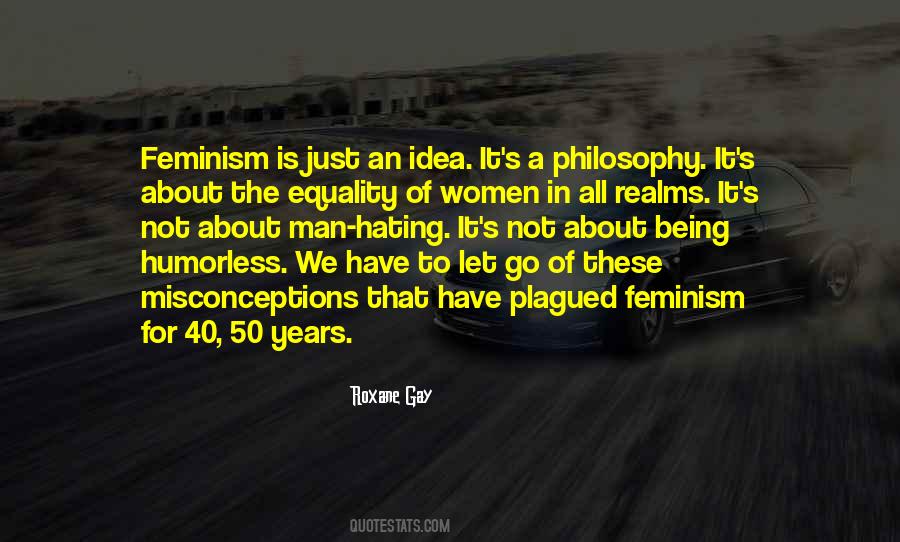 #17. My spirit has pass'd in compassion and determination around the whole earth.
I have look'd for equals and lovers an found them ready for me in all lands,
I think some divine rapport has equalized me with them - Author: Walt Whitman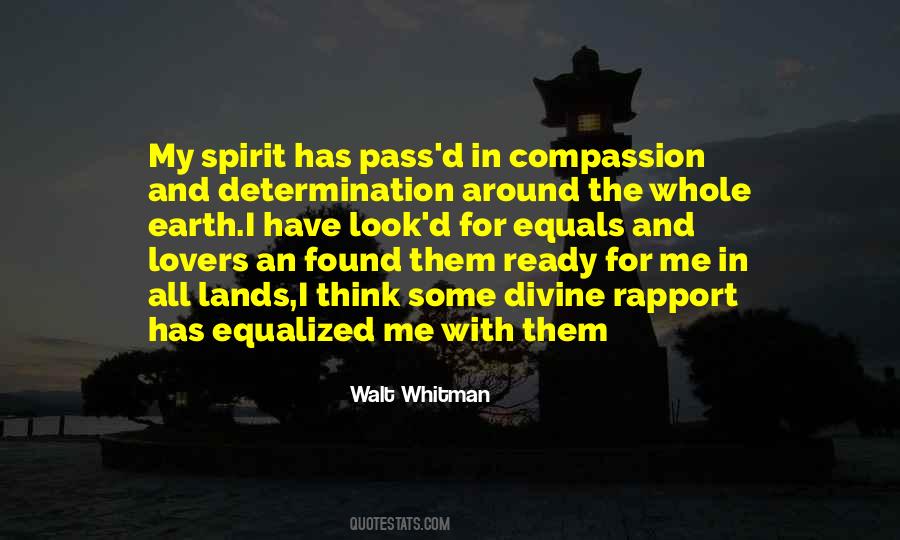 #18. If Jack, Frank and Mary are in a loving relationship and were all for marriage equality, then why aren't the three of them covered in SB1? Why can't they get married? - Author: Mike Gabbard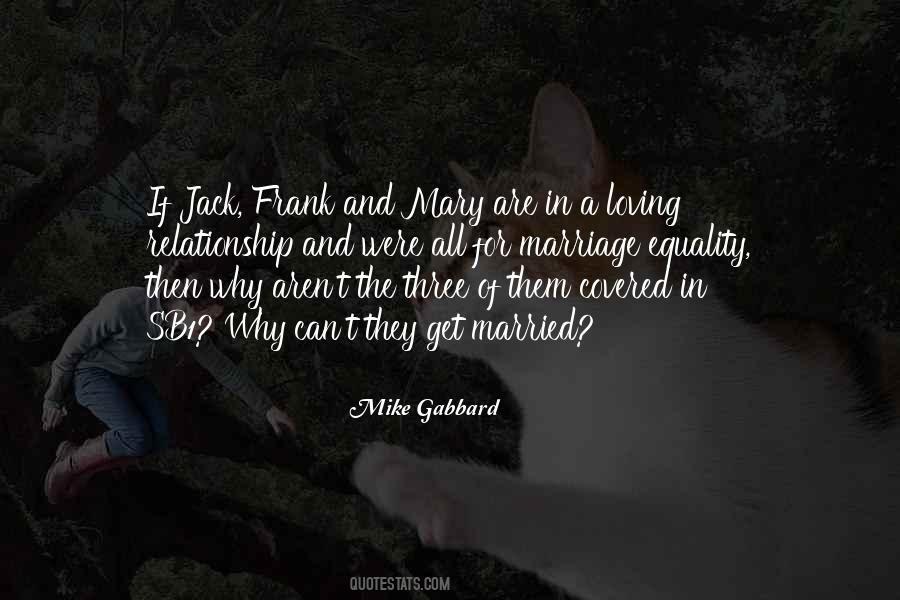 #19. For example, justice is considered to mean equality, It does mean equality- but equality for those who are equal, and not for all. - Author: Aristotle.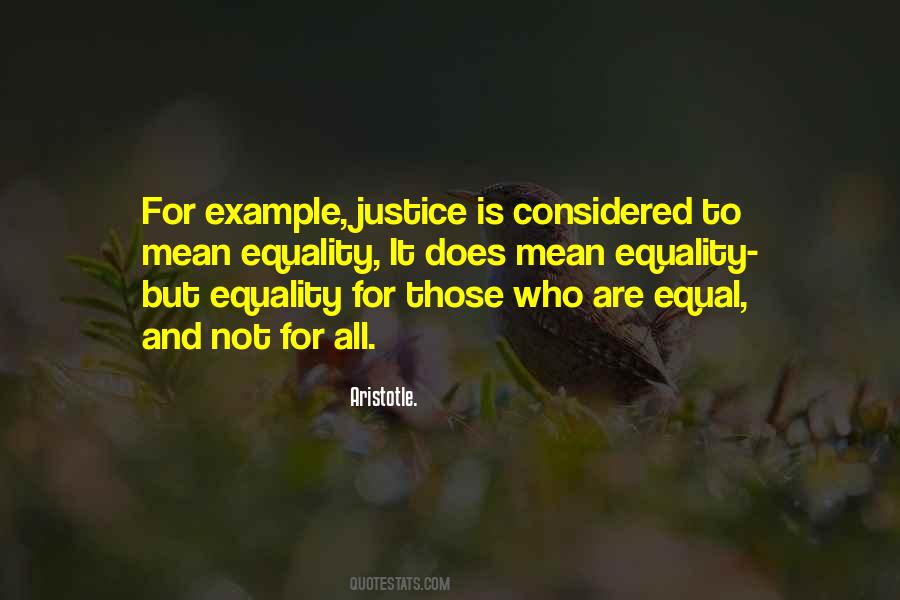 #20. I ask no favor for my sex. All I ask of our brethren is that they take their feet off our necks. - Author: Sarah Grimke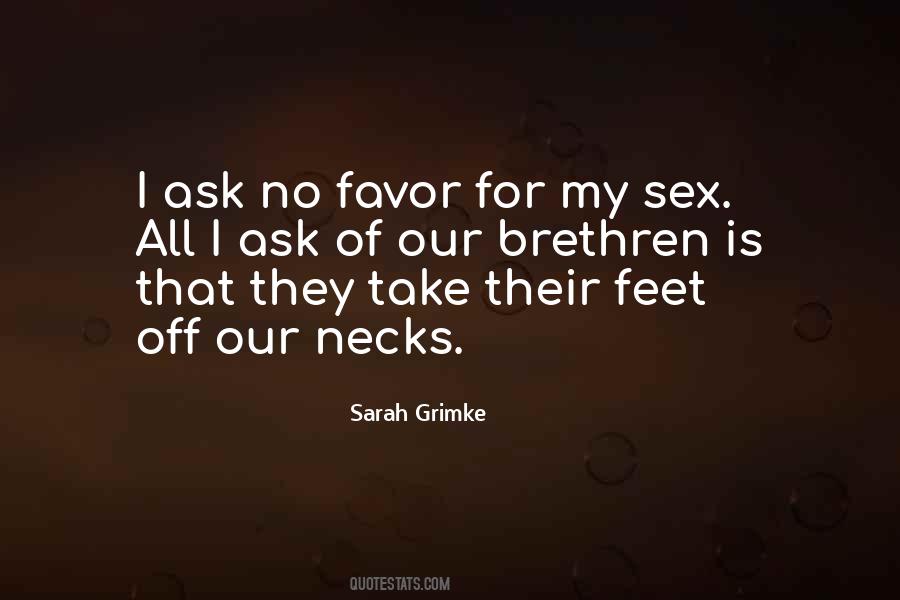 #21. Although the Jeffersonian Law ("All men are created equal") is the first article of the American faith, the facts of American life have demonstrated for some time now that it is an irksome faith to live by. - Author: Alistair Cooke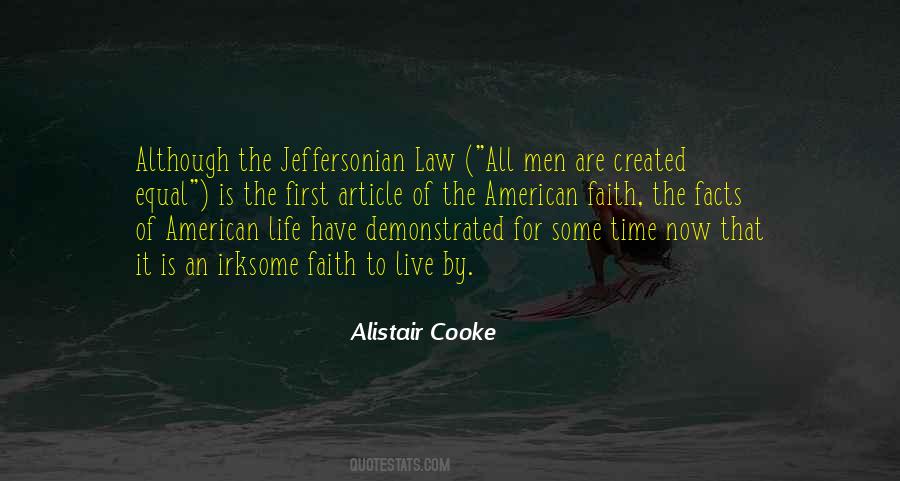 #22. We should be miserable but for the consciousness that we have done all in our power to help forward every measure for the freedom and equality of the races and the sexes. - Author: Susan B. Anthony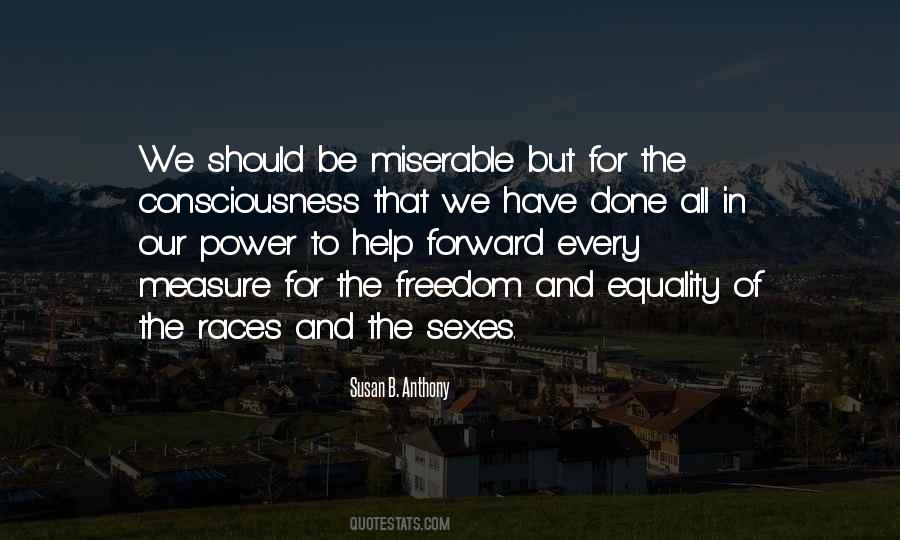 #23. Digital publishing allows an author a new platform for which the words of one heart can be shared with all souls of the world. - Author: Molly Friedenfeld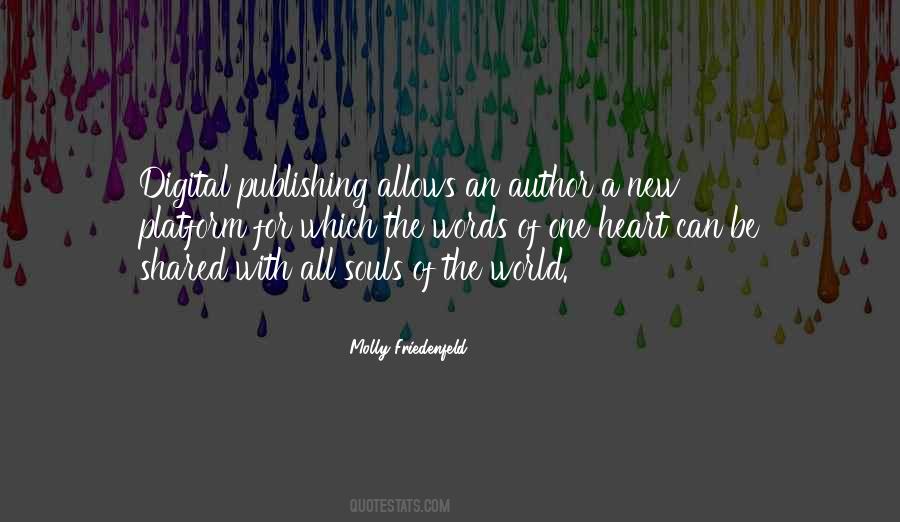 #24. I think there is a total equality for me between painting a literary figure or Kate Moss or my Mum or a dog or a bird. To me, they are all absolutely equal. - Author: Stella Vine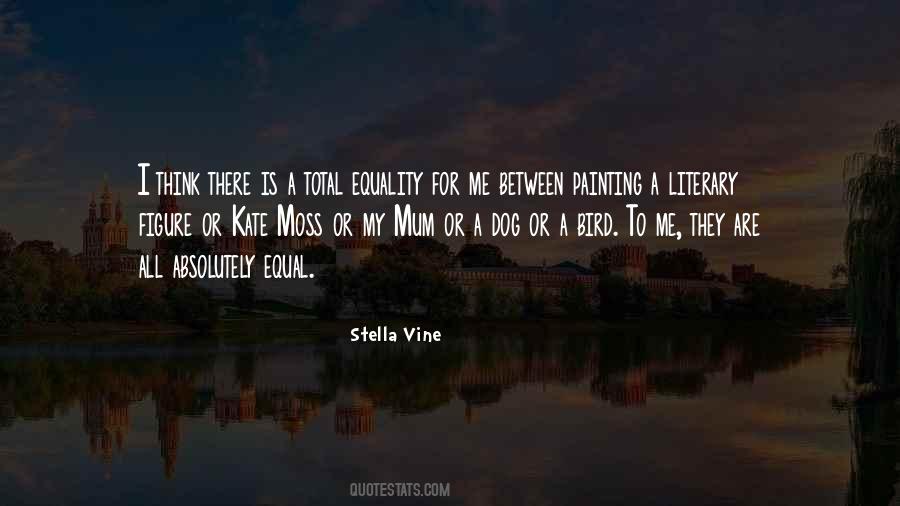 #25. The core strands of my involvement in public life are a belief in the need to strive wherever possible for equality of treatment and opportunity, to ensure all people have the means to a decent livelihood. - Author: Peter Garrett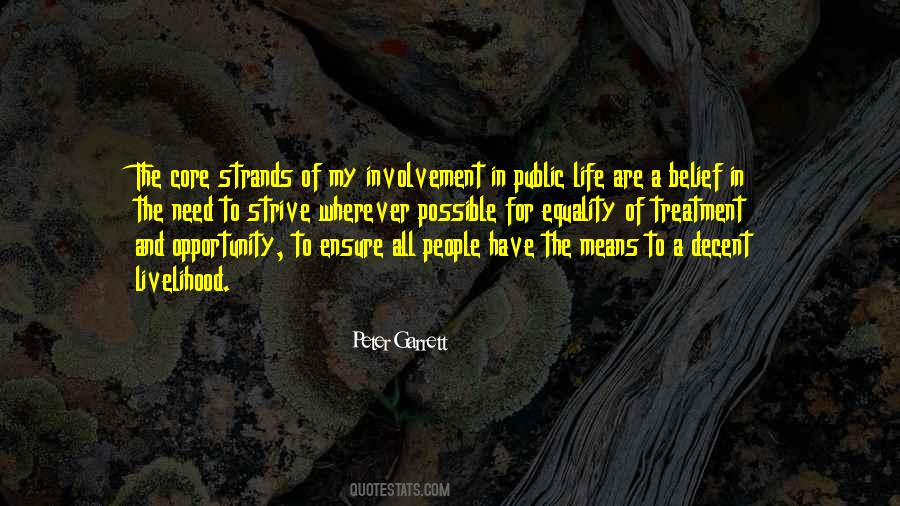 #26. It is not alone that justice is wounded by denying women a part in the making of the civilized world - a more immediate wrong is the way the movement for a fuller, freer life for all human beings is hampered. - Author: Ida Tarbell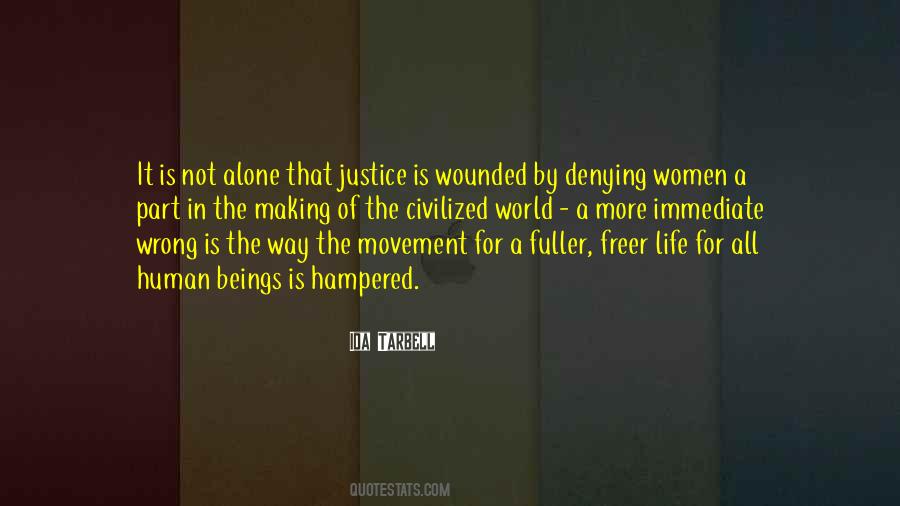 #27. By nonviolent resistance, the Negro can also enlist all men of good will in his struggle for equality. - Author: Martin Luther King Jr.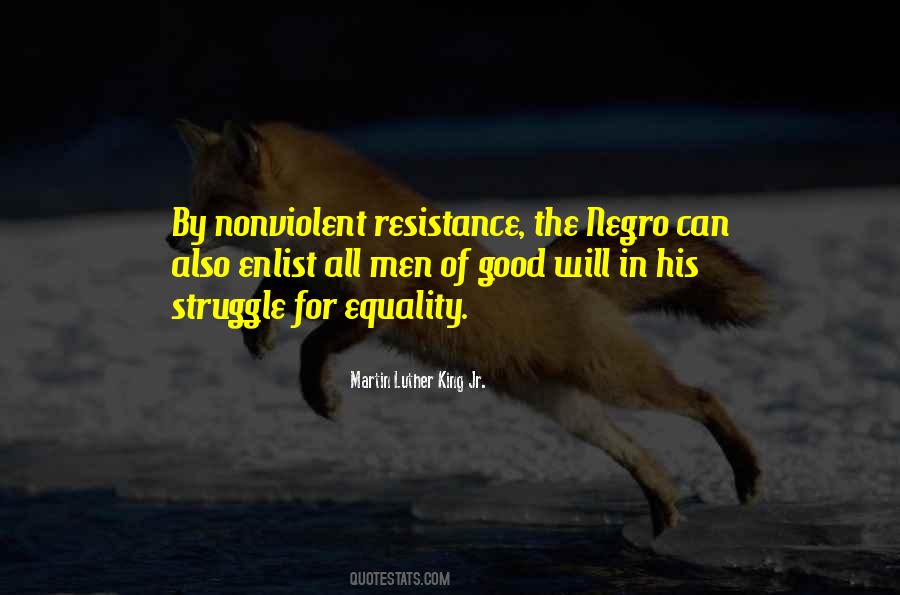 #28. There are some races more cultured and advanced and ennobled by education than others; but there are no races nobler than others. All are equally destined for freedom. - Author: Alexander Von Humboldt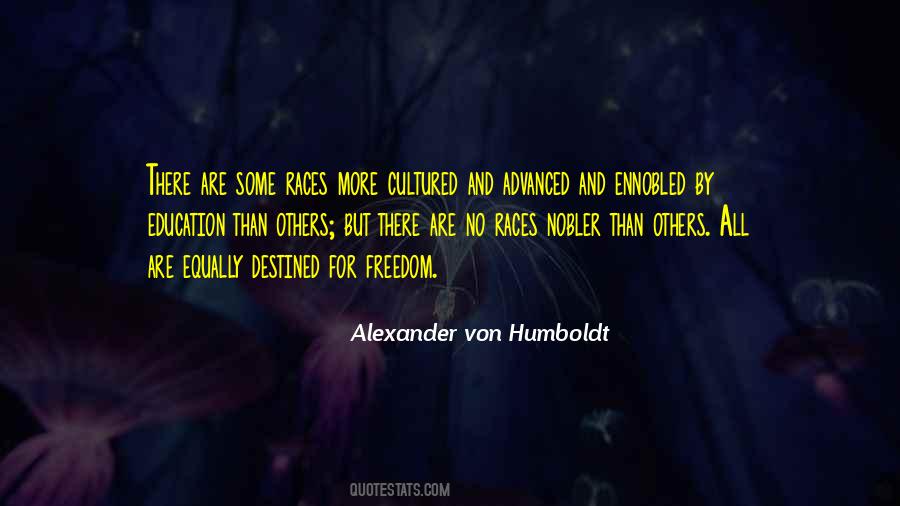 #29. You have been having our rights so long, that you think, like a slave-holder, that you own us. I know that it is hard for one who has held the reins for so long to give up; it cuts like a knife. It will feel all the better when it closes up again. - Author: Sojourner Truth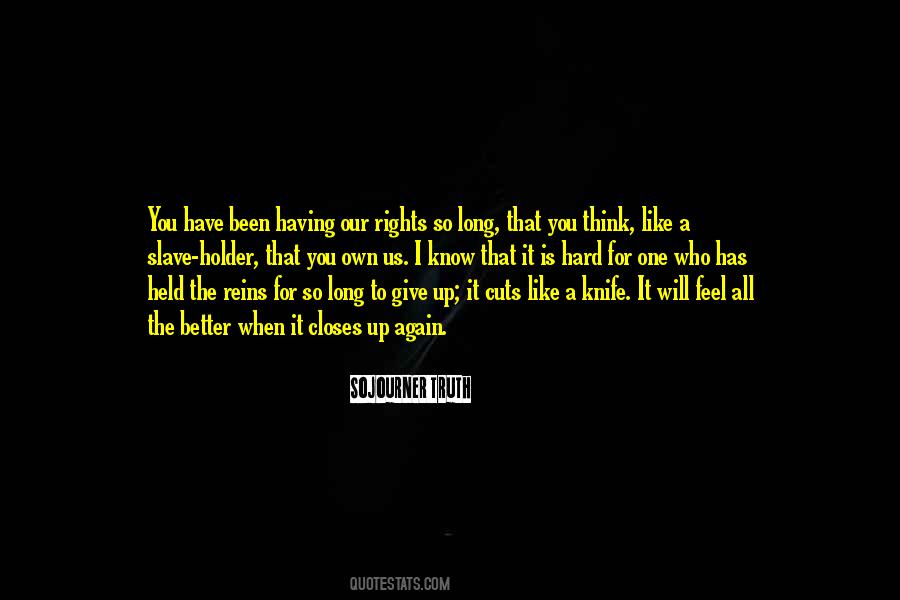 #30. The future of peace and prosperity that we seek for all the world's peoples needs a foundation of tolerance, security, equality and justice. - Author: Kofi Annan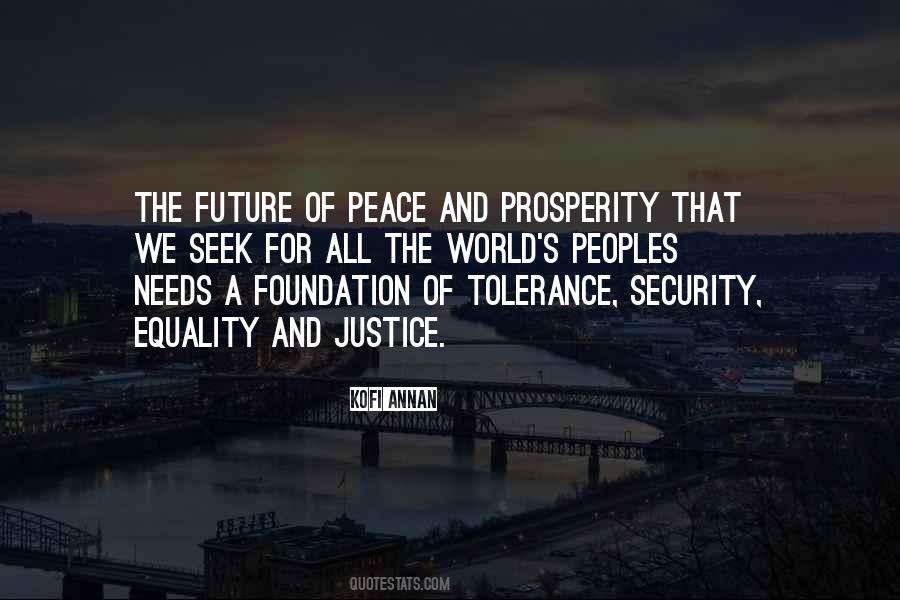 #31. There is no room for pride in any man. There is no room for unkindness. There is no room for wit at the expense of others. All men are born the same, and equal. As you saw to-day, so come the Captains and the Kings and the Tinkers and the Tailors. - Author: Richard Llewellyn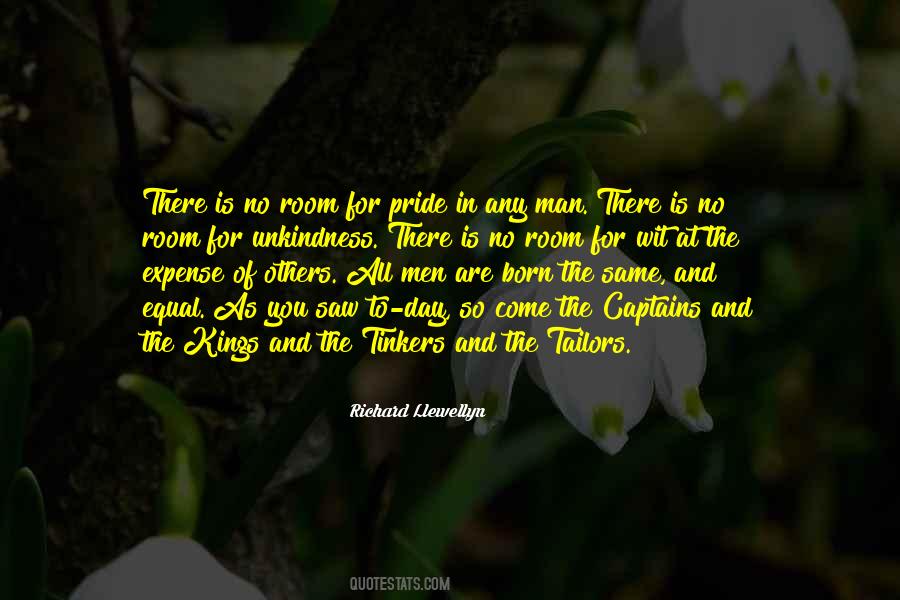 #32. We have all been hearing from childhood of such things as love, peace, charity, equality, and universal brotherhood; but they have become to us mere words without meaning, words which we repeat like parrots, and it has become quite natural for us to do so. We cannot help it. - Author: Swami Vivekananda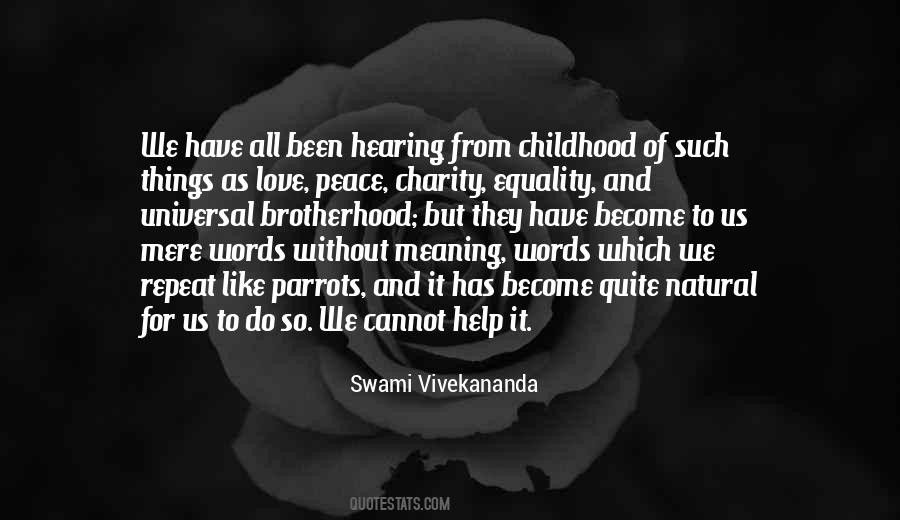 #33. Equality means equality for all- no exceptions, no 'yes, buts', no asterisked footnotes imposing limits. - Author: Hubert H. Humphrey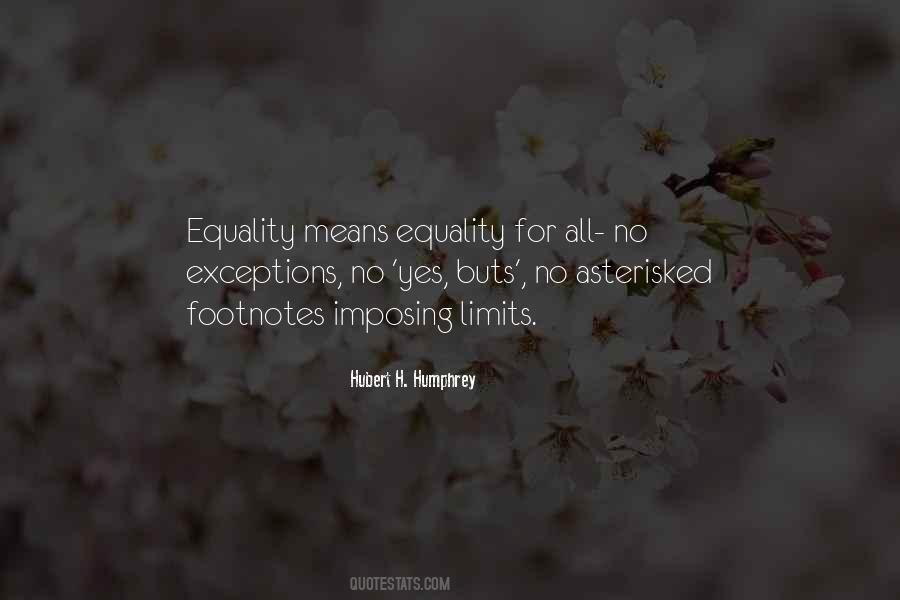 #34. When we are honest, we admit how agreeable it can feel to be singled out for favored treatment. The biggest barrier to equality for all is that inequality for some feels good. - Author: Philip Gulley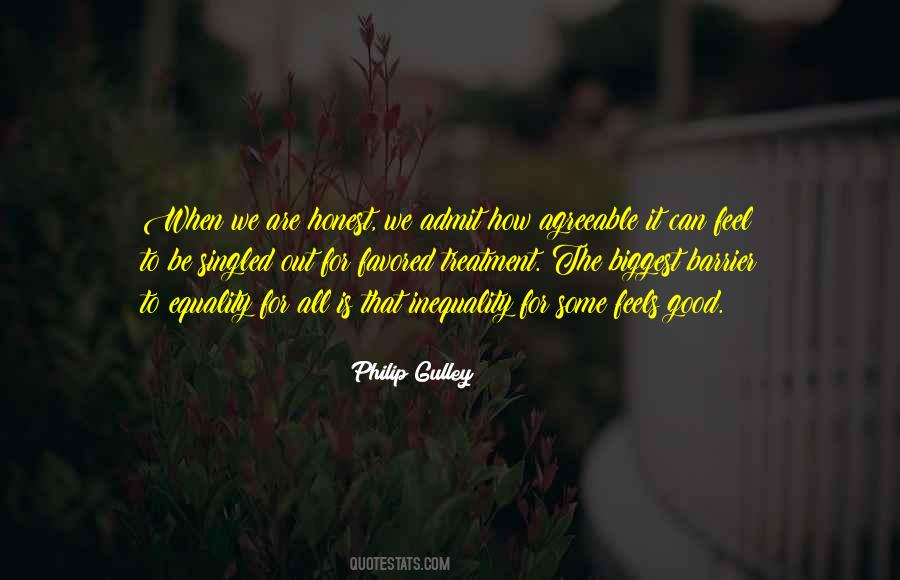 #35. All through life there were distinctions - toilets for men, toilets for women; clothes for men, clothes for women - then, at the end, the graves are identical. - Author: Leila Aboulela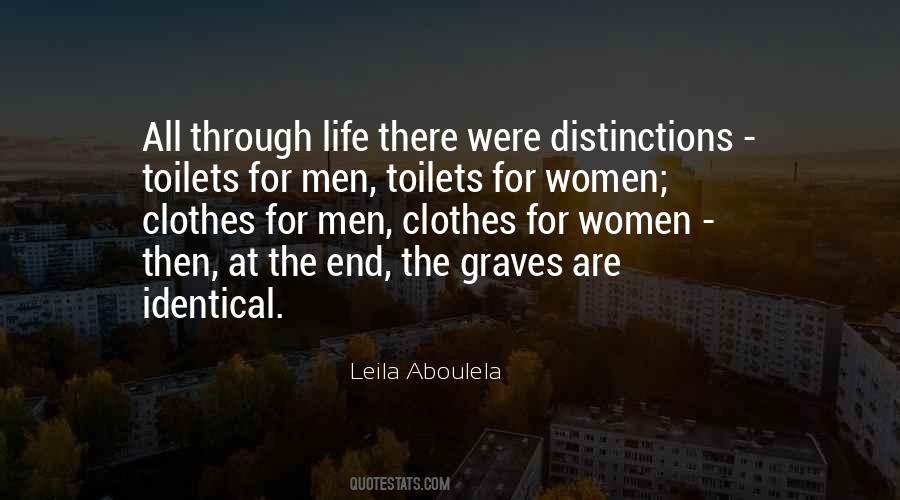 #36. Napoleon is great because he rose superior to the Revolution, suppressed its abuses, preserved all that was good in it - equality of citizenship and freedom of speech and of the press - and only for that reason did he obtain power. - Author: Leo Tolstoy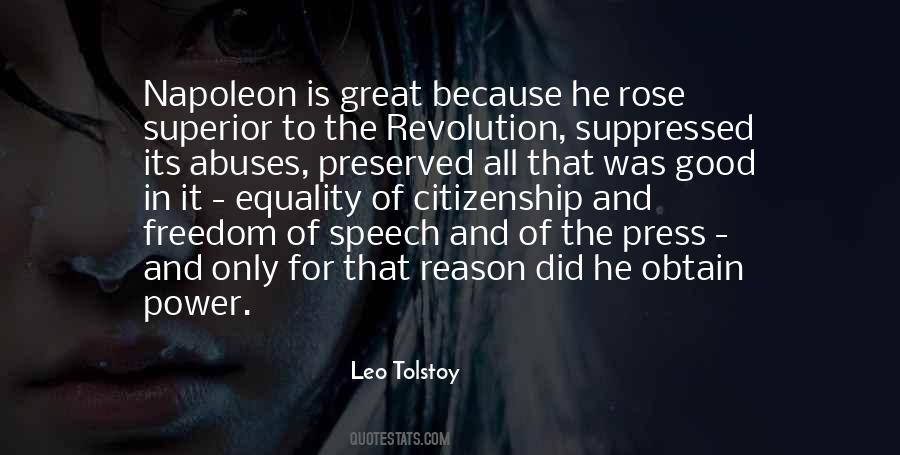 #37. We've got to understand that all disenfranchised people have something in common ... The pursuit of justice really is about equality for everyone. - Author: Anita Hill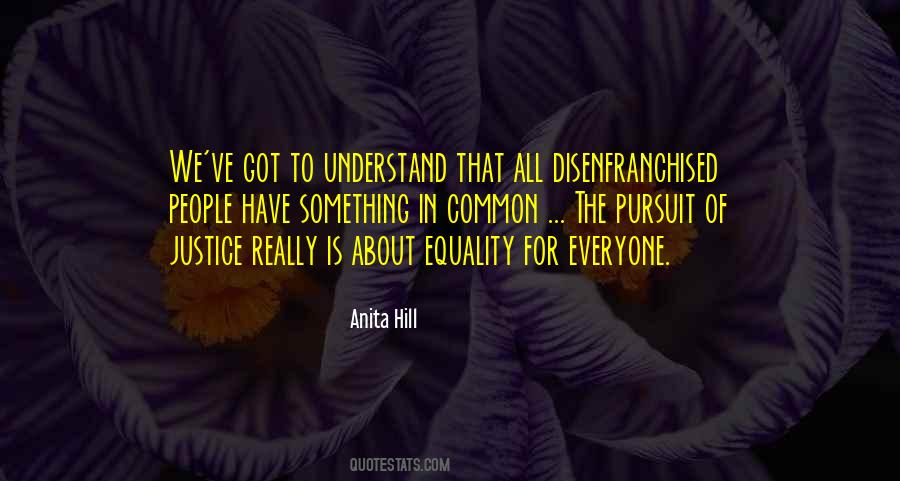 #38. Meet every man as you find him, for we're all made the same under habit, robe or rags. Some better made than others, and some better cared for, but on the same pattern, all. - Author: Ellis Peters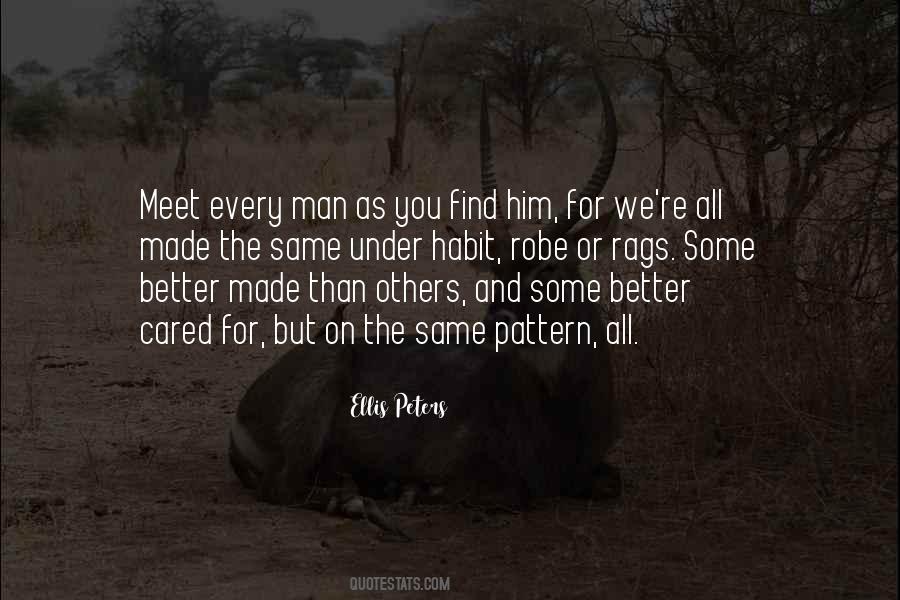 #39. When we talk about feminism - equality without apology for all - we can't be talking about for all white women or all highly educated women but all women, regardless of color, class, creed, sexual orientation or identity. - Author: Christine Pelosi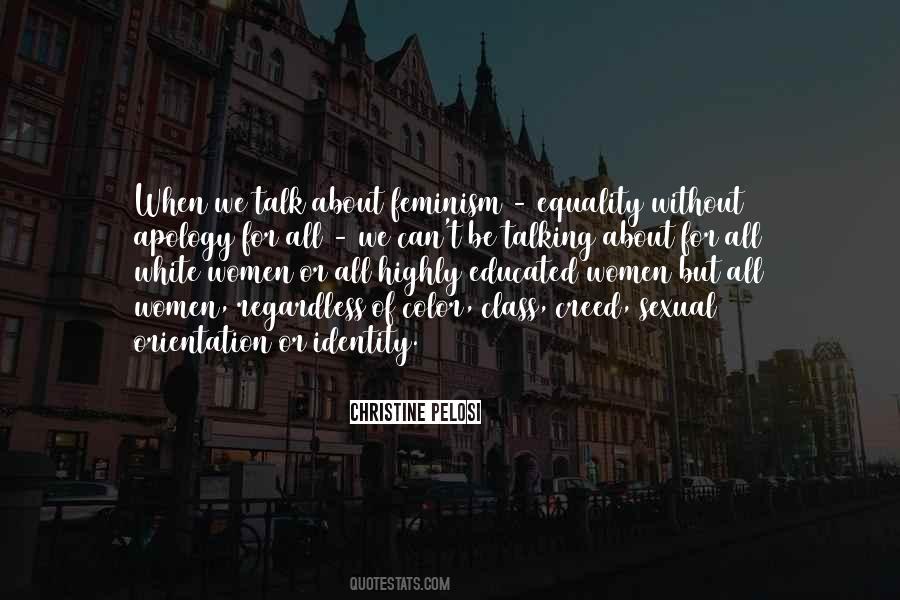 #40. Running is perhaps the most fundamental of all sports, and it is economically the least costly to perform. As a consequence, it is the most democratic and most competitive of all sports because individual merit can prevail despite economic equality. It is a sport for everyone, the whole world over. - Author: Bernd Heinrich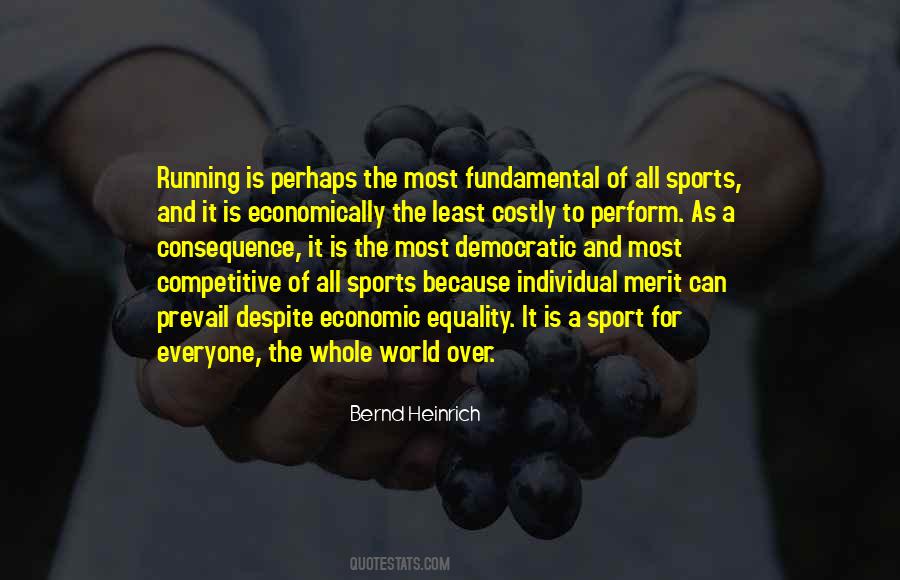 #41. I'm still convinced. We all fight for freedom, but the foundation of freedom is equality and justice. And we are all on the road. - Author: Evo Morales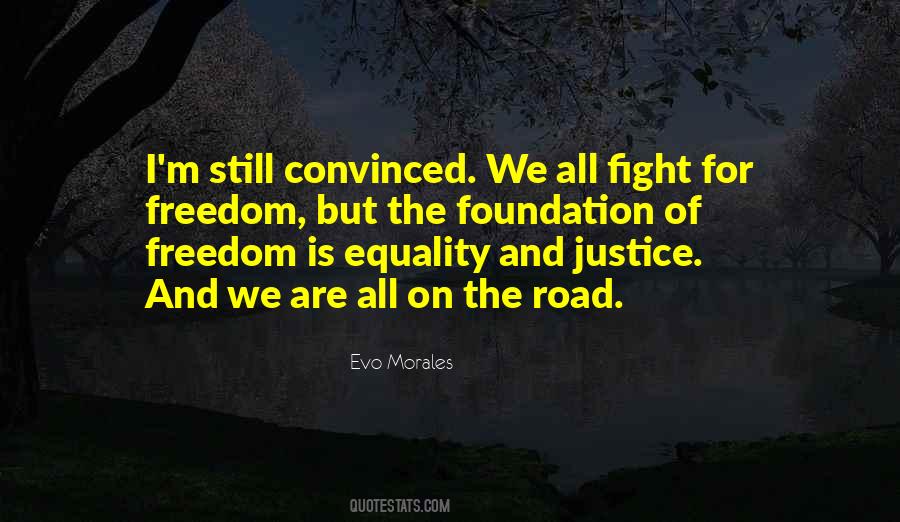 #42. In Canada, women's rights are a vital part of our effort to build a society of real equality - not just for some, but for all Canadians. A society in which women no longer encounter discrimination nor are shut out from opportunities open to others. - Author: Paul Martin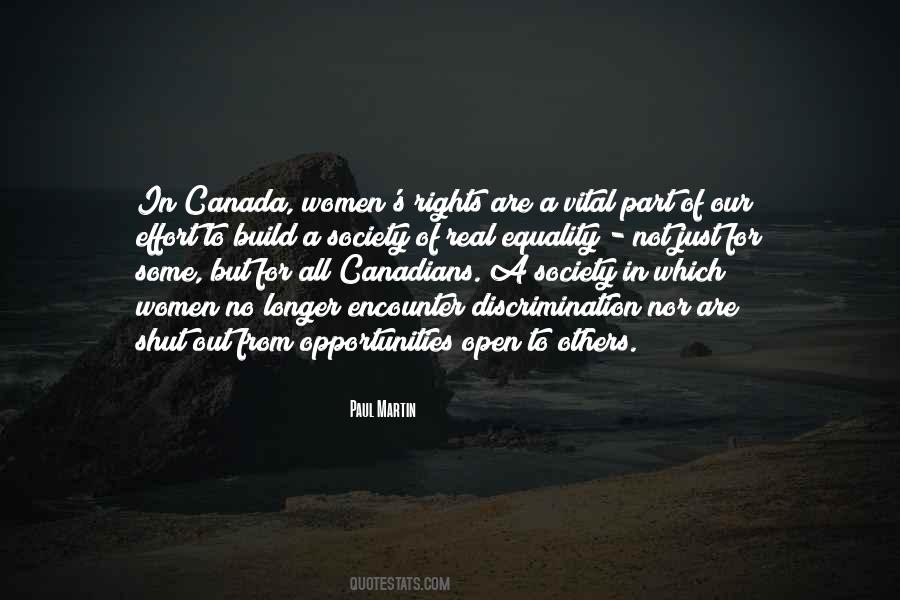 #43. I think it is important that you have people from all different vanguards, from all different walks of society and different viewpoints to be focused on the struggle for equality and democracy. We need as many champions for the cause and as many events as possible to help keep this in focus. - Author: Lupe Fiasco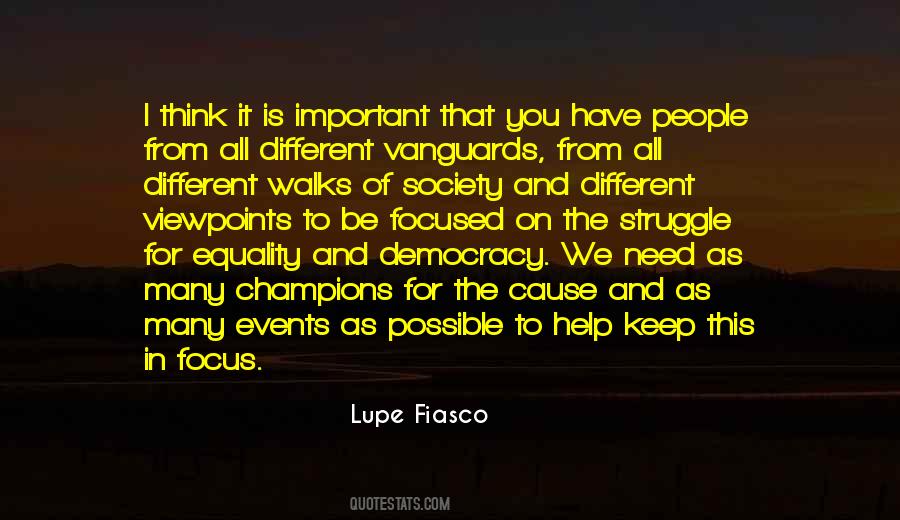 #44. As man develops, he places a greater value upon his own rights. Liberty becomes a grander and diviner thing. As he values his own rights, he begins to value the rights of others. And when all men give to all others all the rights they claim for themselves, this world will be civilized. - Author: Robert G. Ingersoll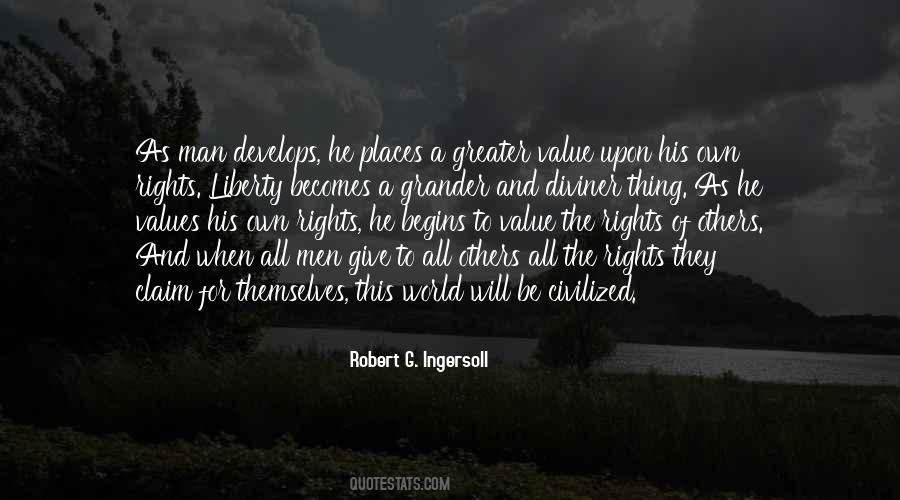 #45. He wasn't someone fighting for racial equality. He was the leader of a violent, Communist revolution that has nearly succeeded in all of its grisly horror. - Author: Joseph Farah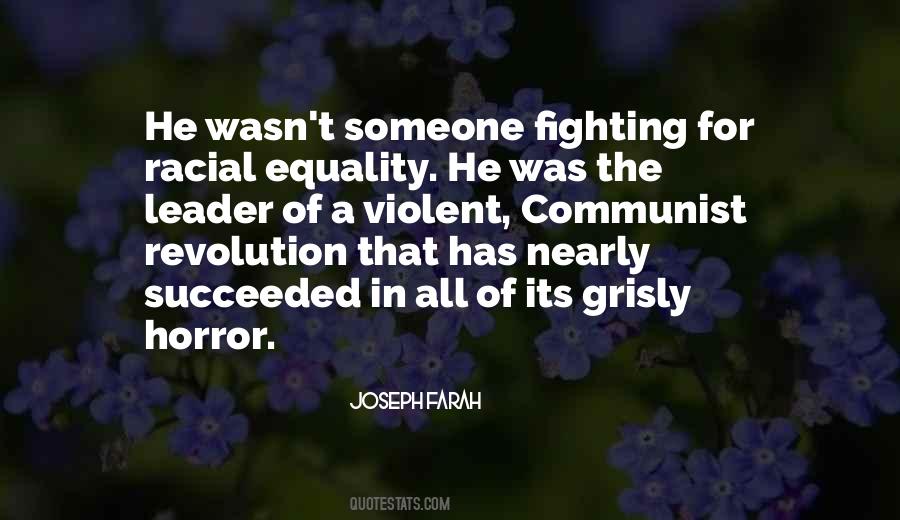 #46. I'll never understand how destroying families through deportation benefits our society. How we treat the undocumented says a great deal about us as a people and whether or not we'll continue to fulfill the fundamental American promise of equality and opportunity for all. - Author: Conor Oberst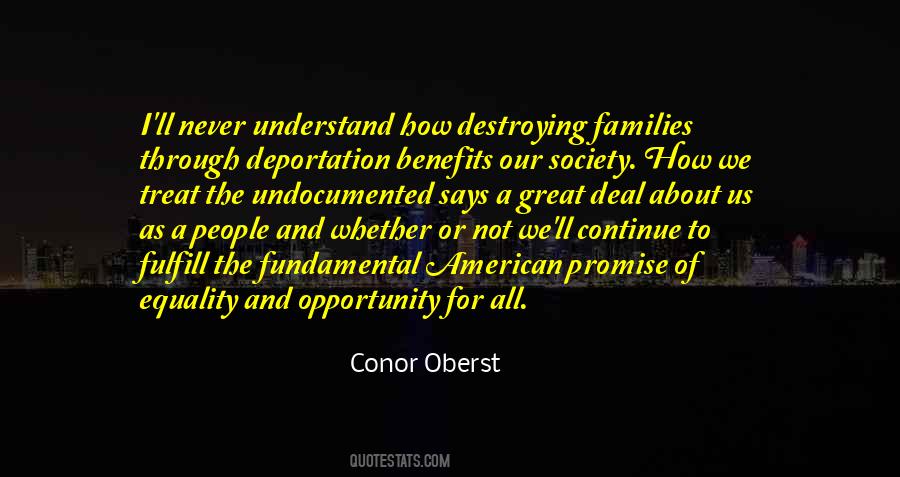 #47. The Pledge of Allegiance says 'liberty and justice for all'. Which part of 'all' don't you understand? - Author: Pat Schroeder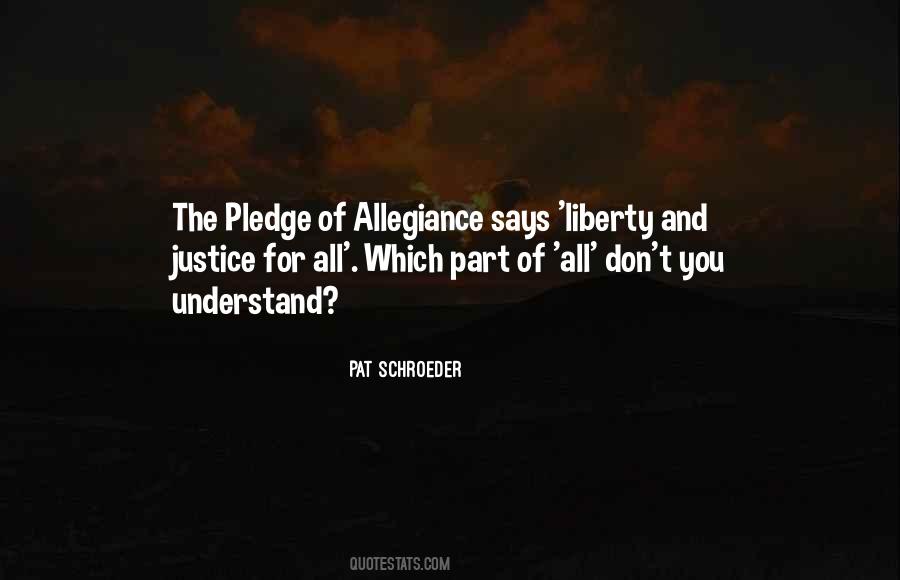 #48. People need to free their minds of racial prejudice and believe in equality for all and freedom regardless of race. It would be a good thing if all people were treated equally and justly and not be discriminated against because of race or religion or anything that makes them different from others. - Author: Rosa Parks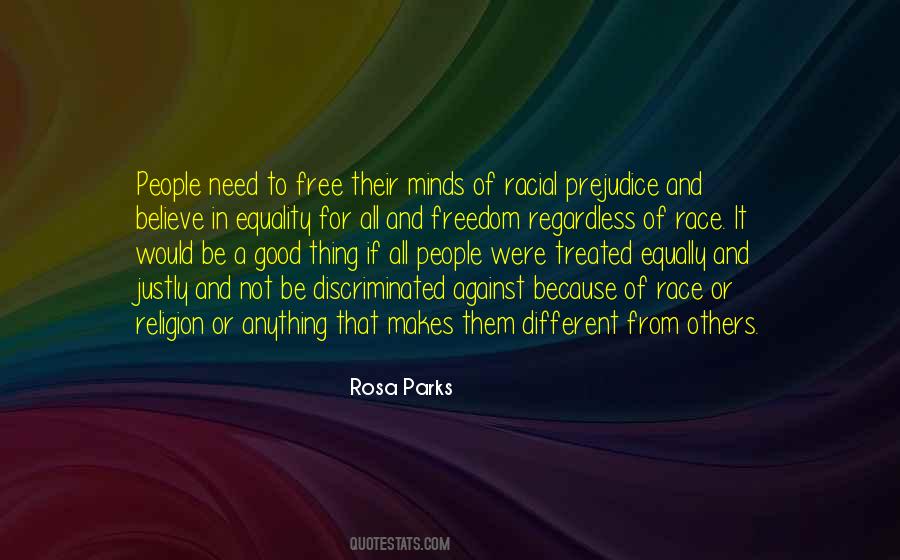 #49. If we say we believe in equality for all then we must fight for equality for all, not betray our immigrant sisters. - Author: Christine Pelosi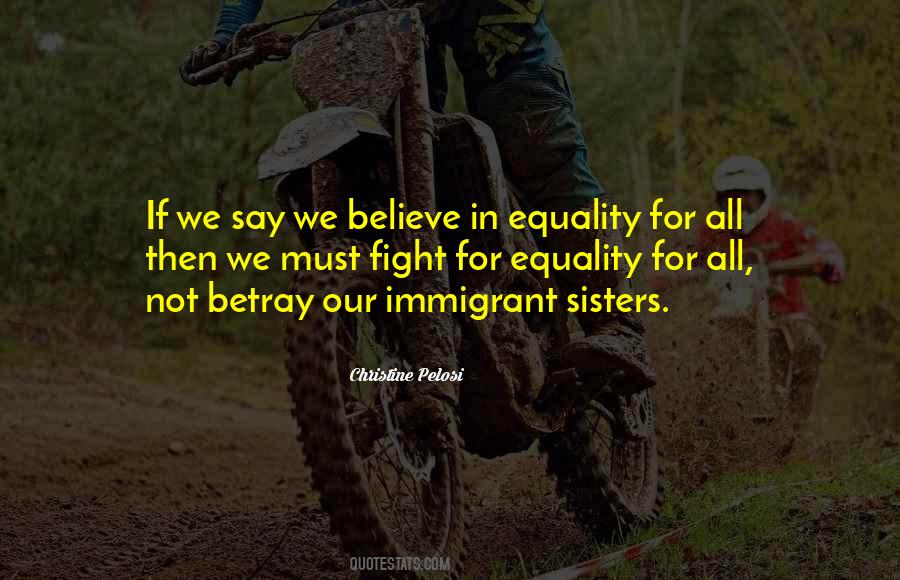 #50. The story of women's struggle for equality belongs to no single feminist nor to any one organization but to the collective efforts of all who care about human rights - Author: Gloria Steinem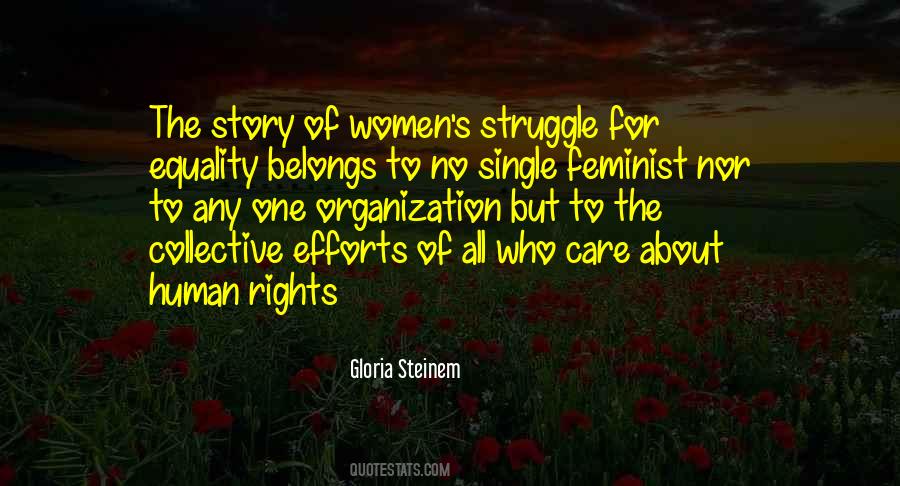 #51. In choosing global corporate partners UNICEF emphasises compatibility with our core values and looks to build alliances that advance our mission of ensuring the health, education, equality and protection for all the world's children. - Author: Carol Bellamy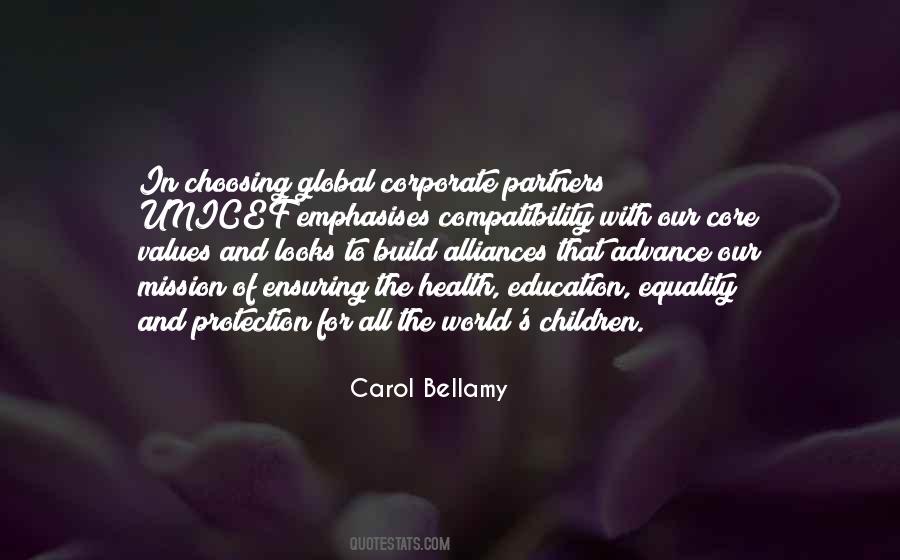 #52. We fought for equality for all, for women too. For freethinking, fighting the lies of church and state, for what Nat called the Republic of Letters. That was what we believed in twenty years ago. But now, seems like all that has gone. It's church and Sunday best, and votes for men." "What - Author: M.J. Carter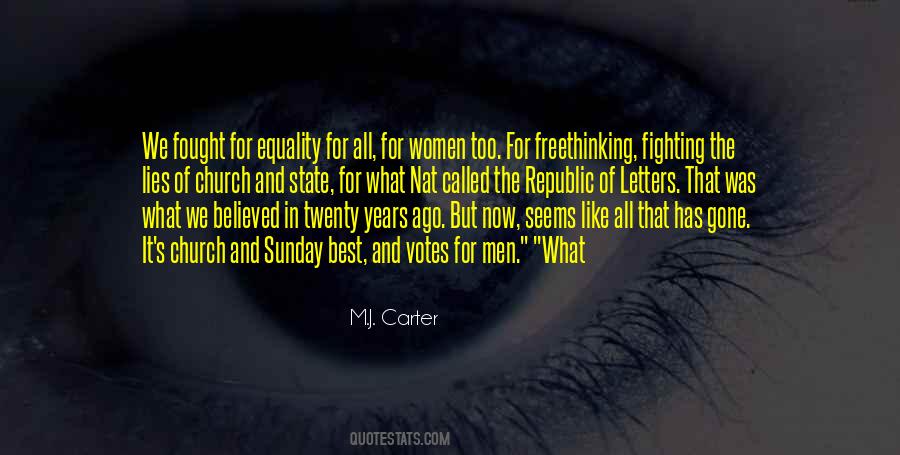 #53. People have foolishly mistaken equality for sameness. Equality of the genders means that both have equal value and worth, and one is not better than the other. But it doesn't mean we're all exactly the same. And many of us who still believe in gender separation say, 'Vive la difference! - Author: Mike Huckabee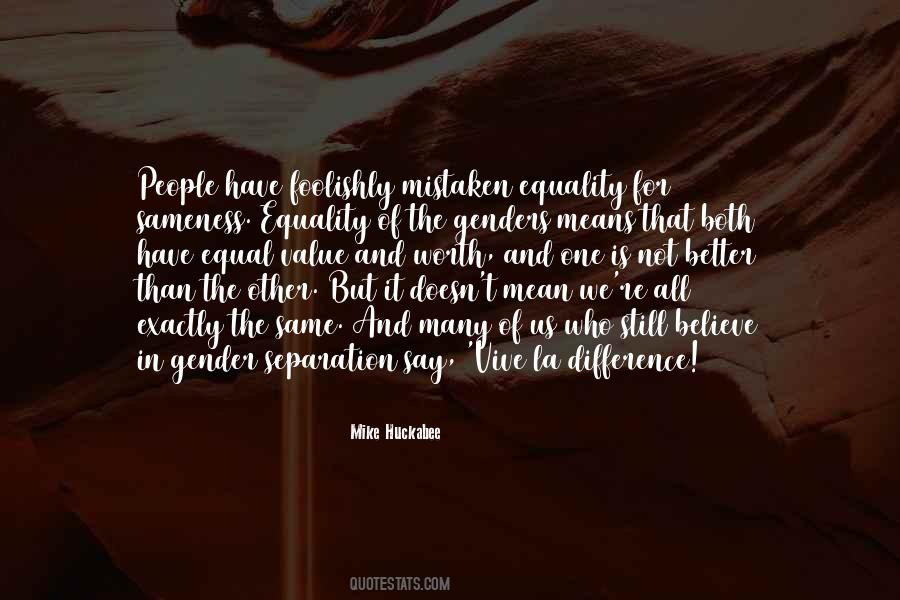 #54. This document [the Reconstruction and Development Programme] was translated into a simpler manifesto called 'A Better Life for All', which in turn became the ANC's campaign slogan. - Author: Nelson Mandela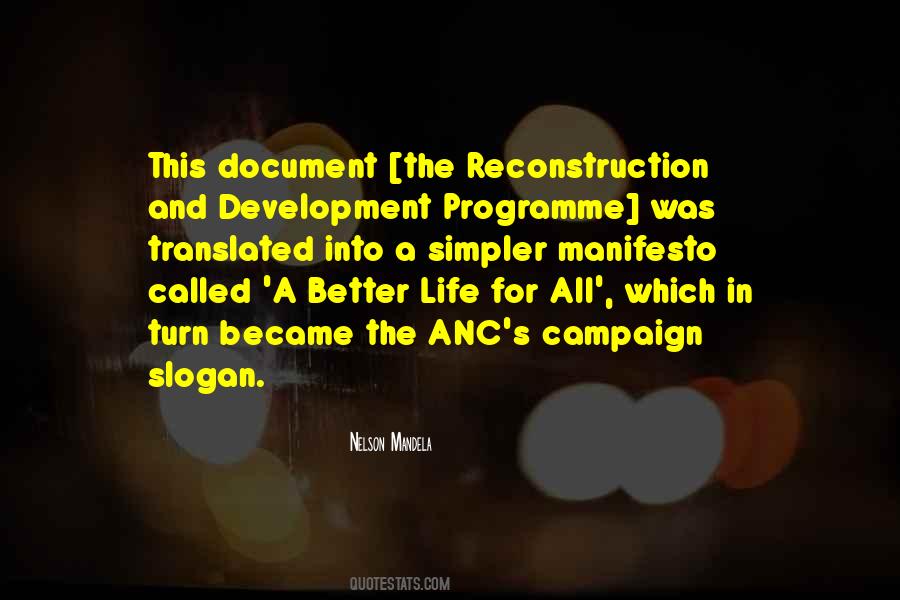 #55. I believe in equality for everyone. I believe everyone should have the right to love and commit to whomever they want. [ ... ] All I know is that in God's eyes we are all the same. I just wish we could see through the eyes of God more often. - Author: LeAnn Rimes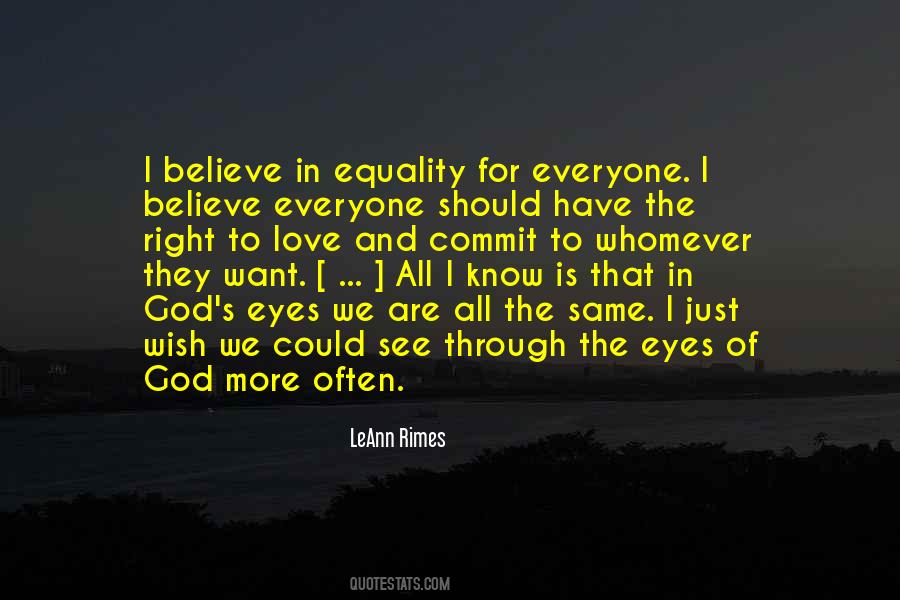 #56. Also, somehow, there doesn't seem to be any old-fashioned gender roles in place, or any gender roles at all. The priest who condemned me to the mob was a woman. I'll cheer for equality later. - Author: Claudia Gray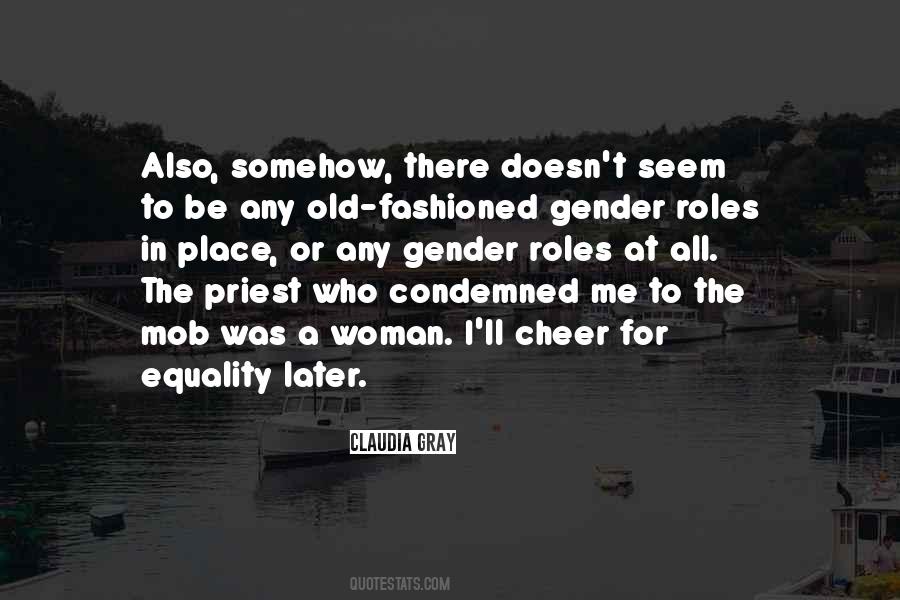 #57. Equality comes in realizing that we are all doing different jobs for a common purpose. That is the aim behind any community. The very name community means let's come together to recognize the unity. Come ... unity. - Author: Swami Satchidananda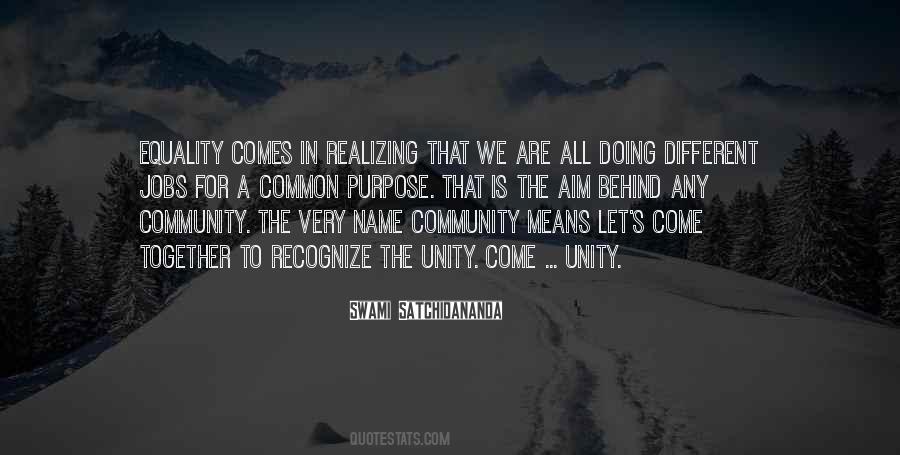 #58. I just try to, in my own way, contribute to making a better Hollywood, to move Hollywood to be a leader in social justice, as it always has been, and not to have any holes in their own backyard while they continue to push for equality and all the things that they always stand up for. - Author: Russell Simmons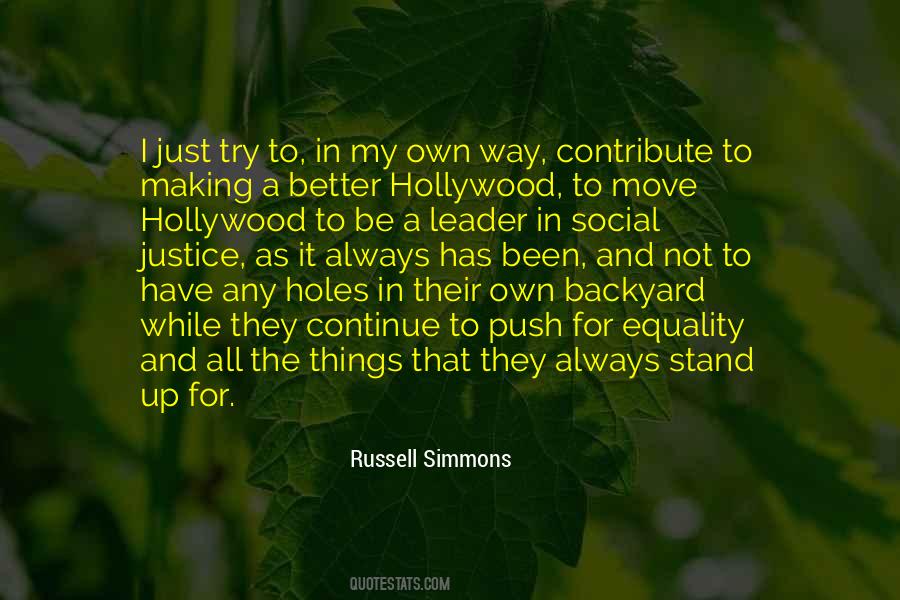 #59. Effective use of Braille is as important to the blind as independent mobility, knowledge in the use of adaptive technology, and the core belief that equality, opportunity and security are truly possible for all people who are blind. - Author: Bob Ney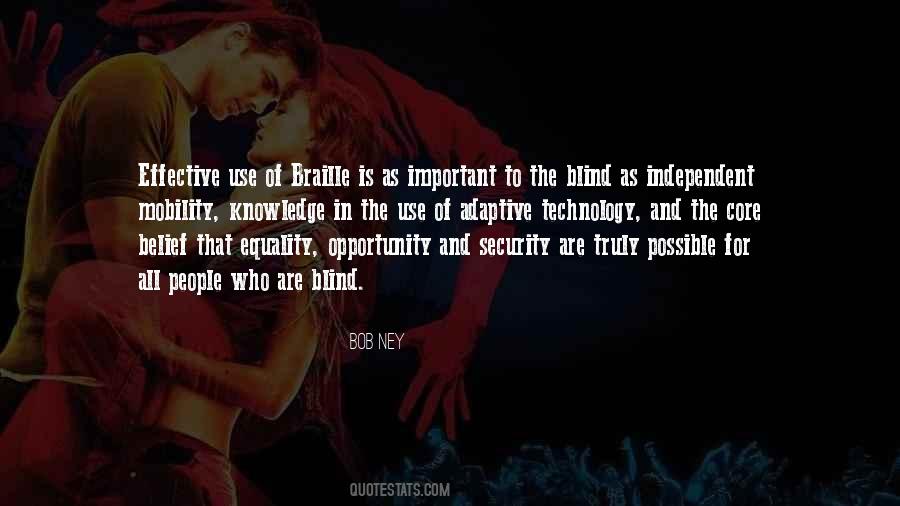 #60. - Dedalus, you're an antisocial being, wrapped up in yourself. I'm not. I'm a democrat and I'll work and act for social liberty and equality among all classes and sexes in the United States of the Europe of the future. - Author: James Joyce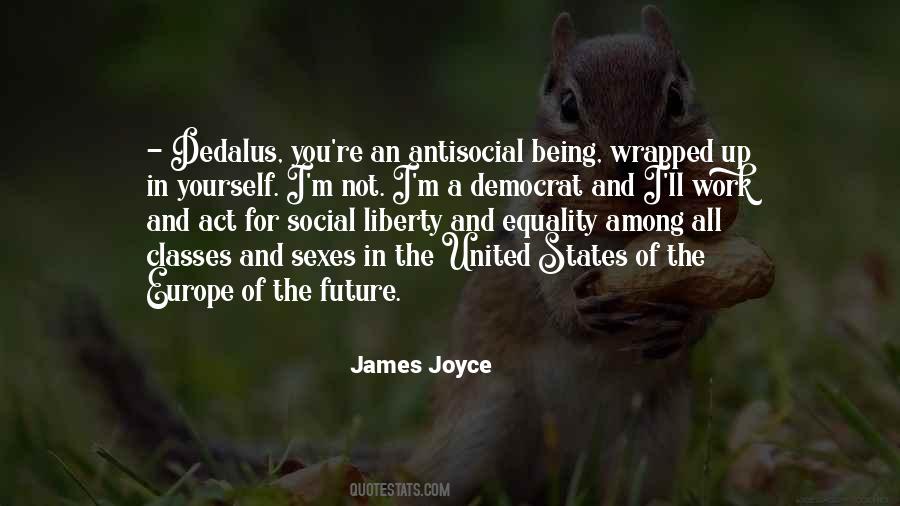 #61. This is what science can do for us, if we let it. If offers us an opportunity to lower our defenses and experience the ways that we are all connected. - Author: Emily Nagoski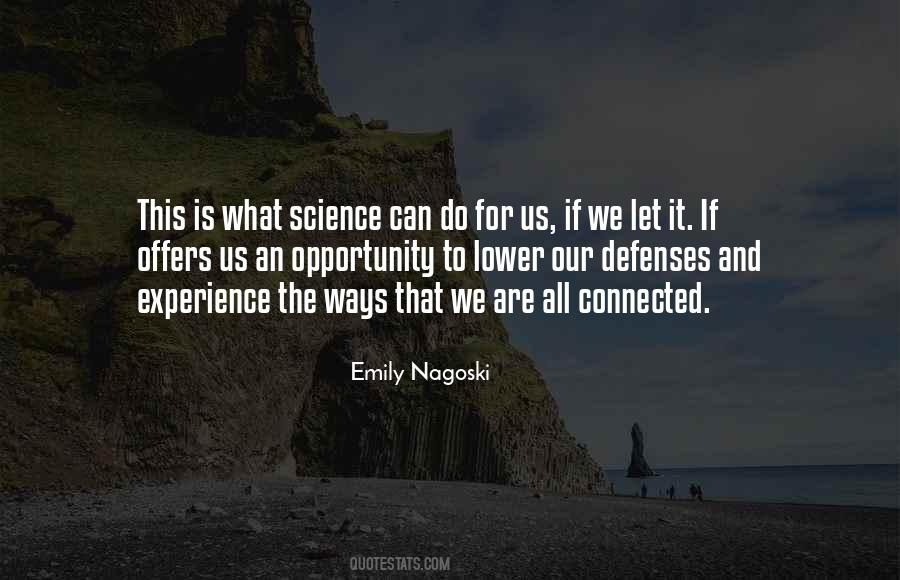 #62. To allow injustice and inequality invites a Ferguson to your community. We must stand together, black, white, brown, red, and yellow and fight for justice and equality for all. It's the only way to avoid more Fergusons. - Author: Jesse Jackson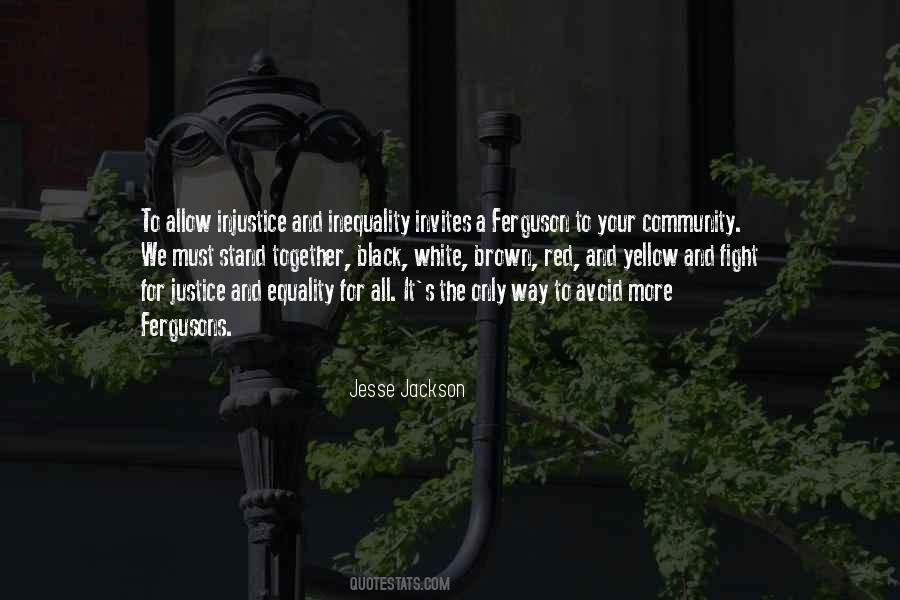 #63. For what people have always sought is equality before the law. For rights that were not open to all alike would be no rights. - Author: Marcus Tullius Cicero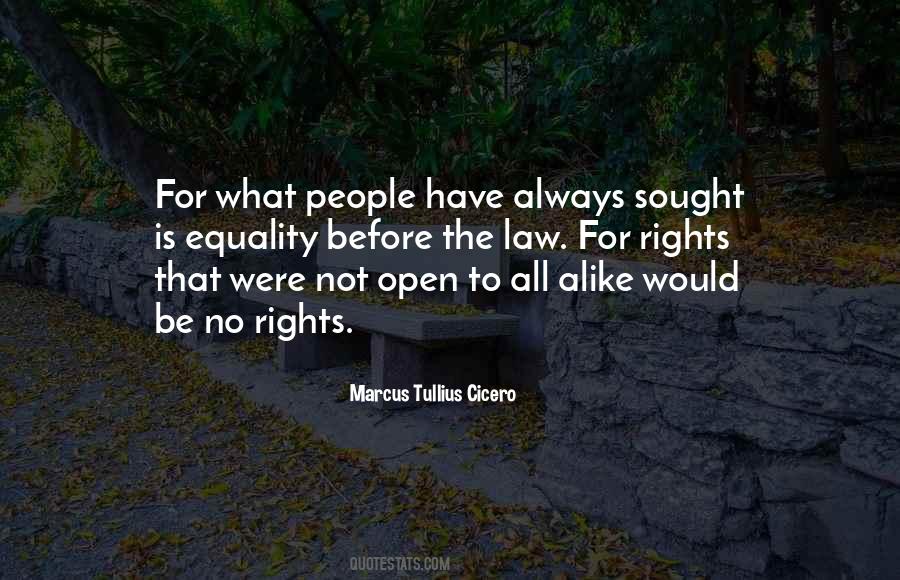 #64. Pay 2 Play vividly tells the story of the threat posed to our political process by big money interests and what we can do to fight back to defend our Republic. This is a must-see movie for anyone who cares about the cause of democracy and the promise of political equality for all. - Author: John Bonifaz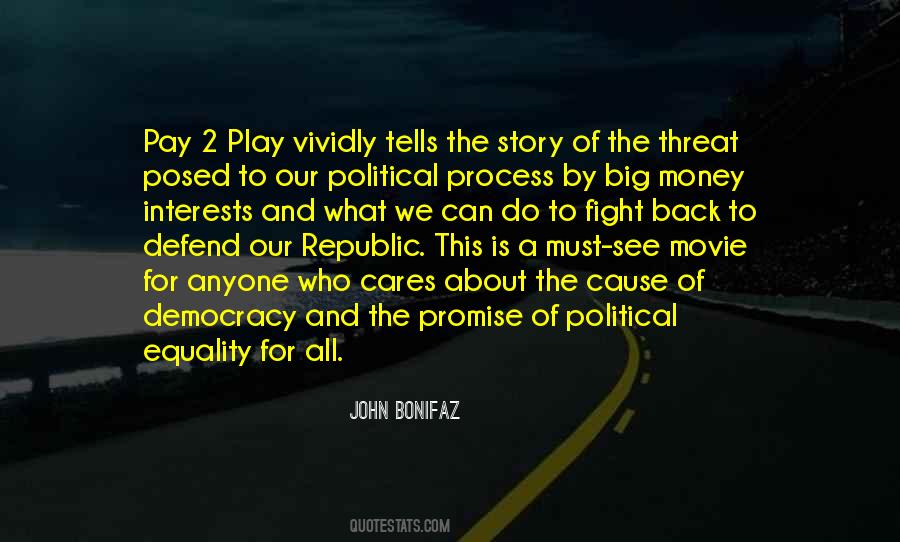 #65. Germans Francis Grund, and Francis Lieber, and the Pole Adam G. de Gurowski all wrote about the striking social equality they found in America, the absence of differences in status. They all noted the American obsession with work and the restless quest for the "almighty dollar."18 - Author: Alexis De Tocqueville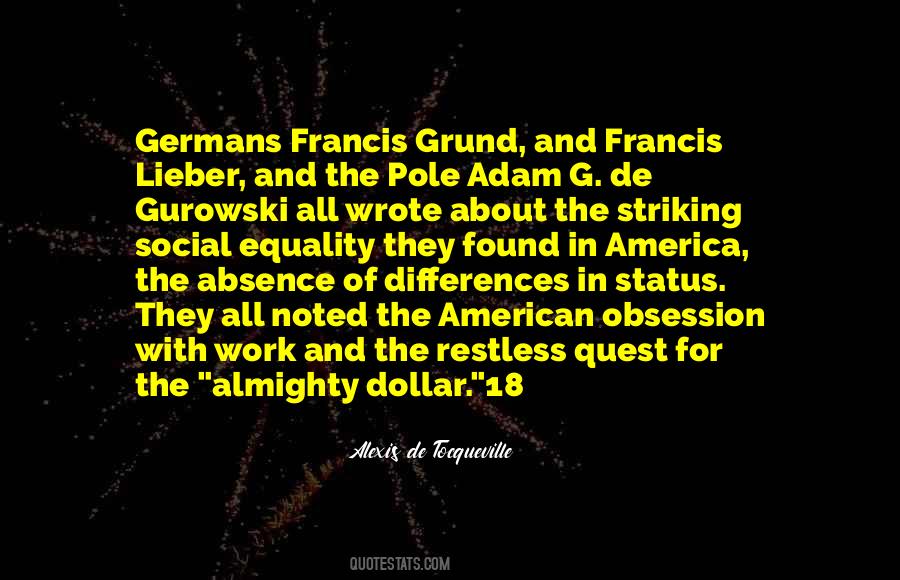 #66. We live in an age in which the fundamental principles to which we subscribe - liberty, equality and justice for all - are encountering extraordinary challenges, ... But it is also an age in which we can join hands with others who hold to those principles and face similar challenges. - Author: Ruth Bader Ginsburg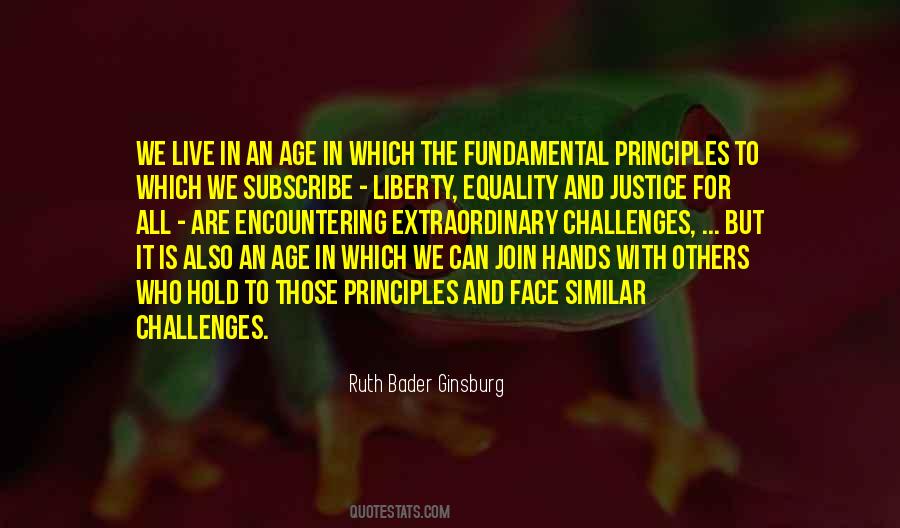 #67. Women have fought so long and hard for our rights and equality, and now all our attention is put on being a size 0. - Author: Pink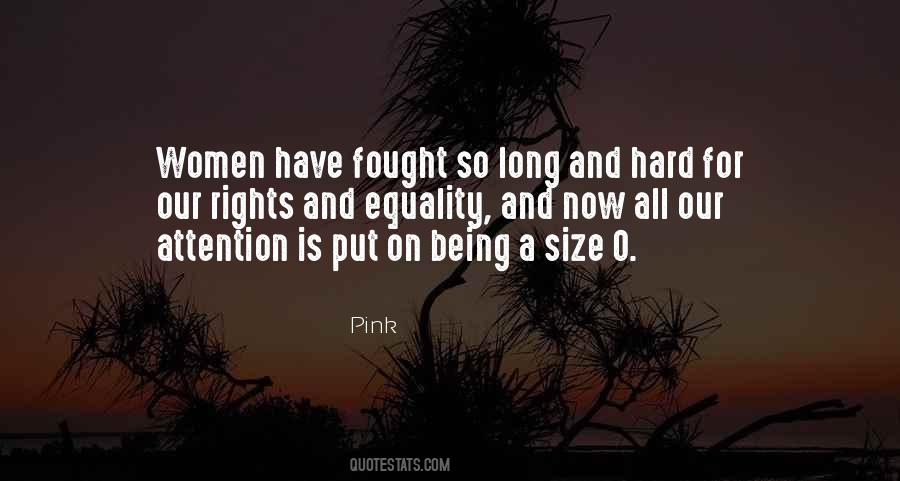 #68. I ask no favors for my sex, I surrender not our claim to equality. All I ask of our brethren is that they will take their feet from off our necks, and permit us to stand upright on the ground which God has designed us to occupy. - Author: Sarah Moore Grimke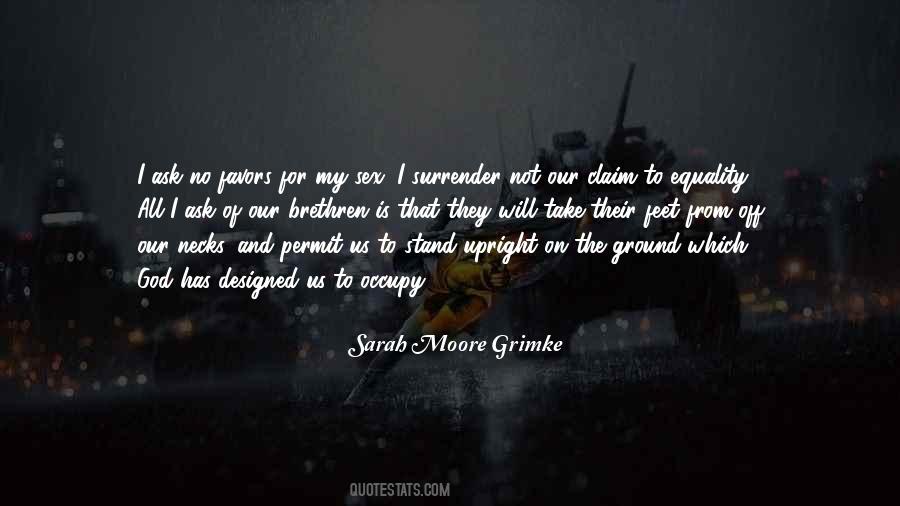 #69. Half a century ago, the amazing courage of Rosa Parks, the visionary leadership of Martin Luther King, and the inspirational actions of the civil rights movement led politicians to write equality into the law and make real the promise of America for all her citizens. - Author: David Cameron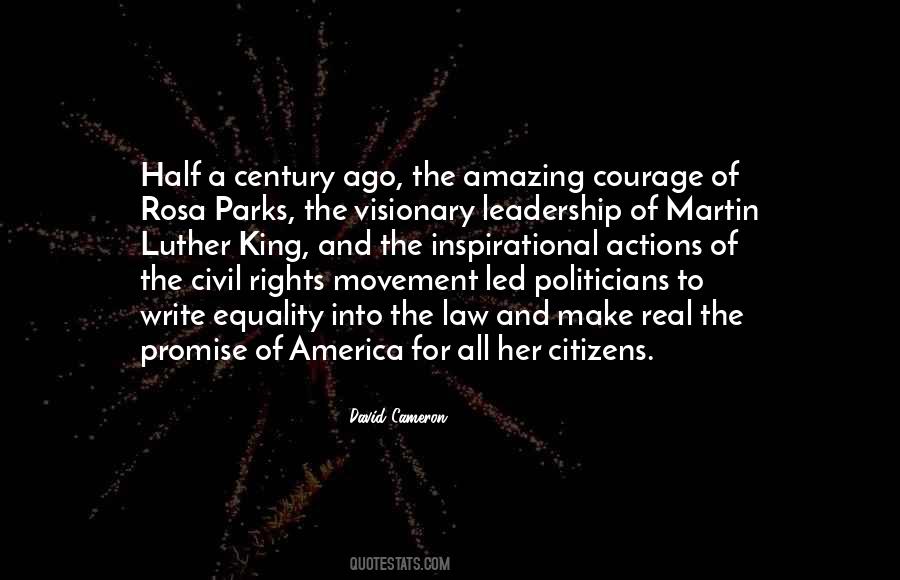 #70. Our goals for this nation must be nothing less than to double the size of our economy and bring prosperity and jobs, ownership and equality of opportunity to all Americans, especially those living in our nation's pockets of poverty. - Author: Jack Kemp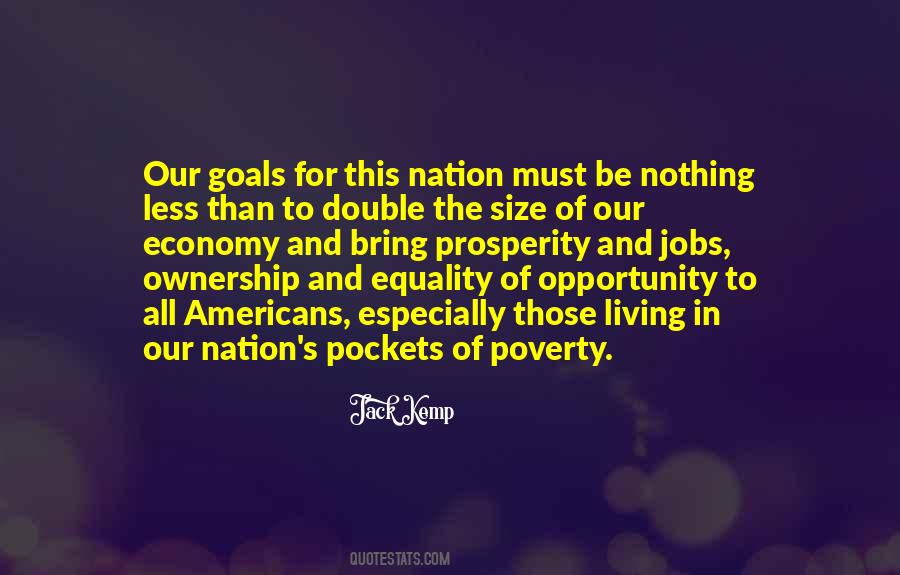 #71. The March on Washington affirmed our values as a people: equality and opportunity for all. Forty-one years ago, during a time of segregation, these were an ideal. - Author: Leonard Boswell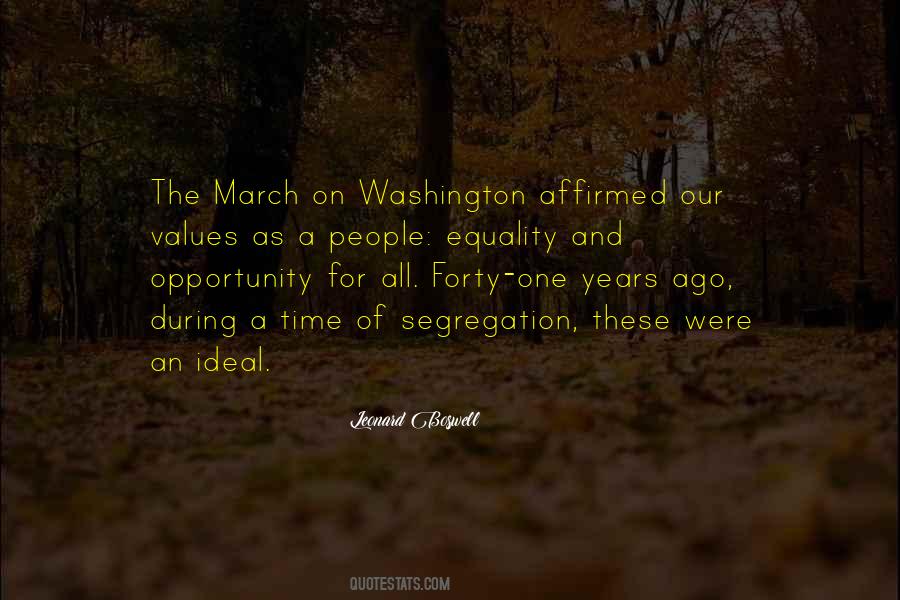 #72. No one is innocent in the tide of history. Everyone has kings and slaves in his past. Everyone has saints and sinners. We are not to blame for the actions of our ancestors. We can only try to be the best we can, no matter what our heritage, to strive for a better future for all. - Author: Diana Peterfreund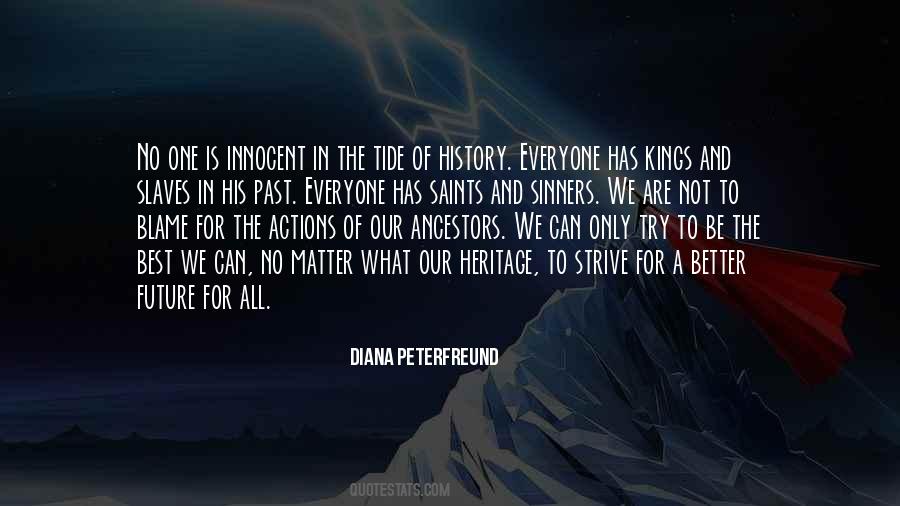 #73. We are at a pivotal moment in our shared history. The global goals of a healthy planet, social equality, and economic opportunity for all are within reach. But we cannot prevaricate. - Author: Achim Steiner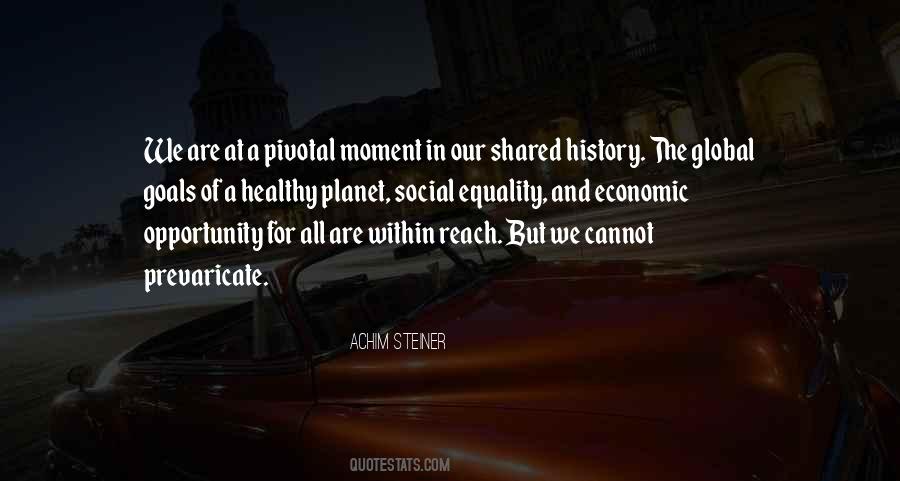 #74. Word: I'm not saying the races don't have a common human bond. I'm just saying that bond isn't about compassion and equality and tolerance. What we all share together is the drive to get what's ours and keep it for as long as we can. - Author: Snoop Dogg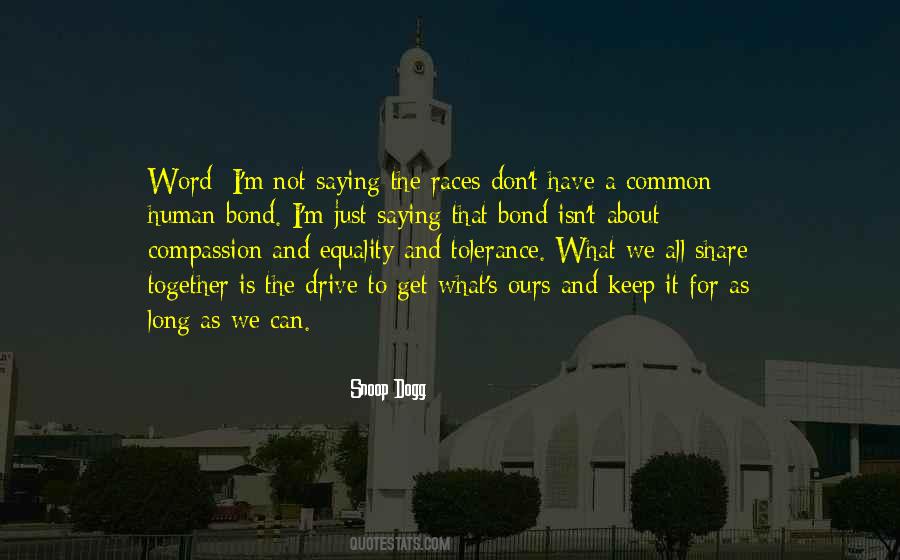 #75. I honestly want to help. I don't believe I feel differently from other people. I think we all want justice and equality, a chance for a life with meaning. - Author: Angelina Jolie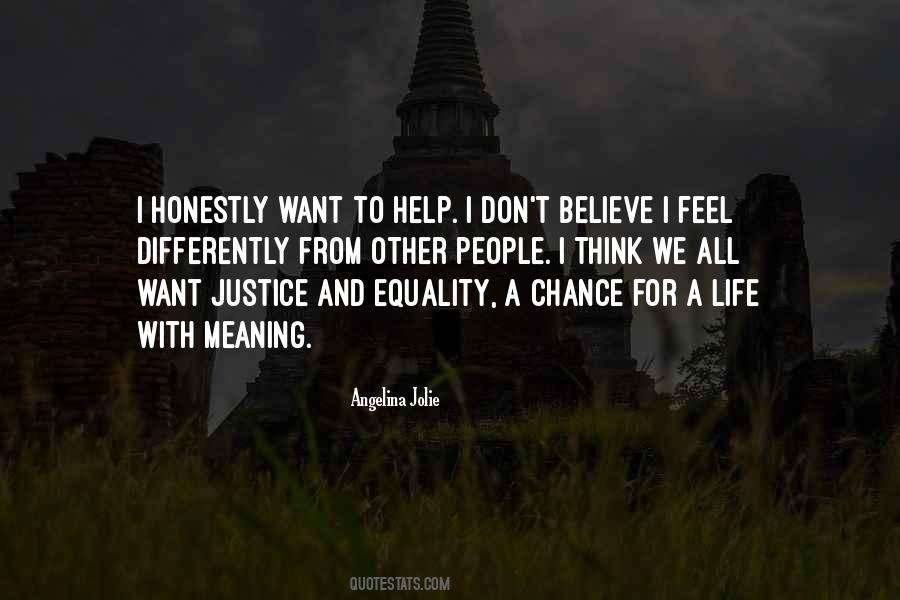 #76. There shall be equality of treatment and opportunity for all persons in the armed services without regard to race, color, religion or national origin. - Author: Harry S. Truman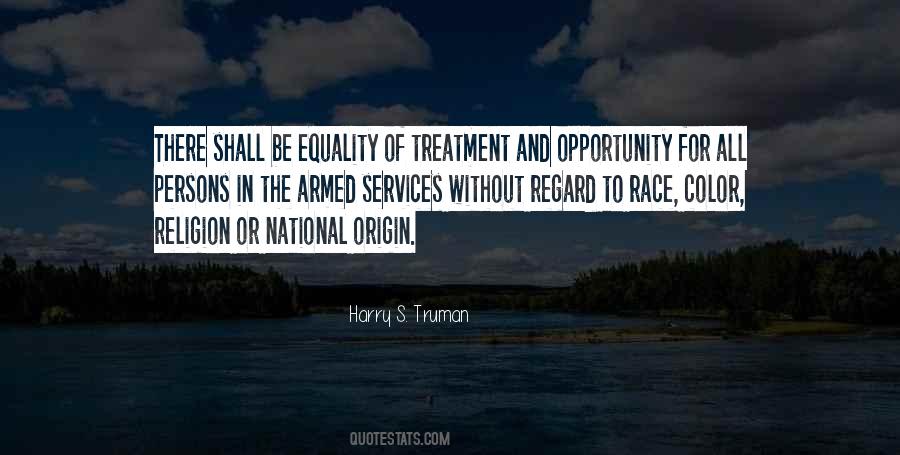 #77. We are all brothers under the skin - and I, for one, would be willing to skin humanity to prove it. - Author: Ayn Rand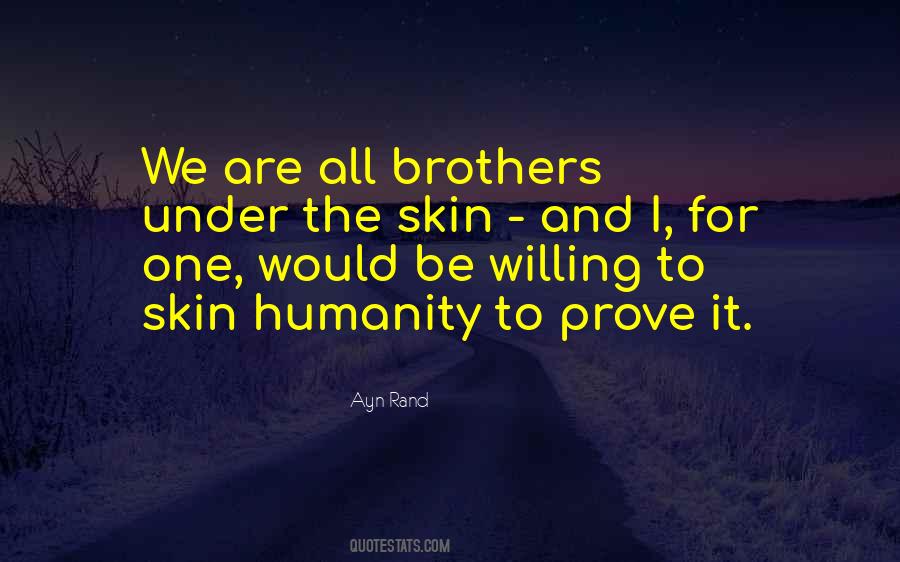 #78. Equality for women is progress for all. - Author: Ban Ki-moon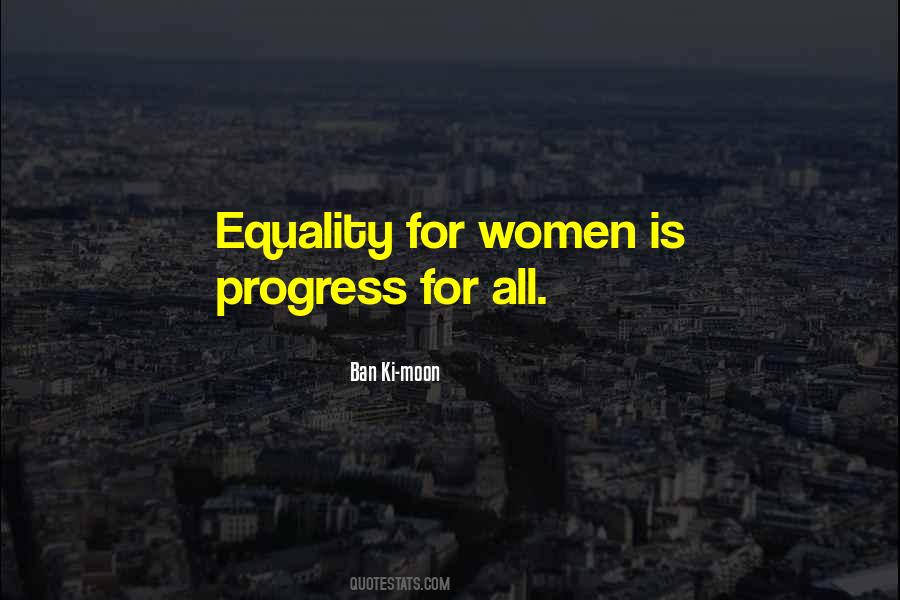 #79. I genuinely believe that we will look back on today as a landmark for equality in Britain ... No matter who you are and who you love, we are all equal. Marriage is about love and commitment, and it should no longer be denied to people just because they are gay. - Author: Nick Clegg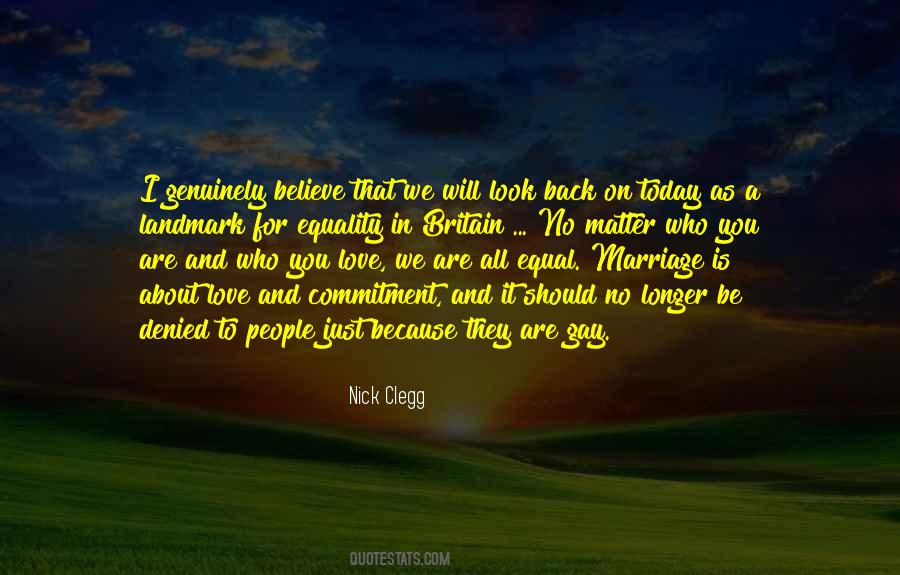 #80. Love is responsibility of an I for a You: in this consists what cannot consist in any feeling - the equality of all lovers.. - Author: Martin Buber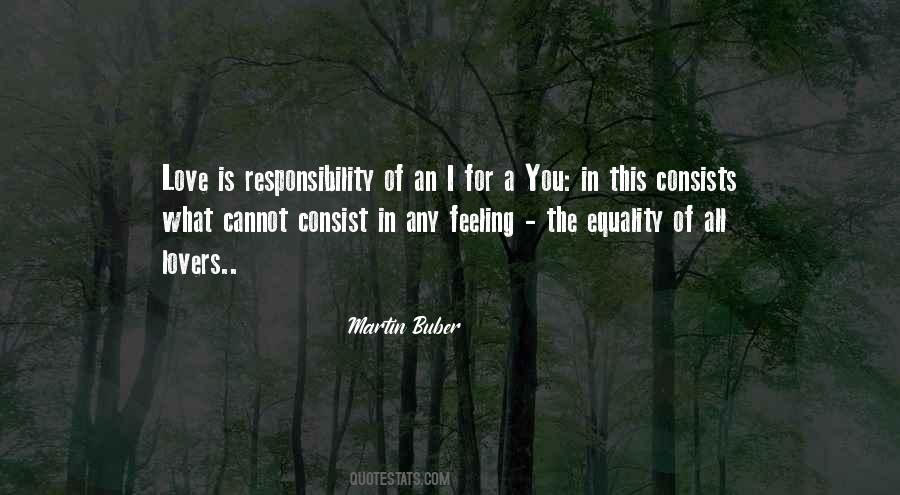 #81. He believed that there was need in the world for a class freed from the handicap of law and morality, a class acutely adaptable and immoral; a class bent on achieving, not the equality of all men, but the production, at the top, of the superman. - Author: H.L. Mencken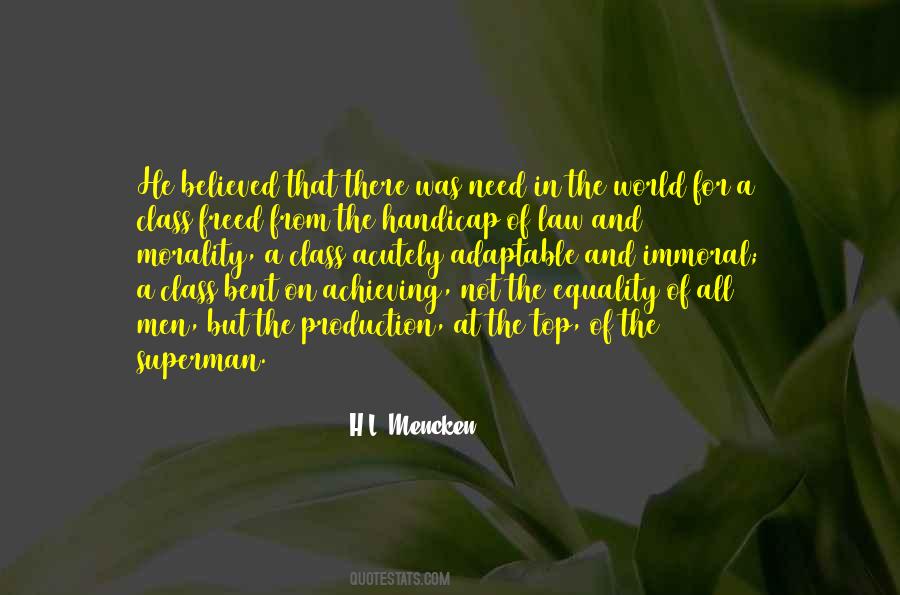 #82. I know my country has not perfected itself. At times, we've struggled to keep the promise of liberty and equality for all of our people. We've made our share of mistakes, and there are times when our actions around the world have not lived up to our best intentions. - Author: Barack Obama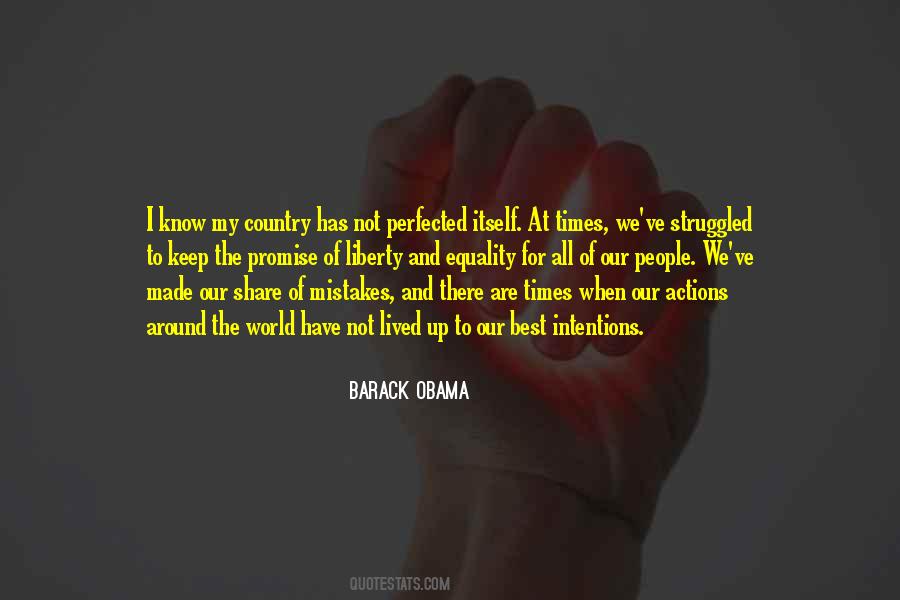 #83. The United Nations stands for the freedom and equality of all peoples, irrespective of race, religion, or ideology. - Author: Ralph Bunche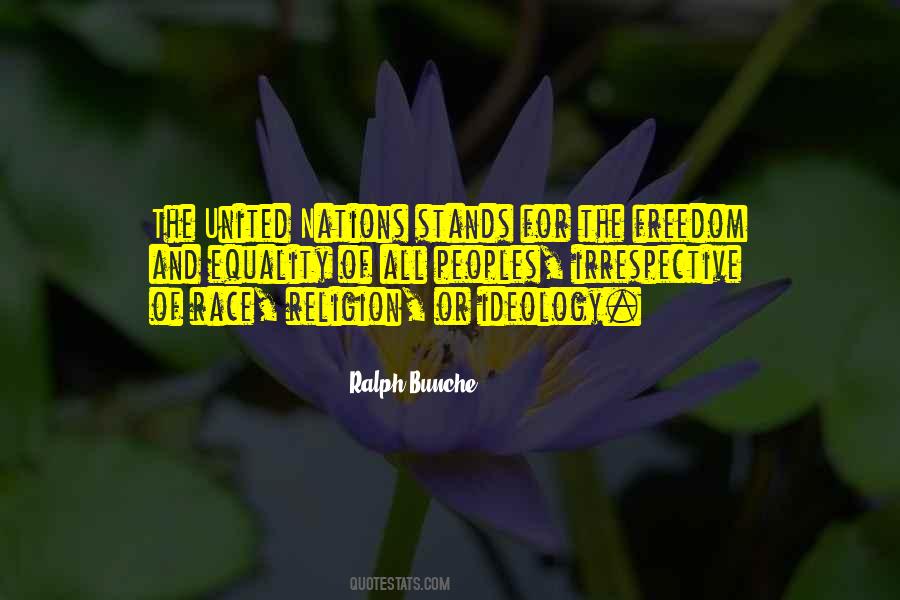 #84. I just believe in equality for all. - Author: Ashley Wagner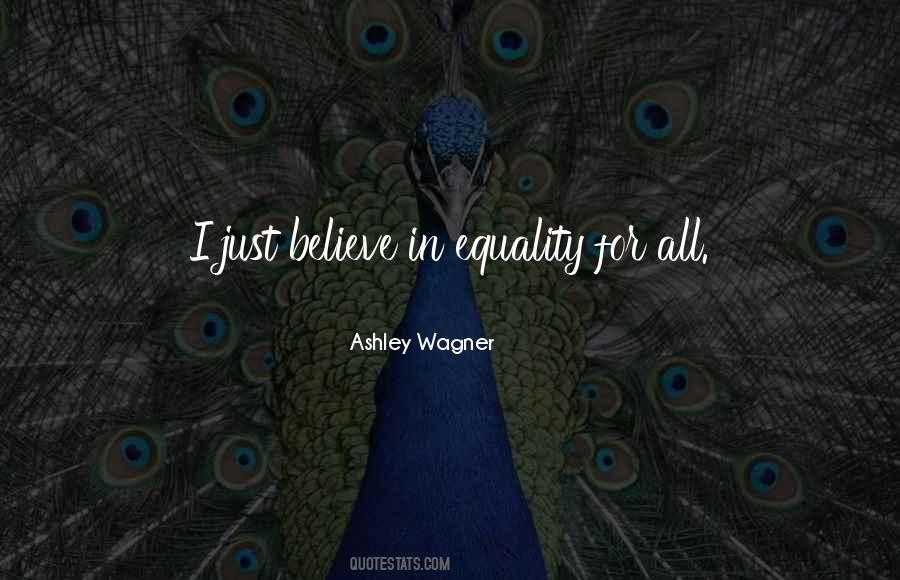 #85. If we are to give the people of China complete self-government we must first solve the problem of livelihood for all, and give real freedom to the races within China. If the foundations of democracy are secure, then true equality can be achieved. - Author: Chiang Kai-shek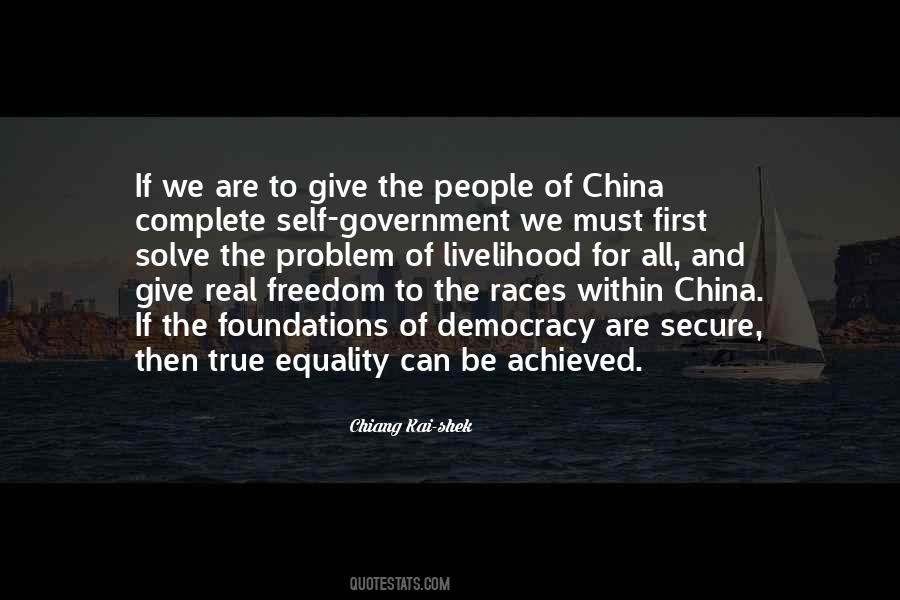 #86. I believe one day a 'ban on gay marriage' will sound totally ridiculous. In the meantime, I will continue to speak out for equality for all of us. - Author: Ellen DeGeneres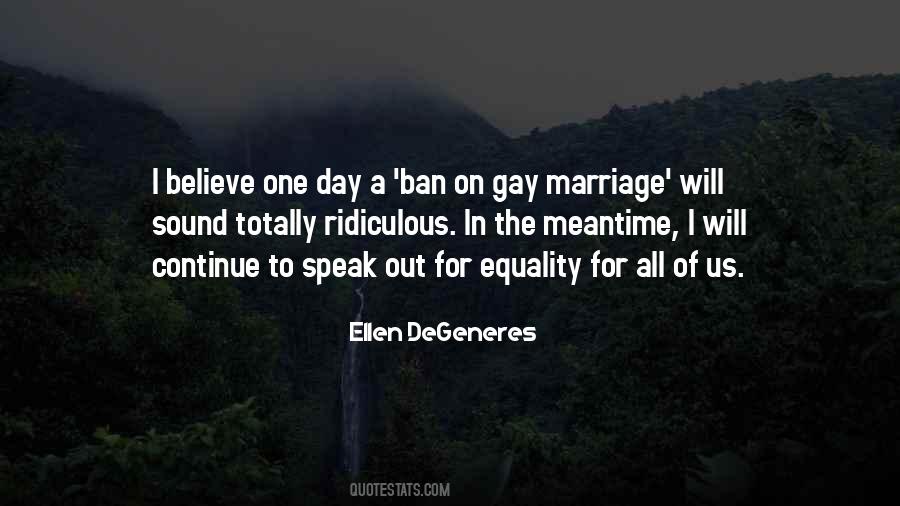 #87. He(Prophet Muhammad) laid the foundation of a universal government. His law was one for all. Equal justice and love for everyone. - Author: B. Margoliouth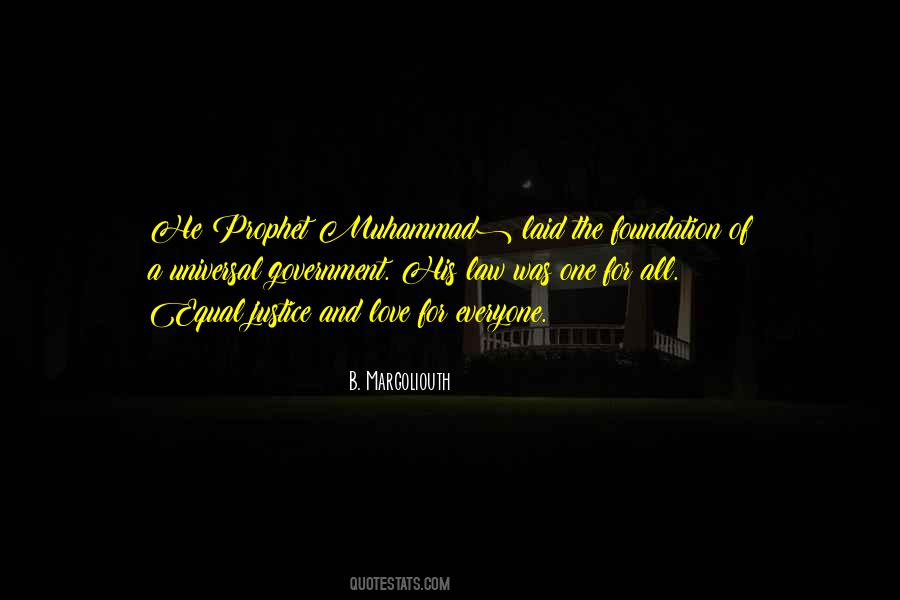 #88. Sometimes black people really want to hold onto our oppression - 'This is ours! This belongs to us.' You can't just talk about equality for somebody else. Let's pass it on. Let's pass it on to somebody else. At the end of the day, it is all about inequality. - Author: Wanda Sykes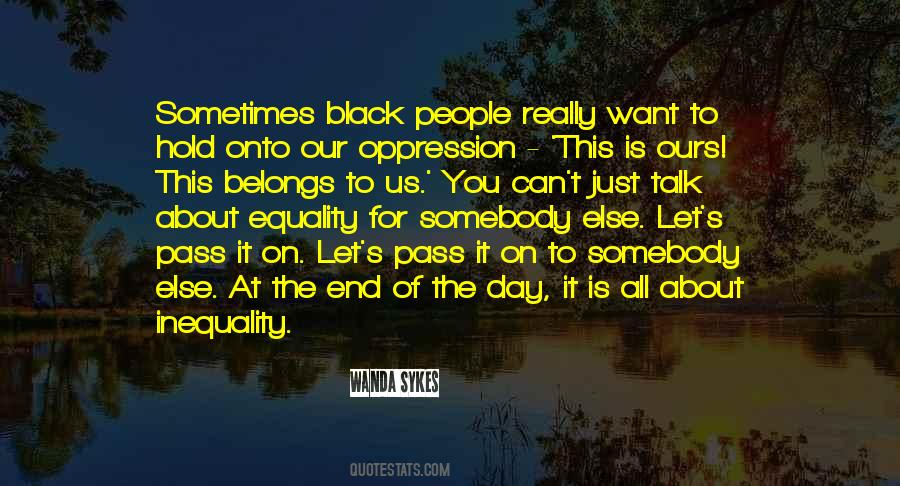 #89. the worth of the soul is so much greater than what is first perceived. Equality and love for all became the founding basis - Author: Jenni James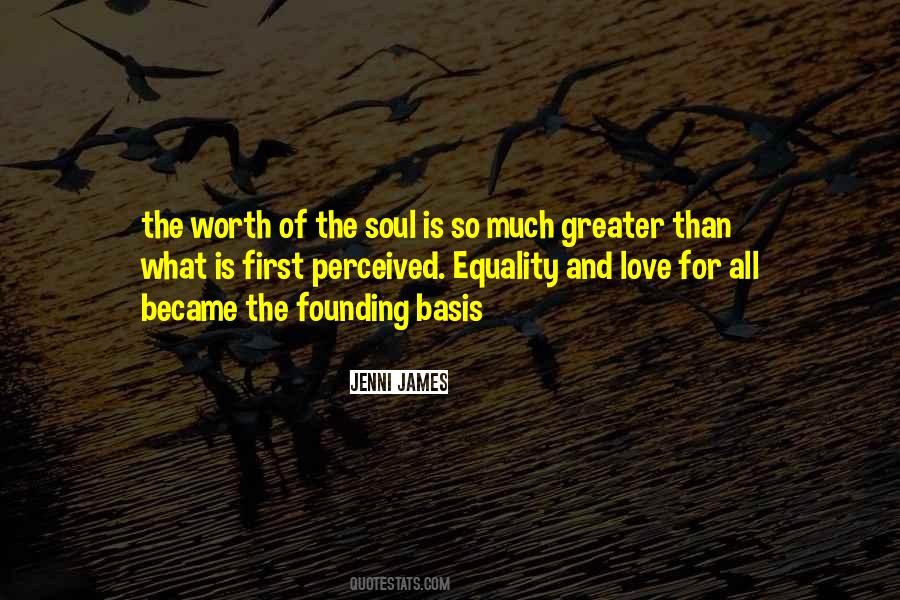 #90. In the dark, equality for all of mankind couldn't seem brighter. - Author: Robert M. Hensel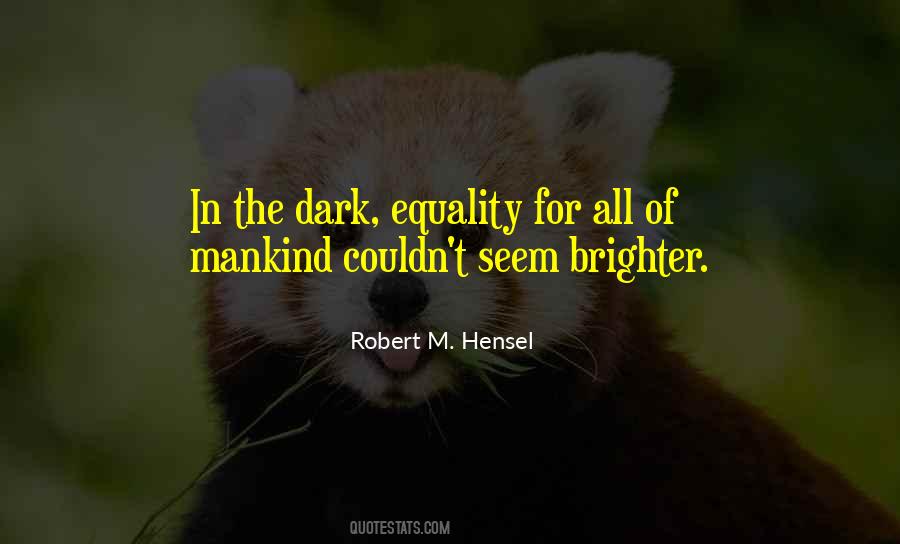 #91. But they didn't. Because simply being able to vote isn't the same as true equality. It's difficult to see the glass ceiling because it's made of glass. Virtually invisible. What we need is for more birds to fly above it and shit all over it, so we can see it properly. In - Author: Caitlin Moran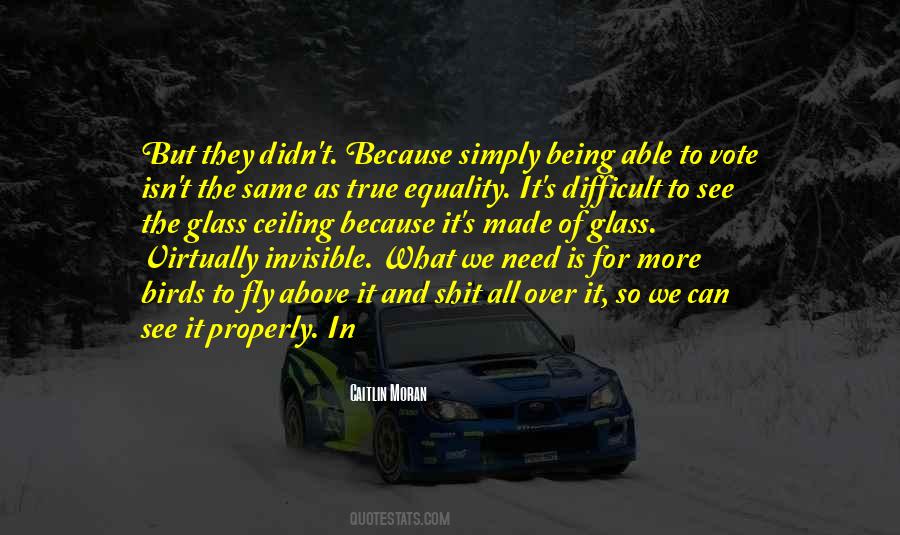 #92. There are some flaws in the assumptions made for democracy. It is assumed that all men and women are equal or should be equal. Hence, one-man-one-vote. But is equality realistic? If it is not, to insist on equality must lead to regression. - Author: Lee Kuan Yew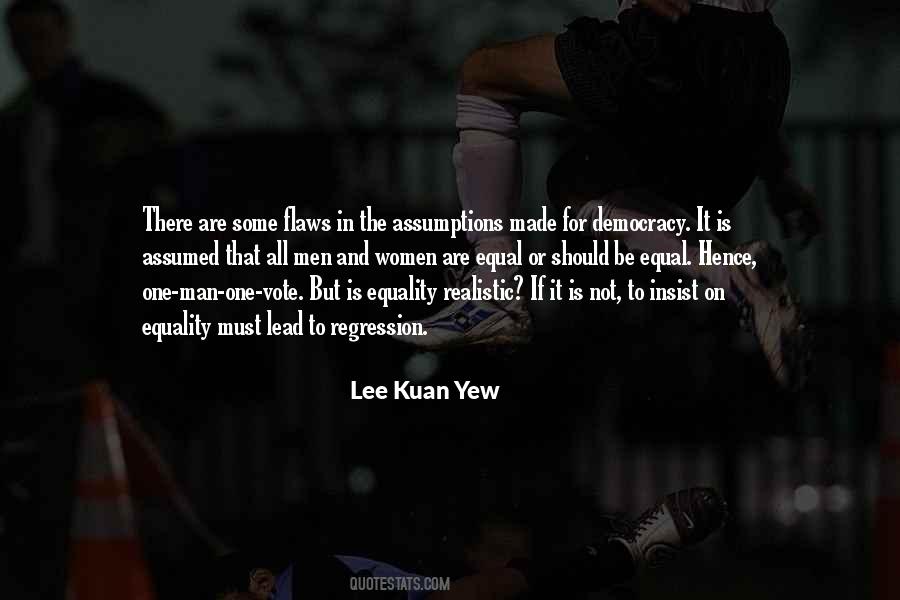 #93. We cannot legislate equality but we can legislate ... equal opportunity for all. - Author: Helen Gahagan Douglas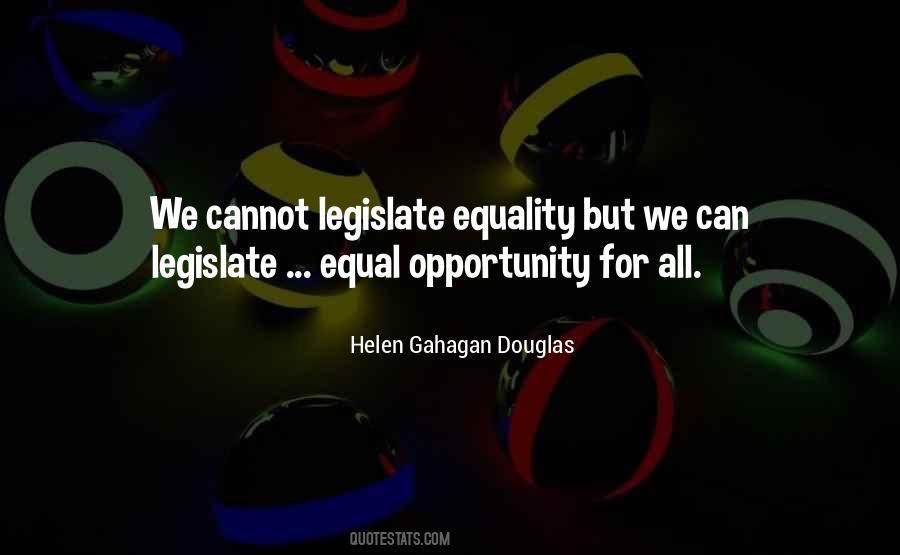 #94. If Christians are all loving and full of God's grace (like some of us really are), do they truly love their neighbor? Would they catch a grenade for one of us (like some of us would for them because we truly have love in our hearts)? - Author: Solange Nicole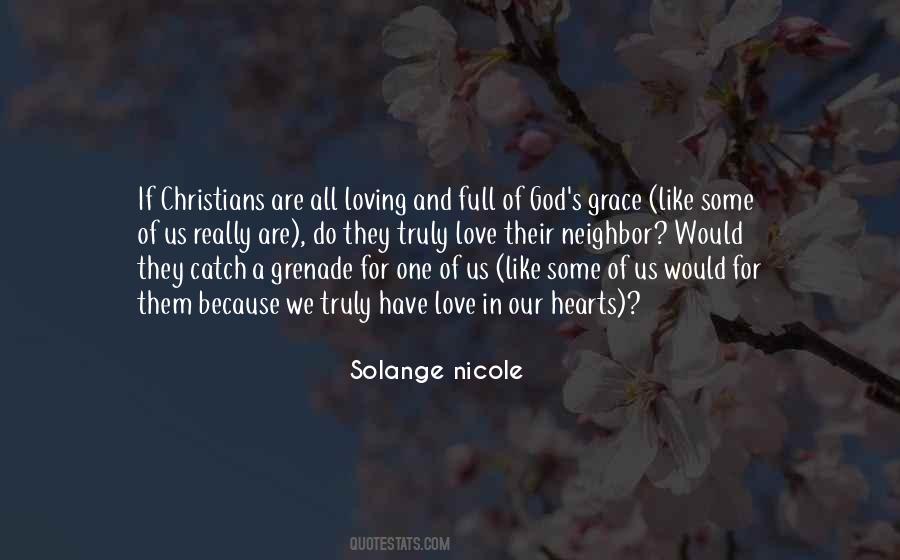 #95. True patriotism springs from a belief in the dignity of the individual, freedom and equality not only for Americans but for all people on earth, universal brotherhood and good will, and a constant and earnest striving toward the principles and ideals on which this country was founded. - Author: Eleanor Roosevelt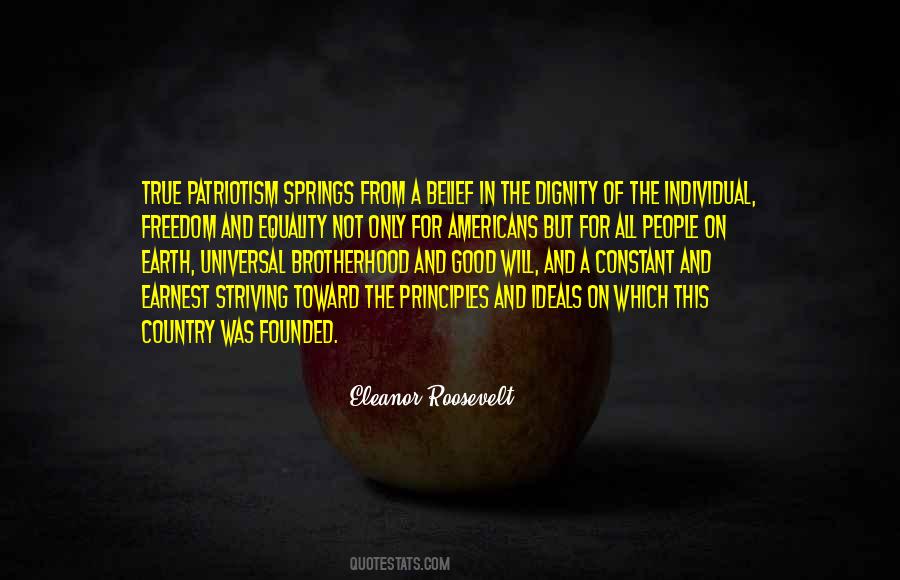 #96. All men are born free: just not for long. - Author: John Le Carre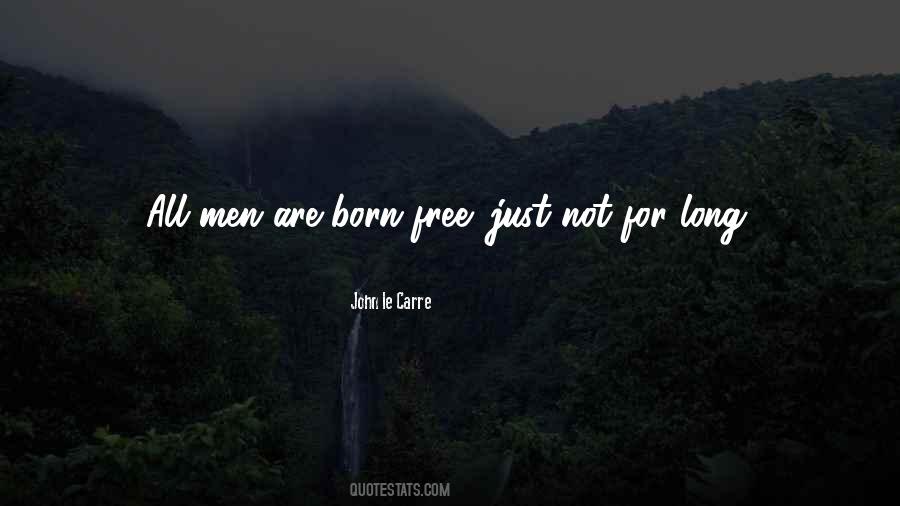 #97. It is crucial that members of Congress cast votes that are supportive of the values upon which our nation was founded: equality, freedom, and opportunity for all people. - Author: Joe Baca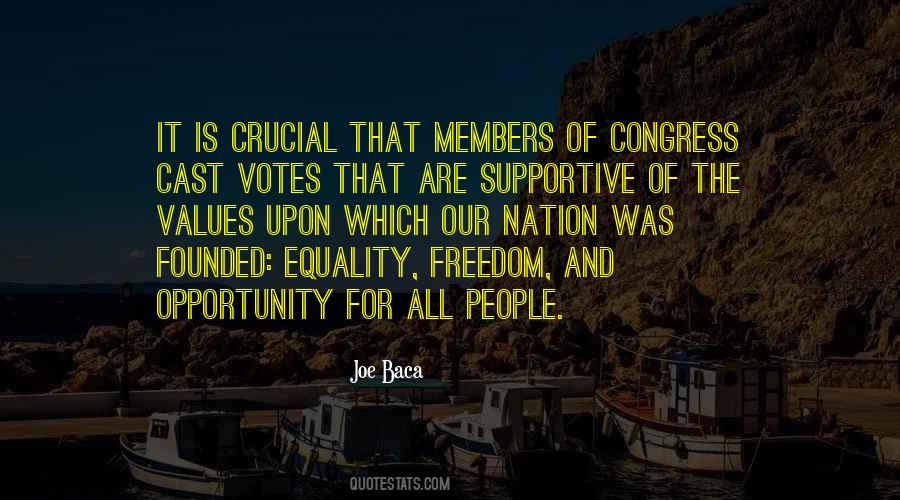 #98. As a partner in a firm full of women who work outside of the home as well as stay at home mothers, all with plenty of children, gender equality is not a talking point for me. It is an issue I live every day. - Author: Hilary Rosen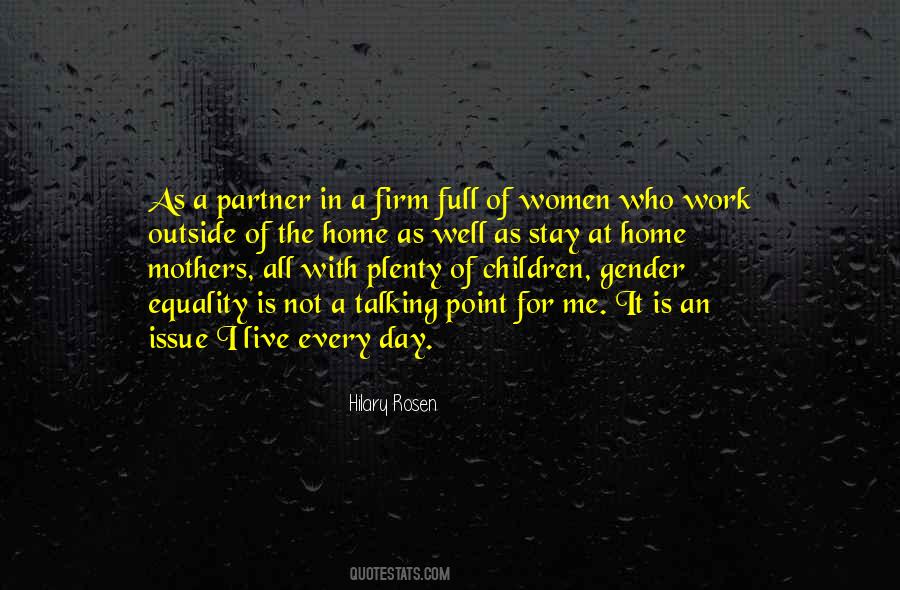 #99. In a unified and diverse Spain, based on the equality of and solidarity between its people, there is room for all of us. And for all of our feelings and sensitivities and our distinct ways of being Spaniards. - Author: Felipe VI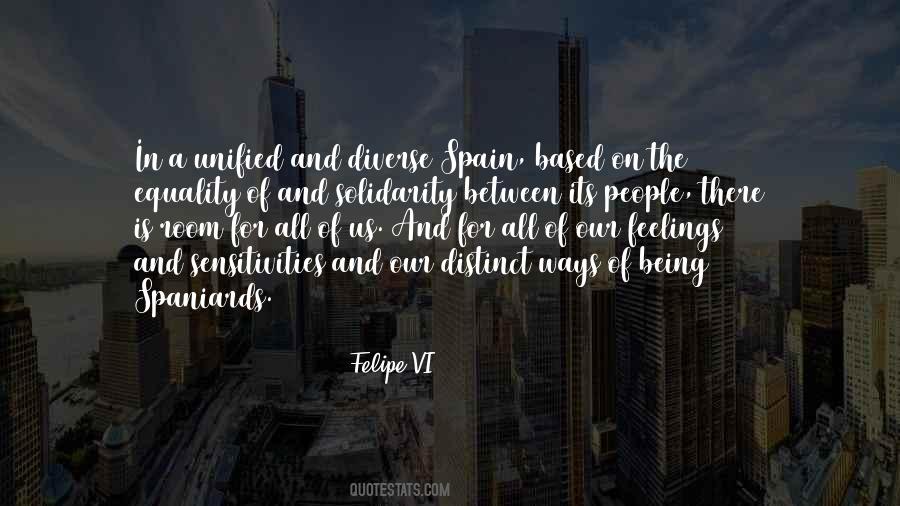 #100. If you believe in equality, if you believe in standing up for the rights of all, especially for people most affected by bigotry and discrimination, then you have no choice but to be present and accounted for when it comes to standing up for gays and lesbians in our society. - Author: Michael Moore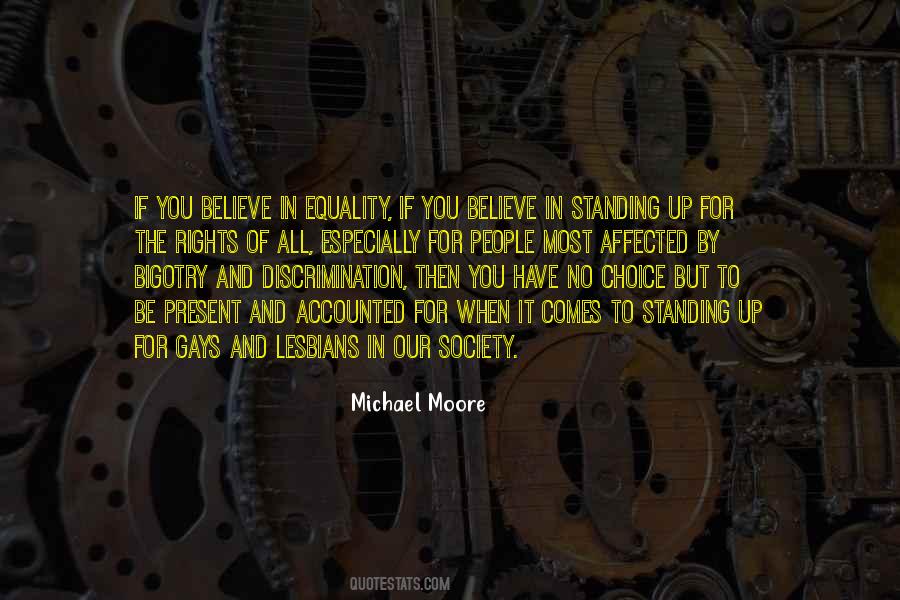 Famous Authors
Popular Topics