Energy And Creativity Famous Quotes & Sayings
List of top 64 famous quotes and sayings about energy and creativity to read and share with friends on your Facebook, Twitter, blogs.
Top 64 Energy And Creativity Quotes
#1. If you become more sensitive to beauty, to poetry, that means your love has blossomed. And all the energy that has been left by fear, anger and hate, will be taken over by your love, your sensitivity, your compassion, your creativity. This is the whole alchemy of changing base metals into gold. - Author: Rajneesh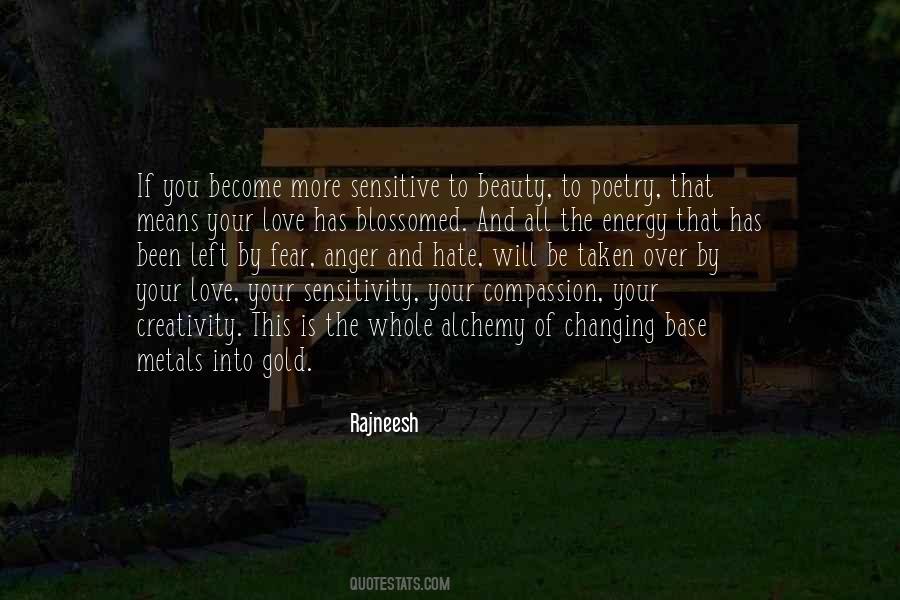 #2. Creative energy is sacred and divine. Those who are exploring their creativity in the world are ultimately exploring their relationship with all that is sacred. - Author: Gia Combs-Ramirez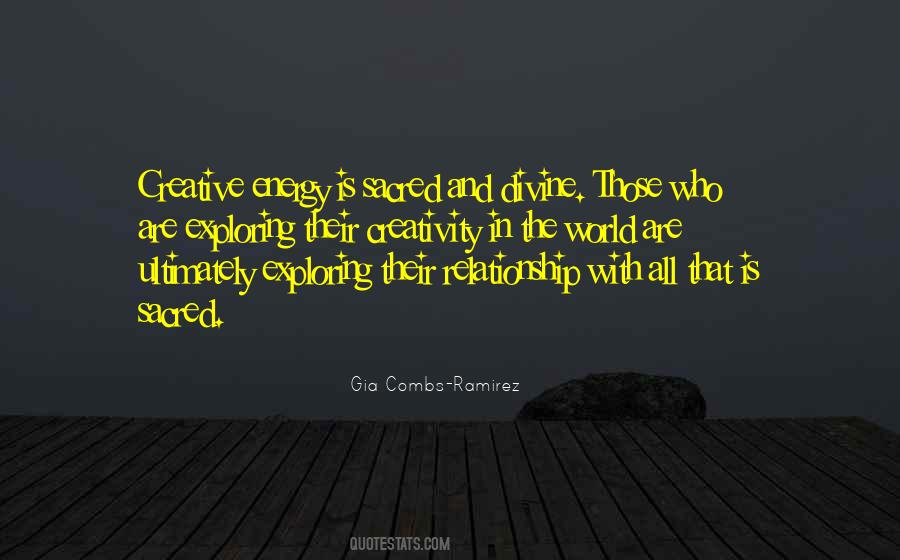 #3. Life is energy, and energy is creativity. And even when individuals pass on, the energy is retained in the work of art, locked in it and awaiting release if only someone will take the time and the care to unlock it. - Author: Marianne Moore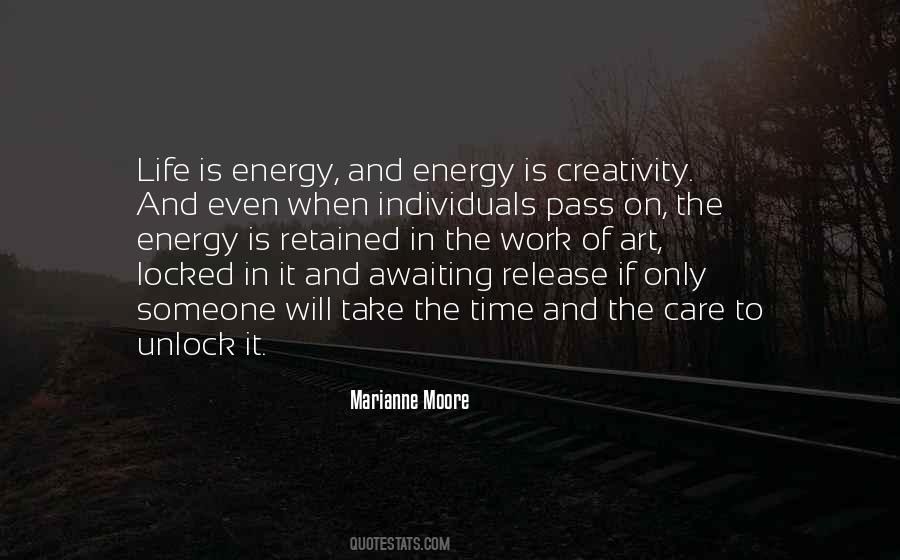 #4. Made from divinity must mean mindstate to create is intrinsic - no fiction. Stop playin' with your power, your inner 'G', and build on purpose - accordingly. Being free is for free, so force the issue. - Author: T.F. Hodge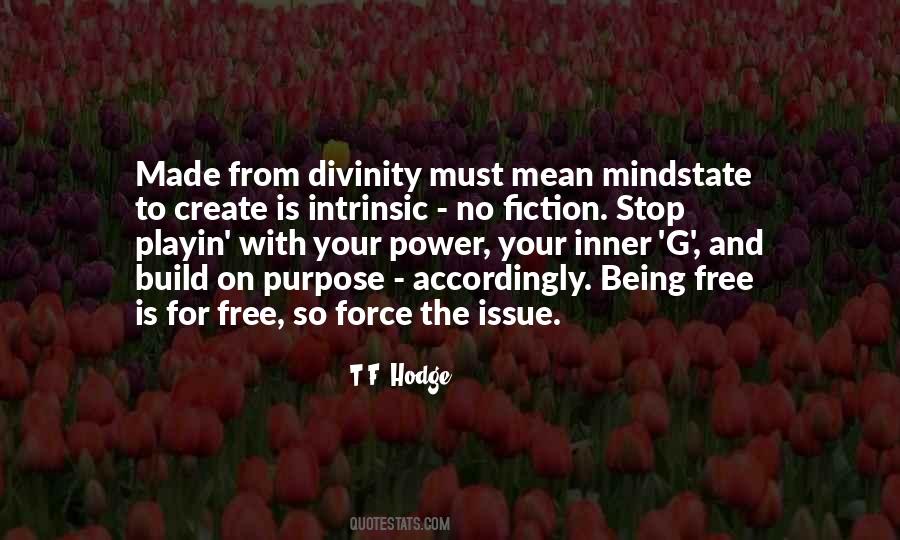 #5. I find N.Y. very inspiring; there is an amazing energy and flow of creativity in N.Y. like nowhere else. - Author: Charlotte Ronson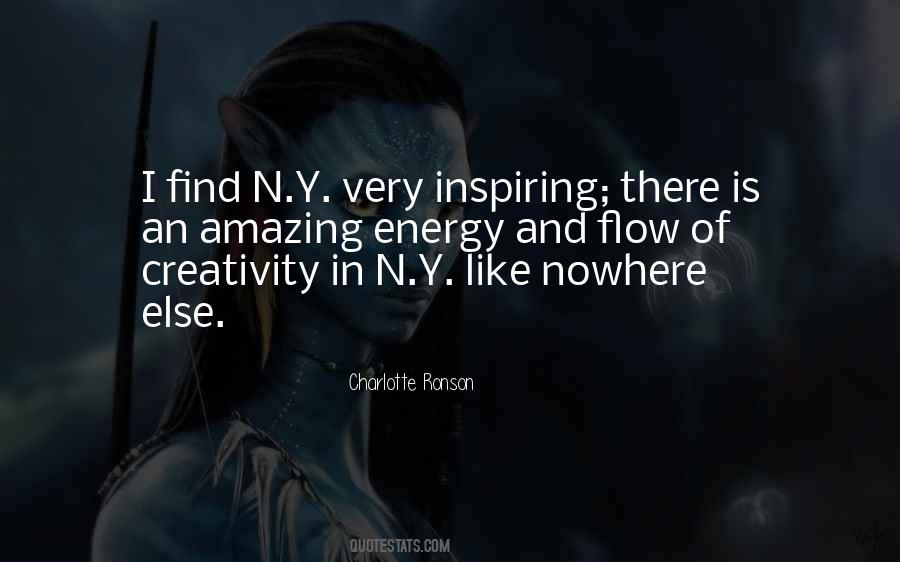 #6. You can encounter the great life within you when you recover the zero point. When you encounter that great life, all limits created by the thoughts and emotions vanish and infinite creativity springs forth. - Author: Ilchi Lee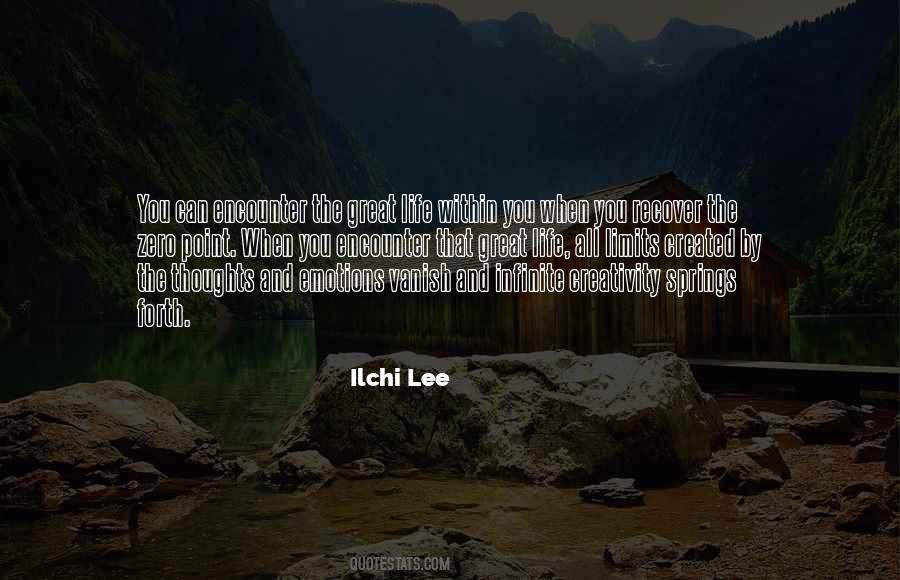 #7. There is a vitality, a life force, an energy, a quickening that is translated through you into action, and because there is only one of you in all time, this expression is unique. And if you block it, it will never exist through any other medium and will be lost. - Author: Martha Graham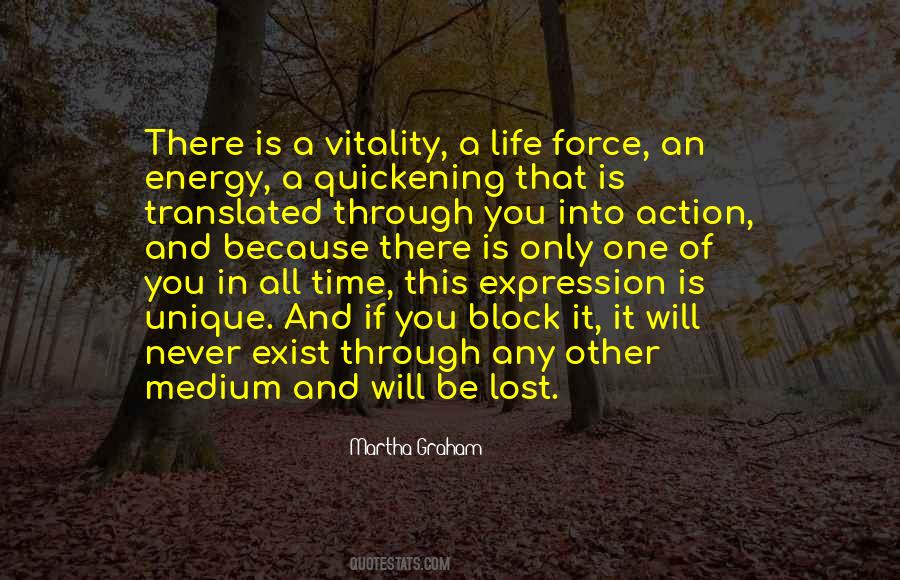 #8. Love is the force, the energy that animates creativity and peace in each one of us. - Author: Salle Merrill Redfield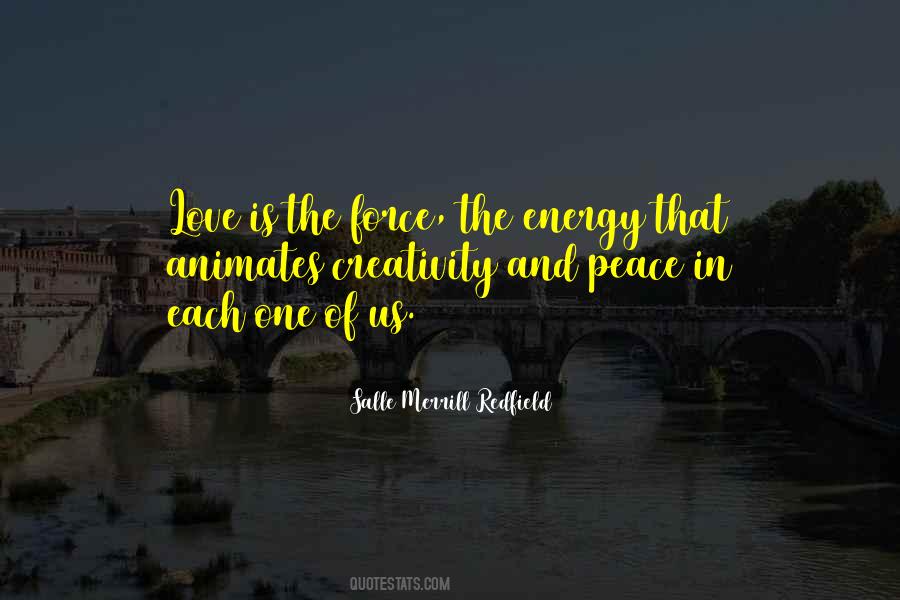 #9. We fritter away our energy and creativity ...
we get bogged down in the thick of thin things. - Author: Henry David Thoreau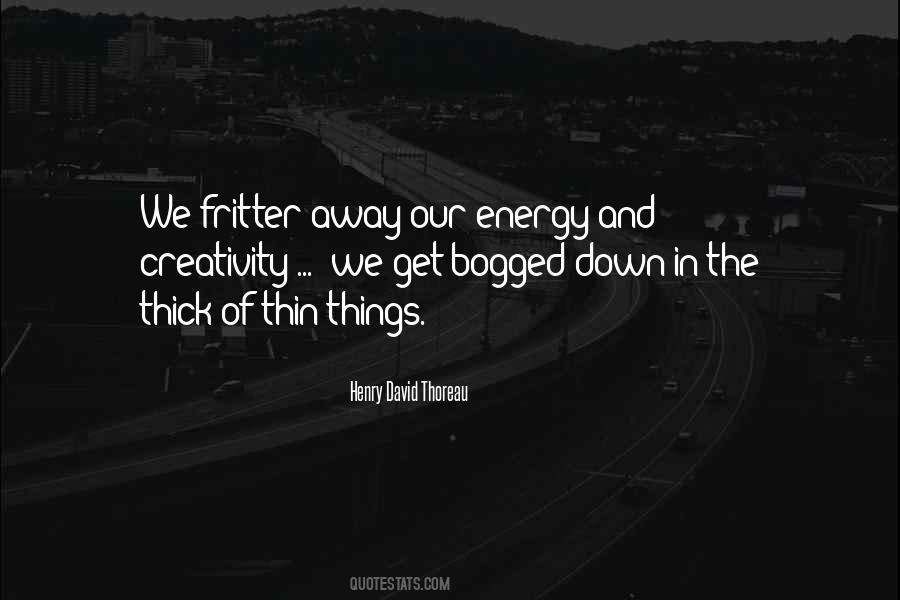 #10. When you imagine and clearly articulate your goals in writing, you access the creative energy of your right brain. Imagination and creativity allow you to find solutions to problems that were not previously available to you and give your left brain an opportunity to be receptive to new ideas. - Author: Julie Connor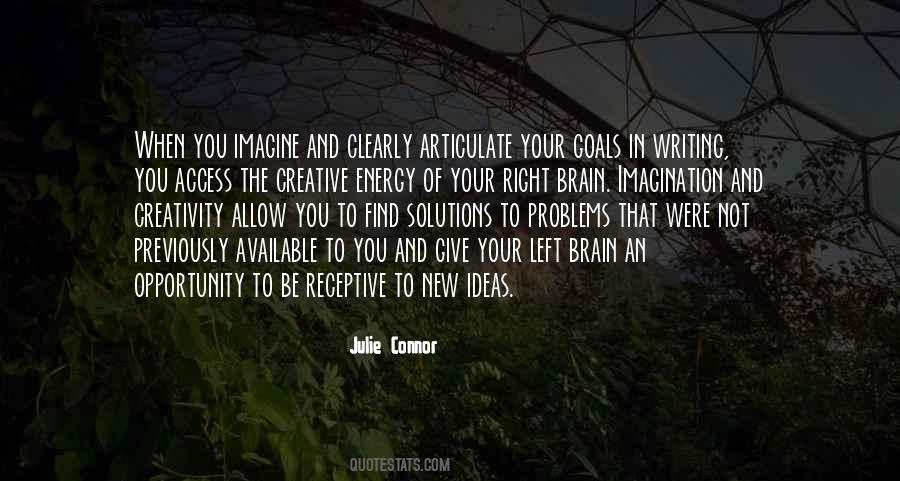 #11. I thought when I started meditation that I was going to get real calm and peaceful and it's going to be over. It's not that way; it's so energetic. That's where all the energy and creativity is. - Author: David Lynch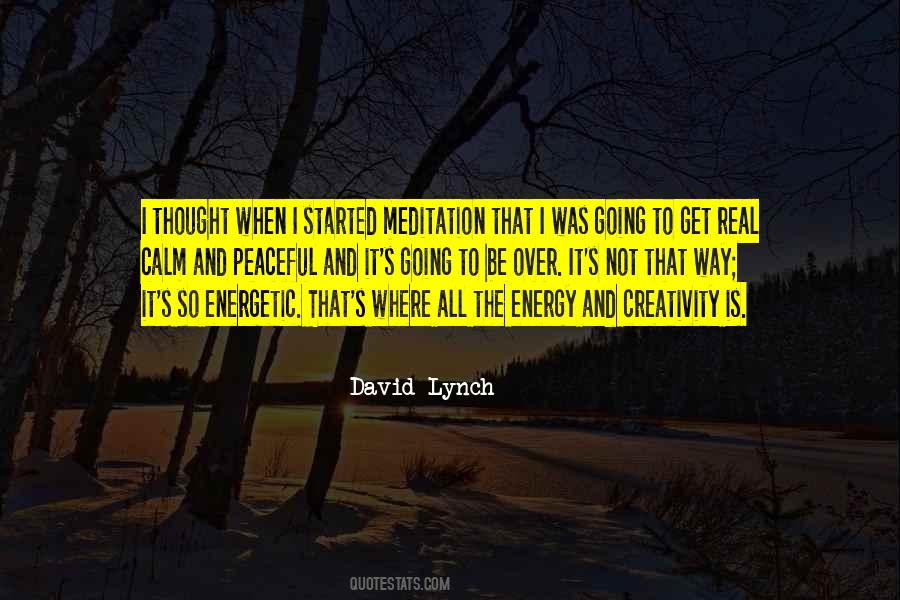 #12. We create in people through our actions and example. In this way people around us become reflections of our own behavioral patterns and internal energies - Author: Bryant McGill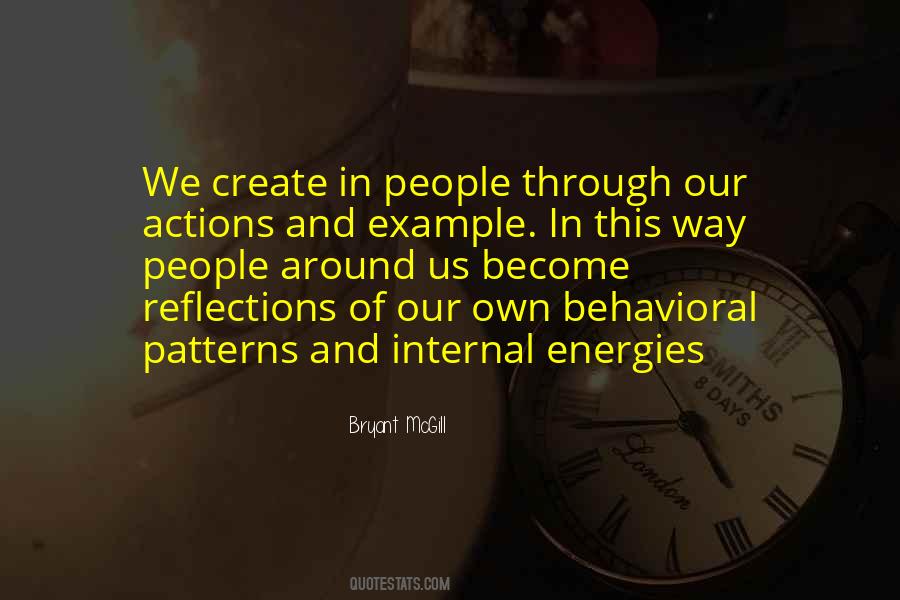 #13. It takes a lot of energy and creativity to make such screwed up lives carry on. And the kind of will people have to survive, year after year, dealing with that stuff, is weirdly impressive. - Author: Jon McGregor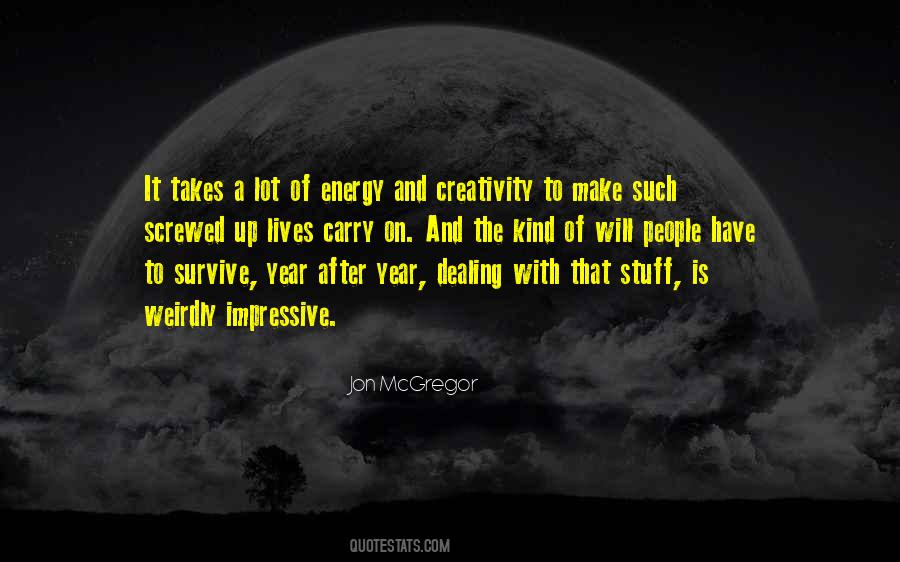 #14. As an individual learns and practices higher meditation techniques, a tremendous volume of energy and creativity flows through them. If they direct some of that energy towards their career, then naturally they will become successful. - Author: Frederick Lenz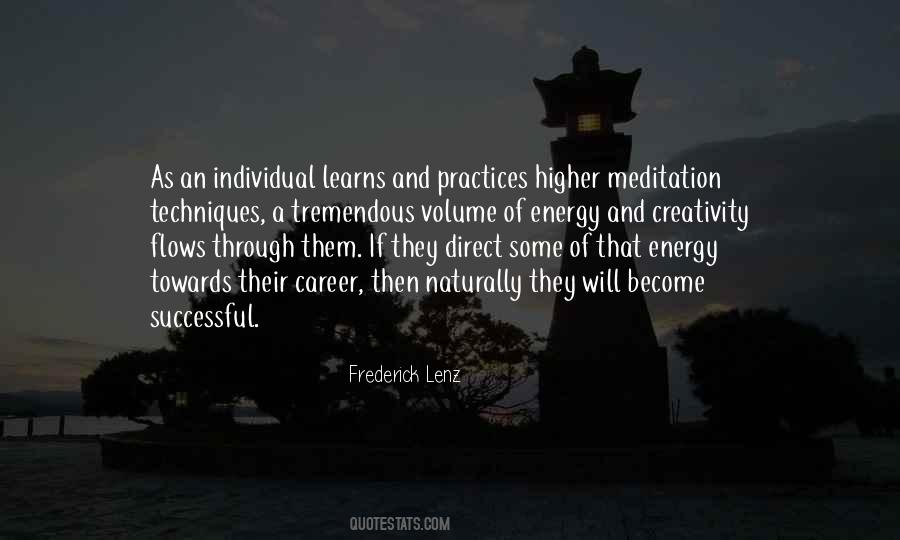 #15. The truth is that creative activity is one that involves the entire self - our emotions, our levels of energy, our characters, and our minds. - Author: Robert Greene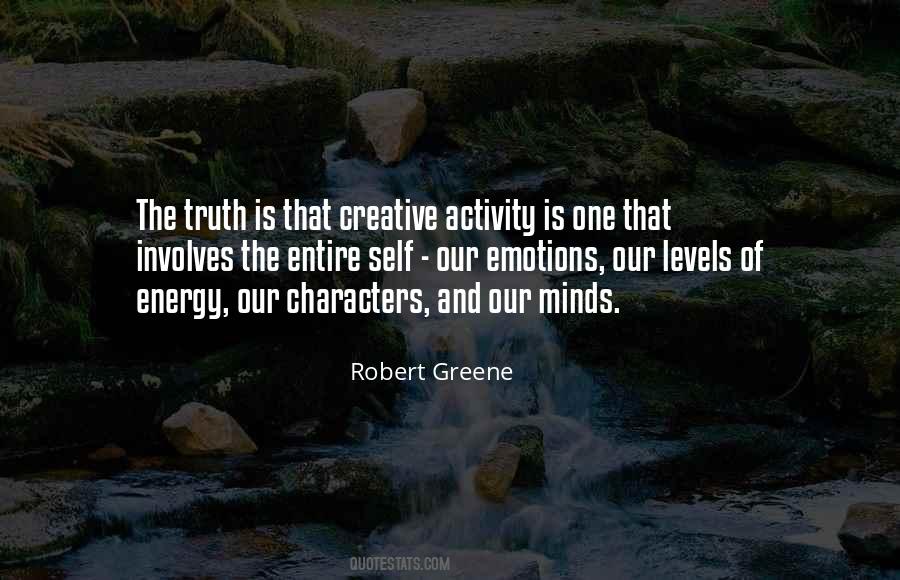 #16. I was part of it, and I am still part of it today in terms of what it means to a whole new generation of people who are interested in the enduring energy, achievements, spirit and creativity that exemplified our era. - Author: David Amram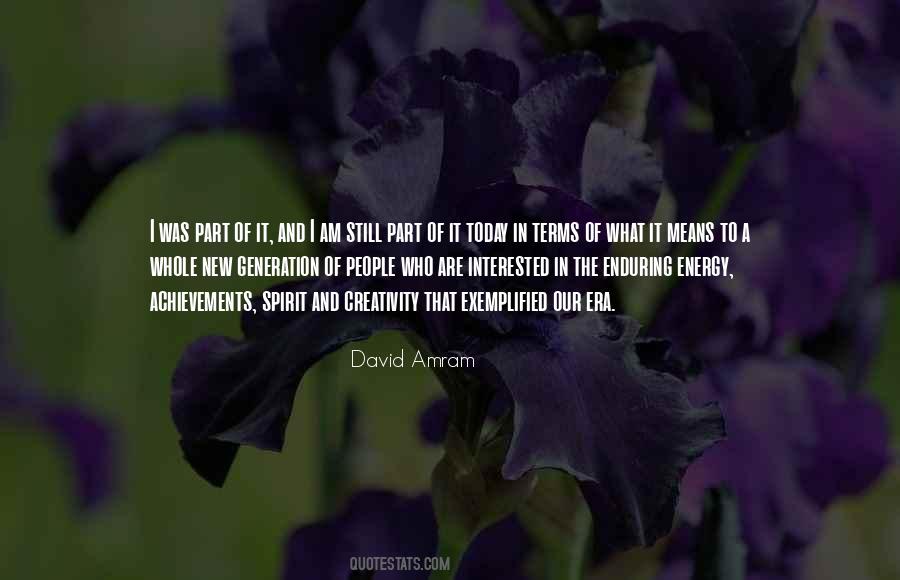 #17. I started Transcendental Meditation in 1973 and have not missed a single meditation ever since. Twice a day, every day. It has given me effortless access to unlimited reserves of energy, creativity and happiness deep within. - Author: David Lynch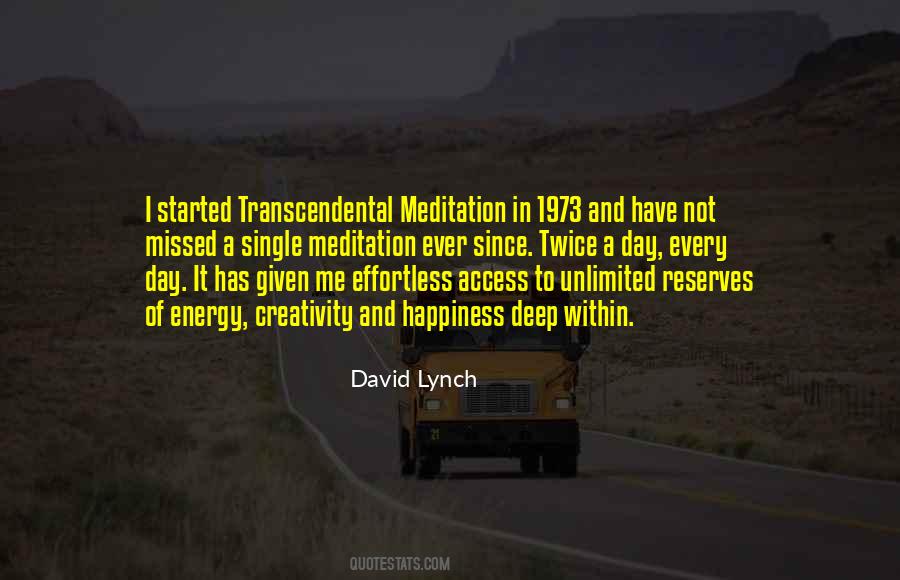 #18. Spend your time and energy creating, not criticizing. - Author: H. Jackson Brown Jr.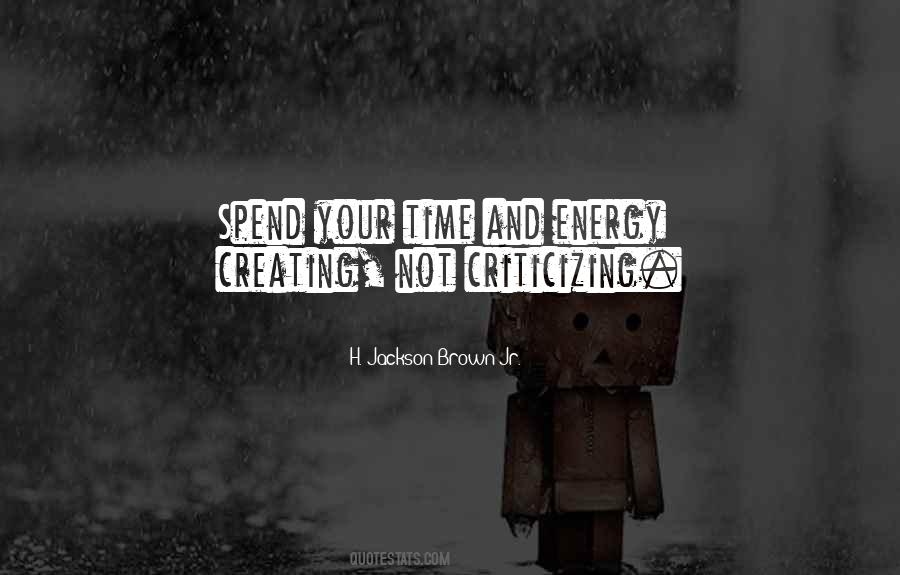 #19. The transsexually constructed lesbian-feminist feeds off woman's true energy source, i.e. her woman-identified self. It is he who recognises that if female spirit, mind, creativity and sexuality exist anywhere in a powerful way it is here, among lesbian-feminists. - Author: Janice Raymond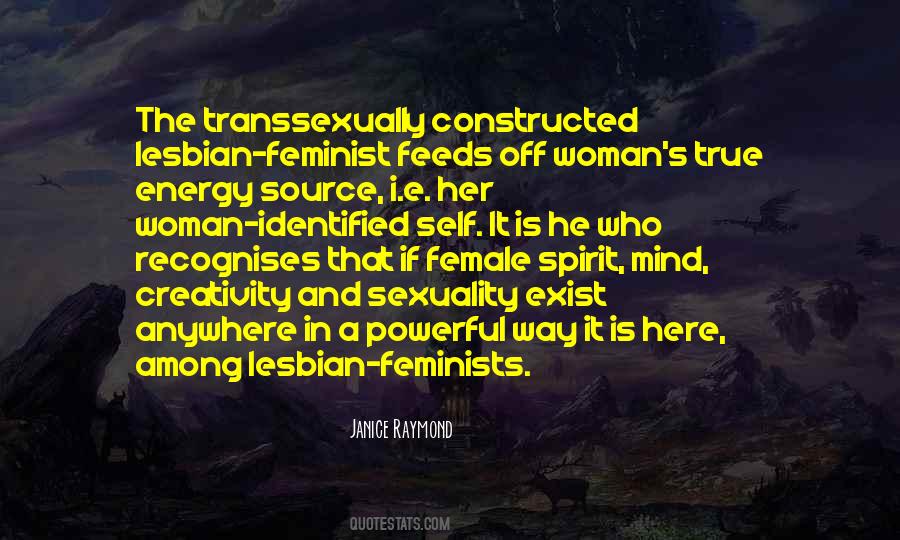 #20. People who do a job that claims to be creative have to be alone to recharge their batteries. You can't live 24 hours a day in the spotlight and remain creative. For people like me, solitude is a victory. - Author: Karl Lagerfeld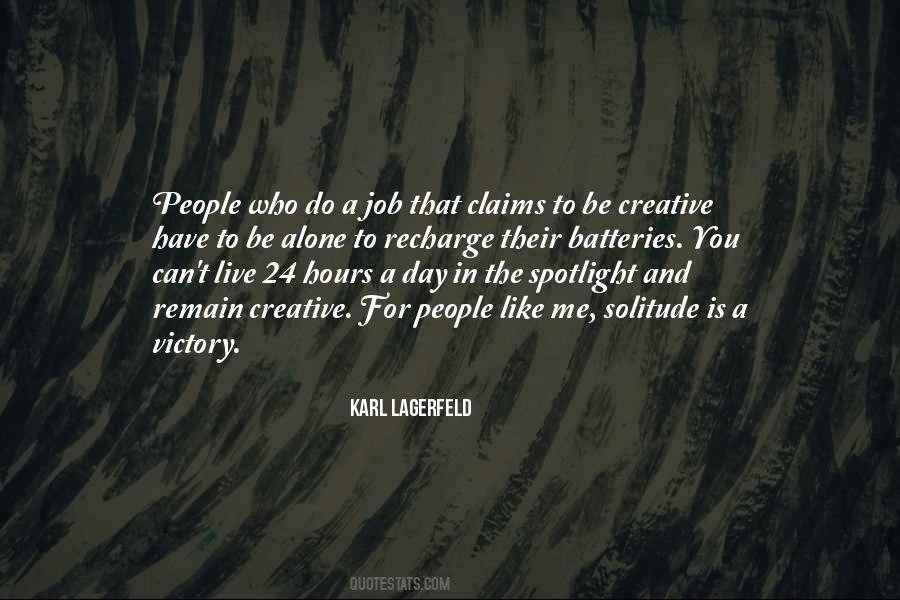 #21. What I love about London is the energy and the creativity. Culturally, it is such a happening city, from the cuisine to the fashion. - Author: Monika Chiang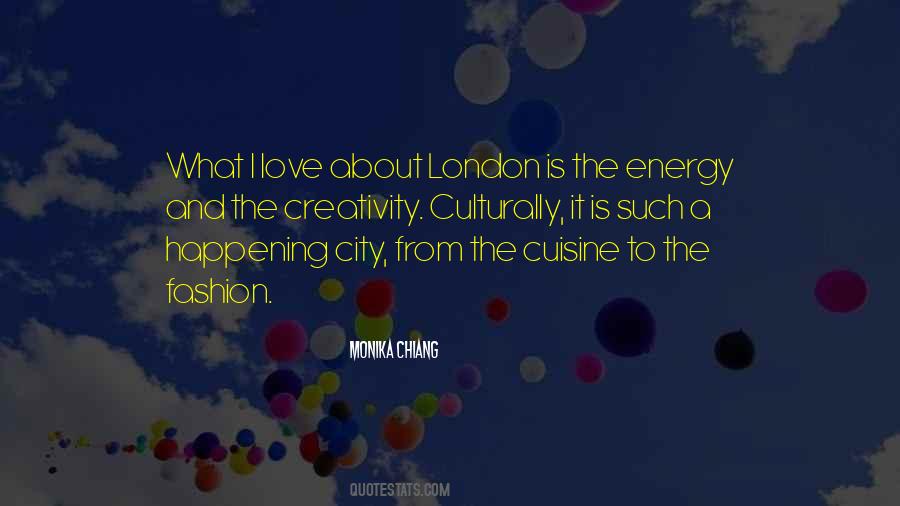 #22. Creativity is a commodity and derives its value only in how energy is spent. - Author: Mary Deal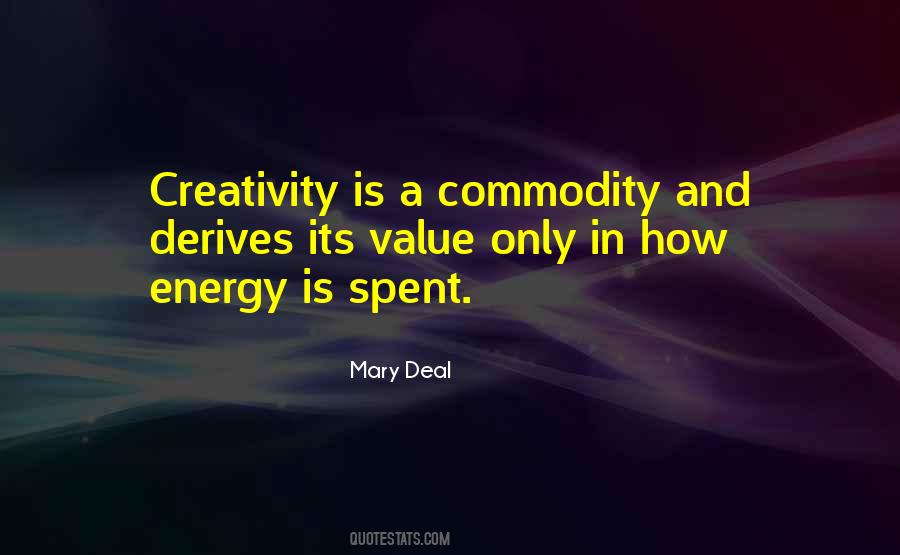 #23. Engaged, productive employees do not work in a vacuum. They need workplaces that help them bring out the best in themselves - mosh pits of creativity where energy and inspiration can flow freely. - Author: Carson Tate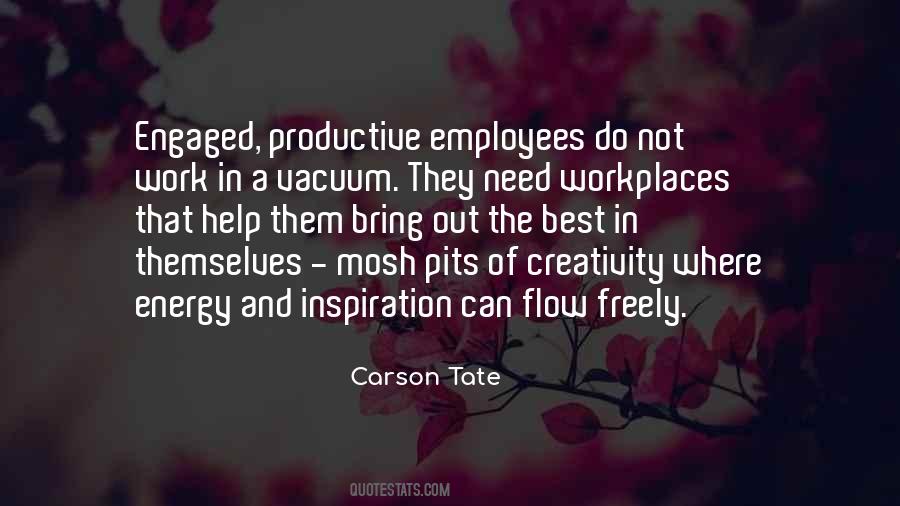 #24. There is always a place in the world for those who are willing to give of their time, energy, capital, creativity, and commitment. - Author: Tony Robbins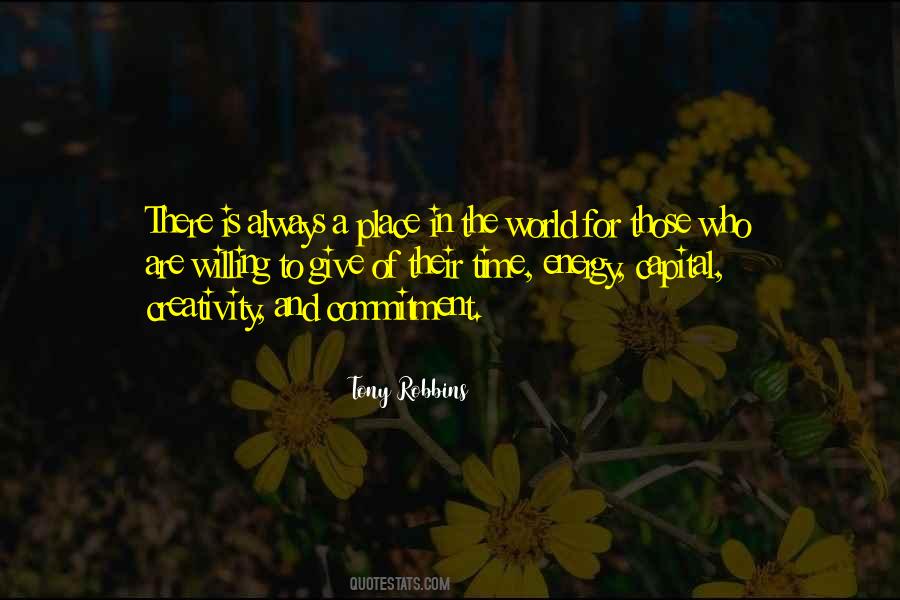 #25. Nine-tenths of all artistic creation derives its basic energy from the engine of repression and sublimation, and well beyond the strict Freudian definition of those terms.
John Fowles attended new College in Oxford. You might like to see my collection of Oxford trees at Rob's Bookshop. - Author: John Fowles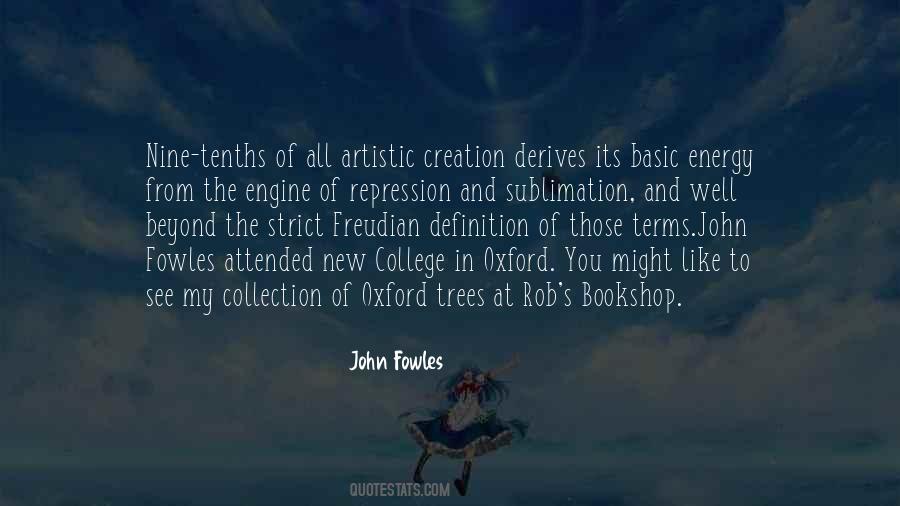 #26. Creativity is every company's first driver. It's where everything starts, where energy and forward motion originate. Without that first charge of creativity, nothing else can take place. - Author: Nolan Bushnell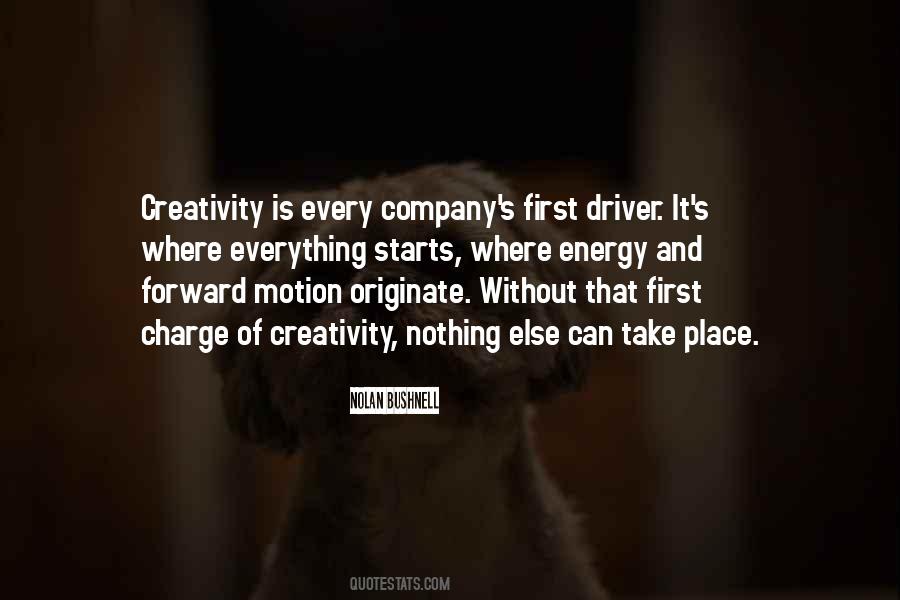 #27. There is new research showing that our creative potential increases with age. Our creativity is a product of our inner and outer experience, and as we get older, we have all kinds of experience to draw on. Also, research tells us that creativity brings energy, vitality and good health. - Author: Sandra A. Cusack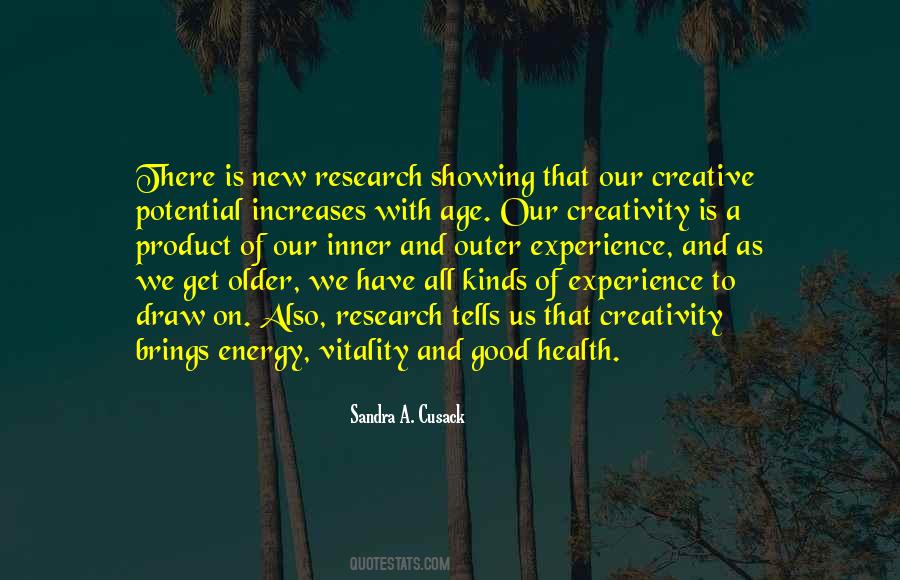 #28. Fear is a conditioned response, a life-draining habit that can easily consume your energy, creativity and spirit if you are not careful. When fear rears its ugly head, beat it down quickly. The best way to do that is to do the thing you fear. Fast. - Author: Robin S. Sharma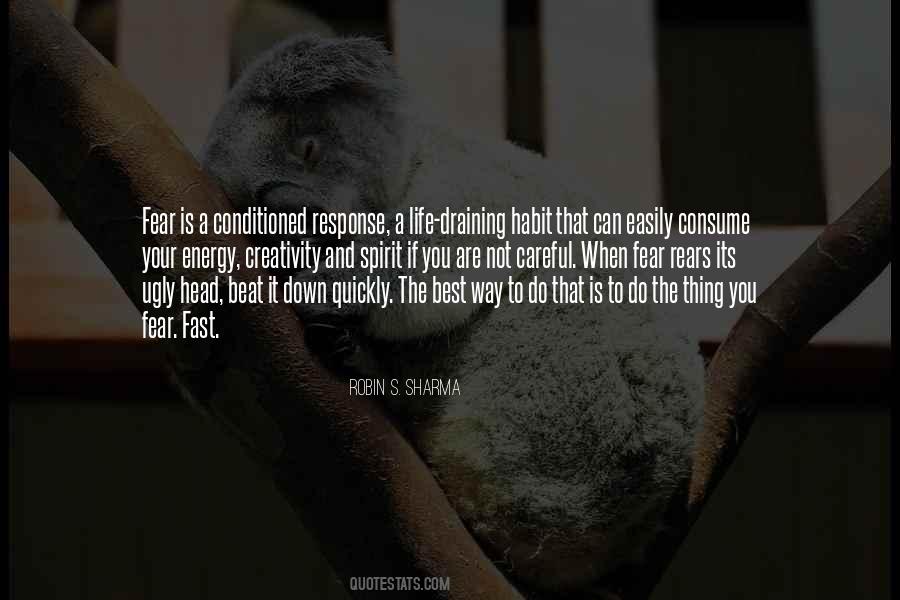 #29. Irritation is a great source of energy and creativity. - Author: Anita Roddick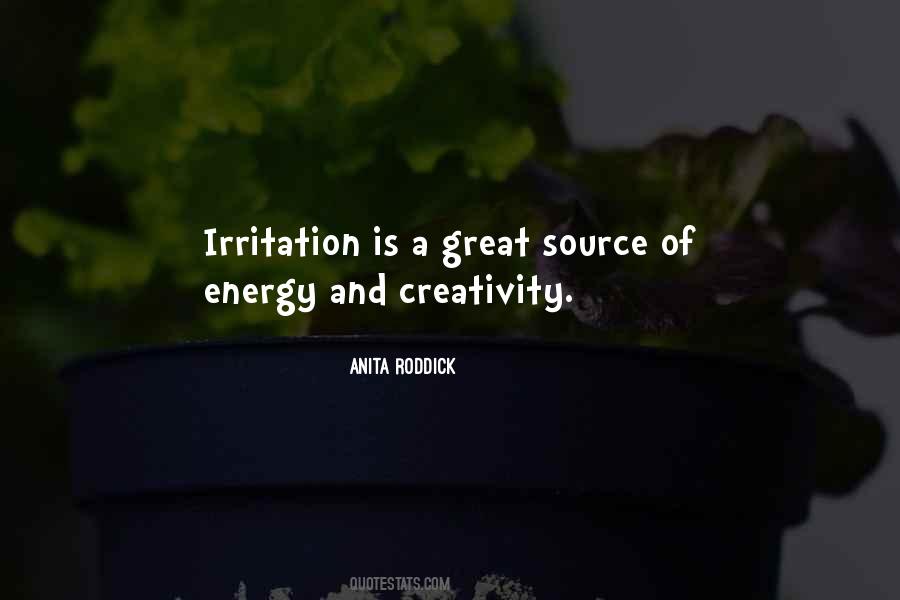 #30. Every individual who is not creative has a negative, narrow, exclusive taste and succeeds in depriving creative being of its energy and life. - Author: Johann Wolfgang Von Goethe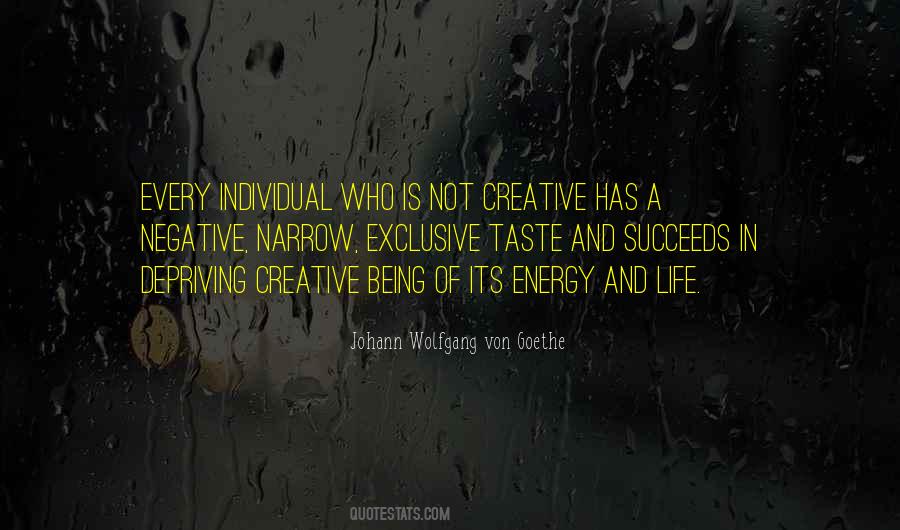 #31. Absurdity and anti - absurdity are the two poles of creative energy. - Author: Karl Lagerfeld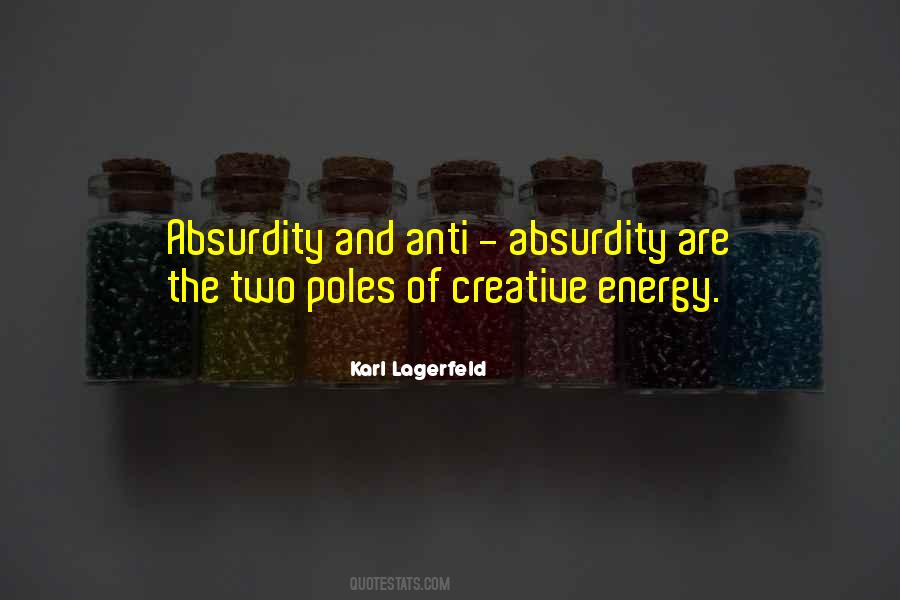 #32. What we do now is to be valued - but we need to do more, so that it's more exciting to other people, and therefore that excitement shines back on us and we're able to have the energy to do more, to widen our creativity. - Author: Siobhan Davies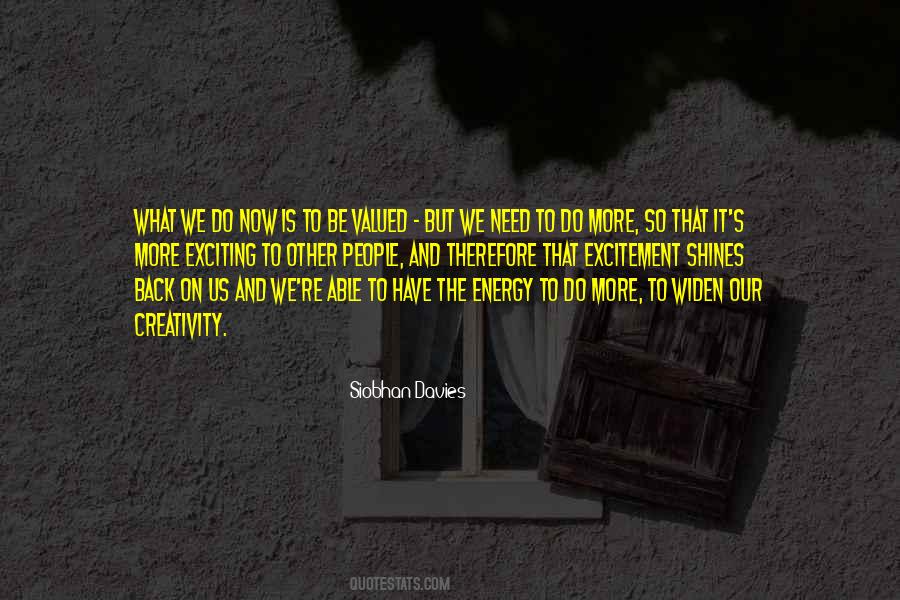 #33. Parvati and Shiva are the divine embodiment of creativity (the feminine) and consciousness (the masculine). She is the generative energy of the universe; he is its formless wisdom. Whatever - Author: Elizabeth Gilbert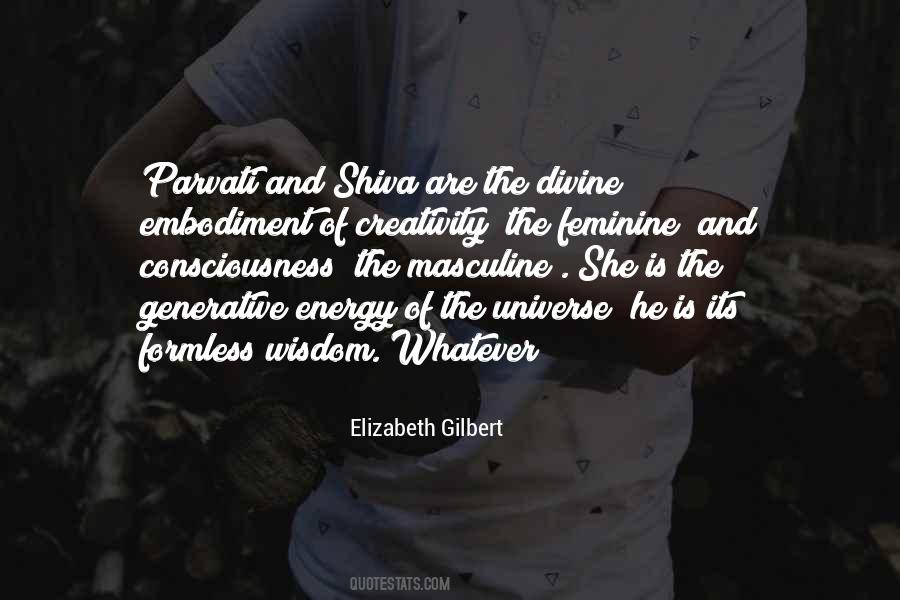 #34. From human problems come human solutions, which in turn spawn inspiration, creativity, insight and enlightenment. Without life's problems, life would become stagnant, dull and boring. - Author: Beth Johnson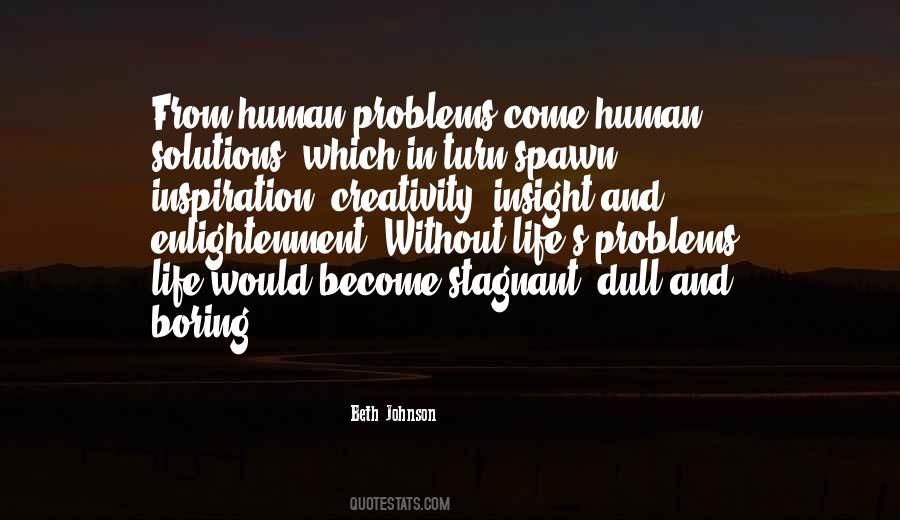 #35. We have no hope of solving our problems without harnessing the diversity, the energy, and the creativity of all our people. - Author: Roger Wilkins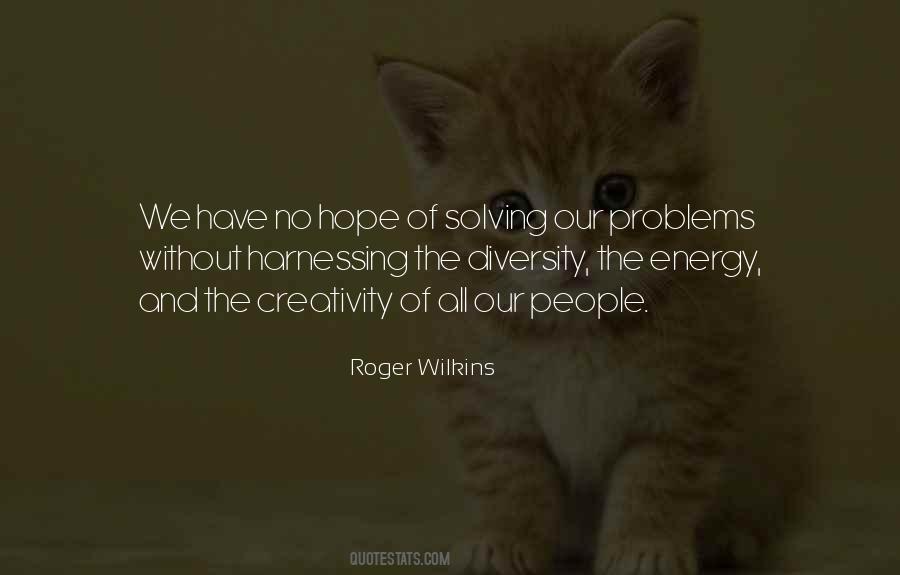 #36. Positive energy is unleashed when leaders give themselves permission to connect and express themselves from the core of who they are. When leaders practice authenticity, creativity, engagement, confidence, and a sense of inner resourcefulness emerge. - Author: Henna Inam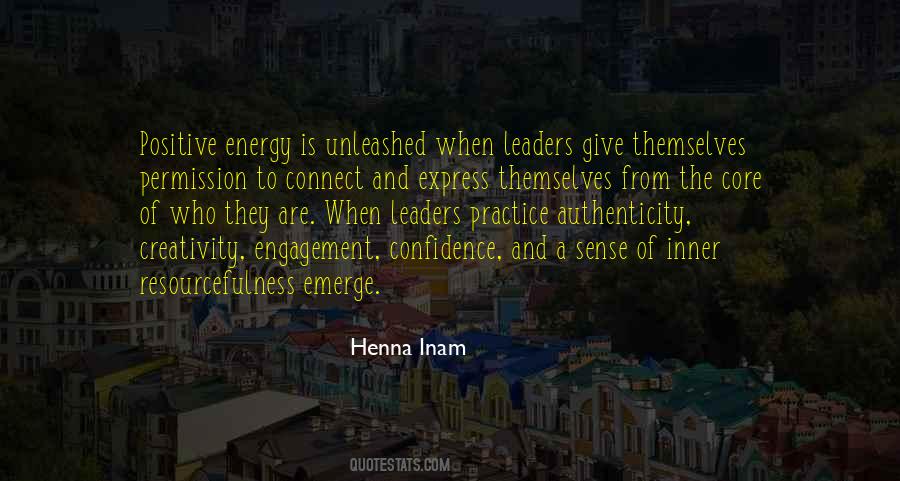 #37. Rivers have what man most respects and longs for in his own life and thought-a capacity for renewal and replenishment, continual energy, creativity,cleansing.
J.M. Kauffman - Author: Henry C. Duggan III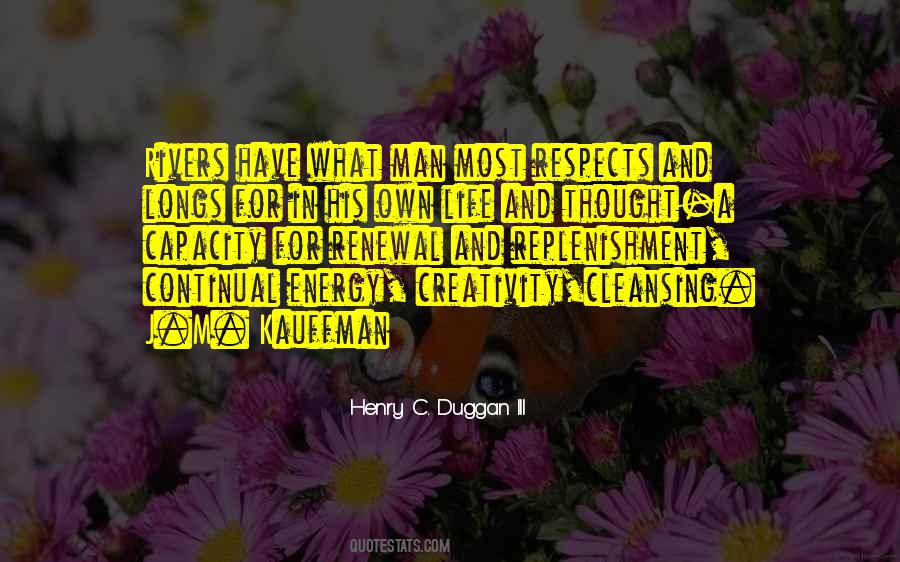 #38. Any society that does not succeed in tapping into the energy and creativity of its youth will be left behind. - Author: Kofi Annan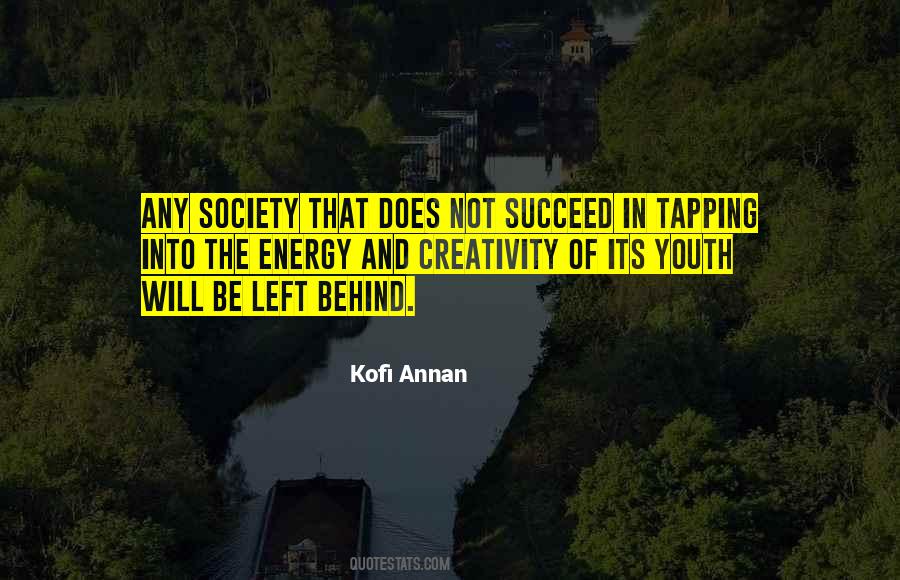 #39. Whenever an answer, a solution, or a creative idea is needed, stop thinking for a moment by focusing attention on your inner energy field ... When you resume thinking, it will be fresh and creative. - Author: Eckhart Tolle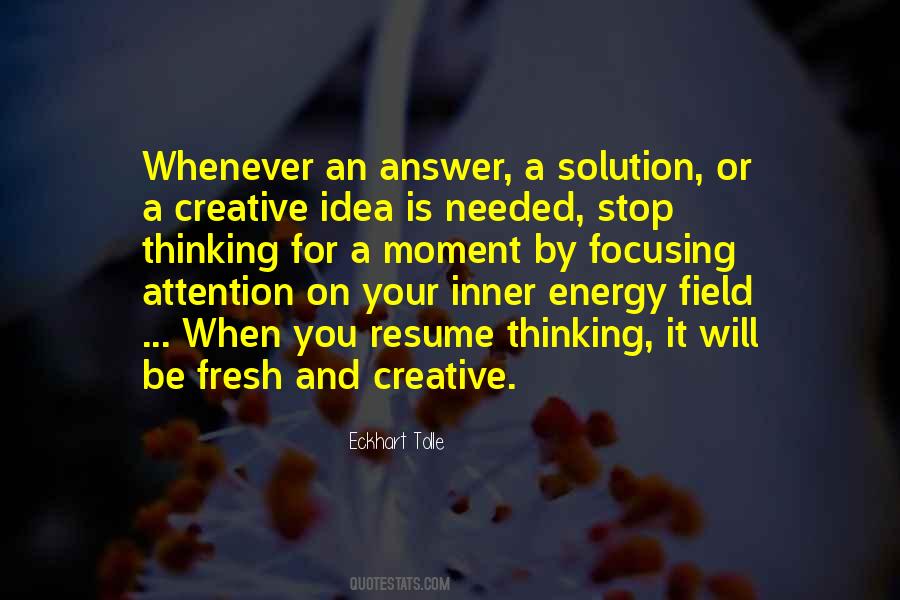 #40. Creativity in and of itself is a type of energy vibration. - Author: Pearl Zhu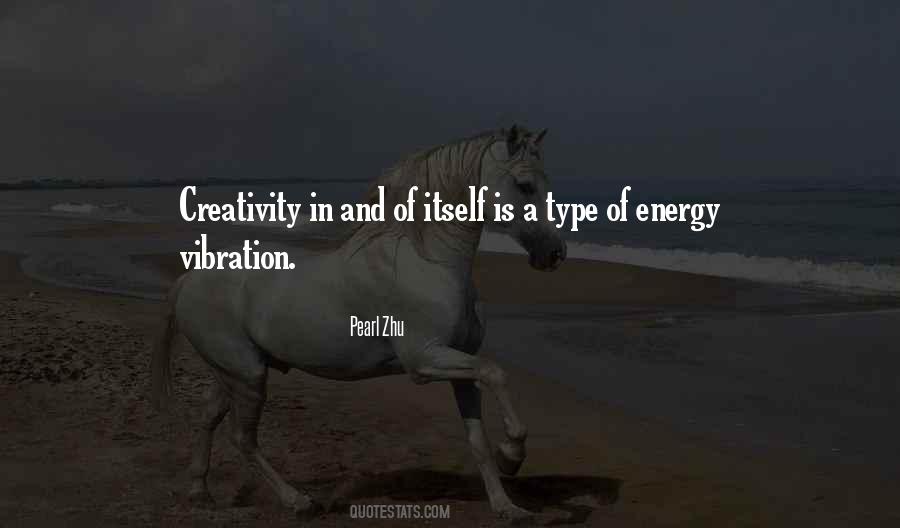 #41. The ideal country in a flat world is the one with no natural resources, because countries with no natural resources tend to dig inside themselves. They try to tap the energy, entrepreneurship, creativity, and intelligence of their own people-men and women-rather than drill an oil well. - Author: Thomas L. Friedman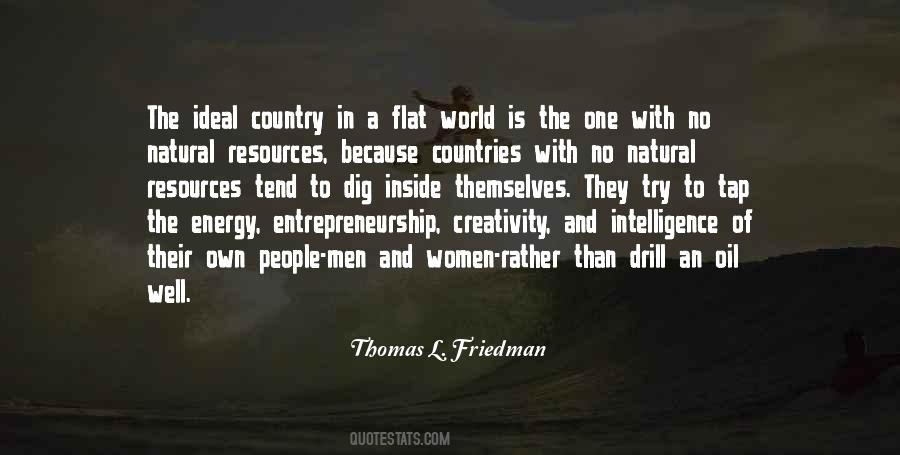 #42. Literacy is not a luxury, it is a right and a responsibility. If our world is to meet the challenges of the twenty-first century we must harness the energy and creativity of all our citizens. - Author: William J. Clinton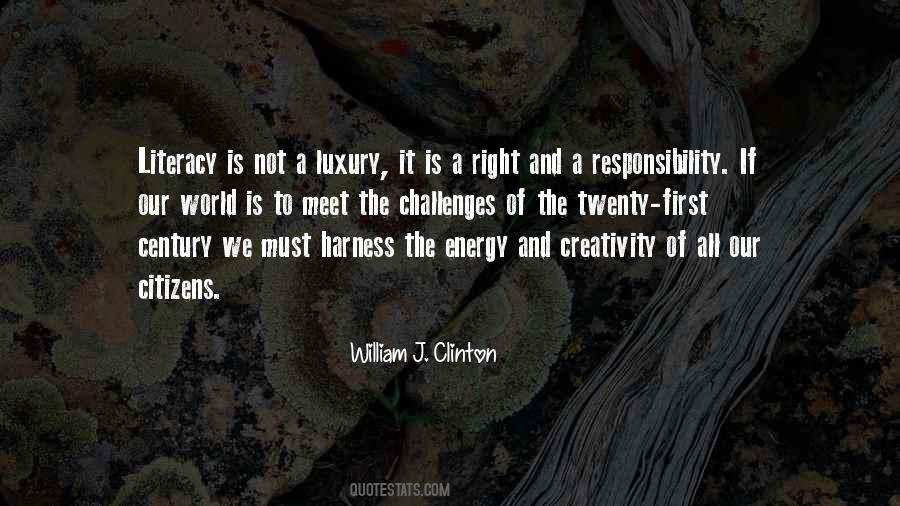 #43. Anyone who works on a quilt, who devotes her time, energy, creativity, and passion to that art, learns to value the work of her hands. And as any quilter will tell you, a quilter's quilting friends are some of the dearest, most generous, and most supportive people she knows. - Author: Jennifer Chiaverini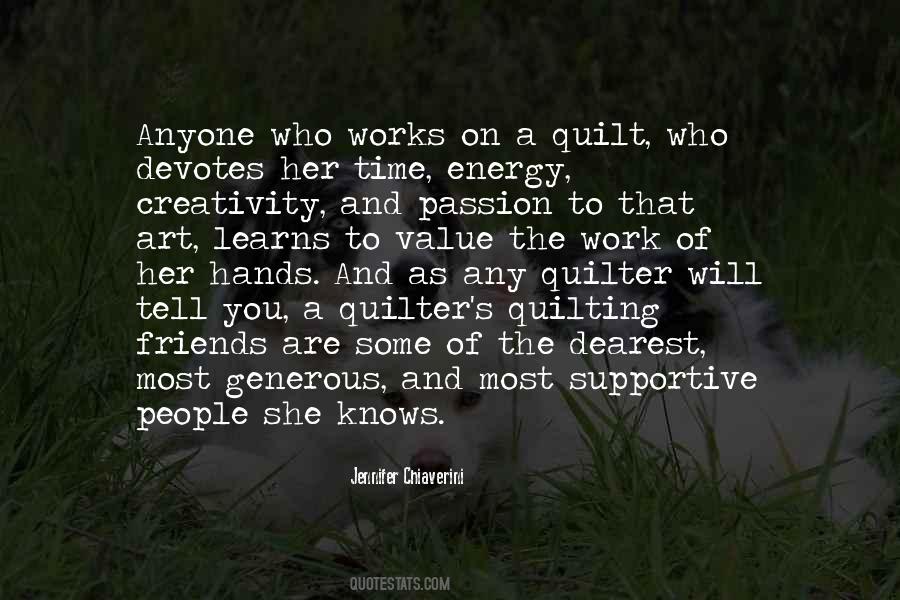 #44. Enlightenment is at the source of everything. From it, flows our Intuition and our creative energy. It is the delta of the human spirit ~ what we innately seek to return to, as we find ourselves lost in this world. - Author: Kim Chestney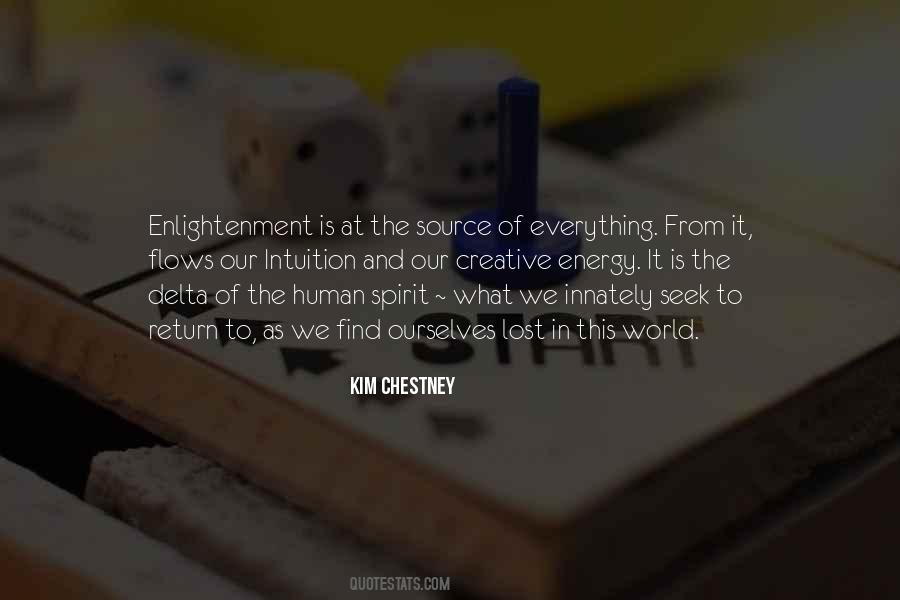 #45. Absent the rapid mobilization of climate advocates at every level - and the pooling of all their energy, creativity, and resources into a coordinated, no-holds-barred campaign - we will soon be crossing the threshold into climate hell. - Author: Ross Gelbspan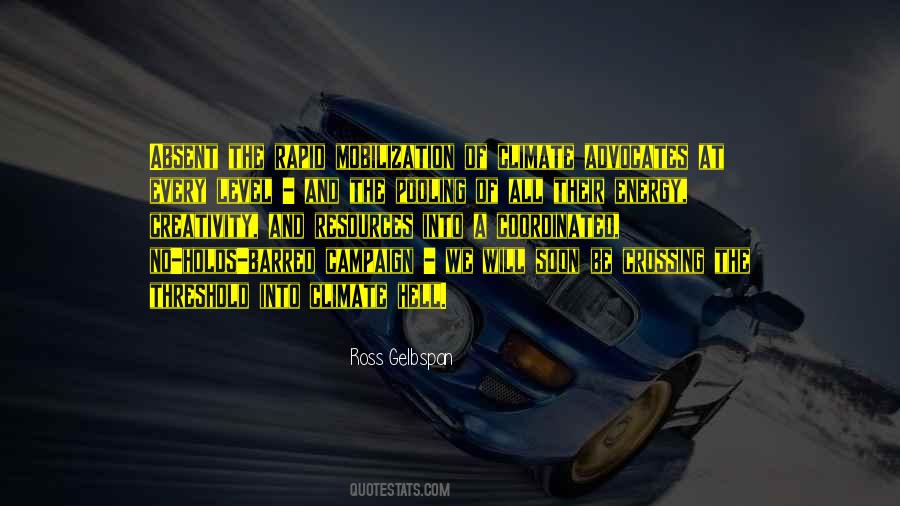 #46. If we manage conflict constructively, we harness its energy for creativity and development. - Author: Kenneth Kaye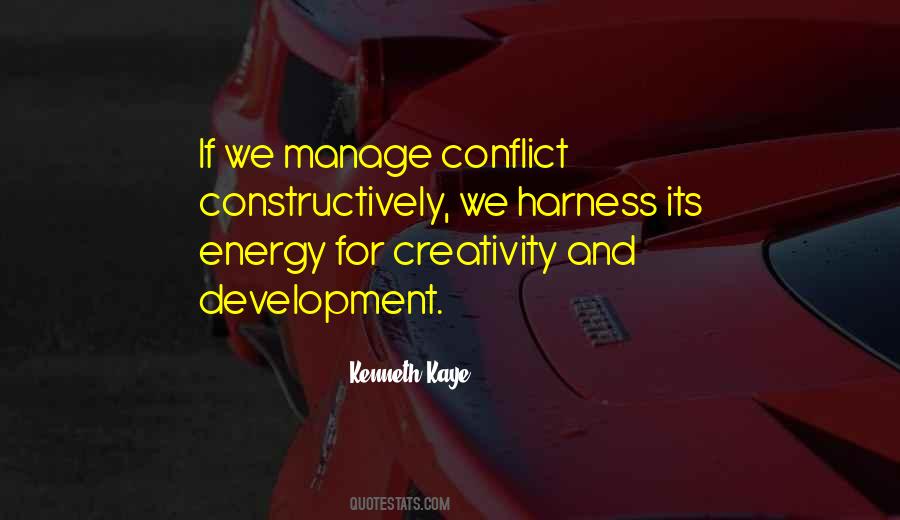 #47. It's well-documented that stress and low self-confidence are detrimental to productivity, especially on tasks requiring creative thinking. Maintaining a healthy exercise routine saves time, creativity, and energy in the long run. - Author: Timur Zhiyentayev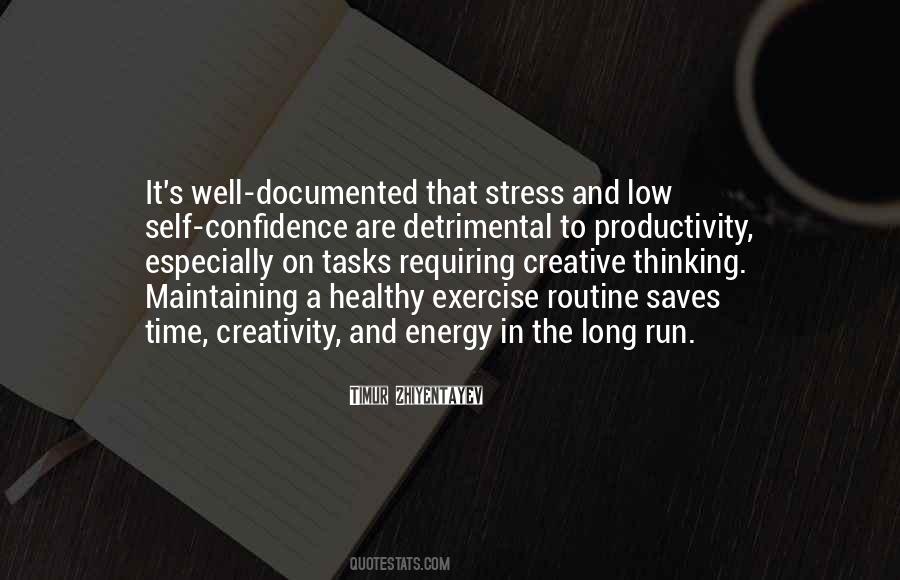 #48. Men and women who are lonely create. Those who are gregarious rarely do ... Any poet would rather bed with a girl than write a poem about her. All art is the result of frustration. Art is energy deflected from its normal course in action. - Author: Burton Rascoe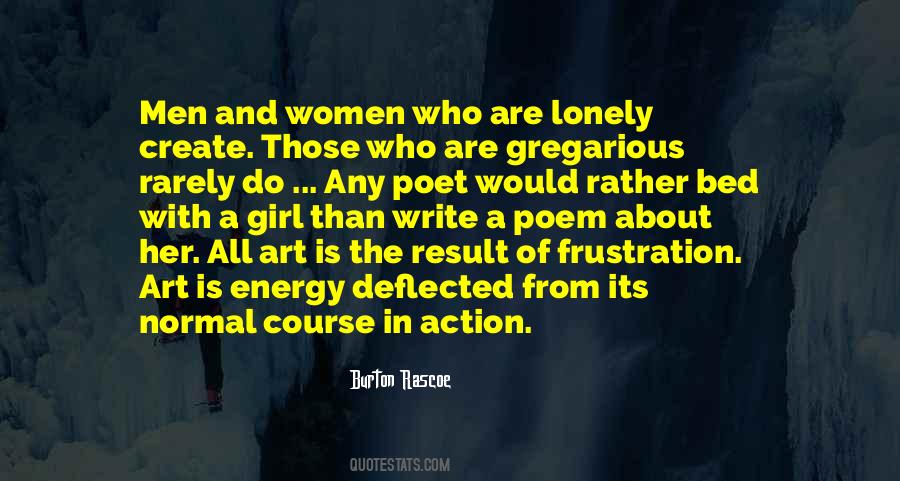 #49. I'm happy whenever I'm in a rehearsal room. I've always gotten all my energy and creativity in there. - Author: Laurie Metcalf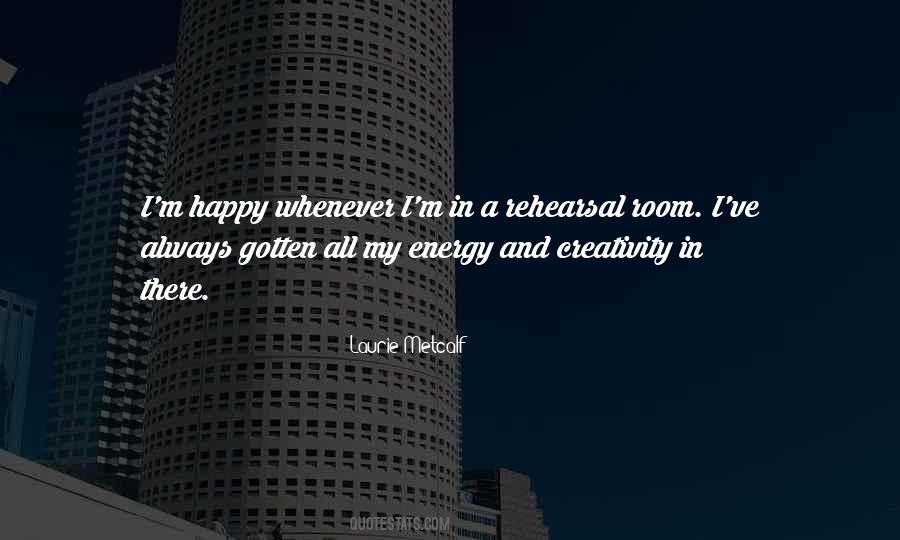 #50. I am a master at setting boundaries that protect my time, energy, creativity, and emotional well-being. - Author: Cheryl Richardson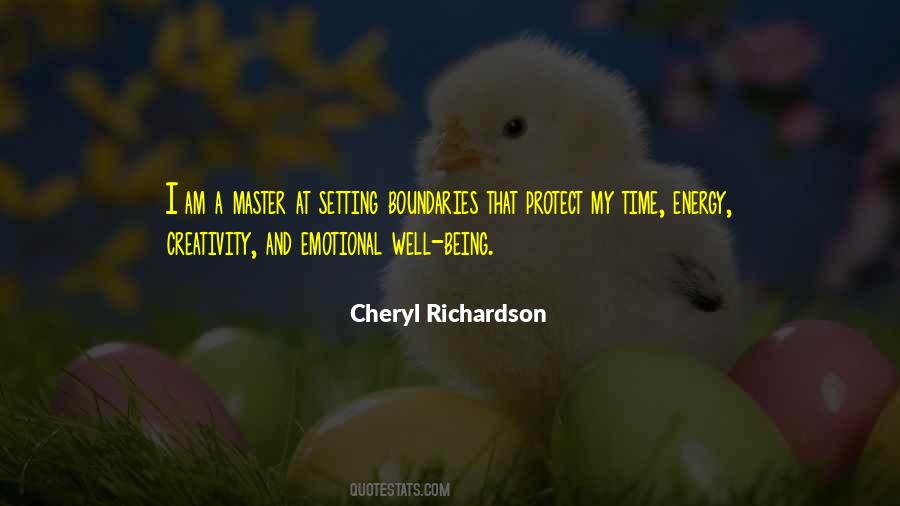 #51. Those who are passionate about what they do have an advantage that is nearly impossible to overcome. In passion there is energy, creativity, resilience and persistence. Passion will get it done. - Author: Ralph Marston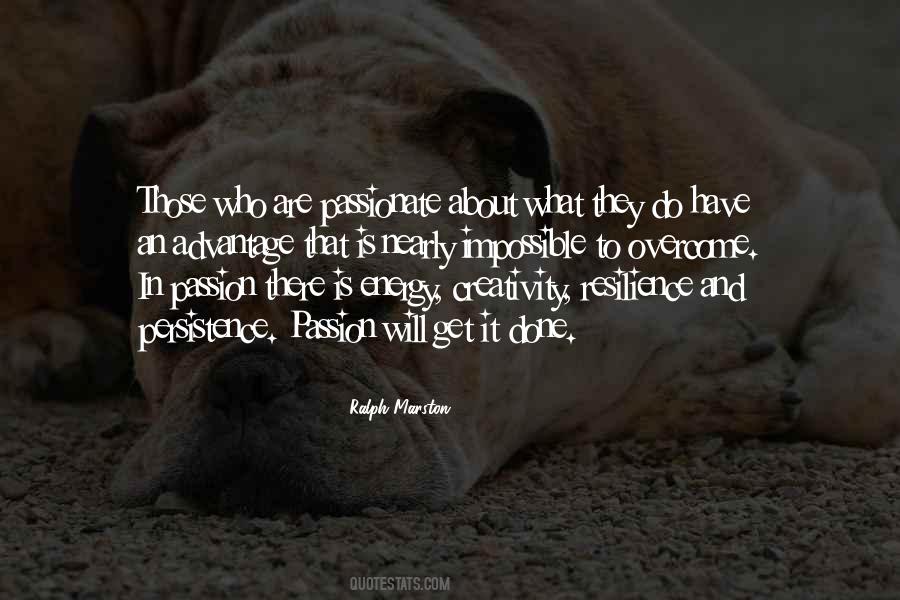 #52. Get punctual, bring energy and creativity to your work, and stay with a project until it's completed (and then double-check the results). These habits will make you indispensable. - Author: Bill O'Reilly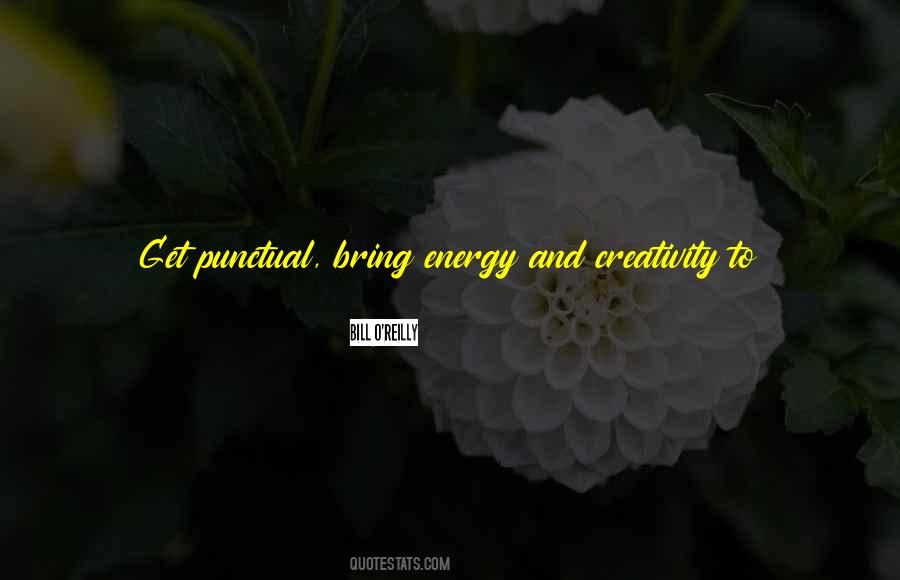 #53. Italy's assets are her style, her beauty, her creativity, her passion, her energy, her technology; and these will be core brand values of all our cars. Fiat as a company has a long way to go and a steep road ahead. - Author: Lapo Elkann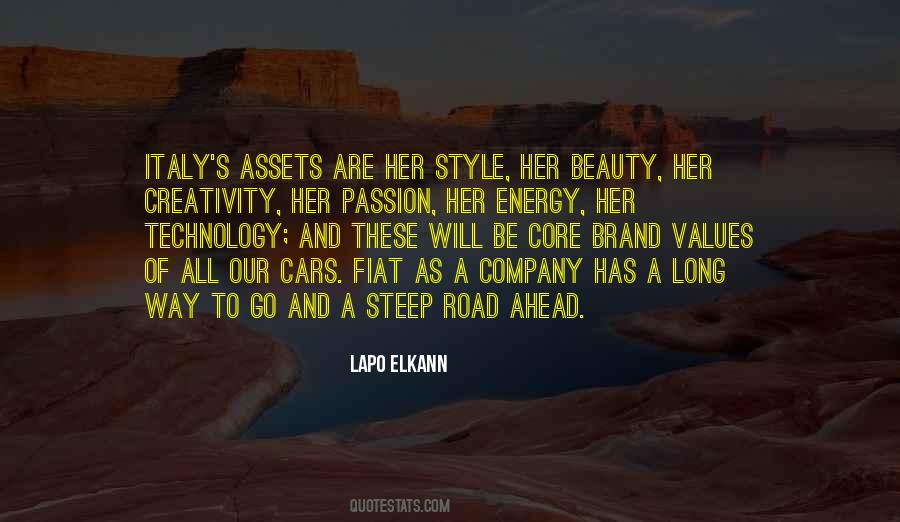 #54. Great drama, like the energy implicit in every atom, is eternally around and within us, but liberated only by coincidence, ceremony, creativity, periods reaching completion, pressures reaching the bursting point, and the simple but painful cultivation of awareness. - Author: Robert Grudin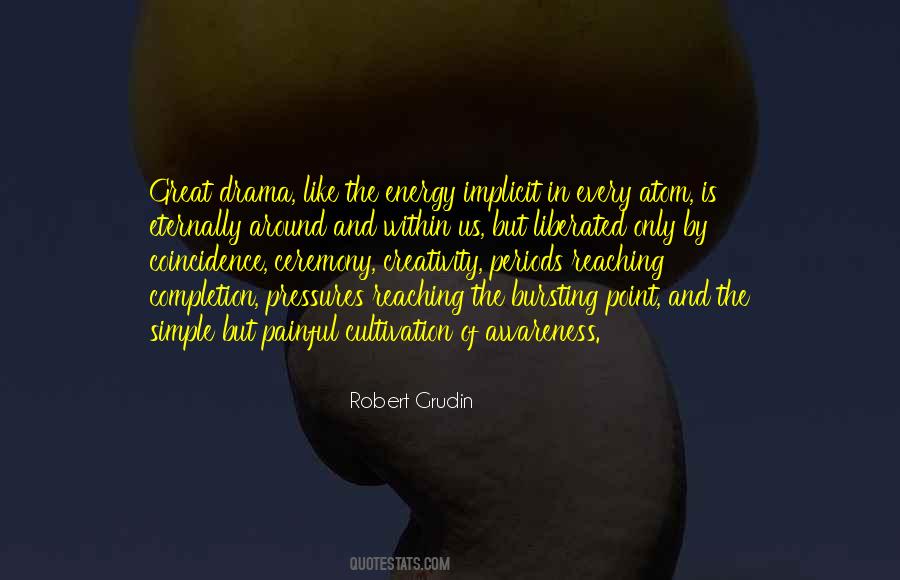 #55. Sustained enthusiasm brings into existence a wave of creative energy, and all you have to do is 'ride the wave'. - Author: Eckhart Tolle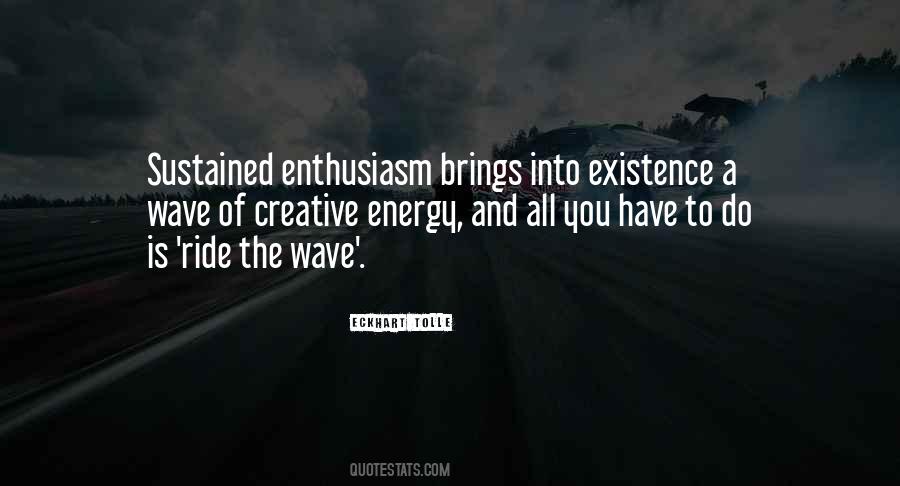 #56. You are infinite intelligence, creativity and Energy-Consciousness which gives you the power and wisdom to attain fulfillment and completion in life. - Author: Ilchi Lee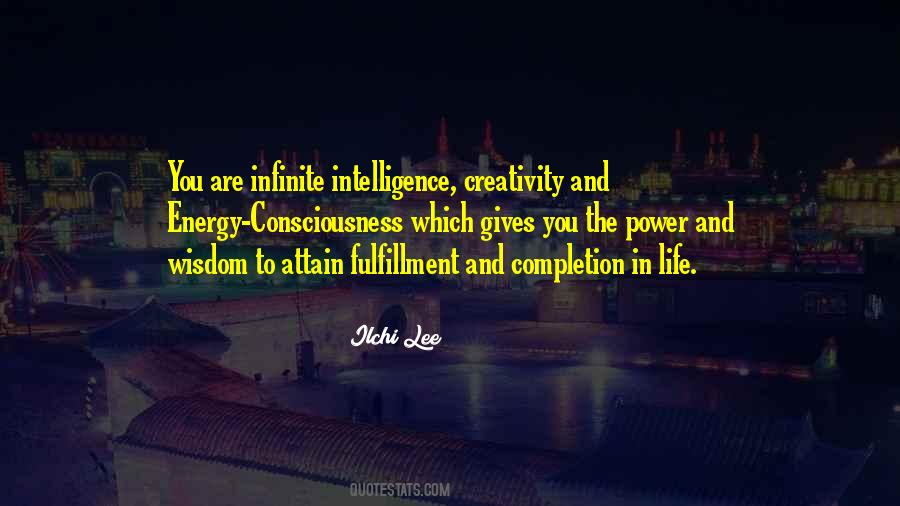 #57. Your goal, in other words, should be to make your bosses smarter, your team more effective, and the whole company more competitive because of your energy, creativity, and insights. - Author: Jack Welch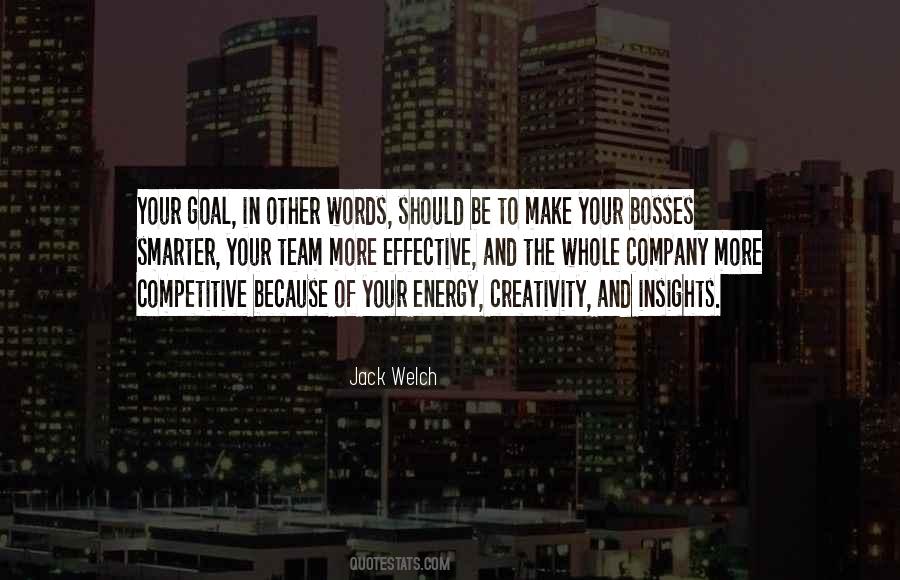 #58. Creativity is not any accumulated knowledge, coming from past to the present. The stage of creation is a spontaneous flash of intelligence, Energy merging with mind, to create a new beginning. Creativity and meditation are similar, as both are expressions of something beyond mind. - Author: Gian Kumar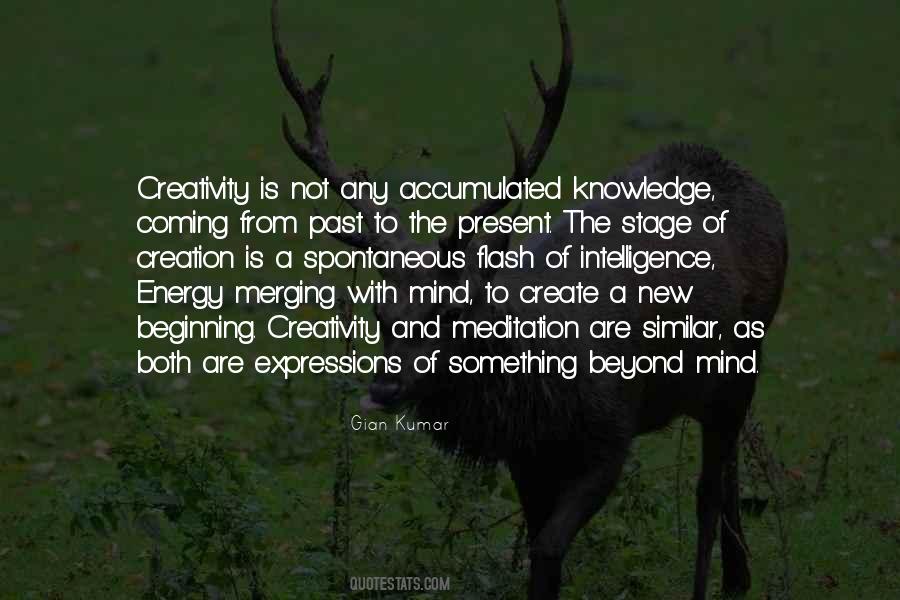 #59. Creativity represents a miraculous coming together of the uninhibited energy of the child with its apparent opposite and enemy, the sense of order imposed on the disciplined adult intelligence. - Author: Norman Podhoretz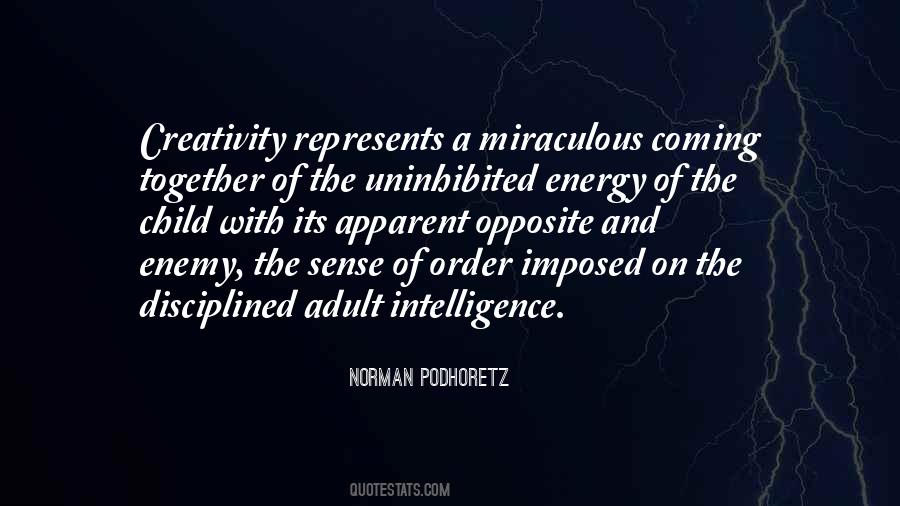 #60. Transcendental Meditation opens the awareness to the infinite reservoir of energy, creativity, and intelligence that lies deep within everyone. - Author: Maharishi Mahesh Yogi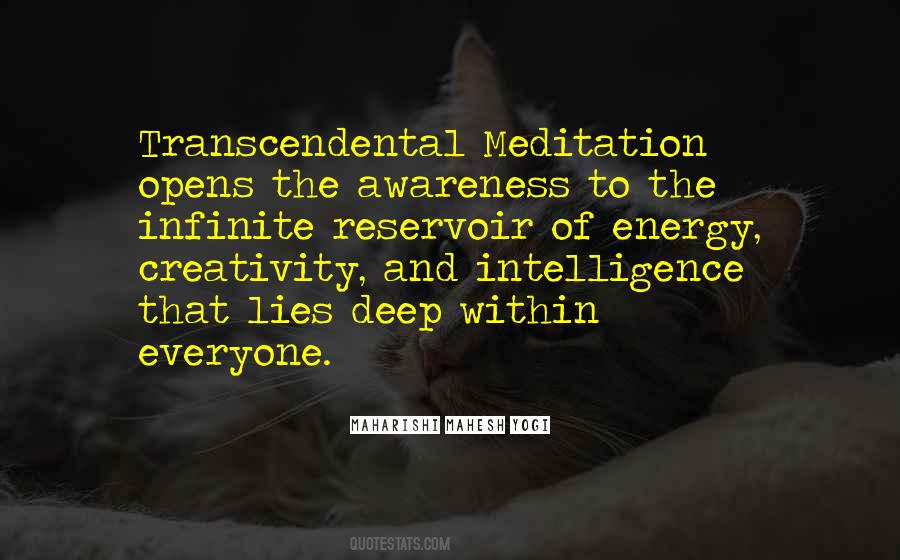 #61. Creativity channels your energy into a powerful source which allows you to perform amazing tasks and achieve great things. - Author: Miya Yamanouchi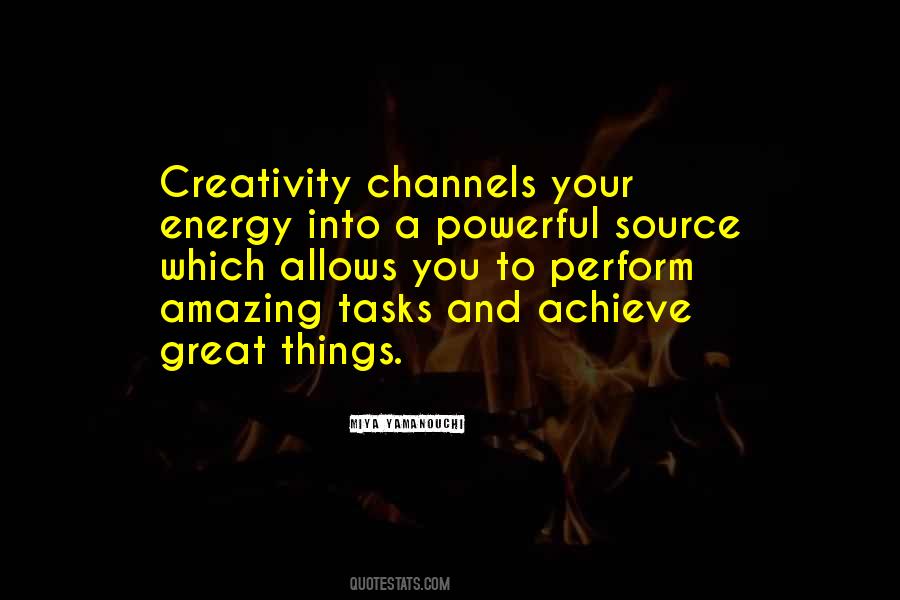 #62. We know the Republicans are happy to keep the country in the dark, and if we Democrats are to recapture the power necessary to assert our values, we must find the energy, courage, creativity and unity to map out a brighter day for the people we sincerely want to serve. - Author: John Yarmuth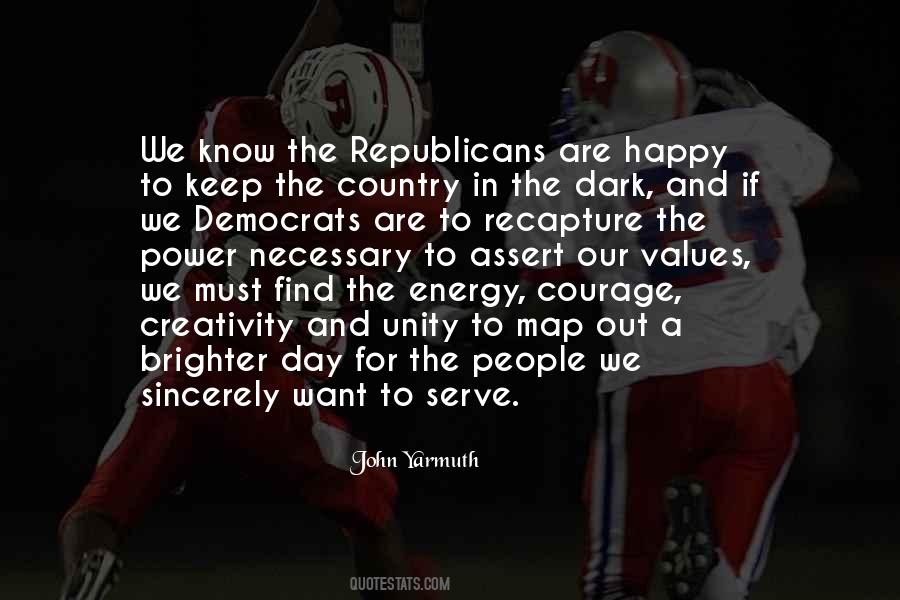 #63. What we need to do is really improve energy efficiency standards, develop in full scale renewable and alternative energy and use the one resource we have in abundance, our creativity. - Author: Lois Capps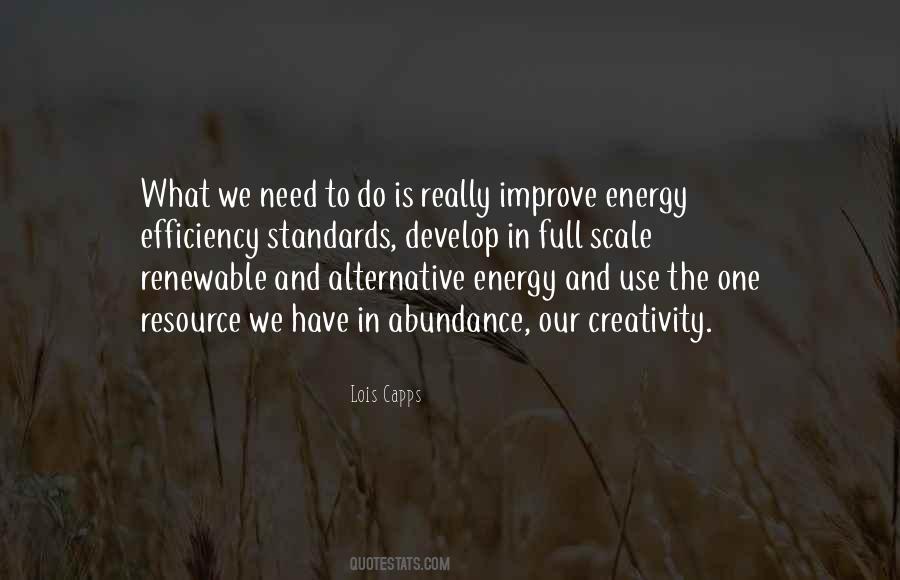 #64. Clear, written goals have a wonderful effect on your thinking. They motivate you and galvanize you into action. They stimulate your creativity, release your energy, and help you to overcome procrastination as much as any other factor. - Author: Brian Tracy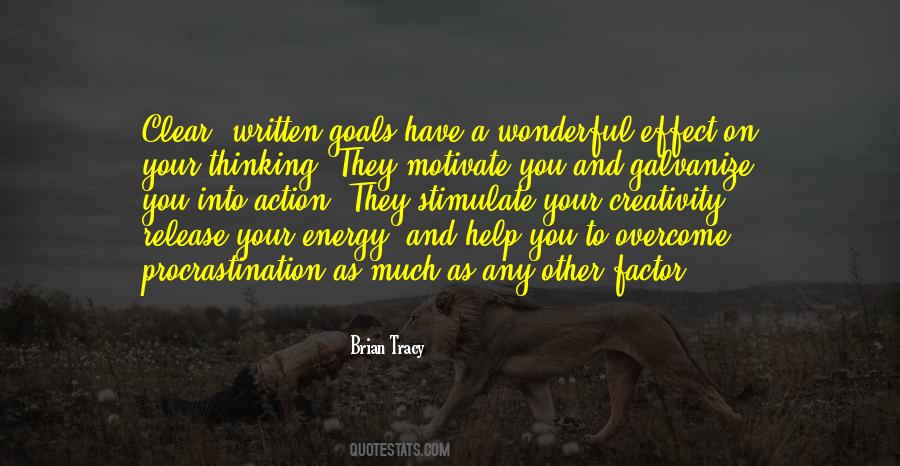 Famous Authors
Popular Topics