Don't Drown Famous Quotes & Sayings
List of top 76 famous quotes and sayings about don't drown to read and share with friends on your Facebook, Twitter, blogs.
Top 76 Don't Drown Quotes
#1. Ocean?""Yeah baby." "Please don't leave me like everyone else, don't let me drown Ocean." "I hugged her tighter. "Livie I won't let you drown. If you drown, I drown baby." I held onto her and closed my eyes, and silently cried myself to sleep. *Ocean Hawthorne* - Author: MEL D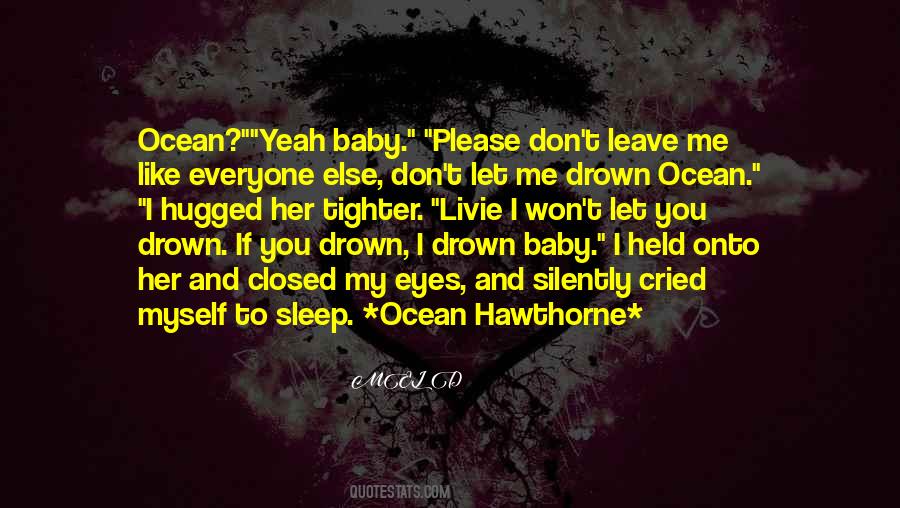 #2. Besides, it doesn't matter if it's real. It never does with dreams. They aren't anything anyway but lifesavers to cling to so you don't drown. Life is an ocean, and most everyone's hanging on to some kind of dream to keep afloat. - Author: Tim Tharp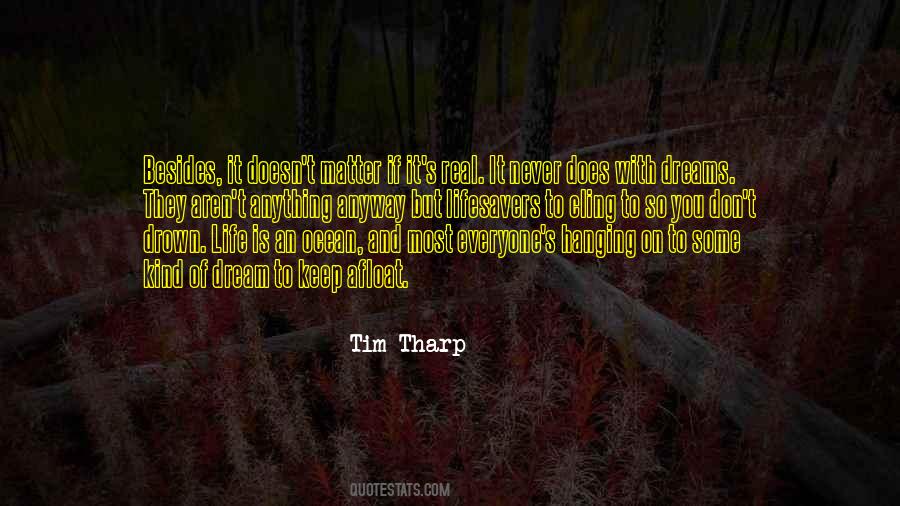 #3. He's around the twist,' said Azalea. 'Breaking all the windows? He's mad.'
'Ah, no,' said the King. 'It's only madness if you actually do it. If you want to break all the windows in the house and drown yourself in a bucket but don't actually do it, well, that's love. - Author: Heather Dixon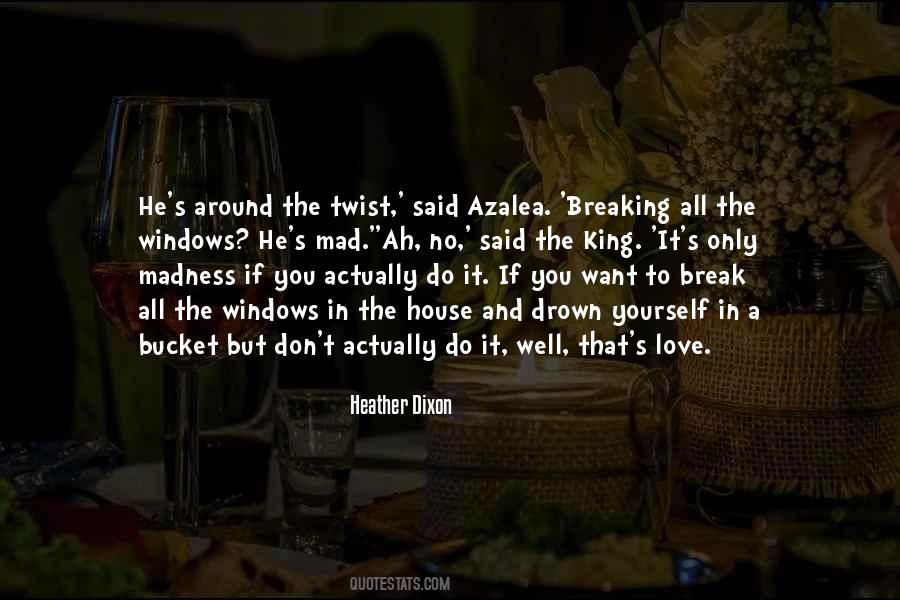 #4. Don't mind her. She keeps her nose so high in the air, she's liable to drown in a good rainstorm. - Author: Sandra Dallas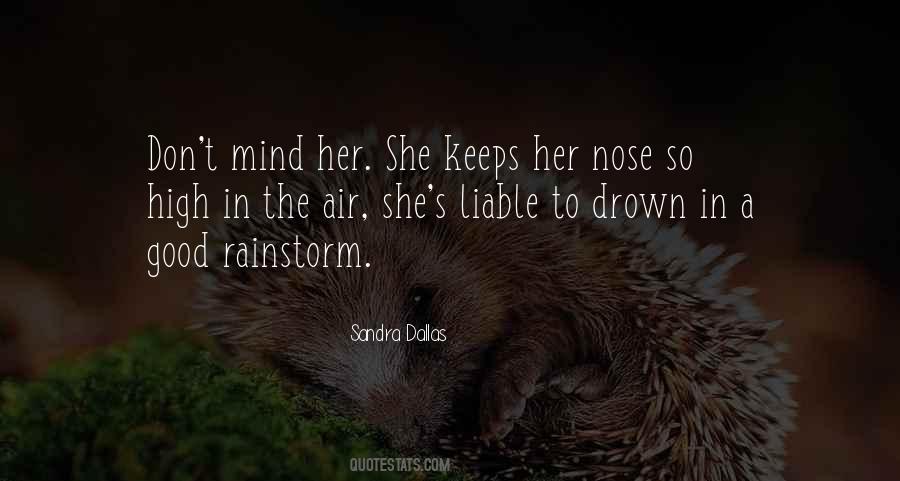 #5. There may be deep thought, but deep people don't exist. Our bodies must float on the surface, otherwise we drown. - Author: Anthony Marais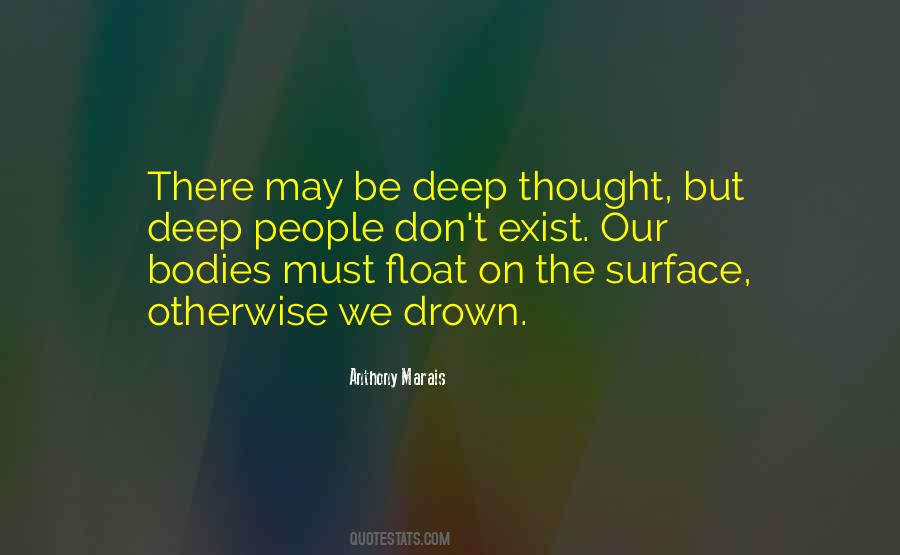 #6. I say I drownin' in river. She don't look me like I'm crazy but say, If you just sit there the river gonna rise up drown you! Writing could be the boat carry you to the other side. (97) - Author: Sapphire.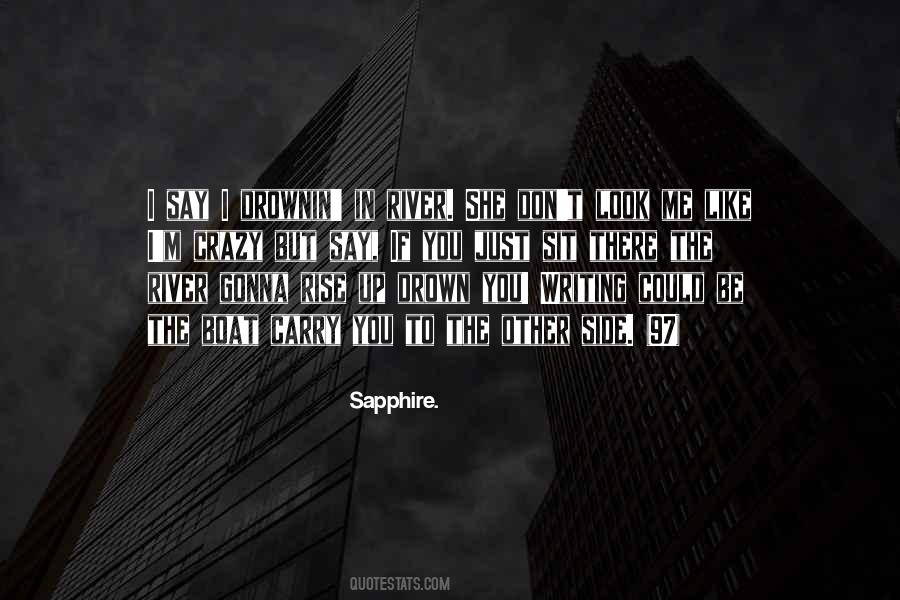 #7. Don't drown yourself in the pool of lies; fly high on the clouds of truth. - Author: Vinita Kinra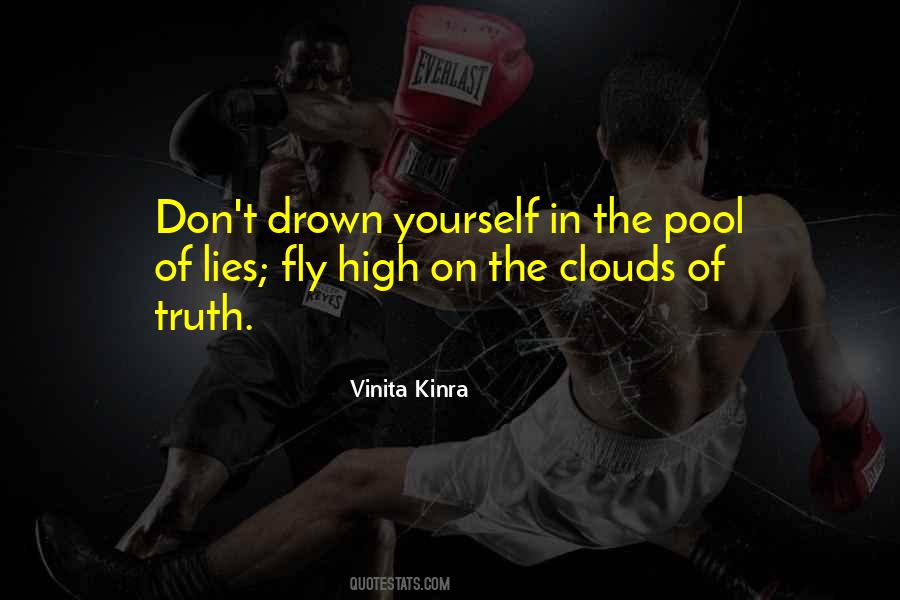 #8. I'm learning how to drown out the constant noise that is such an inseparable part of my life. I don't have to prove anything to anyone, I only have to follow my heart and concentrate on what I want to say to the world. I run my world. - Author: Beyonce Knowles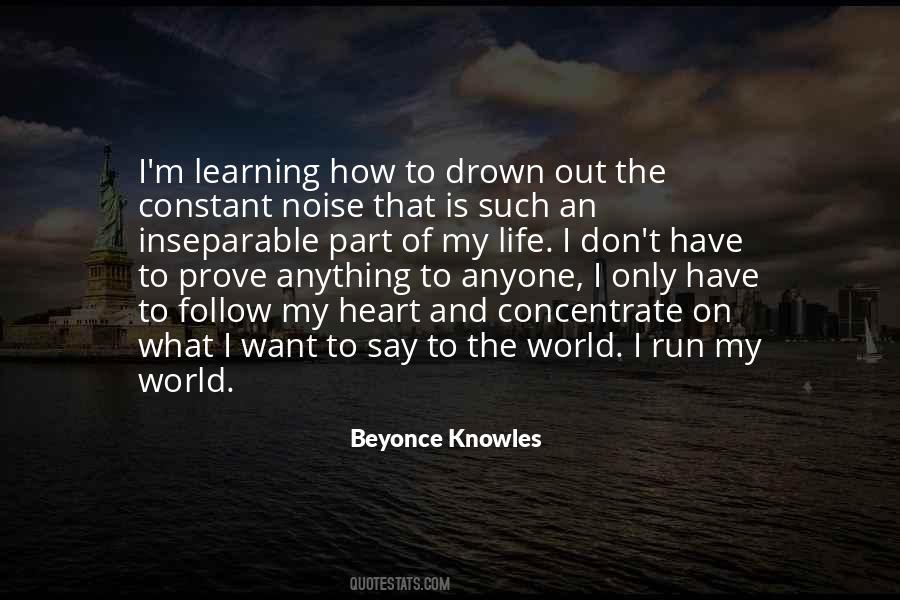 #9. If you don't treat an ingredient and its flavors with respect - if you drown it in oil, for instance - you'll spoil it. - Author: Alain Ducasse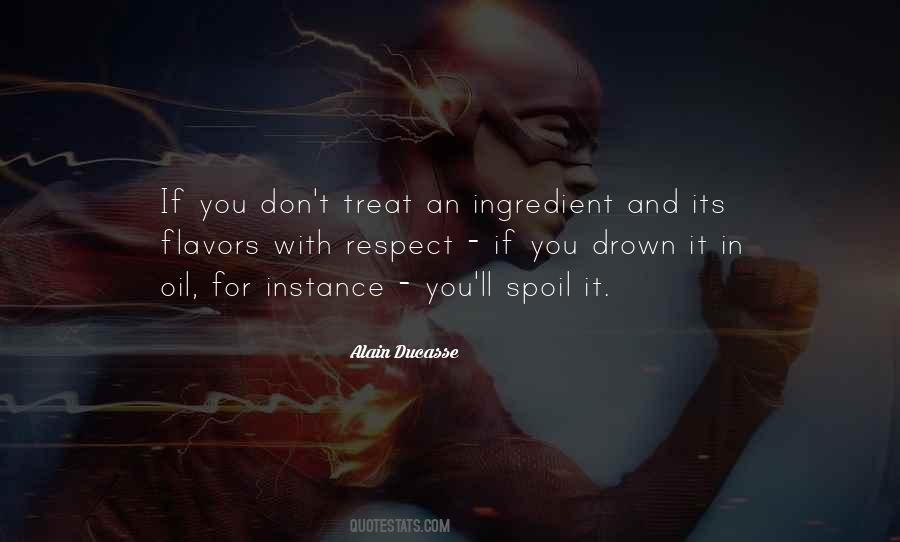 #10. Dia wrinkled her nose. "Gross. You need a decent girl, one that can straighten you out."
"I don't need to be straightened out," Carmine said. "Why drown in love when you can have so much fun swimming in lust? - Author: J.M. Darhower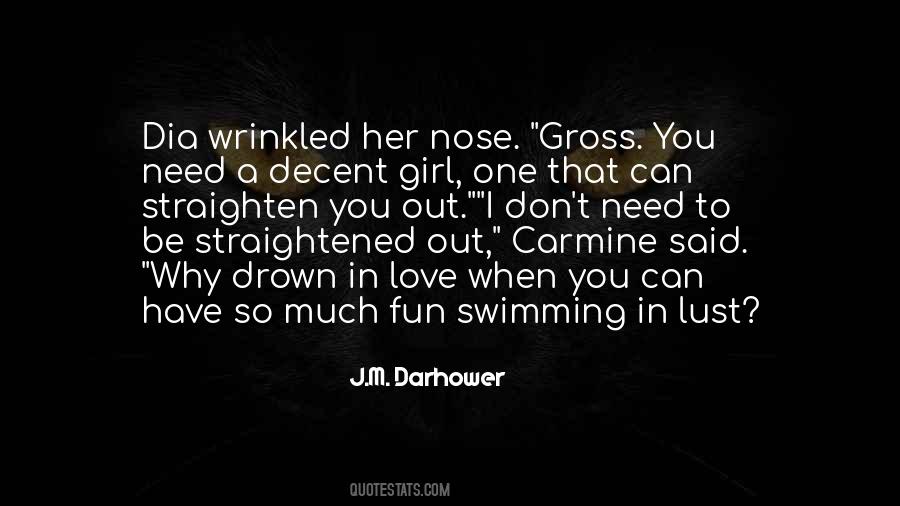 #11. Don't you see all the people sinking down? Don't you care? Are you gonna let them drown? - Author: Keith Green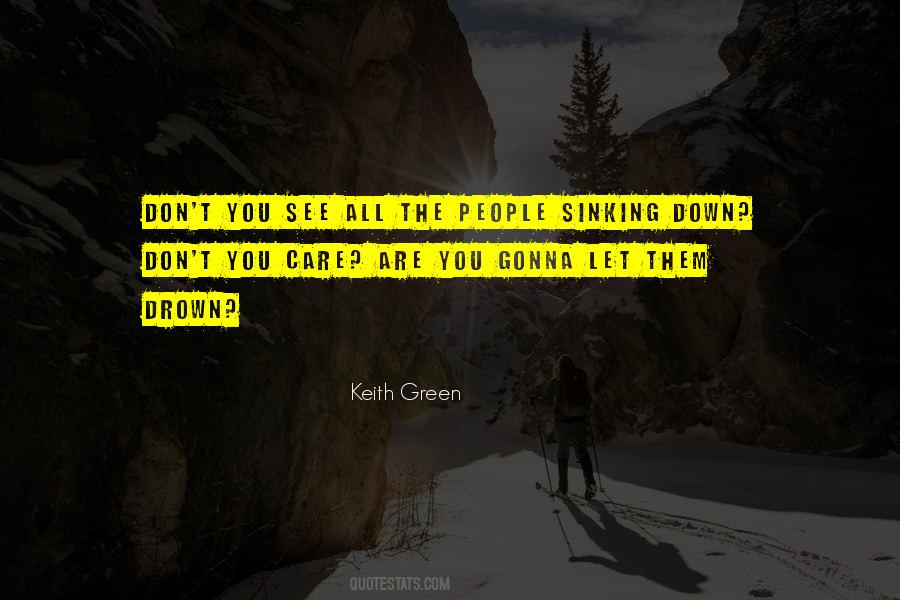 #12. I need to cry some more. I'll drown if I don't...Sometimes you're swimming in unwept tears and you'll go under if you store them up inside. - Author: Nina George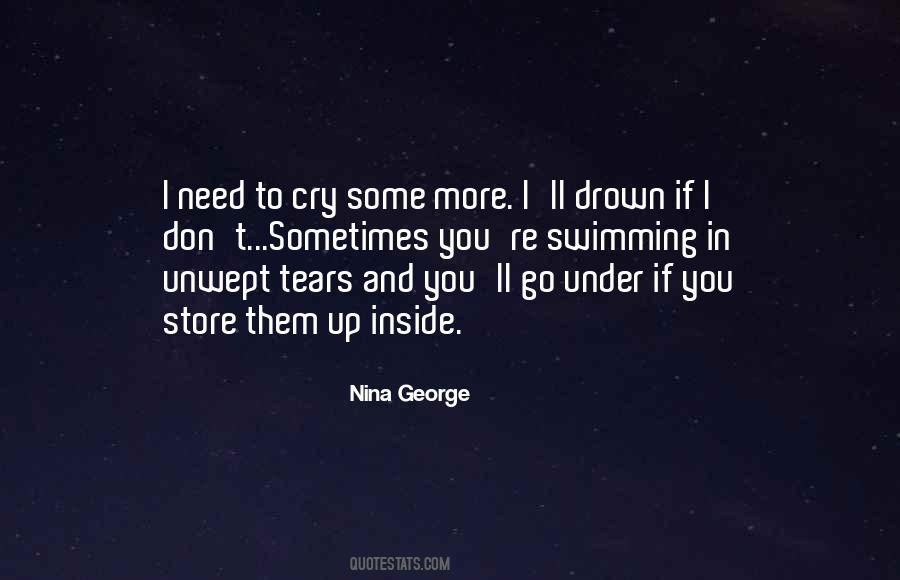 #13. Mermaids don't drown. - Author: Suzanne Palmieri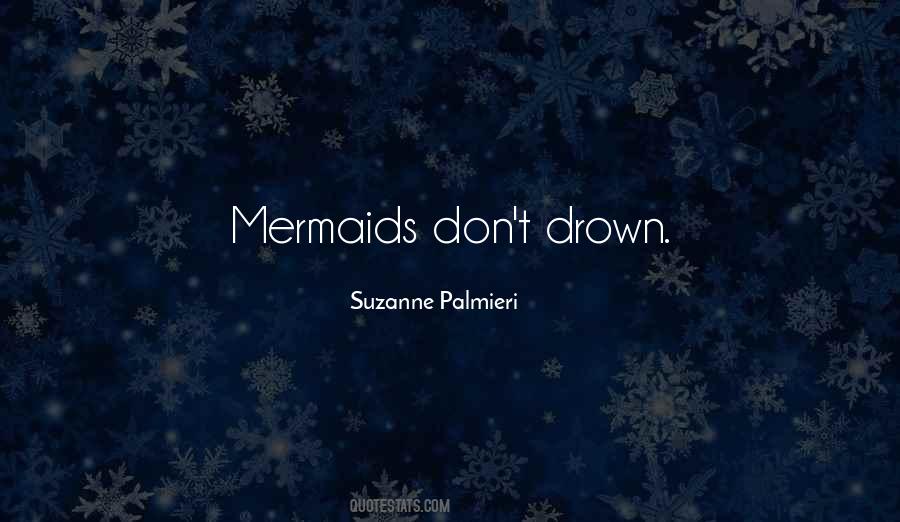 #14. it is when we don't believe we are enough for ourselves
that we start looking for people to drown in. - Author: Upile Chisala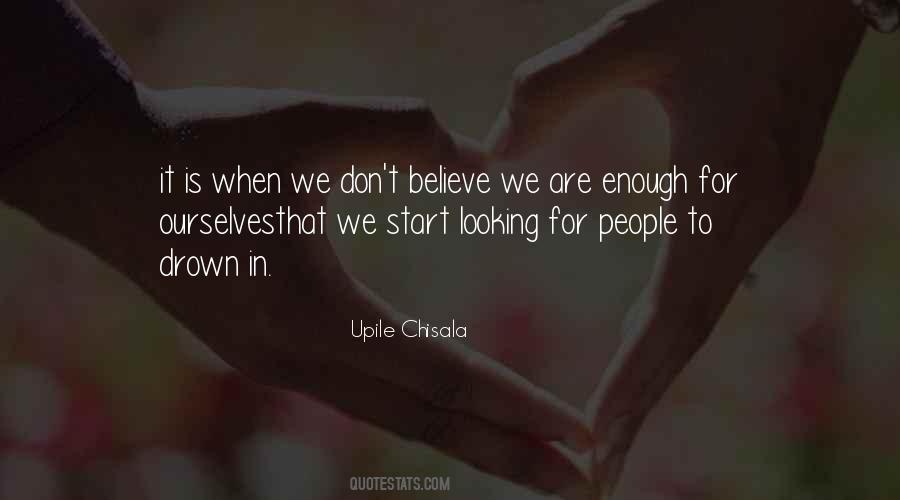 #15. Don't drown yourself in details. Look at the whole. - Author: Ferdinand Foch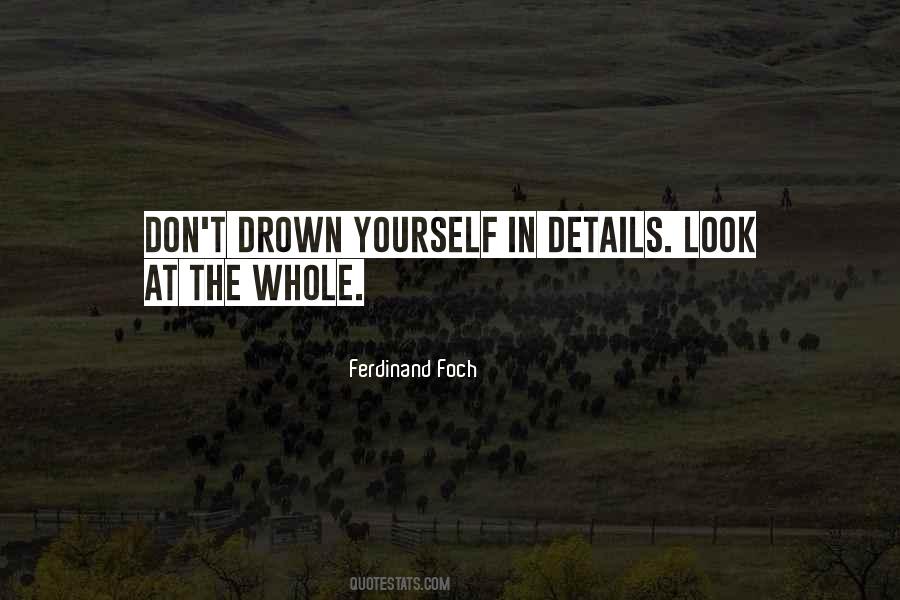 #16. I don't own my emotions unless I can think about them. I am not afraid of feeling but I am afraid of feeling unthinkingly. I don't want to drown. My head is my heart's lifebelt. - Author: Jeanette Winterson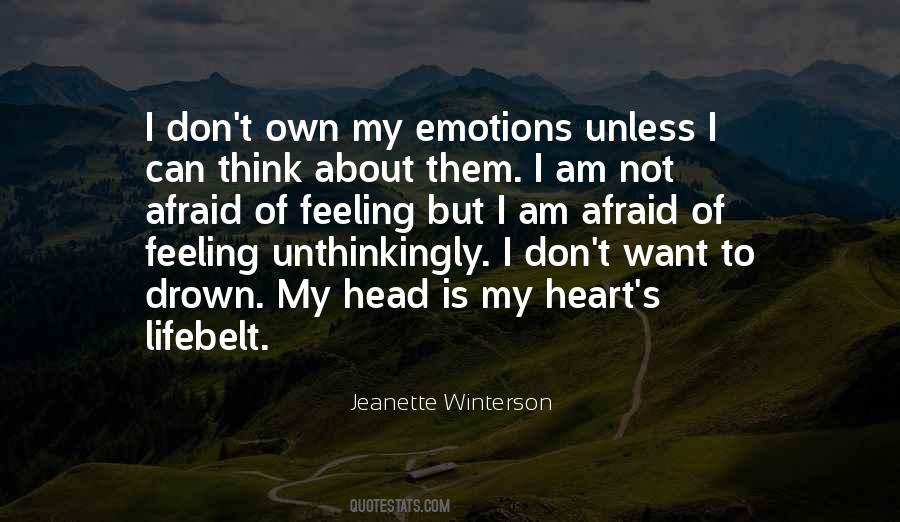 #17. Often it's just a short swim from the shipwreck of your life to the island paradise of your dreams, assuming you don't drown in the metaphor. - Author: Robert Breault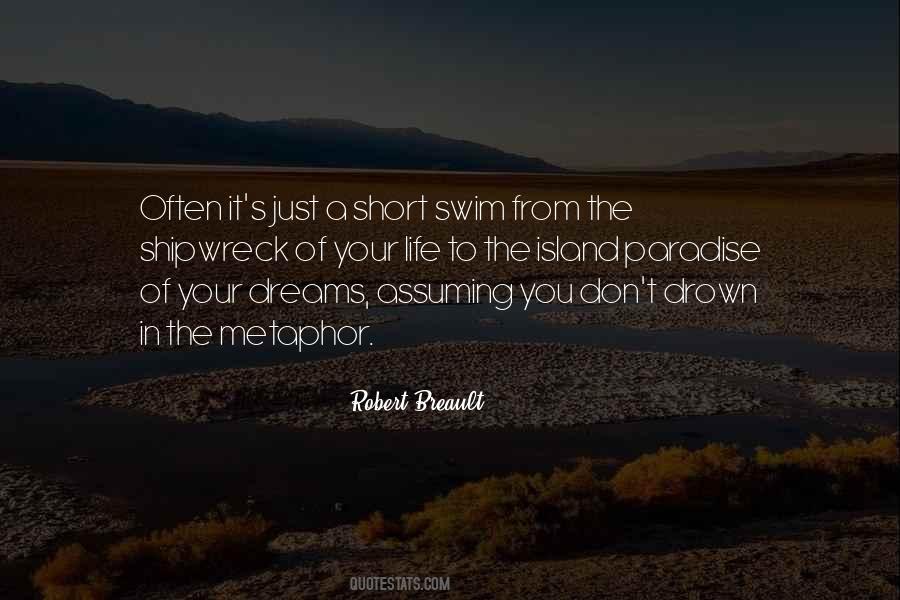 #18. There will always being those
who say you are too young and delicate
to make anything happen for yourself.
They don't see the part of you that smolders.
Don't let their doubting drown out the sound
of your own heartbeat. - Author: Clementine Von Radics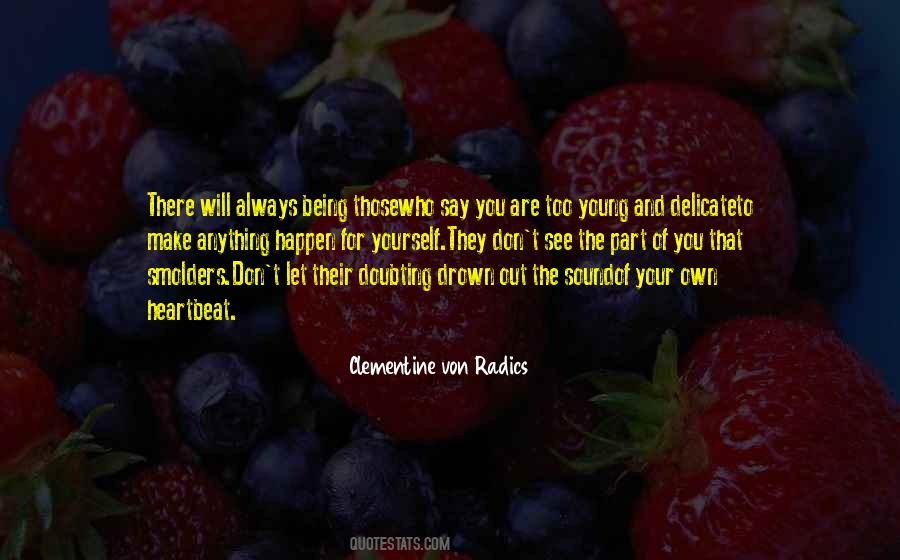 #19. Don't come to me with your troubles. I have to work for my money and you are young enough to work too. If you can't make enough money to live on you can jump out of the window or drown yourself. - Author: Maria Callas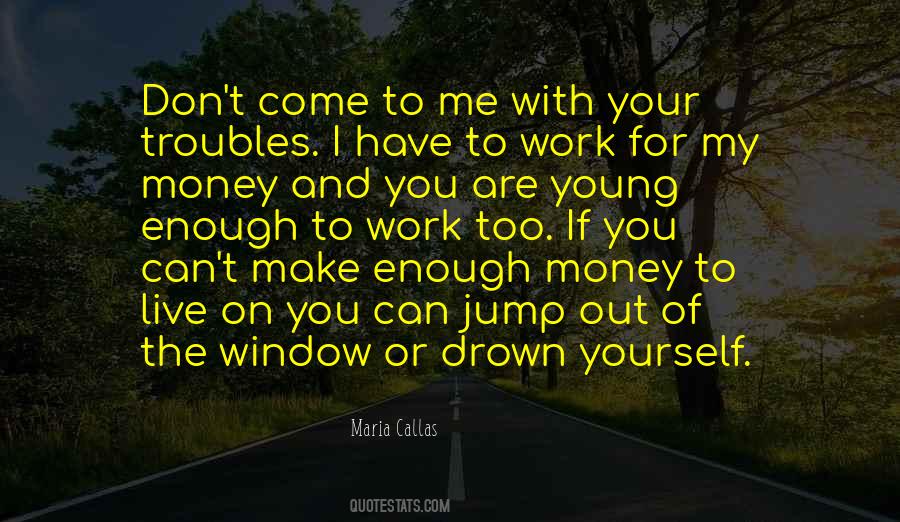 #20. It's okay to feel bad about how things went down, but it's not okay to drown in guilt and regret every day for having made decisions other people don't agree with. At some point, we all have to man up and decide to do what we have to do, despite the people around us who try to get in the way. - Author: M-E Girard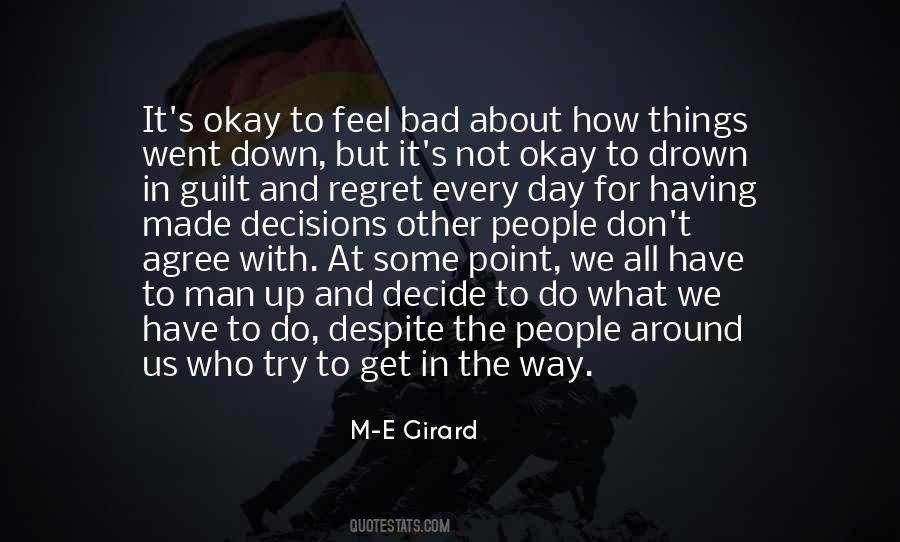 #21. I lead horses to water and if they don't drink, then I drown them. - Author: Mike Brown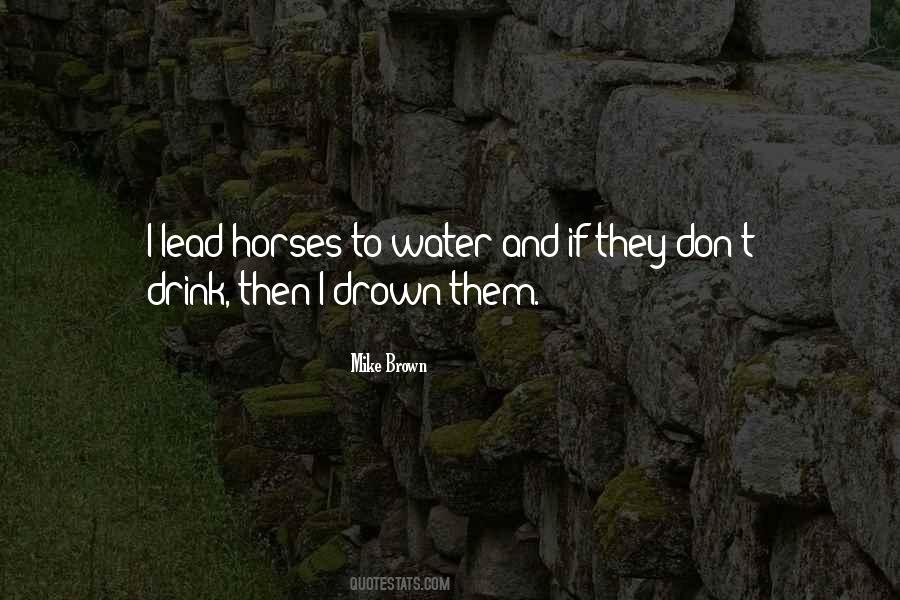 #22. You can wipe your feet on me, twist my motives around all you like, you can dump millstones on my head and drown me in the river, but you can't get me out of the story. I'm the plot, babe, and don't ever forget it. - Author: Margaret Atwood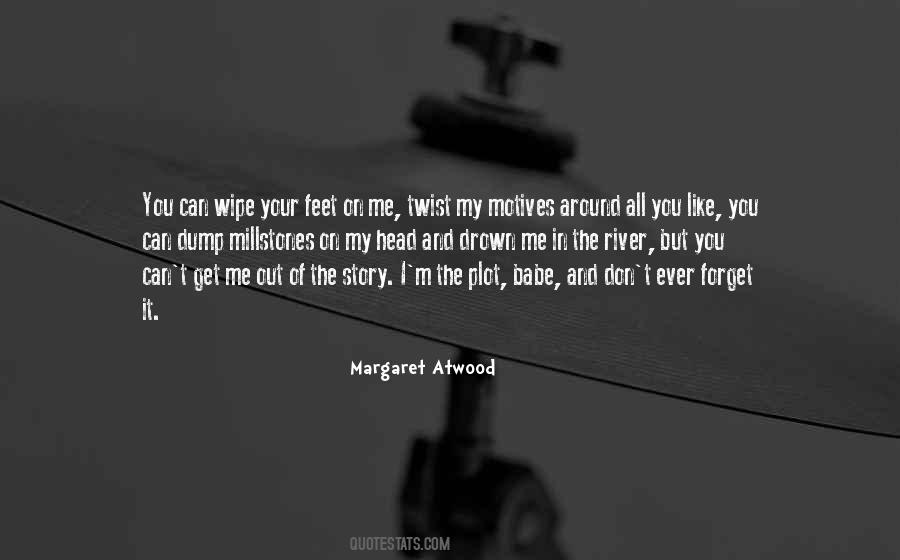 #23. There's an old saying in swimming - "Don't drown." At least there should be. I may have just Michael Phelpsed myself, but it's all gold. - Author: Jarod Kintz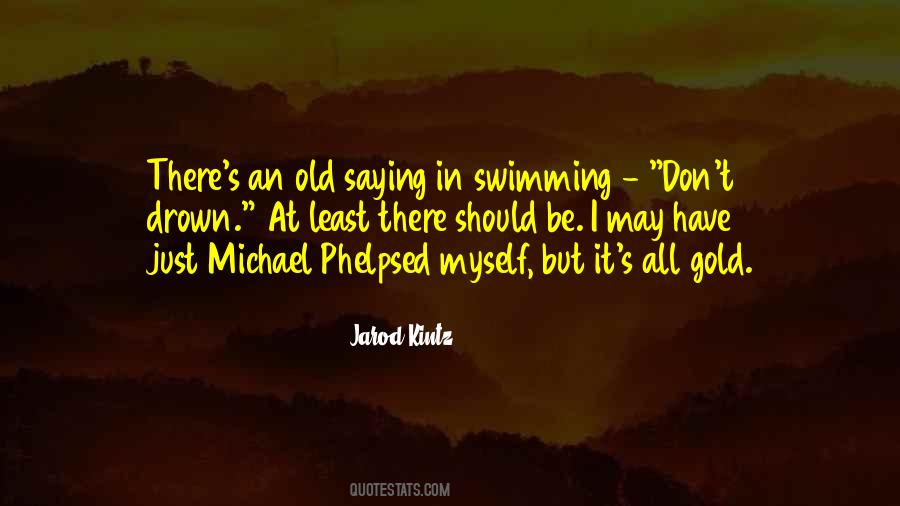 #24. Is this bitch crazy? I don't want to 'accidentally' drown - Author: J.L. McCoy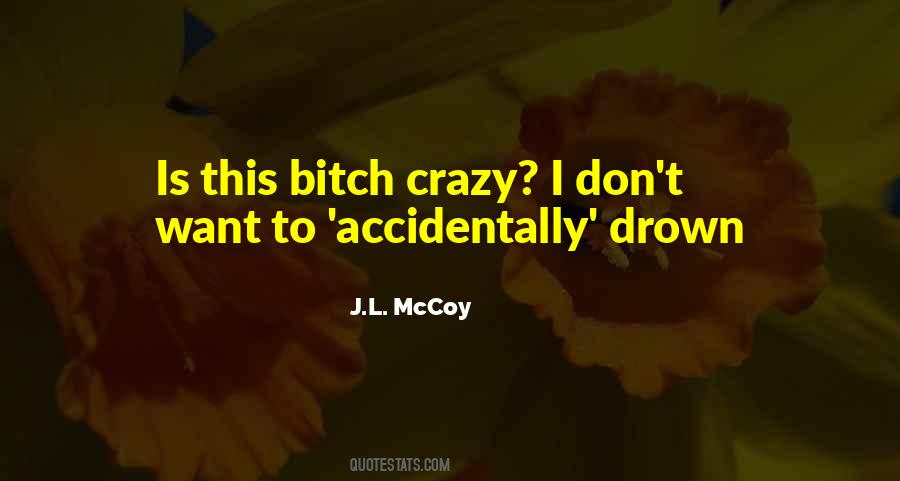 #25. I'm from a family of teachers. My father would drown me in the bathtub if my daughter didn't graduate from college. I don't care who she is or what she does. Just get the diploma. - Author: P.C. Cast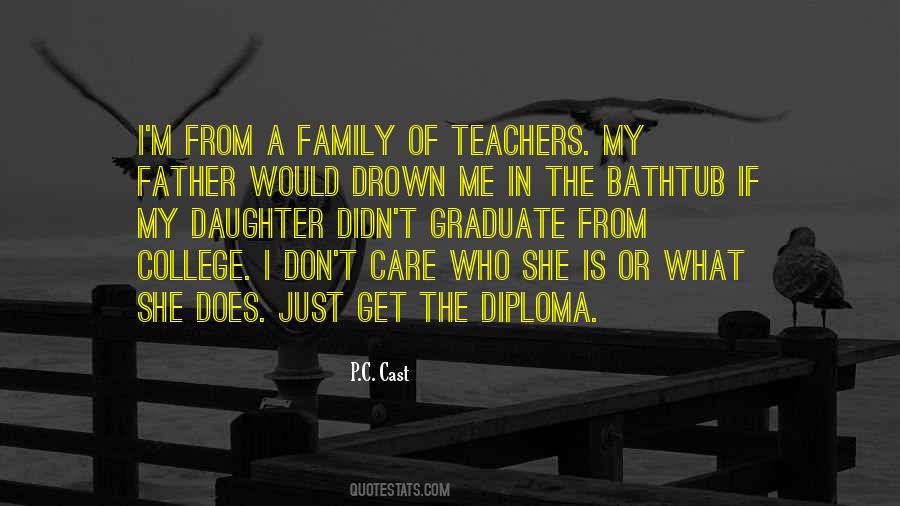 #26. I don't need the sea to drown in, your eyes are enough for me! - Author: Avijeet Das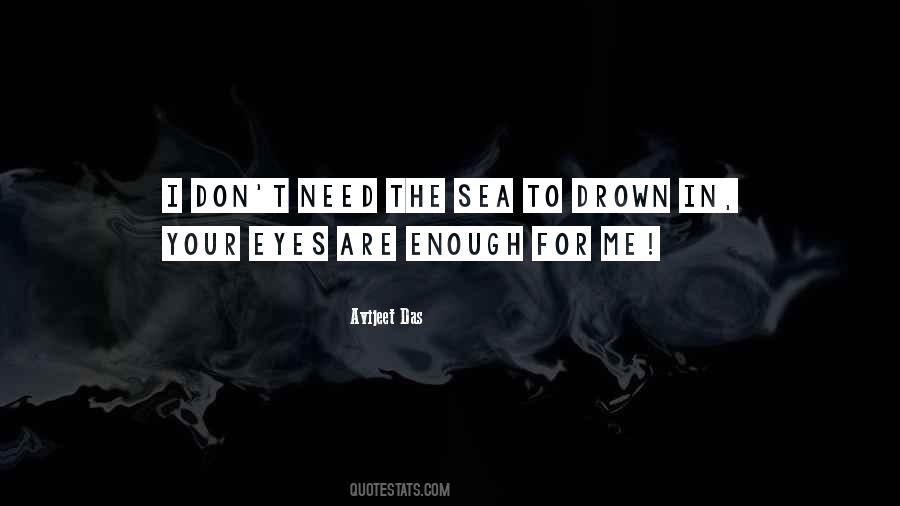 #27. Asleep you don't feel pain or hunger, or loneliness, or bitterness. In sleep you can drown in false euphoria, and when you awaken, you just don't care about anything. - Author: V.C. Andrews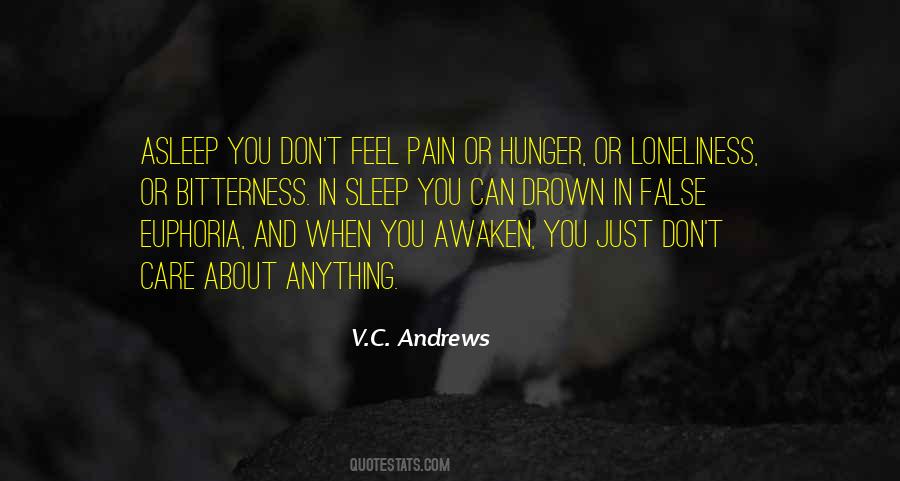 #28. Don't untie me," she said, "no matter what happens or how much I plead. I'll want to go straight over the edge and drown myself."
"Are you trying to tempt me?"
"Ha-ha. - Author: Rick Riordan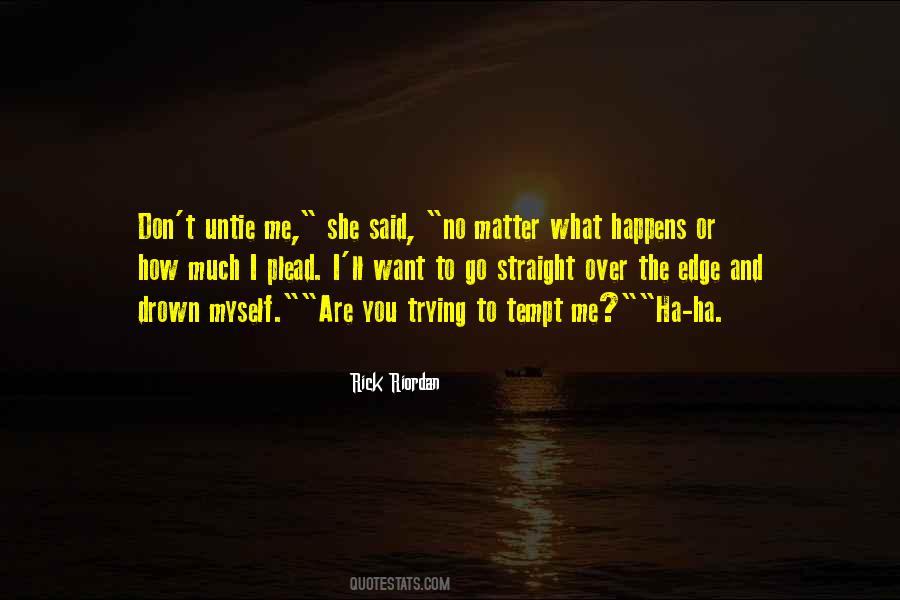 #29. People can't fly because they don't believe they can. If nobody ever showed people they could swim, everybody'd drown if they were dropped into the water. - Author: William Wharton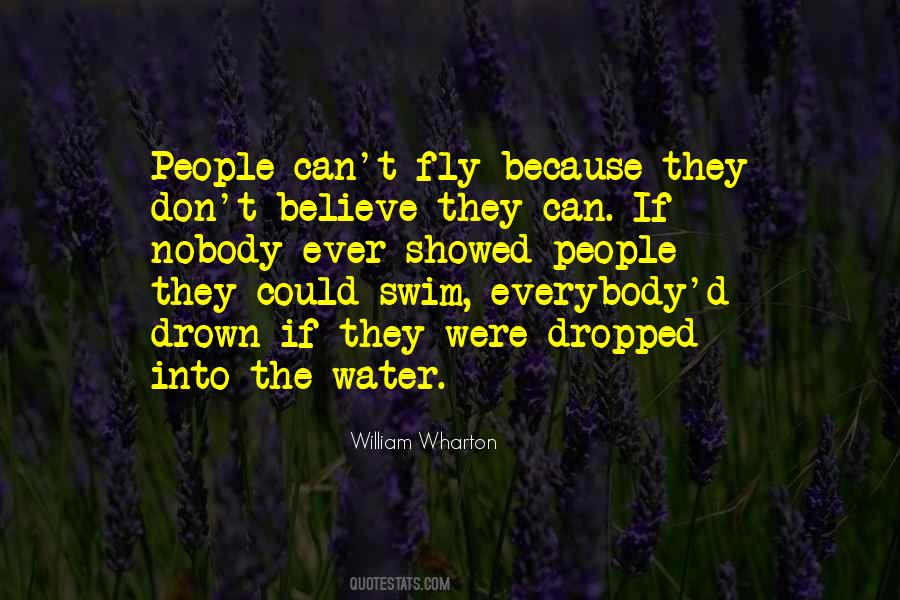 #30. It's always there - fear - and if you don't stay on top of it, you'll drown. - Author: Laurie Halse Anderson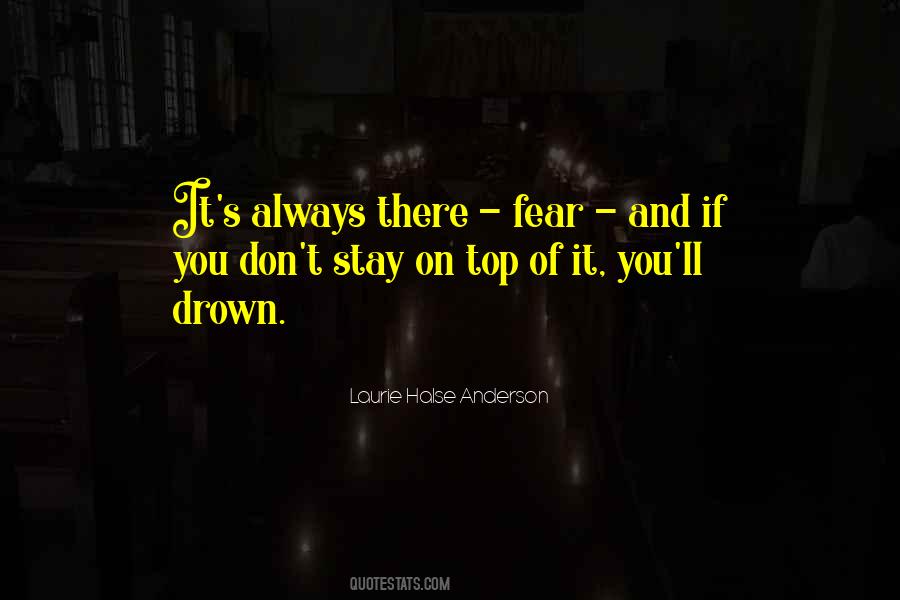 #31. Trying to drown me woman?
'You can't drown a SEAL,' she said. 'How embarrassing would that be?'
'God yes. Shoot me, hang me, let me die of infection from a hangnail, but don't let me die in the water. They'd send me to hell on principle. - Author: Maya Banks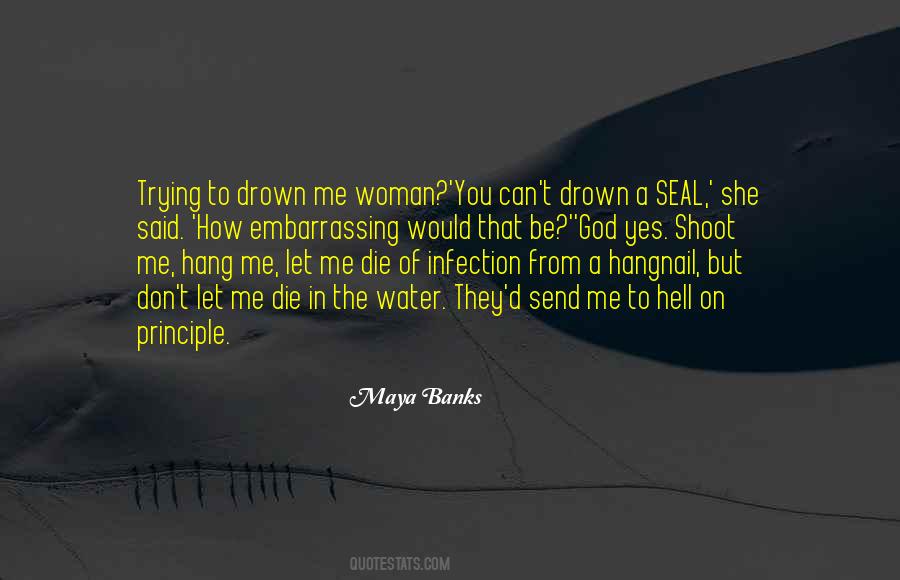 #32. This is a setback. You get back up, you dust yourself off, and you get back in the game. We had a great singer named Ray Charles who wrote a song called 'Drowning in My Tears.' You can't afford to drown in your tears. You gotta go back, rededicate yourself, redouble your efforts, and persevere. - Author: Don King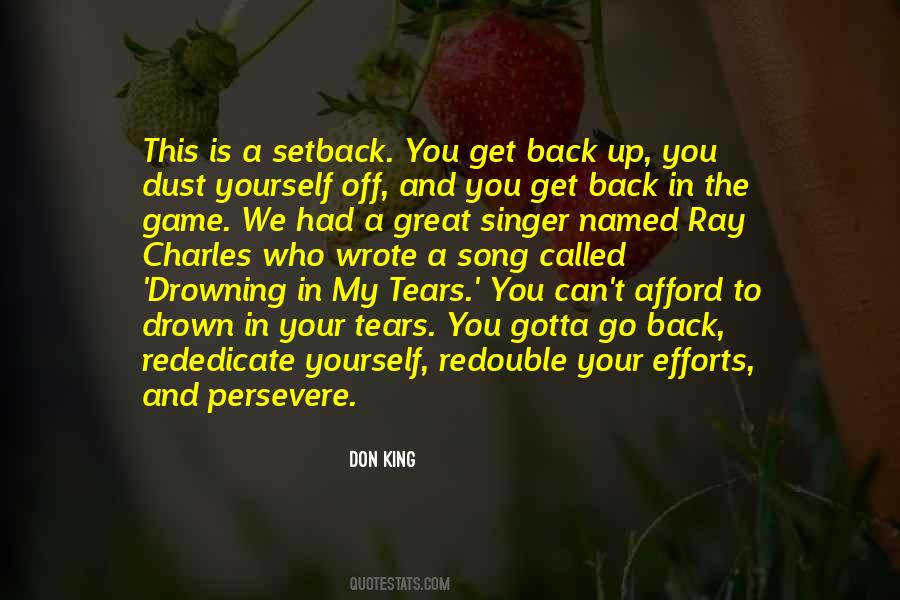 #33. To have faith is to trust yourself to the water. When you swim you don't grab hold of the water, because if you do you will sink and drown. Instead you relax, and float. - Author: Alan W. Watts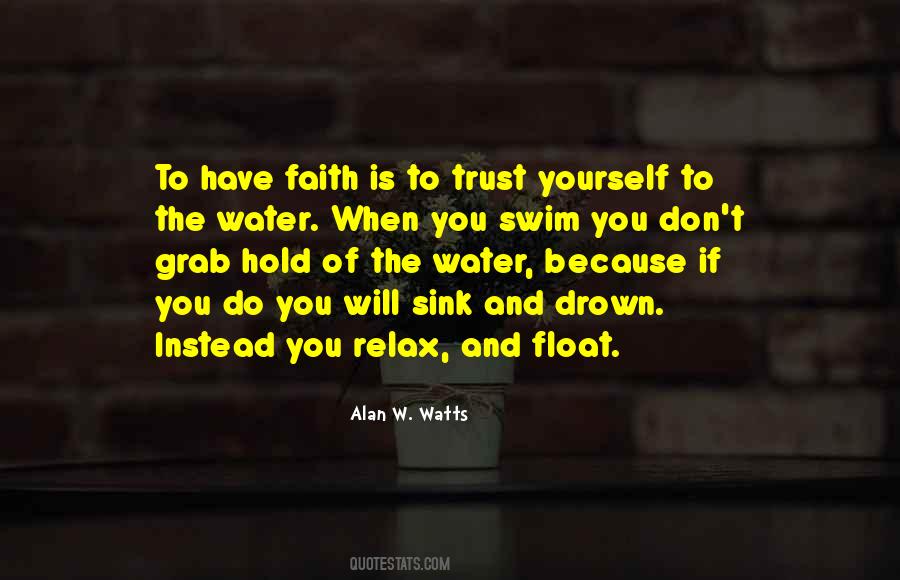 #34. Don't know what to do anymore,
I've lost the only love worth fighting for,
and I'll drown in my tears storming sea,
That would show you, that which make you hurt like me - Author: A Fine Frenzy
#35. Dilly closed his eyes and tried to find some way to drown out all the emotions that sliced at his soul. "No. I am so not okay that I don't even have words for how not okay I am. - Author: Lyn Gala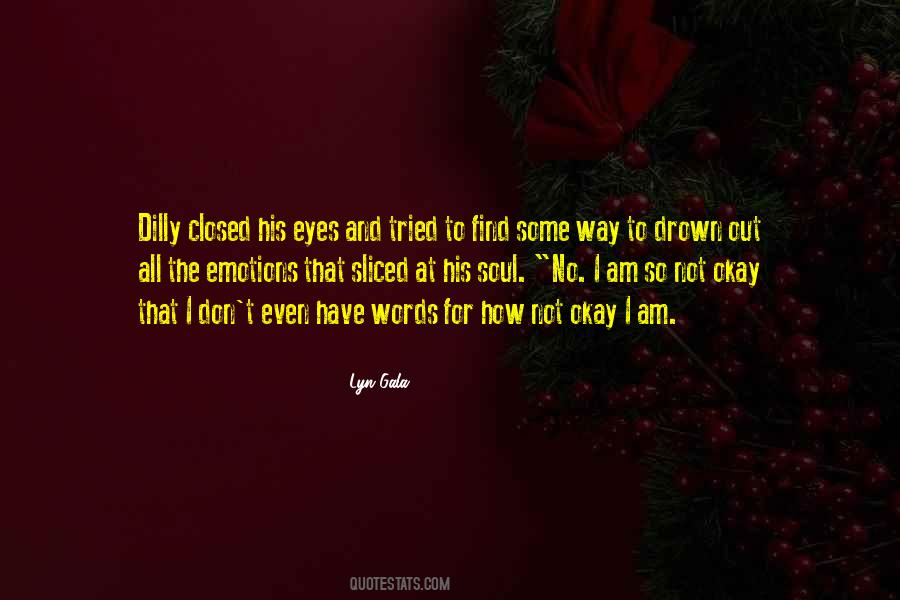 #36. ...tears and rain are the same thing, they're meant to wash you clean and make you grow. If you don't let them out, you'll drown inside. - Author: Celeste De Blasis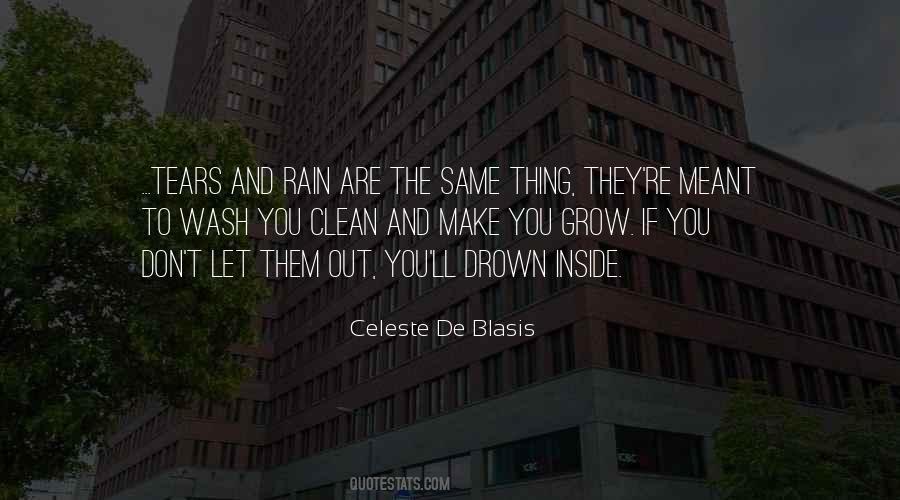 #37. The only depth where I can breathe, and don't need to fight for air, is in your love. - Author: Anthony Liccione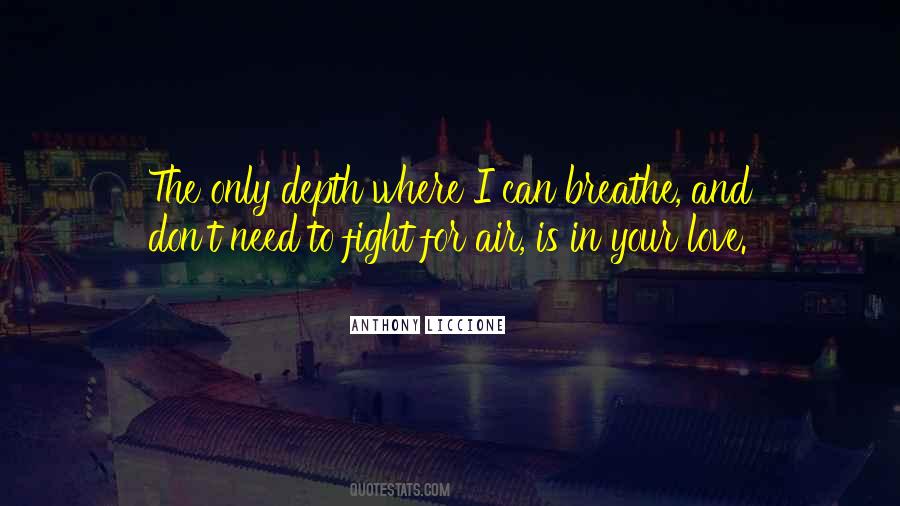 #38. I don't let myself 'surf' on the Web, or I would probably drown. - Author: Aubrey Plaza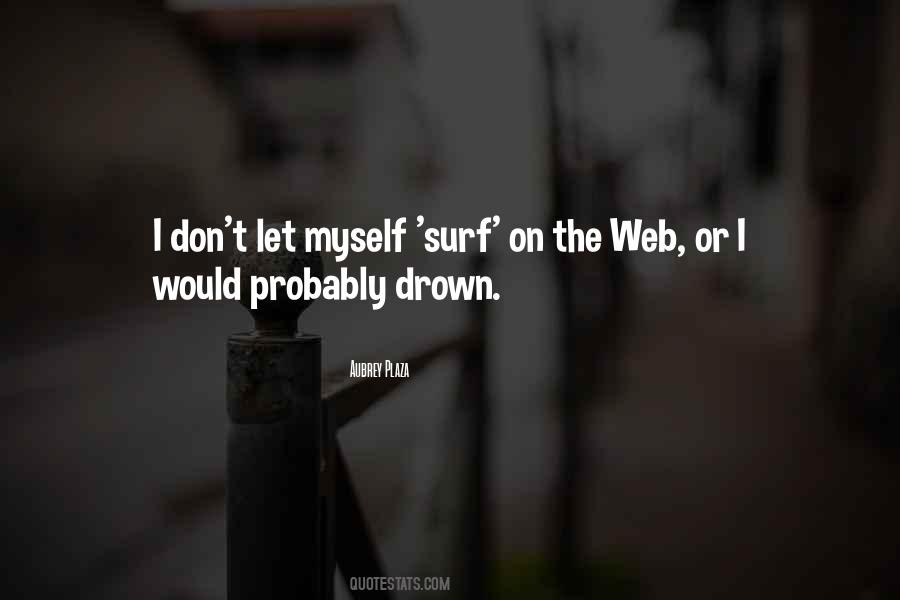 #39. Your friends drag you down, Gordie. Don't you know that? [ ... ] Your friends do. They're like drowning guys that are holding onto your legs. You can't save them. You can only drown with them. - Author: Stephen King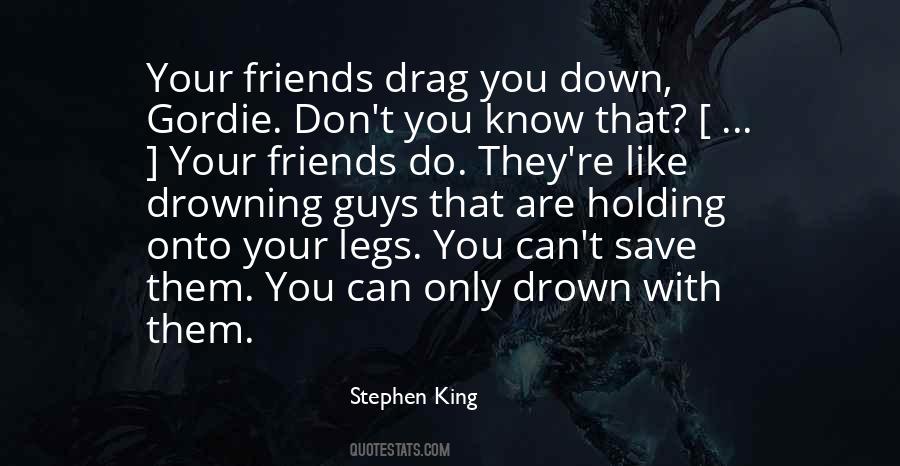 #40. Don't let the cynic in you drown out the dreamer. - Author: J.A. DeRouen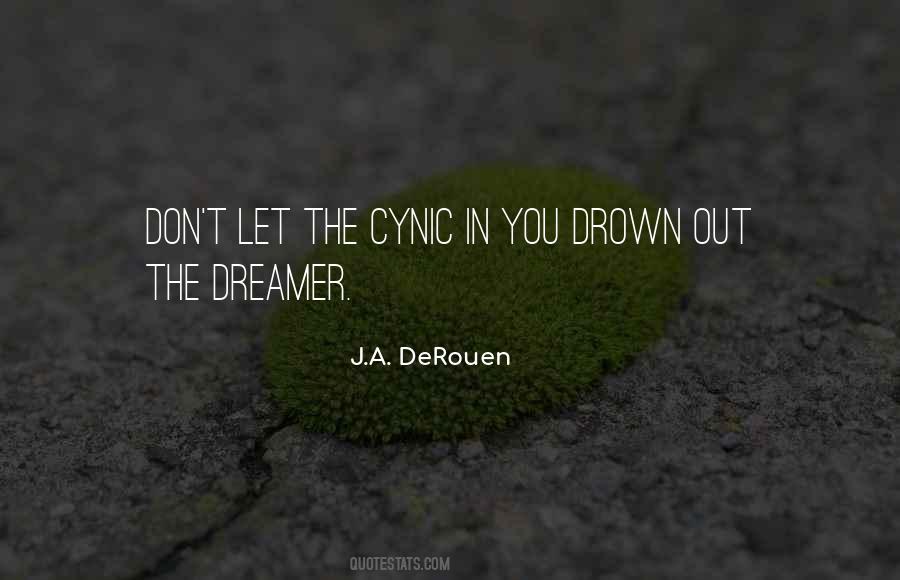 #41. Percy muttered. 'I want to drown her.'
'Be patient, water boy.'
'Don't call me water boy. - Author: Rick Riordan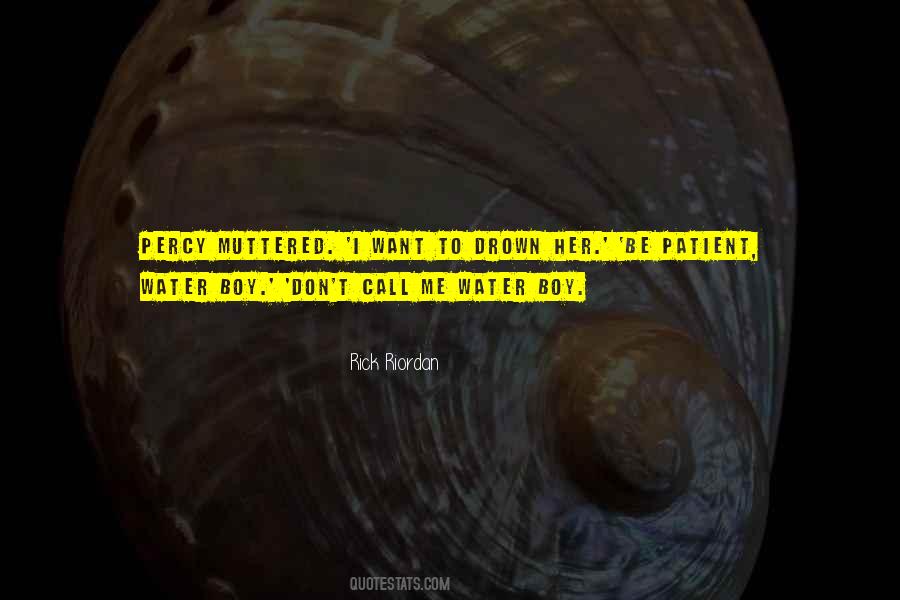 #42. i don't love you. i'm in lovve with an illusion. i'd known heartache before, but what was happening now couldn't be described as heartache. those words had shattered my soul. i felt hollow and lost. and like i could easily drown in the searing pain making its way through my body - Author: Molly McAdams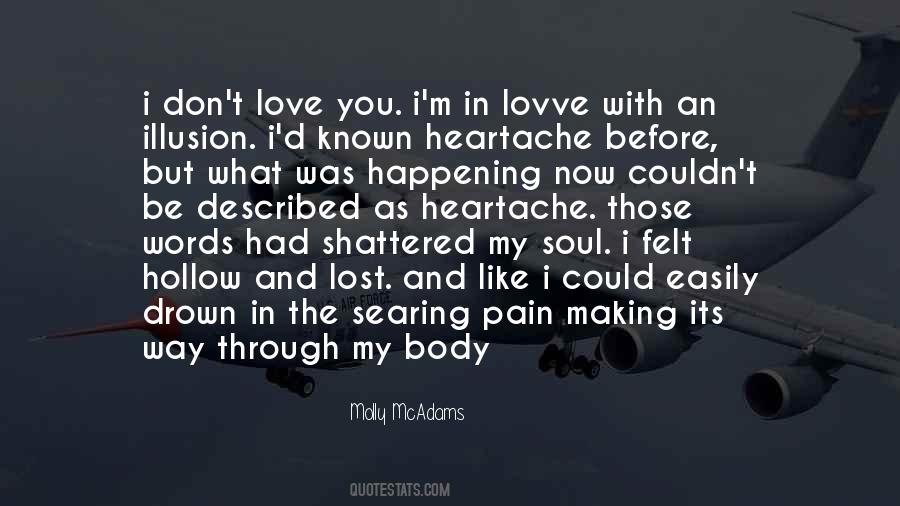 #43. We drown our doubts in dry champagne and soothe our souls with fine cocaine. I don't know why I even care, we get so high and get nowhere. - Author: Billy Joel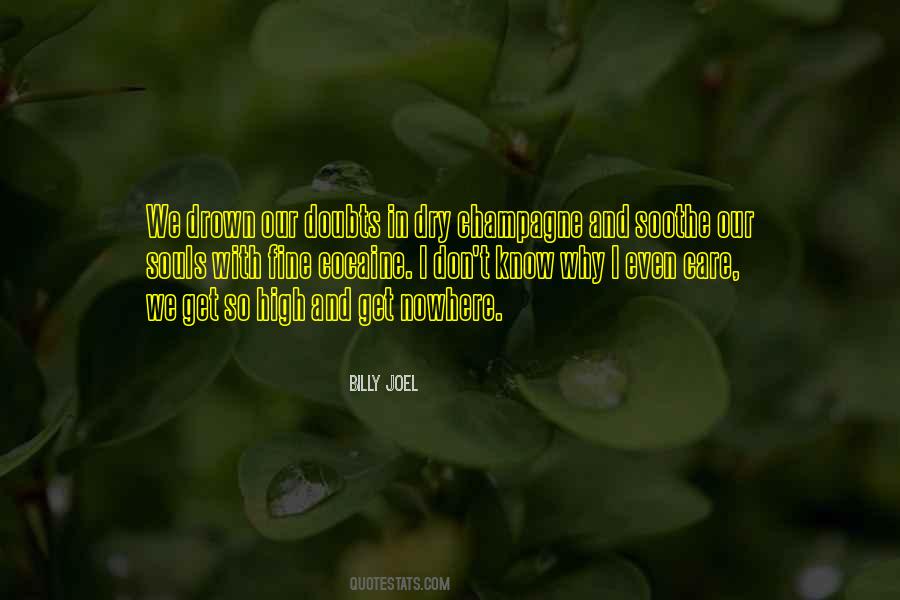 #44. It is improper for one person to take credit when it takes so many people to build a successful organization. When you try to be top dong, you don't create loyalty. It you can't give credit (and take blame), you will drown in you inability to inspire. - Author: James Sinegal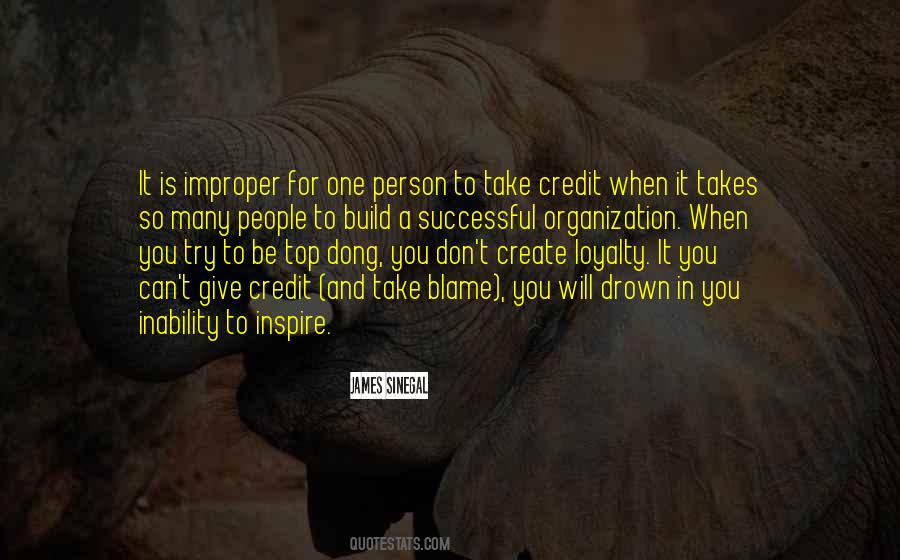 #45. You don't drown because you can't breathe. You drown because you try to breathe what is not breathable. - Author: Katherine Catmull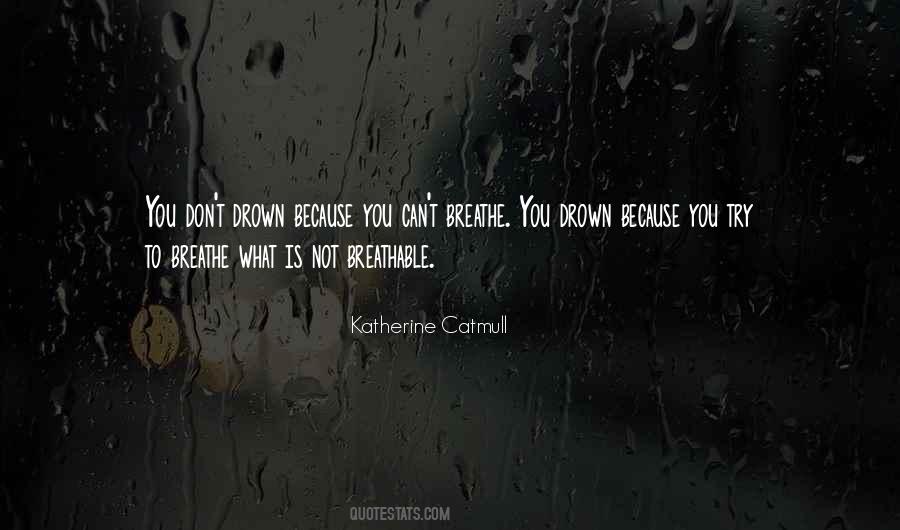 #46. Don't let anyone or anything drown out that still small voice that says, "You were made for more. - Author: Kirstin Leigh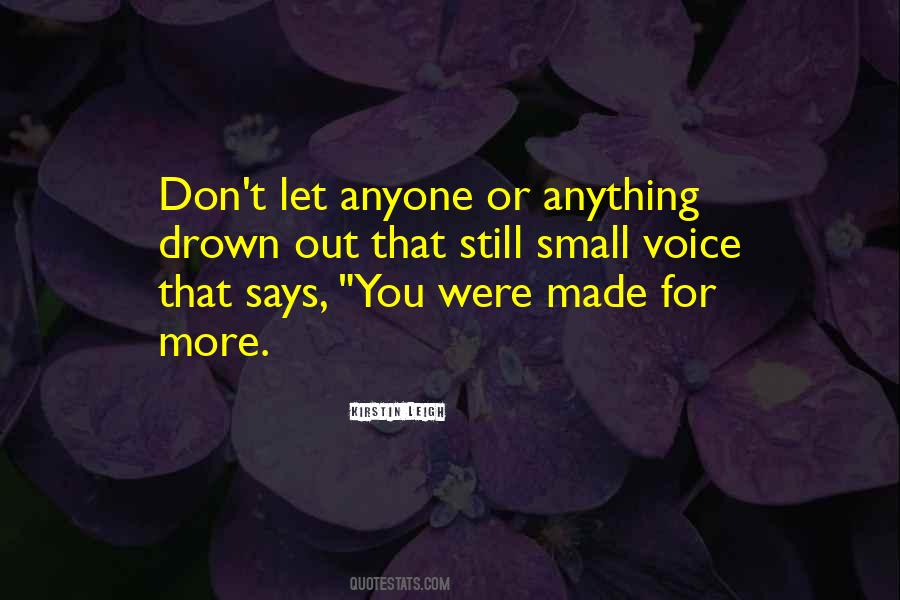 #47. I can drown a drink of water. I can kill a dead tree. Don't mess with Muhammad Ali. - Author: Muhammad Ali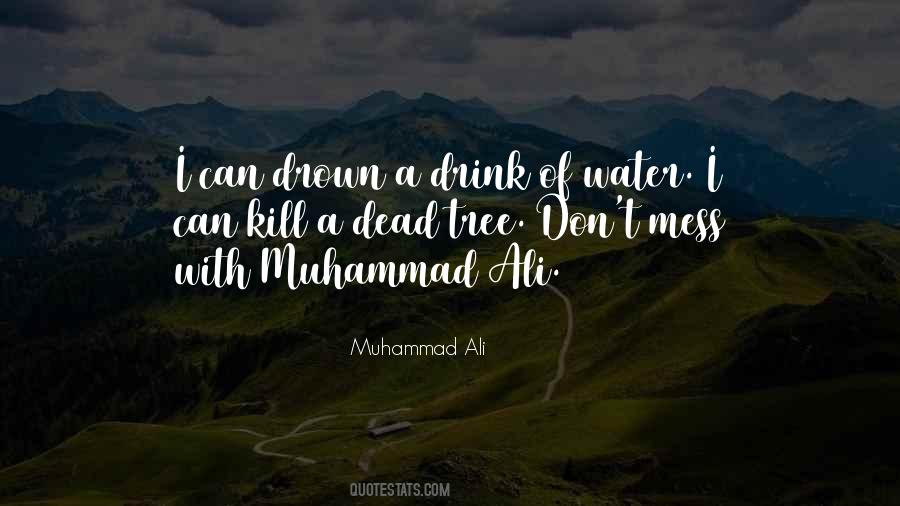 #48. When Jared smiled, his teeth were stained with fresh scarlet. "Don't you hate me?" he demanded. "I'd hate me."
"You just tried to drown yourself," Ash said. "You seem to hate yourself plenty already. - Author: Sarah Rees Brennan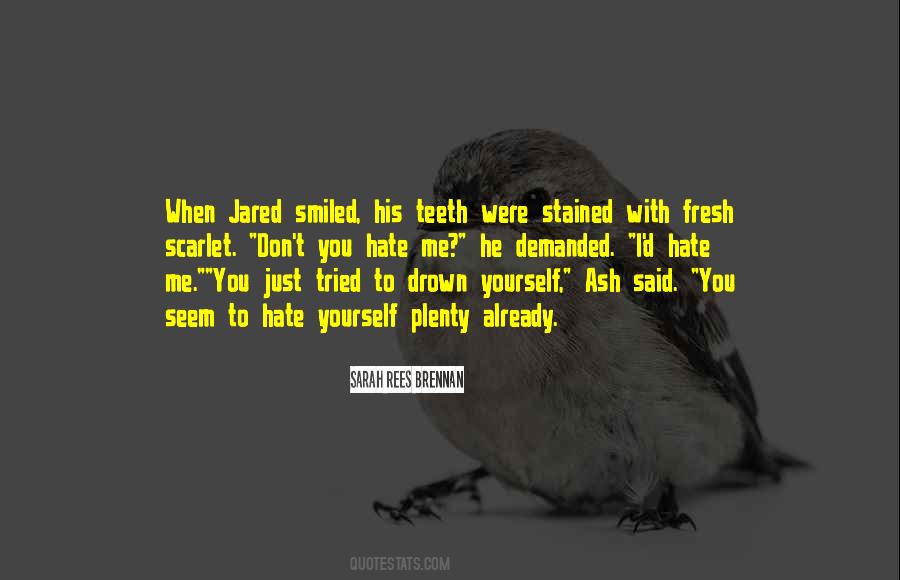 #49. You don't drown by falling in water; you only drown if you stay there. - Author: Zig Ziglar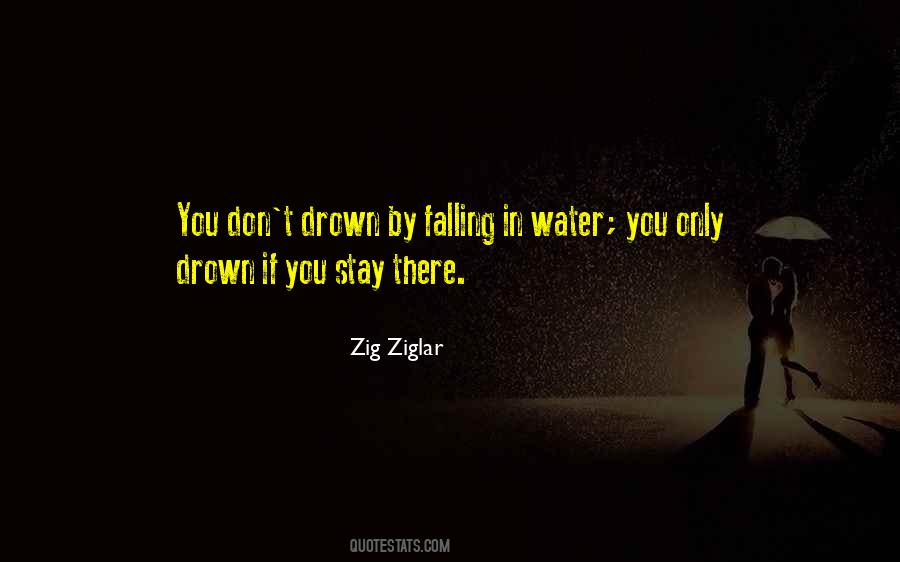 #50. Fire is bright and fire is clean. That way lies melancholy. Don't let the torrent of melancholy and drear philosophy drown our world. - Author: Ray Bradbury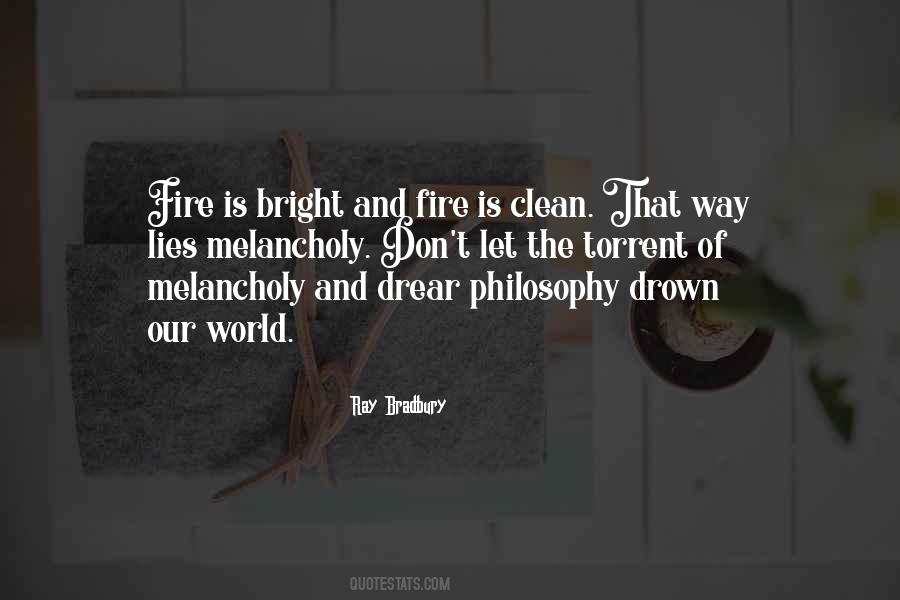 #51. If your God is going to drown the world; if your God is going to bring a flood, then why don't you pick a different God? - Author: Anne Provoost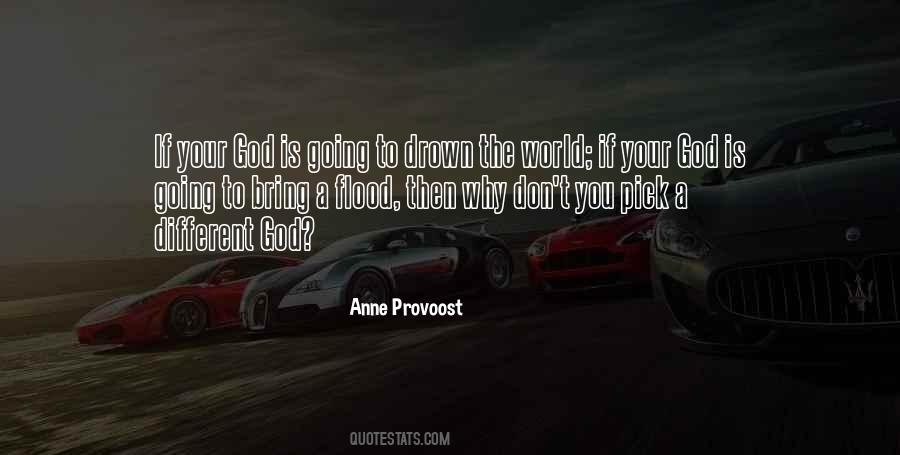 #52. He frowned. "Jedi aren't without emotion. We're allowed to grieve."
"Perhaps," Ventress allowed, "but somehow I don't think most Jedi try to drown the pain with alcohol and slam their fists on the table. - Author: Christie Golden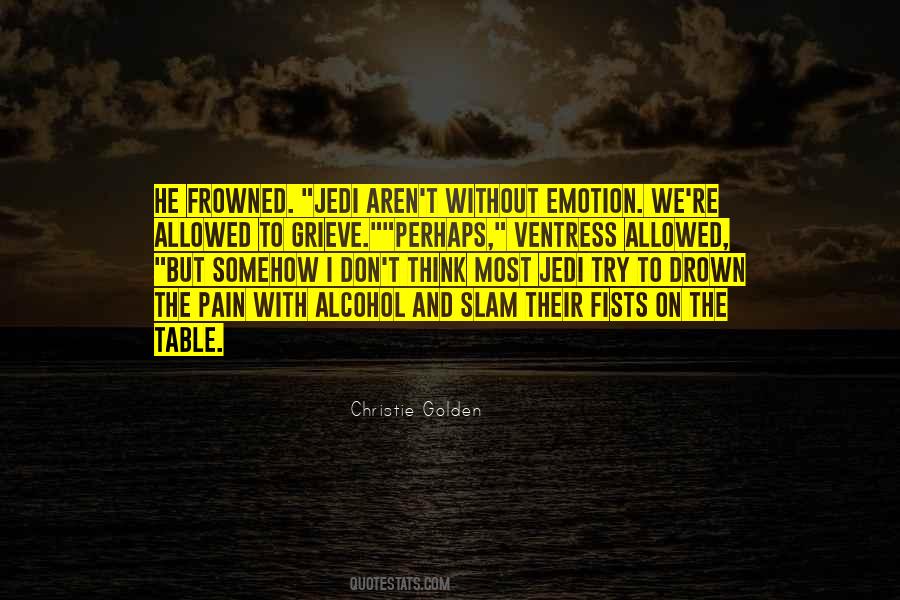 #53. Everybody breaks sooner or later, Bob. Anyone can drown. Sometimes you see it. Most often, you
don't because the body protects and the skin hides, so drowning doesn't look like drowning and some
people scar so nicely. Take it from an expert. - Author: Ilsa J. Bick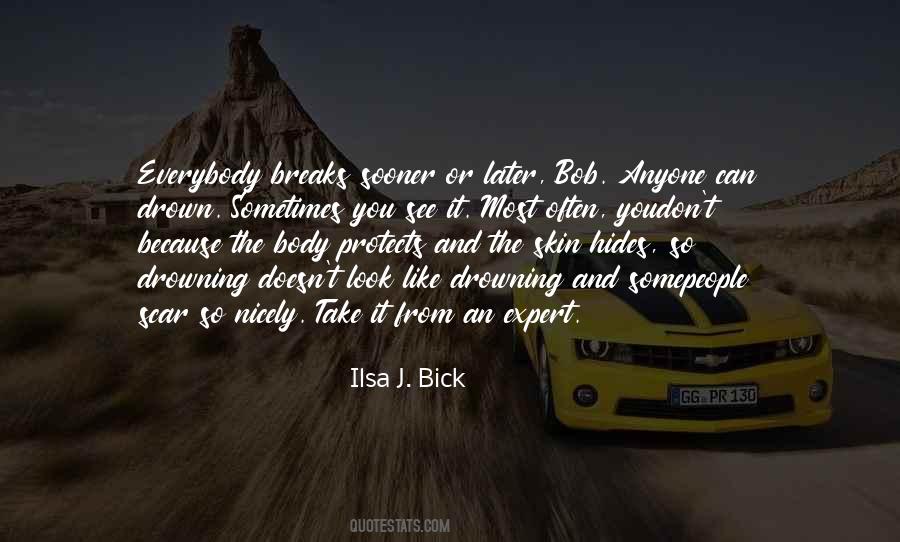 #54. Don't let the noise of others' opinions drown out your own inner voice.
[Stanford University commencement speech, 2005] - Author: Steve Jobs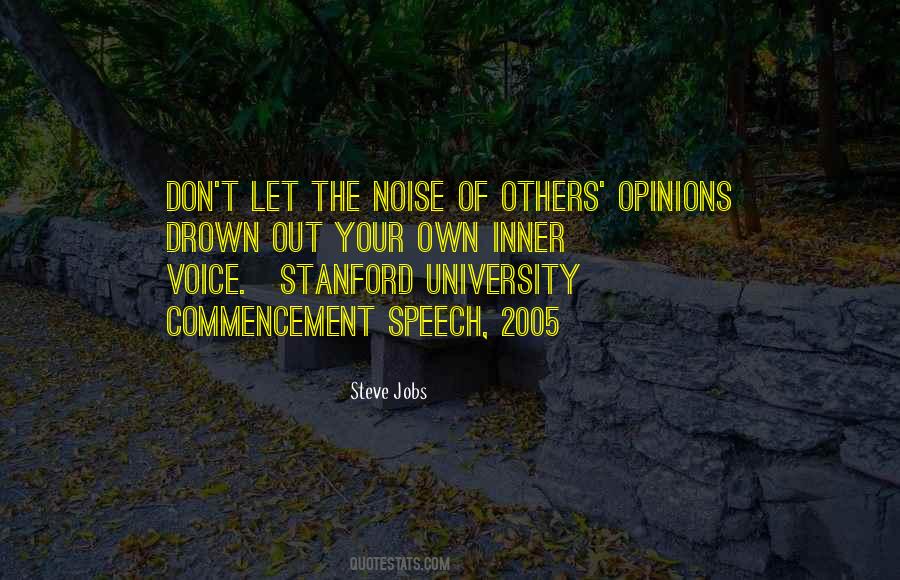 #55. I don't want easy. I want the impossible. I want love so thick, I drown in it; it's the only thing worth having and, I'm sorry Kona, you're a nice guy when you're not acting like an entitled jackass, but I really don't think you're capable of being anything more than that. - Author: Eden Butler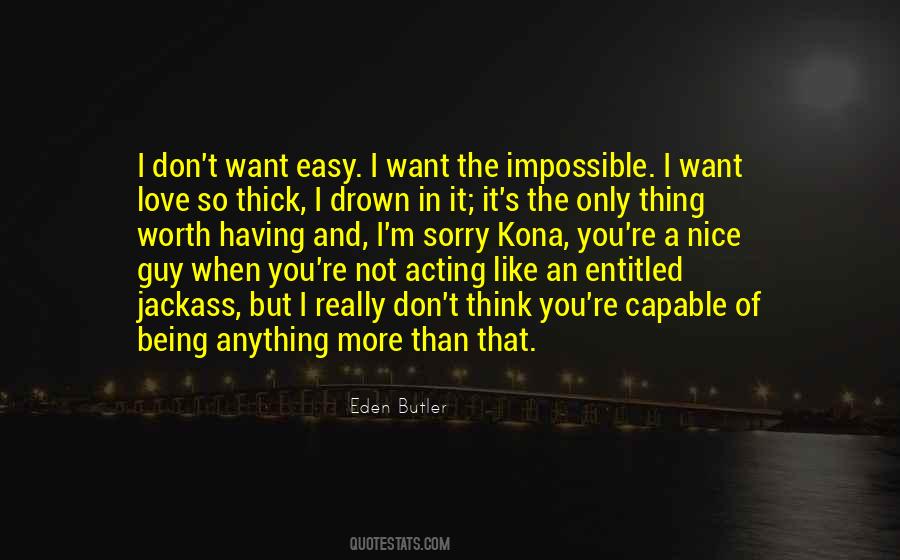 #56. Old godheads sink in space and drown Their arks like foundered galleons sucked down. - Author: Don Marquis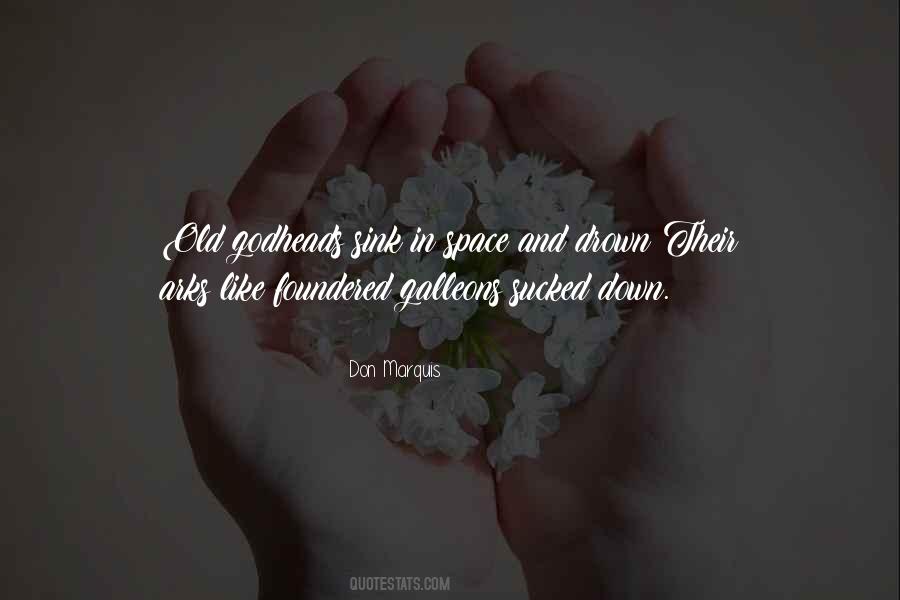 #57. You don't drown by falling in the water; you drown by staying there. - Author: Edwin Louis Cole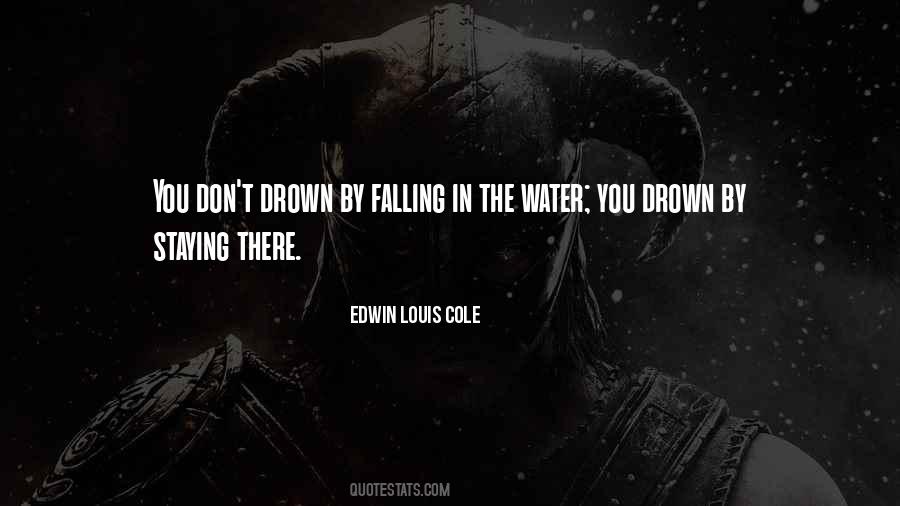 #58. You love someone. You don't leave her to drown. And you don't tell her she's crazier than she already knows that she is! - Author: Caitlin R. Kiernan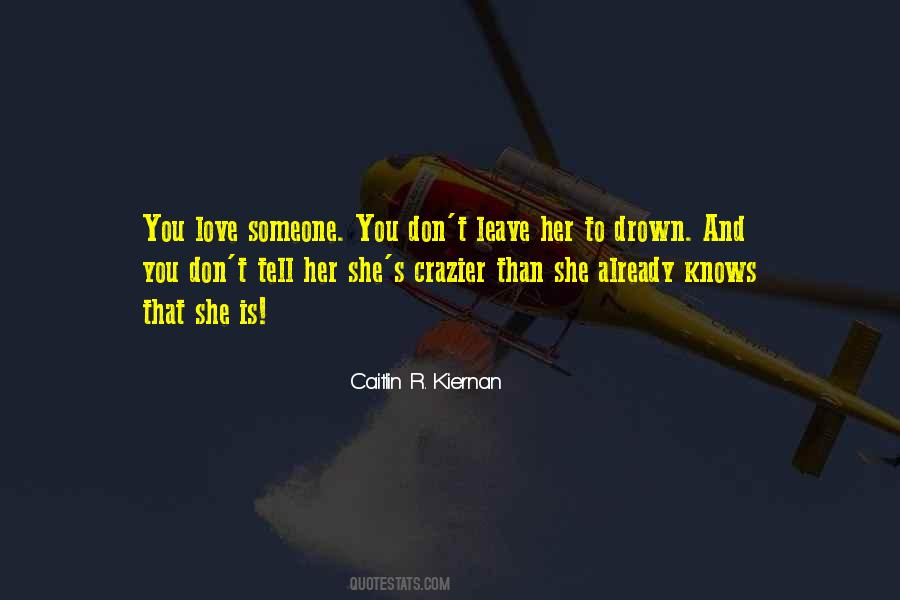 #59. I don't need extra hours to clear my mind. I just need to stop taking everything seriously and drown myself in worry. All I need is to be a child again. To be free. And, start living again! - Author: Saru Singhal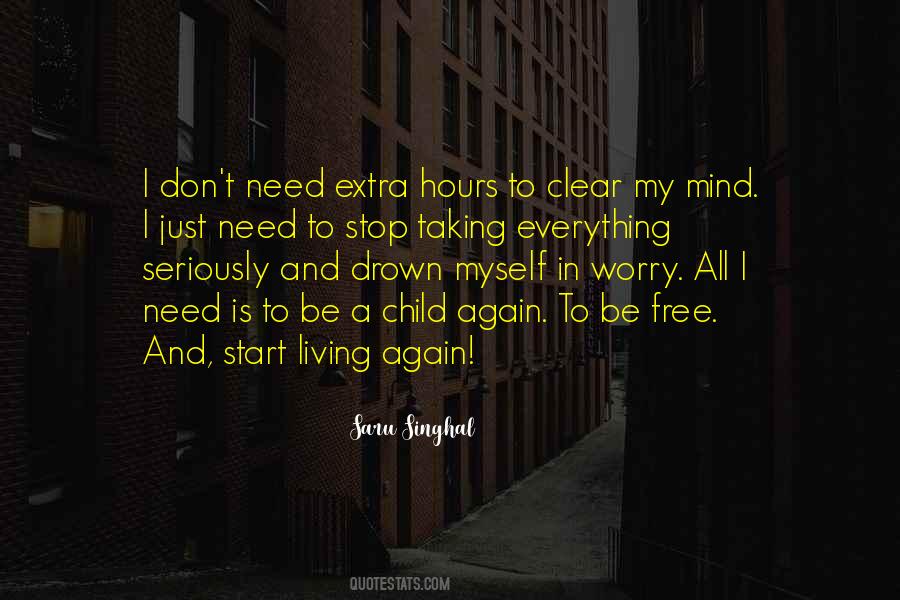 #60. Don't let the voice of other people's opinion drown your inner voice. - Author: Steve Jobs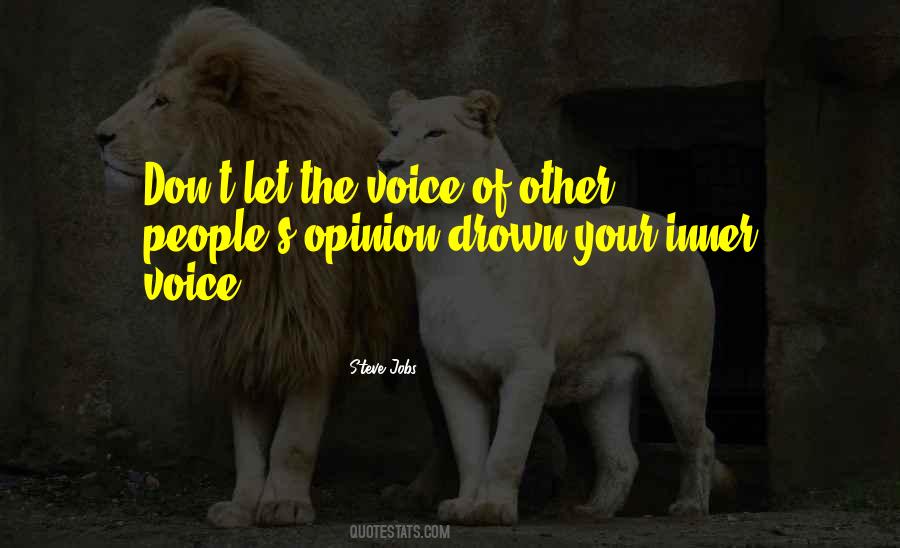 #61. When speaking of love, and suffering a broken heart, the student said, 'You can't drown if you vow to never swim again.' To which the master replied, 'You will also never choke if you don't eat.' - Author: Carlos Salinas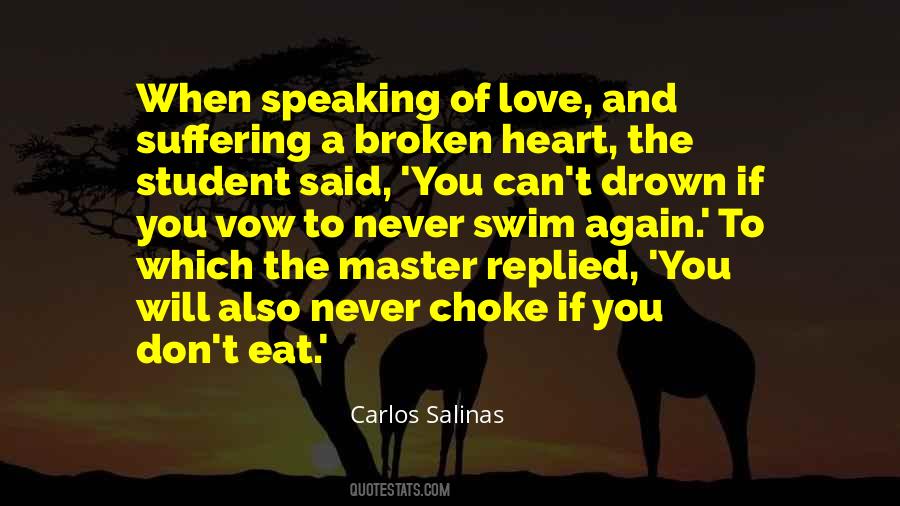 #62. I don't ask what Alex sees in him because I'm afraid my disapproval will make her latch on to him even more. That's how it works. I'll have to pretend he doesn't bother me and that I don't want to drown him in the bay. - Author: Kaui Hart Hemmings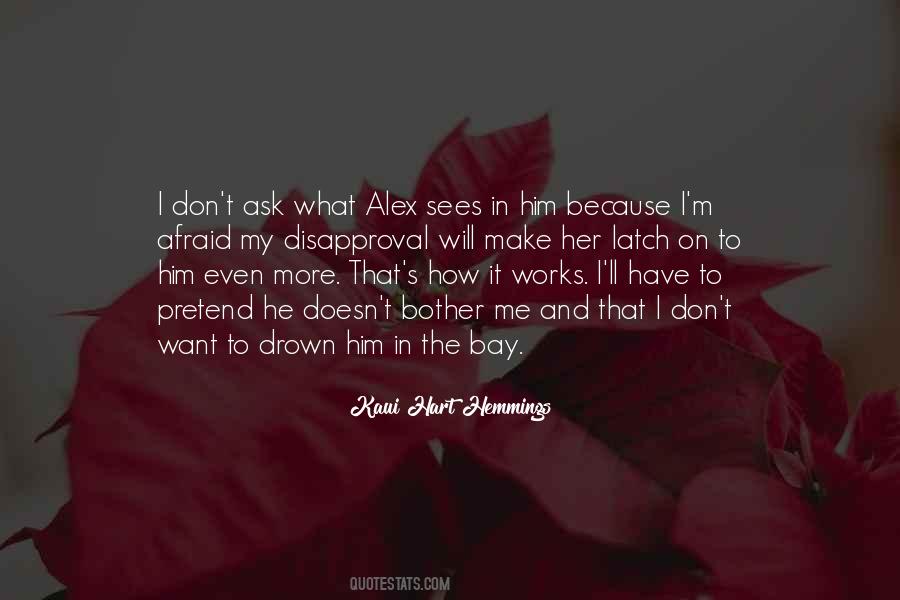 #63. You must think I don't know what's keeping you up at night. You must think we're so different. But I know. Everyone knows despair. Isn't that why people jump off bridges or drown themselves? Anything, really, to escape being human. - Author: V.J. Campilan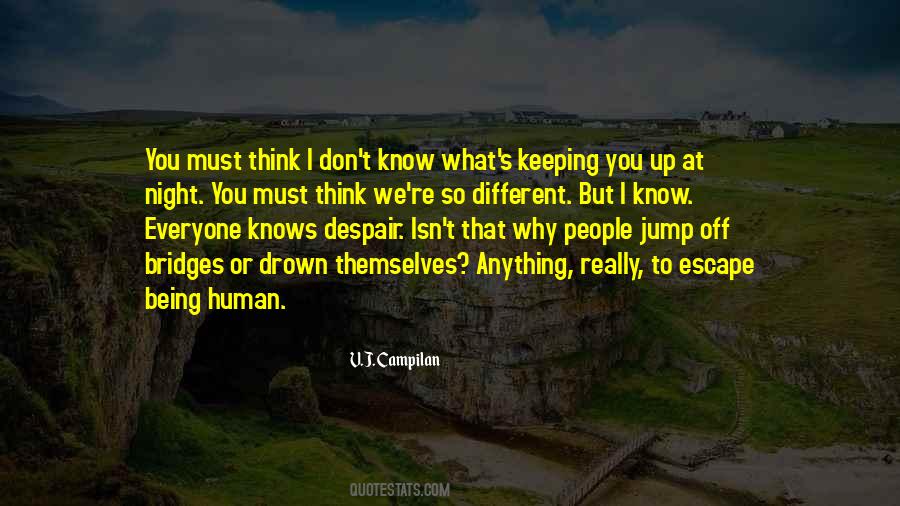 #64. I don't want to abolish government. I simply want to reduce it to the size where I can drag it into the bathroom and drown it in the bathtub. - Author: Grover Norquist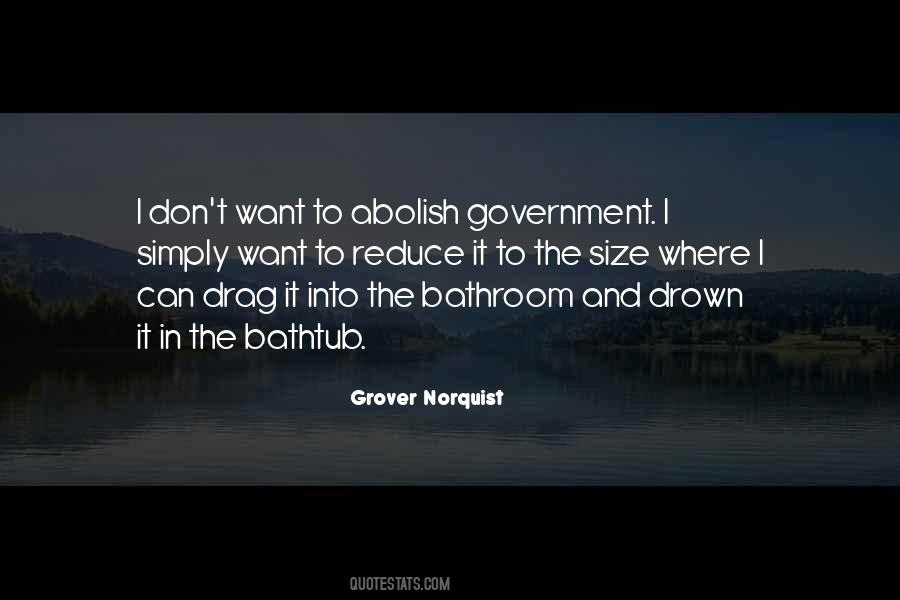 #65. I don't know lots of things but I know this: next year when spring flows over the starting point I'll think I'm going to drown in the shimmering miles of it ... - Author: Mary Oliver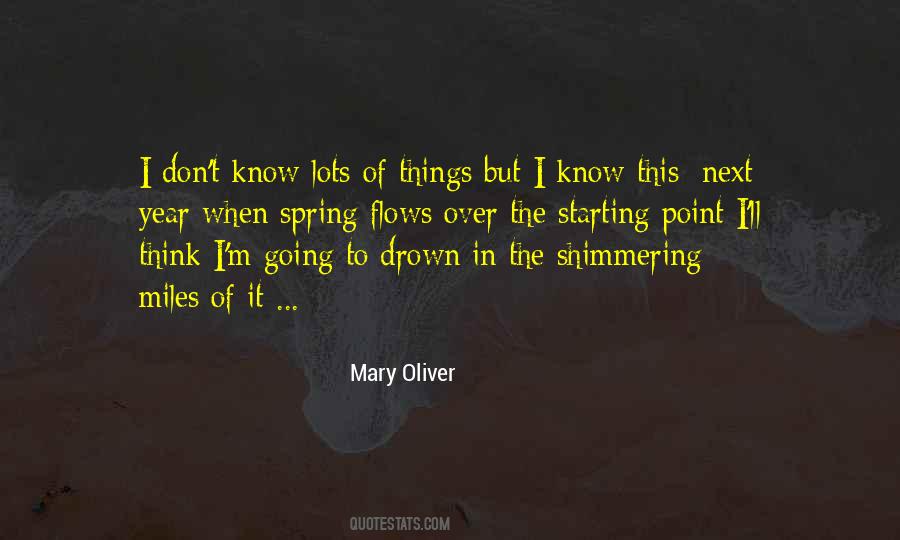 #66. Don't ask for guarantees. And don't look to be saved in any one thing, person, machine, or library. Do your own bit of saving, and if you drown, at least die knowing you were heading for shore. - Author: Ray Bradbury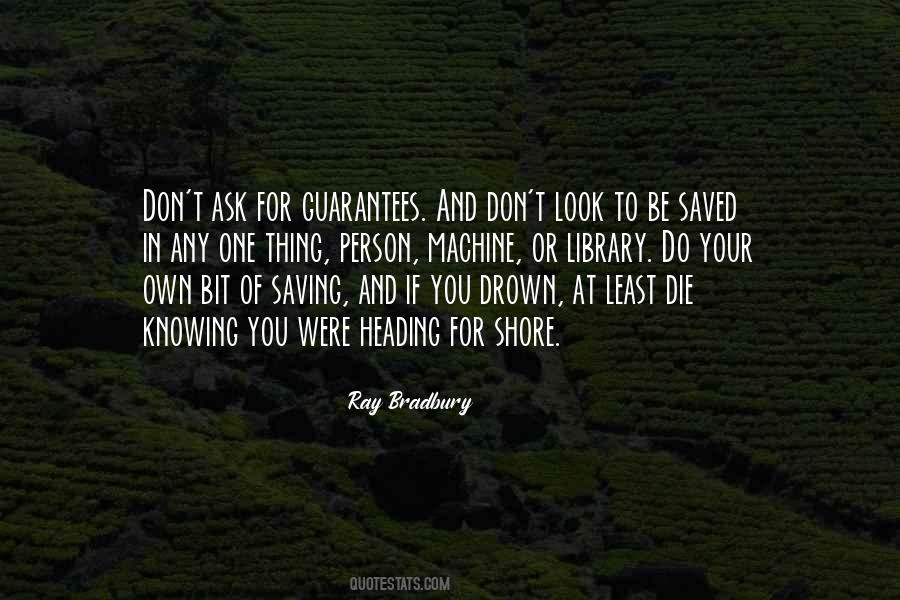 #67. When I look over later, I see that Eli is crying, but it's not enough to drown in so I don't do anything yet. - Author: Ally Condie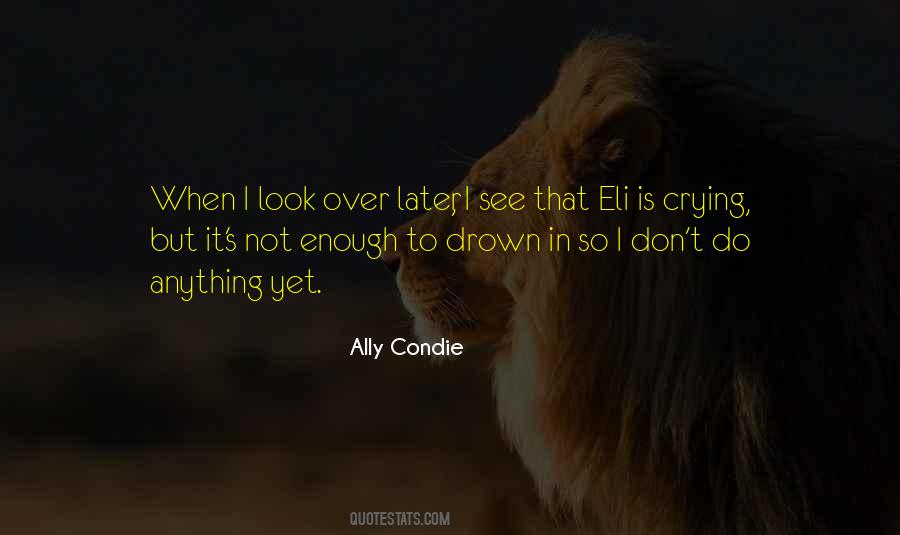 #68. Raysel, you told me yourself that your father wasn't my liege anymore. I don't have to obey his wishes, spoken or unspoken, and so I can finally say this: go drown yourself, you self-righteous little bitch. - Author: Seanan McGuire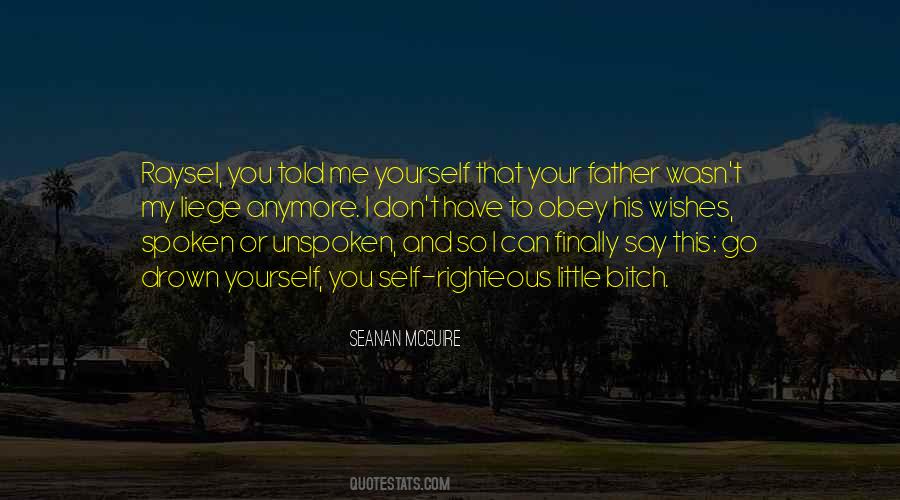 #69. Startups don't starve; they drown." There - Author: Eric Ries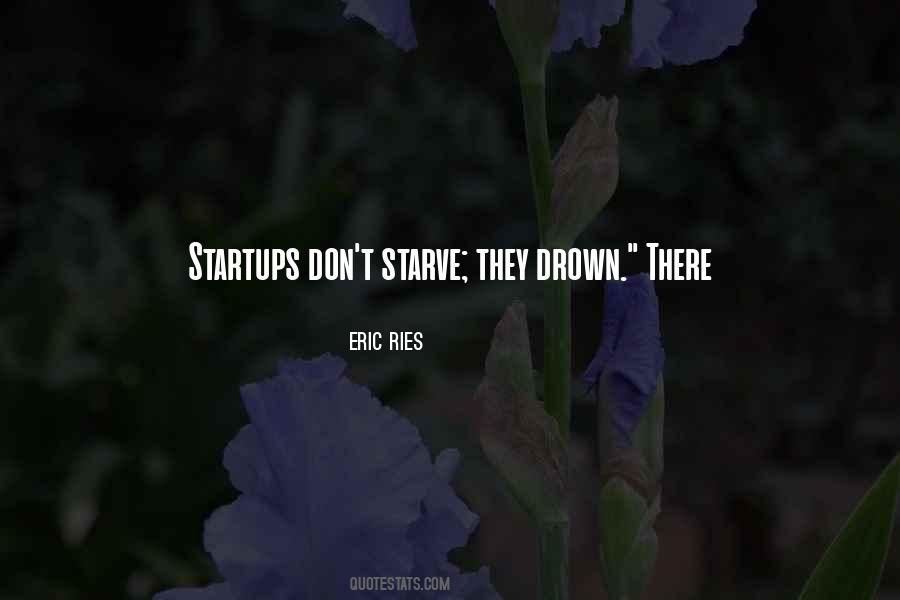 #70. Just don't let go or you may drown. - Author: Jonathan Larson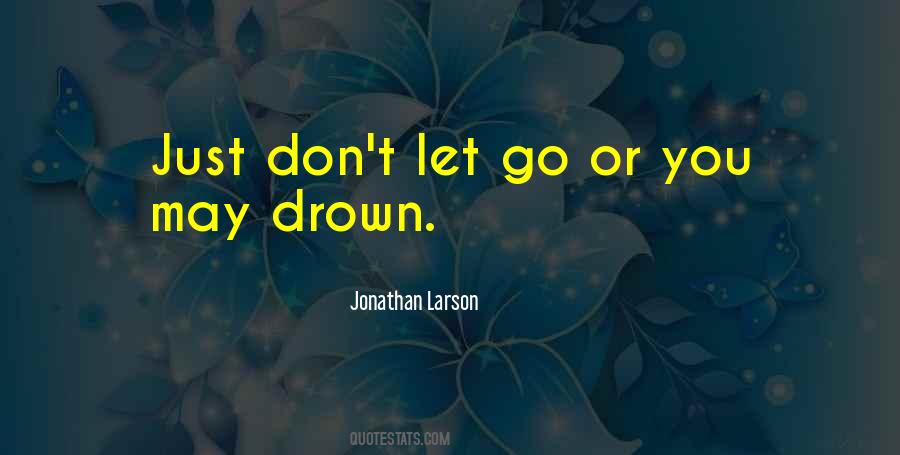 #71. His expression softened, which made Sterling's throat tighten just a little. "You've cannonballed into the deep end when you don't know how to swim, haven't you?"
Sterling looked at him solemnly and smiled. "Yes," he said. "Don't let me drown. - Author: Jane Davitt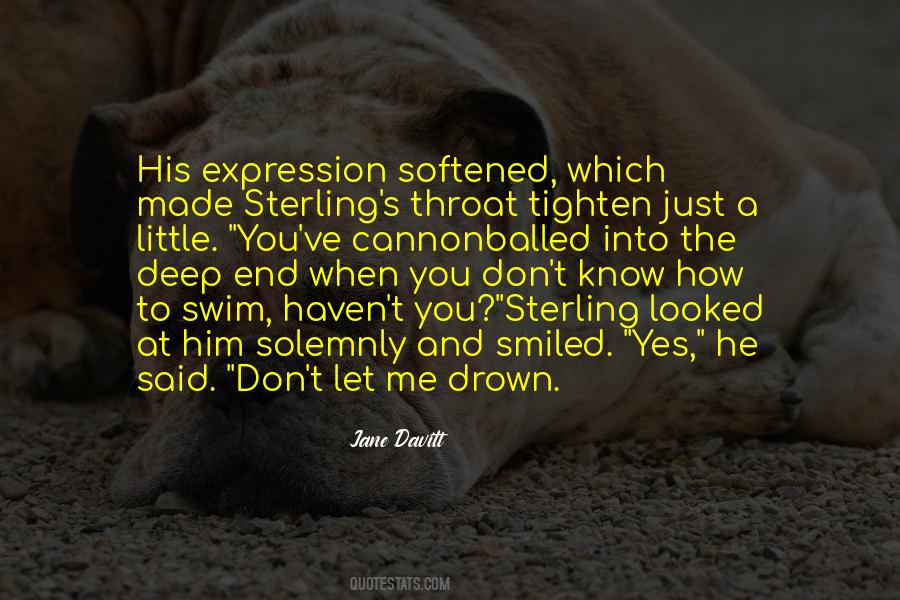 #72. Don't let your mind drown out your intuitive voice. - Author: Steven Redhead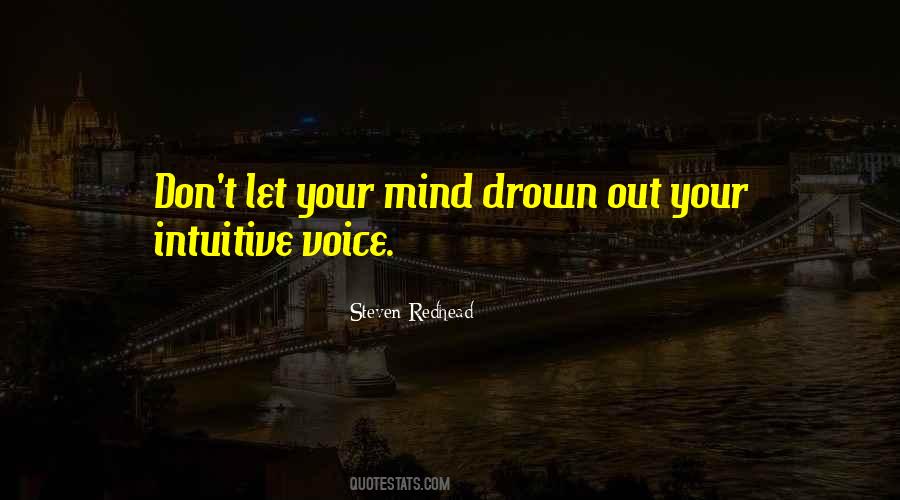 #73. I don't recommend washing your face. Because you might drown. - Author: Jenna Marbles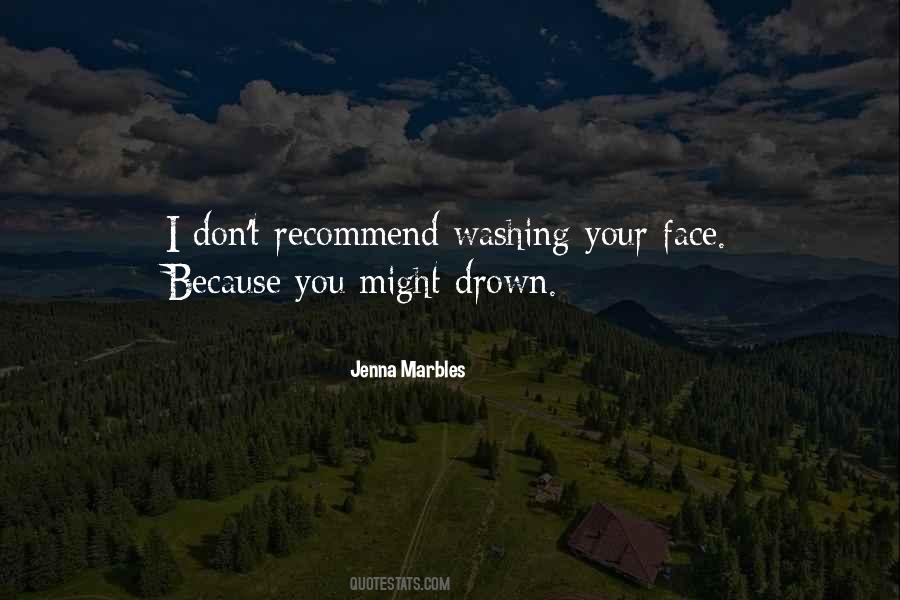 #74. Marriage is deep. Don't marry someone shallow, it will cause both of you to drown - Author: Shon Hyneman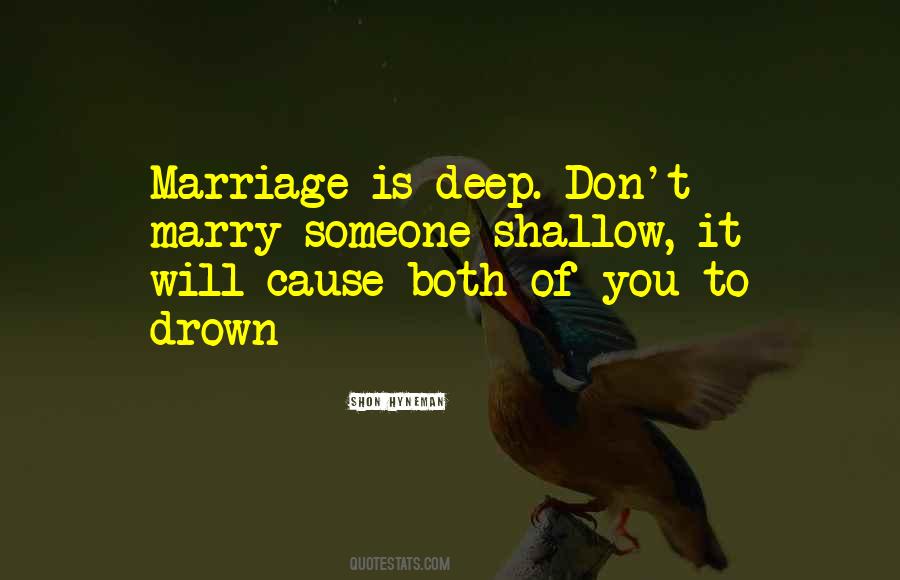 #75. Don't people drown their sorrows in things like scotch? Not strawberry whatever-it's-called. - Author: Tom Rachman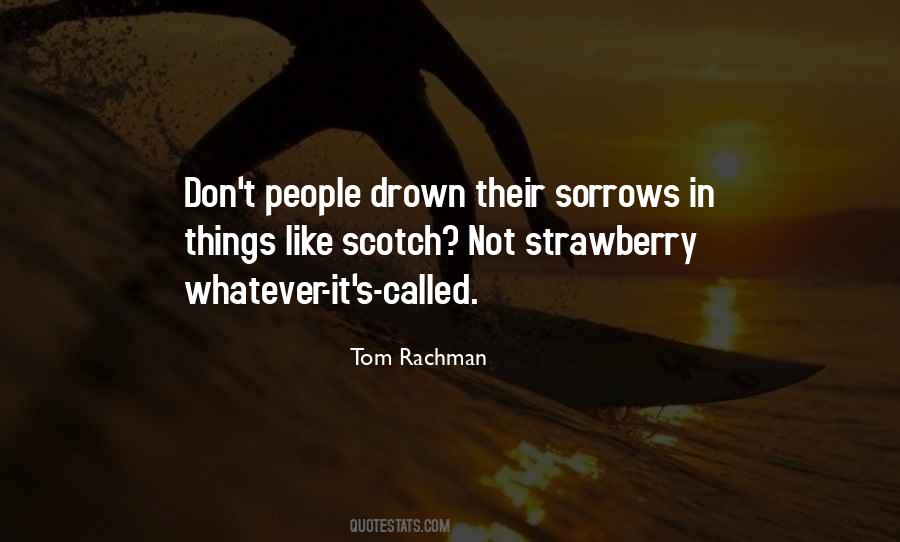 #76. Don't drown the man who taught you to swim. If you learned your trade or profession from the man, do not set up in opposition to him. - Author: Charles Spurgeon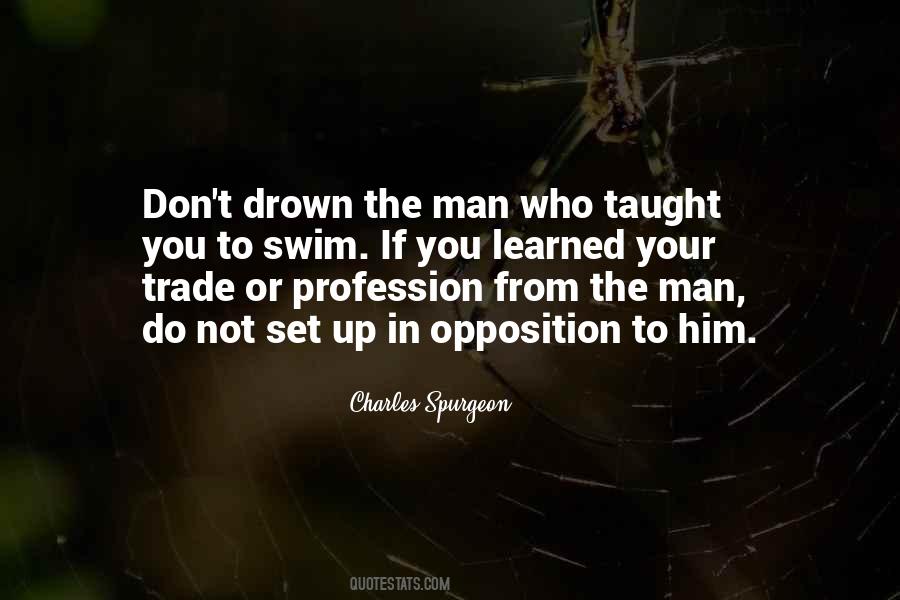 Famous Authors
Popular Topics