Death Not The End Famous Quotes & Sayings
List of top 100 famous quotes and sayings about death not the end to read and share with friends on your Facebook, Twitter, blogs.
Top 100 Death Not The End Quotes
#1. I am not knocking advances that provide a healthier life and alleviate suffering or unnecessary premature death. I am advocating inclusion of education on end-of-life matters and the promotion of understanding, conversation, and planning. - Author: Lisa J. Shultz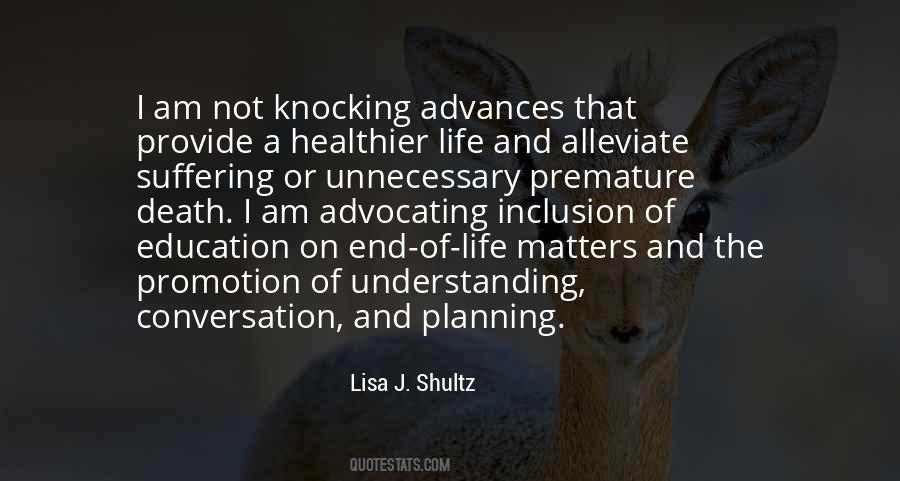 #2. Death is not the end. It is a midway state. - Author: Darren Shan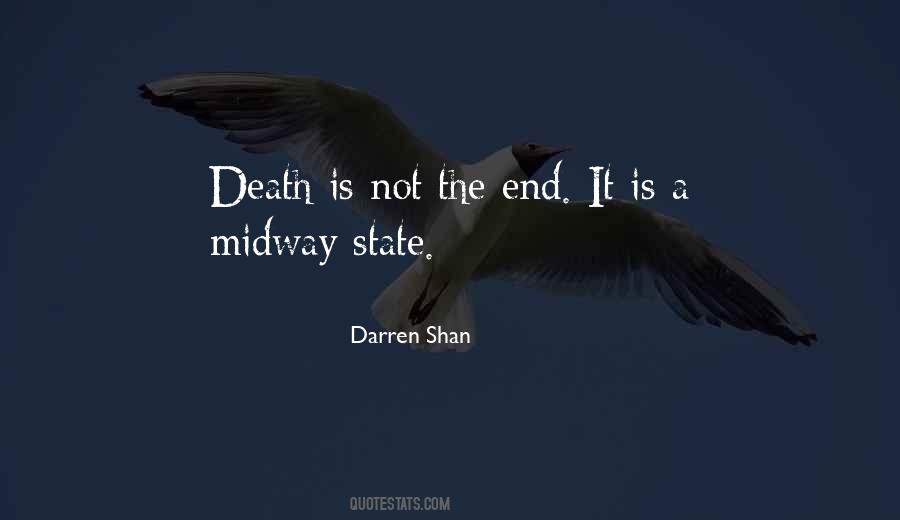 #3. To you, death does not simply end life. It steals away the sunsets you'll never see, the children you'll never hold, the wife you'll never love. It's frightening to almost lose your future, and it's heartbreaking to witness death snuff out other people's tomorrows. - Author: Robert Liparulo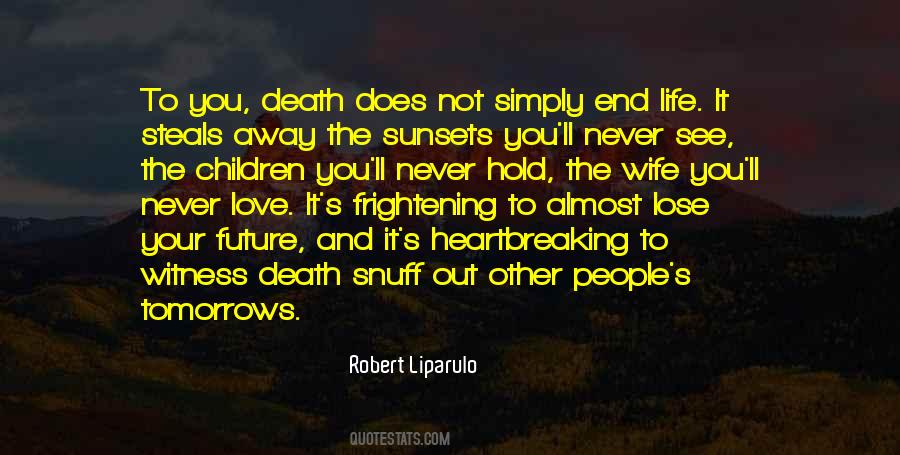 #4. Prate not to me of suicide, Faint heart in battle, not for pride I say Endure, but that such end denied Makes welcomer yet the death that's to be died. - Author: Stevie Smith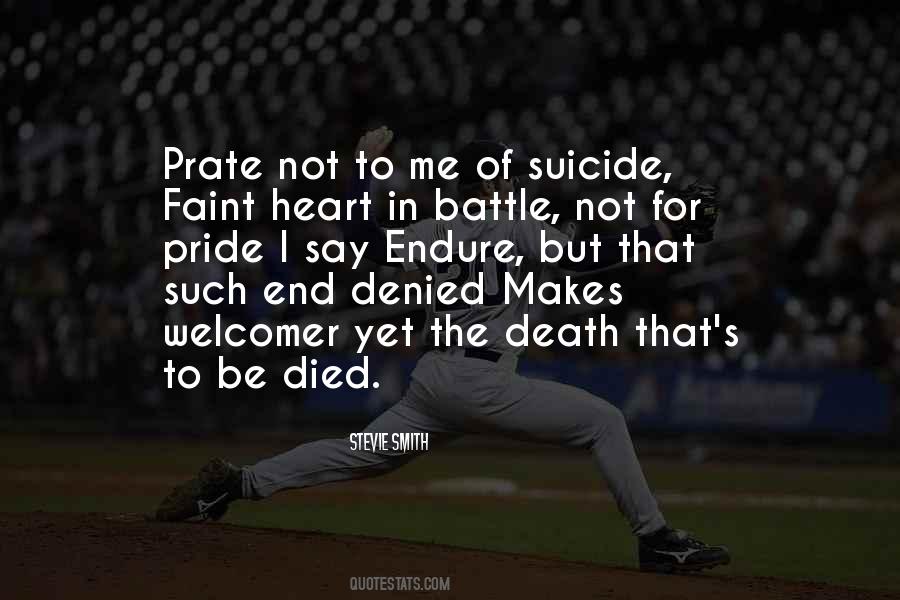 #5. I think that obviously, there is a perverse attraction to a fundamentally changed world or the end of the world. There is a death wish, a perverse death wish. Not just for ourselves, not just for the movie 'Death Wish,' but for the end of all human life. - Author: John Hodgman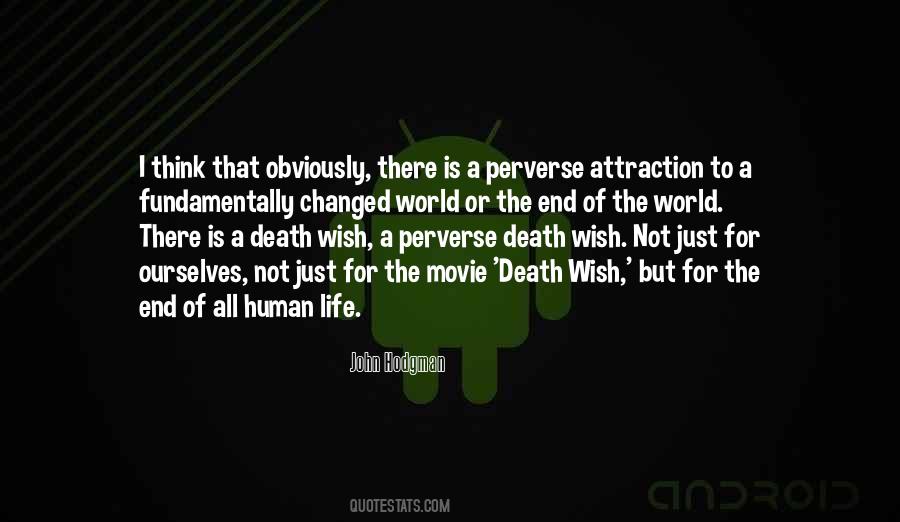 #6. Death is not the end; it is the beginning of the new life, the eternal life. - Author: Debasish Mridha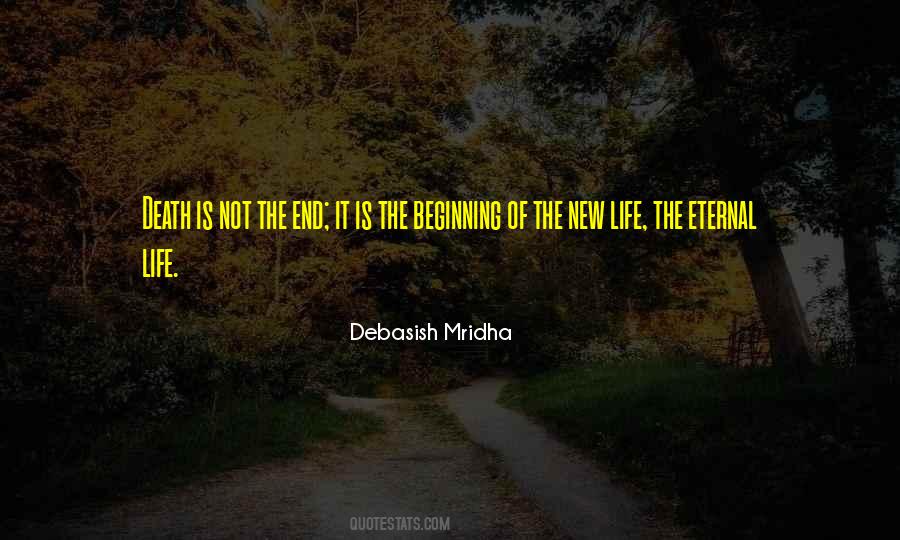 #7. Death is the end of a lifetime, not the end of a relationship. - Author: Mitch Albom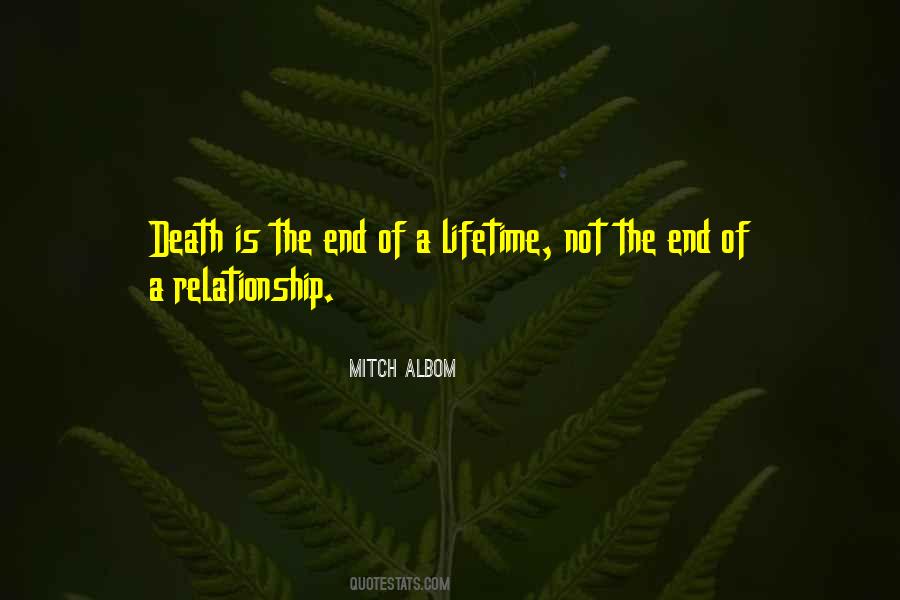 #8. Christ by his death destroying the works of the devil, procuring the Spirit for us, hath so killed sin, as to its reign in believers, that it shall not obtain its end and dominion. - Author: John Owen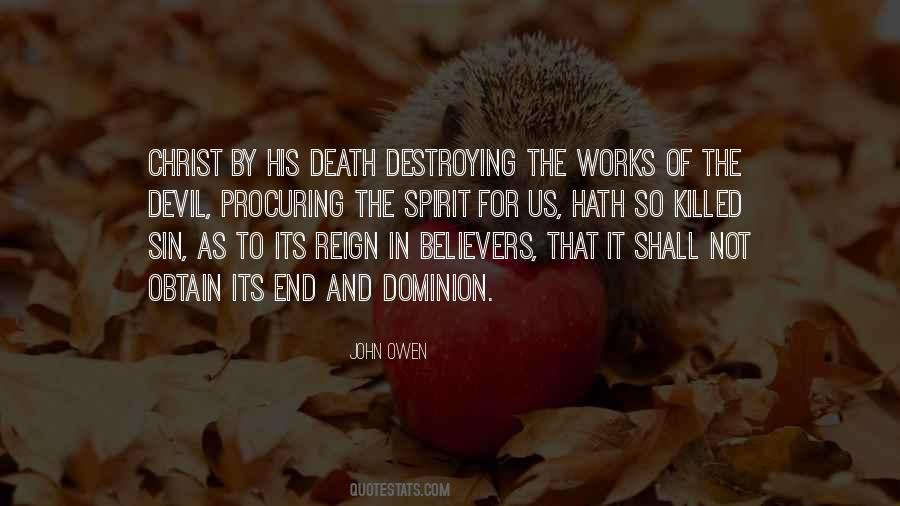 #9. If I Must Go
If I must go to heaven's end
Climbing the ages like a stair,
Be near me and forever bend
With the same eyes above me there;
Time will fly past us like leaves flying,
We shall not heed, for we shall be
Beyond living, beyond dying,
Knowing and known unchangeably. - Author: Sara Teasdale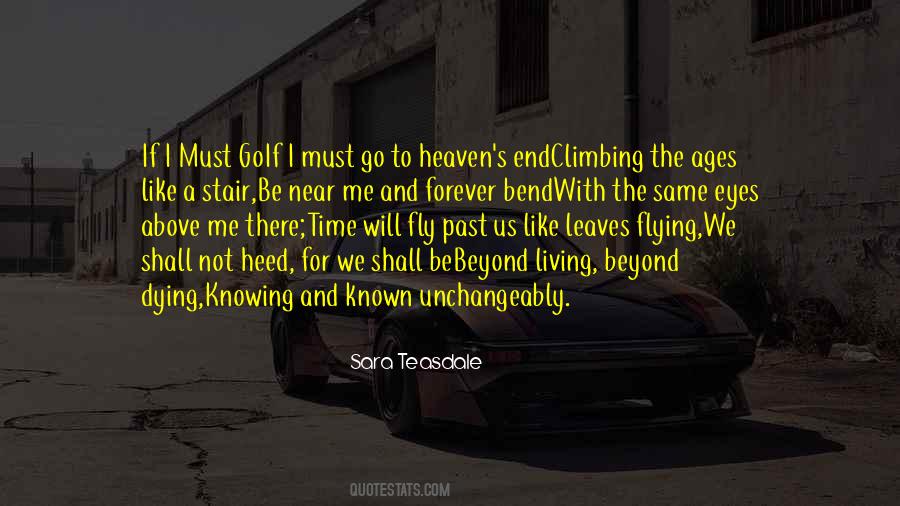 #10. It's not life or death it's a game and at the end of the game there is going to be a winner and a loser. - Author: Bernhard Langer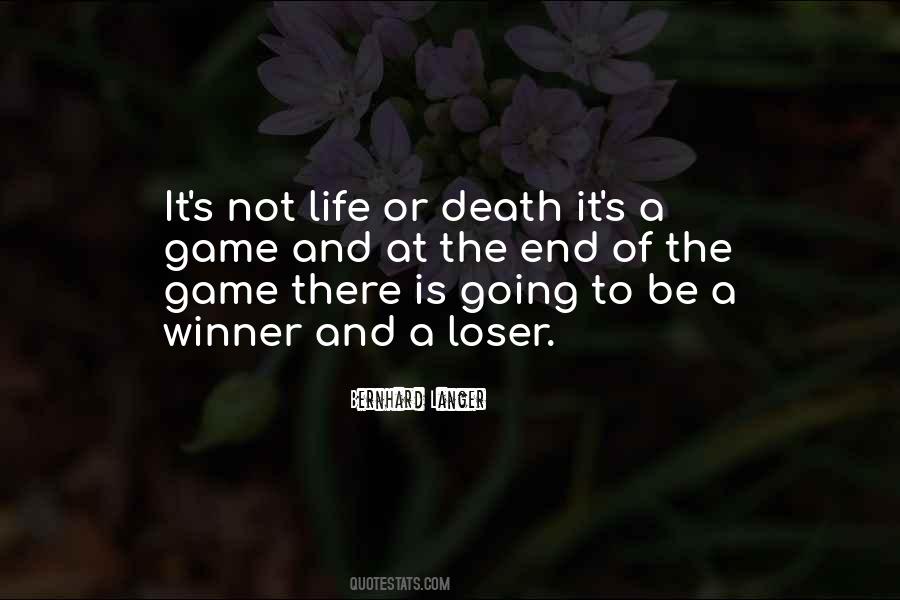 #11.
Who knows what death, anxiety of the living,
Who knows what loneliness, end of the loving
I could say to myself of the love (I had):
Let it not be immortal, since it is flame
But let it be infinite while it lasts. - Author: Vinicius De Moraes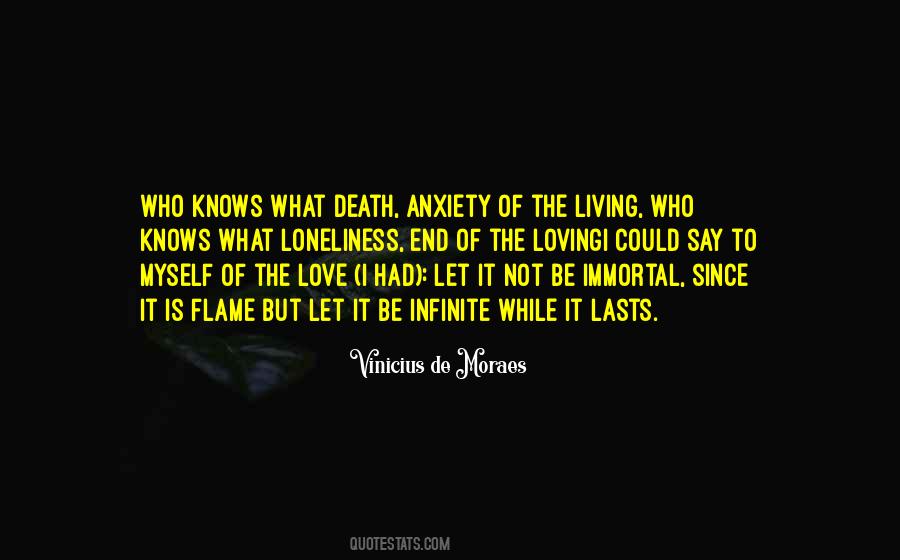 #12. Death is not the end of life; it is only the gateway to eternity. - Author: Billy Graham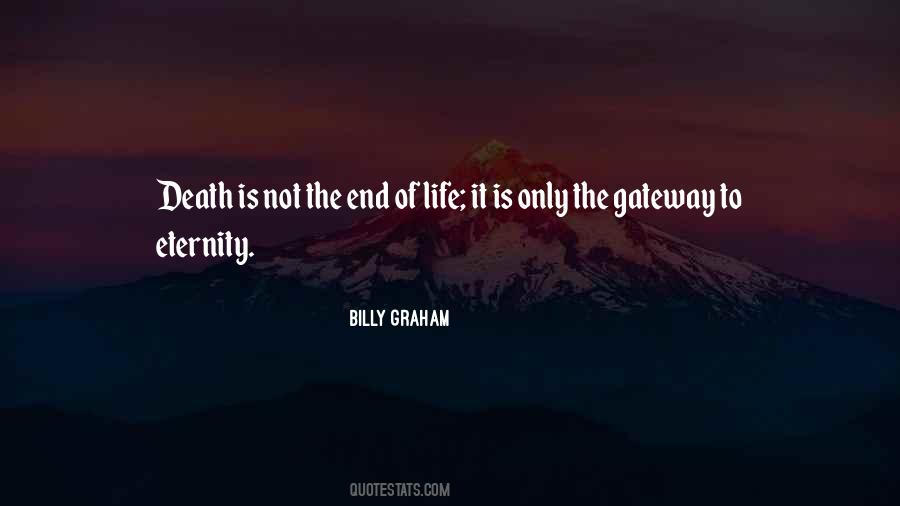 #13. For the Christian, death is not the end of adventure but a doorway from a wold where dreams and adventures shrink, to a world where dreams and adventures forever expand. - Author: Randy Alcorn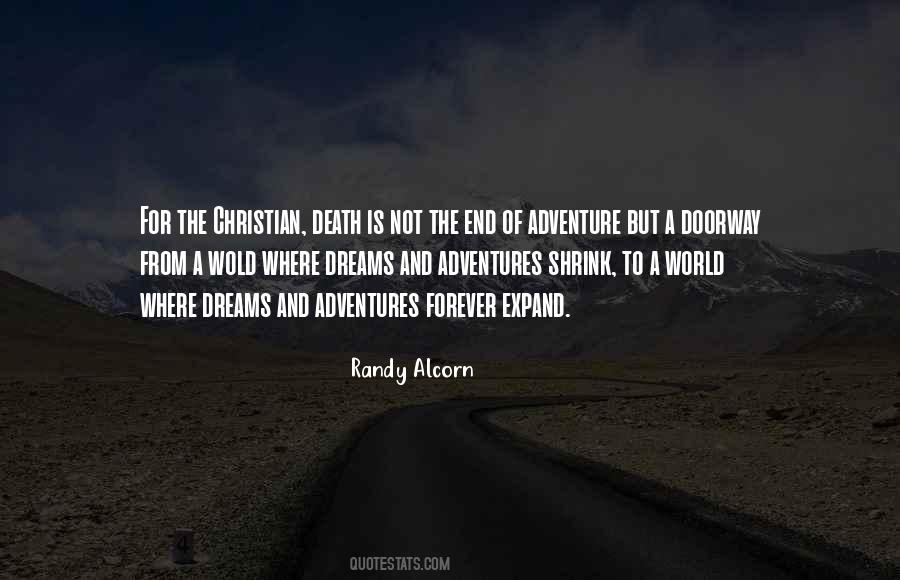 #14. Death. It was something I had to think about once. Weird, right? Strange that death was ever an inevitable end, but it wasn't anymore. Not really. I eluded it. Tricked it. It was an odd concept - the world aged, moved forward, yet I ... didn't. - Author: Laura Kreitzer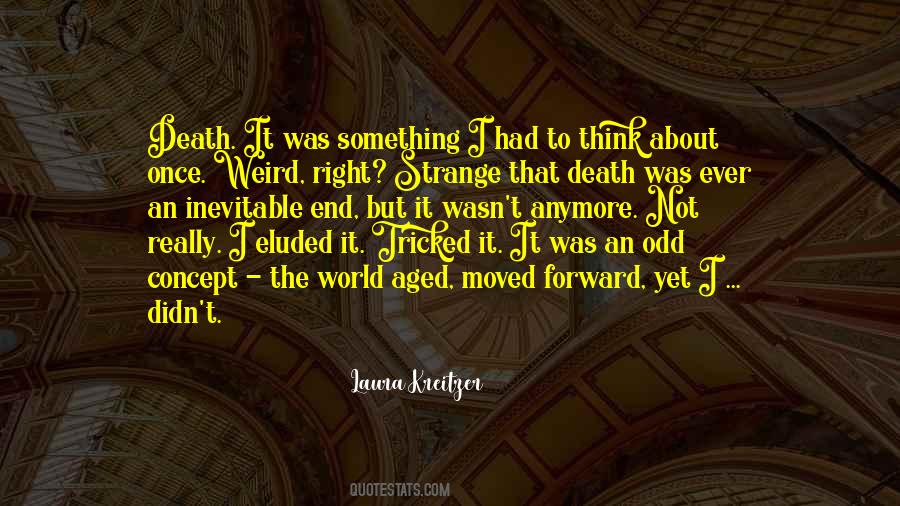 #15. We believe that the very beginning and end of salvation, and the sum of Christianity, consists of faith in Christ, who by His blood alone, and not by any works of ours, has put away sin, and destroyed the power of death. - Author: Martin Luther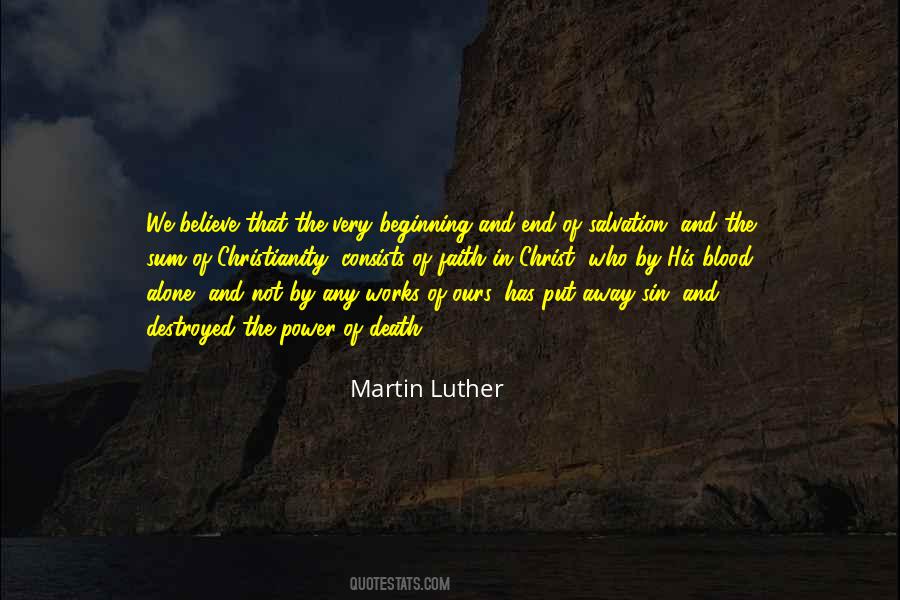 #16. Death is the end of all life in the individual or the thing; if physical, the crumbling of the body into dust from whence it came. He who lives not uprightly, dies completely in the crumbling of the physical body, but he who lives well, transforms himself from that which is mortal, to immortal. - Author: Marcus Garvey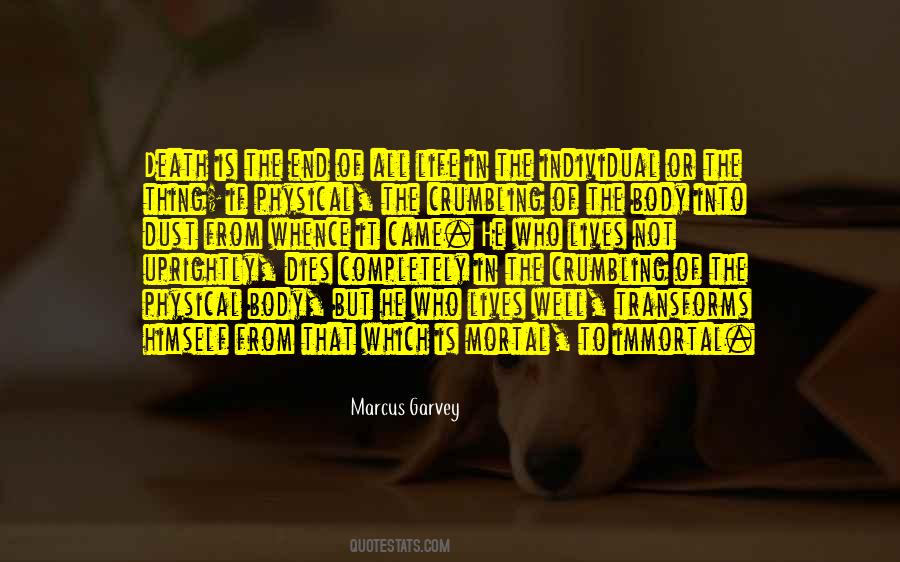 #17. Death ends a life, but it does not end a relationship, which struggles on in the survivor's mind toward some final resolution, some clear meaning, which it perhaps never finds. - Author: Robert Anderson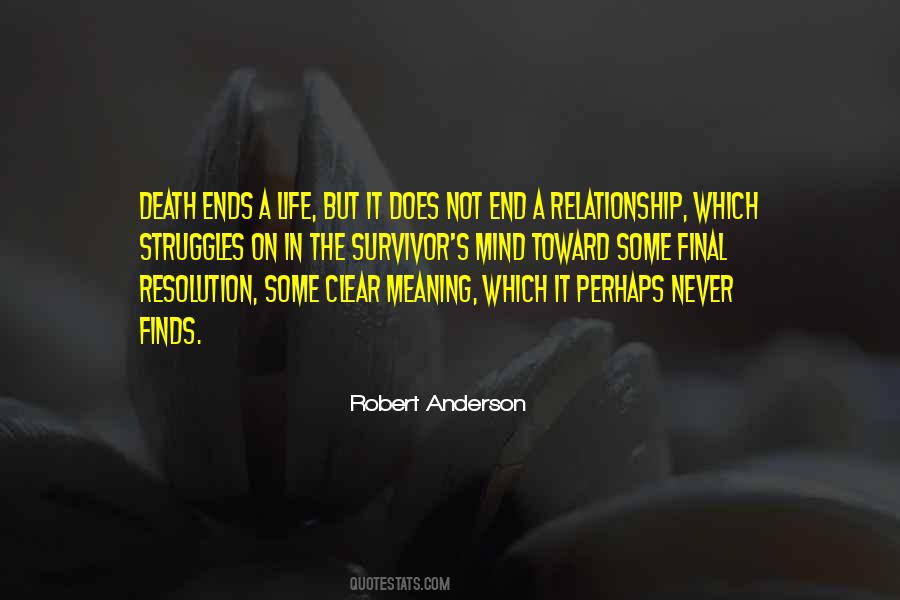 #18. As I leafed through the book in front of me and watched the dust swirl in the air, I wondered if maybe there was some evil dormant virus in the pages that would infect me, like the mummy dust that used to kill archaeologists. Death by research. That was not a glorious end. - Author: Rachel Caine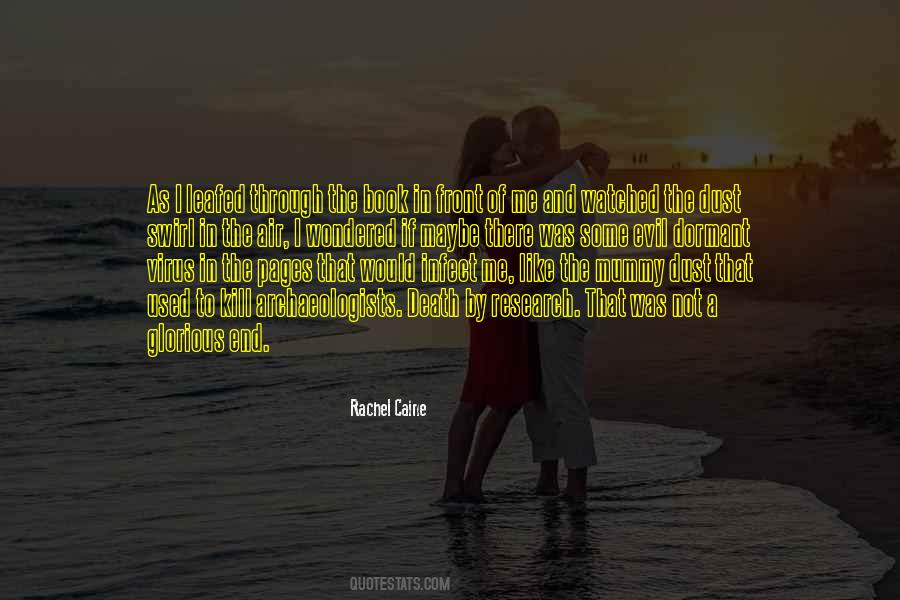 #19. It's something about the inevitability. How nothing can keep them apart
not her selfishness, or his evil, or even death, in the end ... their love is their only redeeming quality. - Author: Stephenie Meyer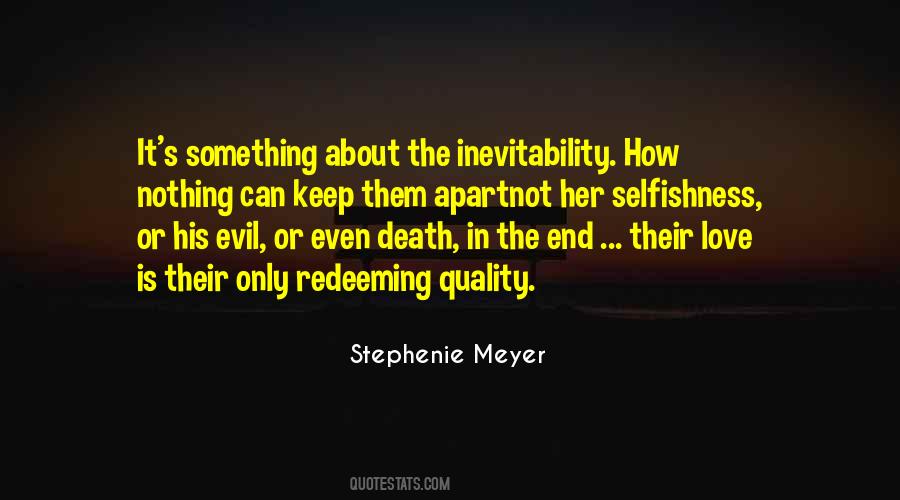 #20. Death is the end of a stage, not the end of the journey. The road stretches on beyond our comprehension. - Author: Oliver Lodge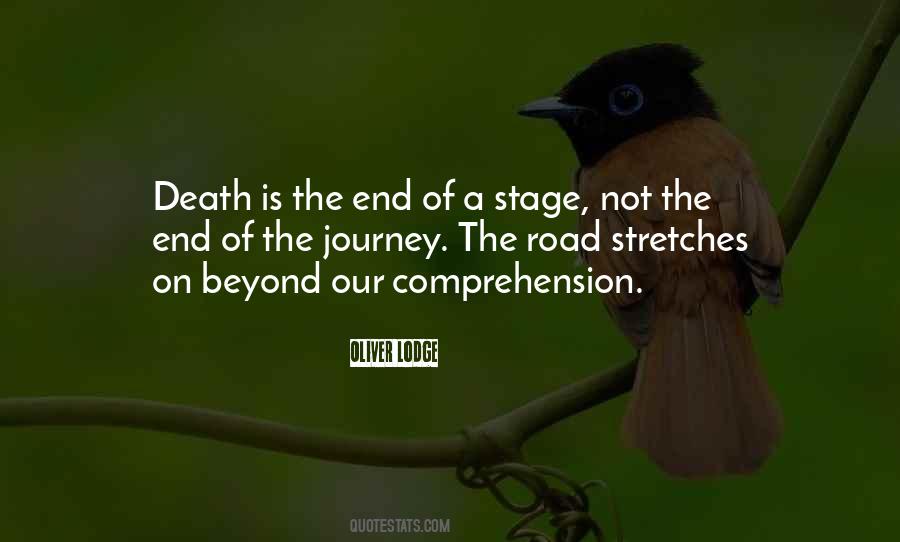 #21. Death is not the end. Death is an ocean on all sides of our lives. Deep and dark and cold, and anything but empty. - Author: Joey Comeau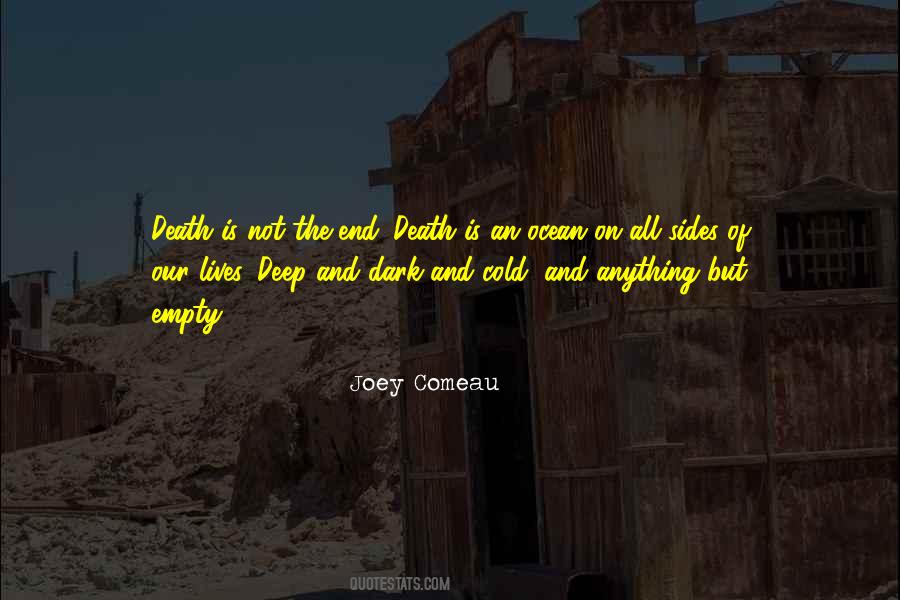 #22. But I, who am old, who have done what I must do, who stand in the daylight facing my own death, the end of all possibility, I know that there is only one power that is real and worth the having. And that is the power, not to take, but to accept. - Author: Ursula K. Le Guin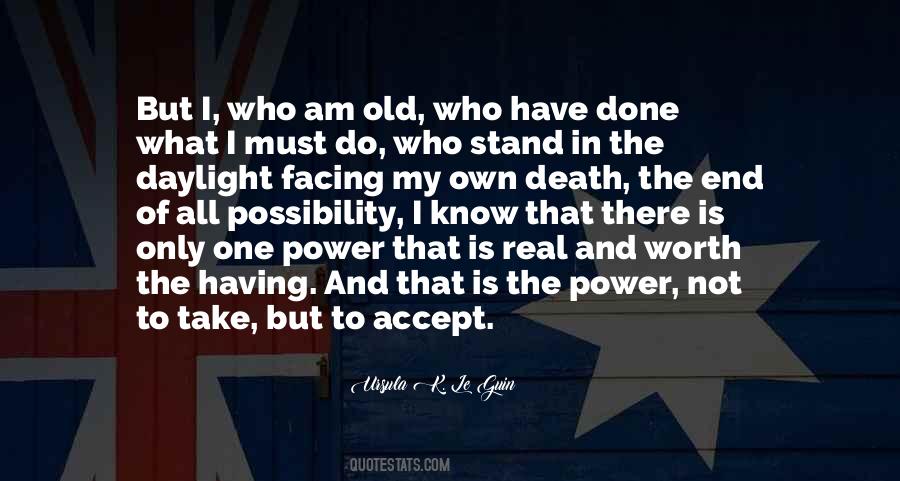 #23. Not all of us are called to die a martyr's death, but all of us are called to have the same spirit of self-sacrifice and love to the very end as these martyrs had. - Author: Richard Wurmbrand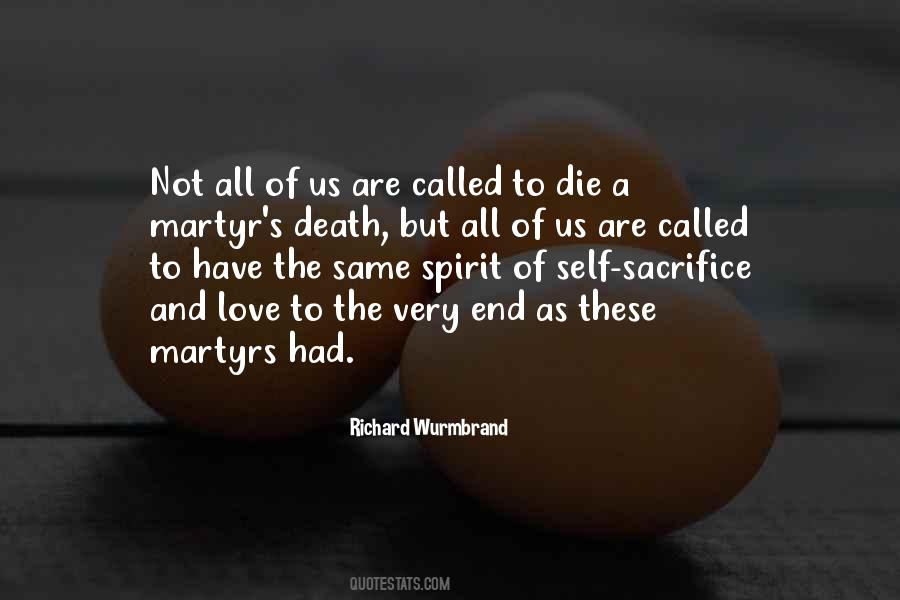 #24. Pete squeezed Jack's hand, hard as she could. "You're not alone," she told him. "If you've made up your mind to die, then I'll be with you here, until the end. I'd follow you into death if that's what you asked, Jack. Heaven, Hell. Anywhere at all. - Author: Caitlin Kittredge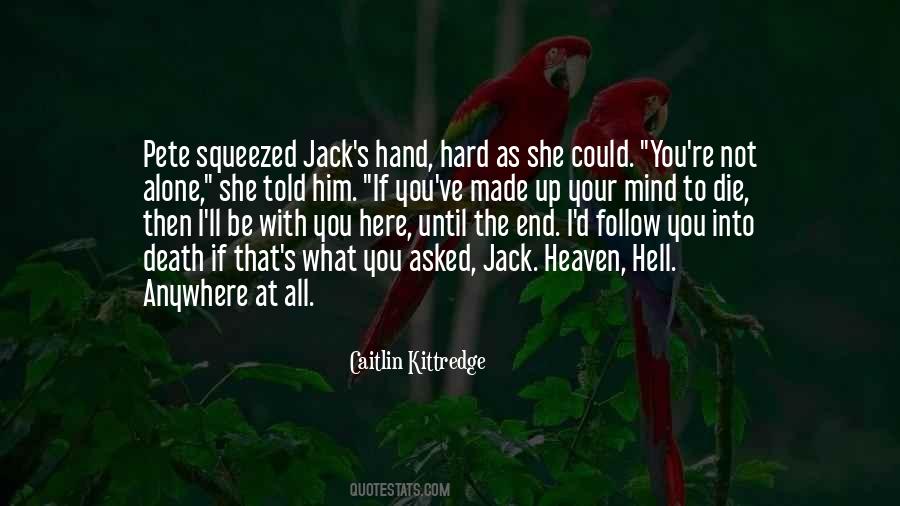 #25. at the end of the day the fire and blood and death weren't what disturbed her the most about that convoy attack. It was the knowledge the driver had been wrong not to run over a small child. It was not being able to deny that fact. - Author: Matt Wallace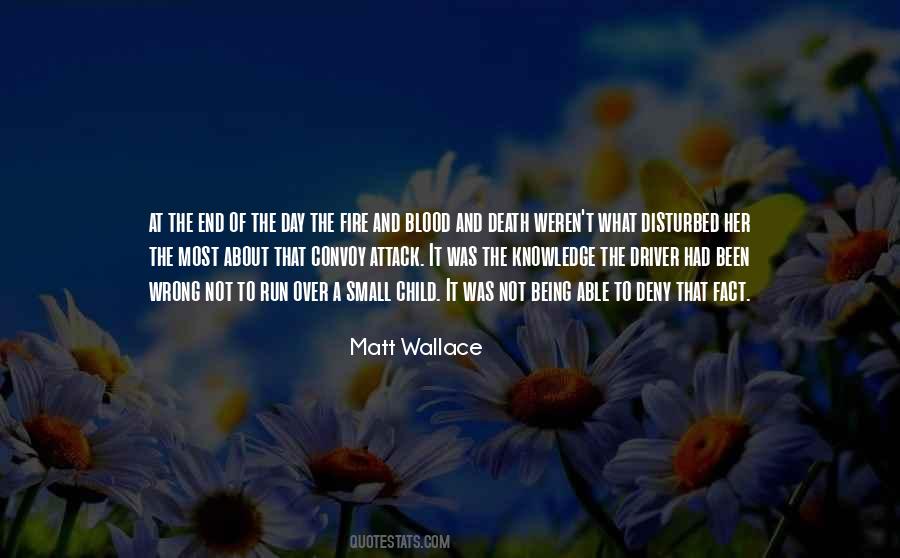 #26. Death is not the end of who we are. It is only a brief pause in the endless cycle of our lives. Each of us is a spirit that cannot die. - Author: Frederick Lenz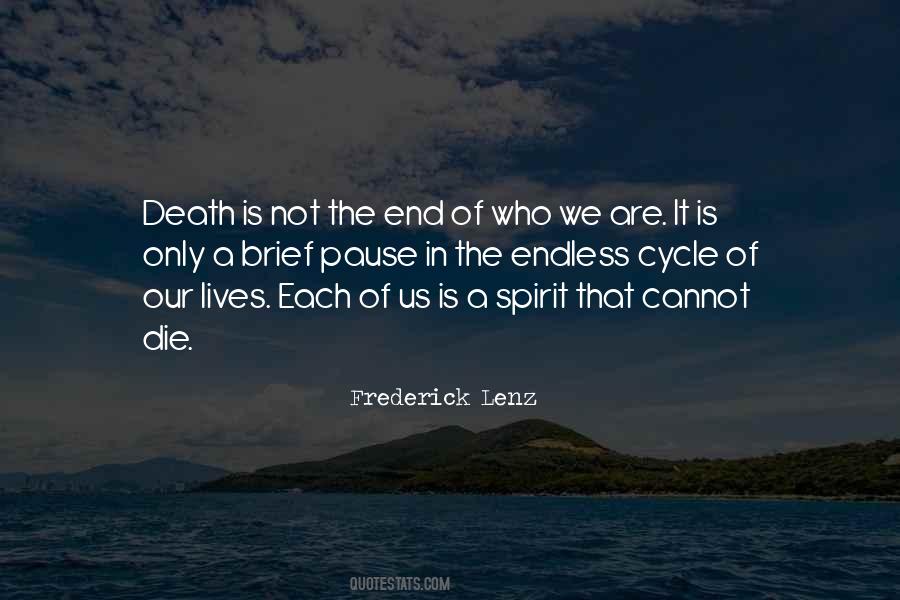 #27. Death is not the end of things, my sister. It is the beginning of a greater adventure than this small life you cherish can hold. And beyond these shores of death, there are great ships that fly from the golden seas to the skies of pearl. - Author: Douglas Clegg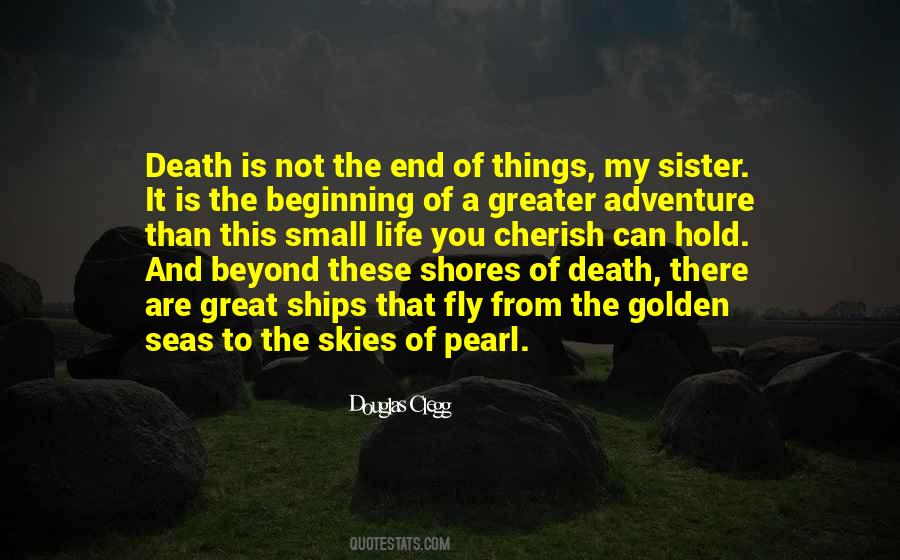 #28. Everything comes to an end. A good bottle of wine, a summer's day, a long-running sitcom, one's life, and eventually our species. The question for many of us is not that everything will come to an end but when. And can we do anything vaguely useful until it does? - Author: Jasper Fforde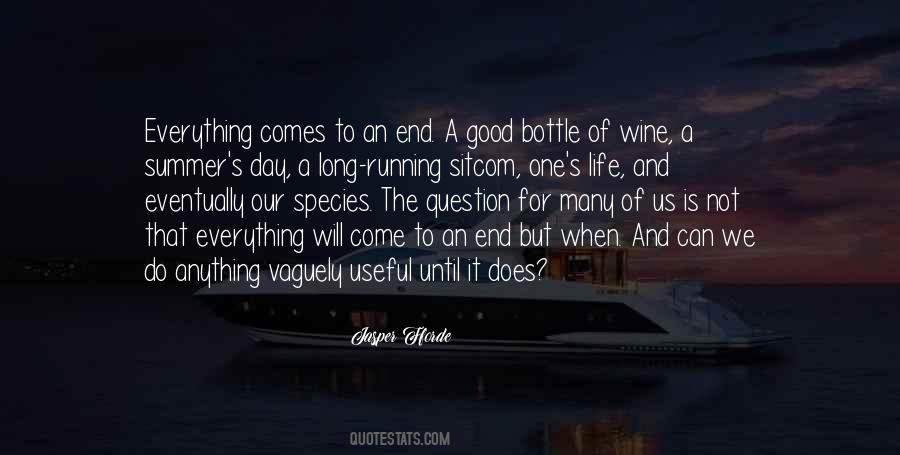 #29. Zoe refers to the aggregate. Bios accommodates the notion of death, that each life has a beginning, middle, and end, that each life contains a story. Zoe, wrote Kerenyi, "does not admit of the experience of its own destruction: it is experienced without end, as infinite life. - Author: Twyla Tharp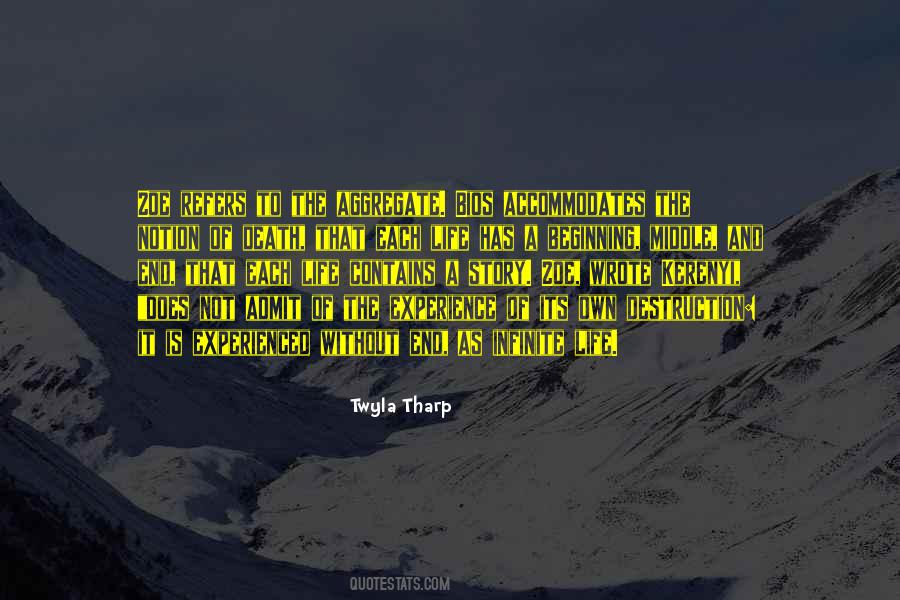 #30. Let us seek Death, or he not found, supply With our own hands his office on ourselves; Why stand we longer shivering under fears, That show no end but death, and have the power, Of many ways to die the shortest choosing, Destruction with destruction to destroy. - Author: John Milton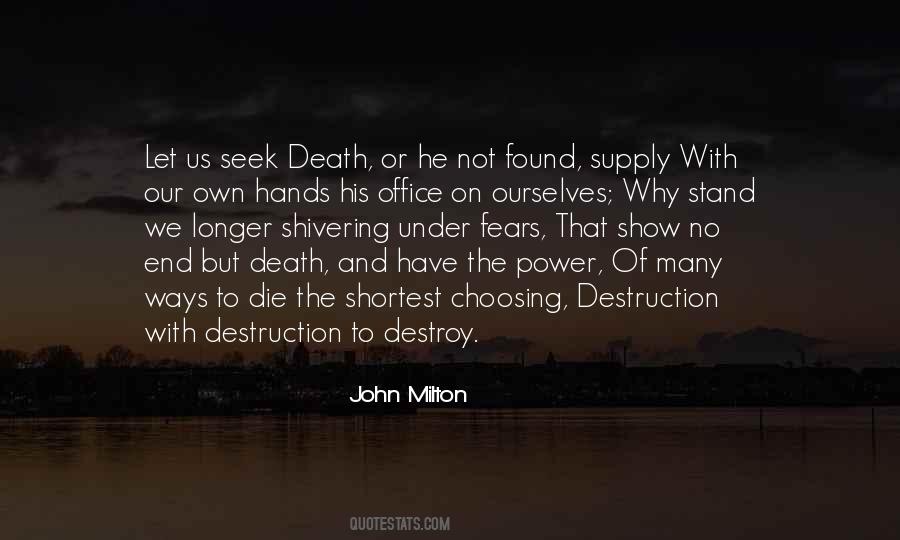 #31. For no matter what learned scientists may say, race is, politically speaking, not the beginning of humanity but its end, not the origin of peoples but their decay, not the natural birth of man but his unnatural death. - Author: Hannah Arendt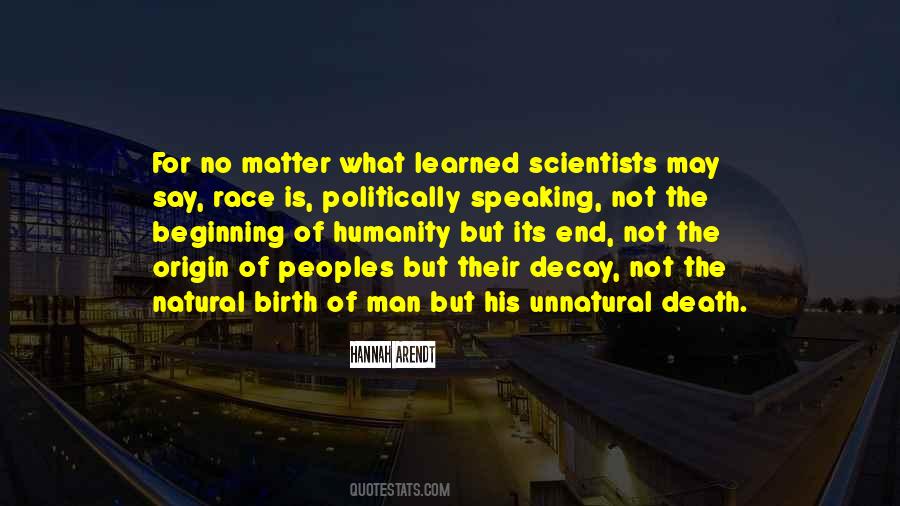 #32. Death does not mark the end of a chapter in a man's life, but the end of a book of man, the beautiful conclusion to his yearnings. - Author: Kilroy J. Oldster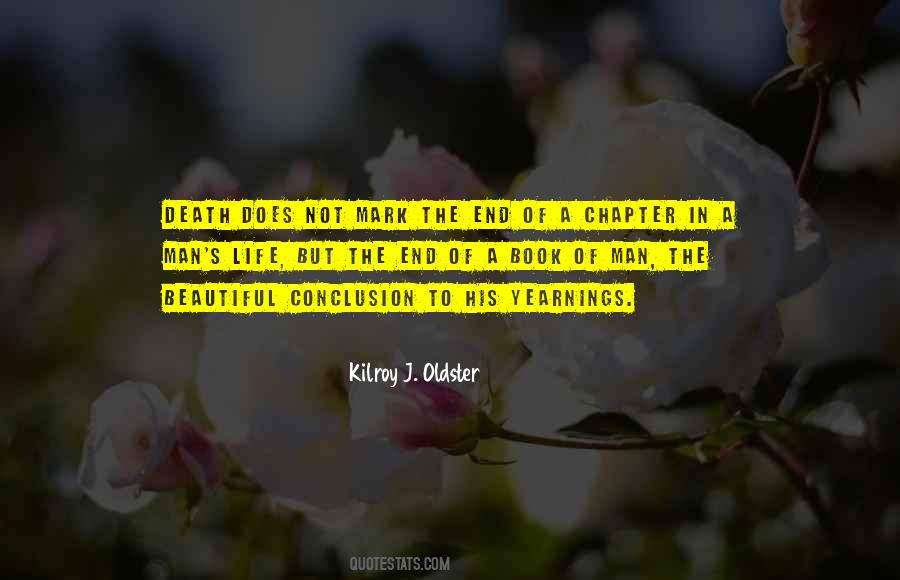 #33. The cruelty of death lies in the fact that it brings the real sorrow of the end, but not the end. The greatest cruelty of death: an apparent end causes a real sorrow. Our salvation is death, but not this one. - Author: Franz Kafka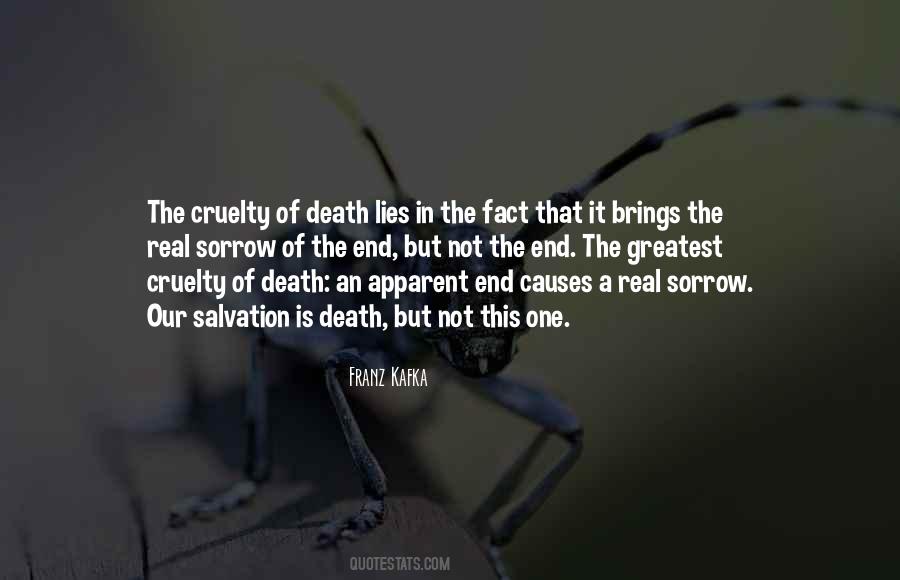 #34. You said the words," Pyp reminded him. "Now my watch begins, you said it. It shall not end until my death." "I shall live and die at my post," Grenn added, nodding. - Author: George R R Martin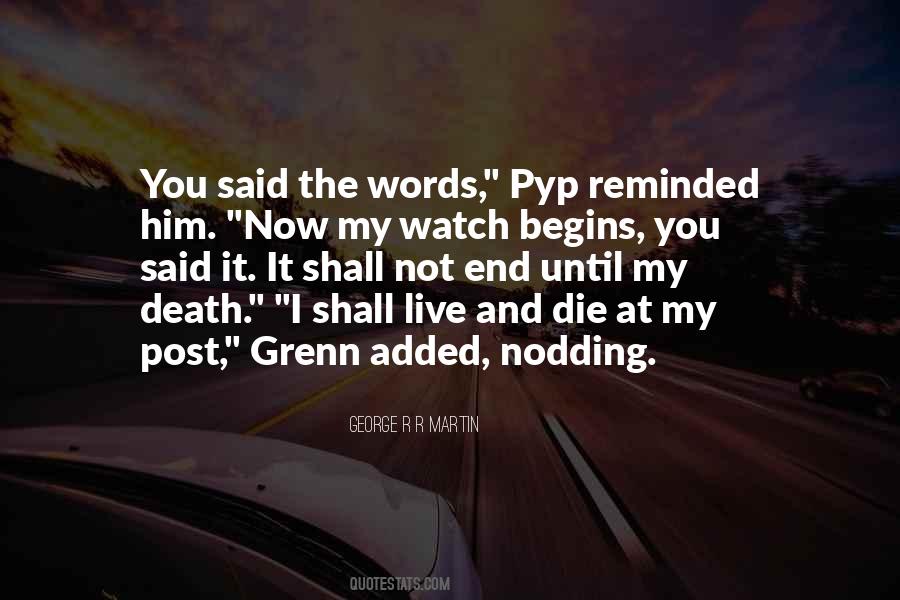 #35. Time," the Captain said, "is not what you think." He sat down next to Eddie. "Dying? Not the end of everything. We think it is. But what happens on earth is only the beginning. - Author: Mitch Albom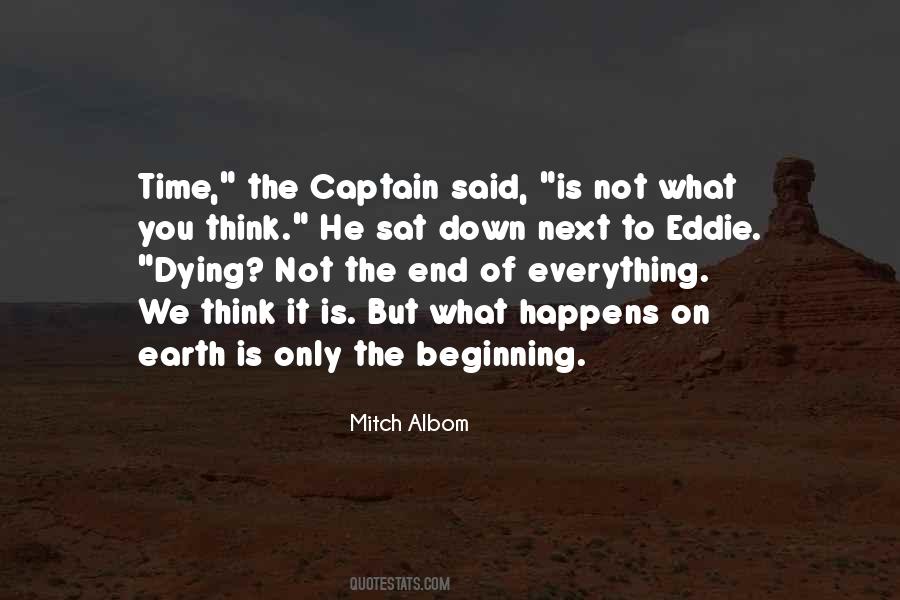 #36. Death is not the end, but a more glorified existence. - Author: Gordon B. Hinckley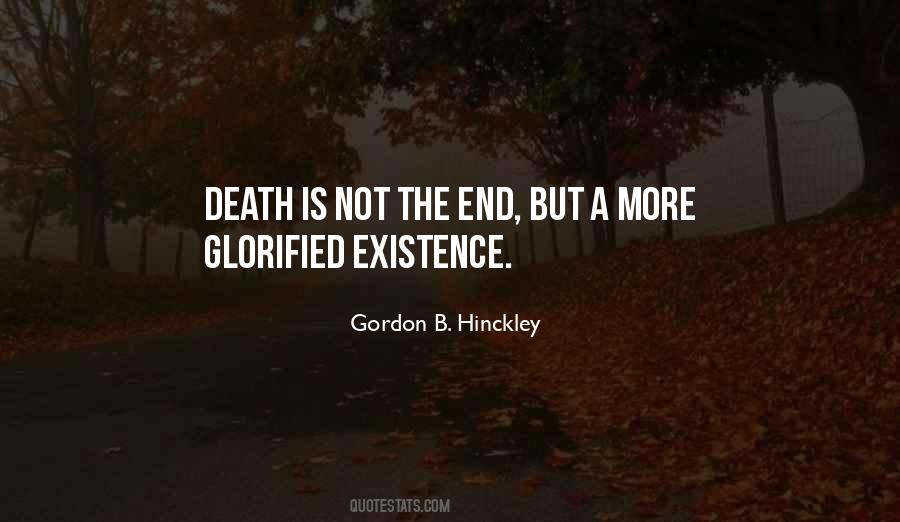 #37. My idea of everything going smoothly on an airplane is (a) that I not die in a slow-motion fiery crash or get stabbed to death by terrorists and (b) that none of the other passengers try to talk to me. All conversation should end at the moment the wheels leave the ground. - Author: Anne Lamott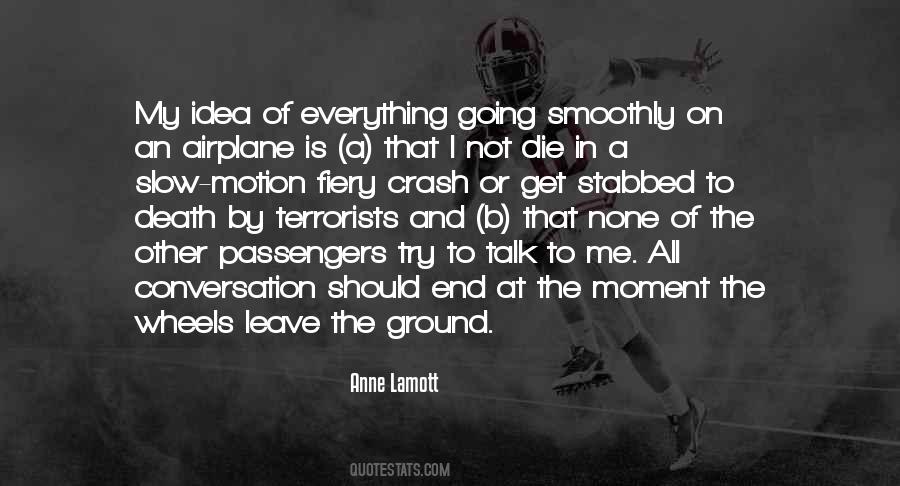 #38. It's natural to fear death, as a conscious, thinking being - it's the literal end of you. I'm not even afraid of death itself. It's more of a profound... not wanting to leave the party - Author: EXO Books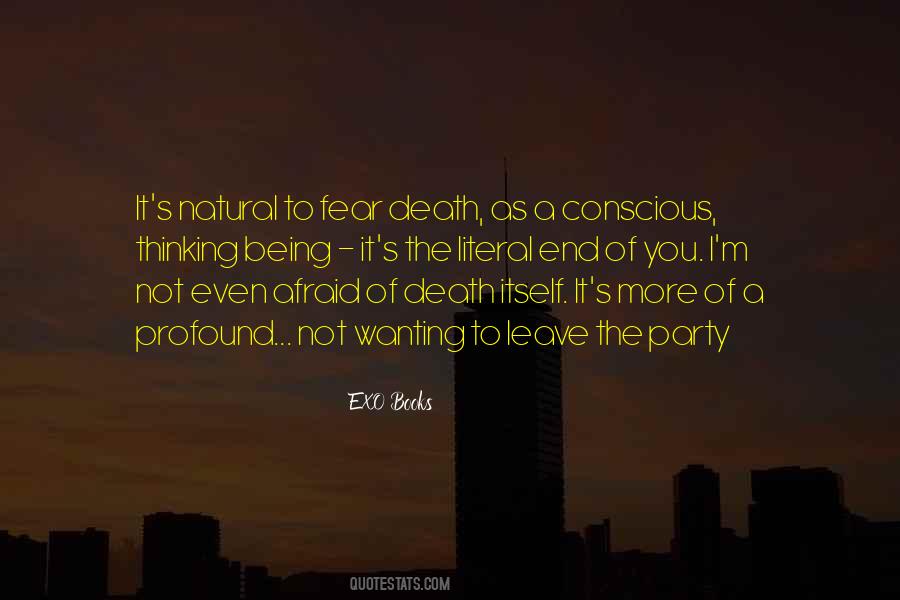 #39. When you're sad and when you're lonely and you haven't got a friend, just remember that death is not the end. - Author: Bob Dylan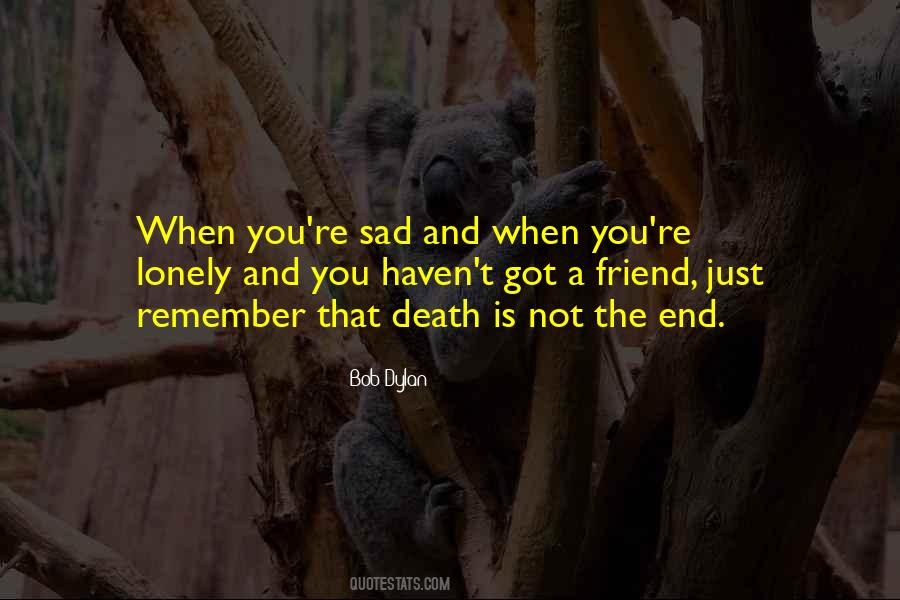 #40. Death is not the end of life, it is the beginning of an eternal journey. - Author: Debasish Mridha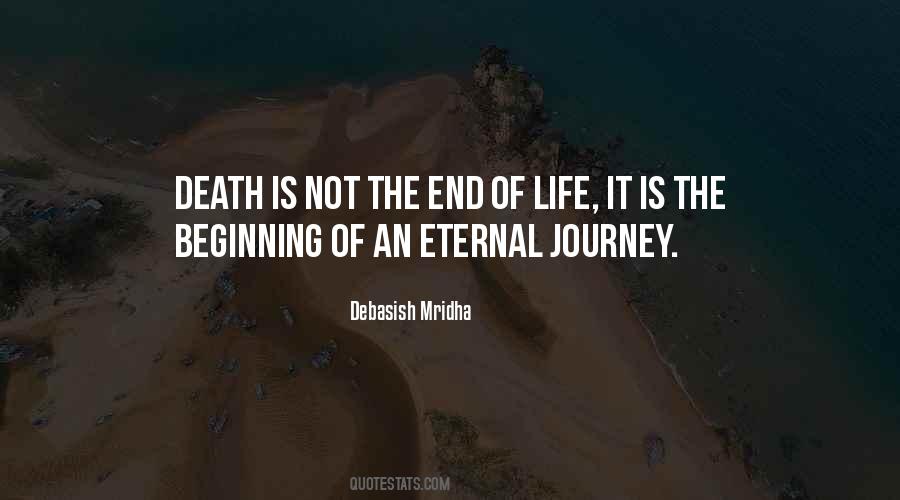 #41. Death is not an easy thing for anyone to understand, least of all a child, but every life shall one day end. But as long as we are alive, as long as we are together, as long as two of us are left, and remember him, nothing in the world can take him from us. His body can be taken, but not him. - Author: William, Saroyan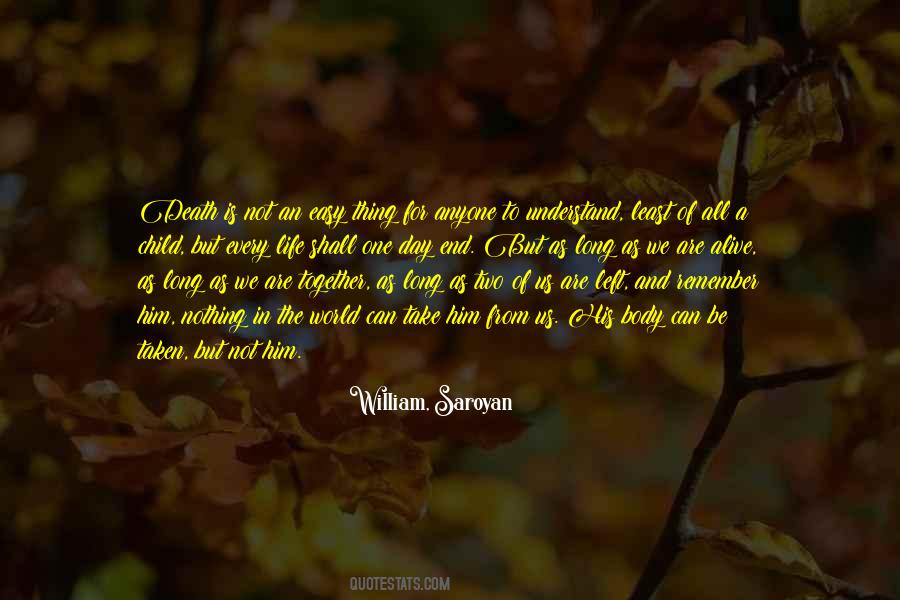 #42. Death has such great importance in this society that it affects everything. I learned from my guru that death is not the enemy, I see it as another moment. Yet it's the end of an incarnation and means going on to other incarnations. - Author: Ram Dass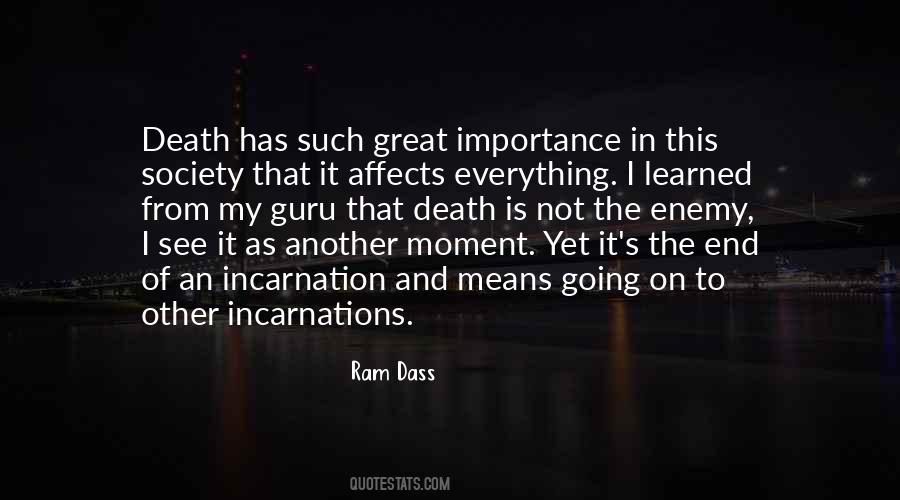 #43. Thinking, Garraty thought. That's the day's business. Thinking. Thinking and isolation, because it doesn't matter if you pass the time of day with someone or not; in the end, you're alone. - Author: Stephen King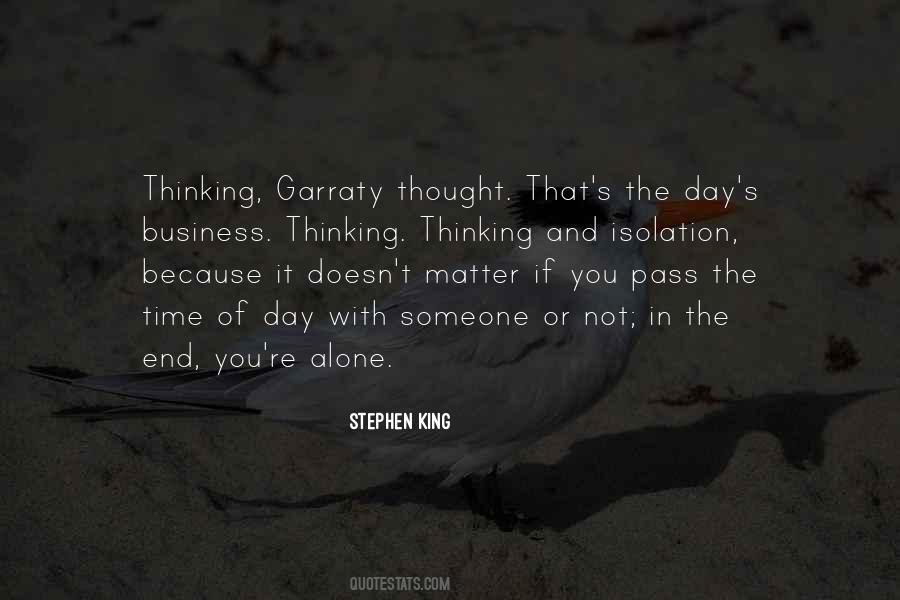 #44. A man dies not for the many wounds that pierce his breast, unless it be that life's end keep pace with death, nor by sitting on his hearth at home doth he the more escape his appointed doom. - Author: Aeschylus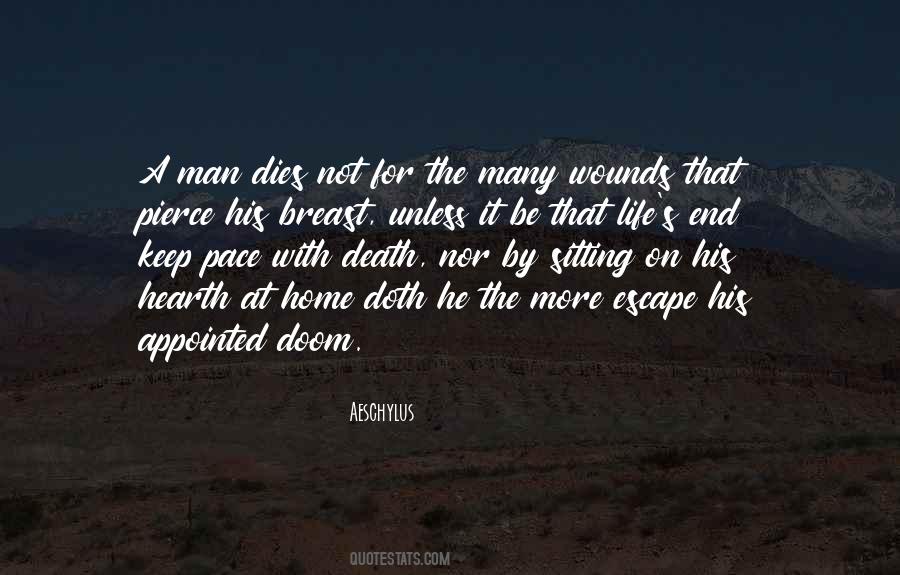 #45. The death of the warrior or the old man or the little child, this I understand, and I take away the pain and end the suffering. I do not understand this death-of-the-mind. - Author: Terry Pratchett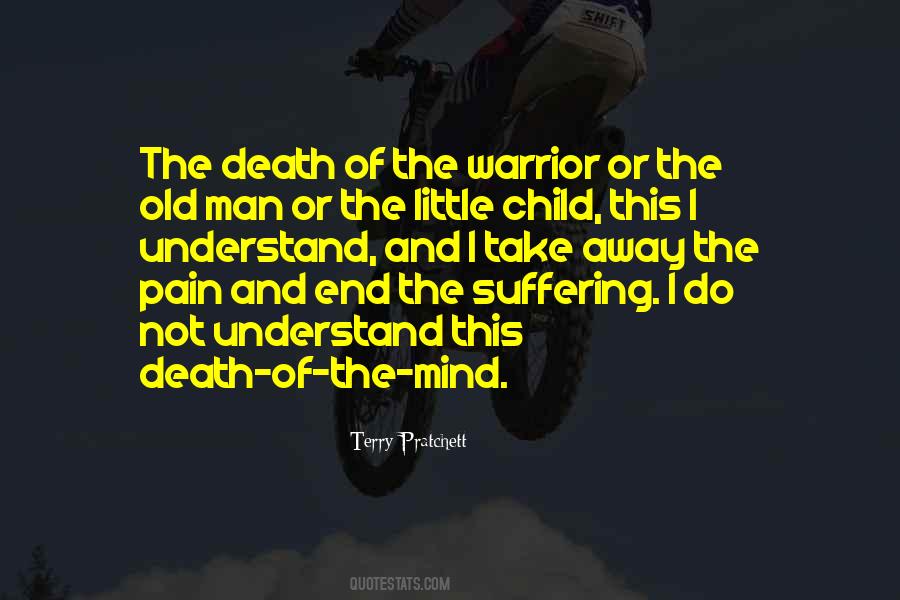 #46. Death is not the end of life, but a stage thereof. - Author: Jan-Philipp Sendker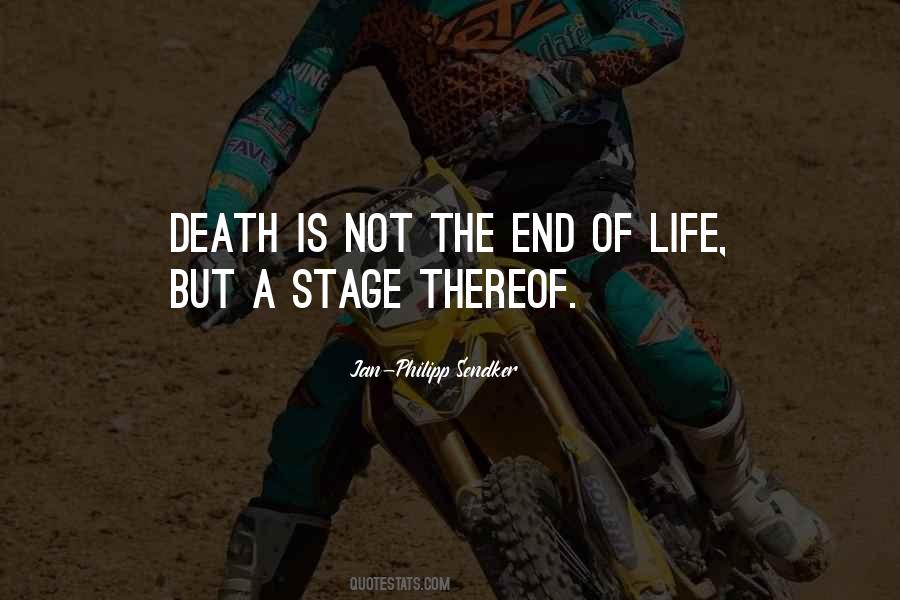 #47. A group of adventurers is known as a "party," and not just because they like to celebrate their success together in the end. Your party should be as close to you as your family--assuming your family can cast spells, kill monsters, and bring you back from the edge of death. - Author: Matt Forbeck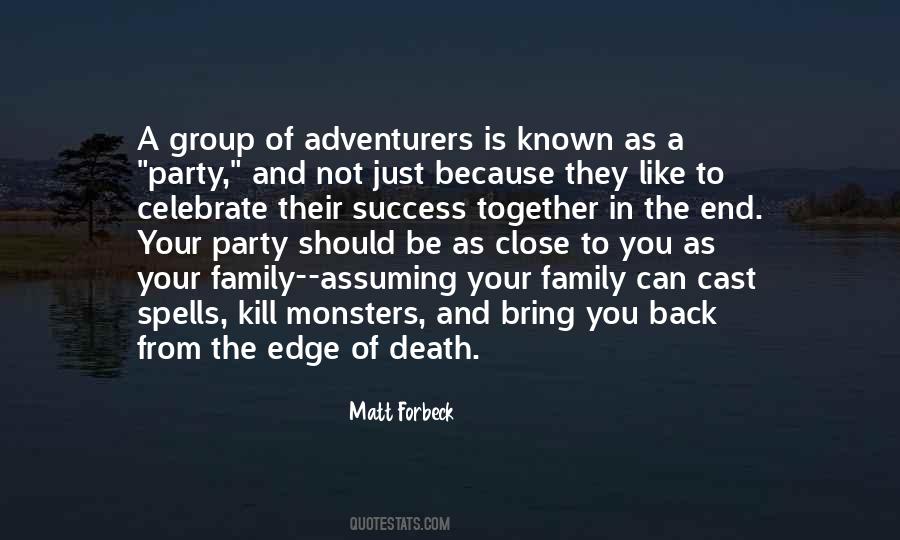 #48. What came for them? Not death. Just the end of living. - Author: Arundhati Roy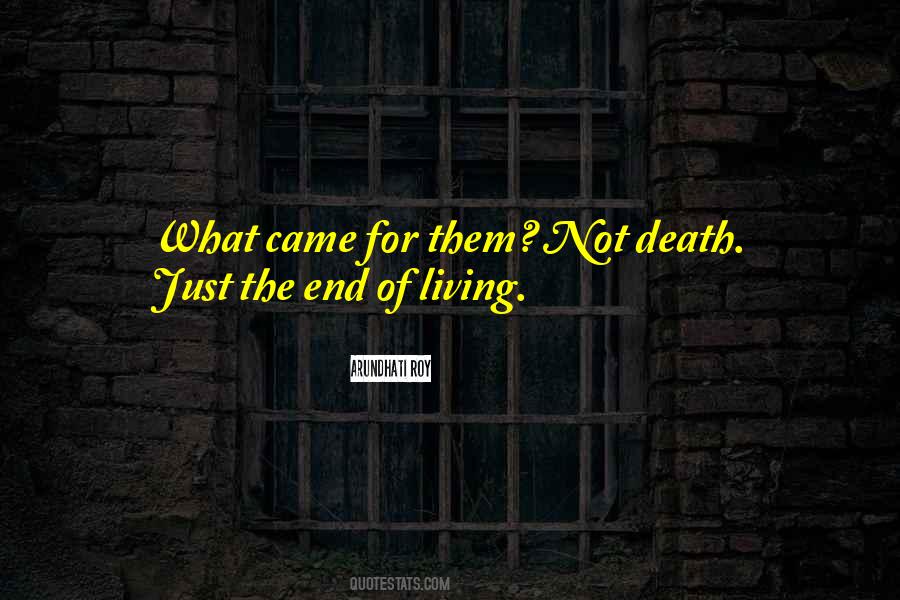 #49. What is death? Either a transition or an end. I am not afraid of coming to an end, this being the same as never having begun, nor of transition, for I shall never be in confinement quite so cramped anywhere else as I am here. - Author: Seneca.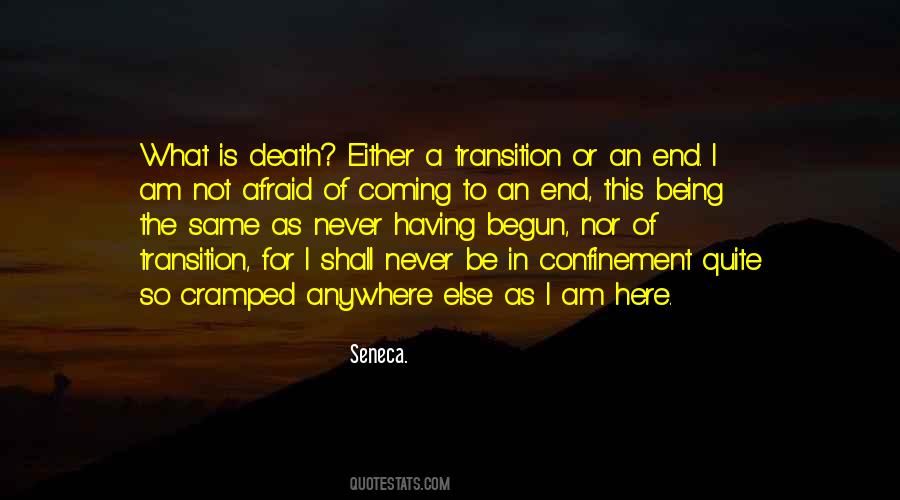 #50. The 'Course in Miracles' says one day you will realize that death is not the punishment but the reward. And it says that birth is not the beginning of life but a continuation. And physical death is not the end of life but a continuation. - Author: Marianne Williamson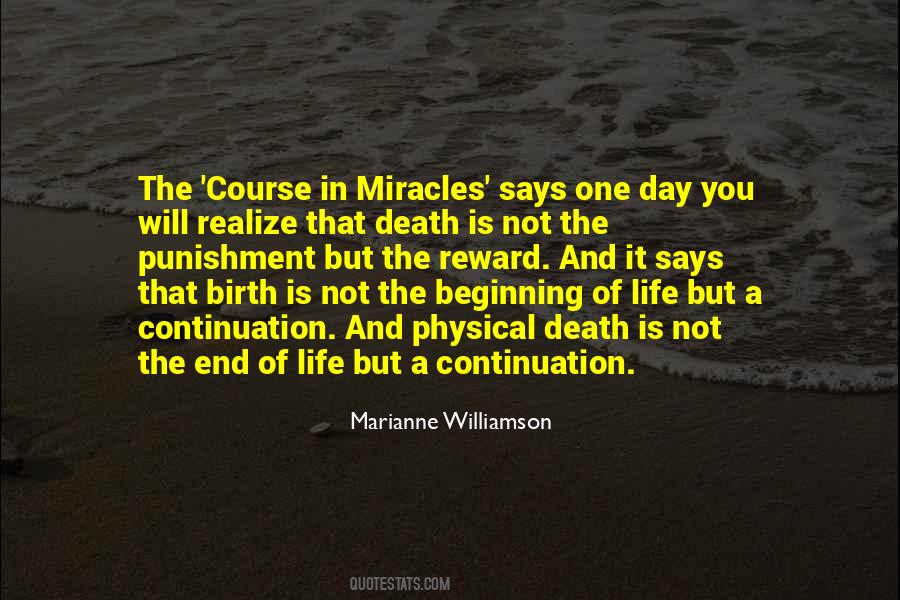 #51. Despite all expectations, the time of my last campaign and of my passing is near. I wish to die at home. Let not my end disarm you, and on no account weep for me, lest the enemy be warned of my death. - Author: Genghis Khan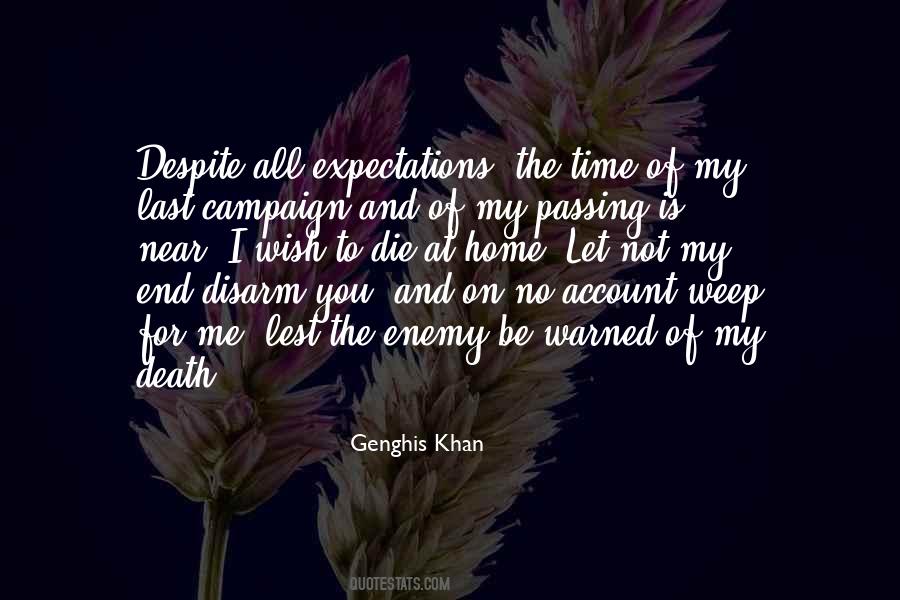 #52. There is something beyond the grave; death does not end all, and the pale ghost escapes from the vanquished pyre. - Author: Propertius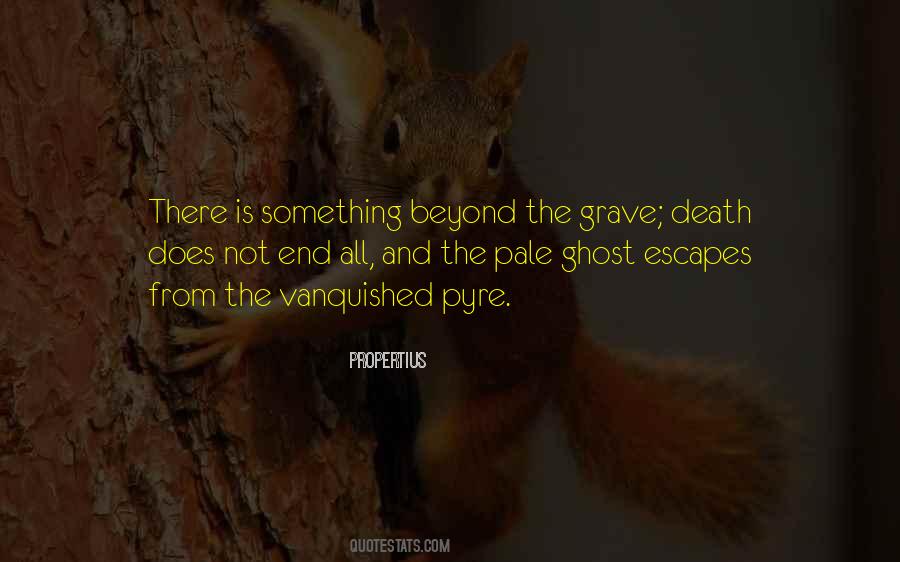 #53. Relaxing with the present moment, relaxing with hopelessness, relaxing with death, not resisting the fact that things end, that things pass, that things have no lasting substance, that everything is changing all the time - that is the basic message. - Author: Pema Chodron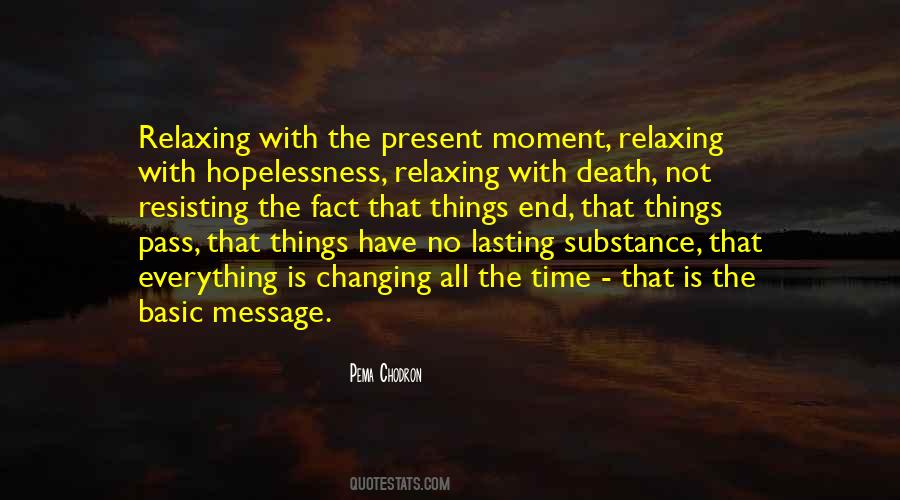 #54. He is always becoming, and if it were not for the contingency of death, he would never end. - Author: Jean-Paul Sartre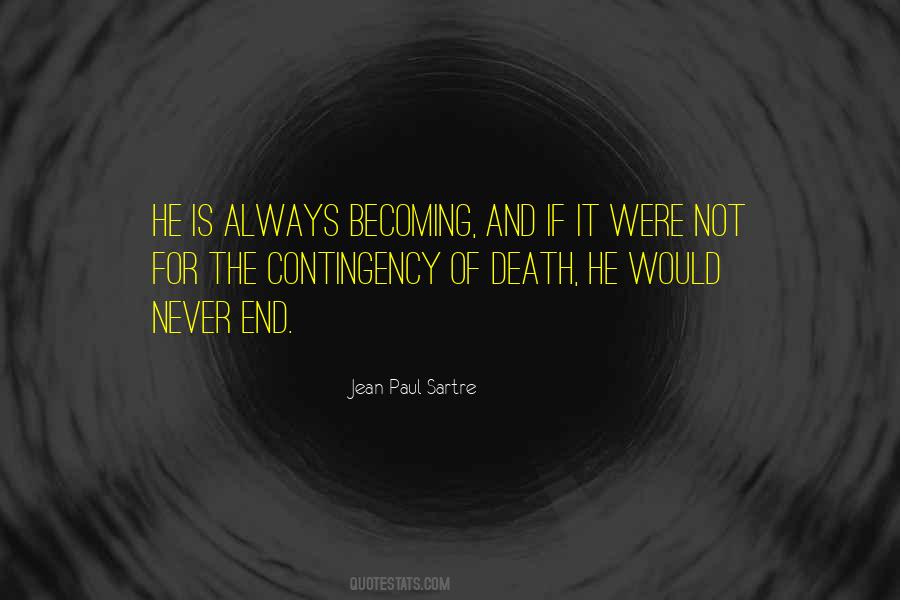 #55. I have a theory that as human beings get older, chemicals are released into the brain to prepare us for the end. Sort of like how the nurse lubes your ass up before the anus-cam. It makes the whole thing a lot easier to swallow. Easier, not enjoyable. - Author: Kris D'Agostino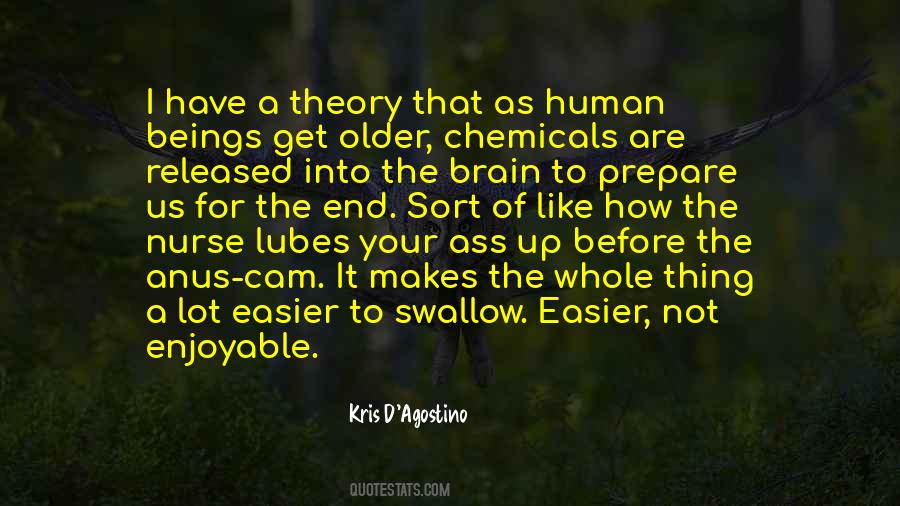 #56. Ne wonders what it is like to burn, staring at one's ending right around the corner, and yet not knowing how the end will come, when one will be fully consumed by the void. - Author: Teo Yi Han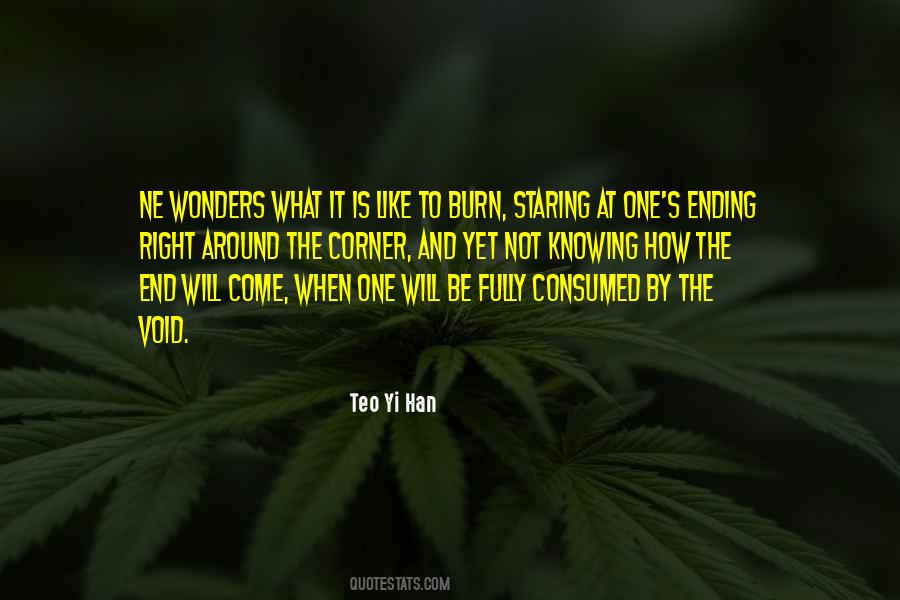 #57. Life is first boredom, then fear.
whether or not we use it, it goes,
and leaves what something hidden from us chose,
and age, and then the only end of age. - Author: Philip Larkin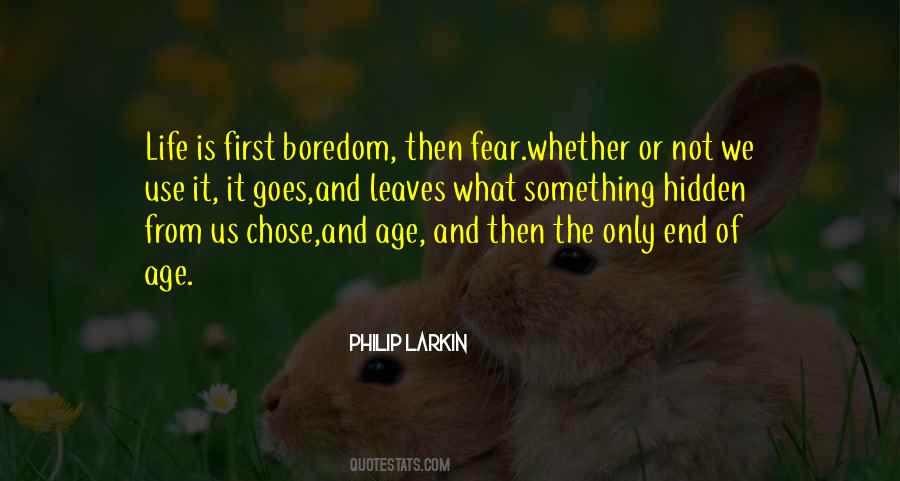 #58. Love never dies... when death is not the end. - Author: Brian Lovestar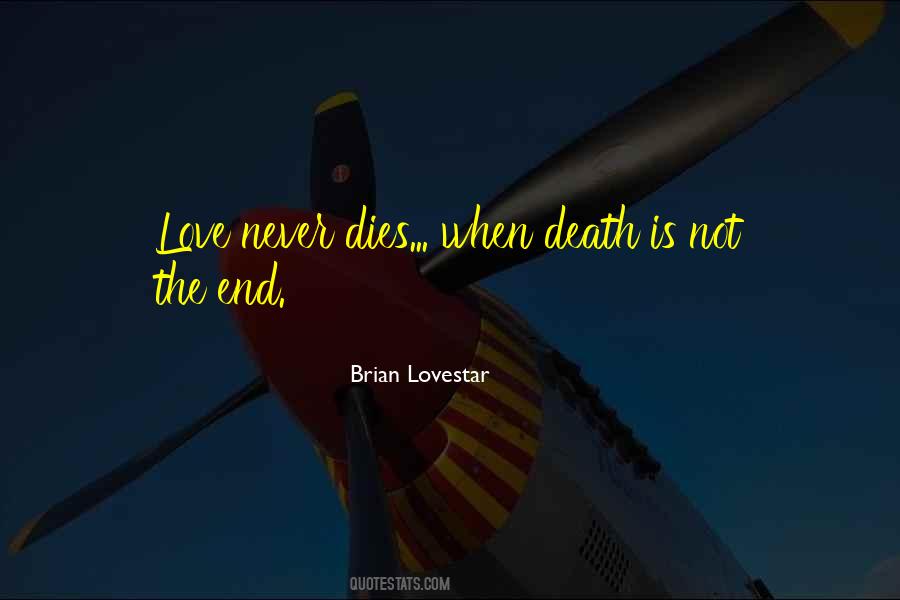 #59. People speak of a will to live. They rarely speak of a will to die. Because people are afraid of death. Death is dark and unknown and frightening. But not for me. It is not the end. - Author: Garth Stein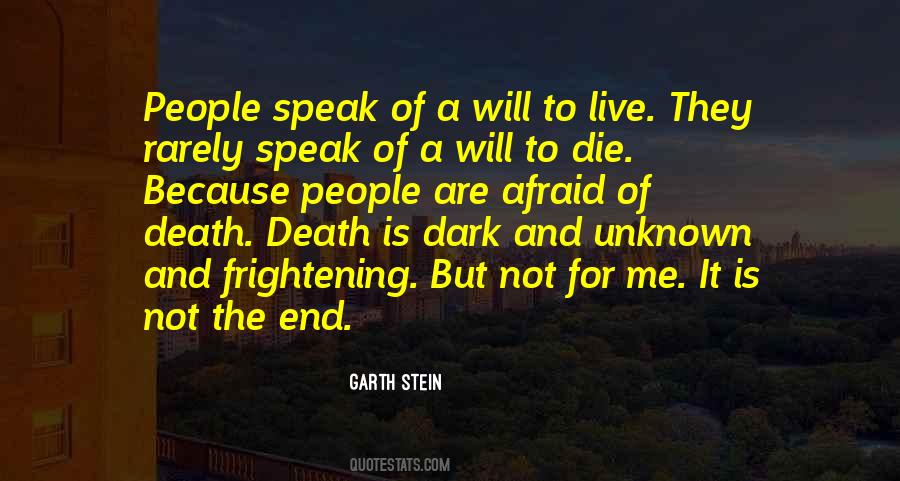 #60. War is not one-sided. It takes two blades to clash. It matters little who comes out on top, there is still a dead man at the end. - Author: Mitch Rowland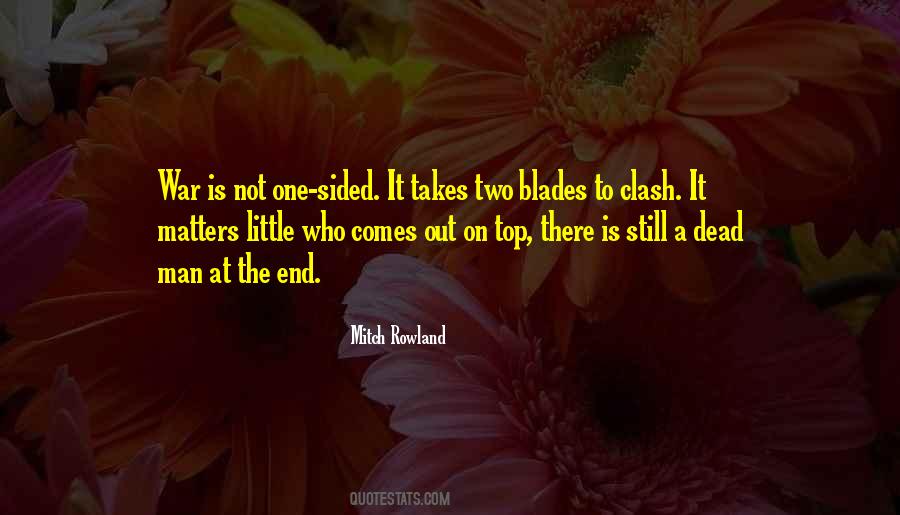 #61. If you've got time to fantasize about a beautiful death, why not live beautifully until the end? - Author: Hideaki Sorachi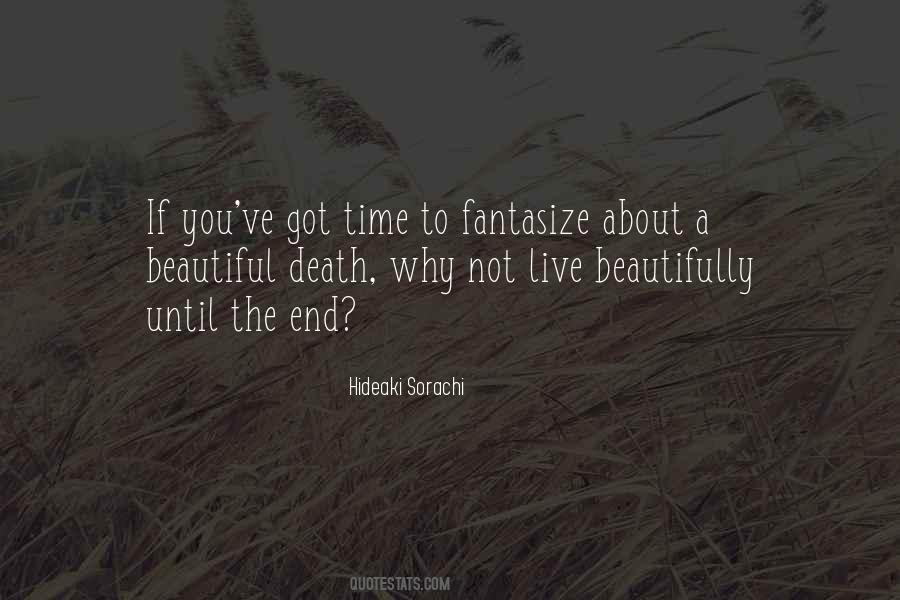 #62. The weakest of my people does not fear death. It is the Bent One, the lord of your world, who wastes your lives and befouls them with flying from what you know will overtake you in the end. If you were the subjects of Maleldil you would have peace. p. 140 - Author: C.S. Lewis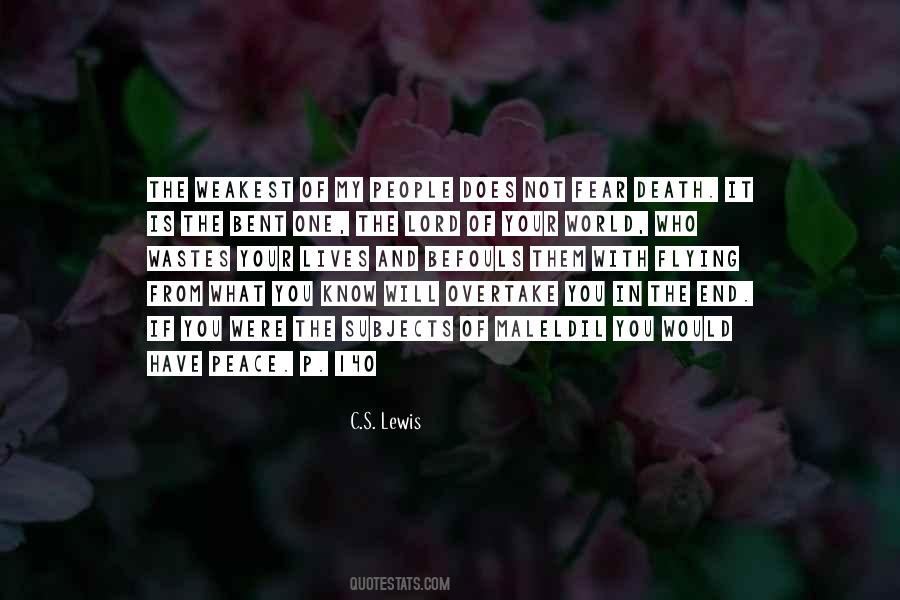 #63. Perhaps the best cure for the fear of death is to reflect that life has a beginning as well as an end. There was a time when we were not: this gives us no concern. Why, then, should it trouble us that a time will come when we shall cease to be? - Author: William Hazlitt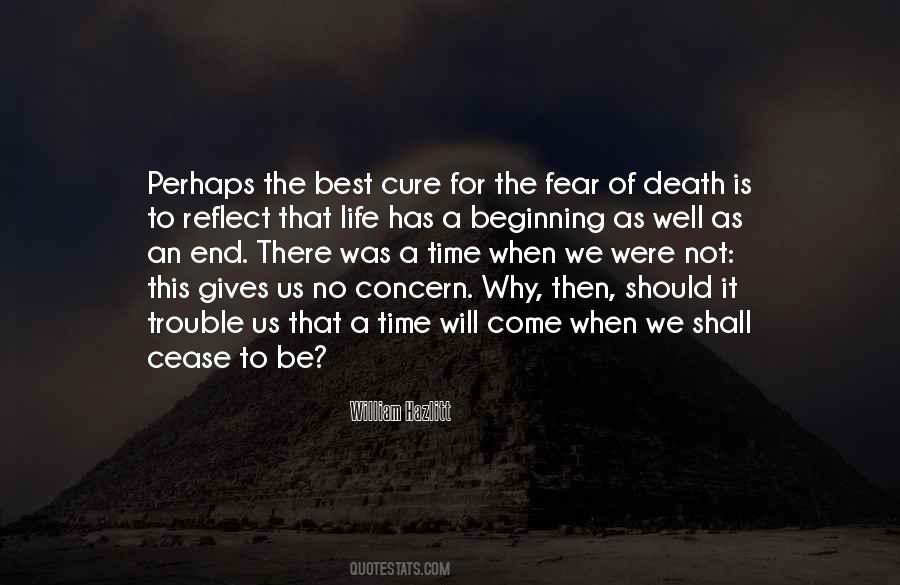 #64. Death was a beginning and not an end; it was the morning of the spirit. Tired bodies lay down to sleep and their souls wakened to the morning, rested; the first fruits of them that slept. - Author: Mary Roberts Rinehart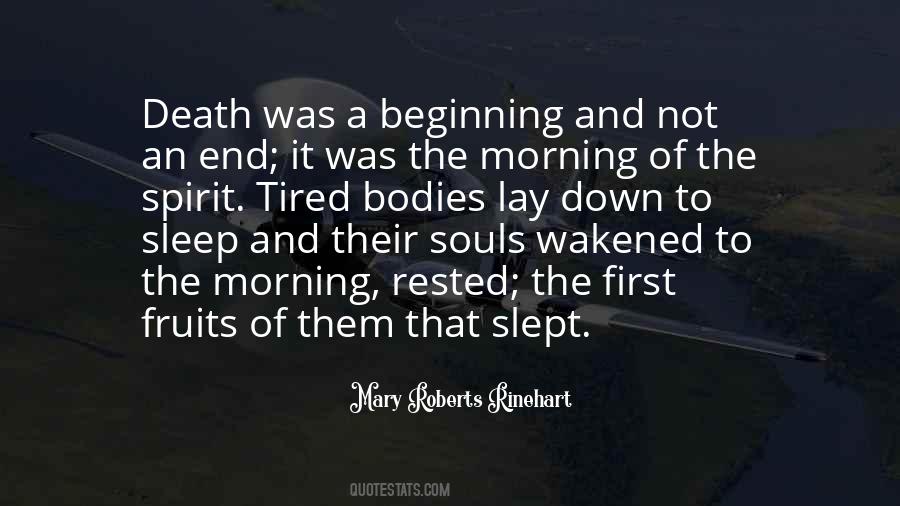 #65. A man, good or bad, was magnificent. It was not possible that this thing that was nothing and would never change [death] could mean the end of everything that moved and changed within him - the good, the bad, the magnificent. Yet it did. - Author: Richard Flanagan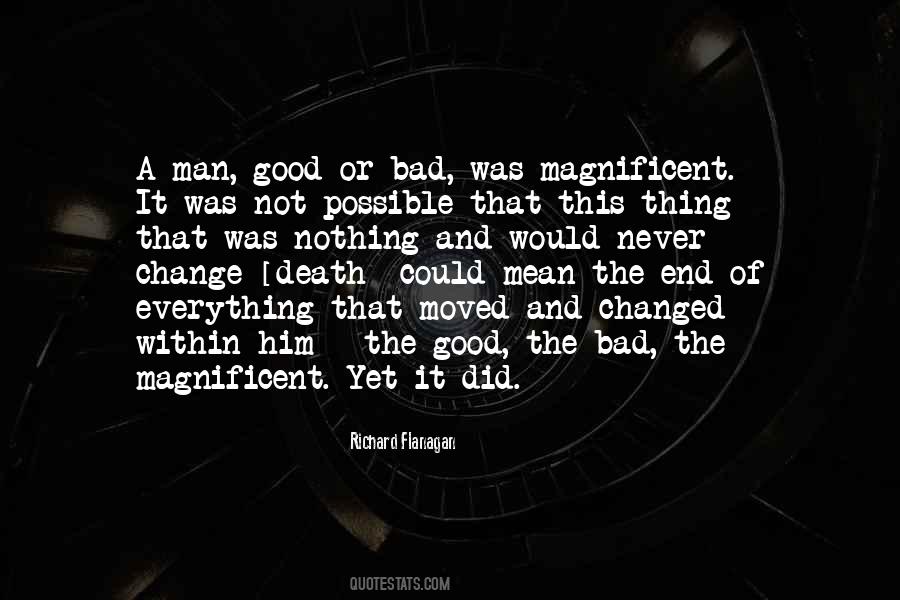 #66. I think the idea that death is not the end, that your dog's just gone to live on the farm, is limiting. Thoughts like that prevent you from making the most of the time that you have. - Author: Jimmy Carr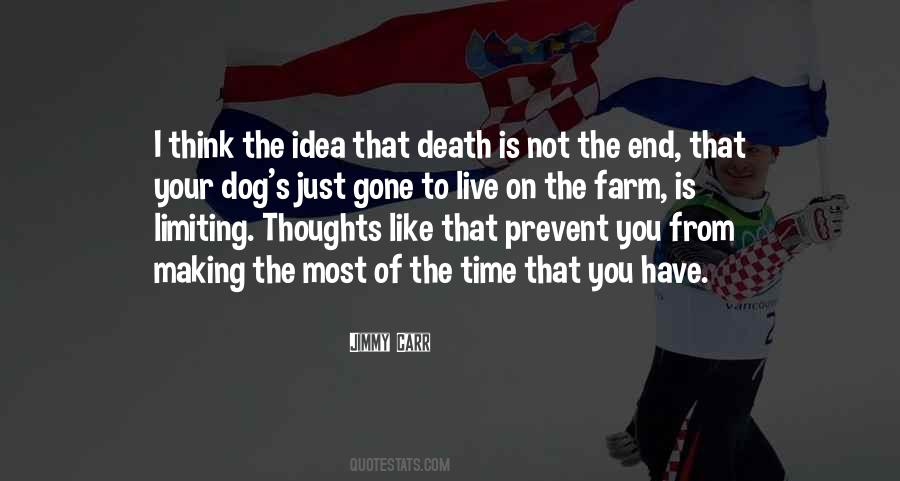 #67. Death is big," Dare acknowledges. "But there are things bigger than that. If there's not, then this is all for nothing. Life is worth nothing. Putting yourself out there, and taking chances and all that. All of that stuff is bollocks if it can just disappear in the end. - Author: Courtney Cole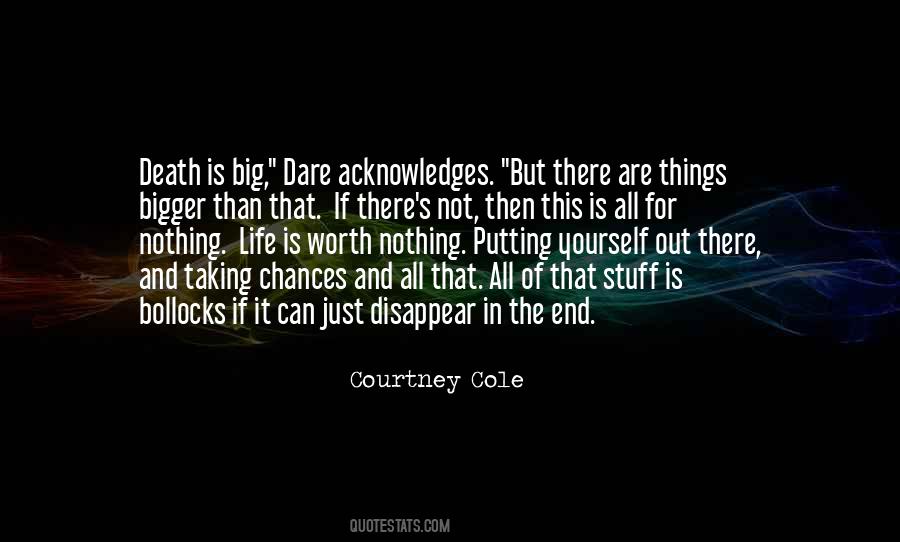 #68. Death is not an event in life: we do not live to experience death. If we take eternity to mean not infinite temporal duration but timelessness, then eternal life belongs to those who live in the present. Our life has no end in the way in which our visual field has no limits. - Author: Ludwig Wittgenstein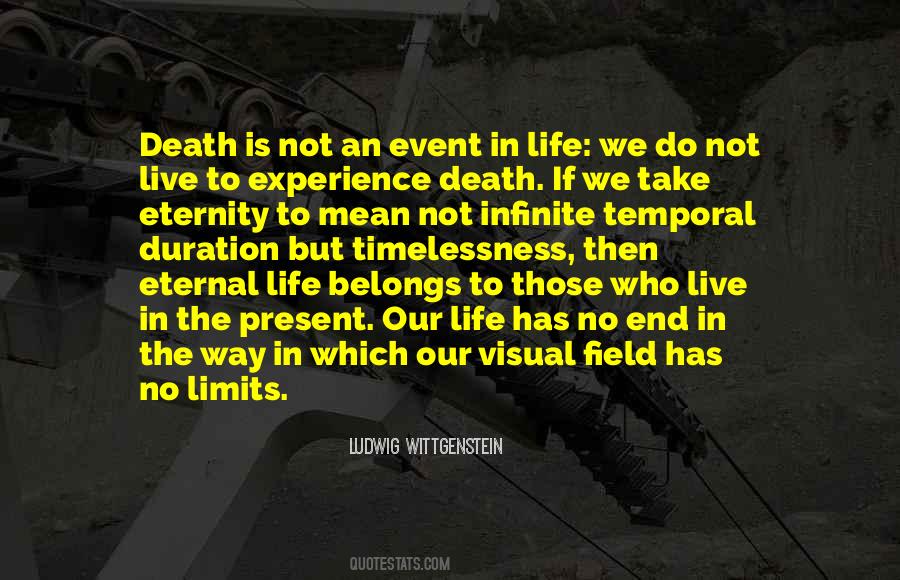 #69. When we have done our best, we can, as a united people, take whatever may befall with calm courage and confidence that this old nation will survive and if death should come to many of us, death is not the end. - Author: Eamon De Valera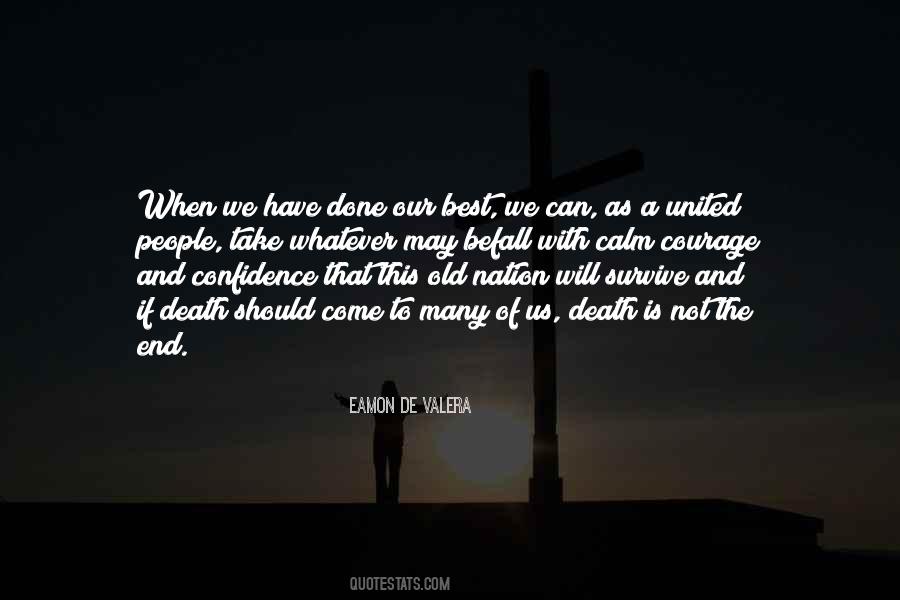 #70. Those of us with the courage to open ourselves to that much love and not fear it - who can give joy to a dying child until the very end without withdrawing to save ourselves - those are our saints. It is not the martyrs. It is never the martyrs. - Author: Derek Miller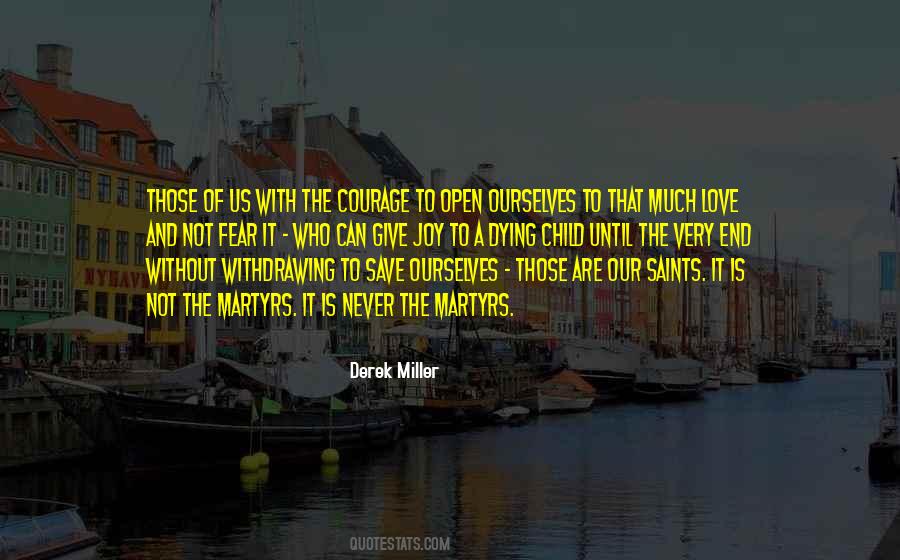 #71. Life must go on, yes, but in the end - after the end - life was not important, just pictures on a screen, absorbing for as long as they lasted, causing us to weep and laugh, perhaps, but when the images are gone we step out blinking into the light. - Author: Stephen Volk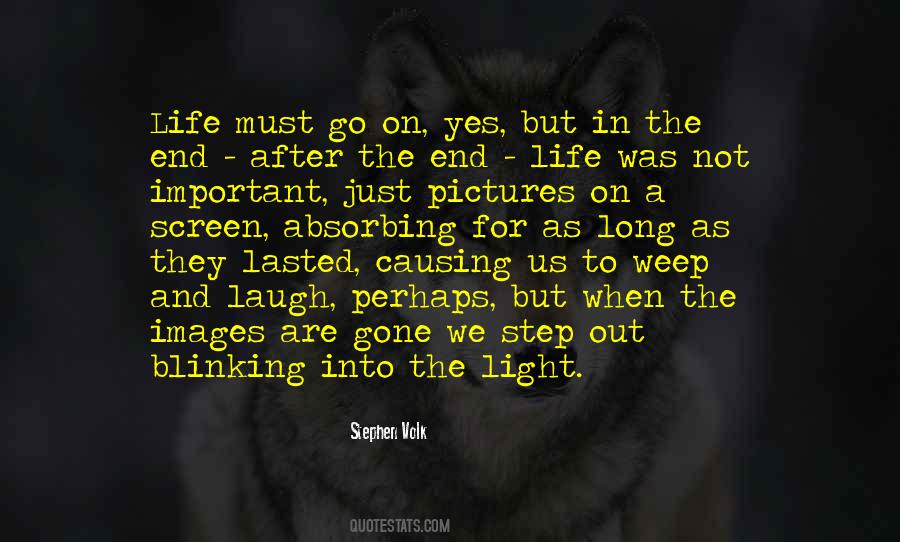 #72. The four eaglets are my four sons who cease not to persecute me even unto death. The youngest of them, whom I now embrace with so much affection, will sometime in the end insult me more grievously and more dangerously than any of the others. - Author: Henry II Of France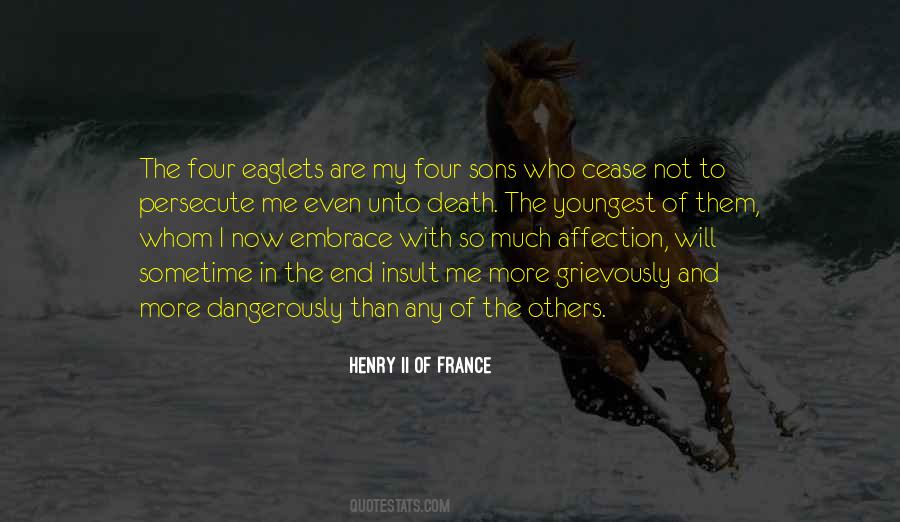 #73. We fear death so profoundly, not because it means the end of our body, but because it means the end of our consciousness - better to be a spirit in Heaven than a zombie on Earth. - Author: Alison Gopnik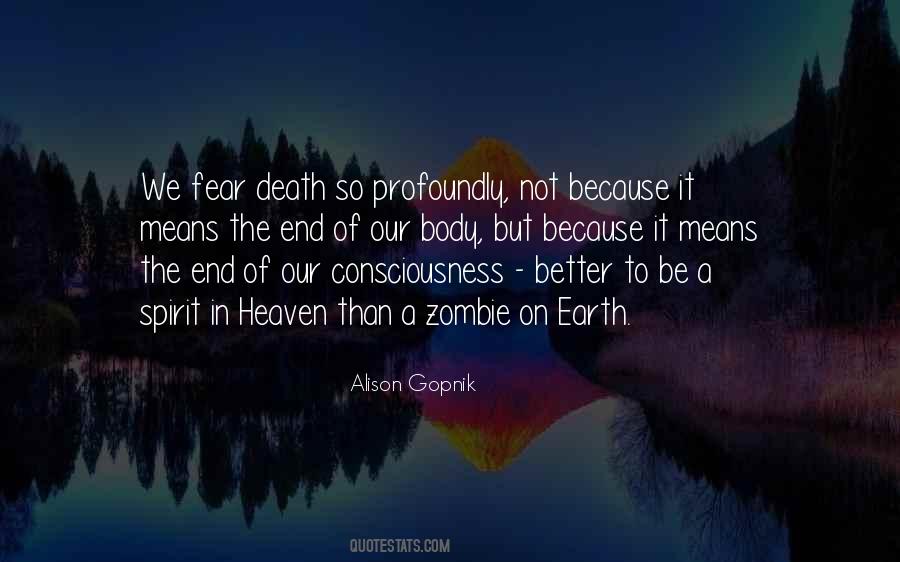 #74. I'd like to get the sex thing over with, but I realized I'm not done with it.You should never will a change in your work-you have to work an idea to death. I often find that the best things happen when you're near the end. - Author: John Currin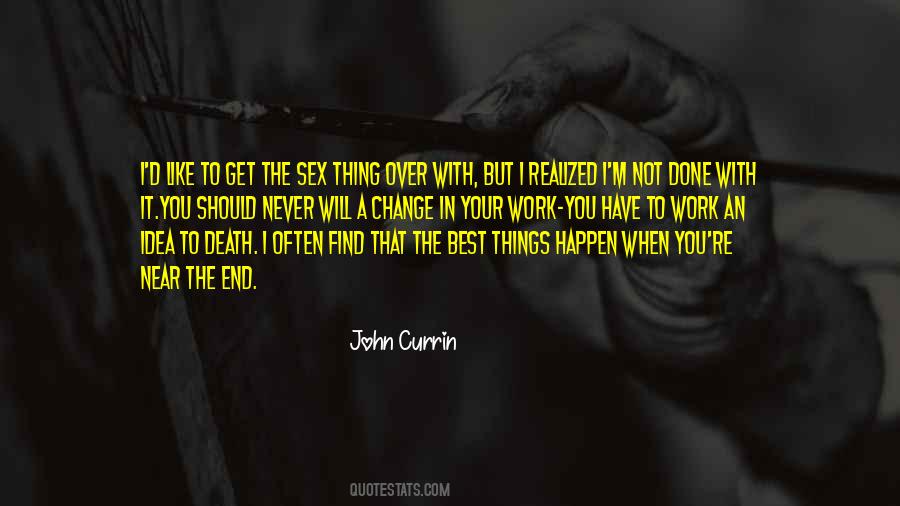 #75. Change is happening and old structures are falling in the form of a "Death of a Thousand Cuts." In other words one grand act is not occuring but a multitude of small expressions on the part of individuals, both slowly and swiftly taking the place of heirarchy and history. - Author: William Gibson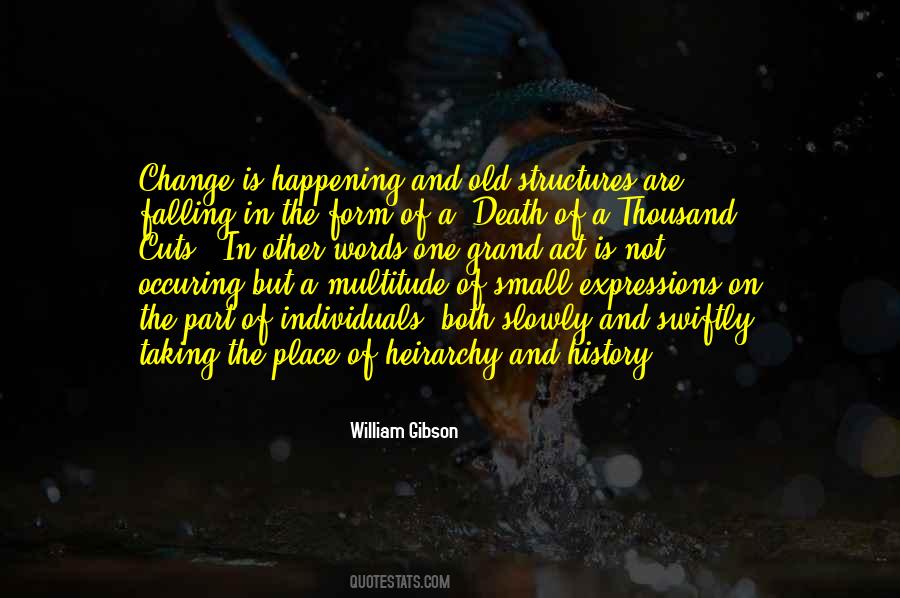 #76. The cross is not the terrible end to an otherwise godfearing and happy life, but it meets us at the beginning of our communion with Christ. - Author: Dietrich Bonhoeffer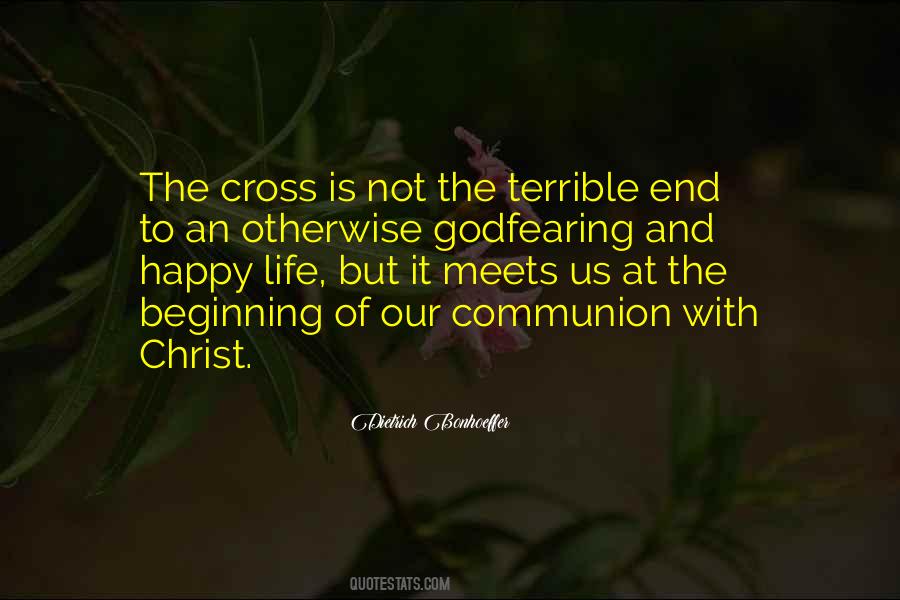 #77. Death is not the end death can never be the end. Death is the road. Life is the traveller. The Soul is the Guide - Author: Sri Chinmoy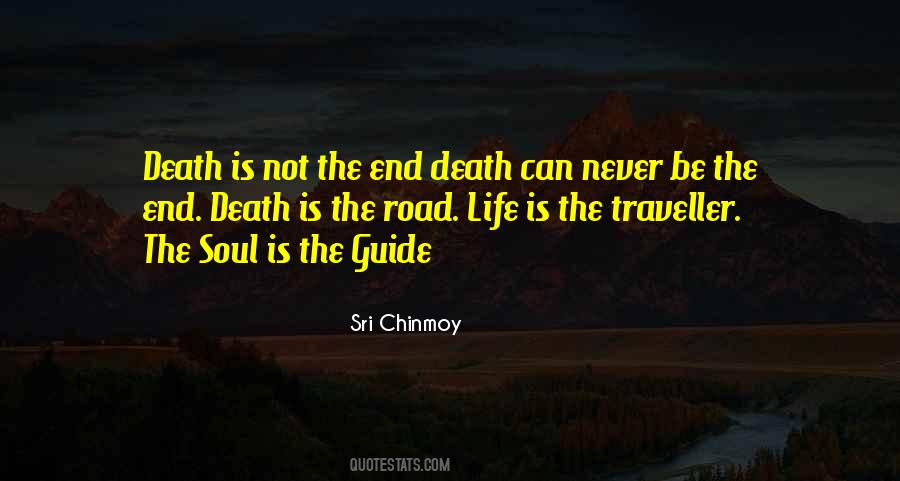 #78. Death does not end my life, it opens the door to a life without end. - Author: J.R. Rim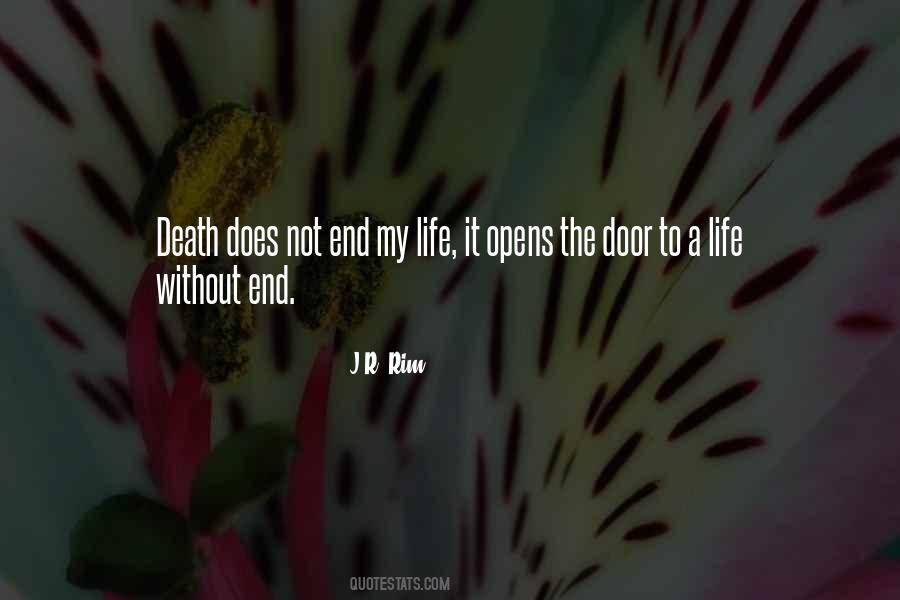 #79. Yet is our deepest desire is truly to live and go on living, why do we blindly insist that death is the end? Why not at least try and explore the possibility that there may be a life after? - Author: Sogyal Rinpoche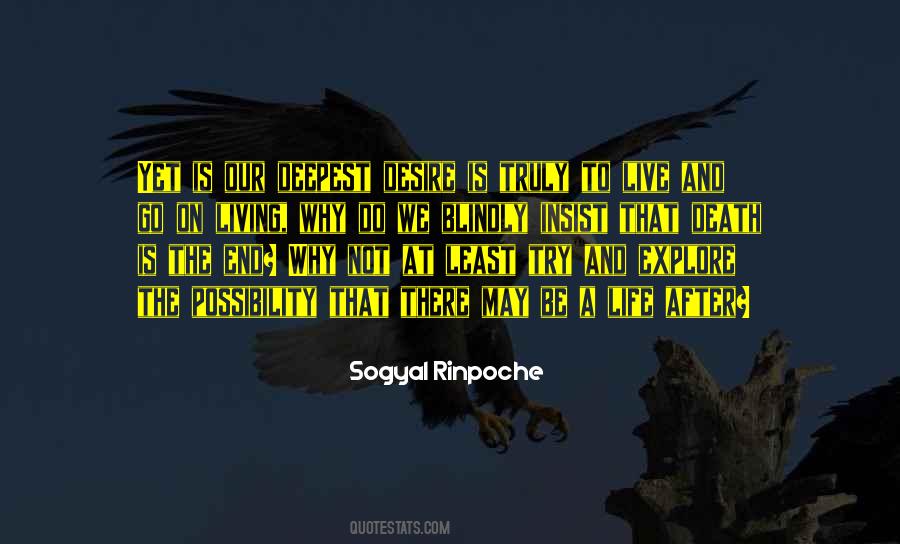 #80. The dead live as long as someone who loves them lives. - Author: M.J. Rose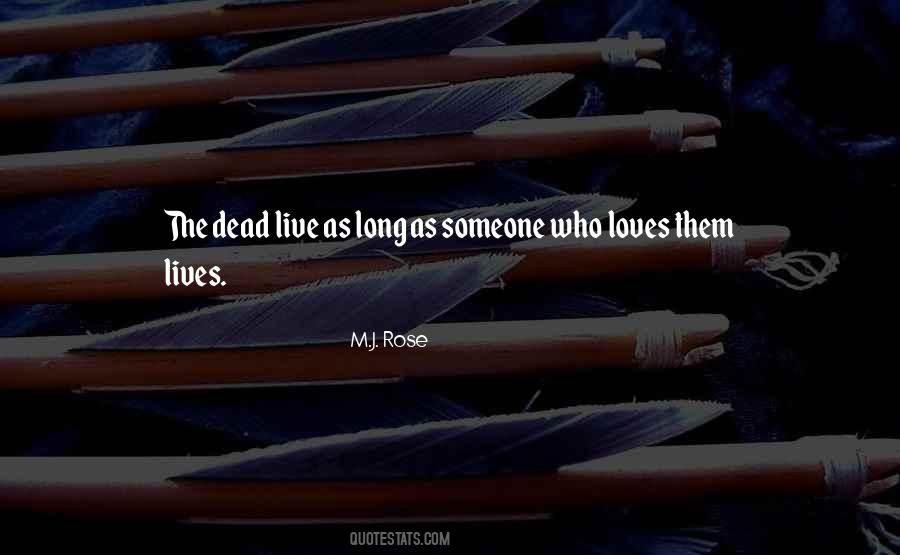 #81. It's not the end of the physical body that should worry us. Rather our concern must be to live while we're alive. - Author: Elisabeth Kubler-Ross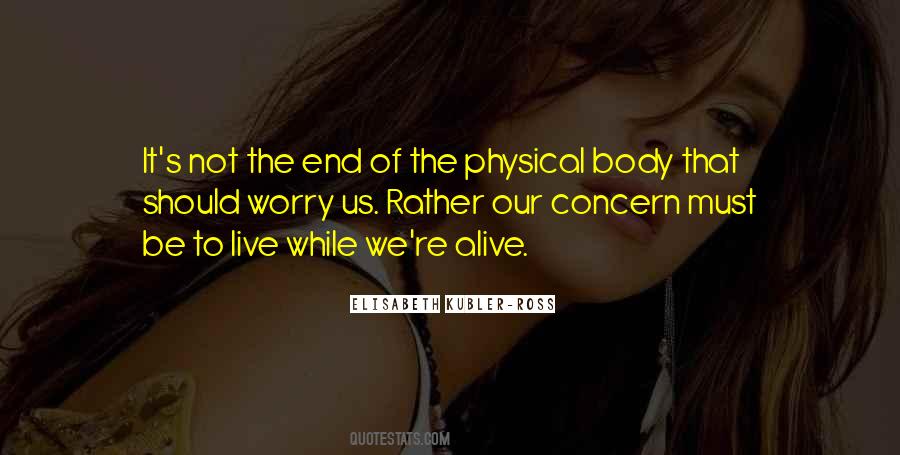 #82. The demise of Constellation is not the death of a dream. It's just the end of an illusion. - Author: Henry Spencer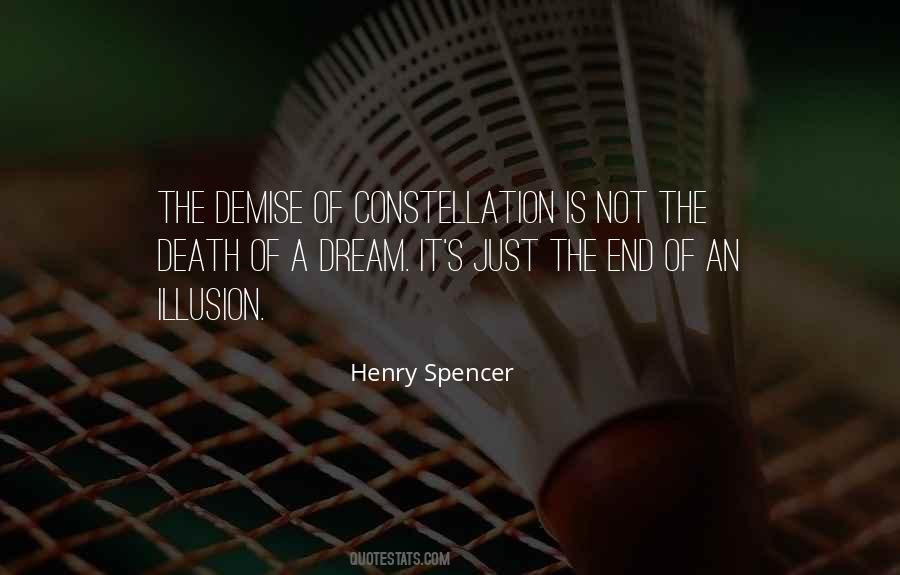 #83. I am waltzing with death, flirting with him, but he stands there smiling and saying nothing because he does not need to woo or be wooed: he knows he gets us all in the end. - Author: Nenia Campbell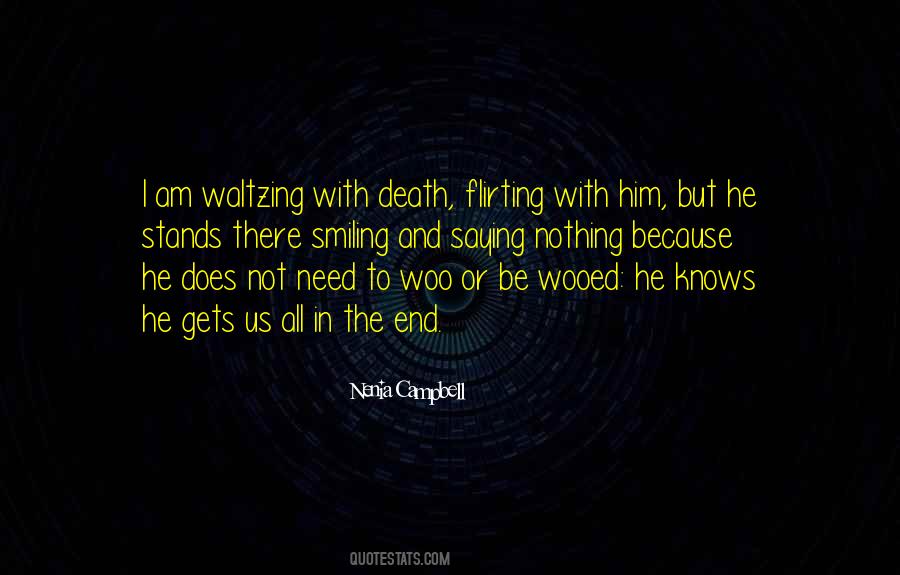 #84. I know his death could have been avoided with a doctor who was really on top of it. He had so much life in him. It was wrong. I played my way through that first show and did "Old Man" for Ben (Keith) at the end. I looked over to my right and he was out there somewhere, but not next to me anymore. - Author: Neil Young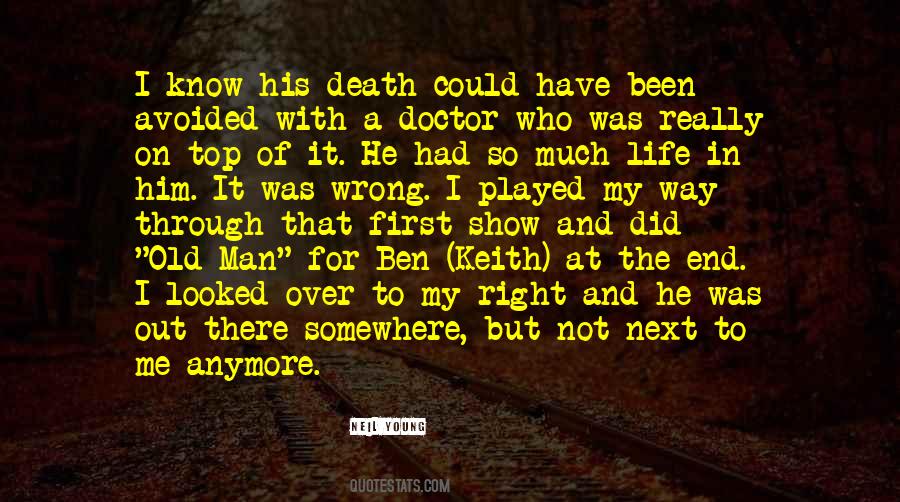 #85. Death is not the end. - Author: Patrick Ness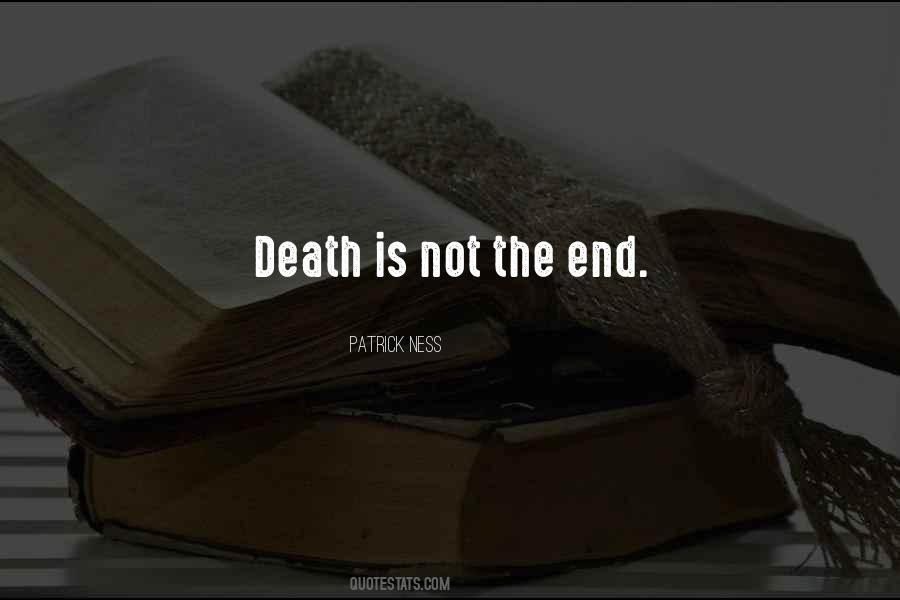 #86. Death is not the worst thing. It is His gift to us, and end to want and pain. On the day that we are born the Many-Faced God sends each of us a dark angel to walk through life beside us. When our sins and our sufferings grow to great to be borne, the angel takes us. - Author: George R R Martin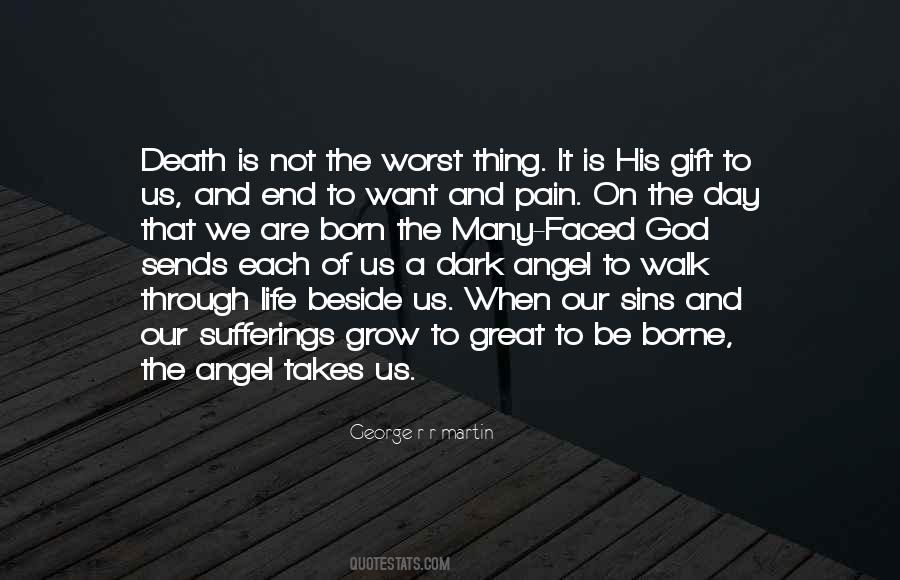 #87. death is not a pretty flower that had almost pricked me. It was not a small annoyance I could simply bypass and quickly disregard. It was really The End. - Author: Aspen Matis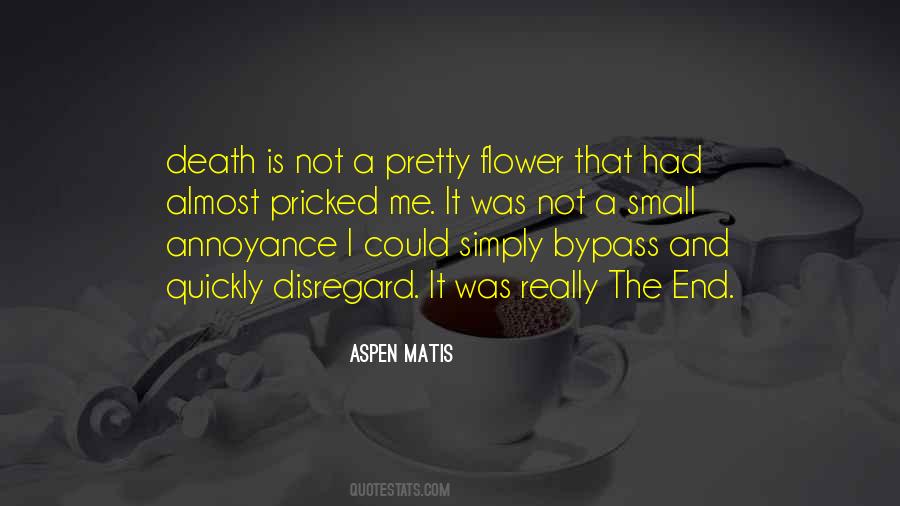 #88. You matter because you are you, and you matter to the end of your life. We will do all we can not only to help you die peacefully, but also to live until you die. - Author: Cicely Saunders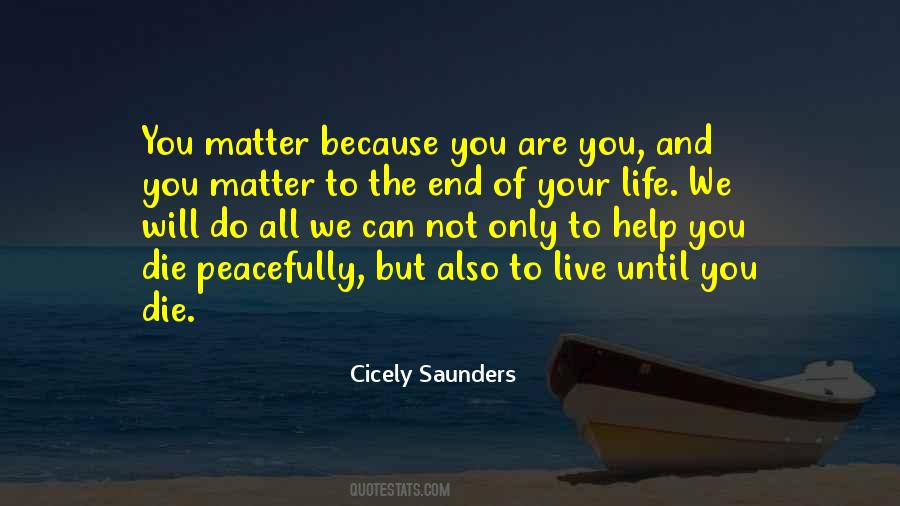 #89. This is the moment of the end. This is where we give up hope on reversing time, where we abandon finding a cure to death, where we live in this Theo-less universe, where we say goodbye. But I can't. It is goodbye for most, but not for me. Never me. - Author: Adam Silvera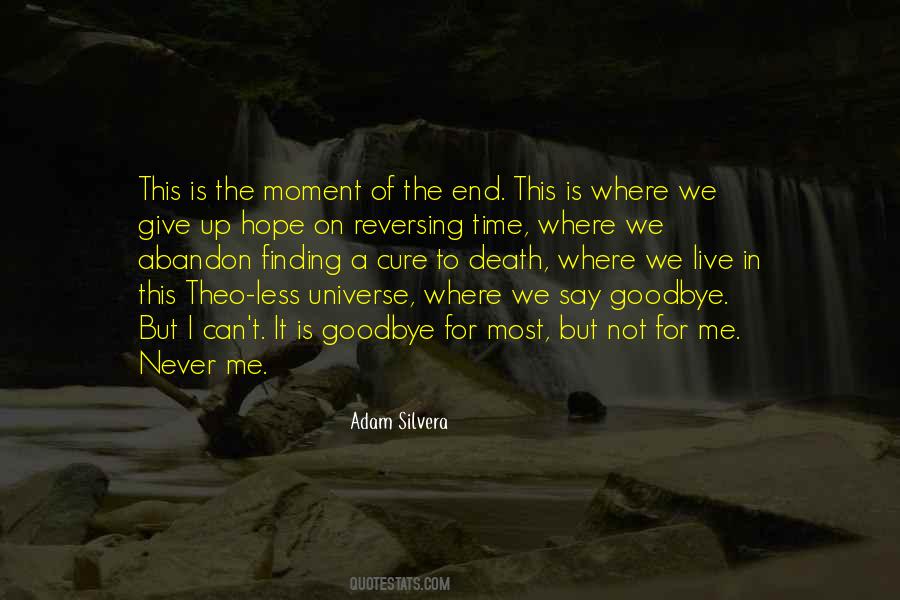 #90. The death of a man brings a stop to his life, but not an end to his destiny. When destiny is well fulfilled, impacts linger behind as at the time life goes to hide! - Author: Israelmore Ayivor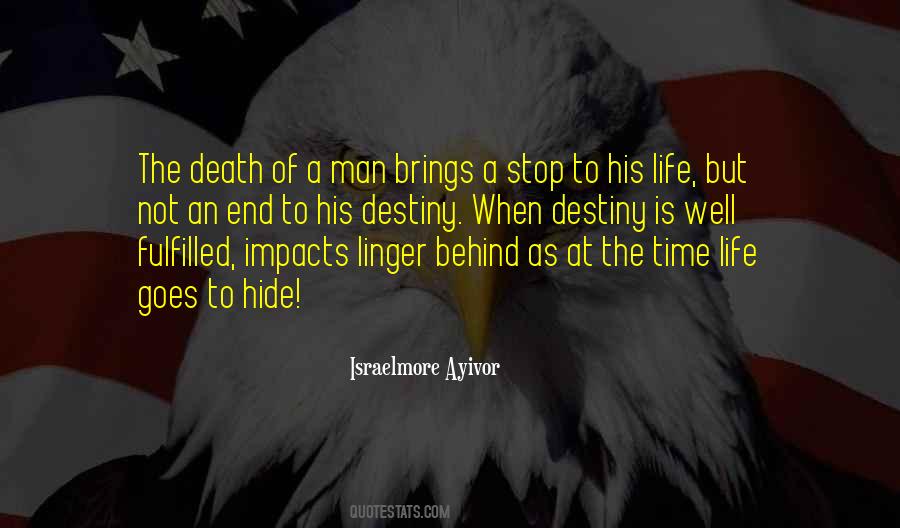 #91. Grieve not; though the journey of life be bitter, and the end unseen, there is no road which does not lead to an end. - Author: Hafez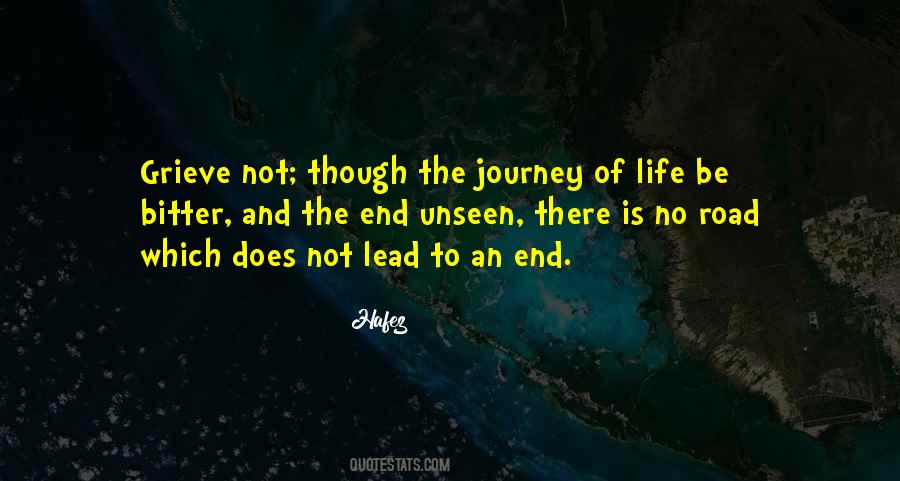 #92. Our ultimate goal, after all, is not a good death but a good life to the very end. - Author: Atul Gawande
#93. Time and death: It's the ultimate vision of an artist at the end of everything. It's just what's there. It was not something I planned to do. - Author: Don DeLillo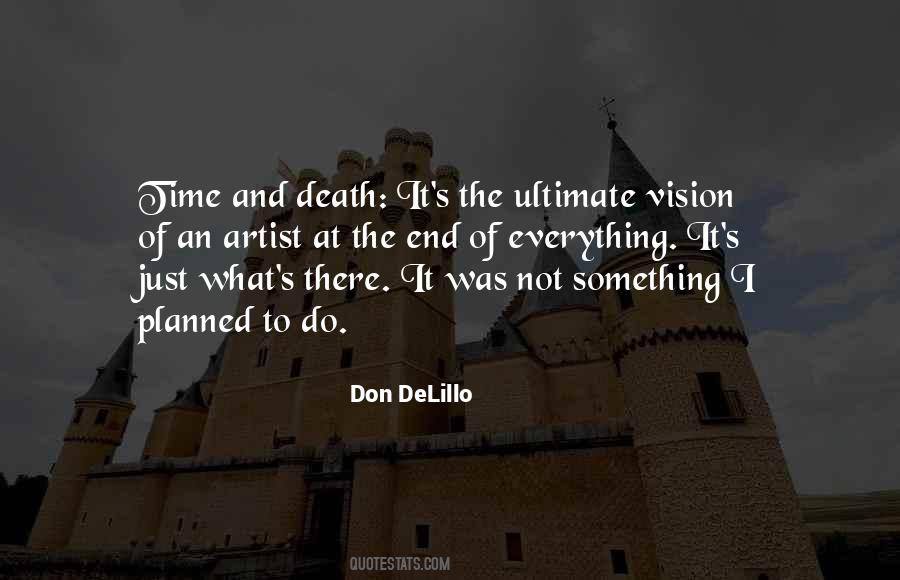 #94. She will not come back, but her beauty, her voice, will echo until the end of time. She believed in something beyond herself, and her death gave her voice power it didn't have in life. - Author: Pierce Brown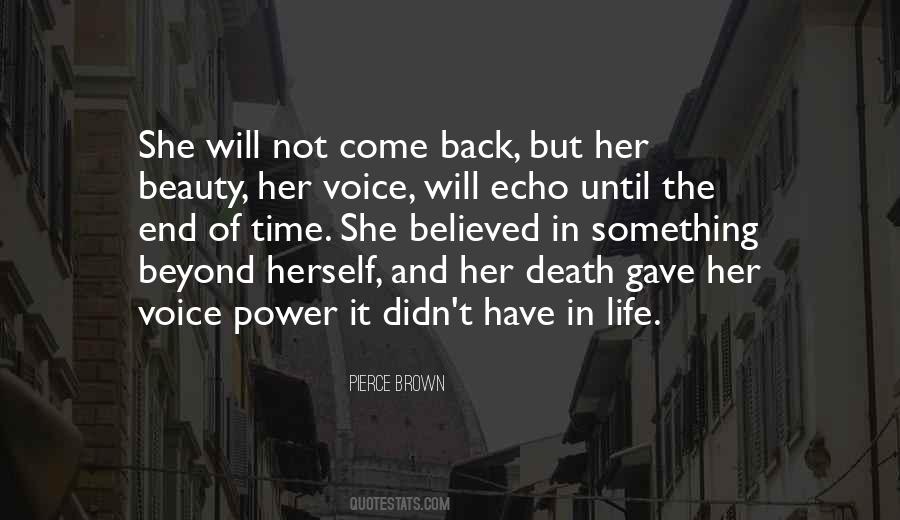 #95. Incontinent the void. The zenith. Evening again. When not night it will be evening. Death again of deathless day. On one hand embers. On the other ashes. Day without end won and lost. Unseen. - Author: Samuel Beckett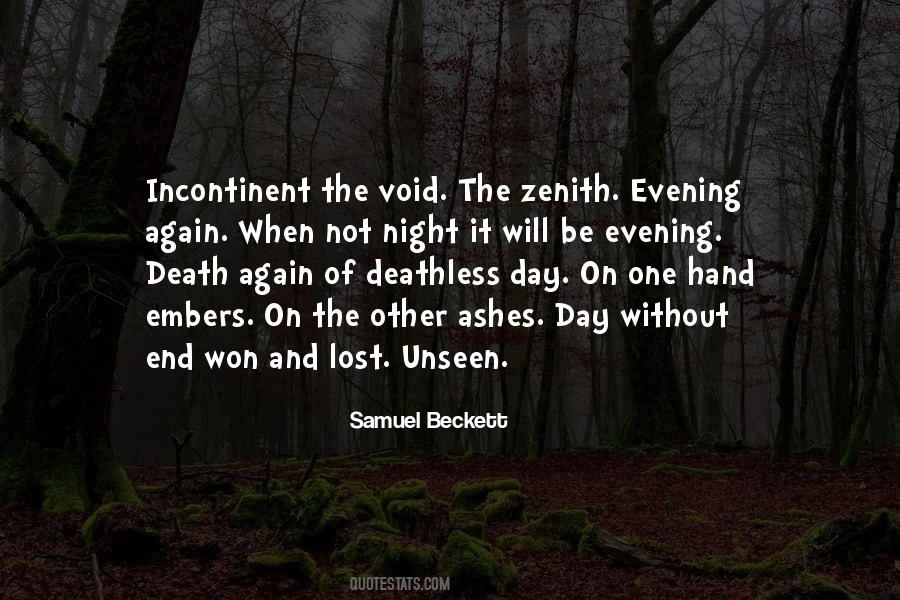 #96. Our death is not an end if we can live on in our children and the younger generation. For they are us; our bodies are only wilted leaves on the tree of life. - Author: Albert Einstein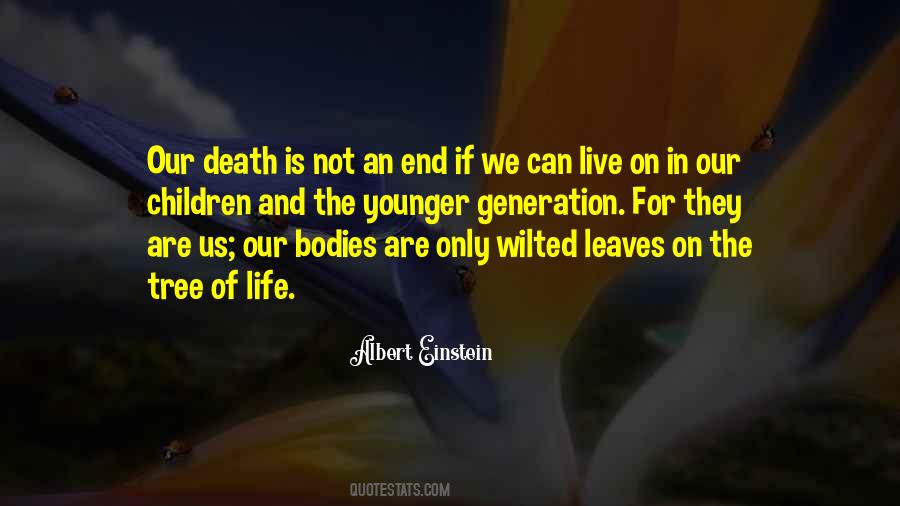 #97. Death, is not an end, but a transition crisis. All the forms of decay are but masks of regeneration
the secret alembics of vitality. - Author: Edwin Hubbel Chapin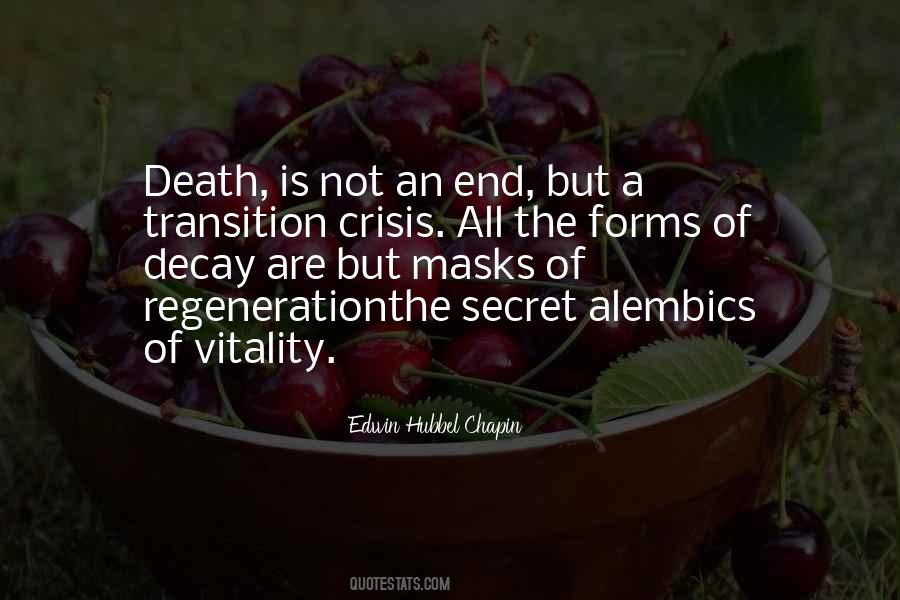 #98. Things we lose have a way of coming back to us in the end, if not always in the way we expect. - Author: J.K. Rowling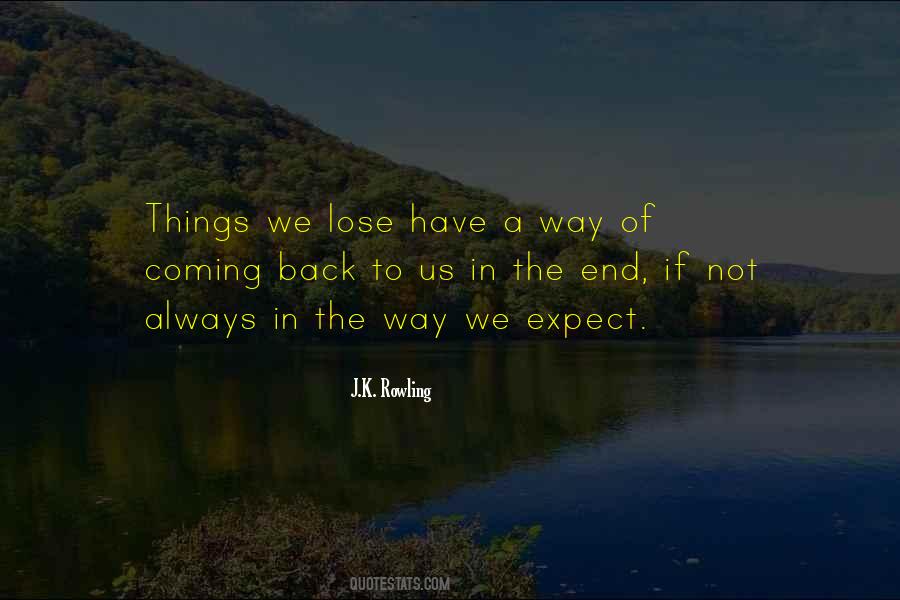 #99. His life was focused on each single day. For him each night meant a void, a grave, extinction. The capacity to lay oneself down to die at the end of every day, without thinking anything of it, was something he had not yet acquired. - Author: Robert Musil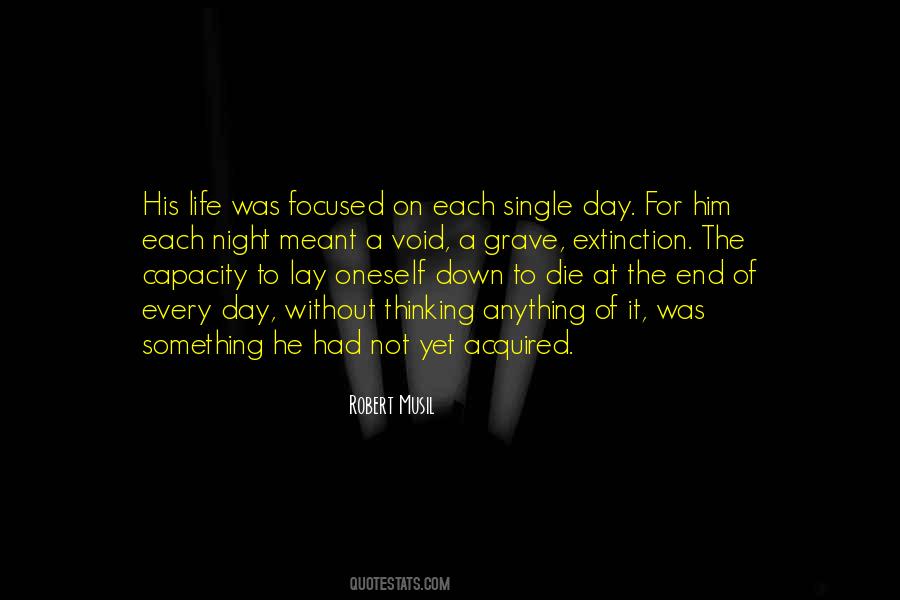 #100. To die quickly in one's eighth decade at the very top of one's powers is an enviable end, and not an occasion for mourning. - Author: Brendan Gill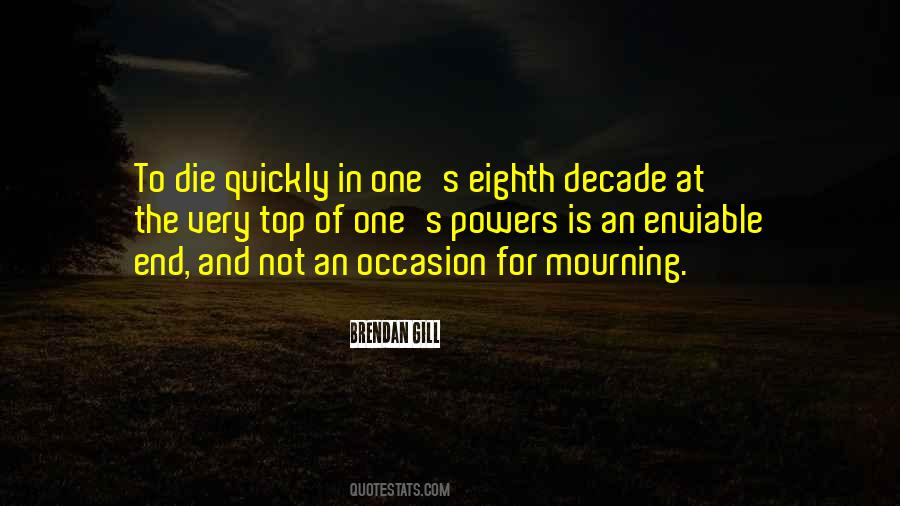 Famous Authors
Popular Topics