Day Work Famous Quotes & Sayings
List of top 100 famous quotes and sayings about day work to read and share with friends on your Facebook, Twitter, blogs.
Top 100 Day Work Quotes
#1. Unfortunately, daily routine is the last thing I have with all three kids, family life, work, foundation, and the amount of travel that I do! So truly, what I try to do to keep myself centered is take breaths in between and before I start a new thing throughout the day. - Author: Camila Alves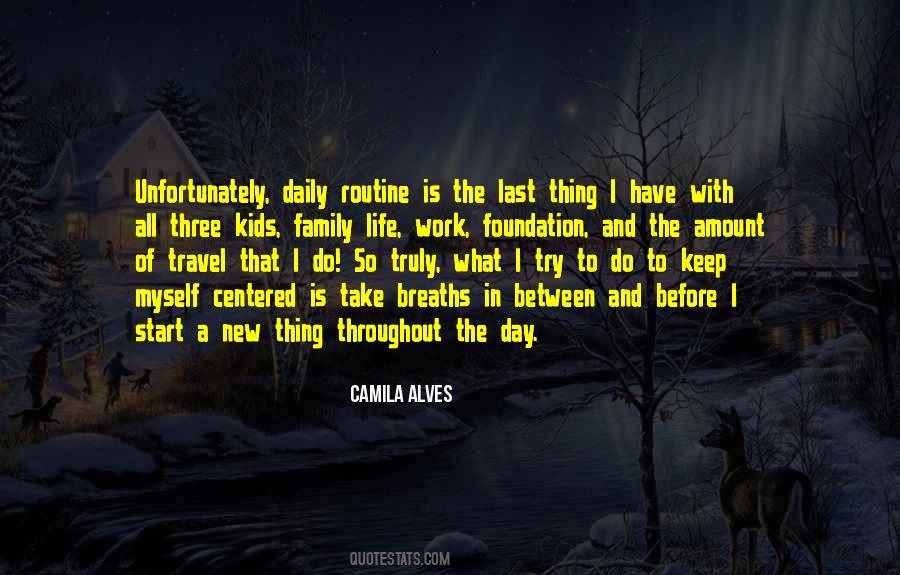 #2. I think it's easiest to teach by example. My dad didn't tell us to work hard; we just saw how hard he worked. I know I have shortcomings - like a short fuse - but I've learned you can't come home from a long day of work and snap at the kids. - Author: Chris O'Donnell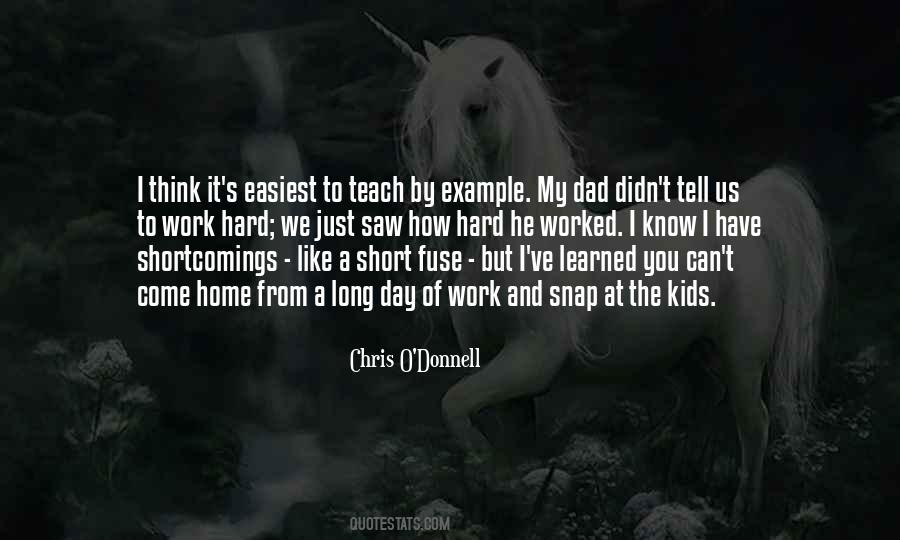 #3. Now that all writers everywhere are contractually obligated to blog and tweet all day long, who has time to work on a book? - Author: Dan Savage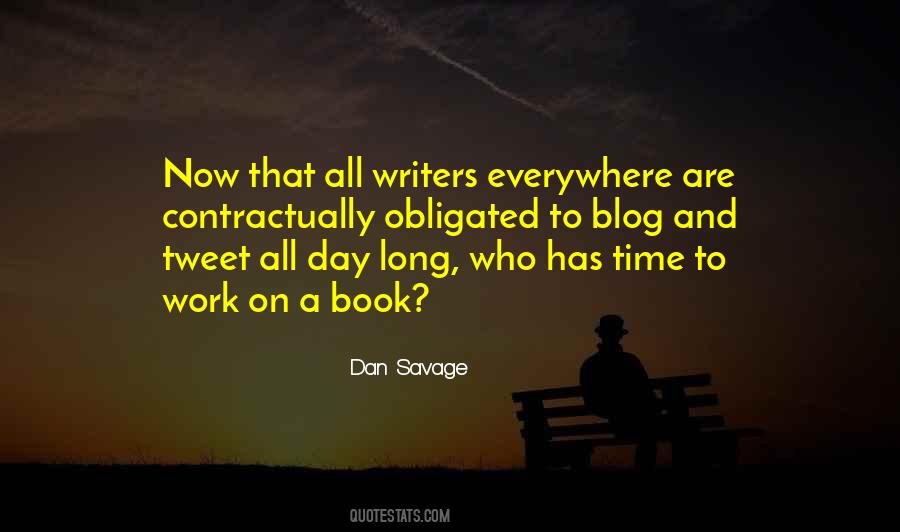 #4. You've got to have as many good times as bad, or it all becomes too painful and too much work. - Author: Sylvia Day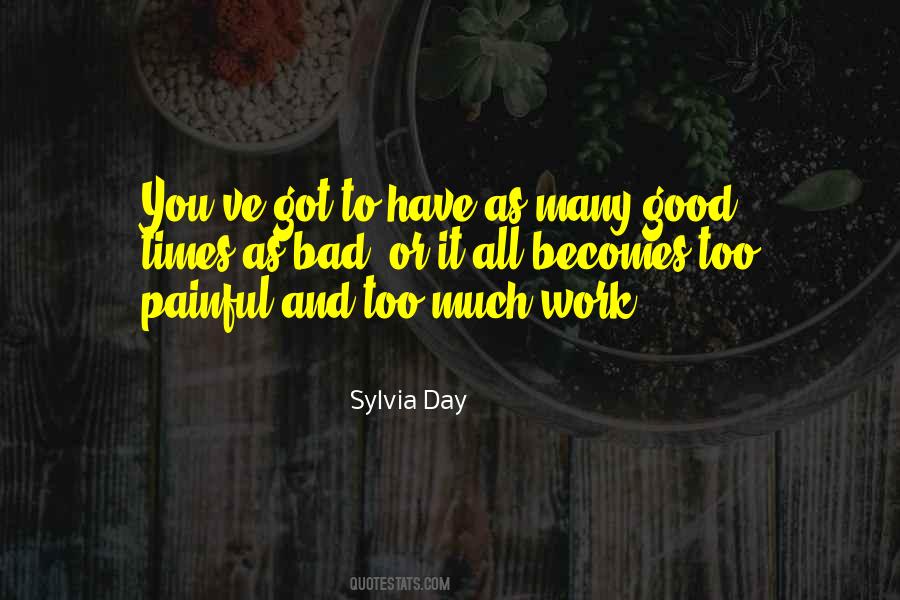 #5. Except when she was at work, no one knew where she was at any time of day and no one waited for her. It was an immaculate anonymity. - Author: Alice Sebold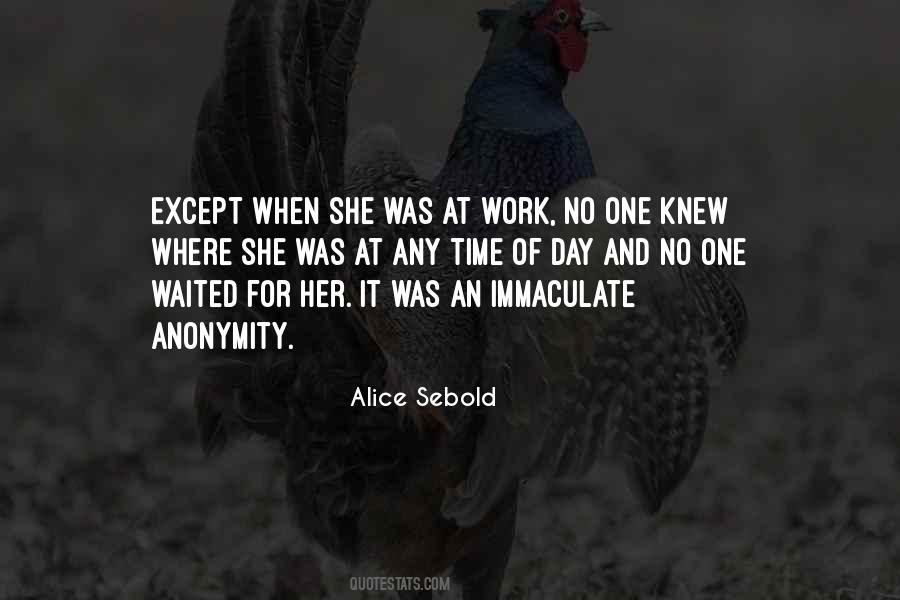 #6. You are a work of art. - Author: Steven Morrissey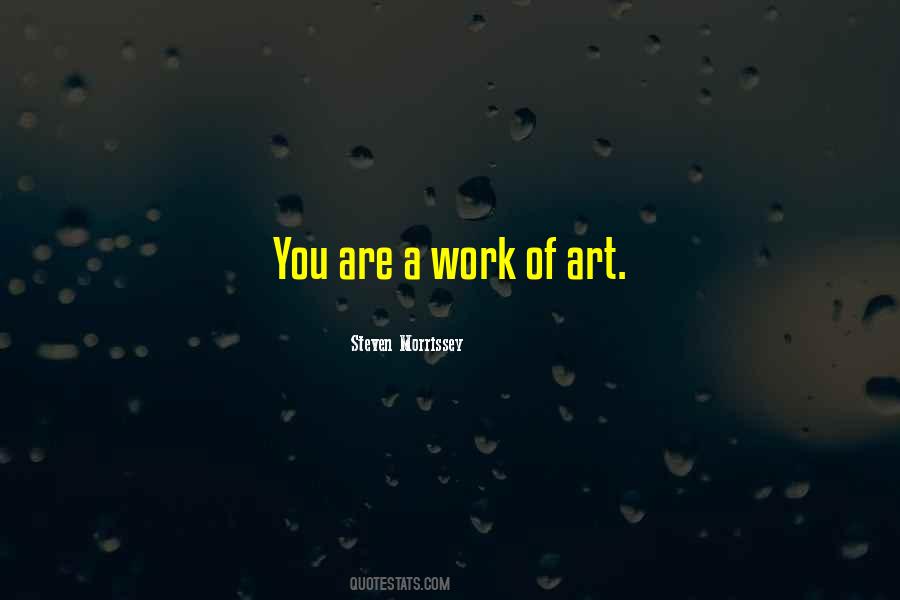 #7. I don't worry about maintaining the quality of my life, because every day I work on improving it. - Author: Tony Robbins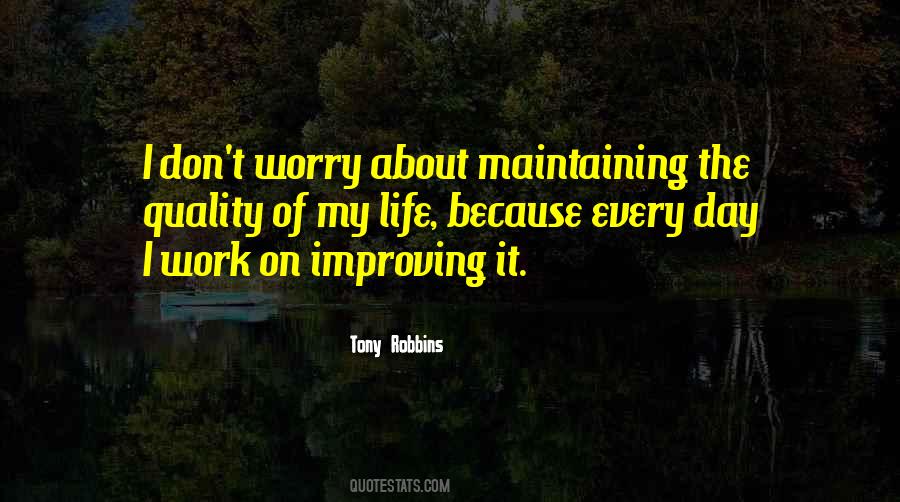 #8. I work pretty much every day. I can't really separate it from life, so I guess the work is my life. - Author: Henry Rollins
#9. If you are at all successful in your business, be prepared to never have another good day or bad day at work. There will be so many things - good and bad - happening on any given day that you will be on a roller coaster of highs and lows. If that excites you, then go for it. - Author: Tom Szaky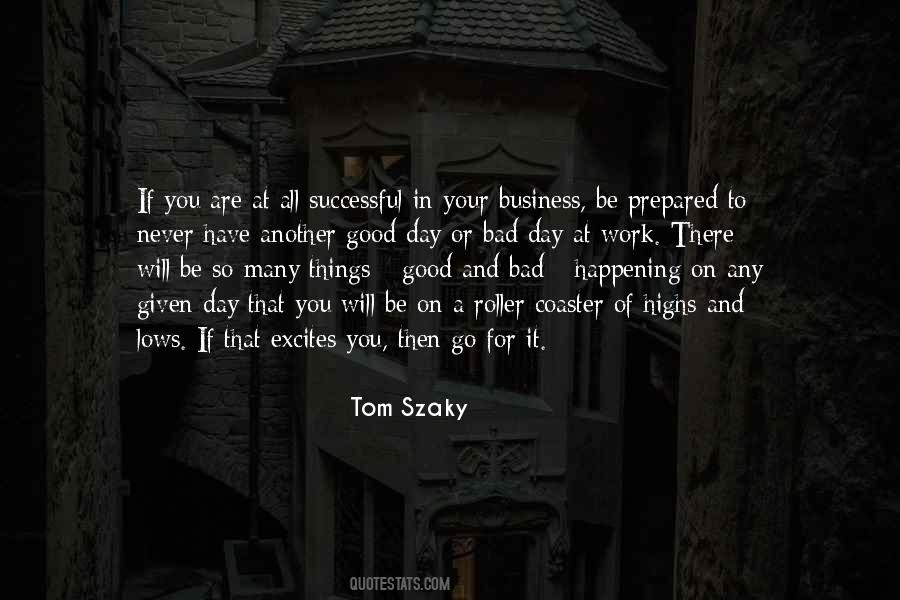 #10. It feels kind of cool to come back from work every day without having killed anybody. - Author: Hallgrimur Helgason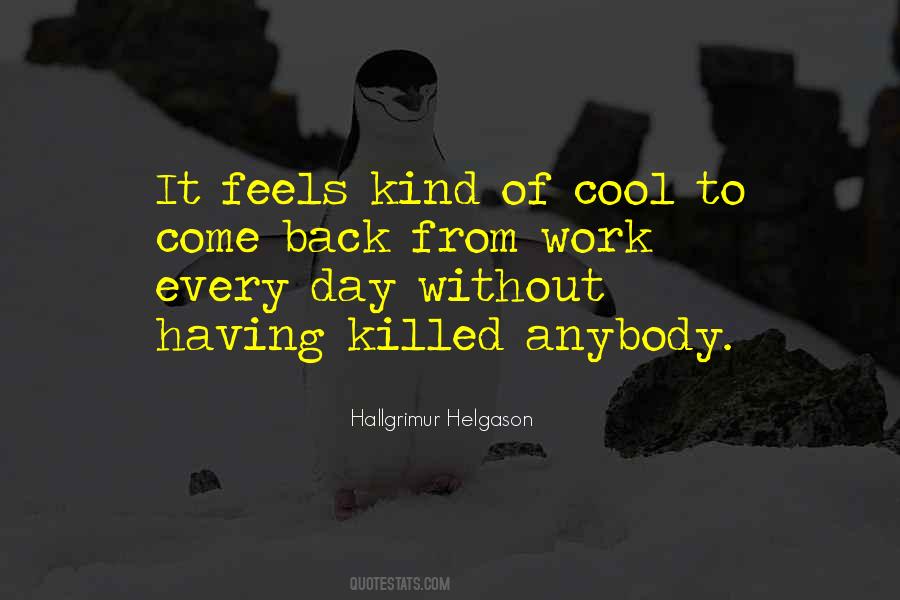 #11. If it were possible for any one person or group of persons to go through a photographic finishing plant's work at the end of a day, you could probably pull out the most extraordinary photographic exhibition we've ever seen. On almost any subject. The trouble is to find the things. - Author: Edward Steichen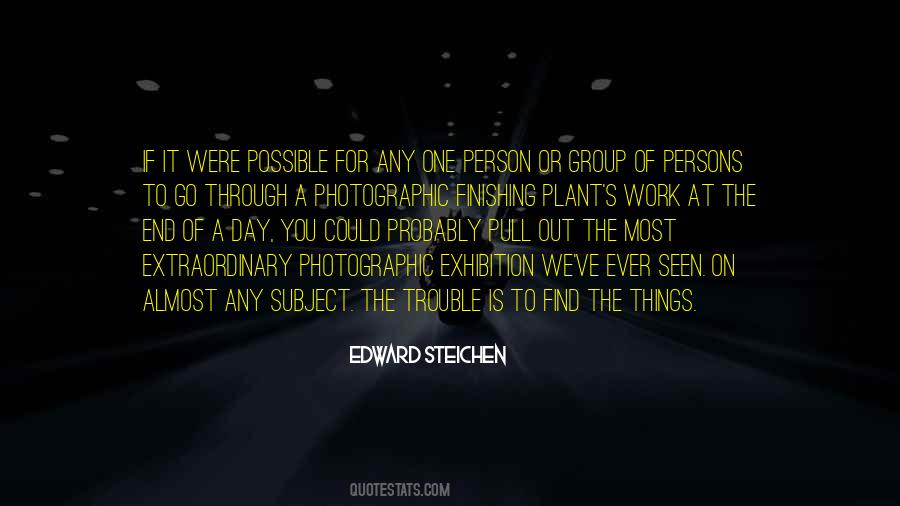 #12. I would love to work with my sister in a movie one day - like play sisters or something like that, because we've never been on-screen at the same time together. - Author: Elle Fanning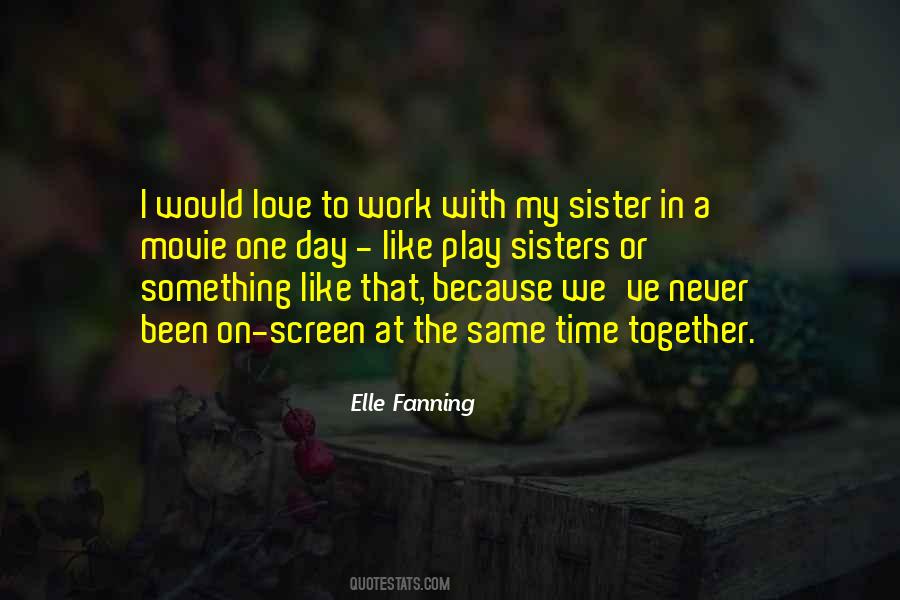 #13. The day I showed up to South Carolina to work, I was with my kid and my ex and our dog and Kirk was hanging with this weird guy and I kind of defined the two of them by his friend and made a vow to avoid him. - Author: Donal Logue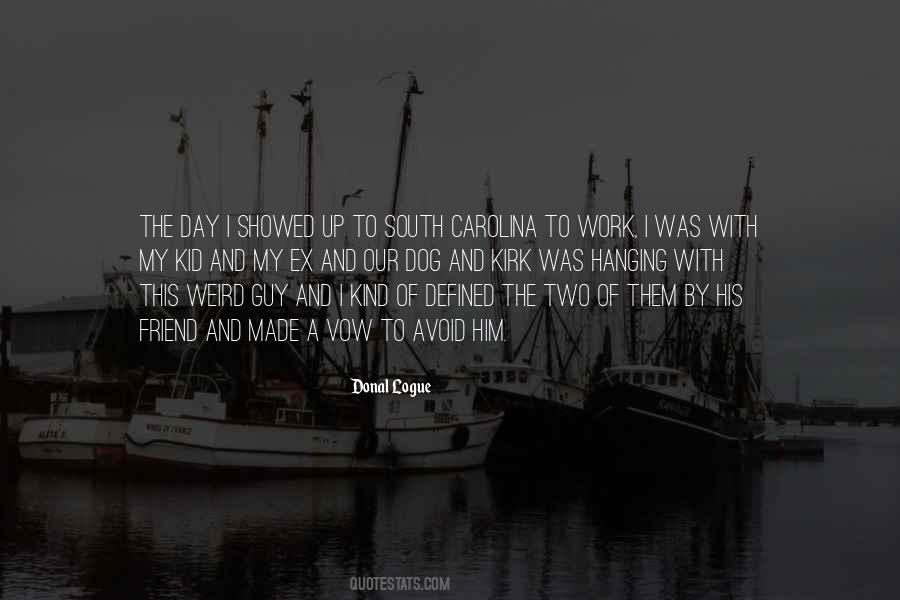 #14. The criterion of action is that todays work should not be deferred till the following day. - Author: Umar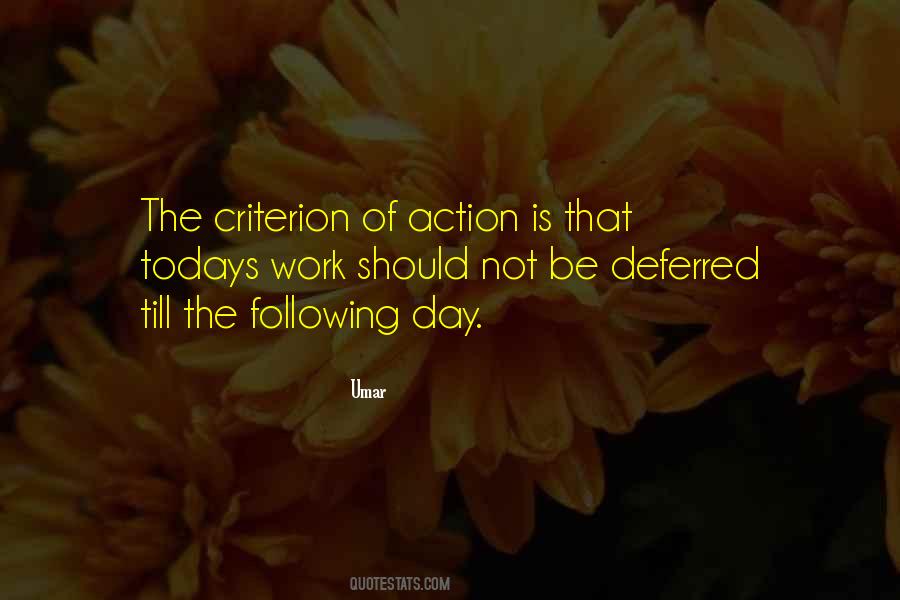 #15. The actual time you're acting is miniscule compared to the time you're getting ready to do the work. The big difference on series television is, there's not a lot of hanging-out time. You're pumping those pages out, you're doing six, seven, eight pages a day. And I like that pace. - Author: Joe Mantegna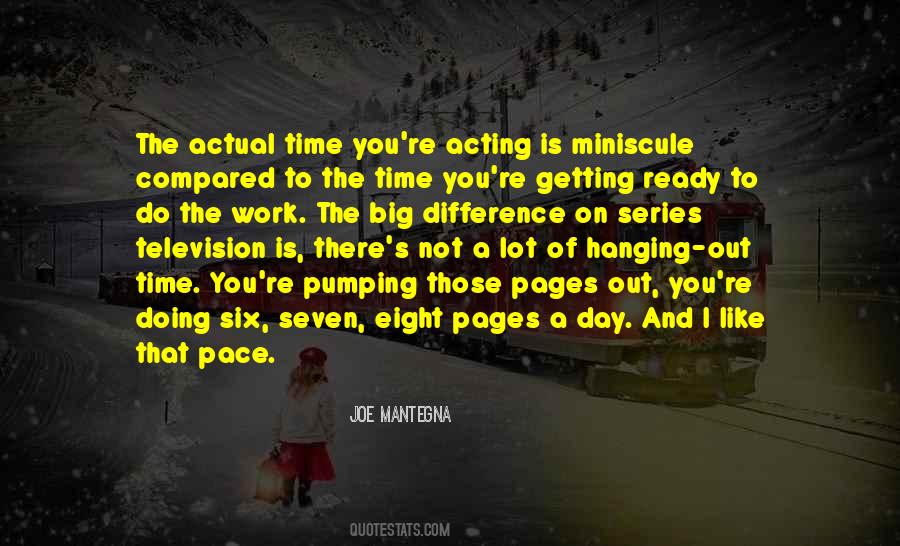 #16. Usually I get up early every morning and from 6:00 to 10:00 I write. The rest of the time I study and prepare my work or I do other things. But four hours a day are exclusively devoted to writing. - Author: Elie Wiesel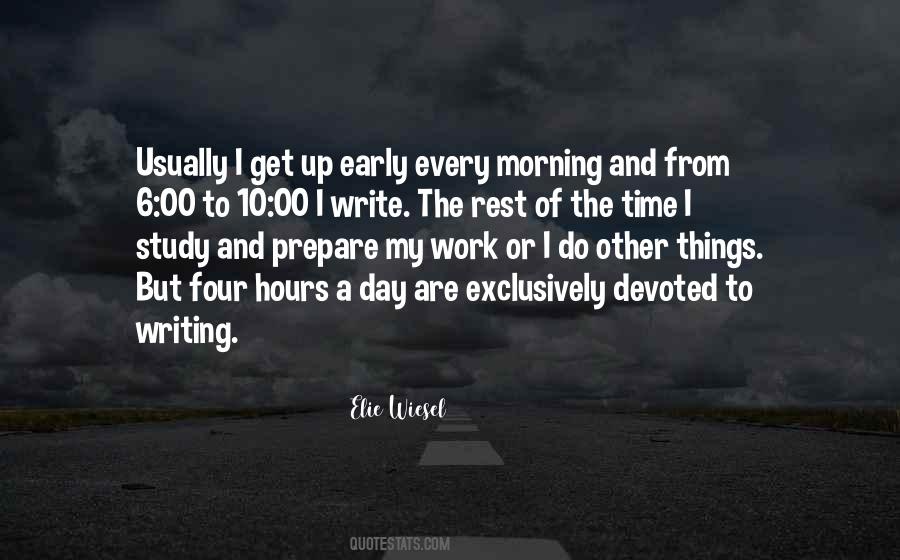 #17. You can film me 24 hours a day and you'll get a very accurate picture of who I am. You see the funny side, I work hard, and I try to be honest and just call it how it is. - Author: Lisa Vanderpump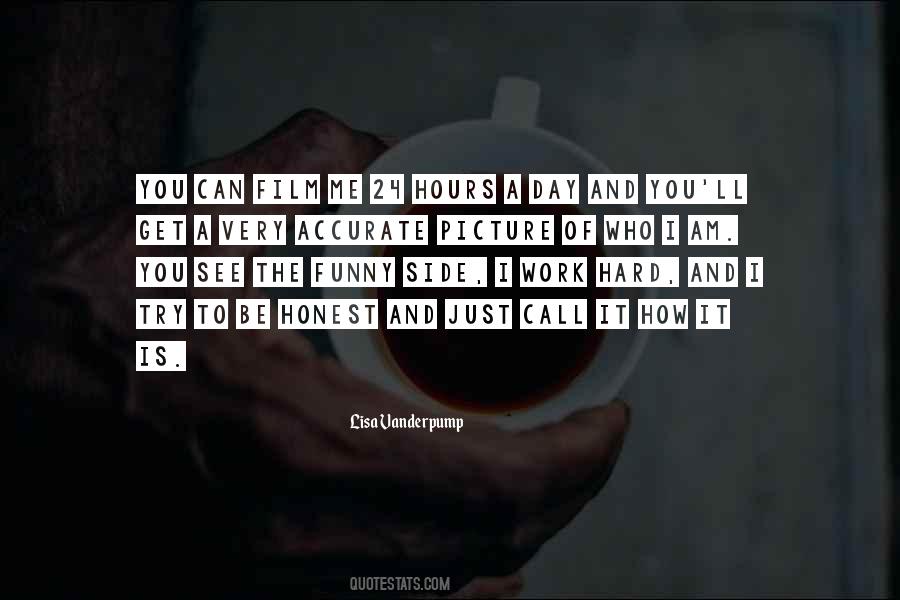 #18. I take care of myself. I work out every day. I eat healthy. But I like to have fun too. - Author: Victoria Beckham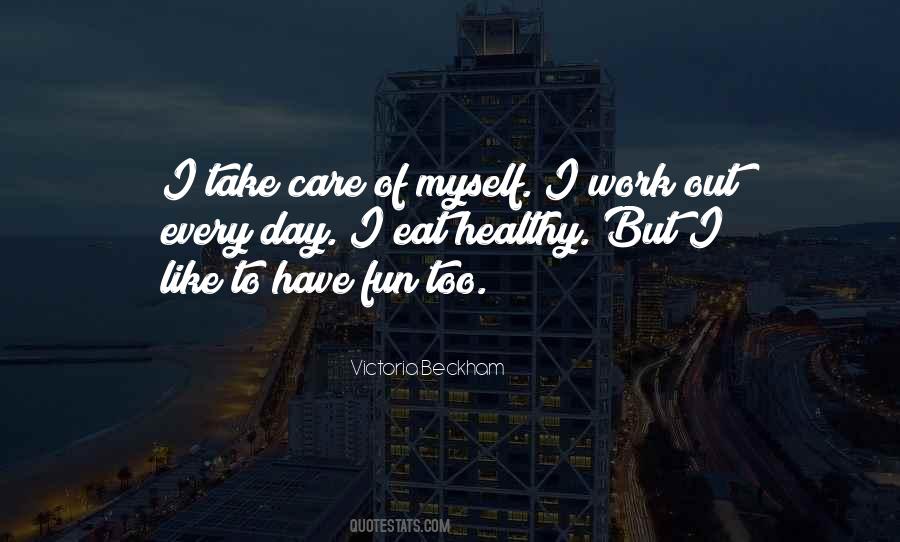 #19. So often, we leave the selfless side of ourselves for nights and weekends, for our charity work. It is our duty to inject that into our day-to-day business, into the work that we do, to improve corporations, to improve civil society, and to improve government. - Author: Leila Janah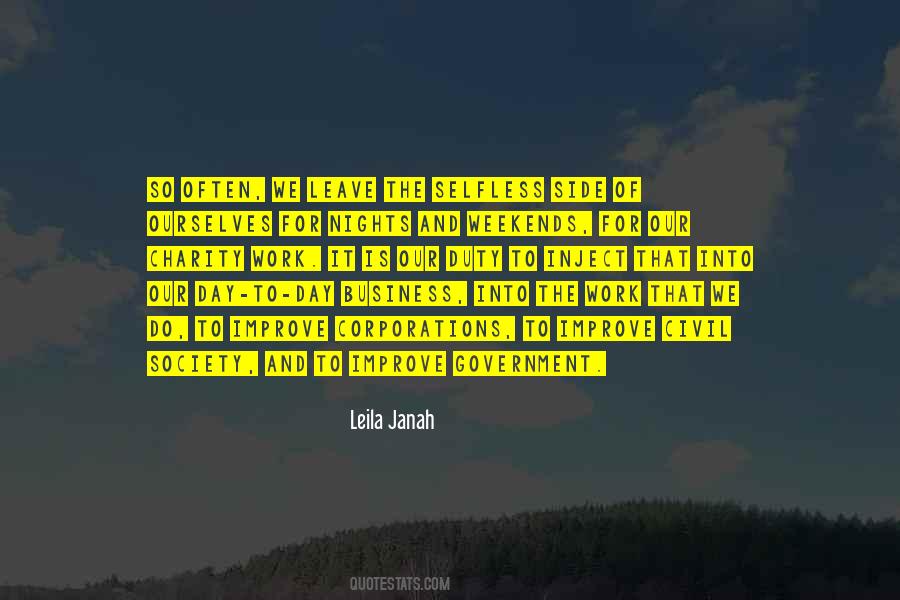 #20. Every day is an opportunity to learn something or discover something or someplace. Be curious, play, go out on a limb, walk a different way to work, try a new food at dinner and keep learning and growing. - Author: Sandra Magsamen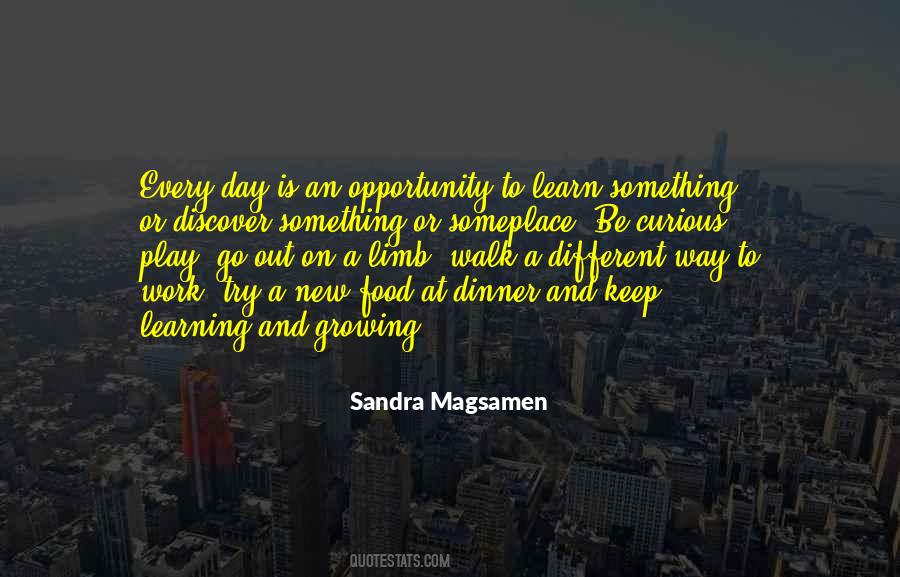 #21. Every day we bear witness to each woman's knowledge of holding the profound power to decide whether or not to allow the life within her to come to term. The sharing of those moments makes abortion work sacred. - Author: Merle Hoffman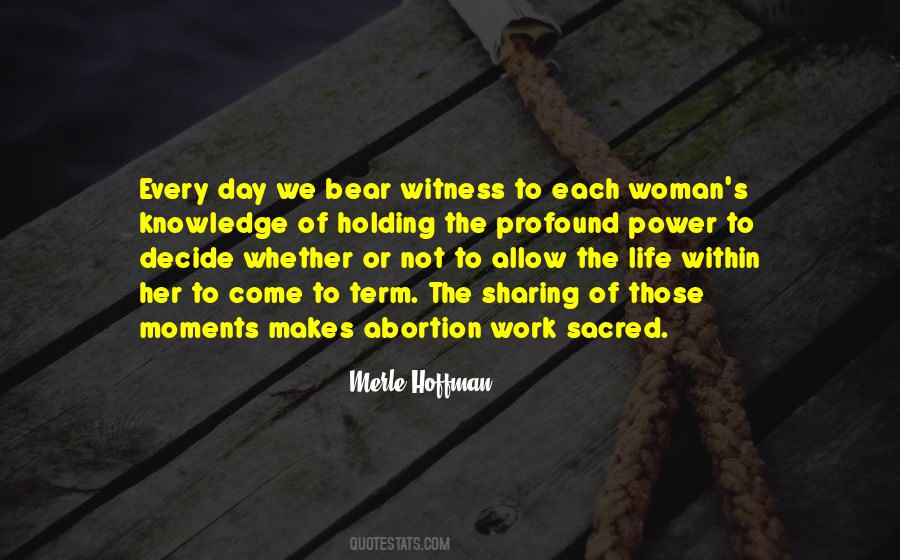 #22. It was good work, the kind of work that let you sleep soundly at night and, when you awoke, look forward to the day. - Author: Jeannette Walls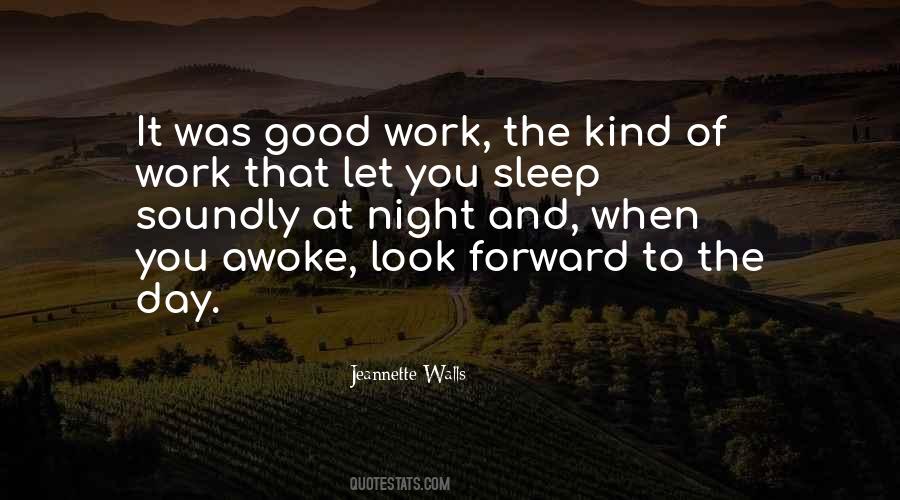 #23. Somethings you know right away to be final- when you lose your last baby tooth ... Other times, you have to work out the milestone via subtraction, a math you do to assign significance, like when I figured out that I'd just blown through my last-ever wednesday with Mom on the day after she died. - Author: Karen Russell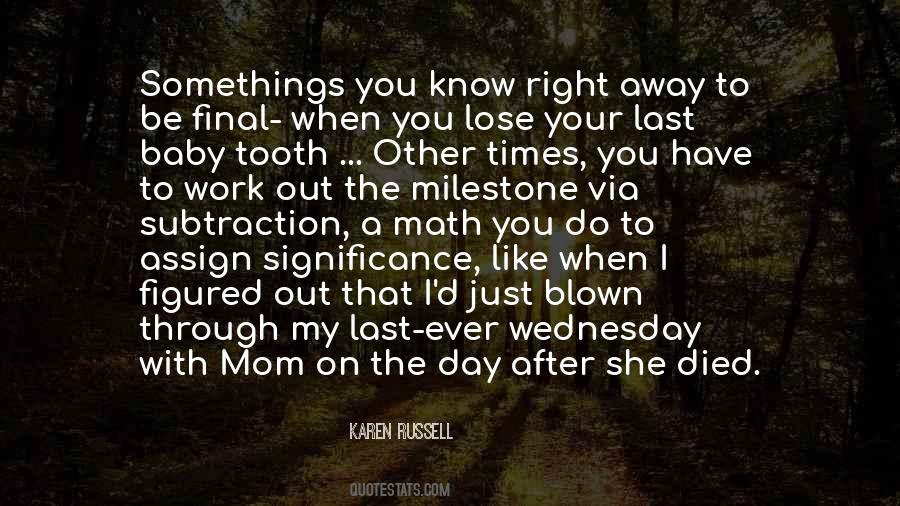 #24. I feel pressure every day. It is only pressure that I put on myself, but I would expect all professional sportspeople to feel pressure to perform their best whenever they are at work. - Author: Tony McCoy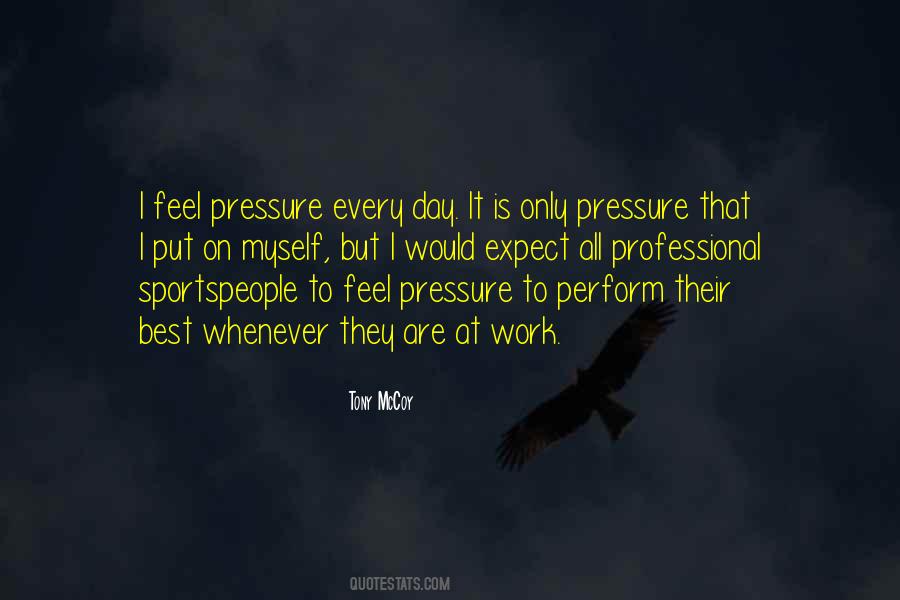 #25. People support me because they know me. They know my life's work. They have worked with me and many have also worked with Senator [Bernie] Sanders. And at the end of the day they endorse me because they know I can get things done. - Author: Hillary Clinton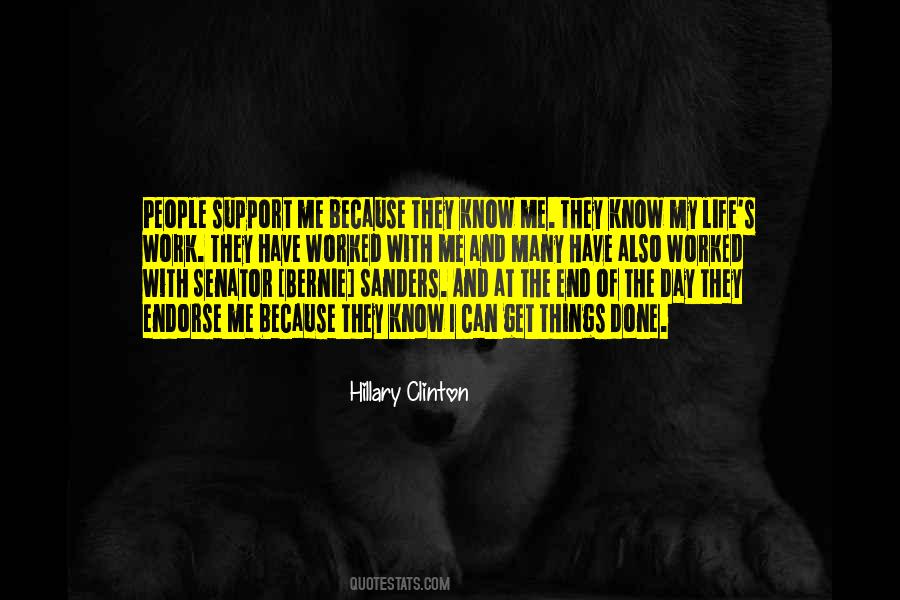 #26. Nothing worth while comes easy. Hard work just makes you appreciate it more. - Author: Constance O'Day-Flannery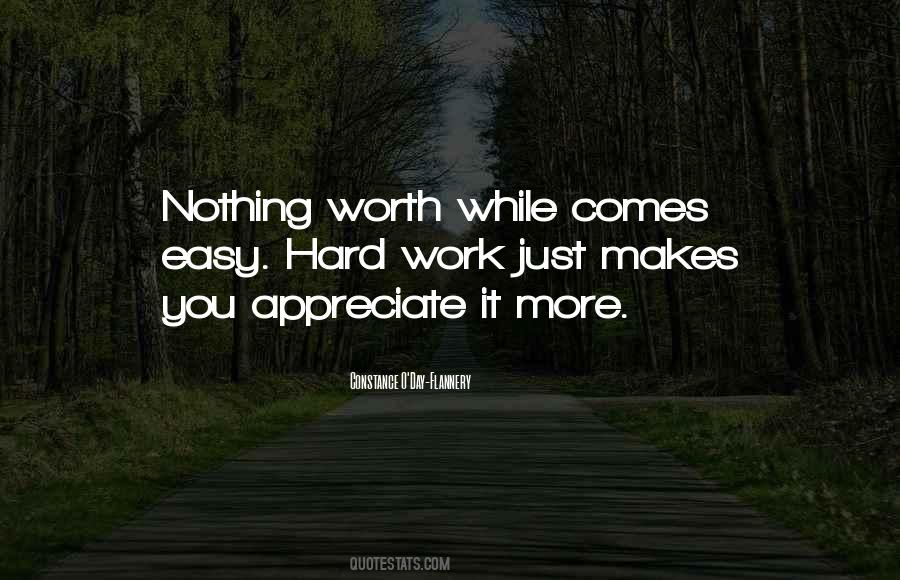 #27. Write a little bit every day, each day. Visit it, every day - in other words, show up for work. - Author: Richard Bausch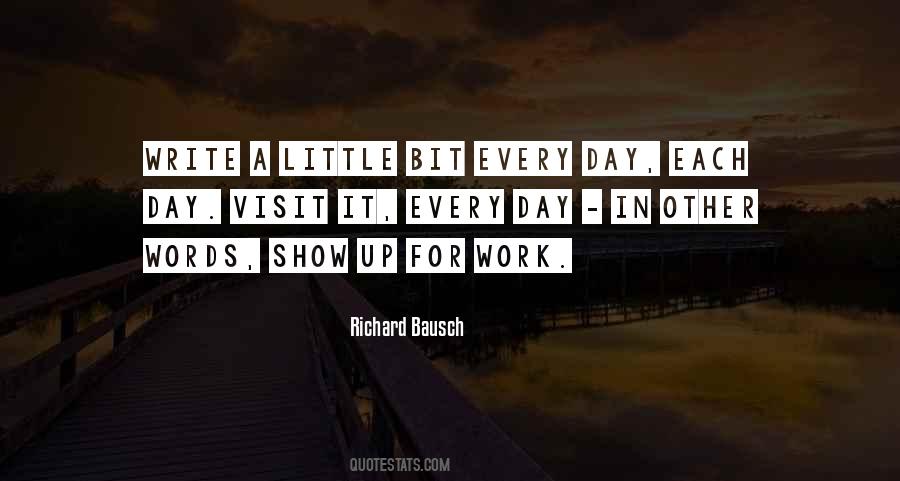 #28. It's a luxury being able to work every day in the streets of Manhattan. It doesn't get much cooler than that. When you move to New York, that's exactly what you dream of. And I'm doing it. - Author: Kelli Giddish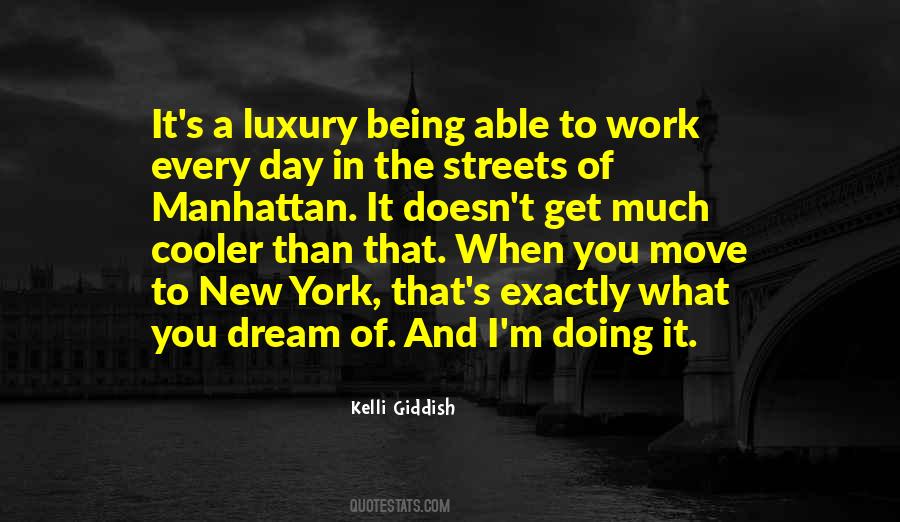 #29. I can't re-examine work I did in the past with pride. - Author: Daniel Day-Lewis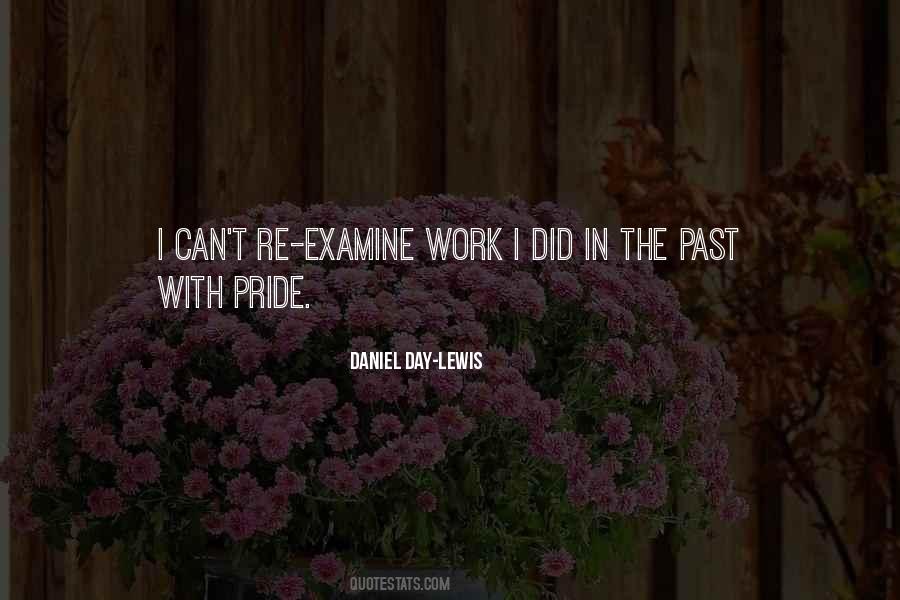 #30. You have to enjoy your job; you should wake up every day and love what you do ... I honestly do ... From the bottom of my heart to the depths of my soul. I'm truly happy. - Author: Aaliyah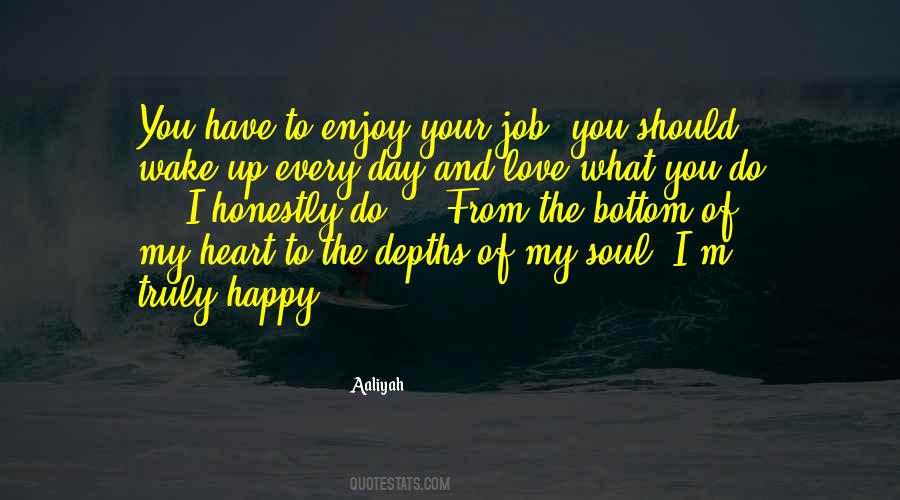 #31. The nomadic lifestyle does work for a lot of working parents, but I've traveled and I've seen it, and I want to be able to go home at night and see my daughter. I want to be there for her first day of school and her school recital. Honestly, television is what offers me that. - Author: Sarah Michelle Gellar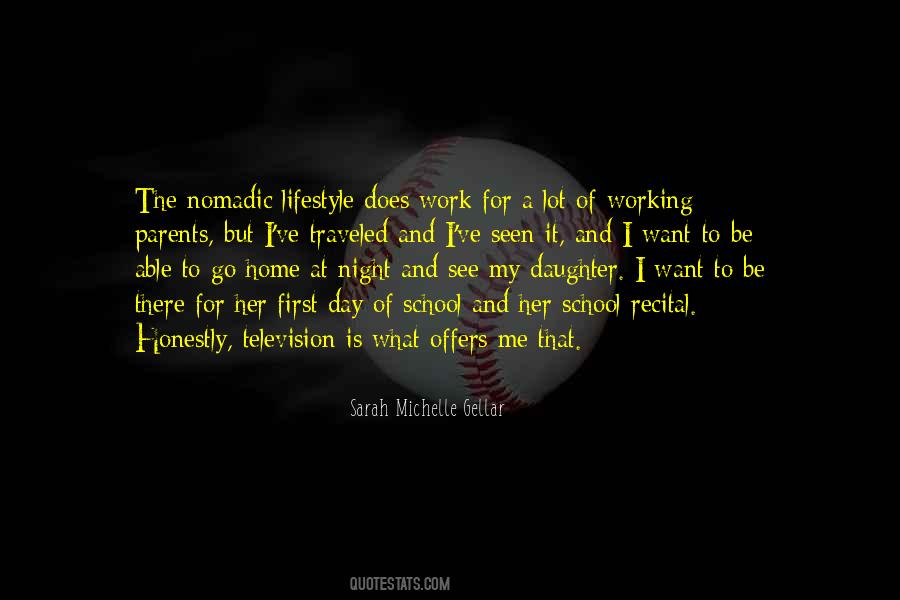 #32. I probably have about four or five cups of coffee a day. I make myself an espresso macchiato when I wake, which is a shot of espresso and just a dollop of steamed milk. Then, if I'm going to do some work at home, I would make myself a French press. It's the best way to make conventional coffee. - Author: Howard Schultz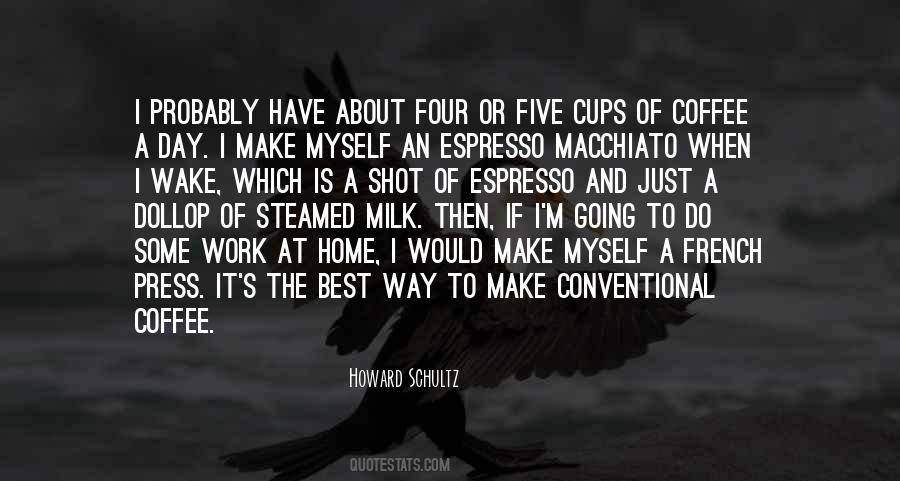 #33. If you do your fair day's work, you are certain to get your fair day's wage - in praise or pudding, whichever happens to suit your taste. - Author: Alexander Smith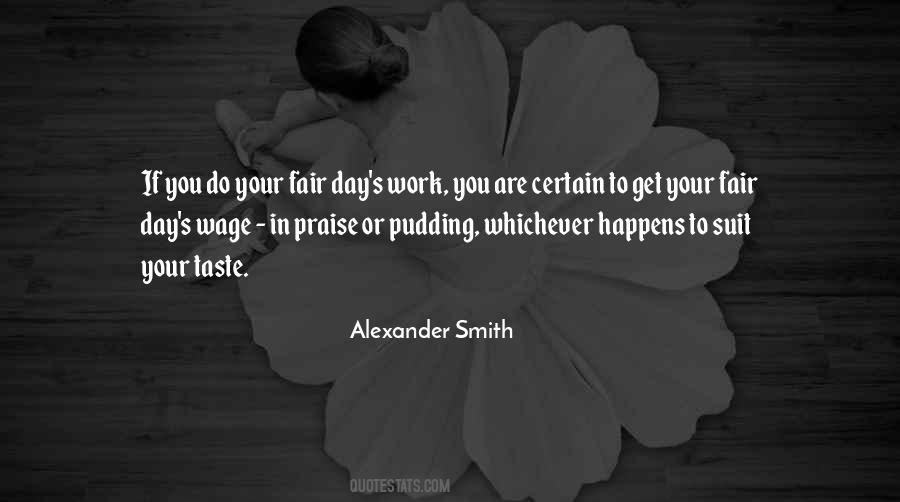 #34. The "Excellence Standard" is not about Grand Outcomes. In Zenlike terms, all we have is today. If the day's work cannot be assessed as Excellent, then the oceanic overall goal of Excellence has not been advanced. Period. - Author: Tom Peters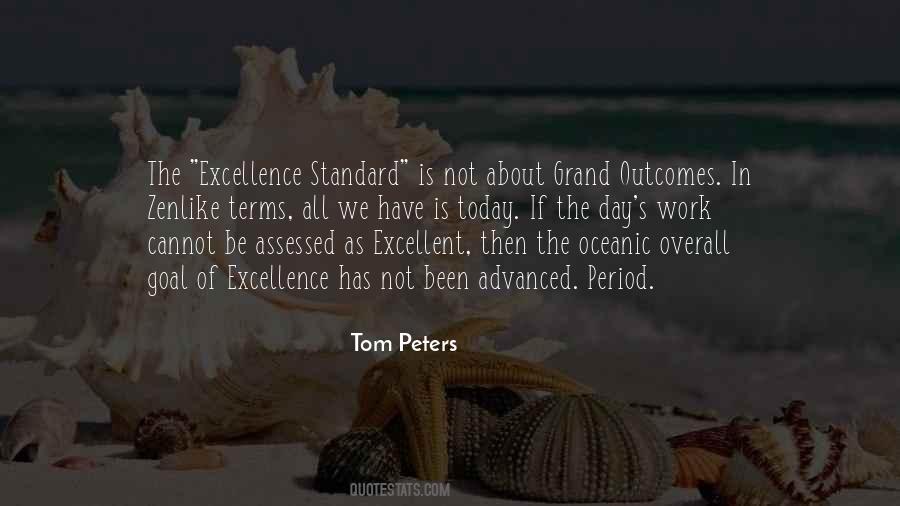 #35. I use computers and the Internet every day of my life, and yet I have absolutely no idea how they work. I'm like a labrador watching 'The Matrix.' - Author: John Niven
#36. As a mother, I work hard every day and I expect that work to be recognized and appreciated. Because I work for and with human beings, sometimes they're grateful and sometimes they aren't. - Author: Margaret Heffernan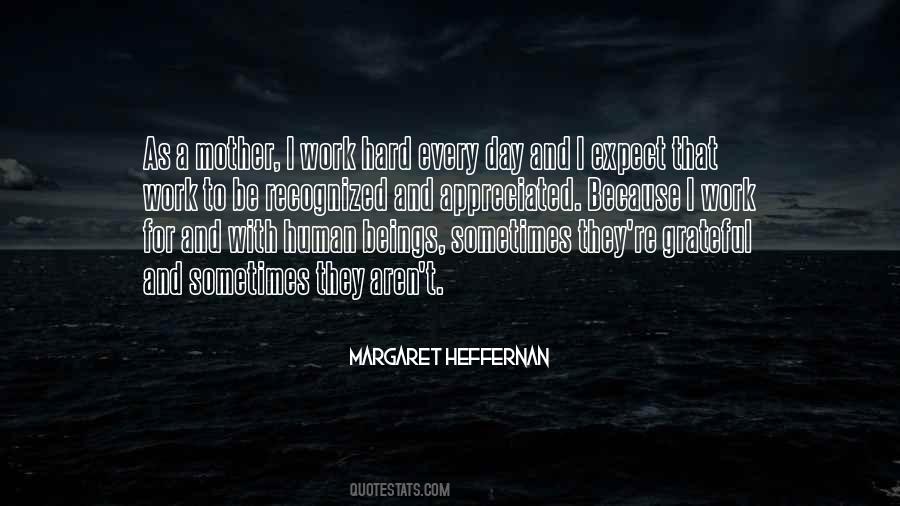 #37. You should go to work every day a little bit nervous. - Author: Alexa Von Tobel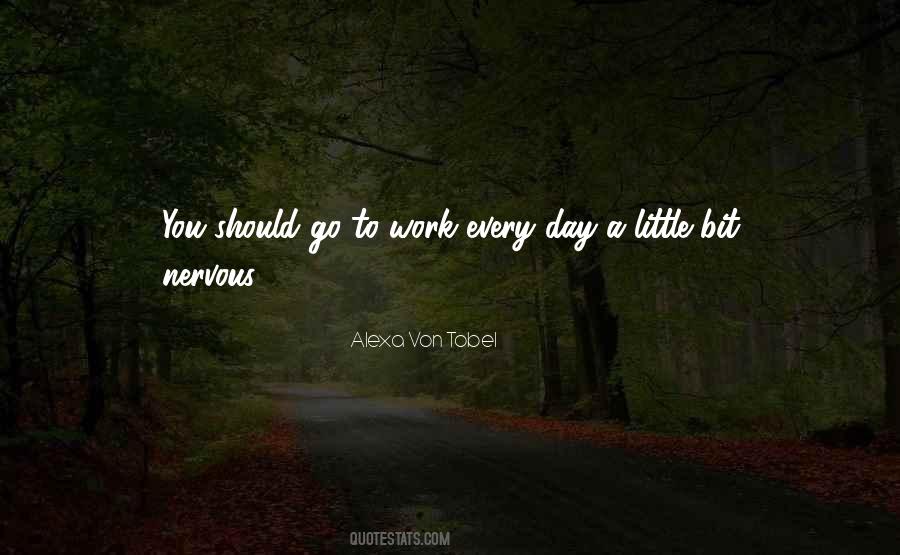 #38. I used to write my books at night when I was a freelancer with no children. I used to really work in huge spurts - I could turn around a revision in two weeks, I used to be able to write 10,000 words a day. It's like, 'Wow, what happened to that?' That's just gone. - Author: Melissa De La Cruz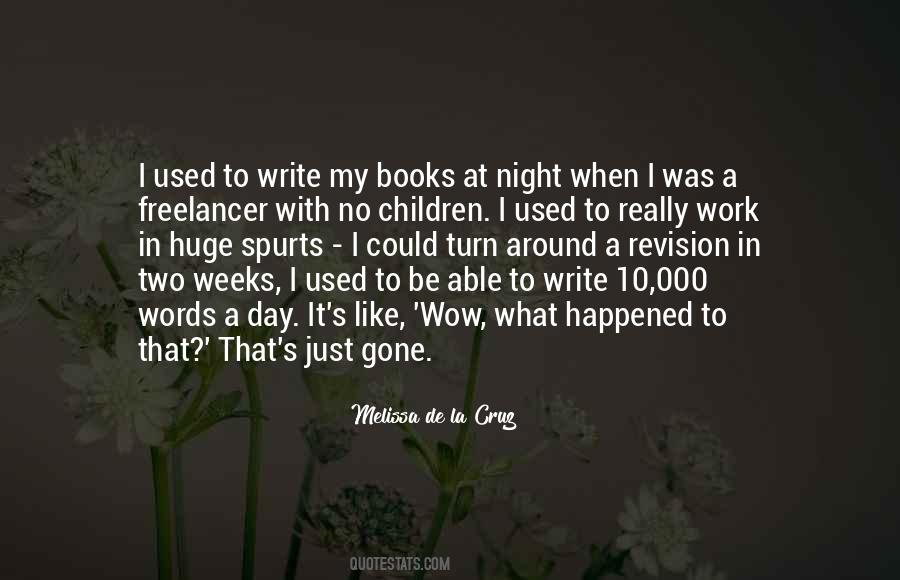 #39. When you work alone at home, time can become shapeless. There are no eleven o'clock meetings or afternoon coffee breaks. The light outside may clue me in to what part of the day it is, but if all is going well, the hours bleed together. - Author: Isabel Gillies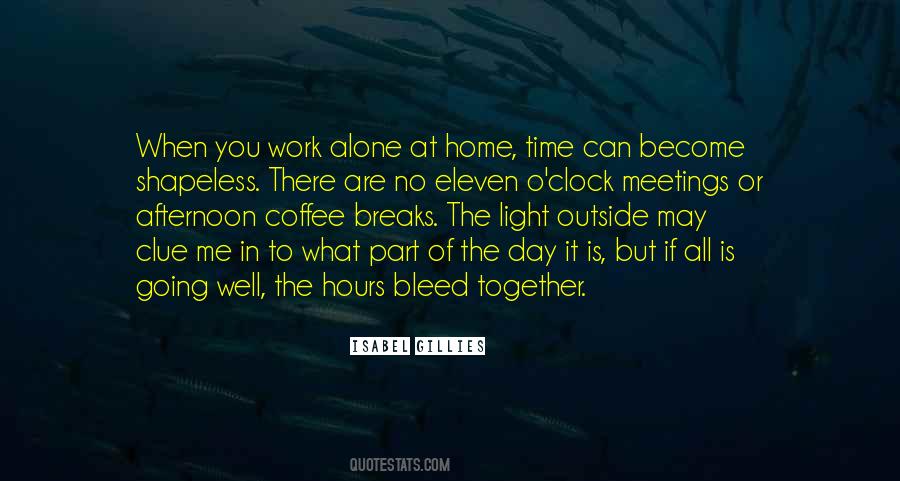 #40. The friend of God must not spend a day without God, and he must undertake no work apart from his God. - Author: Charles Spurgeon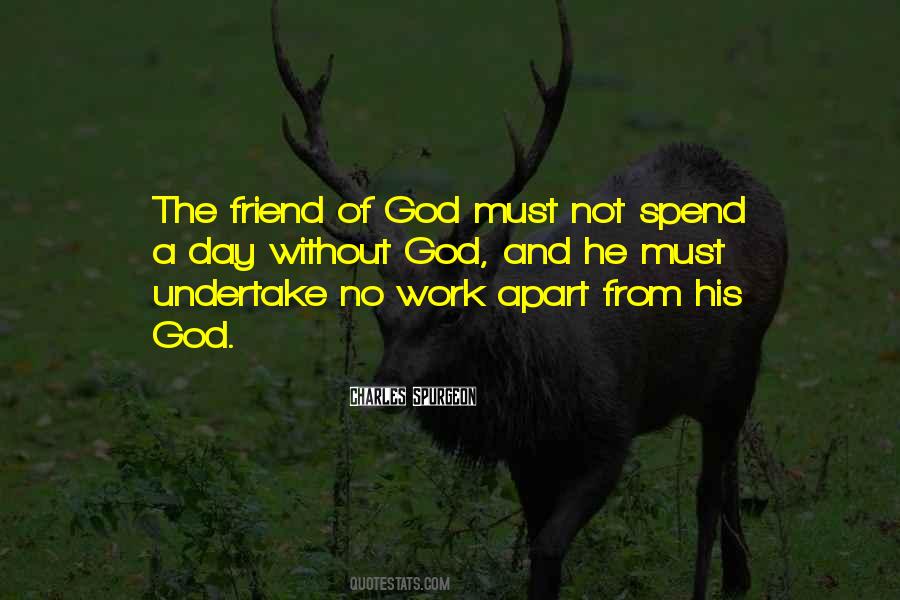 #41. You have to do the planed work the day - Author: Sunday Adelaja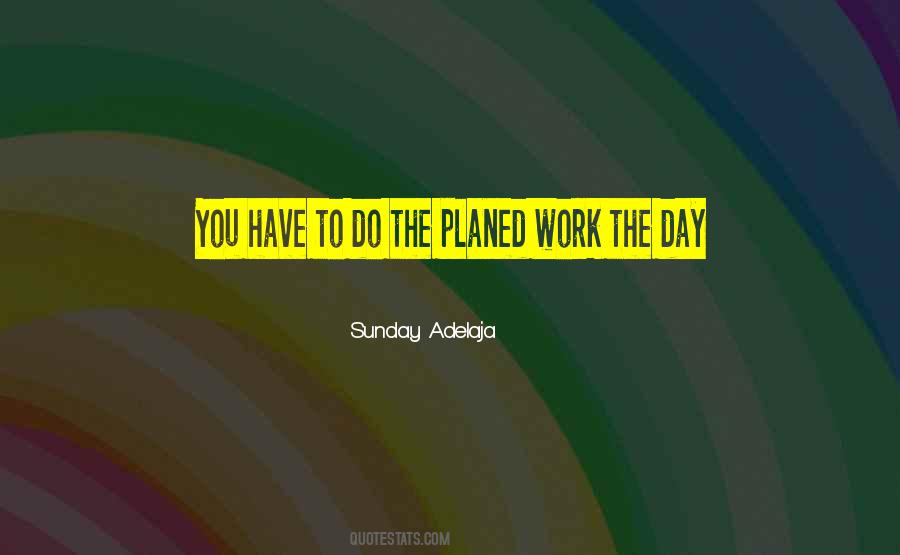 #42. Our grandparents' generation never expected too much out of life and, paradoxically, were happier for it. It never occurred to my granddad that he would enjoy work. He hated it from the day he walked through the factory gates at 14 to when he left at 65. - Author: Mark Barrowcliffe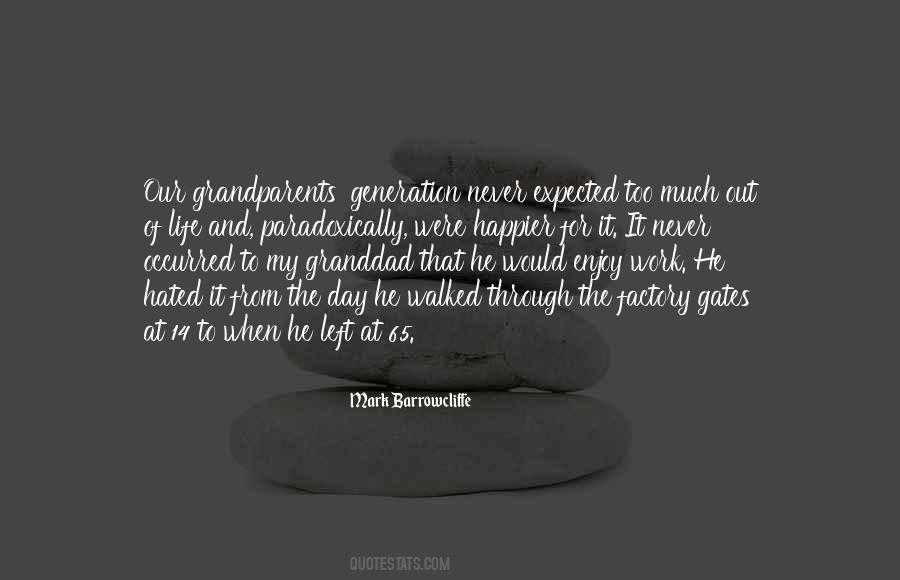 #43. I see my friends, my family, my cousins work all day long for very little money, and if I have this problem of not being able to wall on the streets, it's not a big deal. - Author: Olivier Martinez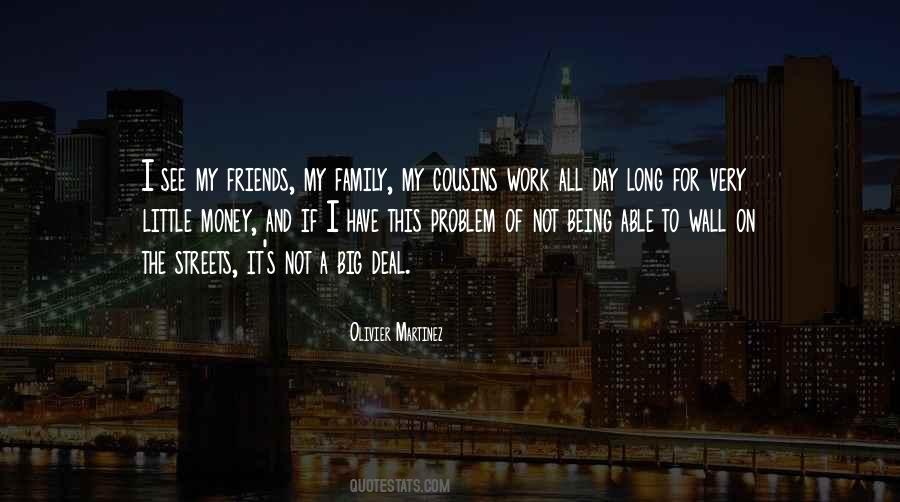 #44. No one asks the cow or the chicken where it gets its protein. I eat about 4,000 or 5,000 calories a day, and I cook for myself. I also have a line of cooks that work with me - some raw, some vegan. - Author: John Salley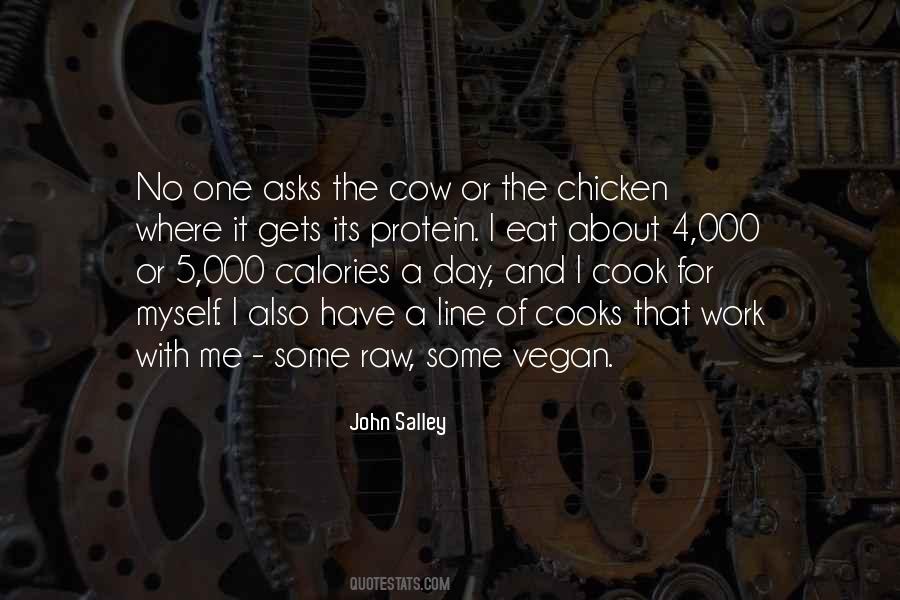 #45. My companion at the press drank every day a pint before breakfast, a pint at breakfast with his bread and cheese, a pint between breakfast and dinner, a pint at dinner, a pint in the afternoon about six o'clock, and another when he had done his day's work. - Author: Benjamin Franklin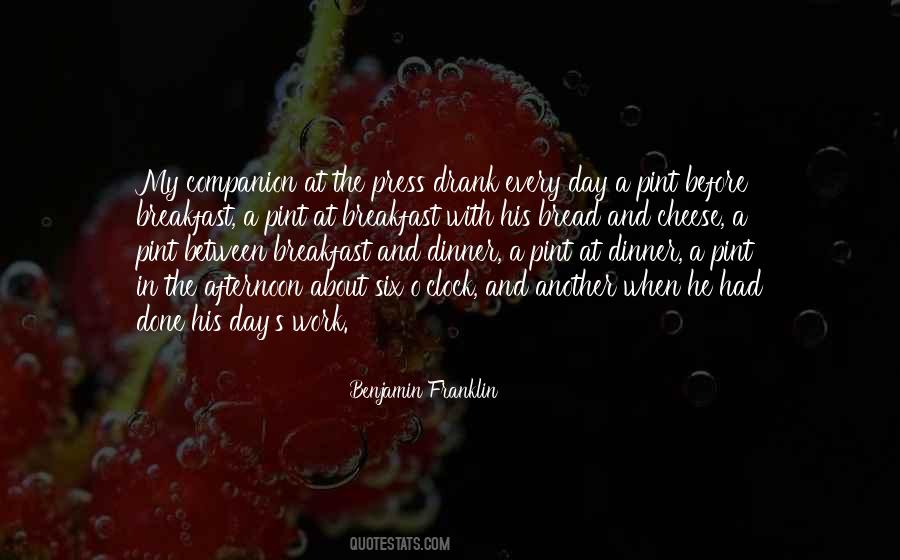 #46. The problem is that resuscitating old labels doesn't work anymore. I think it is very important to give hope to a new generation of designers, so that one day they really can put their own names out there. - Author: Giambattista Valli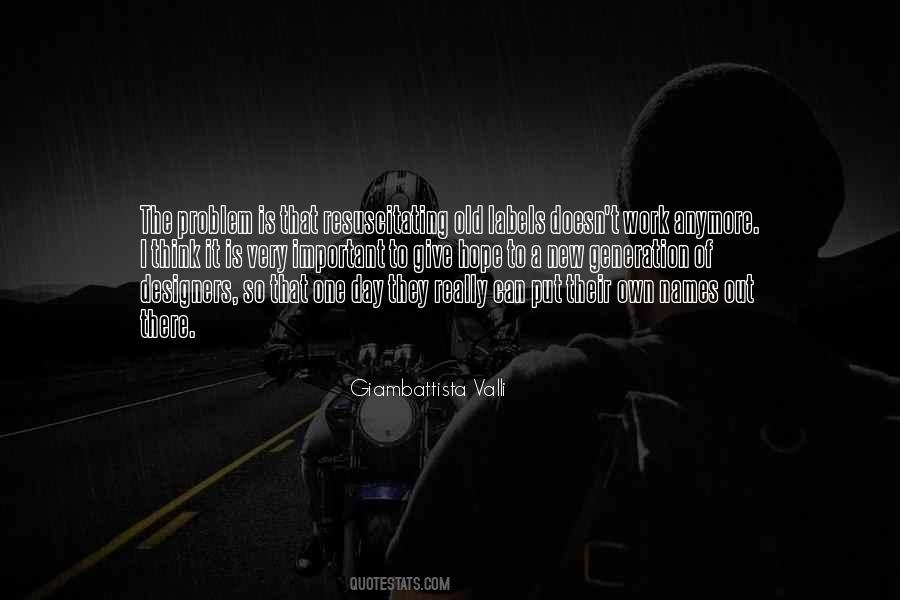 #47. If you were to gather all the minutes wasted on insignificant, immaterial yik yak spent throughout the day and add them up, how much misspent time do you think you'd have? One hour? Two hours? Consider the sunk cost on that. It's unacceptable. One minute wasted is one minute too much. - Author: Ari Gold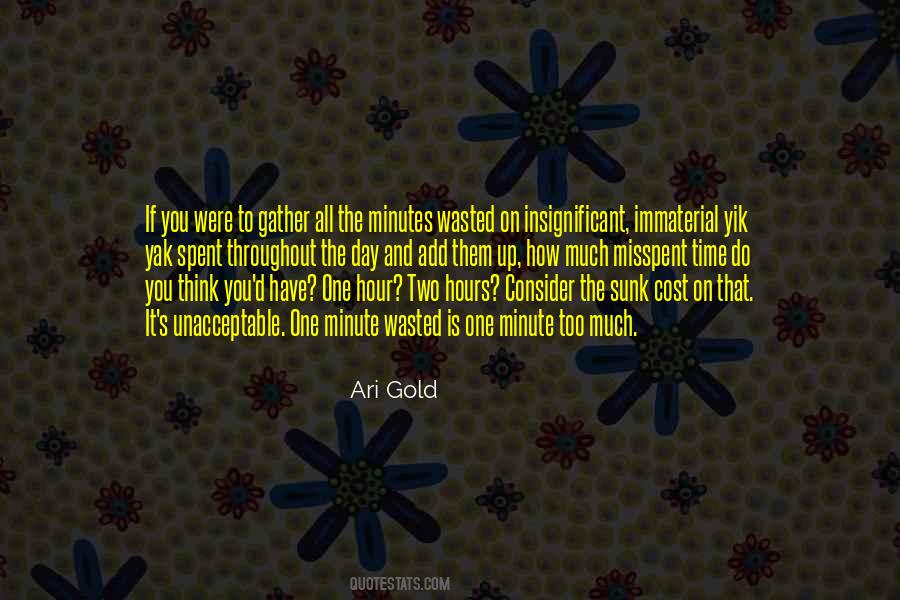 #48. The past cannot change what is to come. The work that you do each and every day is the only true way to improve and prepare yourself for what is to come. You cannot change the past, but you can influence the future by what you do today. - - Author: John Wooden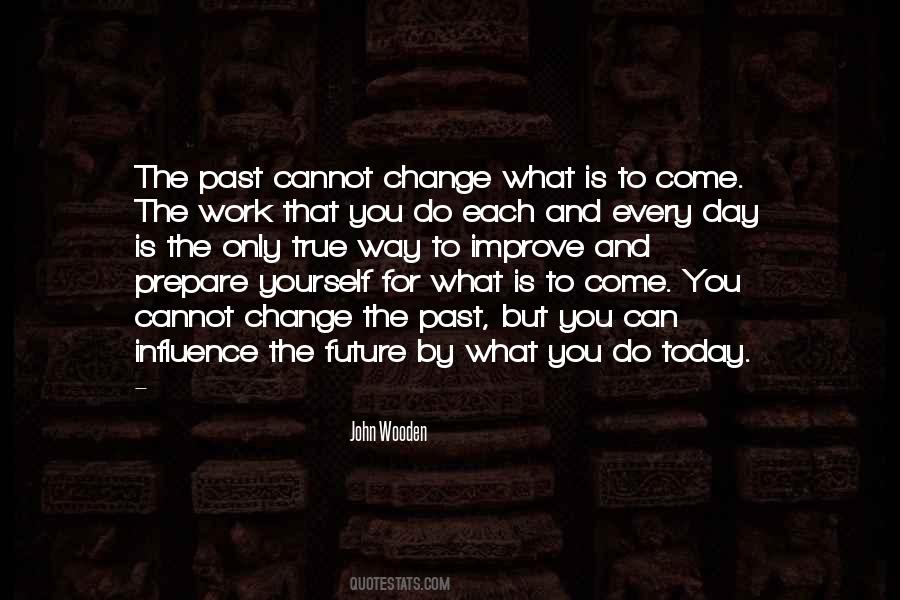 #49. Actually, I think business women are better women at home, if you want to know the truth because you do understand what goes into a day's work out in the world, a very nerve-racking affair. - Author: Bette Davis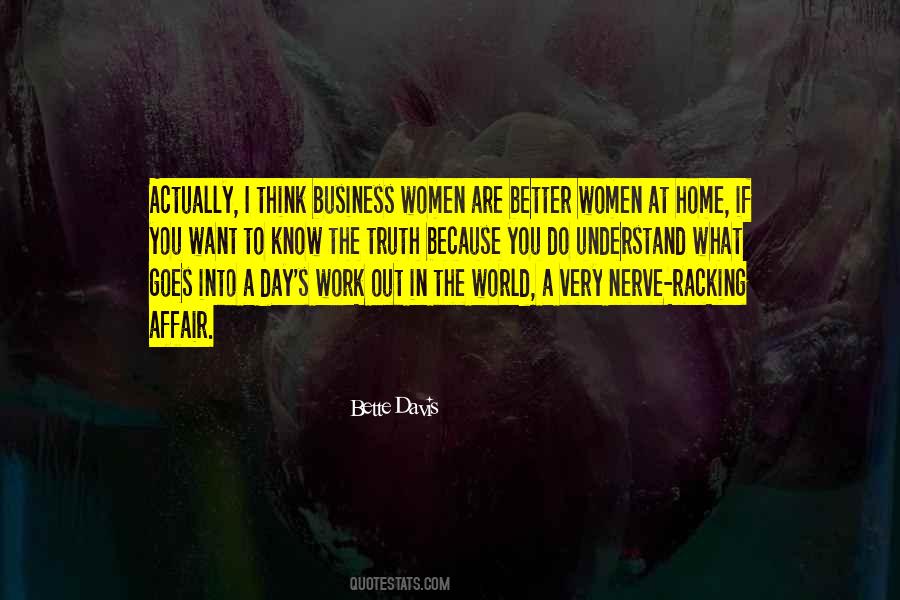 #50. Benji grinned back. "You're being a real asshole today, Mr. Barnes. Well done - you been practicing?" Dad smiled, obviously relaxed. "Yeah, you know, kid, a few minutes a day, you can work that muscle with the best of them. - Author: Amy Lane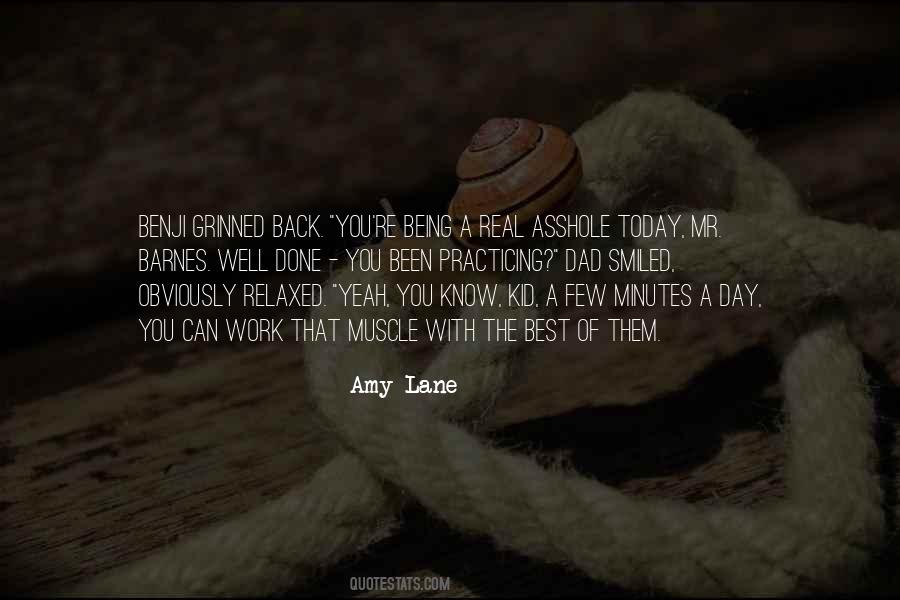 #51. People don't realize that doing a horror movie is hard work. You're out there all day screaming your lungs out, breathing in toxic make-up fumes, rolling around in the dirt, getting your eyebrows burned off - it's not like doing a sitcom. - Author: Clint Howard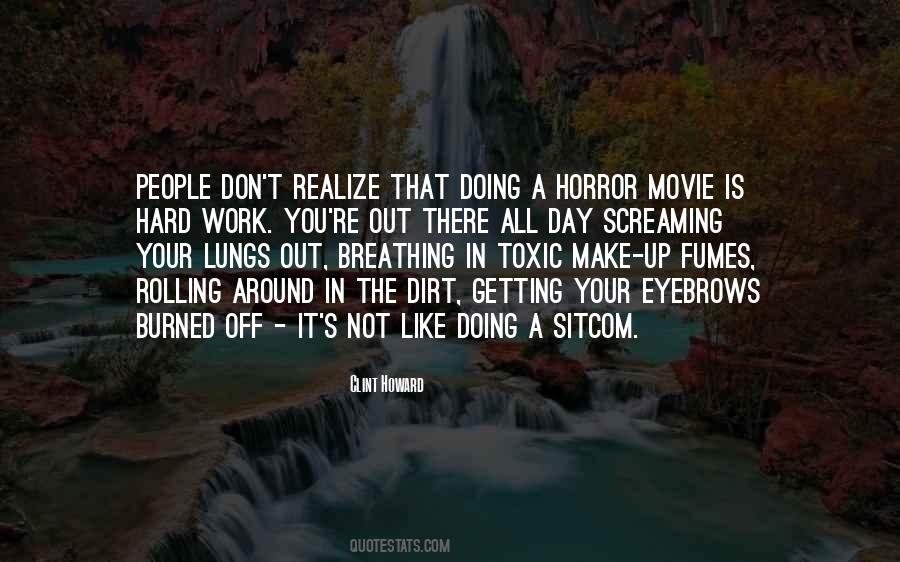 #52. I roll out of bed, walk into the garage, work out, and go about my day. I'll bring my daughter out there in her ExerSaucer. I don't know if I'll ever go back to a gym. - Author: Mike Vogel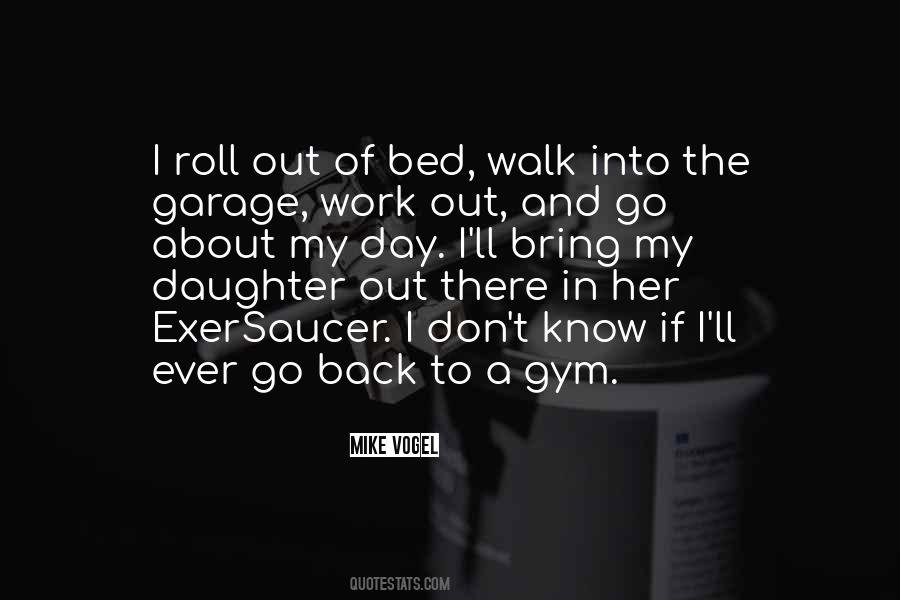 #53. I believe you make your day. You make your life. So much of it is all perception, and this is the form that I built for myself. I have to accept it and work within those compounds, and it's up to me. - Author: Brad Pitt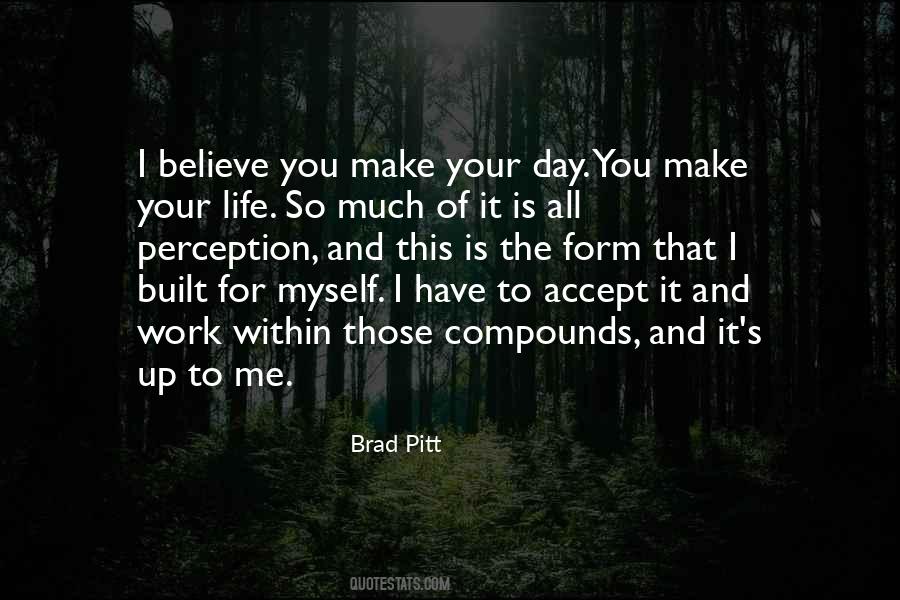 #54. If I could work with Joan Van Ark every day for the rest of my life I would. - Author: Ted Shackelford
#55. If by day art is in the service of business, the evenings are devoted to the businessman's enjoyment of it. That is asking a lot of art, but art and the businessman make it work. - Author: Karl Kraus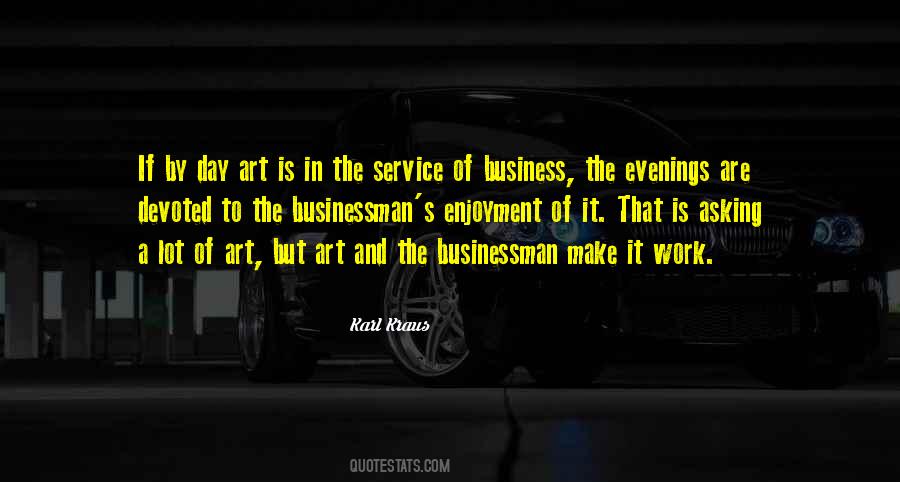 #56. I place this day, my life, my loved ones, my work in the Lord's hands. There is no harm in the Lord's hands, only good. Whatever happens, whatever results, if I am in the Lord's hands it is the Lord's will and it is good. - Author: Norman Vincent Peale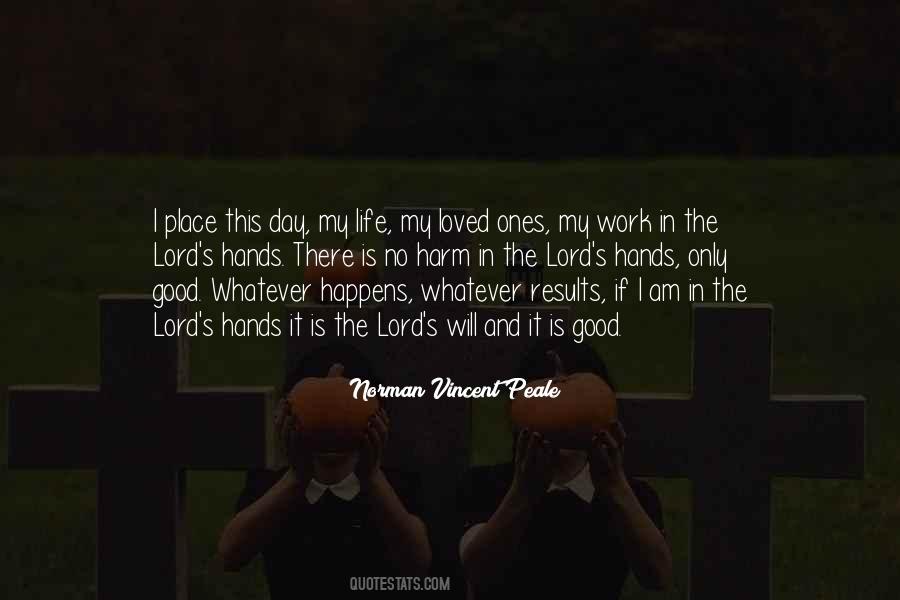 #57. If you go and watch the way the primitive tribes live, you will know what work is in relation to celebration. They work the whole day so they can sing and dance with abandon at night. - Author: Rajneesh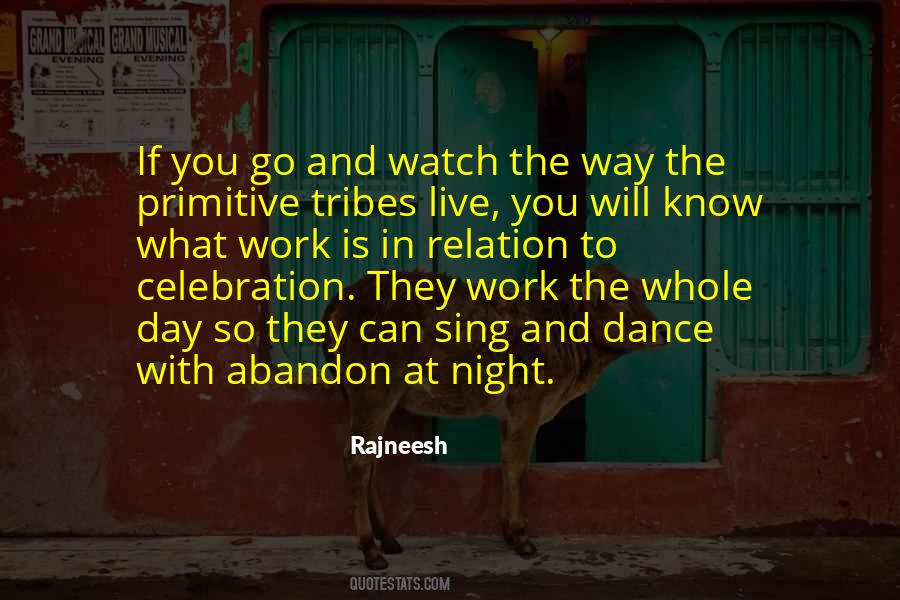 #58. All men are into bondage, 'specially if they're real assholes at work all day. - Author: Kathy Lette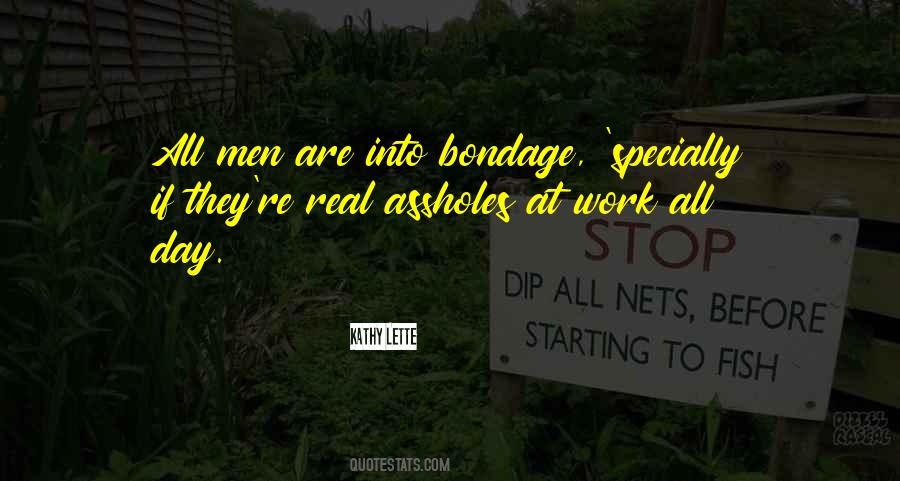 #59. My best advice for
you, honey, is to stop if you possibly can! And if you just can't, then get ready to work
like hell. Hang onto your day job. And remember, you may not make a living, but you'll
make a wonderful life. - Author: Doris Betts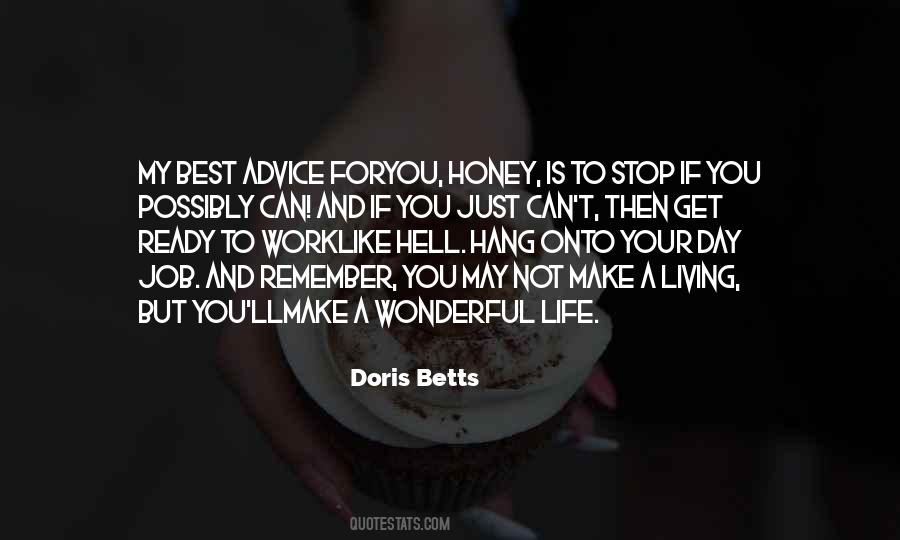 #60. The day after the Oscars, I flew back to London to film a television play for Anglia. It was a big mistake because you never really get acknowledged for wanting to work in England, as I did. - Author: Ron Moody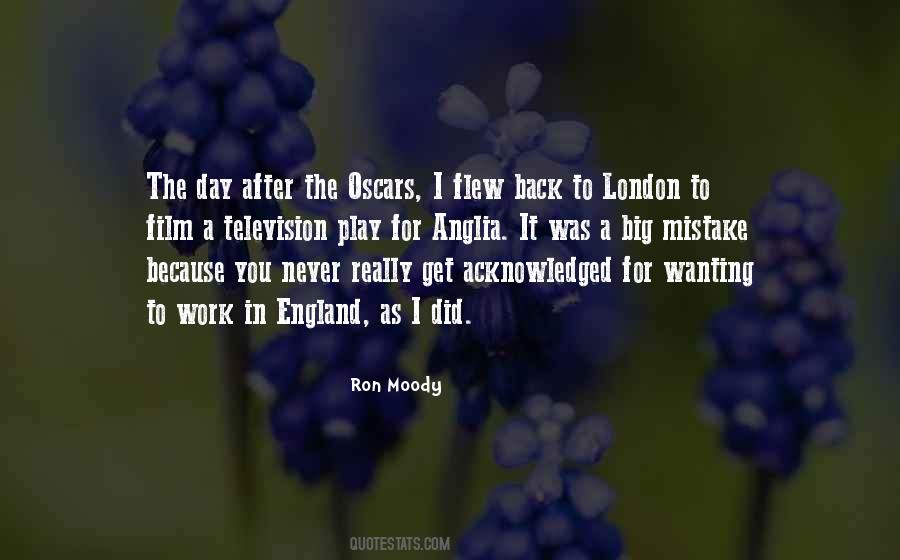 #61. On the day of the show, I sit down with someone that speaks very good English and someone who speaks the local language very well and work out what I'm going to say. - Author: Phil Collins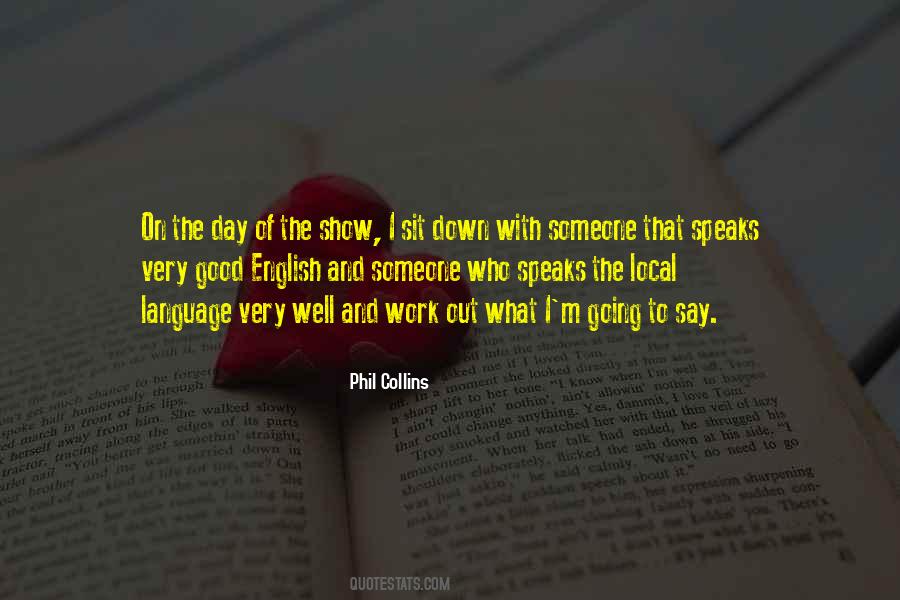 #62. Being able to hear an opinion. And then how to apply that opinion is something I am learning and working with every day. What can be tricky is how to differentiate a good suggestion that you should apply to your work [from] someone's personal taste at their opinionated best. - Author: Tori Amos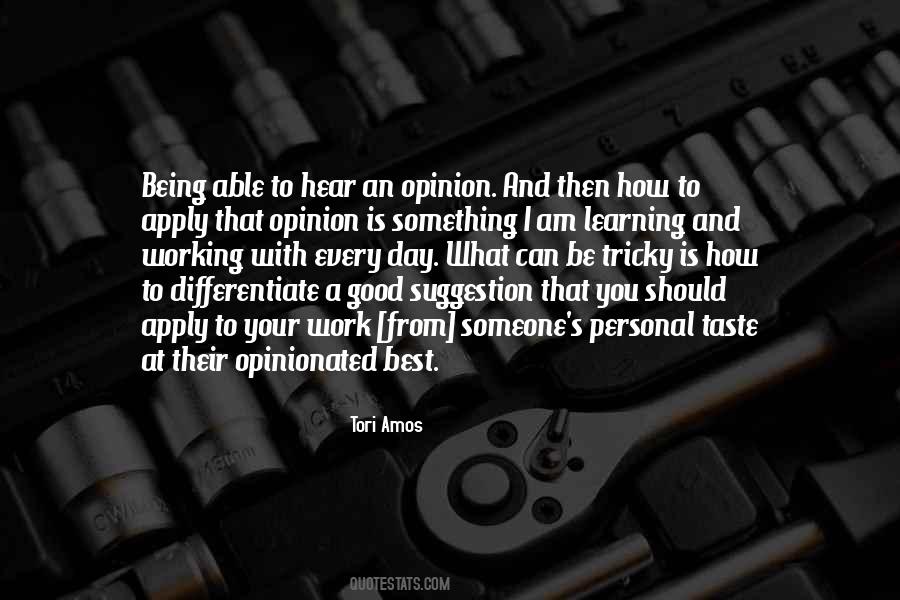 #63. My role models are Bettie Page and Mia Kirshner. Every day when Mia comes to work she raises the bar for us all. - Author: Jennifer Beals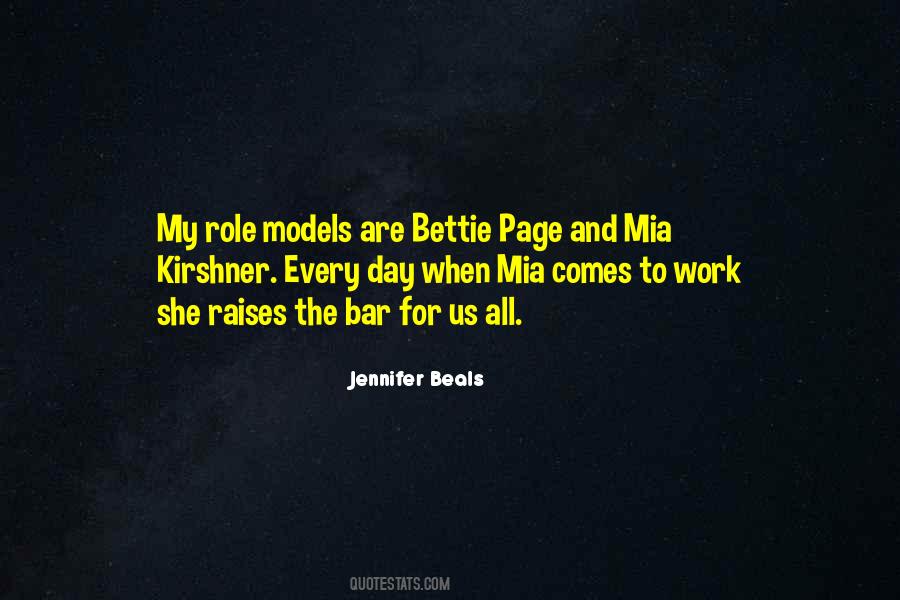 #64. We must strive for literacy and education that teach us to never quit questioning and probing at the assumptions of the day. - Author: Bryant McGill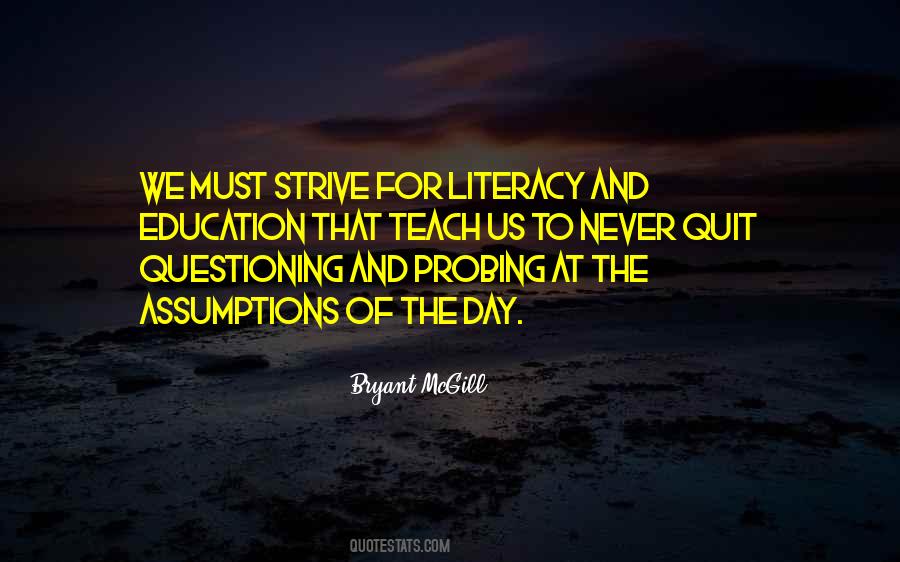 #65. It's about you putting in the work, practicing every day, and hopefully one day you write the song the whole world wants to get down to. And one day you're going to be sitting next to Ellen DeGeneres talking about how you broke records and rocked the Super Bowl! - Author: Bruno Mars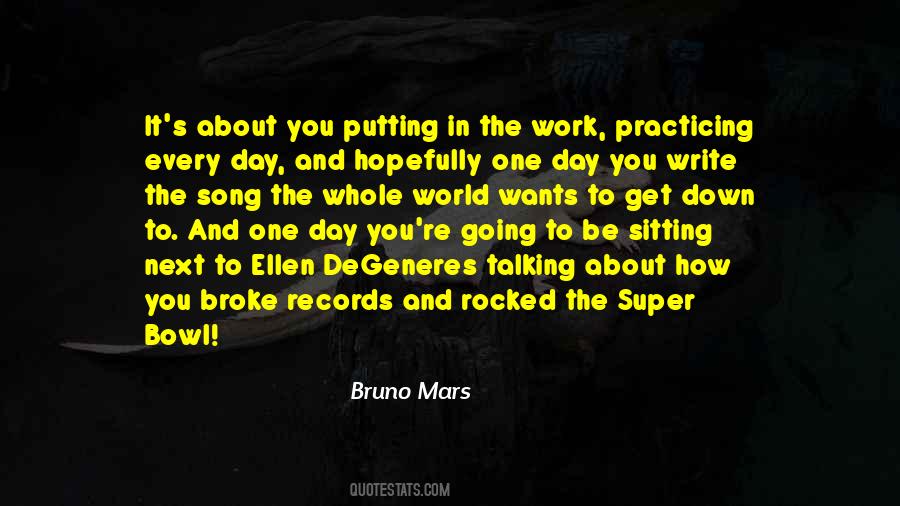 #66. You just realize at the end of the day, everyone is going to have their opinion on your life, more and more so as you go along. As long as you're getting to work and be a part of it - still having fun, learn to just not sweat it so much and keep doing the things you love. - Author: Dianna Agron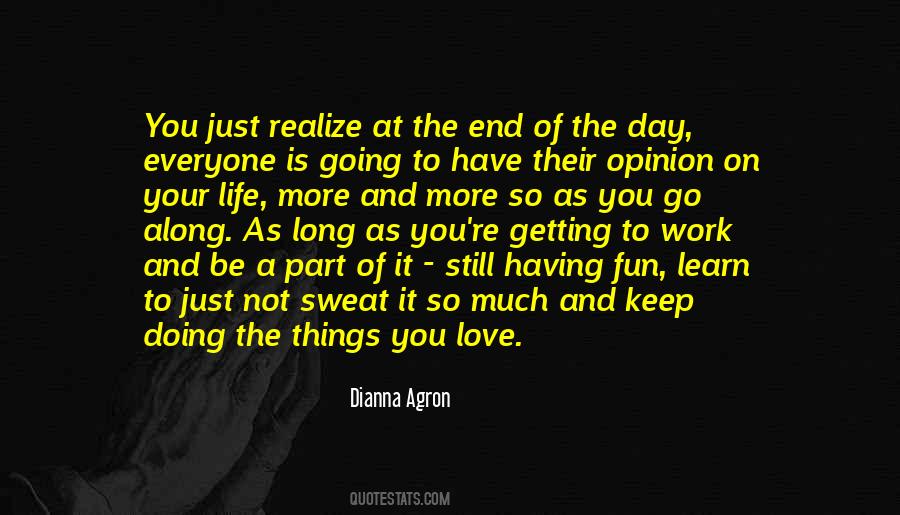 #67. A fair day's wages for a fair day's work. - Author: Thomas Carlyle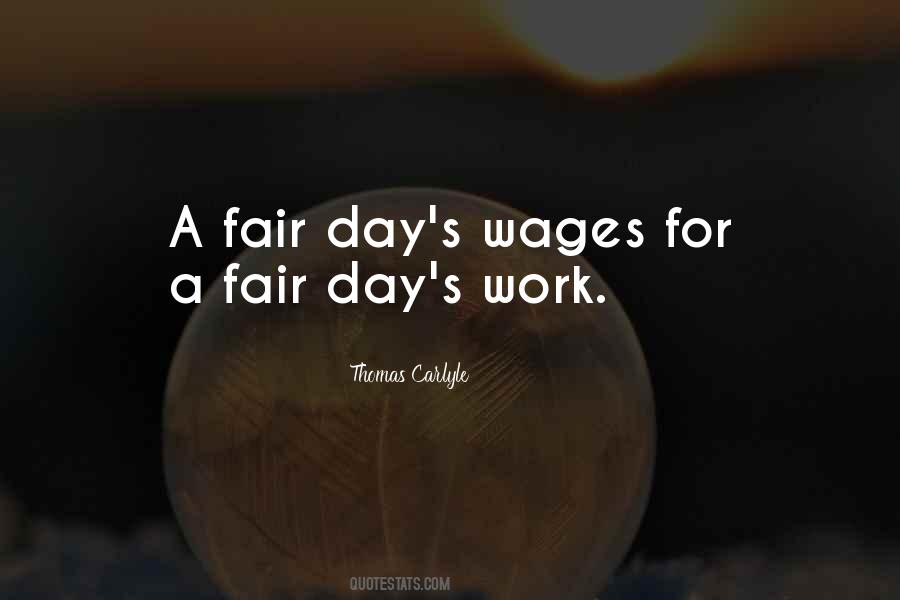 #68. You spend your life having lessons, practising and competing as an amateur, and working during the day. As you get to the top end of the amateur field, you try not to work anymore; you earn your living through dancing, maybe by doing a bit of teaching. It's an ongoing life's work. - Author: Anton Du Beke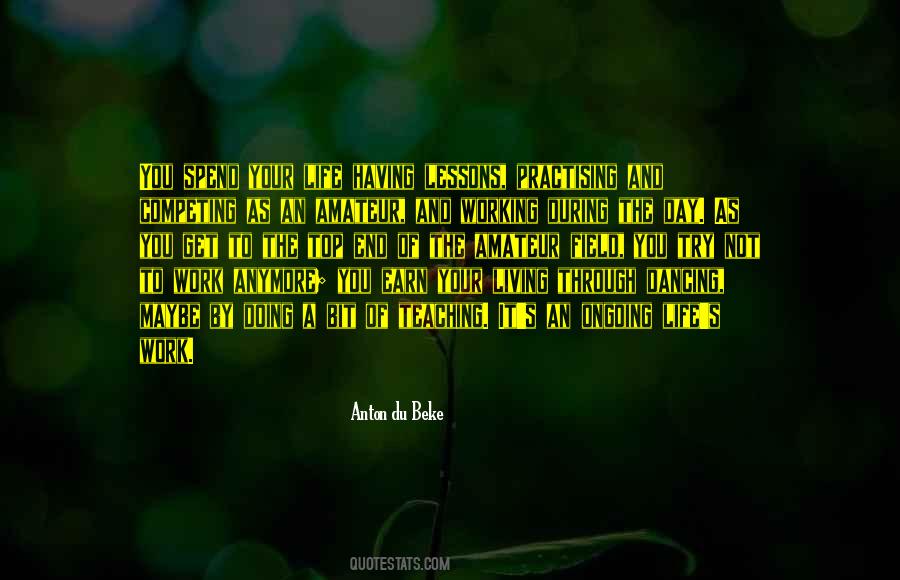 #69. Although the villagers rose with the sun to work the fields, attend to the animals, bake their bread, and begin their long list of chores, for me, Leya Truelong, this was a day like no other. Today, Wren River was touched by the fantastic.

Desiccate by Bonnie Ferrante - Author: Bonnie Ferrante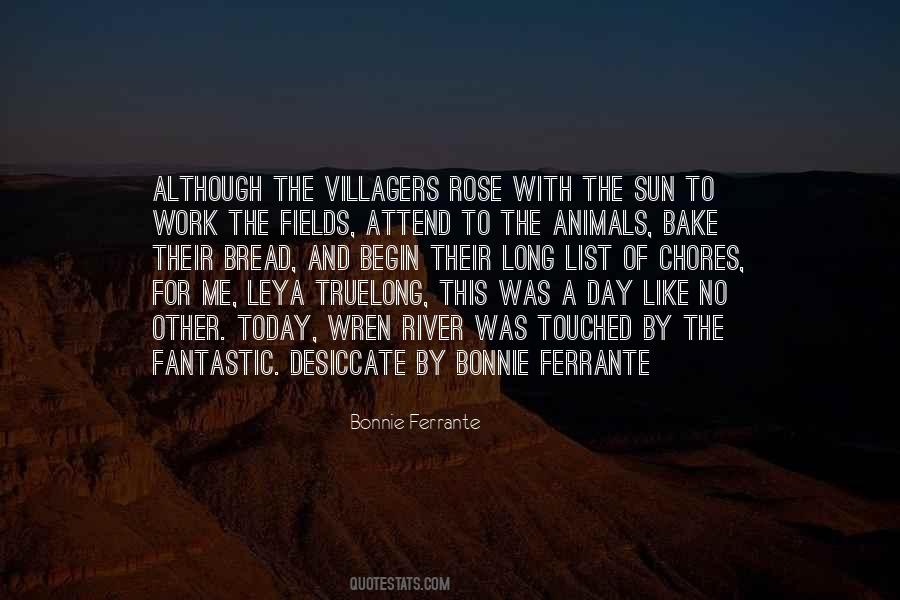 #70. It is the weather, not work, that wears out sails. - Author: Thomas Fleming Day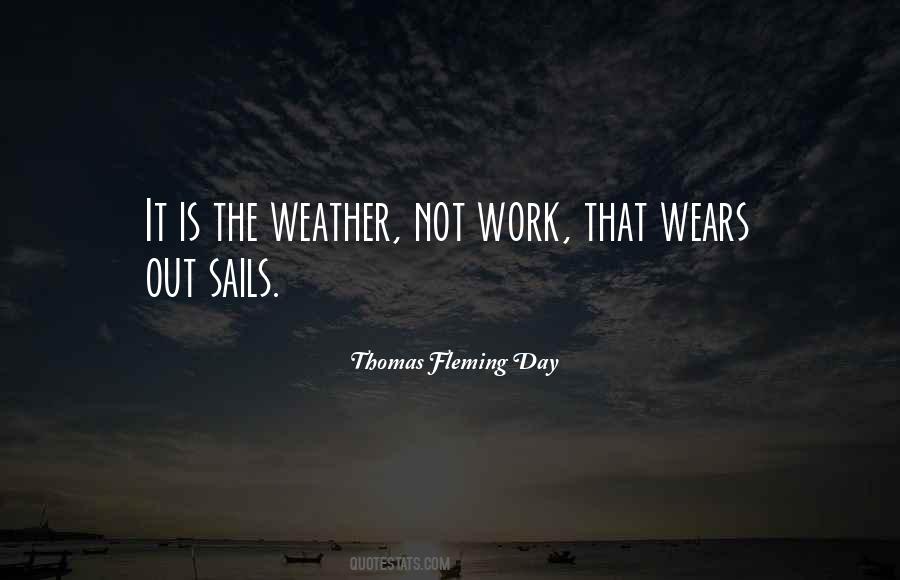 #71. (On her work in Keep Your Powder Dry) I didn't want to do it, but they said if I did it they would give me Undercurrent with Robert Taylor. Then they gave Undercurrent to Katharine Hepburn, so I left MGM. - Author: Laraine Day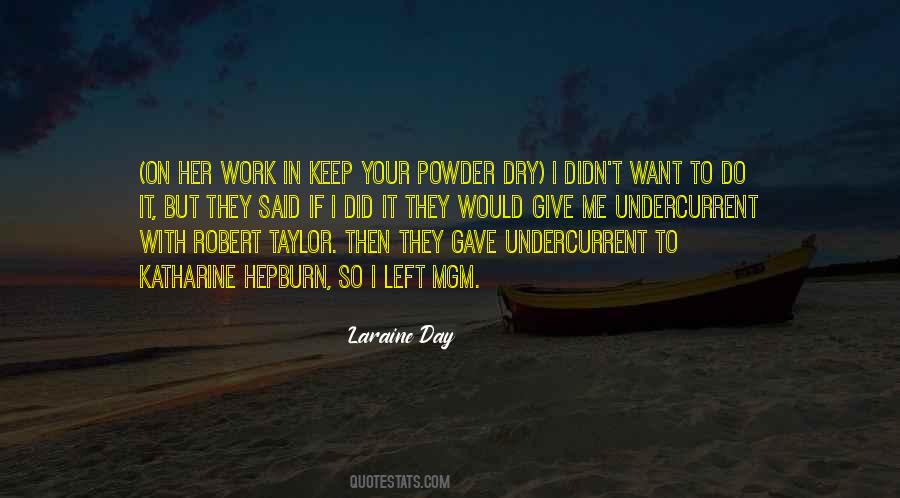 #72. But it's not enough to just "discover" the meaning of life. What really matters is whether we live according to our values, and that takes hard work and a hundred hard choices every day. - Author: Greg M. Epstein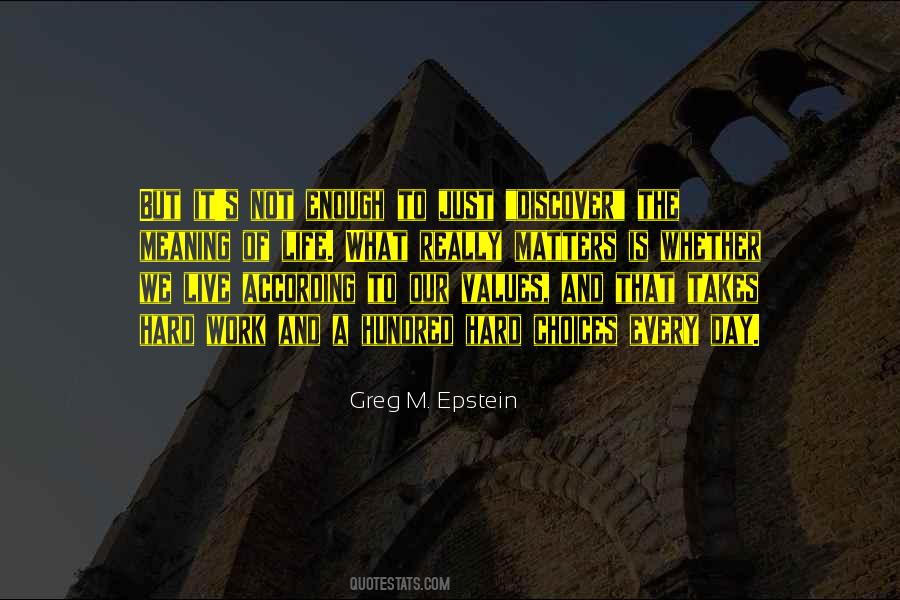 #73. RVM Thoughts for Today
For those who love what they do , even working 18 hours a day, 7 days a week , is not work at all. It is just Fun. - Author: R.v.m.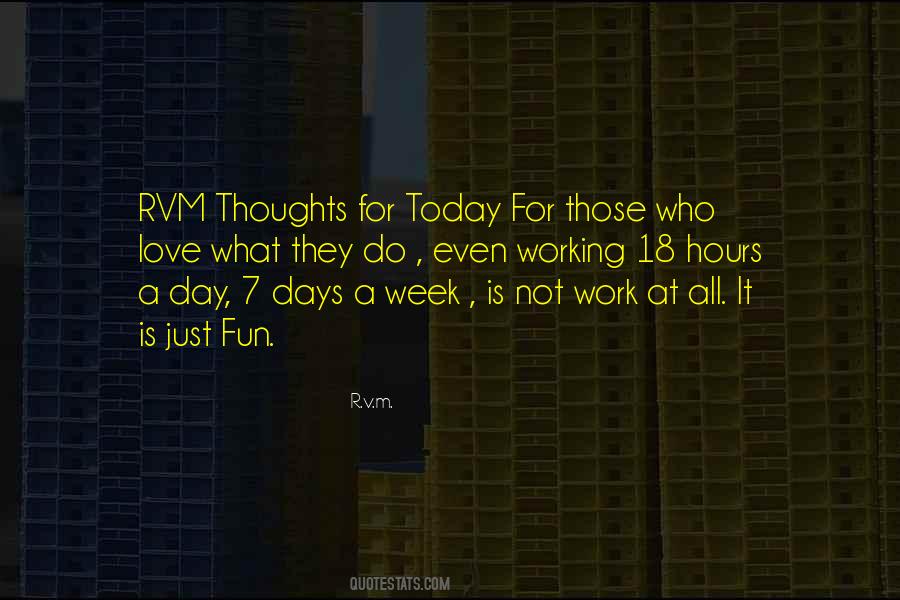 #74. I go into work and get my hair and makeup done, go into wardrobe. I have to do three hours of school a day. - Author: Alia Shawkat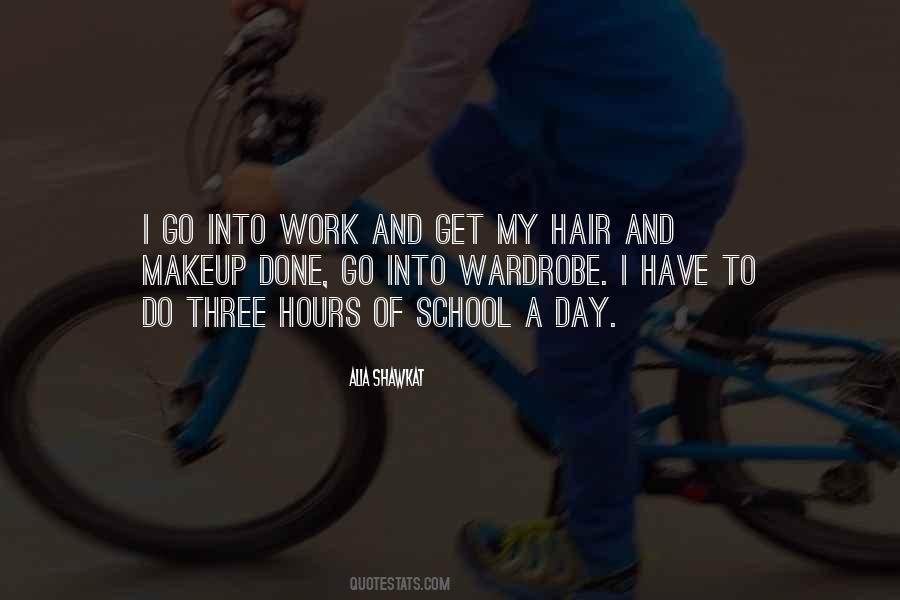 #75. I understand. You work very hard two days a week and you need a five-day weekend. That's normal. - Author: Neil Simon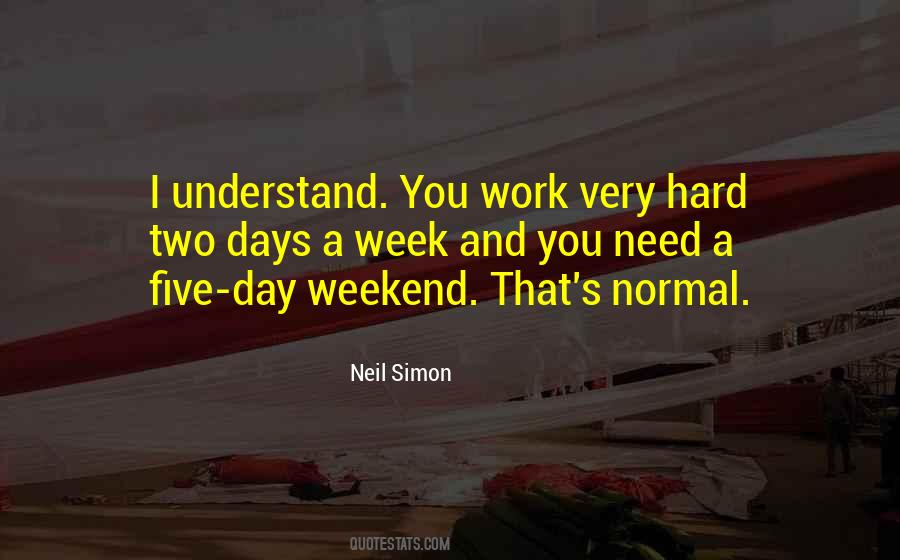 #76. One pattern to help yourself fight the mad dash for the mirage of being done is to think of a good day's work. Look at the progress of the day towards the end and ask yourself: 'Have I done a good day's work?' - Author: David Heinemeier Hansson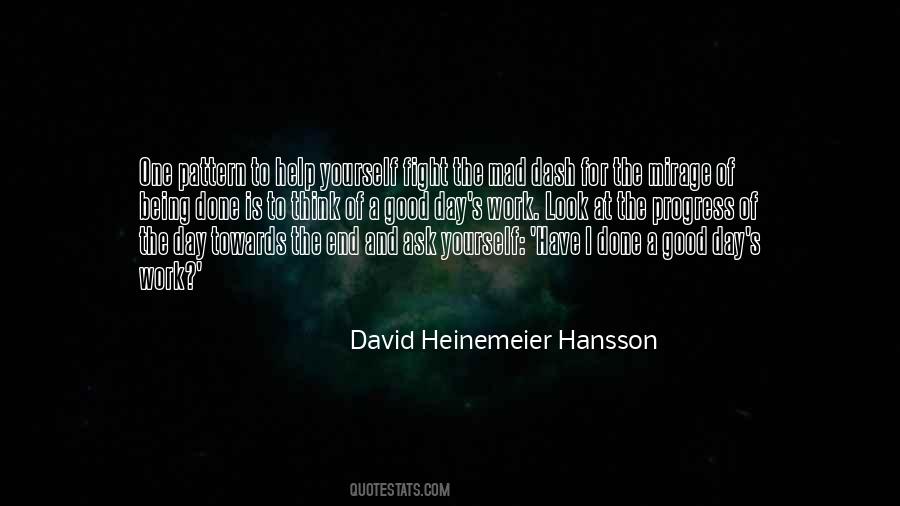 #77. Live for One day instead to die every day.
Work is worship
Do or die. - Author: Nancy Patchen
#78. Anyone can carry his burden, however heavy, until nightfall. Anyone can do his work, however hard, for one day. Anyone can live sweetly, patiently, lovingly, purely, until the sun goes down. And this is all that life really means. - Author: Robert Louis Stevenson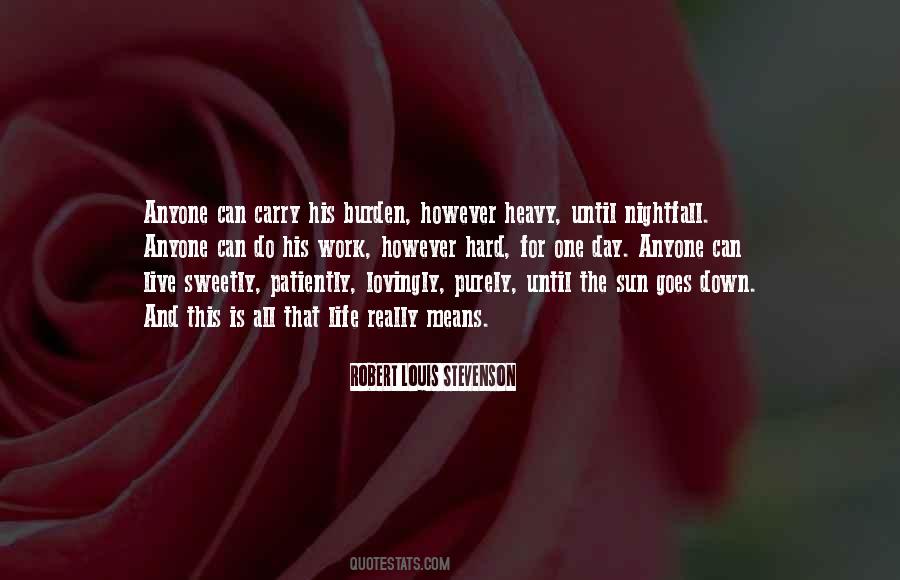 #79. I love Hugh Laurie, but I don't want to be a guy who goes to work every day for nine months of the year in a corner of Burbank. I really don't. I like doing a bit here and a bit there and strange things, and I think that's held me back. - Author: Peter Capaldi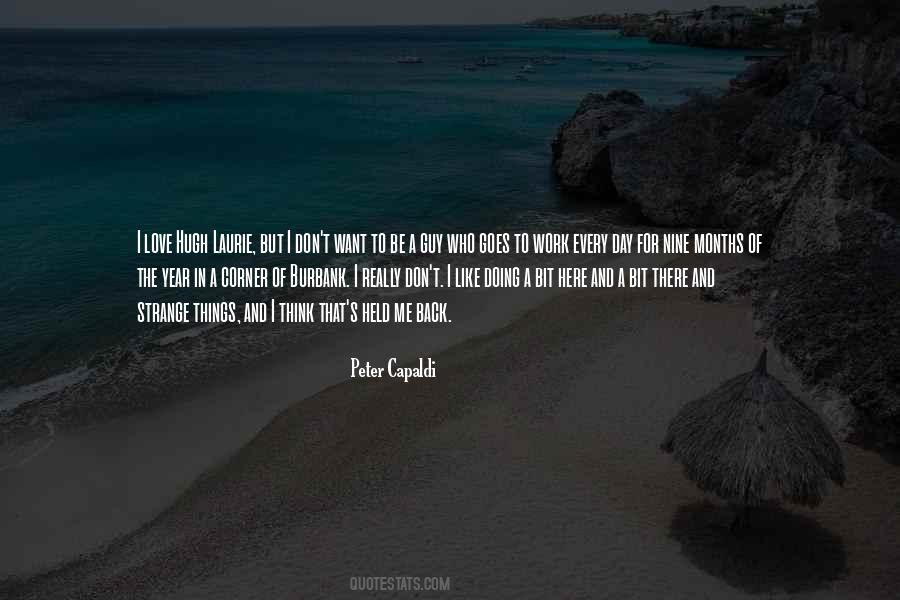 #80. We are surrounded every day by people who do thankless but important work. - Author: Brian Kilmeade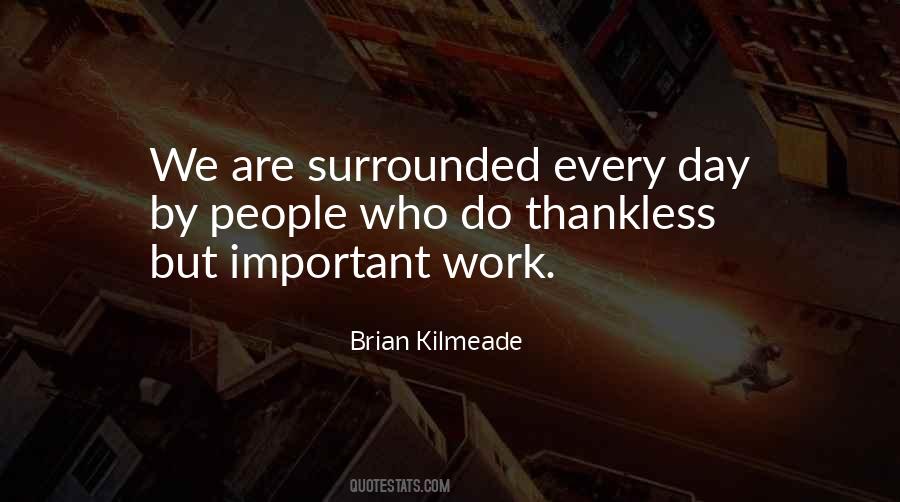 #81. Power has not corrupted me. I have not become jaded. I wake up every day well aware of my good fortune, loving the work I do, loving my life, realizing that life is a crapshoot and I'm on a roll second to none. - Author: Hugh Hefner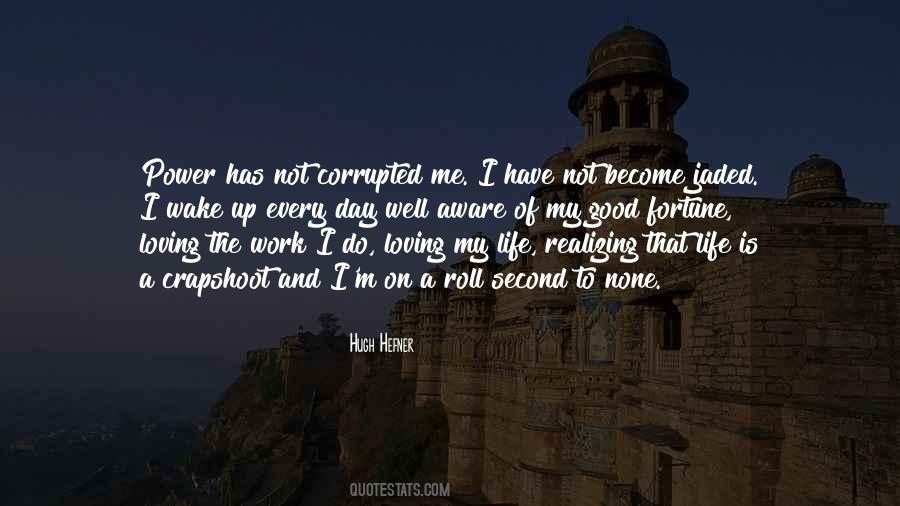 #82. I work most days and if you work most days and you get at least a page done a day, then at the end of the year you have 365. So the pages accumulate and then I publish the books. - Author: Philip Roth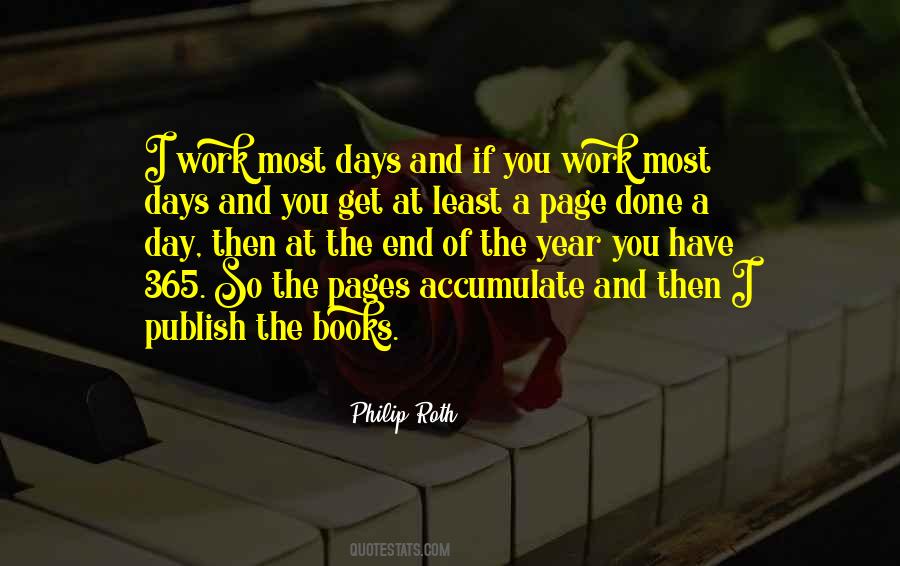 #83. Every day work on your humility through your meditation, giving more of yourself, giving those things you don't want to give. - Author: Frederick Lenz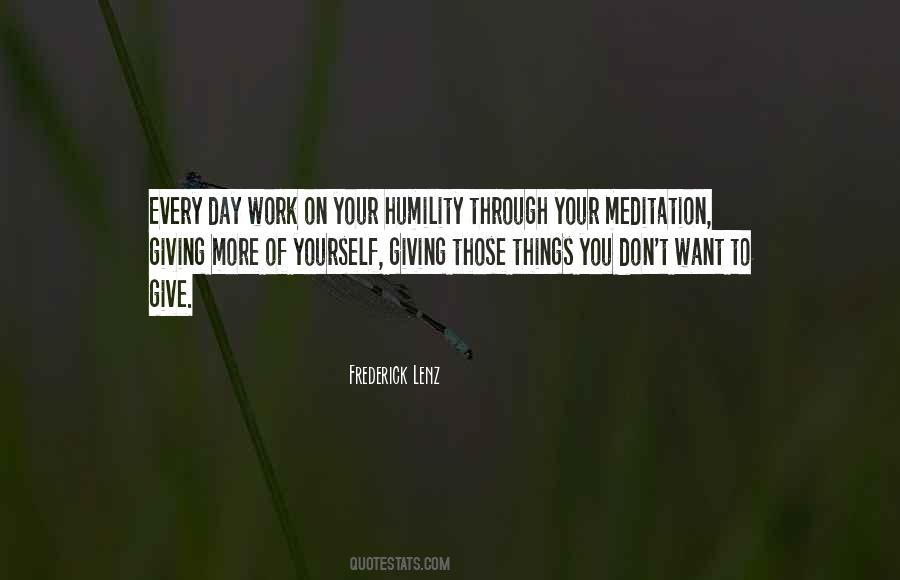 #84. I love writing books - I really do. If I could just quit everything and work on a book every day, I would love that most. - Author: Donald Miller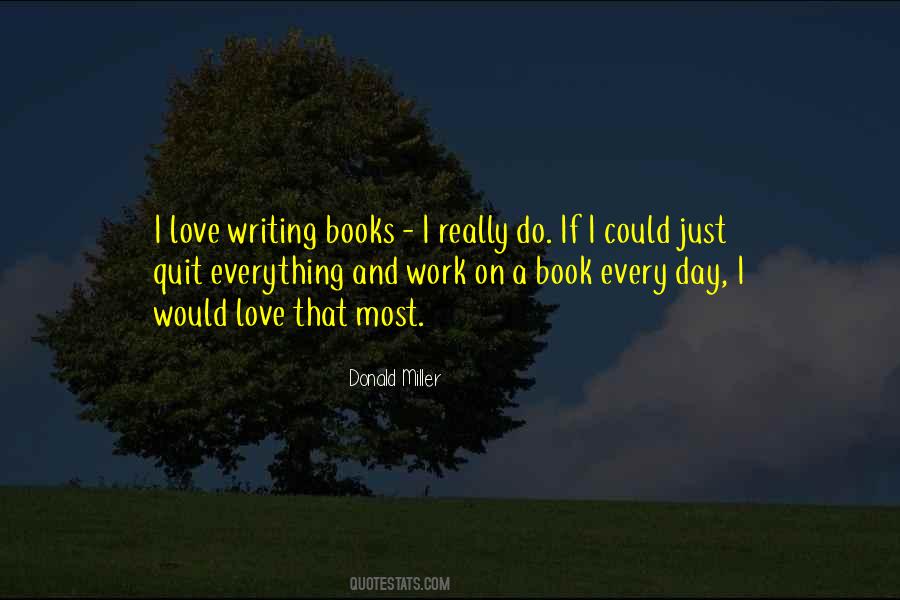 #85. I admire the women who can have babies and jump right back to work. As a nursing mother, I couldn't sit there and just pump all day. I needed to be close to my baby. - Author: Nia Long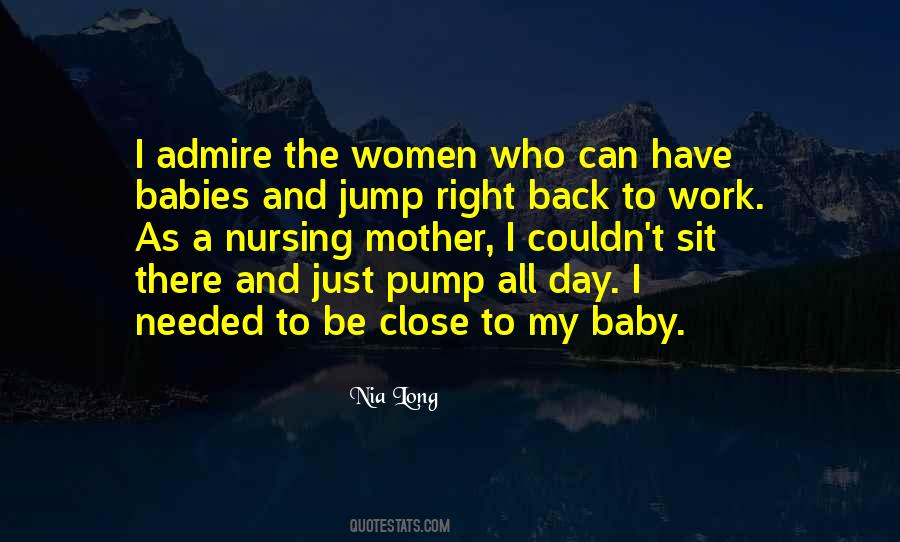 #86. No ordinary work done by a man is either as hard or as responsible as the work of a woman who is bringing up a family of small children; for upon her time and strength demands are made not only every hour of the day but often every hour of the night. - Author: Theodore Roosevelt
#87. I learned that I have to work hard every day, that I can't get down if I get in a slump. - Author: Carlos Beltran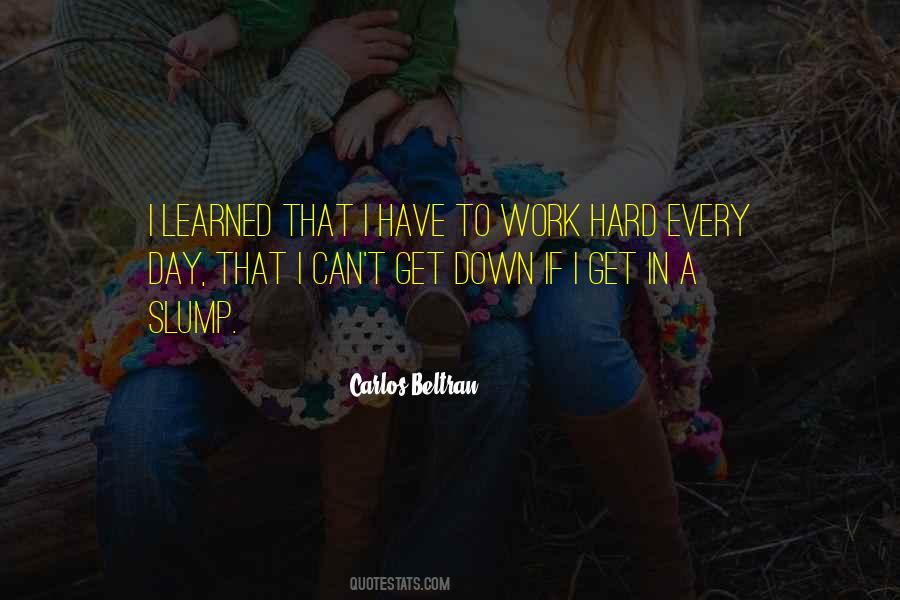 #88. My dad, like any coach, has always stressed the fundamentals. He taught me responsibility, accountability, and the importance of hard work. - Author: Steve Young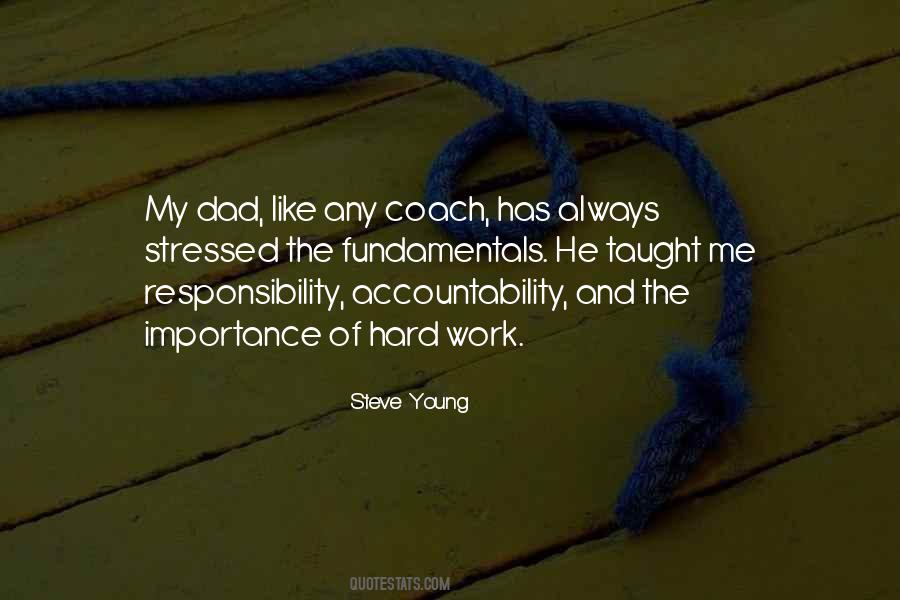 #89. Sometimes, you have to make the choice to forgive 10 times a day when you have these pockets of anger come up. That's a lot of work, but to me it's worthwhile. - Author: Amanda Lindhout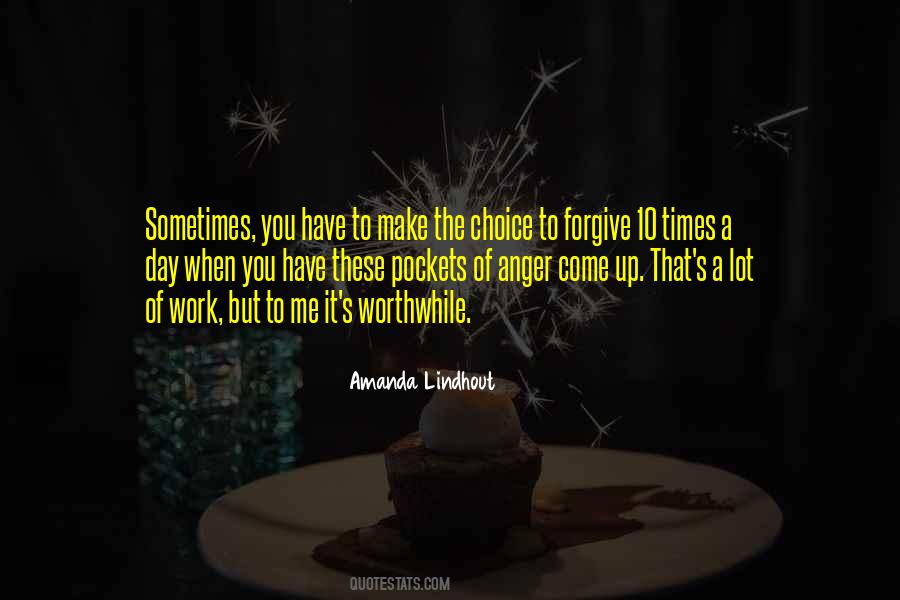 #90. When I rehearse, it ends up doing more harm than good. I think I work a little bit better when it's right off the bat. Mostly, I try to wrap my head around a role as much as I can without rehearsing and then kind of make it as fresh as possible on the day. - Author: Charlie Tahan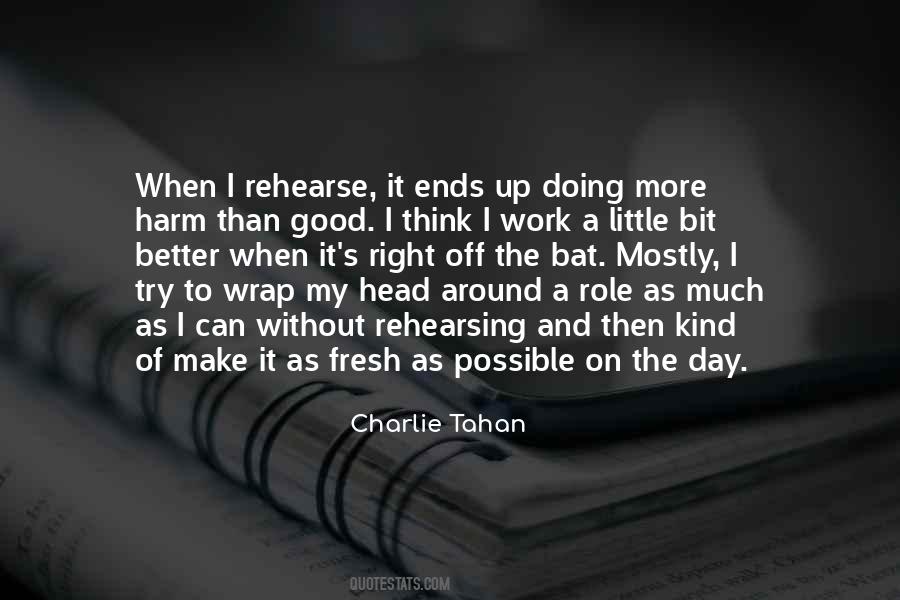 #91. You don't. It doesn't work. One day, you wake up, and you've learned how to store it, and you go to another part of the heart. - Author: Sandra Bullock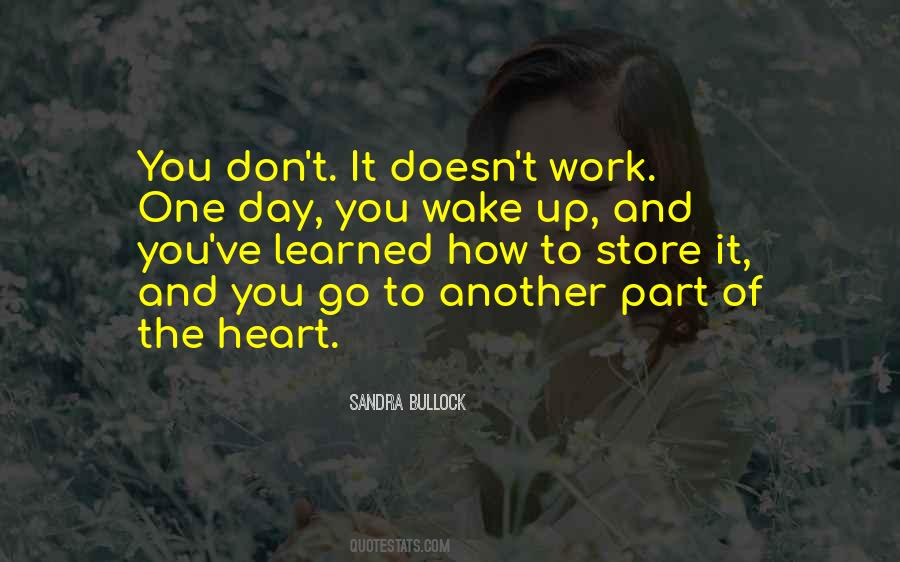 #92. If you have a great day at work and you've been hit with all these great ideas and there's a lot of excitement on your team, your mind doesn't turn off. For years I've kept a pad of paper and pen by me at night, because things just occur to you. - Author: Anne Sweeney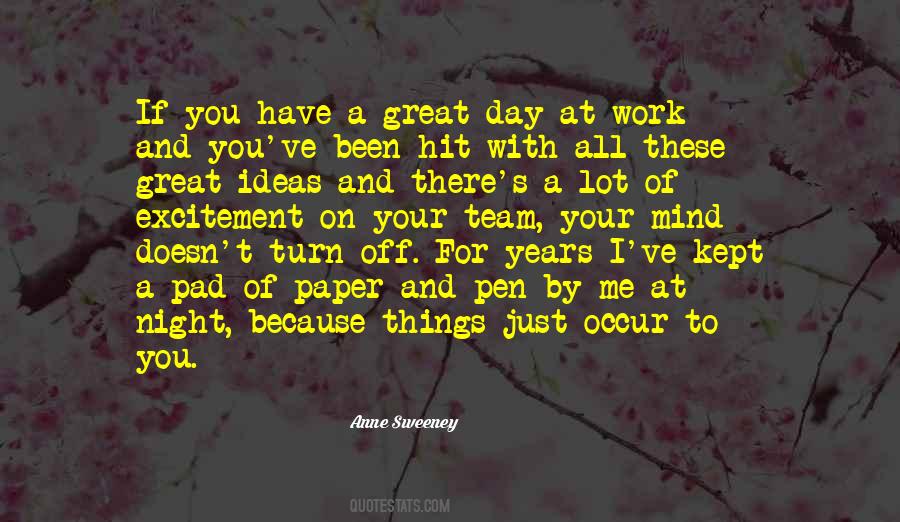 #93. I haven't been out of work since the day I took my pants off. - Author: Sally Rand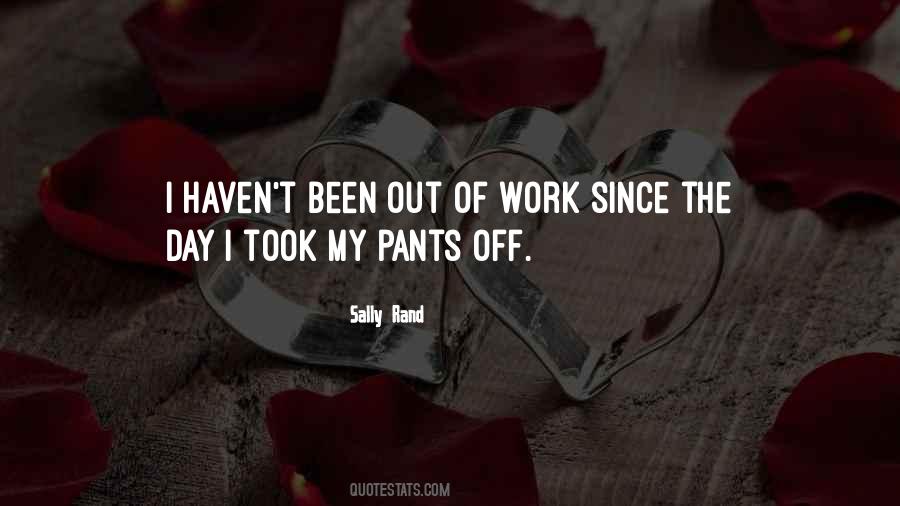 #94. Pittsburgh isn't fancy, but it is real. It's a working town and money doesn't come easy. I feel as much a part of this city as the cobblestone streets and the steel mills, people in this town expect an honest day's work, and I've it to them for a long, long time. - Author: Willie Stargell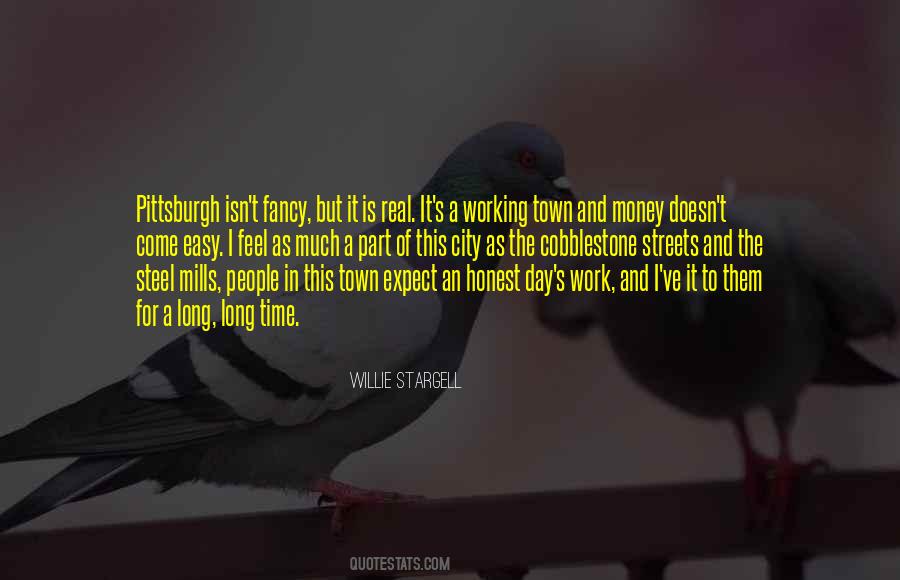 #95. The first thing I do after work is take off my TV makeup with a gentle cleanser. I also try to exfoliate twice a week. Waking up with dull, flaky skin is no way to start the day. - Author: Natalie Morales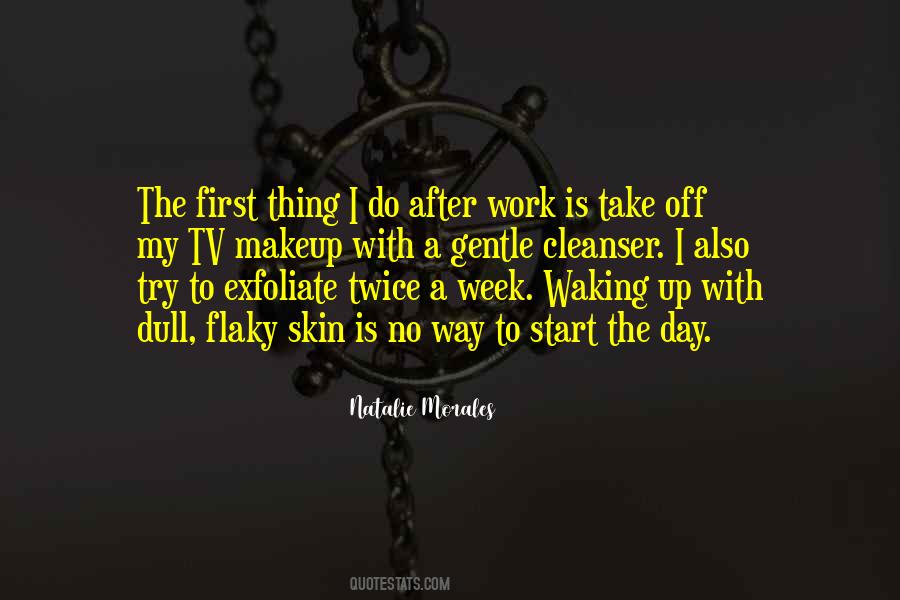 #96. I have stood on the line in Everett, Wash., where we have thousands of workers who go to work every day to build these planes. I would challenge anybody to tell me that they've stood on a line in Alabama and seen anybody building anything. - Author: Patty Murray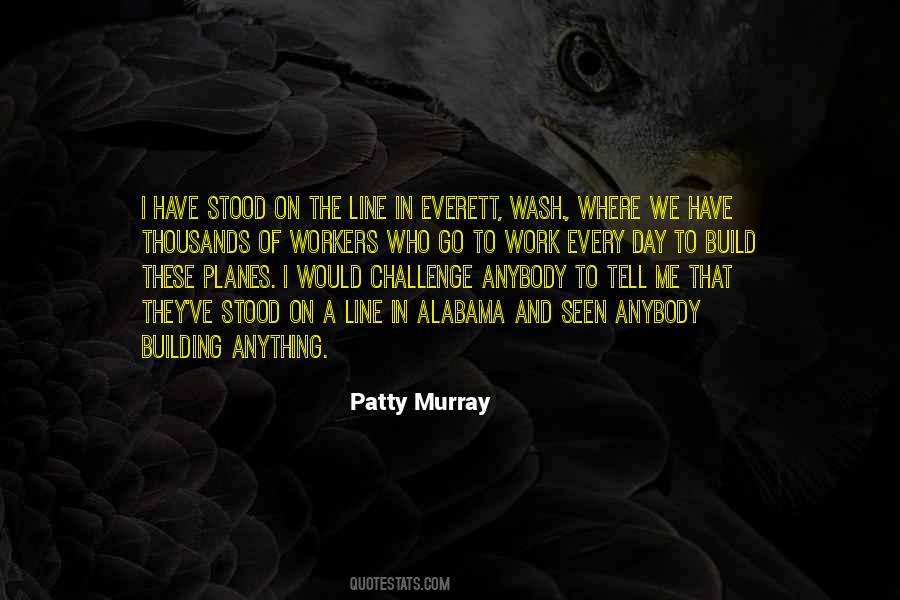 #97. You need to learn how to select your thoughts just the same way you select your clothes every day. This is a power you can cultivate. If you want to control things in your life so bad, work on the mind. That's the only thing you should be trying to control. - Author: Elizabeth Gilbert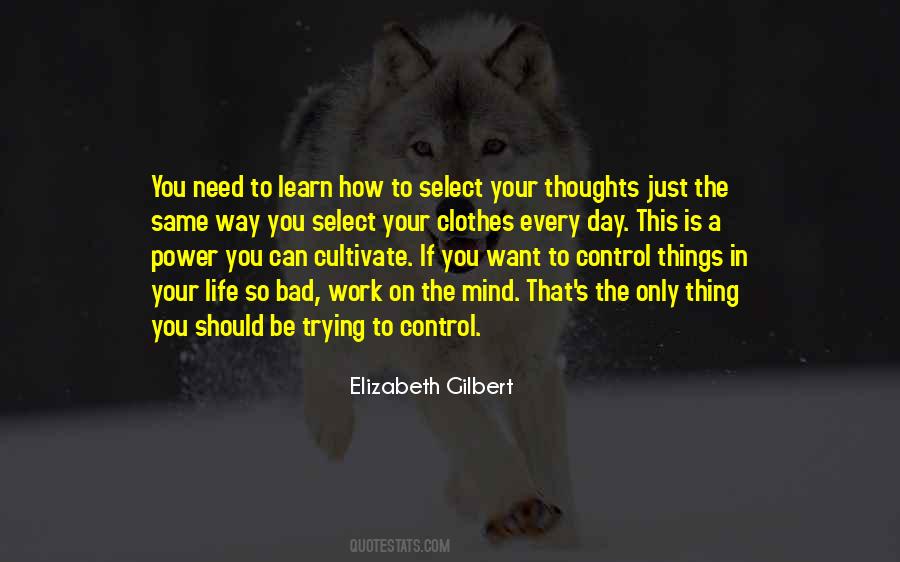 #98. To be an artist means to invite an occupation into your life that requires commitment and hard work, but the rewards and satisfaction you'll get make the work seem like play. But you have to do it every day. - Author: Veronica Lawlor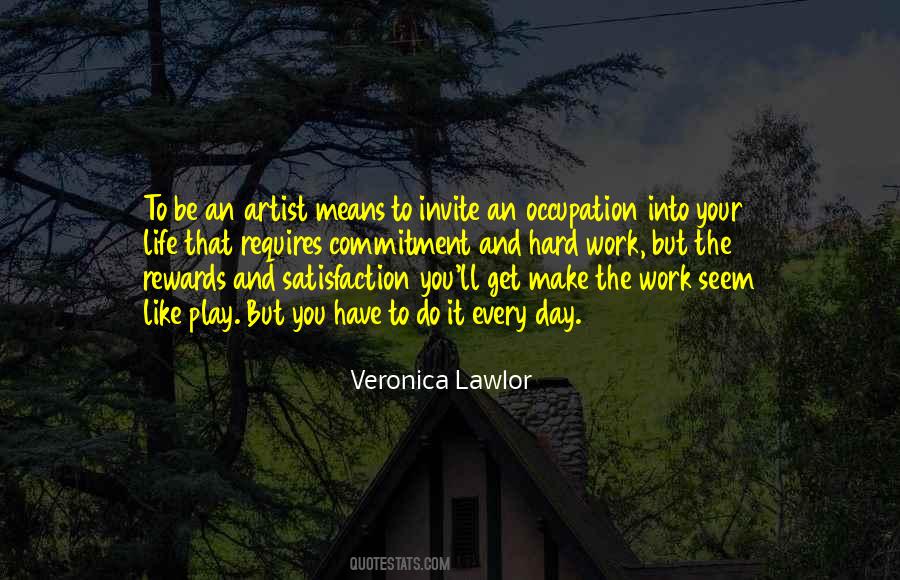 #99. In the day we sweat it out on the streets on a runaway American dream. - Author: Bruce Springsteen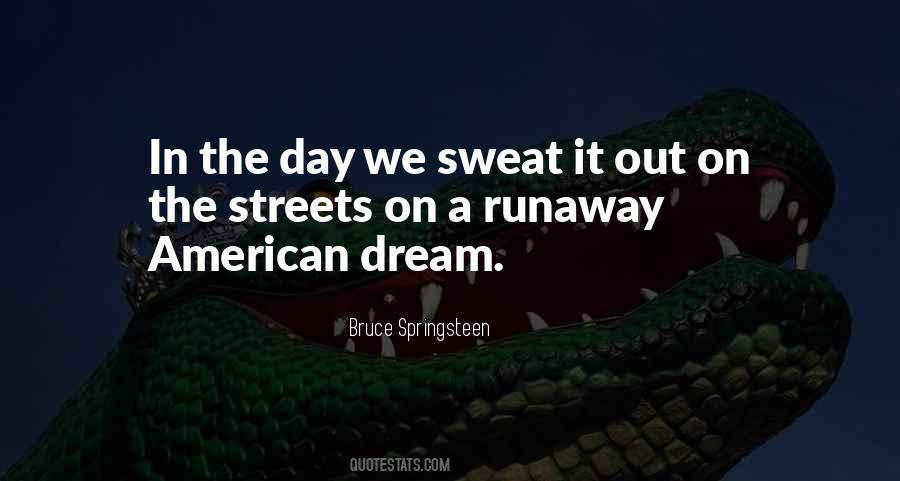 #100. I know right now she has no idea who I am, but I'd like to collaborate with Enya one day. Of course I'd love to work with Jay-Z, maybe even Phil Collins. I love his voice. - Author: Nicki Minaj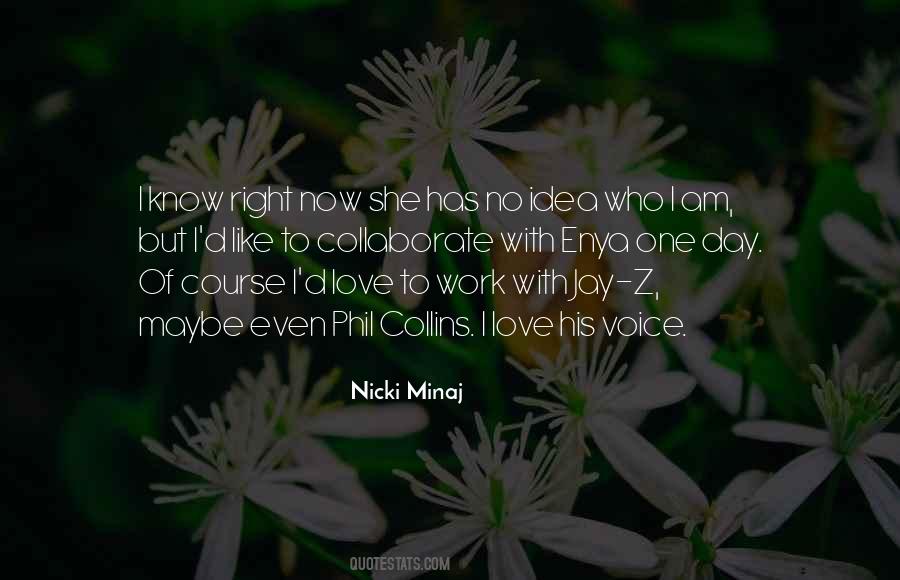 Famous Authors
Popular Topics