Daisy's Famous Quotes & Sayings
List of top 100 famous quotes and sayings about daisy's to read and share with friends on your Facebook, Twitter, blogs.
Top 100 Daisy's Quotes
#1. I knew a lot of chords, but they weren't the chords that came with the melody that came with the idea I had for the song. Melodies are simple things. If you see a train wreck, there's a melody. If you see a little daisy blowing in the breeze, there's a melody. - Author: Tom T. Hall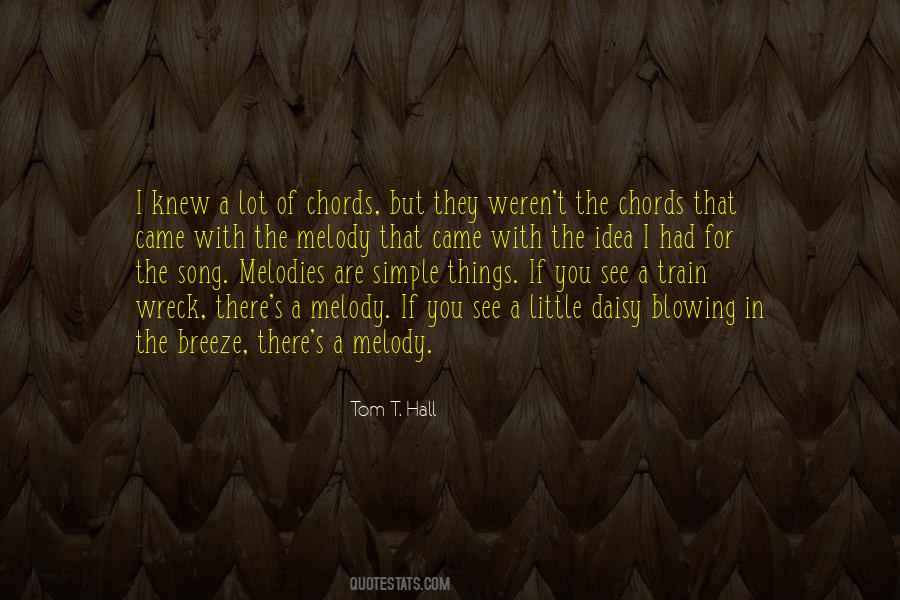 #2. If you saw a bullet
hit a Bird - and he told you
he wasn't shot - you might weep
at his courtesy, but you would
certainly doubt his word -
One drop more from the gash
that stains your Daisy's
bosom - then would you believe? - Author: Emily Dickinson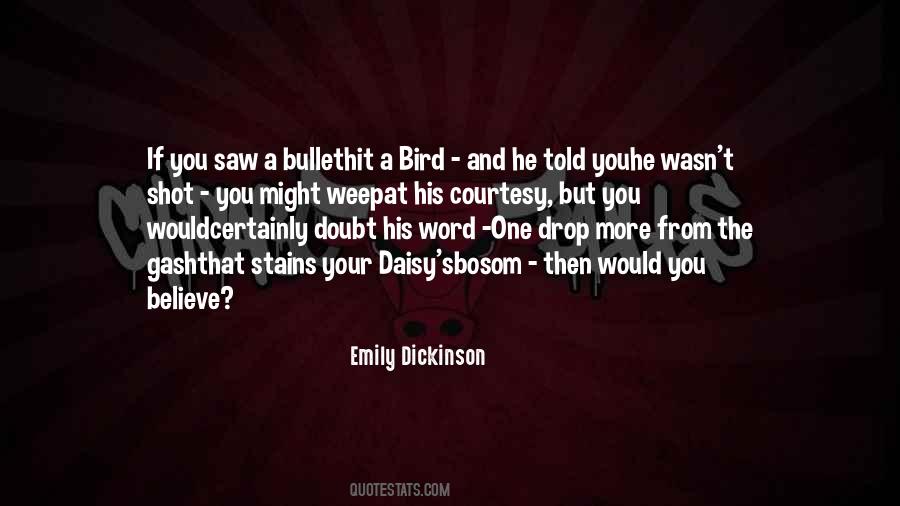 #3. You say one more word to anyone and I'm telling people you cried in here tonight because you thought Daisy was breaking up with you.' 'You wouldn't.' Leo's phone rings. 'He would,' he says, laughing as he answers it. - Author: Cath Crowley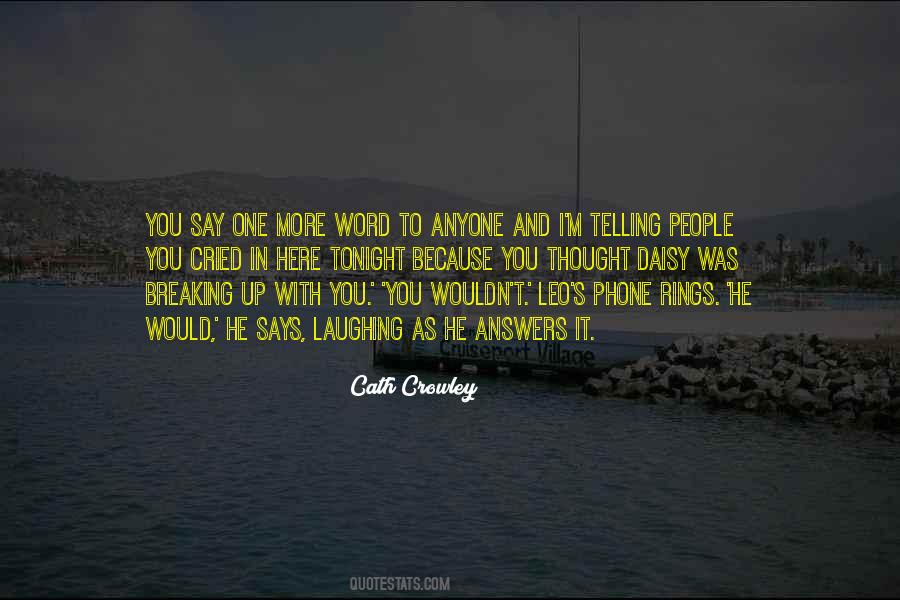 #4. Rey is so strong. She's cool and smart and she can look after herself. Young girls can look at her and know that they can wear trousers if they want to. That they don't have to show off their bodies. - Author: Daisy Ridley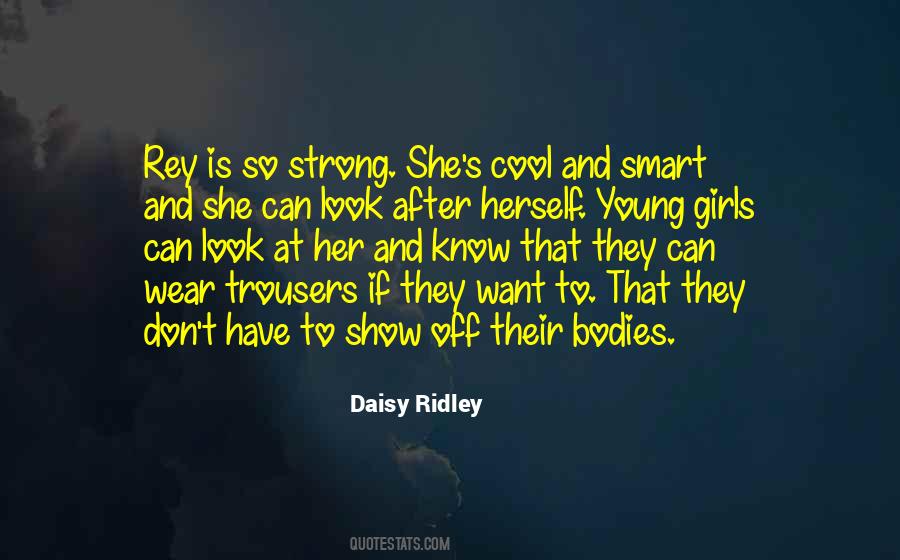 #5. Bless," said Daisy, quietly. And then, slightly louder, "Charlie? There's something we need to talk about outside. Now." They went out into the hospital corridor, leaving Spider inside. "What?" said Charlie. "What what?" said Daisy. - Author: Neil Gaiman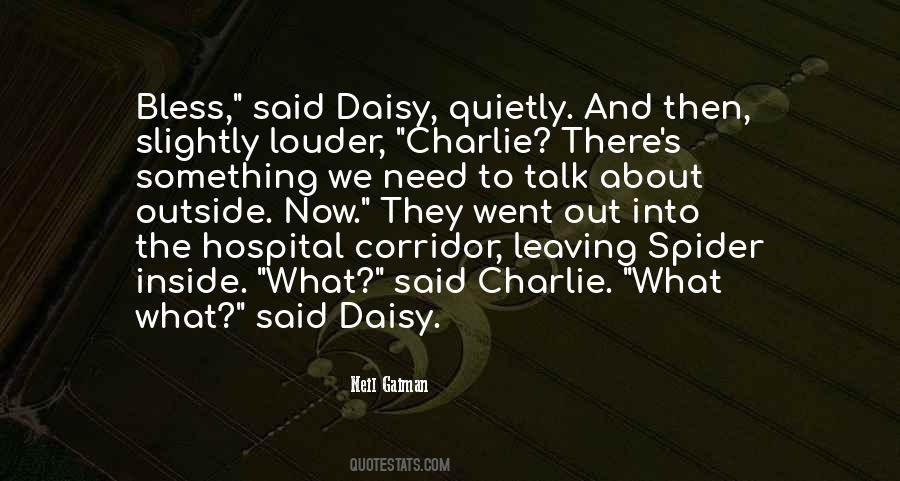 #6. Yes, Daisy. Feel it," he murmured against her mouth. "Feel what's in my heart for you." His hand slipped under the covers... - Christian Stone - Author: Nancy Glynn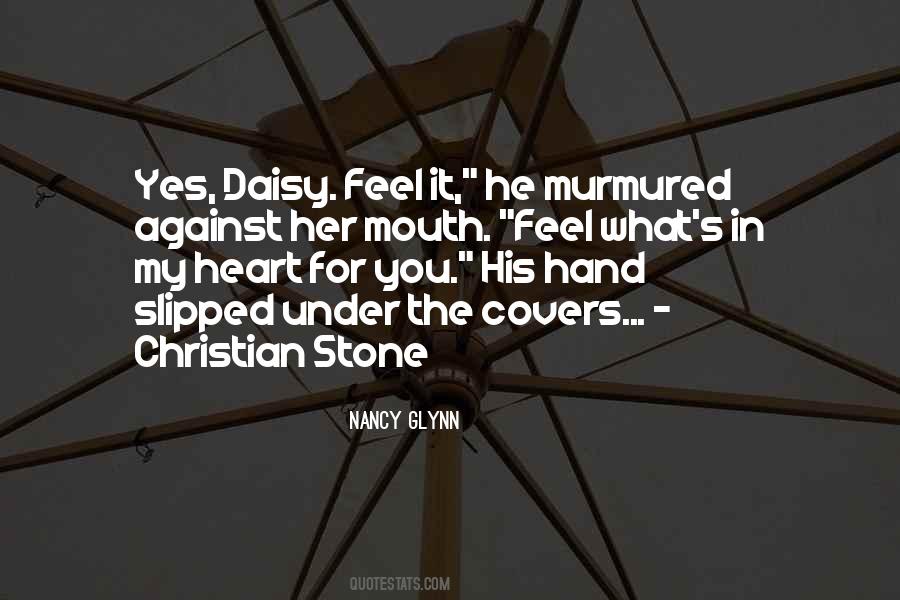 #7. It's one thing for other people to see potential in you, and it's quite another for you to understand that and see it in yourself. - Author: Daisy Ridley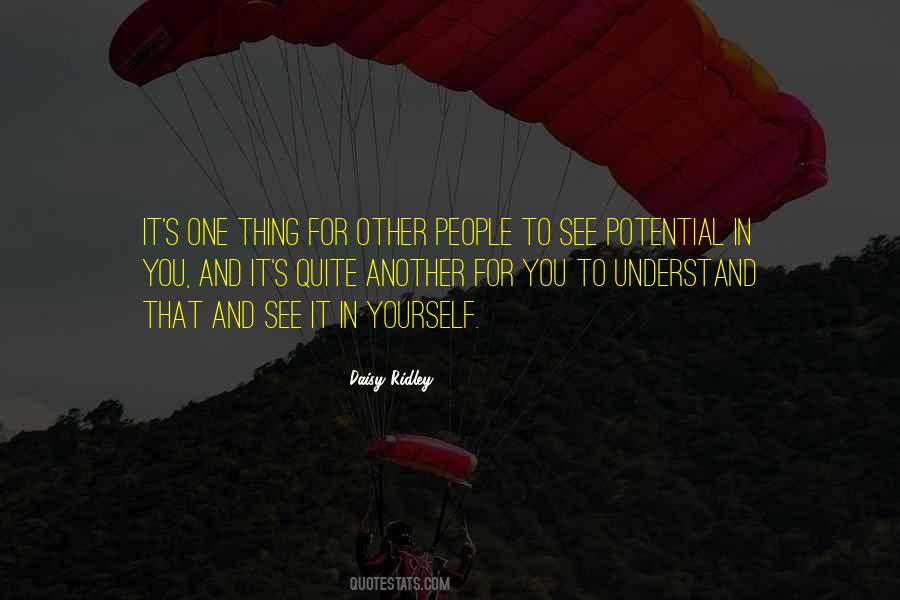 #8. Carey Mulligan and Felicity Jones are two of my favorites. I'm not so much younger than them. I like that. It's kind of aspirational. - Author: Daisy Ridley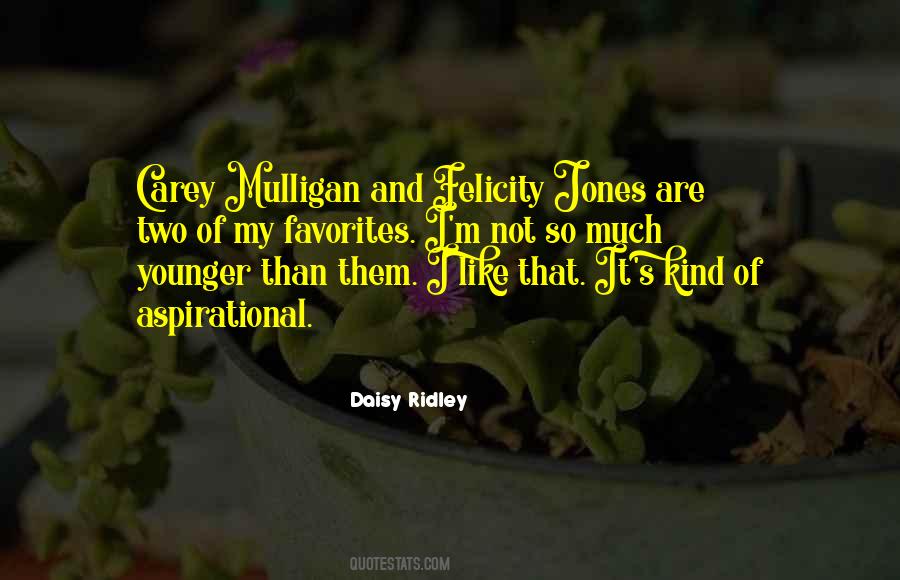 #9. If Daisy Buchanan's laugh is the sound of money, then a gimlet, well executed, is the color of it. It is just the thing when you are feeling impoverished, financially or spiritually. - Author: Julie Powell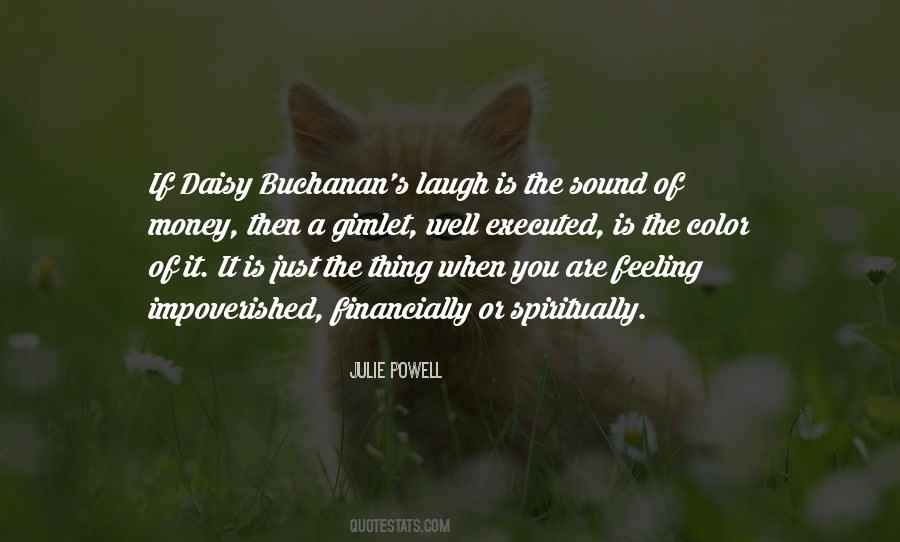 #10. I love Felicity Jones. It was funny because I went to go see the 'Rogue One' set, and I was like, 'Oh my God, I love you.' And she's so tiny, and elegant, and she's just so small. Everyone's so much smaller than they seem. - Author: Daisy Ridley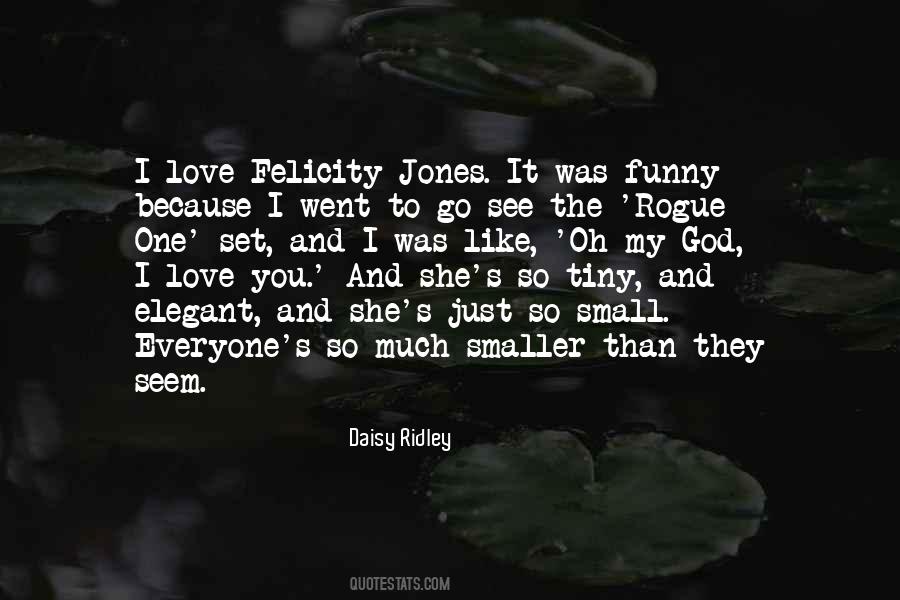 #11. In terms I hope you'll understand, darling, in fairytales, the prince vanquishes the wicked queen. The evil stepmother. The malicious goblin. In real life, Daisy, to avenge wrong done to his princess, if the need arises, the prince puts a bullet in somebody's brain. - Author: Kristen Ashley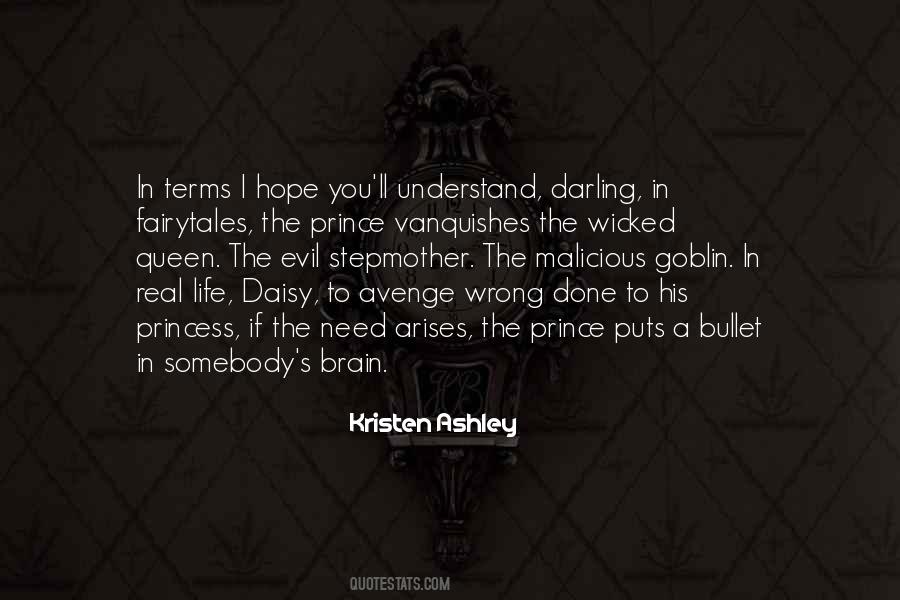 #12. Some decisions are hard, some are easy, but either way it's our choices that matter. Who we chose to align with. What we choose to give in to. What we choose to resist. And most of all, who we choose to be. Because it is always our choice. - Author: Daisy Whitney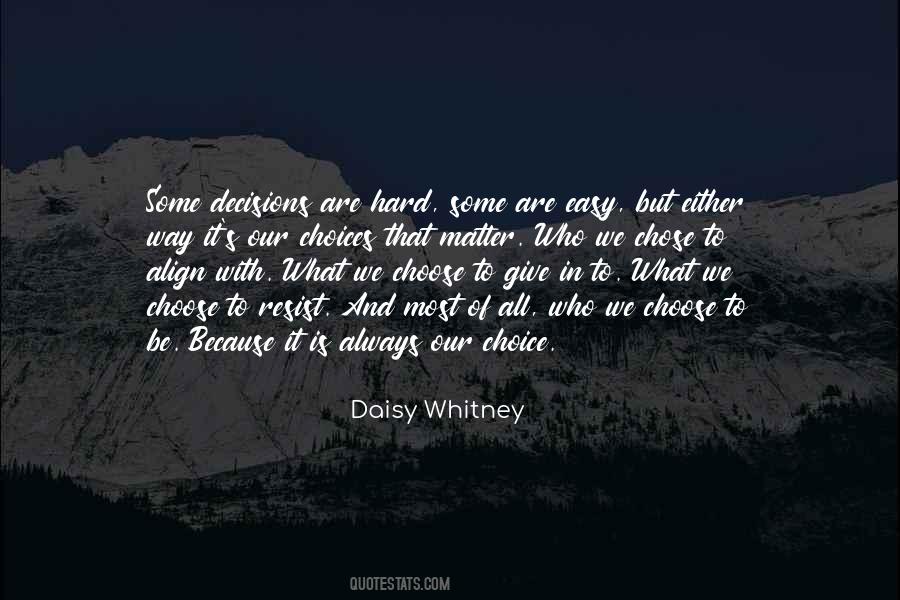 #13. Look out! He's got a daisy! - Author: Terry Pratchett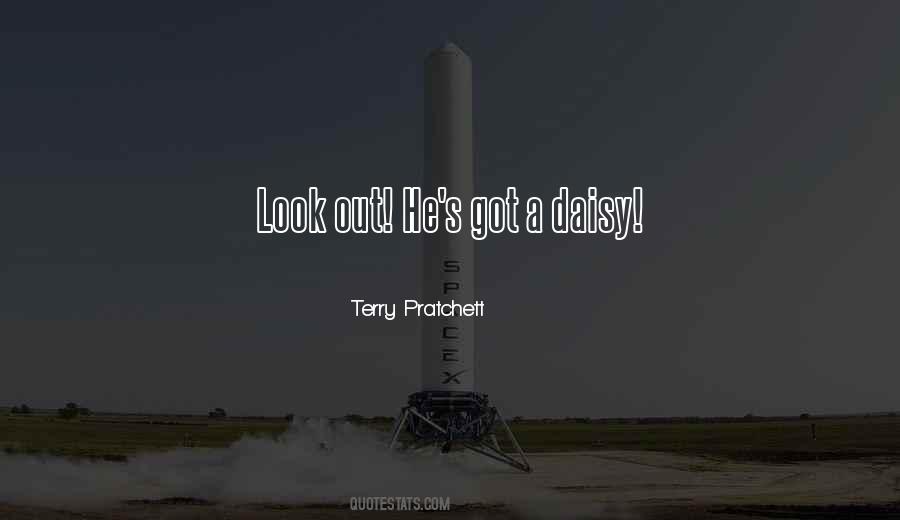 #14. It's like tabloid news programs that talk about how horrible something is, while at the same time they're glorifying it as their top story. - Author: Daisy Berkowitz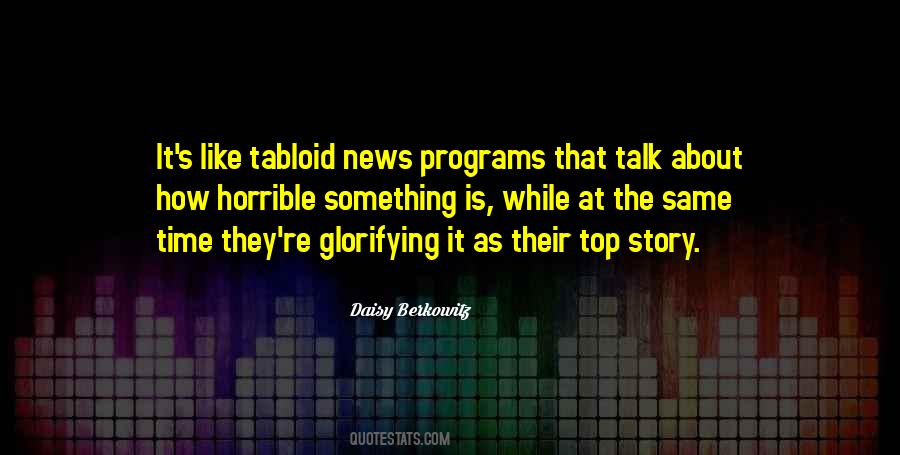 #15. When one felt like a wasp, one's main inclination was to sting. - Author: Lisa Kleypas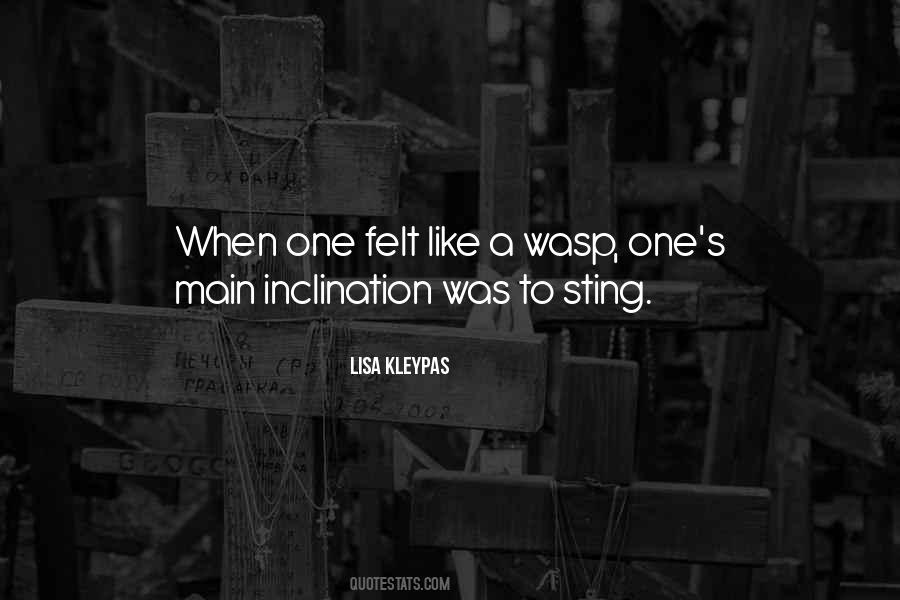 #16. Nobody seems to play Yamaha electrics, but it's the best guitar I own. - Author: Daisy Berkowitz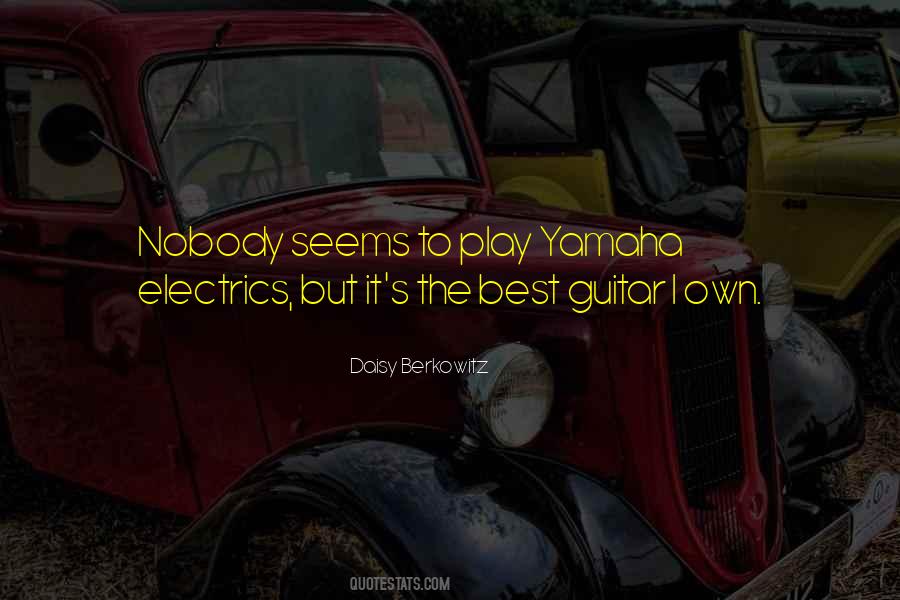 #17. I am not at peace.' Daisy Goodwill's final (unspoken) words. - Author: Carol Shields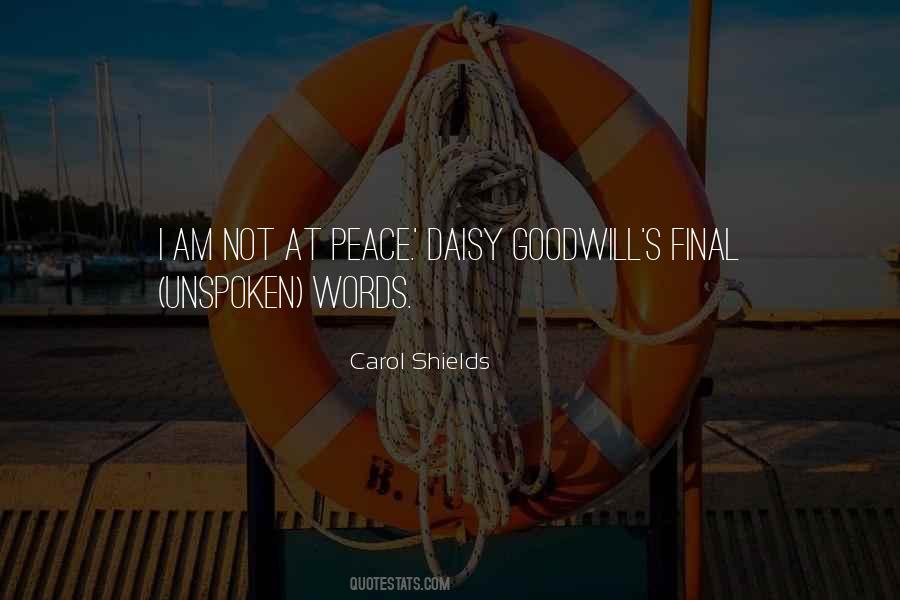 #18. A rose's prick is better than a daisy's kiss. - Author: Matshona Dhliwayo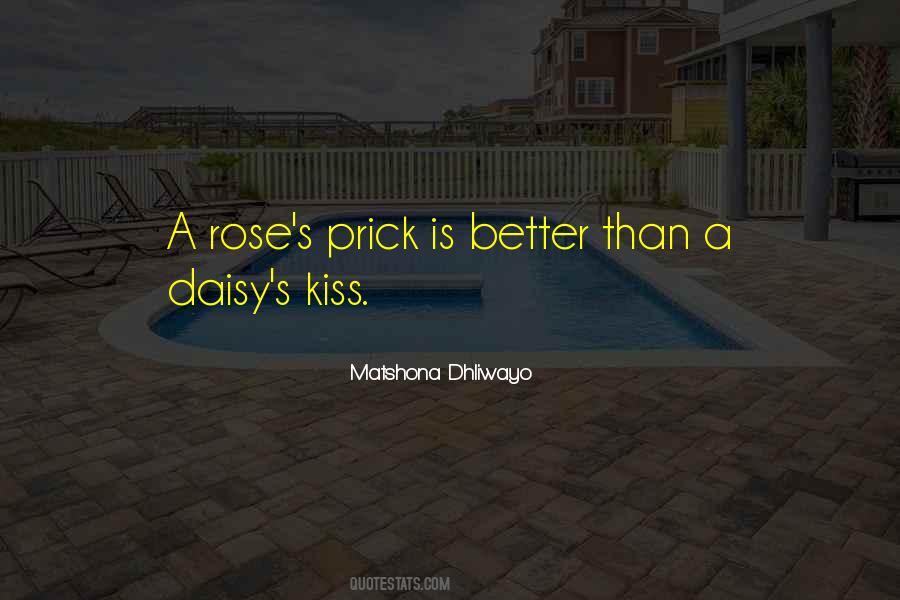 #19. No, I really do like the way babies smell. It's like laundry fresh out of the dryer." "Only the dryer is a vagina. - Author: Daisy Prescott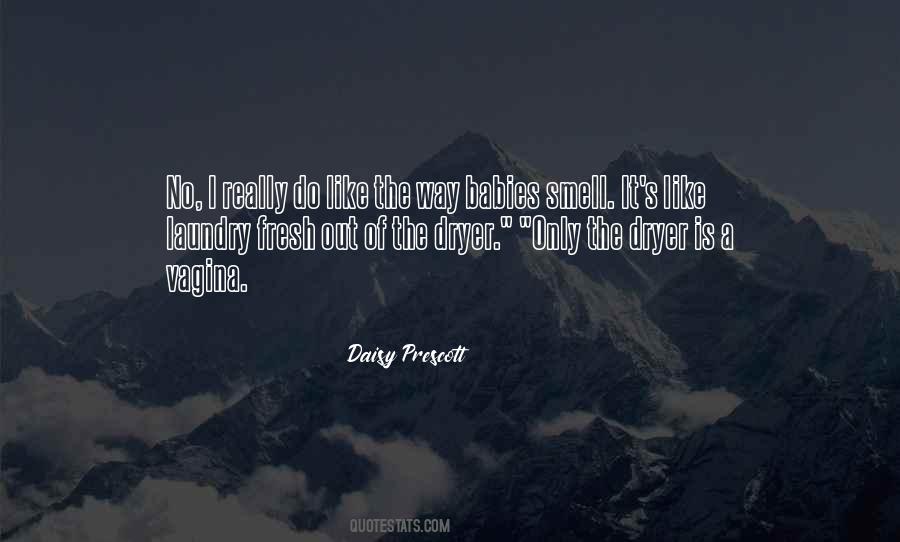 #20. I love you Daisy," he said without looking at her. "It's enough. - Author: Rachel Gibson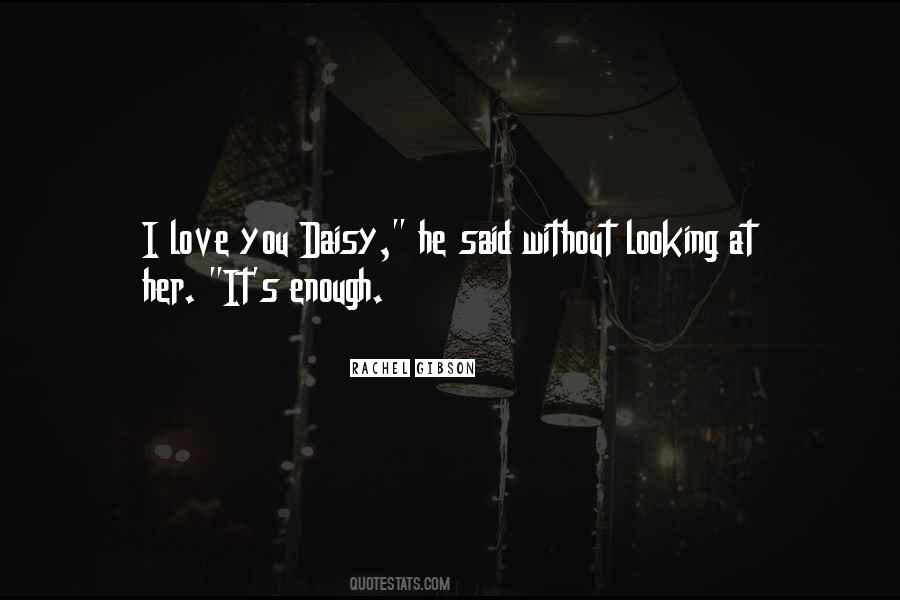 #21. Speaking of this, he felt something had been returned to him, as though the inestimable losses of life had been lifted like a boulder, and beneath he saw - under the attentive gaze of Daisy's blue eyes - the comforts and sweetness of what had once been. - Author: Elizabeth Strout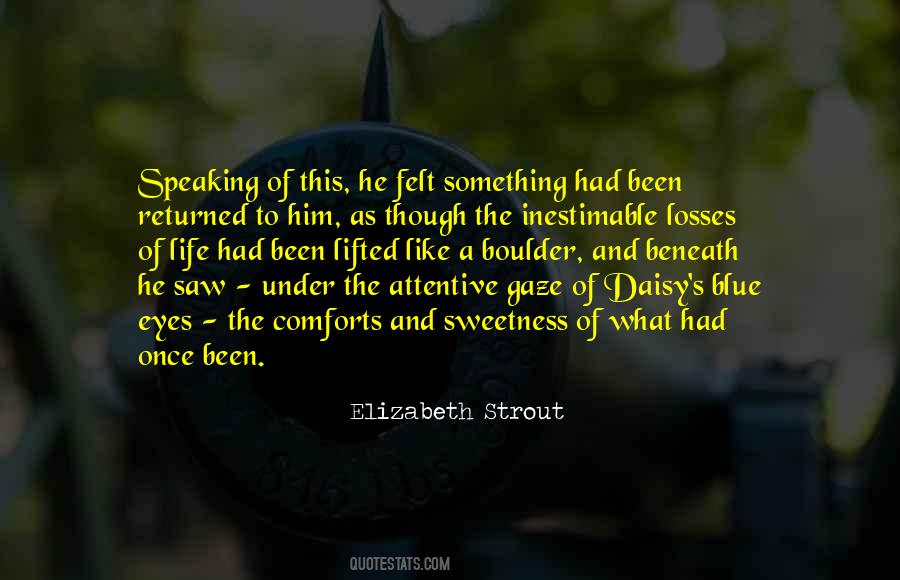 #22. I think I would have been so much in awe of the movie set, the people and what everybody's job was, that I don't know if I would be able to concentrate on the character. - Author: Daisy Fuentes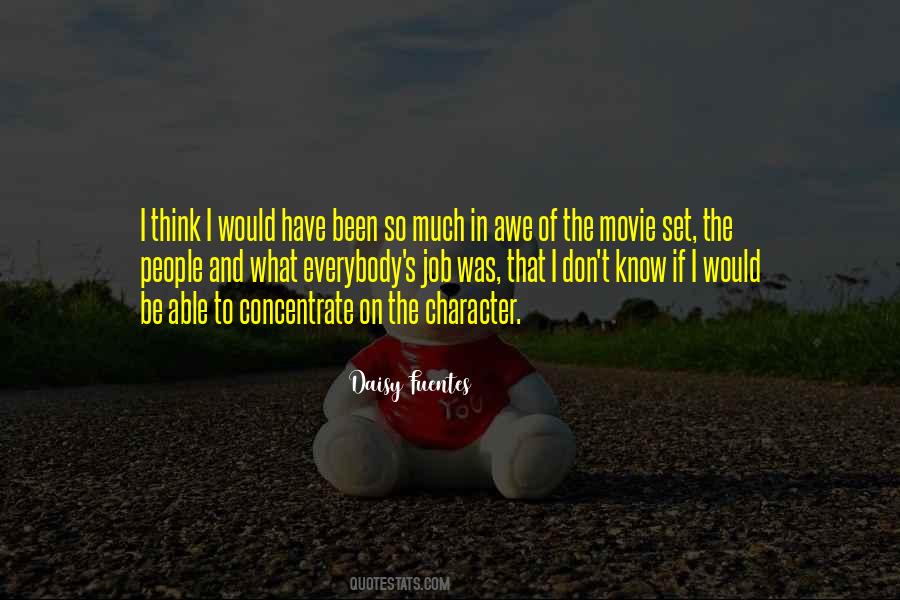 #23. It's great, because different groups of kids can laugh at each other and still enjoy the show. - Author: Daisy Berkowitz
#24. I don't know if I can prepare for what's to come because I don't know what will. - Author: Daisy Ridley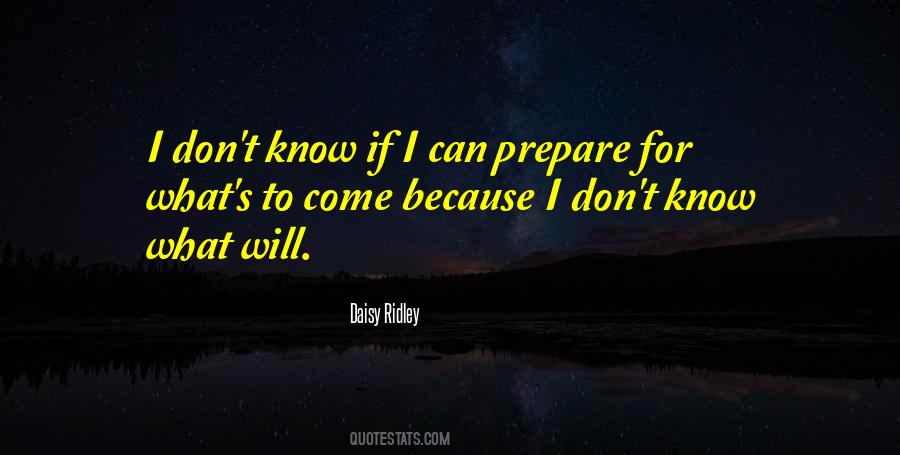 #25. I don't tell her that my grasp on truth, on words, on people, has slipped. I was getting close, so close to normal again, and that's been snatched away. I'm not even back where I started. I'm somewhere else entirely, so far off the map I don't know where to turn next. - Author: Daisy Whitney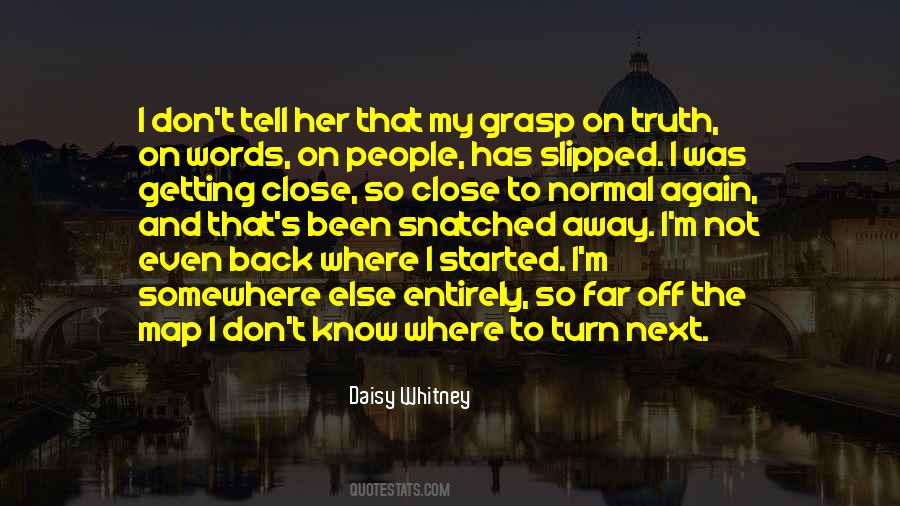 #26. It's funny because the action figures are cool, and then I enjoy the magazines because that's me. Obviously, the fans are wonderful - they're so excited - but I'm not Rey, and people tend to not be able to differentiate the two. - Author: Daisy Ridley
#27. Sometimes I'm kind of spacey. I'm like Ferdinand the bull, sniffing the daisy, not aware of time, of what's going on in the real world. - Author: Richard Gere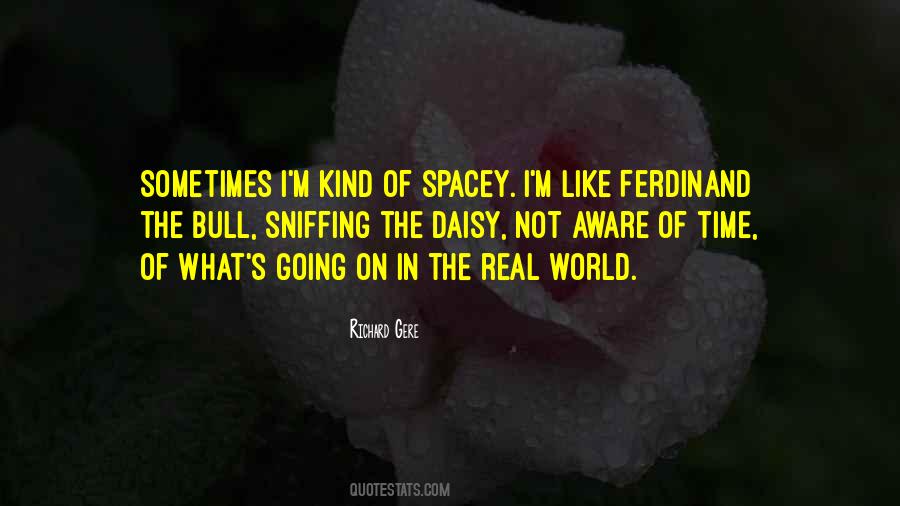 #28. Because maybe it's in the stories that the people we love are still alive. - Author: Daisy Whitney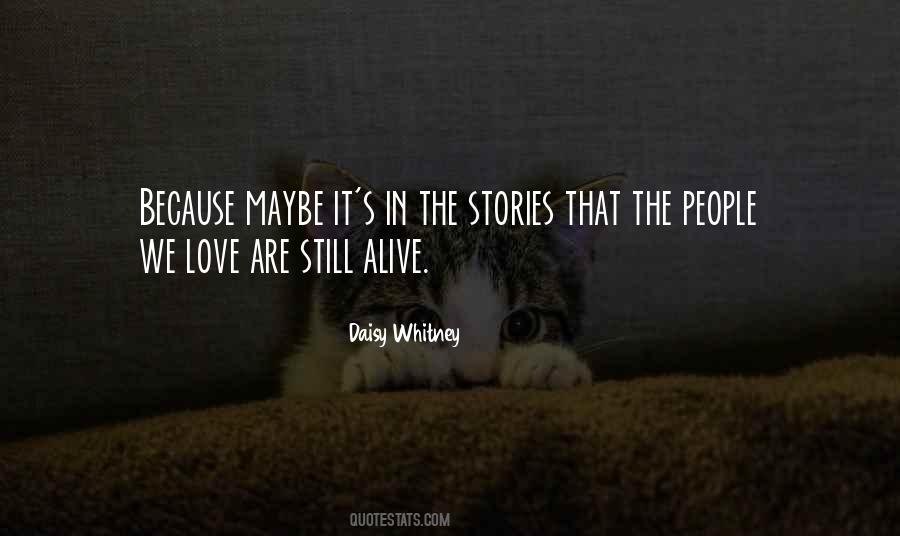 #29. Family rules? We only have one rule in our house, and that's 'Don't Be Annoying' - Author: Daisy Waugh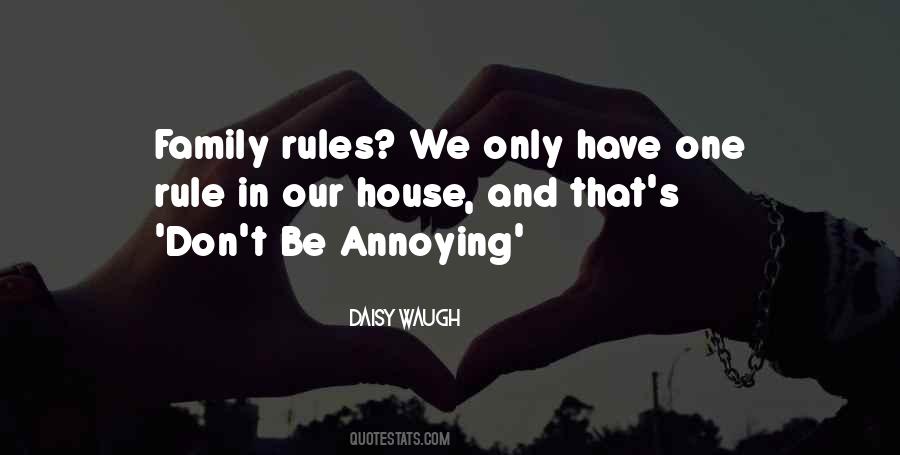 #30. Stepping inside Daisy's Diner, I was greeted by Rachel, the evening waitress, who side-eyed me as I walked in with Jeremiah. A cautious smile tugged at the corners of her mouth when she saw us. She winked at me as she grabbed the menus, - Author: Sky Shifter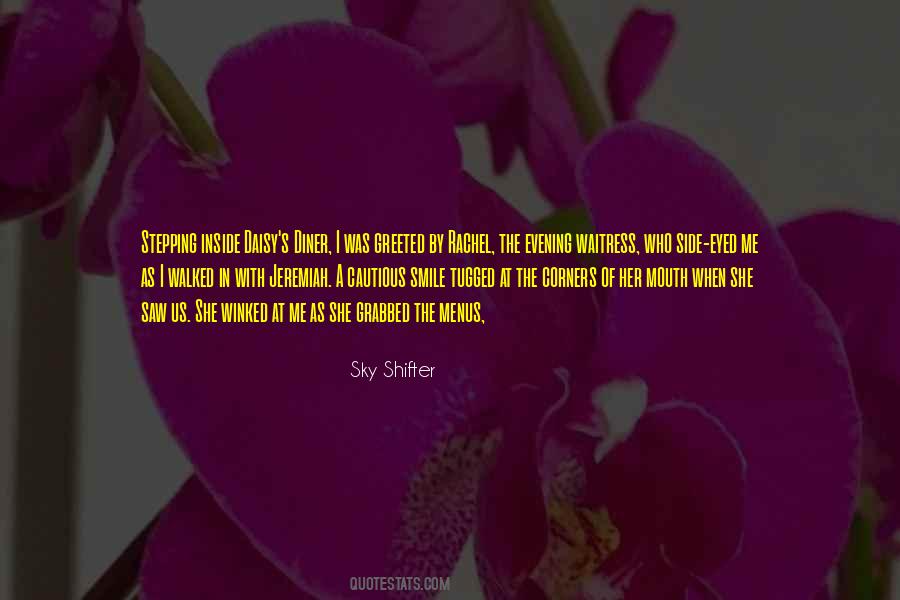 #31. Well." Vivien smiled, swinging her legs. "At least when Iain starts yelling, his accent gets thicker, so you usually can't understand a word he's ... No, don't pull that one," she stopped me suddenly. "That one I do recognize. It's some sort of a daisy, or something. - Author: Susanna Kearsley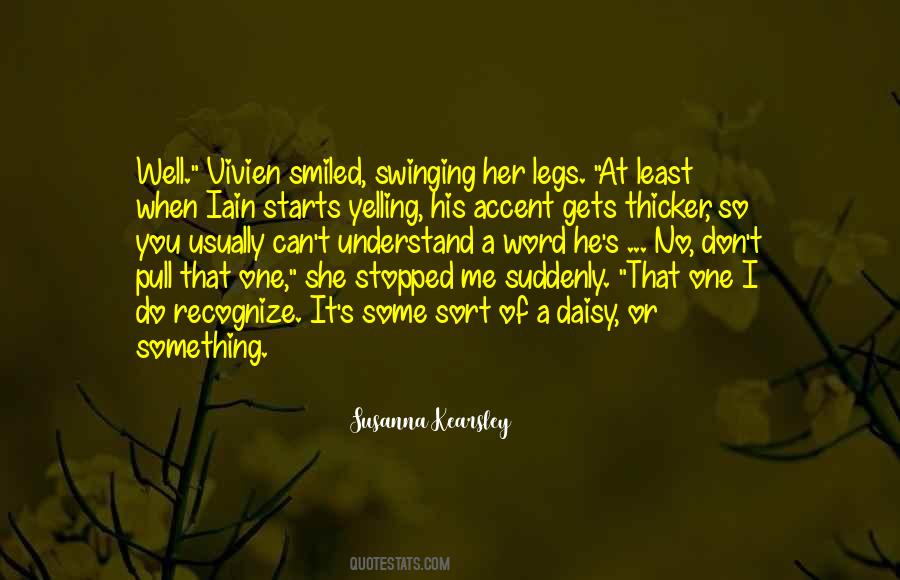 #32. What do you know?" I wonder, pulling Daisy's sweaty hair out of her face. Ryke gives me a solid glare. "You masturbate too much. - Author: Krista Ritchie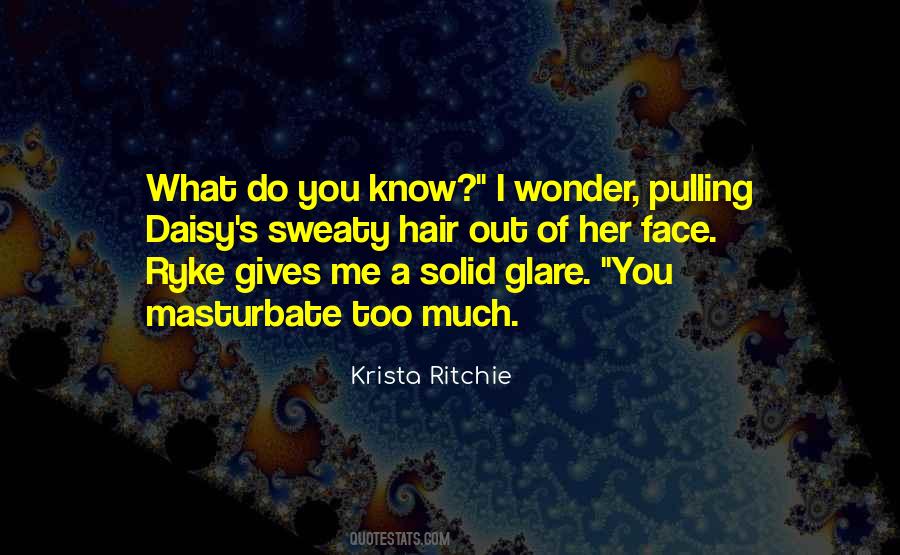 #33. I love to come to L.A. to visit, and then I like to come to rainy old London because it's home. - Author: Daisy Ridley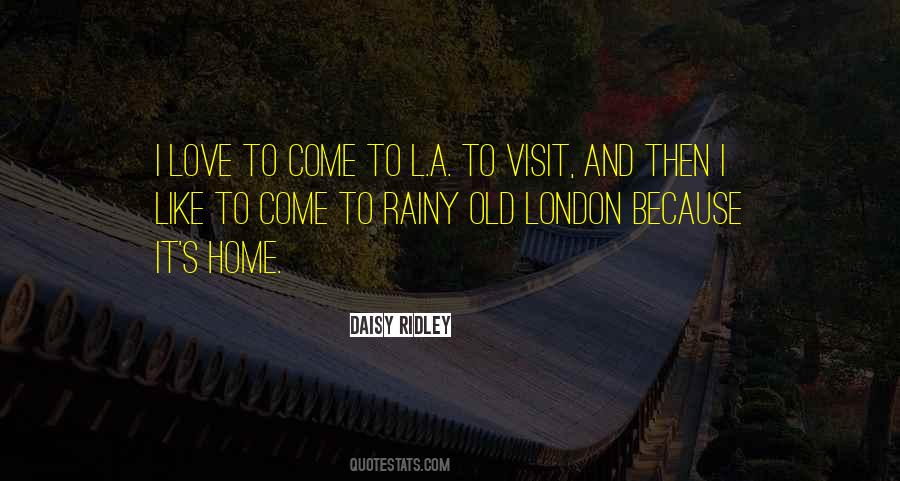 #34. Love will find you when it's damn good and ready and not a second before or a minute too late - and when it does, you don't have a chance in hell in getting away." DAISY - Author: Melissa Foster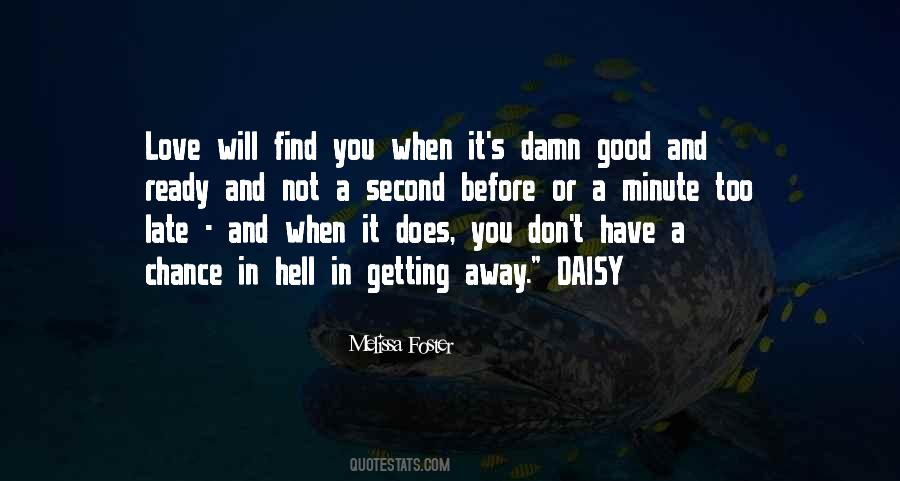 #35. DAISY: I never knew you were such a realist-I thought you were more poetic. Where's your imagination? There are many sides to reality. Choose the one that's best for you. Escape into the world of imagination. - Author: Eugene Ionesco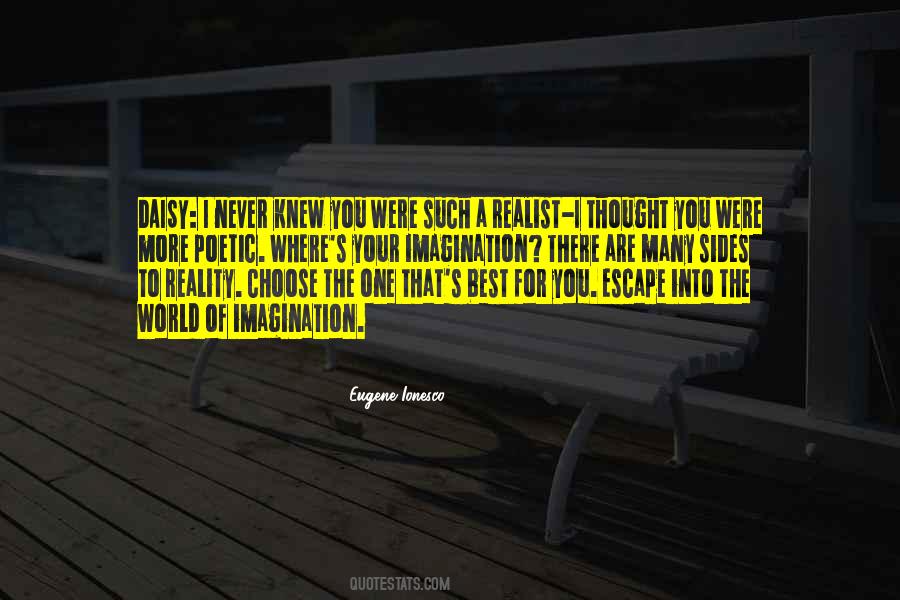 #36. Think good thoughts. Or maybe conjure up your perfect guy, I try to list all of the things I want in a guy. Smart. Funny. Chivalrous. What? Mr. Darcy is hot. Great, now I'm thinking about Colin Firth and he's like my dad's age. So wrong. - Author: Daisy Prescott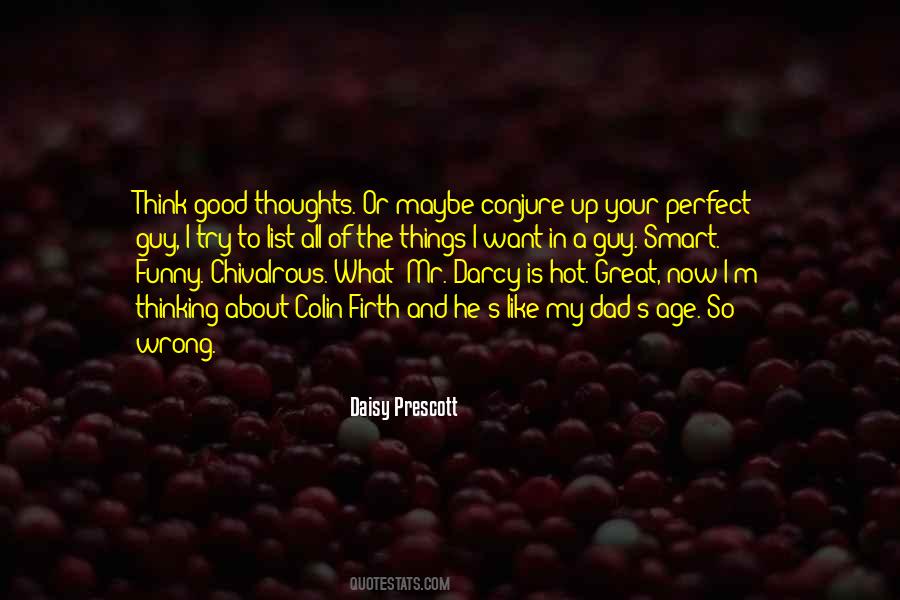 #37. They were princesses once, charged with saving the kingdom from a dragon, and whoever could defeat it would be queen. Daisy used strength, Amelia wits, and Isabelle fell in love with the dragon, because that's the sort of girl she was. She rid the kingdom of the dragon, and then made it its king. - Author: Anne Ursu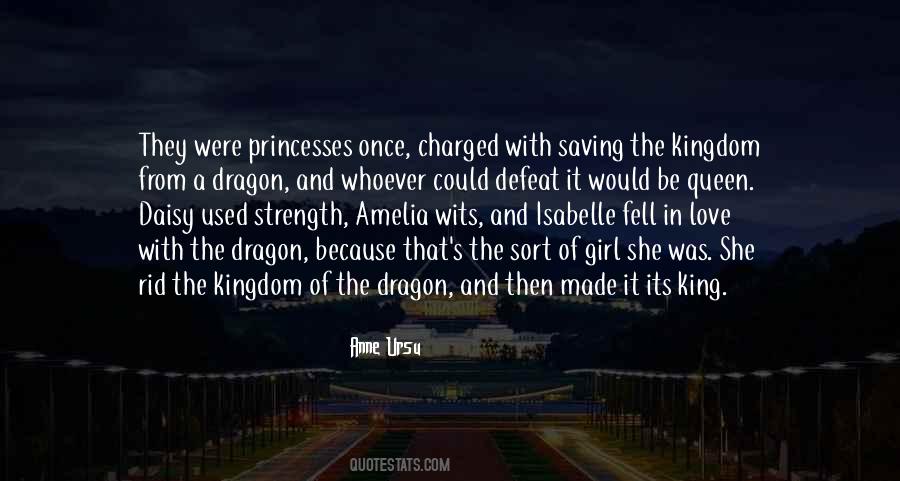 #38. You two start on home, Daisy,' said Tom. 'In Mr Gatsby's car.'
She looked at Tom, alarmed now, but he insisted with magnanimous scorn.
'Go on. He won't annoy you. I think he realises that his presumptuous little flirtation is over. - Author: F Scott Fitzgerald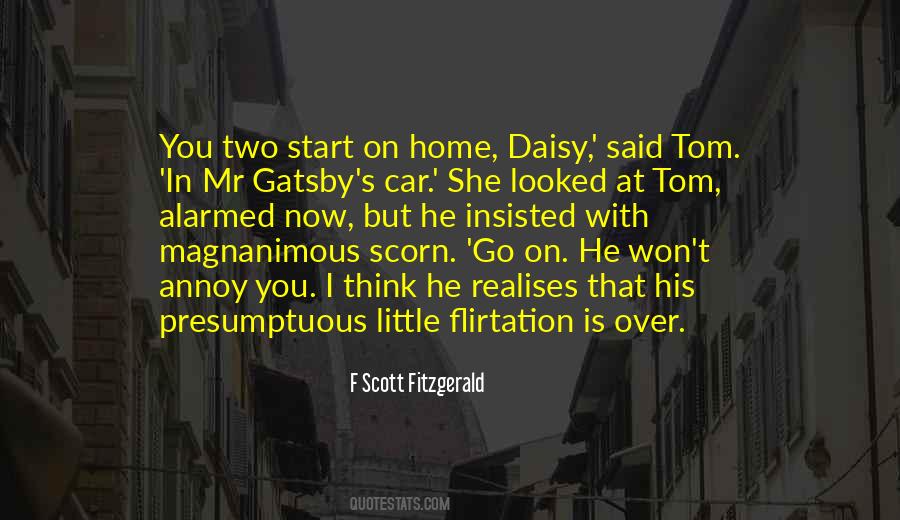 #39. I think scent is sensual. I guess evoking a mood or a spirit is key, and I think with the women's fragrances we have evoked different types, moods or sensibilities of a woman - whether it's Daisy with the sweetness and the innocence or Lola which is more provocative, sexy and sultry. - Author: Marc Jacobs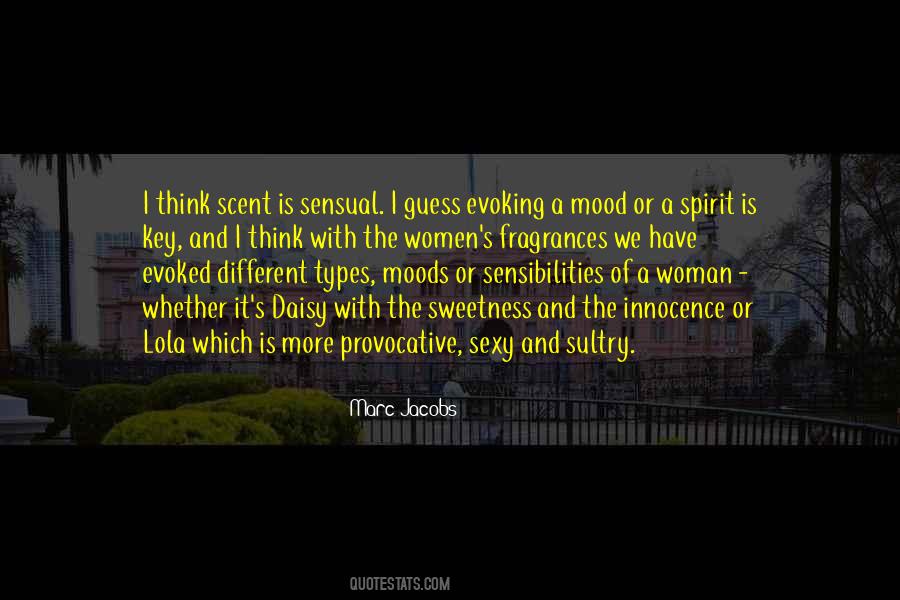 #40. And since Evie's husband, St. Vincent, had decided not to go fishing, Evie said
she would rather remain in bed with him.
"You would have much more fun fishing with me," Daisy had told her.
"No," Evie had said decisively, "I wouldn't. - Author: Lisa Kleypas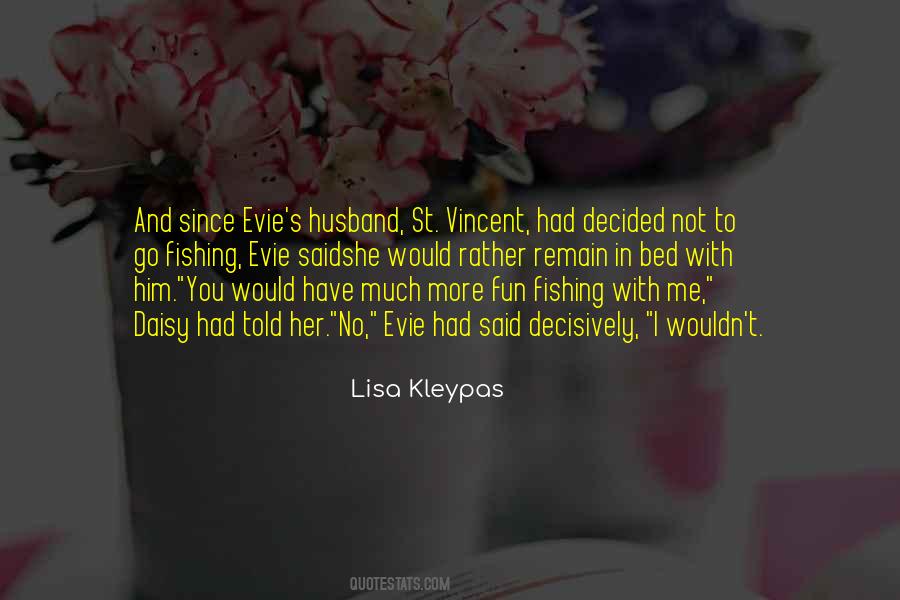 #41. He mounted the stairs. You're a romantic, Daisy. It's not that I think I'm so irresistible - God knows, I don't - but over the years it's been my observation that the minute any man puts a red flag in front of a woman, she changes it in her mind to a green one. - Author: Susan Elizabeth Phillips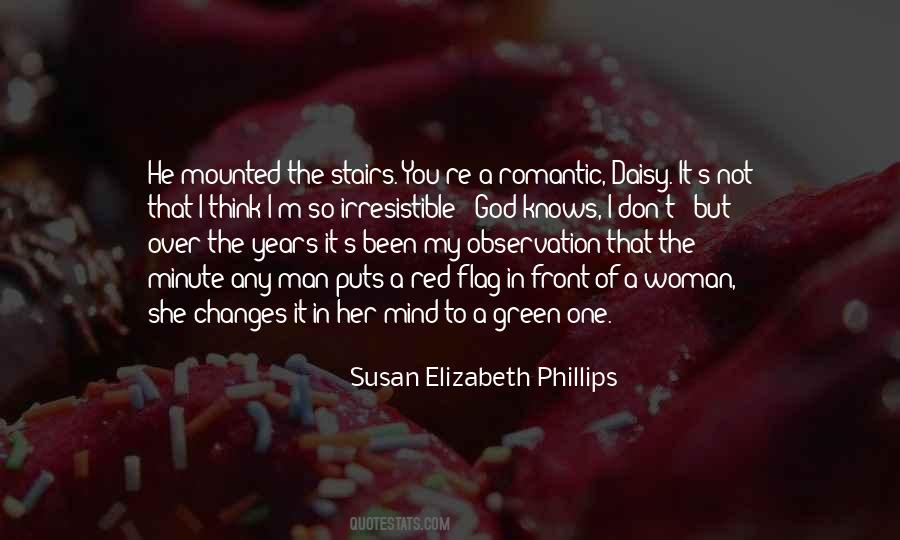 #42. Your life goes on, and then your life goes on plus 'Star Wars.' It's just been an incredible time. - Author: Daisy Ridley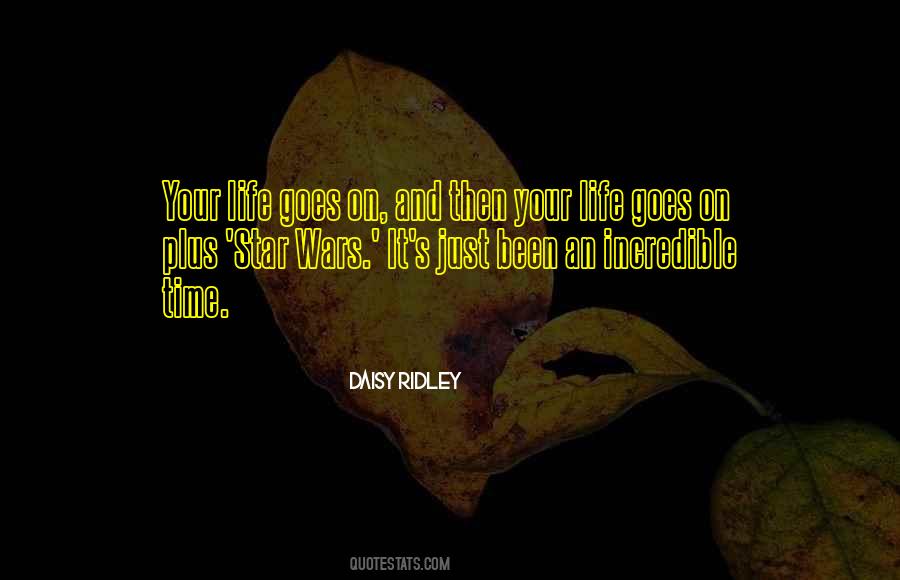 #43. Moderation He that holds fast the golden mean, And lives contentedly between The little and the great, Feels not the wants that pinch the poor, Nor plagues that haunt the rich man's door Embittering all his state Horace, from Odes, Book II, translated by William Cowper - Author: Daisy Goodwin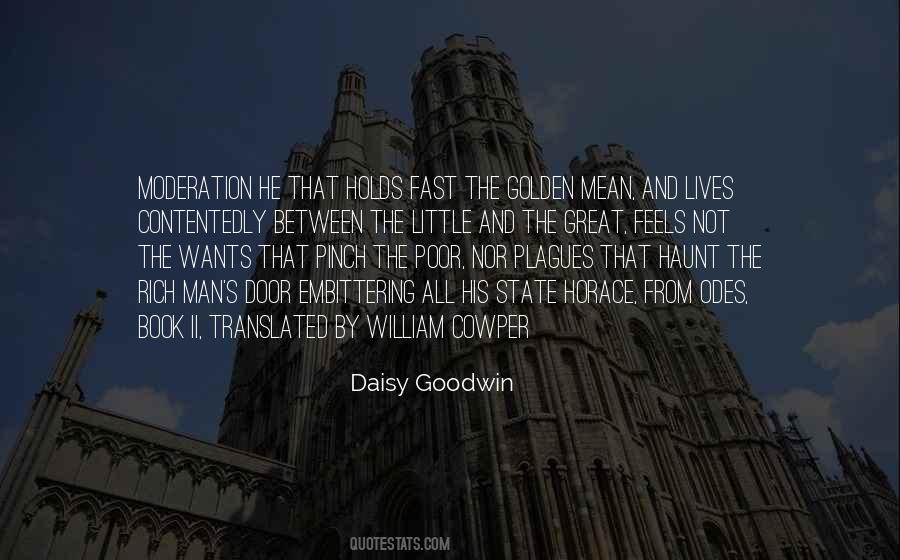 #44. You go into the book store, there's the cut-out of Dr. Phil, and then the dreaded women's health section where every book, instead of the menopause book with the fanged Medusa head on the cover that might be more pertinent, you always see a flower and a poppy and a daisy and a stethoscope. - Author: Sandra Tsing Loh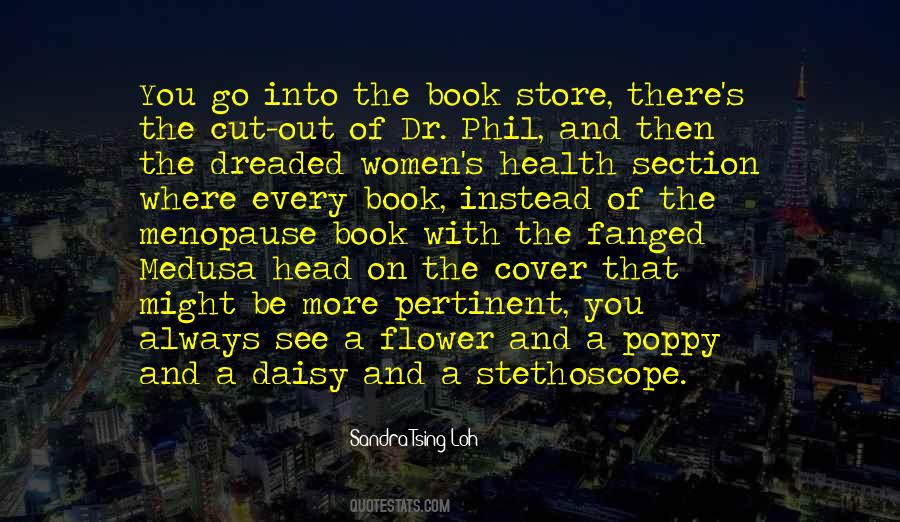 #45. You independent women these days don't need to play by the old rules anymore. Embrace it. Chase your man. But be sensible.' (Daisy's Nanna, 'Friendship on Fire', p. 400) - Author: Danielle Weiler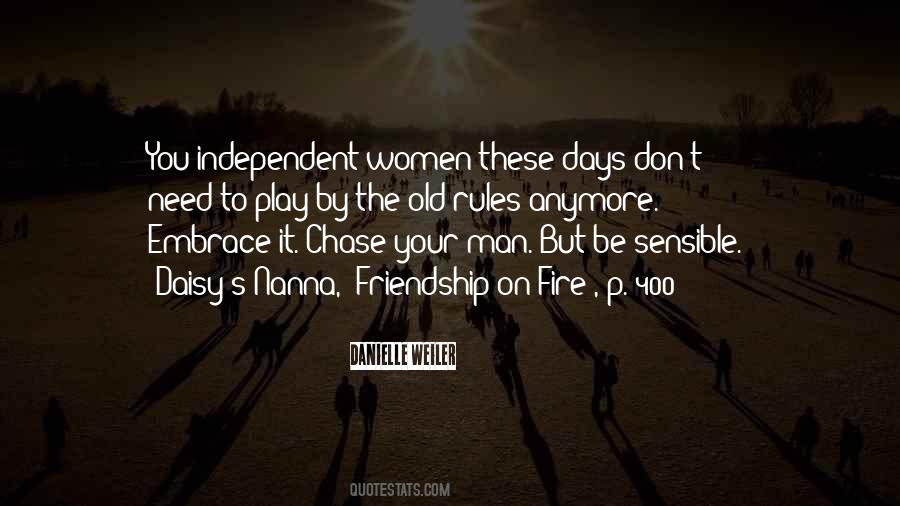 #46. Daisy glanced up into her husband's sparkling eyes. "You're being scandalous, Mr. Swift," she whispered. "This is nothing," Matthew replied in an undertone, his expression soft with love. "I'm saving my worst behavior for tonight. - Author: Lisa Kleypas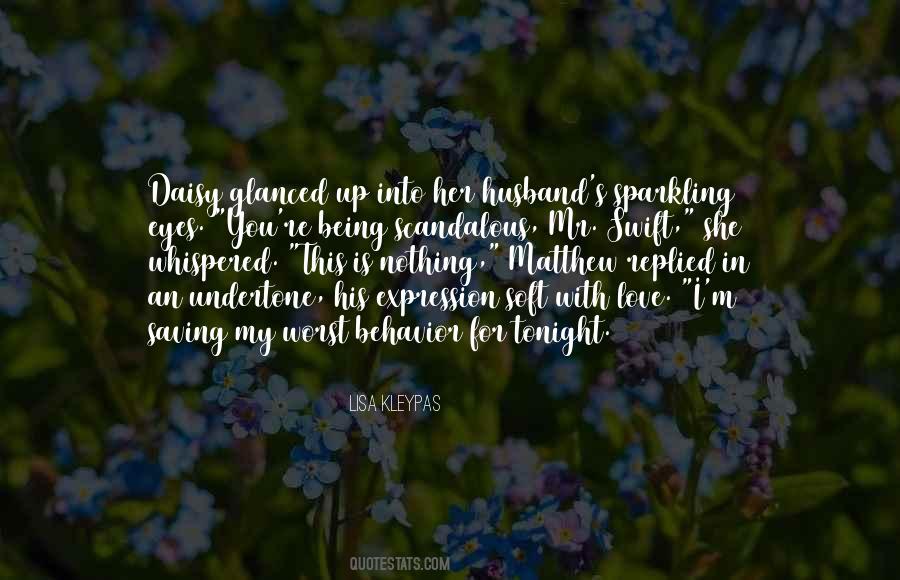 #47. Rey's parents left her at 5, and we meet her when she's late teens or early 20s, and for someone to keep hopeful that there's a better life to come, I think, is astounding. Though she starts off alone, she very much finds her place in a group of people, and that's lovely. - Author: Daisy Ridley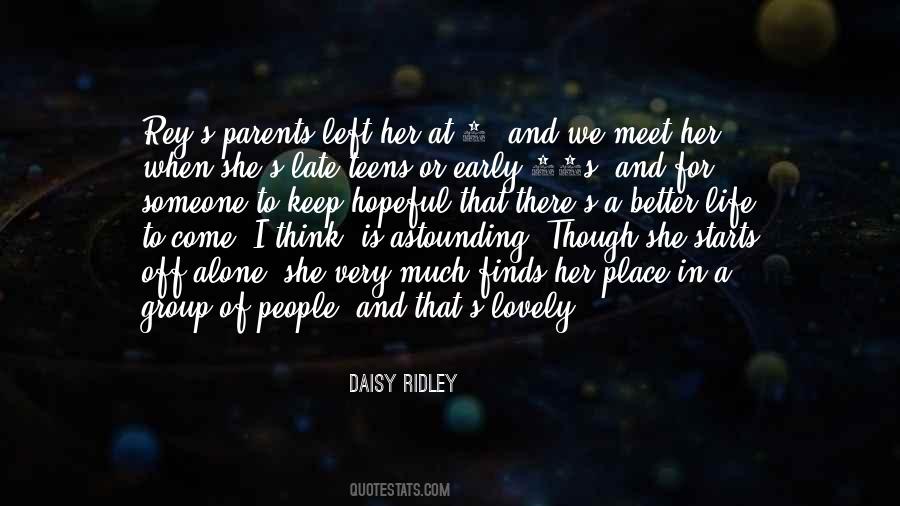 #48. I'd love to adopt, but having a daughter, Daisy, who's in the middle of her teens, I'm now thinking: Is this a time to start all over again or is this a time to realise those child-rearing years are over? - Author: Joely Richardson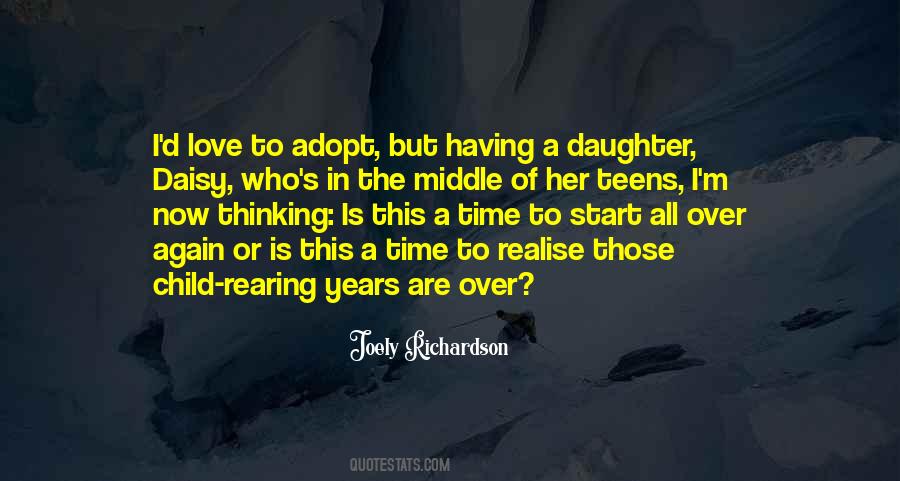 #49. I've heard it said that Daisy's murmur was only to make people lean toward her; an irrelevant criticism that made it no less charming. - Author: F Scott Fitzgerald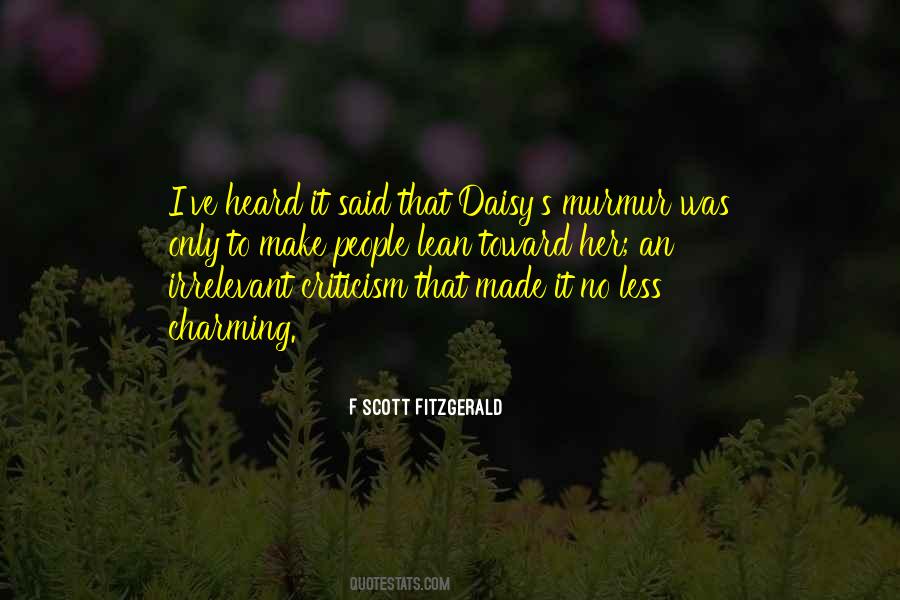 #50. That to this mountain-daisy's self were known The beauty of its star-shaped shadow, thrown On the smooth surface of this naked stone! - Author: William Wordsworth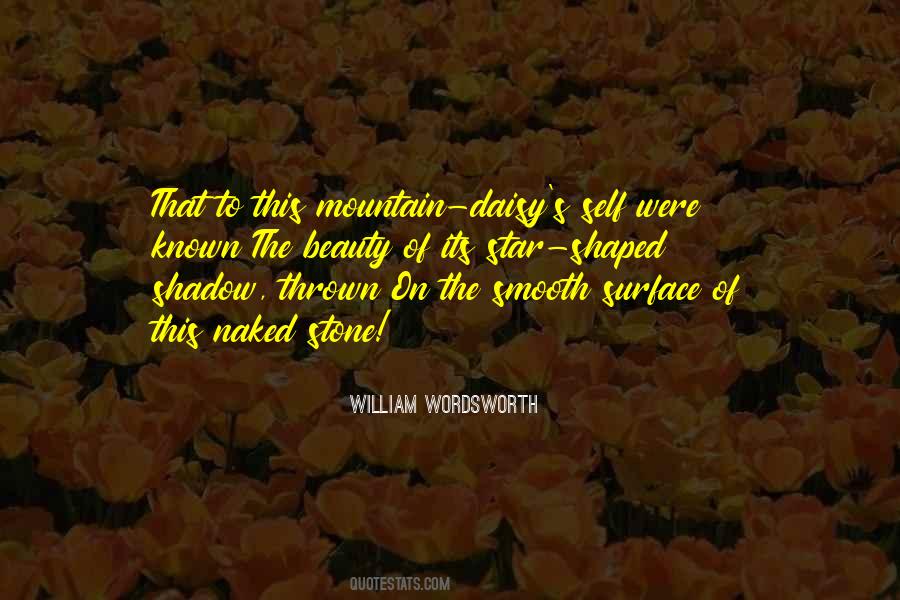 #51. Don't everlastingly read messages into paintings - there's the Daisy - you don't rave over or read messages into it - you just look at that bully little flower - isn't that enough? - Author: John Marin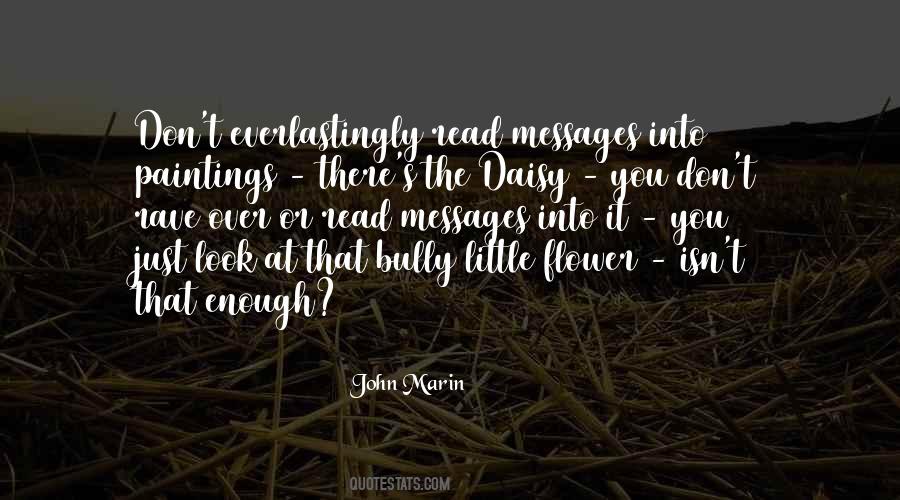 #52. Always have something beautiful in sight, even if it's just a daisy in a jelly glass. - Author: H. Jackson Brown Jr.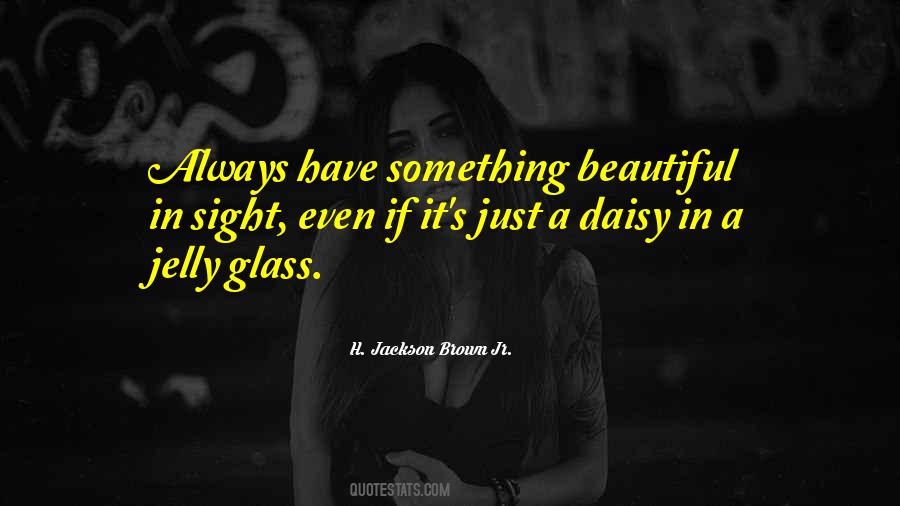 #53. When I was a junior, boys were allowed to come visit me at the house. We could sit on the porch until about 8 o'clock at night; that's when it started getting dark. That was it. - Author: Daisy Fuentes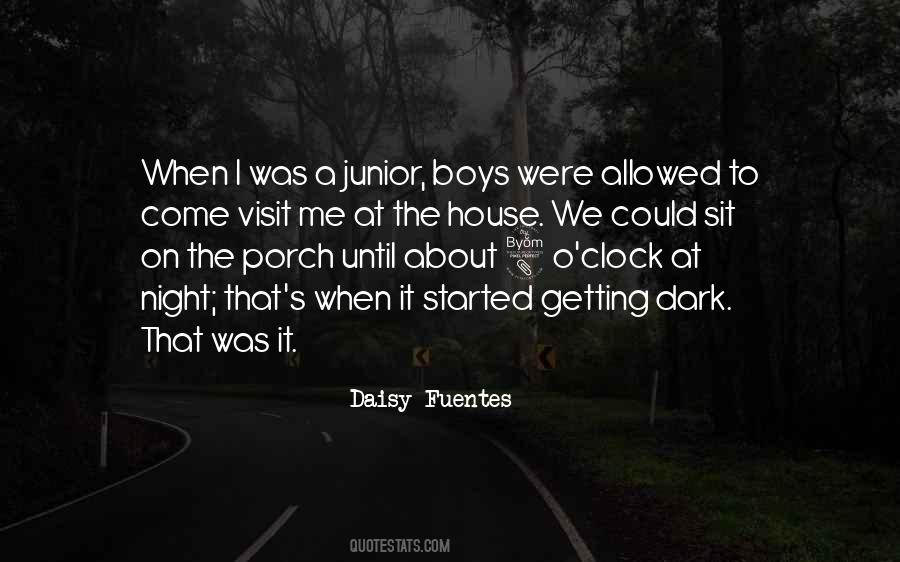 #54. Do you really think anyone saves our programs from one year
to the next?" Sarah asked.
"My mother does," Daisy said.
"So does mine," Sarah answered, "but it's not as if she pulls
them out and compares them side by side."
"My mother does," Daisy said again.
"Dear God," Iris moaned. - Author: Julia Quinn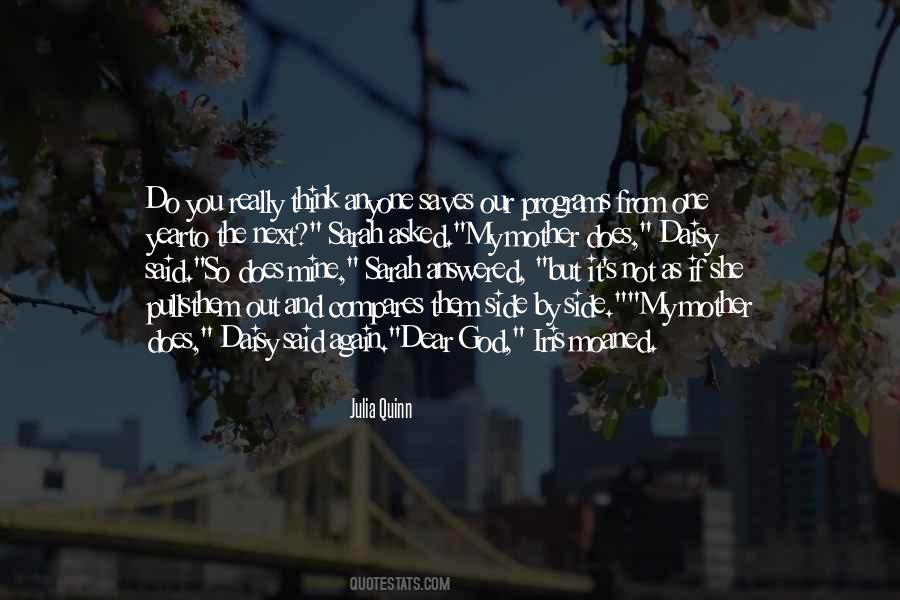 #55. Unlike in Daisy's novels, moments of precise reckoning are rare in real life; questions of misinterpretations are not often resolved. Nor do they remain pressingly unresolved. They simply fade. People don't remember clearly, or they die, or the questions die and new ones take their place. - Author: Ian McEwan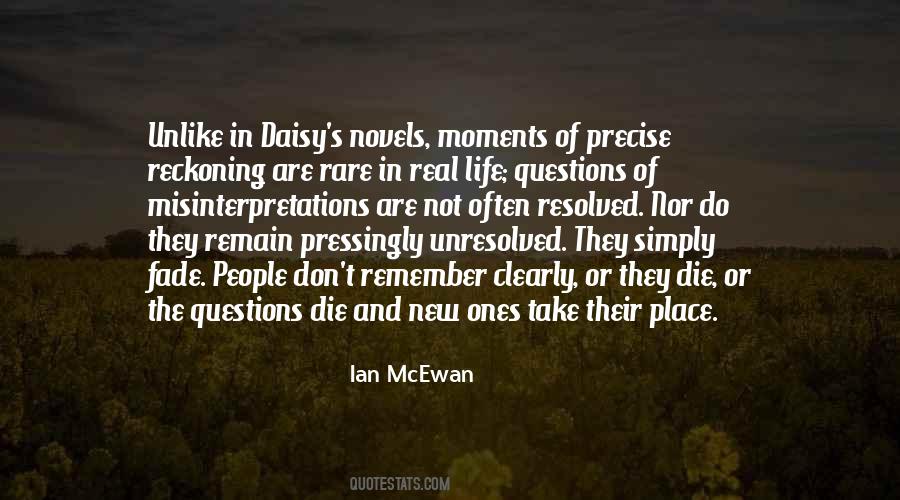 #56. My lord," came Daisy's anxious voice, delaying him briefly. "You will find her, won't you?" "Yes," he said without hesitation. "And then I'm going to strangle her. - Author: Lisa Kleypas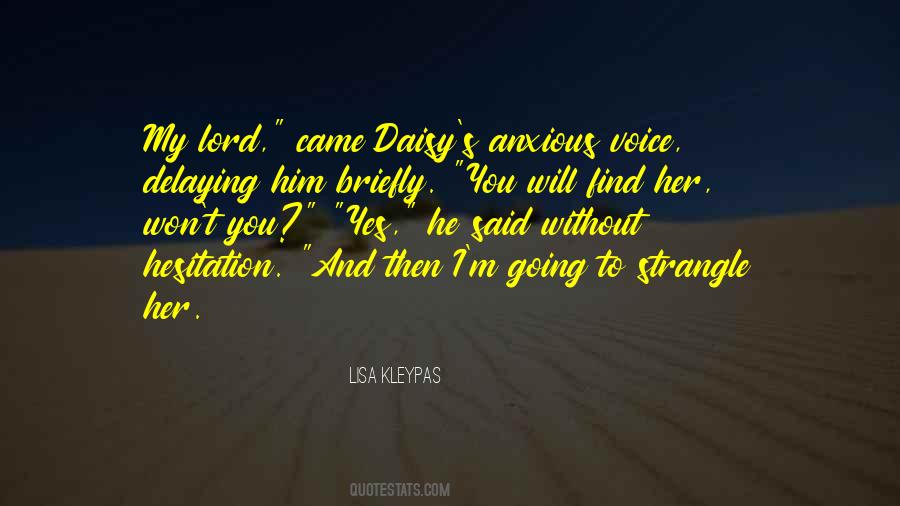 #57. Hush, little students, we'll say the word,
Mama's gonna buy you a mockingbird.
And if that mockingbird won't sing,
Mama's gonna write down everything.
And so that book won't look the same,
Mama's gonna add a brand-new name. - Author: Daisy Whitney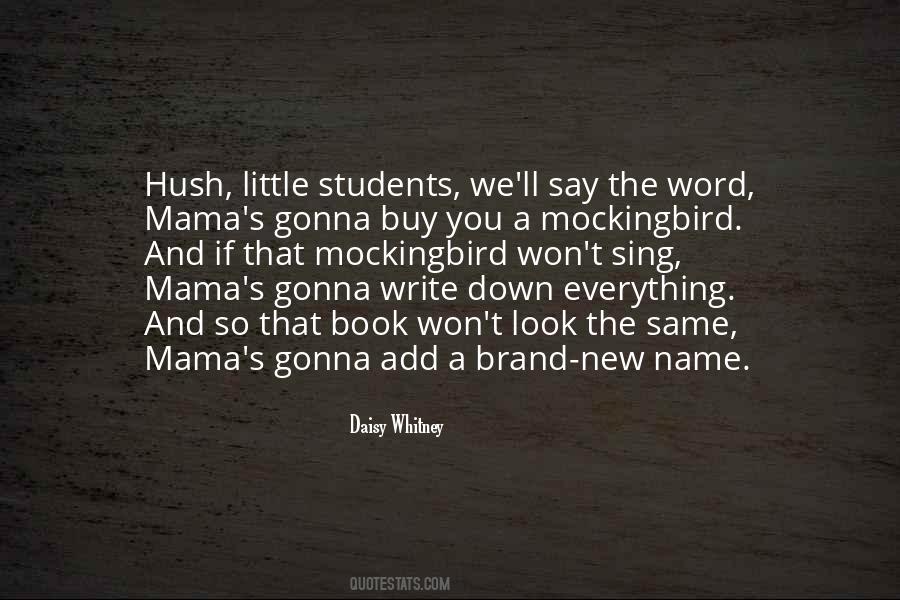 #58. I made sure no butt cheek hung out. You know, the original Daisy, Catherine Bach's shorts were shorter than mine. - Author: Jessica Simpson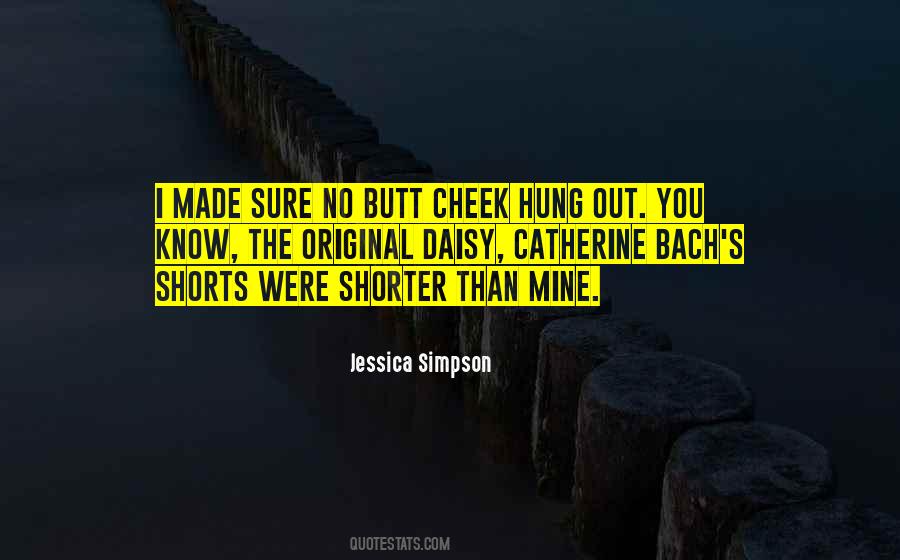 #59. It is an empty room, that afterwards, a soledad, and it sits there at the center of a person's life and waits to be filled. - Author: Daisy Hernandez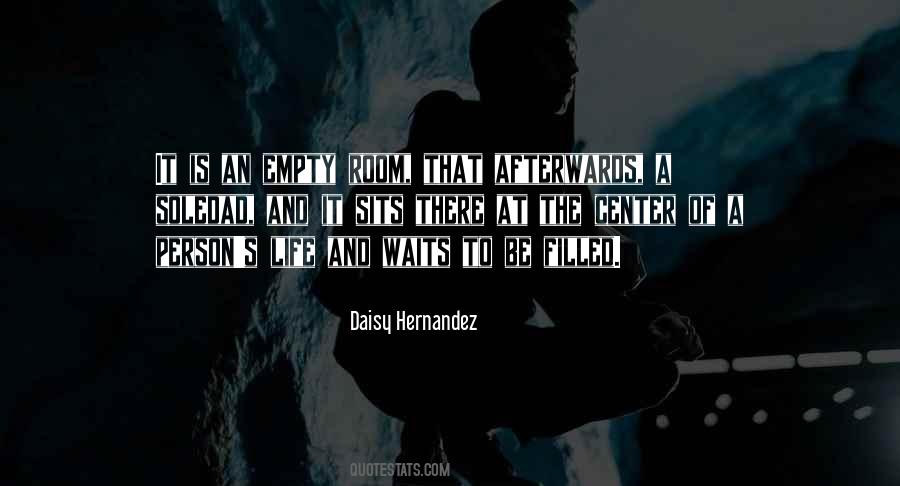 #60. I risk a grin at the thought. Because there's a part of me that likes that idea. Get out of town and never look back. - Author: Daisy Whitney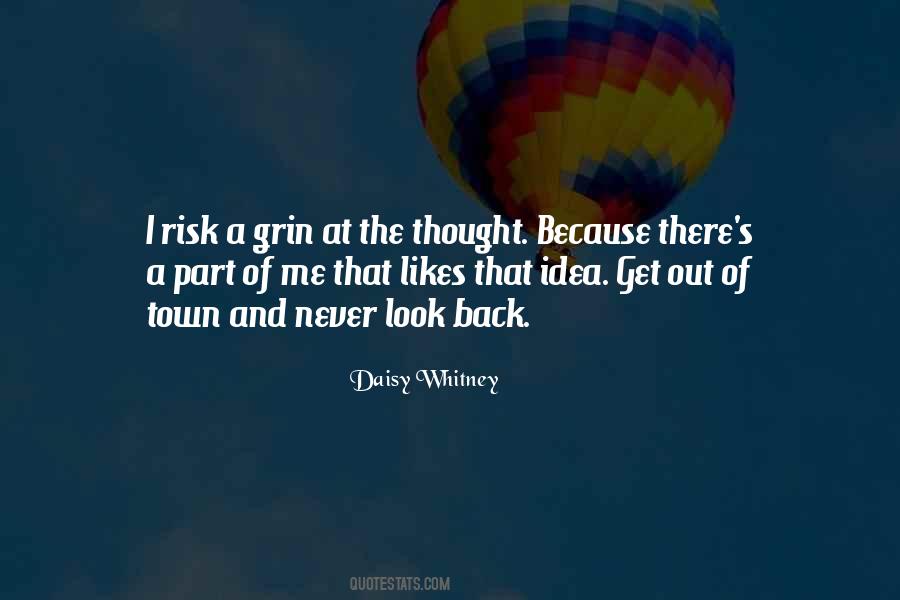 #61. Even thou who mournst the daisy's fate, that fate is thine. - Author: Robert Burns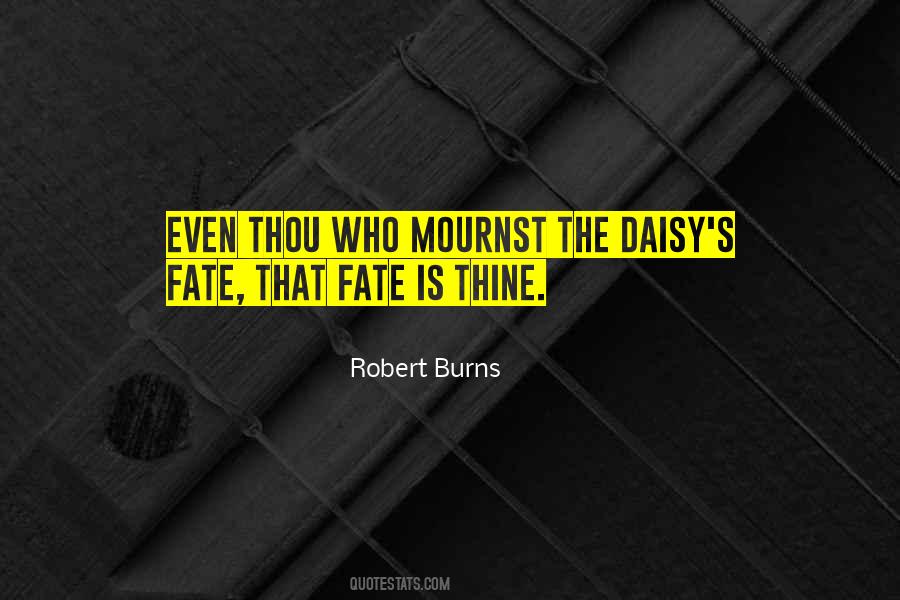 #62. Daisy said to me that I was trying to find ways to protect my heart but I was doing it wrong. She told me the best way to protect my heart was to trust it to someone who will protect it for me.
More silence but his body went completely still.
That's you. It's always been you. - Author: Kristen Ashley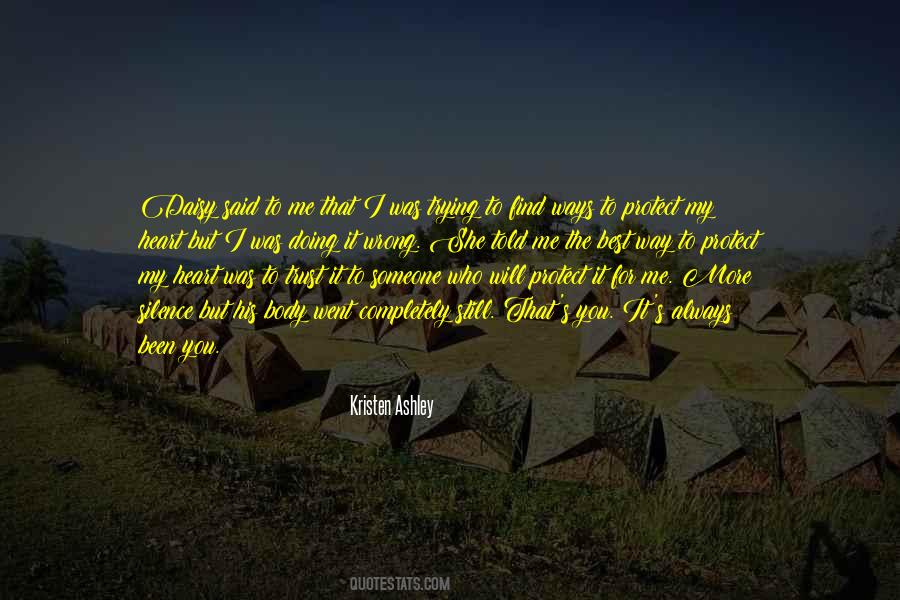 #63. You see, Harold, I feel that much of the world's sorrow comes from people who are *this*,
[she points to a daisy]
Maude: yet allow themselves be treated as *that*.
[she gestures to a field of daisies]
- Author: Colin Higgins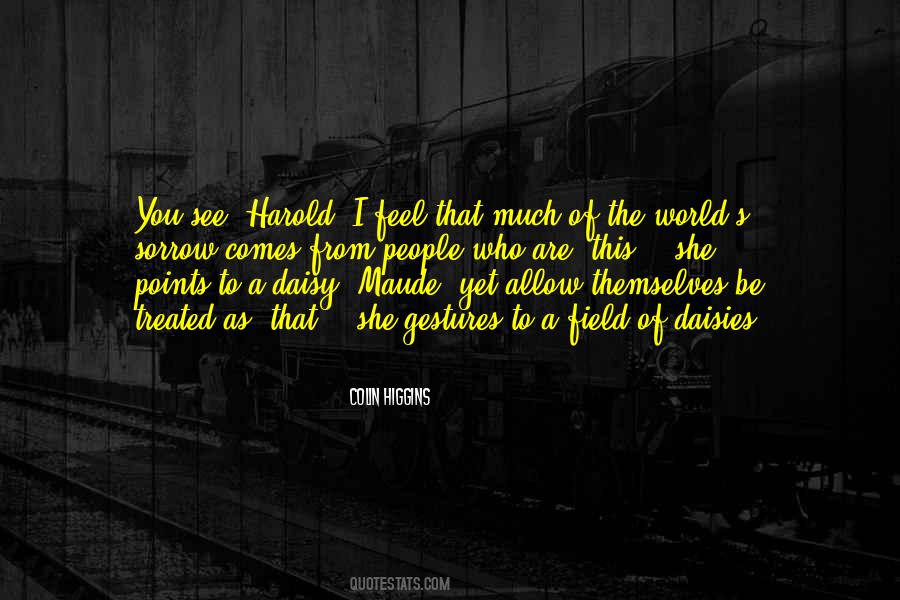 #64. O daisy mine, what will it be to look / From God's side even of such a simple thing? - Author: Alice Meynell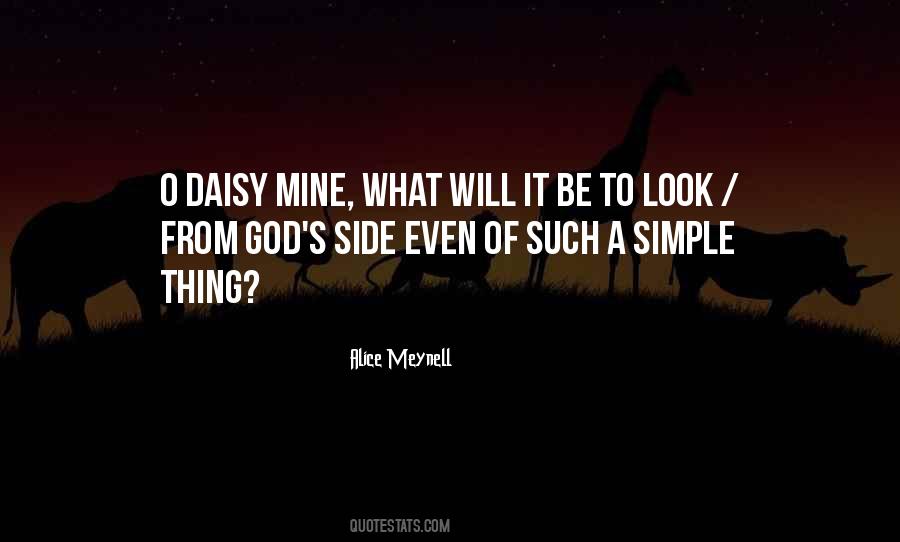 #65. The news that Daisy Miller was surrounded by half a dozen wonderful mustaches checked Winterbourne's impulse to go straightway to see her. - Author: Henry James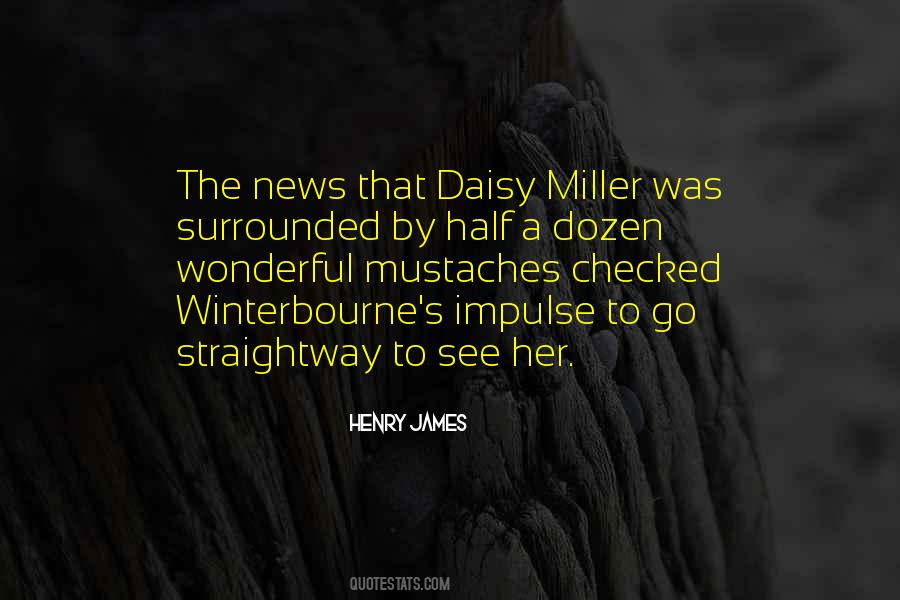 #66. Rather than list all the things I don't like about him," Daisy said finally, "it's far easier to say there is no reason why I should like him. - Author: Lisa Kleypas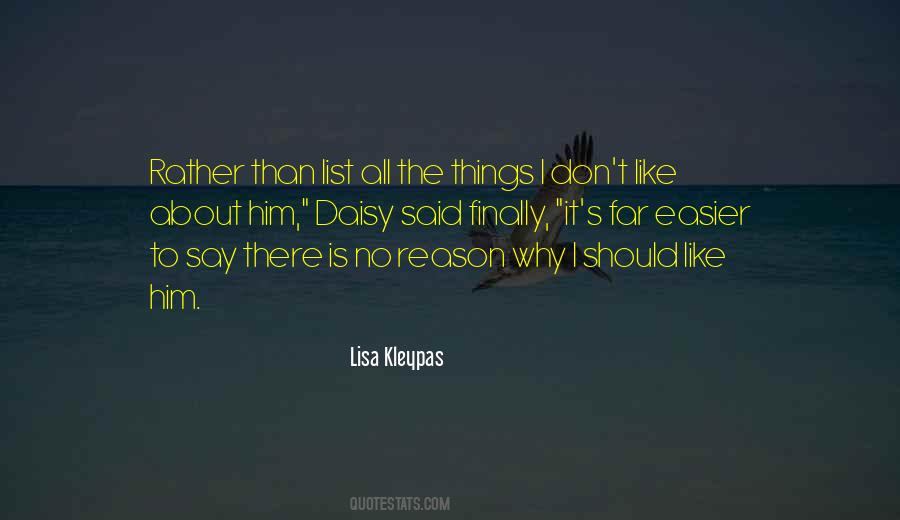 #67. It became my solace. Because it's the only thing structured in my life right now. Training is sort of a therapy session, I guess. - Author: Daisy Ridley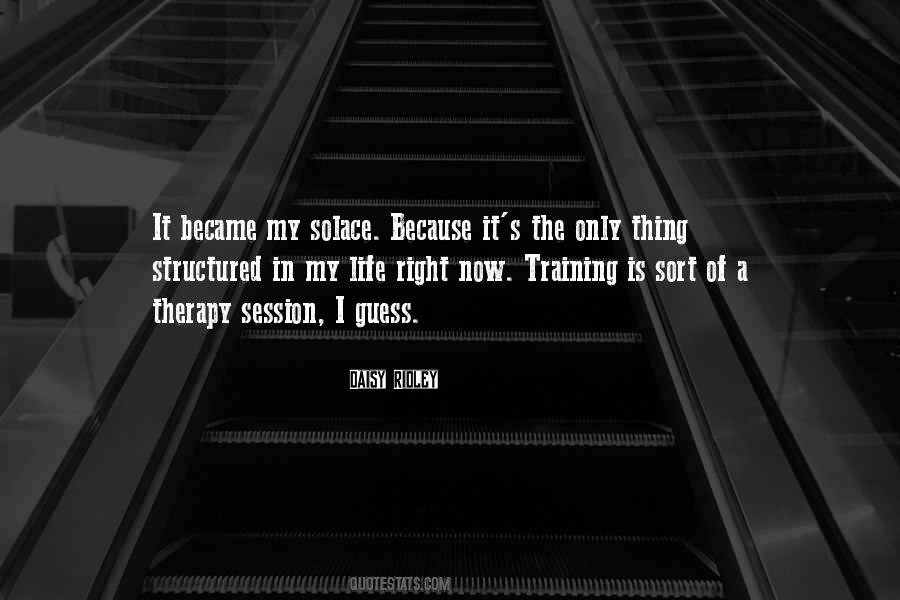 #68. Just as Daisy's house had always seemed to him more mysterious and gay than other houses, so his idea of the city itself, even though she was gone from it, was pervaded with a melancholy beauty. - Author: F Scott Fitzgerald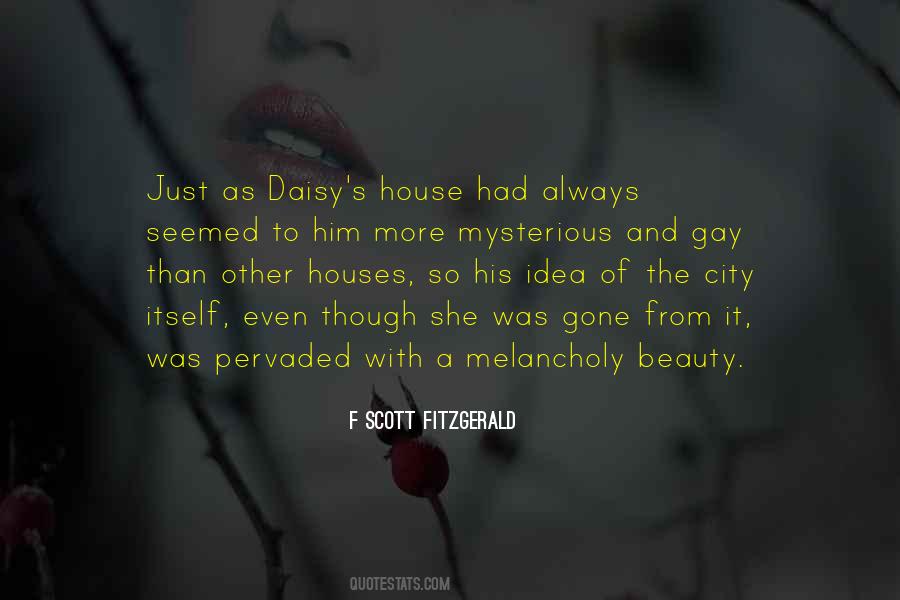 #69. Standing up for what's right is a huge burden to bear. It's normal to have some doubt. - Author: Daisy Whitney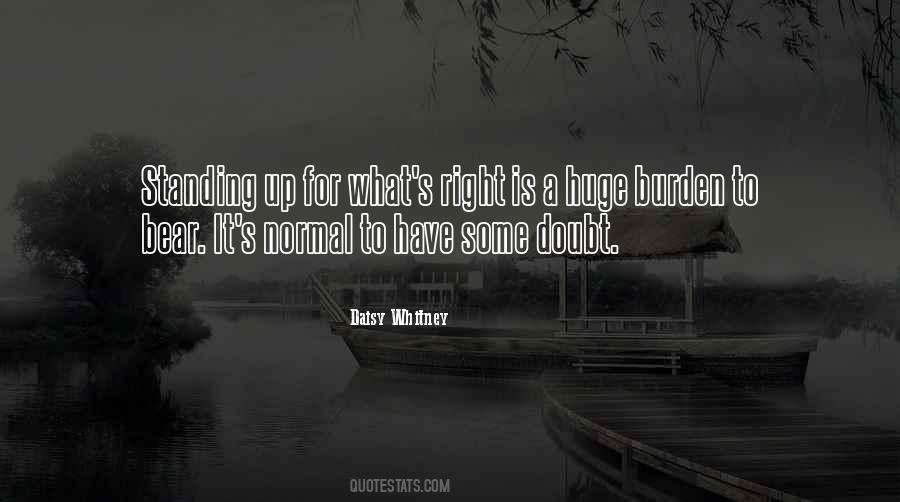 #70. I don't believe him for a second, but I'm not telling Daisy that Dylan lied because I know what it's like to want a girl that much. To get dragged in the dirt behind her hoping you won't lose your grip. - Author: Cath Crowley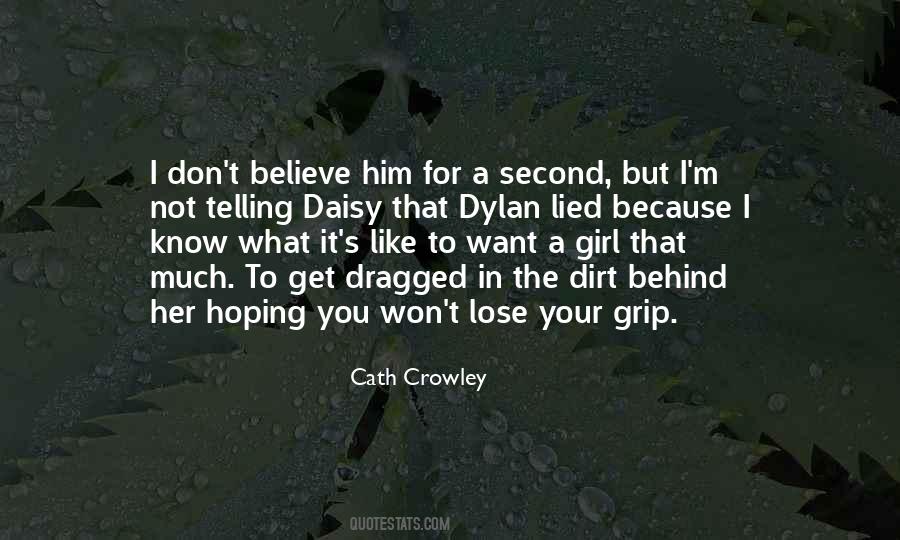 #71. I can see God in a daisy. I can see God at night in the wind and rain. I see Creation just about everywhere. The highest form of song is prayer. King David's, Solomon's, the wailing of a coyote, the rumble of the Earth. - Author: Bob Dylan
#72. I get really upset seeing my friends who are mums crying because they feel like they're not good enough. Clever, confident, kind young women all going, 'I'm ruining my child's life.' - Author: Daisy Donovan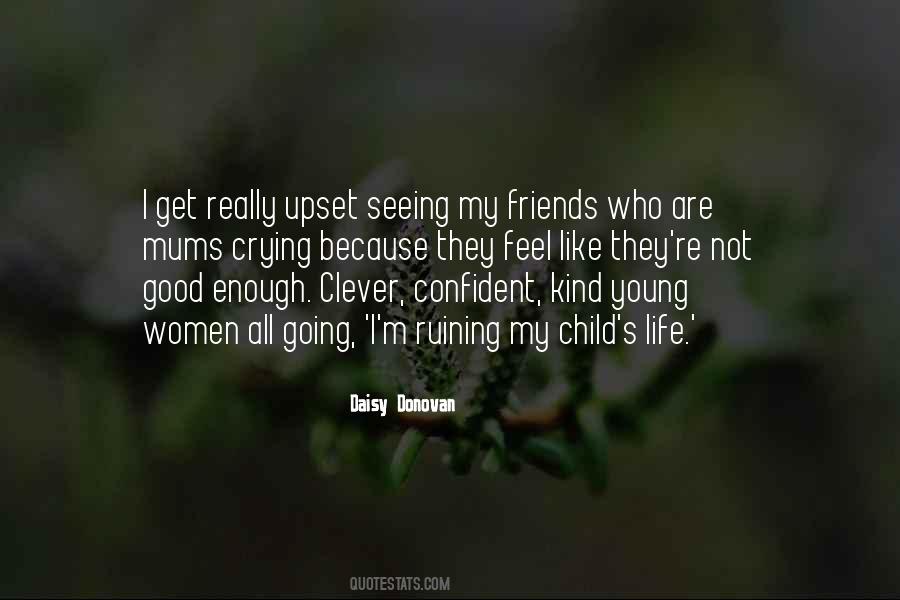 #73. Some things are better when it's raining. Like reading. Or sleeping. Or this."
"Lying in bed with me? - Author: Lisa Kleypas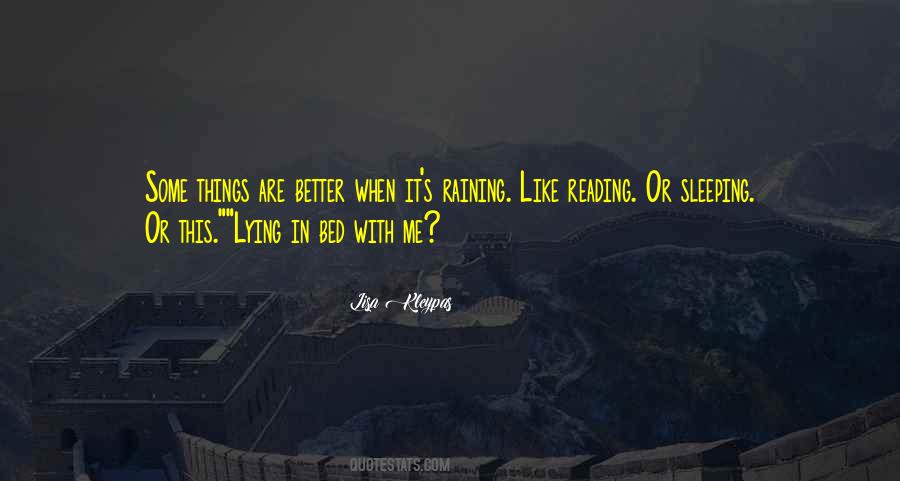 #74. I told you, you're my black pearl. When i first set eyes on you in the servant's hall I thought you were the most beautiful thing I had ever seen in my life. - Author: Daisy Goodwin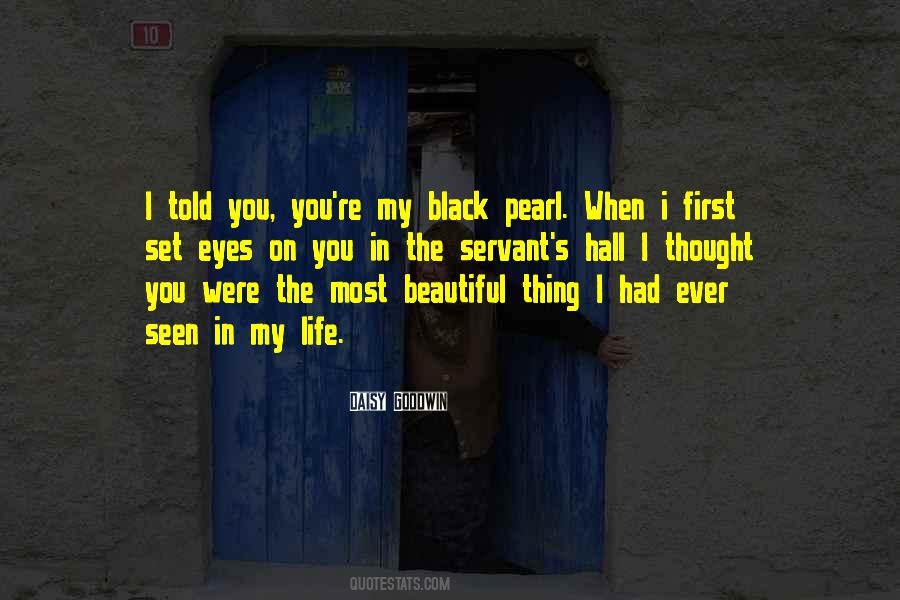 #75. I remember her telling me once that rabbits were the gnomes in attendance to the Fairy Queen and that the stars were God's daisy chain. Perfect rot, of course. - Author: P.G. Wodehouse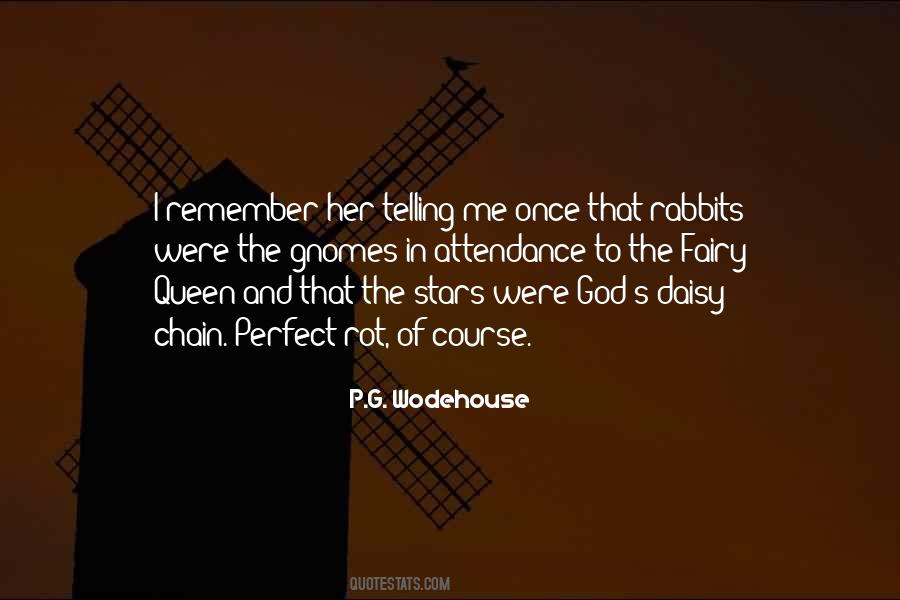 #76. I don't know whether this is the best of times or the worst of times, but I assure you it's the only time you've got. You can either sit on your expletive deleted or pick a daisy. - Author: Art Buchwald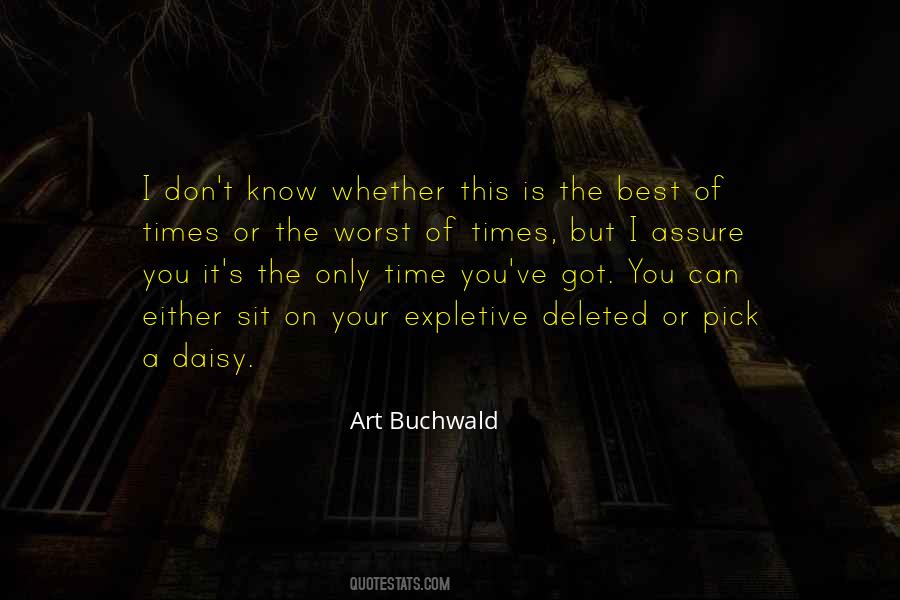 #77. Micing it from two different angles in front of the speaker sounds huge, and it's so simple. - Author: Daisy Berkowitz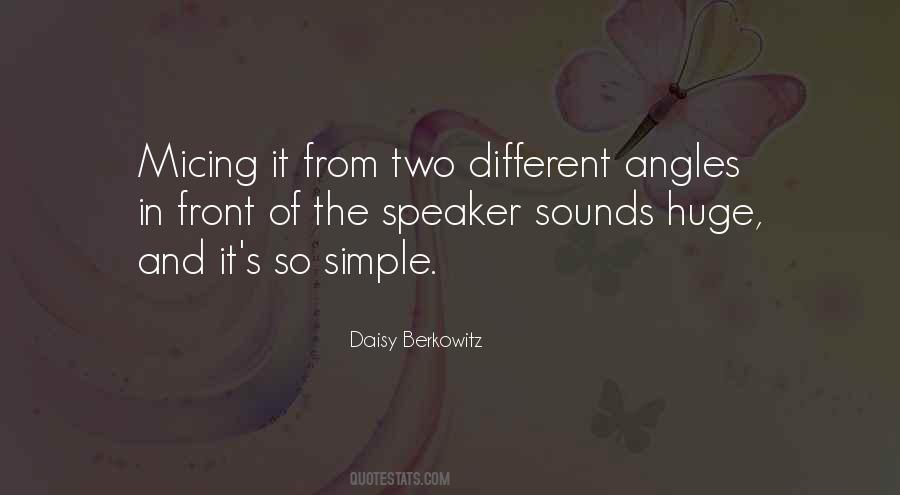 #78. An infant no more than six weeks old
a person in the still floppy, stunned by visual stimuli, sucking, arm and foot waving, grunting, grimacing phase of life. How I had loved that stage in my own Daisy's path of becoming. [p.46] - Author: Siri Hustvedt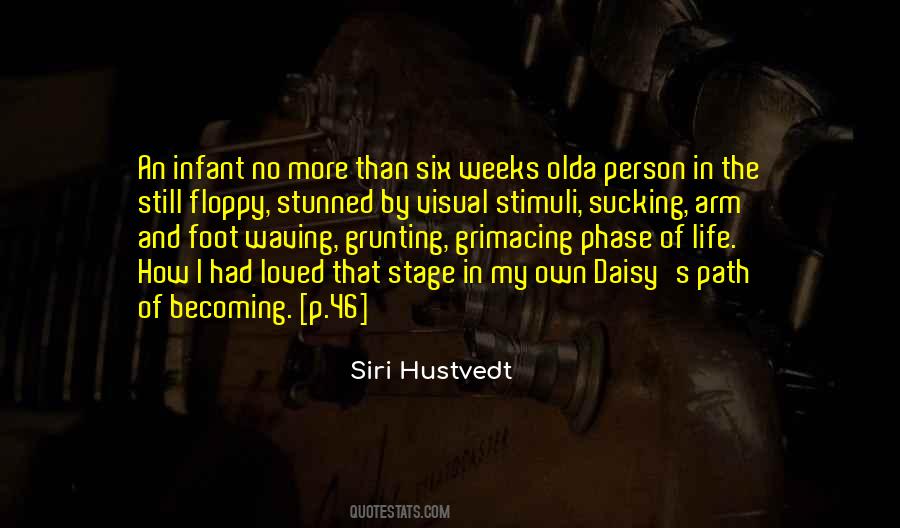 #79. Oh, Daisy, it's revolting the way I want to fawn all over him. I'm afraid I'm going to do something dreadfully silly today. Burst into song or something. For God's sake, don't let me. - Author: Lisa Kleypas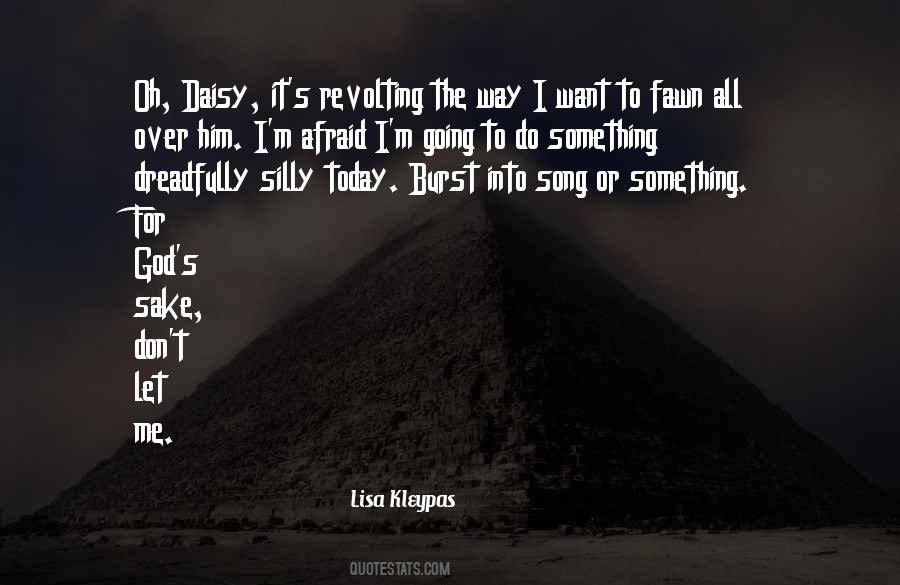 #80. What make Gatsby so damn great - like da book's title indicatin' - is dat unlike da rest of deez shallow rich folk, Gatsby actually believe in somethin': love, dawg. He build himself a new identity jus' for Daisy. Errybody else straight-up empty inside. - Author: Sparky Sweets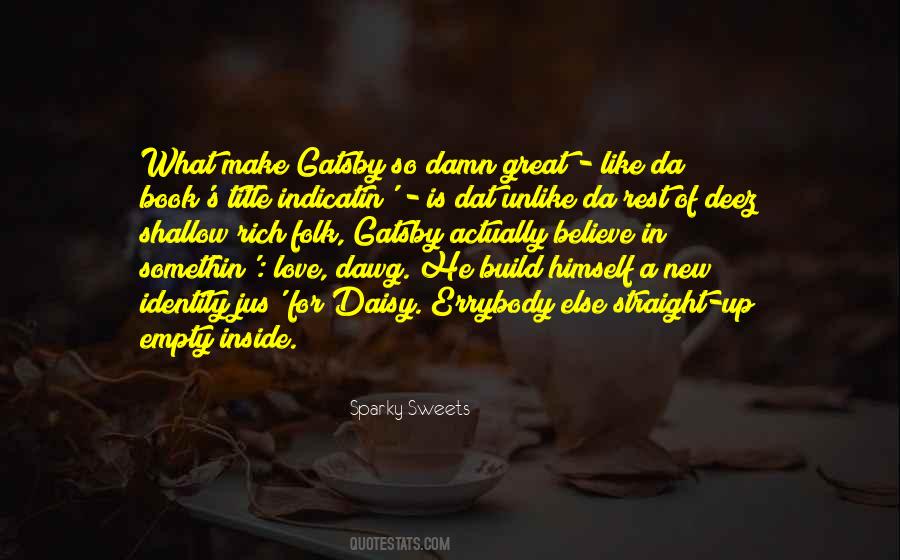 #81. Perhaps Daisy never went in for amour at all
and yet there's something in that voice of hers ... - Author: F Scott Fitzgerald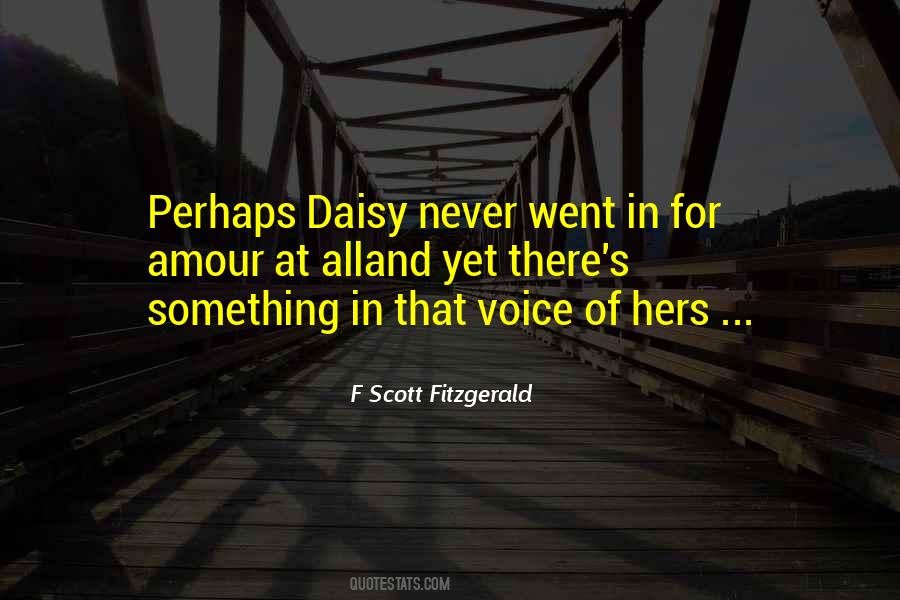 #82. How can I not think of you as Daisy when your hair is all about your face like the petals of a flower?" He crouched down on his heels before her chair and picked up a thick curl. "It's glossy, like sunshine. - Author: Eloisa James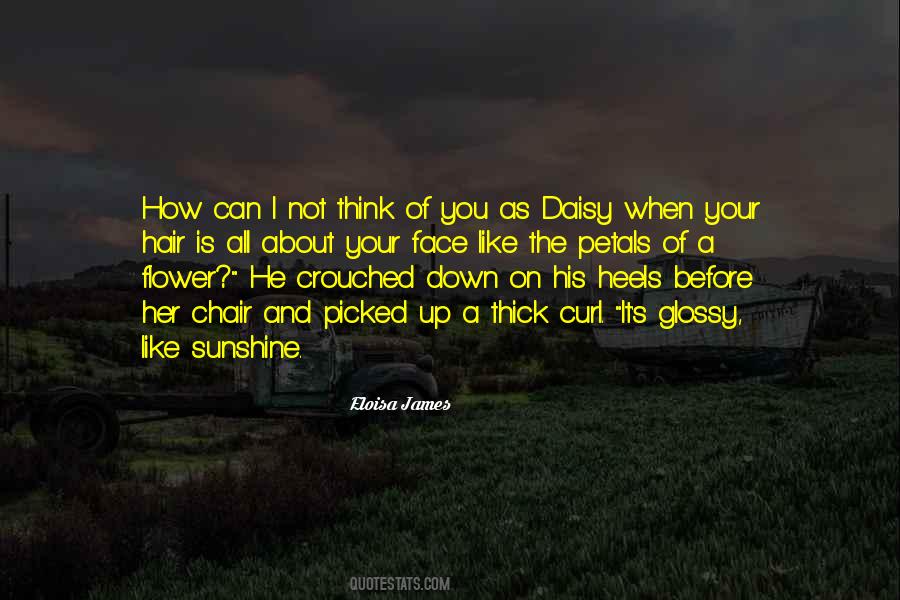 #83. Domestic goddesses have infiltrated everybody's lives and raised the bar way too high. - Author: Daisy Donovan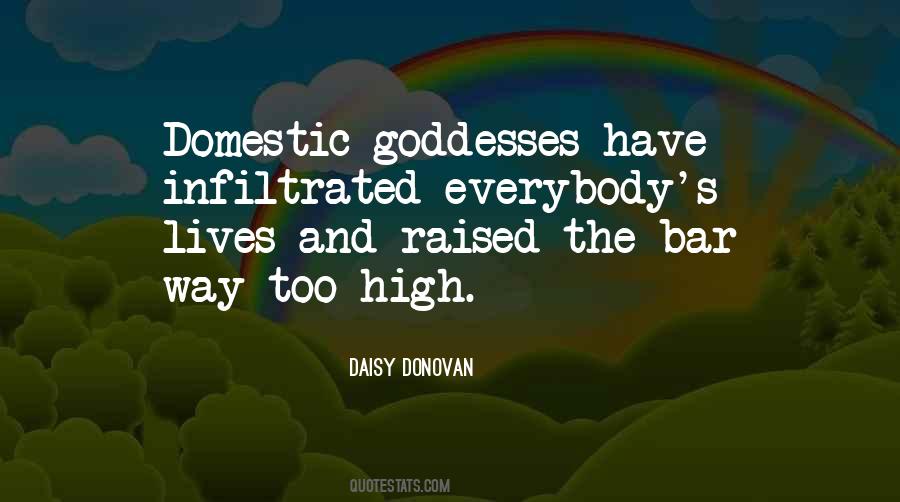 #84. We're a telephone family, strung out along the wires, sharing our news in loops and daisy chains. We don't meet face-to-face much, and when we do there's a dematerialized feeling, as though only half of our molecules are present. - Author: Walter Kirn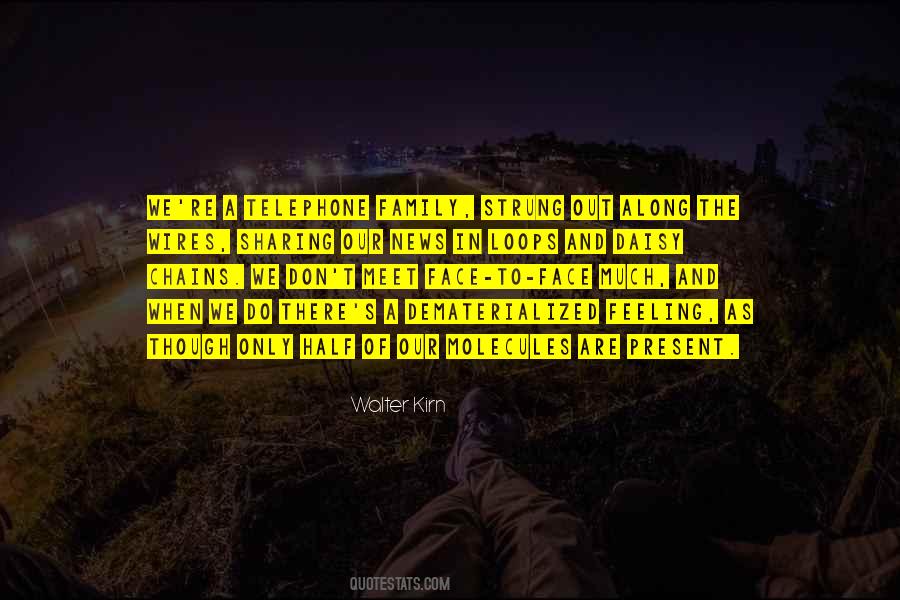 #85. Great Drew, you're sitting here about to beg Daisy's forgiveness & you wont even give your own father the time of day. Mother Teresa once said, "You only love Christ as much as the person you love the least." Sometimes I can't stand that woman. - Author: Lisa Samson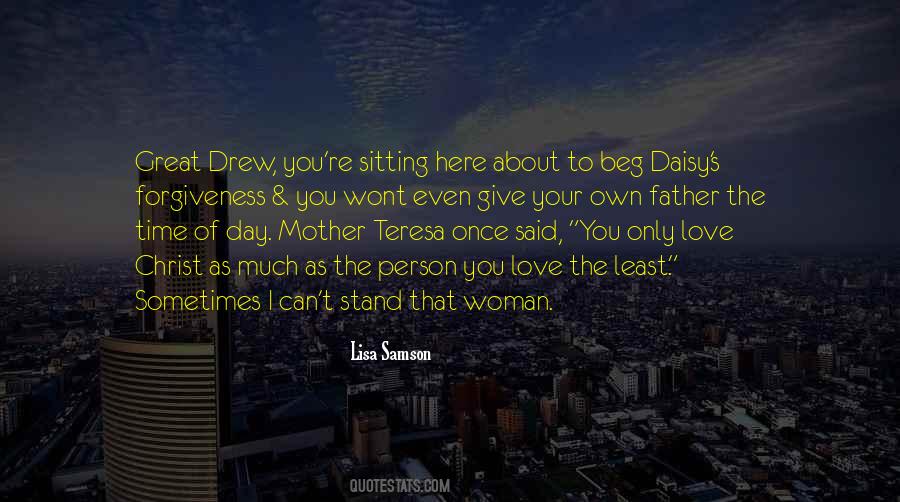 #86. Jessica's Daisy Dukes are even shorter than Catherine Bach's, which I honestly didn't think was possible. - Author: Jay Chandrasekhar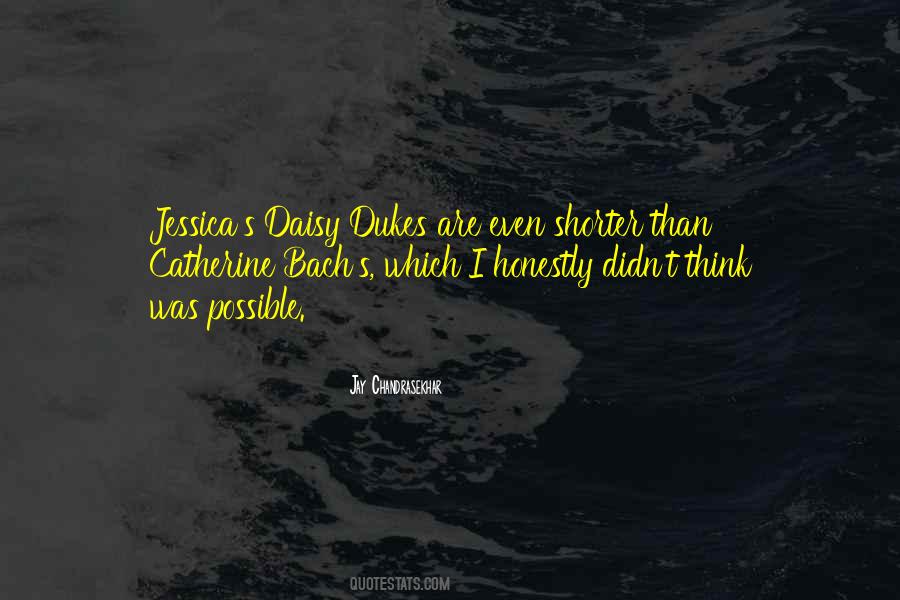 #87. Like a daisy fortune,
The pendulum of time
Beats in Dilara's heart
Loves me, loves me not...

-Tomris
October 1942, p.305. - Author: A. Yavuz Oruc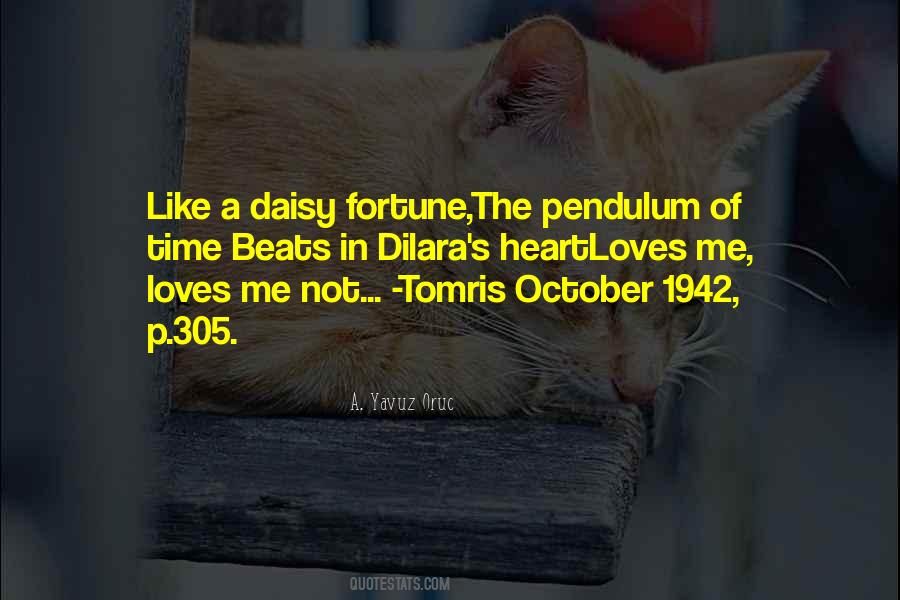 #88. My great uncle was in 'Dad's Army.' And I don't know if Americans will know that. It was a hugely popular show in England. - Author: Daisy Ridley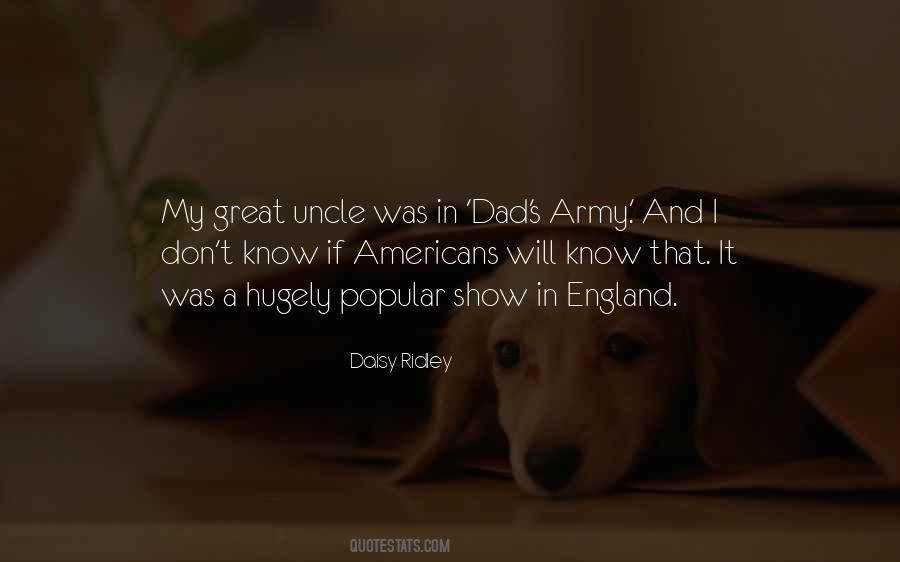 #89. I thought of Gatsby's wonder when he first picked out the green light at the end of Daisy's dock. He had come a long way to this lawn and his dream must have seemed so close that he could hardly fail to grasp it. He did not know that it was already behind him. [- Nick Carroway] - Author: F Scott Fitzgerald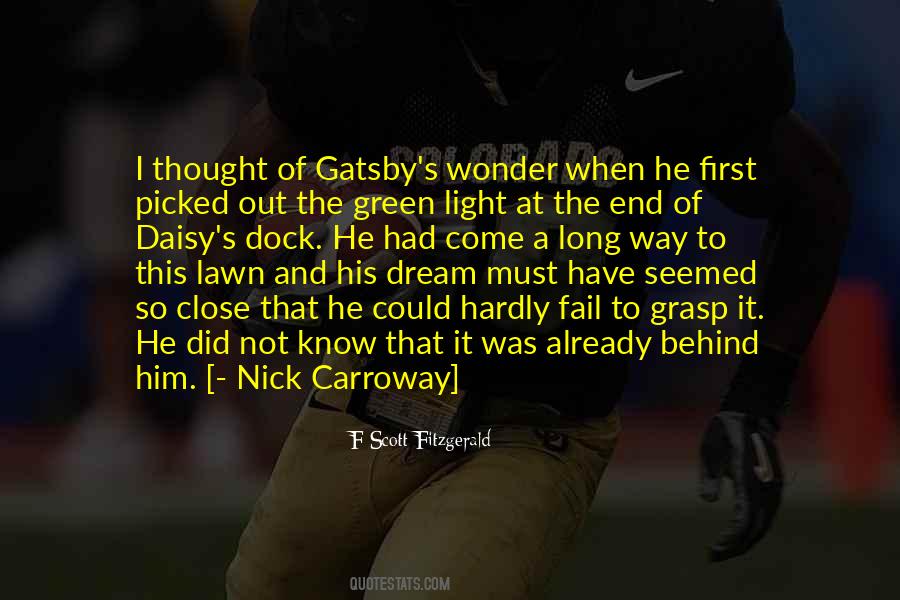 #90. Love Poem Sharing one umbrella We have to hold each other Round the waist to keep together. You ask me why I'm smiling - It's because I'm thinking I want it to rain for ever. Vicki Feaver - Author: Daisy Goodwin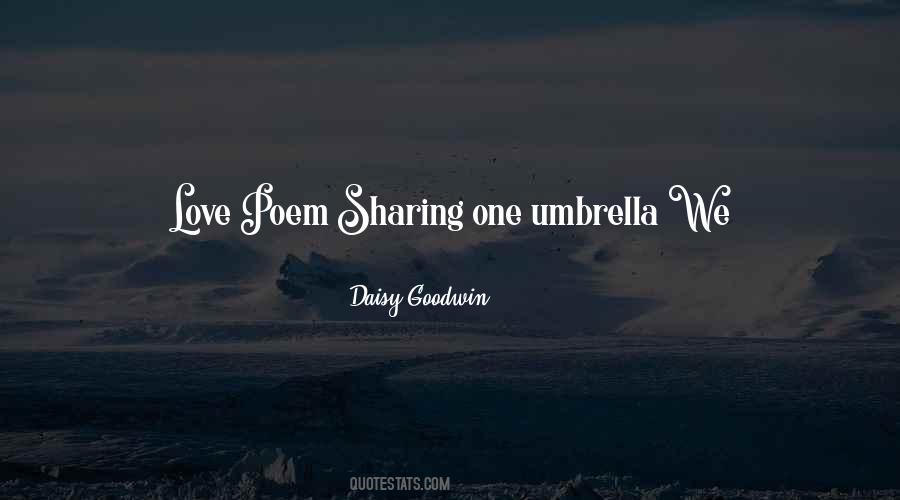 #91. And in the incendiary wake of Michael Brown's and Eric Garner's deaths at the hands of white police officers in the summer of 2014, a conventional production of Driving Miss Daisy that in no way subverts the text now seems nothing short of obscene. There - Author: Jordan Tannahill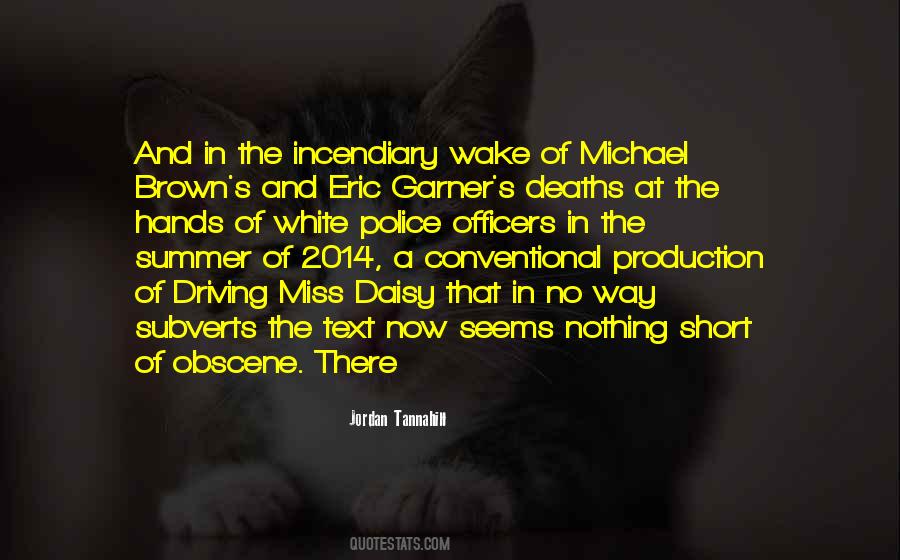 #92. If it's just brushstrokes wrestling around, it isn't much of a picture book, is it? There still has to be a picture. And maybe it needs to be a picture of a dog named Daisy or a little girl riding a bike. So I have to be careful before I get too carried away in the manner itself. - Author: Chris Raschka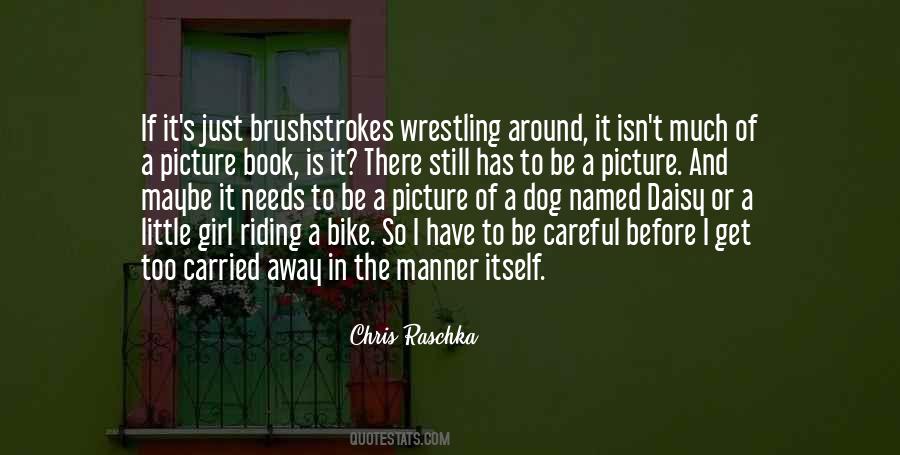 #93. We were like psychedelic folk combined with Sonic Youth's noise. - Author: Daisy Berkowitz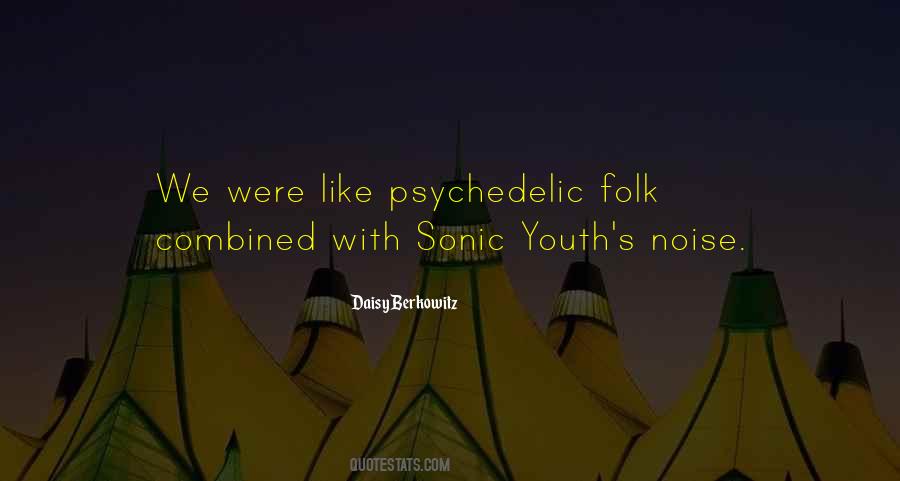 #94. And I had nine years to sort out how I feel about you ... nine years. It's not impulsive to want to be with you, Daisy. If anything, it's long overdue. - Author: Katy Regnery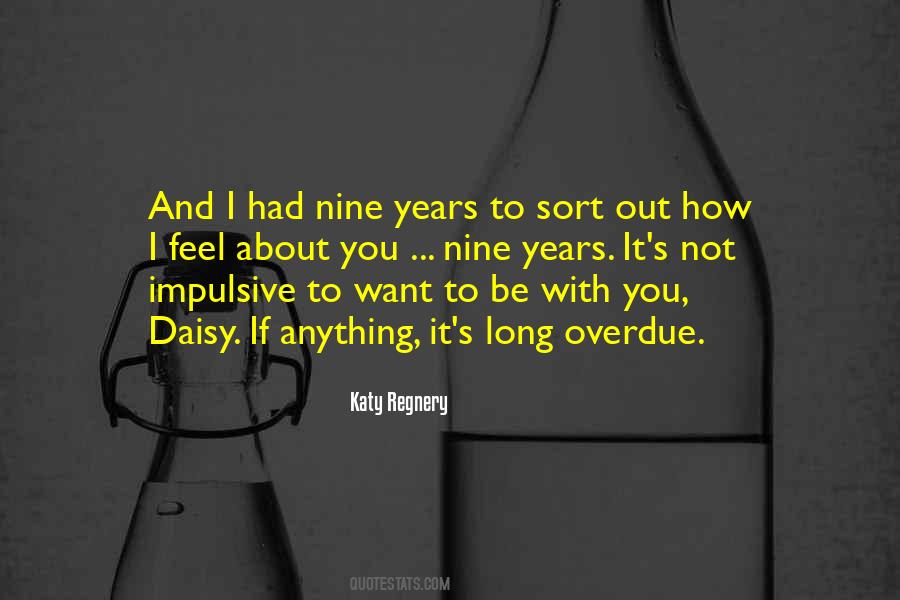 #95. Ugster vinyl pumps, Partridge Family records, plastic daisy jewelry, old postcards ... It's a magpie Christmas market. - Author: Francesca Lia Block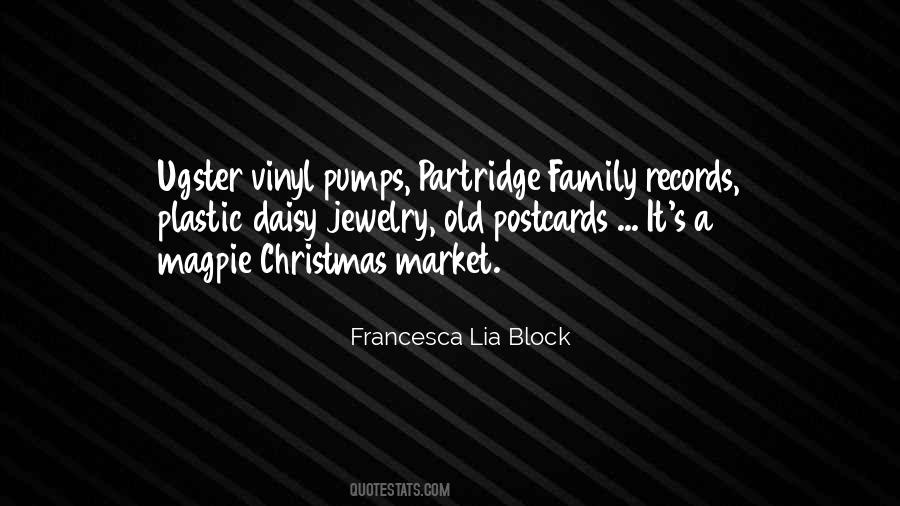 #96. Instead, an unexpected surprise was waiting for her when she walked in the door. Daisy's trusty West Highland Terrier Shamus was usually so well-behaved. Unfortunately, Shamus picked that night to misbehave. - Author: K.M. Morgan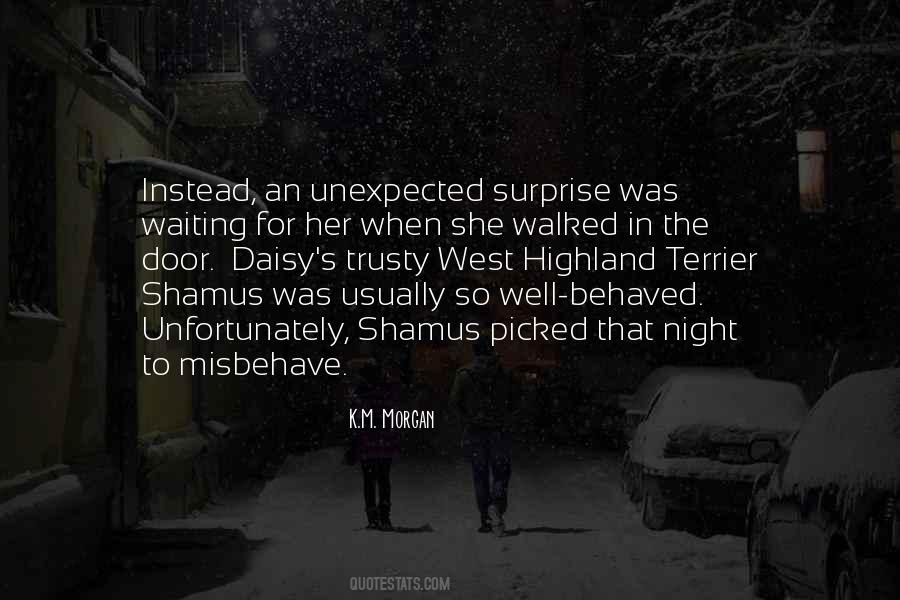 #97. When I feel comfortable, I just like to sing and hum, and I don't even know I'm doing it. But sometimes someone will come over to me like, 'I love that song you were singing, but it's distracting.' - Author: Daisy Ridley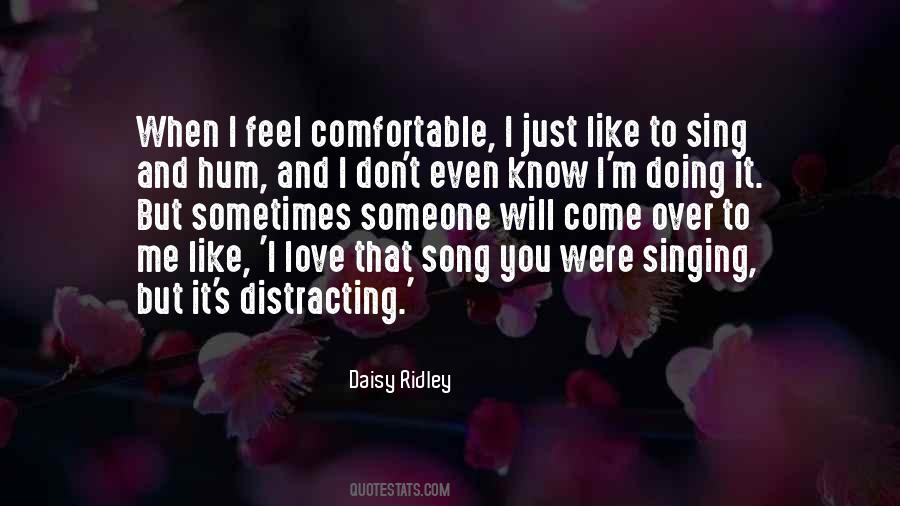 #98. Jack explained. "Daisy, you were meant for me. Dane destroyed that. You're lucky I don't set you on fire right this minute. It's either you or him. Pick." Jack chewed on a tooth pick, took it out of his mouth and pointed it at her and then Dane. "Pick, pick, pick," he said, pointing back and forth. - Author: Nancy Glynn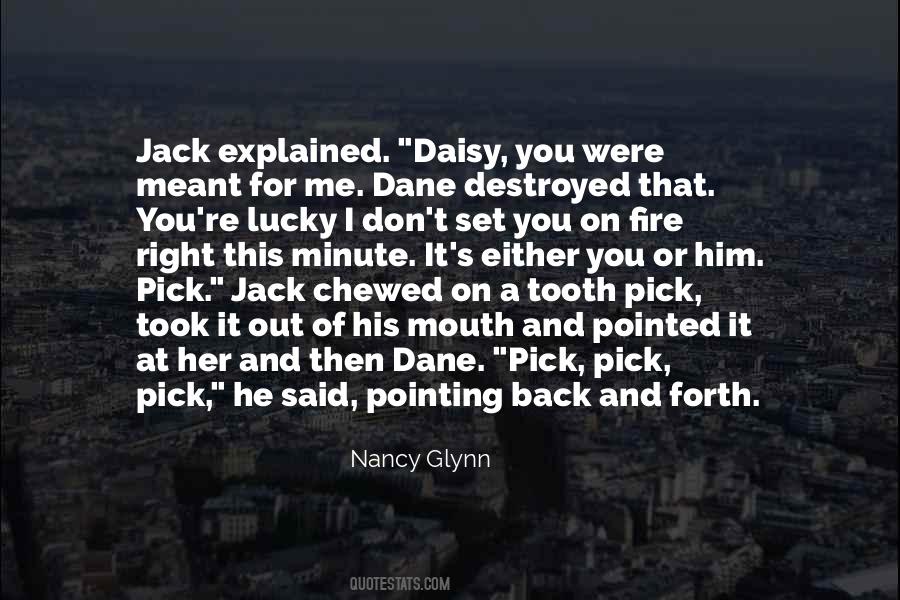 #99. He's an avant-gardener whose great work includes the famous minimalist garden at Kew which was just a daisy and three wittily arranged grass stems. - Author: Ben Moor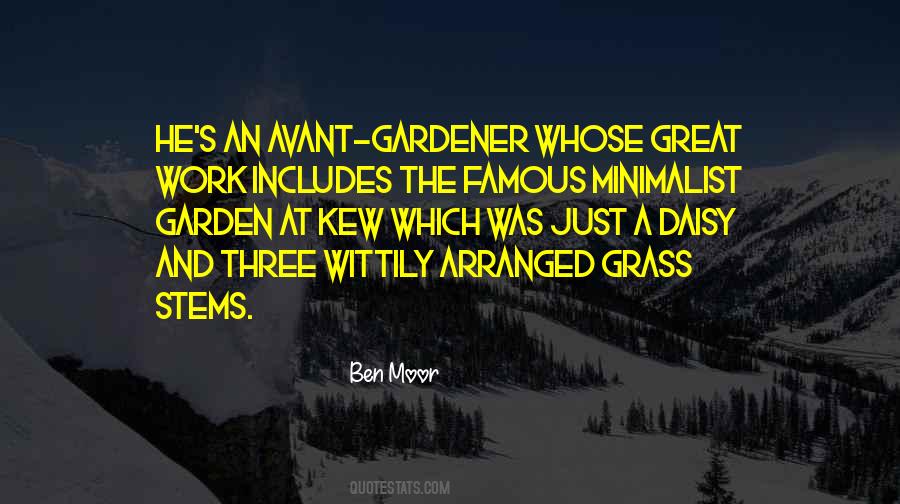 #100. I'm the king of designer fashion, Looking stylish is my passion. Ice Blue's the name of my fashion line, The designs are fabulous and they're all mine! Some people think my clothes are odd, But I will get the fashion world's nod. - Author: Daisy Meadows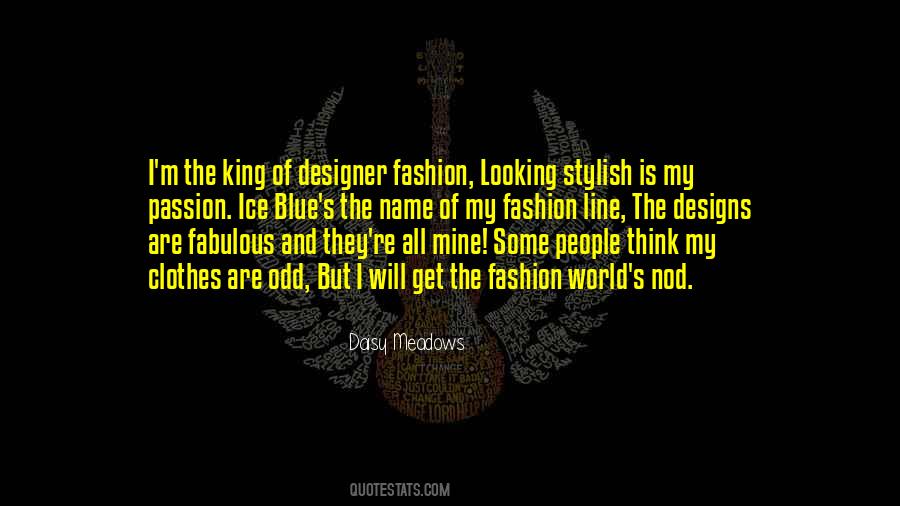 Famous Authors
Popular Topics