Come Back To Work Famous Quotes & Sayings
List of top 86 famous quotes and sayings about come back to work to read and share with friends on your Facebook, Twitter, blogs.
Top 86 Come Back To Work Quotes
#1. Most artists, most painters, even composers would want to come back and redo their work. They've got a new perspective on it, they've got more resources, they have better technology, and they can fix or finish the things that were never done. - Author: George Lucas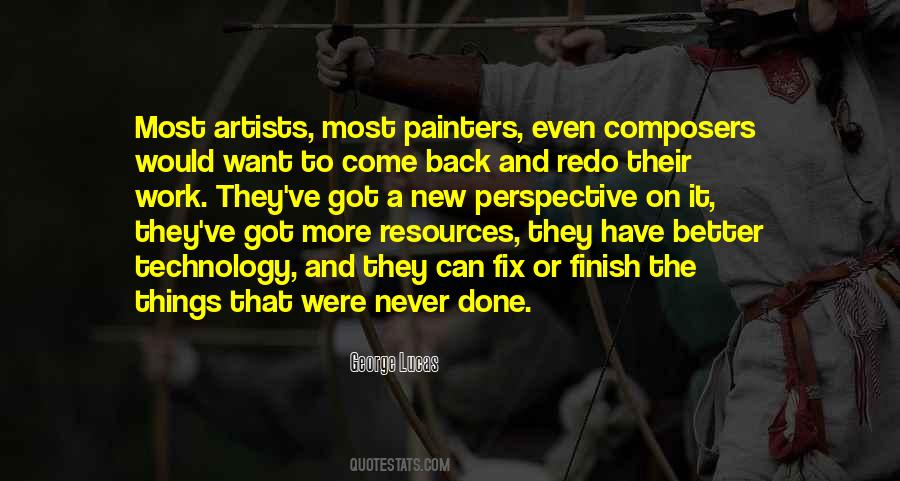 #2. I managed to get my copy of Ulysses through safely this time. I rather wish I had never read it. It gives me an inferiority complex. When I read a book like that and then come back to my own work, I feel like a eunuch who has taken a course in voice production. - Author: George Orwell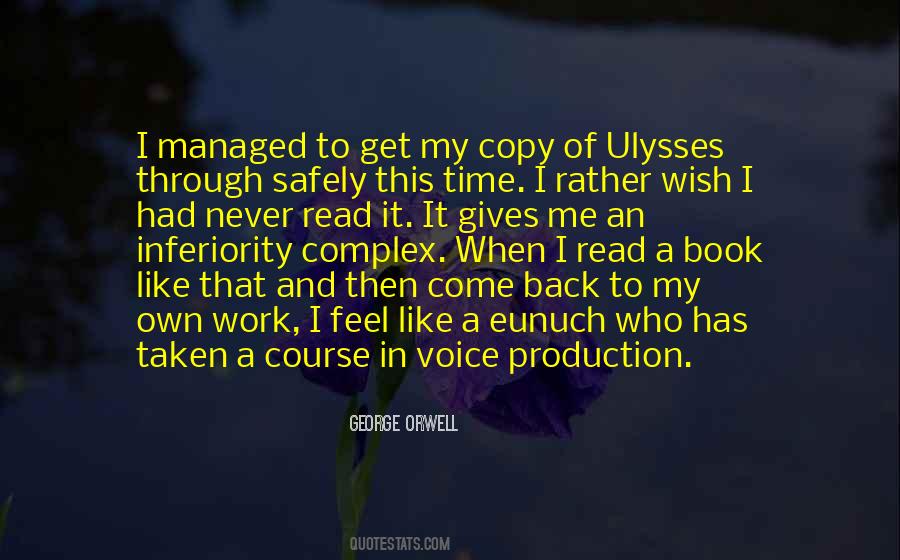 #3. I get quite lazy about cooking because when I come back from work it is the last thing I want to do, really is spend loads of time cooking. - Author: Prince William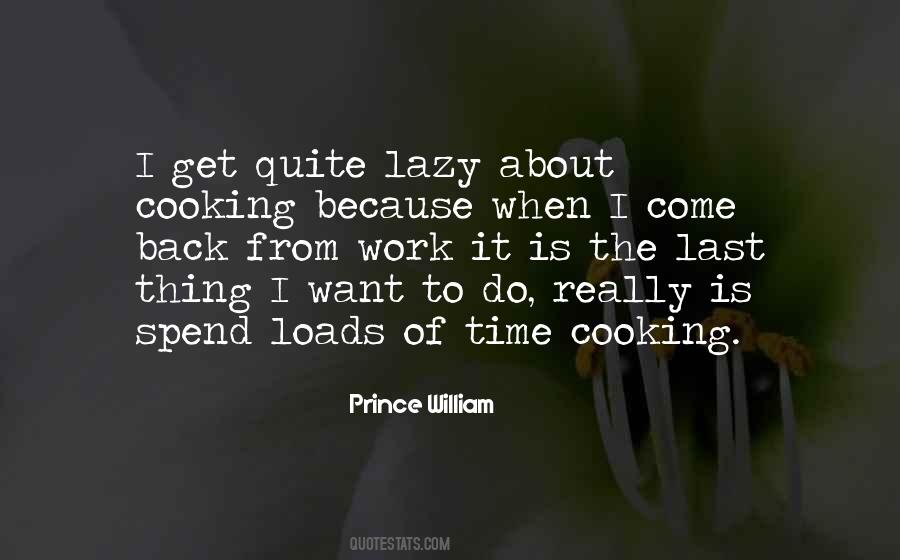 #4. I'll always have a house in London; I'll always call it my home. There might be moments when I get to go and work in different parts of the world, but I'll always come back here. - Author: Harry Treadaway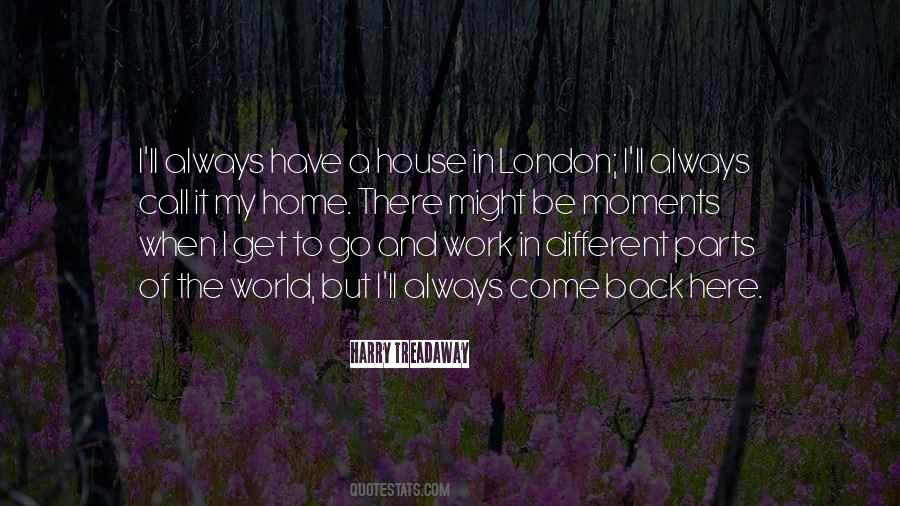 #5. I think grief and fear are going to come to him suddenly. They'll be undiluted and words won't work. We're all going to get hit and won't know how to hit back. I wish I knew the answers, how to help myself and the people who will hurt all around me. - Author: Kaui Hart Hemmings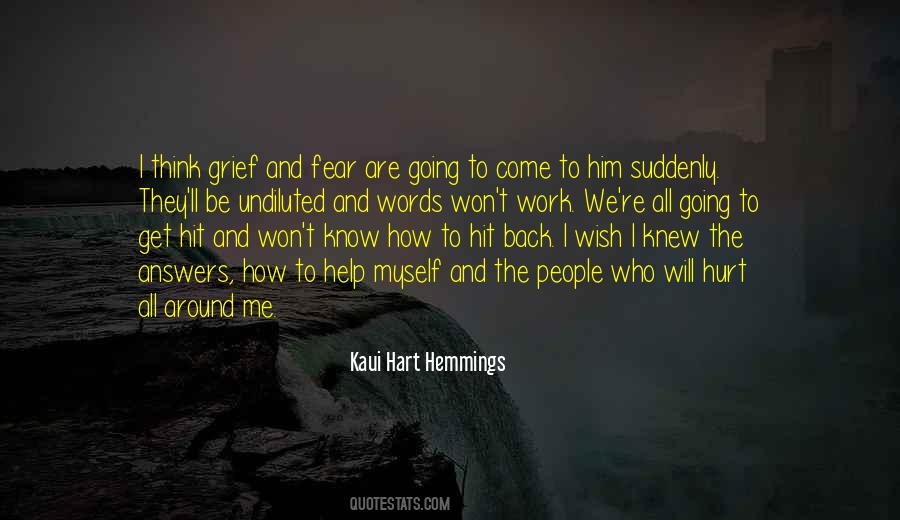 #6. The best way to have your people be happy and satisfied is to earn the right to have them come back to work for you the next day, knowing that there are tons of other places. - Author: Maynard Webb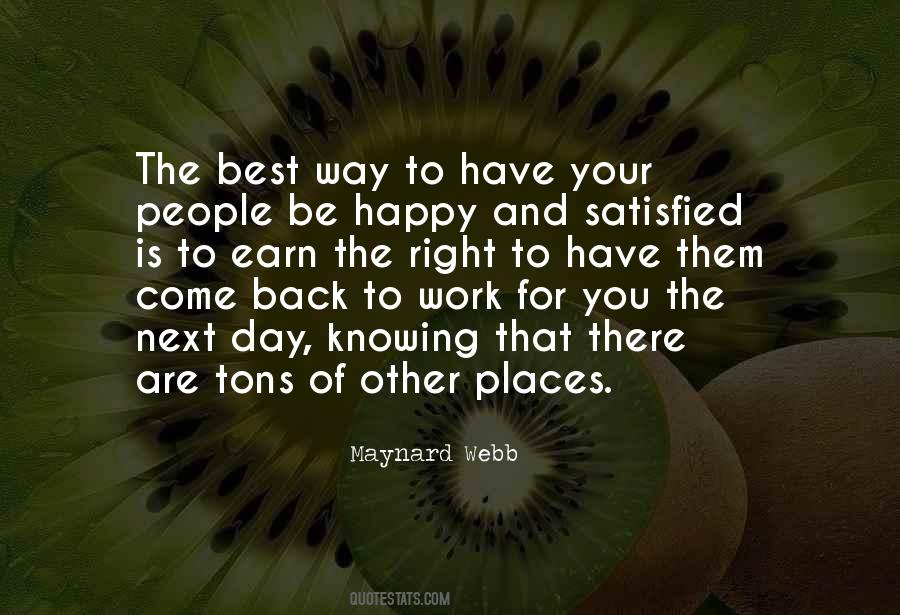 #7. One of the things I think a lot about, I am perhaps a great example of the enlightened immigration policy of this country where I was able to come here to study and then stay back and work and build a life. - Author: Satya Nadella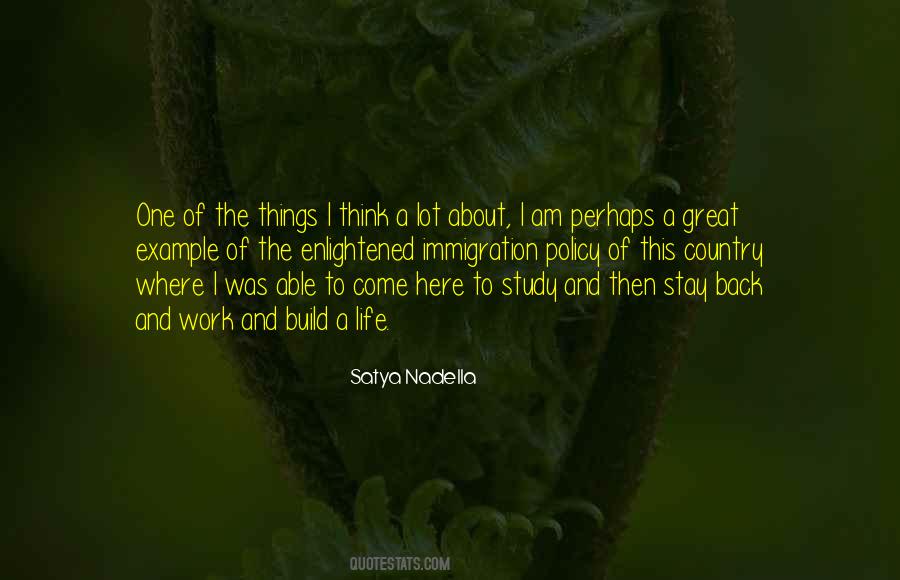 #8. The time has come for a public-private community partnership to fix this country and put it back to work. - Author: Van Jones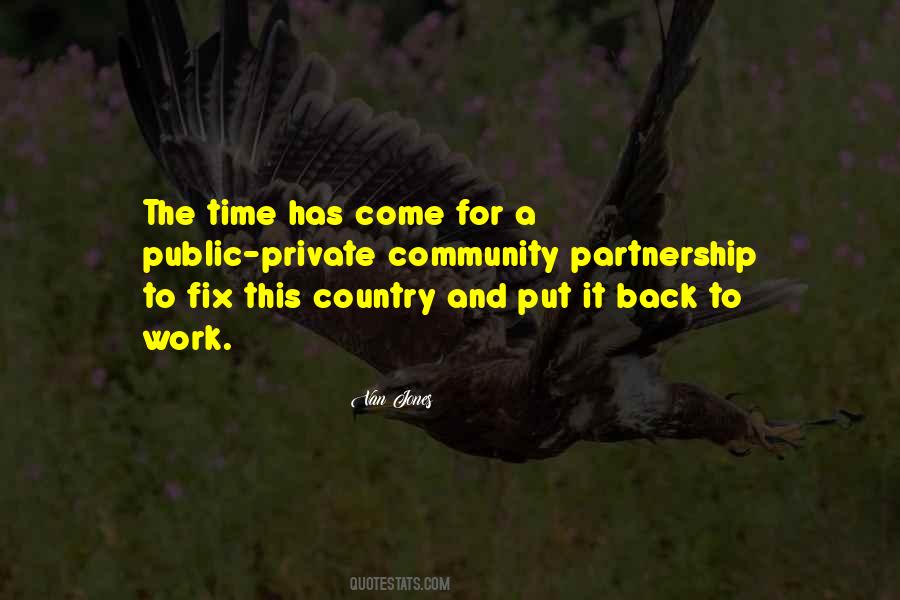 #9. It's incredibly painful to think back to the time I had to come back to work. I was so, so needed at home. Like the vast majority of people in America, I couldn't take unpaid leave. - Author: Brigid Schulte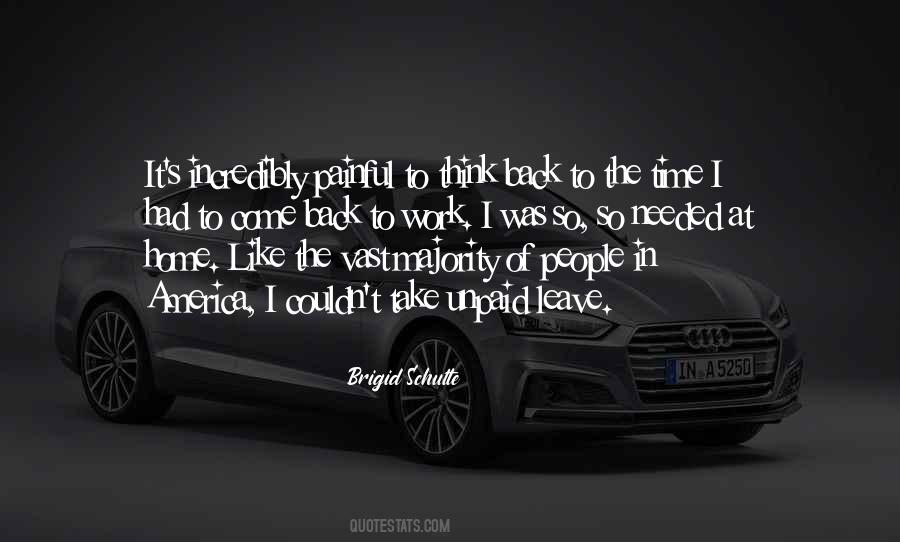 #10. I'm a firm believer that everything in life works out the way it's supposed to. And who knows? I figure I've got a few years left (in the NHL) and maybe I can come back in the end. - Author: Darren McCarty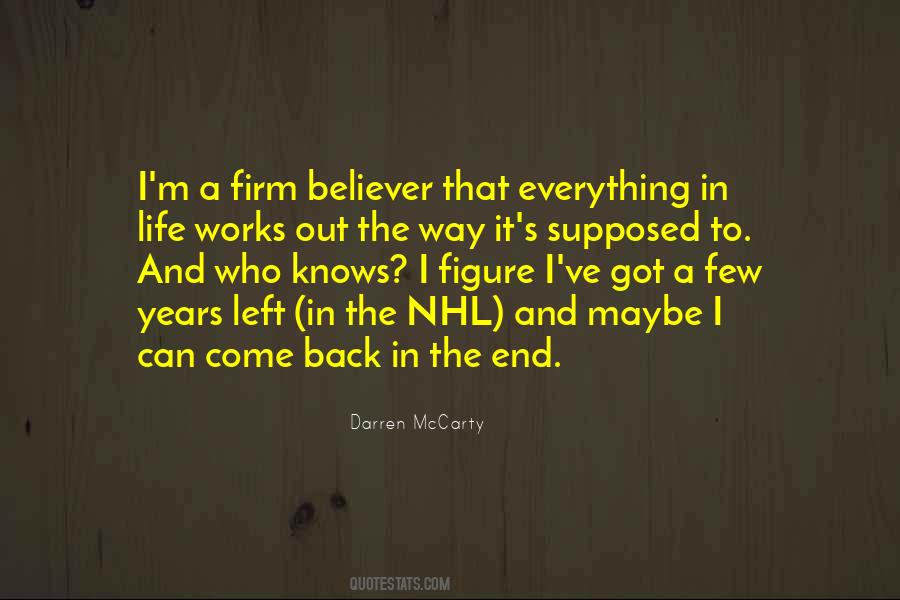 #11. Work to live up to your dreams and fantasies; to hell with them who ask you to come back to reality. - Author: Vikrmn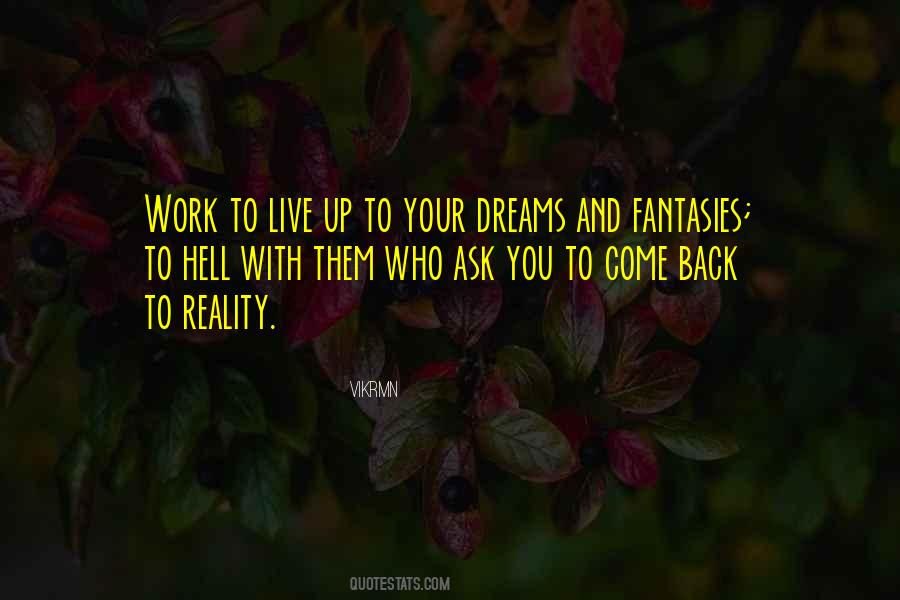 #12. Our son is in school now. You know, he's six-and-a-half and so a big chunk of the day is taken up by school. So I'm hoping that I'll be able to certainly take him to school in the morning, maybe pick him up in the afternoon and come back to work. - Author: Connie Chung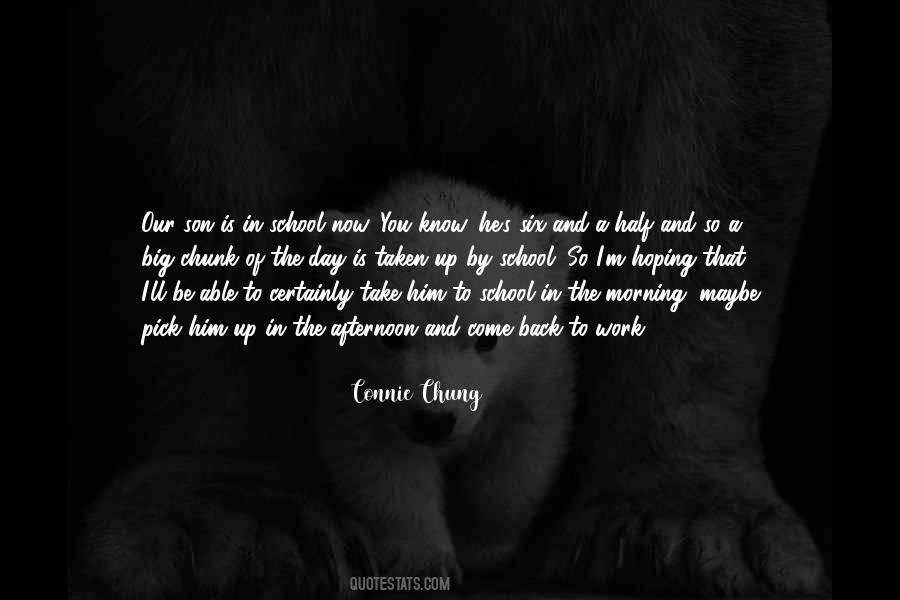 #13. I love playing Jim. I love working with this cast and the opportunity to come back and work with them again was just way too appealing for me. Also, I think this is a great way to wrap up the franchise. - Author: Jason Biggs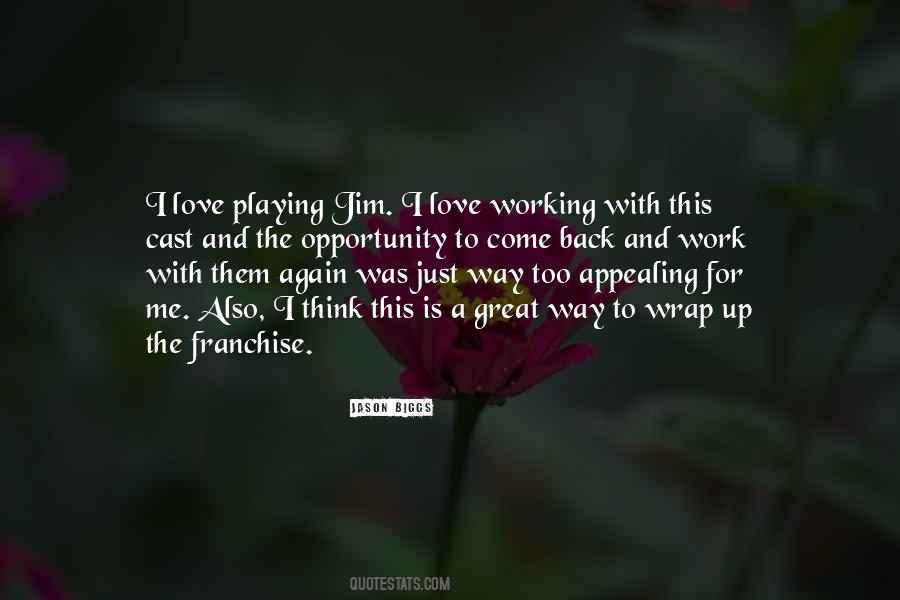 #14. People on the outside think there's something magical about writing, that you go up in the attic at midnight and cast the bones and come down in the morning with a story, but it isn't like that. You sit in back of the typewriter and you work, and that's all there is to it. - Author: Harlan Ellison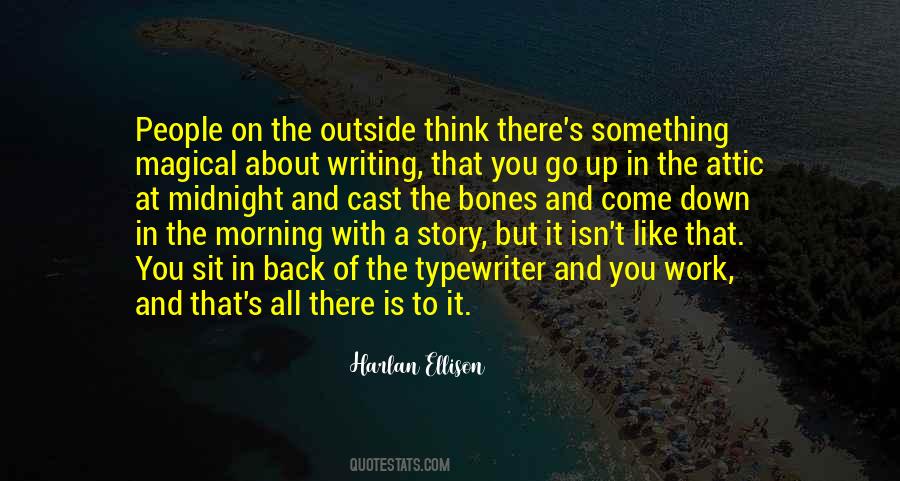 #15. When I'm doing a film, I love getting together after work with my costars. But we get back to L.A. and I'm like, 'I don't want to go to a club with you, dude. I mean, I think you're rad, and if you want to come play Scrabble with me, that's amazing.' - Author: Ginnifer Goodwin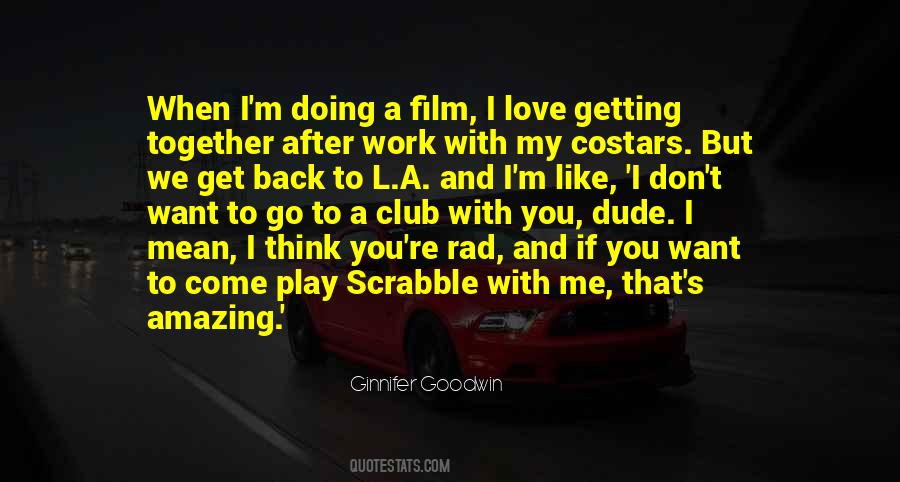 #16. Theatre is where my heart is. It's where I can do my best work. And even if I do films and TV, that's what I want to come back to. - Author: Kelly Reilly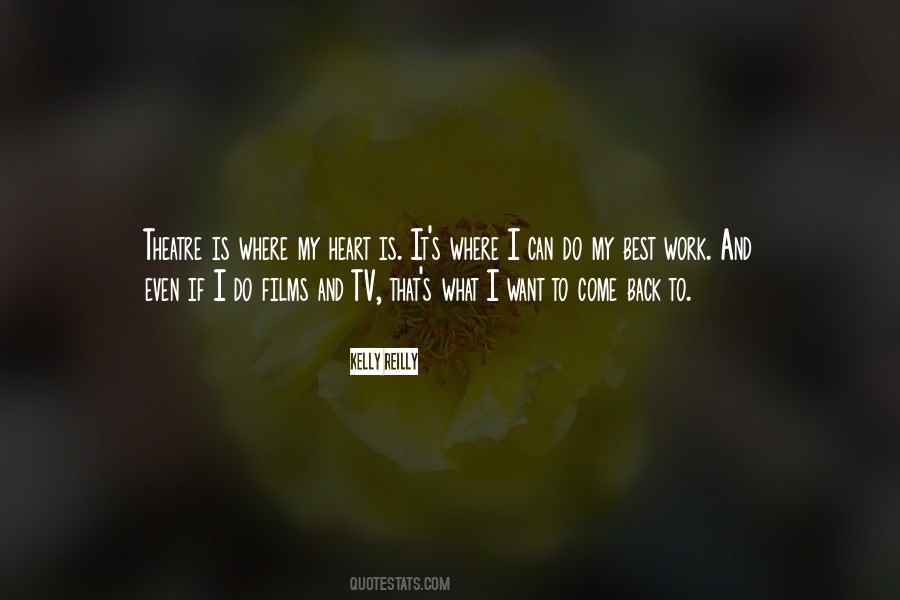 #17. My mentor Jon Simmons introduced me to the Stanislavski system, which is so heavy on back-story. So you write and write and write these back stories about a character and then you throw it away. So then on set, if it doesn't come, then you didn't do your work. - Author: Chris Zylka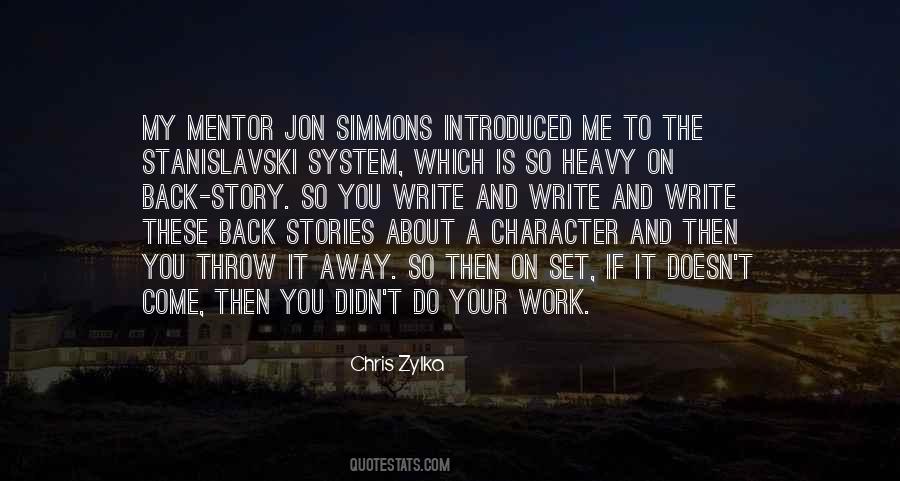 #18. If you go on vacation for one week, you'll come back to two weeks of work. If you go on vacation for two weeks, you'll come back to four weeks of work. If you go on vacation for three weeks, people seem to figure it out for themselves. - Author: Paul Orfalea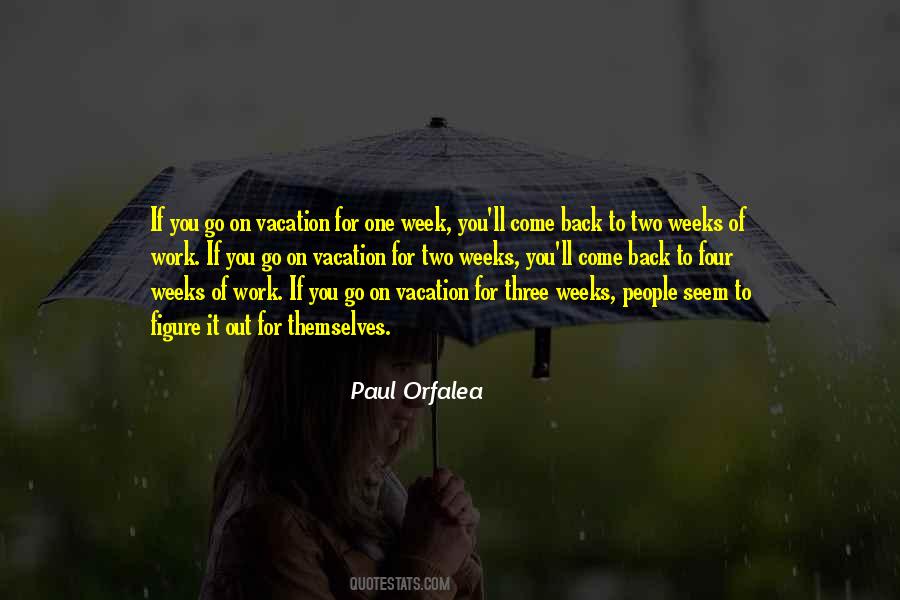 #19. Other men might dream of high honors or riches or deeds of valor sung by minstrels. I wanted to come to a small cot as light faded, to sit in a chair by a fire, my back aching from work, my hands rough with toil, and hold a little girl in my lap while a woman who loved me told me of her day. - Author: Robin Hobb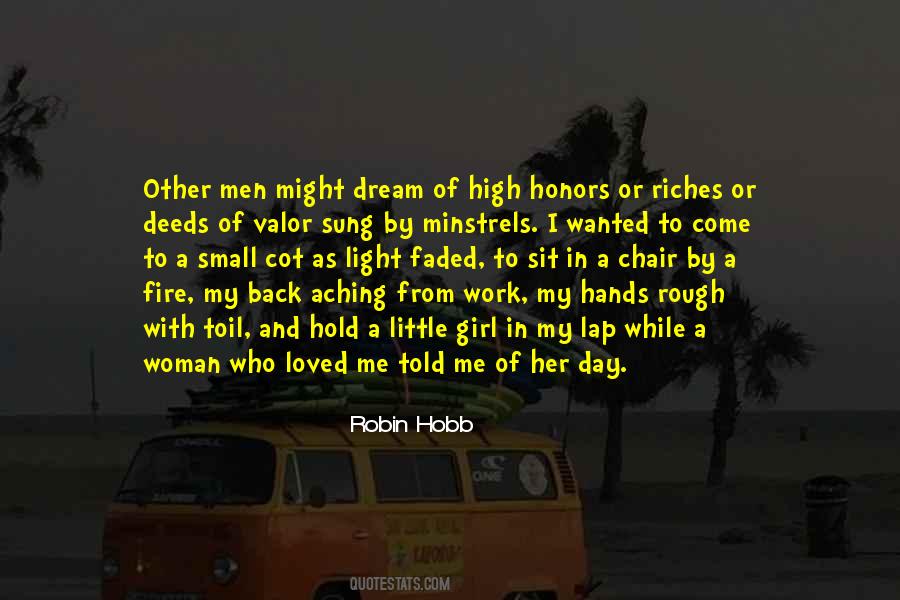 #20. You have a career, and you start as a business person. And you work your way, you reach this peak, and you know the time's going to come when you go back down. - Author: Miranda Lambert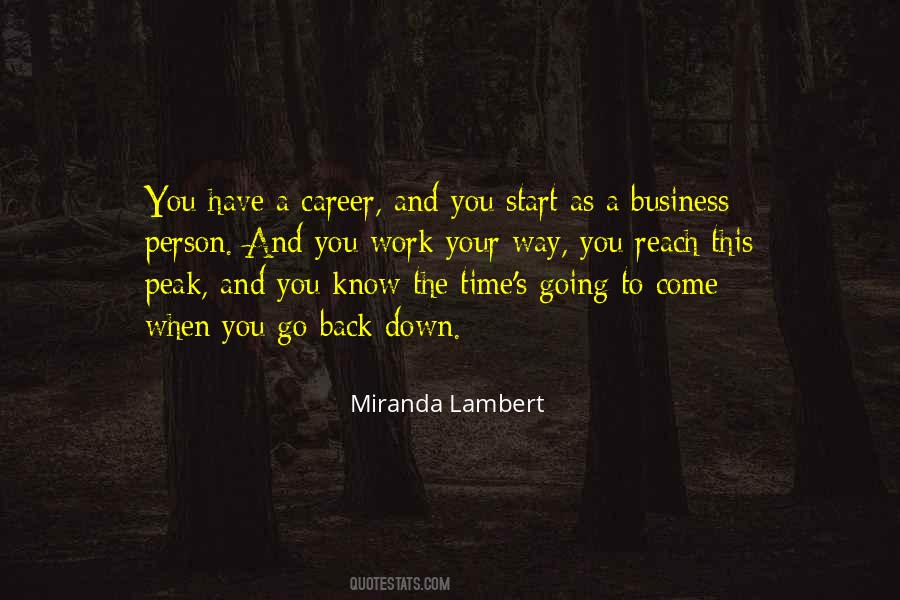 #21. Don't live worried, frustrated or upset because of what somebody did or what didn't work out. Come back to a place of peace. It's not going to work against you; it's going to work for you. - Author: Joel Osteen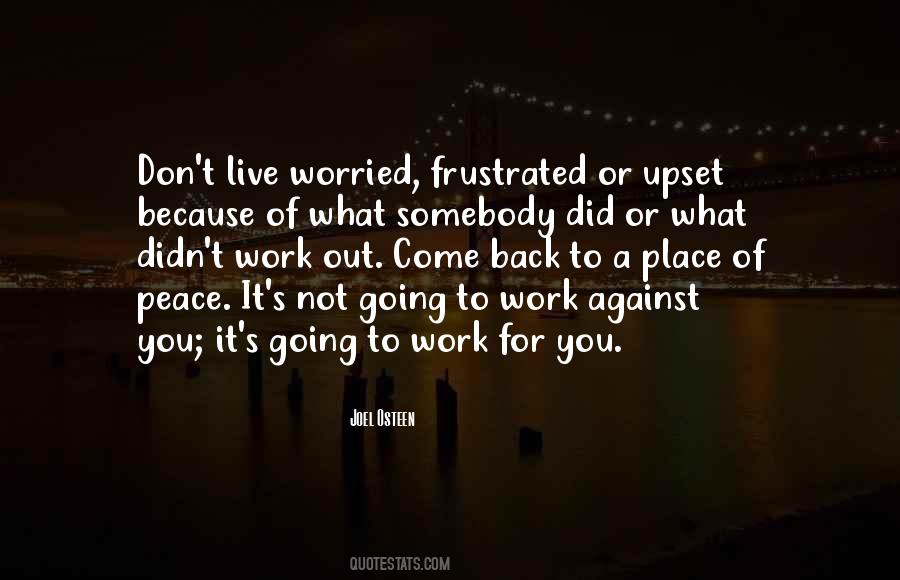 #22. I want to come back in 2017 if things work well. - Author: Marit Bjorgen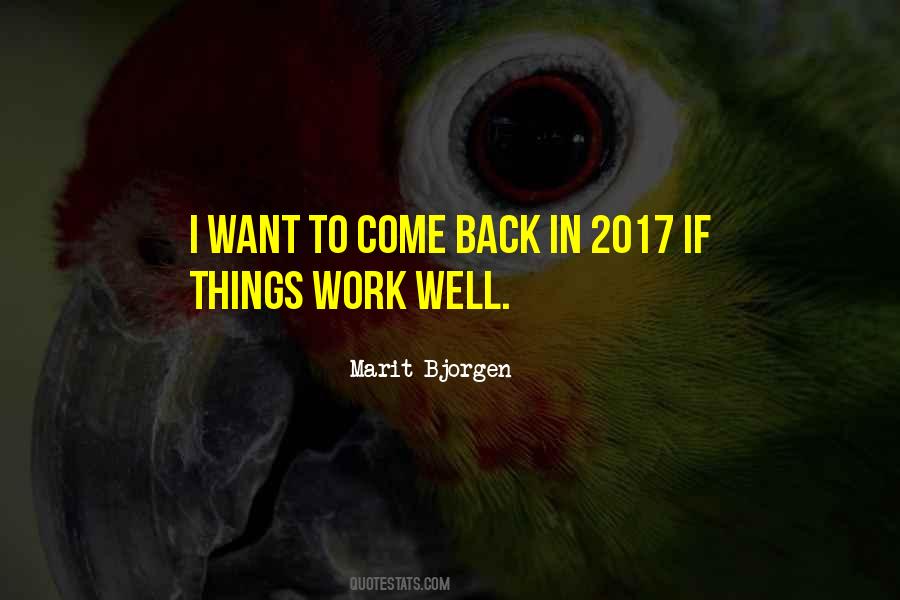 #23. What Mexicans want and aspire to, is to go there and work temporarily and raise some money and come back home. That's what they want, so nobody's asking for those two, three million Mexicans that are illegally in the United States to become American citizens. - Author: Vicente Fox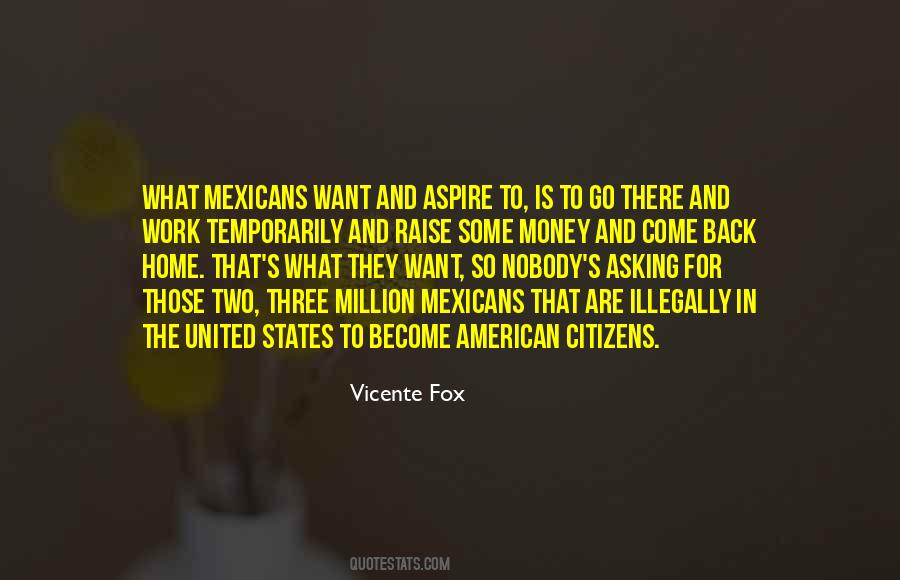 #24. It's tough when you started out as young as I did to look back and see how far I've come. I try to be easy on myself and go 'Look man, you were younger, you were learning; you learn, you grow.' But I'm not my best judge. I always feel like my best work is still ahead of me. - Author: Matt Dillon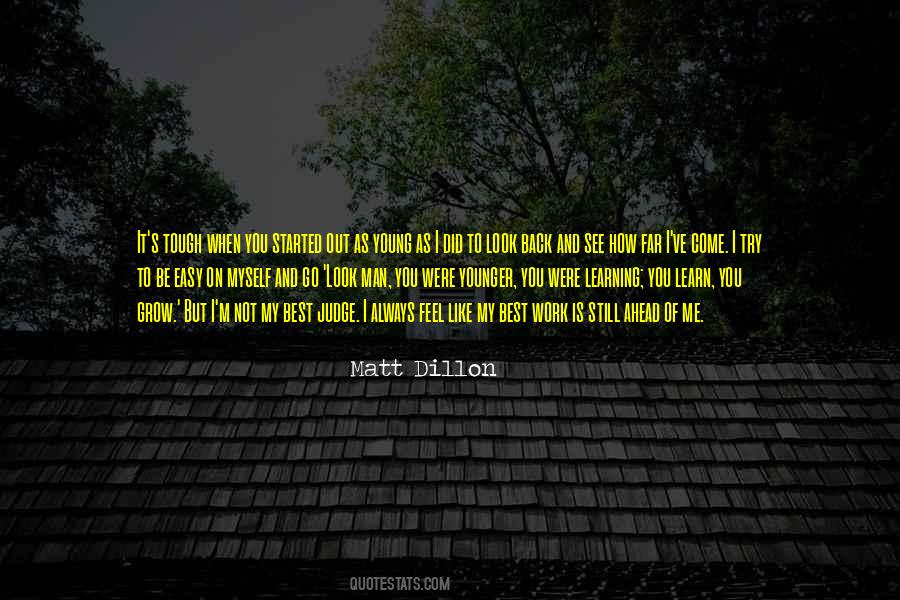 #25. As the farmer casts into the ground the finest ears of his grain, the time will come when we too shall hold nothing back, but shall eagerly convert more than we now possess into means and powers, when we shall be willing to sow the sun and the moon for seeds. - Author: Ralph Waldo Emerson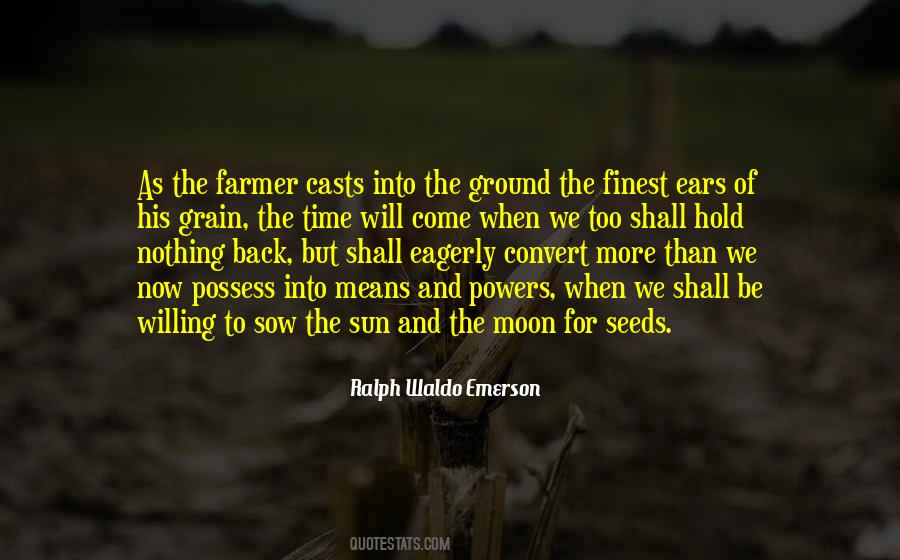 #26. I'm saying that I can wait. For now. But when things get back to normal - assuming that ever happens - I want my shot. We can make each other happy, Faythe. I know it. And I'm done walking away from things I want just because they don't come easily. You're worth the work. - Author: Rachel Vincent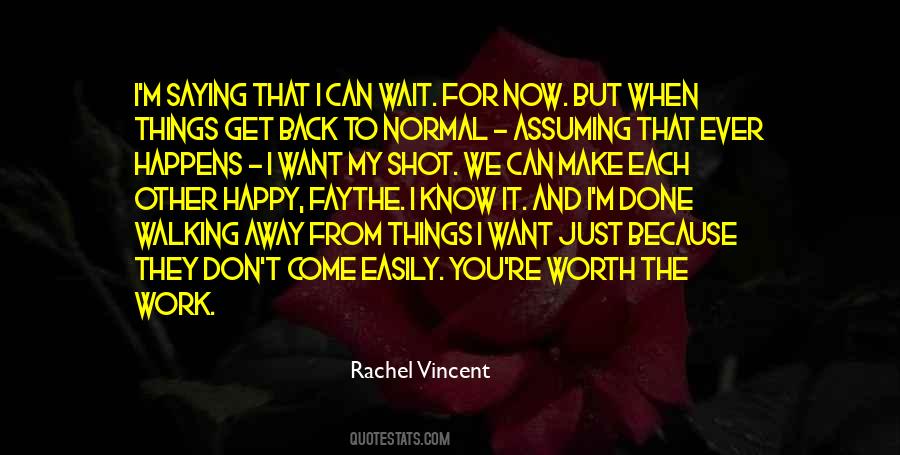 #27. The greatest testimony to the human spirit that I'm witnessing now is the fact that people still come back to work, after all that has been done to them. They are still willing to participate for a more positive future if they would be sincerely invited. - Author: Walter Wriston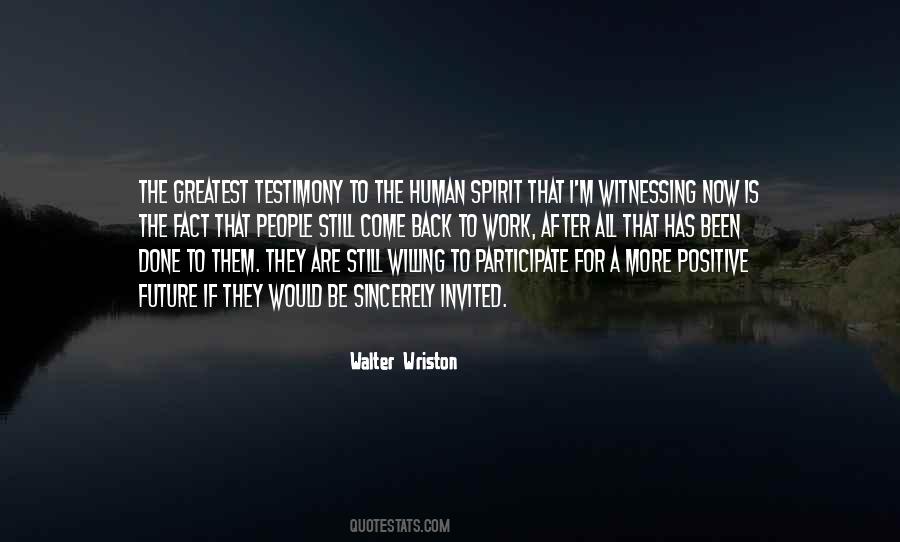 #28. We always have dinner together as a family - even when our schedules are totally hectic. I inherited that from my mom, who would come home from her ad agency job to eat with us before going back to work. - Author: Kim Raver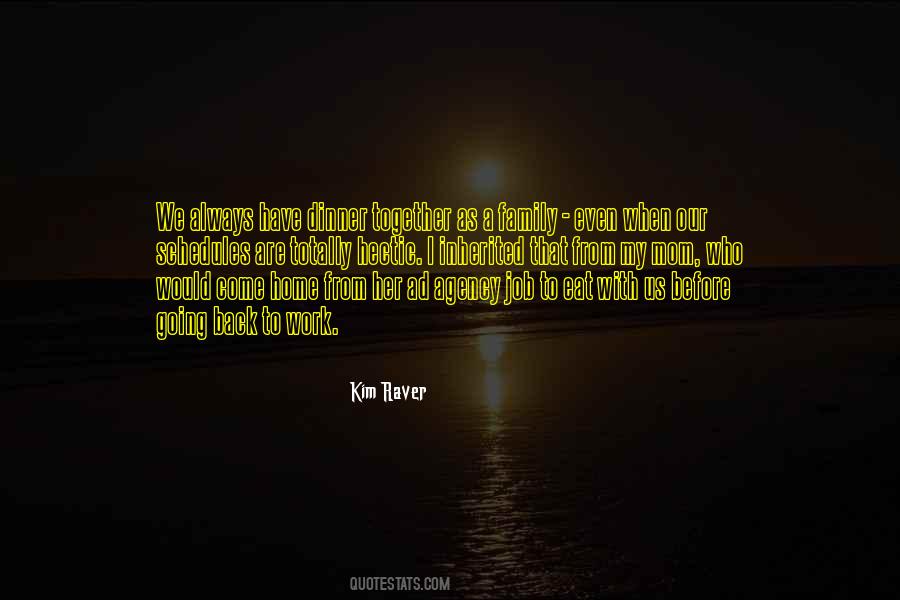 #29. Well it's hard to bracket it like that because everyone always thinks you either go to America and you come back, fail or succeed, but it doesn't work like that. - Author: Anna Friel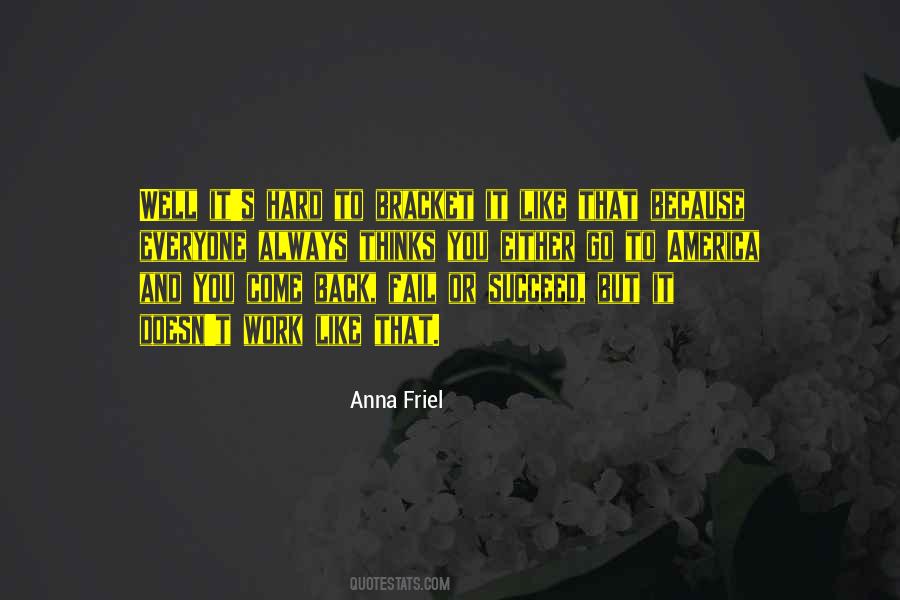 #30. I was actually sacked from my first job. It was at a workshop for a short film this poet had written, about when she used to work in a strip club. After the first week, I was told not to come back. - Author: Daisy Ridley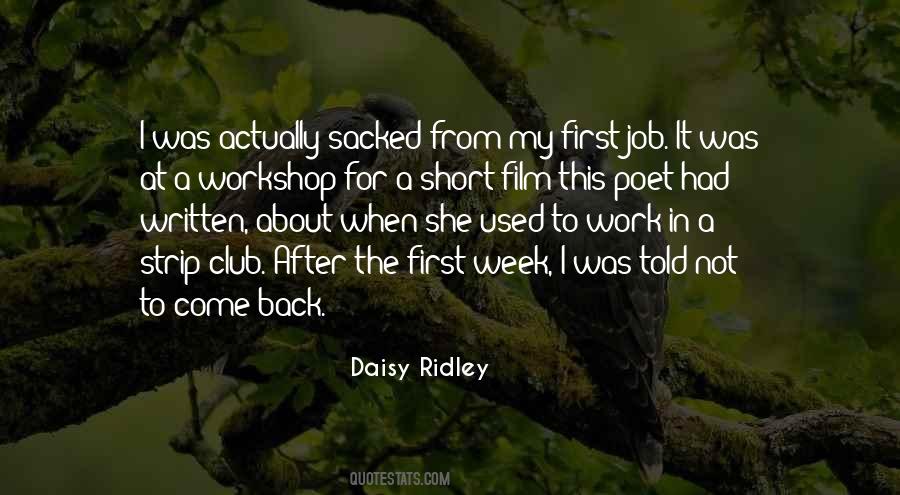 #31. I didn't come from a wealthy family. I had no money. Maybe it goes back to naivete which is your greatest asset when you're young. If I was starting in comedy today and if it didn't work the first time, I'd probably quit. But I kept at it, kept at it. - Author: Steve Martin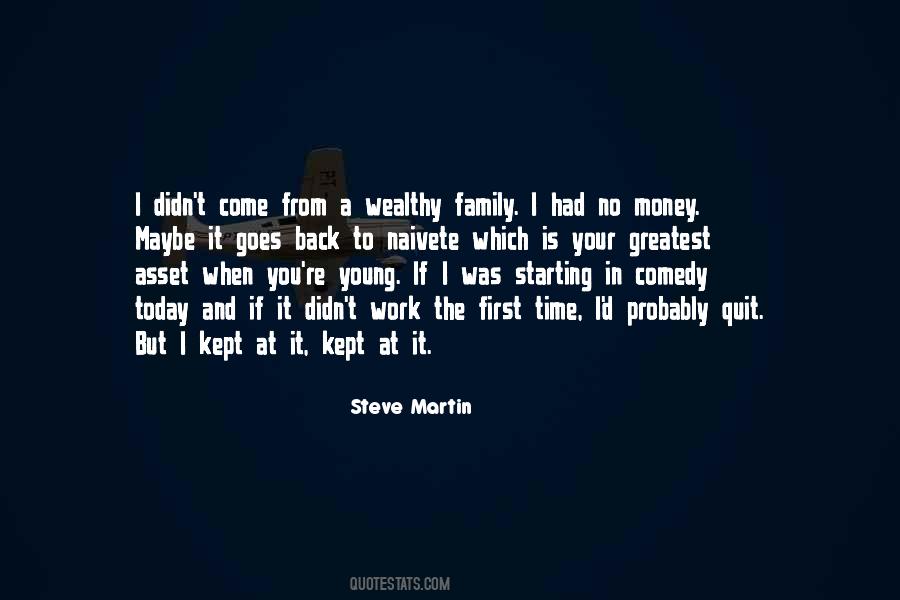 #32. I thought, 'I'll come back to New York. I worked for the 'Aspen Times' when I lived in Aspen. I'll work for the 'New York Times' when I live in New York.' It didn't work out that way. - Author: Darin Strauss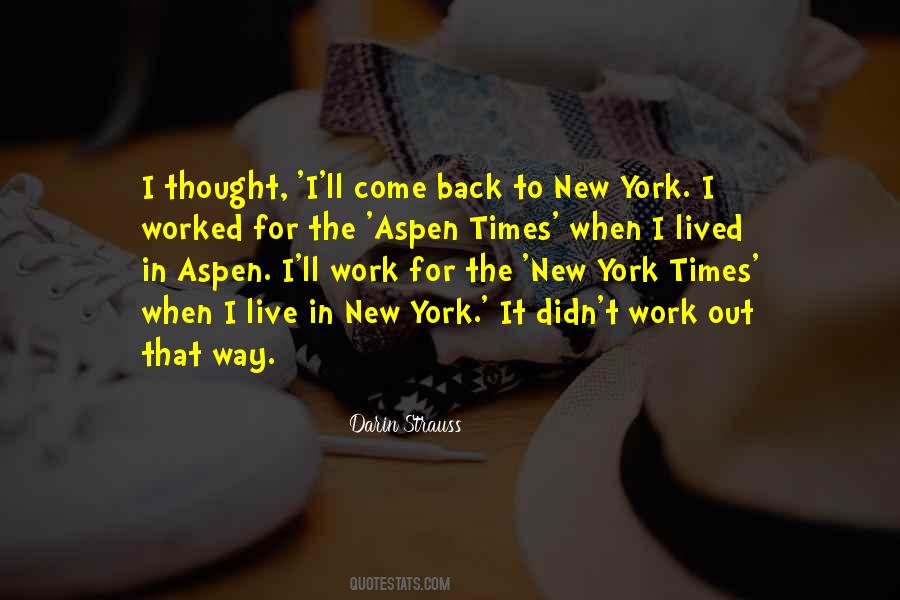 #33. There is a satisfaction we don't want to come to until we come to it in God ... [Disappointments] serve to remind us every day that we cannot make life work the way we want ... If we'll let it, the disappointment can be God's way of continually drawing us back to himself. - Author: John Eldredge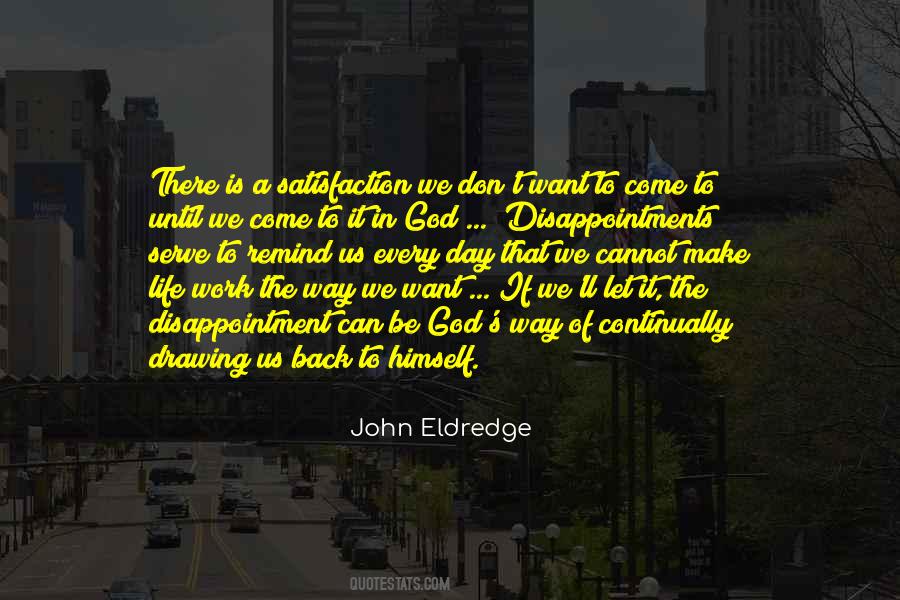 #34. Because my parents, growing up, they worked hard. Everyone in my family woke up early in the morning. I used to see my mother and my father go off to work, and come back and, no matter what, they had time for the kids. - Author: Herschel Walker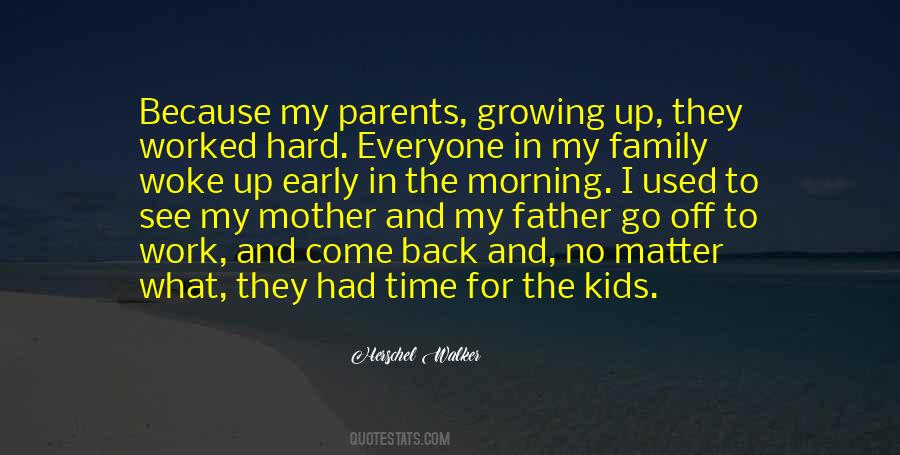 #35. Fifteen years ago, I suffered a stroke, which caused me to lose my speech. Now, what does an actor who can't talk do? Wait for silent pictures to come back? I work with a speech therapist twice a week. - Author: Kirk Douglas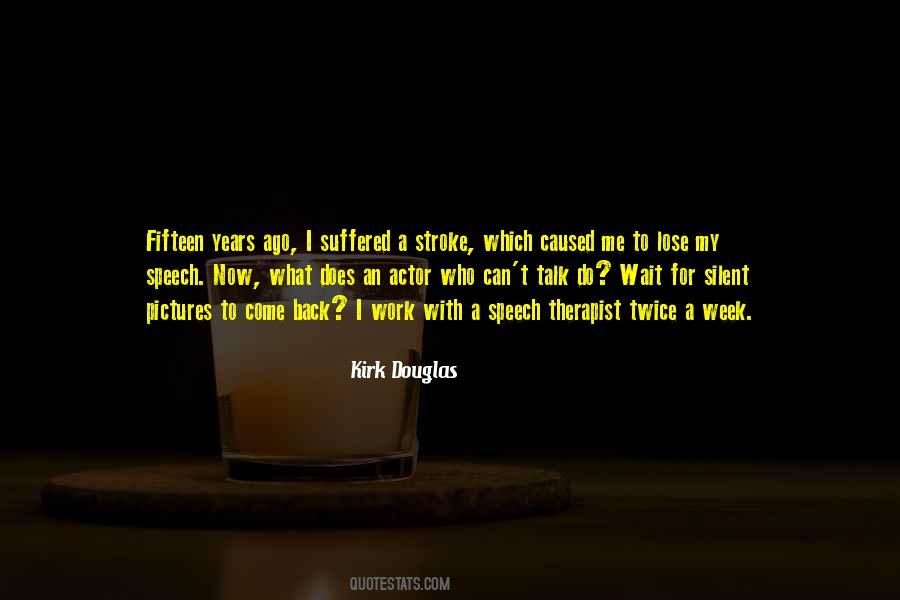 #36. In my early years, my father was away as a soldier in the war. When he came back, work was very difficult to come by. Even though he was a highly skilled man, a maker of furniture, the payment for that work was very poor. - Author: Trevor Nunn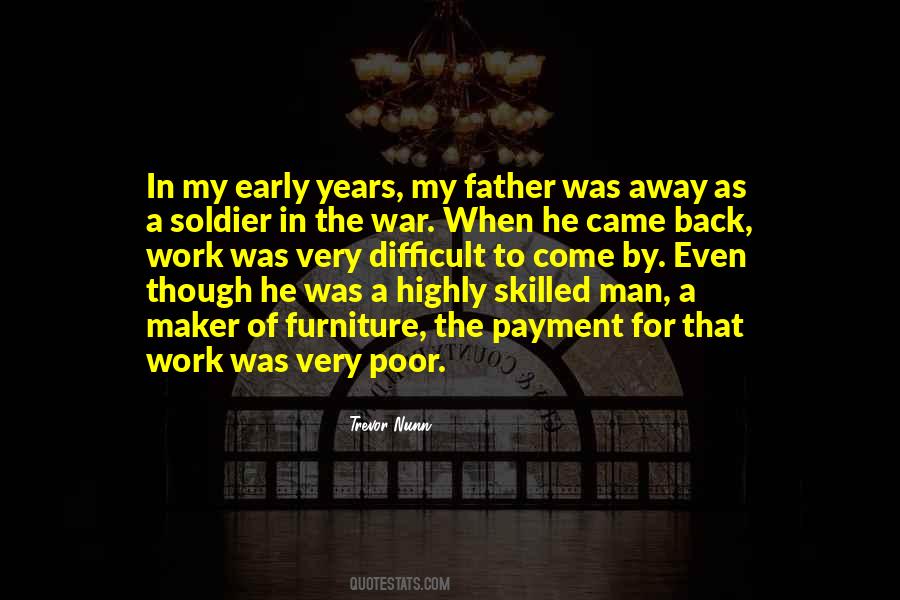 #37. Every now and then go away, have a little relaxation, for when you come back to your work your judgment will be surer. Go some distance away because then the work appears smaller and more of it can be taken in at a glance and a lack of harmony and proportion is more readily seen. - Author: Leonardo Da Vinci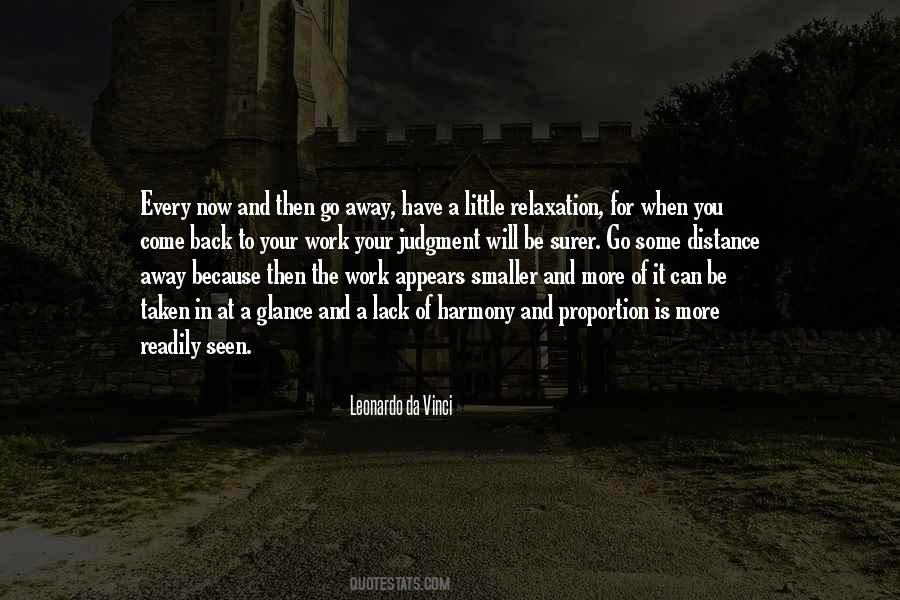 #38. I'd like to keep work work and life life. It means you've got your life to come back to, somewhere to come home to at night that isn't invaded by your day. - Author: James McAvoy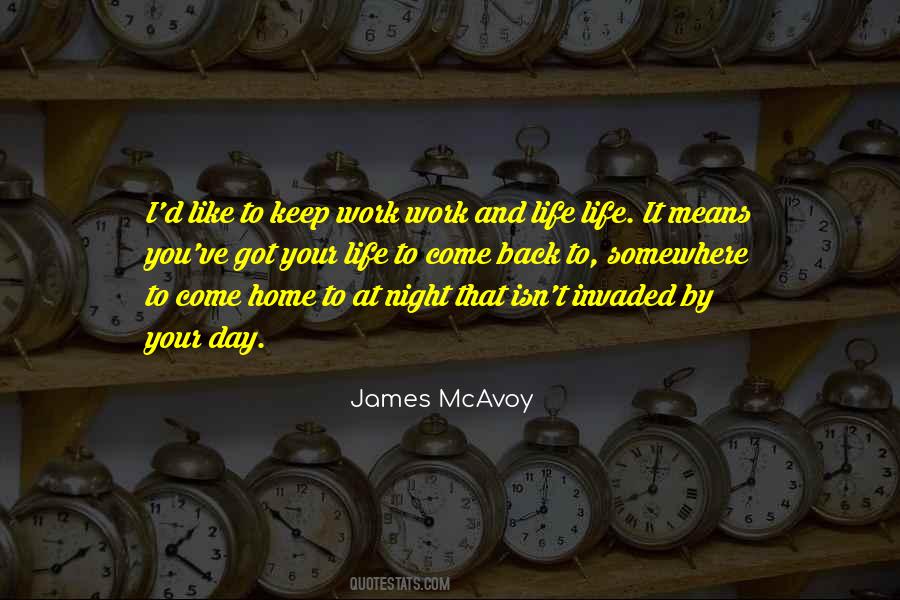 #39. Every August, I go away for four weeks to a place in Michigan. I work in the mornings, spend the month in shorts and flip-flops. It gives me time to think like an investor and come back in September for some heavy planning. - Author: Joe Mansueto
#40. Work is the order of the day, just as it was at one time, with our first starts and our best efforts. Do you remember? Therein lies its delight. It brings back the forgotten; one's stores of energy, seemingly exhausted, come back to life. - Author: Boris Pasternak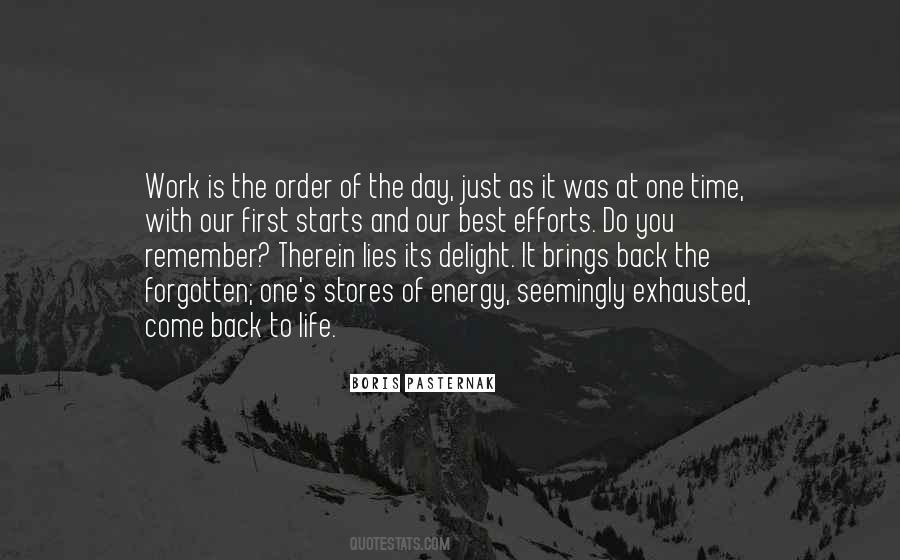 #41. If there's a national-team player, he has to do extra work. He has to do extra weeks, and he can't go on vacation even if he says: 'Well, but I'm supposed now to have six weeks off.' If he comes and says that, then I give him a hug and say: 'Have fun the six weeks, but don't come back here.' - Author: Jurgen Klinsmann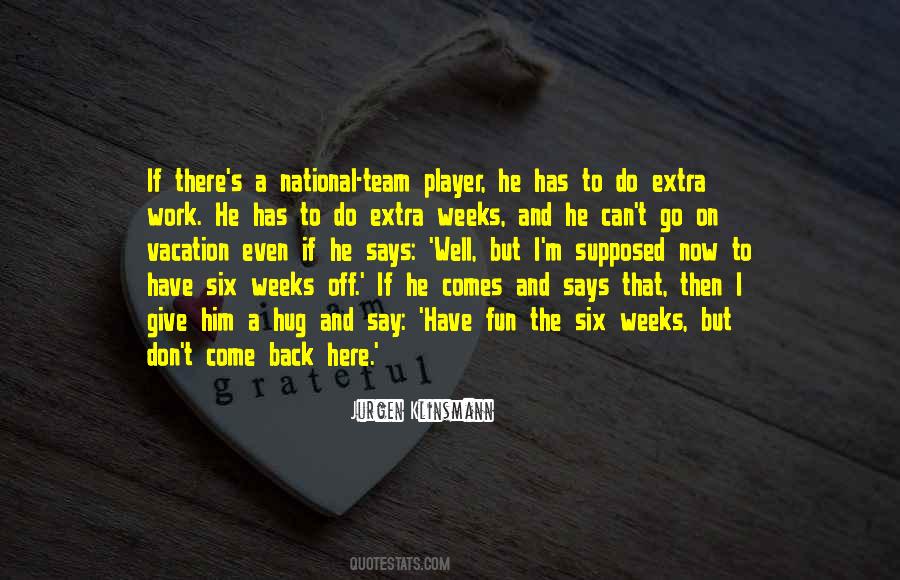 #42. It may be," replied Coll, smiling, "we know least what we treasure most. But we will have more than enough to keep us busy when you come back, and you will learn, my boy, there is nothing like work to put the heart at rest. - Author: Lloyd Alexander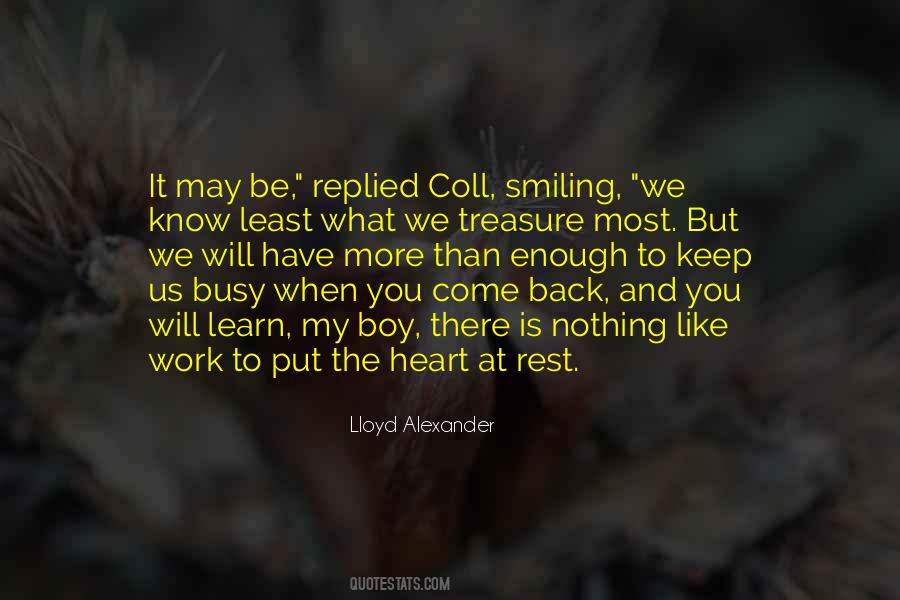 #43. My only plan every day is to get up and go to work, work hard and come back home. And whatever else needs to happen in my life will come in its own time. - Author: Katrina Kaif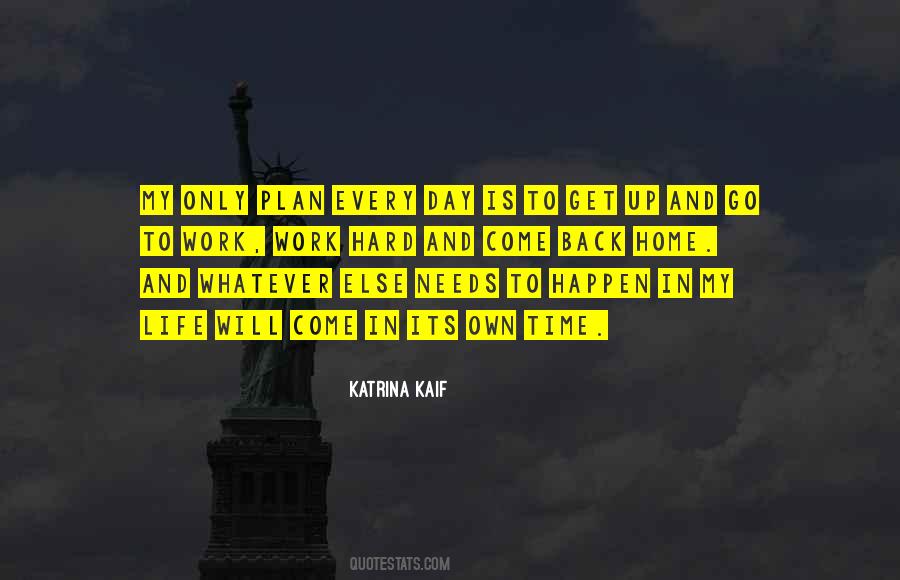 #44. Every day, I come home with a spring in my step. We've got to work together to stop the Obama agenda and take this country back. - Author: Ted Cruz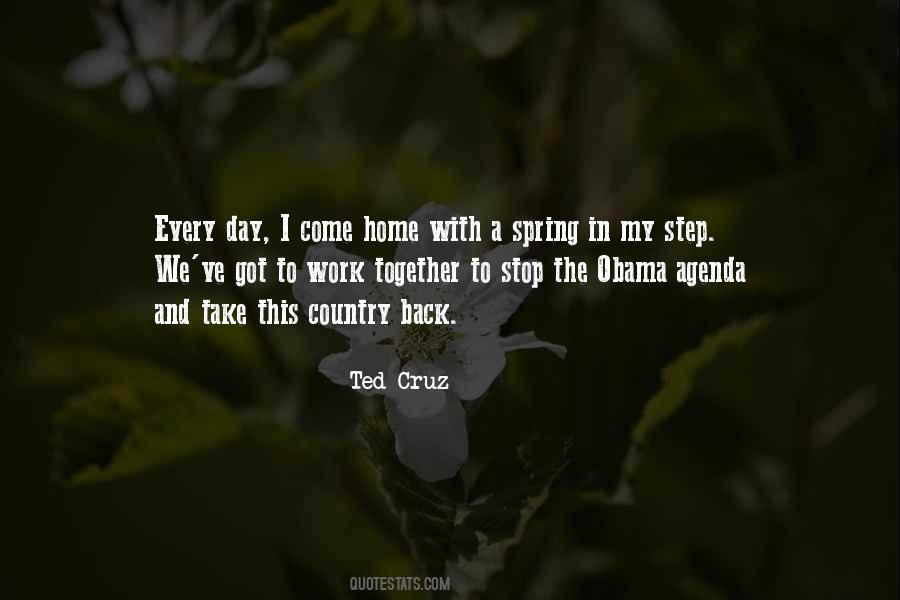 #45. Oh, you humans may prefer empathy and mercy, but that's like intuiting the answer to an equation: you still have to go back and work the problem to be certain you were right. We can come to genuinely moral conclusions by our own paths. - Author: Rachel Hartman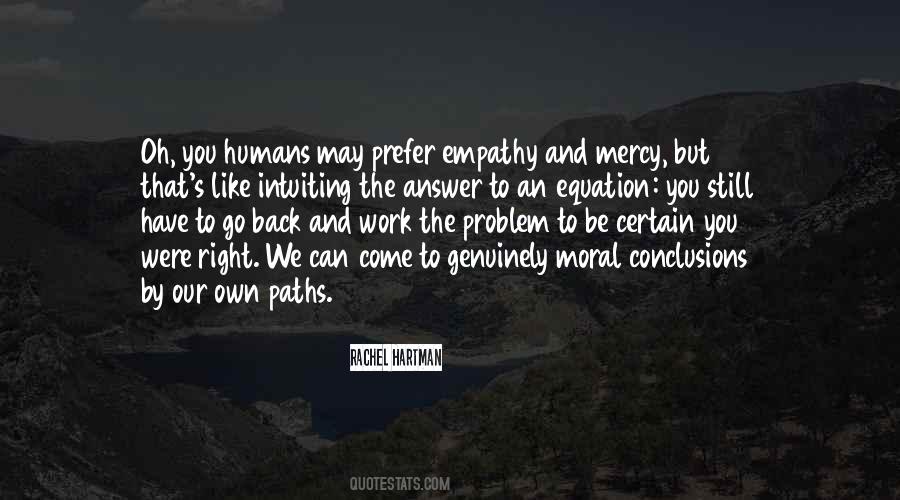 #46. In terms of the black female audience, usually if you're true to that character but more so in your body of work if you've proven that you love your sisters and you proven you will come back home like in 42.4% they'll give you a pass when you jump ship. I hear it all the time. - Author: Blair Underwood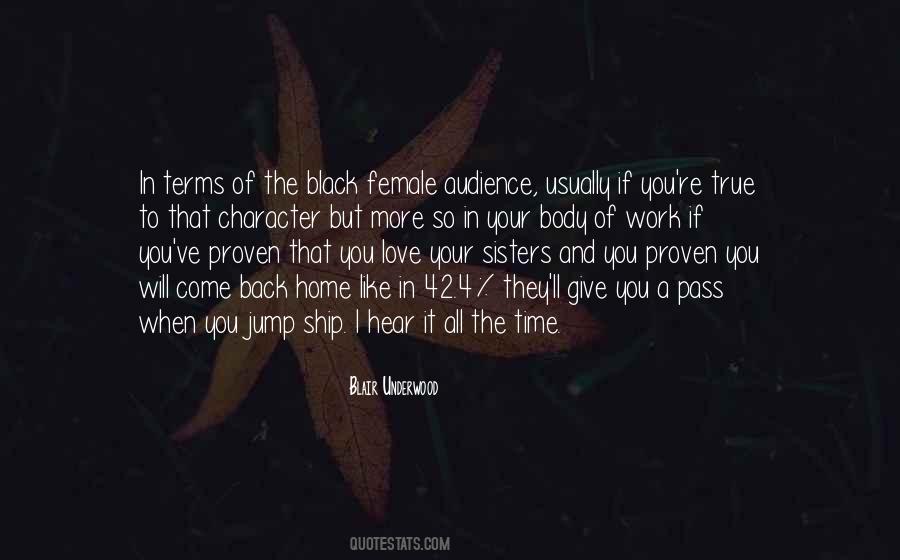 #47. We all hoped in 2001 that we could put in place an Afghan government under President Karzai that would be able to control the country, make sure al-Qaeda didn't come back, and make sure the Taliban wasn't resurging. It didn't work out. - Author: Colin Powell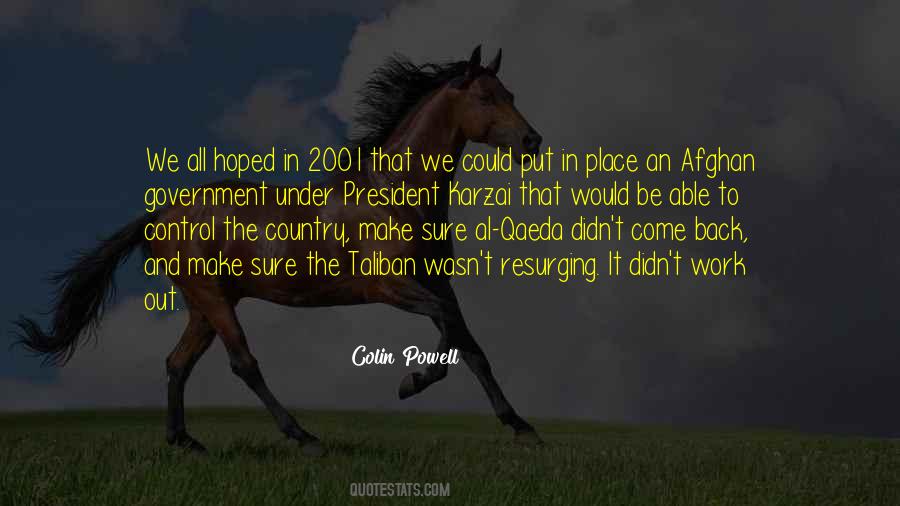 #48. Sadie, please, come talk to me." "I need to get to work." He reached out for my hand, and I immediately snatched it back and pocketed both of my hands. "Sadie, please." I hated the insecure, little boy I saw in his eyes and the fact it got to me. Dang it. - Author: Abbi Glines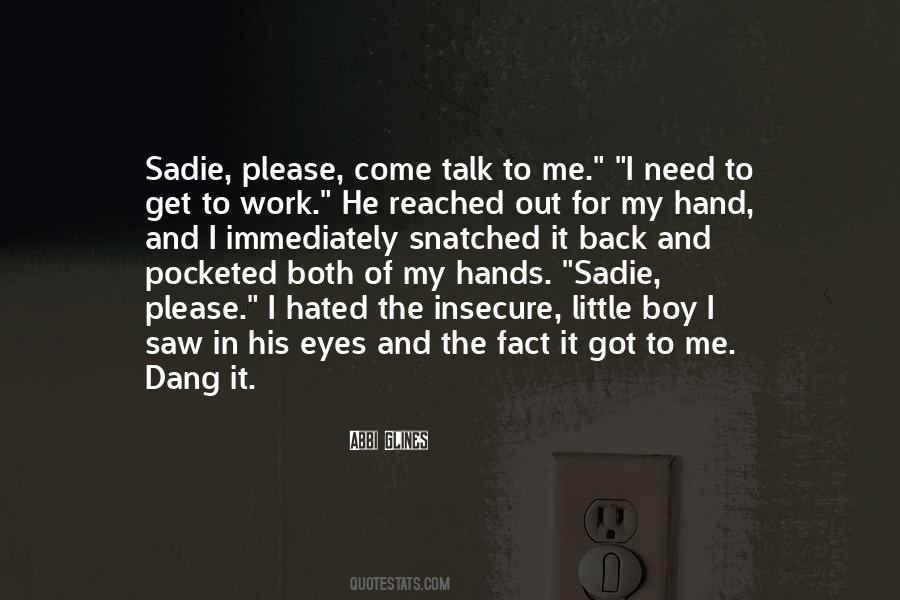 #49. This manuscript of yours that has just come back from another editor is a precious package. Don't consider it rejected. Consider that you've addressed it 'to the editor who can appreciate my work' and it has simply come back stamped 'Not at this address'. Just keep looking for the right address. - Author: Barbara Kingsolver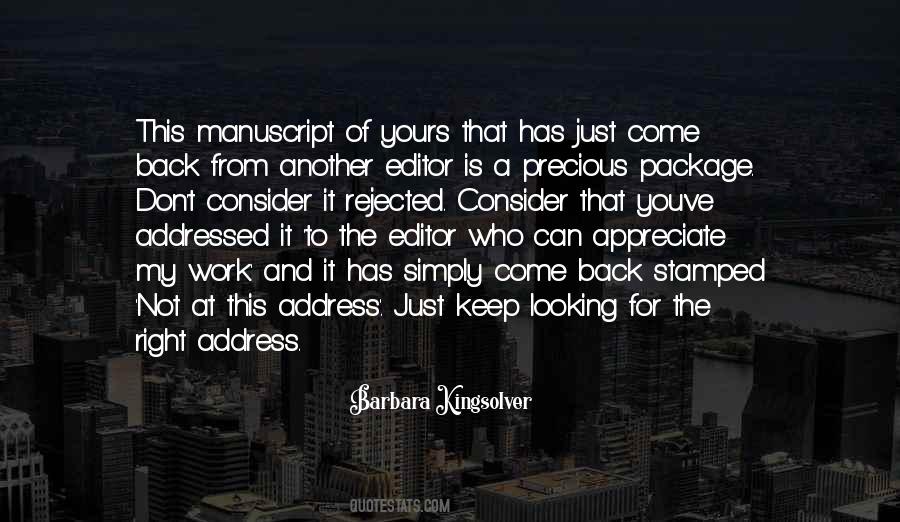 #50. The rebel in me never really had died. She just needed some time off and a reason to come back to work. - Author: Abigail Baker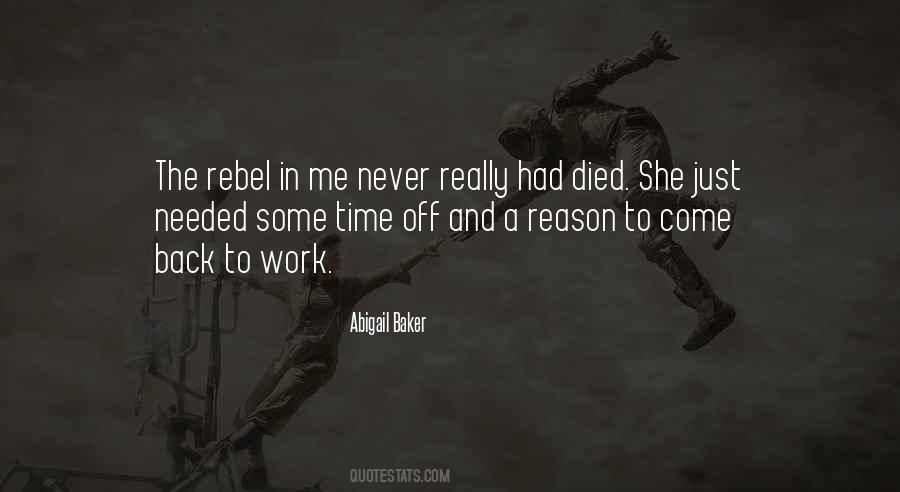 #51. The economy in the Valley will need to grow if students want to come back and work with their specialized degrees. We need to develop more to create more opportunities. - Author: Frank Murphy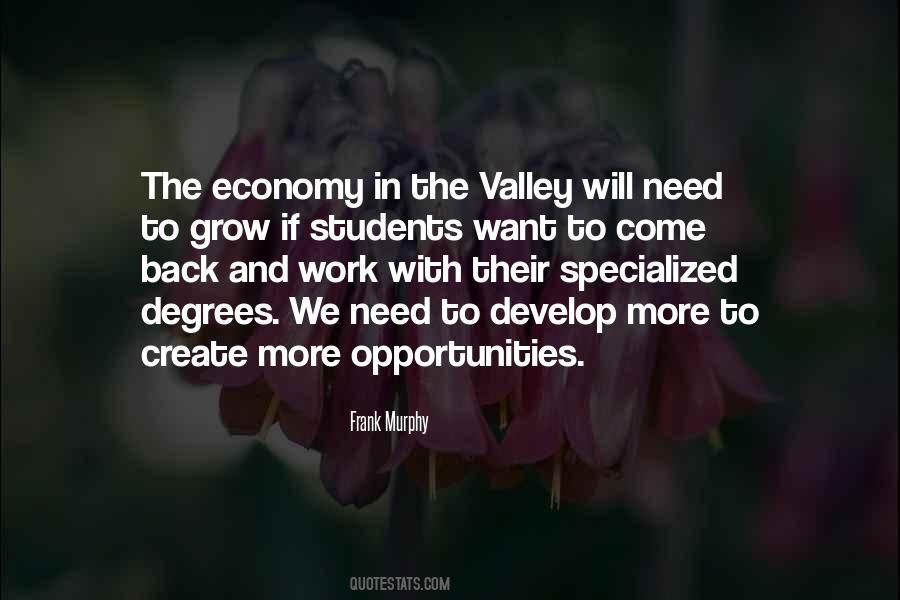 #52. They never pay the slaves enough so they can get free, just enough so they can stay alive and come back to work. - Author: Charles Bukowski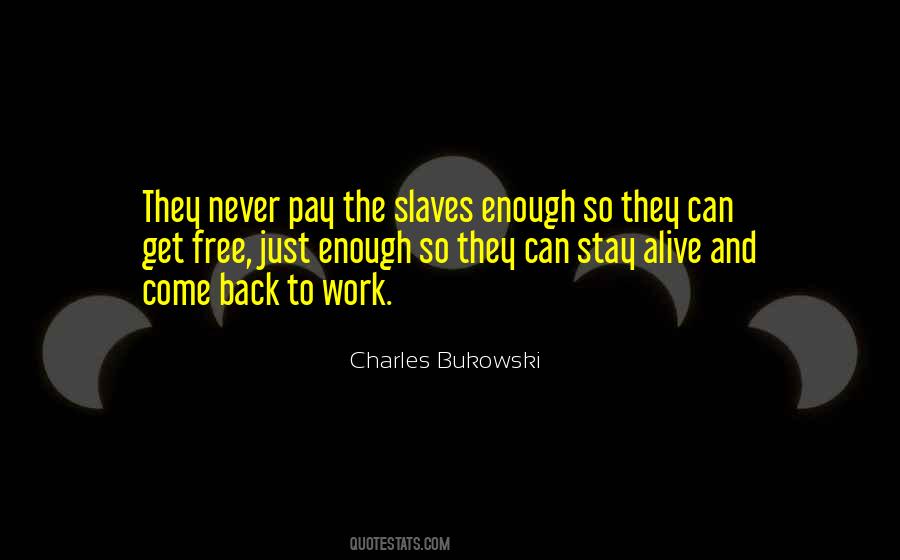 #53. You never quite know what you're going to come back to and figure out how to make it work. You never quite know where that desire to finish something, or return to something in a fresh way, is going to come from. Every time I finished a film and went back and looked at it, I had changed as a person. - Author: Christopher Nolan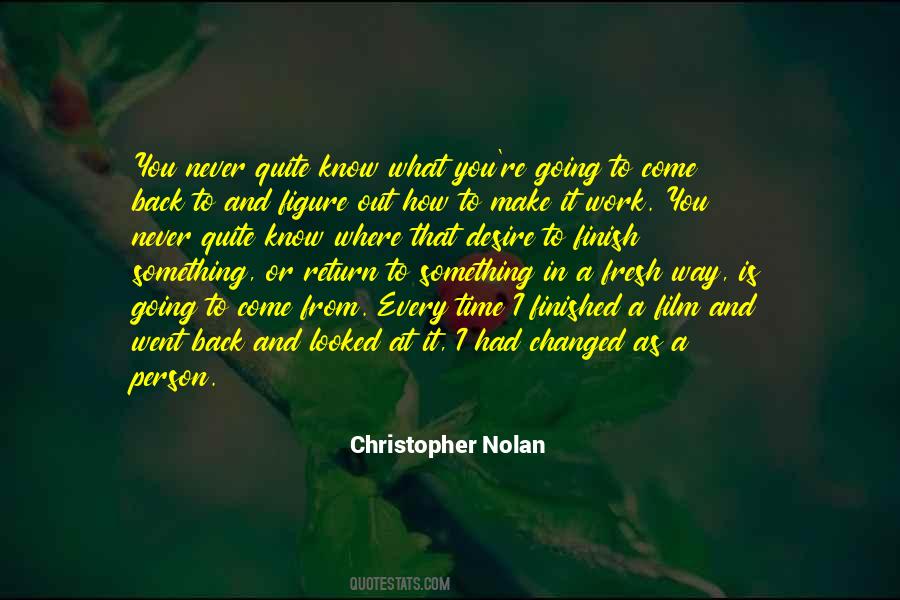 #54. If I work hard and am rewarded, then I haven't really gained anything. It has been a trade: I've put in, and I've gotten back. Only if I am rewarded without having done anything have I actually come out ahead. The best way to gain the most is to do nothing. - Author: John S. Hall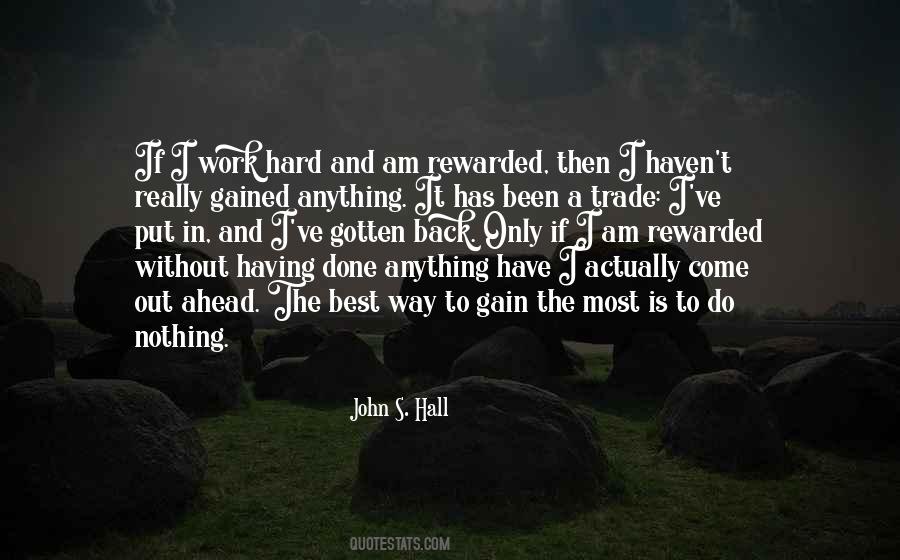 #55. In the mornings I used to say goodbye to my wife like someone going to work. I'd leave the house, walk around a few blocks, and come back like a person arriving at the office. - Author: Orhan Pamuk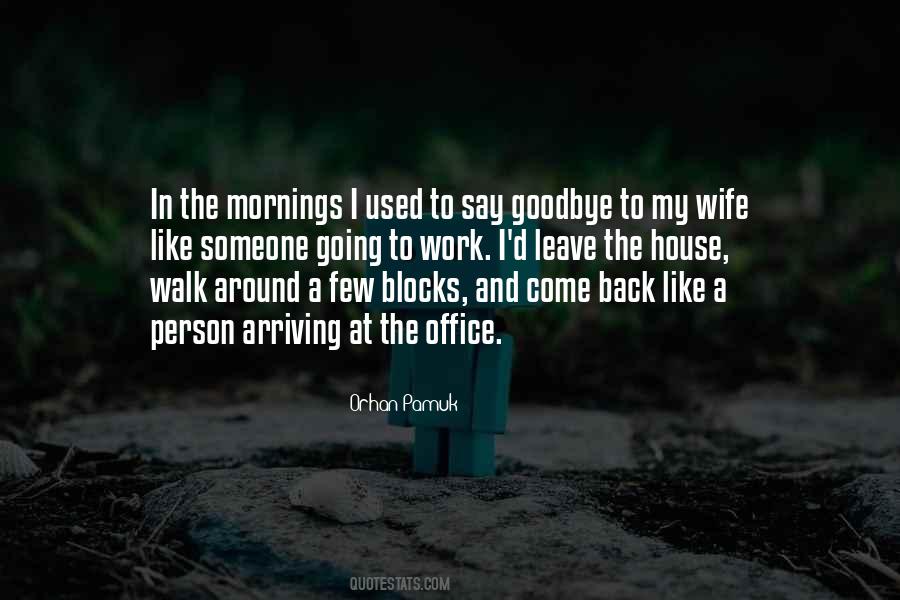 #56. Happiness comes in small doses folks. It's a cigarette butt, or a chocolate chip cookie or a five second orgasm. You come, you smoke the butt you eat the cookie you go to sleep wake up and go back to fucking work the next morning, THAT'S IT! End of fucking list! - Author: Denis Leary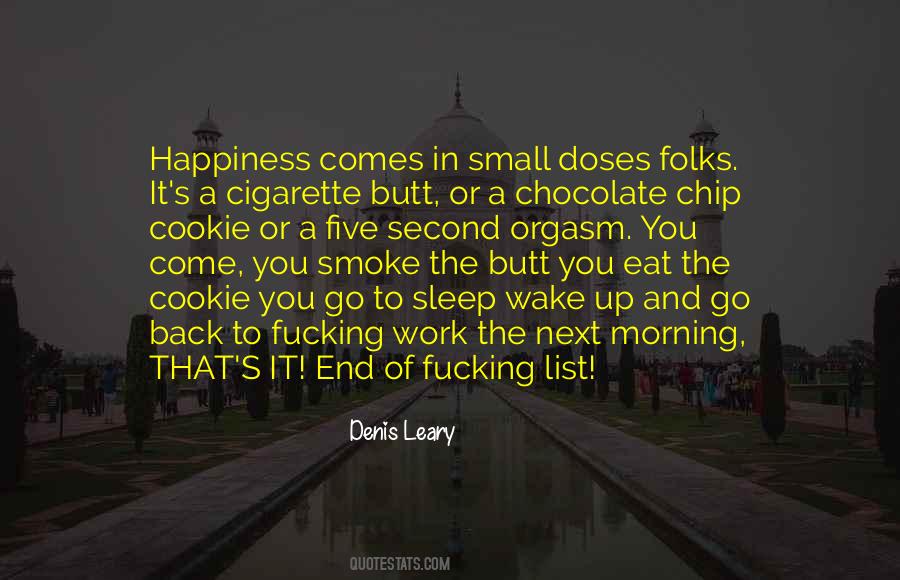 #57. I always thought that it's important to have other things, not just work, and I often even suggested my managers take some time off and come back fresh and ready to fight again. - Author: Ernesto Bertarelli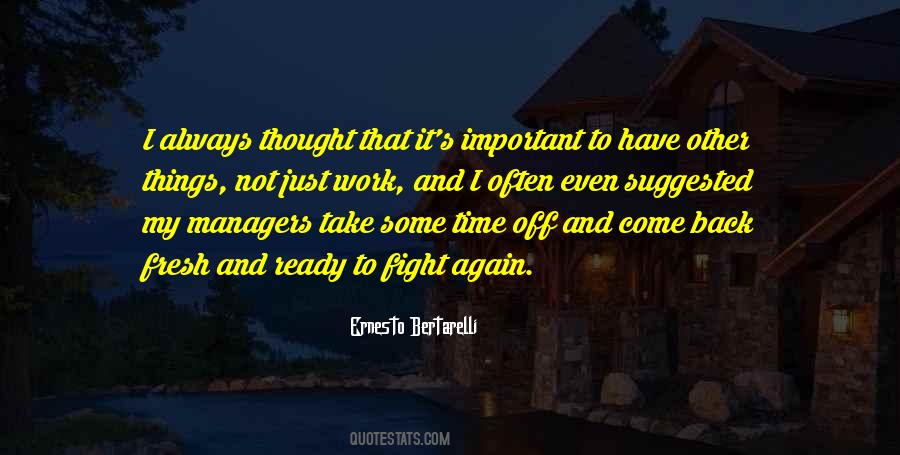 #58. Sometimes I'll hear a phrase or a word and write it down in my little black notebook (a writer's best mate), then come back to it and work a plot around it. - Author: Paul Kane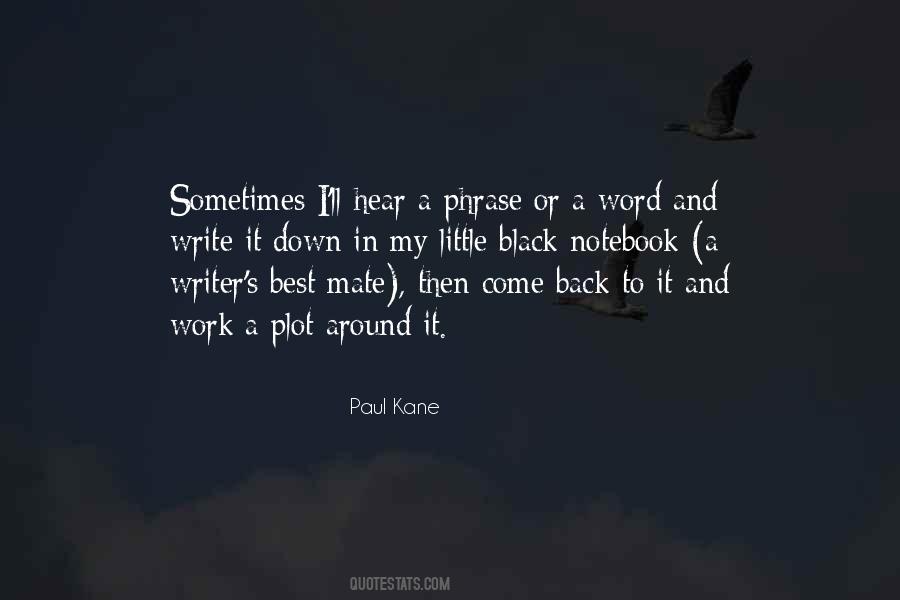 #59. What would be wrong with letting a kid go pro, and if it doesn't work out he can come back to college? What's the harm in that? The reason is the word "amateurism." The NCAA has to protect colleges' tax exemption. - Author: Sonny Vaccaro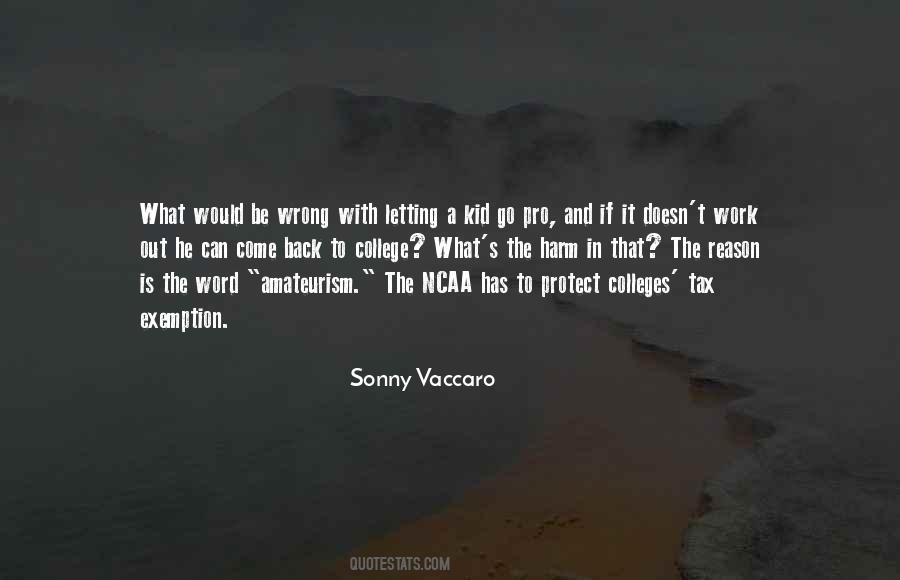 #60. This really is a merger of equals. I wouldn't have come back to work for anything less than this fantastic opportunity. This lets me combine my two great loves - technology and biscuits. - Author: Louis V. Gerstner Jr.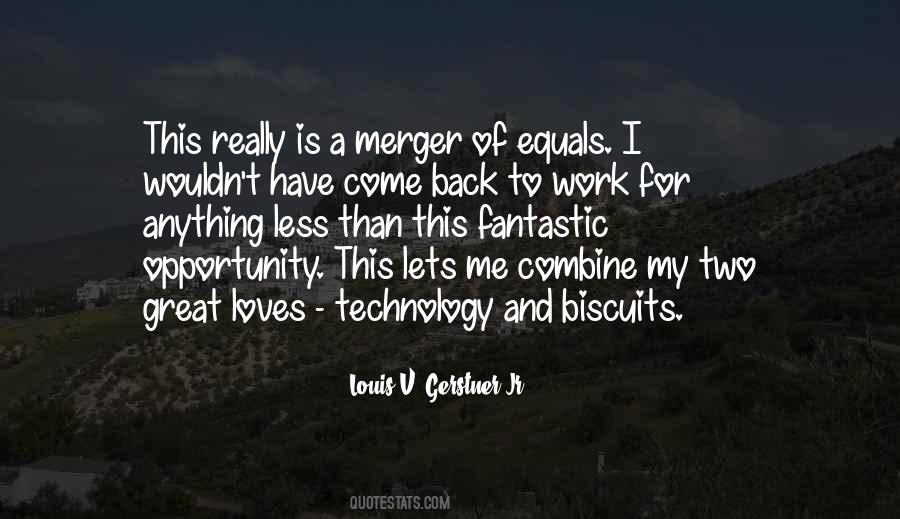 #61. Everybody has something, that one thing they must do to feel happy. I think this is yours, and I want you to be happy. You don't have to do it, but it's here if you choose to come back to it. - Author: Ilona Andrews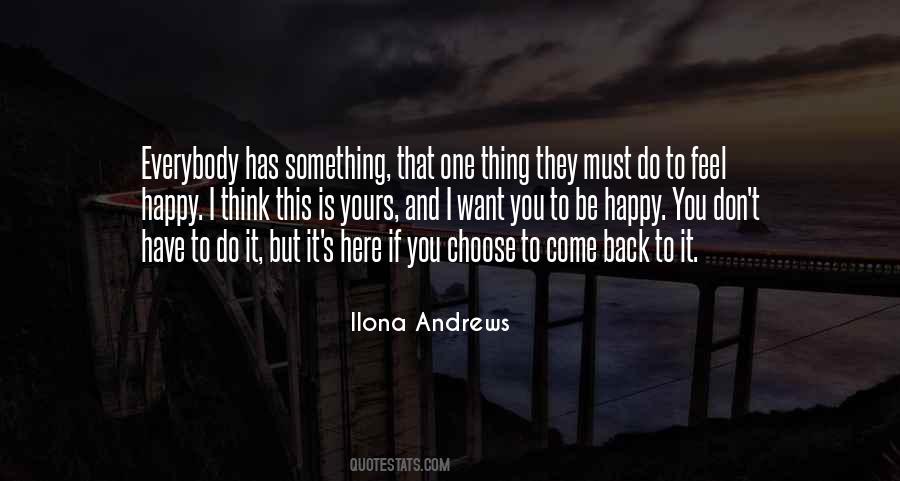 #62. Our vanity, our passions, our spirit of imitation, our abstract intelligence, our habits have long been at work, and it is the task of art to undo this work of theirs, making us travel back in the direction from which we have come to the depths where what has really existed lies unknown within us. - Author: Marcel Proust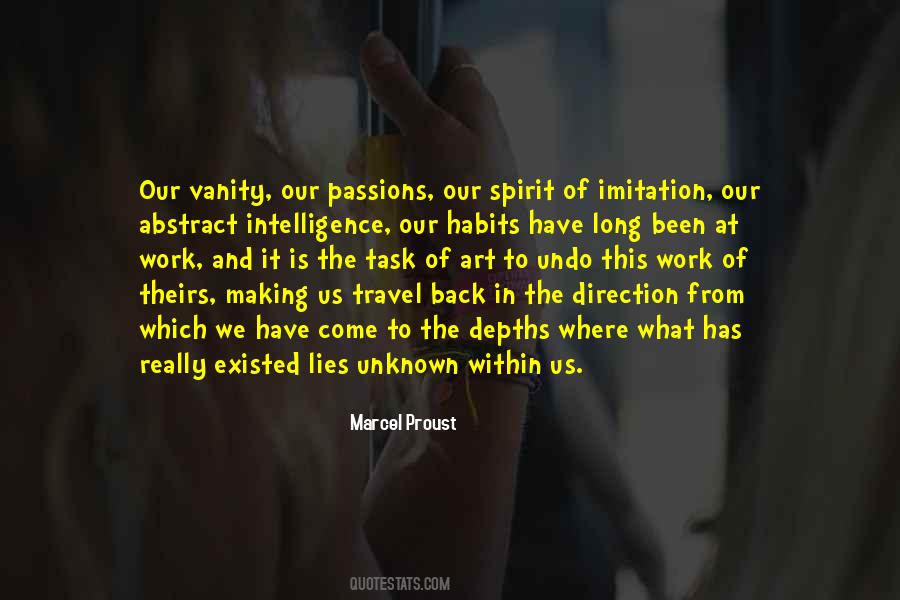 #63. I wanted to be a part of the first 'Twilight' movie, and unfortunately, it didn't work out so great. So when they came back and were like, 'Do you want to come in for a part for the second movie,' I was like, 'Absolutely.' - Author: Jamie Campbell Bower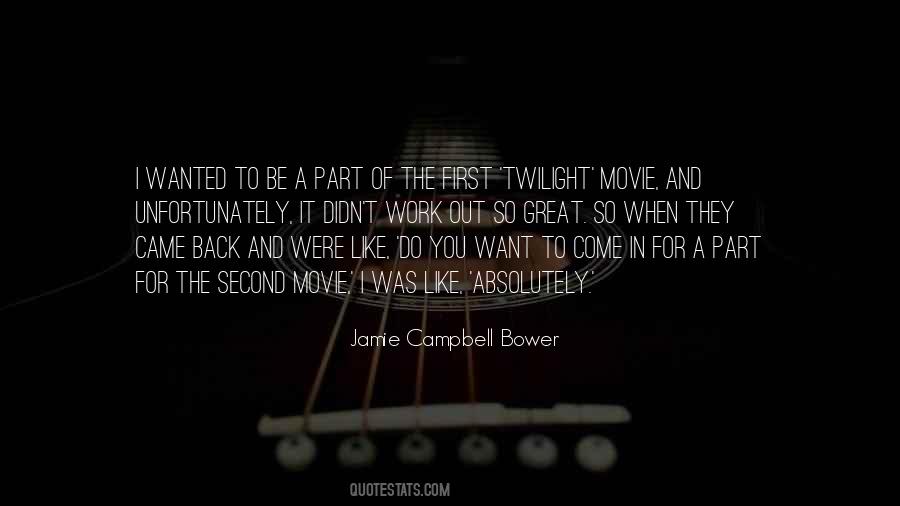 #64. It feels kind of cool to come back from work every day without having killed anybody. - Author: Hallgrimur Helgason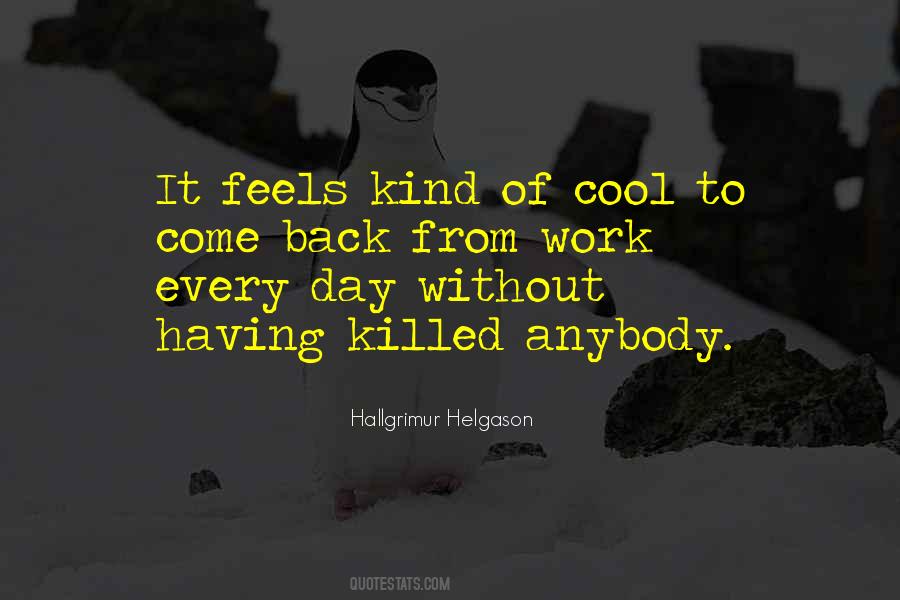 #65. I'm a great admirer of Primo Levi's work. It's always mind-boggling, the idea of how much pain people can endure and still come back from the edge with a sense of humor, with this tremendous animal desire we have to get on with life. - Author: Allan Gurganus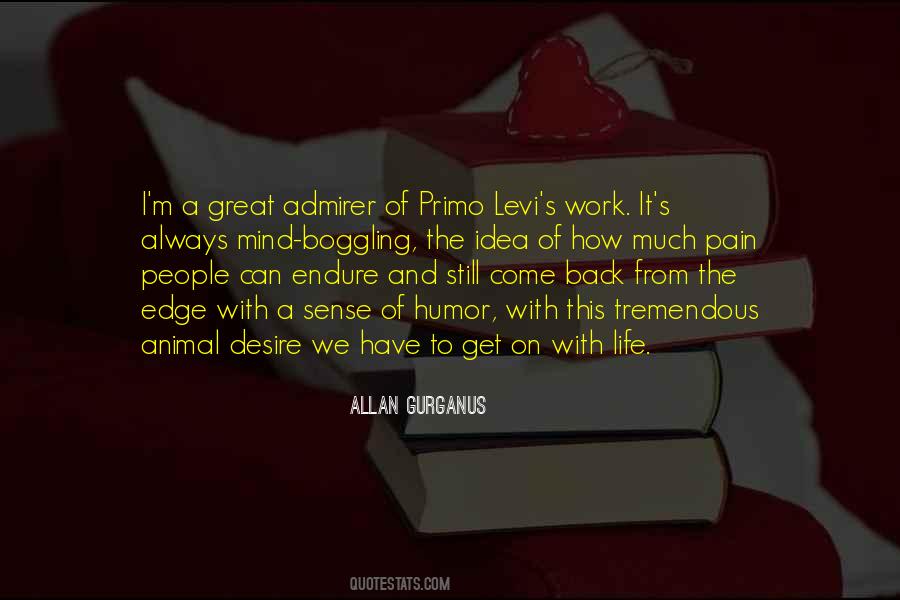 #66. Hendersonville is home because I live there and I work there. But when I come back to Pennsylvania and see the crowds and the landscape, it's such a rush. It just feels like home. - Author: Taylor Swift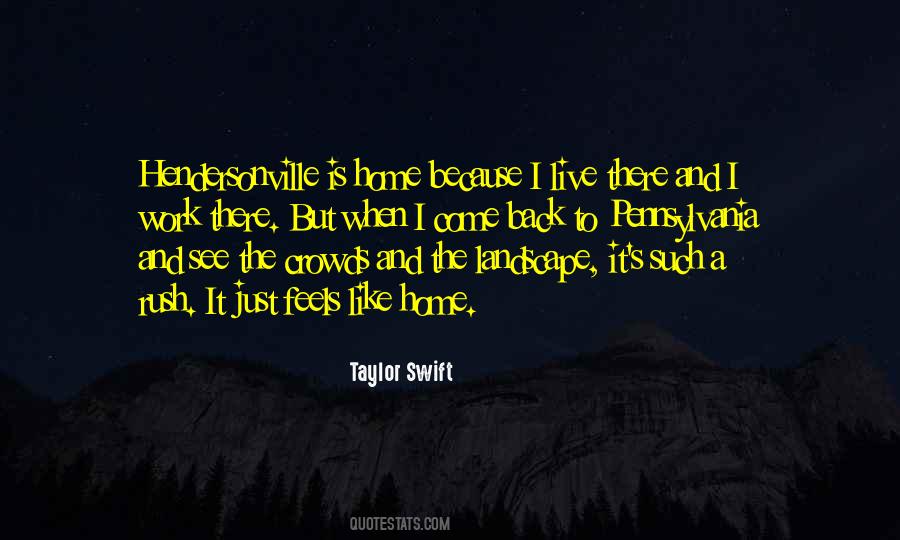 #67. I'd be cheating everyone here, the staff and rest of my teammates, if I wasn't able to stay on top of my work. It was almost like therapy, to come back and get in an environment I'm comfortable with. - Author: Roger Clemens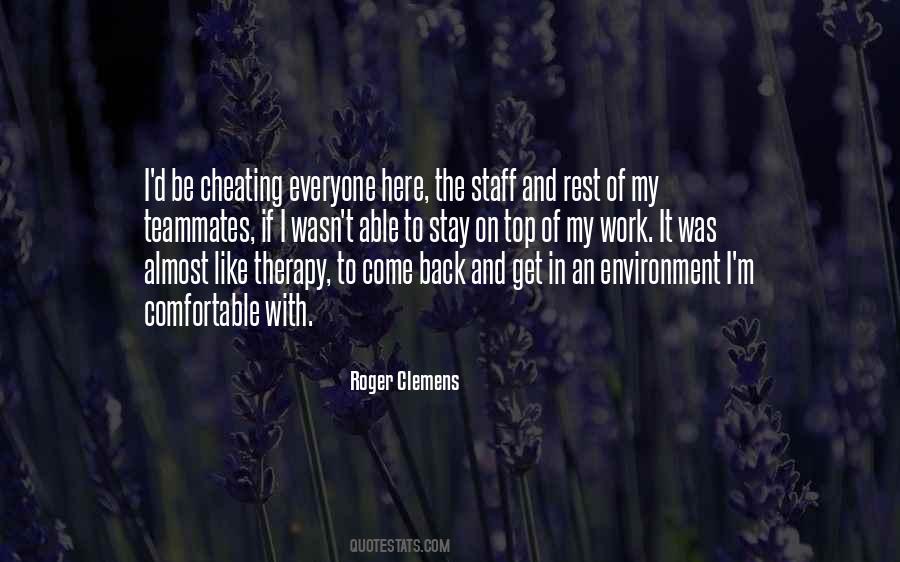 #68. Ideas come easily to me, enacting them comes harder. I usually let things go. Perhaps it's an escape hatch, my way of allowing myself to double back and ease out the side door on a lot of my schemes. Irresolute about my social life, obsessive in my work. - Author: Kathy Reichs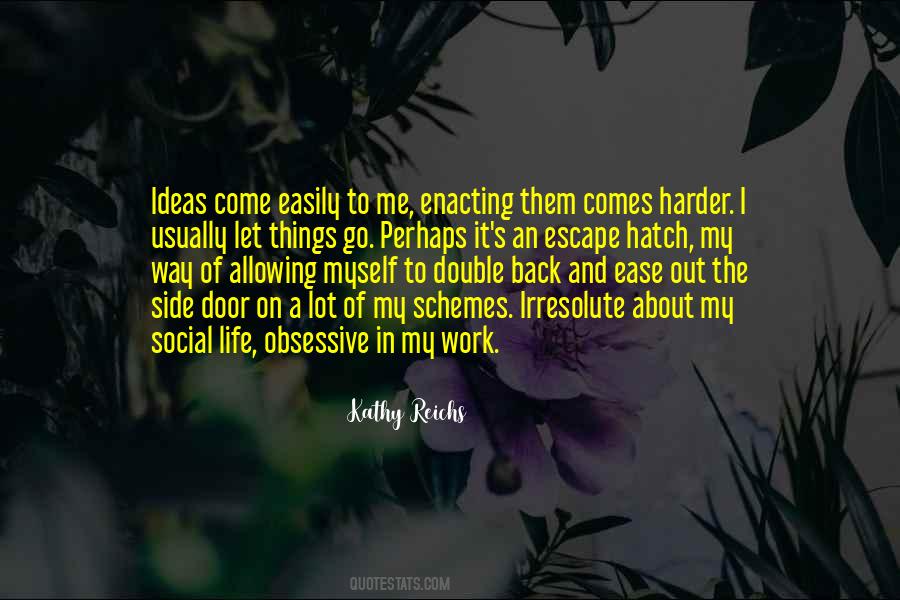 #69. This could be a whole life," she thought. "You work eight hours a day covering wires to earn money to buy food and to pay for a place to sleep so that you can keep living to come back to cover more wires. Some people are born and kept living just to come to this ... - Author: Betty Smith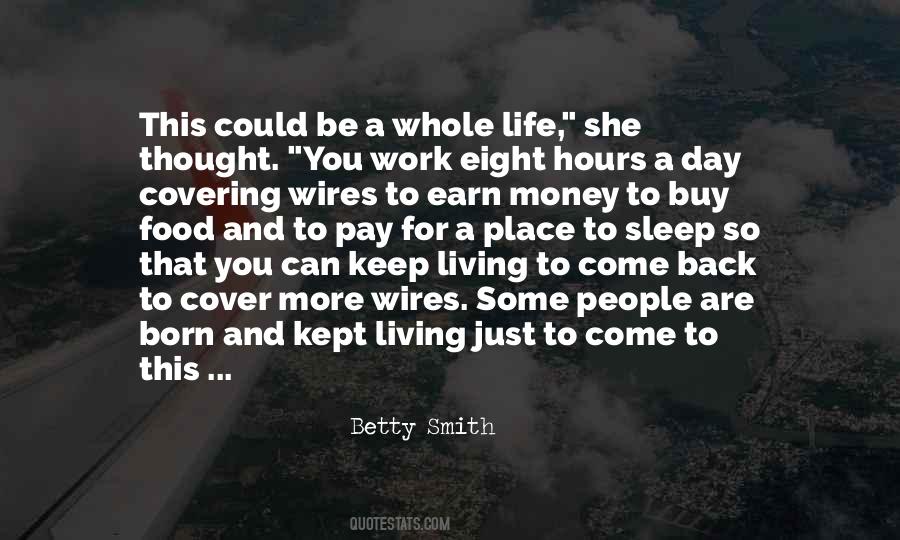 #70. I come back home almost every weekend, or my wife comes up every other weekend to Vancouver. So, in that sense, we make it work. It's just a great city. It's a great country. They've been good to me, and I have no problems being up there. - Author: Michael Trucco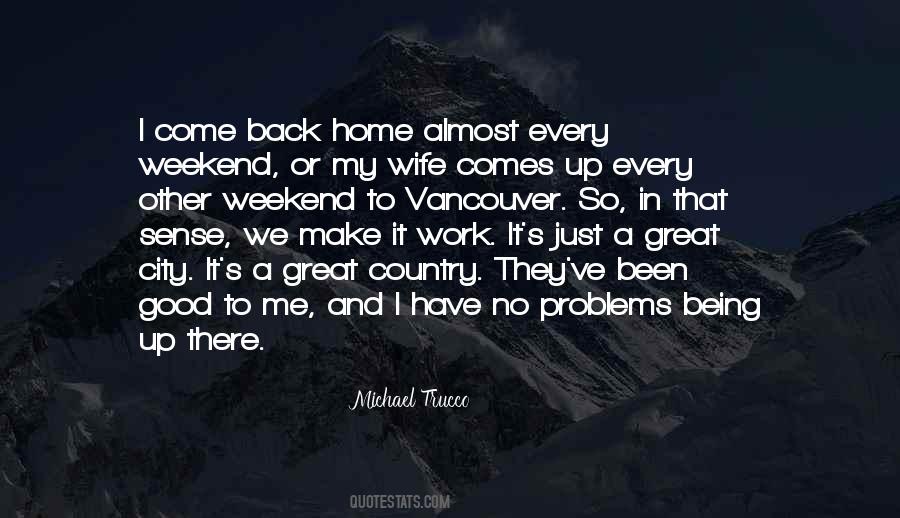 #71. Mind, I congratulate you. You jumped me to sex, translated it to aesthetics, and ended with sour grapes. How dishonest can I be? And all because I don't want to go to work. I'll work my head off to avoid work. Come, mind. This time you don't get away with it - back to the desk. - Author: John Steinbeck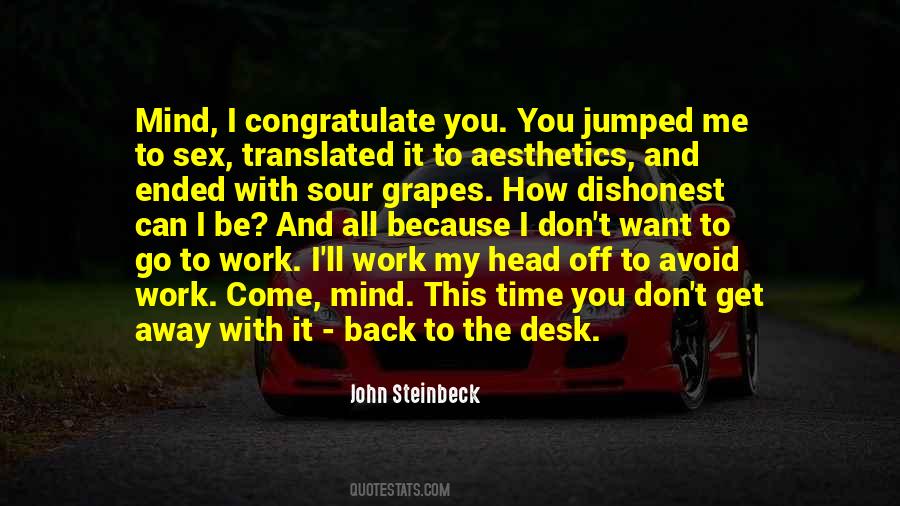 #72. I think that all actors find they go down and then they come back up if you work on your craft. They come back up to the top and then they go back down and they come back up and they go back down. - Author: Johnathon Schaech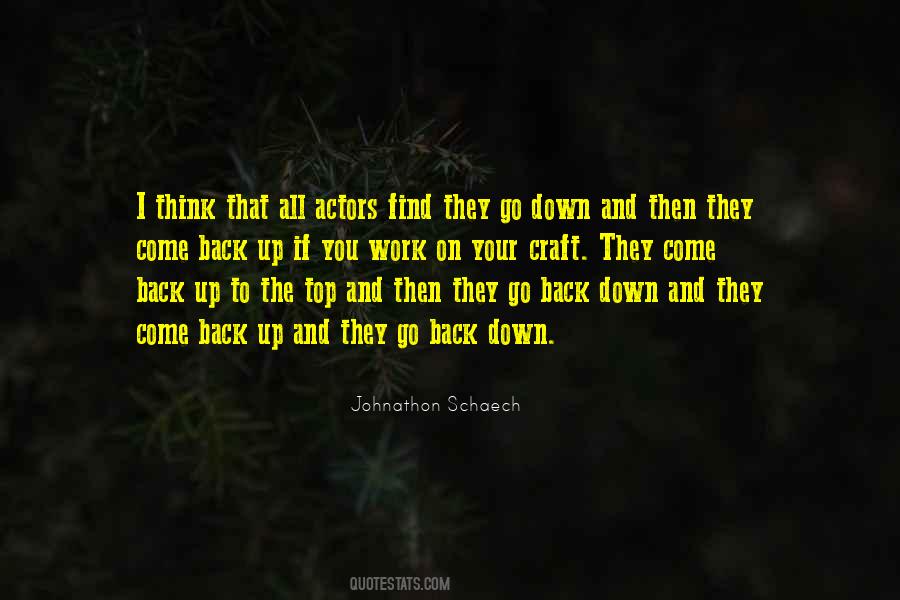 #73. With the kids around, this is a different world to me. I spend a lot of time with them till they go to their playschool. I wake up early, have breakfast with them. I come back from work and am with them again till they go to bed by 10 P.M. Touch wood, this is what I wanted always. - Author: Sanjay Dutt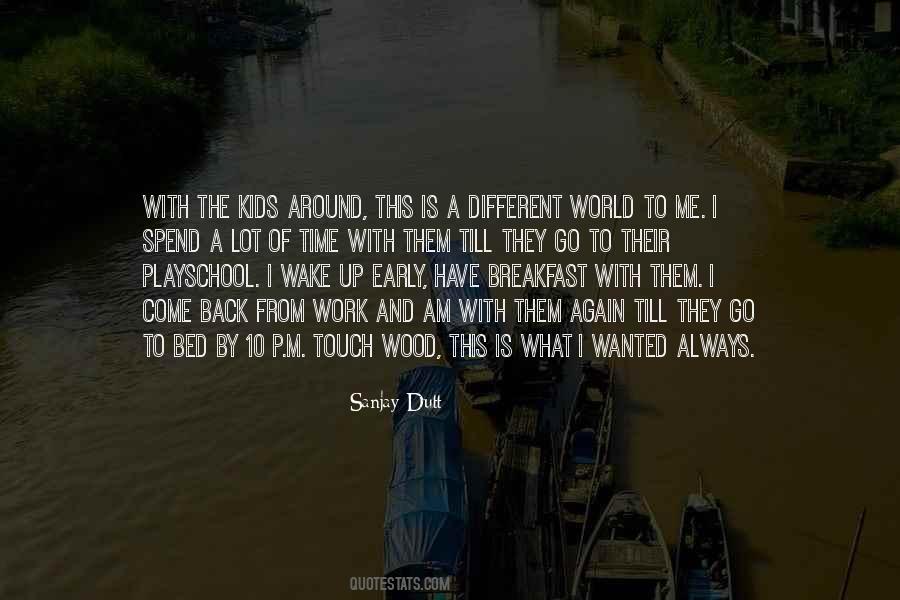 #74. Oh you who are born of the gods, easy is the descent into Hell. The door of darkness stands open day and night. But to retrace your steps, and come back out into the brightness above, that is the work, that is the labor. - Author: Virgil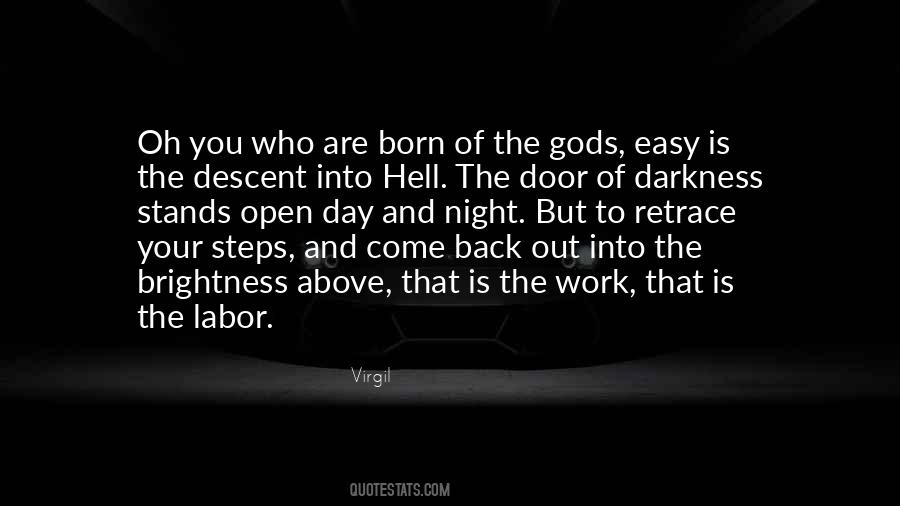 #75. Understanding the intentions of a play is so key because you can block a guy into the running back if you don't know how the play is supposed to work or where the back is going to come out. - Author: D'Brickashaw Ferguson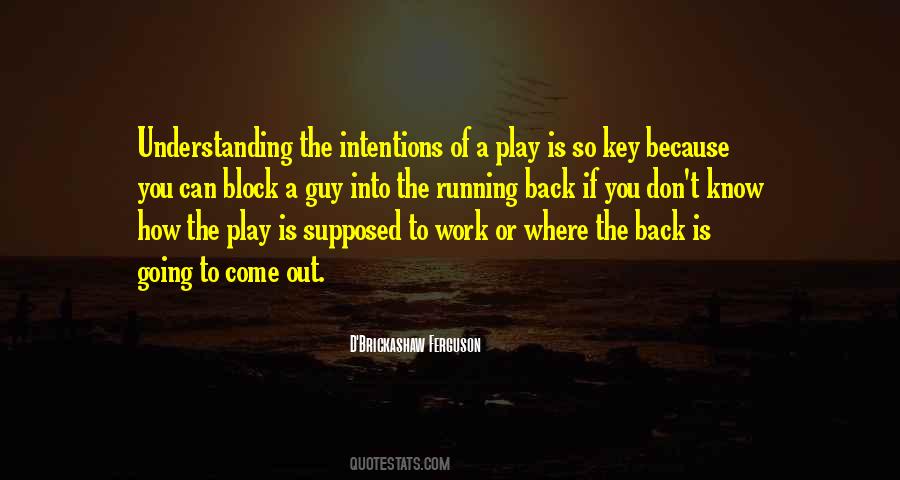 #76. And although I've been very fortunate in the film work that's come my way, I need to get back to the stage. If I'm away for a maximum of two years, I feel something's wrong. - Author: Ralph Fiennes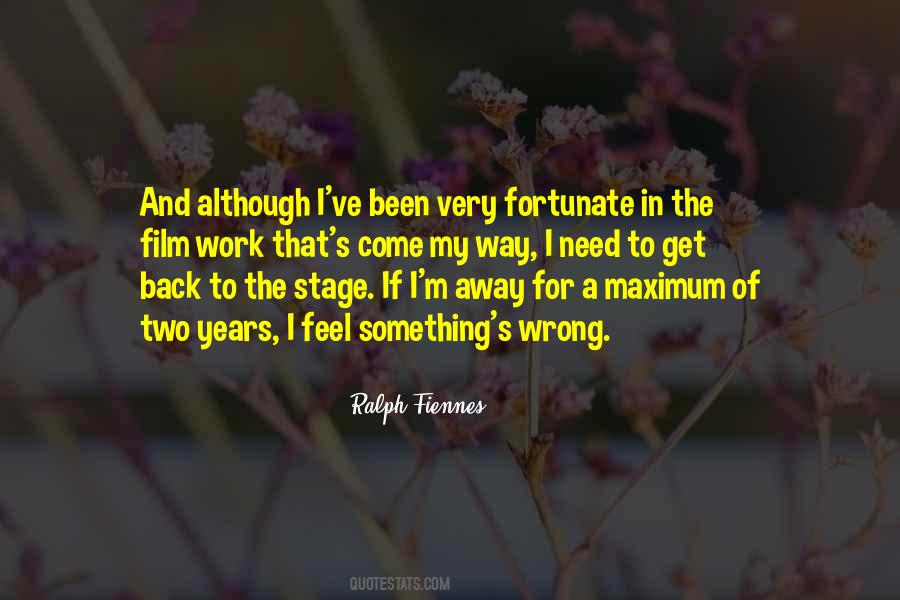 #77. One of the most touching things my mother said to me was that if I ever wanted to come back to live in India, she would build me a home and go out and work hard so that I could be happy. - Author: Saroo Brierley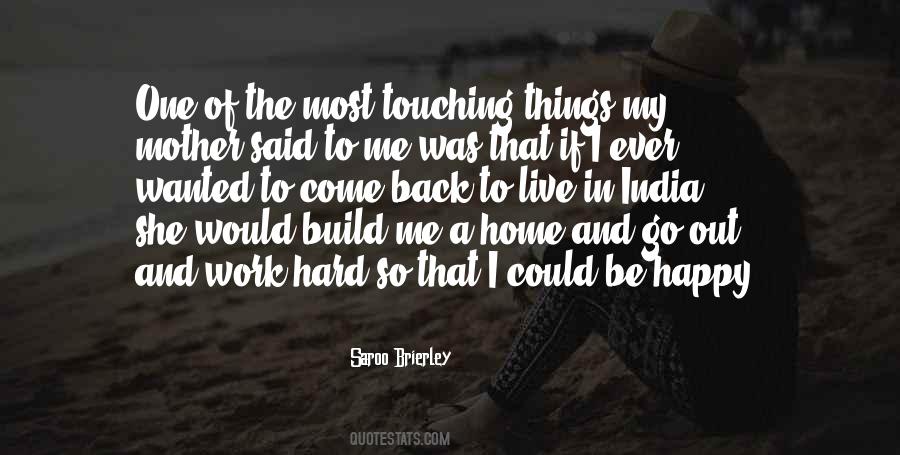 #78. Maybe she could've come back from her suspension and gone back to work at Transcept, as if nothing had happened. But she couldn't. Because something had happened. A lot of somethings. And it meant she could never return to that life, if she even wanted to. And she didn't. - Author: John Jackson Miller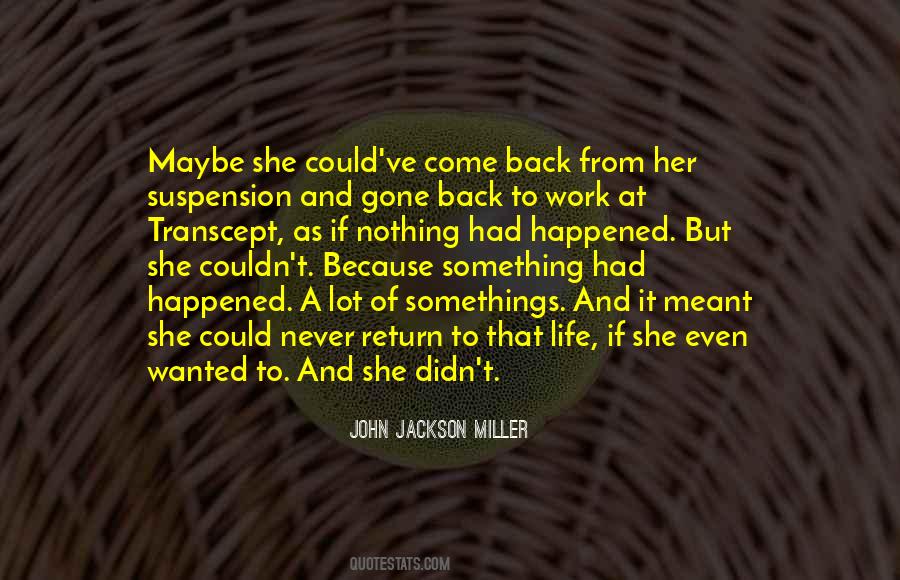 #79. When I did Sean Penn's movie, I think I was living in, like, a $500-a-month room, and someone called me up or bumped into me and asked me if I'd come up to work for a day. That sort of got me going a little bit. But it wasn't until Sin City [2005] that I kind of got back into the game. - Author: Mickey Rourke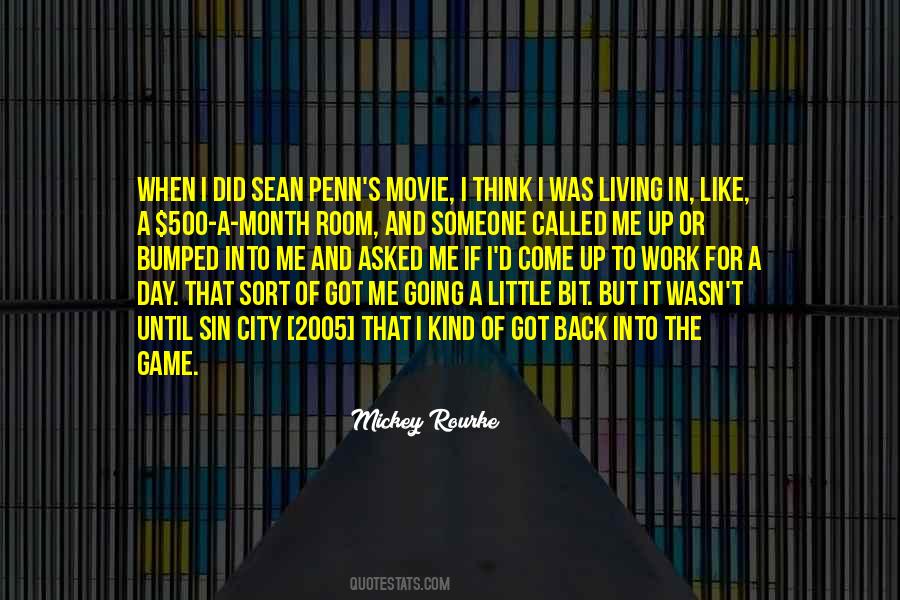 #80. I said, I like my life. If Ihave to give it back, if theytake it from me, let me onlynot feel I wasted any, let menot feel I forgot to love anyoneI meant to love, that I forgotto give what I held in my hands,that I forgot to do some littlepiece of the work that wantedto come through. - Author: Marge Piercy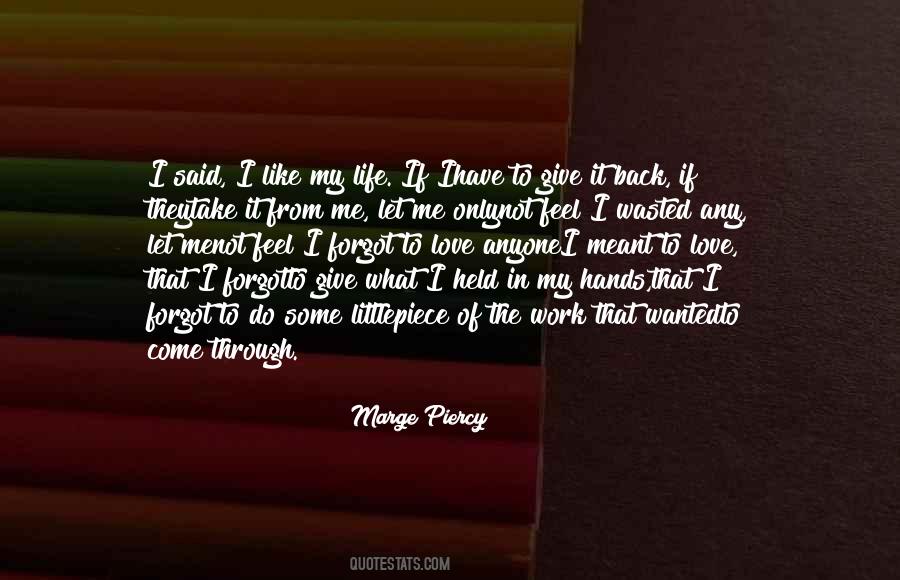 #81. Sometimes they work, and sometimes they just won't. Sometimes you get hung up on them. When that happens, you just throw it back, and maybe come back to it two or three weeks later. - Author: Loretta Lynn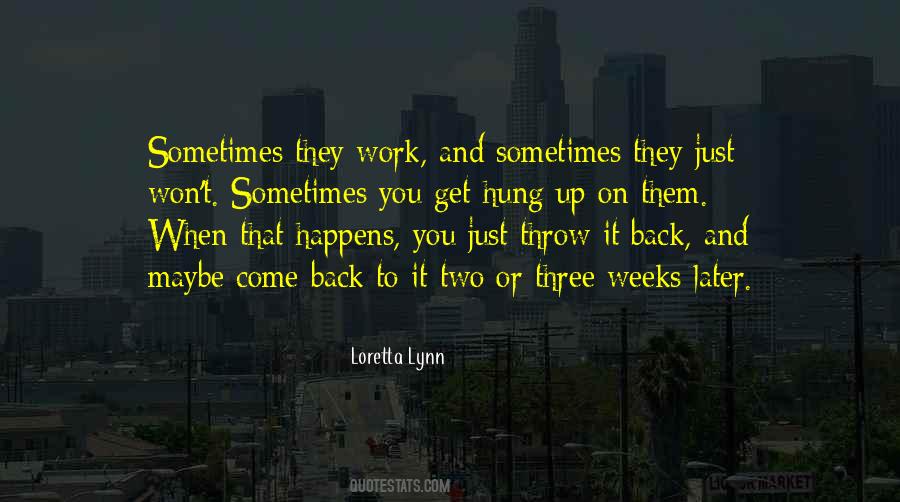 #82. In every work of genius we recognize our own rejected thoughts; they come back to us with a certain alienated majesty. - Author: Ralph Waldo Emerson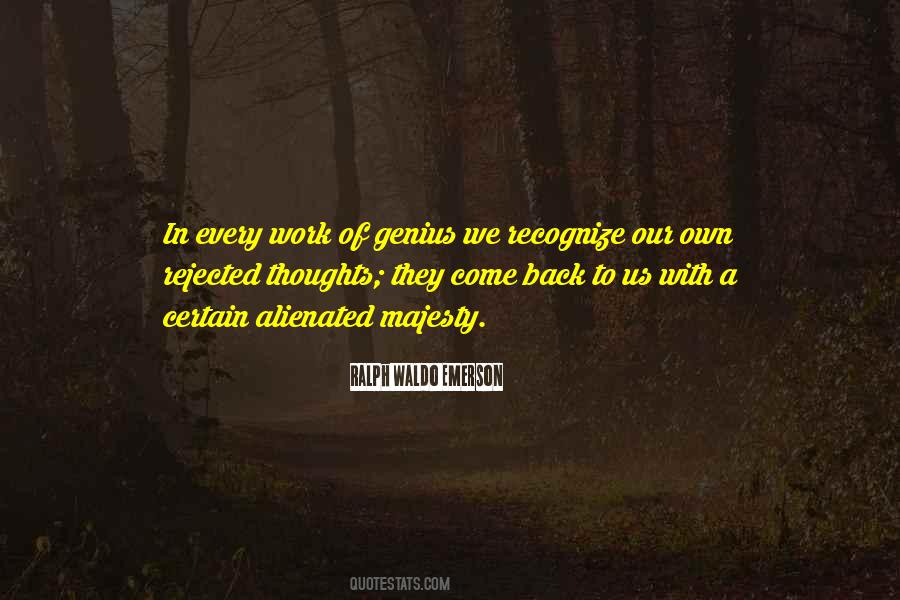 #83. It's just as difficult to reach a destination you don't have, as it is to come back from a place you've never been. - Author: Zig Ziglar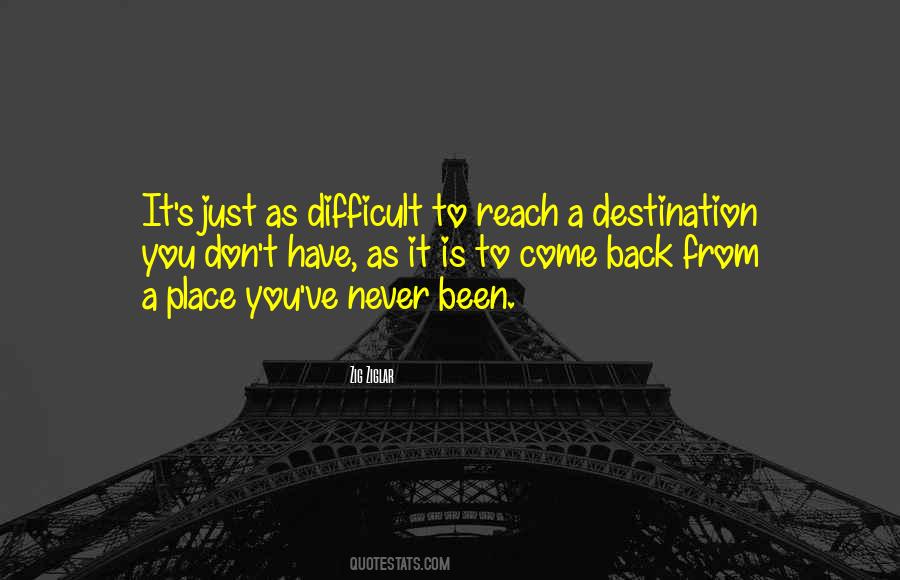 #84. Can we go to work now? Because we're about a minute away from breaking out the
ice cream and talking about our feelings, and I don't think we can come back from that. - Author: Jennifer Crusie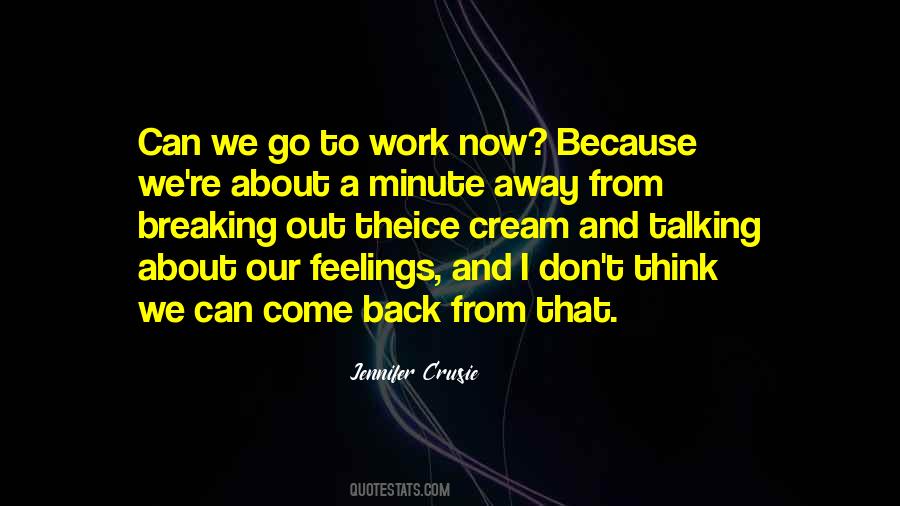 #85. Happiness doesn't come from commercial success but from the quality of work that you give back to your immediate community. - Author: Adrian Grenier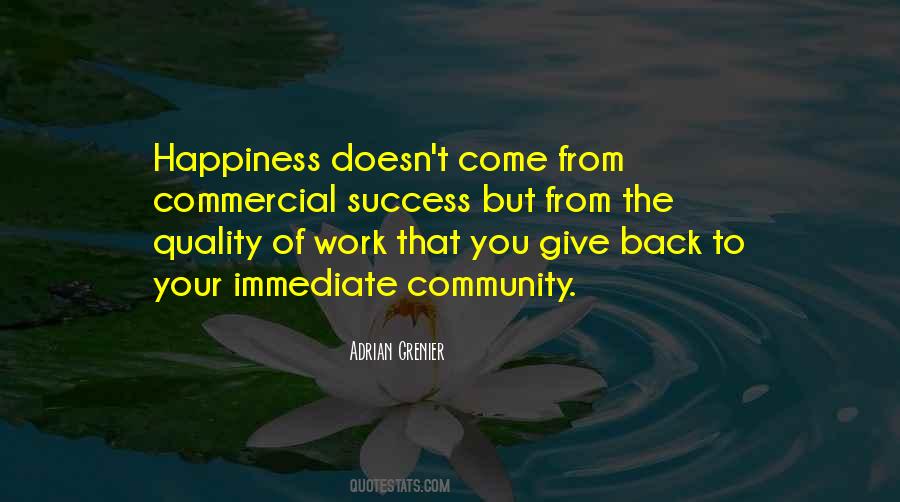 #86. In my view, Democrats and Republicans work together too little, and I would try to change that if I got to be president. And when it came to radical Islam, I would go after them before they come back here again. - Author: Lindsey Graham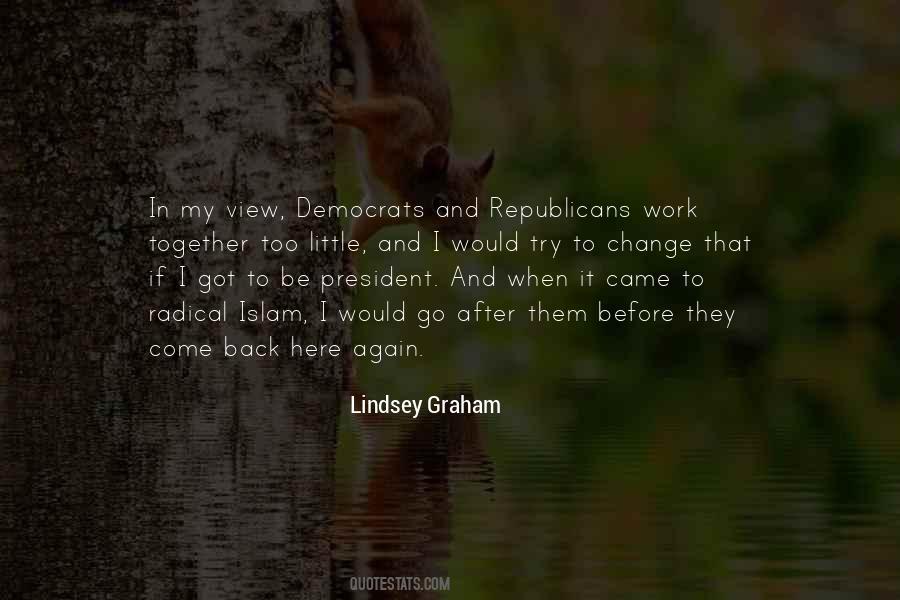 Famous Authors
Popular Topics