List of top 31 famous quotes and sayings about chasing a dream to read and share with friends on your Facebook, Twitter, blogs.
Top 31 Chasing A Dream Quotes
#1. You will work harder at something you love than at something you like. You will work harder than you have ever worked when you start chasing a dream. You will hustle and grind and sweat and push and pull. You will get up earlier and go to bed later. But that's okay.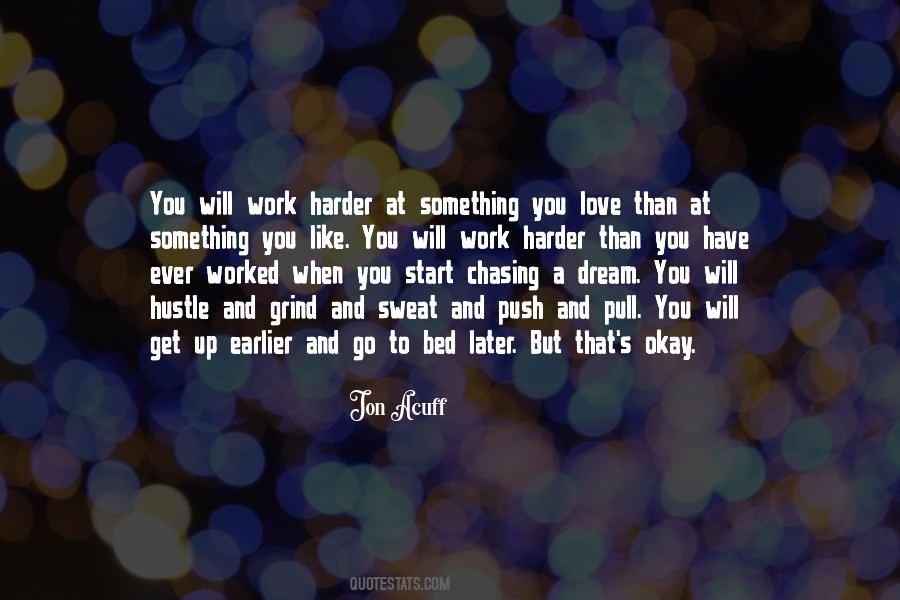 #2. People come to L.A. because they're chasing that dream of a better life. That's why I came here, because I thought it would be a place where I would find other people like me; people who wanted to write, people who had a dream of being something else. And that proved to be true.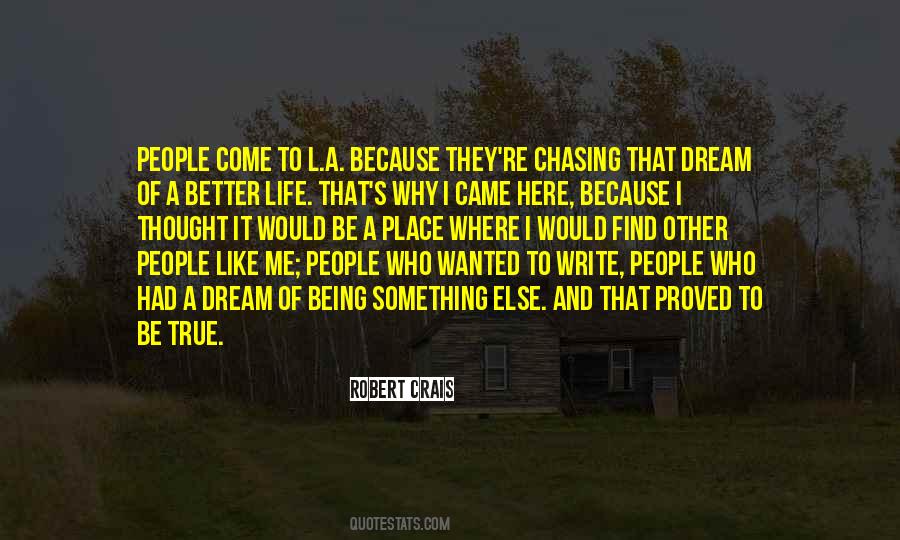 #3. I like the theater, dining and chasing women. Let me put it this way: I am a single, straight billionaire in Manhattan. It's like a wet dream.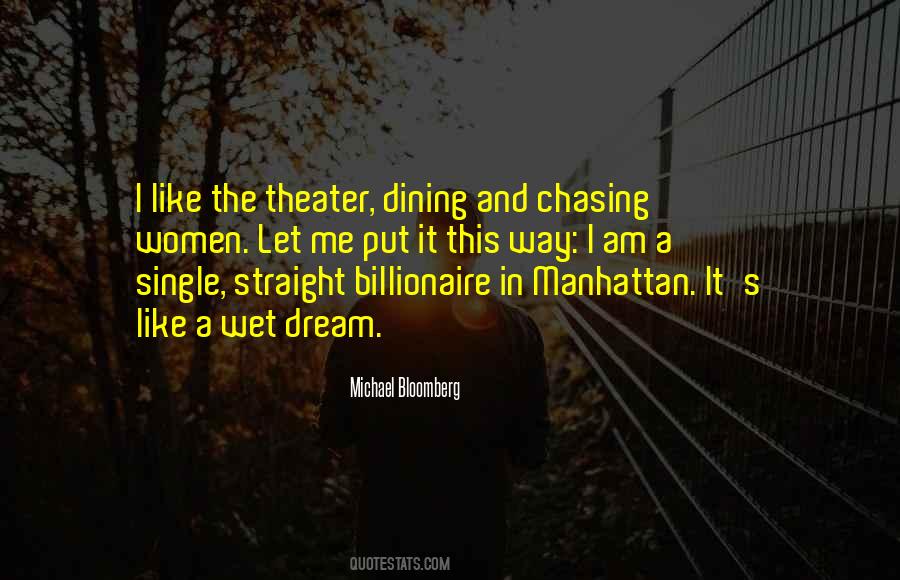 #4. If chasing a pipe dream means securing our freedom, then so be it.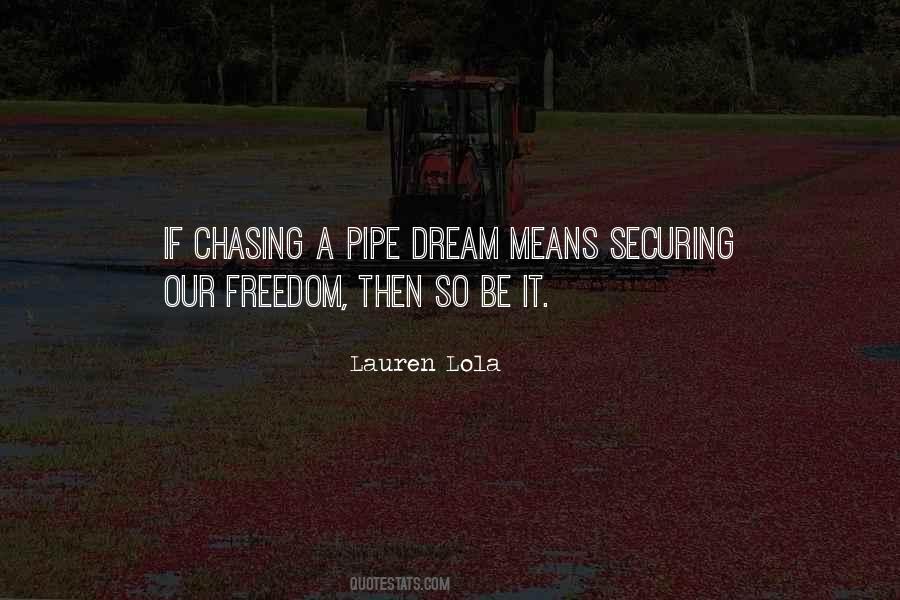 #5. In the fifties I had dreams about touching a naked woman and she would turn to bronze or the dream about hot dogs chasing donuts through the Lincoln Tunnel.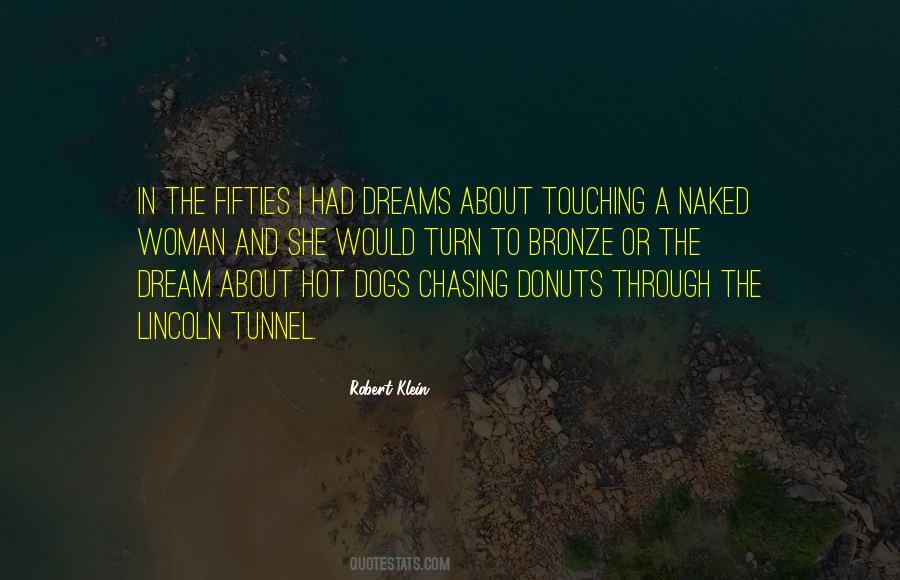 #6. There is no telling how many miles you will have to run while chasing a dream.
Author unknown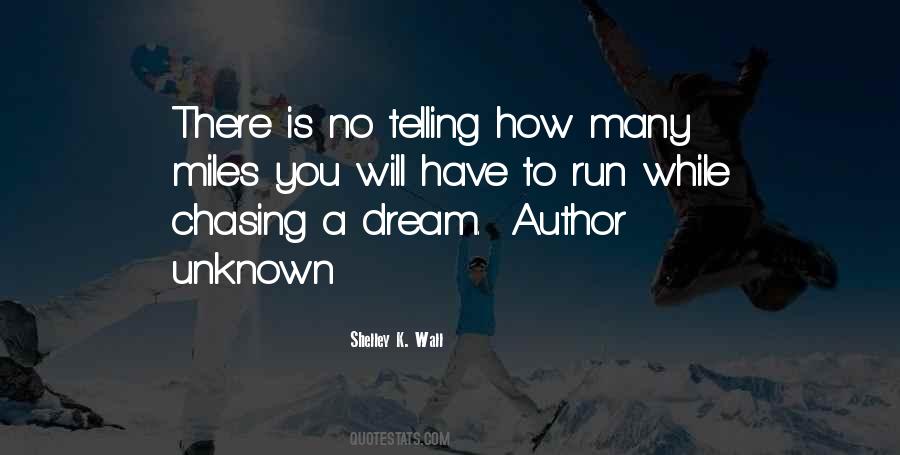 #7. People are mistaken when they think chasing your dream is a selfish thing to do. As if perhaps being average is an act of humility. As if perhaps wasting the talents you were given is proof that you're a considerate individual.
It's not.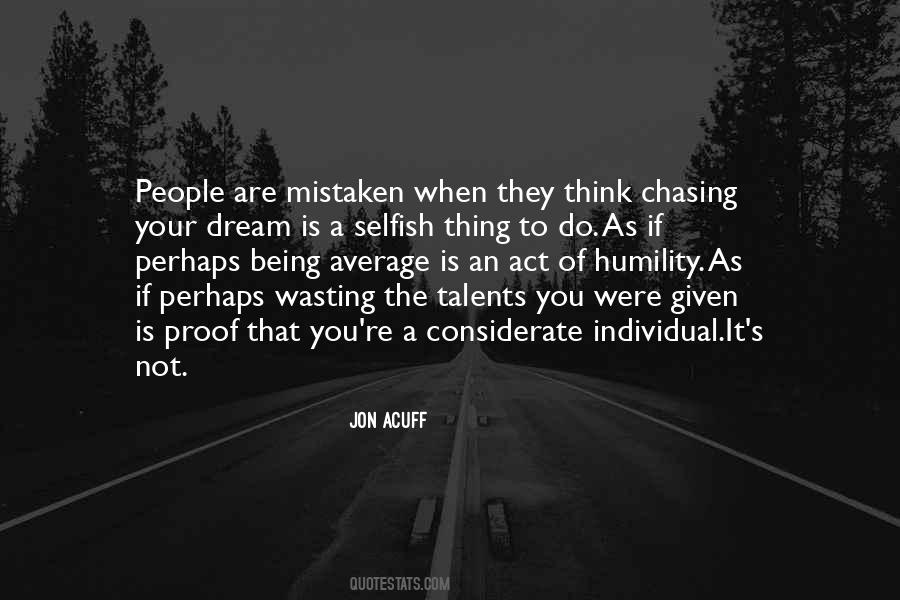 #8. I wasn't one of those kids who was chasing the dream and wanted to get to Hollywood because one day I was gonna get my chance and be a big star. I never felt like that.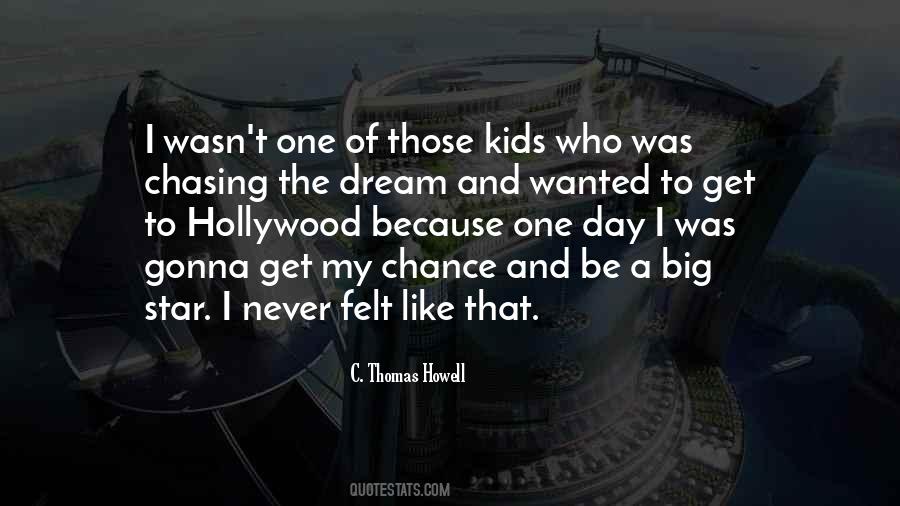 #9. I like college football a lot, because it's the dream that you're chasing. The dream of one day possibly making it, with the harsh reality that only one percent make it.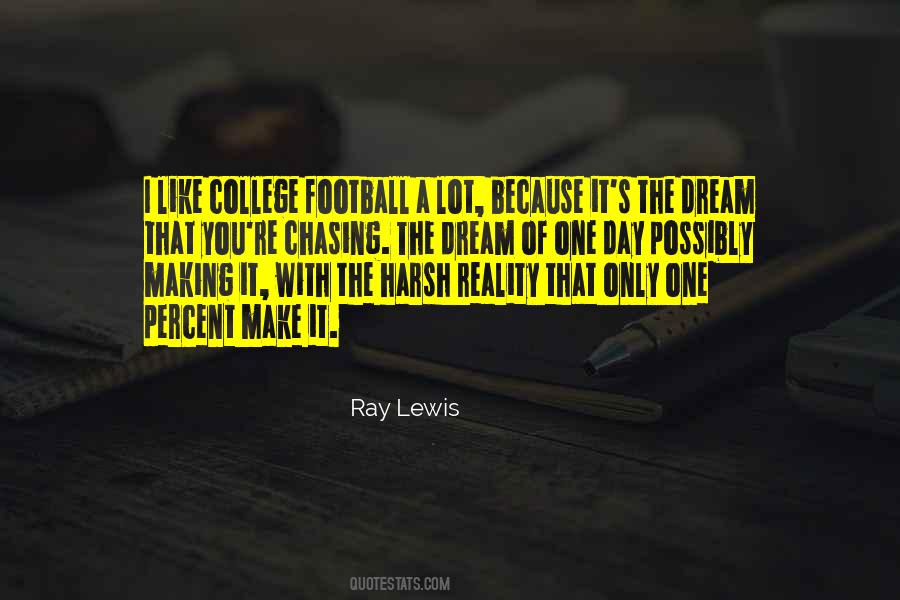 #10. Some women chasing men, and some - for dreams. If you are at a fork, remember, your career will not wake up one morning to say that more does not love you.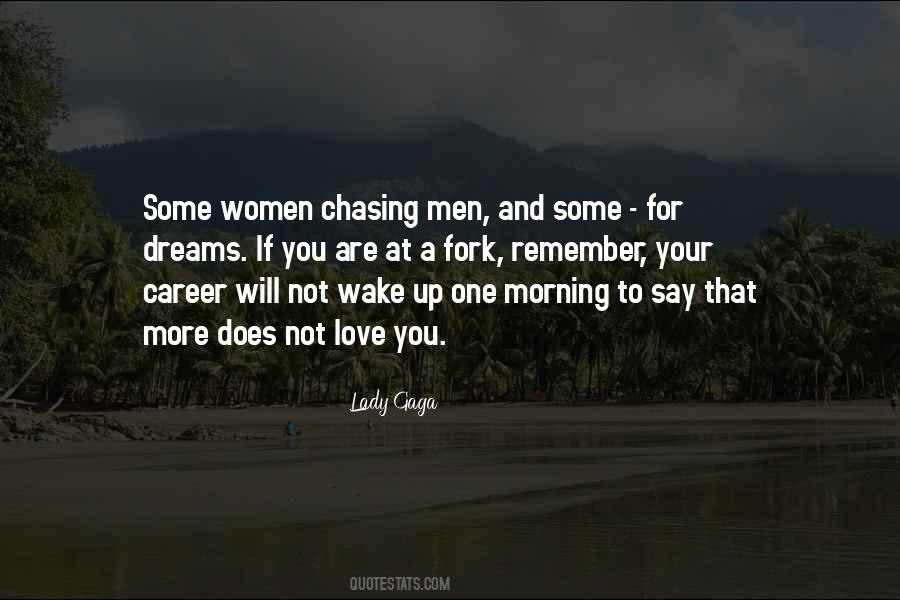 #11. When chasing a dream, make sure the price is truly worth paying - if it is, go for it, if not, tweak your dream a little and then go for it.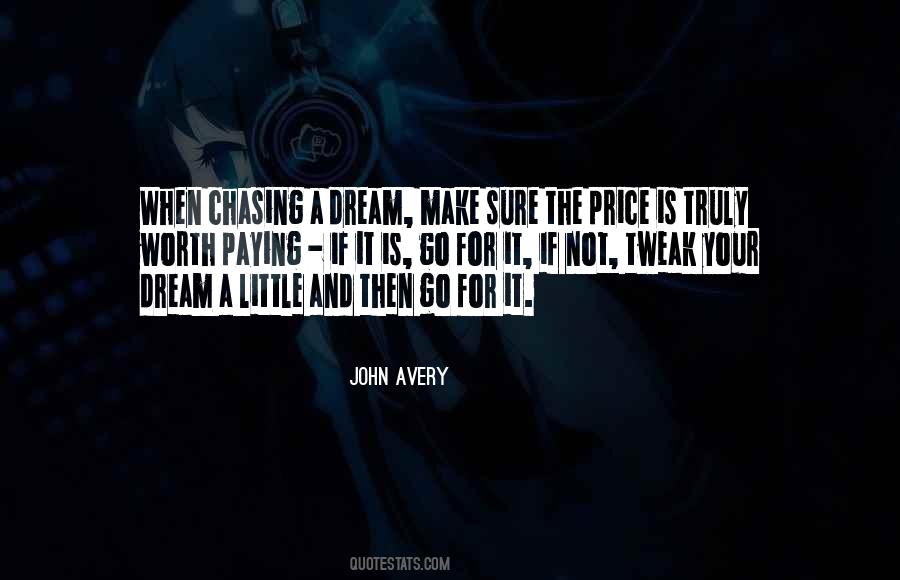 #12. I'm chasing my dreams straight to the top - into a sky that has no limits.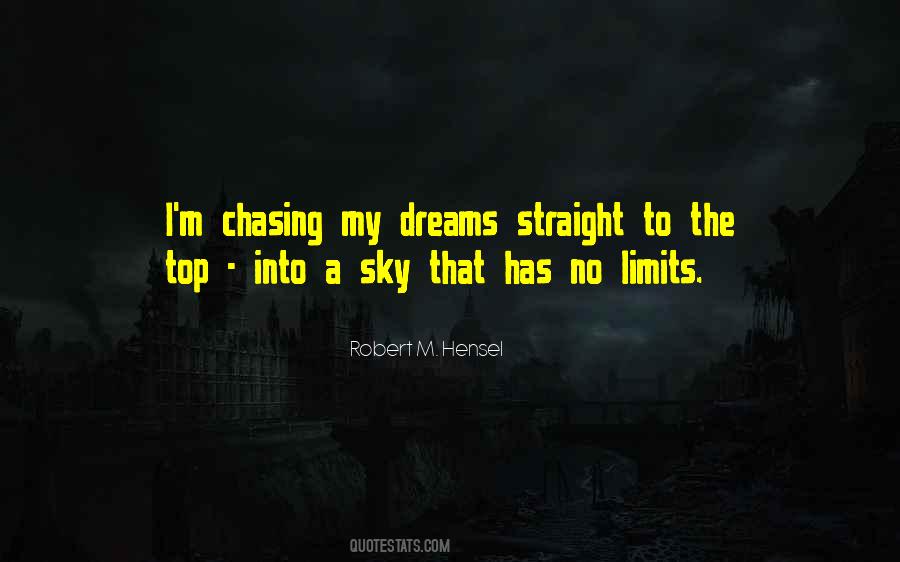 #13. Because happiness itself is a mythical construct, a dream you humans tell yourselves to get through each day. It is the moon, and you, like the sun, pursue it relentlessly, chasing it around and around, getting nowhere.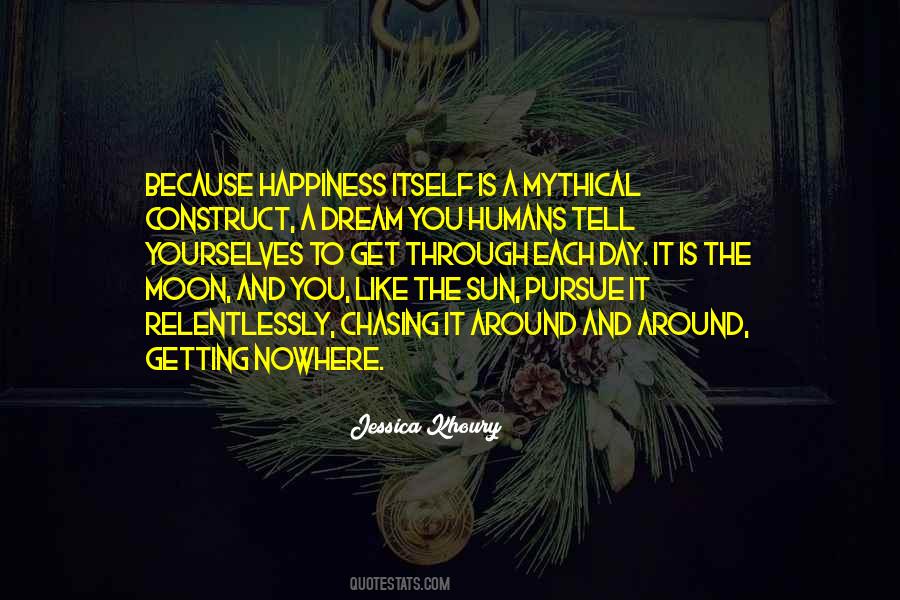 #14. What would happen is that people like Geroge and Alyx would grow old and die chasing a dream. Although there were probably worse things to do with one's life.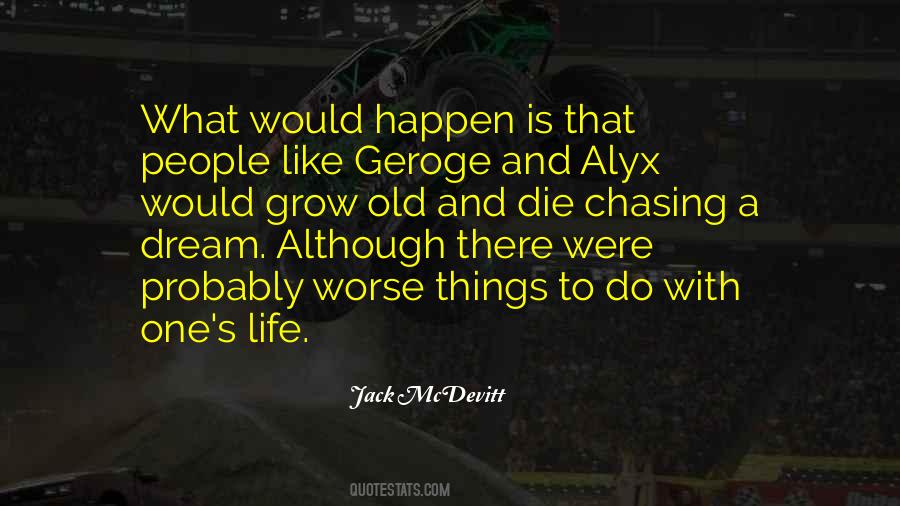 #15. I had a wife that did not want me to have a singular regret about chasing my dream, which helped me tremendously. I did not want to have a singular regret. I always held out hope that it was going to turn for the better. That's always what motivated me was hope.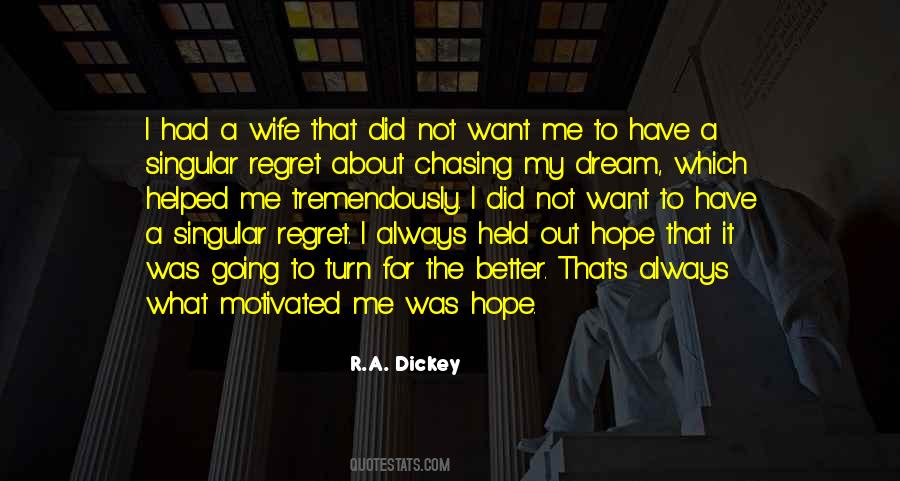 #16. When God requires us to surrender one dream, it's because He wants to hand us a bigger and better one.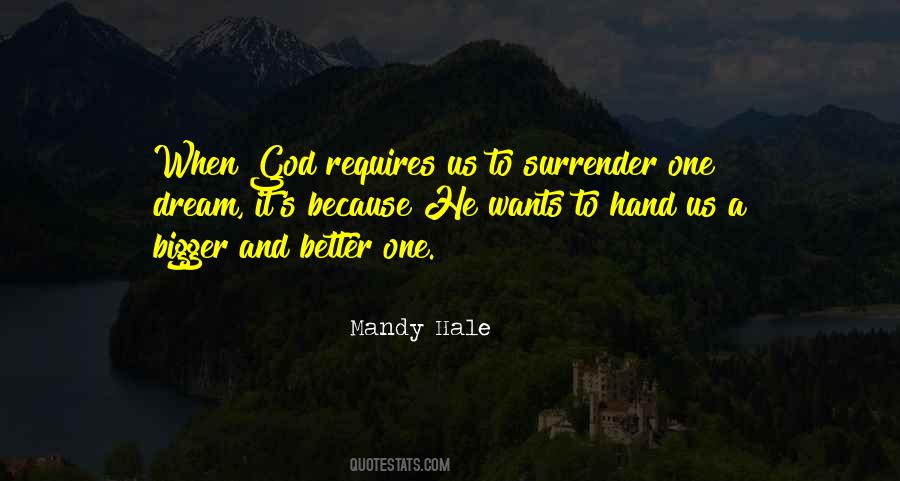 #17. I was the kind of kid who loved singing. I loved rapping; I loved attention. But for me, it was more about chasing the dream of being a superstar because of the town I was from and because of what I'd seen.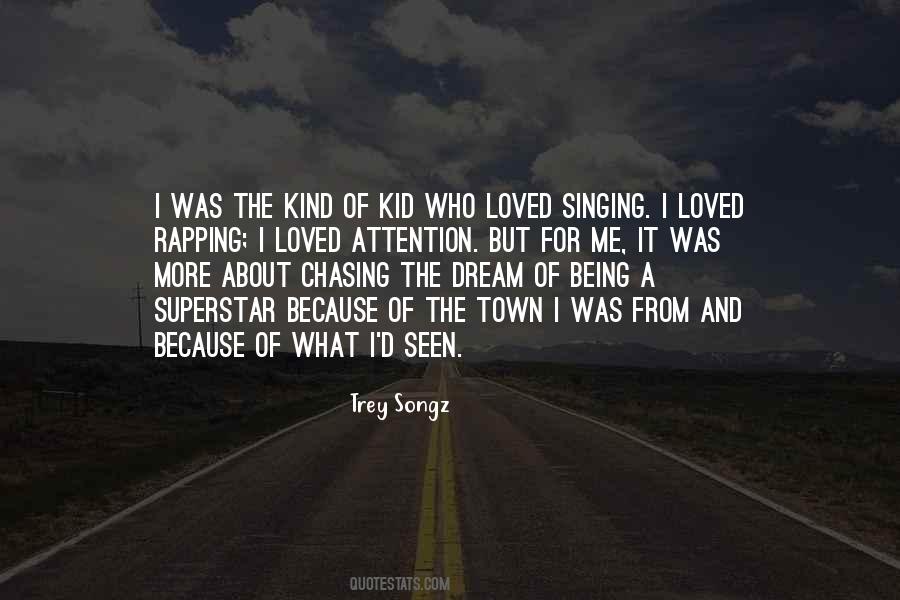 #18. Things haven't changed since I was a young kid. I just wanted to be the fastest guy I could be, and I am still chasing that dream to this day.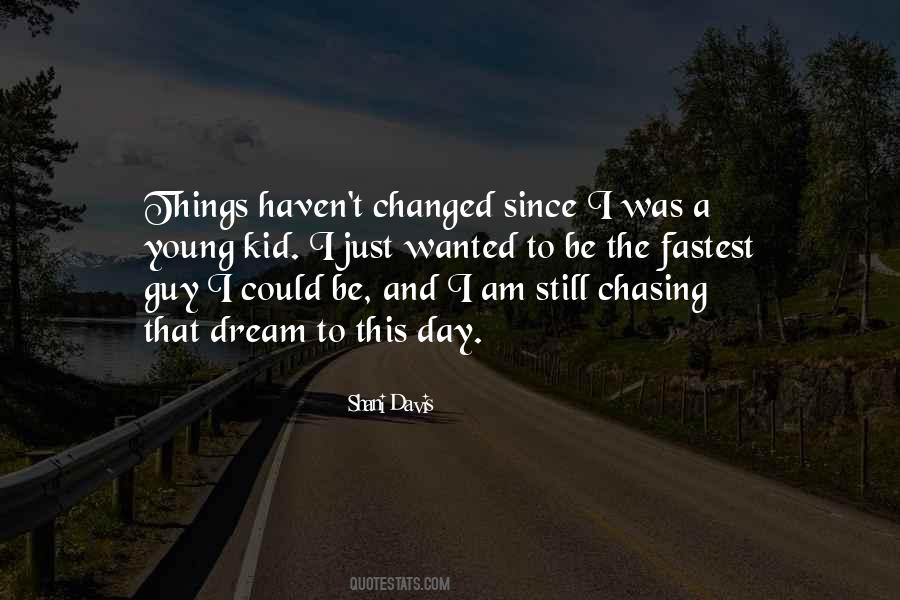 #19. What happens to a dream deferred?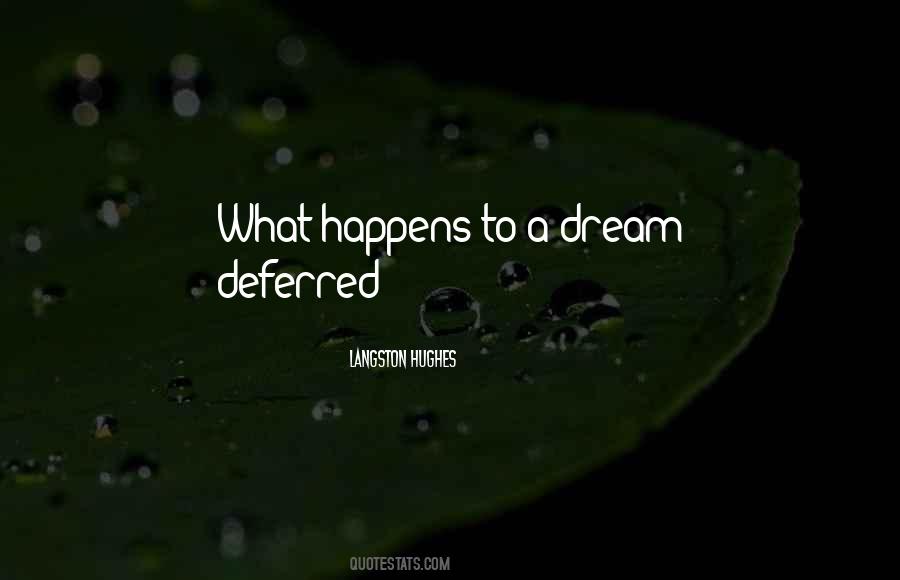 #20. A dream can be remarkable and alluring, that is why I chase it hoping that one day something good would happen!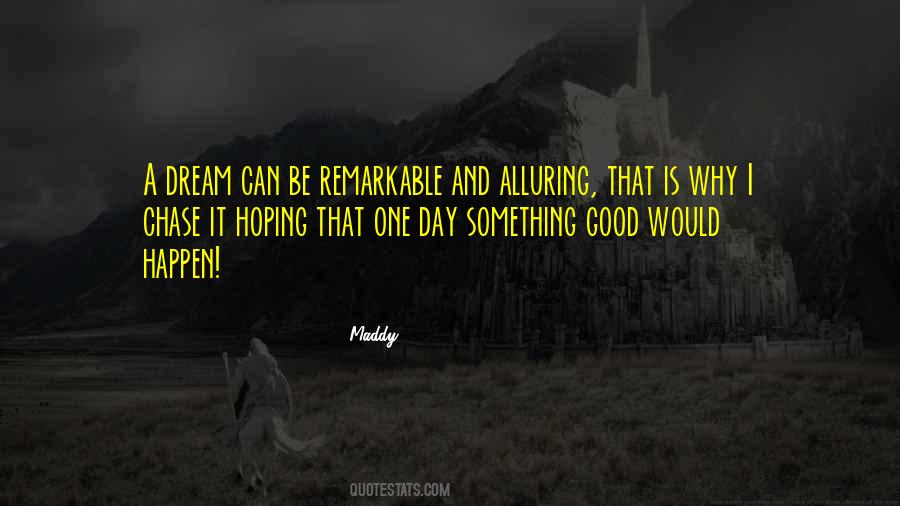 #21. I was dreaming about you."

"Was it a good dream?"

"Not really. I was chasing you and you wouldn't stop running from me."

~Brian/Myrna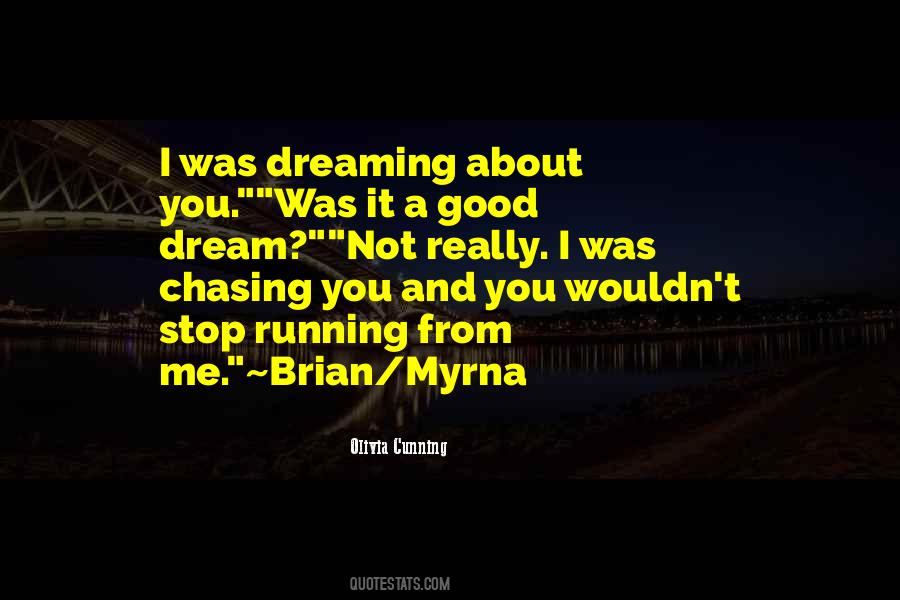 #22. Age does not matter if you're chasing your dream. As long as you work hard and smash those obstacles in your way, you'll see some progress.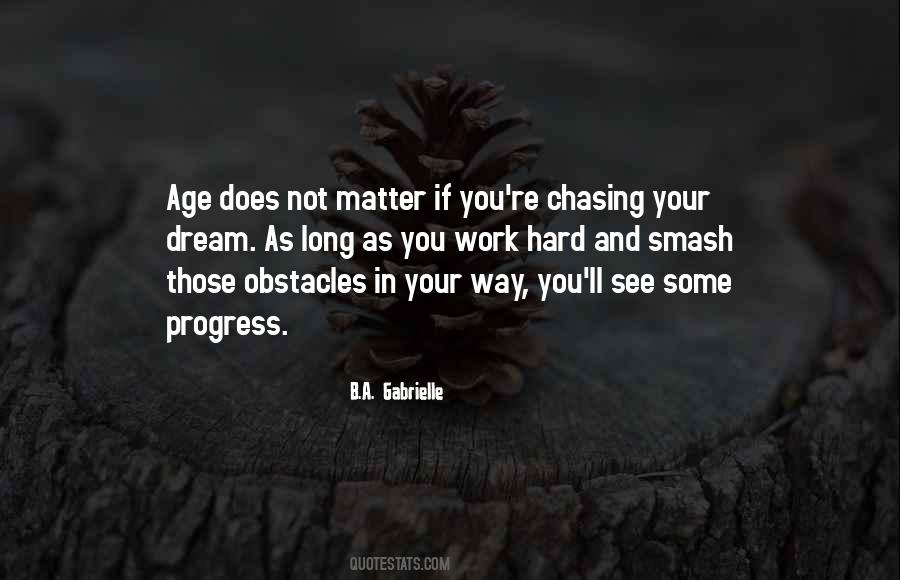 #23. Are you chasing a wandering star? A dream? A woman? An idea?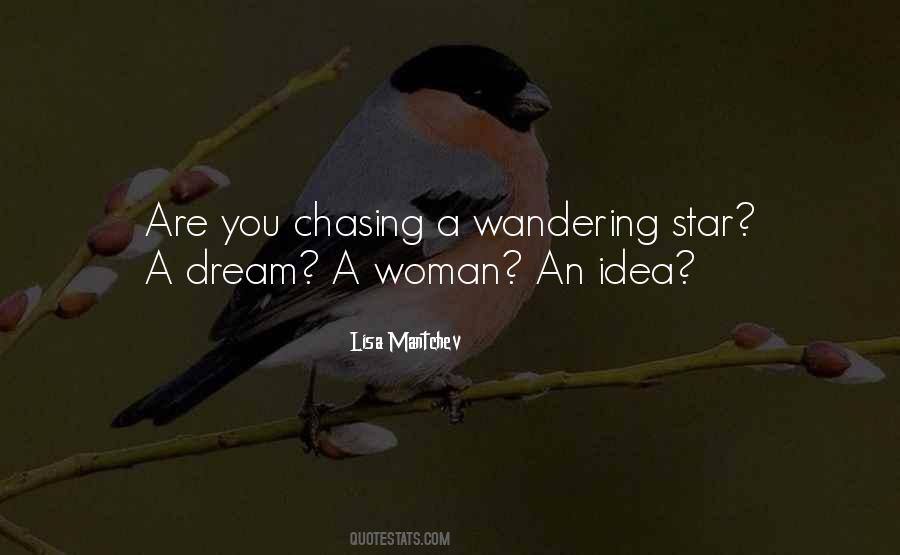 #24. It's better to die chasing a dream never caught than to die never having chased the dream.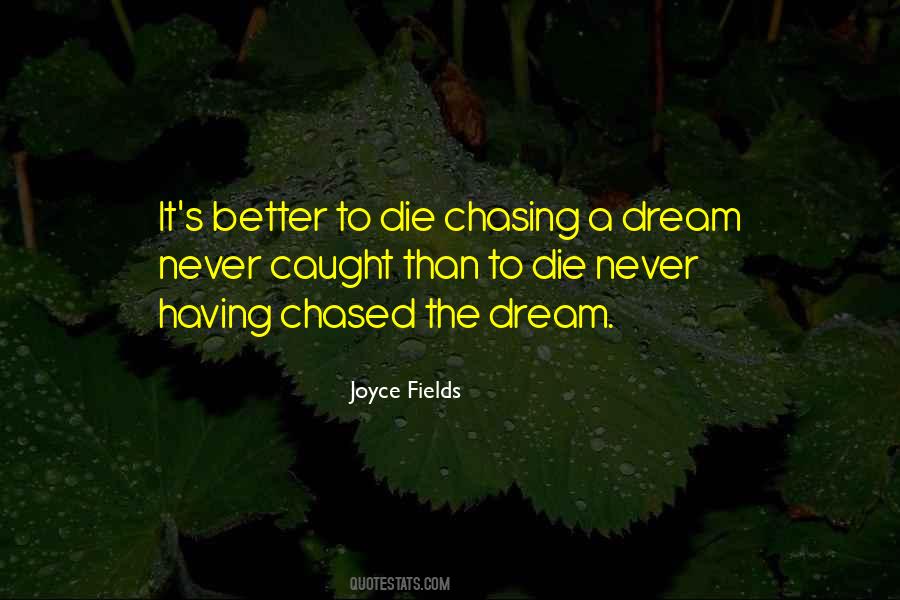 #25. My life was forever changed the day I realized there was a big difference between having a dream and chasing it.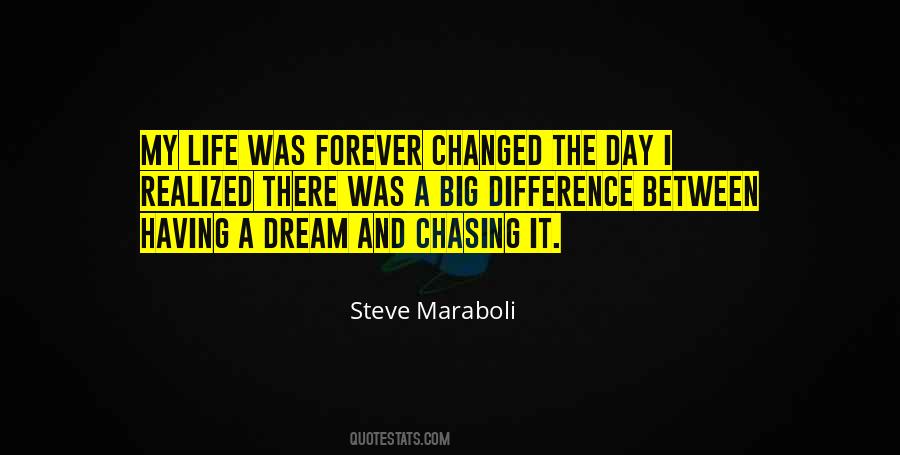 #26. Day one of our new adventure behind us, we are shocked to learn the hardest lesson of chasing a dream. When you go for it, you don't escape fear, you land in it. Fear is not a dragon to be slain once, it's an ocean to be swum daily.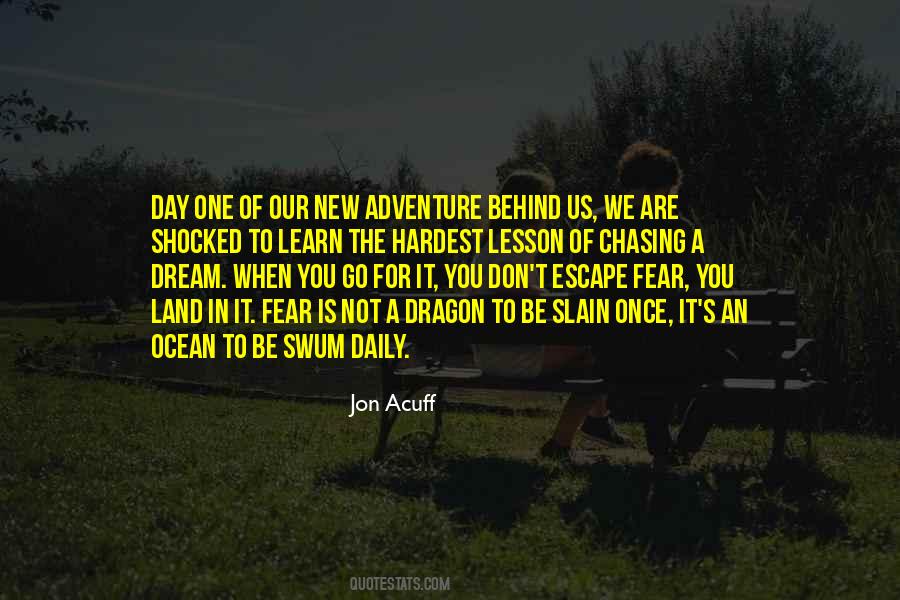 #27. If you're dreaming of being a great soloist, walking on stage, receiving ovations night after night, having money thrown at you, girls chasing after you and your beautiful picture - that's wonderful. But what exactly does that have to do with the practice of music ?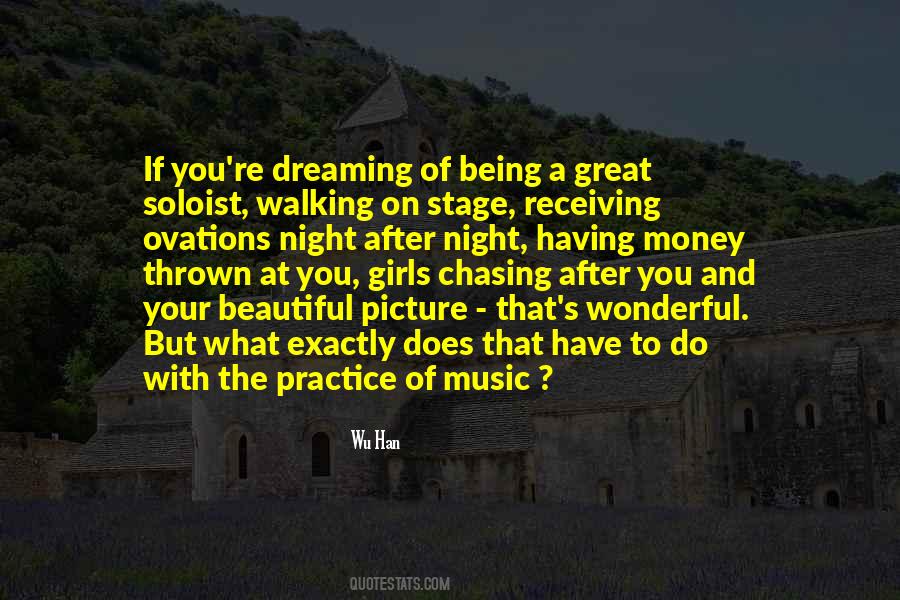 #28. What is life if you don't have a dream to chase?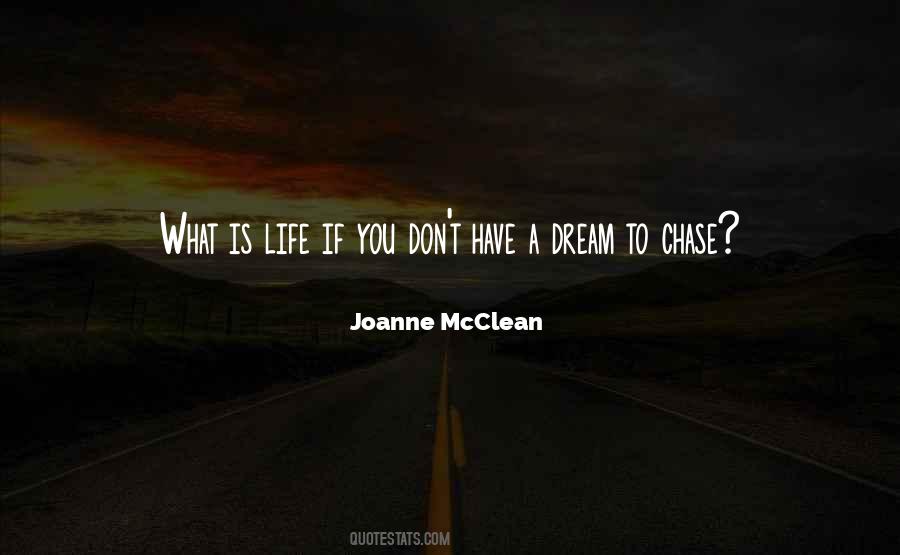 #29. I always had the theory that if you have a dream, chase it. And I'm chasing it.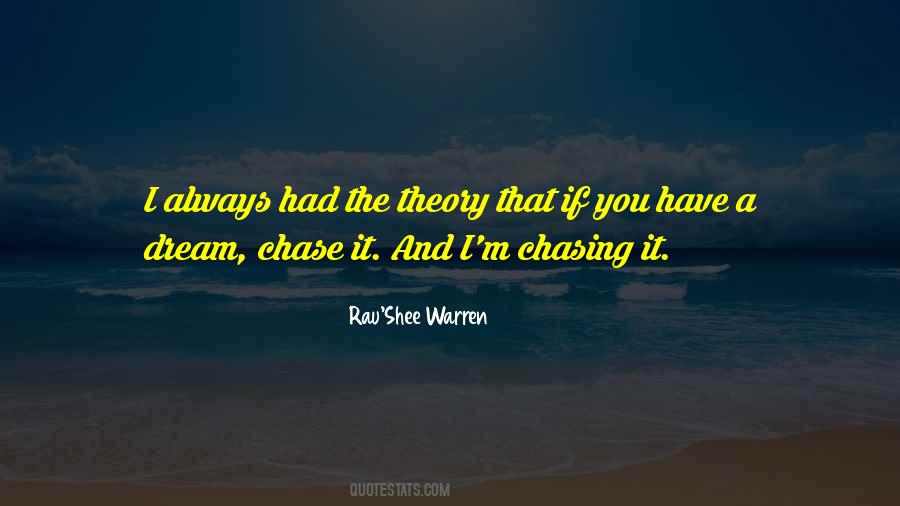 #30. Now there's a power," he said. "Harnessing the lightning! The dream of mankind!"
The Unnamed Boat surged forward.
"Is it? It's not my dream," said Didactylos. "I always dream of a giant carrot chasing me through a field of lobsters.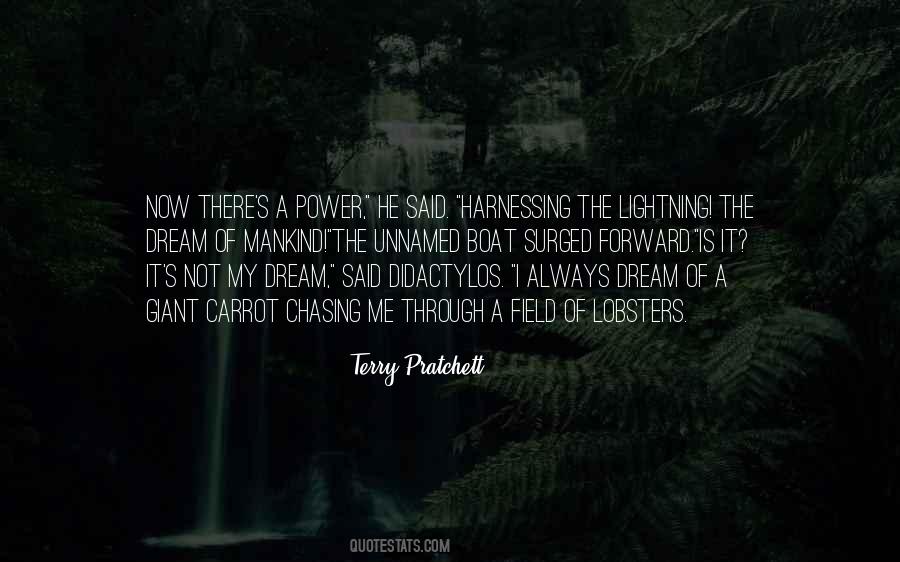 #31. I've been chasing my music dream for a very long time and the acting dream just came up. But there are musical things I want to show the world, so that's my next step.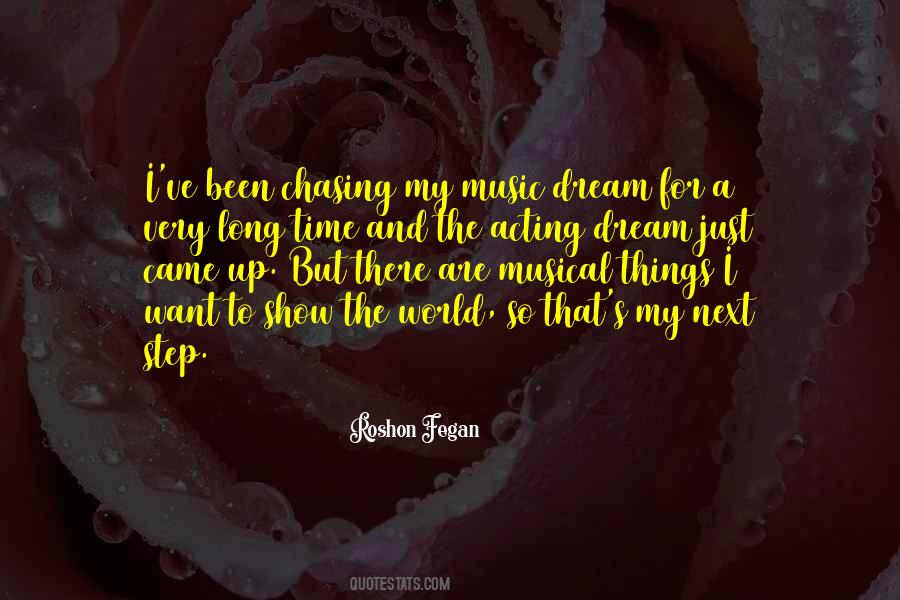 Famous Authors
Popular Topics