Ceo Famous Quotes & Sayings
List of top 100 famous quotes and sayings about ceo to read and share with friends on your Facebook, Twitter, blogs.
Top 100 Ceo Quotes
#1. I like to joke with my wife that she's the CEO of ... certainly of our household. - Author: Scott Pruett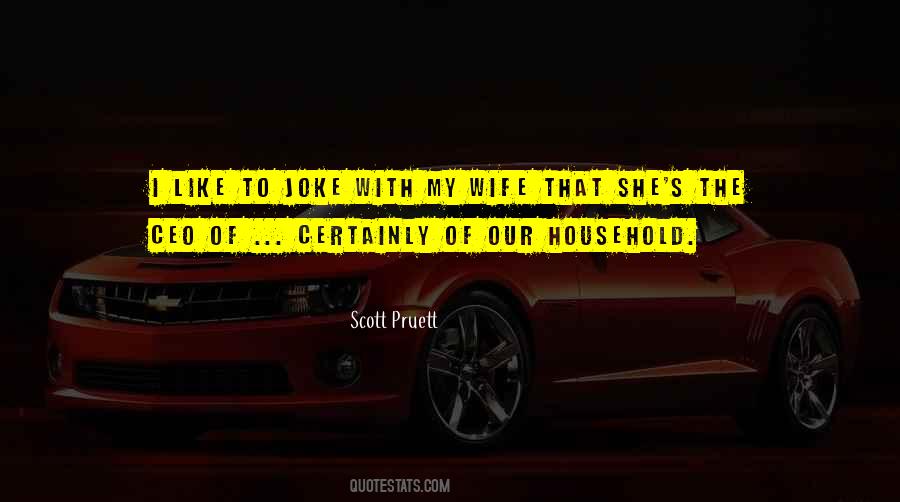 #2. Talking about Apple v. Microsoft without mentioning the Internet and the browser is like talking about WWII without talking about the nuke. Framing the conversation just in terms of open v. closed operating systems, the quality of the hardware or software or who the CEO was, is silly. - Author: Michael Arrington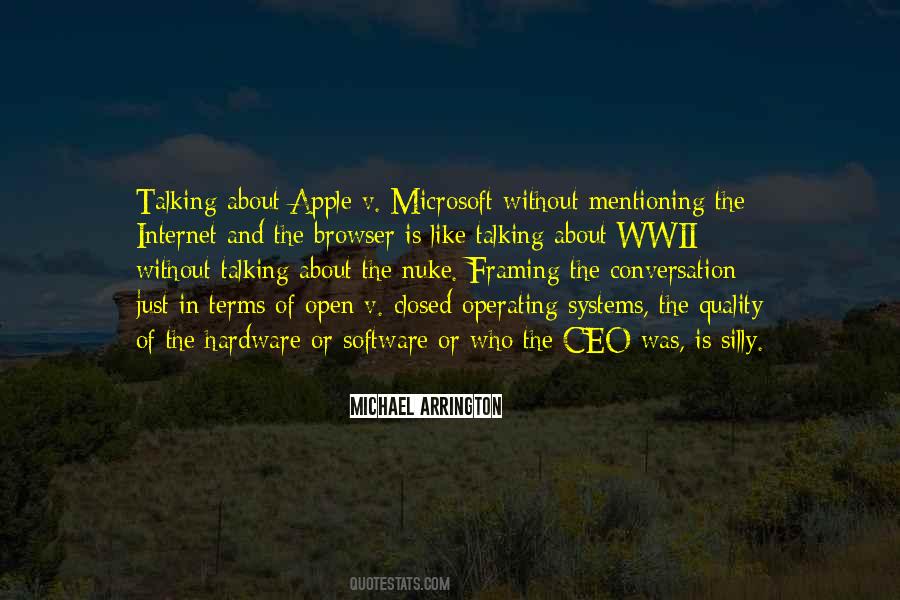 #3. We also believe candour benefits us as managers. The CEO who misleads often in public eventually misleads himself in private. - Author: Warren Buffett
#4. I'm so glad I didn't become a doctor, because I do more than any doctor can do. I am an administrator, a CEO, doctor, psychiatrist, an activist, a campaign funder. I think I did well. - Author: Dikembe Mutombo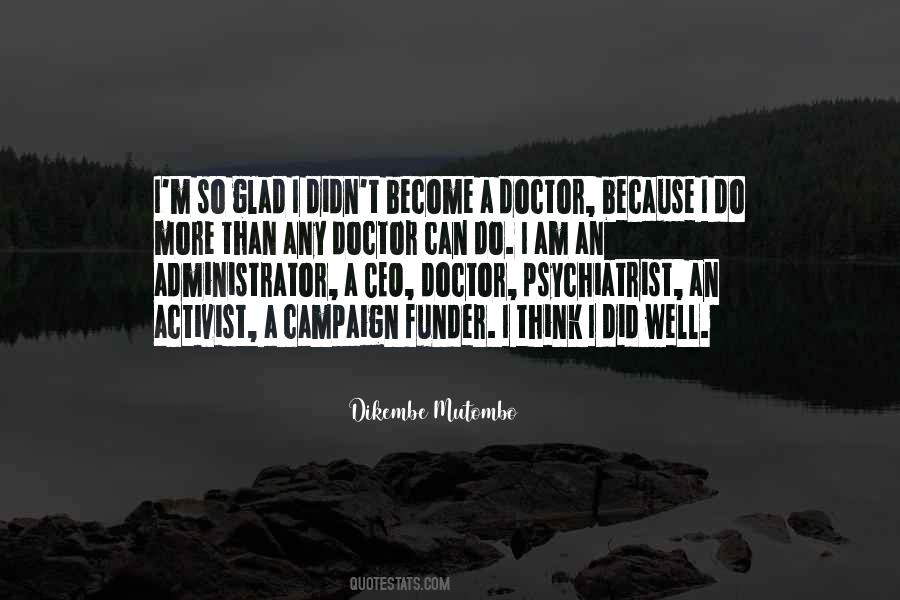 #5. Governor Romney may be running for CEO, I'm running for President - Author: Newt Gingrich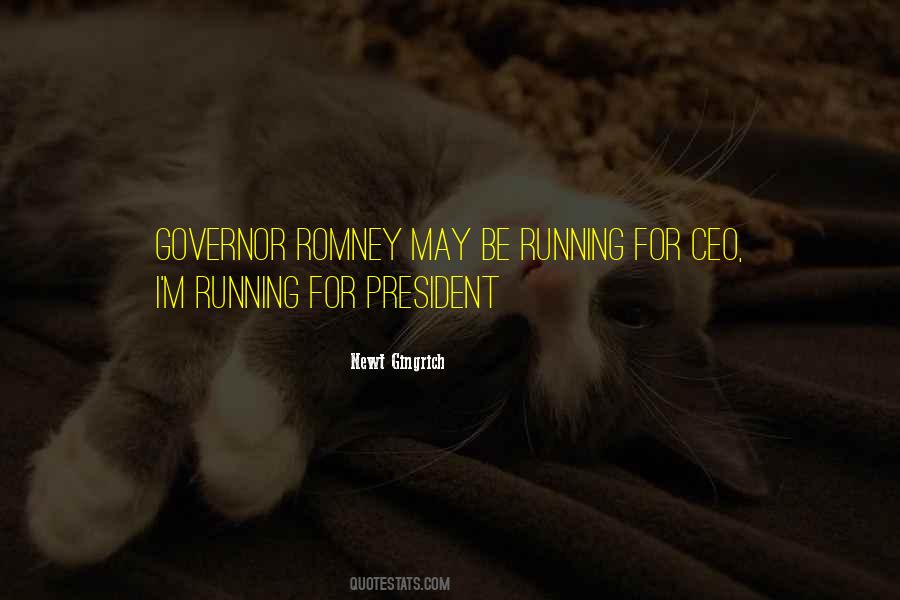 #6. The CEO of AT&T told an interviewer back in 2005 that he wanted to introduce a new business model to the Internet: charging companies like Google and Yahoo! to reliably reach Internet users on the AT&T network. - Author: Marvin Ammori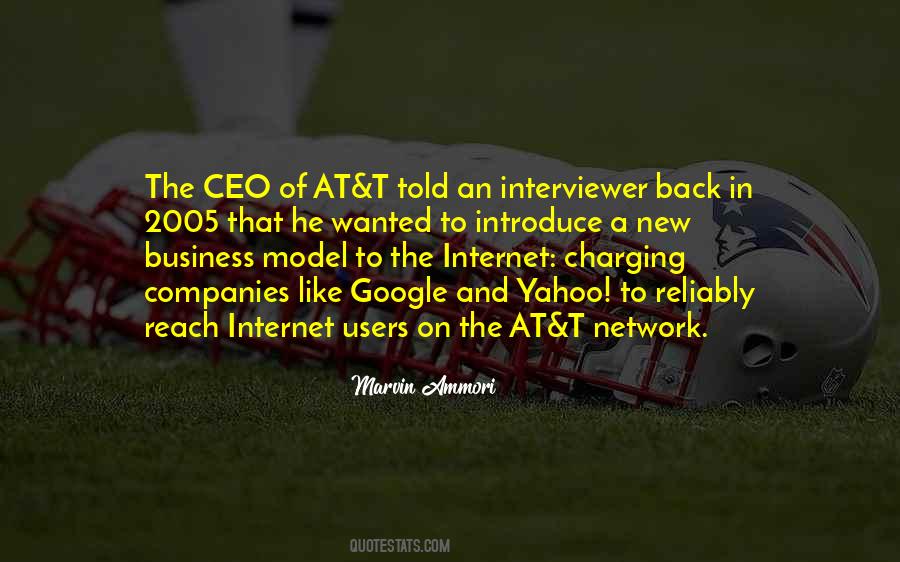 #7. BP CEO Tony Hayward said recently, 'No one wants this thing over more than I do. I'd like my life back.' Tony, I'm so sorry you had your summer disrupted. I'd buy you a drink, but you'd probably spill that too and make me clean it up. - Author: Craig Ferguson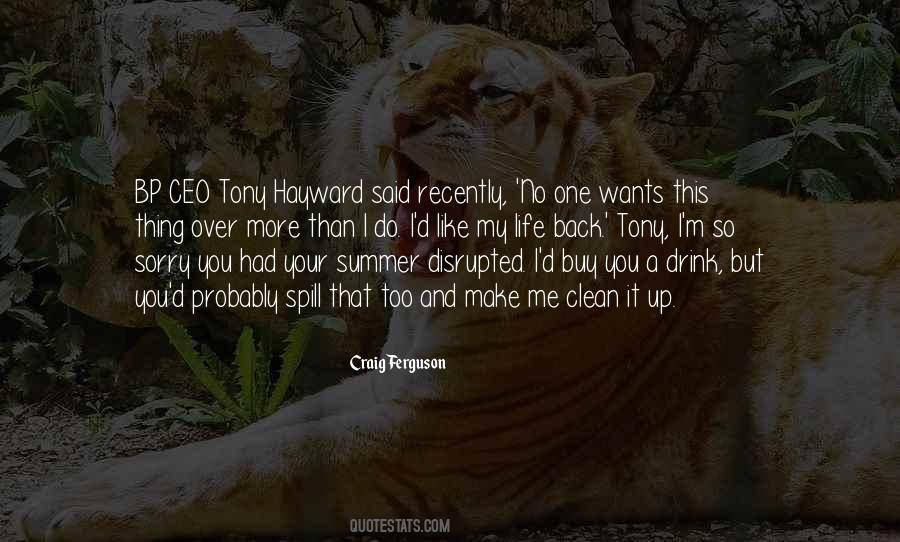 #8. If I invest in a CEO, I need him or her to have experience in sales. - Author: Daymond John
#9. The day I was announced as CEO, I think the stock dropped another 20%. - Author: Anne M. Mulcahy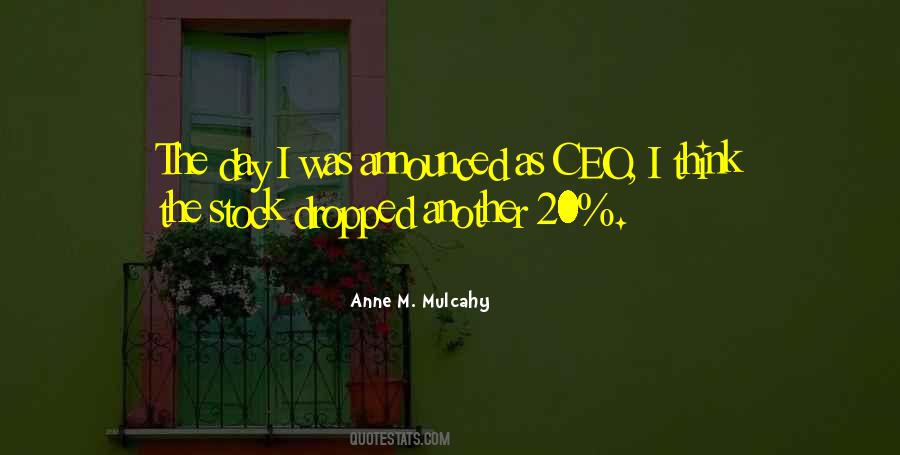 #10. Mitt Romney is a businessman, a turnaround artist, a CEO. That is who he is. The former governor has experience in the public and private sector. - Author: Mark McKinnon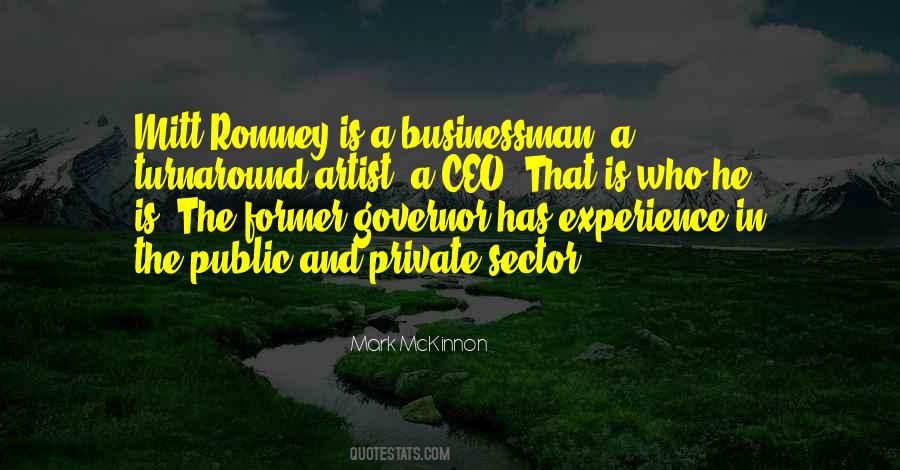 #11. When I got to be a CEO, I said: 'Right. I'm now going to tackle gender inequality head-on. I'm going to make a difference and lead by example and actively put in place policies and practices to support women.' - Author: Gail Kelly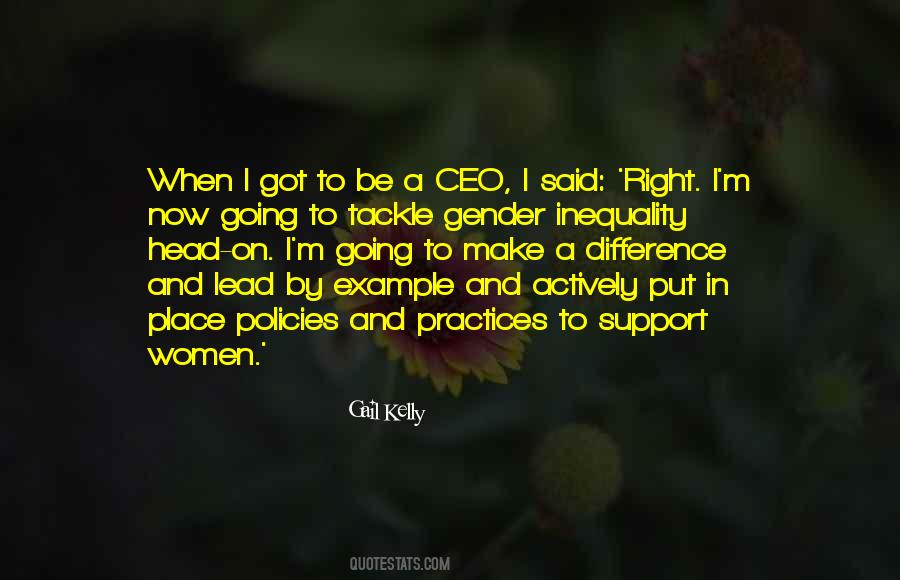 #12. The purpose of work is to make the worker - whether a working stiff or a CEO - feel good about life. - Author: Ricardo Semler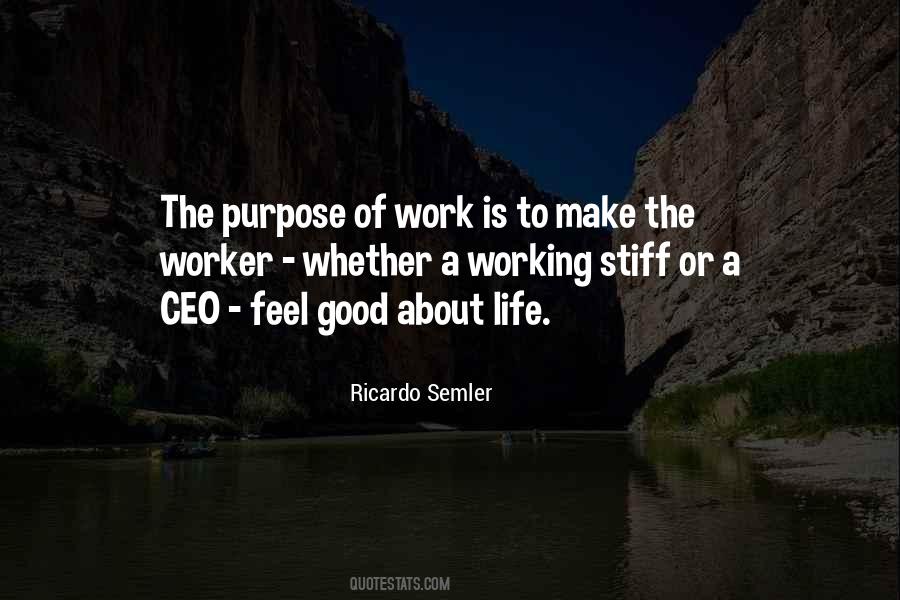 #13. You don't characterize CEOs as dealmakers or in any one particular area. An important characteristic of a CEO is leader. That's probably the most important characteristic. - Author: Michael Ramsey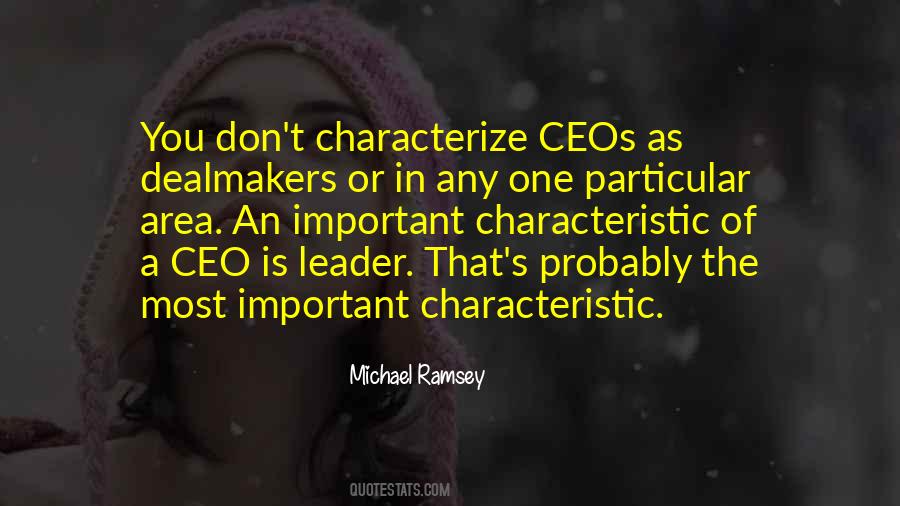 #14. I have always been very tech-focused, which you may almost say is the traditional CEO in Silicon Valley. - Author: Michael Birch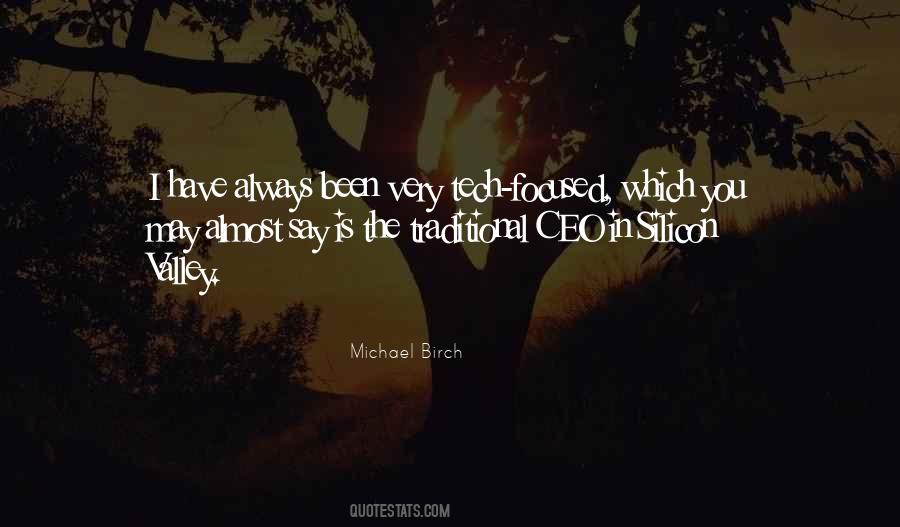 #15. I think they, Peter McCullough was, turns out was not a good CEO. - Author: Arthur Rock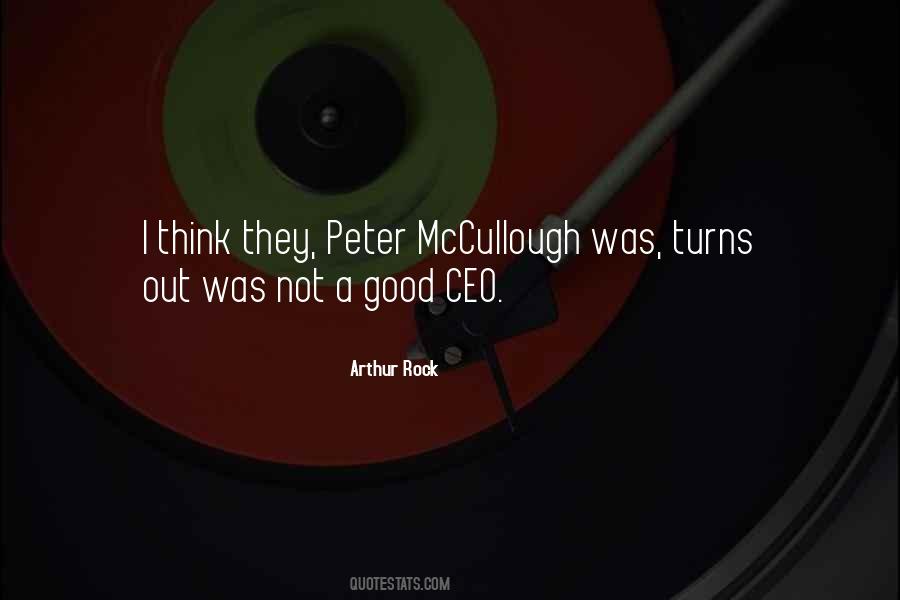 #16. Well, the manhunt continues for that elusive evil mastermind, but I'm telling you Enron CEO Kenneth Lay remains at large. - Author: David Letterman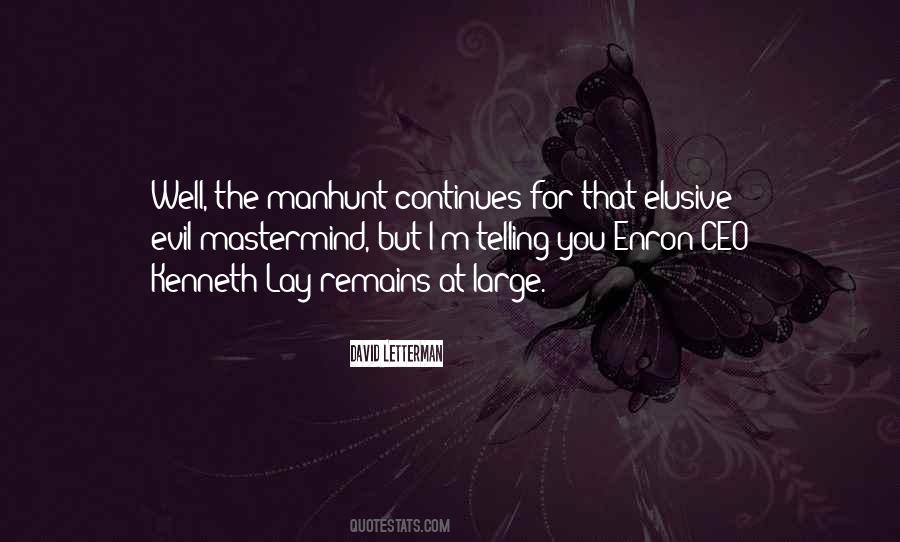 #17. Every morning I look in the mirror and remind myself: "No one owes you sh*t!" In this way, I am never disappointed. Never placing blame. - Author: Brandi L. Bates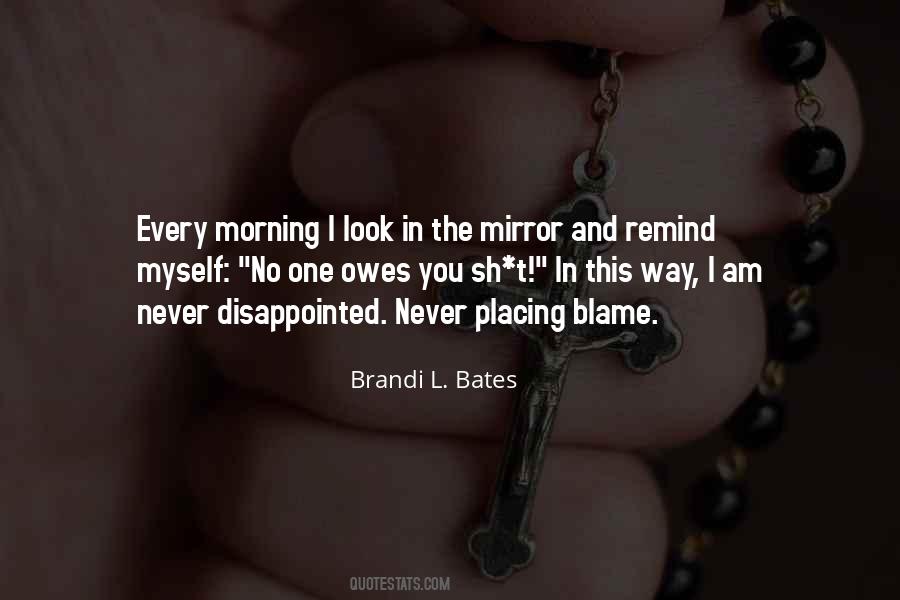 #18. The business world traditionally rewards people for being closer to the top (case in point: outrageous CEO salaries) or for being closer to the transactions (investment bankers, salespeople). - Author: Eric Schmidt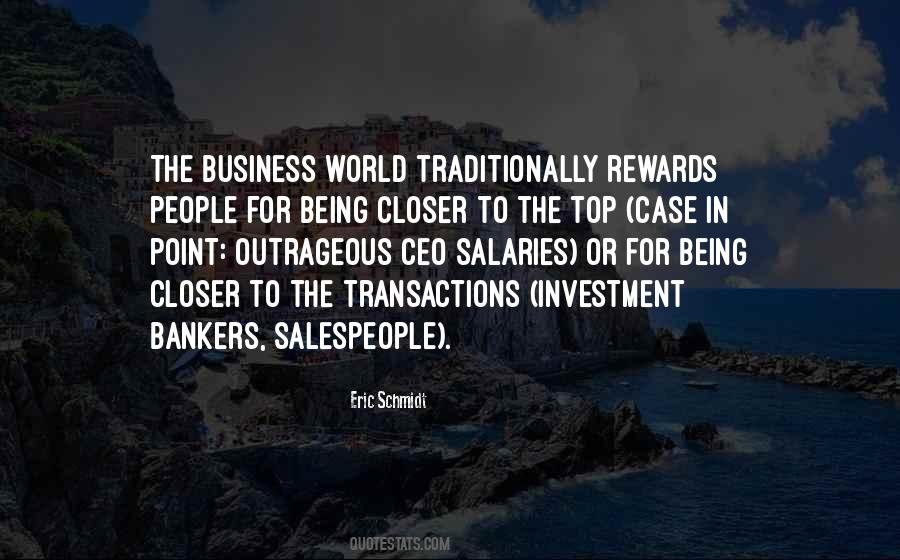 #19. I am who I am, and I'm focused on that, and being a great CEO of Apple. - Author: Tim Cook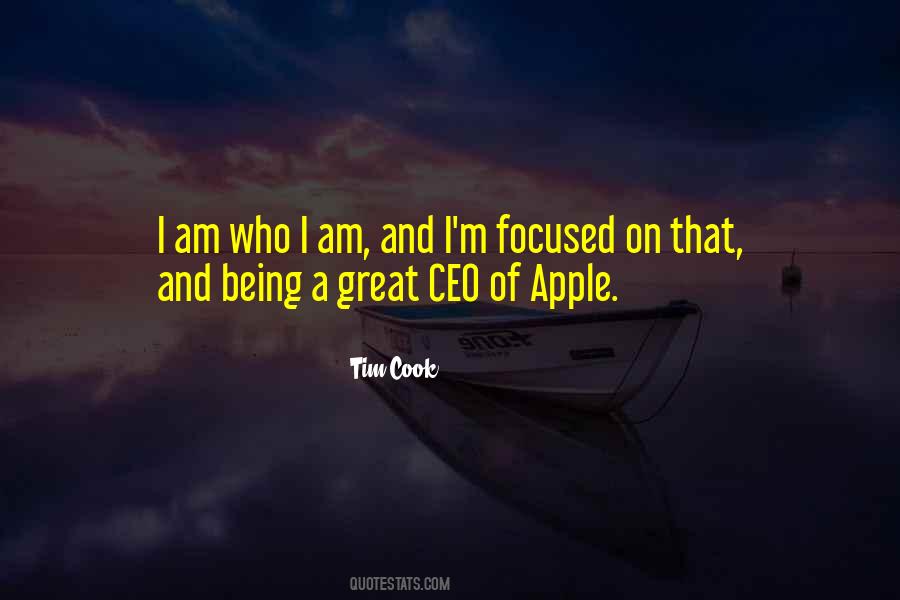 #20. I always believe that, as you start out, while you should have a big dream - a big goal - but it's also important to move step by step. So, you know, frankly, if you ask me, when I started as a management trainee in 1984, I don't know that I really thought that I would become the CEO. - Author: Chanda Kochhar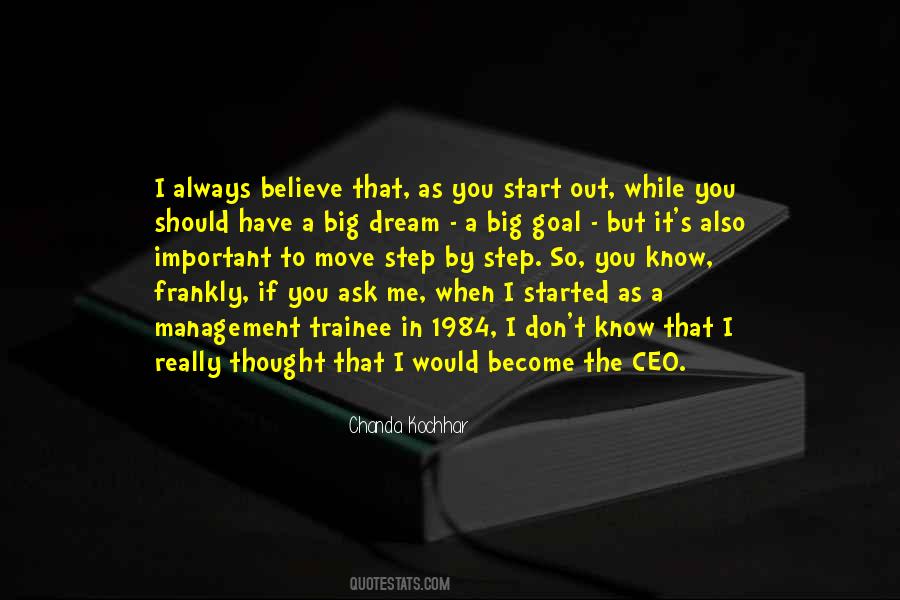 #21. The role of the CEO is to enable people to excel, help them discover their own wisdom, engage themselves entirely in their work, and accept responsibility for making change. (164) - Author: Vineet Nayar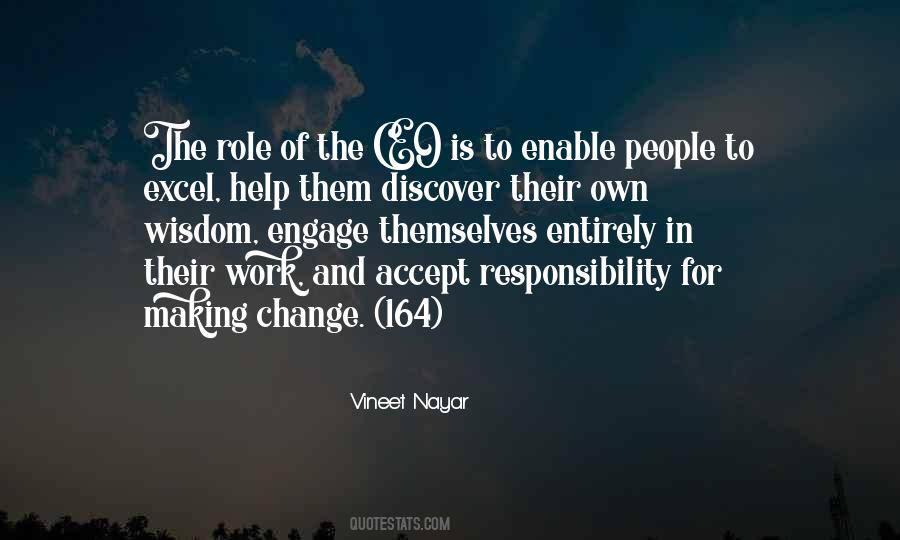 #22. As a first-time CEO, I wasn't sure if I would scale to run IronPort long-term. But I wanted a legitimate shot at it. - Author: Scott Weiss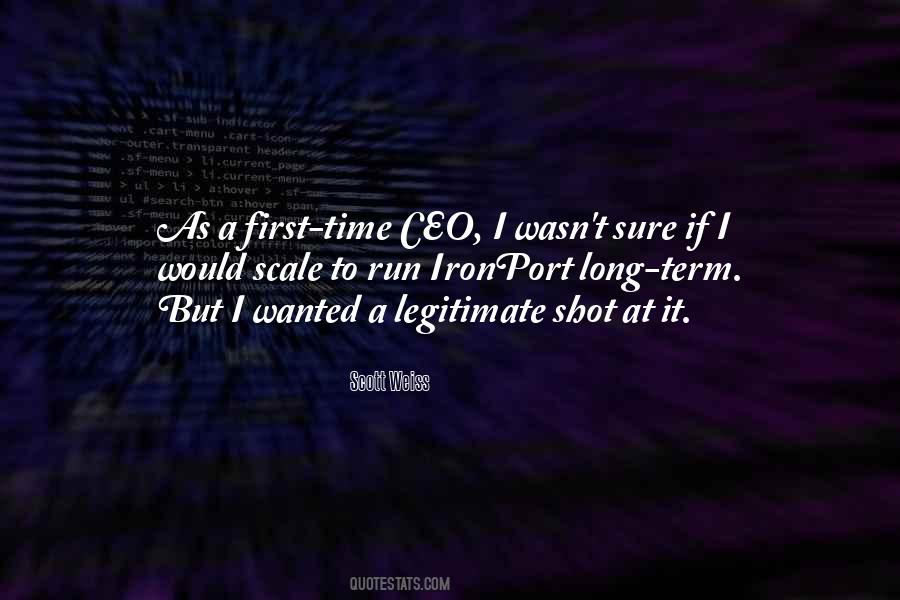 #23. If you know what your customers want, the other aspect to know is what are your competitors doing? - Author: Shawn Casemore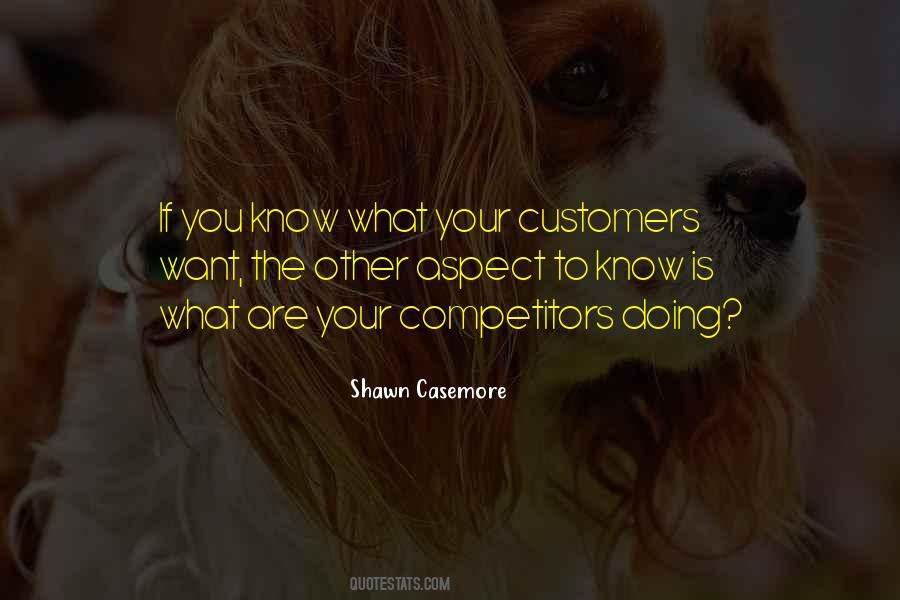 #24. On April 16, 2010, 34 Chinese environmental organizations, including Friends of Nature, the Institute of Public and Environmental Affairs, and Green Beagle, questioned heavy metal pollution in a letter sent to CEO Steve Jobs. - Author: Ma Jun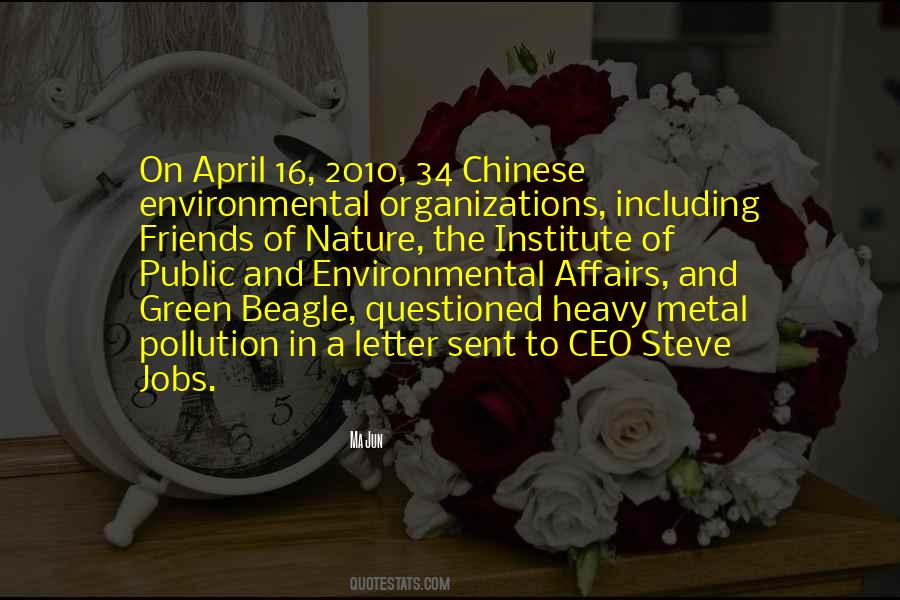 #25. Barnes & Noble CEO William Lynch just announced that he is stepping down after three years. When asked if he's looking for a new job, he was like, 'Nah, just browsing.' - Author: Jimmy Fallon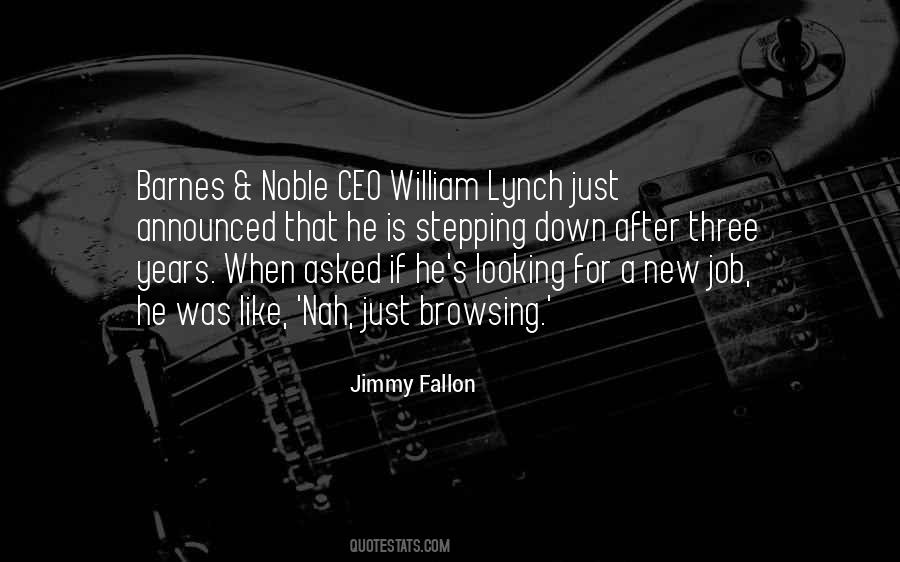 #26. I like the city. I like the concrete. I like big business. I like being a CEO of my own company and having a lot of responsibilities. At the same time, when I can go off with a backpack or off on a surfboard or even off on a run somewhere in the woods - that's where I'm really happy. - Author: Matthew McConaughey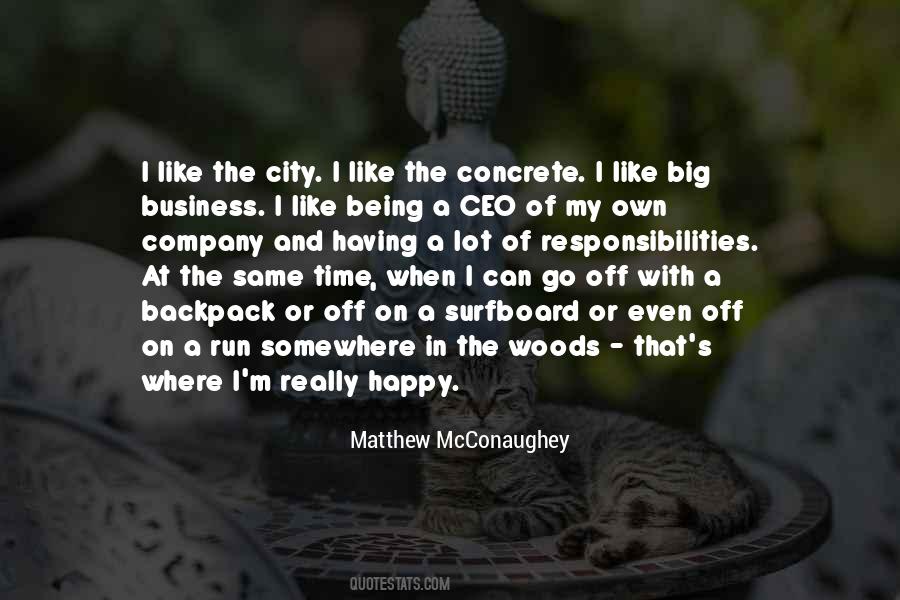 #27. You can stay too long in a job, that's for sure. But by the same token, in the 12 years I have been CEO of GE, there have been four CEOs of Toshiba. So there's too short a time to do it, and there's too long a time to do it. - Author: Jeffrey R. Immelt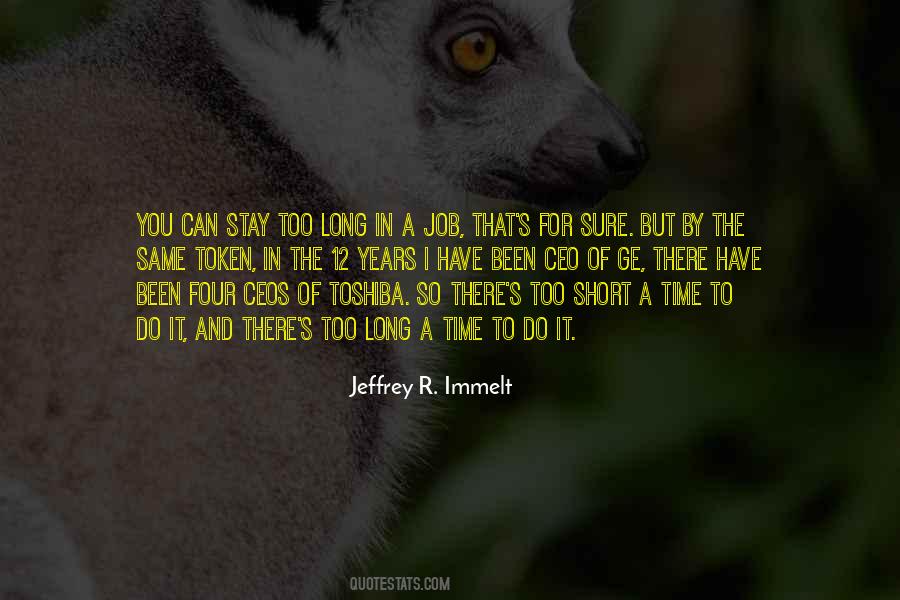 #28. If CEO compensation was performance-driven, which I believe it was in IBM's case, nobody would ever argue. If the shareholders didn't make billions and billions of dollars, I wouldn't make millions of dollars. My salary was the same for 10 years. It was all performance-based. - Author: Louis V. Gerstner Jr.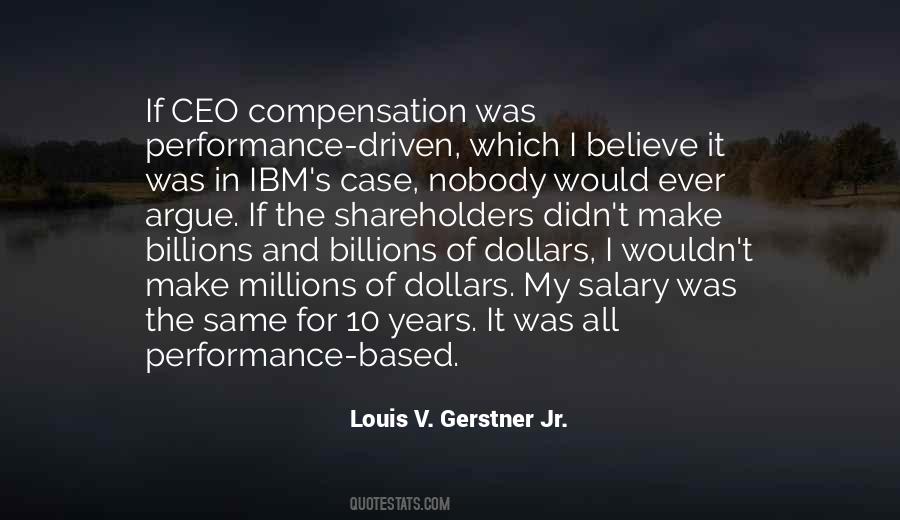 #29. The deck is still stacked in favor of those already at the top. And there's something wrong with that. There's something wrong when CEOs make 300 times more than the typical worker. - Author: Hillary Clinton
#30. We have grown addicted to our high salaries, and now we are really going to have to earn them, the CEO said. - Author: Thomas L. Friedman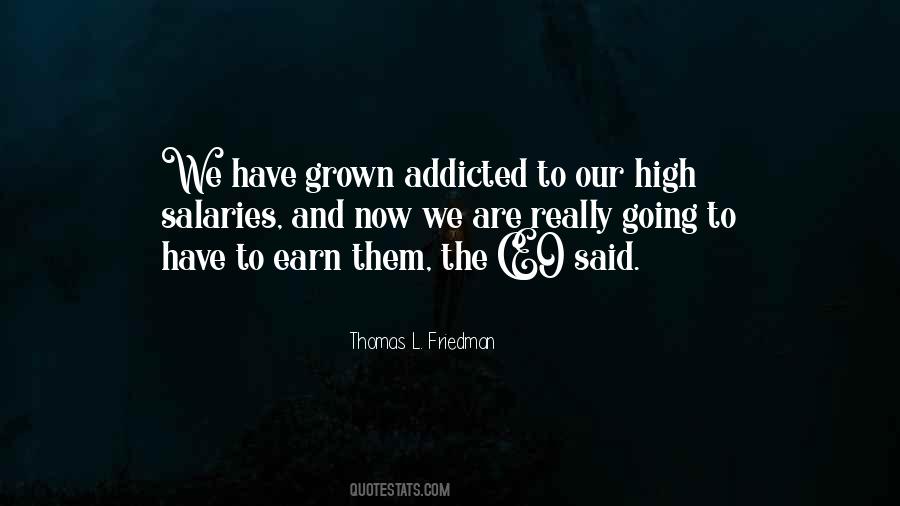 #31. Don't live like a CEO when you're still a sandwich artist. - Author: Sophia Amoruso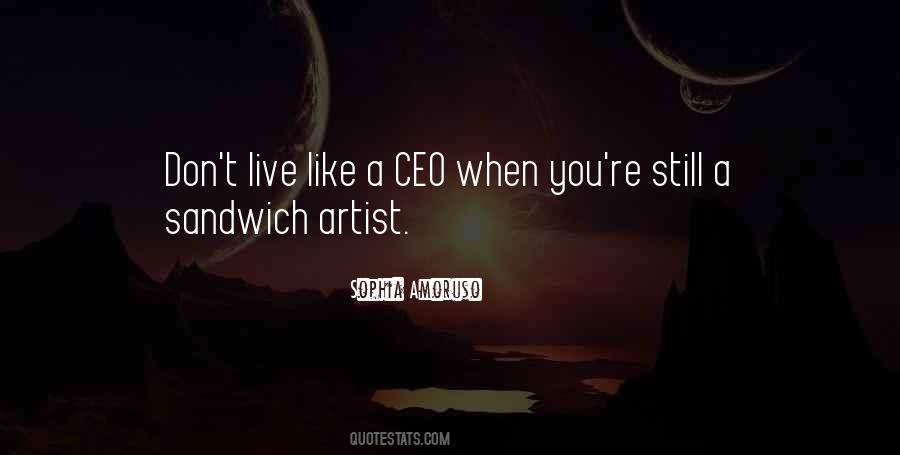 #32. When I came into the CEO office, I basically changed the entire management team. We knew that we had to change the company, so we needed a new set of leaders. - Author: Hans Vestberg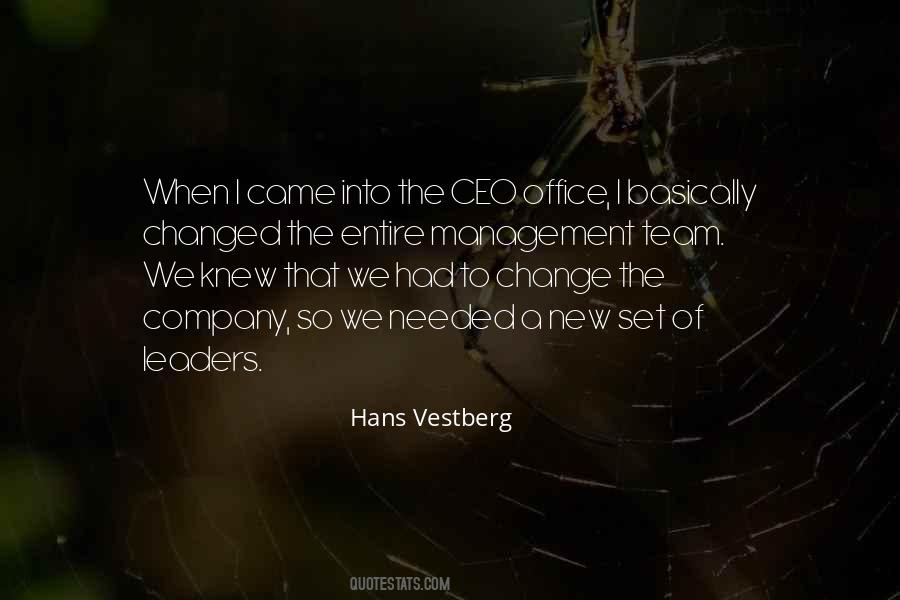 #33. In 2000, when my partner Ben Horowitz was CEO of the first cloud computing company, Loudcloud, the cost of a customer running a basic Internet application was approximately $150,000 a month. - Author: Marc Andreessen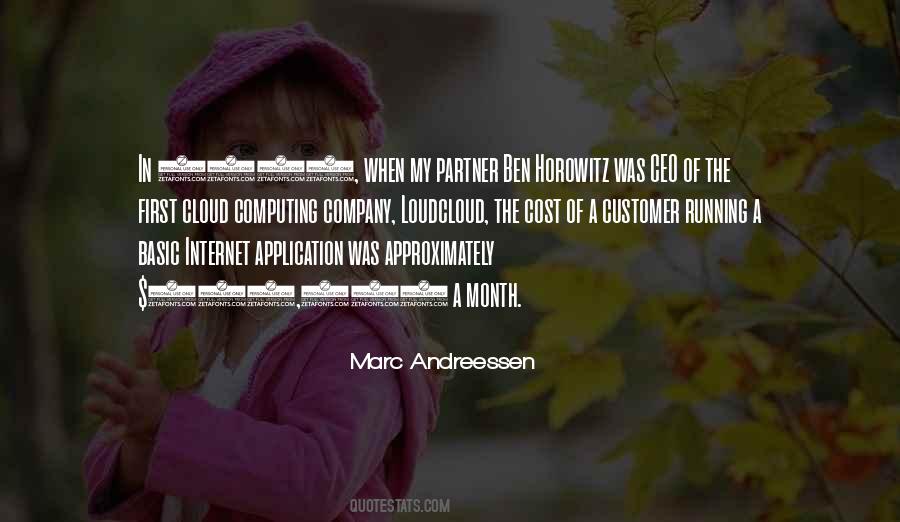 #34. Every time a new CEO came, I got a promotion till I was made CEO myself. - Author: Jochen Zeitz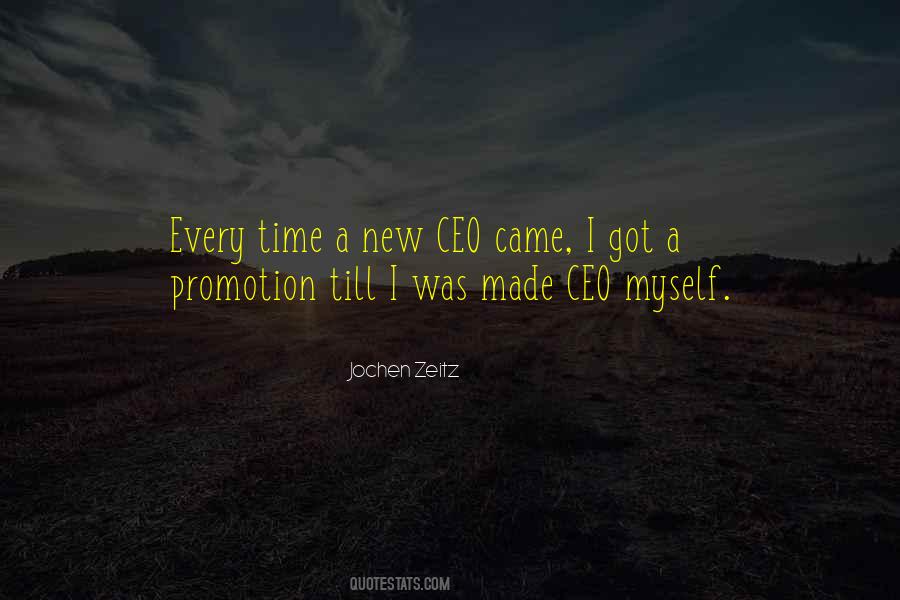 #35. The Fate Gene A latent Ch05En gene destines someone for greatness. Maybe you'll be a rock star, or CEO of a Fortune 500. You might save somebody's life, or give birth to the greatest supporting actress of all time. Maybe you'll be a superhero. Those - Author: William Dickstein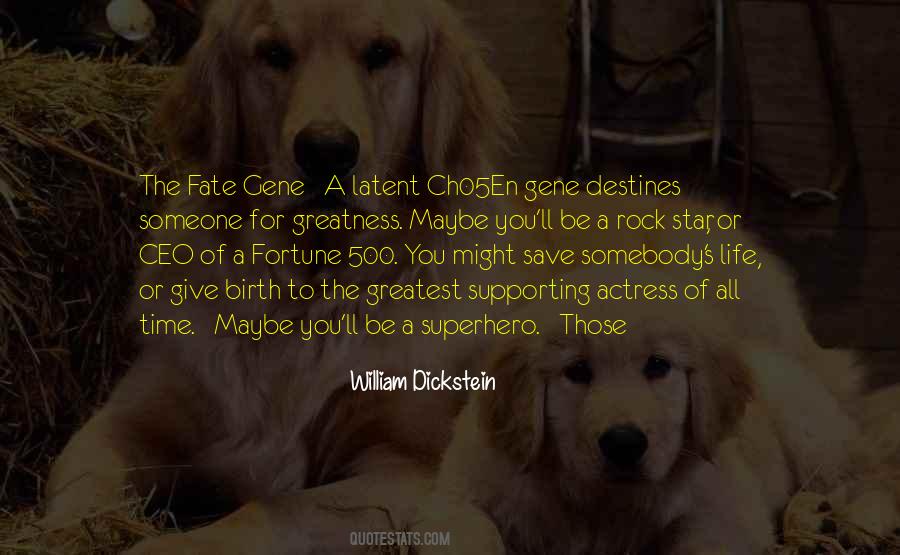 #36. As CEO, I had a standing 30-minute meeting every Monday to greet and connect with new hires. - Author: Scott Weiss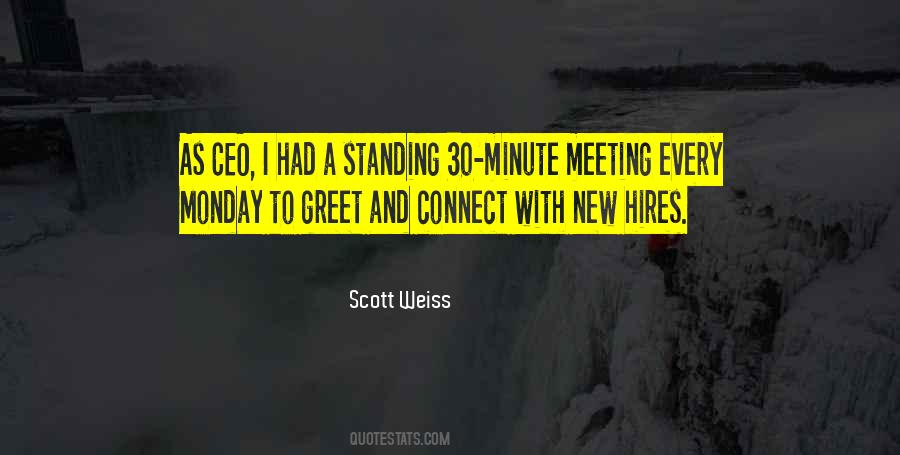 #37. In terms of myself, I said from the very beginning that I wanted to work in the management of Citigroup and I didn't want to be a CEO, ... That's not what I want to do with myself at the moment. - Author: Robert Rubin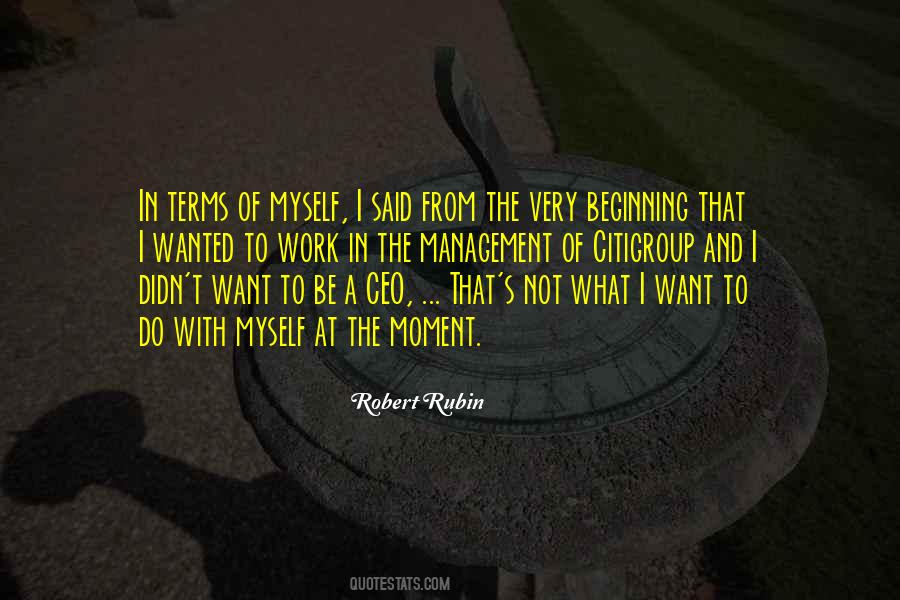 #38. When I became CEO, I just didn't think about my age too much. I'm sure many people did think that my age mattered, but I didn't. That was probably because of my age. - Author: Jochen Zeitz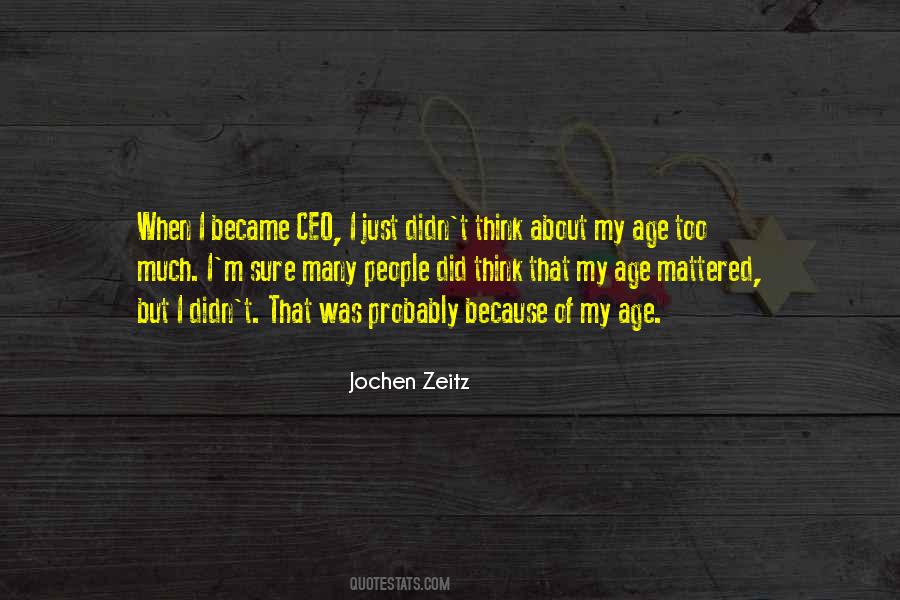 #39. Never invest in a tech CEO that wears a suit. - Author: Peter Thiel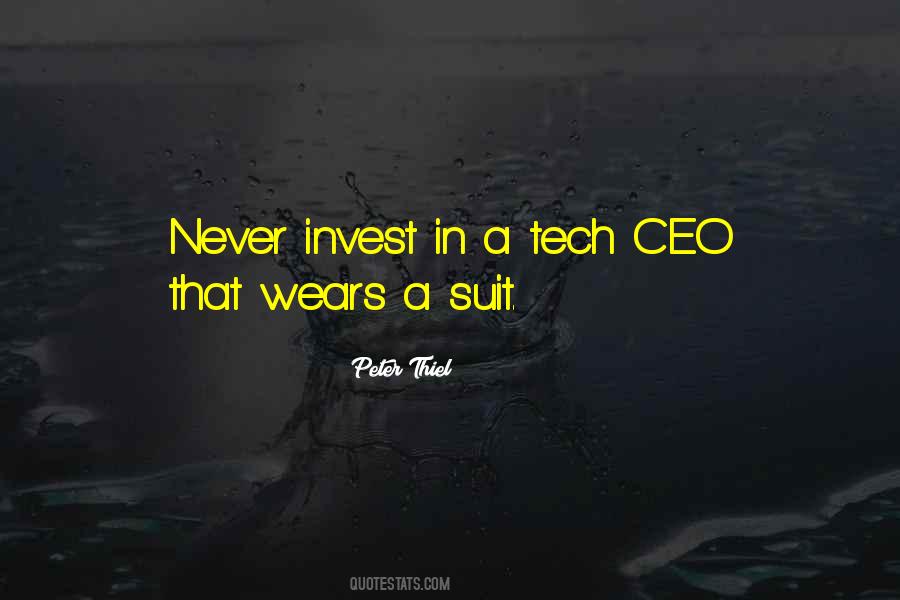 #40. invest in a tech CEO that wears a suit - got - Author: Peter Thiel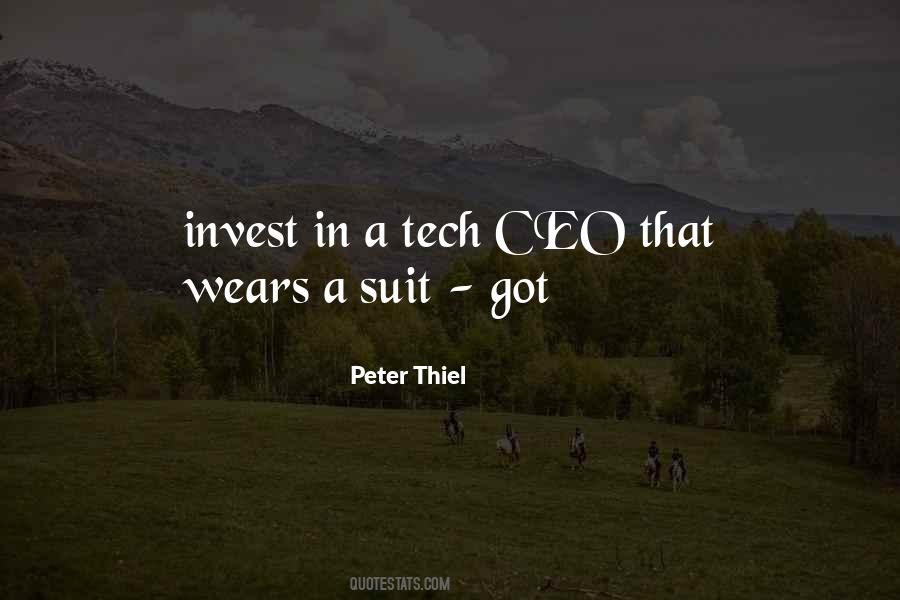 #41. I'm a friend of the CEO of Twitter and he showed me how to be on it, but it causes such an uproar if what you post is perceived in a negative light. - Author: Dana Carvey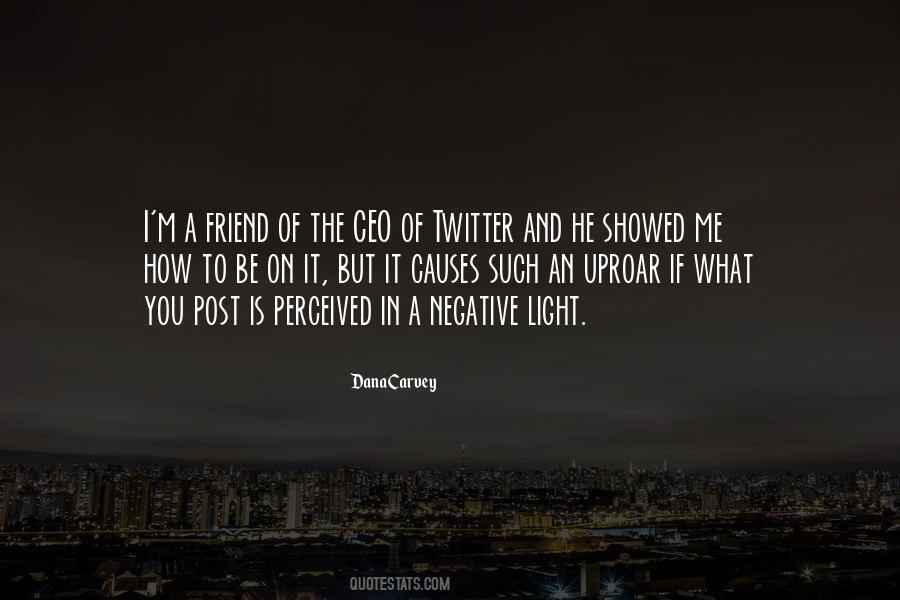 #42. When you're the CEO, you take responsibility. - Author: Rick Scott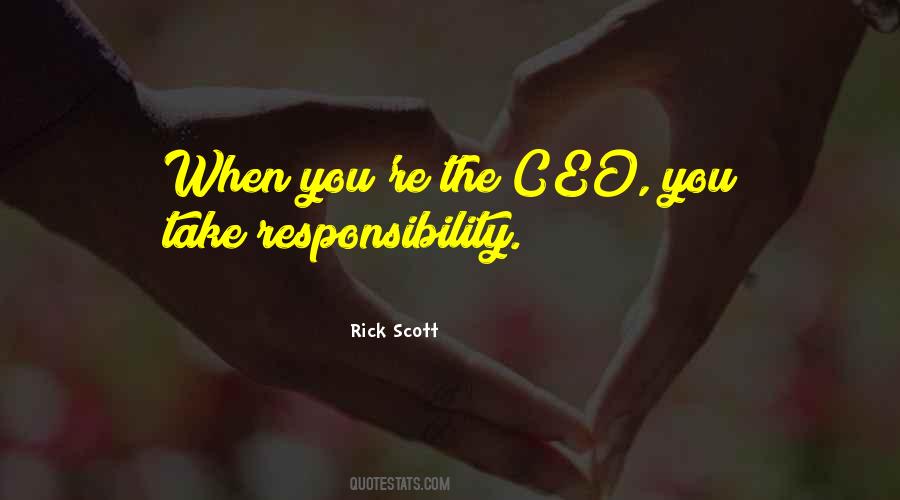 #43. I think if there's any difference between me and a traditional CEO, it's that I've been unwilling to change myself or shape my personality around what's expected. - Author: Andrew Mason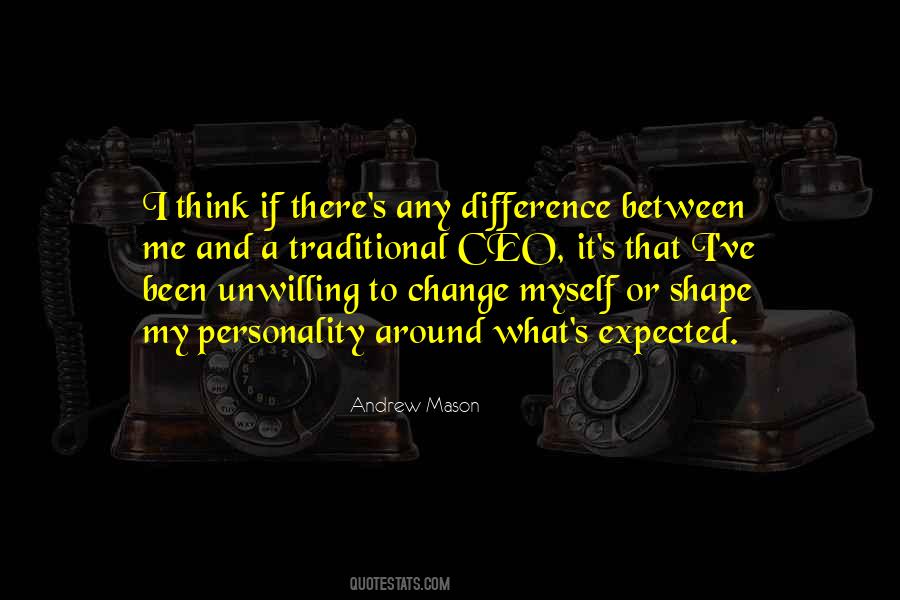 #44. Professional societies are sooner or later fractured by the ego of their leaders. Everyone wants to be president, chairman, CEO; no one wants to be a mere follower. - Author: F. Sionil Jose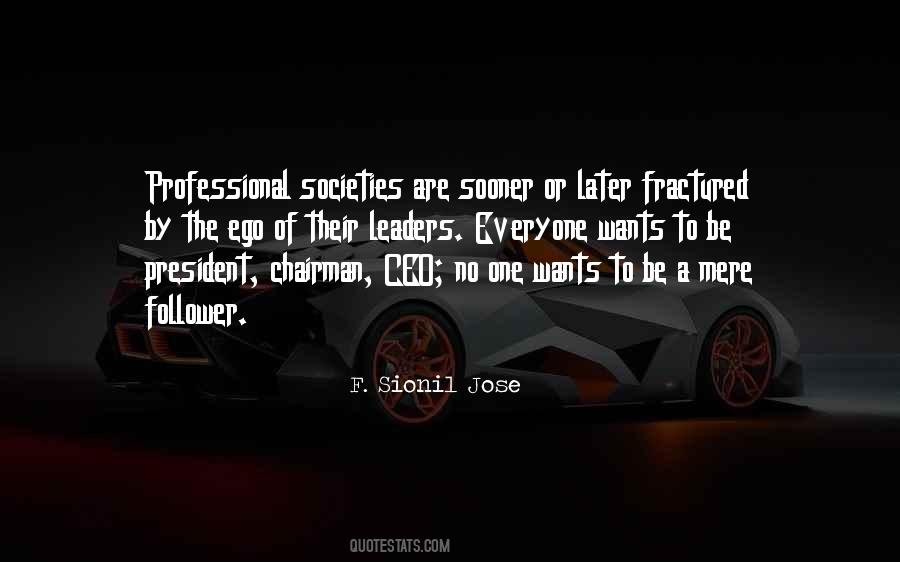 #45. Be the CEO of your life - Author: Robin S. Sharma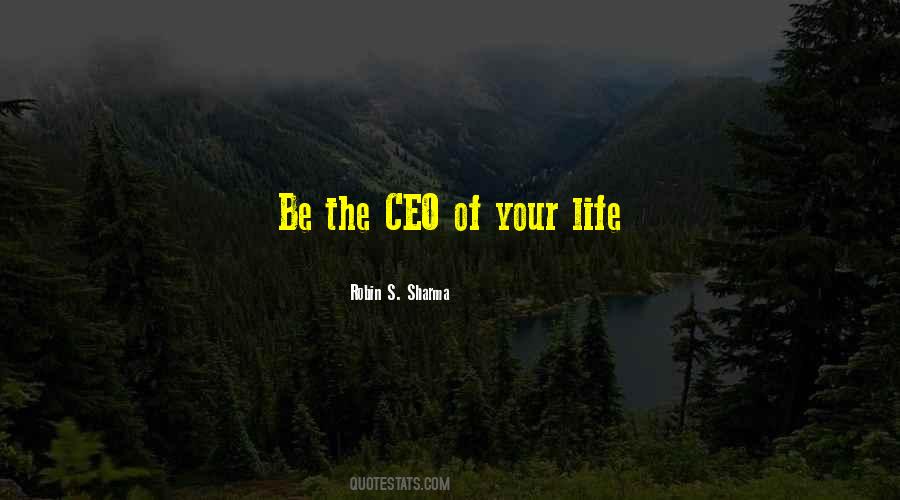 #46. My role as CEO is to protect the company AND nurture it to grow. - Author: John Fairclough
#47. The role of the board is advice and consent. If the CEO does not lay out a clear strategy and tries to get the board to set one, it will usually end in disaster. - Author: Sam Altman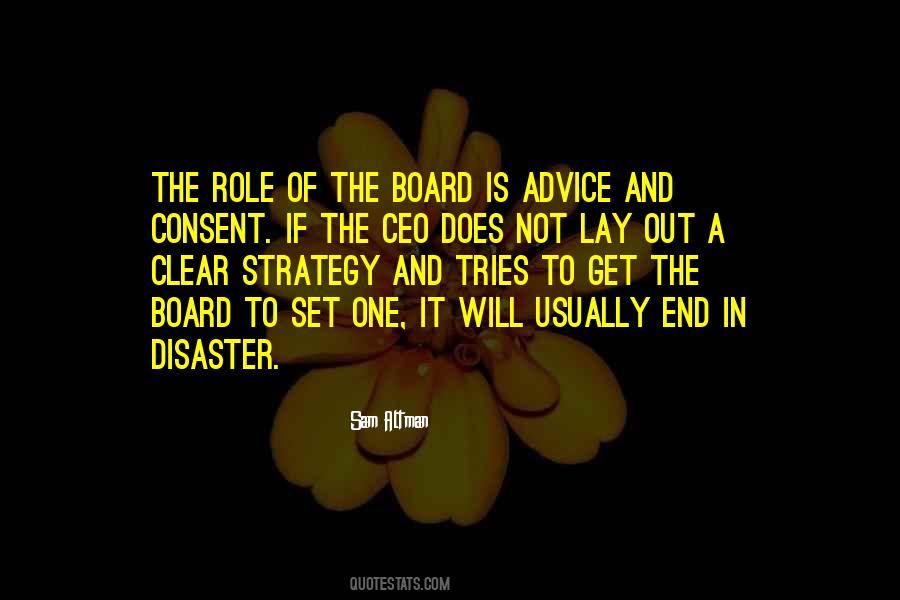 #48. I'm calling for us all to be The Inspired CEO, Conscious Evolutionary Officers of our own lives and businesses. - Author: Tia Walker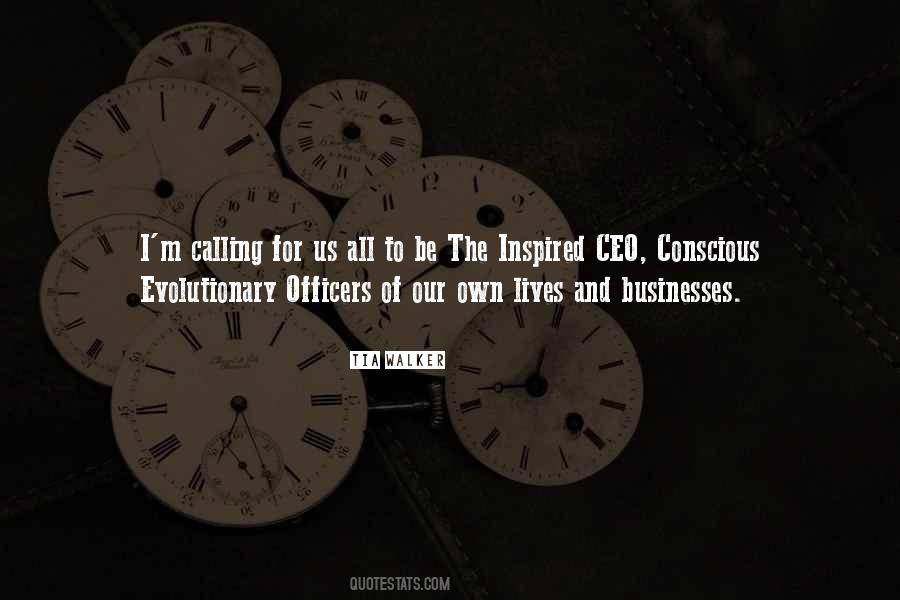 #49. To build a great company, which is a CEO's job, sometimes you have to stand up against conventional wisdom. - Author: Carly Fiorina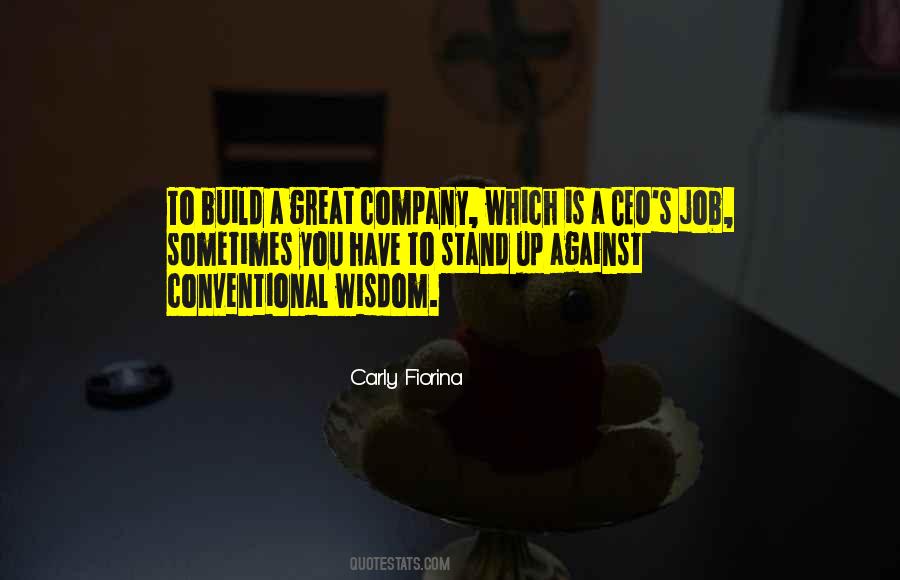 #50. You hire the best people you can possibly find. Then it's up to you to create an environment where great people decide to stay and invest their time. - Author: Rich Lesser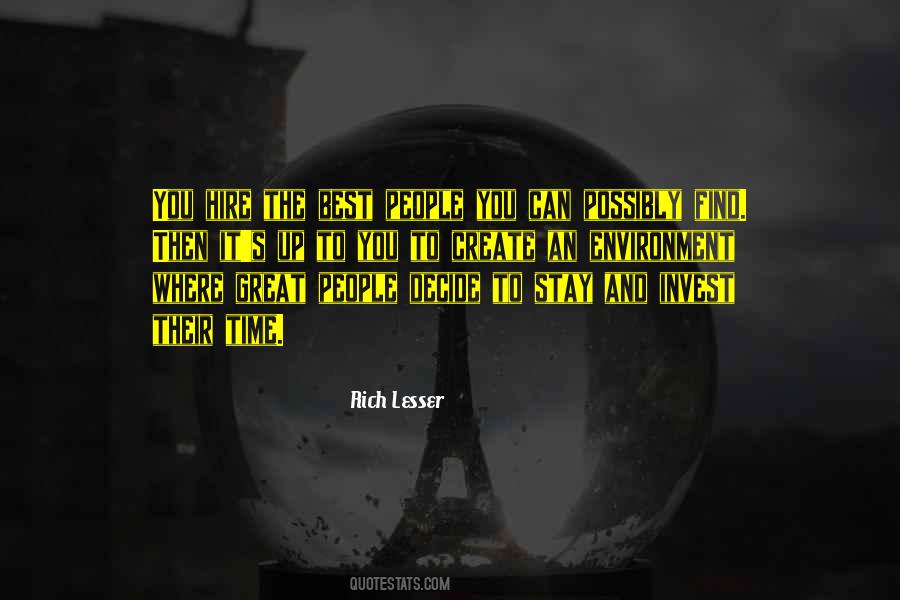 #51. Hell will freeze over before this CEO implements another employee benefit in this culture. - Author: Neal Patterson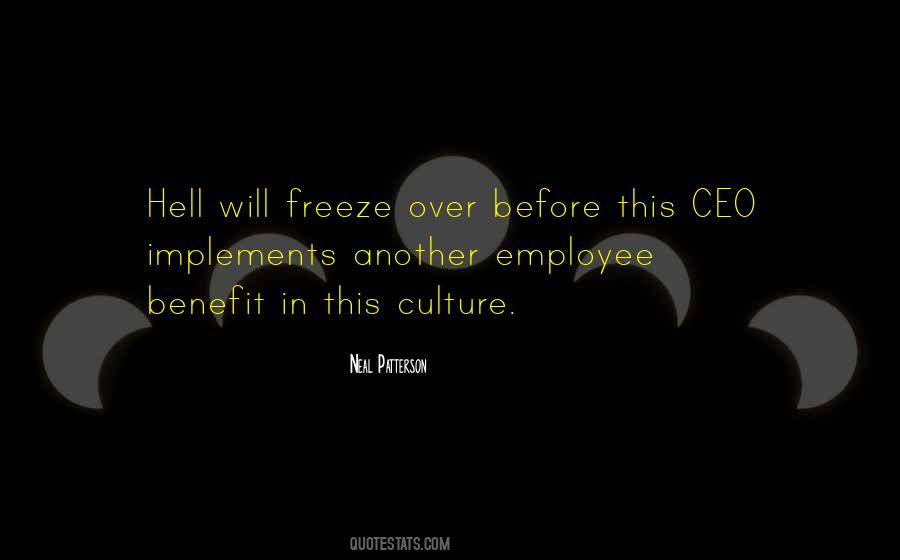 #52. Talent is the No. 1 priority for a CEO. You think it's about vision and strategy, but you have to get the right people first. - Author: Andrea Jung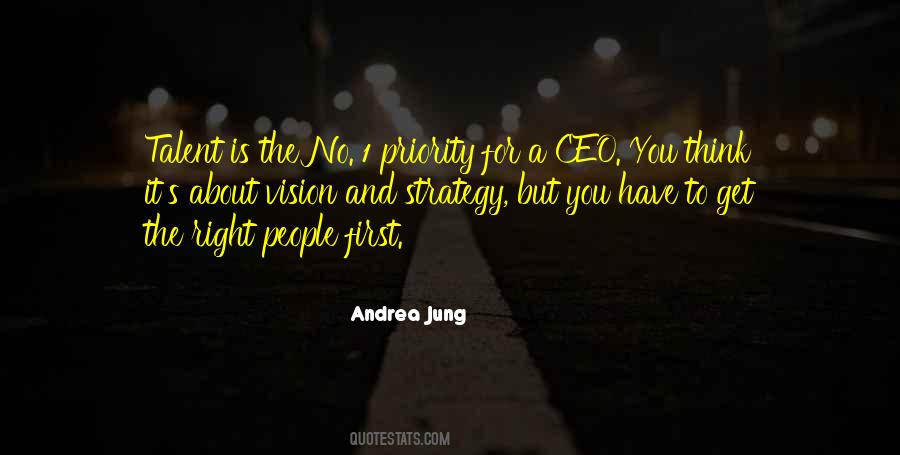 #53. Who lives in true poverty - The janitor who is grateful for the chocolate chip pancakes his 6 year old helped his wife prepare for dinner, or The CEO who is ungrateful for the type of wine served with his 5-star meal? - Author: Julia Rose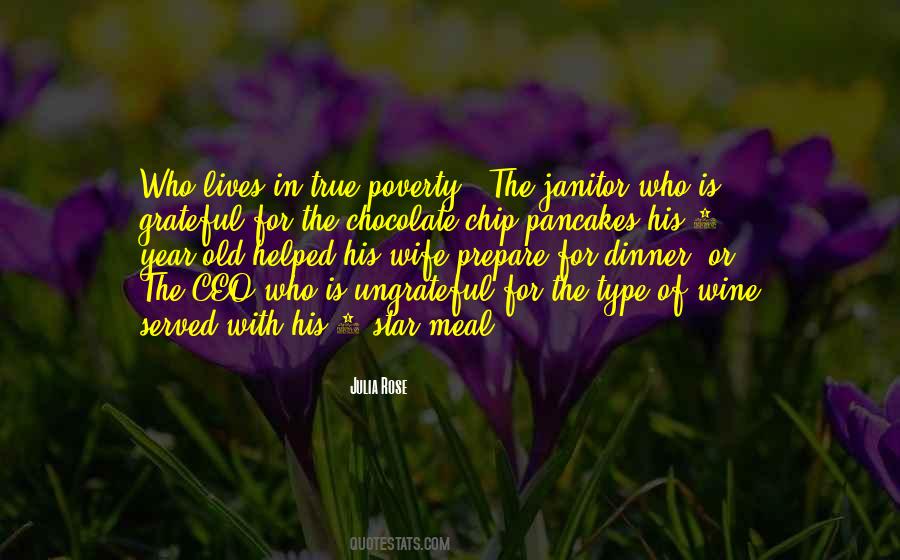 #54. Any executive, any CEO should not have 1 management style. Your management style needs to be dictated by your employee. - Author: Keith Rabois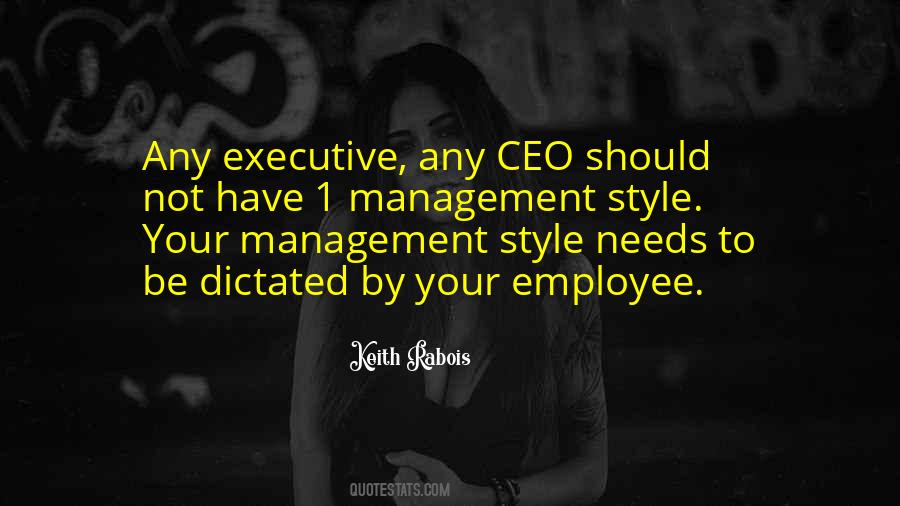 #55. I don't feel I'm at liberty to speak about the actions of any one CEO. That's not fair; given CEOs have duties to their shareholders. - Author: Kenneth C. Griffin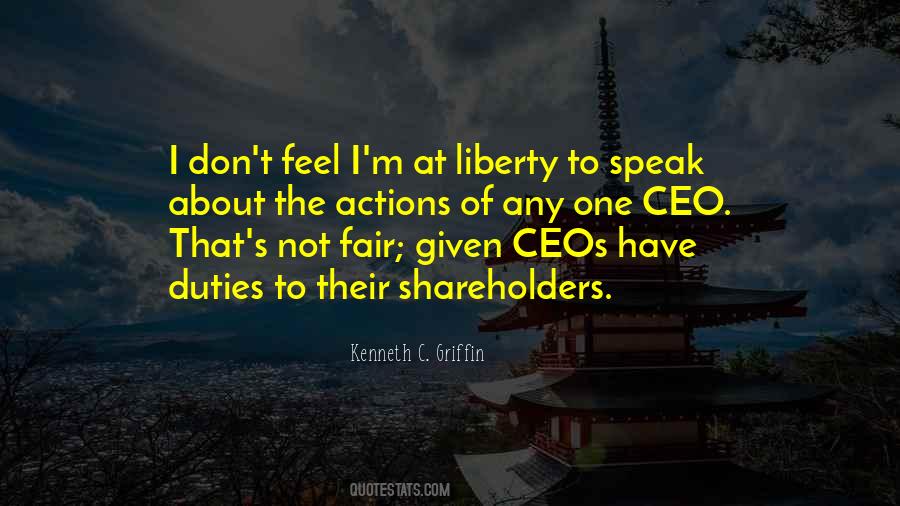 #56. It turns out that if you're a 24-year-old whose only line on their resume says CEO, you are totally unemployable. - Author: Sam Yagan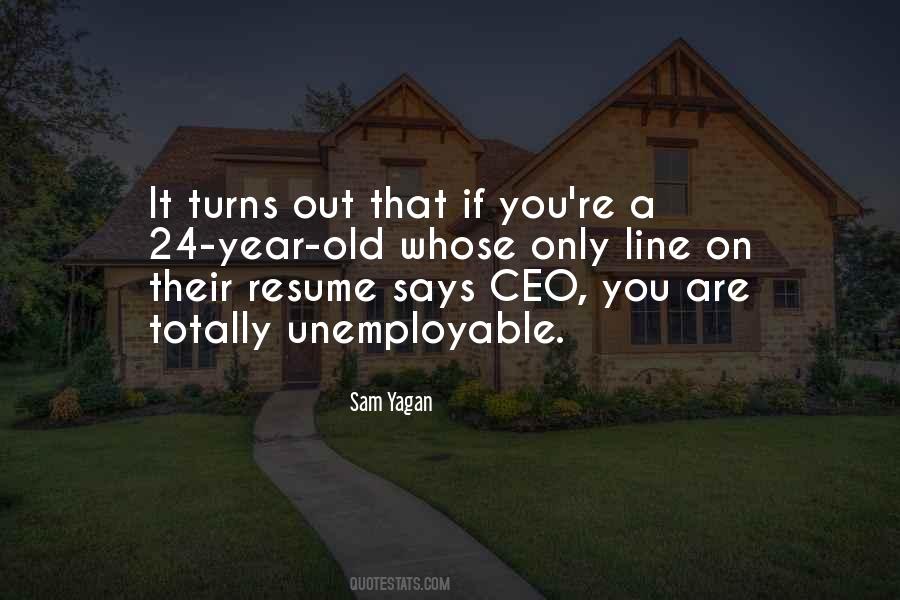 #57. As she nurtured her business relationships, Hall spent less time meeting teachers and parents and visiting schools. Often, she seemed to approach her job more as a CEO than an educator. - Author: Anonymous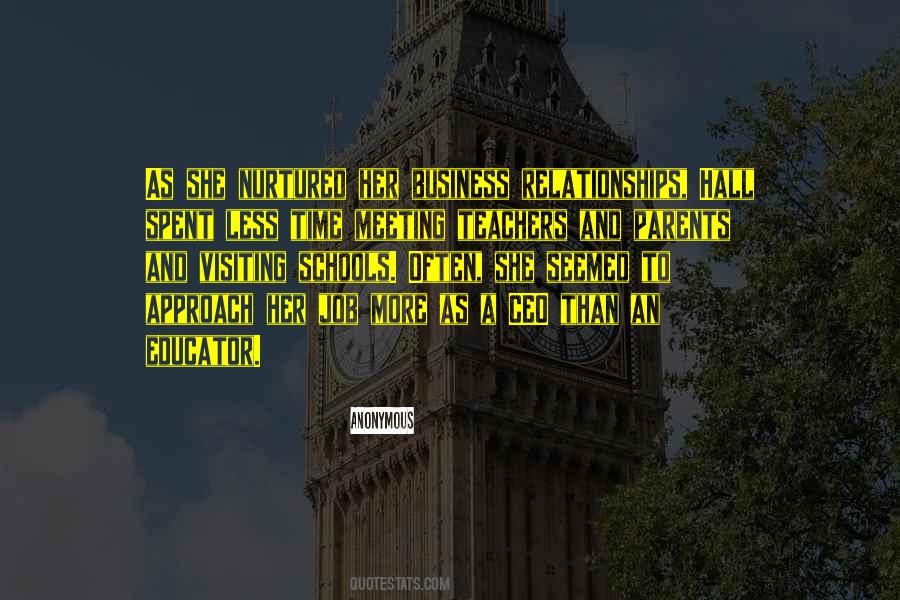 #58. Every citizen of this country should be guaranteed that their vote matters, that their vote is counted, and that in the voting booth, their vote has a much weight as that of any CEO, any member of Congress, or any President. - Author: Barbara Boxer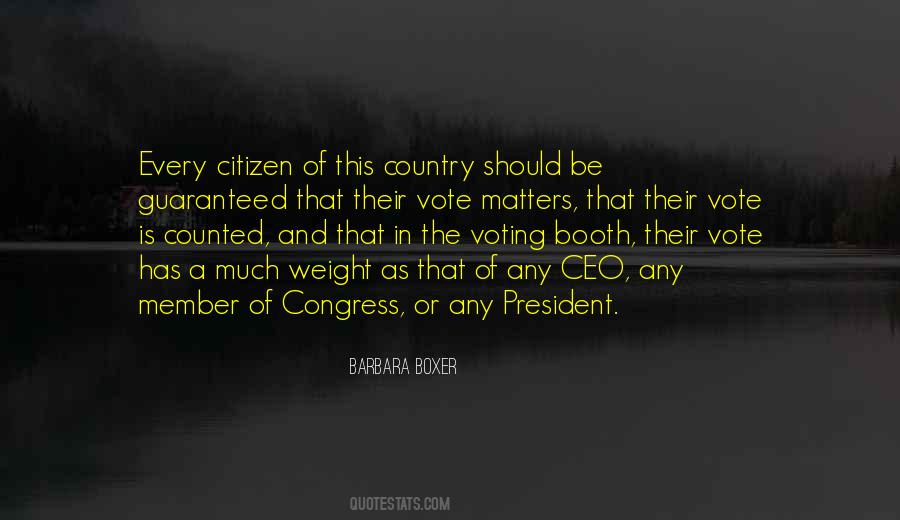 #59. As CEO, my main job is editor-in-chief. - Author: Jack Dorsey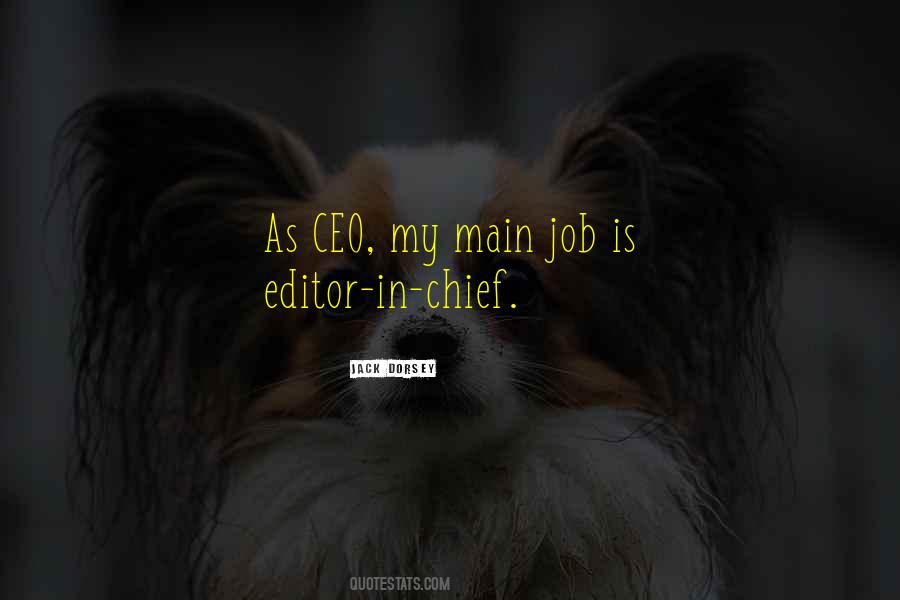 #60. I've said I will be CEO as long as my colleagues want me. - Author: Ivan Glasenberg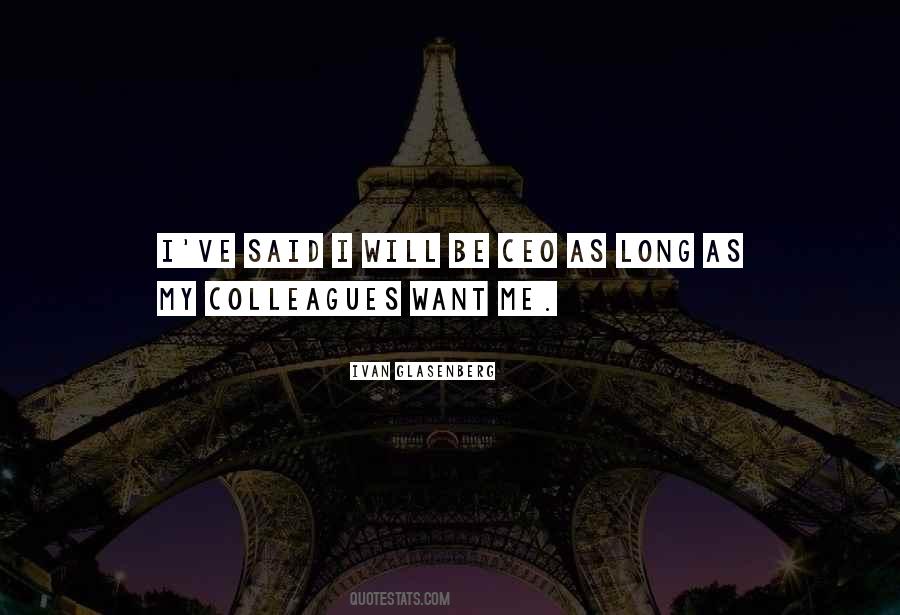 #61. When I was CEO, and I'd listen to music, a lot of people listen to music and you get inspiration from it. And a lot of things in hip hop are very instructive for being in business. Particularly, hip hop is a lot about business, and so it was very useful for me in any job. - Author: Ben Horowitz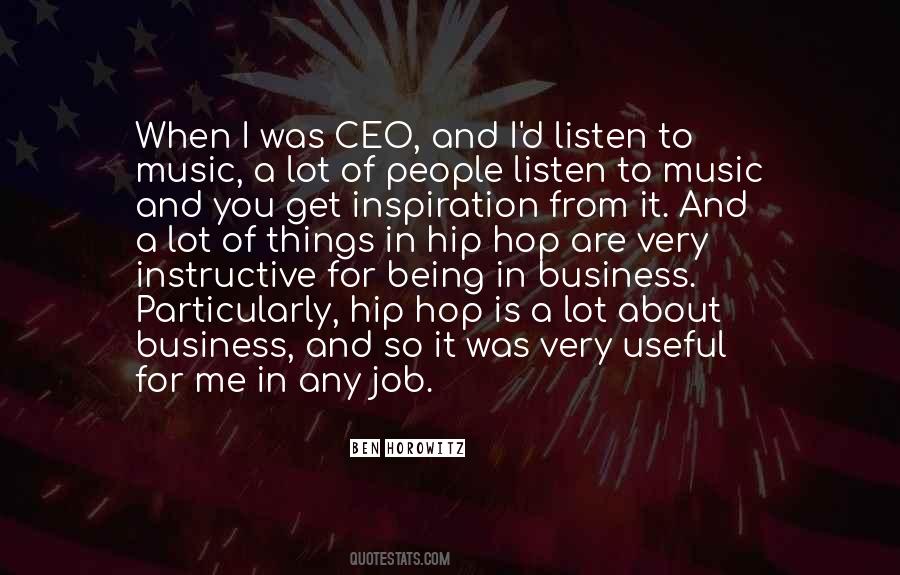 #62. People are kind of upset with British Petroleum CEO Tony Hayward. Over the weekend, he was out on his yacht. And when President Obama found out that Tony Hayward was on his yacht, he was so angry, he missed a putt. - Author: David Letterman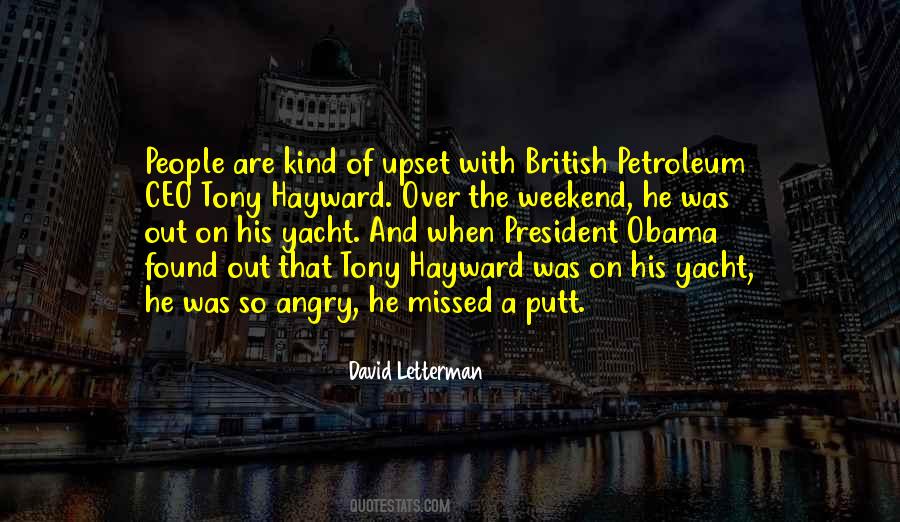 #63. You are the first brand ambassador of your company - Author: Bernard Kelvin Clive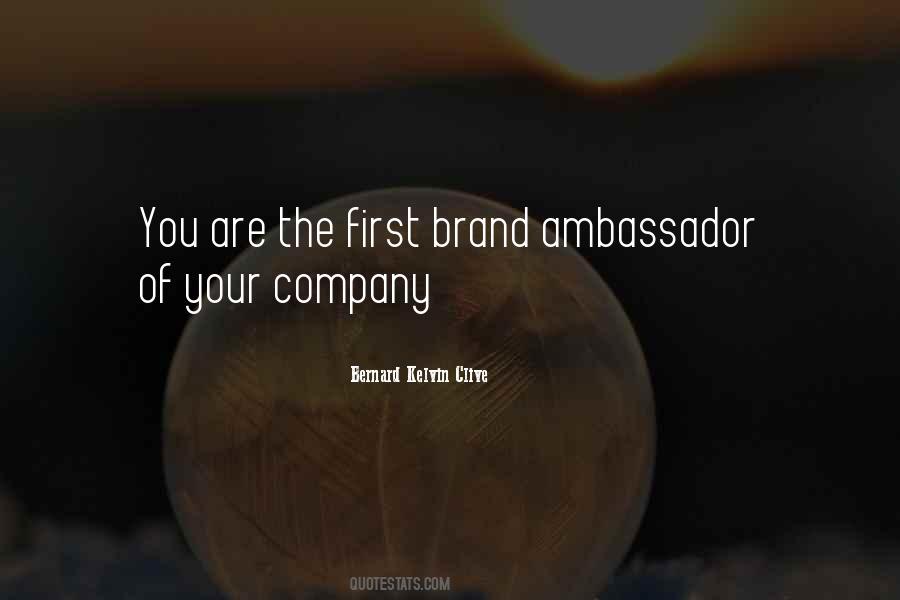 #64. The CEO's role in raising a company's corporate IQ is to establish an atmosphere that promotes knowledge sharing and collaboration. - Author: Bill Gates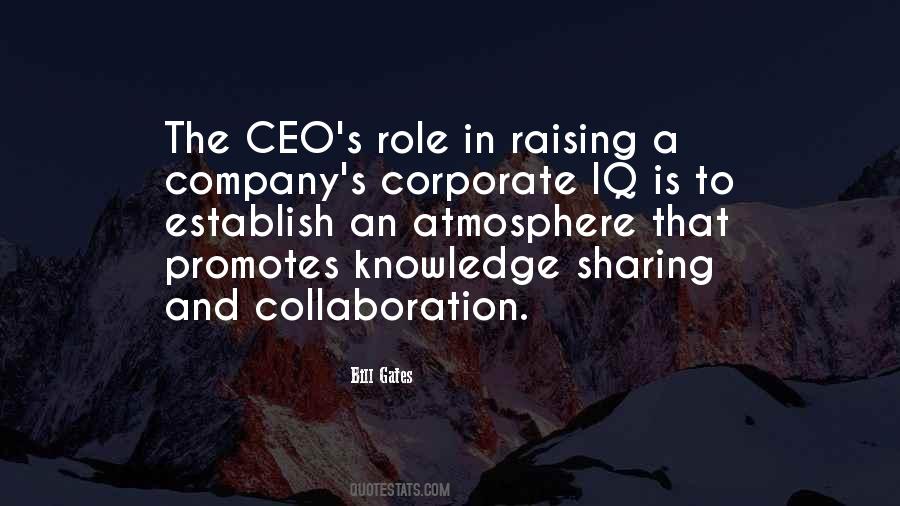 #65. In life, you don't have a level of confrontation and the nonsense you run into when you're a CEO. CEOs aren't born. - Author: Ben Horowitz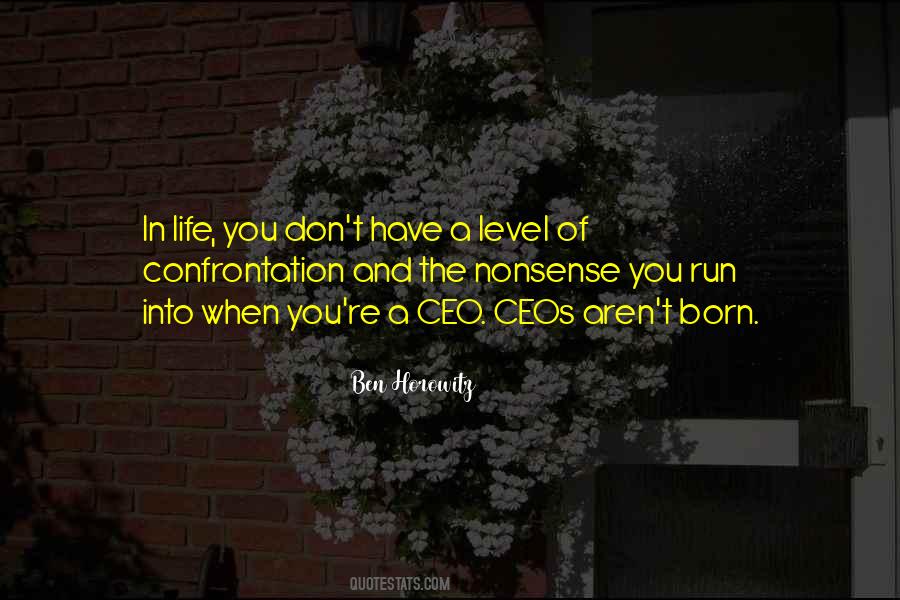 #66. The only thing worse than a coach or CEO who doesn't care about his people is one who pretends to care. People can spot a phony every time. - Author: Jimmy Johnson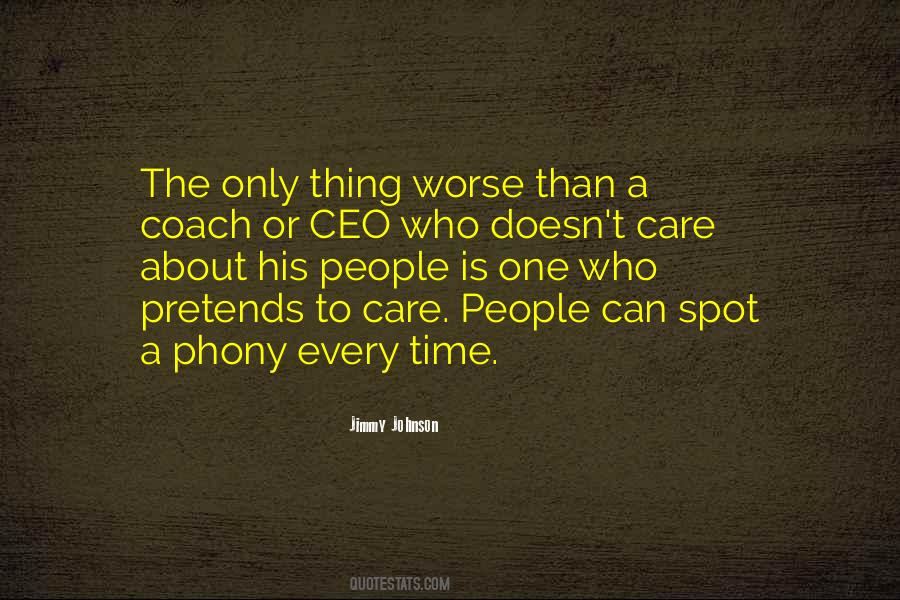 #67. Your job as CEO is to be the fastest person of the company. - Author: Bing Gordon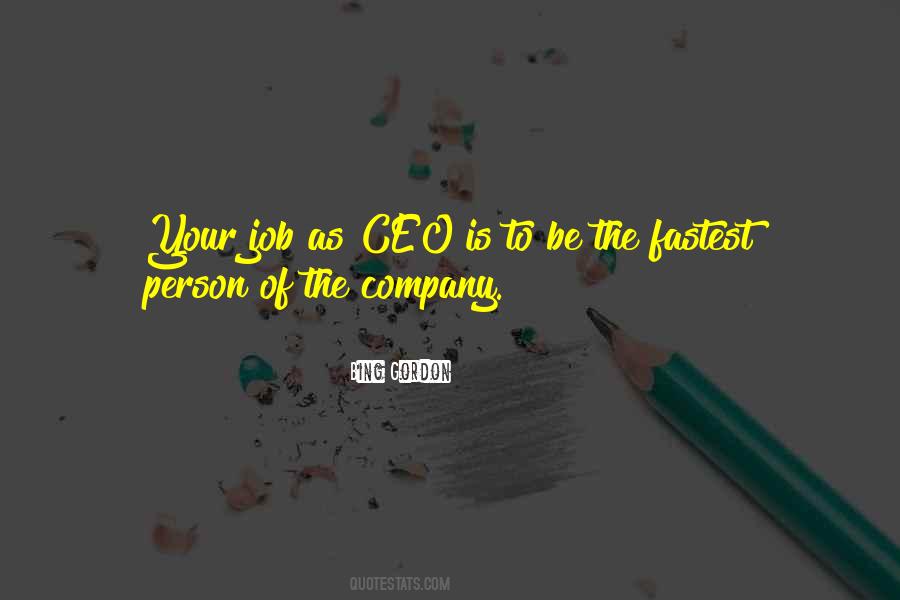 #68. In my experience as CEO, I found that the most important decisions tested my courage far more than my intelligence. - Author: Ben Horowitz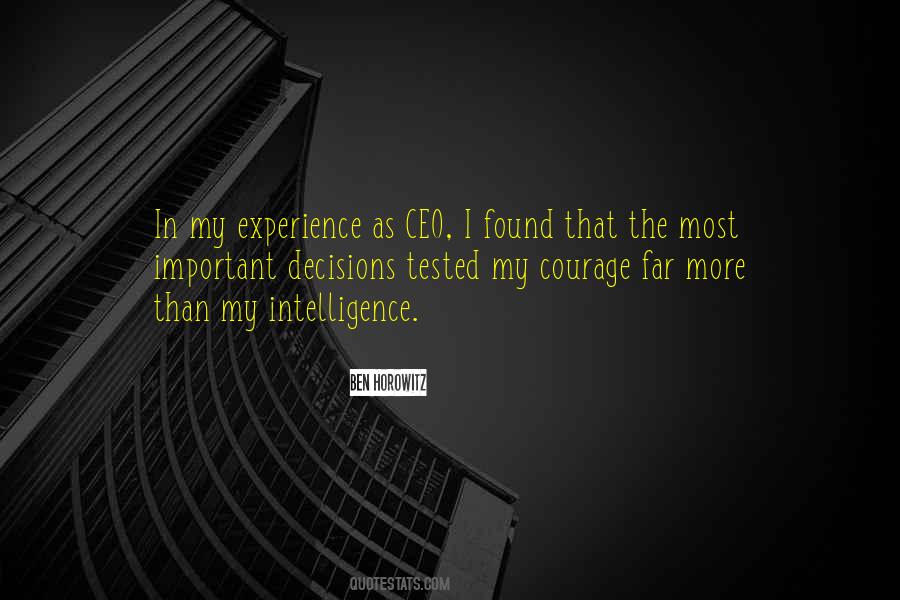 #69. From: Christian Grey
Subject: My Life's Mission ...
Date: September 5, 2011 09:25
To: Anastasia Grey
Is to spoil you, Mrs. Grey.
And keep you safe because I love you.
Christian Grey
Smitten CEO, Grey Enterprises Holdings Inc. - Author: E.L. James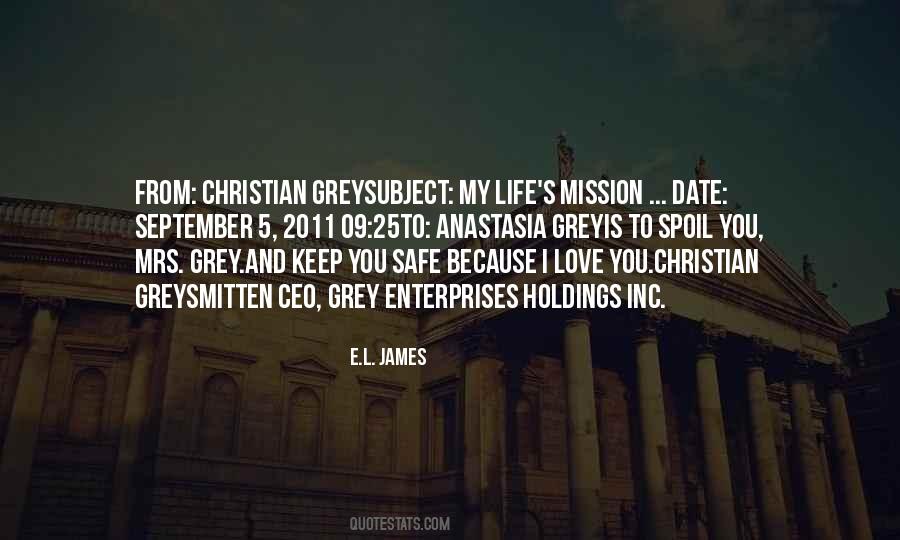 #70. Today, President Obama finally met with BP's CEO, Tony Hayward, but the meeting was only scheduled 20 minutes. Call me crazy, but I think it should take more time to discuss an oil spill than it does to get your oil checked. - Author: Jimmy Fallon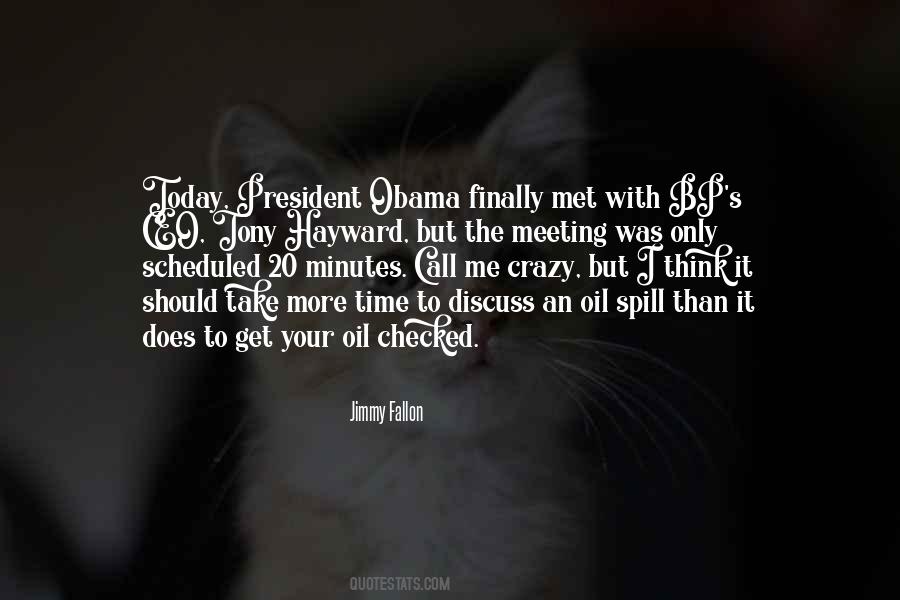 #71. Yeah, take it from me. He may try to sell himself to you along with the company. And then there is Roberto, the CEO of our acquisition target. He also seems to be a bit of a flirt. Those two are like moths around a light bulb with you. Any idea how you would react if they both came after you? - Author: Karynne Summars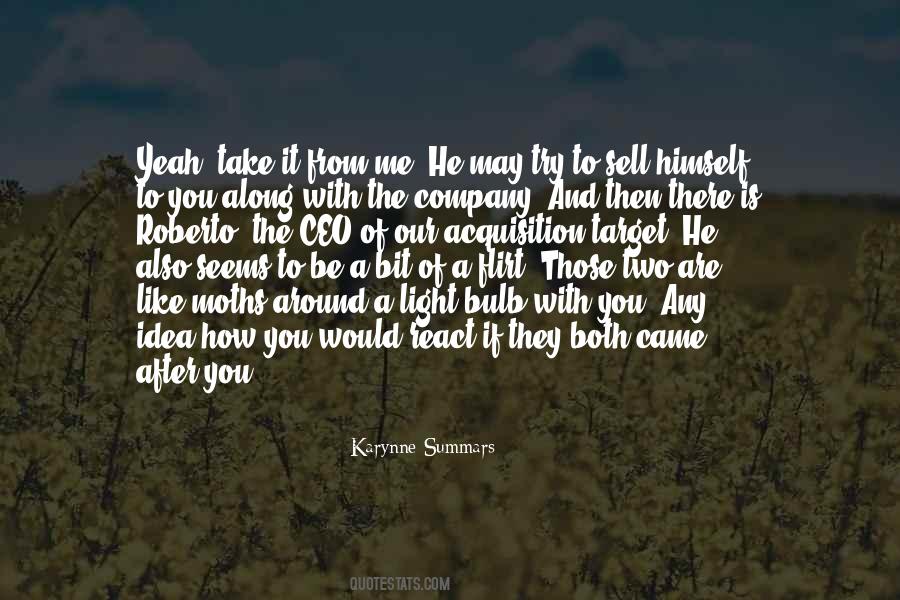 #72. I've always managed by walking around. Any CEO or leader who spends the majority of his time in his office is not doing his job. - Author: Donny Deutsch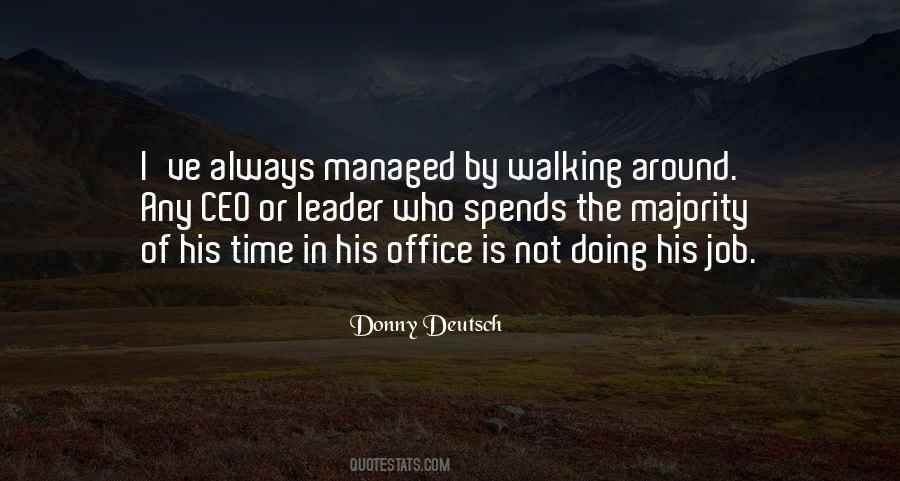 #73. The CEO of Monsanto had been disemboweled alive. - Author: Nancy Kress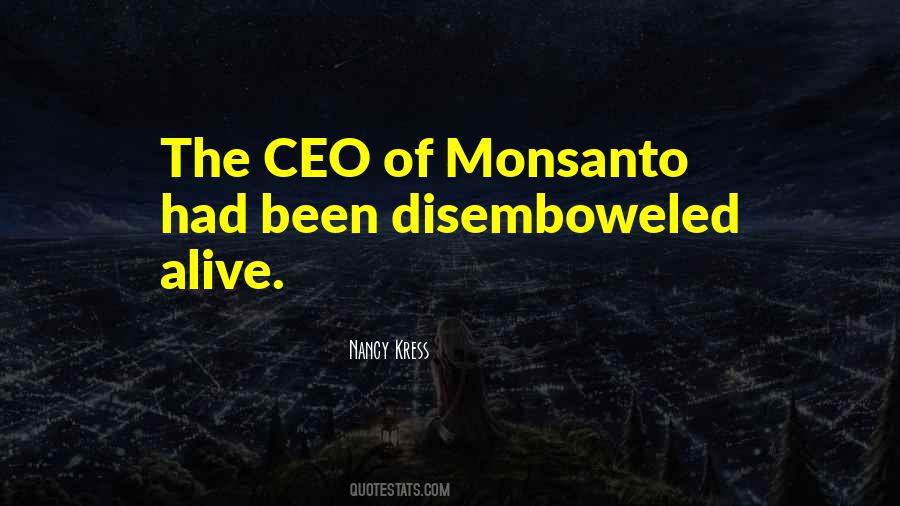 #74. I'm not a great manager; I try to be a great leader. And for me, that's been going through a process of not how to be a great CEO but how to be a great Evan, and that's really been the challenge. - Author: Evan Spiegel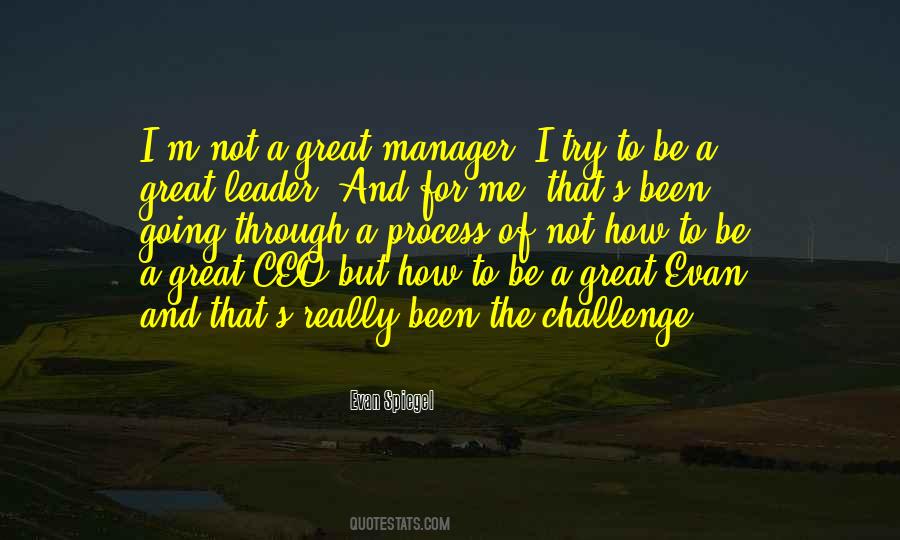 #75. You have to be intense. This only comes from the CEO, this only comes from the founders. - Author: Sam Altman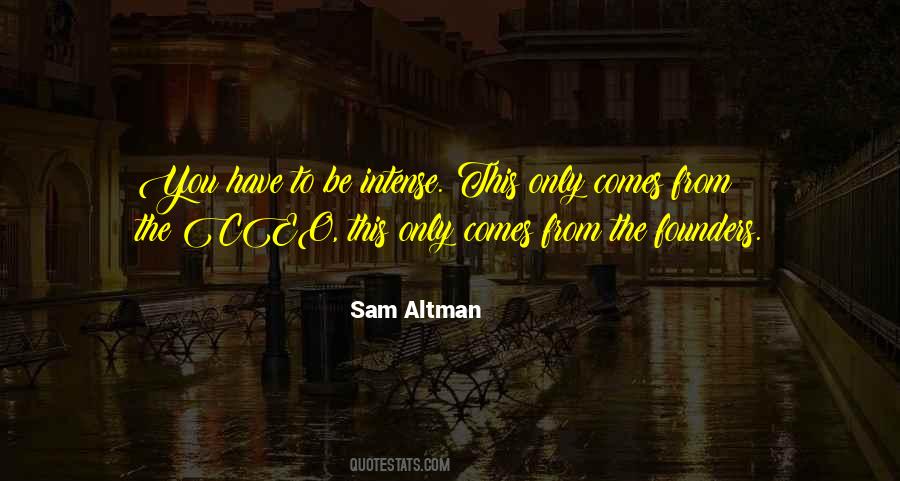 #76. At least half the job of CEO is communication - because of human nature. People fear what they don't know. If the board wasn't hearing that things were going well, they assumed that things must be going badly. - Author: Biz Stone
#77. In the world of business, being slow is a losing move. - Author: Shawn Casemore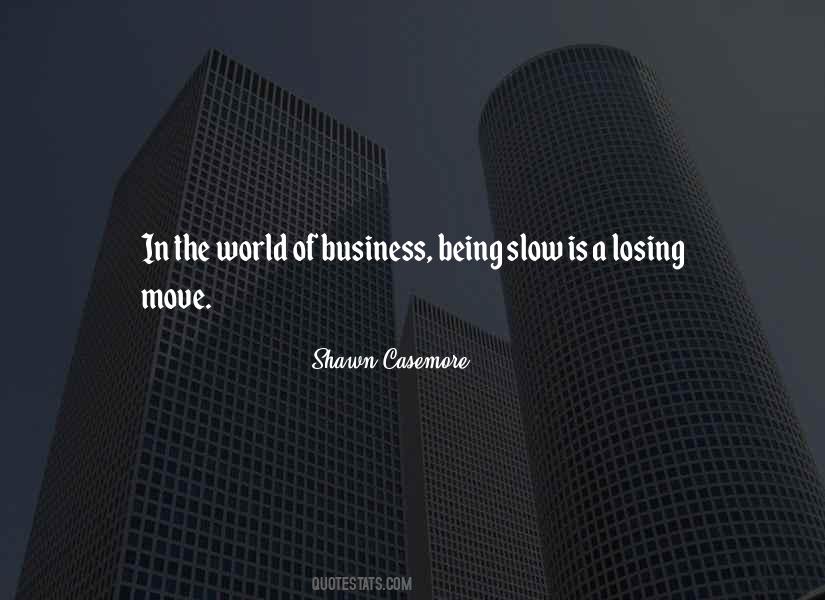 #78. You're not getting any younger. You can only be a canoeing, programming, hermit bachelor, CEO rich dude for so long. - Author: Jenny Holiday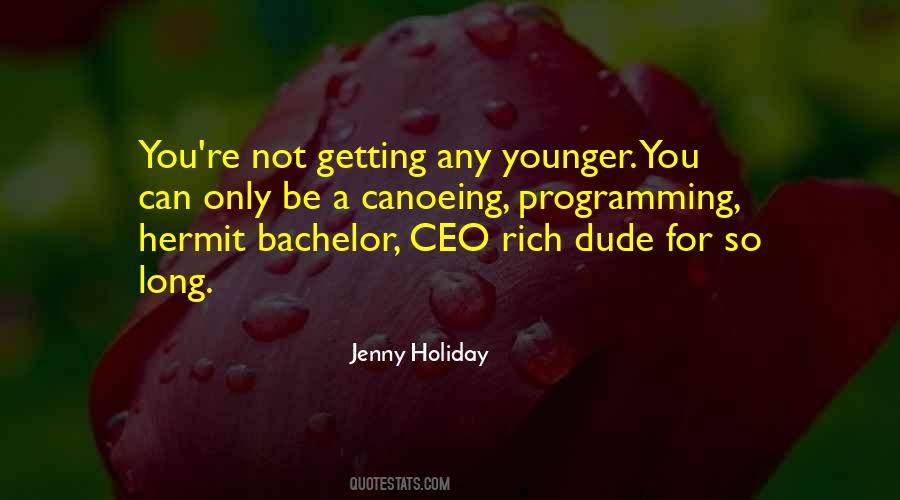 #79. One day, Aaron Levie, the twenty-six-year-old CEO of Box, a well-funded new tech company, tells me it's really important to learn from what happened in the 1990s - which is why he has read a bunch of books about that era. - Author: Dan Lyons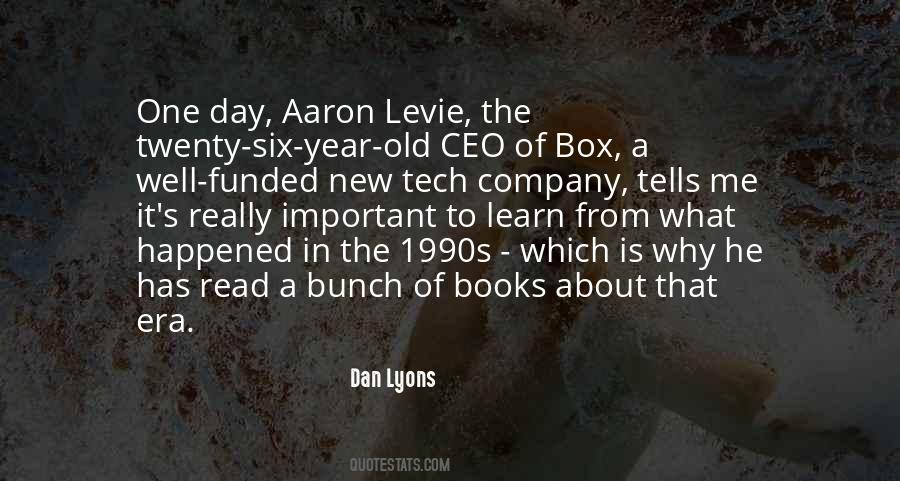 #80. Finding a good nurse is not just about checking off a list of skills the nurse can perform; it's also about finding someone who is a good fit for your home. - Author: Charisse Montgomery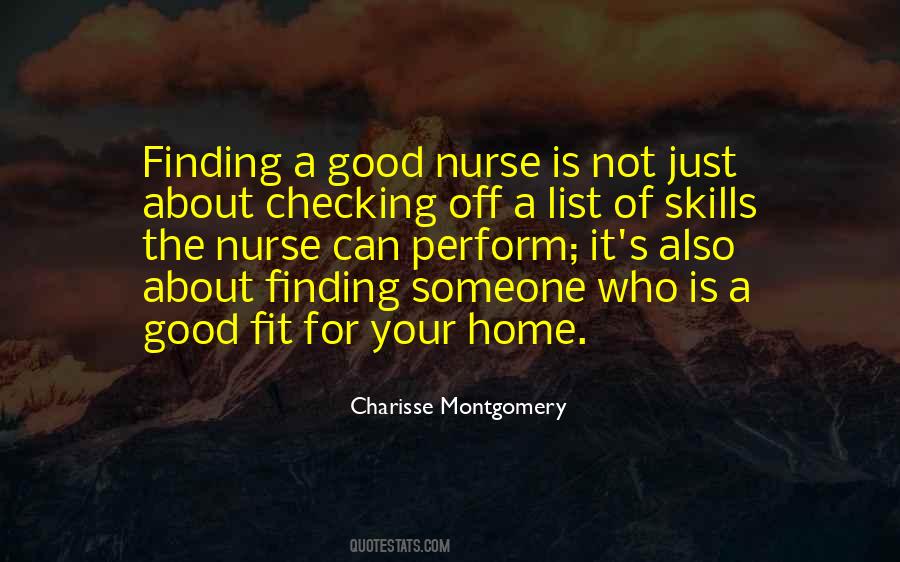 #81. There is something only a CEO uniquely can do, which is set that tone, which can then capture the soul of the collective. - Author: Satya Nadella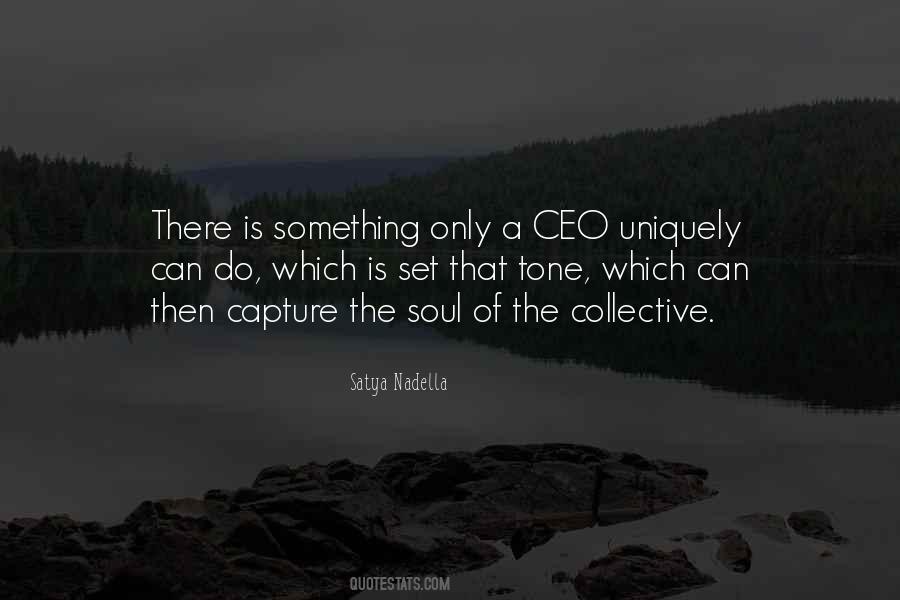 #82. If you ask the CEO of some major corporation what he does, he will say, in all honesty, that he is slaving 20 hours a day to provide his customers with the best goods or services he can and creating the best possible working conditions for his employees. - Author: Noam Chomsky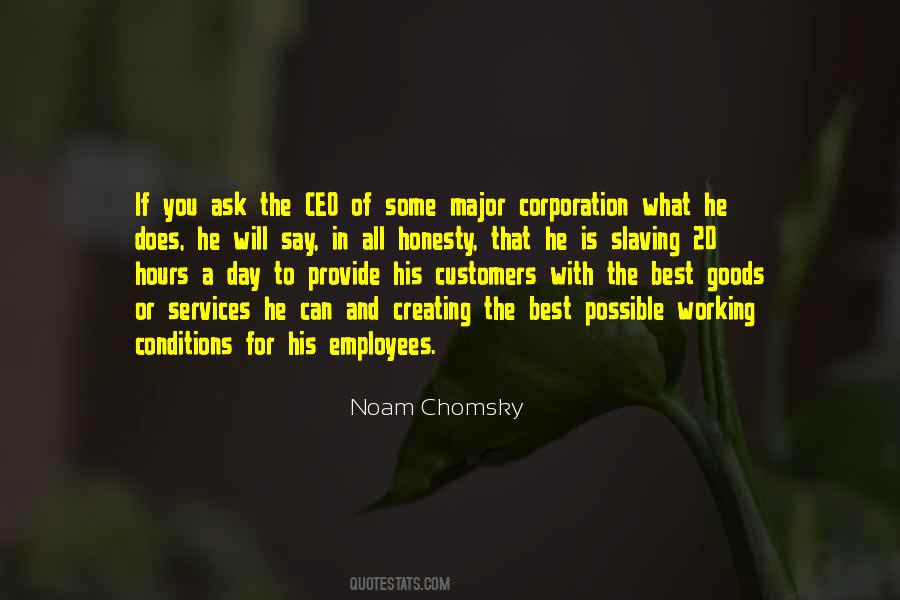 #83. The most challenging part of being CEO is communicating to 200,000 people what you want done. - Author: Steven Burd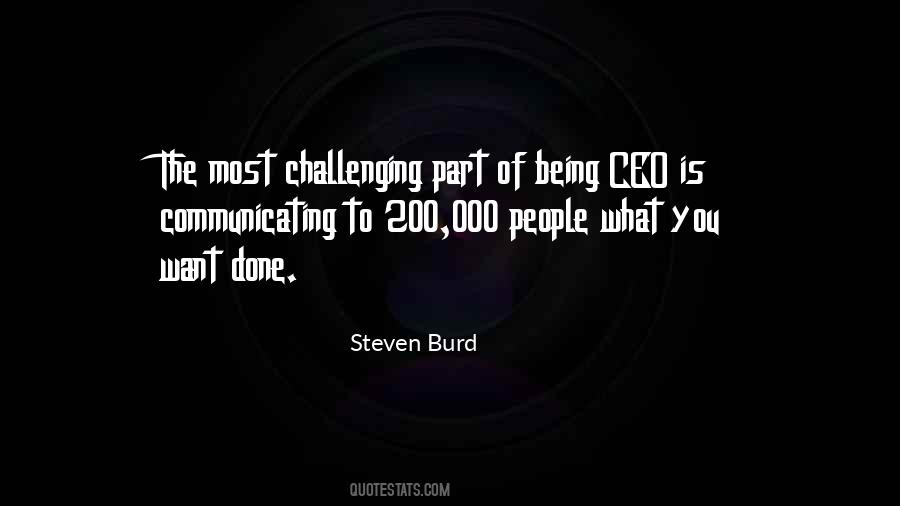 #84. In a large successful company where your power base as CEO isn't all that secure, it's hard for a CEO to pursue a truly disruptive strategy. - Author: Clayton Christensen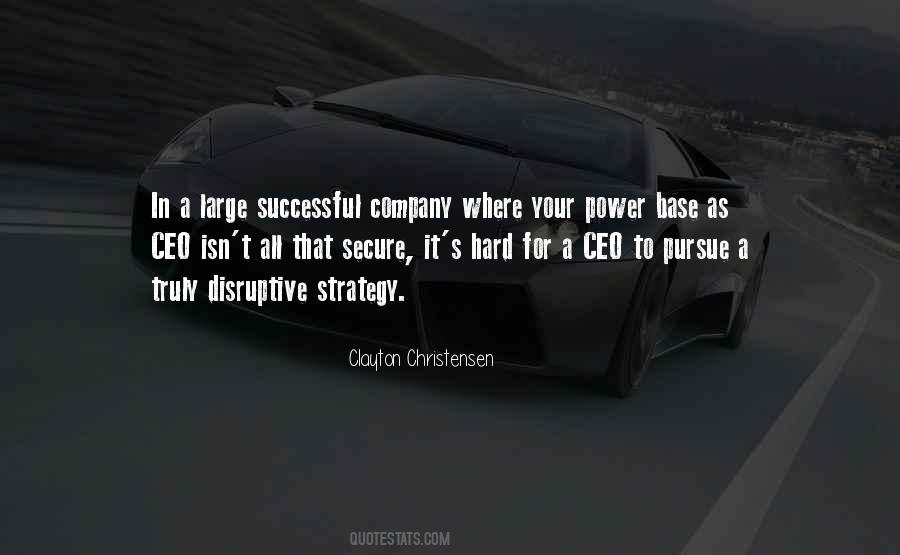 #85. We are upgrading UEX to a Buy rating; new CEO Roger Lemaitre changes everything. - Author: David Talbot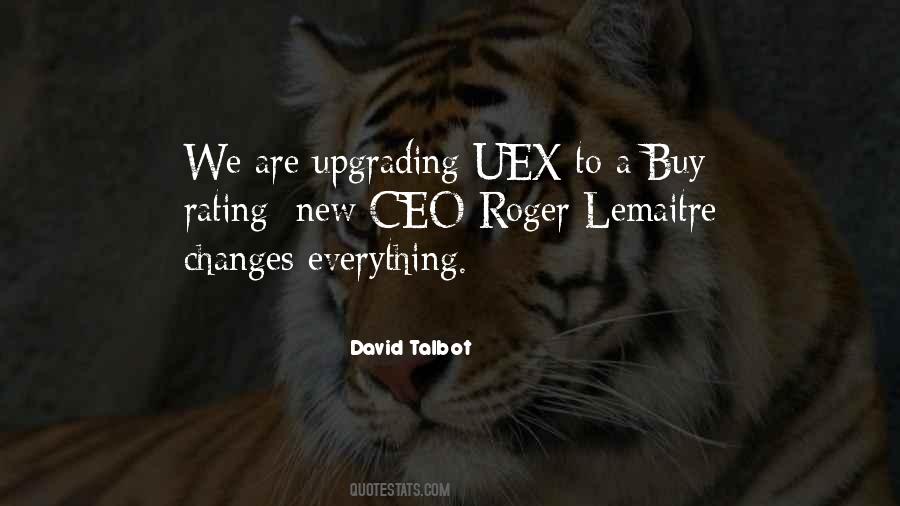 #86. The paradox of innovation is this: CEO's often complain about lack of innovation, while workers often say leaders are hostile to new ideas. - Author: Patrick Dixon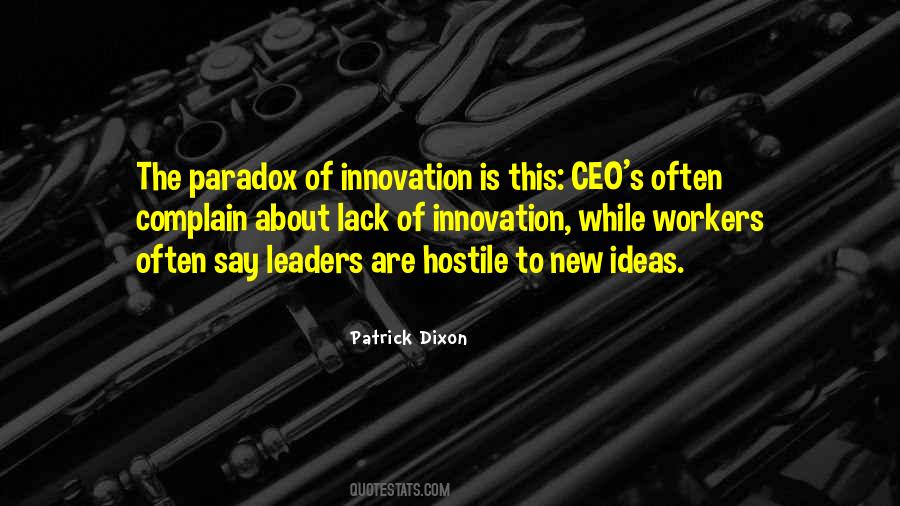 #87. When I was a CEO, the books on management that I read weren't very much help after the first few months on the job. They were all designed to give you directions on how not to screw up your company. - Author: Ben Horowitz
#88. As the CEO running my life, running Meghan Trainor, I have to say 'no' to things all the time, and it's been very uncomfortable and very difficult. I've said 'no' and it's actually worked - even when I never thought it would work. - Author: Meghan Trainor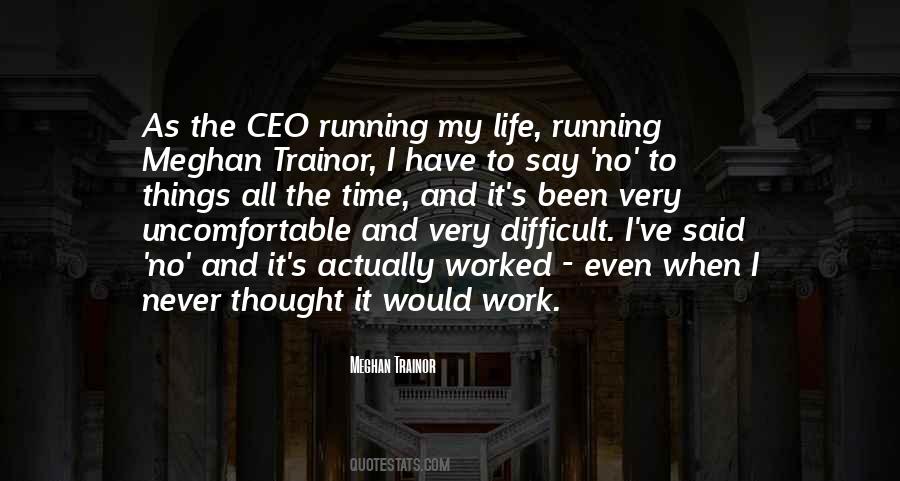 #89. The essence of the CEO's job is strategy, not tactics; plan, not do; policy, not implementation. - Author: William Kraut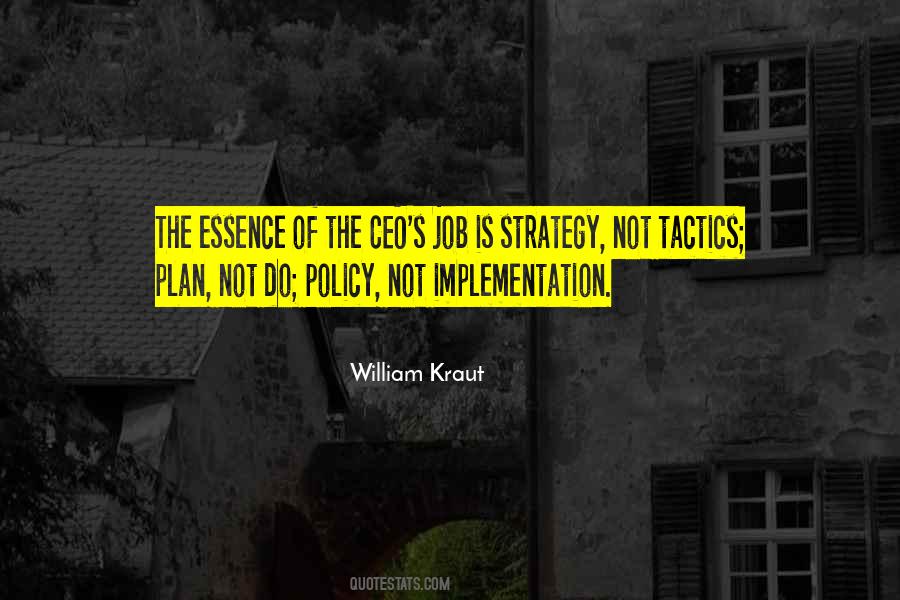 #90. Some CEO's feel like if the 'opt out of social' they are somehow protected. That is just crazy. - Author: Sandy Carter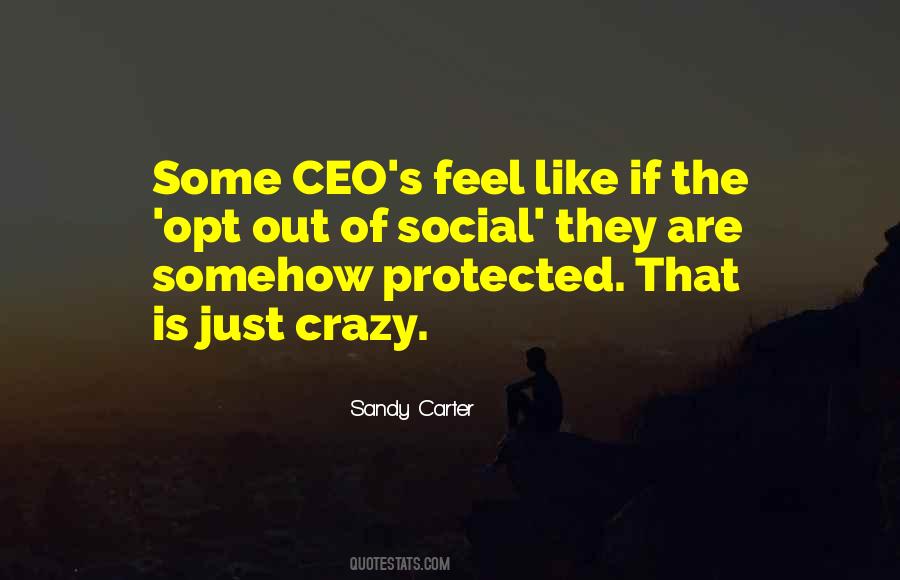 #91. The final test of greatness in a CEO is how well he chooses a successor and whether he can step aside and let the successor run the company. - Author: Peter Drucker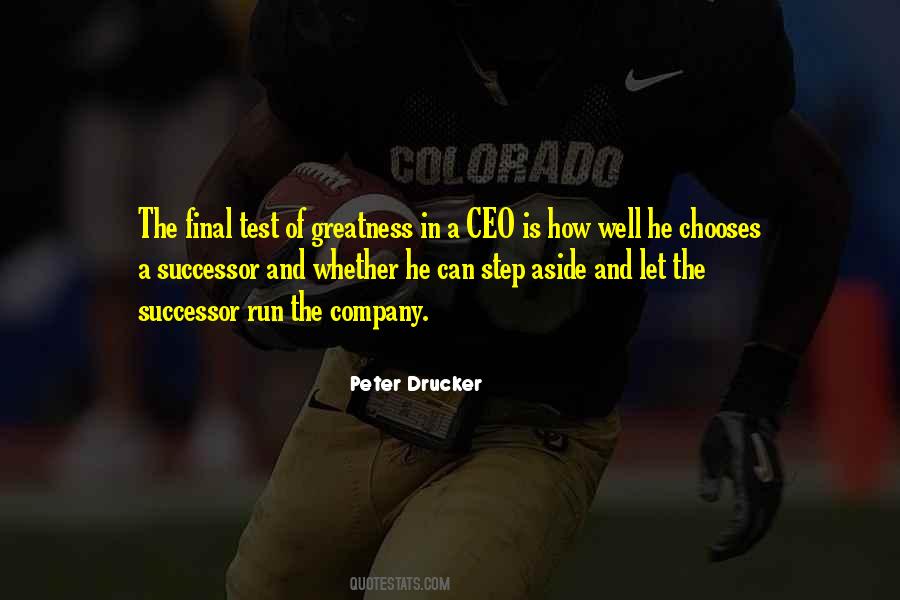 #92. It's through diverse opinions and perspectives that a dynamic organisation can drive innovation and create its competitive advantage. - Author: Craig Dent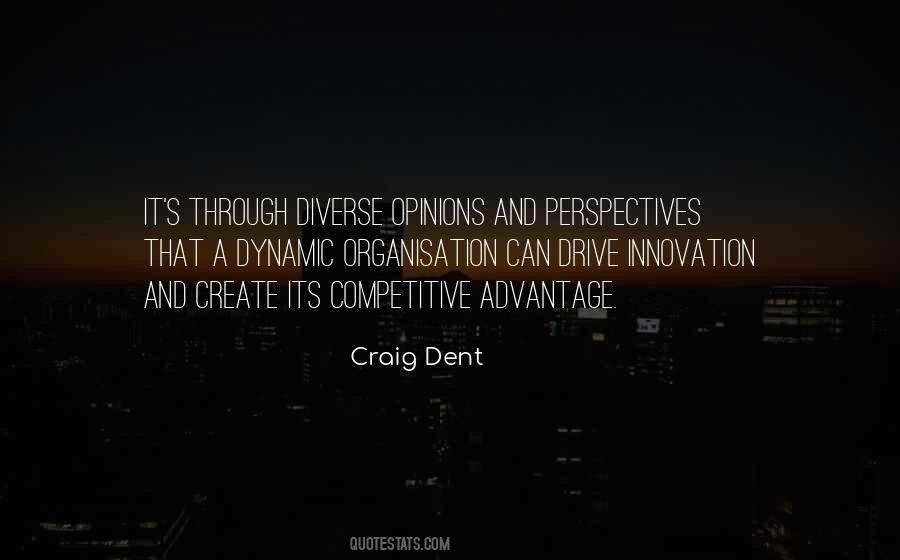 #93. Entrepreneurial employees possess what eBay CEO John Donahoe calls the founder mind-set. As he put it to us, People with the founder mind-set drive change, motivate people, and just get stuff done. - Author: Reid Hoffman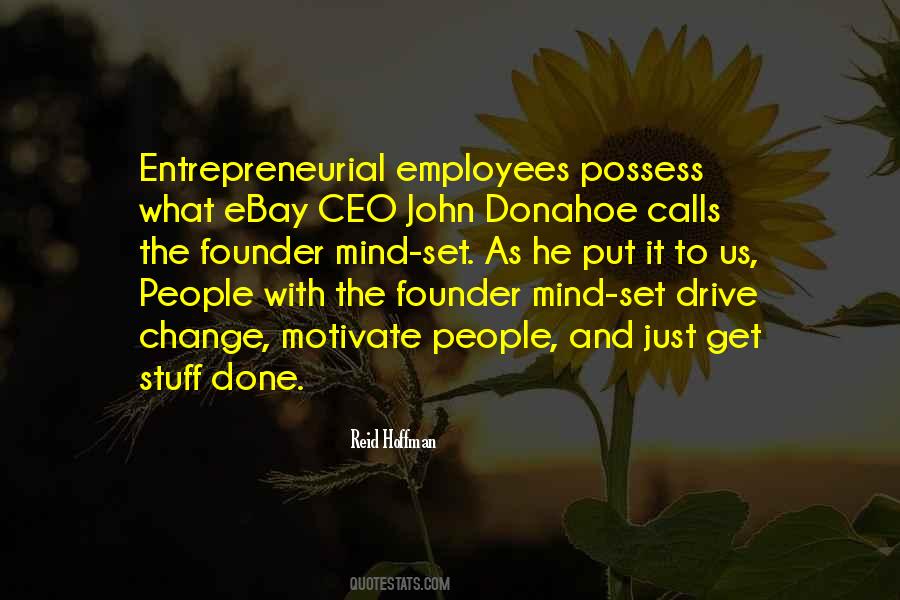 #94. Imagine if someone like John Lennon or Bob Marley, Sid Vicious, Picasso, whomever, were doing their work, and some corporation, some CEO, some branding entity was saying to you, 'Well, you can do that, but you've got to remove this aspect of your work.' There would no longer be that purity anymore. - Author: Madonna Ciccone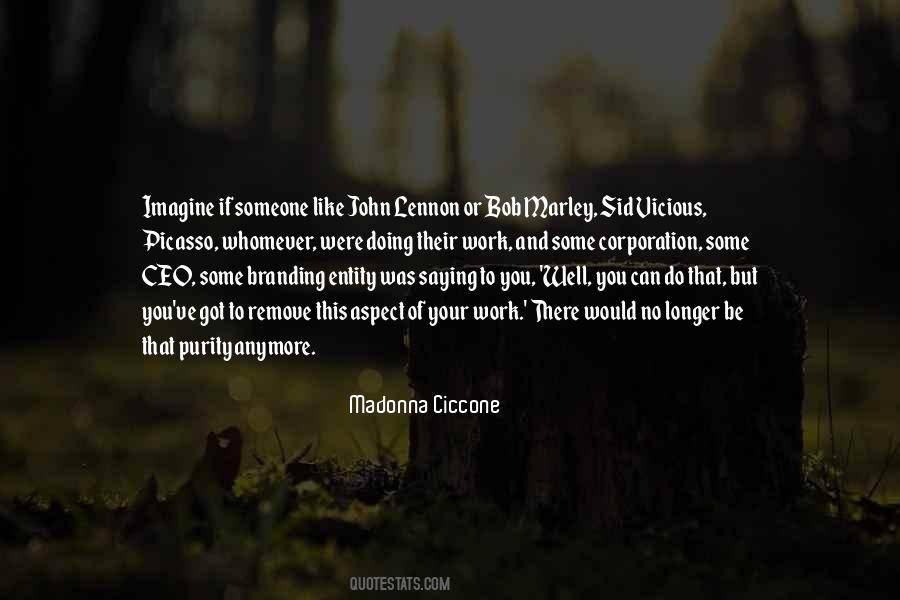 #95. I've developed a much greater respect for our politicians and every high-tech CEO. It's very easy to read about the things they did that you, of course, would have avoided in hindsight. - Author: Michael J. Saylor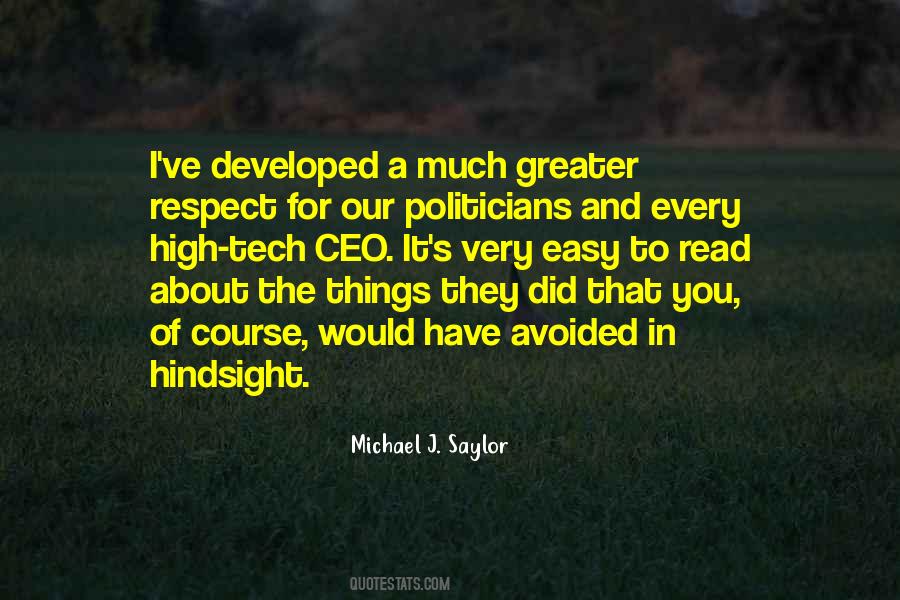 #96. I wish I was CEO of 4chan instead - Author: Yishan Wong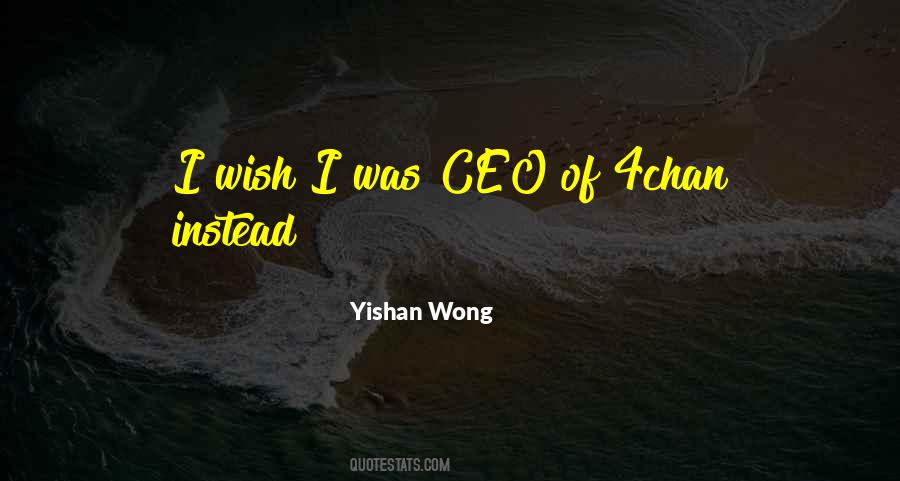 #97. As CEO, I accept responsibility for the irregularities that have been found in diesel engines and have therefore requested the Supervisory Board to agree on terminating my function as CEO of the Volkswagen Group. - Author: Martin Winterkorn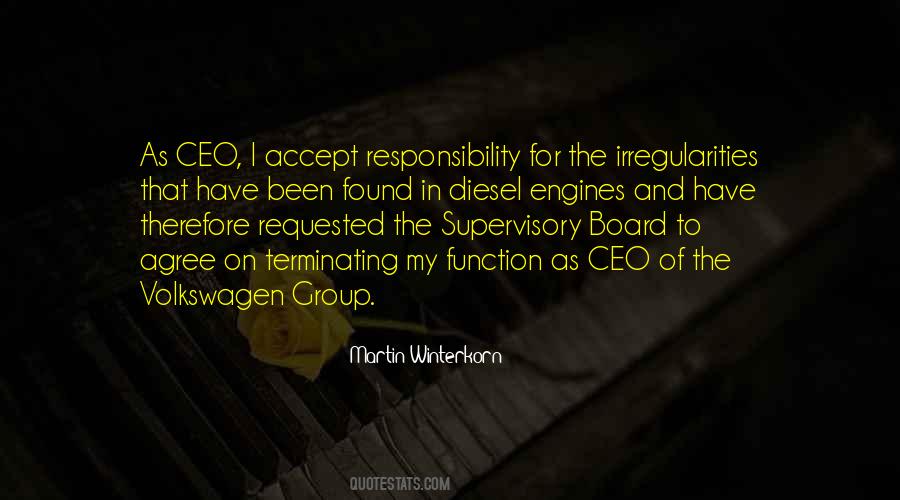 #98. Of one thing be certain: if a CEO is enthused about a particularly foolish acquisition, both his internal staff and his outside advisors will come up with whatever projections are needed to justify his stance. Only in fairy tales are emperors told that they are naked. - Author: Warren Buffett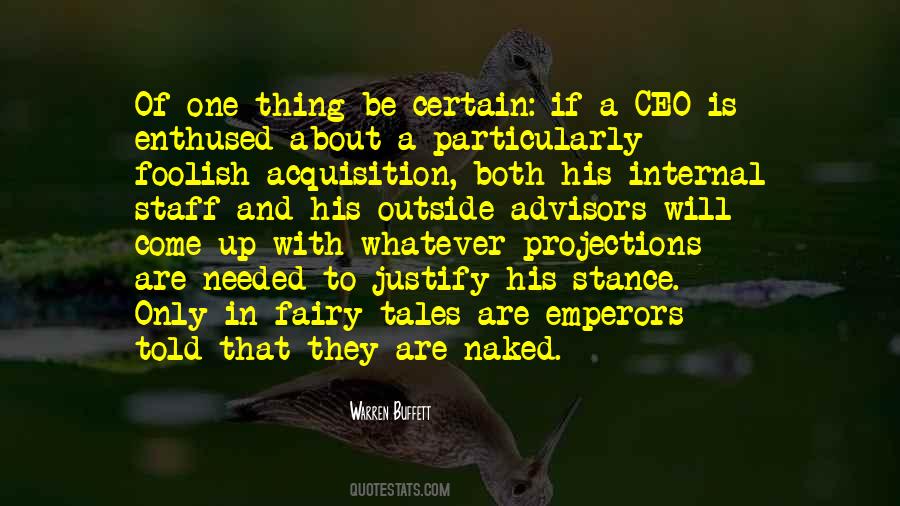 #99. General Electric CEO Jack Welch said in Winning: No vision is worth the paper it's printed on unless it is communicated constantly and reinforced with rewards. - Author: Eric Schmidt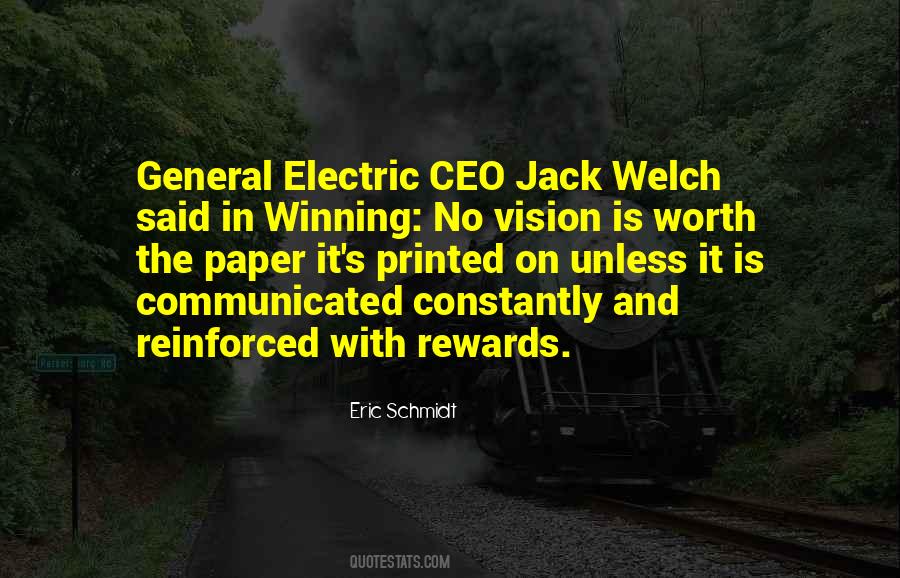 #100. Strategy is not a solo sport, even if you're the CEO. - Author: Max McKeown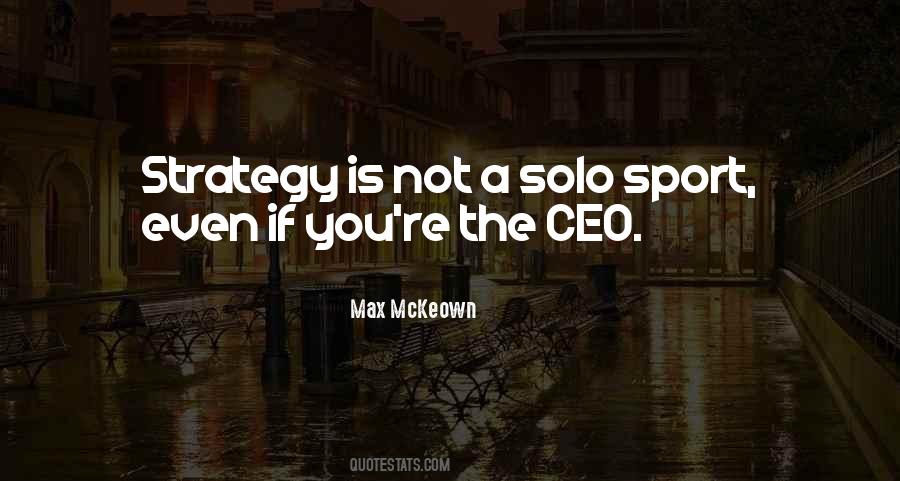 Famous Authors
Popular Topics