Broken And Torn Famous Quotes & Sayings
List of top 31 famous quotes and sayings about broken and torn to read and share with friends on your Facebook, Twitter, blogs.
Top 31 Broken And Torn Quotes
#1. Garments that have once one rent in them are subject to be torn on every nail, and glasses that are once cracked are soon broken; such is man's good name once tainted with just reproach. - Author: Joseph Hall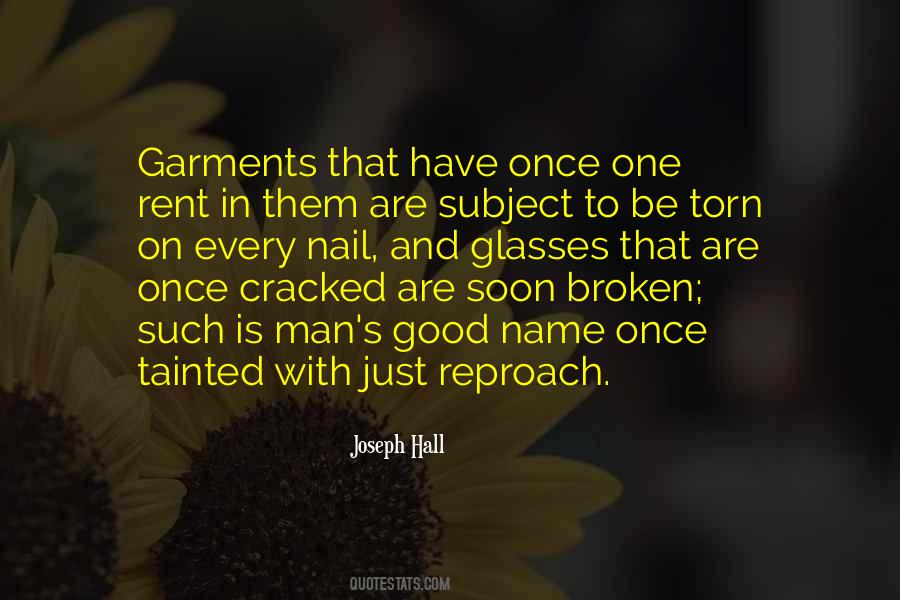 #2. Scraps of love
torn and tattered
faded, scattered
trashed
threads of hope
frayed and tangled
broken, mangled
dashed
backing, buttons
yarn and batting
quilted tenderly
wrapped up in
this warm repair
my patchwork family - Author: Wendelin Van Draanen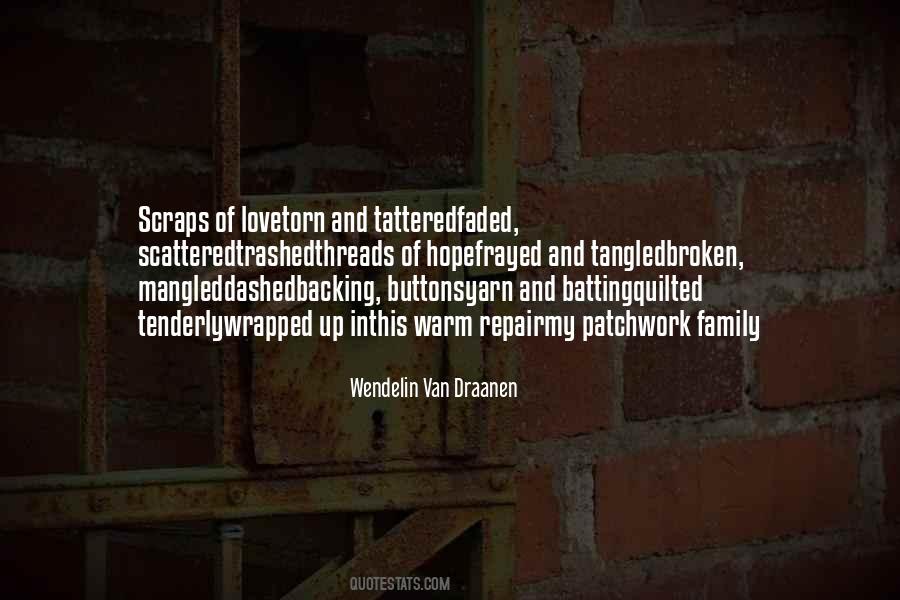 #3. Right now there's a man on the street outside my door
with outstretched hands full of heartbeats no one can hear.
He has cheeks like torn sheet music
every tear-broken crescendo falling on deaf ears.
At his side there's a boy with eyes like an anthem
no one stands up for. - Author: Andrea Gibson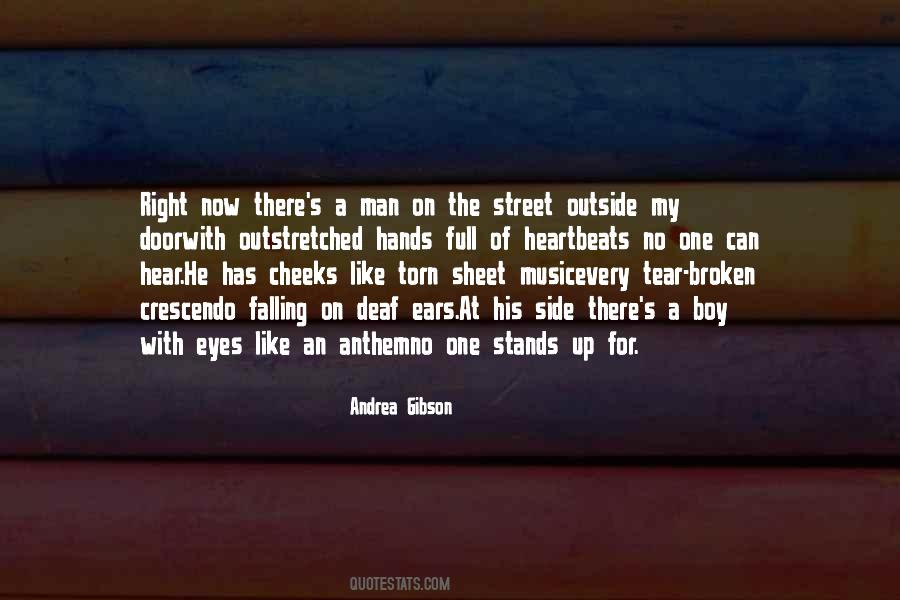 #4. I've played with IVs before, during and after games. I've played with a broken hand, a sprained ankle, a torn shoulder, a fractured tooth, a severed lip, and a knee the size of a softball. I don't miss 15 games because of a toe injury that everybody knows wasn't that serious in the first place. - Author: Kobe Bryant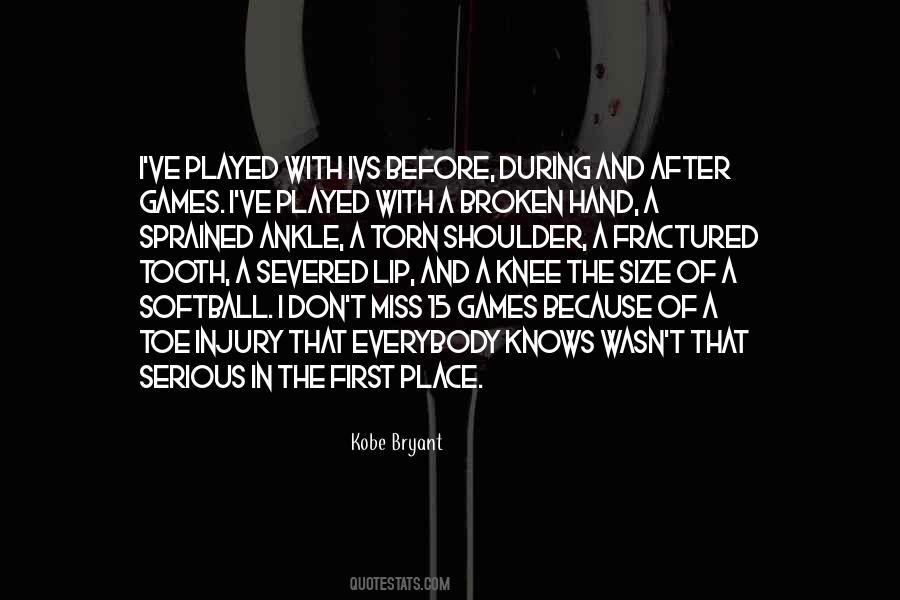 #5. The glorious quiet that filled the air as his broken bones healed and his torn skin closed, and he knew that God approved. - Author: V.E Schwab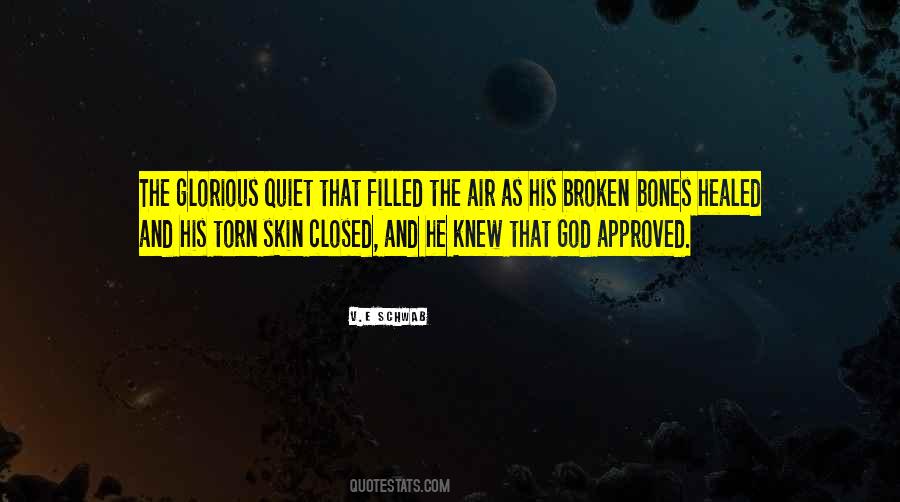 #6. Amanda took the torn page from Maniac. To her, it was the broken wing of a bird, a pet out in the rain. - Author: Jerry Spinelli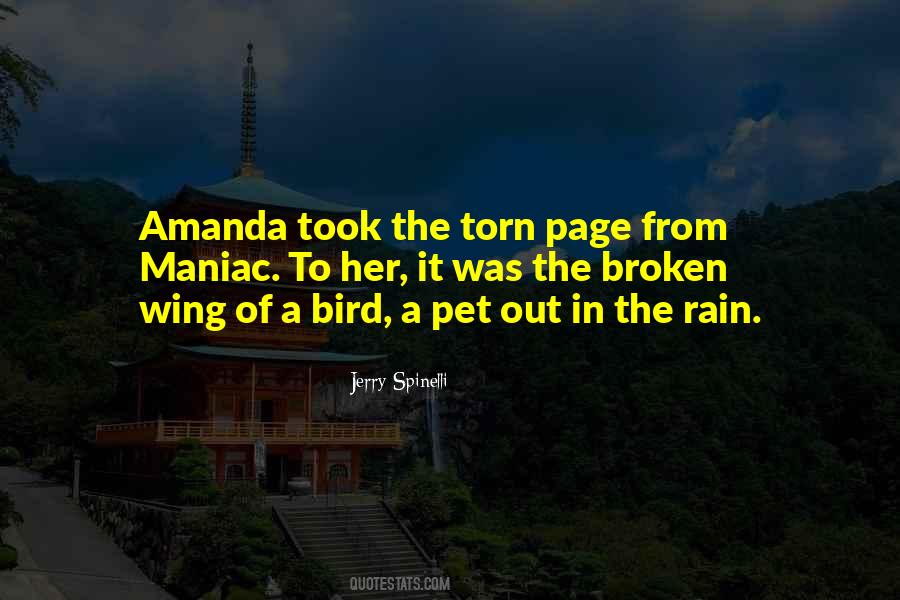 #7. This was my love, her love
torn, damaged, broken, ripped apart and put back together. This was our tattered love. - Author: Lola Stark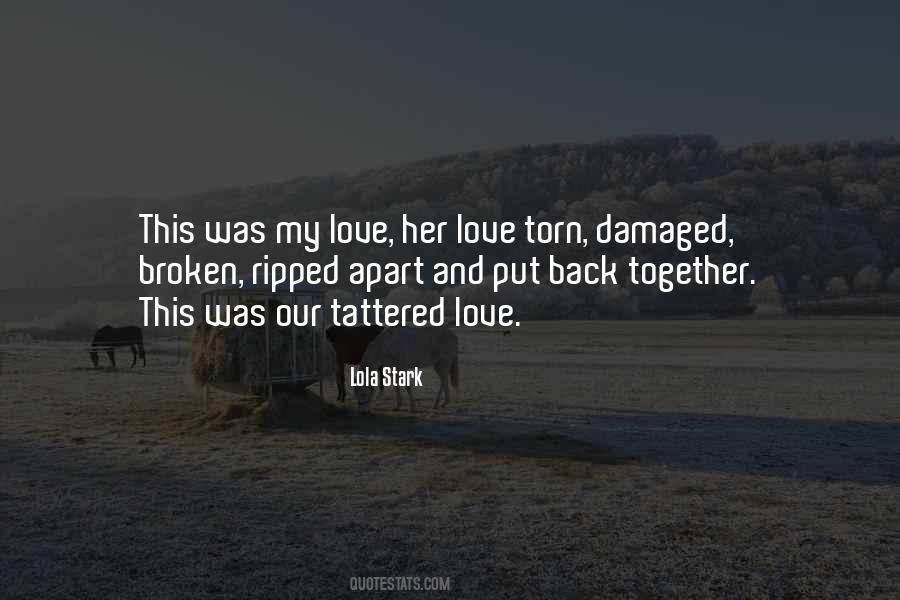 #8. That's
the kind of dress that belongs on the floor, all wrinkled up, with the zipper broken and the sleeves torn.
That dress isn't right for you at all. In fact, I think you should take it off right now. - Author: Susan Donovan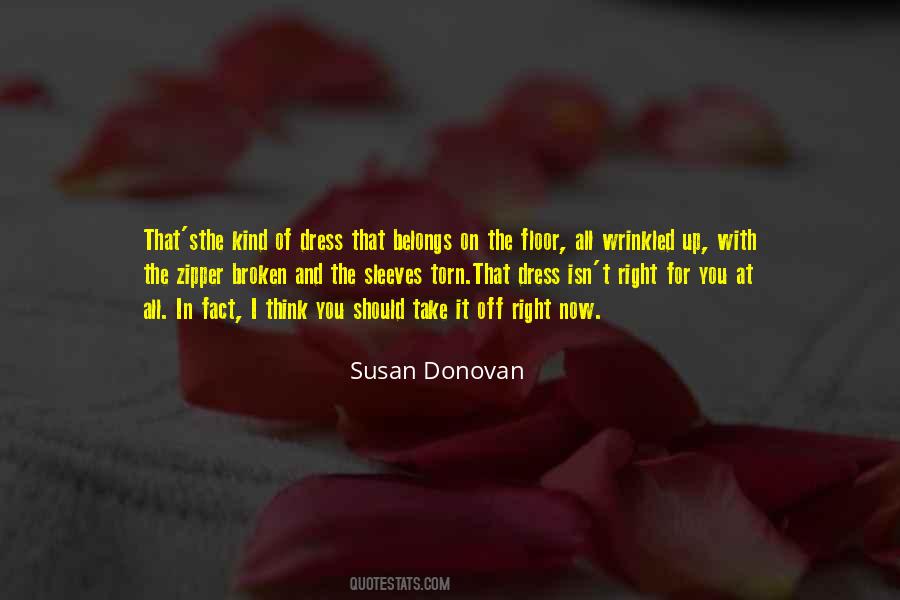 #9. Beautiful mosaics are made of broken or torn material. The most spectacular personal brands are compilations of the same. - Author: Ryan Lilly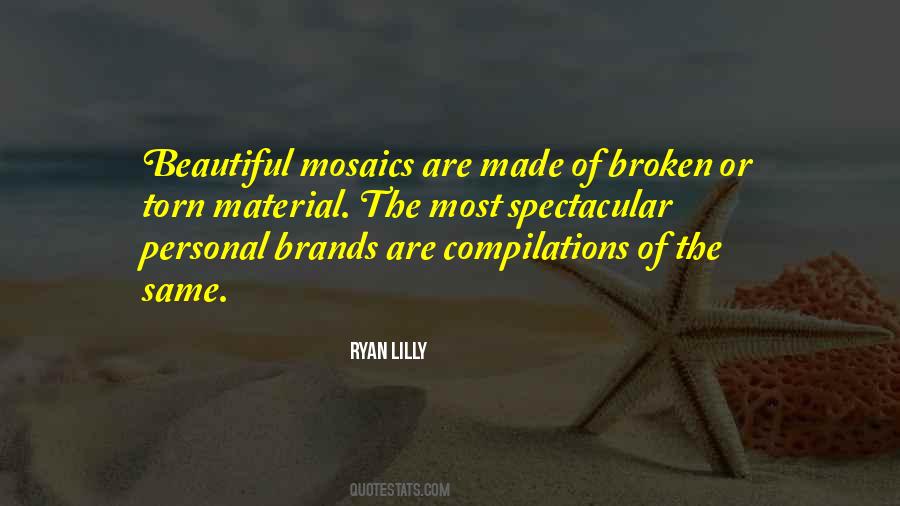 #10. The world is full of broken people. Splints, casts, miracle drugs, and time can't mend fractured hearts, wounded hearts, wounded minds, torn spirits. - Author: Dean Koontz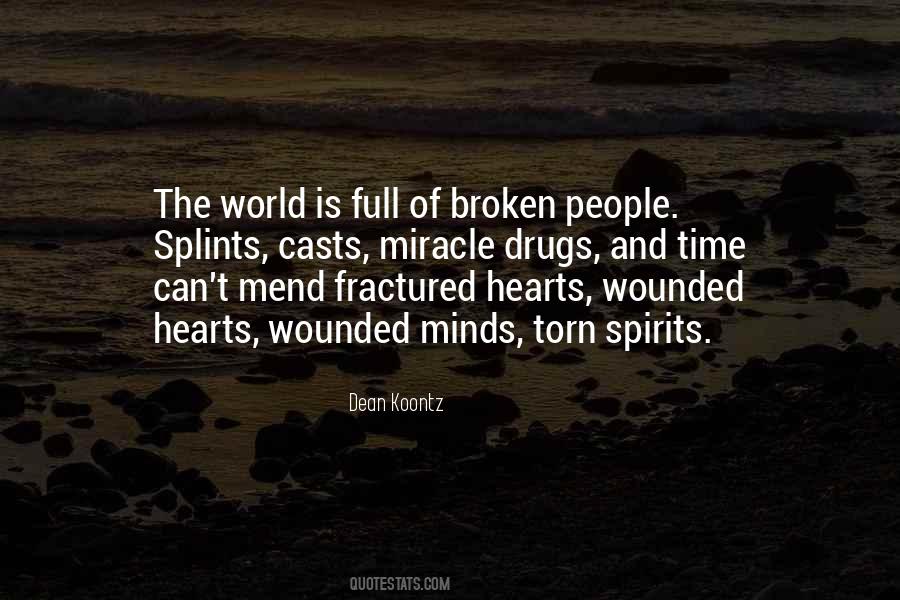 #11. I was not alone in any of this. I was only a little torn, but not broken. "Yeah," I said. "I'll be okay." And I was brave. - Author: Jennifer L. Armentrout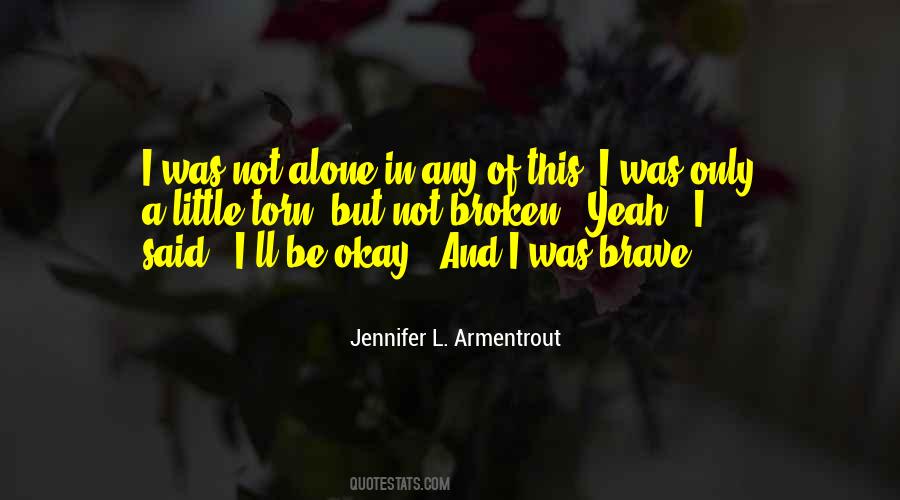 #12. There are some moments you won't completely heal from, those rare ones you will take torn open to the grave but throughout all the big moments that shake you up there will be countless tiny experiences that help you laugh all over again. - Author: Nikki Rowe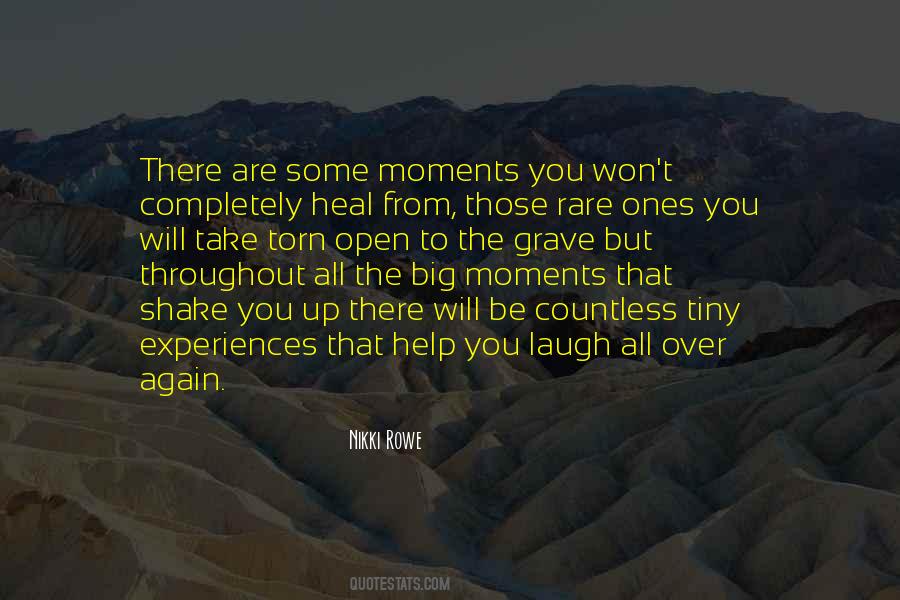 #13. It is to be broken. It is to be
torn open. It is not to be
reached and come to rest in
ever. I turn against you,
I break from you, I turn to you.
We hurt, and are hurt,
and have each other for healing.
It is healing. It is never whole. - Author: Wendell Berry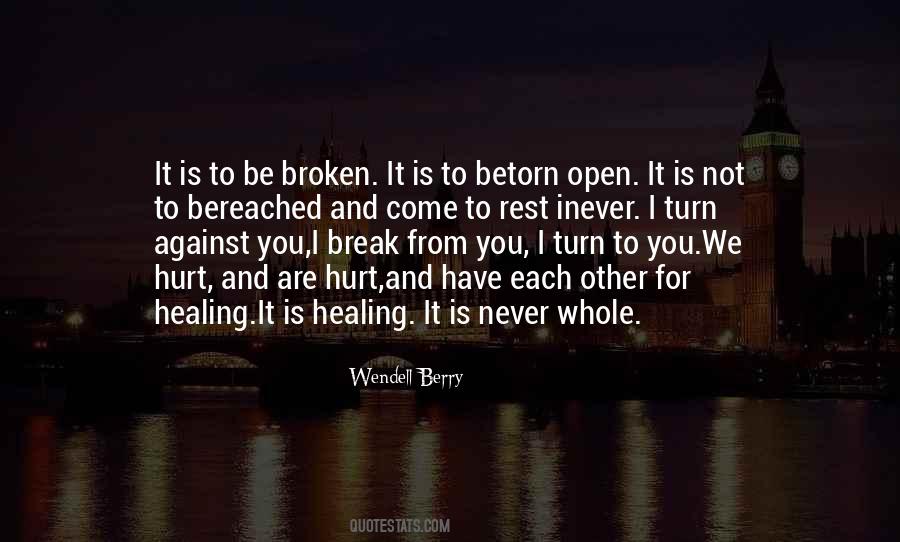 #14. Most of the matchbooks and little boxes were made of paper, and even if the matches dried out, the containers were split, torn, and shriveled. The damp cardboard dripped with water, discolored and broken. - Author: Penelope Douglas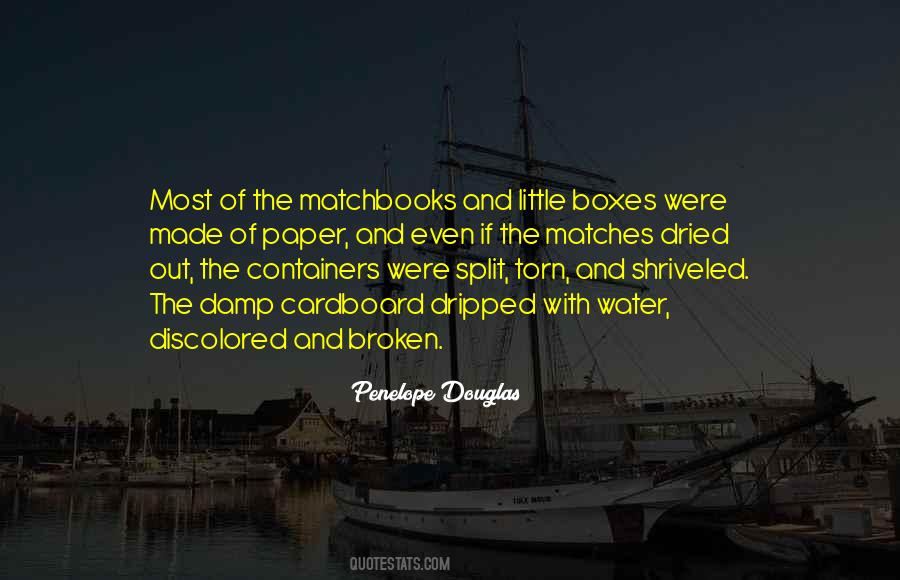 #15. I am not as I once was. They have done this to me, broken me open and torn out my heart. I do not know who I am anymore. I must try to remember. - Author: N.K. Jemisin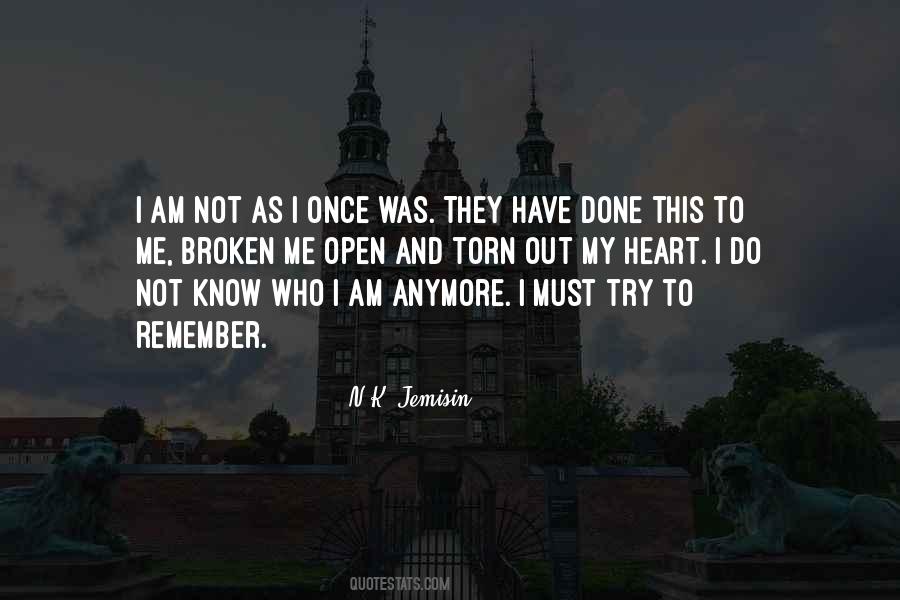 #16. The Nazis had broken our windows and torn apart our furniture, but they had not destroyed our selves. - Author: Robert Sharenow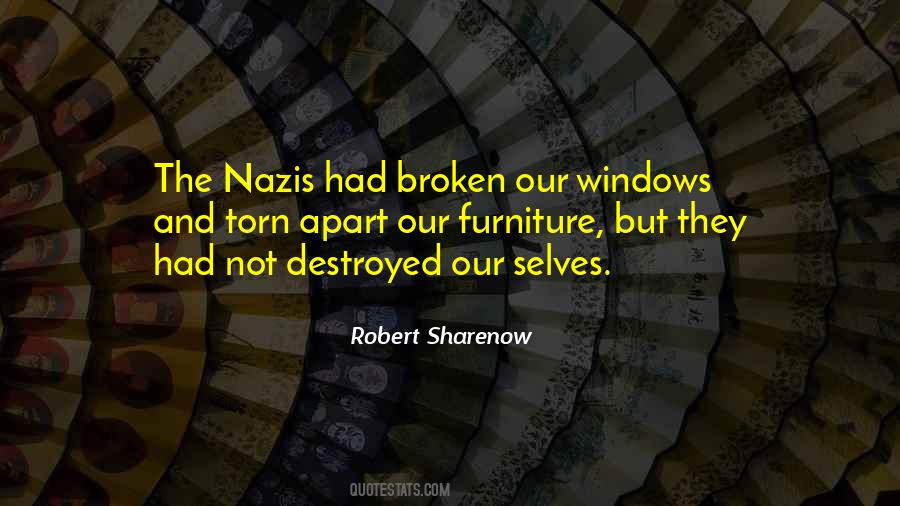 #17. [Happily broken] arms unlocked. Eyes wide open.
Eager. Torn apart. Heart explosive.
Fingers composing [Happily broken].
Come in, come in. I am ready. I am open.
Happy to be open [Happily broken]. - Author: Coco J. Ginger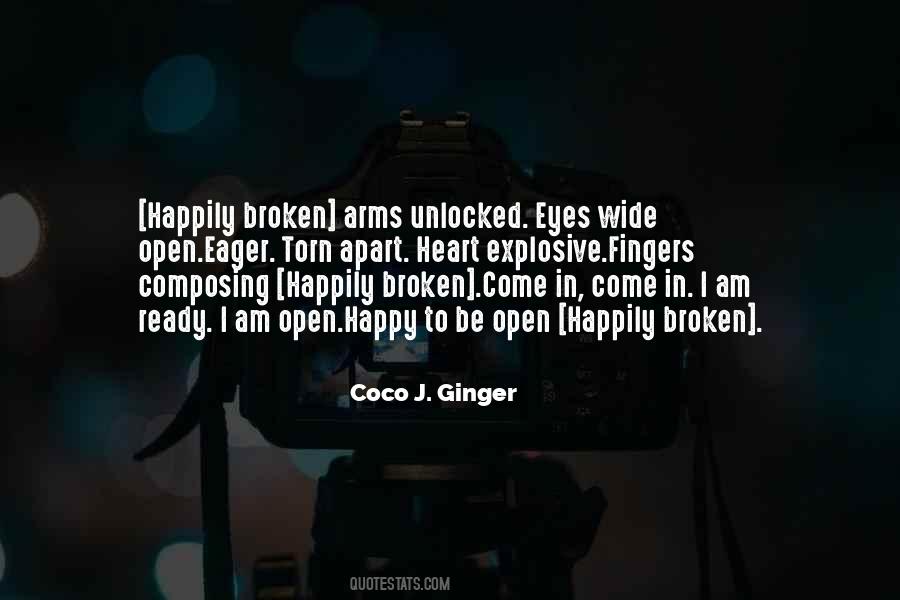 #18. There is in youth a purity of character which, when once touched and defiled, can never be restored; a fringe more delicate than frost-work, and which, when torn and broken, can never be re-embroidered. - Author: Henry Ward Beecher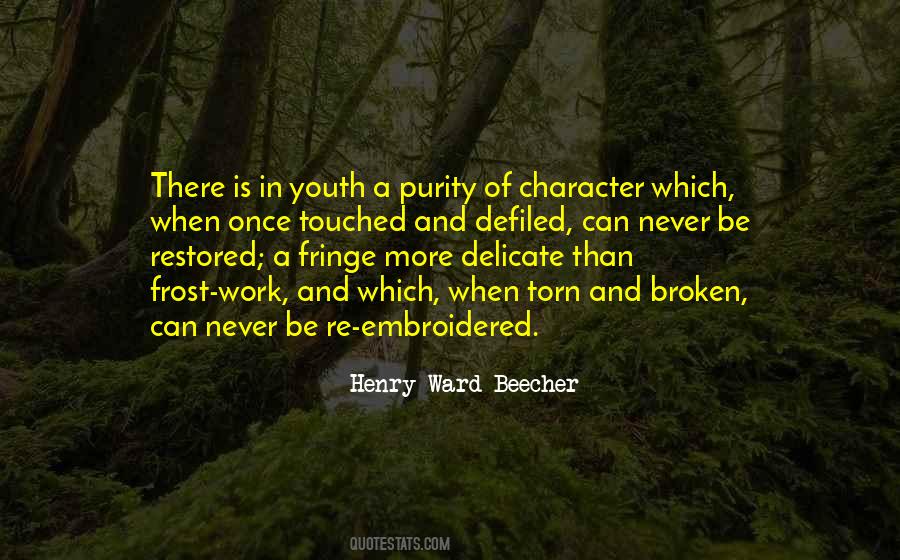 #19. I didn't know that I've completely left them all in the past. There's a part of me, wishing and hoping, that she would come back for me, and we would start a new life together, but she didn't. - Author: Diyar Harraz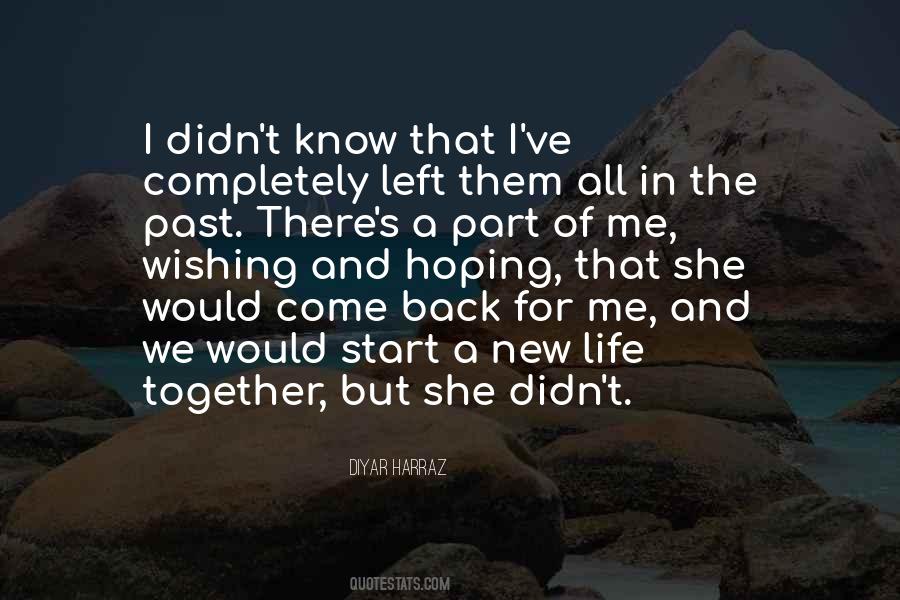 #20. Grace had torn me apart and put me back together so many times that I'd started to believe that was what I wanted. A kintsukuroi relationship, more beautiful for having been broken. But something can only be shattered so many times before it becomes irreparable... - Author: Krystal Sutherland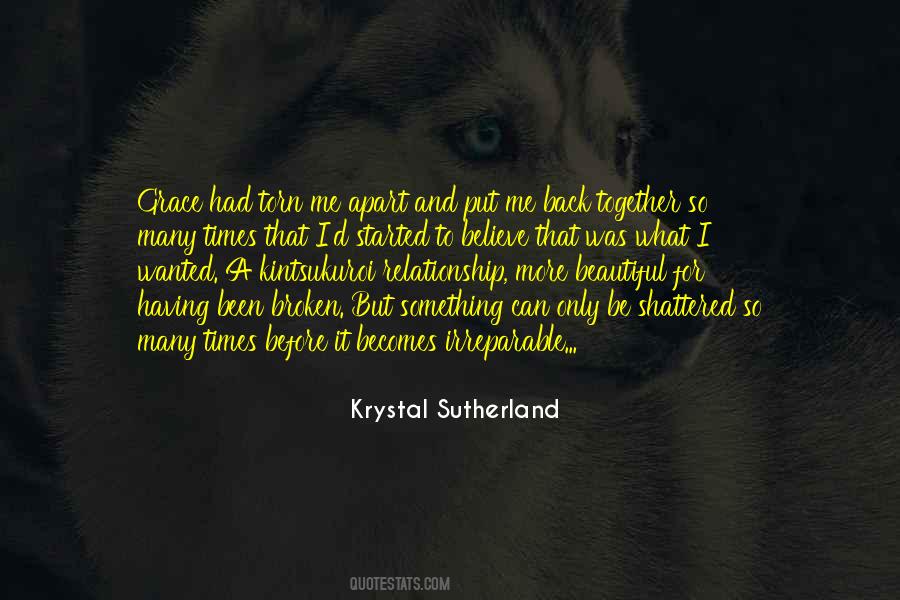 #21. You cannot control what you love
you watch it driving recklessly towards the broken bridge, the torn-up track, the horror of seventy years ahead. - Author: Graham Greene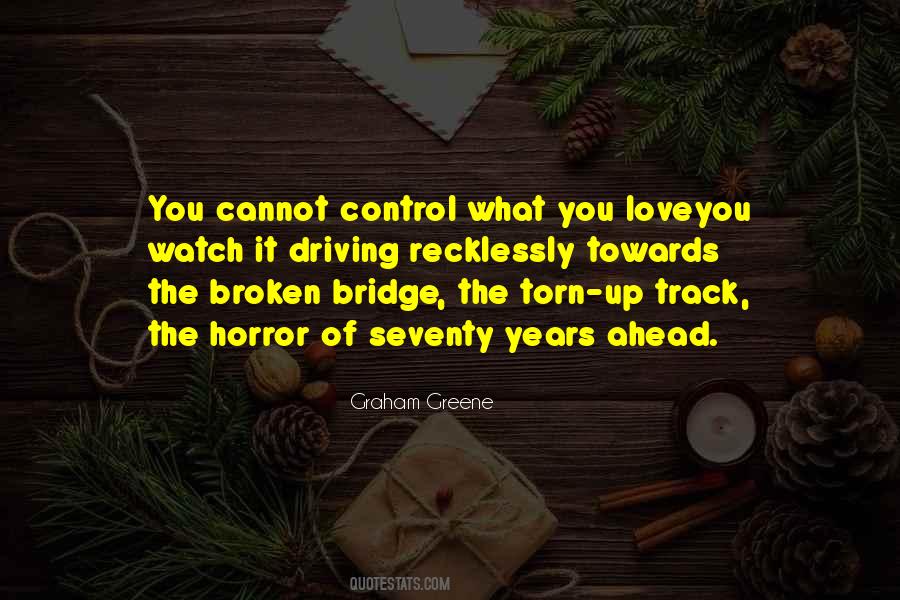 #22. This was what few people realize - it's hard work to beat somebody. I have known many an interrogator who has strained a back, pulled a muscle, torn a tendon or a ligament, even broken fingers, toes, hands, and feet, not to mention going hoarse. - Author: Viet Thanh Nguyen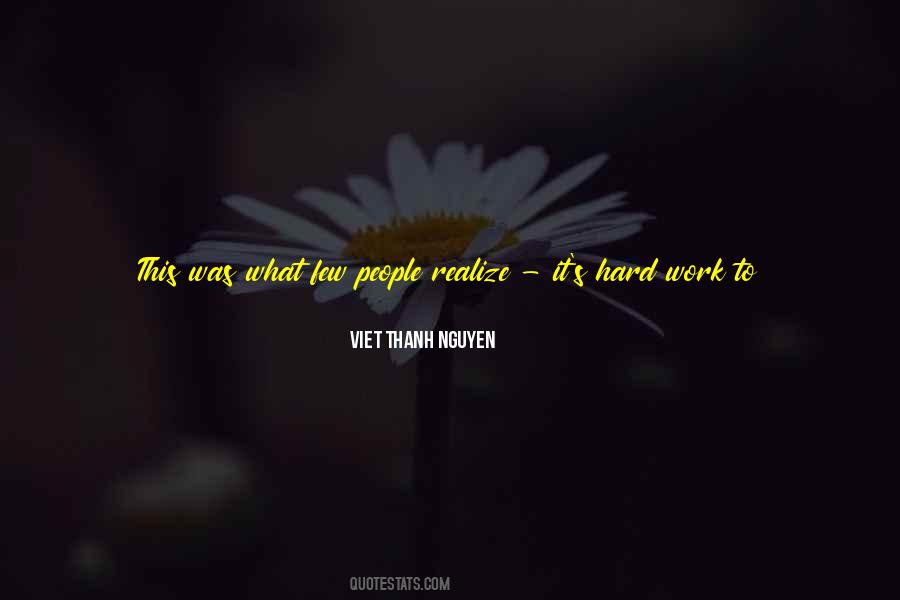 #23. You haven't broken his heart yet, have you?"
"No," Tessa said. Just torn my own in two. "I haven't broken his heart at all. - Author: Cassandra Clare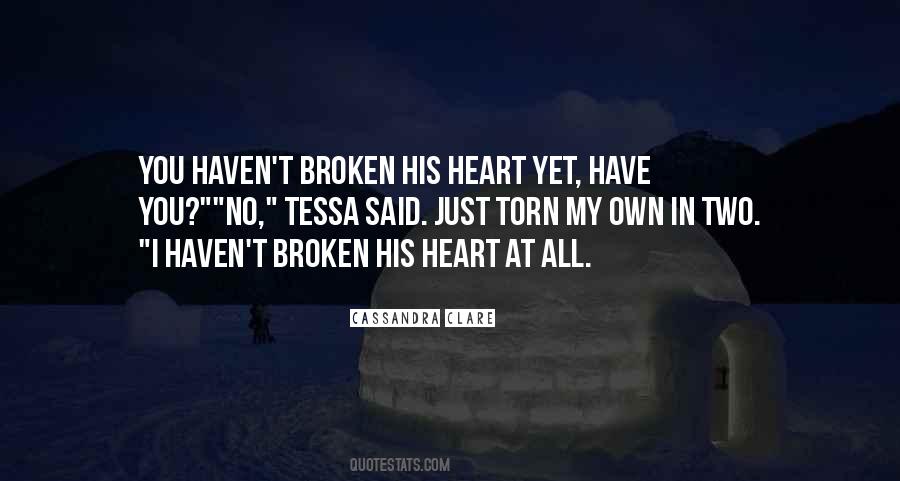 #24. Dance, when you're broken open. Dance, if you've torn the bandage off. Dance in the middle of the fighting. Dance in your blood. Dance when you're perfectly free. - Author: Rumi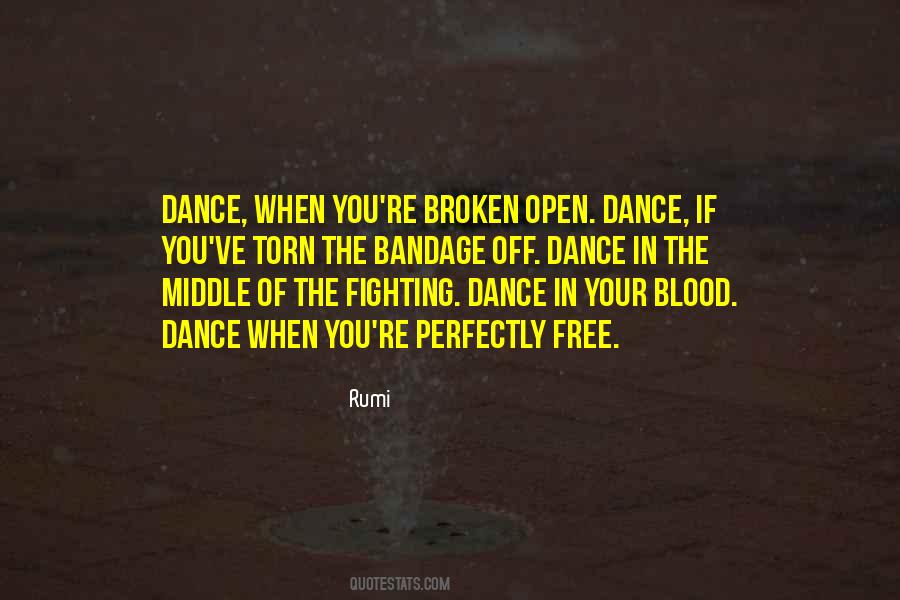 #25. It was so easy to decide their fate, when they were nothing more than numbers on the sheets, presented to us for a signature by our adjutants. Now they were real people, with broken lives, torn families, and memories which would haunt them for the rest of their lives. - Author: Ellie Midwood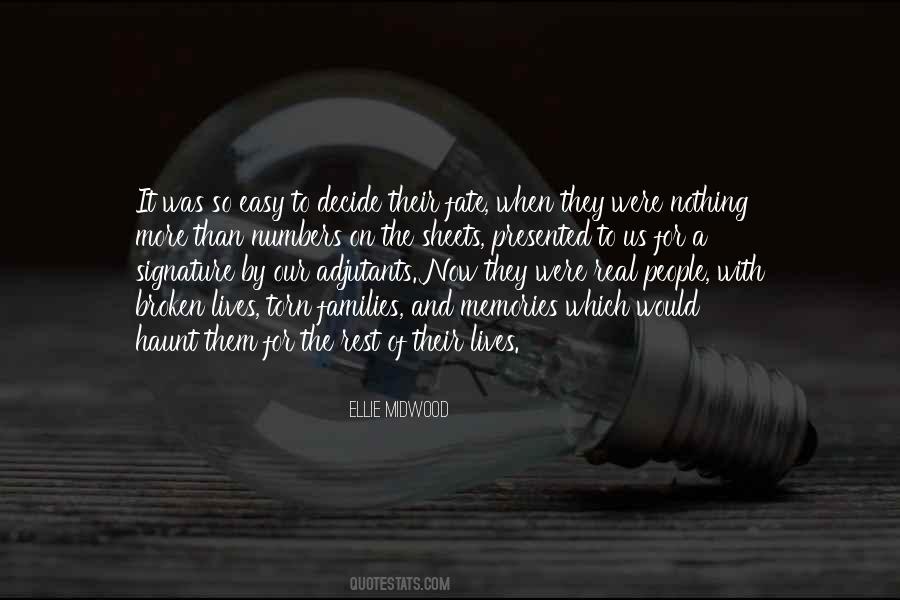 #26. Because you are his heart, Elena. A man with his heart torn out is a broken creature. I know. - Author: Nalini Singh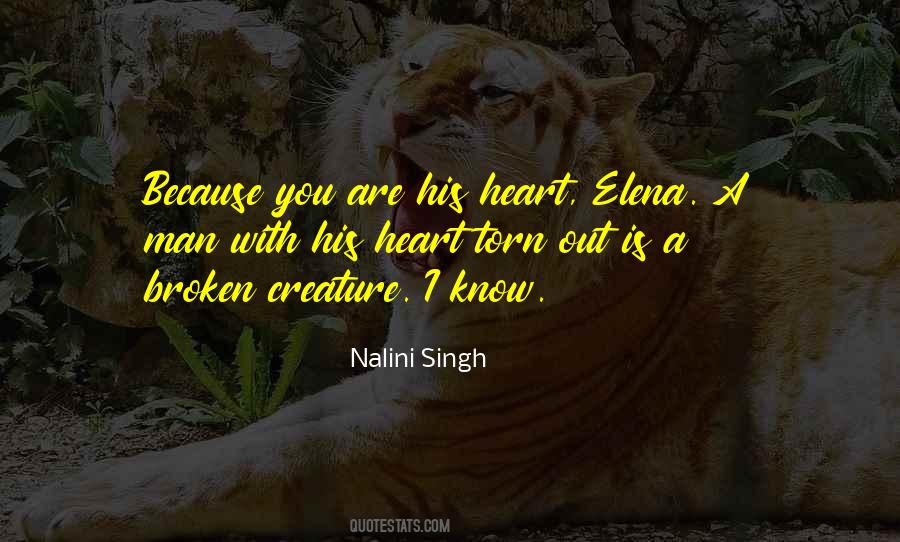 #27. It will be foolish not to get your heart broken, even once.
For having a broken heart makes you realize the immense capability it possesses to mend and heal itself and to love far more intensely,with every affixed piece of it that was once broken and torn apart.. - Author: Sanhita Baruah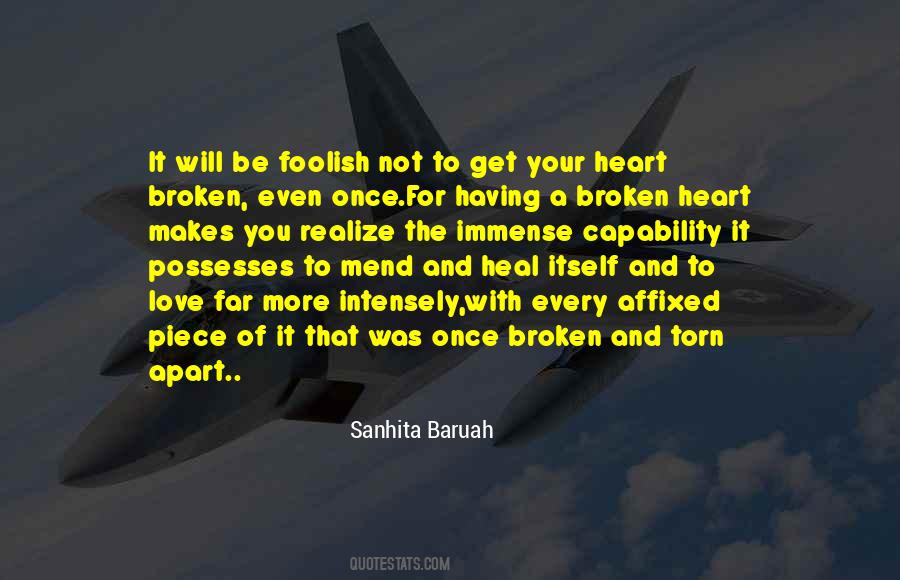 #28. When the heart is torn and broken, only love and kindness can mend it. - Author: Debasish Mridha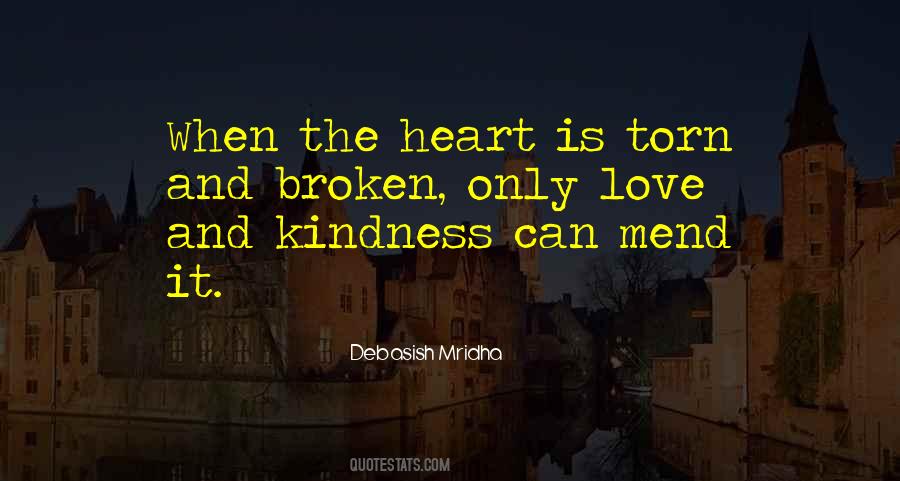 #29. A broken soul is not the absence of beauty, but a cracked and torn soul reeks of the sweet incense it contains. - Author: C. JoyBell C.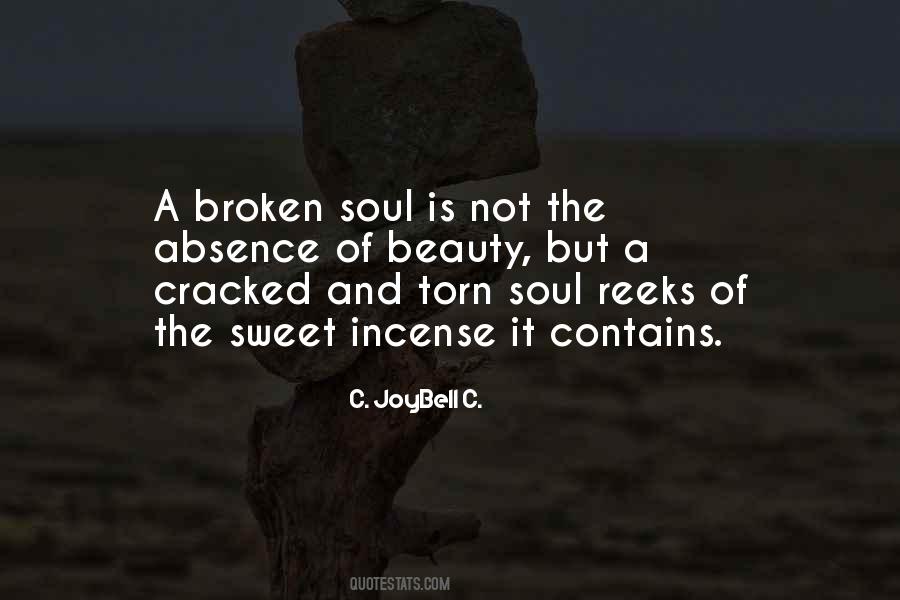 #30. A SPIDER'S web is stronger than it looks. Although it is made of thin, delicate strands, the web is not easily broken. However, a web gets torn every day by the insects that kick around in it, and a spider must rebuild it when it gets full of holes. - Author: E.B. White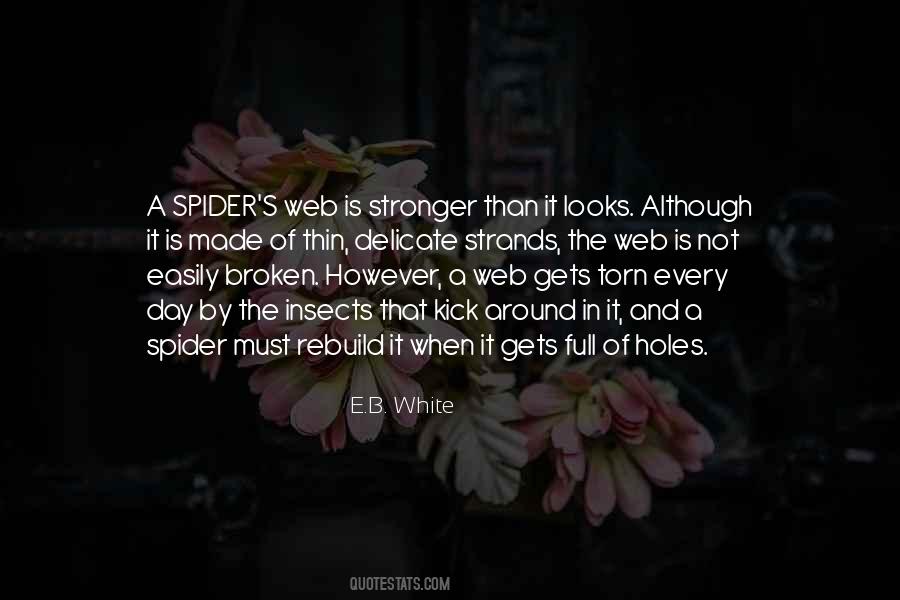 #31. We want to avoid suffering, death, sin, ashes. But we live in a world crushed and broken and torn, a world God Himself visited to redeem. We receive his poured-out life, and being allowed the high privilege of suffering with Him, may then pour ourselves out for others. - Author: Elisabeth Elliot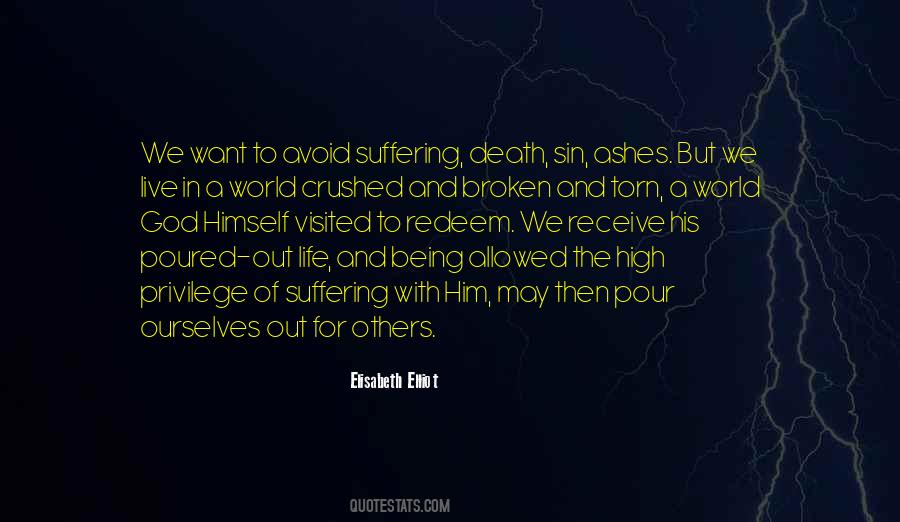 Famous Authors
Popular Topics