Be Nobody Famous Quotes & Sayings
List of top 100 famous quotes and sayings about be nobody to read and share with friends on your Facebook, Twitter, blogs.
Top 100 Be Nobody Quotes
#1. An ignorant man is insignificant and contemptible; nobody cares for his company, and he can just be said to live, and that is all. - Author: Lord Chesterfield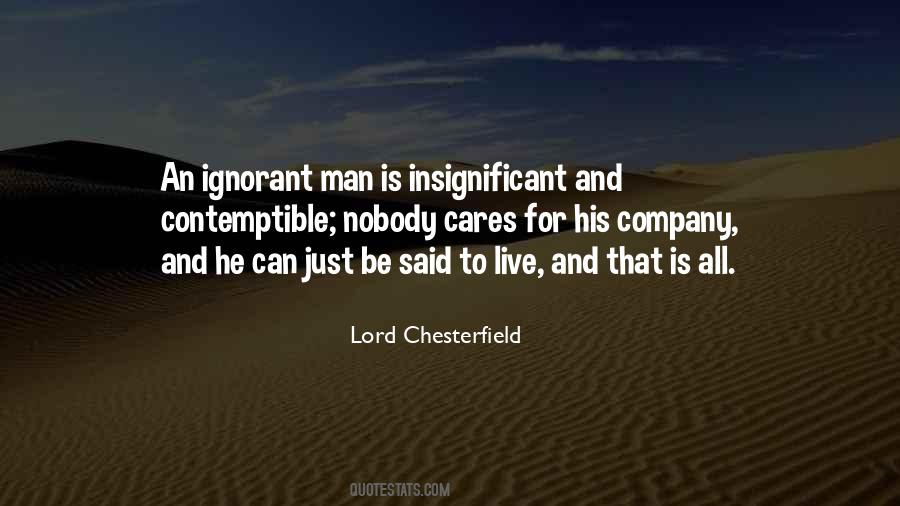 #2. I'm going to live my life. It's nobody else's decision, but mine. I think there are a lot worse things I could be doing with my life than what I choose to do ... - Author: Tony Stewart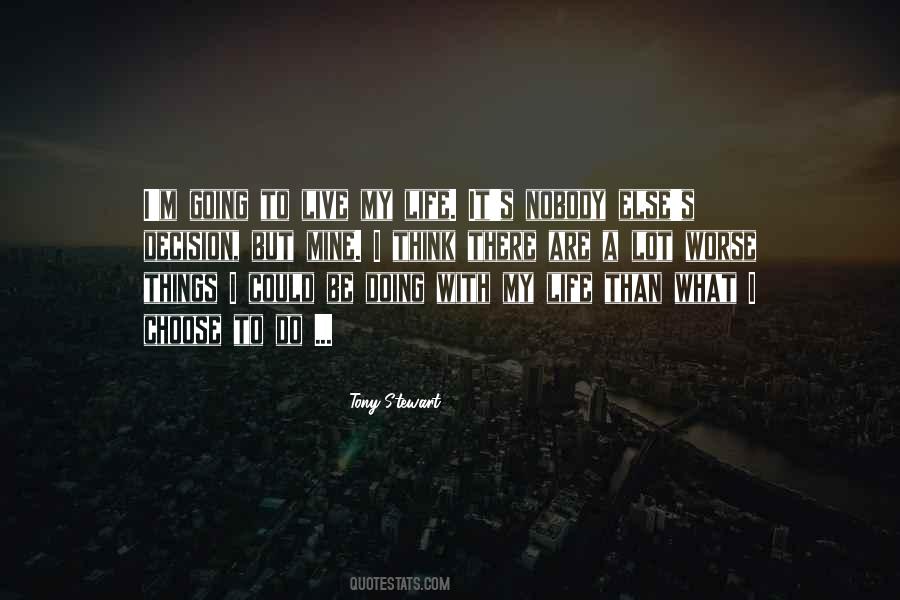 #3. Do I use VORP? I may be using it and not even know it, and if I am, it's nobody's business. There are a lot of different criteria in judging players. I think I use, um, esoteric qualitative mathematical review times five. That's one of them. - Author: Ned Colletti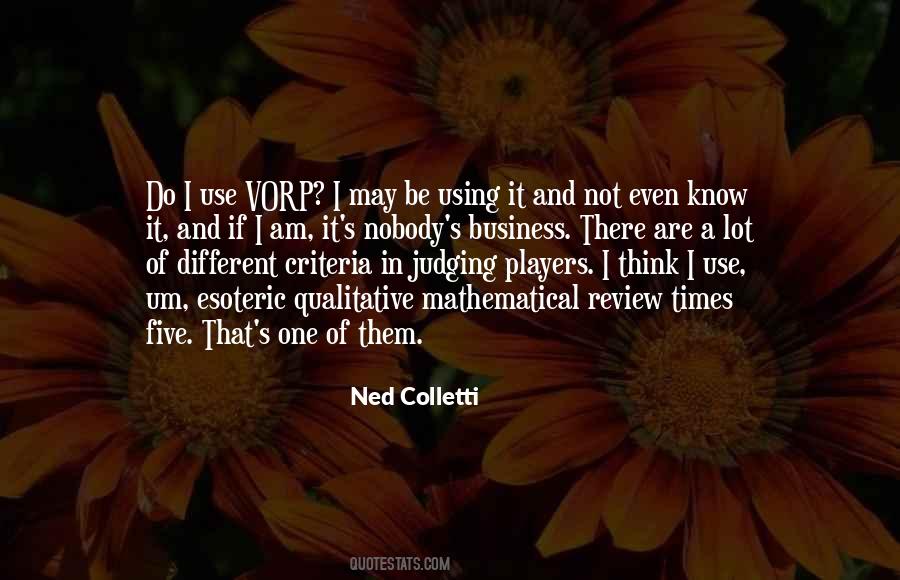 #4. I tell people that I'm not necessarily any good, it's just that there is nobody like me. I just promise you will not be bored. - Author: Andy Andrews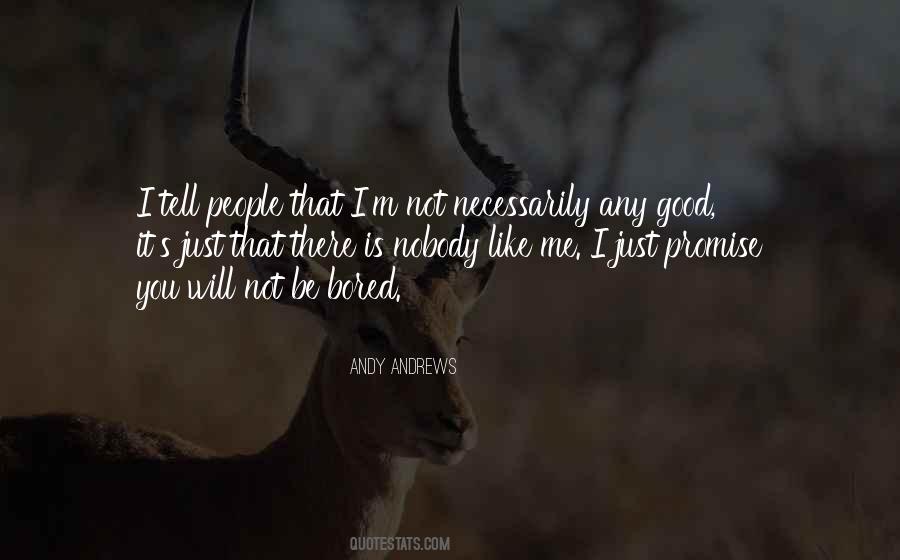 #5. King Cygnus dozed in his chair, and a dark shadow curled up in the window seat. That dark shadow happened to have a name, which happened to be Darcy; but nobody really notices dark shadows, even named ones. They have a habit of lurking about. People learn to ignore them after a while. - Author: Emma Clifton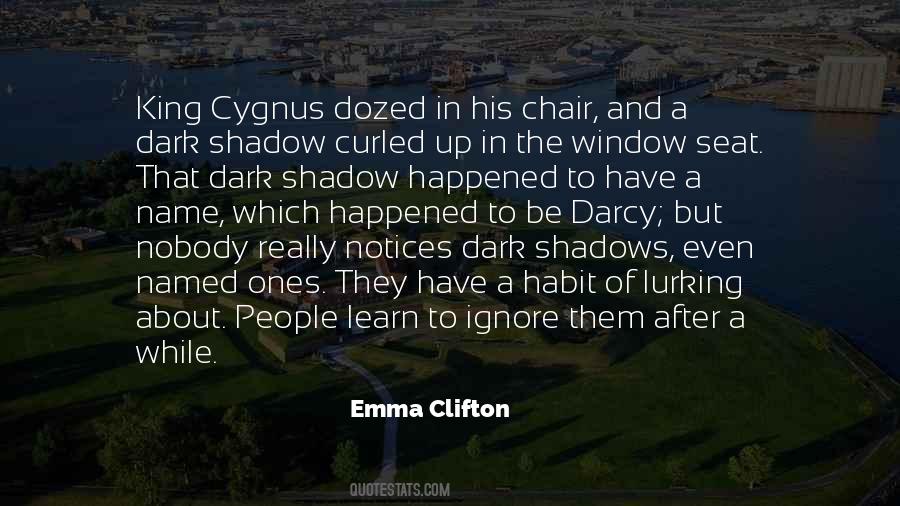 #6. I bring quadruple diversity to the Senate: I'm a woman; I'll be the first Asian woman ever to be elected to the U.S. Senate; I am an immigrant; I am a Buddhist. When I said this at one of my gatherings, they said, 'Yes, but are you gay?' and I said, 'Nobody's perfect.' - Author: Mazie Hirono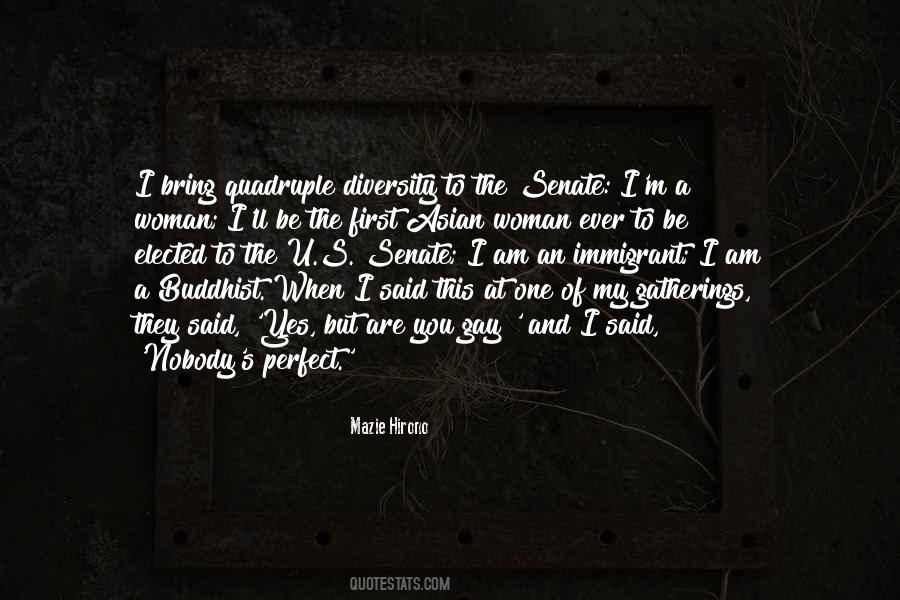 #7. Ain't nobody making music to not be heard and the easiest way to be heard is to be on the radio, but you should never compromise who you are, your values or your morals. - Author: Talib Kweli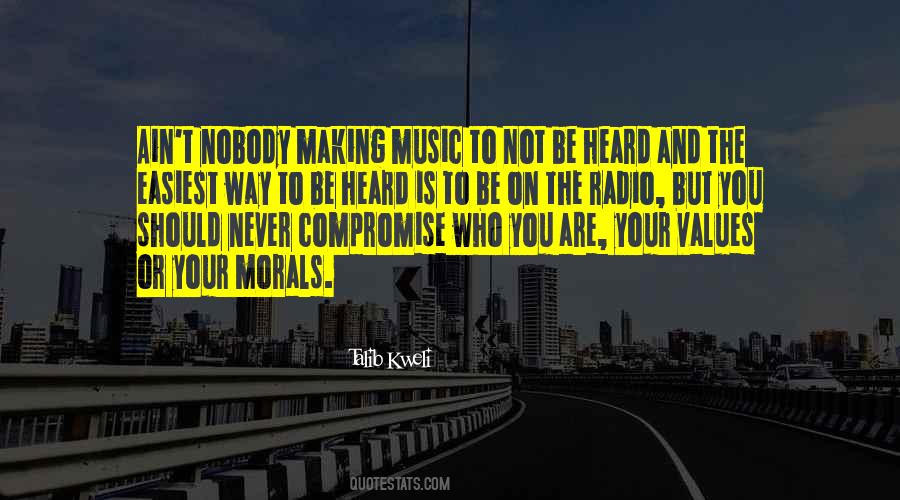 #8. It's for sure that nobody wants to be played from somebody out son logically bets are something from paradox world.

Paradox is now the comming future, so get prepared. - Author: Deyth Banger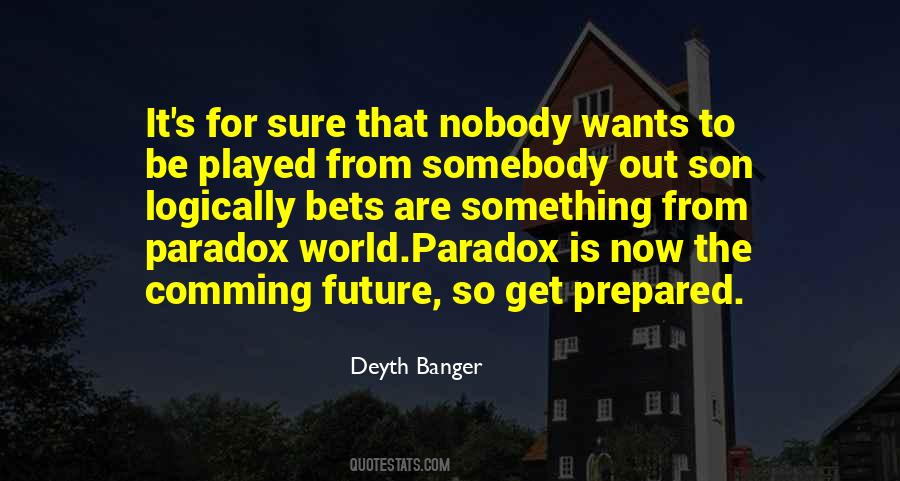 #9. If a fellow wants to be nobody in the business world, let him neglect sending the mailman to somebody on his behalf. - Author: Charles Kettering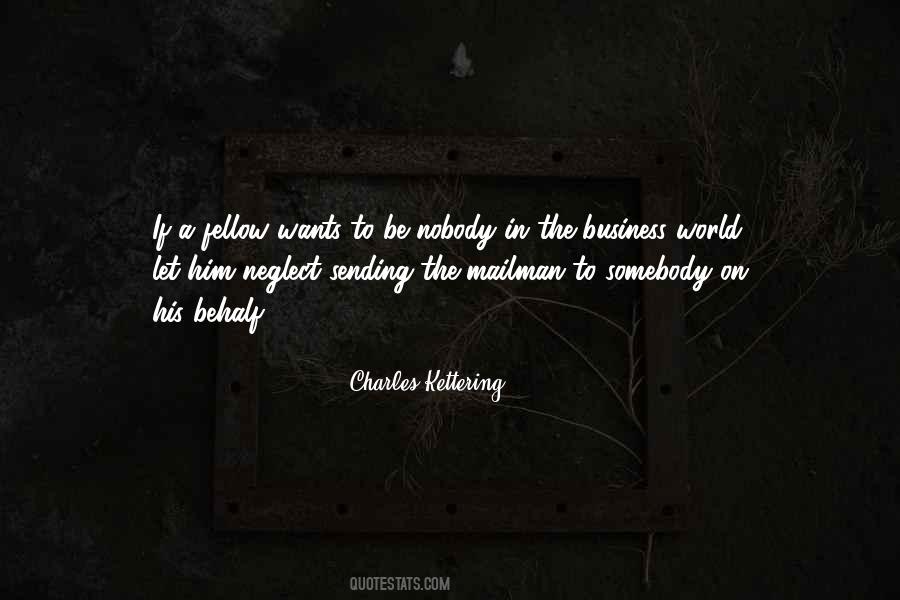 #10. There is nobody that I know who believes that Bank of America is a human being who should be entitled for the same constitutional rights that the people of our country are. - Author: Bernie Sanders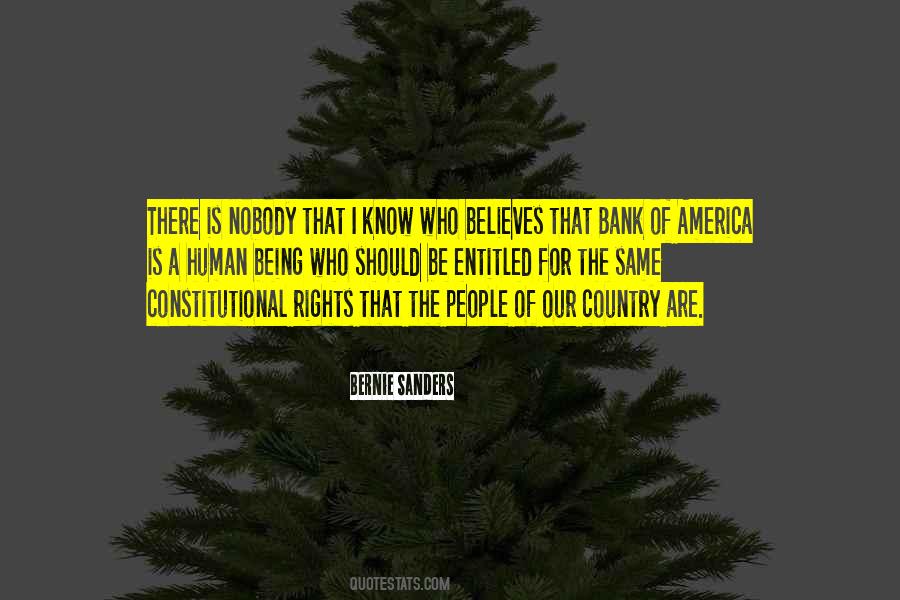 #11. Nothing feels worse than knowing that people didn't see your movie. That they wanted to and the critics loved it but nobody knew where it was because it didn't do what it was supposed to do opening weekend. It used to be that independents were allowed to stay in the theaters, build word of mouth. - Author: Allison Anders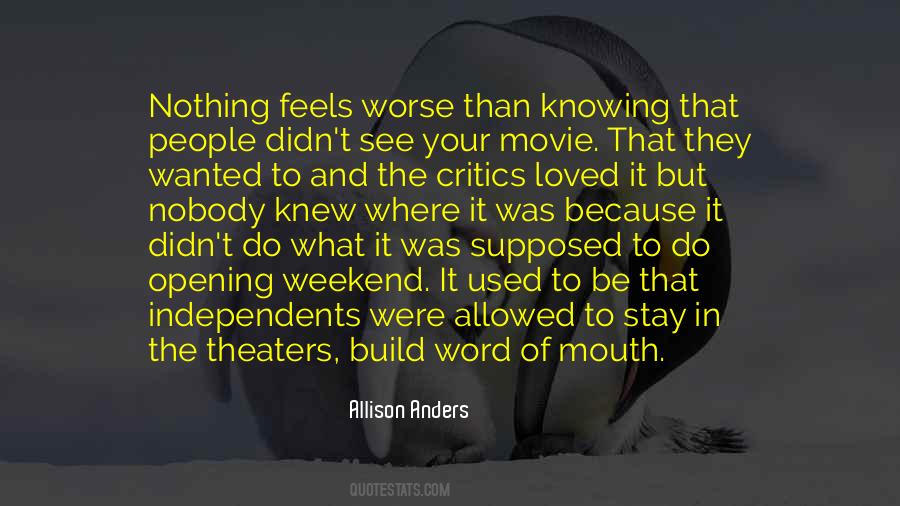 #12. If we are selfish and we feel cranky, then we believe that nobody has the right to be happy around us. - Author: Miguel Ruiz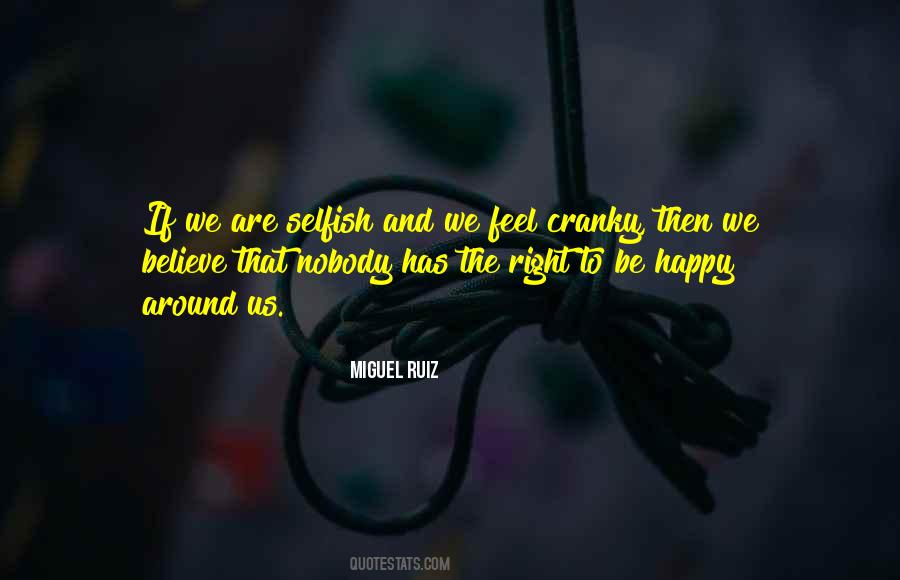 #13. Nothing's going to stop you or deter you or cause you to give up. Pursuit, because nobody actually expects it to happen. They want you to be continuous in your efforts. And perfection because there's just nothing better. - Author: Frank Luntz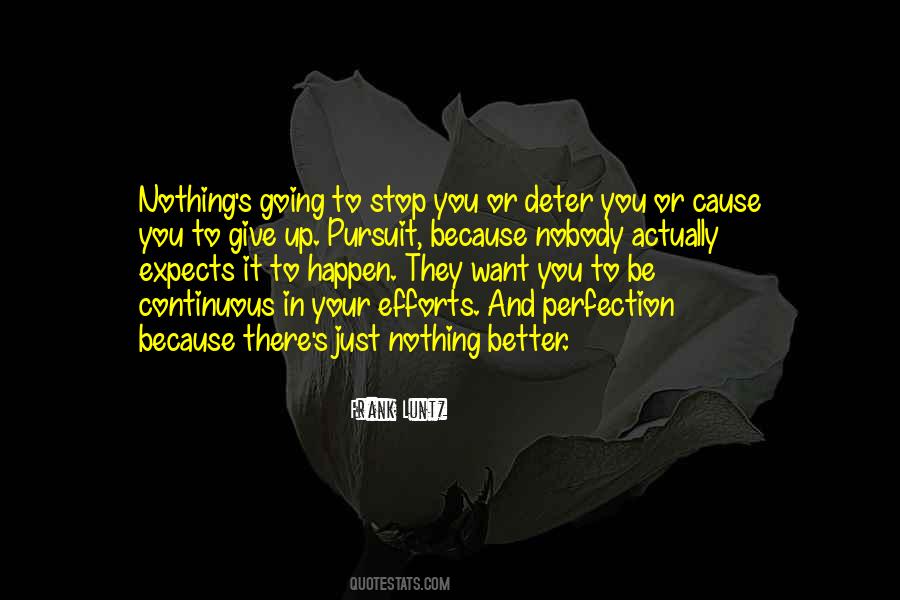 #14. Motherhood cannot finally be delegated. Breast-feeding may succumb to the bottle; cuddling, fondling, and paediatric visits may also be done by fathers ... but when a child needs a mother to talk to, nobody else but a mother will do. - Author: Erica Jong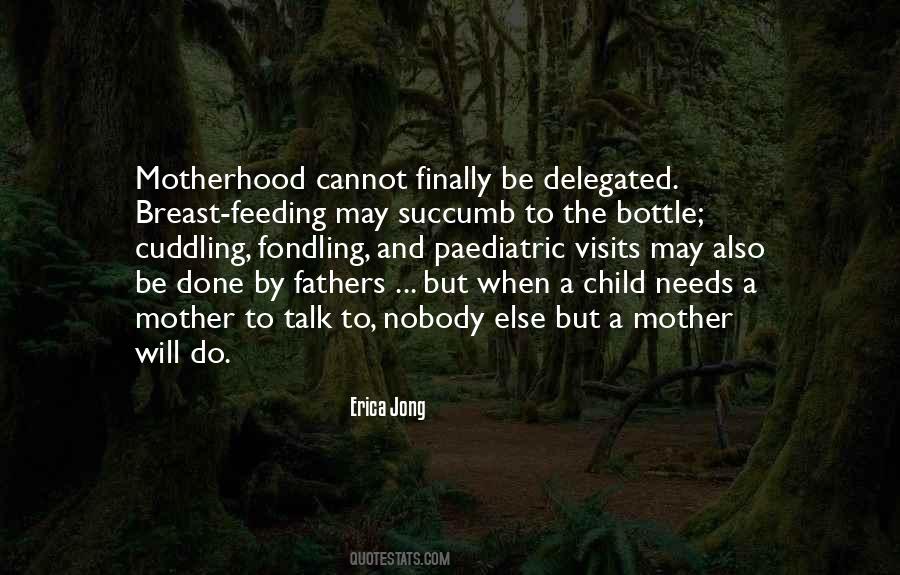 #15. Coco Chanel once said that what makes a woman look old is trying desperately to look young. Why should one be ashamed to be 84? Why do you have to say that you're 52? Nobody's going to believe you anyway, so why be such a fool? It's nice that you got to be so old. It's a blessing. - Author: Iris Apfel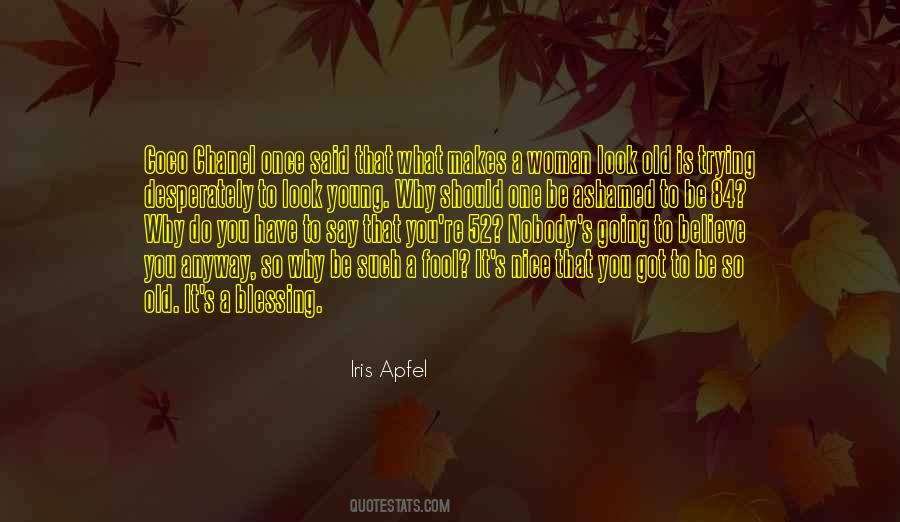 #16. The other world is hidden in this world. The Buddha is asleep in the Zorba. It has to be awakened. And nobody can awaken you except life itself. - Author: Rajneesh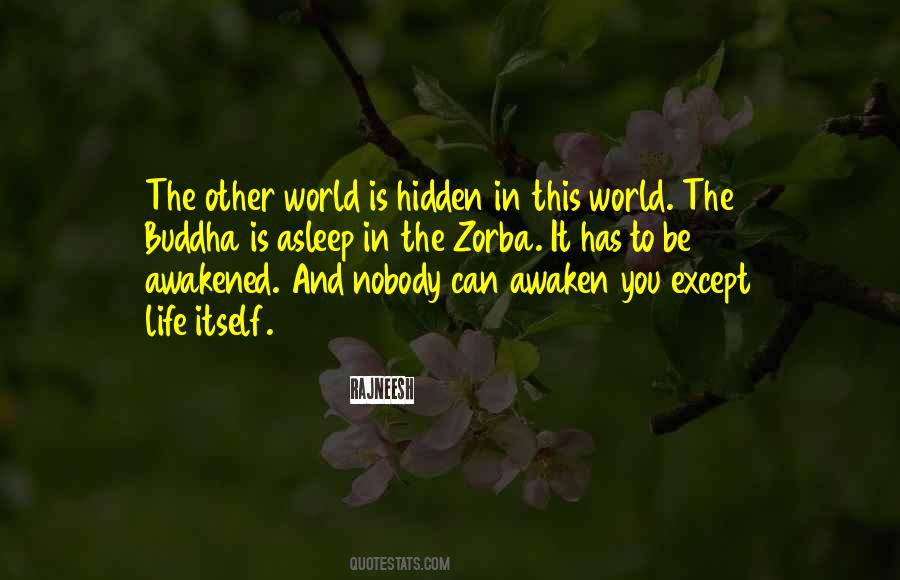 #17. My finely honed political instincts tell me that almost nobody believes that they should be paying higher taxes. - Author: Barack Obama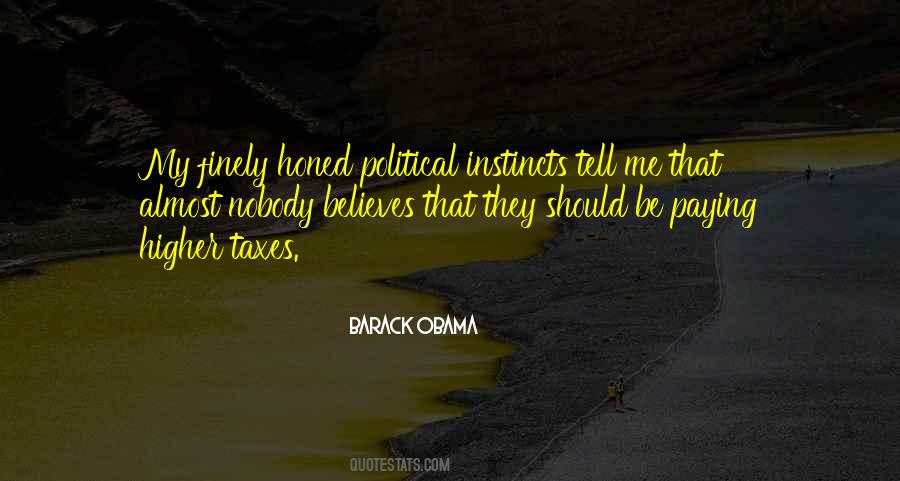 #18. Years, and nobody knows why. It may be that Robert Gordon and the techno-pessimists are - Author: Brink Lindsey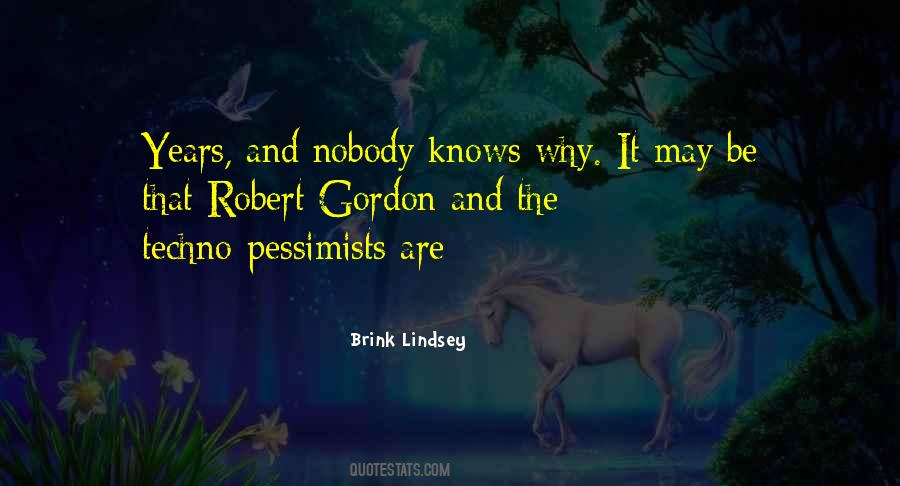 #19. We knocked lightly on the door. A voice asked who we might be, for nobody will ever open in Italy until identity is declared. Security, even in the remotest villages, is at New York standards. - Author: Tim Parks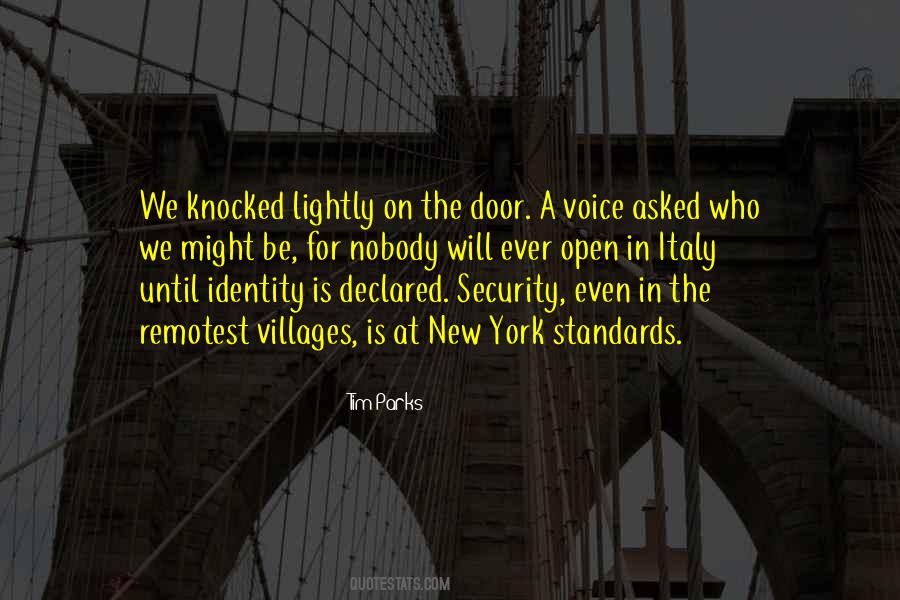 #20. People can get certain good things out of fame, but until it killed a princess nobody ever talked about how bad it can be. - Author: Sherry Stringfield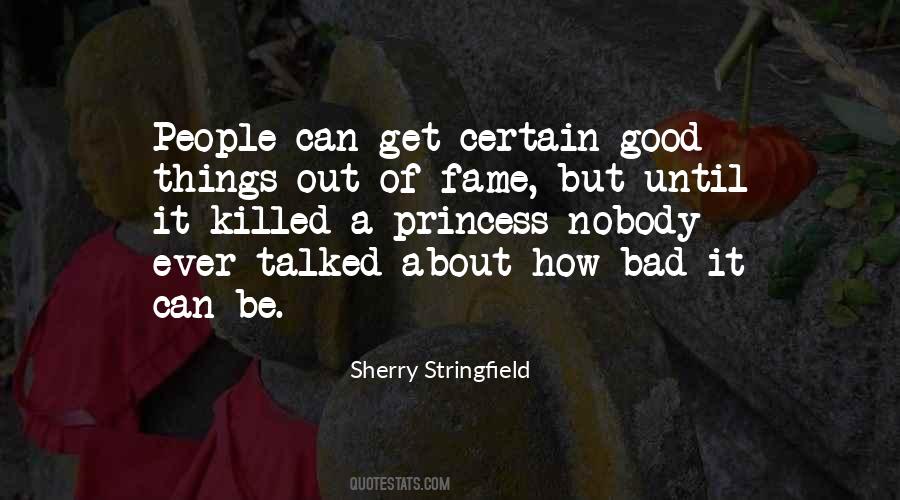 #21. Every one has time if he likes. Business runs after nobody: people cling to it of their own free will and think that to be busy is a proof of happiness. - Author: Seneca The Younger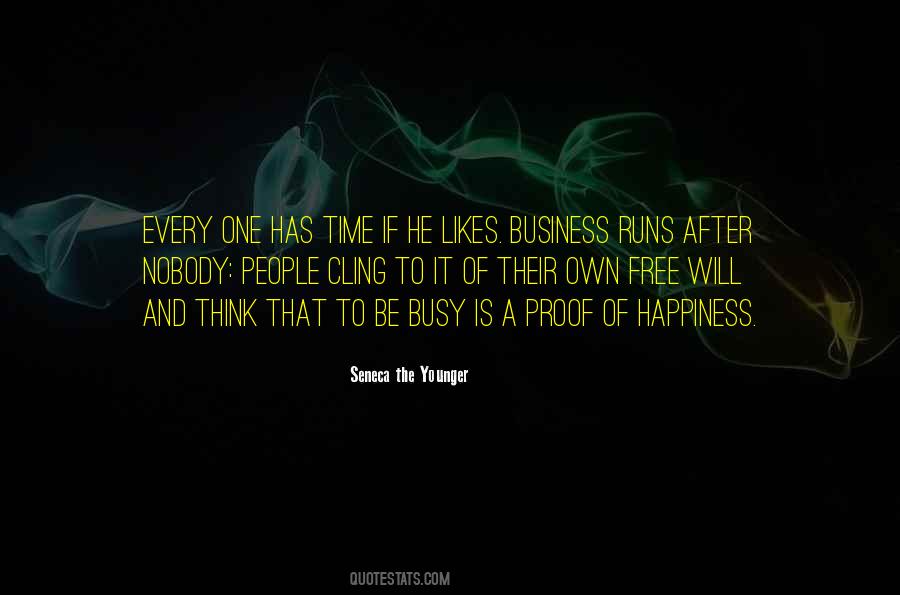 #22. What are the differences between me and you, I stand up and continue you just stay down and don't move and you think that nobody will touch. But when you are down, you always easy to be attacked - You will find down "IT" :D :D - Author: Deyth Banger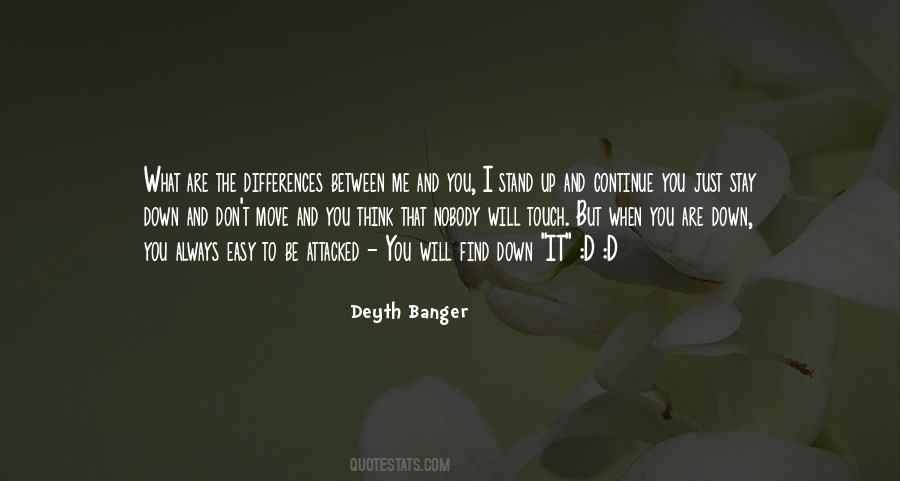 #23. For nobody else, gave me a thrill - with all your faults, I love you still. It had to be you, wonderful you, it had to be you. - As sung by Frank Sinatra - Author: Cecily Von Ziegesar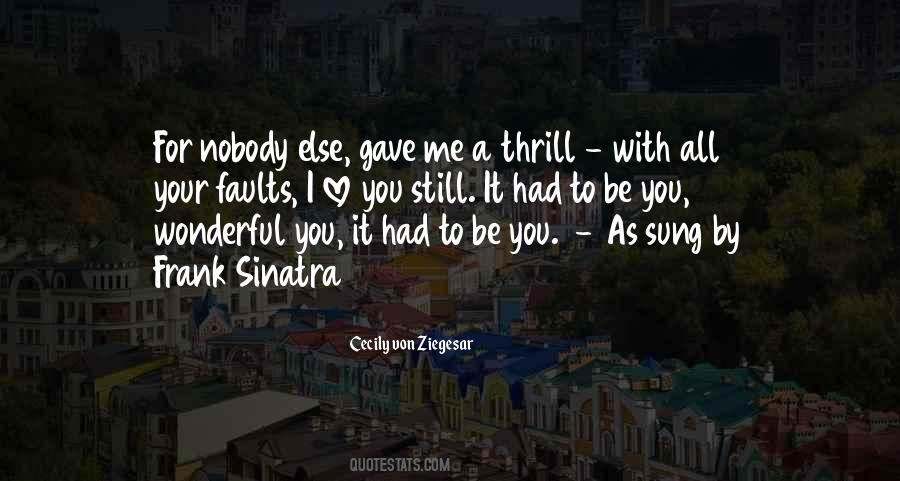 #24. A girl could be born rich. But nobody was born a hero. - Author: Suzanne Stroh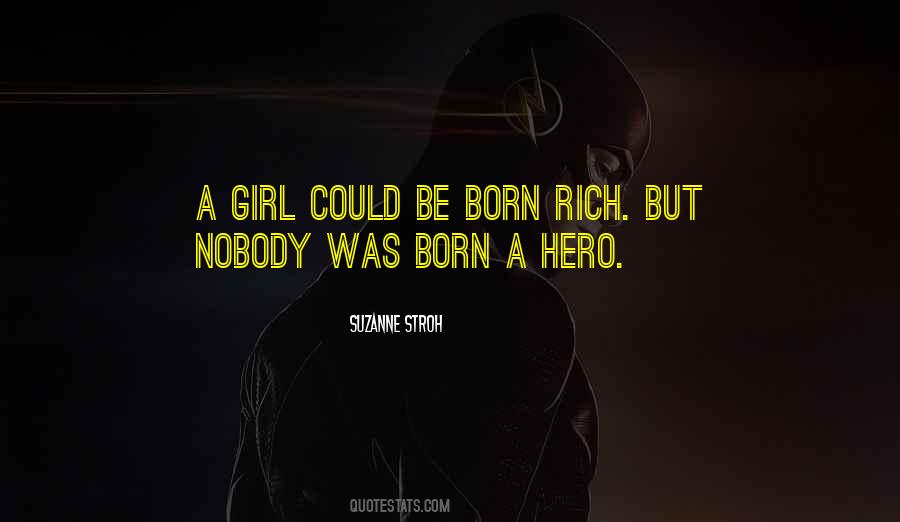 #25. I think every painting should be the same size and the same color so they're all interchangeable and nobody thinks they have a better painting or a worse painting ... Besides even when the subject is different, people want the same painting. - Author: Andy Warhol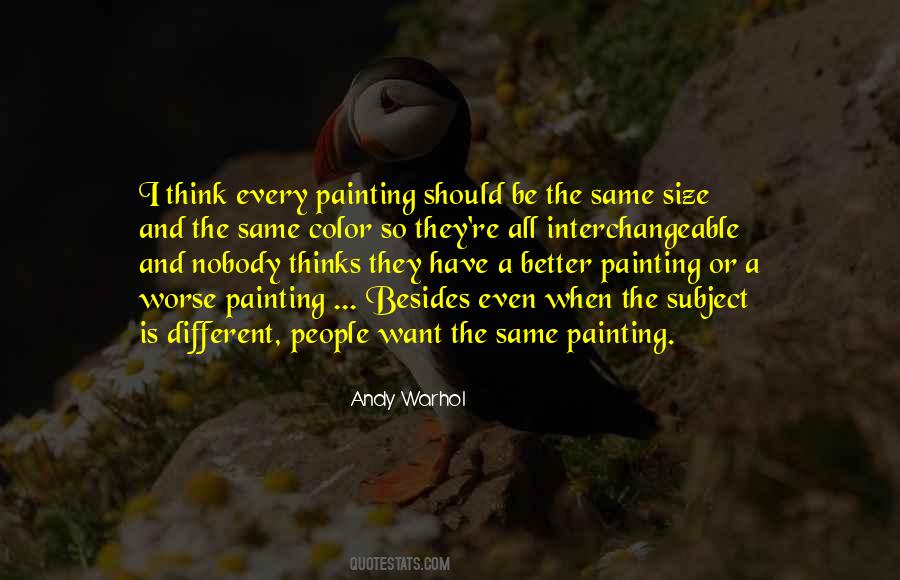 #26. [Hemingway] always used to bawl me out for including so much topical stuff. He always claimed that was a great mistake, that in fifty years nobody would understand. He may have been right; it's getting to be true. - Author: John Dos Passos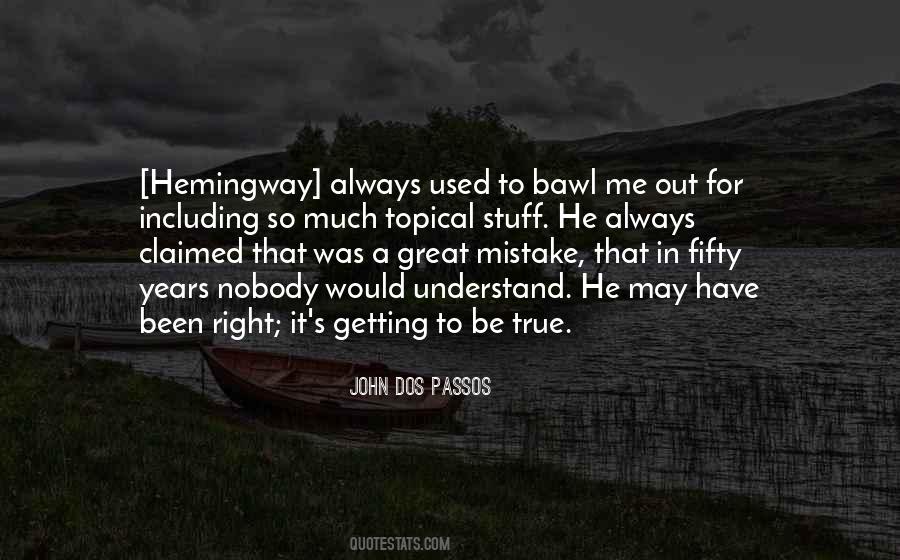 #27. The world is chaotic. All artists know this, but they try to make sense of it. Sophia has made sense of it for him. She has stitched it together like the most beautiful cloak. Her love has sewn it together and they can wrap it around themselves and be safe from the world. Nobody can reach them. - Author: Deborah Moggach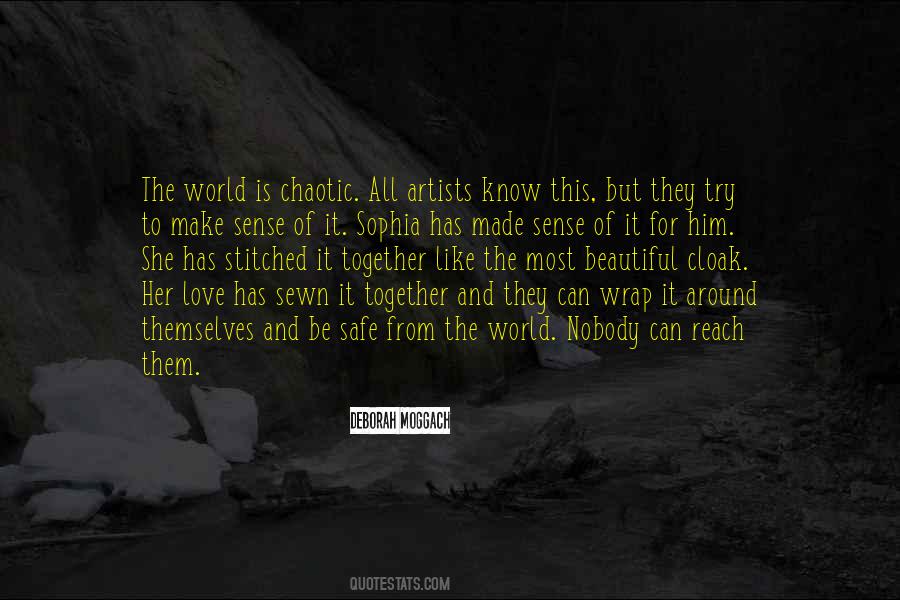 #28. To go somewhere where nobody knows you, and to keep your eyes open ... That was a beautiful concept in terms of putting yourself in a place to be inspired. - Author: Peter Lindbergh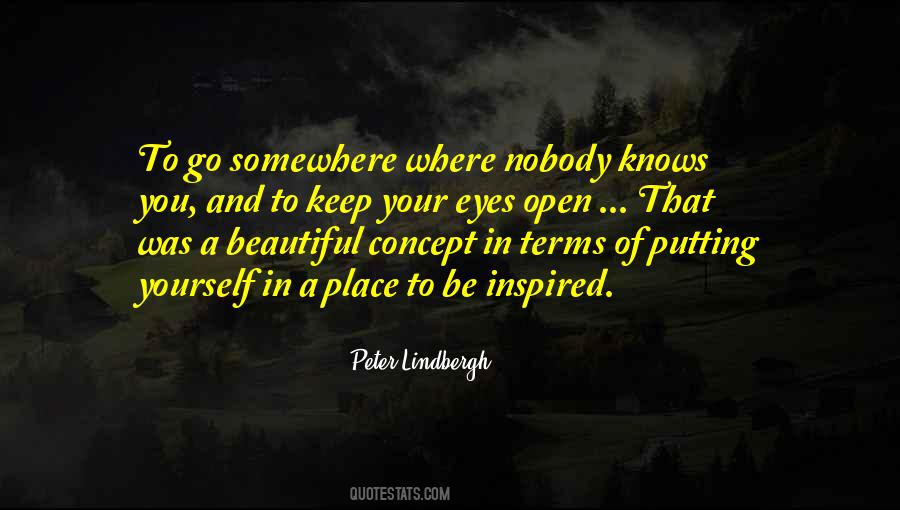 #29. ...It is one of the strange truths of life that practically nobody likes to be stared at and that practically nobody can stop themselves from staring.... - Author: Lemony Snicket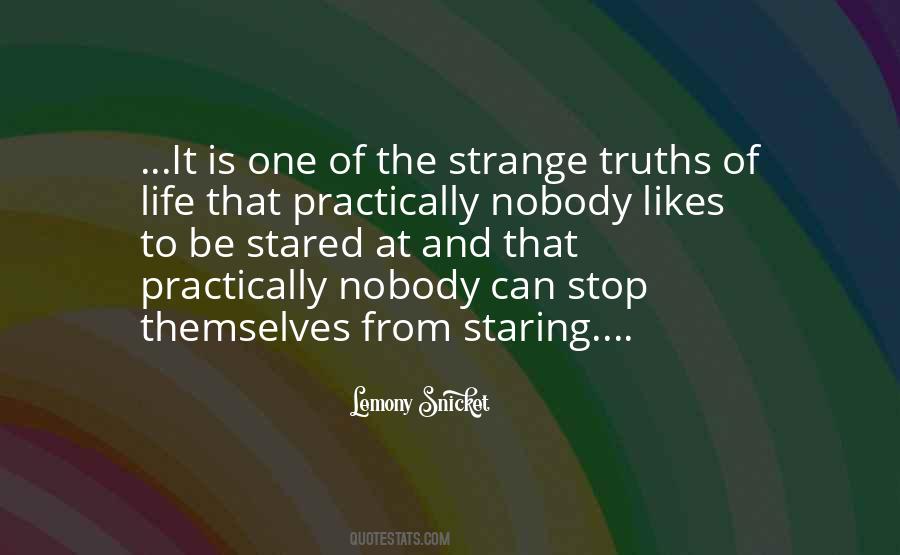 #30. If you can't trust others, nobody will be able to trust you. - Author: Debasish Mridha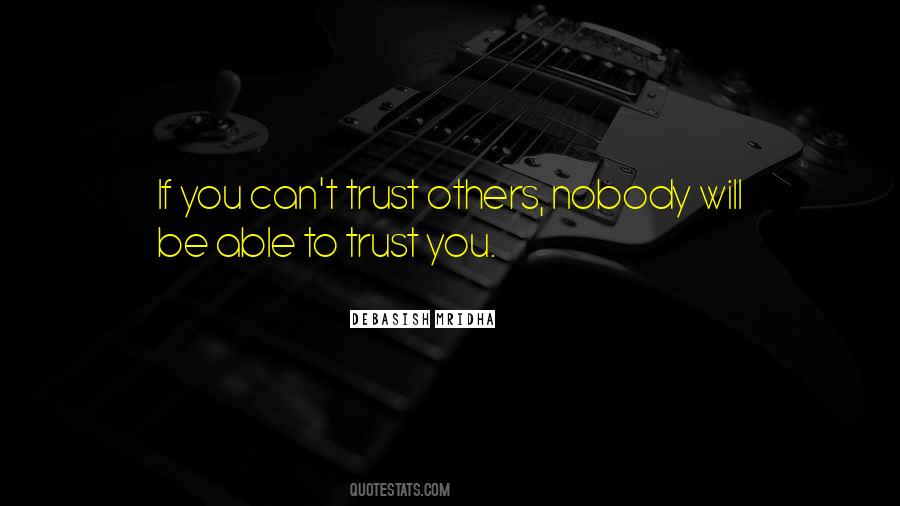 #31. Nobody wants to be interrogated in his brothel suit - Author: Lindsay Buroker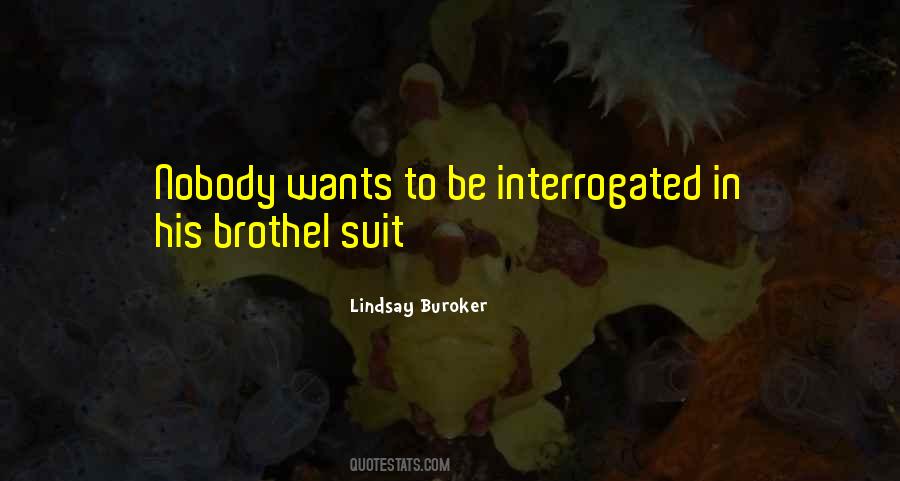 #32. [May] understood people and she let them be whatever way they needed to be. She had faith in every single person she ever met, and this never failed her, for nobody ever disappointed May. Seems people knew she saw the very best of them, and they'd turn that side to her to give her a better look. - Author: Cynthia Rylant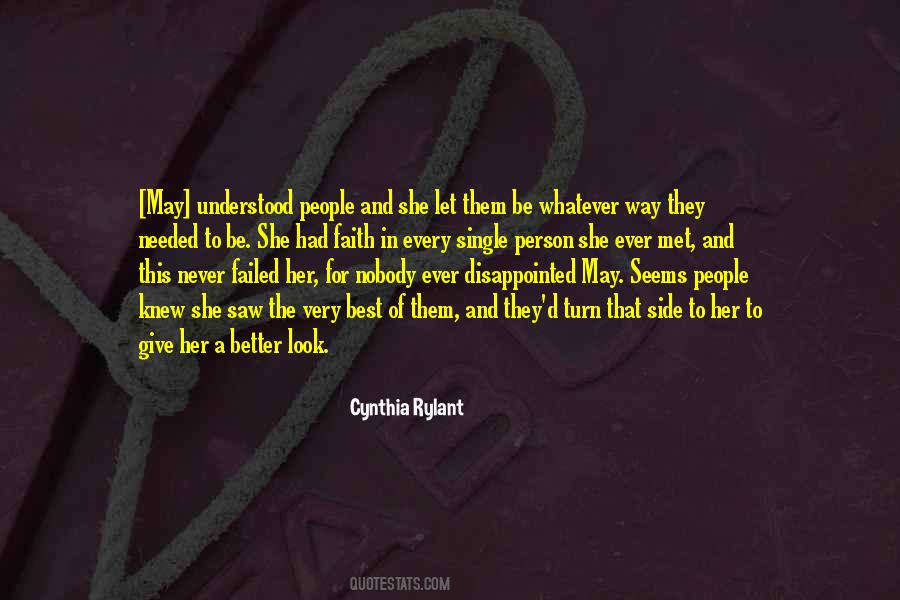 #33. If the notion on this is we're going to elect somebody to the United States Senate so they can be the 100th least senior person in there and be polite, and somewhere in their fourth or fifth year do some bipartisan bill that nobody cares about, don't vote for me. - Author: Elizabeth Warren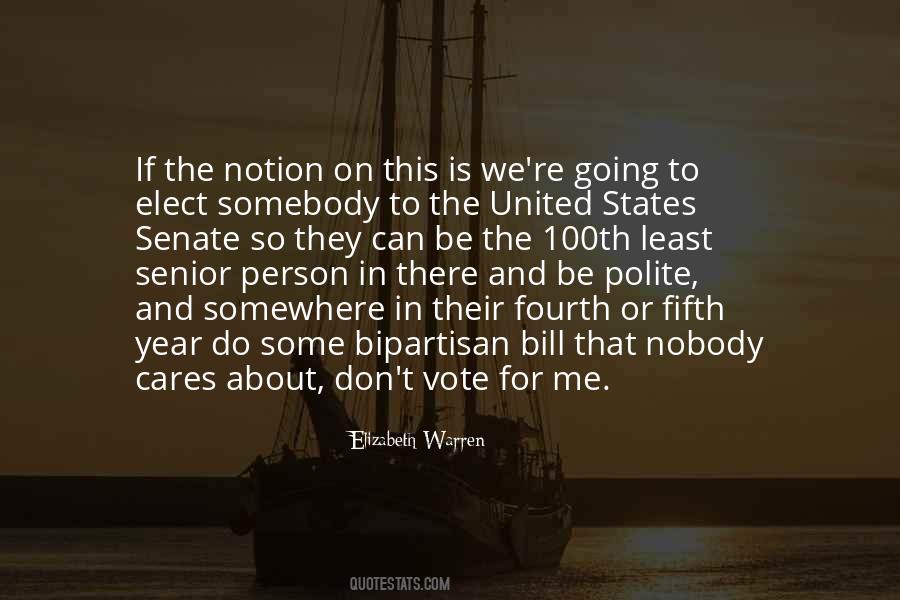 #34. Nobody is perfect but a team can be - Author: Meredith Belbin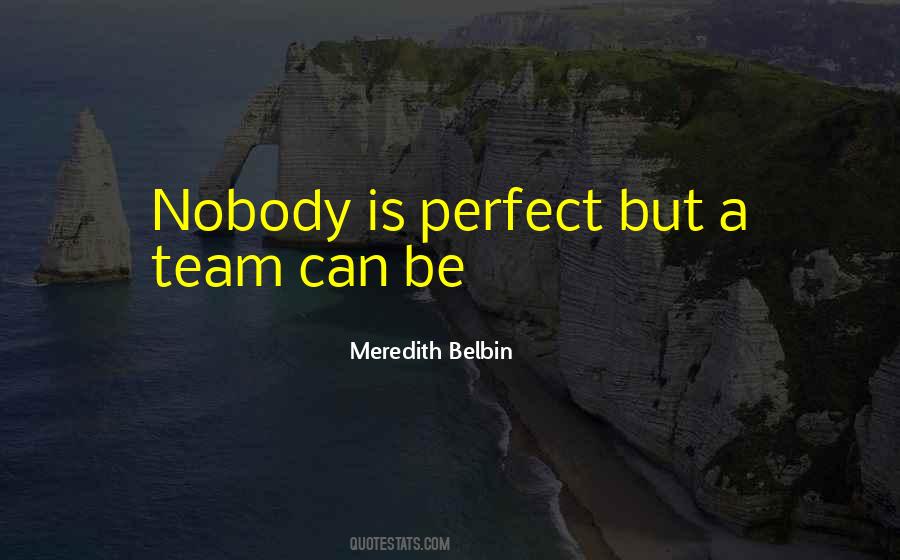 #35. He that can please nobody is not so much to be pitied as he that nobody can please. - Author: Charles Caleb Colton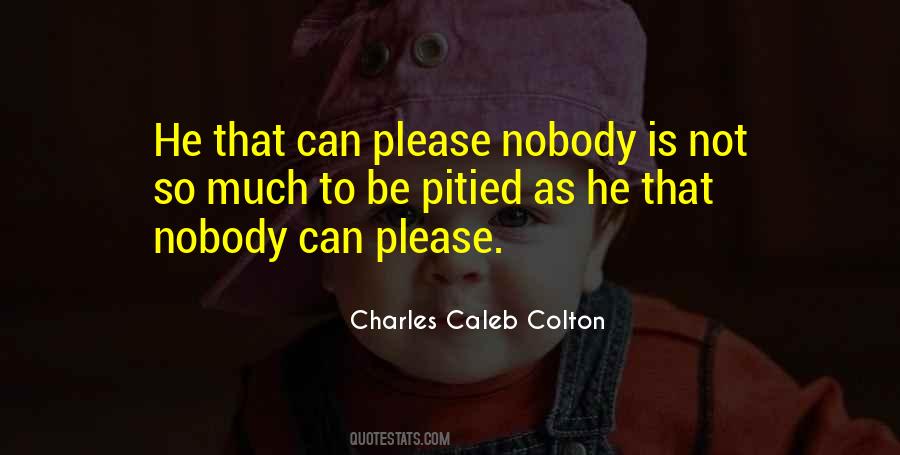 #36. Everybody wants to be somebody; nobody wants to grow. - Author: Johann Wolfgang Von Goethe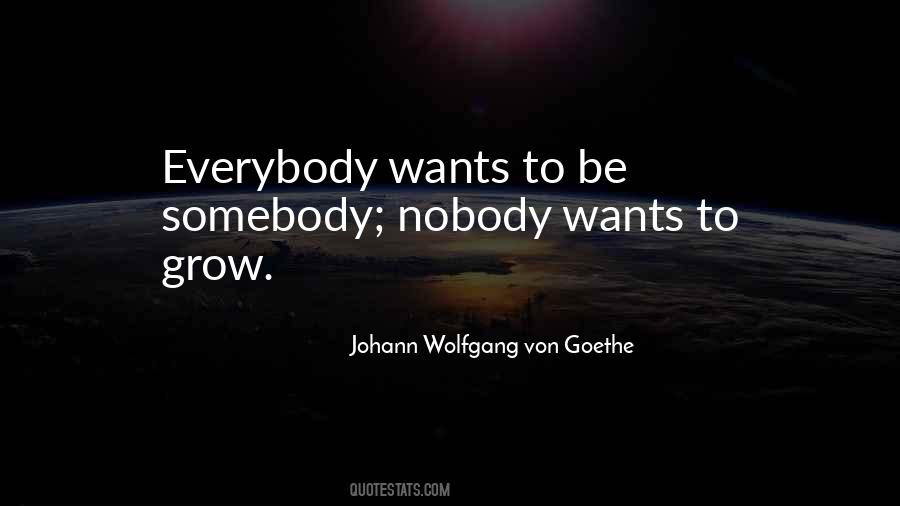 #37. Nobody ever wrote down a plan to be broke, fat, lazy, or stupid. Those things are what happen when you don't have a plan. - Author: Larry Winget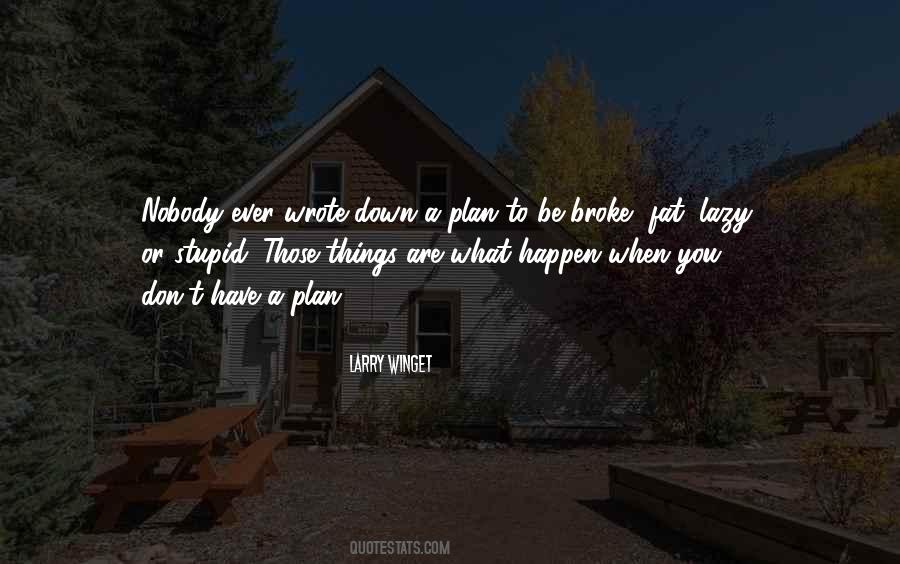 #38. My very first job was something called 'Nobody's Watching,' that Bill Lawrence who created 'Scrubs,' it was his pilot. It was my very first TV job, and it was a sitcom. Ever since that experience, I've been so itching to get back to that kind of environment and just to be involved with comedy. - Author: Mircea Monroe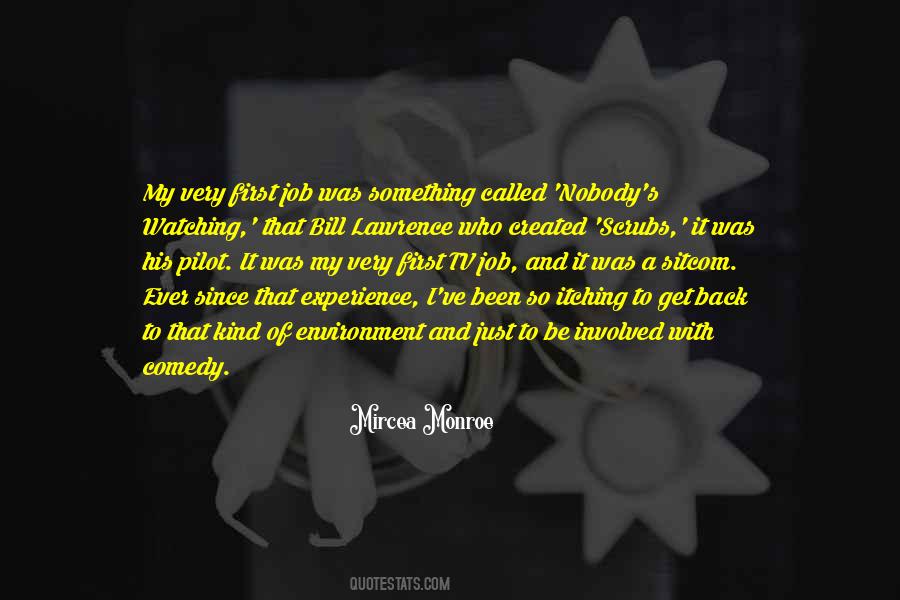 #39. Worse than getting kicked out of your slot to go on to a winning season is to lead during a losing one. Nobody wants to be king of the losers. - Author: A.D. Aliwat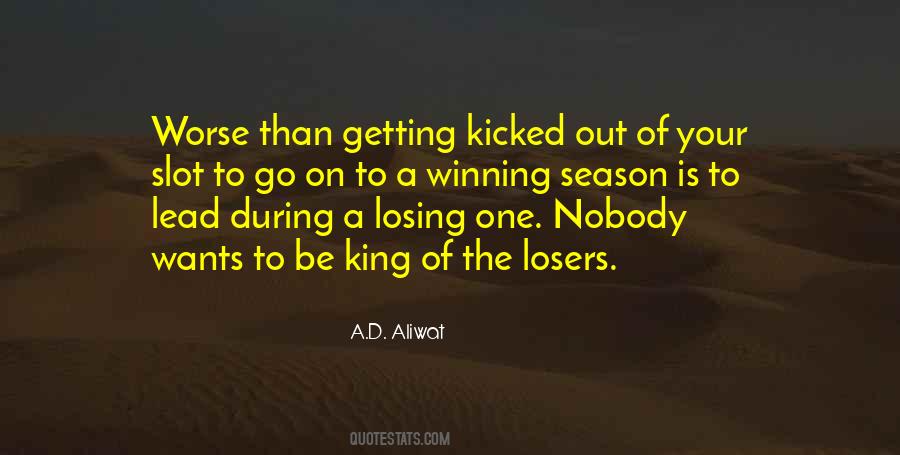 #40. Grandmothers died. It was to be expected. You weren't even allowed to be that upset about it. Please don't let Frannie have died. Please don't let anyone have died. Nobody else in our family will - Author: Liane Moriarty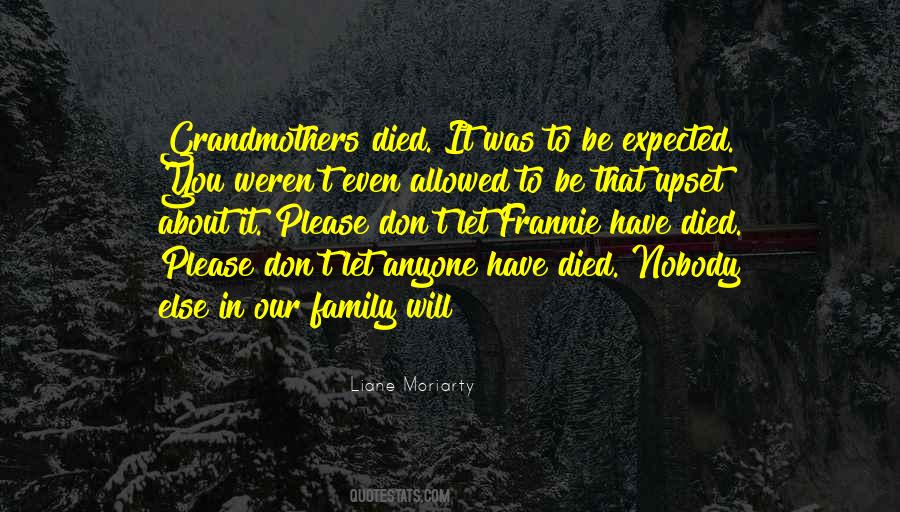 #41. Nobody should be allowed to tinker with democracy. We will not discontinue the good works of the past government. - Author: Manmohan Singh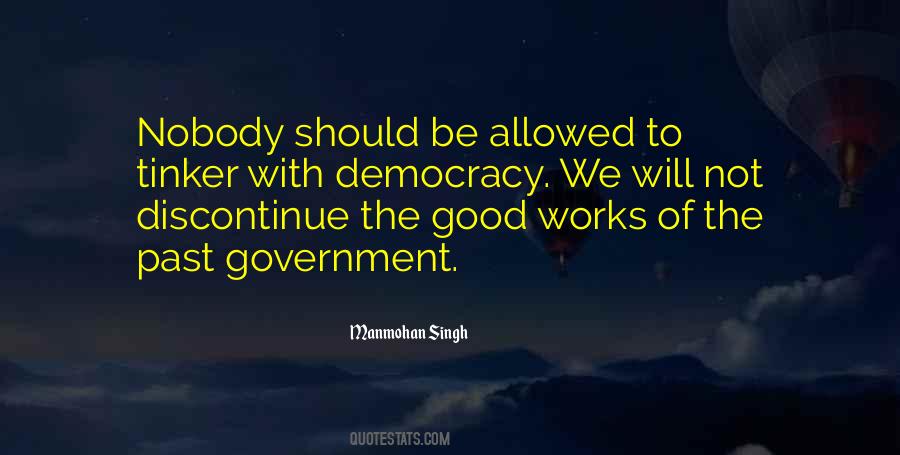 #42. Exceptional men do not hold their experiences to be out of the ordinary or of interest to anyone else. Unlike the trodden fungus-men, they are not so ignorantly and presumptuously self-absorbed. They are nobody and they know it. They shun notice. They are exceedingly rare. - Author: Nick Tosches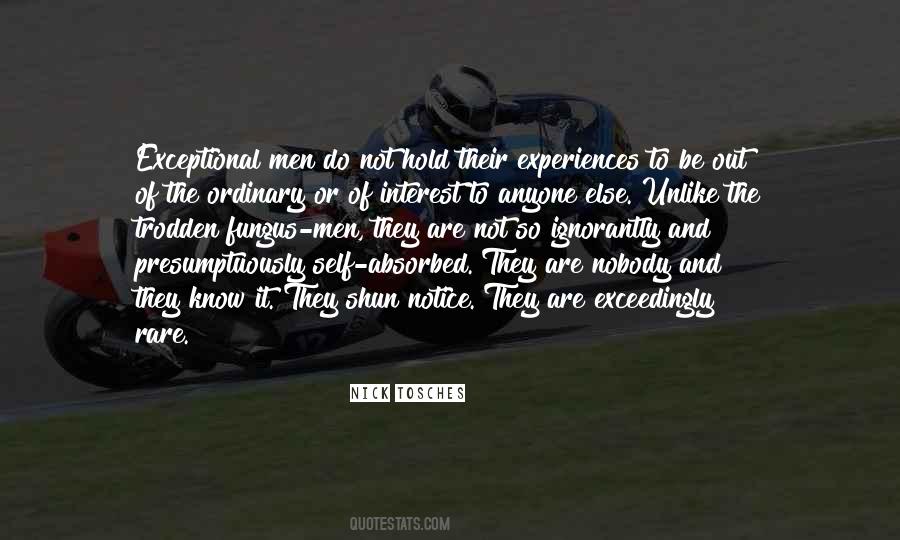 #43. He had the freedom of a nobody, with a blank future unrolling before him on which anything at all might be written. - Author: Margaret Atwood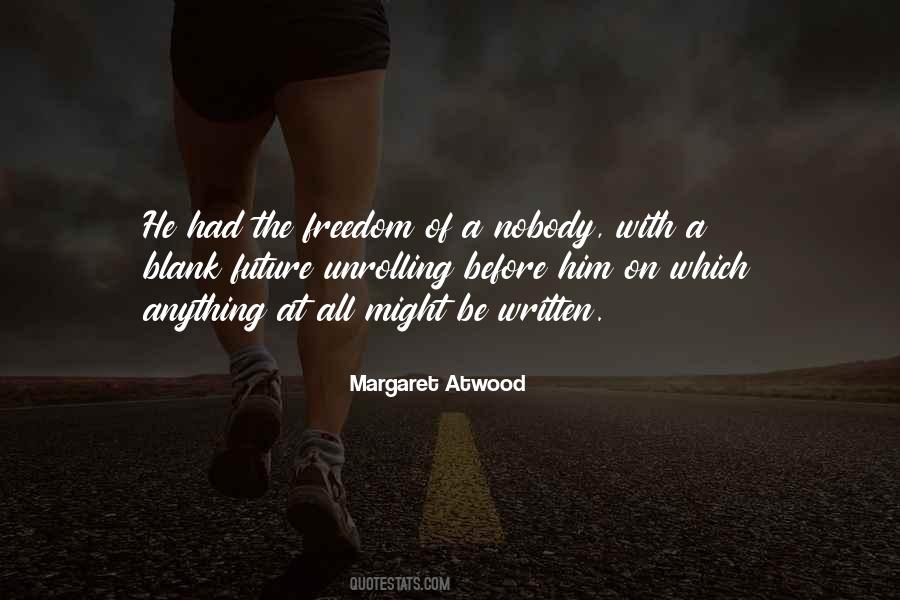 #44. I want to host a religious show. I'm sure nobody will be wanting the 11 o'clock spot on Sunday morning. I think we should really get some of our own preachers and preach that gay is good. And we'd have a great choir. - Author: Kate Clinton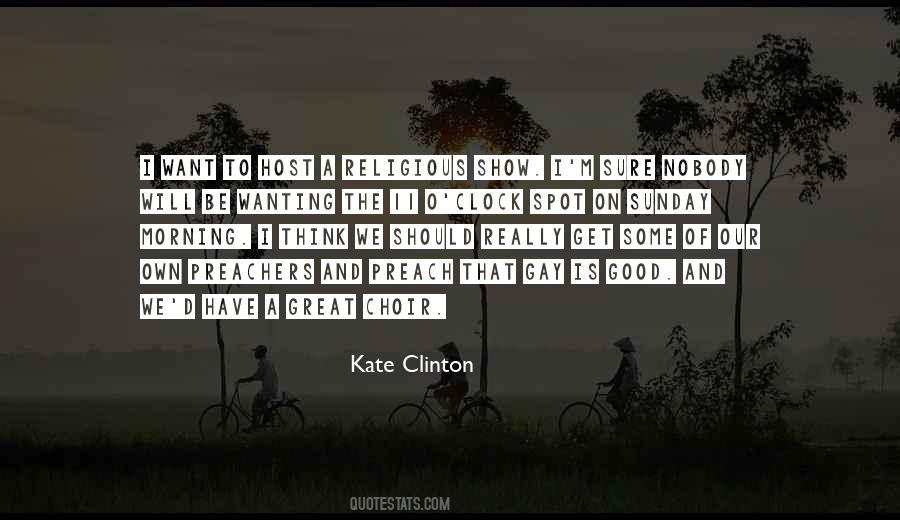 #45. To be sure you know no actual good of me, but nobody thinks of that when they fall in love. - Author: Jane Austen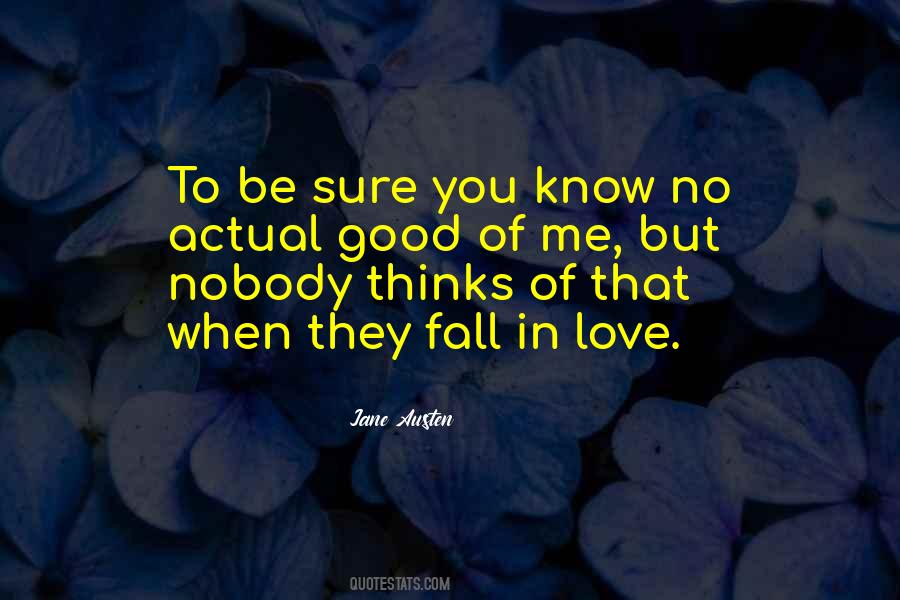 #46. Sasori, your strength came because of your soul, not in spite of it ... You were supposed to be a a top-class ninja puppeteer, not a worthless nobody who lets someone else pull the strings.
- Kankurou (Naruto Ch 518) - Author: Masashi Kishimoto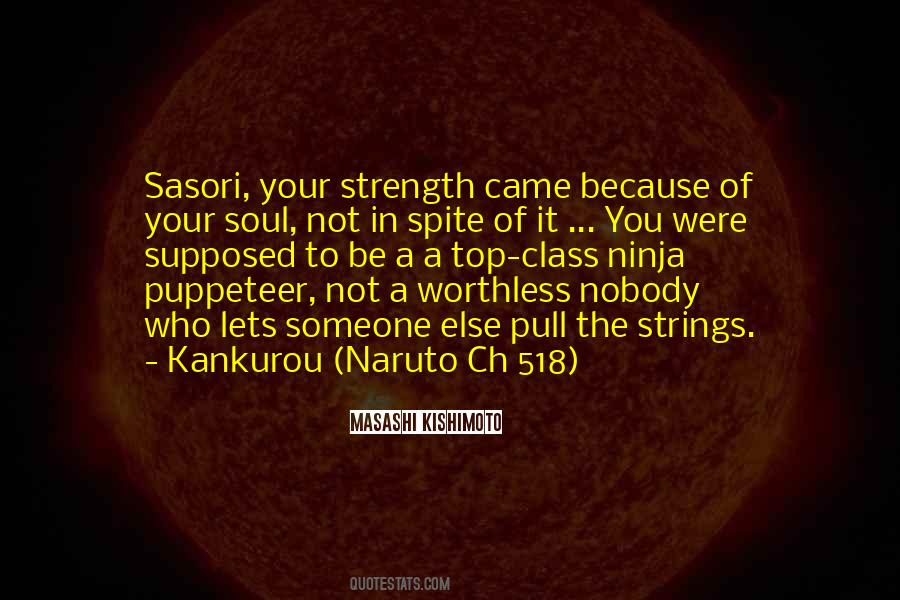 #47. You would be better off having nobody than the wrong somebody. (On marrying for the wrong reasons.) - Author: Joyce Meyer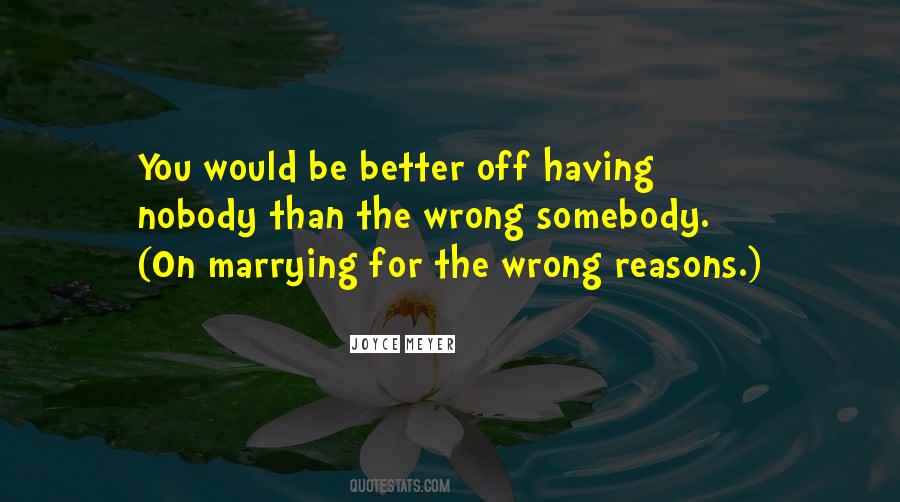 #48. Nobody deserves to be praised for goodness unless he is strong enough to be bad. - Author: Francois De La Rochefoucauld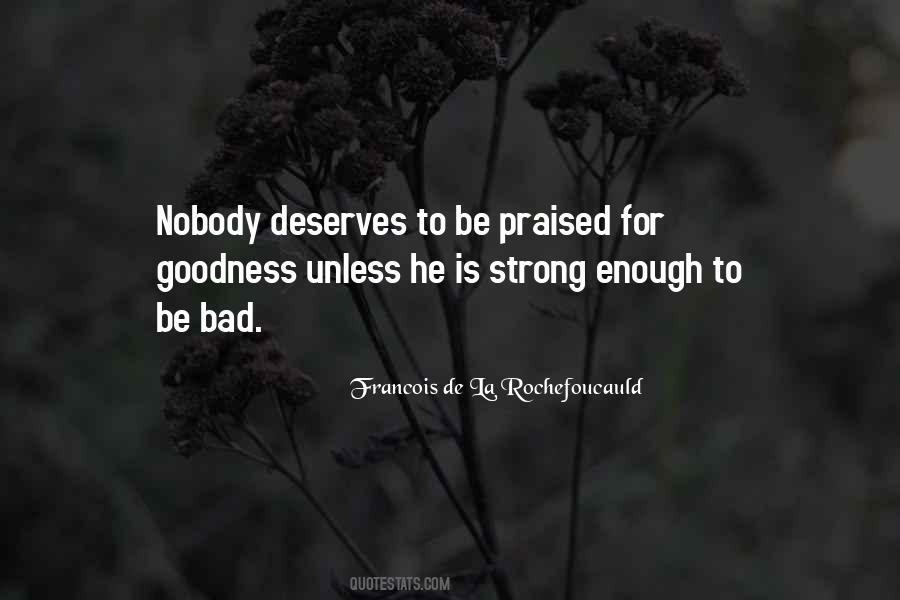 #49. What I believe to be one of the major tragedies in the Church today. Namely, that evangelicals are biblical, but not contemporary, while liberals are contemporary but not biblical, and almost nobody is building bridges and relating the biblical text to the modern context - Author: John Stott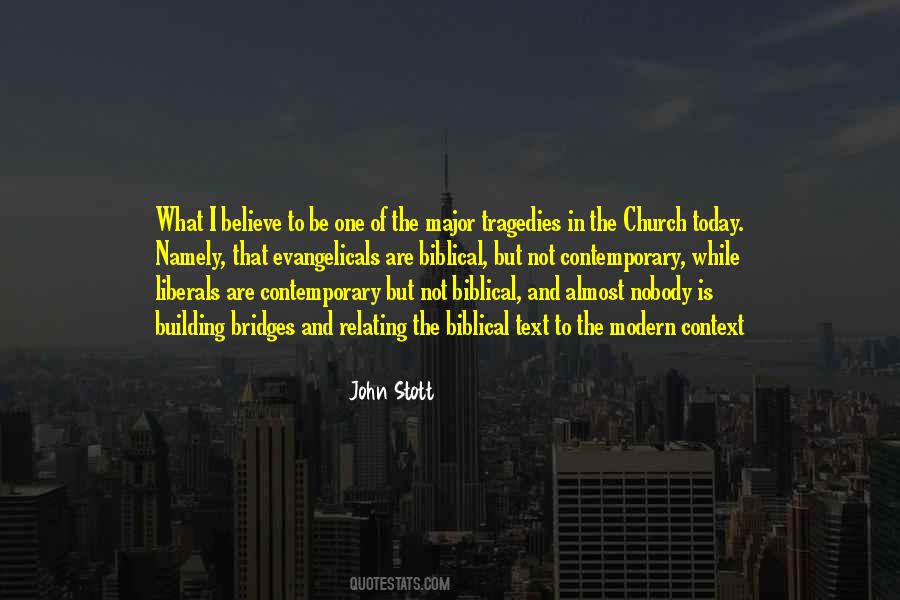 #50. Once Im in the ring, Im there to win no matter what it takes. Nobody and nothing can stop me, my will cannot be broken - Author: Ruslan Provodnikov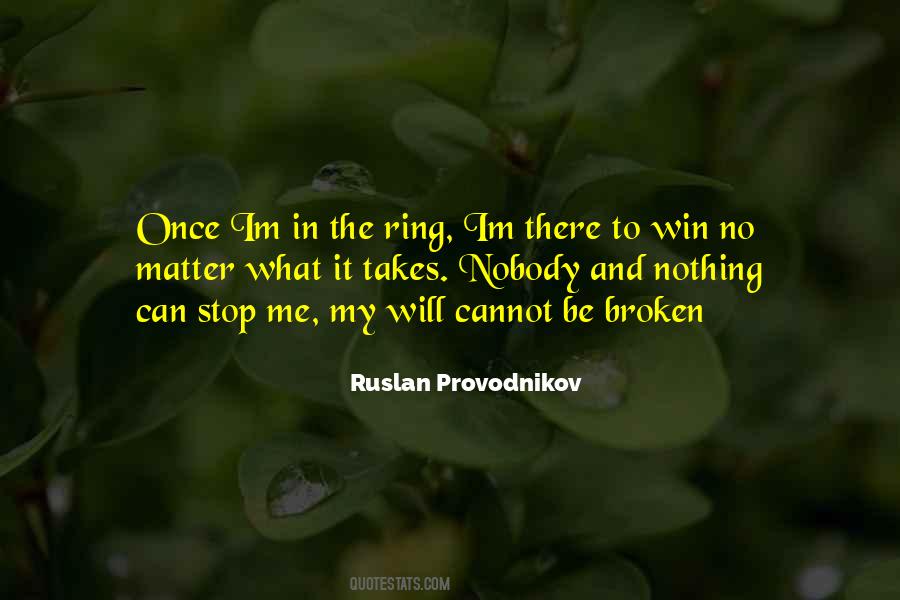 #51. Nobody supposes that doctors are less virtuous than judges;
but a judge whose salary and reputation depended on whether
the verdict was for plaintiff or defendant, prosecutor or prisoner,
would be as little trusted as a general in the pay of the enemy. - Author: George Bernard Shaw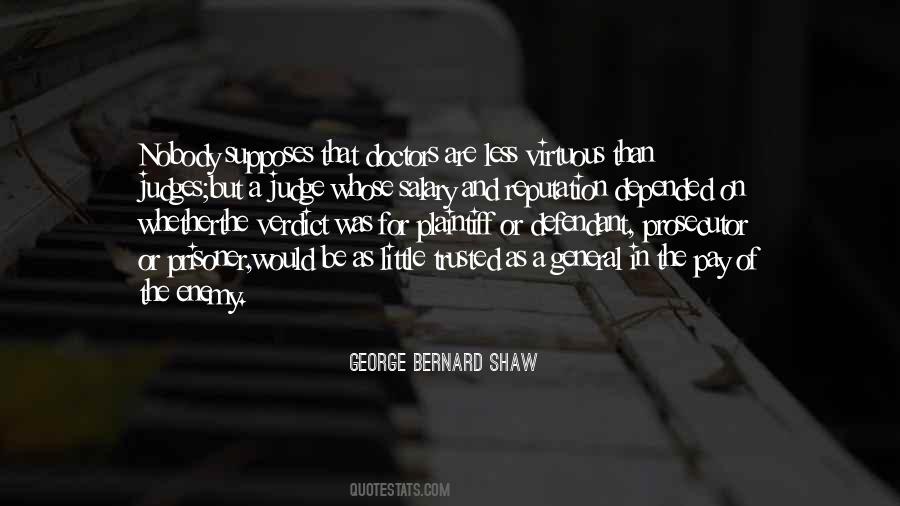 #52. I think she's brave. I think that nobody has ever believed what she could be capable of. All her life, nobody was listening. - Author: Lauren DeStefano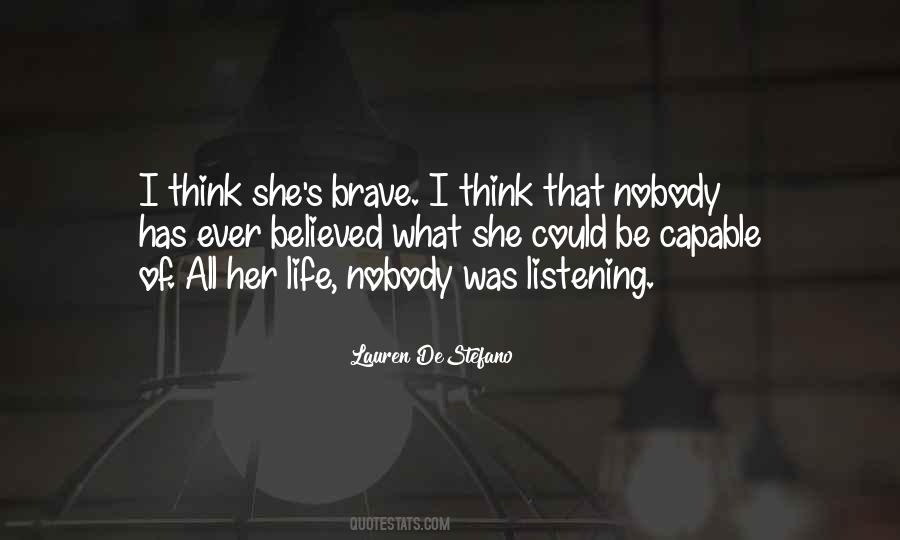 #53. I have taken the stand that nobody can be always wrong, but it does seem to me that I have approximated so highly that I am nothing short of a negative genius. - Author: Charles Fort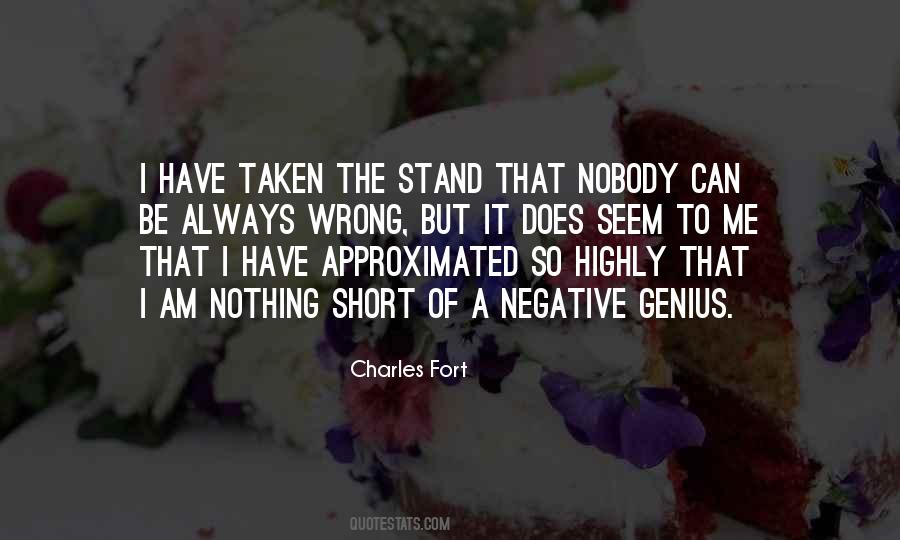 #54. If you're making a cake, you don't just make the cake and have it look nice and have nobody tastes it. But that doesn't take away from your ability to execute what you do as well as you can and to have it be something for many. - Author: Mel Gibson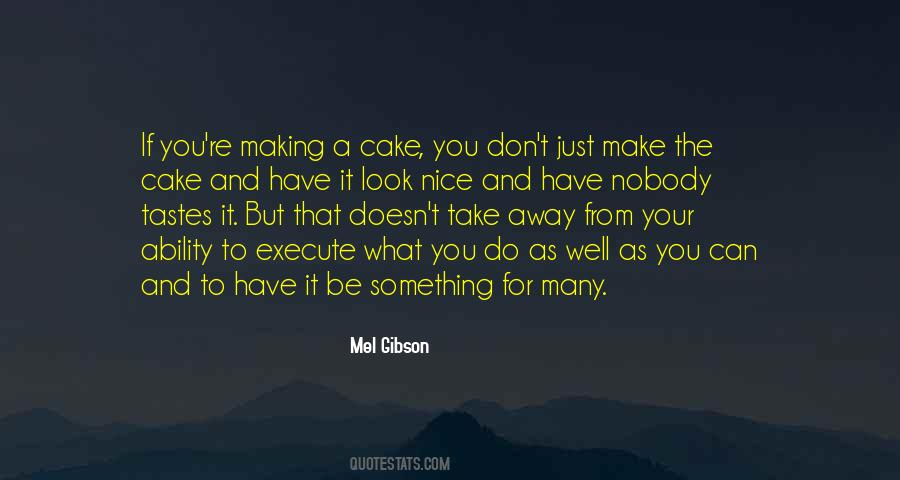 #55. I feel like I'm selling something nobody want to buy. Something big and stinky, like Kiki Brown and her lemon smell-good polish. But what really makes me and Kiki the same is, I'm proud a what I'm selling. I can't help it. We telling stories that need to be told. - Author: Kathryn Stockett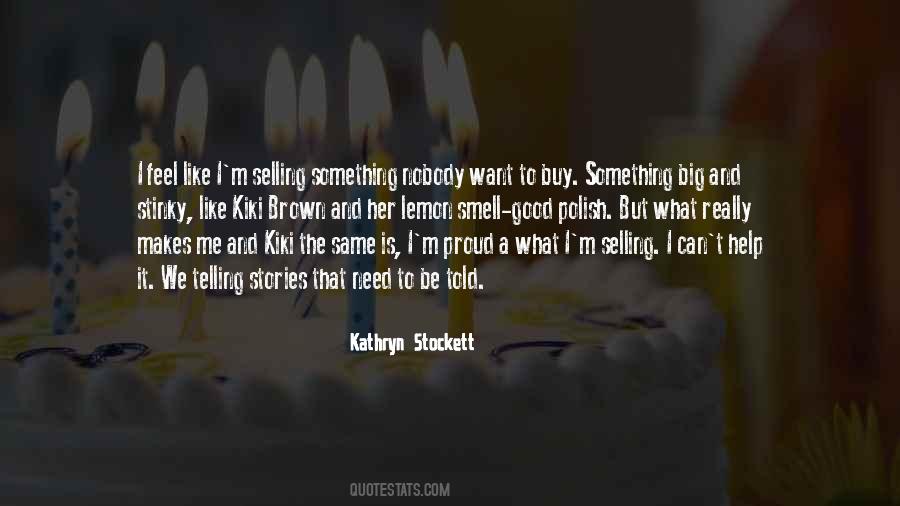 #56. I am trying to be a good person. I am trying to be myself, and if nobody likes me for me, that is their problem. - Author: Evan Rachel Wood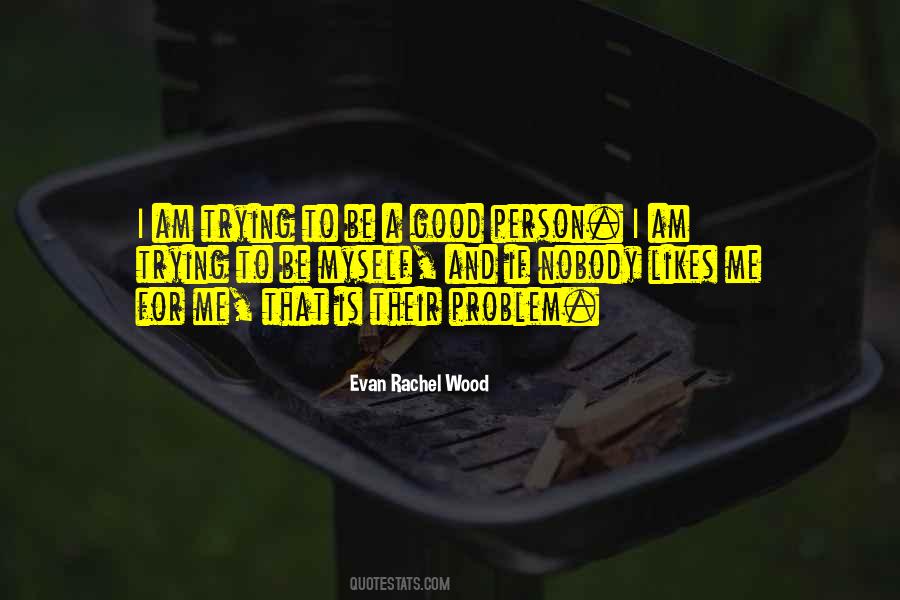 #57. Every man is working out his destiny in his own way and nobody can be of help except by being kind, generous, and patient. - Author: Henry Miller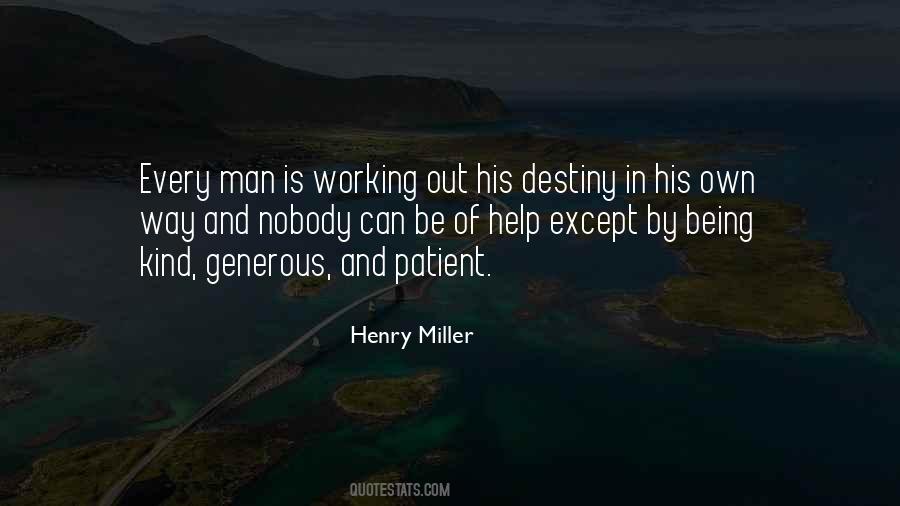 #58. You can't be everything. Nobody is everything. You just do what you do, and you try to do that as well as you can. And if somebody doesn't like it, too bad. - Author: Vinnie Colaiuta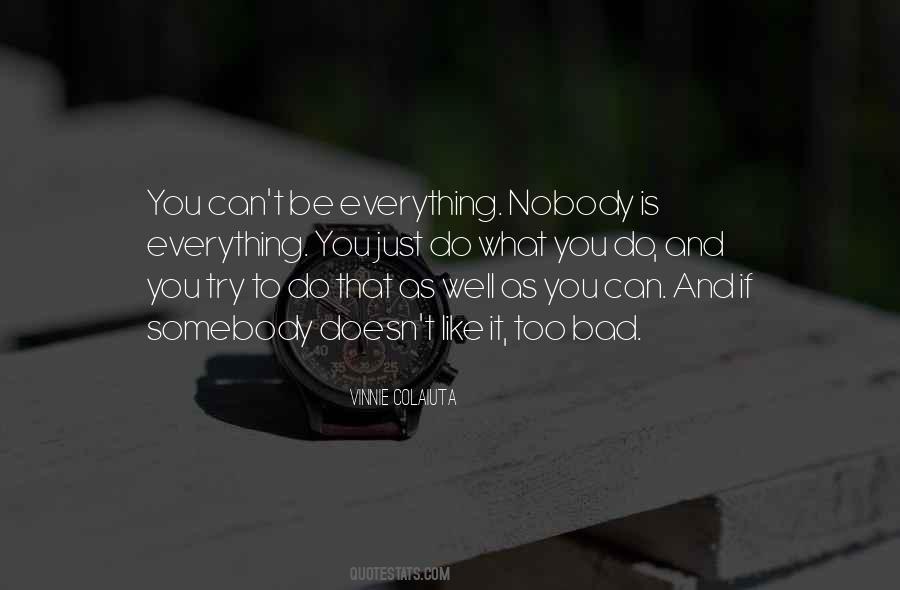 #59. Behavior makes sense from the actor's perception or else the actor wouldn't do it. Nobody wakes up in the morning and says, you know, today I'm going to be conforming, mistaken, nasty, and so on. - Author: Ellen J. Langer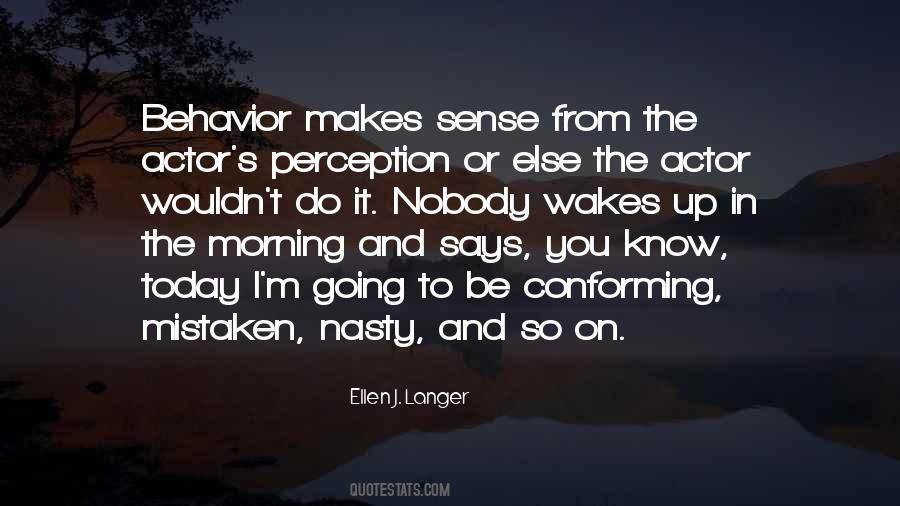 #60. In Paris, everybody wants to be an actor; nobody is content to be a spectator. - Author: Jean Cocteau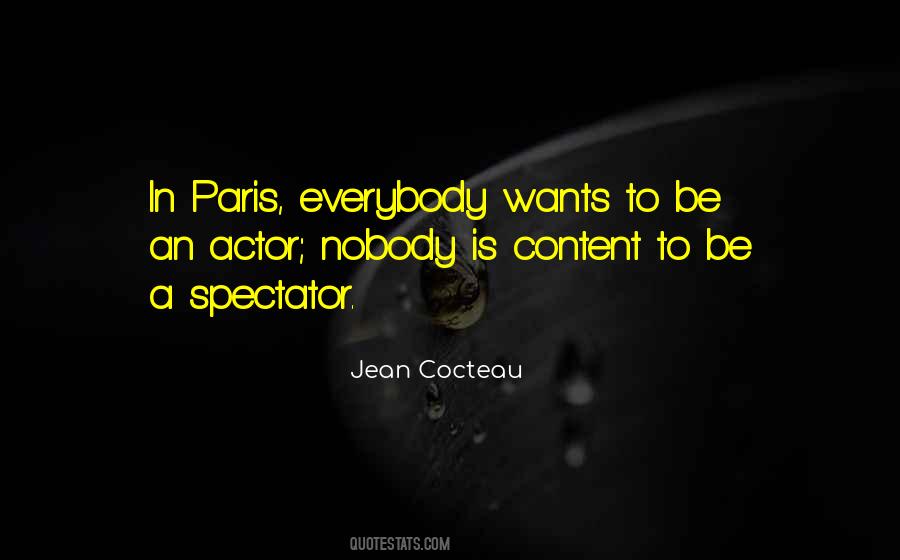 #61. As riches and honor forsake a man, we discover him to be a fool, but nobody could find it out in his prosperity. - Author: Jean De La Bruyere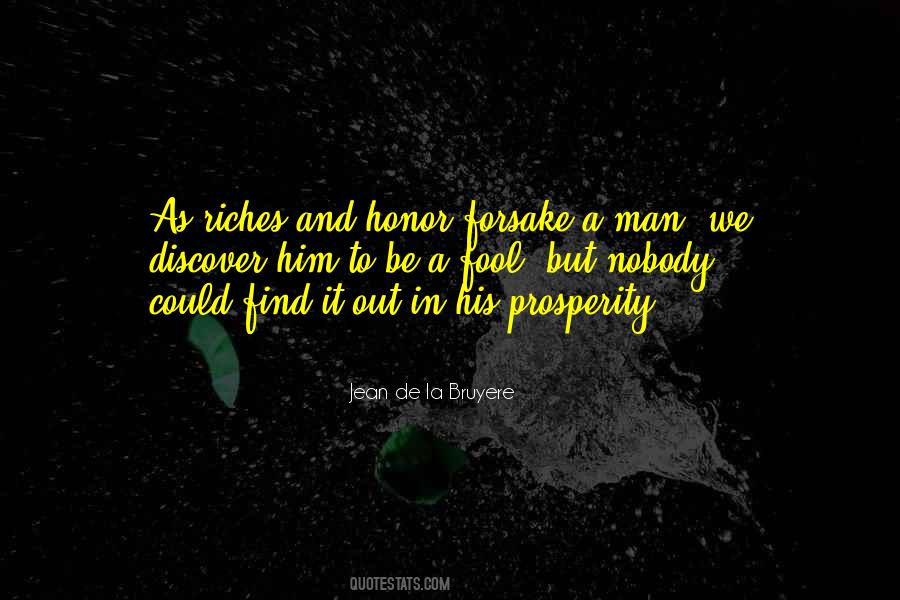 #62. It is a brave thing to have courage to be an individual; it is also, perhaps, a lonely thing. But it is better than not being an individual, which is to be nobody at all. - Author: Eleanor Roosevelt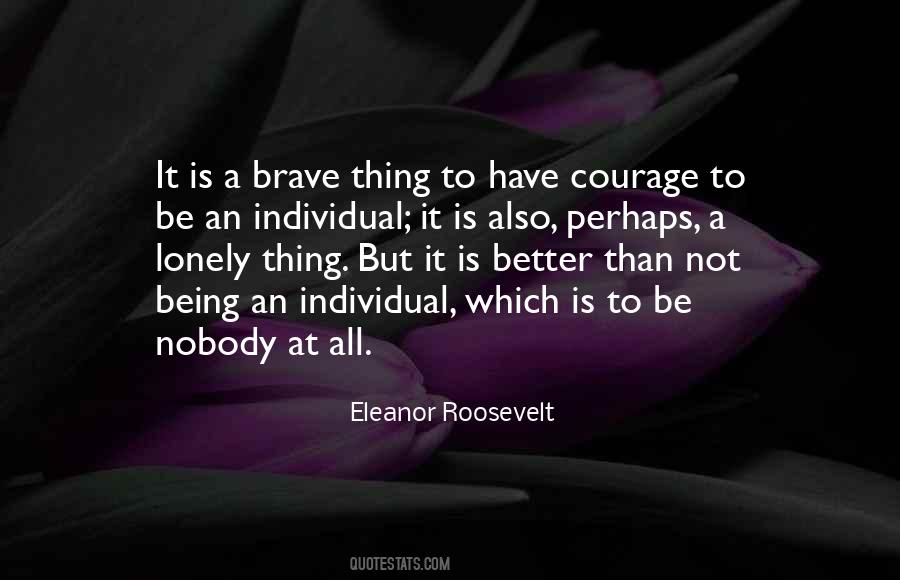 #63. To me, ballads are special, because you can have a pop song that'll be know for three weeks and then you'll hear nothing else about it. Nobody else will record it and it'll just be gone. But if you do a good ballad, it'll be in the world forever. - Author: Michael Jackson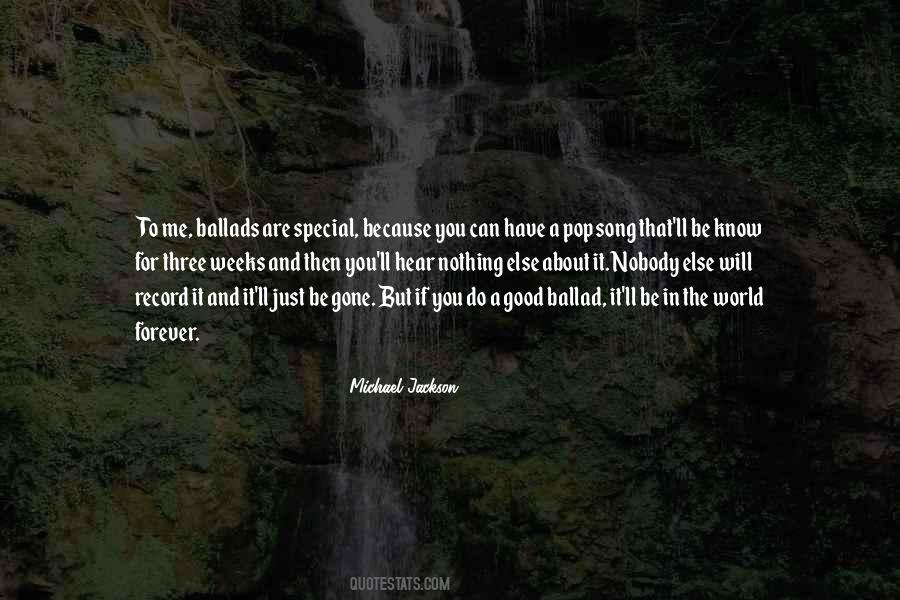 #64. My feeling is that the beaches should belong to everybody. Nobody should be able to build anything. It causes erosion. It's a bad thing altogether. - Author: Linda Ronstadt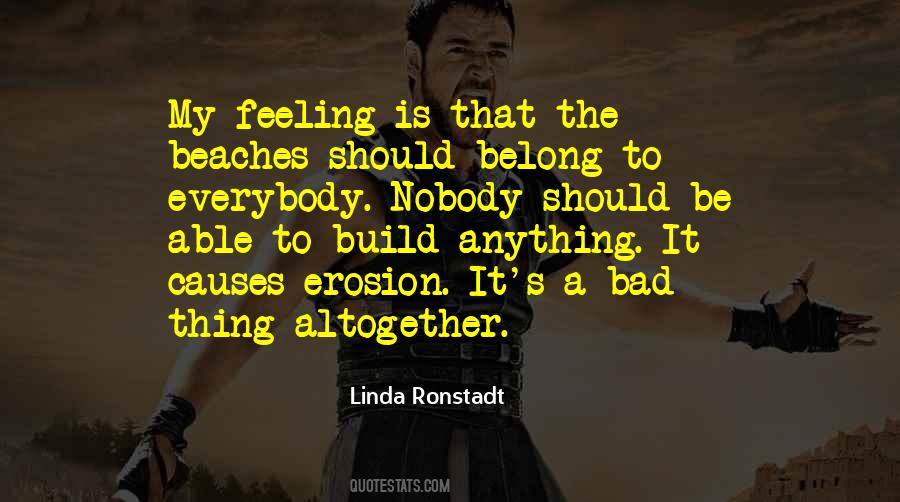 #65. If you're a nobody, if your work has no impact, then it deserves to be praised. If, however, you climb out of that state of mediocrity and are a success, then your defying 'the law' and deserve to be punished. - Author: Paulo Coelho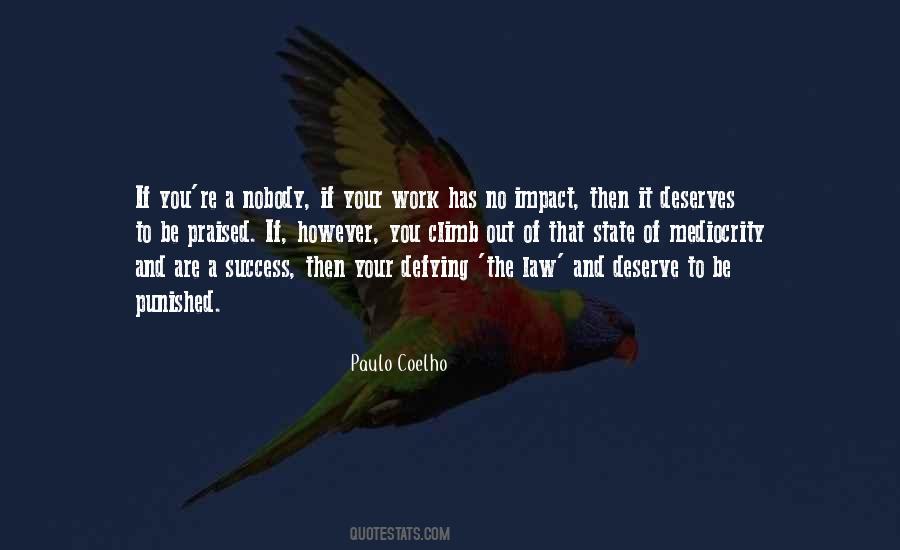 #66. Where I live, nobody who's fourteen is having sex and doing major drugs. And I think if you see it in the movies, you may be influenced by it. I think it's so important to preserve your innocence. - Author: Natalie Portman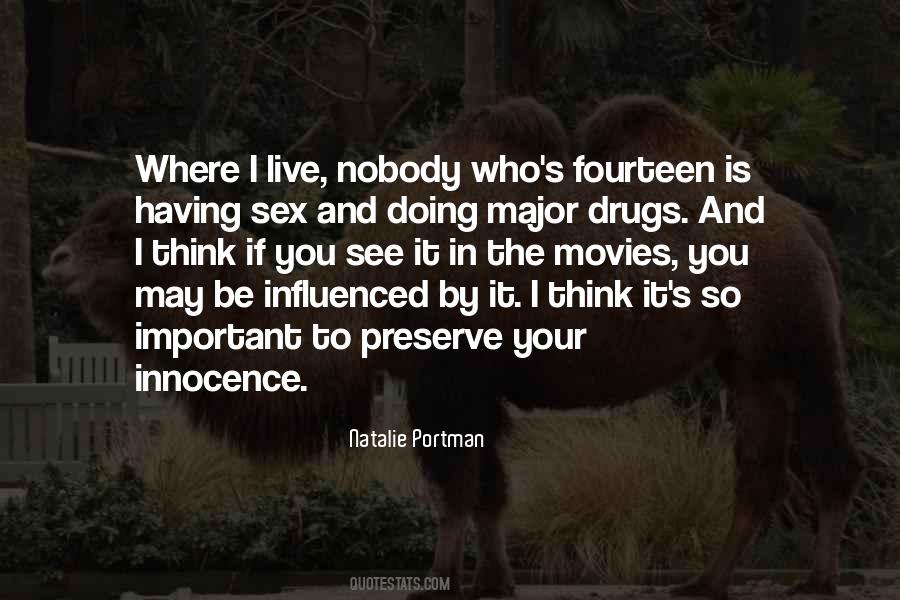 #67. The need to be cared for is the base of everything. In the penitentiaries, you won't hear gangbangers and criminals say, 'No, I don't want to be cared for by nobody.' When you care about them, they'll open up to you. - Author: Jim Brown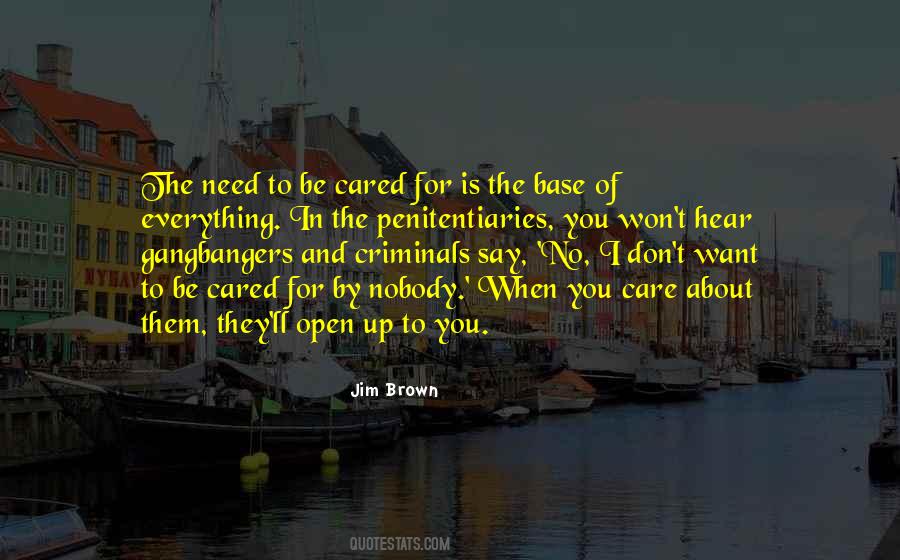 #68. I went to Spago once, eight years ago. I had just closed a deal. I thought it would be fun to go to Spago and it wasn't. I got a bad table and nobody paid any attention to me. - Author: Michael Tolkin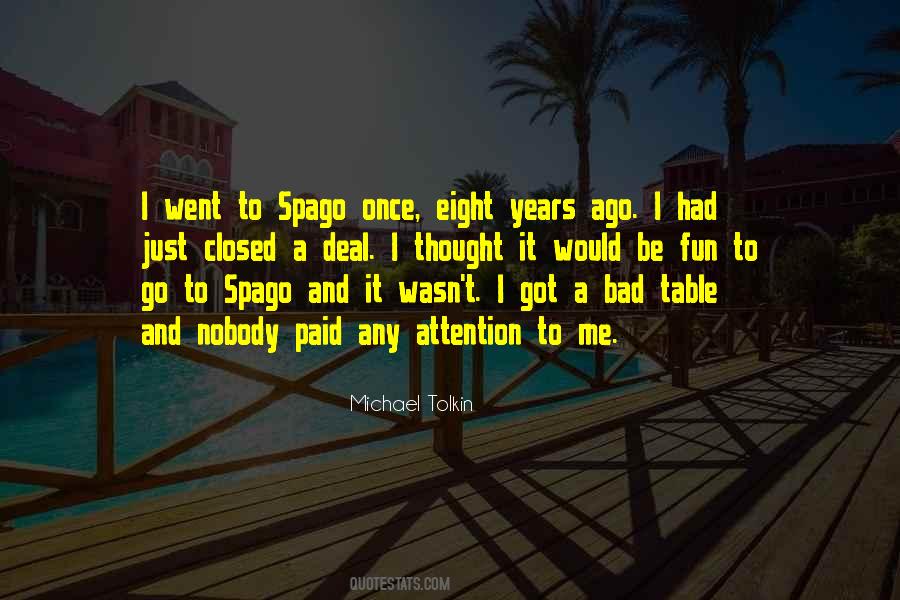 #69. Nobody travels better than Northern State fans and nobody knows the game better than Northern State fans. If I'd die and went to heaven and I was coaching, it would be at Wachs Arena. - Author: Don Meyer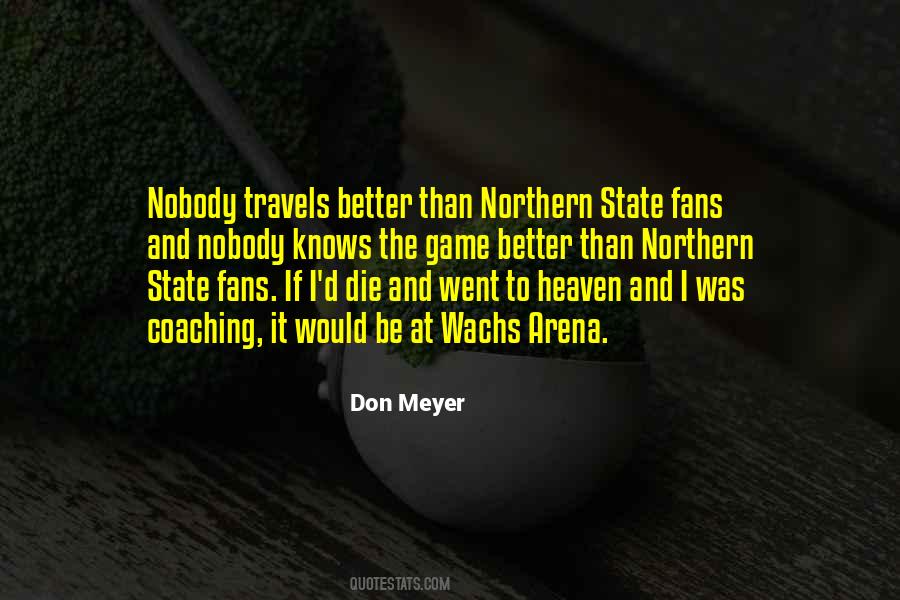 #70. Nobody can stay with you forever; somebody will leave you soon or somebody very late but you must be left one day. so, don't get lost. Be with yourself. Life will never pain you. - Author: Raj Singh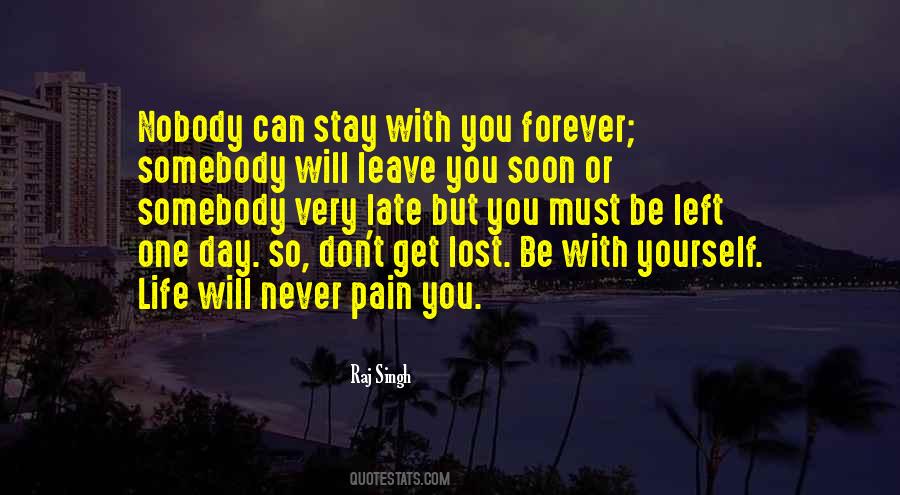 #71. Nobody ever warned me about mirrors, so for many years I was fond of them, and believed them to be trustworthy ... - Author: Helen Oyeyemi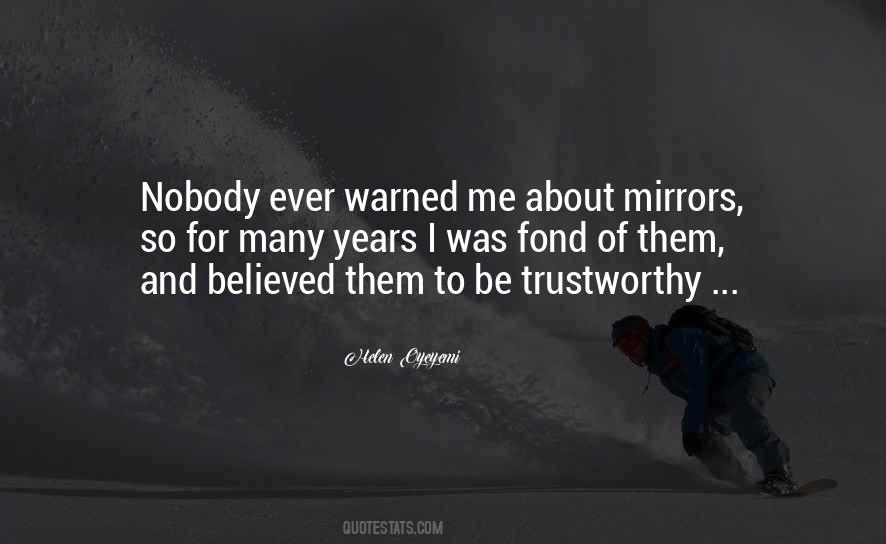 #72. I'm definitely scared about newspapers. The problem is nobody wants to catch a falling knife, and nobody knows where things will stabilise. The value of newspapers has dropped significantly. I think we still have more pain to be felt. - Author: Jared Kushner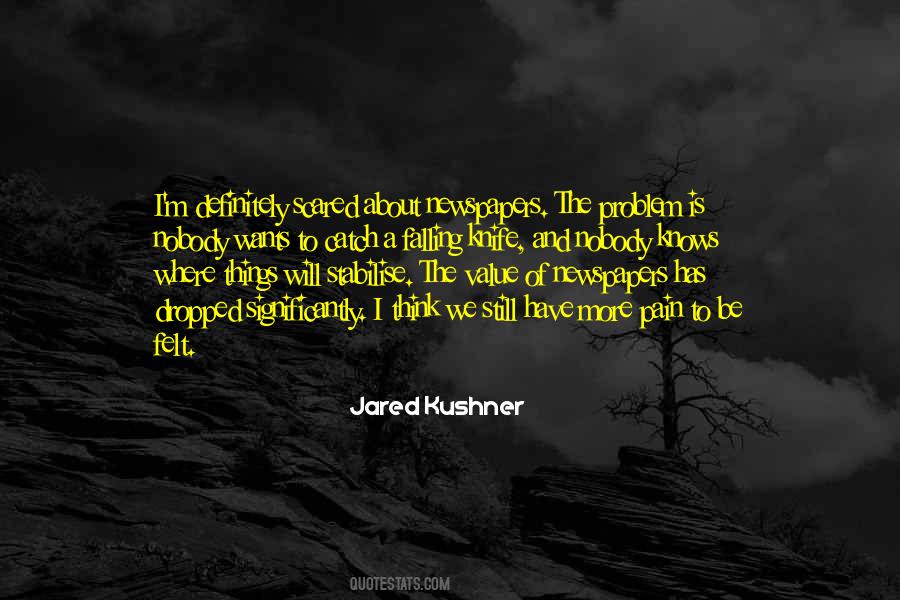 #73. Nobody thinks of themselves as sexy, really. Some days you go, 'Hey, I'm not going too bad today.' But if you try and be sexy, you'll never be sexy. - Author: Jennifer Aniston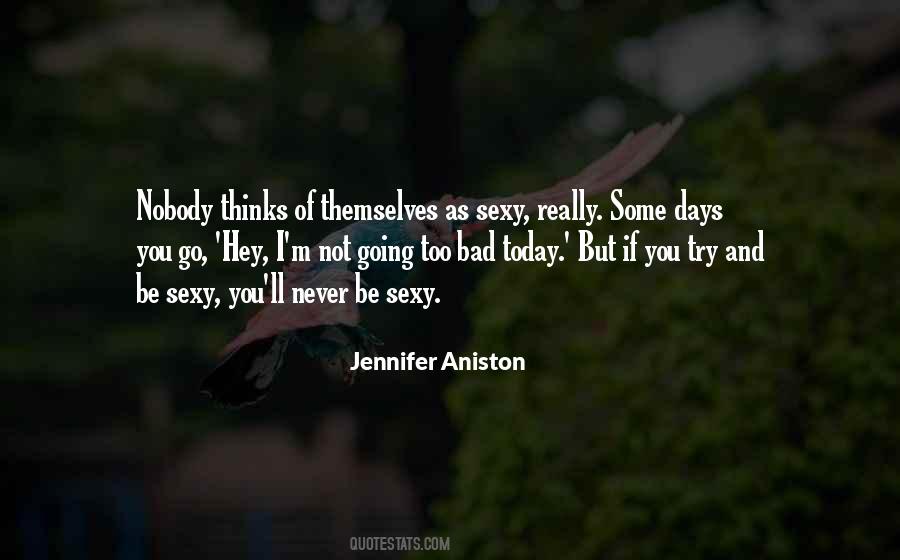 #74. As plans for the first lunar landing started to be made, nobody had really thought about who would be out first. - Author: Henry Spencer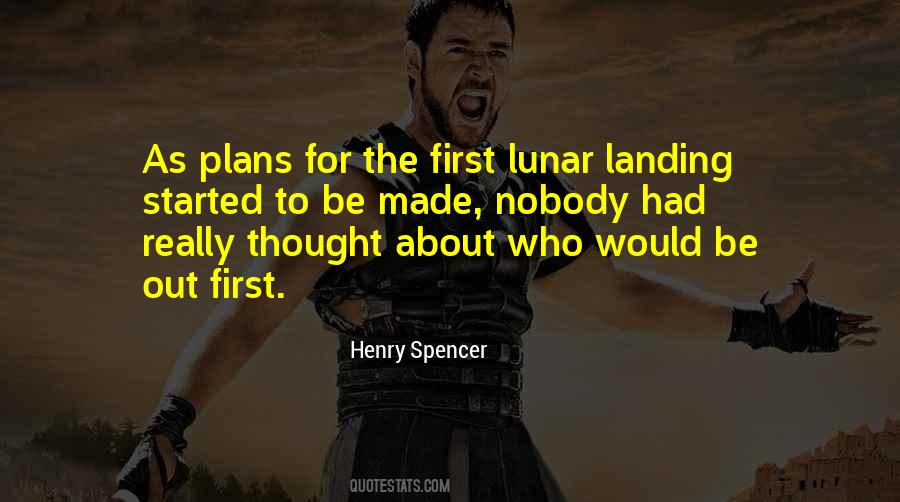 #75. Nobody has a magic lamp which can tell you in advance whether what you say will be effective in persuading an audience. - Author: Maurice Saatchi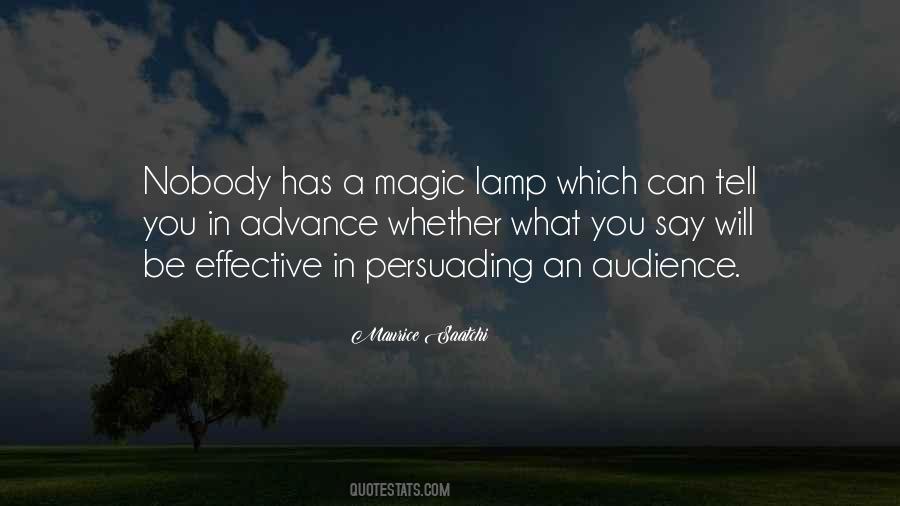 #76. Today President Obama gave a major speech where he defended his handling of the economy. And there were tons of people in the audience, you know, since nobody had to be at work. - Author: Jimmy Fallon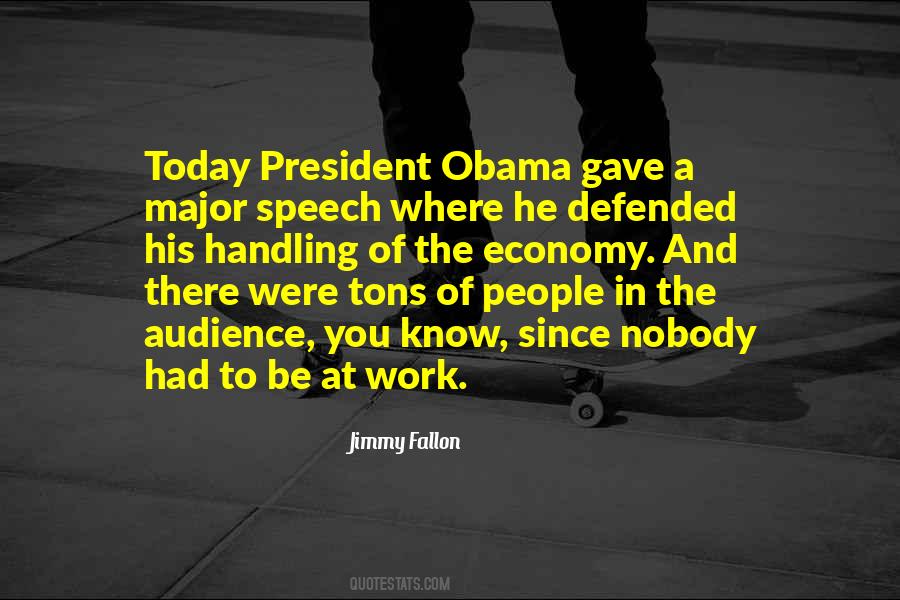 #77. Nobody wants a judge to be subject to the political whim of the moment. - Author: Stephen Breyer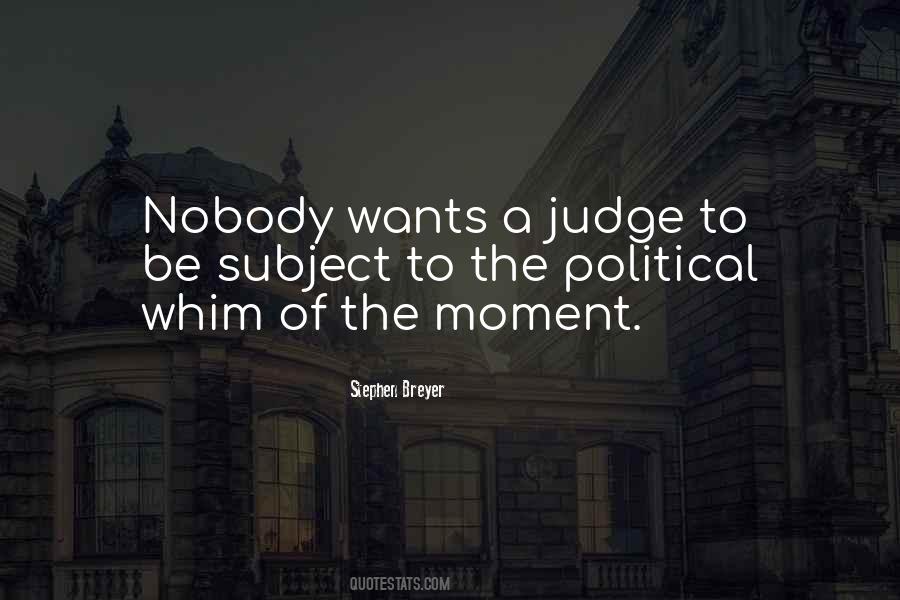 #78. It's so common, it could be anyone. The trouble is, nobody wants to talk about it. And that makes everything worse. - Author: Ruby Wax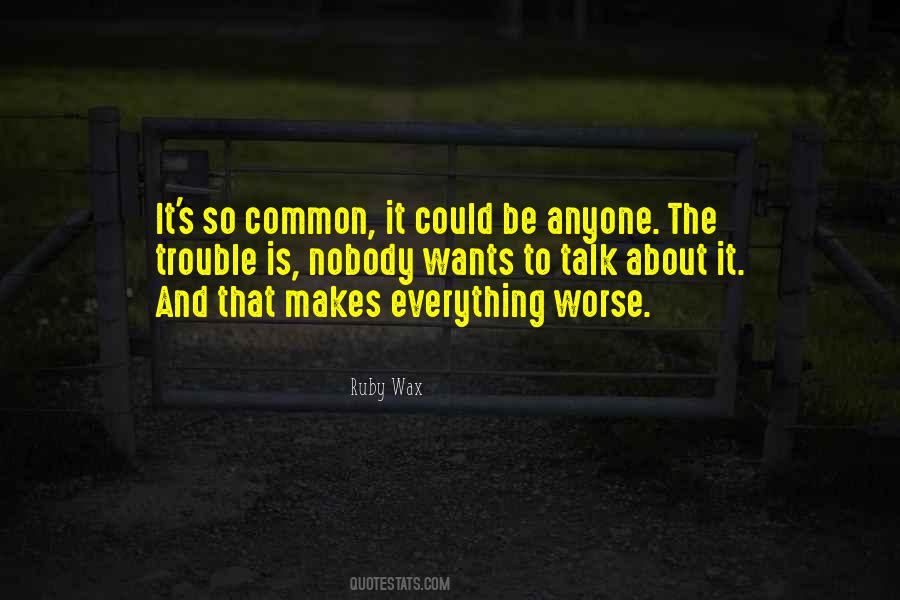 #79. They all want to be involved, but nobody wants to be responsible. - Author: Brandon Sanderson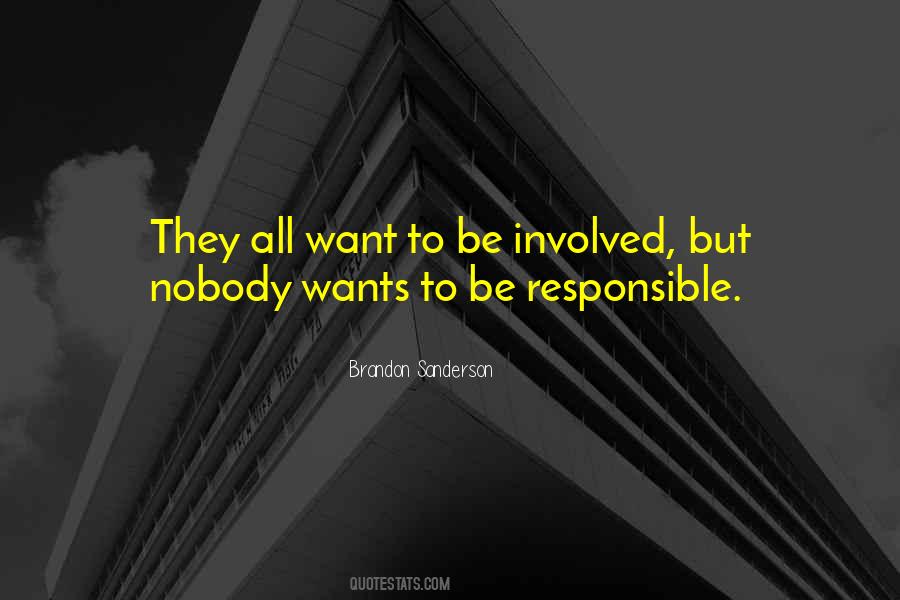 #80. I believed that if I had the whole story, if I had the opportunity to really know the person I was sitting with, there would be nobody I could not love. - Author: Laurie A. Helgoe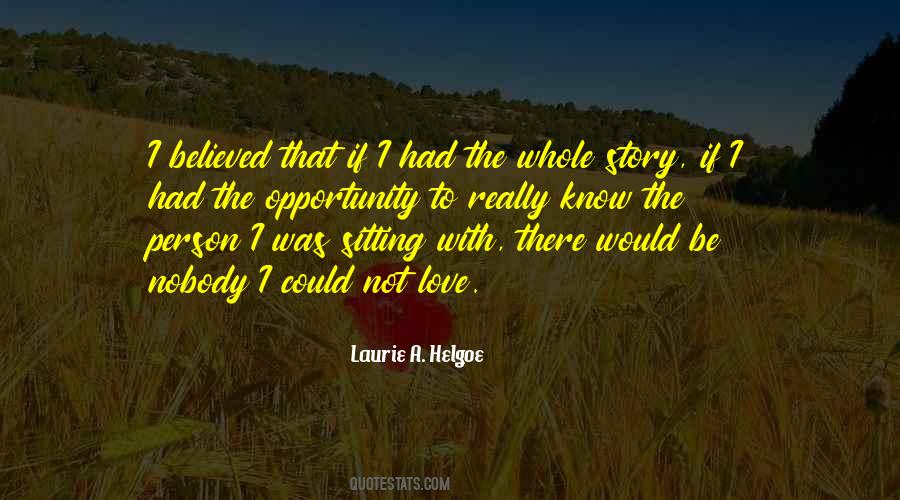 #81. I must say to myself that I ruined myself, and that nobody great or small can be ruined except by his own hand. I am quite ready to say so ... Terrible as was what the world did to me, what I did to myself was far more terrible still. - Author: Oscar Wilde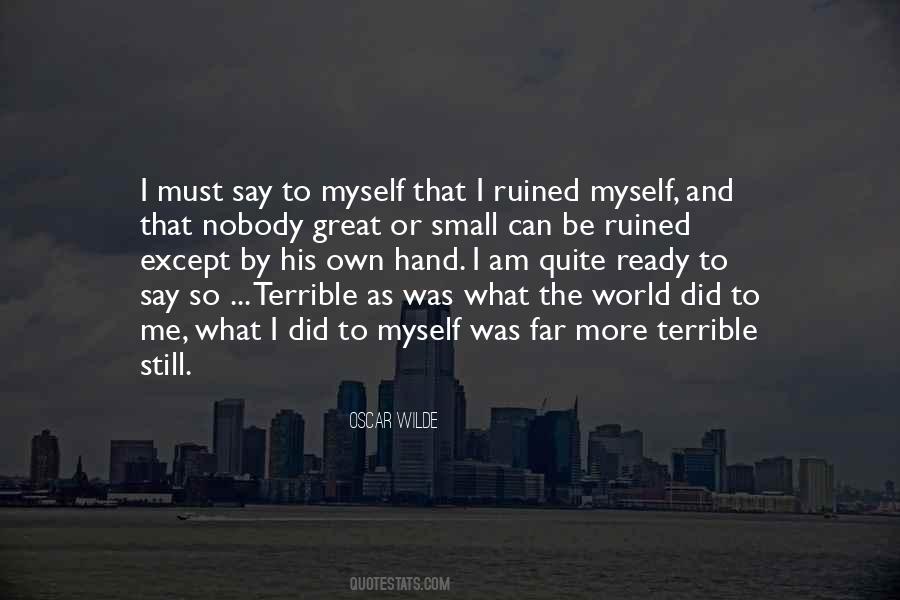 #82. When I was living on the street I would be standing out in front of Grauman's Chinese Theater, leaning against my car and signing autographs and nobody had any idea that I was living in it. - Author: Danny Bonaduce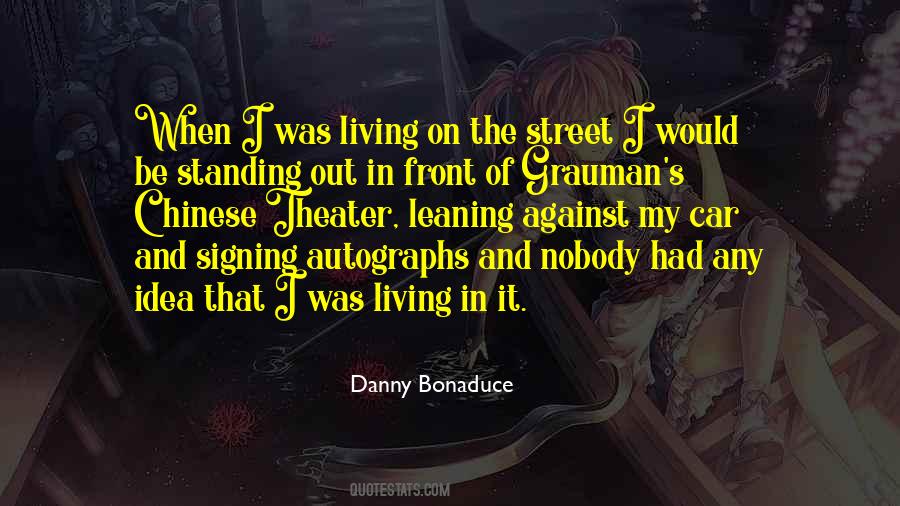 #83. He needed his solitude at times, but he wasn't a hermit. He did a lot of socializing. Sometimes I think it was like he was storing up company for the times when he knew nobody would be around. - Author: Jon Krakauer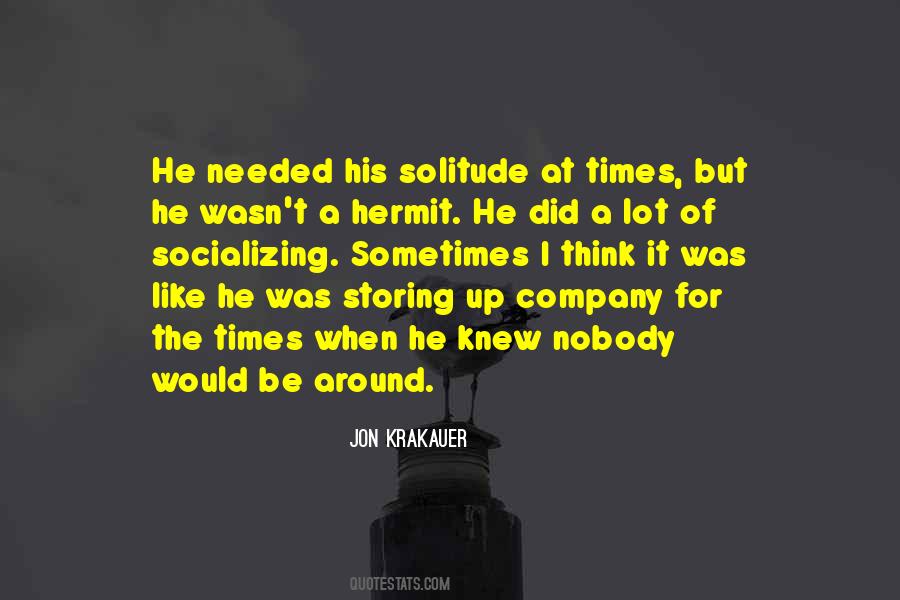 #84. I don't want to go to Washington to be a co-sponsor of some bland little bill nobody cares about. I don't want to go to Washington to get my name on something that makes small change at the margin. - Author: Elizabeth Warren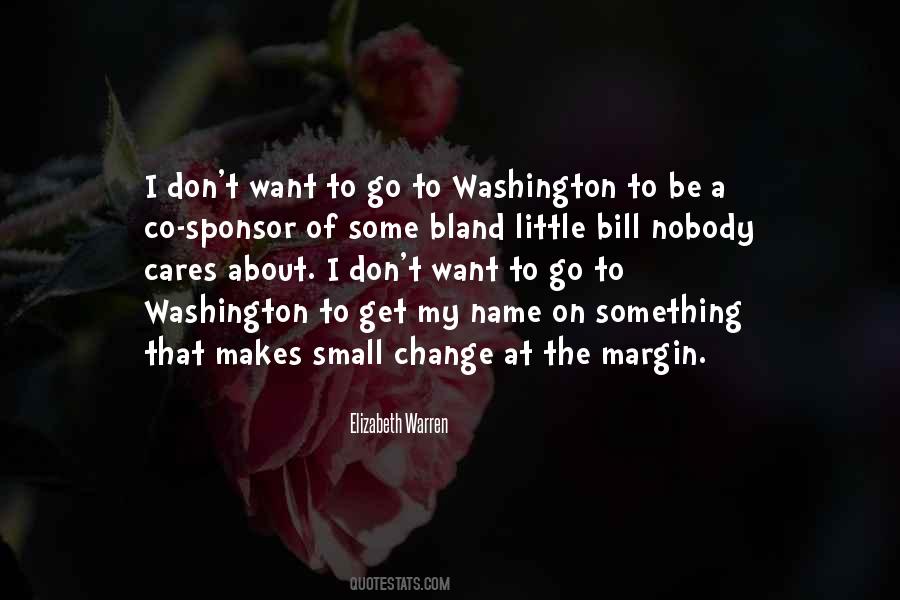 #85. Cool it," cried Olga. "Working hard is what I do! Can't be perfect. Going to school not cheap and what are you doing here, a beauty nobody want. My first year was ok, only five or ten times knocked down, then later more and more. He says I'm no lady and gotta work harder for his dollar. - Author: J.M.K. Walkow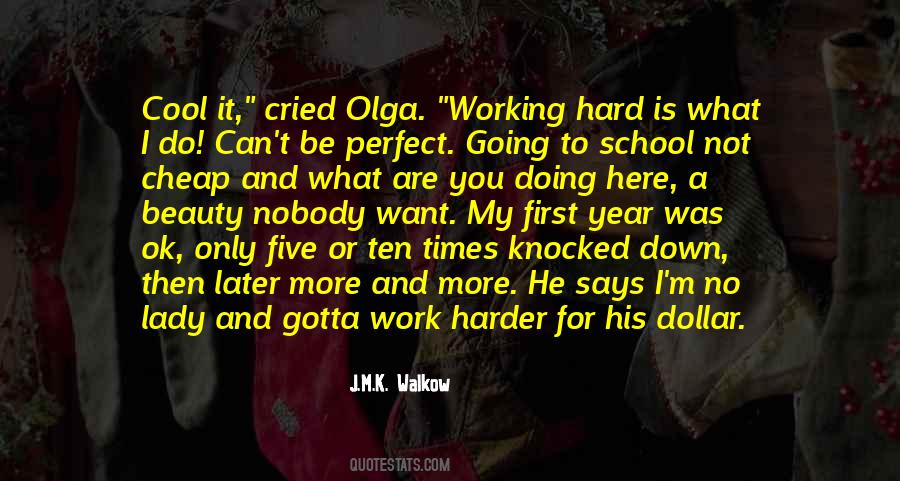 #86. I asked her if I was black or white. She replied You are a human being. Educate yourself or you'll be a nobody! - Author: James McBride
#87. I don't believe that any human mind is capable of 100 percent error ... Nobody is smart enough to be wrong all the time. - Author: Ken Wilber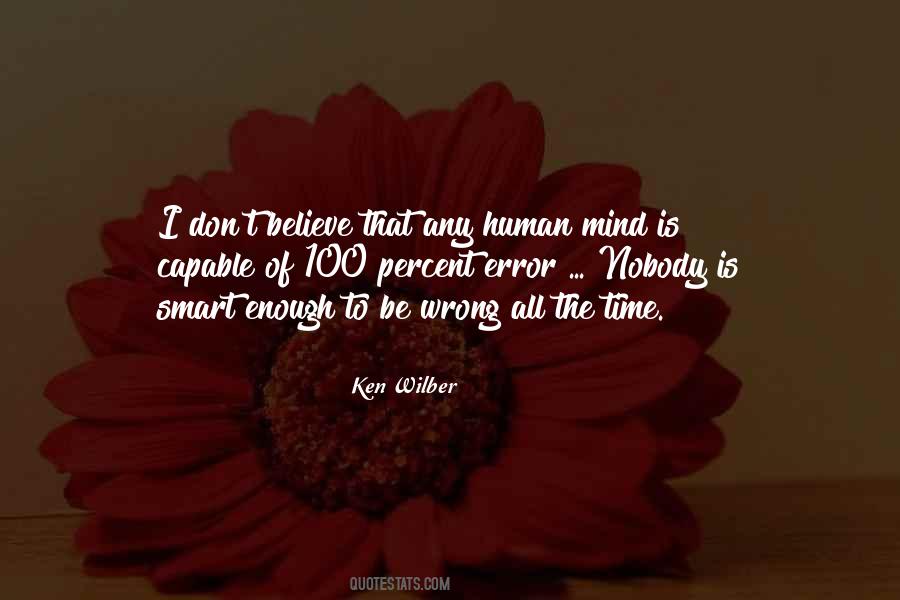 #88. You don't ask nobody to give what they can't give, or be what they can't be. You've learnt that, you got a headstart on heartbreak. - Author: Jack Farris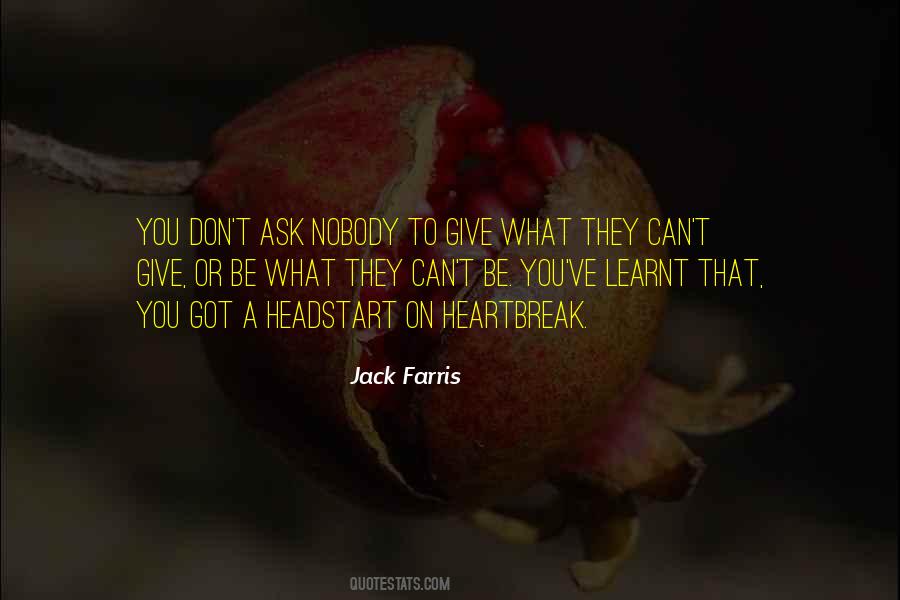 #89. Nobody wants to be racist and I think that most people aren't. - Author: Helen Fielding
#90. Nothing ever really ends. That's the horrible part of being in the short-story business - you have to be a real expert on ends. Nothing in real life ends. 'Millicent at last understands.' Nobody ever understands. - Author: Kurt Vonnegut Jr.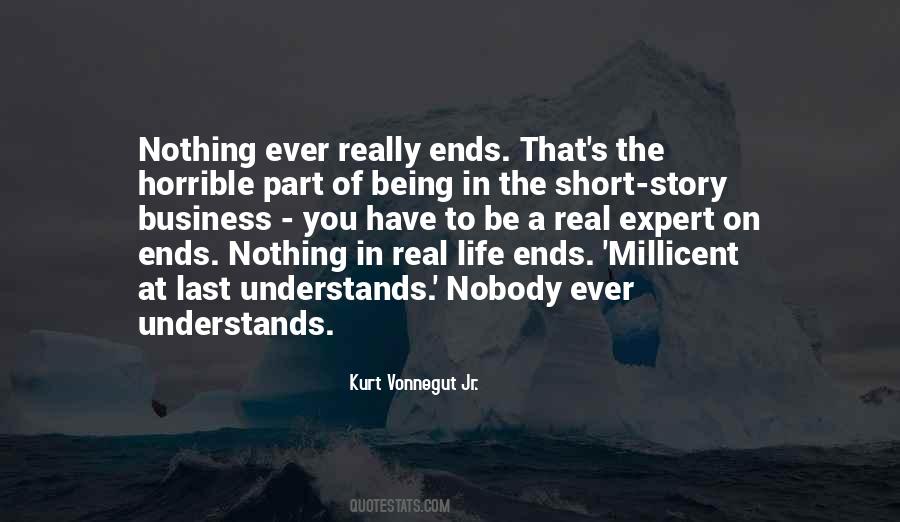 #91. Nobody should be a mystery intentionally. Unintentionally is mysterious enough. - Author: Saul Bellow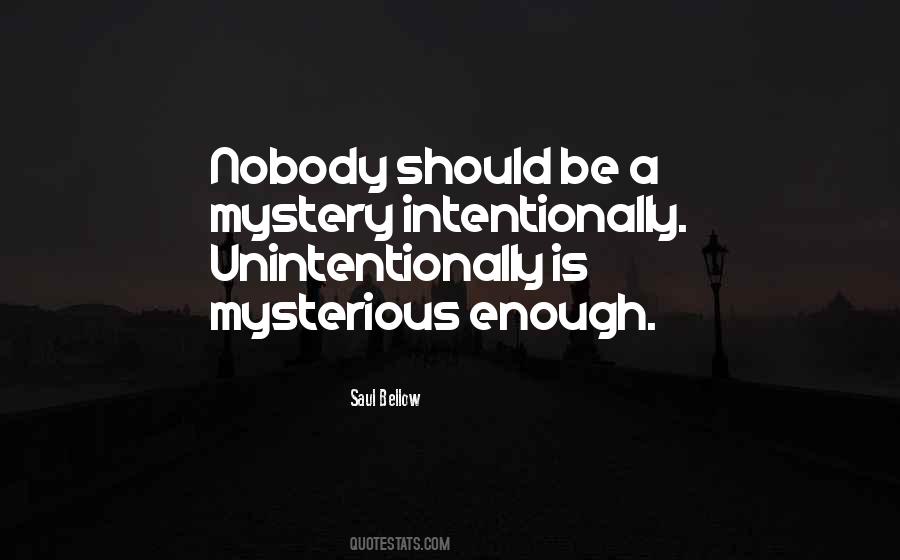 #92. I loved the idea that people could discover things. That you could be the person to see something first. Or see something that nobody else had been able to. - Author: Morgan Matson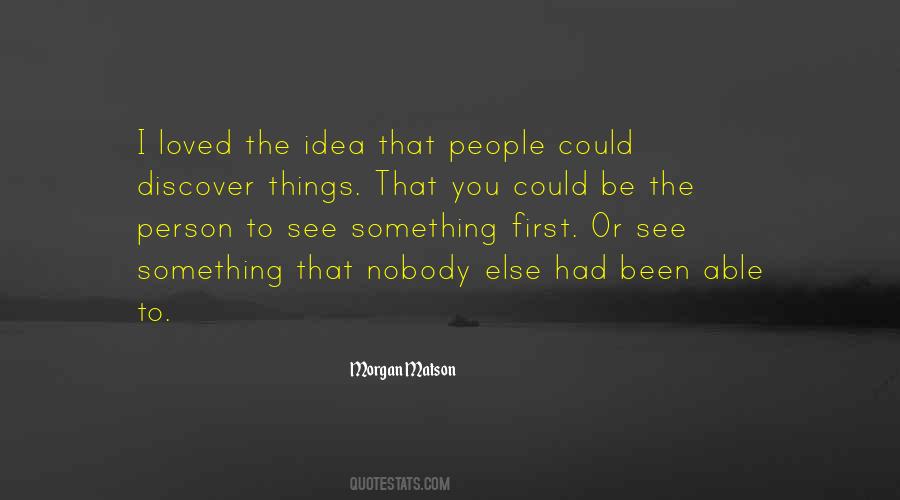 #93. Remember one thing only: that it's you-nobody else-who determines your destiny and decides your fate. Nobody else can be alive for you; nor can you be alive for anybody else. - Author: E. E. Cummings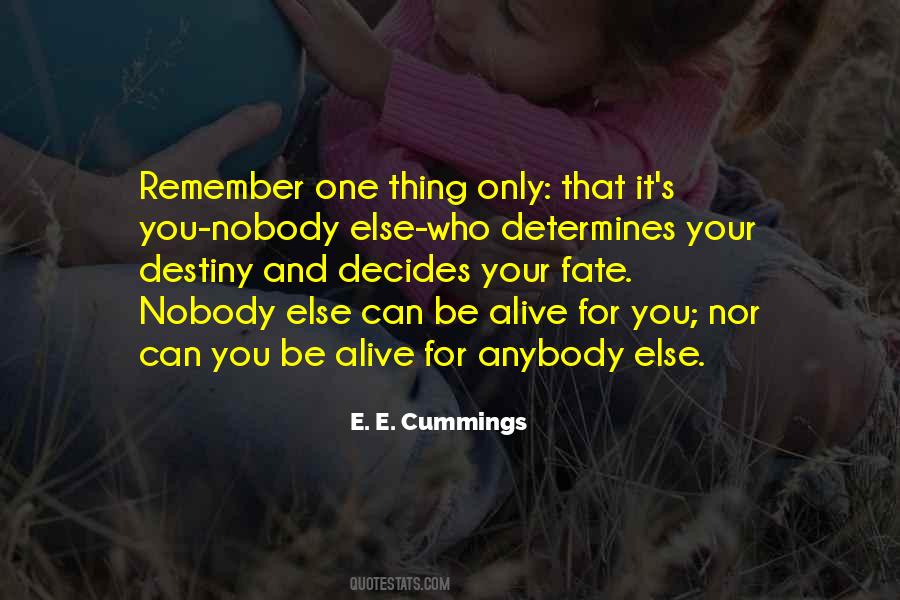 #94. Gar taldin ni jaonyc; gar sa buir, ori'wadaasla. (Nobody cares who your father was, only the father you'll be.) - Mandalorian saying - Author: Karen Traviss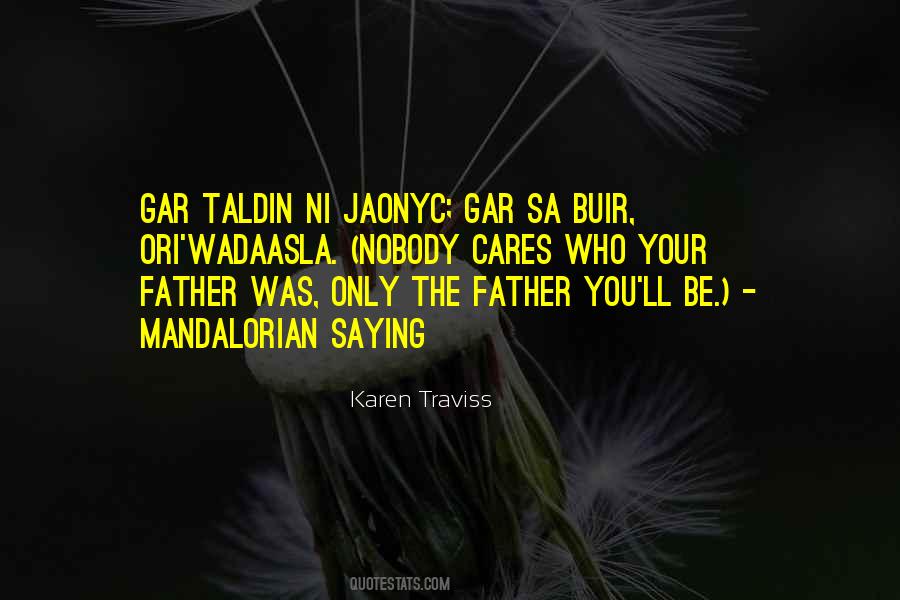 #95. If you love yourself, you will be surprised: others will love you. Nobody loves a person who does not love himself. - Author: Rajneesh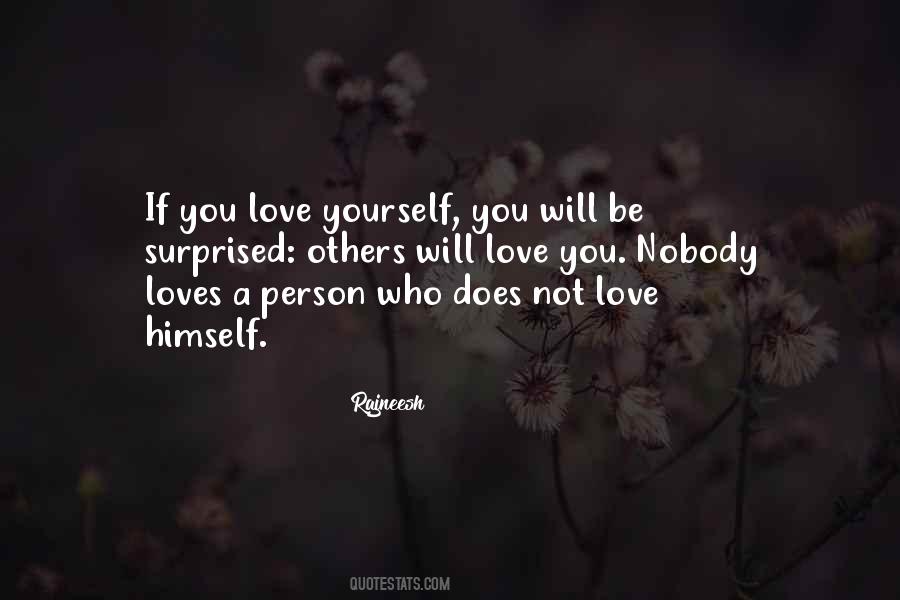 #96. I think it must be lonely to be God.
Nobody loves a master. No. - Author: Gwendolyn Brooks
#97. What I hate most in life are people who are not really the peach of the day but who want to be young and sexy. You can fool nobody. There is a moment when you have to accept that somebody else is younger and fresher and hotter. Life is not a beauty contest. - Author: Karl Lagerfeld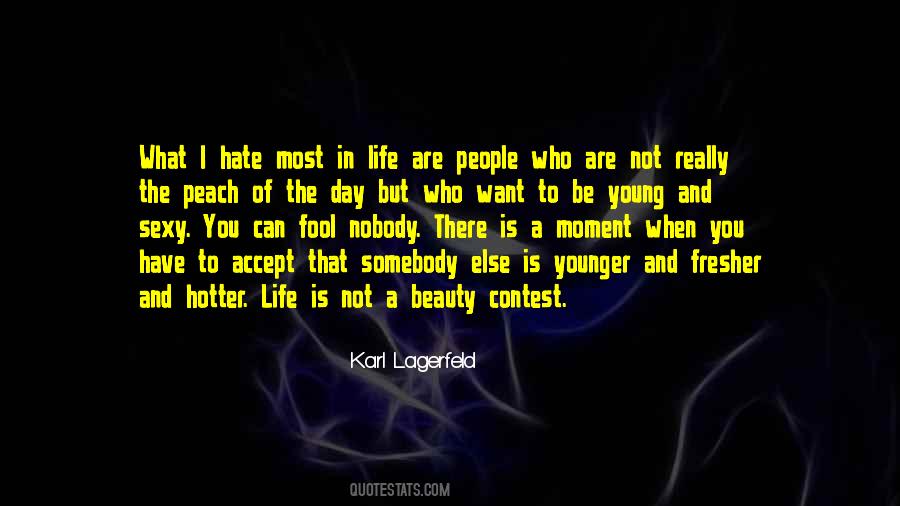 #98. Nobody think about that broken heart ... life goes on, broken heart never join together but it tries very hard to get joined again. That;swhy may be it said Heart is like a mirror, if its broken can never be joined. - Author: Shahid Islam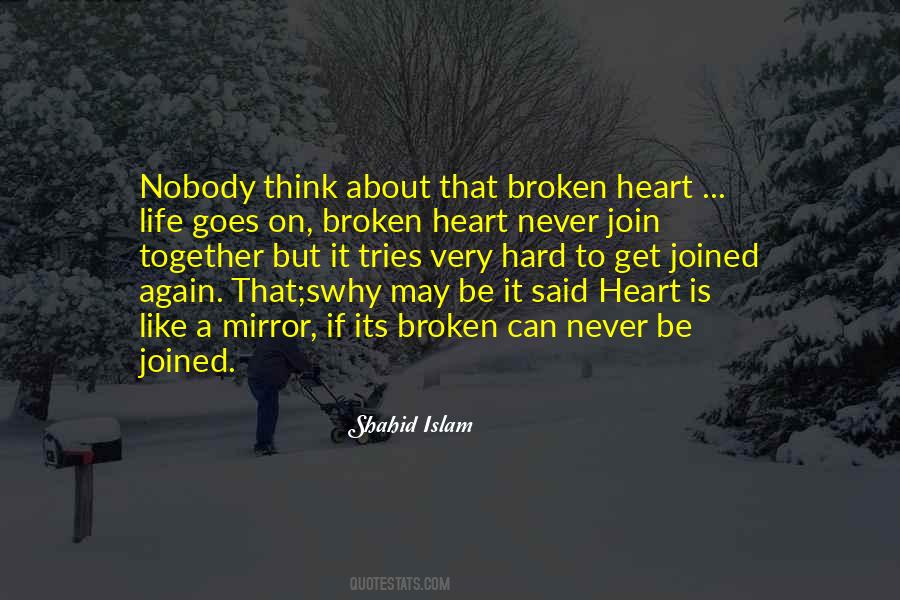 #99. I want it to be 70 per cent beautiful, 15 per cent surrealistically beautiful, and the rest so beautiful that nobody can bear it, - Author: Zhang Huan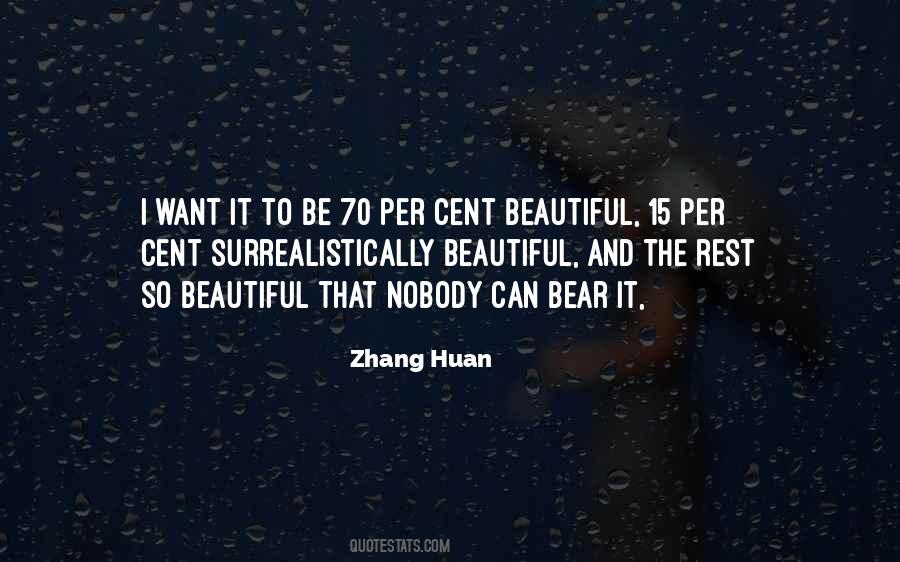 #100. Nobody can tell you what to do. No matter what they pay you. No matter what obligations you feel you owe them. Every second defines you. Be who you are, not who anyone else is, or who anyone else wants you to be. - Author: James Altucher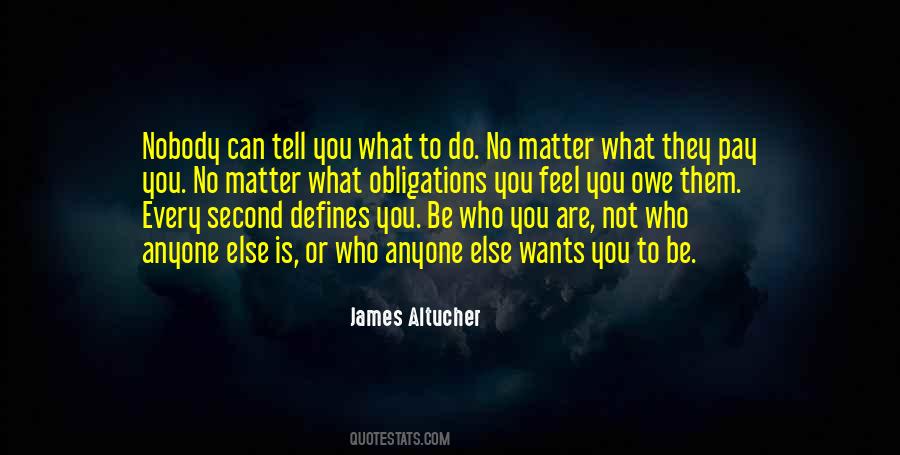 Famous Authors
Popular Topics